Opportunity And Hard Work Famous Quotes & Sayings
List of top 47 famous quotes and sayings about opportunity and hard work to read and share with friends on your Facebook, Twitter, blogs.
Top 47 Quotes About Opportunity And Hard Work
#1. The Way I See It: If you're worried about getting a job-or keeping one-start a company of your own. By doing so, you'll reap the rewards of your hard work and you'll only get fired if you fail. This is the land of opportunity. Live in it. - Author: Bruce Campbell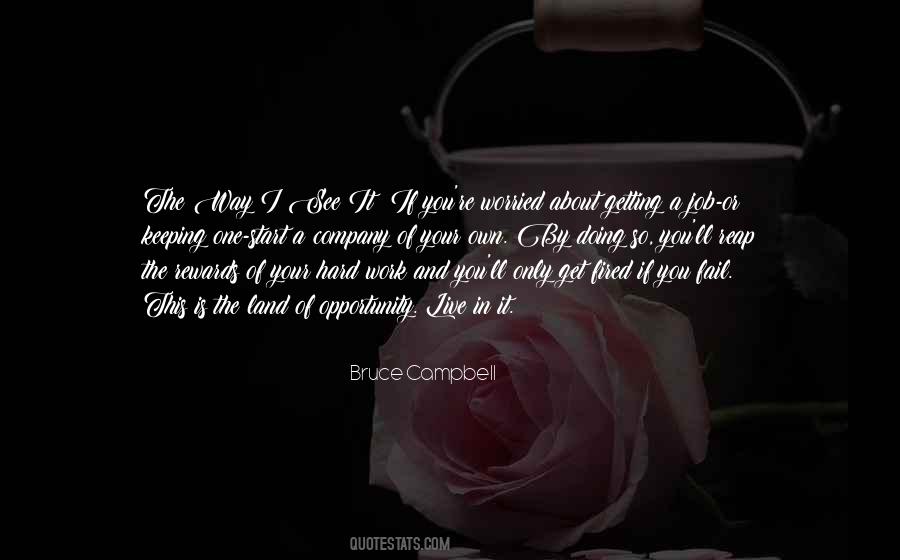 #2. You can do something extraordinary, and something that a lot of people can't do. And if you have the opportunity to work on your gifts, it seems like a crime not to. I mean, it's just weakness to quit because something becomes too hard ... - Author: Morgan Matson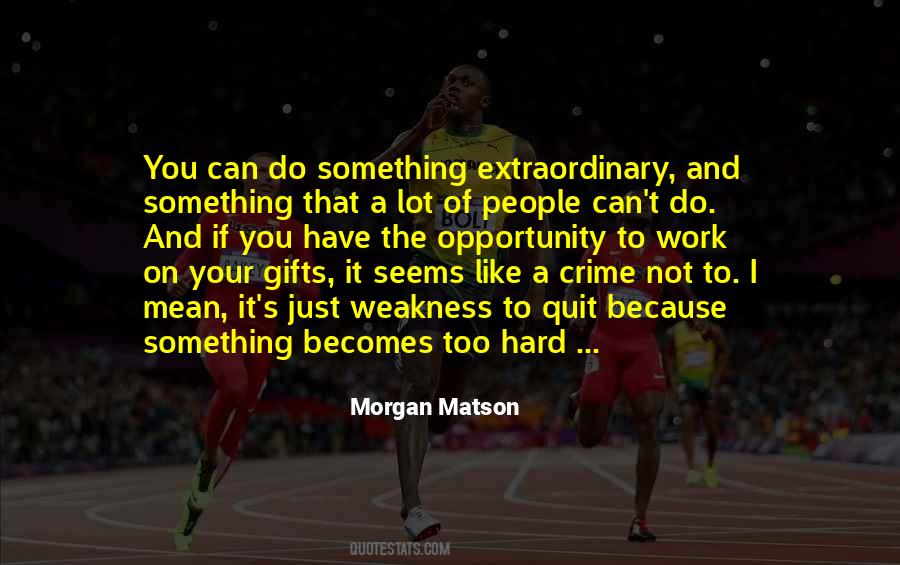 #3. The commonest form, one of the most often neglected, and the safest opportunity for the average man to seize, is hard work. - Author: Arthur Brisbane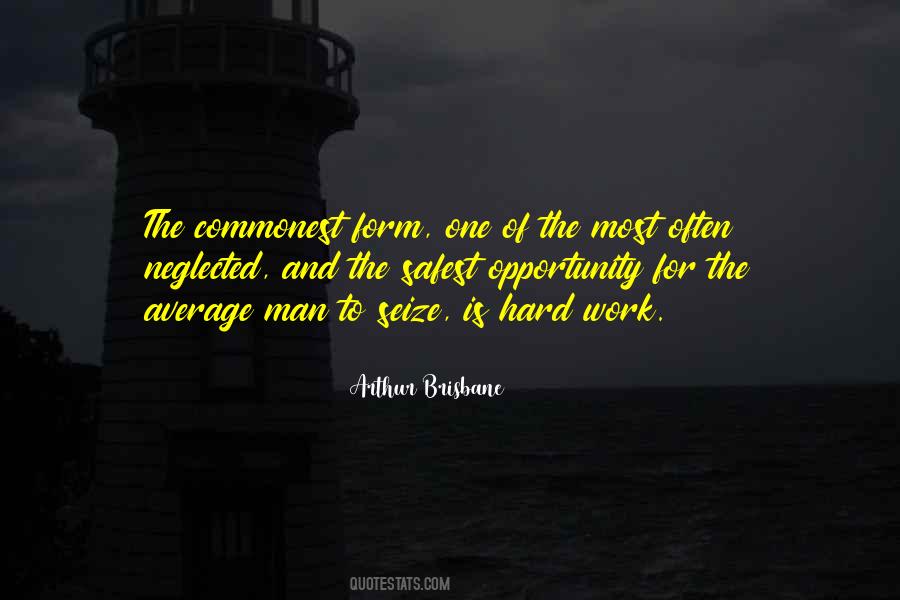 #4. We are still a country where hard work and perseverance can earn you a better life ... Yet we are rightfully troubled that many of our people are still caught in what seems to be a pervasive, unending financial struggle ... every American deserves an equal opportunity to achieve success. - Author: Marco Rubio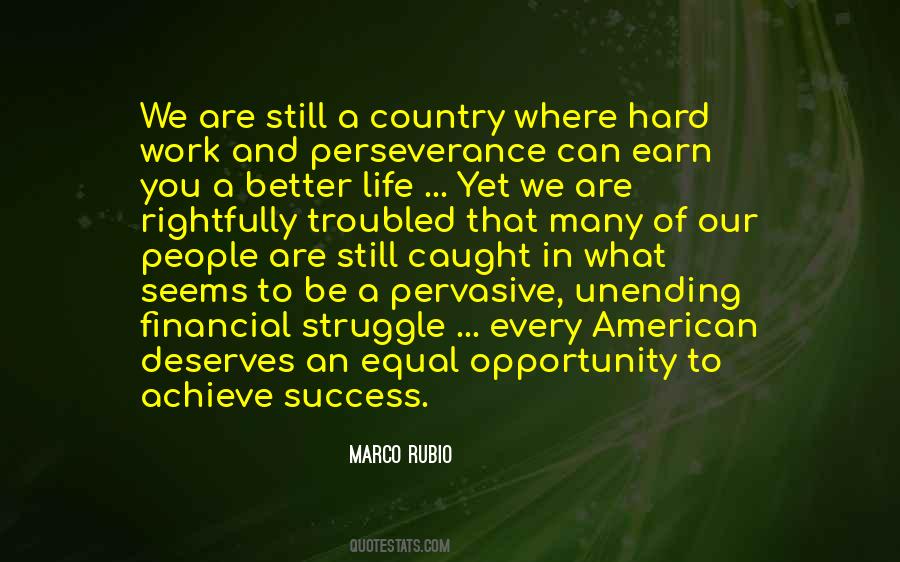 #5. And also don't forget, the reason opportunity is often missed is that it usually comes disguised as hard work. - Author: Clifford Irving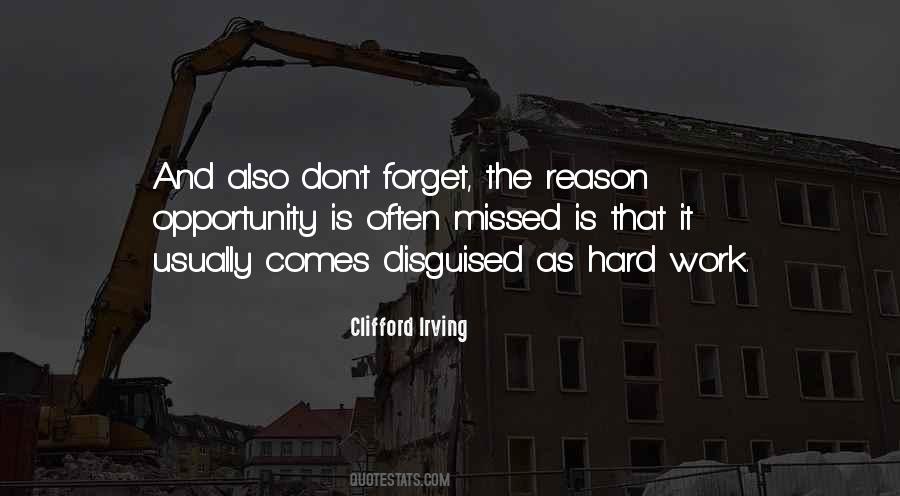 #6. Become one of those people who work hard, invest and build, and at the same time create employment and opportunities for others. - Author: Gina Rinehart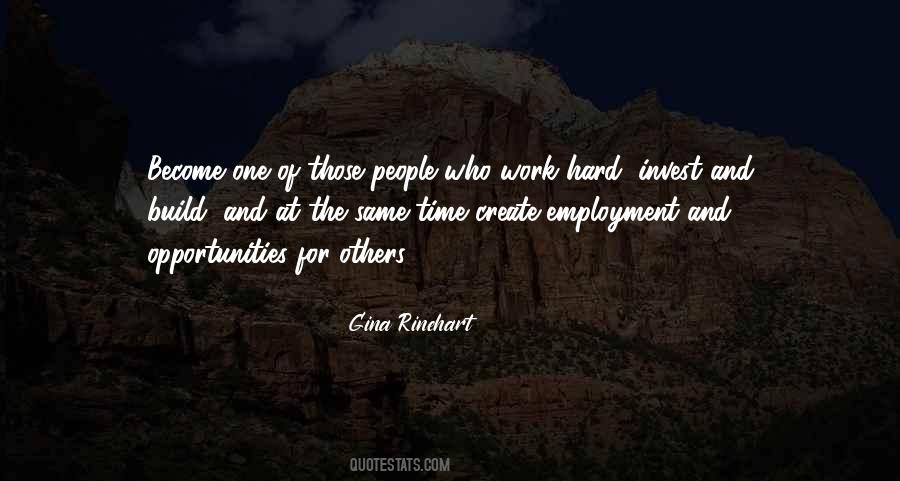 #7. We must remind Americans that the promise of opportunity remains unbroken - that every person in this great nation can succeed through hard work, courage and personal responsibility. - Author: Brian Sandoval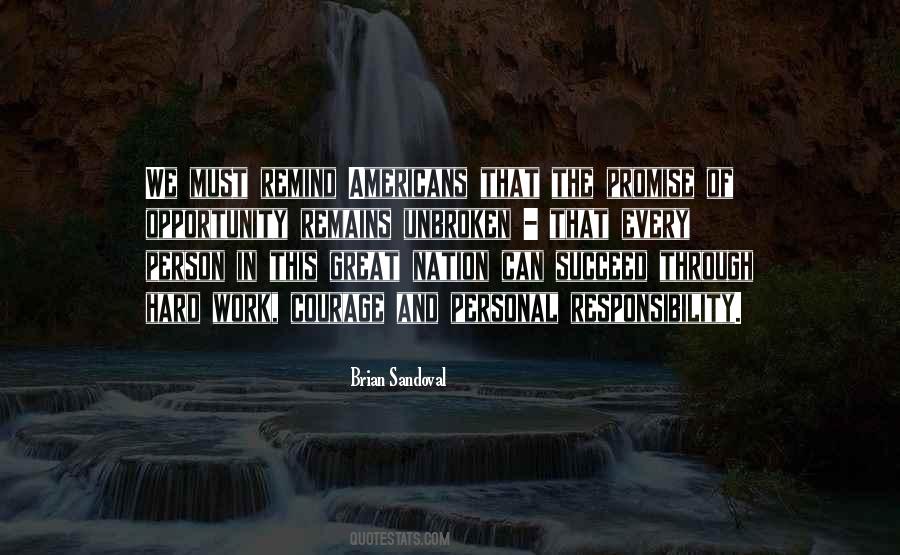 #8. Just because you're part of 'Twilight' does not mean you're a superstar. It means that you're given the opportunity to maybe become one later if you work hard. Once fandom goes away, which it will very soon, it's all about having your priorities straight and working hard. - Author: Nikki Reed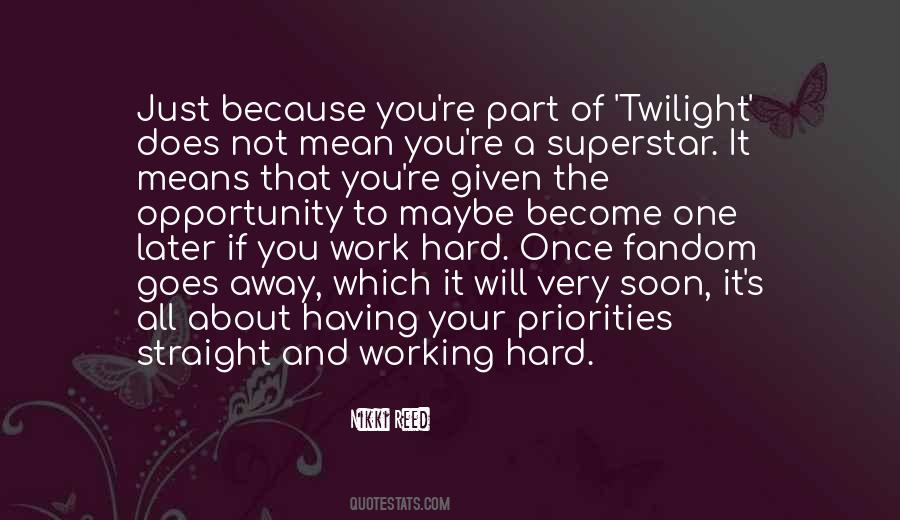 #9. I learned to focus and work hard and not give up. I learned that every obstacle is really an opportunity. - Author: Jenna Ushkowitz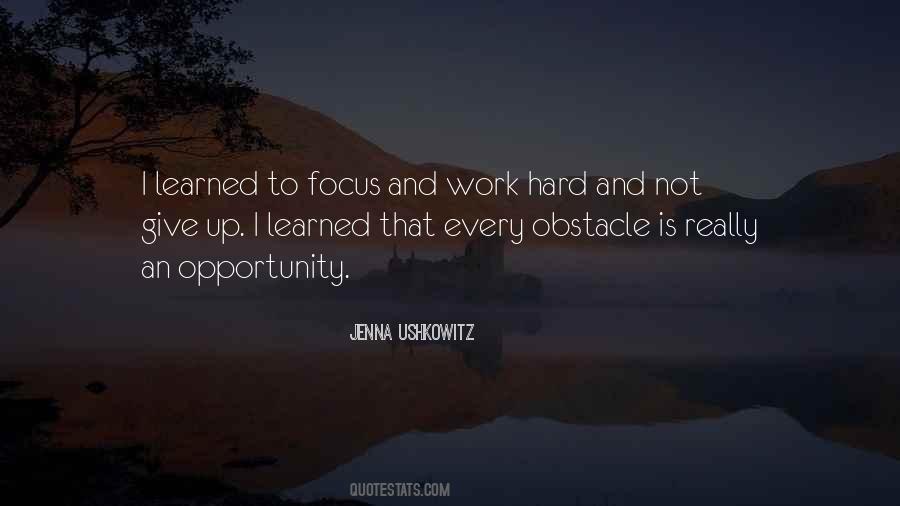 #10. I'm all about working. I'm a really hard worker, and I'm taking advantage of all those different opportunities, on the music and acting side, because I love both. - Author: Diego Boneta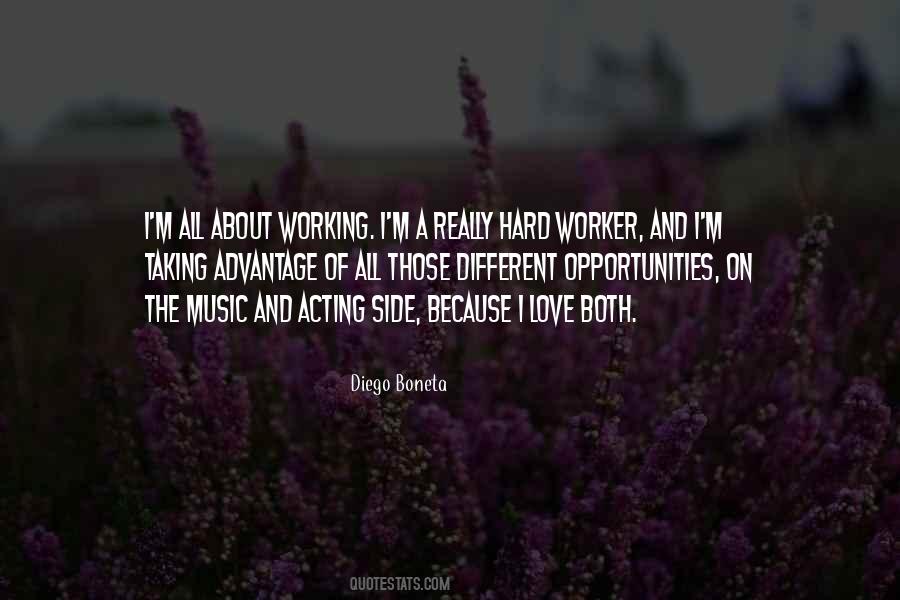 #11. A man has always been seen as someone who works hard and has a full-time occupation. I think women should have the same opportunity and not have any stigma attached to them if they choose to pursue their careers. - Author: Meryl Streep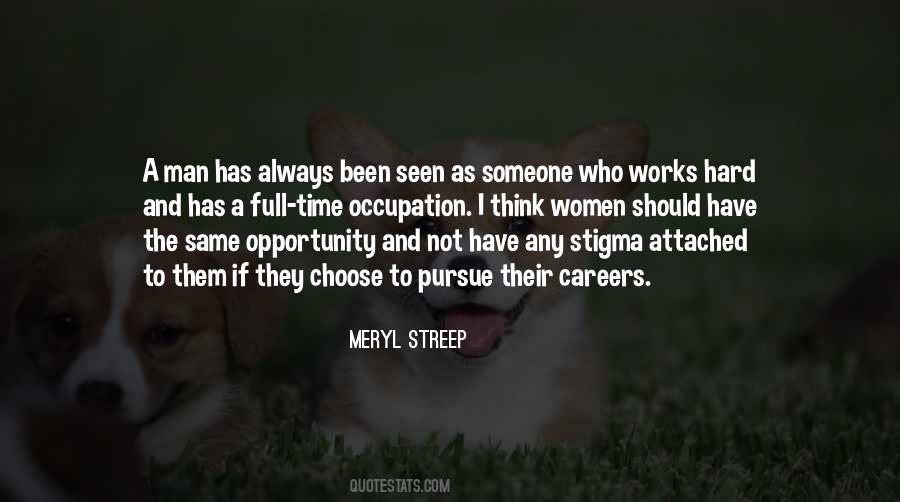 #12. I was brought up on a farm, and I've learned that every opportunity that I've had in my life has come from hard work and persistence. - Author: Susan Bysiewicz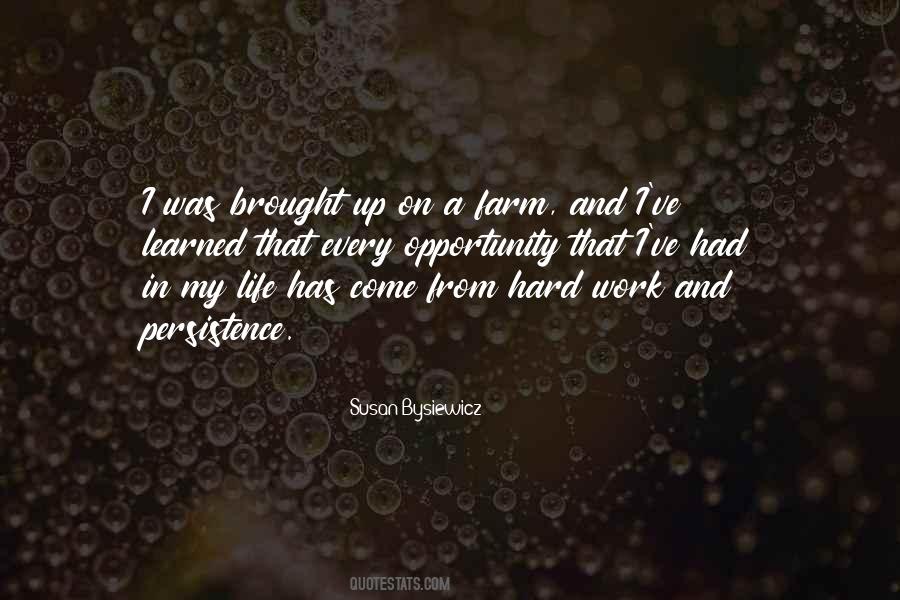 #13. Someone once told me: 'Luck is when opportunity meets preparation'. And that's what I really feel with my music. I've worked really, really hard on it. It was like, 'this is really what I want to do.. what do I have to do to make it work?' - Author: Erica Packer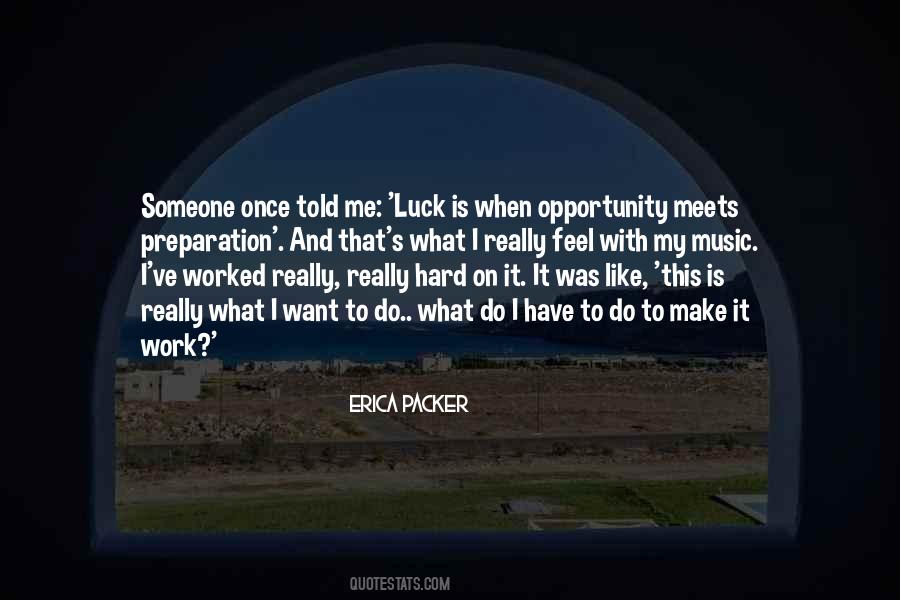 #14. What I believe unites the people of this nation, regardless of race or region or party, young or old, rich or poor, is the simple, profound belief in opportunity for all - the notion that if you work hard and take responsibility, you can get ahead. - Author: Barack Obama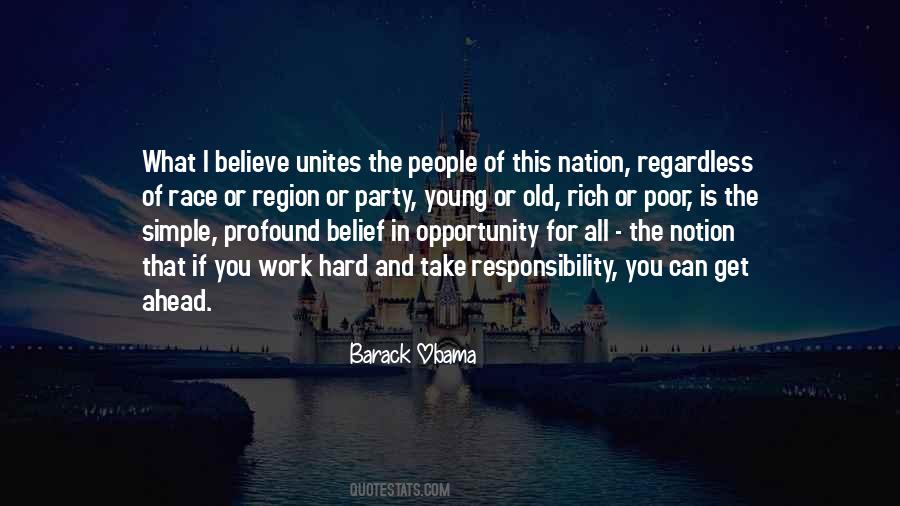 #15. ... I had seen the princess and let her lie there unawakened, because the happily ever after was so damnably much work. - Author: Orson Scott Card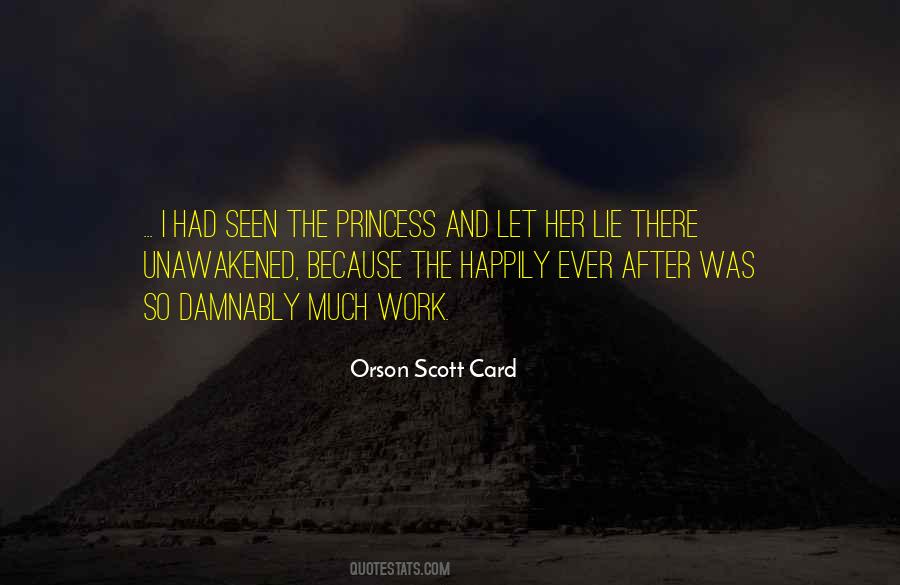 #16. With my son, I work very hard to keep him away from the press and media and I want an opportunity for him to lead as normal a life as possible. - Author: Corey Feldman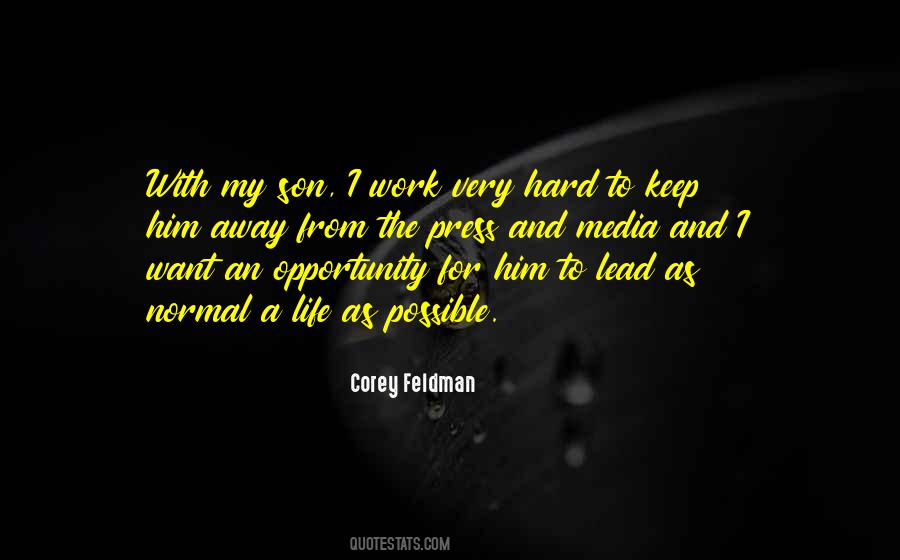 #17. Through hard work and education, we can deliver a strong economy and opportunity for all. - Author: Julia Gillard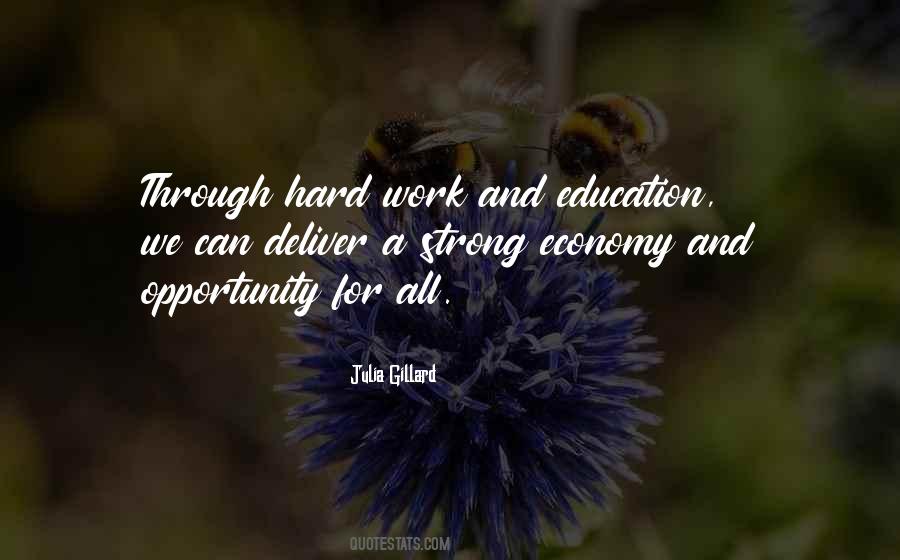 #18. And if you have the opportunity to work on your gifts, it seems like a crime not to. I mean, it's just weakness to quit because something becomes too hard. Am I right? - Author: Anonymous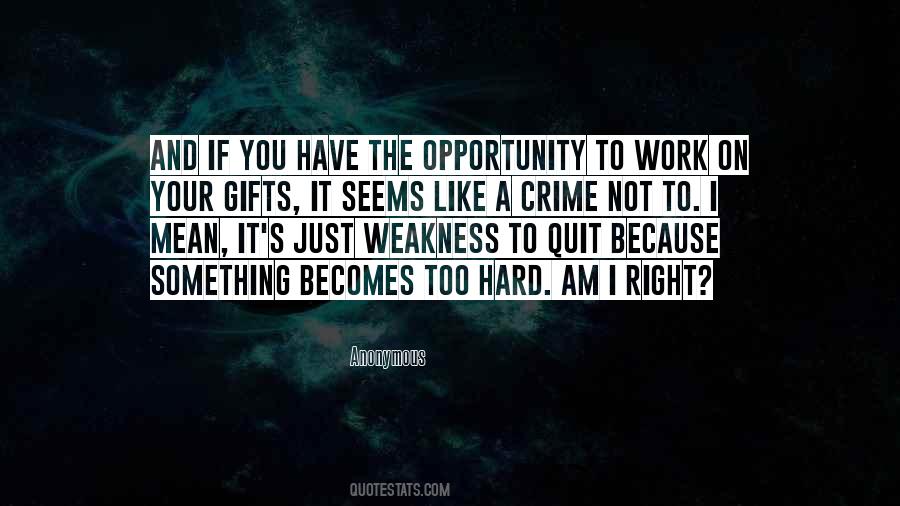 #19. Hard times do make better people. That in the middle of difficulty lives opportunity. And that each of us is built to win - in both work and life. - Author: Robin S. Sharma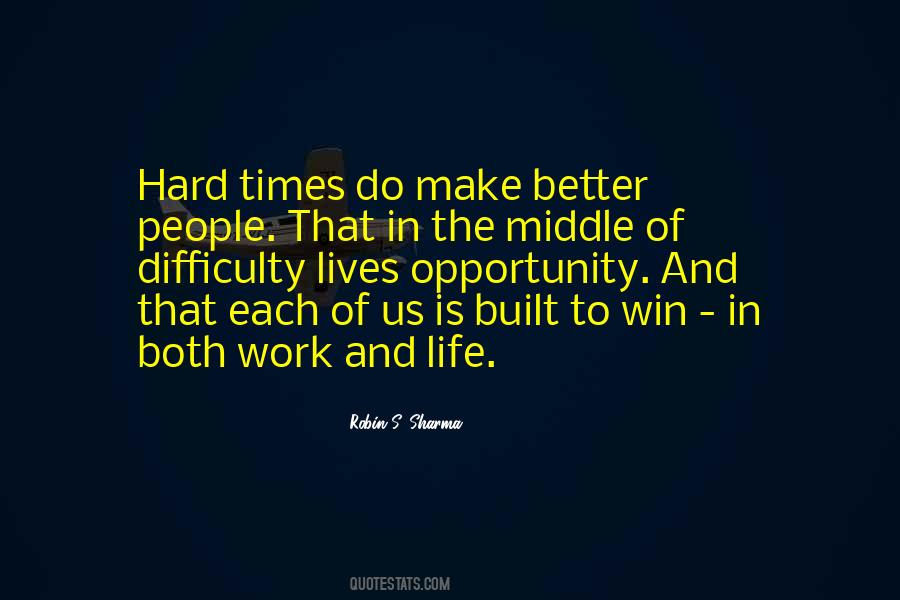 #20. My parents didn't believe in luck. They believed in hard work and in preparing me to take advantage of opportunity. Like many parents, they taught me to be generous but never to depend on the generosity of others. - Author: Naveen Jain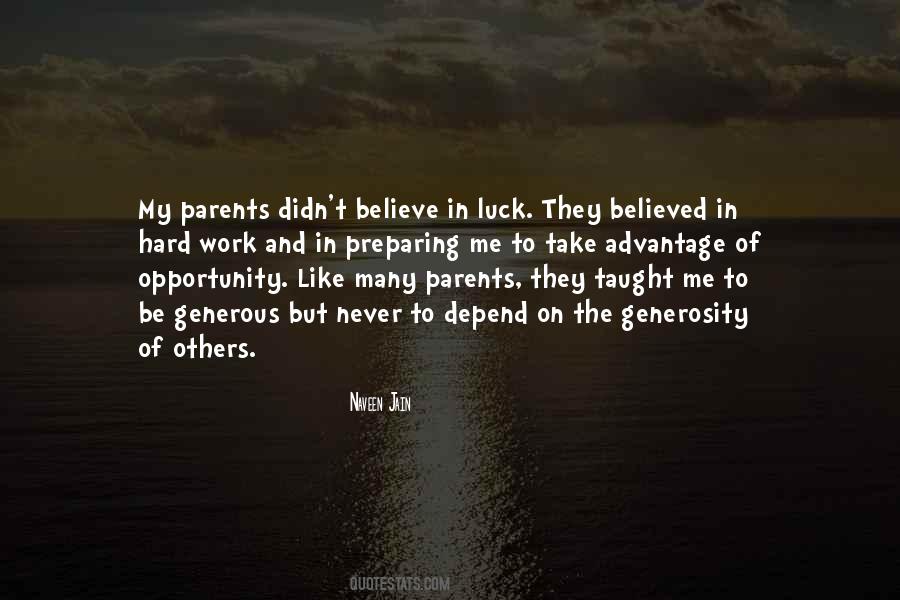 #21. I did enjoy the broadcasting work of King, Punk and Josh Mathews last Monday on Raw. Josh is a hard working young man who does his homework and he did well with his opportunity to sit at the grown up table on Raw. - Author: Jim Ross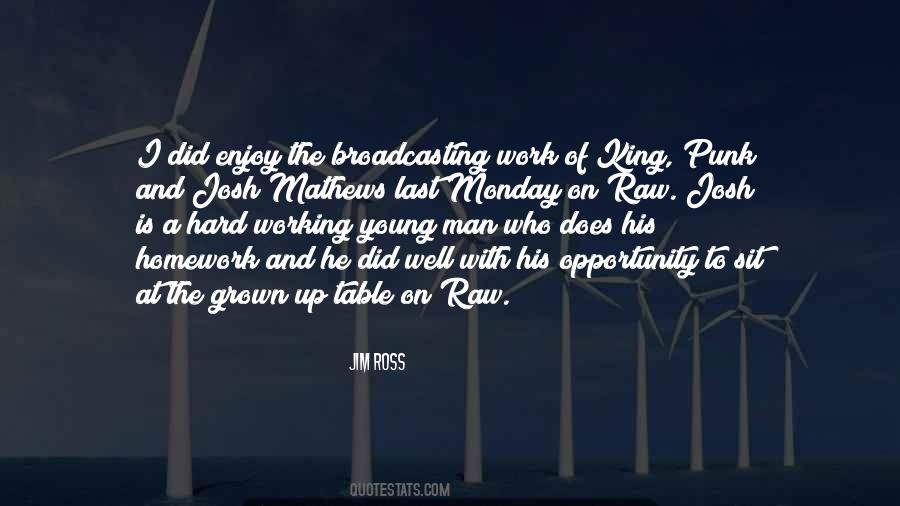 #22. I'm not a believer of luck. I think opportunity and hard work becomes luck. - Author: Prabal Gurung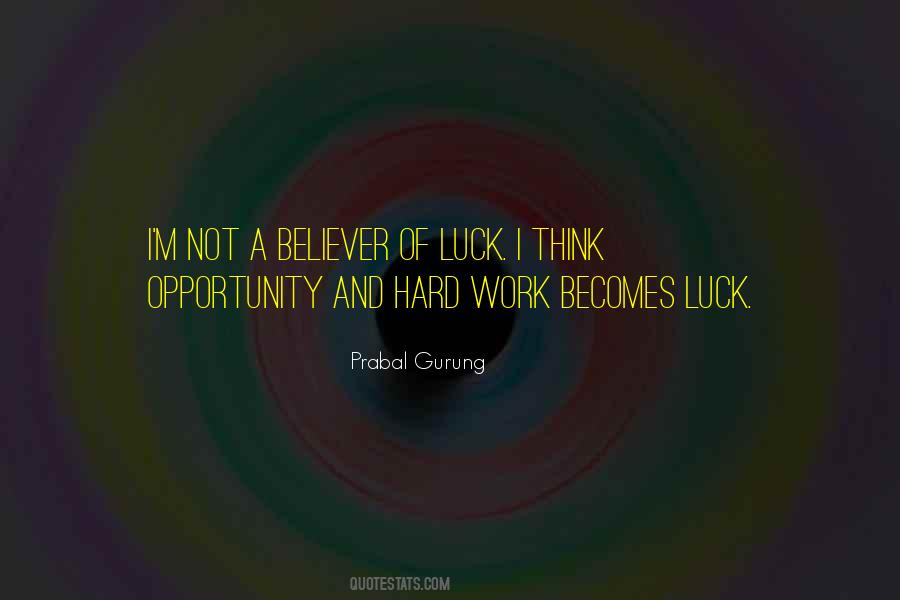 #23. Diligence and hard work sensitize you to recognize opportunity. - Author: David P. Ingerson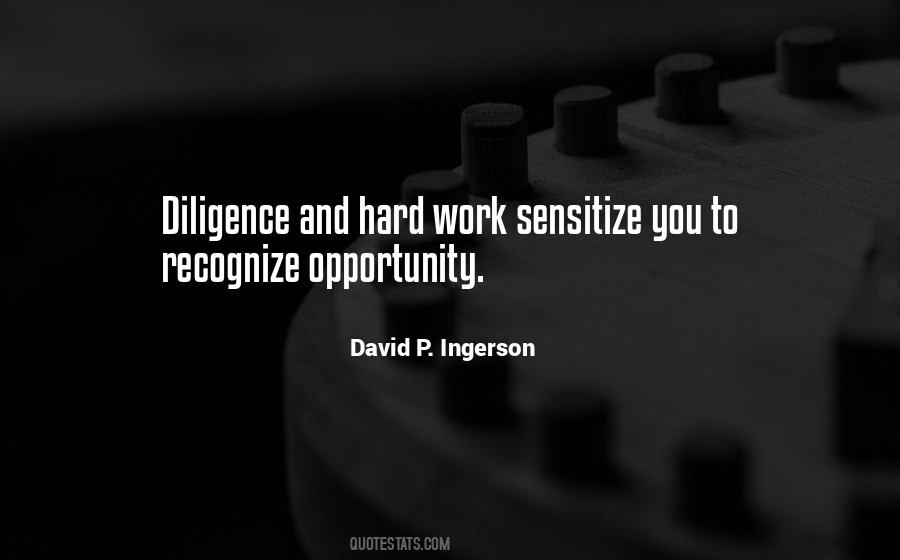 #24. I went to school and made good grades and went to college. So I was afforded an opportunity through my parents' hard work that most people don't have. - Author: Anthony Mackie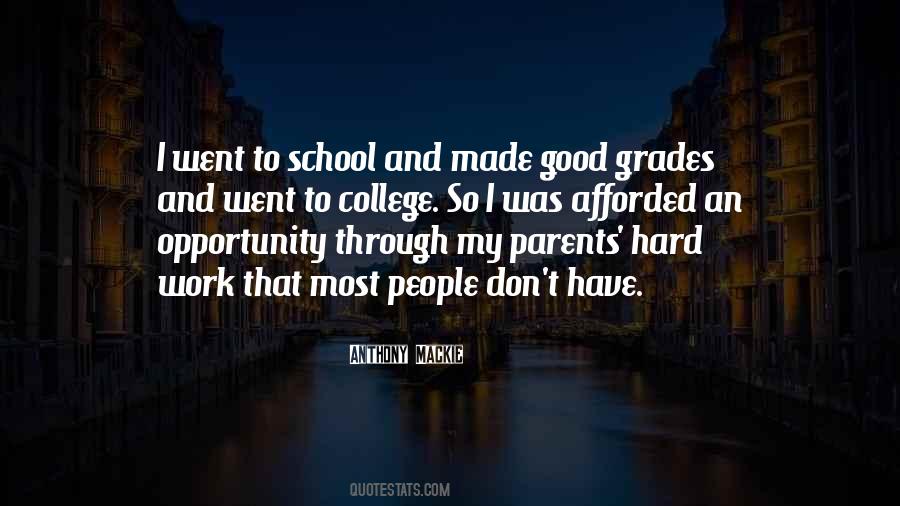 #25. I really want people to know that I've worked hard, very hard, to get to where I am today.. this didn't just happen overnight. I started in business over 25 years ago and have found a way to build on what I've learned through every partnership and opportunity. - Author: Magic Johnson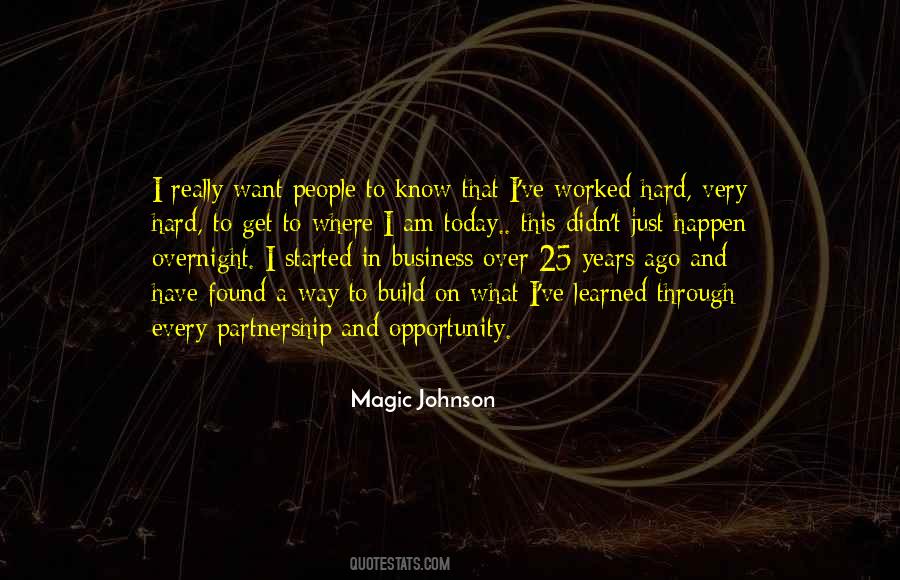 #26. highly successful people have three things in common: motivation, ability, and opportunity. If we want to succeed, we need a combination of hard work, talent, and luck. - Author: Adam M. Grant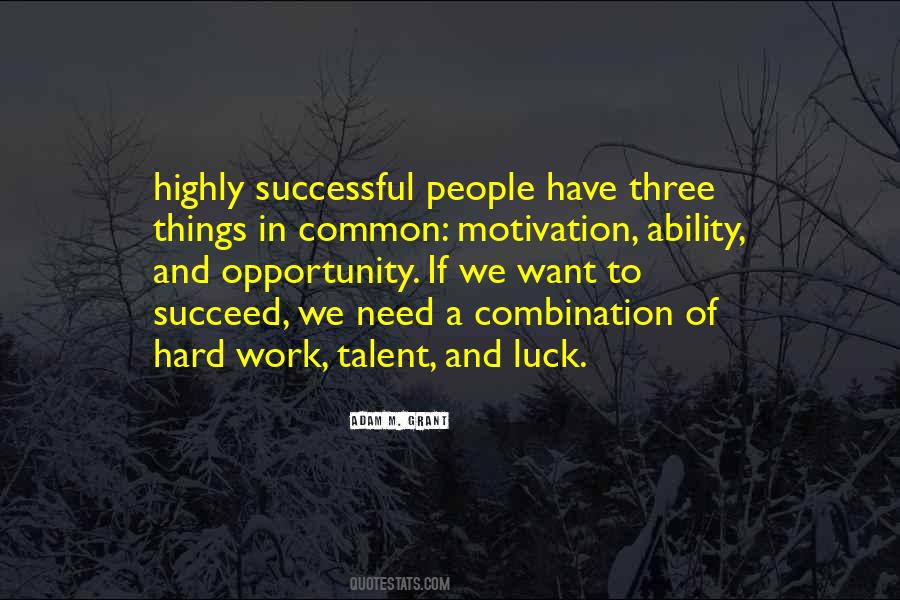 #27. Of course, preserving the American dream has always meant creating opportunity for the most recently arrived Americans - those who have come here from other parts of the globe to work hard and build a new, better life. - Author: Nydia Velazquez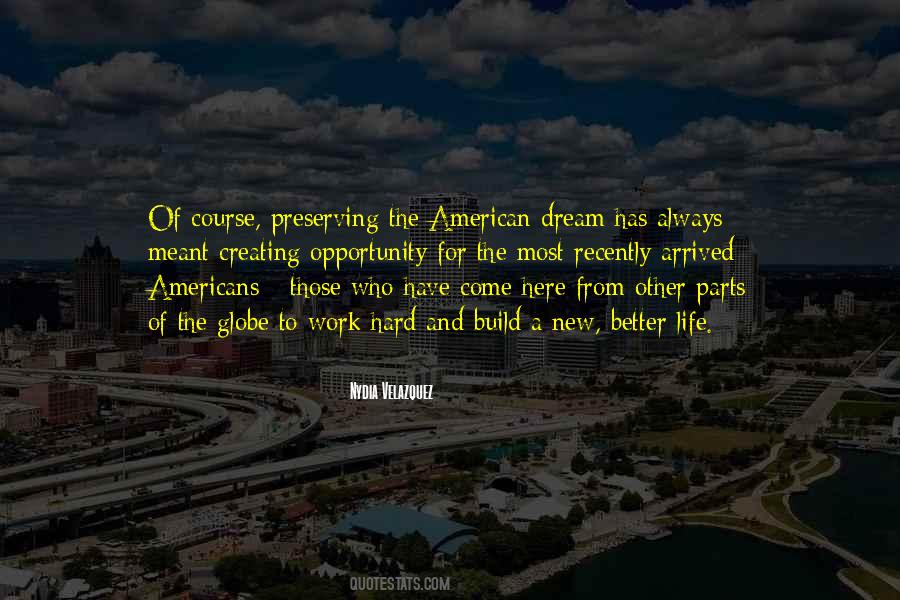 #28. I come from a great family and I was raised by wonderful parents. There is no question that I was given a lot of interesting and unique opportunities growing up ... But I think people often misunderstand that I work as hard and want things just as badly as anybody else. - Author: Abby Huntsman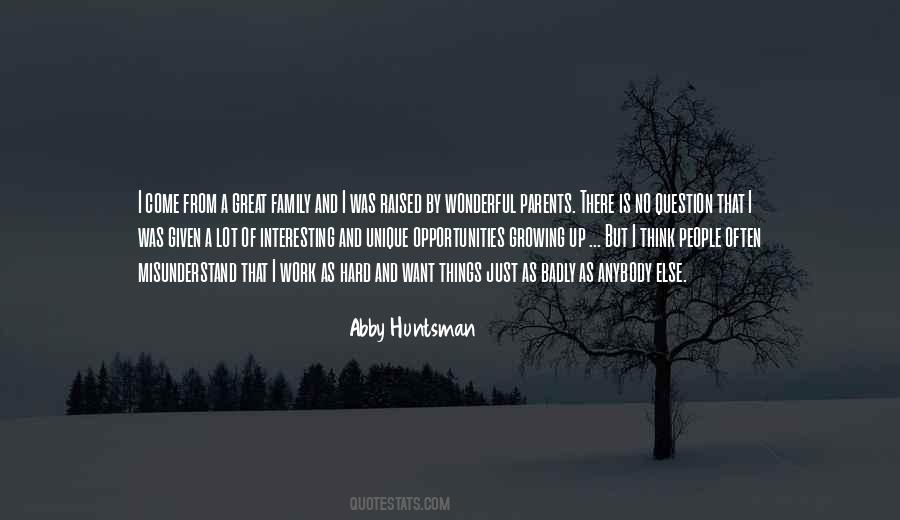 #29. No-one gets an iron-clad guarantee of success. Certainly, factors like opportunity, luck and timing are important. But the backbone of success is usually found in old-fashioned, basic concepts like hard work, determination, good planning and perseverance. - Author: Mia Hamm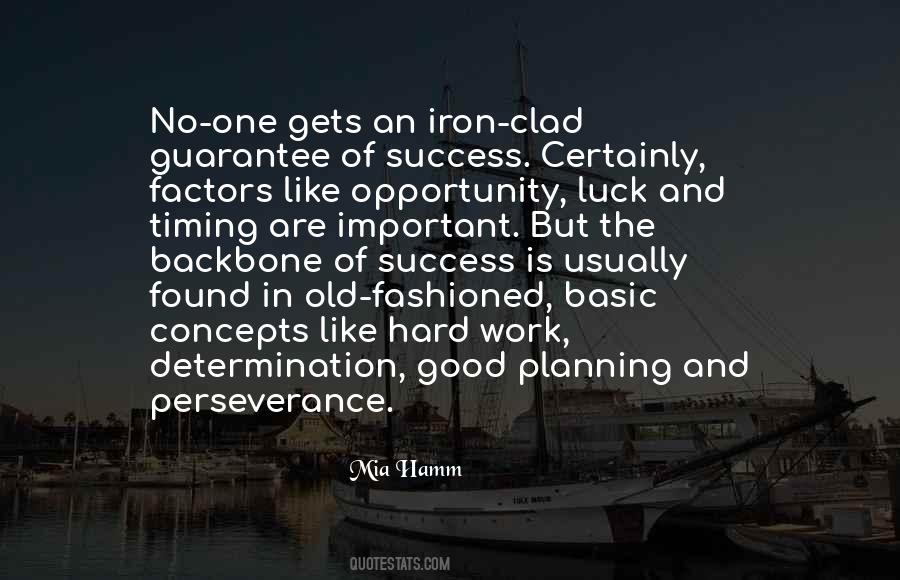 #30. Just believe in yourself and work really hard. And when doors open, take advantage of every opportunity you can. - Author: Chris Tucker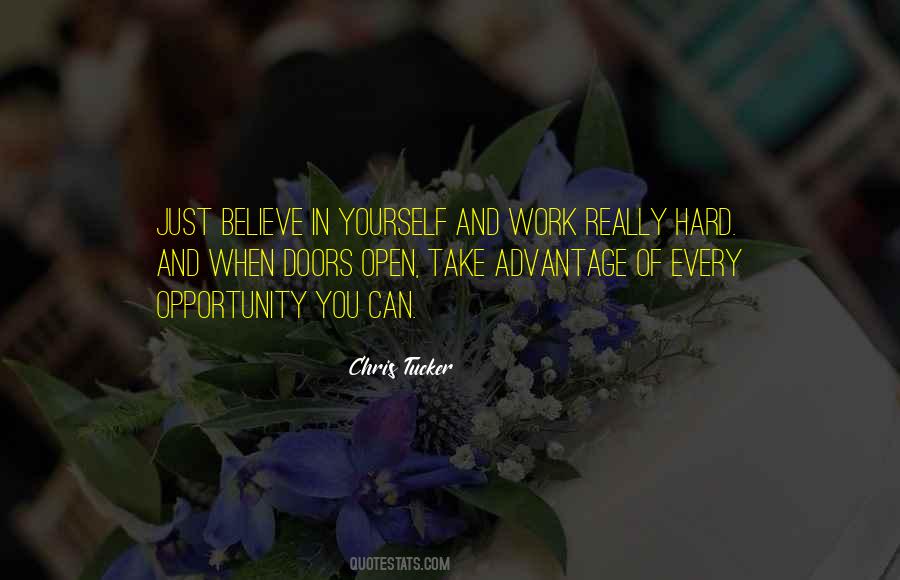 #31. I was lucky, I got offered places and have had some good opportunities. But it is hard work. I suppose I am a bit of a geek when it comes to acting and doing my work. But I was never really nerdy at school, more slightly naughty, so this is my time to be nerdy. - Author: Christine Bottomley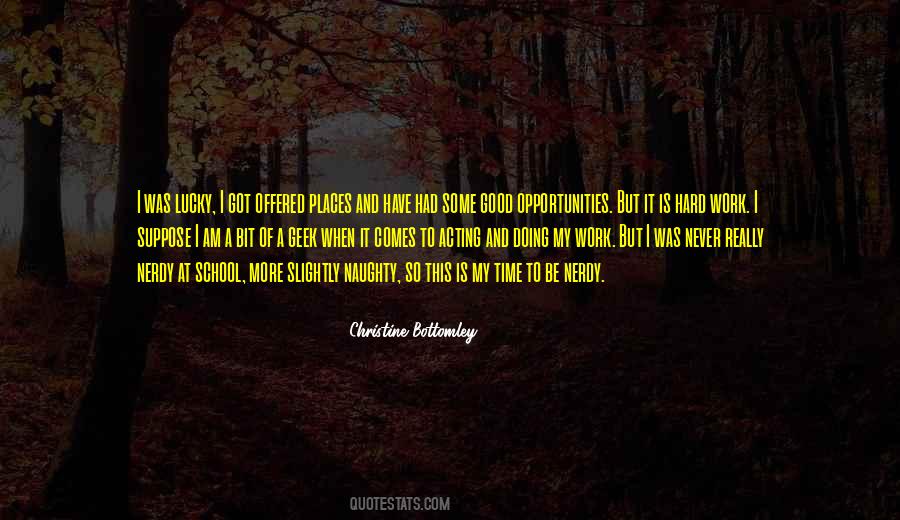 #32. When I was a child and teenager I read whenever I had the opportunity, but since then I've found it hard to read as much as I'd like, children, work, and pets all providing powerful incentives to escape into a book and a practical reason why I rarely do so. - Author: Louise Brown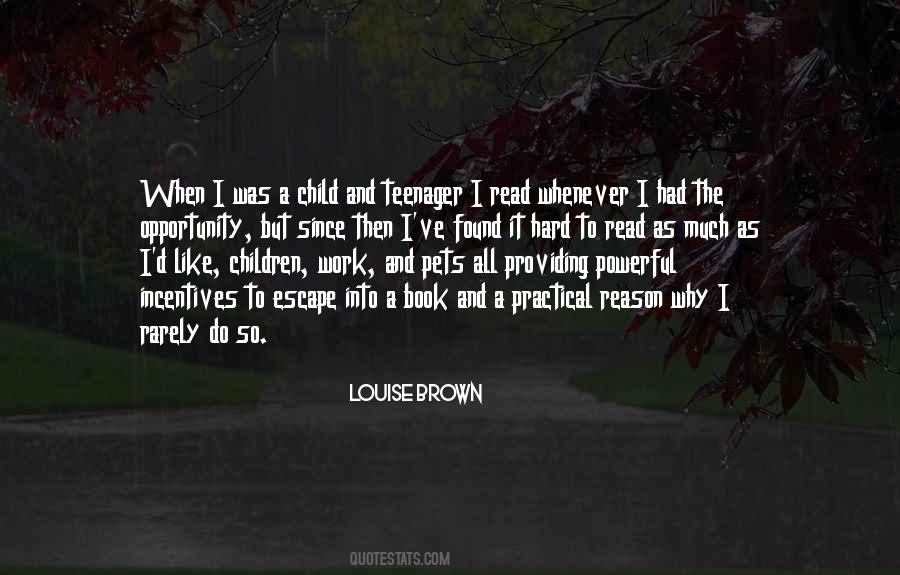 #33. Laziness is contagious just like hard work is. I didn't give myself an opportunity to be lazy and I didn't surround myself with people who are lazy. - Author: Michael Chandler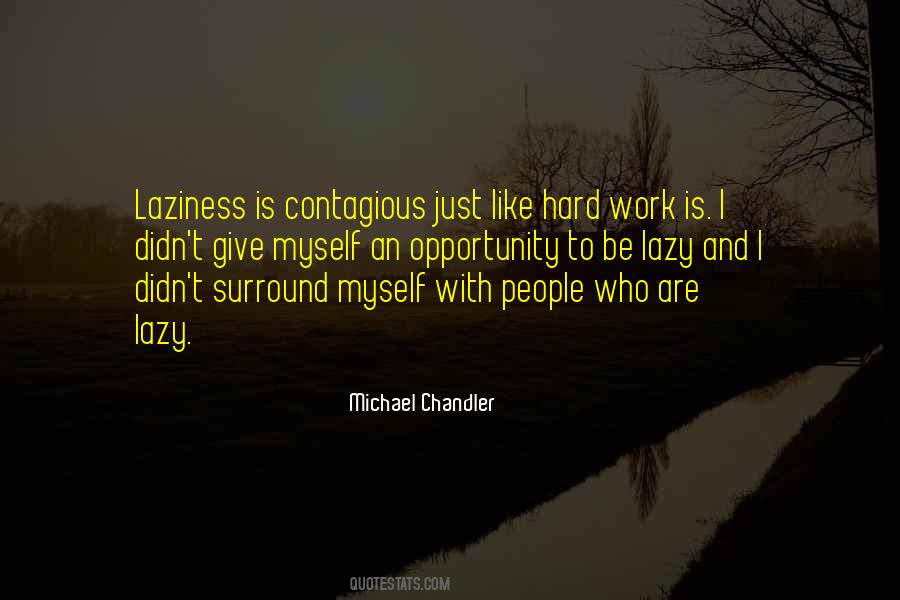 #34. Have the end in mind and every day make sure your working towards it. - Author: Ryan Allis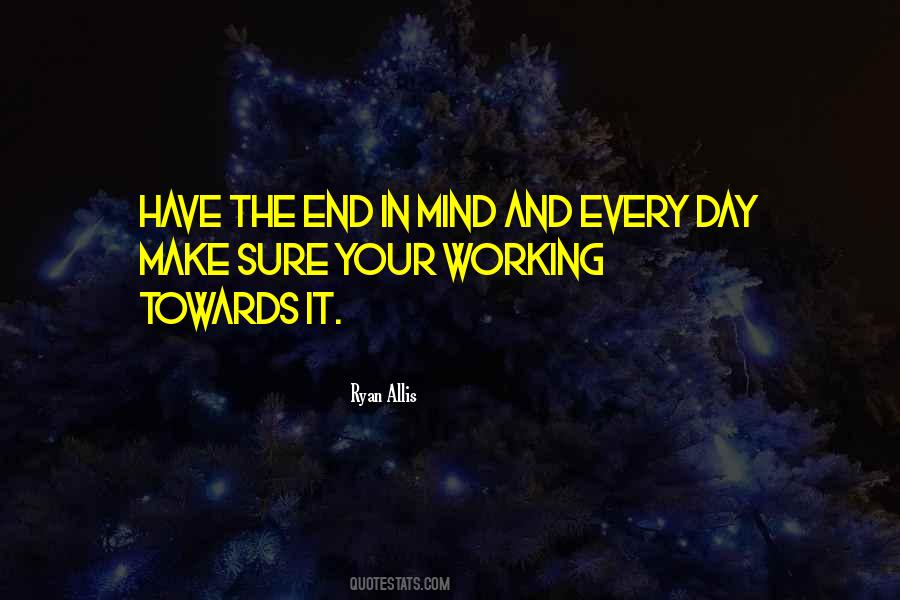 #35. Luck? I don't know anything about luck. I've never banked on it and I'm afraid of people who do. Luck to me is something else: hard work - and realizing what opportunity is and what isn't. - Author: Lucille Ball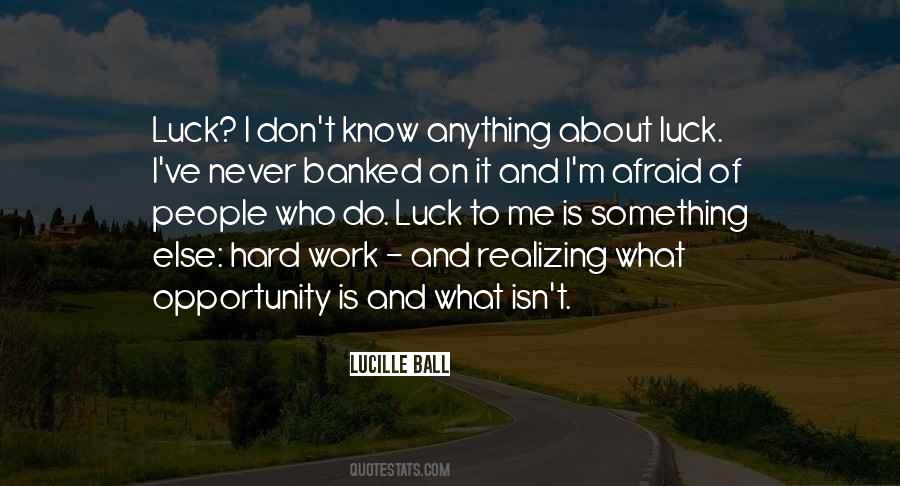 #36. It's a lot of luck and being in the right place at the right time, that's what I think. Obviously you need to be noticed by people to be given the opportunities, and I think you do have to work hard. - Author: Jill Douglas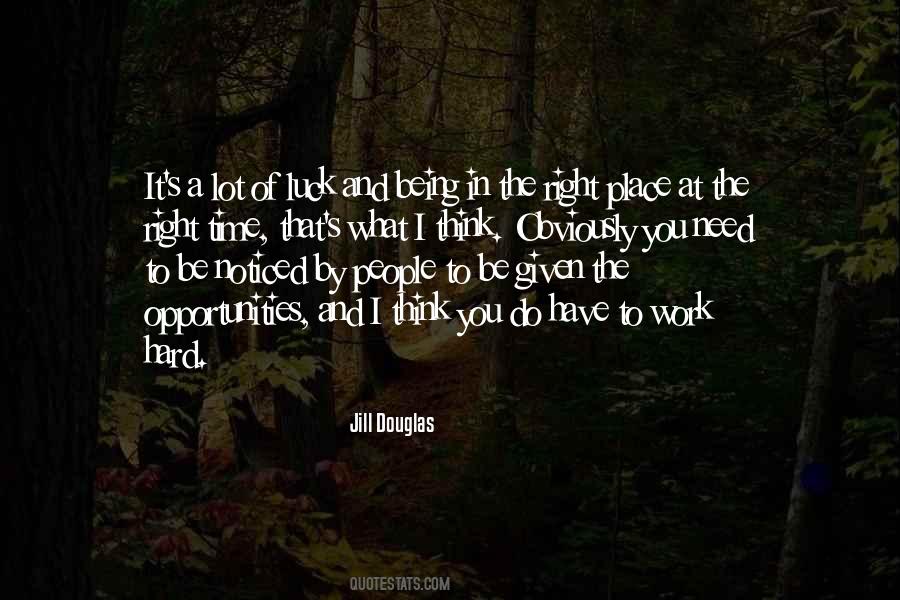 #37. I always tried to work hard and stay focused, and just use one opportunity to contribute to the next. - Author: T.I.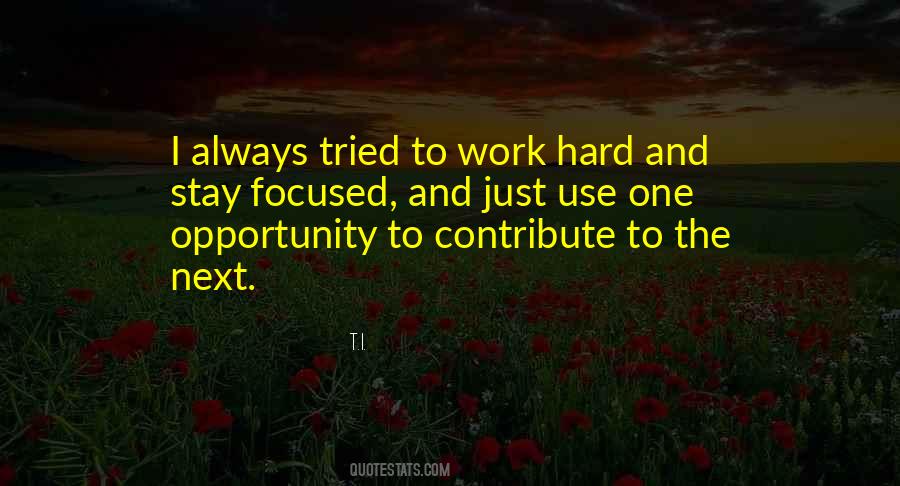 #38. Work hard, not in grunt work, but in chasing such opportunities and maximizing exposure to them. This makes living in big cities invaluable because you increase the odds of serendipitous encounters-you gain exposure to the envelope of serendipity. - Author: Nassim Nicholas Taleb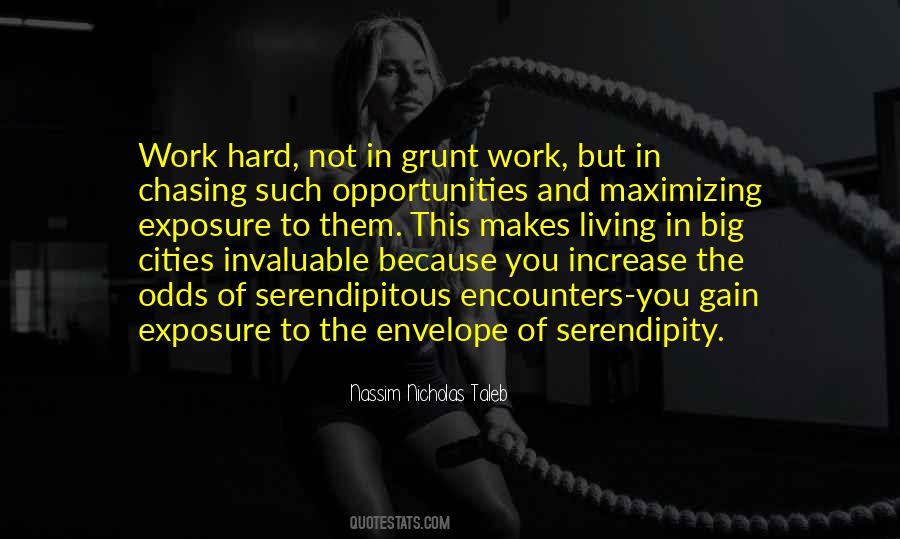 #39. As a former recipient of these services I can honestly say that the overwhelming majority of TANF recipients are hard-working Americans who are down on their luck, and just want an opportunity to better their lives and those of their family through work and access to education. - Author: Gwen Moore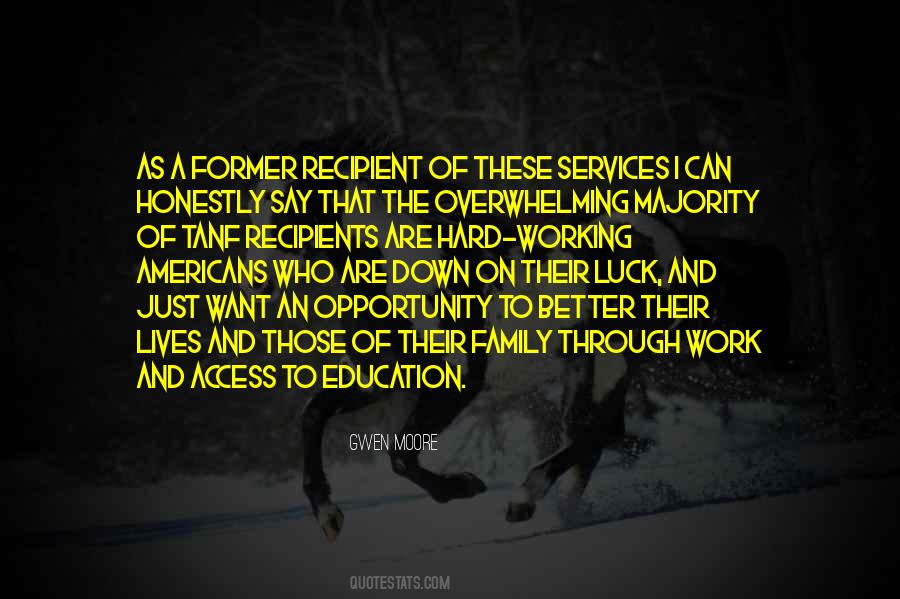 #40. I don't know how many more movies I'm going to get the opportunity to make and I don't want to look back and go: "Man, I just floated through that one." Or: "I did that one for the money." I want to be able to say that I worked as a hard as I could and I did the best work that I could do. - Author: Tina Fey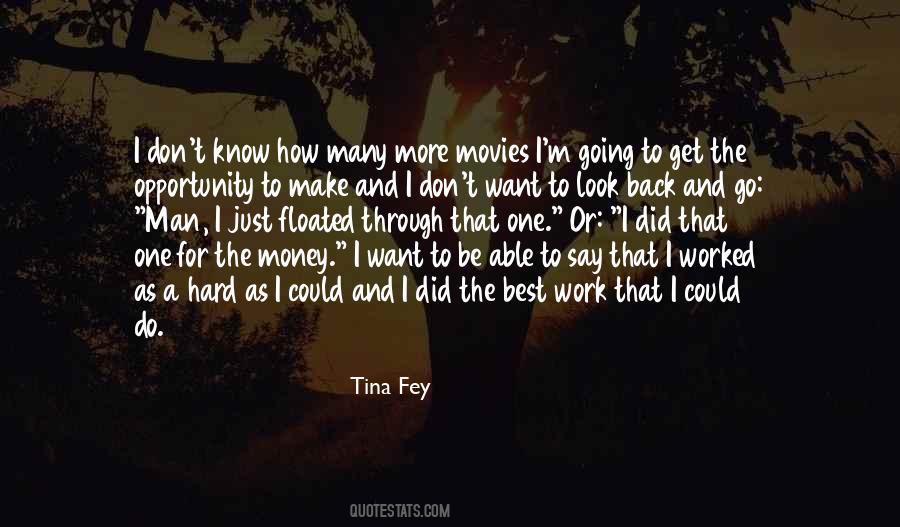 #41. Sometimes opportunities float right past your nose. Work hard, apply yourself, and be ready. When an opportunity comes you can grab it. - Author: Julie Andrews Edwards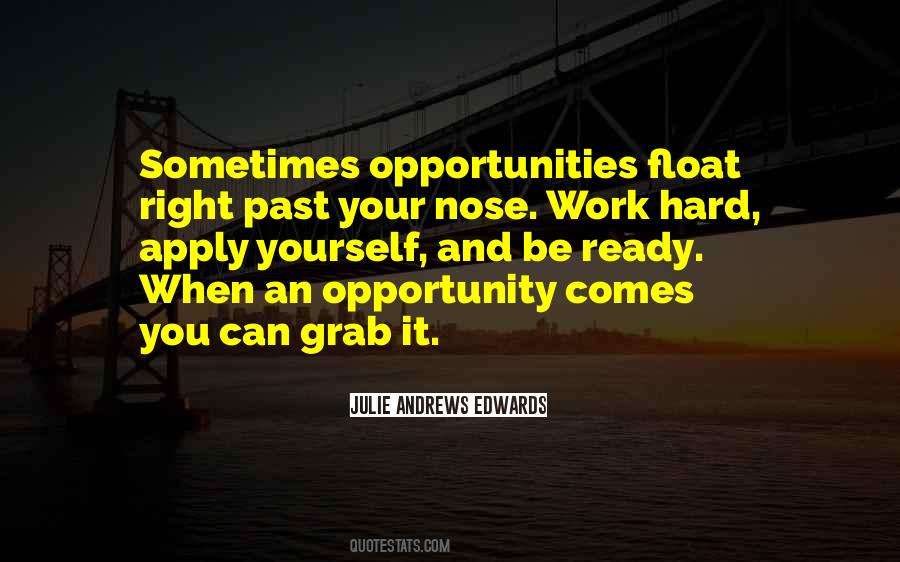 #42. The market system requires that people be committed and willing to work hard. Inherent with that is what I call a merit system, which I think gives people the greatest opportunity. - Author: Lee R. Raymond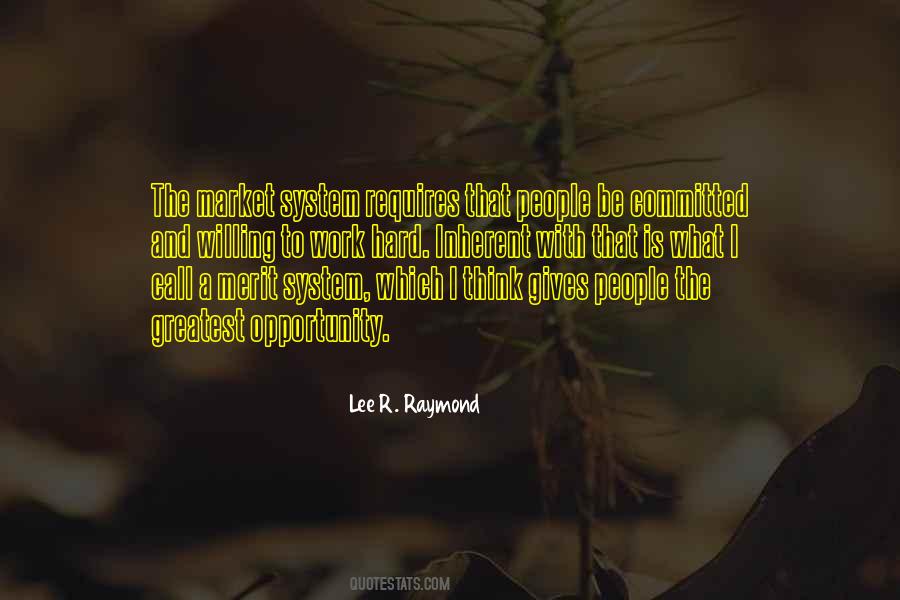 #43. I had to work hard and hit the books because the opportunity to play in the NFL is not really that big, so I knew I needed something to fall back on. That's the message I want to send to those kids when I talk to them in person and let them know the most important thing is getting your education. - Author: Jerry Rice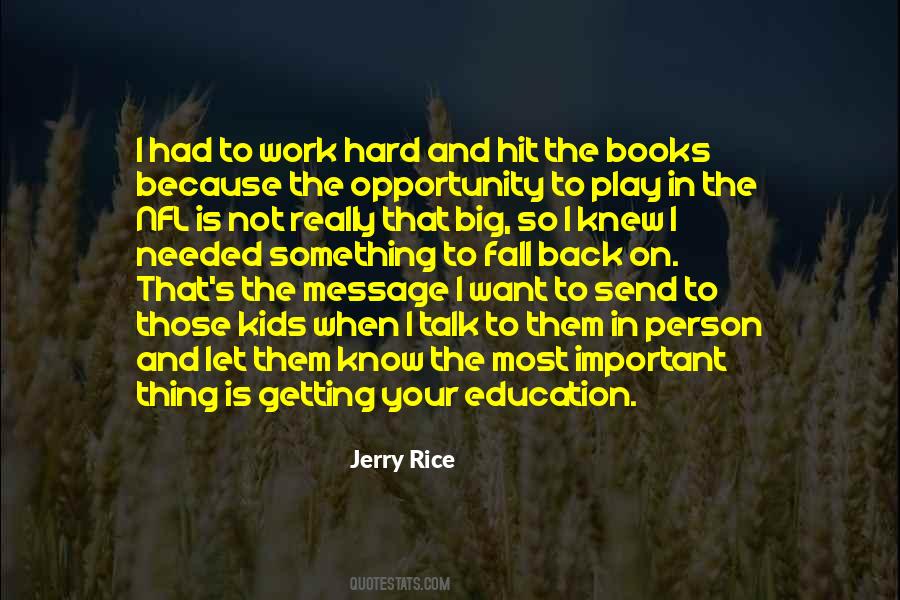 #44. Luck? Luck is hard work - and realizing what is opportunity and what isn't. - Author: Lucille Ball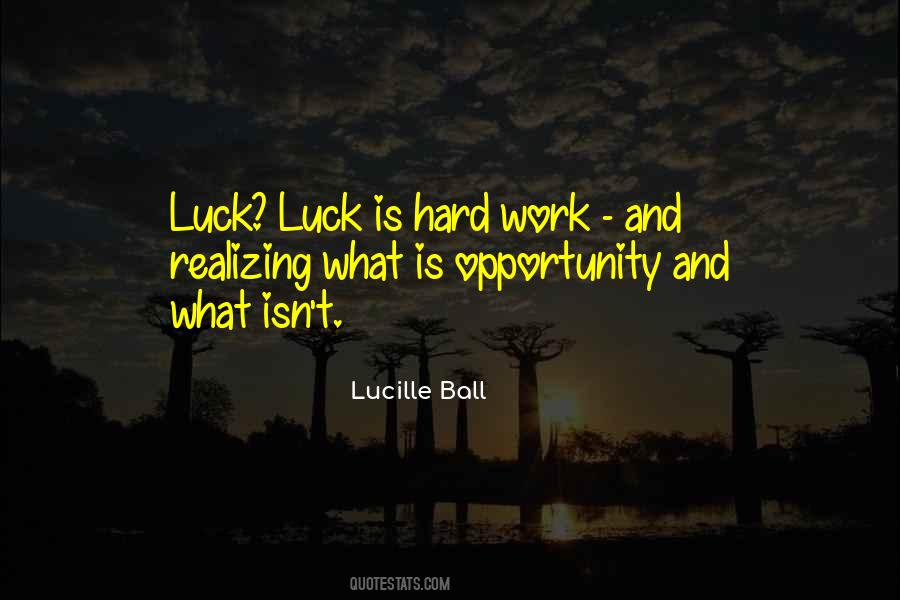 #45. For me, every opportunity is a golden opportunity, so I just need to work as hard as I can to maintain credibility and respect and hopefully people enjoy watching me as an actor. - Author: Aneurin Barnard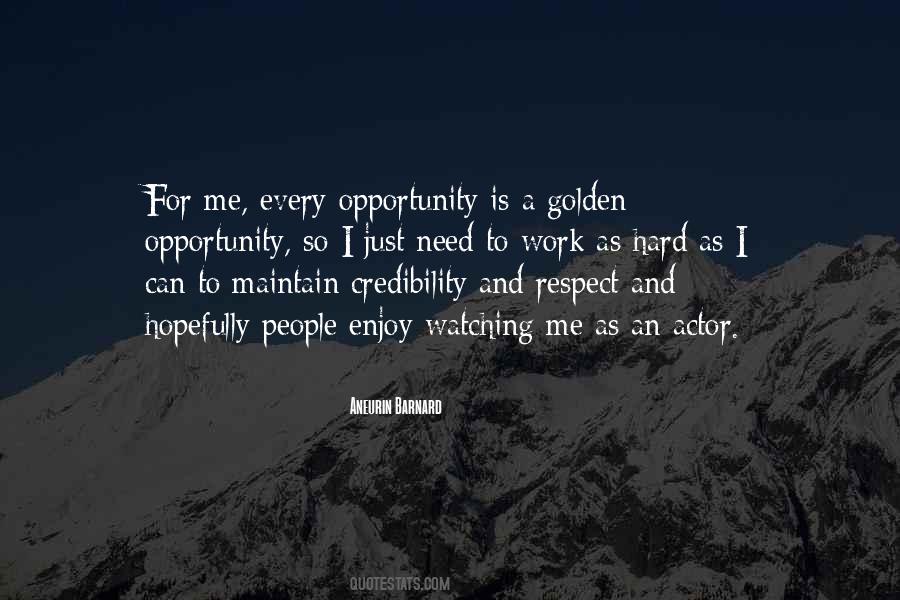 #46. I want to thank you for coming to the White House to give me an opportunity to urge you to work with these five senators and three congressmen, to work hard to get this trade promotion authority moving. The power that be, well most of the power that be, sits right here. - Author: George W. Bush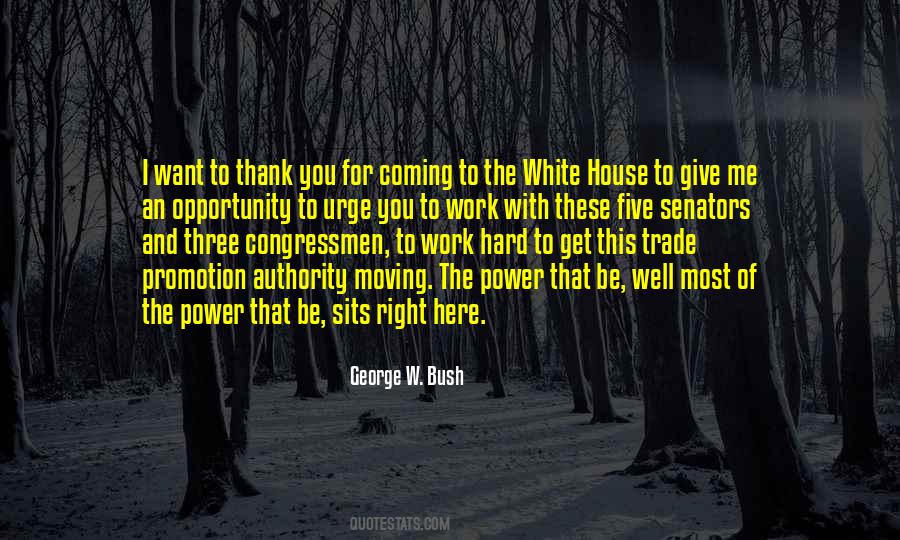 #47. Just remember
if you are really and truly determined to work with animals, somehow, either now or later, you will find a way to do it. But you have to want it desperately, work hard, take advantage of an opportunity
and never give up. - Author: Jane Goodall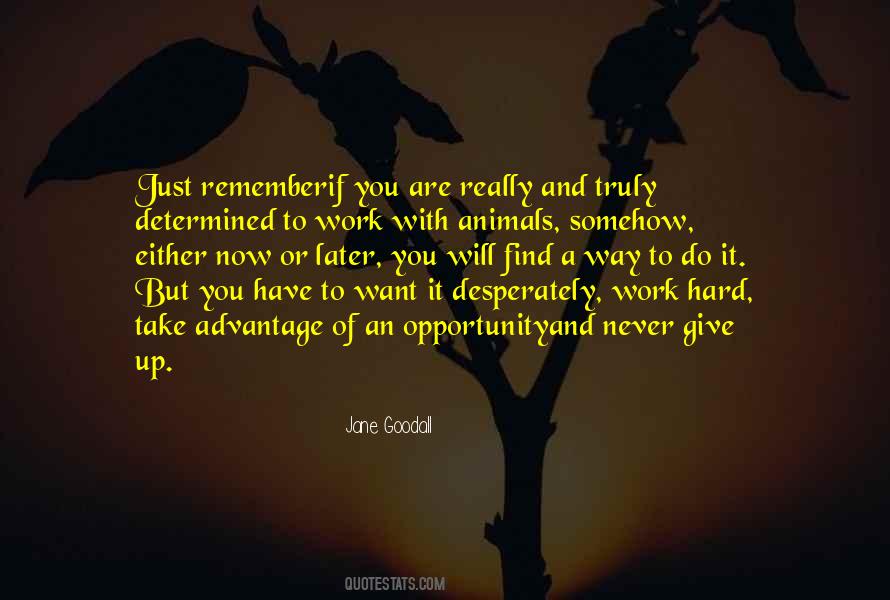 Famous Authors
Popular Topics