Only God Can Judge Me Famous Quotes & Sayings
List of top 48 famous quotes and sayings about only god can judge me to read and share with friends on your Facebook, Twitter, blogs.
Top 48 Quotes About Only God Can Judge Me
#1. When our circumstances don't line up with what the Word says, we shouldn't judge or assume it is God's will. Instead we should continue to renew our minds with the knowledge that God's Word is the final authority, and when we believe and apply it then God's will can become reality in our lives. - Author: Nerida Walker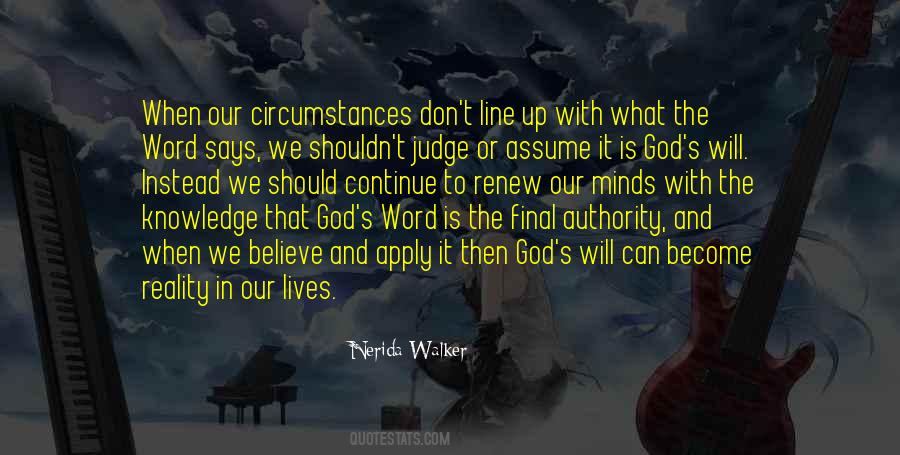 #2. The voice of the people has been said to be the voice of God; and, however generally this maxim has been quoted and believed, it is not true to fact. The people are turbulent and changing, they seldom judge or determine right. - Author: Alexander Hamilton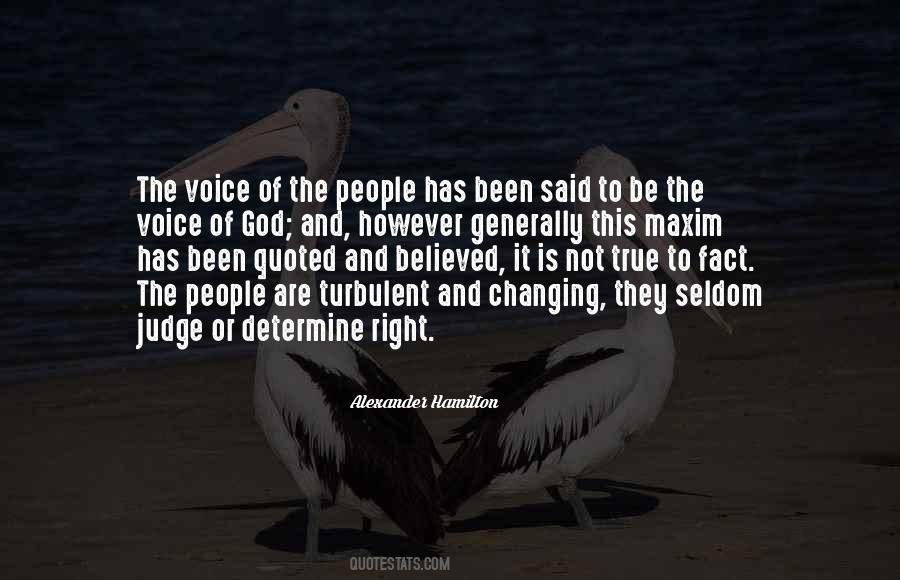 #3. Remember that only God can judge us; forget the haters, because Somebody loves you. - Author: Miley Cyrus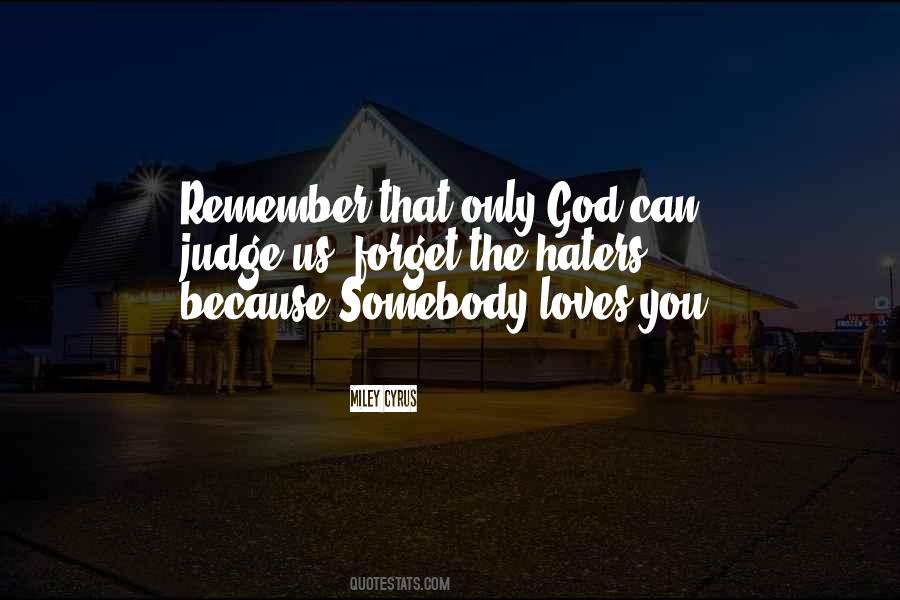 #4. Be willing to stand with God and be ready when the world judges you because of that choice. It's better than to stand with the world for God to judge you! - Author: Israelmore Ayivor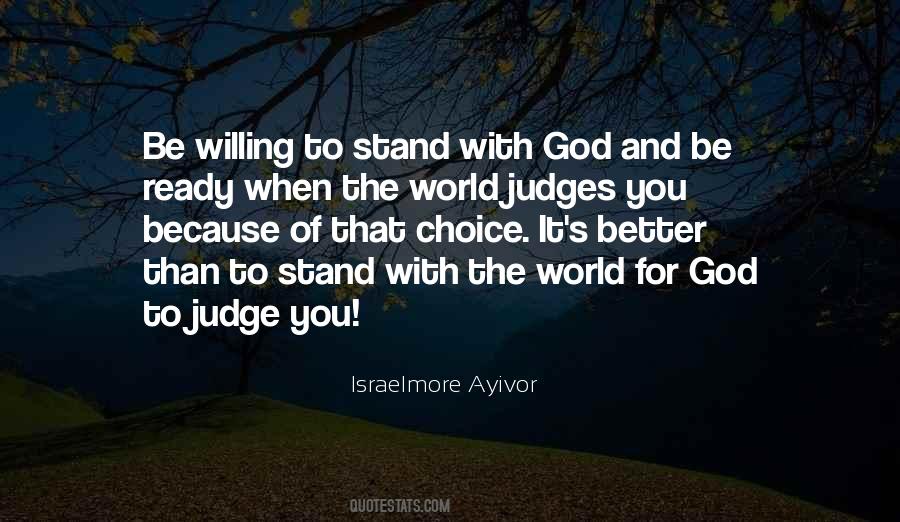 #5. We cannot be judge and jury, the hardest thing is to understand the unknown and in knowing the hidden all things are revealed giving truth.
God is watcher during all moments and at the end the real Judge. - Author: Zarina Bibi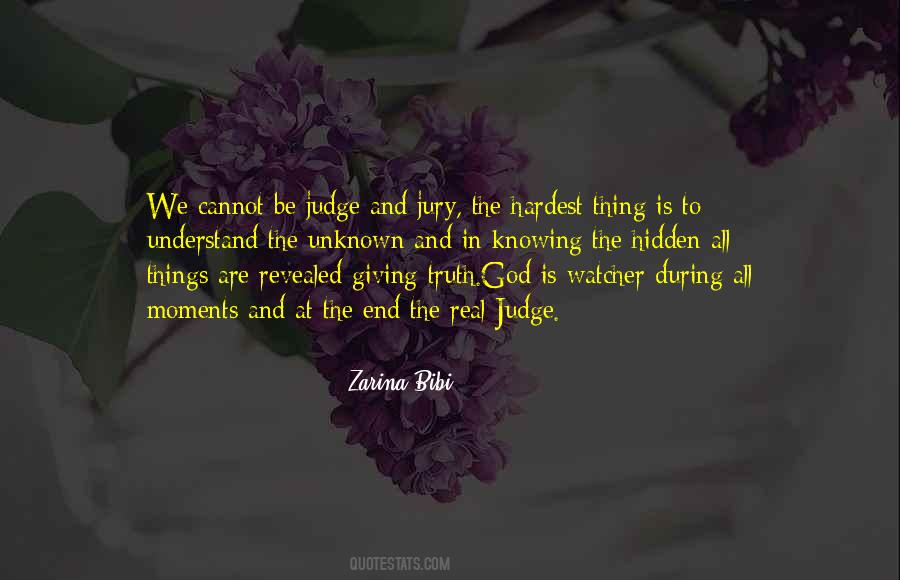 #6. But God in heaven is the judge of such things, and to him I plead my case. - Author: Julie Berry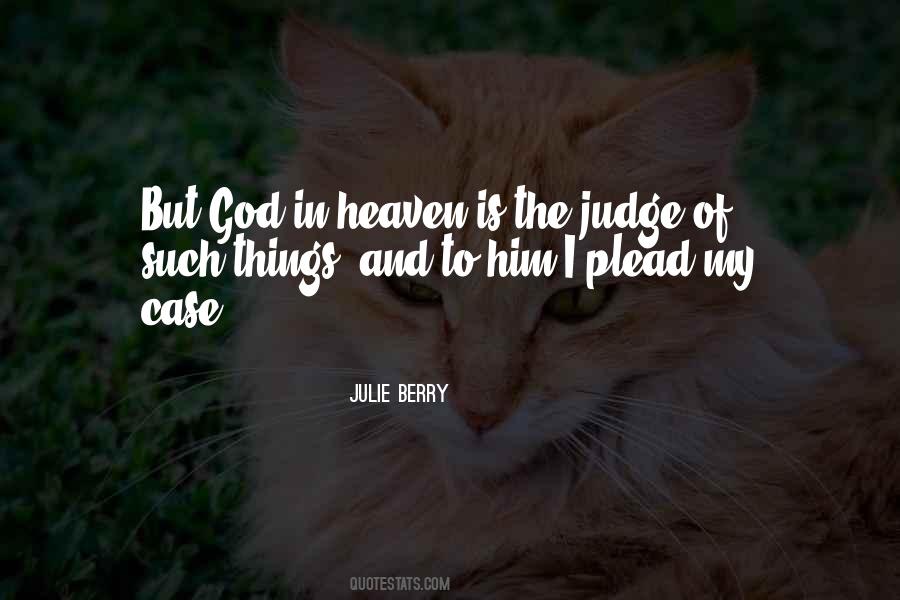 #7. God will judge my heart, Man will judge my actions. - Author: Tupac Shakur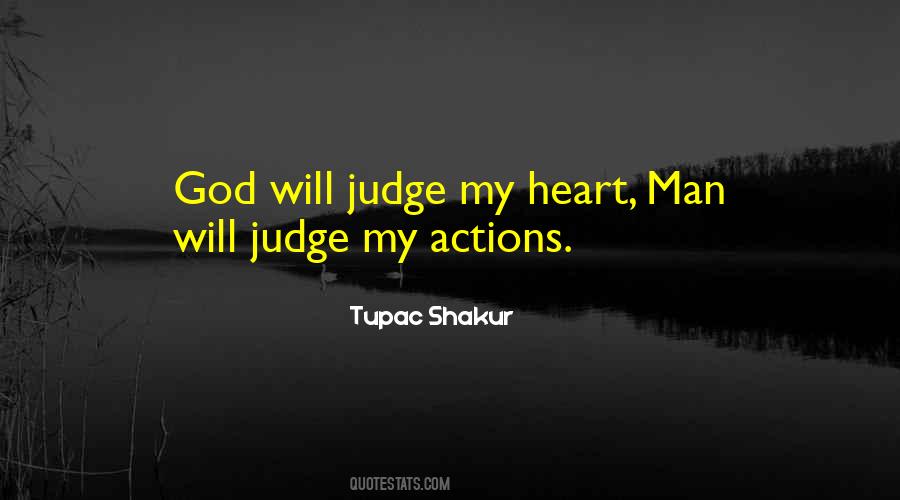 #8. God does not judge us by the multitude of works we perform, but how well we do the work that is ours to do. The happiness of too many days is often destroyed by trying to accomplish too much in one day. We would do well to follow a common rule for our daily lives
DO LESS, AND DO IT BETTER. - Author: Dale E. Turner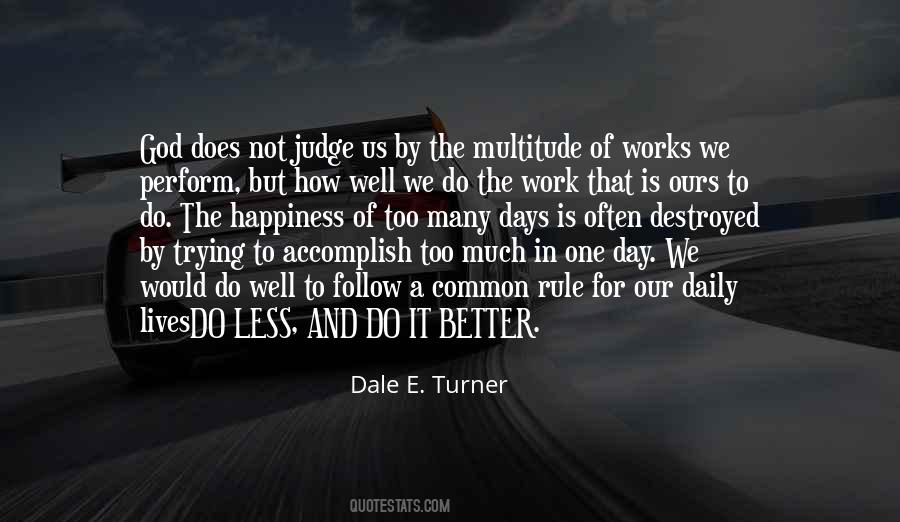 #9. If God had wanted to become an object of love, he would first of all have had to forgo judging and justice : a judge, and even a gracious judge, is no object of love. - Author: Friedrich Nietzsche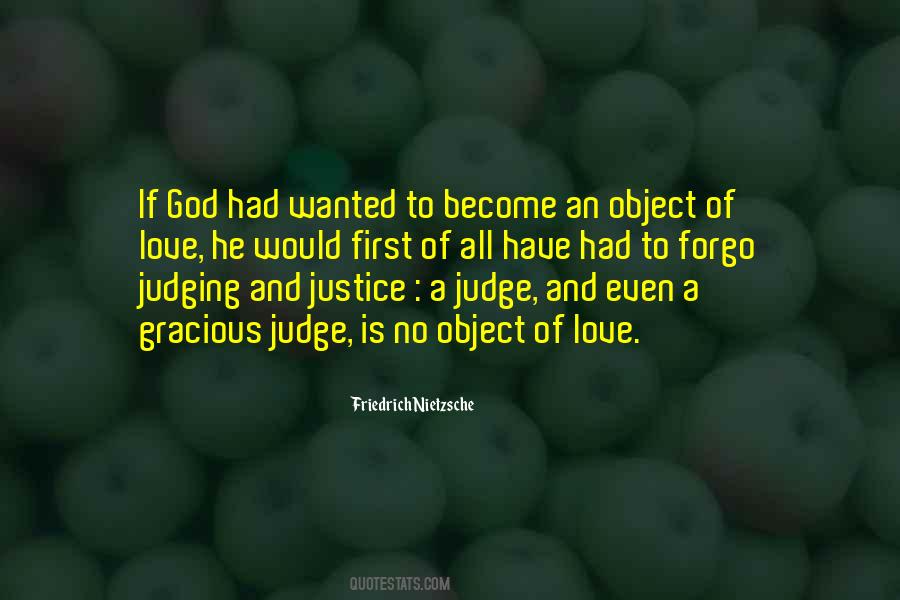 #10. No government is lawful or innocent that does not recognize the moral law as the only universal law, and God as the Supreme Lawgiver and Judge, to whom nations in their national capacity, as well as individuals, are amenable. - Author: Charles Grandison Finney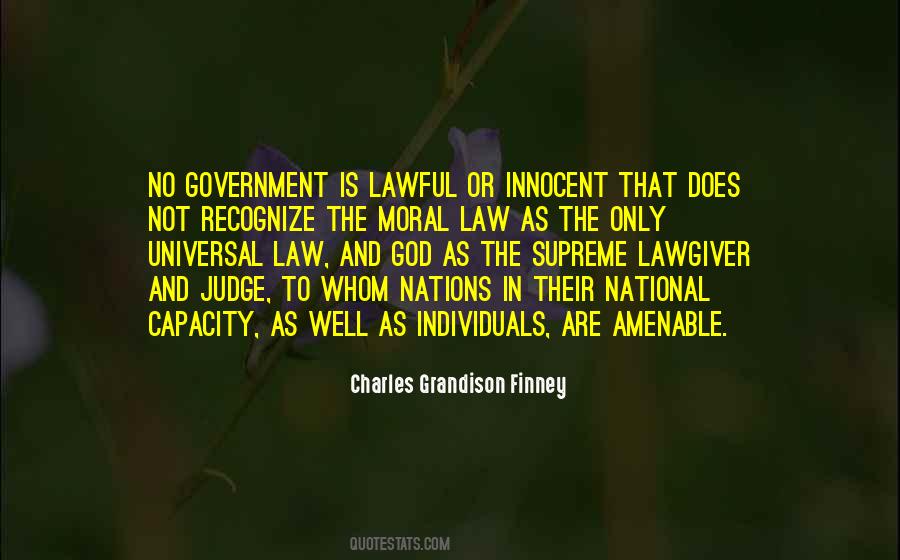 #11. God will not judge by man's standard of what is right, but by His own, and they are vastly different! - Author: William Branks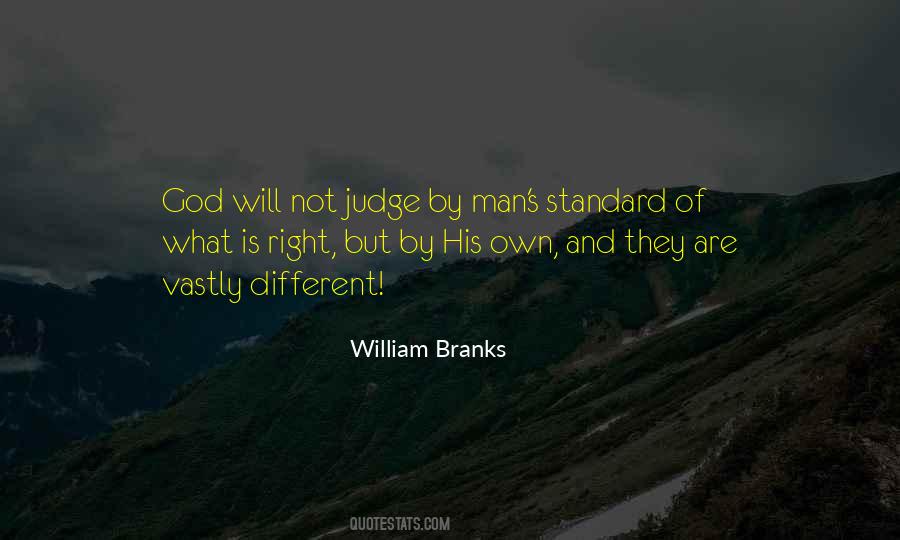 #12. Every person should embrace those [dogmas] that he, being the best judge of himself, feels will do most to strengthen in him love of justice. - Author: Baruch Spinoza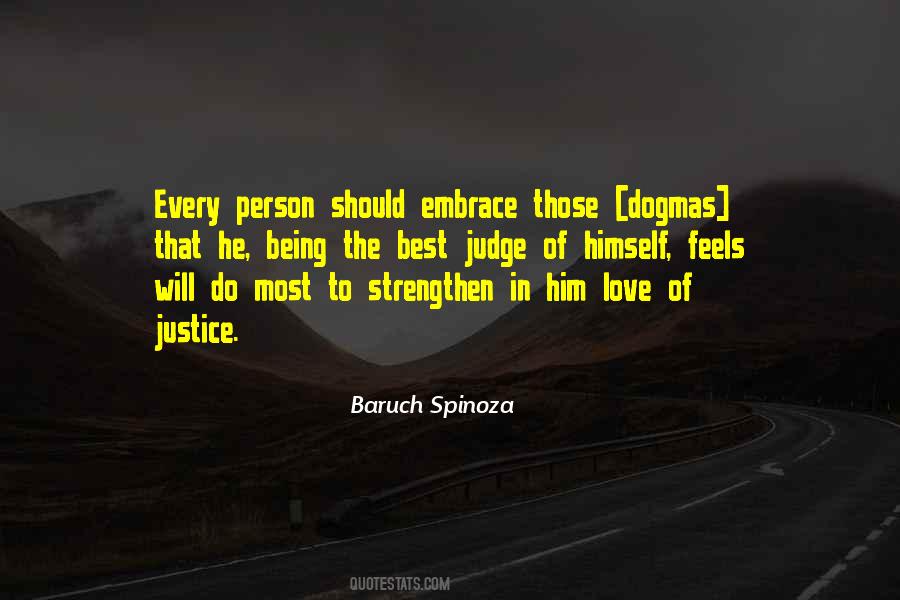 #13. Be strong, believe in freedom and in God, love yourself, understand your sexuality, have a sense of humor, masturbate, don't judge people by their religion, color or sexual habits, love life and your family. - Author: Madonna Ciccone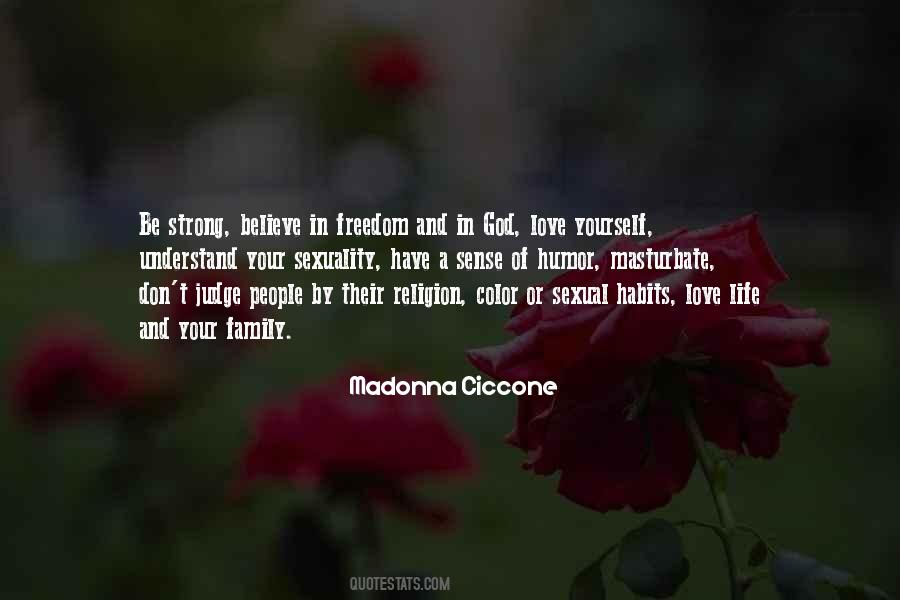 #14. That is why Christians are told not to judge. We see only the results which a man's choices make out of his raw material. But God does not judge him on the raw material at all, but on what he has done with it. - Author: C.S. Lewis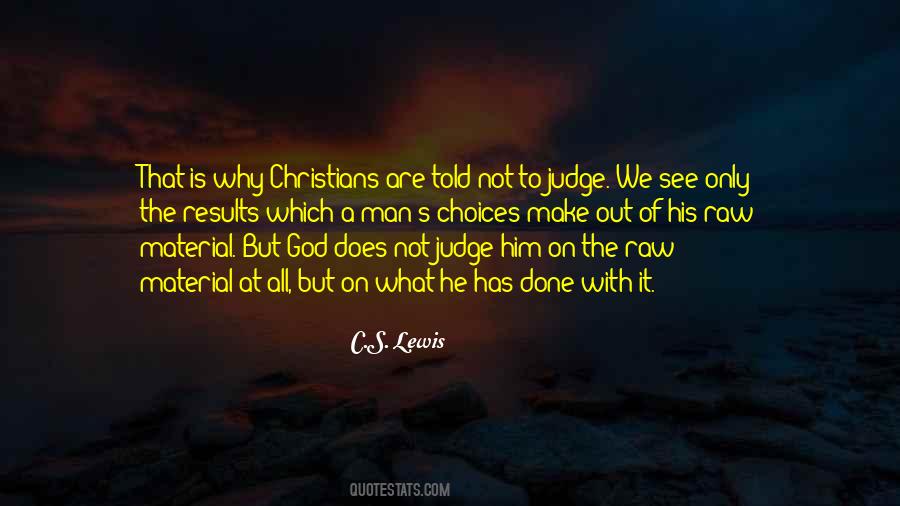 #15. While we are contending for our own liberty, we should be very cautious not to violate the conscience of others, ever considering that God alone is the judge of the hearts of men, and to Him only in this case are they answerable. - Author: George Washington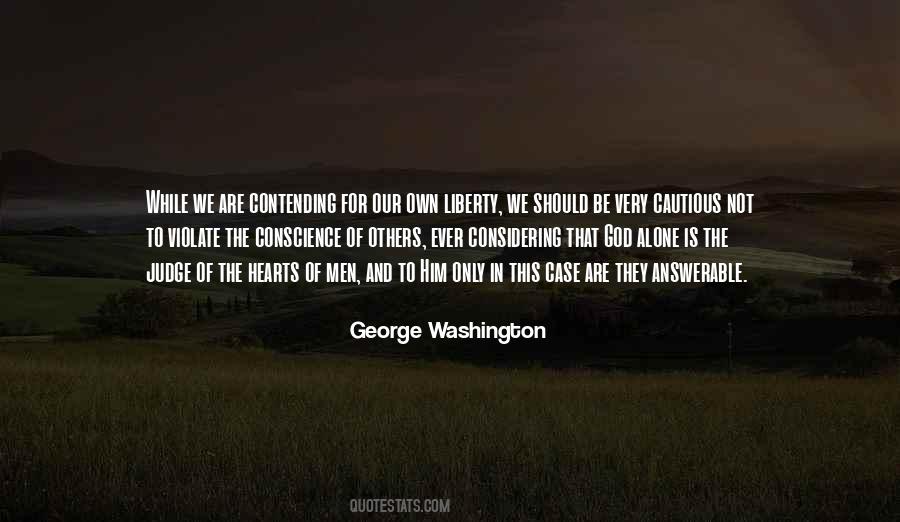 #16. The God of metaphysics is but an idea. But the God of religion, the Maker of heaven and earth, the sovereign Judge of actions and thoughts, is a power. - Author: Joseph Joubert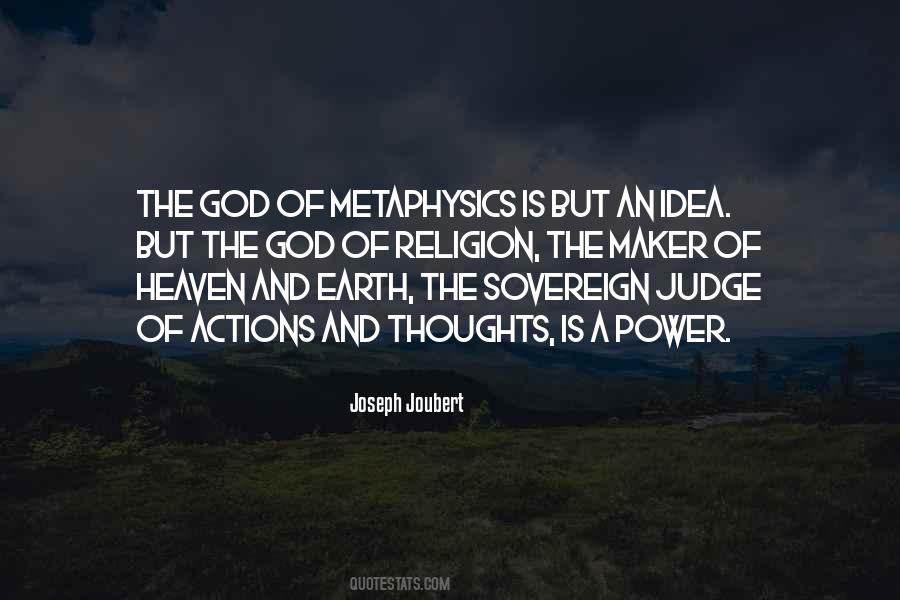 #17. Only God Can Judge Me
That which does not kill me can only make me stronger. I don't see why everybody feel as though that they gotta tell me how to live my
life - Author: Tupac Shakur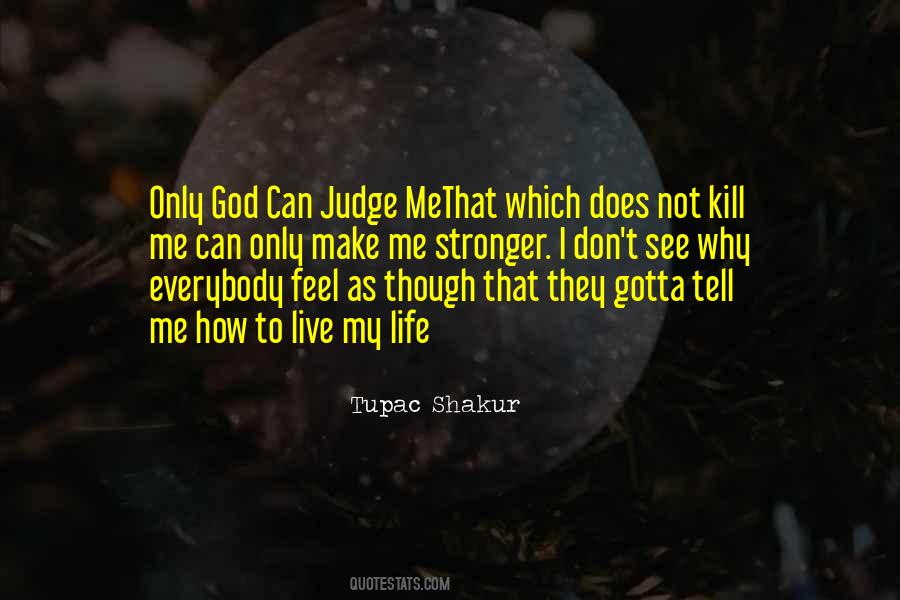 #18. Judge me if you want to. And as a matter of fact, it won't even count, 'cause the only person who can judge is God. - Author: Kelly Rowland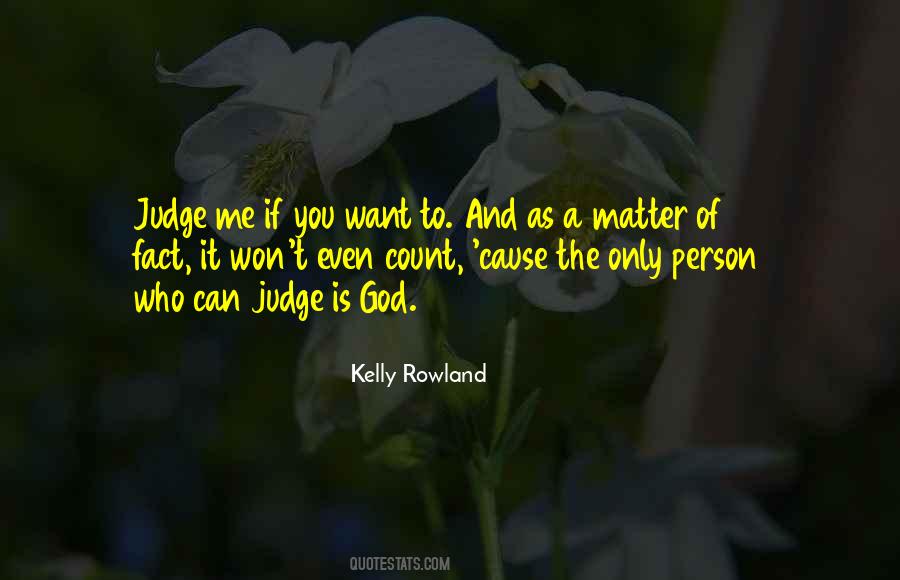 #19. Only God can judge me now - Author: Tupac Shakur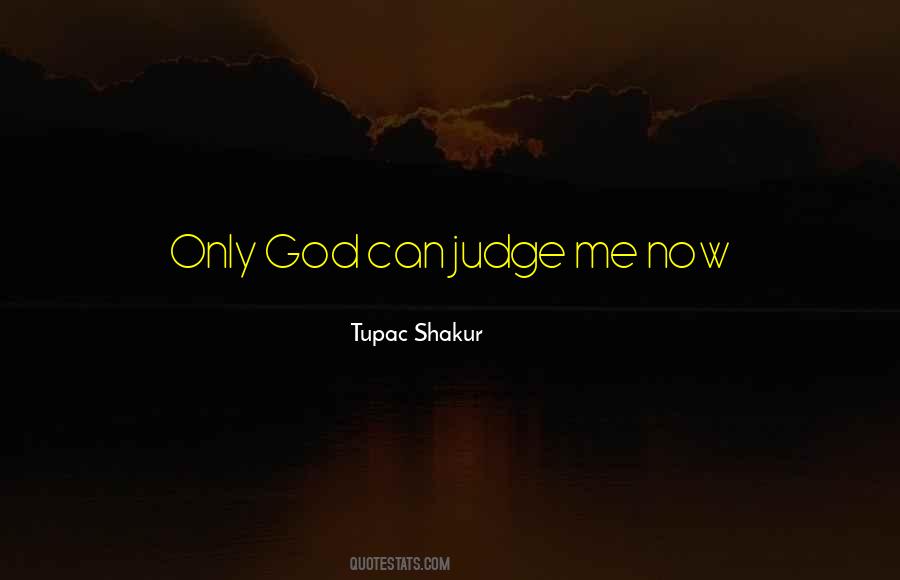 #20. Only God can judge me so I'm gone, either love me or leave me alone. - Author: Jay-Z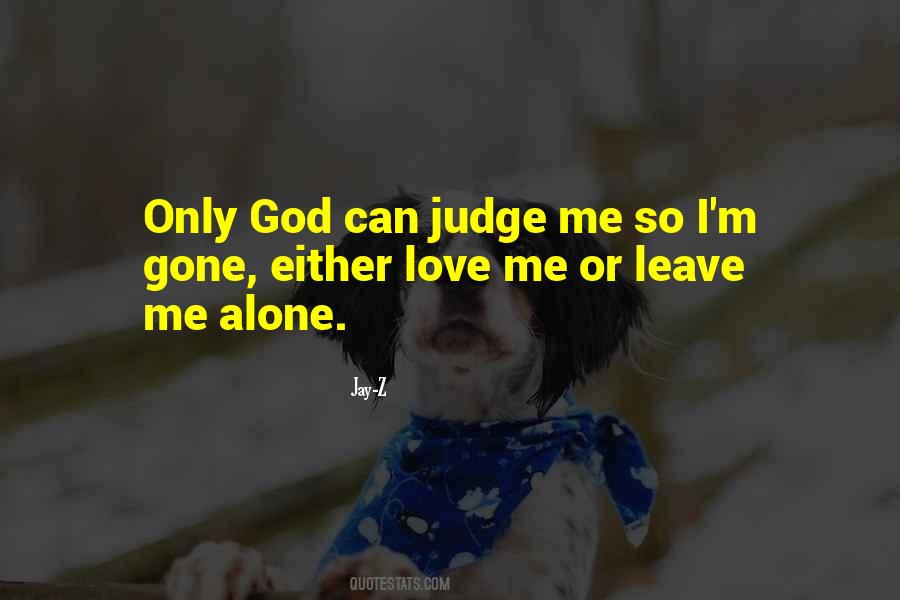 #21. Basketball talent is basketball talent, no matter if it comes from the suburbs or the city. Take the time to know and understand me before you judge me. Only God can do that. Roses do grow from concrete! - Author: Chris Webber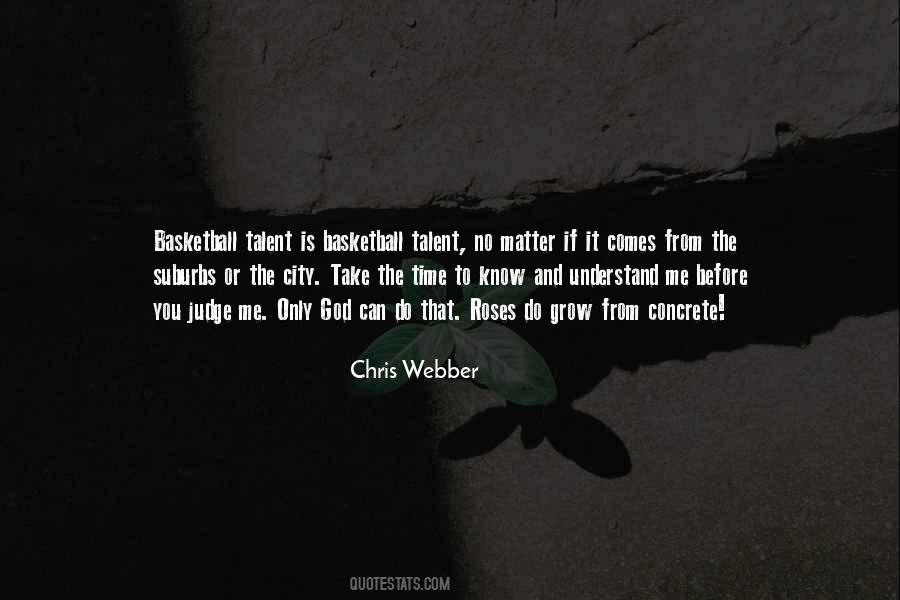 #22. Would you be willing to take a lie detector test?"
"I'm afraid not," he said. "It goes against my religion."
His brow furrowed. "How?"
"Only God can judge me ... - Author: J.M. Darhower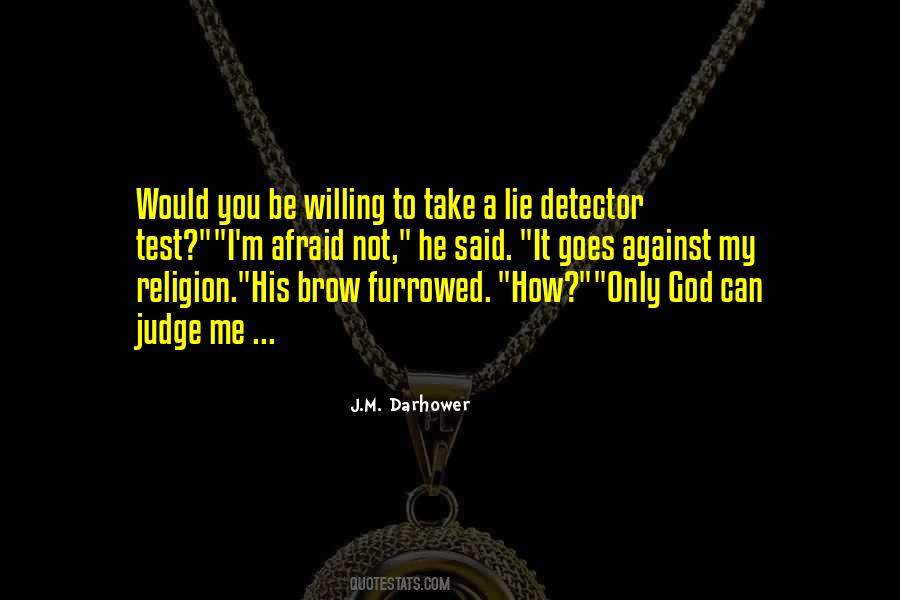 #23. Only God can judge me. - Author: Tupac Shakur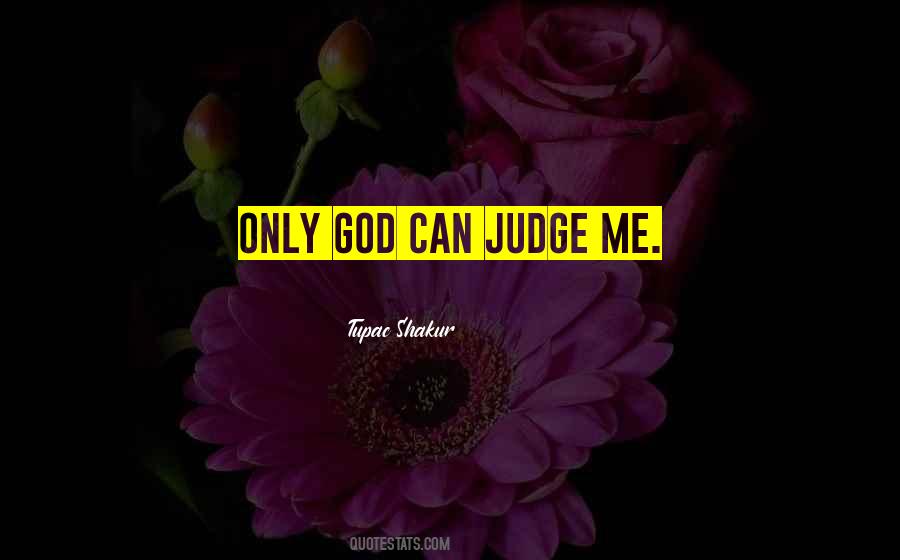 #24. When it's all said & done only God can judge me. I'm going to go out there on 5/5 to give my fans what they want to see. - Author: Floyd Mayweather Jr.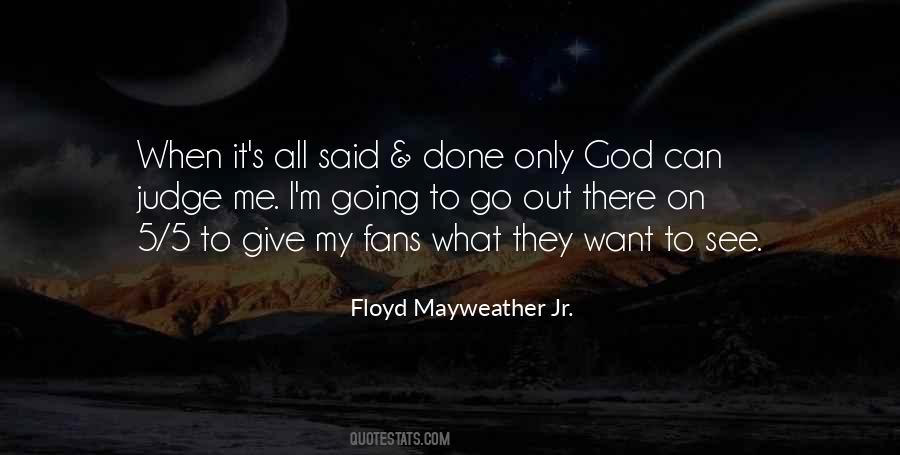 #25. God himself, sir, doesn't propose to judge man until the end of his days - Author: Tirumalai S. Srivatsan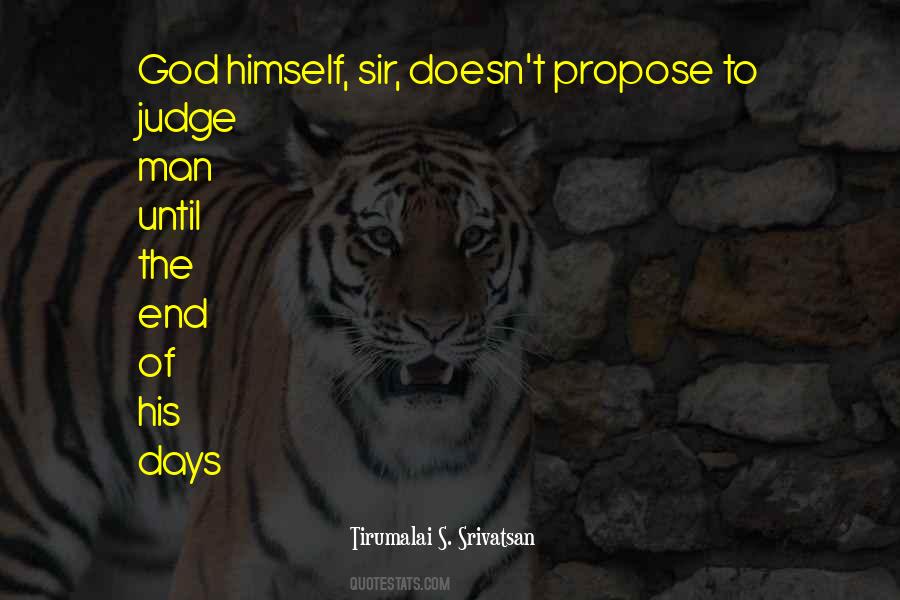 #26. Conscience signifies that knowledge which a man hath of his own thoughts and actions; and because, if a man judgeth fairly of his actions by comparing them with the law of God, his mind will approve or condemn him; this knowledge or conscience may be both an accuser and a judge. - Author: Jonathan Swift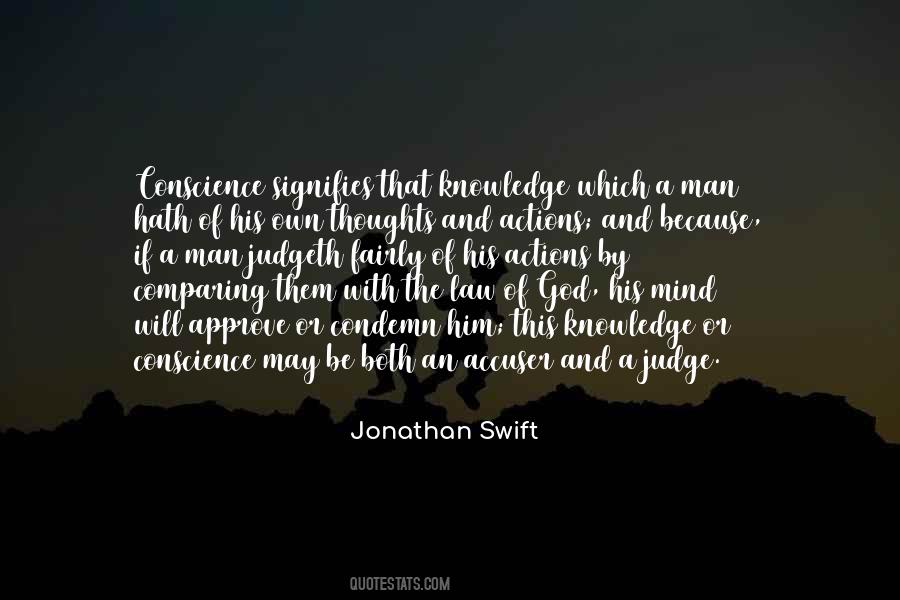 #27. Theological error is the most pernicious of errors; it strikes at man's center and separates him from his Creator and Redeemer. God insisted not only that Israelites should judge their own hearts and cast aside falsehood about Him but that they should also confront it wherever it emerged. - Author: Max Anders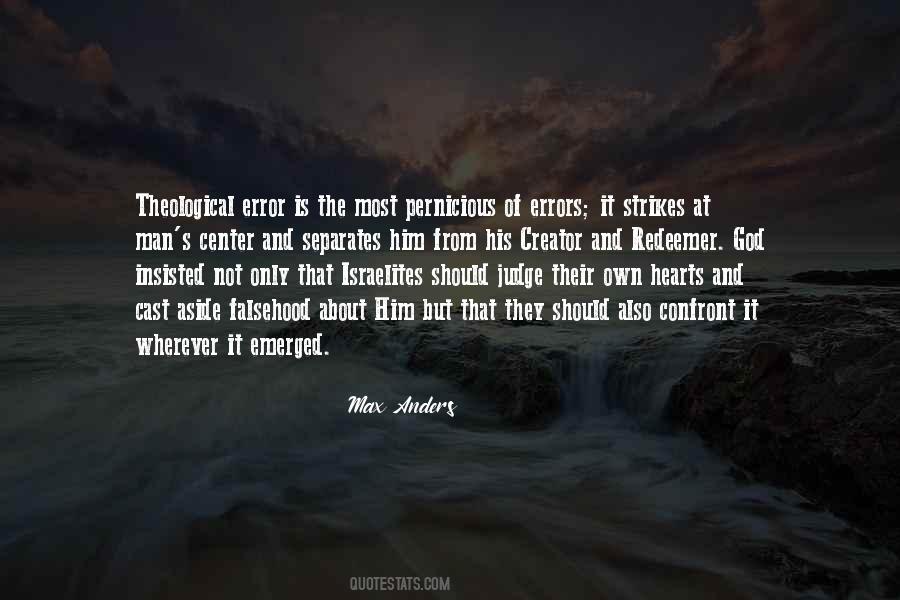 #28. Him and God are supposed to be at war with each other. But if God hates sin and Satan punishes the sinners, aren't they working the same side of the street? Aren't the judge and the executioner on the same team? - Author: Joe Hill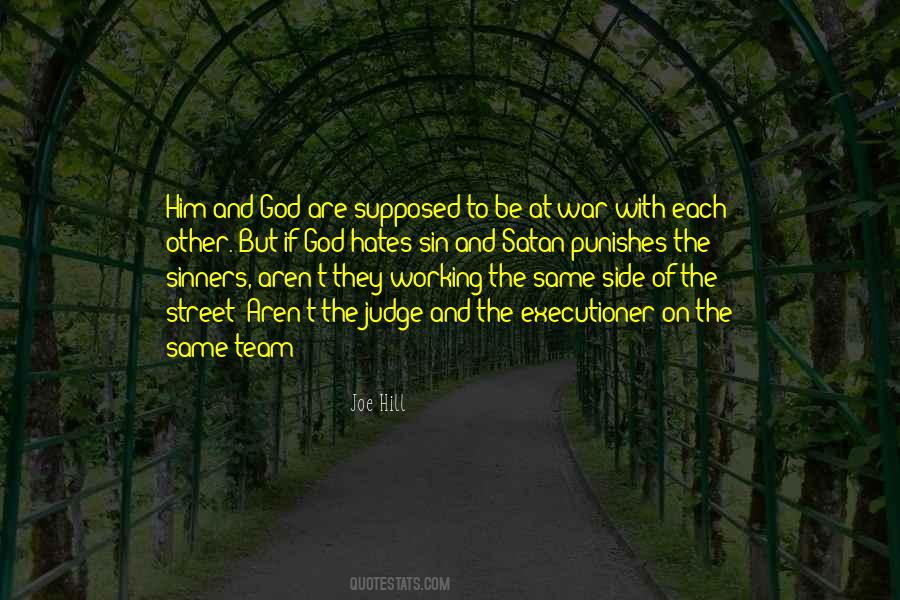 #29. Fools measure actions, after they are done, by the event; wise men beforehand, by the rules of reason and right. The former look to the end, to judge of the act. Let me look to the act, and leave the end with God. - Author: Joseph Hall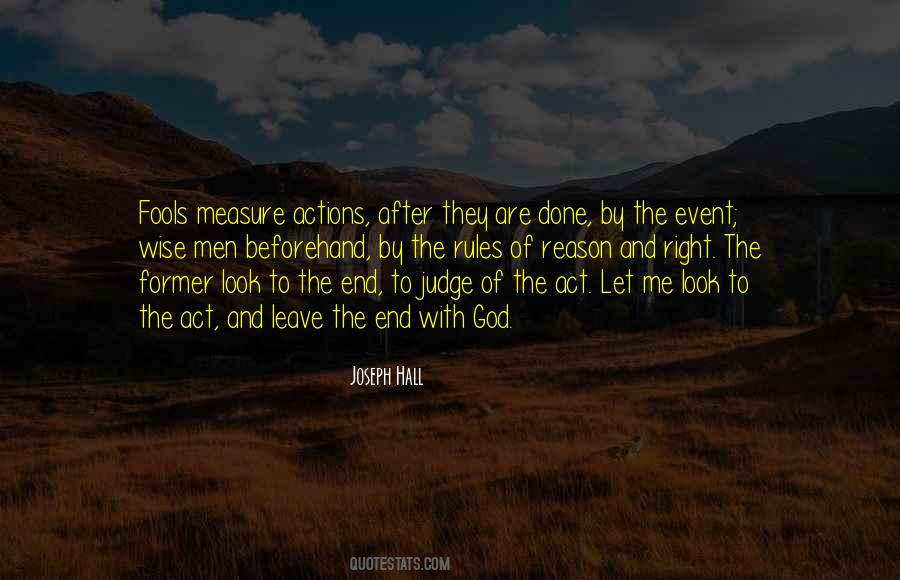 #30. But we must not judge, thee knows, most particularly by appearance. Even one who seems most frivolous, spendthrift, or light-minded yet has a soul and is valuable before God. - Author: Diana Gabaldon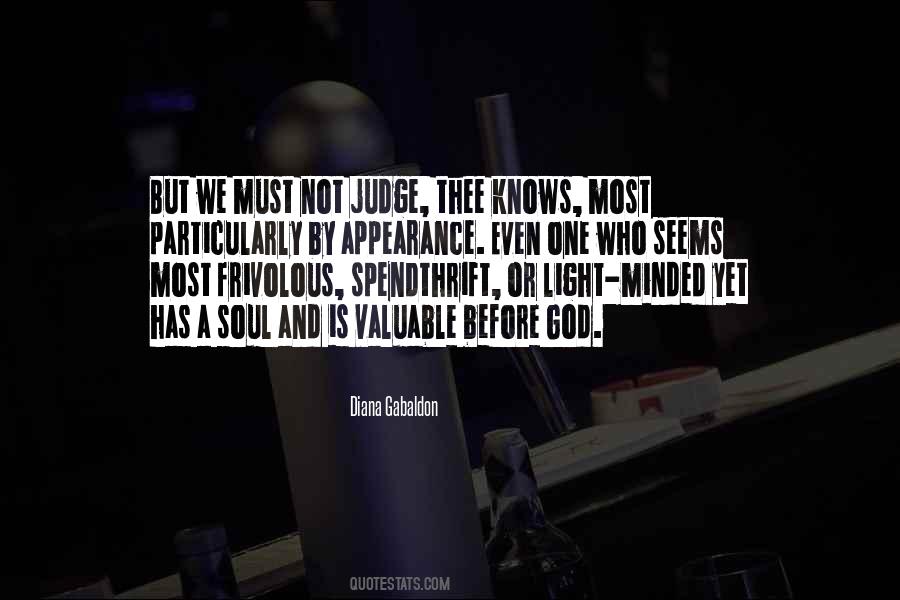 #31. It was in the recognition that there is in each man a final essence, that is to say an immortal soul which only God can judge, that a limit was set upon the dominion of men over men. - Author: Walter Lippmann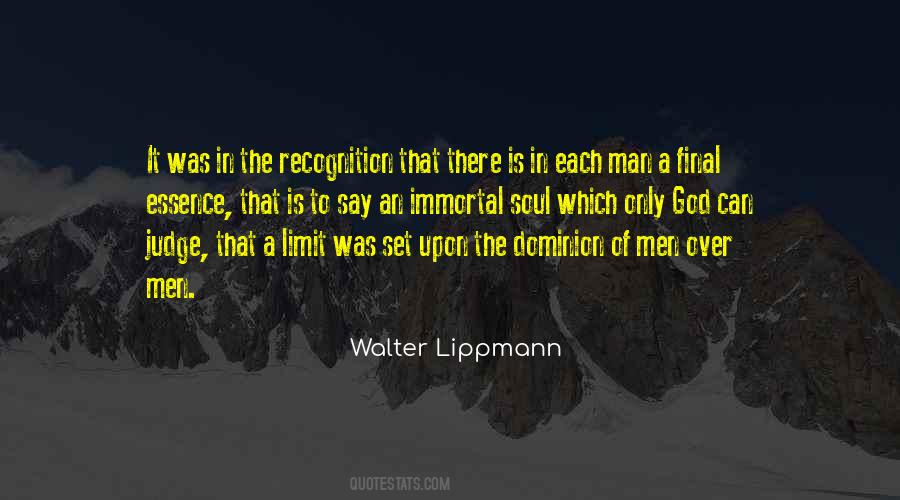 #32. Too many times people portray God as the ultimate judge, waiting to sentence us for our sins. The truth is, he is a loving husband who compels us with his love and not fear. - Author: Jefferson Bethke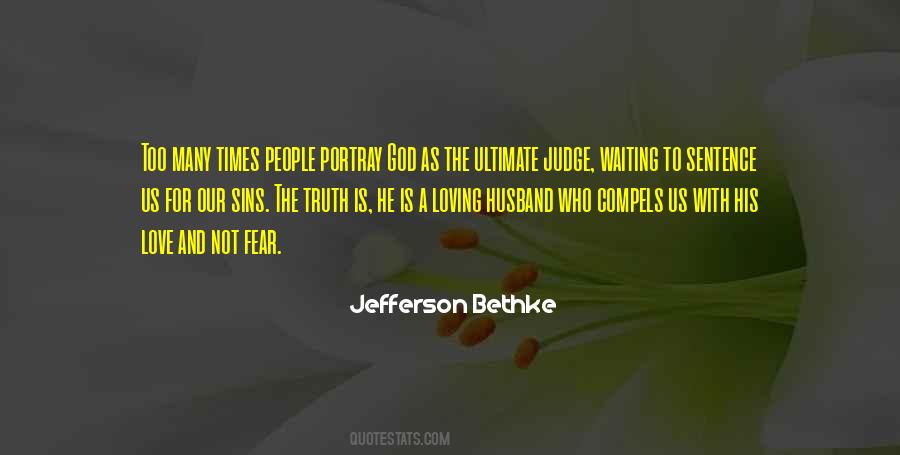 #33. The first tattoo I got was when I was 17, and it's a cross on my bicep with 'Only God Can Judge Me' underneath. - Author: Trey Songz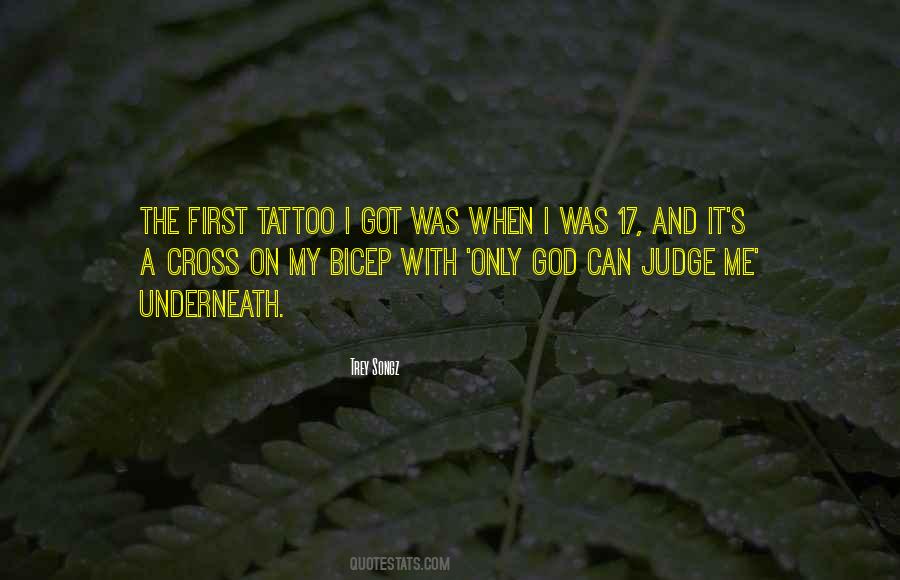 #34. America's religion. This is it gang, this is all you need to know. There is a God, He's going to judge us, we should be good to each other, cause daddy's gonna be pissed in the end if we're not. That's it. That's called a big principle. - Author: Glenn Beck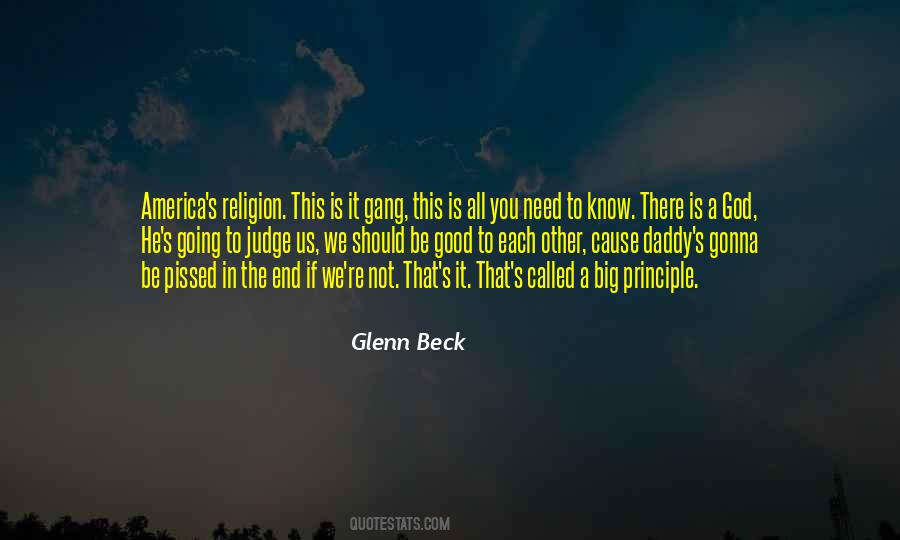 #35. Discernment is the ability to judge a situation accurately - to see the full reality of a situation, relationship, experience, or circumstance. It is the capacity to understand accurately and clearly what is, to see the truth of things as they are from God's viewpoint. - Author: Charles F. Stanley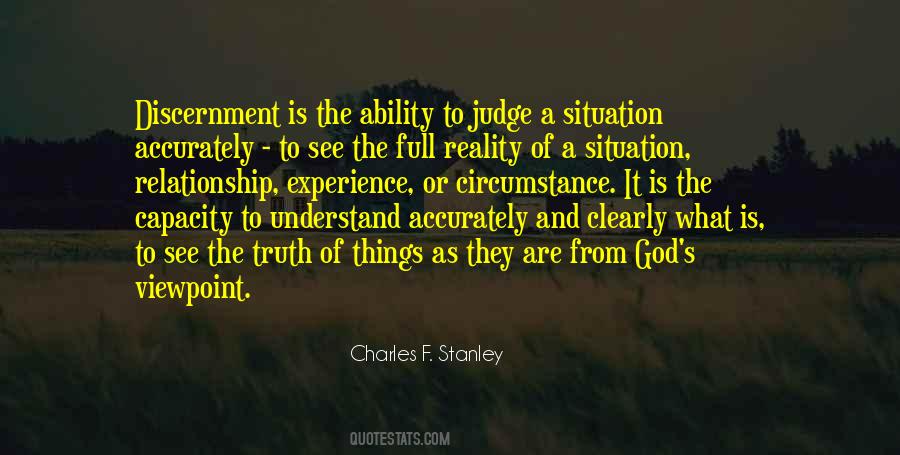 #36. God will judge the righteous and the wicked, for there is m a time for every matter and for every work. - Author: Anonymous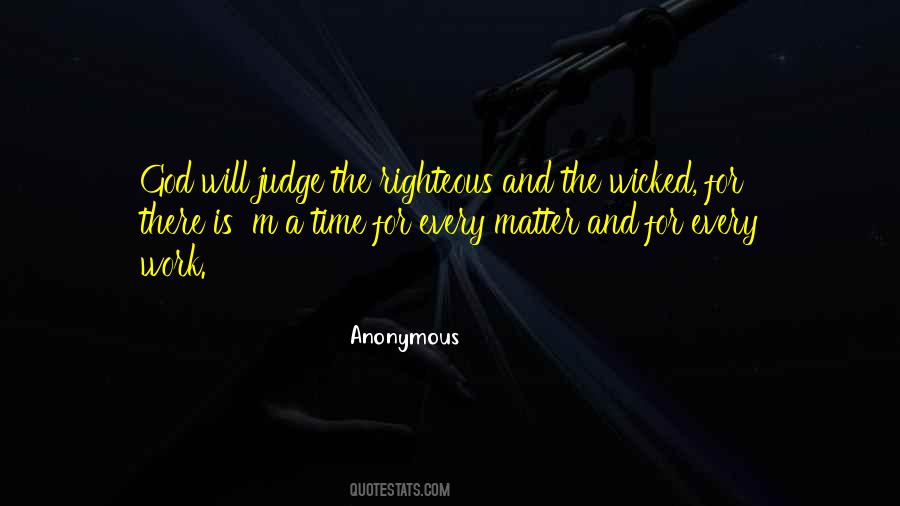 #37. I just want people to know out there no matter what they've done, God doesn't judge us on how many sins. God is there for us. He loves us. He wants us to turn it over to Him. - Author: Lex Luger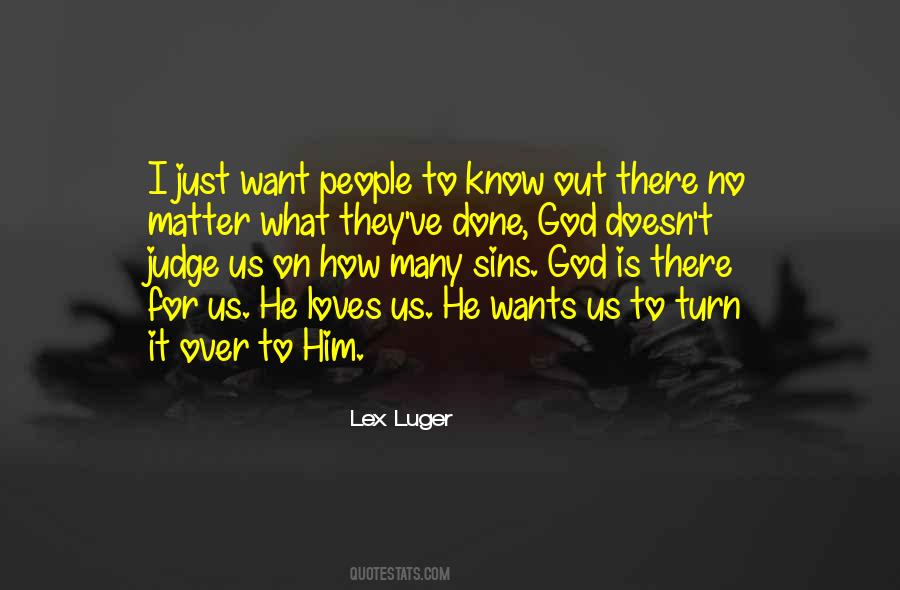 #38. Let not thy peace depend on the tongues of men; for whether they judge well of thee or ill, thou art not on that account other than thyself. Where are true peace and true glory? Are they not in God? And he that careth not to please men, nor feareth to displease them, shall enjoy much peace. - Author: Charles Haddon Spurgeon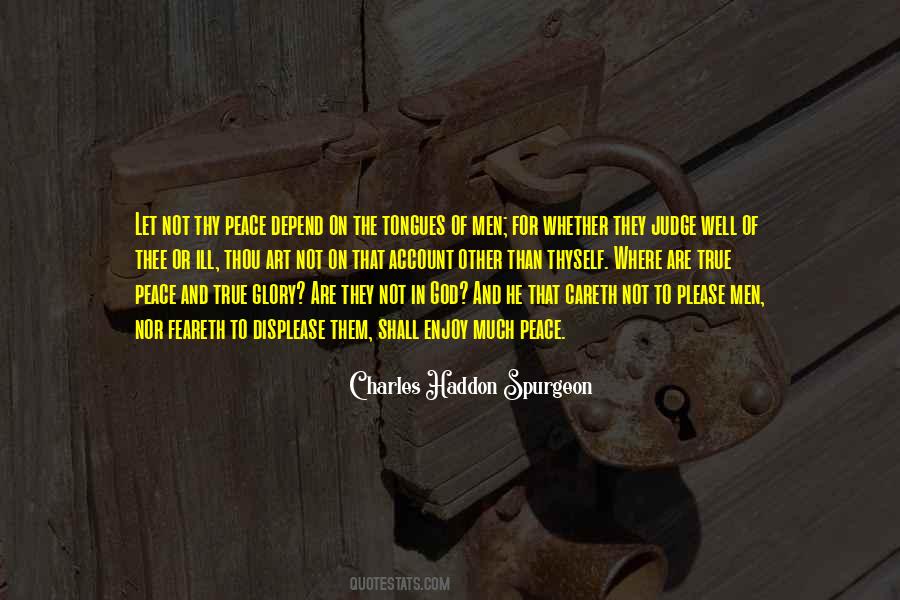 #39. I am less blindly confident than I once was, for I have been learning a truer estimate of myself, my failings and limitations, in these dark days. I have learnt to hope that if there be a Judgment Day of some kind, God will not see us with our own eyes, nor judge us as we judge ourselves. - Author: Vera Brittain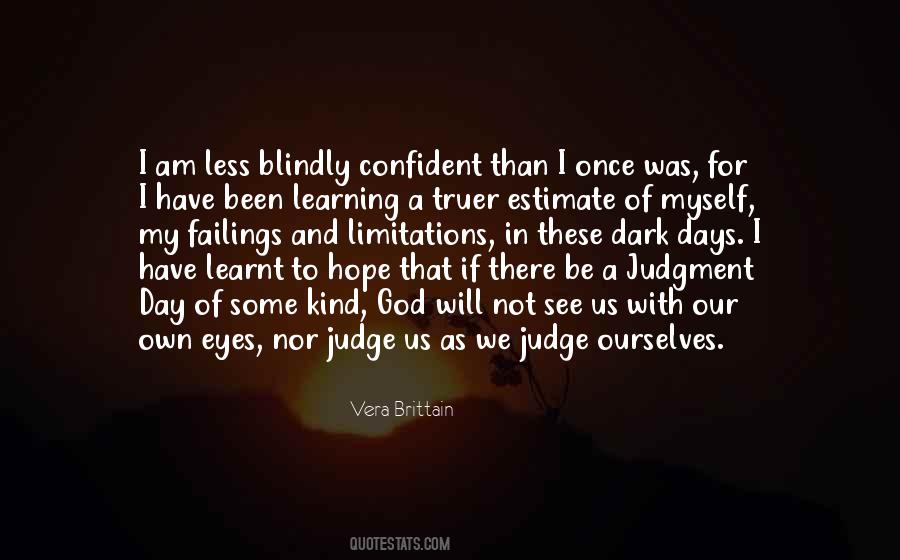 #40. [Peter] testified to [the Jews in Acts 2] that Jesus Christ was the Son of God, the Judge of the living and dead, into whom he did also command them to be baptized for the remission of sins. - Author: Irenaeus Of Lyons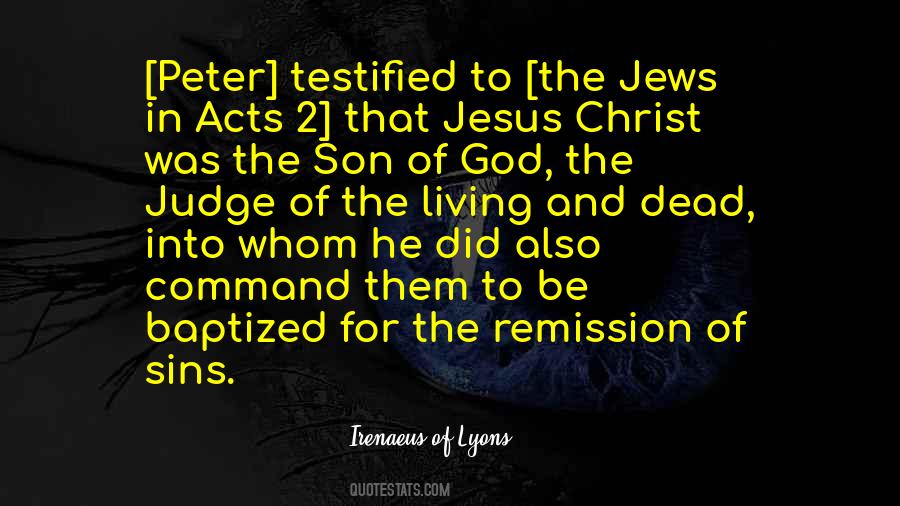 #41. Reveal you soul only to God. Don't judge other by their acts, good or bad; still learn from what you see. - Author: VIRGIL PROFEANU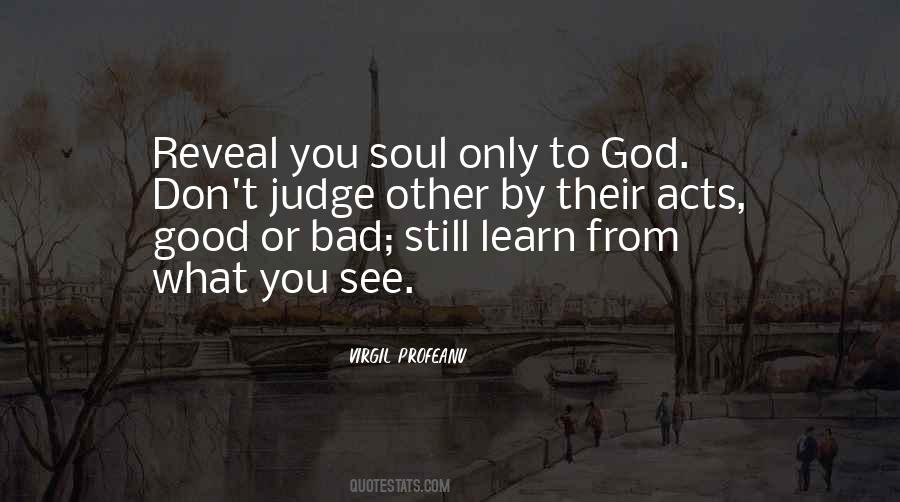 #42. Develop a little self-righteousness. A lot of that is an ugly thing, God knows, but a little applied over all your scruples is an absolute necessity! It is to the soul what a good sun-block is to the skin during the heat of summer. - Author: Stephen King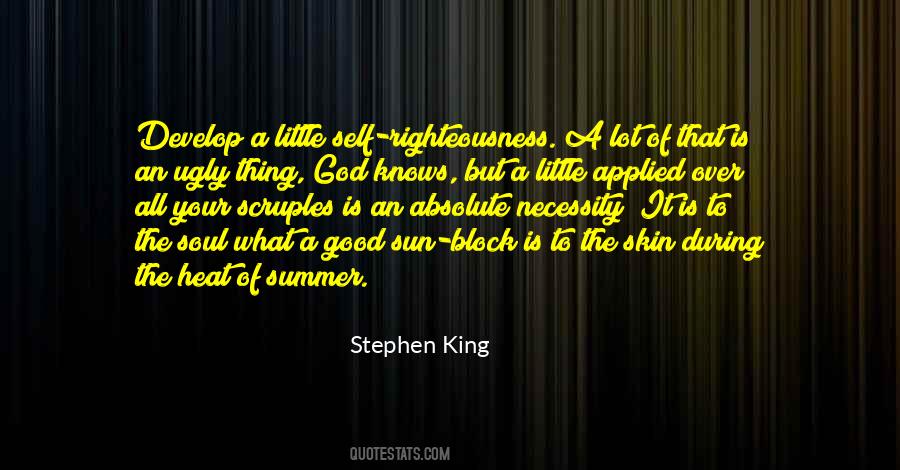 #43. We should always judge with a humble attitude acknowledging that any correct understanding we have of the Bible is a gift from God. - Author: Todd Friel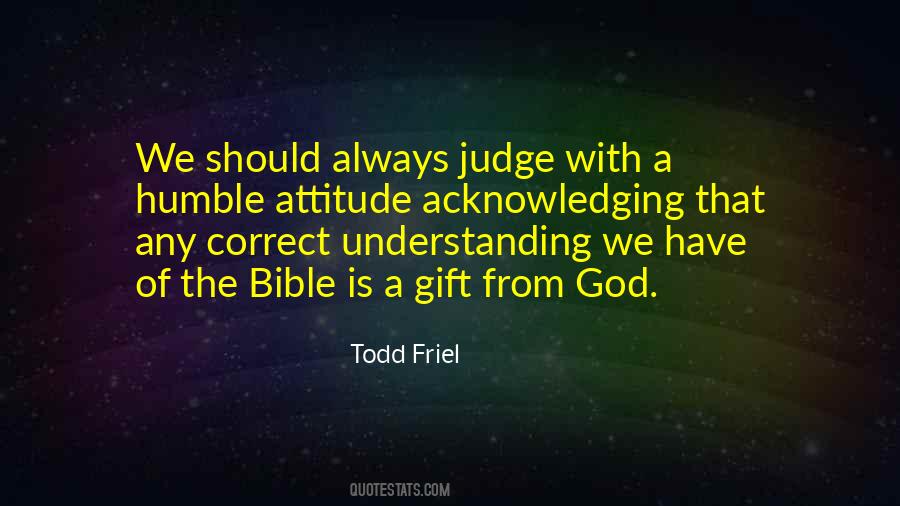 #44. A revelation is to be received as coming from God, not because of its internal excellence, or because we judge it to be worthy of God; but because God has declared it to be His in as plain and undeniable a manner as He has declared creation and providence to be His. - Author: William Law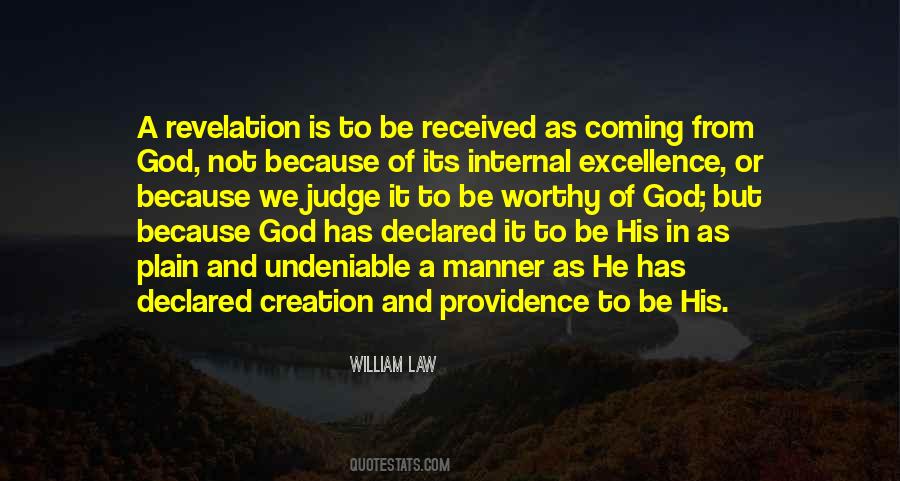 #45. Lord Milles stands before the One God, now, Galdar," Mina said, "where we will all stand one day. It is not for us to judge him. - Author: Margaret Weis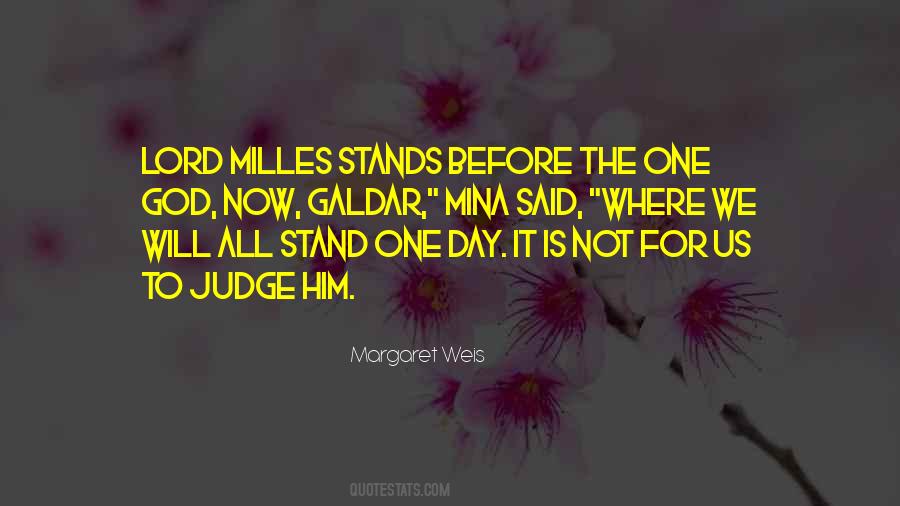 #46. The gospel isn't just enough to justify the ungodly; it's enough to regenerate and sanctify the ungodly. However, only because (in the narrower sense) the good news announces our justification are we for the first time free to embrace God as our Father rather than our Judge. - Author: Michael S. Horton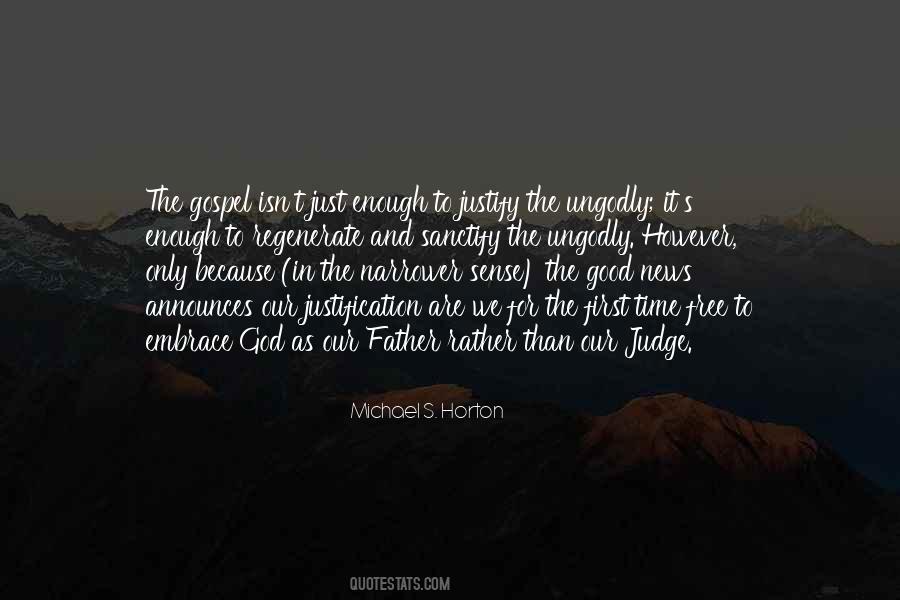 #47. When you judge others you reveal your inability to see them through God's eyes. - Author: Carlos A. Rodriguez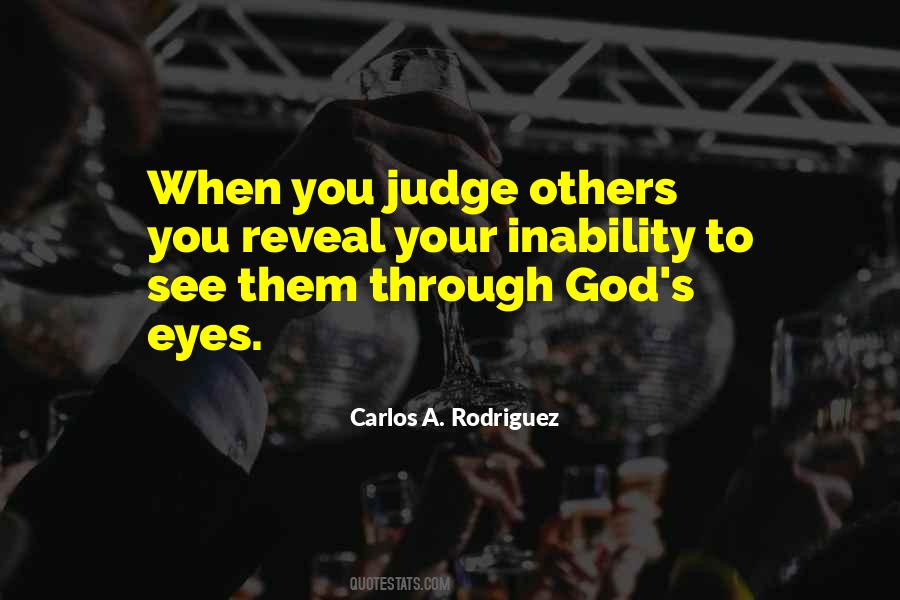 #48. I put my faith in Christ as a child. At a young age, I had a simple understanding of these basic facts: I was born a sinner; my nature is inclined toward sin. God, the Creator of all, establishes that there is punishment for sin. He will judge my sin, and I should receive His wrath. - Author: Carrie Ward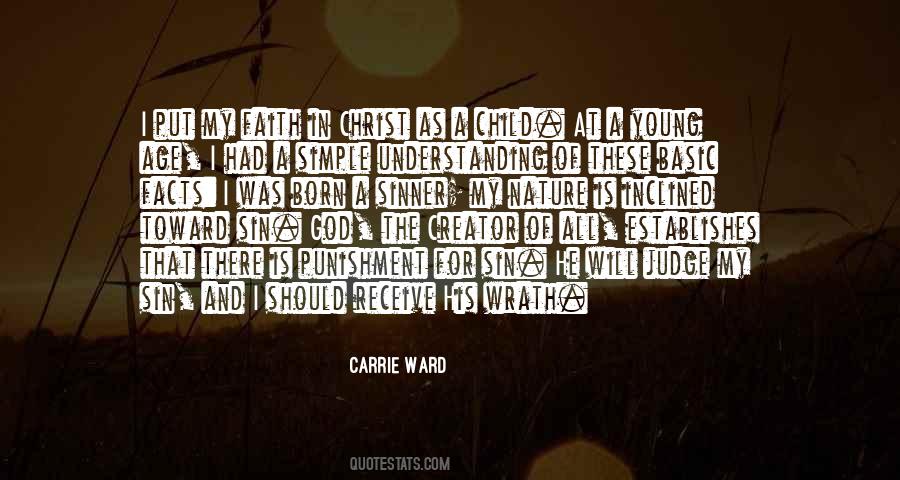 Famous Authors
Popular Topics