One God Famous Quotes & Sayings
List of top 100 famous quotes and sayings about one god to read and share with friends on your Facebook, Twitter, blogs.
Top 100 Quotes About One God
#1. One compromise here, another there and soon enough the so-called Christian and the man in the world look the same. - Author: Aiden Wilson Tozer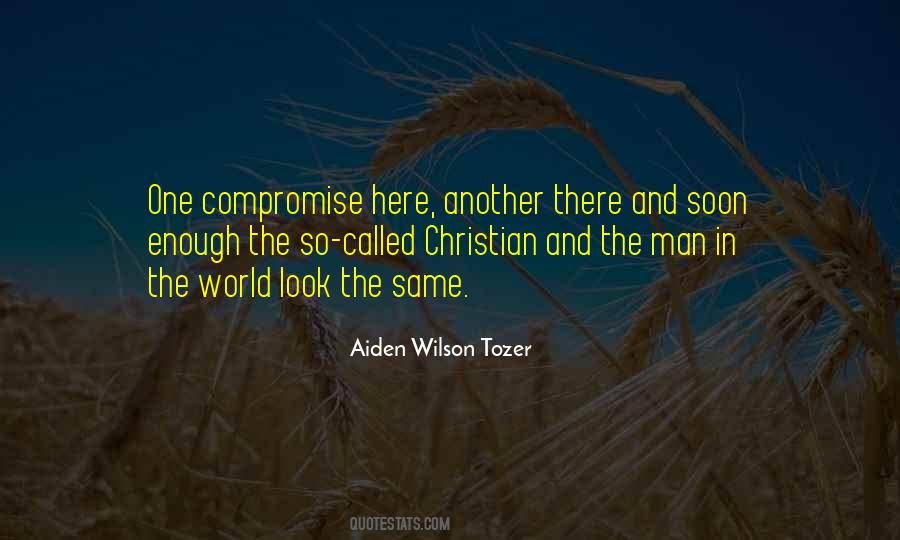 #2. Whatever may be the mysteries of life and death, there is one mystery which the cross of Christ reveals to us, and that is the infinite and absolute goodness of God. Let all the rest remain a mystery so long as the mystery of the cross of Christ gives us faith for all the rest. - Author: Charles Kingsley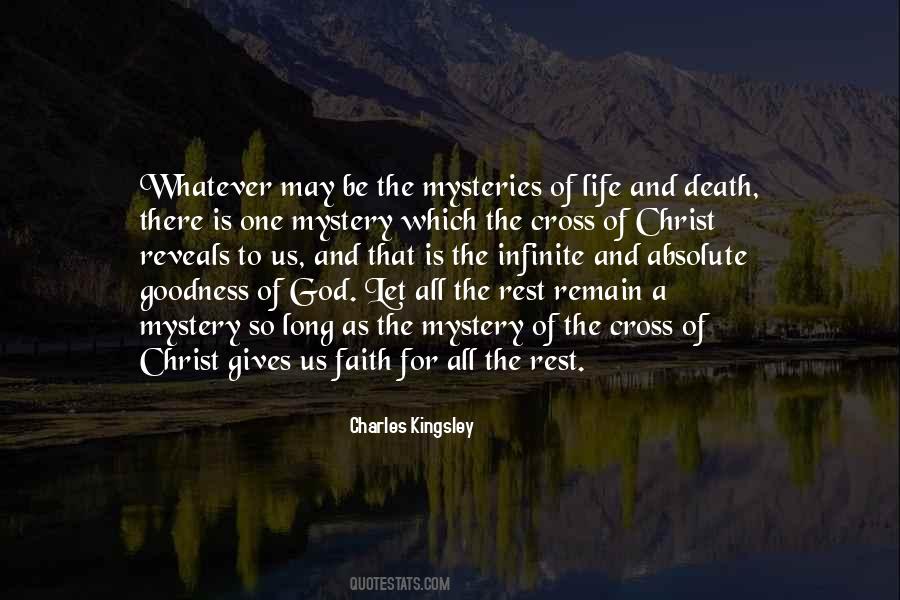 #3. In my opinion, the ability to love another person is one of God's greatest gifts, and I thank God every day for enabling me to give and share love with the people in my life. - Author: Anderson Cooper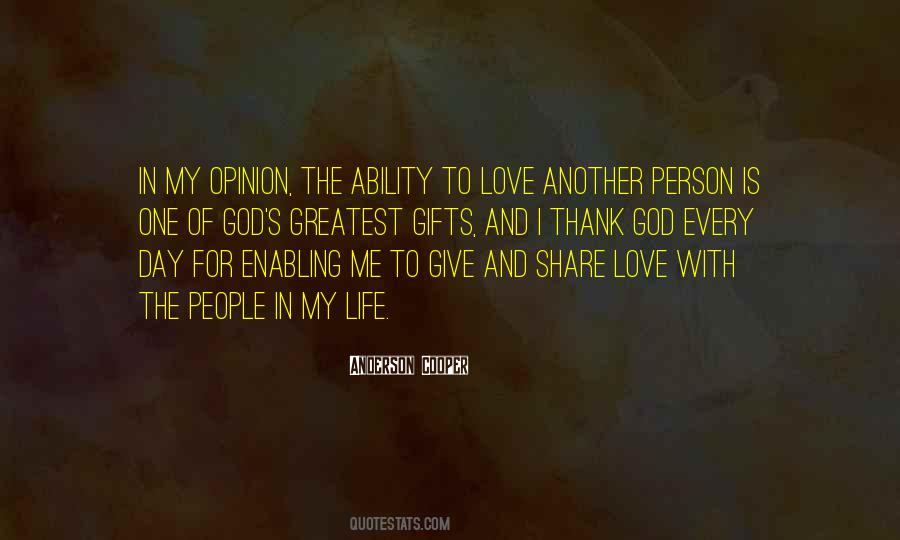 #4. It does not take God one second to re-write your ugly past . - Author: Osunsakin Adewale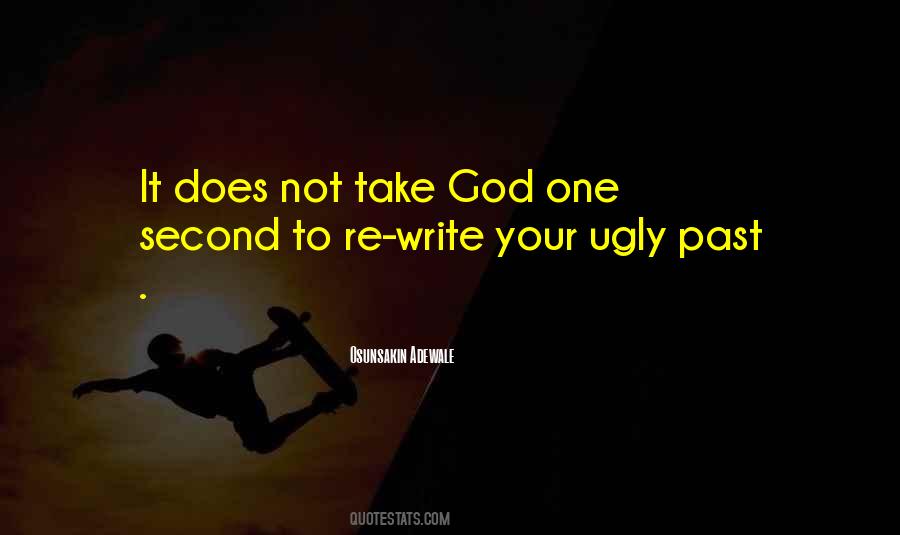 #5. He who challenges the God in his dying bed is indisputably the most courageous man, but not the cleverest one! - Author: Mehmet Murat Ildan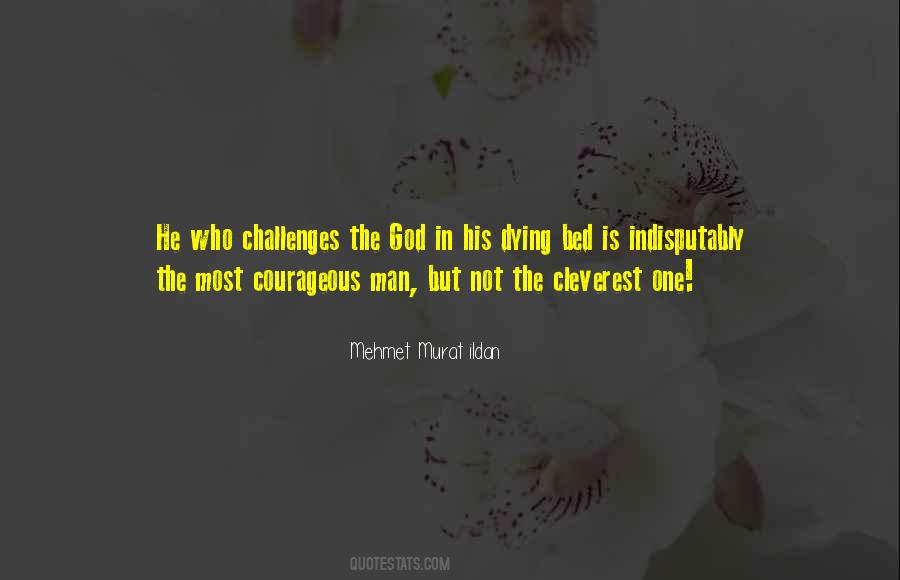 #6. Get a grip on yourself. there's only one god here on earth, and that's you. If you don't like the world, make one you like better. - Author: Yasmina Khadra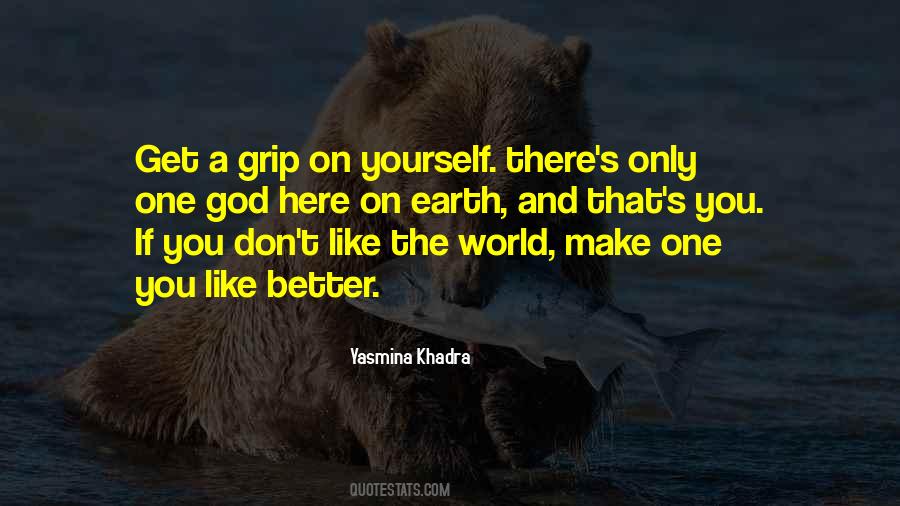 #7. There is a difference between going to a service "for the worship" and going to a service "to worship the Lord." The distinction appears to be a minor one, but it may imply the difference between the worship of God and the worship of music! - Author: Sinclair B. Ferguson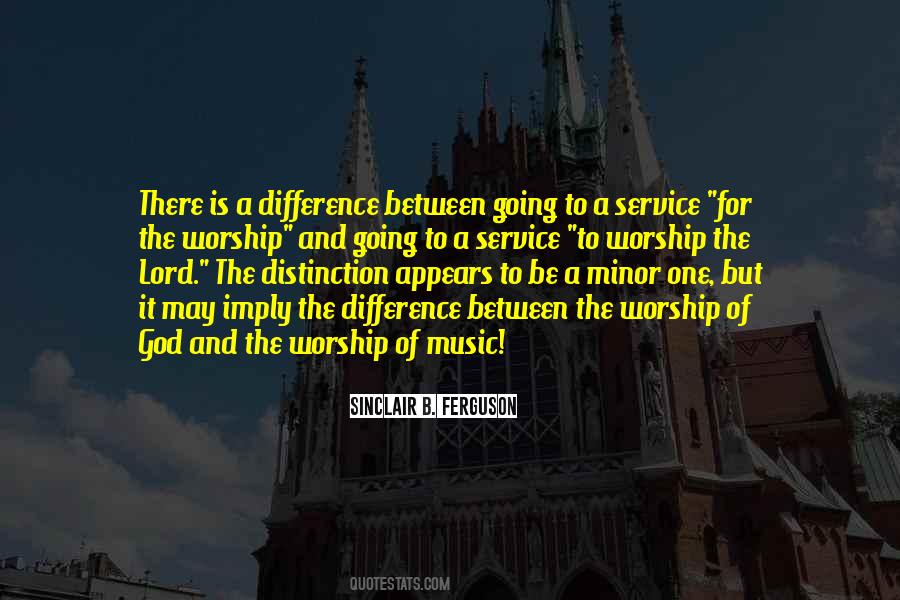 #8. If God had a church it would not be split up into factions, and that if he taught one society to worship one way, and administer in one set of ordinances, He would not teach another, principles which were diametrically opposed. - Author: Joseph Smith Jr.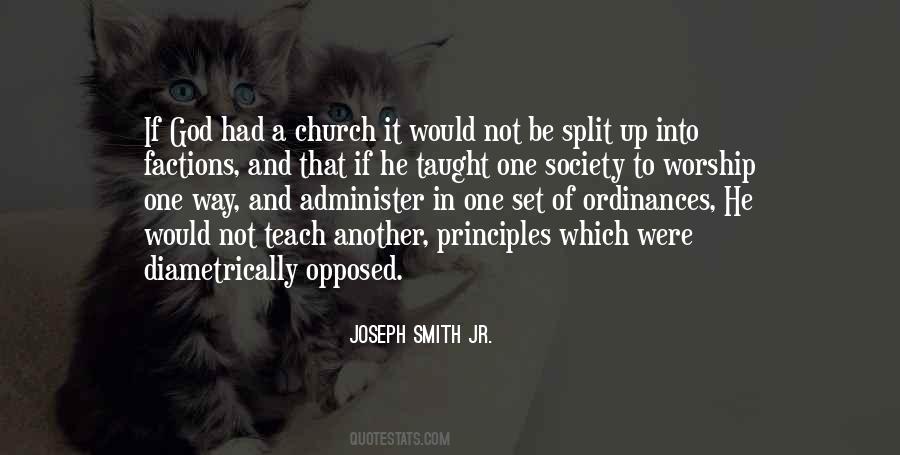 #9. The eternal duel between Ormuzd and Ahriman, God and Satan, is raging in my breast, which is one among their billion battlefields. - Author: Mahatma Gandhi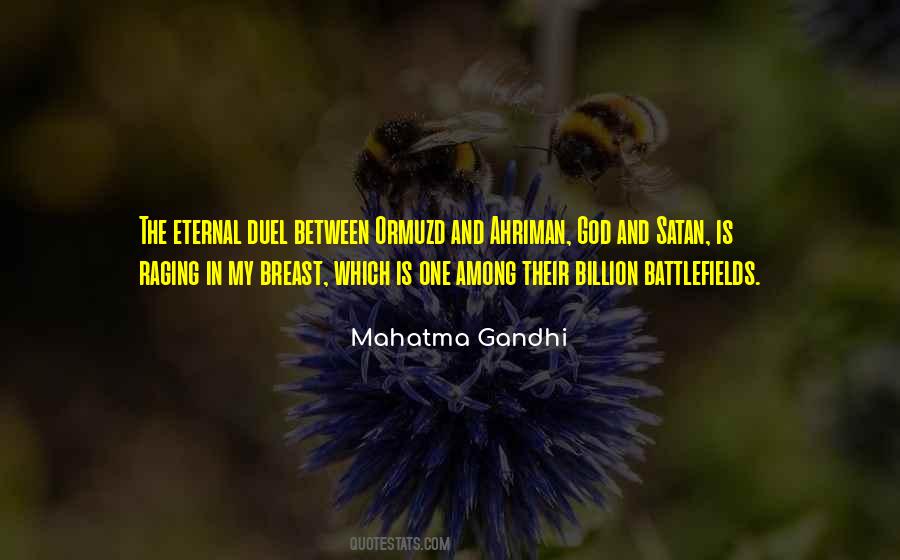 #10. In short, so great is God's love for you that He seems to love no one but you. And therefore, you should love no one but Him.* - Author: Alfonso Maria De Liguori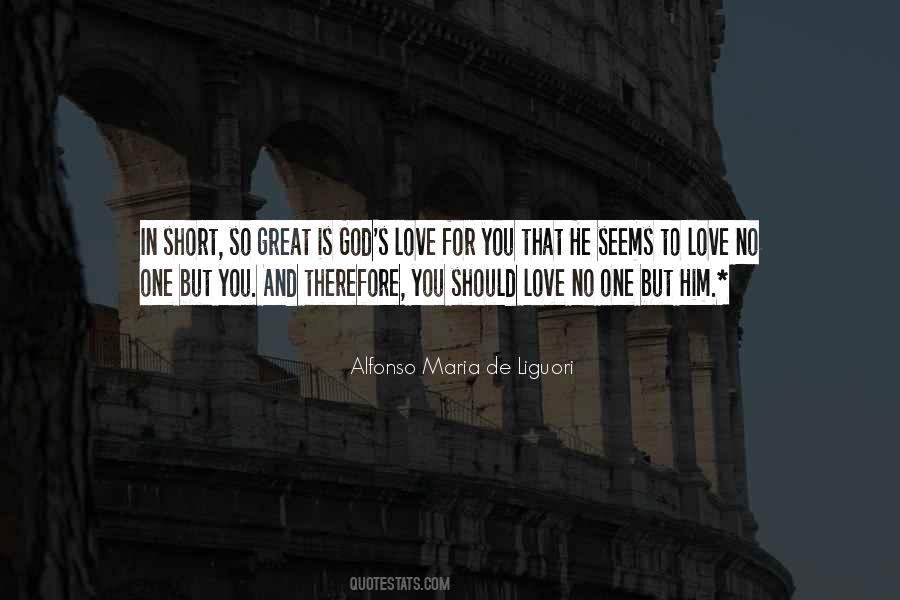 #11. No one is anyone, one single immortal man is all men. Like Cornelius Agrippa, I am god, I am hero, I am philosopher, I am demon and I am world, which is a tedious way of saying that I do not exist. - Author: Jorge Luis Borges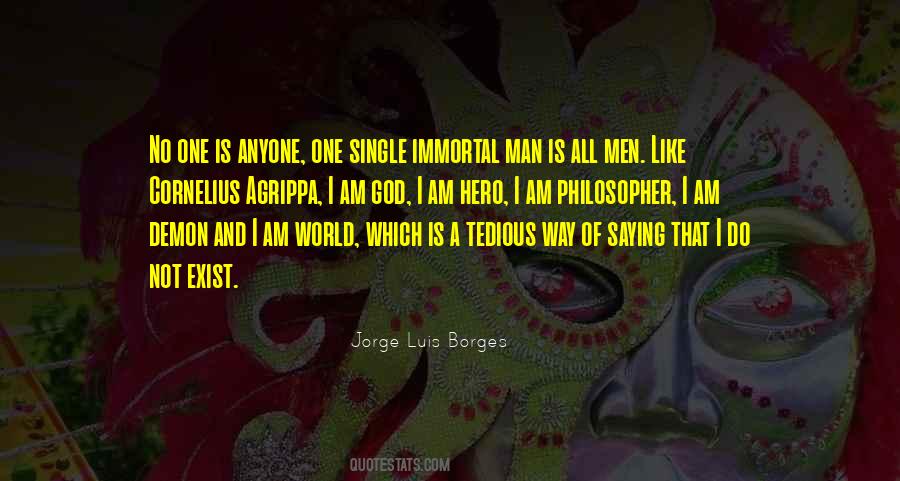 #12. The saving ordinance of baptism must be administered by one who has proper authority from God. - Author: David A. Bednar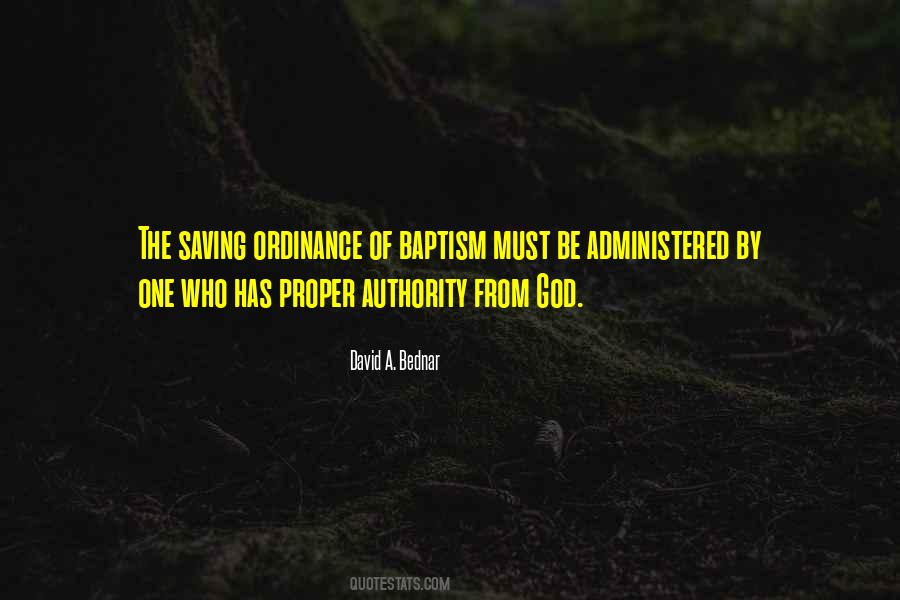 #13. If there wasn't a God we would have to invent one to keep people sane. - Author: Jean-Jacques Rousseau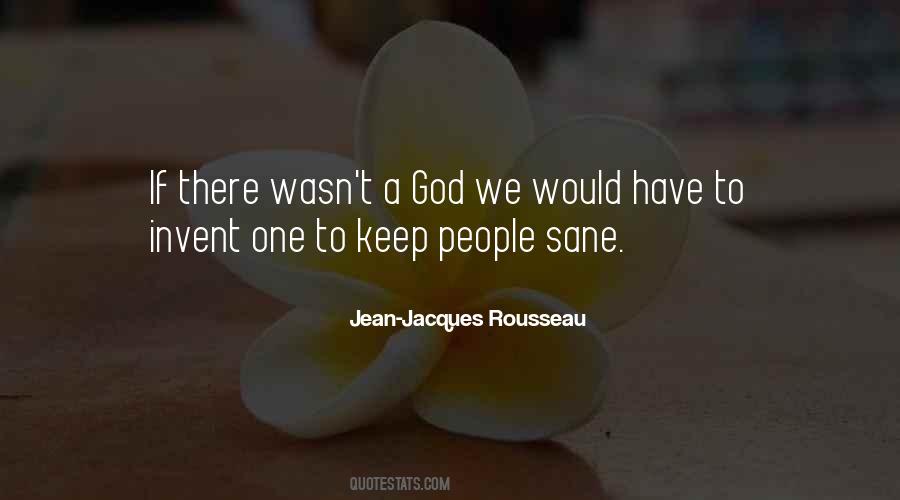 #14. Work is not a curse of God but one of the benefits of living on this earth. Finding the work you love is not a self-serving goal; it is a required component of fulfilling your true calling. - Author: Dan Miller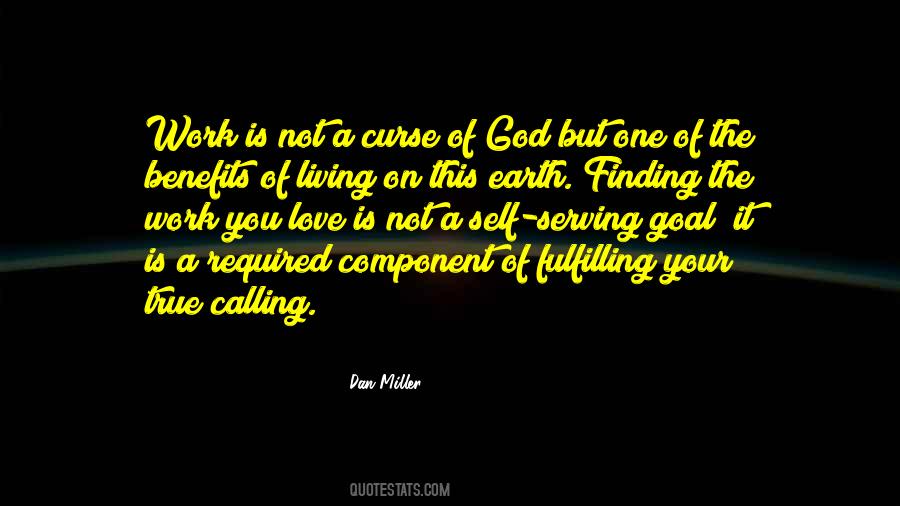 #15. In war, God is always on your side, no matter which side you're on. God is invincible, but one side always loses. Nobody seems to see the fallacy in this. - Author: Elliot MacDonald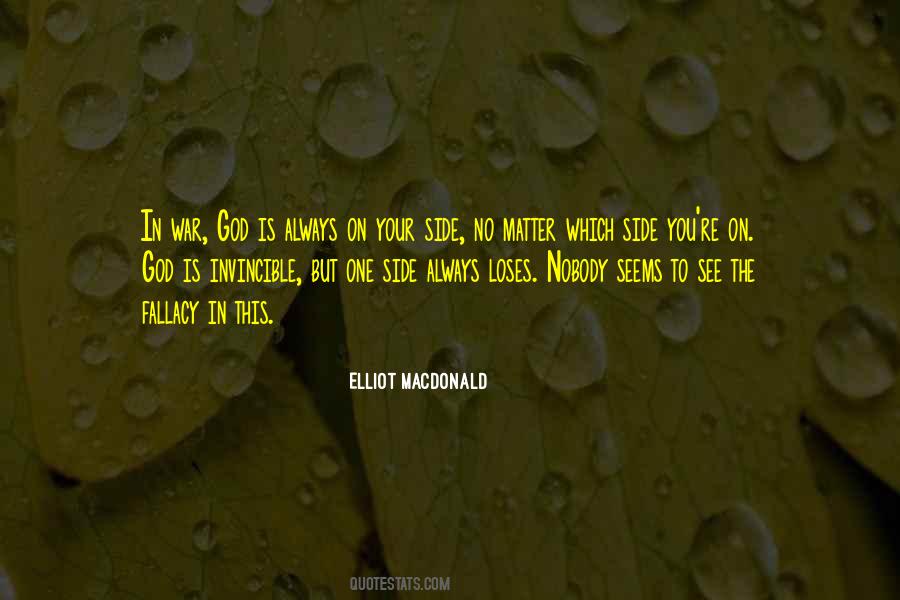 #16. Love God and do whatever you please: for the soul trained in love to God will do nothing to offend the One who is Beloved. - Author: Saint Augustine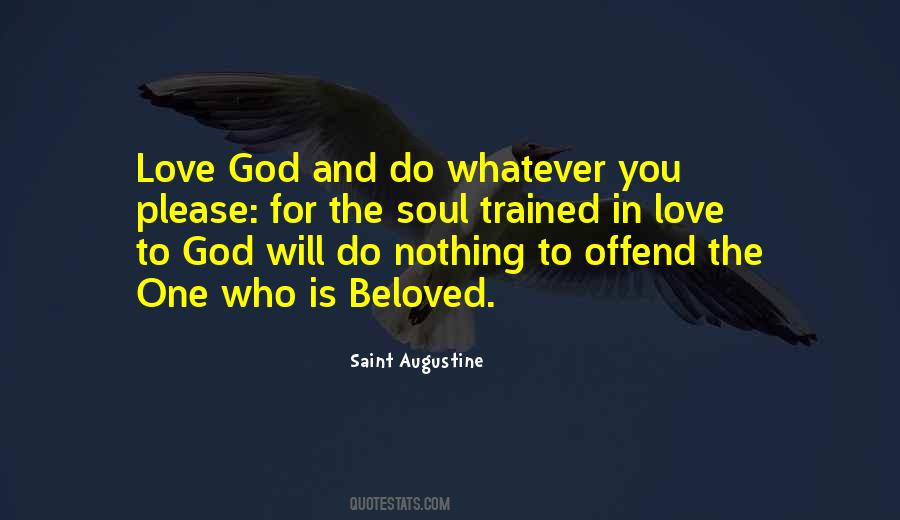 #17. It does not matter what your personal deficiency, or whether it be a hundred and one different things, God has always one sufficient answer, His Son Jesus Christ, and he is the answer to every need. - Author: Watchman Nee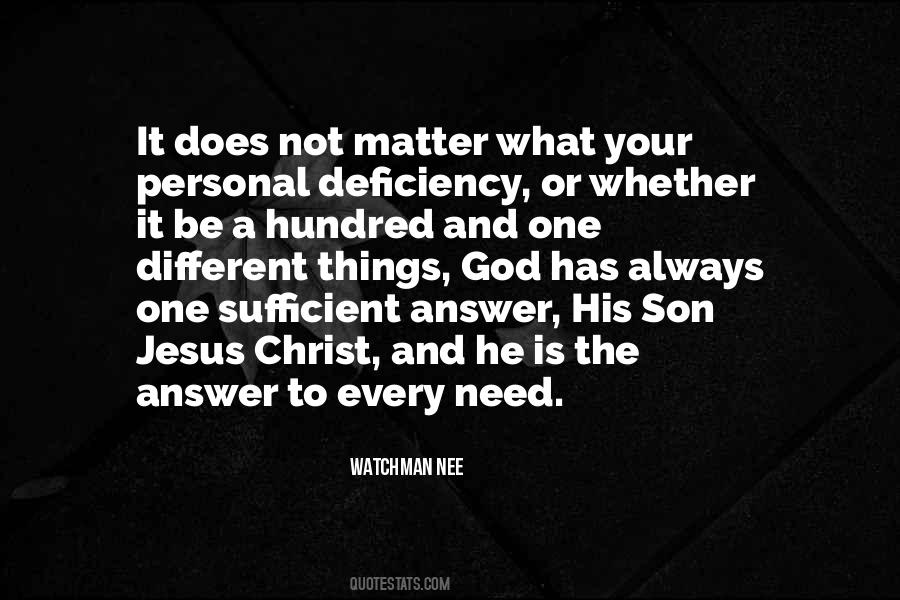 #18. No one knows God unless God reveals Himself to him. - Author: Dietrich Bonhoeffer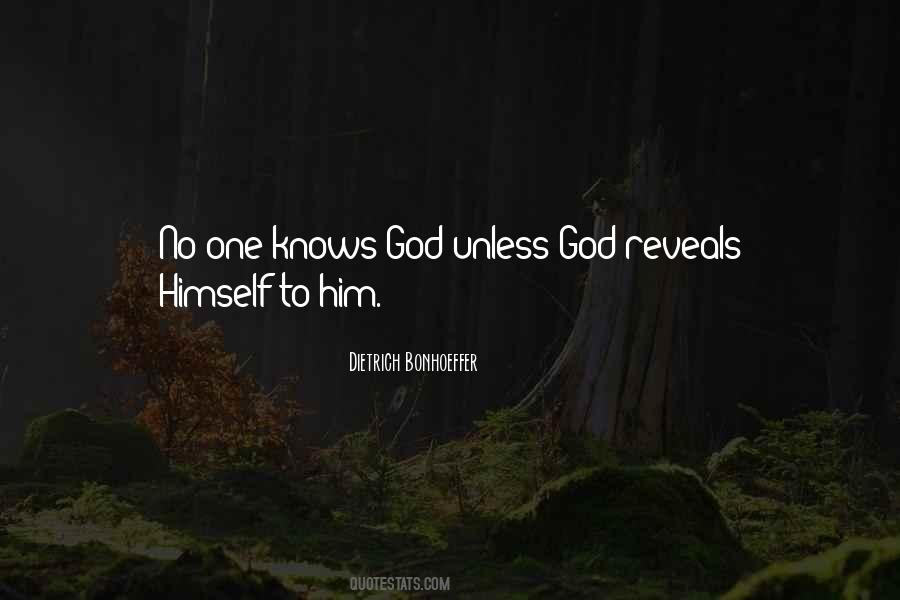 #19. I account the office of benefactor, or almoner, to which God appoints all those whom he has favored with wealth, one of the most honorable and delightful in the world. He never institutes a channel for the passage of His bounties that those bounties do not enrich and beautify. - Author: J.G. Holland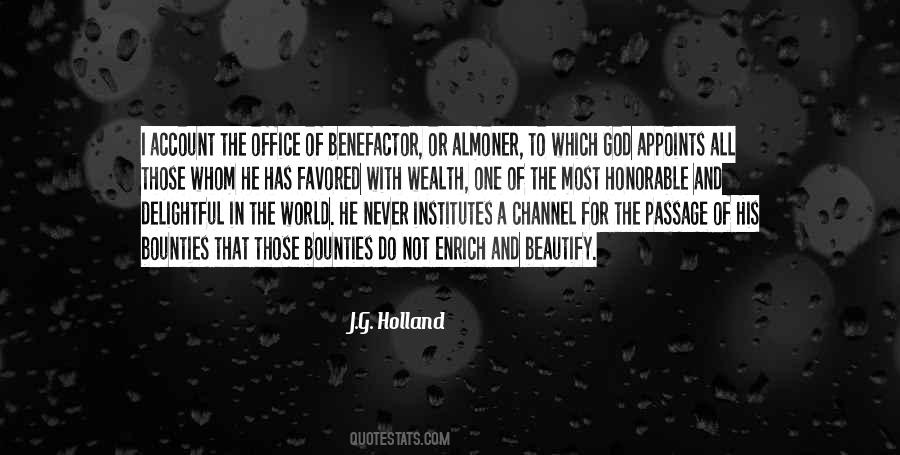 #20. I know God loves me. I tell people all the time I'm one of his favorite childs. I had to believe in something bigger than me - bigger than man. I had to believe that God would send somebody across my path to keep my dreams alive. - Author: Darlene Love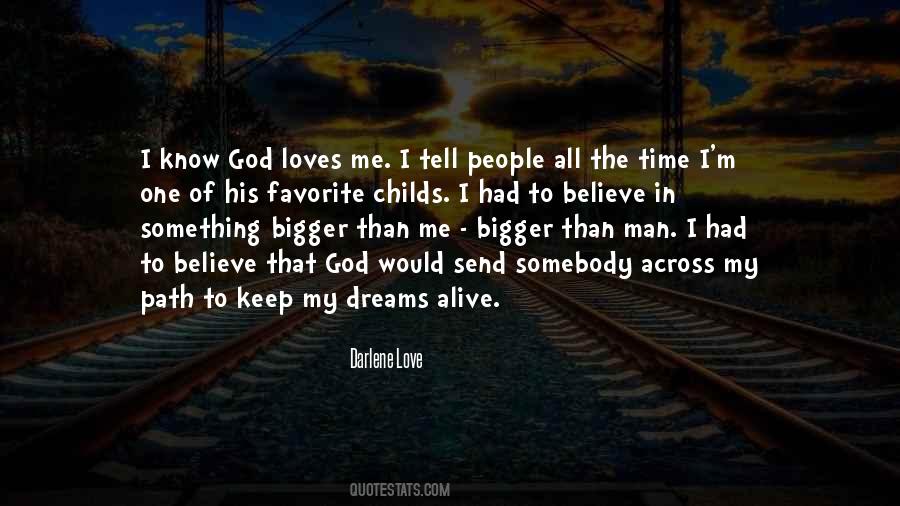 #21. God turns clouds inside out to make fluffy beds for the dogs in Dog Heaven, and when they are tired from running and barking and eating ham-sandwich biscuits, the dogs find a cloud bed for sleeping. God watches over each one of them. And there are no bad dreams. - Author: Cynthia Rylant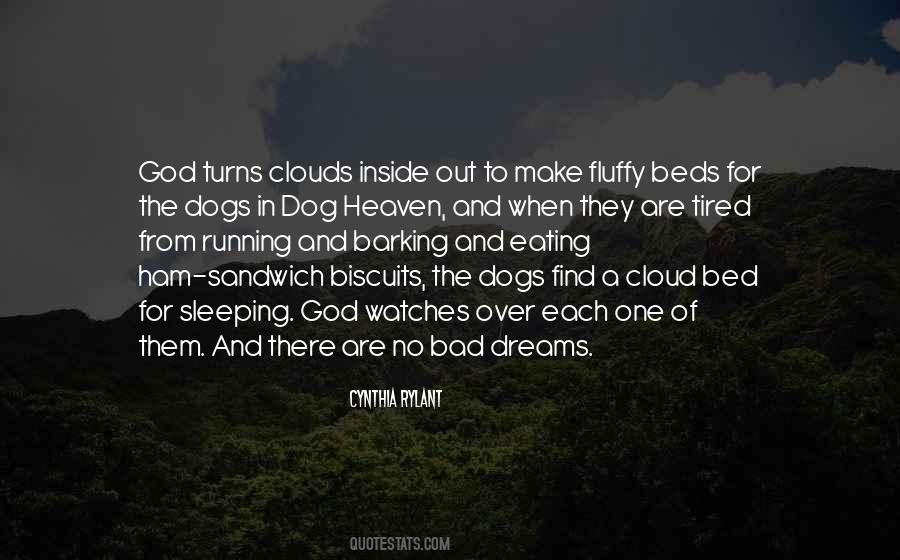 #22. Sir Thomas More: Why not be a teacher? You'd be a fine teacher; perhaps a great one.
Richard Rich: If I was, who would know it?
Sir Thomas More: You; your pupils; your friends; God. Not a bad public, that. - Author: Robert Bolt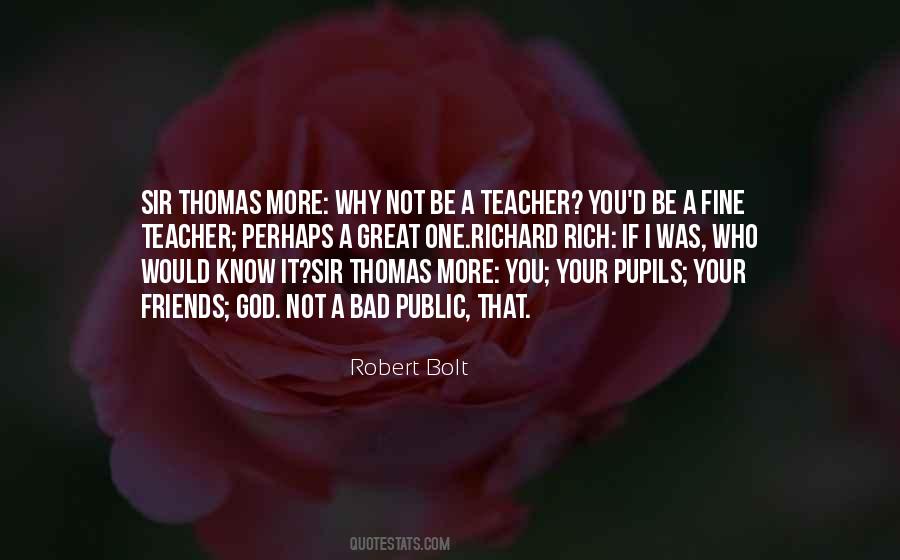 #23. I always wanted to be a hero
to sacrifice my life in a big way one time
and yet, God has required my sacrifice to be thousands of days, over many years, with one more kiss, one more story, one more meal. - Author: Sally Clarkson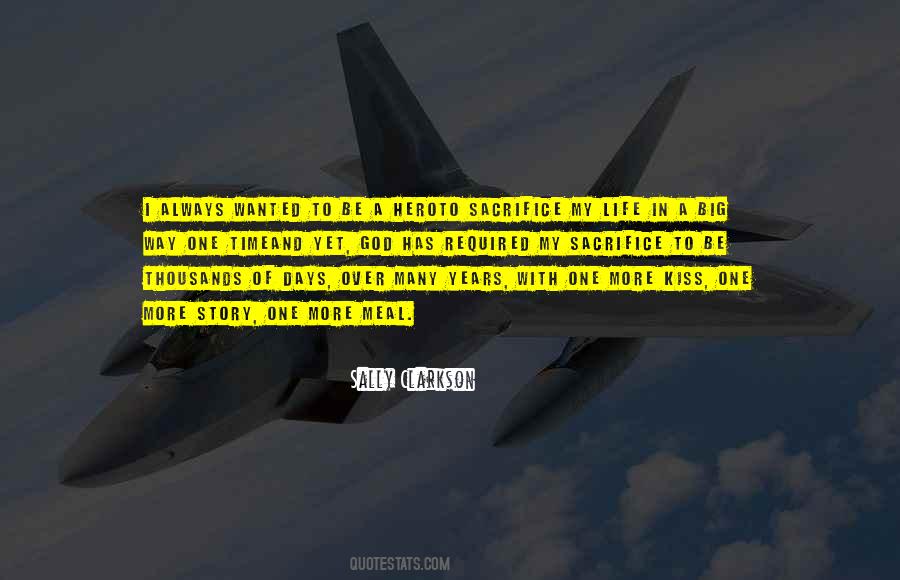 #24. Now if the wearing of fine and precious robes were not a fault, word of God would never have so carefully expressed this. For no one seeks costly garments except for vainglory, that he may seem more honorable than others; for no one wishes to be clothed with such, where he cannot be seen by others. - Author: Pope Gregory I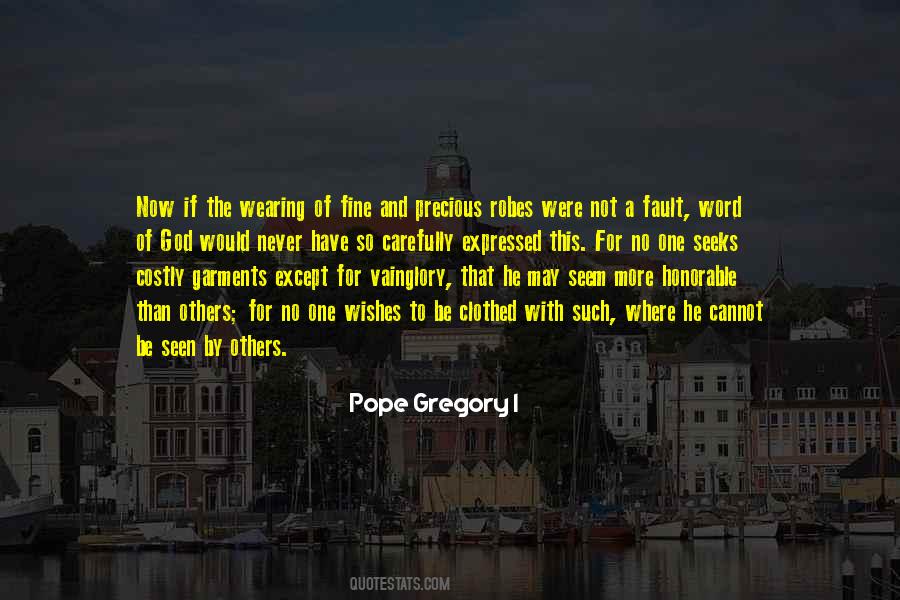 #25. One hardly need believe that the events in your life are actually planned as bolts from the blue, sent special delivery from a deity who is testing and training you like a lab rat! And that is what we are saying when we fretfully ask, What can God be trying to teach me through this tragedy? - Author: Robert M. Price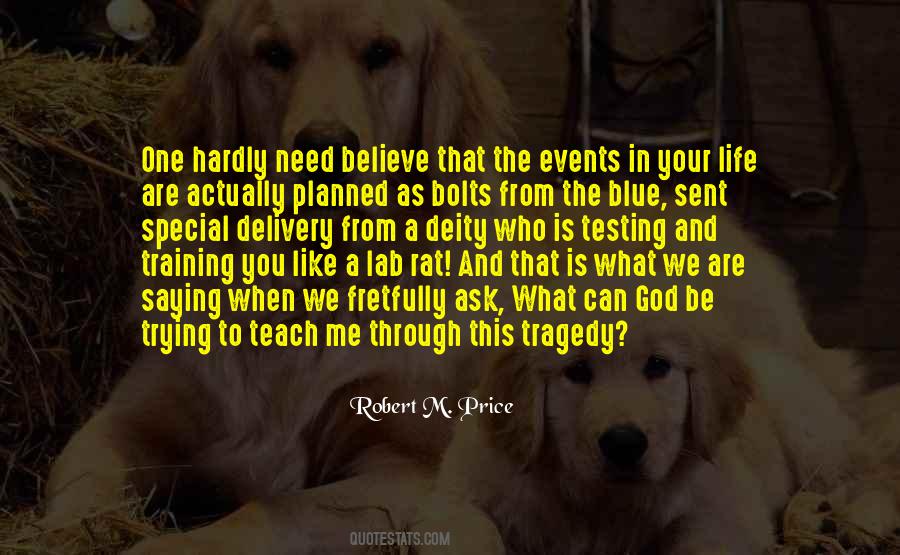 #26. An atheist is a man who does not believe the existence of a God; now, no one can be certain of the existence of a being whom he does not conceive, and who is said to unite incompatible qualities. - Author: Paul Henri Thiry D'Holbach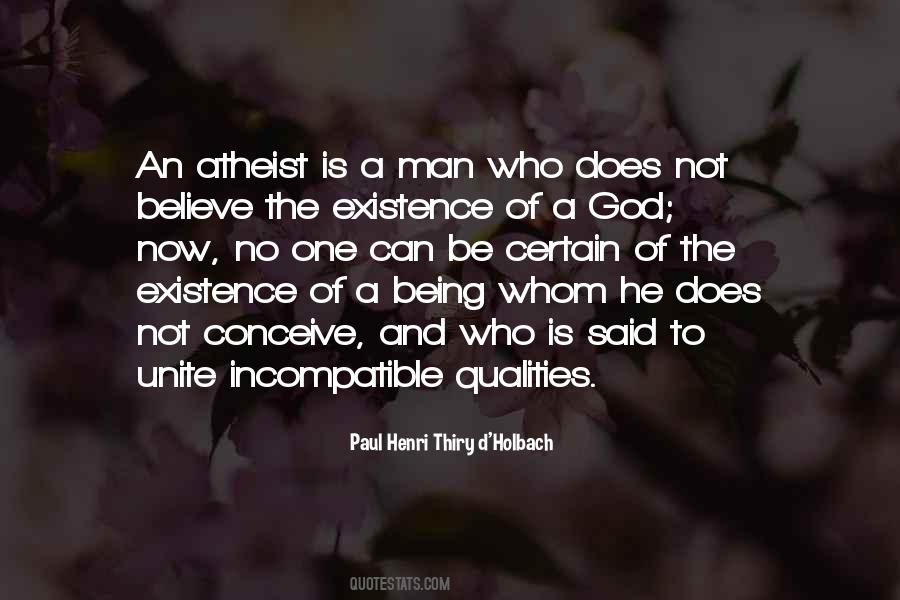 #27. I need a God; and if there be none how did I come to need one? - Author: George MacDonald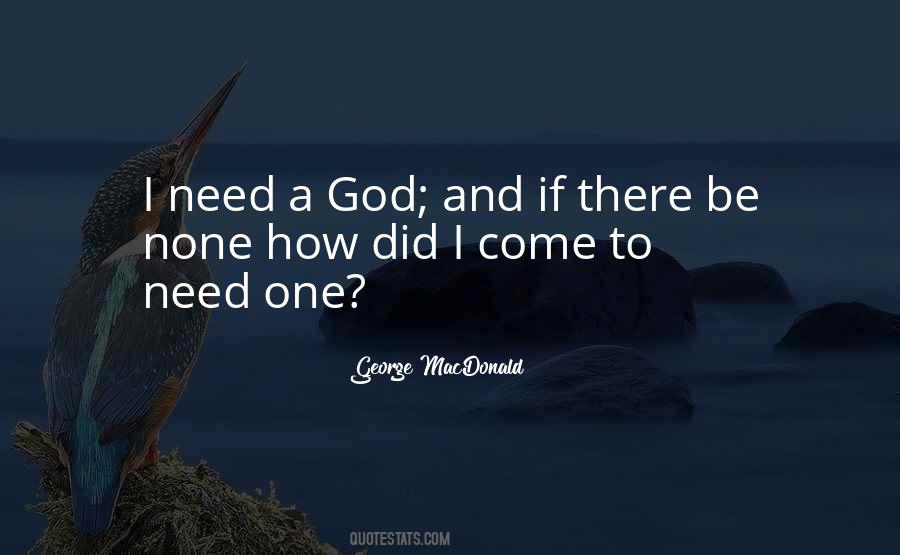 #28. Simply having the courage to say senseless things made me euphoric. I was free, with no need to seek or to give explanations for what I was doing. This freedom lifted me to the heavens - where greater love, one that forgives everything and never allows you to feel abandoned, once again enveloped me. - Author: Paulo Coelho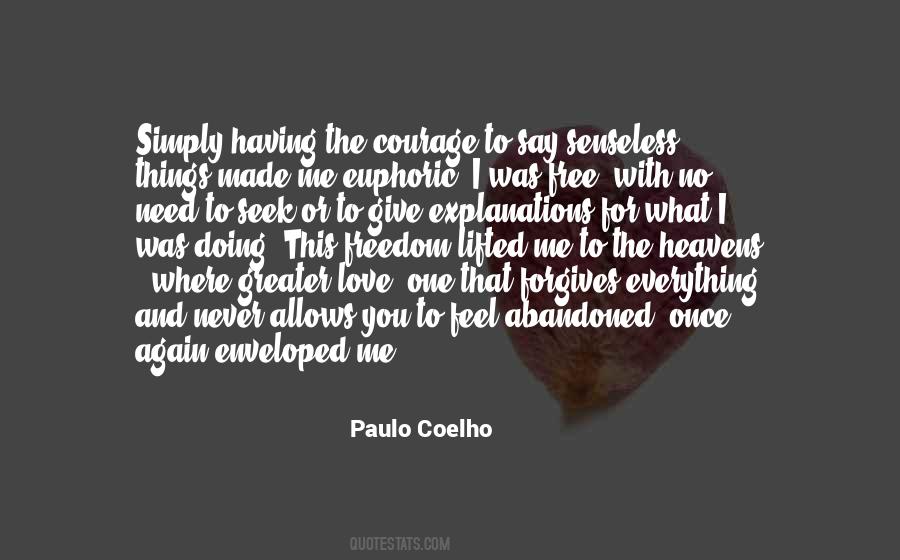 #29. It is no blasphemy to say that every man creates the God creating him. We are facets of a work whose finished form we cannot imagine, though our imaginations, aided by grace, are the means - or at least one means - of its completion. - Author: Christian Wiman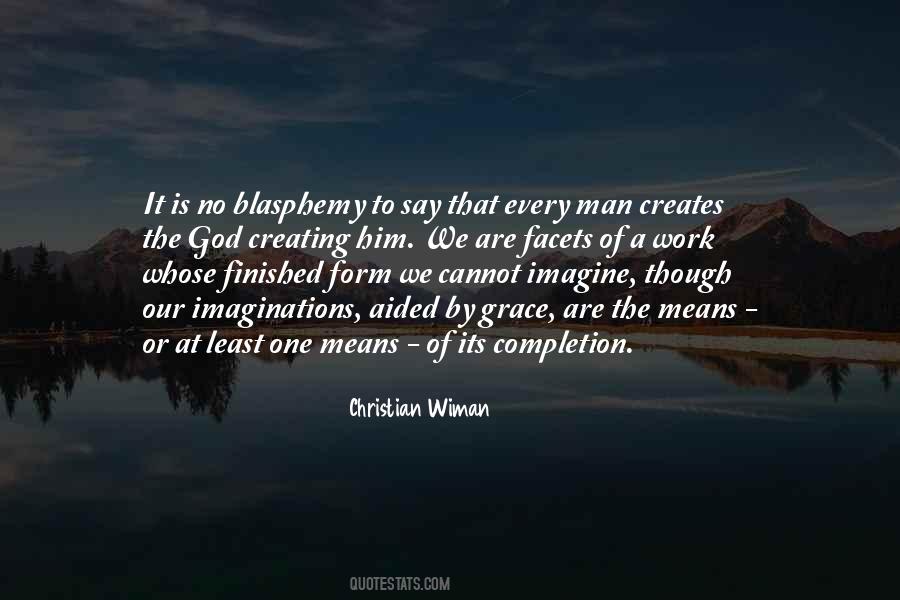 #30. In Lubbock, we grew up with two main things: God loves you and he's gonna send you to hell, and that sex is bad and dirty and nasty and awful and you should save it for the one you love. - Author: Butch Hancock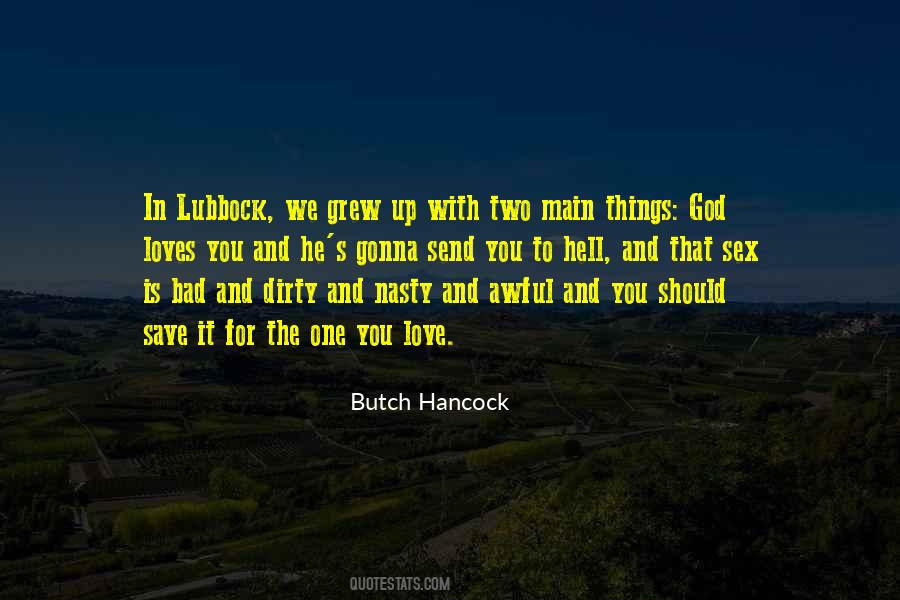 #31. I know some gods. Better than I want to. Not one of them gives a shit about your heart - Author: Matthew Woodring Stover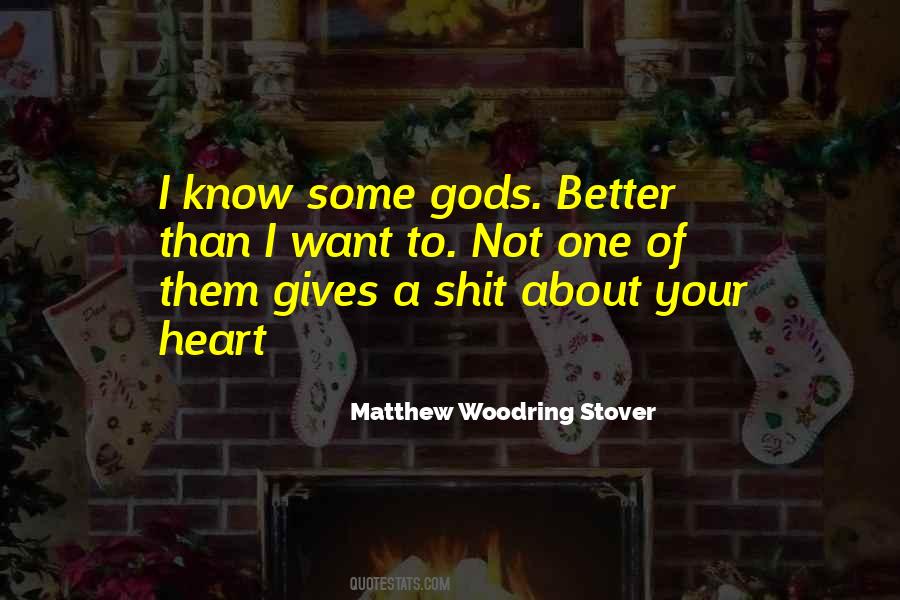 #32. There are only two persons you can never, ever escape, not for one moment, either in time or in eternity: God and yourself. - Author: Peter Kreeft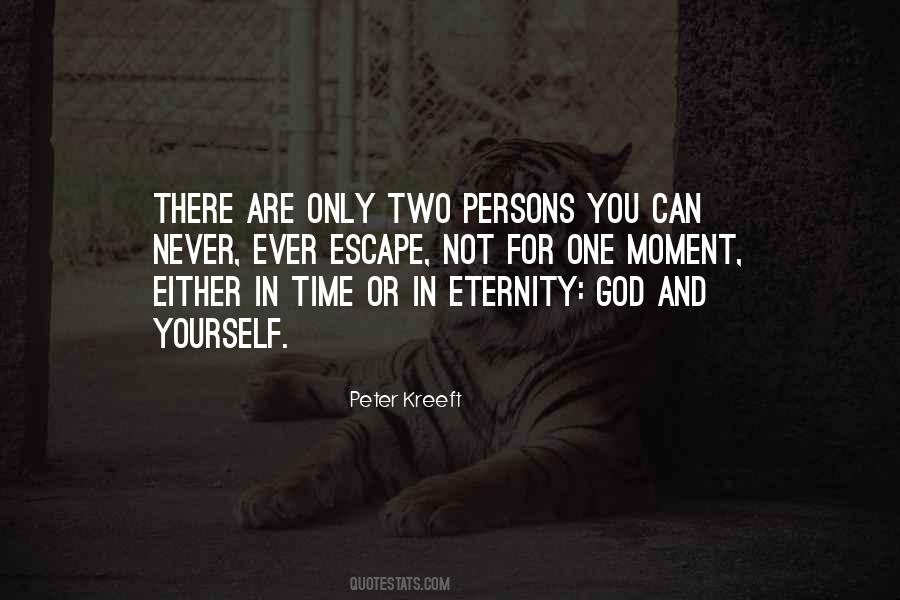 #33. When things fall apart, the broken pieces allow all sorts of things to enter, and one of them is the presence of God. - Author: Shauna Niequist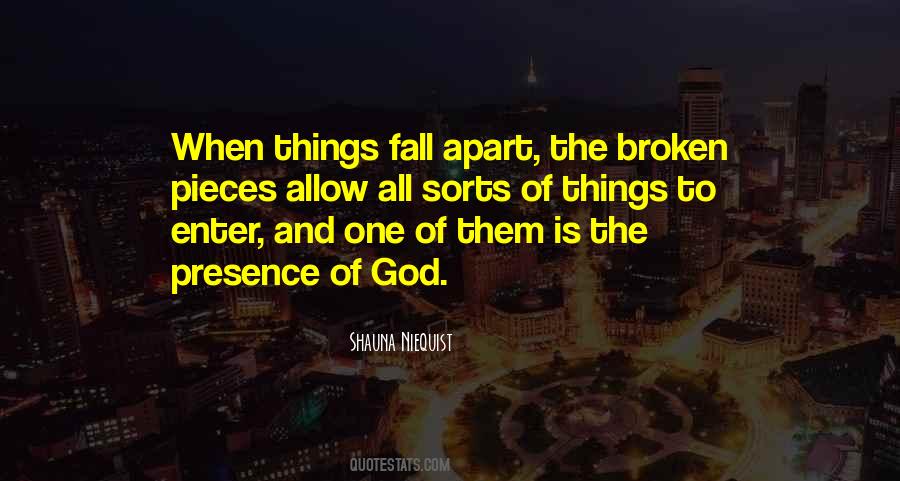 #34. It is impossible that one who has turned to the world and feels its anxieties, and engages his heart in the wish to please men, can fulfill that first and great commandment of the Master, 'You shall love God with all your heart and with all your strength' (Mt. 22:37). - Author: Gregory Of Nyssa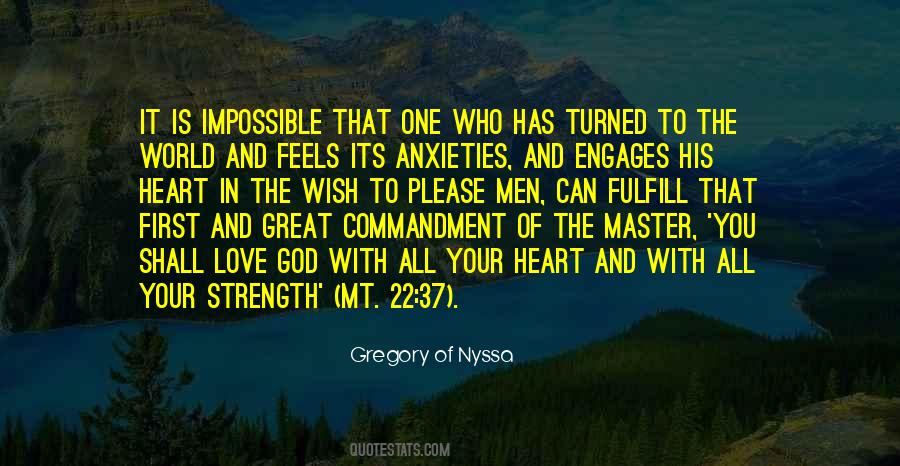 #35. Those who embrace the paradigm of religious superiority have an unshakable faith that they are favored by the one true god of the one true religion. They - Author: Jay Snelson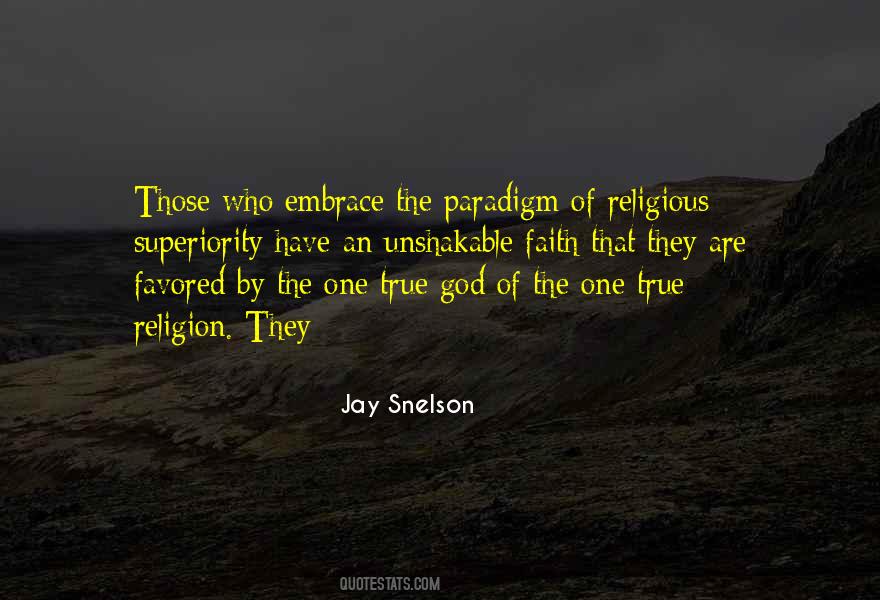 #36. Buddhism does not accept a theory of God, or a creator. According to Buddhism, one's own actions are the creator, ultimately. Some people say that, from a certain angle, Buddhism is not a religion but rather a science of mind. - Author: Dalai Lama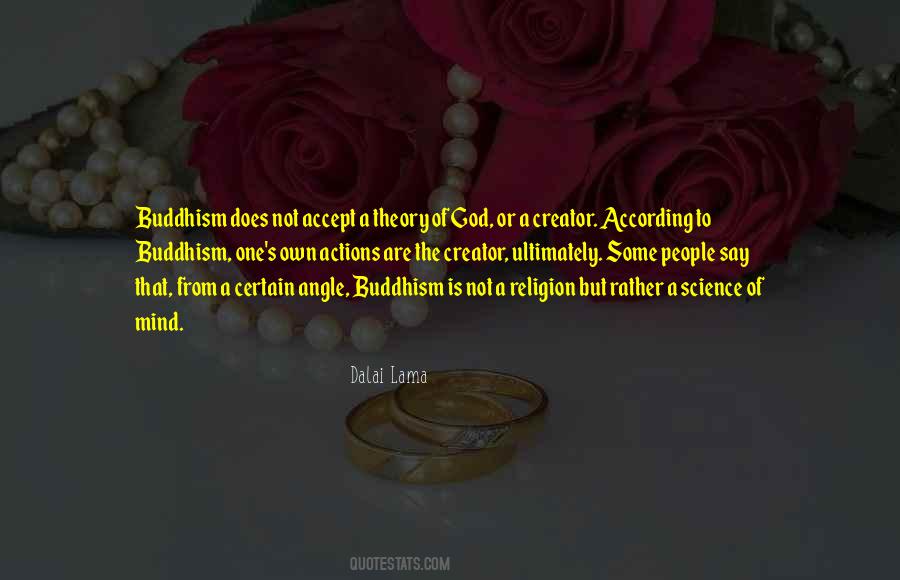 #37. We cannot tolerate one mistake from others, and yet God tolerates a planet covered with His own creation that live their entire lives sinning and denying Him, and yet continues to feed, clothe and protect them. - Author: Yasmin Mogahed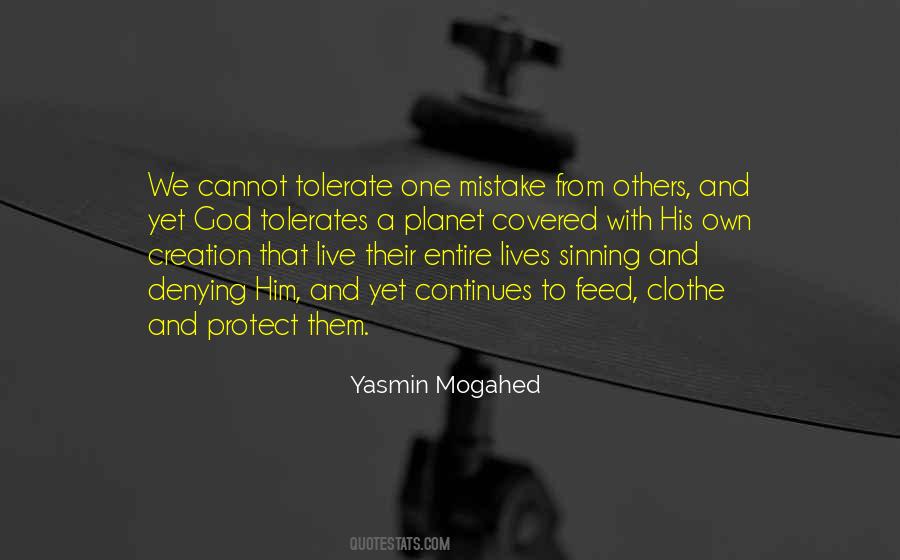 #38. God weeps with us so that we may one day laugh with him. - Author: Jurgen Moltmann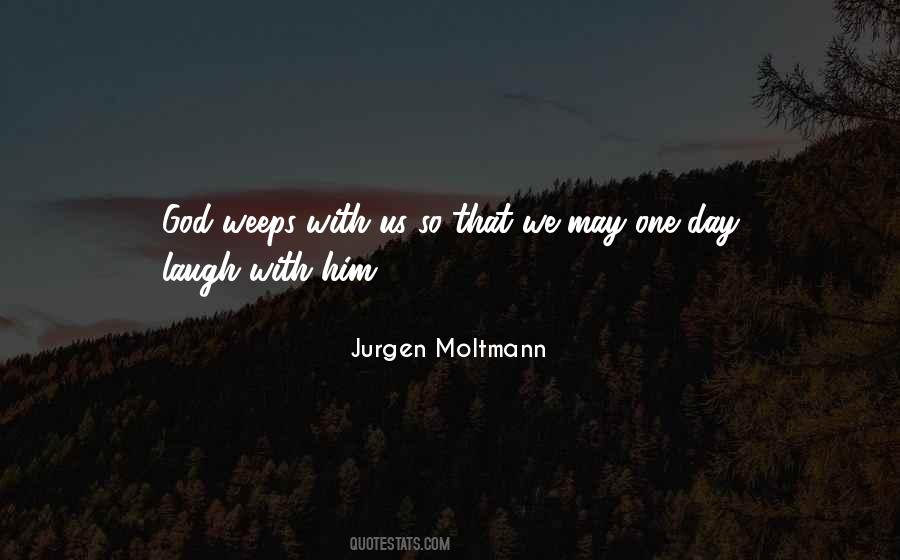 #39. The next thing I want to say is that God's way is always the best way. It's the only way, really. And God's word clearly says he created sex for one man and one woman to share only inside the commitment of marriage - Author: Robin Jones Gunn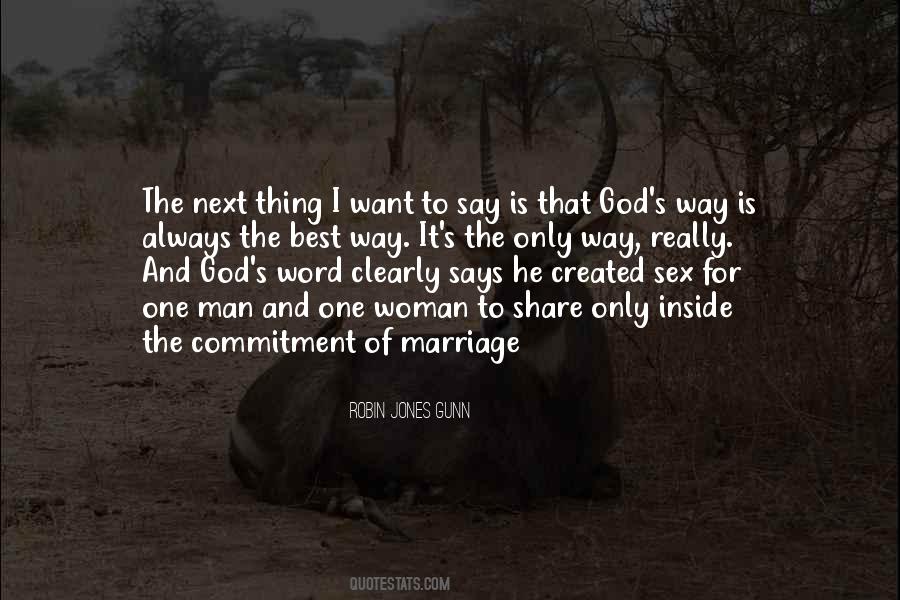 #40. God will put up with a great many things in the human heart, but there is one thing that He will not put up with in it
a second place. He who offers God a second place, offers Him no place. - Author: John Ruskin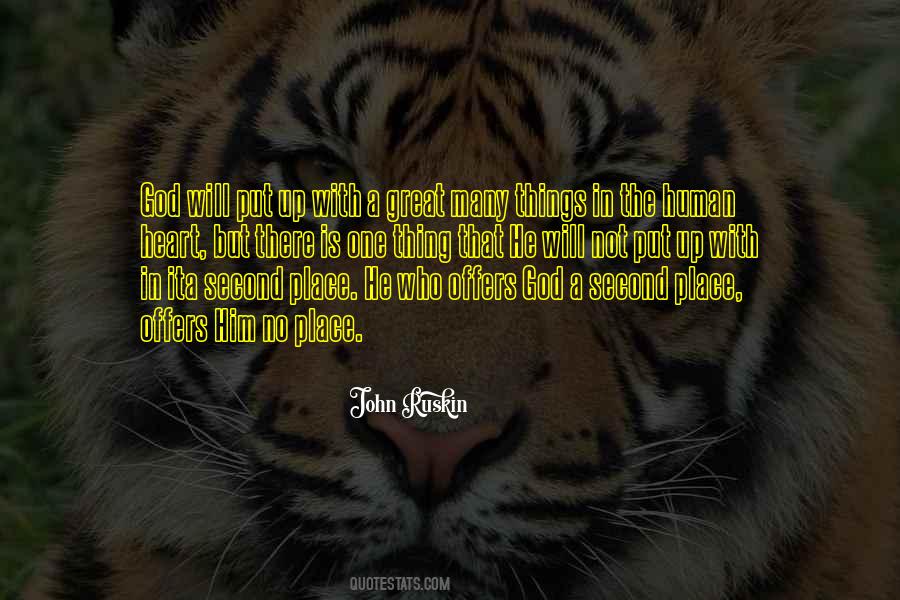 #41. Seated upon the convex mound Of one vast kidney, Jonah prays And sings his canticles and hymns, Making the hollow vault resound God's goodness and mysterious ways, Till the great fish spouts music as he swims. - Author: Aldous Huxley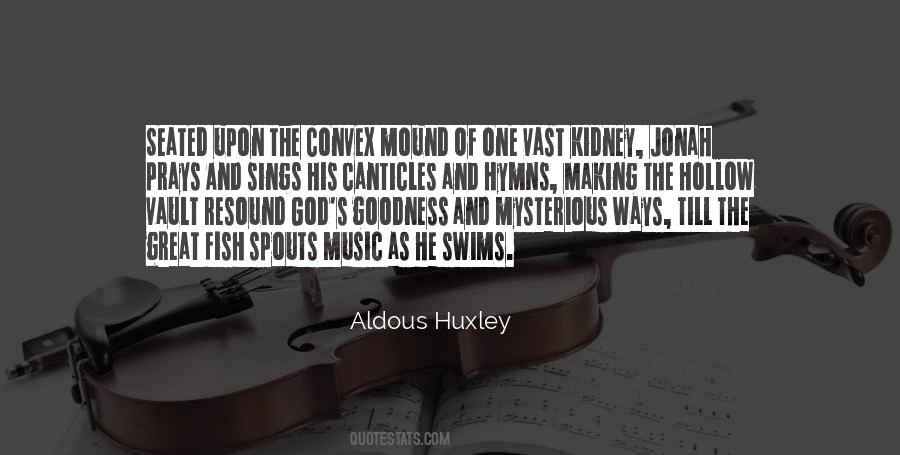 #42. Heaven is a very distinct place, where only God's elect will go. It's the place where the only One who deserves any glory lives and reigns. - Author: Monica Johnson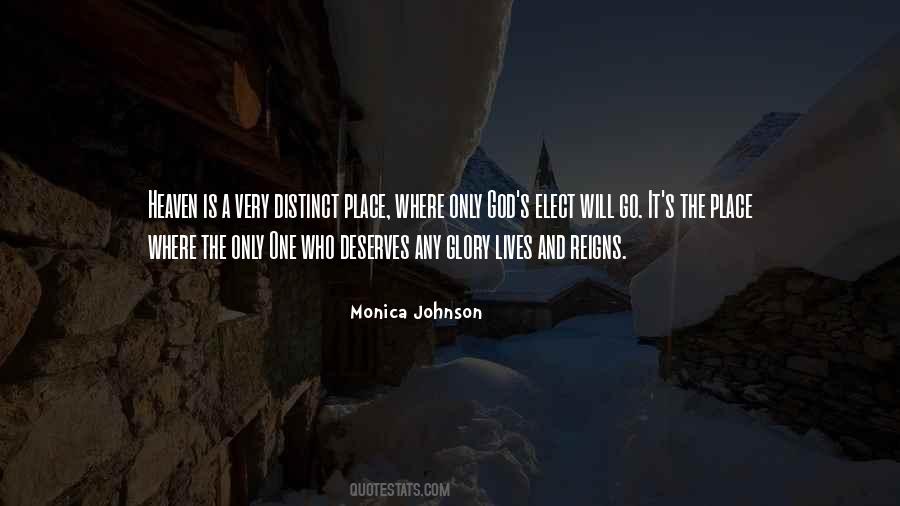 #43. In my long life I have found peace, joy, and happiness beyond my fondest hopes and dreams. One of the supreme benedictions of my life has been my marriage to an elect daughter of God. I love her with all my heart and soul. - Author: James E. Faust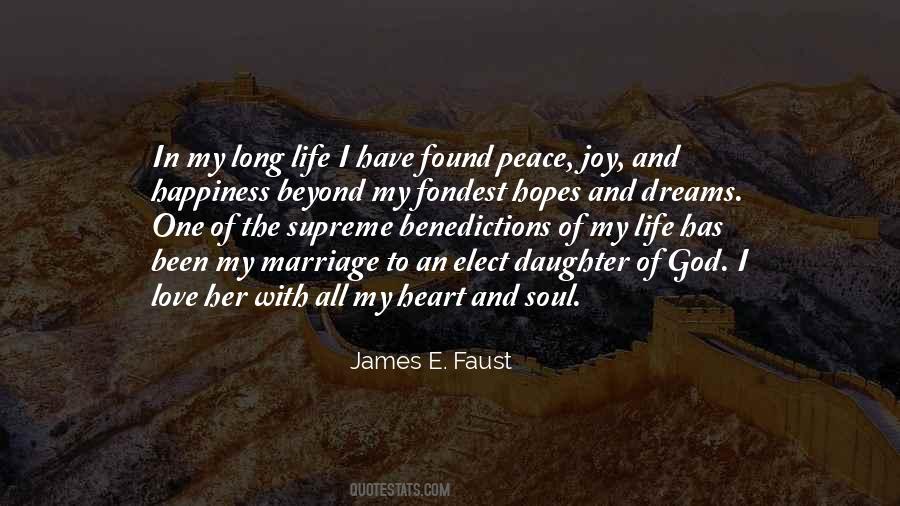 #44. It's a saying they have, that a man has a false heart in his mouth for the world to see, another in his breast to show to his special friends and his family, and the real one, the true one, the secret one, which is never known to anyone except to himself alone, hidden only God knows where. - Author: James Clavell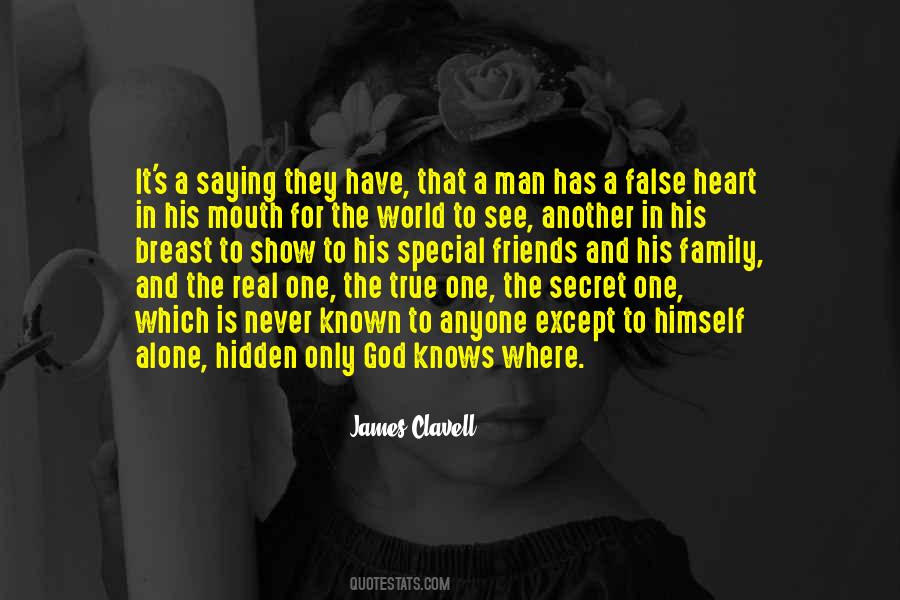 #45. When a man wantonly destroys one of the works of man we call him a vandal. When he destroys one of the works of god we call him a sportsman. - Author: Joseph Wood Krutch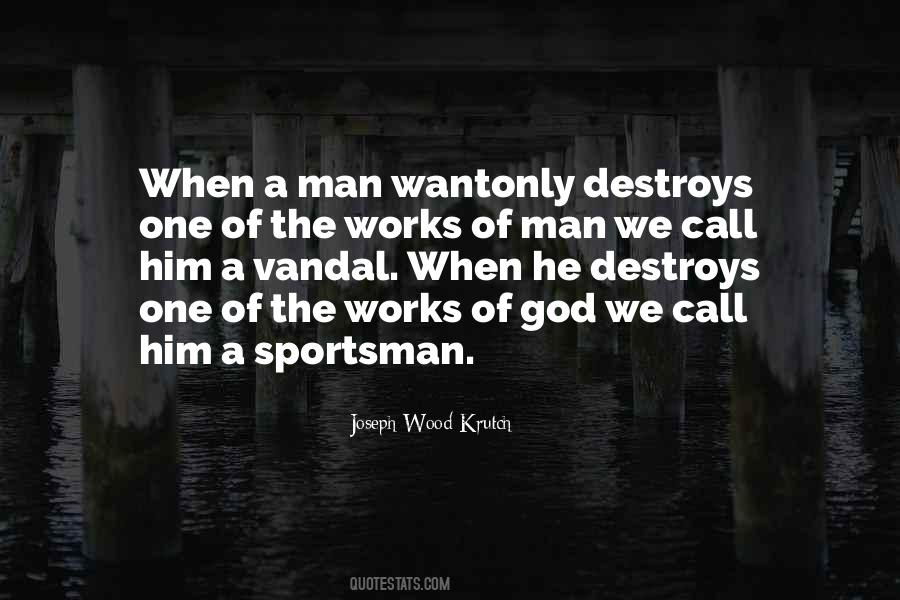 #46. God, I want to dream again, take me where I've never been! I want to go there, this time I'm not scared! Now I am unbreakable, it's unmistakable! No one can touch me, nothing can stop me! - Author: Fireflight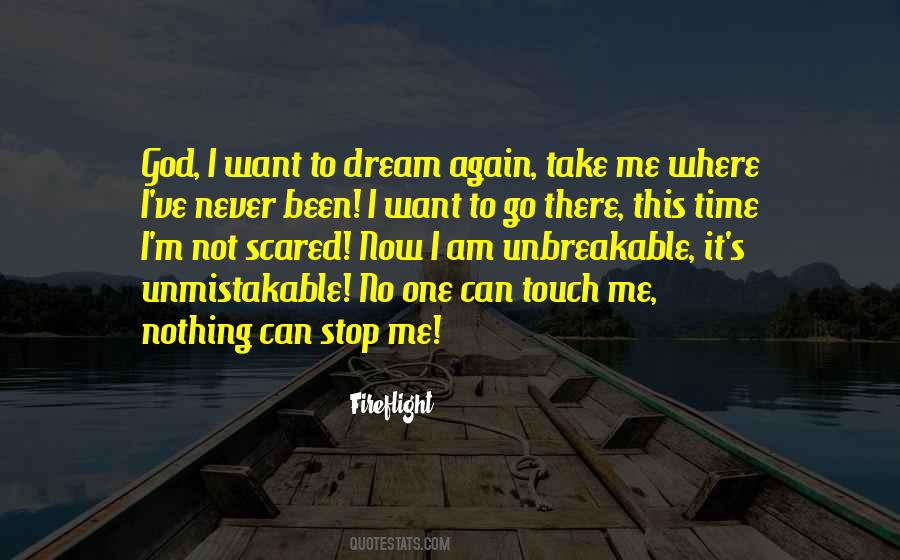 #47. Good girls earn good things." She let my jaw go, her eyes going beyond me toward Benny's house, then coming back to me. "Let yourself have good things." "It's not right," I told her quietly. "Know one thing on God's beautiful earth, and that is" - she leaned into me - "love is never wrong. - Author: Kristen Ashley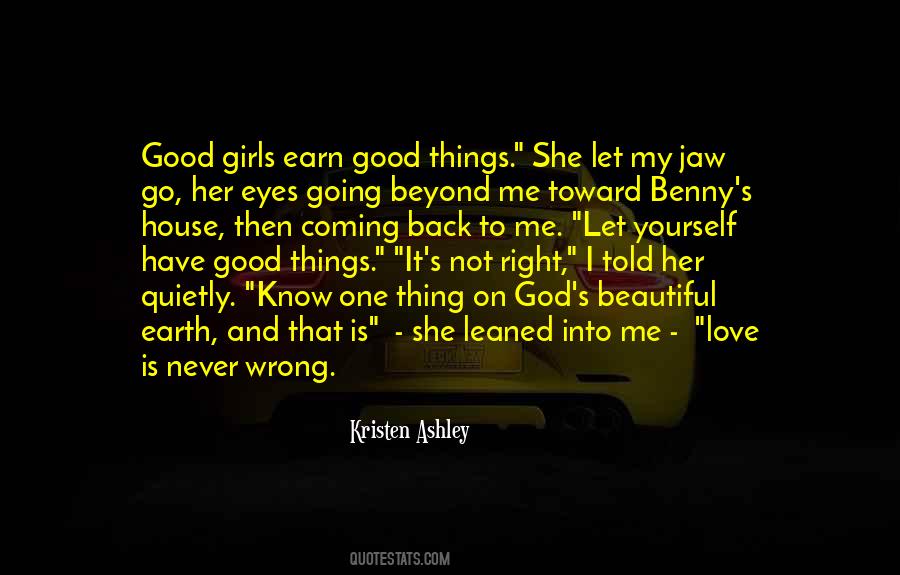 #48. Of all the marvelous works of God, perhaps the one angels view with the most supreme astonishment, is a proud man. - Author: Charles Caleb Colton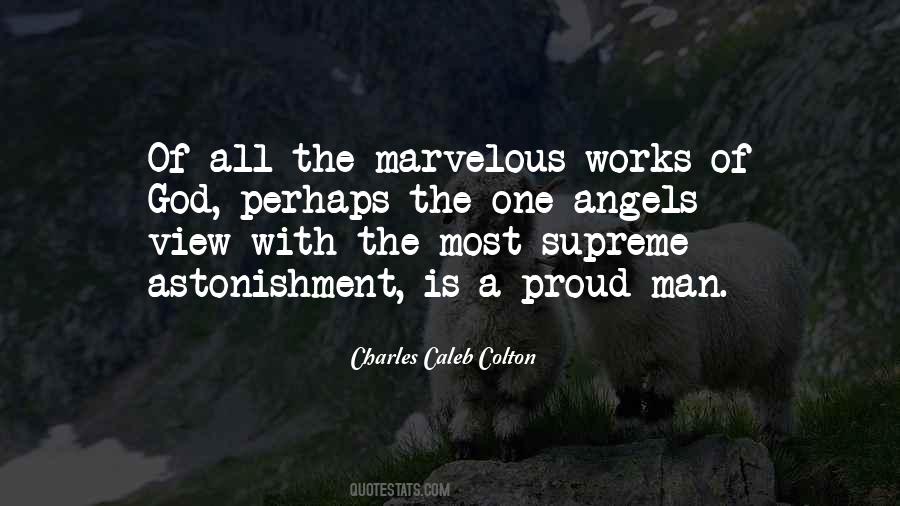 #49. God is triune; there are within the Godhead three persons, the Father, the Son and the Holy Spirit, and the work of salvation is one in which all three act together, the Father purposing redemption, the Son securing it and the Spirit applying it. - Author: J.I. Packer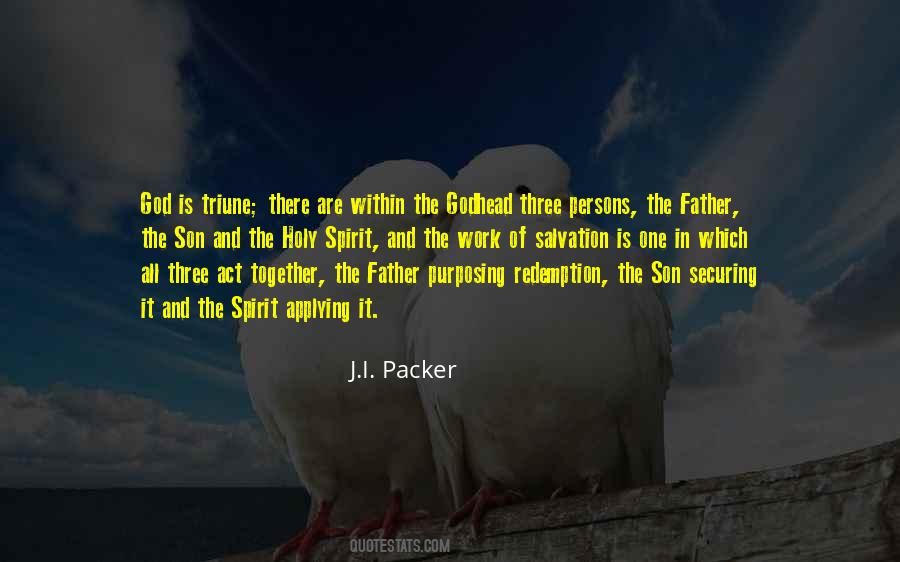 #50. I encourage anyone who has gone through hardships to look back through their life's chapters and see what can be turned into a book. For you never know what heartache God, one day, can turn into a redemptive story. - Author: Jolina Petersheim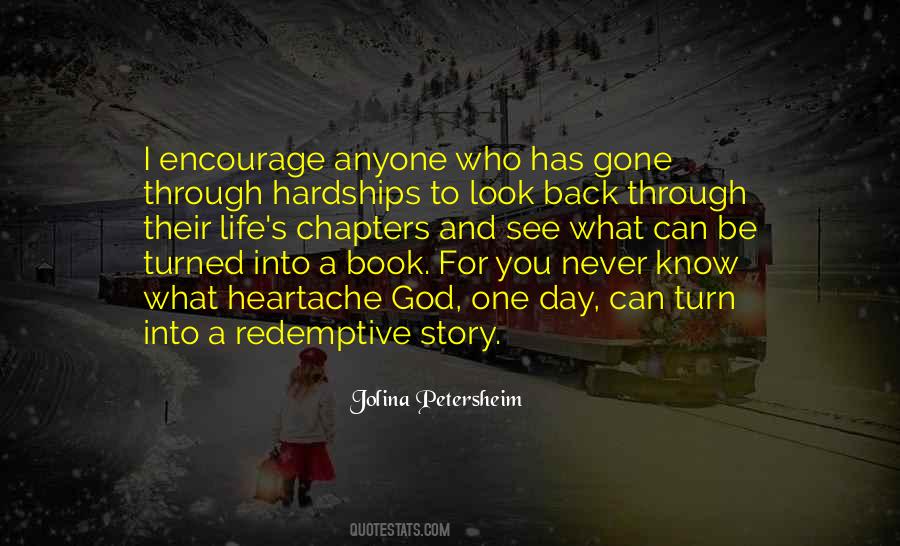 #51. Let no one flatter himself; of himself he is Satan. Let man take sin, which is his own, and leave righteousness with God. - Author: Saint Augustine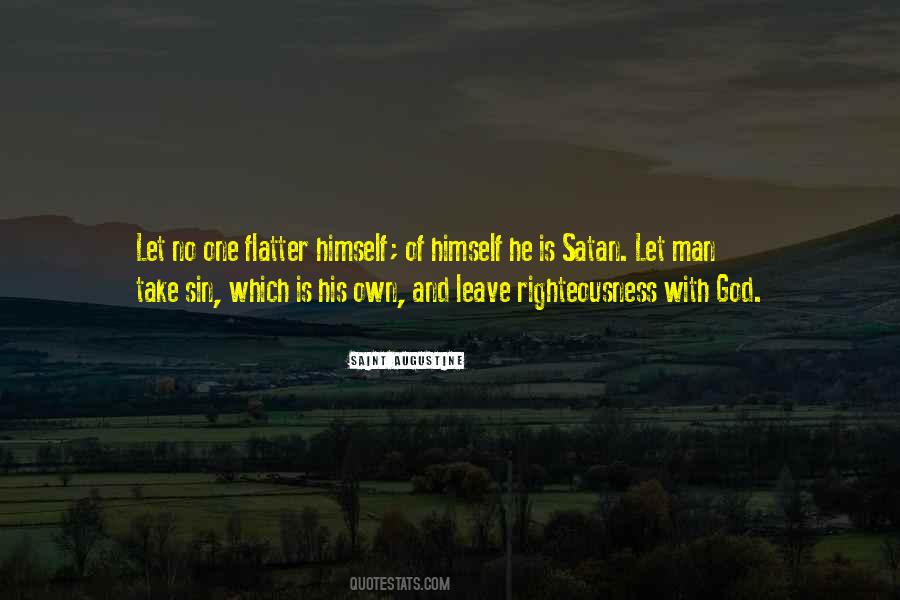 #52. For the life of the believer, one thing is beautifully and abundantly true: God's chief concern in your suffering is to be with you and be Himself for you. And in the end, what we discover is that this really is enough. - Author: Tullian Tchividjian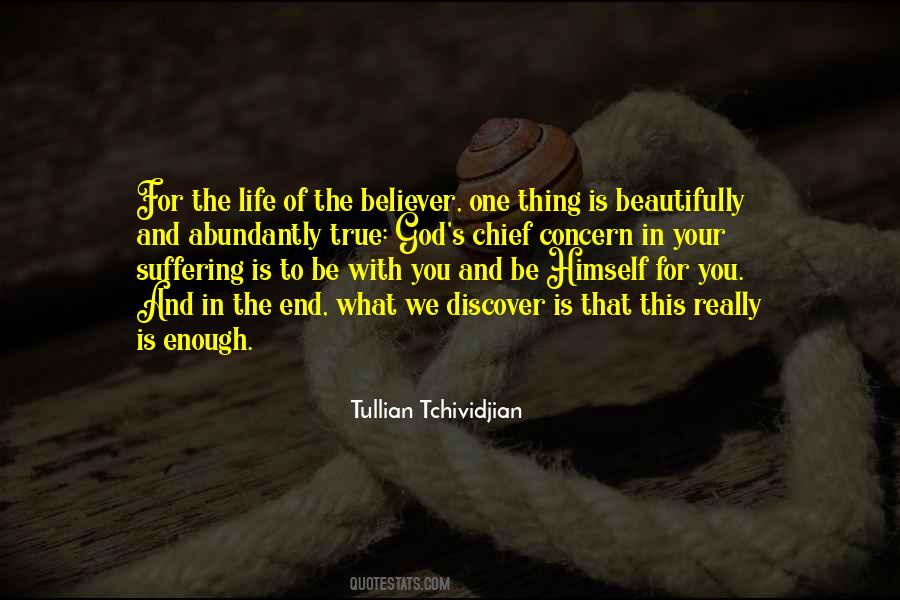 #53. Behind my non-cooperation there is always the keenest desire to cooperate on the slightest pretext even with the worst of opponents. To me, a very imperfect mortal, ever in need of God's grace, no one is beyond redemption. - Author: Mahatma Gandhi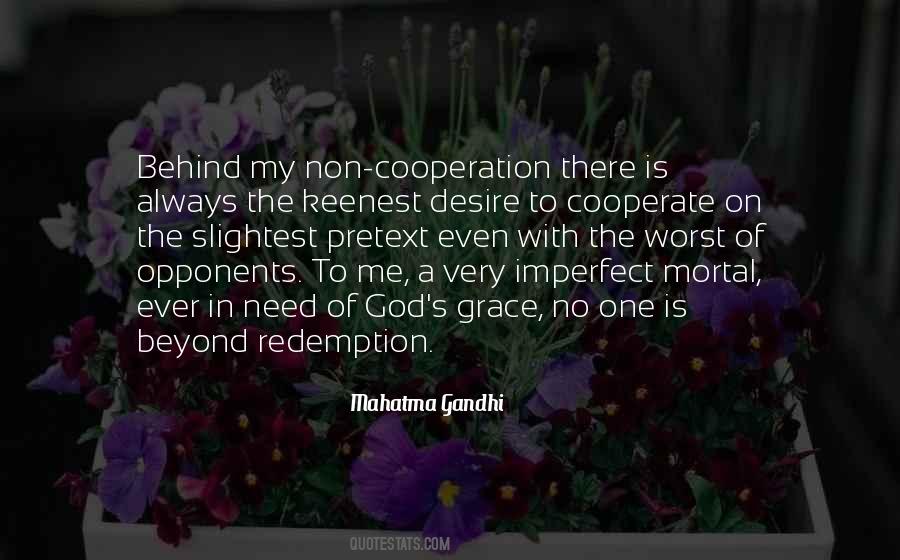 #54. Mere mental assimilation of these truths cannot withstand temptation, however. The revelation of God is positively essential. The Spirit of God must reveal how we are in Christ and how we are united with Him in one. - Author: Watchman Nee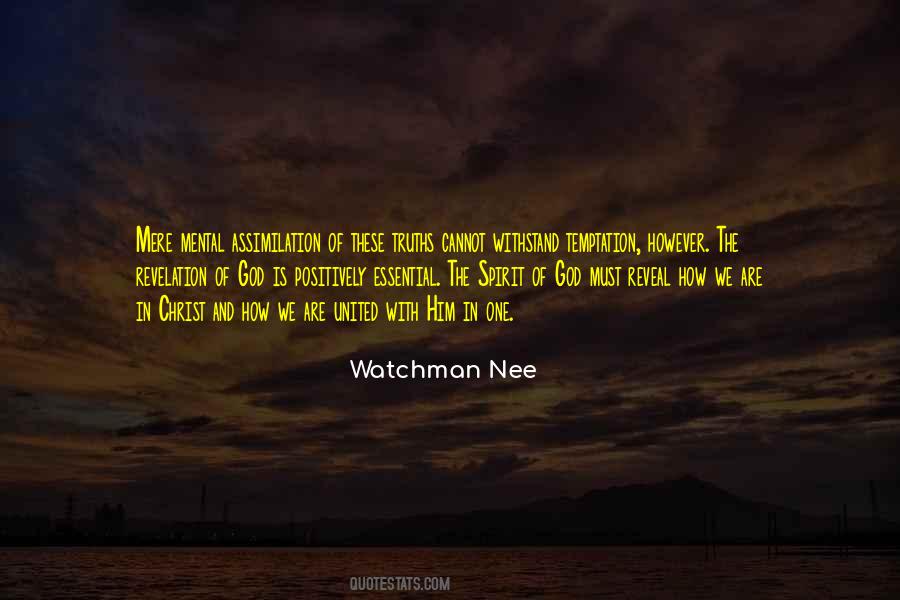 #55. God had one Son without sin, but He never had a son without trial. - Author: Dwight L. Moody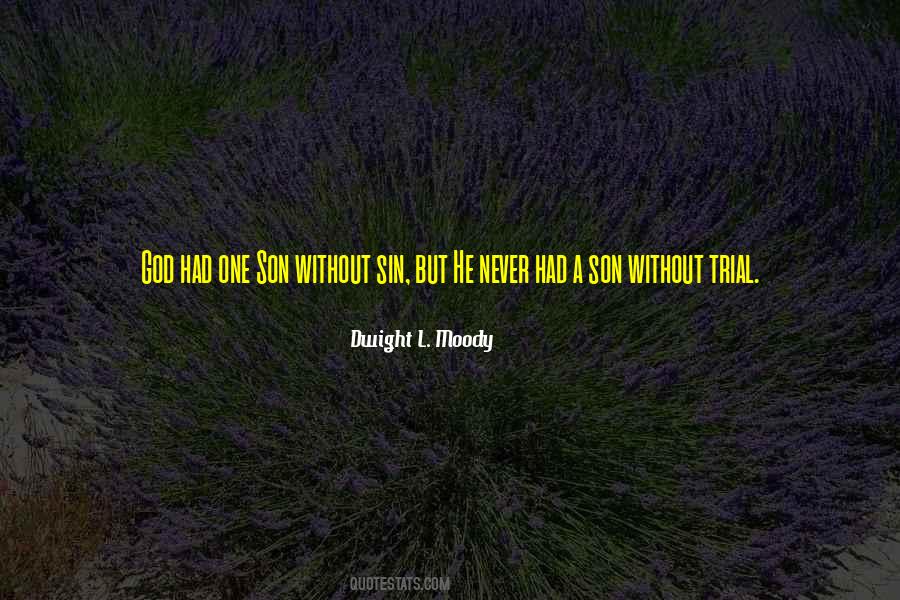 #56. One simply cannot come to a cause like the kingdom of God, with its celestial concepts, and not appreciate and identify with what Ammon said: "Behold, I say unto you, I cannot say the smallest part which I feel." - Author: Neal A. Maxwell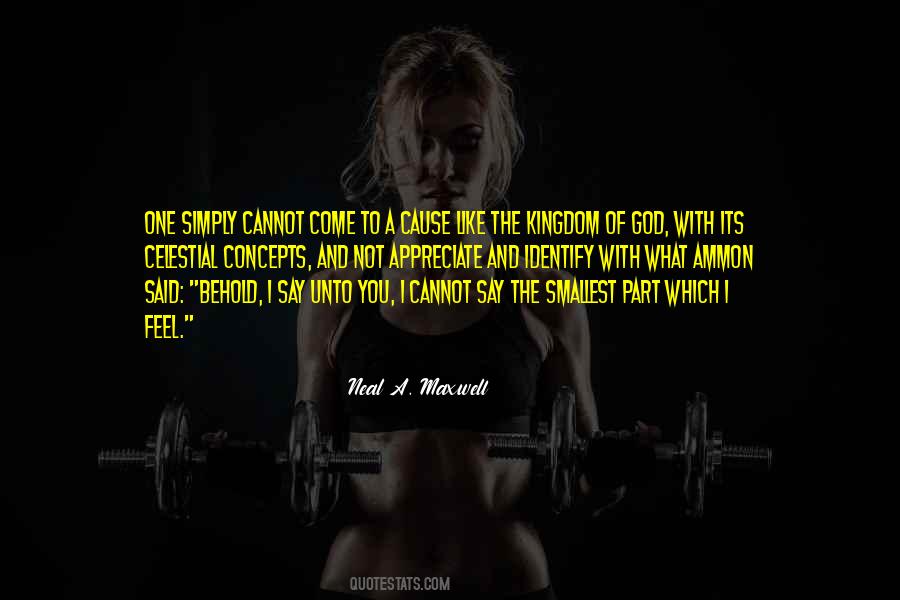 #57. It is hard to hear God, but it is even harder not to hear God. The pain one brings upon oneself by living outside of evident reality is a greater and longer-lasting pain than the brief pain of facing it head on. - Author: Richard Rohr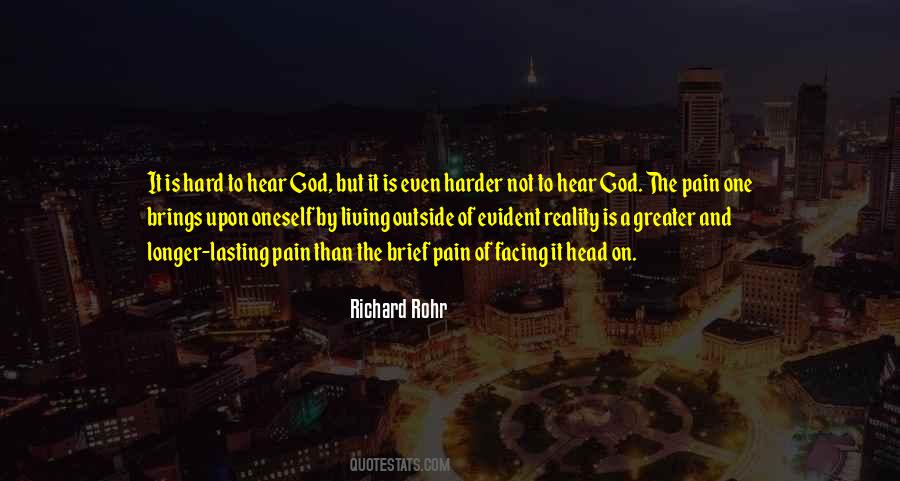 #58. He knows how it is to leave Ireland, did it himself and never got over it. You live in Los Angeles with sun and palm trees day in day out and you ask God if there's any chance He could give you one soft rainy Limerick day - Author: Frank McCourt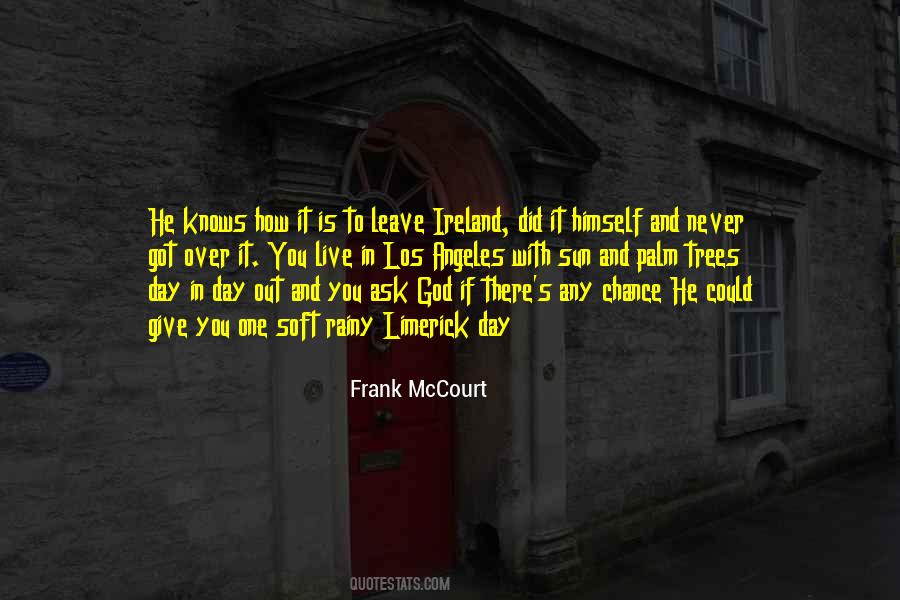 #59. Life is so precious. Please, please, let's love one another, live each day, reach out to each other, be kind to each other. Peace be with you. God is great. - Author: Julia Roberts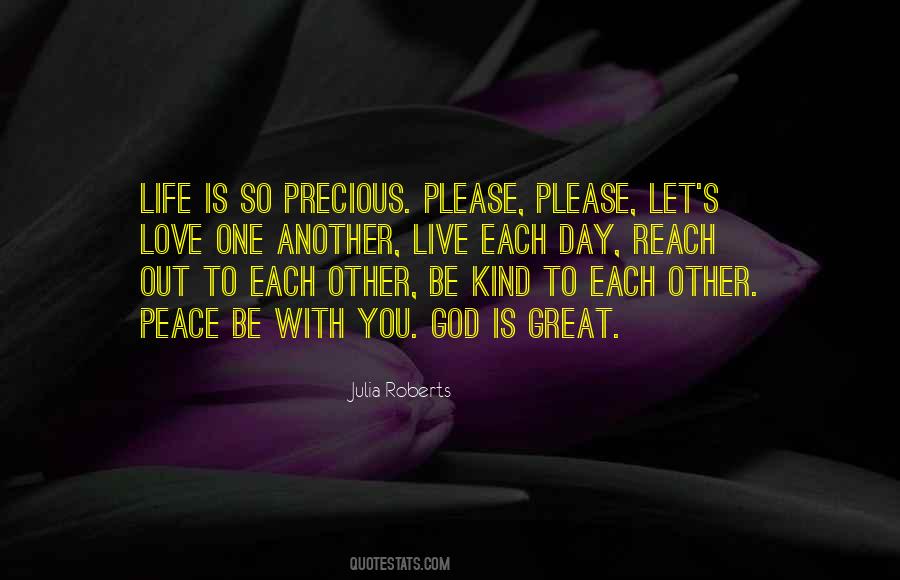 #60. Spirit-led Jesus followers recognize that they are imperfect Christians working with other imperfect Christians to serve a perfect Christ. When we love and give to one another, then we grow as individuals and as the family of God.136 - Author: Mark Driscoll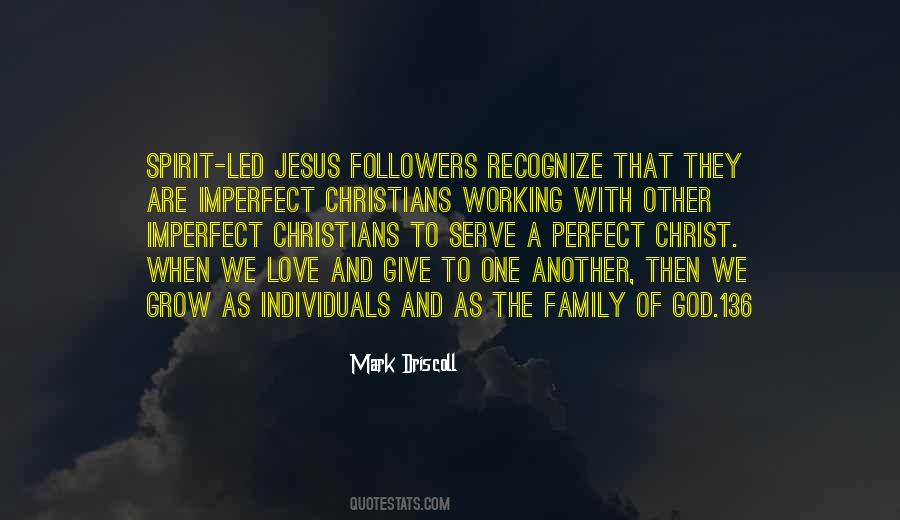 #61. HEY, KIDS! TAKE YOUR DICKS OUT OF THE PLAYSTATION THREE FOR ONE GOD DAMN MINUTE AND READ SOME FUCKING COMICS. - Author: James Kochalka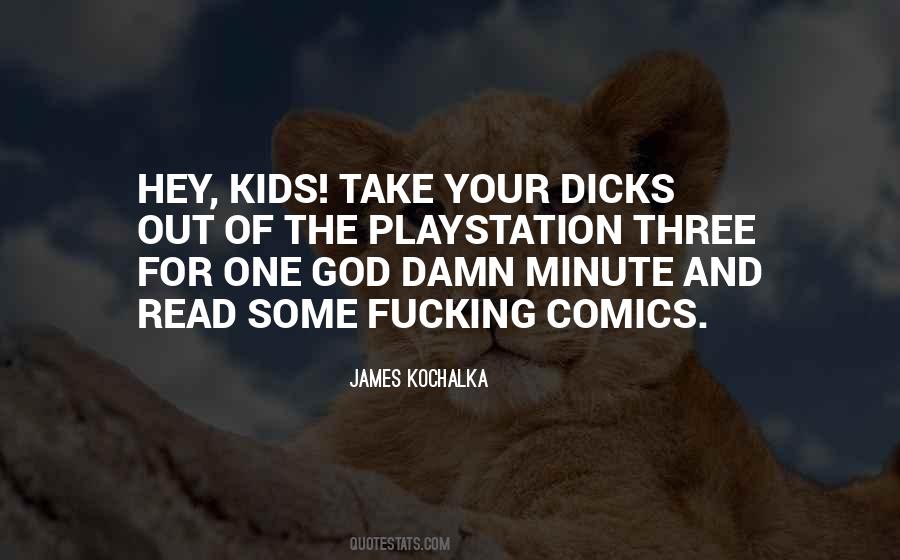 #62. Five women working together is never going to be easy. It's a lot. But God is so incredible, in terms of the timing, because we are all married with kids, in our late 30s and 40s. It's a different stage in our lives. It's not about who is going to be the one that's going to pop. - Author: Roselyn Sanchez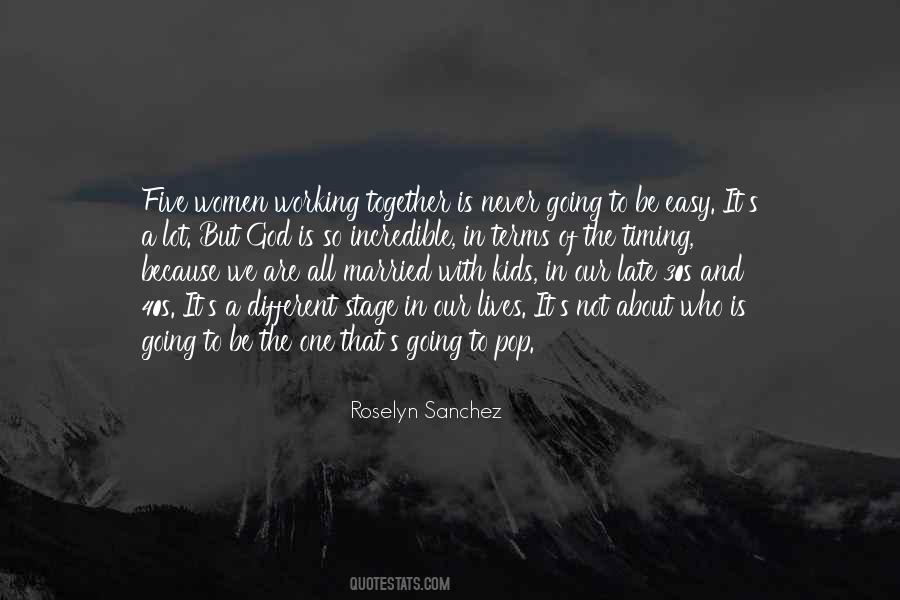 #63. In God's eyes, no one on this planet is any better than you. - Author: Wayne Dyer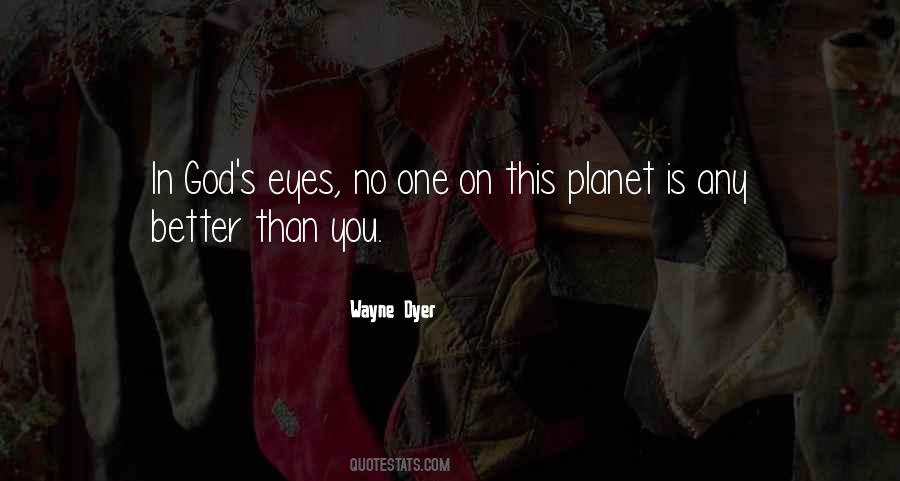 #64. I've never been able to understand 'faith' myself, nor to see how a just God could expect his creatures to pick the one true religion out of an infinitude of false ones - by faith alone. It strikes me as a sloppy way to run an organization, whether universe or a smaller one. - Author: Robert A. Heinlein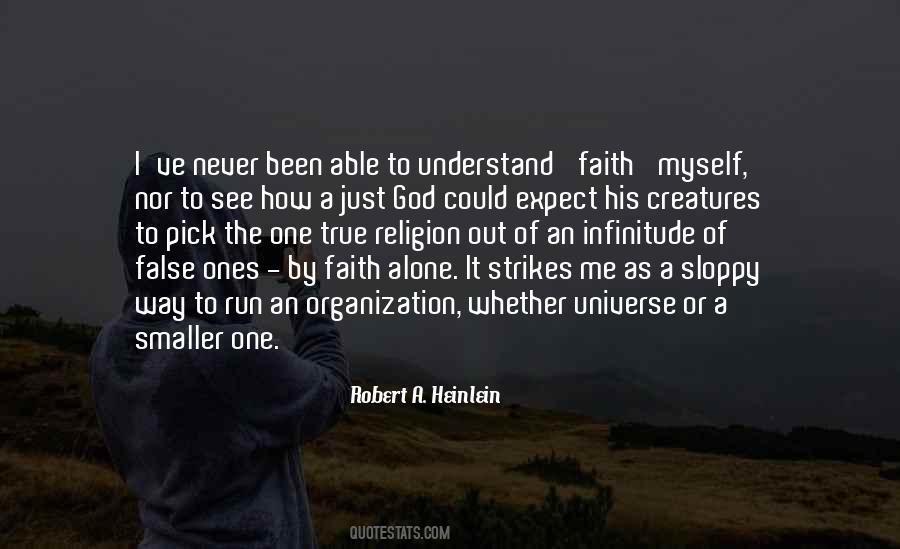 #65. SOMETIMES THE POOL-PAH," Bokonon tells us, "exceeds the power of humans to comment." Bokonon translates pool-pah at one point in The Books of Bokonon as "shit storm" and at another point as "wrath of God. - Author: Kurt Vonnegut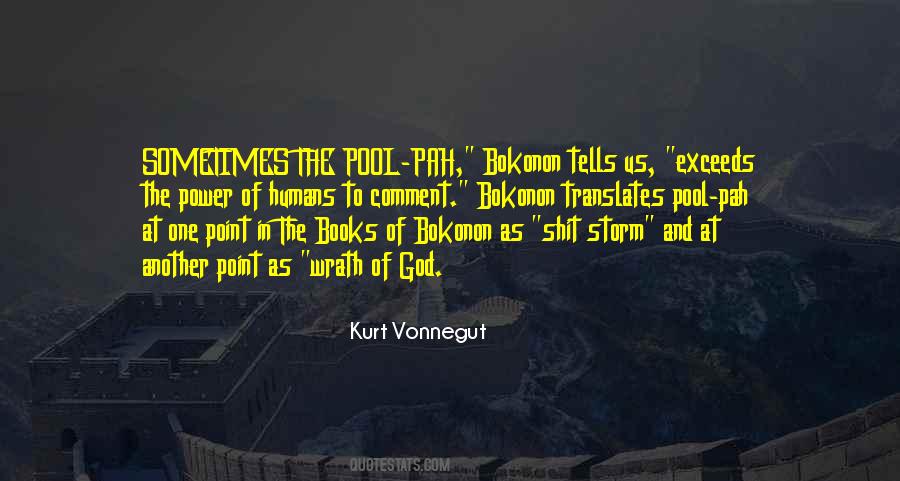 #66. [H]aving the career of the beloved CIA Director and the commanding general in Afghanistan instantly destroyed due to highly invasive and unwarranted electronic surveillance is almost enough to make one believe not only that there is a god, but that he is an ardent civil libertarian. - Author: Glenn Greenwald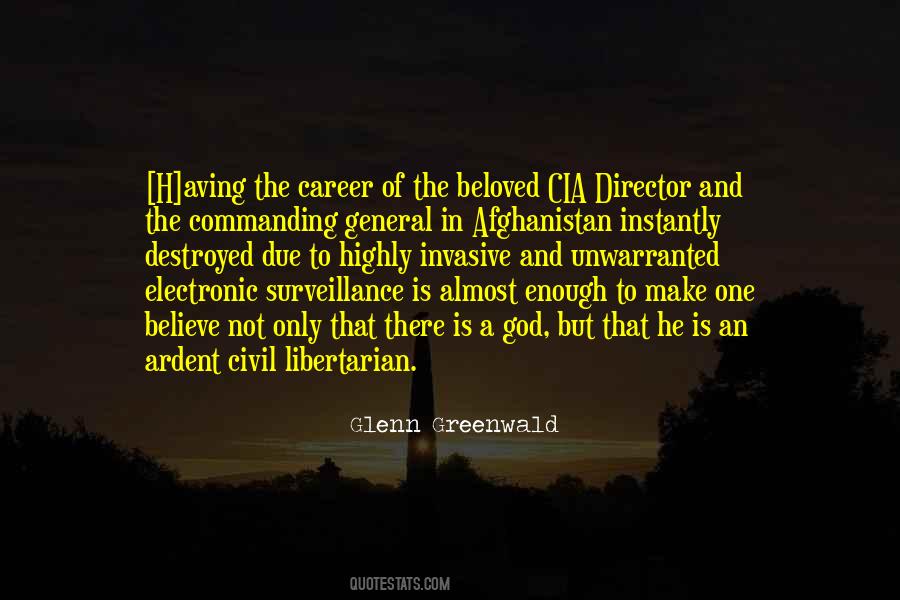 #67. Let no one define how you se yourself ... save God alone. See yourself through His eyes and His strength, and you'll see who you can be despite being who you are. - Author: Tamera Alexander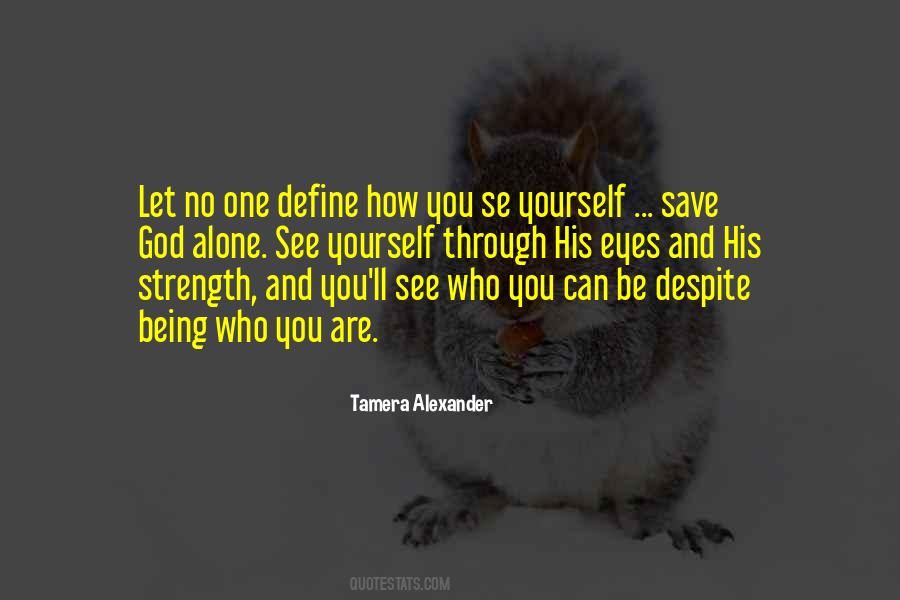 #68. One should only question gods where none but gods can reply. - Author: Friedrich Nietzsche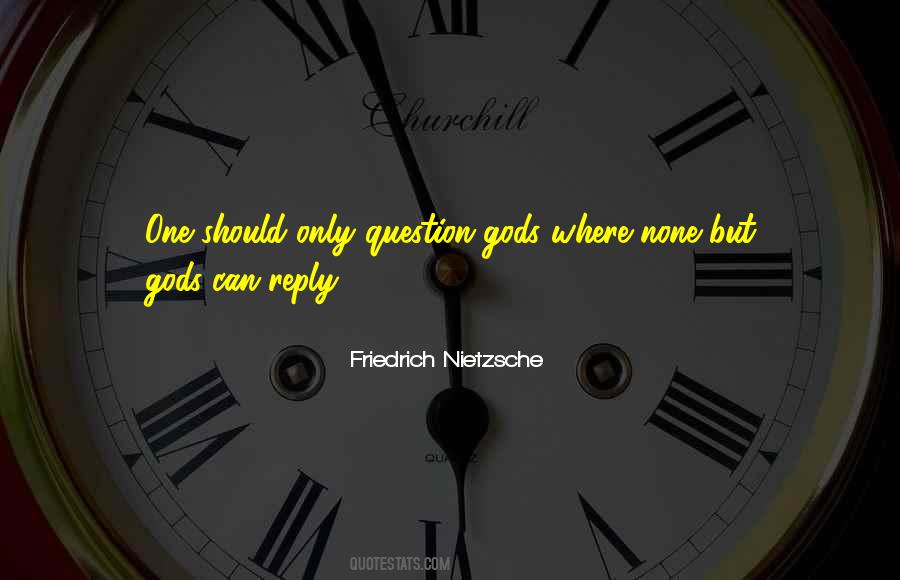 #69. Growth in grace is one way to be happy in our religion. God has wisely linked together our comfort and our increase in holiness. - Author: J.C. Ryle
#70. Since I only got one life to ive, God forgive me for my sins, let me make it and i'll never steal again, or deal again, my only friend is my misery. Wantin revenge for the agony they did to me. - Author: Tupac Shakur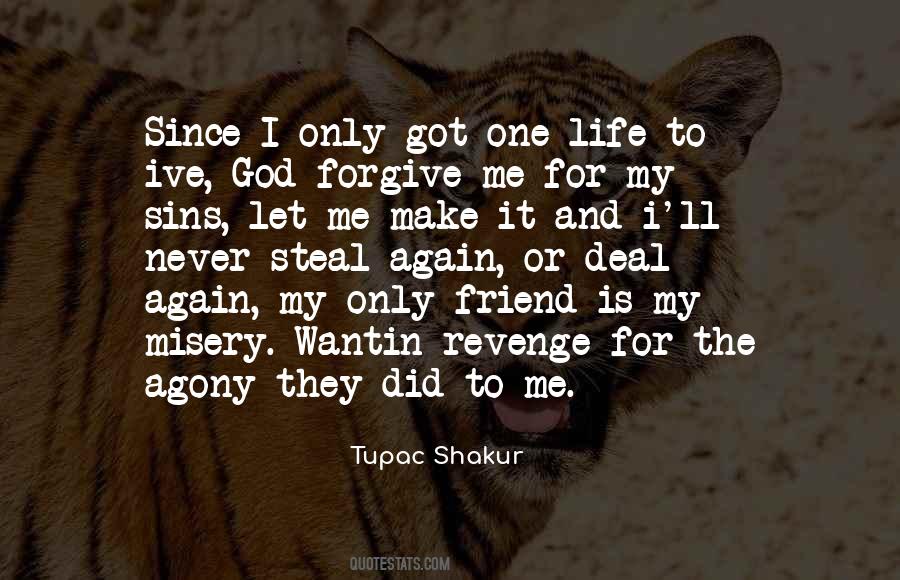 #71. In the Book of Benamii, we have all read that it's better for one person in power to die, if their rule is unjust, than an entire nation to forget the God who made them. - Author: Michelle Erickson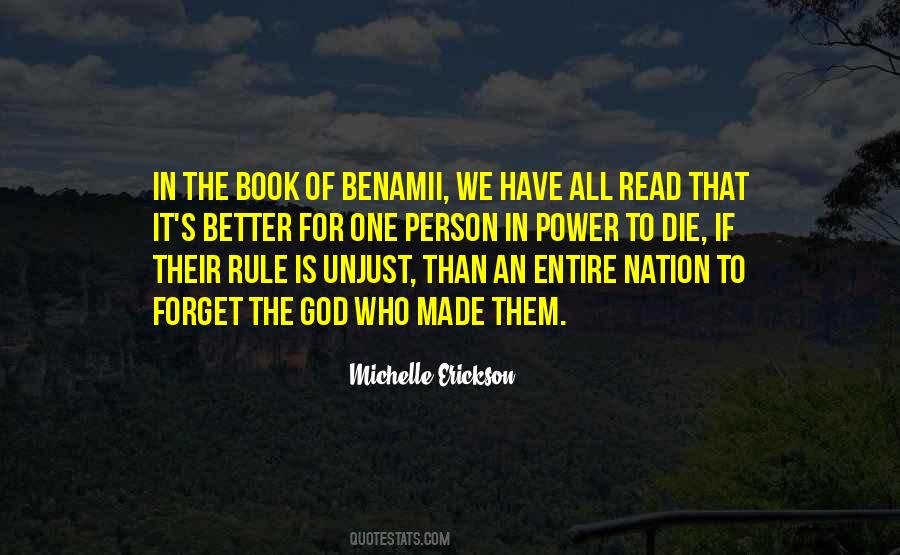 #72. And all knowledge is vain save when there is work, and all work is empty save when there is love; and when you work with love you bind yourself to yourself, and to one another, and to God. - Author: Kahlil Gibran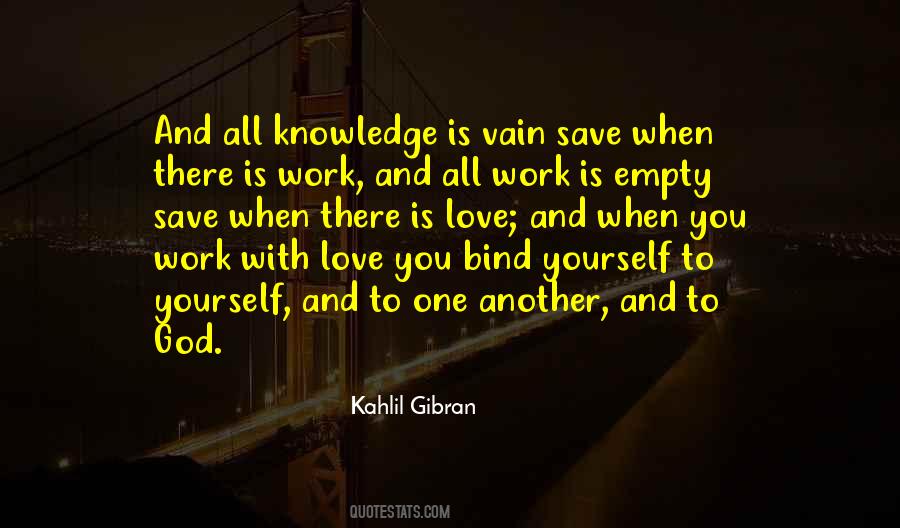 #73. Where the vast cloudless sky was broken by one crow I sat upon a hill - all alone - long ago; But I never felt so lonely and so out of God's way, As here, where I brush elbows with a thousand every day. - Author: Harry Kemp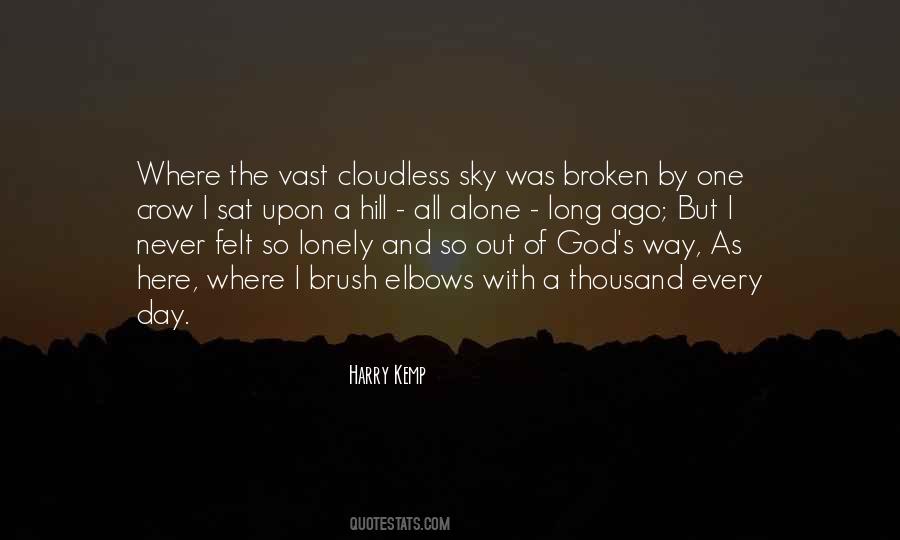 #74. This truth of the gathering together of God's children is in Scripture seen realised in various localities, and in each central locality the Christians resident therein composed but one body: Scripture is perfectly clear on that head. - Author: John Nelson Darby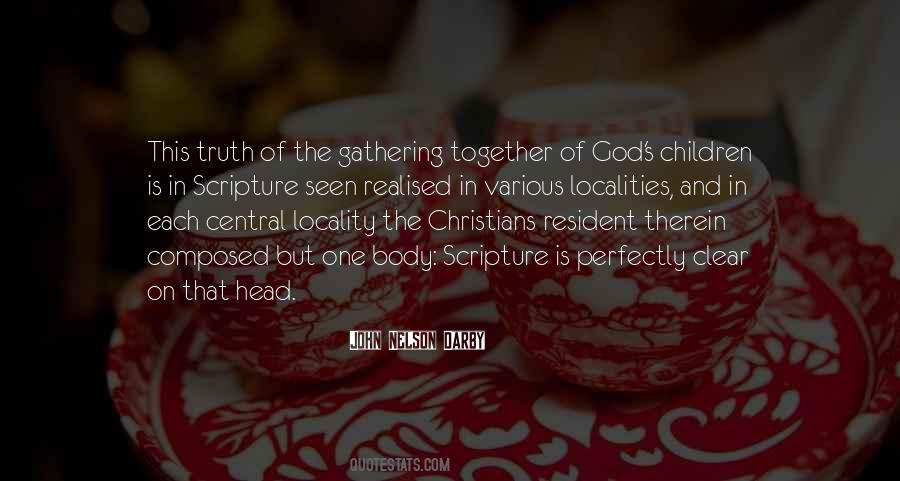 #75. What we committed in the Indies stands out among the most unpardonable offenses ever committed against God and mankind and this trade [in Indian slaves] as one of the most unjust, evil, and cruel among them. - Author: Bartolome De Las Casas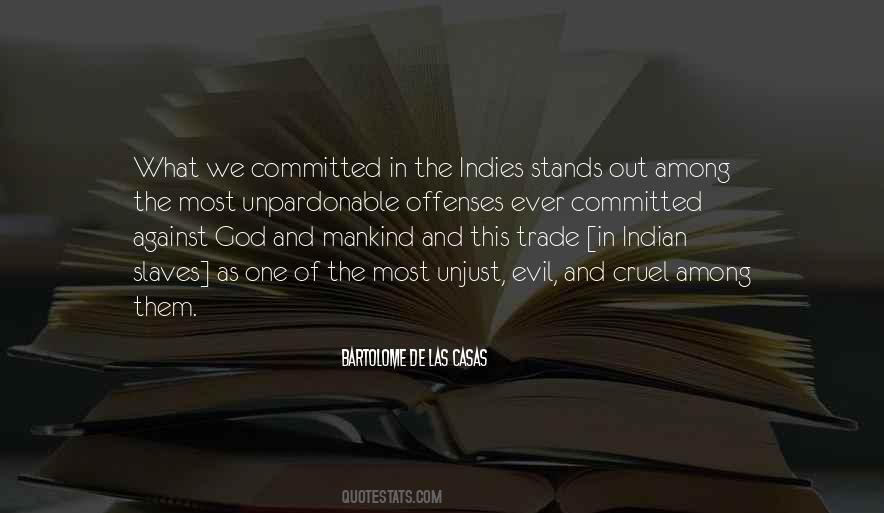 #76. Burn? Smite? Punish? Why is your god so intolerant? So jealous? Why must there be only one god? Why is there not room for many? - Author: Brom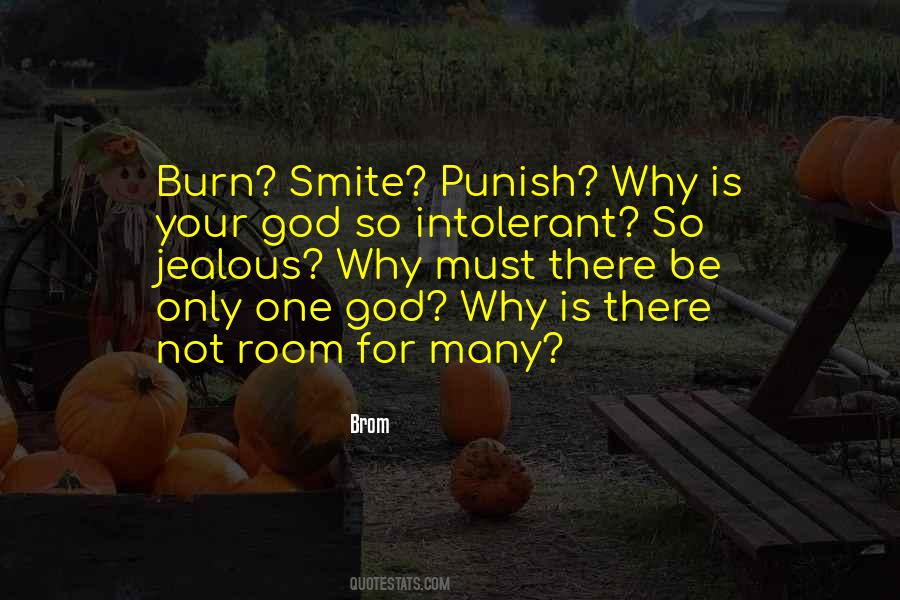 #77. One hundred years before the Pilgrims landed at Plymouth, the Spanish government issued a decree authorizing the enslavement of the American Indian as in accord with the law of God and man. - Author: Nelson A. Miles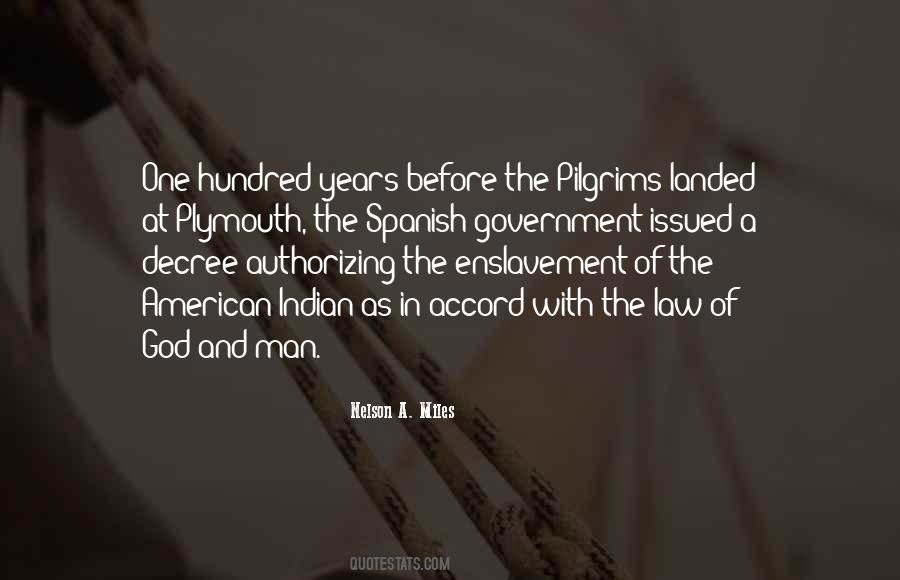 #78. The duty of man is not a wilderness of turnpike gates, through which he is to pass by tickets from one to the other. It is plain and simple, and consists but of two points
his duty God, which every man must feel; and, with respect to his neighbor, to do as he would be done by. - Author: Thomas Paine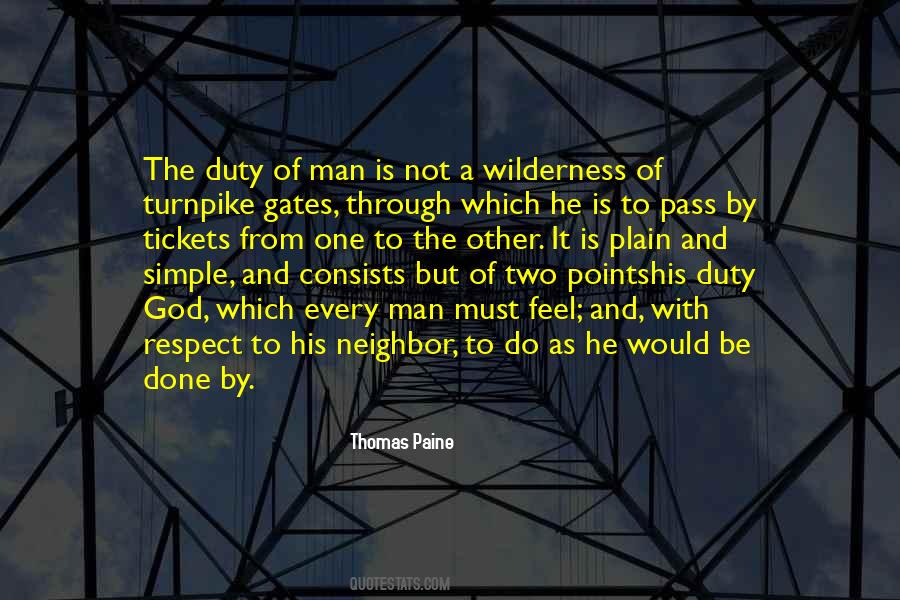 #79. The danger of loss of faith in God is not that one will believe in nothing, but rather that one will believe in anything. - Author: Gilbert K. Chesterton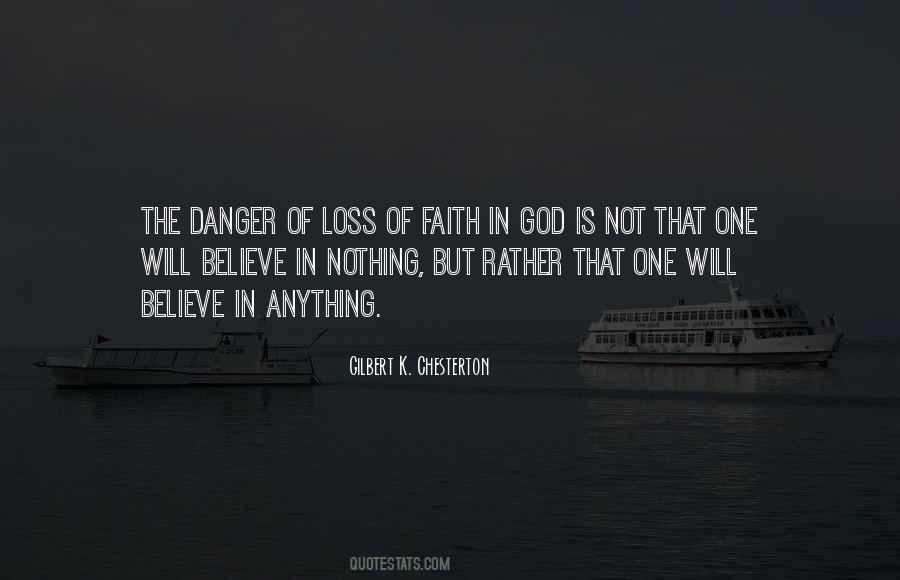 #80. While all men seek after happiness, scarcely one in a hundred looks for it from God. - Author: John Calvin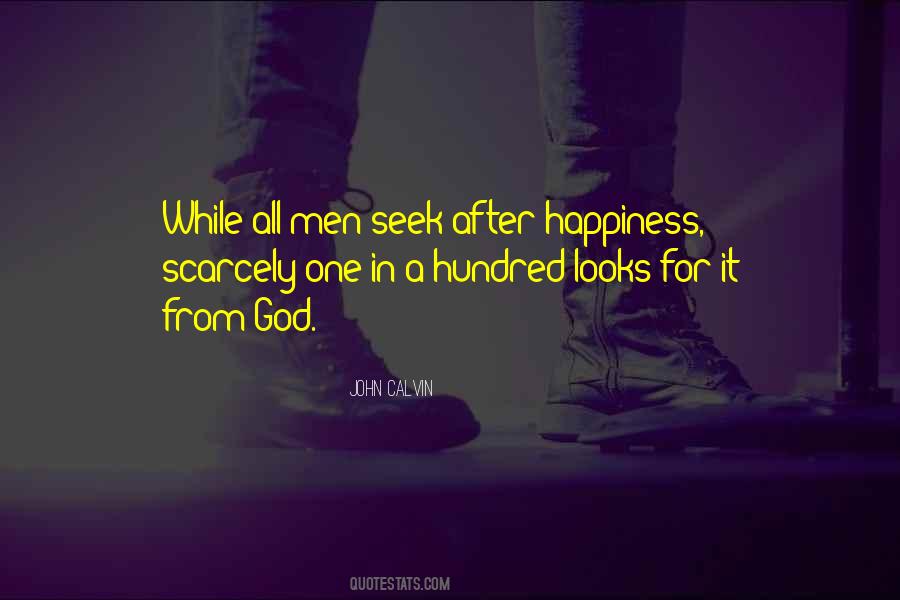 #81. Intercessory prayer for one who is sinning prevails. God says so! The will of the man prayed for does not come into question at all, he is connected with God by prayer, and prayer on the basis of the Redemption sets the connection working and God gives life. - Author: Oswald Chambers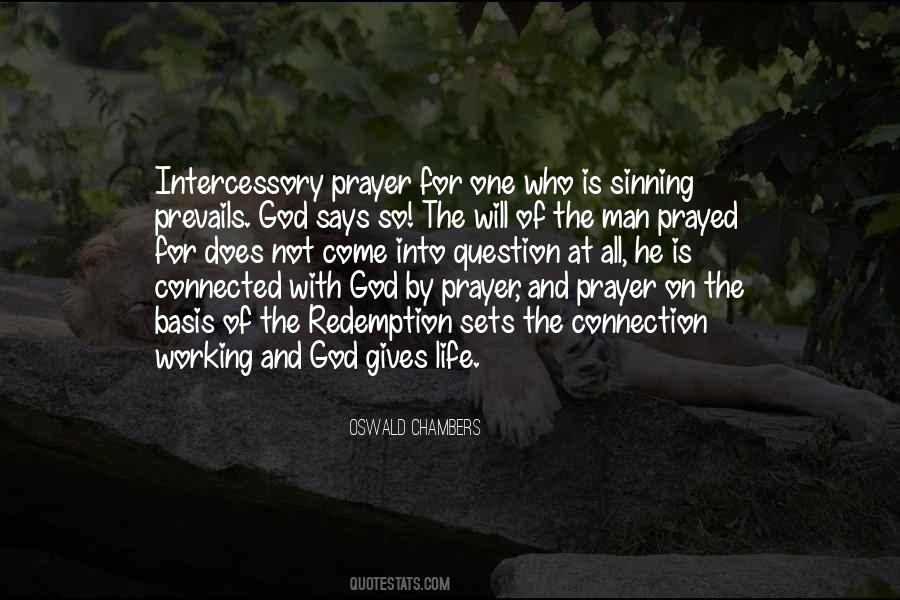 #82. Indeed, cousine, I should rather you were a sincere Satanist than a pretend one; for the former recognizes God's majesty, and may be reformed, while the latter is an atheist, and doomed to the Lake of Fire. - Author: Neal Stephenson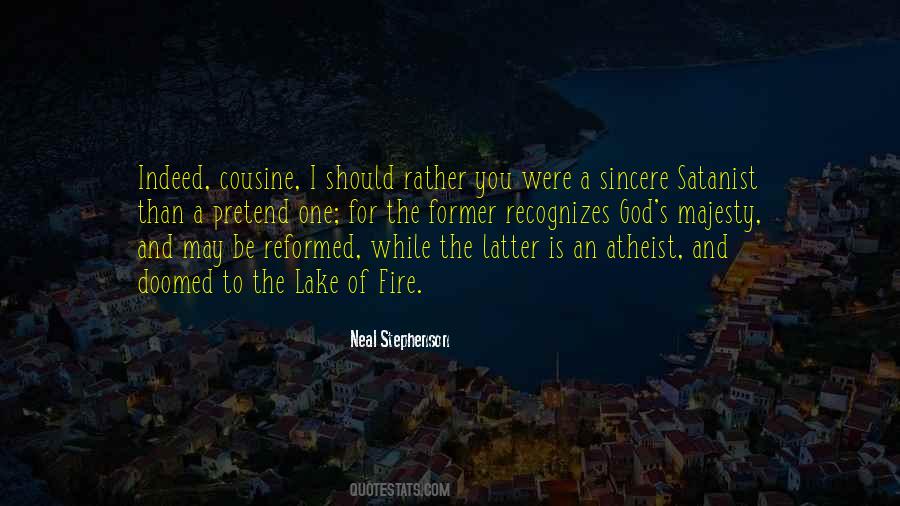 #83. God, You direct my steps. Although the path may lead me through dark valleys or appear to take unnecessary detours, I believe that one day I will look back and discover that your way was perfect. I put my future in your hands. - Author: Amy E. Mason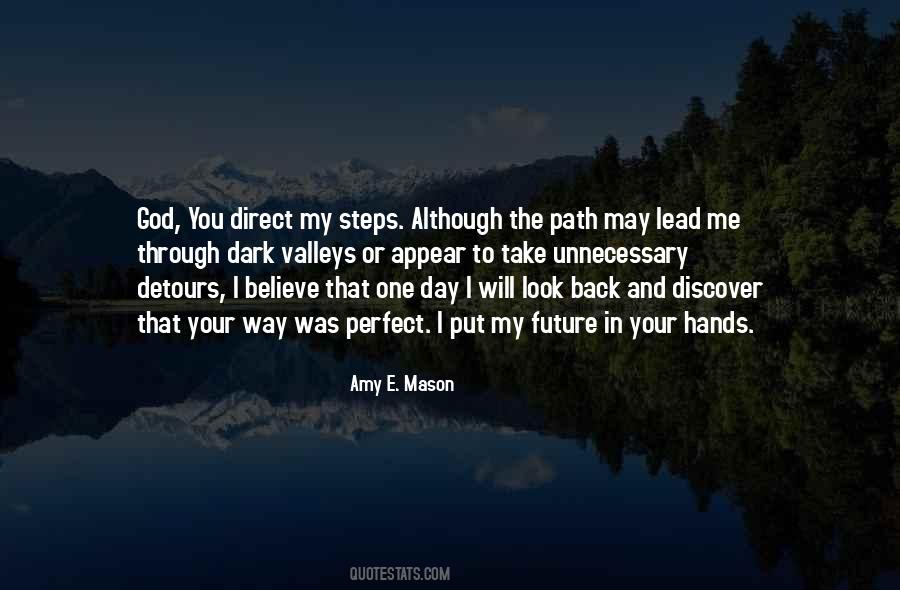 #84. It was possible that I'd thrown one too many Molotov cocktails over God's fence. - Author: Maggie Stiefvater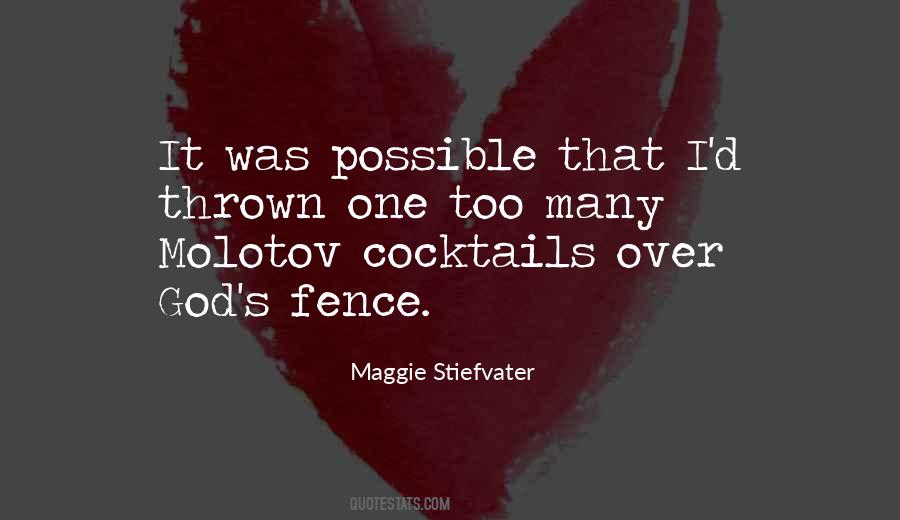 #85. It may be true that there is no God here, but there must be one not far off, and at such a moment one feels His presence; which comes to the same as saying (and I readily give this sincere profession of faith): I believe in God, and that it is His wi - Author: Vincent Van Gogh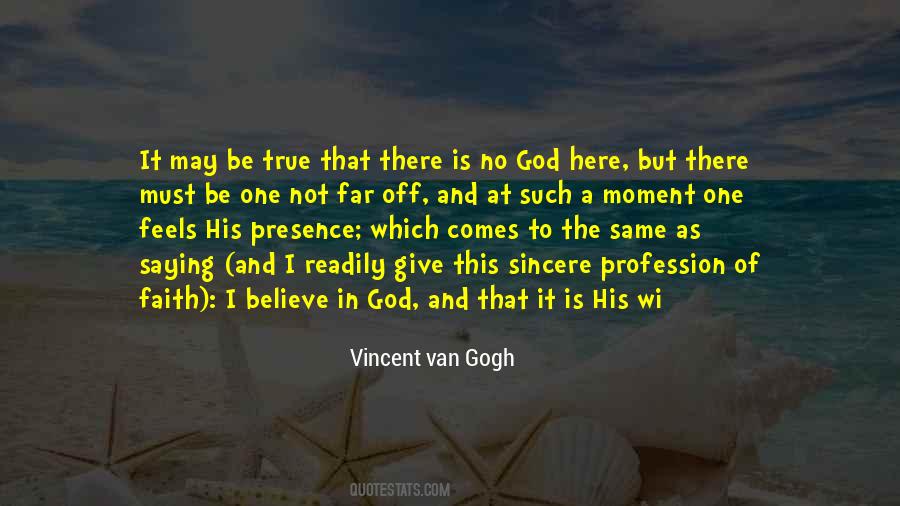 #86. The first thing is, jazz is one of the few things to let you know that there is a God and there is a creation. - Author: Billy Higgins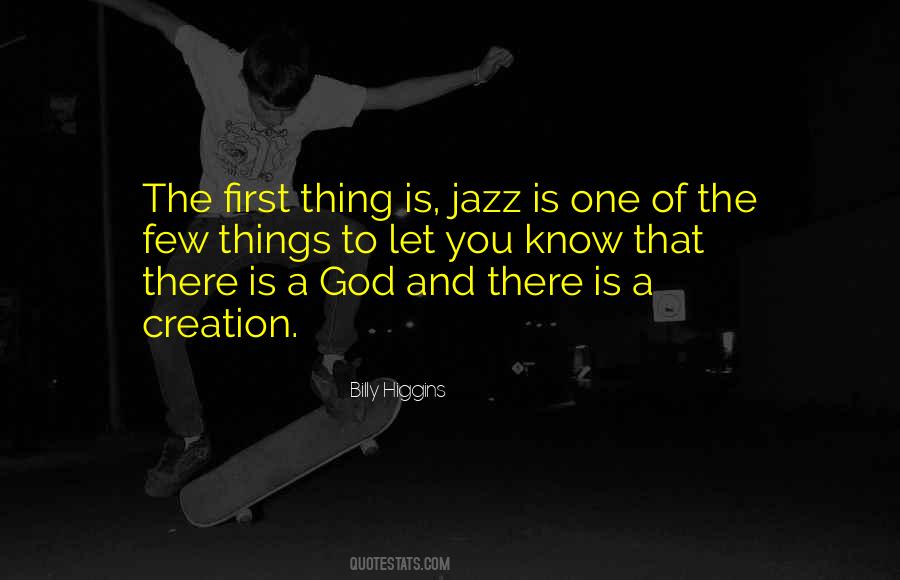 #87. To the sight of the swallows dying in mid air, Alessandro was finally able to add his own benediction. "Dear God, I beg of you only one thing. Let me join the ones I love. Carry me to them, unite me with them, let me see them, let me touch them." And then it all ran together, like a song. - Author: Mark Helprin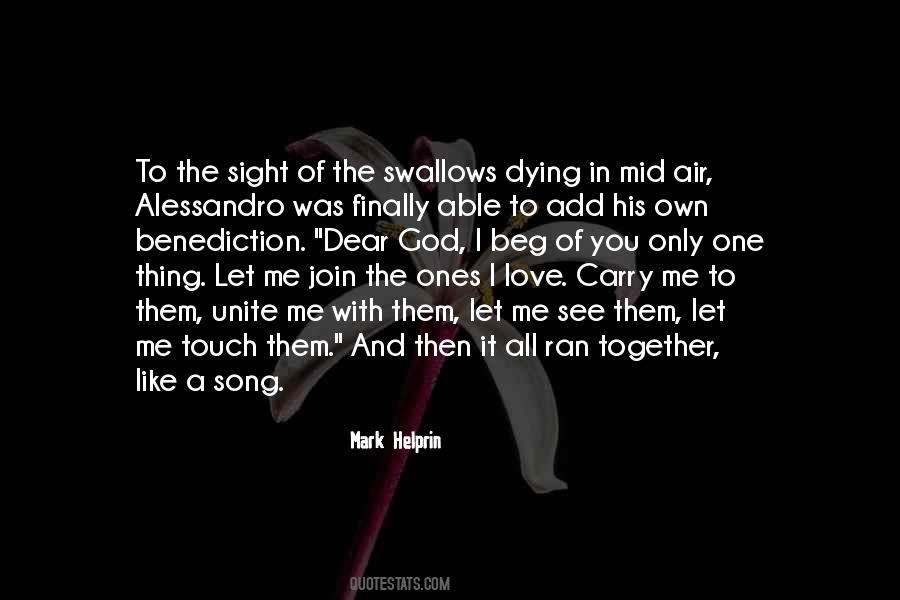 #88. She loved him in a deep and singular way, almost as though God had crafted one heart in heaven, then split it between Holden's body and hers, fating her to a never-ending longing to be with him, or a fractional life without him. She - Author: Katy Regnery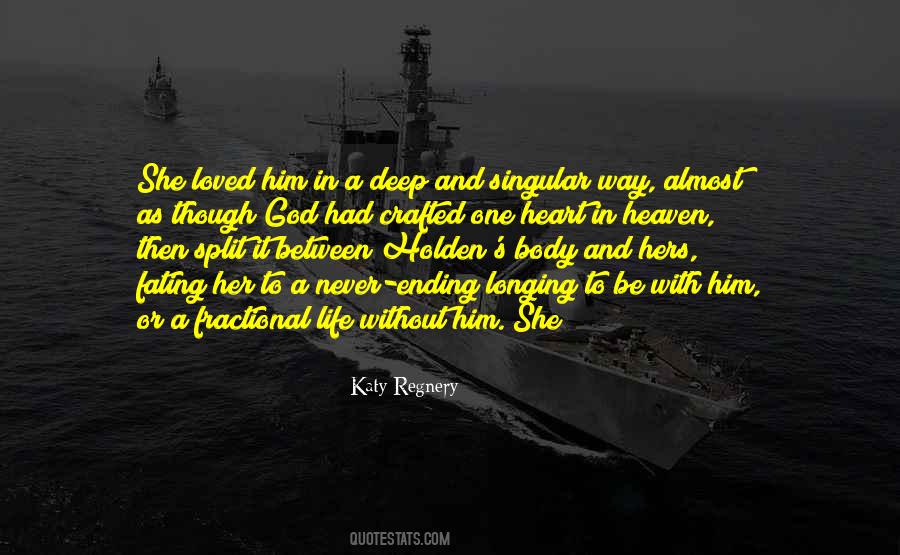 #89. Jesus Christ knew the only way He would stop Satan is by becoming one in nature with him ... He became one with the nature of Satan, so all those who had the nature of Satan can partake of the nature of God. - Author: Benny Hinn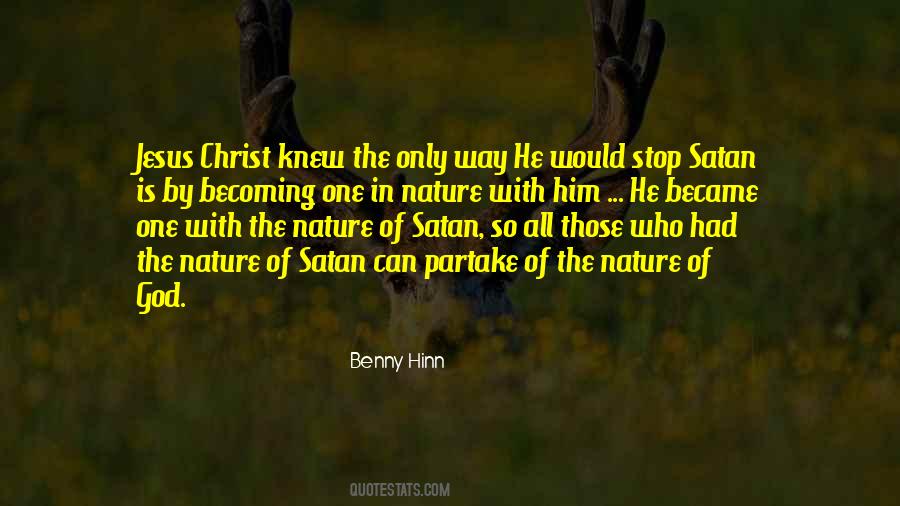 #90. I crawled in a spirit-haunted place
Made wild by souls that moan and mourn;
And Death leered by with mangled face -
Ah God! I prayed, I prayed for dawn. - Author: Arthur Newberry 1893- Choyce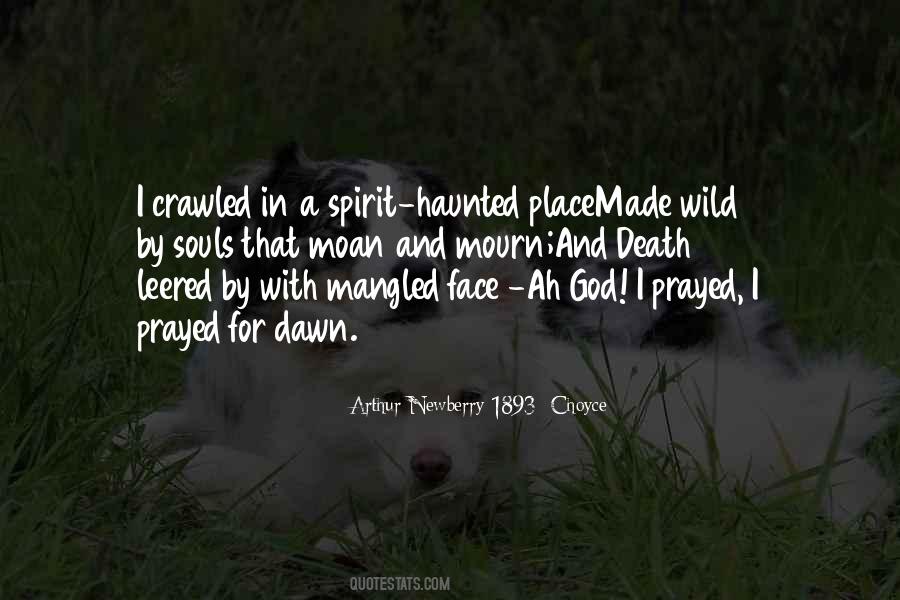 #91. How much unbelief exists in the minds of the Latter-day Saints in regard to one particular doctrine which I revealed to them, and which God revealed to me - namely that Adam is our Father and God - ... - Author: Brigham Young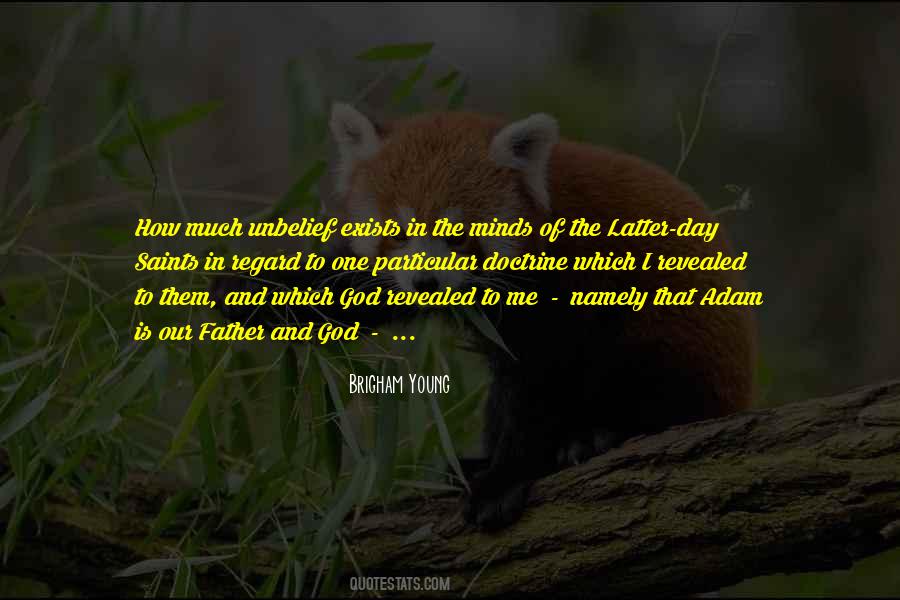 #92. Bear one another's burdens, and so fulfill the law of Christ. Ladies and gentlemen, this is what Christianity is all about. God never intended for us to walk this world alone, and Christ did not die for us to keep His love all to ourselves. - Author: Jen Stephens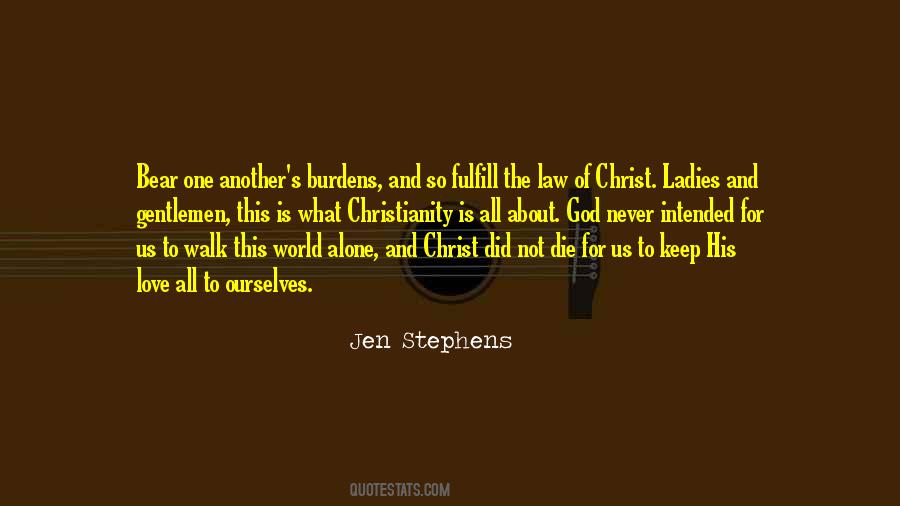 #93. There is something within our biological structure that screams out and says it is morally wrong for the old to outlive the young. This is one of the times when God doesn't seem to make sense. This is the worst that life gets. - Author: Rick Atkinson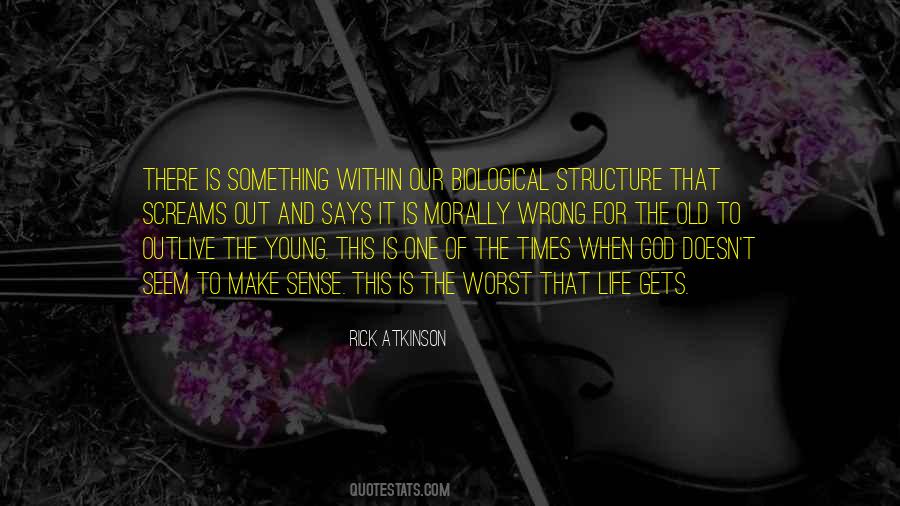 #94. God's love is too great to be confined to any one side of a conflict or to any one religion. - Author: Desmond Tutu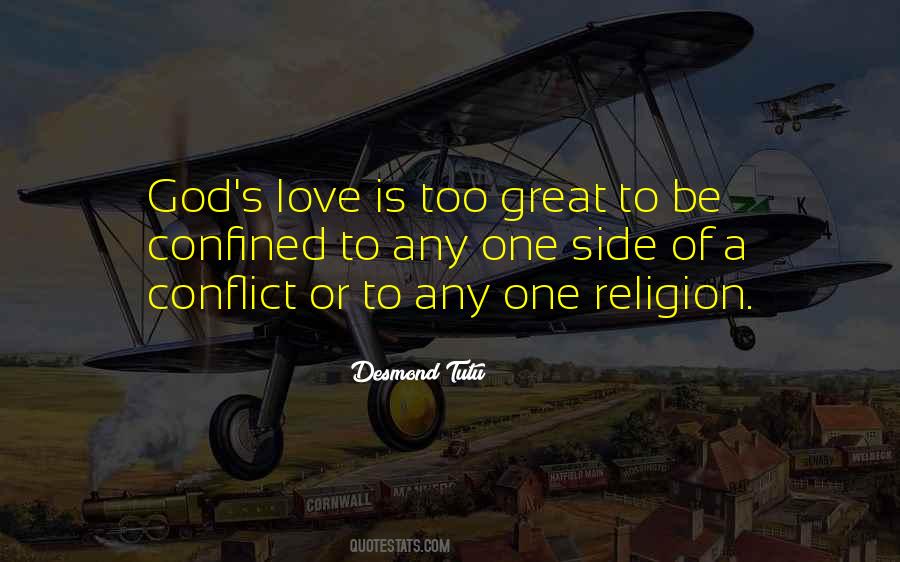 #95. It did something to the temporal lobe, one of the circuits involved in religious experience. It was supposed to put people closer to God. It did that. It also made them slaves. - Author: Ramez Naam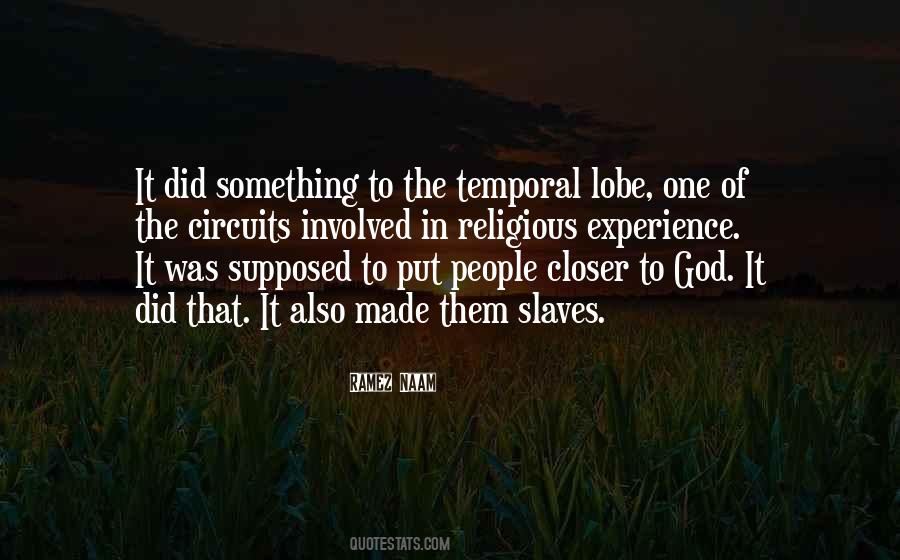 #96. He caught her, and he held her, and he let her cry, and cry, and cry, and he let her use his sheets to wipe her eyes, and her nose, and God knows what, because he had plenty of clean sheets, and he only had one Kat. - Author: Tara Janzen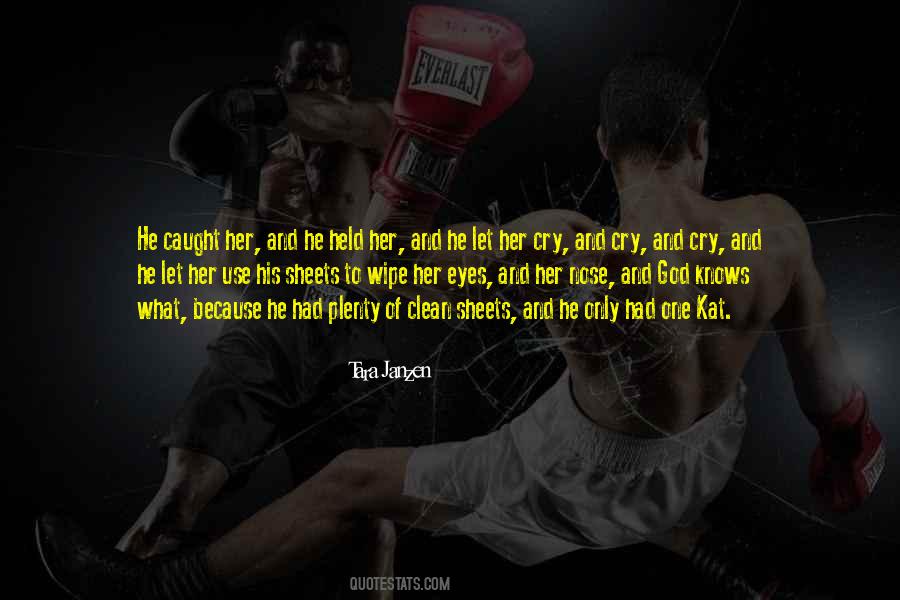 #97. From age to age an enlightened person comes along, one who has made friends with God. They're usually forgotten or scorned. - Author: Frederick Lenz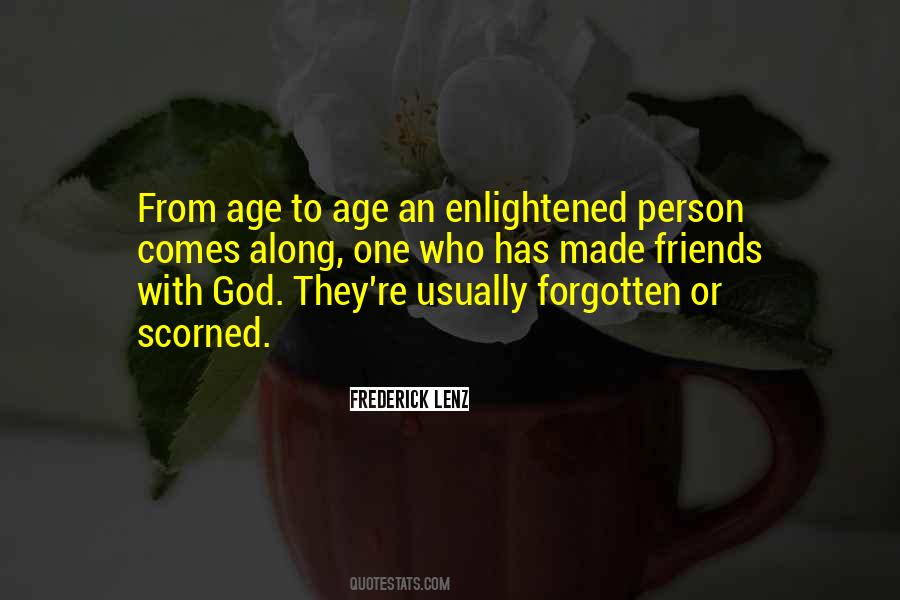 #98. One of the most important discoveries I have ever made is this truth: God is most glorified in me when I am most satisfied in him. This is the motor that drives my ministry as a pastor. It affects everything I do. - Author: John Piper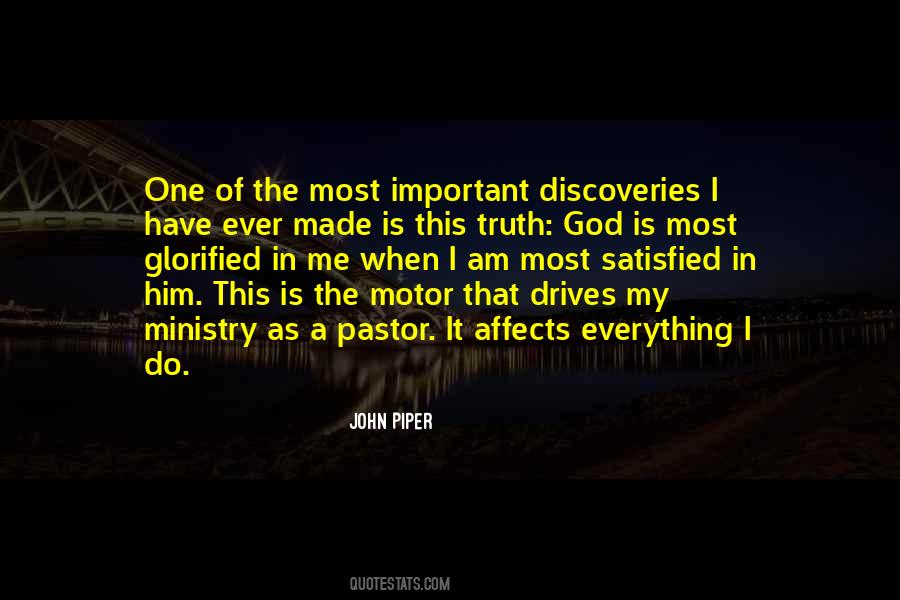 #99. If you begin to think you are solely responsible for keeping your loved one alive and safe, you will eventually find yourself playing God. This phase can develop into an unhealthy, codependent relationship. - Author: Gail Sheehy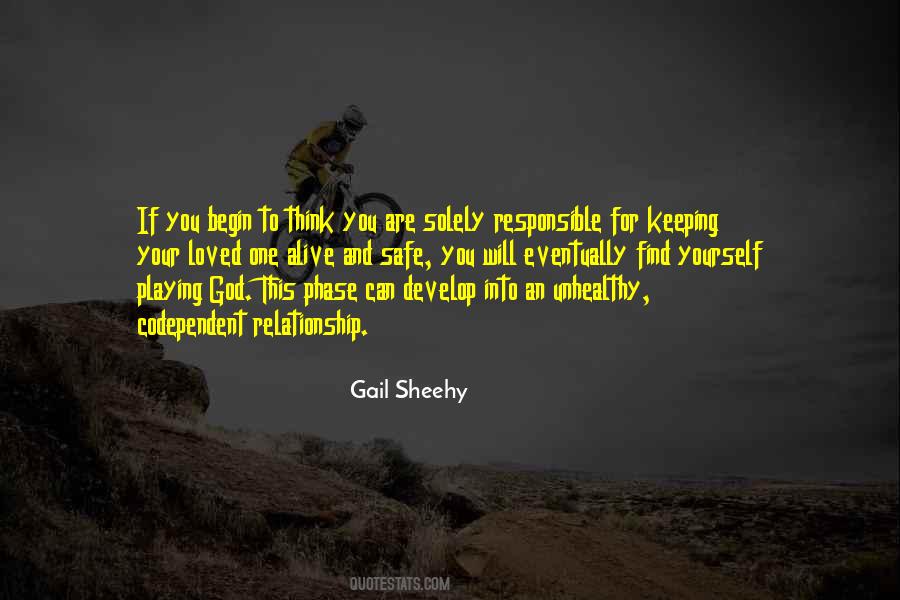 #100. I mean, if no one knows for sure what God's like, then why don't you just believe the people who think he's all rainbows and sunshine and loves you no matter what? - Author: J.C. Lillis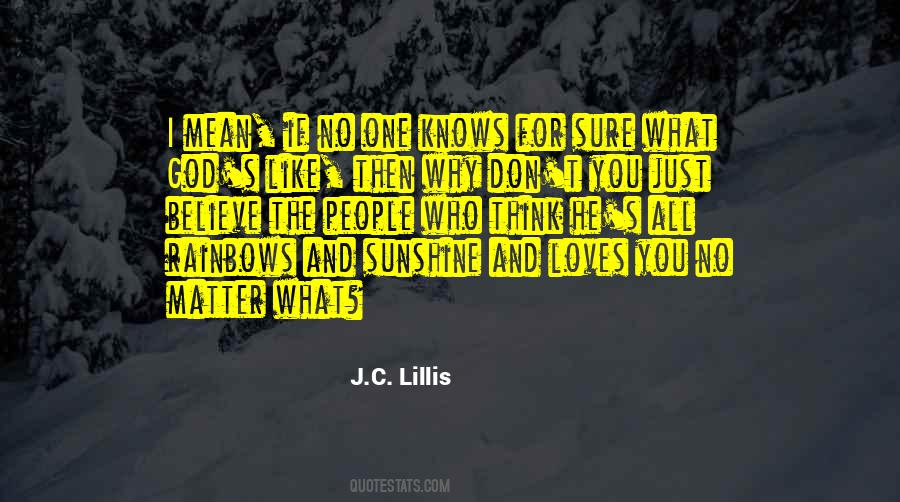 Famous Authors
Popular Topics