Novel Characters Famous Quotes & Sayings
List of top 100 famous quotes and sayings about novel characters to read and share with friends on your Facebook, Twitter, blogs.
Top 100 Quotes About Novel Characters
#1. I write a ridiculous number of drafts. The characters change and grow through the drafting, and my understanding of them deepens. Creating characters in a novel is like shooting at clay pigeons and missing, and then missing more productively as the narrative continues. - Author: Robert Boswell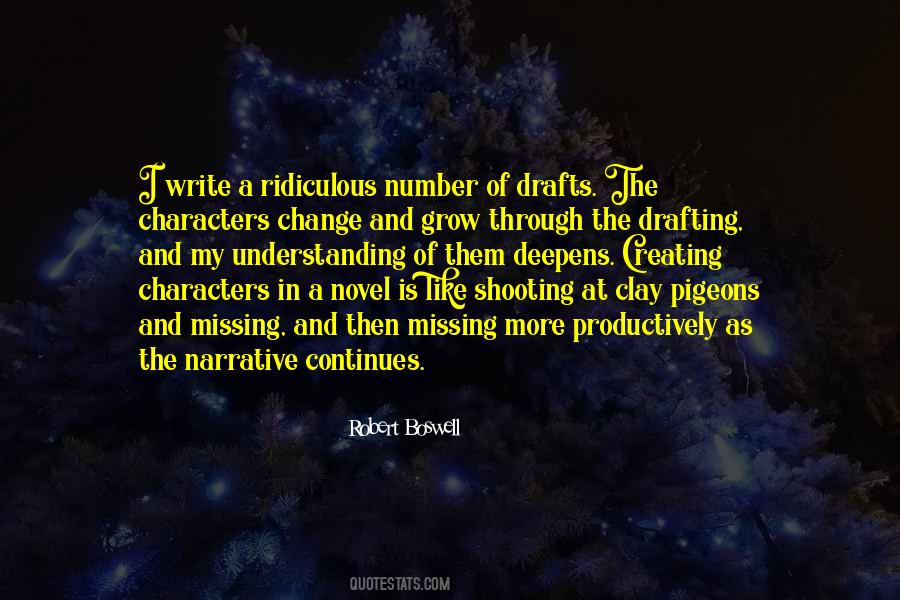 #2. I was so obsessed by Lisbeth Salander and all the characters, but of course if you're going to write a crime novel worthy of Stieg Larsson, you need a plot, don't you? - Author: David Lagercrantz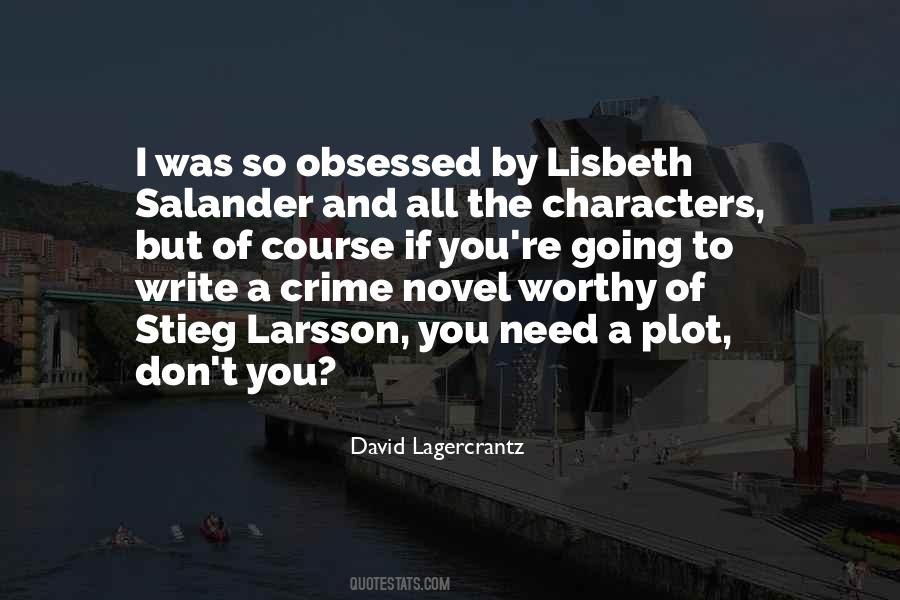 #3. I always, always wanted to be the Dungeon Master because that's where the creativity lies - in thinking up places, characters and situations. If done well, a game can be a novel in itself. - Author: Sharyn McCrumb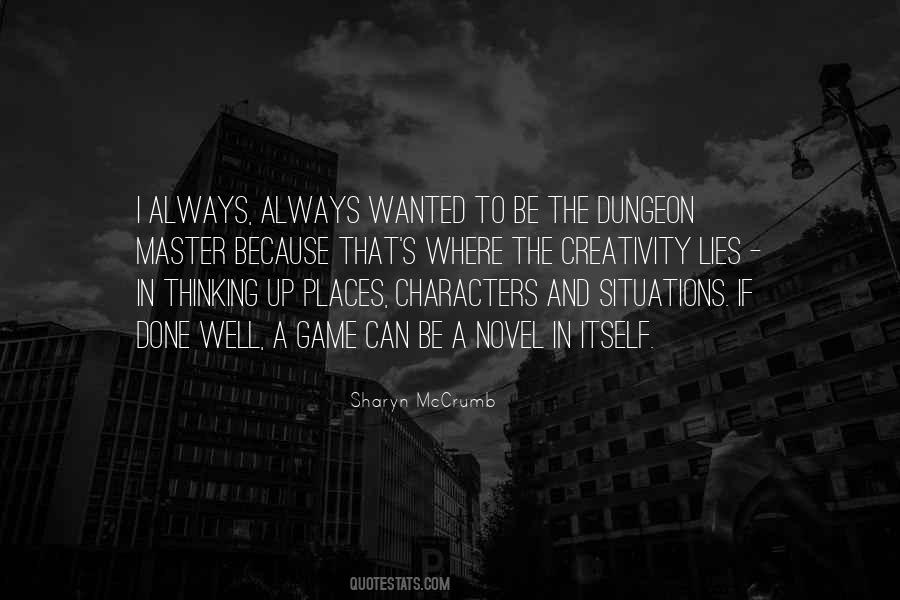 #4. The novel is a meditation on existence as seen through the medium of imaginary characters. - Author: Milan Kundera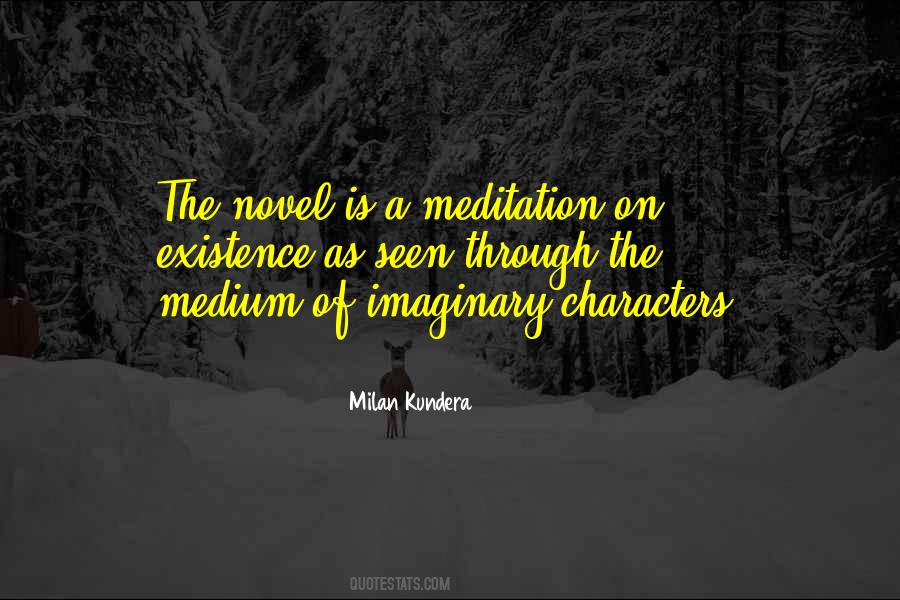 #5. When writing a novel a writer should create living people; people not characters. A character is a caricature. - Author: Ernest Hemingway,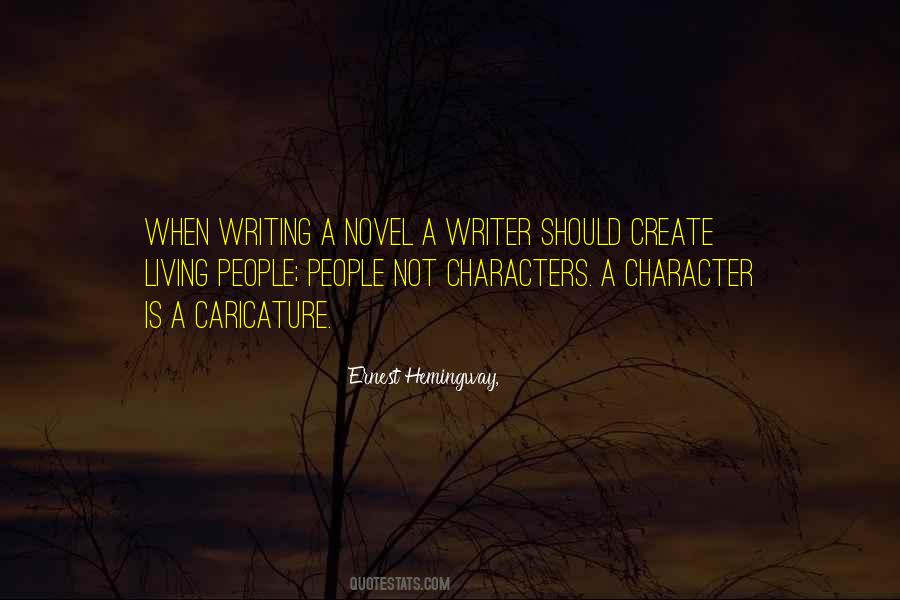 #6. The characters act for reasons that they can't control and, as readers, we have to believe in their motivations, their sense of choice and in the reality of their suffering, even though, deep down, we know it's all just puppetry on the part of the writer. - Author: Johnny Rich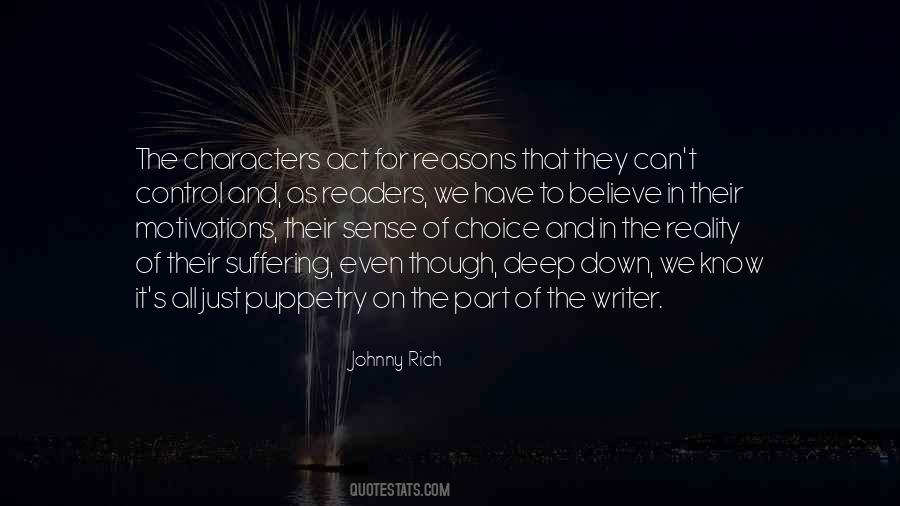 #7. I have to know the killer, the victim and the motive when I begin. Then I start to create the characters and see how the novel takes shape based on what these people are like. - Author: Elizabeth George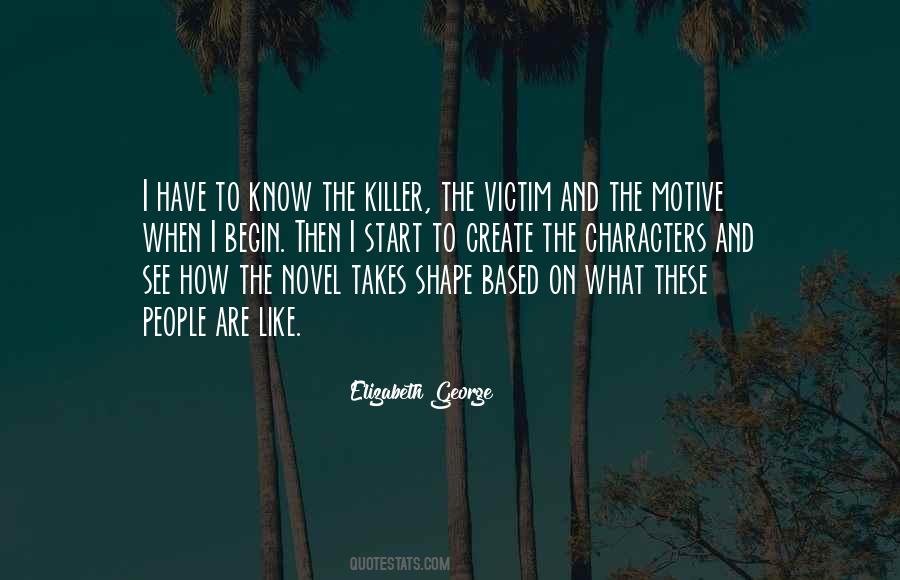 #8. Above The Thunder is passionate, wise, and piercingly beautiful. Readers drawn to books with rich, memorable characters and contemporary stories will find this remarkable debut novel not only irresistible but impossible to put down. - Author: Tony Ardizzone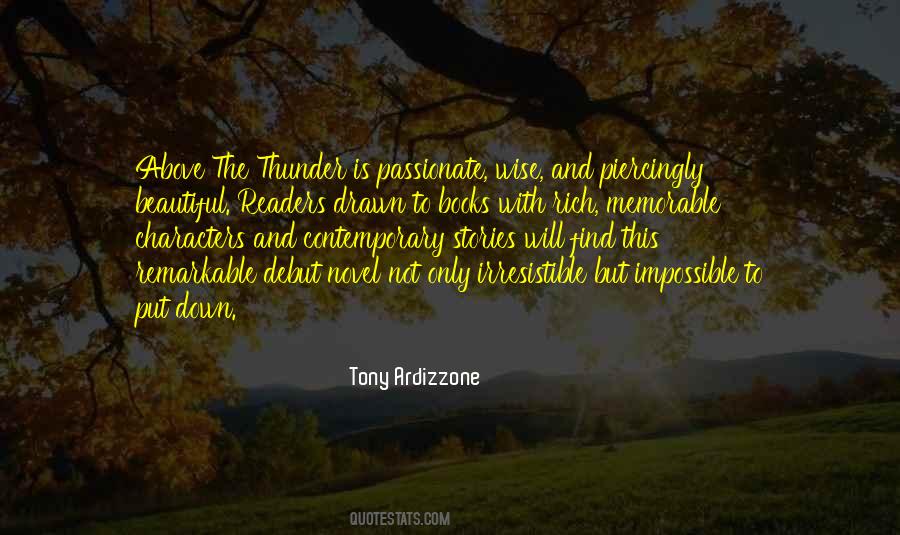 #9. I don't keep anything on paper (except within an actual novel in progress, at which point I need a file to keep track of plot threads, characters, and so on). - Author: Charles Stross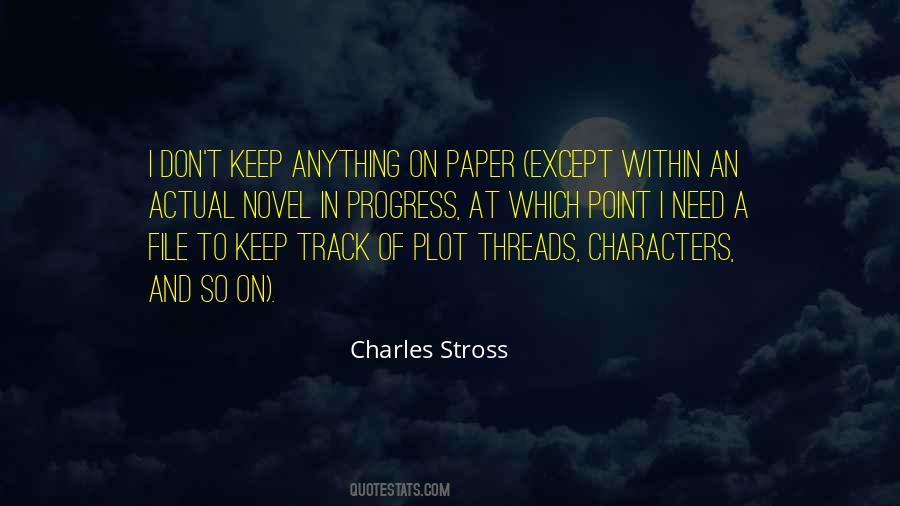 #10. A certain luxury when you get to writing a novel is to have the space to have your characters just banter. - Author: David Benioff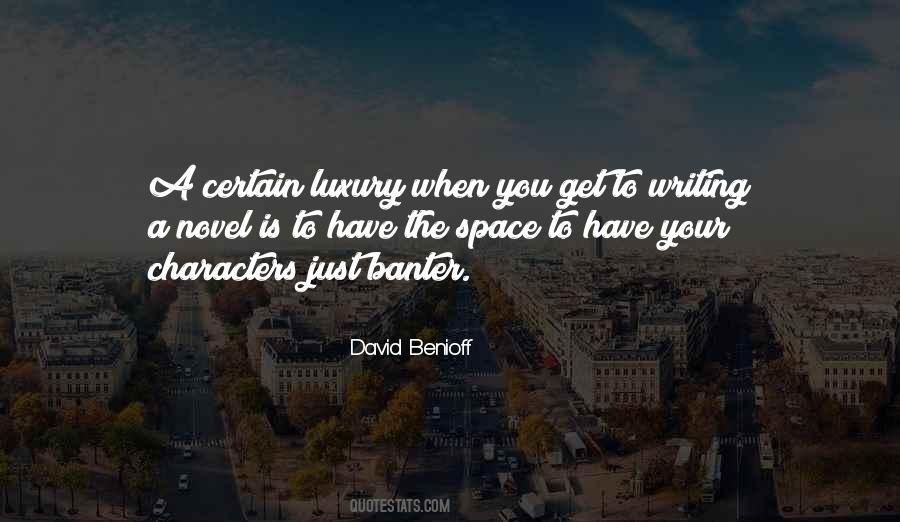 #11. Remember that a good football novel has to have the same ingredients as any other good novel: drama, convincing and interesting characters, a strong story-line, and some kind of magic in the writing. - Author: Mal Peet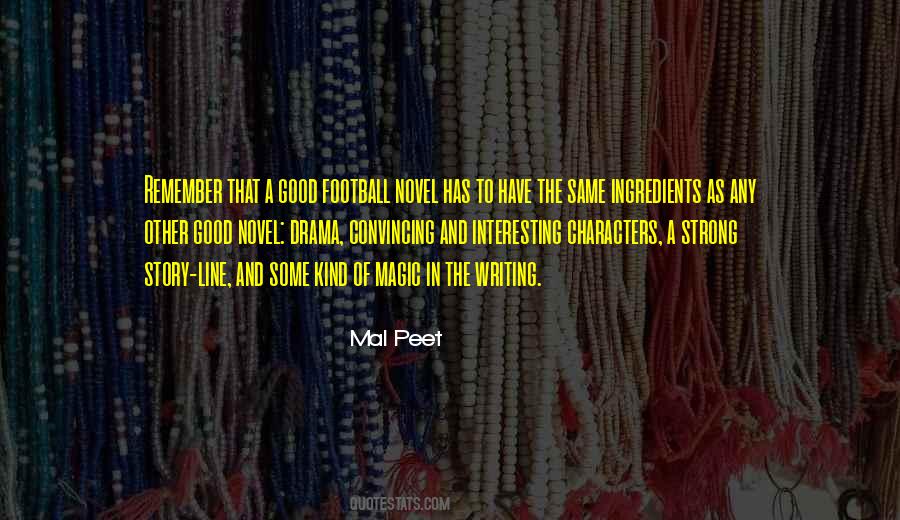 #12. The best part of the fiction in many novels is the notice that the characters are imaginary. - Author: Franklin P. Adams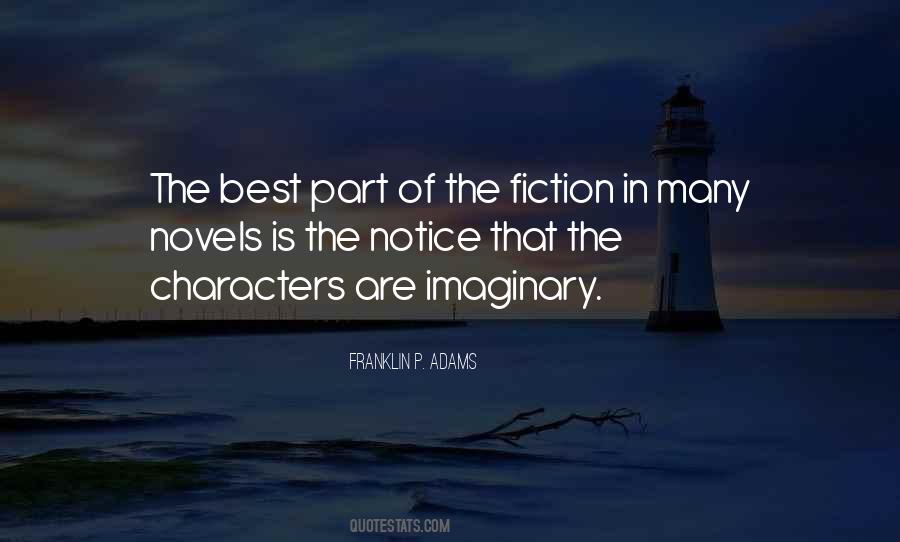 #13. A great novel is concerned primarily with the interior lives of its characters as they respond to the inconvenient narratives that fate imposes on them. Movie adaptations of these monumental fictions often fail because they become mere exercises in interior decoration. - Author: Richard Schickel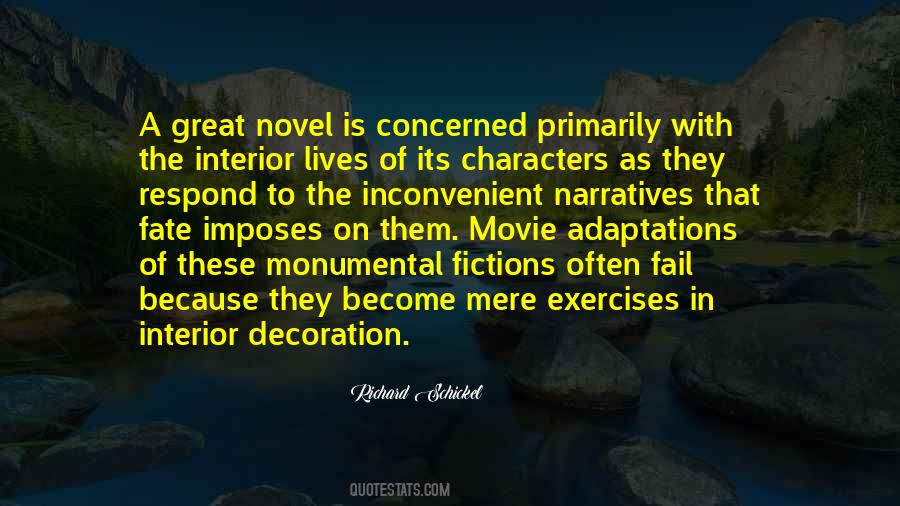 #14. I think the main thing to remember when writing a novel is to stay true to the characters. - Author: Cassandra Clare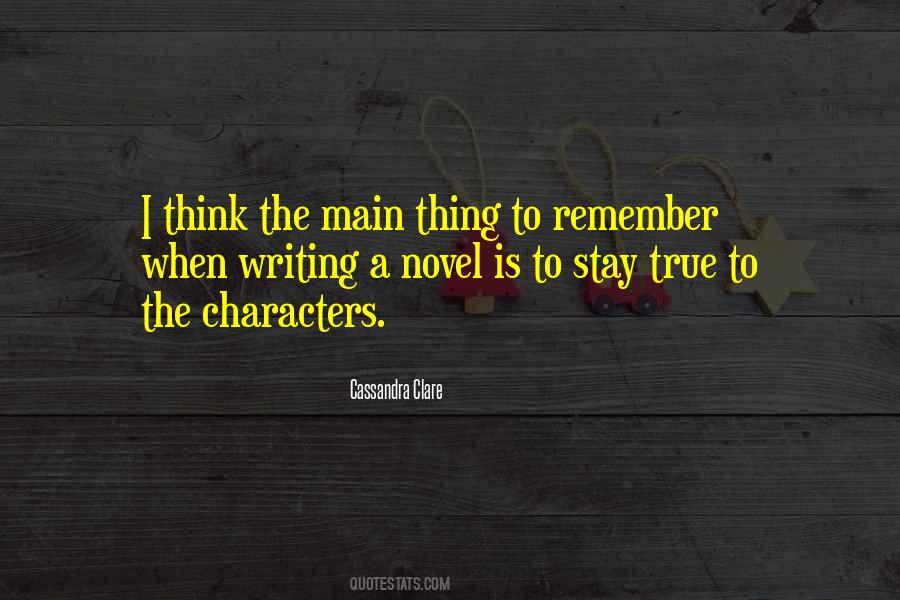 #15. Fantasy novels reveal "emergency escape routes" from reality. Romance novels dish out a banquet of Eye Candy. Otherworldly passion erupts when the two collide in an epic novel of unforgettable characters and dire circumstances. - Author: Sarah J. Pepper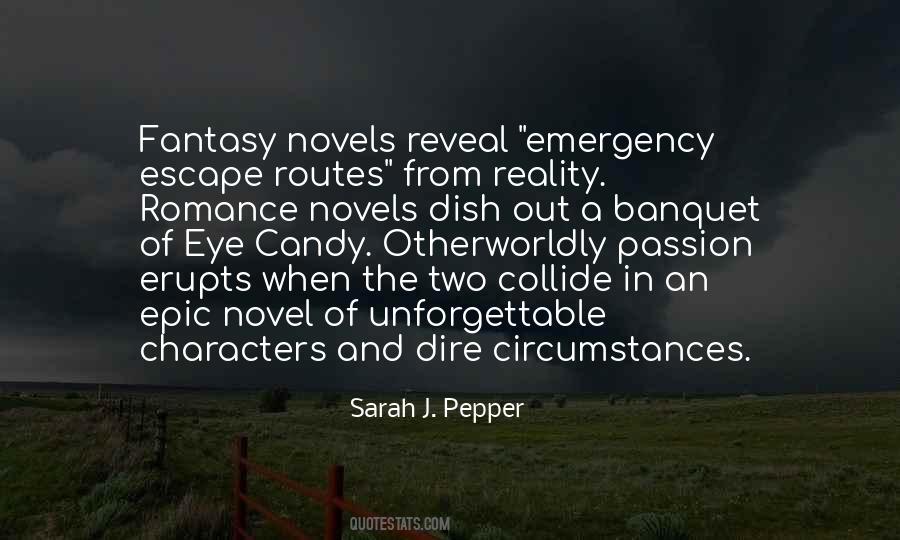 #16. All novels must be autobiographical because I am the only material that I know. All of the characters are me. But at the same time, a novel is never autobiographical even if it describes the life of the author. Literary writing is a completely different medium. - Author: John Banville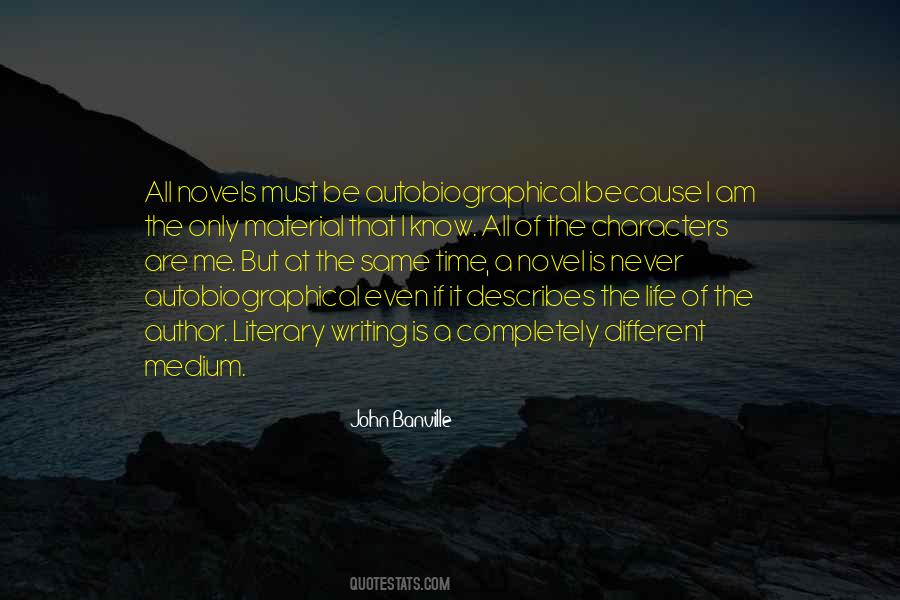 #17. Ava Elizabeth Baker you make yourself a survivor, not a victim. Become an exception and not a rule. - Author: Nicole Gulla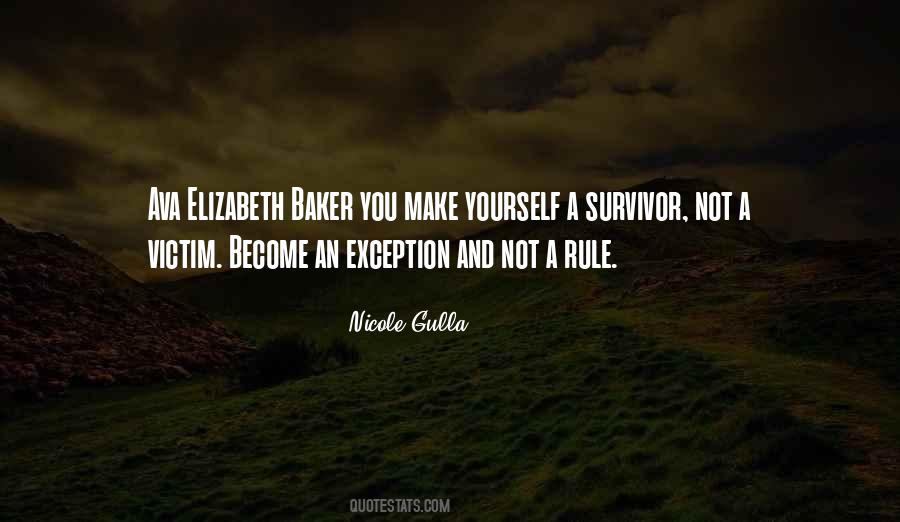 #18. Novels usually evolve out of 'character.' Characters generate stories, and the shape of a novel is entirely imagined but should have an aesthetic coherence. - Author: Joyce Carol Oates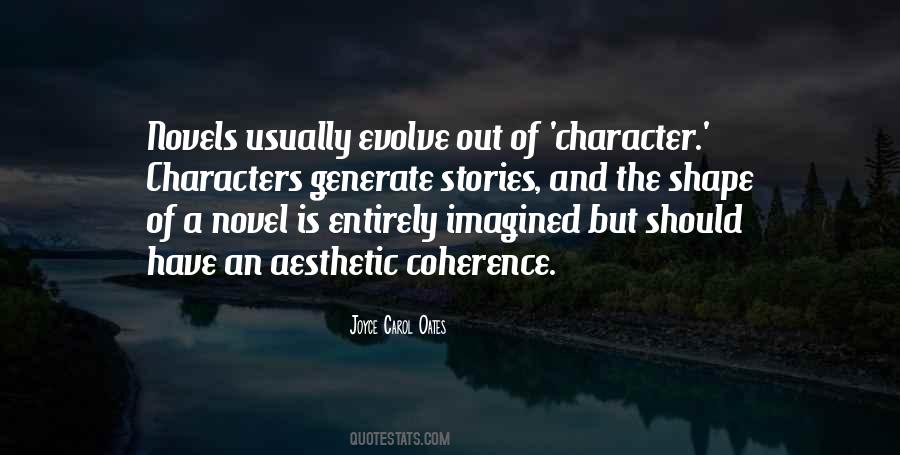 #19. In a science fiction novel, the world is a character, and often the most important character.
In a mainstream novel, the world is implicitly our world, and the characters are the world. - Author: Jo Walton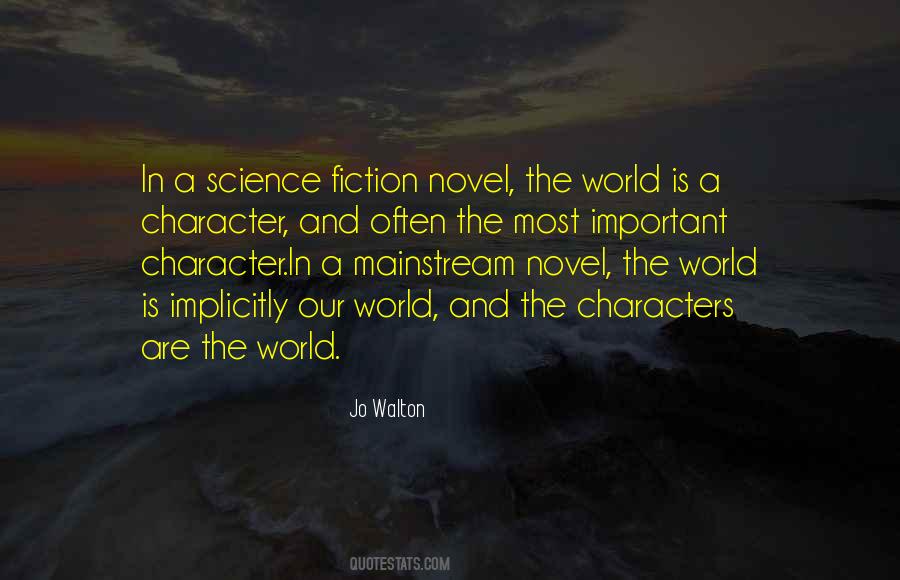 #20. My friend Isabel says, When you're writing even a short novel, with at least a couple of subplots, and God only knows how many characters, your brain holds the volume of it beyond the ability of your consciousness.
Of course. - Author: Sarah Manguso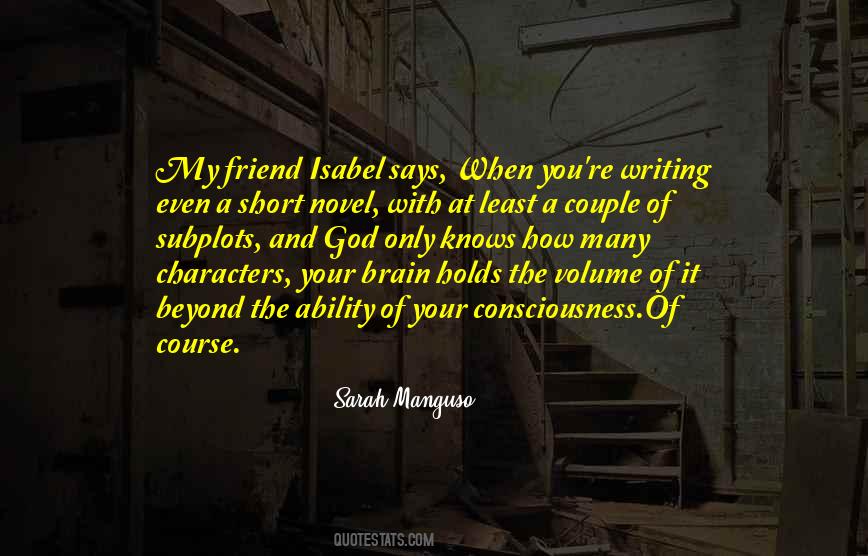 #21. To be true to life, a novel must have an ending that is inevitable given the specific personalities of the characters involved. The novelist must not impose an ending upon them. - Author: Joyce Carol Oates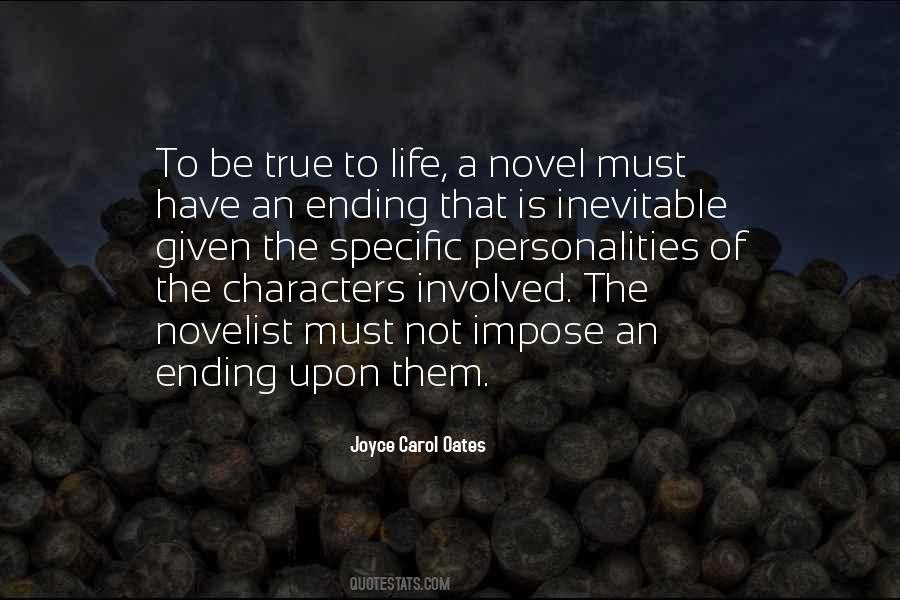 #22. Truth is irrelevant; what matters is what people believe. - Author: Henry Mosquera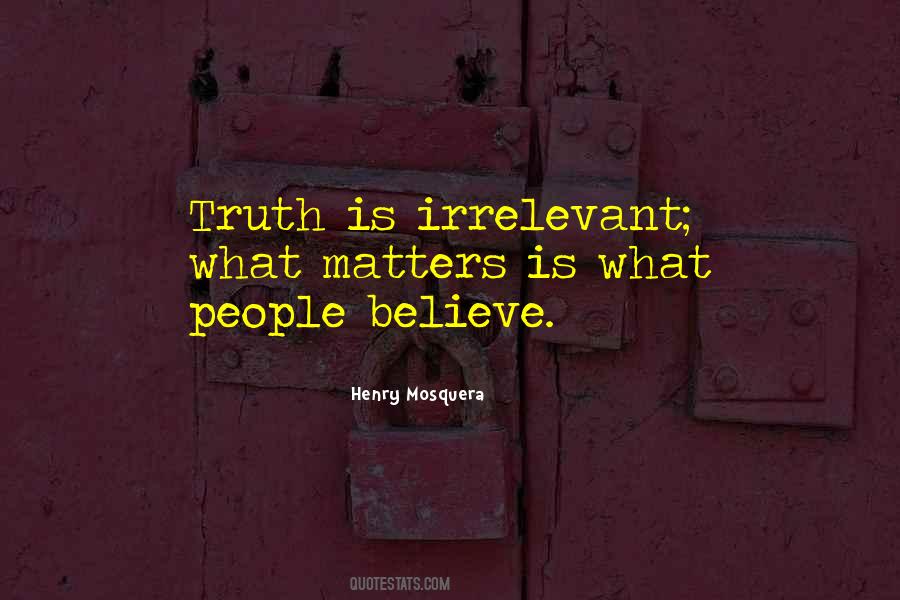 #23. Many characters in the novel are representative of types that exist in India. He represents the caste system in India with an air of superiority, the caste system in India and the people thinking that western things are better. - Author: Anita Desai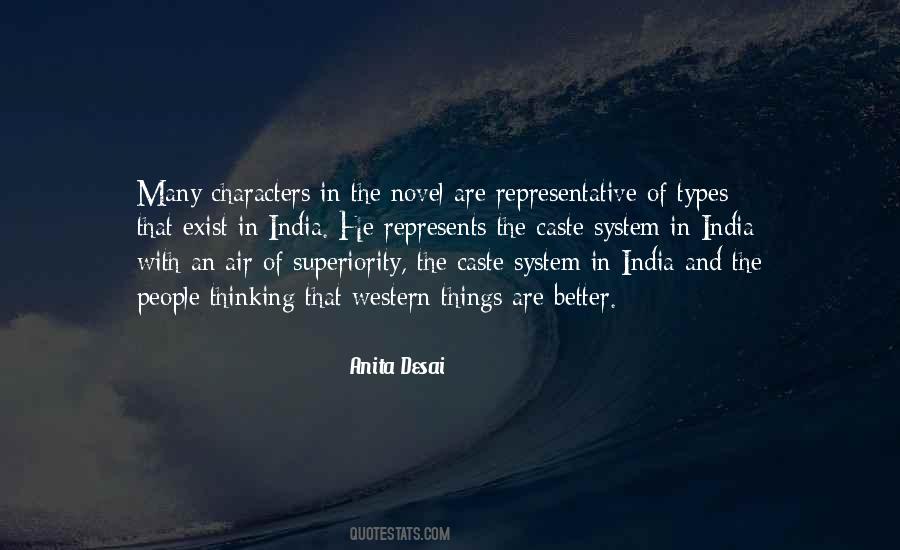 #24. However appalling to consider, however tedious to enact, every novel requires furniture, whether it is to be named or unnamed, for the characters will be unable to remain in standing position for the duration of the story. - Author: Jonathan Lethem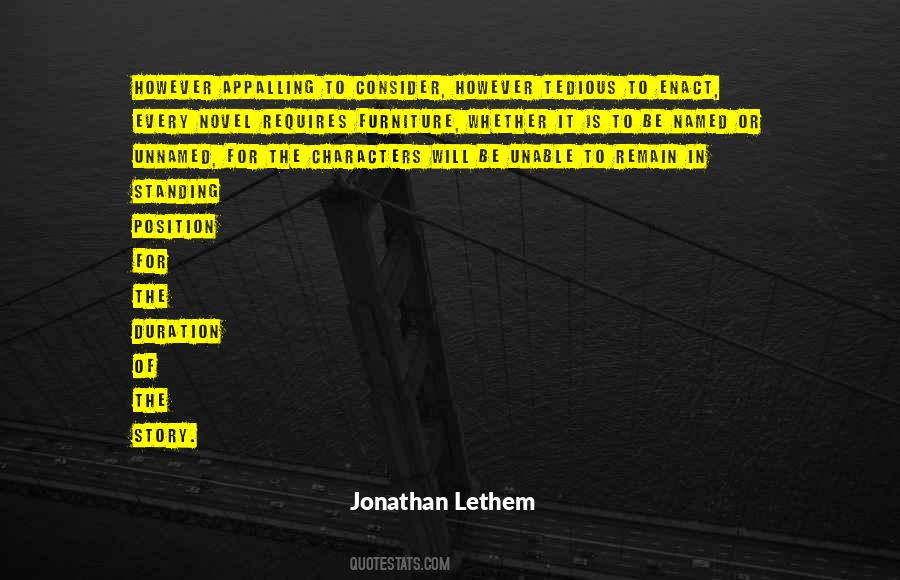 #25. Whenever you have two characters in a book, whether it's a novel or nonfiction, you run the risk that the reader is going to like one more than the other. They're going to read one chapter and say, 'I can't wait to get back to the other guy.' - Author: Mitch Albom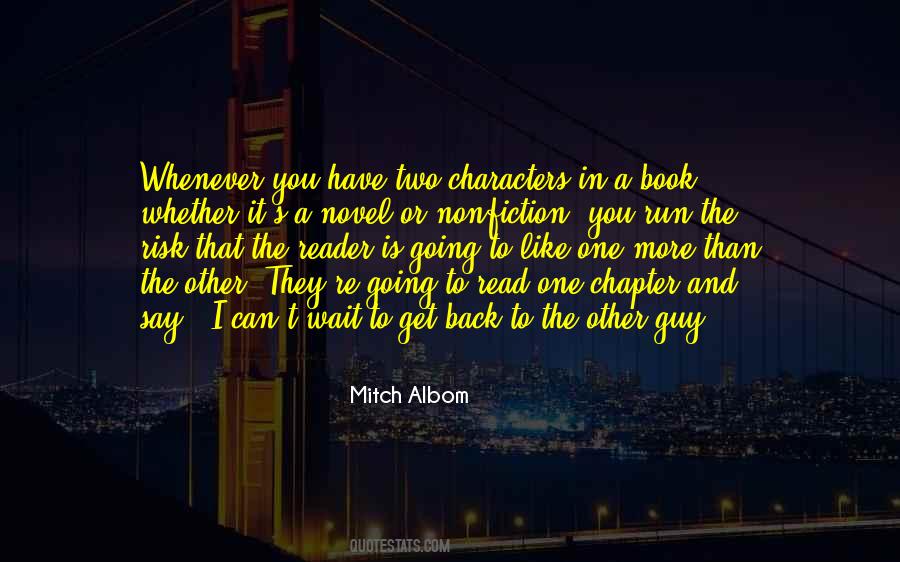 #26. Novel writing, to me, is all about language: choosing your words, finding the characters within the words and just really agonizing over every word. It's really crafting this whole piece from nothing. - Author: Jonathan Tropper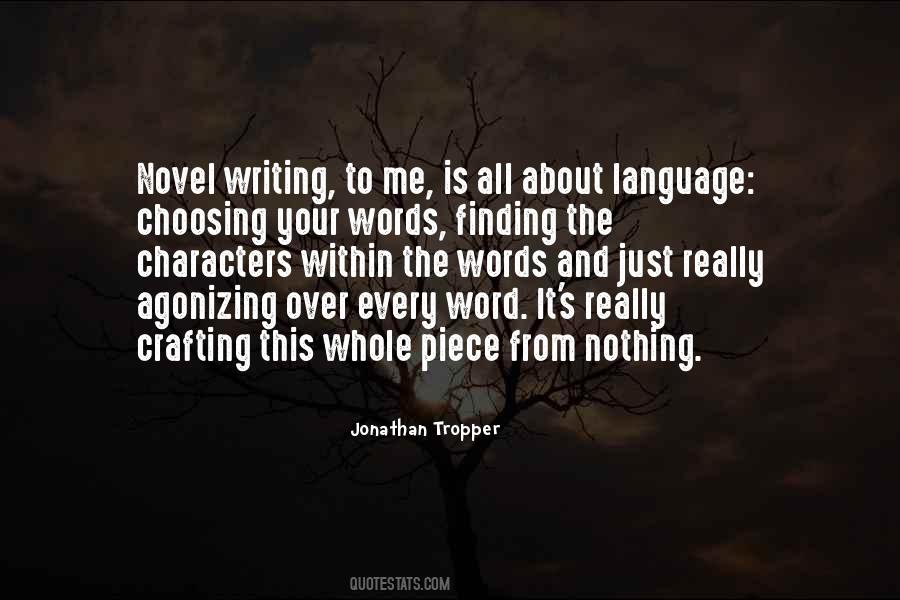 #27. In a novel, on the other hand, you not only have to describe the rooms, but the clothes, the characters and what they are thinking. It's a much more in-depth process. - Author: Sidney Sheldon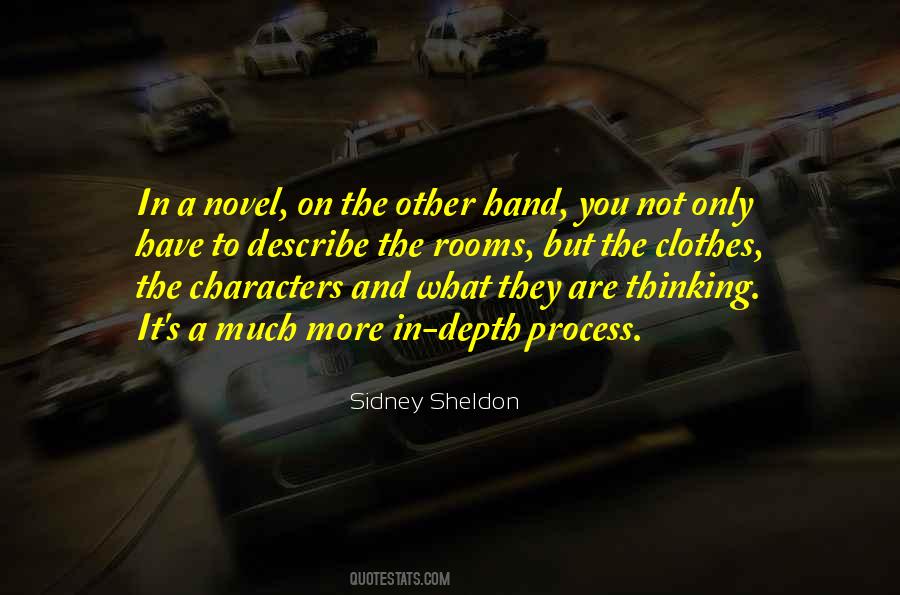 #28. I keep telling you, you don't pay enough attention to the minor characters. A novel should be like a street full of strangers, where no more than two or three people are known to us in depth. - Author: Irene Nemirovsky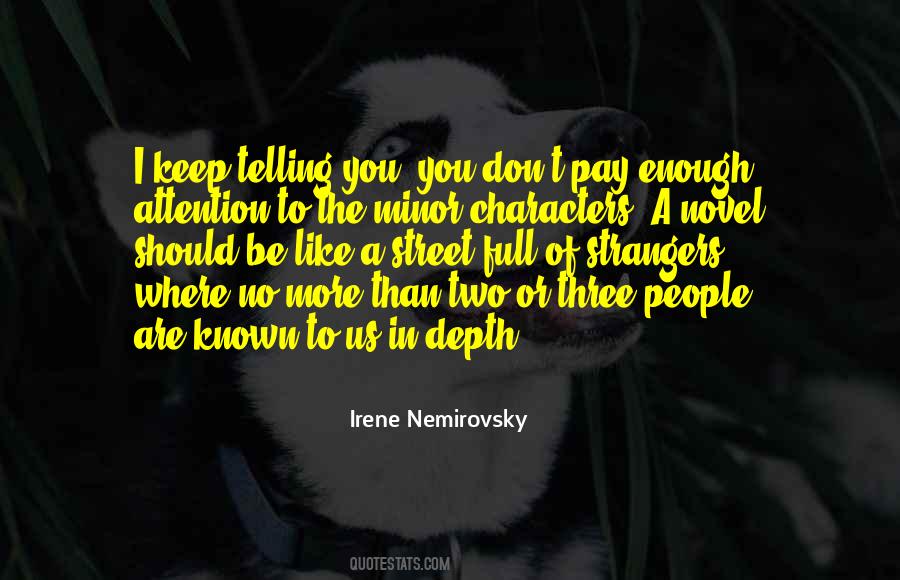 #29. Once a novel gets going and I know it is viable, I don't then worry about plot or themes. These things will come in almost automatically because the characters are now pulling the story. - Author: Chinua Achebe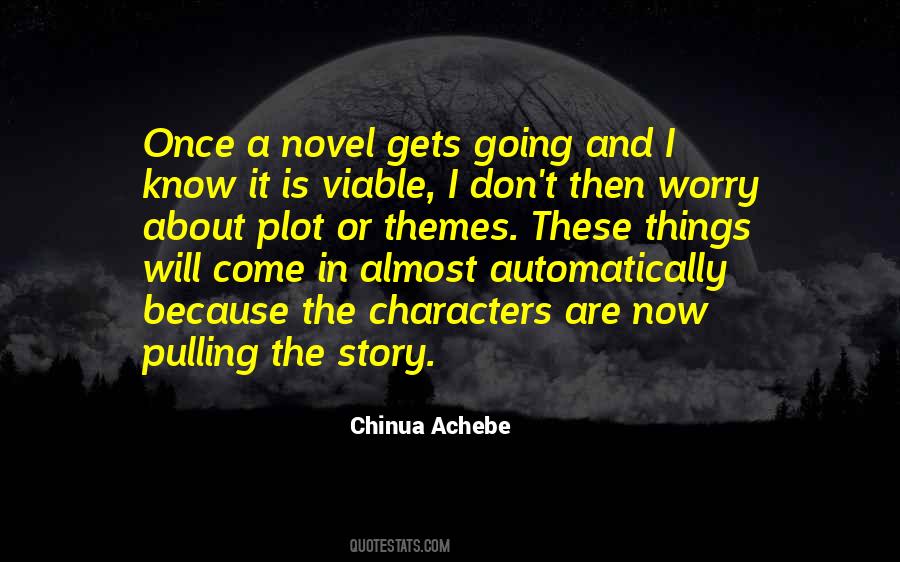 #30. You get a bad review with a novel, and it hurts. But I imagine if you get a bad review with a memoir, it hurts more because you can always say, 'Well, they didn't like my characters,' but when you're the character, it's like, 'Oh, yeah, they actually didn't like me.' - Author: Darin Strauss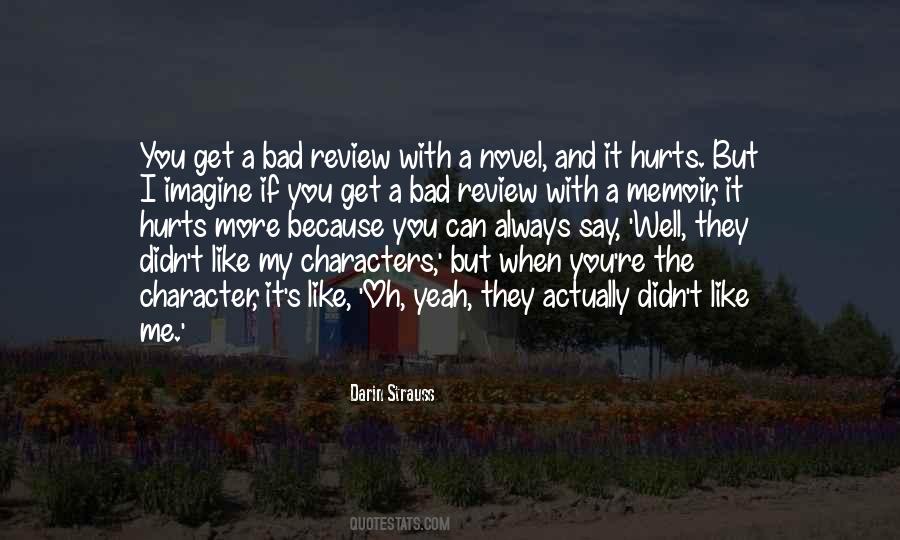 #31. At the heart of every successful romance novel lies the evolution of its characters. Through love, heroes and heroines grow not only into a perfect match, but into stronger, better, more admirable people. - Author: Sarah MacLean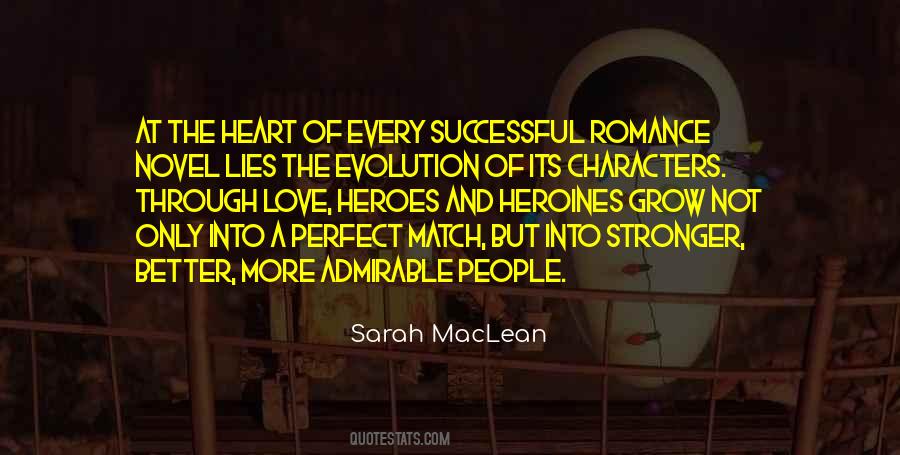 #32. There is, in fact, not much point in writing a novel unless you can show the possibility of moral transformation, or an increase in wisdom, operating in your chief character or characters. - Author: Anthony Burgess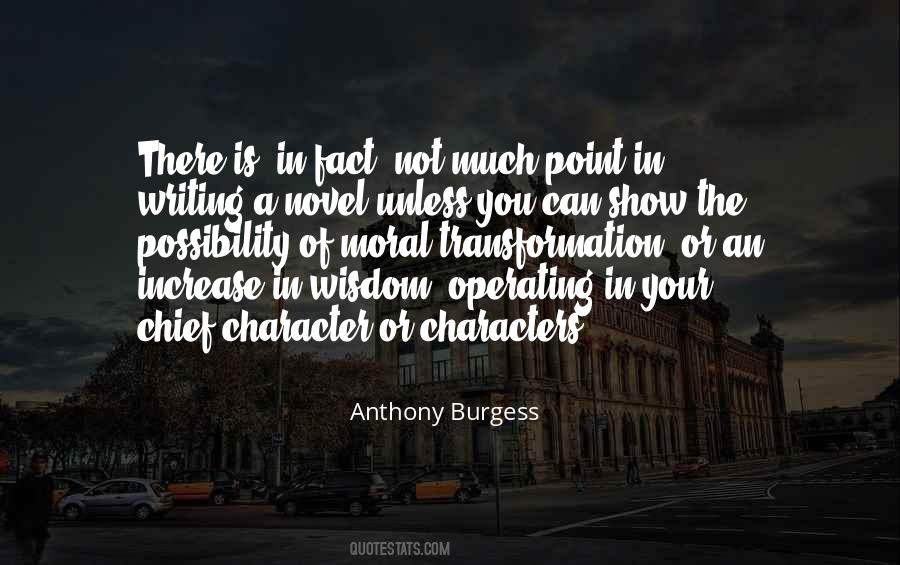 #33. Each time I discovered a potential link between one character's story and another's, several more connections would reveal themselves, like a beautiful, complex web spinning itself. - Author: Richard Scarsbrook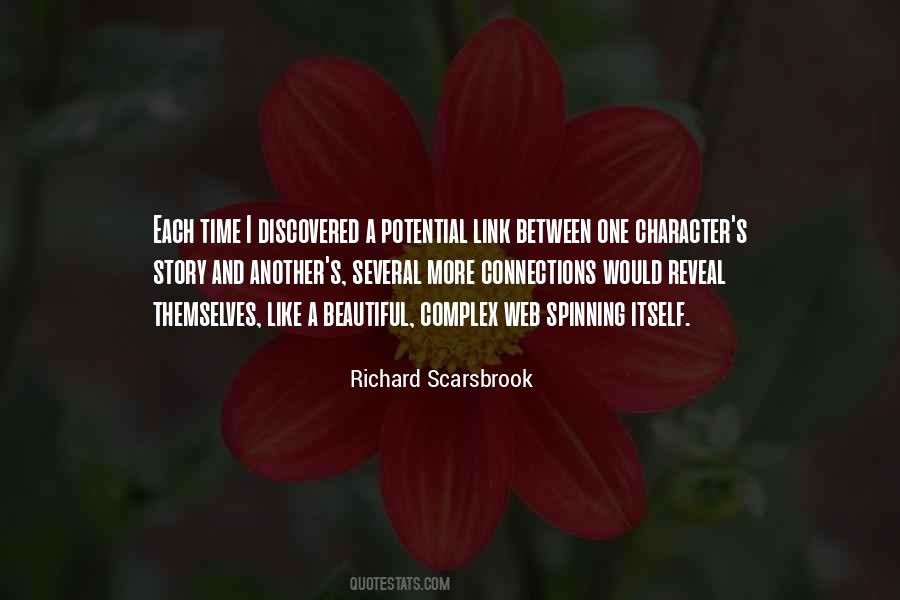 #34. I was thinking about what I wanted to write next, after my first novel, and had decided that I wanted to write a story with a lot of strong female characters in it. - Author: Joan D. Vinge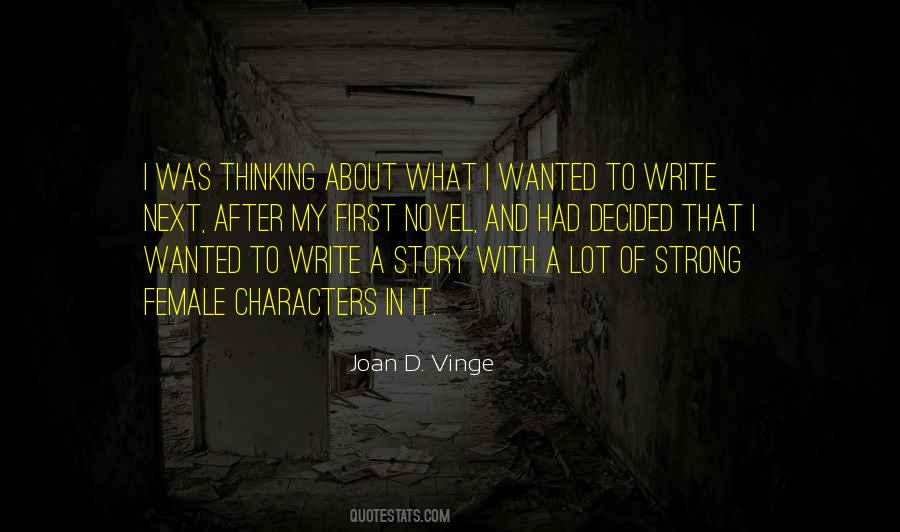 #35. What do you do in a novel? You take recognizable characters from your own life, and you fantasize about what they're really like. - Author: Joe Klein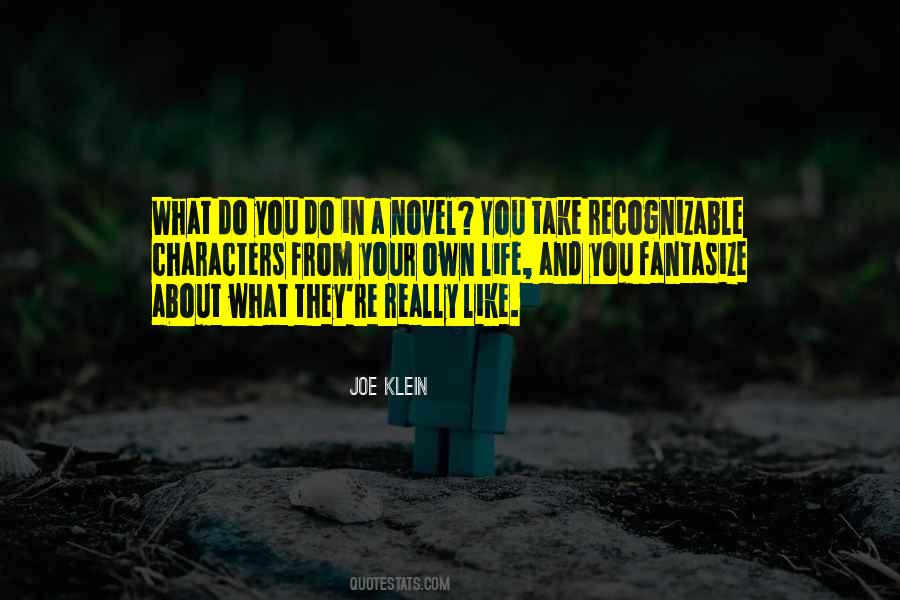 #36. A writer should bury his thoughts deep and convey them through the characters in his novel. - Author: Mo Yan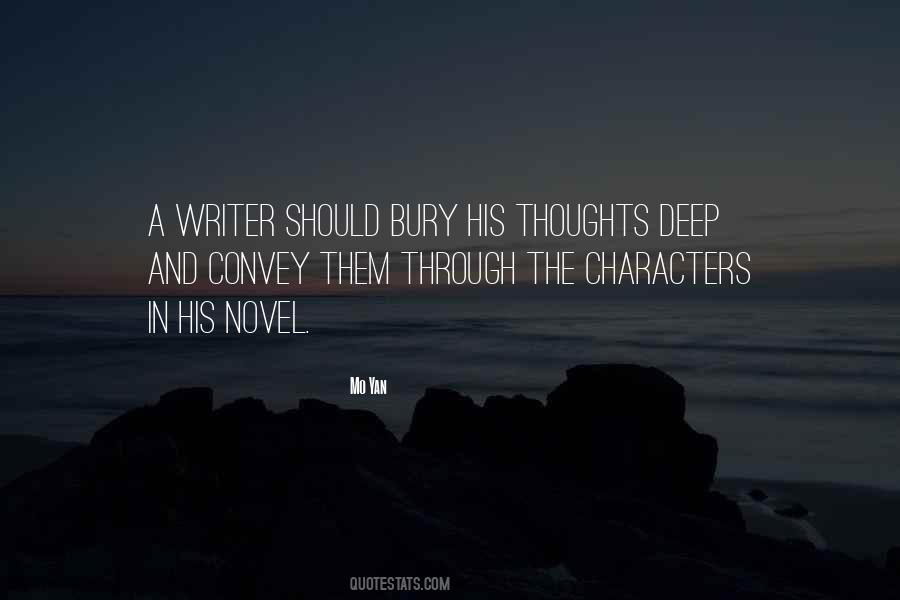 #37. When I tell people there are three stories in 'Thunderstruck' that were from the same wrecked novel, they want to guess what they are. Nobody has. There are no characters or timelines in common. They're structured very differently. A good novel wouldn't have pulled apart so easily. - Author: Elizabeth McCracken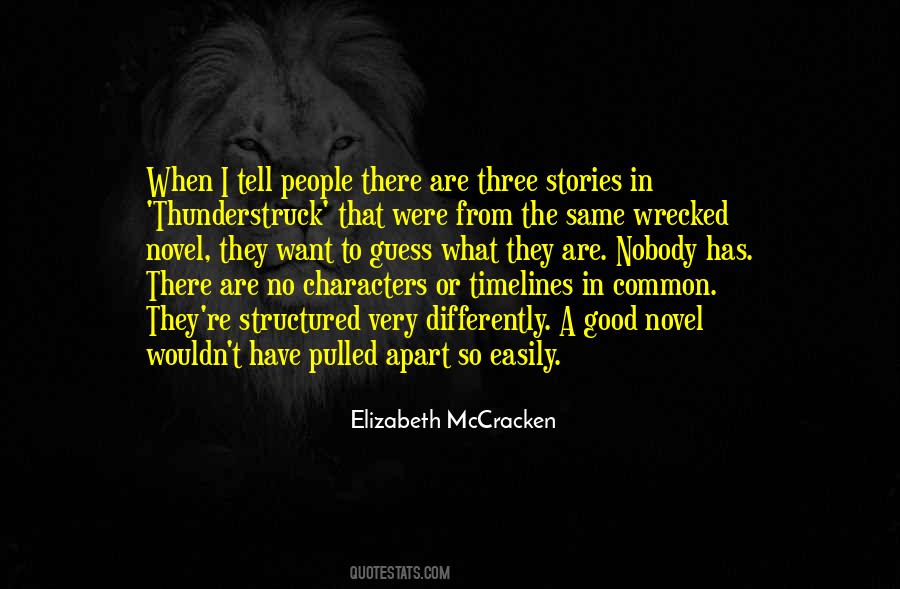 #38. I used to think that one day I should write a really great novel, but I've long ceased even to hope for that. All I want people to say is that I do my best. I do work. I never let anything slipshod get past me. I think I can tell a good story and I can create characters that ring true. - Author: W. Somerset Maugham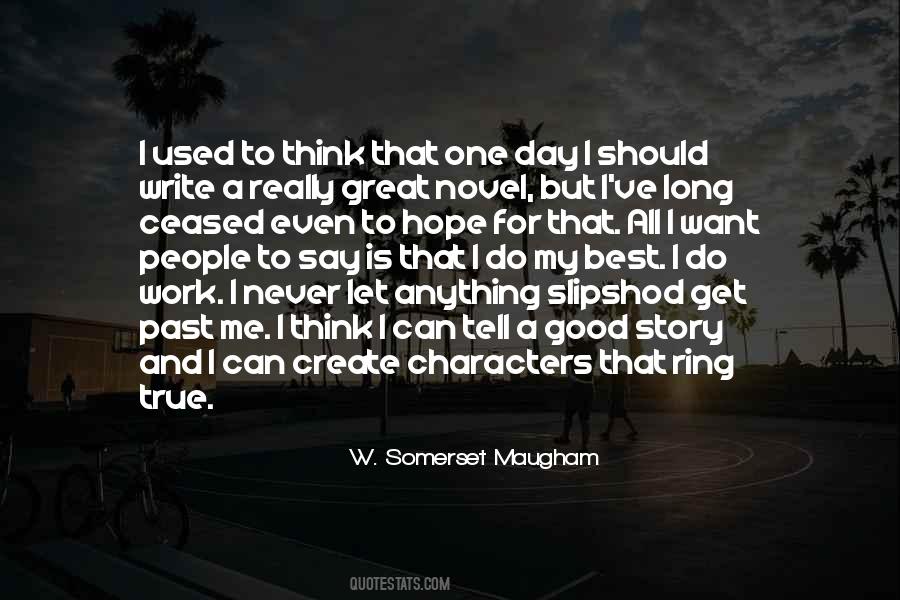 #39. When you read a fantasy novel part of the fun is getting to explore a new world. Everyone knows that. But I believe the same is true about characters. You can explore interesting people in the same way that you explore a town or a culture. - Author: Patrick Rothfuss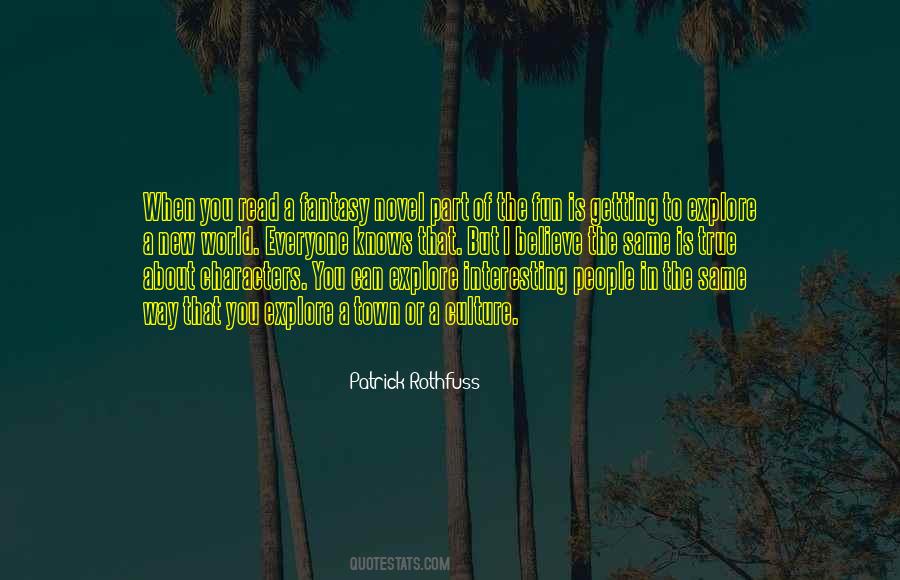 #40. Your characters are always your children. And while you are writing, you're keeping them safe. Now they're ready to go into the world and it's sad. I'm happy with the way the novel came out but all the characters' ending really saddened me. - Author: Yiyun Li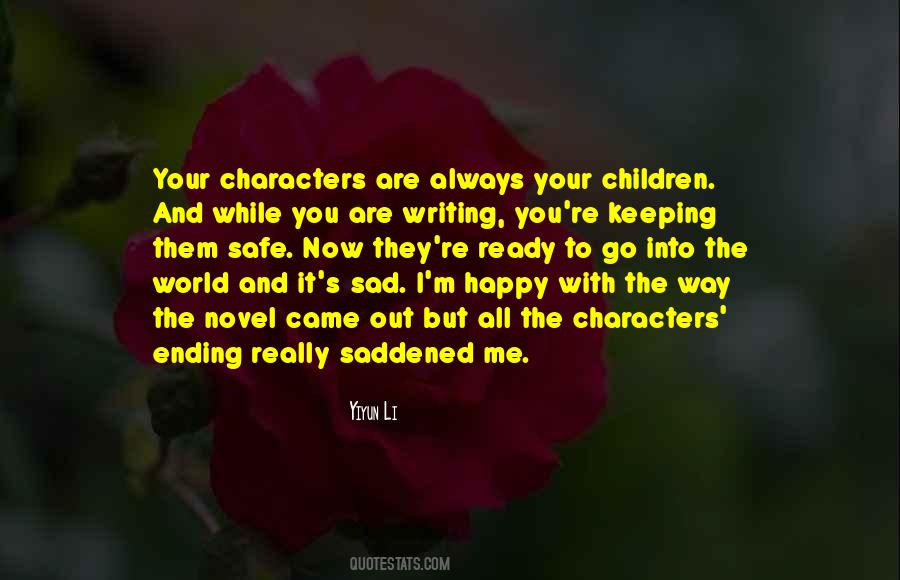 #41. Before I write the first page of a novel, I spend a long time creating detailed backgrounds for my characters. I imagine the experiences that have formed them, what makes them happy, angry, fearful, and what they yearn for. - Author: Lisa Kleypas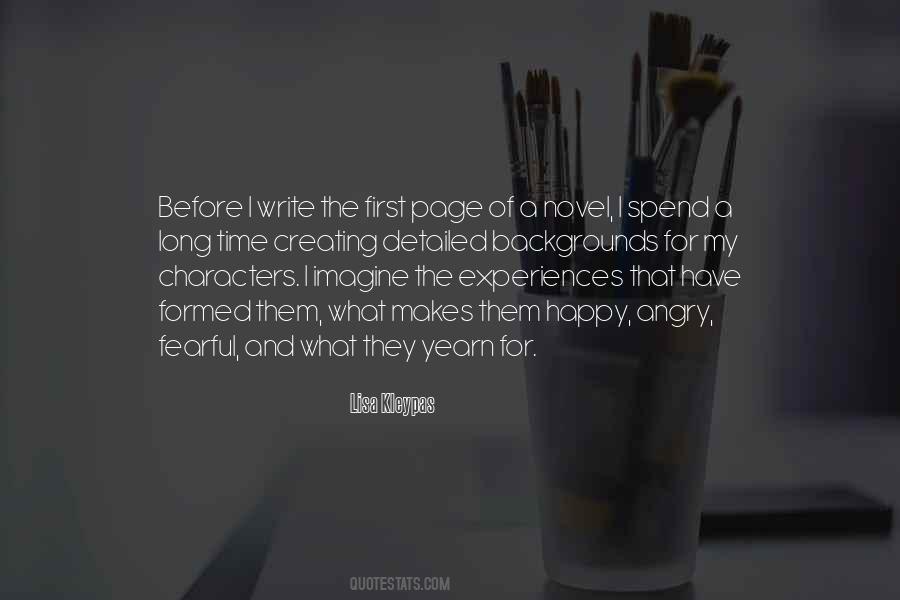 #42. I was very fortunate that my first novel captivated the imaginations of so many readers who asked for a sequel. After that, one book led to another as I discovered other facets to my characters I wanted to investigate further. - Author: Jennifer Chiaverini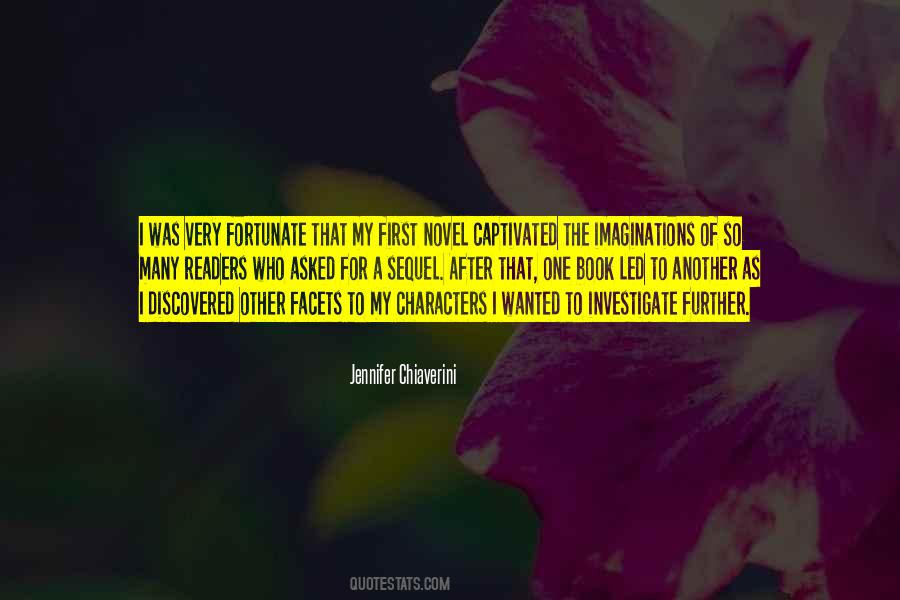 #43. The persons whom you cannot care for in a novel, because they are so bad, are the very same that you so dearly love in your life, because they are so good. - Author: Anthony Trollope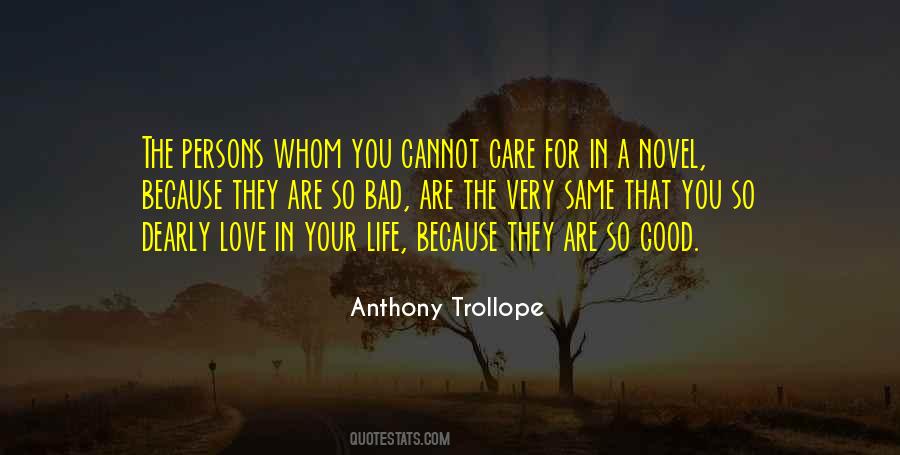 #44. Once you buy into a television show, there doesn't have to be resolution from week to week. You can develop characters and storylines and react to the audience, so you get more of a serialized version of storytelling where you can go much deeper into each character. It's more like a novel. - Author: Jon Favreau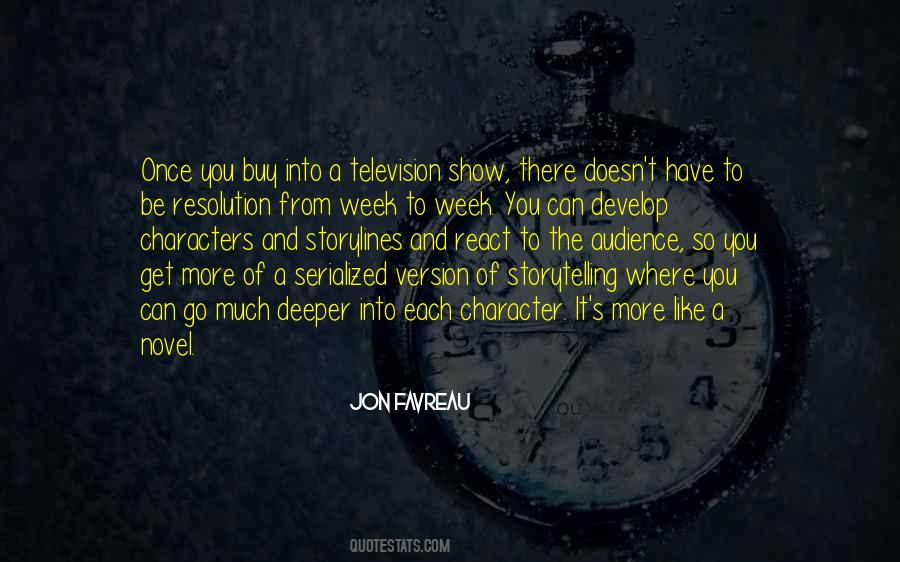 #45. Reading a novel in which all characters illustrate patience, hard work, chastity, and delayed gratification could be a pretty dull experience. - Author: Thomas Perry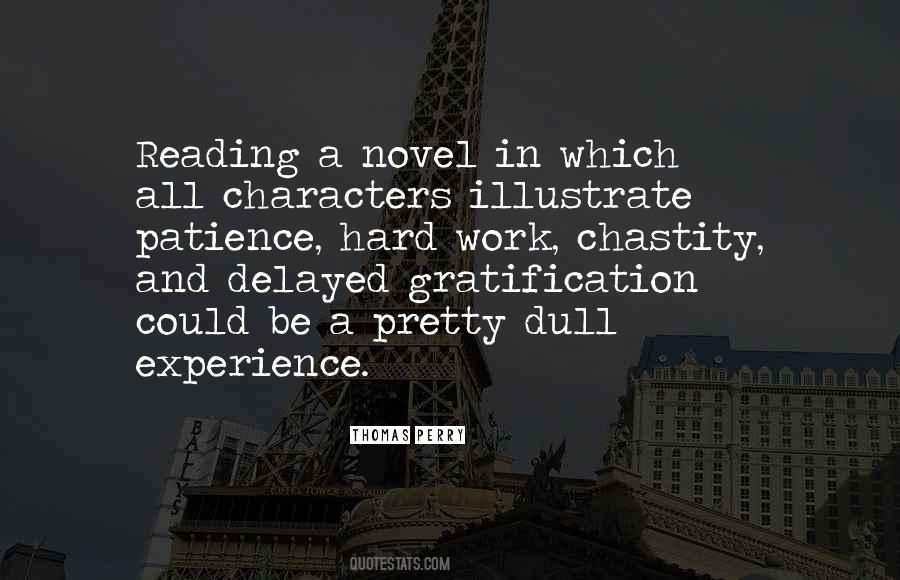 #46. A good novel, one which entices the author as much as it beckons the reader. - Author: W.J. Raymond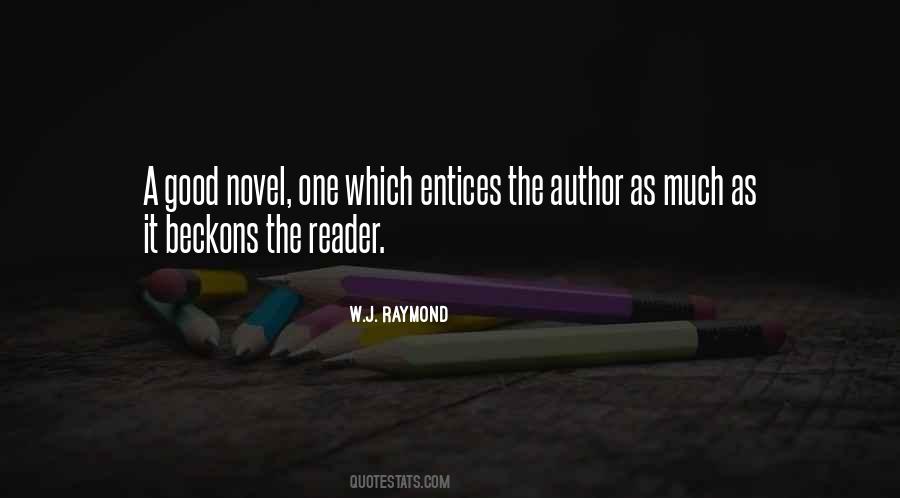 #47. Just because something isn't good doesn't mean it's bad. - Author: Rebecca McNutt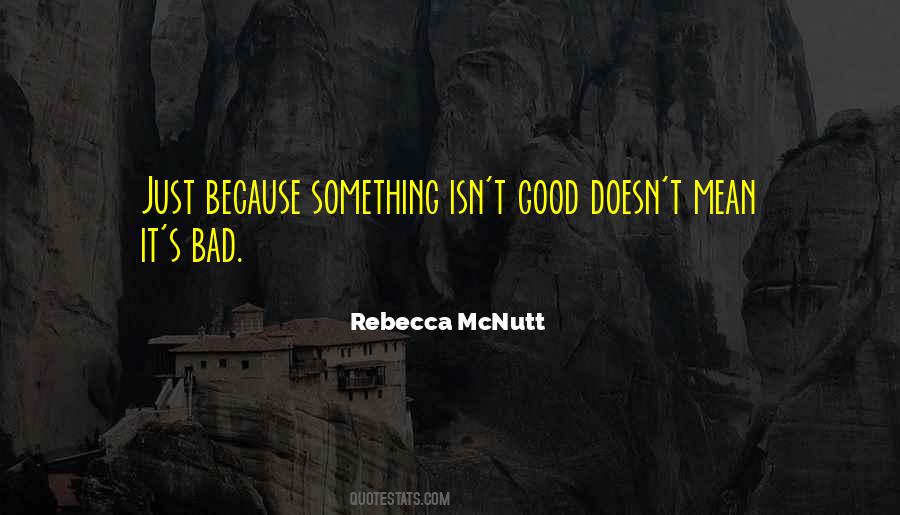 #48. I first read 'The Lord of the Rings' as an adolescent. It's a dense novel, a sprawling, complex monster of a book populated with a prolific number of characters caught up in a narrative structure that, frankly, does not lend itself to conventional storytelling. - Author: Peter Jackson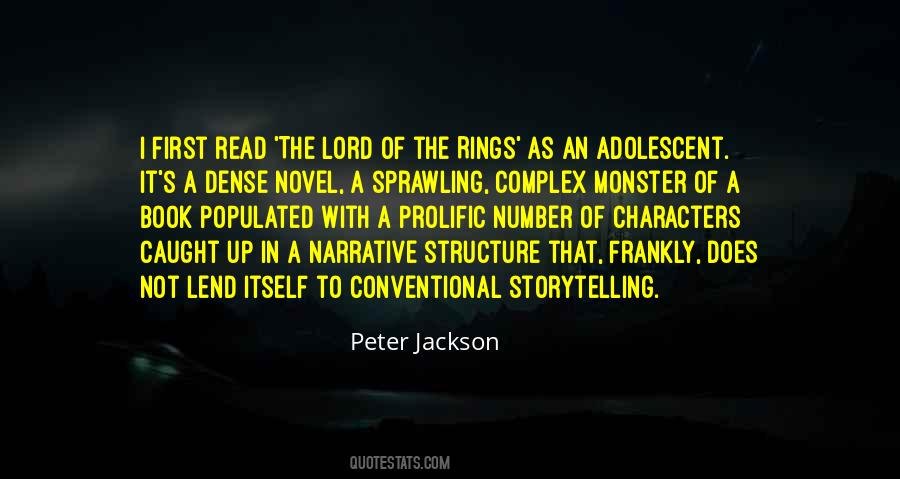 #49. Life in a small town is like an intricately plotted novel, and even though I had read every book in the public library by the time I was fourteen, I found the real people around me saying and doing far more interesting things than did the imaginary book characters. - Author: Maxine Cheshire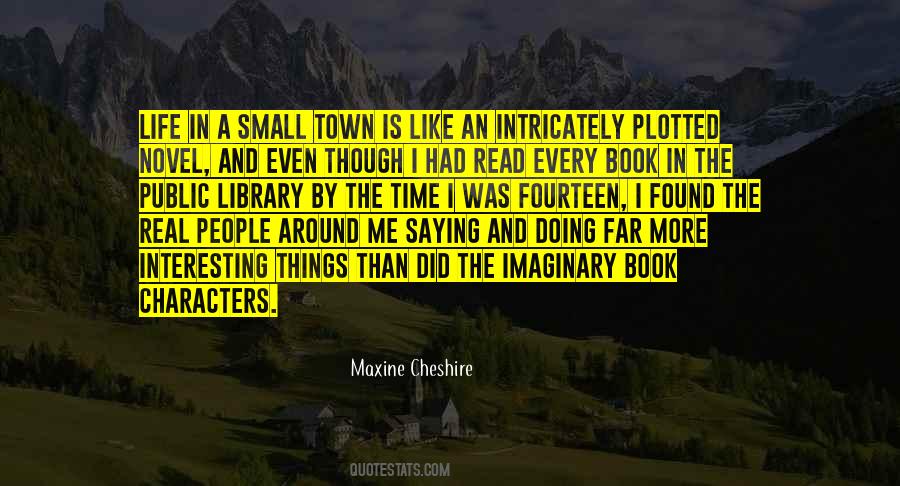 #50. There is always something of the writer in the work but I don't think Melville had to be swallowed by a whale to write a great novel. If I had lived the lives of all the characters of the songs I've written, that would truly be an extraordinary story. - Author: Michael Stipe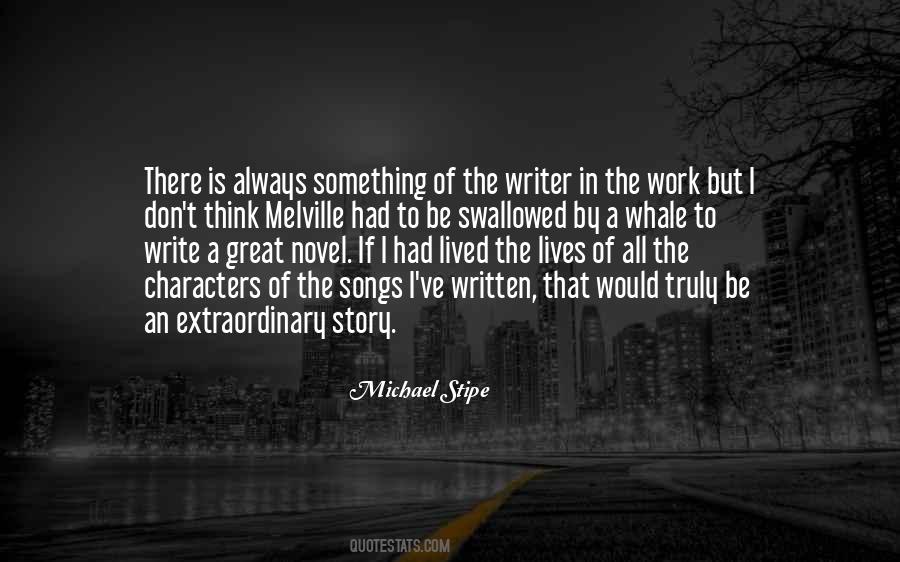 #51. The Little Friend is a long book. It's also completely different from my first novel: different landscape, different characters, different use of language and diction, different approach to story. - Author: Donna Tartt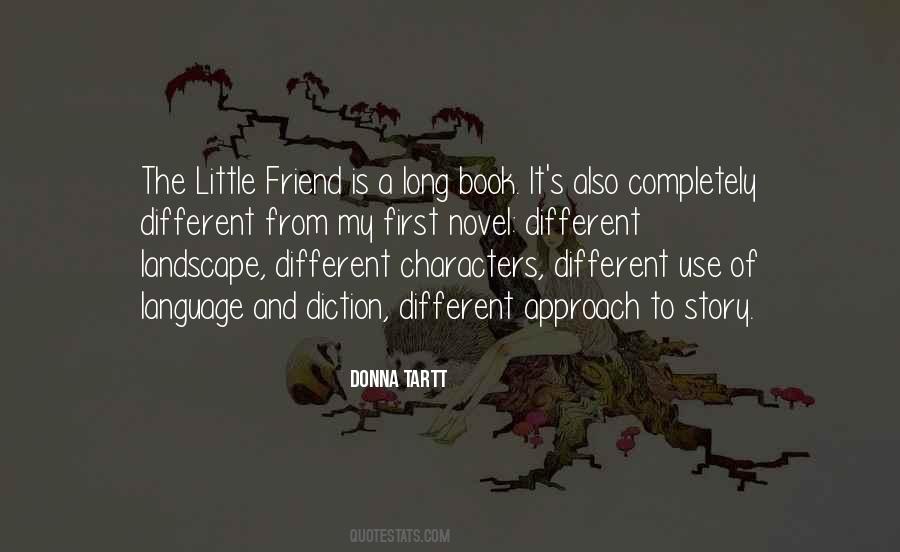 #52. is a work of fiction. All of the characters, organizations, and events portrayed in this novel are either products of the author's imagination or are used fictitiously. THE - Author: Brandon Sanderson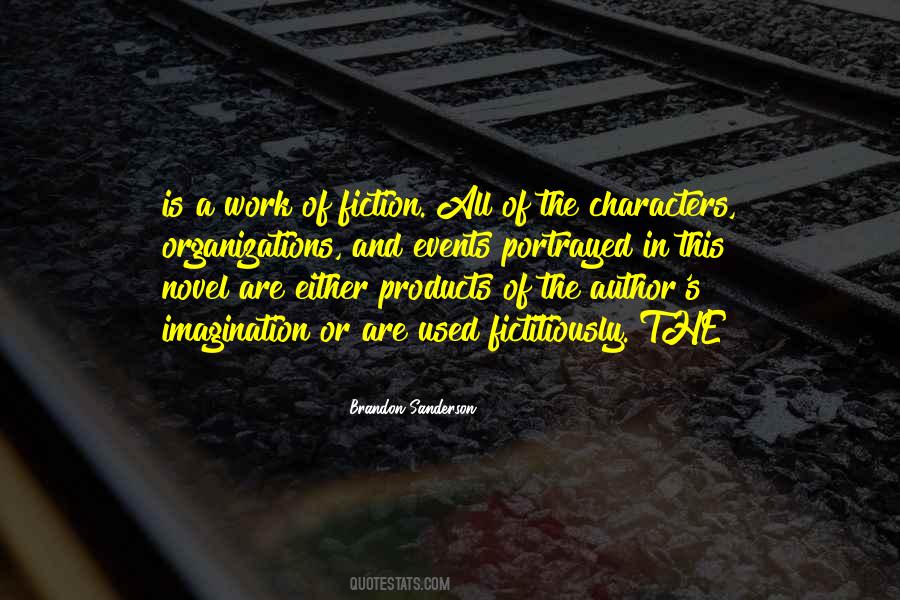 #53. Besides it's not as though the prisoner can truly die, any more than a character in a novel can. You can always flip back to the first page, can't you? - Author: Django Wexler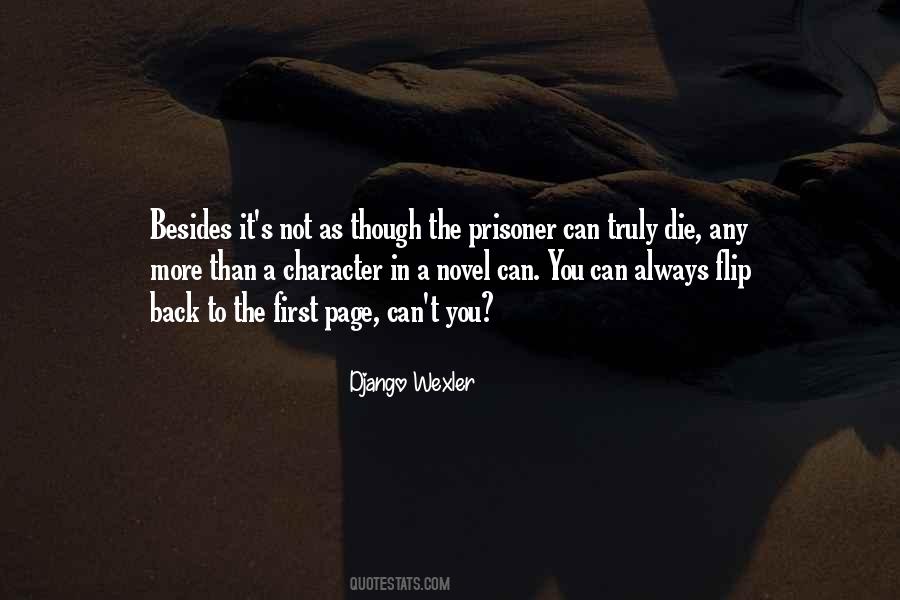 #54. The most important thing in business is a persona, Nico,' he was fond of saying. 'People want to know immediately what they're dealing with. And when they think about you, you've got to stand out in their minds
like one of those characters in a novel. - Author: Candace Bushnell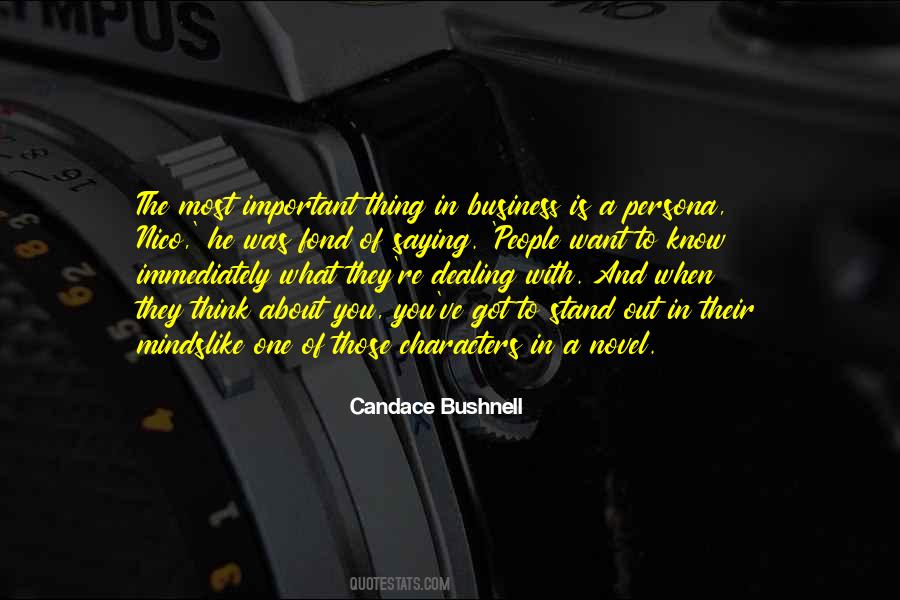 #55. When you write a novel you have to live with the characters for a long time. So I prefer short stories. I never wrote anything more than 250 pages. - Author: Ruskin Bond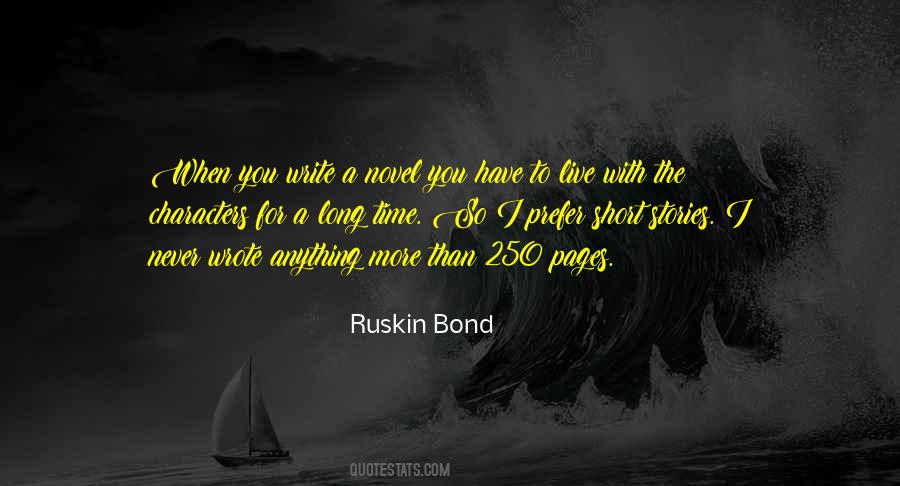 #56. By the way, the best place to find names for fictional characters, if you are ever foolish enough to write a novel, is in a Bradshaw or an ABC. All the nicest people always sound like railway stations. - Author: Beverley Nichols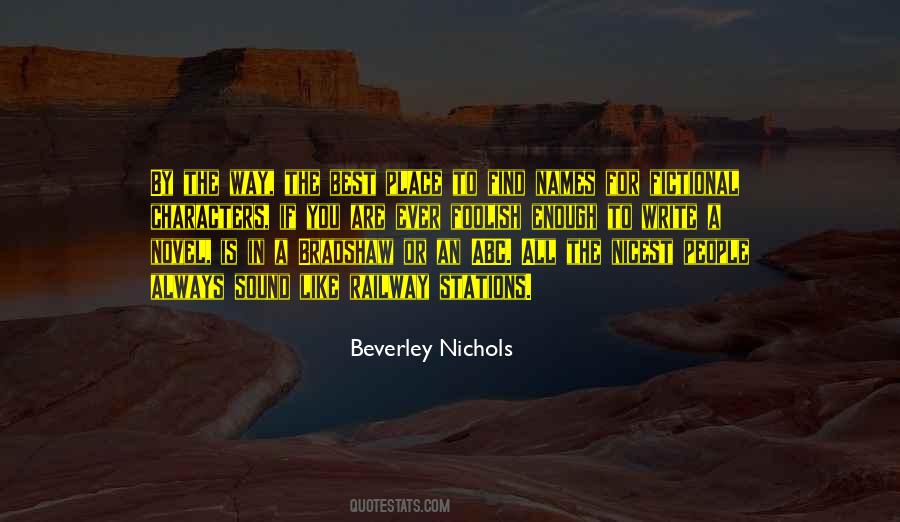 #57. My own feeling is that the only possible reason for engaging in the hard labor of writing a novel, is that one is bothered by something one needs to understand, and can come to understand only through the characters in the imagined situation. - Author: May Sarton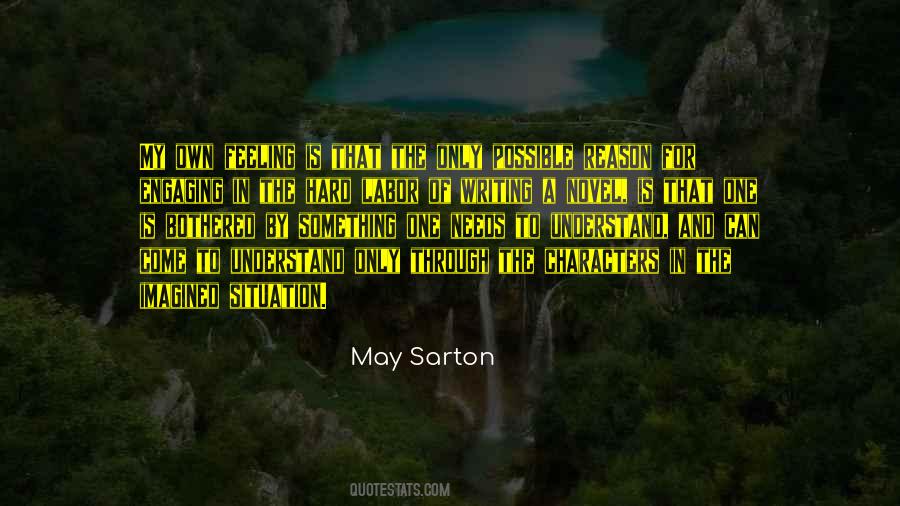 #58. We are all potentially characters in a novel
with the difference that characters in a novel really get to live their lives to the full. - Author: Georges Simenon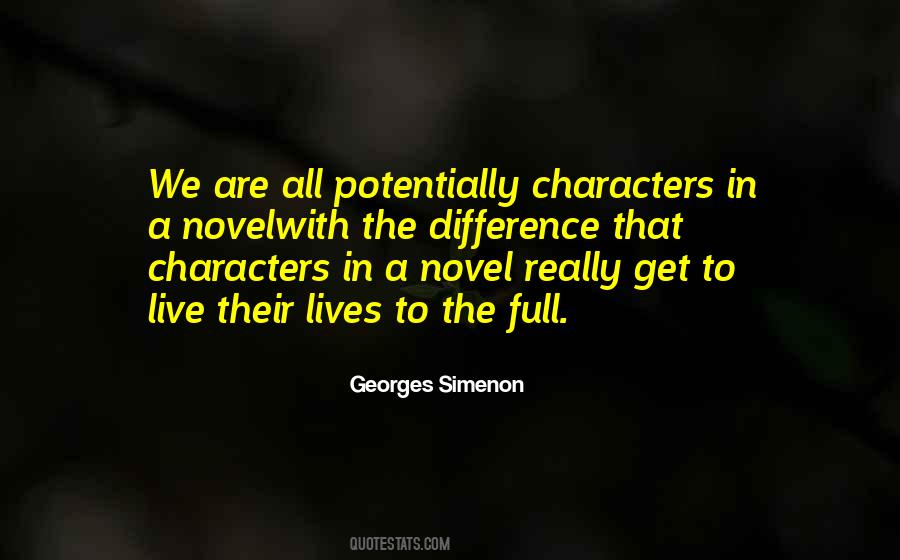 #59. I tend to write about towns because that's what I remember best. You can put a boundary on the number of characters you insert into a small town. I tend to create a lot of characters, so this is a sort of restraint on the character building I do for a novel. - Author: Tom Drury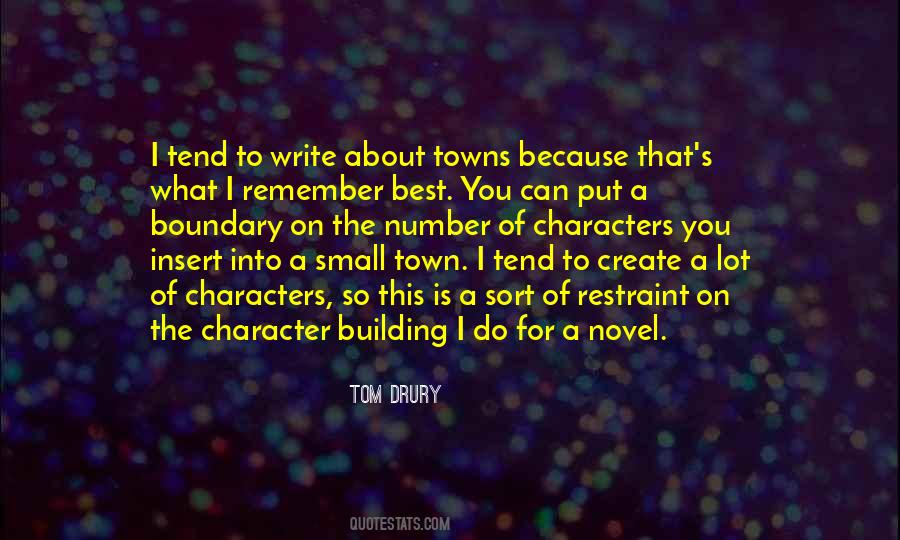 #60. In every great novel, who is the hero all the time? Not any of the characters, but some unnamed and nameless flame behind them all. - Author: D.H. Lawrence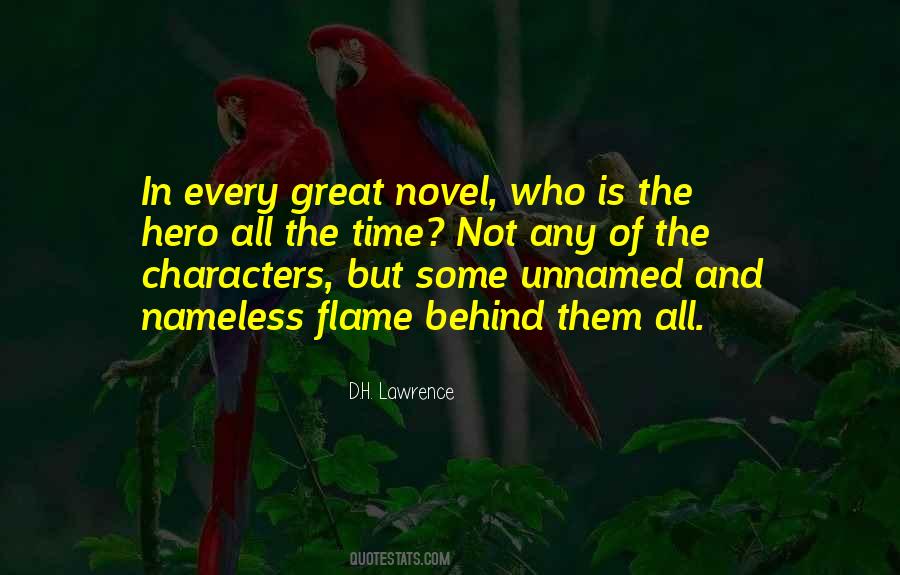 #61. Many of us would not make terribly interesting characters in a novel. - Author: Claire Wingfield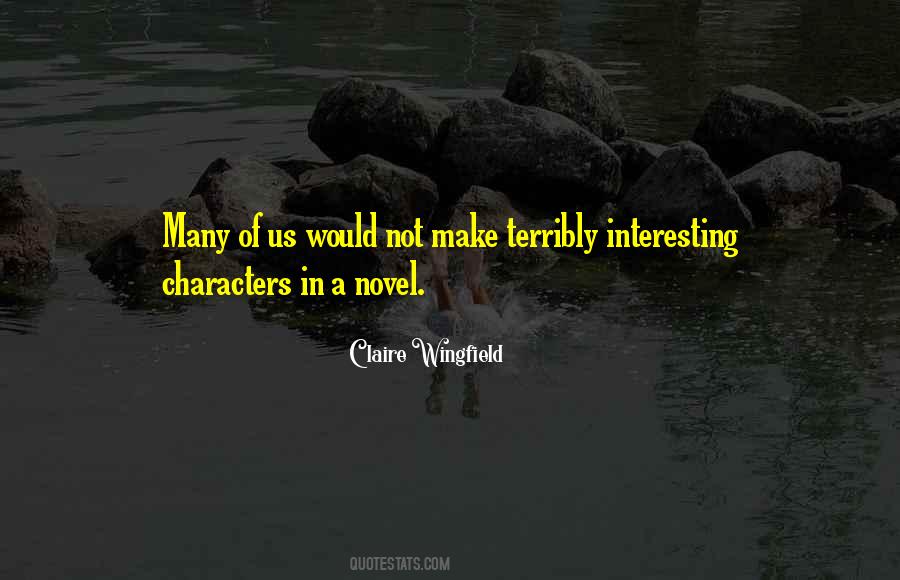 #62. As you write your novel, you gradually start thinking like some of your characters in it. And at times the writer may lose himself completely in some character. - Author: Avijeet Das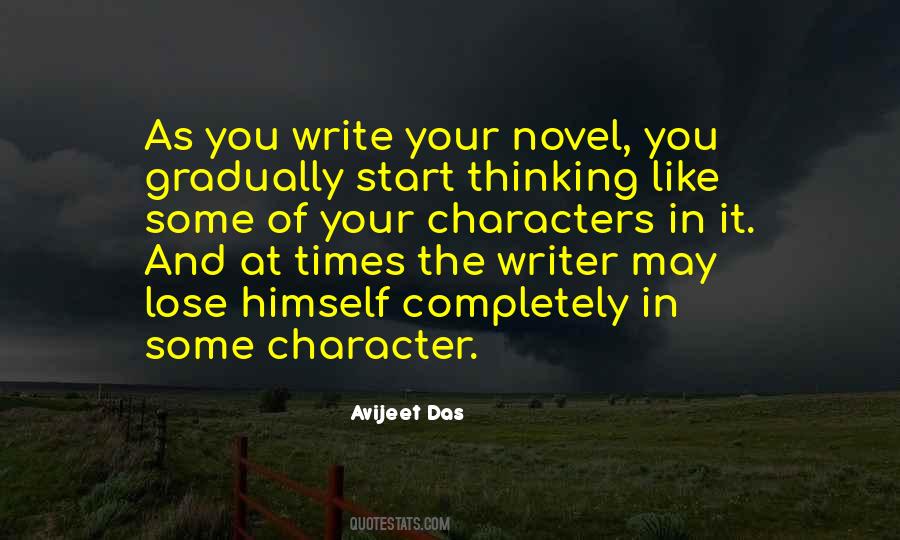 #63. If a novel doesn't have well-developed three-dimensional principal characters, wouldn't it be a graphic novel without the graphics? - Author: Michael Kroft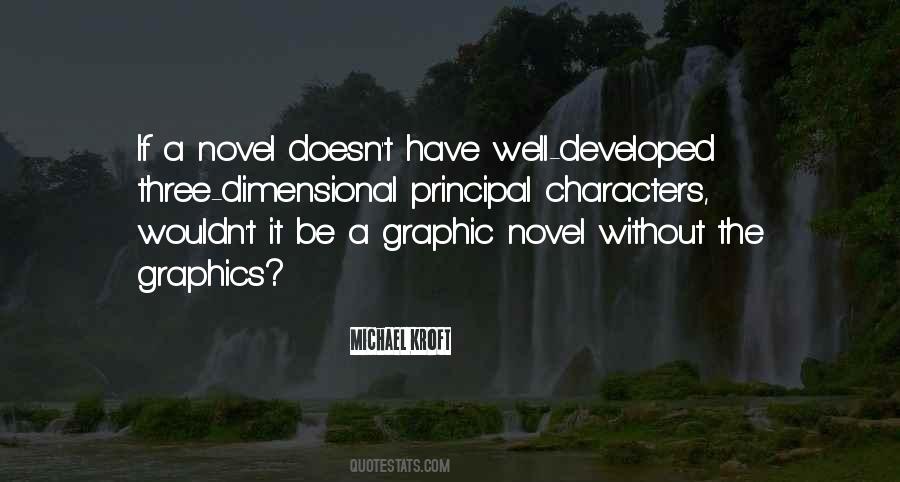 #64. I had been a reporter for 15 years when I set out to write my first novel. I knew how to research an article or profile a subject - skills that I assumed would be useless when it came to fiction. It was from my imagination that the characters in my story would emerge. - Author: Amy Waldman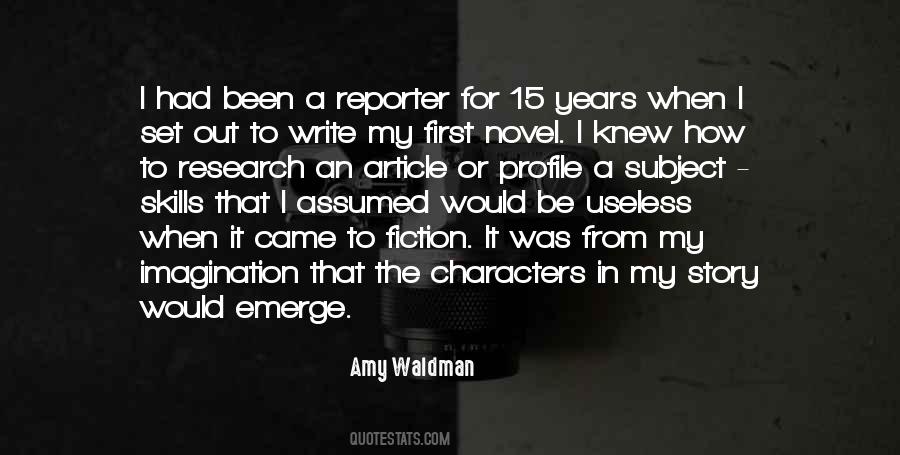 #65. I couldn't resist hiding some historical details and a few clues relevant to the plot and characters of 'A Discovery of Witches' throughout the pages of the novel. - Author: Deborah Harkness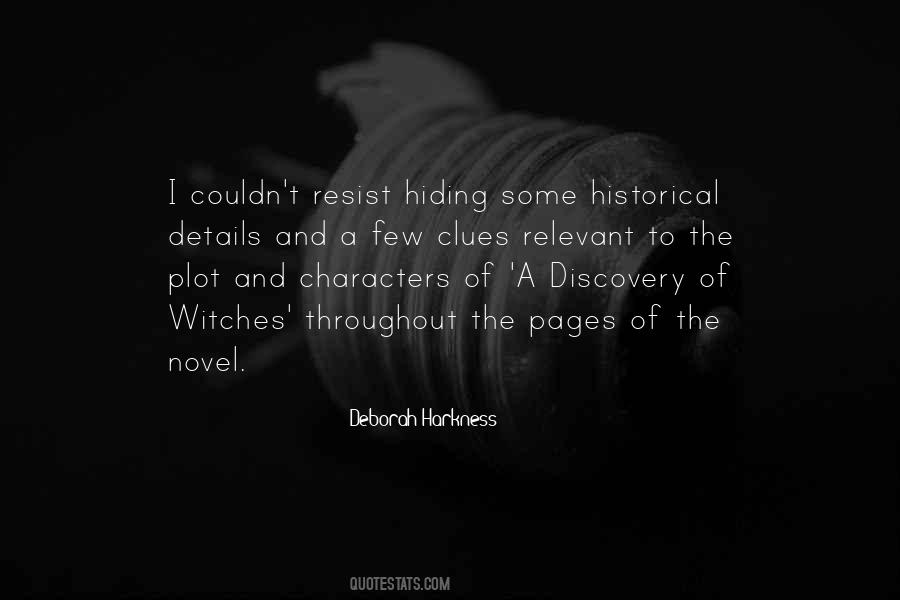 #66. In a novel there's not much autobiography. There are characters in transit. Naturally, I can project something of my experiences onto the characters, but they have their own autonomy, a personality that is often a mystery to me. - Author: Dacia Maraini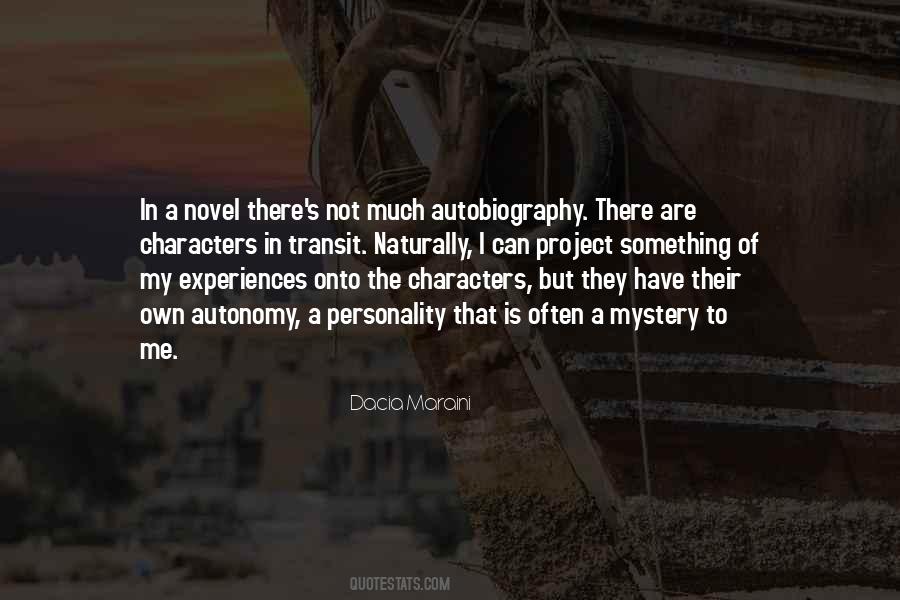 #67. Once you break someone's heart, you are forever its master. - Author: Roy L. Pickering Jr.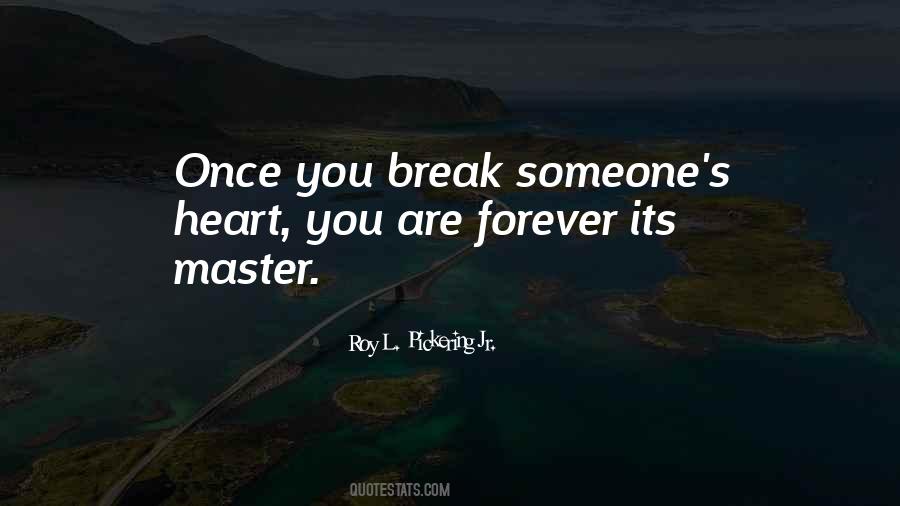 #68. Two characters and sexy banter do not a book make, damn it. - Author: Sherry Thomas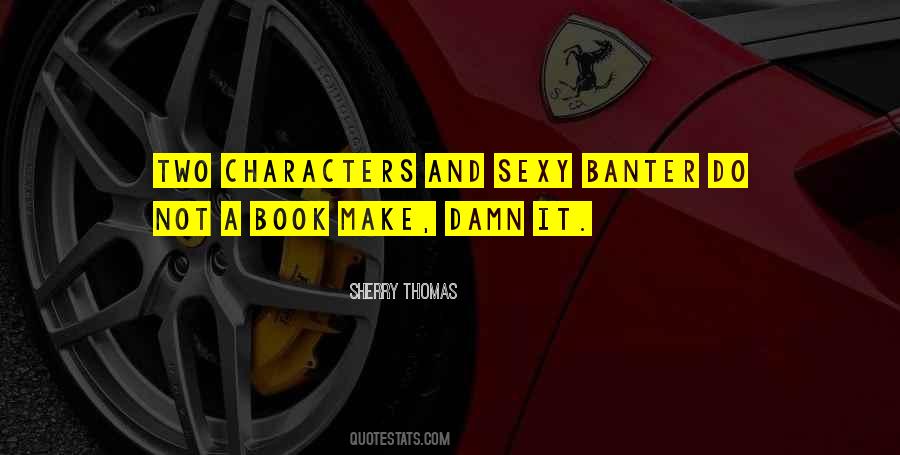 #69. If there is a connection between Harry Potter and my new novel, it's my interest in characters. - Author: J.K. Rowling
#70. Every day, I learn something new. I think one of the most exciting things for a writer is to work on a TV show. It's like a novel. You have a really long time to develop and learn about the characters, and you can just really keep digging in deeper, every week. - Author: Elizabeth Meriwether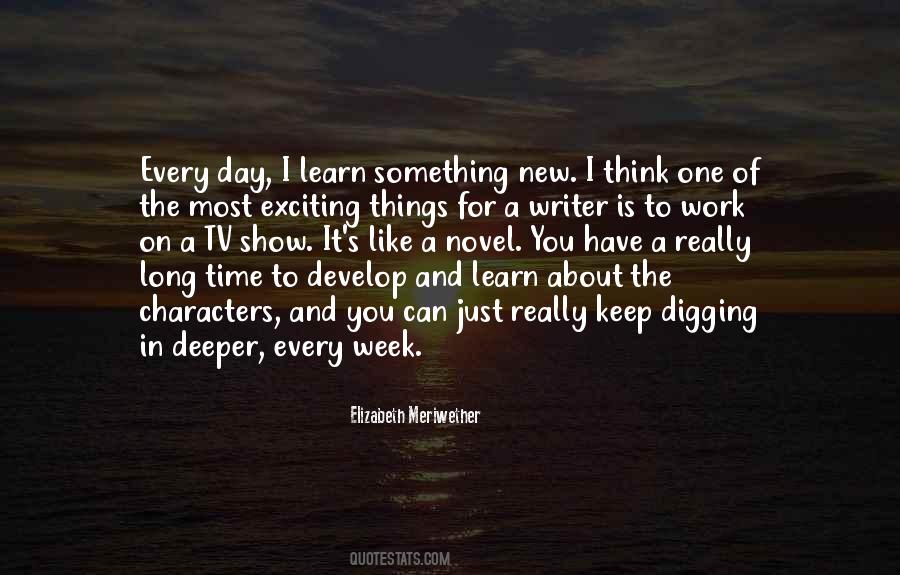 #71. While the subject matter is lynching, on a deeper level, this novel is about identity. Whom and what we identify ourselves with determines our characters, determines who we are, and what we do. - Author: Julius Lester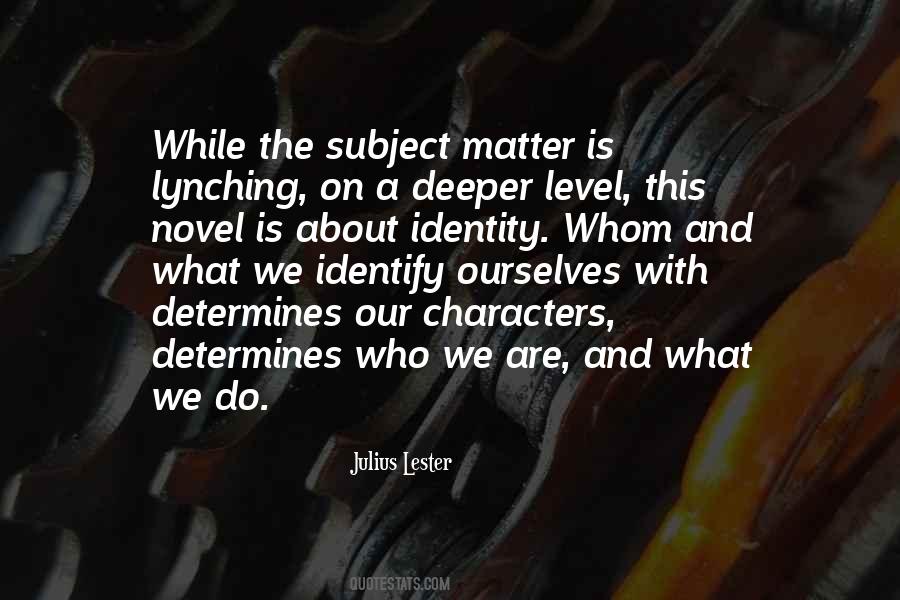 #72. Short of a small range of physical acts-a fight, murder, lovemaking-dialogue is the most vigorous and visible inter-action of which characters in a novel are capable. Speech is what characters do to each other. - Author: Elizabeth Bowen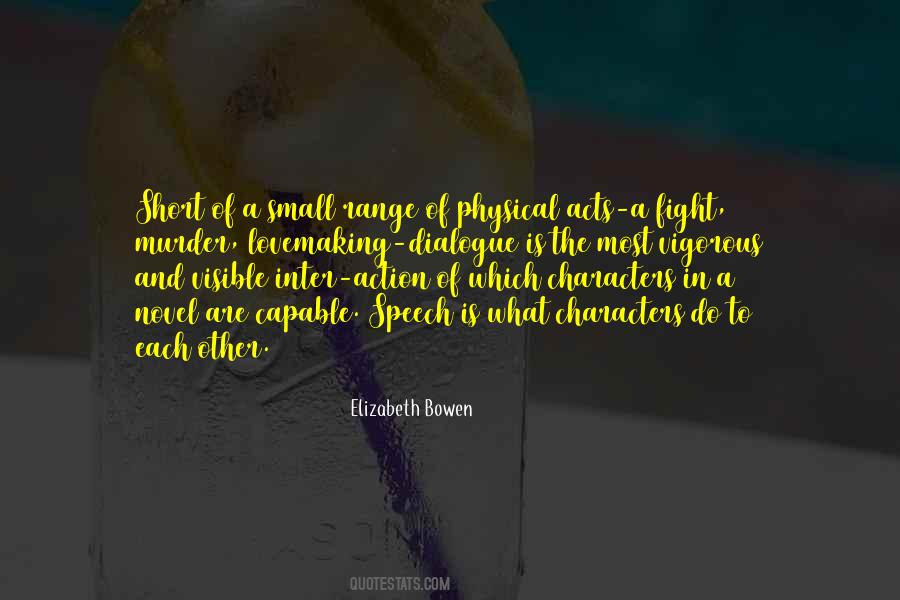 #73. I think that the joy of writing a novel is the self-exploratio n that emerges and also that wonderful feeling of playing God with the characters. When I sit down at my writing desk, time seems to vanish ... I think the most important thing for a writer is to be locked in a study. - Author: Erica Jong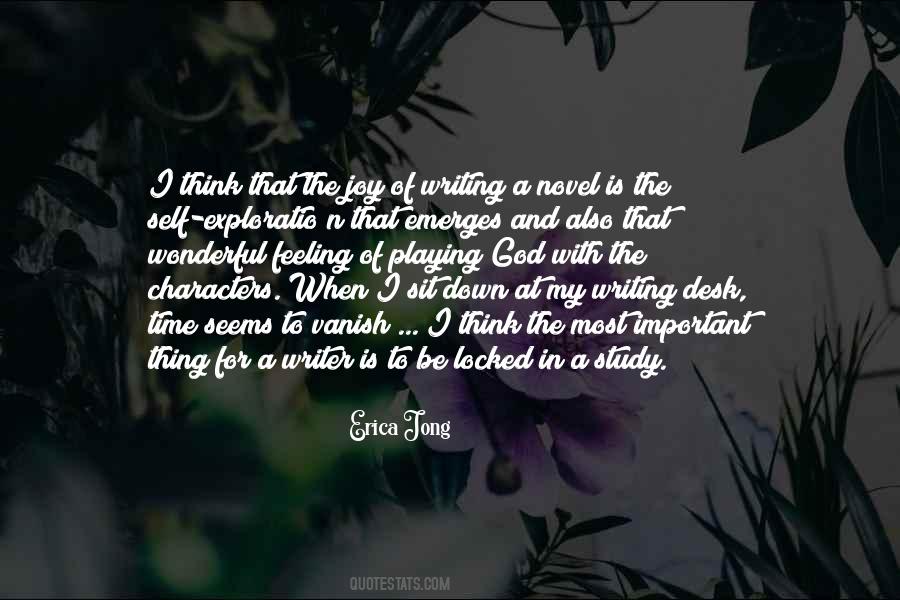 #74. Have the courage to analyze great emotions to create characters who shall be lofty and true. The whole art of the analytical novel lies there. - Author: Paul Bourget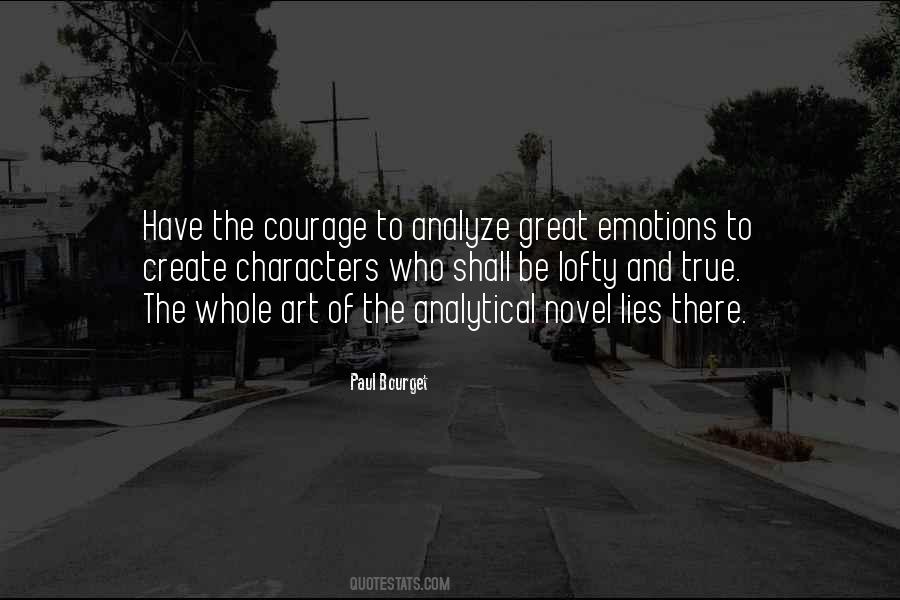 #75. Film and novel characters are often stereotyped, but racial stereotyping in many novels or films creates & encourages labelling, discrimination & racism. ~Angelica Hopes - Author: Angelica Hopes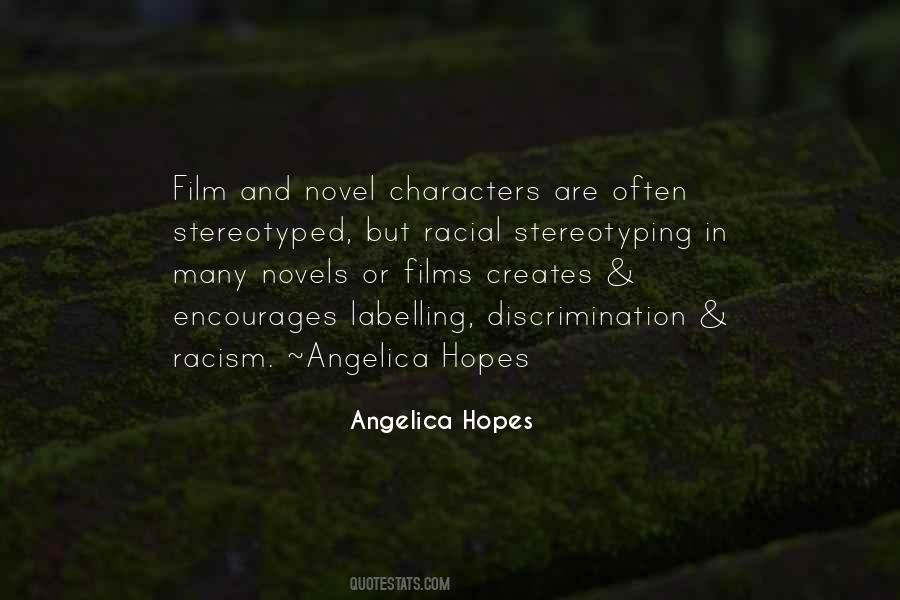 #76. We must remember that there's more than one story and plot in every novel. There are at least as many stories as there are main characters, and each of these stories has to have multiple plots to keep it going - blood and bone, nerve and tissue, forgotten longing and unknown events. - Author: Walter Mosley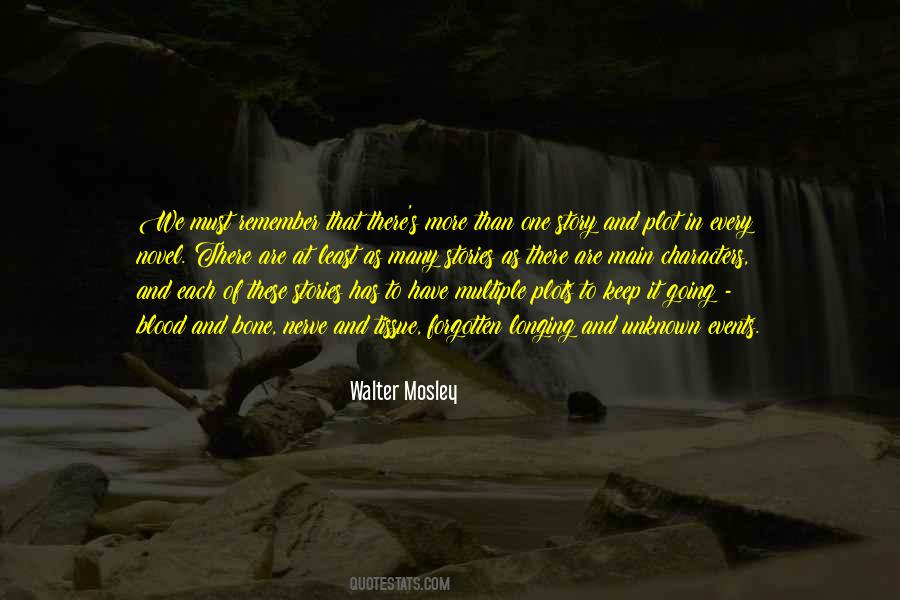 #77. Plot comes first. The plot is the archictecture of your novel. You wouldn't build a house without a plan. If I wrote without a plot, it would just be a pile of bricks. Characters are your servants. They must serve your plot. - Author: Barbara Kingsolver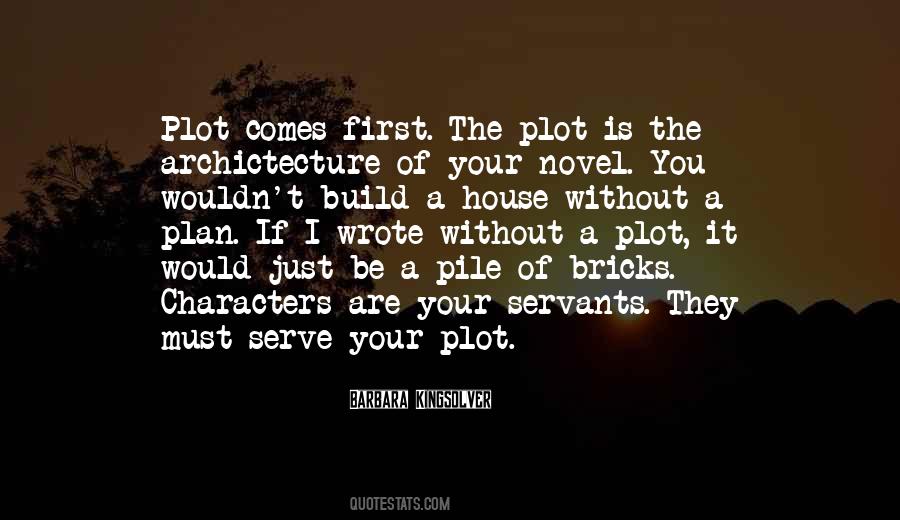 #78. The script for what would eventually become my first graphic novel, 'Cairo,' sort of came to me in kind of a bolt of lightning within 24 hours of having moved to that city. Just a jumble of characters and narratives and interesting things that I was seeing and experiencing for the first time. - Author: G. Willow Wilson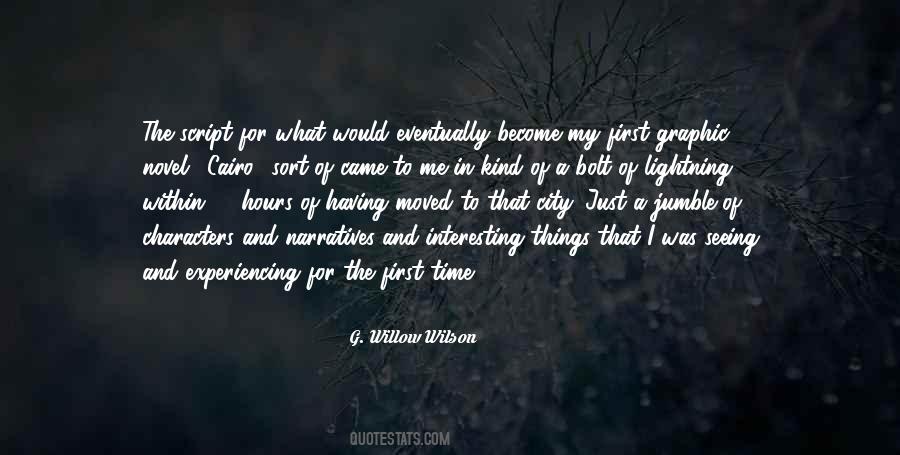 #79. There is a technical, literary term for those who mistake the opinions and beliefs of characters in a novel for those of the author. The term is 'idiot'. - Author: Larry Niven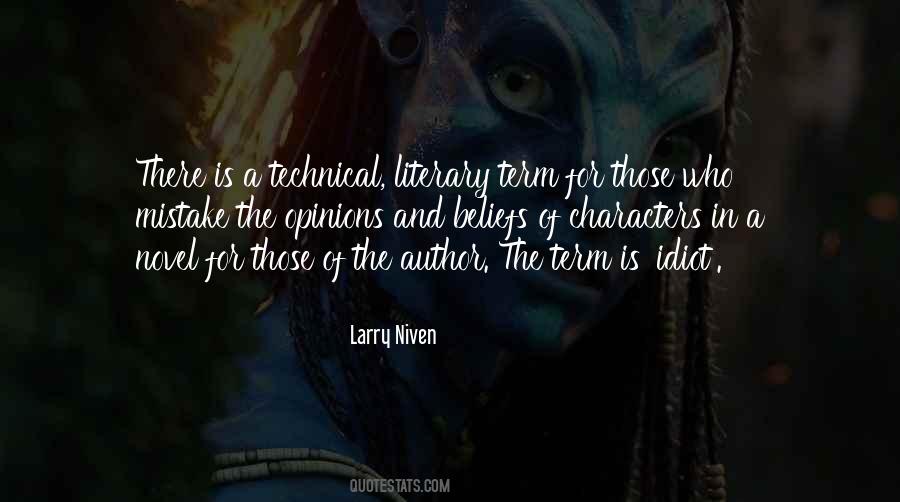 #80. Merrick belonged to that class of reader who was able to forget with amazing ease the hand moving the characters behind the scenes of the novel. - Author: Felix J. Palma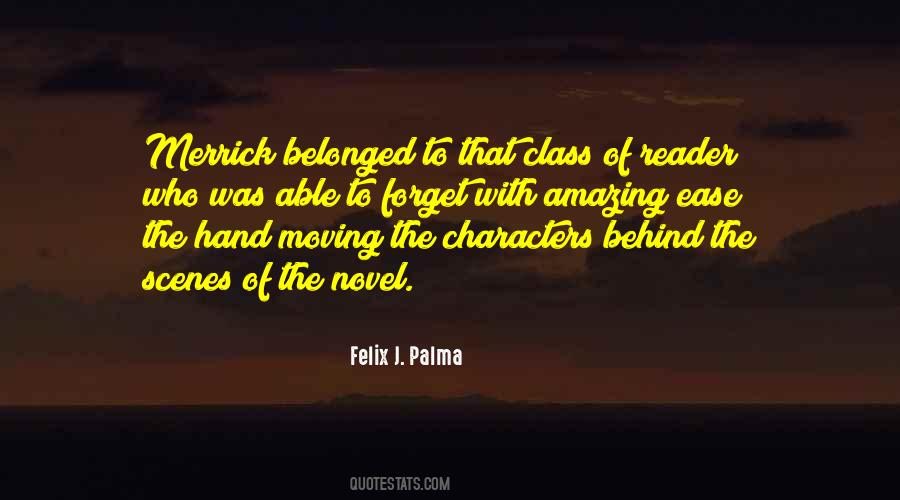 #81. Whether I'm writing a novel about a guy mourning the death of his father or whether I'm writing a show about people killing each other, you want to hear characters speak and be funny and witty. - Author: Jonathan Tropper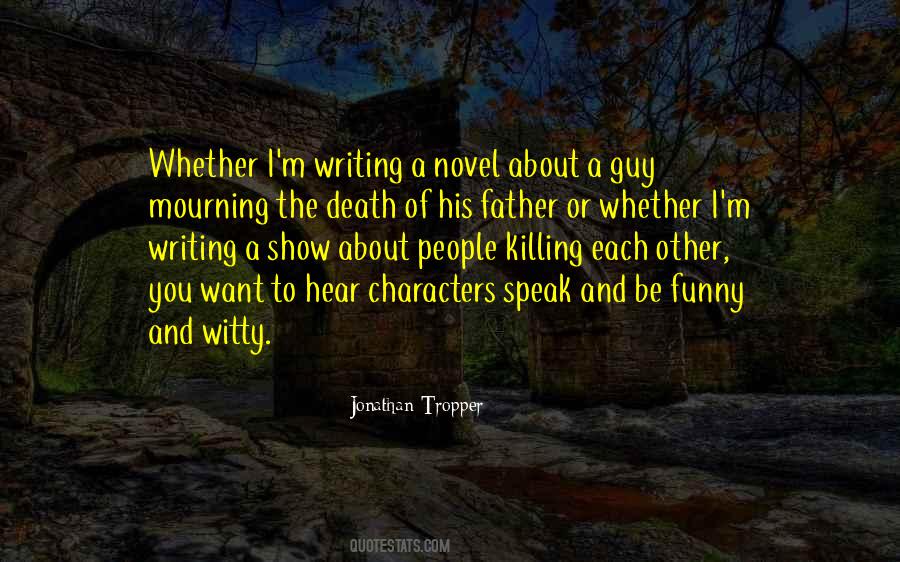 #82. When I'm writing a novel, I'm dealing with a double life. I live in the present at the same time that I live in the past with my characters. It is this that makes a novelist so eccentric and unpleasant. - Author: John Phillips Marquand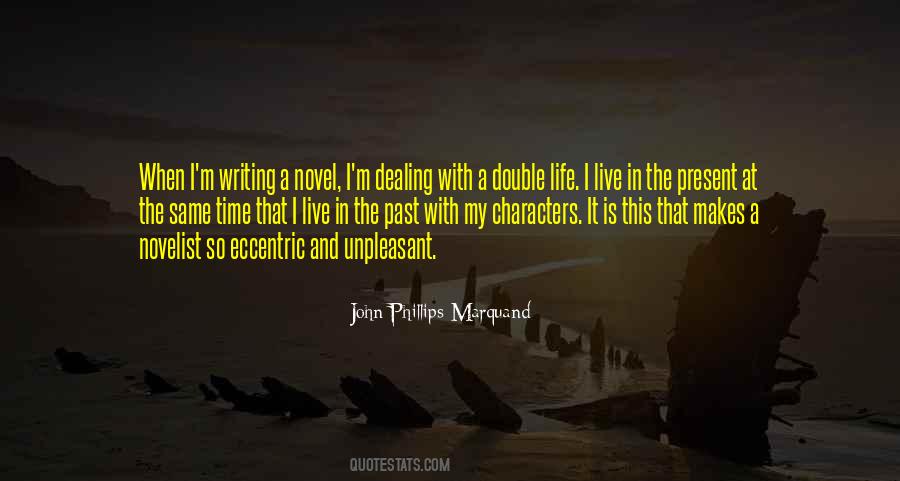 #83. And although he recognized that tenderness was not the same as passion, and certainly not equivalent to love, for now it seemed to him a suitable substitute. - Author: Roy L. Pickering Jr.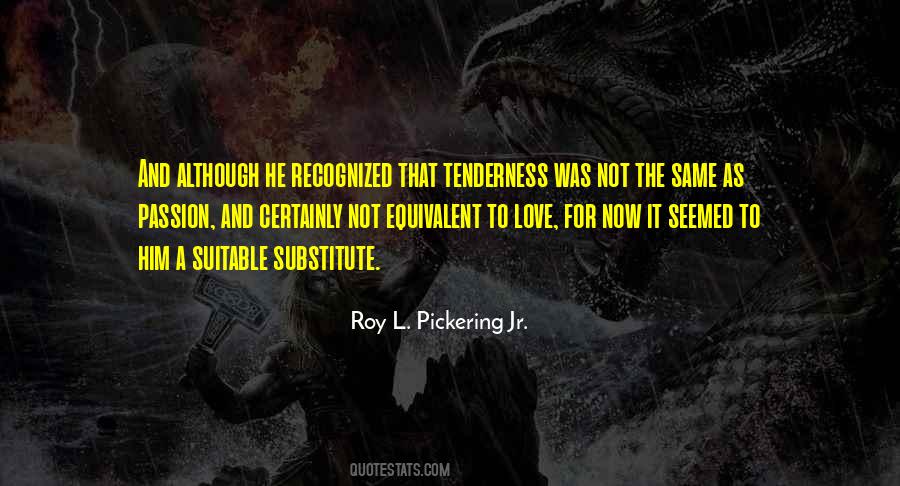 #84. As a kid, my brother and I would read the same novel, we'd memorize entire pages, reenact the book as it's characters, and would immerse in playing like that for hours. I suppose it was a natural follow up, wanting to still play in a similar fashion, but as an adult. - Author: Irena A. Hoffman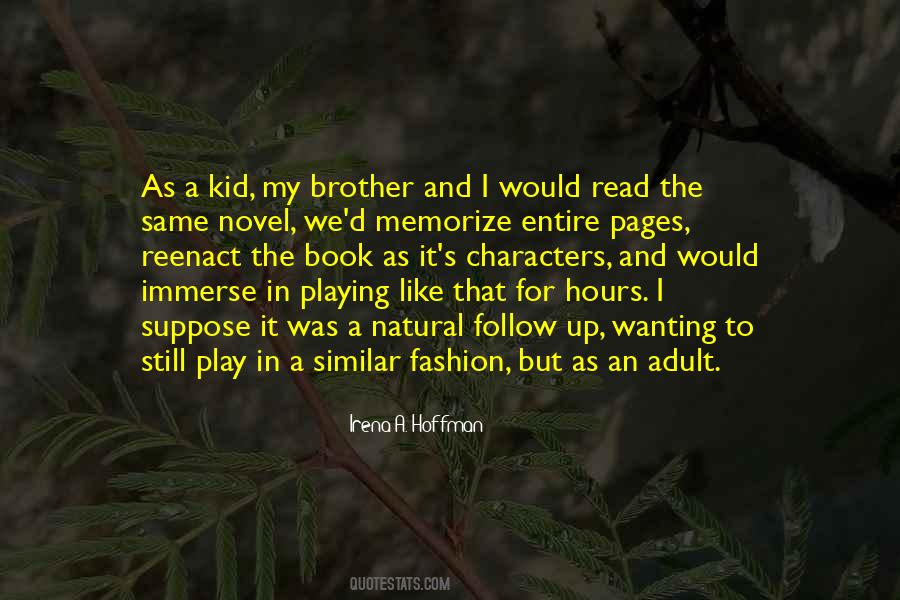 #85. This is a work of fiction.
If certain characters resemble people in real life, it is because certain people in real life resemble characters from a novel.
Nobody, therefore, is entitled to feel included in this book.
Nobody, by the same token, to feel excluded. - Author: Fernando Del Paso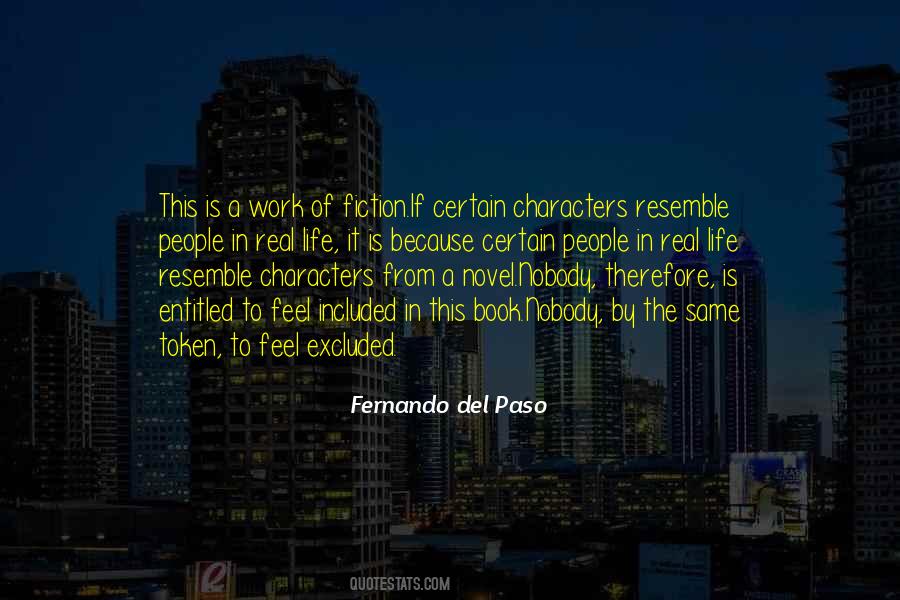 #86. Surely the test of a novel's characters is that you feel a strong interest in them and their affairs the good to be successful, the bad to suffer failure. Well, in John Ward, you feel no divided interest, no discriminating interest you want them all to land in hell together, and right away. - Author: Mark Twain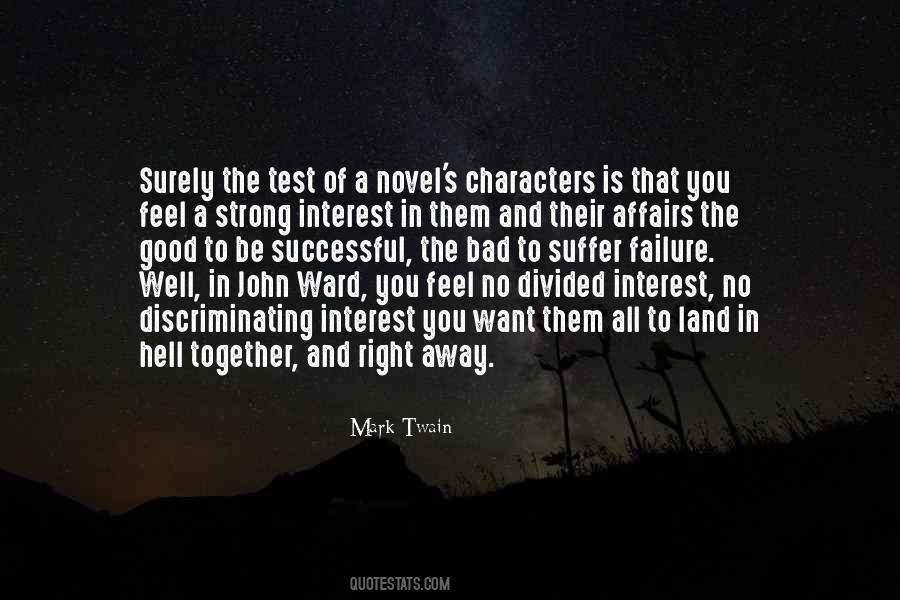 #87. Don't start writing your novel until you know your characters very, very well. What they'd do if they saw somebody shoplifting. What they were like at school. What shoes they wear. Spend days - weeks, months - being them until they thicken up and start to breathe. - Author: Deborah Moggach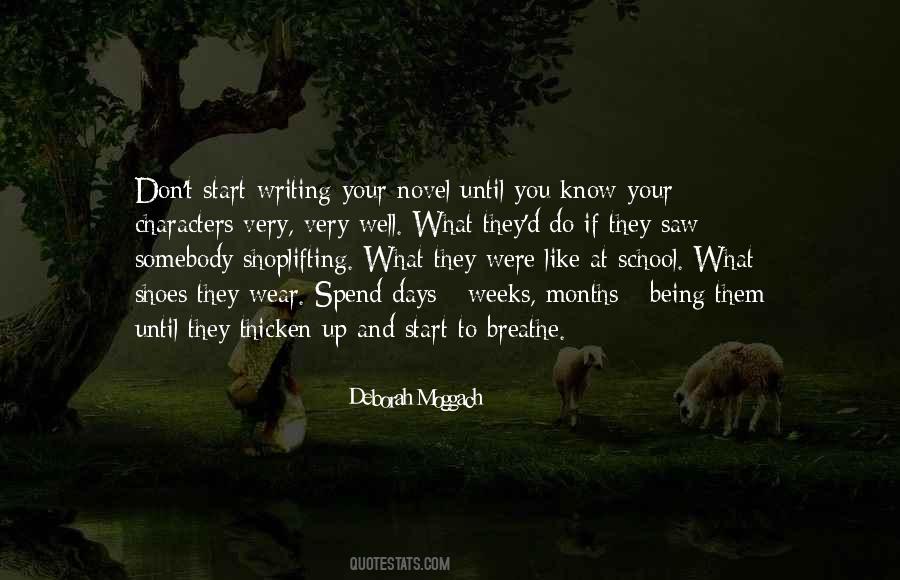 #88. I believe a novel must first of all be a good story. My hope is that the spiritual message is woven in so well, is such a part of the fabric of the story and of the characters' lives, that it is subtle but meaningful. This is difficult to do well and is something I constantly endeavor to improve. - Author: Julie Klassen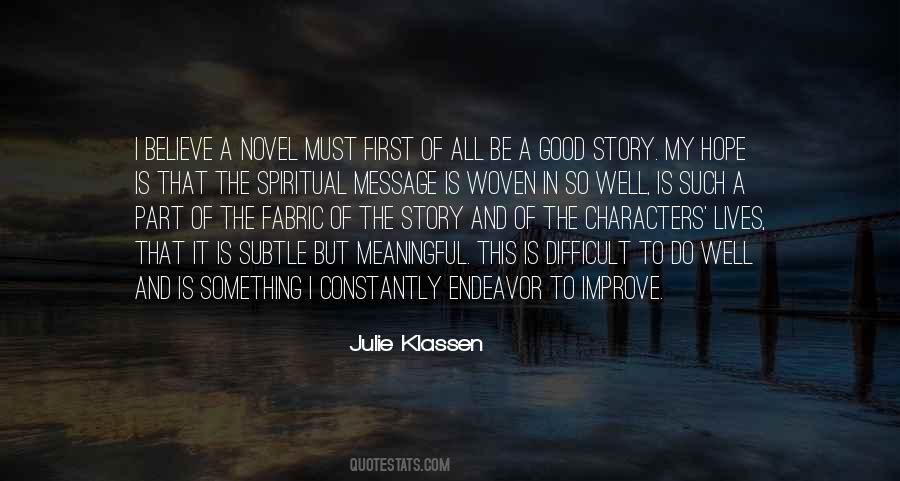 #89. The problem lies not with the characters within the novel, but with the reader itself. - Author: Vladimir Nabokov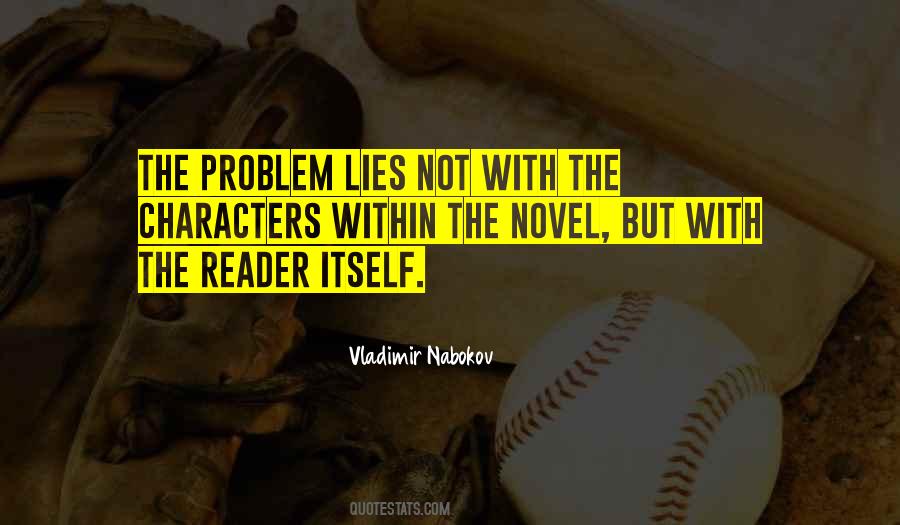 #90. The most exciting part of writing a novel is when the characters take control of the story - Author: Brandt Legg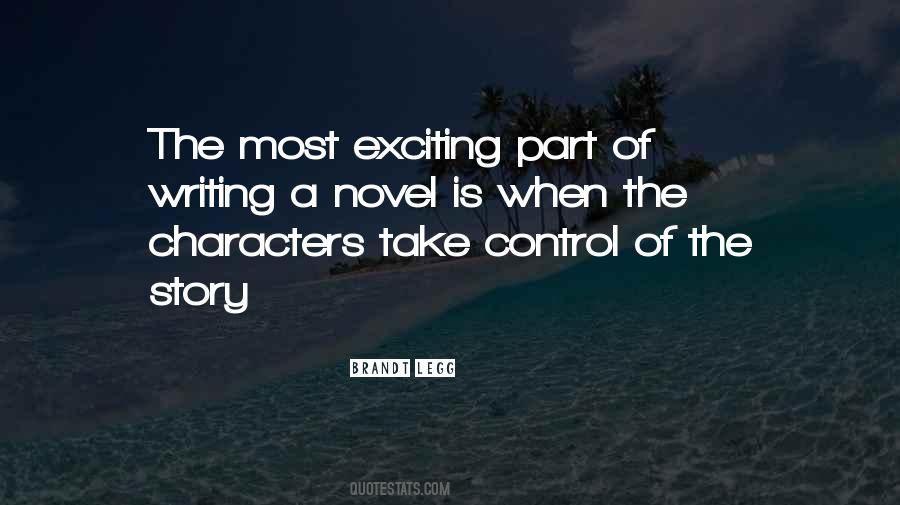 #91. Characters to me are like sonnets, they have limits that you obey which allow a force to enter in, an invention that makes the novel possible. Change the limits and the force leaves. The novel becomes impossible. - Author: Alexander Chee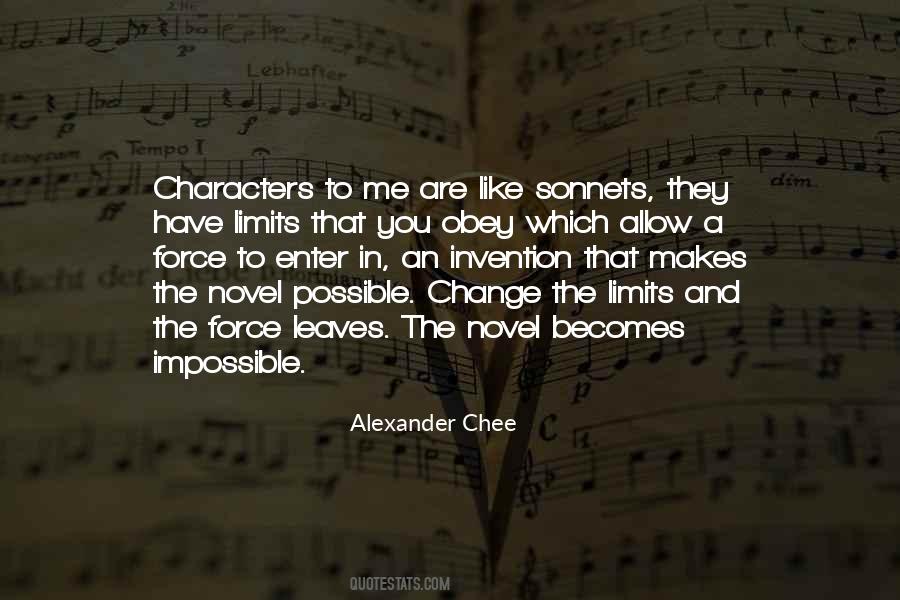 #92. Unlike novel characters, comic book characters last an eternity. When a character is changed beyond recognition, there's no longer the merchandising aspect. - Author: Grant Morrison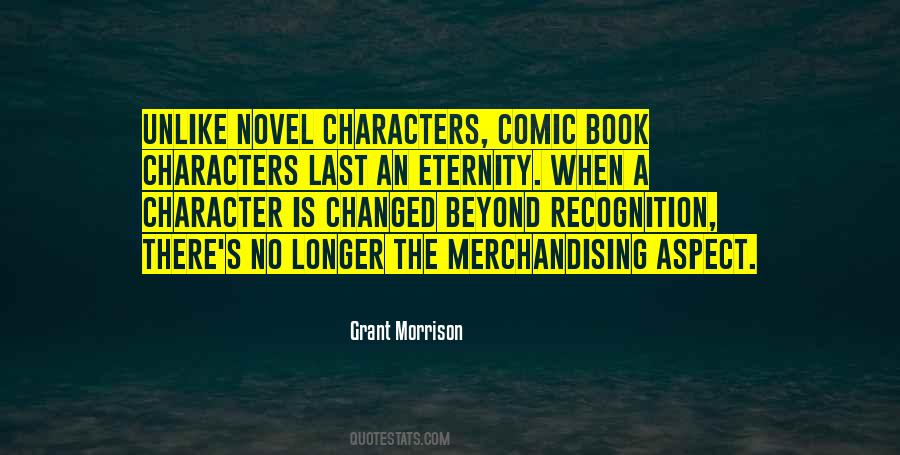 #93. After writing a novel, what is there to say? If a novelist could say it in a maxim, they wouldn't need 120,000 words, several years and sundry characters, plots and subplots, and so on. I'd much rather listen always. - Author: Richard Flanagan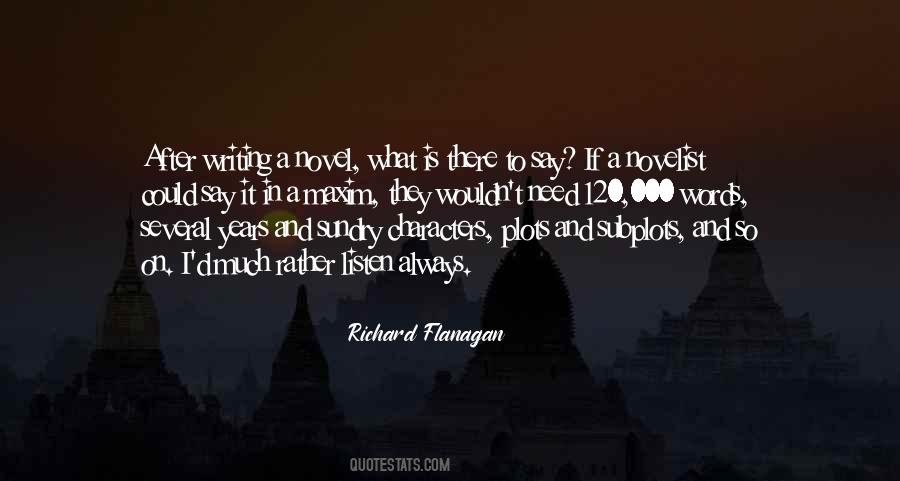 #94. Baseball is more like a novel than a war. It is like an ongoing, hundred-year work of art, peopled with thousands of characters, full of improbable events, anecdotes, folklore and numbers. - Author: Luke Salisbury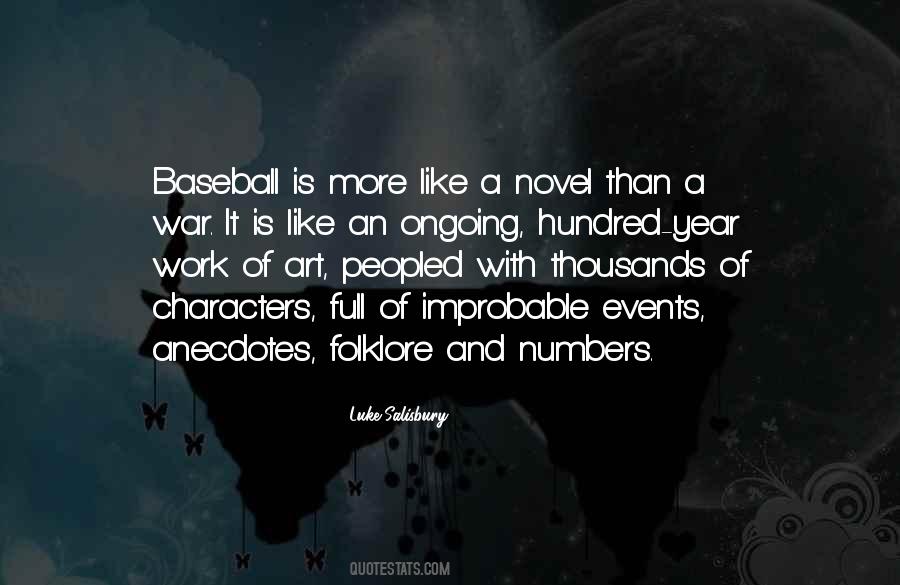 #95. Like a clock of life on which the seconds race, the page number hangs over the characters in a novel. Where is the reader who has not once lifted to it a fleeting, fearful glance? - Author: Walter Benjamin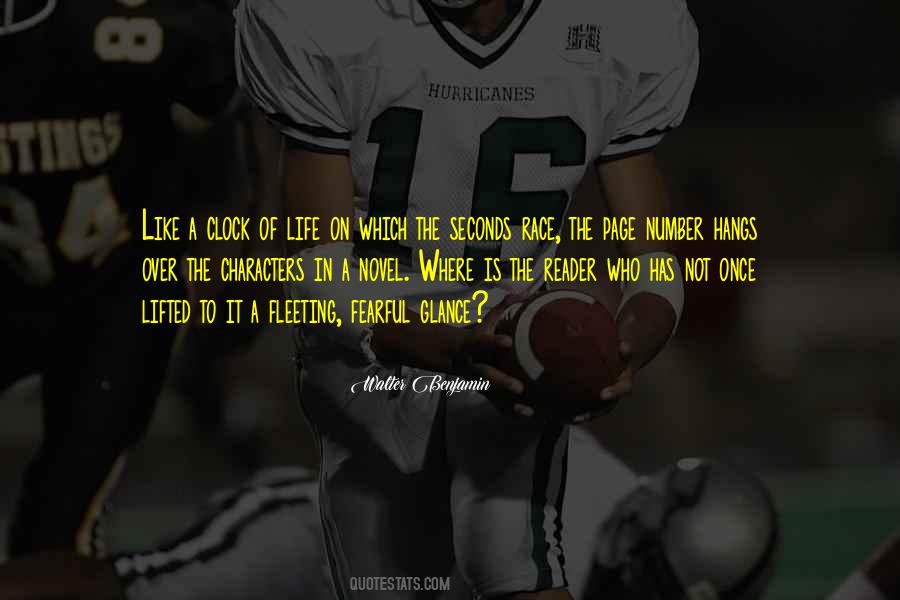 #96. His fierce appreciation of female beauty, the unrelenting desire he felt for their company, the pleasure he both derived and sought to give, had led him in and out of quite a few bedroom doors. - Author: Roy L. Pickering Jr.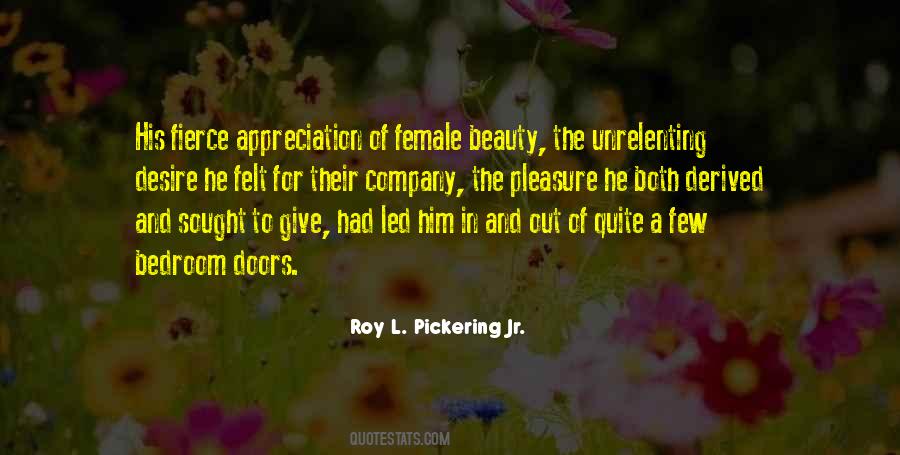 #97. I had thought for years, probably 30 or 40 years, that it would be a lot of fun to try my hand at a classic English mystery novel ... I love that form very much because the reader is so familiar with all of the types of characters that are in there that they already identify with the book. - Author: Alan Bradley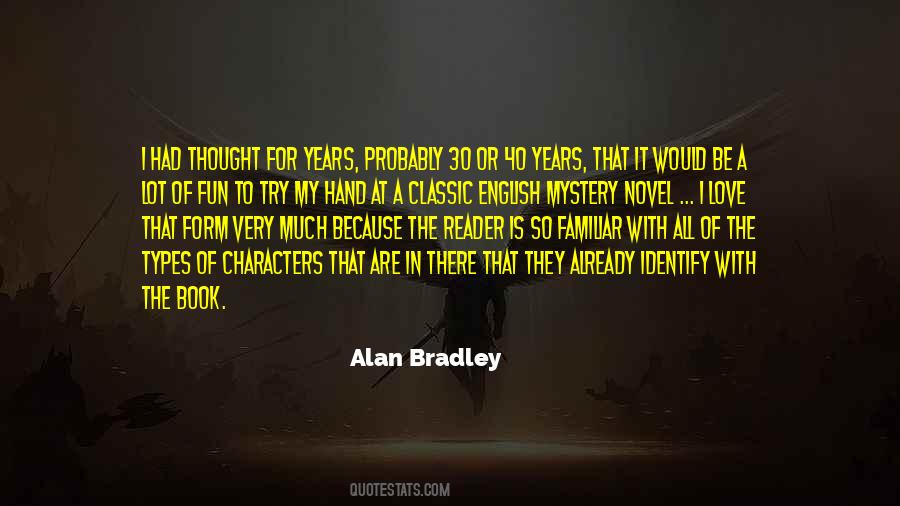 #98. What makes literature interesting is that it does not survive its translation. The characters in a novel are made out of the sentences. That's what their substance is. - Author: Jonathan Miller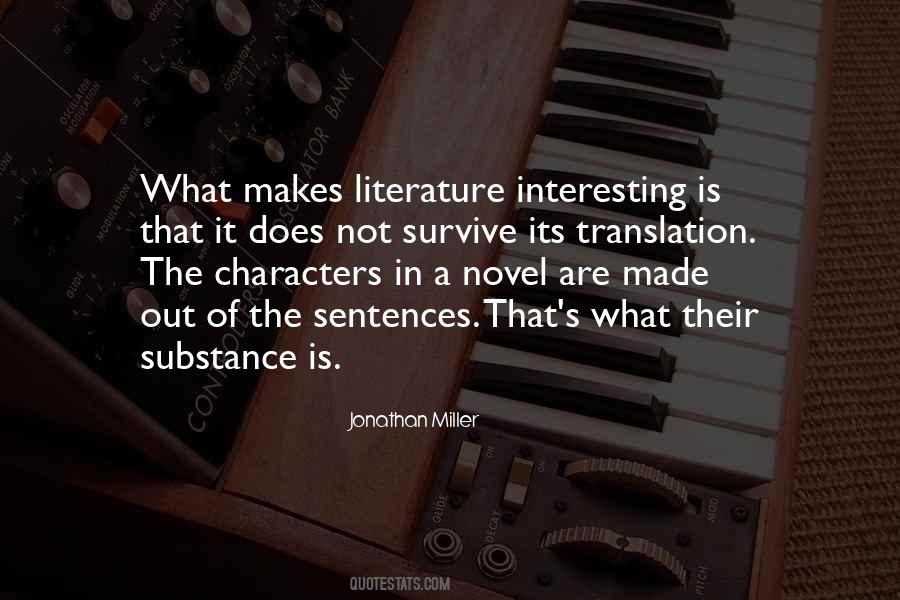 #99. 'The Sound of Things Falling' may be a page turner, but it's also a deep meditation on fate and death. Even in translation, the superb quality of Vasquez's prose is evident, captured in Anne McLean's idiomatic English version. All the novel's characters are well imagined, original and rounded. - Author: Edmund White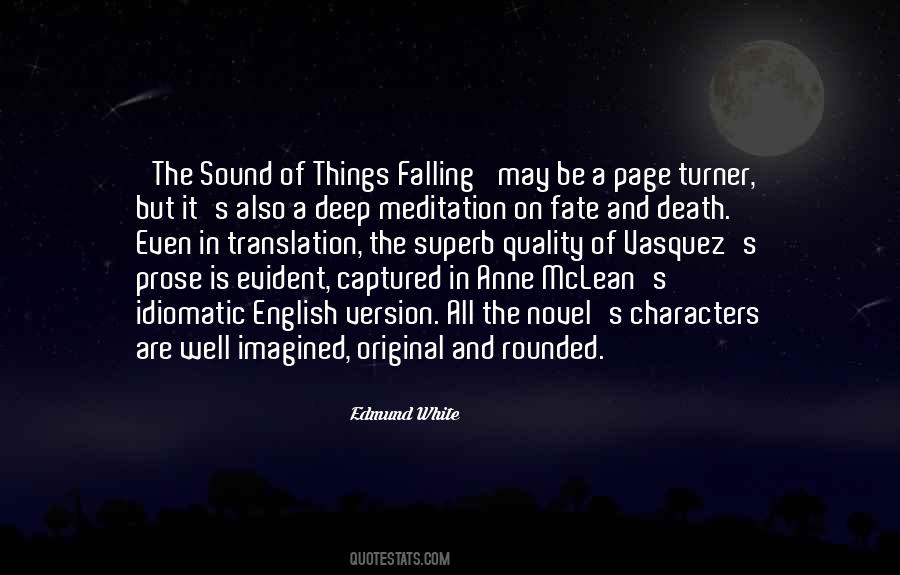 #100. Most people surrendered fairy tale hopes in exchange for cookie cutter lives - Author: Roy L. Pickering Jr.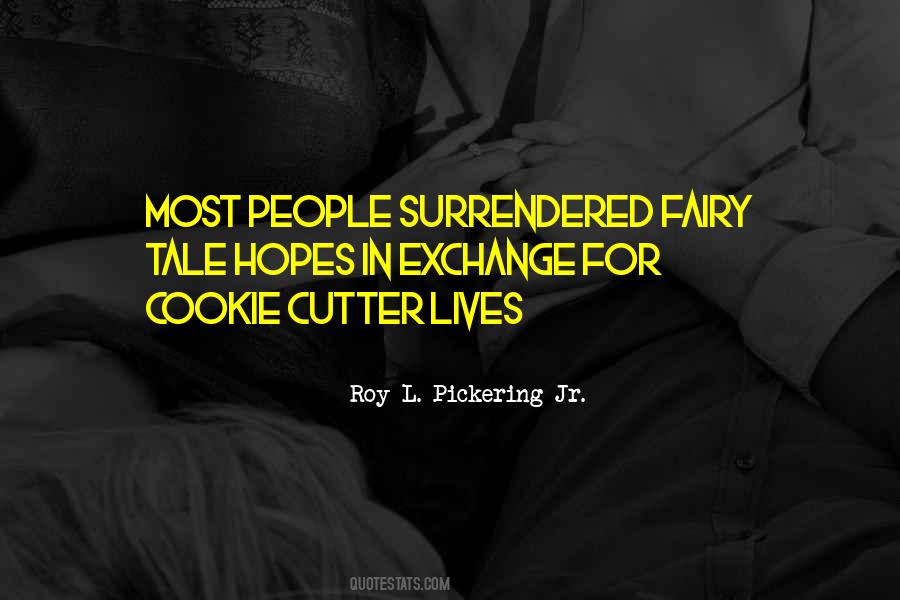 Famous Authors
Popular Topics