Not Everyone Being The Same Famous Quotes & Sayings
List of top 36 famous quotes and sayings about not everyone being the same to read and share with friends on your Facebook, Twitter, blogs.
Top 36 Quotes About Not Everyone Being The Same
#1. I had gone through life thinking that I was better than everyone else and at the same time, being afraid of everyone. I was afraid to be me. - Author: Dennis Wholey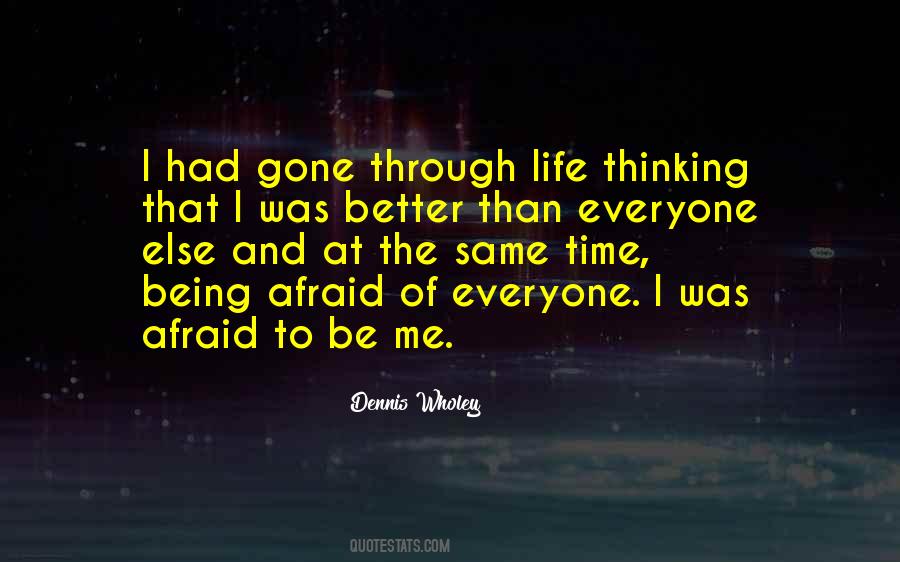 #2. The real troubles with living is that living is so banal. Everyone, after all, goes the same dark road - and the road has a trick of being the most dark, most treacherous, when it seems most bright - and it's true that nobody stays in the garden of Eden. - Author: James Baldwin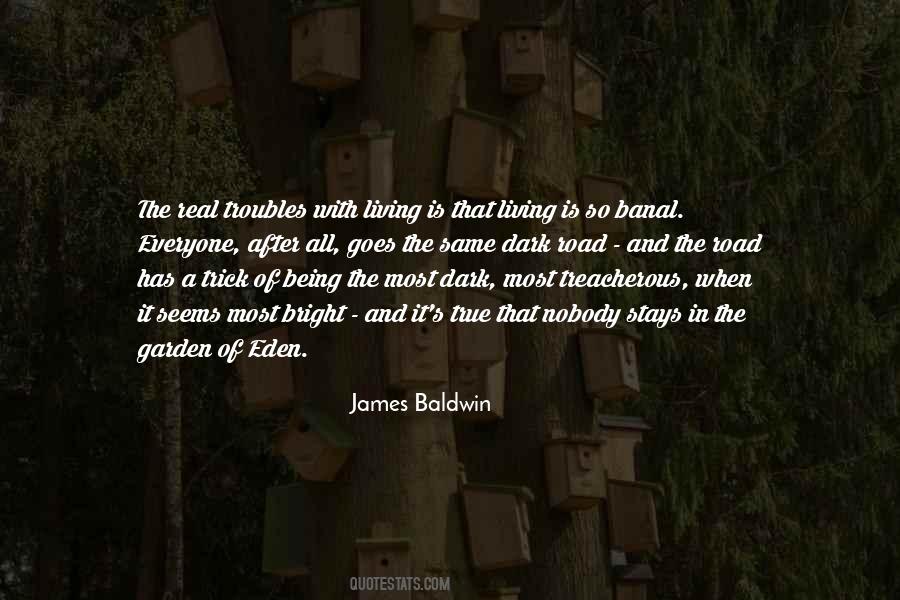 #3. I see a film or a TV series or a play as being this machine. It sounds quite robotic, in its description, but it's basically a machine and you're just one of the cogs that goes in it. You're not the biggest one, and you're not the smallest one. Everyone's the same size. - Author: Tom Weston-Jones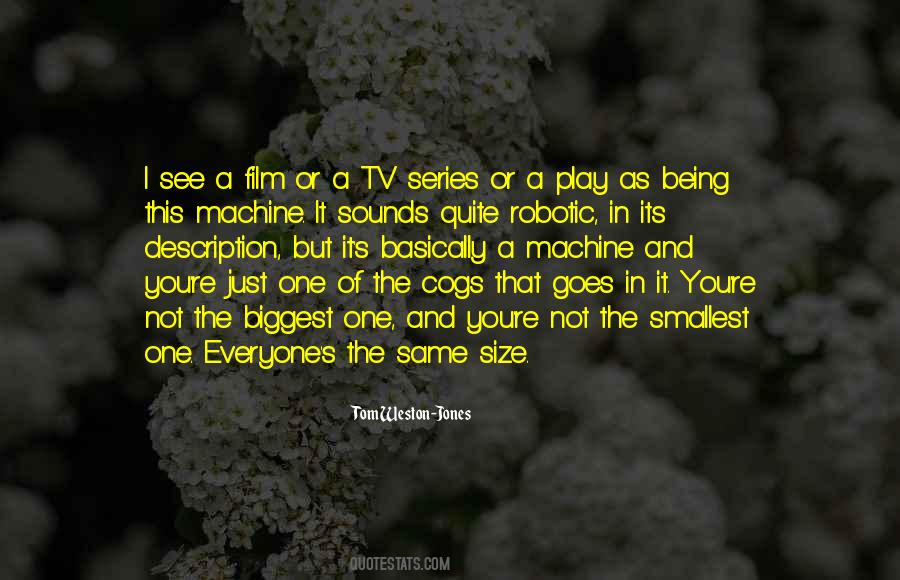 #4. That's the thing about being hooked on a girl. You see what else is going on around you. You notice other girls. But it doesn't register the same way it used to. You only care about one thing, one goal. And sometimes, being so focused on what you want, you can't see what everyone else does. - Author: Susane Colasanti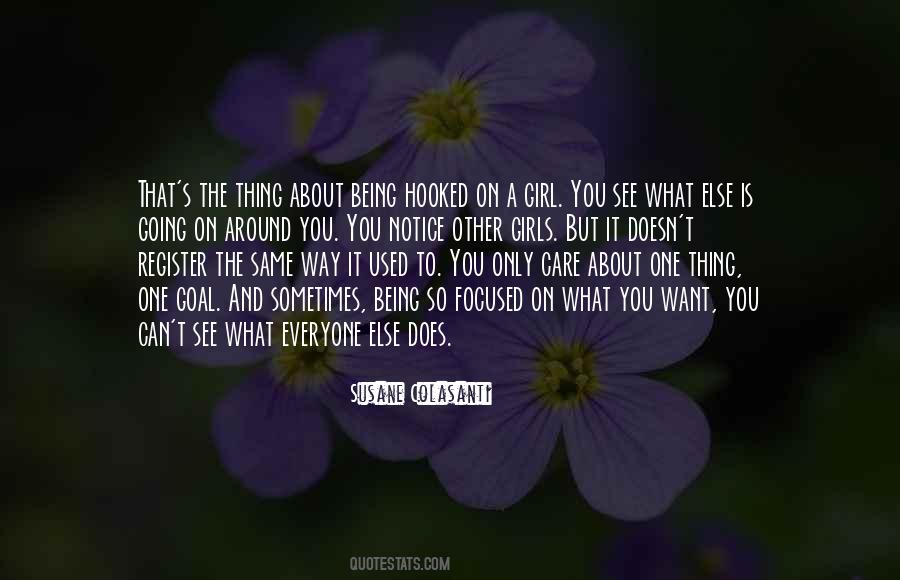 #5. I don't see anyone as being different than anyone else, whether you're gay or straight or whatever - everyone's the same. That's how I was raised. - Author: Lea Michele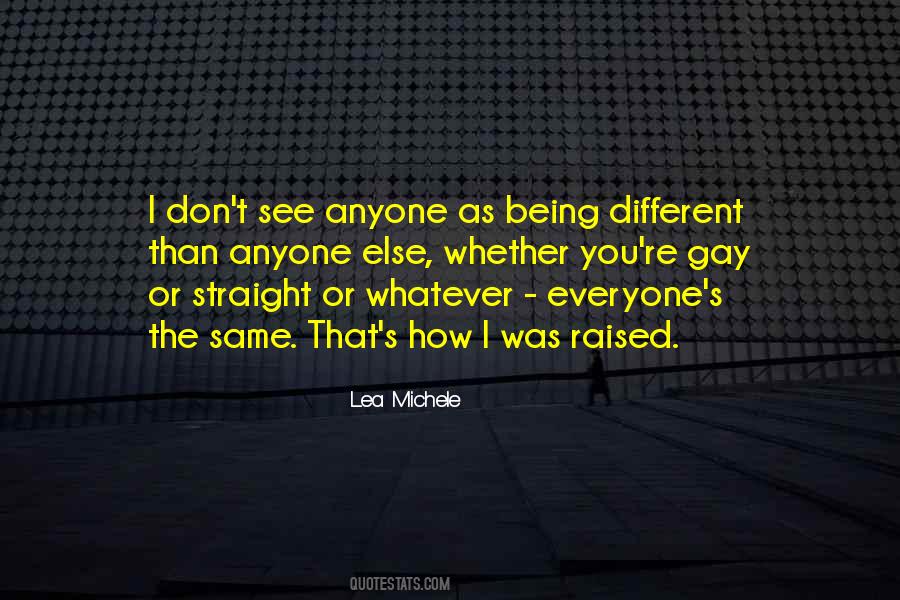 #6. Harold could no longer pass a stranger without acknowledging the truth that everyone was the same, and also unique; and that this was the dilemma of being human. - Author: Rachel Joyce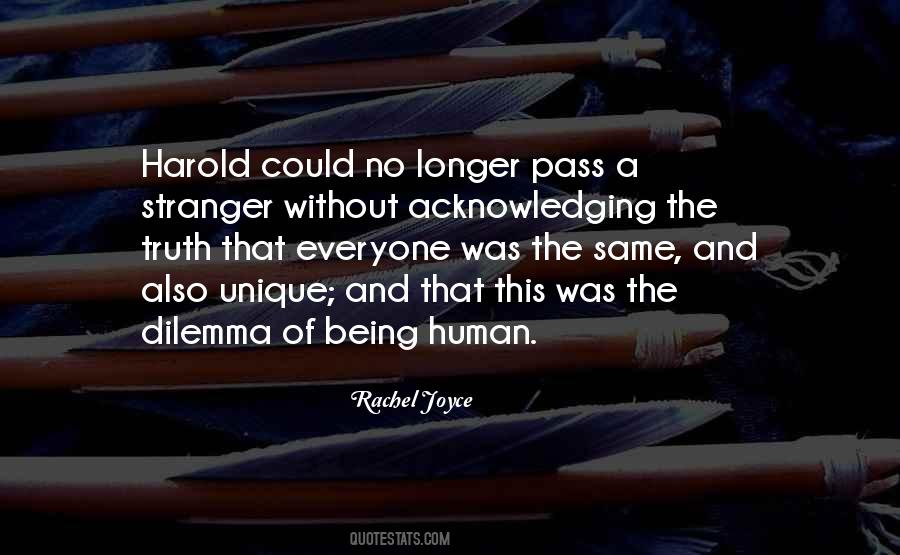 #7. People who are fit are the same as anyone else. The only difference is their level of commitment. If looking good and being fit was easy, everyone would do it! Most people don't want to put in the work or make the sacrifices needed in order to be fit. - Author: Laila Ali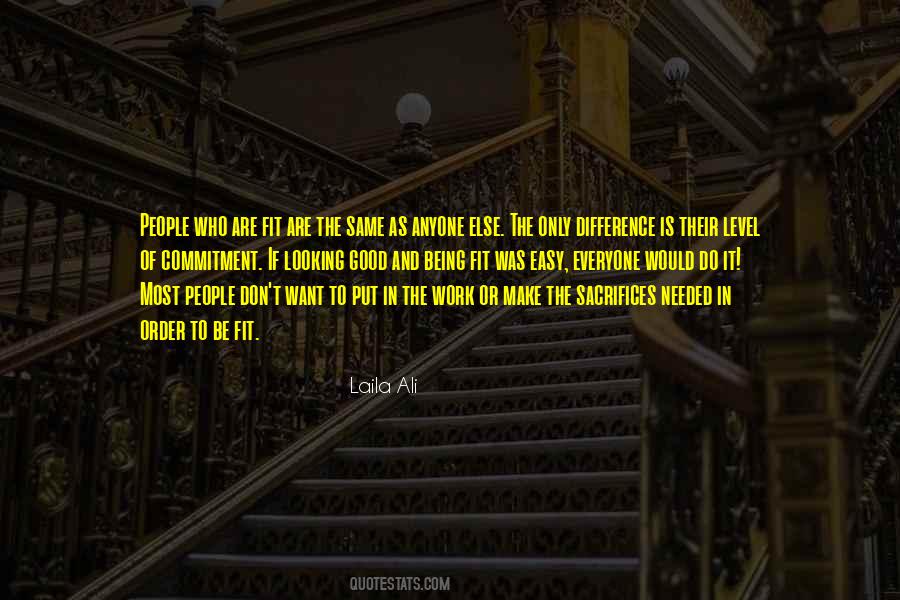 #8. If you are going to think the same as everyone else and do the same as everyone else, you will end up being the same as everyone else. In today's competitive environment you have to think a bit differently. - Author: Lloyd Dorfman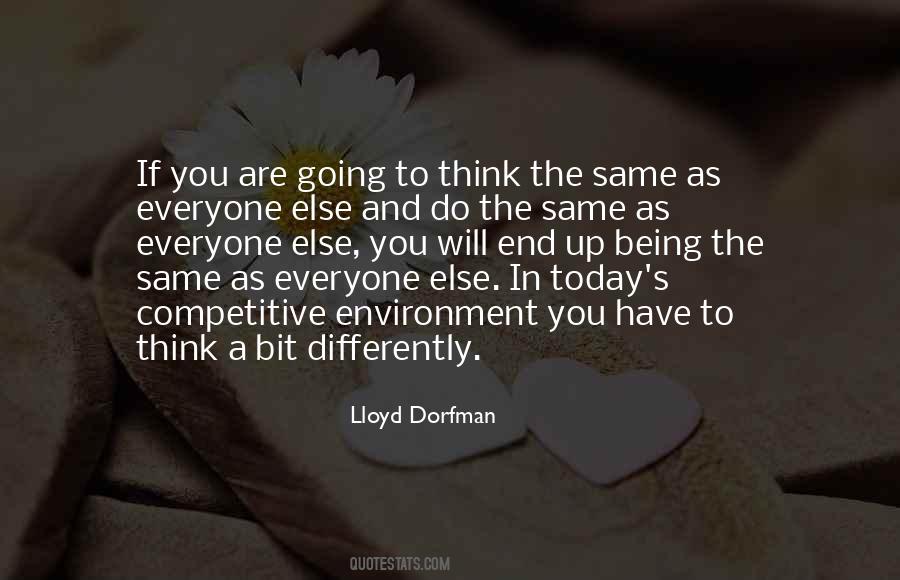 #9. In fact almost everyone in my yearbook wrote the same thing to me: "To weird girl, you're nice." I didn't think it was bad. When I showed my mother she said, "Everyone is different." Being weird became my tool. I'm weird; that's who I am. It was my coping badge. - Author: Jenny Lawson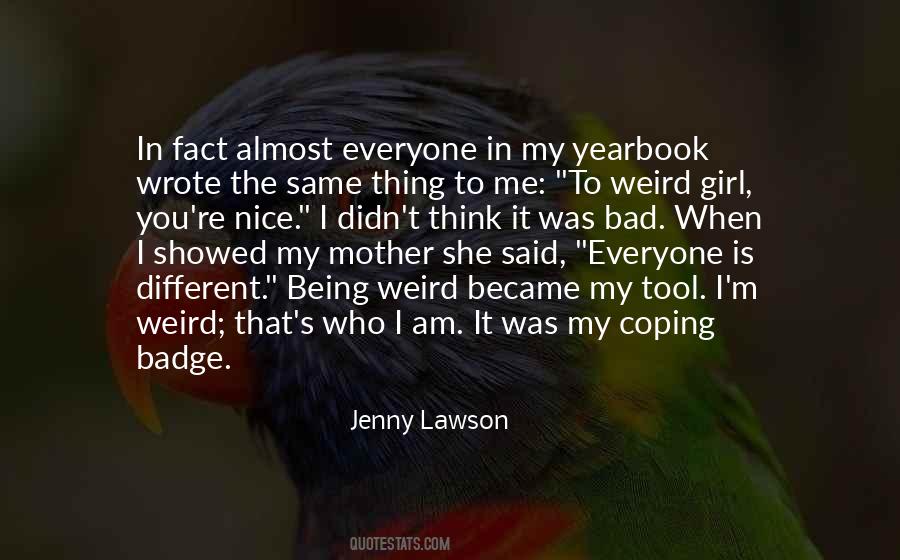 #10. I use humour a lot because humour is a great equaliser. Everyone laughs at the same things if you set them up properly, and that makes everybody equal. At the end of the day, I see my job as being there to entertain as well as inform and provoke. - Author: Gurinder Chadha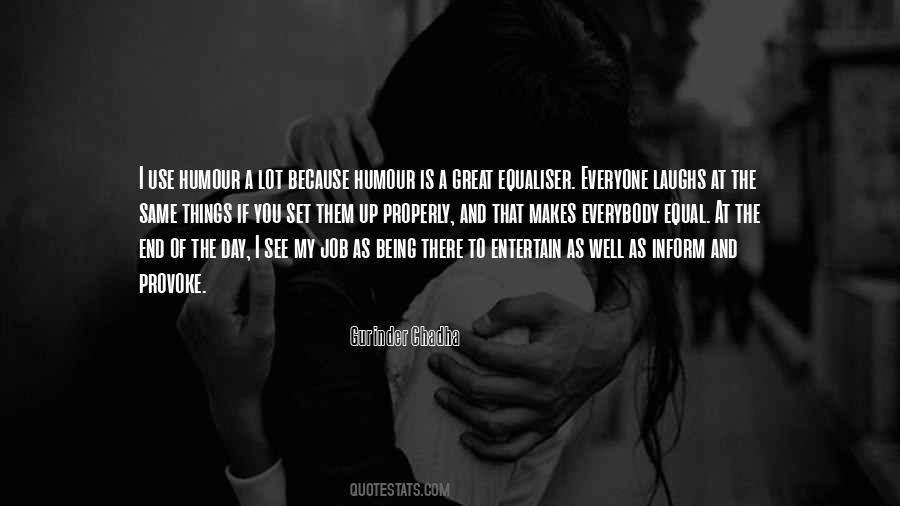 #11. Gratitude, generosity and humility are inherent characteristics of one who is present. When you awaken, you will realize that everyone and everything has the same right to be here as you do. This includes every human Being, every tree Being, every flower Being, and every other kind of Being. - Author: Leonard Jacobson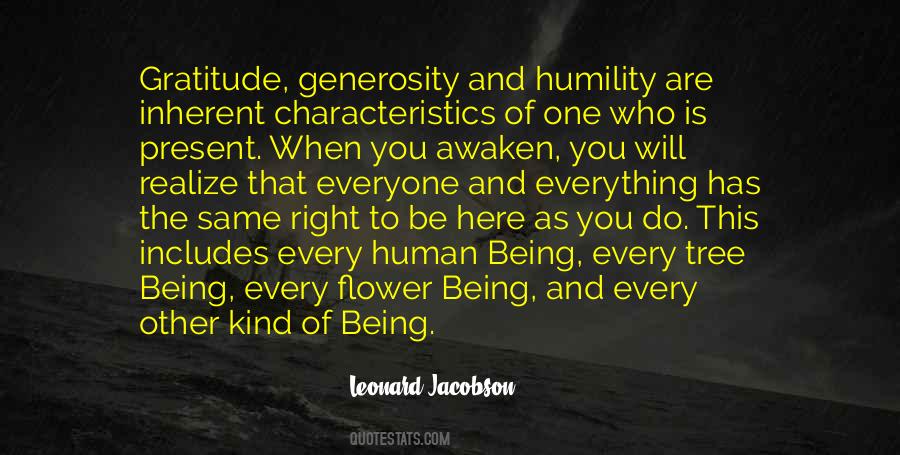 #12. When I hear about injustice it takes every fiber of my being and strength to stop from exploding. What I don't understand is why everyone else doesn't feel the same. - Author: Ellie Rose McKee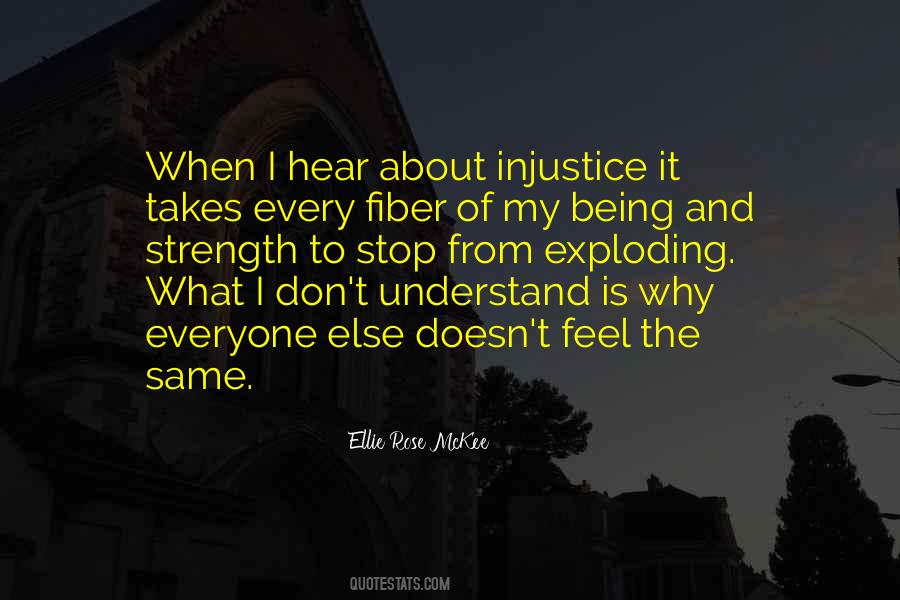 #13. Nowadays, people of many lands and cultures are being intermingled more and more. Christians, Muslims, and Buddhists may live in the same apartment building. In which case it is more important to accept each other's beliefs than to ask why everyone does not believe the same thing - Author: Jostein Gaarder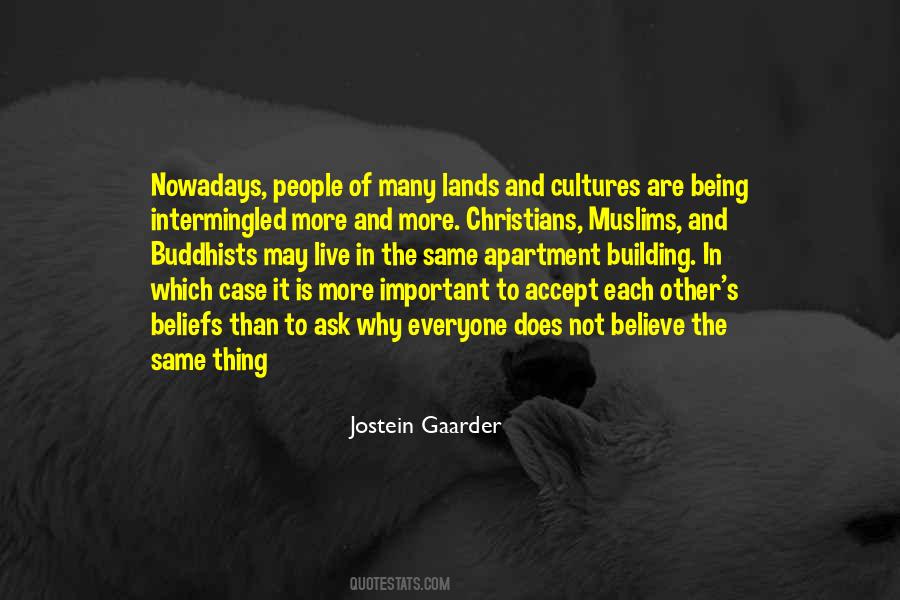 #14. Here's something for you to remember; you might have been born into money, but you came out of a vagina the same as everyone else. Popping out of one that's rich doesn't make you anything but lucky, or susceptible to being stuck your own arse. Whichever. - Author: Suzanne Wright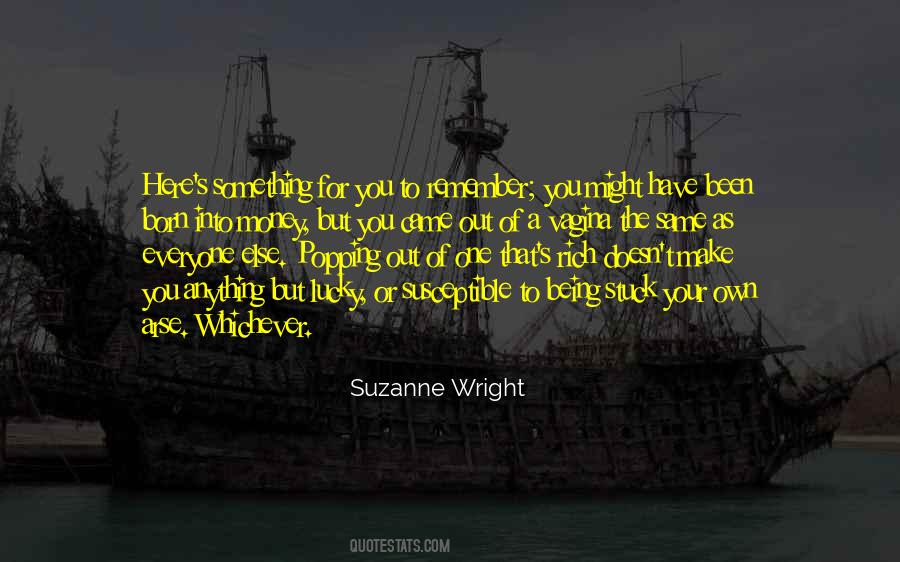 #15. You can get too close as a team. You need time away from each other. You change in the same dressing room, you play on the same cricket field, you stay in the same hotel, you travel in the same planes and buses. C'mon - this business of everyone holding hands and being pally is nonsense. - Author: Glenn Turner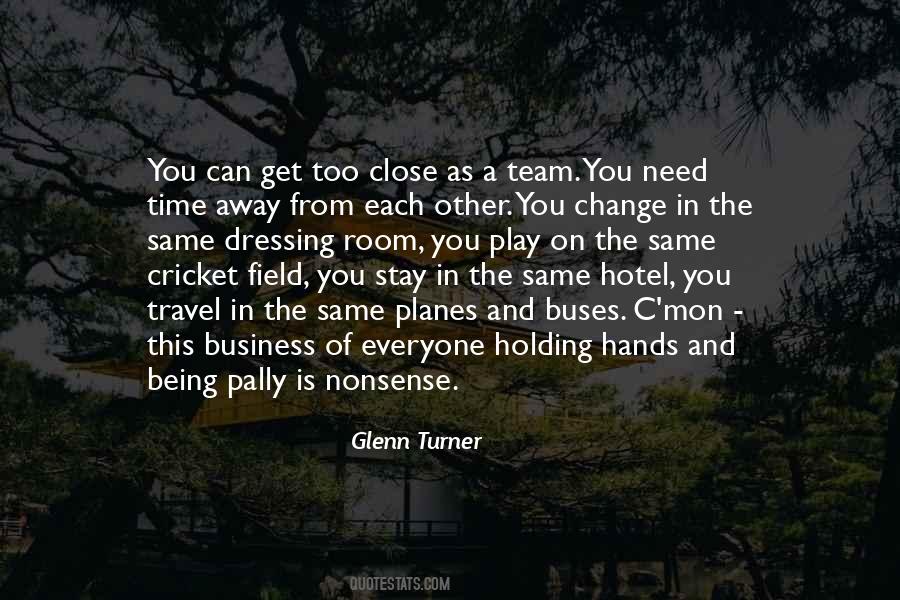 #16. I don't want to make the same mistakes of being swept along with things, taking on jobs that I'm not passionate about, that I don't really believe in but that everyone says I should do. - Author: Kelly Brook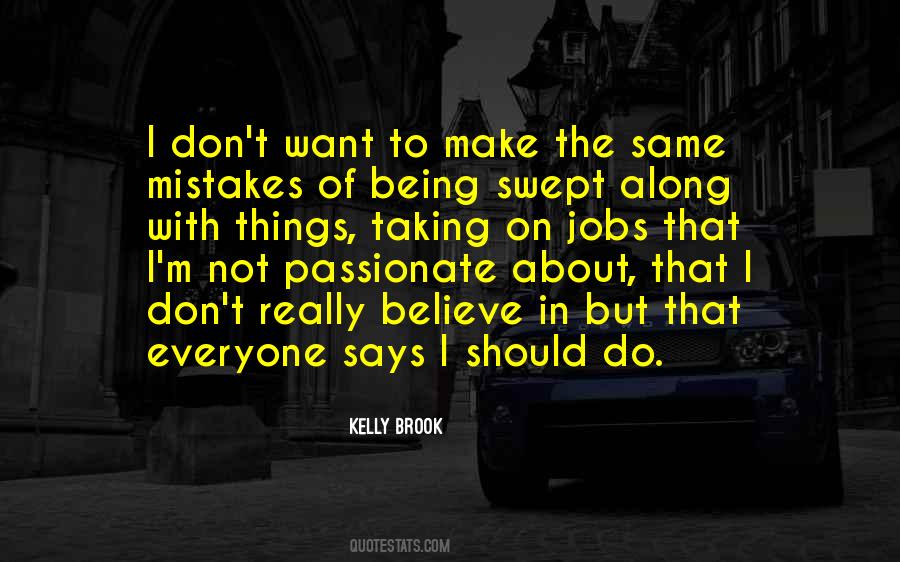 #17. I think being nice and being safe is unfair to yourself when you have big dreams as a woman. I think you have to prepare yourself that not everyone in this world has the same personality ... The one thing I've chosen to be great at in my life is singing - so why not be proud that I'm great at it? - Author: Jessie J.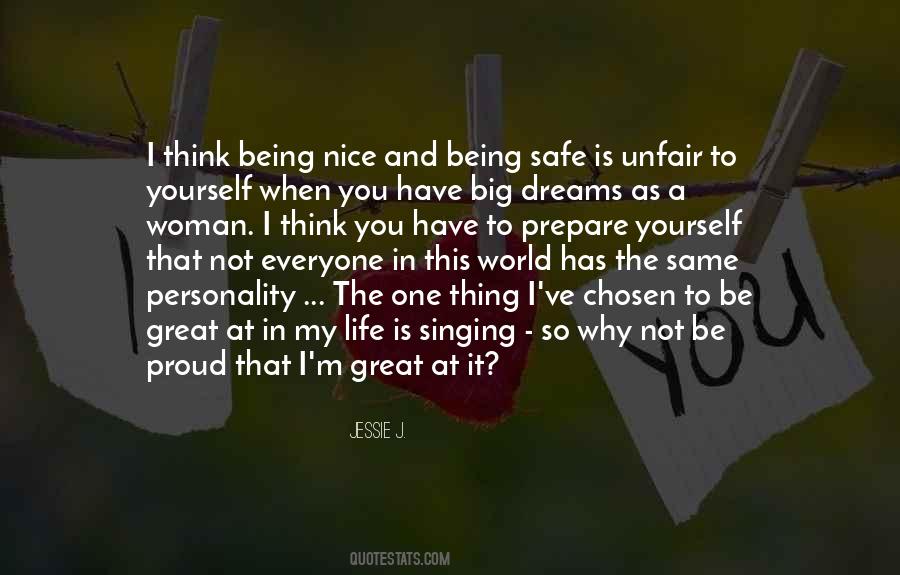 #18. When you're good to yourself, you're actually being good to everyone around you because when you feel good, you'll only react well to other people. At the same time, it's very easy for you to do things for other people when you know that other people are just an extension of yourself. - Author: Anita Moorjani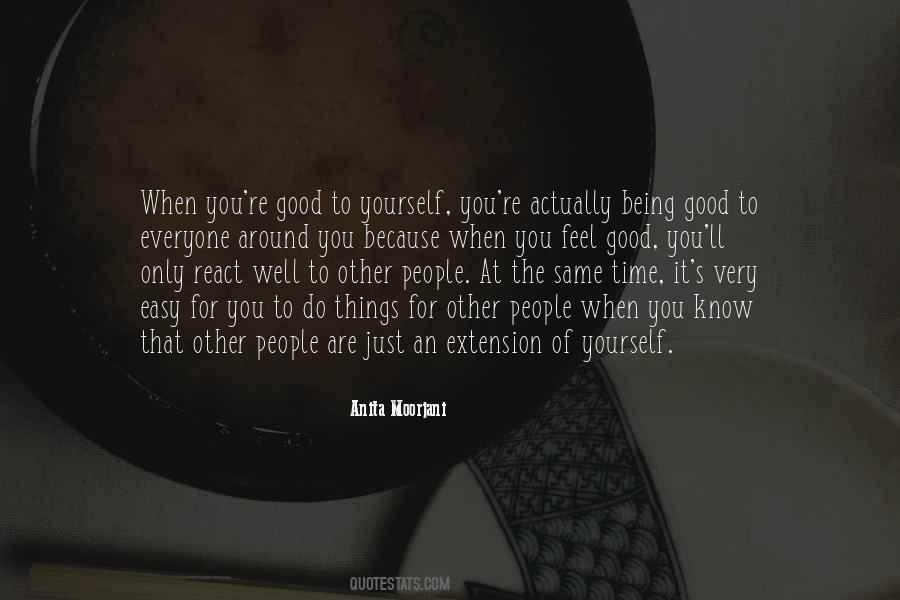 #19. I finally feel like I'm finding my way
and not just living day by day
I'm doing what I love
I'm going where I want to go
I'm being who I want to be
I'm happy
And you know what? I think everyone deserves to feel the same way. - Author: Connor Franta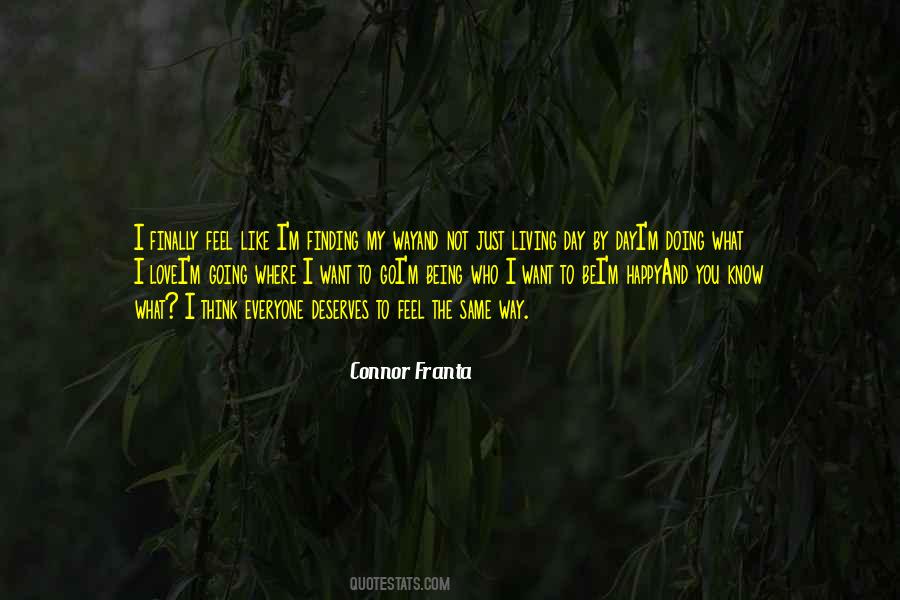 #20. Being known by everyone is not the same as being loved. - Author: Dean Koontz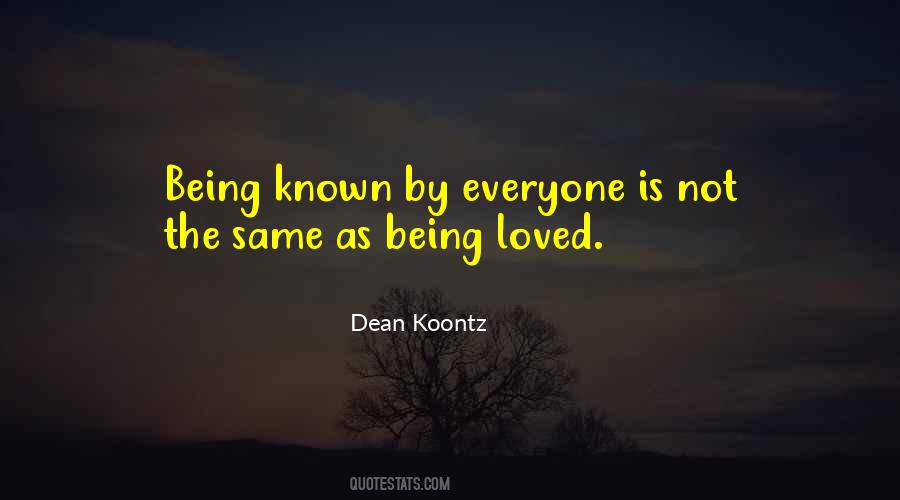 #21. So, this is to everybody who's ever had a struggle in life being yourself. I think that the most beautiful thing a human being can do is just be who you are inside. So please, everybody, just be yourselves and encourage everyone else to do the same. - Author: Josh Hutcherson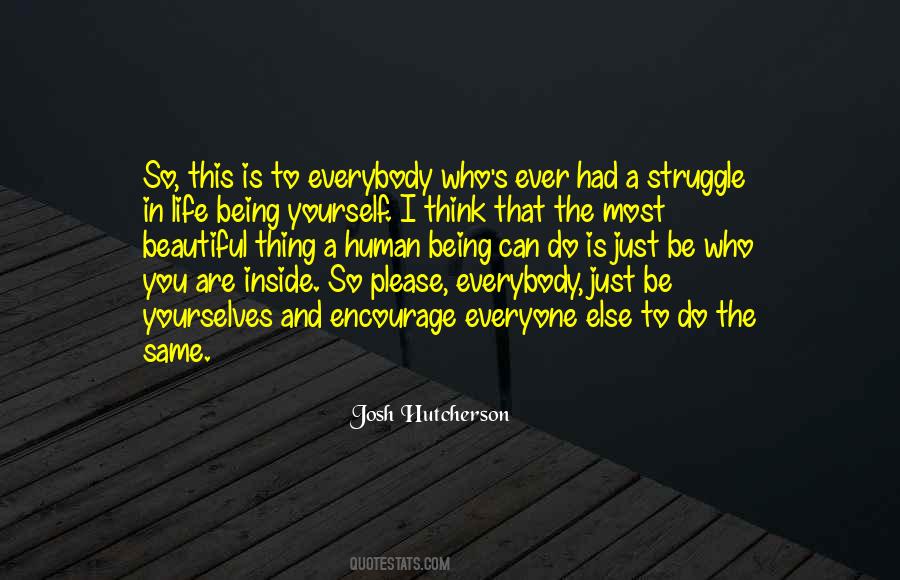 #22. For as long as I can remember, I have always had the feeling of not quite fitting in, not being the same as everyone else. - Author: Jane Green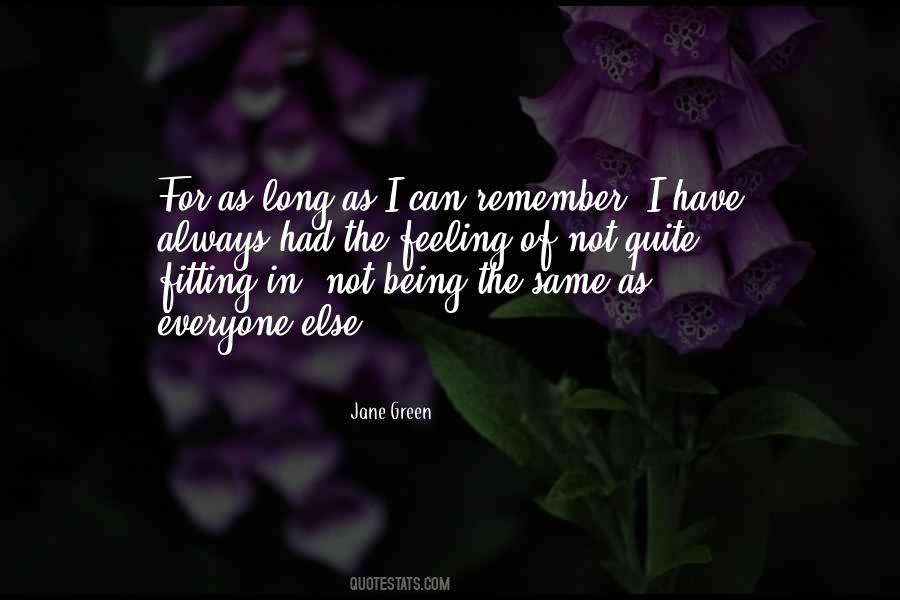 #23. I grew up with my mom always talking to everyone everywhere, whether it was professionally or in a coffee shop. And my dad was the same way. So I love being able to talk to people, hear their stories and be inspired. - Author: Katherine Schwarzenegger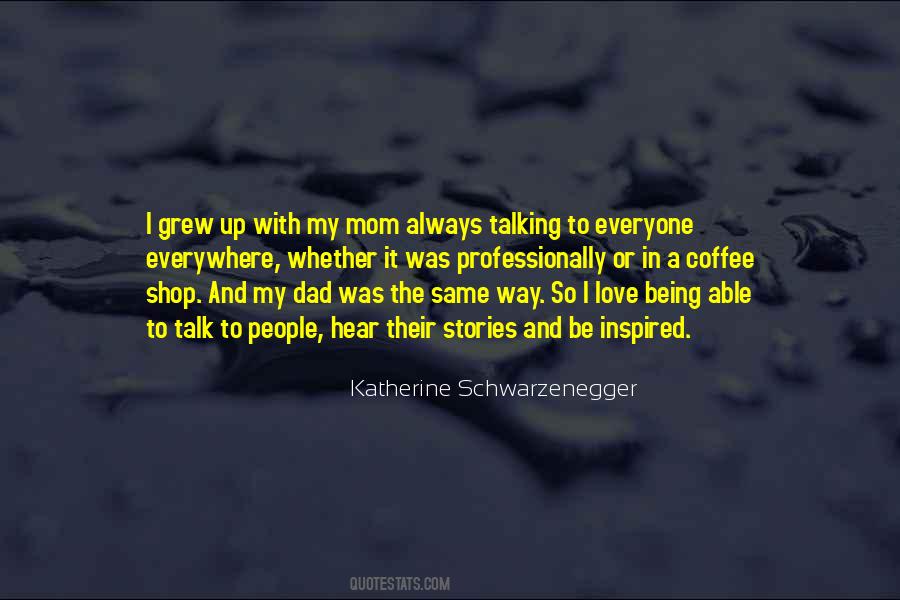 #24. A true community is not just about being geographically close to someone or part of the same social web network. It's about feeling connected and responsible for what happens. Humanity is our ultimate community, and everyone plays a crucial role. - Author: Yehuda Berg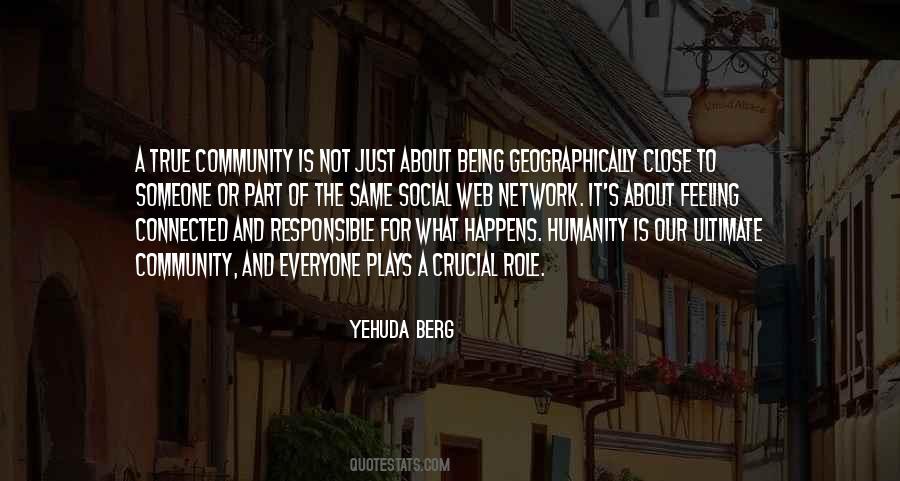 #25. I can't think of anything specific growing up that pointed me toward NASA at all. I was interested in the Moon landings just about the same as everyone else of my generation. But I never really thought about being an astronaut or working in space myself. - Author: Laurel Clark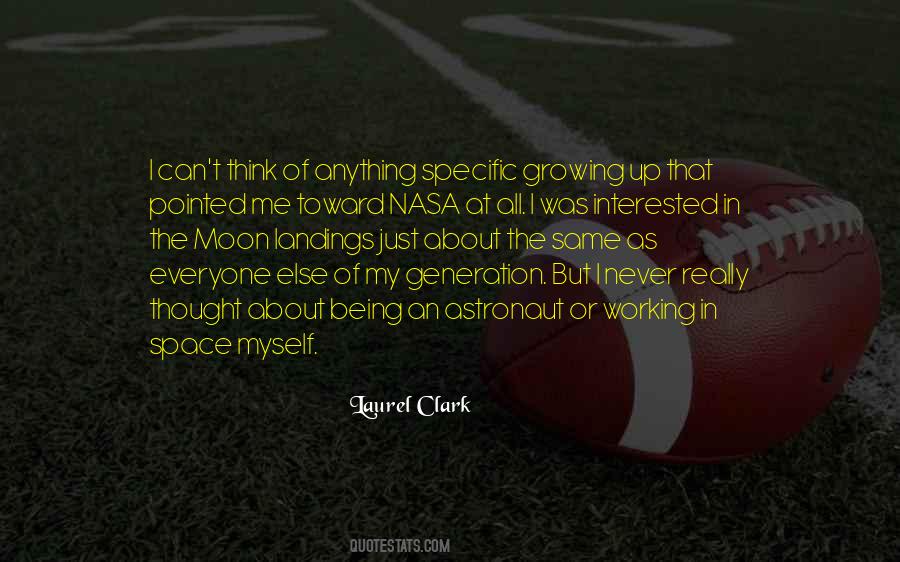 #26. He shrugged. "The same as any other. It's a way to make people feel better about themselves. Everyone likes feeling special. Being part of an elite group is a way to do that."
"But you weren't part of it?"
"No need. I already know I'm special. - Author: Richelle Mead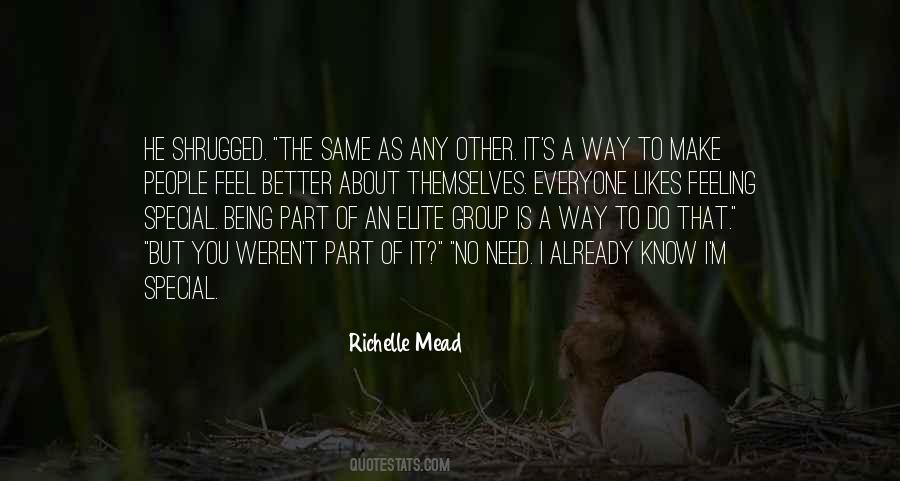 #27. It is sad because you would like to believe that everyone is unique and then they disappoint you every time by being exactly the same, asking for the same things, reciting the exact same lines as though they have been handed a script. - Author: David Sedaris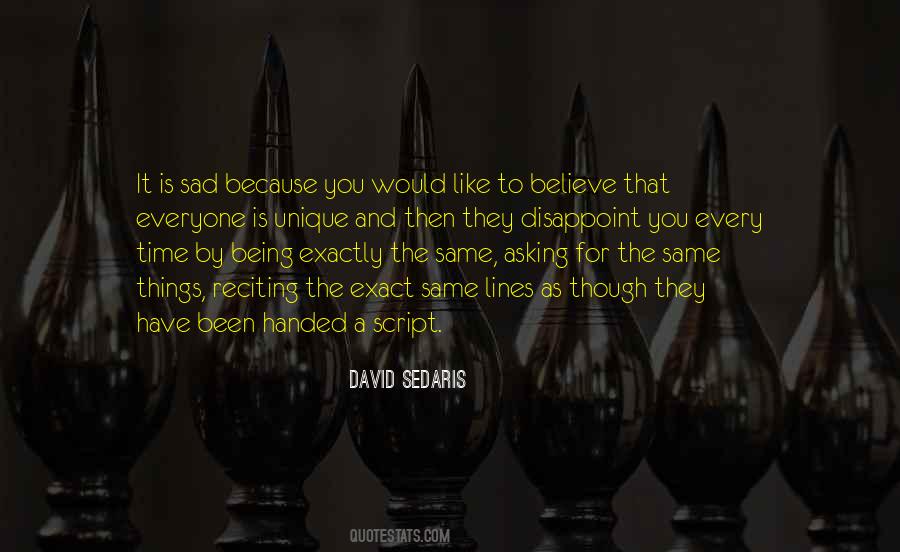 #28. I think every person has their own identity and beauty. Everyone being different is what is really beautiful. If we were all the same, it would be boring. - Author: Tila Tequila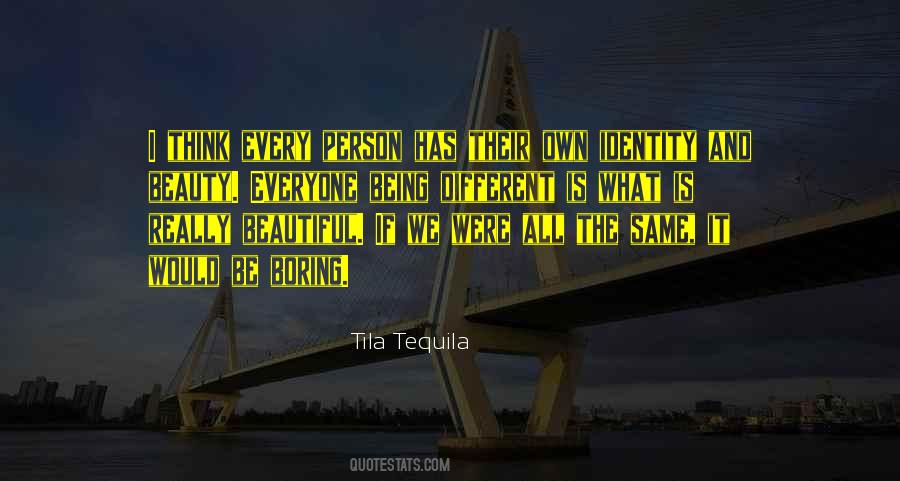 #29. Being in on the secret might be a lot of fun when you're a kid, but not so much once you realize how often life hinges on everyone agreeing
at least outwardly
on the same reality. - Author: Rosemary Clement-Moore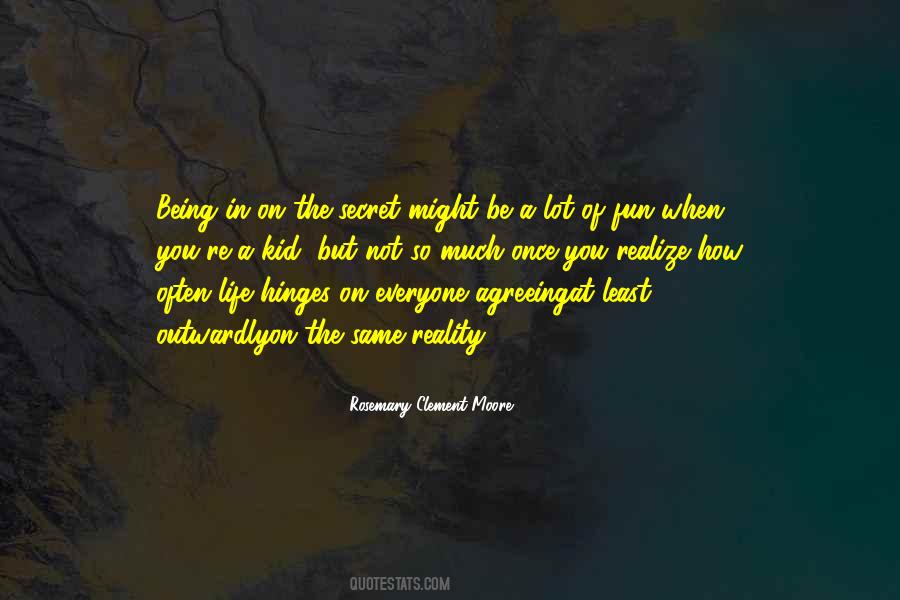 #30. Living this long's not as wonderful as people think. I mean, you get the same amount of youth as everyone else, but a great big extra helping of being very old and deaf and creaky. - Author: Terry Pratchett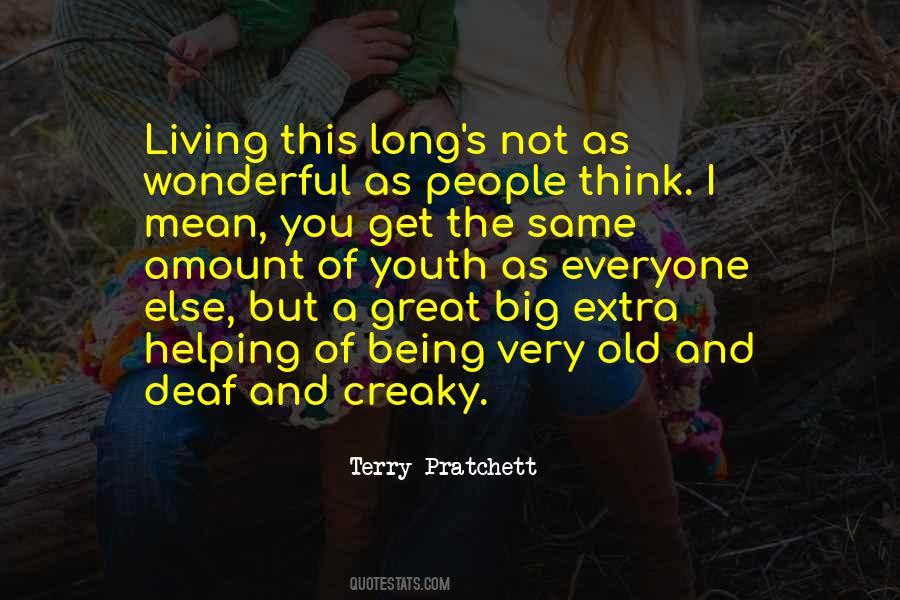 #31. Being healthy consists of having the same disease as everyone else. - Author: Robert M. Sapolsky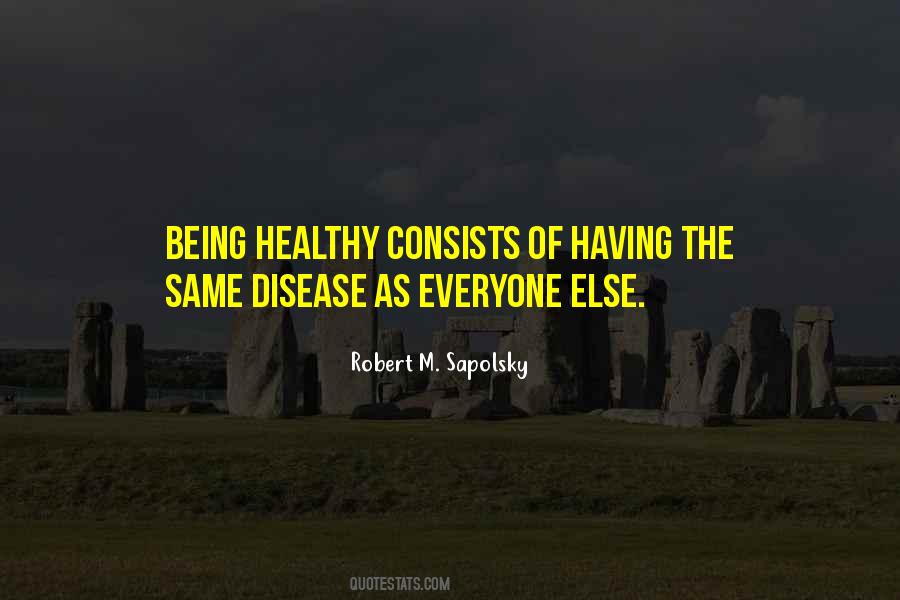 #32. With the daguerreotype everyone will be able to have their portrait taken - formerly it was only the prominent - and at the same time everything is being done to make us all look exactly the same, so we shall only need one portrait. - Author: Soren Kierkegaard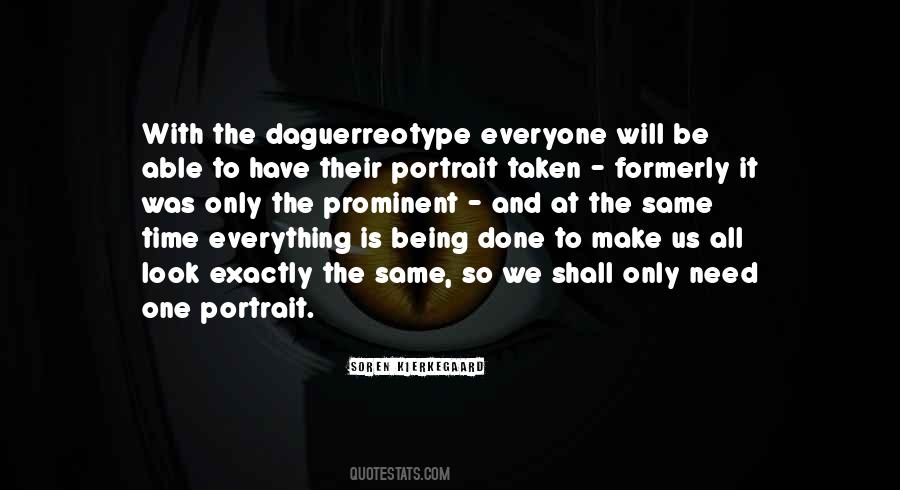 #33. Being physically intimidating didn't keep you from getting your feelings hurt. Everyone's heart is the same size. - Author: Laurell K. Hamilton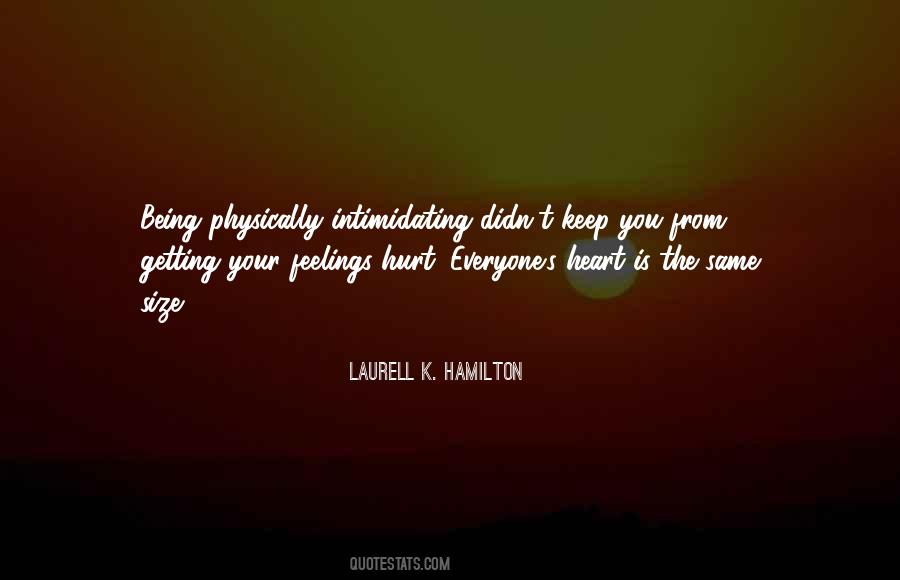 #34. I would love when that day comes so I can prove everyone wrong, but in the same time prove to myself I can be the best I can be. - Author: Grigor Dimitrov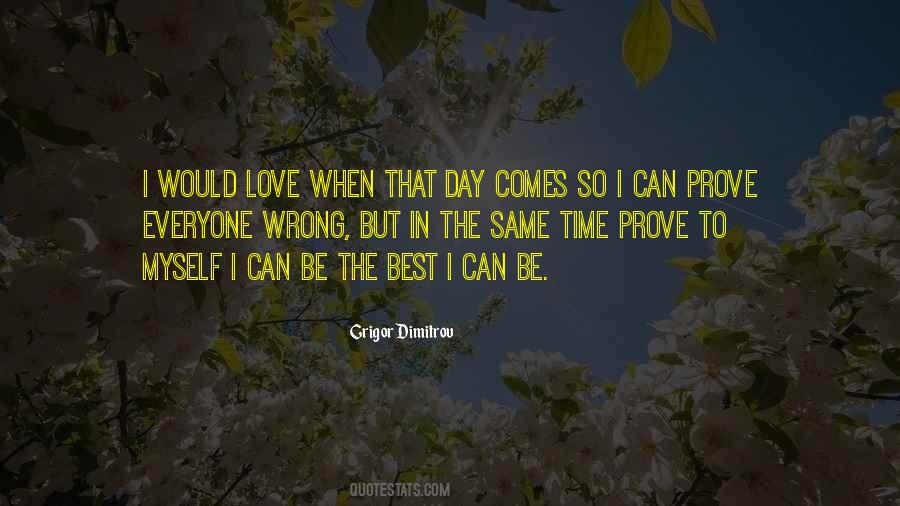 #35. I stopped focusing on people being different, and I started treating everyone the same way. - Author: Ivan Glasenberg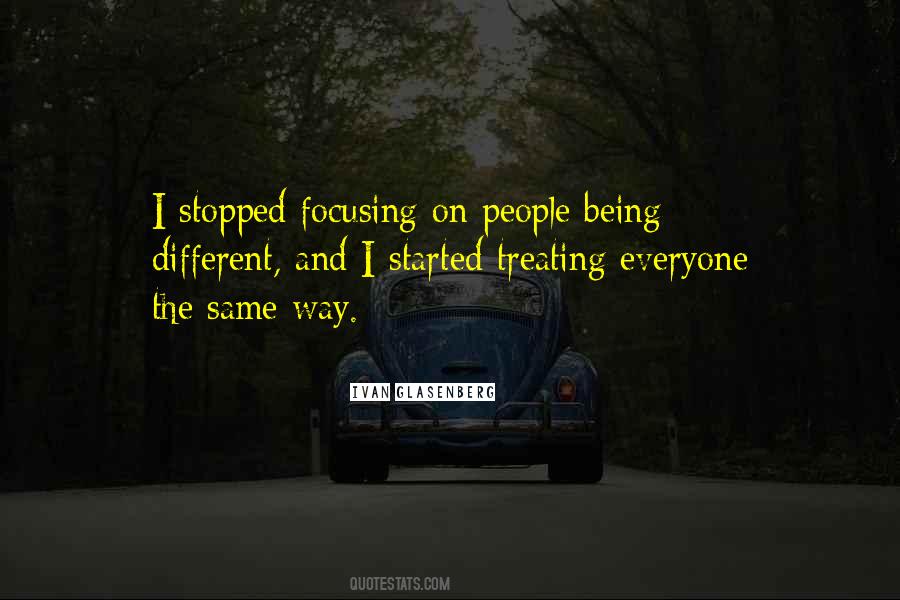 #36. Complex adaptations like "being a little selfish" and "not being willing to
work without reward" are human universals. The strength might vary a bit
from person to person, but everyone's got the same machinery under the
hood, we're just painted different colors. - Author: Eliezer Yudkowsky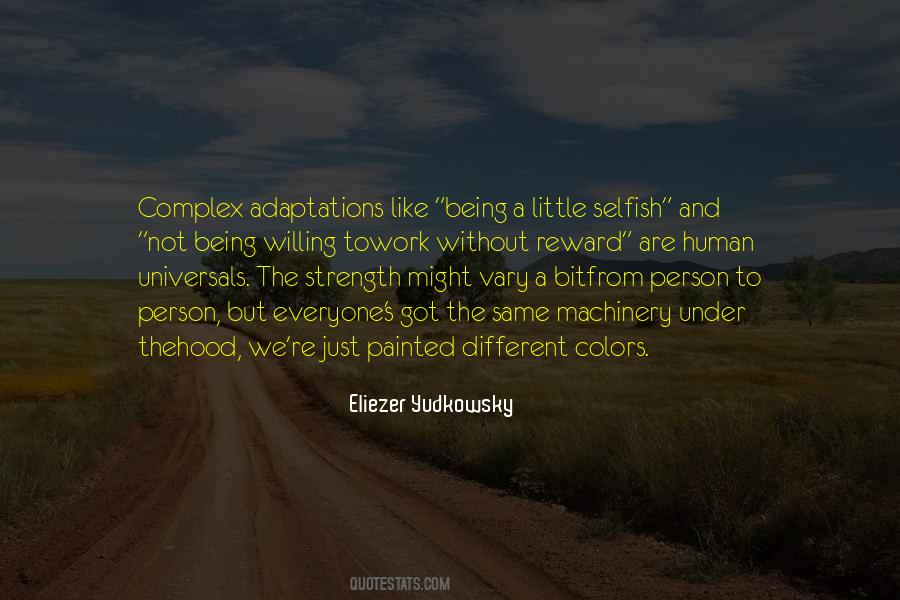 Famous Authors
Popular Topics