My Big Dream Famous Quotes & Sayings
List of top 80 famous quotes and sayings about my big dream to read and share with friends on your Facebook, Twitter, blogs.
Top 80 Quotes About My Big Dream
#1. I hope that what you take away from my album is not just the music - which I did want to be fun, and I did want it to be about individuality, but please also take away from it that there's no dream that's too big. - Author: Lady Gaga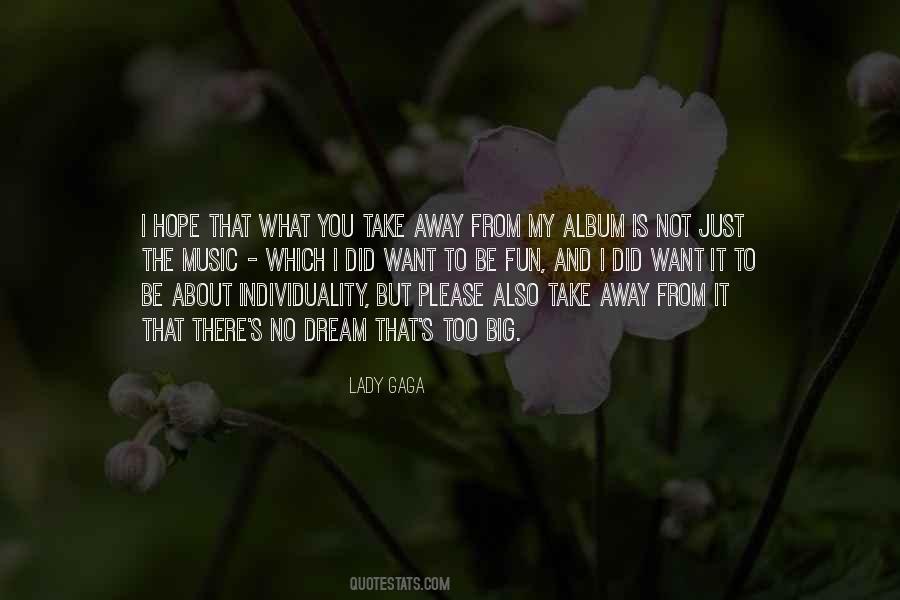 #2. That was the big thing when I was growing up, singing on the radio. The extent of my dream was to sing on the radio station in Memphis. Even when I got out of the Air Force in 1954, I came right back to Memphis and started knocking on doors at the radio station. - Author: Johnny Cash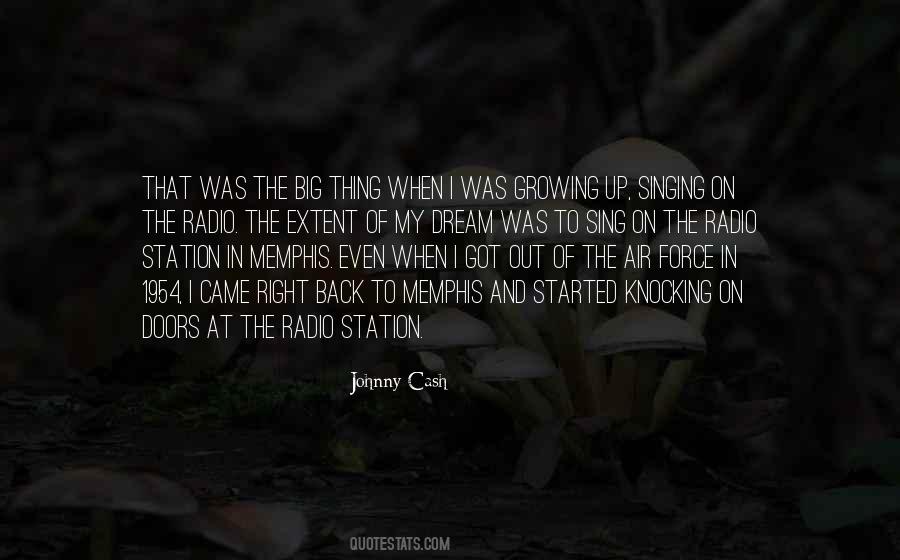 #3. I'm living the dream. I've got a big tour bus, an incredible band, a big house, and a family that are all taken care of through my music. I've got a beautiful wife and three beautiful kids. - Author: Aaron Watson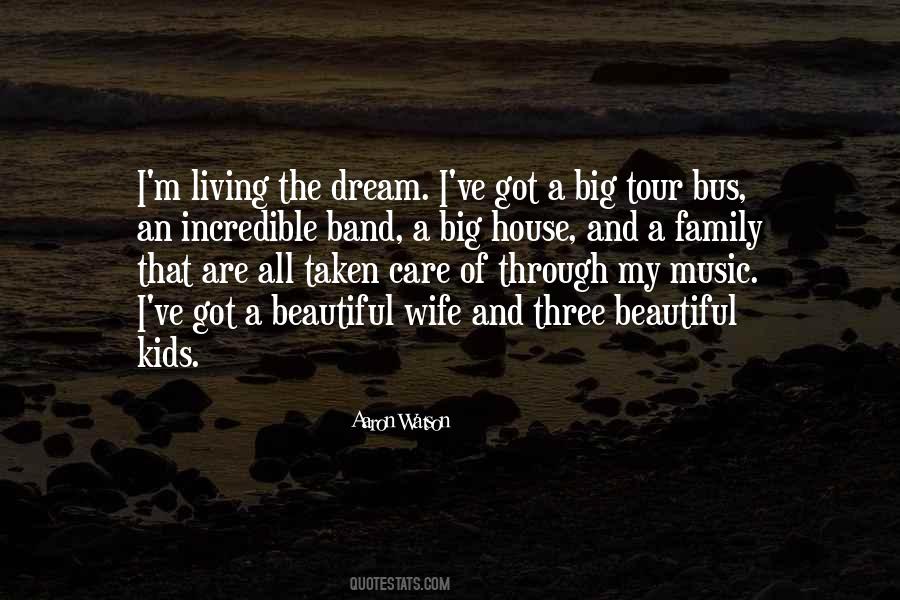 #4. He was pitching to me before I could walk. He gave me wooden bat before my mother let me use scissors. He said I could make the major leagues one day if I had "a plan," and if I "stuck to the plan"
Of course, when you're that young, you nest in your parents' plans, not your own. - Author: Mitch Albom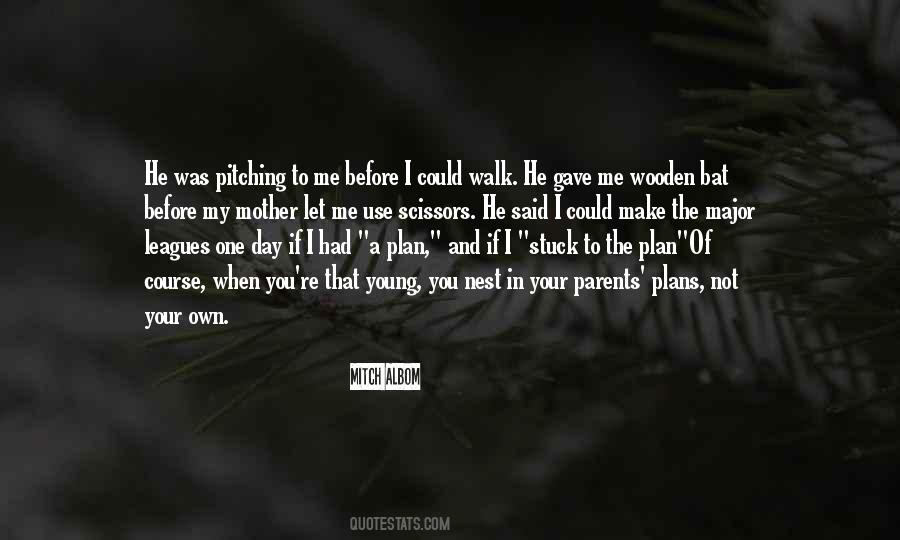 #5. I would give up, but that will teach my kids that it's okay to be a failure and I refuse to ruin their lives like that! - Author: Mignon' Talise Padilla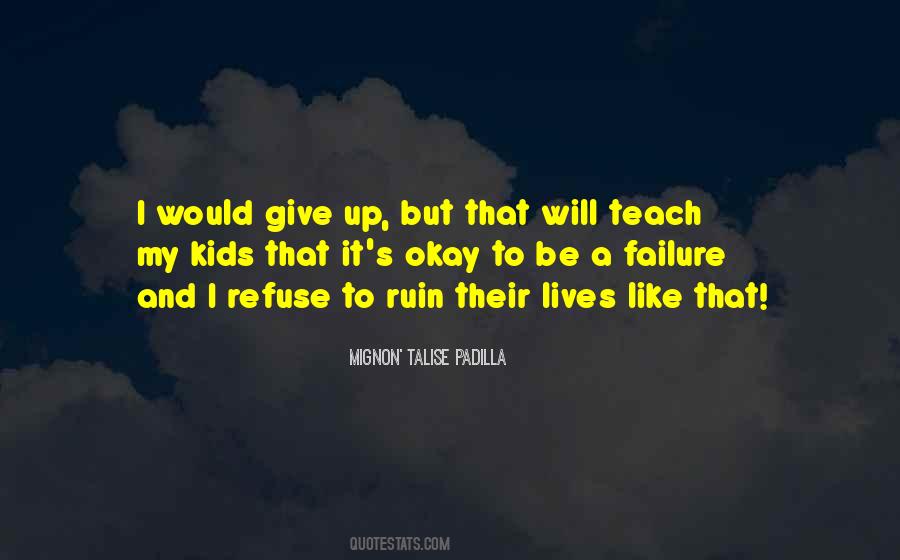 #6. My dream role is Richard Pryor, no question about that. I'm a big Richard Pryor fan. I've always been intrigued about the darkness behind his comedy; that would always be a dream role for me. - Author: Dorian Missick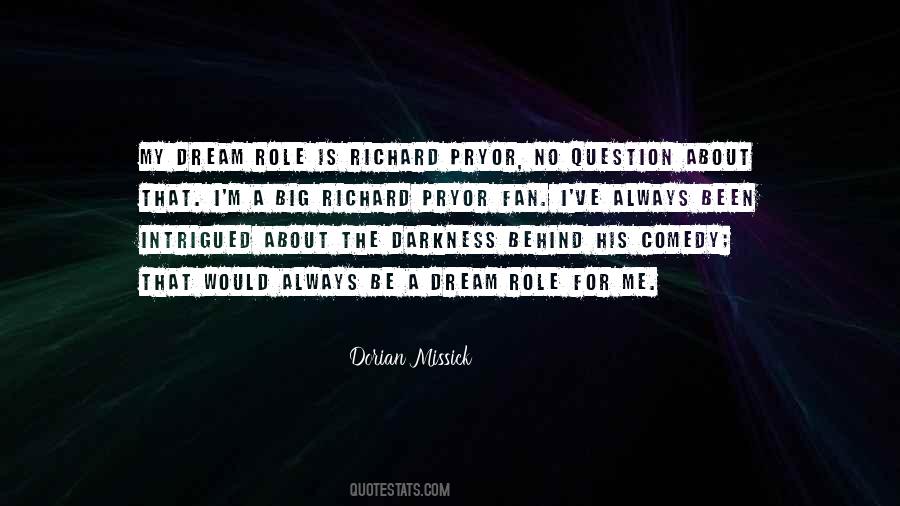 #7. In Madrid, there's a big street in the centre called Callao. I remember being there with my mum and pointing to one of the big film posters and saying, 'I want to be up there.' That was my dream, and I got it. - Author: Maria Valverde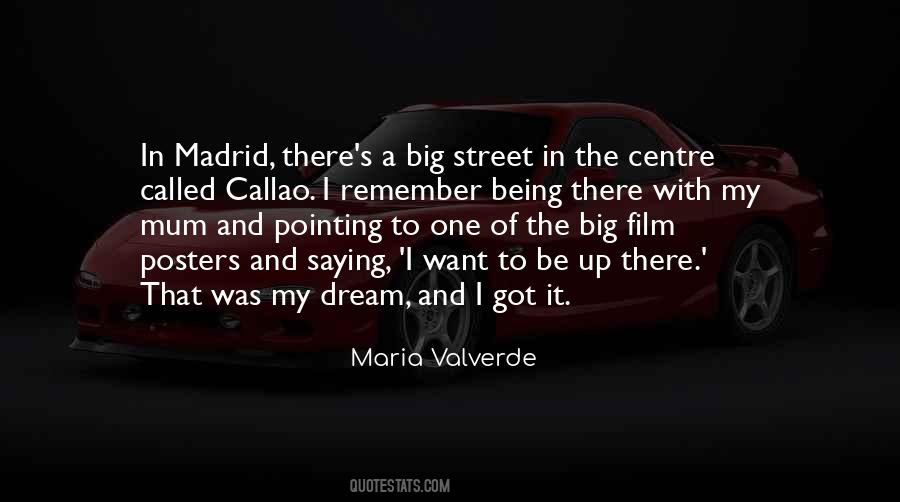 #8. My mother was a very big inspiration. She loved fashion. I loved art in school, and I was very good at drawing. I could sit at the table forever and just dream up collections and draw. - Author: Nina Garcia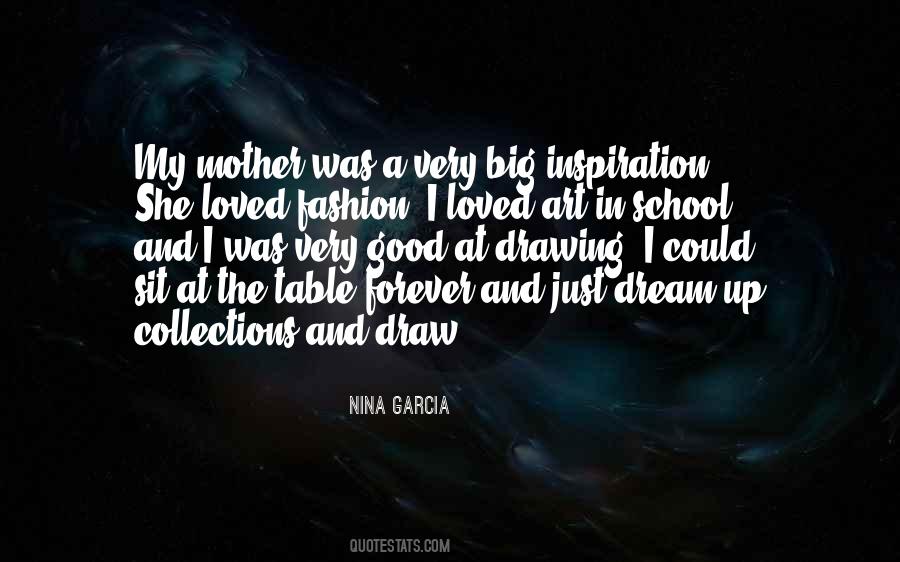 #9. Success will not be yours unless you measure your dream. And guess what? Once you have measured it, people will say it's too big for you. That's when you can say, 'That's not true, it's so small it even fits in my head'. - Author: Francisco Leon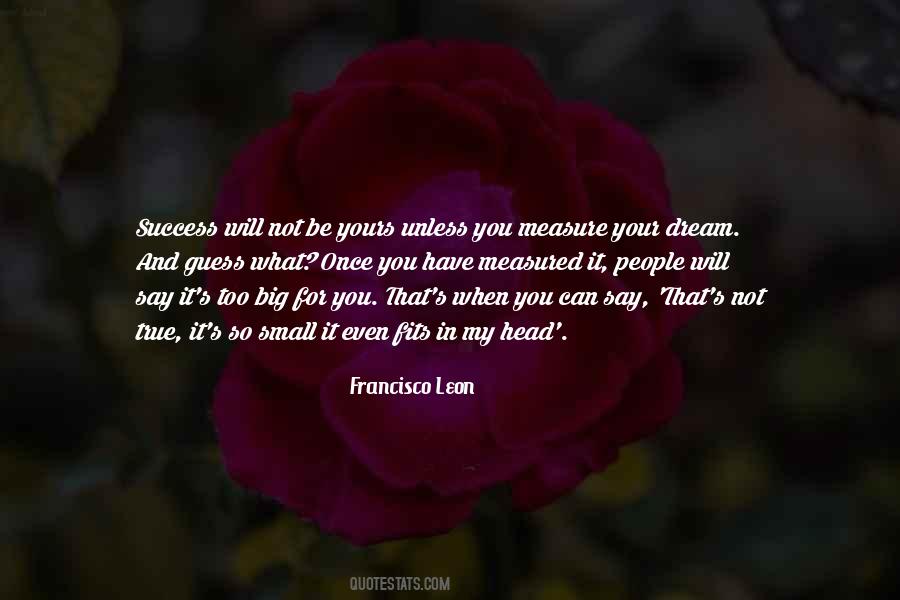 #10. And then, even if I pulled all that off, if I took something that big out of my dream, it would drain the ley line, possible making Cabeswater disappear again, this time with us in it, sending us all to some never-never land of time-space fuckery that we might never escape from. - Author: Maggie Stiefvater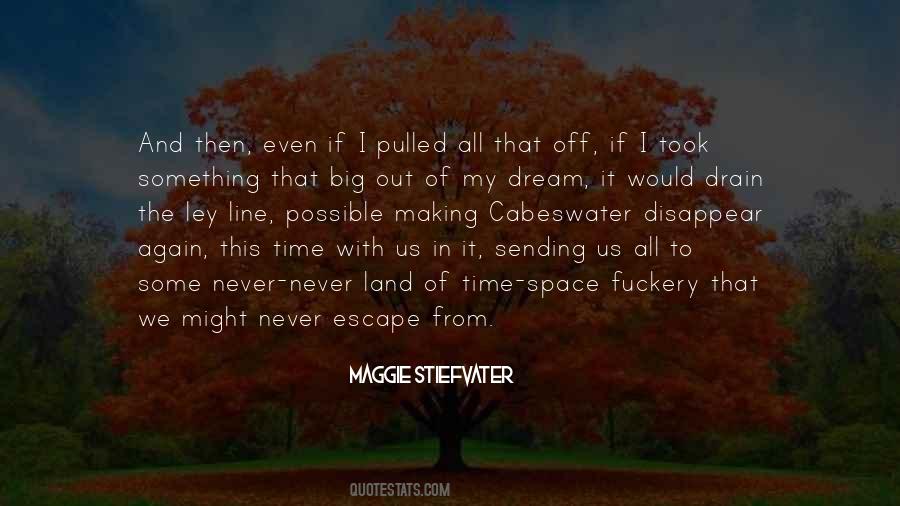 #11. I stepped out on faith to follow my lifelong dream of being an author. I made real sacrifices and took big risks. But living, it seems to me, is largely about risk. - Author: Jan Karon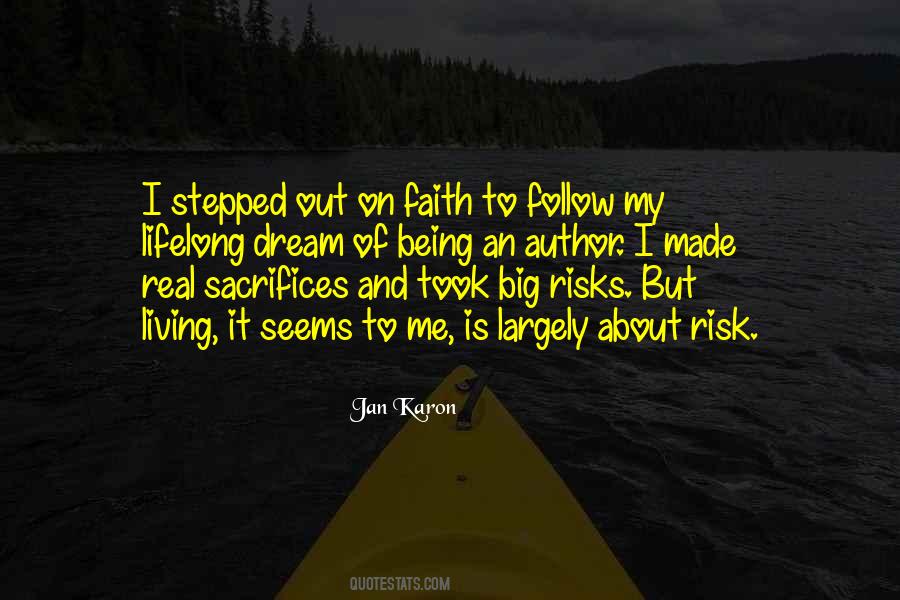 #12. I'm a big fan of Justin Timberlake and Bruno Mars - that's my next level. You've got to dream. People have always tried to shoot me down for wanting to be a big worldwide star. But why not? You have to broaden your horizons and put yourself out there. - Author: Olly Murs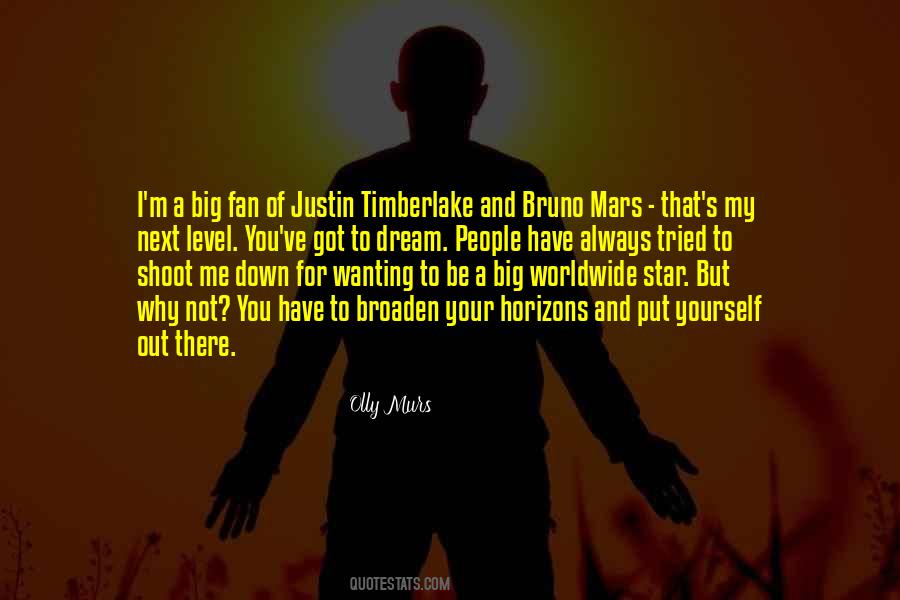 #13. Some of my dreams are so big they would scare you. - Author: Dolly Parton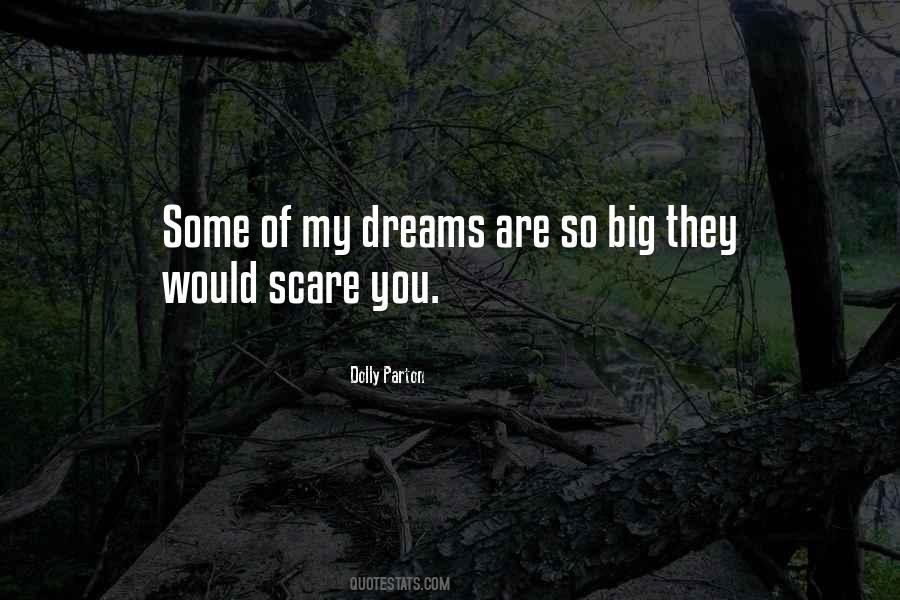 #14. When I see these young girls who are dreaming the dream that I'm living, it's very very exciting and it puts a big smile on my face. - Author: Sue Wicks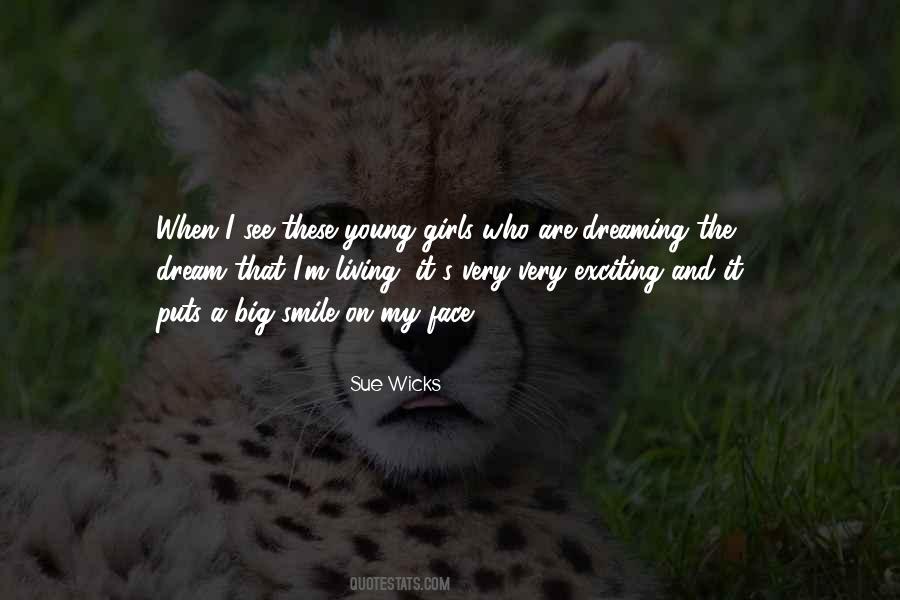 #15. You can be part of my dream ... you can be a big part or small part of it. But you cannot be my dream. and I cannot be your dream. You wannt to be the dream, find your own and I will be happy to be part of it. This is how grown ups think - Author: Sameh Elsayed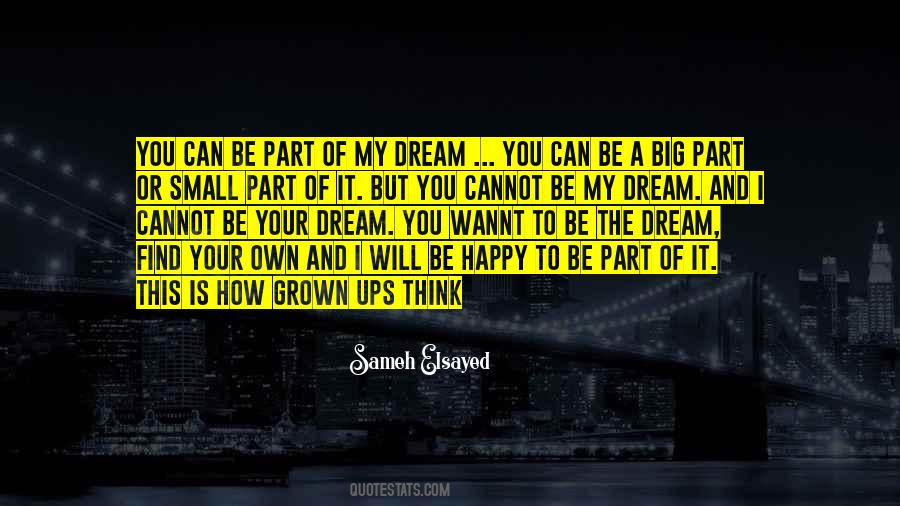 #16. You're not a morning person, are you? (Simone)
I'm a Dream-Hunter/demon. By my very nature I'm nocturnal. That big yellow ball in the sky offends me to the very core of my being. (Xypher) - Author: Sherrilyn Kenyon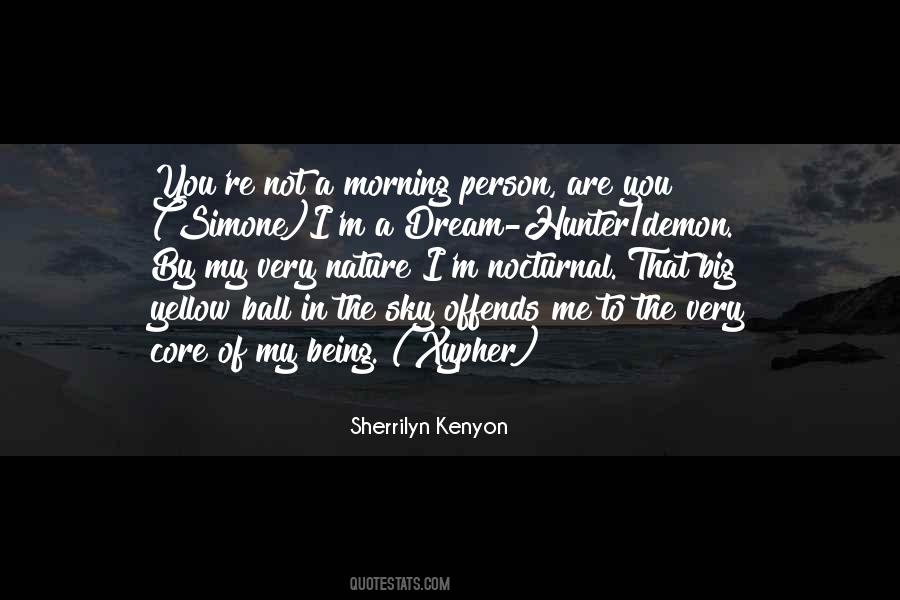 #17. One night I had a dream, and in that dream a big black man appeared to me and told me what to mix up for my hair. I made up my mind I would begin to sell it. - Author: Madam C. J. Walker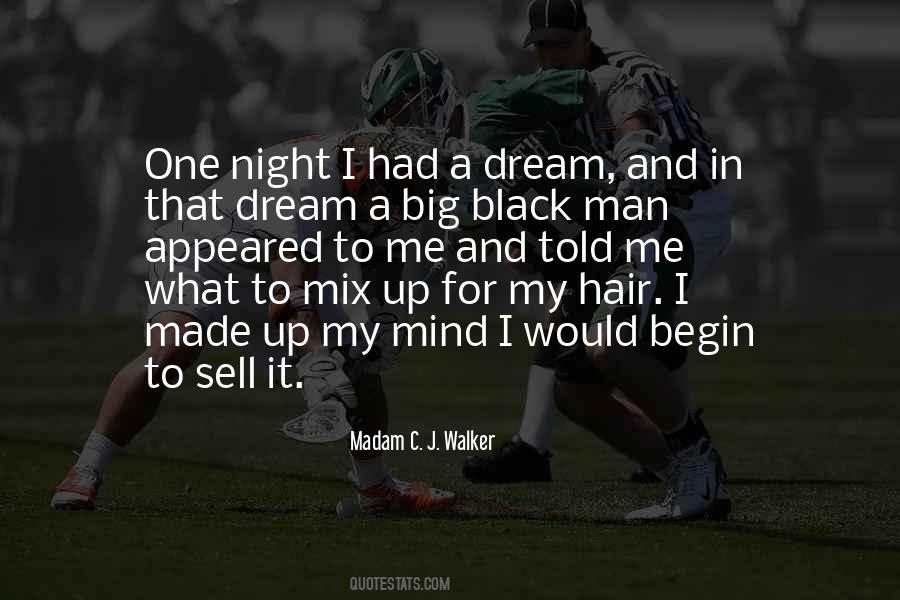 #18. I want to live outside of the box, and I definitely don't want to put God in a box, so I want to be able to dream big and kind of let that go of my small-mindedness. - Author: Jodi Benson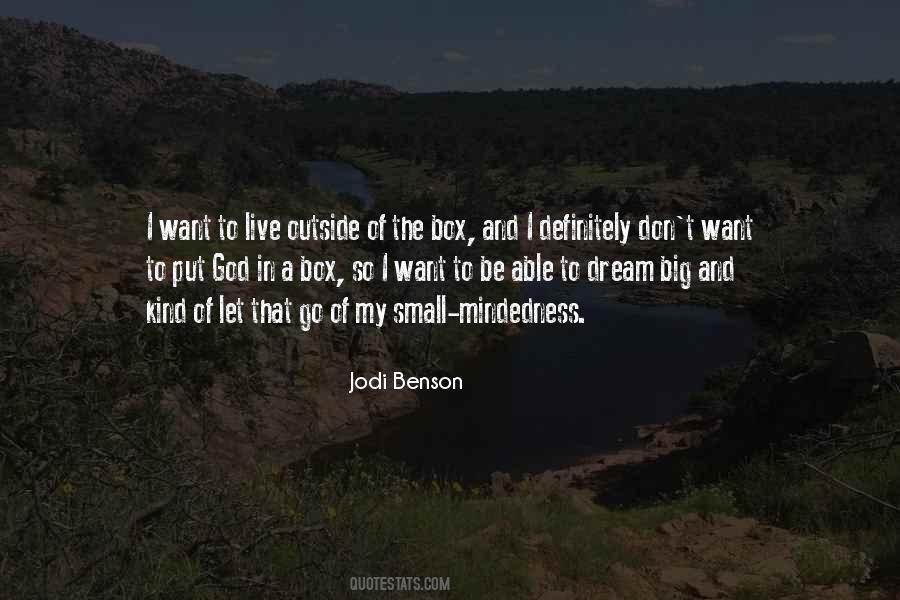 #19. Dream big, my friend, and never give up. We all make mistakes, but none of us are mistakes. Take one day at a time. Embrace the positive attitudes, perspectives, principles and truths I share, and you, too, will overcome. - Author: Nick Vujicic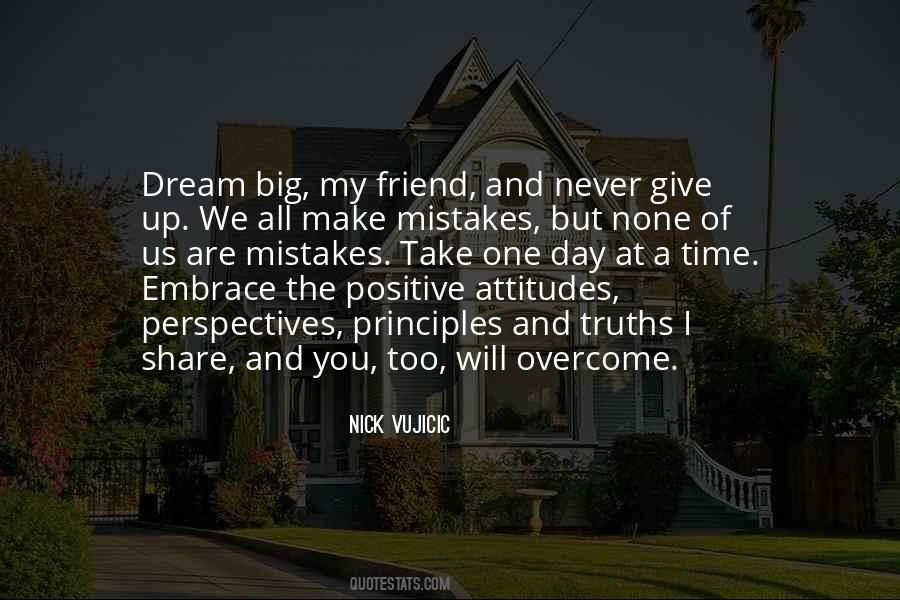 #20. As far as my own dreams, I'm not a big dreamer, I think obviously we suppress things in life, emotions and thoughts, and we should wake up and look at that. - Author: Leonardo DiCaprio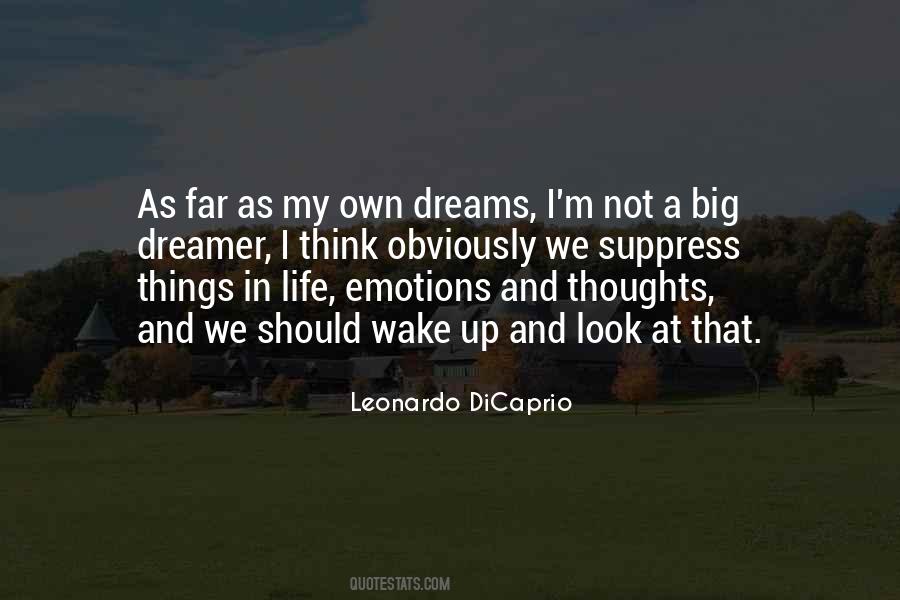 #21. When I read [the script] and saw that it was my fanboy wet dream of an Avengers script and that [Agent] Coulson was a big part of it, that was the great day for me. I just drove around the streets with the script in the other seat, giggling. - Author: Joss Whedon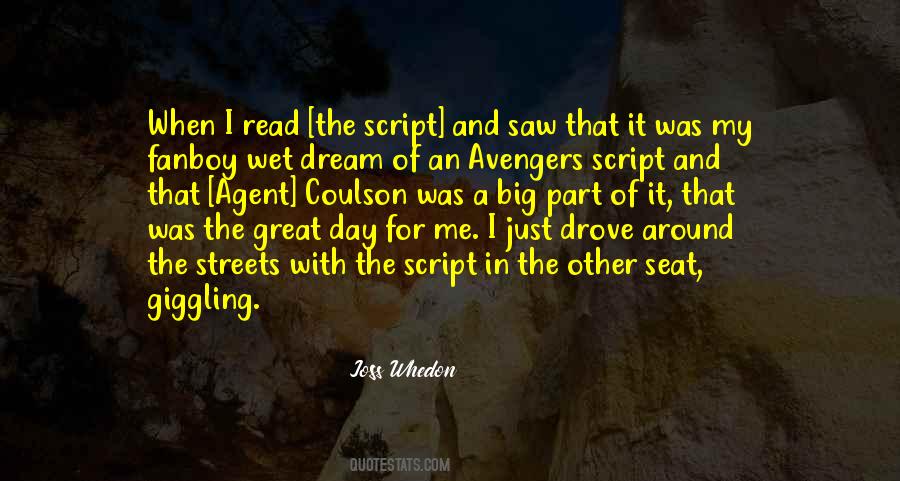 #22. I wasn't one of those kids who was chasing the dream and wanted to get to Hollywood because one day I was gonna get my chance and be a big star. I never felt like that. - Author: C. Thomas Howell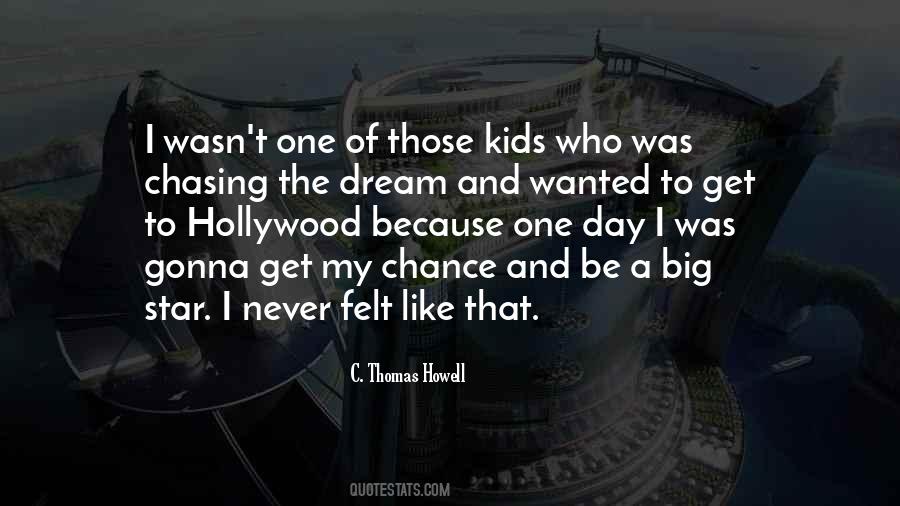 #23. Coming from a small town it was tough to dream big. When I grew up in a small town in Georgia, my biggest dream was one day to be able to go to Atlanta. - Author: Herschel Walker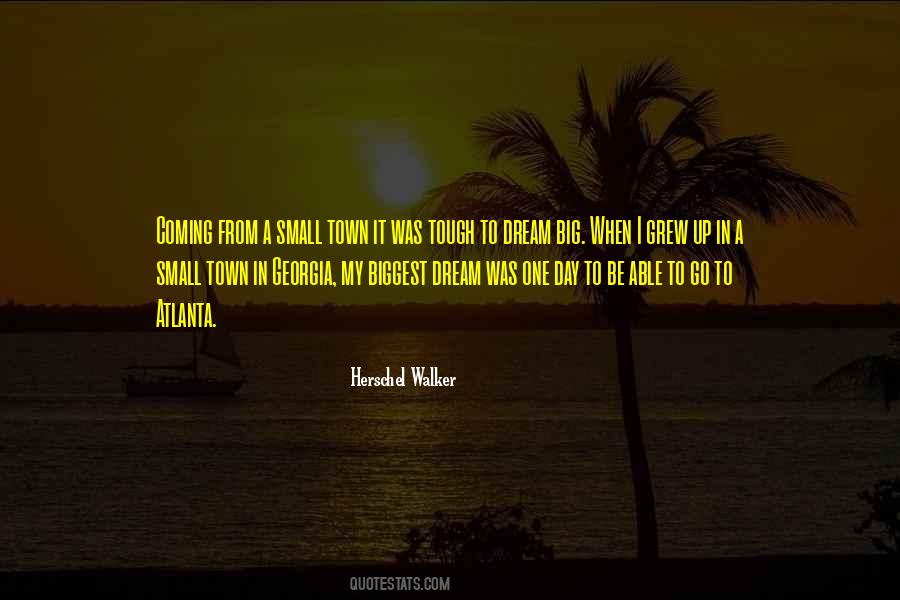 #24. Up until the time I was 14 years old, I was sure that I was going to be a big-league baseball player. But that dream came to a rude awakening when I got cut from my high school baseball team. - Author: Phil Knight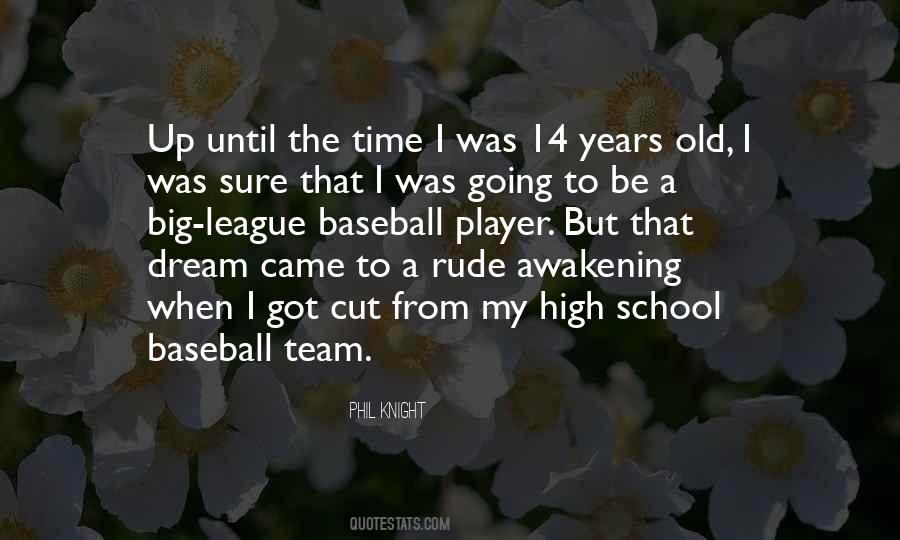 #25. I would say I was jock. I went to Sierra College. I was a big baseball player. Getting into the MLB was my dream - to become a left-handed pitcher for the Yankees. That's what I was hoping, but life kind of went the other way. - Author: Ryan Guzman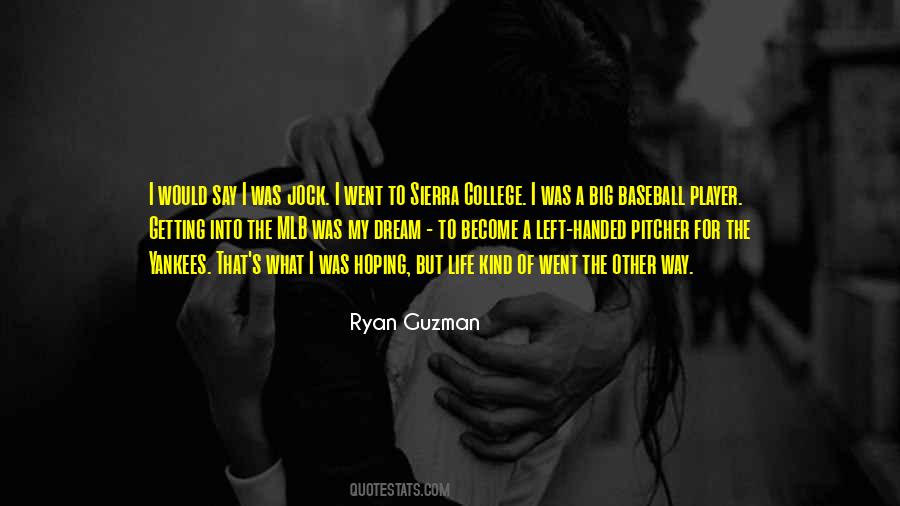 #26. My tone and my style are reflected in the movies I choose to make. I want to make big movies. My dream is to be Jon Favreau or Ben Affleck. - Author: Matthew Lillard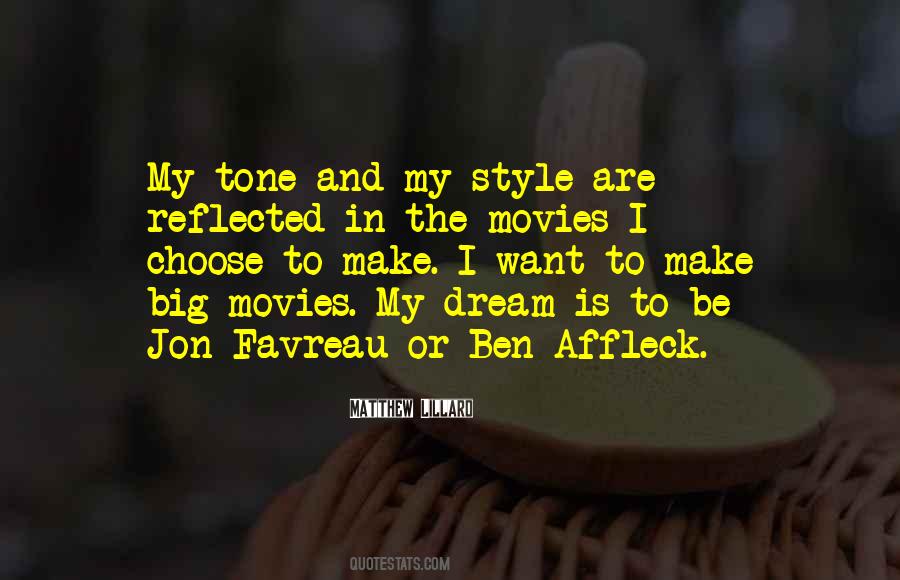 #27. When I wrote Chuky script, I was a student at UCLA, an undergraduate and my biggest aspiration for it was that I would get my foot in a door somewhere, that I would get an agent or something and it was just beyond my wildest dreams that this big-time producer, David Kirschner. - Author: David Kirschner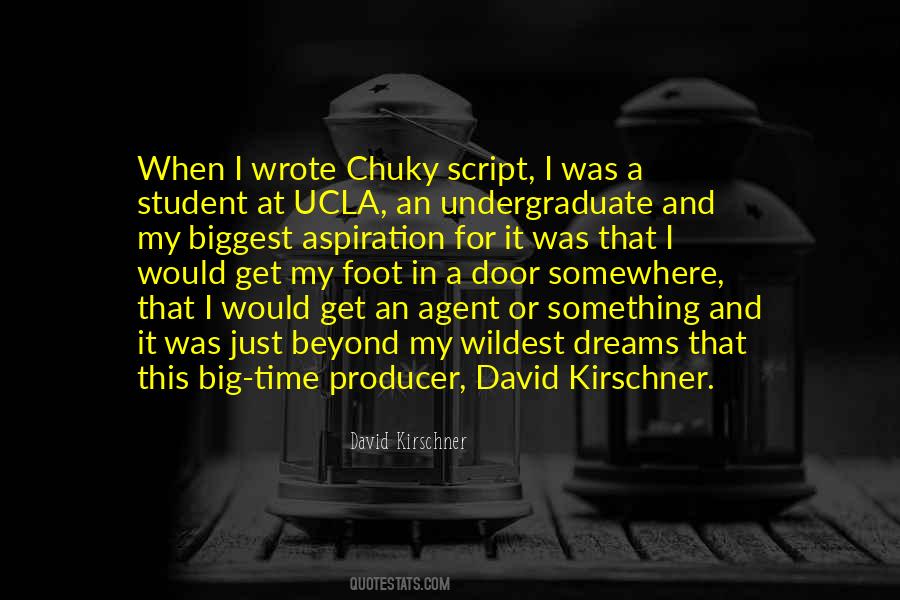 #28. He's (his father Jorge Posada IV) happy for me. He remembers all of my big games. When I hit
my first home run in the World Series, he was here, and he cried. It's like I'm
living his dream. - Author: Jorge Posada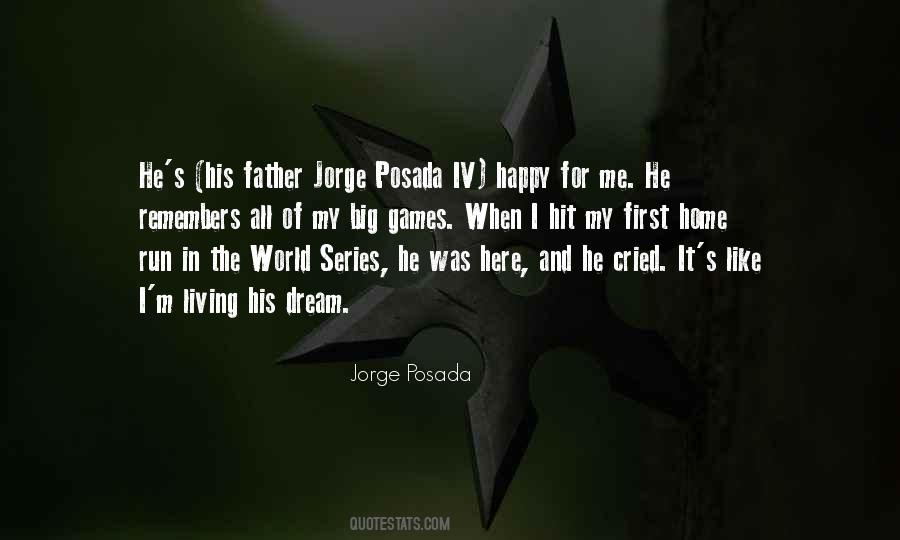 #29. This is my calling.
This is my destiny.
I am living my dreams. - Author: Lailah Gifty Akita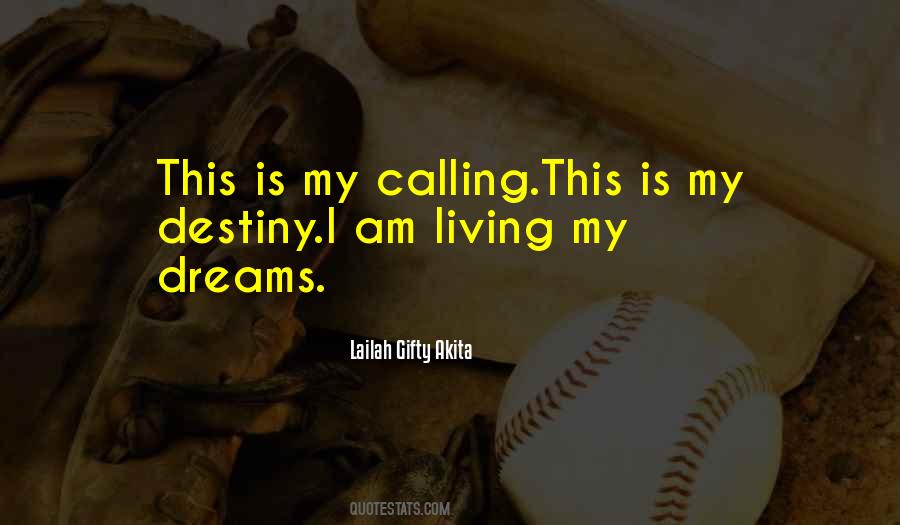 #30. I love to fish. You can go hours without anything happening, and all of a sudden a big blue marlin comes into the spread and it's cockpit chaos. My dream is to catch a grander, a 1,000 pounder. - Author: George Strait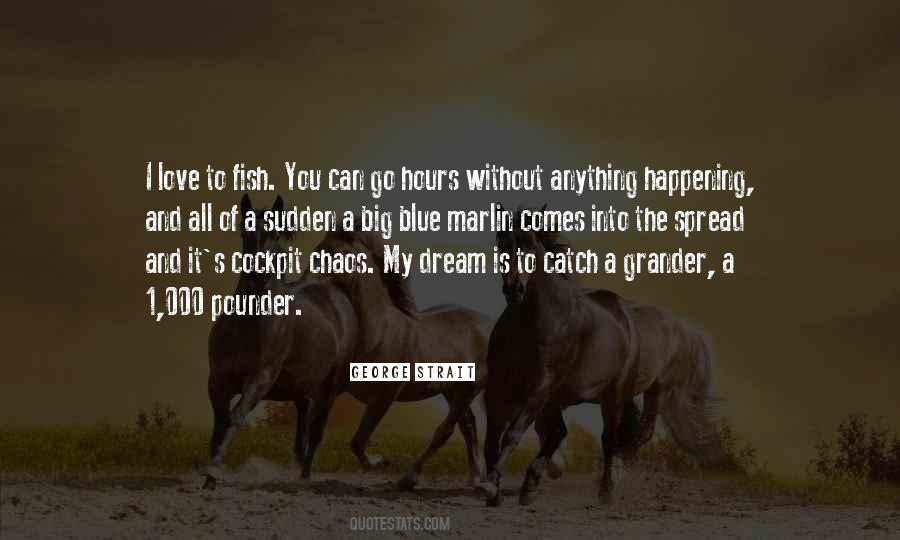 #31. "Dream big, work hard." My parents brought up Kylie [Jenner] and me to be workaholics. That's something I really appreciate. - Author: Kendall Jenner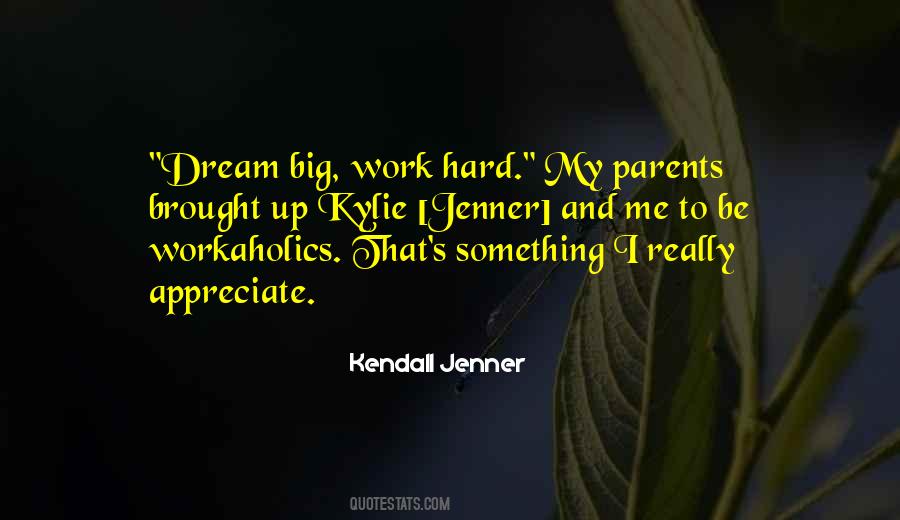 #32. And I been waitin' all my life And I been havin' big dreams times twice - Author: Eamon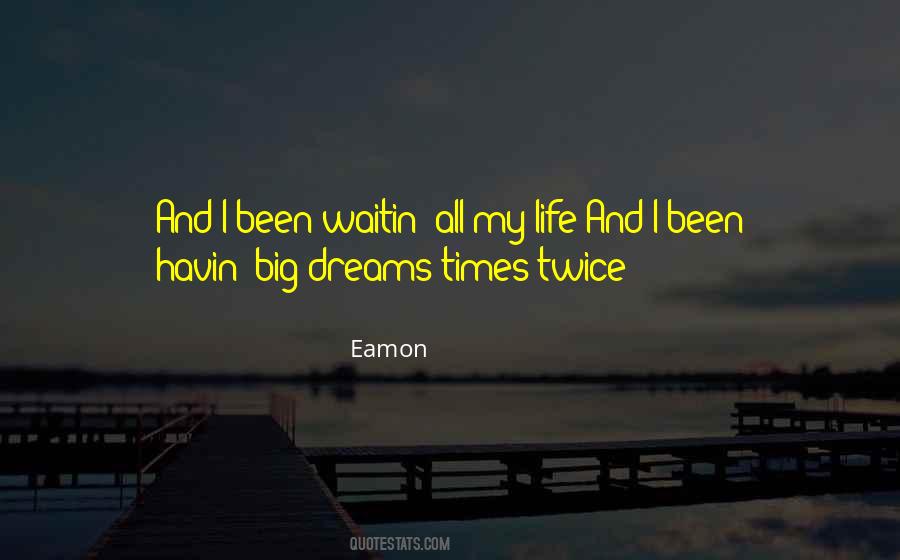 #33. I always loved family holidays, and I had this vision and dream as a little girl of having a big family of my own. - Author: Brooke Burke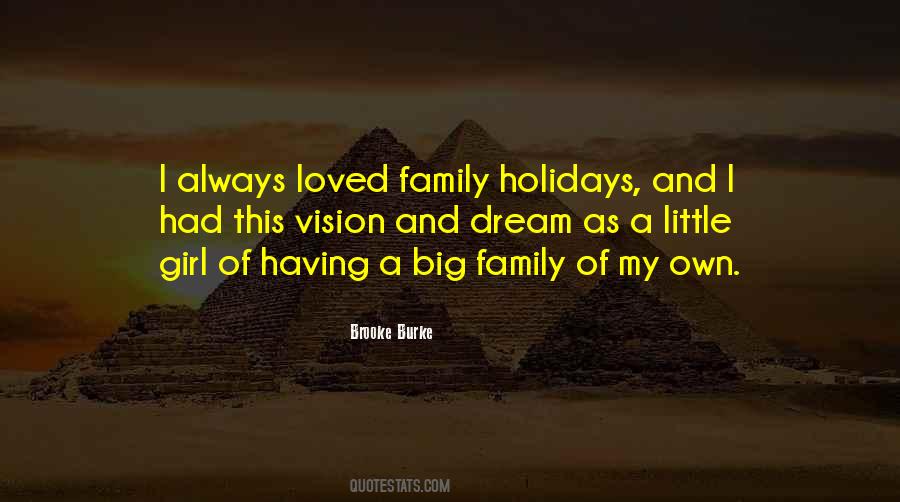 #34. I think the fact that I am living my dream and being really productive and embarking on all my lifelong aspirations is proof enough that if I can do it, anyone can. I try to tell everybody to dream big and go after their dreams. - Author: Elliott Yamin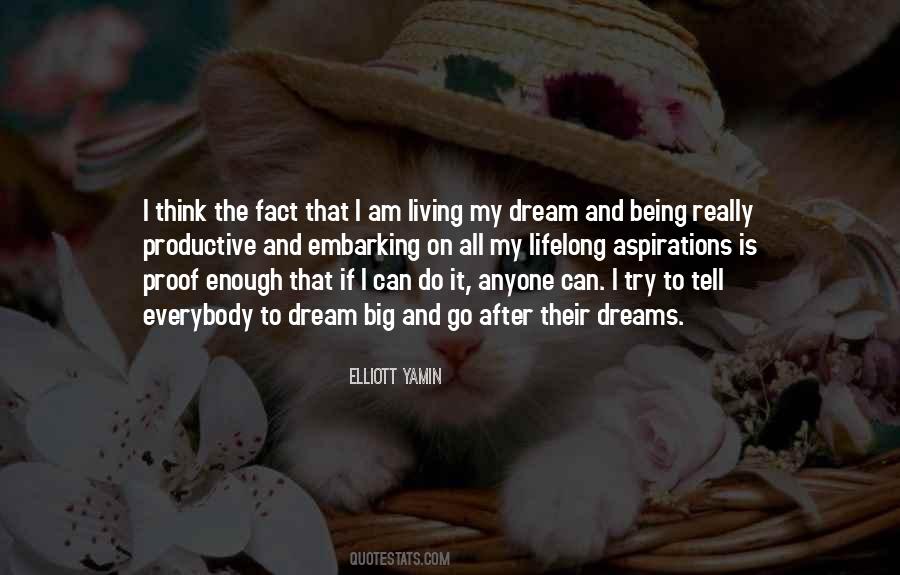 #35. Dream big, I dreamt of being taller when I was a kid, reinforced with flashbacks everyday I exercised diligently and to my surprise, I am still 5 feet tall. - Author: Pushpa Rana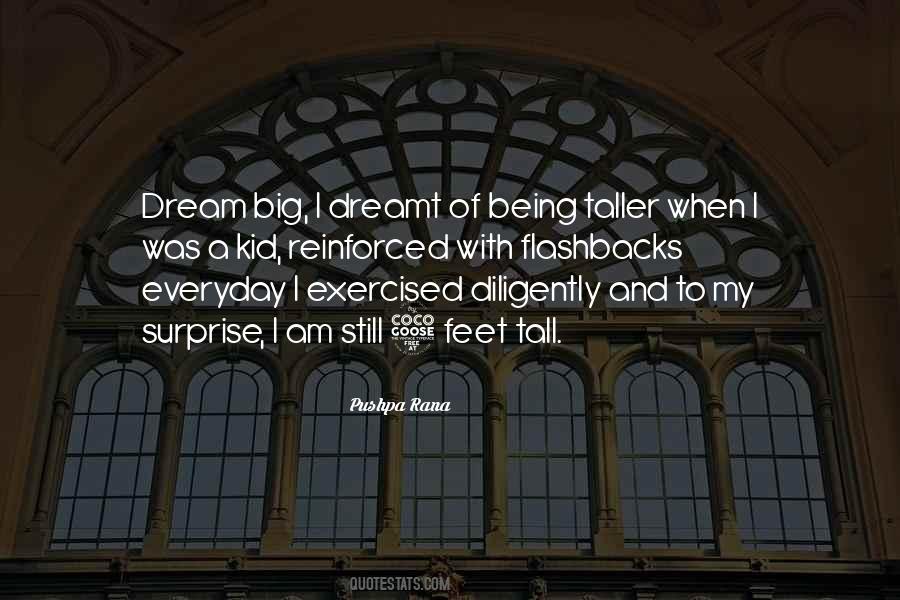 #36. My dream tour would be like, me, Cole, Drake, Sean, Meek. I think that would be dope, something like that; big venues. - Author: Wale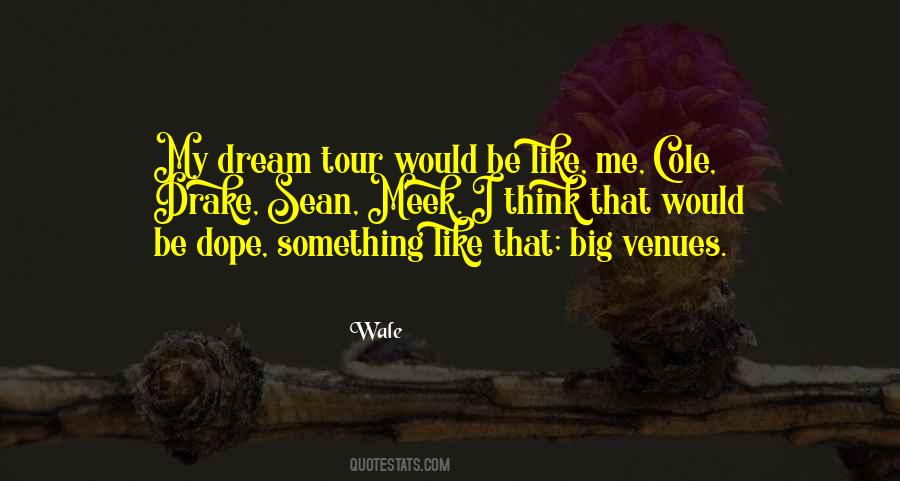 #37. Mountains were once my big adventure but is is over since a long time; I still dream from the wonderful days sometimes, read also a few pages from a mountain book. But the thought of doing again active mountain climbing has faded. - Author: Fritz Zwicky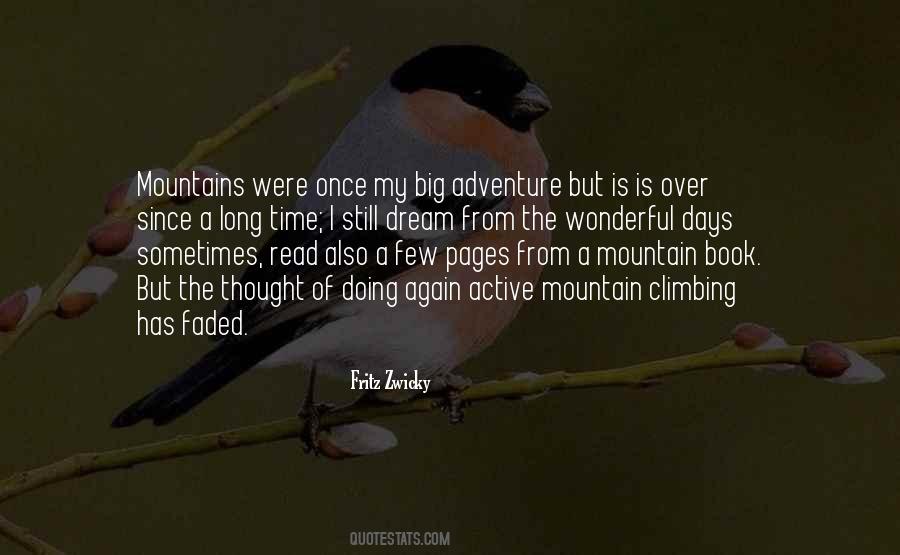 #38. London has this culture of the theatre that is so big, it was a like a dream - but I never had a thought to be able to play here because my English was not very good. So being given the opportunity to come work here was like a gift. - Author: Elena Roger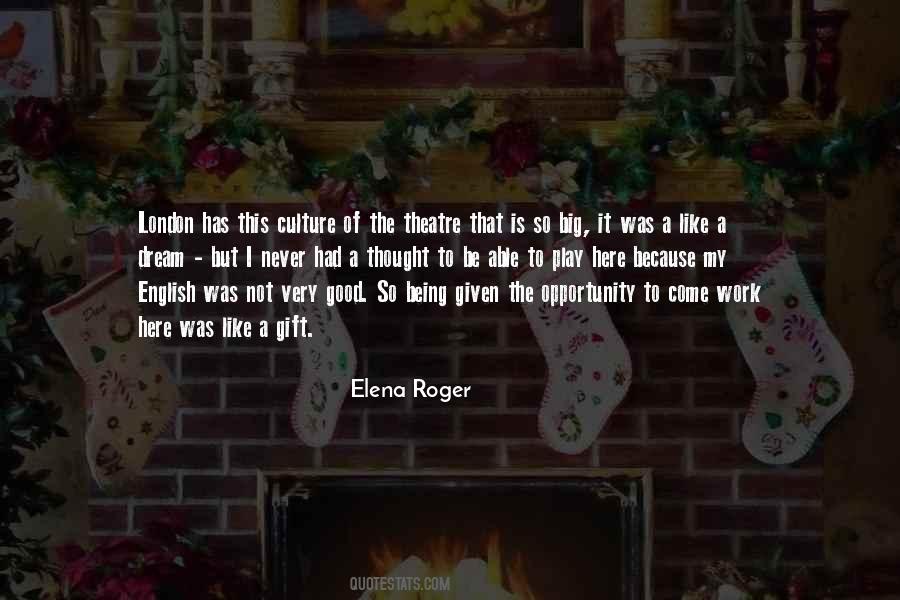 #39. It's a good feeling to see the kids try to make it, try to get to the big leagues. Everyone here has an opportunity to achieve his dream. I was lucky I was able to achieve my dream. - Author: Tony Oliva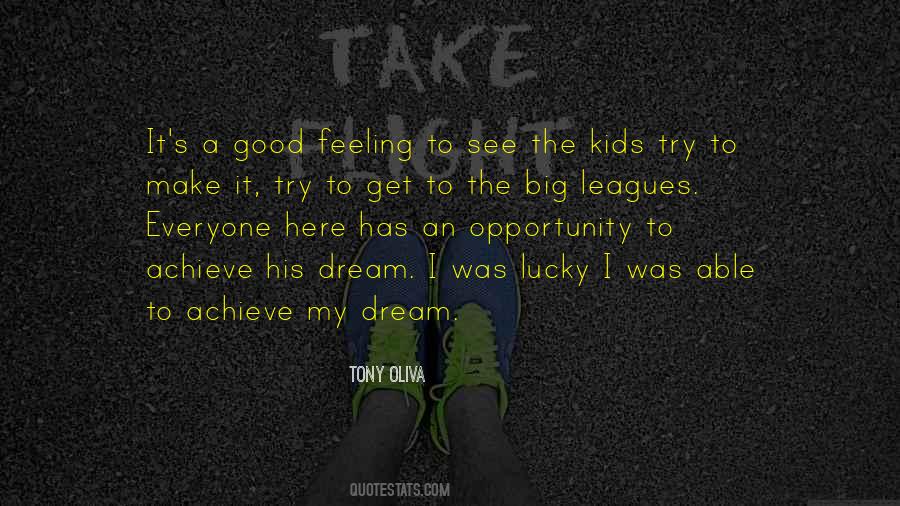 #40. It's been my dream to be in a Western, and to be able to wear the clothes, have a big gun, wear a big hat, have a big horse, and be a take-no-prisoners lady in the Civil War era. - Author: Lauren Ambrose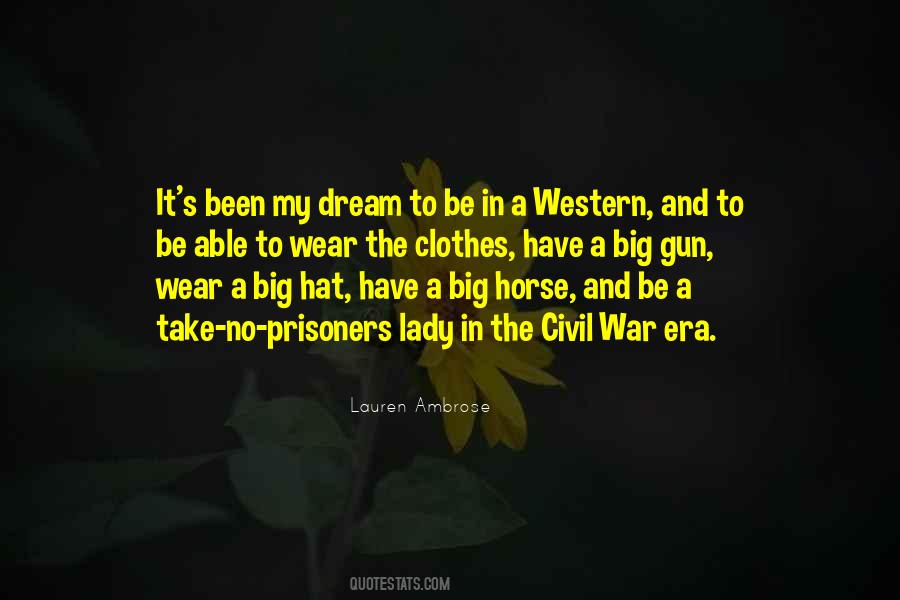 #41. My dream career would be to be in things that have real heart and are telling real stories but while doing that, you're getting really big laughs. I don't necessarily love the straight crazy comedies. 'Caddyshack' is amazing, but there's not a lot of new 'Caddyshack's. - Author: Jake Johnson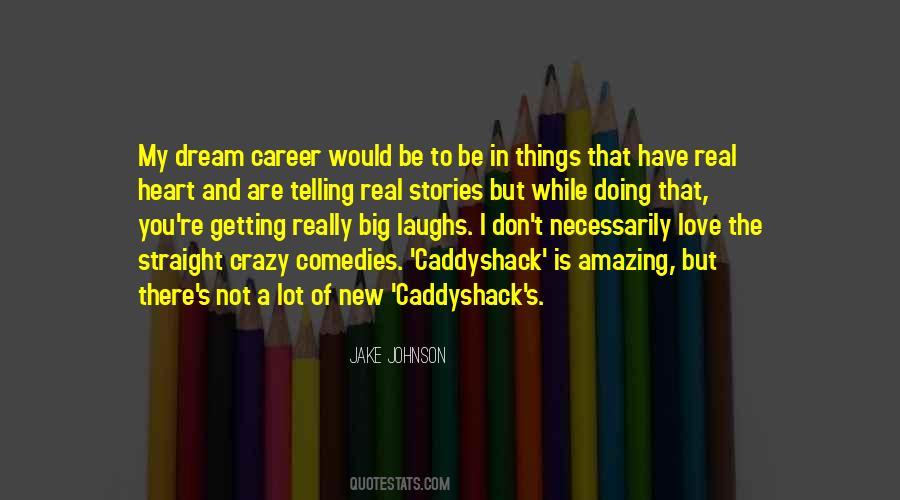 #42. My big dream was to work as a photographer for 'National Geographic.' - Author: Steffi Graf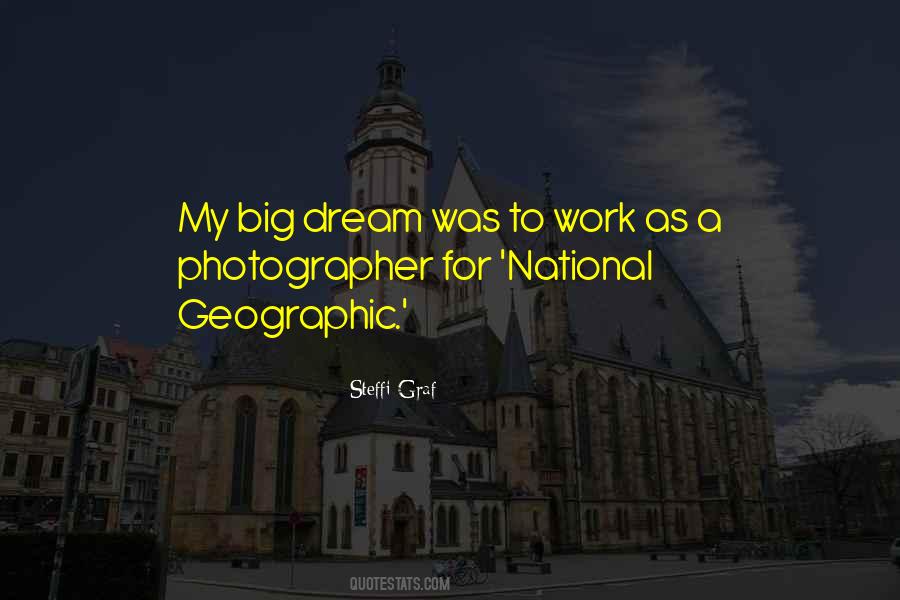 #43. What I really, really want to do is pre-packaged meals. Fabulous versions that are delicious, healthy, not too expensive and very low in fat. So, that's my big dream, because there's a massive hole in the market for that. - Author: Elizabeth Hurley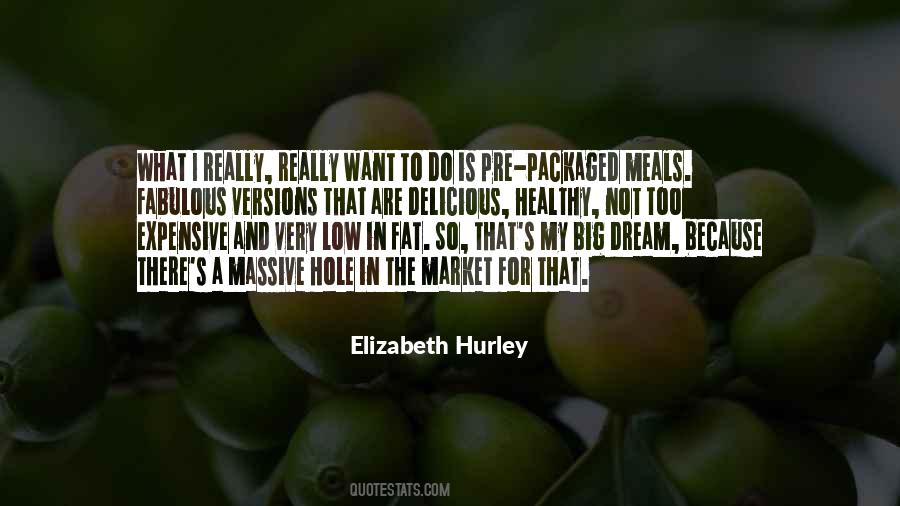 #44. The Oakland A's, I loved all my teammates there. I loved all the coaches. They gave me the opportunity to play in the big leagues. And for that, I thank them. I mean it was a dream come true for me. - Author: Tim Hudson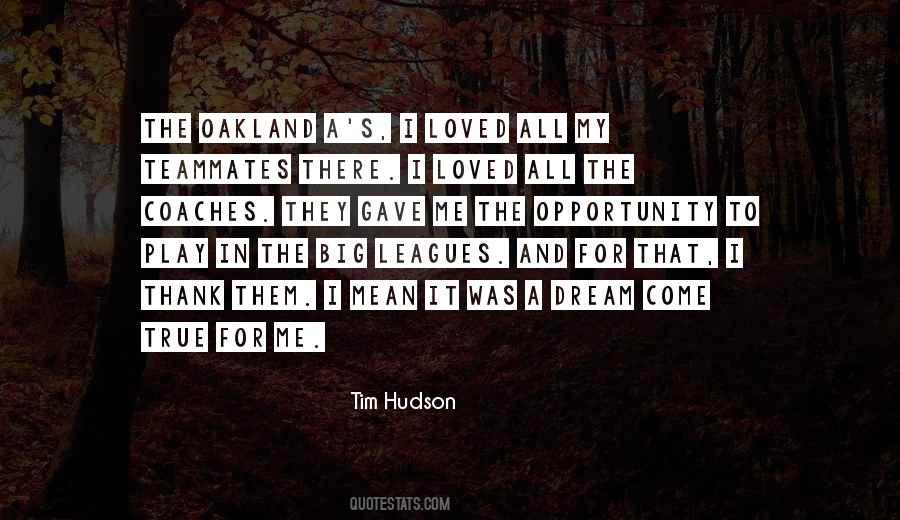 #45. My parents always told me to be myself. I was always funny and silly as a kid. And I would always make them laugh. And they always told me to dream big and follow those dreams. - Author: Richard Simmons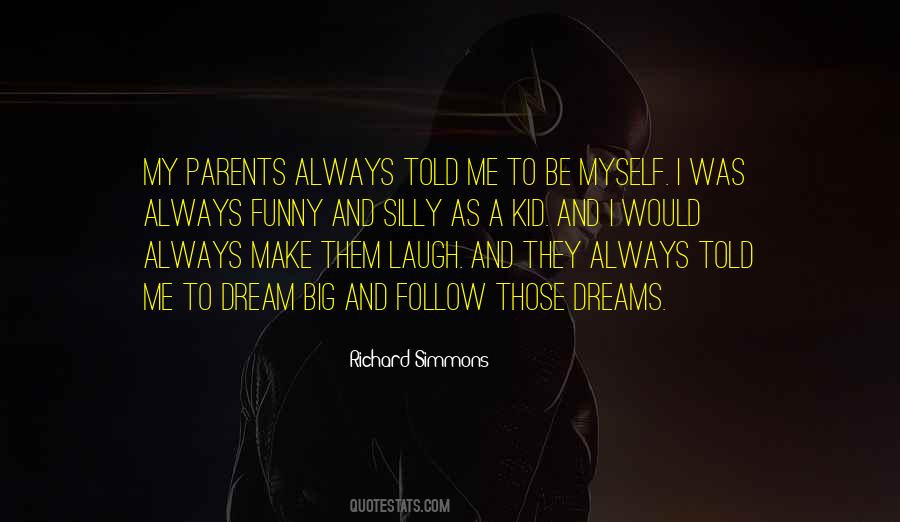 #46. My mom graduated from the University of Michigan, which is a great school. Then she got her Master's from NYU. She wanted to be an actress, so when she graduated, she had a dream, and she started following it. She moved to New York and took acting classes with people like Denzel Washington. - Author: Big Sean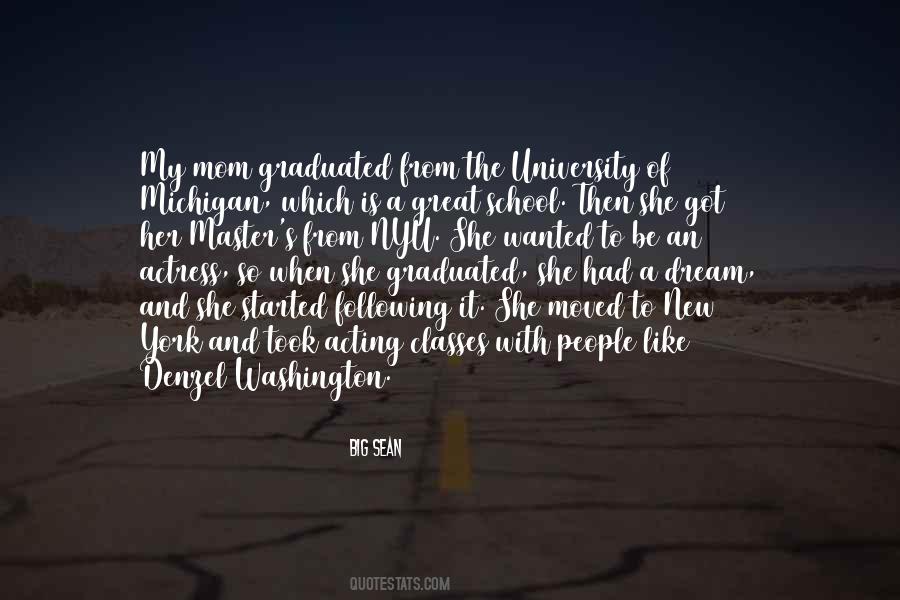 #47. When I was 5 years old, we had nothing in the village. One day, in front of my house, some soldiers in a big Cadillac started to do a picnic. I looked at them like they were coming from the moon. I remember they gave me a box of rice pudding - that, for me, was the American Dream. - Author: Renzo Rosso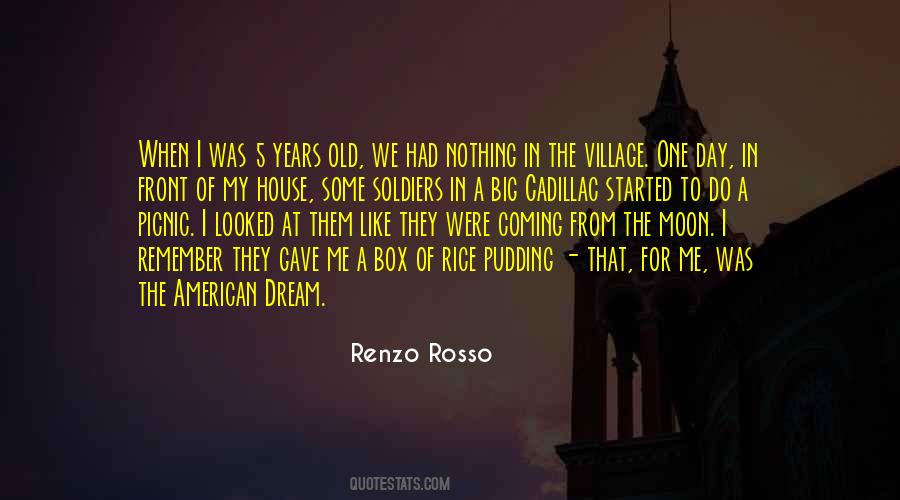 #48. They said my dreams were too insignificant to matter, and they might just be right. The thing however is, I owe it to myself to find out if they are. The only way I can do that is to keep dreaming and living my dream. If in the end they are right, at least I can tell myself I did my best. - Author: Bidemi Mark-Mordi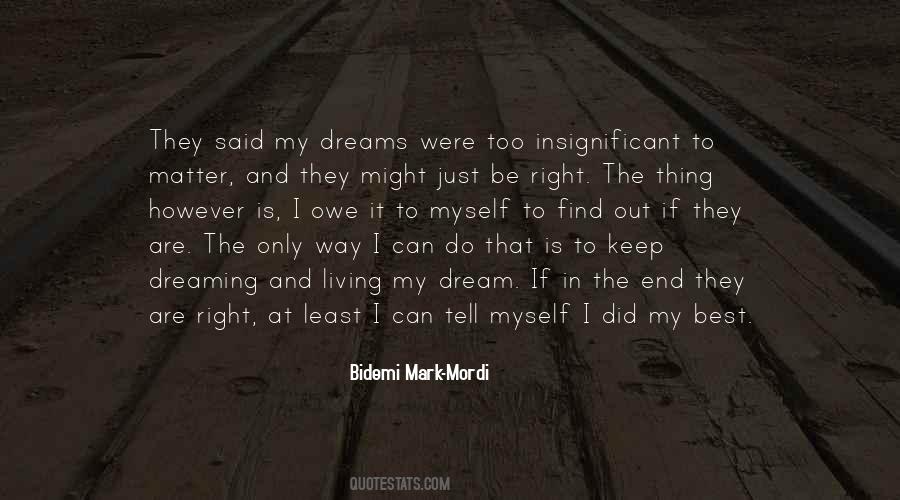 #49. There is a town in north Ontario,
With dream comfort memory to spare,
And in my mind
I still need a place to go,
All my changes were there.

Blue, blue windows behind the stars,
Yellow moon on the rise,
Big birds flying across the sky,
Throwing shadows on our eyes. - Author: Neil Young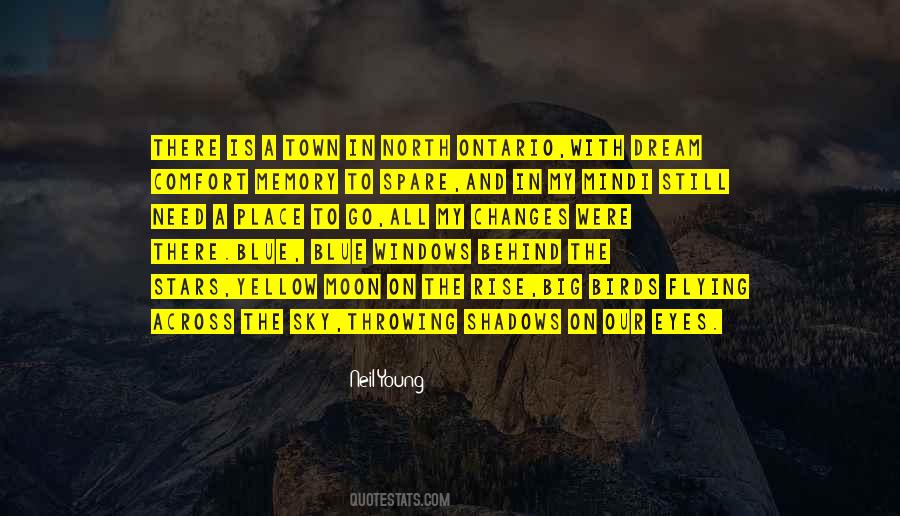 #50. No one had told me that the tax of playing big will be having to play big all the time. At first I chased my dream for me. Now I chase my dreams as a service for humanity. When I do so, people dare to chase their own dreams. They look up at me and get motivated to play big. - Author: Iman Refaat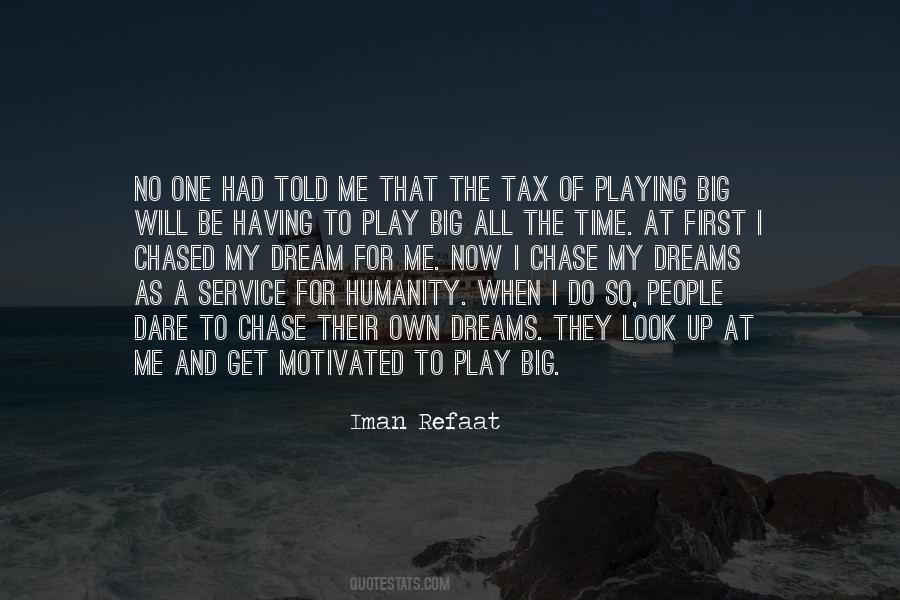 #51. I need to live up to my potential, wherever that may be, in all aspects of my life. My head gets in the way, and I need to look at the big picture - that this is the best, and I am living my dream. - Author: Chris Cole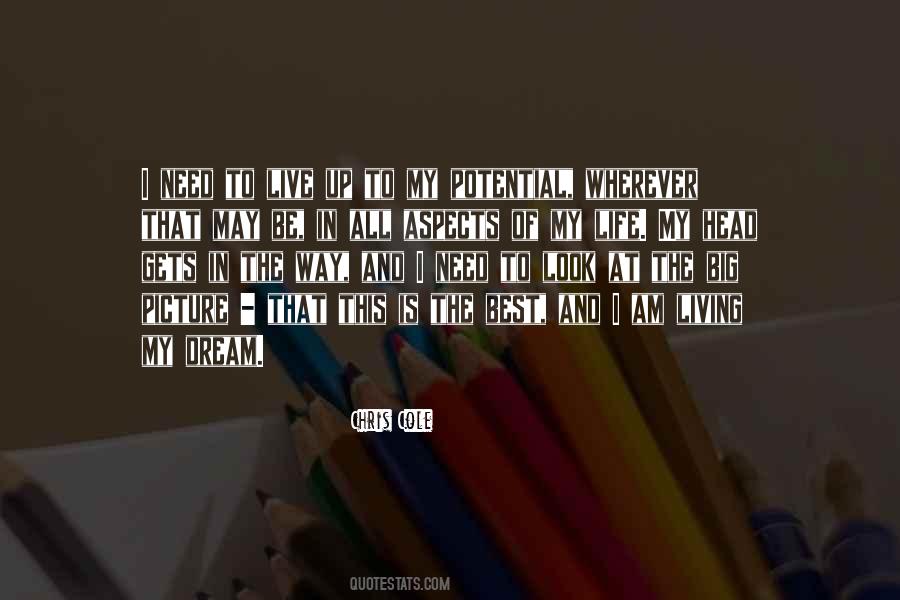 #52. I dreamt of playing in the big halls all over the world and it has always been my dream to play for people in many different countries. - Author: Rafal Blechacz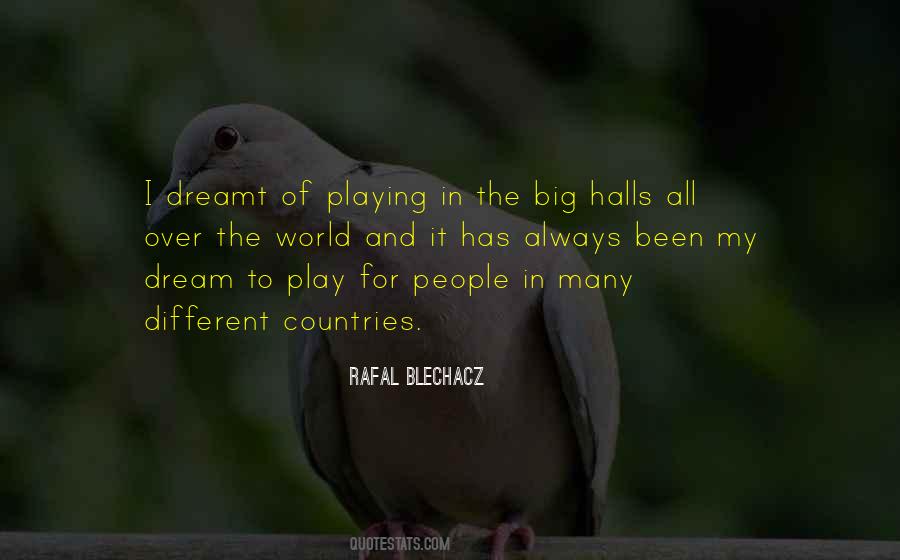 #53. You really have to stay true to yourself, as cheesy as that sounds. And you cannot take no for an answer, and you have to dream big. I think that's the greatest thing my family ever taught me: if you're going to dream, you have to dream so big. - Author: Ksenia Solo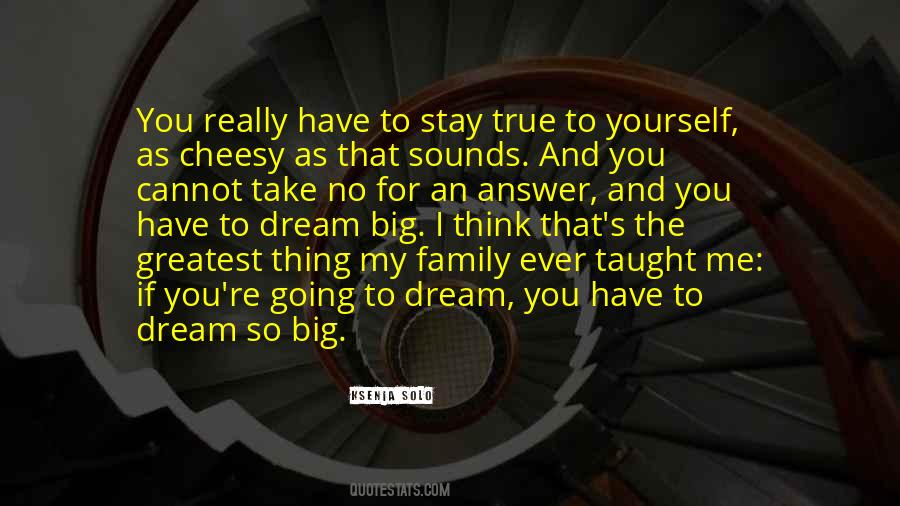 #54. Thought for Today: I dream big! I let go of any limitations on my imagination, and I give voice to my inner wisdom and creative impulses. I shed past fears and doubts, replacing them with courage and love. I nurture my future with the same care that I would give to a newborn baby. - Author: Doreen Virtue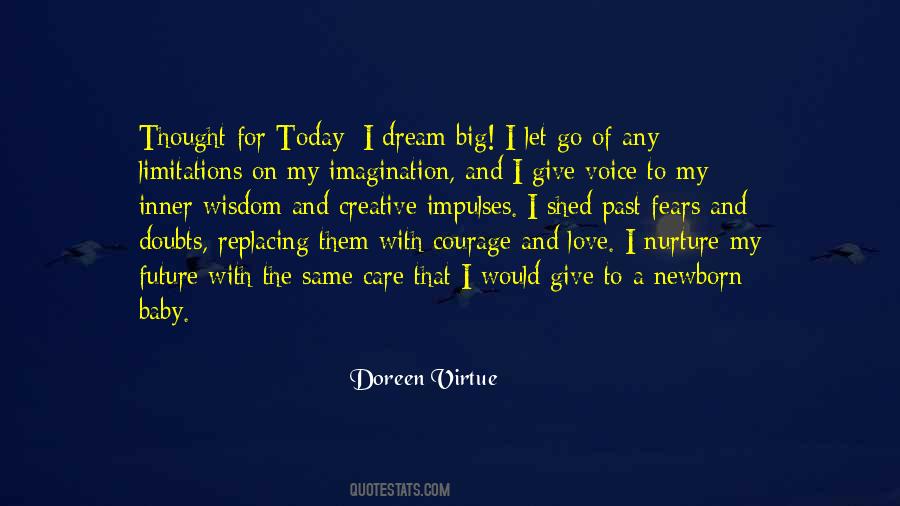 #55. I dream of big things. I work for the small things. If you're going to dream, you might as well dream big. A lot of that came from my mother. She was adamant about the work ethic
about how you can't just dream things. - Author: Kevin Costner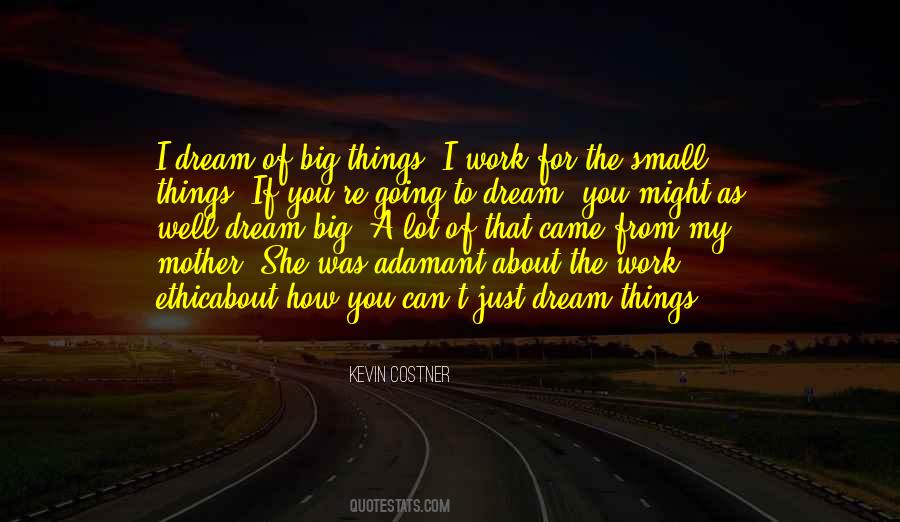 #56. I got a dream that's worth more than my reality. - Author: Big Sean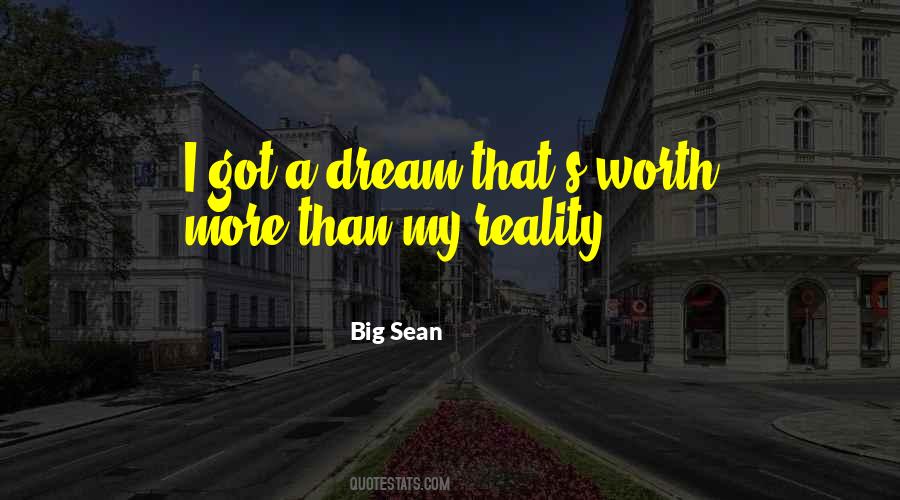 #57. If people-young and old-can get one thing from my book I hope it is this: that there dream do count, no matter how big or small. - Author: April E. Brucker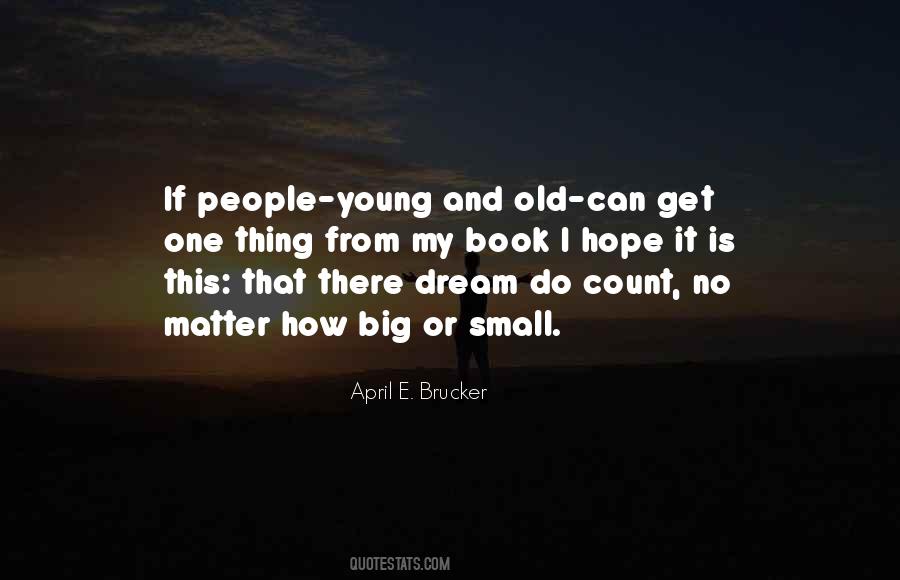 #58. I don't wanna have any other kind of job. I can't work among people. I may as well try & make a career out of this. All my life my dream has been to be a big rock star - just may as well abuse it while you can. - Author: Kurt Cobain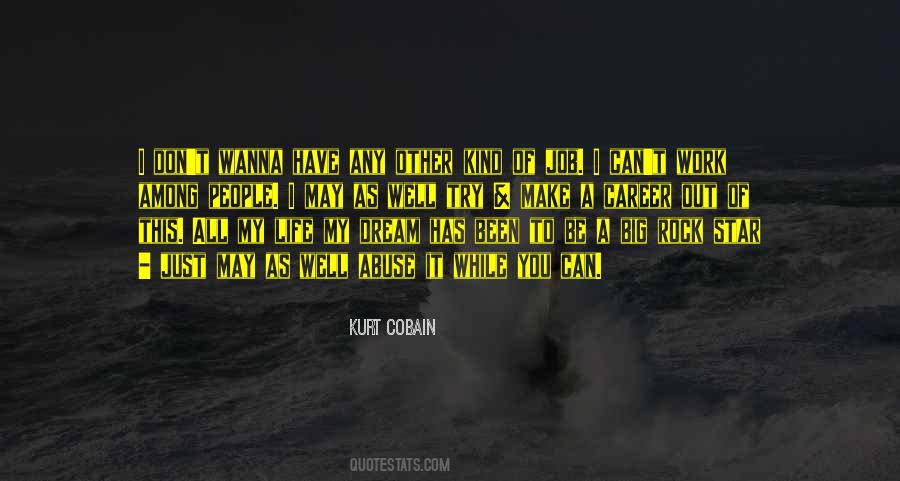 #59. It was so weird that I would end up directing 'The Greatest Game Ever Played,' because, y'know, I'm not a big golfer myself. But I grew up around the game. My mom and dad kind of built their dream house off the 11th fairway of Shady Oaks Country Club in Fort Worth. - Author: Bill Paxton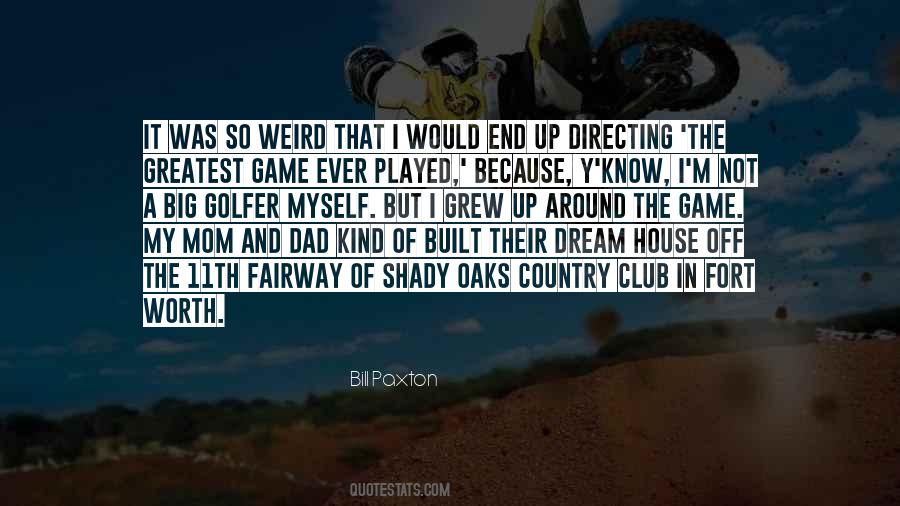 #60. I've worked since I was 11 years old, playing music and following the dream, and shaking and moving and doing it. And then, you have cancer and it was like 'Ooooohh.' It was like a big eraser. It was the only thing in my life that had ever made me just stop. - Author: Melissa Etheridge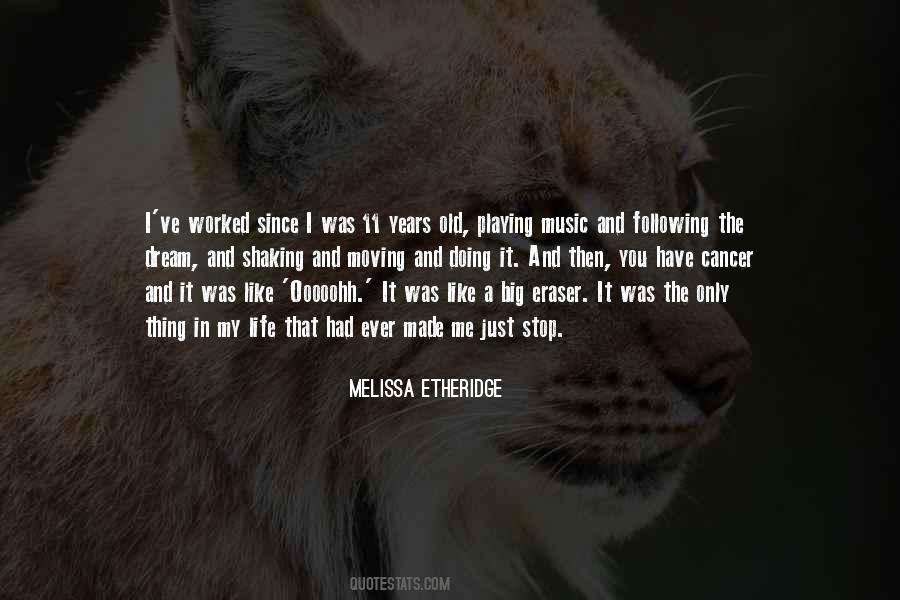 #61. I think my dream would be to move into film, purely because there's a definite beginning, middle and end to a project. I struggle a bit with such a big series that's going all the time. - Author: Jessica Raine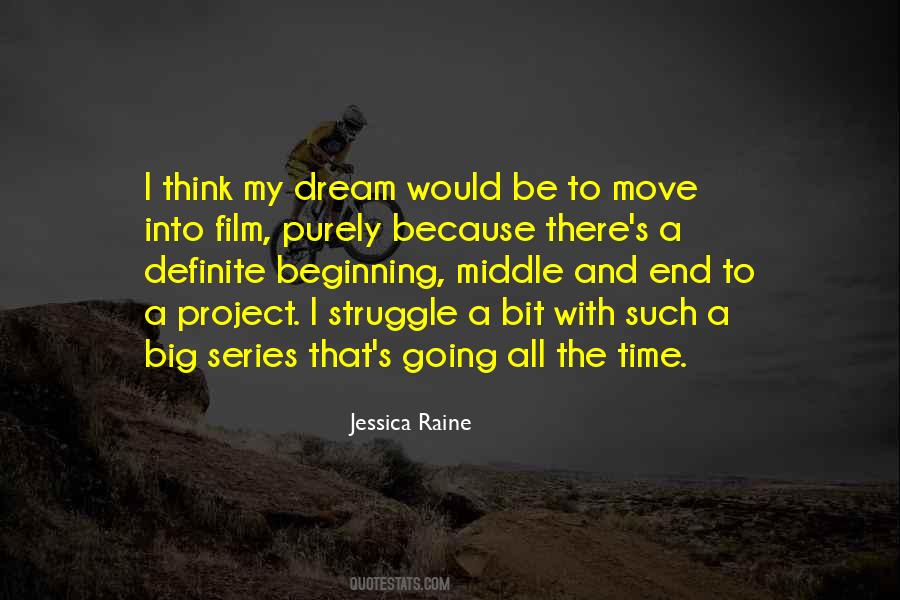 #62. My dream appliance circa 2050 has one big dial on it, and when I twist it to the right, my IQ goes up to 450. - Author: Bruce Sterling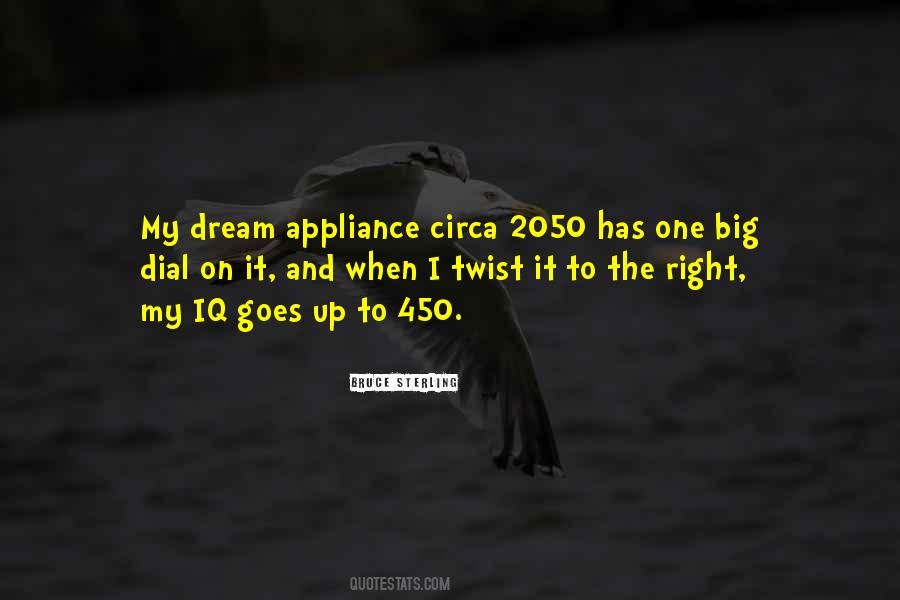 #63. Life," said Emerson, "consists in what a man is thinking all day." If that be so, then my life is nothing but a big intestine. I not only think about food all day, but I dream about it at night. - Author: Henry Miller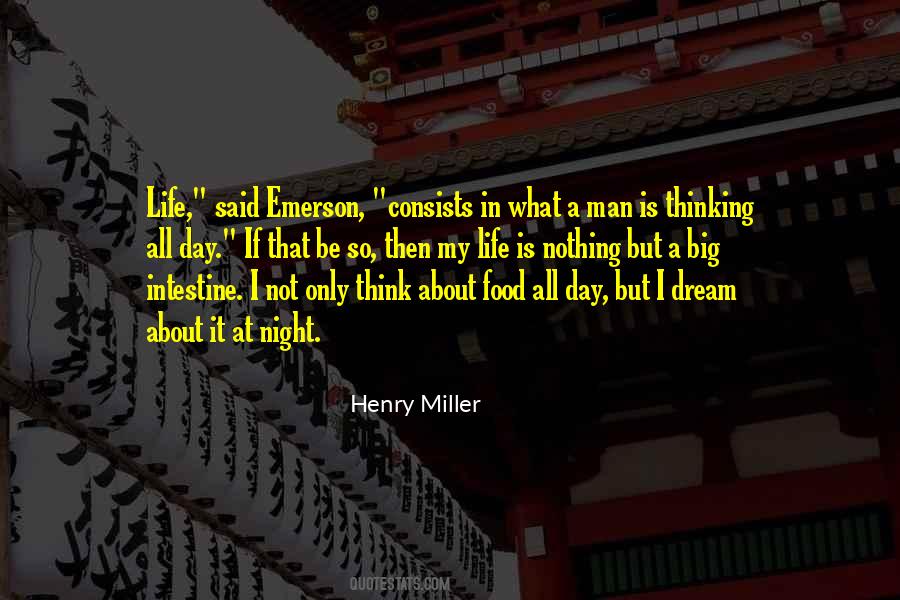 #64. There are no more ceilings over my dreams ... They have no limit; they limitless! They are extra-large! - Author: Israelmore Ayivor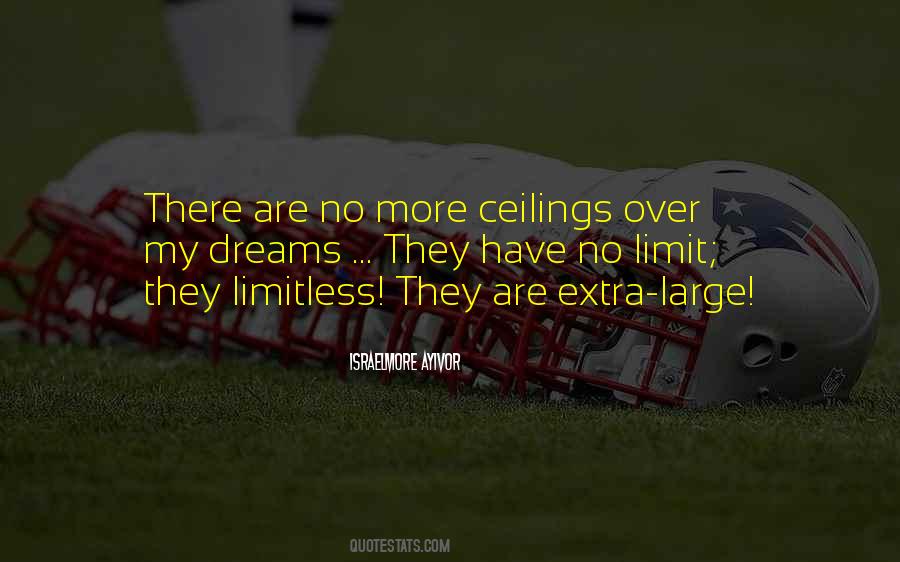 #65. I don't want an epitaph on my gravestone that says, 'He would have pursued some big dreams in his life, but other people wouldn't let him. - Author: Tom Peters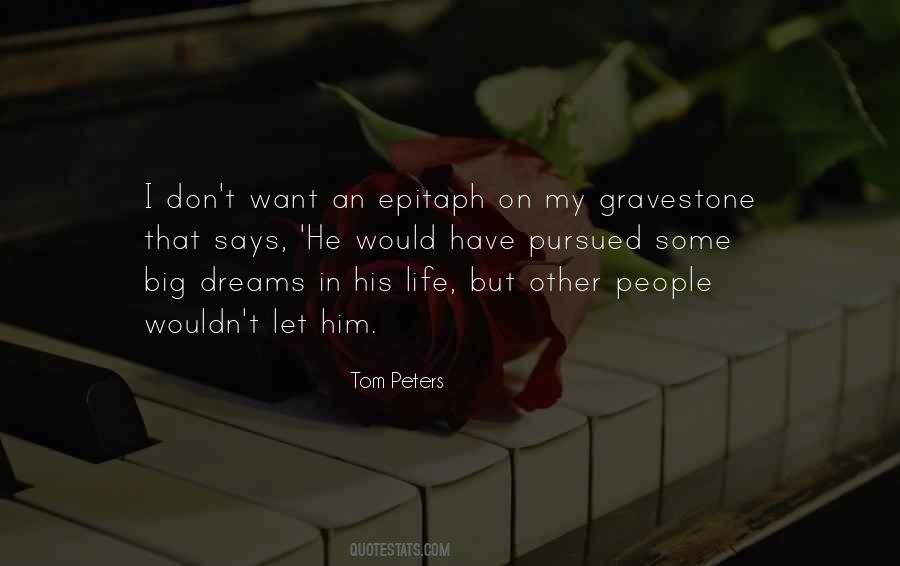 #66. My big dream back then was to buy an IBM Selectric. I still have that dream. I really ought to buy a word-processor. Half the cabbies at Rocky own computers. They tell me they can write failed novels ten times faster on a PC. - Author: Gary Reilly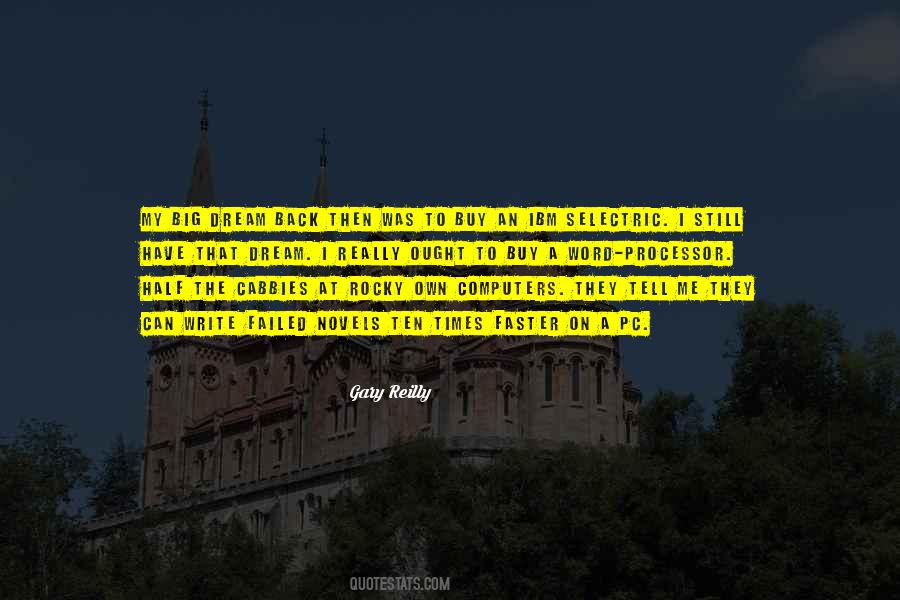 #67. For me my big dream that I would like to achieve is for each book to be better than the books that came before, to continue to improve and to become better as a writer and hopefully to have a long career . - Author: Cassandra Clare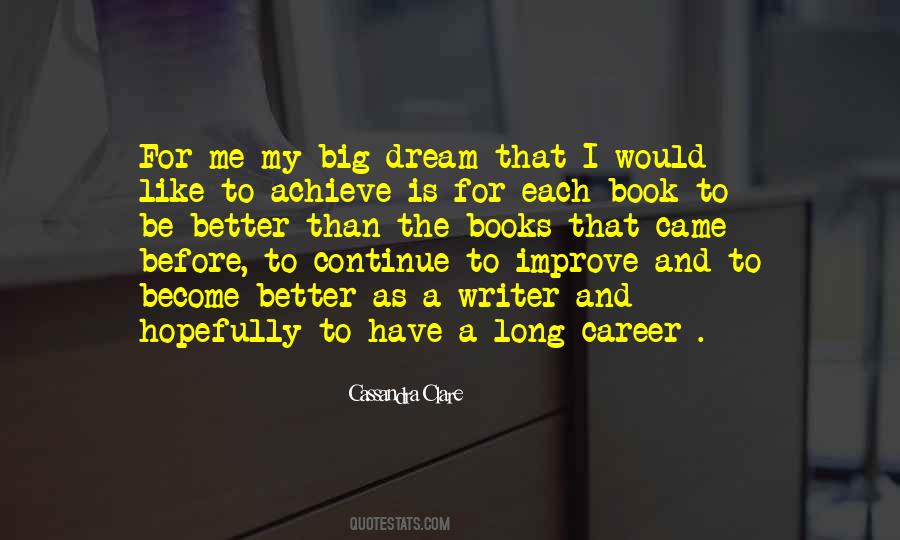 #68. My life was forever changed the day I realized there was a big difference between having a dream and chasing it. - Author: Steve Maraboli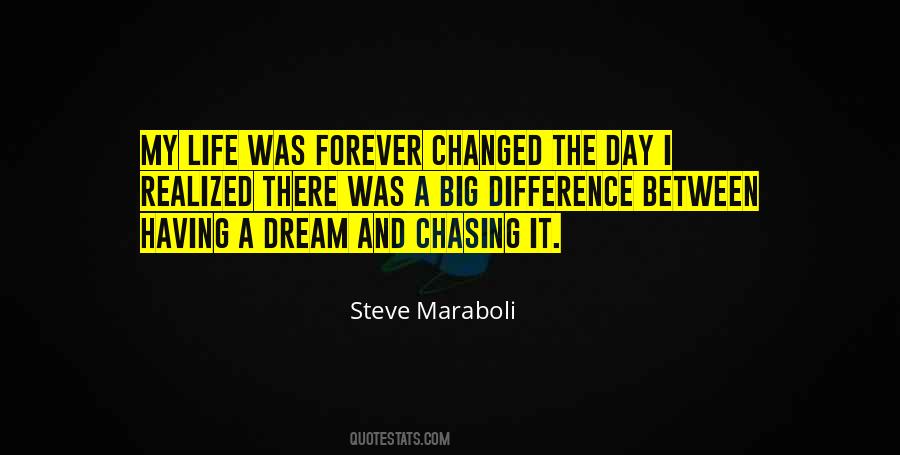 #69. I want my little girl to tell me who she is so I can encourage her and not impose my desires for her on her life. I want her to dream big and to know that if she is willing to earn it, she can have anything - and become anything. - Author: Salma Hayek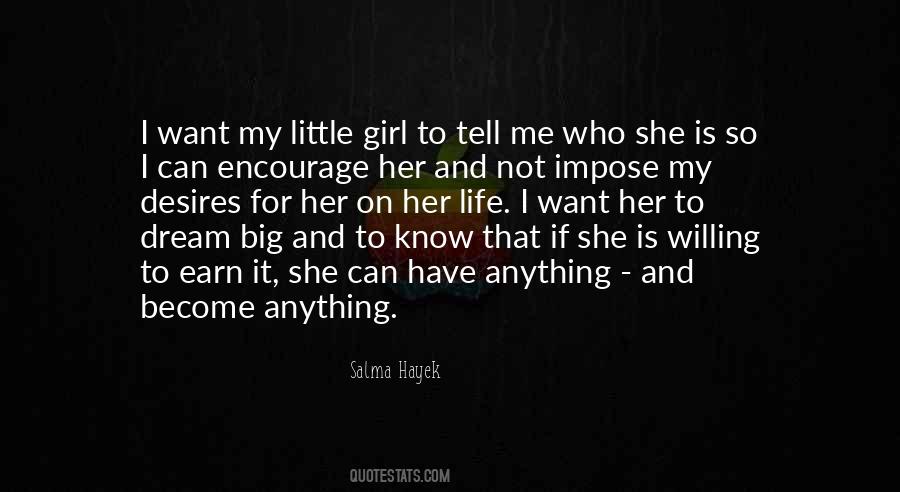 #70. The earth is a planet that contains living things; I am a planet that contains living dreams! The earth revolves around the sun; I revolve around my passion! - Author: Israelmore Ayivor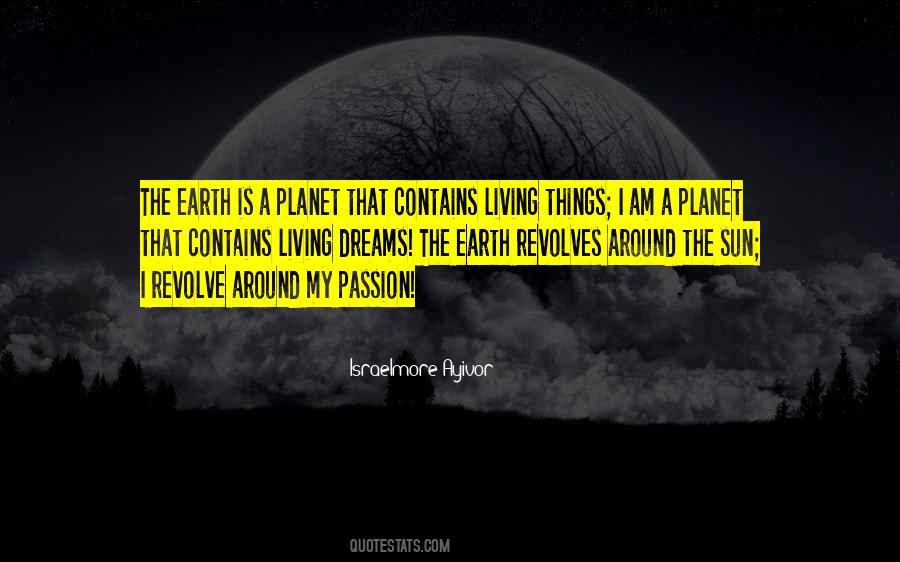 #71. As a child, I used to wonder why markets in my locality were all situated near the main roads. I grew up a little to get the answer; " that business minded people can meet there easily!" Your dream must be situated where they can meet people! - Author: Israelmore Ayivor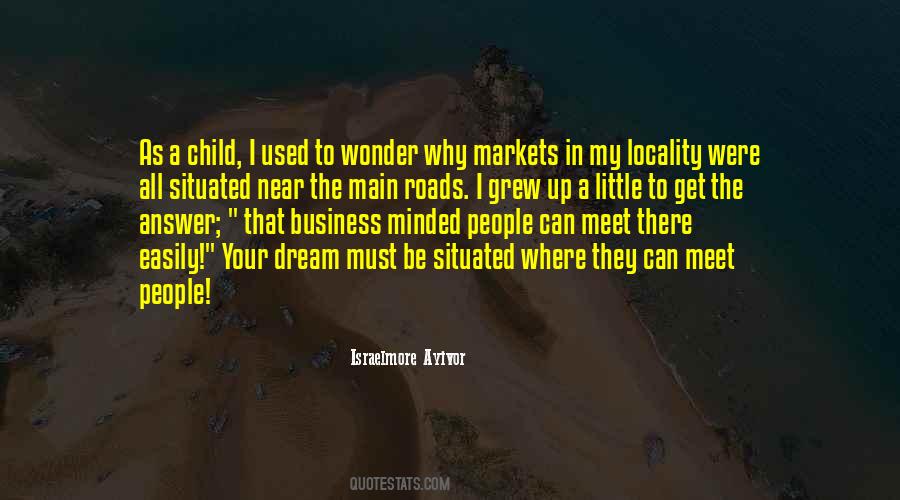 #72. I never noticed the stars before. I always thought of them as great big diamonds that belonged to some one. Now they frighten me. They make me feel that it was all a dream, all my youth. - Author: F Scott Fitzgerald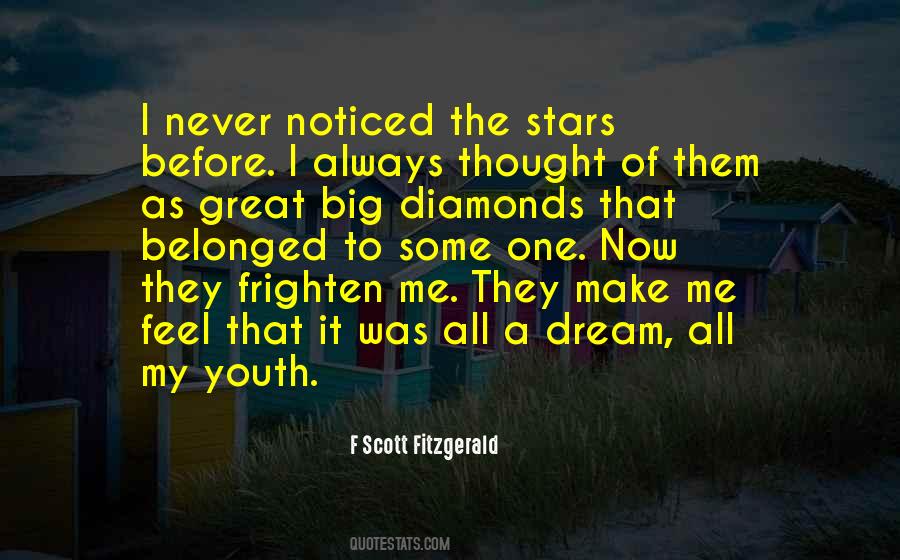 #73. 'If I Can Dream' is my all-time favorite Elvis song. It was a big record, but not as big as it could have been. It was one of those records where you'd think it sold 10 billion copies, but it didn't. - Author: Darlene Love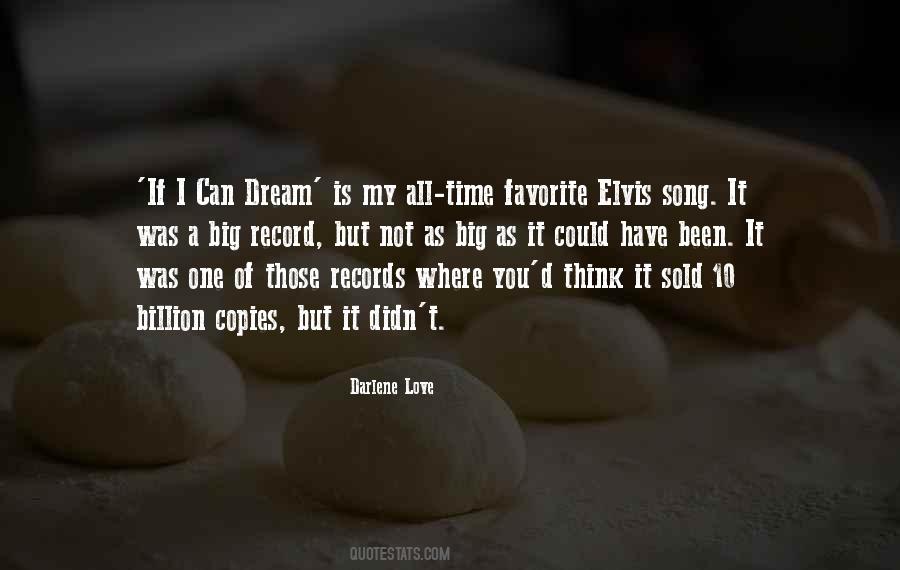 #74. Back when I was younger,
Very ambitious, but often blinded by my hunger.
Some say I dream too big,
And my dream gon' take me under. - Author: Freddie Gibbs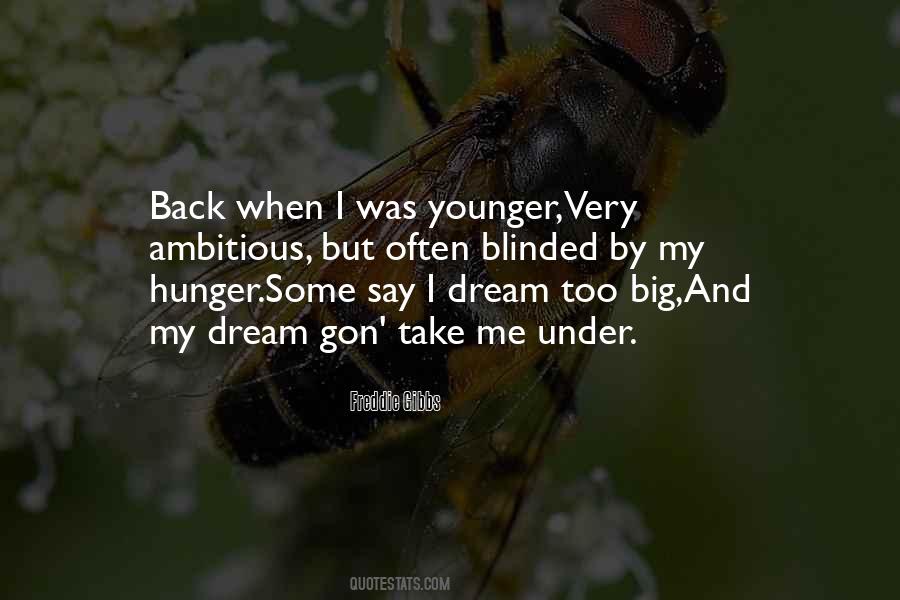 #75. They love the fact you made it, but hate the fact you got it.
The stairway to heaven is packed ... I'm in the lobby.
Too scared to go to sleep, cause most times I often doubt my dreams. - Author: Big K.R.I.T.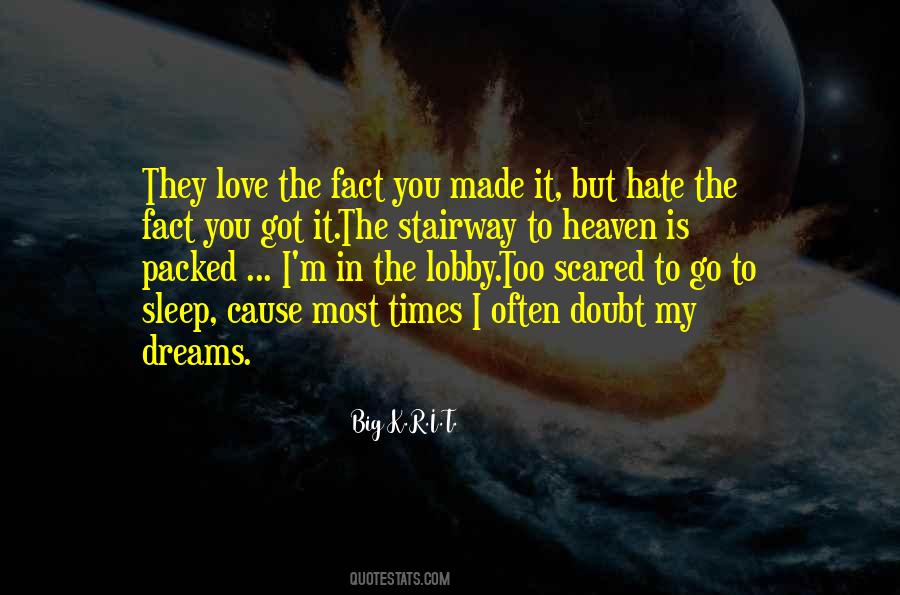 #76. I train my kids to dream really big and impossible dreams and to pursue them doggedly. - Author: Benjamin Jealous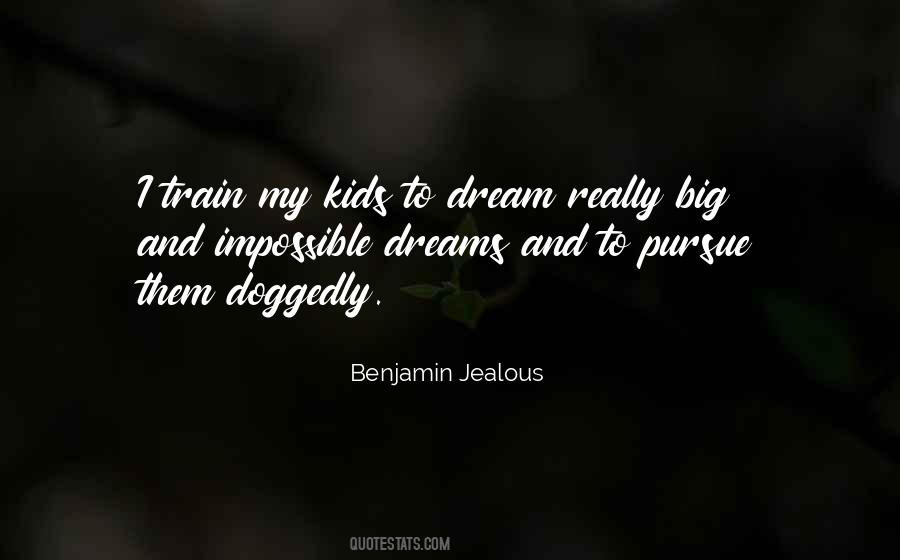 #77. I was once chillin in my room, watching TV, just in a regular place.. And now I'm in this big world, living my dream and, you know, doing what I love. It's just crazy how it all came around. - Author: Justin Bieber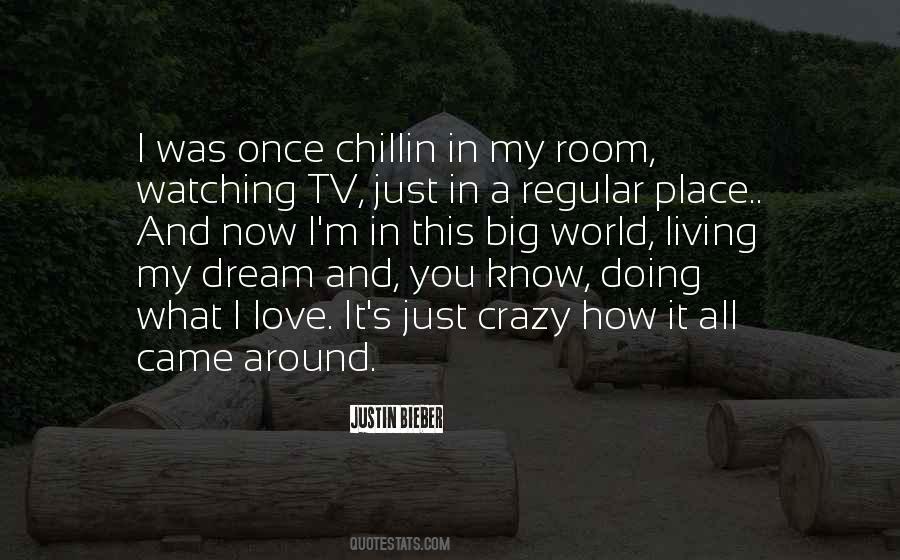 #78. My dream was to work for one of the big electronics companies like Sony or Panasonic. - Author: Shuji Nakamura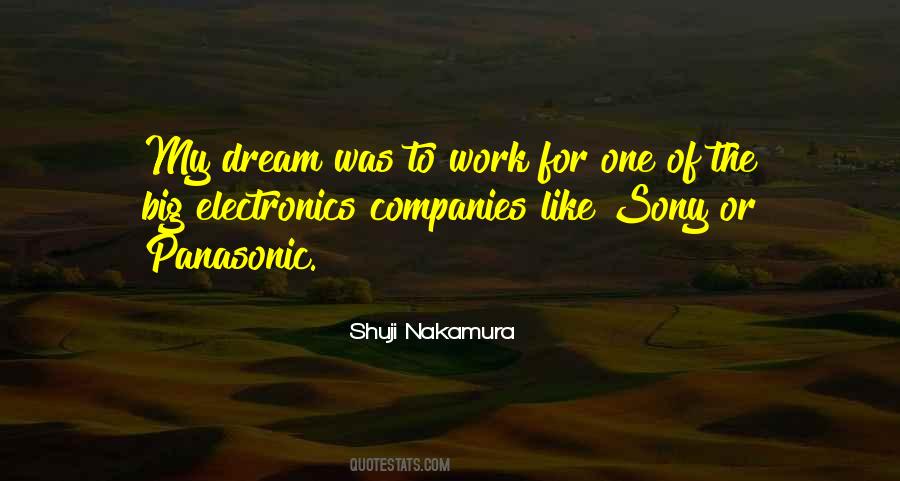 #79. I always wanted to make big action movies as a kid, and that was my dream. In a way, 'Swingers' was the thing I suffered through the most doing because of all that dialog, so I could eventually be allowed to do a big dumb action movie, honestly. - Author: Doug Liman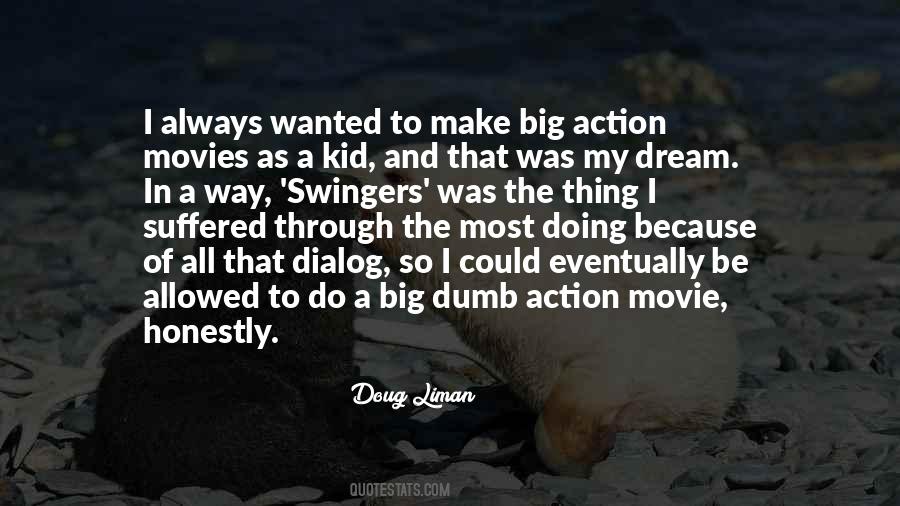 #80. I am one of four girls and was inspired by my father to dream big. Some girls want to be doctors, but I wanted to run a company. - Author: Denise Morrison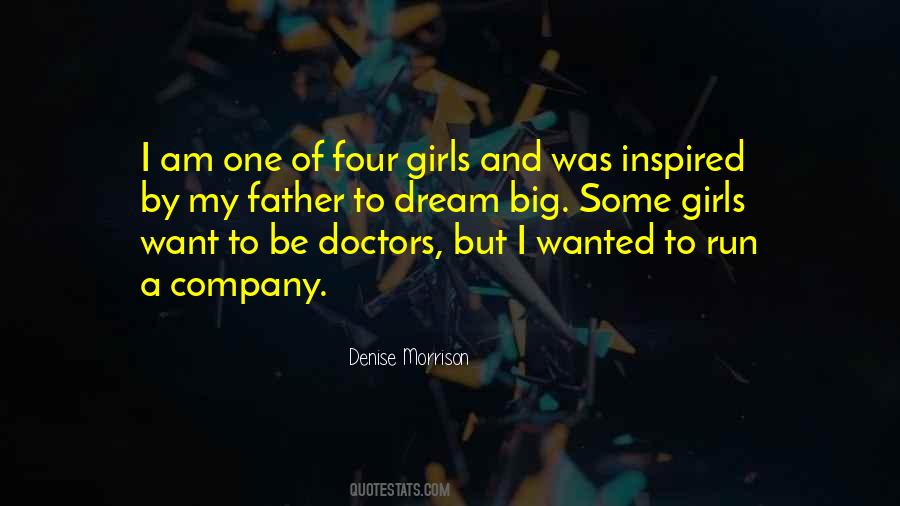 Famous Authors
Popular Topics