Mindfulness Love Famous Quotes & Sayings
List of top 100 famous quotes and sayings about mindfulness love to read and share with friends on your Facebook, Twitter, blogs.
Top 100 Quotes About Mindfulness Love
#1. Concepts such as loving kindness should never be used as weapons against our real feelings. - Author: Sharon Salzberg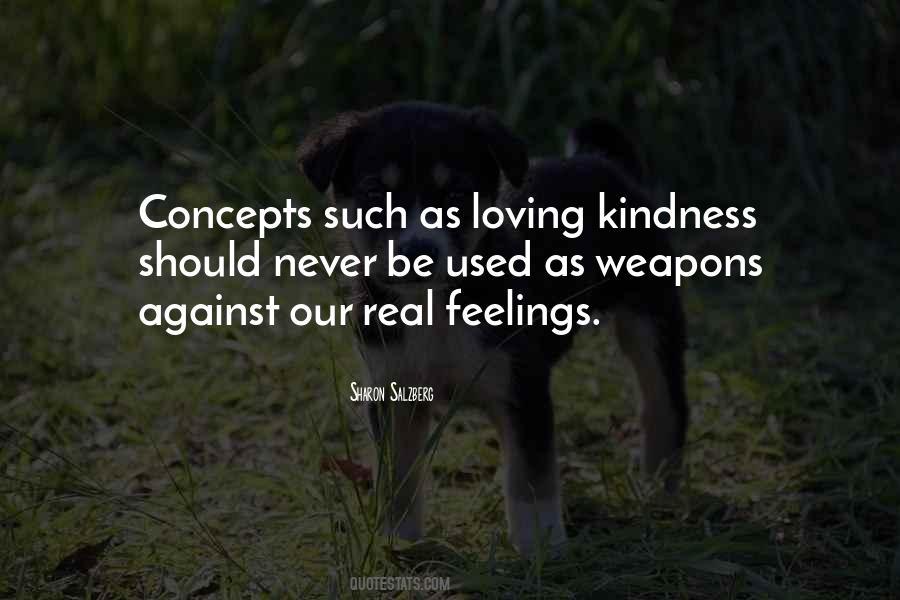 #2. Compassion has more to do with the attitude we bring to our encounters with other people than with any quantifiable metric of giving. - Author: Sharon Salzberg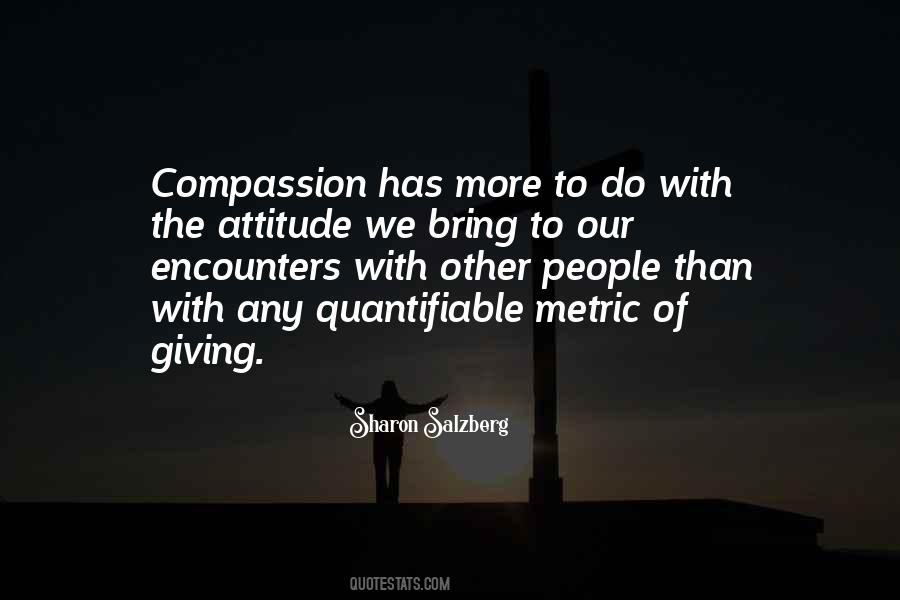 #3. If we truly loved ourselves, we'd never harm another. That is a truly revolutionary, celebratory mode of self-care. - Author: Sharon Salzberg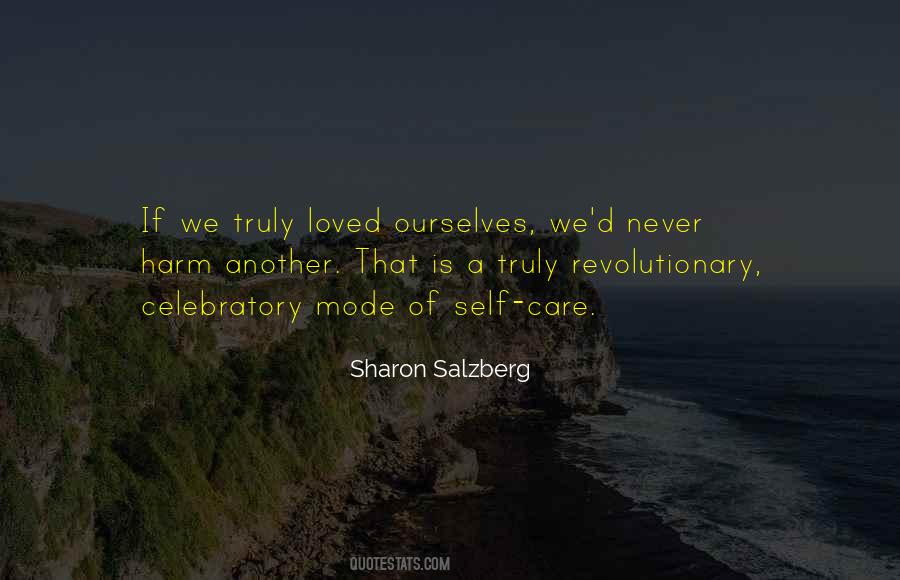 #4. For me, I love food. It's my greatest pleasure and also the thing that could ruin you as well. It's one of those things where, if you're not thoughtful about it, it could be unhealthy. But if there's a mindfulness about it; it actually is a wonderful tool of emotional expression. - Author: Jon Favreau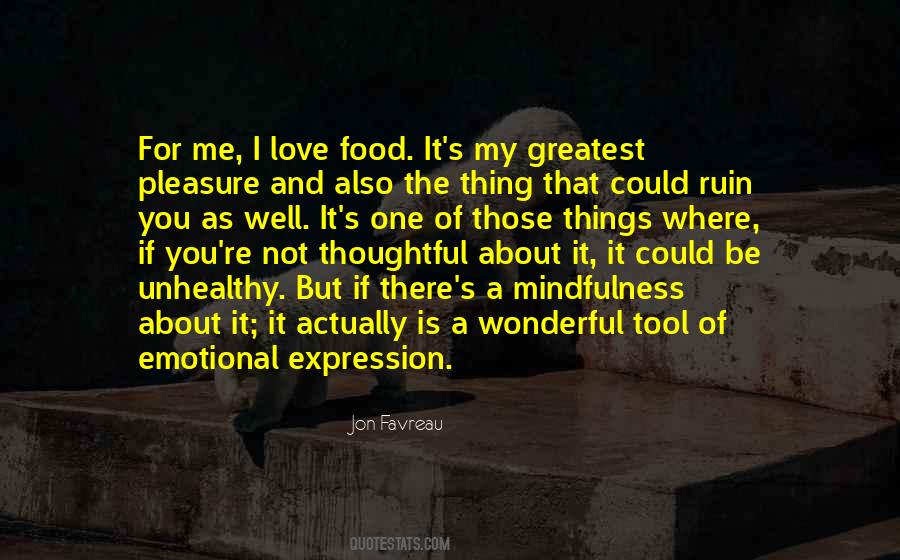 #5. The more we practice mindfulness, the more alert we become to the cost of keeping secrets. - Author: Sharon Salzberg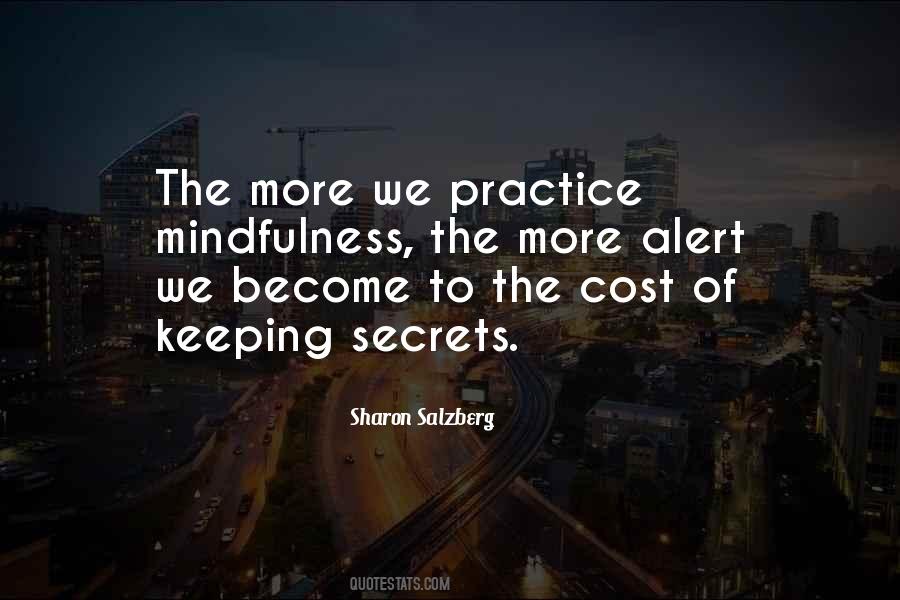 #6. When you prepare a meal with artful awareness, it's delicious and healthy. You have put your mindfulness, love, and care into the meal, then people will be eating your love. - Author: Thich Nhat Hanh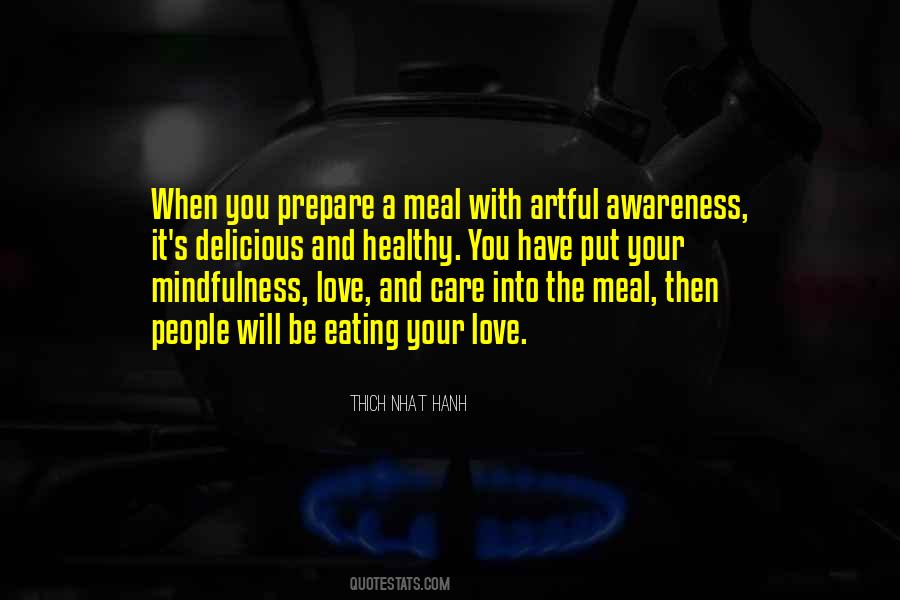 #7. In order to free ourselves from our assumptions about love, we must ask ourselves what long-held, often buried assumptions are and then face them, which takes courage, humility, and kindness. - Author: Sharon Salzberg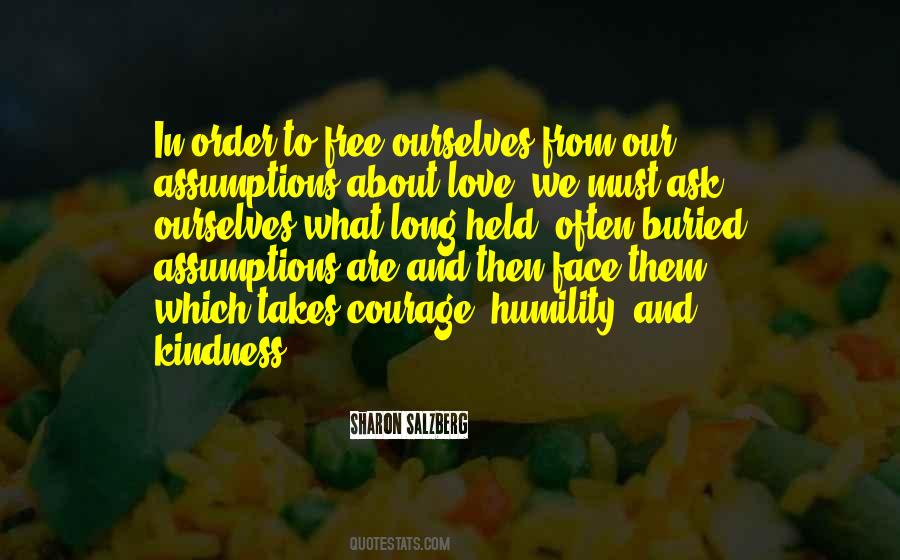 #8. By perfecting the practices of zazen and mindfulness, by learning patience and love and by realizing the essential emptiness of all phenomena, you will discover nirvana. - Author: Frederick Lenz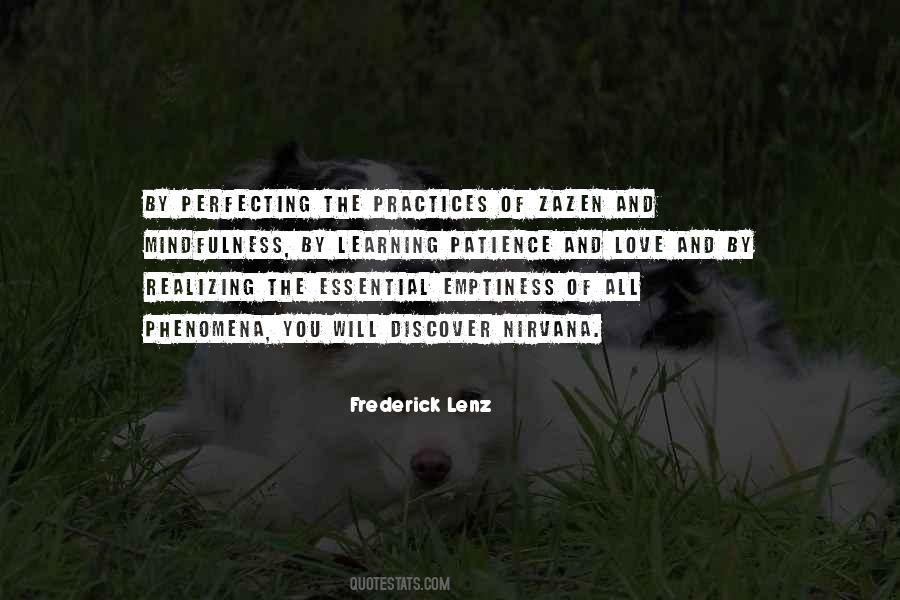 #9. Sympathetic joy is a practice. It takes time and effort to free ourselves of the scarcity story that most of us have learned along the way, the idea that happiness is a competition, and that someone else is grabbing all the joy. - Author: Sharon Salzberg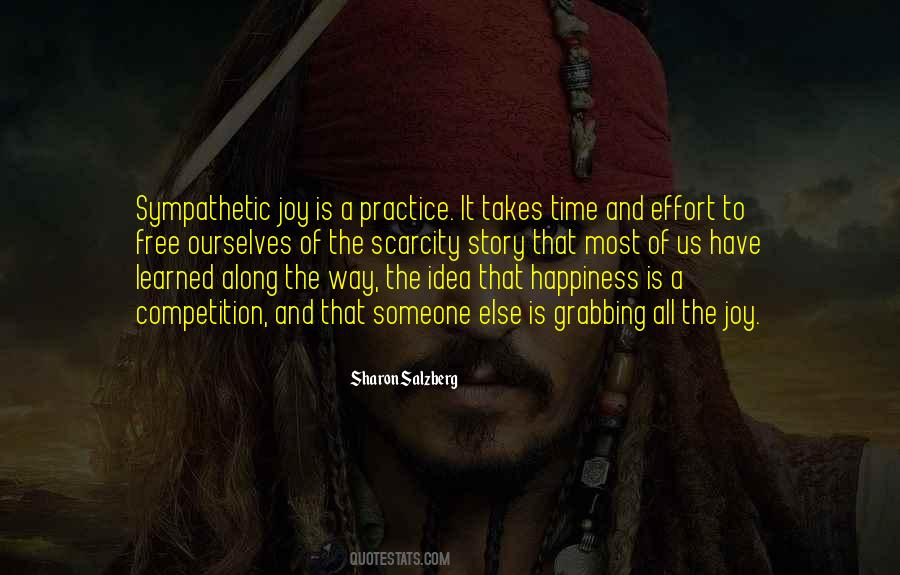 #10. Seeking happiness is not the problem. The problem is that we often do not know where and how to find genuine happiness and so make the mistakes that cause suffering for ourselves & others. - Author: Sharon Salzberg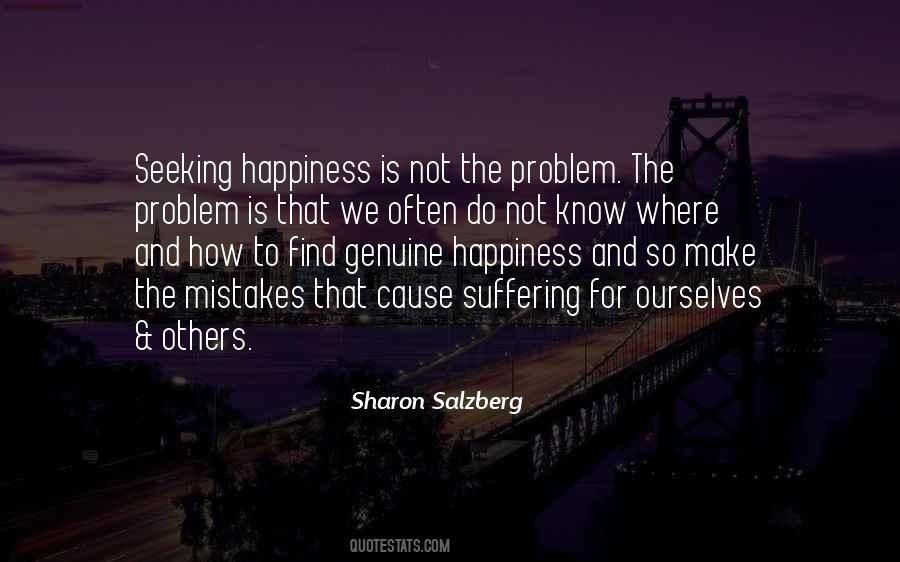 #11. The overarching practice of letting go is also one of gaining resilience and insight. - Author: Sharon Salzberg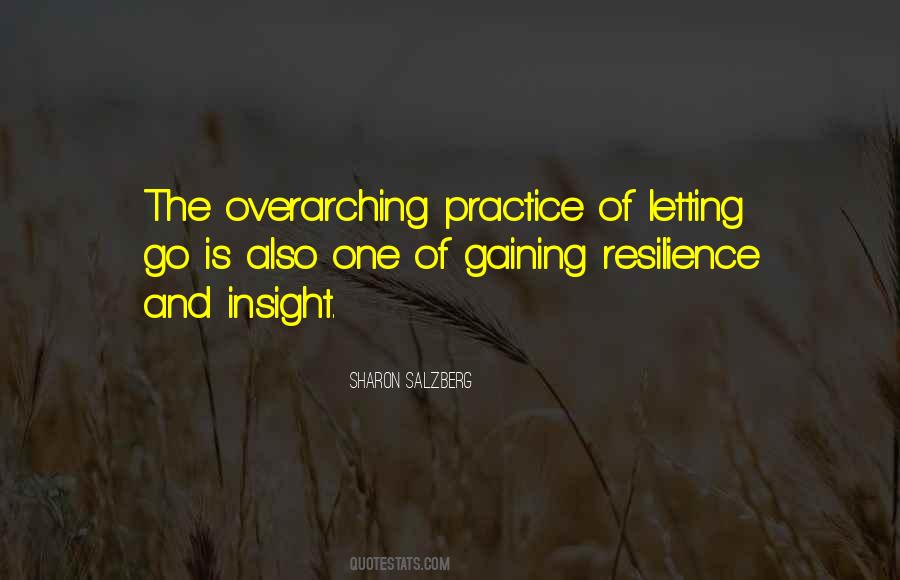 #12. Attachment strangles freedom and clarity and makes us a puppet to our desires and cravings; attachment is the root of suffering, a root that if left unattended grows into a tree which drops the fruits of anger, greed, envy, dispersion, competitiveness, ego and pain - Author: Evan Sutter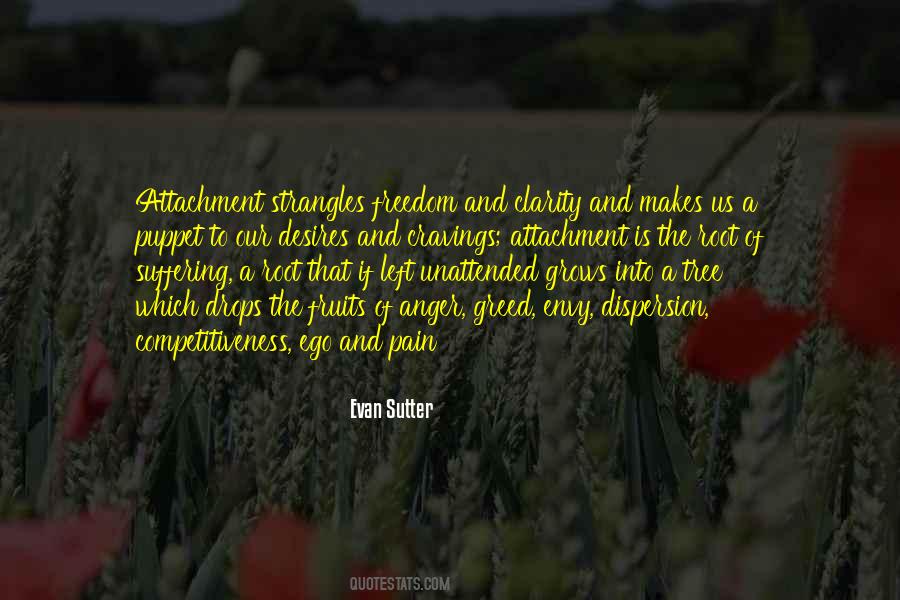 #13. When we identify the thoughts that keep us from seeing others as they truly are we prepare the ground for real love. - Author: Sharon Salzberg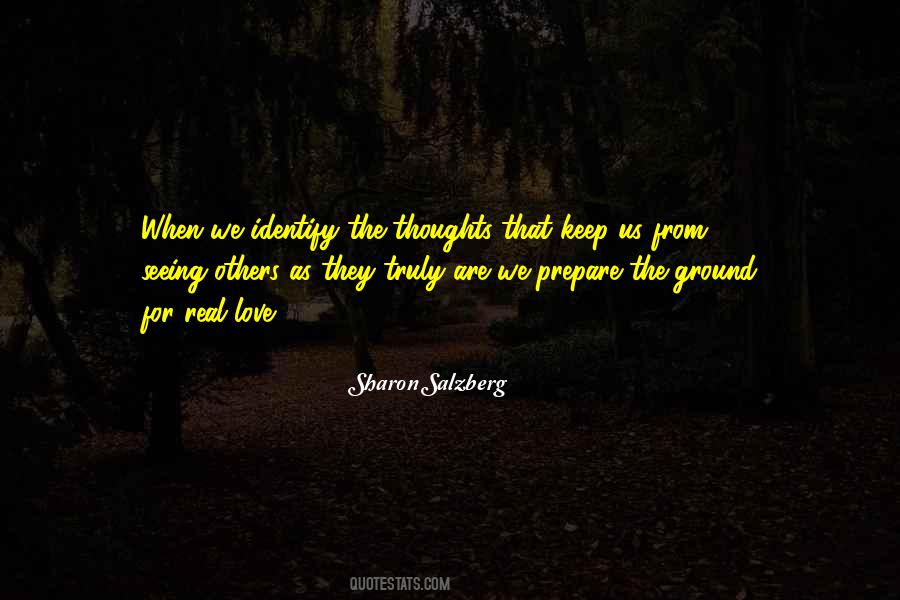 #14. Your spiritual heart imbibes in the primordial light and, as you dance towards infinity, you begin to see all things are held together by the power of love. - Author: Earthschool Harmony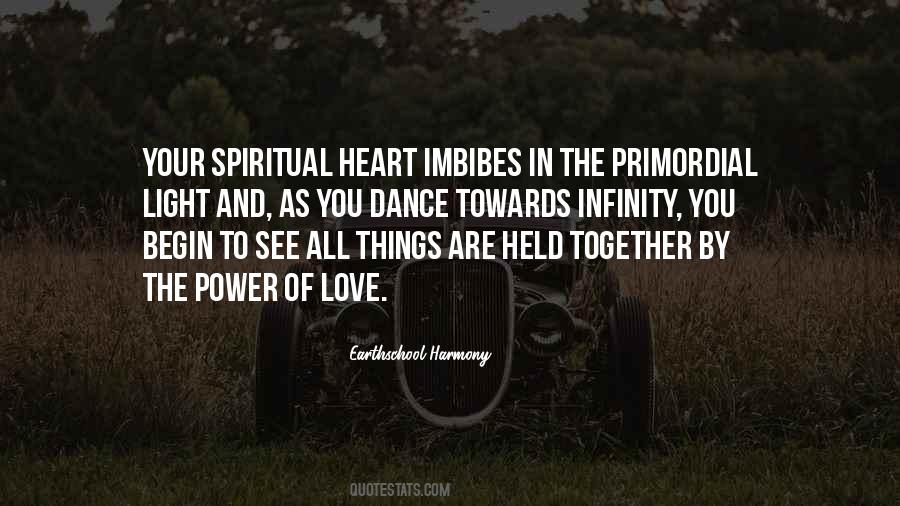 #15. True wealth is contentment, and happiness is forgetting to worry how you are and how much you have. - Author: Robert Thurman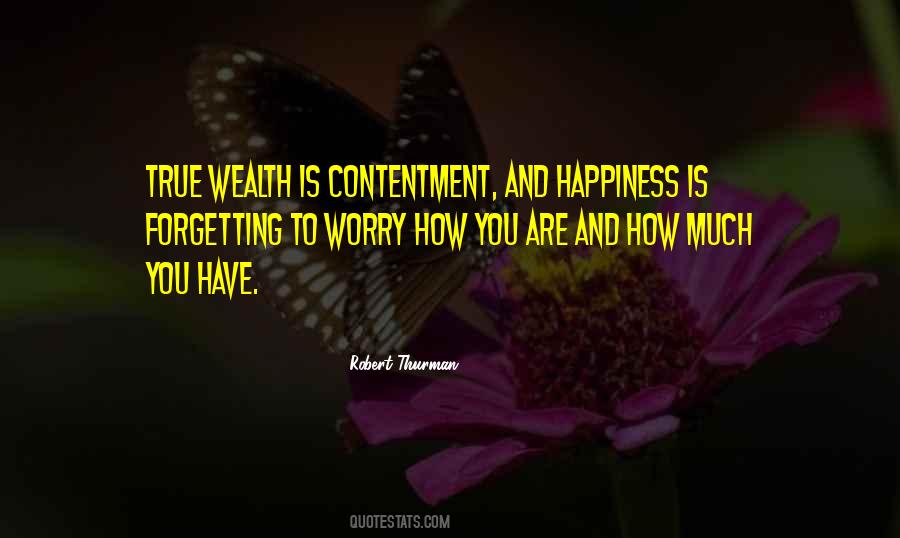 #16. Although much of the work we do in committed relationships we do with our partners, sometimes it's necessary to start with ourselves. - Author: Sharon Salzberg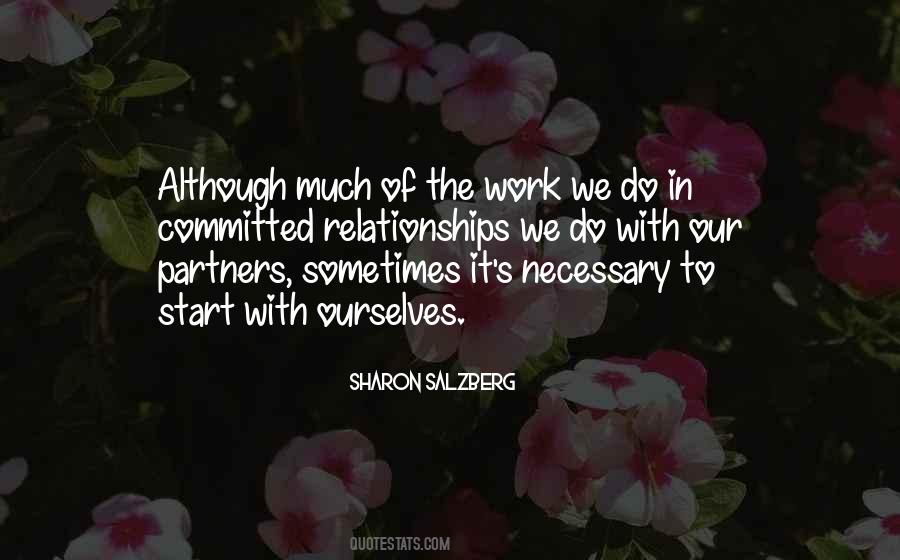 #17. Paying attention to the ethical implications of our choices has never been more pressing - or more complicated - than it is today. - Author: Sharon Salzberg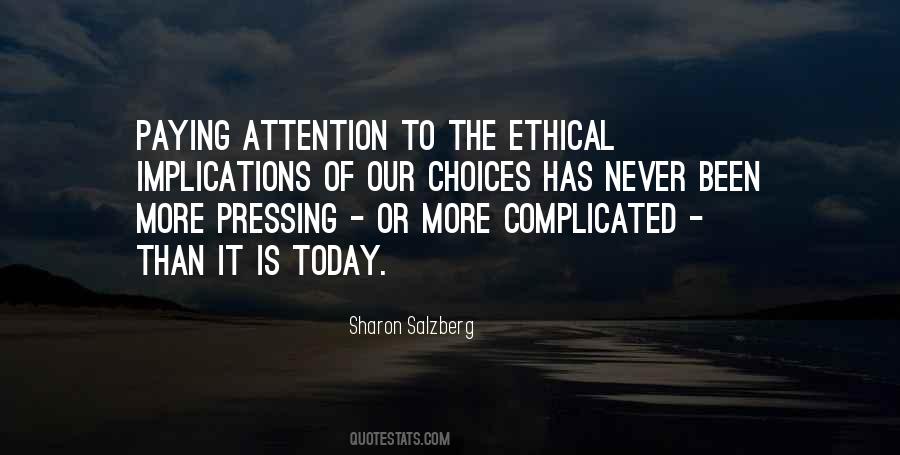 #18. Metta sees truly that our integrity is inviolate, no matter what our life situation may be. We do not need to fear anything. We are whole: our deepest happiness is intrinsic to the nature of our minds, and it is not damaged through uncertainty and change. - Author: Sharon Salzberg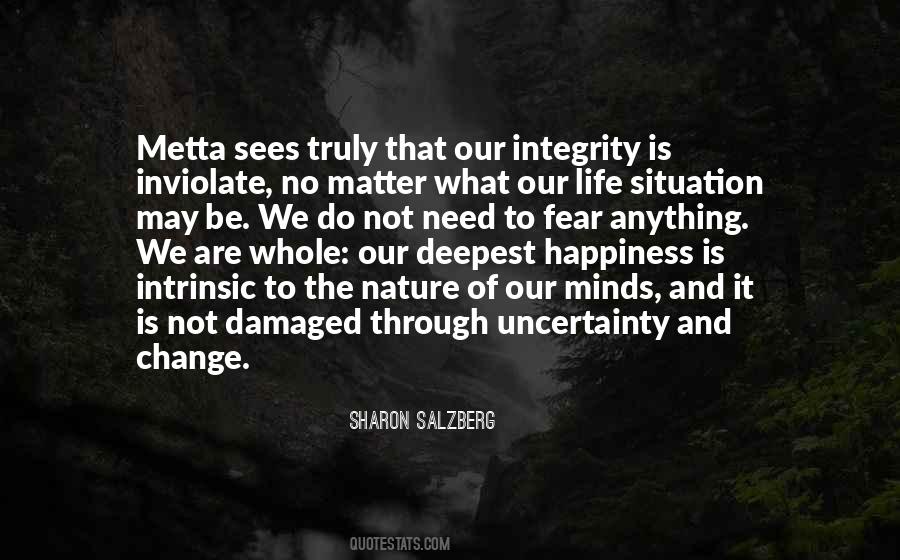 #19. The journey to loving ourselves doesn't mean we like everything. - Author: Sharon Salzberg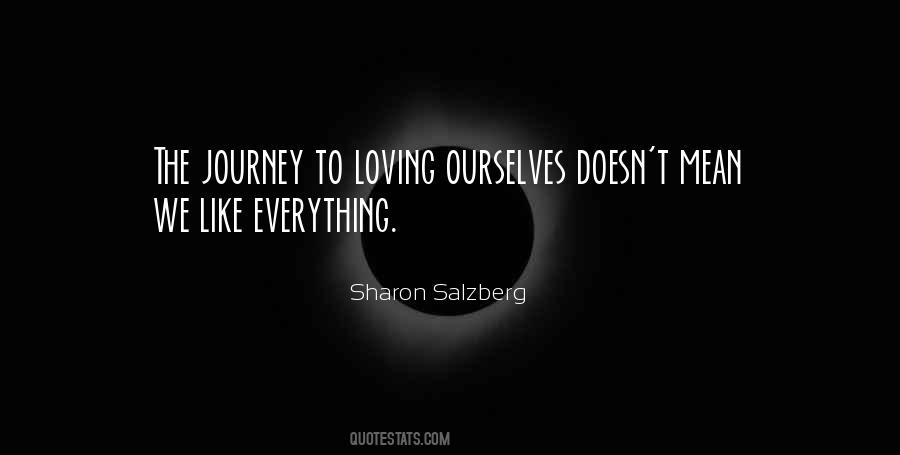 #20. The first definition of love is to be there. This is a practice. How can you love if you are not there? In order to love you have to be there, body and mind united. A true lover knows that the practice of mindfulness is the foundation of true love. - Author: Thich Nhat Hanh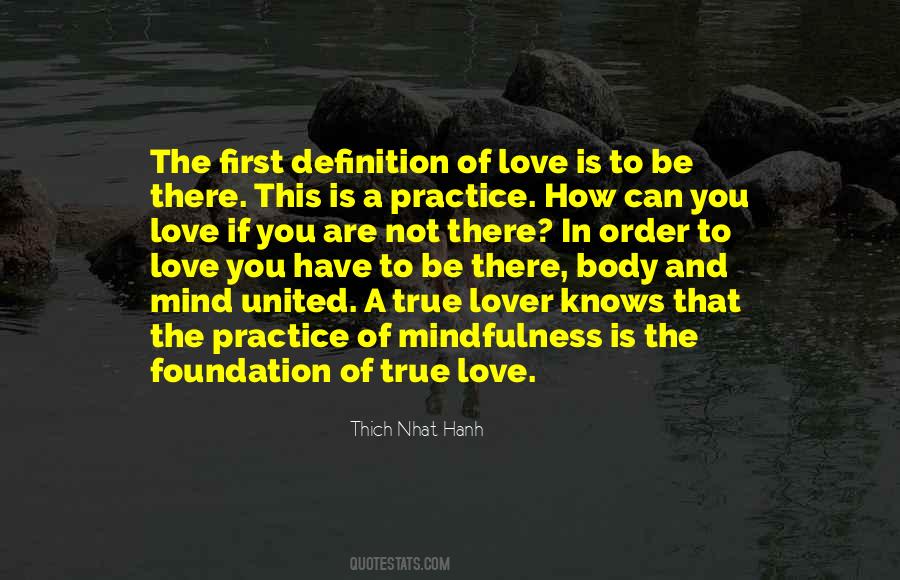 #21. The secure attachment of Western psychology is actually akin to Buddhist non-attachment; avoid-ant attachment is the inverse of being mindful and present; and anxious attachment aligns with Buddhist notions of clinging and grasping. - Author: Sharon Salzberg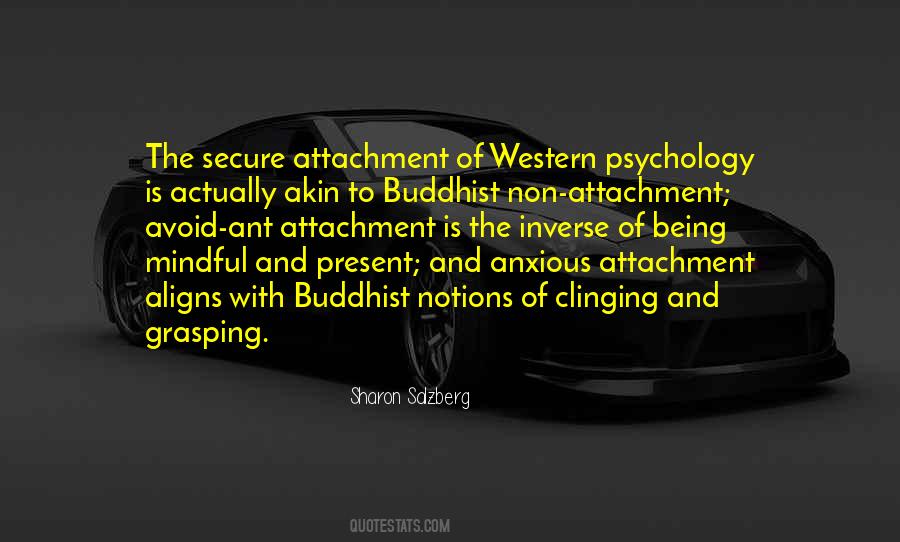 #22. A relationship is the union of two psychological systems. - Author: Sharon Salzberg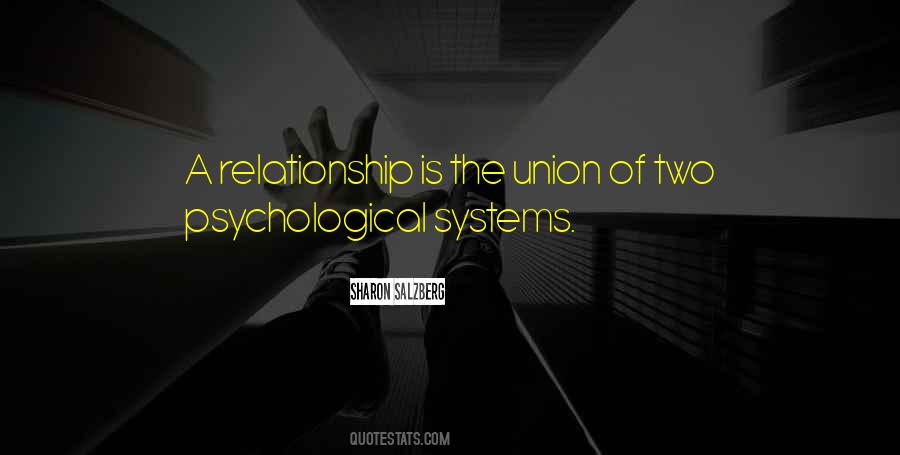 #23. Laughing at your pettiness probably works better than scolding yourself for it. - Author: Sharon Salzberg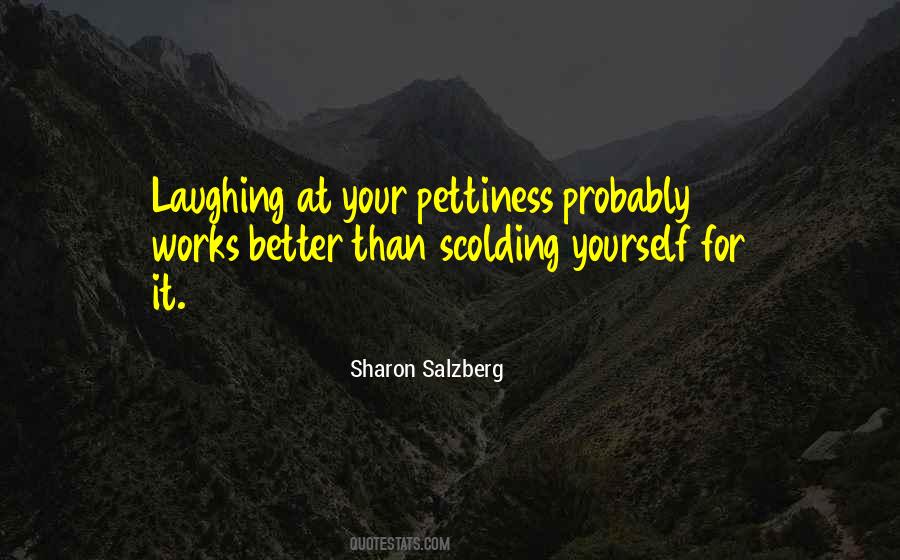 #24. If you love too much, you lose yourself.
If you love too little, you never find yourself. - Author: Janet Gallagher Nestor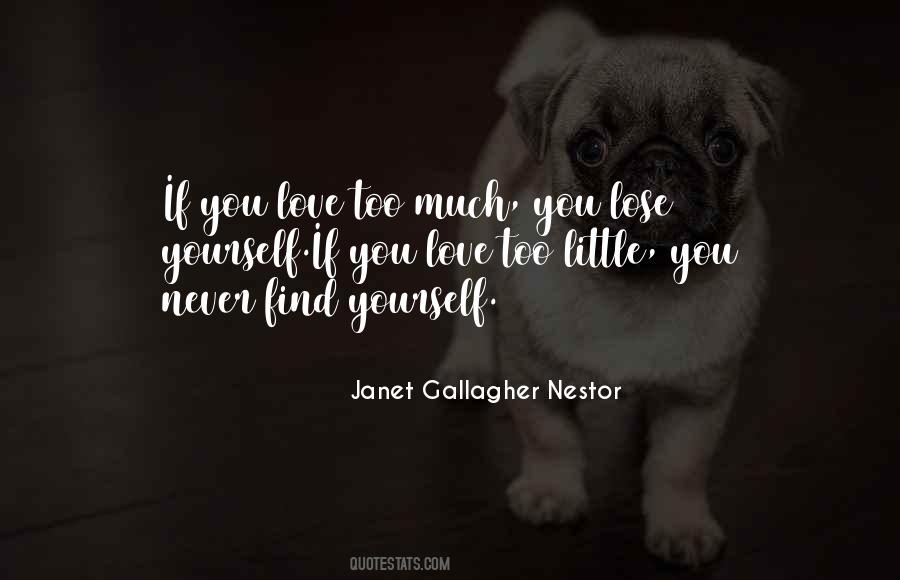 #25. The virtues of free enterprise can become distorted by greed & delusion. - Author: Allan Lokos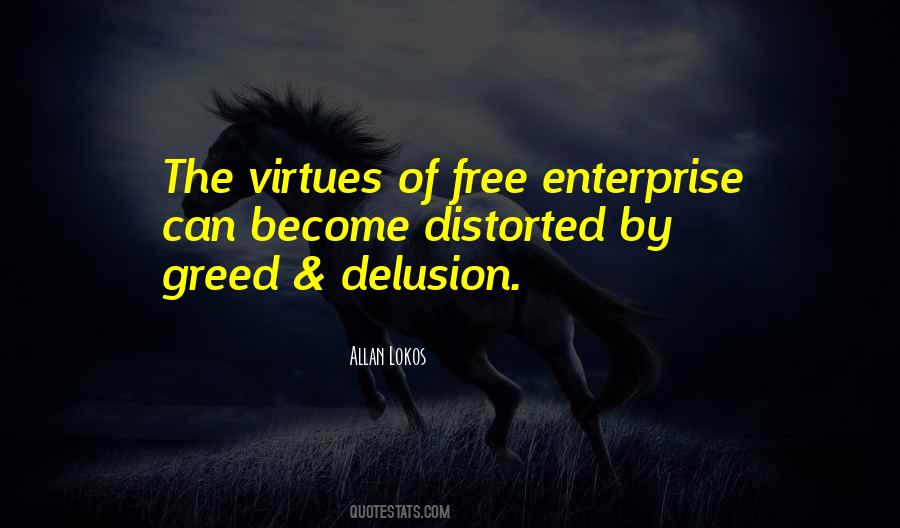 #26. First and foremost, if we maintain healthy emotional boundaries and direct love and kindness inwards, we are taking care of ourselves and secondly we are giving a subliminal message to others about how we wish to be treated. People tend to subconsciously treat us how we treat ourselves. - Author: Christopher Dines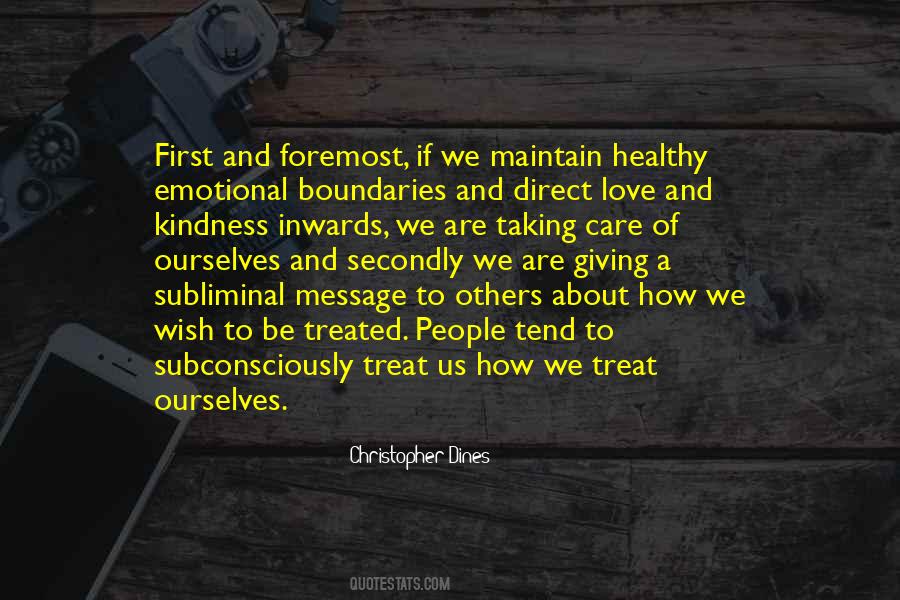 #27. The more we practice sympathetic joy, the more we come to realize that the happiness we share with others is inseparable from our own happiness. - Author: Sharon Salzberg
#28. How you refill. Lying there. Something like happiness, just like water, pure and clear pouring in. So good you don't even welcome it, it runs through you in a bright stream, as if it has been there all along. - Author: Peter Heller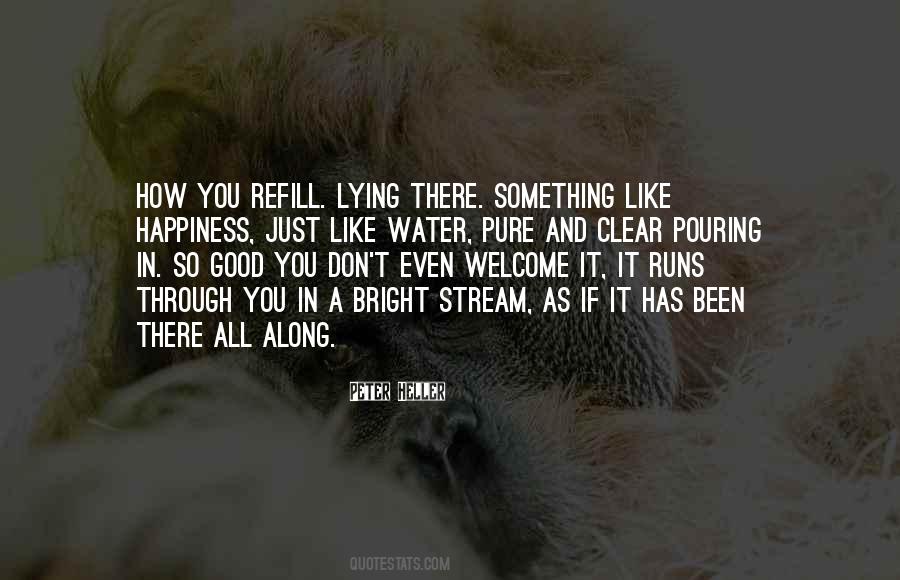 #29. Forgiveness is the way we break the grip that long-held resentments have on our hearts. - Author: Sharon Salzberg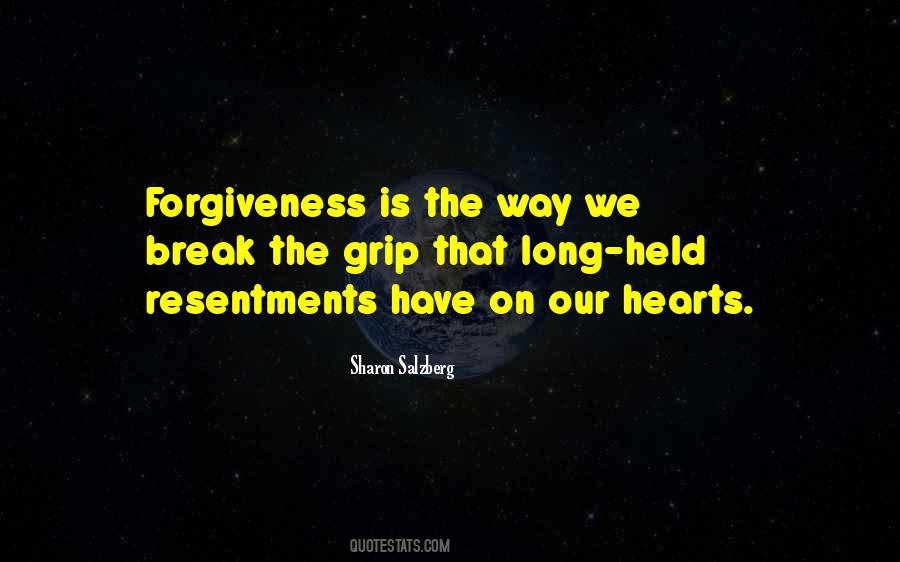 #30. We live mindfully by harvesting evocative scenes to pay attention to including the mountains and oceans, flowers and trees, love and friendship, music and literature, art and poetry. - Author: Kilroy J. Oldster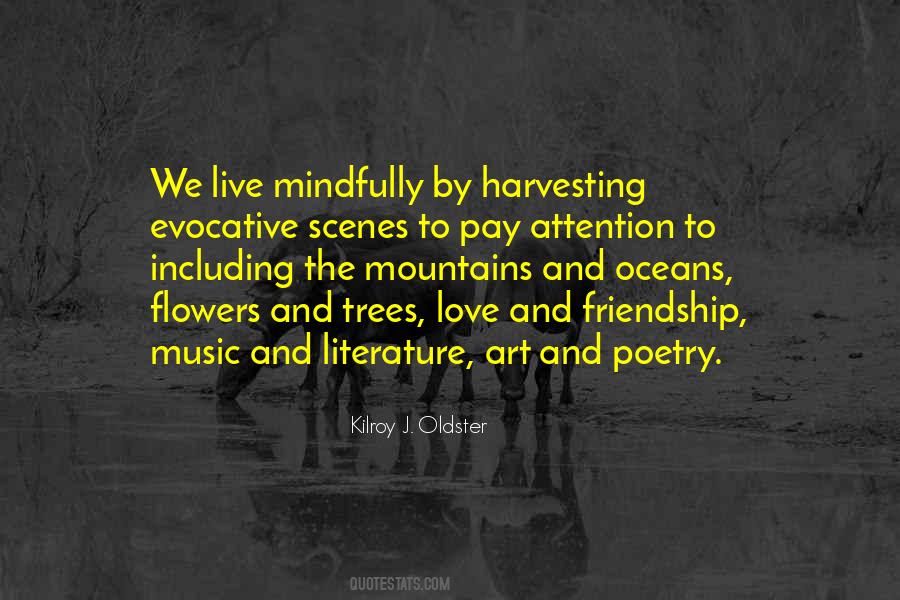 #31. Cultivation of positive emotions, including self-love and self-respect, strengthens our inner resources and opens us to a broader range of thoughts and actions. - Author: Sharon Salzberg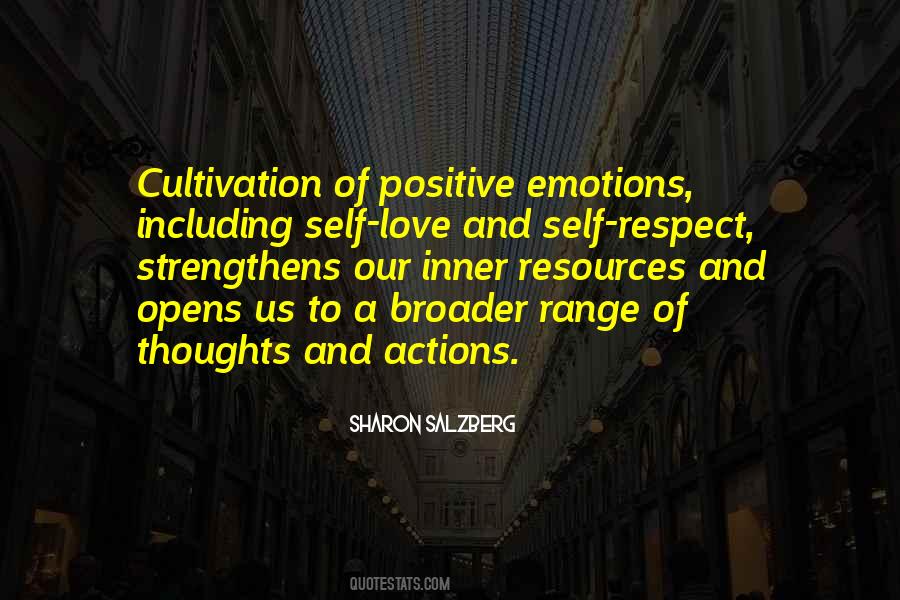 #32. Mindfulness won't ensure you'll win an argument with your sister. Mindfulness won't enable you to bypass your feelings of anger or hurt either. But it may help you see the conflict in a new way, one that allows you to break through old patterns. - Author: Sharon Salzberg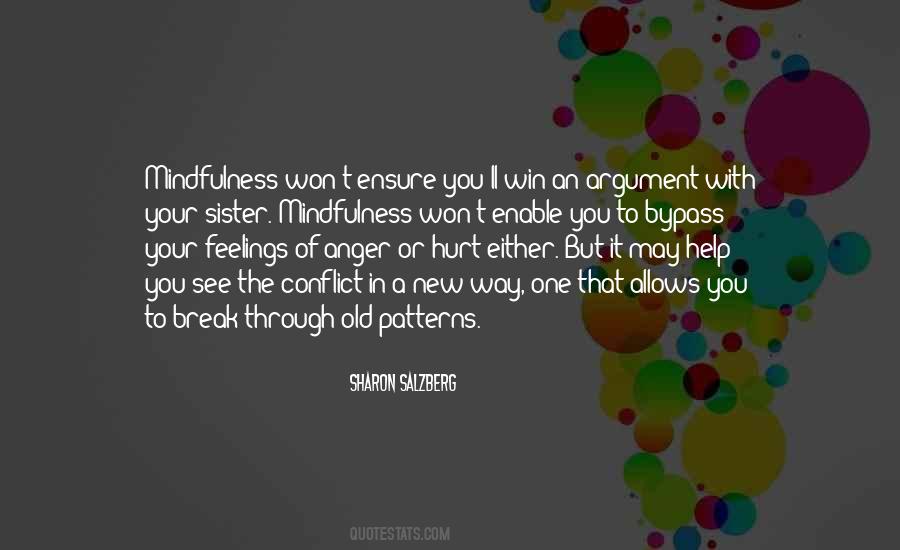 #33. Buddhism has a term for the happiness we feel at someone else's success or good fortune. Sympathetic joy, as it is known, invites us to celebrate for others. - Author: Sharon Salzberg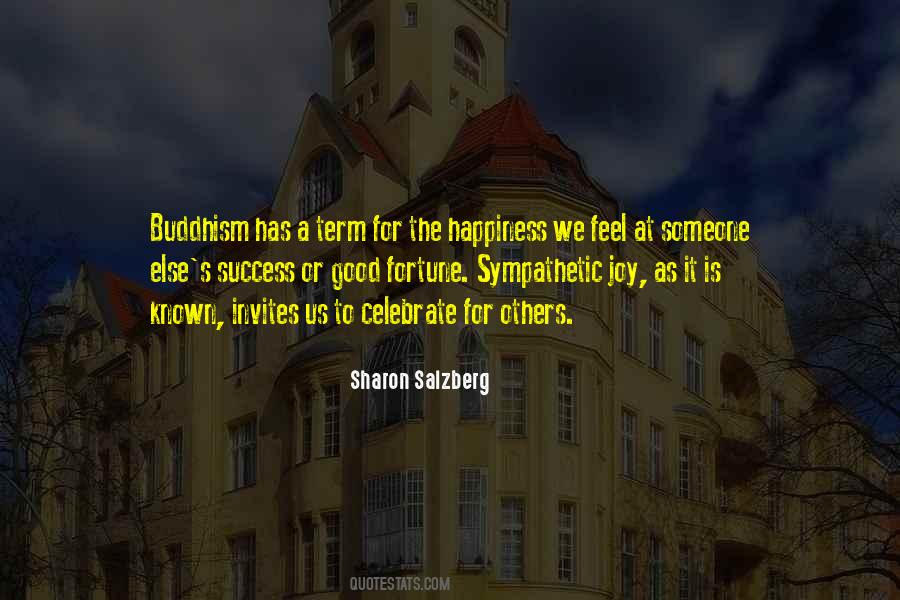 #34. I love that I live a creative life. It is in the work that I do - acting, writing, and directing. It's also in the mindfulness of every part of my life, from a meal that I prepare for family and friends to putting my imagination to work in a garden. - Author: Regina Taylor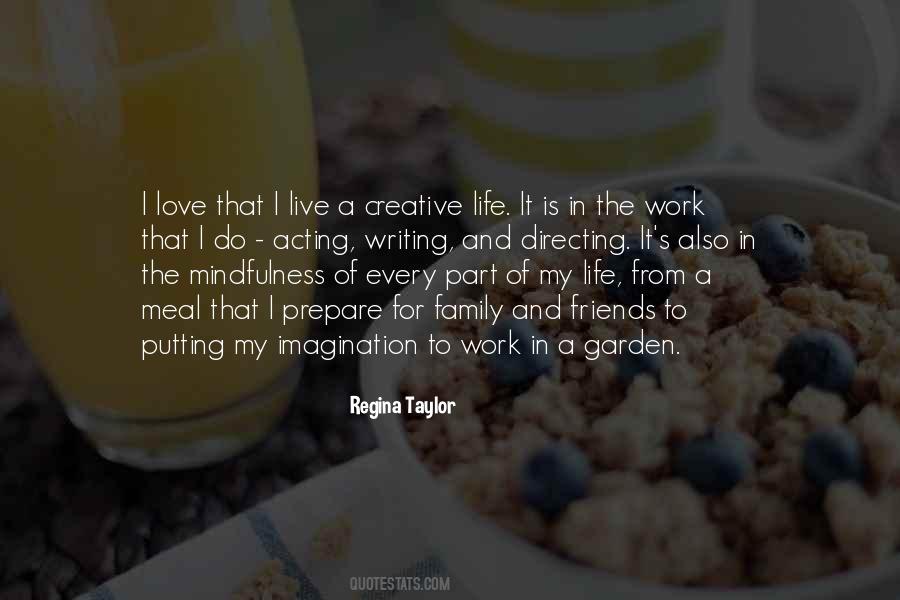 #35. How can the heart and mind work together? The mind wants logic and to travel in straight lines, while the heart wants to be free and travel upward in spirals to dizzying heights. - Author: Gillian Duce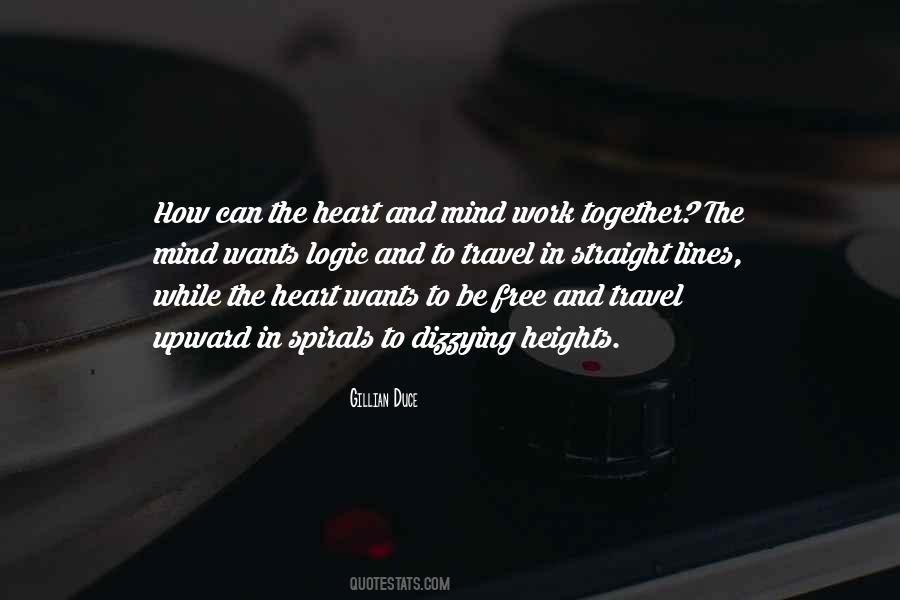 #36. To relinquish the futile effort to control change is one of the strengthening forces of true detachment & thus true love. - Author: Sharon Salzberg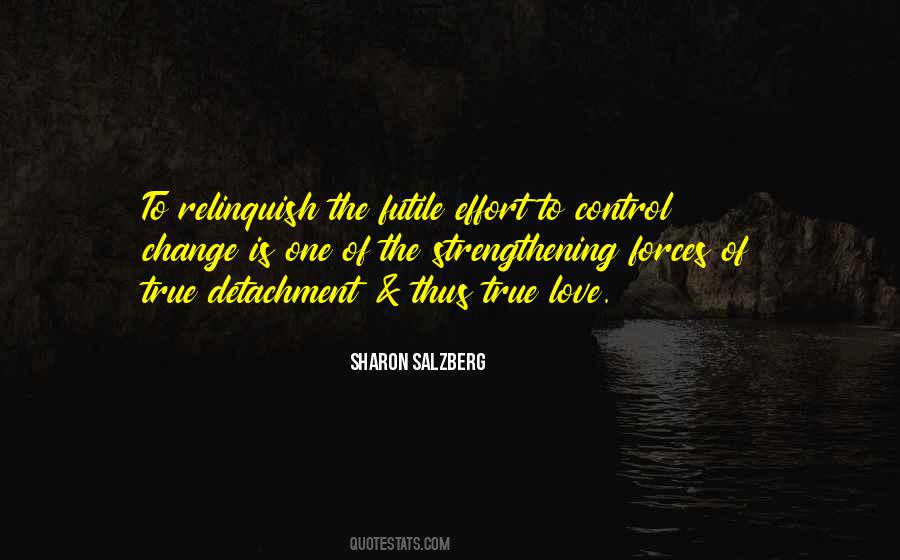 #37. The breath is the first tool for opening the space between the story you tell yourself about love. - Author: Sharon Salzberg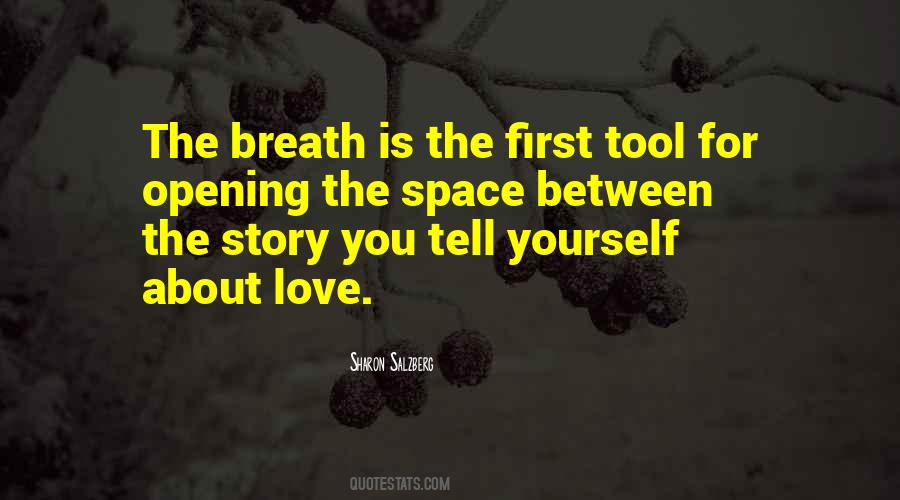 #38. George Washington Carver explained, "Anything will give up its secrets if you love it enough." Mindfulness is this kind - Author: Jack Kornfield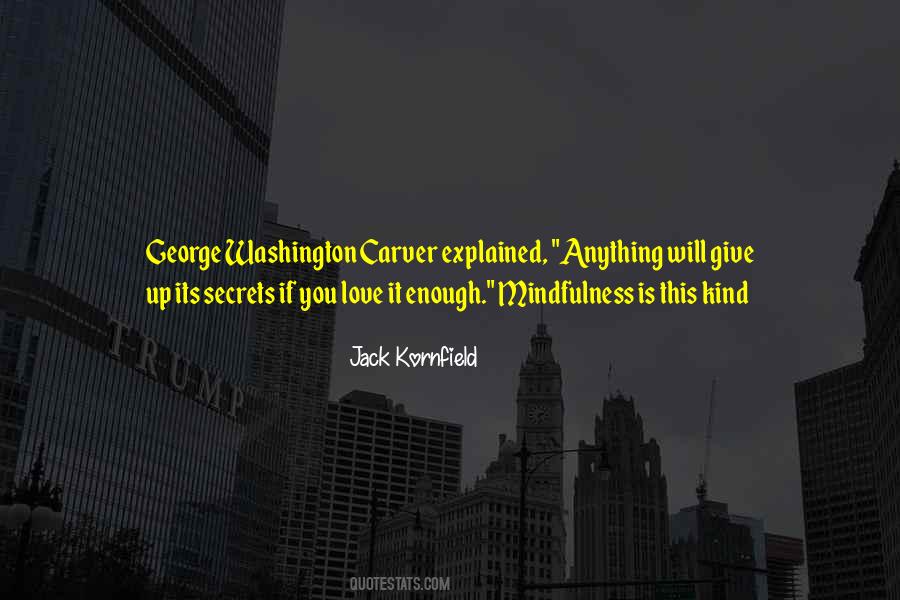 #39. There's no denying that it takes effort to set the intention to see our fundamental connected-ness with others. - Author: Sharon Salzberg
#40. The heart contracts when our bodies are overcome by shame. - Author: Sharon Salzberg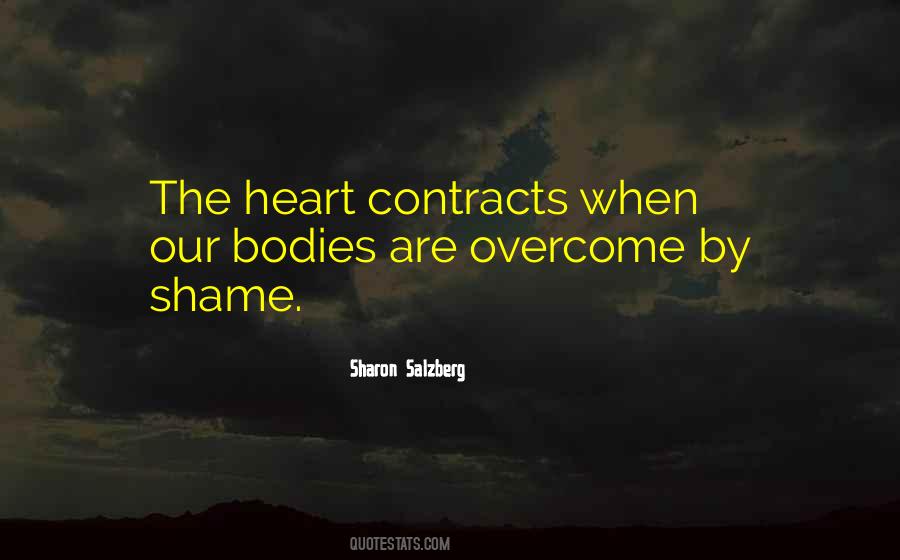 #41. As human beings, we're capable of greatness of spirit, an ability to go beyond the circumstances we find ourselves in, to experience a vast sense of connection to all of life. - Author: Sharon Salzberg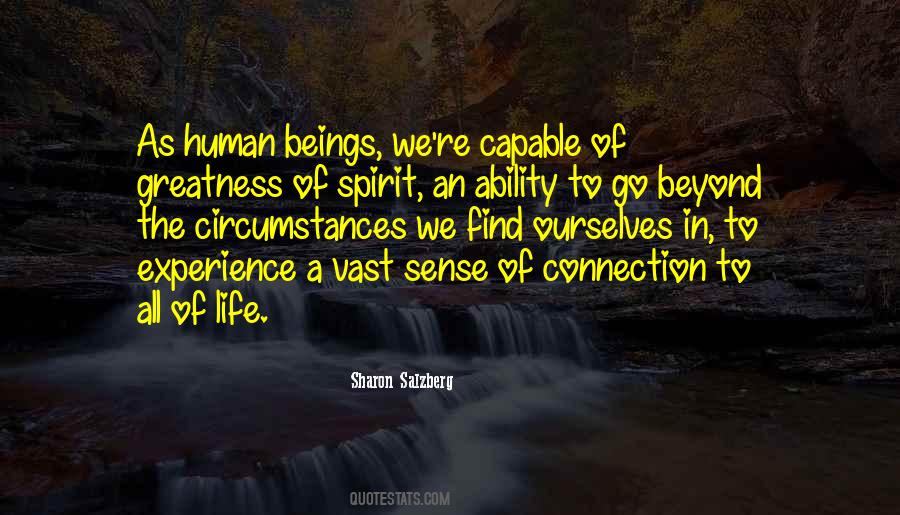 #42. In your present-moment awareness, awaken to your innocence, your trust, your love, your eternal being. - Author: Deepak Chopra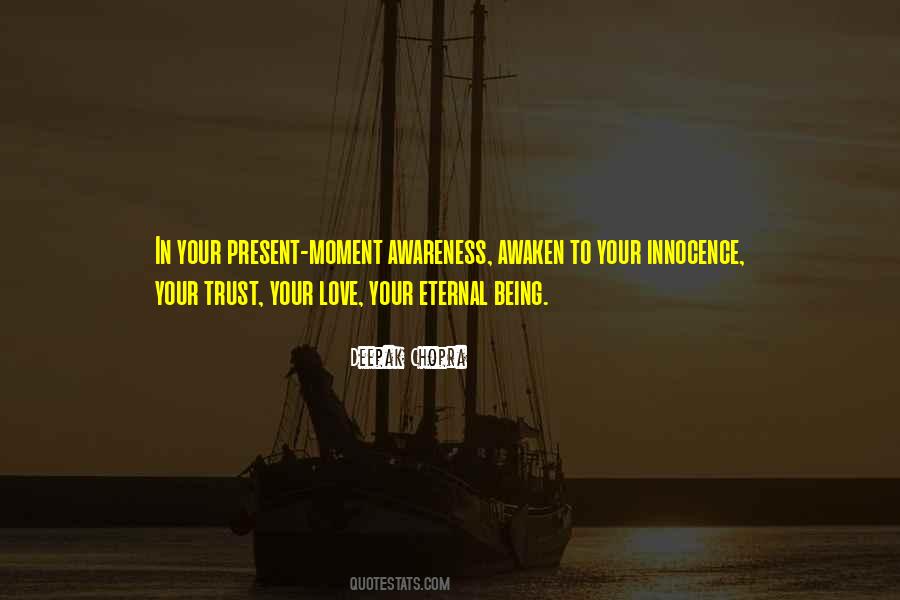 #43. May you always remember the Beloved is your divine and sacred self. - Author: Earthschool Harmony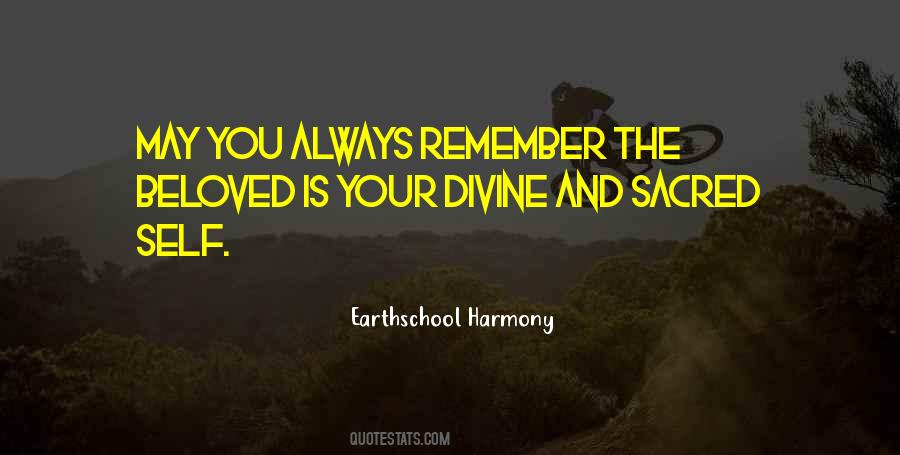 #44. I believe that there is only one kind of love - real love - trying to come alive in us despite our limiting assumptions, the distortions of our culture, and the habits of fear, self-condemnation, and isolation that we tend to acquire just by living a life. - Author: Sharon Salzberg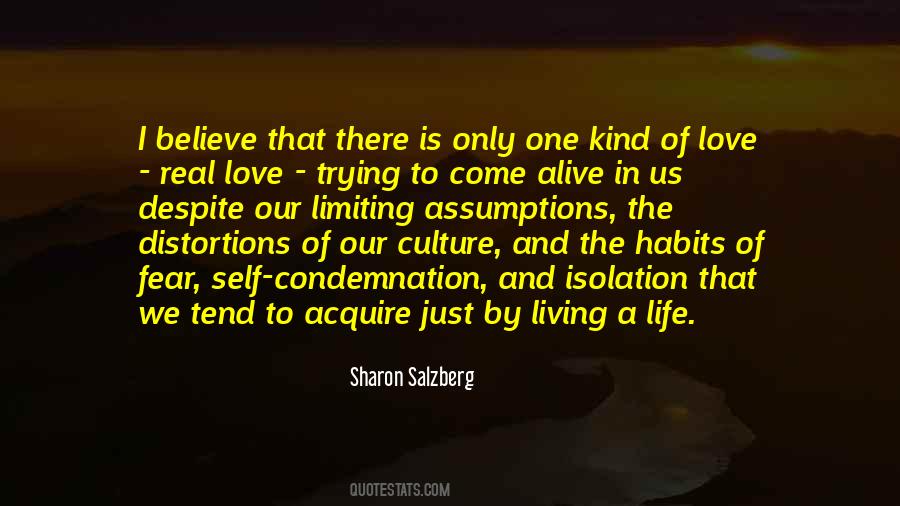 #45. Mindfulness allows us to shift the angle on our story and to remember that we have the capacity to learn and change in ways that are productive, not self-defeating. - Author: Sharon Salzberg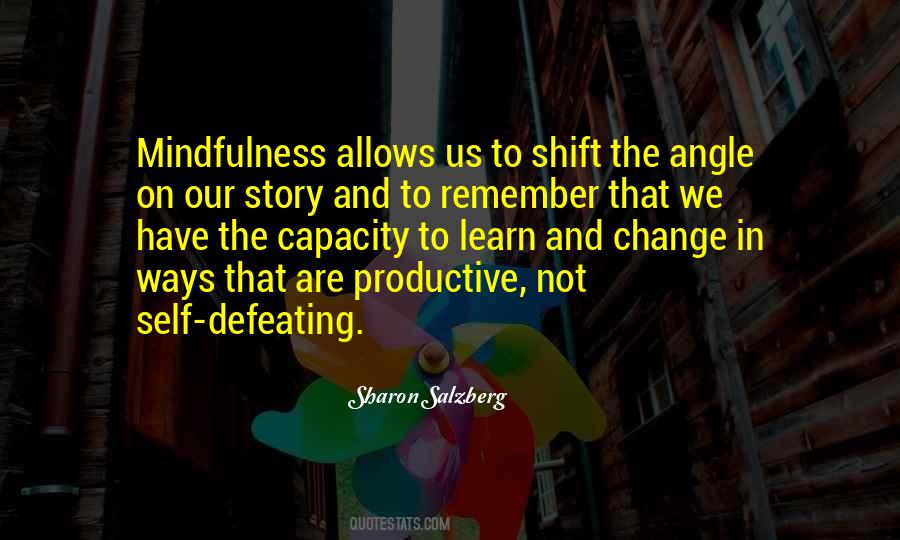 #46. We cannot simply forgive and forget, nor should we. - Author: Sharon Salzberg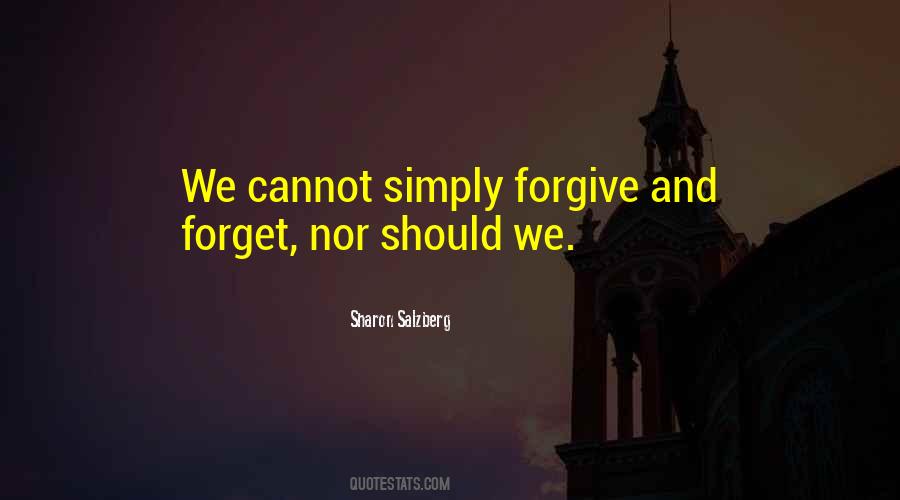 #47. You're only as good as you're next thought of yourself. - Author: Curtis Tyrone Jones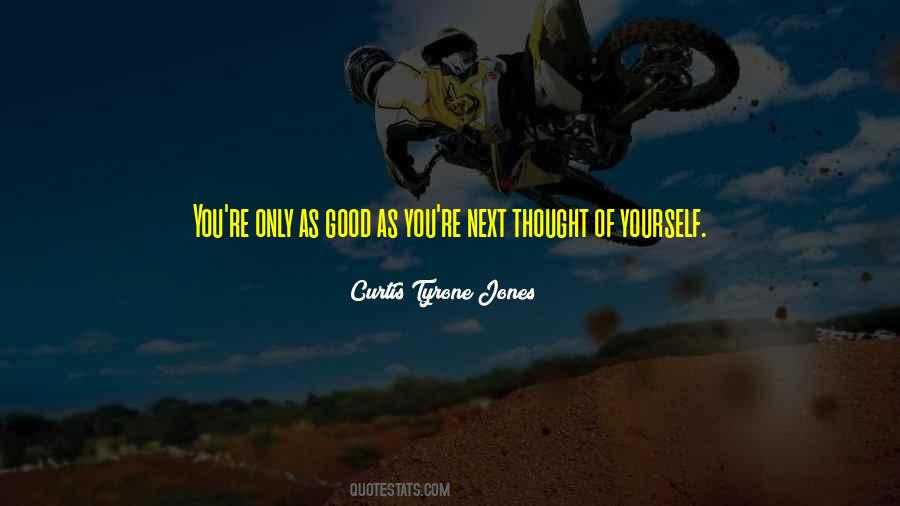 #48. Unconditional Love is the outer expression of Inner Peace. - Author: Alaric Hutchinson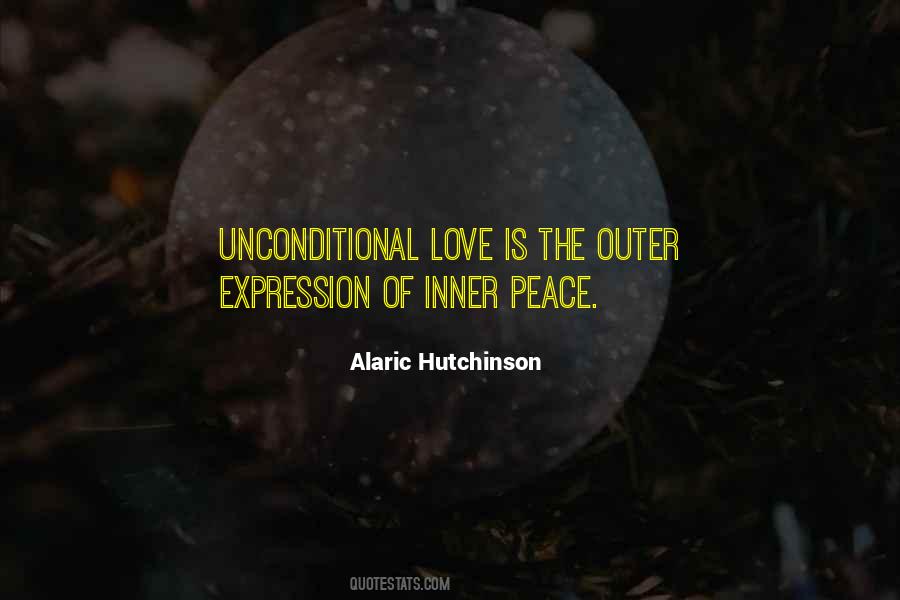 #49. Love is defined by difficult acts of human compassion & generosity. - Author: Sharon Salzberg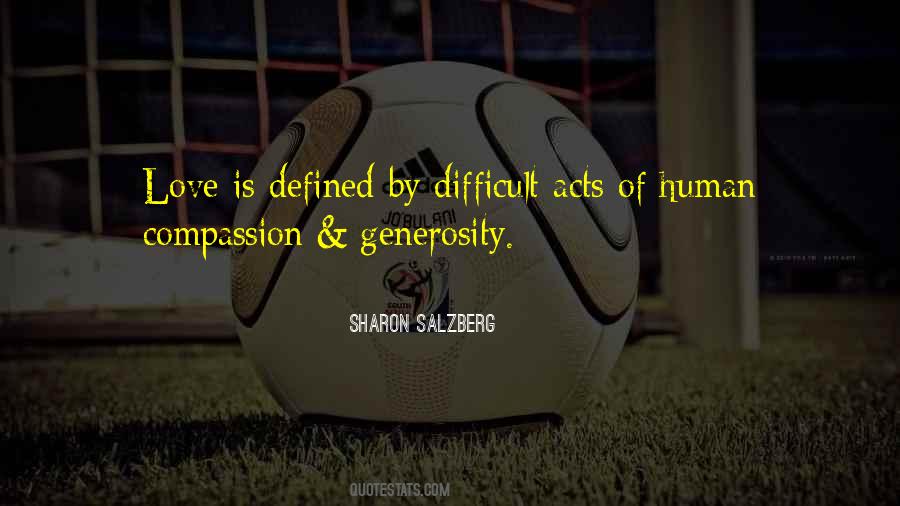 #50. When we practice metta, we open continuously to the truth of our actual experience, changing our relationship to life. - Author: Sharon Salzberg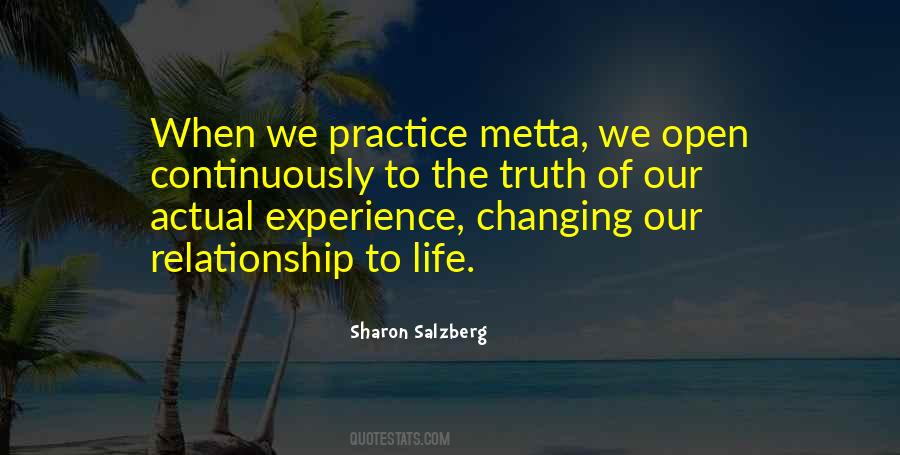 #51. When we do our best to treat others with kindness, it's often a struggle to determine which actions best express our love and care for ourselves. - Author: Sharon Salzberg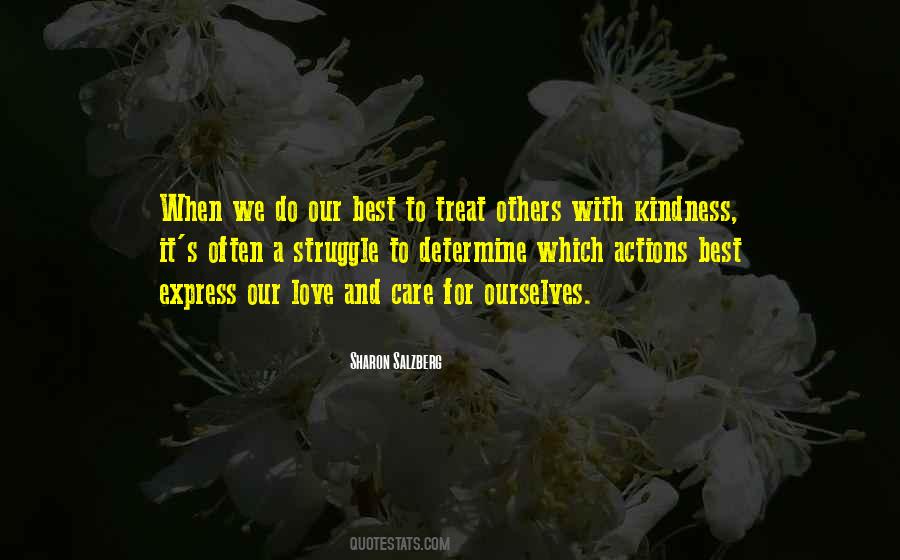 #52. Shame weakens us. It can make us frightened to take on something new. We start to withdraw from whatever might give us pleasure, self-esteem, or a sense of our value. - Author: Sharon Salzberg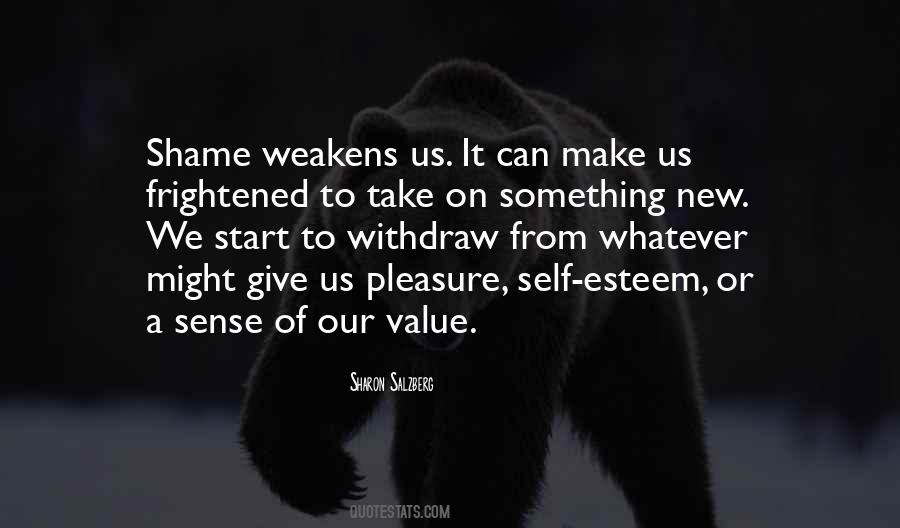 #53. The key in letting go is practice. Each time we let go, we disentangle ourselves from our expectations and begin to experience things as they are. - Author: Sharon Salzberg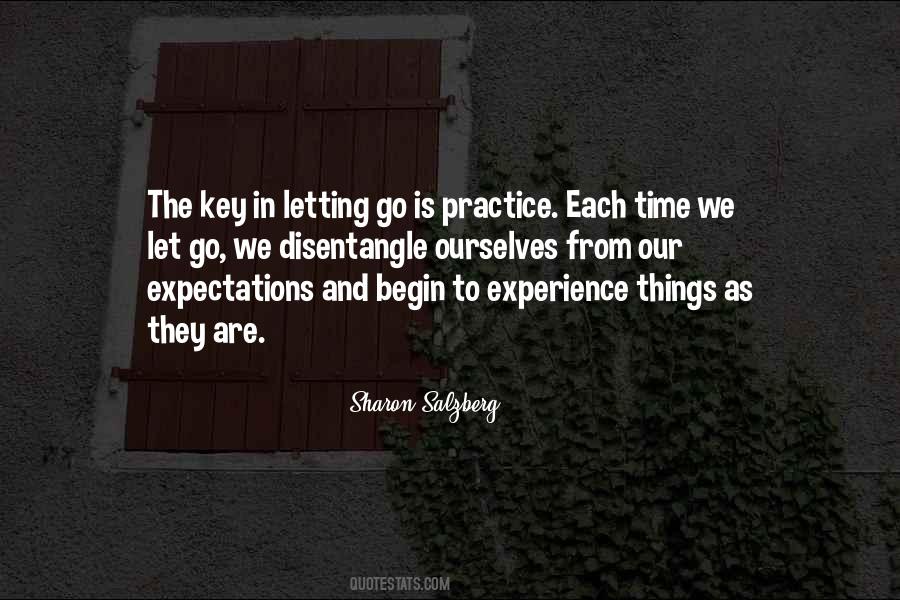 #54. Wherever the responsibility lies, shame creates a solid and terrible feeling of unworthiness that resides in our bodies: the storehouse of the memories of our acts, real or imagined, and the secrets we keep about them. - Author: Sharon Salzberg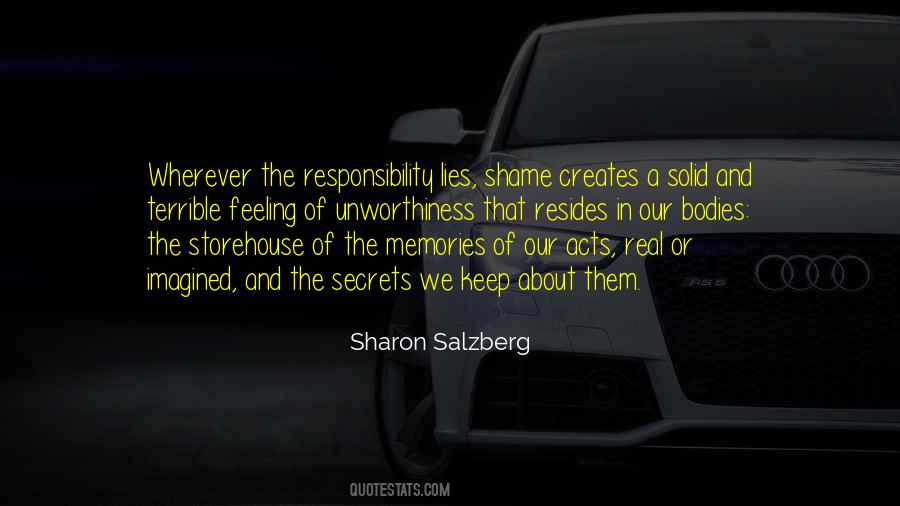 #55. Looking at beauty in the world, is the first step of purifying the mind. - Author: Amit Ray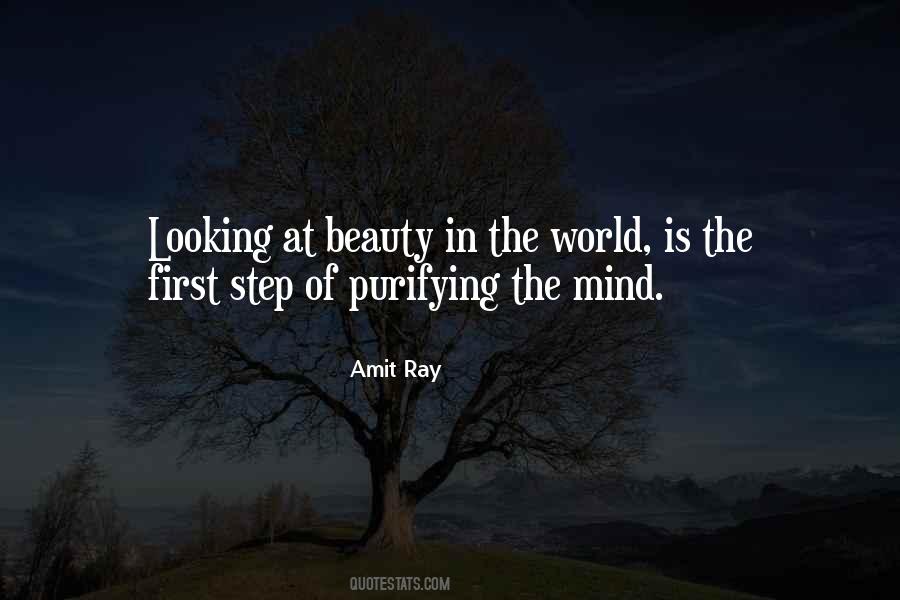 #56. When our focus is on seeking, perfecting, or clinging to romance, the charge is often generated by instability, rather than by an authentic connection with another person. - Author: Sharon Salzberg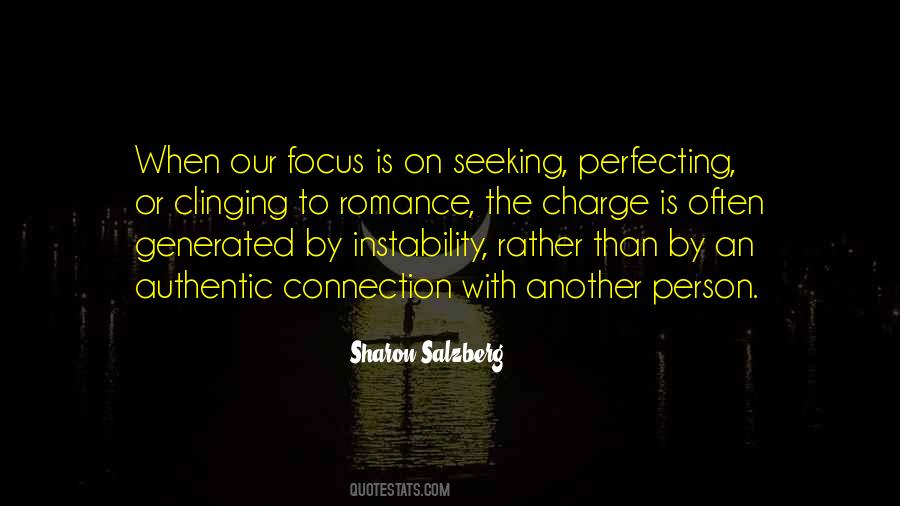 #57. Meditation can be a refuge, but it is not a practice in which real life is ever excluded. The strength of mindfulness is that it enables us to hold difficult thoughts and feelings in a different way - with awareness, balance, and love - Author: Sharon Salzberg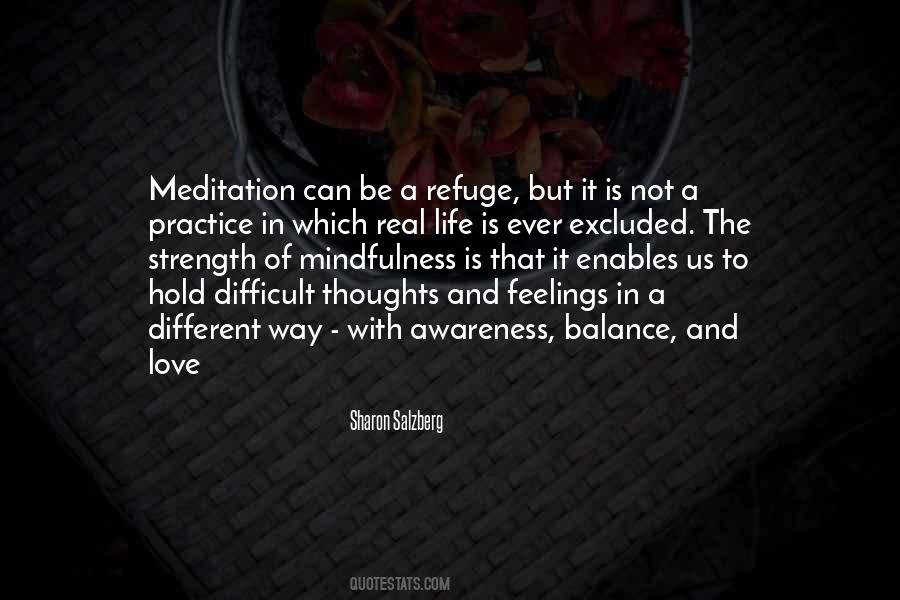 #58. Be bold, speak from your heart. - Author: Nikki Rowe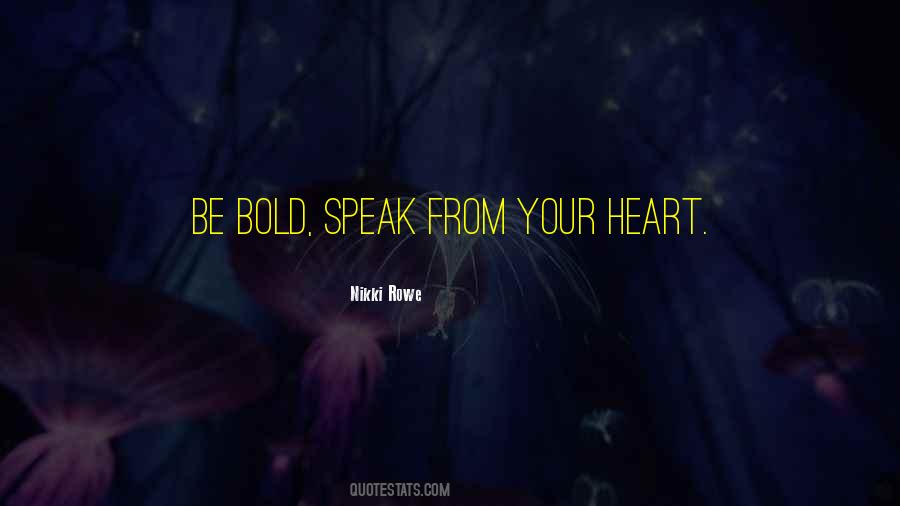 #59. We can use meditation as a way to experiment with new ways of relating to ourselves, even our uncomfortable thoughts. - Author: Sharon Salzberg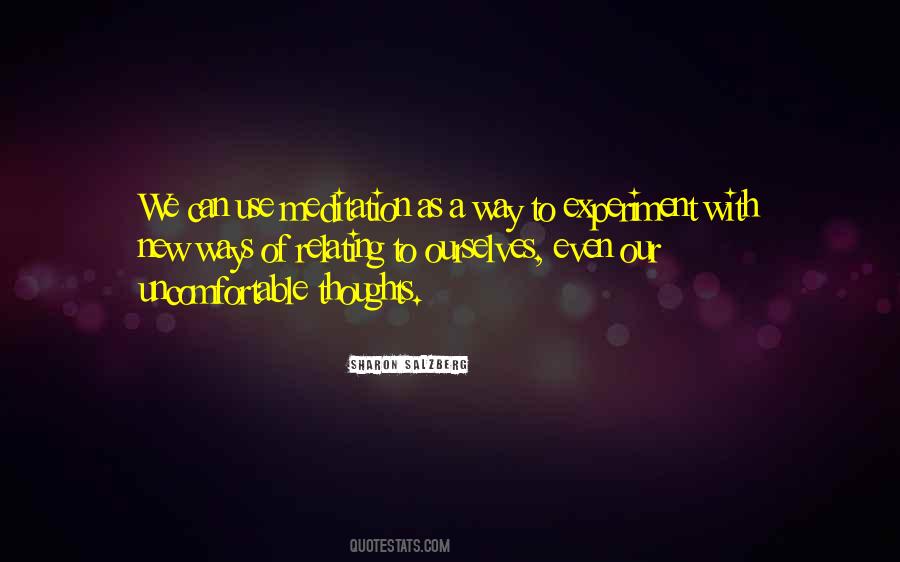 #60. Compassion is a fundamental principle of meditation. Meditation is not a narcissistic, self-interested path. It provides the foundation for love, integrity, compassion, respect and sensitivity (Feldman, 1998, p.2). - Author: Christina Feldman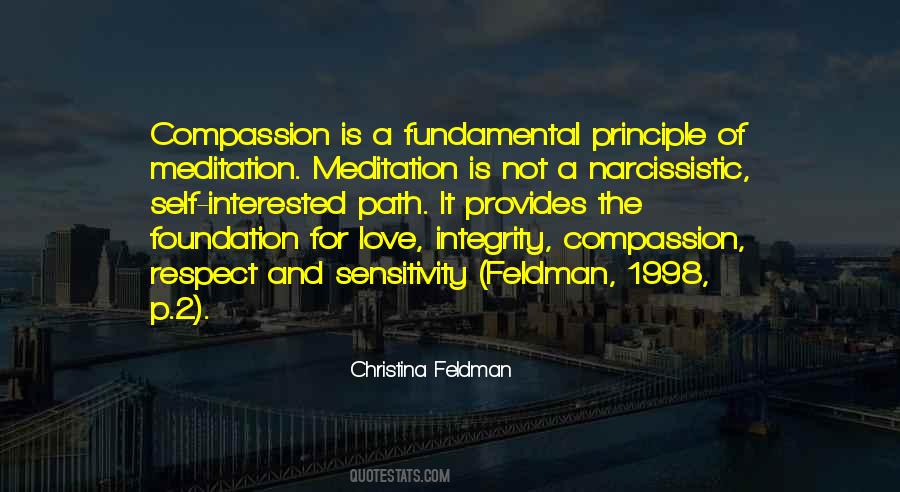 #61. When we set an intention to explore our emotional hot spots, we create a pathway to real love. - Author: Sharon Salzberg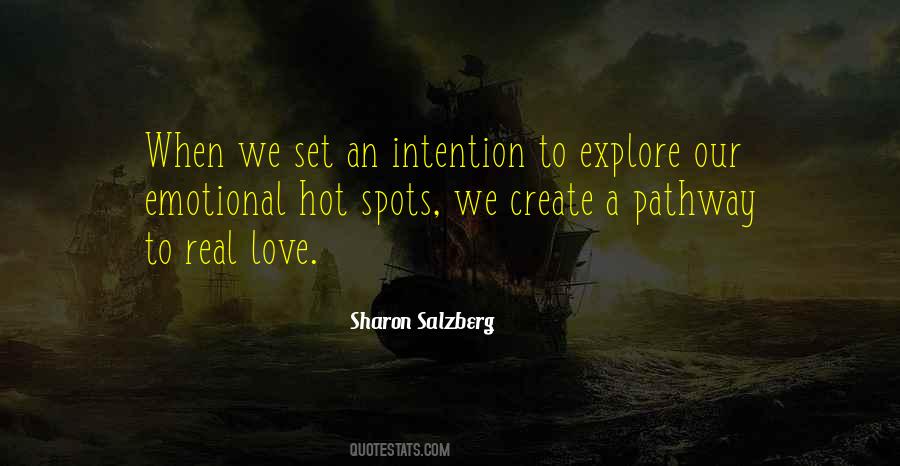 #62. The mind confines our outlooks to a mere bundles of desires, pleasures, prejudices, and fears to safeguard the body it inhabits. - Author: Rajeev Kurapati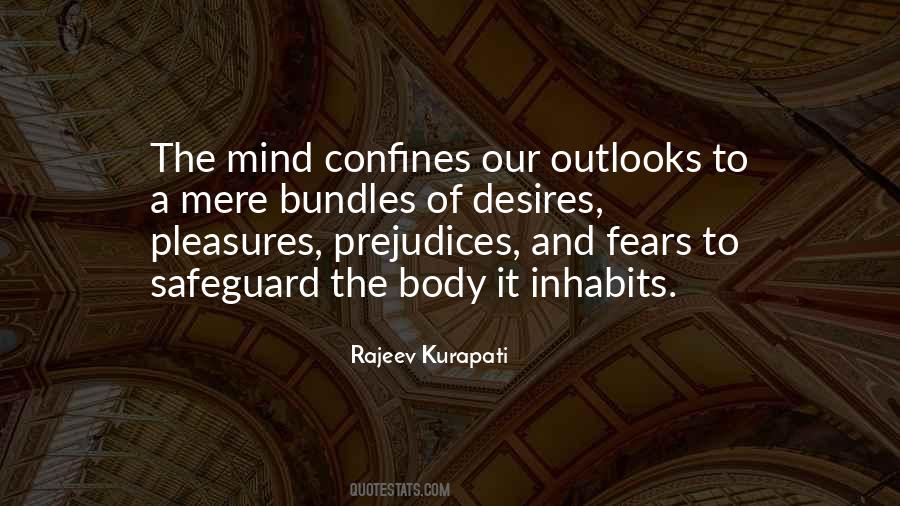 #63. Keeping secrets is a consequential act for all involved. - Author: Sharon Salzberg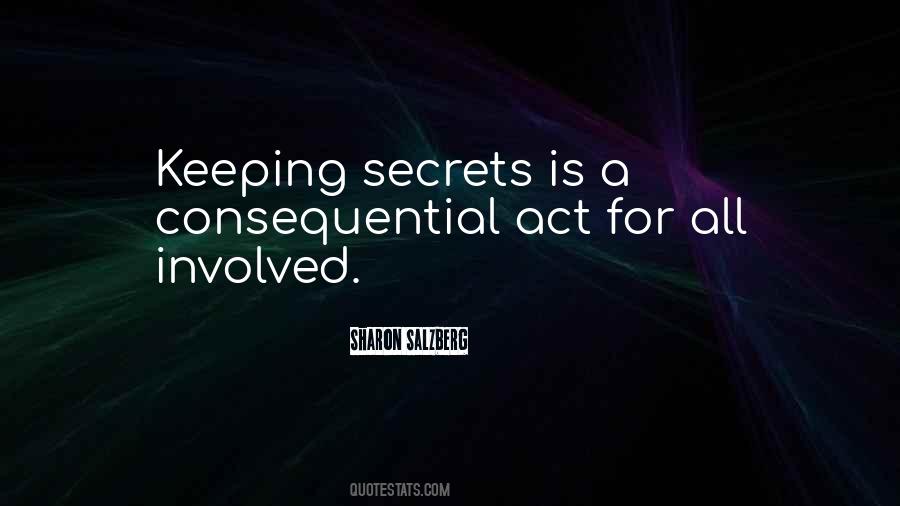 #64. We don't practice hospitality to point other people to ourselves, our church, or even our beliefs. We practice hospitality to point people toward the ultimate welcome that God gives every person through Christ. - Author: Holly Sprink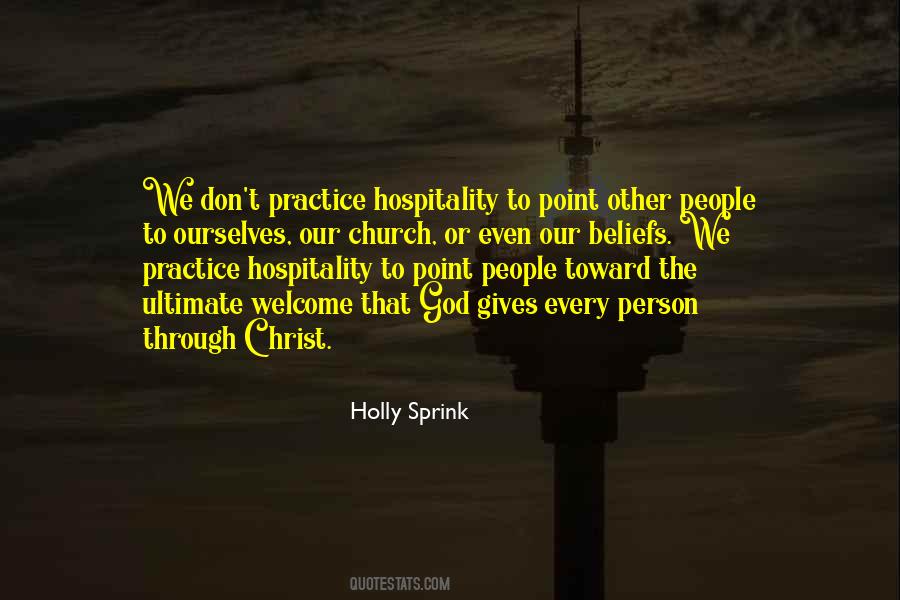 #65. Success is all about falling in love with one idea! - Author: Kabira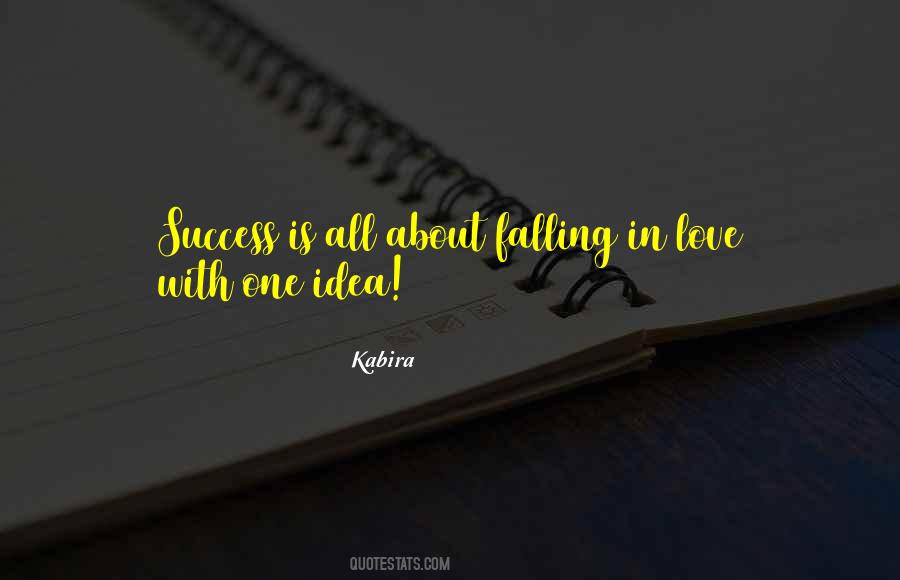 #66. Real forgiveness in close relationships is never easy. It can't be rushed or engineered. - Author: Sharon Salzberg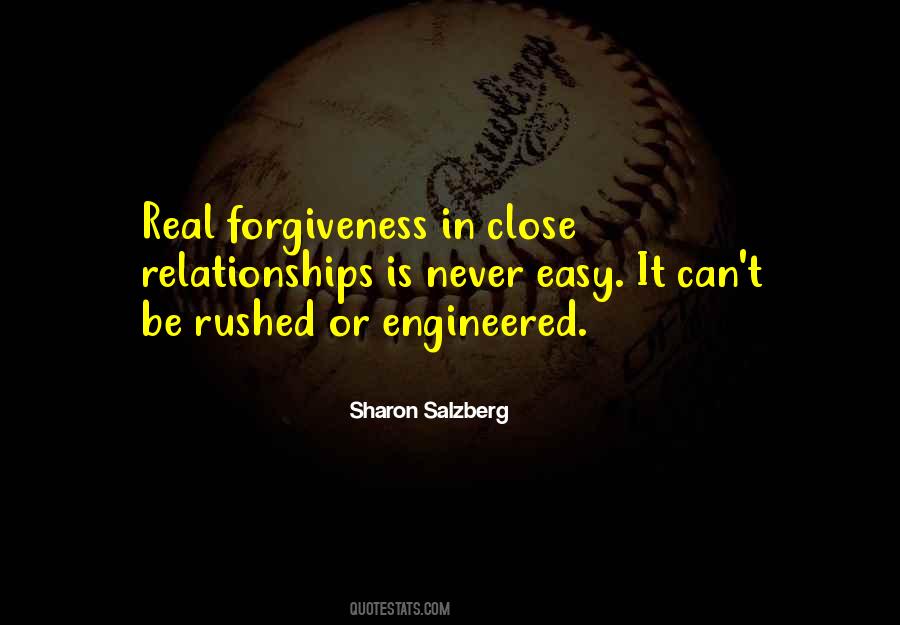 #67. To celebrate someone else's life, we need to find a way to look at it straight on, not from above with judgment or from below with envy. - Author: Sharon Salzberg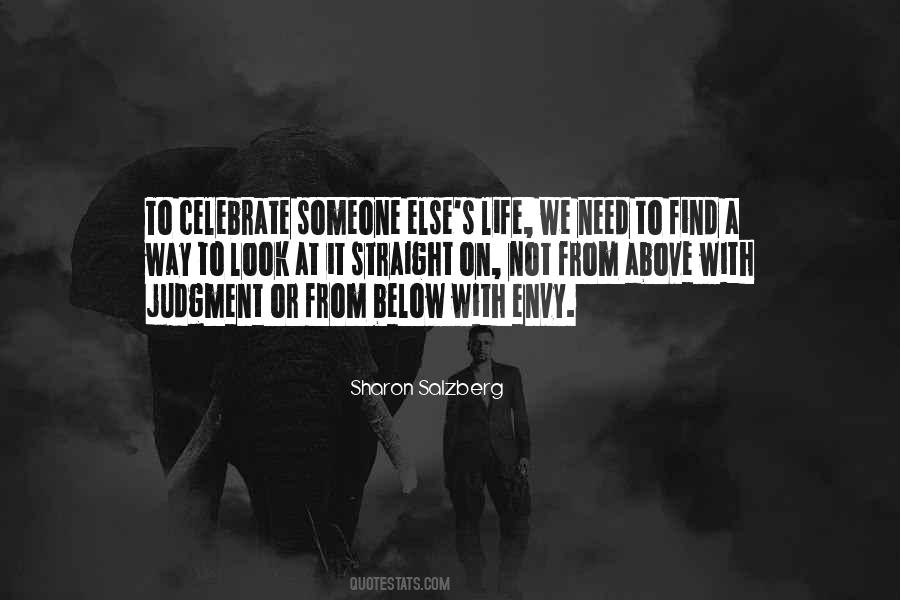 #68. When we are depleted our giving is empty. Today I take a moment to recharge, fill up with love for my life and all of its character so that I may give from a place of overflowing. - Author: Lisa Wimberger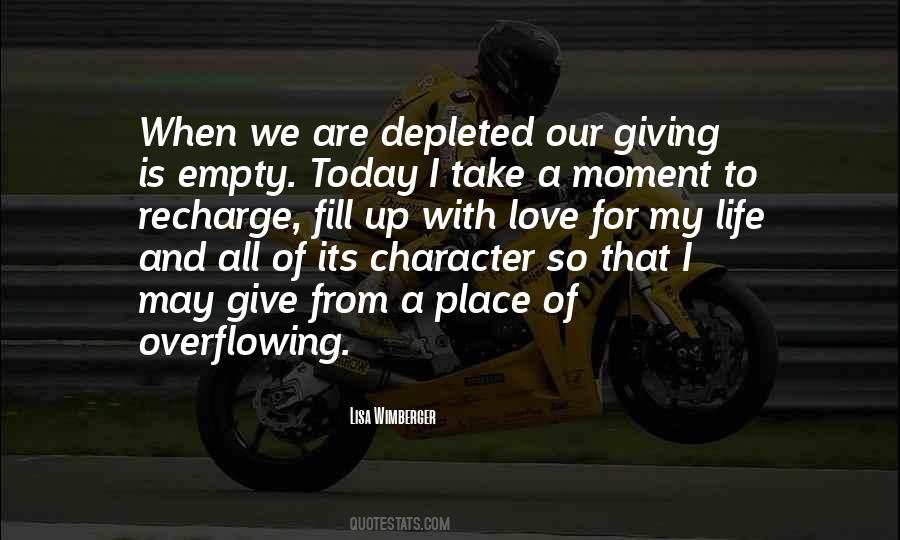 #69. Like water poured from one vessel to another, metta flows freely, taking the shape of each situation without changing its essence. - Author: Sharon Salzberg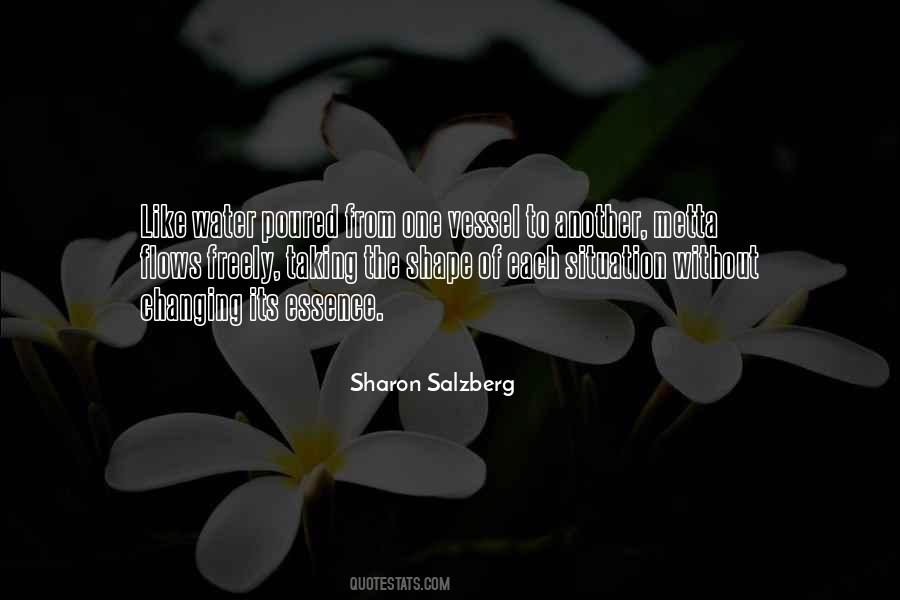 #70. Mindfulness and compassion can give you the power, illumination, love, and wisdom to draw higher forms, thoughts, feelings, and situations into your life. - Author: Amit Ray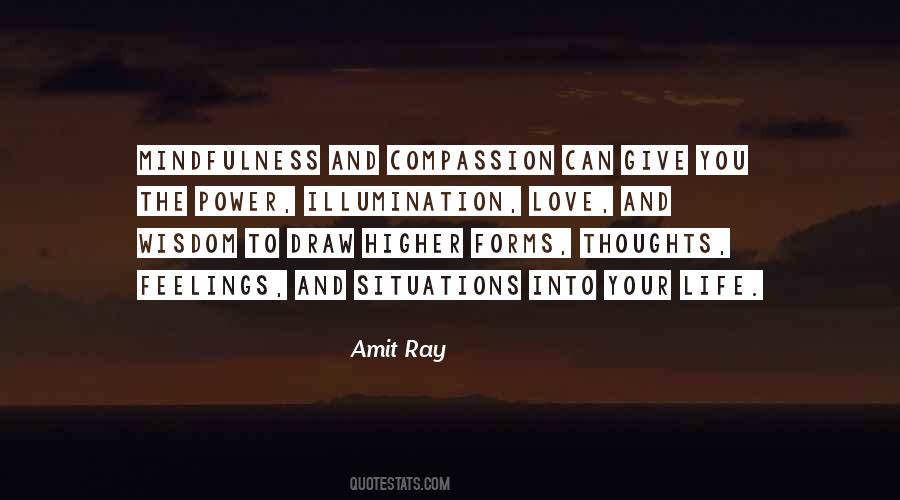 #71. No connection is always easy or free of strife, no matter how many minutes a day we meditate. It's how we relate to conflict, as well as to our differing needs and expectations, that makes our relationships sustainable. - Author: Sharon Salzberg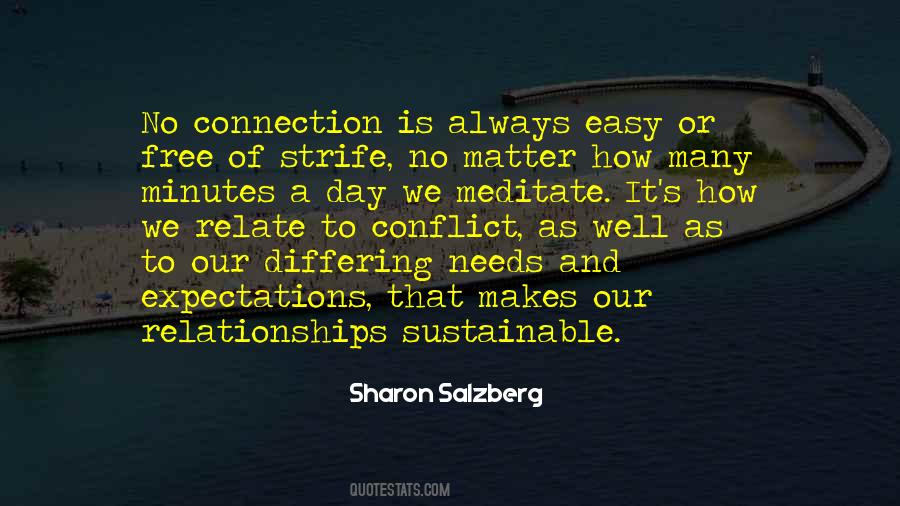 #72. Everything real is in the present moment. Only here can we find happiness and harmony, feel alive and do something that will change our future. Only here can we be with the people we love, enjoy the things we like and see beautiful places. - Author: Lidiya K.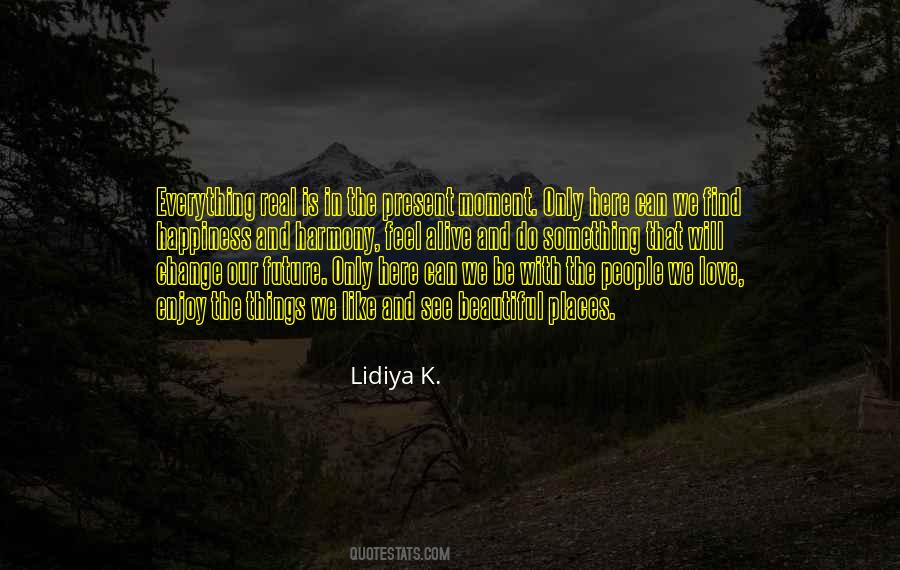 #73. Though it may sound paradoxical, identifying our thoughts, emotions, and habitual patterns of behavior is the key to freedom & transformation. - Author: Sharon Salzberg
#74. The paradigm for our relationships is formed from our earliest experiences and is actually hardwired into our neurological and emotional network. - Author: Sharon Salzberg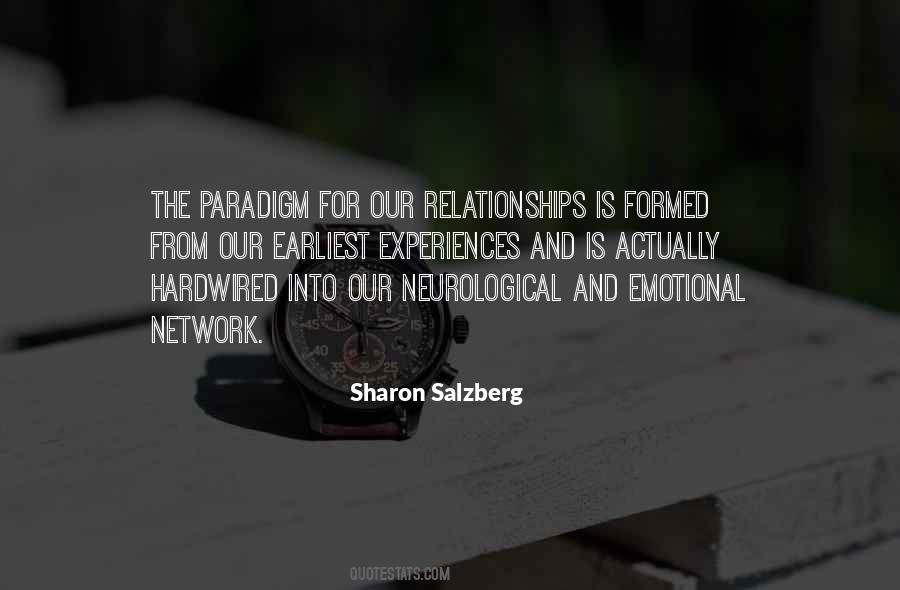 #75. Loving ourselves calls us to give up the illusion that we can control everything and focuses us on building our inner resource of resilience. - Author: Sharon Salzberg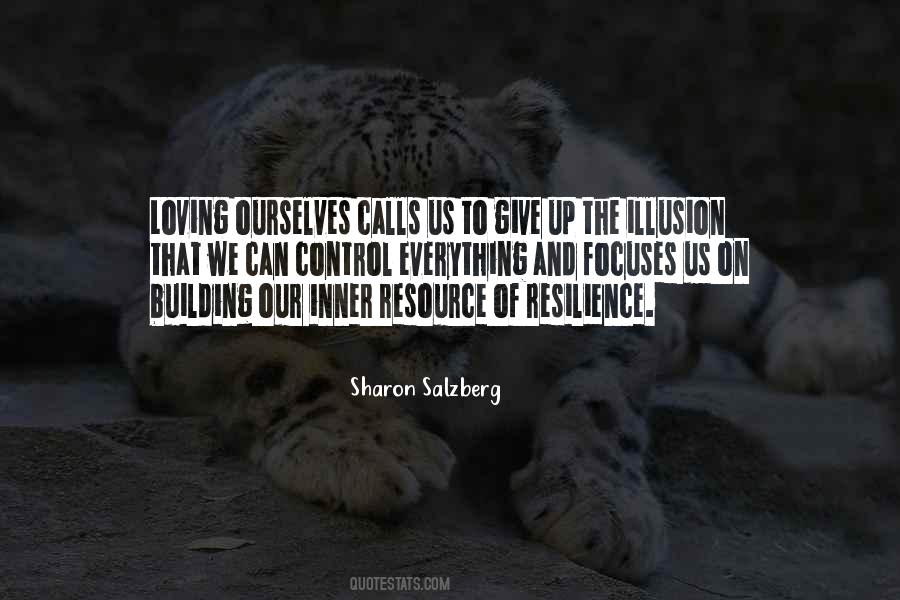 #76. Ultimately, we forgive others in order to free ourselves. - Author: Sharon Salzberg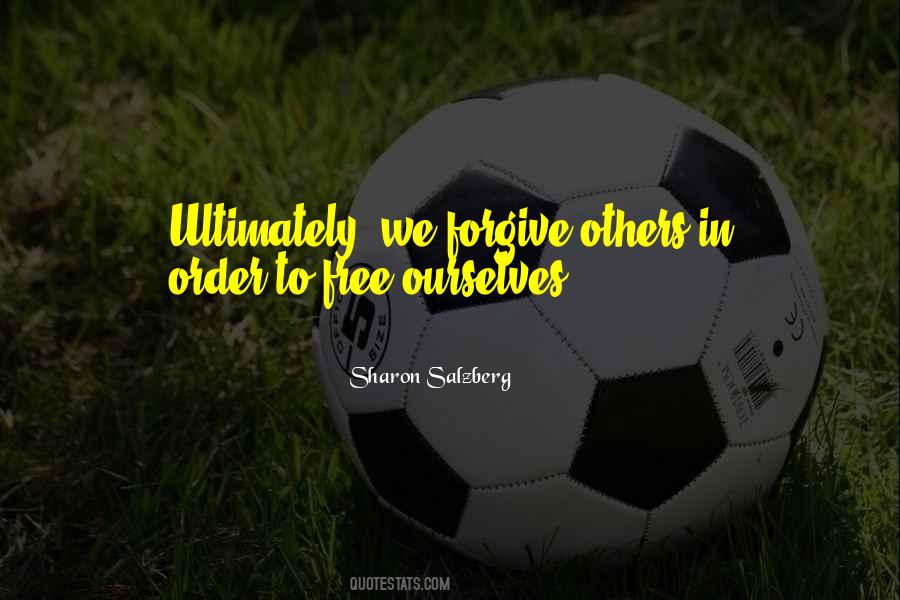 #77. Sanskrit has different words to describe love for a brother or sister, love for a teacher, love for a partner, love for one's friends, love of nature, and so on. English has only one word, which leads to never-ending confusion. - Author: Sharon Salzberg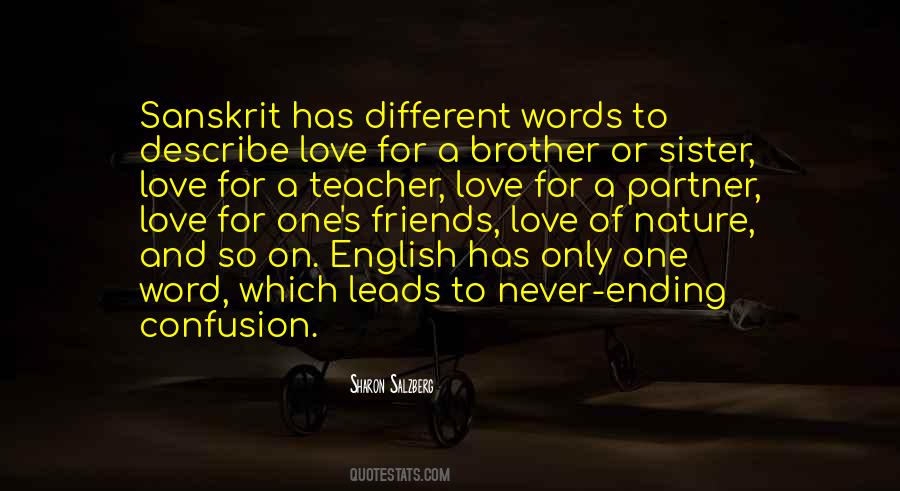 #78. Past, I am letting you go; future, I will see you tomorrow; present, I love you, live in you, use you and never let you go. - Author: Debasish Mridha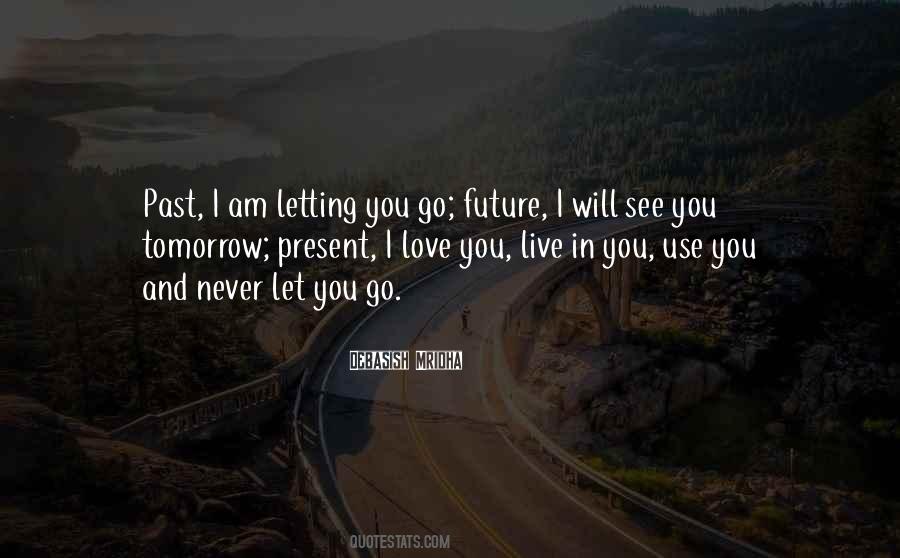 #79. When we feel conflicted about a particular decision or action, our bodies often hold the answer - if we take the time to stop and tune in. - Author: Sharon Salzberg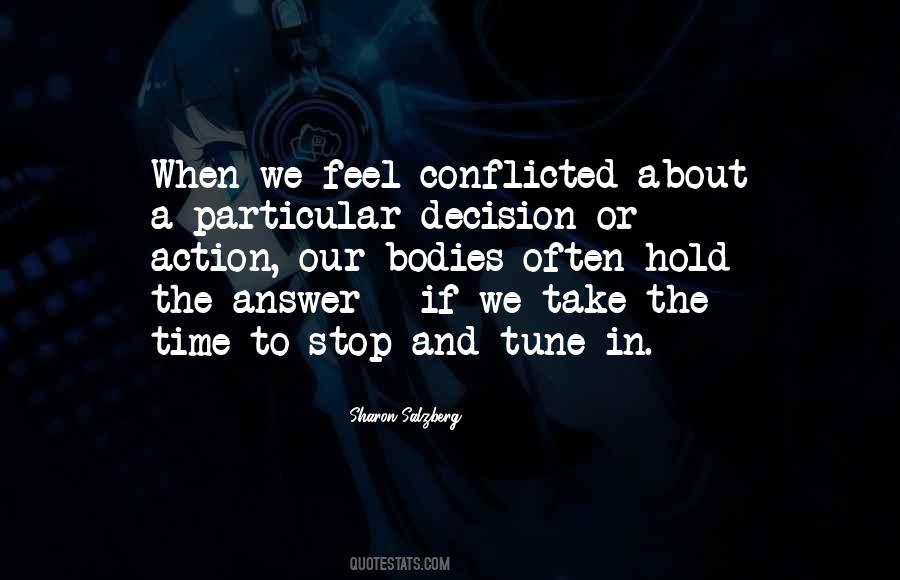 #80. When we contemplate the miracle of embodied life, we begin to partner with our bodies in a kinder way. - Author: Sharon Salzberg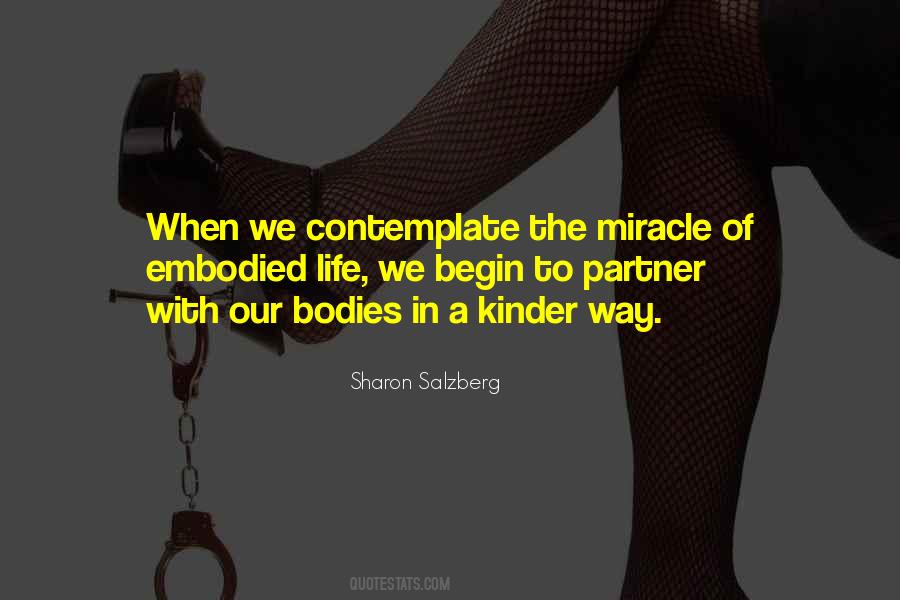 #81. We need to maintain an awareness of our awareness, of what we are paying attention to, in order to discriminate between higher and lower forms of love. - Author: Paul O'Brien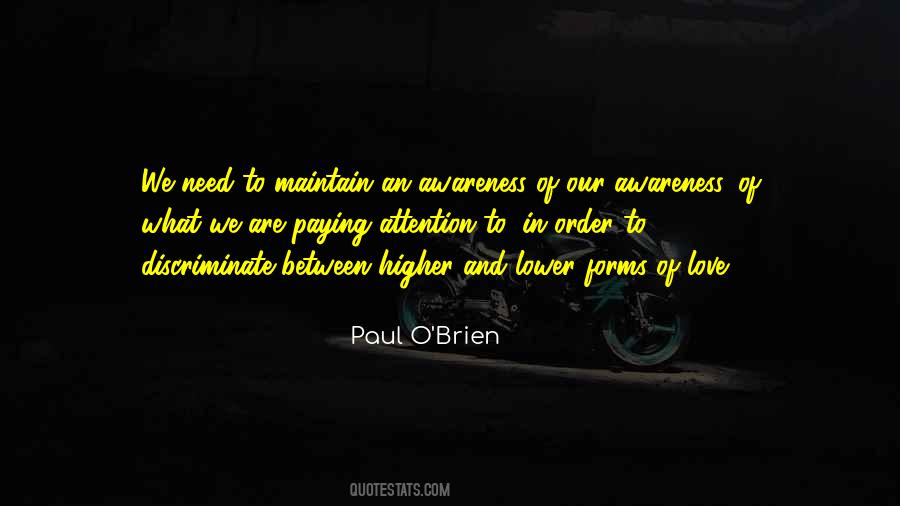 #82. I could not see beauty until I held hands with chaos in silence. - Author: Vironika Tugaleva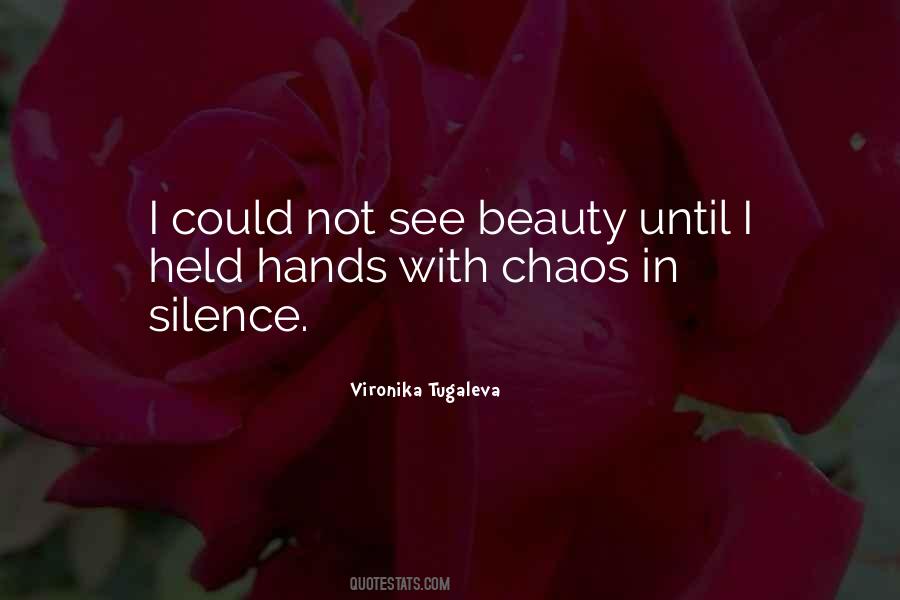 #83. Letting go of the belief that we're powerless to help relieve our own suffering enhances our ability not only to heal but also to genuinely love and receive the love of others. - Author: Sharon Salzberg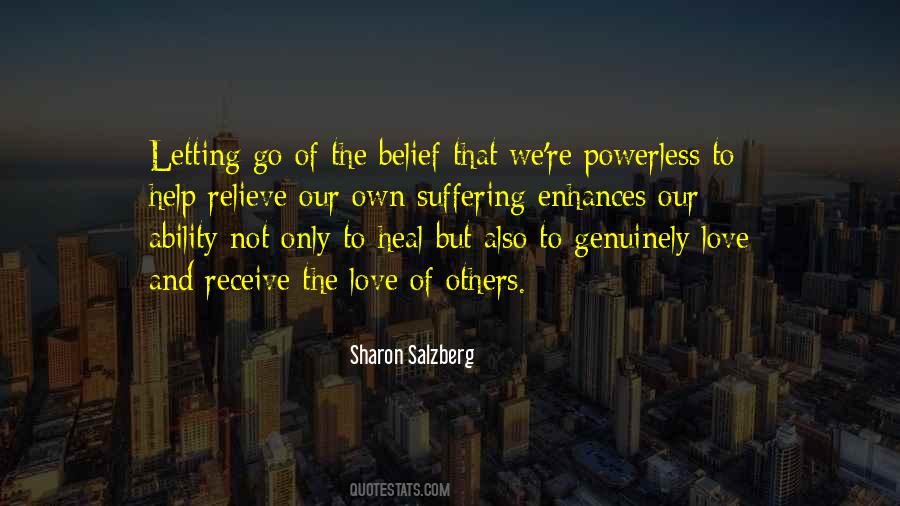 #84. By practicing meditation we establish love, compassion, sympathetic joy & equanimity as our home. - Author: Sharon Salzberg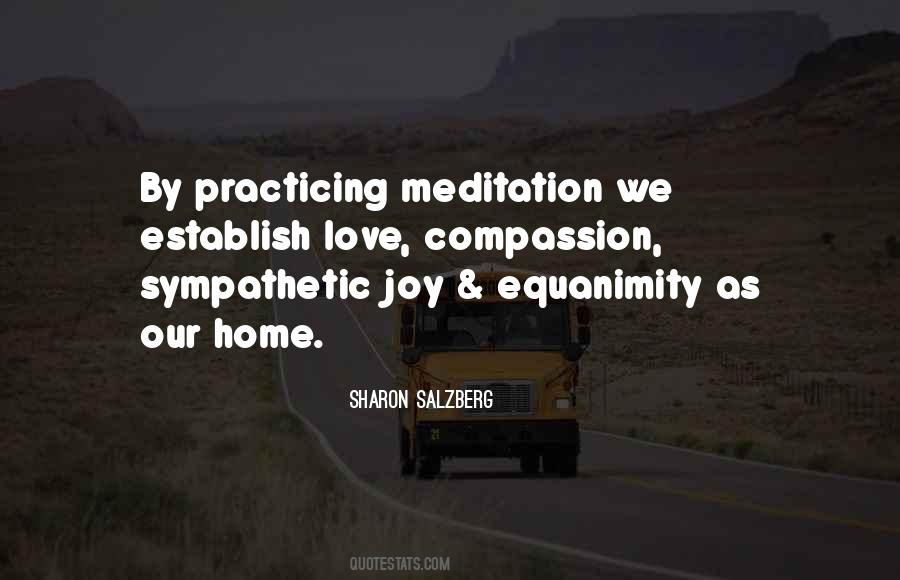 #85. When you recognize and reflect on even one good thing about yourself, you are building a bridge to a place of kindness and caring. - Author: Sharon Salzberg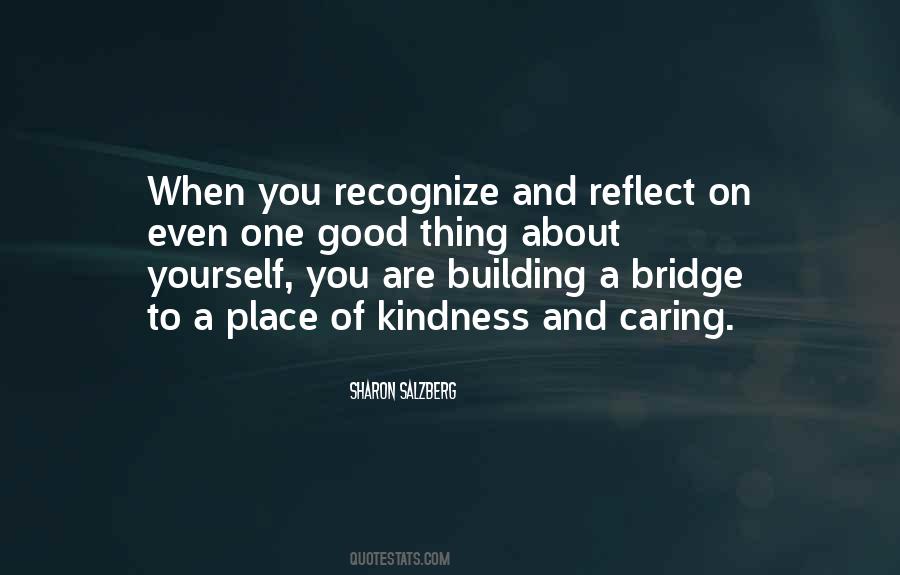 #86. Watch your thoughts, for they will become the words of people you draw to yourself. - Author: Vironika Tugaleva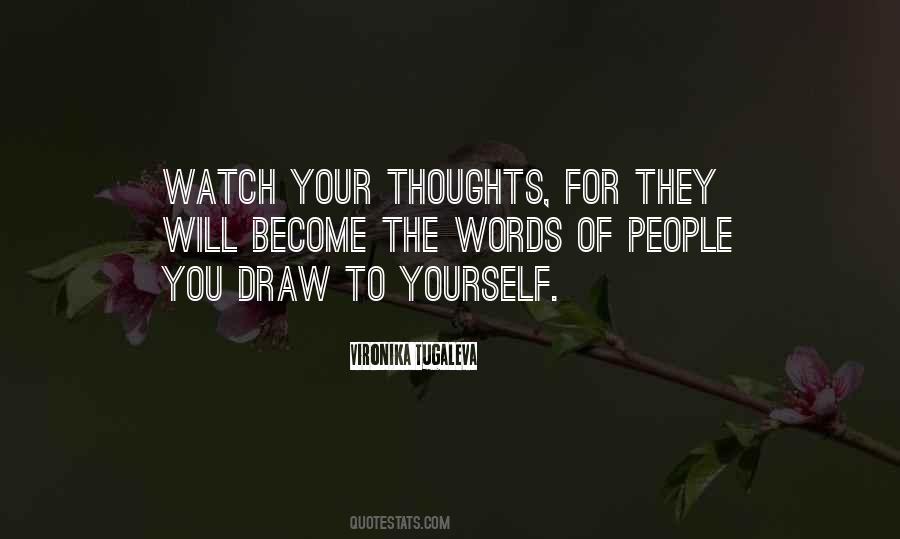 #87. With a clear intention and a willing spirit, sooner or later we experience the joy and freedom that arises when we recognize our common humanity with others and see that real love excludes no one. - Author: Sharon Salzberg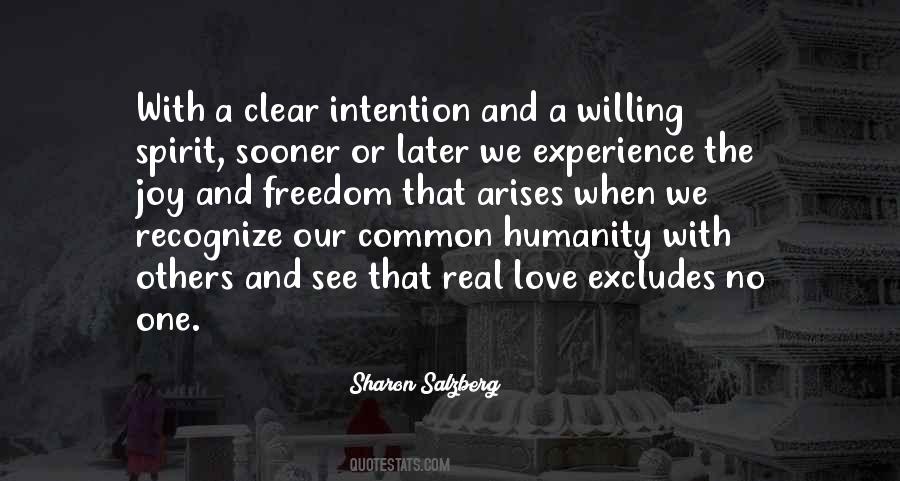 #88. Karma Yoga is mindful service to the humanity with love and respect. - Author: Amit Ray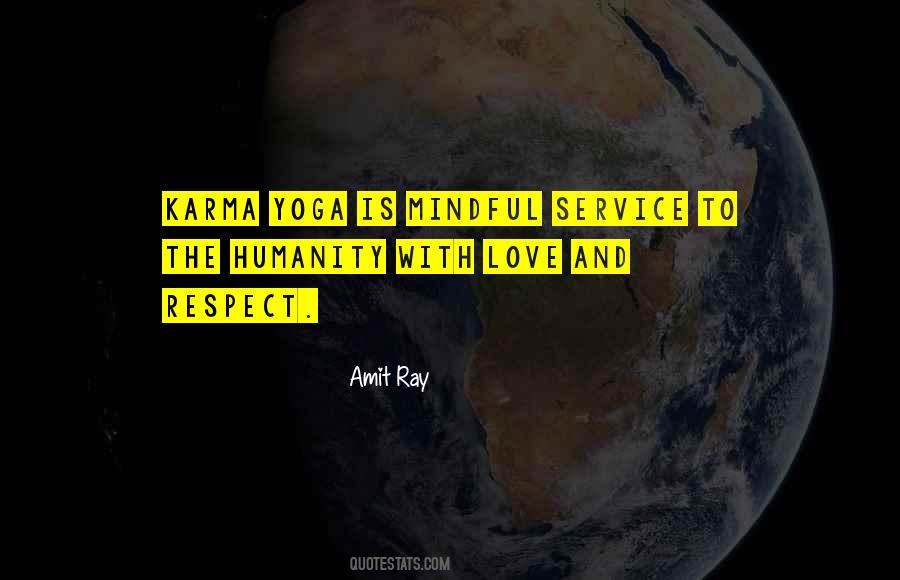 #89. When we pay attention to sensations in our bodies, we can feel that love is the energetic opposite of fear. - Author: Sharon Salzberg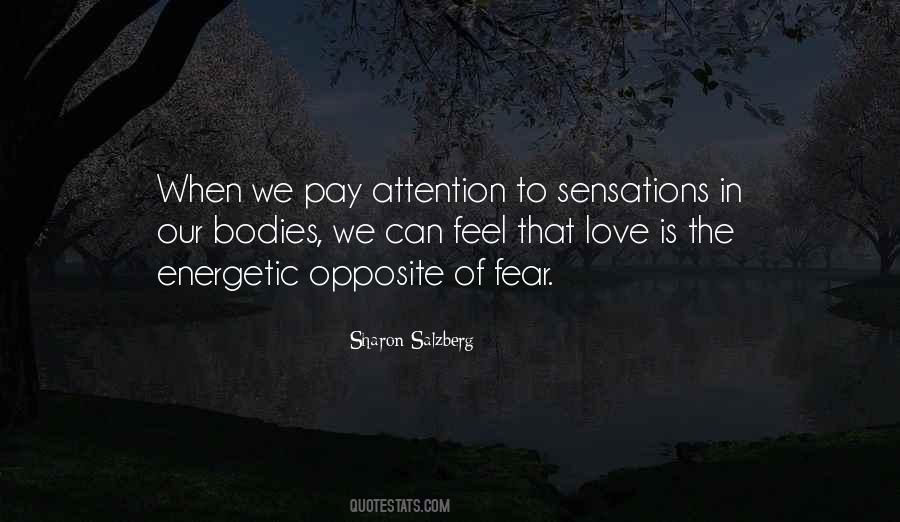 #90. The wholesome pursuit of excellence feels quite different from perfectionism. - Author: Sharon Salzberg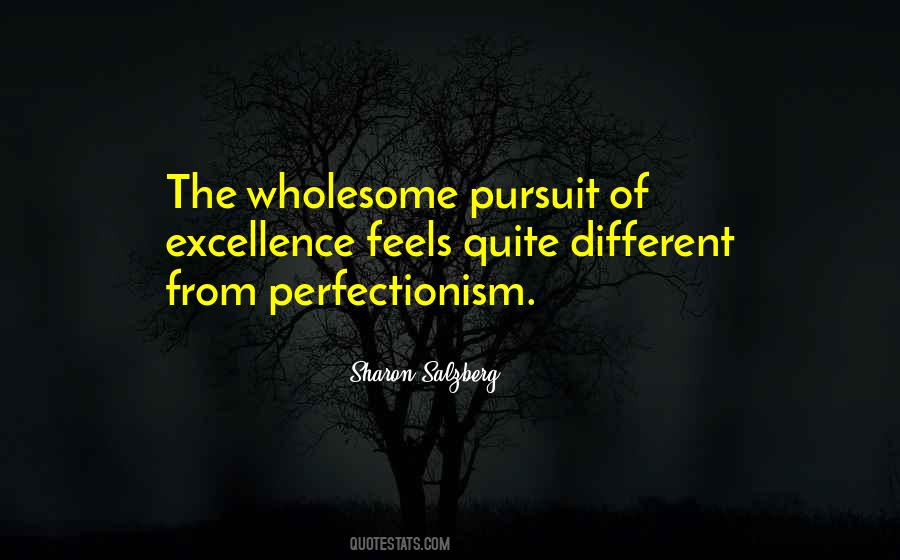 #91. When we approach the journey acknowledging what we do not know and what we can't control, we maintain our energy for the quest. - Author: Sharon Salzberg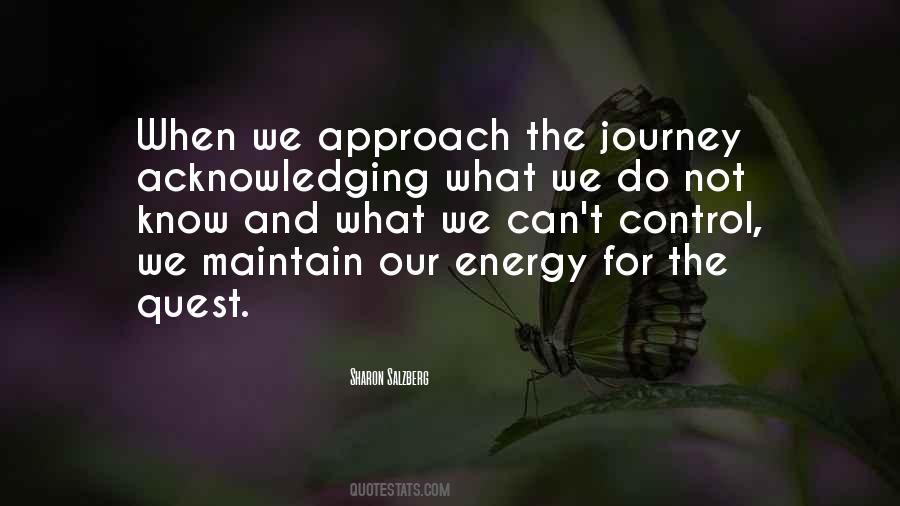 #92. The costs of keeping secrets include our growing isolation due to fear of detection and the ways we shut down inside to avoid feeling the effects of our behavior. We can never afford to be truly seen and known - even by ourselves. - Author: Sharon Salzberg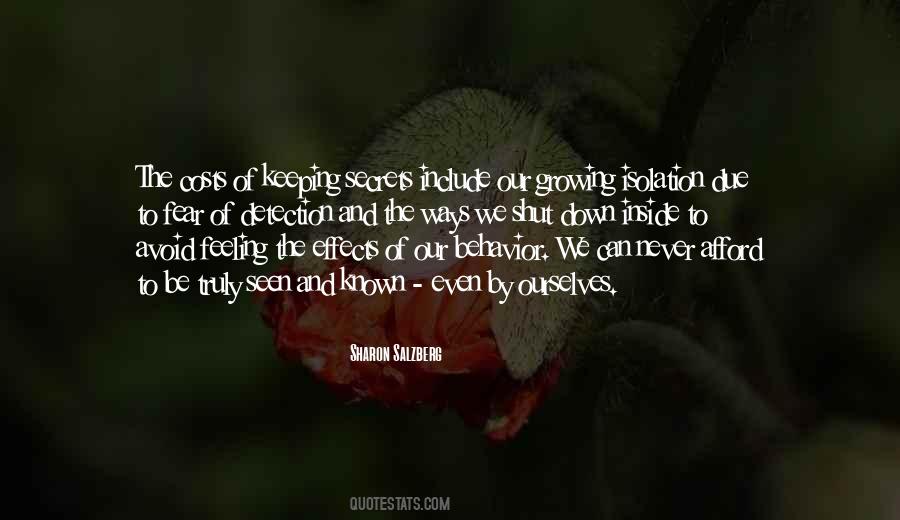 #93. The environment we create can help heal us or fracture us. This is true not just for buildings and landscapes but also for interactions and relationships. - Author: Sharon Salzberg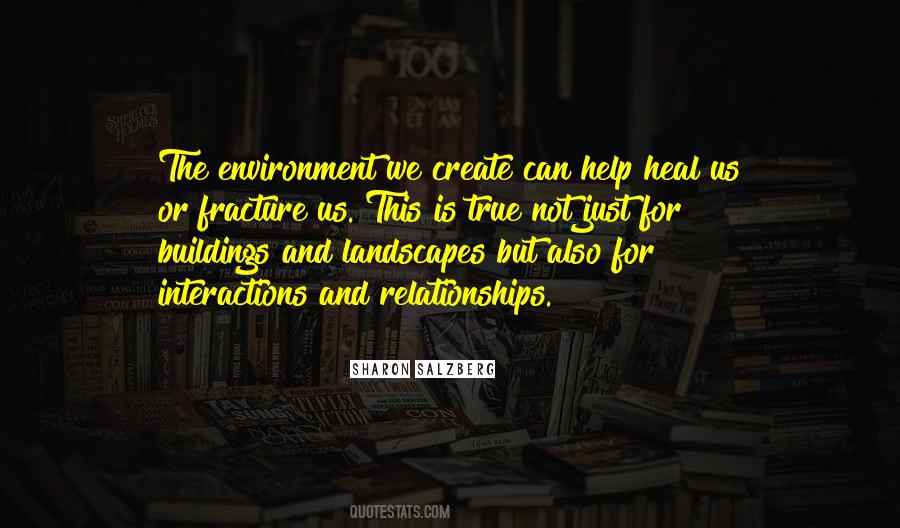 #94. If we harm someone else, we're inevitably also hurting ourselves. Some quality of sensitivity and awareness has to shut down for us to be able to objectify someone else, to deny them as a living, feeling being - someone who wants to be happy, just as we do. - Author: Sharon Salzberg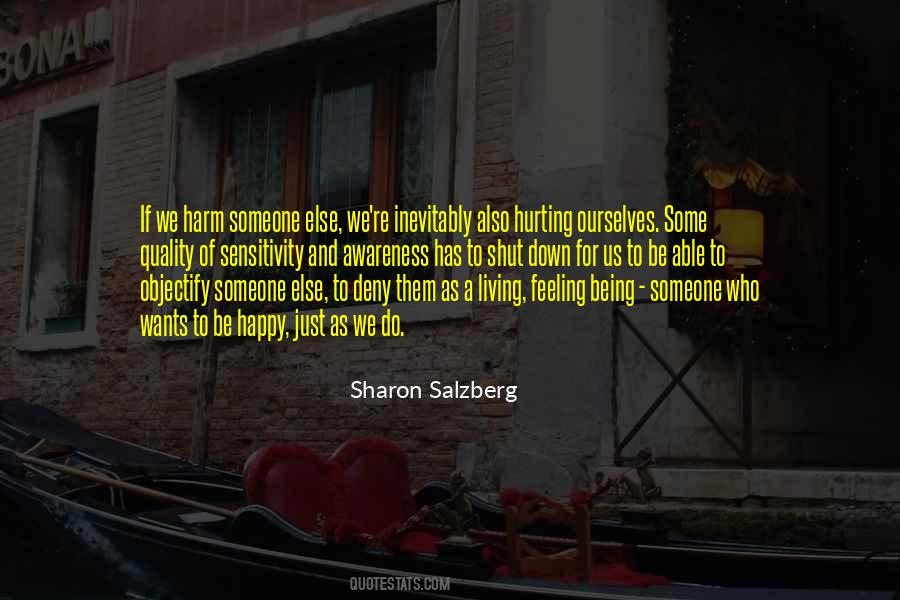 #95. We have to know ourselves to know where we end and another person begins, and we have to develop the skills to navigate the space between us. Or else we will seek wholeness through false means that honor neither us nor those we love. - Author: Sharon Salzberg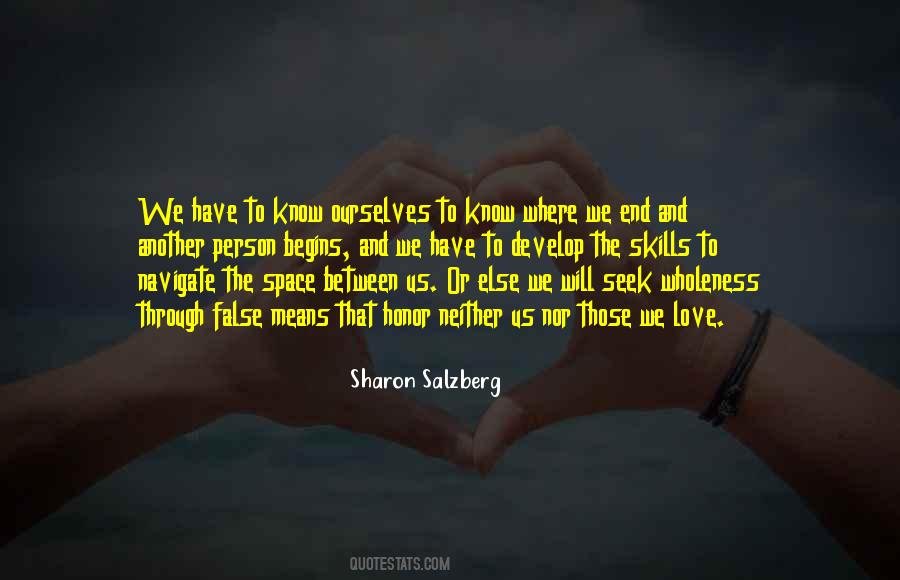 #96. Maybe what we really need is to change our relationship to what is, to see who we are with the strength of a generous spirit & a wise heart. - Author: Sharon Salzberg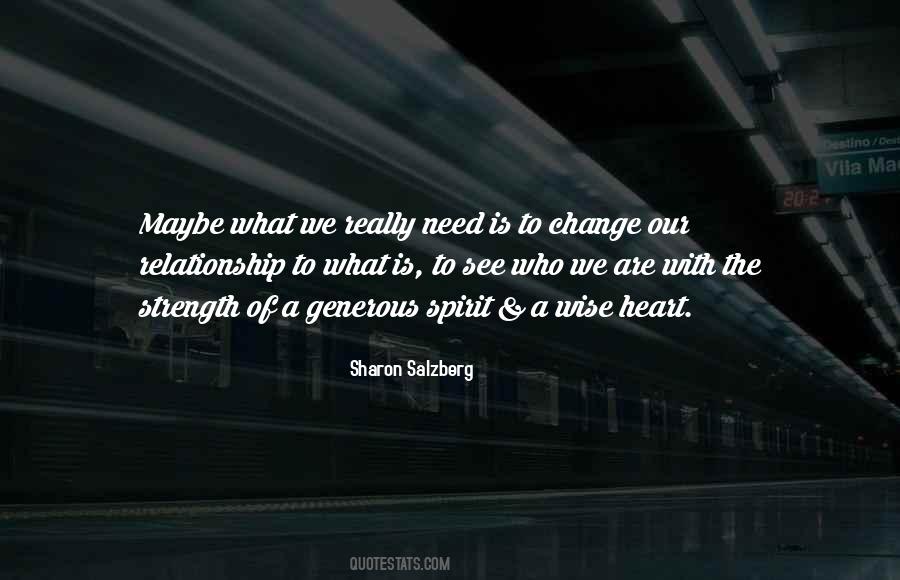 #97. To truly love ourselves, we must challenge our beliefs that we need to be different or better. - Author: Sharon Salzberg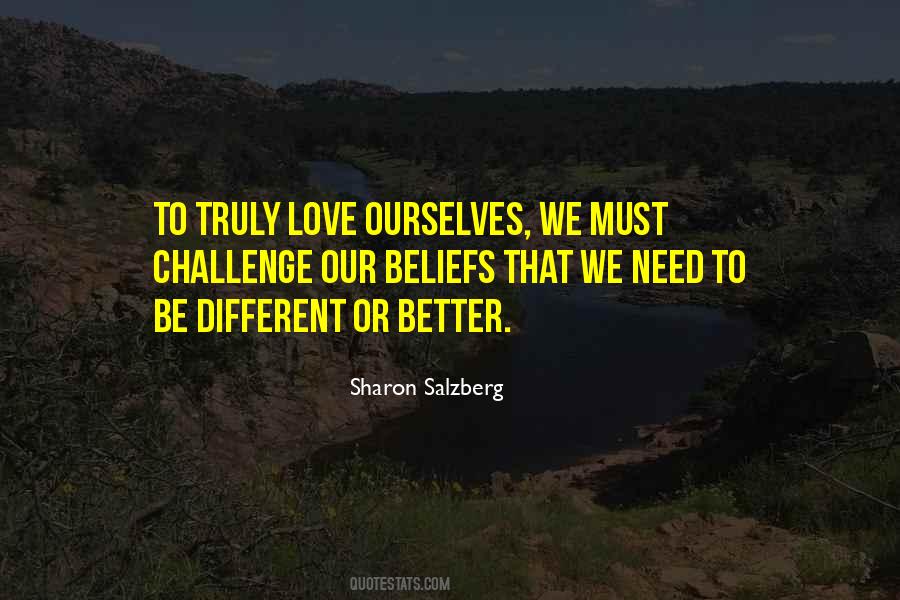 #98. The key to accessing love, joy, peace and compassion is to be free from the dominant state of compulsive thinking. Once we are able to flow into mindfulness and still our thoughts, happiness manifests. - Author: Christopher Dines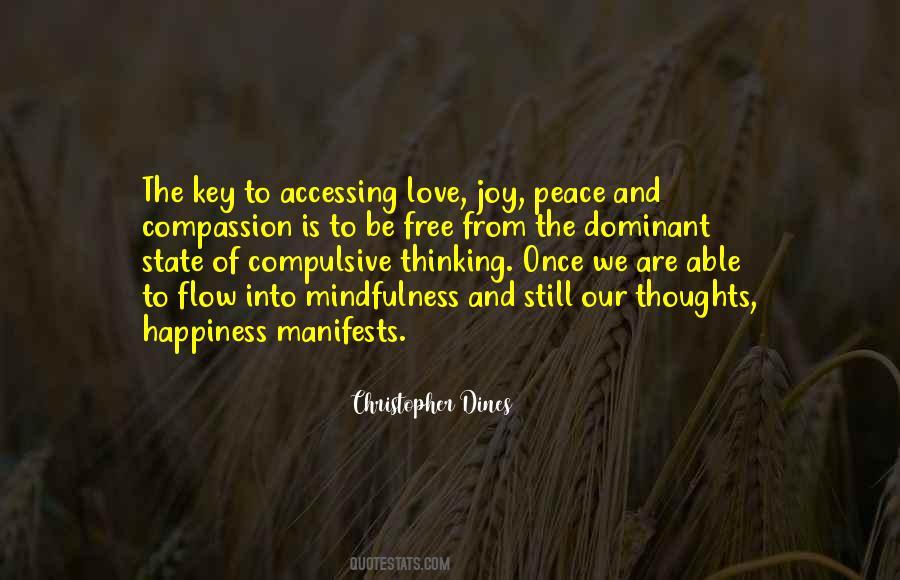 #99. As the flower blooms in spring, compassion grows in mindfulness. - Author: Amit Ray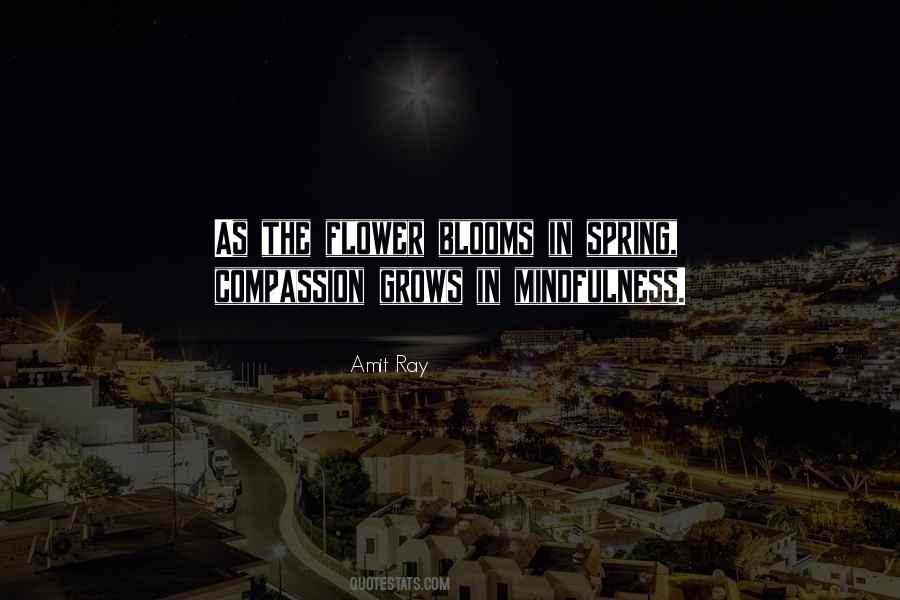 #100. We're in charge of our own forgiveness, and the process takes time, patience, and intention. - Author: Sharon Salzberg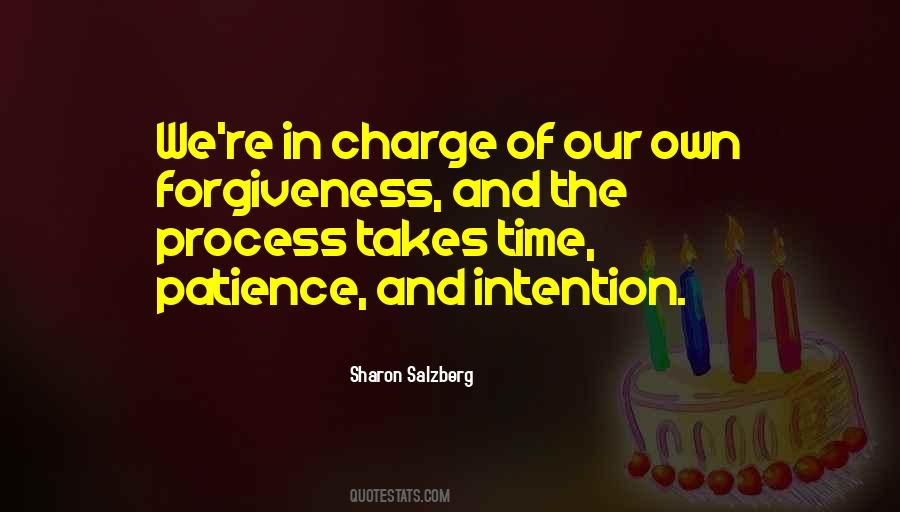 Famous Authors
Popular Topics