Marriage Problems Famous Quotes & Sayings
List of top 51 famous quotes and sayings about marriage problems to read and share with friends on your Facebook, Twitter, blogs.
Top 51 Quotes About Marriage Problems
#1. And so I found myself in a kind of love lock: pining for the wrong person, grieving beside a woman whose body I can't touch, being given a second chance I can't find the clarity to take. - Author: Courtney Maum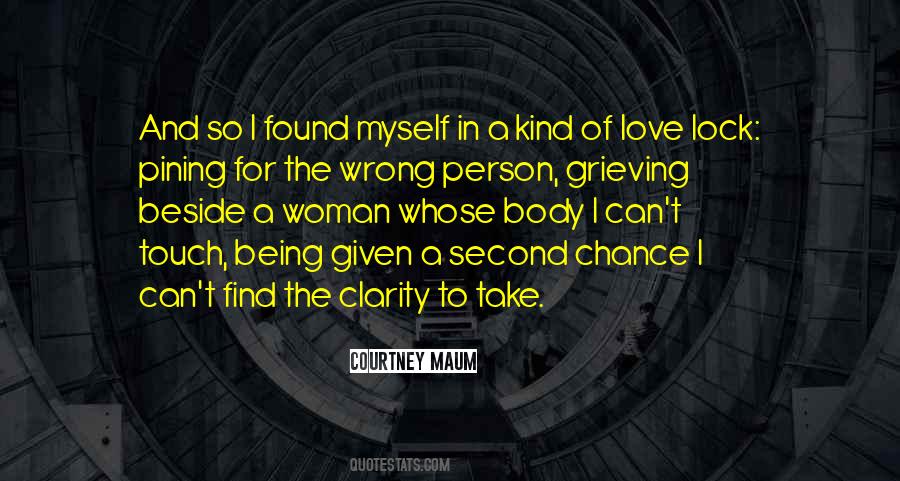 #2. [S]he'd realized that he had loved her only because she belonged to him. - Author: Lauren Oliver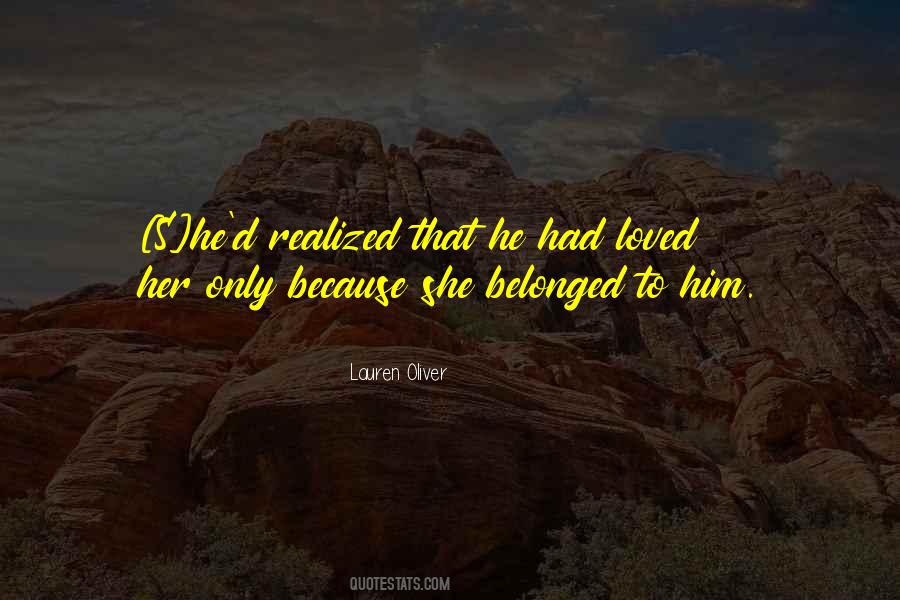 #3. Hecuba had the mistaken notion, just like my poor mama, that all a girl had to do was to get married and all her problems were solved overnight. - Author: Costas Taktsis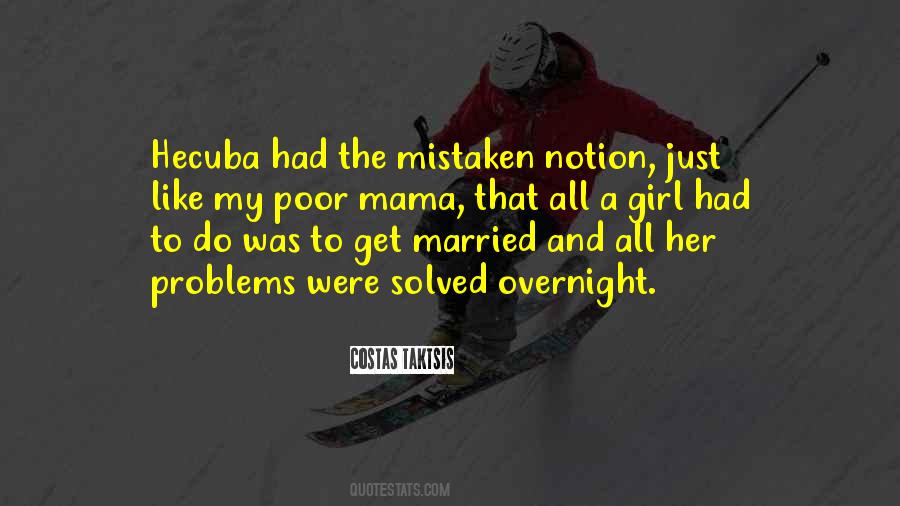 #4. insurmountable problems hit your marriage, being happy becomes an arduous - Author: S. Levine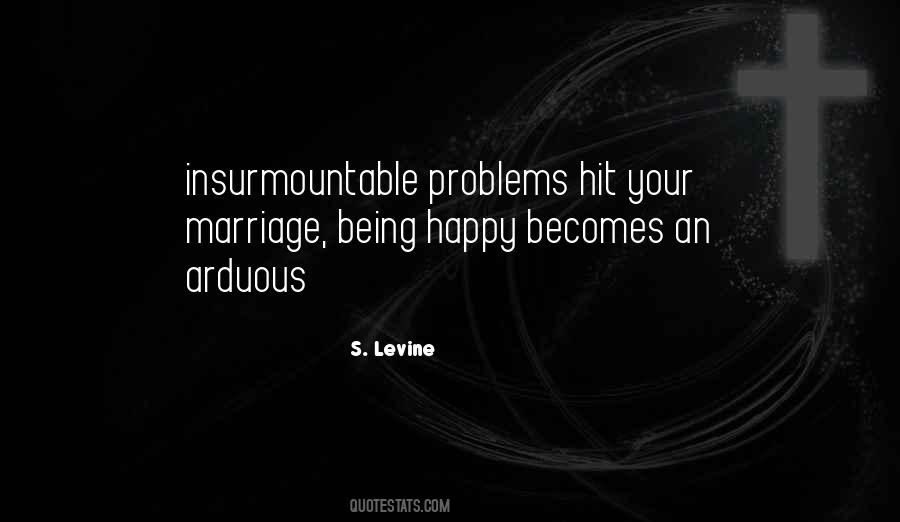 #5. It's important to have a husband that lives and believes the same way you do. Otherwise, you're asking for problems. - Author: J.E.B. Spredemann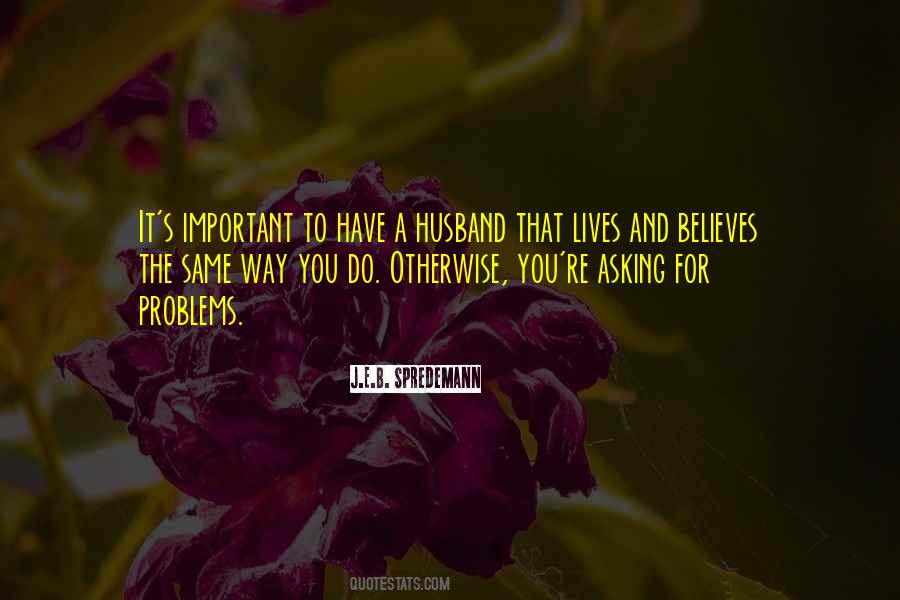 #6. I'm afraid many young people today have very romantic ideas about marriage - ideas that do not necessarily reflect the truth ... Romantic feelings alone are not enough when the problems and strains come - as they inevitably do. - Author: Billy Graham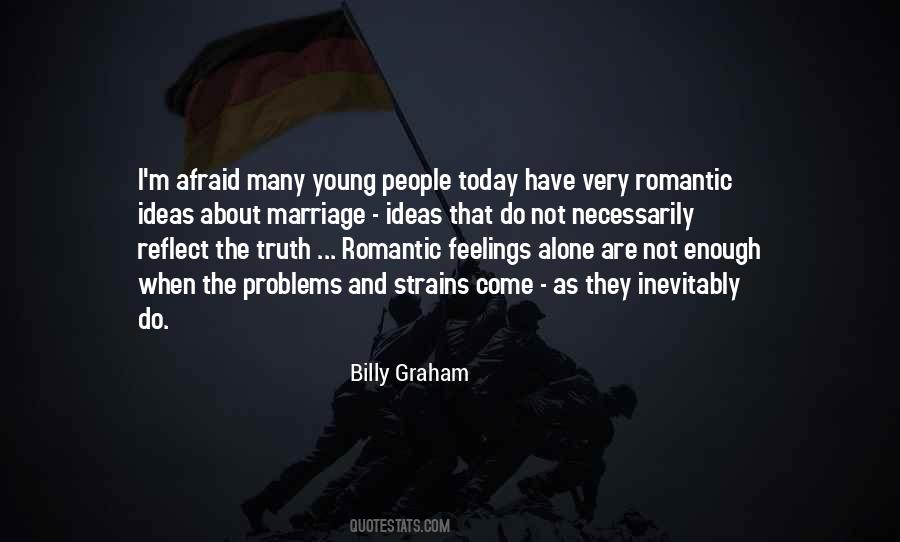 #7. The bottom line with men is: they feel best about themselves when they are solving problems. Therefore, they spend most of their time doing what they are best at while they attempt to ignore the things which cause them to feel deficient. - Author: Bill Farrel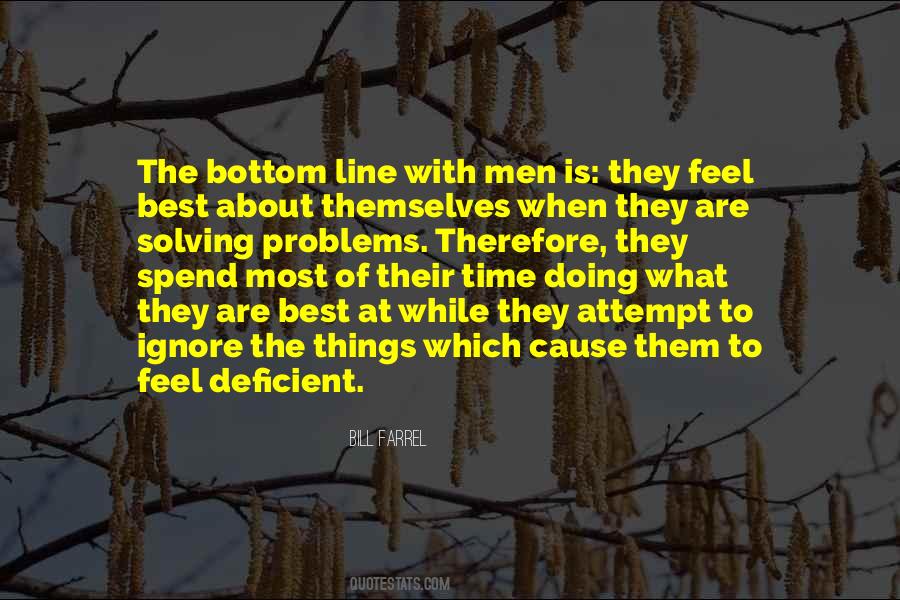 #8. PPROBLEM: You "forget" to take off your shoes in the house.

SOLUTION: There's no solution to this. She'll divorce you if you don't take off your shoes. - Author: Phil Schwarzmann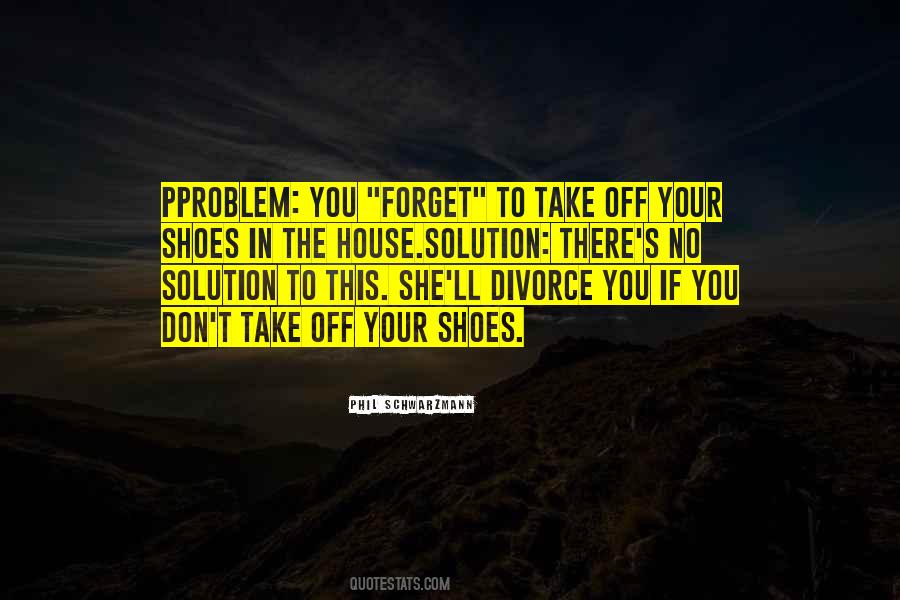 #9. The Bible says not to let the sun go down on your anger,' Dad said. 'I've applied that to our marriage, and it's helped us work through plenty of problems and disappointments.'
'You've had problems?'
At the surprise in his tone, Mom laughed. 'Of course we have. We're both sinners, aren't we? - Author: Jody Hedlund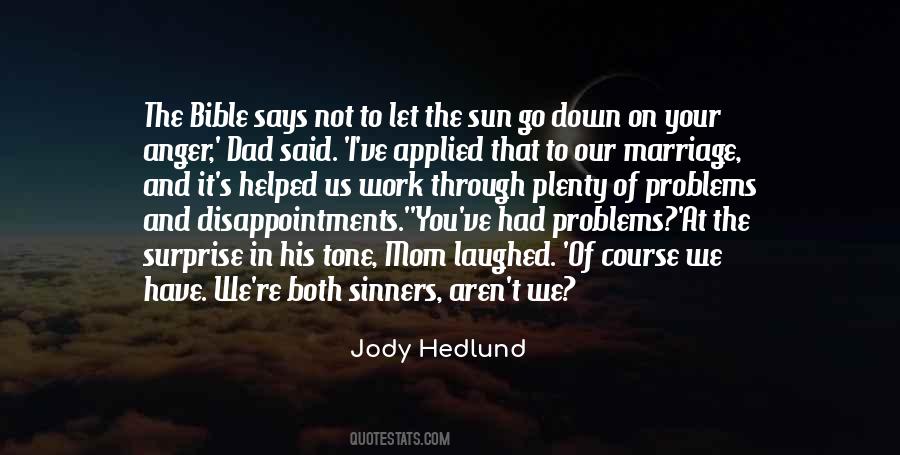 #10. ... this film taps perfectly into the viewers' sense of the world. It was a big, big hit, and one of Hollywood's best-remembered marriage movies, although by grounding itself in trendy political issues, it avoids ordinary day-to-day marital problems. Its bottom line is, however, marry your own kind. - Author: Jeanine Basinger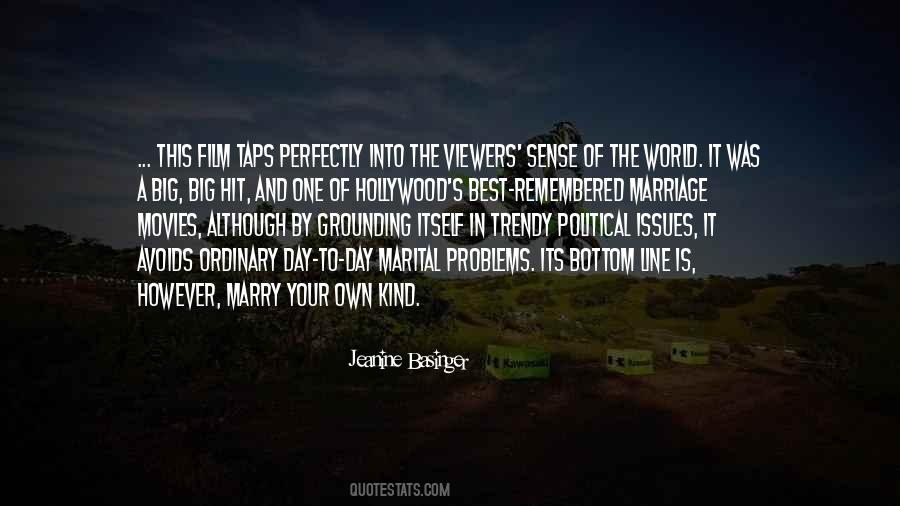 #11. Passion and marriage are essentially irreconcilable. Their origins and their ends make them mutually exclusive. Their co-existence in our midst constantly raises insoluble problems, and the strife thereby engendered constitutes a persistent danger for every one of our social safeguards. - Author: Denis De Rougemont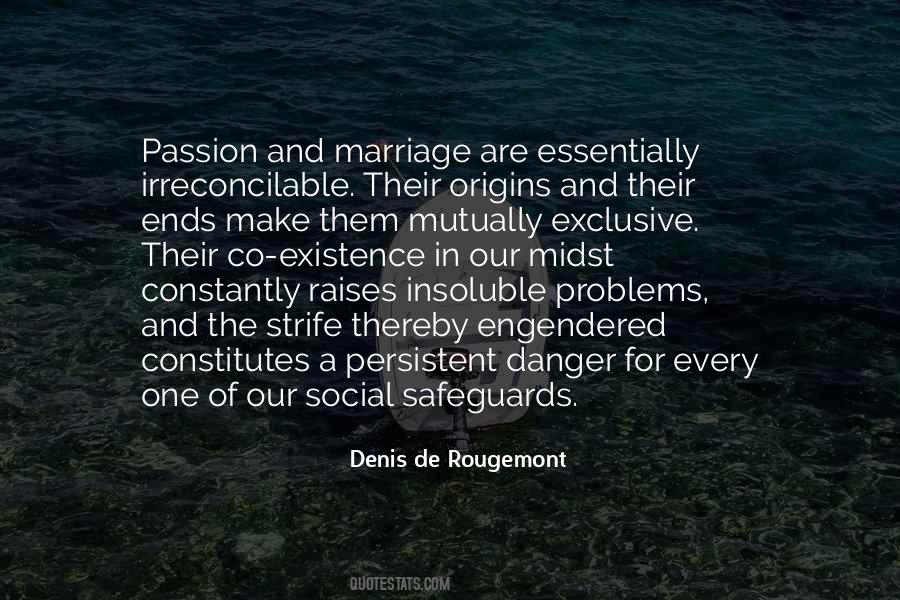 #12. Marriage problems are relationship problems, they are the result of how two people interact with each other. You may abandon a troubled marriage, but you will still bring the way you interact with others along with you. - Author: Mark Gungor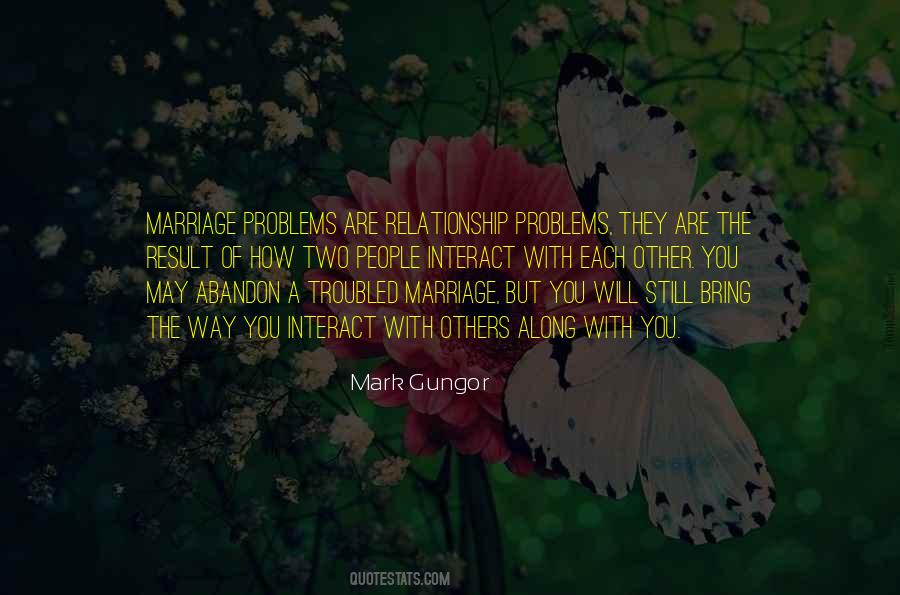 #13. The children of violently unhappy marriages, like my mother, are often hamstrung for life, but the children of happier marriages have problems too - all the worse, perhaps, because they don't have virtue on their side. - Author: Lorna Sage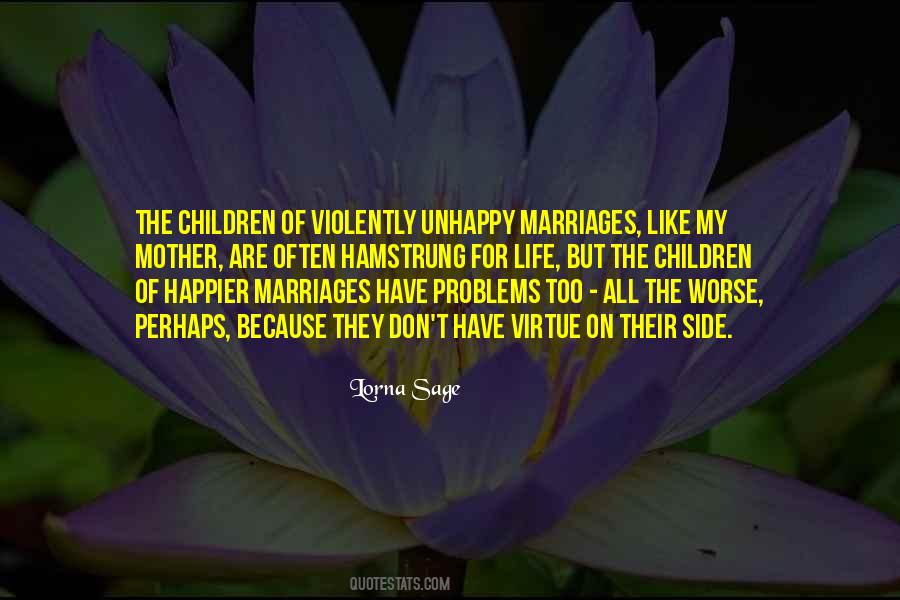 #14. It wasn't a lack of attraction to her husband that caused her problems. It was life. It was traffic. It was the Miami Dade Water and Sewer bills, it was trying to get ahead, and trying to be on time. Petty little thing, but zillions of them fused together. - Author: Heather Graham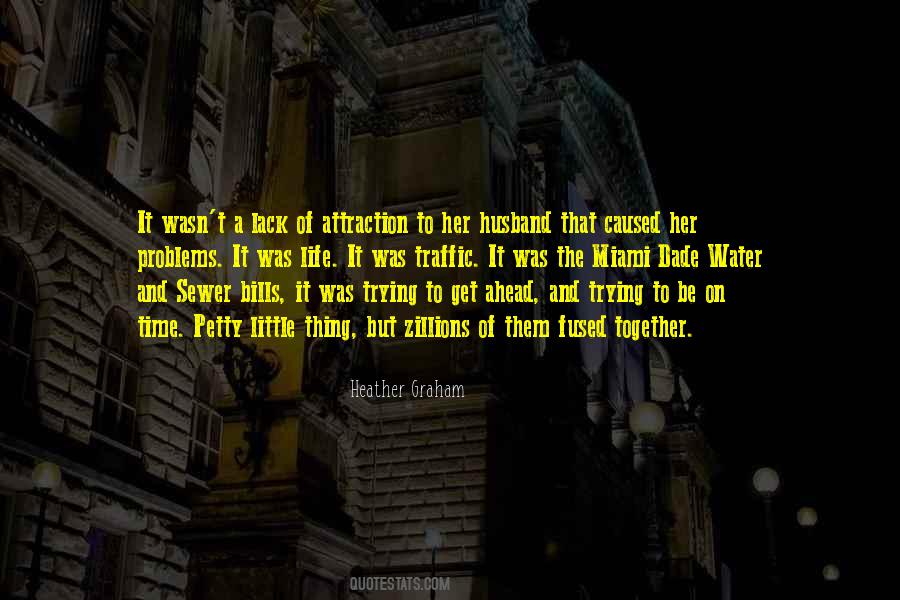 #15. While your character flaws may have created mild problems for other people, they will create major problems for your spouse and your marriage. - Author: Timothy Keller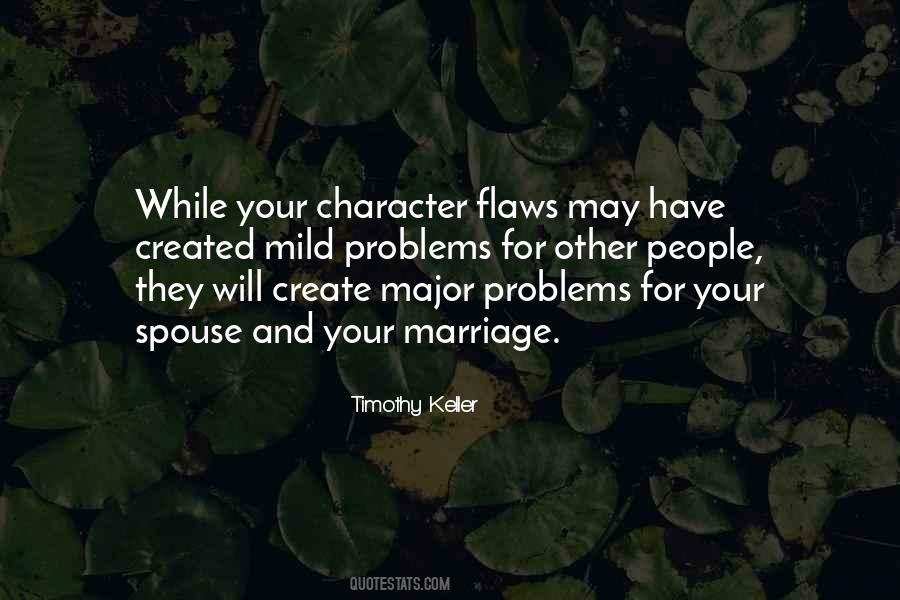 #16. Most marriage problems are not really marriage problems, they are God problems. They can be traced back to one, or both, having a poor relationship with God, or a faulty understanding of him. An accurate picture of God is vital to a healthy marriage. It's vital to everything. - Author: Francis Chan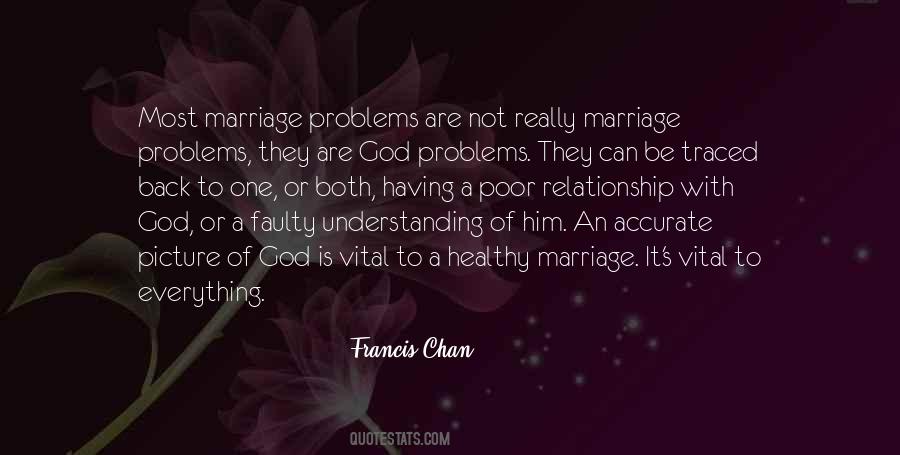 #17. Oftentimes the root of their marriage problems is found in some hostility they have been hauling around, sometimes since childhood. - Author: Charles F. Stanley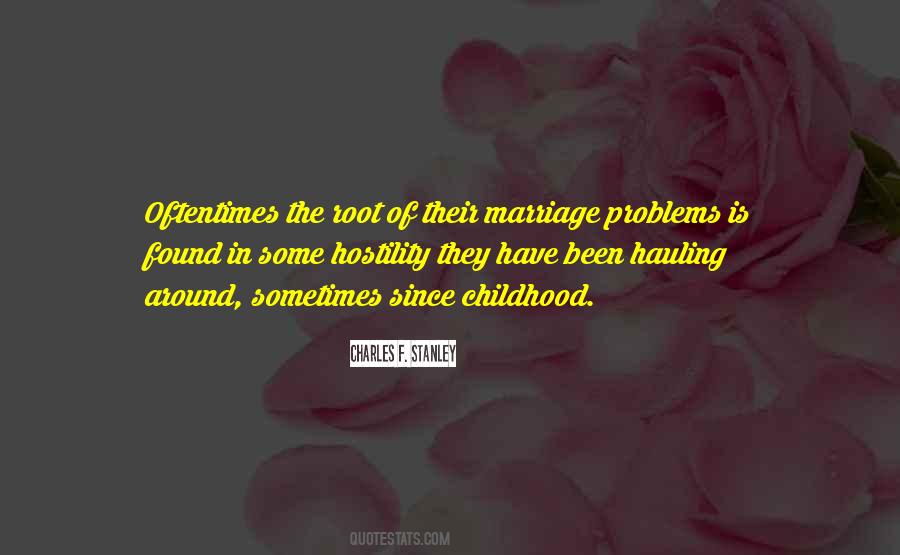 #18. The worst problems for children stem from parental conflict, before, during, and after divorce or within marriage. - Author: Stephanie Coontz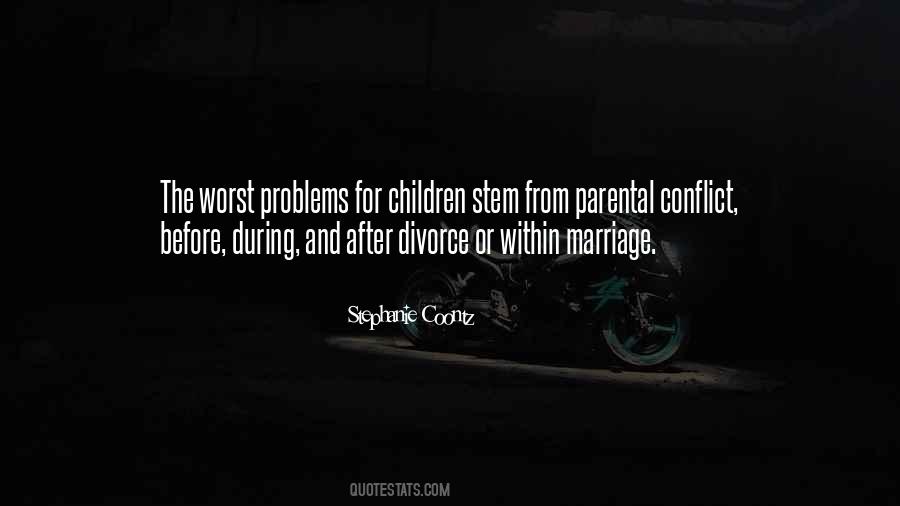 #19. Men marry. Women wed. - Author: Raheel Farooq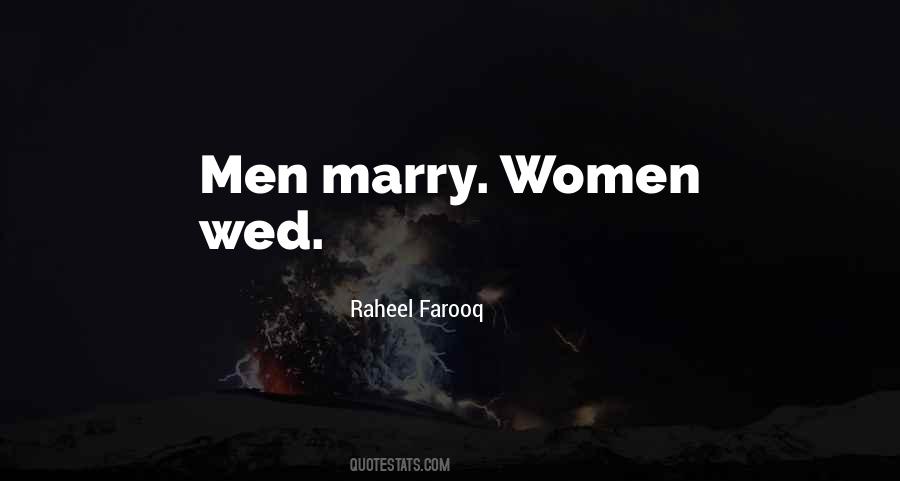 #20. It's the same girl-who-has-everything story. You know, the one where she's insecure and scared and unhappy and has marriage problems and doesn't know how to handle stardom and screws up right and left and gets in with the wrong people and goes down the drain. - Author: Natalie Cole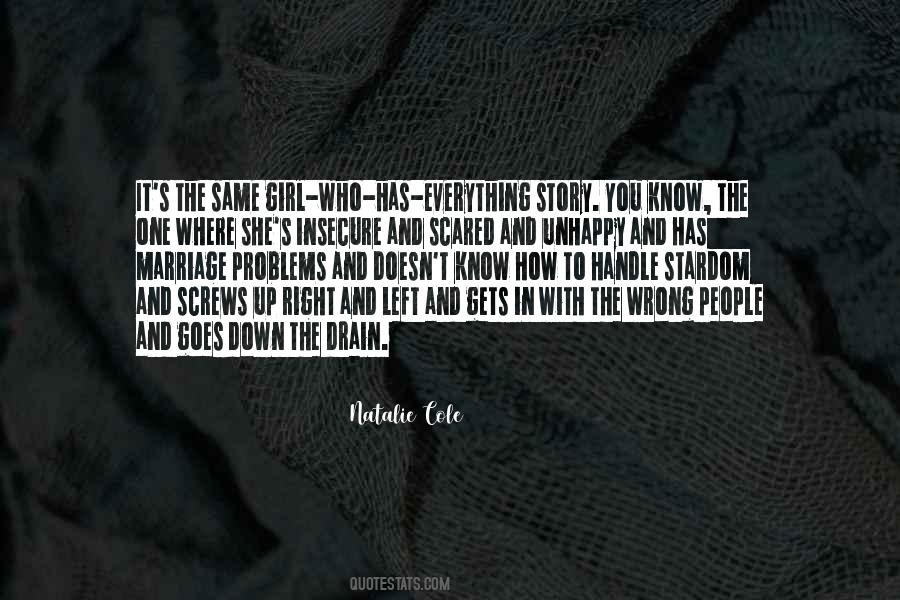 #21. Well. That was bound to be a loving marriage with no problems whatsoever. - Author: Jodi Meadows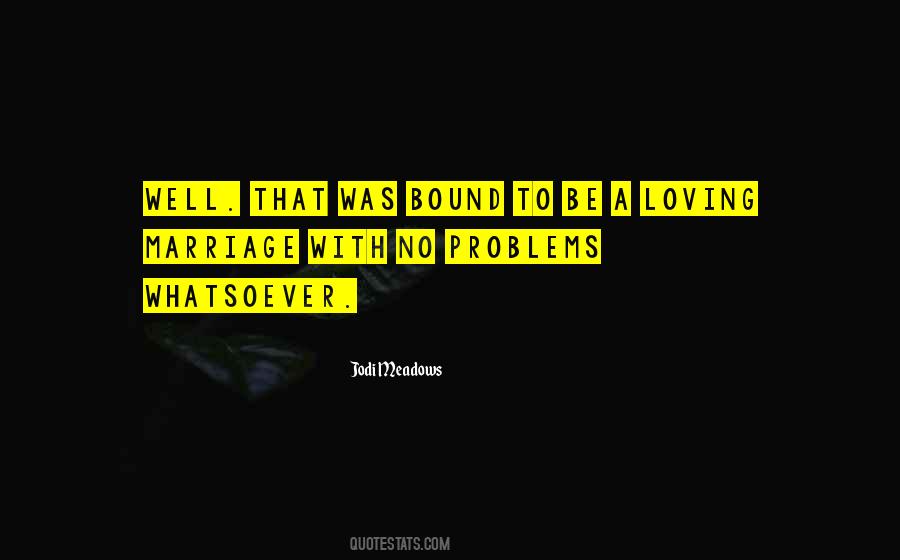 #22. His mother had survived decades of marriage to his angry, disappointed, alcoholic father by developing what she called a "forgettery" instead of a memory. She woke up every day and forgot the day before. - Author: Salman Rushdie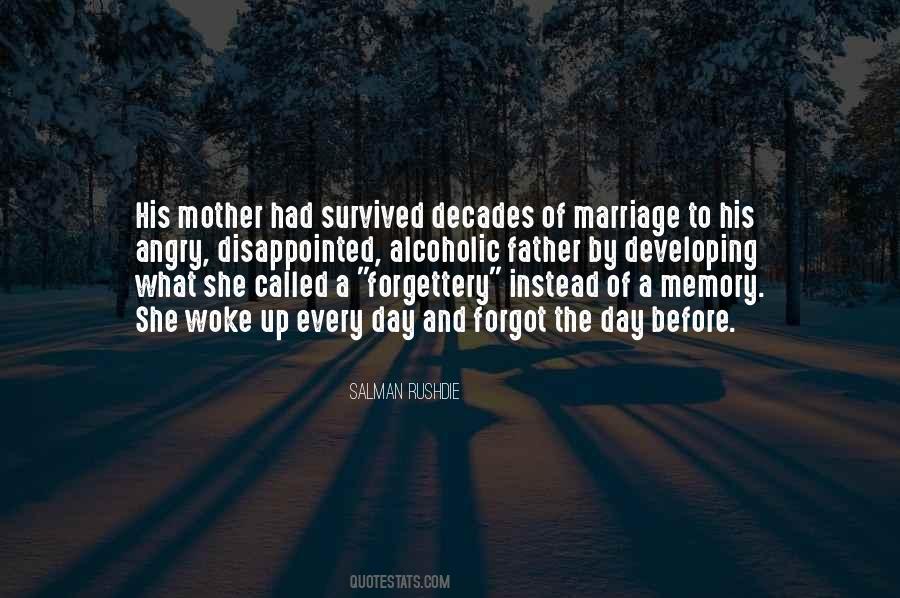 #23. Relationship math suggests that It is rare for two people to enter marriage and one person is to blame for everything that goes wrong - Author: Johnnie Dent Jr.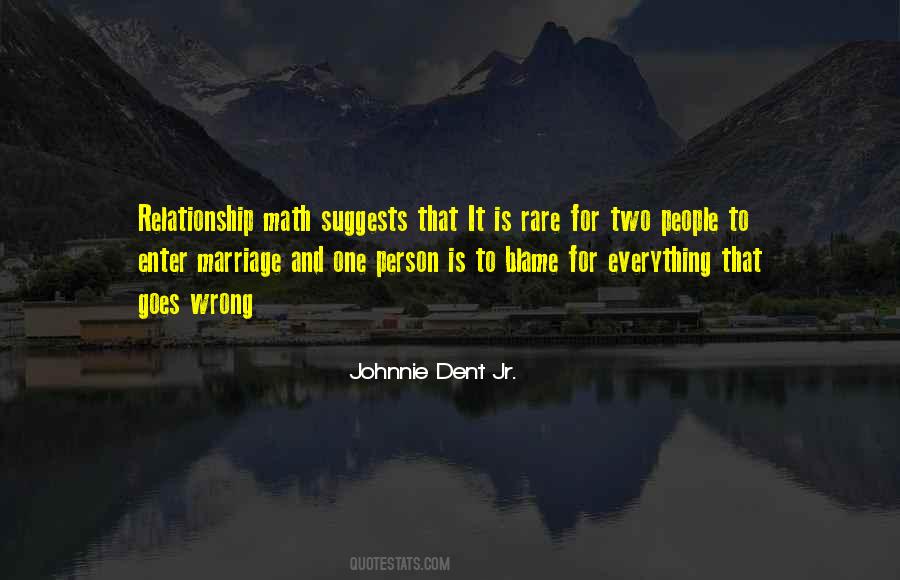 #24. What I've learnt being an actor is that you've got to be lucky. I got less lucky, and nobody was interested. If a part came up, it would be for the main corpse's friend's brother who was having problems with his marriage. - Author: Peter Capaldi
#25. Not necessary that every problem has a solution, you have to live with 'some' problems..rather than forcing a solution and doing a blunder, live with it.. People always have solutions for 'your' problems but none for their own.. - Author: Honeya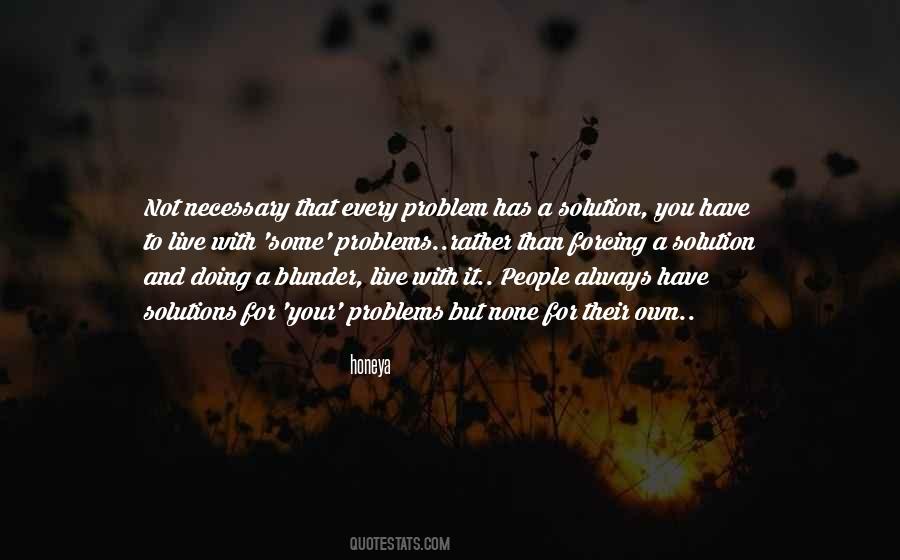 #26. Marriage is a great blessing, but it can be a great lesson - Author: Ernest Agyemang Yeboah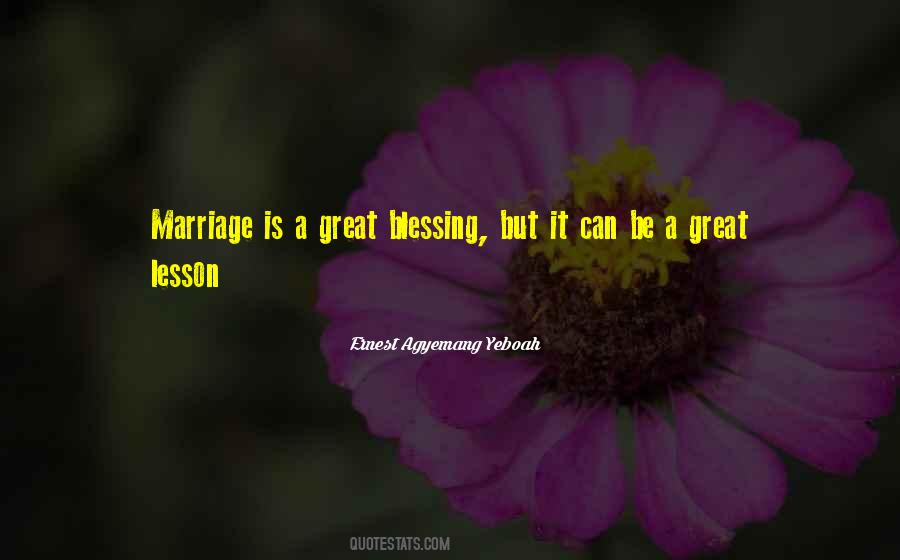 #27. Whether it's mending a failing company, fighting corruption, tackling disease, or rebuilding a marriage, the hardest problems defy just-add-water remedies. Indeed, slapping on a Band-Aid when surgery is needed usually just makes things worse. - Author: Carl Honore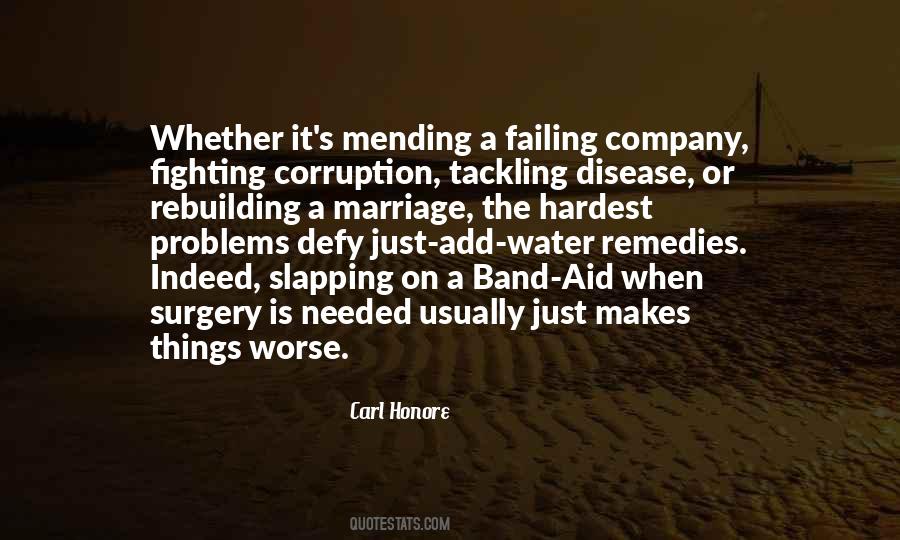 #28. Love always doesn't come across as bad, but it always has two sides. - Author: Auliq Ice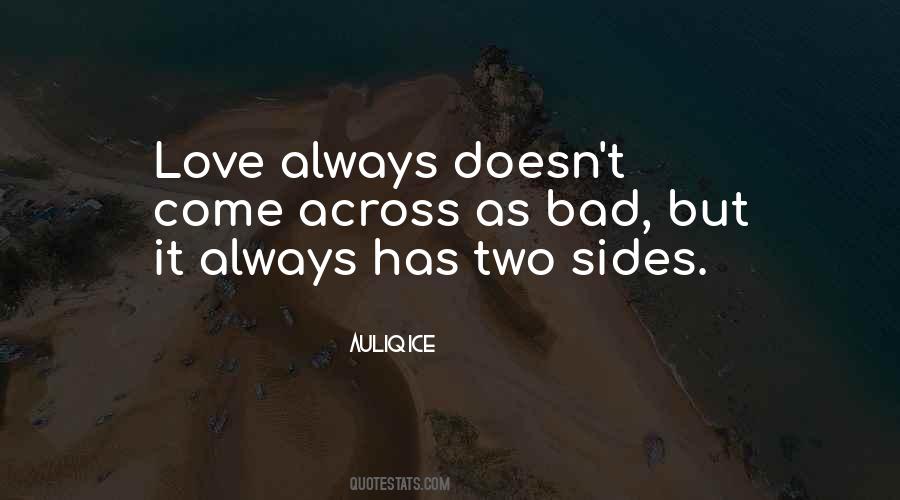 #29. If you hide what you really are, then there's going to be problems in marriage down the road. I don't mind if a girl is aggressive. It's just sex. - Author: Andrew Dice Clay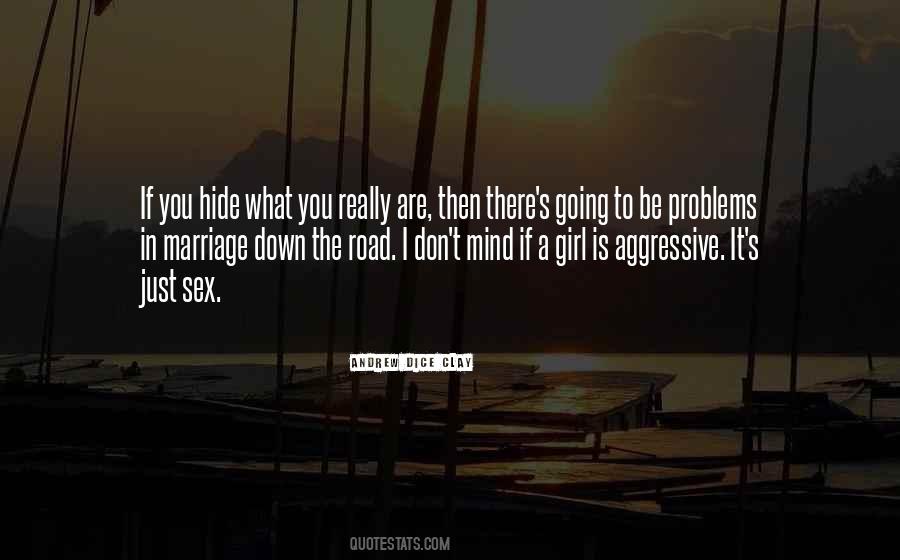 #30. A band is not a marriage. There are no oaths of allegiance. If you feel your life will be better served by splitting up the group, you've got to do it - but of course it does cause problems. - Author: Steve Winwood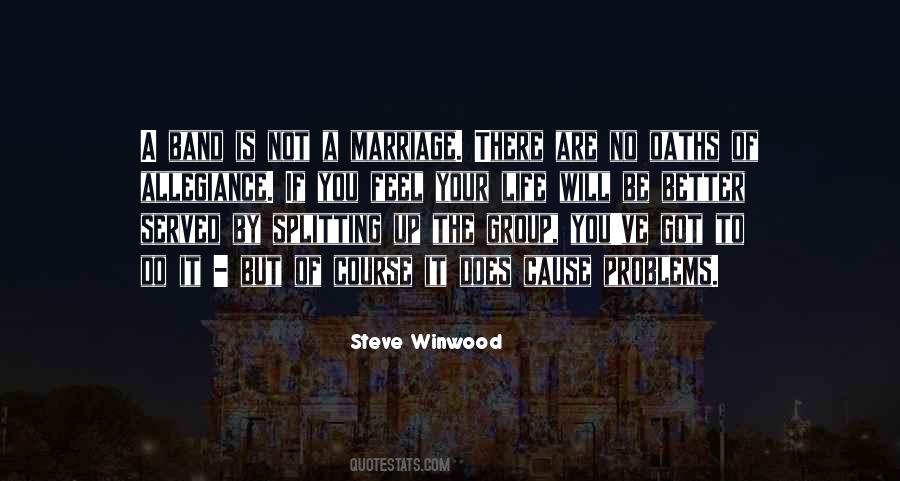 #31. Wherever you go, there you are. You would just have different problems. Are the problems you have now so bad that any other problems would be better? - Author: Ada Calhoun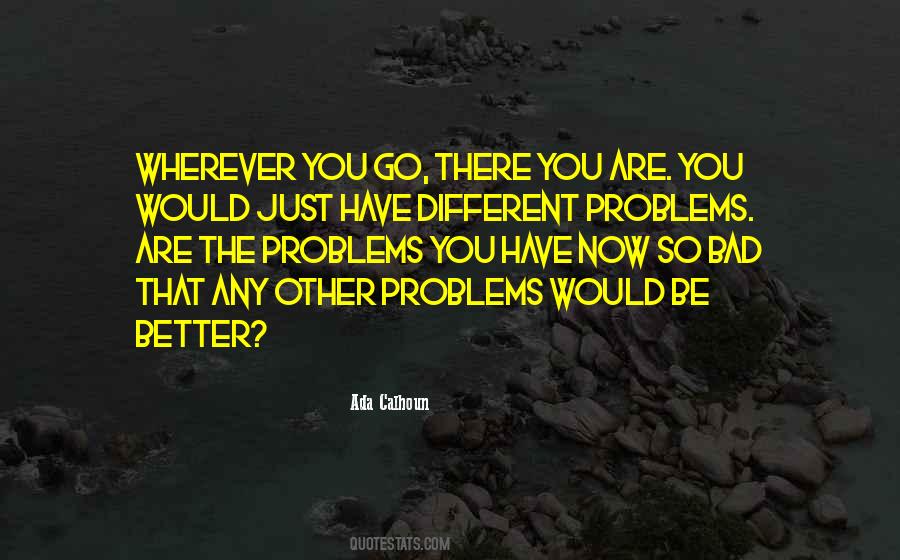 #32. There is nothing spiritual about a marriage that uses guilt, blame, shame or religious manipulations to keep a relationship together. - Author: Shannon L. Alder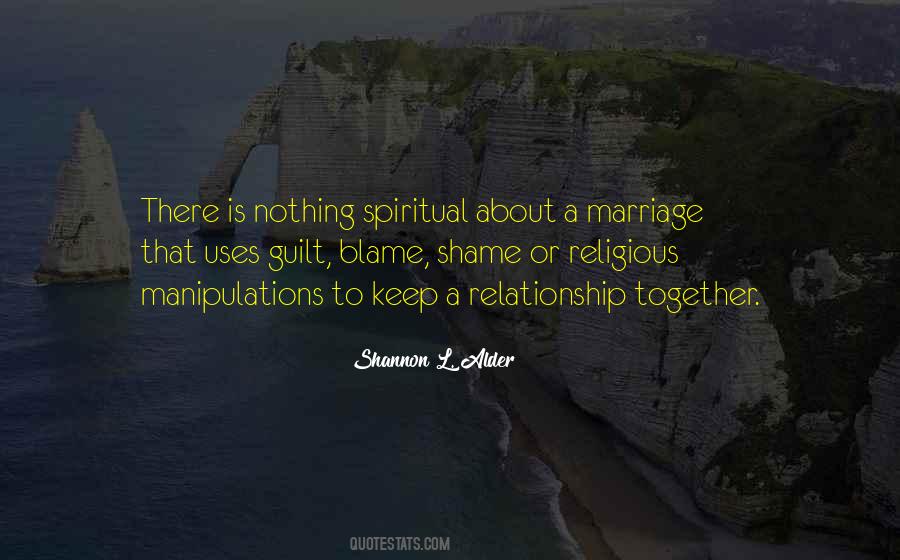 #33. ... having been with Boaz for so long that she could predict every one of his moves, their sex life was more like a race to see who came first. - Author: Molly Antopol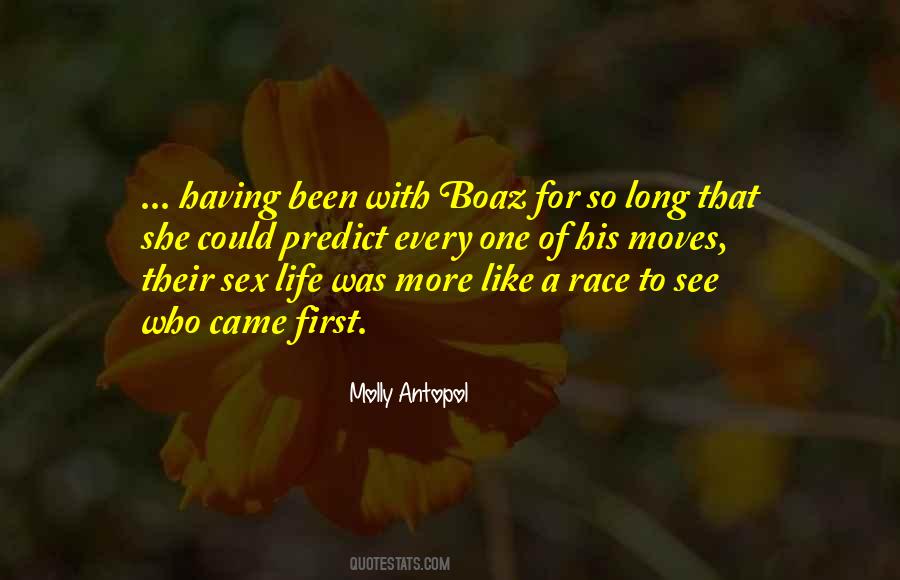 #34. Again, our marriage problems are not really marriage problems. They are heart problems. They are God problems. Our lack of intimacy with God causes a void that we try to fill with the frailest of substitutes. Like wealth or pleasure. Like fame or respect. Like people. Like marriage. - Author: Francis Chan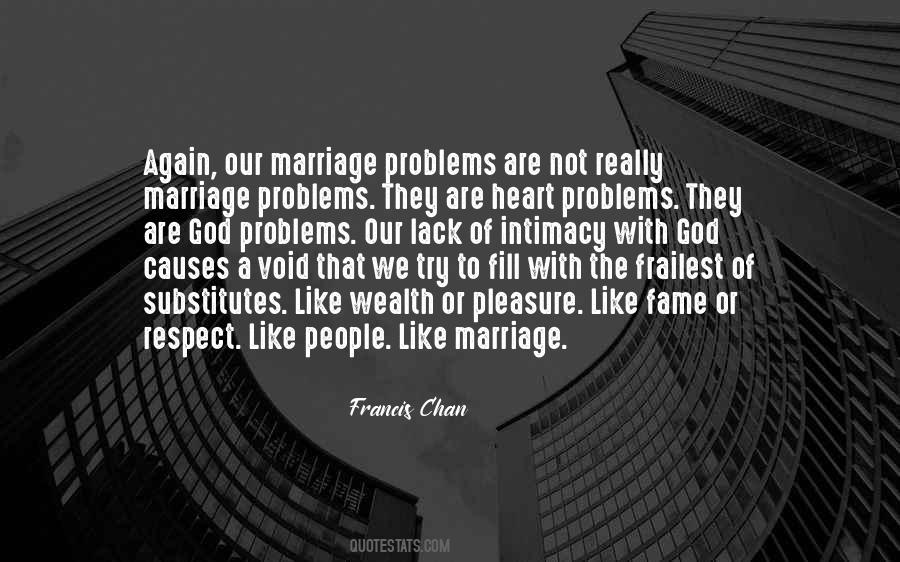 #35. Marriage is an attempt to solve problems together which you didn't even have when you were on your own. - Author: Eddie Cantor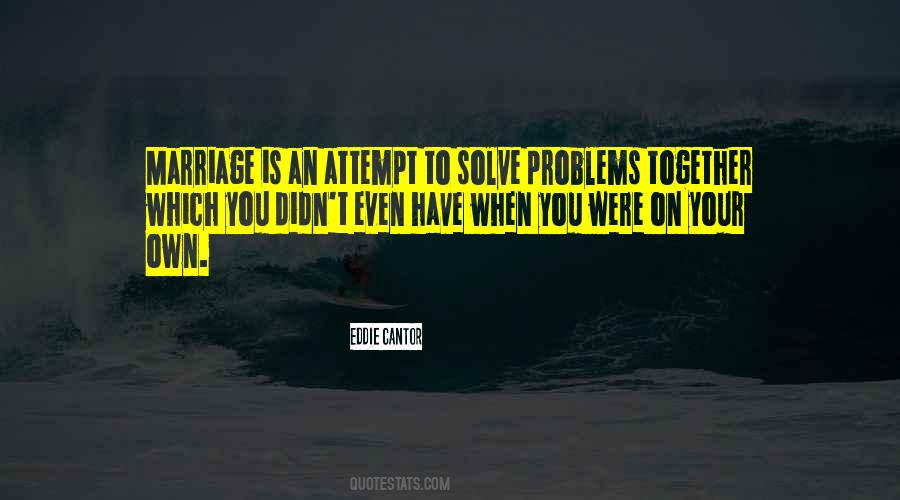 #36. Don't discuss your relationship problems with friends. Your zombie problems are another story entirely. - Author: Jesse Petersen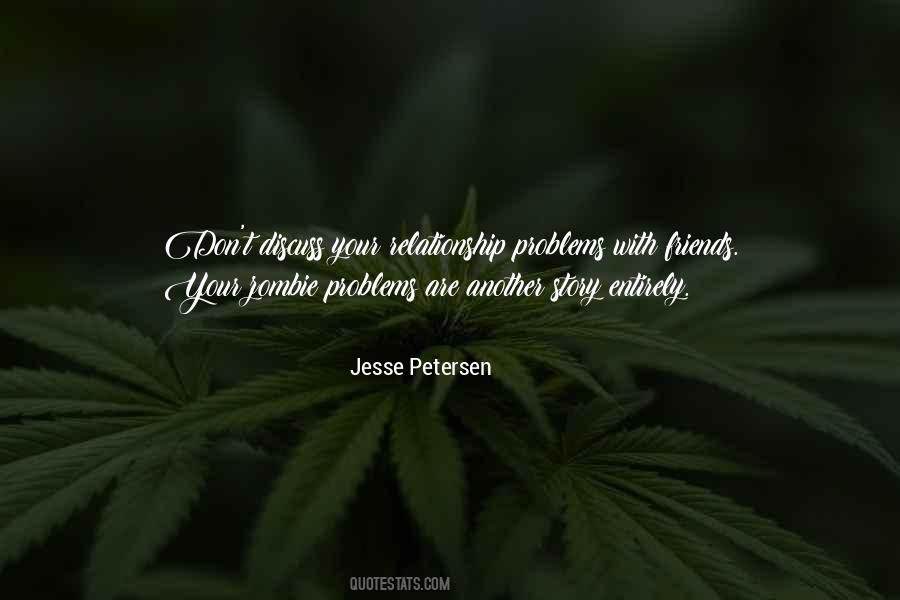 #37. I've known plenty of couples who choose to ignore budding problems or dissatisfactions because it's easier in the moment. But too much of that for long enough, and you all of a sudden have a huge problem on your hands, or a midlife crisis, or a broken marriage. - Author: Fawn Weaver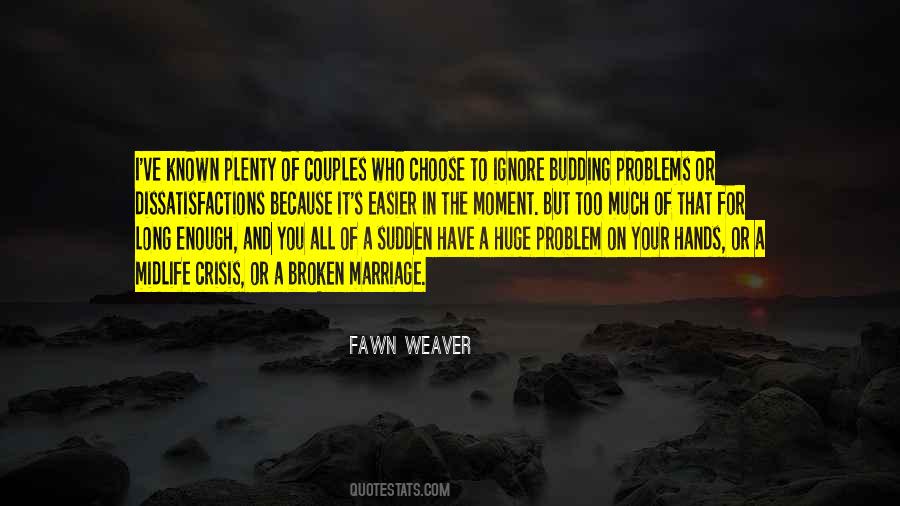 #38. I can think of no habit, kept up through the years, that binds a married couple more than that of reading good books together. Domestic problems and personal problems are for the time forgotten, and an intellectual intimacy is established that can be maintained in few other ways. - Author: Alice Hegan Rice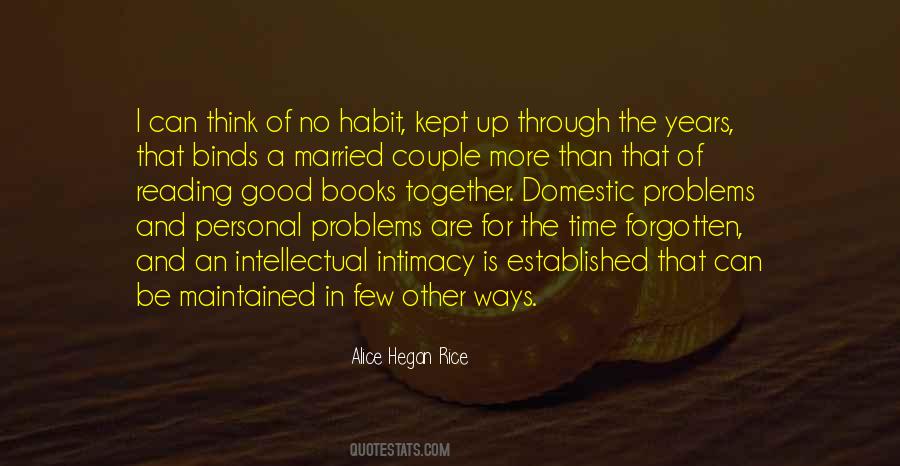 #39. It took me too long to realise that if you go to a marriage counsellor to resolve problems, it's in his interest to keep the marriage going. - Author: Michael Douglas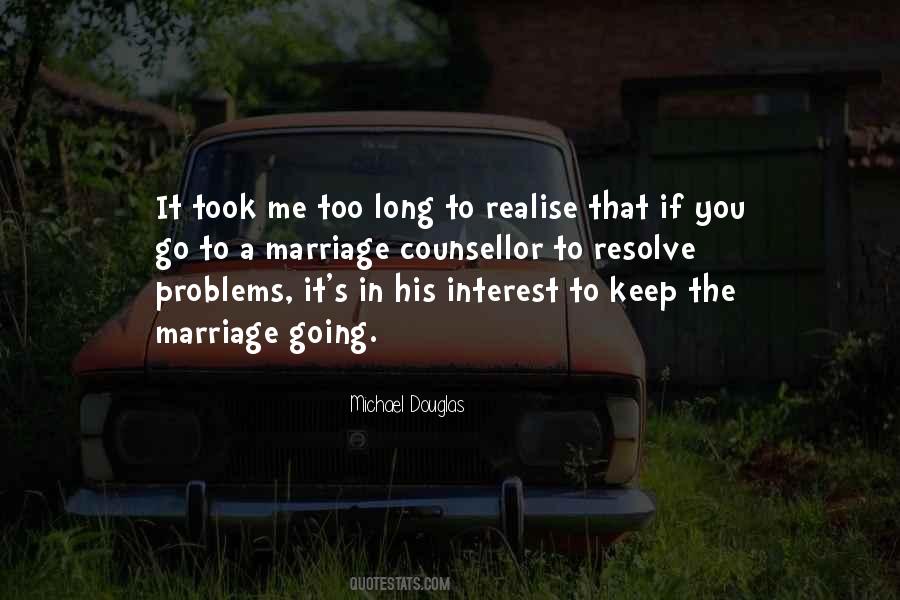 #40. Jesus' teaching in general [implies] that happy and fulfilling sexual relations in marriage depend on each partner aiming to give satisfaction to the other. If it is the joy of each to make the other happy, a hundred problems will be solved before they happen. - Author: John Piper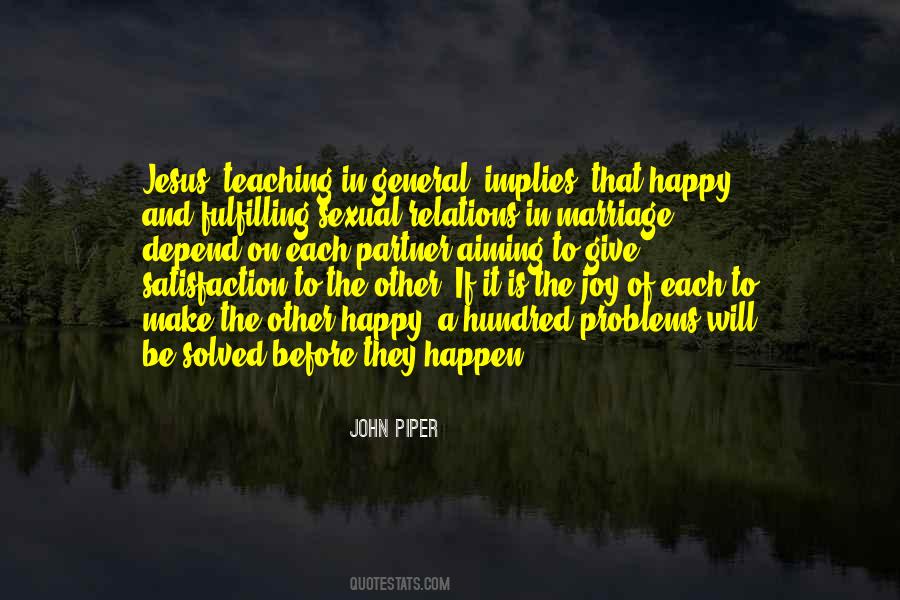 #41. The solution to the problems of marriage and parenting is simple. Spend more time with the people you care about the most. - Author: Brian Tracy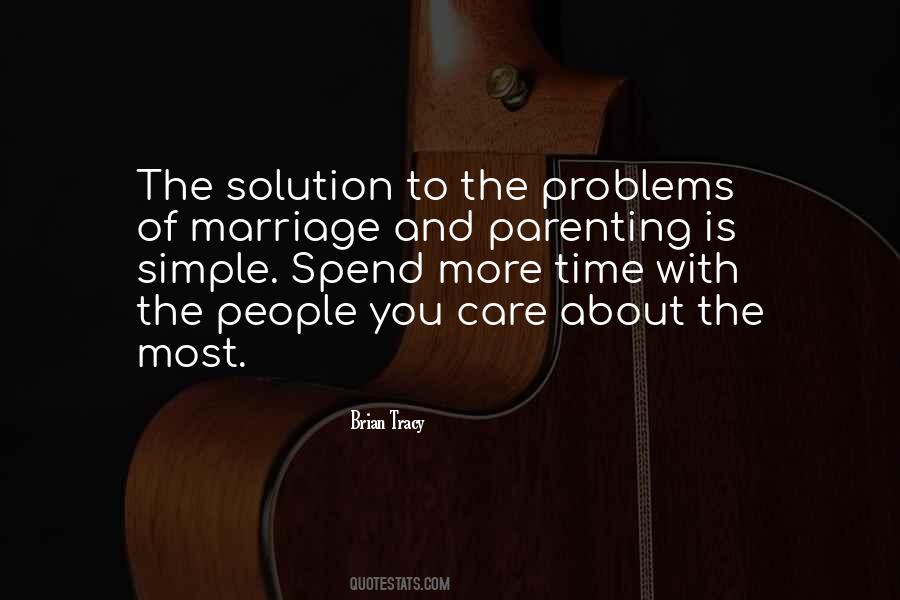 #42. A perfectly happy marriage? There is no such thing. There are strong marriages that can survive problems, but happiness is such a brief condition, interrupted by difficulties and plain, boring routine. - Author: Ursula Hegi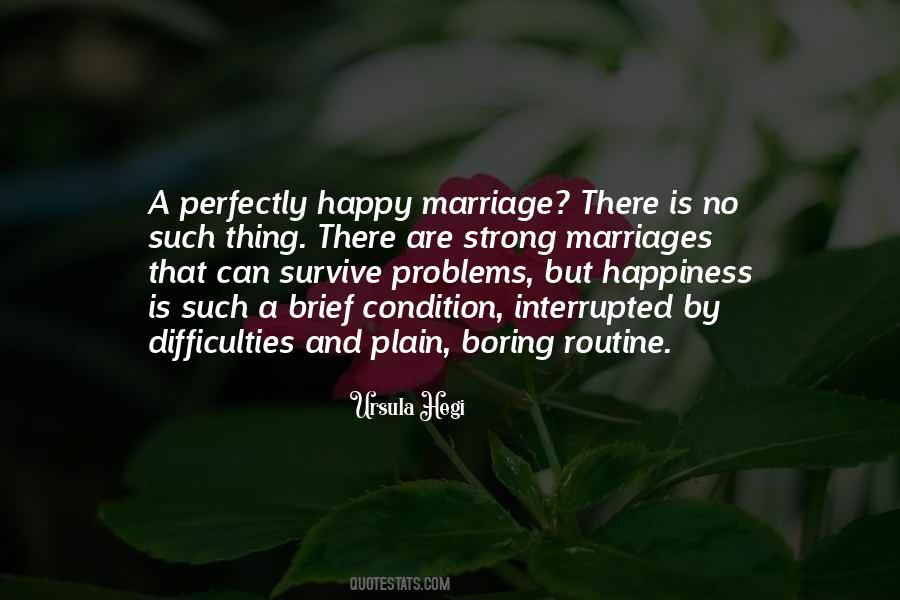 #43. Trouble in a marriage," he later wrote, "is like monsoon water accumulating on a flat roof. You don't realize it's up there, but it gets heavier and heavier, until one day, with a great crash, the whole roof falls in on your head. - Author: Salman Rushdie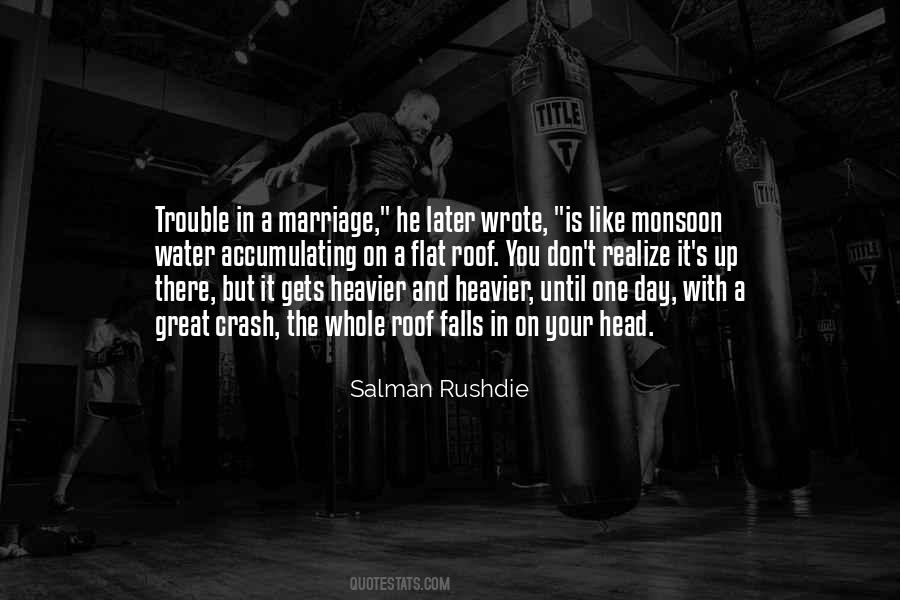 #44. Marriage is marriage. Everybody has problems. - Author: Mel Gibson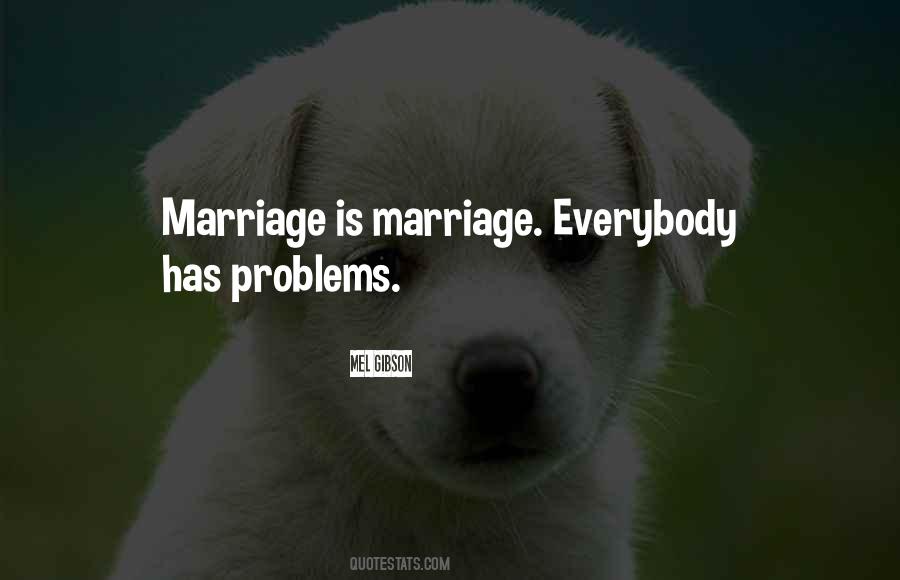 #45. We are trained to analyze problems and create solutions. We forget that marriage is a relationship, not a project to be completed or a problem to solve. - Author: Gary Chapman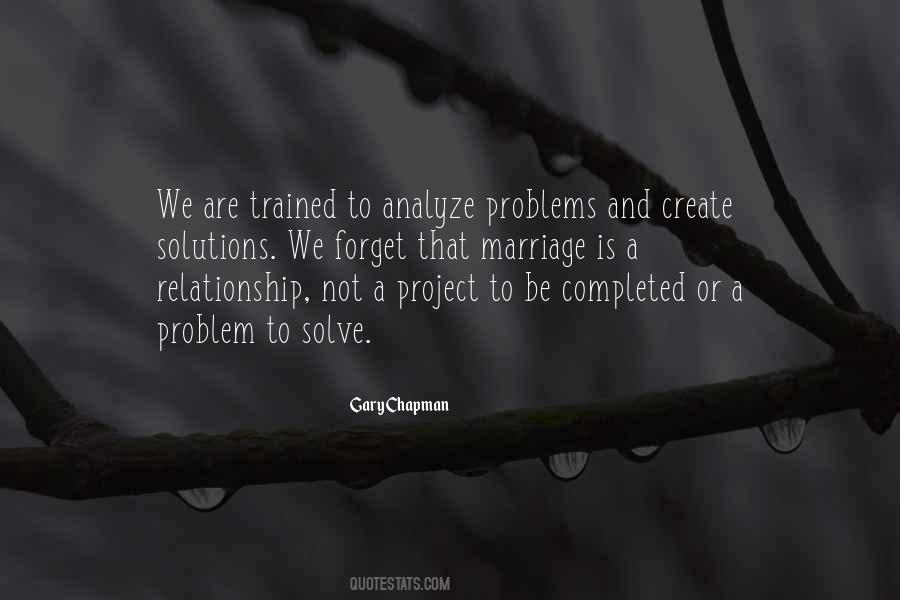 #46. Marriage doesn't create problems. It reveals them. You bring unresolved stuff into it. - Author: Rick Warren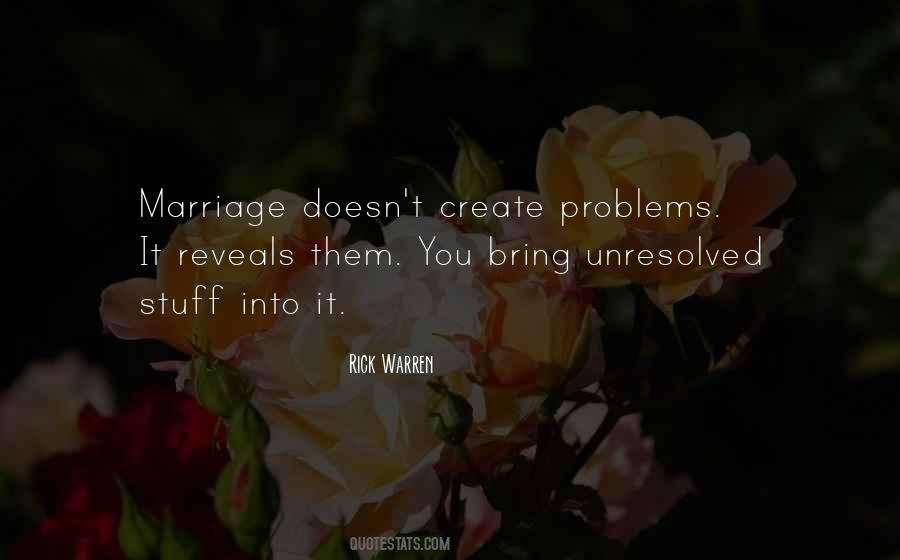 #47. Marriage is for the mature, not the infantile. The fusion of two different personalities requires emotional balance and control on the part of each person. - Author: Archie Lee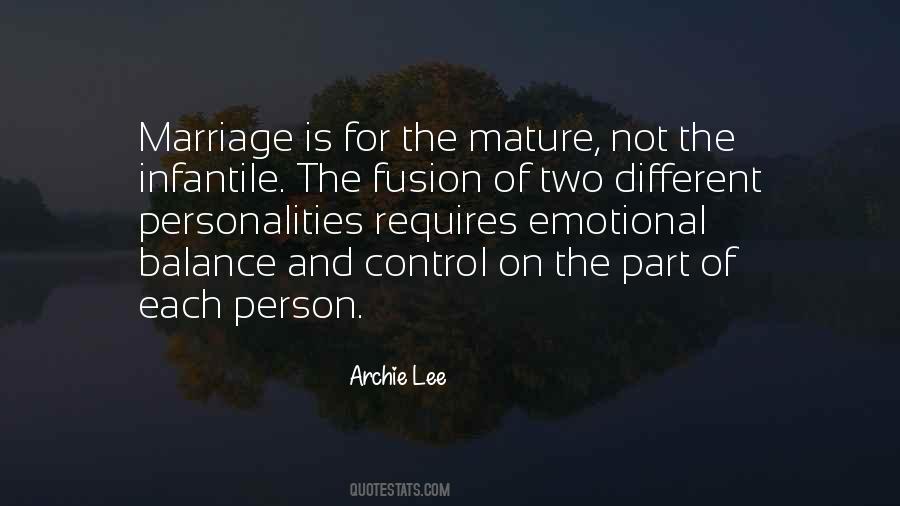 #48. Relationships are most likely to fail when we don't address problems or hold our partner accountable for unfair or irresponsible behavior ... the ability to clarify our values, beliefs, and life goals
and then to keep our behavior congruent with them
is at the heart of a solid marriage. - Author: Harriet Lerner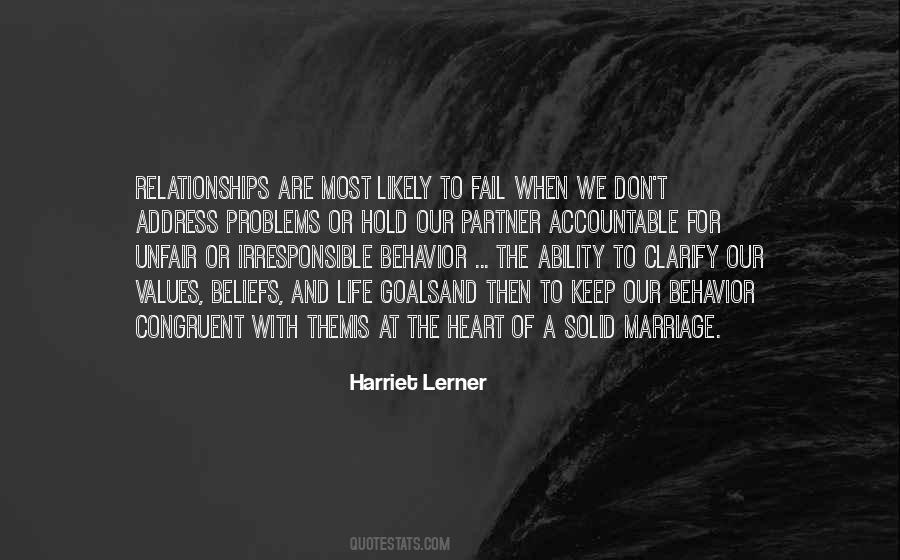 #49. I hope you smile, laugh, and maybe even learn something that will help you along the way to happily-ever-after. - Author: T.N. Carpenter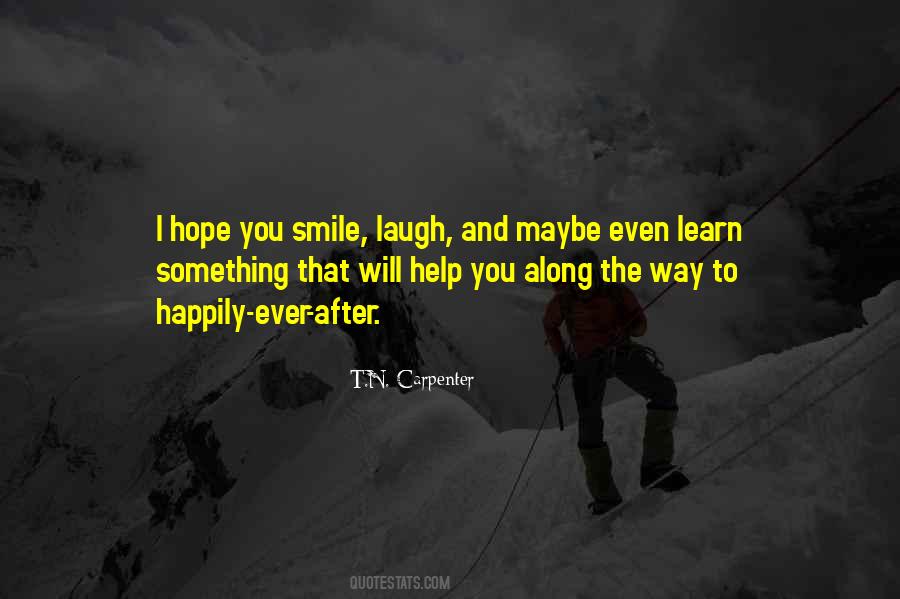 #50. Before my marriage, I didn't think about all the obligations that were awaiting me. My experience has proved useful and I think that I have a natural propensity to feel compassion for people and their problems. - Author: Grace Kelly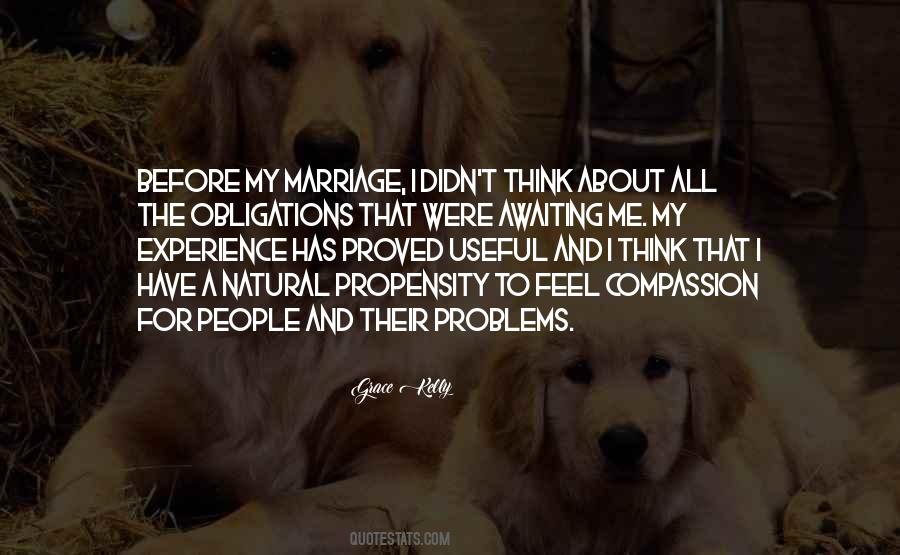 #51. What I'm trying to say is that it will be okay between you and Nate. Because you both want that. Because you both want that more than anything. It sounds simple, but I'm learning that the problems start when you want different things - Author: Laura Dave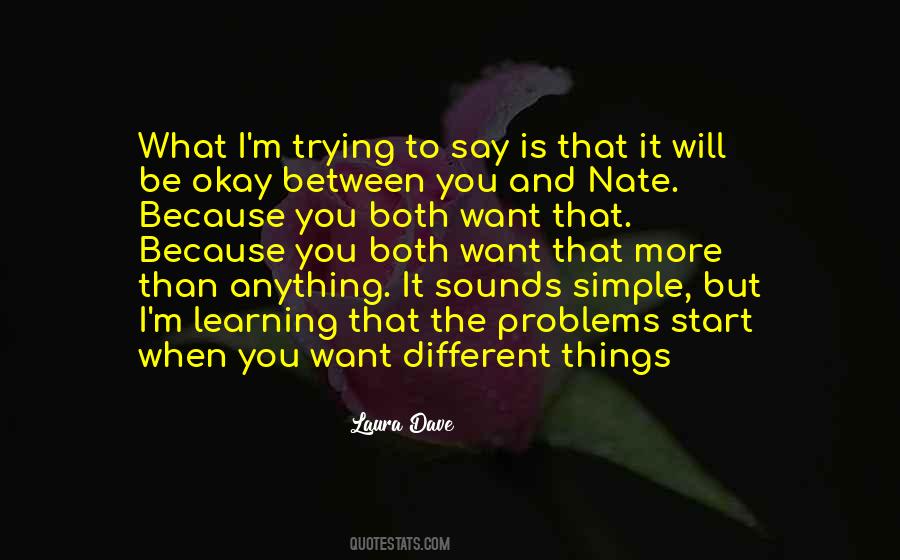 Famous Authors
Popular Topics