Making Art Famous Quotes & Sayings
List of top 100 famous quotes and sayings about making art to read and share with friends on your Facebook, Twitter, blogs.
Top 100 Quotes About Making Art
#1. I have no interest in going on a tour to make money without making new product, new art. - Author: David Gilmour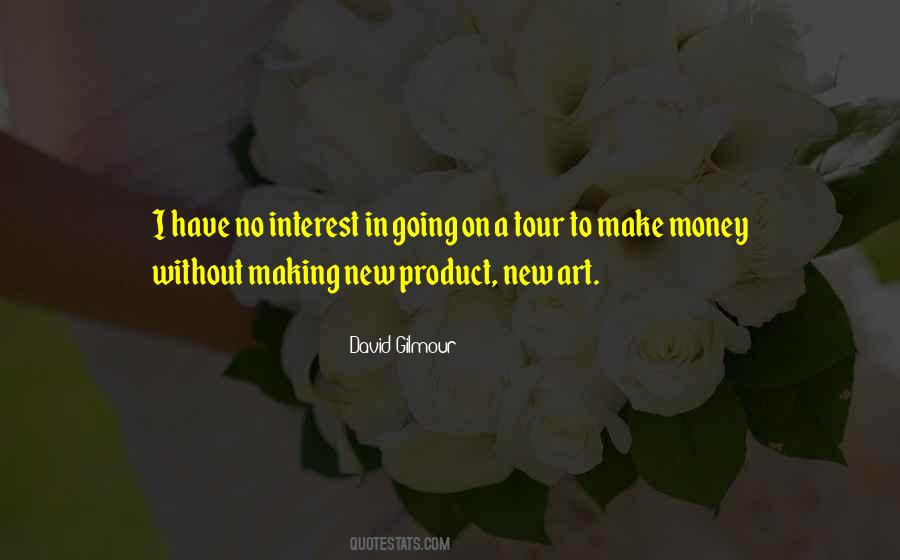 #2. The art of spreading rumors may be compared to the art of pin-making. There is usually some truth, which I call the wire; as this passes from hand to hand, one gives it a polish, another a point, others make and put on the head, and at last the pin is completed. - Author: John Newton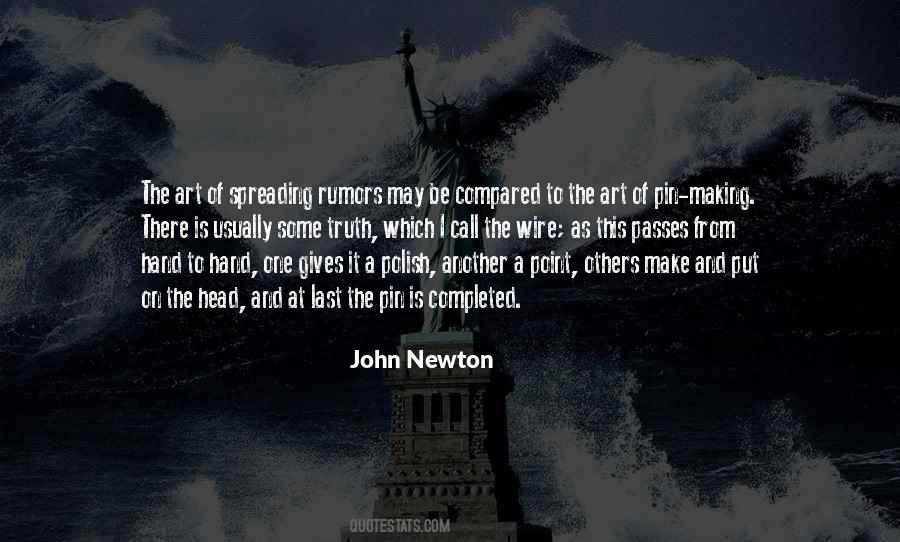 #3. Just as you would when making a new work of art, don't ask for help or seek the judgment of others. You don't want to be subjected to another person's limitations or expectations. - Author: Jackie Battenfield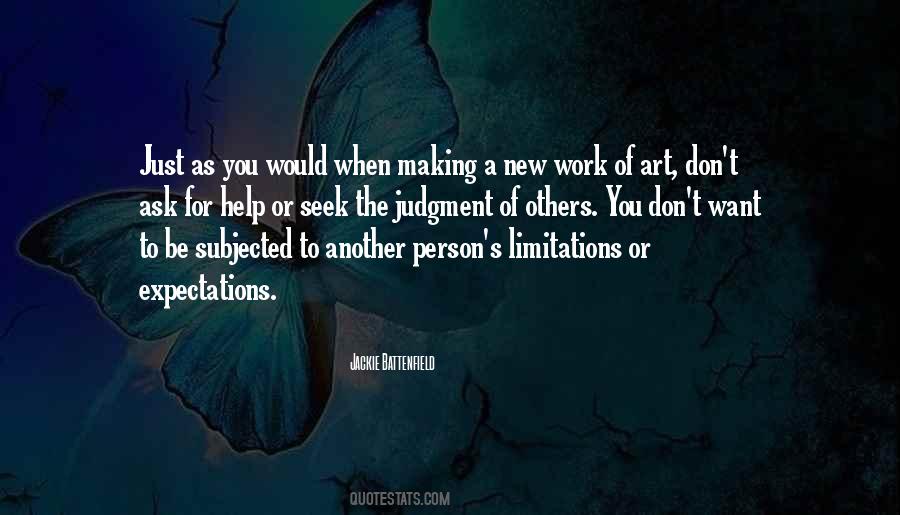 #4. Deals are my art form. Other people paint beautifully on canvas or write wonderful poetry. I like making deals, preferably big deals. That's how I get my kicks. - Author: Ed Koch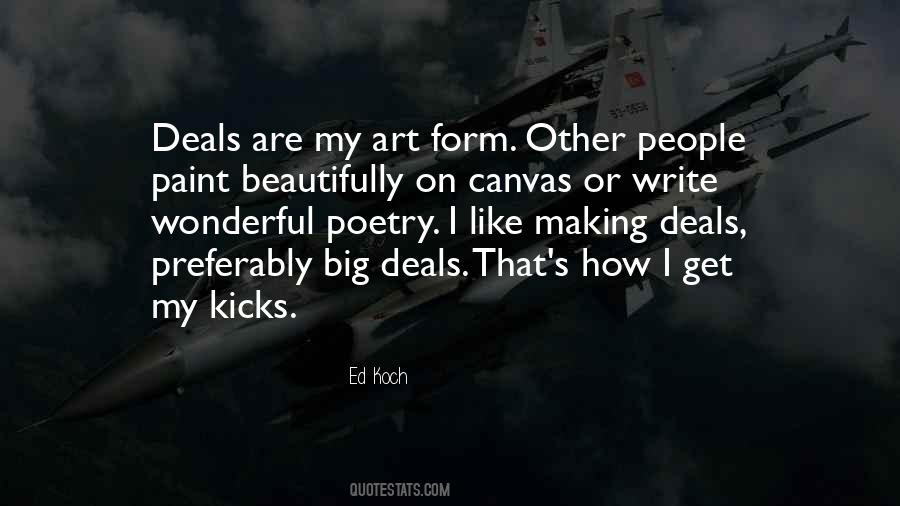 #5. I'm making some of the greatest art being made now. It'll take the art world ten years to get around to it. - Author: Jeff Koons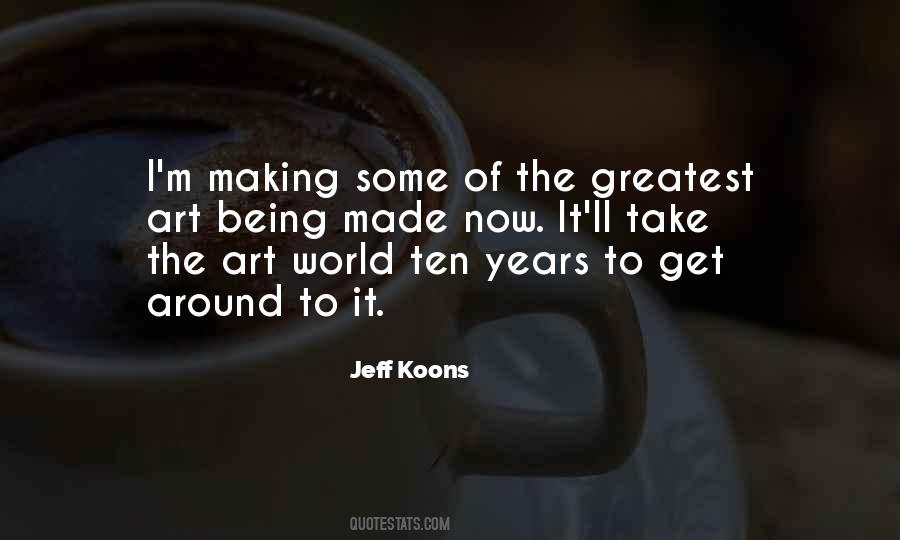 #6. Without an allegiance to beauty, art degenerates into a caricature of itself. It is beauty that animates aesthetic experience, making it so seductive; but aesthetic experience itself degenerates into a kind of fetish or idol if it is held up as an end in itself, untested by the rest of life. - Author: Roger Kimball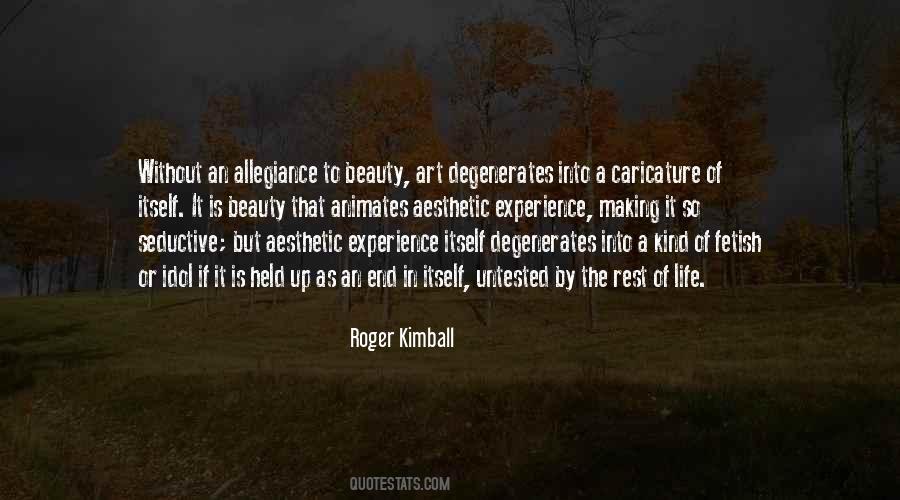 #7. My imagination was a great place to escape from all the anxiety and disapproval of my life ... I had to live in my head ... art was a way of making myself feel better. - Author: Philip Schultz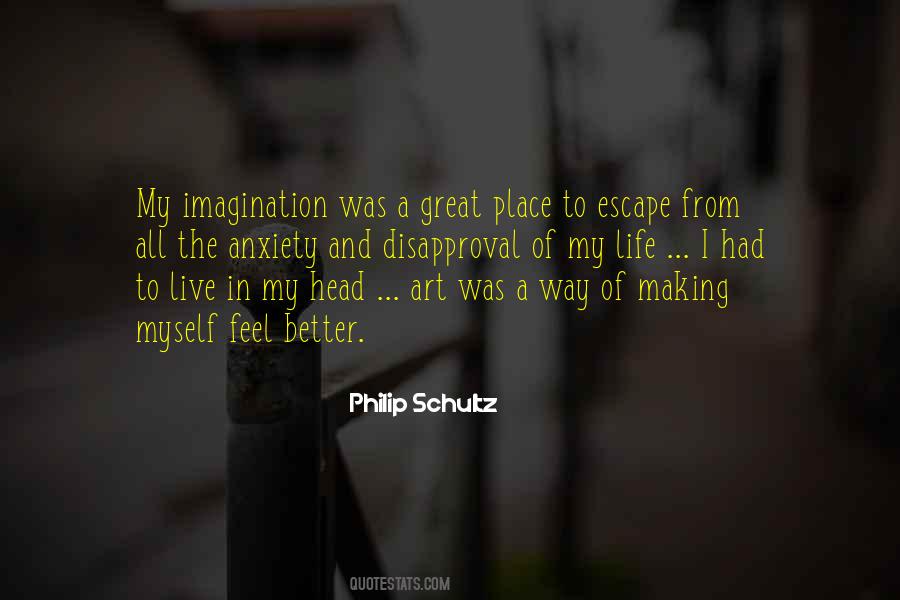 #8. Humans don't mind hardship, in fact they thrive on it; what they mind is not feeling necessary. Modern society has perfected the art of making people not feel necessary. It's time for that to end. - Author: Sebastian Junger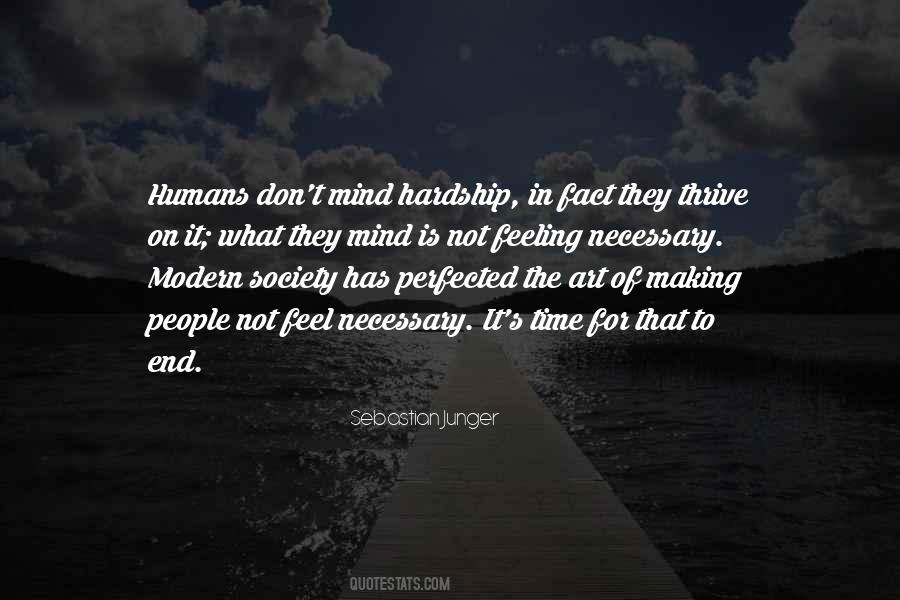 #9. John Baldessari, the 79-year-old conceptualist, has spent more than four decades making laconic, ironic conceptual art-about-art, both good and bad. - Author: Jerry Saltz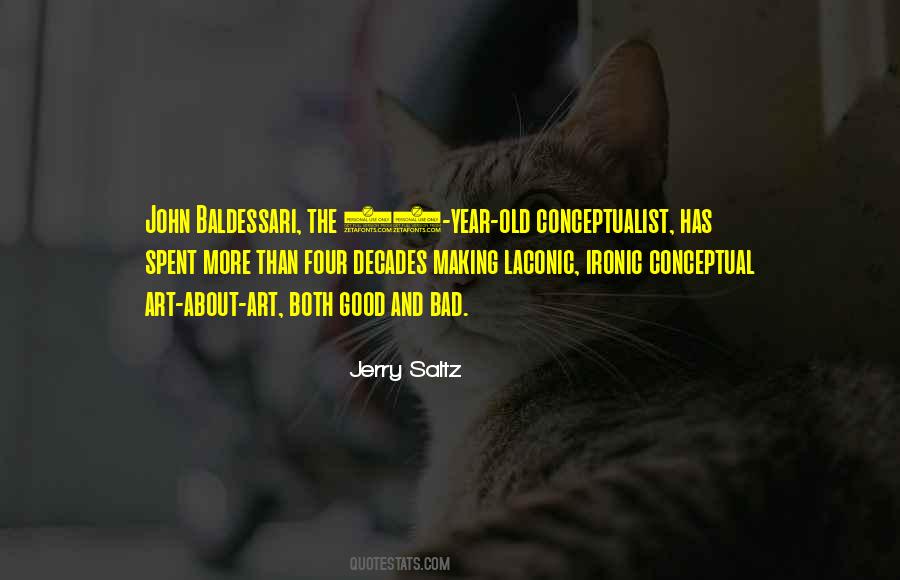 #10. I always think of my films within the context of where aesthetics meet economics. That's the nature of making art - not being naive about what is possible and getting what you need to tell the story you want to tell. - Author: Ira Sachs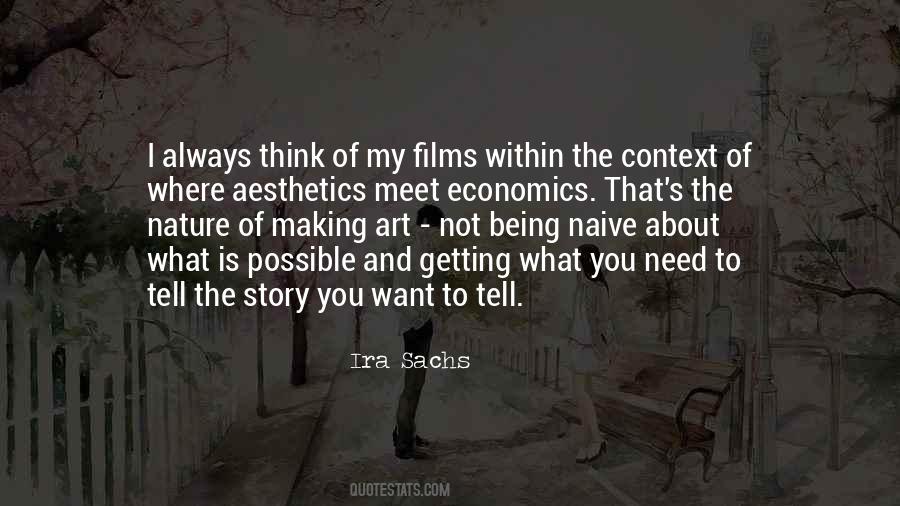 #11. Collage has been one of the most relevant forms of art making. It's resonant because it is made of the stuff that we see every day. It's familiar. It reflects our reality. - Author: Elliott Hundley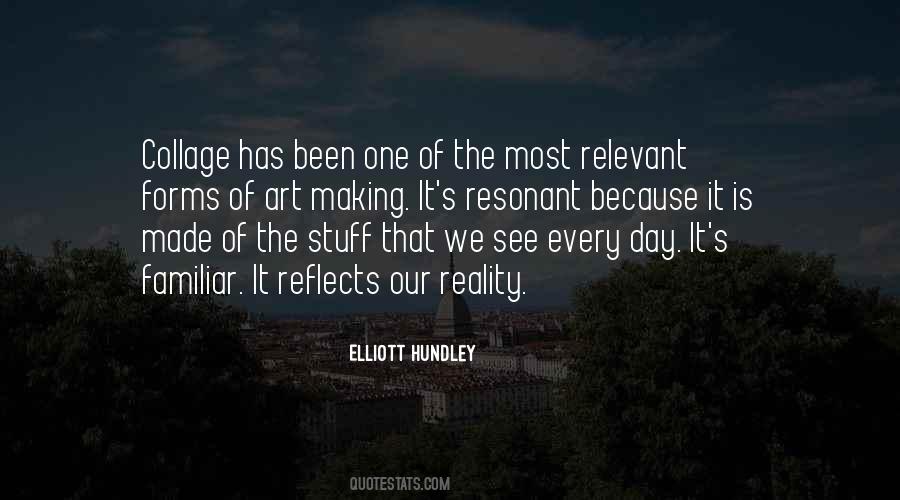 #12. Making music and art is about expressing something that's universally human, maybe even beyond human, at best. - Author: Cass McCombs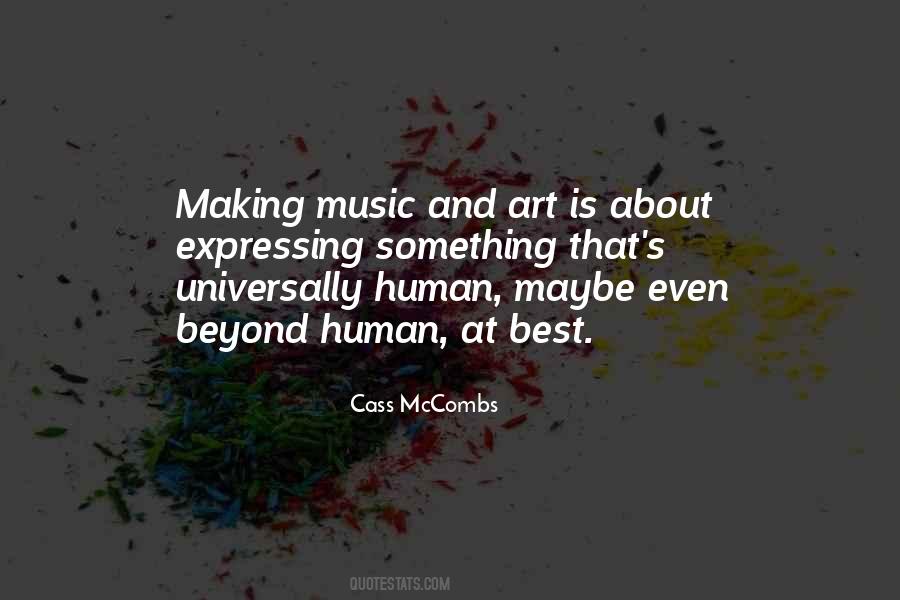 #13. Happiness is the art of making a bouquet of those flowers within reach. - Author: Bob Goddard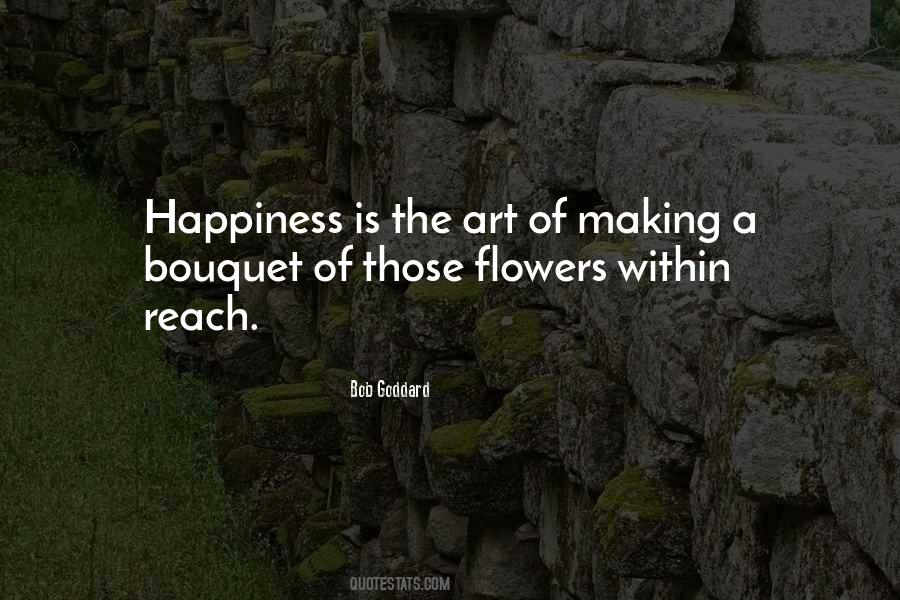 #14. The main thing in making art often is letting go of your expectation and your idea. - Author: Agnes Martin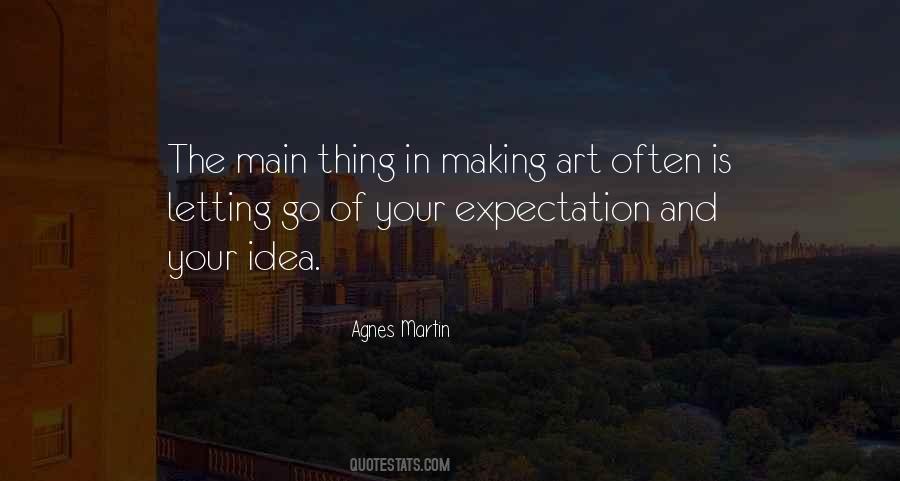 #15. Making lyrics feel natural, sit on music in such a way that you don't feel the effort of the author, so that they shine and bubble and rise and fall, is very, very hard to do. Whereas you can sit at the piano and just play and feel you're making art. - Author: Stephen Sondheim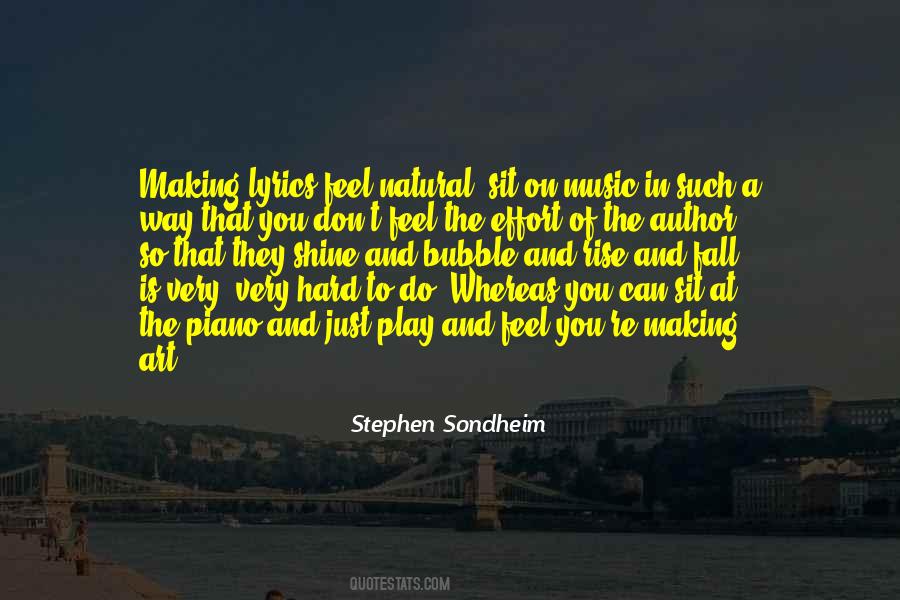 #16. I love making healthy lean foods delicious - that's an art! - Author: Bear Grylls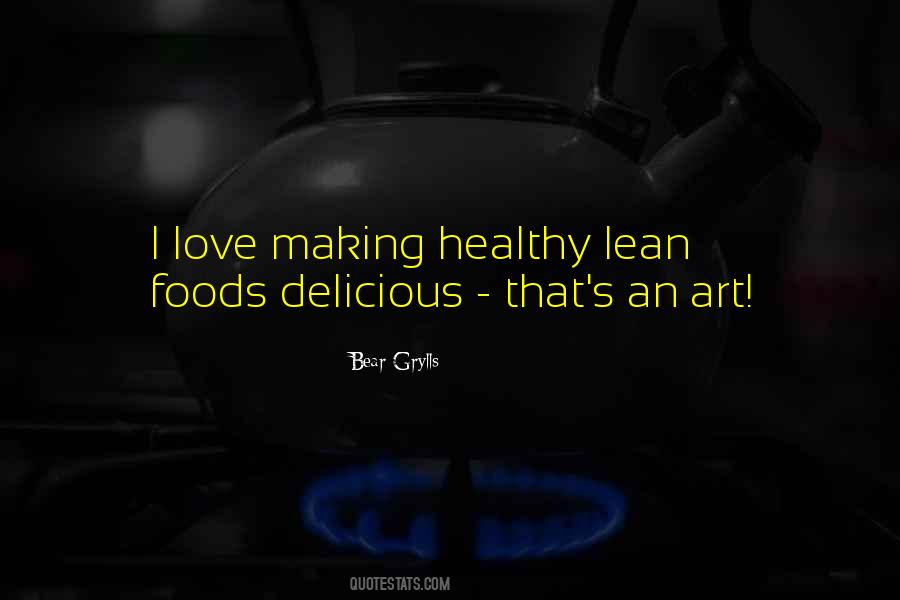 #17. The artistic process in digital art is very much the same as for making other kinds of paintings. - Author: Buffy Sainte-Marie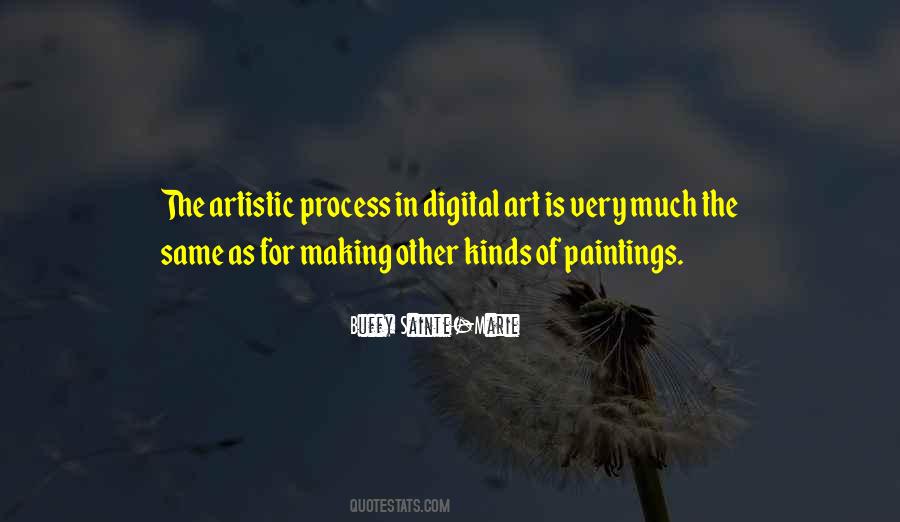 #18. Then I sit down, work at it, because now I have a convincing feeling about what that place wants to be, you see? And it's not just me. Me and my talent comes in taking that consensus and then making something wonderful out of it - a work of art. - Author: Lawrence Halprin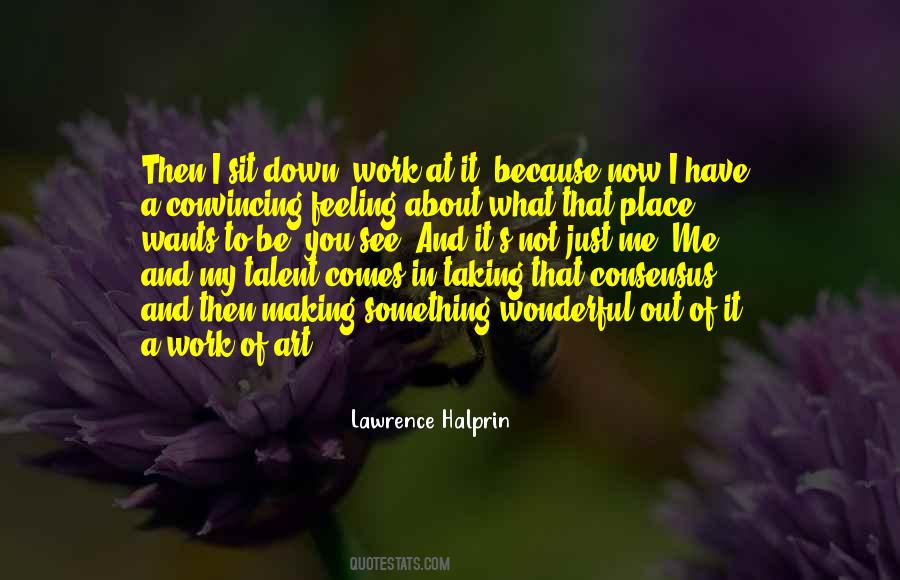 #19. Being an artist and a musician, I have witnessed the previous generation taking the art form, not as a way of making a living, but as a belief, an almost maniacal, sometimes insane devotion and commitment to communication. - Author: David Finckel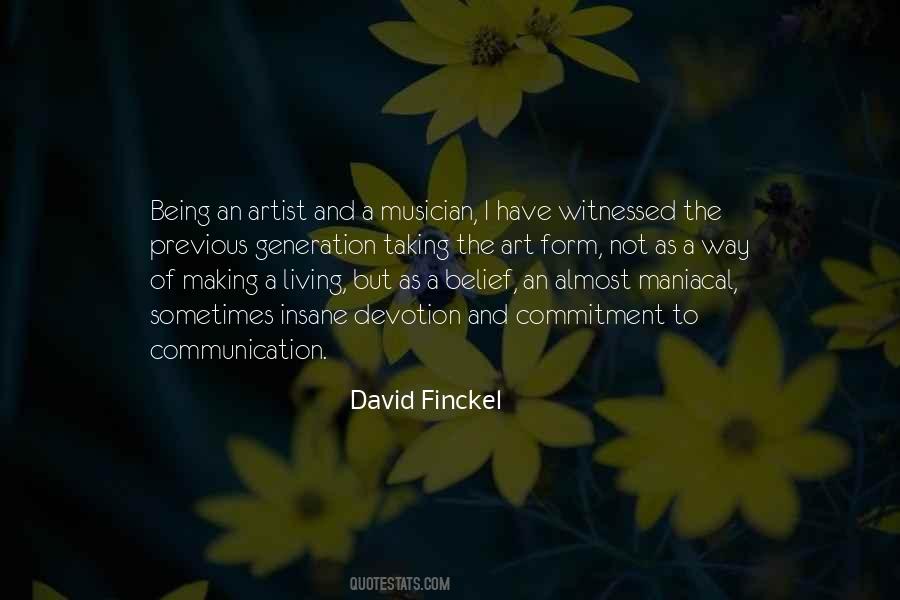 #20. I wonder a lot about making things meaningful. You want to do meaningful work and make art, but you're making records, which is good, but you don't want to weight them - it's a very curious thing. - Author: Doseone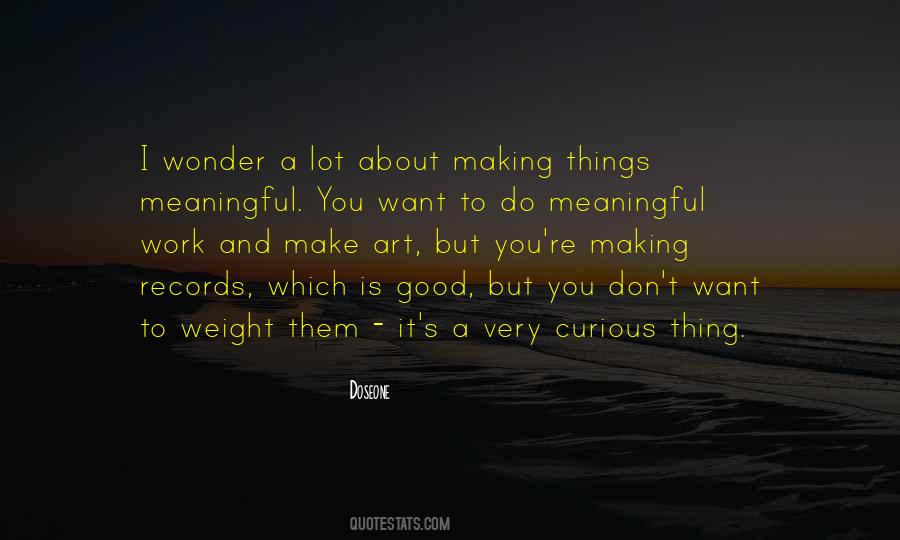 #21. My kind do not spend their days at craft or art. Our deepest desire is not for the making of a thing, nor for the thing itself. Rather, we thrive on the skills of those who make. We steal that time and that power, and we turn it to our own souls, and that is how we grow. - Author: E.K. Johnston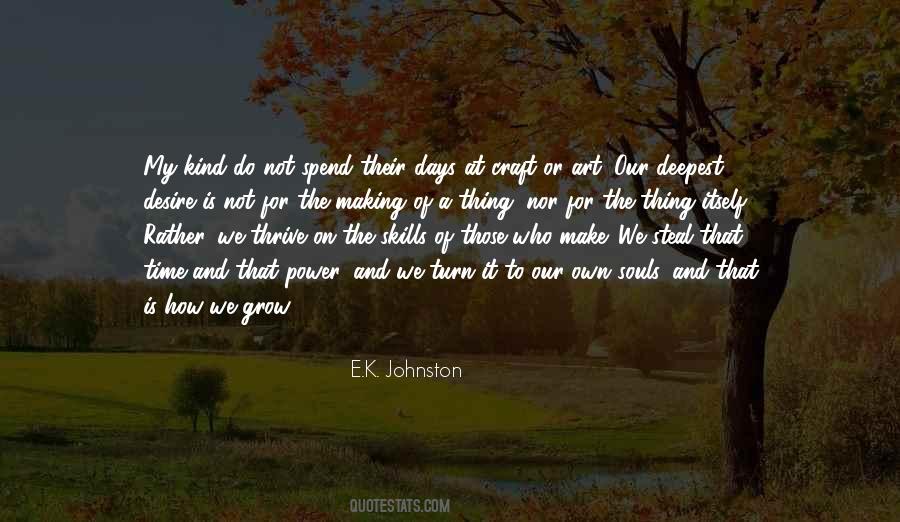 #22. Art-making is just another part of the consciousness industry. - Author: Hans Haacke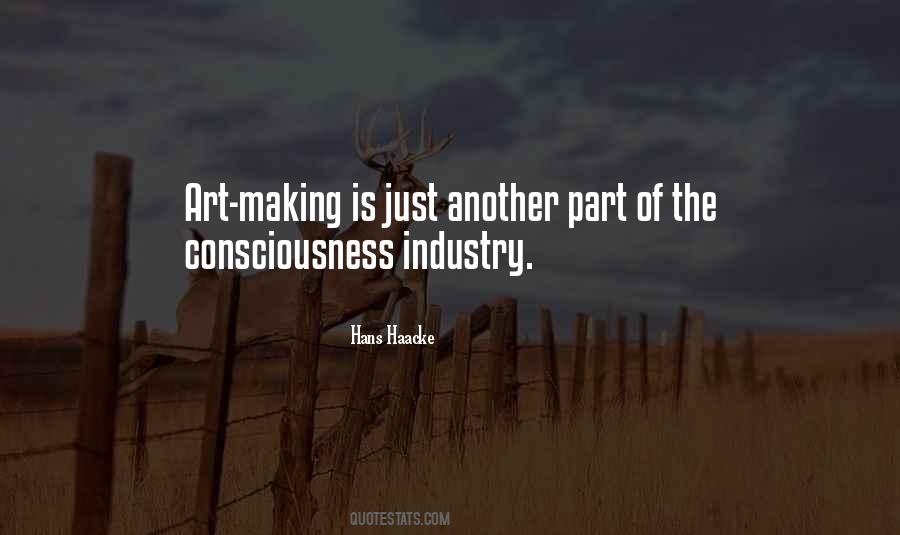 #23. I will give a proof to demonstrate with facts that there are no rules in painting and that oppression or servile obligation of making all study or follow the same path is a great impediment for the young who profess this very difficult art. - Author: Francisco Goya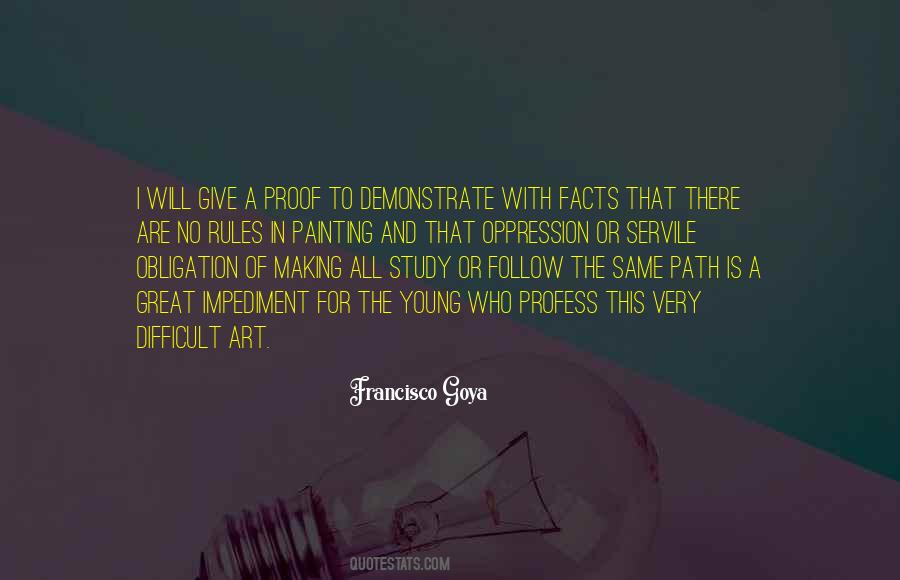 #24. Art is the need to create; but in its essence, immense and universal, it is impatient of working with lame or tied hands, and of making cripples and monsters, such as all pictures and statues are. Nothing less than the creation of man and nature is its end. - Author: Ralph Waldo Emerson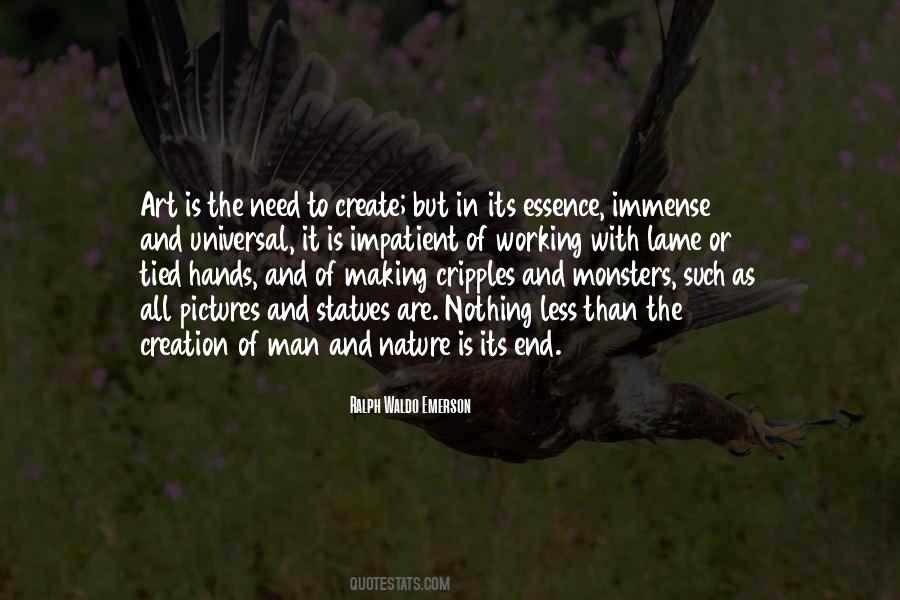 #25. Comedy is the art of making people laugh without making them puke. - Author: Steve Martin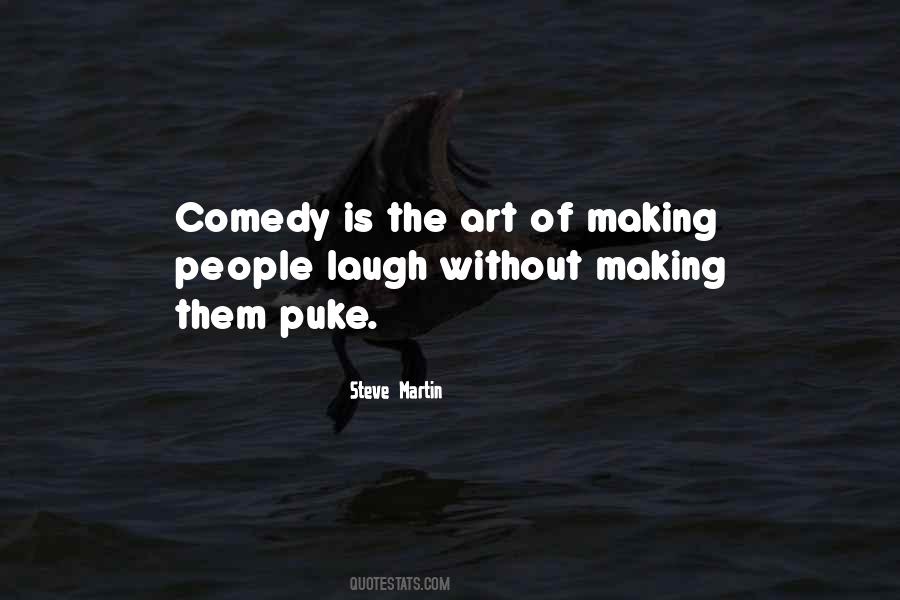 #26. We talk about the vulnerability involved in sharing our work publicly. I don't think we talk enough about the real vulnerability involved in making art; if we truly engage the process we are changed by it. - Author: John Paul Caponigro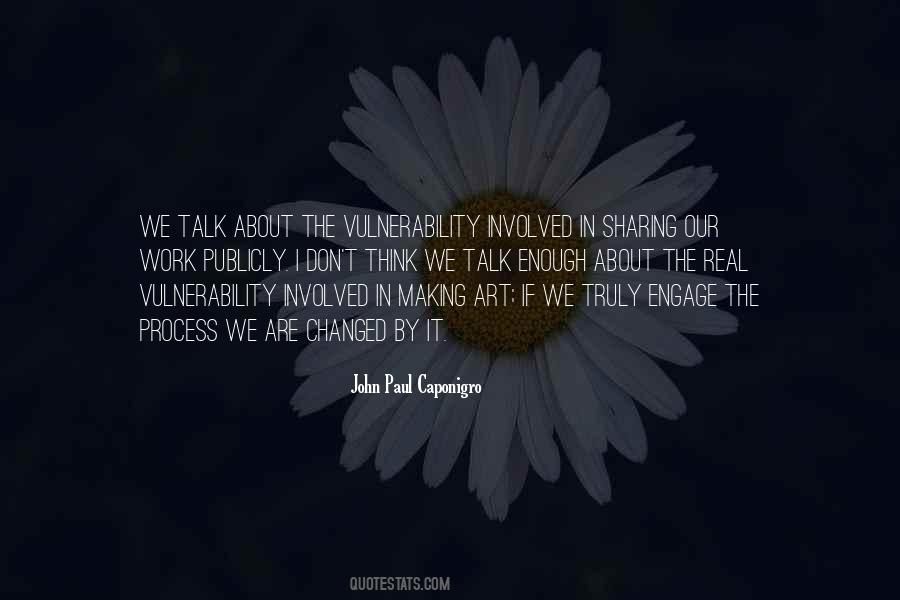 #27. I feel like there's a space of personal freedom for me where my art-making happens. When I go to that space, I'm completely in the world of possibility. - Author: Laura Owens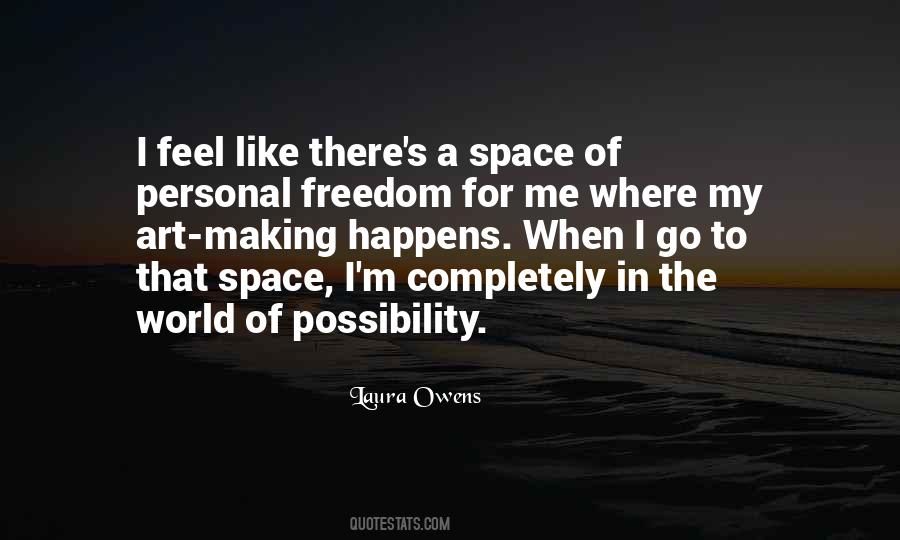 #28. If you're someone who's making film or TV or music, or any kind of art form now, there's a billion outlets and they all have an opinion. - Author: Andy Samberg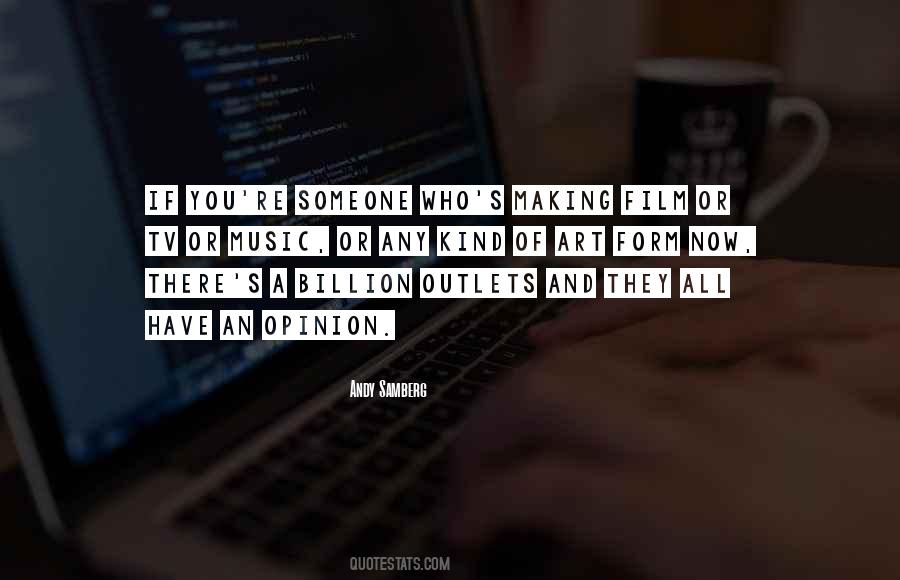 #29. When two sides who consider each other enemies converge in armed struggle, for the moment they are no longer enemies. They are fellow human beings who face the same two choices that their ancestors did for centuries before them: to destroy each other or to prosper together. - Author: Thomas Huynh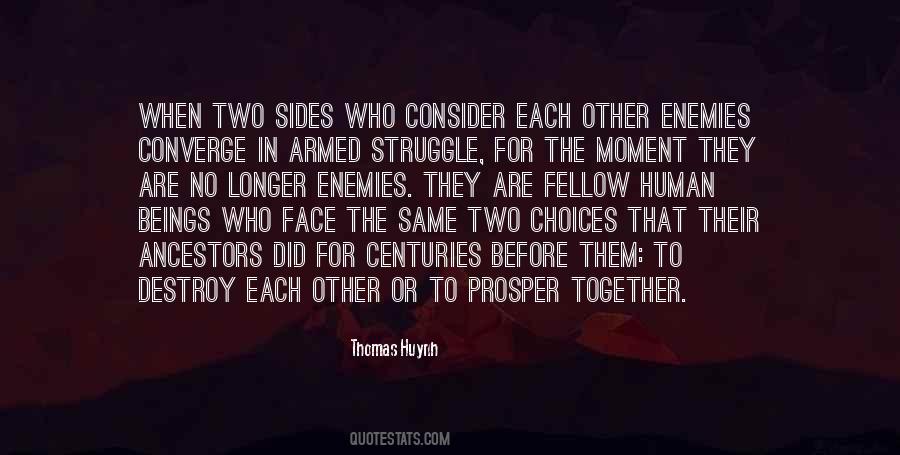 #30. And the prince who has relied solely on their words, without making other preparations, is ruined, for the friendship which is gained by purchase and not through grandeur and nobility of spirit is merited but is not secured, and at times is not to be had. - Author: Niccolo Machiavelli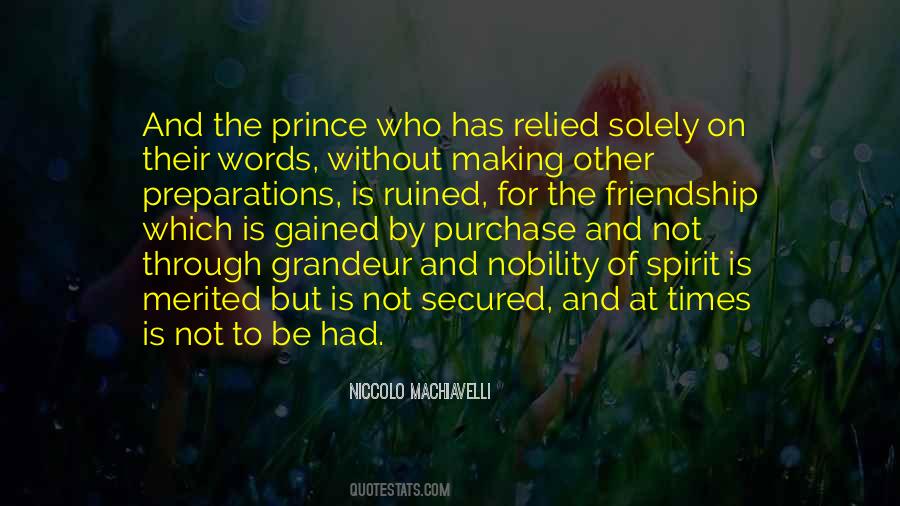 #31. The art of stunt-making is not about falling down; it's about getting the shot. Creating stunts is creating heroes. - Author: Chad Stahelski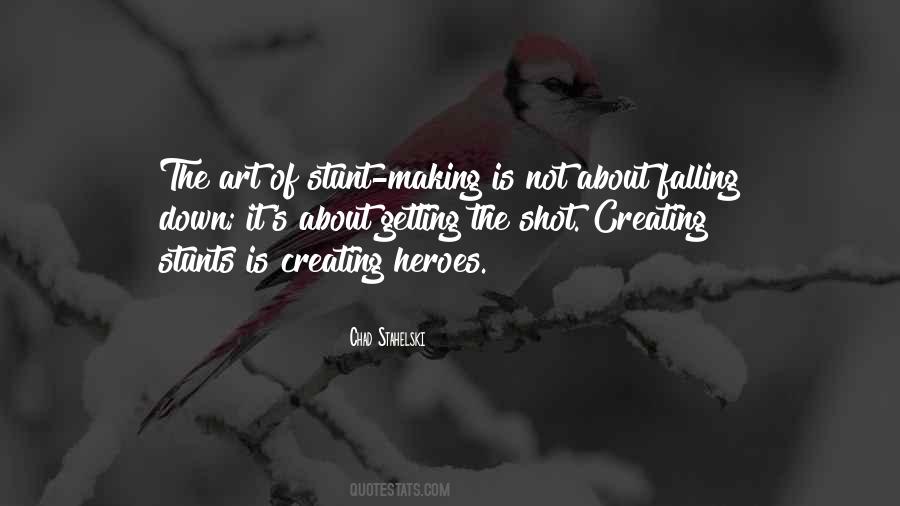 #32. If you chase the art, you really can't fail because you'll always be able to look at yourself in the mirror. And that's not about making angry decisions, either, it's about always doing the right thing for you, your fans and your art. - Author: Gerard Way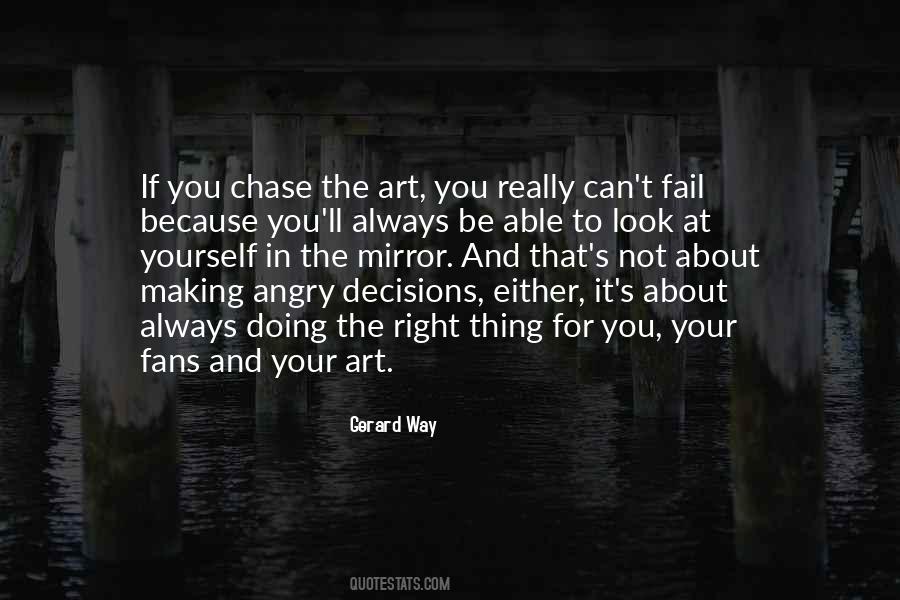 #33. Every moment, every day, we are all making something -- whether it's science or art, a relationship to a destiny -- building it choice by choice, moment by moment. - Author: Claudia Gray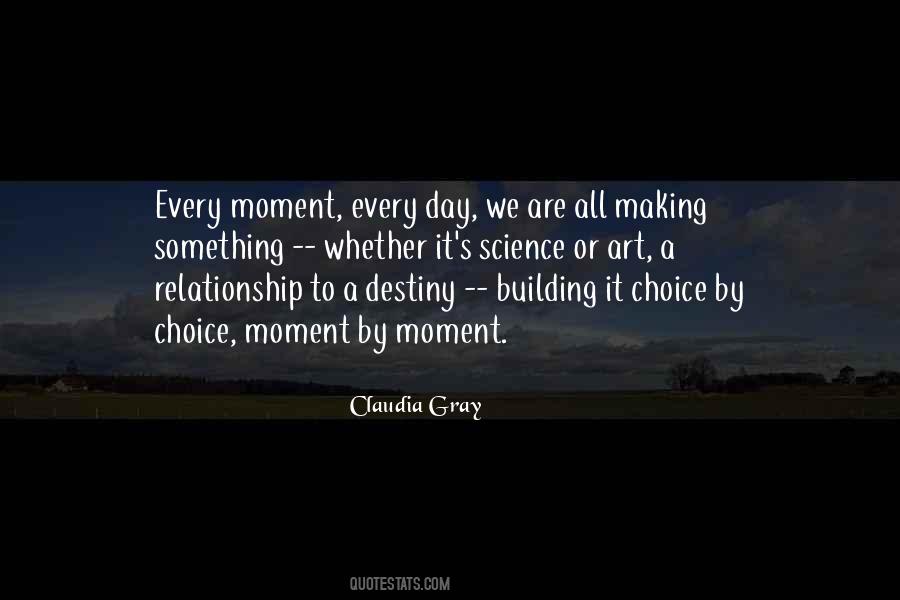 #34. The attempt to divide art and politics is a bourgeois which says good poetry, art, cannot be political, but since everything is ... political, even an artist or work that claims not to have any politics is making a political statement by that act. - Author: Amiri Baraka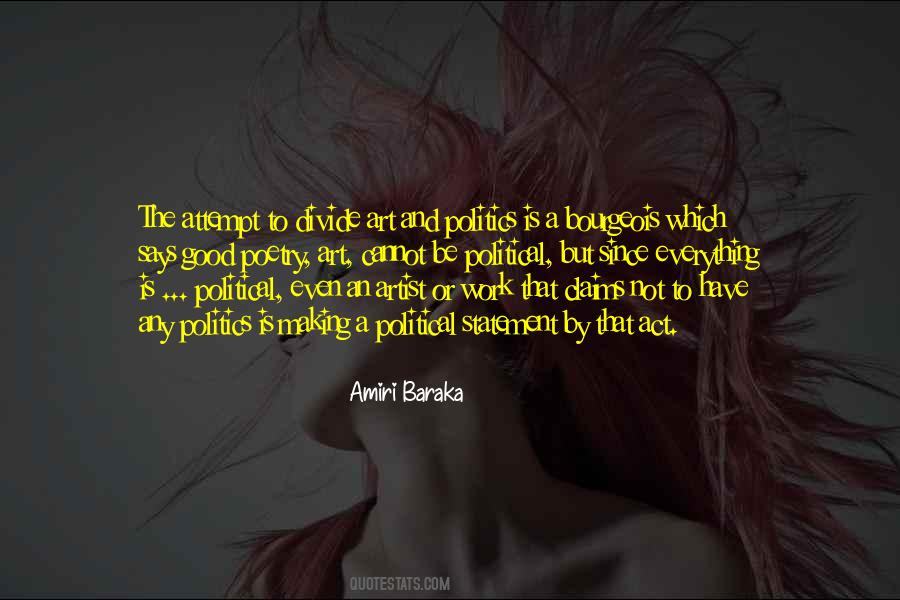 #35. So I like to try to go back and develop pure visual storytelling. Because to me, it's one of the most exciting aspects of making movies and almost a lost art at this point. - Author: Brian De Palma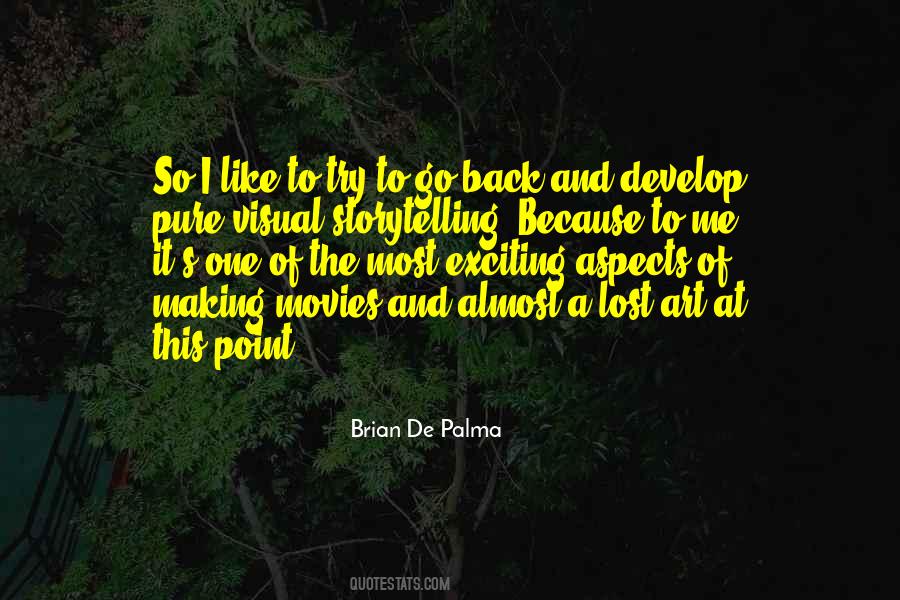 #36. Basically, I viewed any work of art as an imposition of another person's taste, and saw the individual making this imposition as a kind of dictator. - Author: Henry Flynt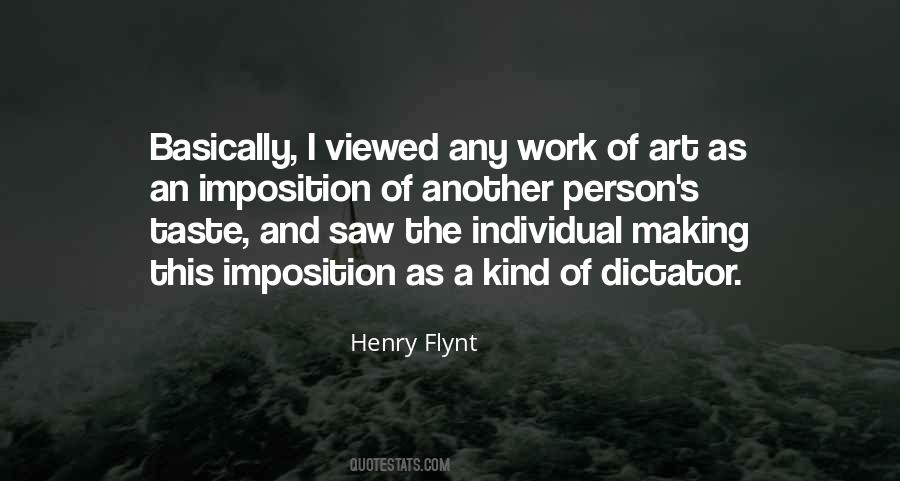 #37. Usually in France we prefer to say bad things about the Nouvelle Vague, but I'm always impressed with its freedom and the fact of not making a film to give your opinion but just as a piece of art, which to me means the Nouvelle Vague. - Author: Arnaud Desplechin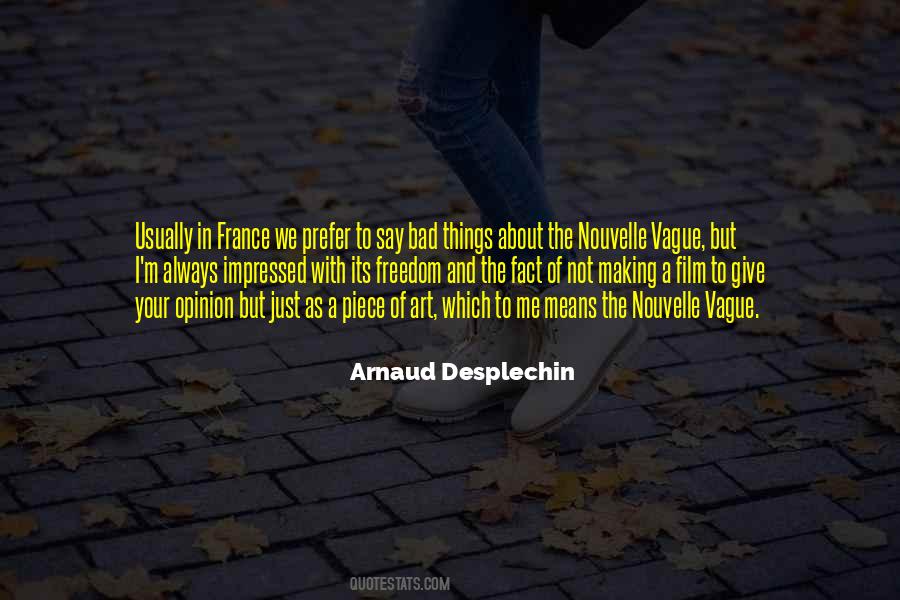 #38. Hollywood used to be run by artists and people who loved artists ... people who wanted to make movies for all the right reasons. For the love. The Art. To tell stories. Yes to make money as well, but it was about both. Now I feel, it's mostly about bottom line and making money. - Author: Matthew Lillard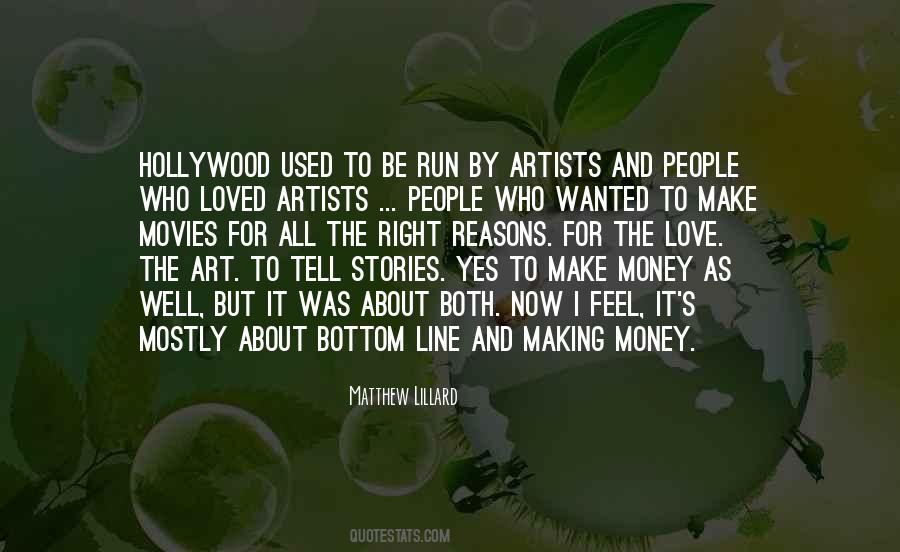 #39. Making art is not the matter of a moment, and nor is making an exhibition; curating follows art. - Author: Hans Ulrich Obrist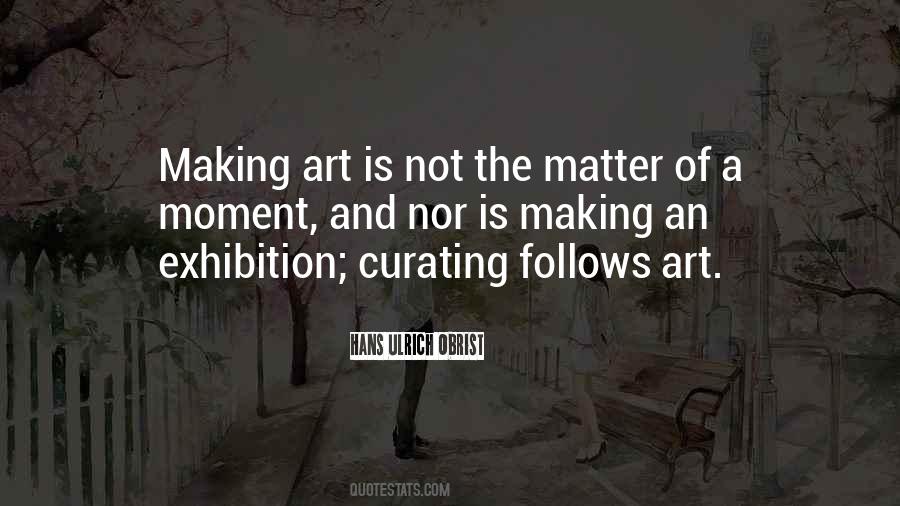 #40. The art of happy-making begins when we find our happiness within instead of without. - Author: Jennifer Dukes Lee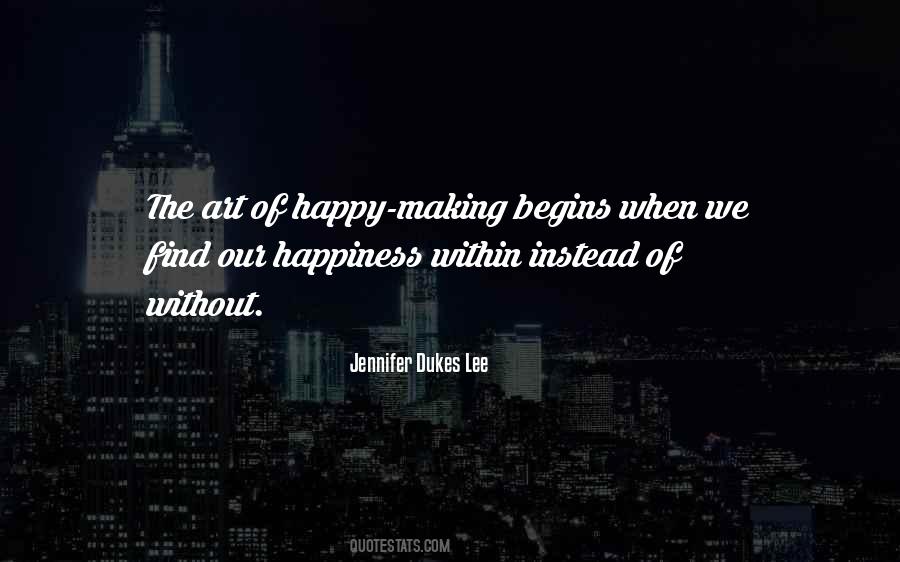 #41. Making art has never been a mystery to me. It's never been something that's very difficult. - Author: Richard Prince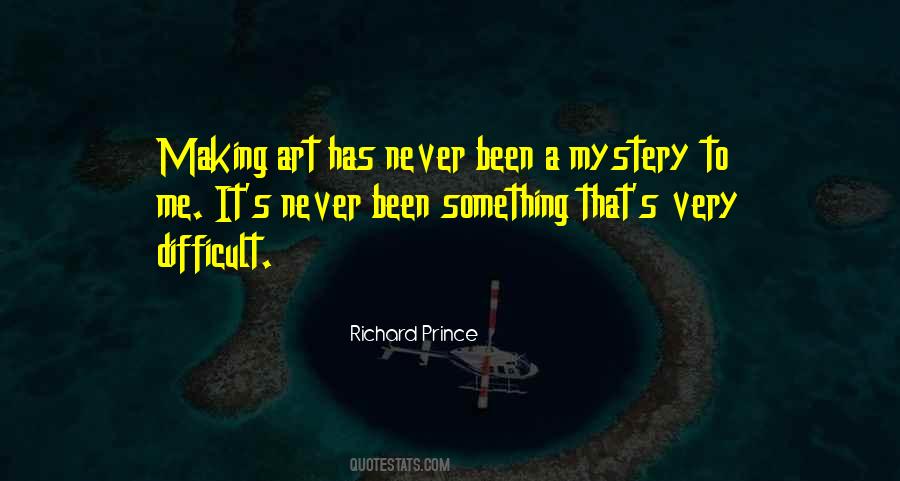 #42. Ephemeral work made outside, for and about a day, lies at the core of my art and its making must be kept private. - Author: Andy Goldsworthy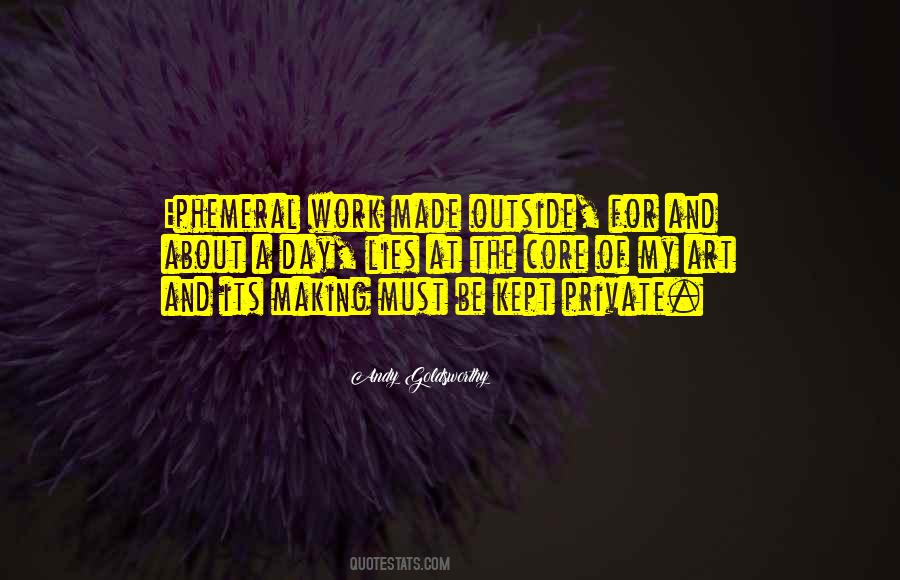 #43. A lot of what making art is, is just being open, and empty. And putting yourself in the right place for things to, literally, come together. - Author: Bill Viola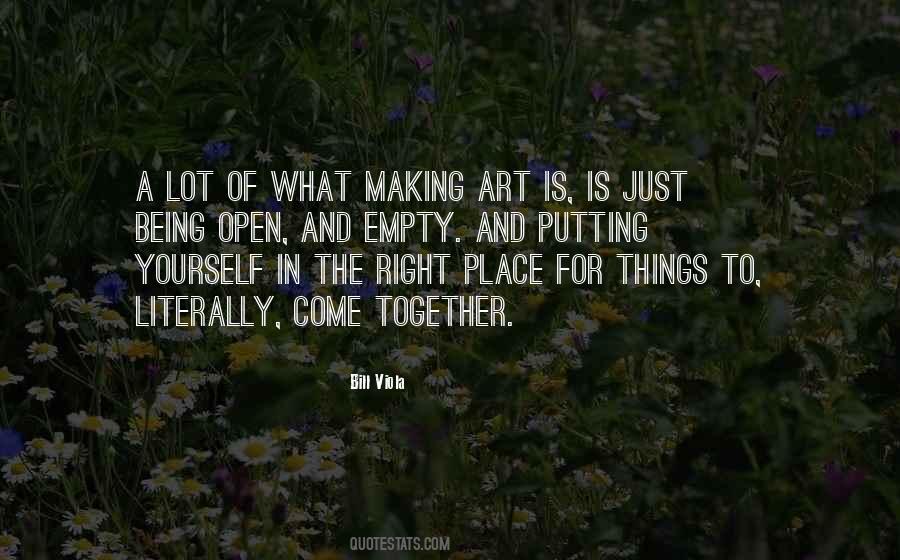 #44. Our vanity, our passions, our spirit of imitation, our abstract intelligence, our habits have long been at work, and it is the task of art to undo this work of theirs, making us travel back in the direction from which we have come to the depths where what has really existed lies unknown within us. - Author: Marcel Proust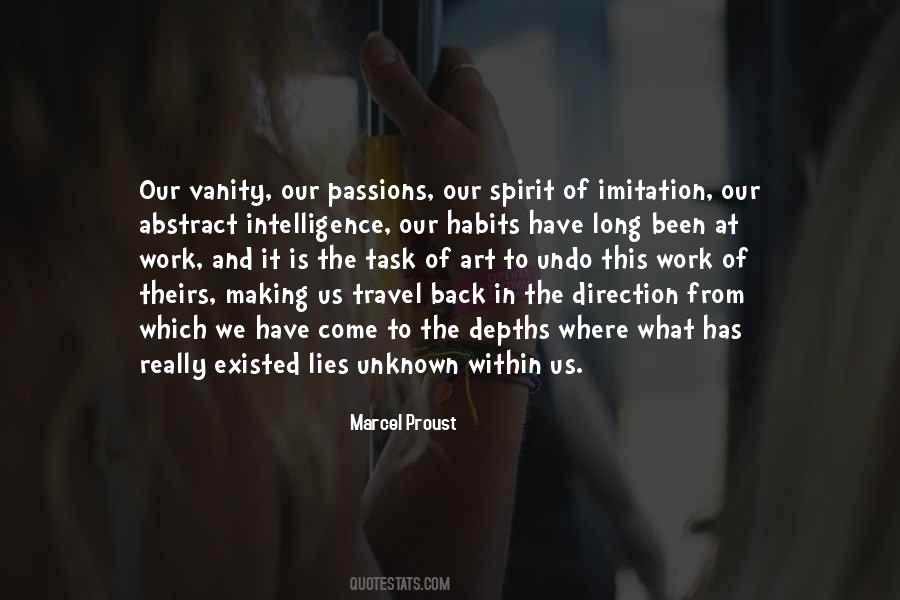 #45. The discovery in art is often gradual, a process of minor discoveries riddled with uncertainties and the potential for making that which is discovered vanish before your eyes, like a mirage. - Author: Geoff Dyer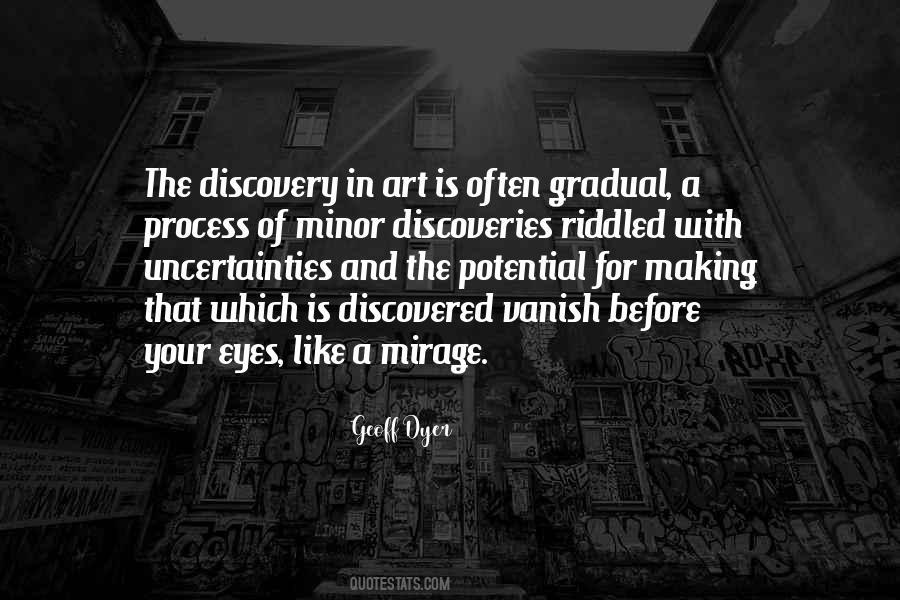 #46. Painting is seen as picture making, the making of an art object, something that can stand on its own. - Author: Peter Wright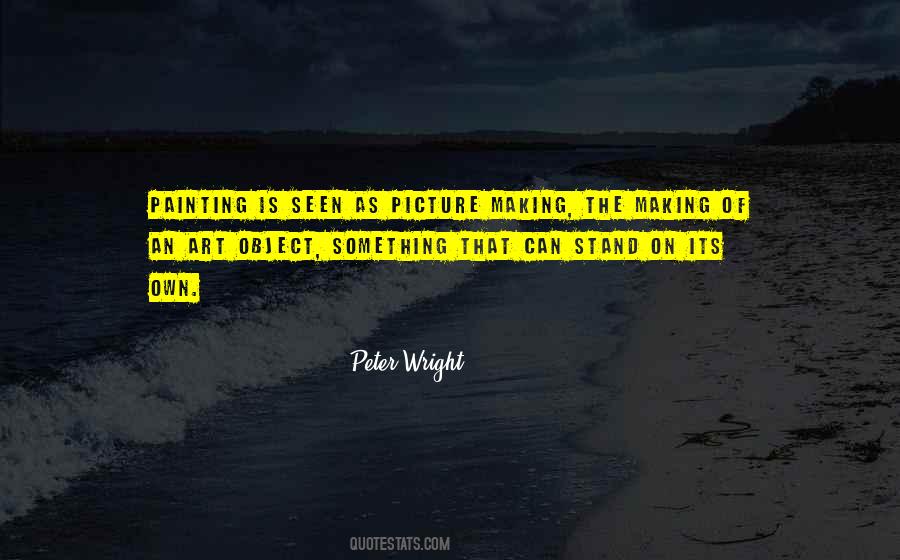 #47. There's a therapeutic aspect to all making, but the nature of working is to compress, condense, and shape stuff, not to just expunge it. It's not just an exorcism. - Author: Art Spiegelman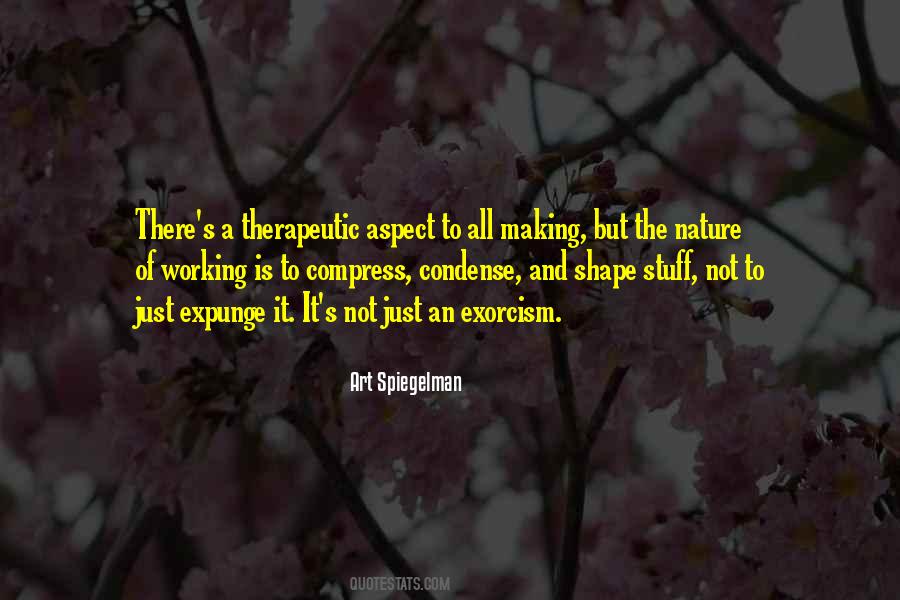 #48. There is no misery in art. All art is about saying yes, and all art is about its own making. - John Currin - Author: Austin Kleon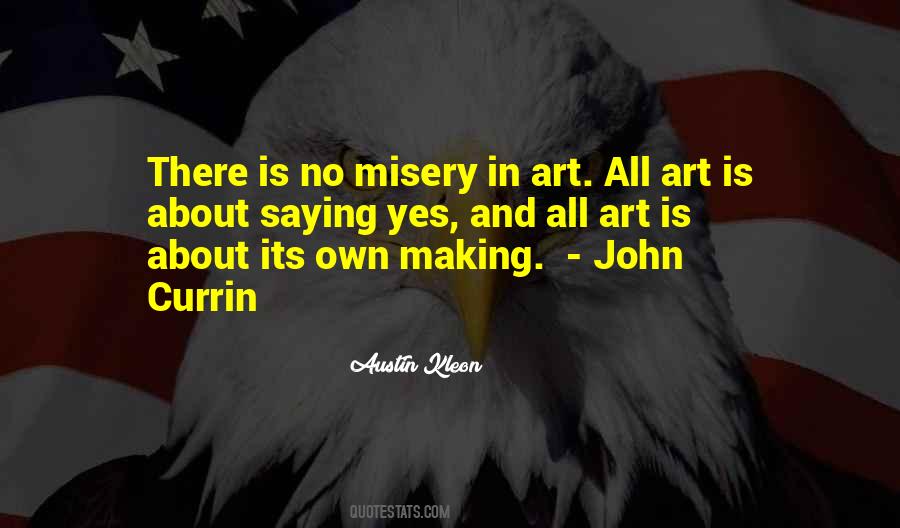 #49. I don't think of myself as making art. I do what I do because I want to, because painting is the best way I've found to get along with myself. - Author: Robert Rauschenberg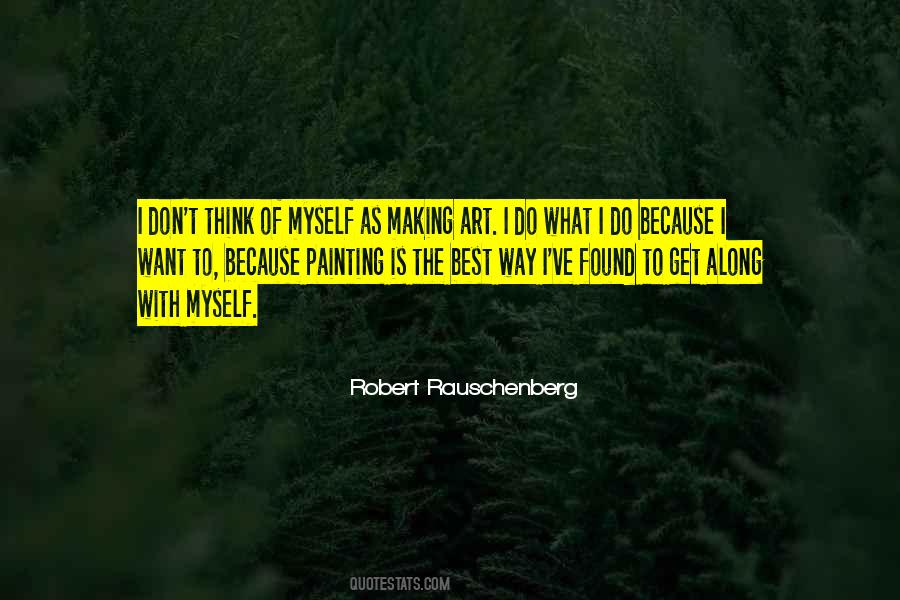 #50. Architecture isman'sgreat sense of himself embodied in a world of his own making. It may rise as high in quality only as its source because great art isgreat life. - Author: Frank Lloyd Wright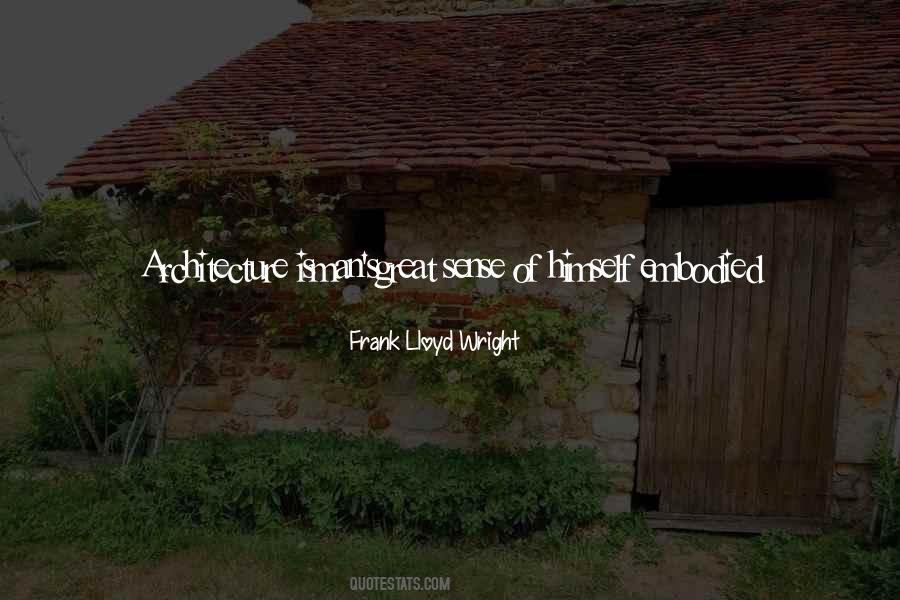 #51. During the Middle Ages they understood that words accompanied by imagery are much more memorable. By making the margins of a book colorful and beautiful, illuminations help make the text unforgettable. It's unfortunate that we've lost the art of illumination. - Author: Joshua Foer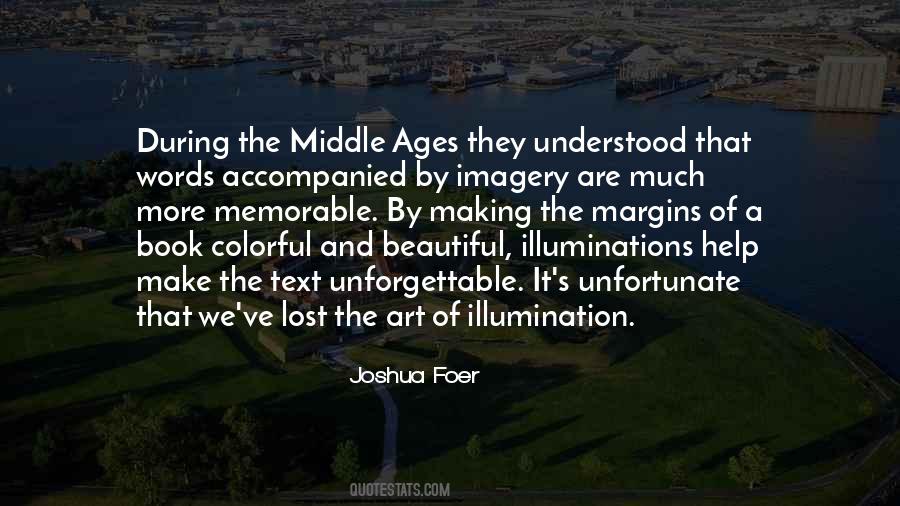 #52. The real function of art is to change mental patterns ... making new thought possible. - Author: Jean Dubuffet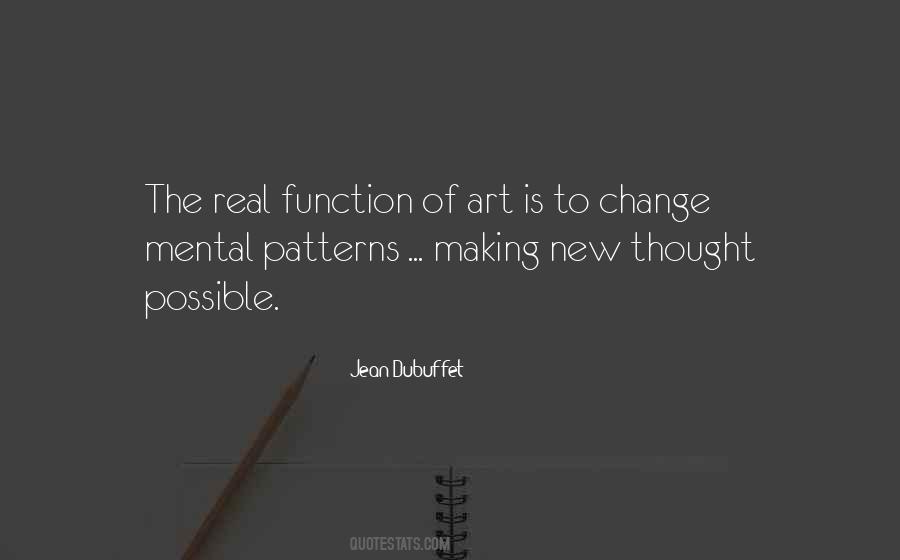 #53. Engineering is the art or science of making practical. - Author: Samuel Florman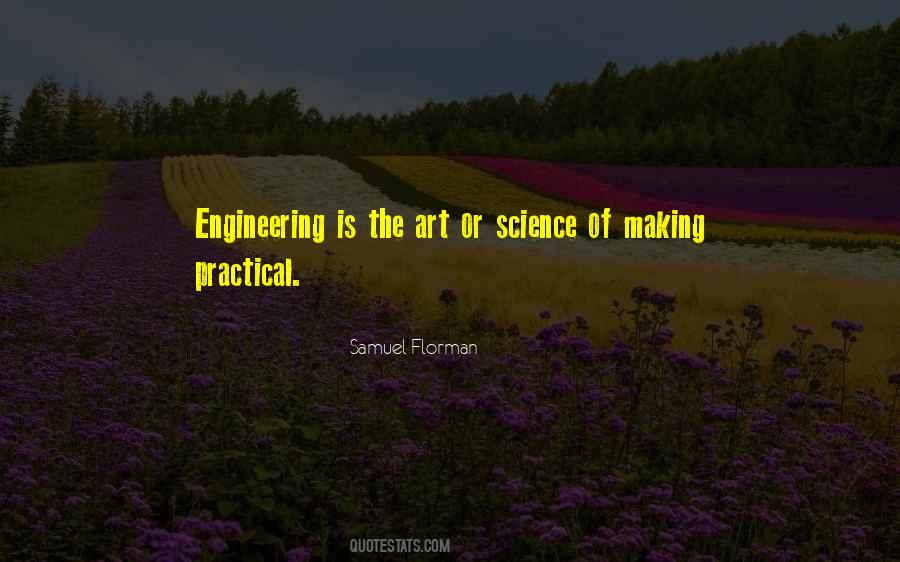 #54. I really like working. I can't think of a job I didn't like. I was in an Alvin and the Chipmunks movie, which is not my idea of folk art; but I really enjoyed making it, and everyone was really nice. - Author: Jenny Slate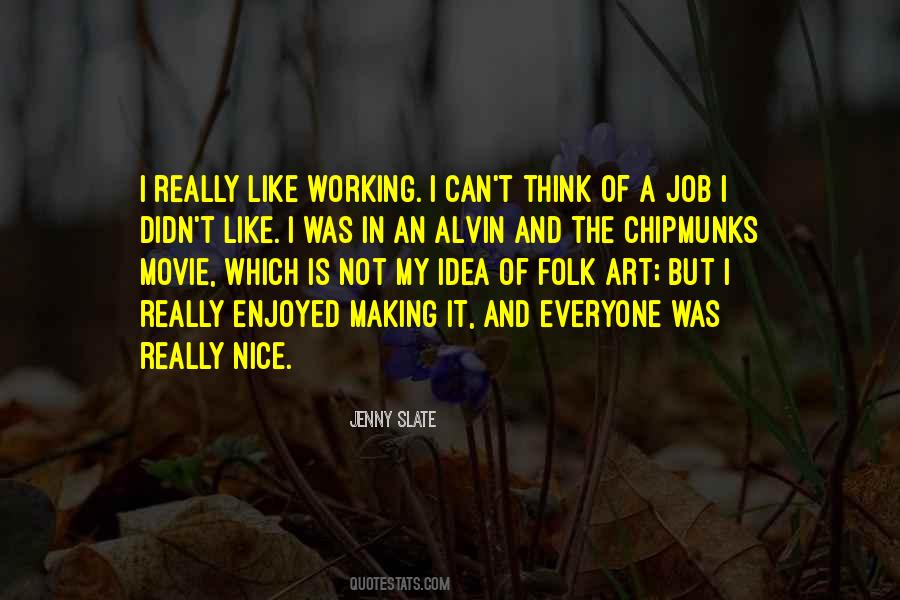 #55. As much as we'd like to believe that our work is great and that we're infallible, we're not. Hollywood movies are made for the audience. These are not small European art films we're making. - Author: Harold Ramis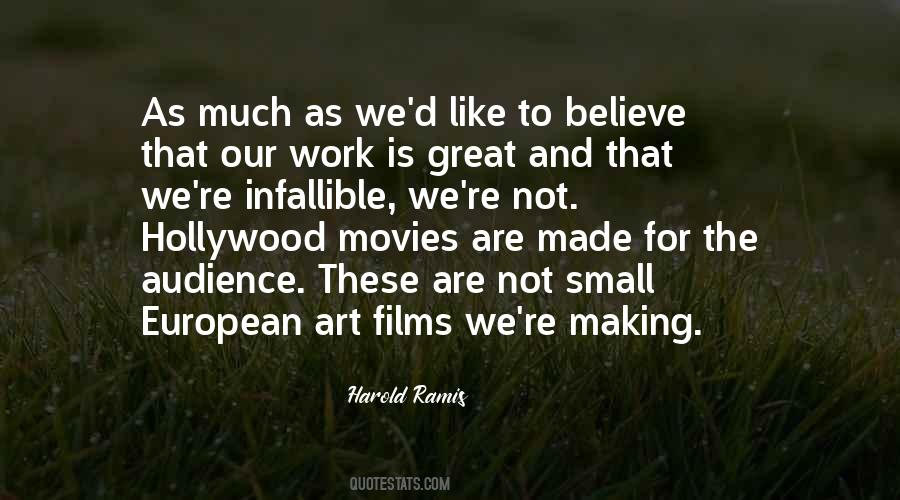 #56. Good management is the art of making problems so interesting and their solutions so constructive that everyone wants to get to work and deal with them. - Author: Paul Hawken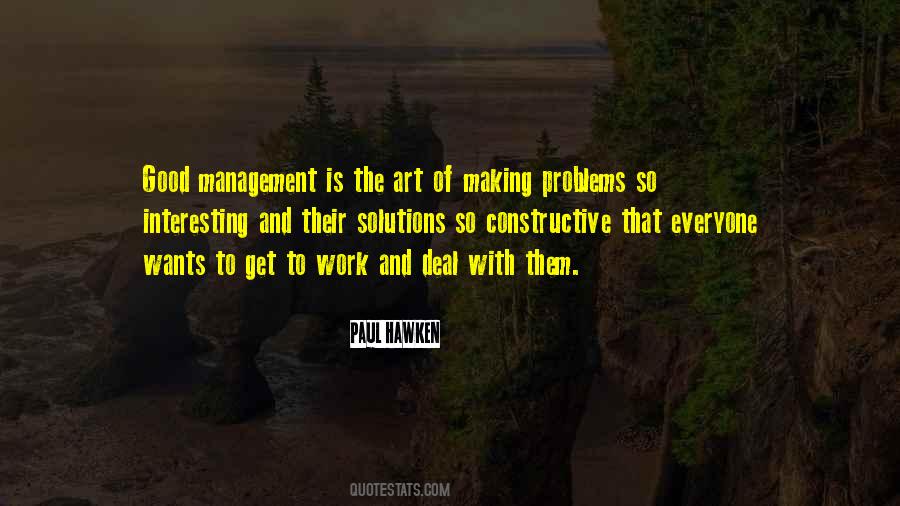 #57. In love-making, as in other arts, those who do it best cannot tell how it is done. - Author: James M. Barrie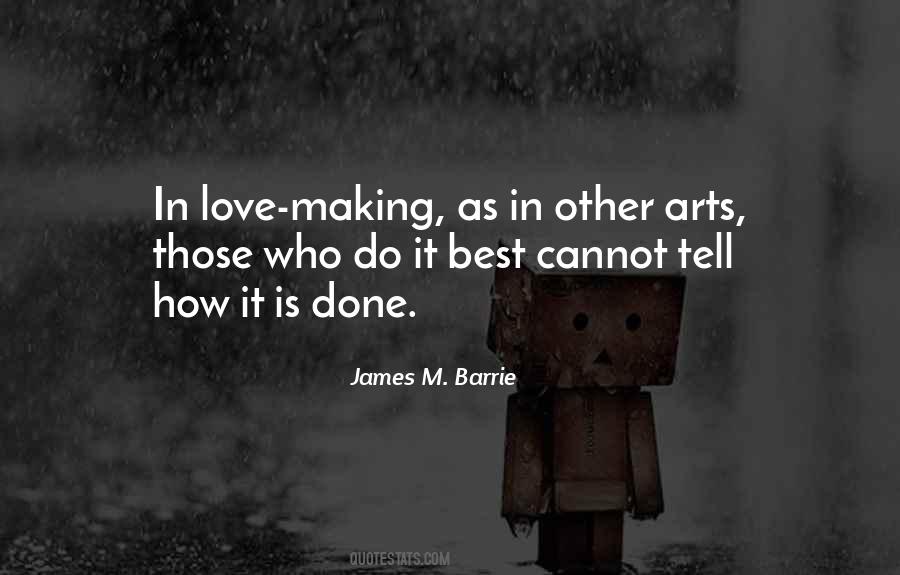 #58. Programming is the art of writing essays in crystal clear prose and making them executable - Author: Per Brinch Hansen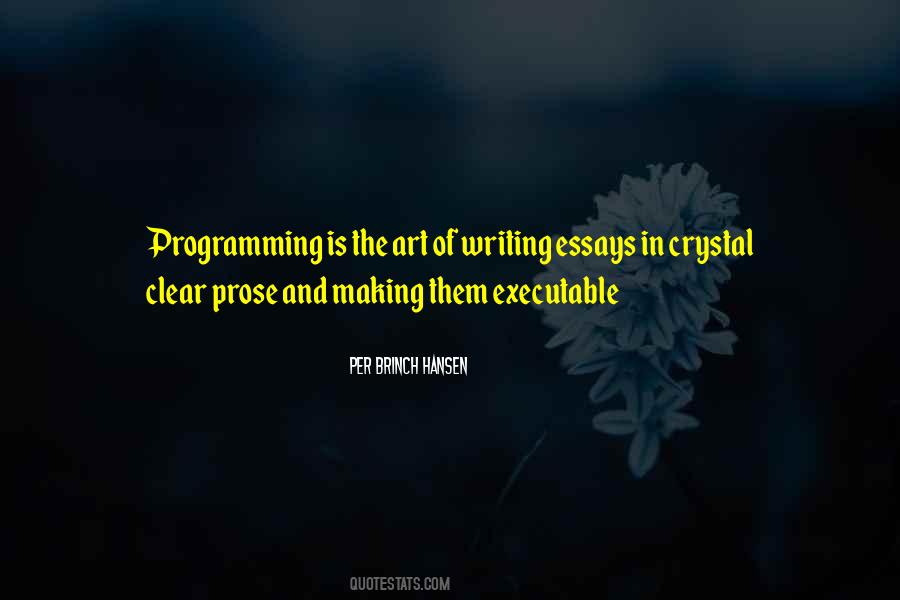 #59. Both sides of my family had come from Ireland in the 19th century for the same reason: There was nothing to eat over there. Since then, I've tried to make up for the potato famine by making the potato the only vegetable that passes these lips. - Author: Art Donovan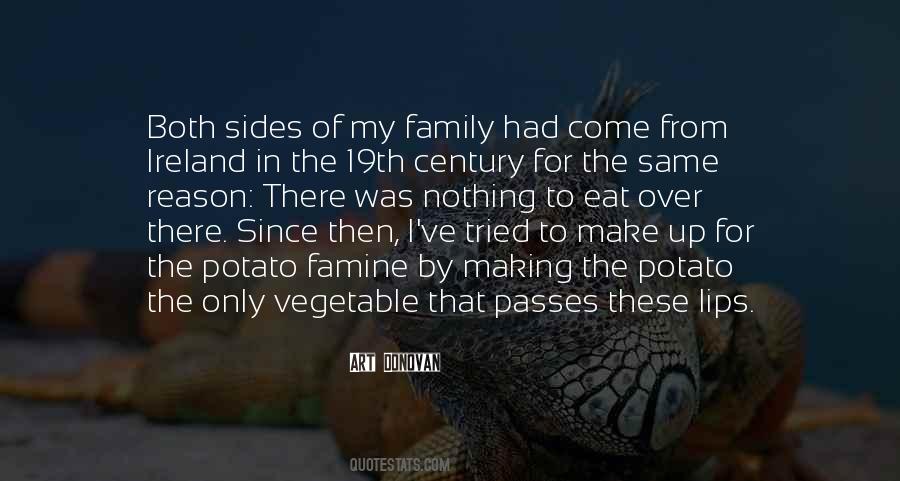 #60. I have spent my life paying attention to my art form, developing my art form, worrying about my show and what I'm bringing to people, making sure that I give them a fine trade. - Author: Gallagher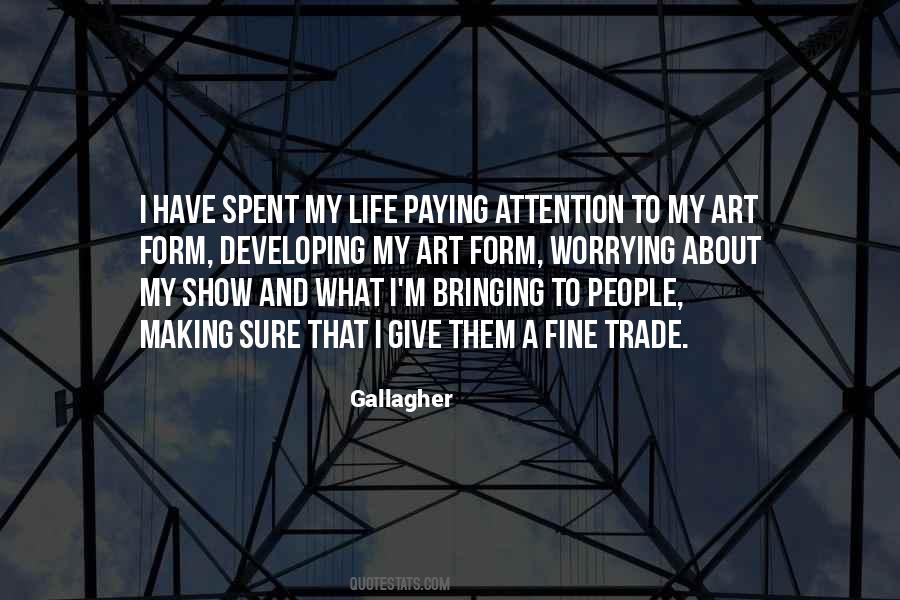 #61. I consider writing as a fine art. We kill it by imposing the alphabet on little children and making it the beginning of learning. - Author: Mahatma Gandhi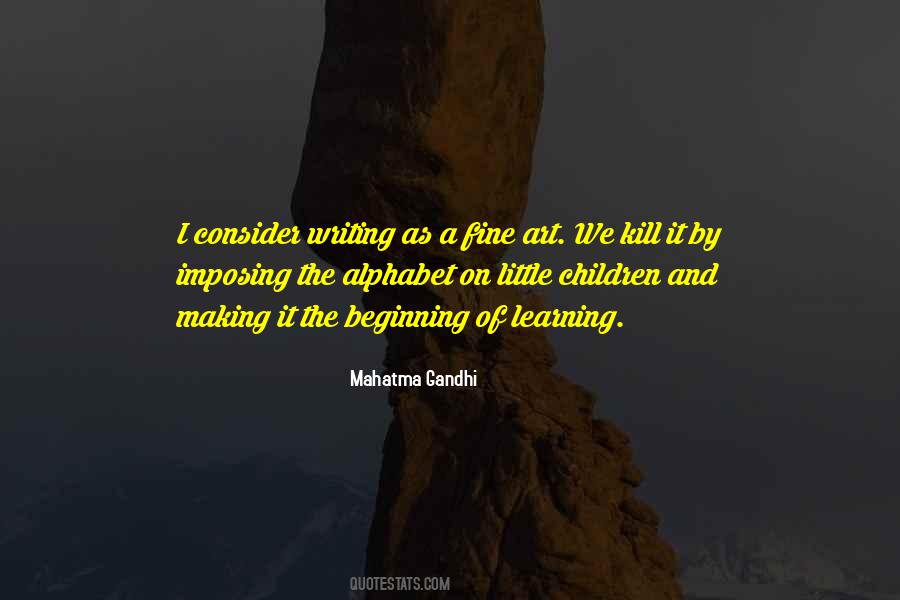 #62. To consult the rules of composition before making a picture is a little like consulting the law of gravitation before going for a walk. - Author: Edward Weston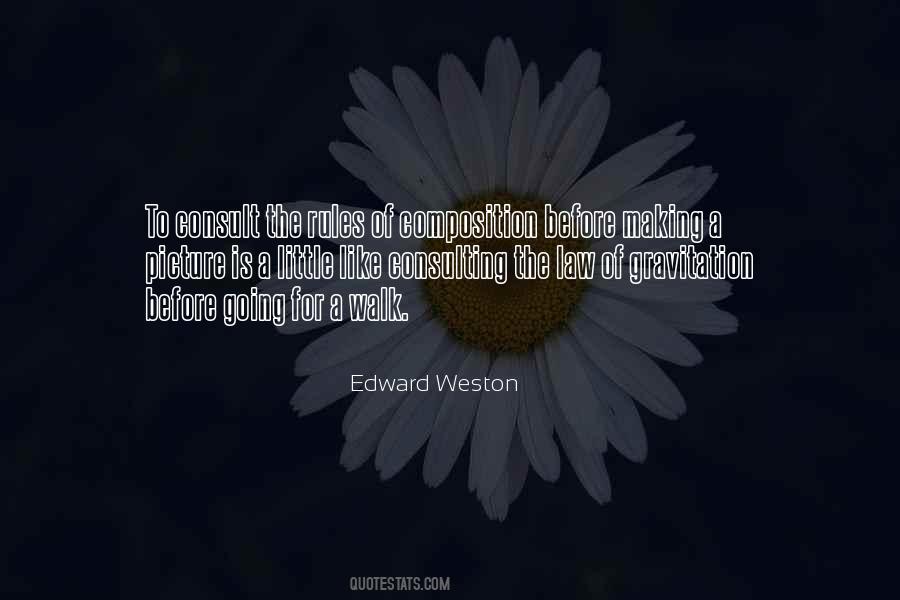 #63. The art of research [is] the art of making difficult problems soluble by devising means of getting at them. - Author: Peter Medawar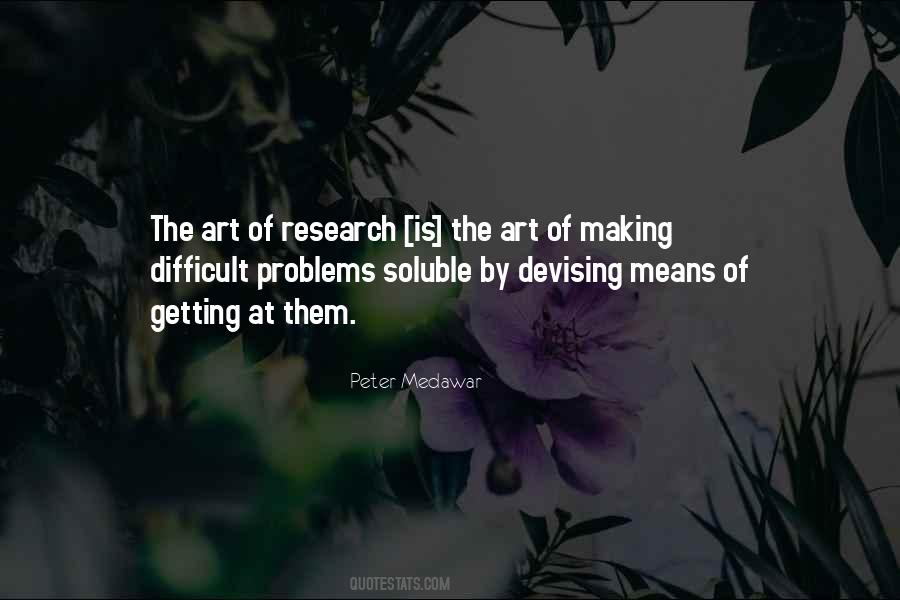 #64. [My work] looks very cinematic because it's not abstract video art. It's sometimes very narrative and since I play with film grammar in my video work, making a feature film was almost the same challenge. - Author: Nicolas Provost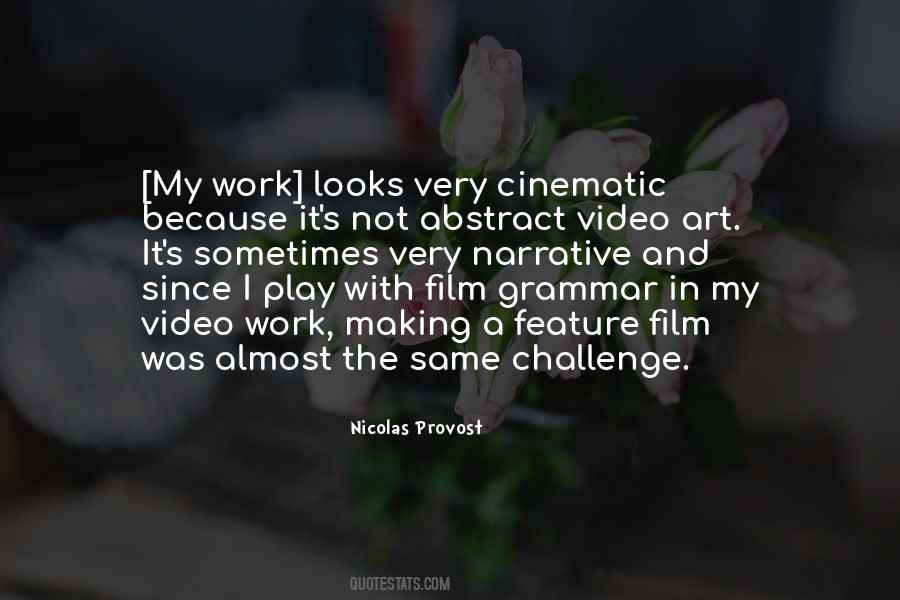 #65. In art we do not make things any simpler by making simpler things. Reduction does not yield certainty, but something like its opposite, which is ambiguity and multi-valence. - Author: Kirk Varnedoe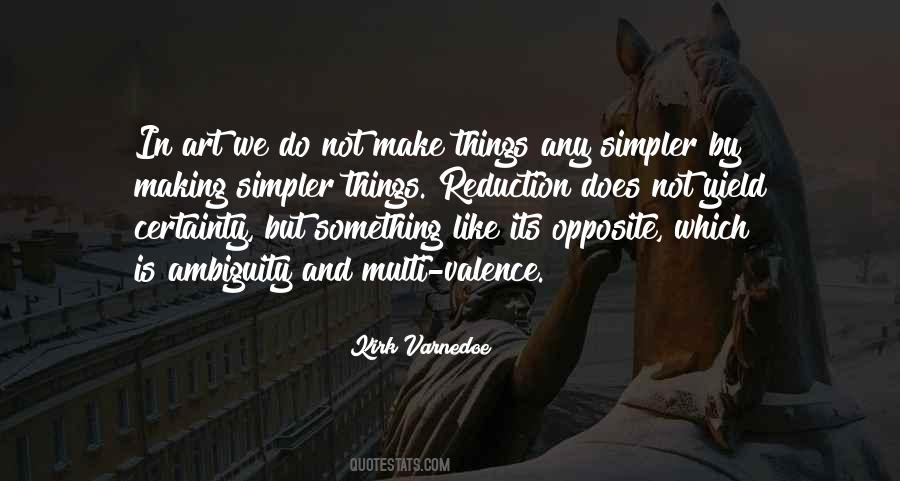 #66. Art just consists in making us swallow the commonplaces by charming us eternally ... - Author: Marie Bashkirtseff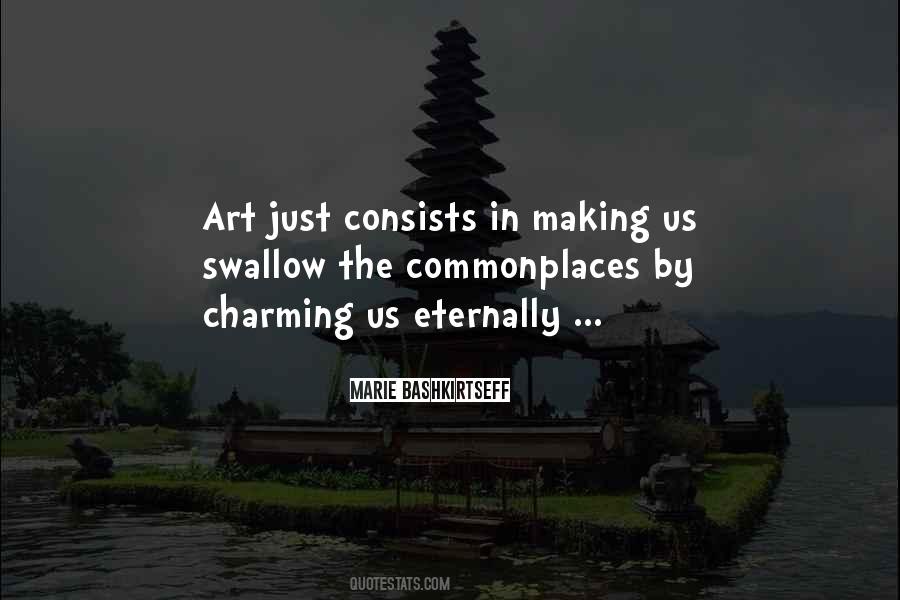 #67. The prime motivation in making almost any film is success, because film is the art form of the 20th century. - Author: Charlton Heston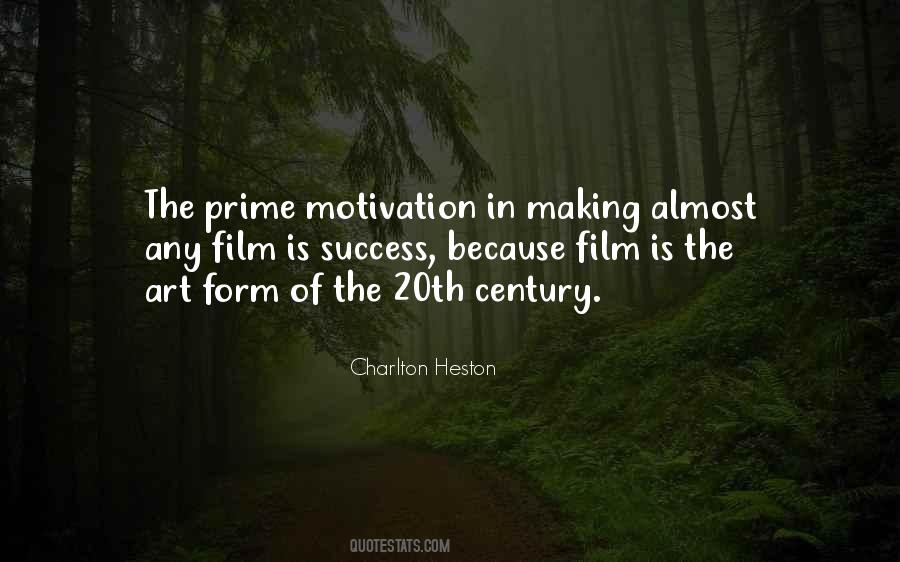 #68. Education is the art of making man ethical - Author: Georg Wilhelm Friedrich Hegel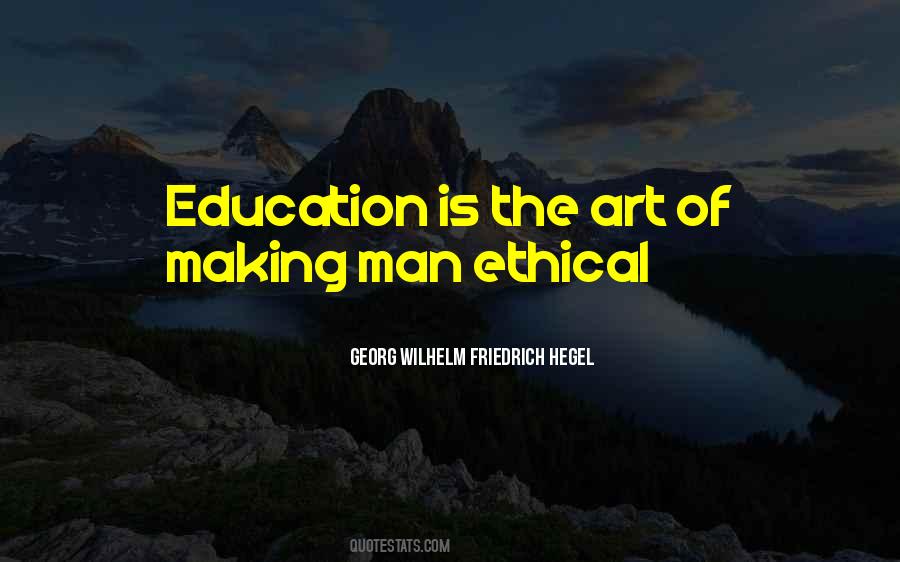 #69. Poetry connects us to what is deepest in ourselves. It gives us access to our own feelings, which are often shadowy, and engages us in the art of making meaning. It widens the space of our inner lives. It is a magical, mysterious, inexplicable (though not incomprehensible) event in language. - Author: Edward Hirsch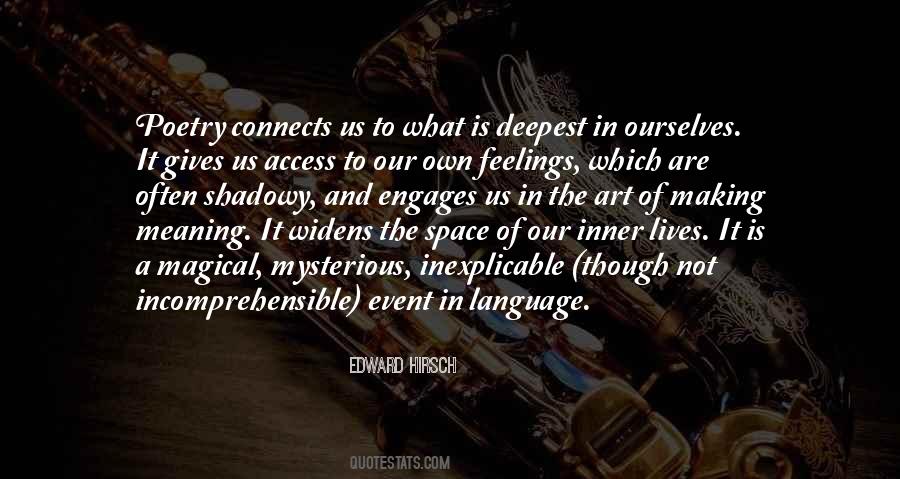 #70. I have to say, Alejandro Colucci is amazing. I had seen his work several times before I started making the connection between the art and the person making it, and when I heard that he was going to work on the cover for 'Seven Forges,' that connection was not yet cemented. - Author: James A. Moore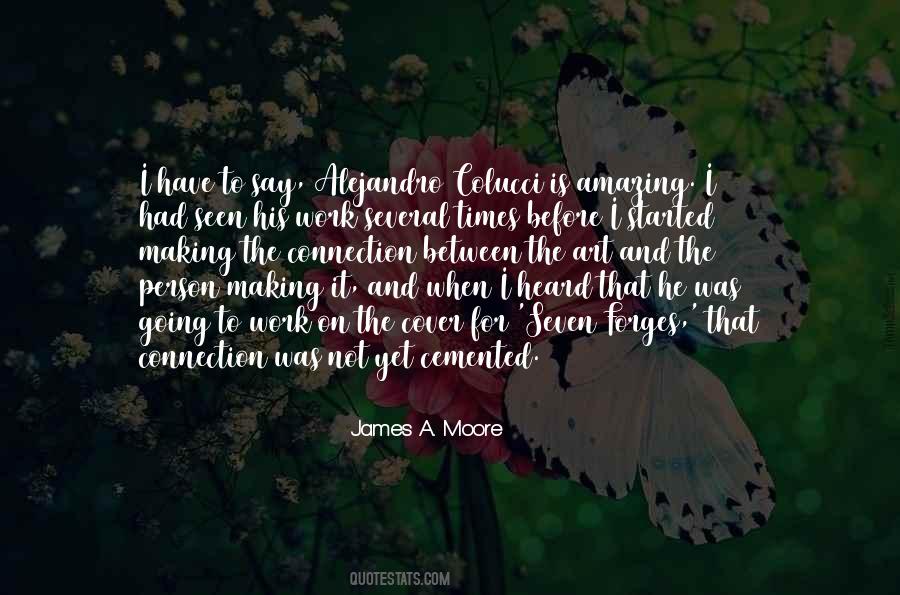 #71. What still concerns me the most is: am I on the right track, am I making progress, am I making mistakes in art? - Author: Paul Gauguin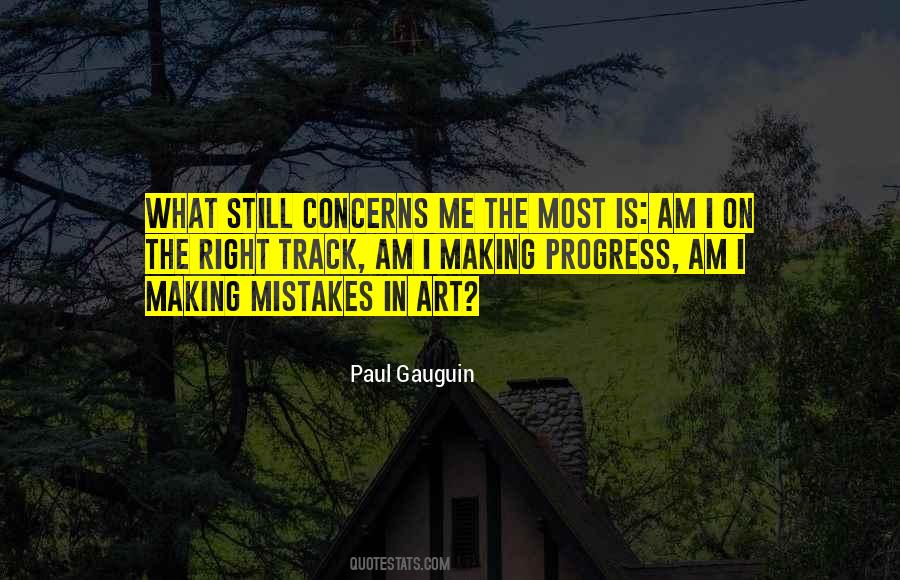 #72. An artist can't let madness stop him from making art, he simply has to channel it. - Author: Christopher Moore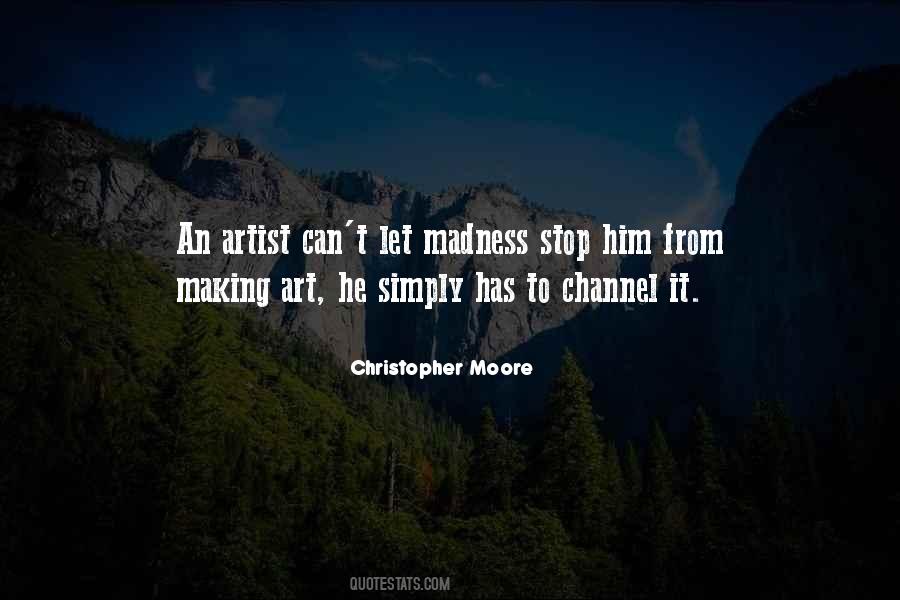 #73. Objectifying is kind of a funny thing. Art is objectification, all art, because you're taking someone and making them into an object. But people can also talk back more to you when you're sketching them. They can look at you and say, 'Oh man, you got me wrong.' - Author: Molly Crabapple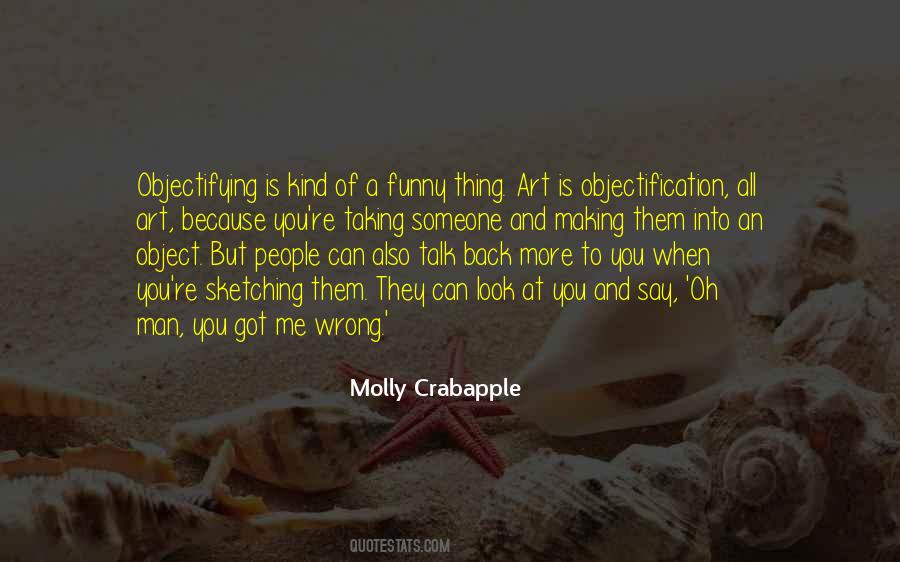 #74. Art consists precisely in making us admire old stories, charming us with them eternally, as Nature charms with her eternal sun, her ancient earth, and her men built all on the same pattern, and all animated by the same feelings ... - Author: Marie Bashkirtseff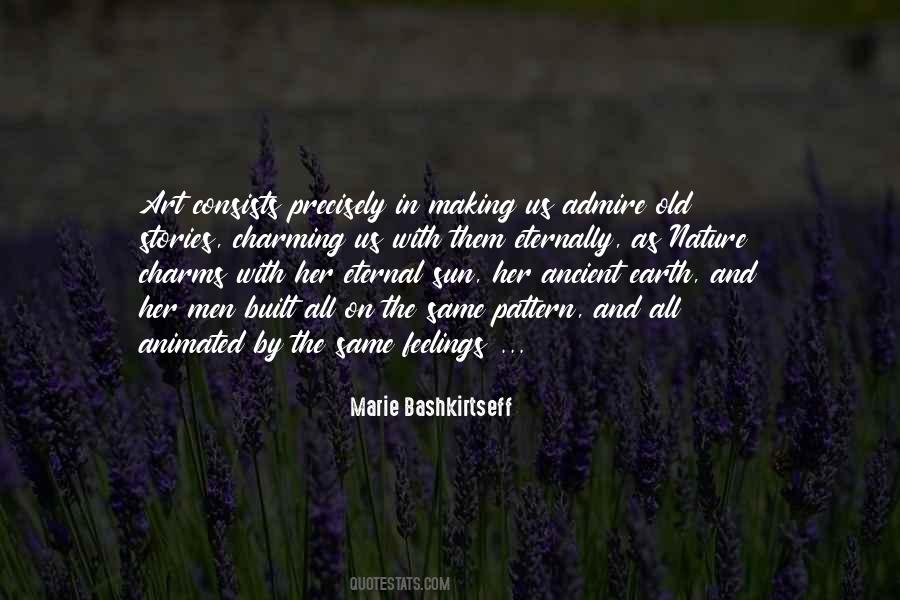 #75. I like to work in the real world, so I do a lot of searching or just simple looking. But I'm not above tweaking reality and making something up. I don't think there are any rules in art. It's not so much what you see as it is the significance you, the artist, see in it. - Author: Keith Carter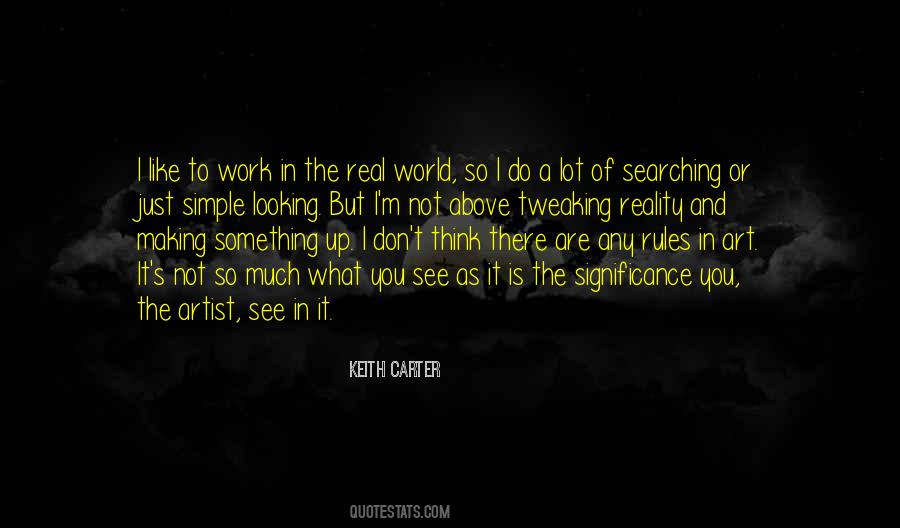 #76. Making art is a journey. - Author: Meinrad Craighead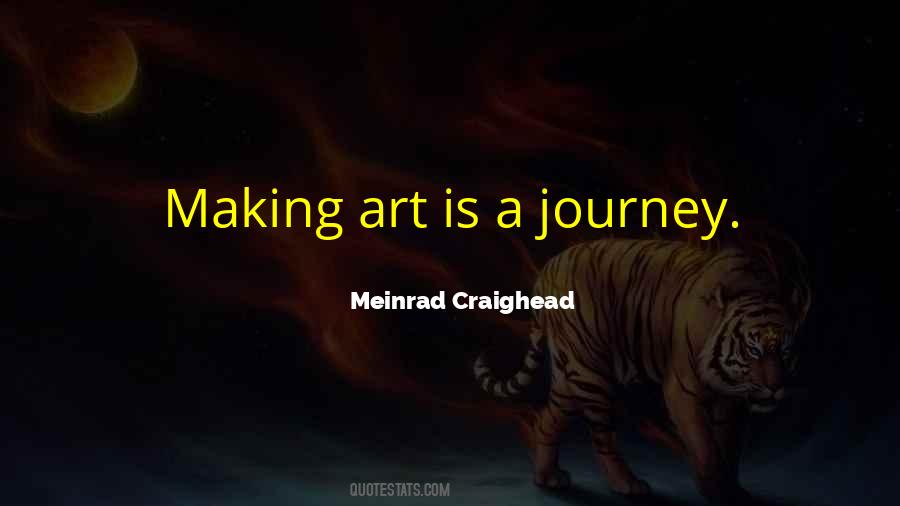 #77. Making art will show you how much you already have. Your real treasures. A brand-new Maserati is a lot less beautiful to draw than a rusty old pickup. - Author: Danny Gregory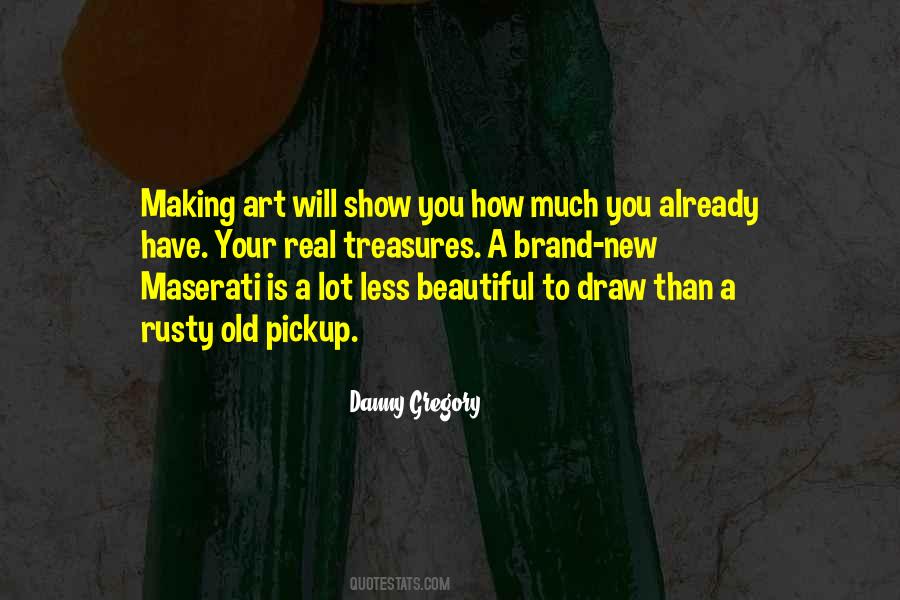 #78. It was never my goal to capitalize on punk. I could never make it as a commercial artist. I didn't back then and I still don't have the temperament and don't care for drawing or painting or making art for any other purposes other my own. - Author: Raymond Pettibon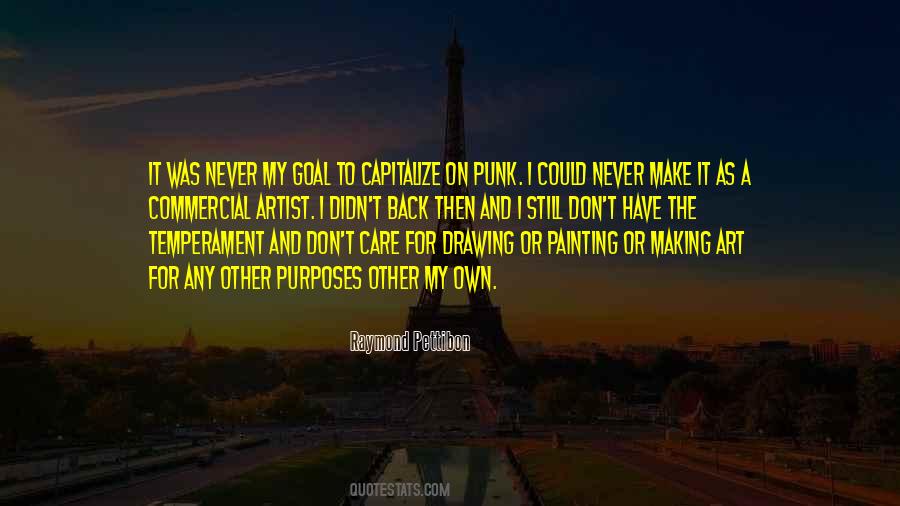 #79. Contemporary curators orbit in the place of distribution and consumption, and less and less in the space of artists. I think it has become a lazy profession in regard to its relationship to the artists and the vigorous state of art making. - Author: Michelle Grabner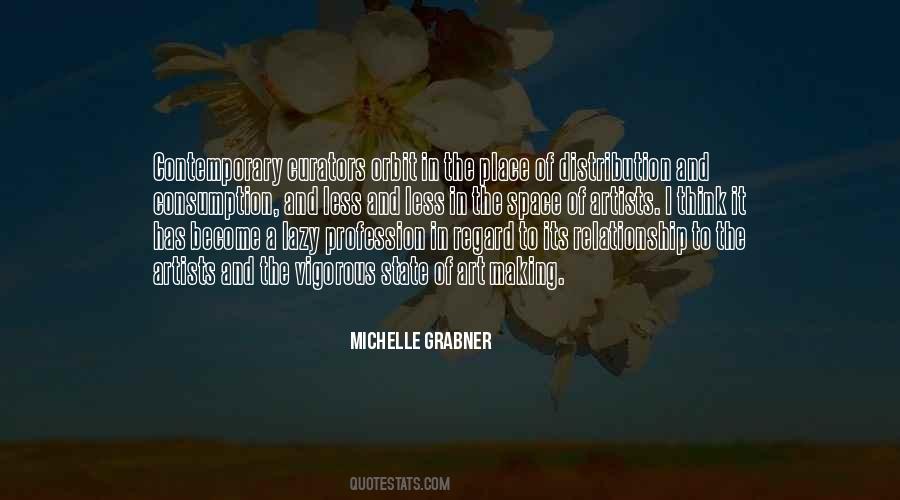 #80. To undertake a genuine spiritual path is not to avoid difficulties but to learn the art of making mistakes wakefully, to bring them to the transformative power of our heart. - Author: Jack Kornfield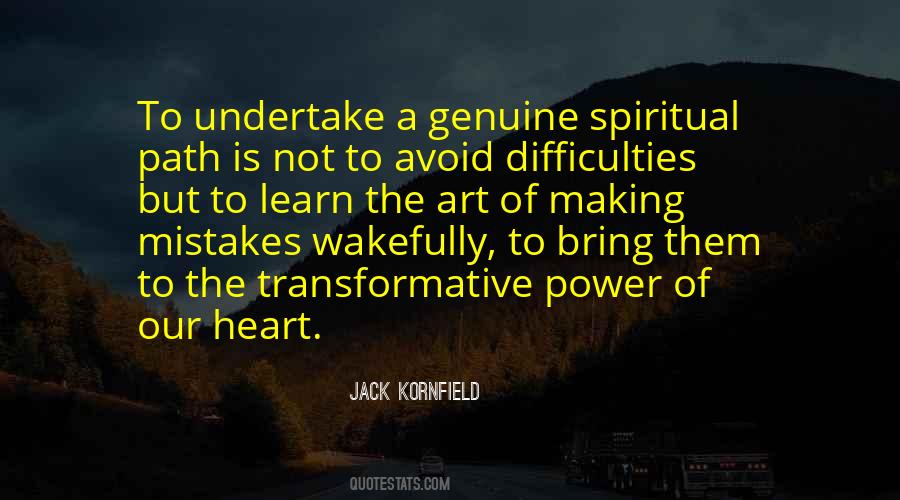 #81. I can't think of a better rationale to create a work of art. I don't care what form one's art takes, it has to be an attempt to leave the world a better place than it was before we got here or it's not doing its job. And I don't mean just making things that are pretty. - Author: Charles De Lint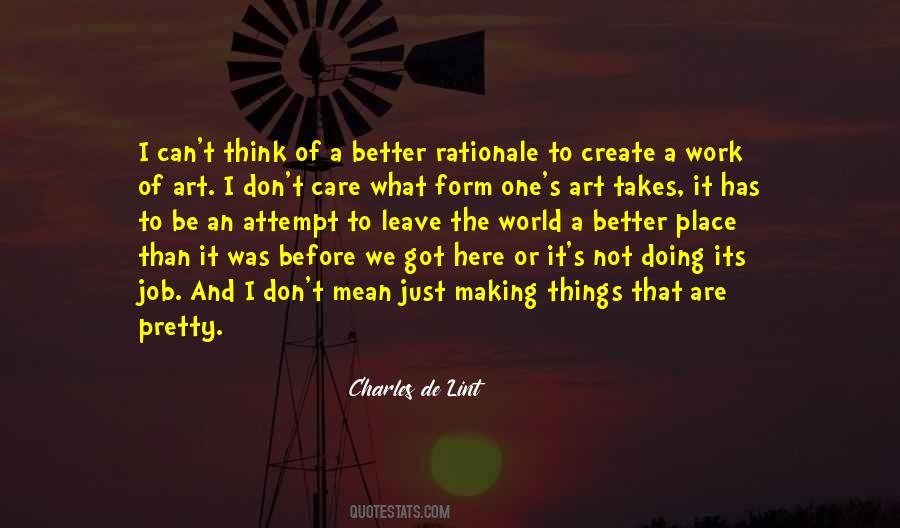 #82. Love-making is an art which must be studied. - Author: Ivor Novello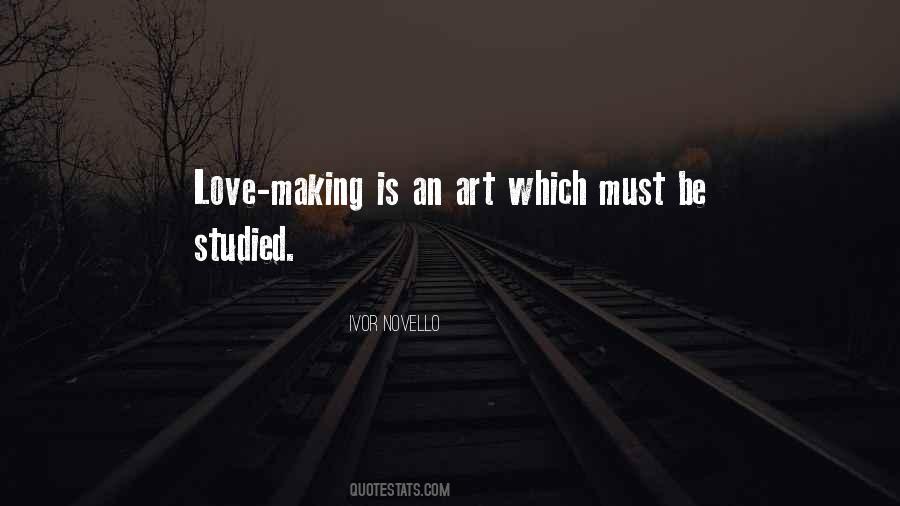 #83. After all, the goal is not making art. It is living a life. Those who live their lives will leave the stuff that is really art. - Author: Robert Henri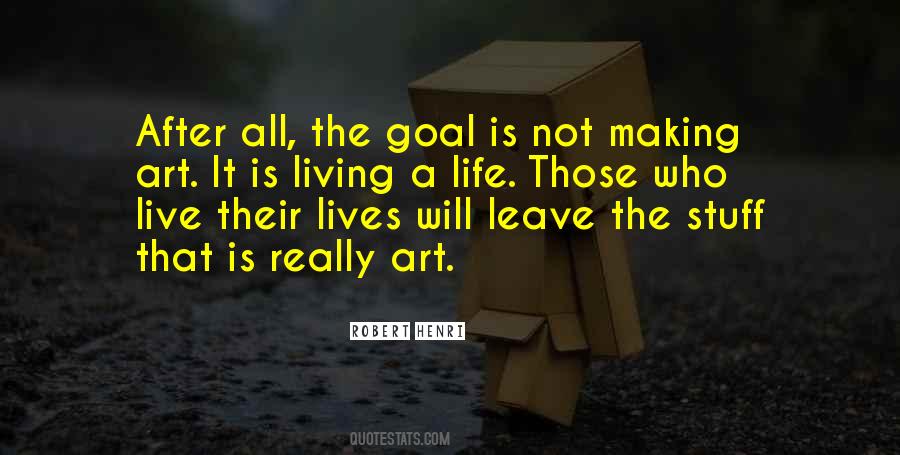 #84. Making an art out of your technological life is the way to solve the problem of technology ... Art is anything that you can do well. Anything that you can do with Quality. - Author: Robert M. Pirsig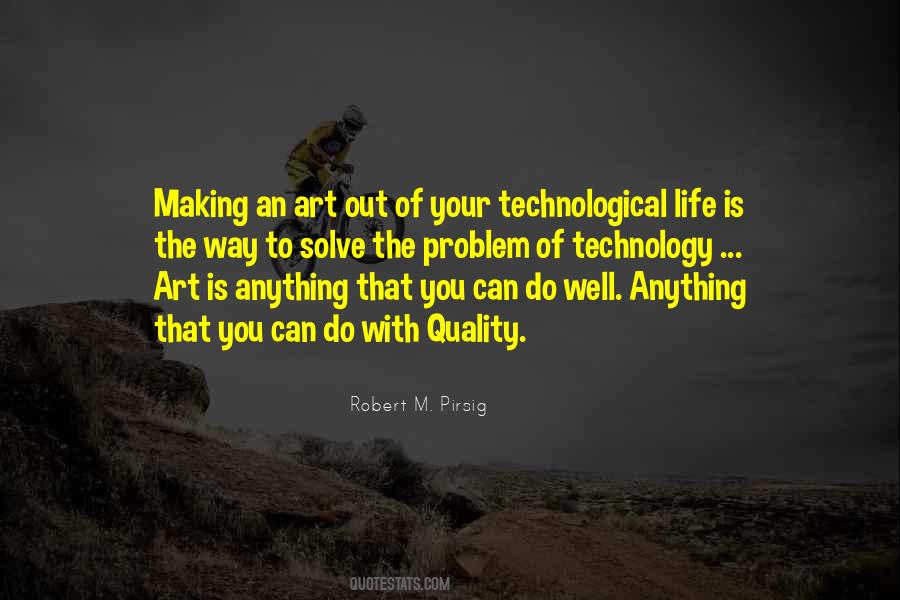 #85. I just started making Bloody Marys. I always thought they looked gross, then I tasted one. There's an art to it, from the Tabasco to the Worcestershire. - Author: Tara Reid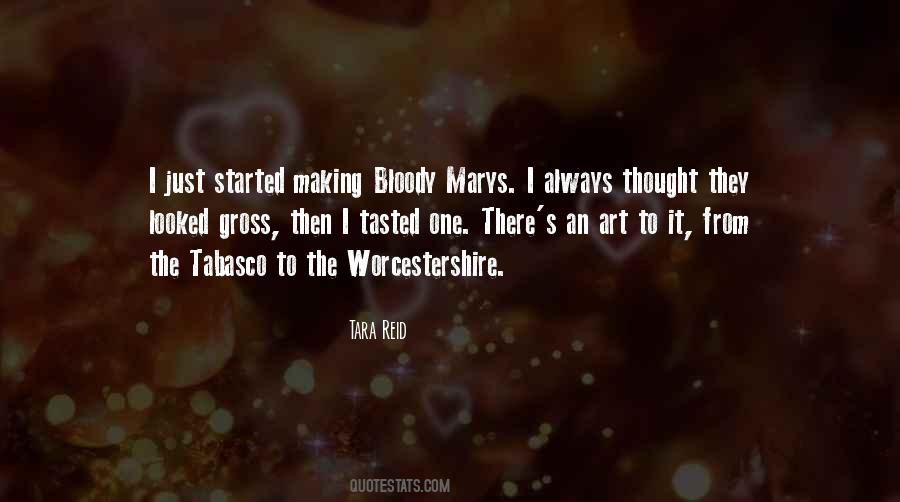 #86. The process of art-making is full of happy accidents - what fun! - Author: Max Elliott Slade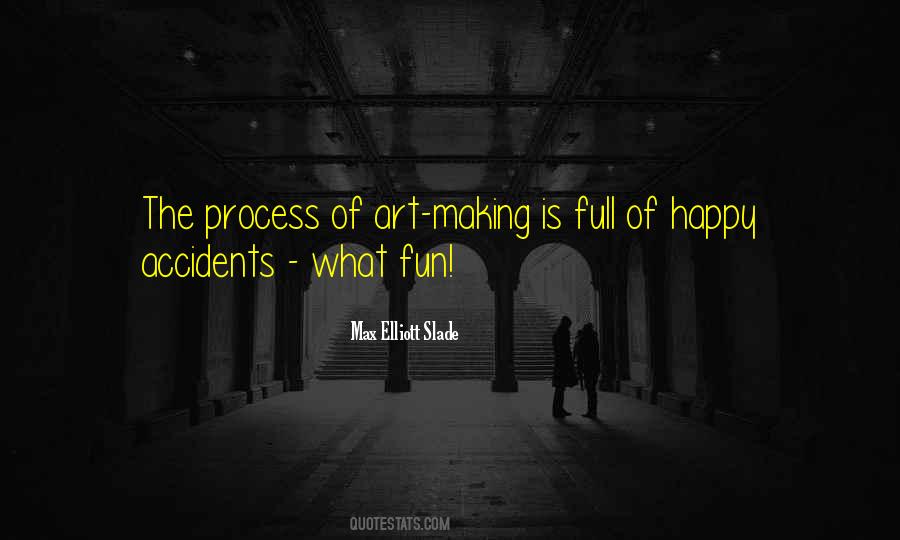 #87. Making a living out of acting sounded like science-fiction when I was growing up. I didn't know anyone around me who lived from anything related to art. - Author: Penelope Cruz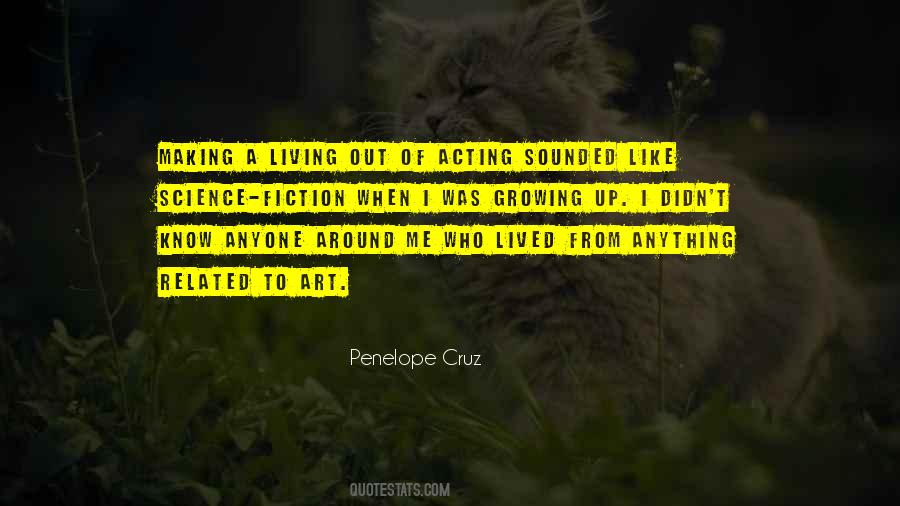 #88. Crafternoon is about making what you want, how you want it, to the best of your ability. And even if you may not think of yourself as a rock star of creativity, it's there inside you. At Crafternoon, you are a CraftStar. - Author: Maura Madden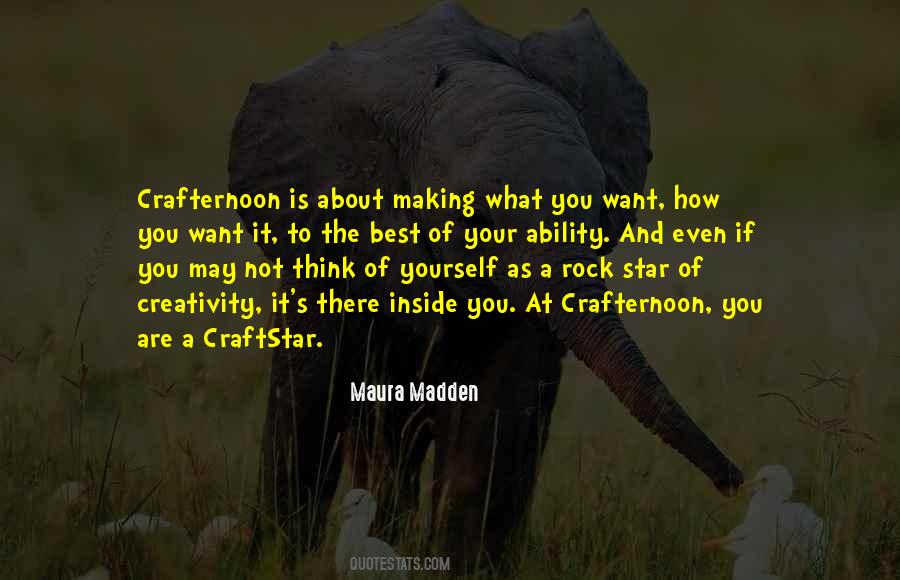 #89. Money follows art. Money wants what it can't buy. Class and talent. And remember while there's a talent for making money, it takes real talent to know how to spend it. - Author: Candace Bushnell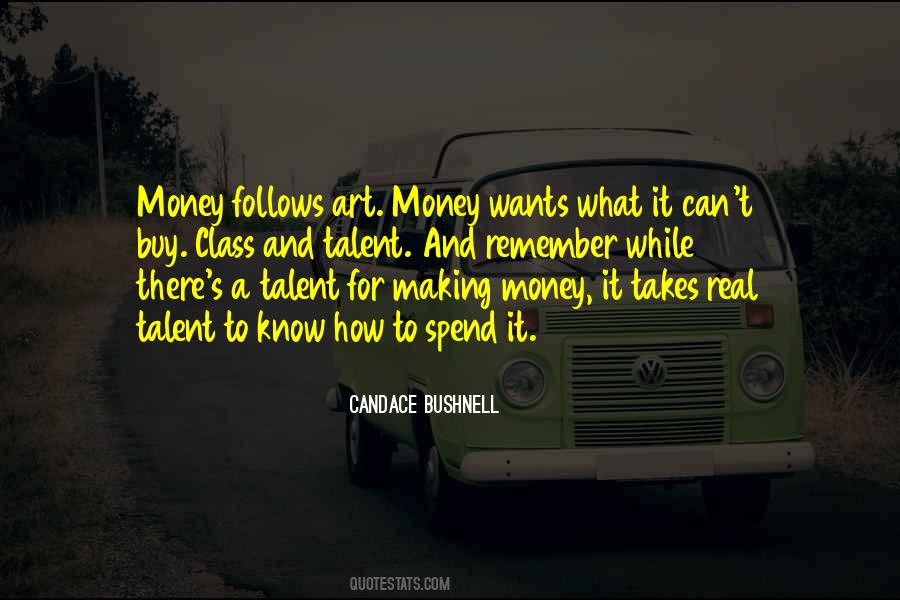 #90. I started to understand that for me, art was no longer about self-expression but about creative engagement with the world. I started to respond in an excited way to making work inside an industry and not feeling the constraints of audience expectation as some kind of thing that I should avoid. - Author: Ayad Akhtar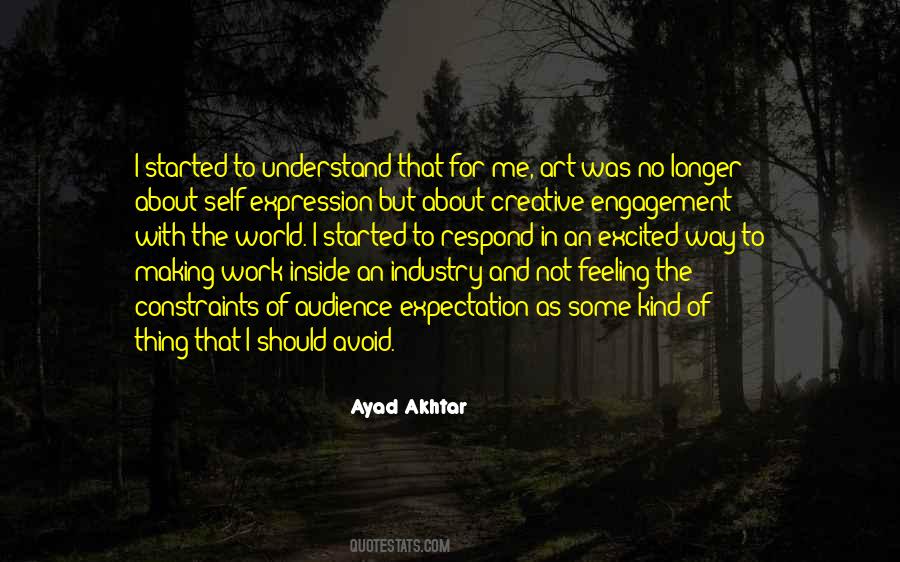 #91. Making art is complicated because the categories are always changing. You just have to make your own art, and whatever categories it falls into will come later. - Author: Frank Stella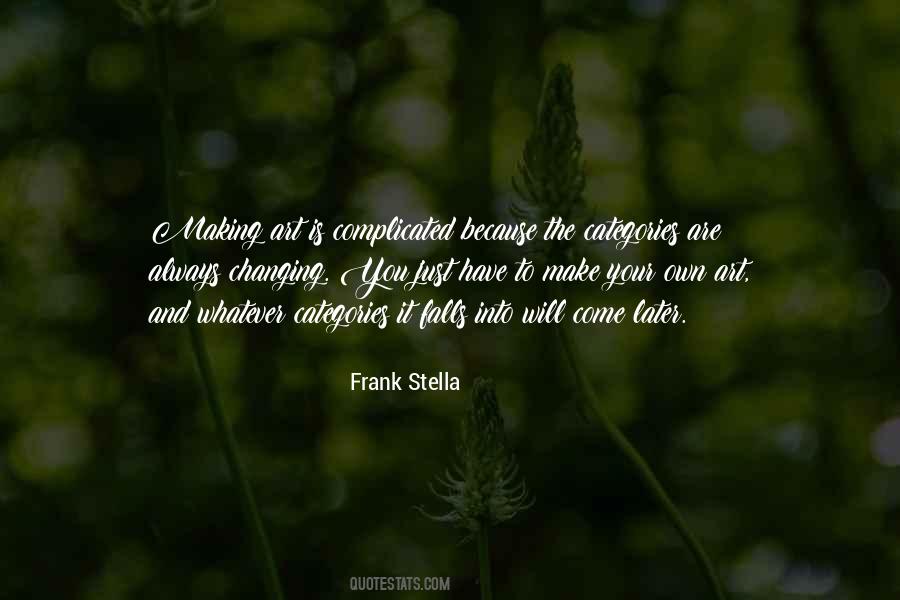 #92. If I set out to sculpt a standing man and it becomes a lying woman, I know I am making art. - Author: Henry Moore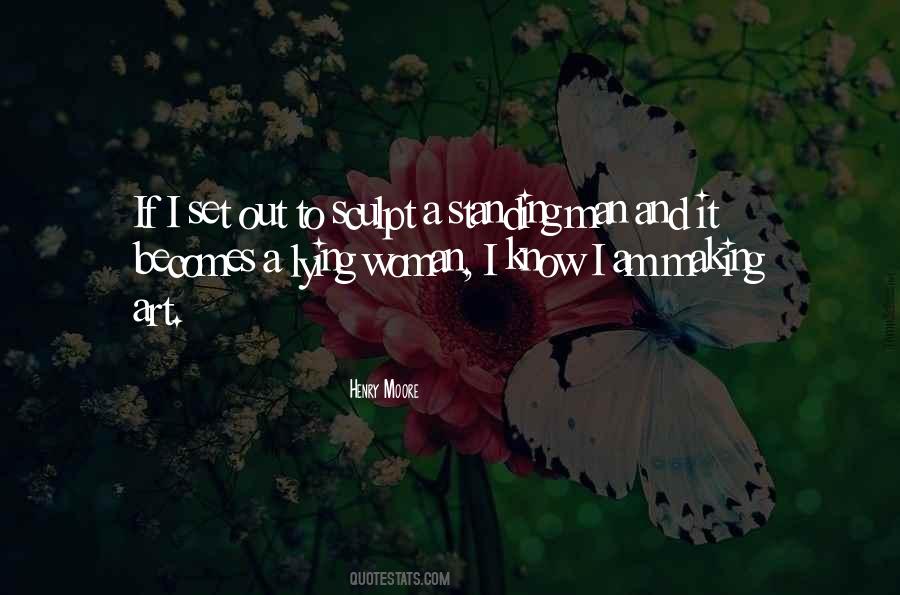 #93. Making money is art. And working is art. And good business is the best art. - Author: Andy Warhol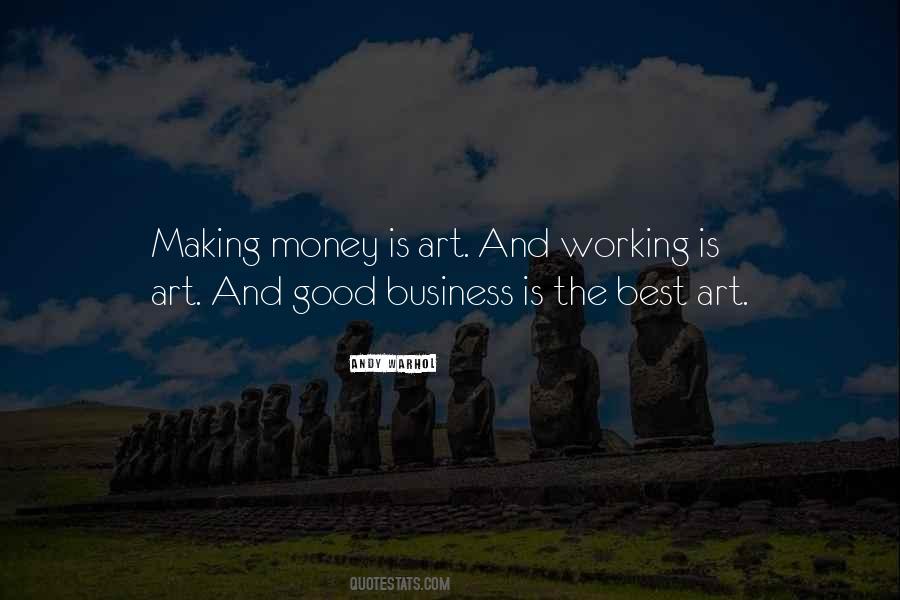 #94. You don't make art after you become an artist. You become an artist by ceaselessly making art. - Author: Seth Godin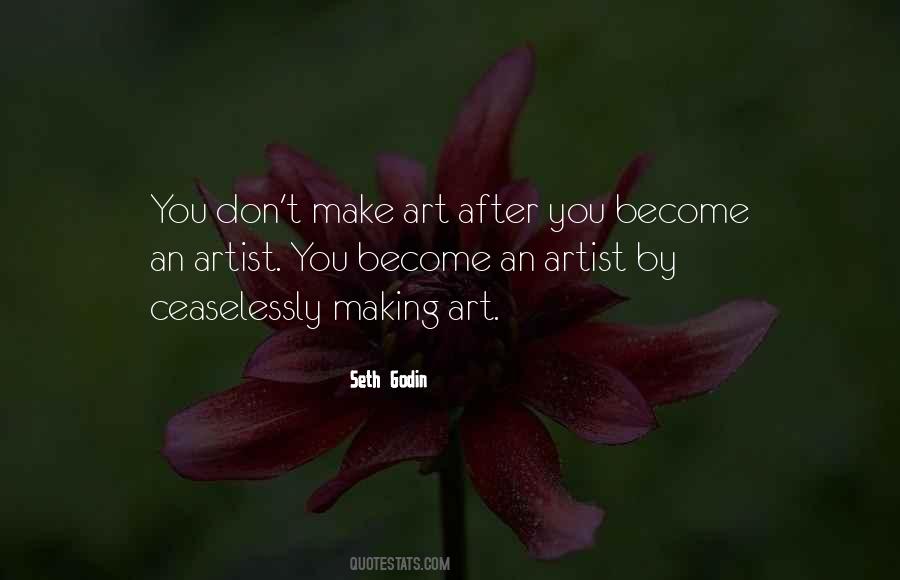 #95. I don't think I'm making any great statements, and I certainly don't think I'm making art. - Author: John Hughes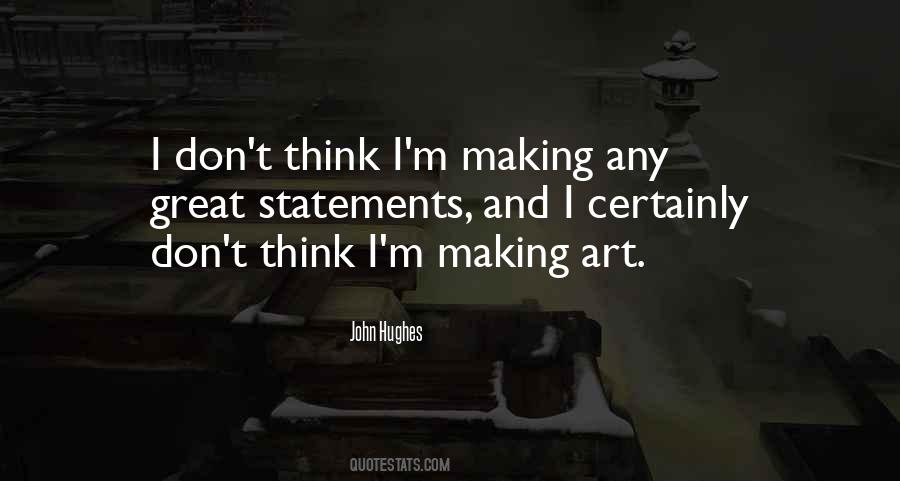 #96. I always wanted to be a stay-at-home dad making art, making movies. - Author: Robert Rodriguez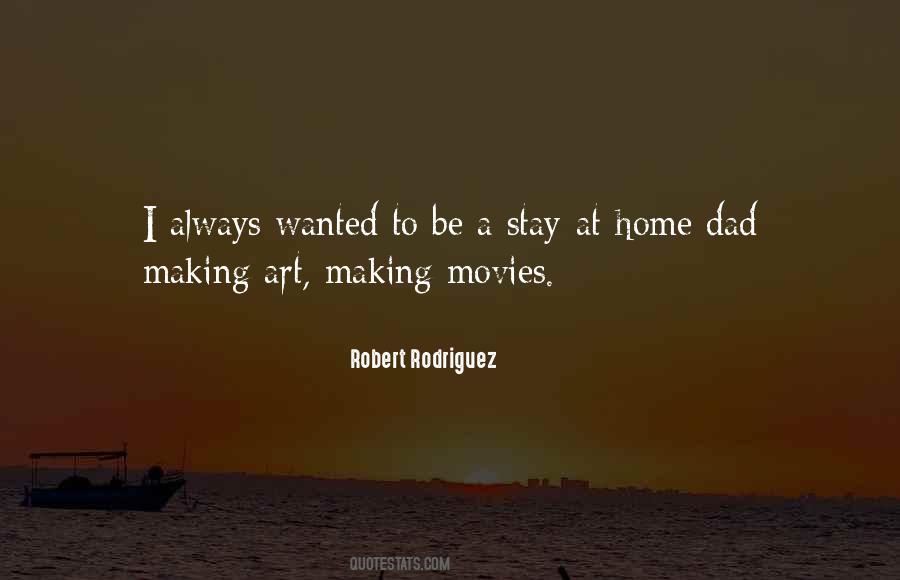 #97. But at the end of the day, you can't major in Making Stuff, so it was Art by default. - Author: Chip Kidd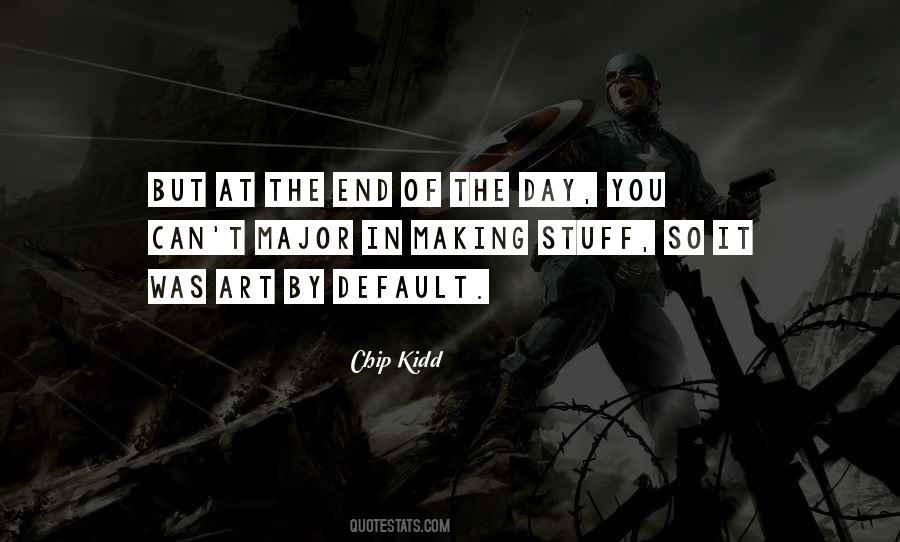 #98. advertising symbolizes the art of making people dissatisfied with what they have. - Author: Joost A.M. Meerloo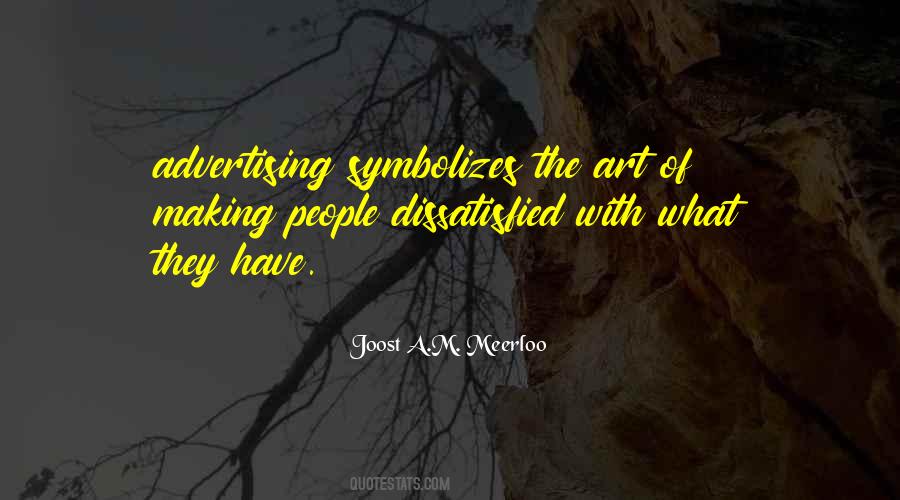 #99. The art of acceptance is the art of making someone who has just done you a small favor wish that he might have done you a greater one. - Author: Martin Luther King Jr.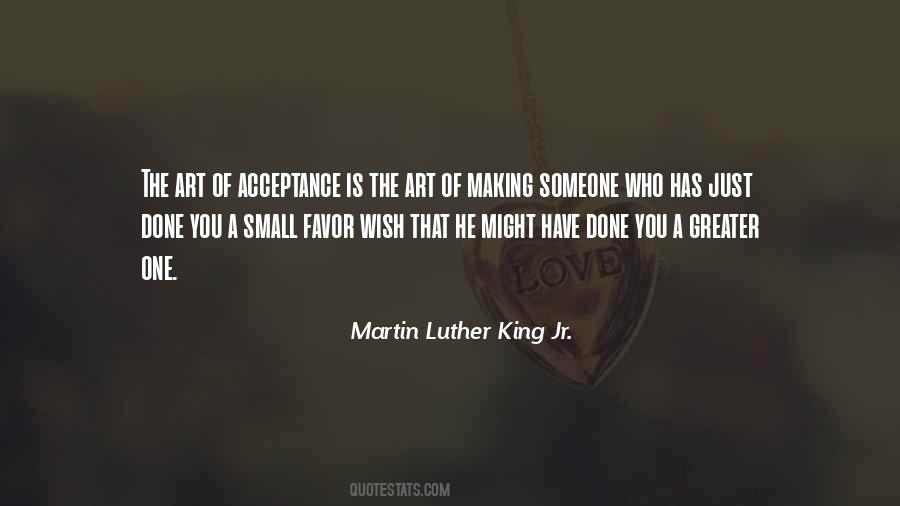 #100. Making art is like swimming underwater in a blindfold. - Author: Walter Darby Bannard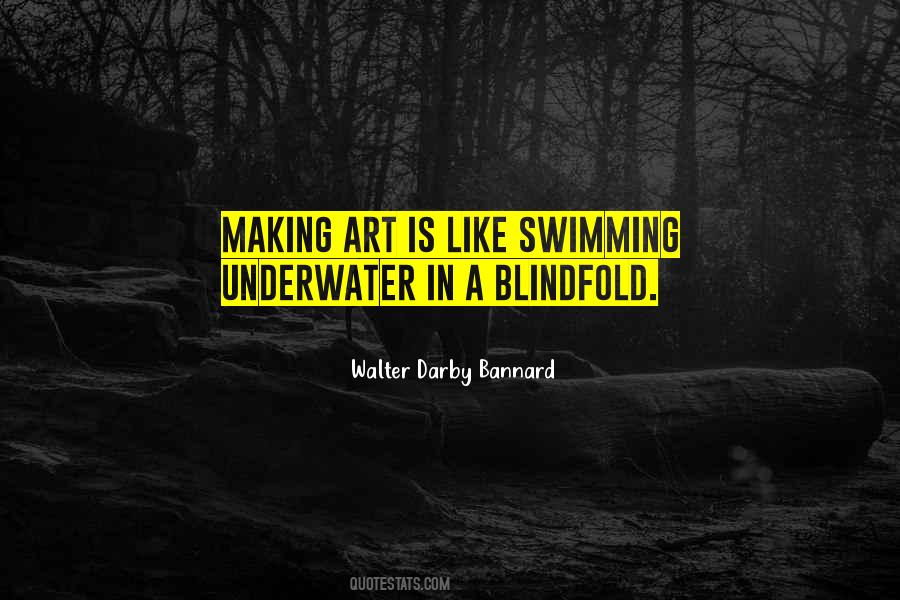 Famous Authors
Popular Topics