Loving Children Famous Quotes & Sayings
List of top 100 famous quotes and sayings about loving children to read and share with friends on your Facebook, Twitter, blogs.
Top 100 Quotes About Loving Children
#1. If you seek His help, be sure your life is clean, your motives are worthy, and you're willing to do what He asks-for He will answer your prayers. He is your loving Father; you are His beloved child. He loves you perfectly and wants to help you. - Author: Richard G. Scott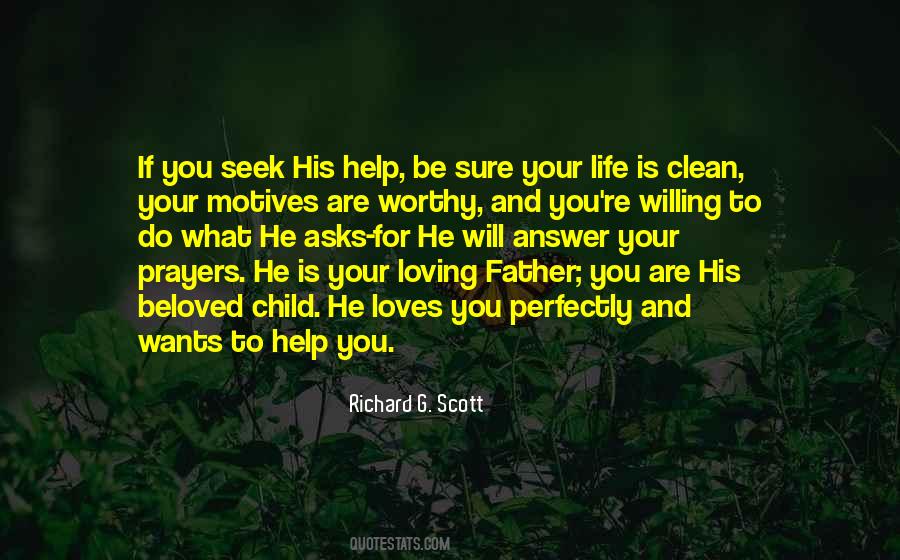 #2. Children need loving attention, closeness and deep affection and also loving touch. Love will make them feel safe. - Author: Deepak Chopra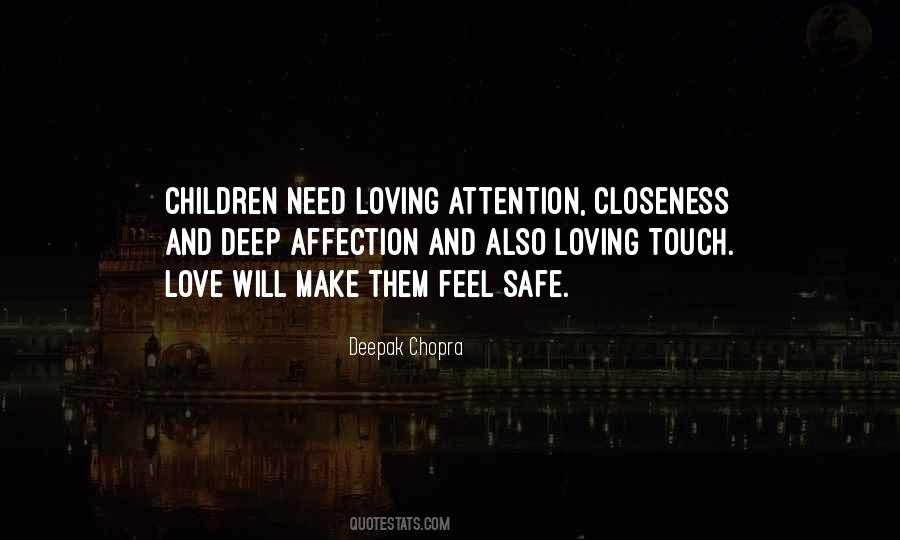 #3. I believe there are too many children who need loving parents to deny one group of people adoption rights. A child will benefit from a healthy, loving home, whether the parents are gay or not. - Author: Barack Obama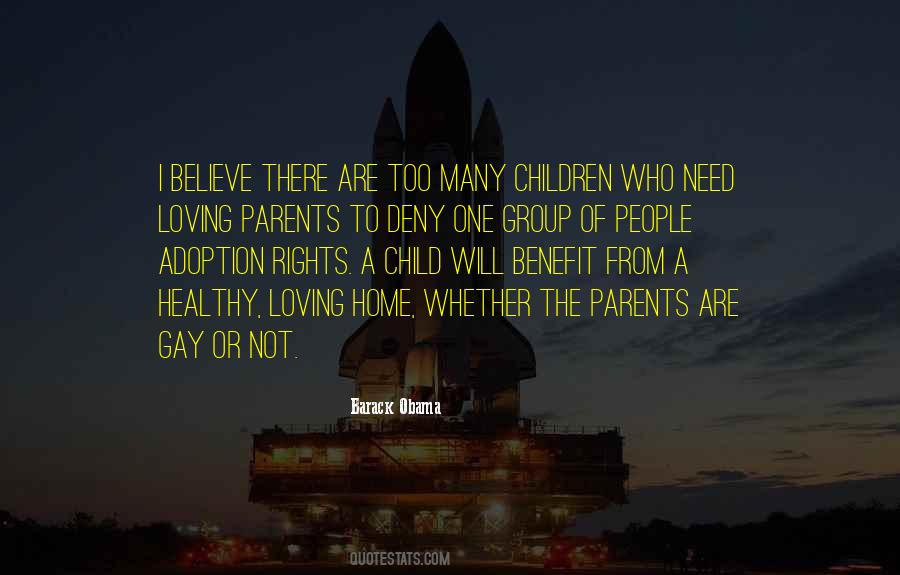 #4. Just be loving. You also have to recognize that you need to take the focus off yourself and put it on your children to give them a proper start in life. - Author: Benjamin Bratt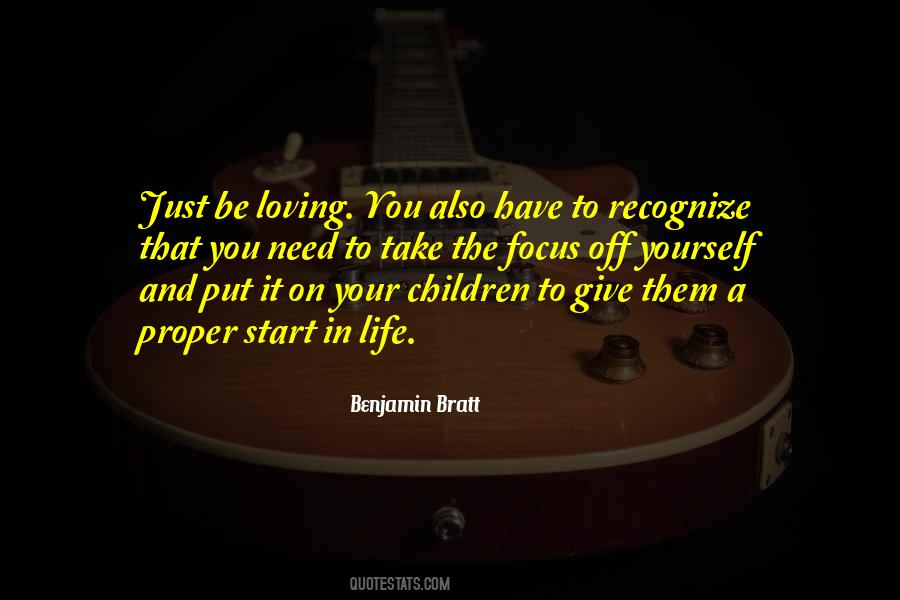 #5. Loving your child also means respecting him as a person. Treat him with the same courtesy as would a friend. - Author: Claudia Jones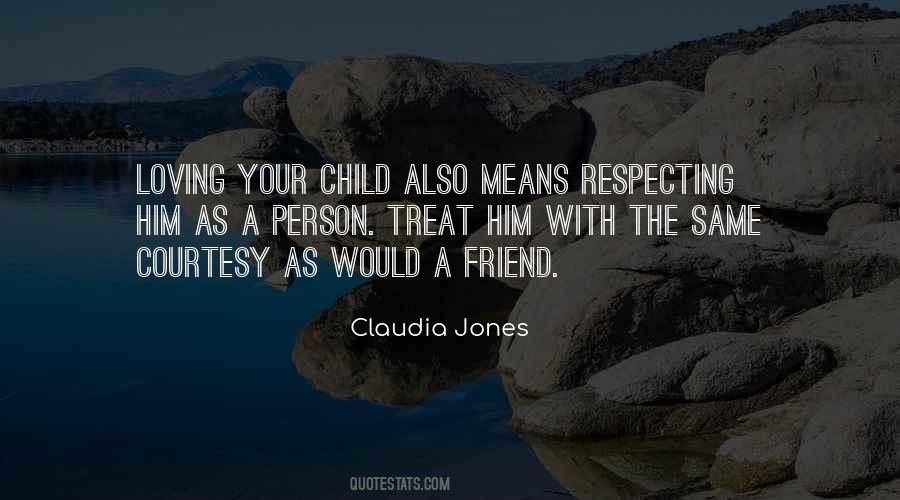 #6. God's a parent. What loving parent would create a place of eternal torment for their children? - Author: Rhys Ford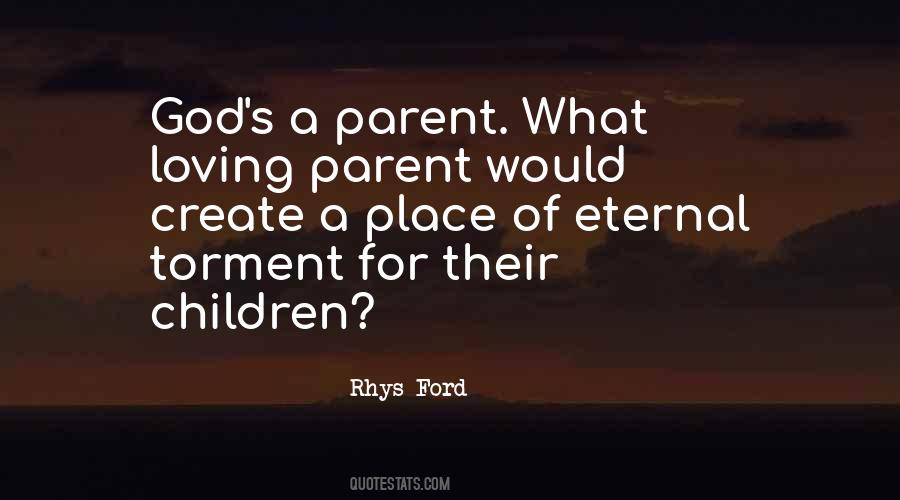 #7. Jesus clearly viewed children as precious - and that if he loved kids enough to say that adults should be more like them, we should spend more time loving them too. - Author: Todd Burpo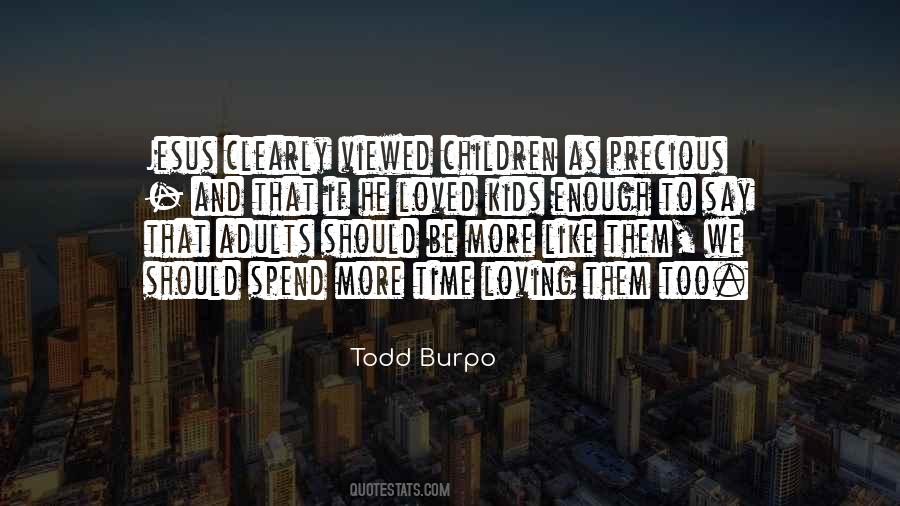 #8. If I had known what it meant to love, I wouldn't have had children, because once we love, we love forever, like Uncle Two's wife, Step-aunt Two, who can't stop loving her gambler son, the son who is burning up the family fortune like a pyromaniac. - Author: Kim Thuy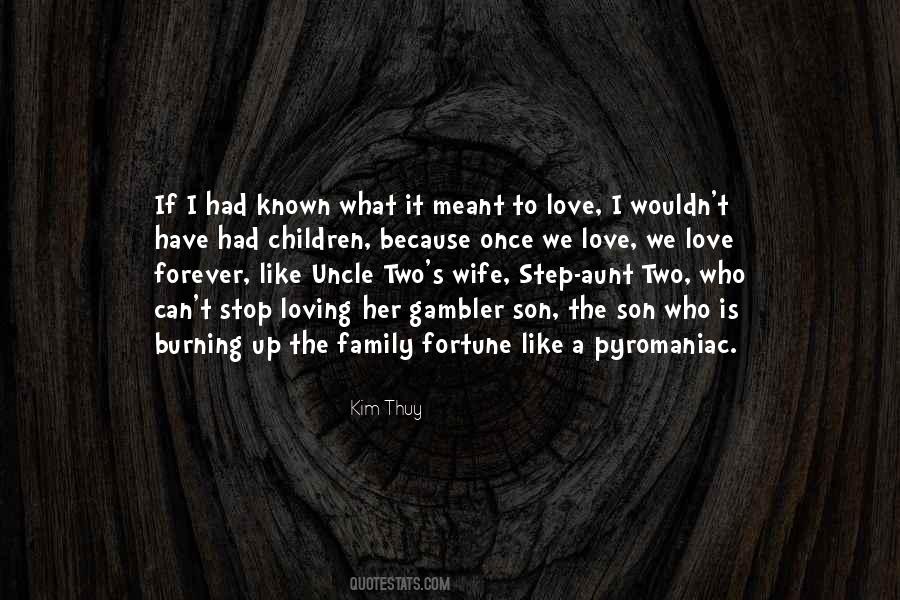 #9. Because I think that's what love is- everything but children's love, anyway - loving the wounds we give each other, and that we can't help giving each other; you can't stay alive if you don't hurt people. - Author: J.R. Salamanca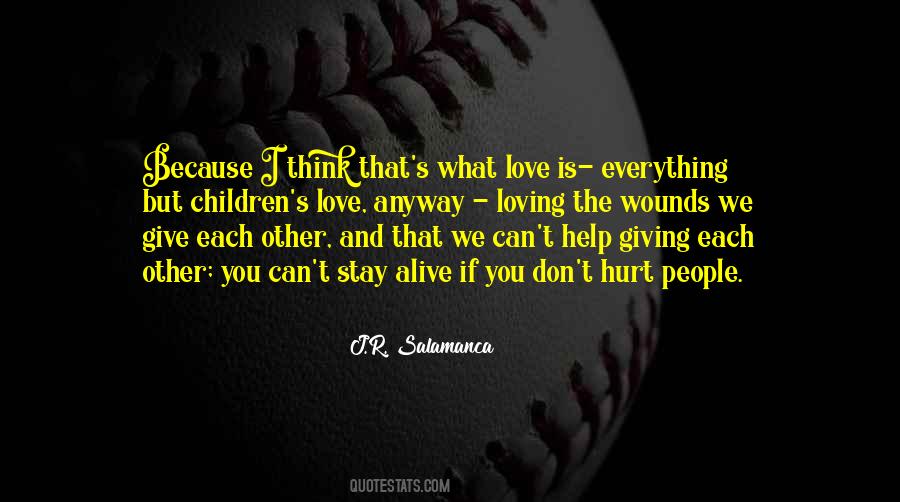 #10. The only person worth risking everything for is the one person that would never let you risk everything for. - Author: Shannon L. Alder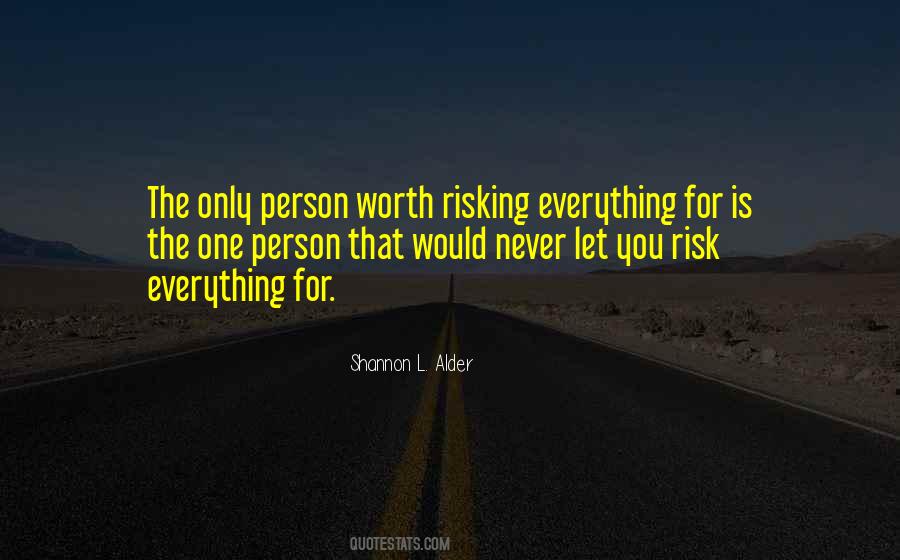 #11. When I was growing up my mother used to tell me that the best gift parents could give their children was to have a strong and loving relationship with each other. - Author: George Howe Colt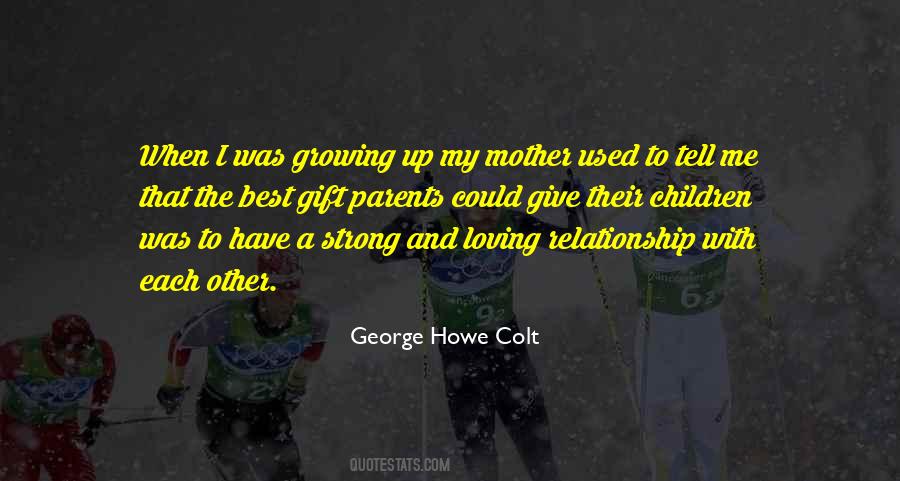 #12. Industrialization created the Father's Catch-22:;: a dad loving his children by being away from the love of his children. - Author: Warren Farrell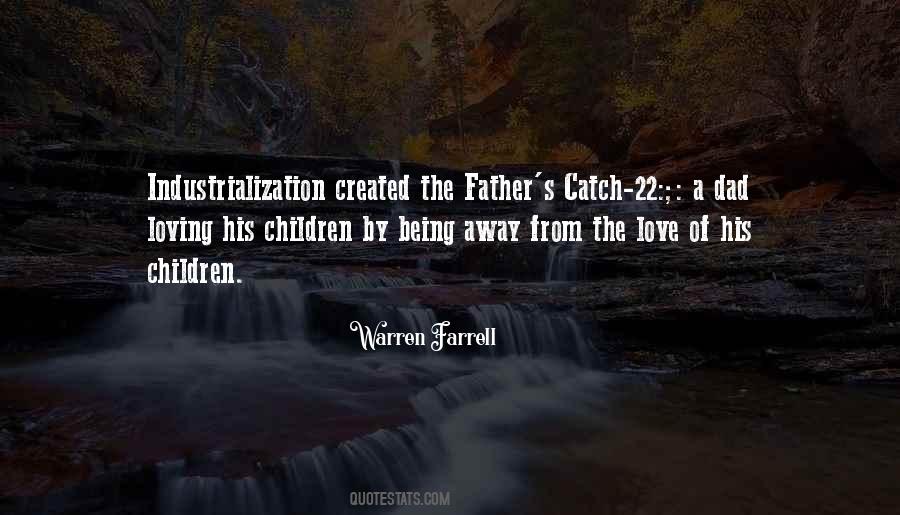 #13. A good, all-loving god would not destroy his creations no matter how they act. He tells parents to love their children unconditionally. I say 'you first, God.' - Author: Ryan Hofmeister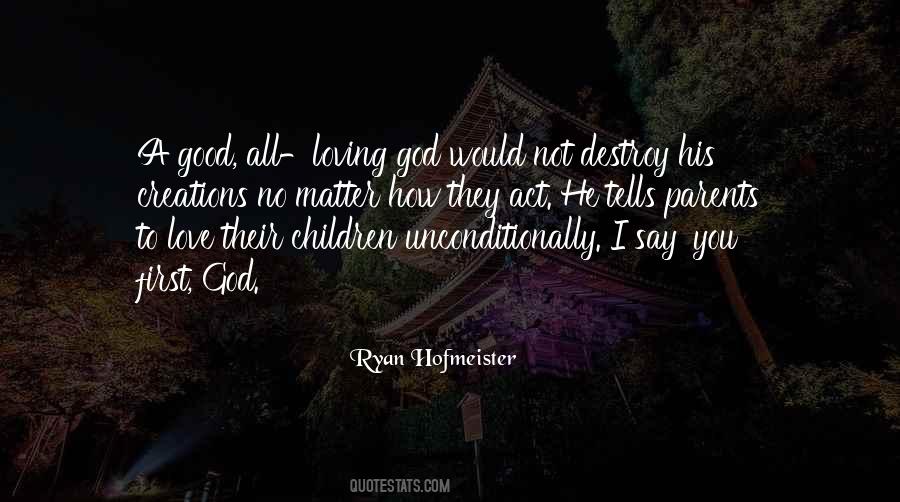 #14. Earn the respect and confidence of your children through your loving relationship with them. A righteous father protects his children with his time and presence in their social, educational, and spiritual activities and responsibilities. - Author: Howard W. Hunter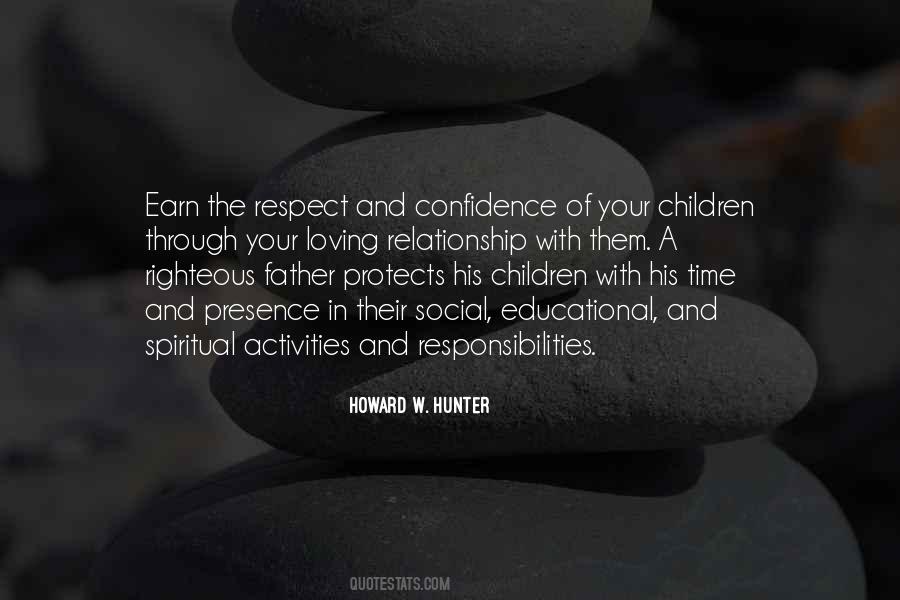 #15. Abusive parents have inappropriate expectations of their children, with a reversal of dependence needs. Parents treat an abused child as if the child were older than the parents. A parent often turns to the child for reassurance, nurturing, comfort, and protection and expects a loving response. - Author: Benjamin James Sadock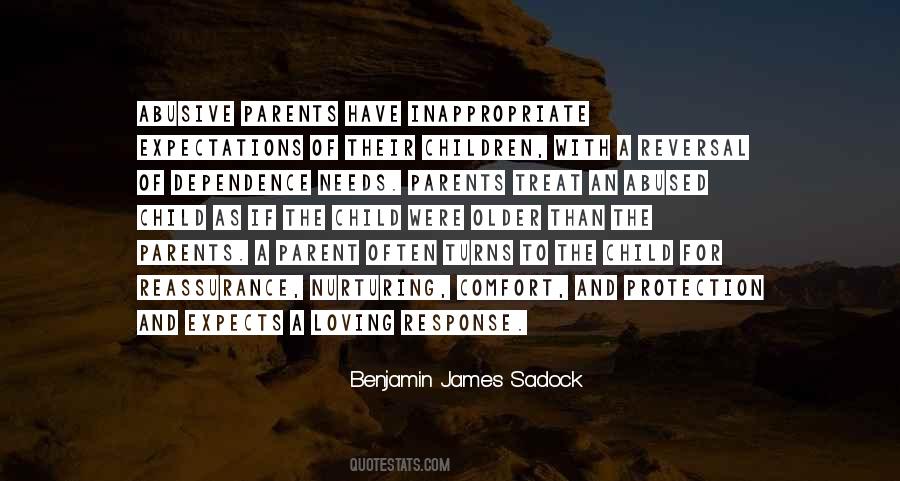 #16. Gov. Romney says he's against same-sex marriage because every child deserves a mother and a father. I think every child deserves a family as loving and committed as mine. Mr. Romney my family is just as real as yours. - Author: Zach Wahls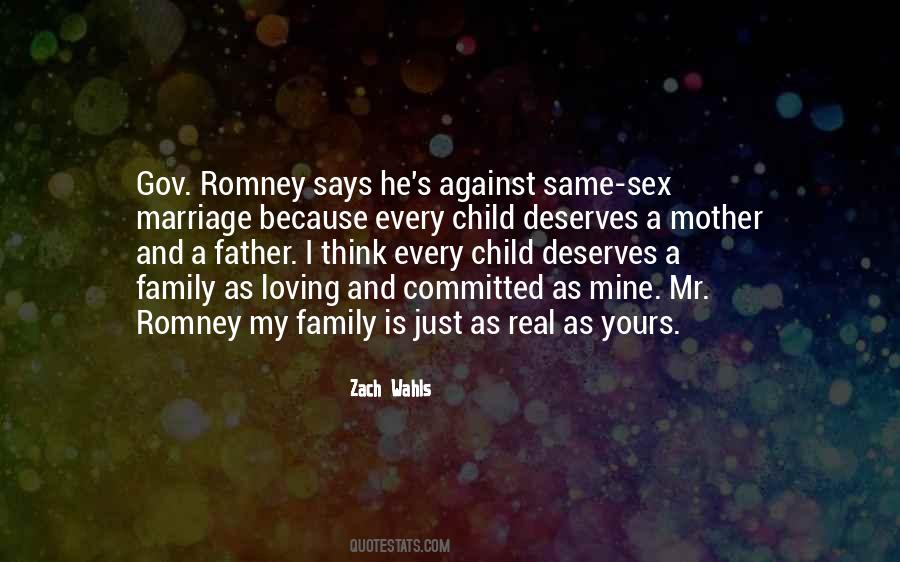 #17. Yet, instead of loving our children more, we install metal detectors in our schools. - Author: Michael Jackson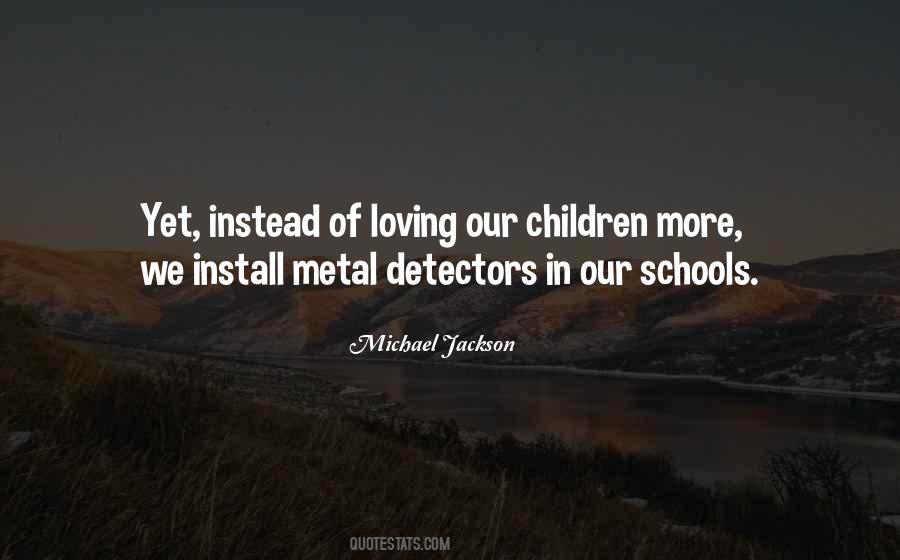 #18. A successful home is based on the love and helpfulness of children just as it is based on loving parents handling their responsibilities ... Be eager to forgive when problems arise at home. Help with your younger brothers and sisters when needed. You are their hero. - Author: Hugh W. Pinnock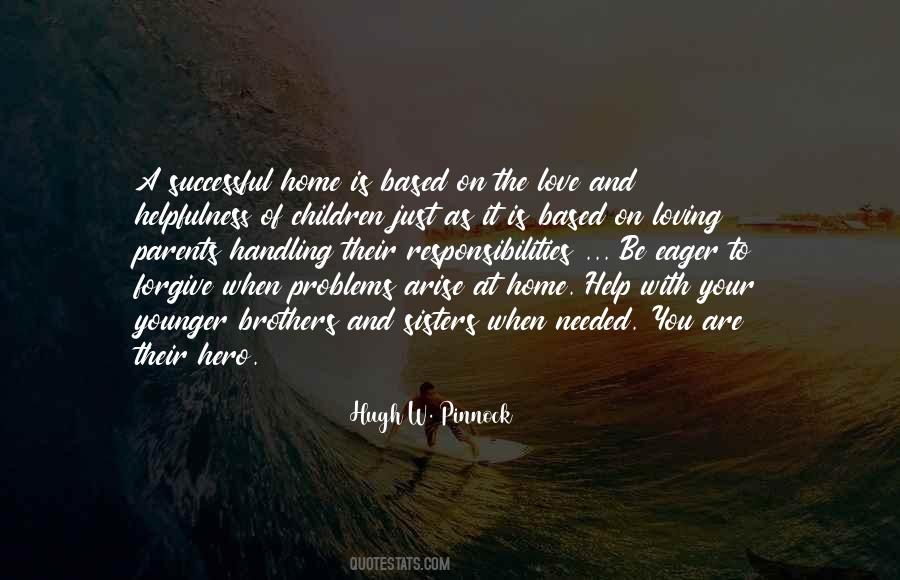 #19. Anya Hindmarch is indeed a handbag designer; she has the requisite fabulous life, tasteful home, and loving husband. She is also beautiful and self-deprecating, and has five children aged 5 to 20 and a philanthropic bent which spans causes from cancer care to Britain's Conservative Party. - Author: Kate Reardon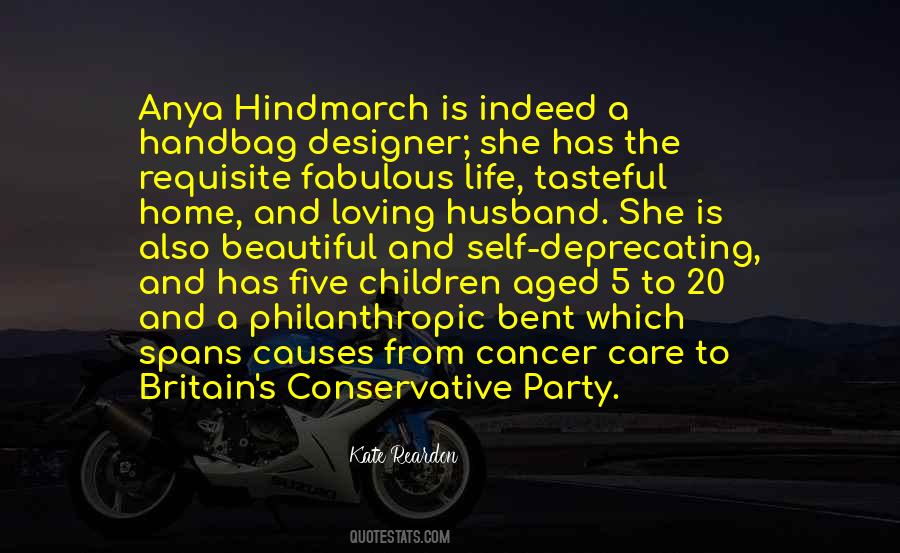 #20. Be a Mother who is committed to loving her children into standing on higher ground than the enviroment surrounding them. Mothers are endowed with a love that is unlike any other love on the face of the earth. - Author: Marjorie Pay Hinckley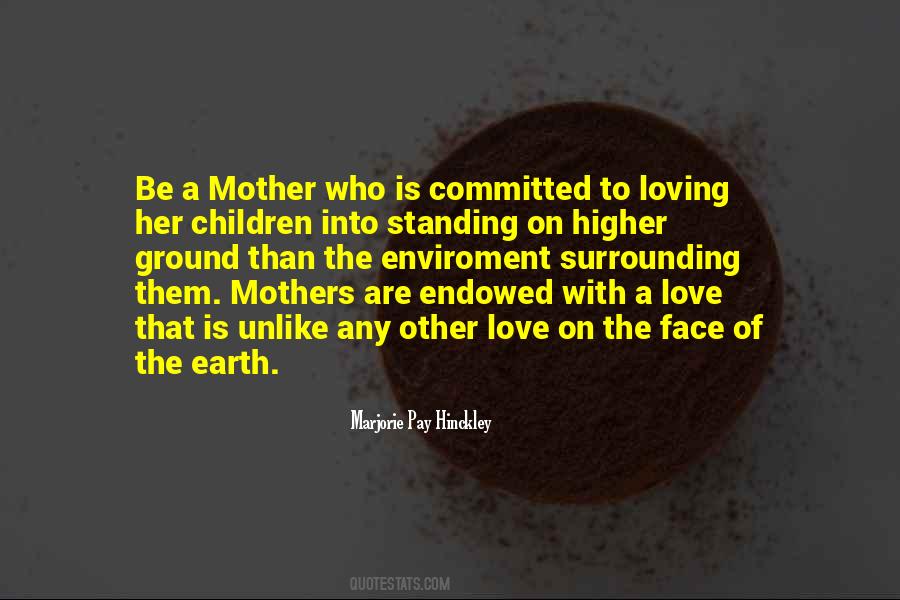 #21. I am not all knowing.
Therefore, I will not even attempt to be.
I need to be loved.
Therefore, I will be open to loving children.
I want to be more accepting of the child in me.
Therefore, I will with wonder and awe allow children to illuminate my world. - Author: Garry L. Landreth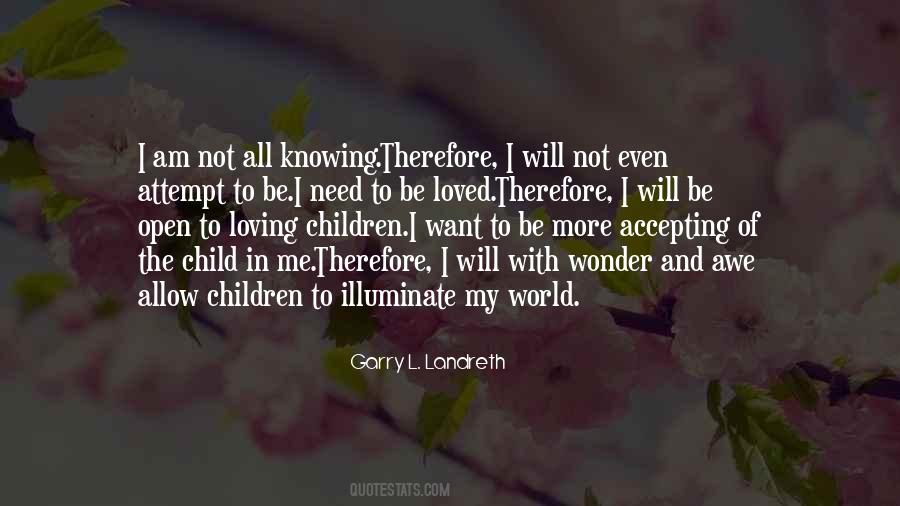 #22. Children don't understand about people loving each other and then suddenly not. - Author: Gene Tierney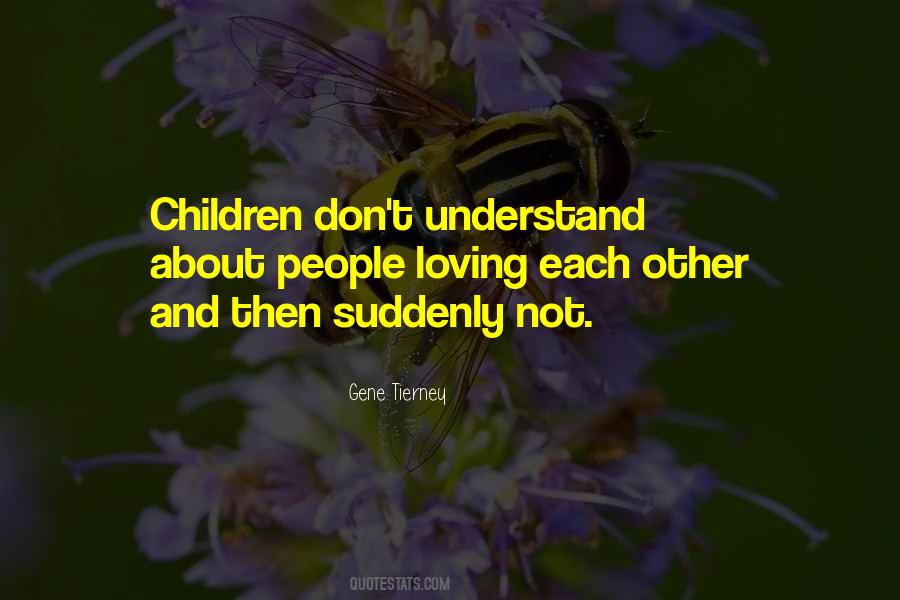 #23. This is your life!!! The children/husbands/lovers are just one chapter. The stronger we (women) get the more loving we can be- to all. - Author: Cynthia Basinet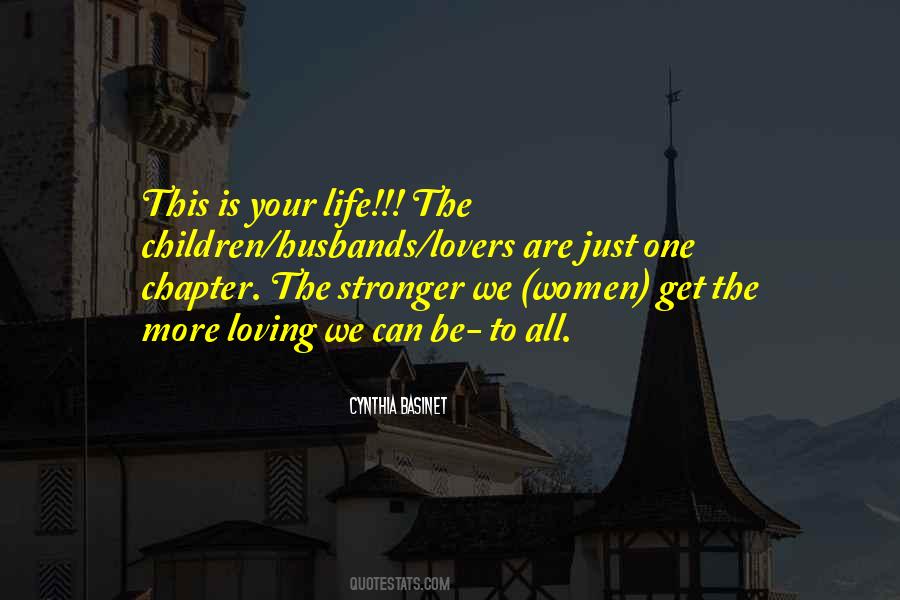 #24. No one, not even my father, not even my children, has ever loved me the way that man loved me, that's for sure. There's something satisfying in being loved that hard, maybe more than loving that hard yourself. - Author: Anna Quindlen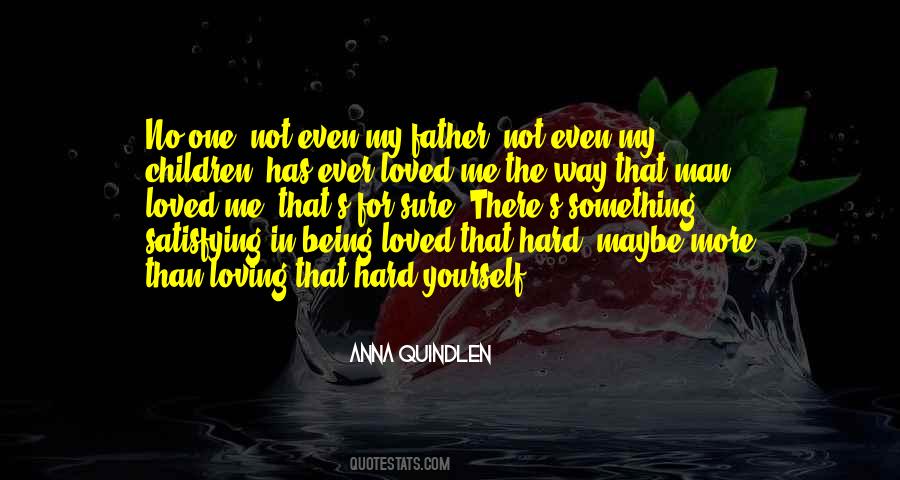 #25. Of course I wanted children. Bright, gorgeous, loving children. I could almost see them. - Author: Maeve Binchy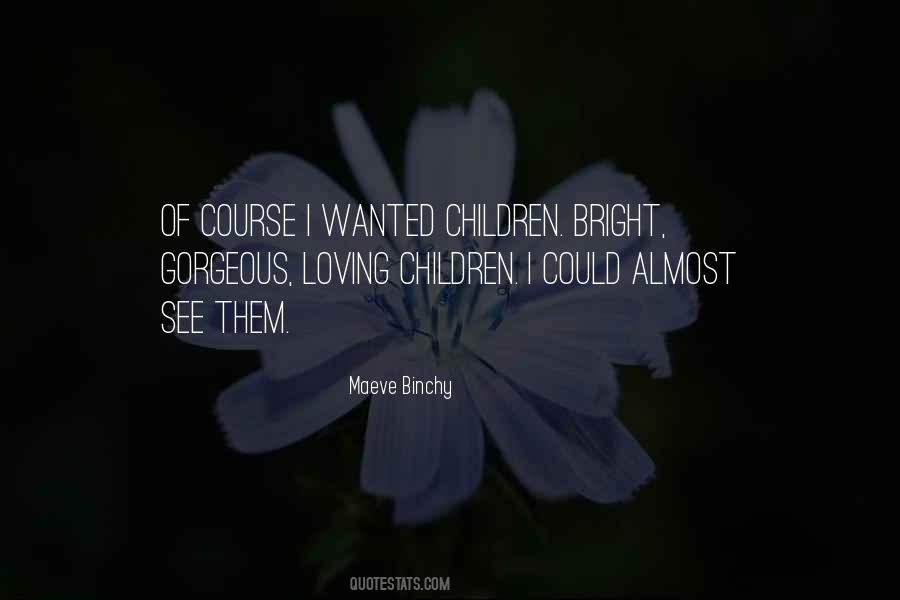 #26. You know, she said finally, we colored folks talk plenty of shit about loving our children but we really don't. She exhaled. We don't, we don't, we don't. - Author: Junot Diaz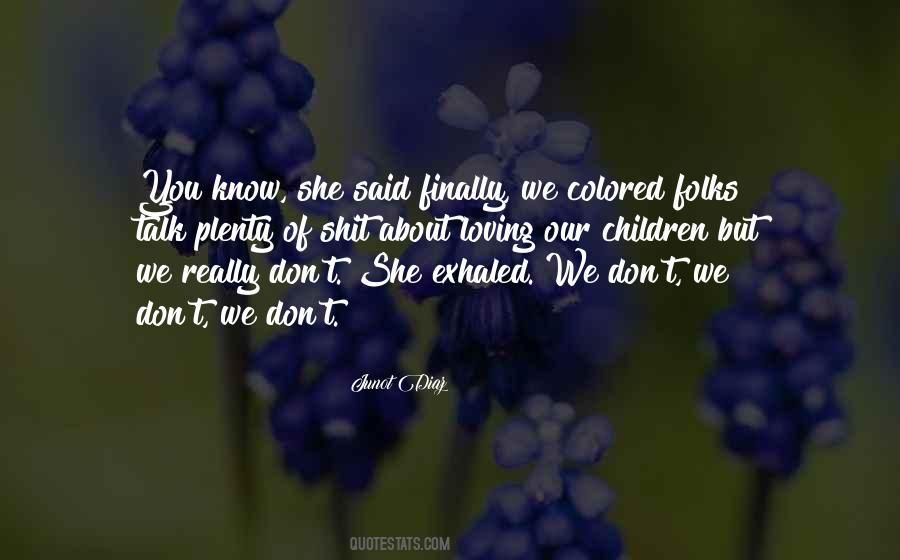 #27. Listen carefully, my child, to your master's precepts, and incline the ear of your heart. Receive willingly and carry out effectively your loving father's advice, that by the labor of obedience you may return to Him from whom you had departed by the sloth of disobedience - Author: Benedict Of Nursia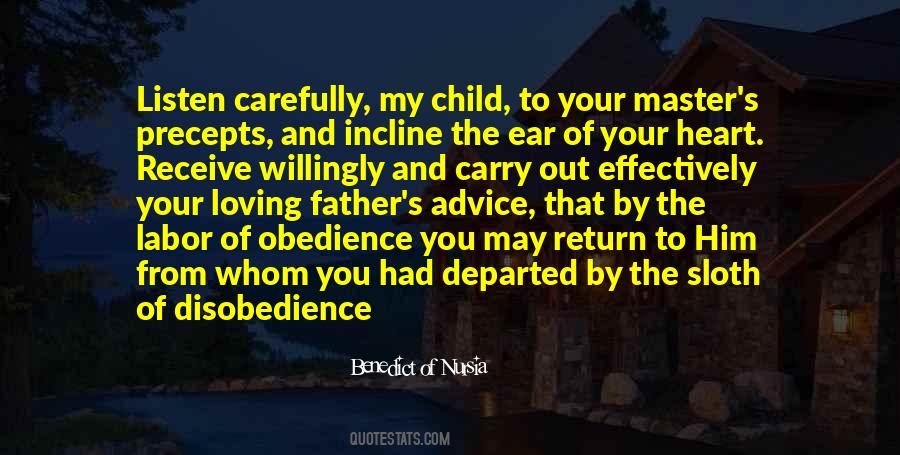 #28. There are no adequate substitutes for father, mother, and children bound together in a loving commitment to nurture and protect. No government, no matter how well-intentioned, can take the place of the family in the scheme of things. - Author: Gerald R. Ford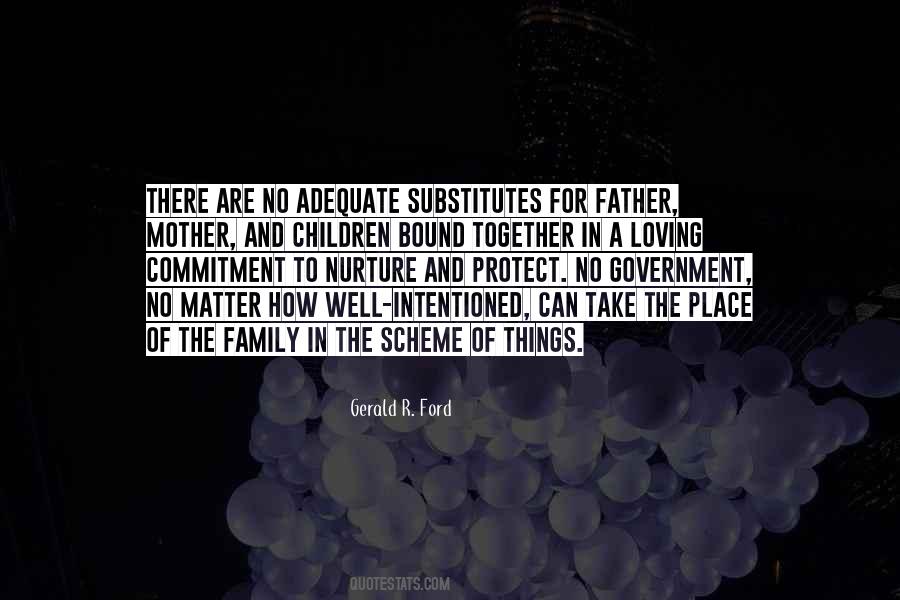 #29. If a child is born and raised in a home that is loving and nurturing, where there is complete truth about who we are, you can't give a child any greater place from which to fly. - Author: Amanda Bearse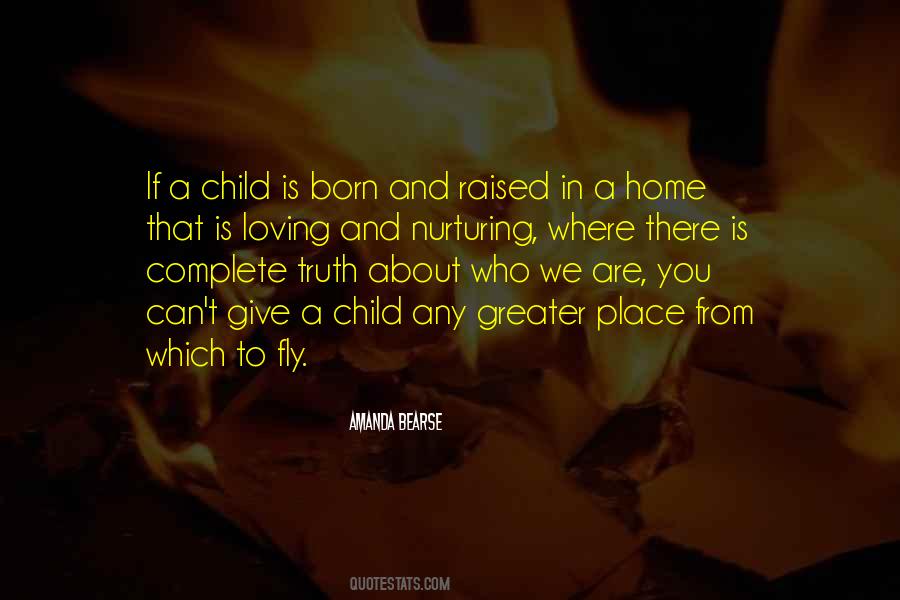 #30. As when astronaut Mike Mulhane was asked by a NASA psychiatrist what epitaph he'd like to have on his gravestone, Mulhane answered, "A loving husband and devoted father," though in reality, he jokes in "Riding Rockets," "I would have sold my wife and children into slavery for a ride into space. - Author: Mary Roach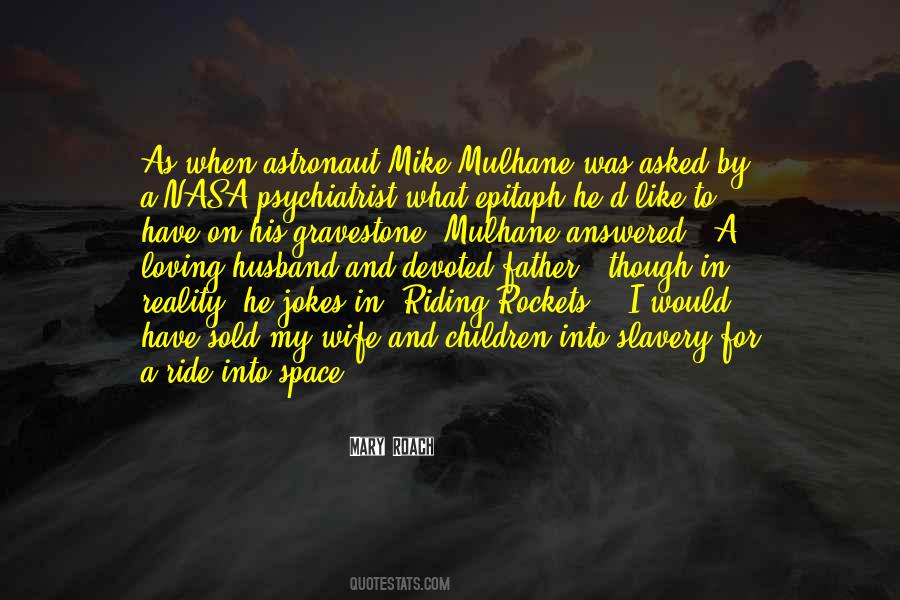 #31. It means protecting people, showing loving concern for each and every person, especially children, the elderly, those in need, who are often the last we think about. - Author: Pope Francis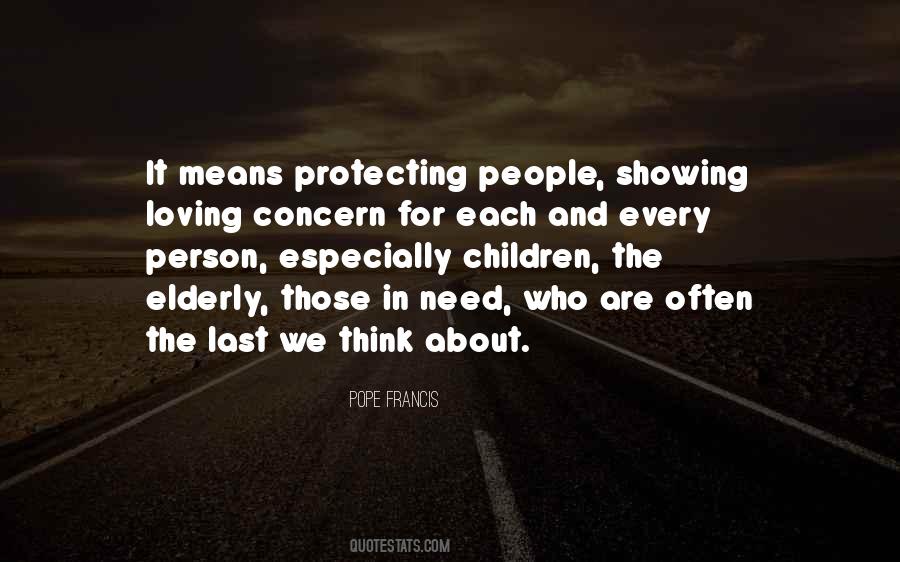 #32. Nothing lasts, the purely loving gestures of
children tumble into the void. - Author: Roberto Bolano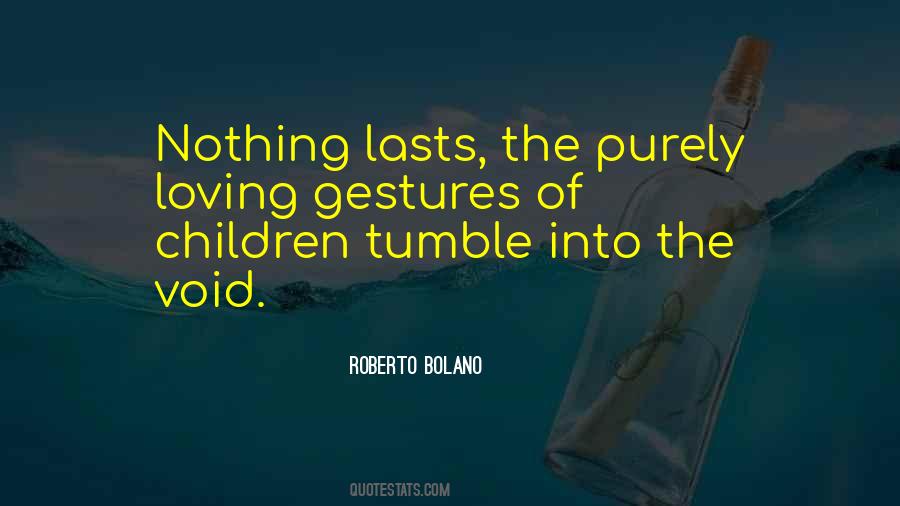 #33. I escaped from an interview with that laboratory-loving doctor, Ag O. Nee, just barely by the shadow of my Nosey nose! - Author: I.B. Nosey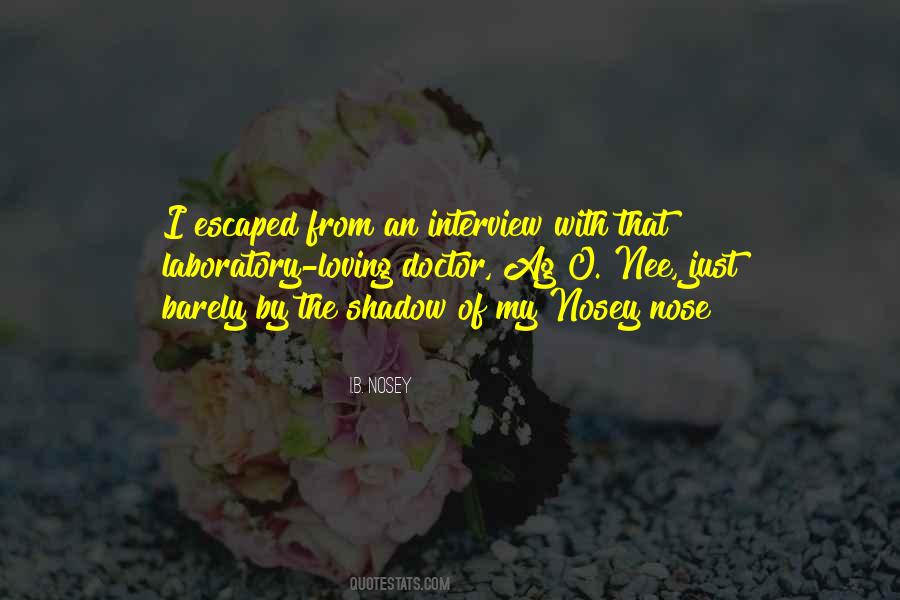 #34. Passion is always a mystery and unaccountable, and unfortunately there is no doubt that life does not spare its purest children; often it is just the most deserving people who cannot help loving those that destroy them. - Author: Hermann Hesse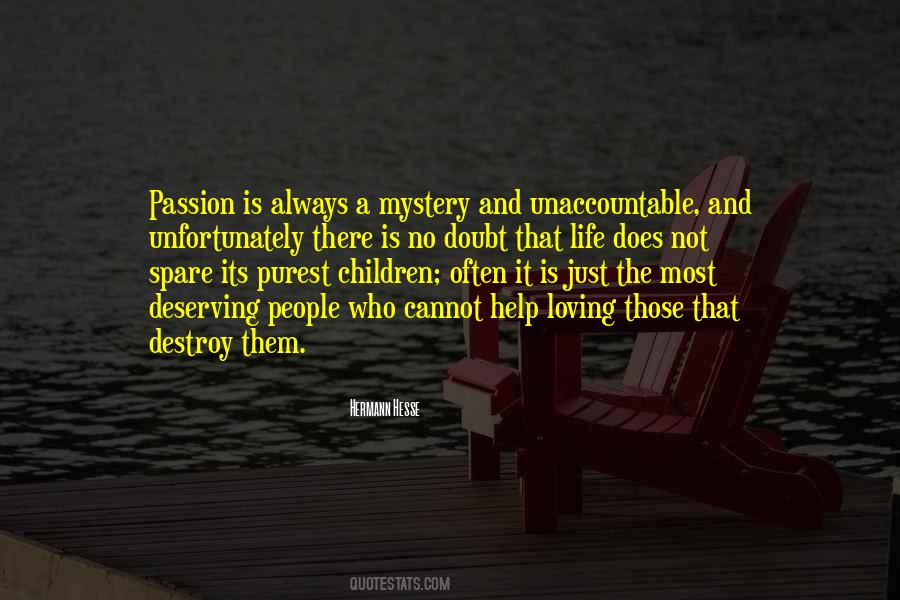 #35. Call them rules or call them limits, good ones, I believe, have this in common: they serve reasonable purposes; they are practical and within a child's capability; they are consistent; and they are an expression of loving concern. - Author: Fred Rogers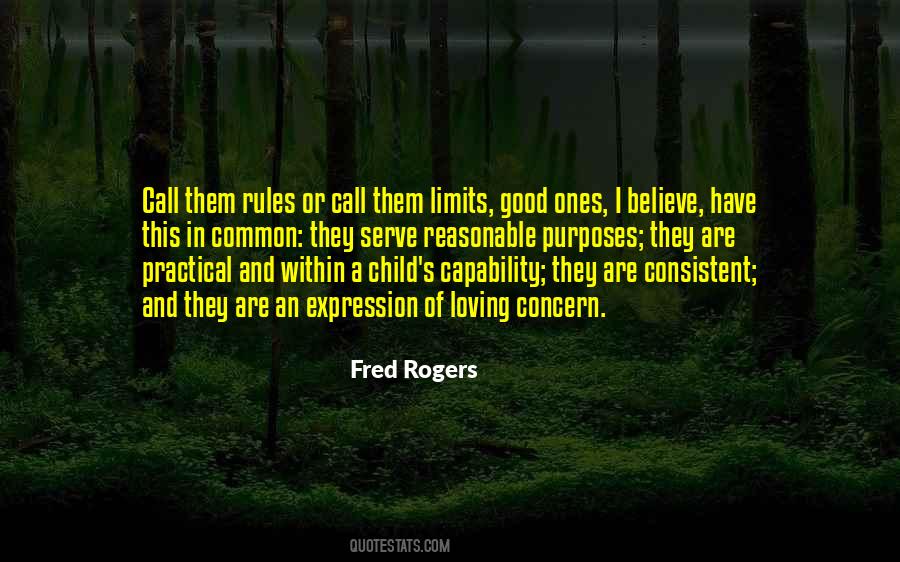 #36. Children are not owned by parents. They have an inalienable right to come into this world to a loving mother and father who are married to each other. And they have an inalienable right to be protected from all who would hurt them. - Author: Dennis Prager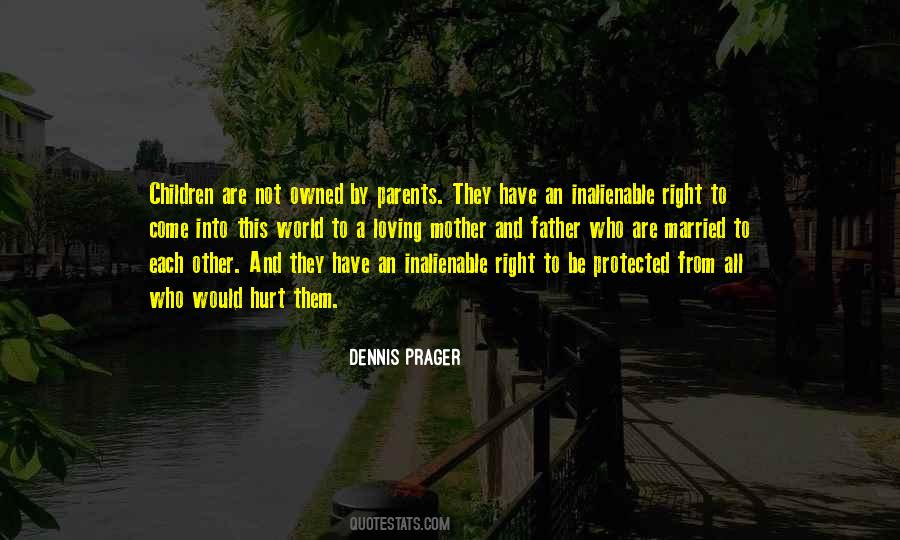 #37. Nothing trains and teaches so powerfully as love. Love attracts. it does not coerce. If the aim of parents is to teach their children to love God they must show their love for Him by loving each other and loving the children. - Author: Elisabeth Elliot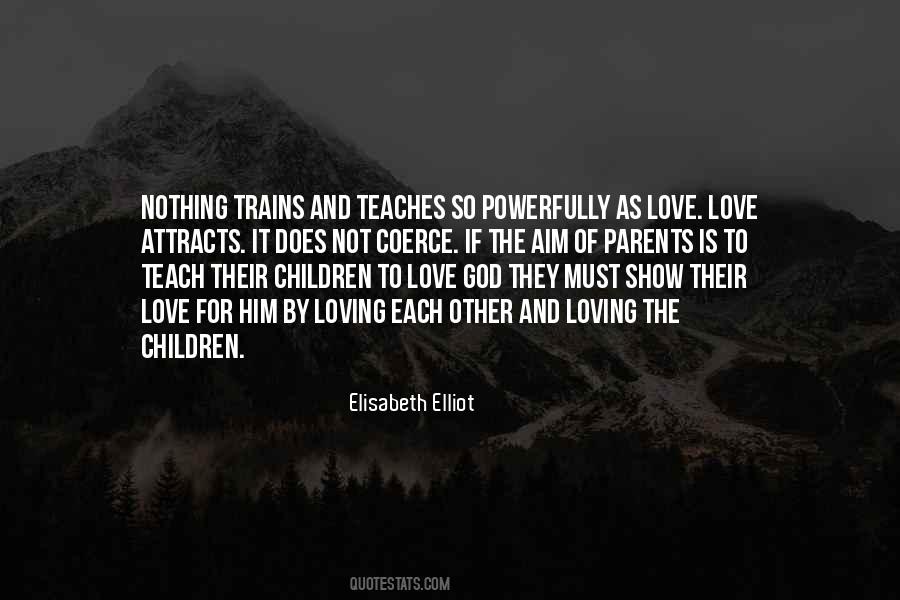 #38. We believe that marriage, by its very definition, can exist only between a man and a woman. Moreover, study after study - not to mention common sense - show that children fare better in life when raised in a home with a loving father and mother in a stable, committed relationship. - Author: Salvatore J. Cordileone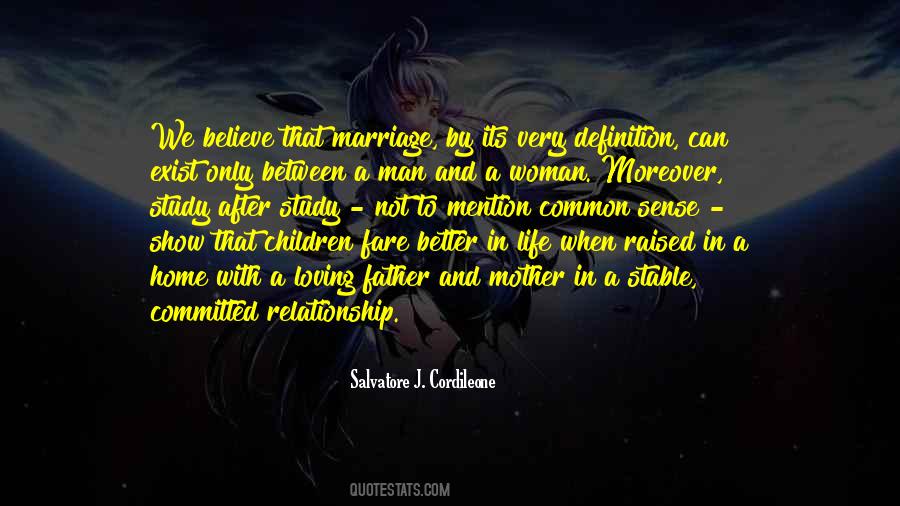 #39. If it gets to the point where I actually physically cannot have a child, there's plenty of children in the world that need a stable home and loving parent. I'm so down for adoption. - Author: Joy Bryant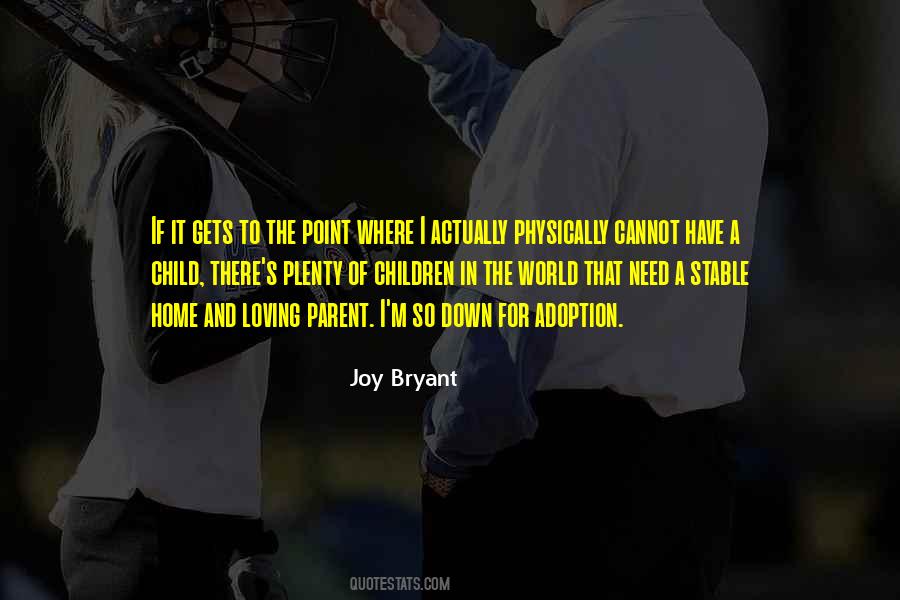 #40. A Noah's Ark of mathematicians, their lives, loves, hard times, and madnesses, Loving and Hating Mathematics shows our community with all its warts as well as its triumphs. I especially liked the chapter on much-hated school mathematics, 'Almost All Children Left Behind.' - Author: David Mumford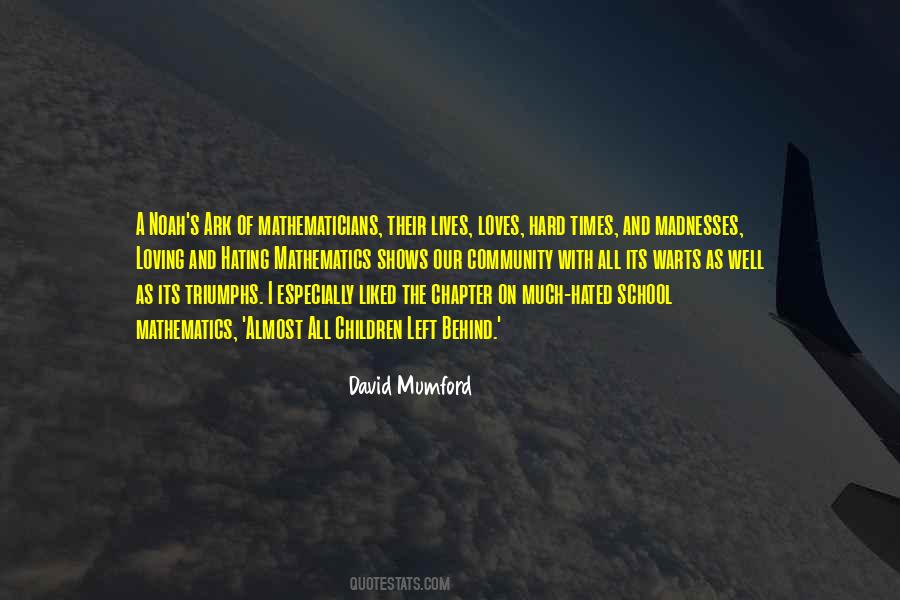 #41. Divorced, not loving their abandoned children as much as they loathe their former wives, directing a combination of need and hostility toward the women who drift in and out of their new lives, they are, as [one character] puts it, involved in a variety of pharmaceutical experiments. - Author: Richard Schickel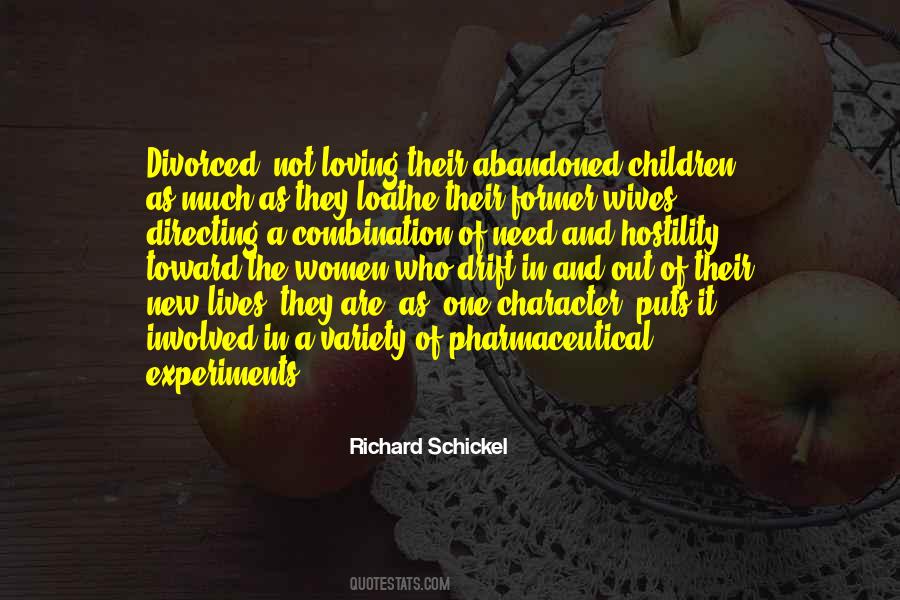 #42. As parents become more aware and emotionally healthy, their children reap the rewards and move toward health as well. That means that integrating and cultivating your own brain is one of the most loving and generous gifts you can give your children. Another - Author: Daniel J. Siegel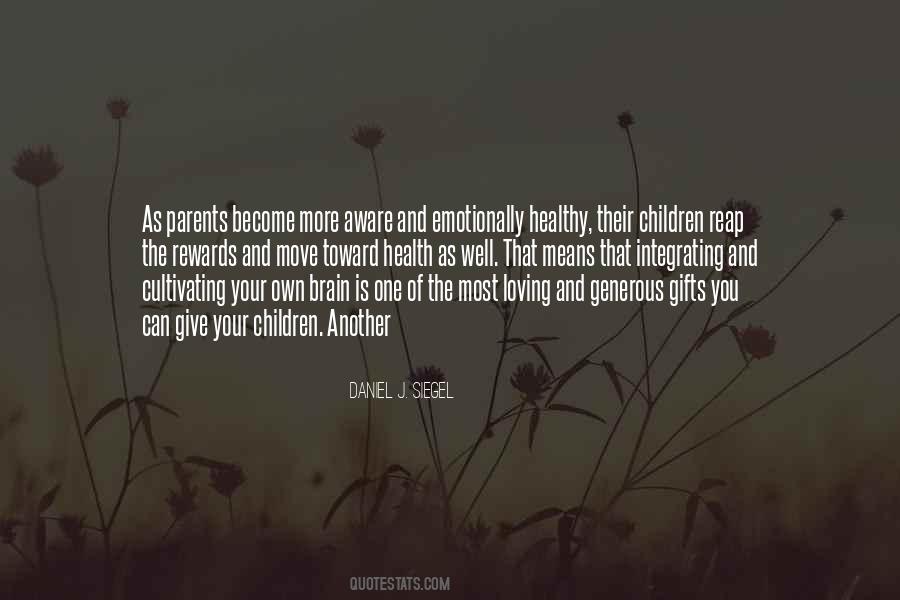 #43. Family councils, led by righteous, loving parents who are striving to teach their children to love and respect each other, can make a difference in creating a sense of discipline, order and loving cooperation in the home. - Author: M. Russell Ballard
#44. There," she said. She rocked him back and forth. "There, you foolish, beautiful boy who wants to change the world. There, there. And who could keep from loving you? Who could keep from loving a boy so brave and true? - Author: Kate DiCamillo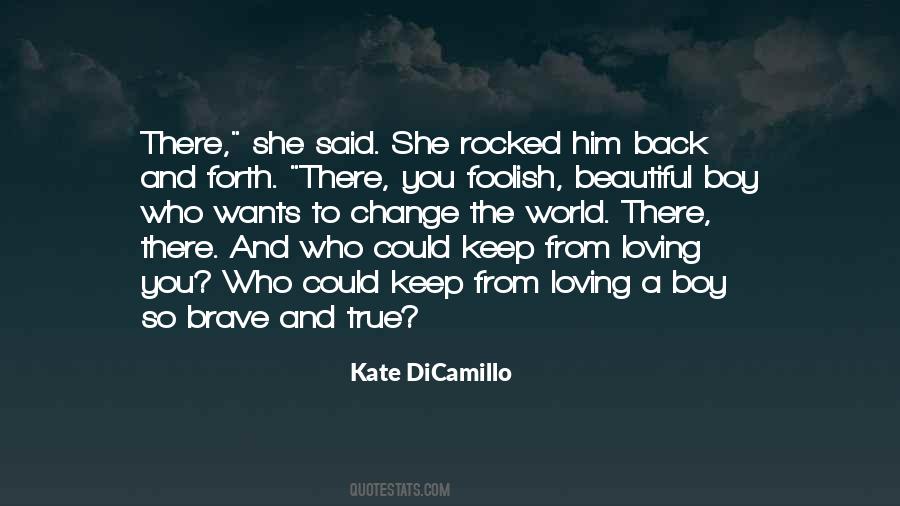 #45. Headline?" he asked.
"'Swing Set Needs Home,'" I said.
"'Desperately Lonely Swing Set Needs Loving Home,'" he said.
"'Lonely, Vaguely Pedophilic Swing Set Seeks the Butts of Children,'" I said. - Author: John Green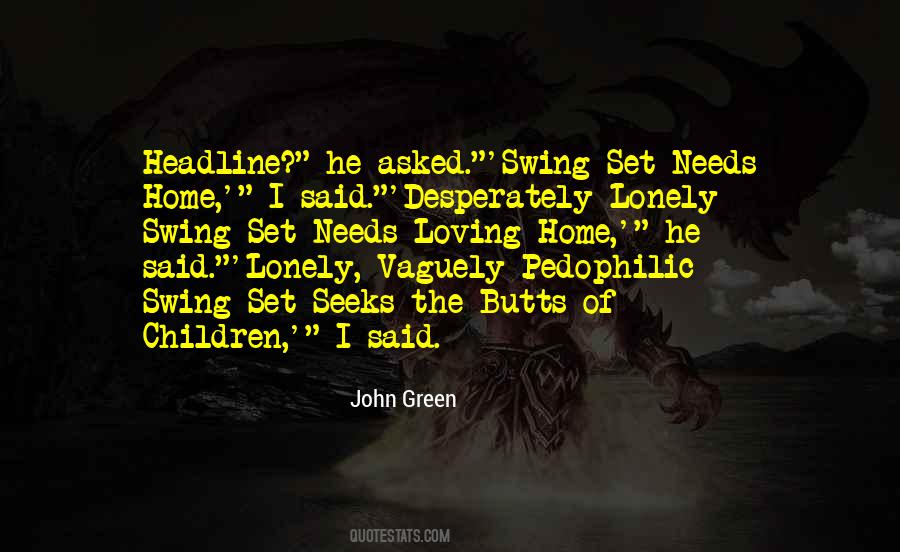 #46. Children harbor a great many doubts and sorrows that could be eased by a loving hug from a parent. - Author: Richelle E. Goodrich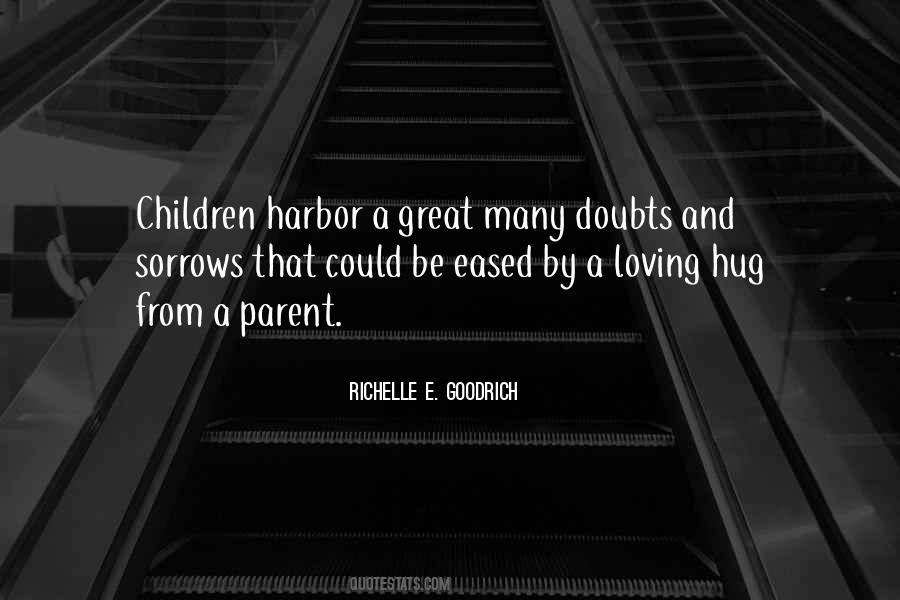 #47. You ought to love and care for your parents in their old age. - Author: Lailah Gifty Akita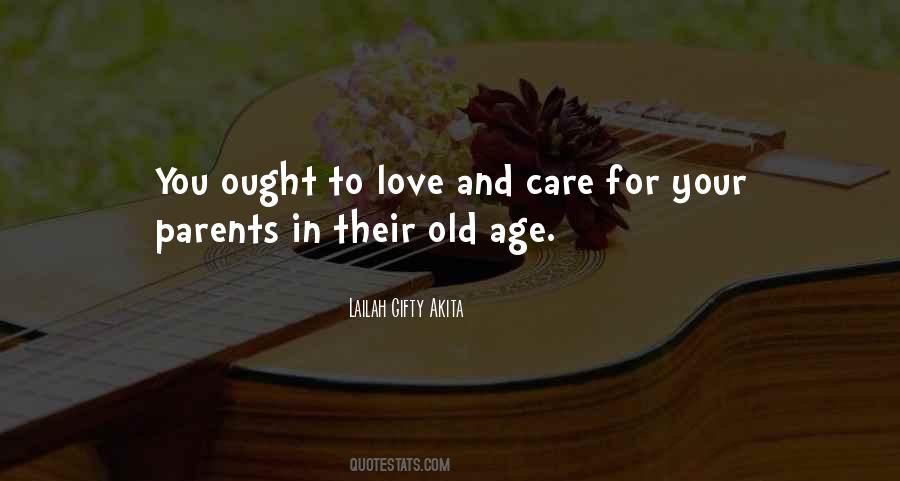 #48. Mothers play an important role as the heart of the home, but this in no way lessens the equally important role fathers should play, as head of the home, in nurturing, training, and loving their children. - Author: Ezra Taft Benson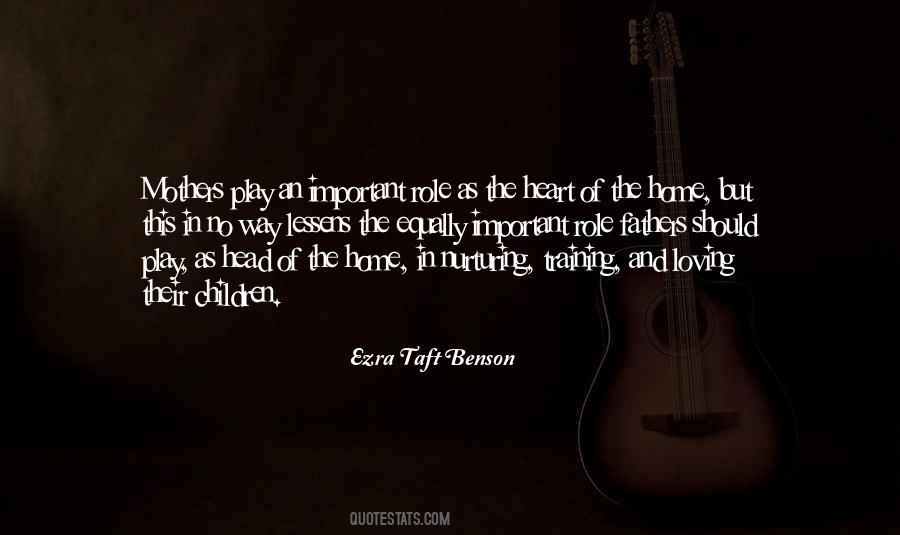 #49. We do not have to get our children to learn; only to allow and encourage them in their learning. We do not have to dictate what they should learn; only to discern and respond to what it is that they are learning. Such responsiveness is at once the most educational and the most loving. - Author: Polly Berrien Berends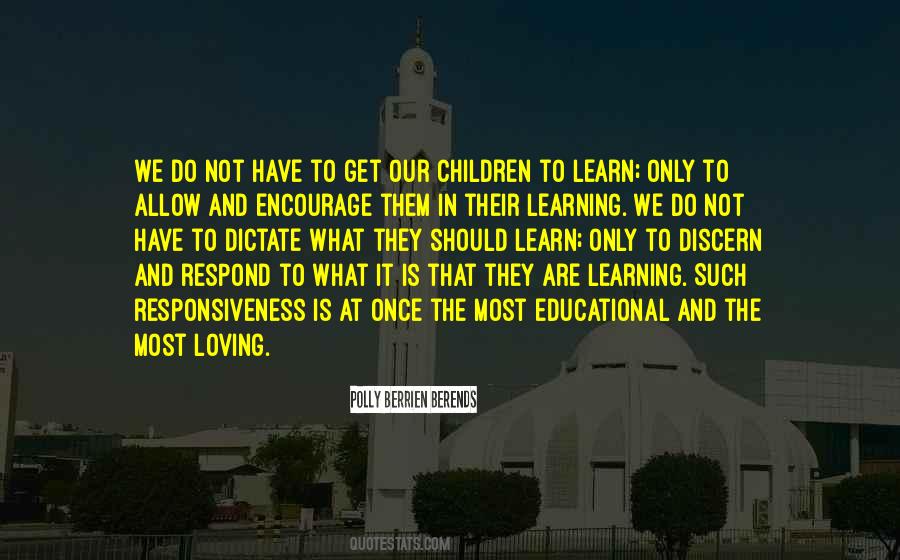 #50. Humans emerge from the womb like molten glass from a furnace. They can be spun, stretched and shaped with a surprising degree of freedom. This is why today we can educate our children to become Christian or Buddhist, capitalist or socialist, warlike or peace-loving. We - Author: Yuval Noah Harari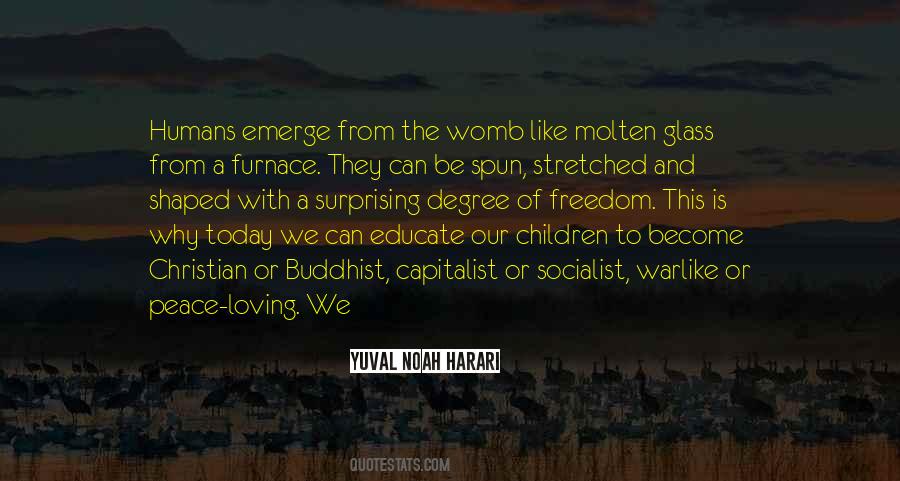 #51. Having a loving relationship with our spouse or with our children is what leads to the long-term happiness we all seek. - Author: Clayton Christensen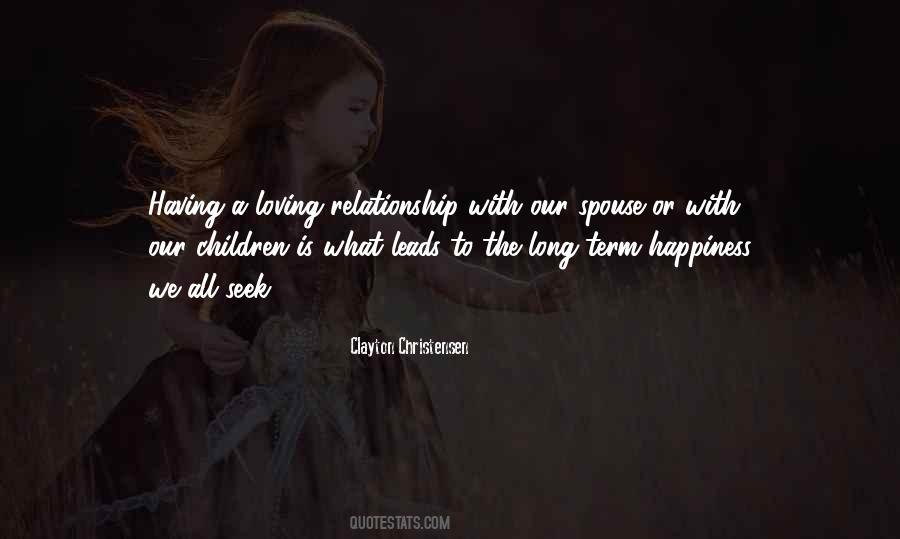 #52. Loving my son, building my son, touching my son, playing with my son, being with my son ... these aren't tasks that only super dads can perform. These are tasks that every dad should perform. Always. Without fail. - Author: Dan Pearce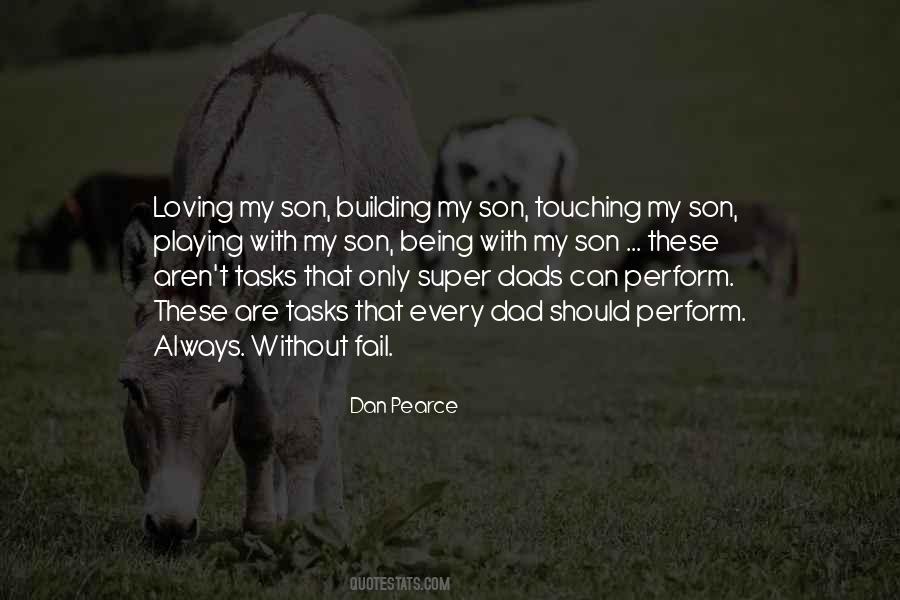 #53. Jesus loved everyone, but he loved children most of all. Today we know that unborn children are the targets of destruction. We must thank our parents for wanting us, for loving us and for taking such good care of us. - Author: Mother Teresa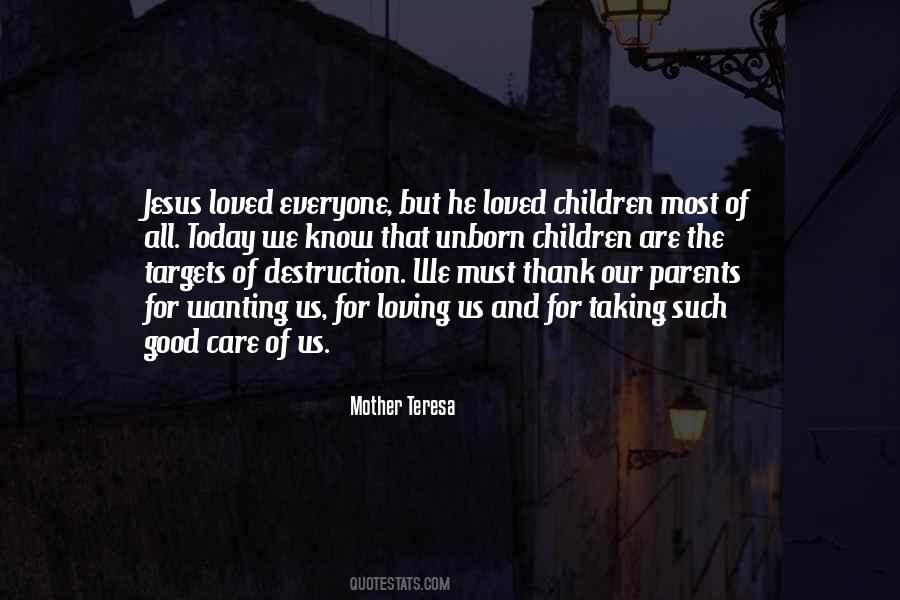 #54. We must work tirelessly to make sure that every boy and girl in America who is up for adoption has a family waiting to reach him or her ... This is a season of miracles, and perhaps there is no greater miracle than finding a loving home for a child who needs one. - Author: William J. Clinton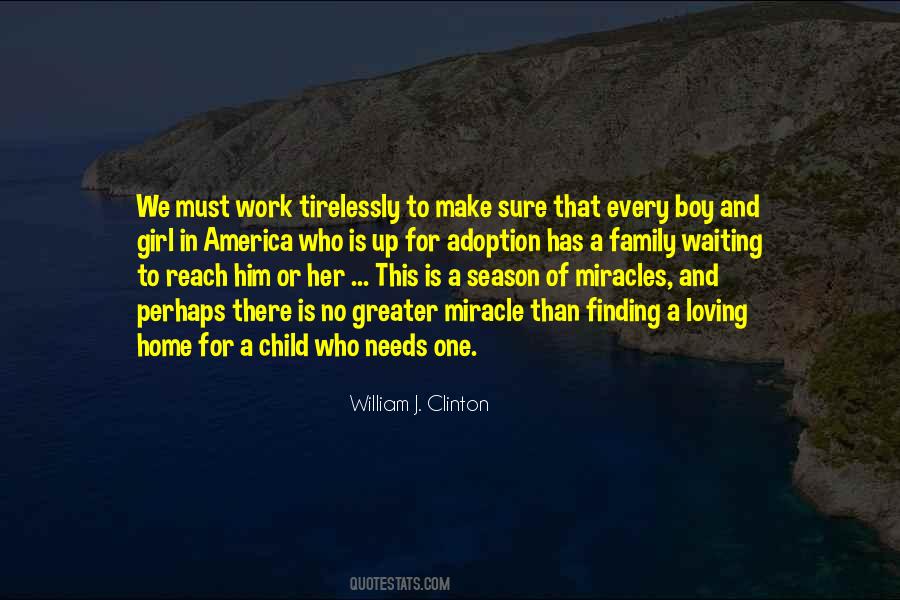 #55. Eventually we will learn that the loss of indivisible love is another of our necessary losses, that loving extends beyond the mother-child pair, that most of the love we receive in this world is love we will have to share
and that sharing begins at home, with our sibling rivals. - Author: Judith Viorst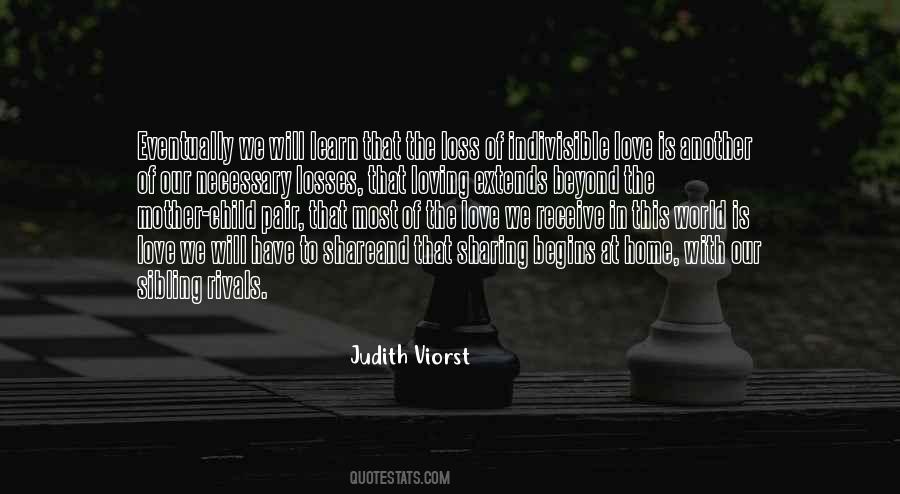 #56. There is nothing that moves a loving father's soul quite like his child's cry. - Author: Joni Eareckson Tada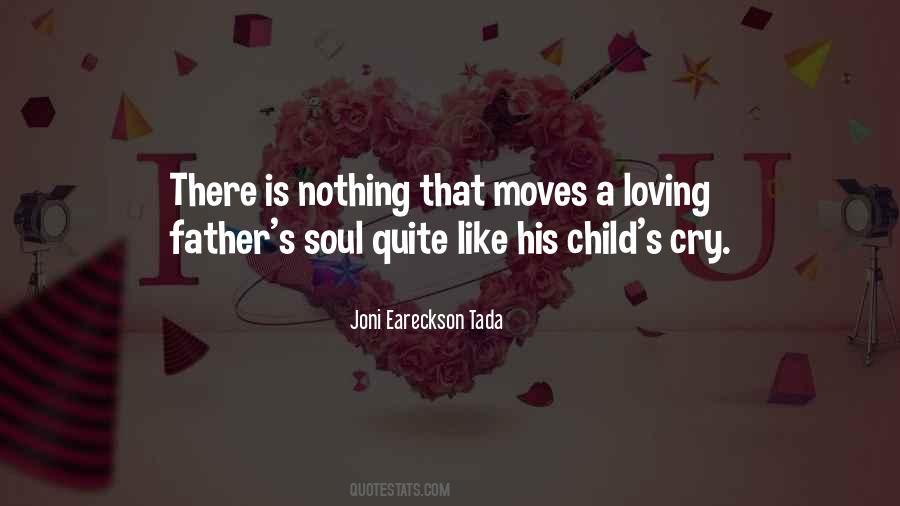 #57. In praising or loving a child, we love and praise not that which is, but that which we hope for. - Author: Johann Wolfgang Von Goethe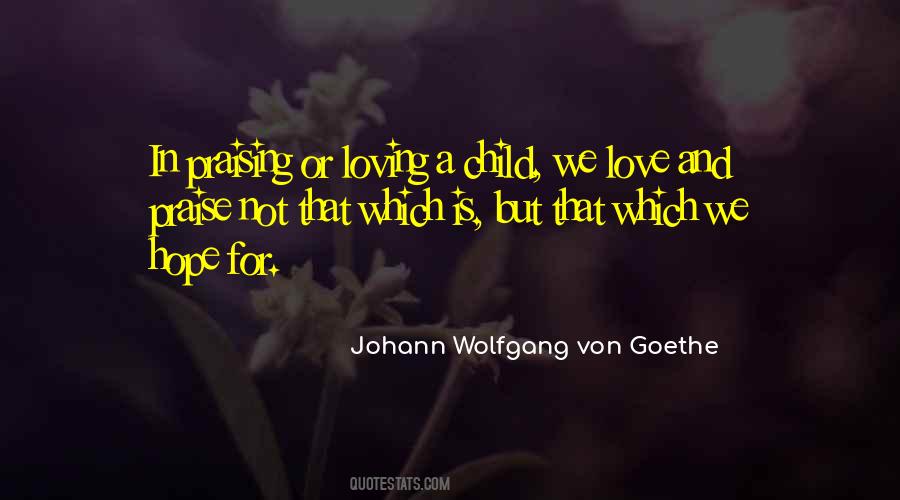 #58. One of the best things about having children is that it enables you to have the same loving memories as another person - you can summon the same past. Two flashbacks but with a single image. - Author: Allison Pearson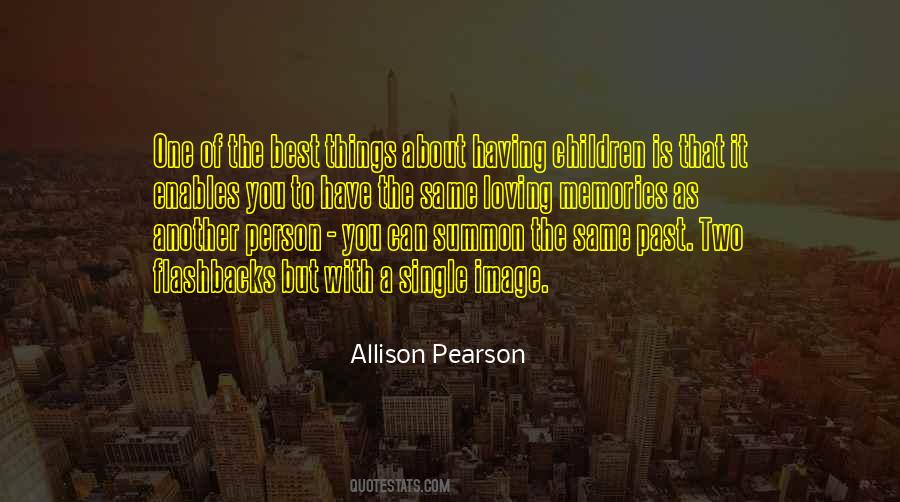 #59. I am blessed to have married the man that God sent me. He's loving, compassionate, strong and supportive of my children, family and career. I look forward to our lives together. - Author: Monica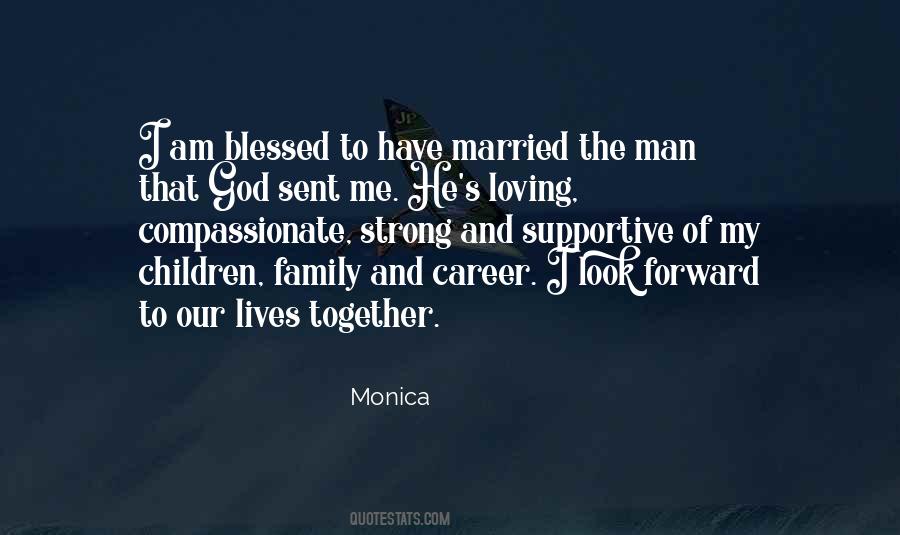 #60. By learning to yield to the loving authority ... of his parents, a child learns to submit to other forms of authority which will confront him later in his life - his teachers, school principal, police, neighbors and employers. - Author: James Dobson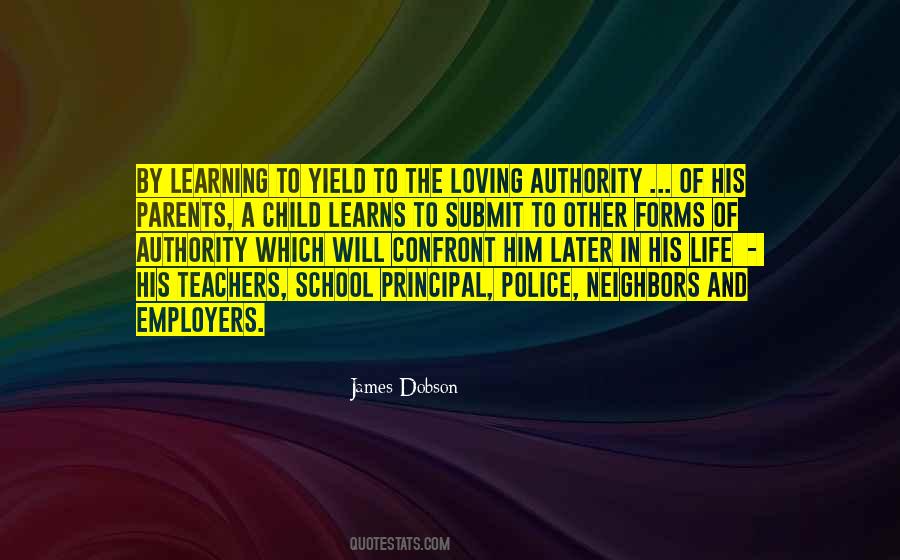 #61. Children thrive in a variety of family forms; they develop normally with single parents, with unmarried parents, with multiple caretakers in a communal setting, and with traditional two-parent families. What children require is loving and attentive adults, not a particular family type. - Author: Sandra Scarr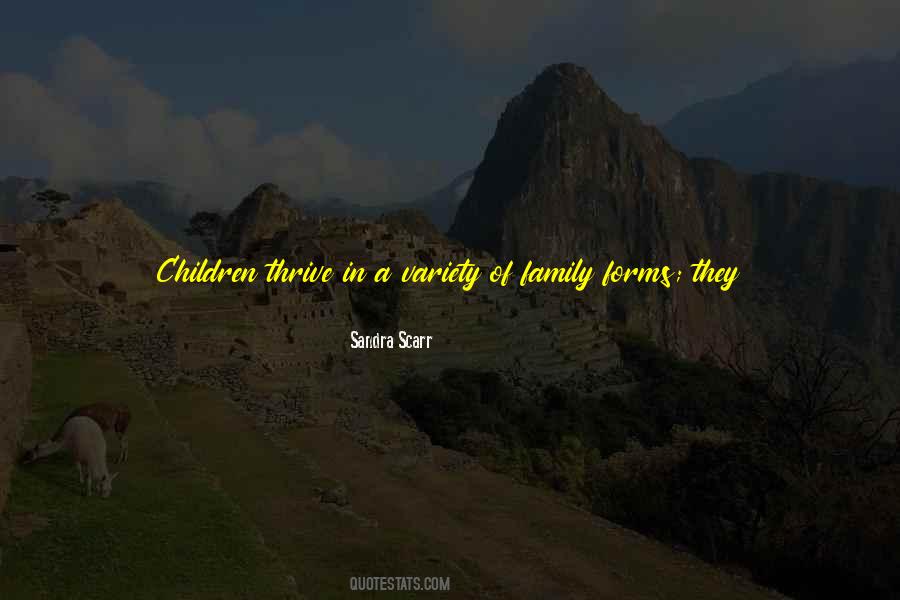 #62. Foreseeing the needs of His children, a loving Heavenly Father placed directions and rescuers along their way. He sent His Son, Jesus Christ, to make safe passage possible and visible. - Author: Henry B. Eyring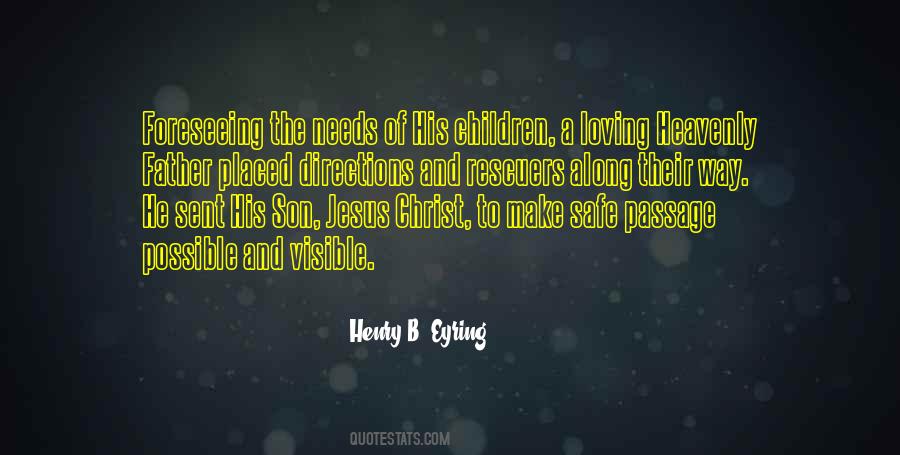 #63. Logic itself affirms that a loving Heavenly Father would not abandon His children without providing a way for them to learn of Him. - Author: Joseph B. Wirthlin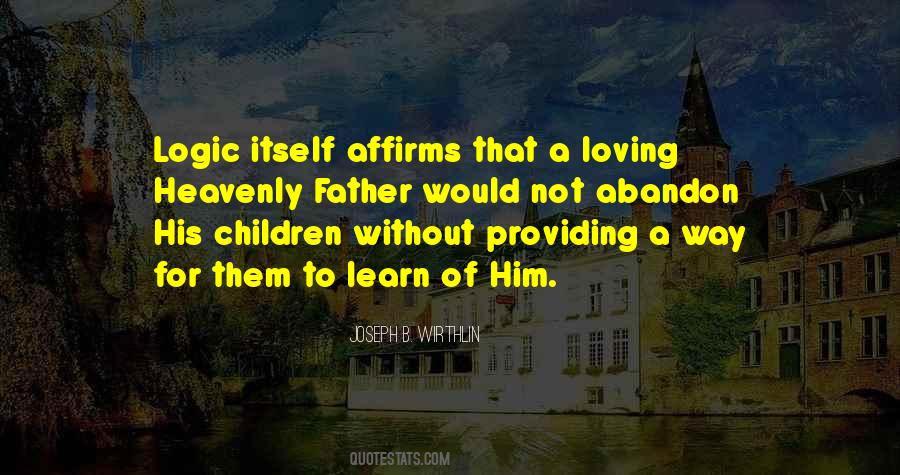 #64. As the children of God, we think of Him as a perfect, almighty, loving, caring and forgiving persona. We pray to Him to bless us and our food, and to fix our troubles. Will we ever become the grown-ups of God? - Author: Vinko Vrbanic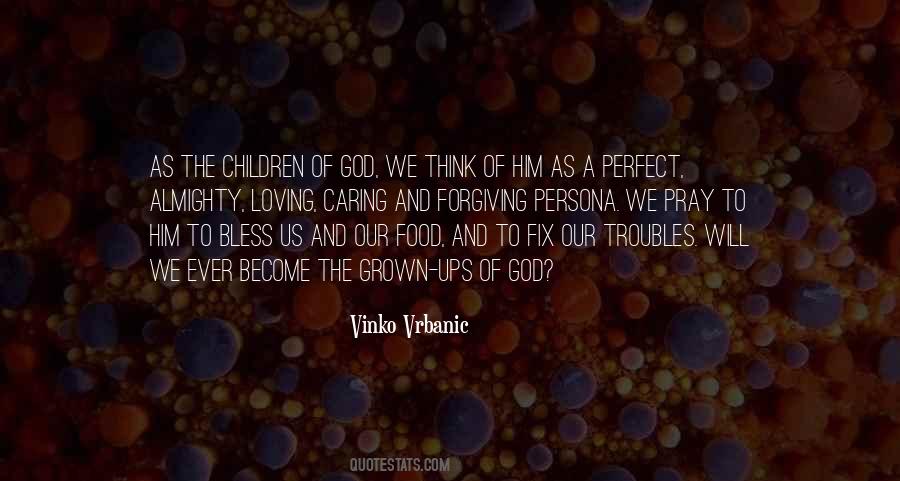 #65. So, my brother and I, over the last two years, went back through Scripture and pulled every (passage) we could in relation to parenting children, guarding their hearts, teaching them, loving them, being patient. And then we worked through 40 principles and wrote The Love Dare for Parents. - Author: Alex Kendrick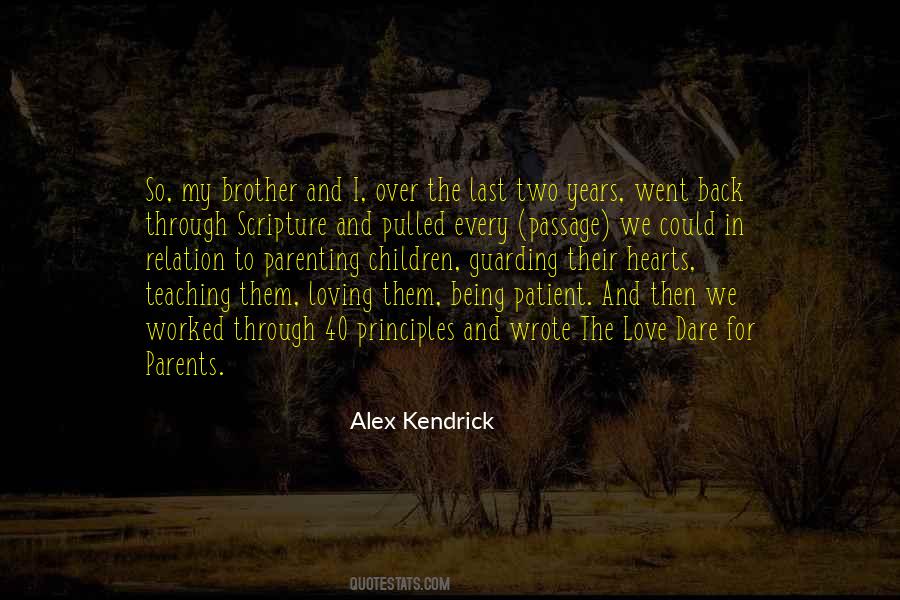 #66. Can the believing husband in Heaven be happy with his unbelieving wife in Hell? Can the believing father in Heaven be happy with his unbelieving children in Hell? Can the loving wife in Heaven be happy with her unbelieving husband in Hell? I tell. - Author: Jonathan Edwards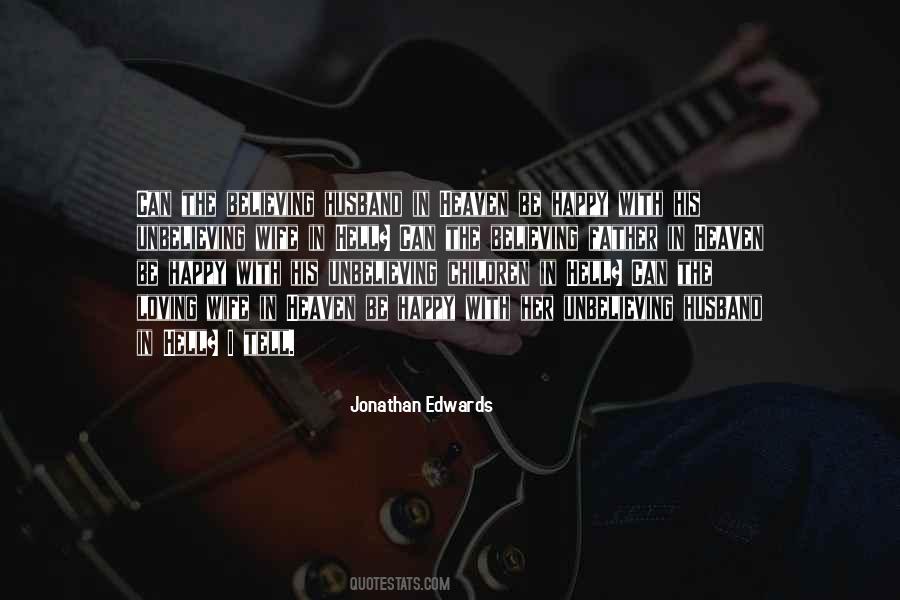 #67. The greatest gift you and your partner can give your children is the example of an intimate, healthy, and loving relationship. - Author: Barbara De Angelis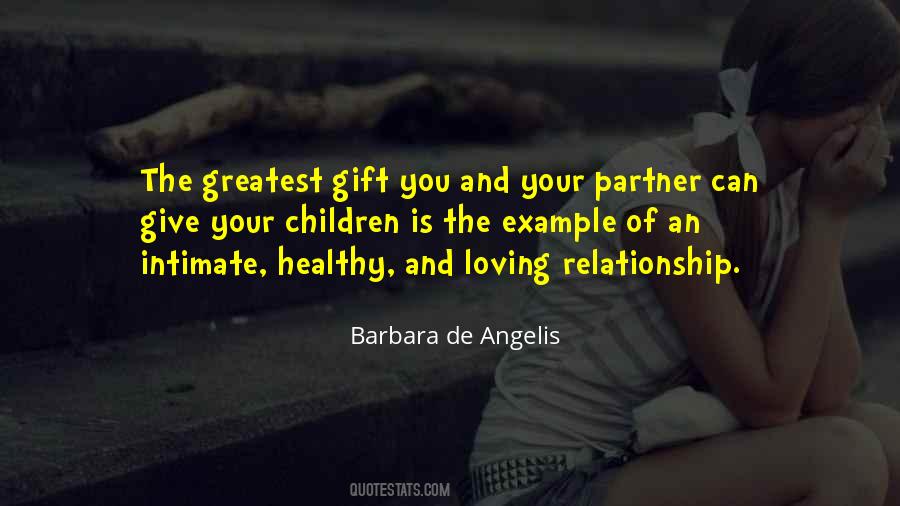 #68. Stanley Hauerwas is correct that Judaism insists on the bearing of children because it is essential to Jewish continuity. But to end the matter there is to miss an essential point: if we are to learn to love others, Judaism says, we must begin by loving those who are closest to us. - Author: Meir Soloveichik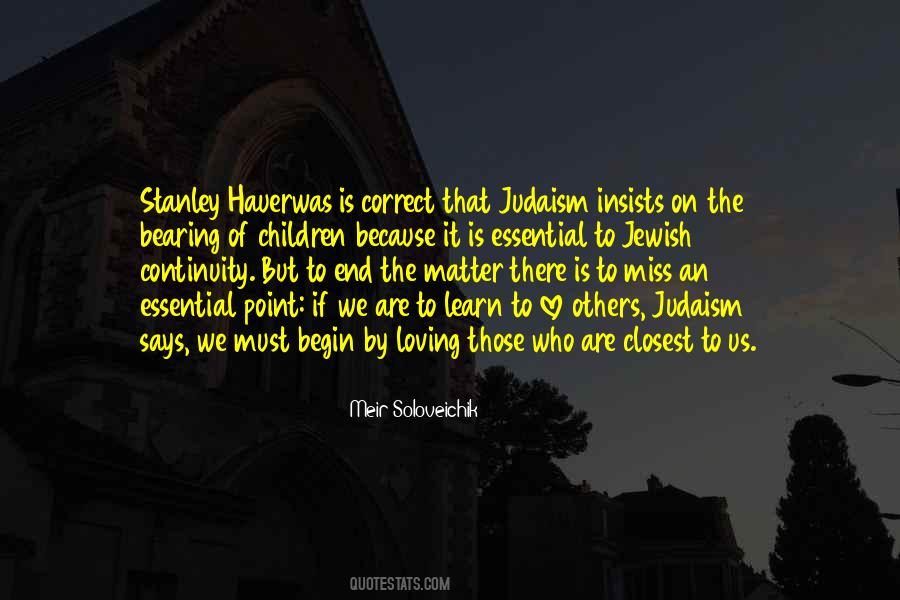 #69. If a child is given love, he becomes loving ... If he's helped when he needs help, he becomes helpful. And if he has been truly valued at home ... he grows up secure enough to look beyond himself to the welfare of others. - Author: Joyce Brothers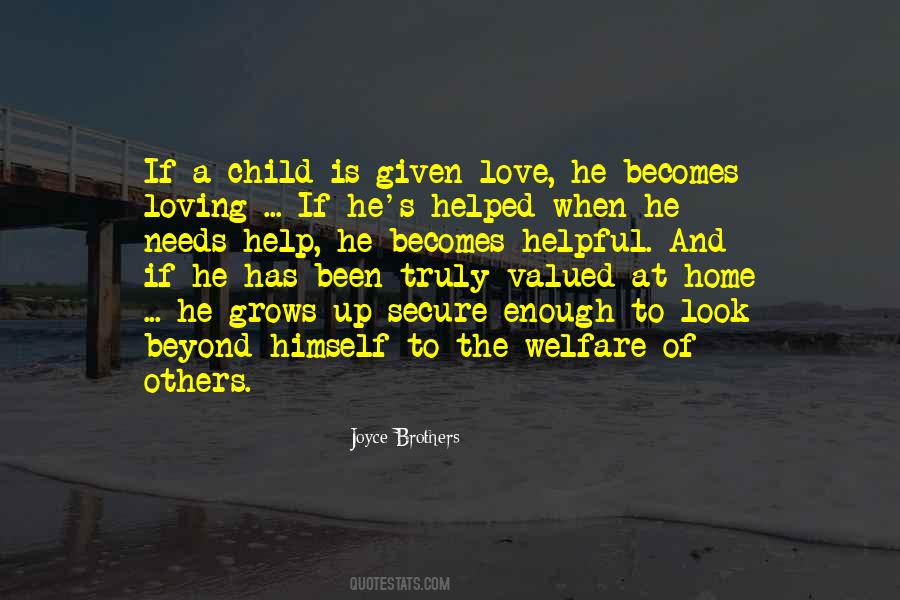 #70. I explain to my patients that abused children often find it hard to disentangle themselves from their dysfunctional families, whereas children grow away from good, loving parents with far less conflict. After all, isn't that the task of a good parent, to enable the child to leave home? - Author: Irvin D. Yalom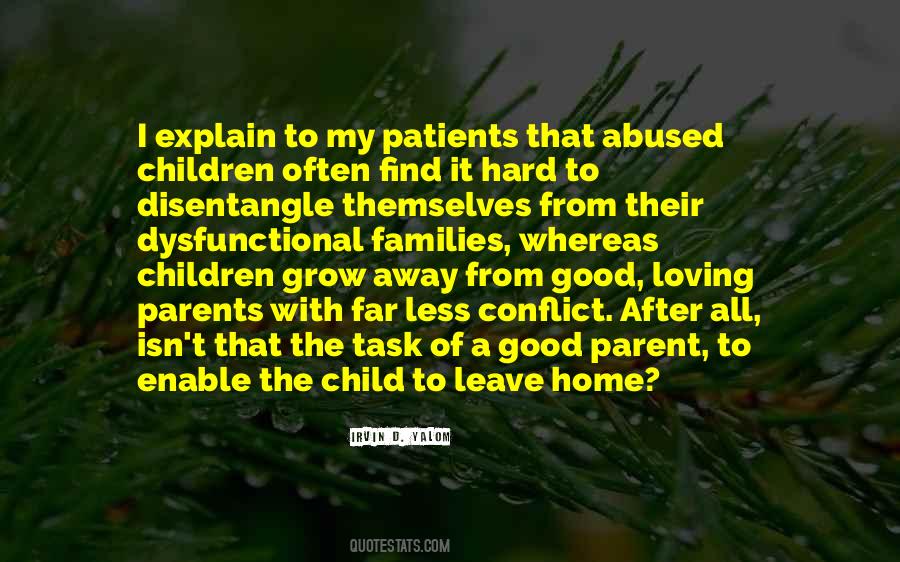 #71. How can rogue terrorists in Iraq detonate bombs? They're all too busy flying kites with their children! Hasn't [Katrina vanden Heuvel (Queen of the May at the fun-loving Nation magazine)] seen Fahrenheit 9/11? - Author: Ann Coulter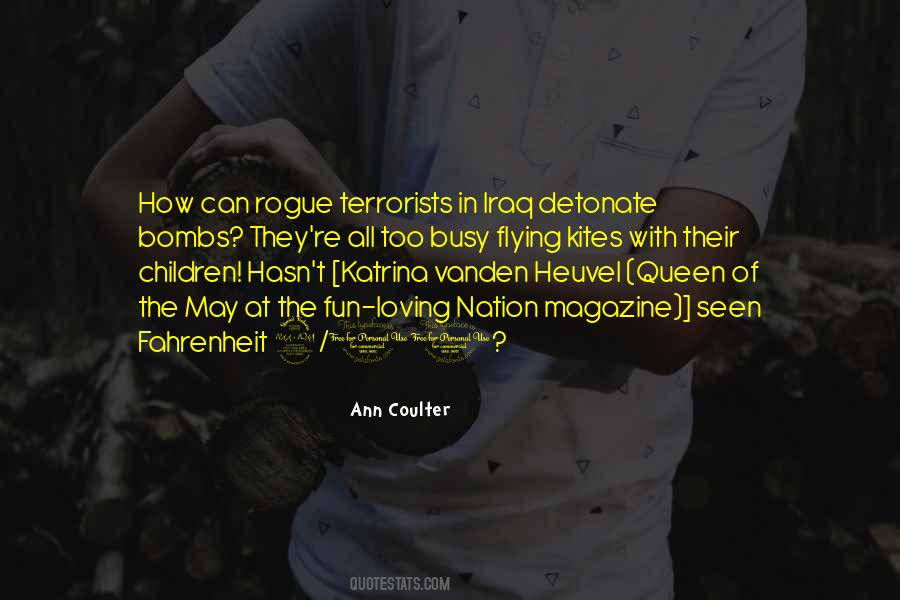 #72. Parents who work outside the home are still capable of giving their children a loving and secure childhood. Some data even suggest that having two parents working outside the home can be advantageous to a child's development, particularly for girls. - Author: Sheryl Sandberg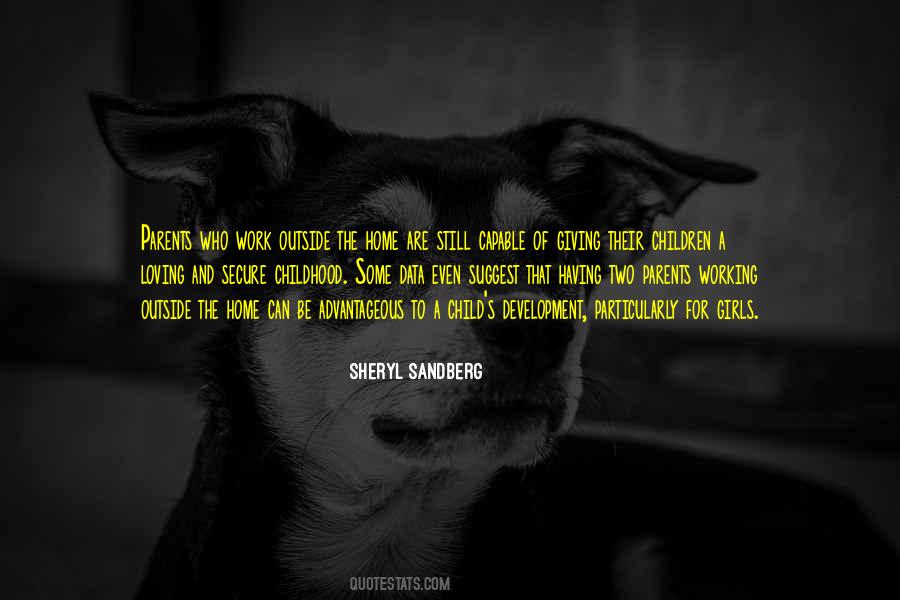 #73. Mothers ought to bring up and nurse their own children; for they bring them up with greater affection and with greater anxiety, as loving them from the heart, and so to speak, every inch of them. - Author: Plutarch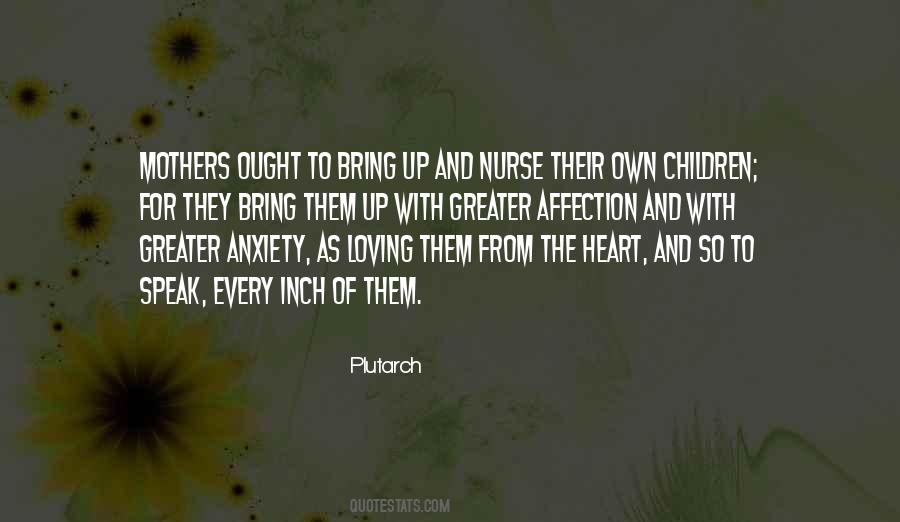 #74. I truly believe that the children who are diagnosed with cancer are some of the wisest, sweetest, strongest, and most loving children. They have gained a bigger perspective of the world in such a short time. They become wise beyond their years. - Author: Laura Lane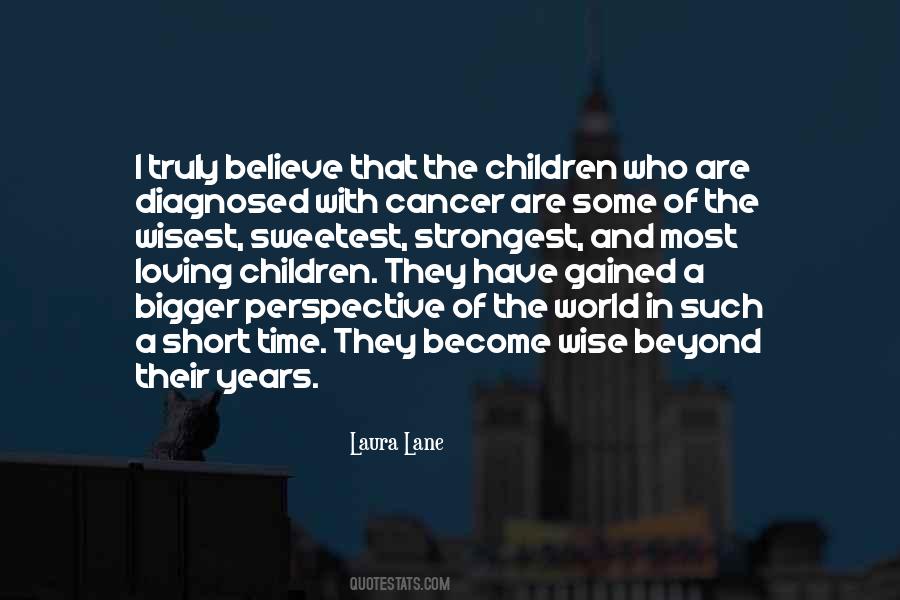 #75. It was at our library that I found Nancy Drew and fell in love with the genre. I've been grateful ever since for those tolerant, book-loving librarians who allowed a child like me to read what I wanted to read. - Author: Nancy Pickard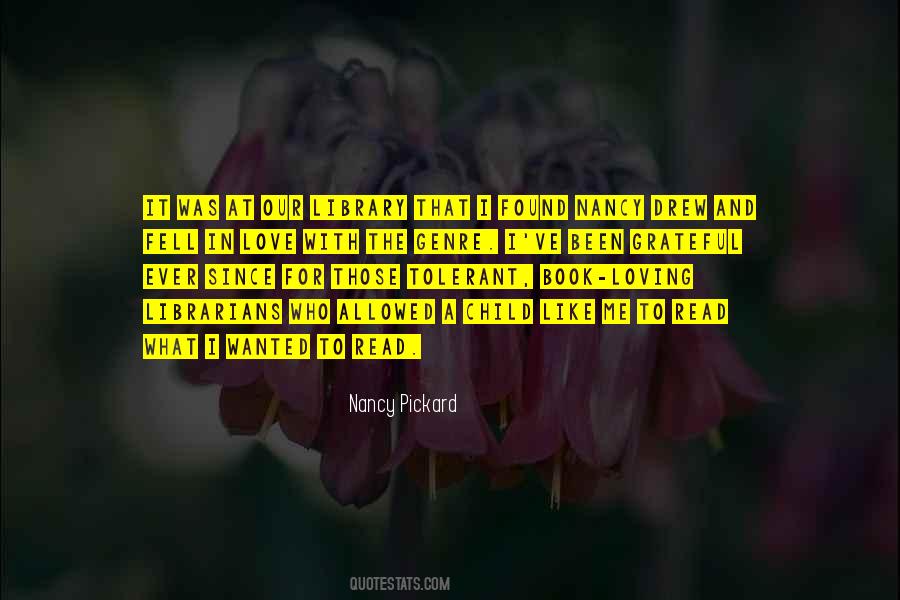 #76. Christianity affirms that at the heart of reality is a Heart, a loving Father who works through history for the salvation of His children. Man cannot save himself, for man is not the measure of all things and humanity is not God. Bound by the chains of his own sin and finiteness, man needs a Savior. - Author: Martin Luther King Jr.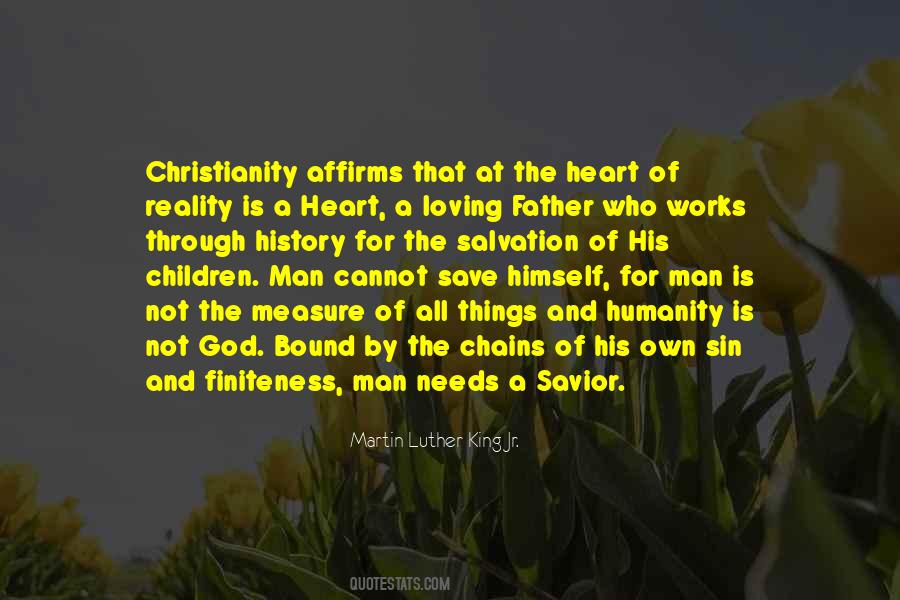 #77. You should get married. When I was younger, I was into the fame and fortune, and now I realize that a loving wife and happy children - that's life's greatest consolation prize. - Author: Emo Philips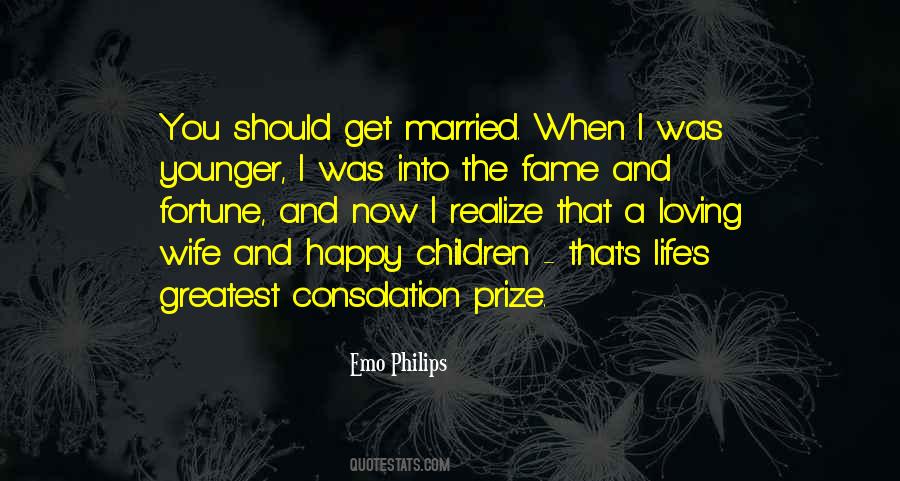 #78. Never judge people based on their nationality, religion, race, gender, skin colour or look. Humans are all the same. They're God's loving children." Angel of Hope - Author: Lily Amis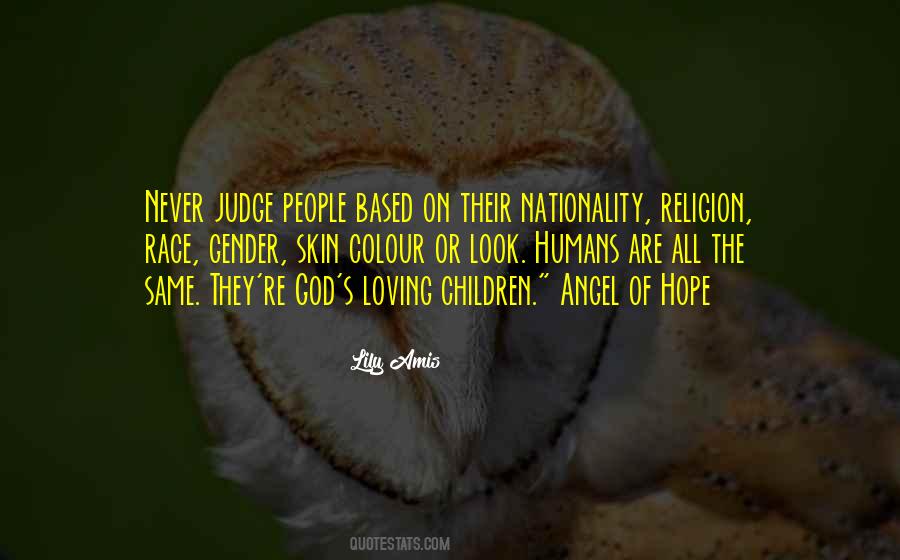 #79. Parenting is a partnership. Loving each other has a big impact on your children. - Author: Elizabeth George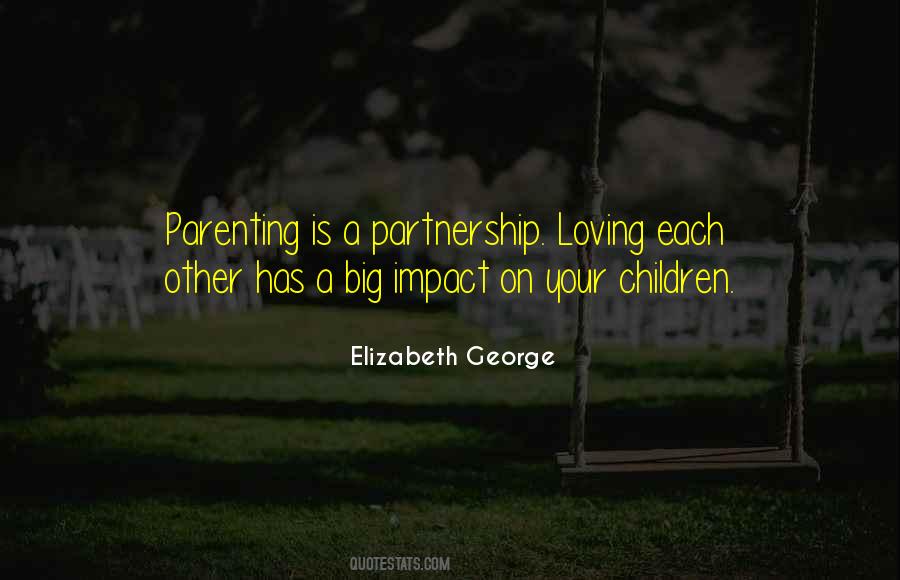 #80. Tell your children the most important things To Be when they grow up, is to be kind and compassionate, to be loving and grateful, and to be happy and at peace with who they are, no matter of what they chose to do when they grow up. - Author: Martin Suarez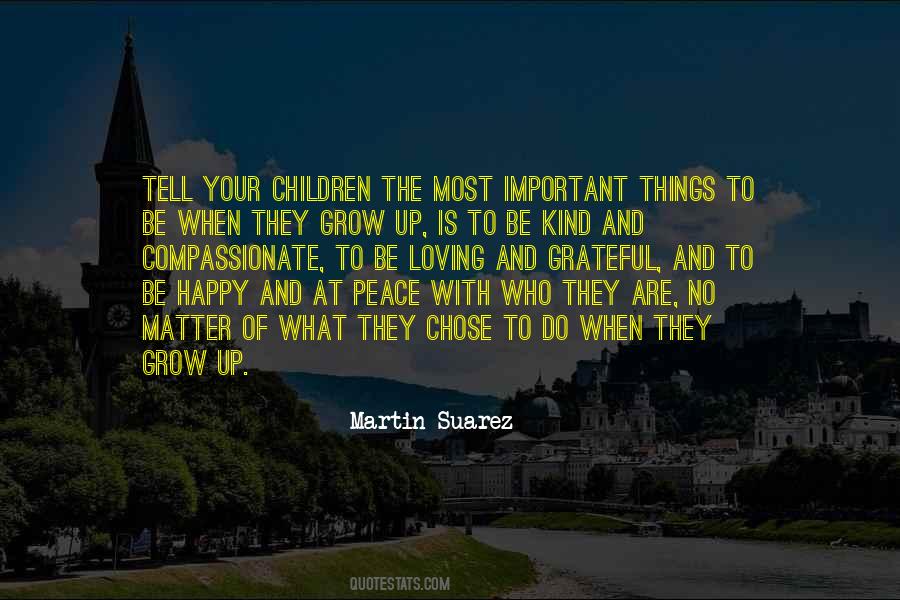 #81. You want to have a loving, safe relationship with your child, but you can't because you have to do these things to protect them or protect them from themselves - or try to make sure they don't become a vampire! Your desires and your needs are in opposition, and that's always fun to play. - Author: Jack Coleman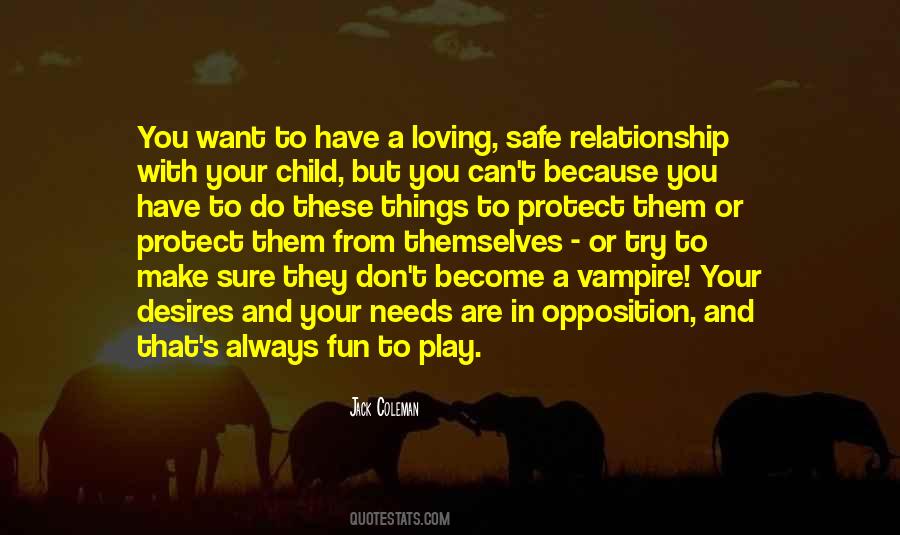 #82. Nobody around here had ever seen a lady beekeeper till her. She liked to tell everybody that women made the best beekeepers, 'cause they have a special ability built into them to love creatures that sting. It comes from years of loving children and husbands. - Author: Sue Monk Kidd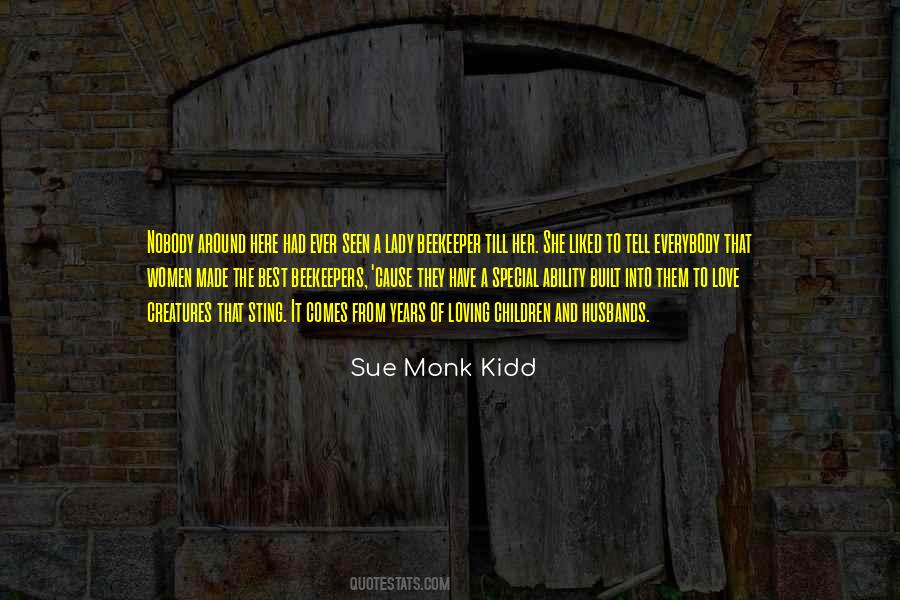 #83. Ours was a loving, nurturing household, but, at the same time, my parents' goal was to make all their children self-sufficient. - Author: Bryce Dallas Howard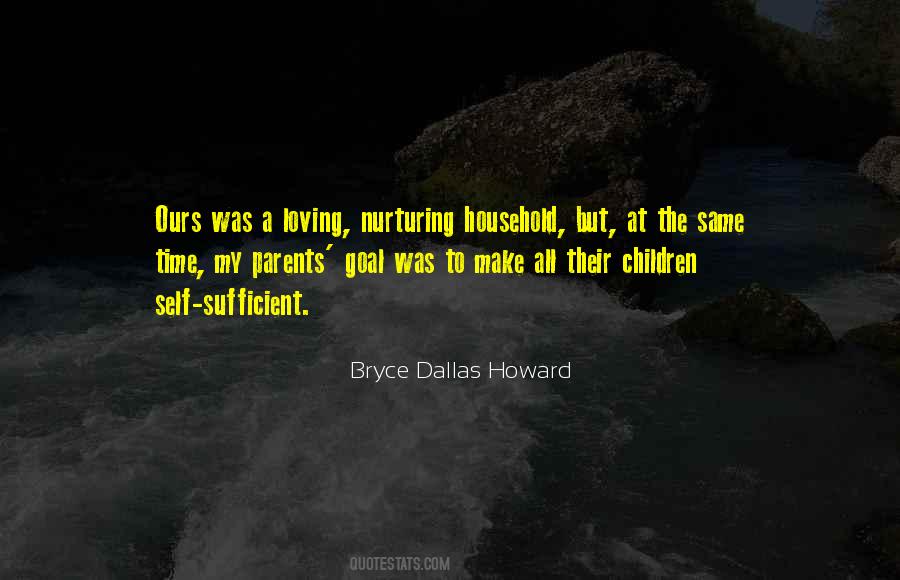 #84. It is a wonderful, moving, heart-filling experience to sit with the man or woman you love and your beloved children and know that all are happy to be just where they are with each other and loving one another. This doesn't happen very often. - Author: Amy Bloom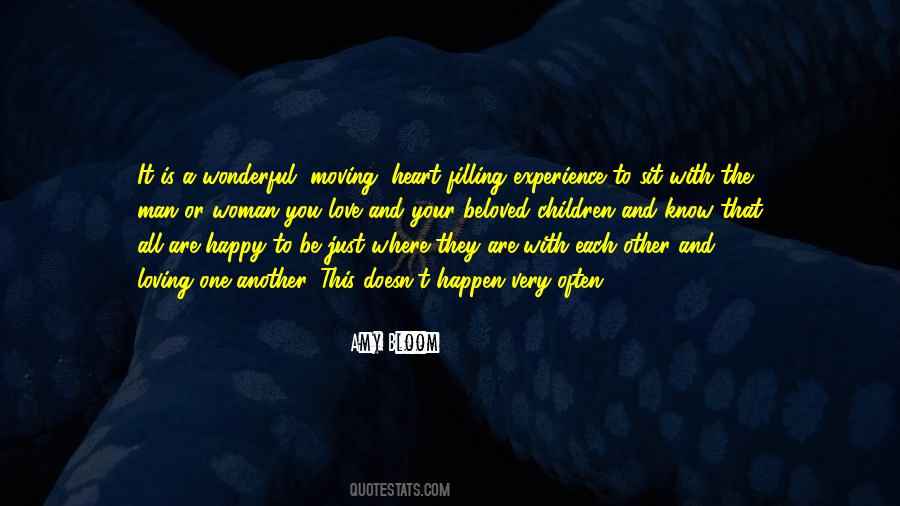 #85. Children start out loving their parents, but as they grow older and discover their parents are human, they become judgmental. And sometimes, when they mature, they forgive their parents, especially when they discover they are also human. - Author: Oscar Wilde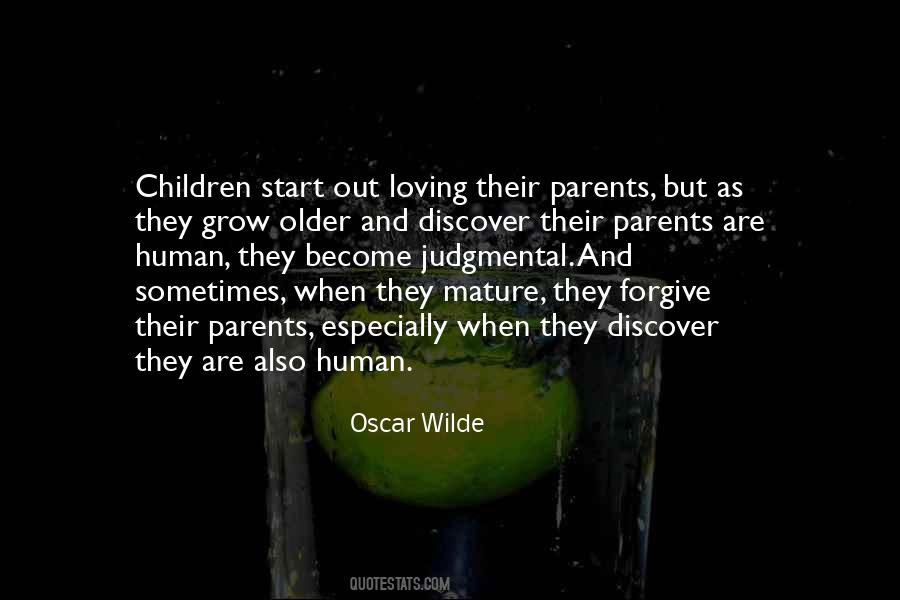 #86. ...'Loving children is what teachers do for extra credit. It's not the main assignment.'
'Seems to me that the extra credit is more important than the main assignment,' observed Cordelia. - Author: Esme Raji Codell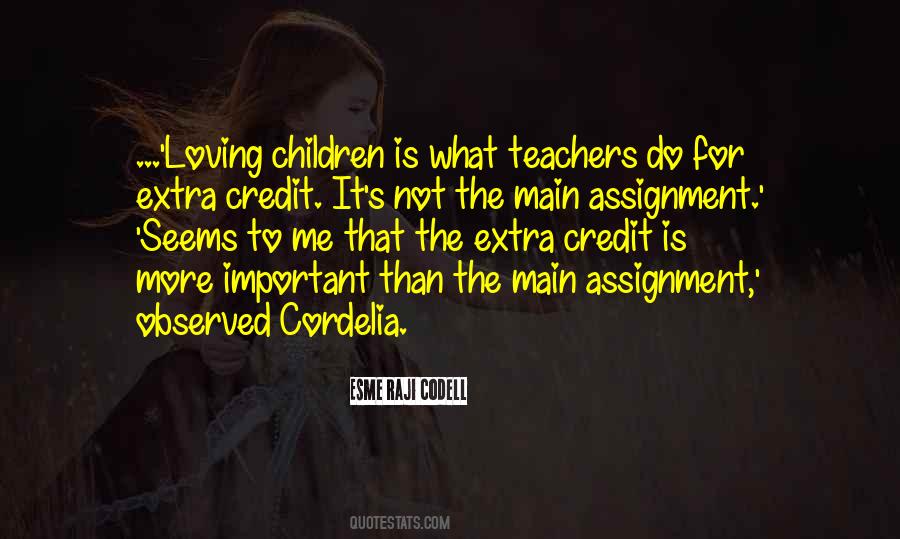 #87. Prayer means rushing to the Father as His child. It means asking and receiving, loving and thanking Him. - Author: Basilea Schlink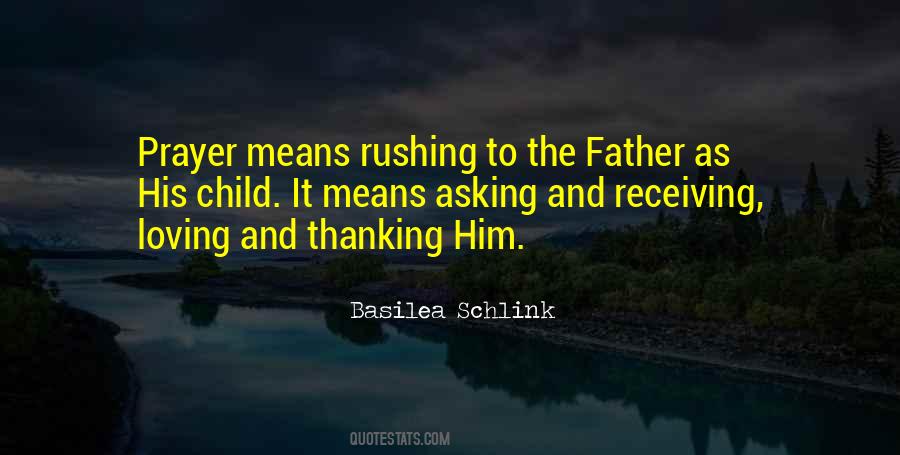 #88. God is angry at the evil that ruins his children. The question is not, "How dare a loving God be angry?" but rather, "How could a loving God feel anything less? - Author: Max Lucado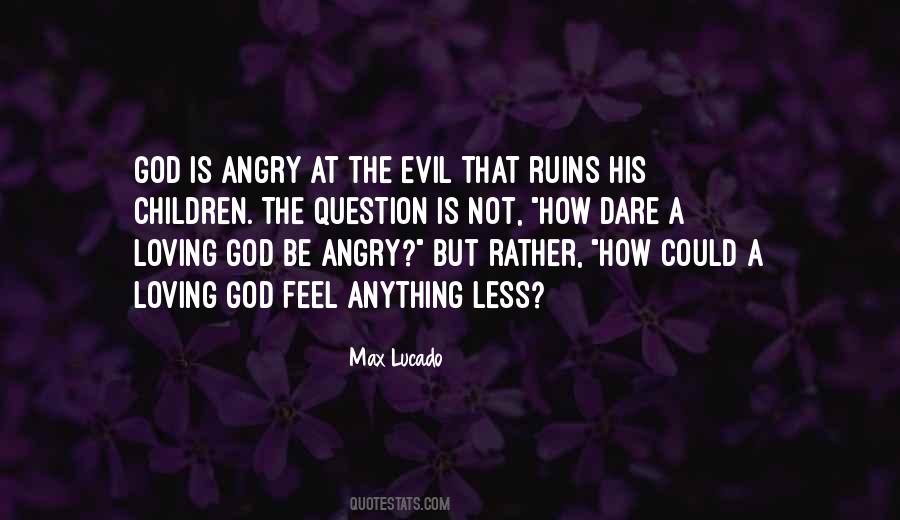 #89. Madly in love after so many years of sterile complicity, they enjoyed the miracle of loving each other as much at the table as in bed, and they grew to be so happy that even when they were two worn-out old people, they kept on blooming like little children and playing like dogs. - Author: Gabriel Garcia Marquez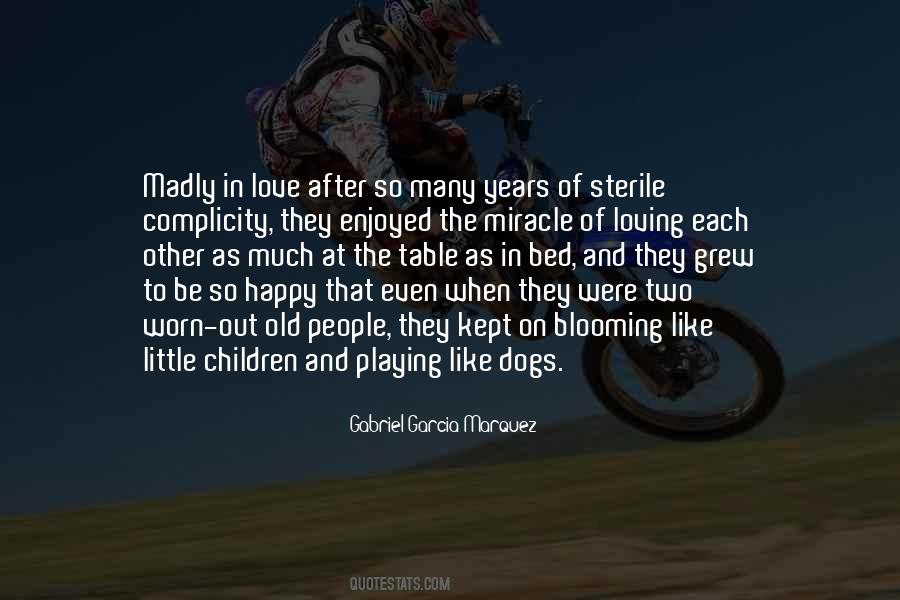 #90. Hurts come because we live in a world where God has given men free will. But God is love. A loving father gives his children, once they're of age, the ability to make their own choices. Our Heavenly Father does the same, and because of that, chaos sometimes ensues. - Author: Christy Barritt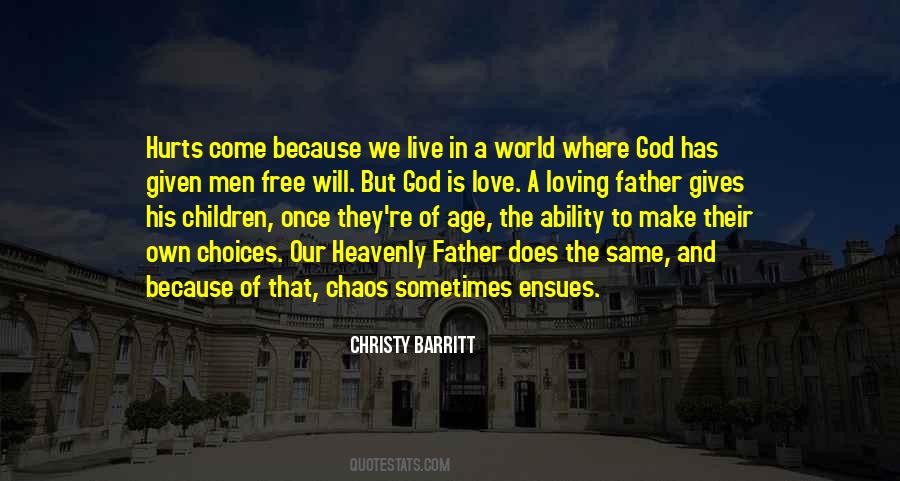 #91. Children are a sacred gift from a loving Heavenly Father. Children are an heritage of the Lord (Ps. 127:3). The more I think about children, the more I worry about parents. - Author: Patricia P. Pinegar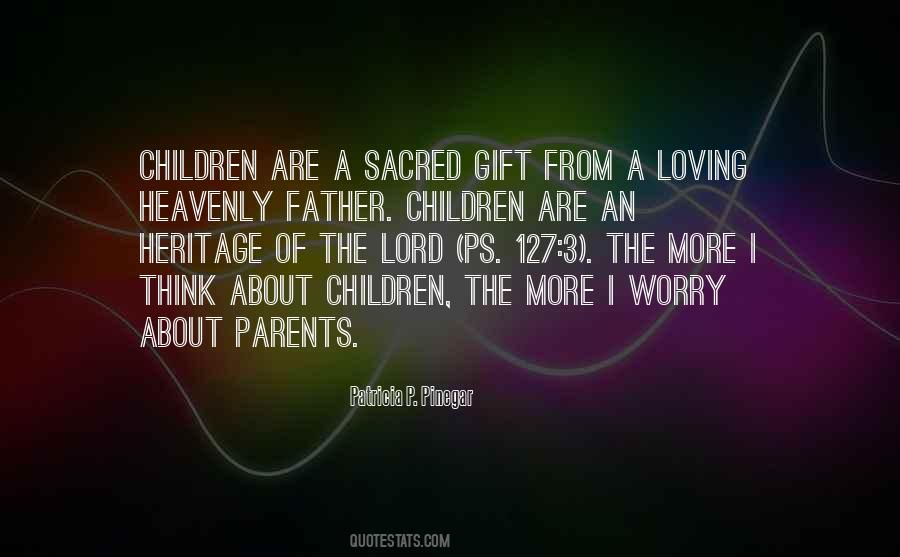 #92. Let's face it: most of our children believe that God is happy if they're "good for goodness' sake." We've transformed the holy, terrifying, magnificent, and loving God of the Bible into Santa and his elves. - Author: Elyse M. Fitzpatrick
#93. An all-loving god would surely not damn his children to an eternity of torture simply for being born into a culture that believes in the wrong deity, follows the wrong holy book or attends the wrong type of church services. - Author: Armin Navabi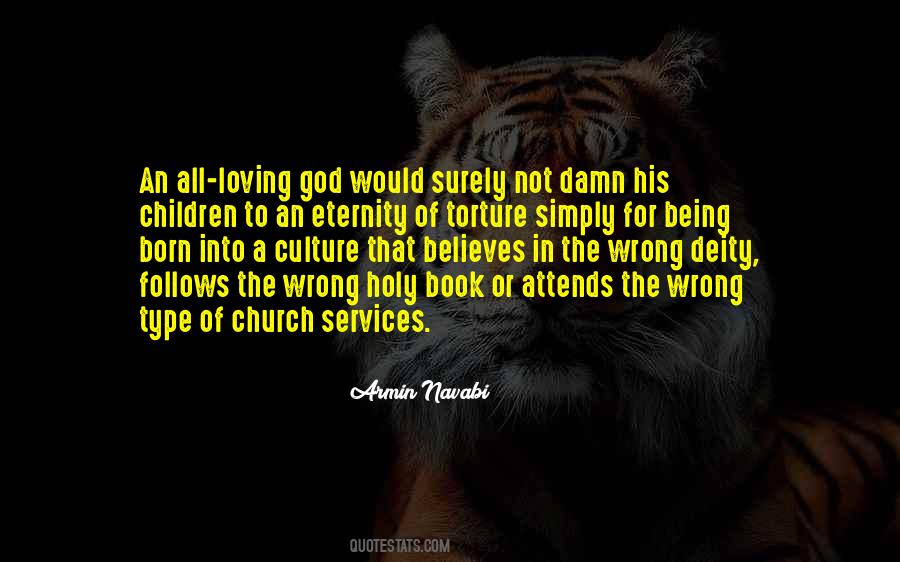 #94. Boys need healthy self-esteem. They need love. And a wise and loving feminist politics can provide the only foundation to save the lives of male children. Patriarchy will not heal them. If that were so they would all be well. - Author: Bell Hooks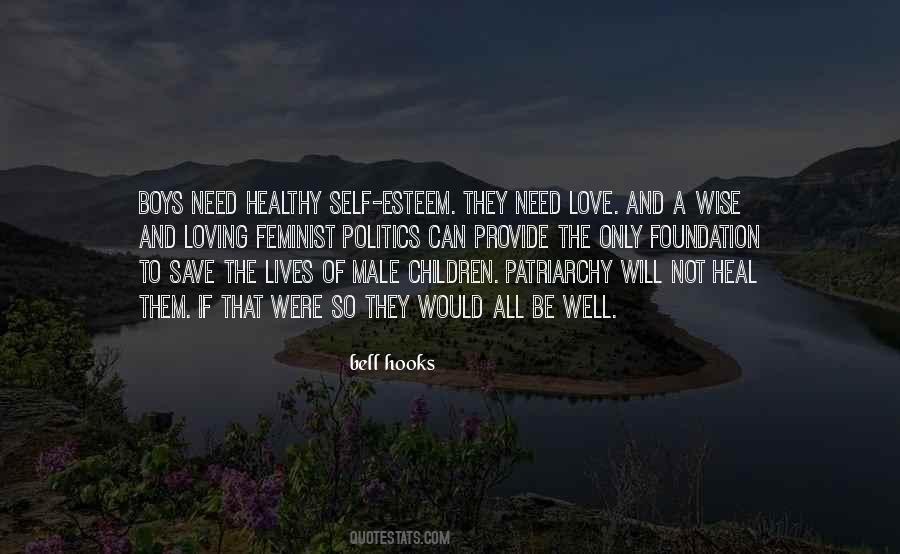 #95. The gain is not the having of children; it is the discovery of love and how to be loving. - Author: Polly Berrien Berends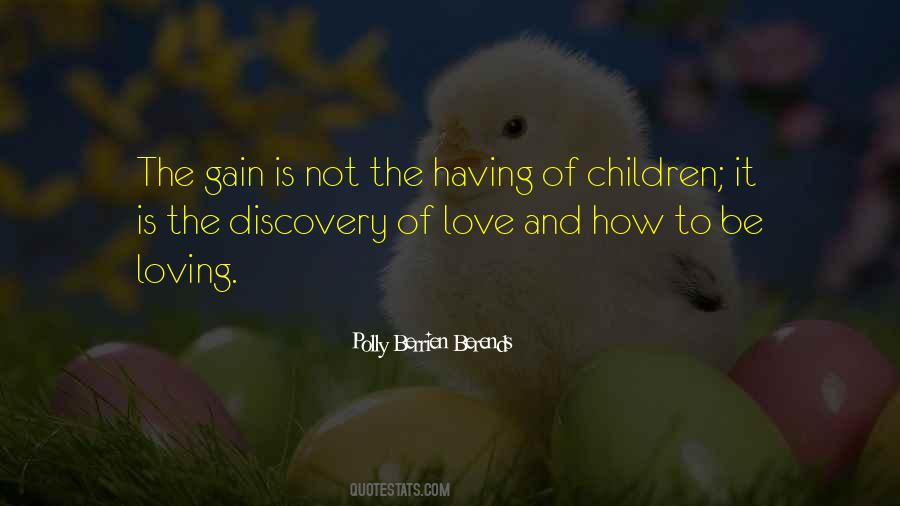 #96. Y'all know how much I love you? "Infinity and back again," I say the way I've said it a million times. And then, daddy says to me, "go on and add a little bit more to that. - Author: Jacqueline Woodson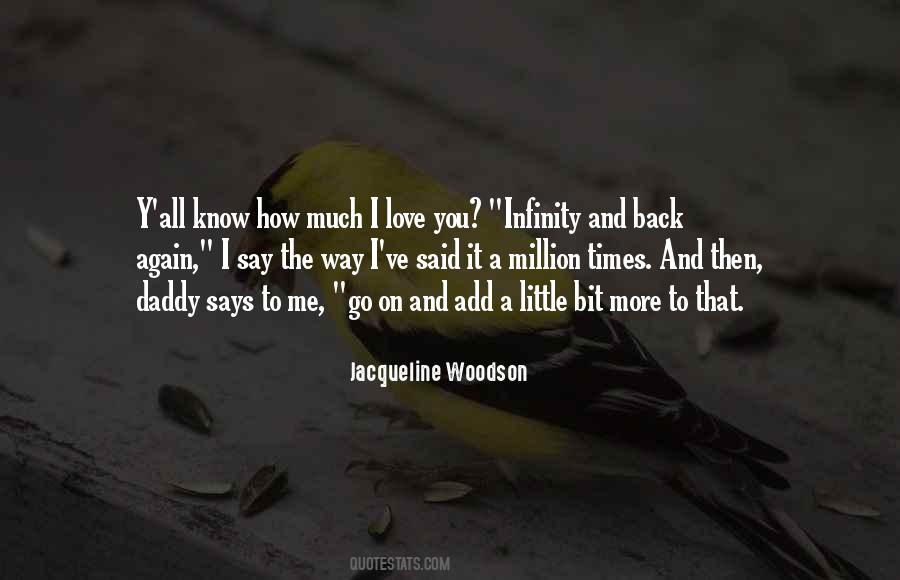 #97. Children, dear and loving children, can alone console a woman for the loss of her beauty. - Author: Honore De Balzac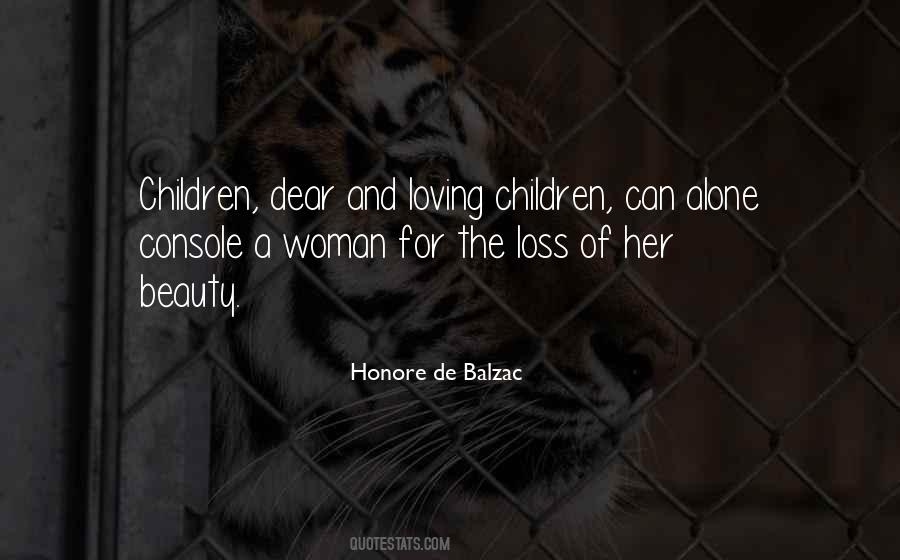 #98. I have failed to continue to set an example for a secure, loving family unit as an example for our children. That is the reality of it. There is no way of getting around it. - Author: Seal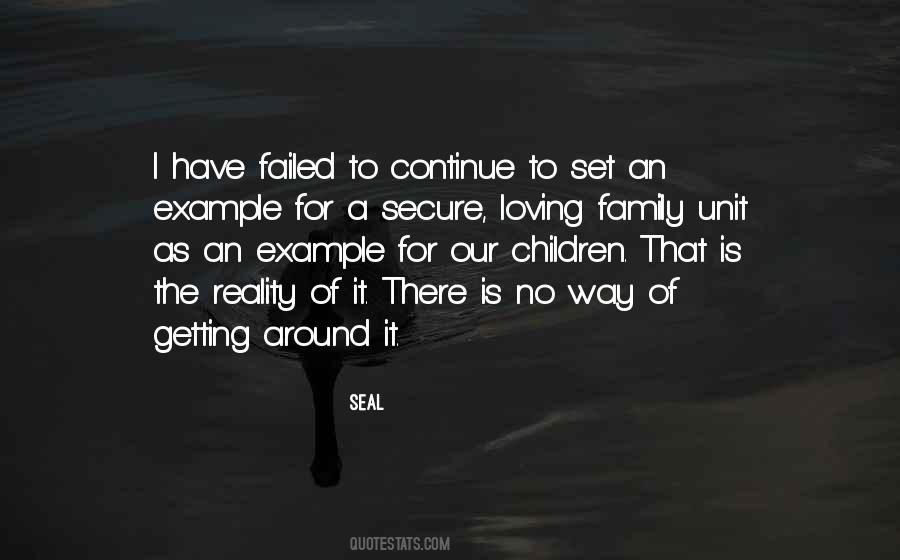 #99. Very young children are not afraid to express what they feel. They are so loving that if they perceive love, they melt into love. They are not afraid to love at all. That is the description of a normal human being. - Author: Miguel Ruiz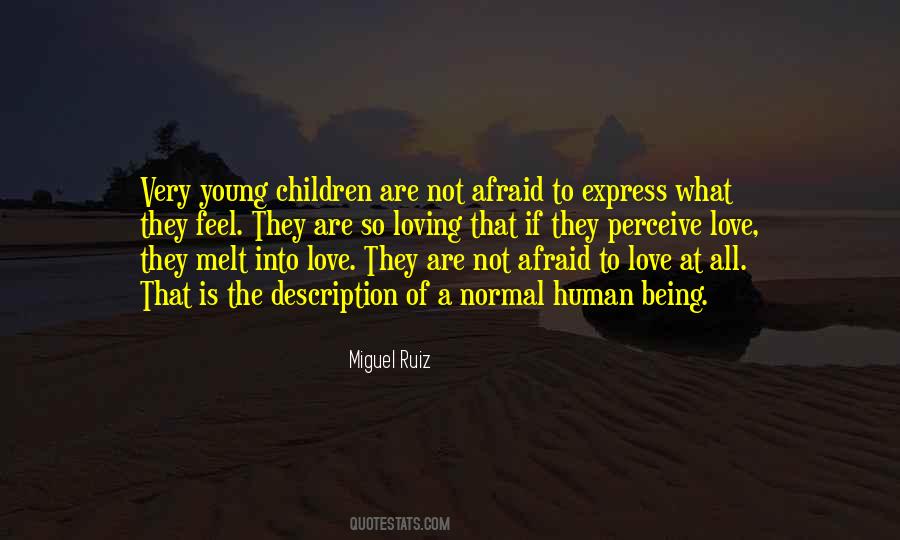 #100. Children begin by loving their parents; after a time they judge them; rarely, if ever, do they forgive them. - Author: Oscar Wilde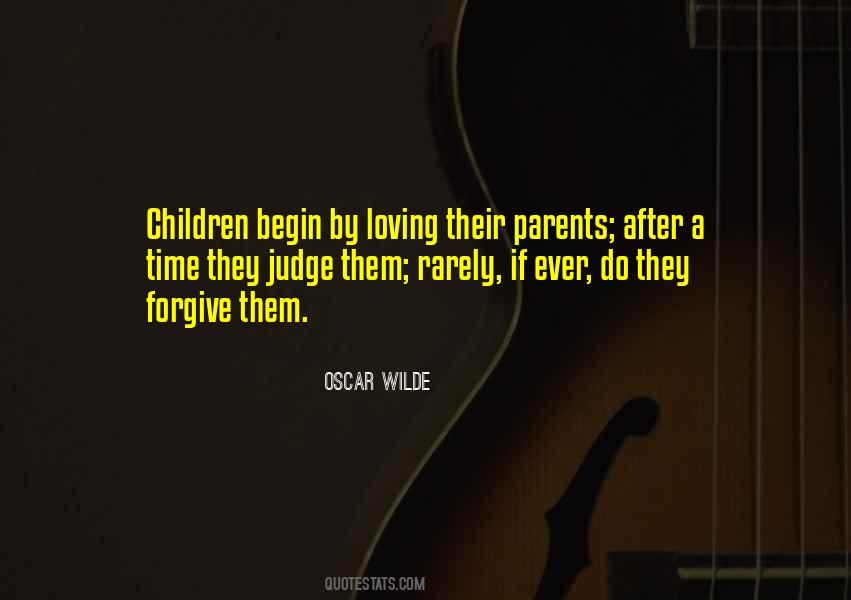 Famous Authors
Popular Topics