Love Long Famous Quotes & Sayings
List of top 100 famous quotes and sayings about love long to read and share with friends on your Facebook, Twitter, blogs.
Top 100 Quotes About Love Long
#1. Everything about you fascinates me, Sophie. The smell of your skin. The sound of your voice. Your long legs. Your sense of humor. Your personality. You don't seem to need me, and if you don't need me, it is much more gratifying that you want me. - Author: Elisa Marie Hopkins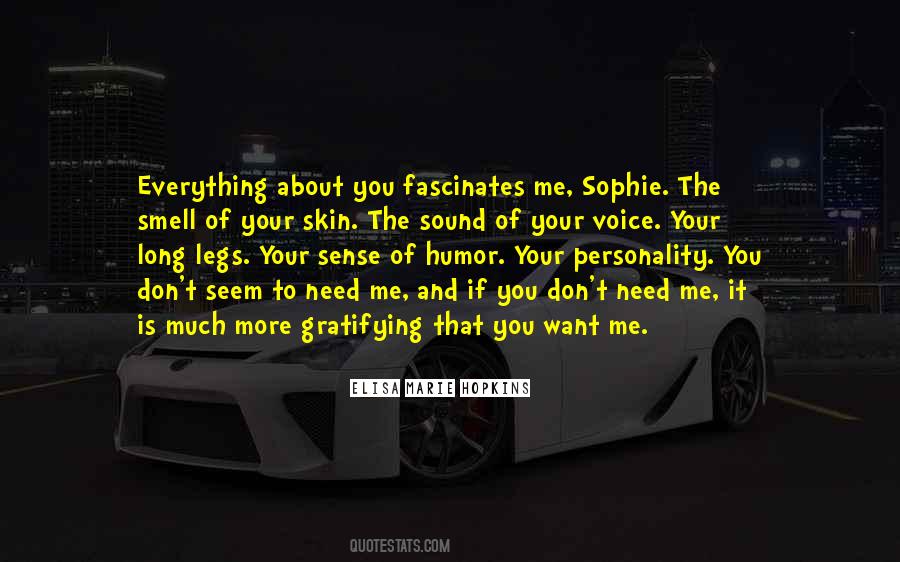 #2. I don't fall in love very easily. It takes a long time, and then, when I have fallen in love, I'm still not sure. I'm suspicious of myself. What if tomorrow I don't feel the same? I have to wait, to be sure. And I wait and wait. - Author: Joey Comeau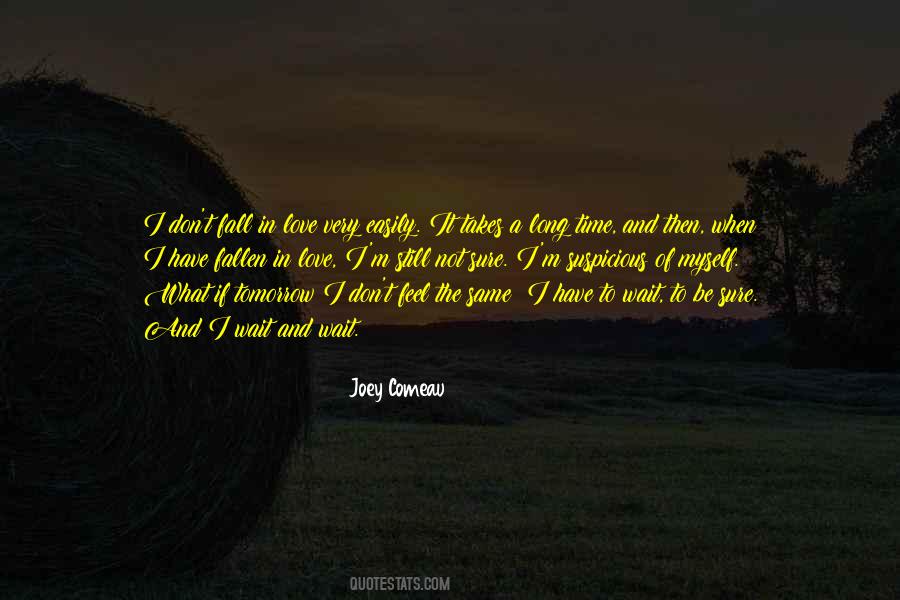 #3. No holy place existed without us then,
no woodland, no dance, no sound.
Beyond all hope, I prayed those timeless
days we spent might be made twice as long.
I prayed one word: I want.
Someone, I tell you, will remember us,
even in another time. - Author: Sappho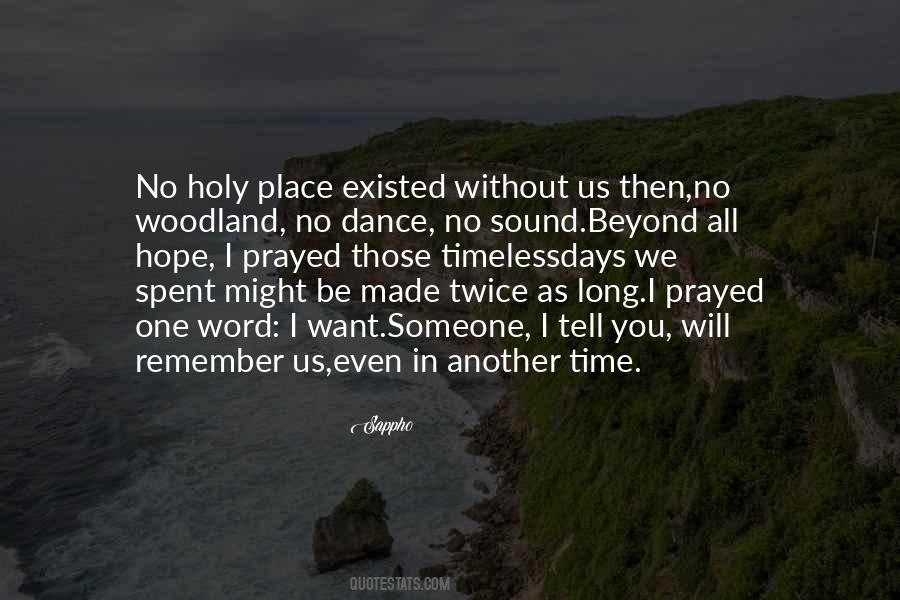 #4. I think every artist would love to just please themselves musically all day long. - Author: Joe Nichols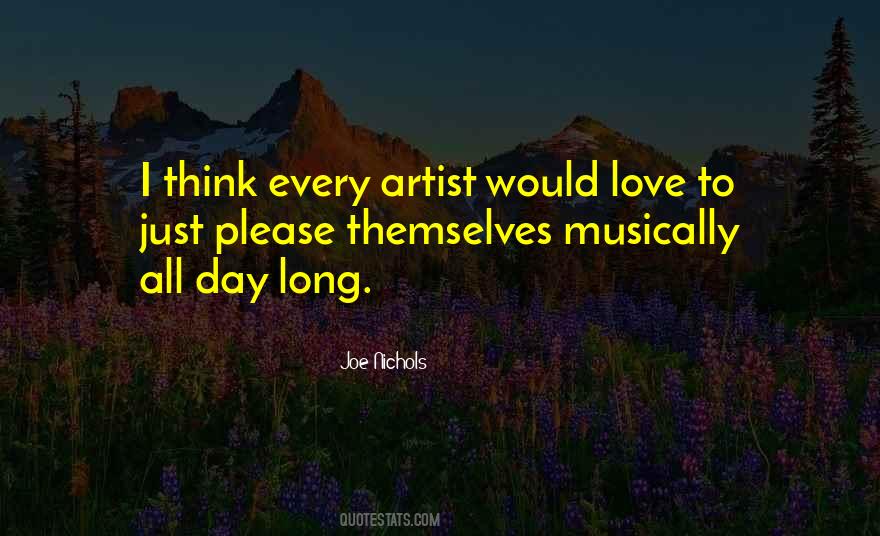 #5. I really hated school and so I just wanted to stay home and watch 'I Love Lucy' and watch the movies that inspired me to the point where we are sitting here. - Author: Justin Long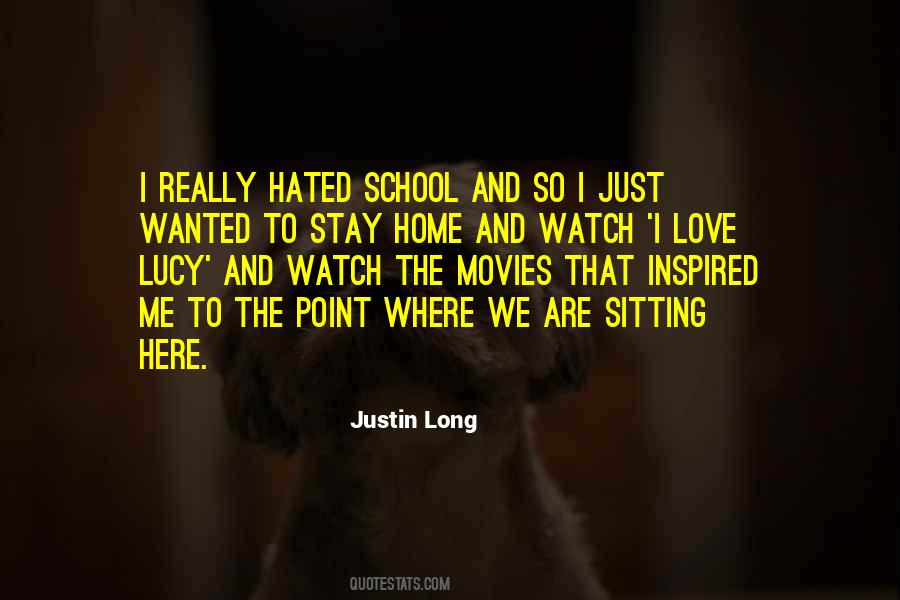 #6. We know everyone we love is going to die, but we don't know it, can't possibly believe it, she thought, or long ago I would have gone and started digging until I had a hole big enough to lie down in. - Author: Rae Meadows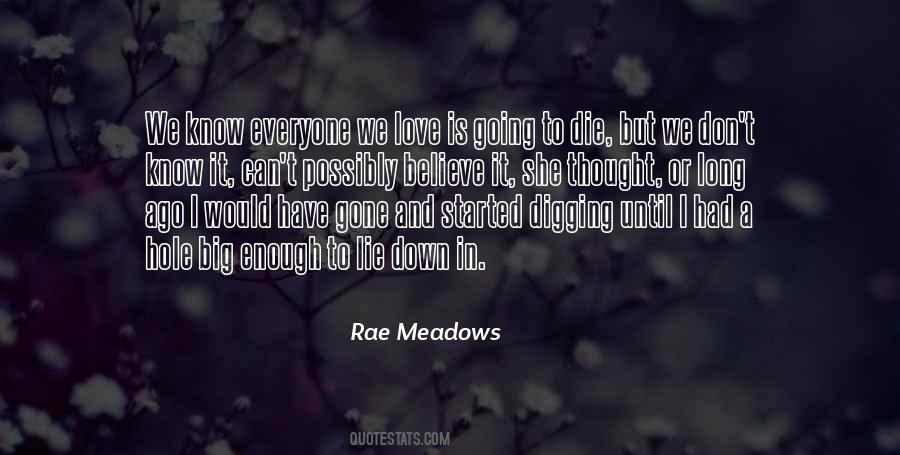 #7. Then since we mortal lovers are, Ask not how long our love will last; But while it does, let us take care Each minute be with pleasure past: Were it not madness to deny To live because we're sure to die? - Author: Paul Negri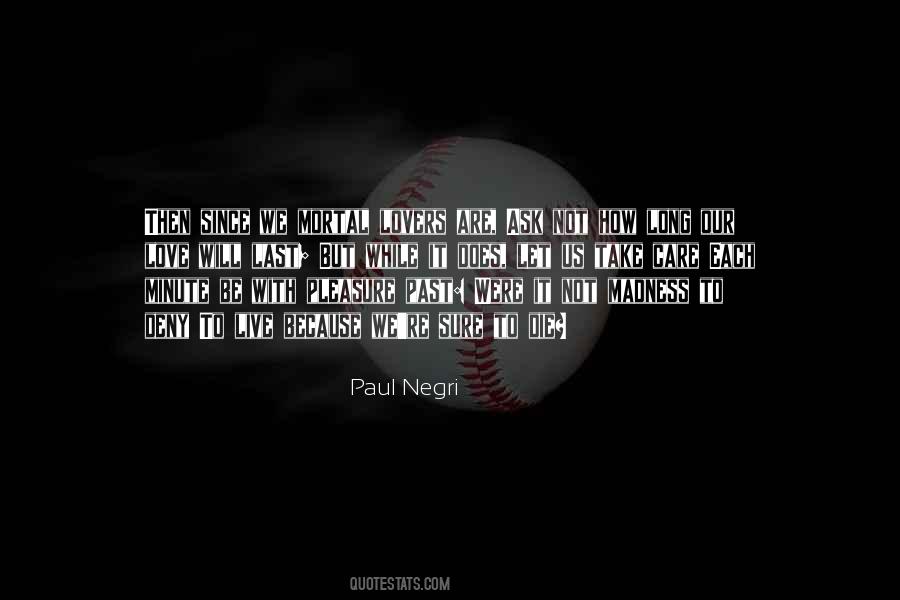 #8. The coat-check line is long enough to fall in love with the person behind you. - Author: Simon Van Booy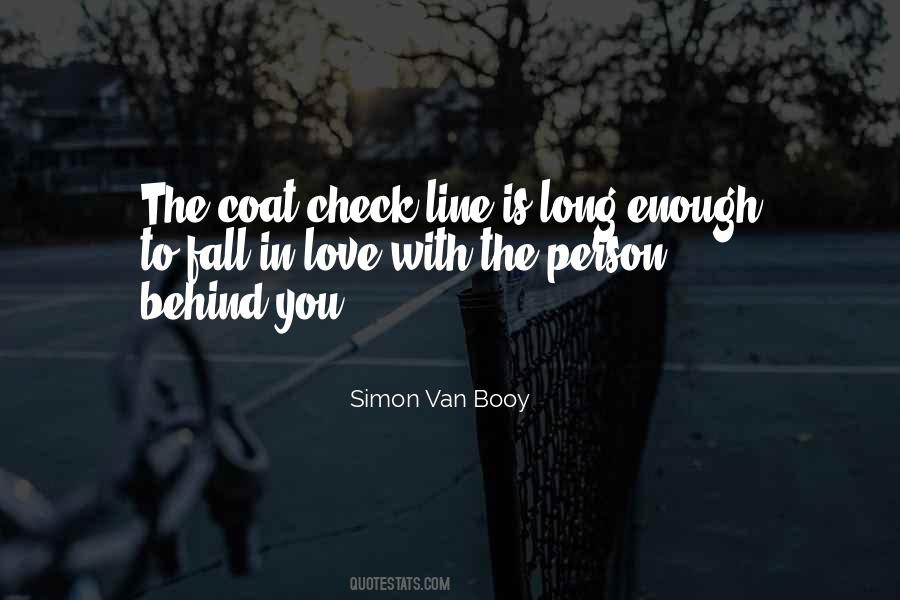 #9. She dumped me for the quarterback after she'd played my body like a banjo. So Sad."
"I bet"
"I'm serious. I was heartbroken."
"For how long?"
"A whole week." An eternity in the life of a teenage boy. - Author: Nalini Singh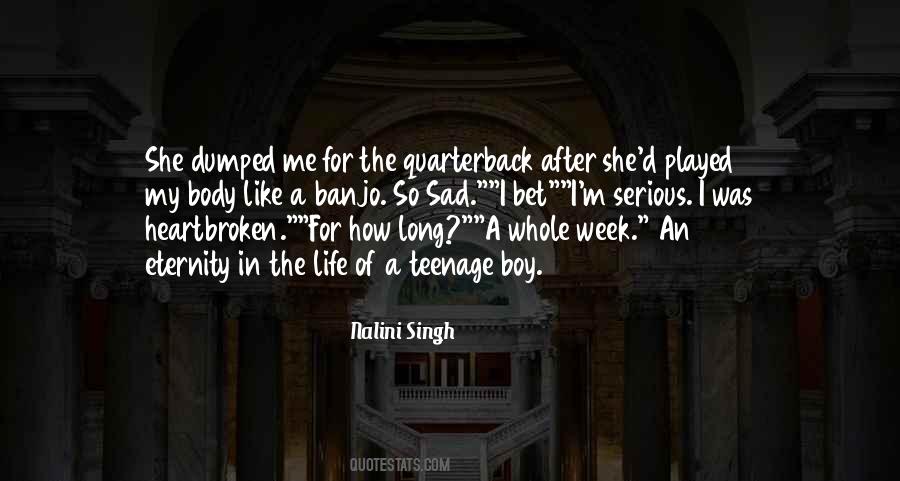 #10. Let's not pray long, drawn-out prayers, but let's pray short ones full of love. Let us pray on behalf of those who do not pray. Let us remember, if we want to be able to love, we must be able to pray! - Author: Mother Teresa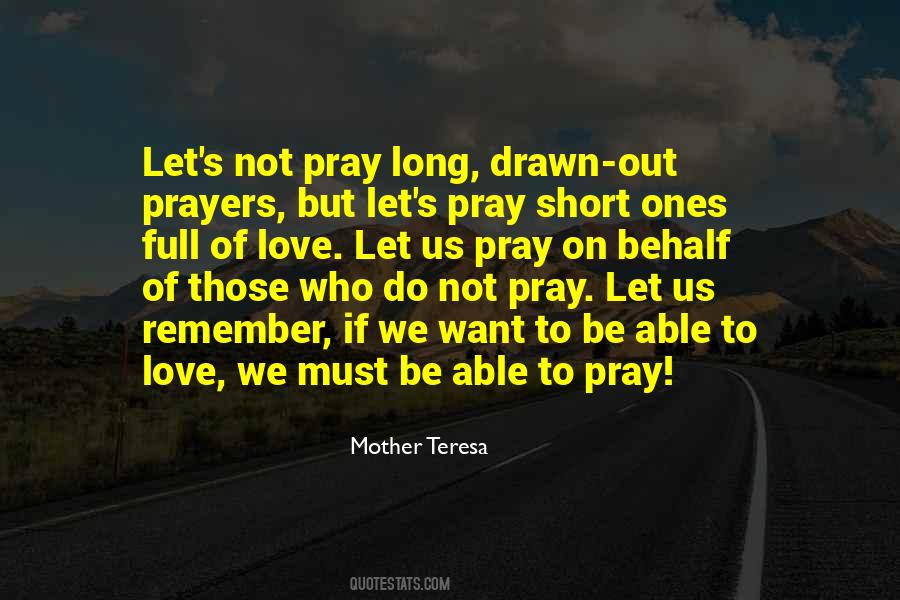 #11. How long have I loved Finn? It crept up on me so gradually, I don't know if I can even pin the moment down. - Author: Cristin Terrill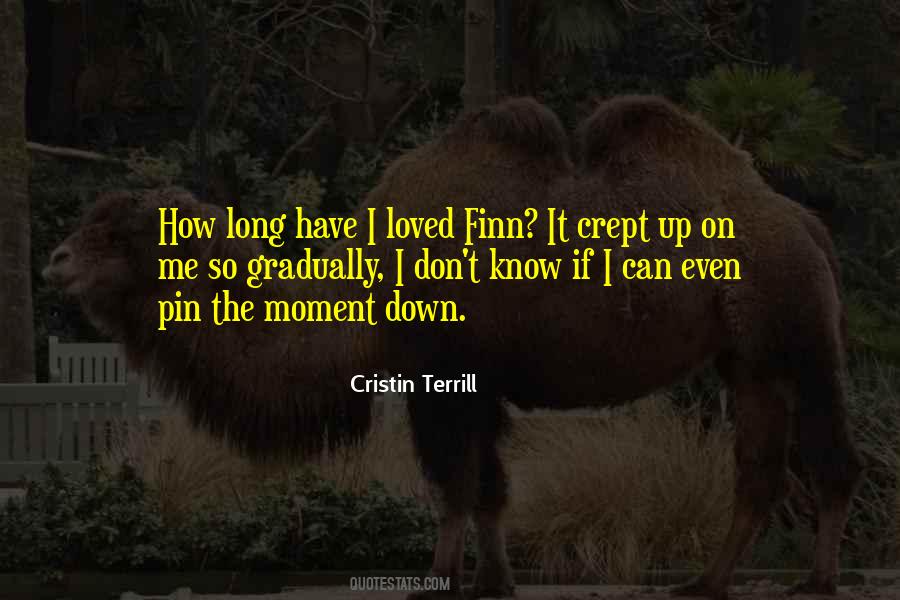 #12. He caught her eye. 'And? I'm jealous-minded and I sleep with too many women.'
Fire's smile grew. 'Luckily for you, I loved you long before either of those things.'
'But you don't love me as much as I love you,' he said. 'Which is what's made me this way. - Author: Kristin Cashore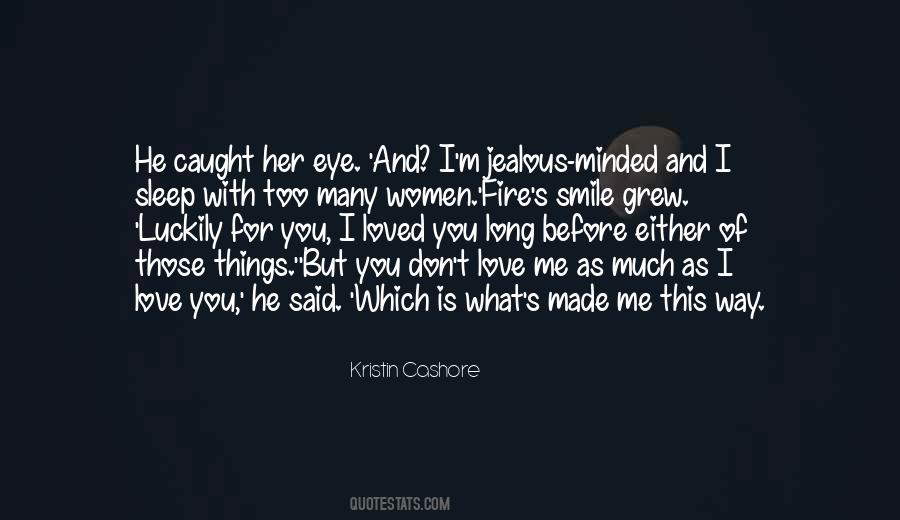 #13. It takes a long time for a father to drive the love out of a child. - Author: Jim Harrison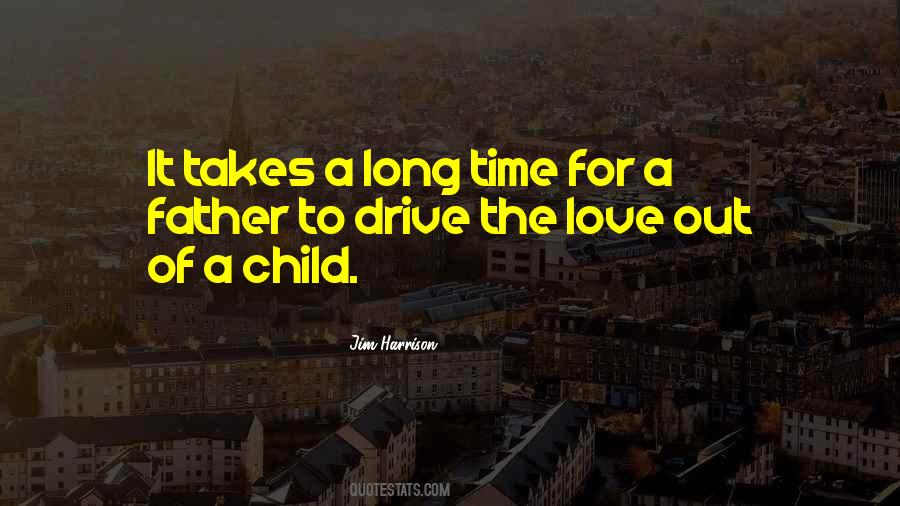 #14. It took me a long time and a lot of heartache to realize that just because you love someone, doesn't mean they deserve it. - Author: Steve Maraboli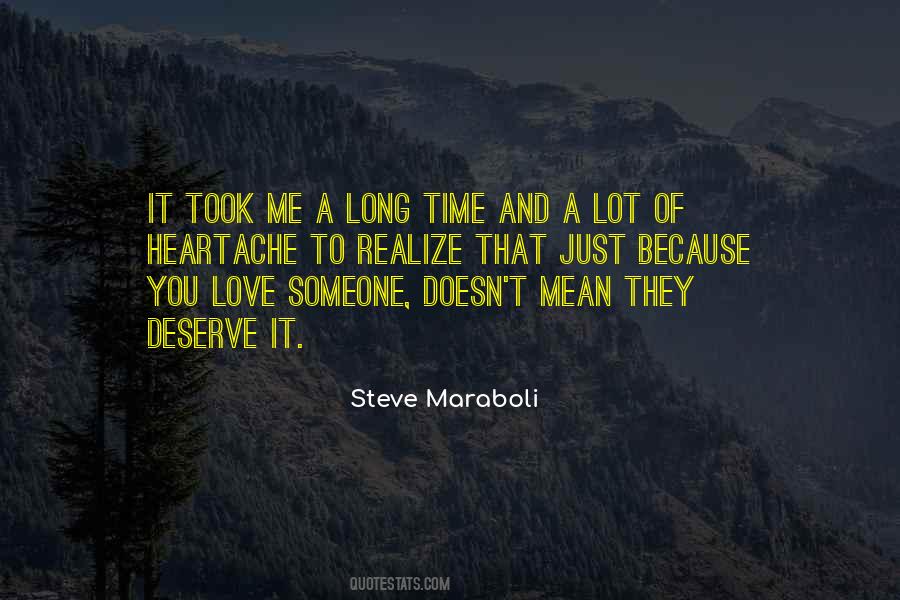 #15. Hong Kong compatriots will surely display great love for the motherland and for Hong Kong and take it as their utmost honor to maintain long-term prosperity and stability in Hong Kong and safeguard the fundamental interests of the country, - Author: Jiang Zemin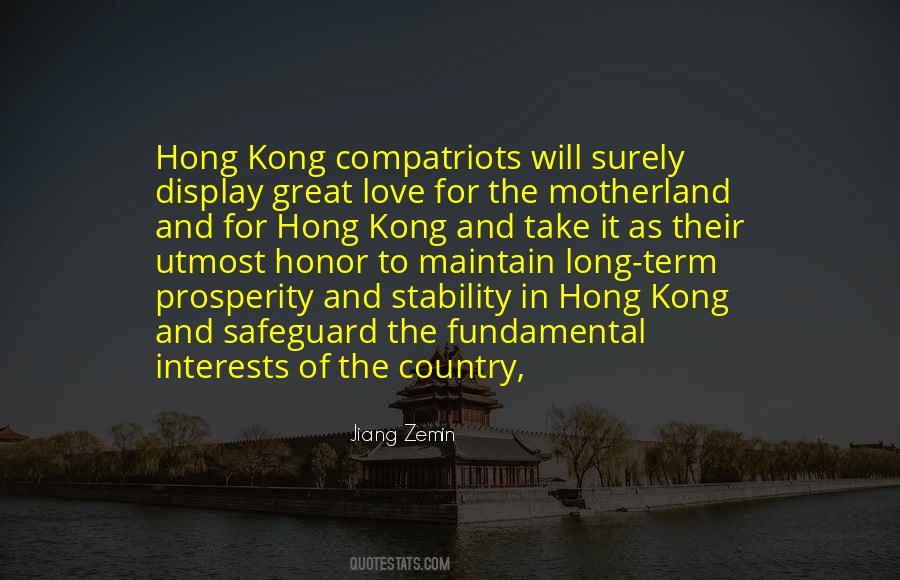 #16. I love my daughter, but she had me on couscous and fixed me pastas and made me eat oatmeal every morning and what else, turkey burgers, turkey bacon, and that kind of stuff. So she wants her dad to live a long time, and I do, too. - Author: Dusty Baker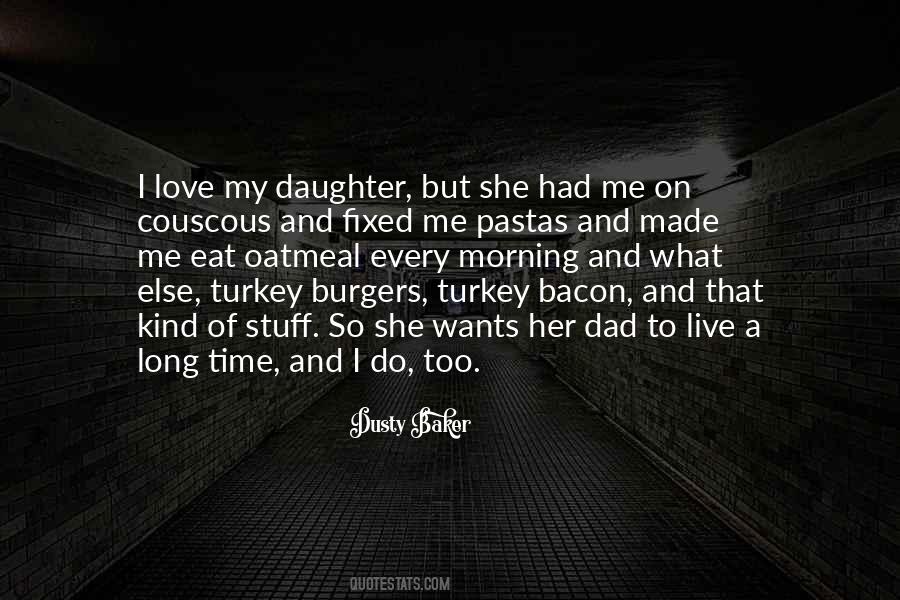 #17. I can give you honesty, monogamy, and more passion than you can stand, but not love. That emotion died in me long ago, as I suspect you already know. - Author: Jeaniene Frost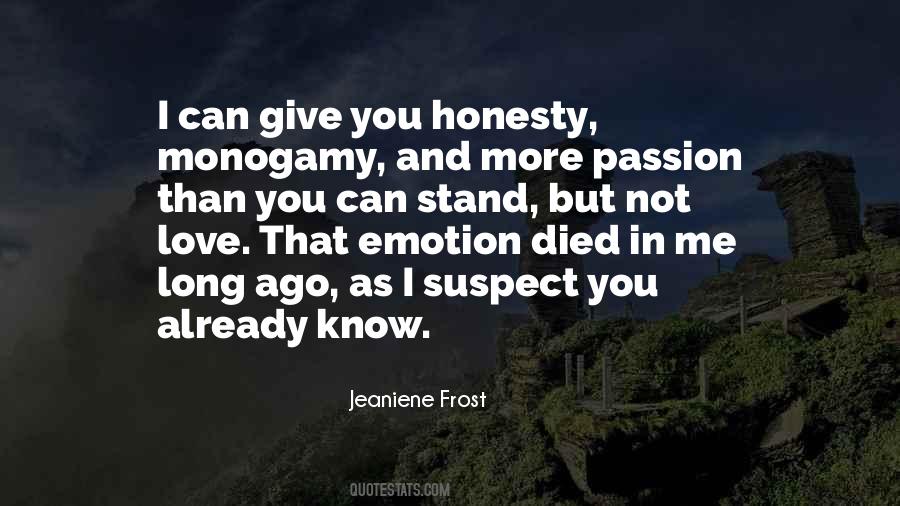 #18. 'The Client List' is my baby. I always tell people, 'It took nine months to put this project together because it is my baby.' And, it really did take that long! - Author: Jennifer Love Hewitt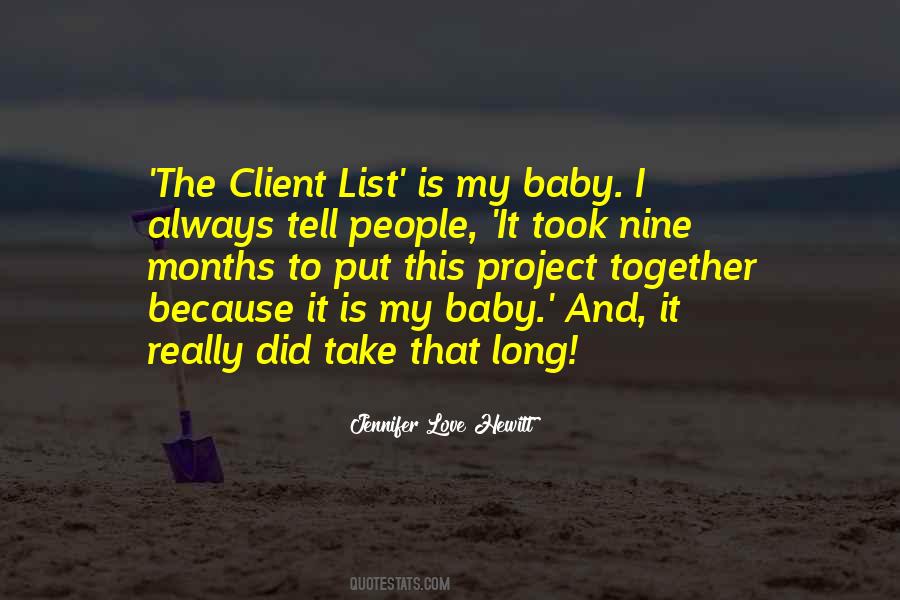 #19. You just realize at the end of the day, everyone is going to have their opinion on your life, more and more so as you go along. As long as you're getting to work and be a part of it - still having fun, learn to just not sweat it so much and keep doing the things you love. - Author: Dianna Agron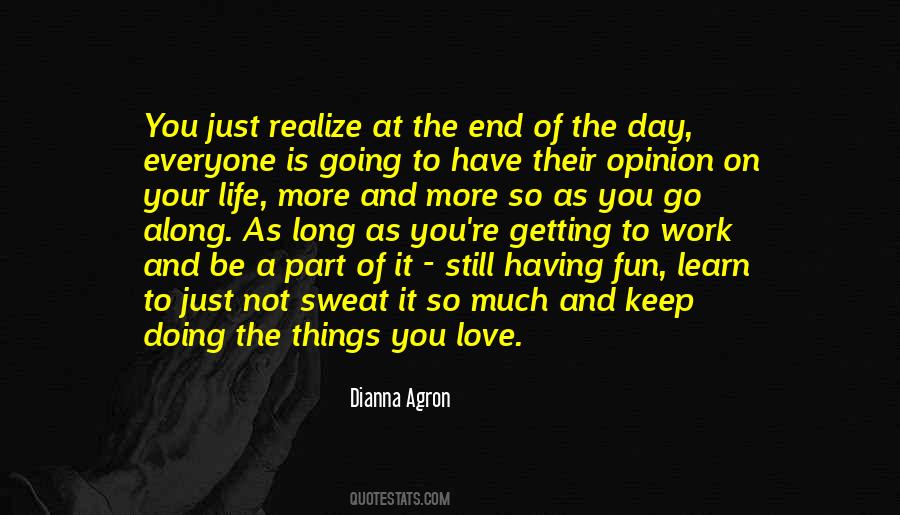 #20. Something within me is waking from long sleep, and I want to live and move again. Some zest is returning to me, some immense gratefulness for those who love me, some strong wish to love them also. I am full of thanks for life. I have not told myself to be thankful. I am just so. - Author: Alan Paton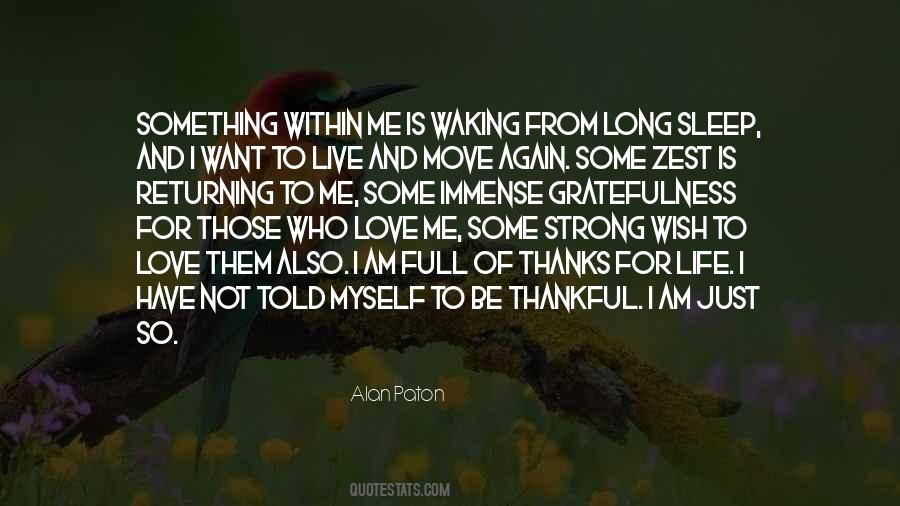 #21. As long as men massacre animals, they will kill each other. Indeed, he who sows the seeds of murder and pain cannot reap the joy of love. - Author: Pythagoras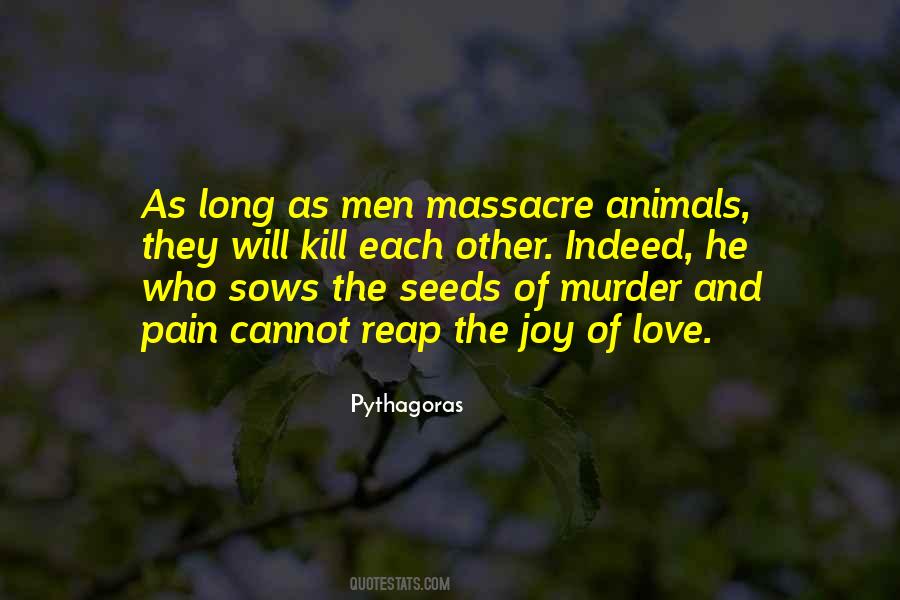 #22. To know the world, not love her, is thy point; She gives but little, nor that little, long. - Author: Edward Young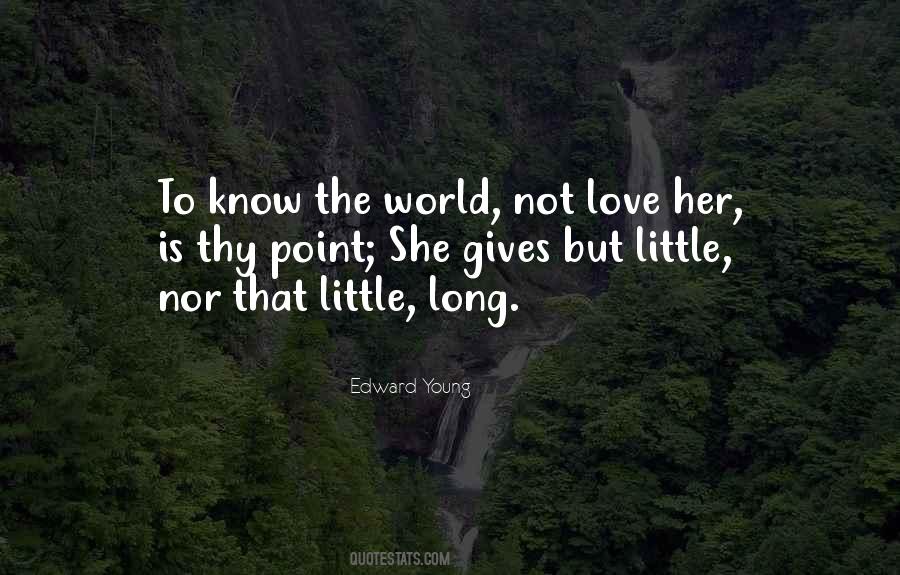 #23. Love, like energy, never dies. You lose people only in the moment. But time is a long road that circles back. At some point the missing turns into love and returns. - Author: M.J. Rose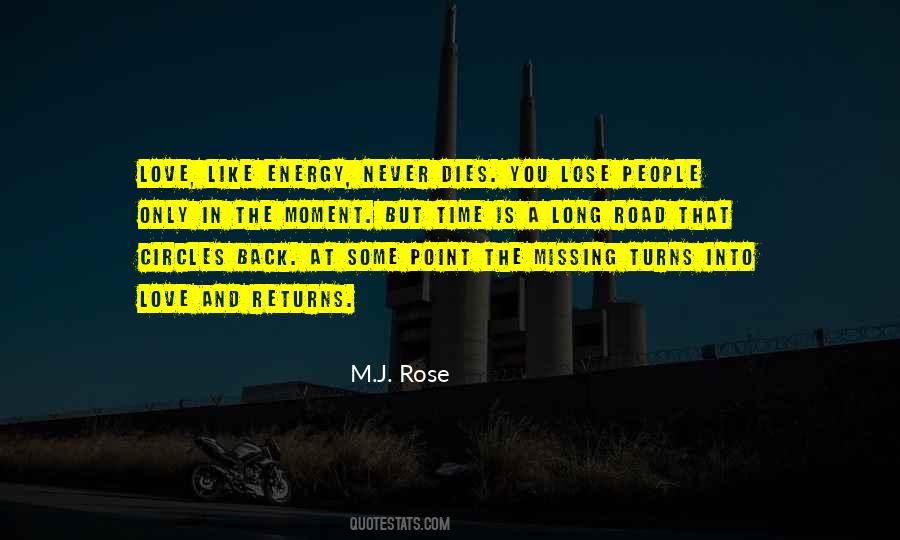 #24. As long as you're breathing, it's never too late to reconnect with a long-held love. - Author: Gina Greenlee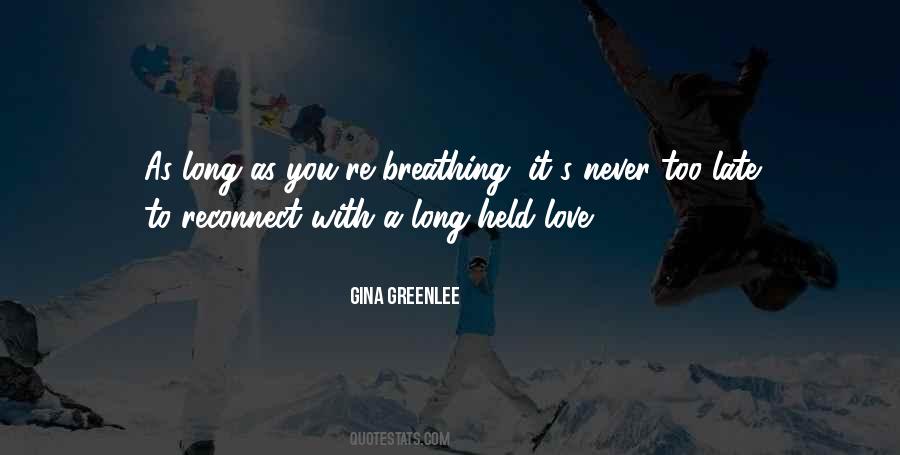 #25. There is no poetry or song.
There is no short or long.
There is only you. - Author: Debasish Mridha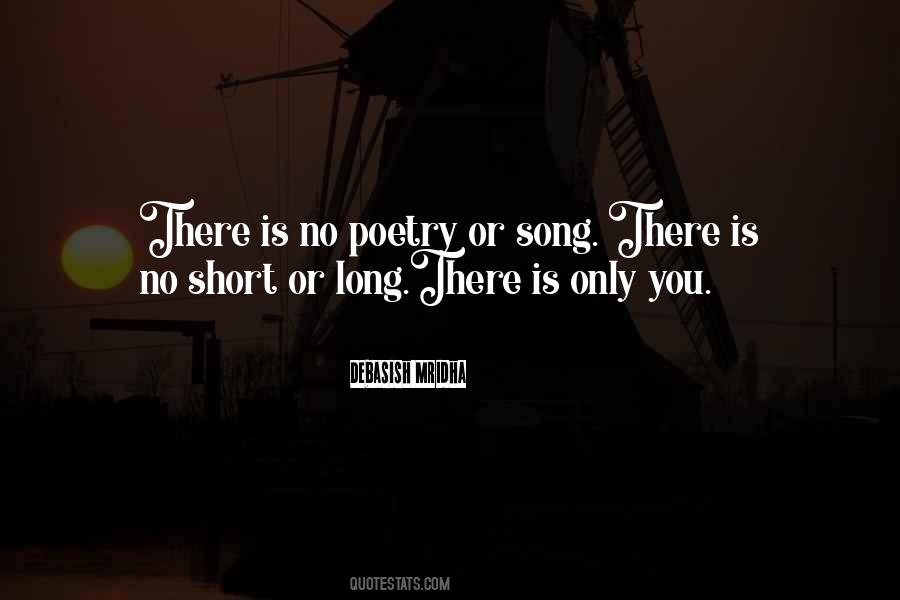 #26. Some of us die long before our last breath. We perish in the fire of love, reduced to ashes in the consuming blaze. No, we do not die when our hearts cease to beat, but when they start beating the first time
for somebody else. - Author: Shakieb Orgunwall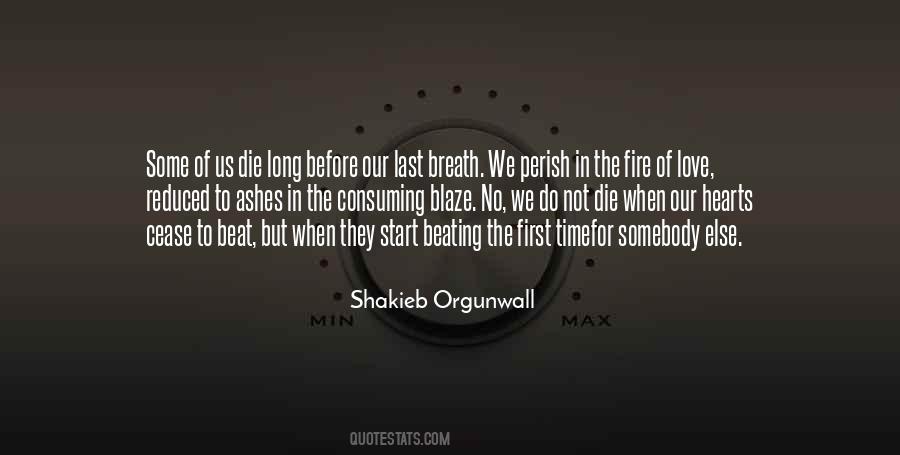 #27. There are black men who are madly in love with white women. God bless them, if that's what works for them. I just hope that we can strike a balance that portrays black folks and the black family in a light that's not extreme. Those are the types of characters that I find myself attracted to. - Author: Nia Long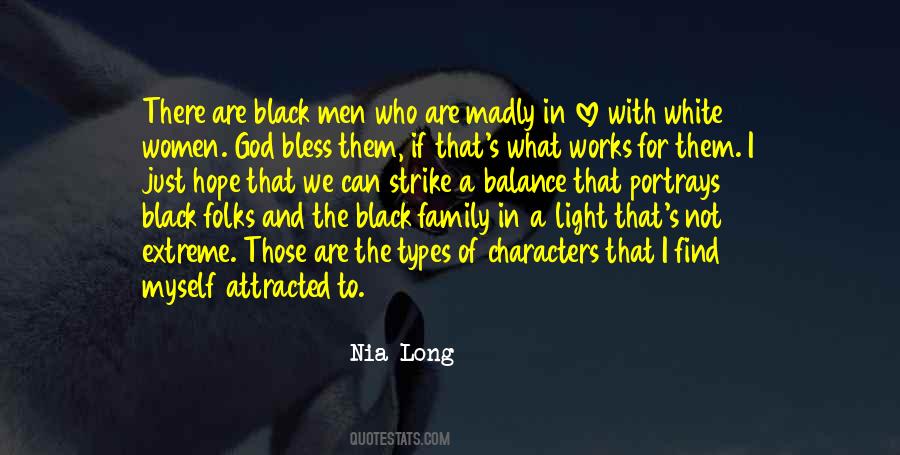 #28. I adore gardening and plan to take it up properly when I have a bit more time on my hands. Until then, I love pottering in garden centres. I'm totally low maintenance. I don't ask for fancy plants, just basic, long-lasting shrubs that look nice. But I am particular about flowers. - Author: Shilpa Shetty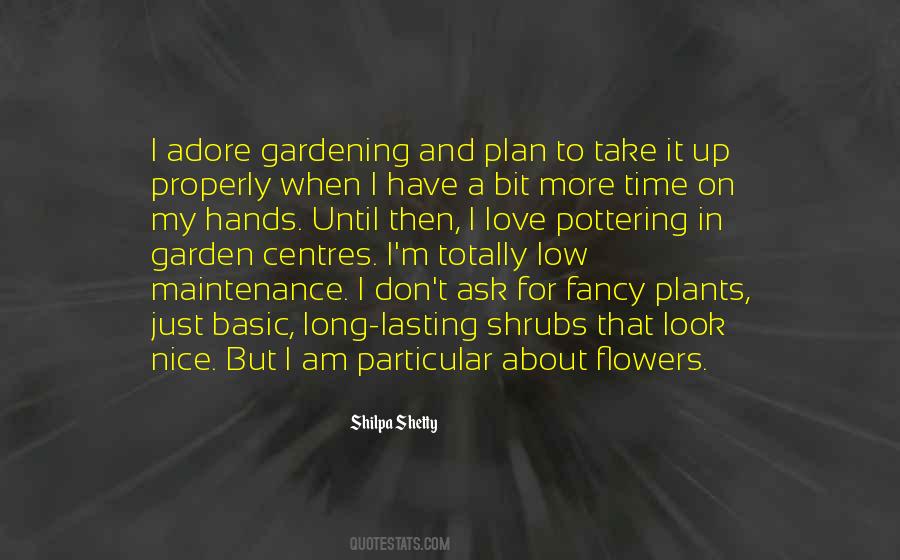 #29. The disadvantage of not being together at same place, not meeting each other personally, not able to talk with each other eye into eye, not able to feel each others touch; makes it difficult for a Long Distance Relationship to work. - Author: Abhijeet Sawant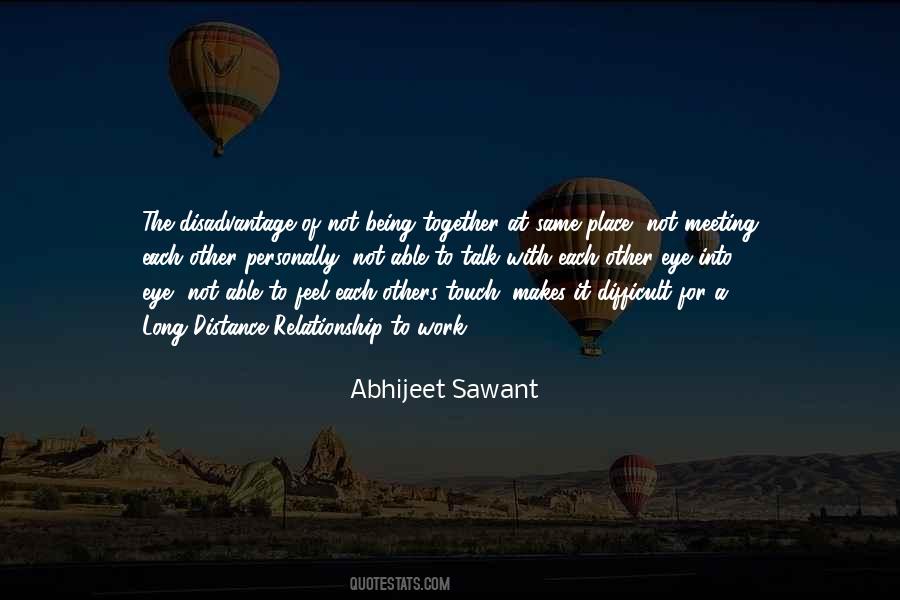 #30. I was immediately swept up in Ariane's story. Equal parts thrill-ride and love story, The Rules is intense and emotional. This book stays with you long after you finish. - Author: Sophie Jordan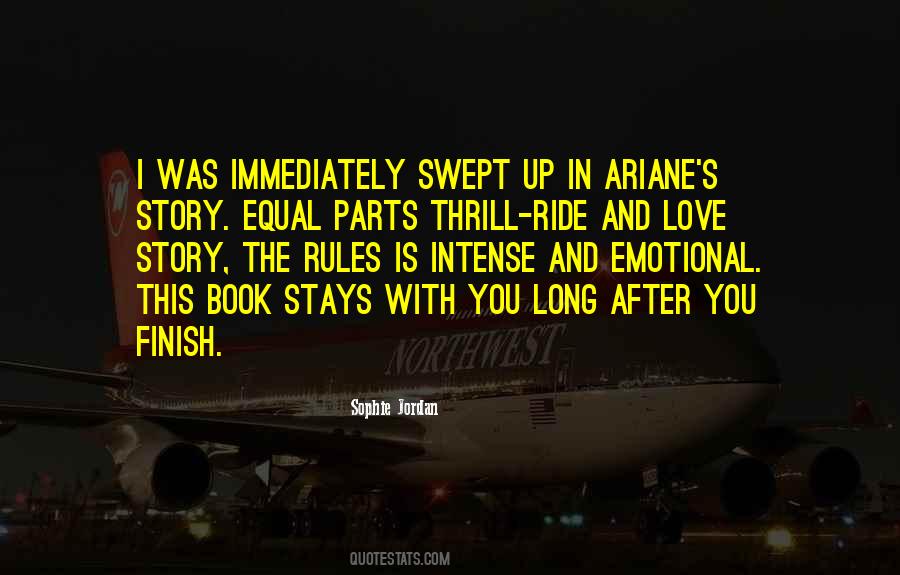 #31. It was only a remote portion of his mind that heard and answered the girl. The rest of him was soaking up her beauty with the passionate thirst of a man who has drunk too long at a celibate well. - Author: Irving Stone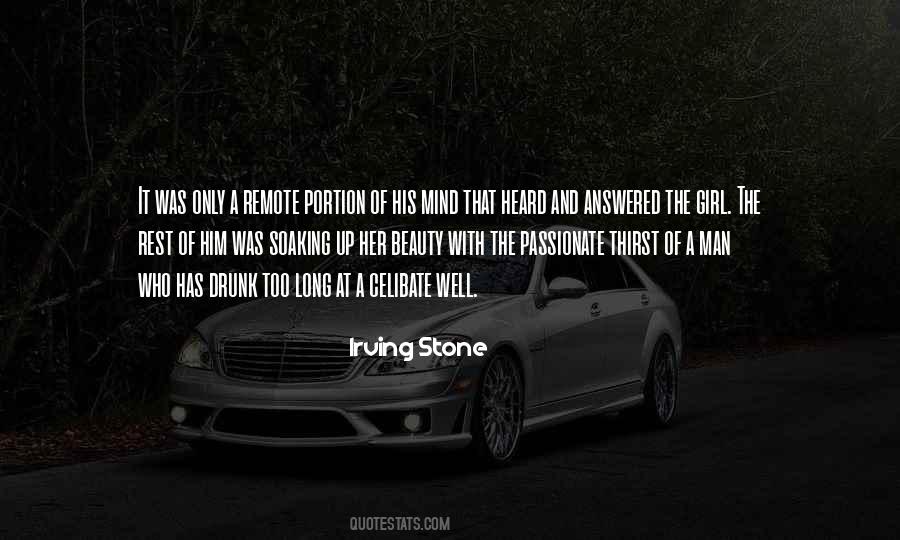 #32. But, Eminem ... No, I've loved rap for a long time, especially when it got out of its first period and became this gangsta rap, ya know this heavy rap thing? That's when I started to fall in love with it. I loved the lyrics. I loved the beat. - Author: Alan Vega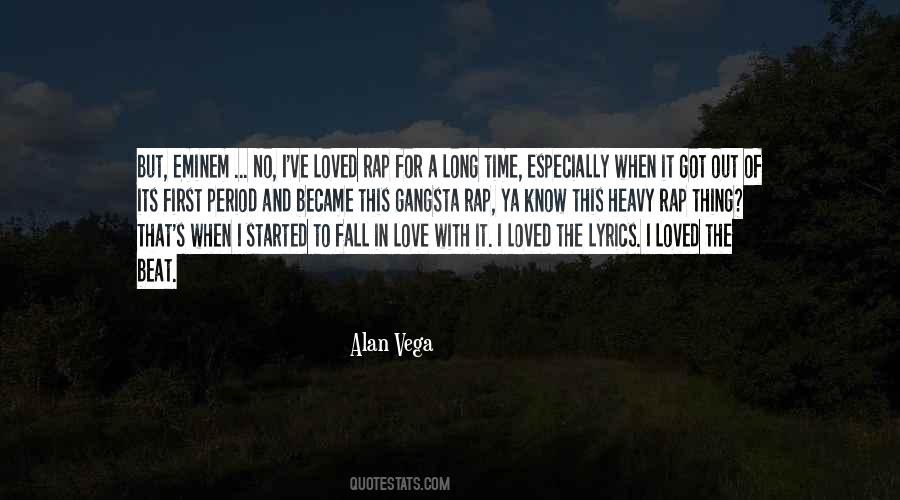 #33. You are the Essence of the Essence,
The intoxication of Love.
I long to sing Your Praises
but stand mute
with the agony of wishing in my heart ! - Author: Rumi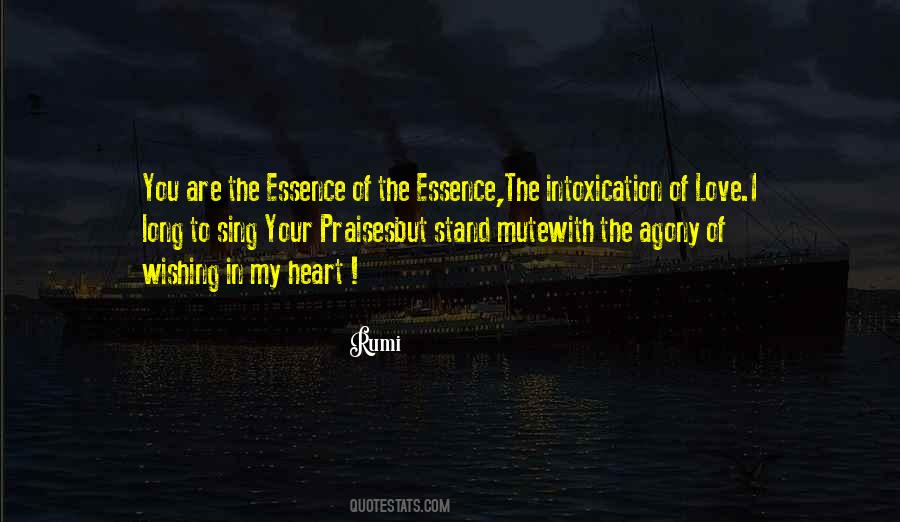 #34. I don't cry because we've been separated by distance, and for a matter of years. Why? Because for as long as we share the same sky and breathe the same air, we're still together. - Author: Donna Lynn Hope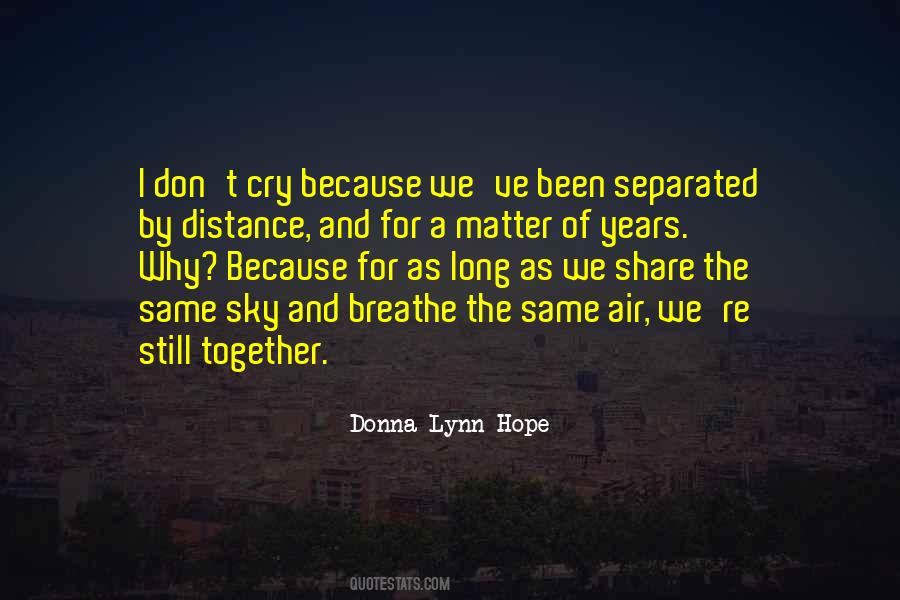 #35. It's okay to love something a little too much,as long as it's real to you. - Author: Gerard Way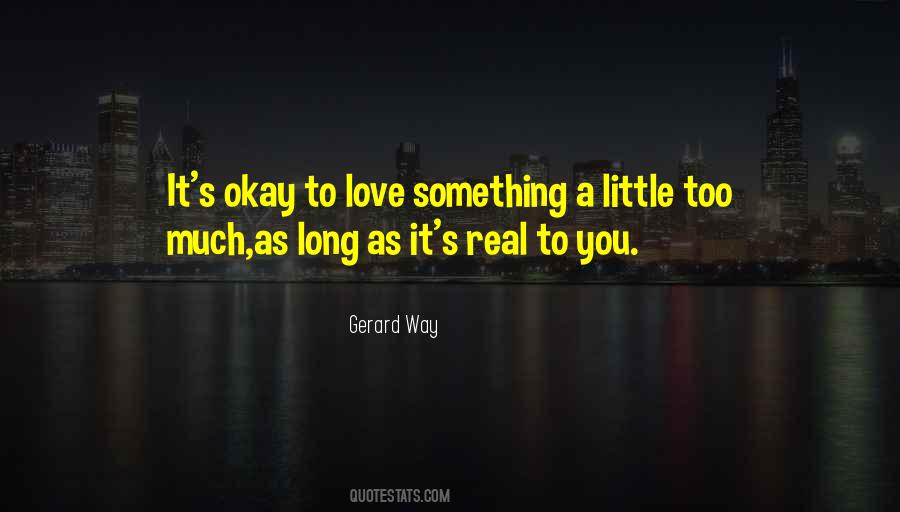 #36. Dignity and love do not blend well, nor do they continue long together. - Author: Ovid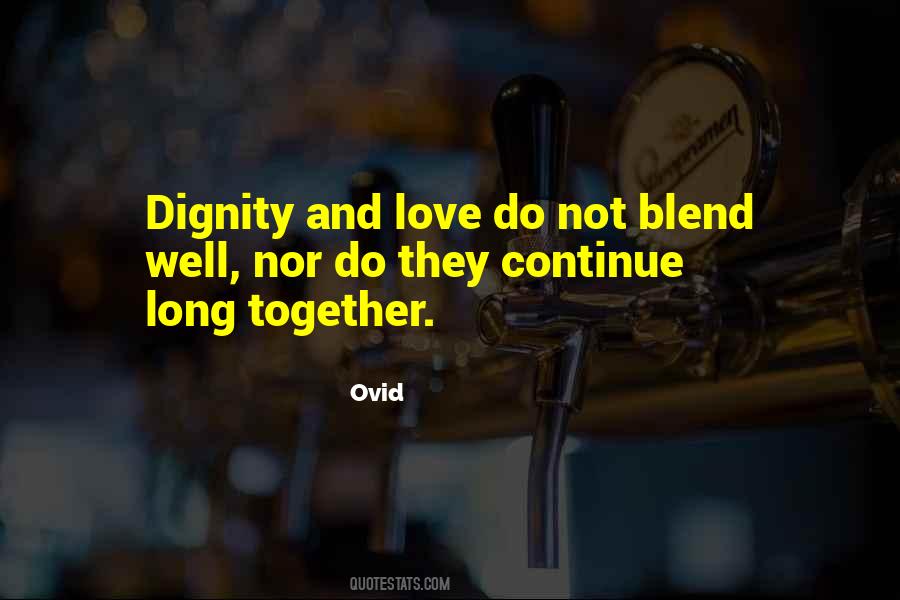 #37. There'll always be Christmas as long as a light
Glows in the window to guide folks at night,
As long as a star in the heavens above,
Keeps shining down ... there'll be Christmas and love. - Author: Edna Jaques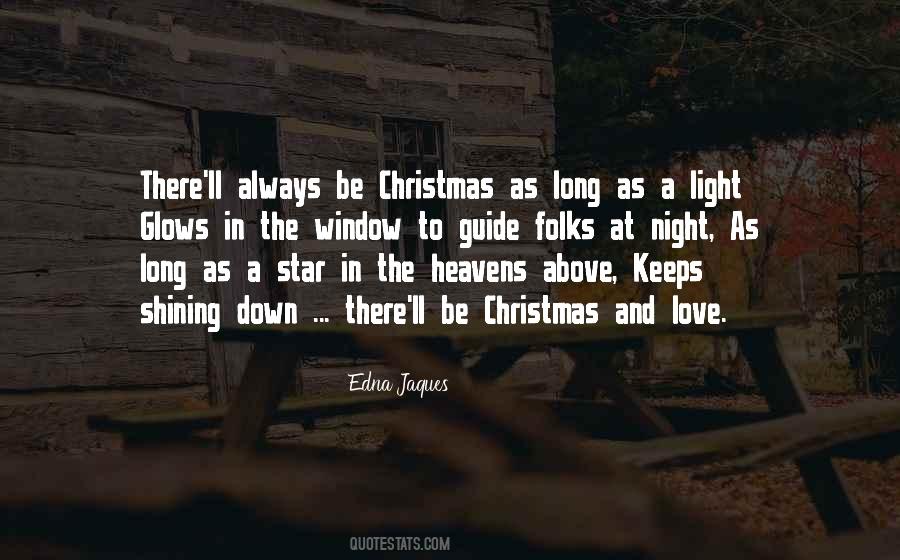 #38. No matter what happens, no matter how bad things get, as long as we have love, there's always hope for salvation. - Author: Travis Luedke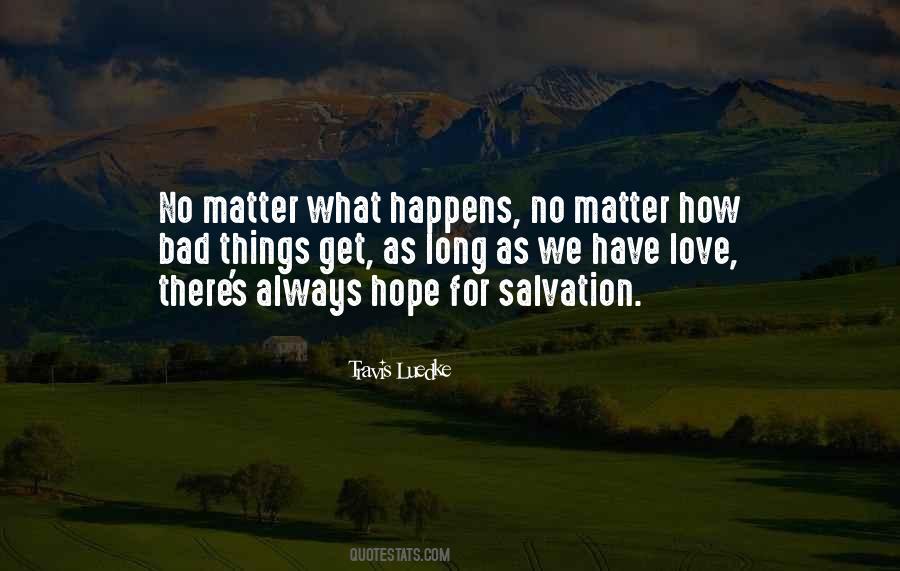 #39. I met Rob in Austin, Texas. He was hitchhiking to California and I was driving to California, so it seemed like a perfect match. He had long blond hair and blue eyes and golden skin and so did I. It was like falling in love with myself. - Author: Lorena Cassady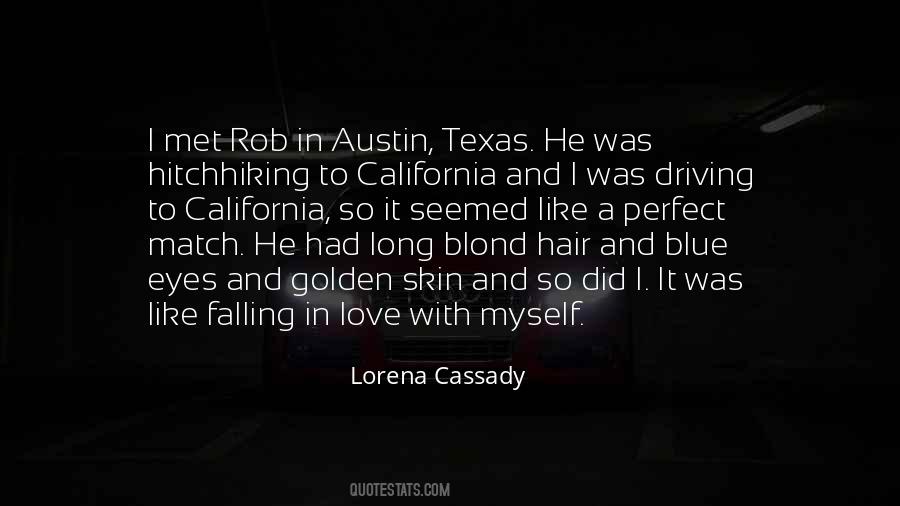 #40. In my long life I have found peace, joy, and happiness beyond my fondest hopes and dreams. One of the supreme benedictions of my life has been my marriage to an elect daughter of God. I love her with all my heart and soul. - Author: James E. Faust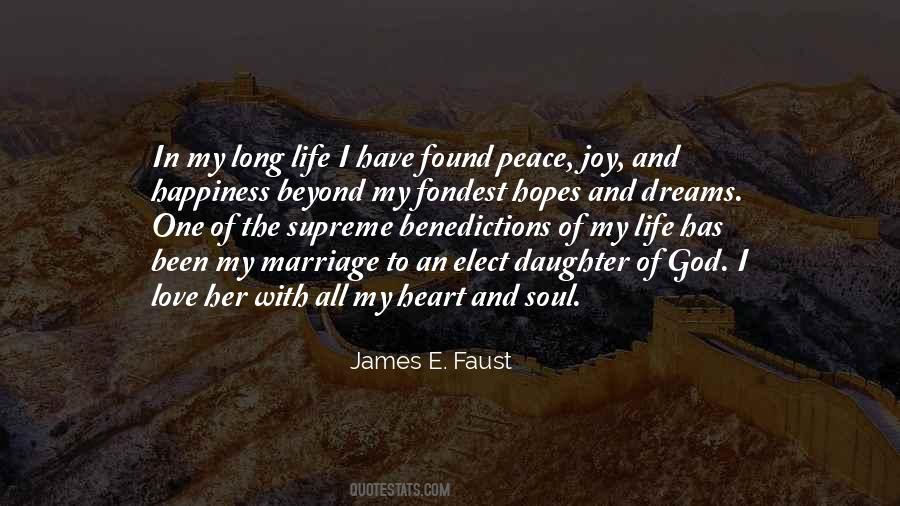 #41. In my opinion in art nothing can go too far as long as you don't physically hurt people or animals. Art is there to push boundaries. I love it when my work freaks people out but it's all fake! - Author: Tom Six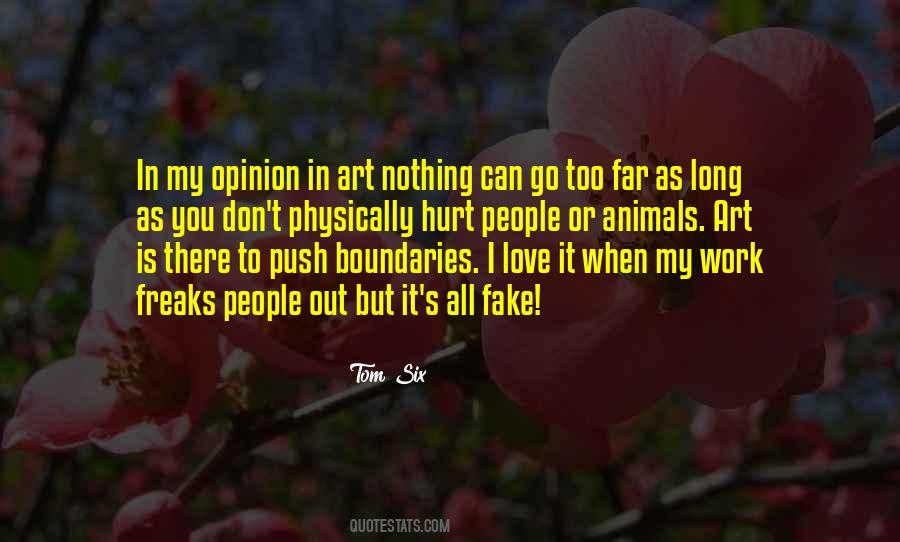 #42. Delirium: "What's the name of the word for the precise moment when you realize that you've actually forgotten how it felt to make love to somebody you really liked a long time ago?"
Dream: "There isn't one."
Delirium: "Oh. I thought maybe there was. - Author: Neil Gaiman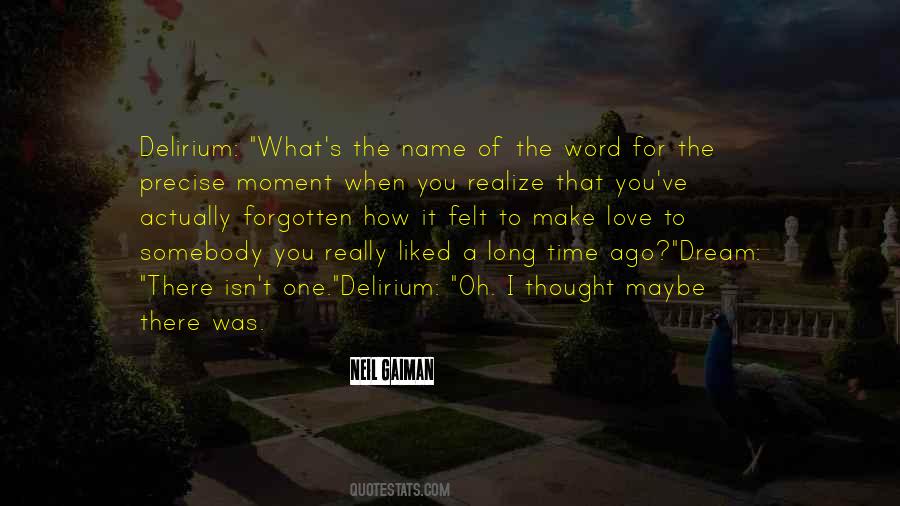 #43. See, I am very dependent ... on beauty and peace of the world ... on loyalty of friends ... on love in families ... on happiness and health of children. And I do not want to be free as long as I have it all ... - Author: Galina Nelson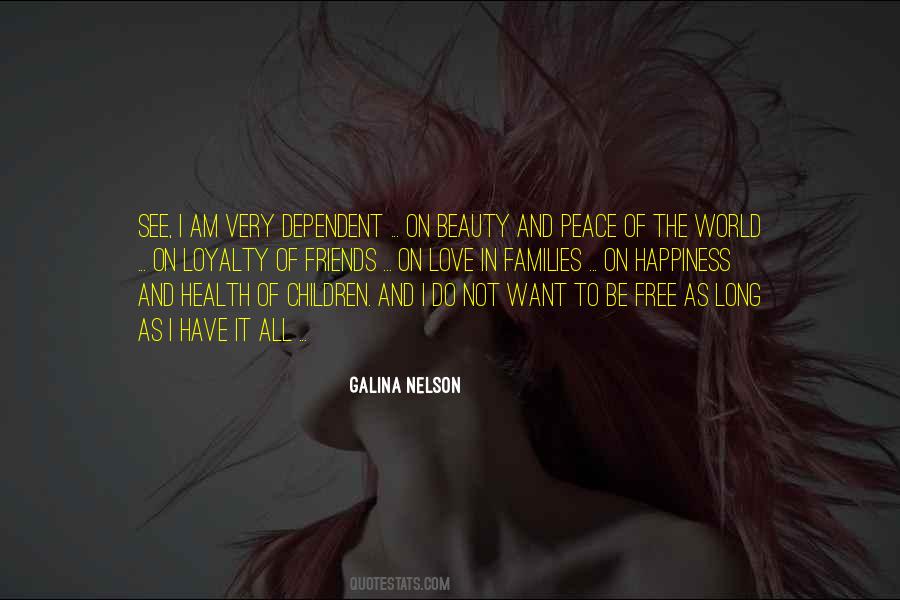 #44. He said, I like girls from broken homes who are crazy about chocolate and who love the rain. I've been waiting for a girl like that for a long time. - Author: Mian Mian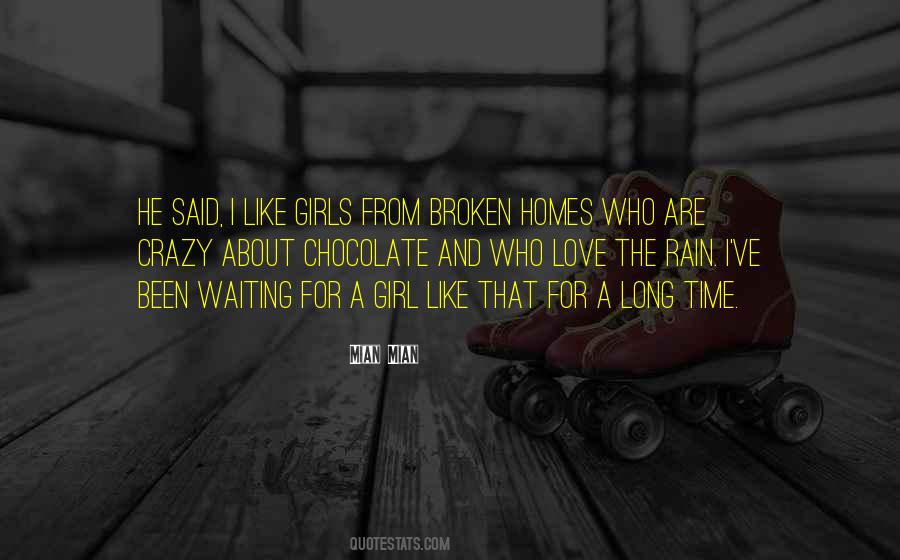 #45. A bird painted not with beauty but with all the dirt and wounds collected in a long hard life, in battle, in love, with torn feathers and a busted leg and a chipped beak and one of its eyes half closed; and yet a bird of deeper loveliness for all of that. - Author: Jeff Noon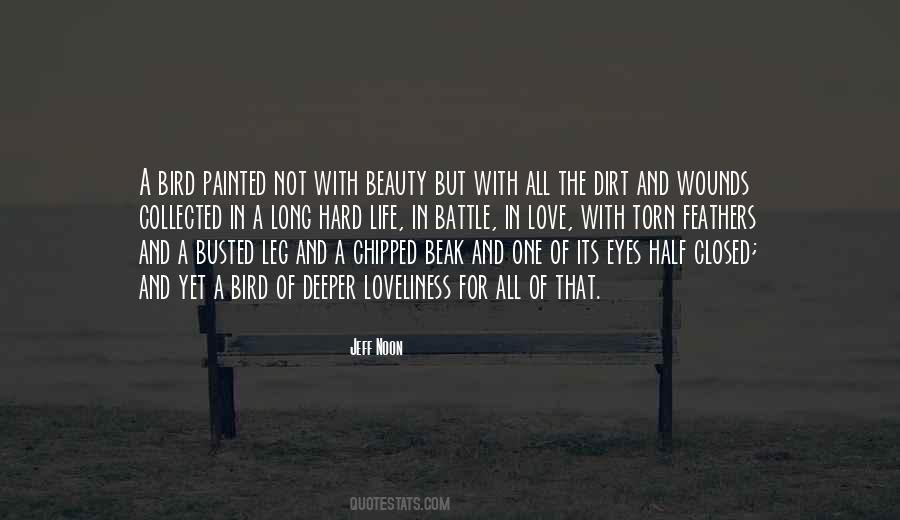 #46. It doesn't matter if you're a size 2 or 22, you can be healthy as long as you're taking care of your body, working out, and telling yourself 'I love you' instead of taking in the negativity of beauty standards. - Author: Ashley Graham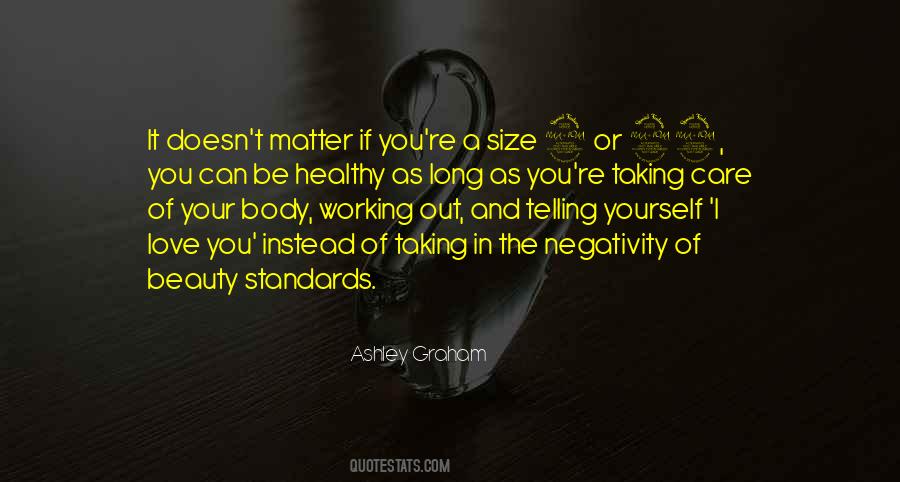 #47. People love being scared, even for long periods of time. - Author: Jason Blum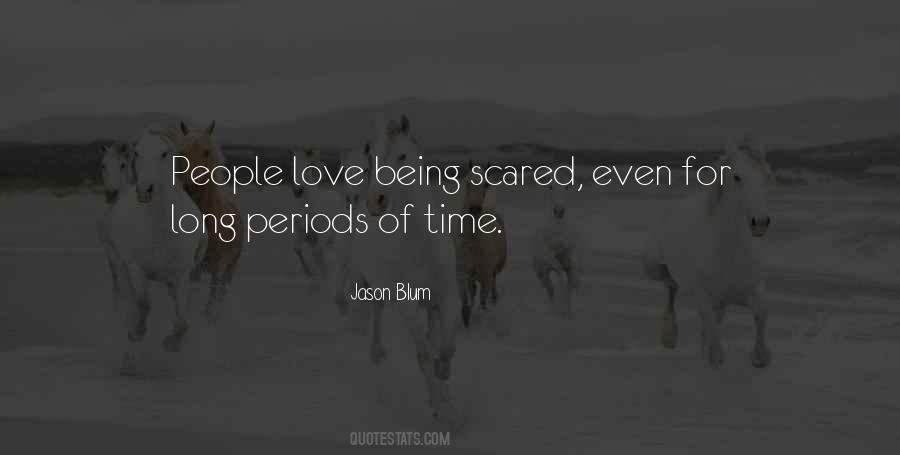 #48. Here I stand on the brink of war again, a citizen of no place, no time, no country but my own ... and that a land lapped by no sea but blood, bordered only by the outlines of a face long-loved. - Author: Diana Gabaldon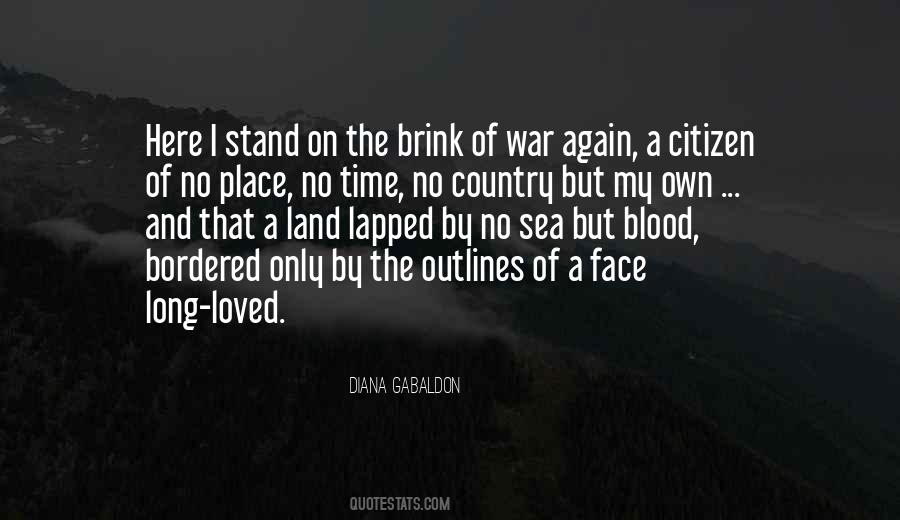 #49. Jessica, falling in love can't always be a happily ever after or a once in a lifetime kind of story. Those happen in books, in movies. This is life and it's real. Life has no script, no outline. We broke the rules of love long ago. All I know for sure is that with you, the rules will never apply. - Author: Kathryn Perez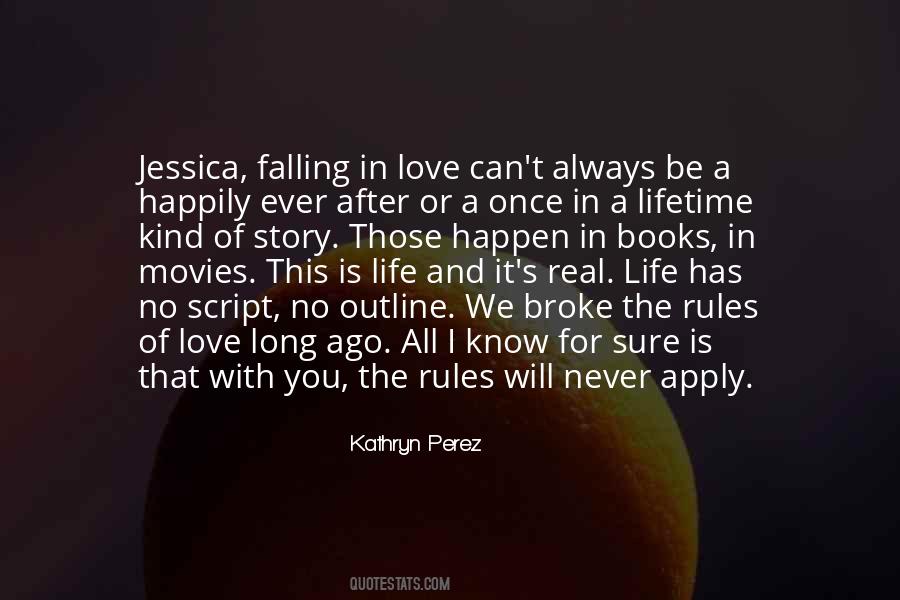 #50. And as long as a self is driven by an id to a Thou, it is not a matter of love, either. In love the self is not driven by the id, but rather - Author: Viktor E. Frankl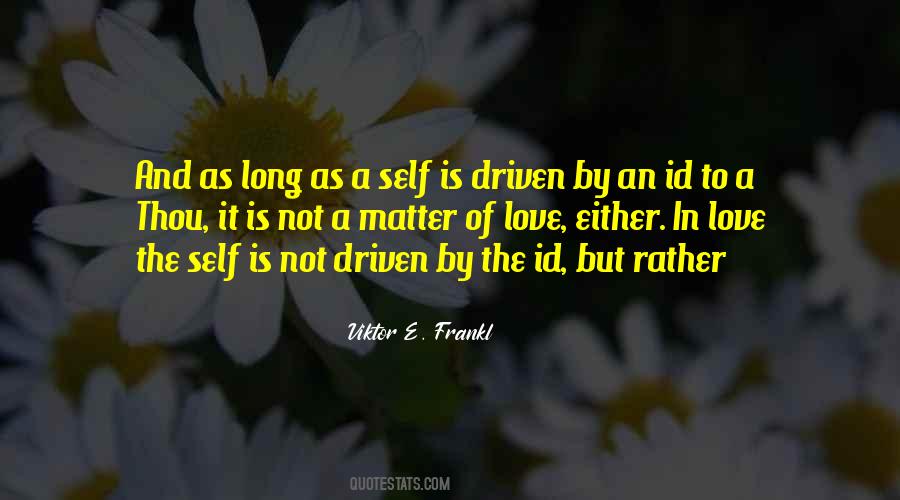 #51. In order to free ourselves from our assumptions about love, we must ask ourselves what long-held, often buried assumptions are and then face them, which takes courage, humility, and kindness. - Author: Sharon Salzberg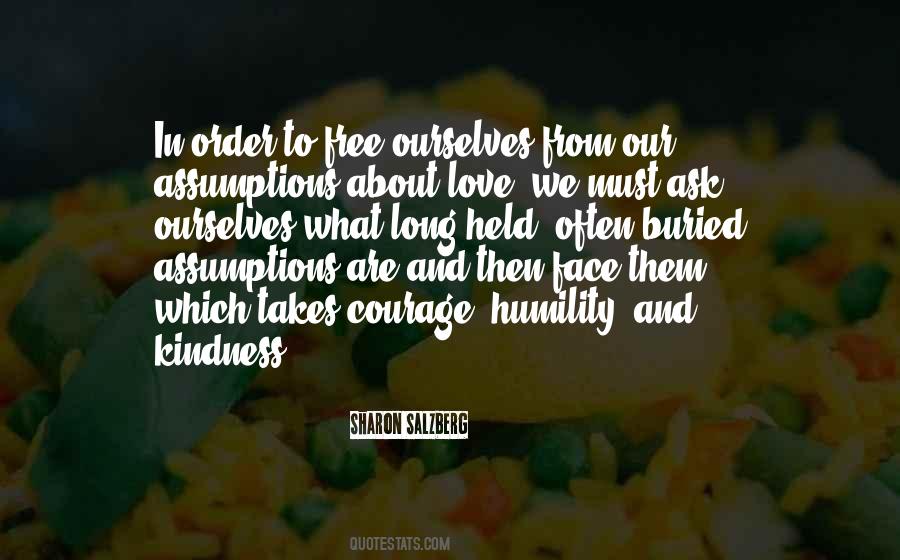 #52. Please God, please suh, don't let him love nobody else but me. Maybe Ah'm is uh fool, Lawd, lak dey say, but Lawd, Ah been so lonesome, and Ah been waitin', Jesus. Ah done waited uh long time. - Author: Zora Neale Hurston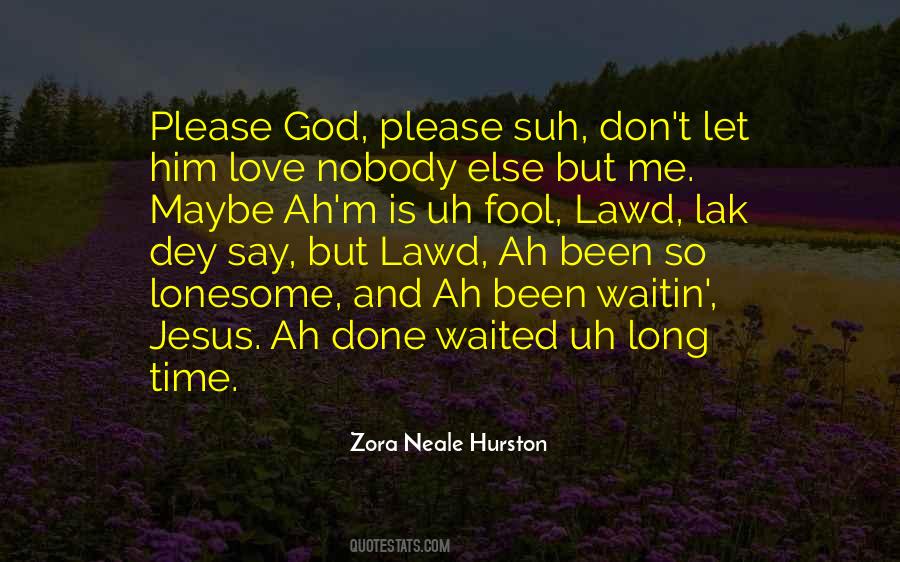 #53. Nights are the worst. You just don't know what it's like for me, trying not to think of [him] ... knowing that we're going to be apart for so long. It's pure torture. - Author: Judy Blume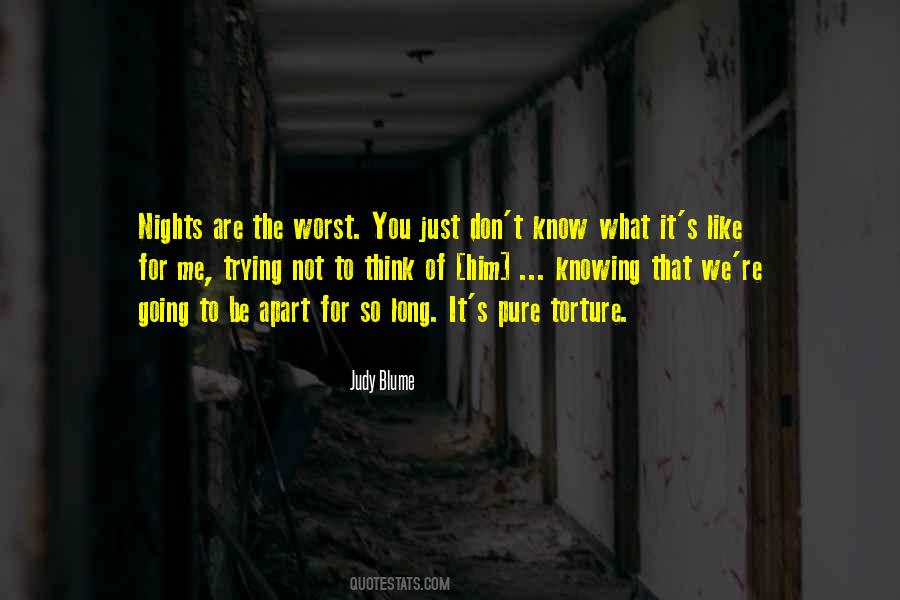 #54. We have for a long time neglected our children. They are our richest treasure. We must give them time, attention and the love of our pure, unselfish hearts. - Author: Dada Vaswani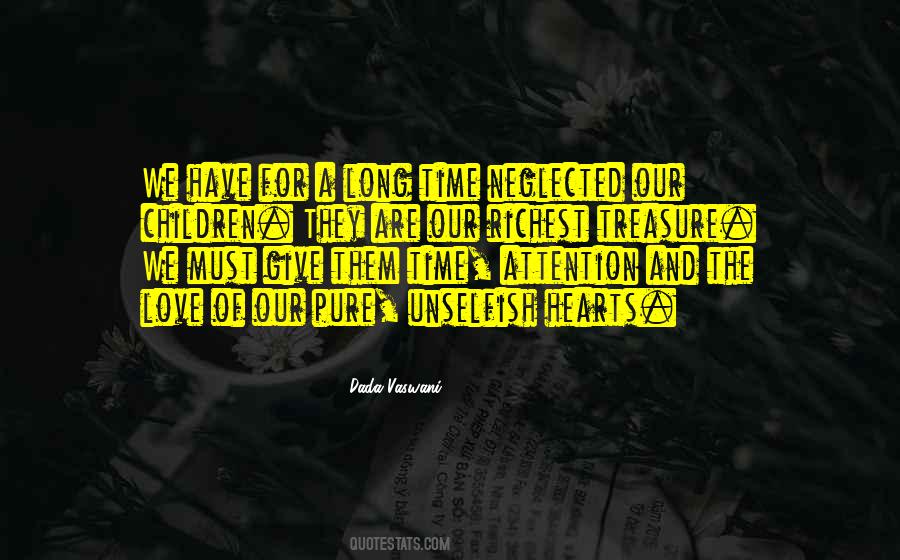 #55. I love touring, I love doing the live show and it's just like a musical artist, you just keep coming up with material and as long as you're coming up with the material and as long as audiences like it, you just keep doing it, it's your job. - Author: Jeff Dunham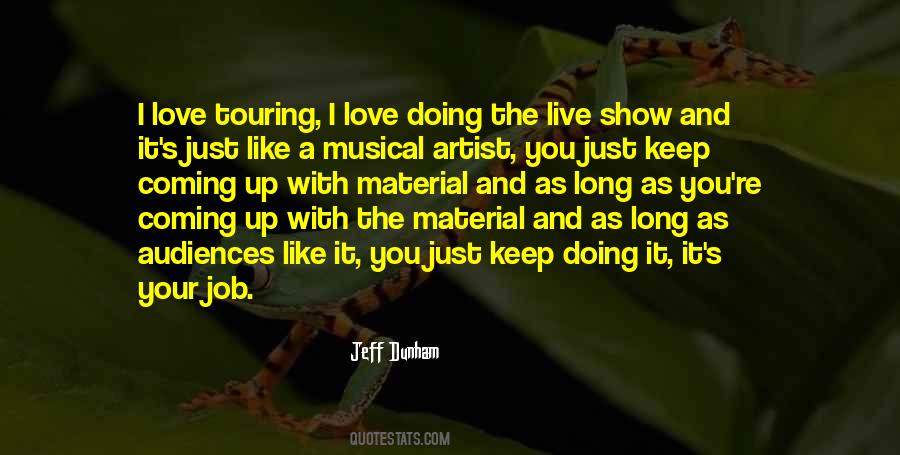 #56. You're not lost, Kaylee. You can't ever be lost, because I'll always know where you are. And if I'm not there with you, I'm on my way, and nothing standing between us will be standing for very long. - Author: Rachel Vincent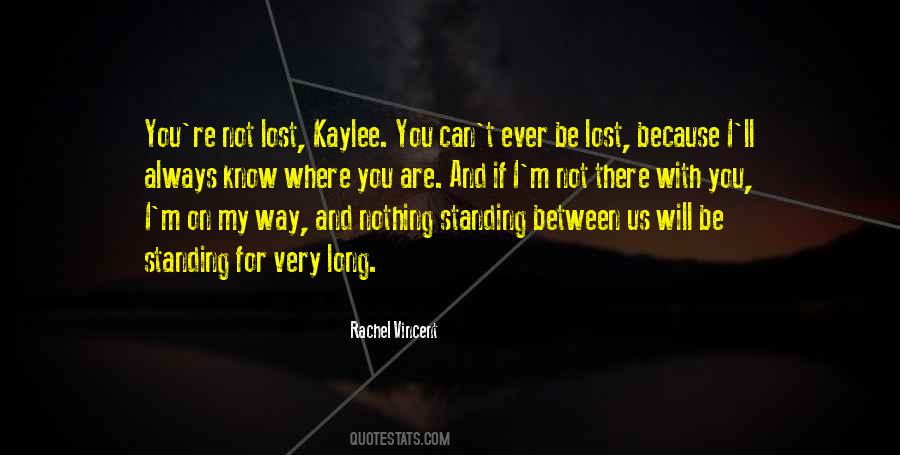 #57. She had waited so long for this. For this intimacy to be whole, complete, to unquestionably mean love. - Author: Noelle Adams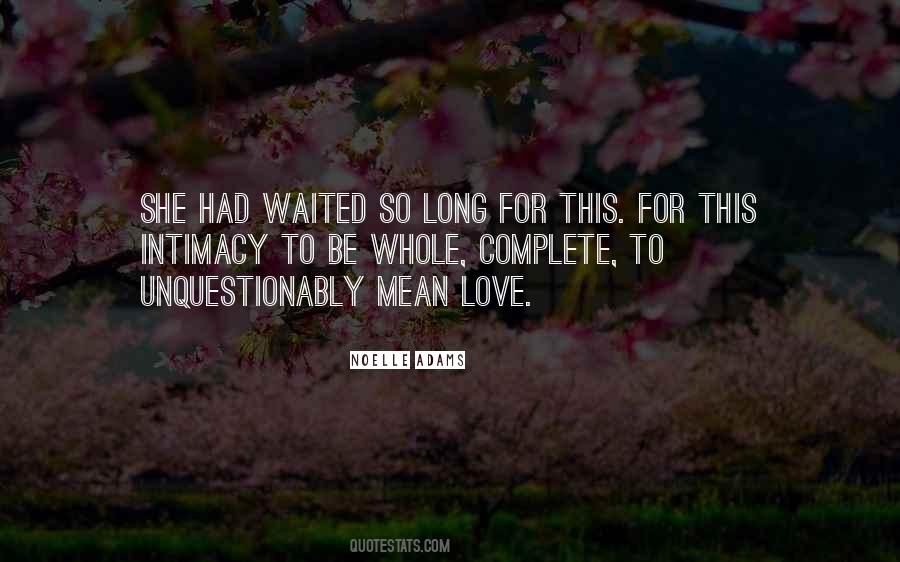 #58. Love wasn't an emotion I was able to sustain for very long. I tried once, maybe twice in my life, and it just never panned out. It was a dull emotion and I couldn't understand the concept so I decided not to dwell on it. - Author: Yolanda Olson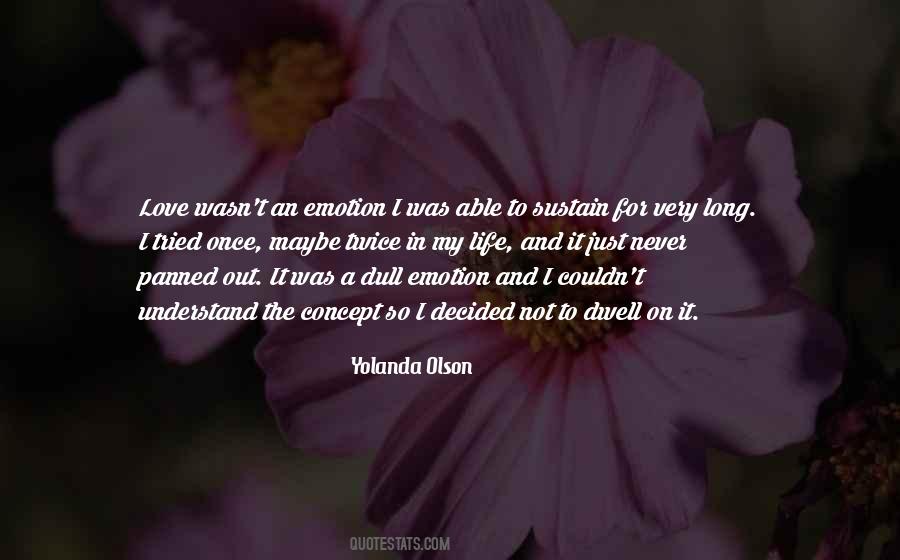 #59. Nothing lasts forever. But there is new life; new colours, fresh words, new tunes to compose. There is now; time present, time future. We build with new bricks and hope our voices are heard, our music is sung and our love cherished for as long as it is offered. - Author: Carol Drinkwater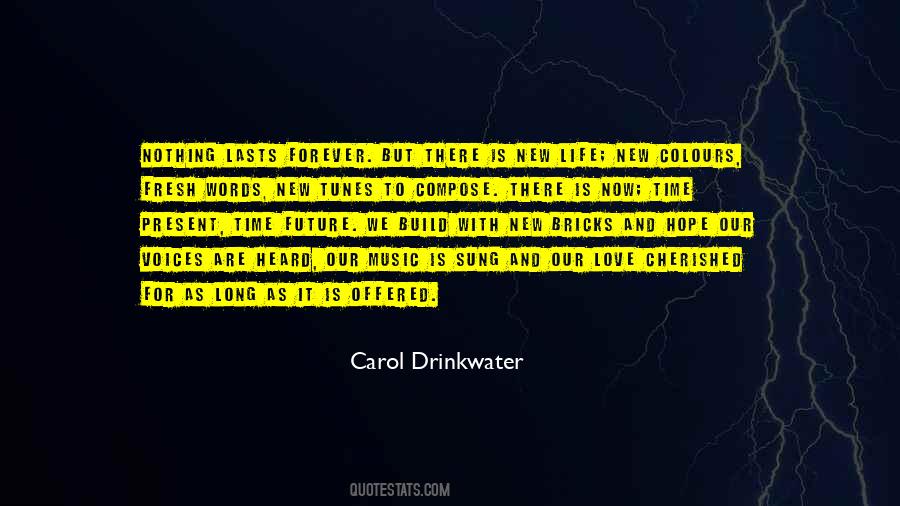 #60. There is no disguise which can hide love for long where it exists, or simulate it where it does not. - Author: Francois De La Rochefoucauld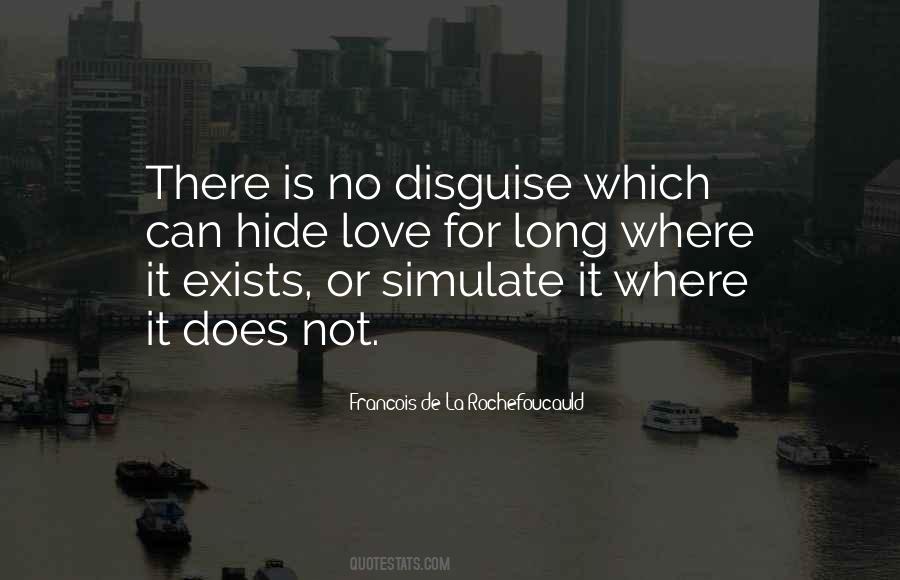 #61. What, and end up like you? Wistfully recalling a lover from long ago? Please. - Author: Elizabeth Carlton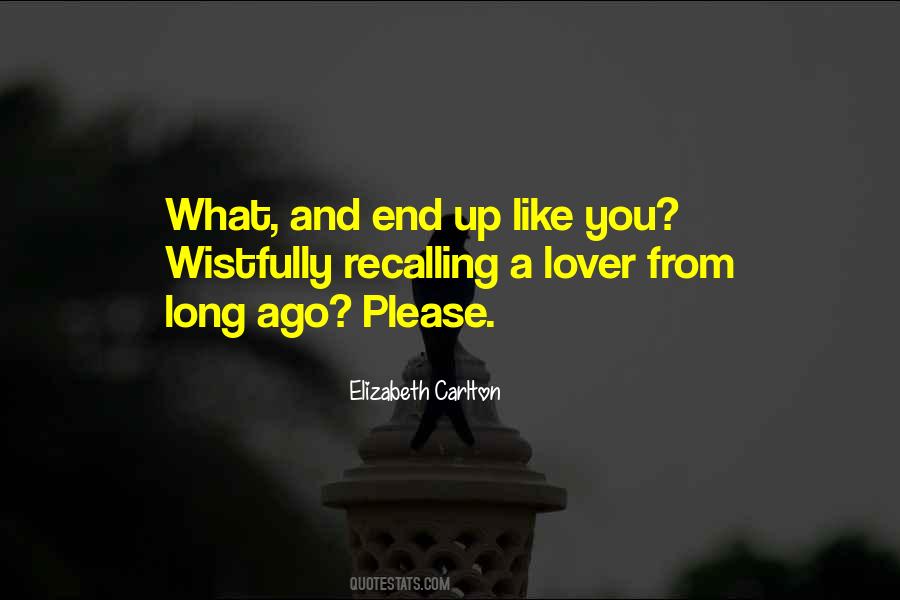 #62. Even if I live not in a big city, even if I detest to go to parties, I love street fairs and long conversations with people in the countryside. - Author: Paulo Coelho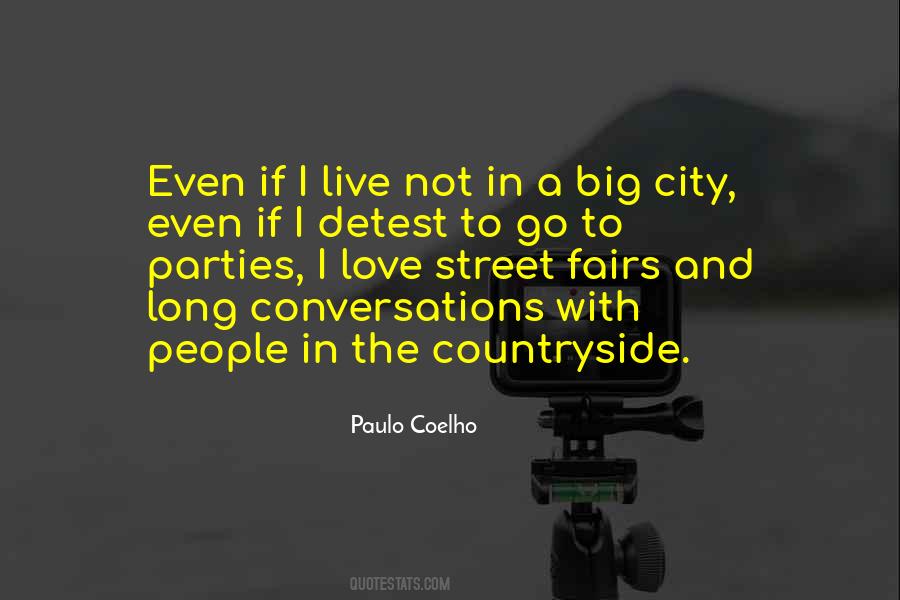 #63. It's been a year and 3 months since we've kissed, and I rather have the ghost of his mouth on my lips than kiss anyone else. - Author: Alishah Khan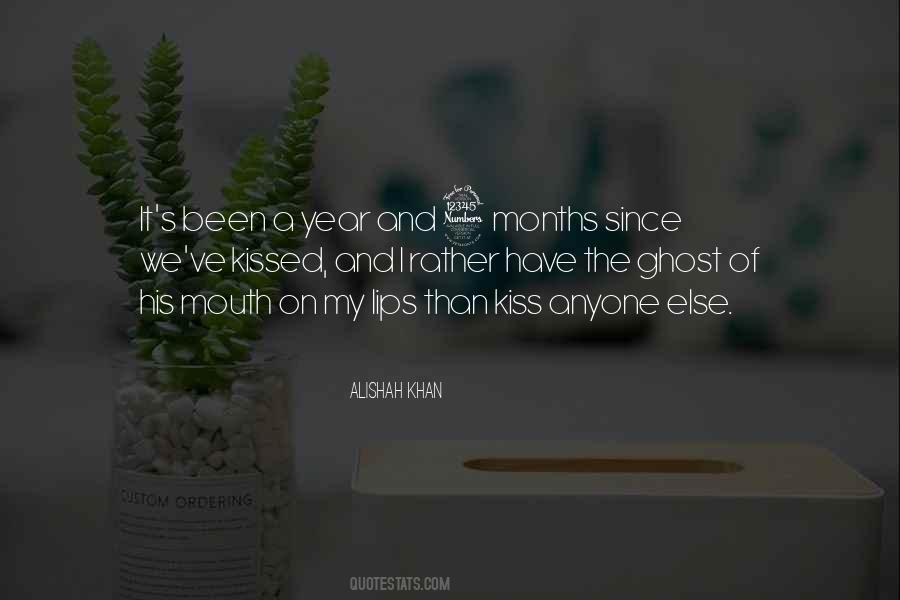 #64. You don't know how long you have, do what makes you happy. Live. Love and be remarkable. - Author: Will Kostakis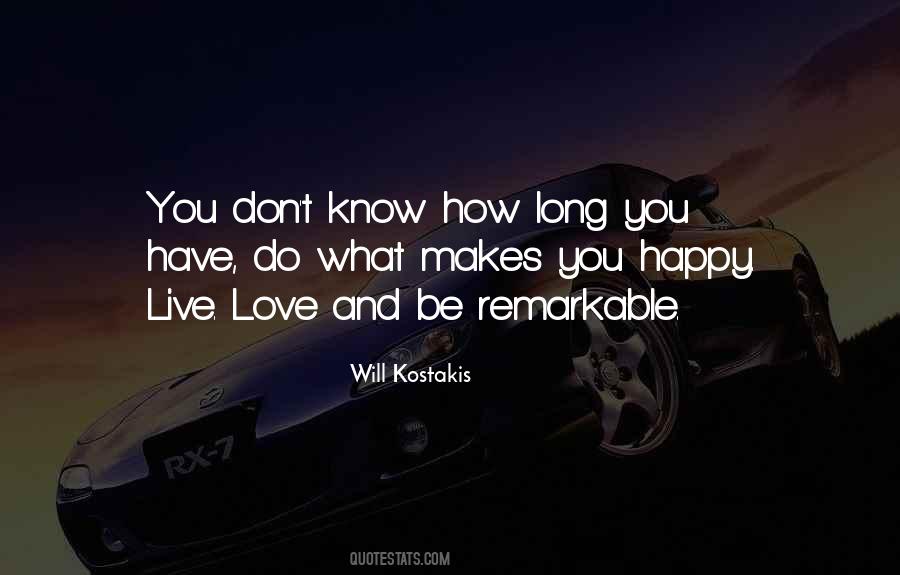 #65. Falling in love with a story is like falling in love with a person. It tends to occupy your life, your thoughts. You can't do anything else for a long time. - Author: Dacia Maraini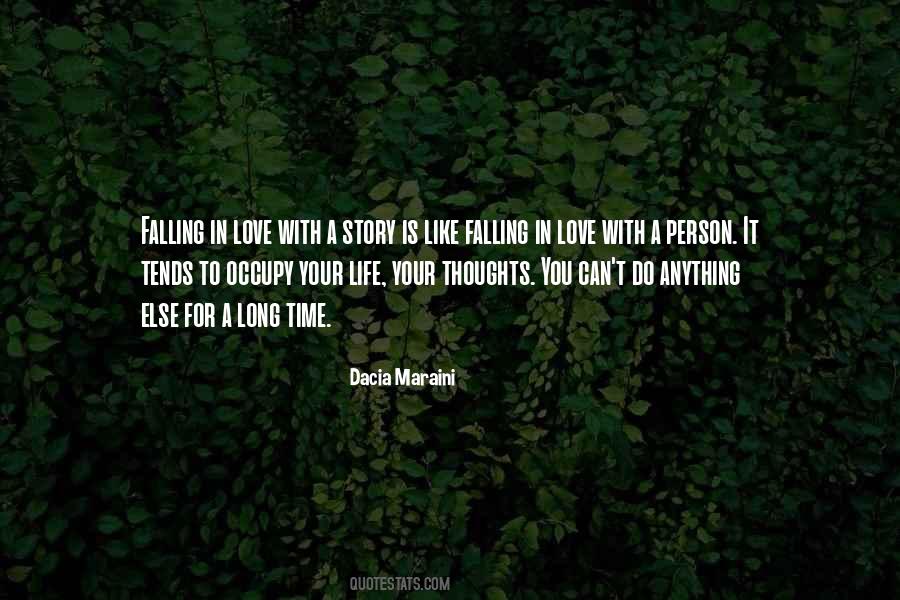 #66. Love yourself enough to give what matters every chance of working by communicating as well as you possibly can, and trying for as long as you wish. - Author: Jay Woodman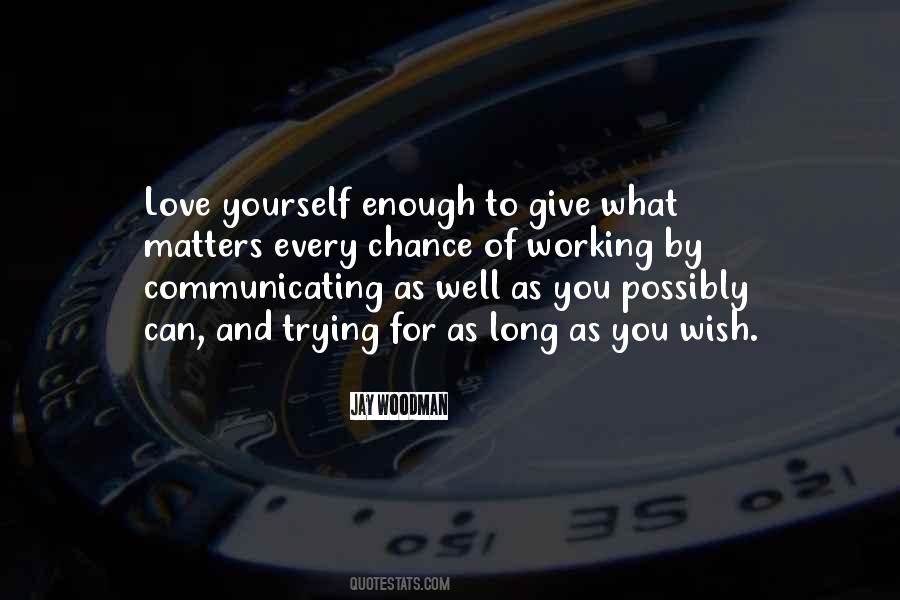 #67. every choice i have ever made after you existed
has been dependent on exactly
how close i can have you next to me
and how long i can get you to stay. - Author: AVA.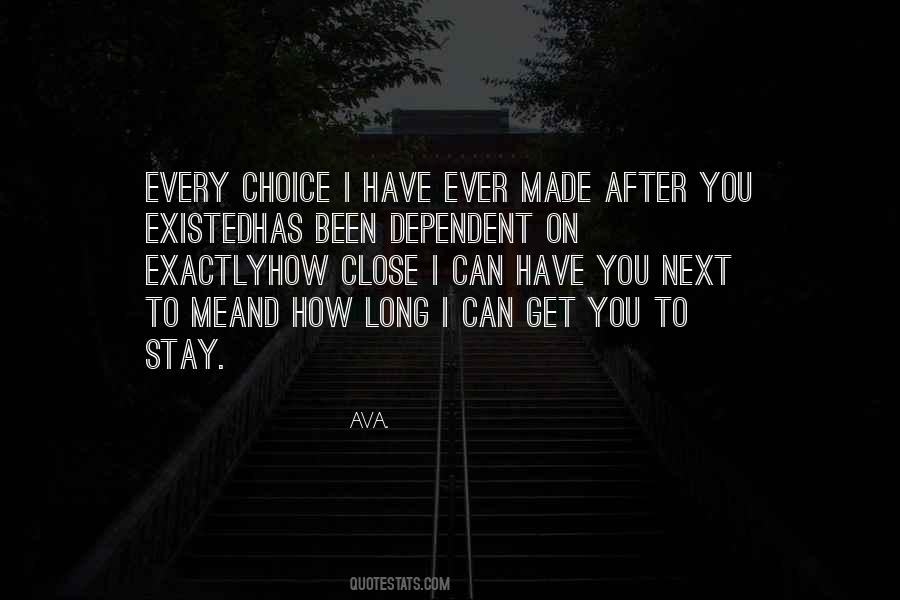 #68. Desire happiness, aspire to gratitude, long for health, crave compassion, seek satisfaction, lust after God, however & whatever you perceive God to be, want to love yourself, others & everything around you more and more each day - Author: Peter McWilliams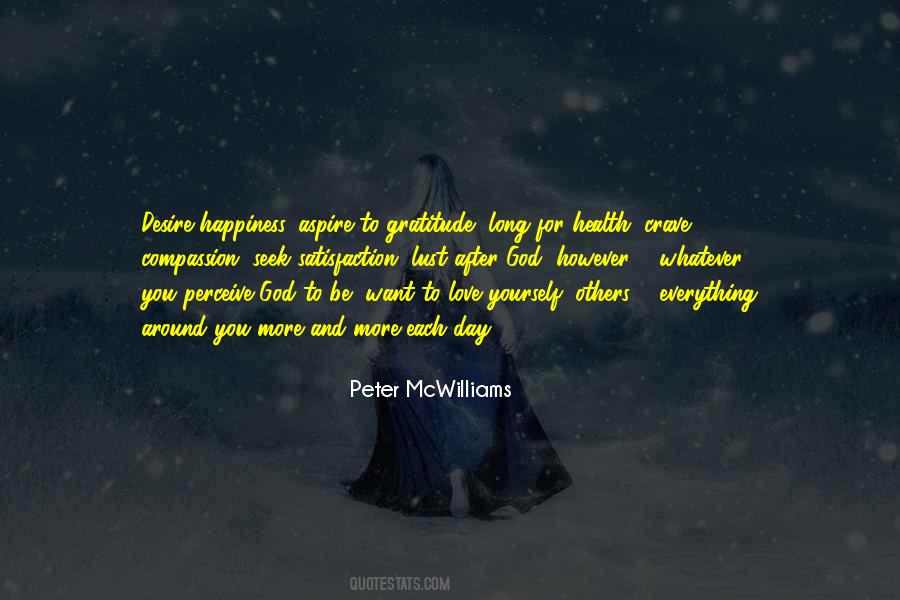 #69. Anything a man does can bring him closer to the Supreme Wisdom, as long as he works with Love in his heart. - Author: Paulo Coelho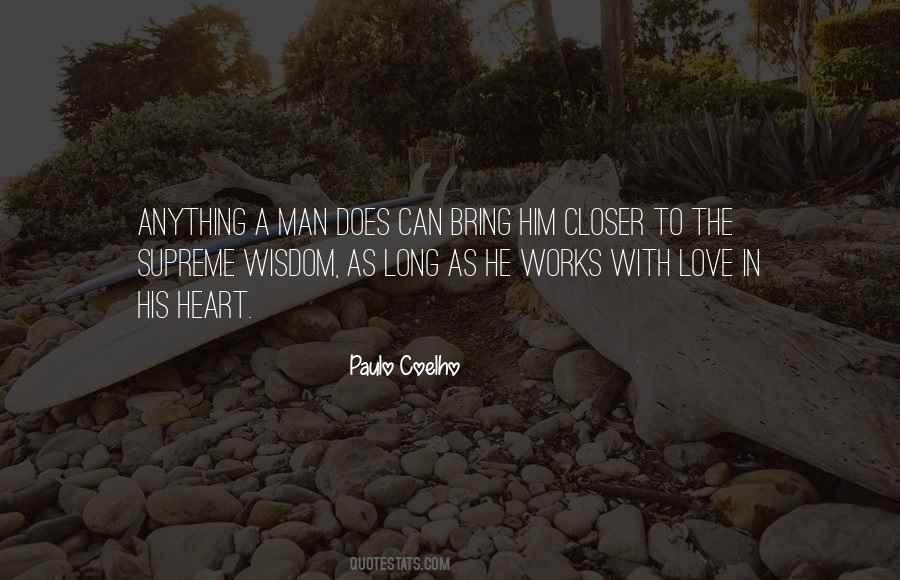 #70. God's love for mankind; wide, long, high and deep. - Author: Lailah Gifty Akita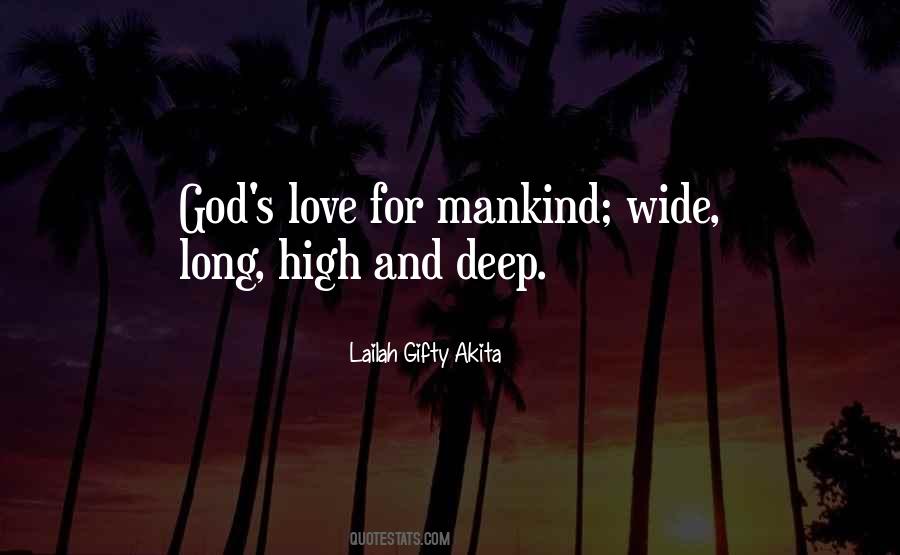 #71. There are those whose love awakens our own and those whose love undermines. As long as we are blind to this fact, true love will elude us. - Author: B.G. Bowers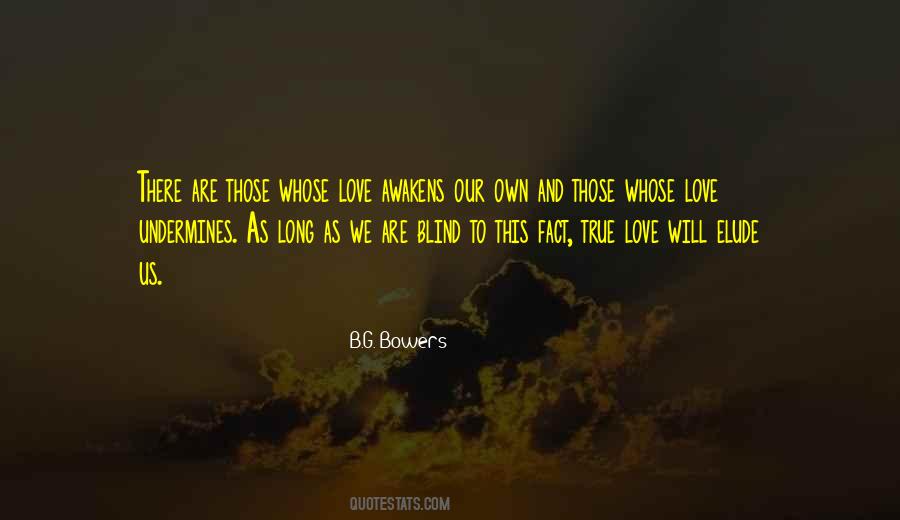 #72. They're not going to come between us, though, because I'm crazy about you and have been for a long time."
"That's not good enough for me. Although, being crazy for me is a good start. It's just not enough for me since I happen to love you. - Author: Lynetta Halat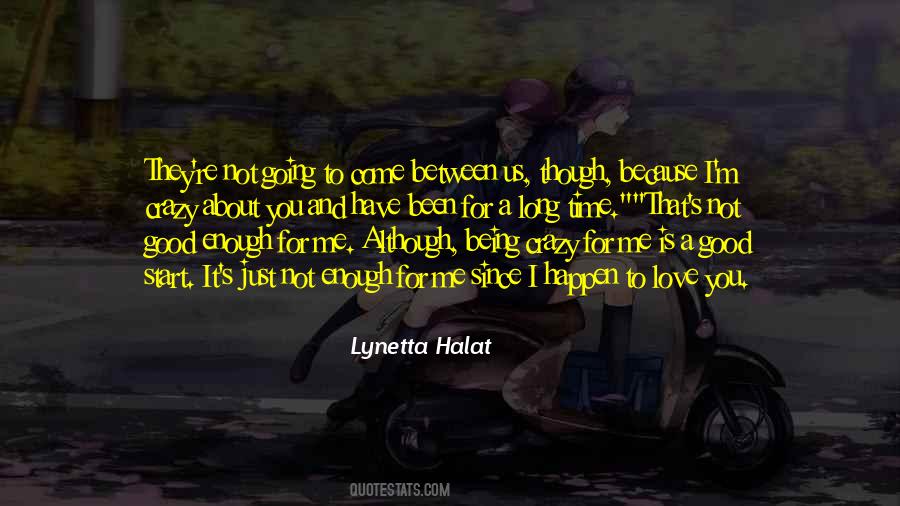 #73. I'll be writing as long as I can hold a pen in my curled, crimped arthritic hands and then I'll dictate it, if it comes to that. They'll have to pry my pen out of my cold, dead fingers - and even then, I'll fight 'em for it. Guaranteed. - Author: Wanda Lea Brayton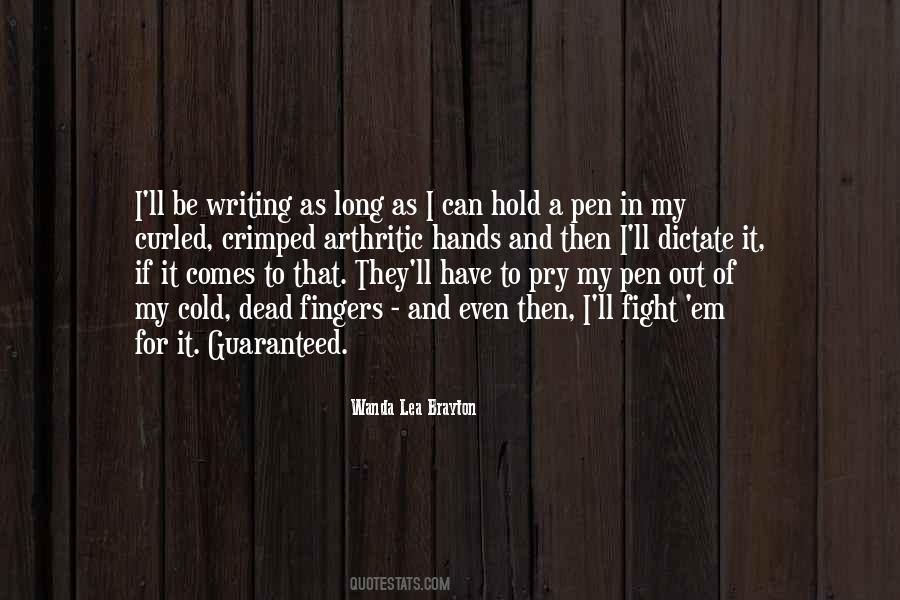 #74. I've needed someone like you for a long time. Now that I have you, no one is going to take you from me.
Logan to Madeline - Author: Lisa Kleypas
#75. Having difficult times and grief and brokenness, does not mean that life is over. These are just bumps in the road, obstacles to be overcome and made stepping stones into a long successful life. - Author: Teresa St. Frances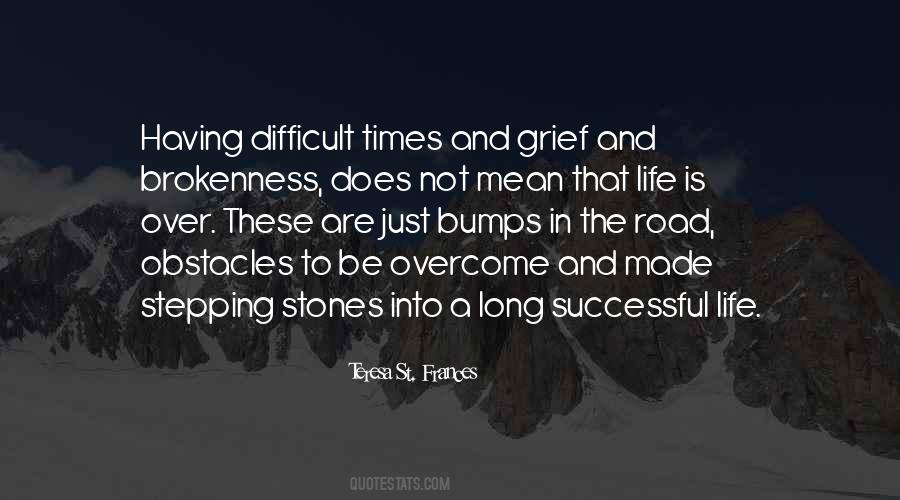 #76. It doesn't matter where I stand; whether at the front or at the back, in the middle or at the side. As long as I can get on stage and do what I love, that's enough for me. - Author: Kim Hyo-yeon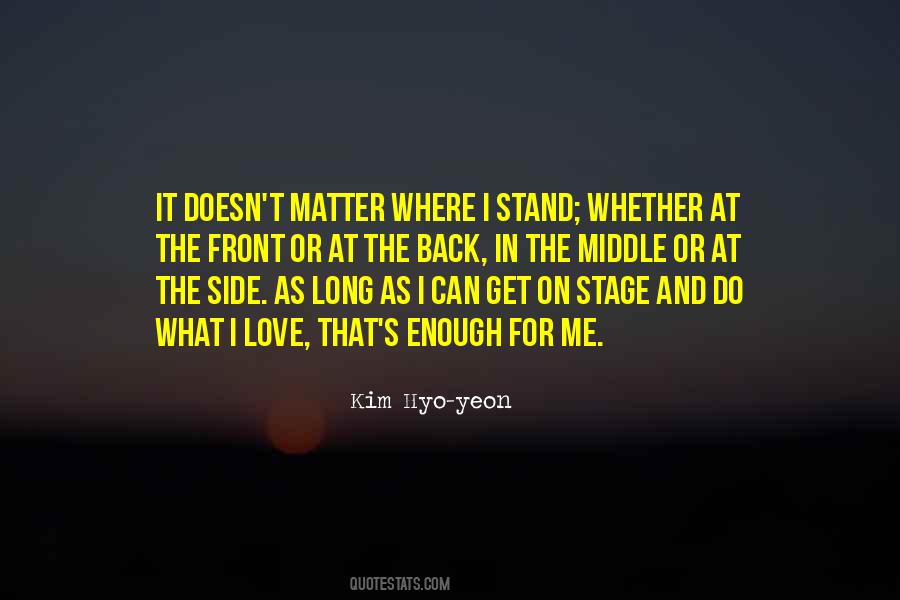 #77. That's just it, Calliope. I'm not going anywhere. Not long-term, anyway. I'm exactly where I love to be. - Author: Kristen Proby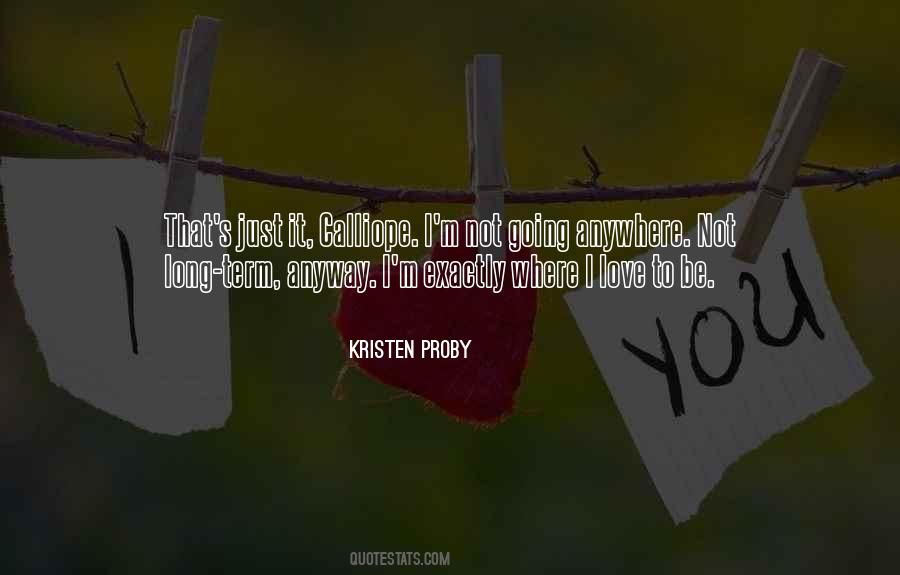 #78. When words, half love, all tenderness,
Were hourly heard, as hourly spoken,
When the long, sunny days of bliss
Only by moonlight nights were broken. - Author: The Bronte Sisters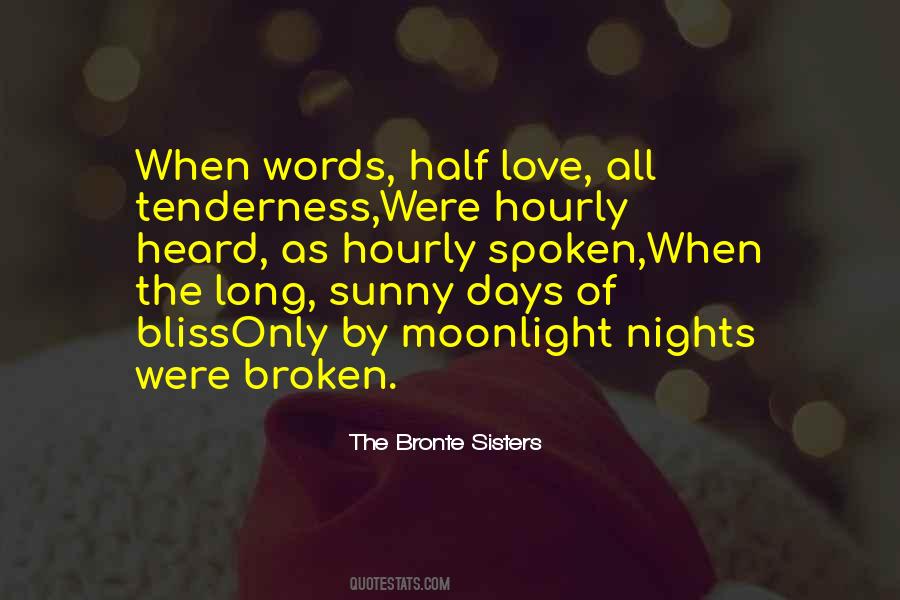 #79. to myself as I glanced over at her thick ass lying naked next to me. I was so in love with her smooth cocoa skin and that fat ghetto ass. She had me hypnotized by her big brown eyes... that long black hair...and her smell!!! Damn my bitch was fine and I loved the shit out of her, but - Author: Niki Jilvontae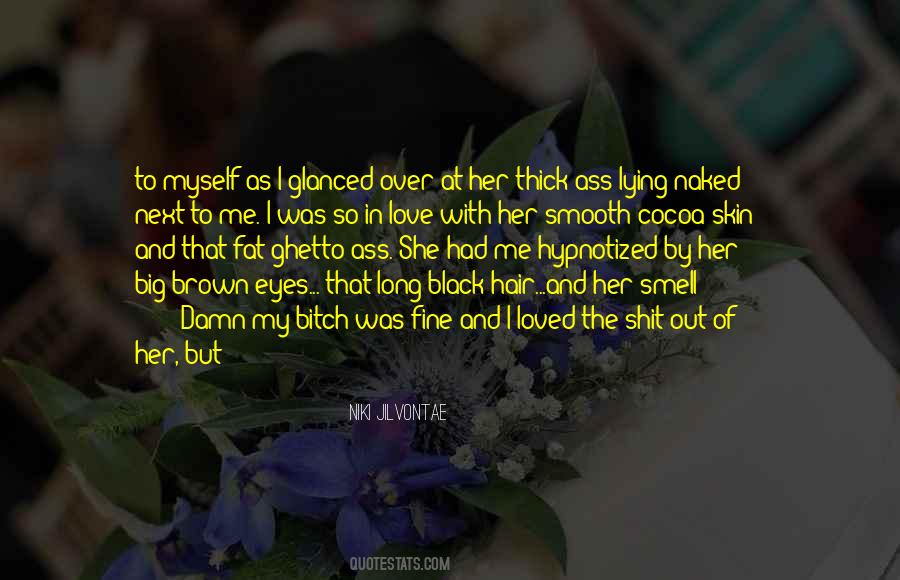 #80. His long arms stretch out like comforting pillars, supporting my whole being in his embrace. - Author: Dee Lestari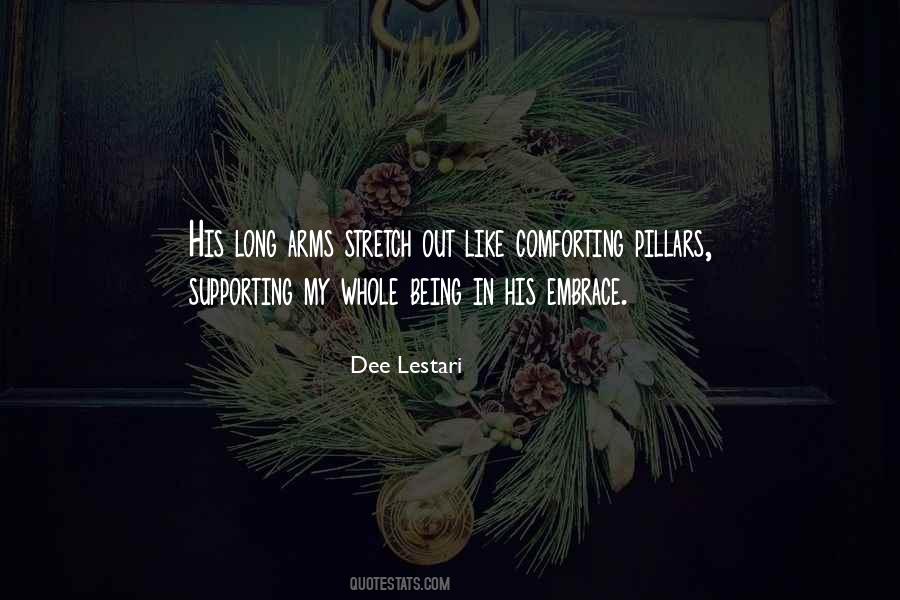 #81. But friendship meant you at least planted the seed for them, love meant allowing them the ability to weed their own garden until it was something healthy and thriving, blooming and bright and smelling of heather and tiger lilies. - Author: Shannon Noelle Long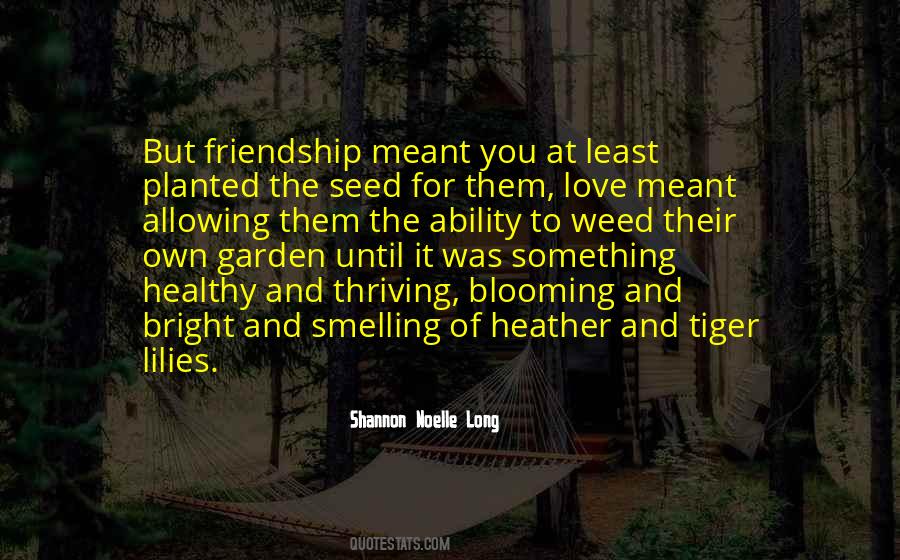 #82. At last they settled down to their long watch - squatting round the fire, and laughing for sheer love of adventure as good campaigners should; for were there not marching towards them some eight dark hours equipped with who could say what curious weapons from the rich arsenal of night and day? - Author: Hope Mirrlees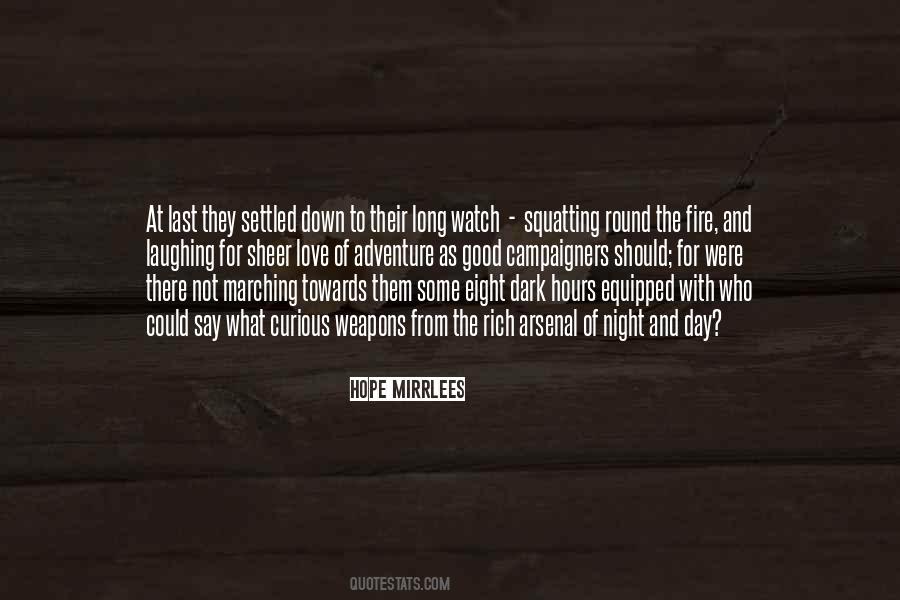 #83. The things we truly love stay with us always, locked in our hearts as long as life remains. - Author: Josephine Baker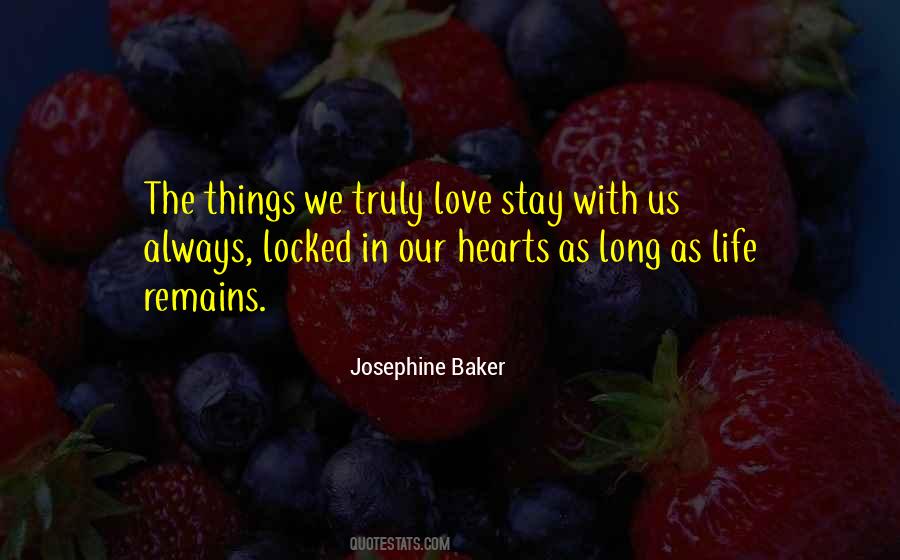 #84. The thing I love about soaps, and from what I know about this is its run in a very old school way, which I like, since I have been doing this entertainment thing for a long time. But I see that there are some new barriers that they can break. - Author: Darius McCrary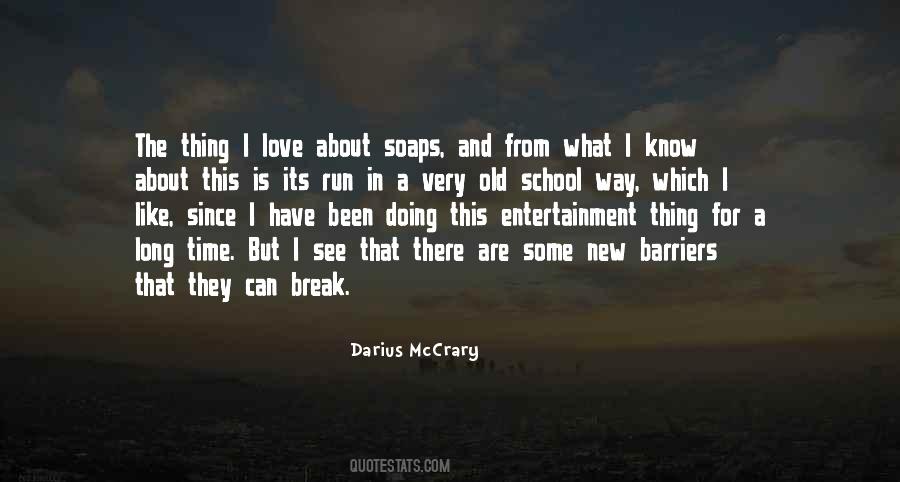 #85. I love words," said Livvie. "I have always loved and respected words ... since a long time ago. - Author: Susan Trott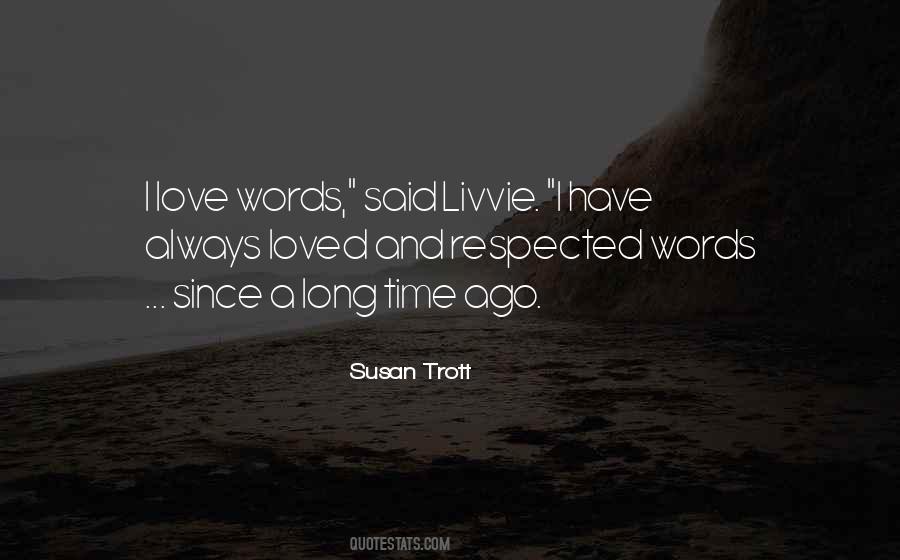 #86. A happy wedlock is a long falling in love. - Author: Theodore Parker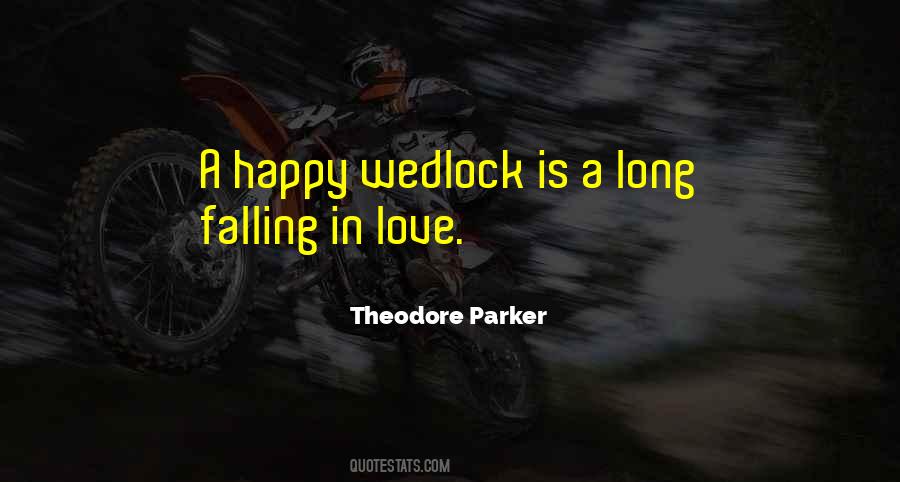 #87. Seasons have built our lives hour by hour in the twilight of long, darkening commutes, and we arrive home too tired to speak of love and this we say only with a goodnight kiss. - Author: Bruce Meyer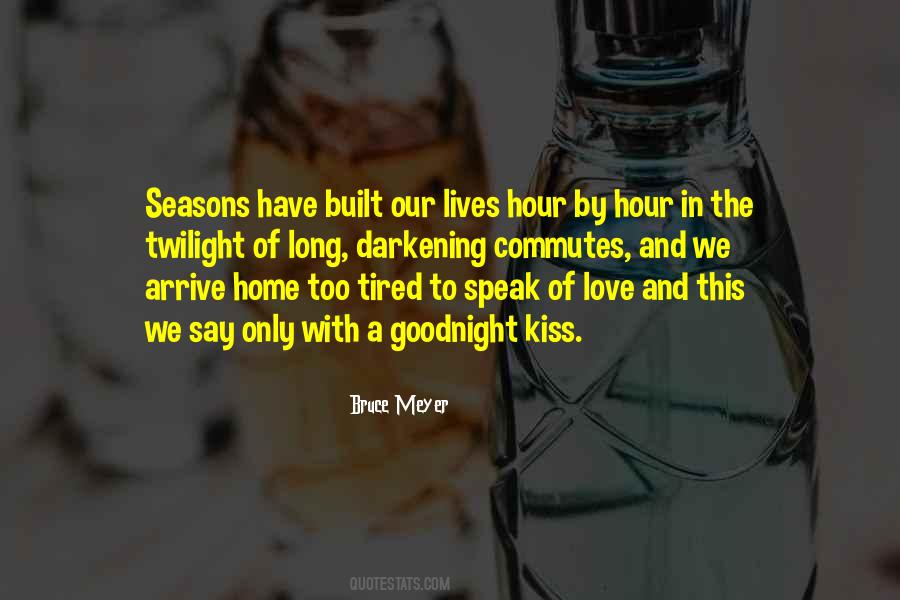 #88. I love what I do, and for me, acting can be anything. It could be in America. It could be in India. It could be in England. It could be anything. As long as it's an interesting part and an interesting opportunity, I would love to do it. - Author: Priyanka Chopra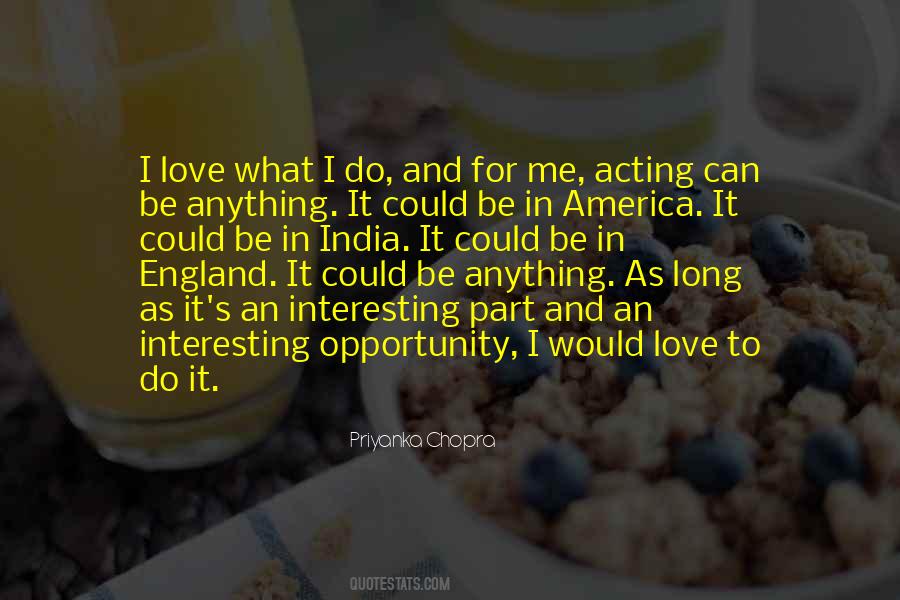 #89. I have remembered things you said long before I ever met you. - Author: B.R. Sanders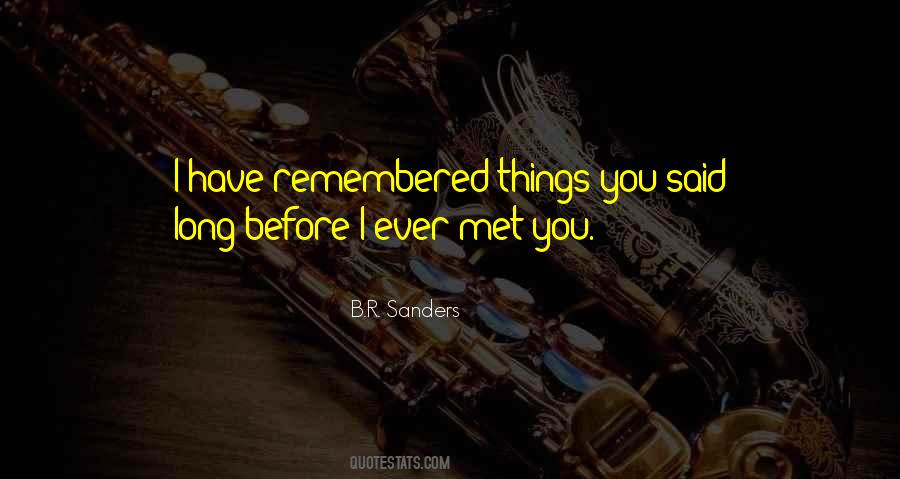 #90. Music I can discover a part of myself that I haven't been able to for a long time, and acting is the opposite. I'm in love with both of them and I would never choose one over the other. - Author: Tammin Sursok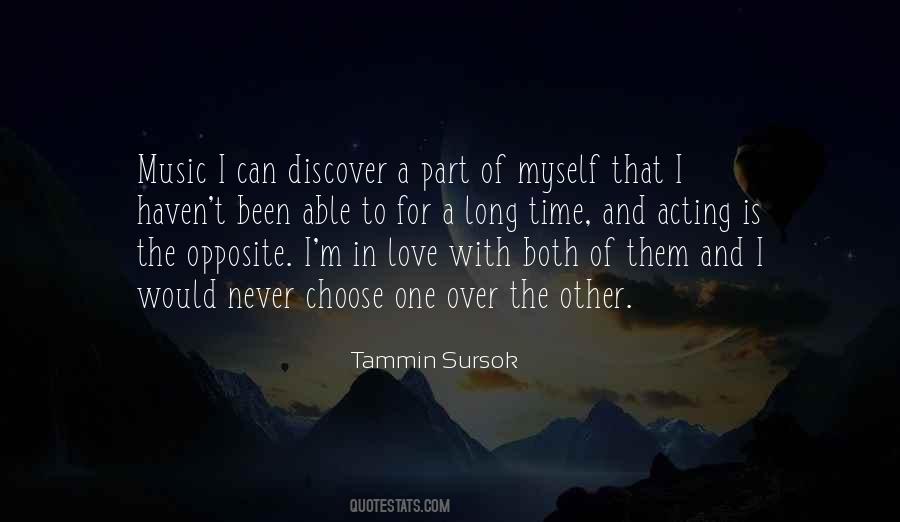 #91. As soon as I saw her, I knew I had to stay far away from her. Being with her makes me feel like I've been starving for so long. Sofia has given me a taste of something I didn't know I wanted. Something I am now desperate for. Her. - Author: E.R. Wade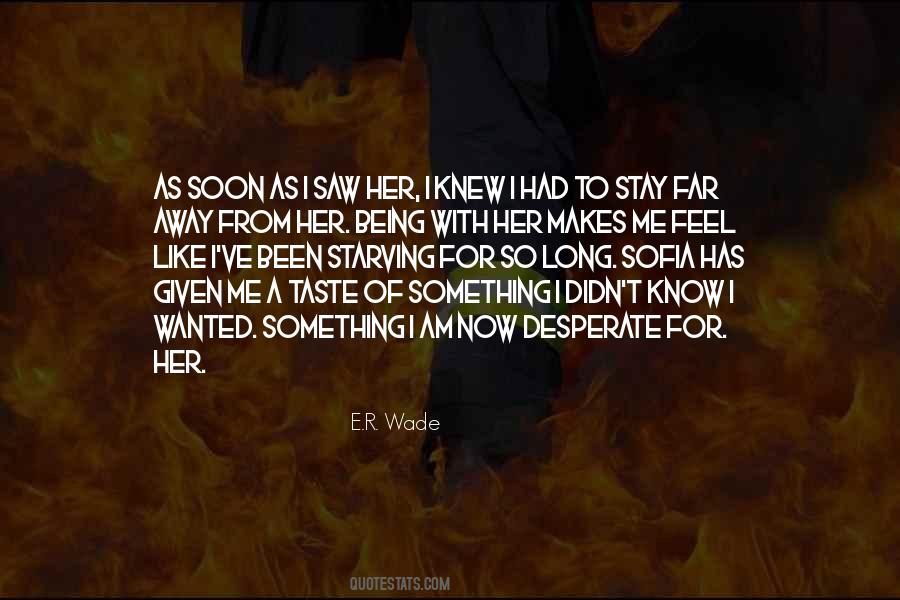 #92. If you listen long enough you can hear my skin grow tough love is painful to the touch must be made of stronger stuff. - Author: Tom Petty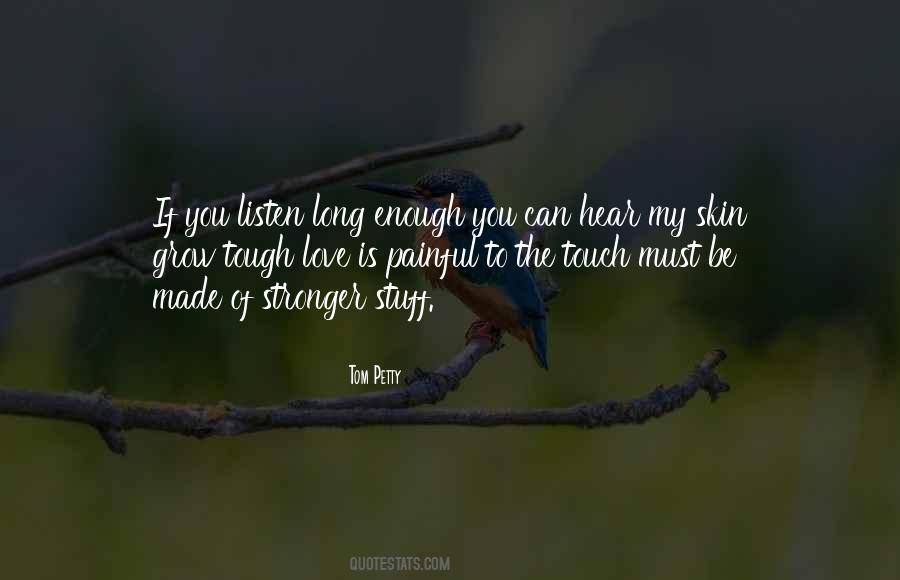 #93. I've been doing extremely dangerous activities for a long time, but I've been lucky enough to have survived so far. However, sooner or later we all die ... and, if that's the case, I want to die doing what I love to do the most. That's how I view death. - Author: Yuichiro Miura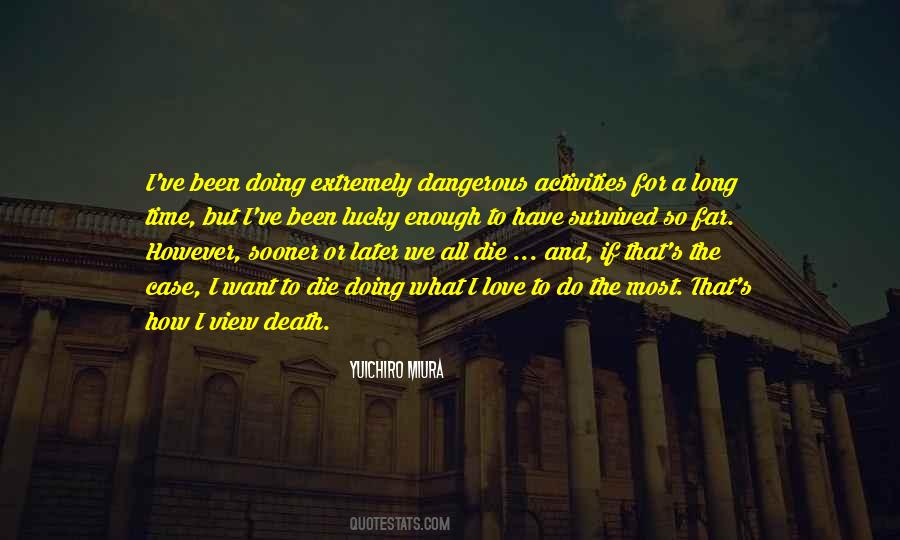 #94. I heard you calling to me, love. I'm sorry it took me so long it get here. - Author: Corrine Jackson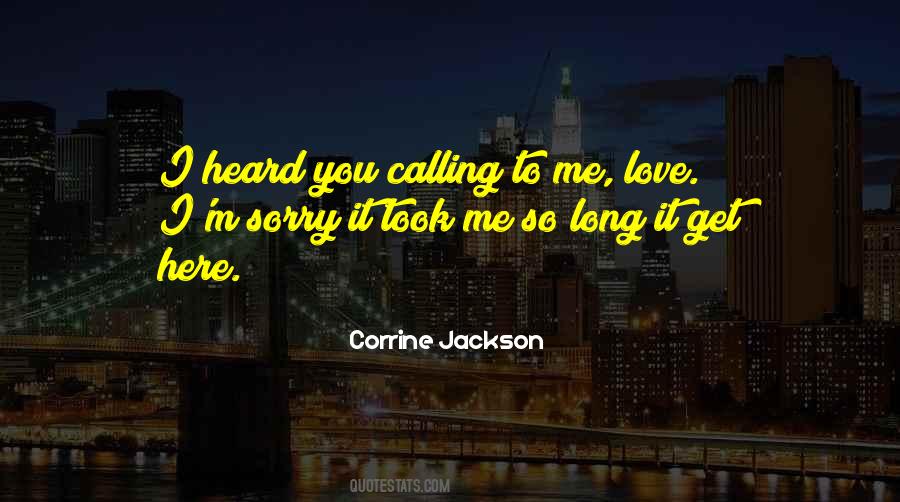 #95. No, not for a while. As long as you'll have me. Didn't you hear me, Miracle? I'm in love with you! - Author: M. Leighton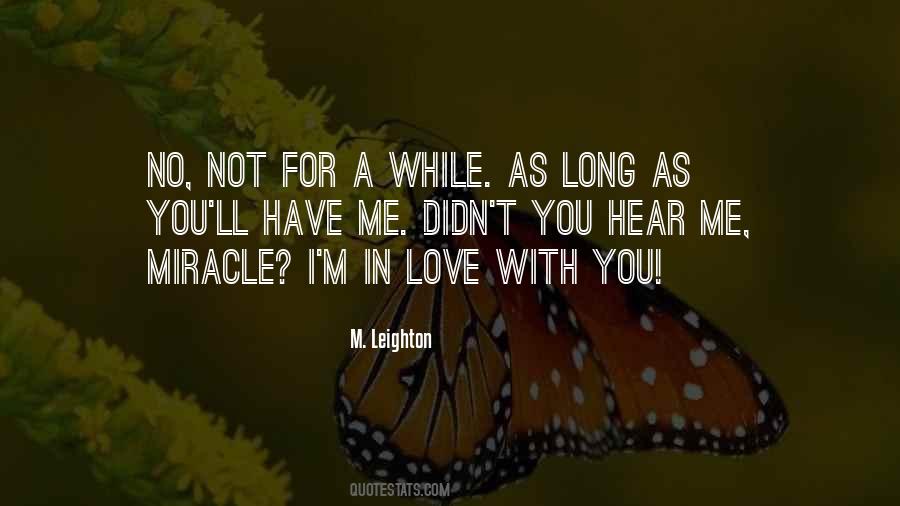 #96. I never yelled at my players much. That would have been artificial stimulation, which doesn't last very long. I think it's like love and passion. Passion won't last as long as love. When you are dependent on passion, you need more and more of it to make it work. It's the same with yelling. - Author: John Wooden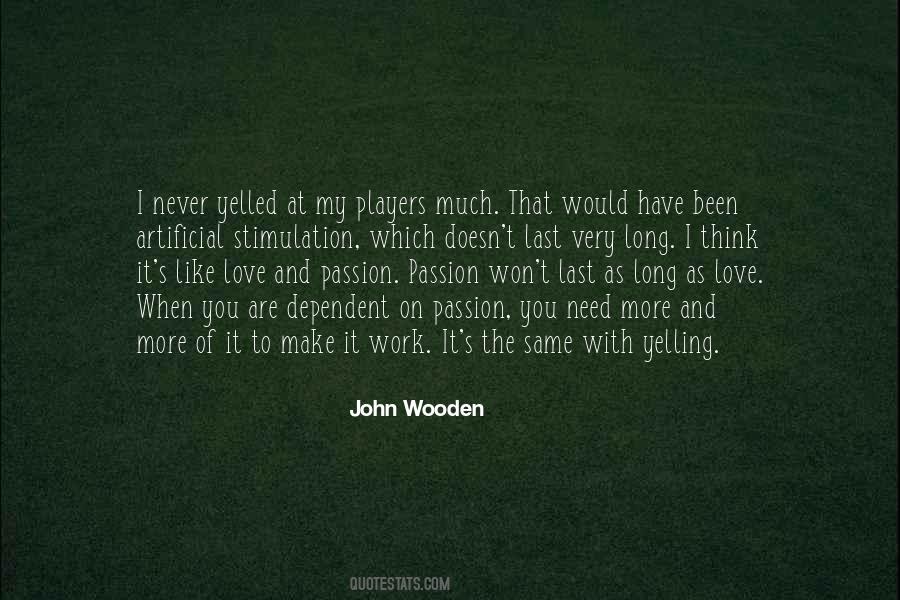 #97. Thus it is said:
The path into light seems dark,
the path forward seems to go back,
the direct path seems long,
true power seems weak ...
the greatest love seems indifferent,
the greatest wisdom seems childish. - Author: Lao-Tzu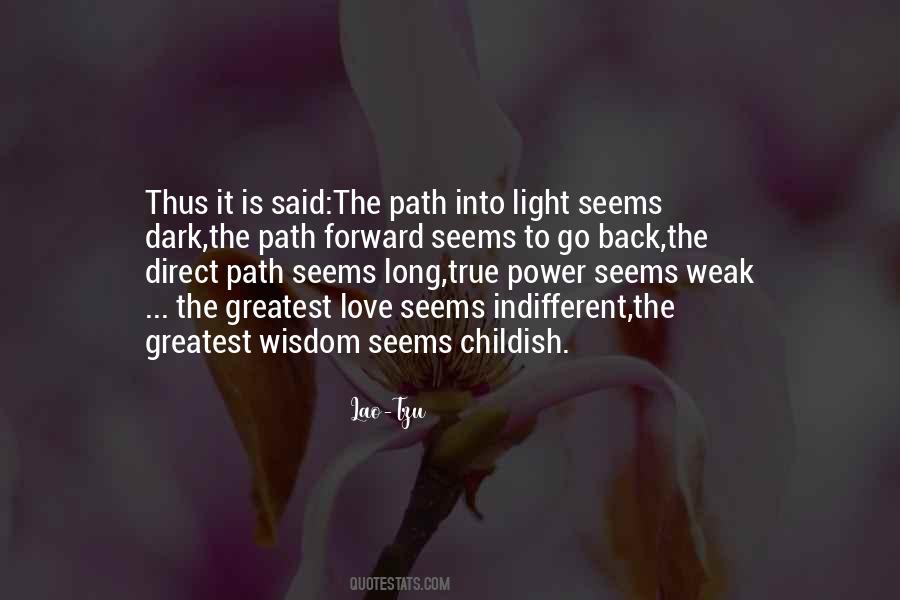 #98. I've always liked long, flowing clothes, ... I used to rummage around in my grandmother's trunks trying to find them. I love the feeling of chiffon and lace. - Author: Stevie Nicks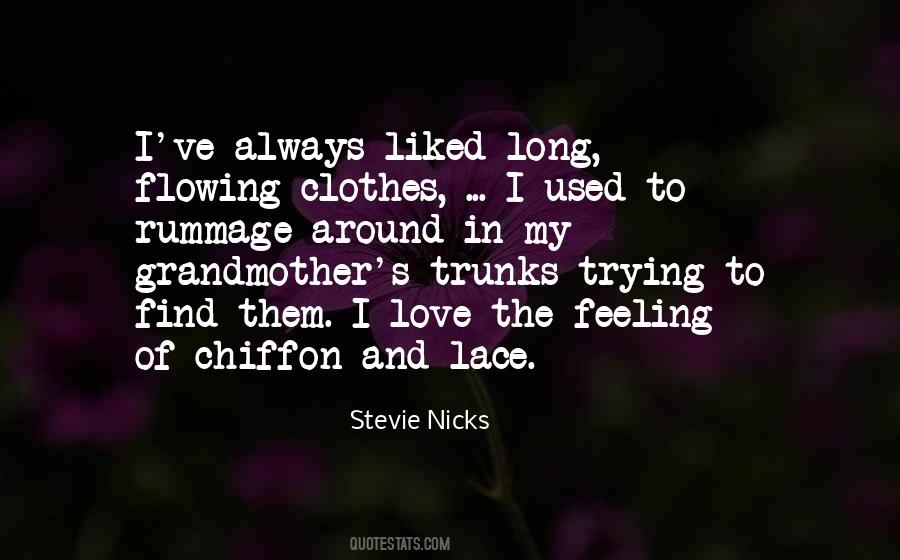 #99. I don't know how long it's been since I've been gone, but you have to move on. If not today, then someday soon.
I love you, Ryden, I will always love you, but I'm not here anymore. - Author: Jessica Verdi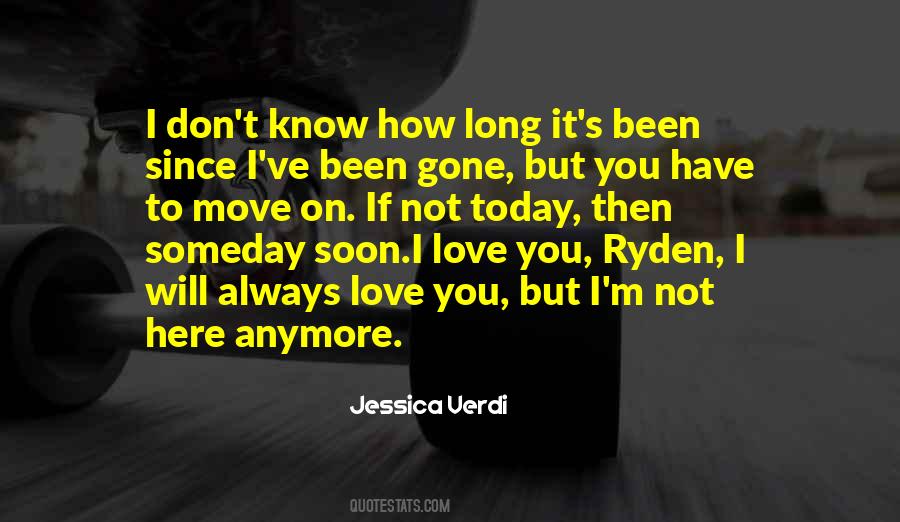 #100. Kelsey breathed in deeply. "He asked me to stay."
"Here?"
"Yes."
"For how long?"
"Until ... until I want to leave, I guess. But he doesn't want me to go yet, and ... I'm thinking of
accepting the offer."
"Now he sounds like he's proposing marriag - Author: Maisey Yates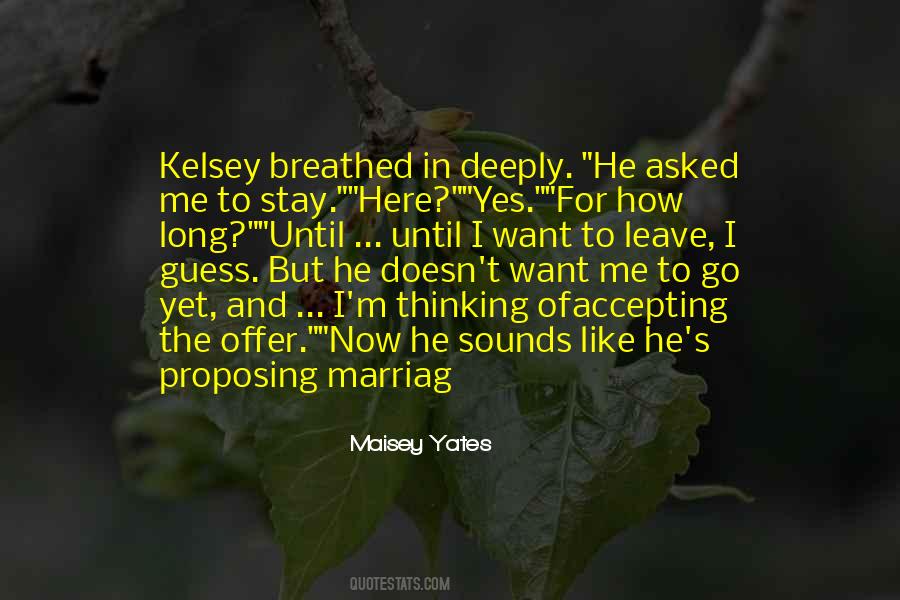 Famous Authors
Popular Topics