Love And Not Money Famous Quotes & Sayings
List of top 100 famous quotes and sayings about love and not money to read and share with friends on your Facebook, Twitter, blogs.
Top 100 Quotes About Love And Not Money
#1. Most couples get married because it's time, not because they're in love. They might have money issues, parental pressure, or they're simply tired of being alone - so they pick Mr. Good Enough and tie the knot. - Author: H.M. Ward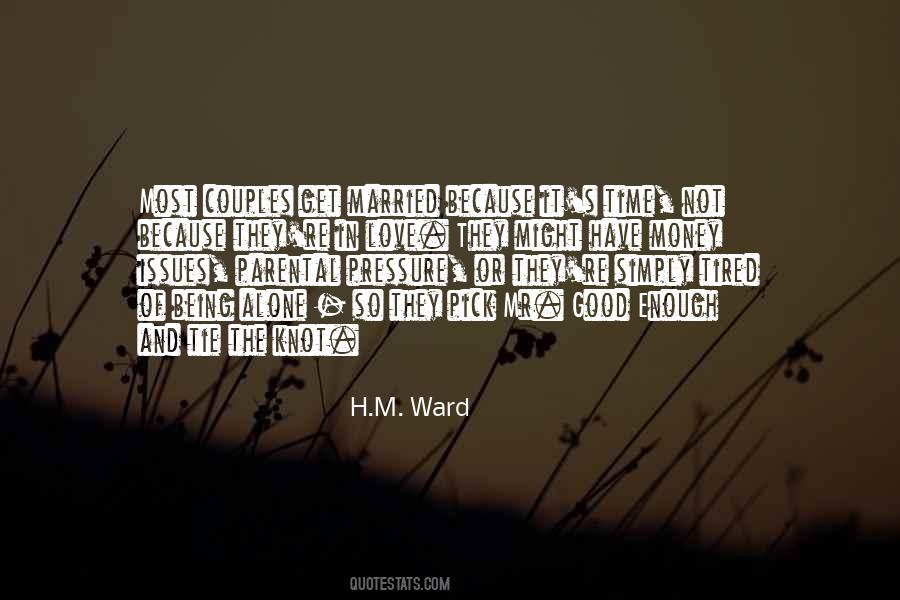 #2. You've got to be happy, you have to do this thing [music] for the love. It's not like you go into music because it's going to make a lot of money. It's something you do ... that's the thing. You got to accept all that hard work with it, too. And enjoy it, and love it. - Author: Creed Bratton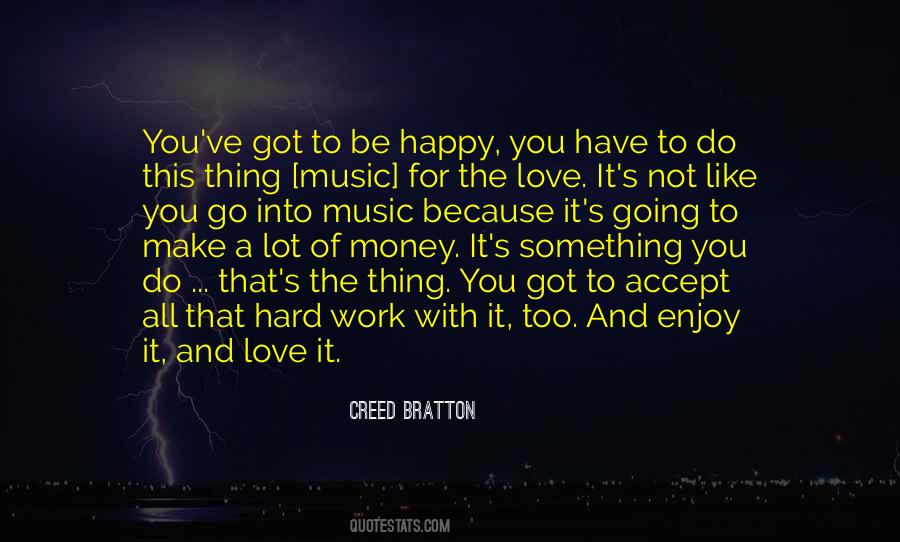 #3. Infatuation is not quite the same thing as love; it's more like love's shady second cousin who's always borrowing money and can't hold down a job. - Author: Elizabeth Gilbert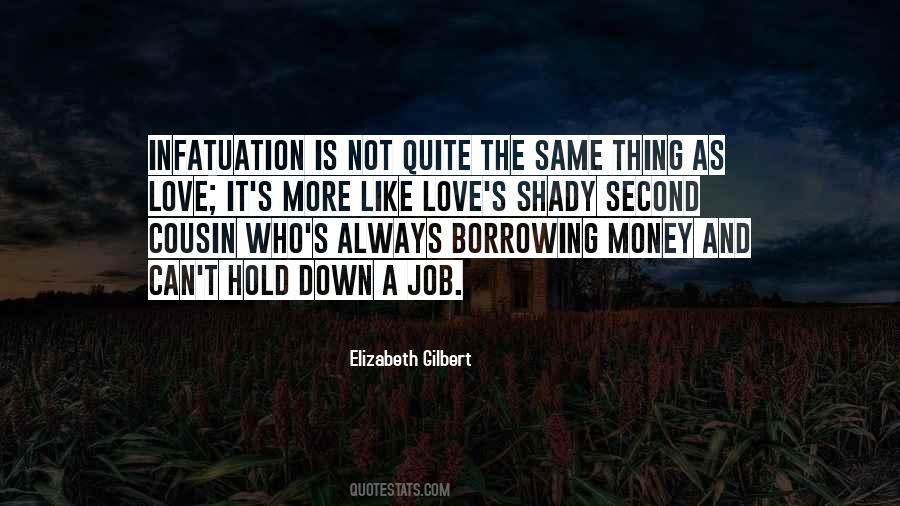 #4. No Body Want your love
People are here for fun,Money,Sex, Flirting Enjoyment interesting game.
So Do not Expect Much and Do not Hurt. - Author: Mohammed Zaki Ansari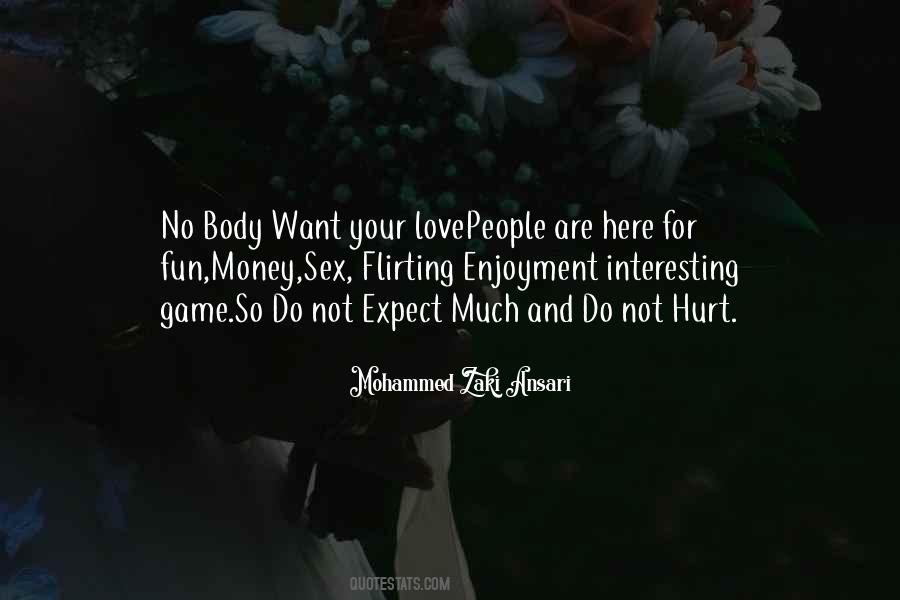 #5. Stewart loves me with a tiger's intensity, his need taking my breath away, his confidence in our relationship strong enough to not be bothered by the presence of another man. He stares into my soul as if he owns it, and shows his love with money, sex, and rare moments of time. - Author: Alessandra Torre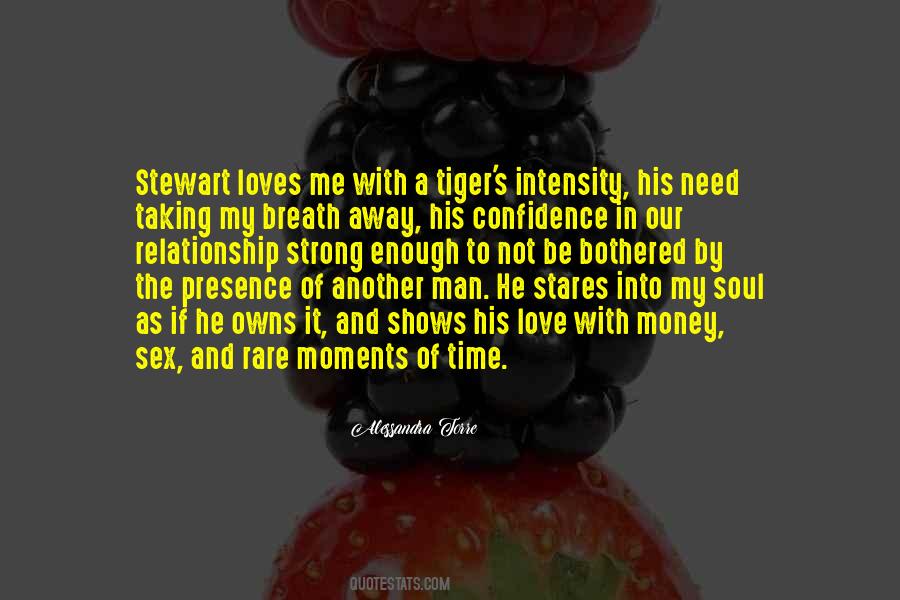 #6. If what you want to do is make artwork for bands, you have to love doing it because there is almost no money in it. In order to start doing it, you just have to put yourself out there, work for bands you love and for as little as possible to start, if not free, that's what I did for years. - Author: John Dyer Baizley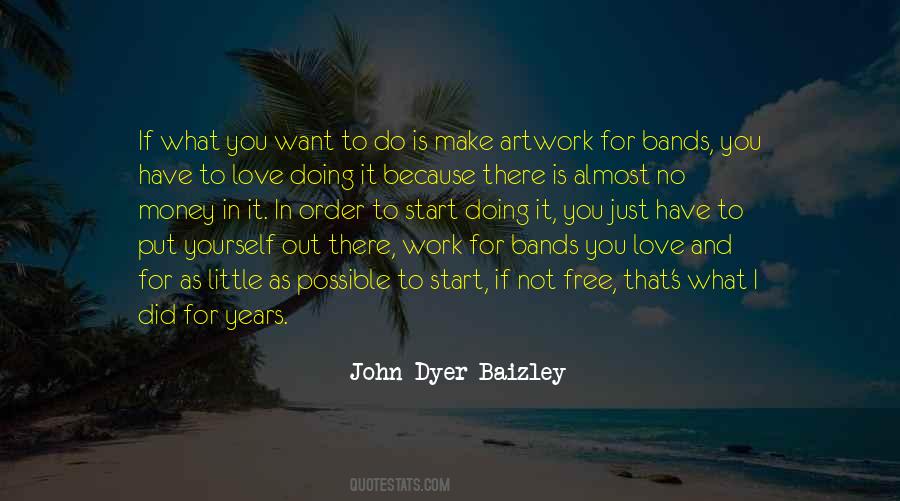 #7. Money. Love. There's not a problem that isn't caused by one or the other. And there's not a problem that can't be solved by one or the other. - Author: J.R. Moehringer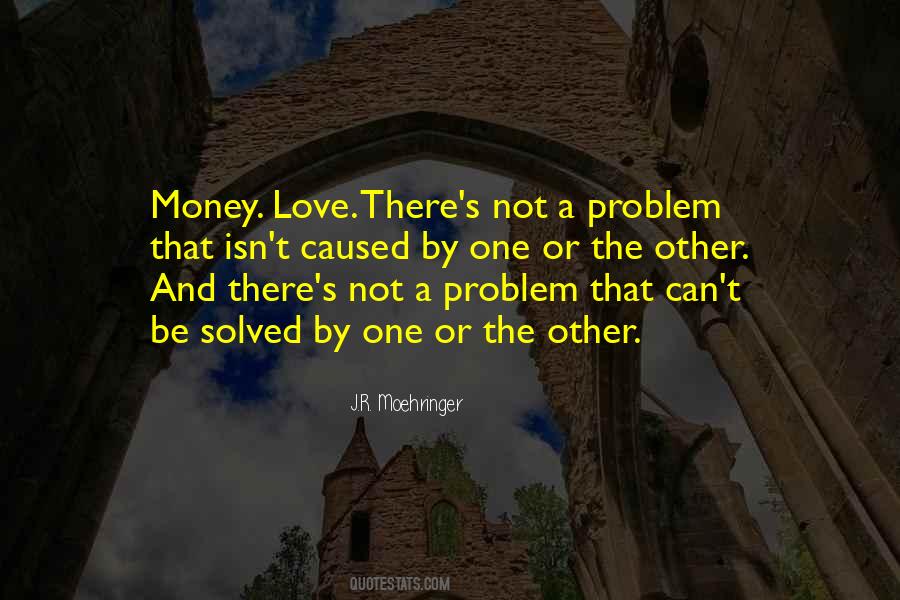 #8. Ultimately, if you're not doing what you love, you're not going to be fulfilled. Sure, to make money, you have to be tough, you have to have some smarts and a little luck would help, but the bottom line is: You have to love what you do. - Author: Donald Trump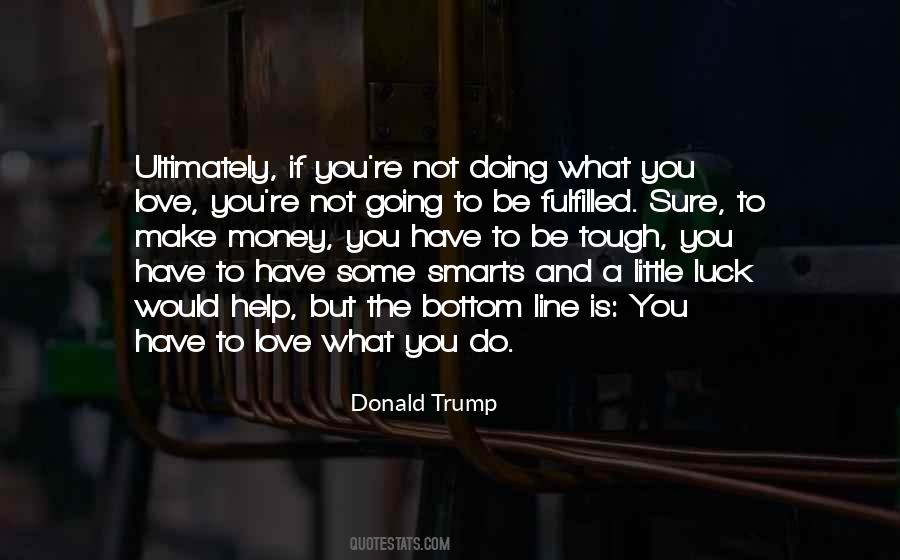 #9. My dad said to always do what I loved and not worry about the money or anything, because if I do what I love, then the money will come. - Author: Ansel Elgort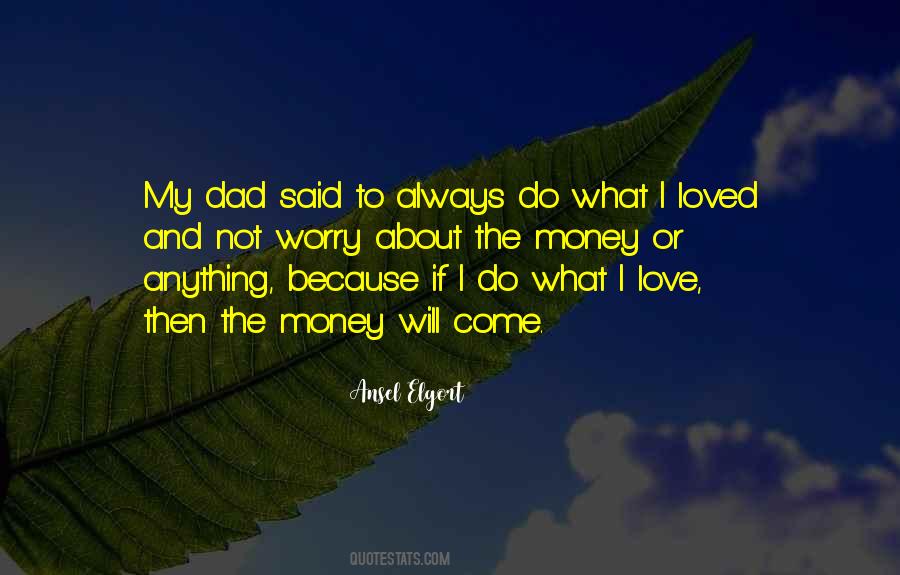 #10. Our greed comes from our fear that we will not have enough - whether it is money or love that we grasp. Yoga teaches us to let go of these fears and so to realize the abundance around us and within us. - Author: B.K.S. Iyengar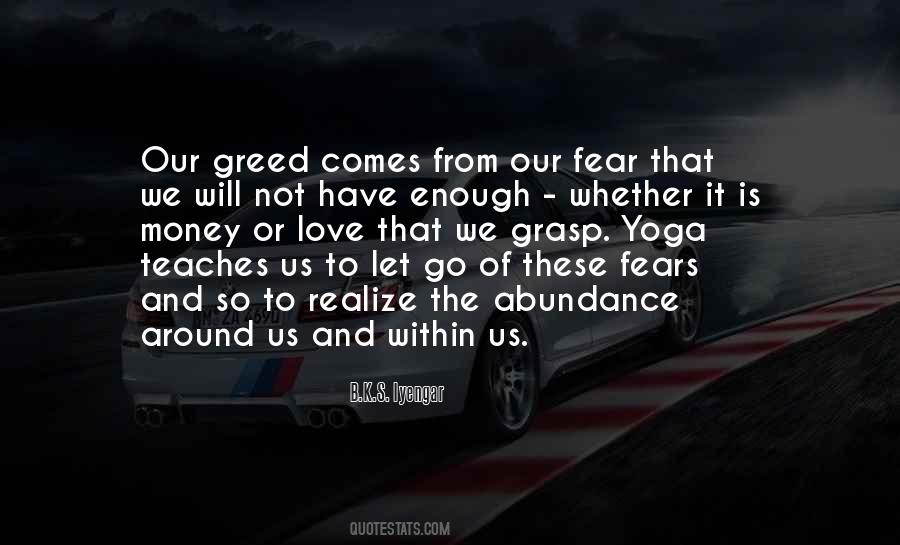 #11. We came to this world to enjoy the magic of love, the beauty of existence, and the joy of life. We did not come to this world to look for money and fame. - Author: Debasish Mridha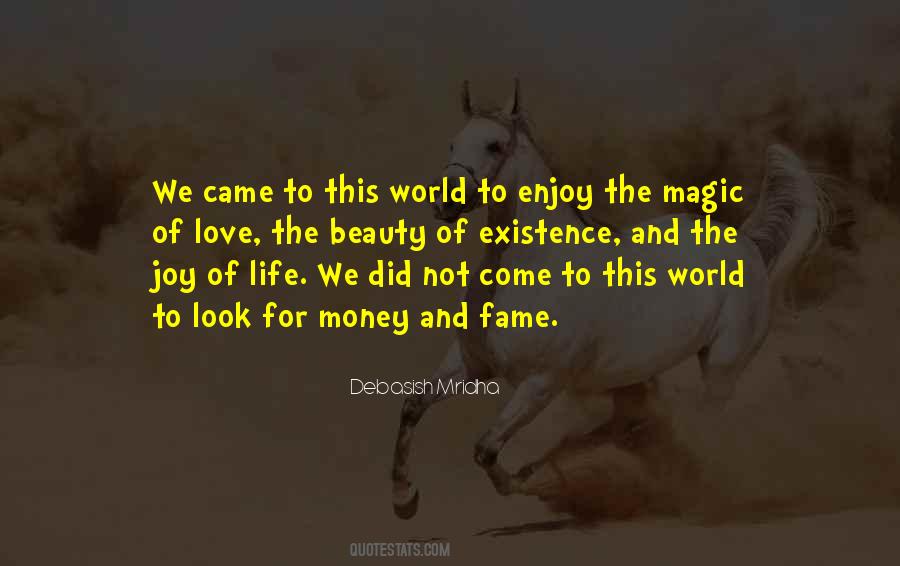 #12. We can dream of an America, and a world, in which love and not money are civilization's bottom line. - Author: Martin Luther King Jr.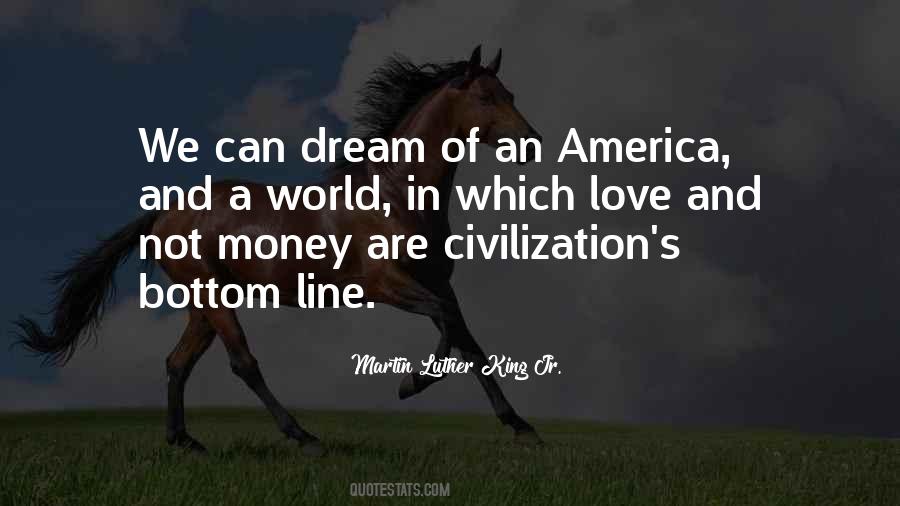 #13. True wealth is not measured in money or status or power. It is measured in the legacy we leave behind for those we love and those we inspire. - Author: Cesar Chavez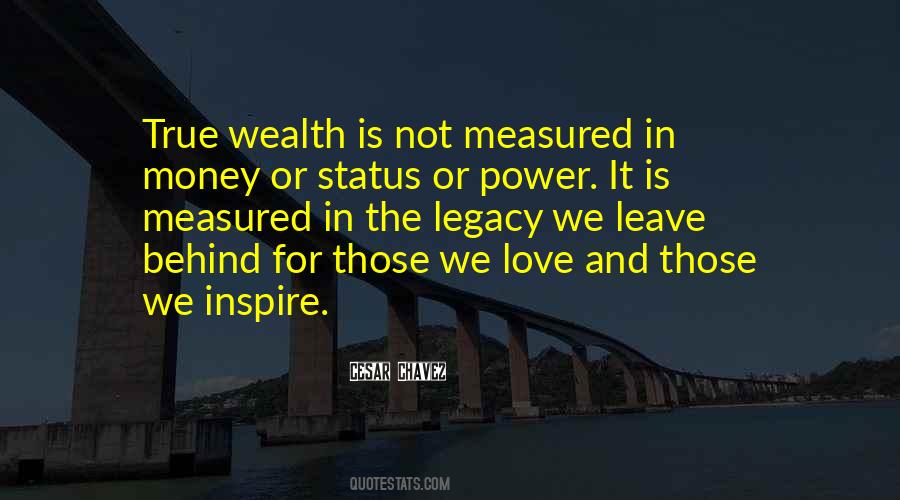 #14. To have wealth does not mean you love money, you can love money and not even have a cent - Author: Sunday Adelaja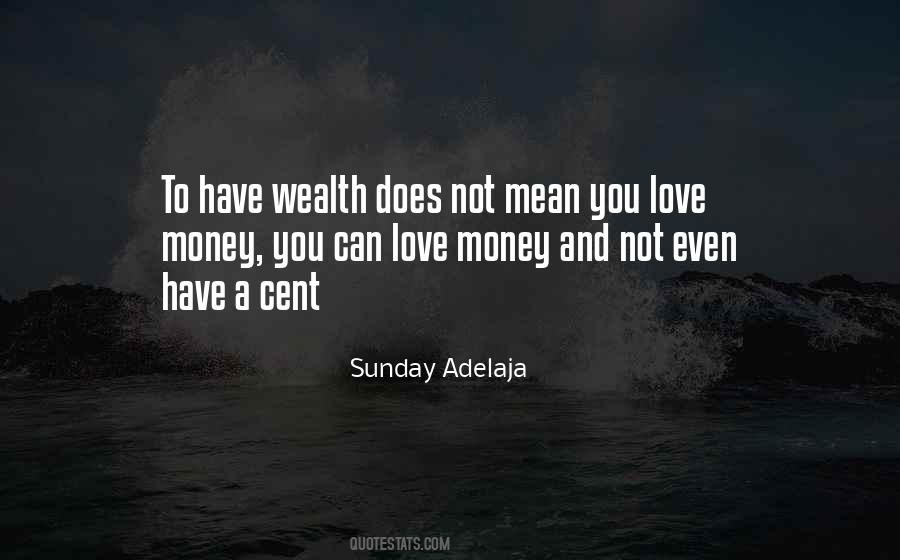 #15. I love the English way, which is not as capitalistic as it is in America. People don't talk about work and money. They talk about interesting things at dinner parties. - Author: Gwyneth Paltrow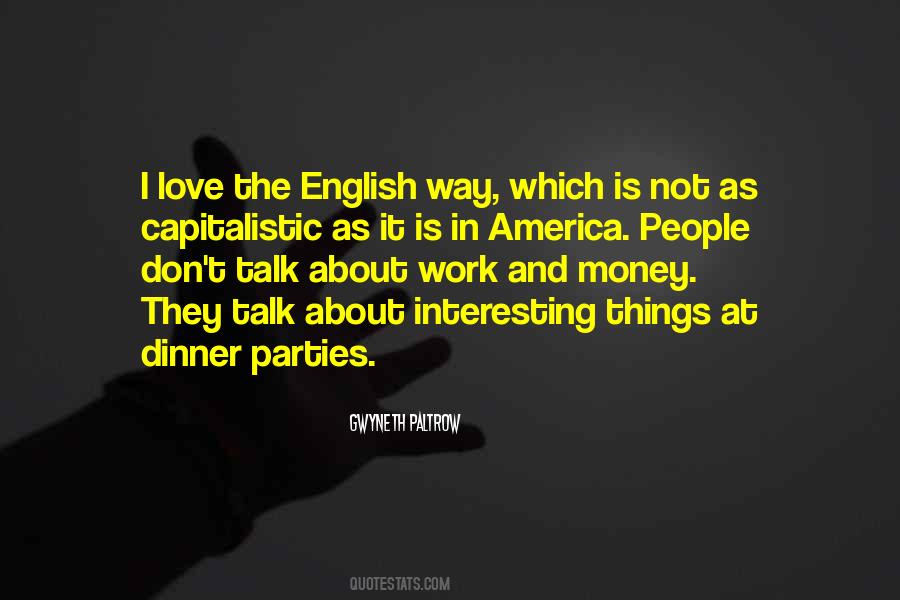 #16. The players get no respect around here. They give you money, that's it, not respect. We get constantly dogged and players from other teams love to see that. That's why nobody wants to play here. - Author: Don Mattingly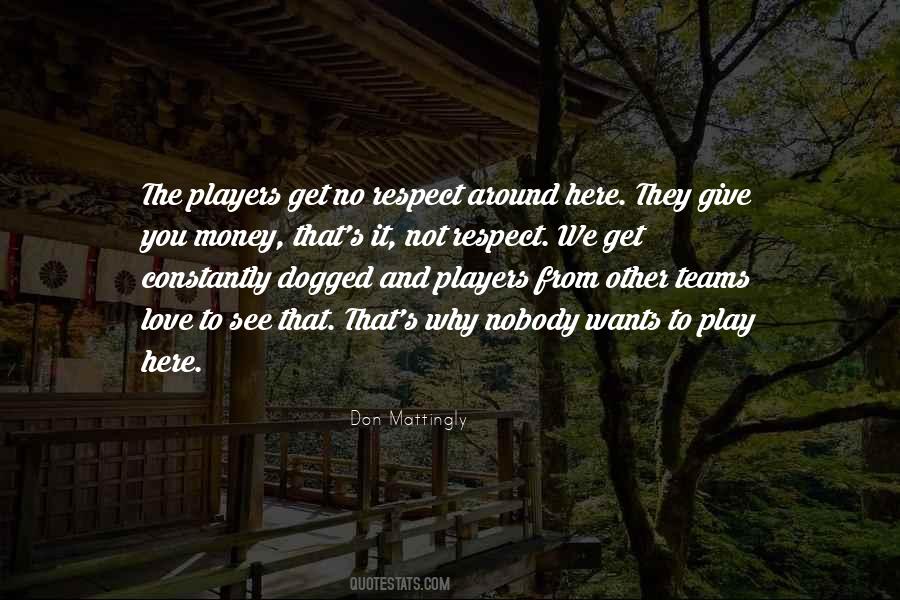 #17. I don't have much in the way of money or worldly possessions, I'm not beautiful, intelligent or clever, but I'm happy, and I intend to stay that way! I was born happy, I love people, I have a trusting nature, and I'd like everyone else to be happy too. - Author: Anne Frank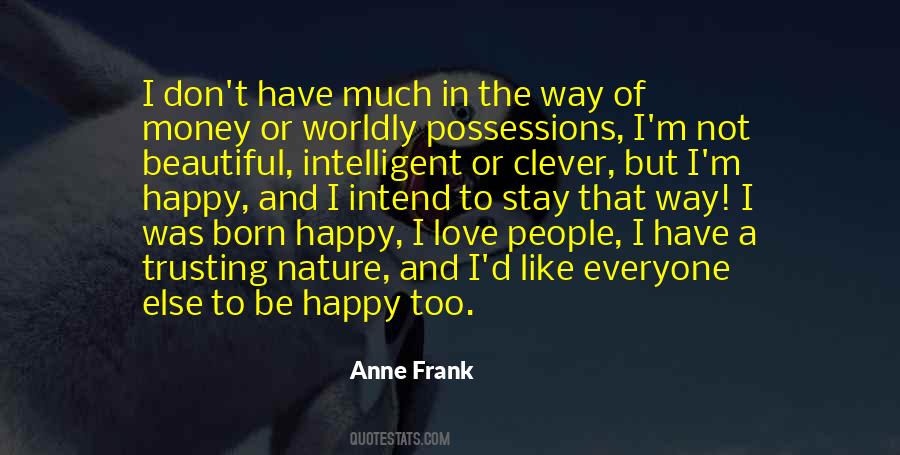 #18. No matter how much money, fame, and fortune you have, it doesn't mean sh** if it's not connected with love. - Author: Adam Lambert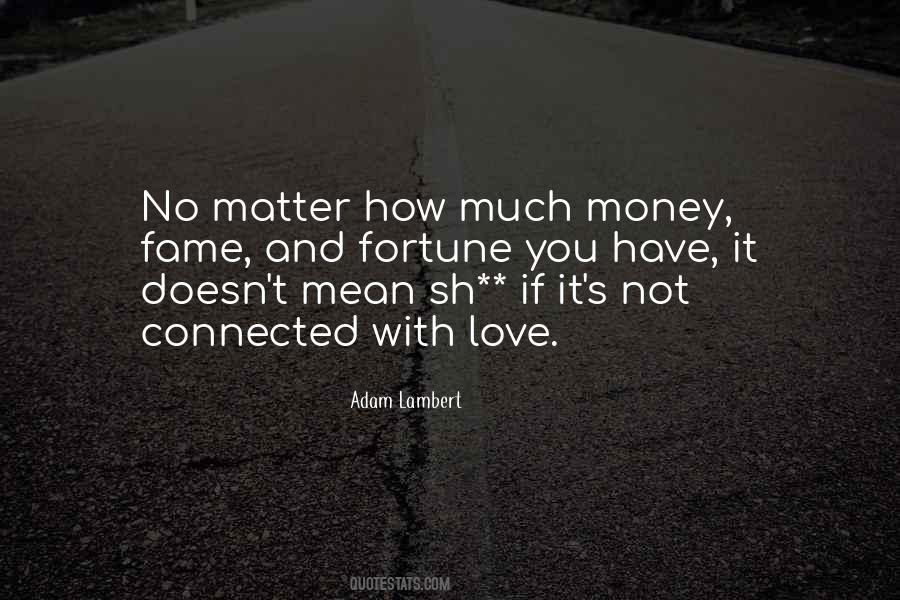 #19. Try not to be a man or woman of success, but rather a man or woman of inspiration. If you're successful, they will flock to you for money or fame, but if you're inspirational, they will flock to you because they love your soul and how you change theirs. - Author: Shannon L. Alder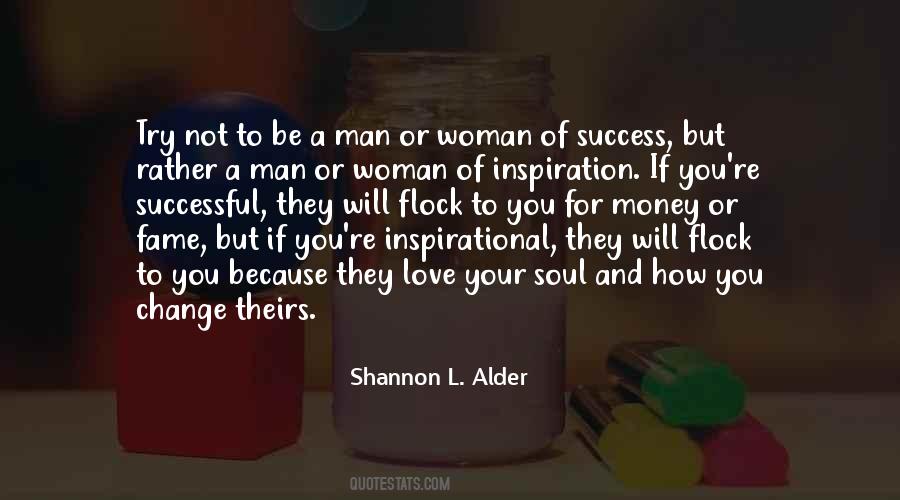 #20. You know what I mean. I'm telling you I was stupid over it. I thought it was about trying so hard to survive that you didn't have the time to be a good parent. Obviously, that's not it. Because you and I, we're both ... wealthy in love. - Author: Maggie Stiefvater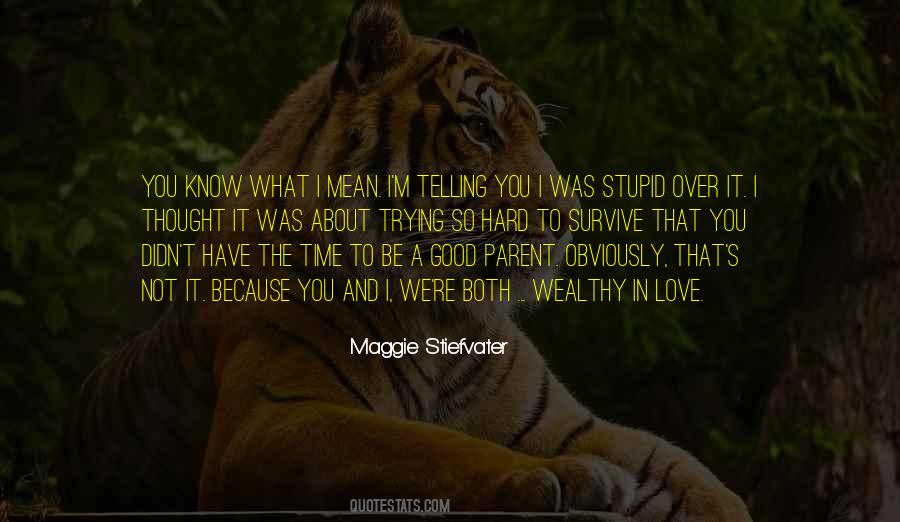 #21. We are born, we get names, we get educated, we get values, we get job and money. But all this is not life, life is love found in friendship, friendship found in love and in love, sacrifice." Vijay - Author: Shaikh Ashraf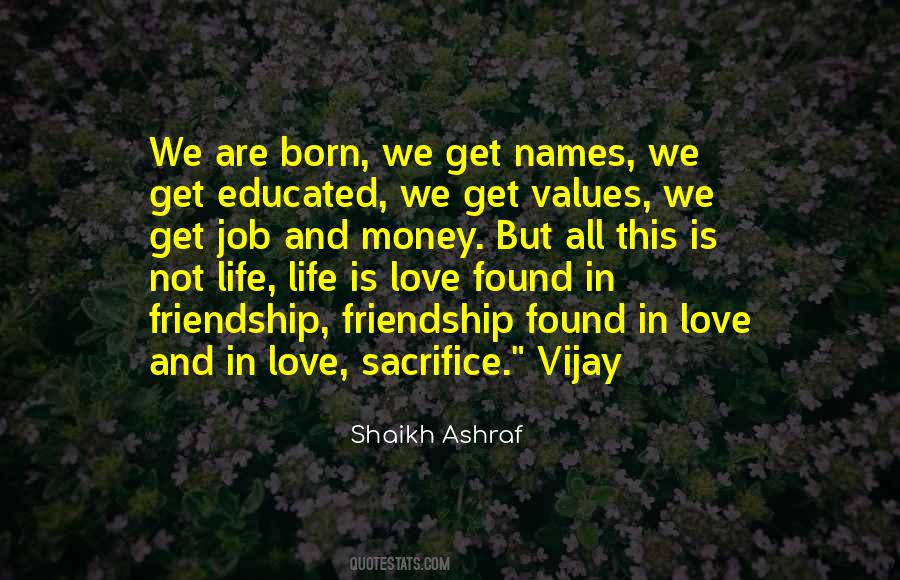 #22. Don't waste your time,
money,energy and love
on someone who is unappreciative and brings heartache in to your life.
Everyone may deserve love,
but not everyone deserve your love. - Author: Bryant McGill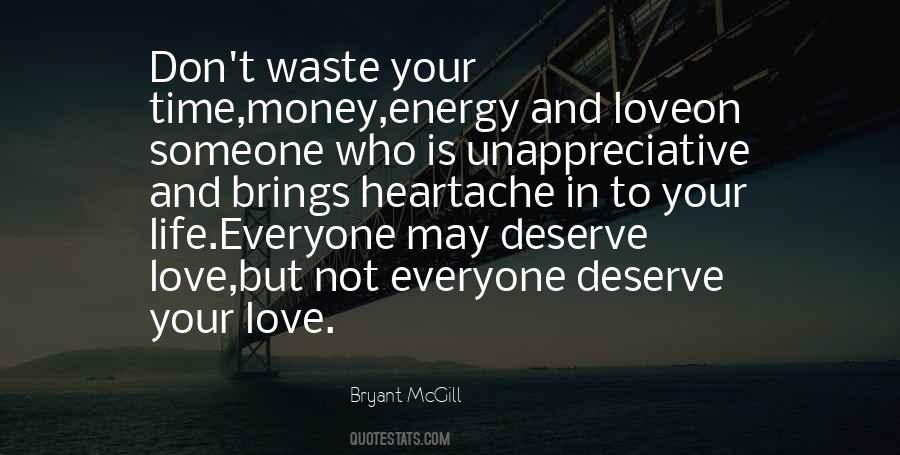 #23. Money - like health, love, happiness, and all forms of success that you want to create for yourself - is the result of living purposefully. It is not a goal unto itself. - Author: Wayne Dyer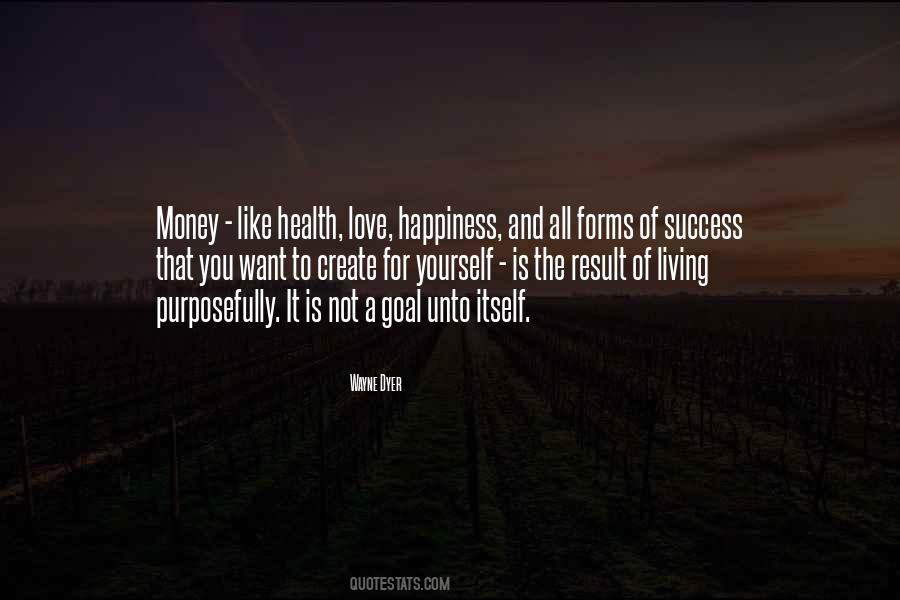 #24. A forward critic often dupes us With sham quotations peri hupsos, And if we have not read Longinus, Will magisterially outshine us. Then, lest with Greek he over-run ye, Procure the book for love or money, Translated from Boileau's translation, And quote quotation on quotation. - Author: Jonathan Swift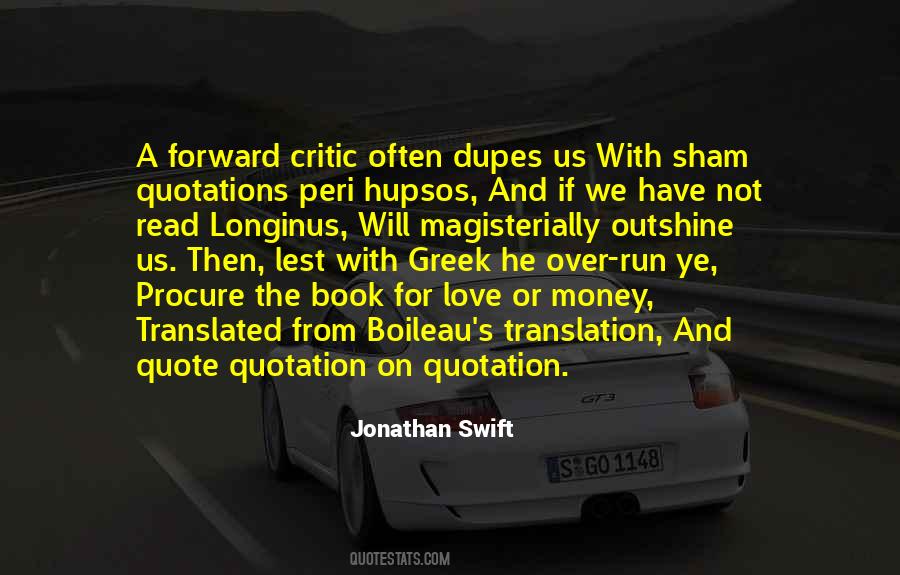 #25. More often than not, a woman marries for money and a man marries for sex. What difference does a sheet of paper with signatures make?"
"If you have to ask, you wouldn't understand the answer," she said simply. - Author: Diana Palmer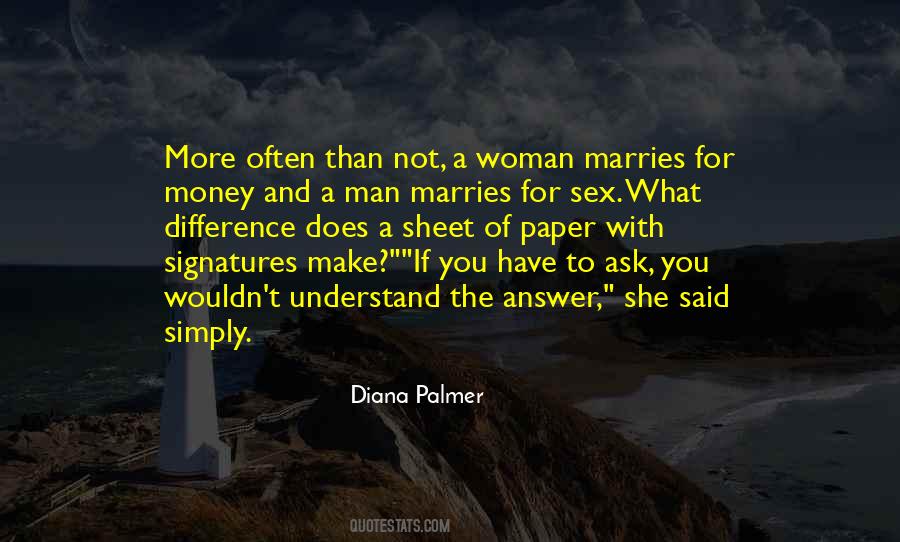 #26. I have not sought during my life to amass wealth and to adorn my body, but I have sought to adorn my soul with the jewels of wisdom, patience, and above all with a love of liberty. - Author: Socrates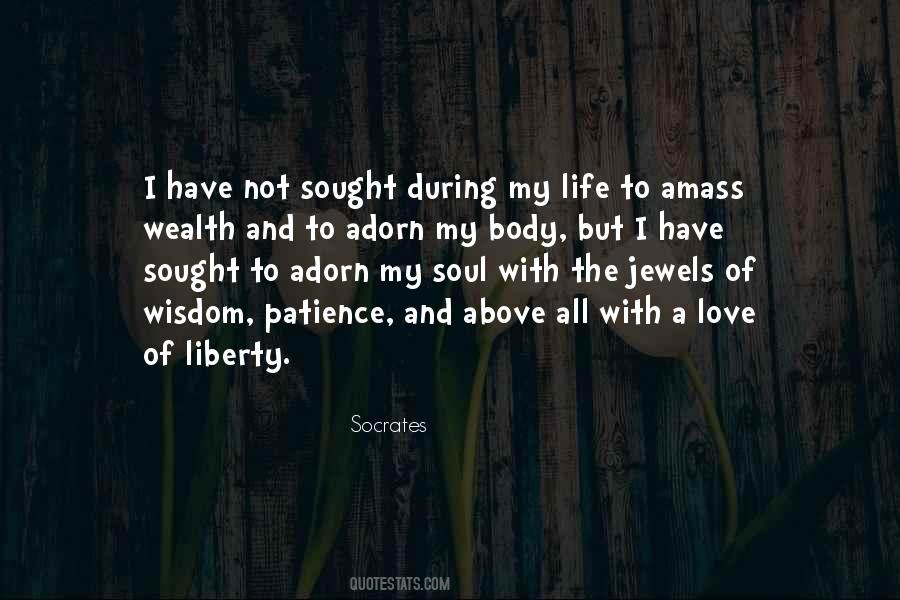 #27. Wealth is not a sign of dignity, dear Jonah. Only those who put faith above wealth are worthy of this honour. Abandon wealth and devote yourself to serving the cause of faith, and you will deserve eternal bliss. - Author: Viktor Shel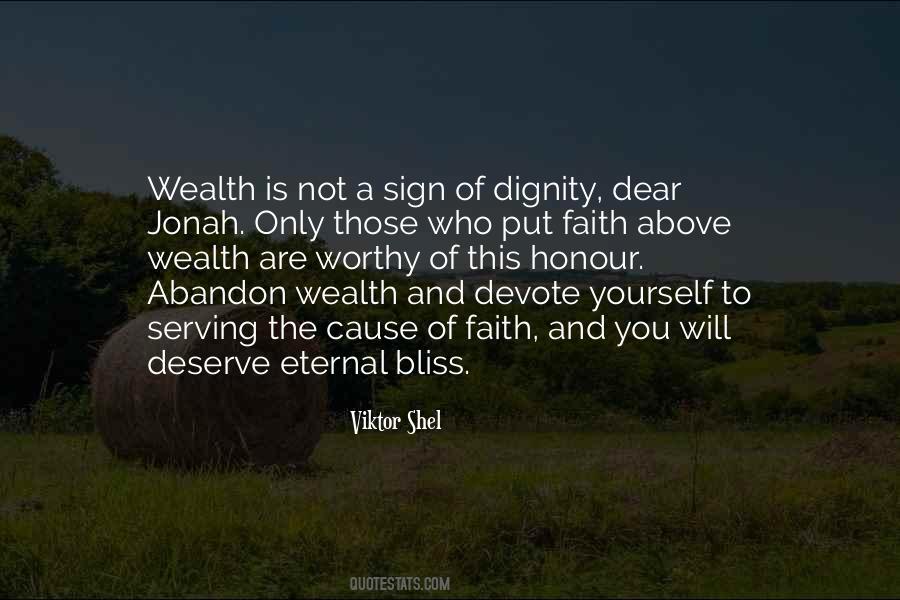 #28. The hidden economy [is] fed not by money and greed but by love, pure and simple. You see the best and truly golden opportunities do not arise to benefit oneself, but in order to benefit others. - Author: Etienne De L'Amour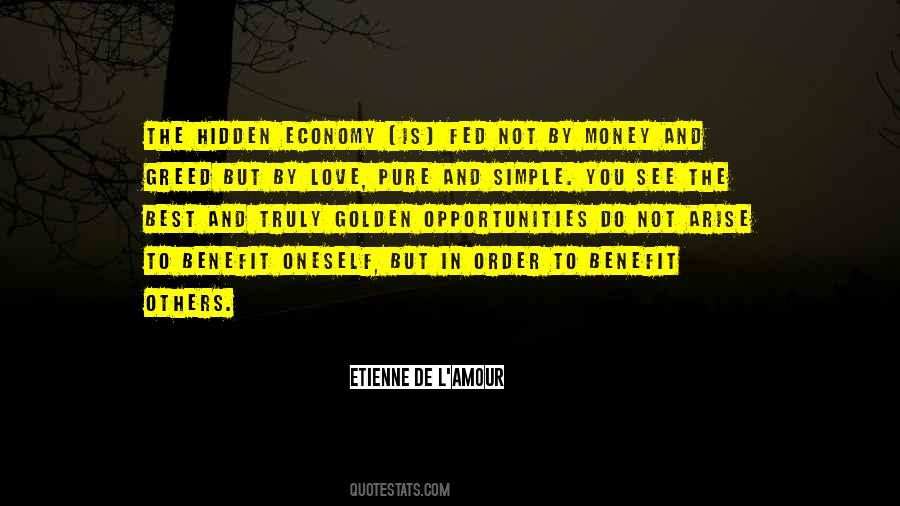 #29. All those who love Nature she loves in return, and will richly reward, not perhaps with the good things, as they are commonly called, but with the best things of this world-not with money and titles, horses and carriages, but with bright and happy thoughts, contentment and peace of mind. - Author: John Lubbock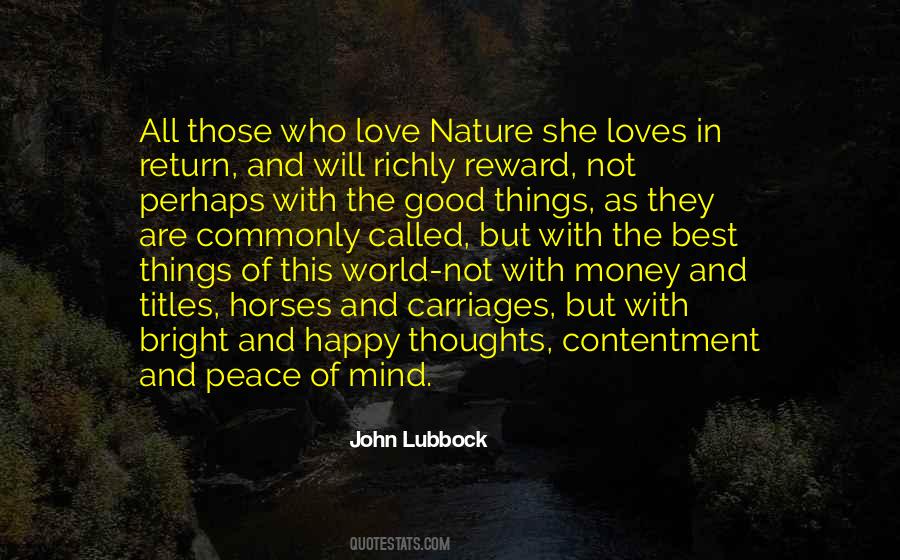 #30. One thing that unites us all, one thing is universal among the human species; the anatomy. Big, small, fat, thin, colour or creed are irrelevant. Under the skin, under the flesh, we are one and the same. We desire the same things; love, money, power. All the things we can not have, not without cost. - Author: Rob Shepherd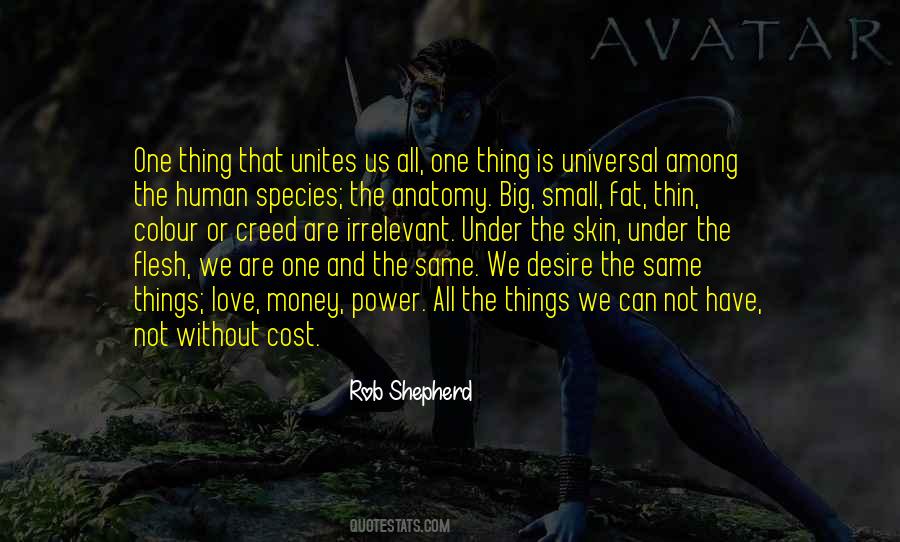 #31. What life really is all about is happiness. It's not money, or stature, or the amount of cars you have in your driveway. Life, a really successful life, is one in which you are loved and love somebody else, or some other people. - Author: Steve Guttenberg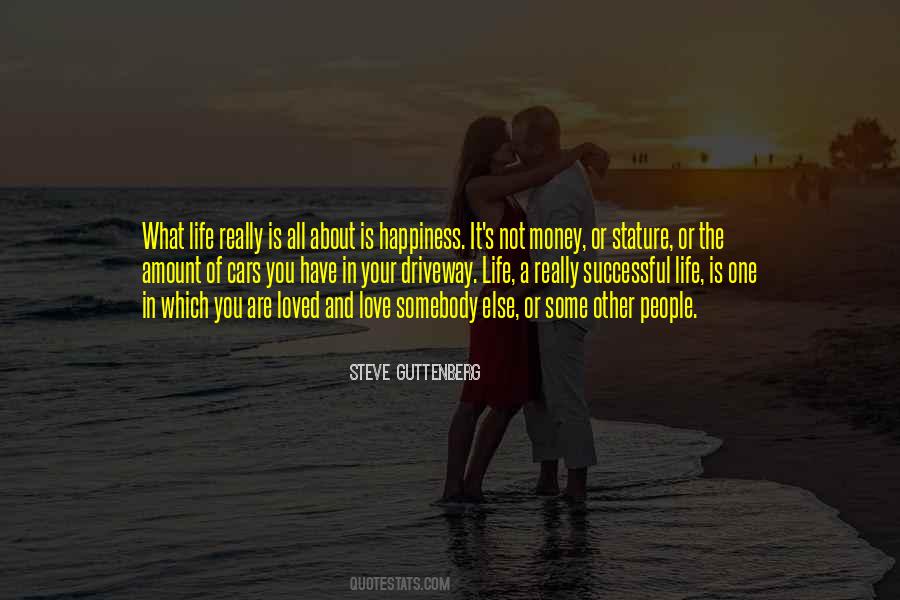 #32. Money means I can support my family and still do what I love. Not very many people can say that in this world, and not many writers can say that. - Author: Stephen King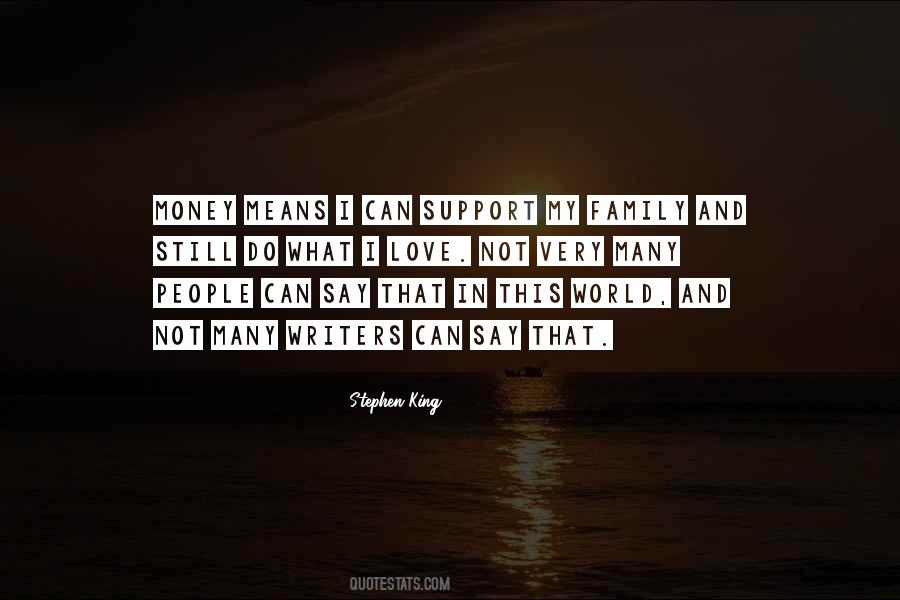 #33. Fashion is an industry to make money. It plays into human psychology. We want to belong, we want to be loved. I'm not trying to demonize the fashion industry - I love the fashion industry - but style is about taking the control out of the industry's hand and having you decide what works for you. - Author: Stacy London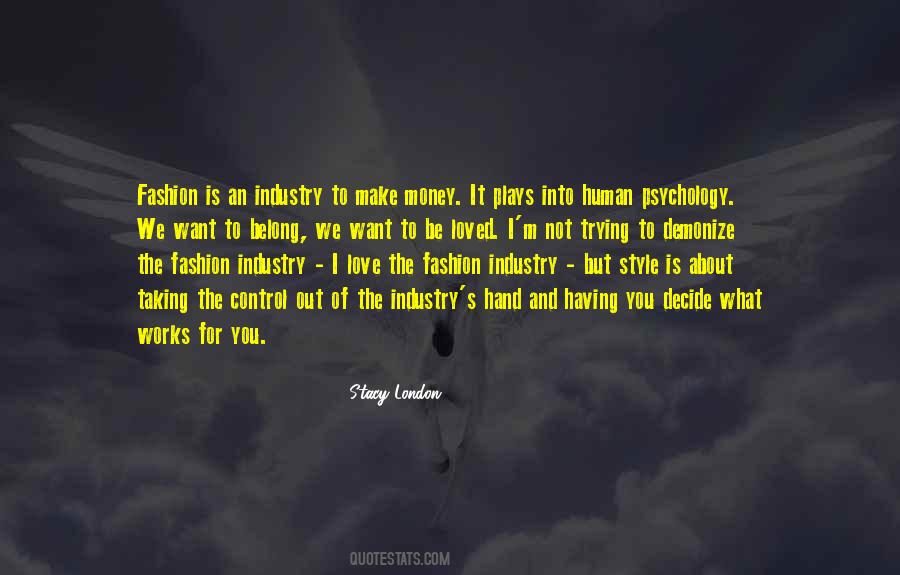 #34. I love doing 'The Price is Right.' It's so much fun. I love meeting everybody and giving out prizes, especially when it's not my money. It's really a happy place, and everybody is all jazzed up. - Author: Drew Carey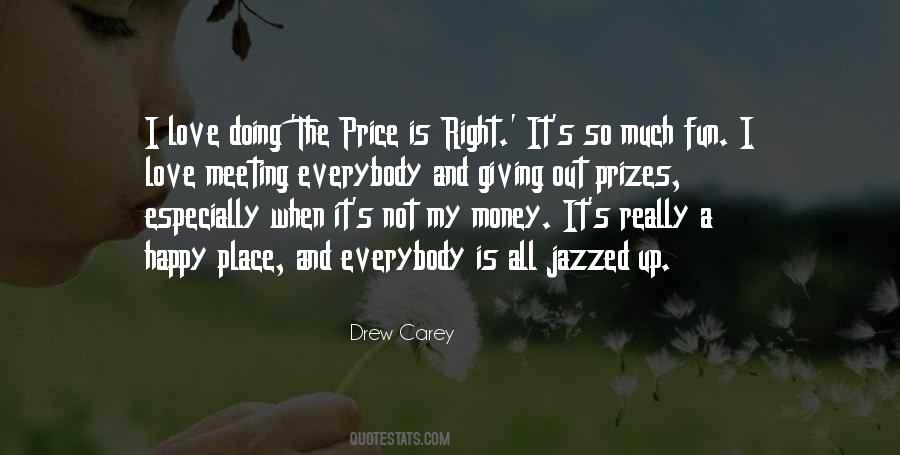 #35. When you are in the highest vibrational state you will not feel the need to; over eat, over spend money, insist on having a certain relationship, or even become a millionaire because you have shifted into the abundance that you are and from this place you dont feel any lack at all. - Author: Renae A. Sauter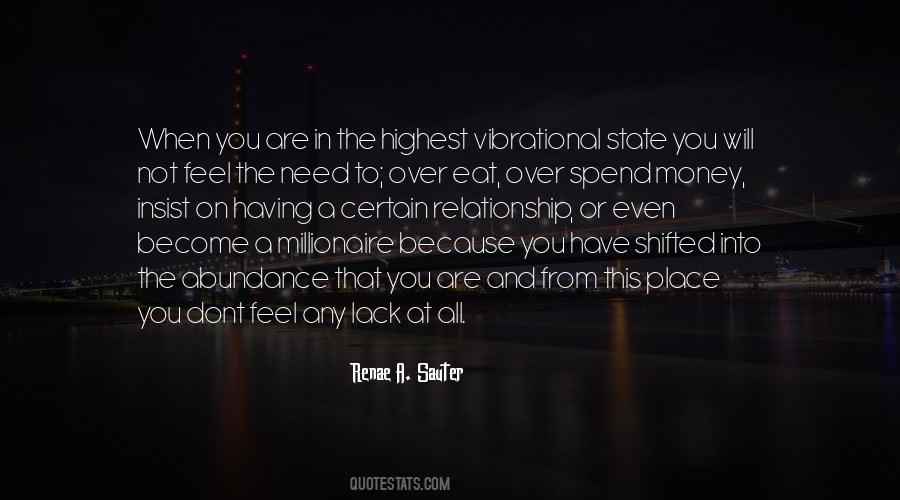 #36. I want a woman to love me for me and not just for my piggly diggly ... You catch my drift? - Author: Bruno Mars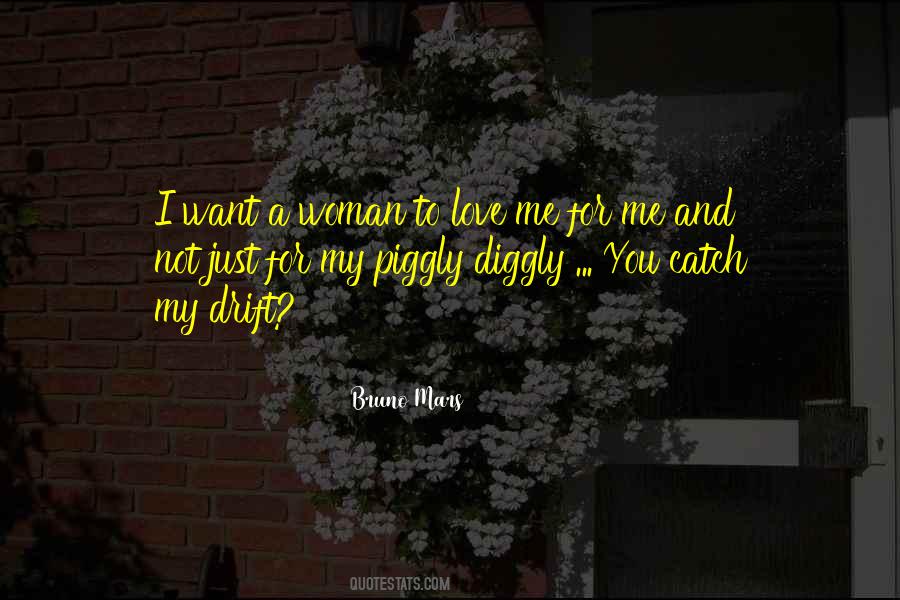 #37. In the area of work and money, we have one of the most intense gaps between fear-based and love-based thought. It's not that a miracle mindset applies to work and money any more than it applies to anything else; rather, it applies there no less than anywhere else. - Author: Marianne Williamson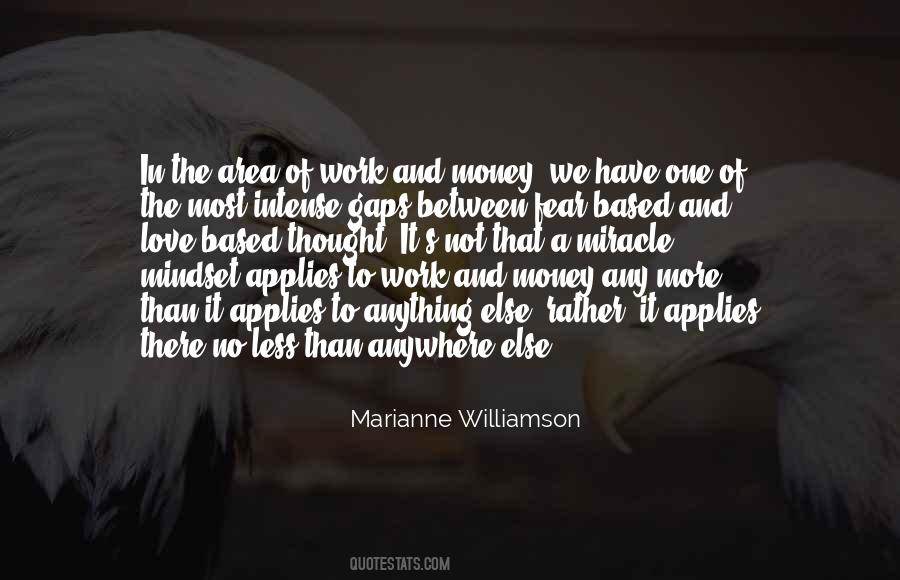 #38. I want you to have the best of everything I can give you. And I'm not talking money here, Tru. I'm talking memories. Our life together. - Author: Samantha Towle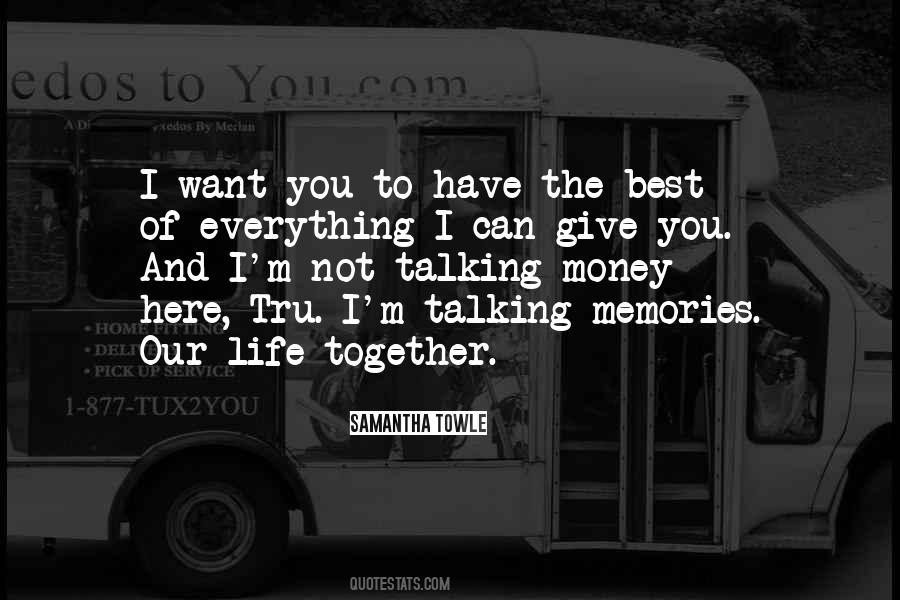 #39. I love what I do, and I'm not doing anything either for money or for the sake of some unfulfilled ambition. - Author: Persis Khambatta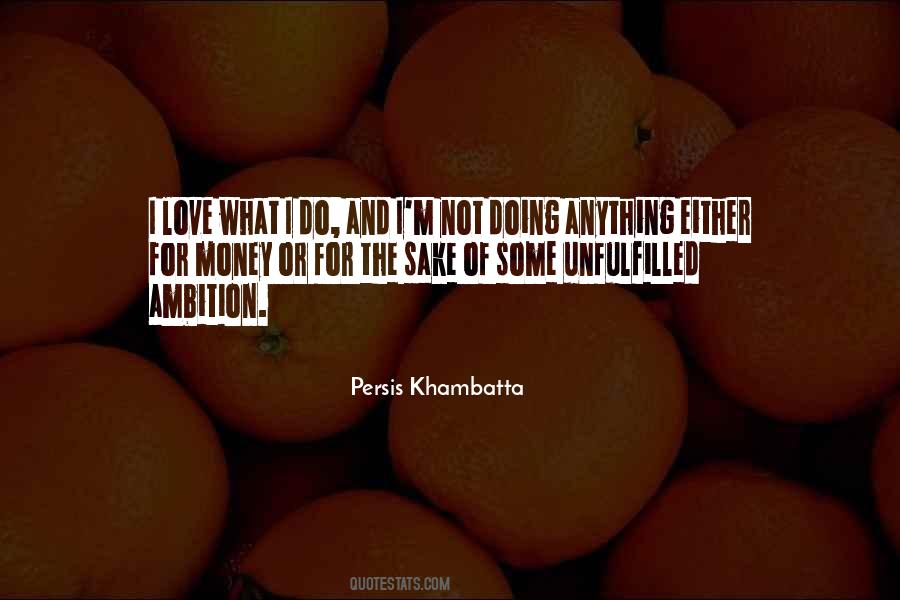 #40. I think people's perception of a rich girl is literal, but metaphorically I embrace it as being rich in love, spirit, joy and religion. So it's not about money. - Author: Angie Stone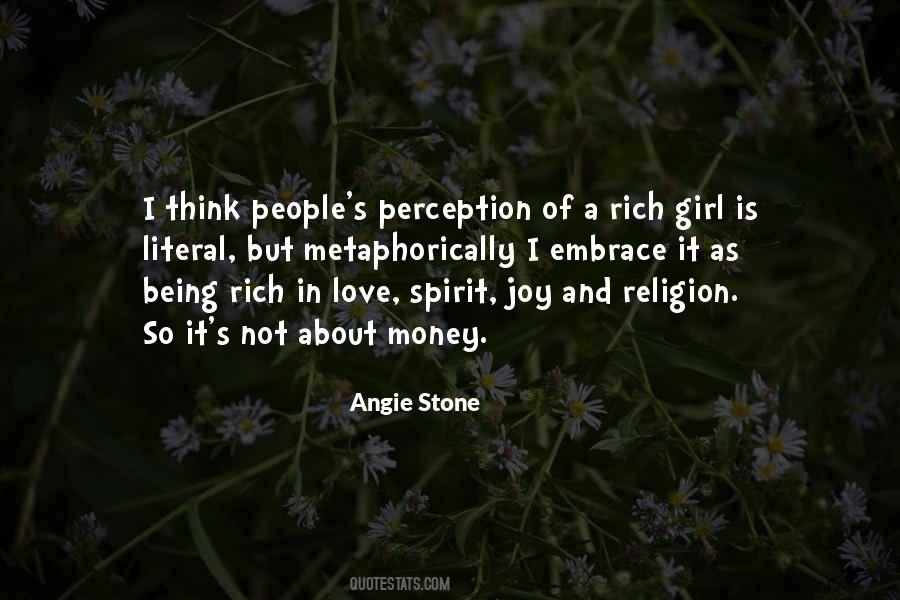 #41. I believe only in money, not in love or tenderness. Love and tenderness meant only pain and suffering and defeat. I would not let it ruin me as it ruined others! I would speak only with money, hard money. - Author: Agnes Smedley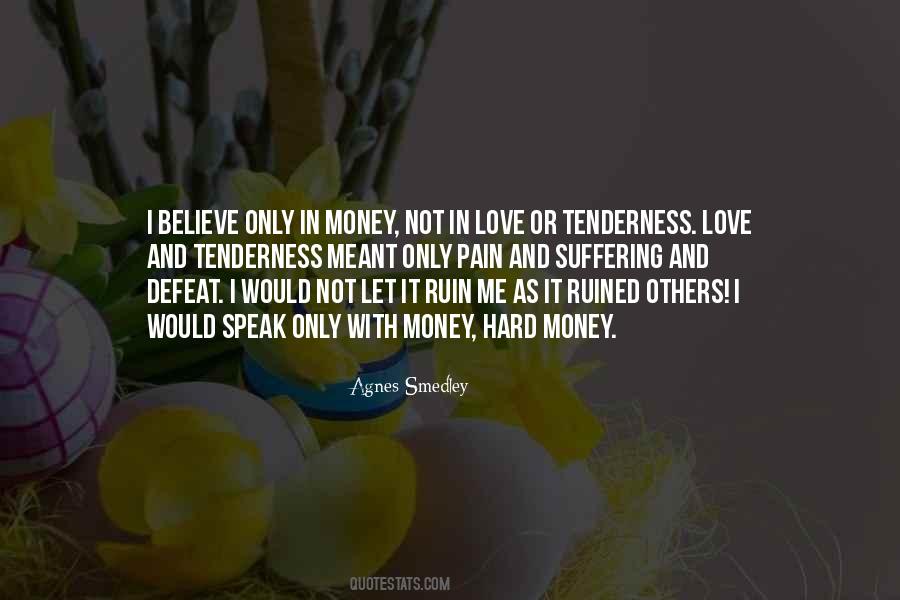 #42. There will never be a good time, financially, to get married, unless you're Shaq or Ray Romano. But somehow people manage. If your man is using money as an excuse not to marry you, it's your relationship that's insecure, not his bank account. - Author: Greg Behrendt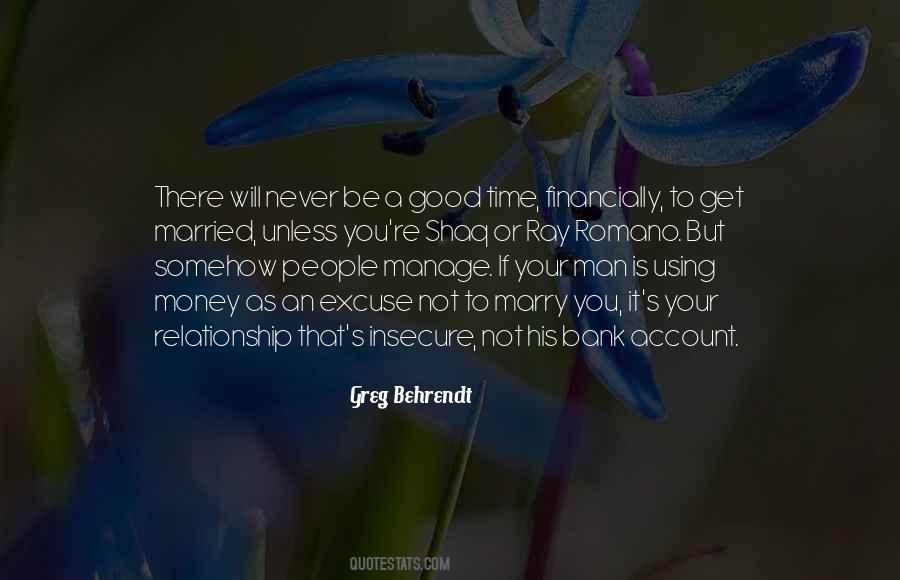 #43. Modelling was not very satisfying for me. I came to London to model, and I fell in love with the theatre. I was eating yoghurt every day so that I had the money to go to the theatre. I saw everything. It's still my dream to be on stage in London. - Author: Caterina Murino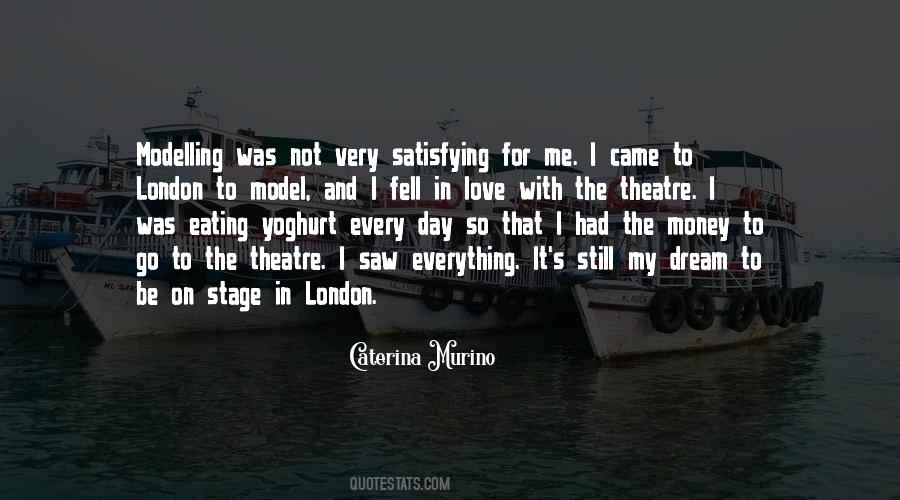 #44. Spend your money for education; it will pay you the best dividend. No one will be able to steal is and you will not lose it for a second. - Author: Debasish Mridha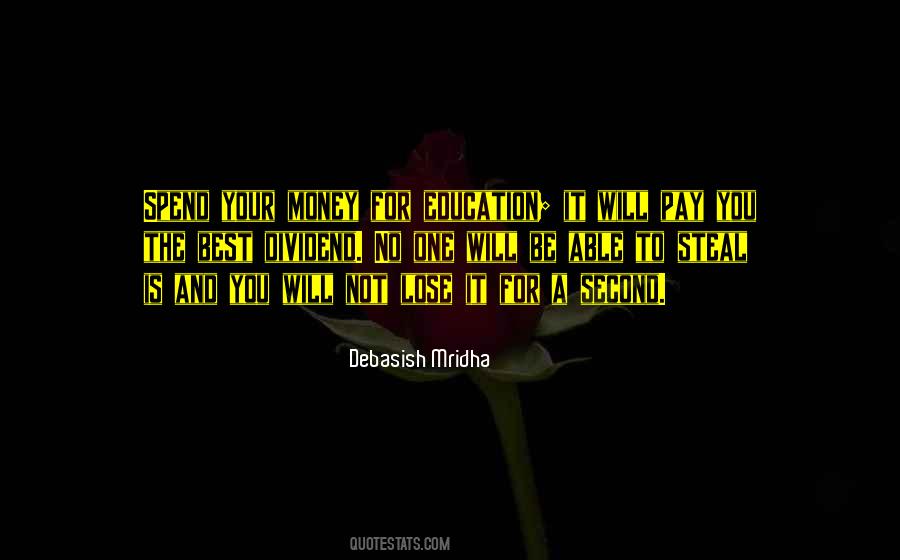 #45. No child is taught to kill, but he has to be taught to love, respect, honor and value, not only his own life, but the lives of his classmates, parents and teachers. He has to experience love and acceptance. He has to know his life has purpose and meaning. No amount of money can do that. - Author: Cal Thomas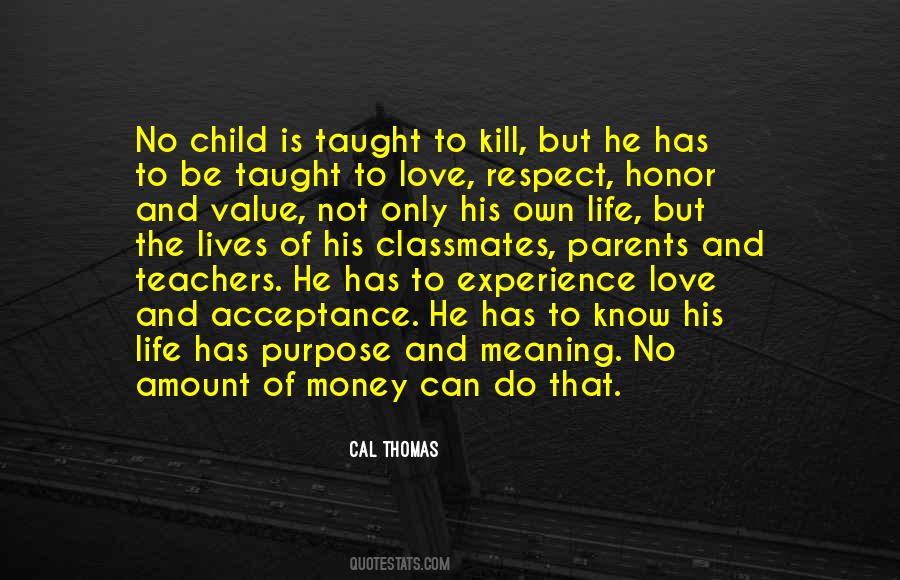 #46. But love was undependable, it came and then it went, so it was good to have a money value, because then at least those who wanted to make a profit from you would make sure you were fed enough and not damaged too much. - Author: Margaret Atwood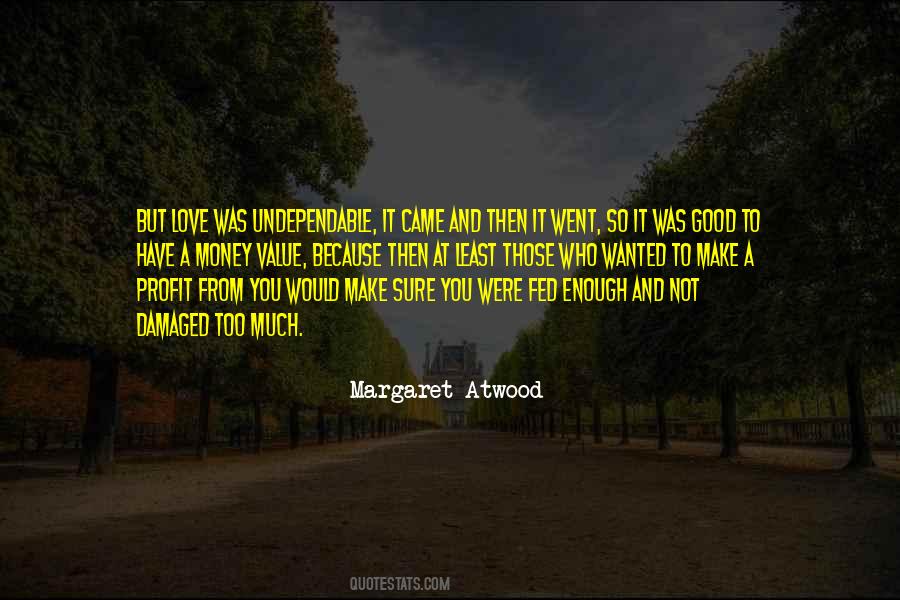 #47. I don't believe you ever stop loving anyone you ever really loved. You have them there like money in the bank just because you loved them and held them in your arms or dreamed you did. You can forget a lot of things in life, but not that honey to end all honeys. - Author: Ellen Gilchrist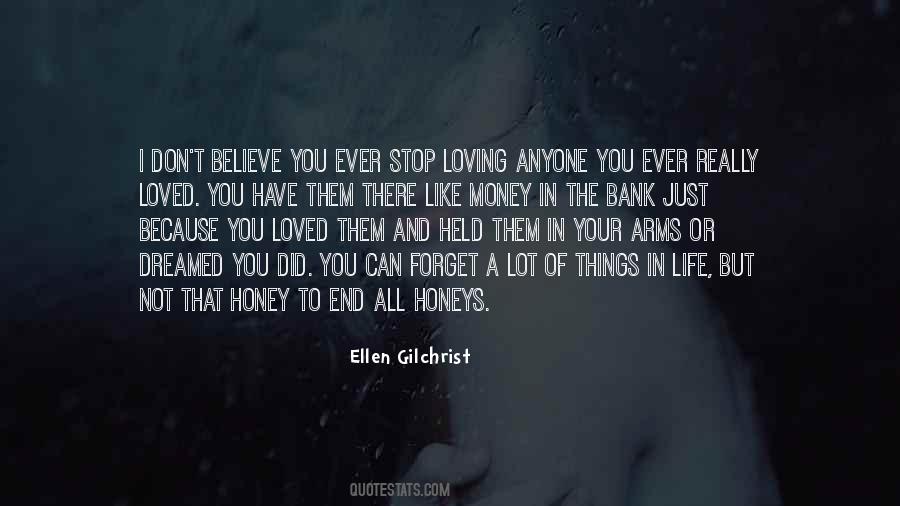 #48. Relations are by product of Money(mostly), keep your finances in line and rest all is taken care This is a fact, which would be rarely accepted by people, but inside everyone knows that ... Those who've not yet experienced it would still say, money cannot buy love, respect bla bla bla ... - Author: Honeya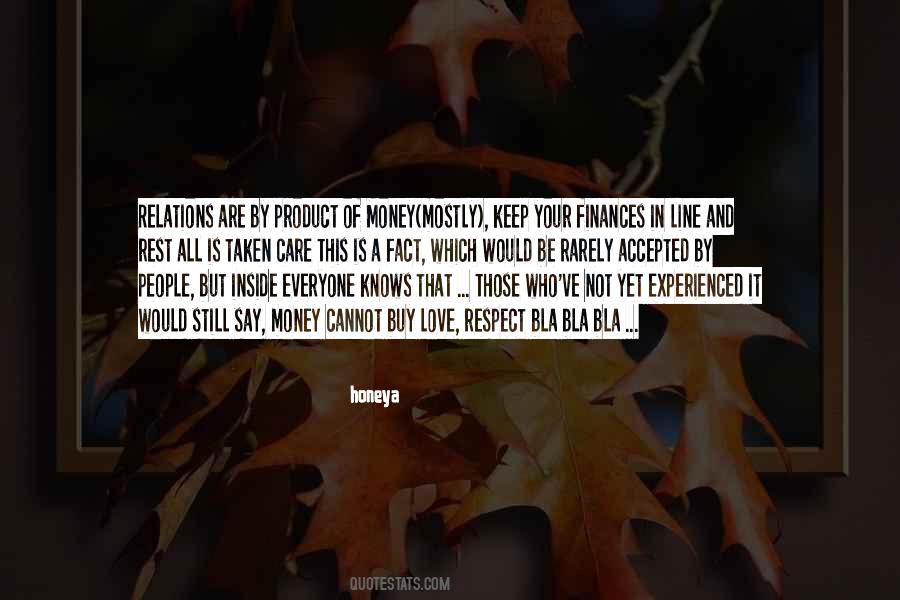 #49. The money has always been wasted on me. I don't care for beautiful things, funnily enough. I am my father's daughter. The things that excite me are the smell of a wood-burning stove, uncultivated fields. My house is decaying and falling to pieces. It's not had the love it deserves over twenty years. - Author: Alison Moyet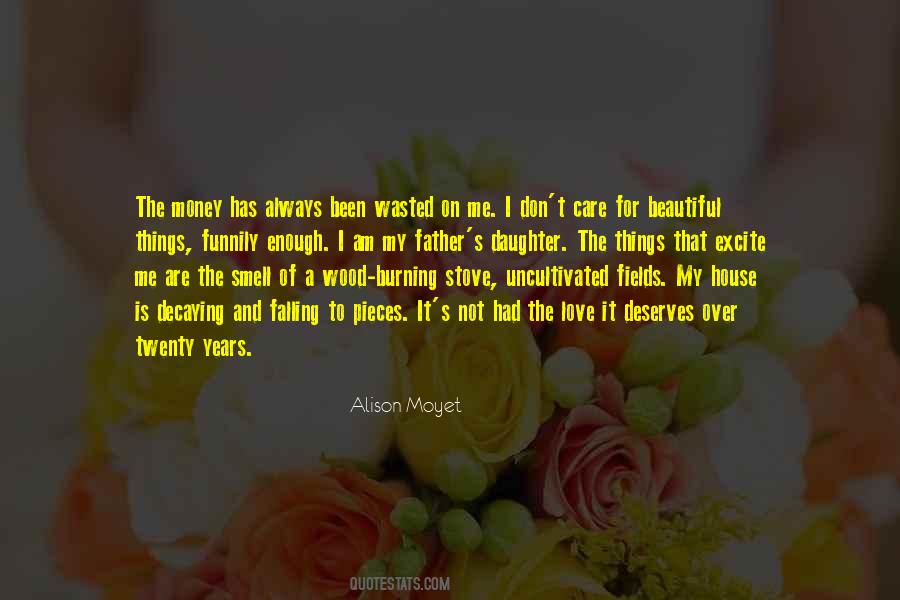 #50. Greed is when we love money more than God and do not love God with our money. - Author: Julian Hardyman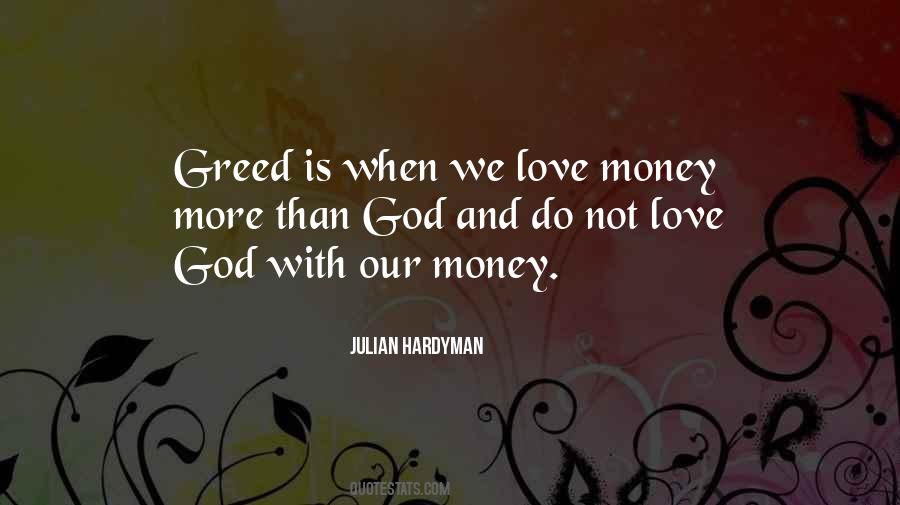 #51. When God gives you wealth, it is not a blessing; it is a test. He wants to test your faith in Him plus your desire and willingness to share. Be careful with the love of money. - Author: Felix Wantang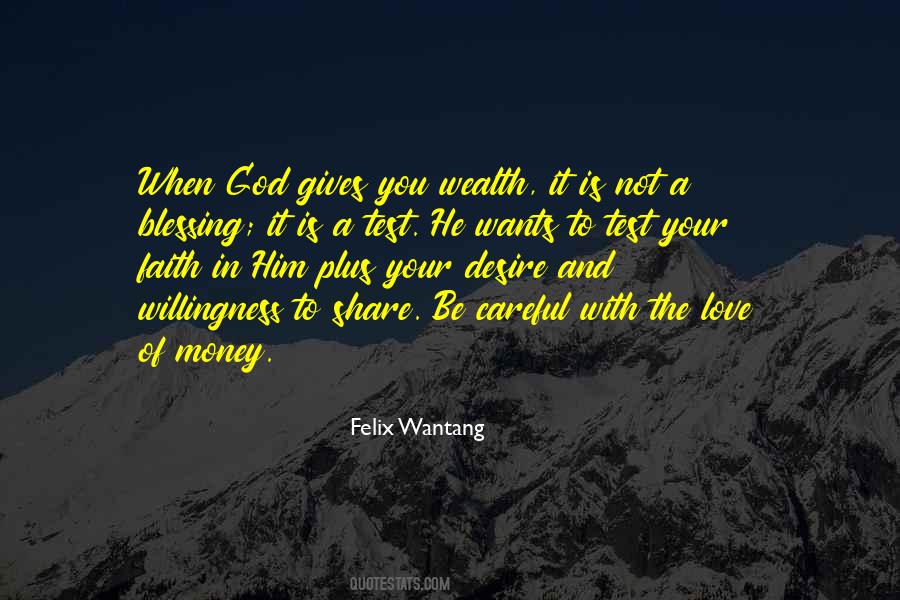 #52. The perfect thing for me is to be on something I love, where I'm doing it and have enough money not to be poor, and I'm allowed to go on vacation. - Author: Ben Schwartz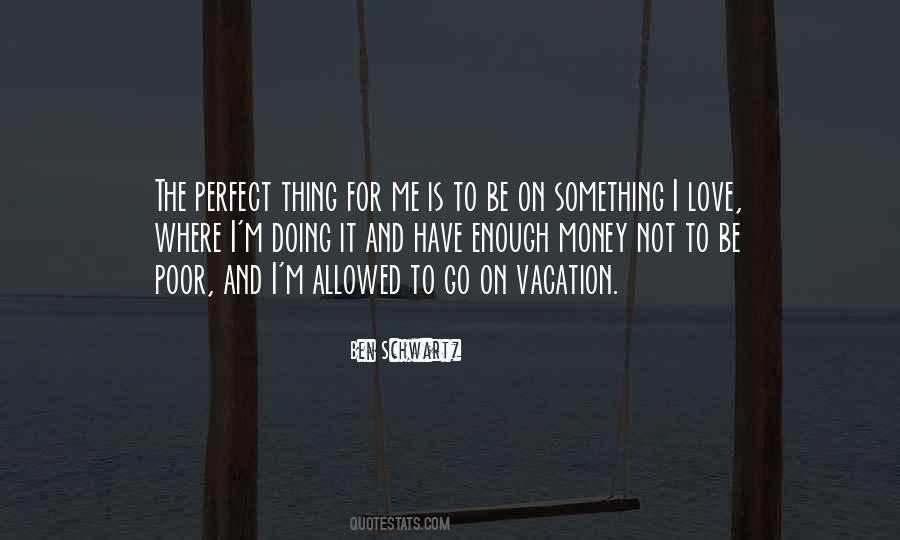 #53. Beauvoir knew that the root of all evil wasn't money. No, what created and drove evil was fear. Fear of not having enough money, enough food, enough land, enough power, enough security, enough love. Fear of not getting what you want, or losing what you have. - Author: Louise Penny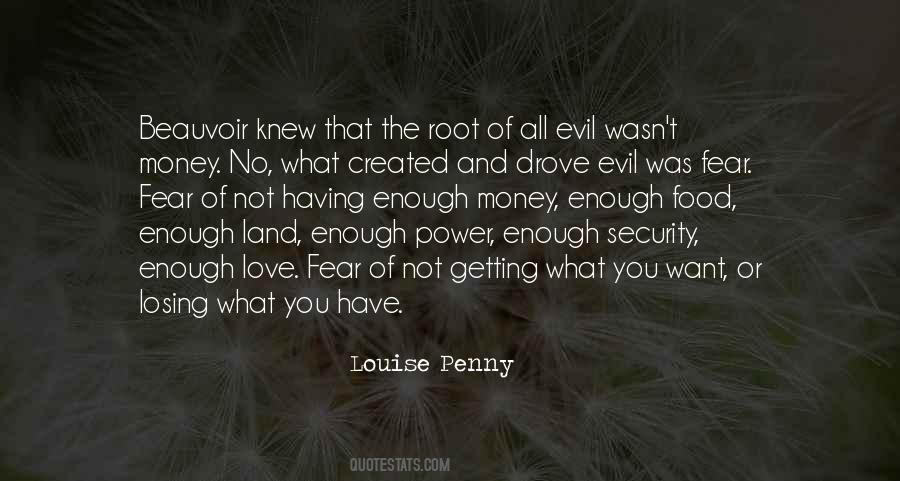 #54. Life is what we are alive to. It is not length, but breadth. To be alive only to appetite, pleasure, pride, money-making, and not to goodness and kindness, purity and love, history, poetry, music, flowers, stars, God and eternal hopes, it is to be all but dead. - Author: Maltbie Davenport Babcock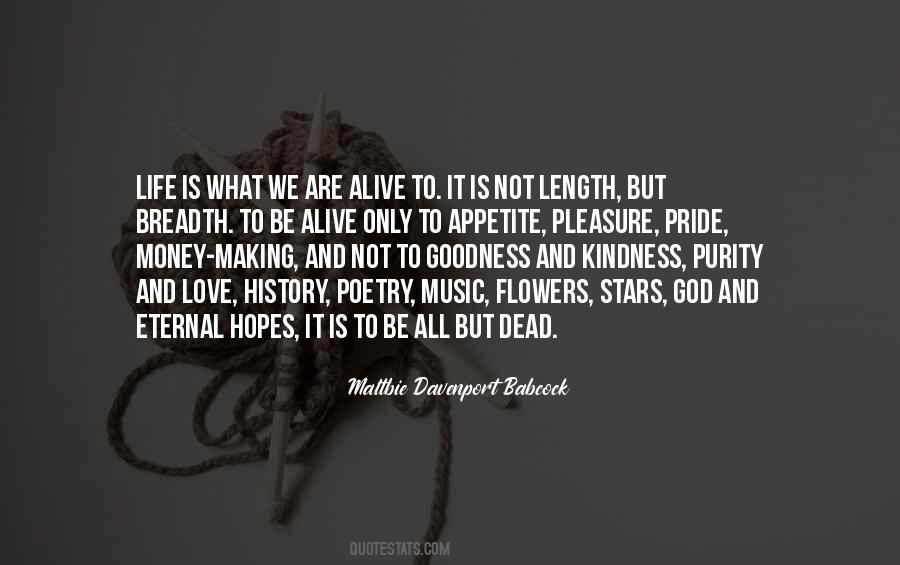 #55. I have a prejudice against people with money. I have known so many, and none have escaped the corruption of power. In this I am a purist. I love people motivated by love and not by power. If you have money and power, and are motivated by love, you give it all away. - Author: Anais Nin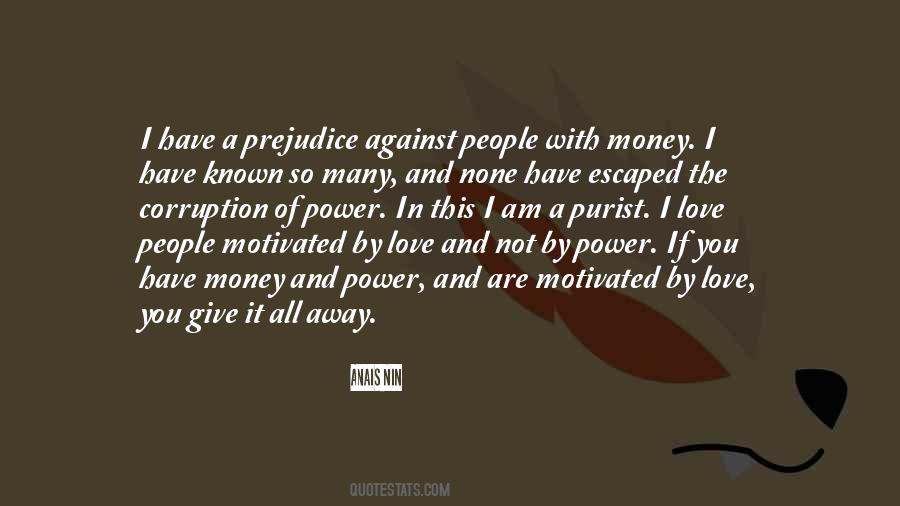 #56. See, a marriage needs love. And God. And a little money. That's all. The rest you can deal with. It's not about black or white. It's about God and don't let anyone tell you different. All this Jungle fever! Shoot! The Jungle fever goes away, honey, and then what are you gonna do? - Author: James McBride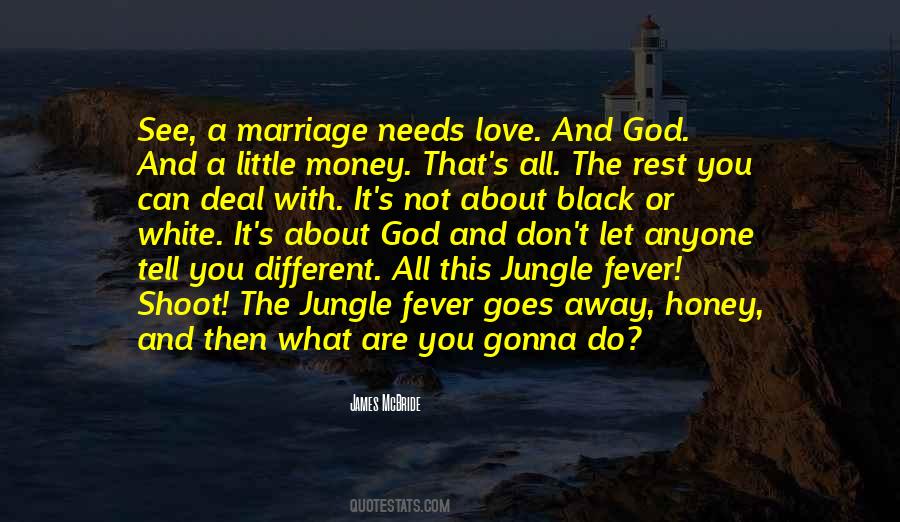 #57. Nothing except luck protects you from catastrophe. Not love. Not money. Not faith. Not a pure heart or good deeds
and not bad ones either, for that matter. We can, any of us, be laid low, cut down, diminished, destroyed. - Author: Therese Anne Fowler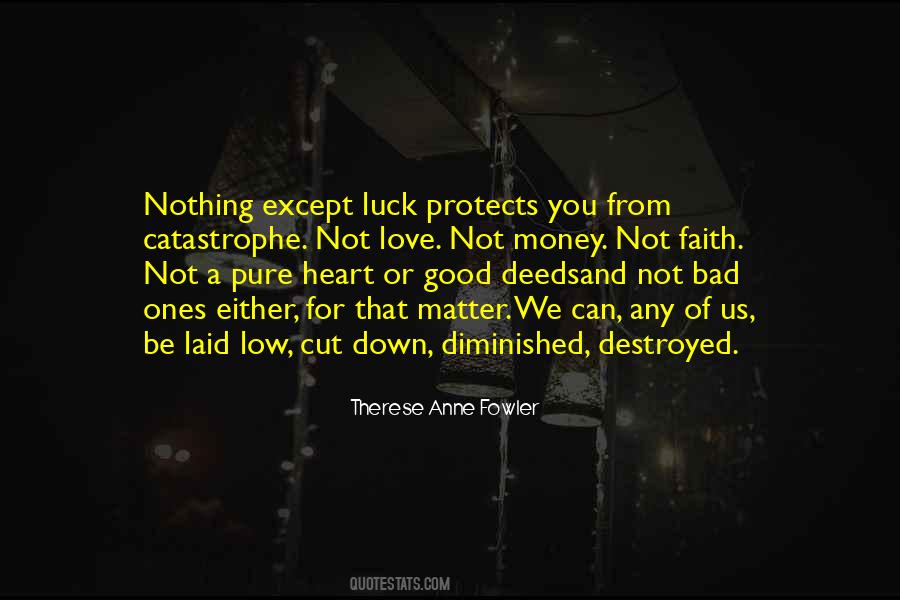 #58. I do not think I am successful just because I have money. I'm successful because I love who I am and I have no regrets, and I'm successful because I have a great heart and I have compassion and I care and I would be happy with or without money. - Author: Suze Orman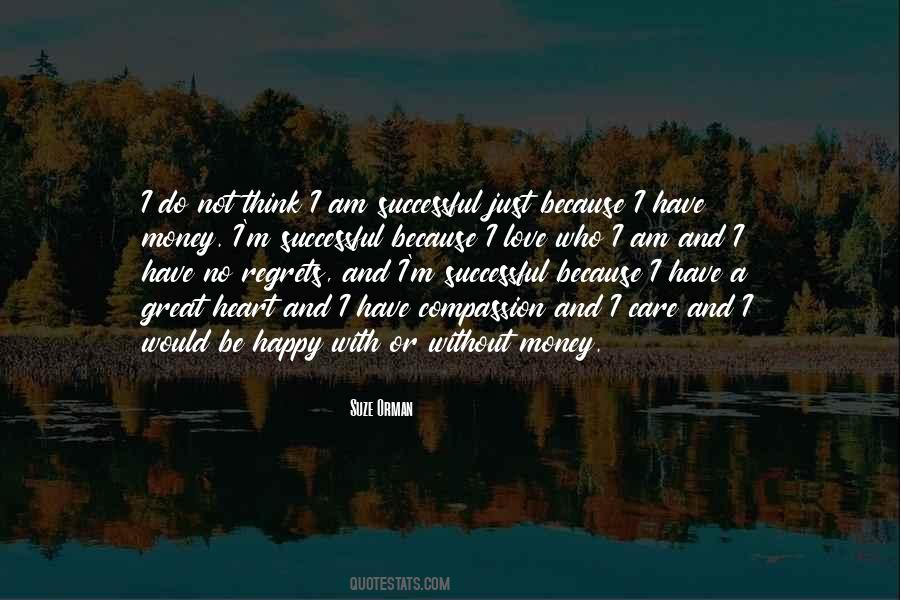 #59. There's many ways to be wealthy, and there's many wealthy people that are very poor. Success is not about money, it's happiness, inner peace, and loving yourself. Happiness and inner peace can come from your faith in God, and loving yourself is part of His plan. - Author: Ron Baratono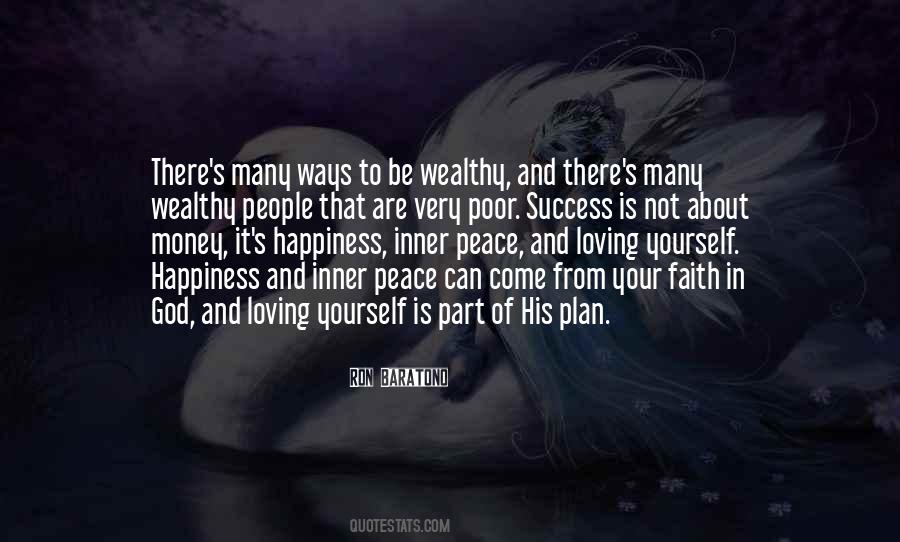 #60. I only love when money makes a difference and not makes you different. - Author: Ziad K. Abdelnour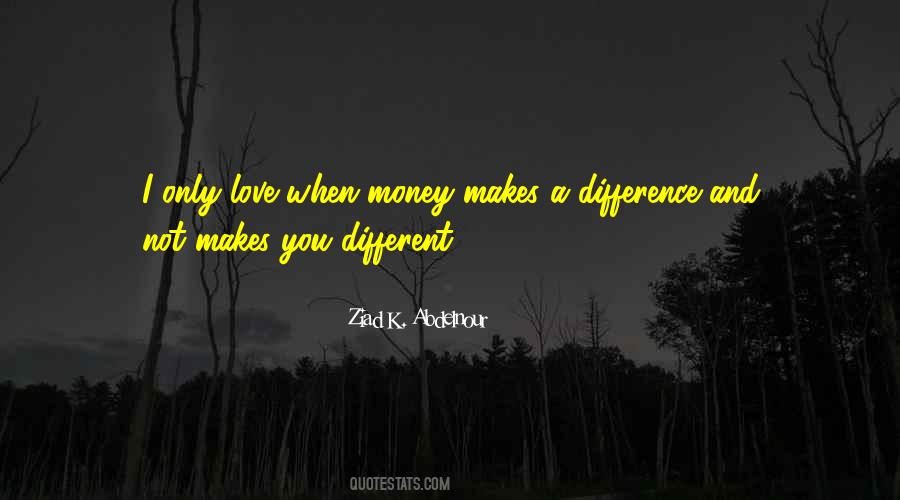 #61. The more I pursue God, the more I realize that he is inherently different from us. He does not protect his possessions and hoard his toys. He does not look for
ways to make us jealous of him, though he, the God Most High, is jealous for us. - Author: John D. Richardson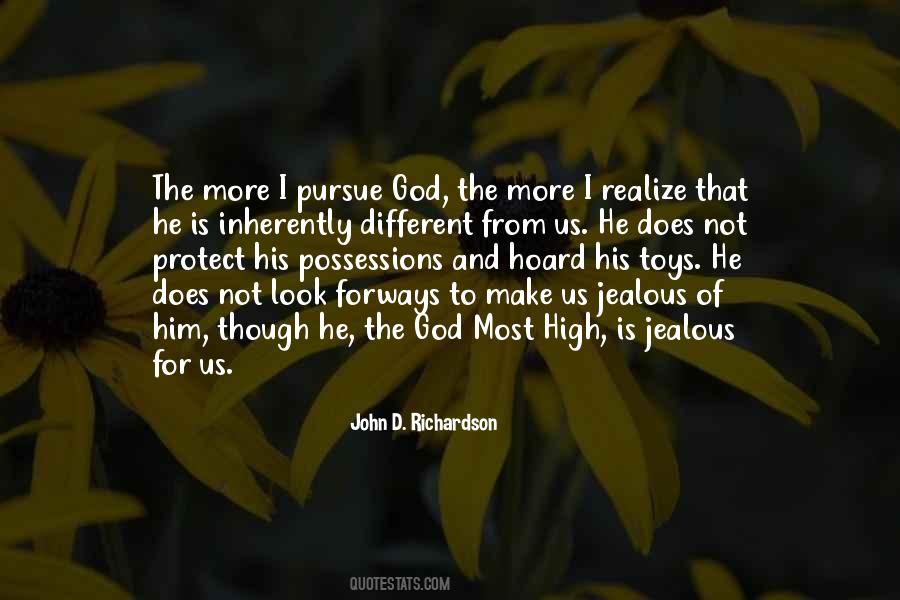 #62. It really helps if you are doing something you love instead of something you are just spending a bunch of money on. You can become very discouraged if you're not involved in something genuine, something that you believe in, and are committed to. - Author: Jerry Baldwin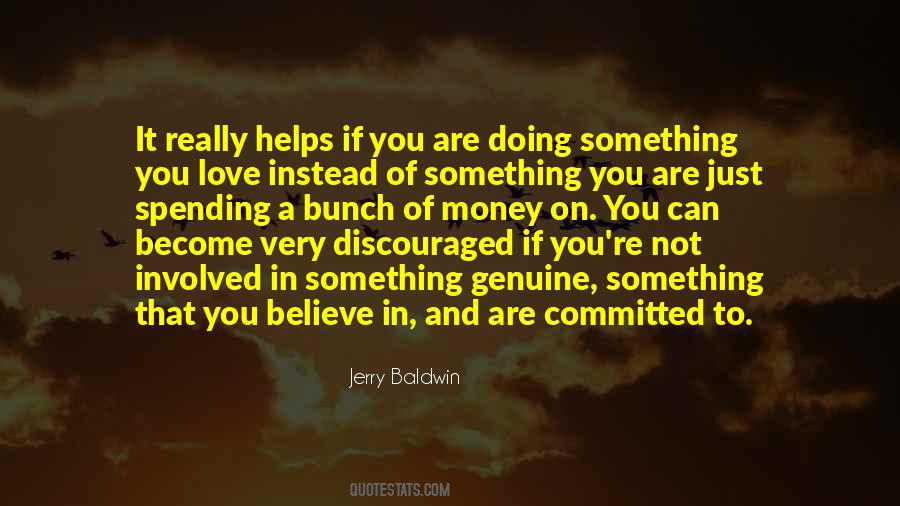 #63. The sneakiest form of literary subtlety, in a corrupt society, is to speak the plain truth. The critics will not understand you; the public will not believe you; your fellow writers will shake their heads. Laughter, praise, honors, money, and the love of beautiful girls will be your only reward. - Author: Edward Abbey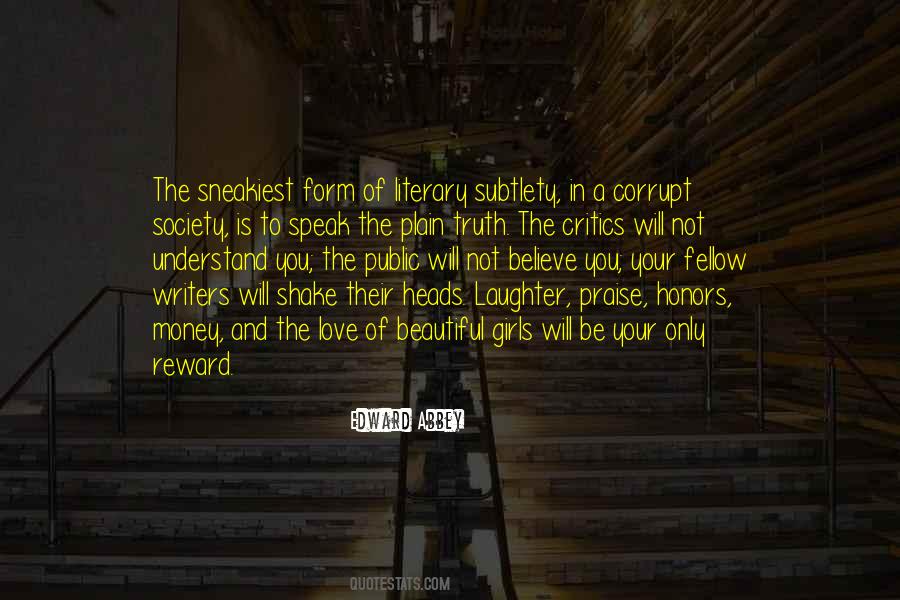 #64. For a blessing from God is not money but the understanding of man. To love a child and be the example you should be, is to show God you are listening to his word. - Author: Nancy Huff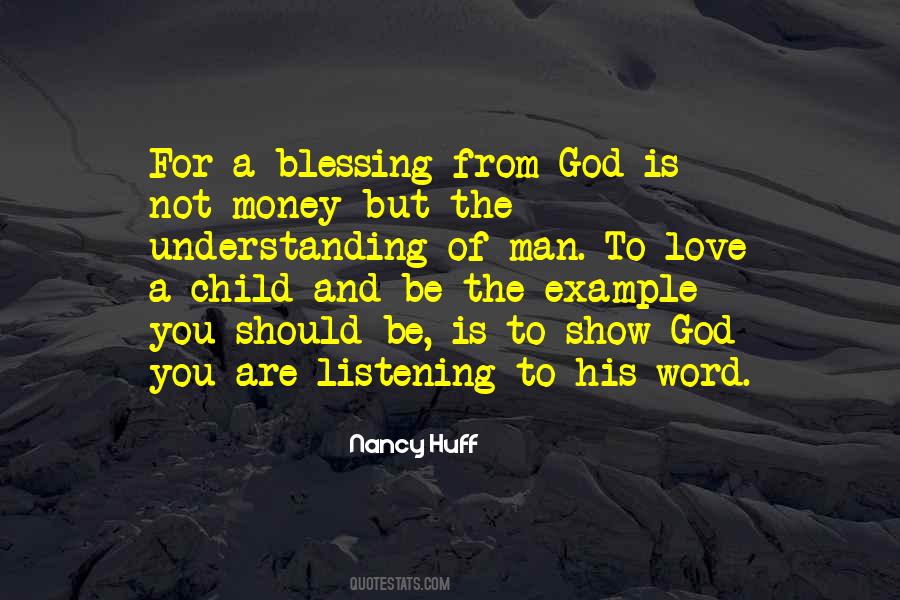 #65. You were going to take me bikini shopping?" "Not me, dear. Patsy. I'm not interested in looking at curvy young women in bikinis. I'm deeply in love with my wife and I'm only interested in money. - Author: Nick Hornby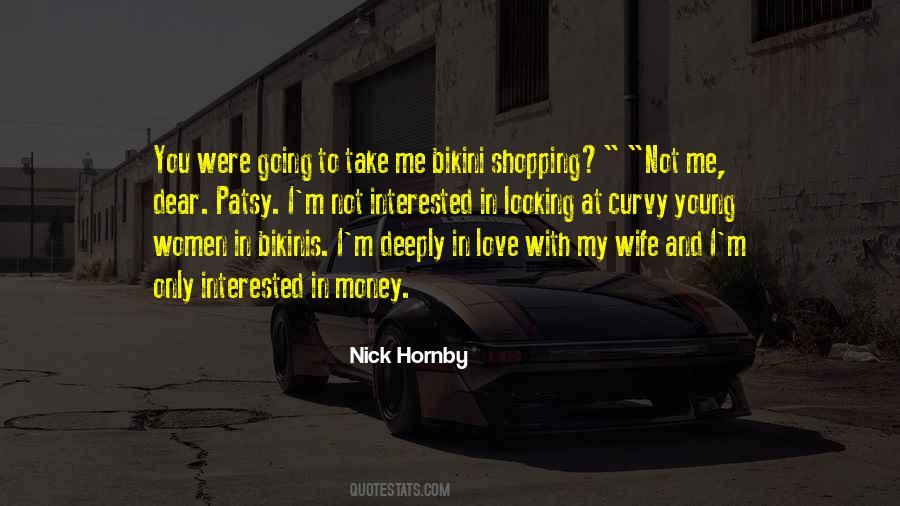 #66. A work of art wastes away and becomes lustreless in surroundings where it has a price but not a value. It radiates only when surrounded by love. It is bound to wilt in a world where the rich have no time and the cultivated no money. But it never harmonizes with borrowed greatness. - Author: Ernst Junger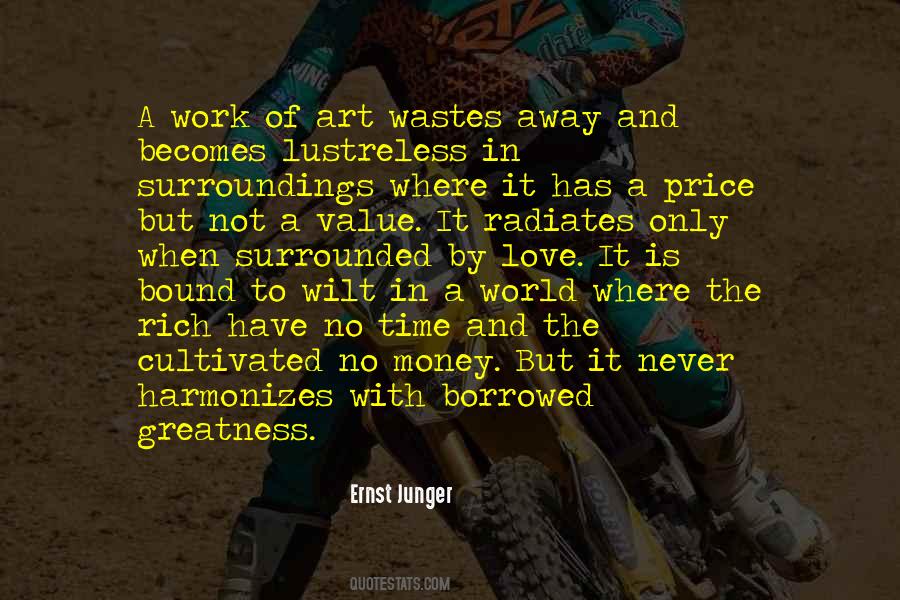 #67. I loathe the urchin's cruelty to the cat, but I will not loathe the urchin. I loathe Hitler's mass-torturing, but not Hitler; and the money-man's heartlessness, but not the man. I love the swallow's flight, and I love the swallow; the urchin's gleam of tenderness, and the urchin. - Author: Olaf Stapledon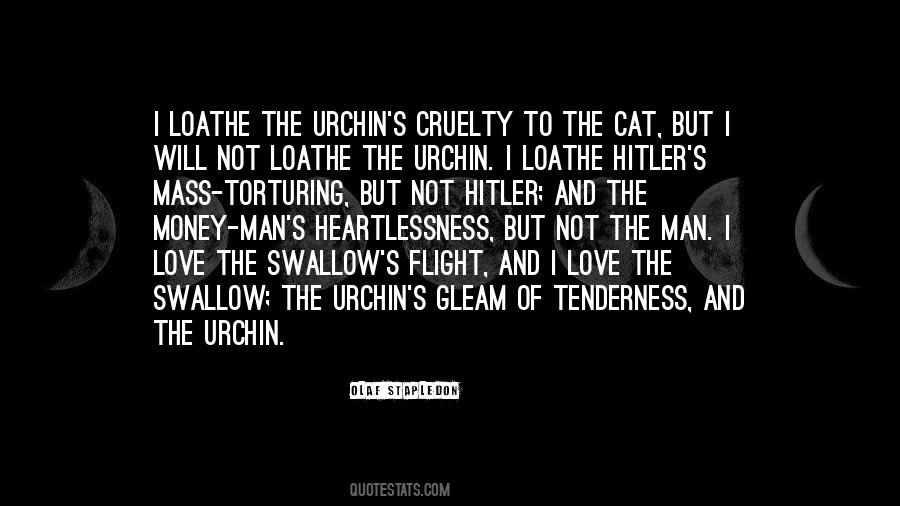 #68. Study, find all the good teachers and study with them, get involved in acting to act, not to be famous or for the money. Do plays. It's not worth it if you are just in it for the money. You have to love it. - Author: Philip Seymour Hoffman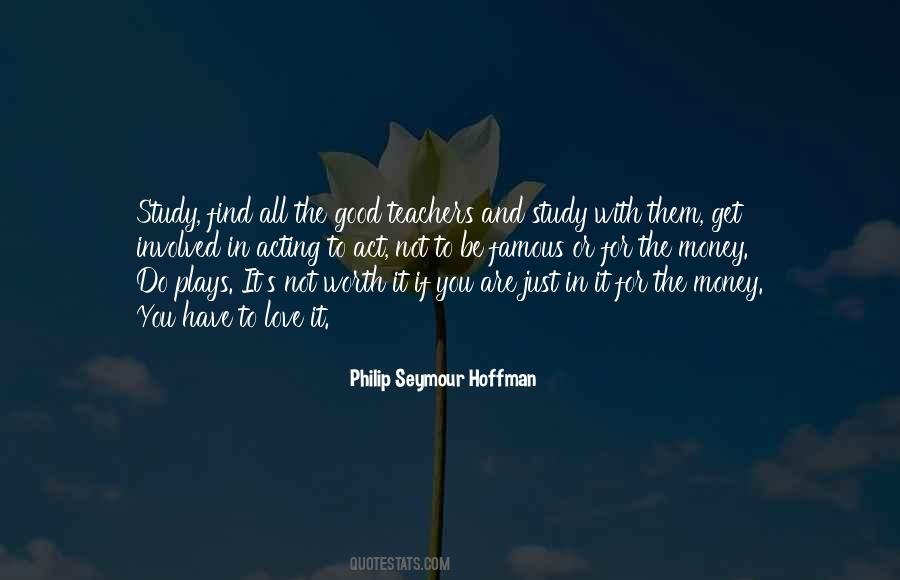 #69. The biggest thing I've found since I left the game - and I'm glad I chose to leave rather than being sacked - is that so many people are in football for the wrong reasons. Not because they love the game, but because they smell money. - Author: Graham Taylor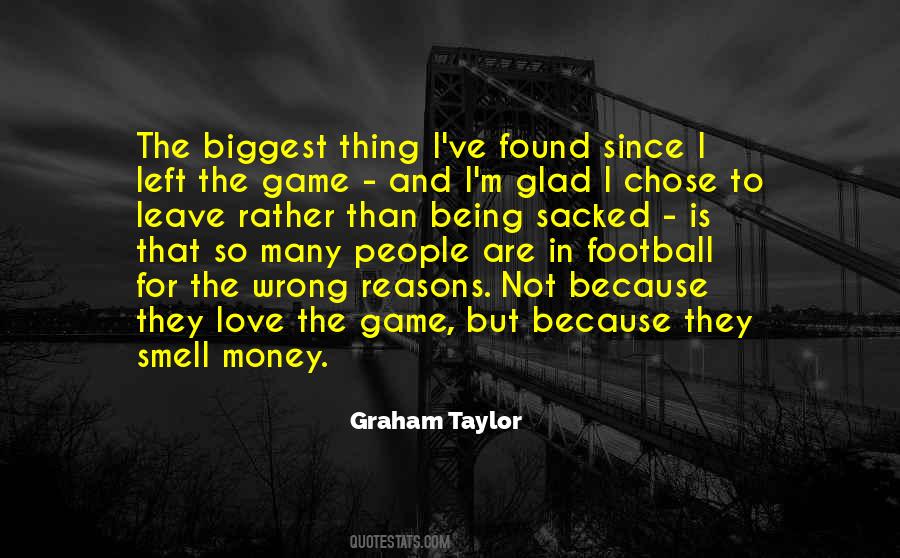 #70. Love is not patronizing and charity isn't about pity, it is about love. Charity and love are the same
with charity you give love, so don't just give money but reach out your hand instead. - Author: Mother Teresa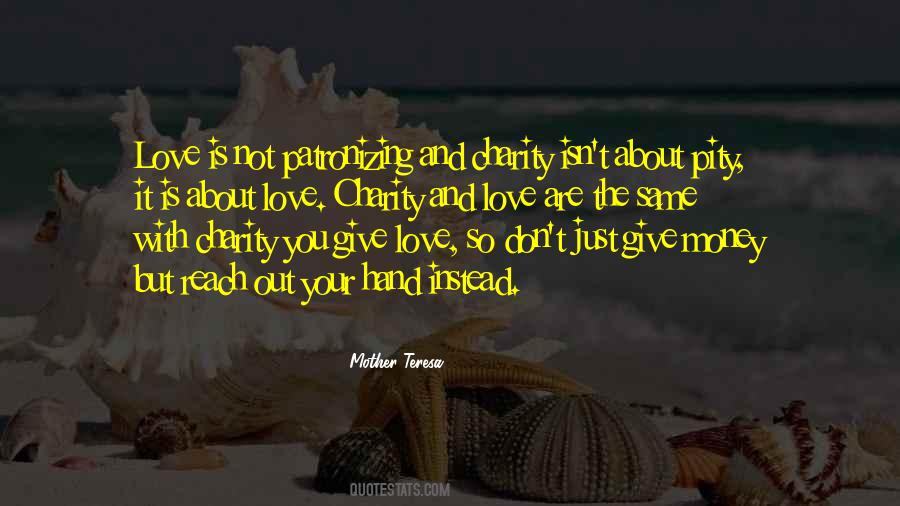 #71. No stigma attaches to the love of money in America, and provided it does not exceed the bounds imposed by public order, it is held in honor. The American will describe as noble and estimable ambition that our medieval ancestors would have called base cupidity. - Author: Alexis De Tocqueville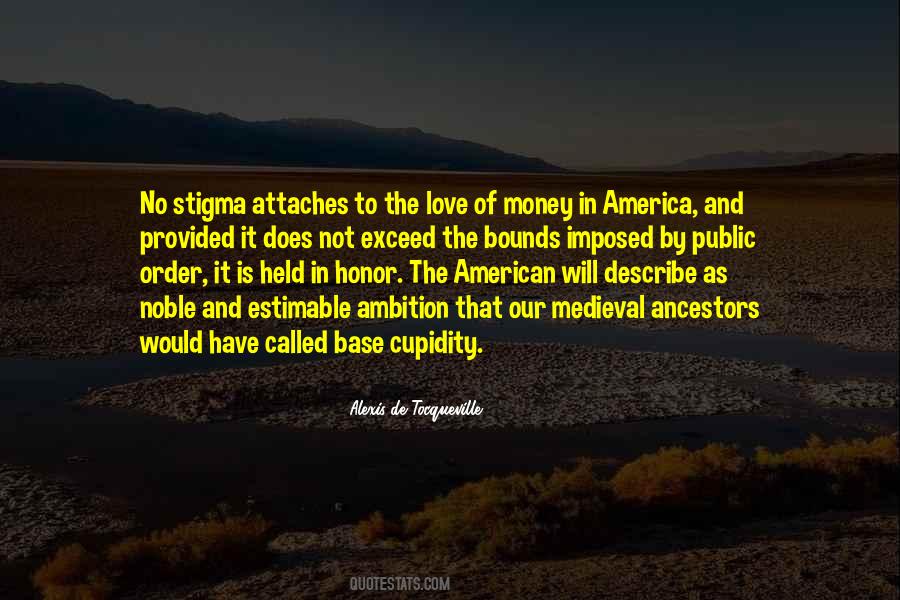 #72. Money can't buy everything." "Someone must have told you that. You'd never think of such a platitude all by yourself. What can't it buy?" "Oh, well, I don't know - not happiness or love, anyway." "Generally it can. And when it can't, it can buy some of the most remarkable substitutes. - Author: Margaret Mitchell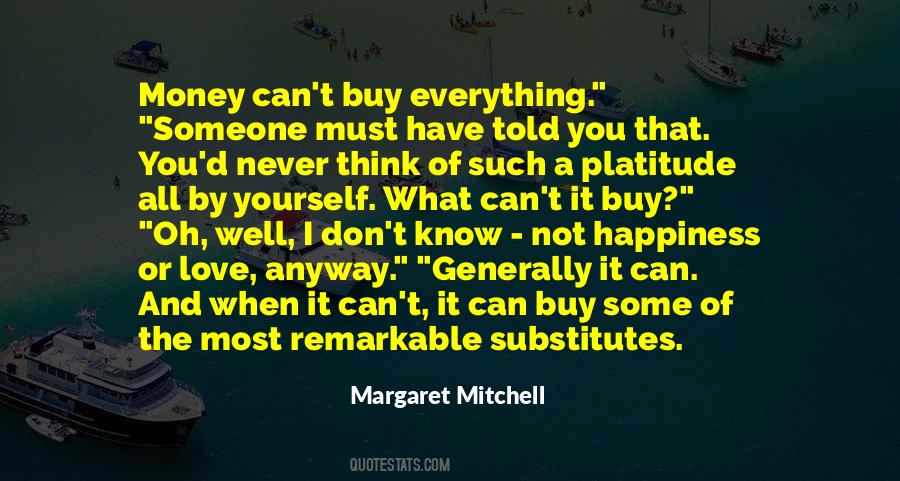 #73. Or some people may yearn for riches, not for money's sake but in order to send their children to college or provide themselves with the freedom and time for study and reflection which are necessary for their own spiritual growth. It is not power or money that such people love; it is humanity. - Author: M. Scott Peck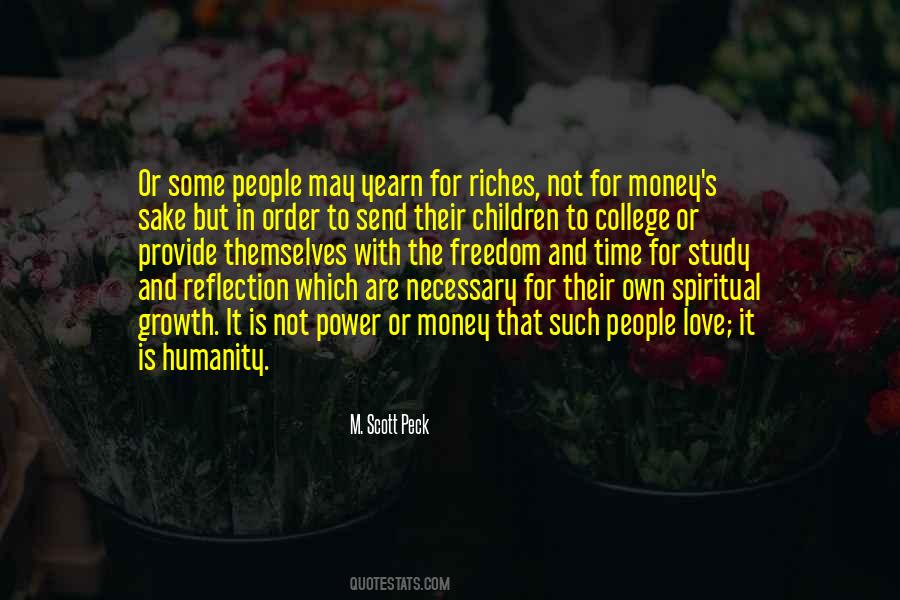 #74. To cure us of our immoderate love of gain, we should seriously consider how many goods there are that money will not purchase, and these the best; and how many evils there are that money will not remedy, and these the worst. - Author: Charles Caleb Colton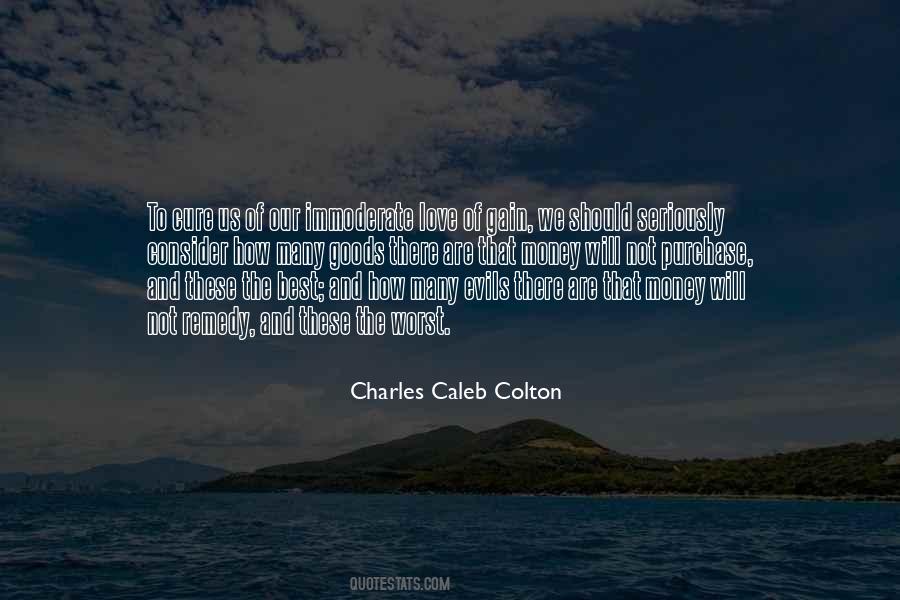 #75. They must live outside class, without relations or money; they must work and stick to each other till death. But England belonged to them. That, besides companionship, was their reward. Her air and sky were theirs, not the timorous millions' who own stuffy little boxes, but never their own souls. - Author: E. M. Forster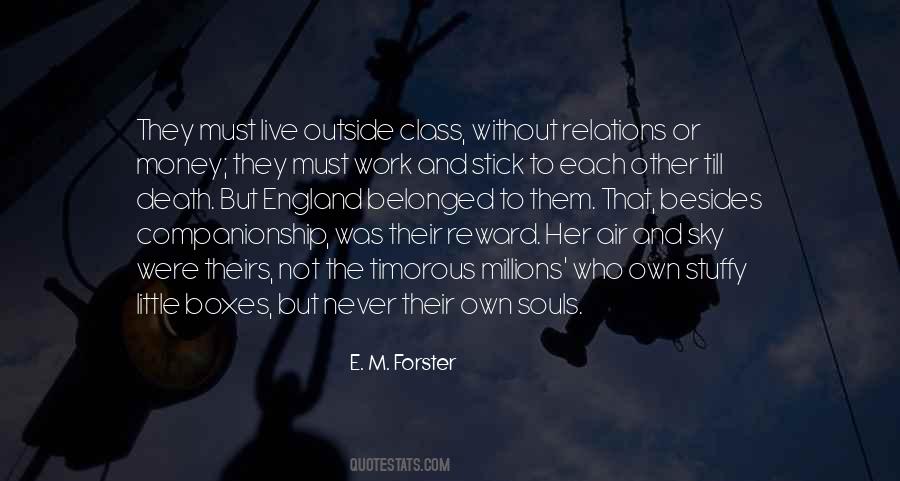 #76. Whatever career you're in, assume it's going to be a massive failure. That way, you're not making decisions based on success, money and career. You're only making it based on doing what you love. - Author: Brian Chesky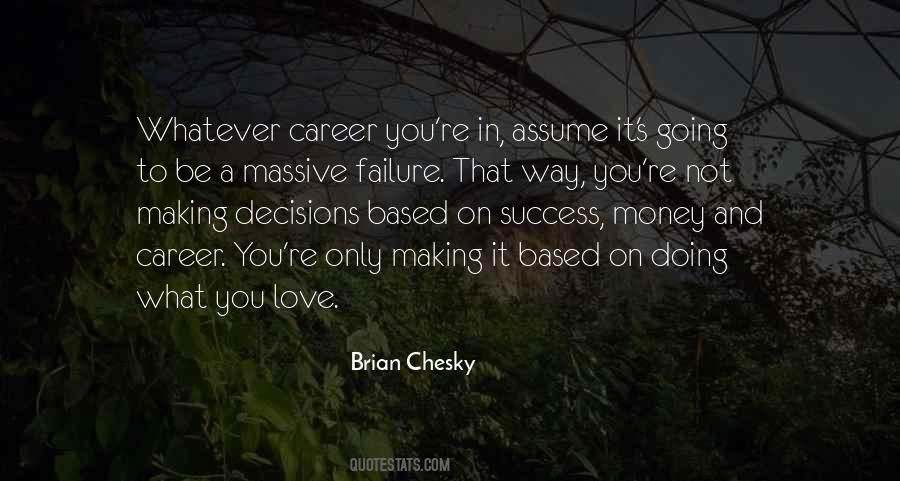 #77. You own what you own not by money or force, but by your love for it and your inner connection to it. - Author: Alan Cohen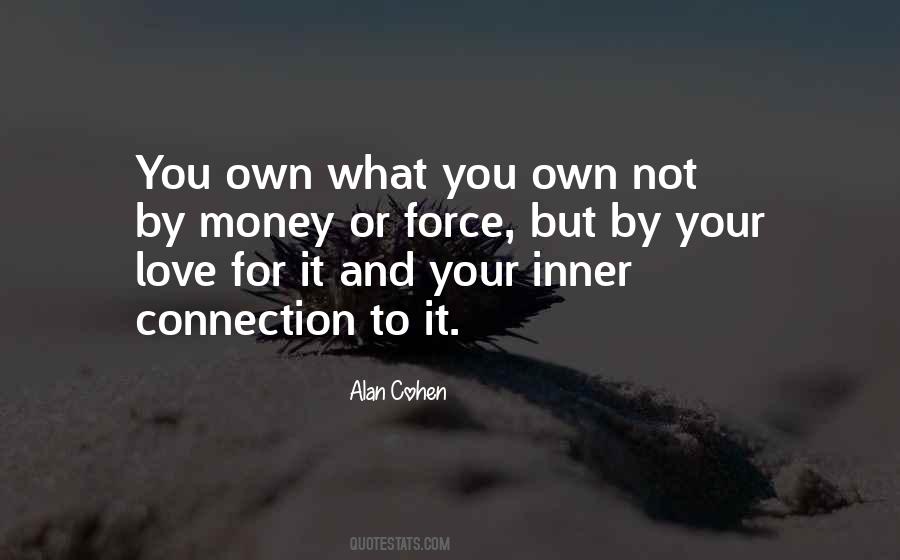 #78. It is not about how much money we make or how big and powerful our work appears to others, it is about the love with which we put into each act of kindness toward another human being. - Author: Joyce Vissell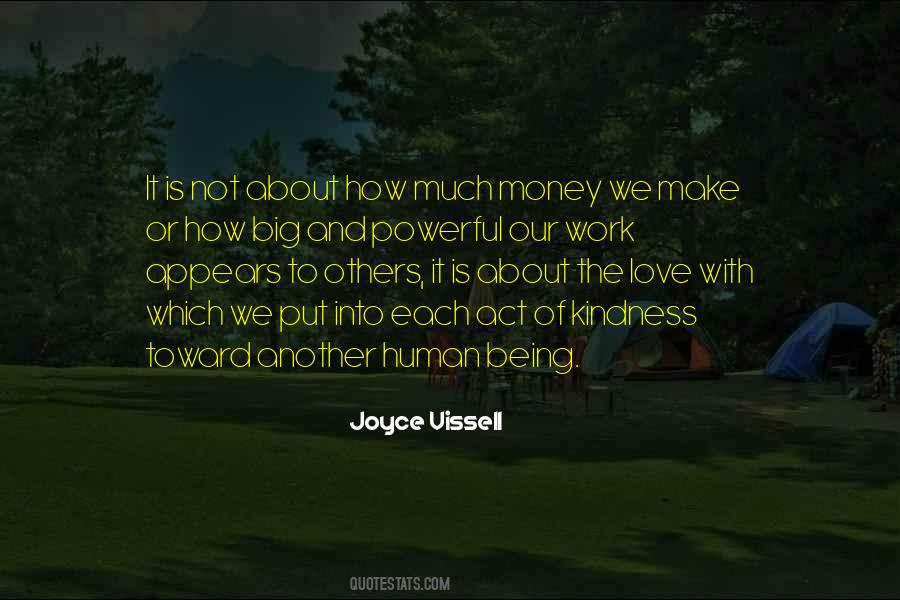 #79. Even those among us who are lucky enough to love our jobs would have to admit that at least part of the reason we work is to earn money. In between all this work, we like to eat out at restaurants, go on trips, buy nice things, not to mention pay rent and meet the cost of living. - Author: Stella Young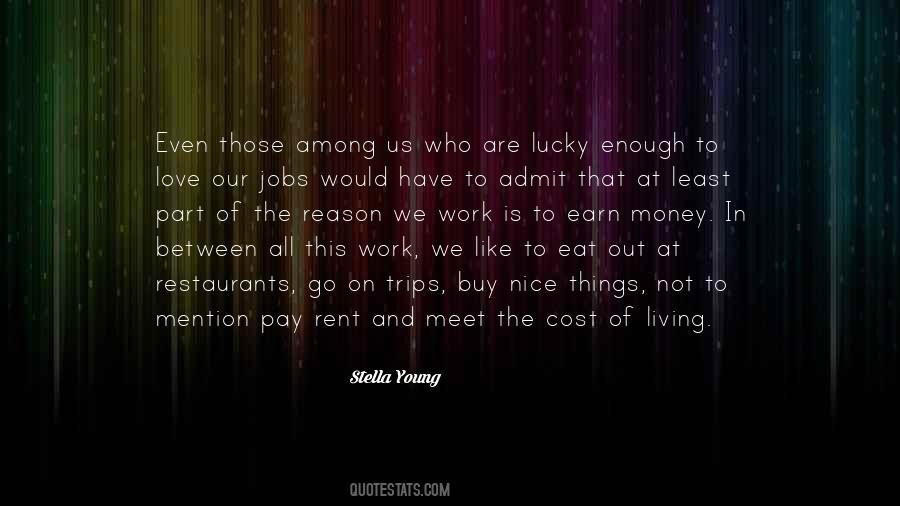 #80. It is not right for painters to think that painting is like prostitution, that 'first you do it for love, then you do it for others, and finally you do it for money. - Author: Ad Reinhardt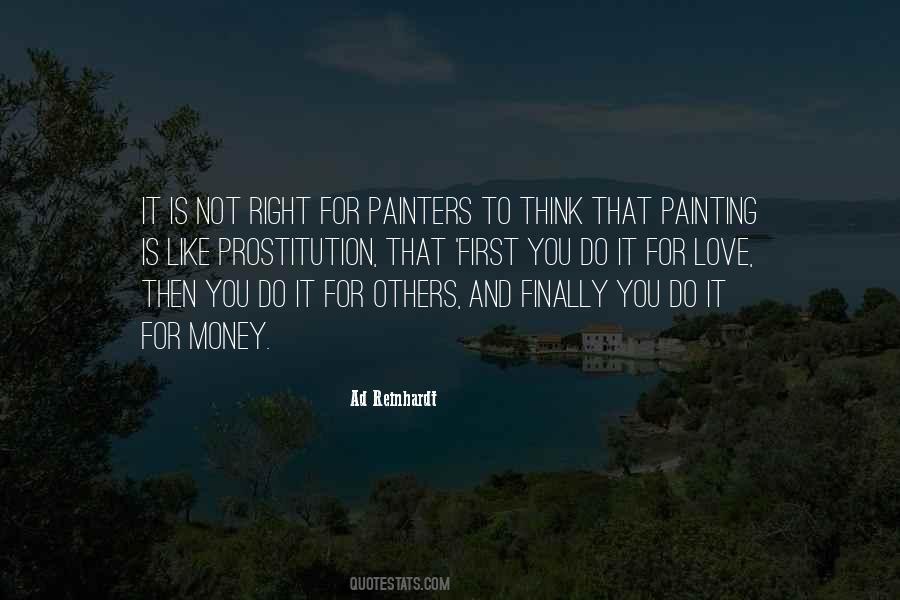 #81. An Oxford degree or owning a successful business or a perfect looking body does NOT guarantee inner-happiness, peace of mind, self-love, and a loving relationship. - Author: Maddy Malhotra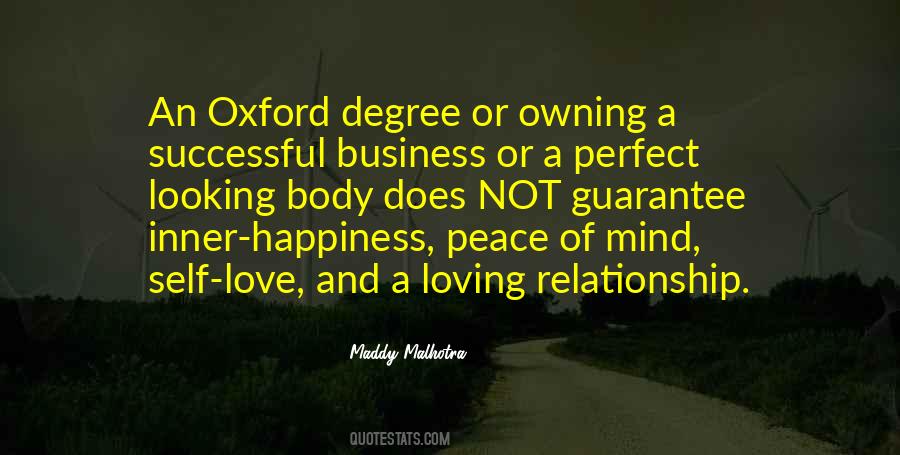 #82. People commonly misquote the old Sacrinomicon and say that money is the root of all evil, which is moronic if you think about it. The real quote is that the love of money is the root of all sorts of evil. Not as pithy, but a lot truer. - Author: Brent Weeks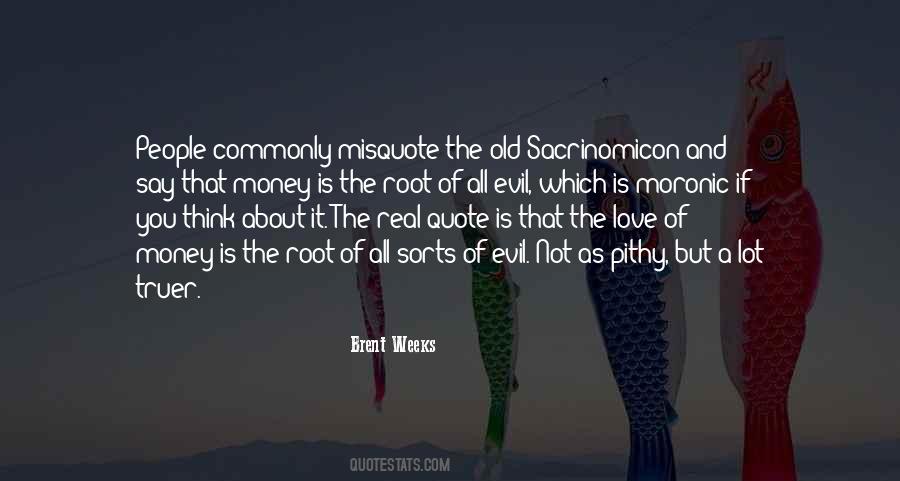 #83. Don't ever pray for love and health, Mother said. Or money. If G-d hears what you really want he will not give it to you. Guaranteed. When my father left my mother said, get down on your knees and pray for spoons - Author: Jennifer Clement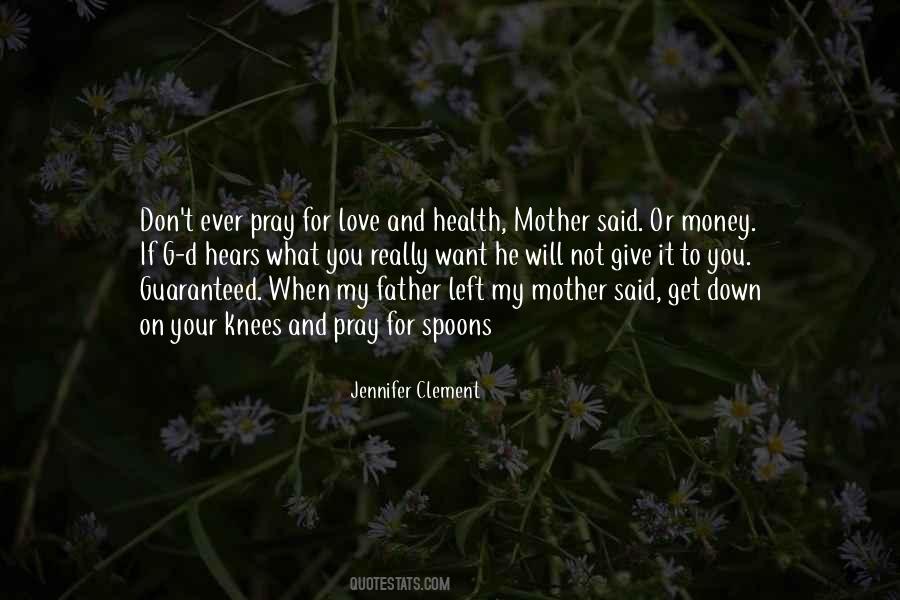 #84. I'm playing baseball because I love it, not because I need the money or attention. That is why I've been so dedicated. I've accomplished a lot of things no one ever thought I could, and I've done it from hard work. - Author: Mike Piazza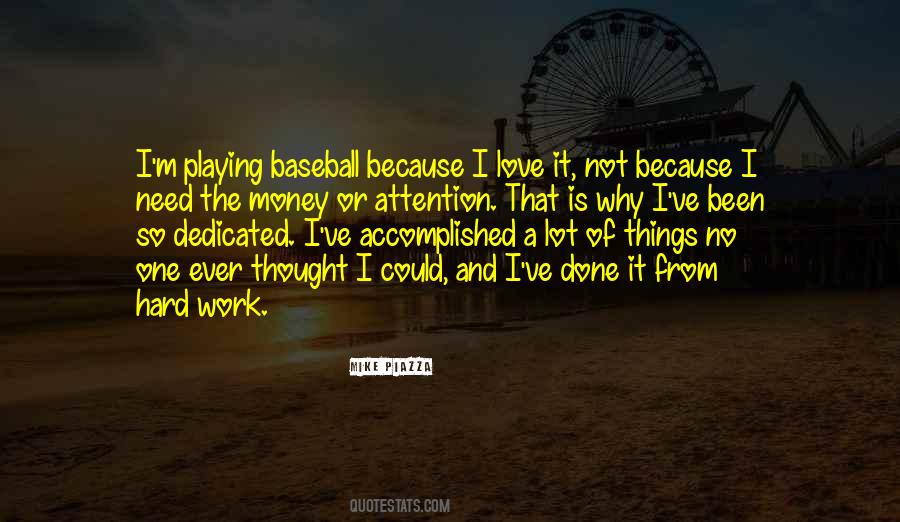 #85. If anyone does not refrain from the love of money, he will be defiled by idolatry and so be judged as if he were one of the heathen. - Author: Polycarp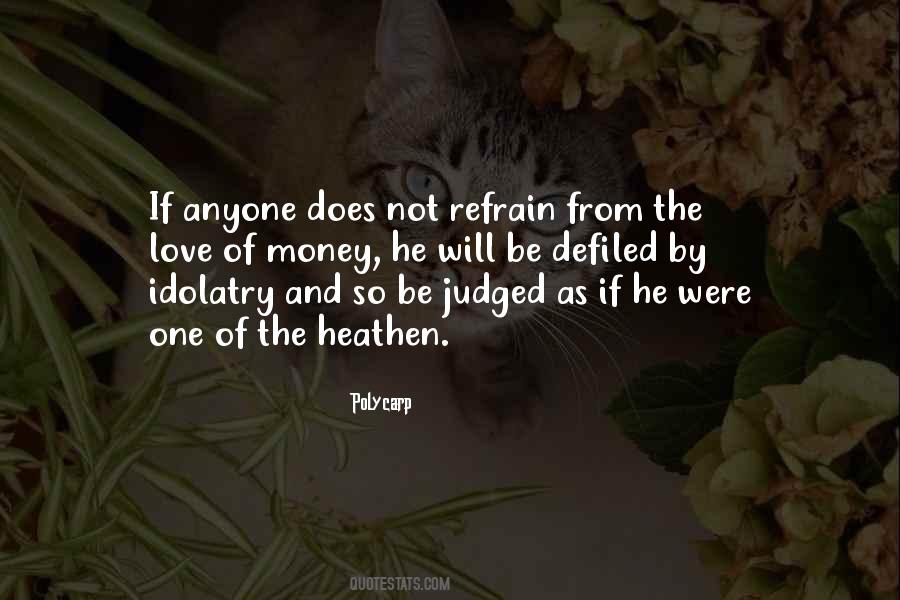 #86. If money could motivate the merchants of England to cross death-defying oceans and enter the interior of China at great personal risk of the loss of life, could not the love of Christ motivate the missionaries to do the same for the sake of the gospel? - Author: Alexander Strauch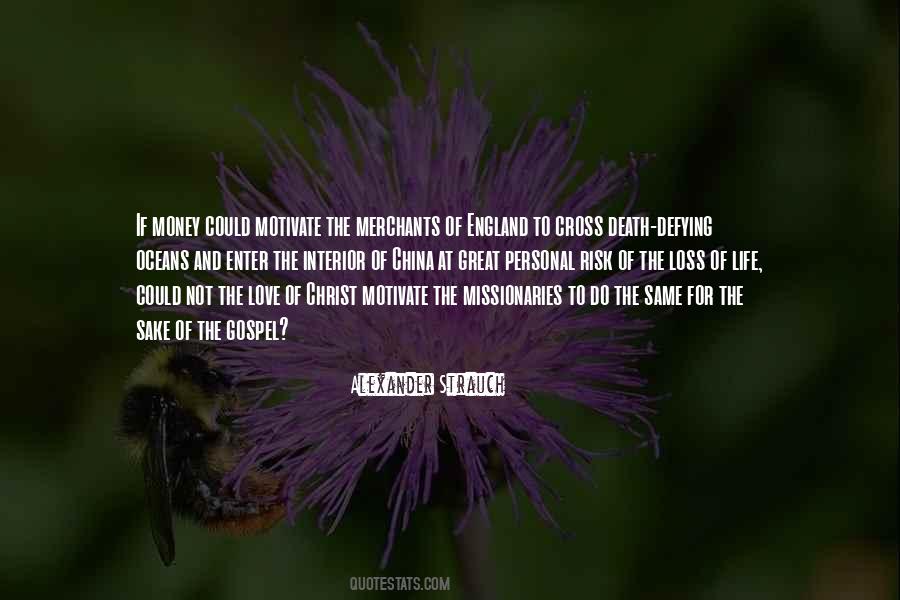 #87. I don't work for money any longer. I'm fortunate enough not to need to work for money, but I work for pride; I work because I love to work, and so the idea that one could lose control of one's own name and that things could be produced with your name on that you were not proud of scared me. - Author: Tom Ford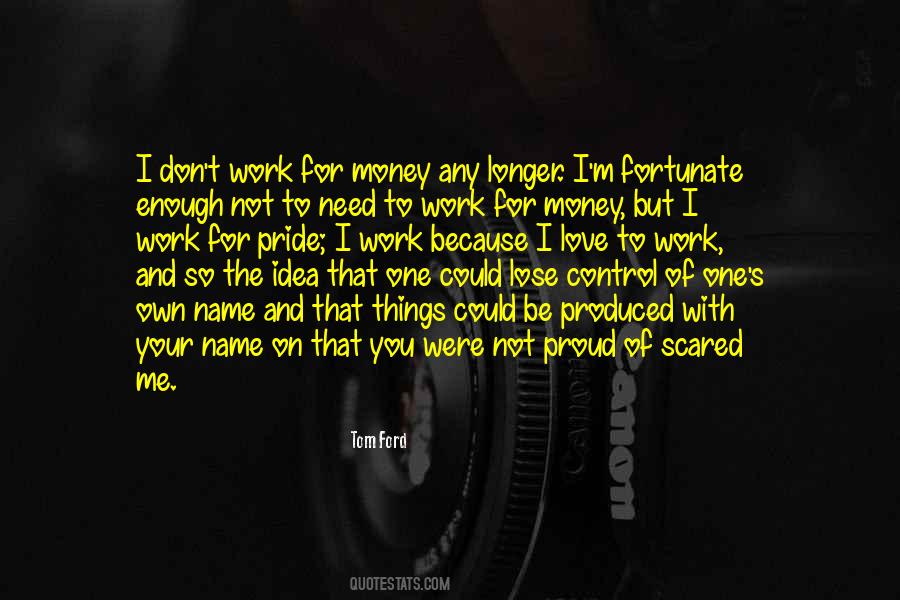 #88. Whenever I watch TV and see those poor starving kids all over the world, I can't help but cry. I mean I'd love to be skinny like that, but not with all those flies and death and stuff. - Author: Mariah Carey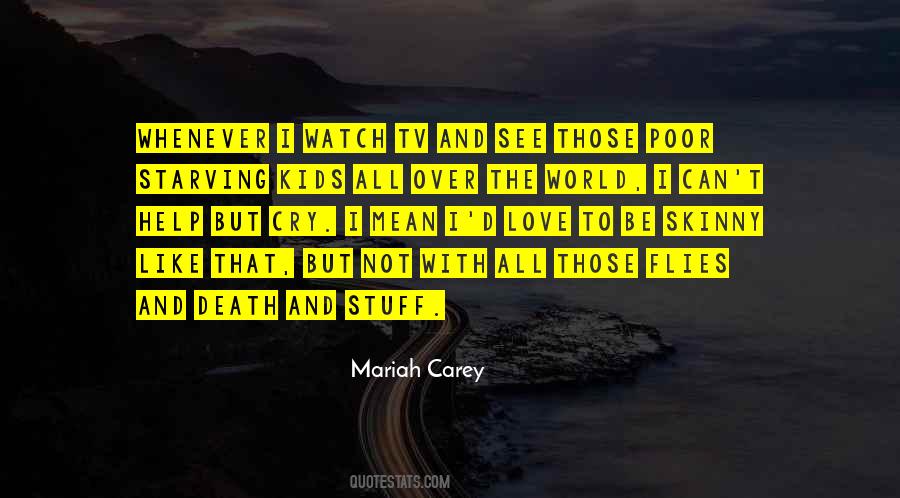 #89. I have not been that wise. Health I have taken for granted. Love I have demanded, perhaps too much and too often. As for money, I have only realized its true worth when I didn't have it. - Author: Hedy Lamarr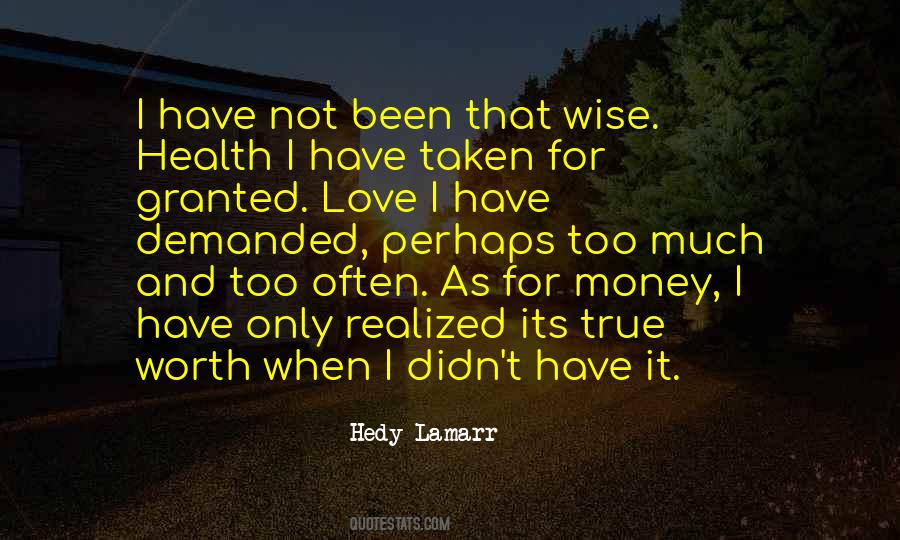 #90. It is easy to love God when you do not even have a cent in your pocket and you are totally dependent on Him - Author: Sunday Adelaja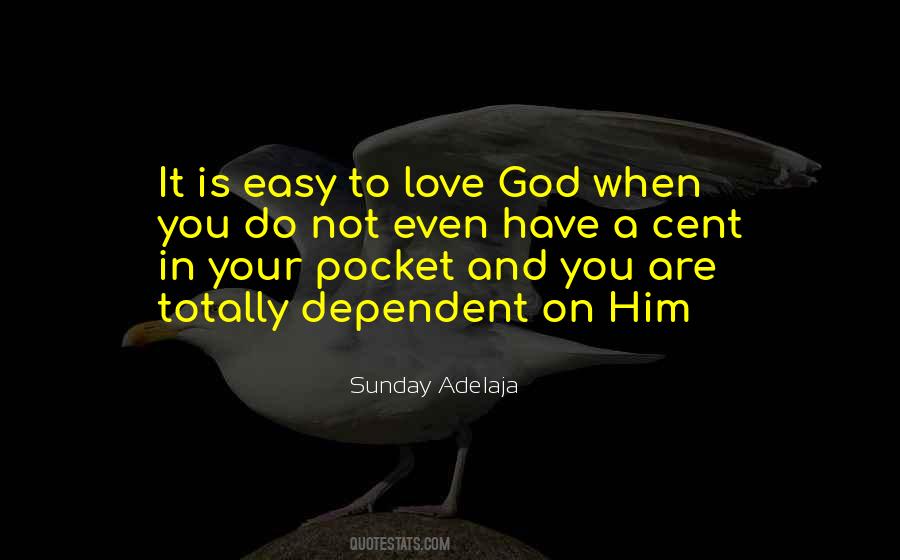 #91. I have a daughter and the thing I wish for her is not love, fame, money or anything like that. It's just one great best friend. You know, if you have somebody that has your back, you're gonna be all right. - Author: Ethan Hawke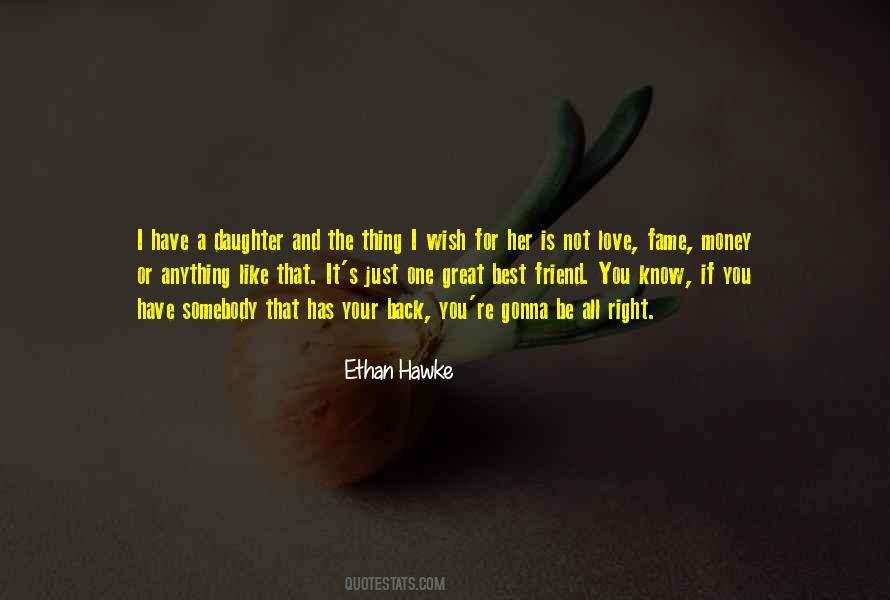 #92. It is all work, and my inducement to it is not love or desire of fame, but the want of money, which is the only motive to writing that I know of. - Author: Samuel Johnson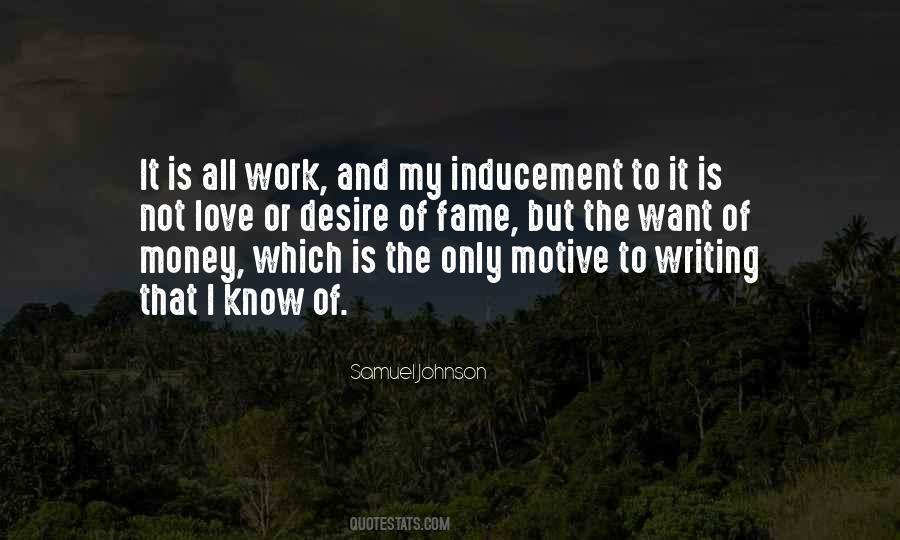 #93. Choose your friends and mates, not by the money in their bank account, creed, ethnicity, or color; instead, choose character, actions, heart, and soul. When we bleed, we bleed the same color. - Author: Ana Monnar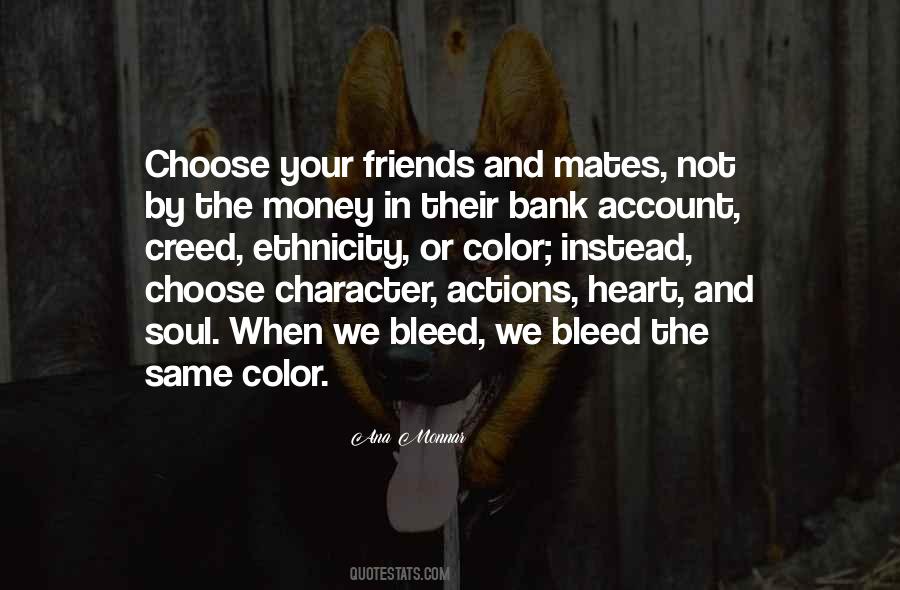 #94. Money doesnt buy happiness of a lady. I mean a real lady not a
SLUT. TRUST,LOVE and treating her like a queen is all that counts,no
matter what you have. - Author: Tumelo Molotsi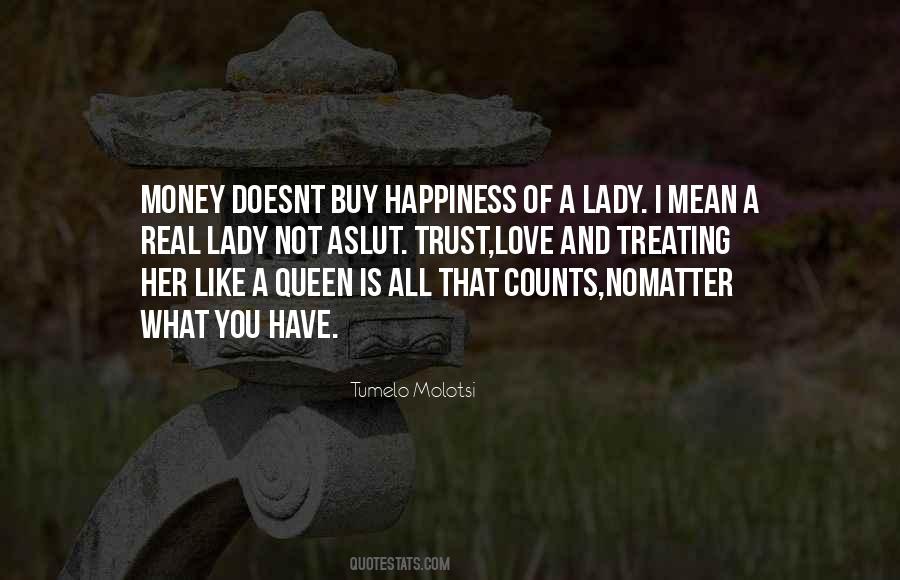 #95. Sex contained all sorts of promises - I love you, I will see you again, I will not hurt you. It bonded people. It took down defenses. It made humans do unwise things with their hearts and their money. - Author: Maggie LaCroix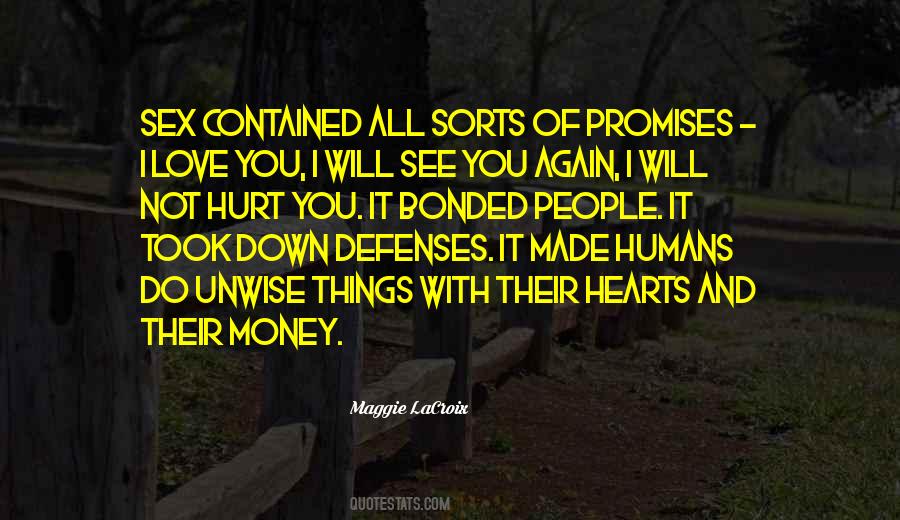 #96. I'm not great with money. I'd go crazy if I were left to my own devices. My mum and girlfriend sort it out. I'm not driven by it, but I love to be generous. - Author: Louis Tomlinson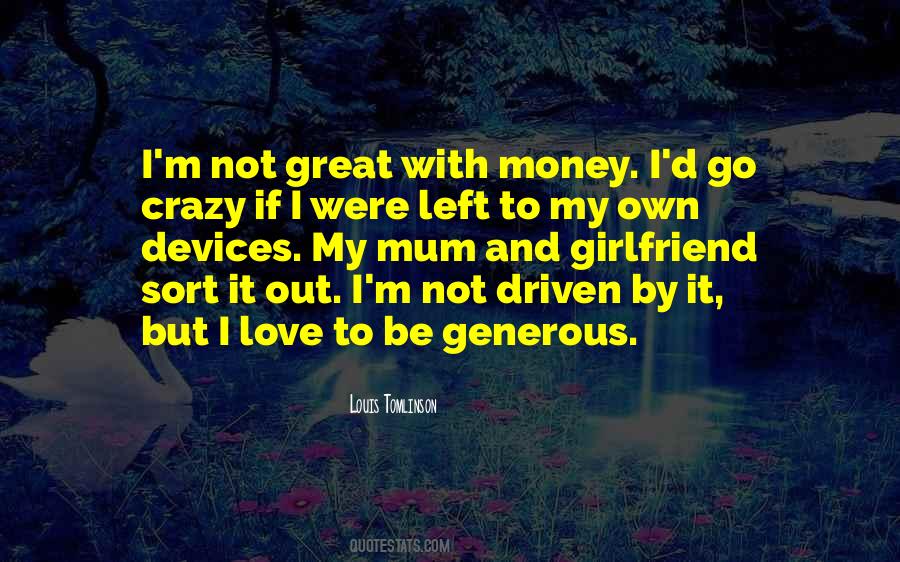 #97. I'm not really a money-oriented person. The press always write that I am. They don't seem to want to understand that I love the comfort of Japan and love the fact it's more peaceful, less frenzied than Hong Kong. - Author: Shu Qi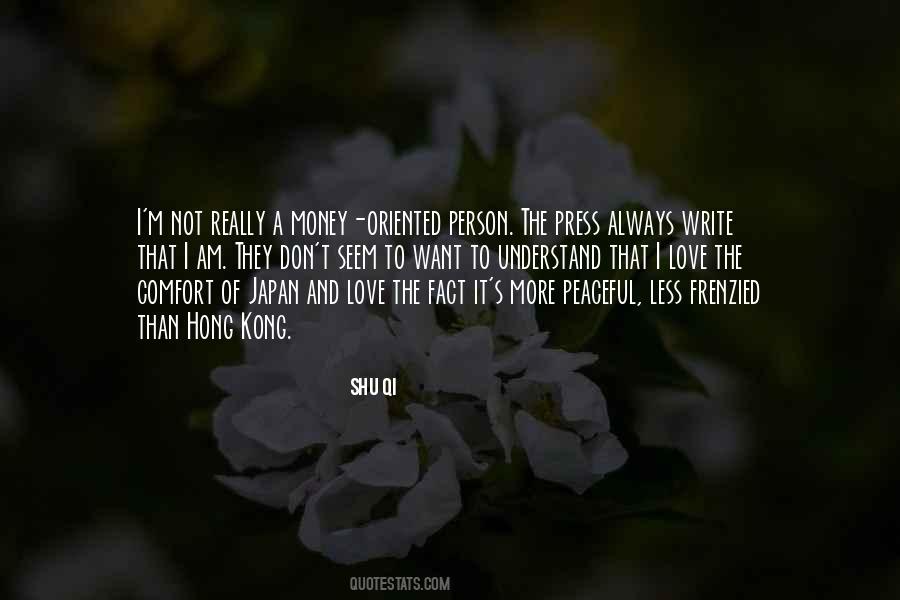 #98. Rich people don't work for money, they are doing what they like to do; they devote themselves to a job they love and do not live waiting for a well-deserved rest or retirement, but work passionately until the end of their lives - Author: Sunday Adelaja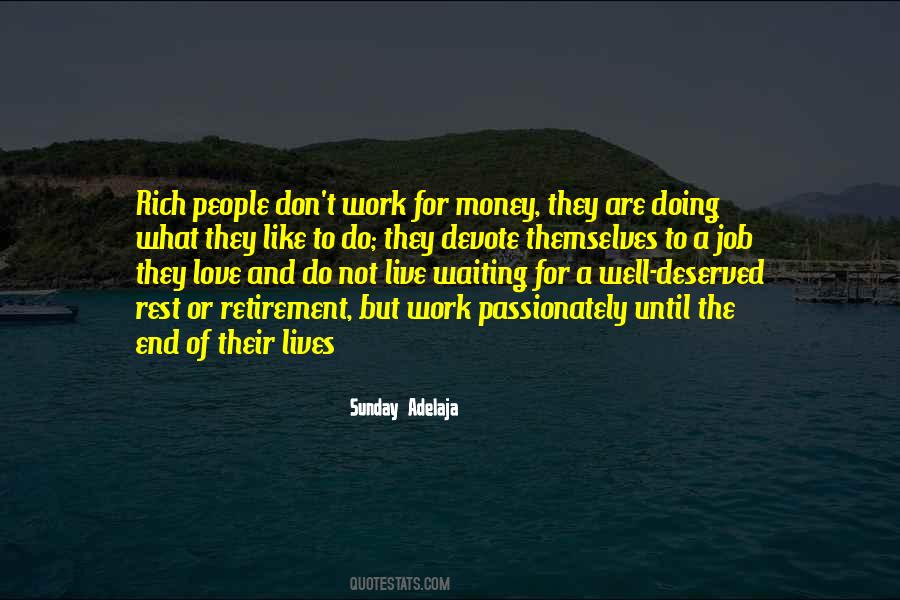 #99. The great trouble with baseball today is that most of the players are in the game for the money and that's it, not for the love of it, the excitement of it, the thrill of it. - Author: Ty Cobb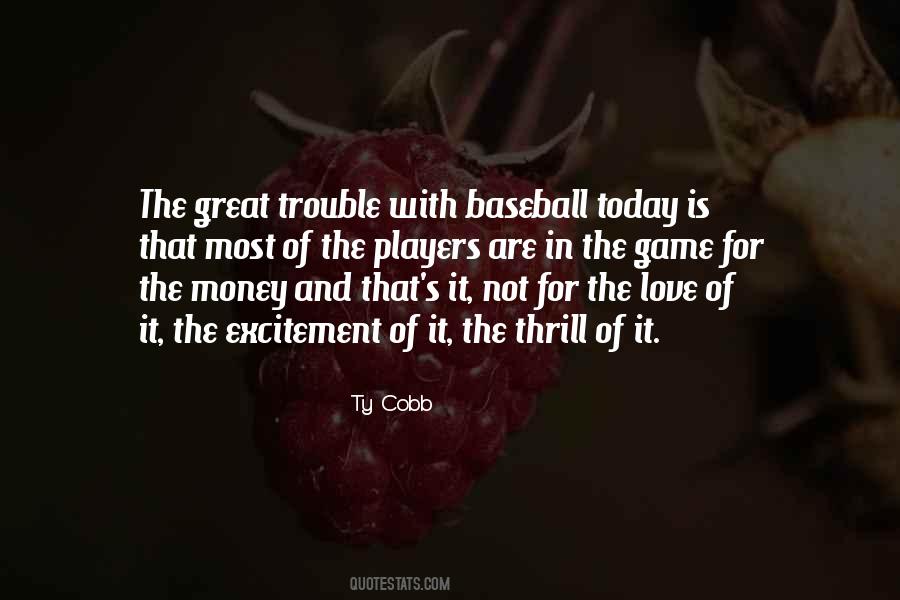 #100. If I could live in a tiny dwelling on a rock in the ocean, surrounded by the waves of the sea and cut off from the sight and sound of everything else, I would still not be free of the cares of this passing world, or from the fear that somehow the love of money might still come and snatch me away. - Author: Cuthbert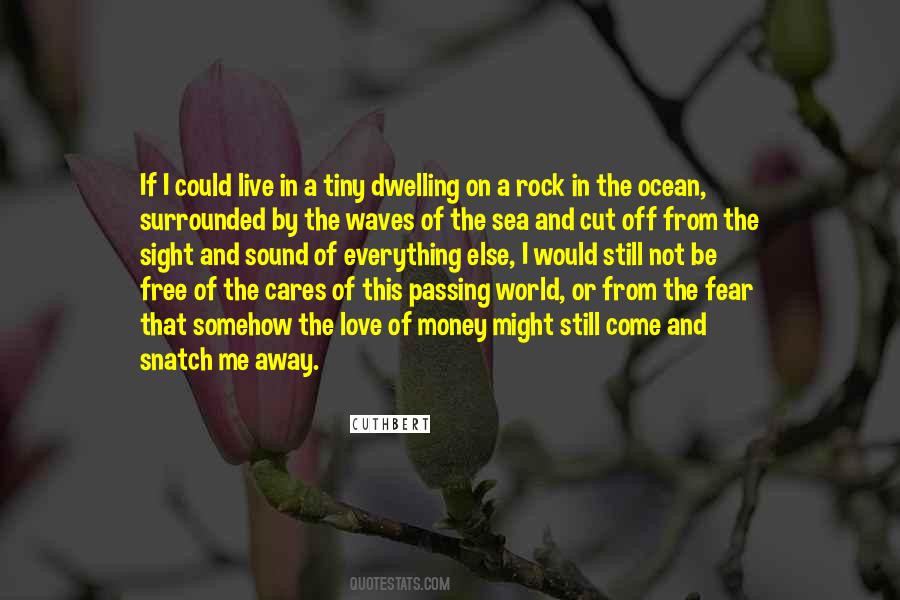 Famous Authors
Popular Topics