List of top 77 famous quotes and sayings about love and motherhood to read and share with friends on your Facebook, Twitter, blogs.
Top 77 Quotes About Love And Motherhood
#1. A mother's love is instinctual, unconditional, and forever.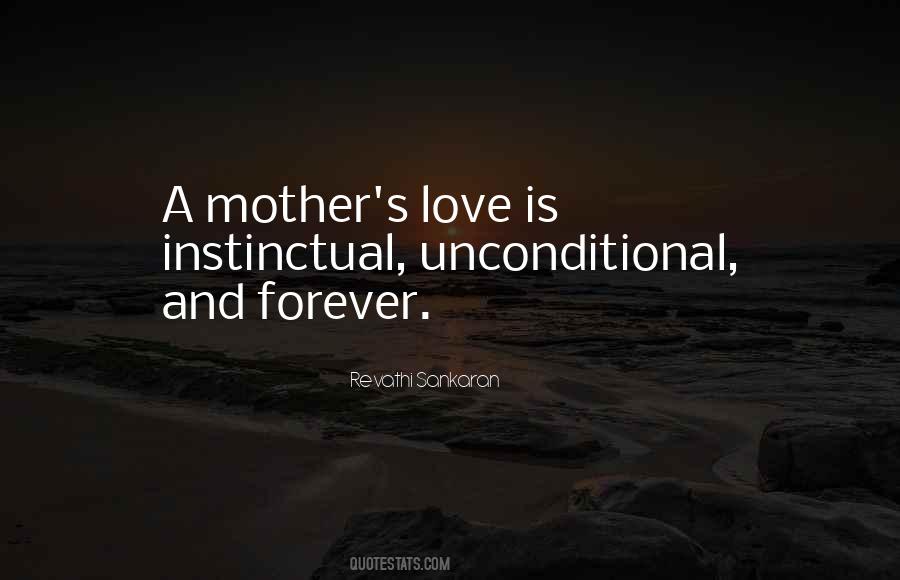 #2. The realities of motherhood are often obscured by a halo of illusions. The future mother tends to fantasize about love and happiness and overlooks the other aspects of child-rearing: the exhaustion, frustration, loneliness, and even depression, with its attendant state of guilt.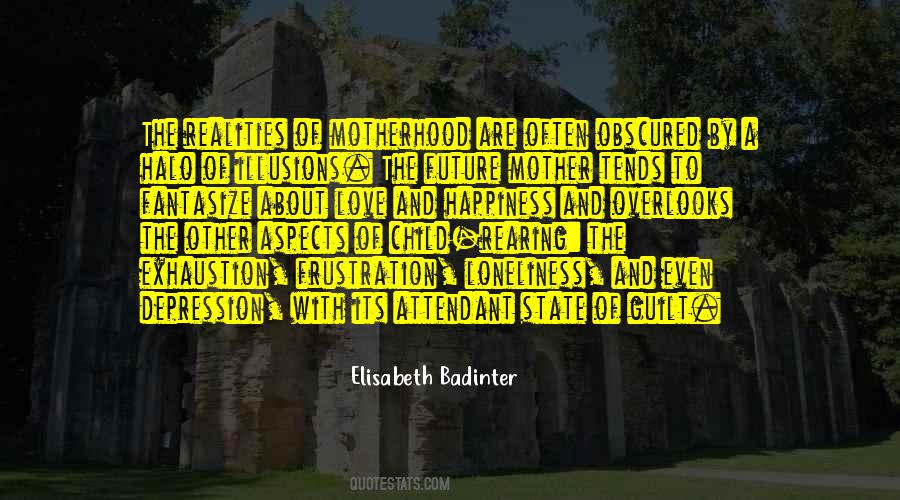 #3. MOM - noun - One who sacrifices her body, sleep, social life, spending money, eating hot meals, peeing alone, patience, memory, energy and sanity for LOVE!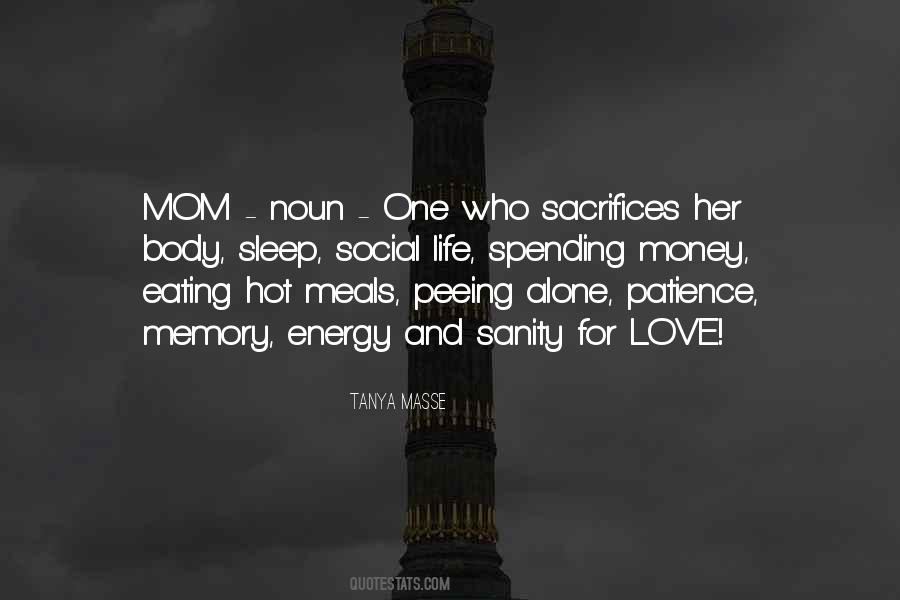 #4. My mother, poor fish,
wanting to be happy, beaten two or three times a
week, telling me to be happy: "Henry, smile!
why don't you ever smile?"
and then she would smile, to show me how, and it was the
saddest smile I ever saw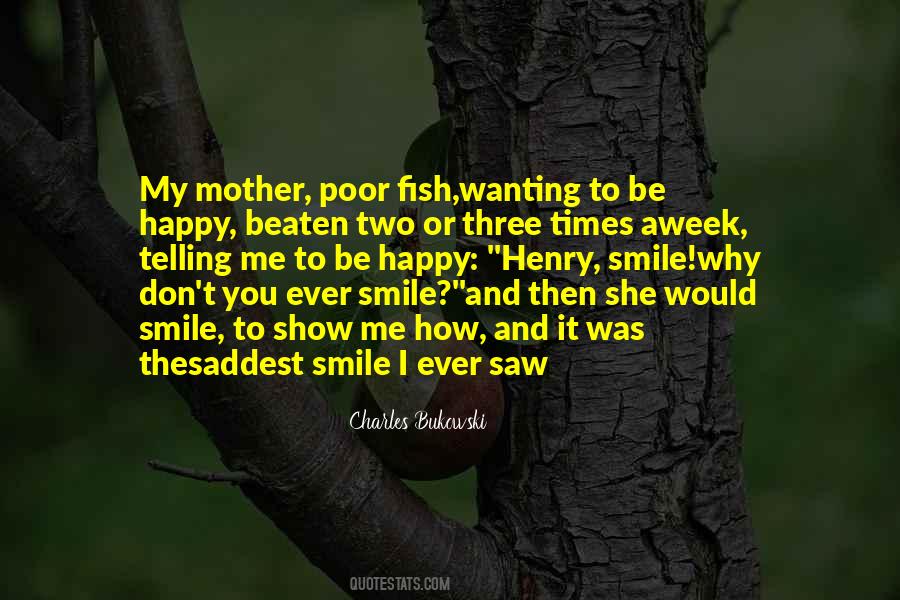 #5. A praying mother symbolizes grace, strength and wisdom; she is an icon of productivity and ingenuity.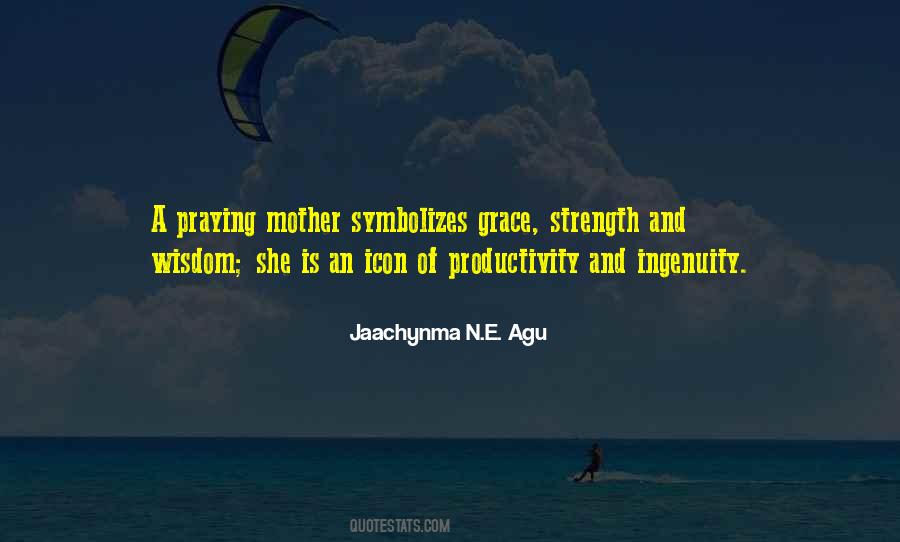 #6. When I pick up one of my children and cuddle them, all the strain and stress of life temporarily disappears. There is nothing more wonderful than motherhood and no-one will ever love you as much as a small child.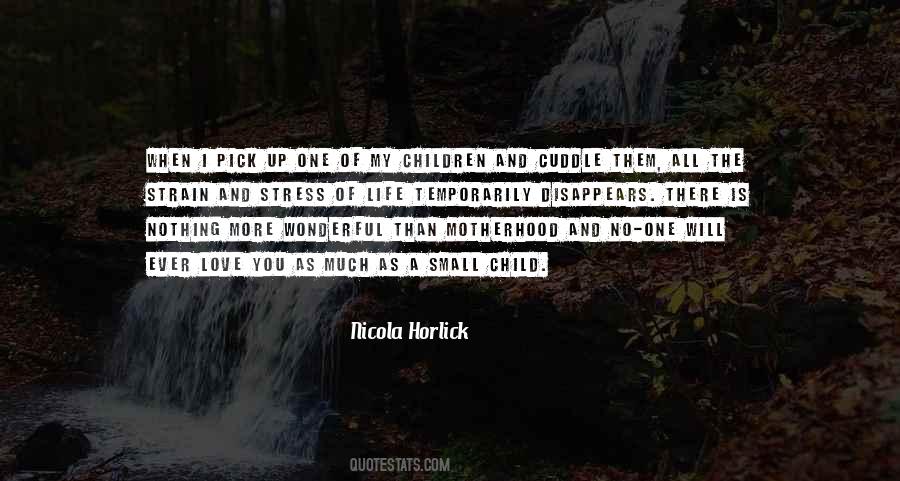 #7. I have always been their rock. A mother's unconditional love is fervent enough to battle against the gates of hell, rise up from her knees and stand gallant, in spite of her gaping war wounds. If only they knew the battle fought and the flood of tearshed without having to endure such agony.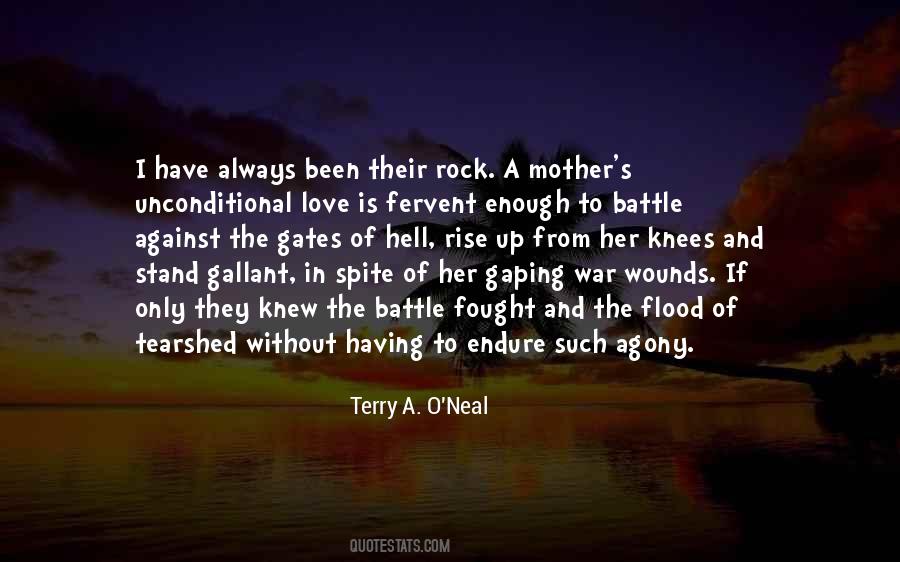 #8. A loving mother makes sacrifices for peace and laughter to reign in her home and family.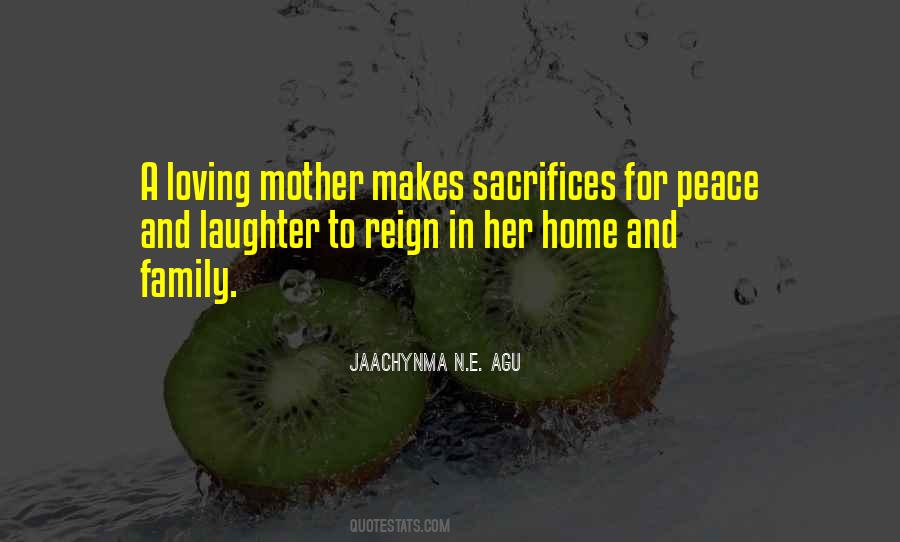 #9. Sometimes being a MOM is like a good
ol' country song! You lose your sleep, you lose your hair, you lose your patience, you lose your energy, you lose your memory AND you lose your SANITY! But you DO IT all for LOVE!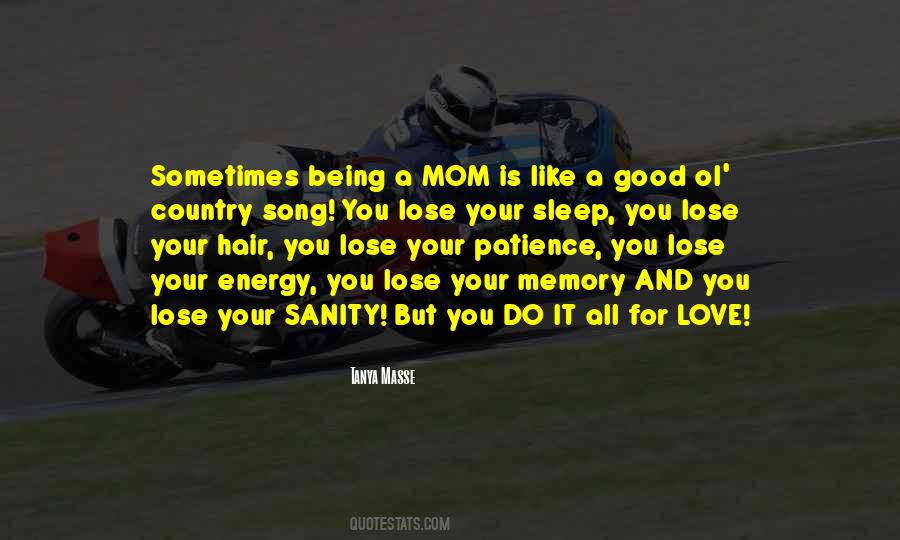 #10. motherhood is like this: a series of tiny moments that add up to an enormous love, with lots of other moments of frustration and misunderstanding and complexity woven in between.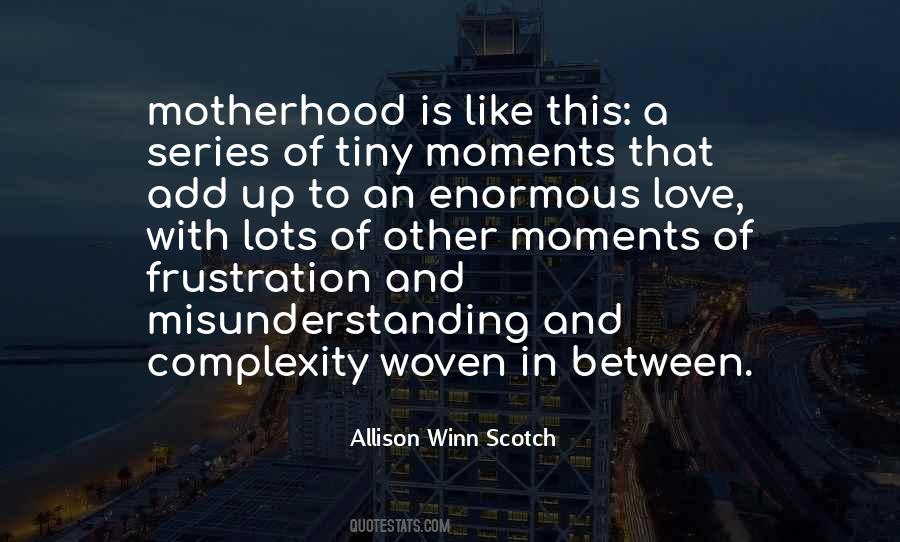 #11. A mother has the best of all smiles; she is a wonderful friend, lover and adviser.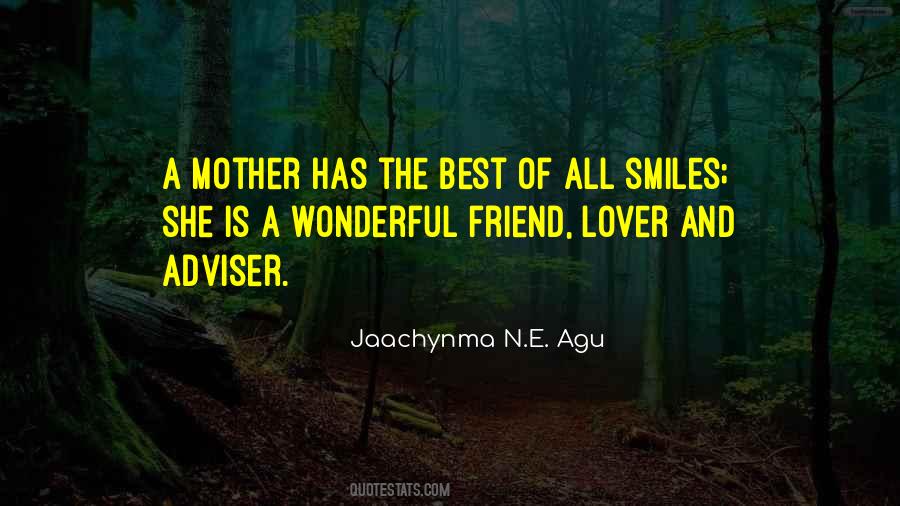 #12. I would keep her, and raise her, and love her, even if she had to teach me how to do it.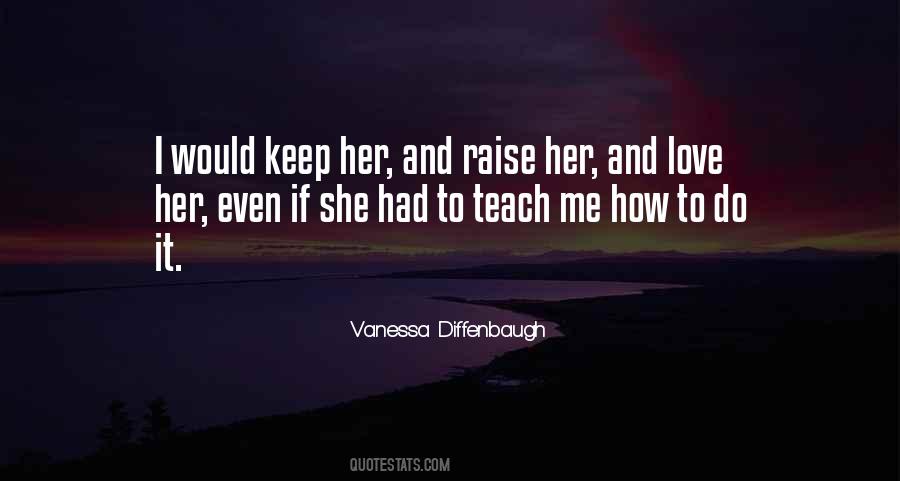 #13. I demand the independence of woman, her right to support herself; to live for herself; to love whomever she pleases, or as many as she pleases. I demand freedom for both sexes, freedom of action, freedom in love and freedom in motherhood.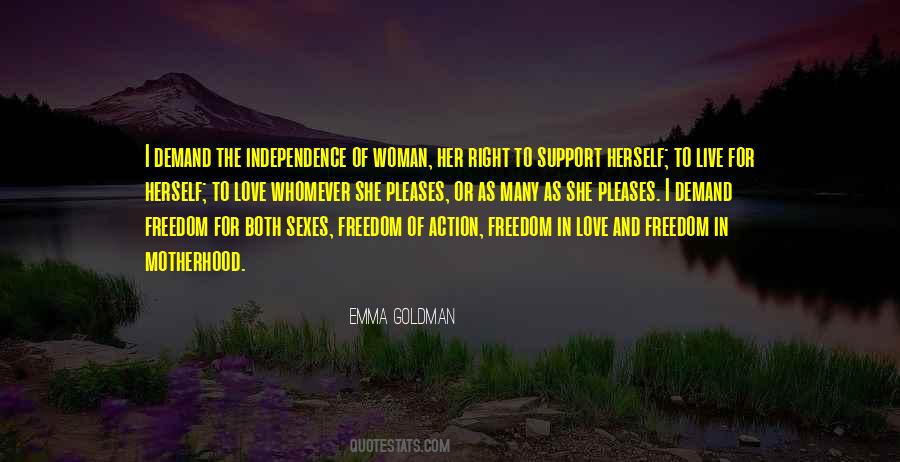 #14. A virtuous mother sows and sows seeds of greatness with great life in mind.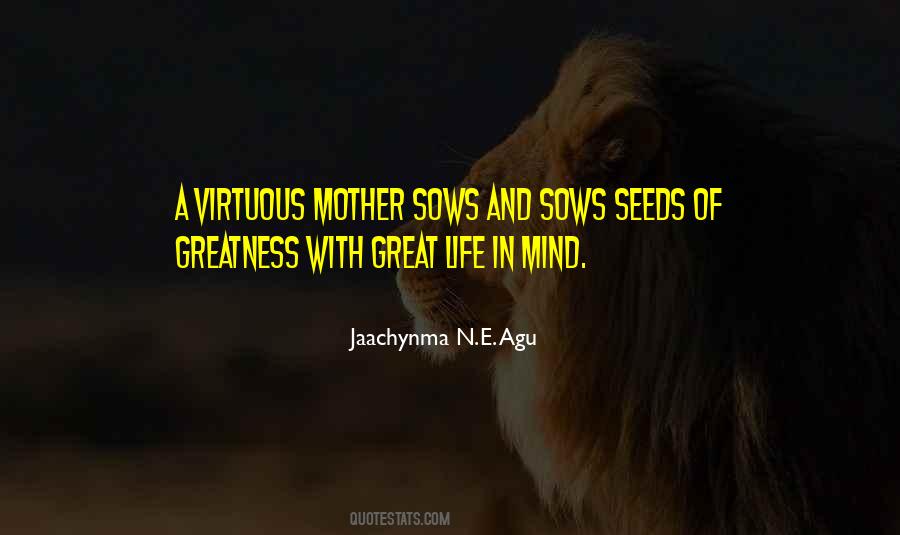 #15. The best part of having two babies at once, a son and a daughter, is mostly everything. You're just having that feeling of love inside you all the time and motherhood is such a fulfilling place to be. I kind of wish it would have happened to me earlier in my life.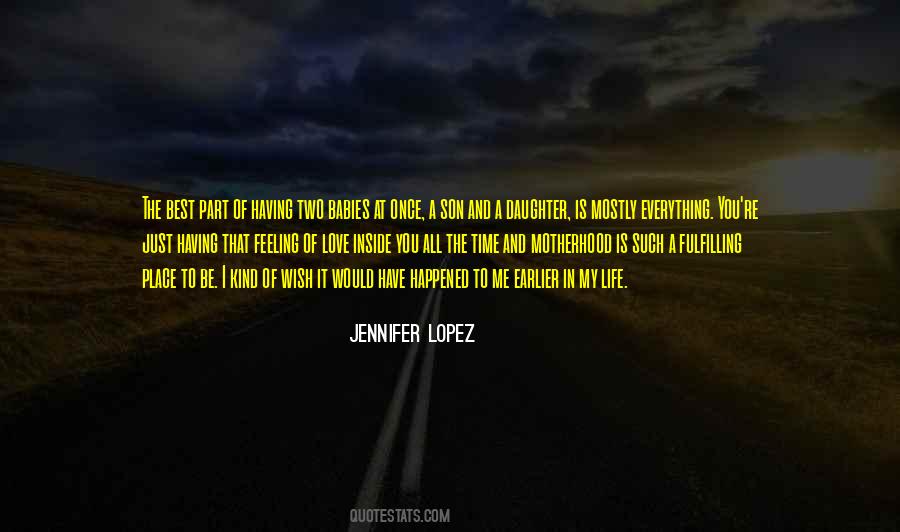 #16. The love between man and woman is a voluntary pact in which the one who falls short is only guilty of perfidy, but when a woman has become a mother her duty is greater because nature has entrusted the human species to her. If she fails then she is a coward, unworthy and infamous.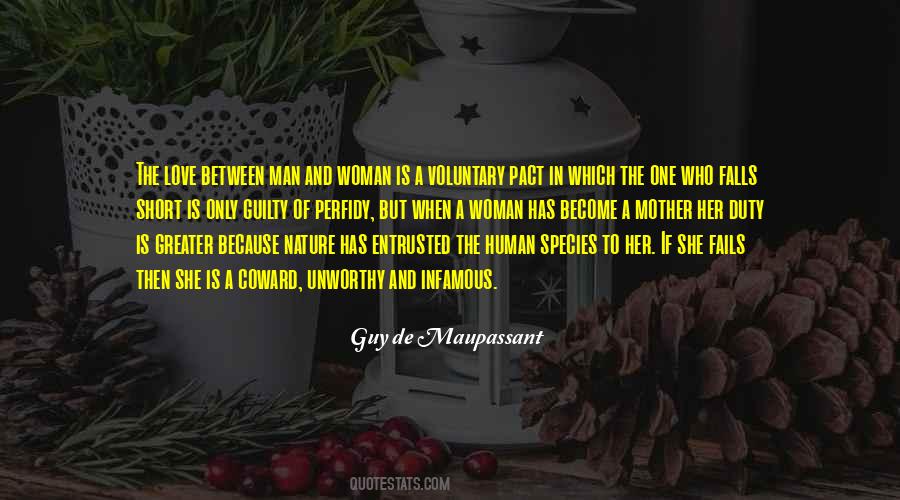 #17. You breathe.
You feel.
You see
and hear
and smell
and taste
and think
and move
and laugh
and weep
and heal
and dance
and sing
and love.
Thank your mother.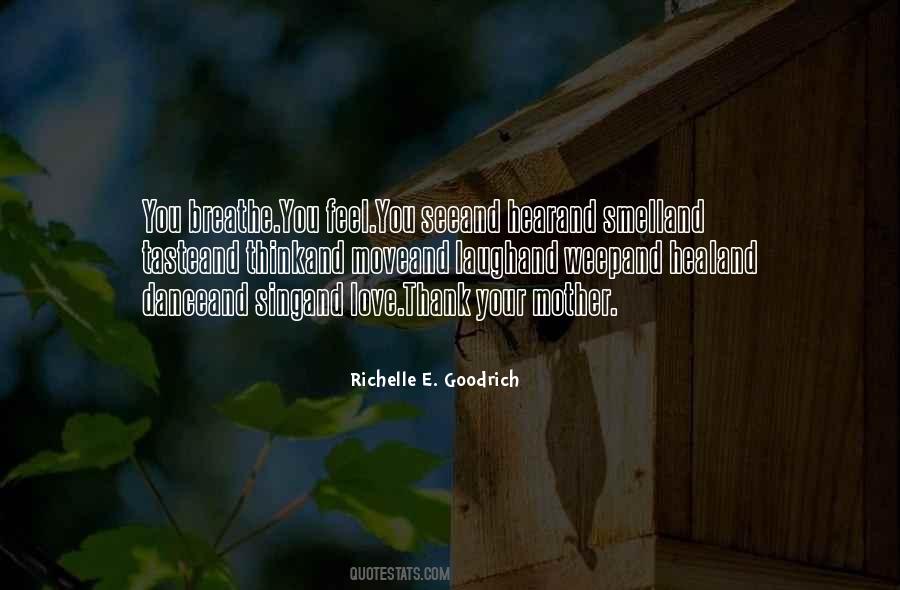 #18. I stand fearlessly for small dogs, the American Flag, motherhood and the Bible. That's why people love me.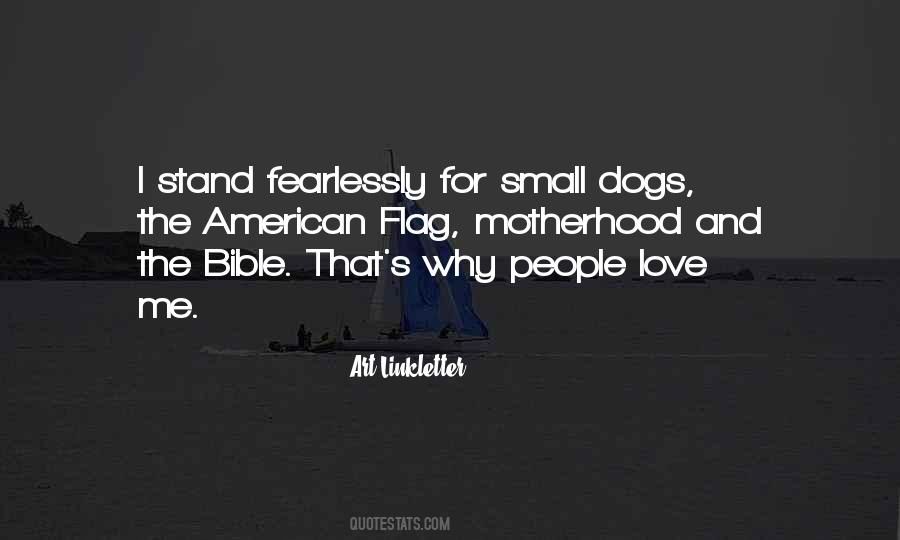 #19. Oh mommy! You are my world, my love. I am your little boy, and I stole your heart.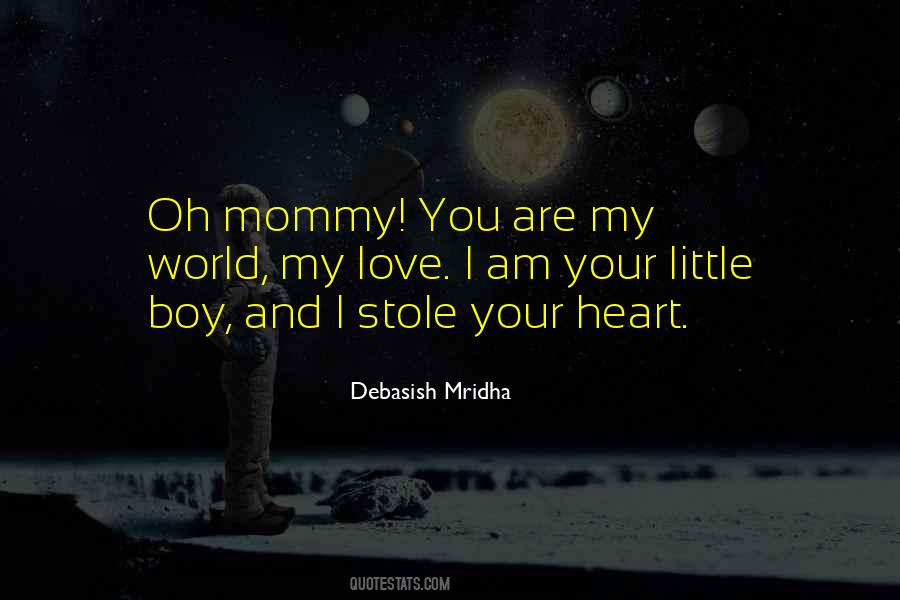 #20. She also understood there was a hole in her heart where her son should be, that she was a wicked, selfish woman for wishing him back.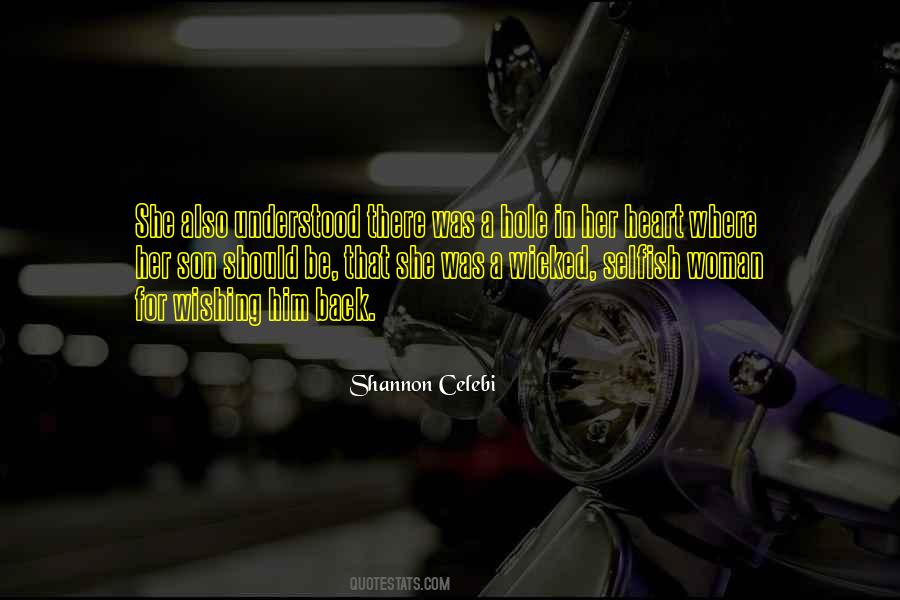 #21. I don't know about changing my perspective, because motherhood is such a glorious blessing and I am very thankful for that. It's such a beautiful experience. I so strongly recommend it. It's bliss, love and fulfillment of another level.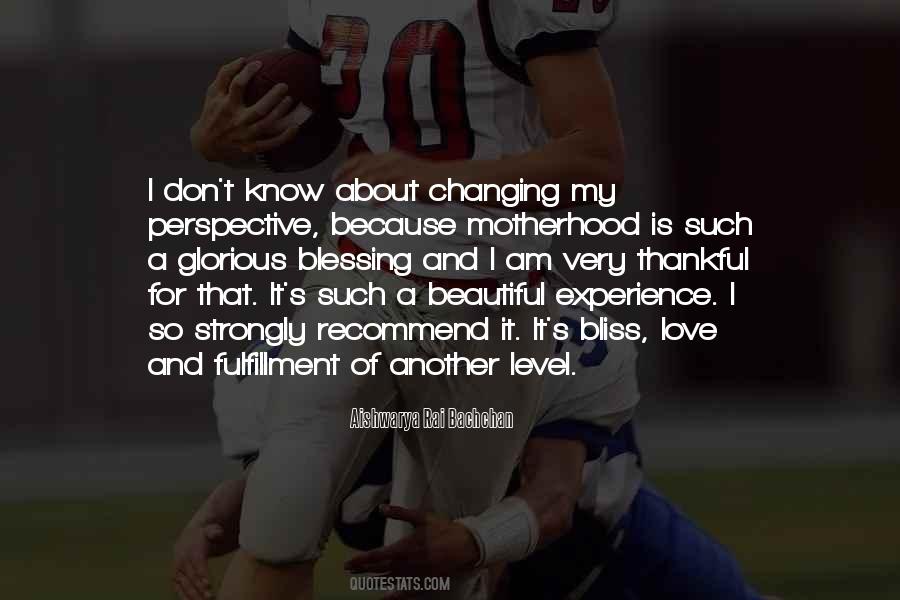 #22. Womanliness means only motherhood;
All love begins and ends there.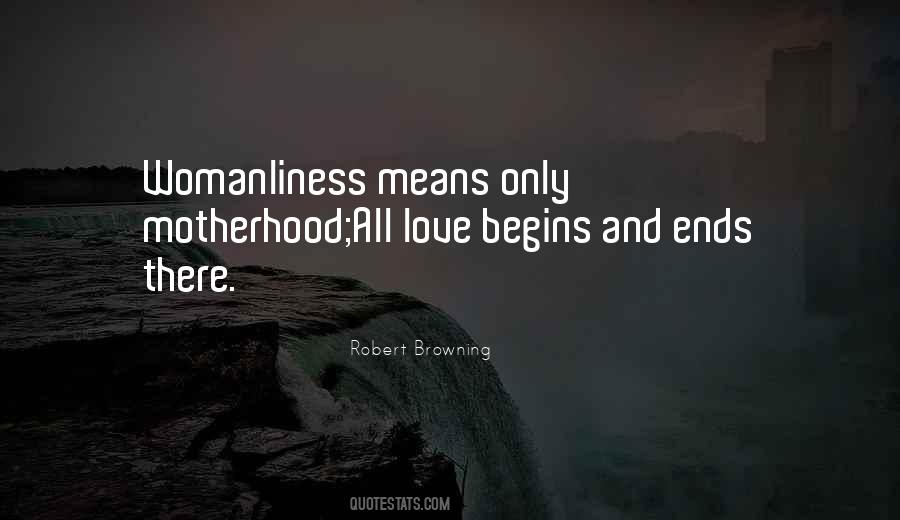 #23. A wholesome mother knows the software to delete, download, upgrade and upload for the best results.
#24. Yes, the civilization of love is possible; it is not a utopia. But it is only possible by a constant and ready reference to the "Father from whom all fatherhood and motherhood on earth is named," from whom every human family comes.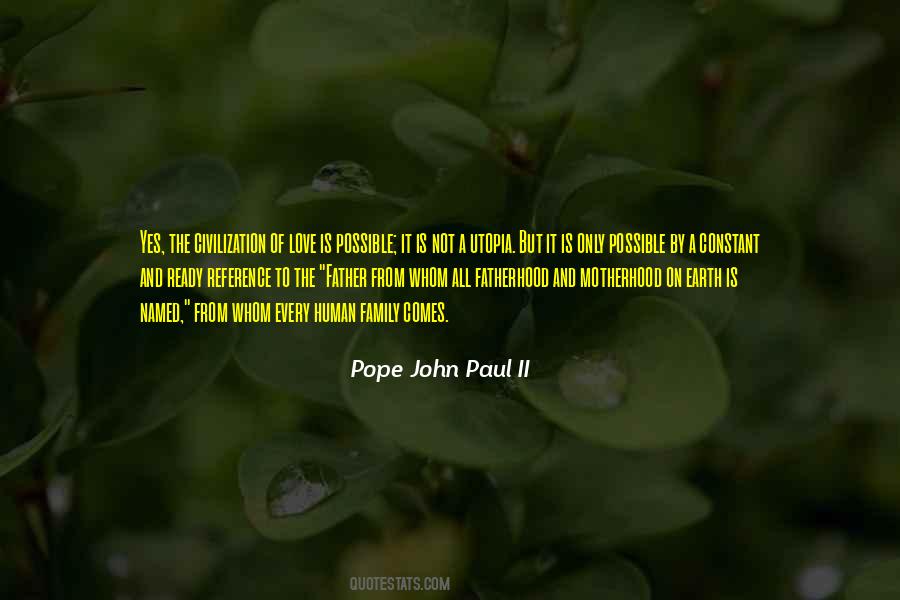 #25. She brushed the tears from their faces and sang them a melancholy lullaby. Her obvious devotion to her daughters pulled at my heart strings, making my chest ache with longing for my own mother.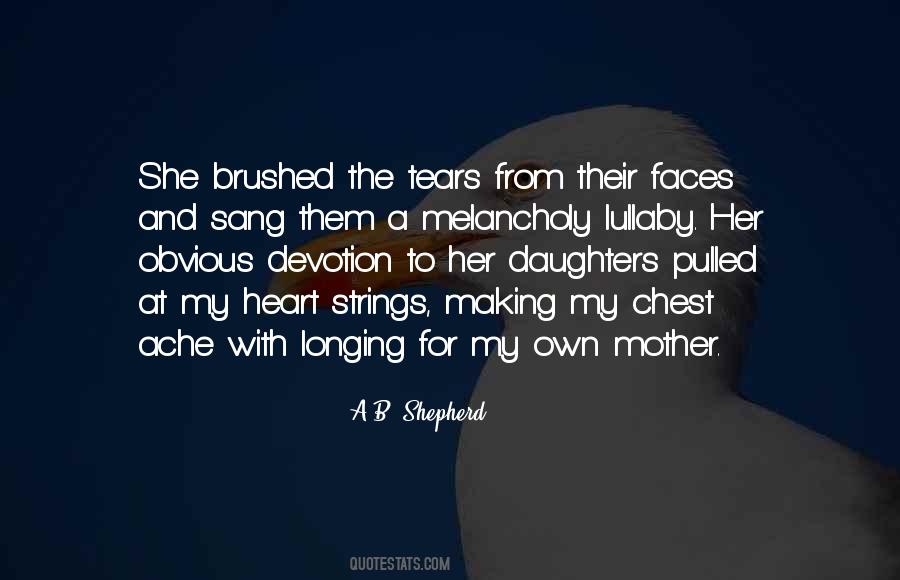 #26. My existence began the day you were created and was realized the day we met.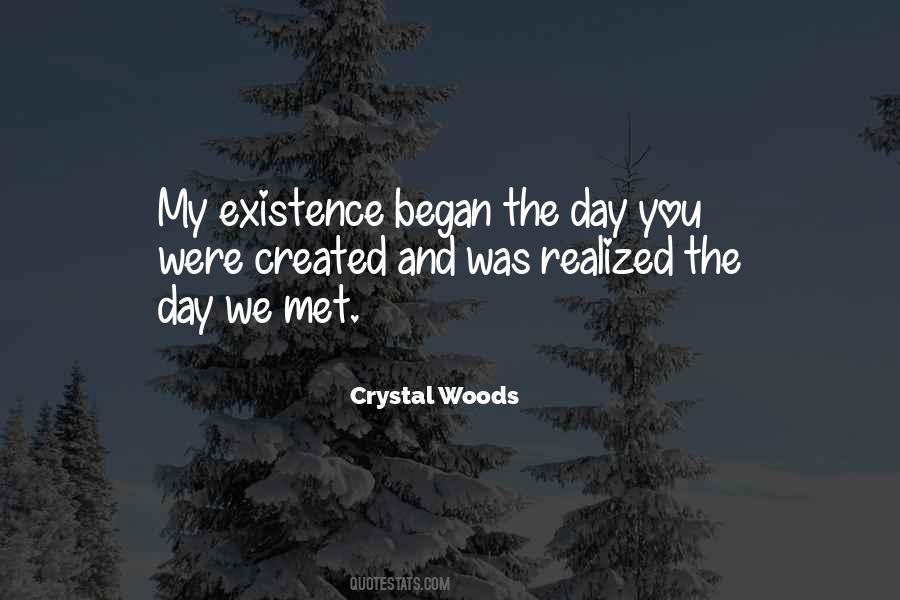 #27. Mother, you can still hold hold on but forgive, forgive and give for long as long as we both shall live, I forgive you, Mother.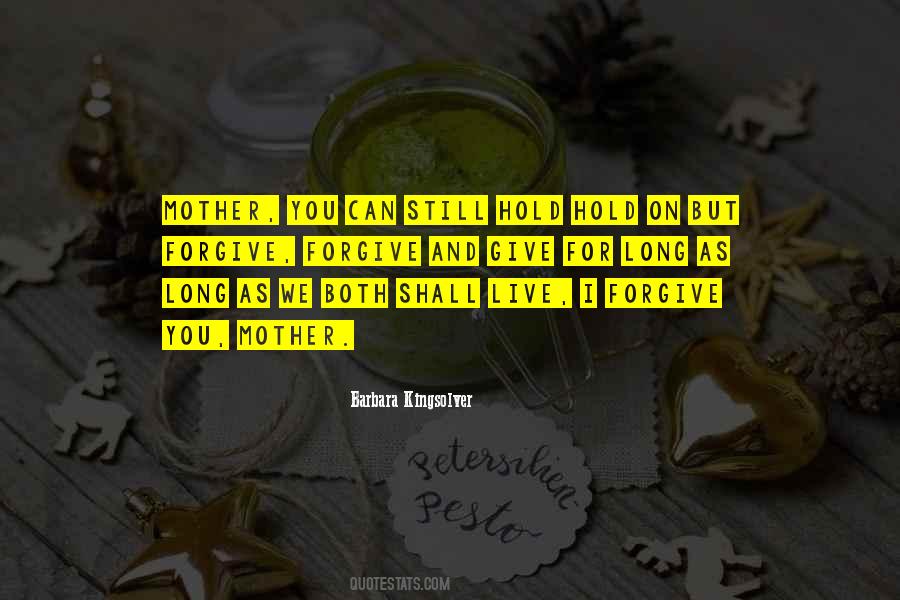 #28. ...Laura knew the price of motherhood to be pain and responsibility; the reward, love and pride.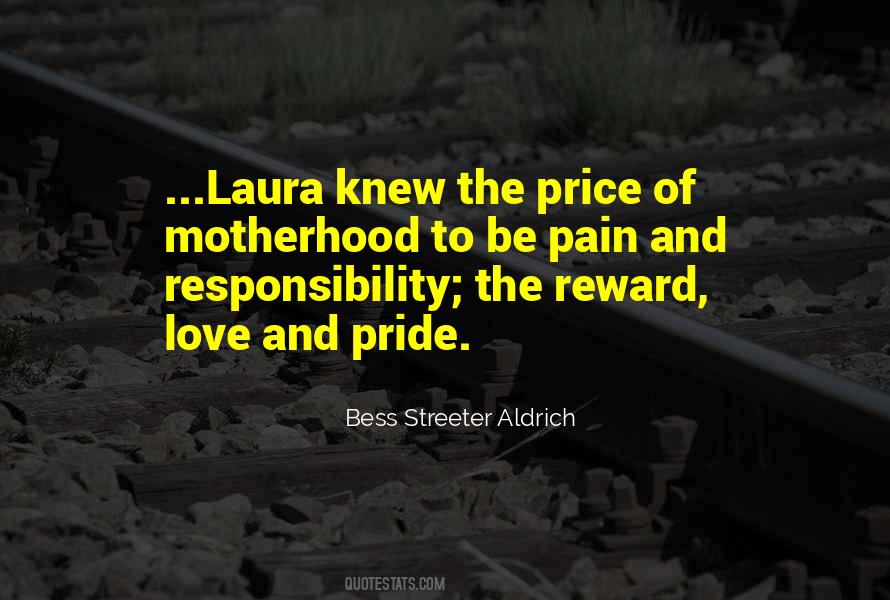 #29. My old boyfriend, Warren Beatty, used to say I was a late developer,' she reflects. 'He was right. It took me 50 years to find motherhood and unconditional love.'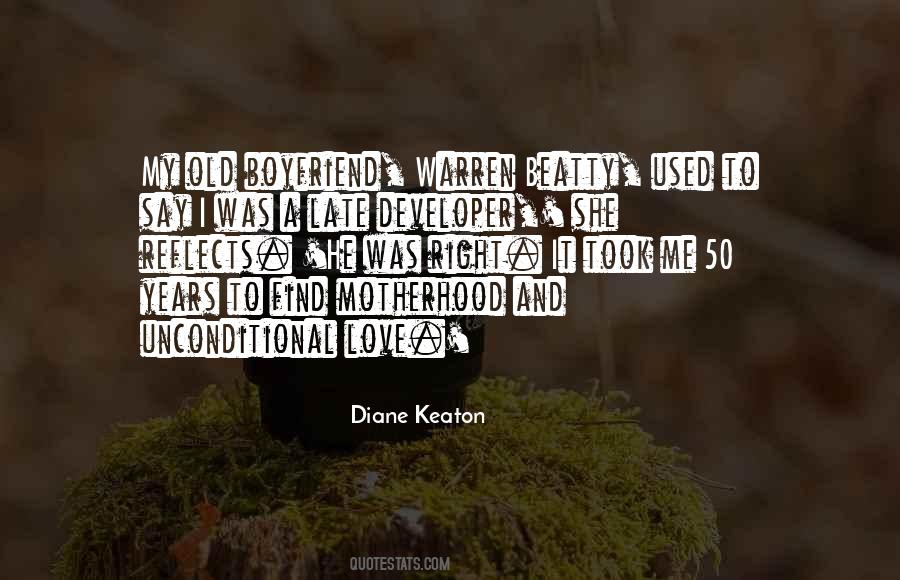 #30. To give life another being, what a gift! When he finally was placed into my arms, I looked into his precious eyes and felt an overwhelming, unconditial love ... I never felt so complete and empowered in my life.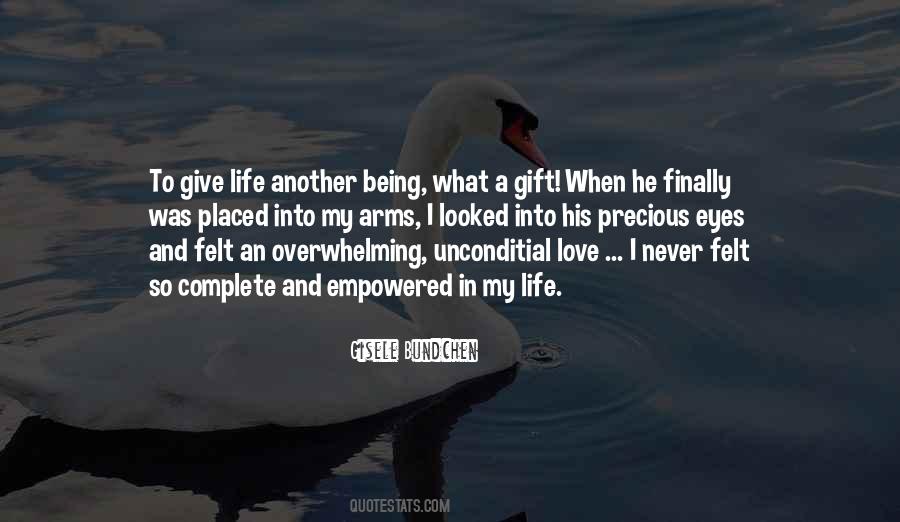 #31. Now in the thriving season of love
when the bud relents into flower,
your love turned absence has turned once more,
and if my comforts fall soft as rain
on her flutters, it is because
love grows by what it remembers of love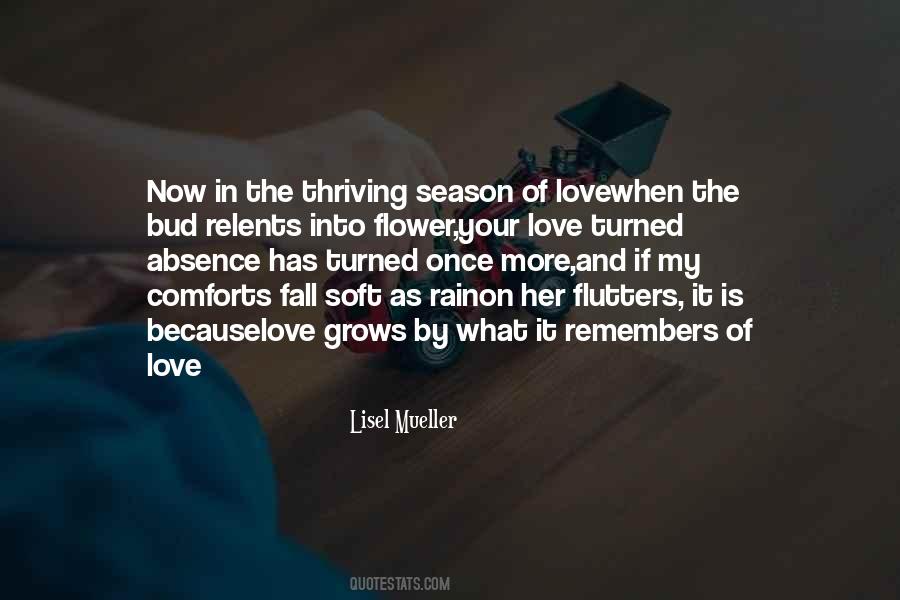 #32. I remind mothers everywhere of the sanctity of your calling. No other can adequately take your place. No responsibility is greater, no obligation more binding than that you rear in love and peace and integrity those whom you have brought into the world.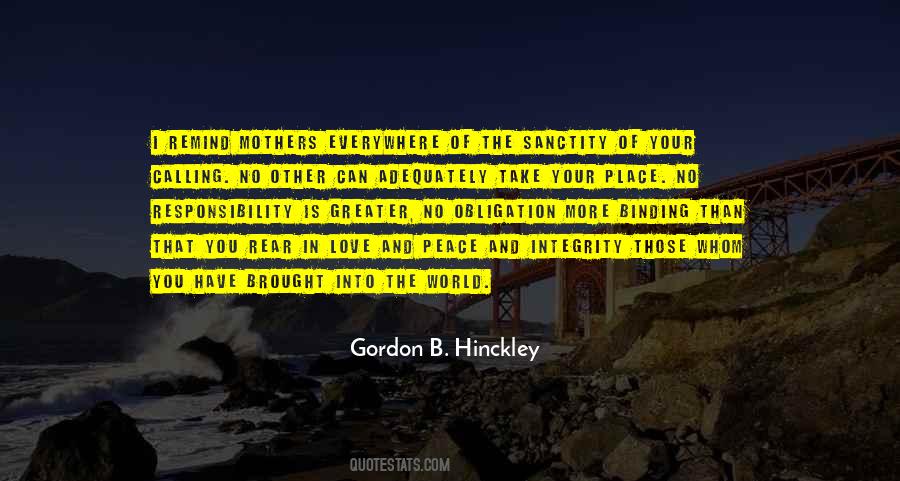 #33. Until women learn to want economic independence, and until they work out a way to get this independence without denying themselves the joys of love and motherhood, it seems to me feminism has no roots.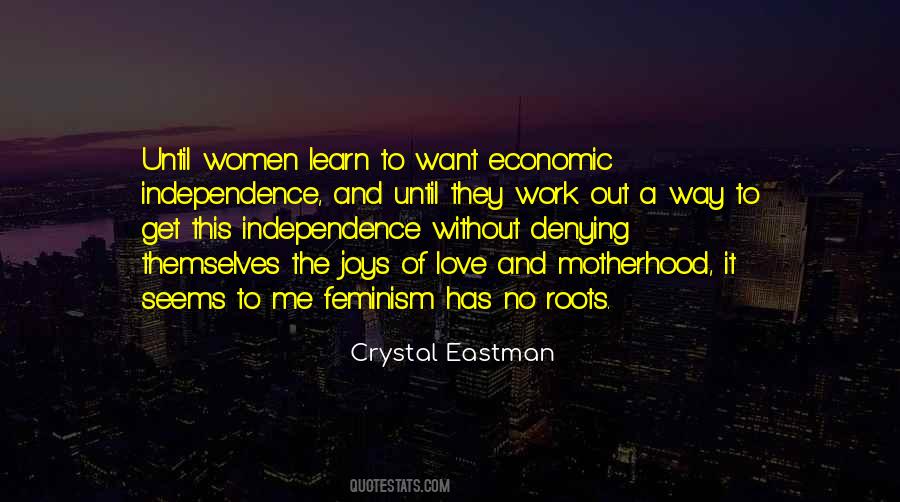 #34. I hope someday she meets just the right man and has babies - a whole passel of babies, more than I could have - so she understands how it kills me now that she won't let me hug her when she's in obvious distress. (The Life You've Imagined)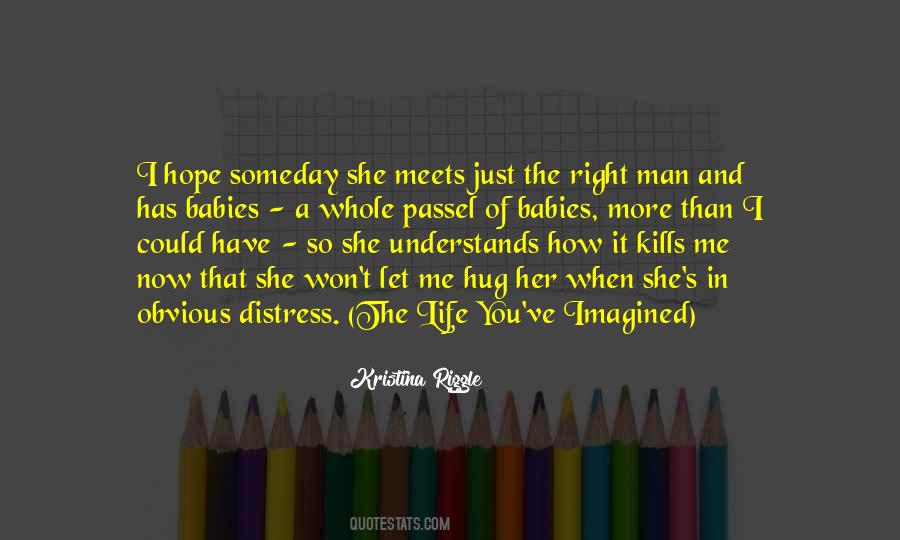 #35. It's incredible. Everything you ever thought about love just becomes night and day. I mean, you never thought you could love that much. You rediscover the world, and it's just a beautiful thing.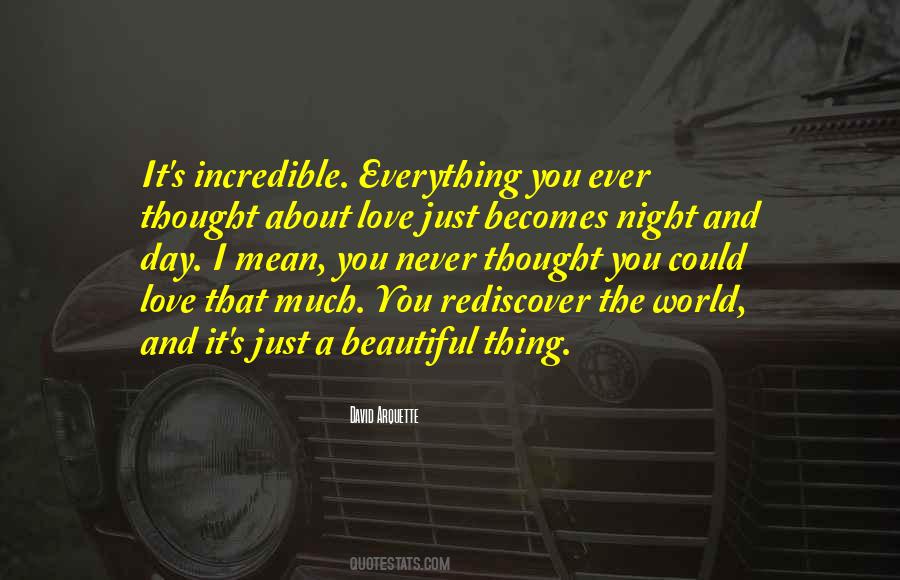 #36. The silence stretched out between us as I stared at him, the tears blurring my vision as I waited for him to save me from this torment. Surely he could find a way.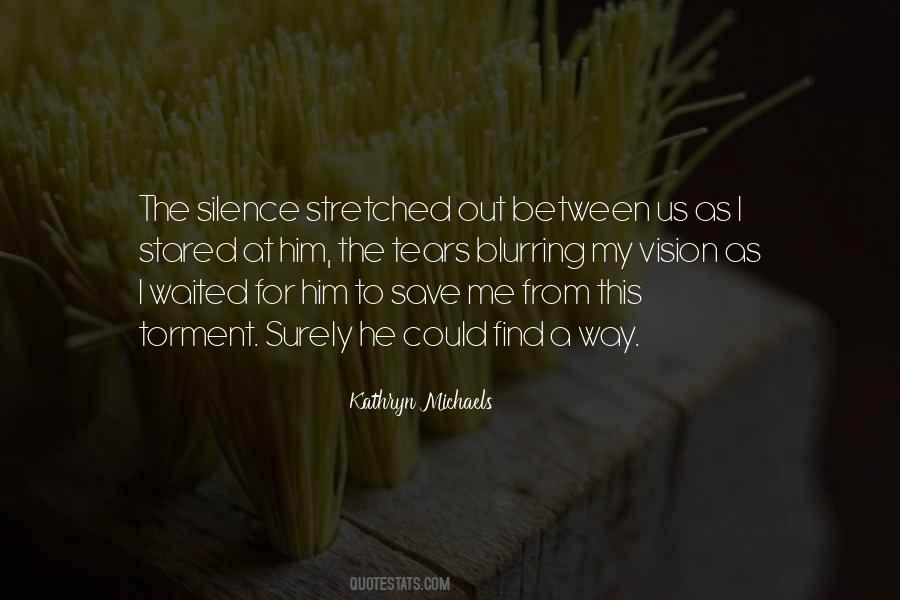 #37. The only thing Jess really cared about were those two children and letting them know they were okay. Because even if the whole world was throwing rocks at you, if you had your mother at your back, you'd be okay. Some deep-rooted part of you would know you were loved. That you deserved to be loved.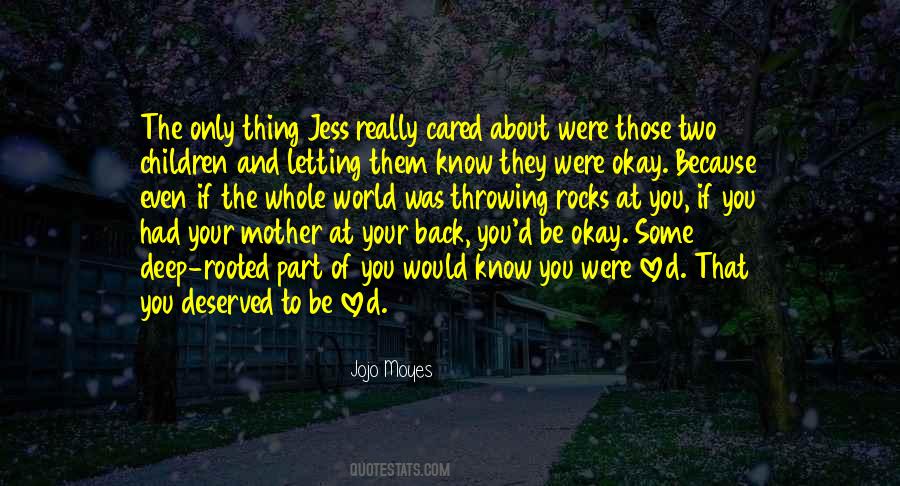 #38. Thanks for nothing, regular human mom. Footnote: nothing except for the unconditional love and support and meticulous care to make sure I faced the world fully informed about my body and reproductive health.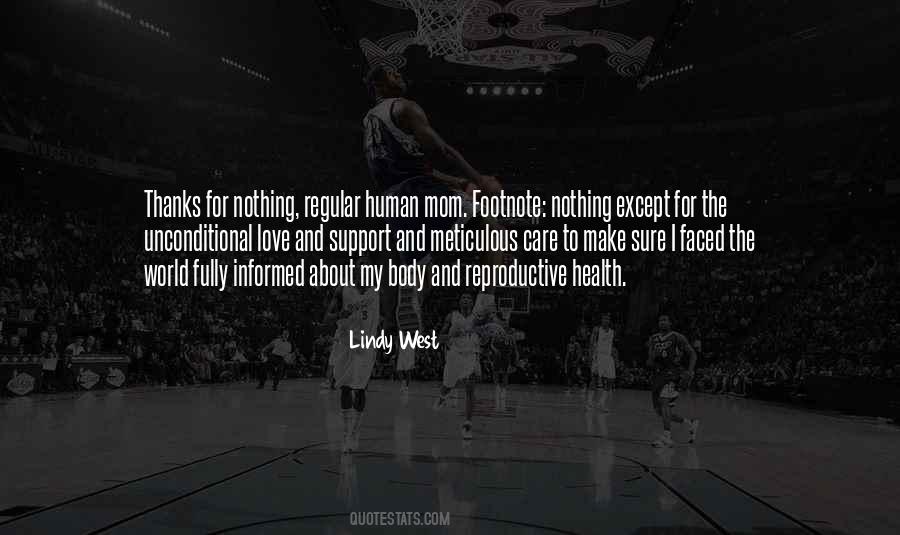 #39. Friends who love us know that motherhood is about transitioning
and adjusting, constantly, to those changes. We must become masters of change because that is what life demands of us.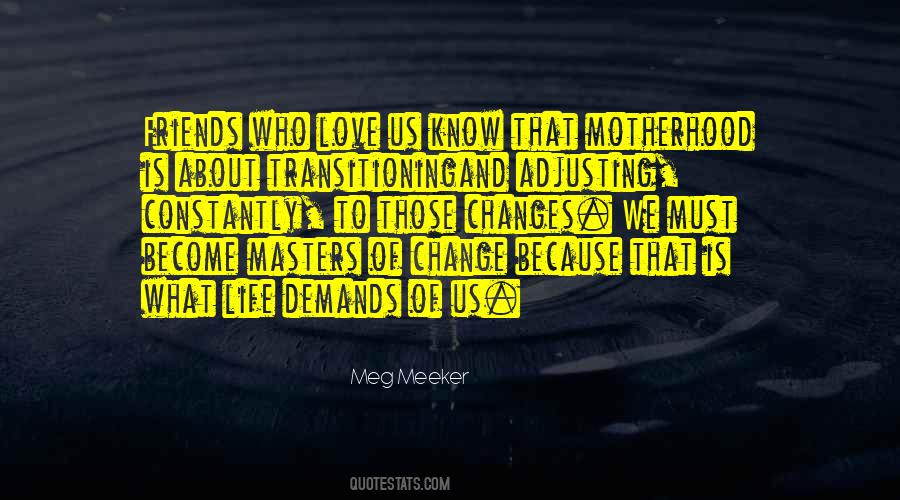 #40. I wondered if perhaps I'd gone mad. I had known this man less than twenty-four hours and already I wanted to raise his children.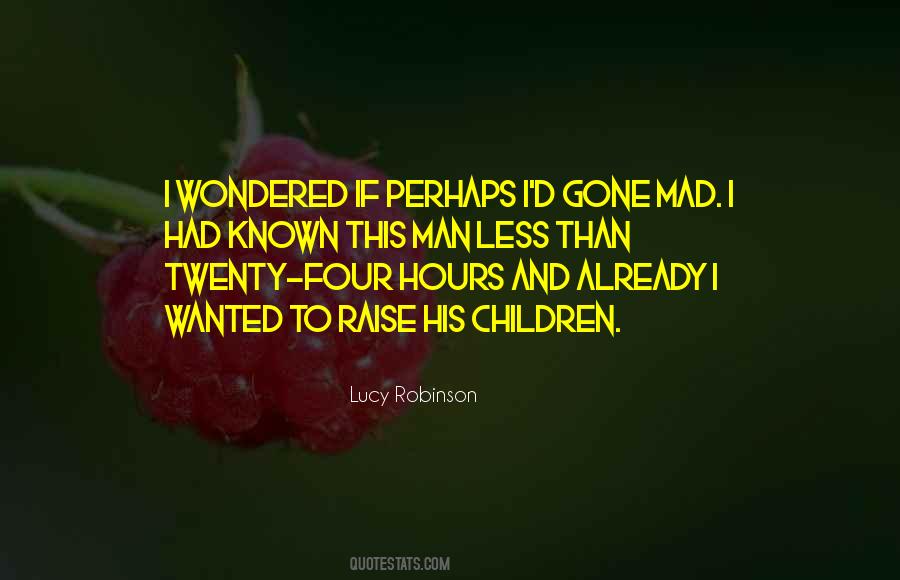 #41. She was so wicked. Such a classic case of resentment and ambivalence bumping and brushing up against all that maternal instinct. The love and hate in her was as vast as space- all meteors, no atmosphere.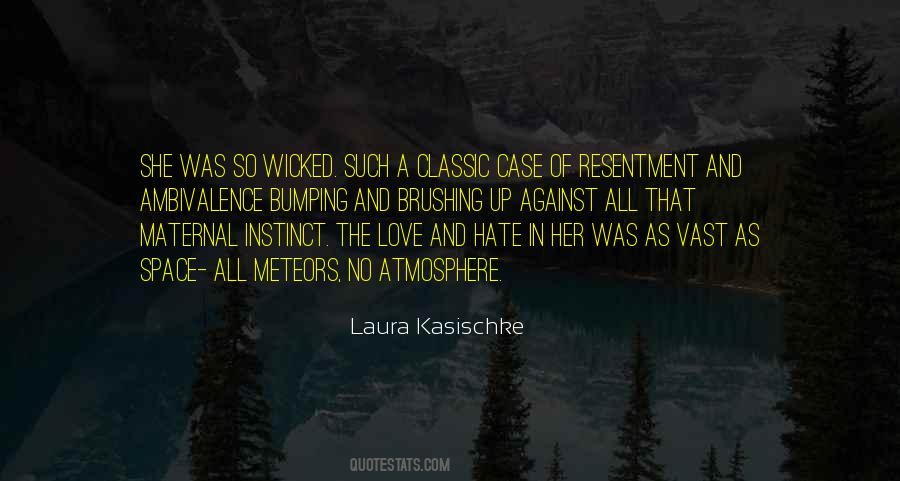 #42. Marriage is all right. At least the person you're having a go at is an adult. But motherhood ... You're given something totally dependent, totally in love with you and it doesn't seem to come with a manual.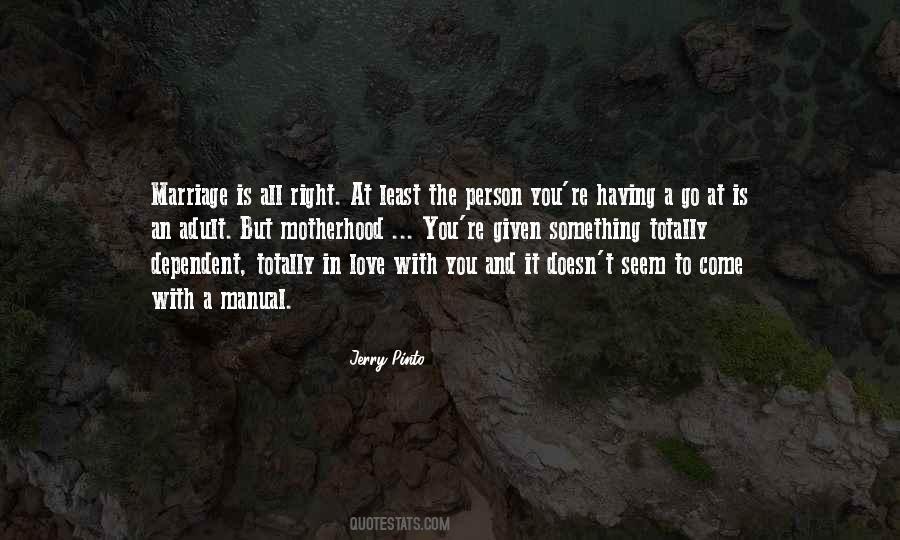 #43. As I cooked in the cauldron of motherhood, the incredible love I felt for my children opened my heart and brought me a much greater understanding of universal love. It made me understand the suffering of the world much more deeply.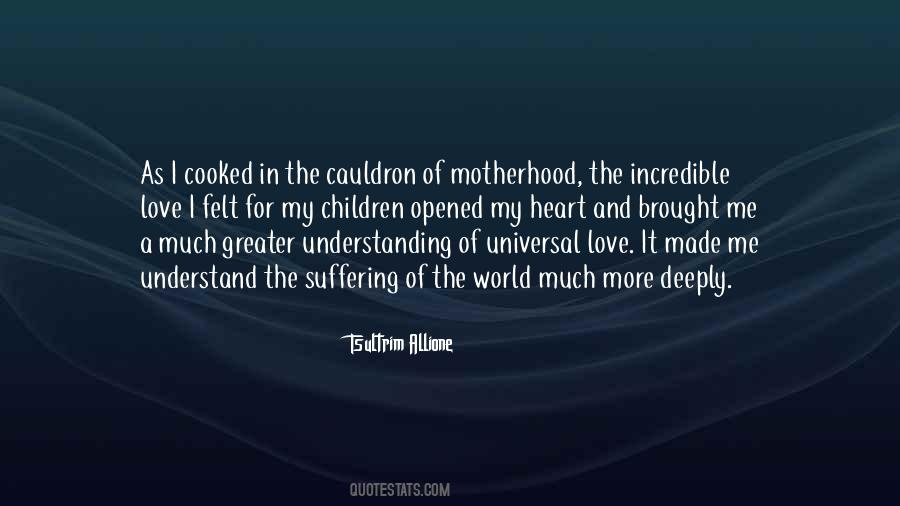 #44. It's a good thing babies don't give you a lot of time to think. You fall in love with them and when you realize how much they love you back, life is very simple.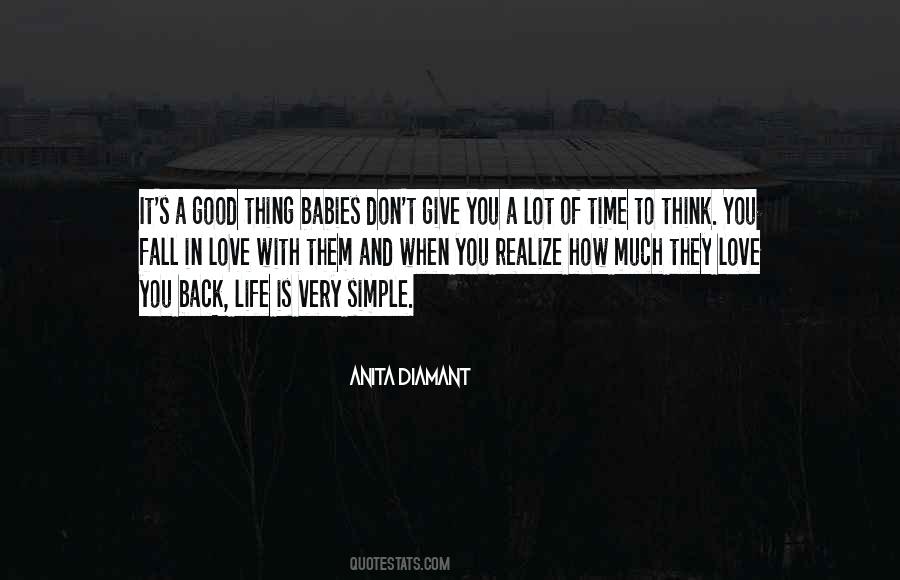 #45. These girls probably use double negatives and watch "A Shot at Love with Tila Tequila" with their babies instead of reading Eric Carle.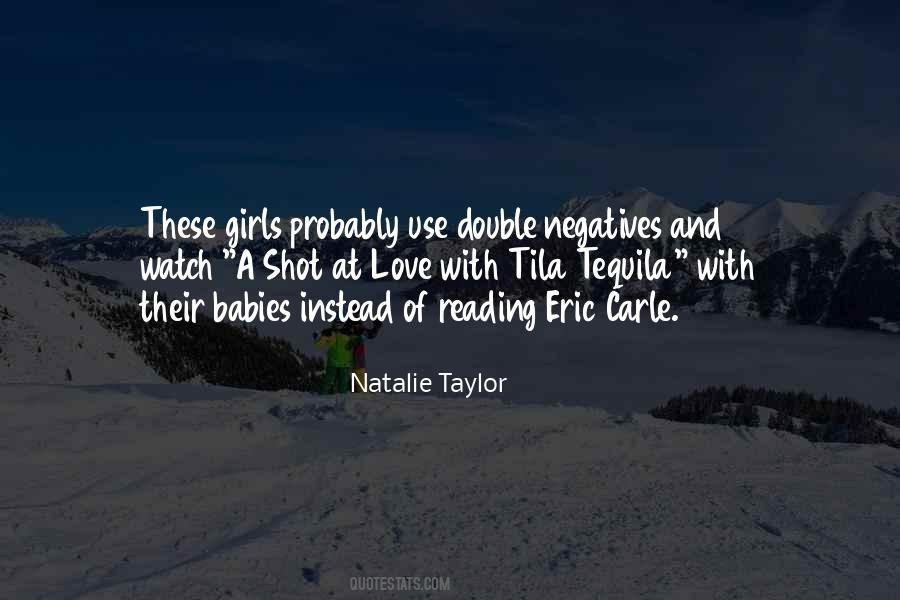 #46. An excellent mother knows she has the beautiful life, and she is a big time programmer.
#47. Motherhood is the great mesh in which all human relations are entangled, in which lurk our most elemental assumptions about love and power.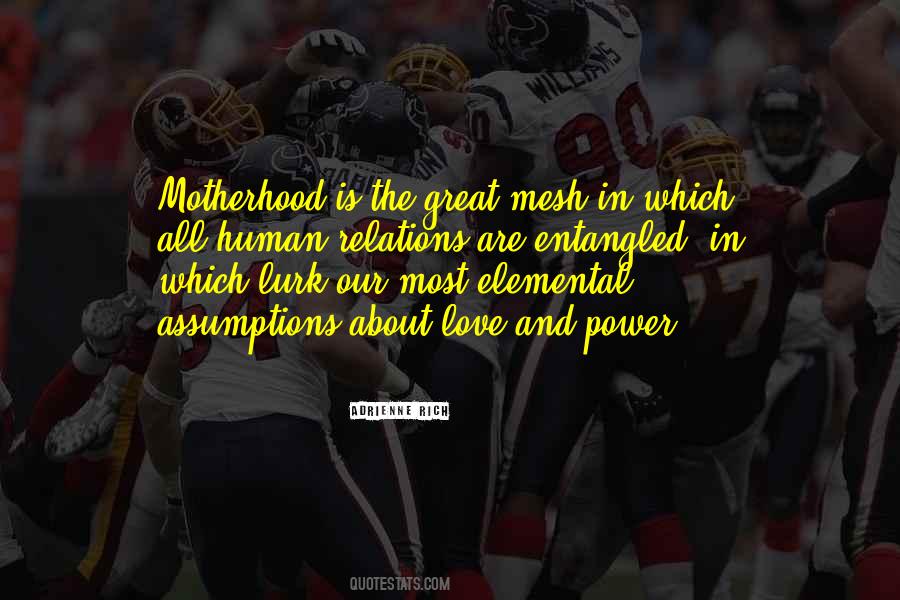 #48. I love motherhood. I certainly wasn't aware of any mothering instincts until I had babies. I wasn't a person who desperately wanted to have kids, but you don't get it until you do it, and, suddenly, this nurturing instinct exists.
#49. The torment that so many young women know, bound hand and foot by love and motherhood, without having forgotten their former dreams.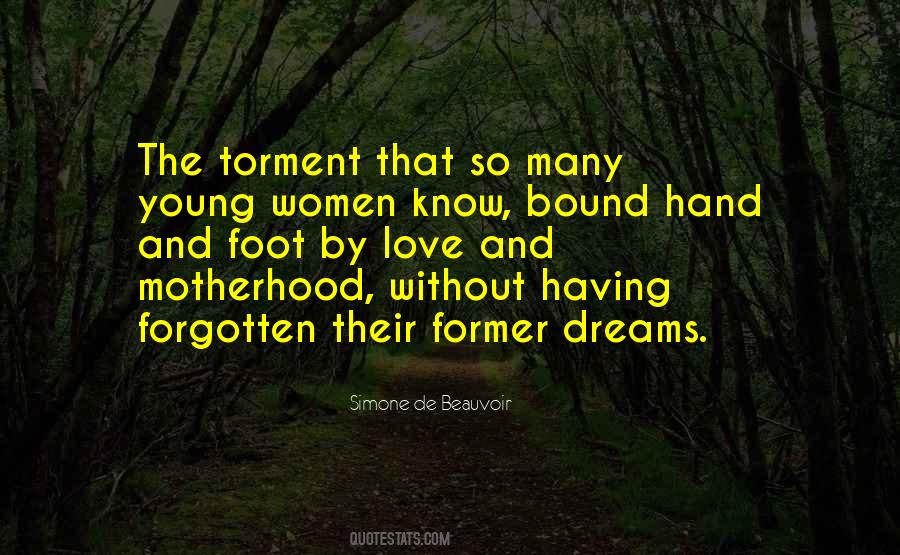 #50. A mother's love, it knows no end. It begins with a dream, with a silent wish, and it never ever ends.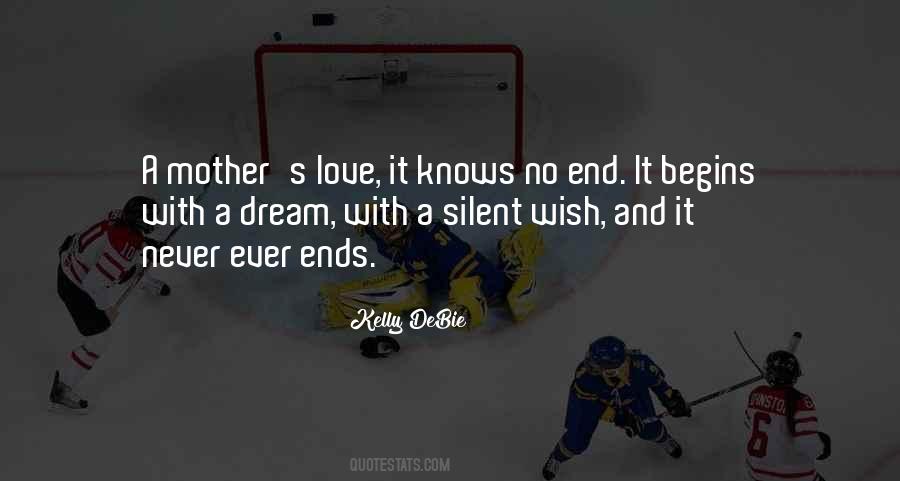 #51. A wise mother is the unifying force between father and children; her seed of love produces a harvest of trust.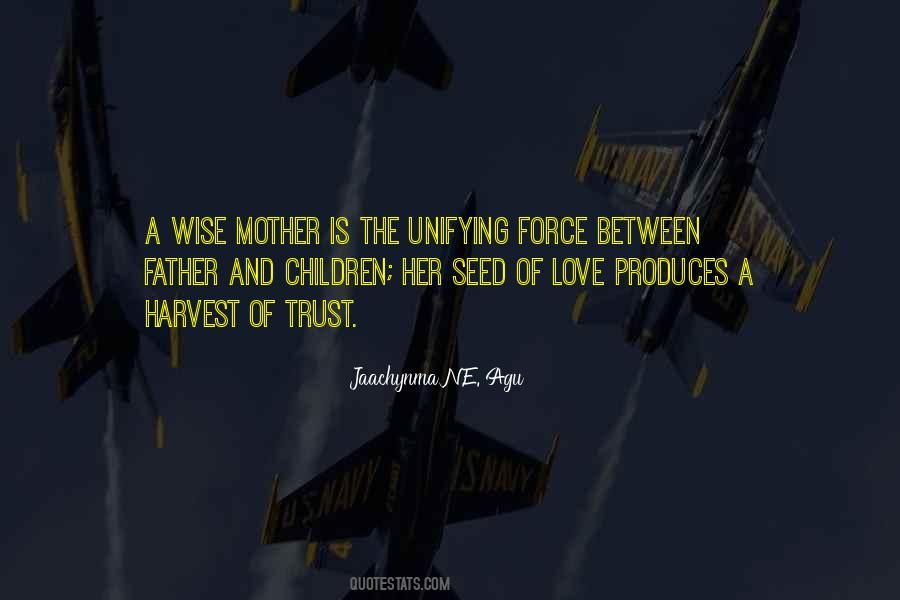 #52. When you create a soul, plant the seeds of love with your thoughts, words, and actions . The soul flourishes among the flow-ers of love.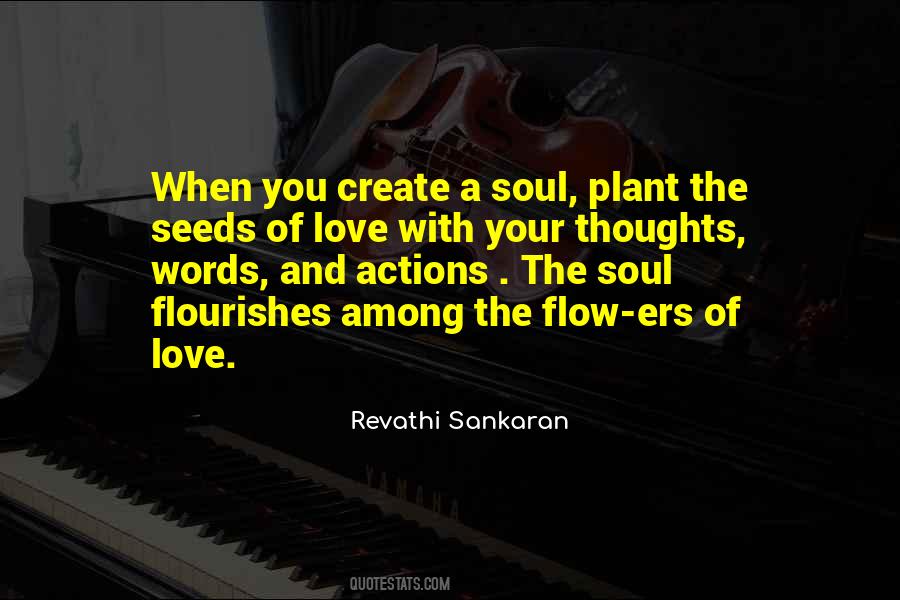 #53. I wrote about the rush of love, the changing of a woman into a mother - a process that happened without conscious thought, as if the heart knew what the mind and body took time to learn. Love is the one thing that matters. That makes everything else matter. That makes everything worthwhile.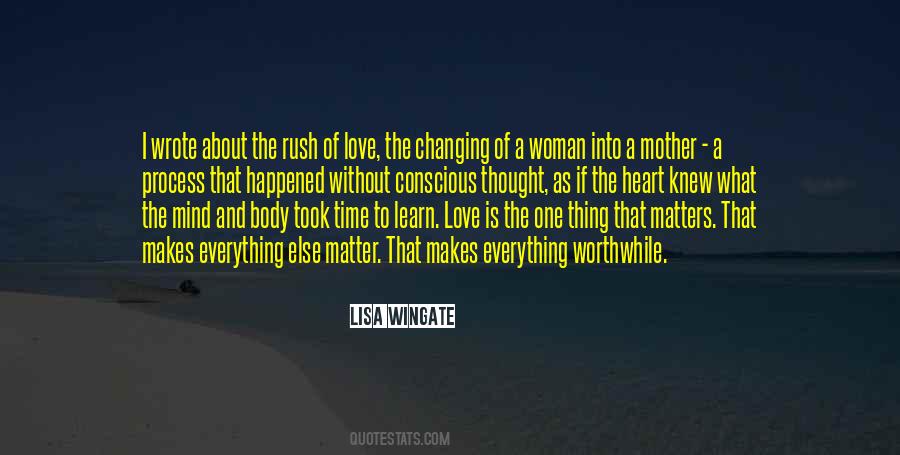 #54. Although I wasn't there to bear witness, I imagine Lot's wife scanned the masses for her children. Perhaps she sought out the curves of their mouths and the shapes of their faces, trying to memorize her children, grown now. She looked back as I and any strong, loving mother would have done.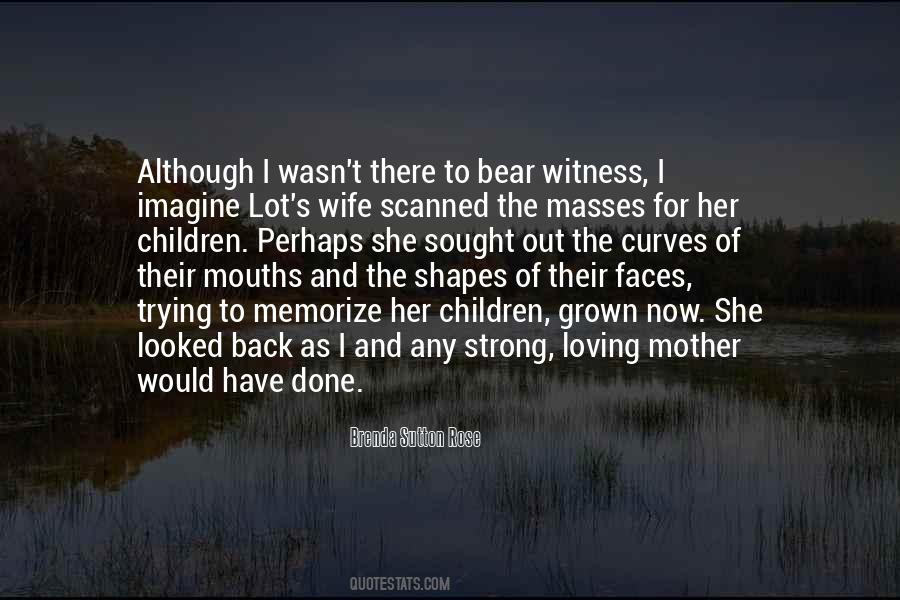 #55. I believe that women should live for love, for motherhood and for intellect, and I believe we shouldn't have to choose. And I believe that's always been difficult for women, to express themselves intellectually, maternally, and passionately.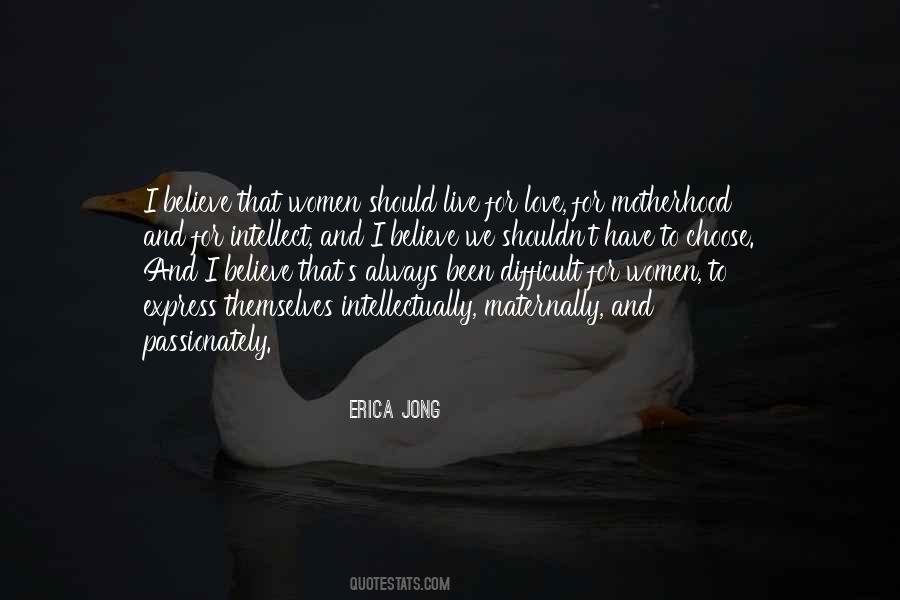 #56. I try to feel my own edges in the
low light. I send my mind to the
outer edges of me - where do I end?
I send myself to my innermost edges,
and I see that in both directions
I am infinite.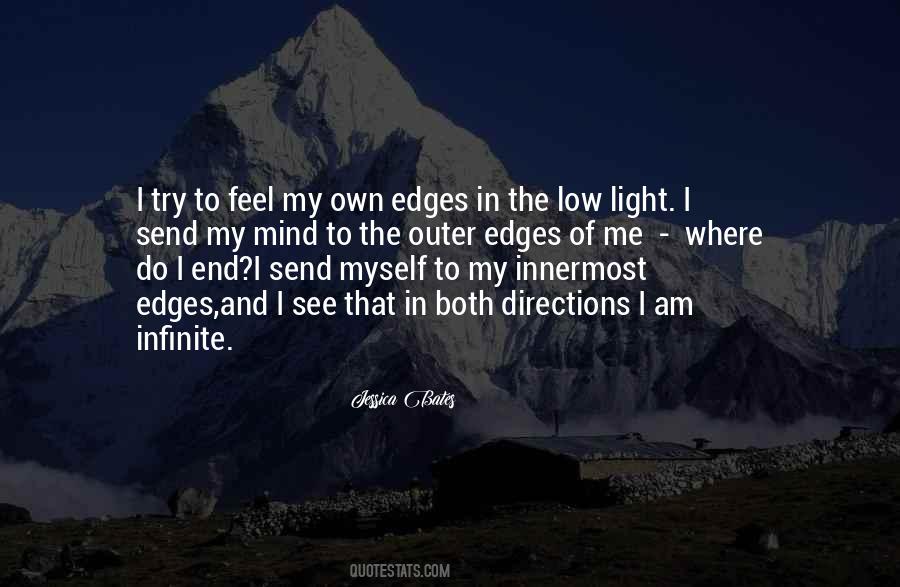 #57. We all have a reason for living I am blessed mine has two eyes a heartbeat and calls me mum.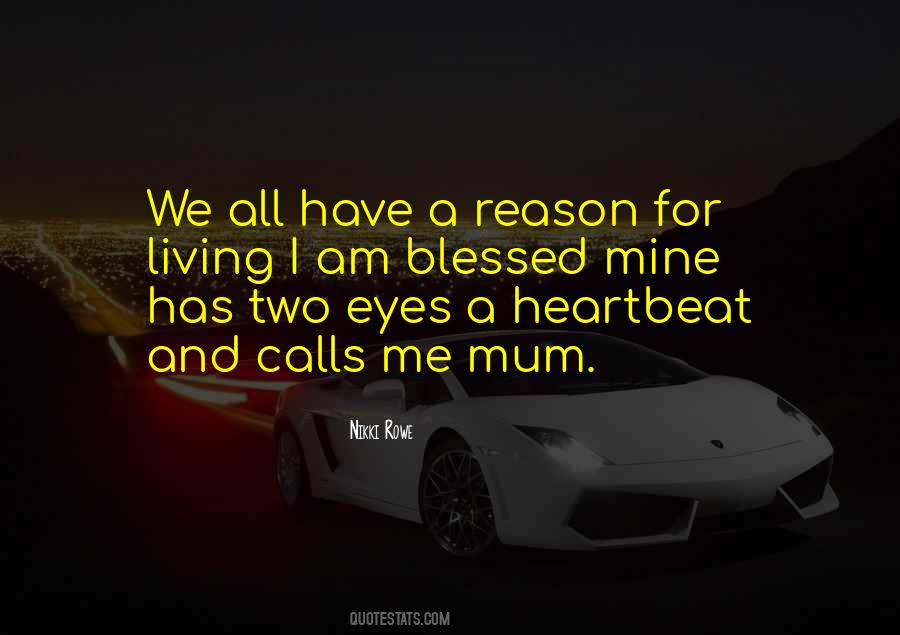 #58. The balancing act of motherhood and a career, and being a wife, is something that I don't think I'll ever perfect, but I love the challenge of it.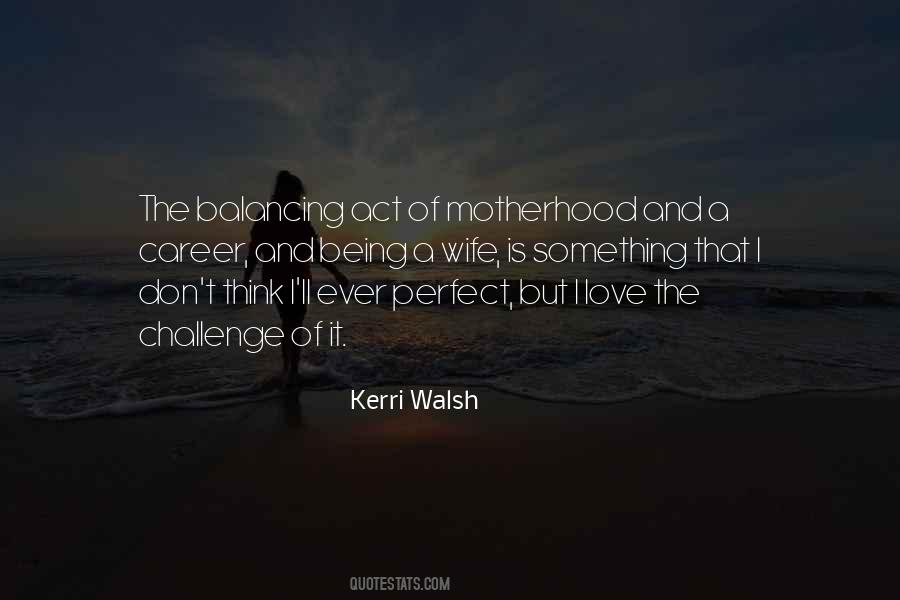 #59. A mother isn't the person who births you; it's the person who rears you and shows you love.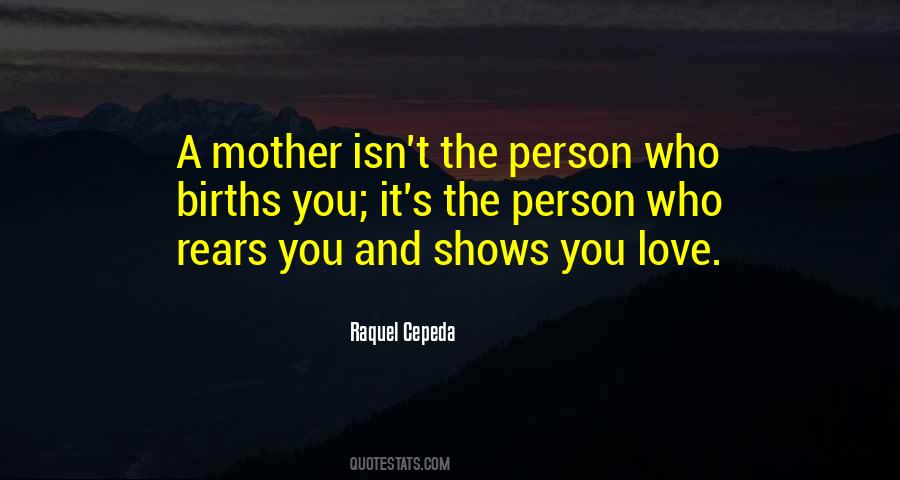 #60. No occupation in this world is more trying to soul and body than the care of young children. What patience and wisdom, skill and unlimited love it calls for. God gave the work to mothers and furnished them for it, and they cannot shirk it and be guiltless.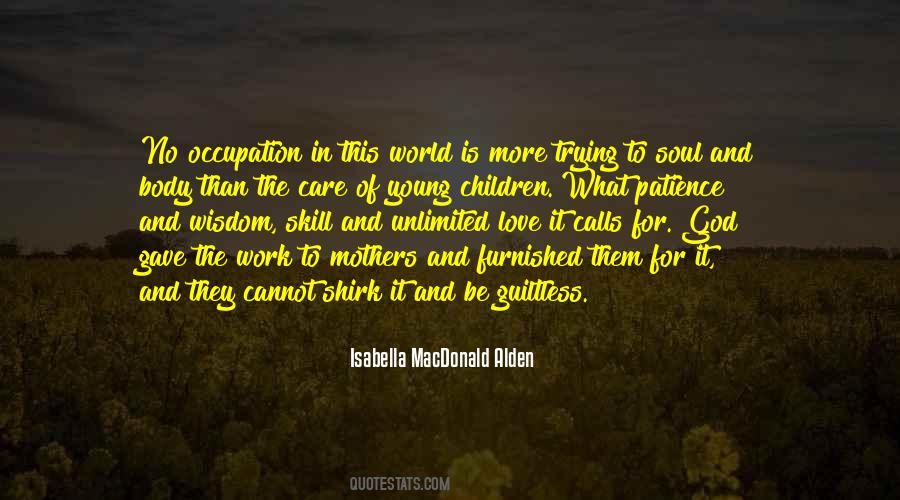 #61. Mothers give us life, love, and the heartfelt inclination to cry 'I want my mommy' no matter how old we get.
#62. A true mother is known for her compassion, love and passion; she is everly dedicated to her calling.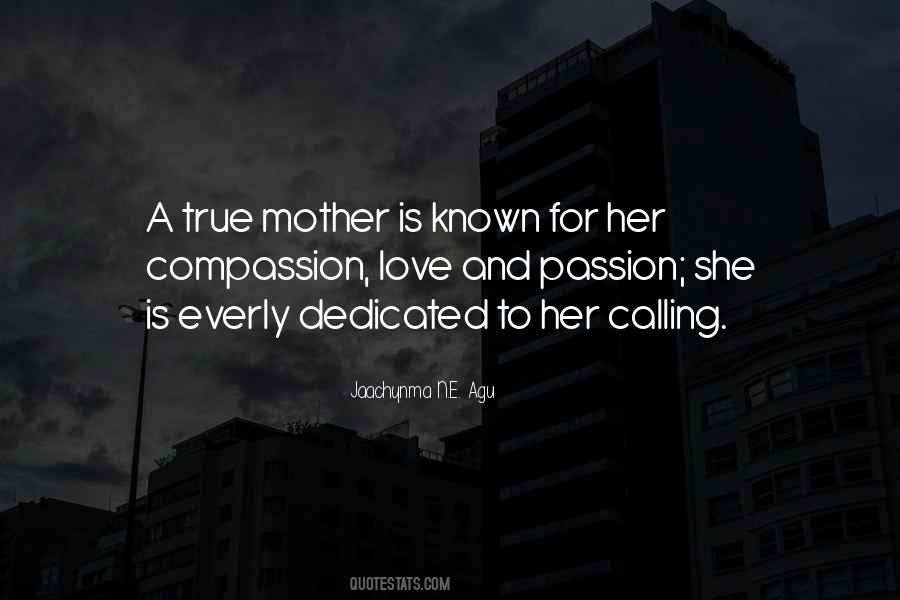 #63. She is the creature of life, the giver of life, and the giver of abundant love, care and protection. Such are the great qualities of a mother. The bond between a mother and her child is the only real and purest bond in the world, the only true love we can ever find in our lifetime.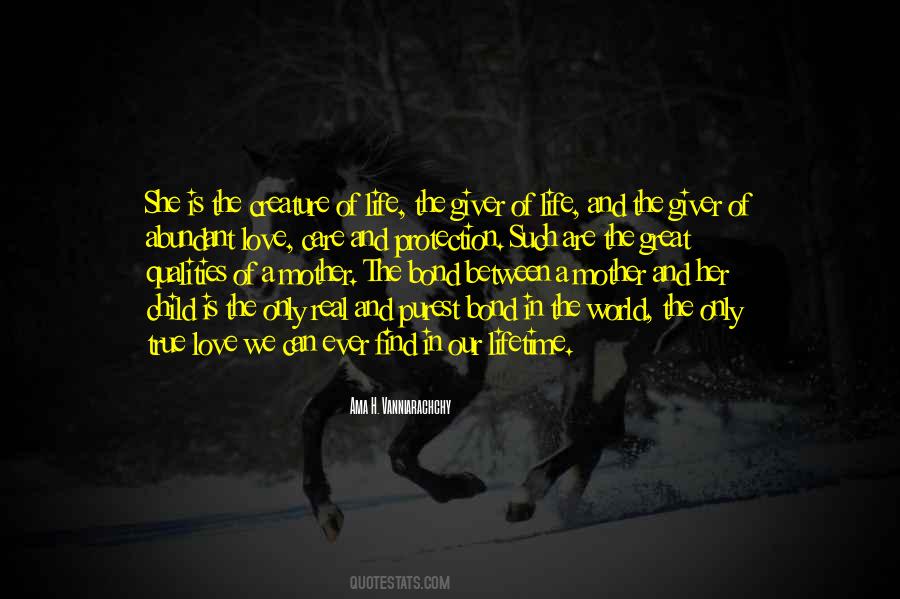 #64. Kids are hard -they drive you crazy and break your heart- whereas grandchildren make you feel great about life, and yourself, and your ability to love someone unconditionally, finally, after all these years.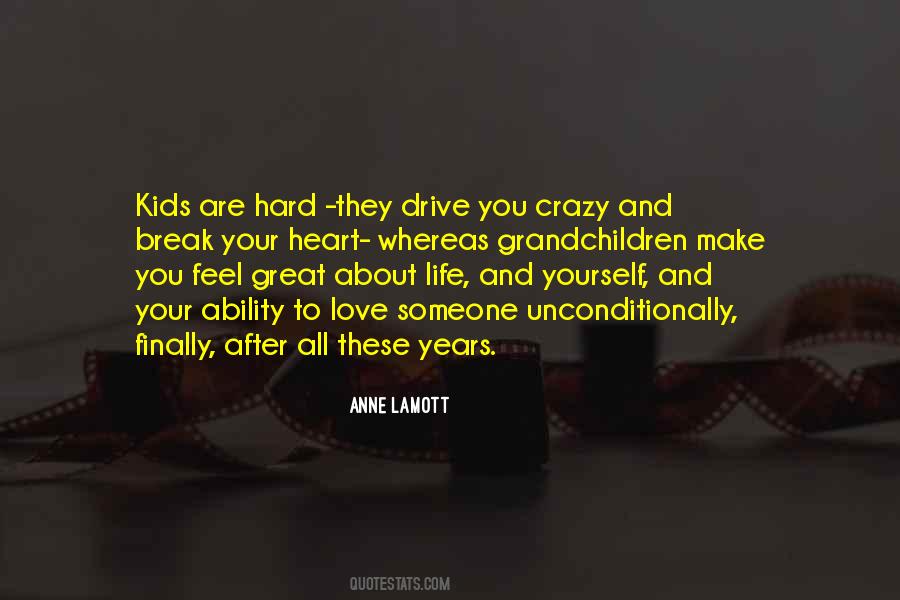 #65. My mother's gifts of courage to me were both large and small. The latter are woven so subtly into the fabric of my psyche that I can hardly distinguish where she stops and I begin.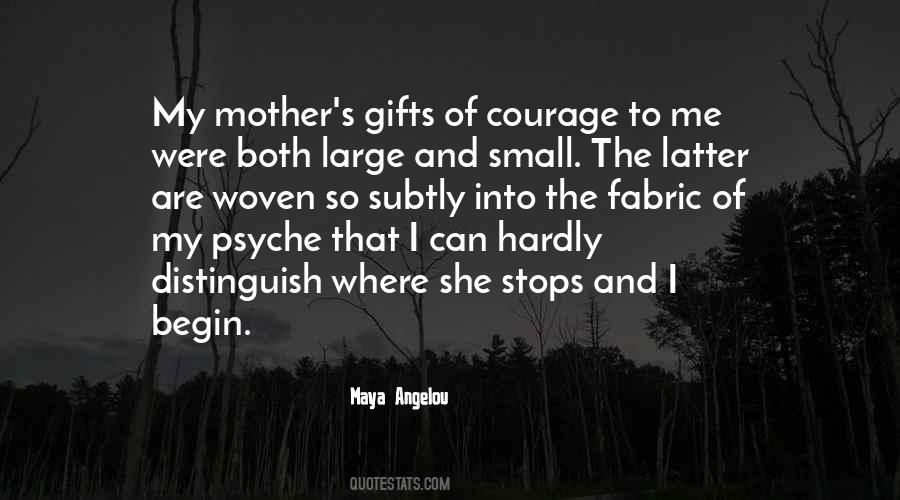 #66. My arrival
Her womb's delight
Her existence
My living light
Her wounds
My scars
Her skies
My stars
Her days
My hours
Her strength
My powers
I breathe my name
Being her child
Without mother
Life's beguiled
From the poem 'Mother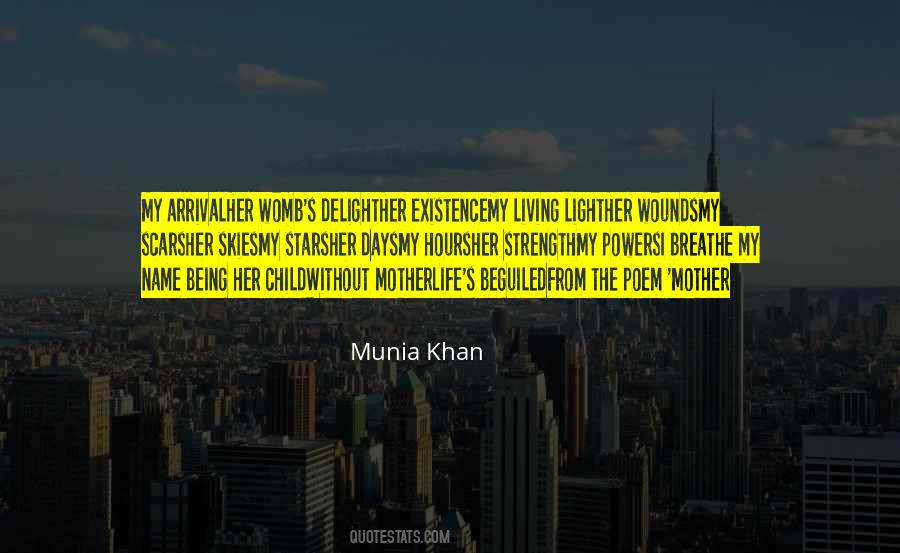 #67. To a woman in whom the state of true motherhood has awakened, all creatures are her children. This love, this motherhood, is Divine Love---and that is GOD.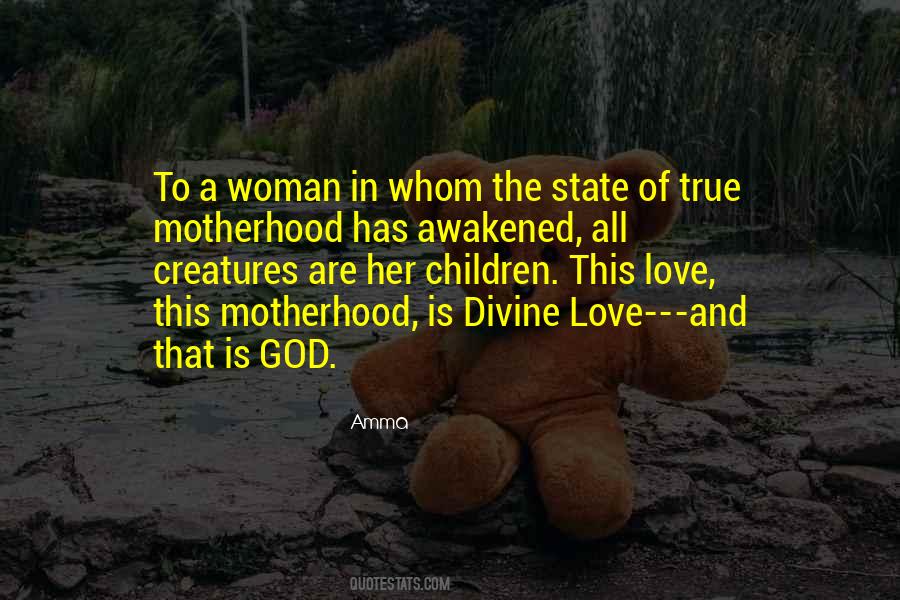 #68. Coco is the greatest part of my life. I love everything about being a mom, but our talks and walks on the beach are my favorite moments.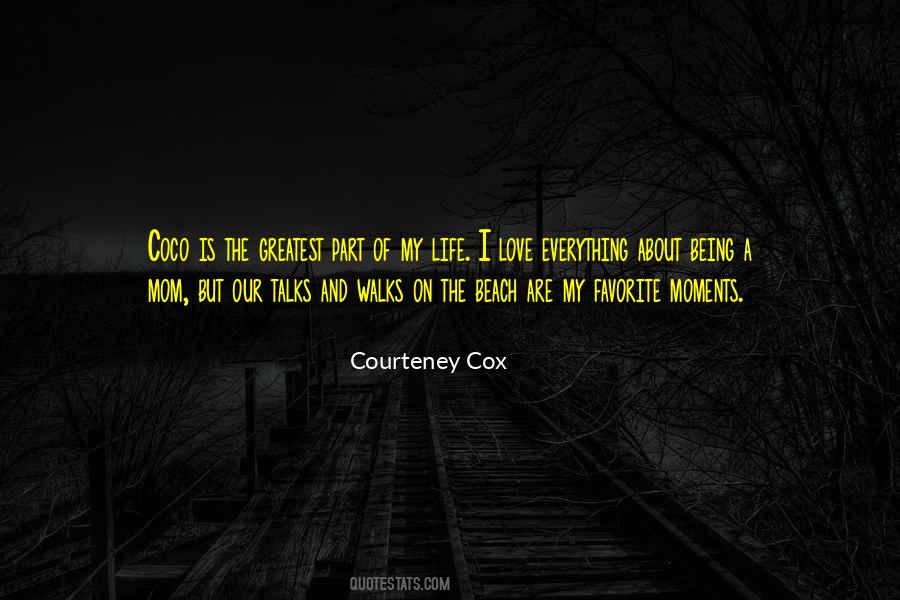 #69. My greatest hope is to be a mother who loves Jesus with a deep and abiding affection that joyfully overflows to my children.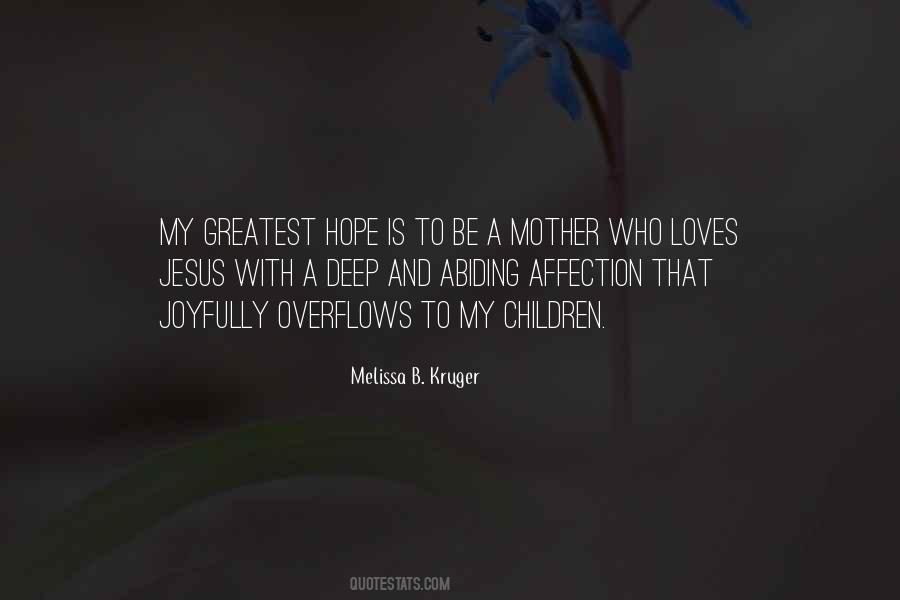 #70. Because you live to love and love to live/ And because of what your heardrum will give/ Now we might love to live and live to love.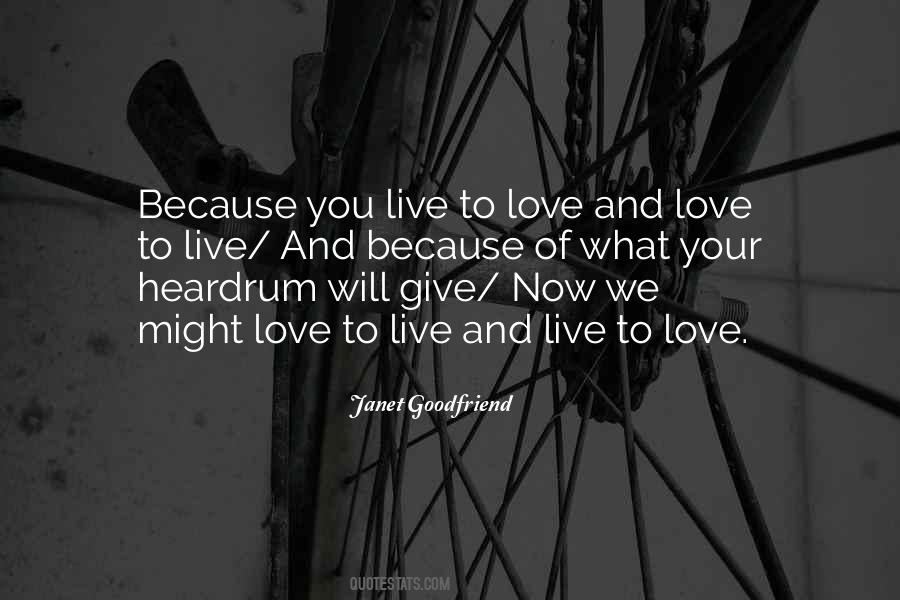 #71. Sisterhood - that is, primary and bonding love from women - is, like motherhood, a capacity, not a destiny. It must be chosen, exercised by acts of will.
#72. I had a career and I came to motherhood late and am not married and have never had such a trusting relationship with a man - and trust is where the real power of love comes from.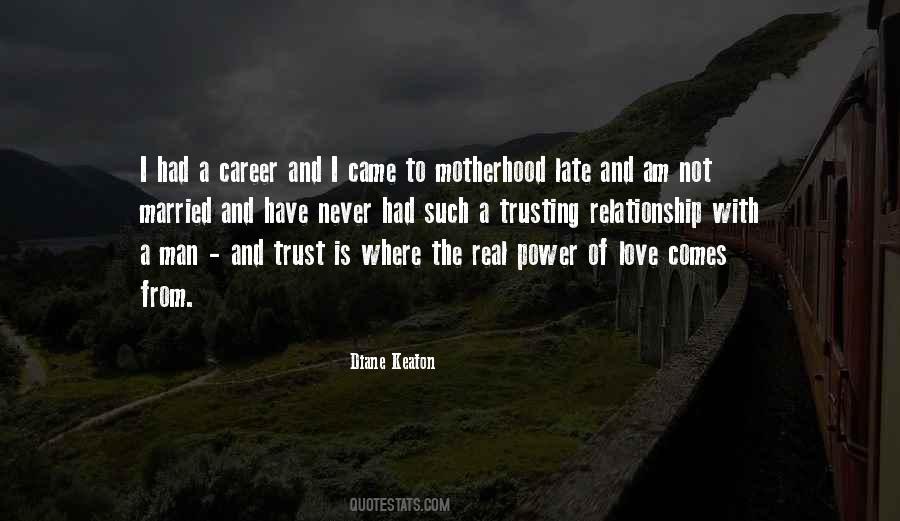 #73. Love and grief and motherhood, Fame and mirth and scorn - these are all shall befall, Any woman born.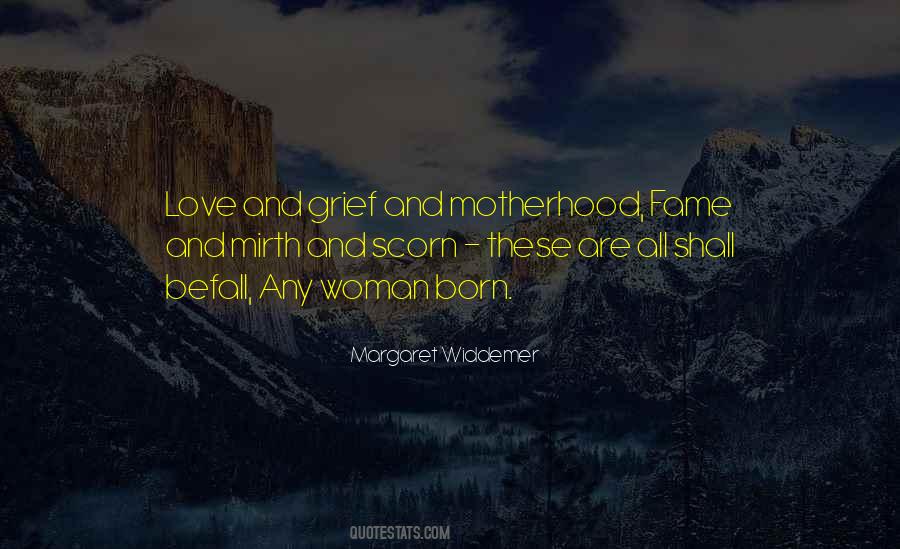 #74. I stumble and fall.
I weep and struggle to rise.
My mom feels it all.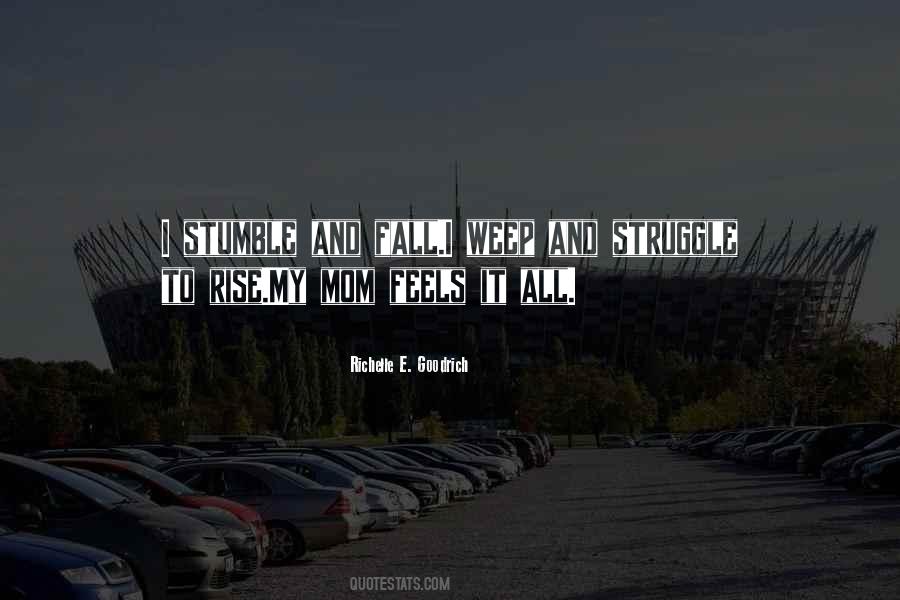 #75. A few days after we came home from the hospital, I sent a letter to a friend, including a photo of my son and some first impressions of fatherhood. He responded, simply, 'Everything is possible again.' It was the perfect thing to write because that was exactly how it felt.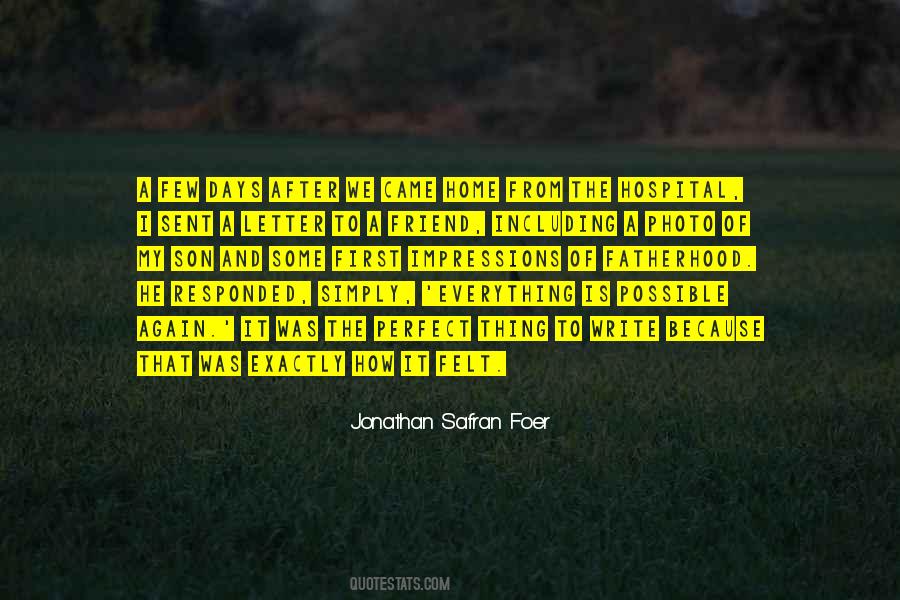 #76. A mother's job is not complete till she has taught and imbibed God's Words, and principles into her kids.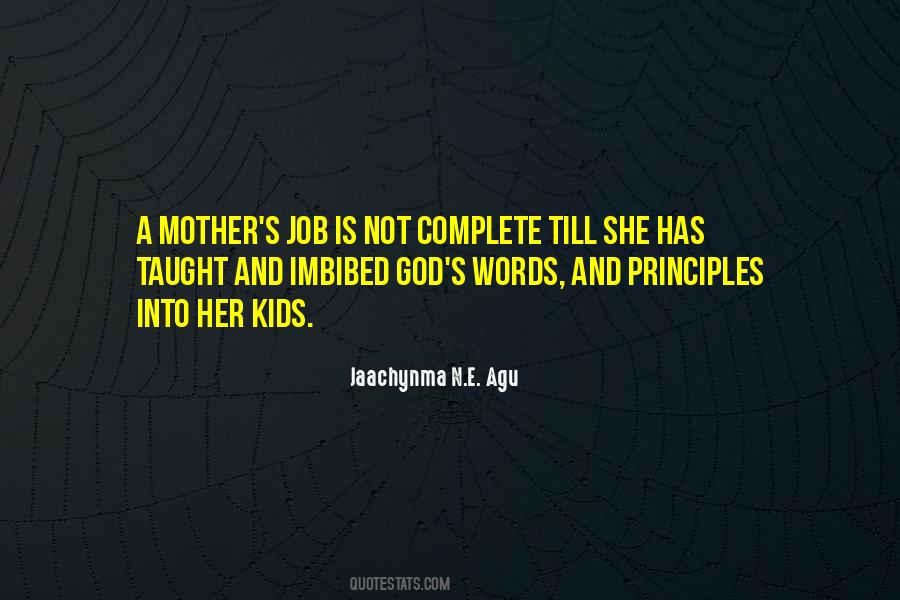 #77. I'm trying to figure out if you know something that I don't, or if you're really this stupid. You might be older and therefore a lot stronger than I am, Sphinx, but I am a mother and a lot more pissed off than you.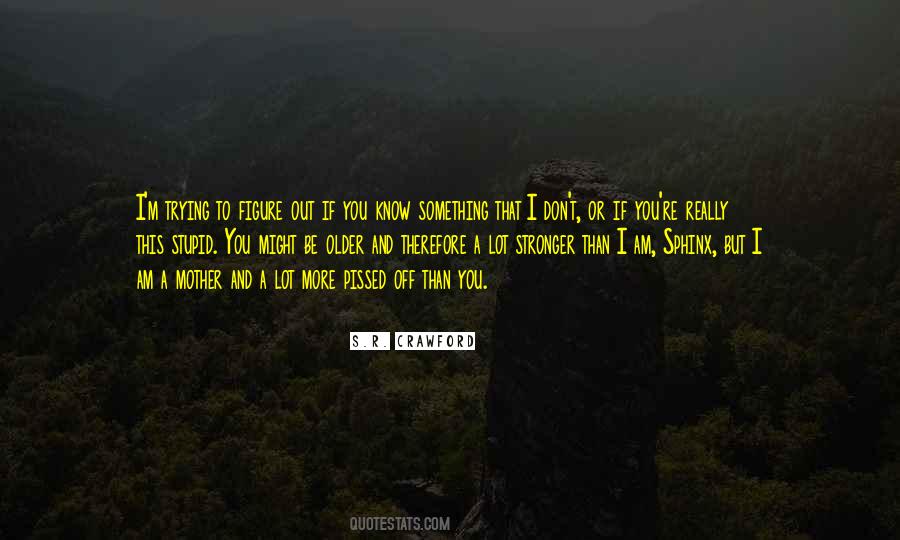 Famous Authors
Popular Topics