Losing Something Famous Quotes & Sayings
List of top 100 famous quotes and sayings about losing something to read and share with friends on your Facebook, Twitter, blogs.
Top 100 Quotes About Losing Something
#1. The authentic experience, where is that? Living the moment. That is something that we're losing. - Author: Chris Pine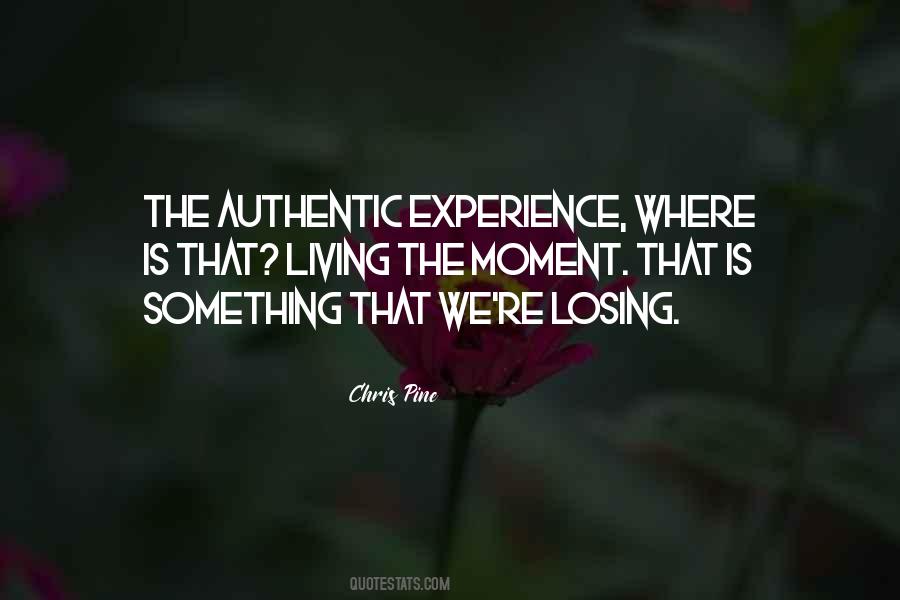 #2. It is by losing himself in the objective, in inquiry, creation, and craft, that a man becomes something. - Author: Paul Goodman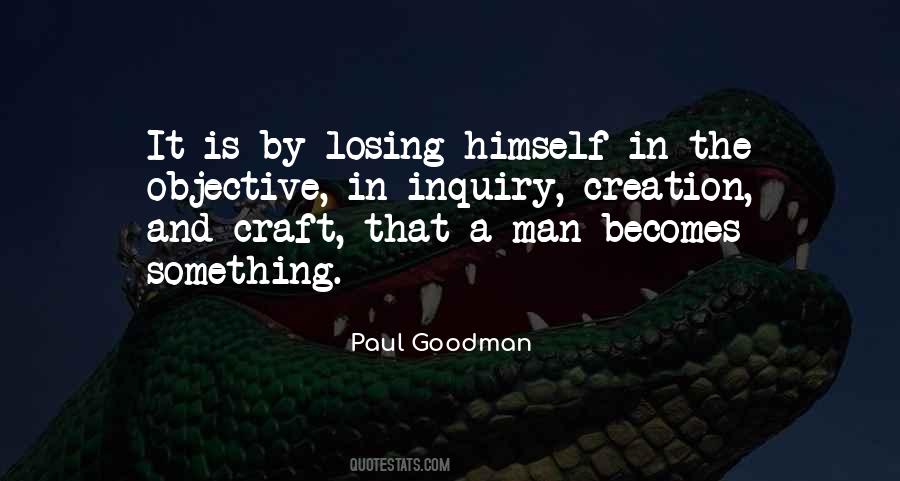 #3. There's a difference between losing something you knew you had and losing something you discovered you had. One is a disappointment. The other feels like losing a piece of yourself. - Author: Gayle Forman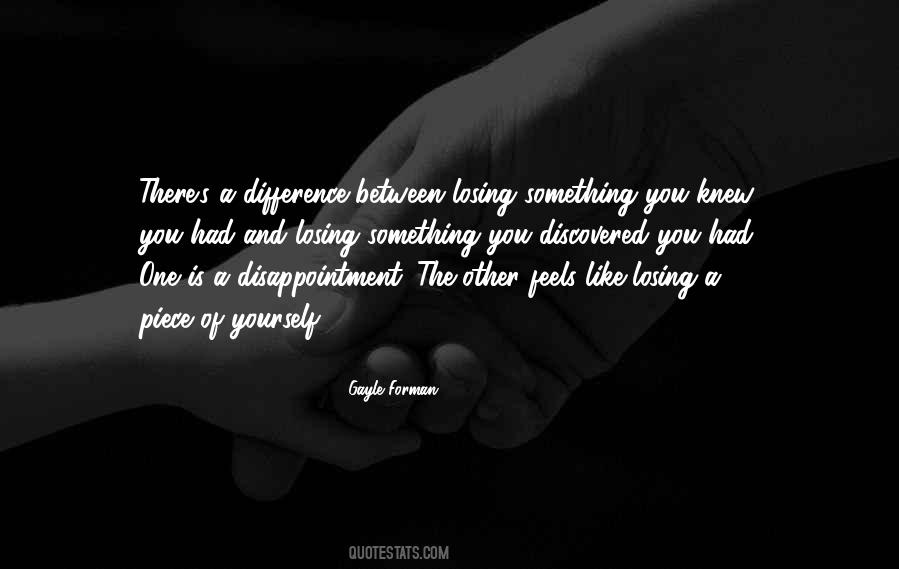 #4. There's something really unnatural about losing a child, and there's something unnatural about having to write an elegy for your child, but I felt that I wanted people to know what he was like. - Author: Edward Hirsch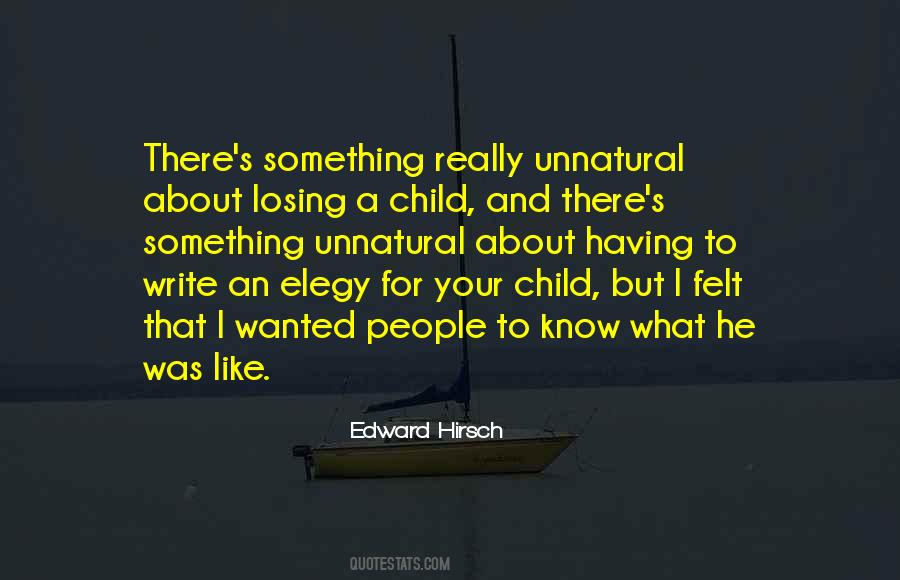 #5. I know this sounds incredibly lame,
but I don't want losing my virginity
to feel like I'm losing something.
I want it to feel like I'm finding something.
I want sex to be amazing.
I want it to be life-alteringly wonderful.
And I want it to happen with someone I love. - Author: Sonya Sones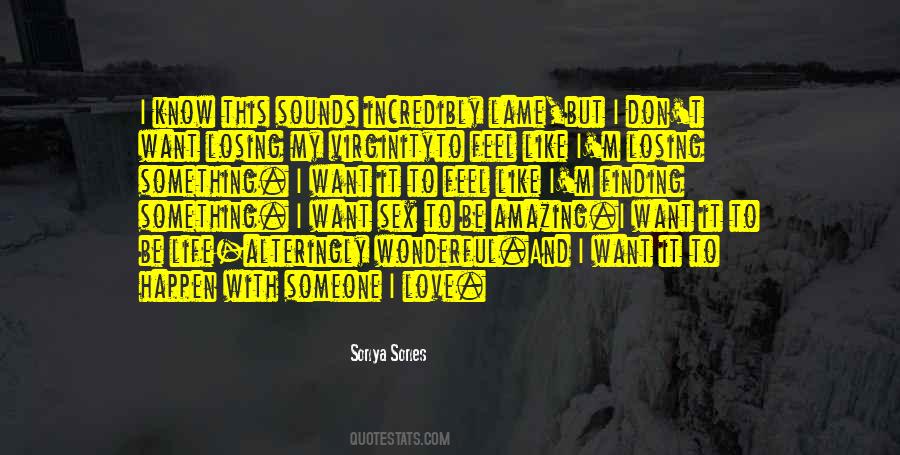 #6. But I learned something from it. From losing him. Even though I found my soulmate, that doesn't mean that I'm incapable of falling in love with someone else. It just means they're going to have to try harder for my attention. - Author: Hollow Ryan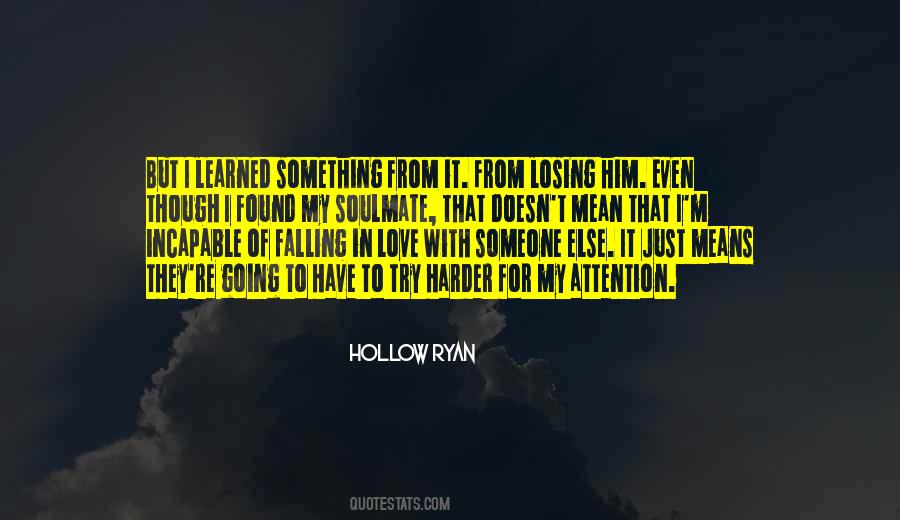 #7. I had what, I wanted, it was with me, in the room, including the room itself. Was it possible that we hear that voice not when we want something else but when we're in danger of losing the things we already have? - Author: Brock Clarke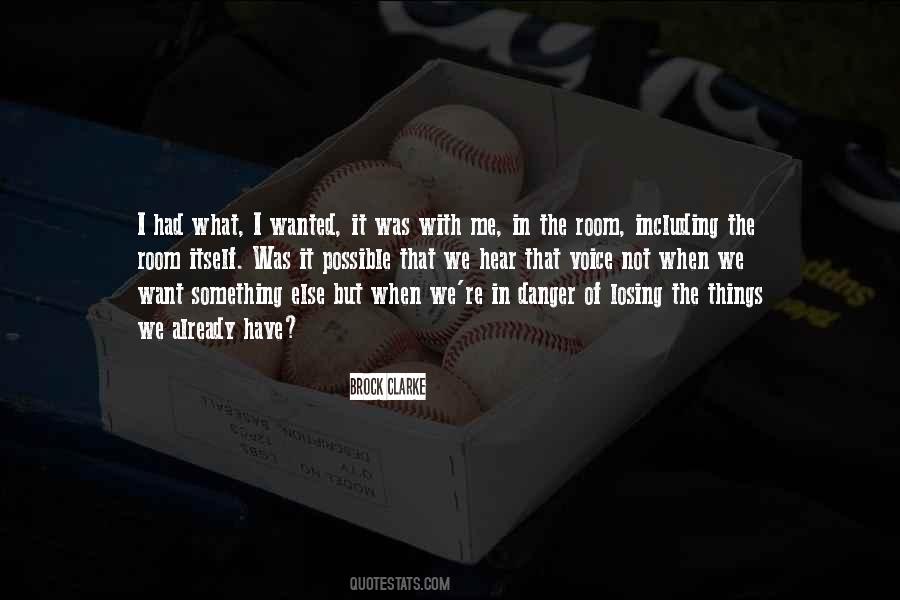 #8. When you have something this good, you keep it. Forever. And that's all the magic there is to it. - Author: Nadege Richards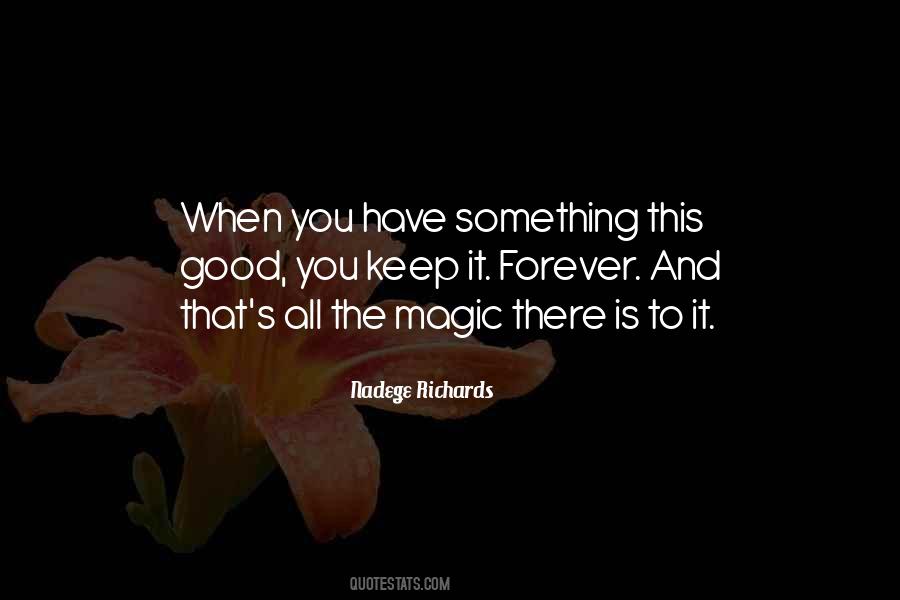 #9. It's way too easy to get used to losing, it does something small to you. - Author: Mark Anthony Jarman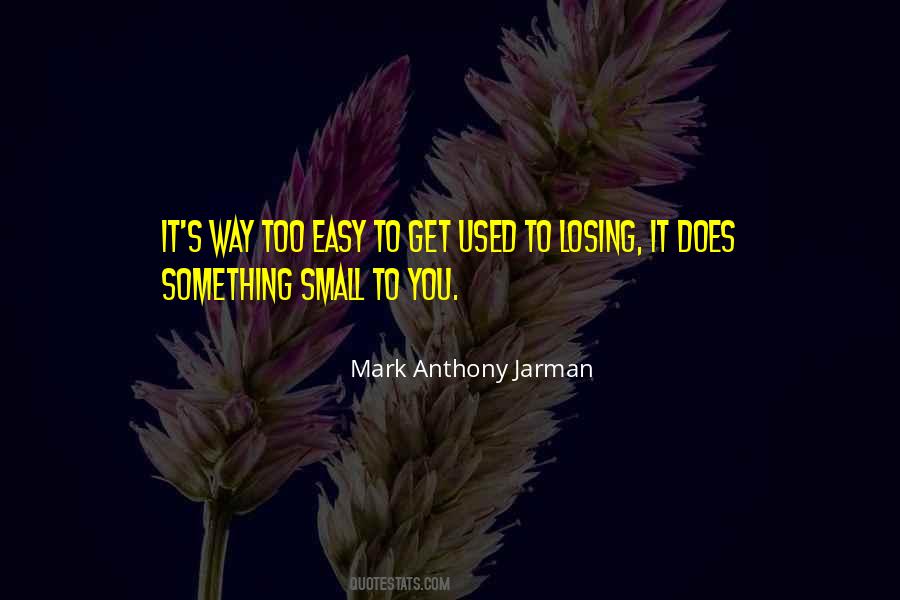 #10. You can't play sports without losing sometimes and, in losing, you learn something about grace and how to act under pressure. - Author: John F. Kerry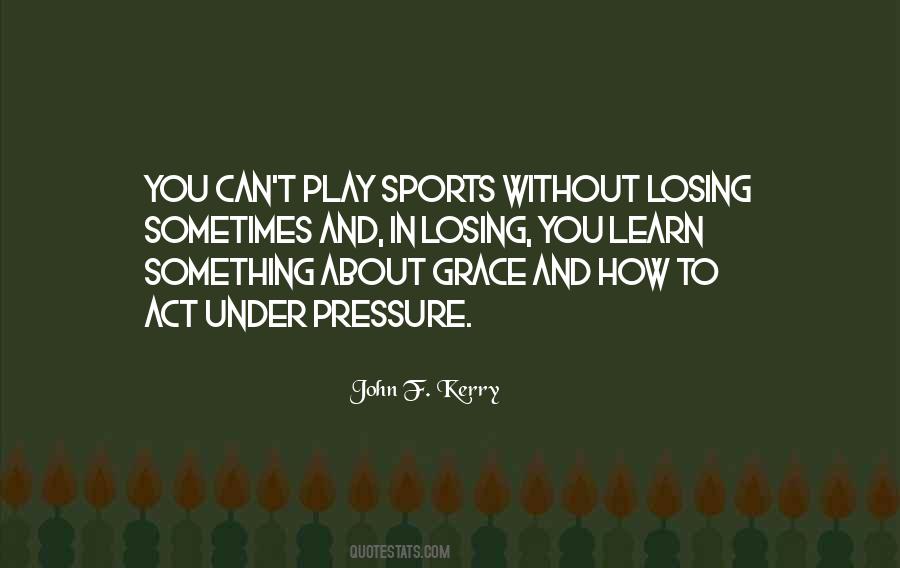 #11. Losing the possibility of something is the exact same thing as losing hope and without hope nothing can survive. - Author: Mark Z. Danielewski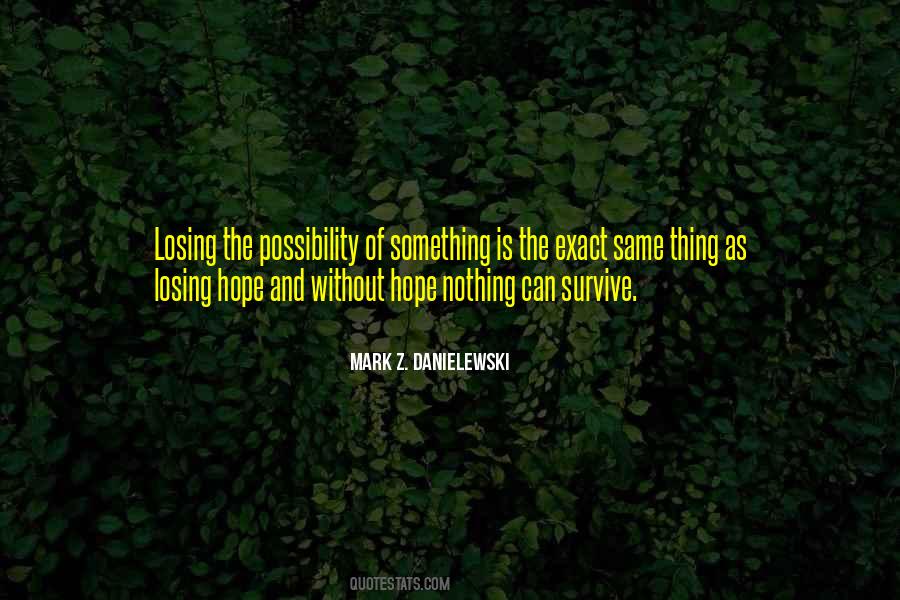 #12. It was his experience that life worked under the same guidelines as a capitalistic society. In order to get what you wanted, it was usually necessary to give up something in return. Sometimes gaining what you defined as everything meant losing what you most needed. - Author: Roy L. Pickering Jr.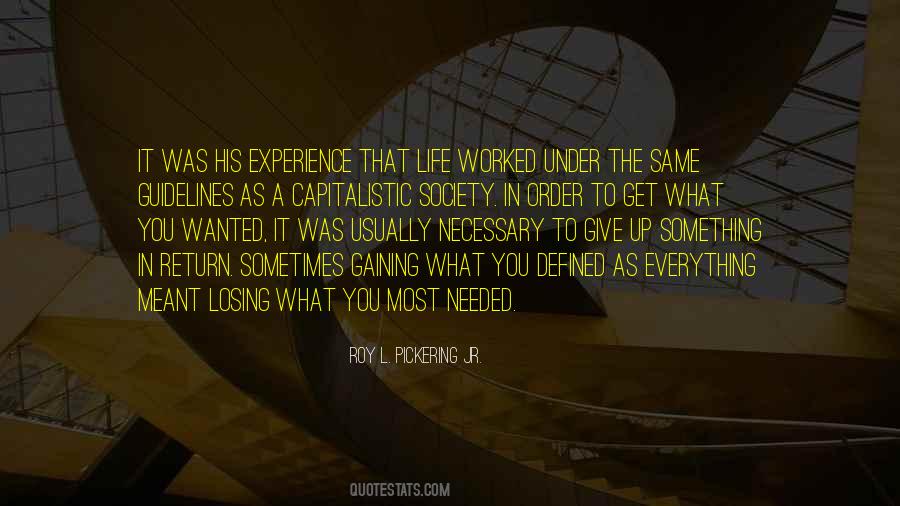 #13. I wear crop tops and stuff, but I genuinely like that style, so it's just has to be genuine. Once you start getting to that world where you're using sexuality to try to propel something, you're losing the moment. You've lost; people are not focusing on that anymore. - Author: Kiesza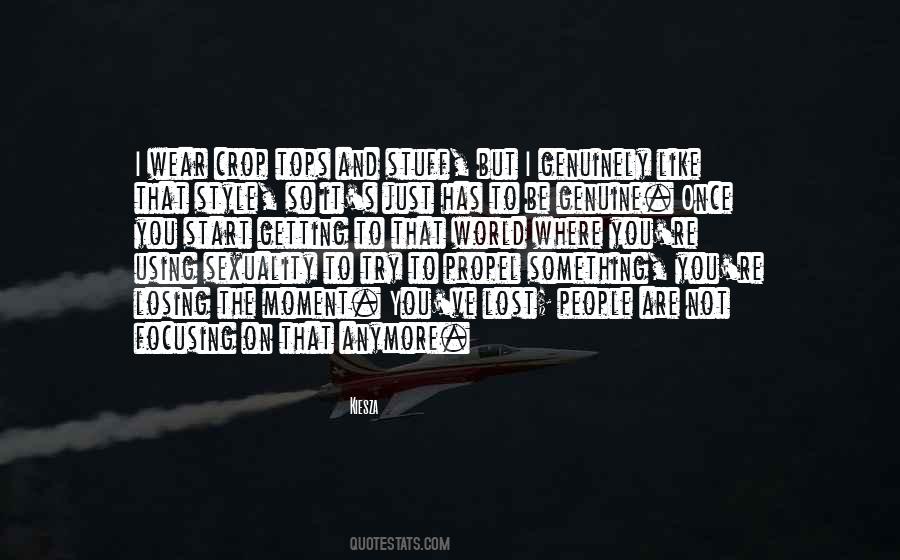 #14. The things that stress me out haven't changed.
But I don't wanna lose anything.
So I thought that at least I would change.
I'm lucky ... that I'm afraid of losing something. - Author: Ai Yazawa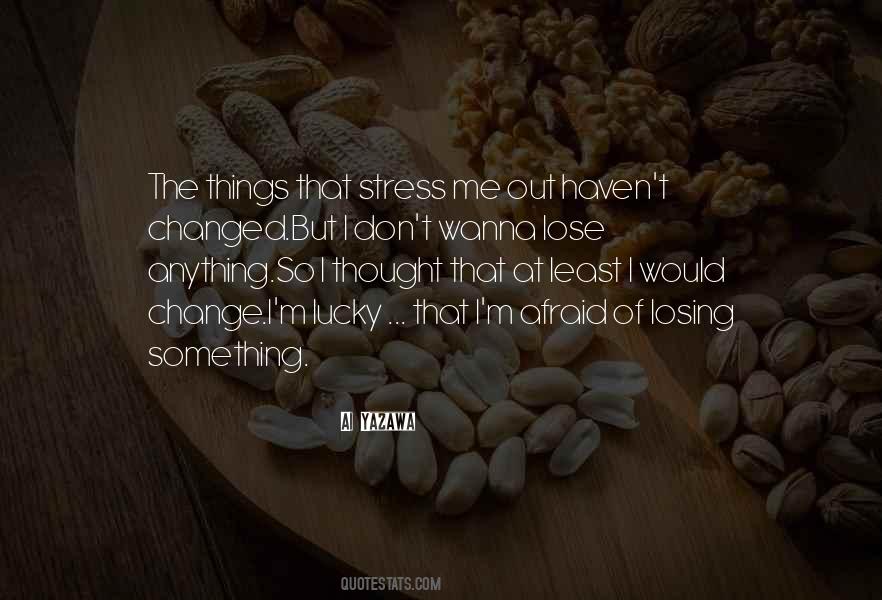 #15. Granny Weatherwax was not a good loser. From her point of view, losing was something that happened to other people. - Author: Terry Pratchett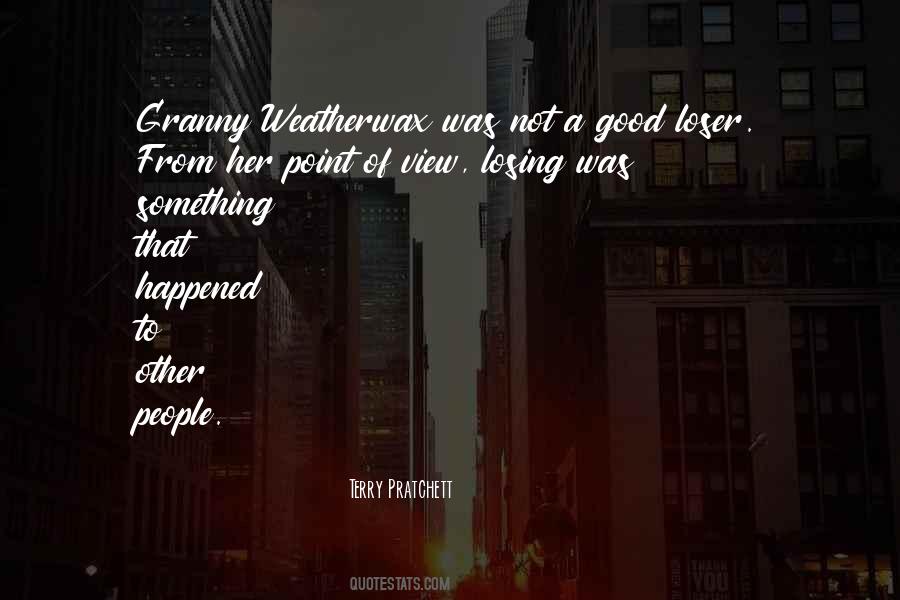 #16. It was difficult after losing the first two sets and in the third set I was a break down, but something happened and I tried to run and keep fighting and I kept swinging in the third, fourth and fifth sets. - Author: Nikolay Davydenko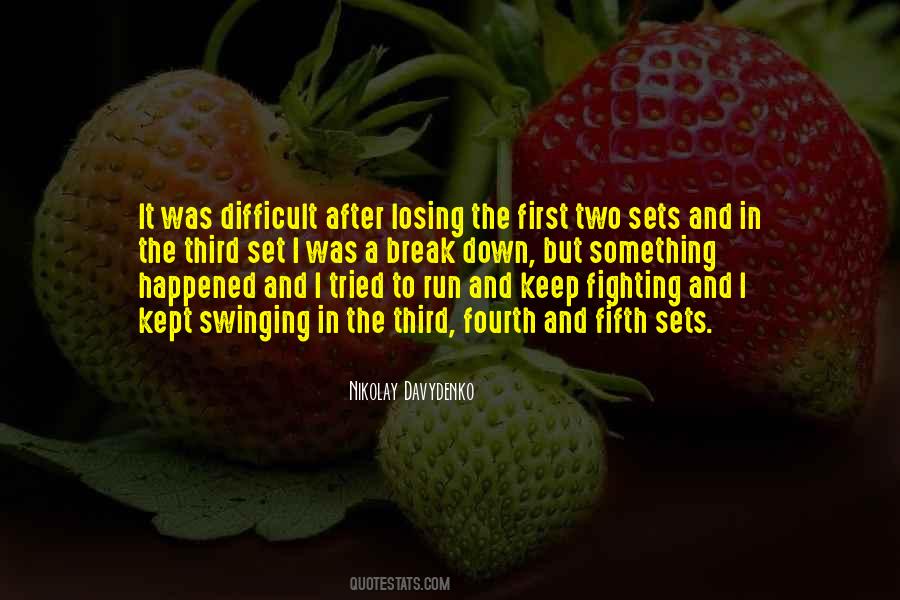 #17. Losing a parent is something like driving through a plate-glass window. You didn't know it was there until it shattered, and then for years to come you're picking up the pieces
down to the last glassy splinter. - Author: Saul Bellow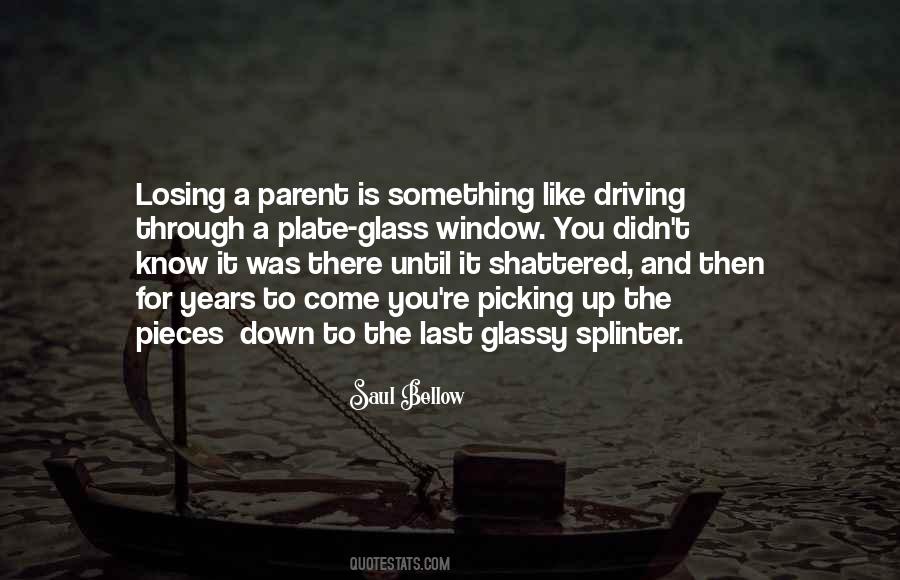 #18. Tragedy isn't getting something, or failing to get it; it's losing something you already have. - Author: Mignon McLaughlin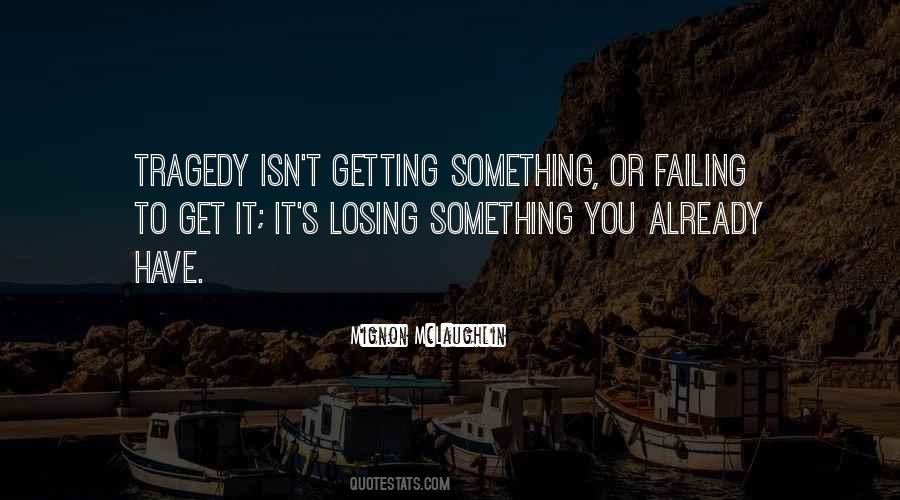 #19. I have never gone out to mingle with the world without losing something of myself. - Author: Albertus Magnus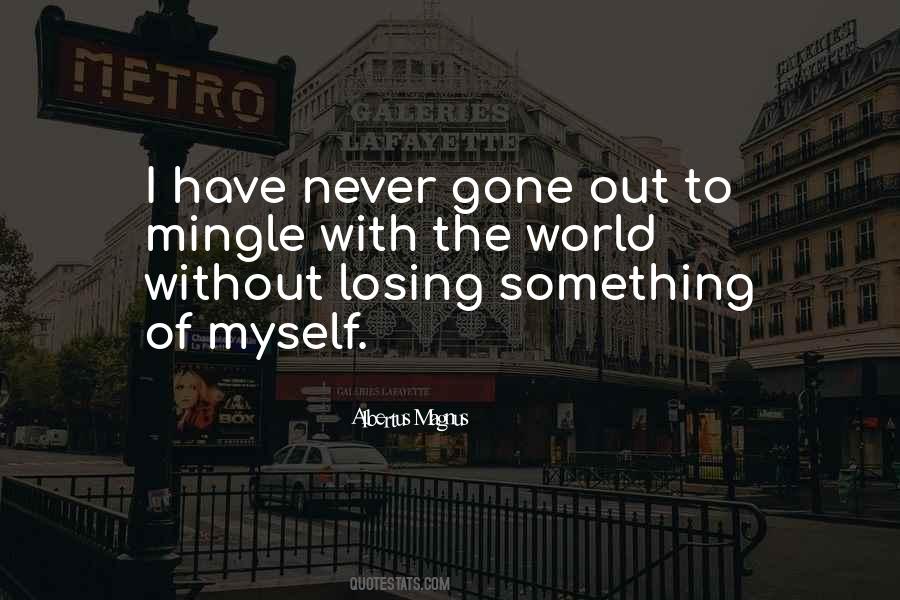 #20. I get what it's like to want something, but to try and force yourself to really believe that you don't. - Author: Cora Carmack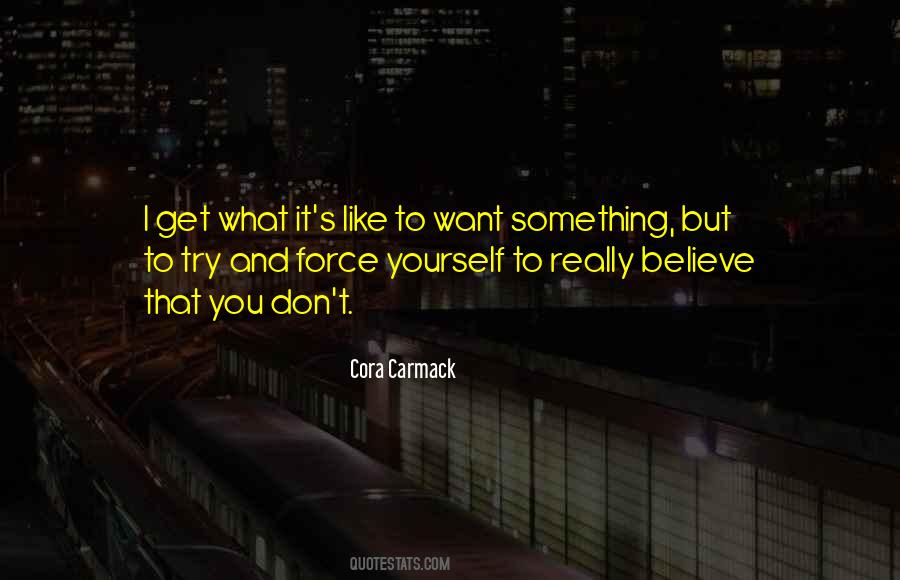 #21. Dying in childbirth is something that's not new; it's been going on for ages, and so it's not something that people focus on; it's not something that gets funded a lot, and it's exactly for that reason that we are losing mothers all the time, and we have kids with no mothers. - Author: Liya Kebede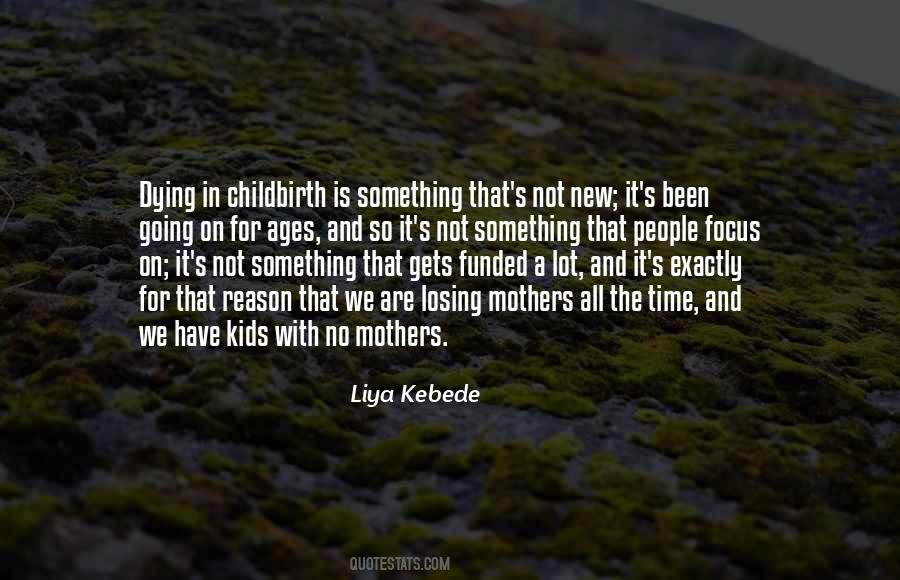 #22. Losing something mediocre can feel frustrating or annoying, but losing something beautiful comes with a desperate form of sadness. - Author: Ty Tashiro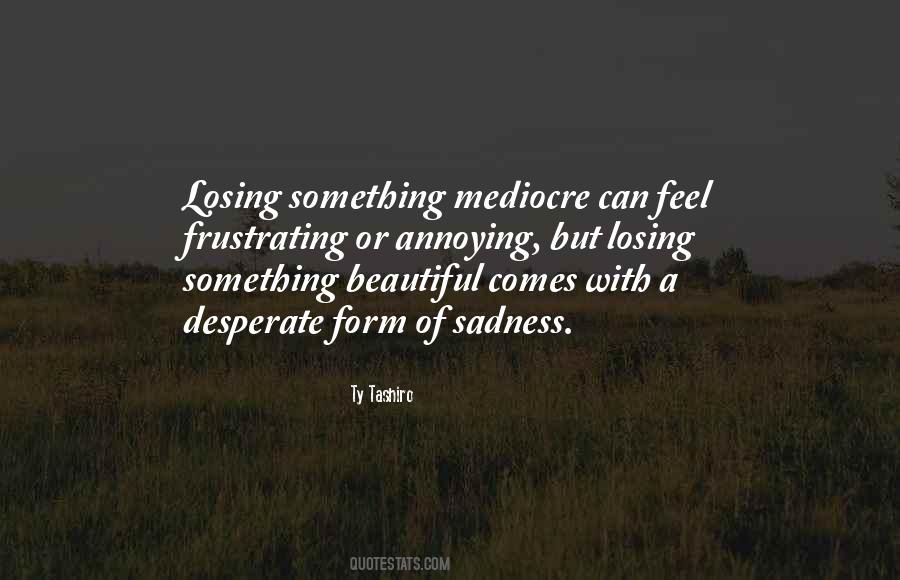 #23. Oh yes, technique has definitely advanced. But you never advance without losing something en passant, and you lose it because you're paying so much attention to the new thing. - Author: Ninette De Valois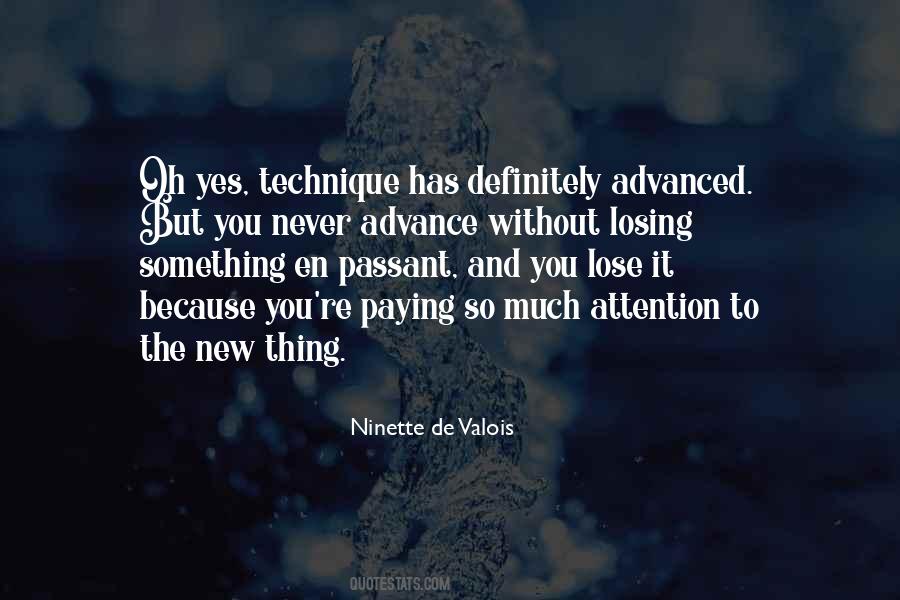 #24. We need objects to remind us of the commitments we've made. That carpet from Morocco reminds us of the impulsive, freedom-loving side of ourselves we're in danger of losing touch with. Beautiful furniture gives us something to live up to. All designed objects are propaganda for a way of life. - Author: Alain De Botton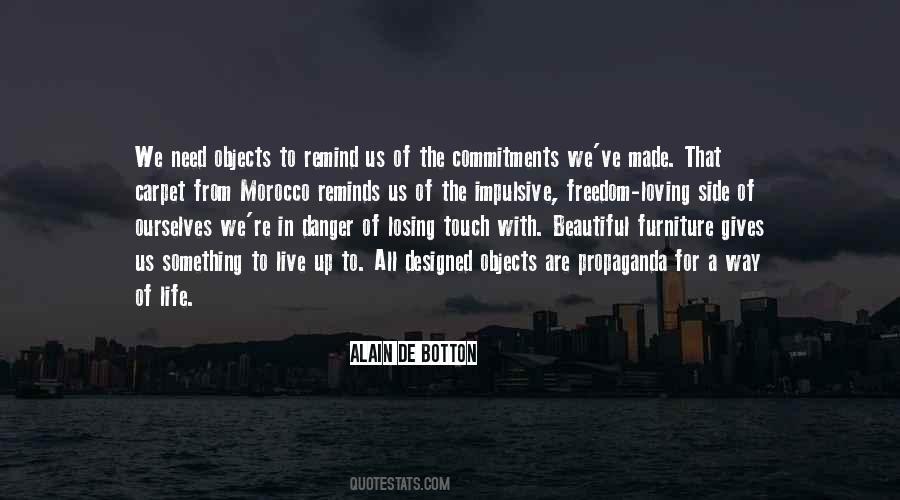 #25. If you are too afraid of losing something, it means you didn't care enough for it in the first place. - Author: James Marquess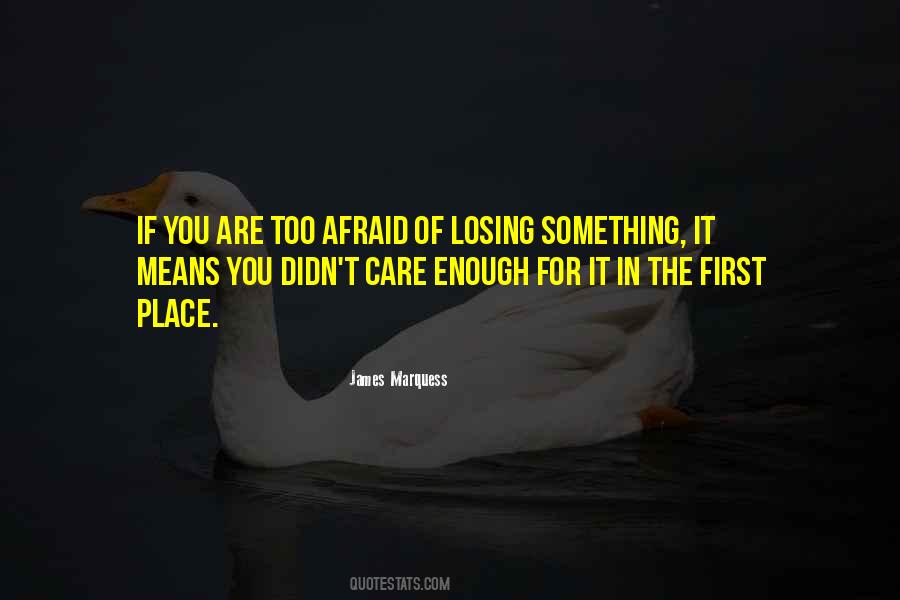 #26. Losing something might be a blessing; gaining something might be a curse! - Author: Mehmet Murat Ildan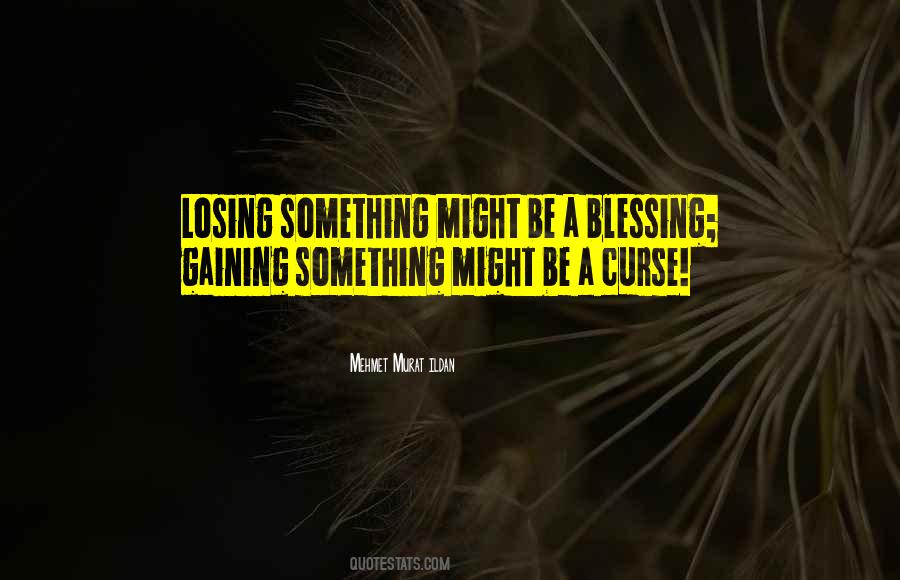 #27. During the past few years I have avoided tiring myself and losing my breath. I must take care of my body, treat it with respect as a musician does his instrument. I apply nonviolence to my body, for it is not merely a tool to accomplish something. It itself is the end. - Author: Thich Nhat Hanh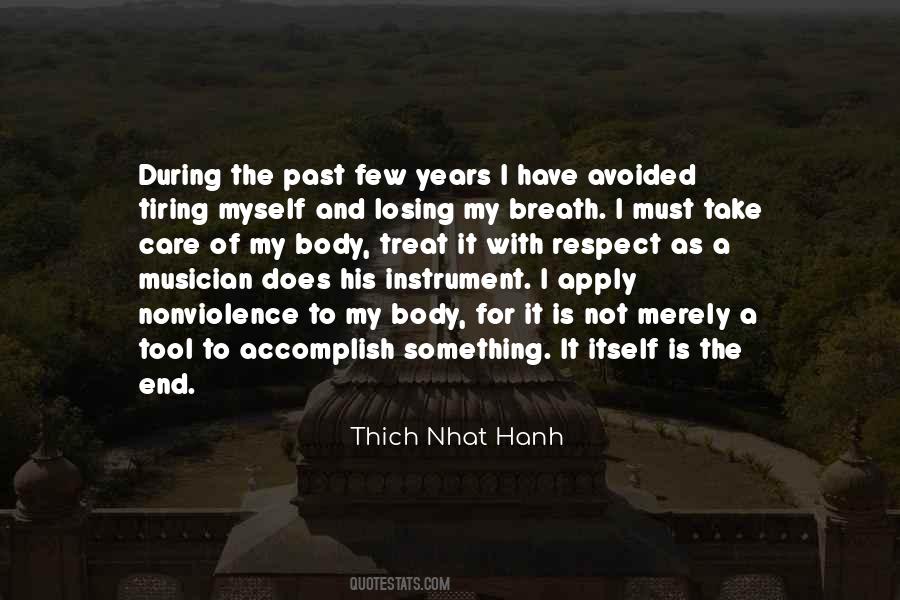 #28. Grace is that ability; to face adversity and be at ease, to enter into the suffering world and help others without losing yourself in the process. It is to be true to your most essential nature, and produce something good from that. To have grace is as close as we may come to perfection. - Author: Christopher Daniel Mechling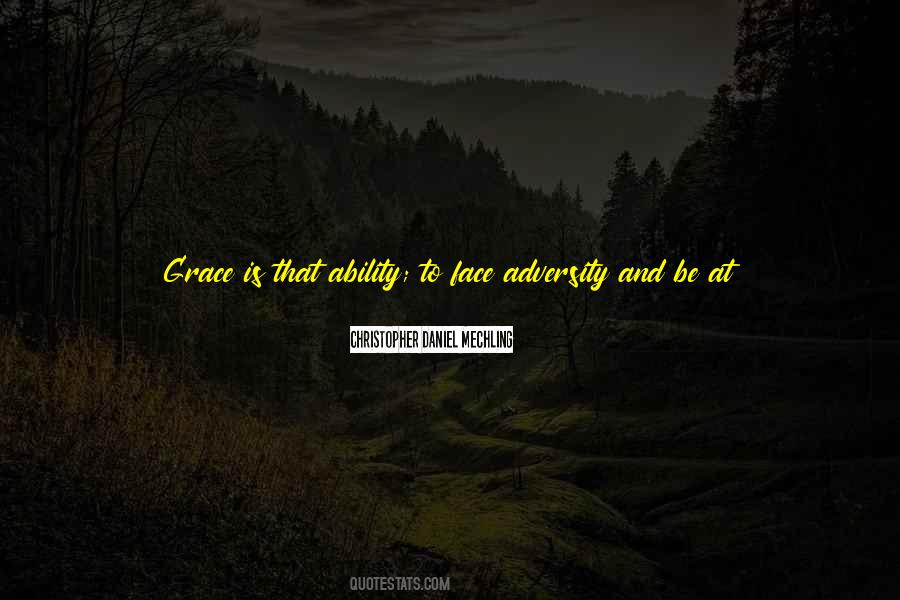 #29. To flee from the battle is the worst thing that could happen. It is worse than losing the fight, because we can always learn something from defeat; if we flee, all we do is declare that our enemy has won. - Author: Paulo Coelho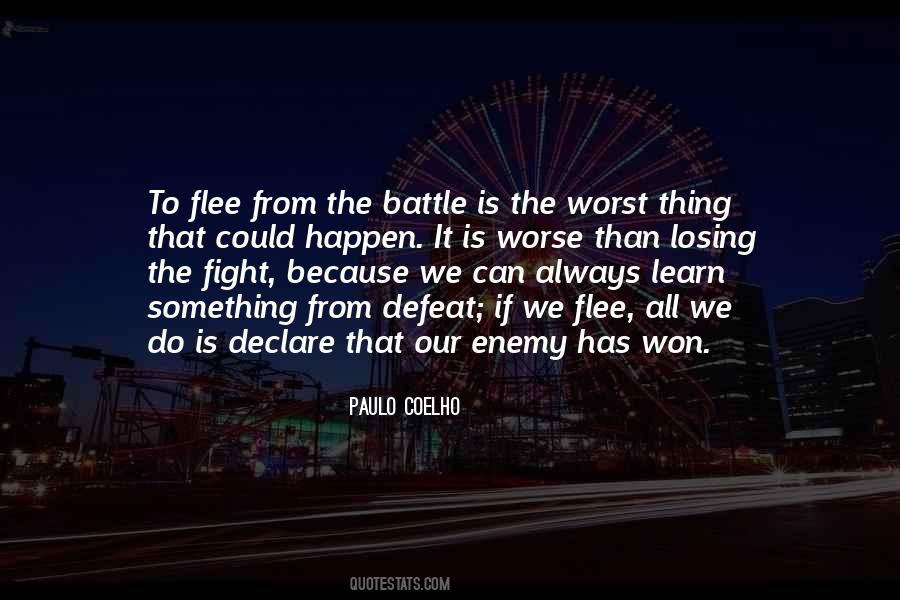 #30. If I were you," Tom said, "I should stick to reading, writing and arithmetic." "But what good is it to teach a child to count, if you don't show him that he counts for something?" Tom held up his hands. "I'm sorry, you're losing me." Mary exhaled smoke. "Possibly I am. - Author: Chris Cleave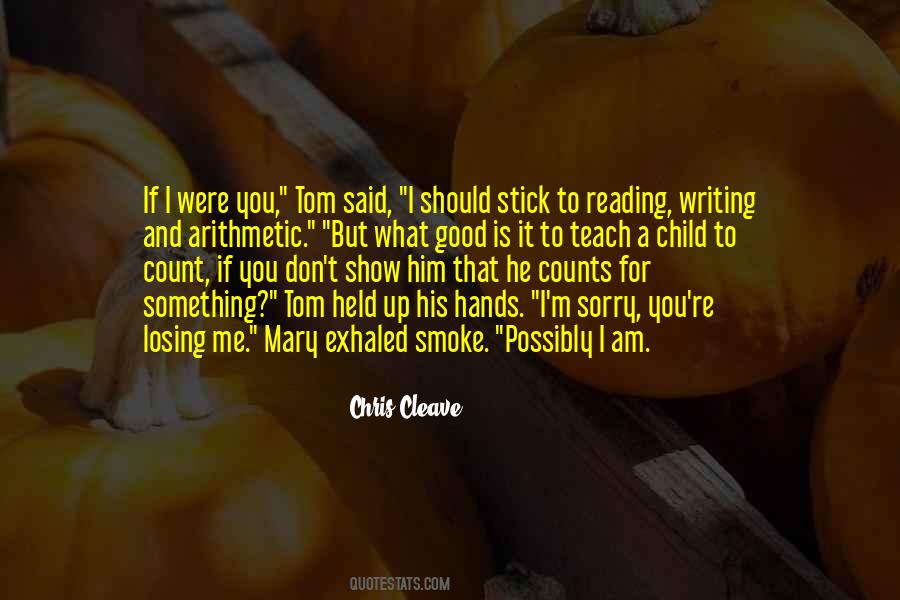 #31. Sometimes it feels like you're losing, but even when you're losing, you're getting something. - Author: Eliza Dushku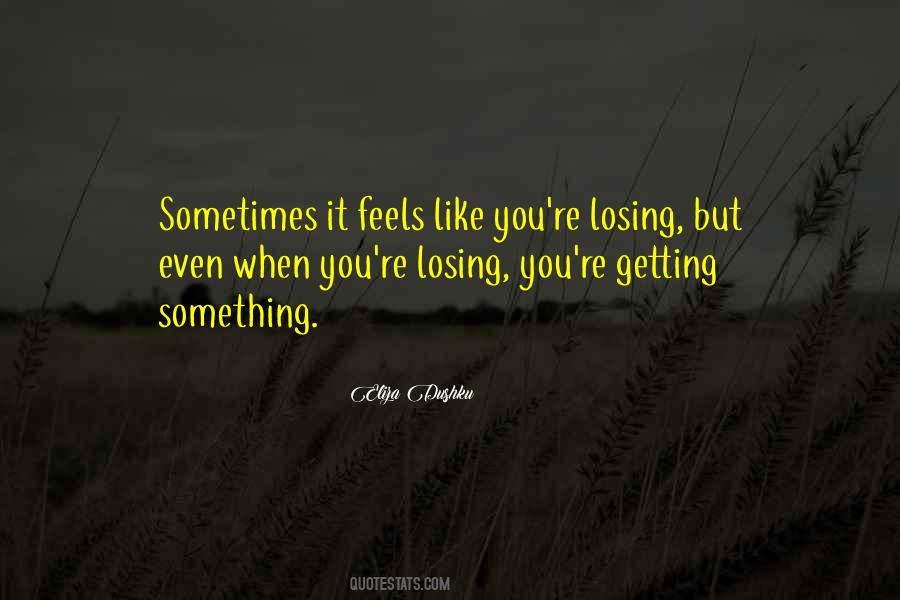 #32. All my life I've wanted, just once, to say something clever without losing my train of thought - Author: Robert Breault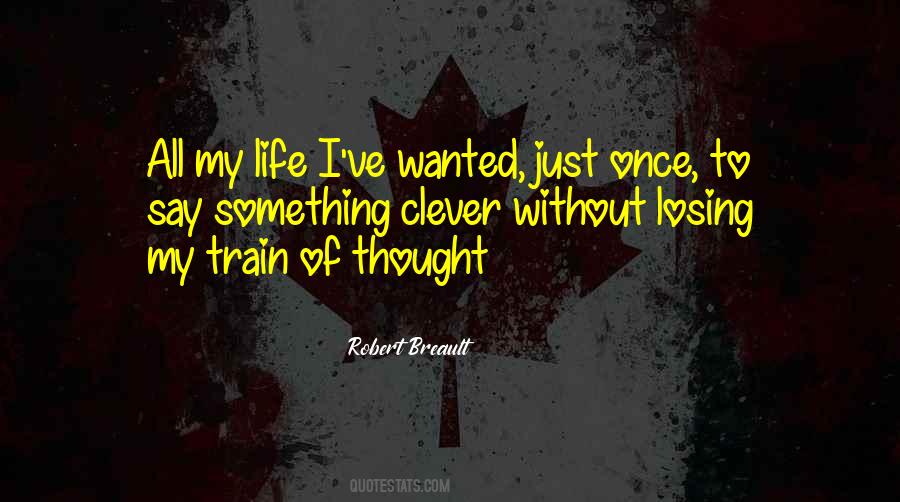 #33. There is no pain greater than this; not the cut of a jagged-edged dagger nor the fire of a dragon's breath. Nothing burns in your heart like the emptiness of losing something, someone, before you truly have learned of its value - Author: R.A. Salvatore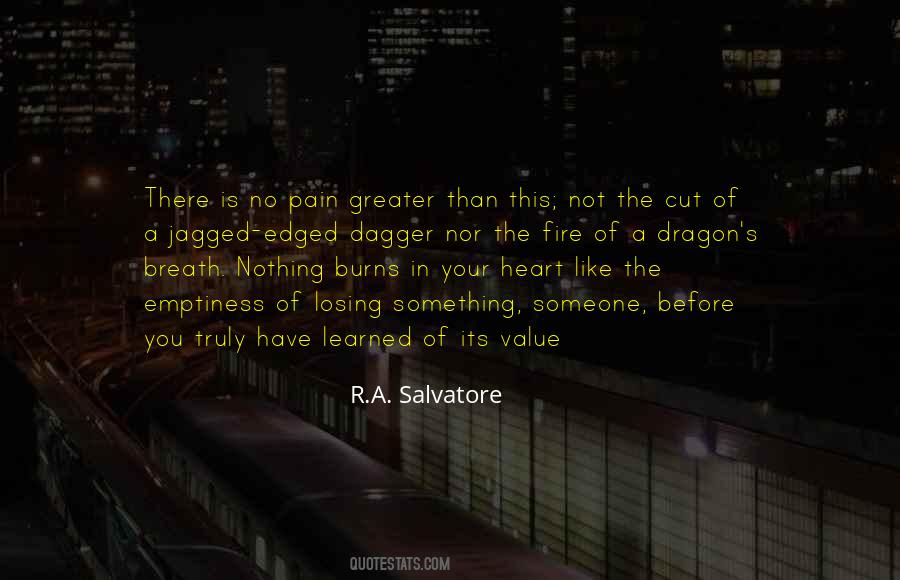 #34. He explained that often times it's the love of something- like money, material, possessions, or power-and the fear of losing them, that command people to act. That love and fear are really the only two things that can forever alter a person, whether for the better or worse. - Author: J. Saman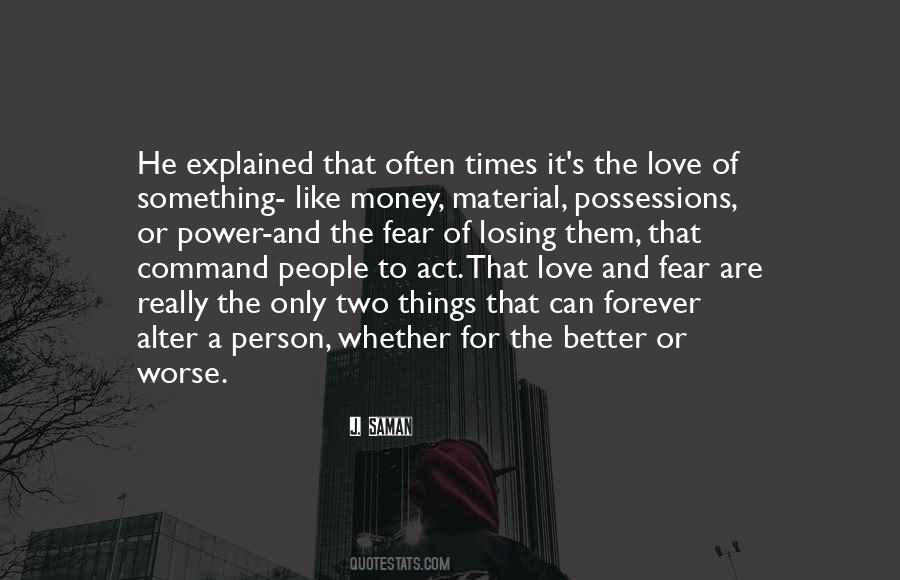 #35. I would never felt good if I hadn't experienced losing, because losing is part of your life. And it something that if I could teach people to understand that I think it could help them a lot. - Author: Arnold Palmer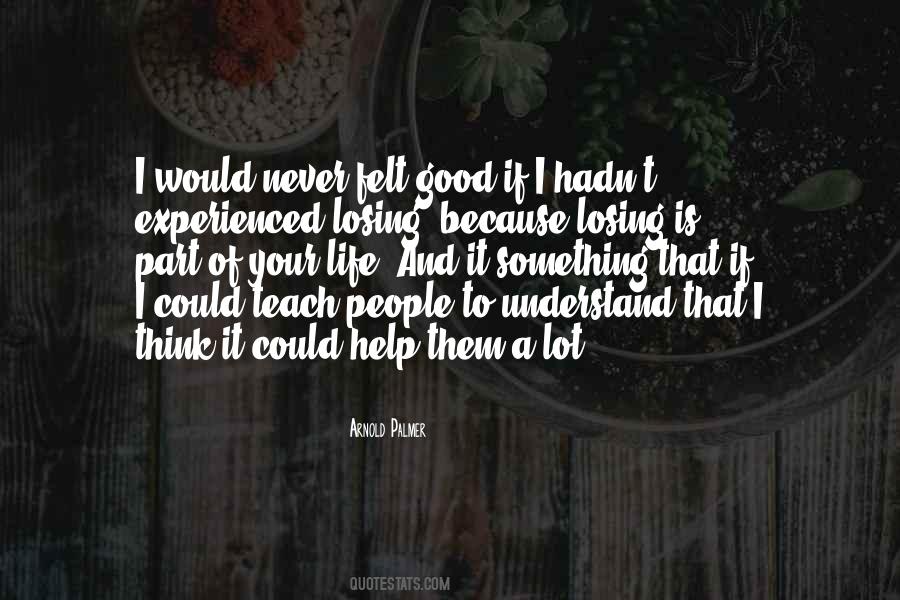 #36. I once lost something in precious in this place.

But I think it's by losing things...

... that we grow up to be adults. - Author: Inio Asano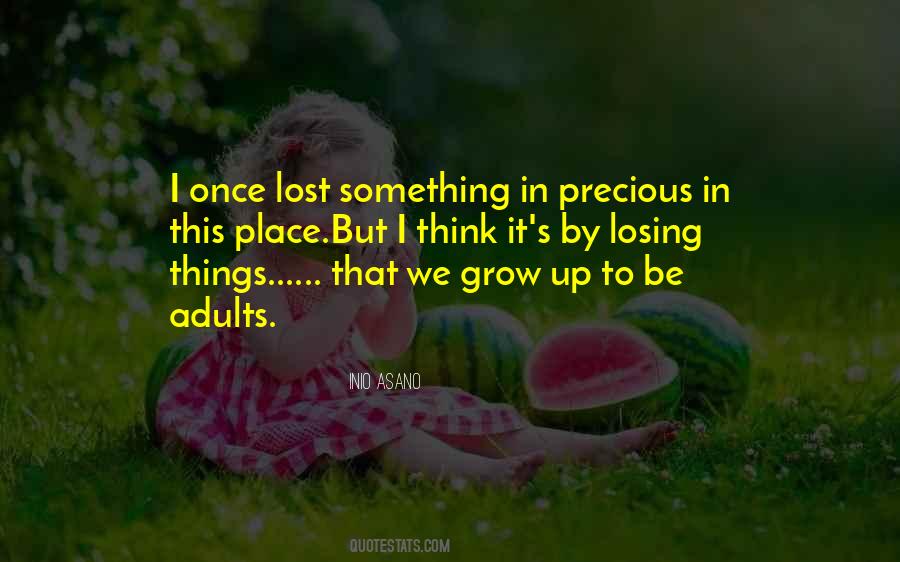 #37. It's about how the players play and compete. I know everybody is going to equate that on winning or losing, like they always do, but if we play hard and compete well in the game .. then I think we are building on something. - Author: Nick Saban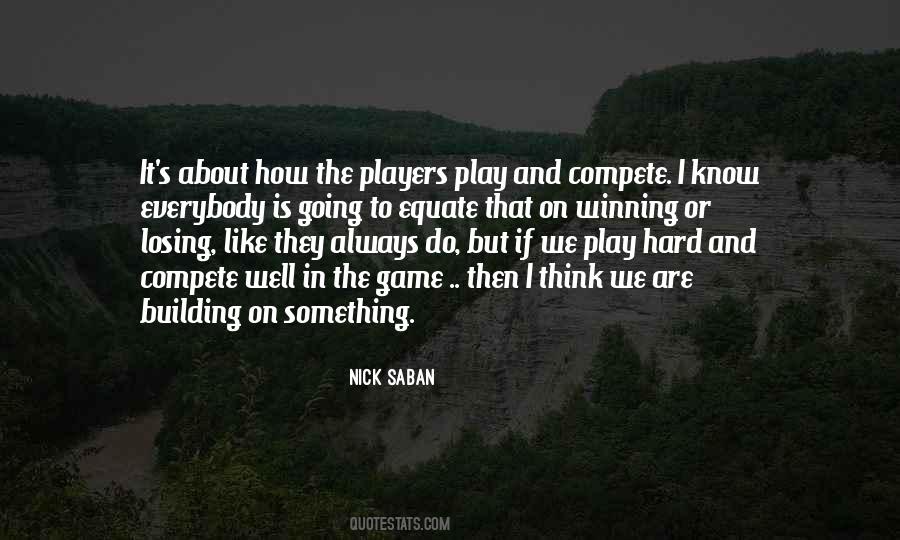 #38. Still, being alone doesn't mean you have to be miserable. In that sense it's different from losing something. You've still got yourself, even if you lose everything else. You've got to have faith in yourself and not get down just because you're on your own. - Author: Yoko Ogawa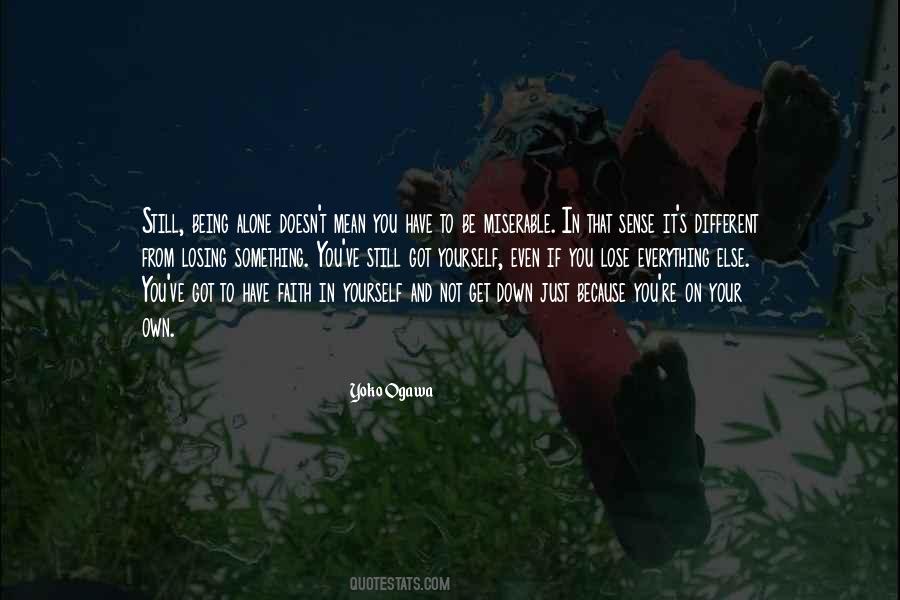 #39. What made something precious? Losing it and finding it. - Author: Celeste Ng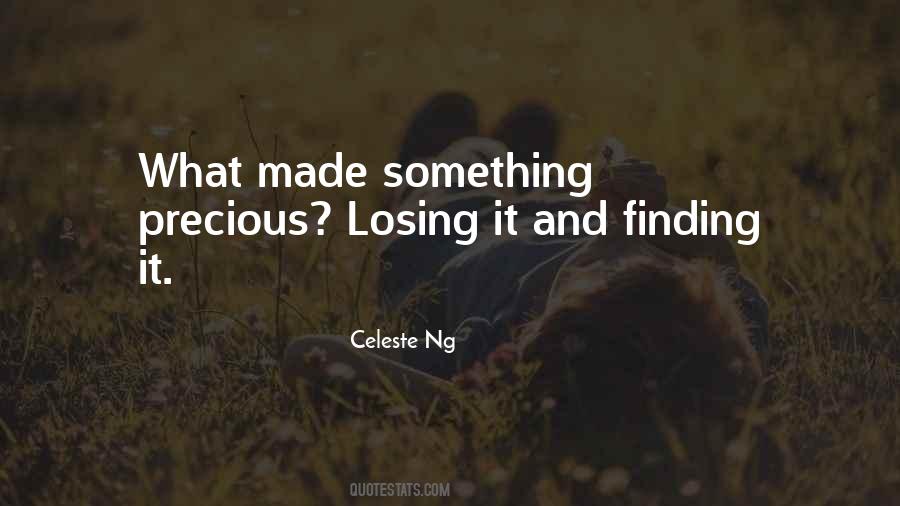 #40. I'm scared that if I collaborated on something with somebody, I would be in some way losing my own contact with what I was going and tempting fate. - Author: Joan Juliet Buck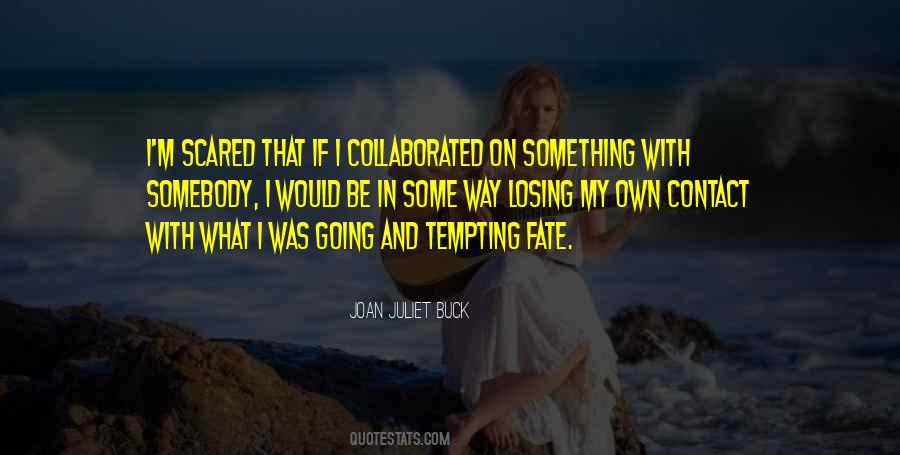 #41. Gates loved competing- and winning. Just as importantly, he hated losing. He thrived on competition, as long as he was playing or doing something he was good at, and relished opportunities to prove himself, physically and mentally. - Author: James Wallace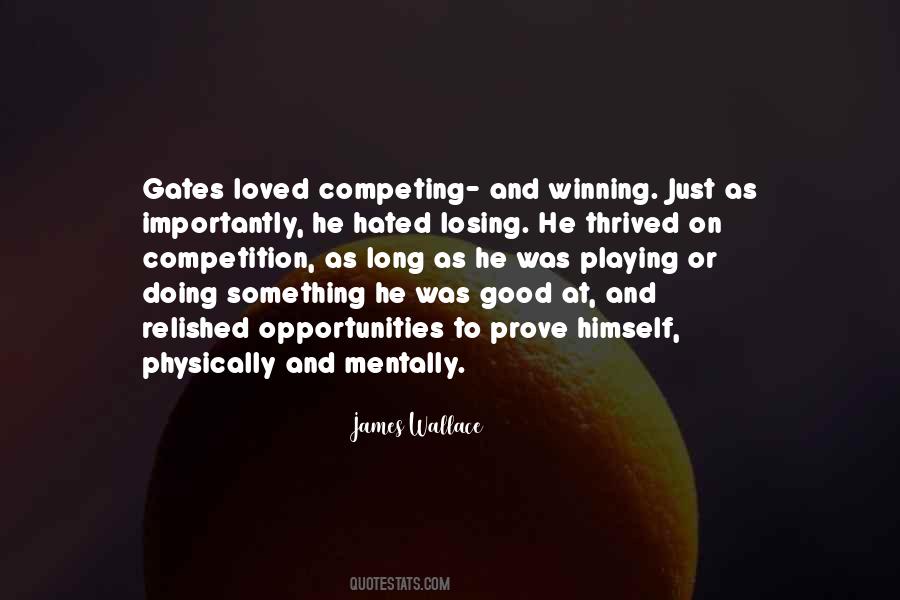 #42. I'm less confident now than I've ever been. In this peculiar craft, confidence is something you spend a lifetime losing. I used to be frightened only one night a week but now I'm frightened of every performance. I mean really frightened. - Author: Glenda Jackson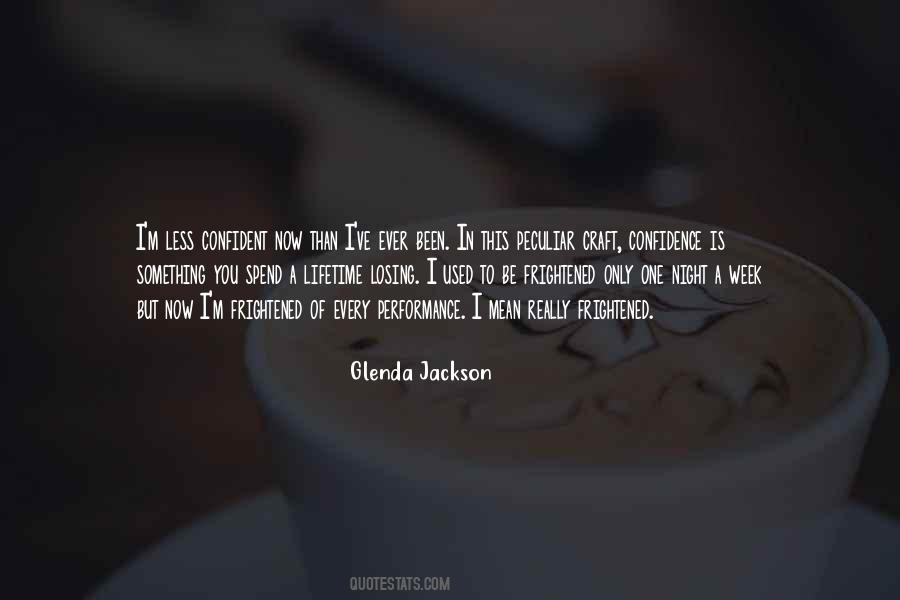 #43. Childishness? I think it's the equivalent of never losing your sense of humor. I mean, there's a certain something that you retain. It's the equivalent of not getting so stuffy that you can't laugh at others. - Author: Walt Disney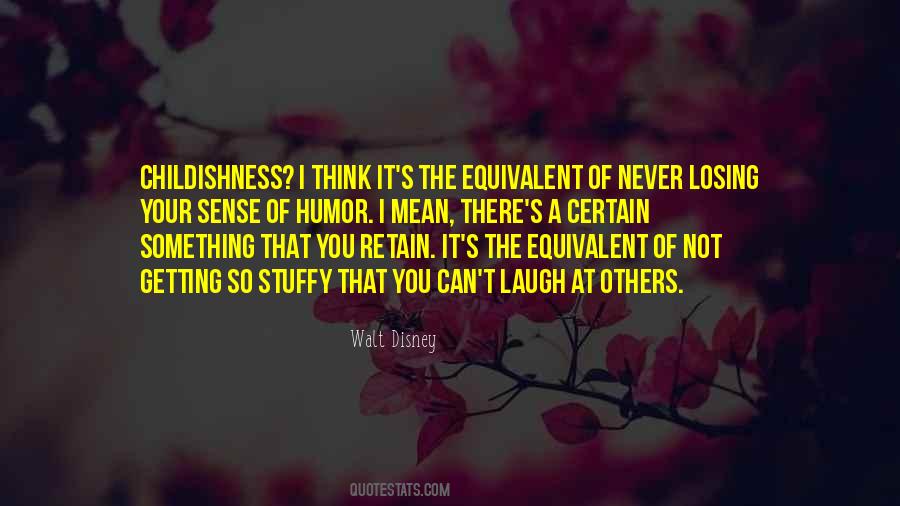 #44. It's okay to lose. Losing teaches you something. Having to try and going through the trials and tribulations to actually overcome, to get there to win, to triumph, that's what makes life interesting. - Author: Elizabeth Banks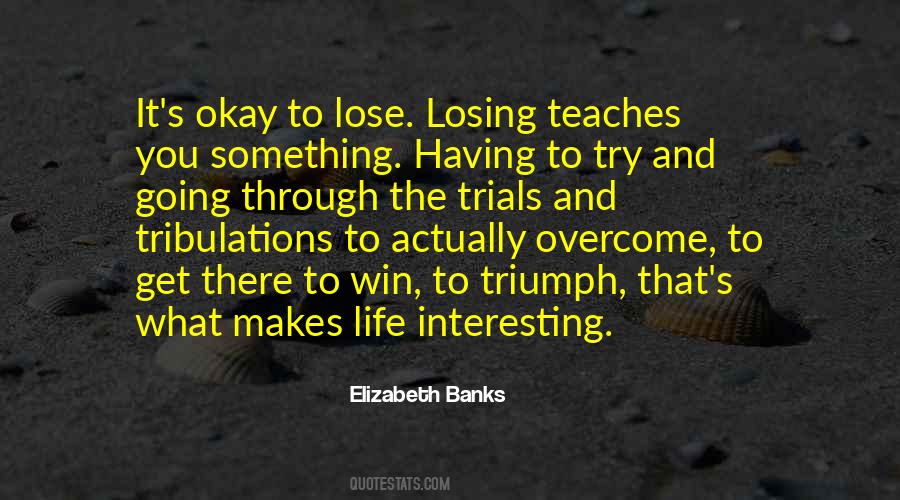 #45. Misery is a heart that can never be content with what it has and, by always craving something more, brings about its own destruction. And desolation is a heart so fearful of losing what it hoards that it never knows the richness that comes from being able to give. - Author: Anne Bishop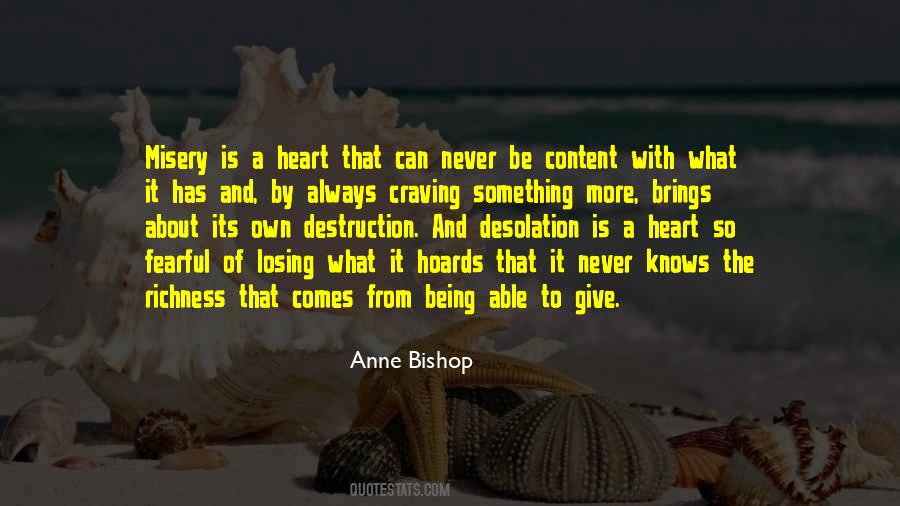 #46. It is at the precise moment that I take something for granted that I have placed myself in the precarious position of losing that very thing. And if that thing I risk losing is liberty, taking it for granted is foolishness of the most foolish sort. - Author: Craig D. Lounsbrough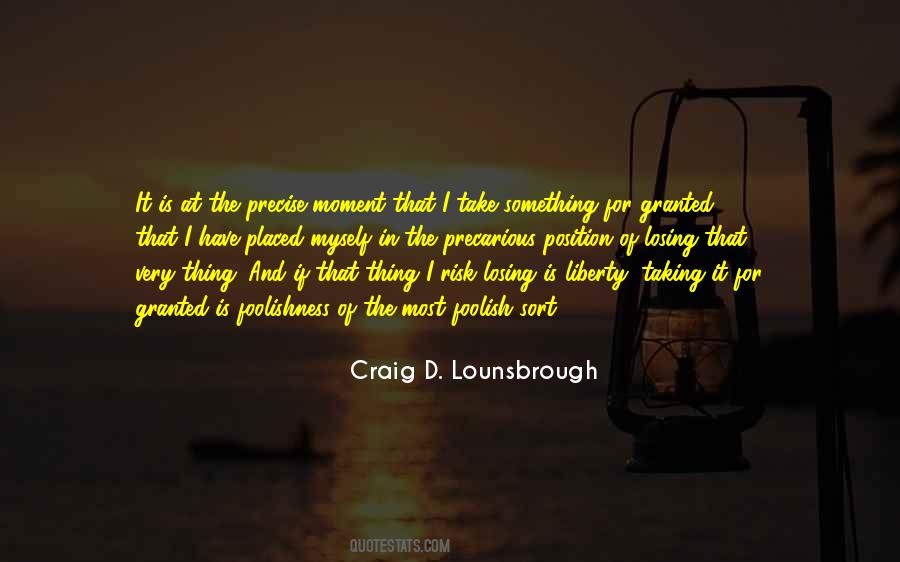 #47. Losing my anonymity in this world I think is something that I find terrifying. - Author: Alex O'Loughlin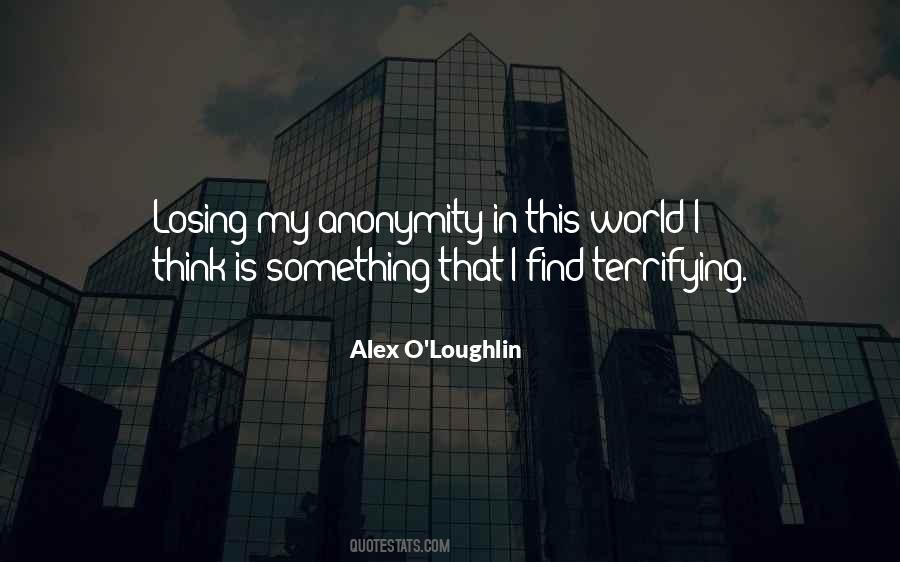 #48. There is something about losing your mother that is permanent and inexpressable - a wound that will never quite heal. - Author: Susan Wiggs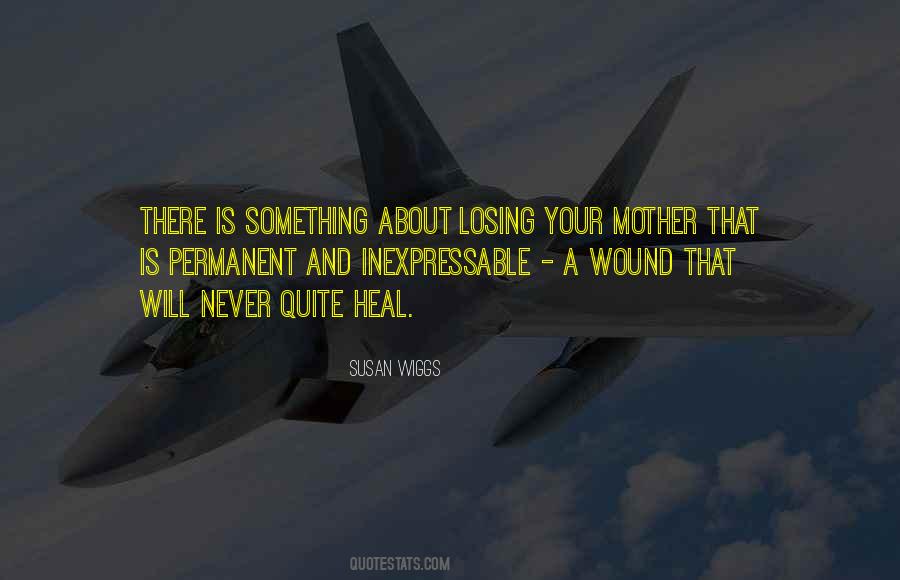 #49. People are afraid of changing; that they're losing something. They don't understand that they are also gaining something. - Author: Sharon Stone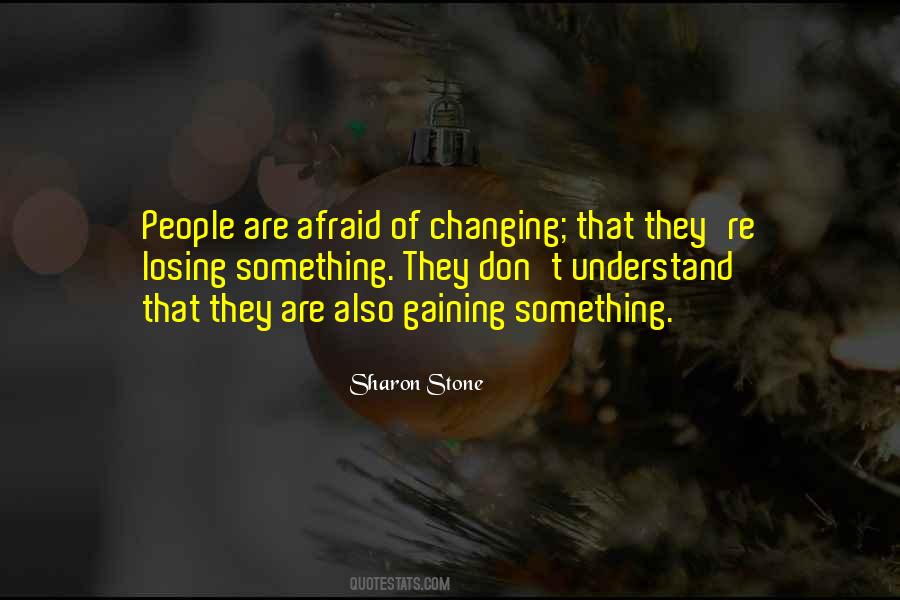 #50. Because right now, leaning against Kenny's counter, he was fully, painfully erect, for maybe the first time in months.

He backed away and tried to think about something else - anything else. Losing his job, his mother's cat, Denise - oh, there you go. Limp as a politician's moral code. - Author: Amy Lane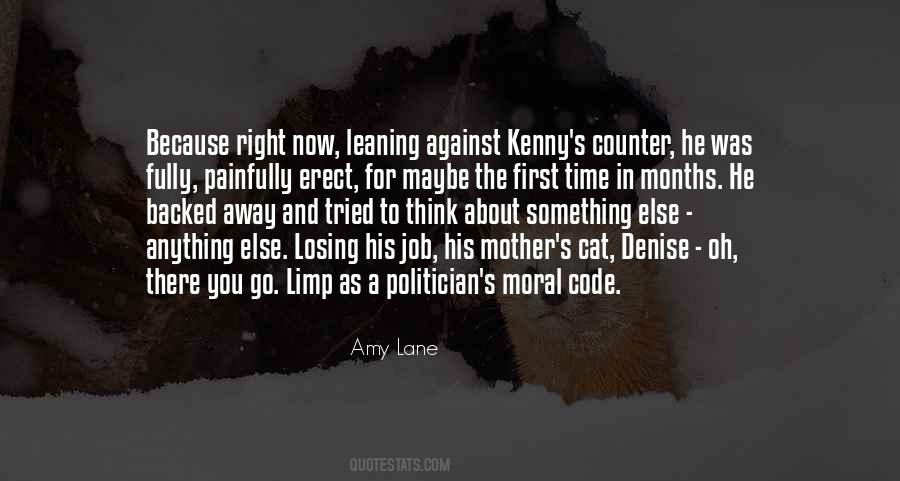 #51. That is a big danger, losing your inspiration. When I work in film and television I try to do each take a little differently. I never want to do the same thing twice, because then you're not being spontaneous, you're just recreating something. - Author: Karl Urban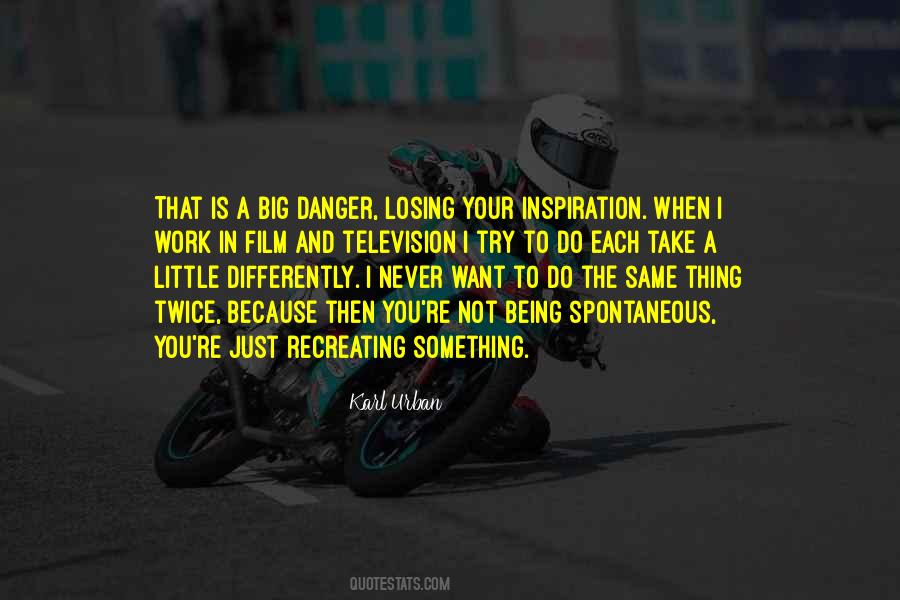 #52. It has something to do with the facts and the law and who the judges are. So I think lawyers sometimes exaggerate their role in winning and losing. Lawyers do have a role, and a major role, but they're not the only players in this game. - Author: Floyd Abrams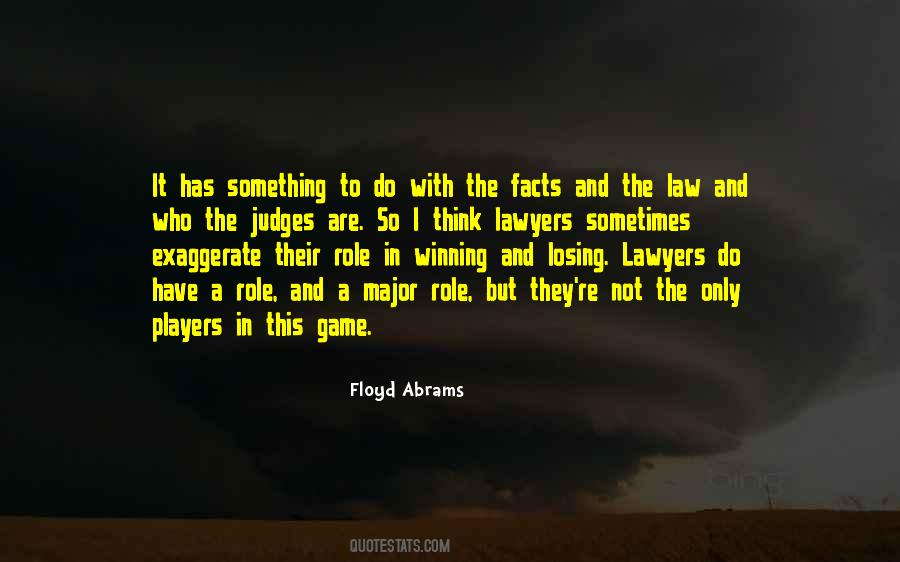 #53. Progress is always an exchange. We gain something, we give something else up. I'm interested in looking at some of what we are losing. - Author: Zoe Leonard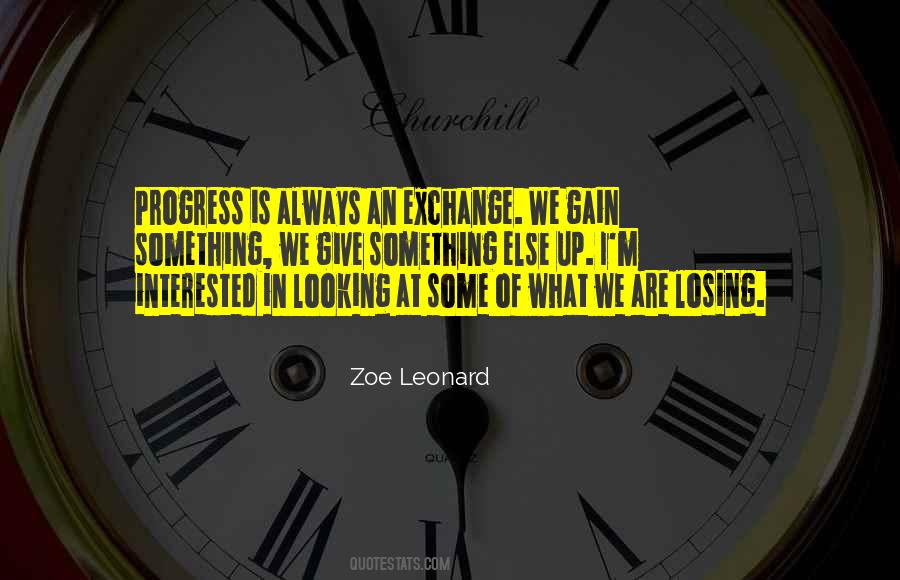 #54. Every single time you make a merger, somebody is losing his identity. And saying something different is just rubbish. - Author: Carlos Ghosn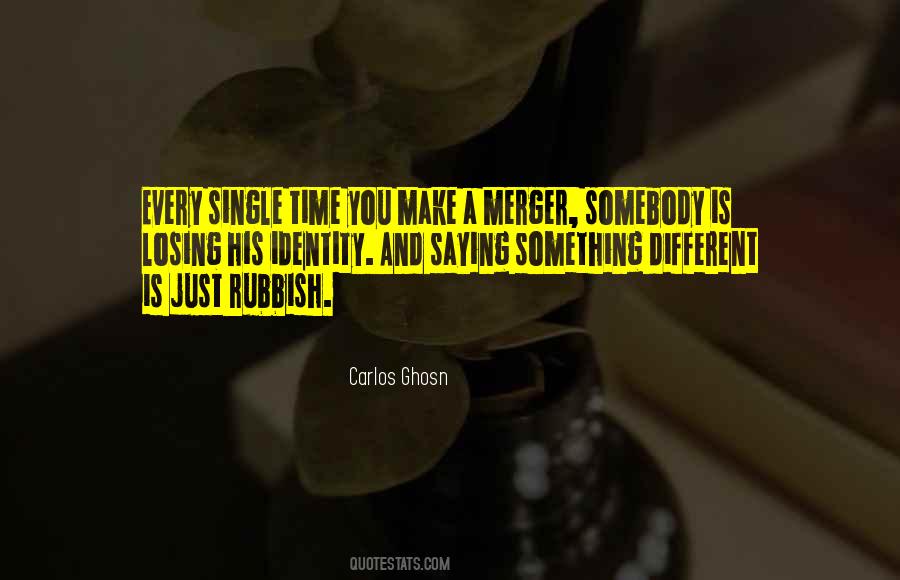 #55. Never mix business with religion, or you might end up losing your testimony when the business agreement is no longer something you or Christ would put up with. - Author: Shannon L. Alder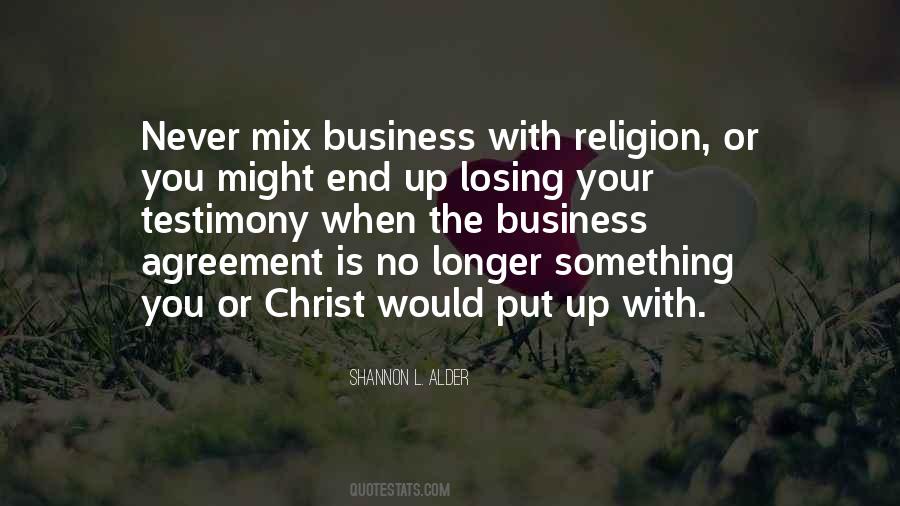 #56. Losing your child is a very difficult situation to deal with. It is not something you get over; it is something you learn to work through. - Author: J.J. Southwell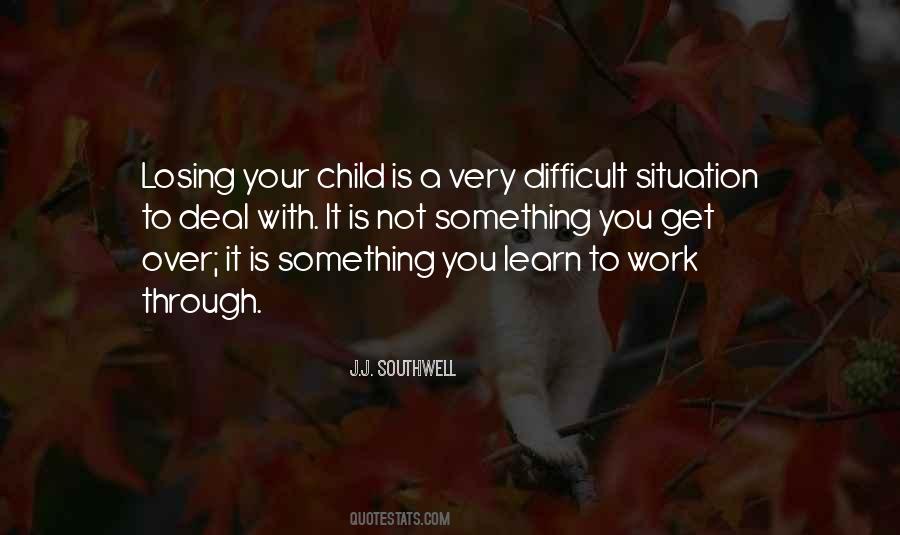 #57. Wouldn't it be something if we could have things we love in abudance without their losing that special attraction the want of them held for us. - Author: Dolly Parton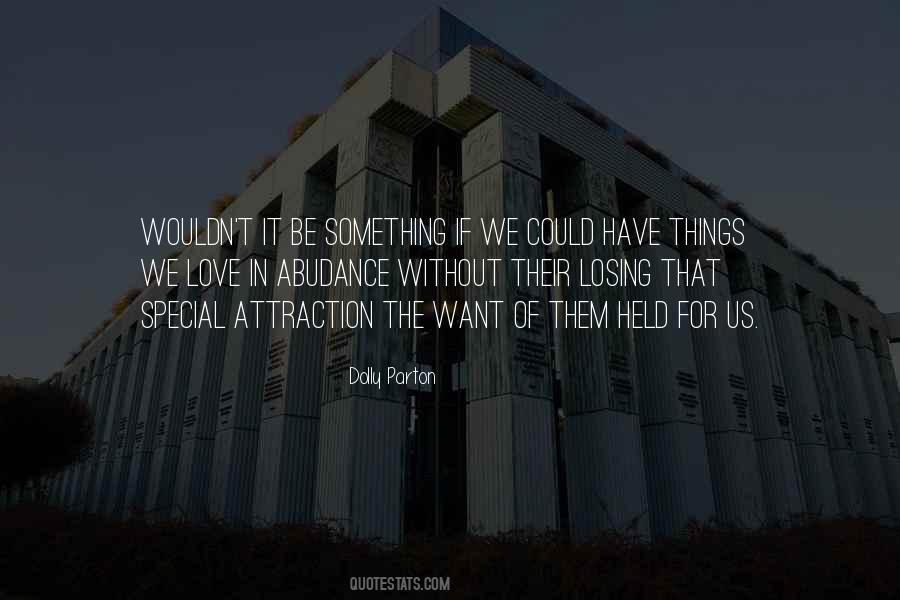 #58. Look for wars to trim transition times. If you decide to do something, do it. You can lose thirty minutes or more puttering around the house, putting things away, getting distracted, and losing intensity before taking whatever action you decide to take. - Author: Laura Vanderkam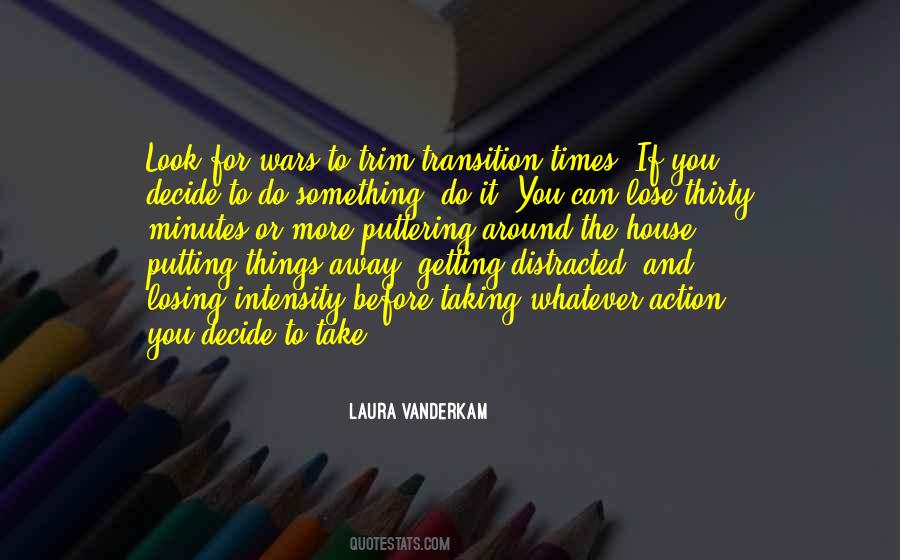 #59. People only tell lies when there is something they are terribly frightened of losing. - Author: Orhan Pamuk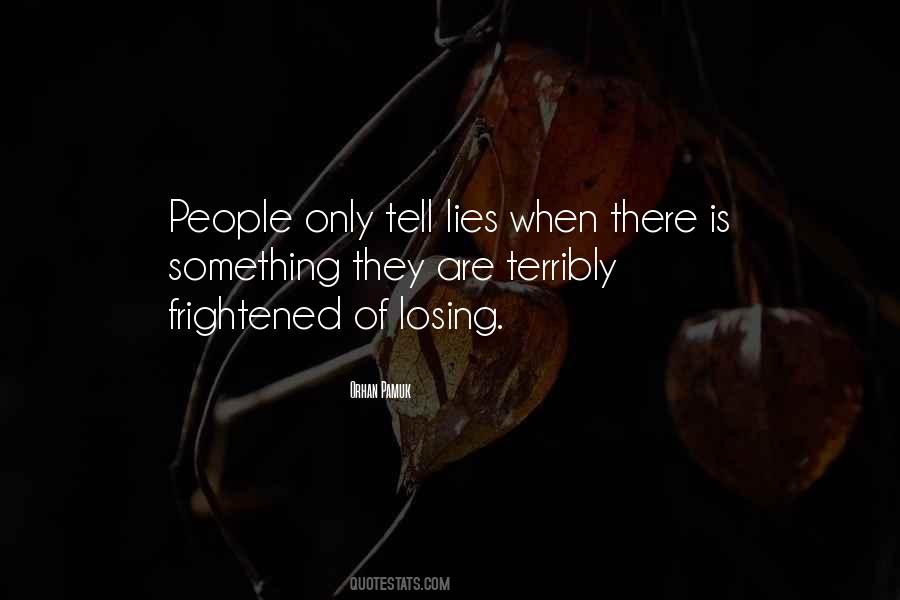 #60. Winning isn't everything to me, but it's a close second. Losing isn't something that I can just brush off and fake a smile to hide my frustration. It's that will and determination that I hope will get me where I want to go. - Author: Dale Earnhardt Jr.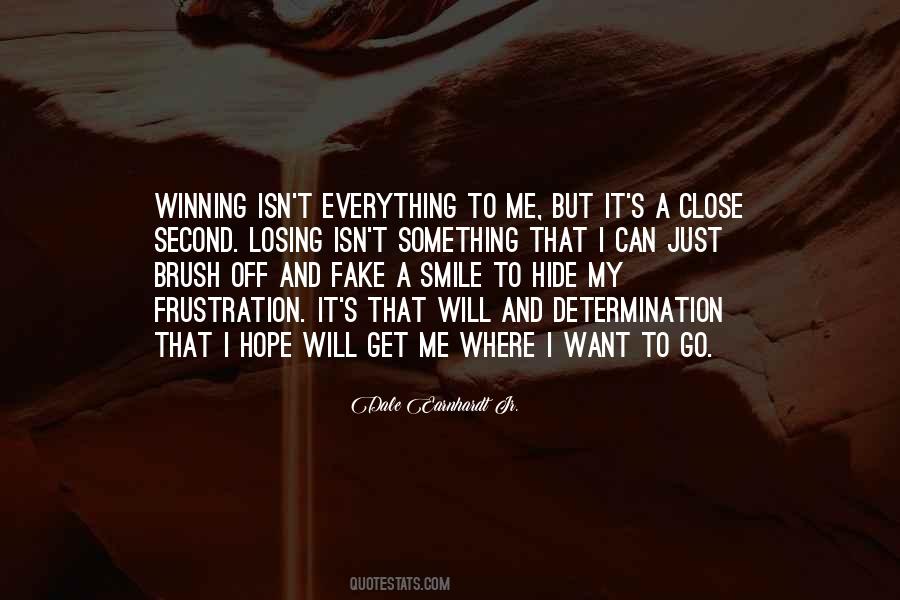 #61. If you don't do something special against Chris Evert you find yourself losing concentration after 35 shots. - Author: Julie Heldman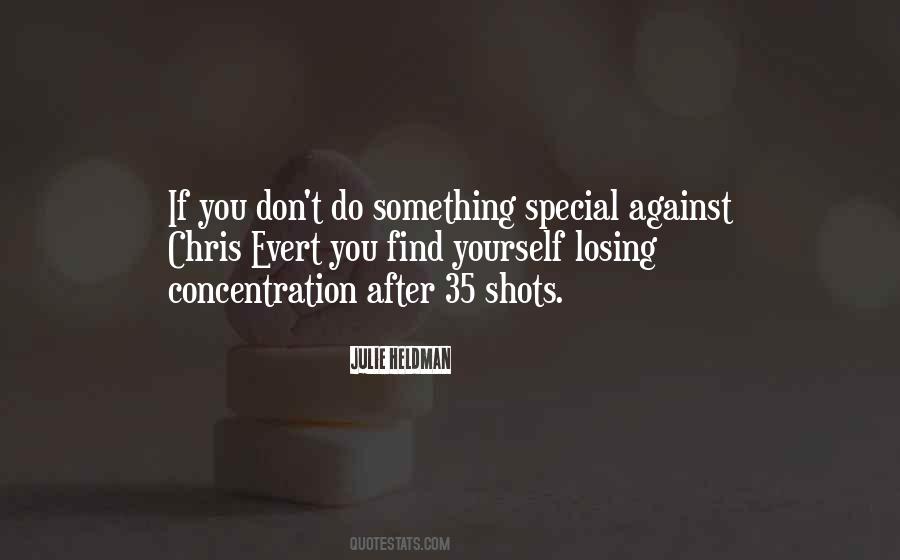 #62. It feels like a punch. Tears fill my eyes, and I wonder how I could be upset over losing something I never had. - Author: Jodi Picoult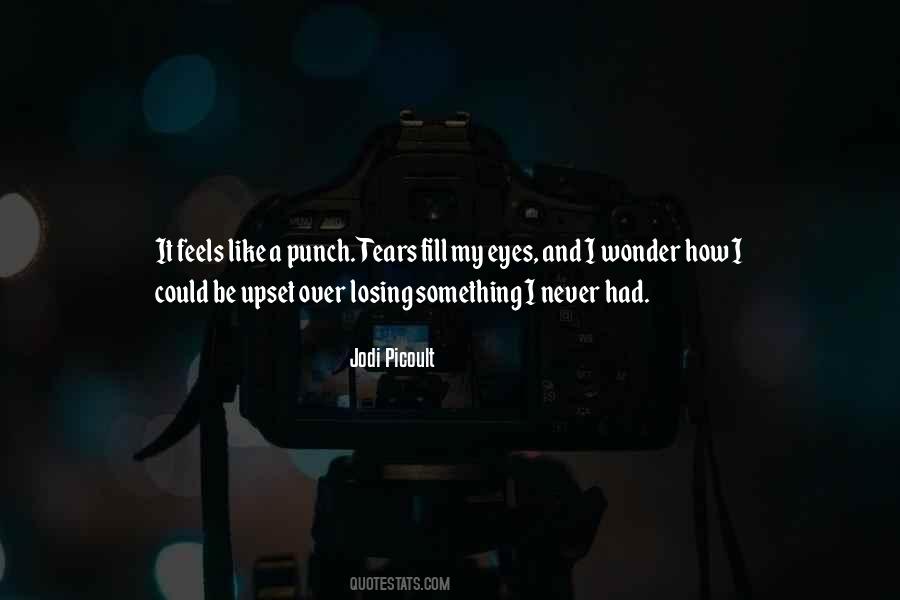 #63. To have may be taken from us, to have had, never. A man is thankless in the highest degree if, after losing something, he feels no obligation for having received it. - Author: Seneca.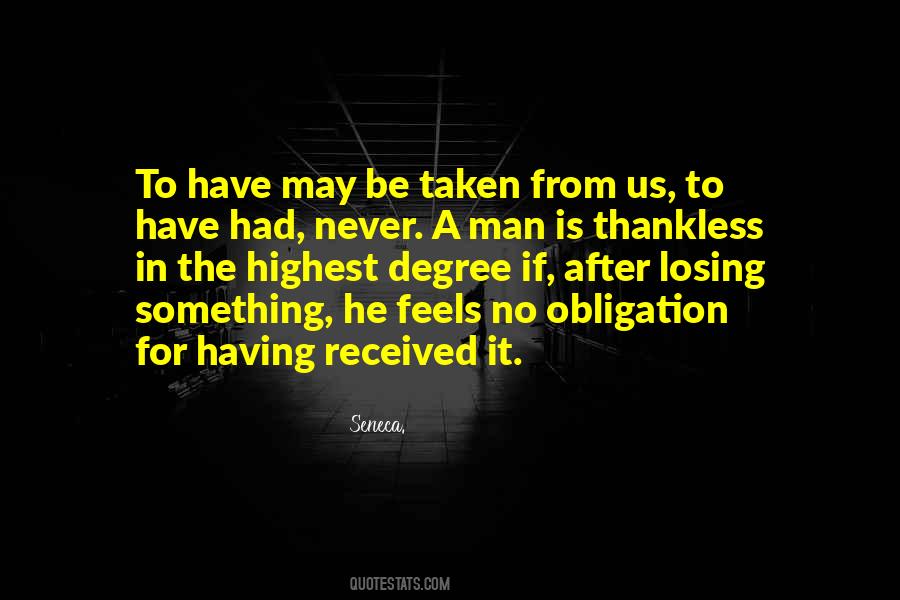 #64. The thing you can't let go of is gravity. The reality of gravity in writing. If someone says something really mean in a sitcom, and the next wave isn't a reaction to the reality of that, you start losing relatability. In a lot of romantic comedies, they throw out the rules of life. - Author: Michael Patrick King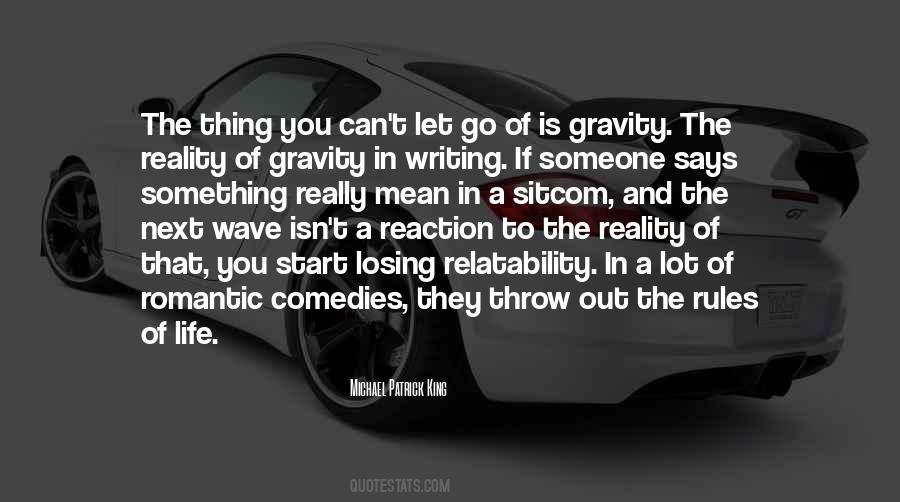 #65. Money lost, something lost. Honor lost, much lost. Courage lost, everything lost-better you were never born - Author: Johann Wolfgang Von Goethe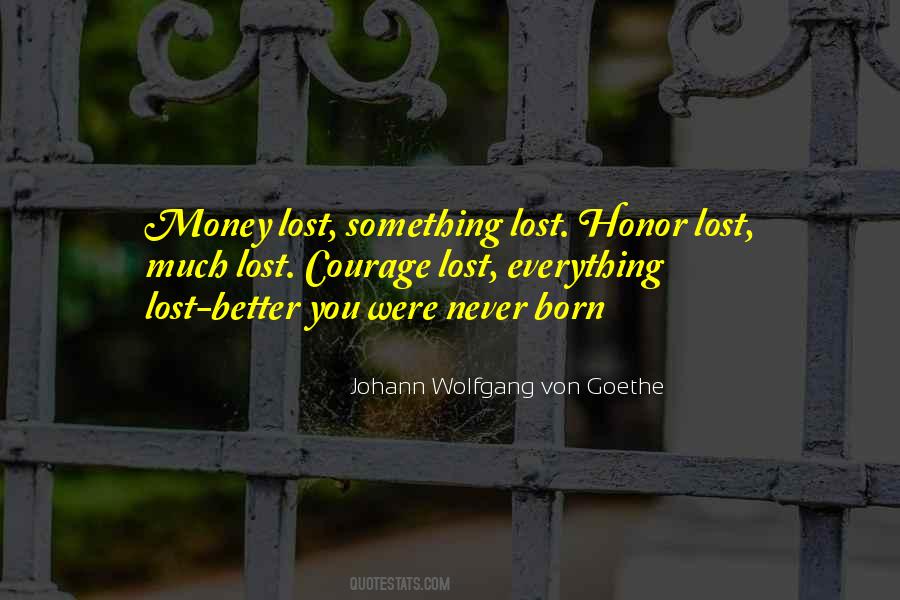 #66. Don't be afraid of losing, be afraid of playing a game and not learning something. - Author: Dan Heisman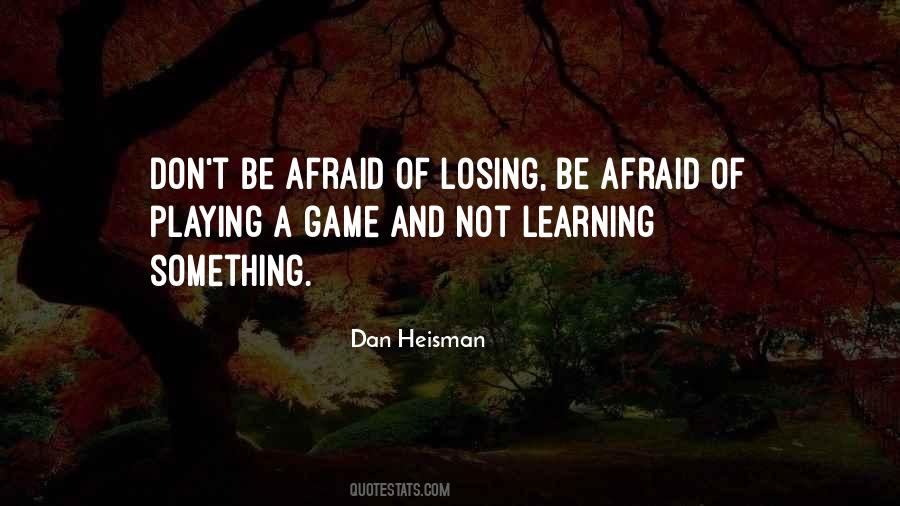 #67. And, finally, I know, too. That throwing away this mess doesn't mean I'm giving something up. Or losing something I can't get back. It's just that there are too many pieces and too much dust. I'm just ready for something whole.
- Pete Cassidy - Author: Cynthia Rylant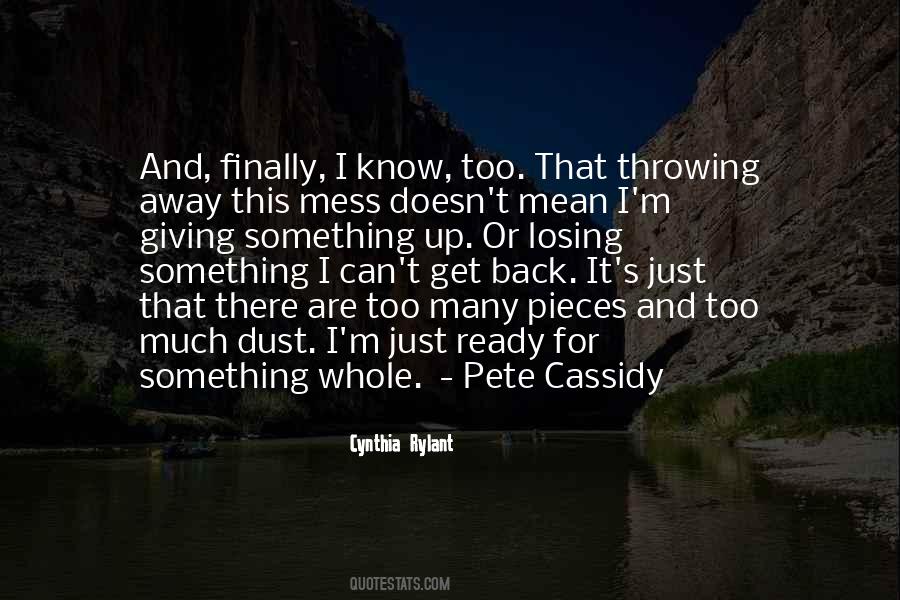 #68. Every one of us is losing something precious to us. Lost opportunities, lost possibilities, feelings we can never get back again. That's part of what it means to be alive. - Author: Haruki Murakami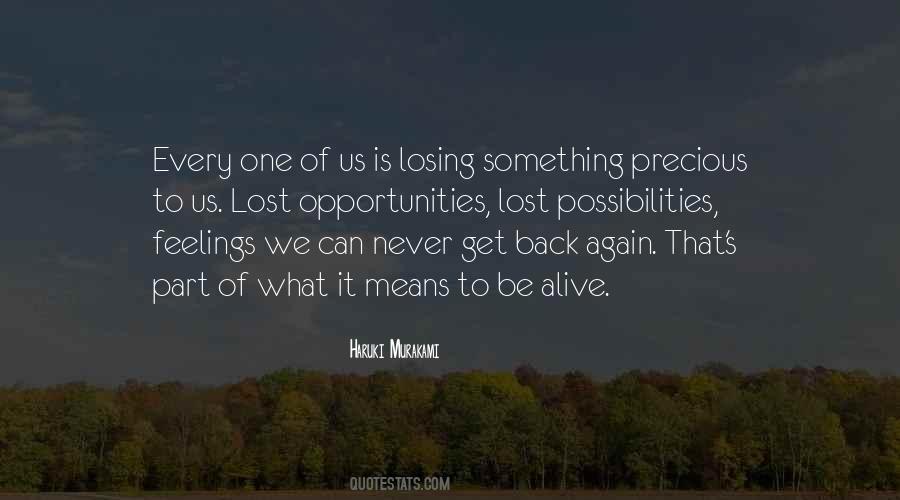 #69. Almost always, jealousy is rooted in some sort of fear: of abandonment, of being replaced, of losing the attention of someone you love, of being alone. Jealousy isn't really about the person you feel jealous of. It's about you: your feeling that you might lose something precious. - Author: Franklin Veaux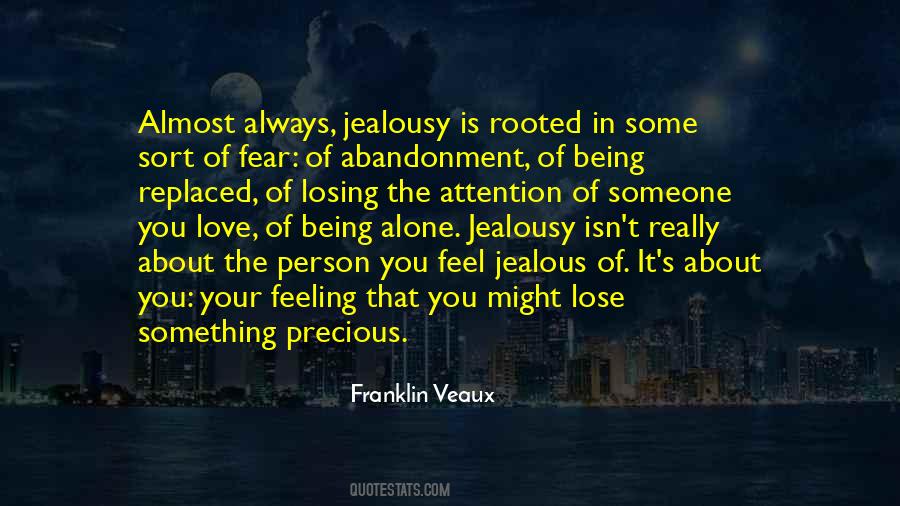 #70. I really enjoy playing with someone else and whether it's chess or tennis or games, I love card games. I love that, but I think there's something so important to gain from winning and losing and learning how to lose and how you can be better from that. - Author: Hilary Swank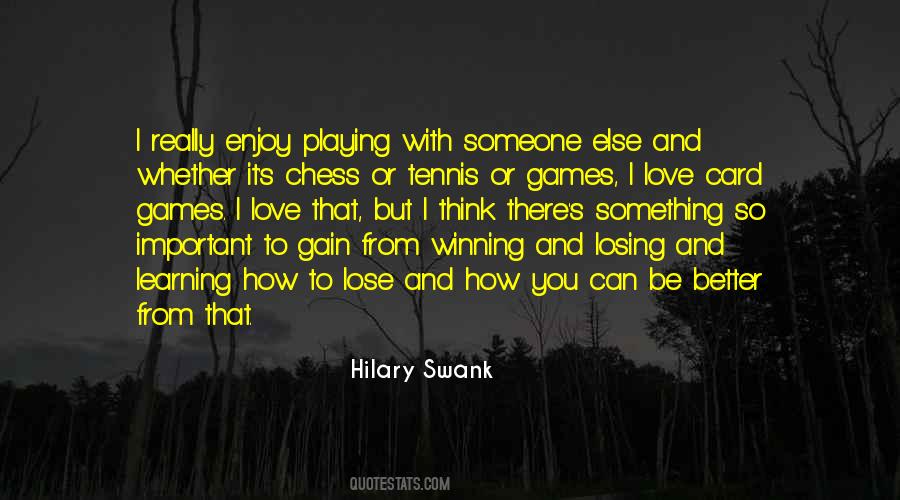 #71. Being brave means to know something is scary, difficult, and dangerous, and doing it anyway, because the possibility of winning the fight is worth the chance of losing it. - Author: Emilie Autumn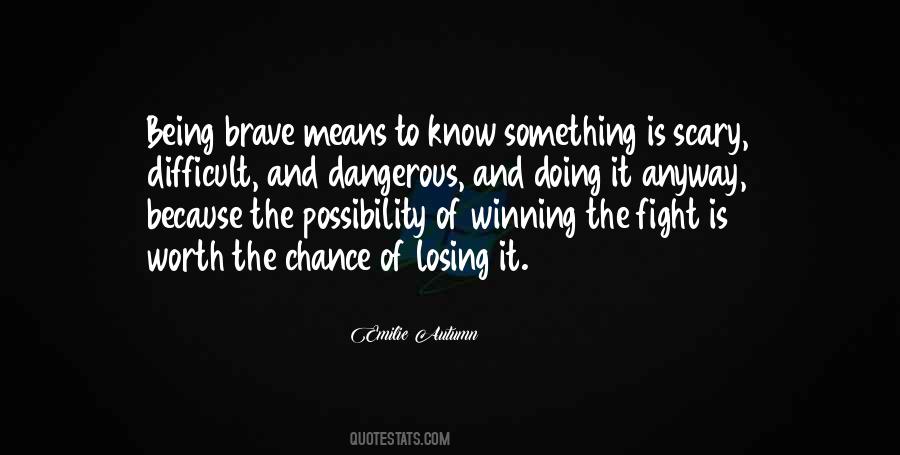 #72. I have found a way to beat myself
I win by losing, something like that
I'm told that I'm stupid
So ok, I'll be stupid
If I can't register the pain
Then it's not there
I'm not so stupid after all
I'll show them - Author: Henry Rollins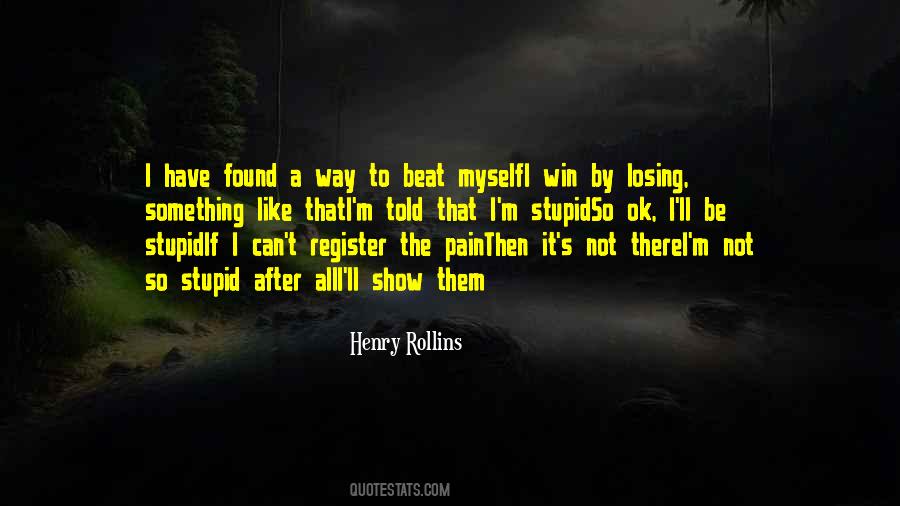 #73. It is not the homeless, mentally ill or extremely cunning people that we have to be afraid of. When someone loses everything that meant something to them is when people should get very afraid. A person that has nothing to lose is the scariest person on earth. - Author: Shannon L. Alder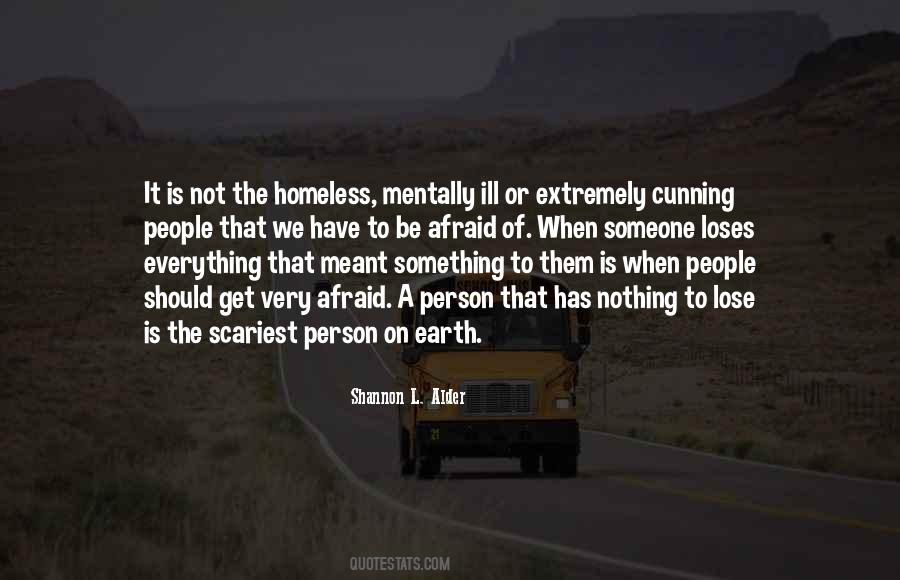 #74. Losing something she loved had ripped her open in a way she had not expected. The pain hurt, but the pain was right. The Order had wrought a galaxy in which good capitulated to evil, where human feelings - Aryn's feelings - were crushed under the weight of Jedi nonattachment. - Author: Paul S. Kemp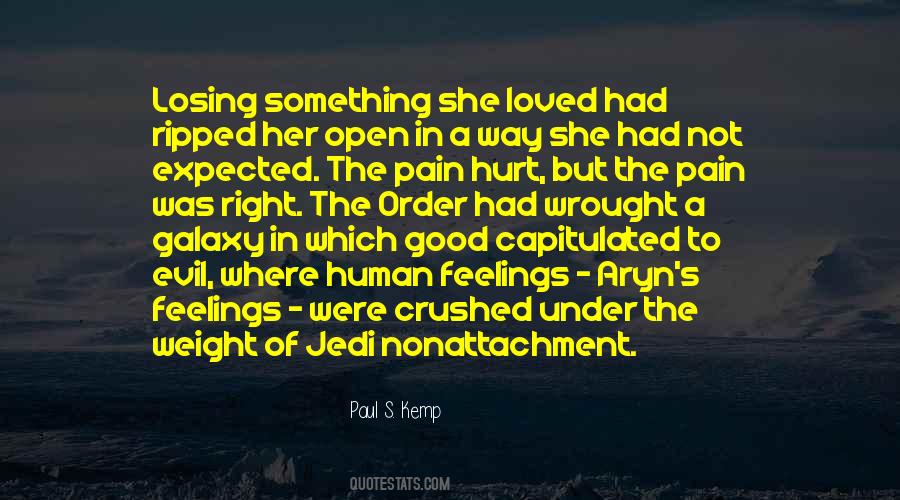 #75. There's a big difference between trying to do something and actually doing it. We often say we're trying to do something-losing weight, getting more exercise, finding a job. But the truth is, we're either doing it or not doing it. - Author: Tina Seelig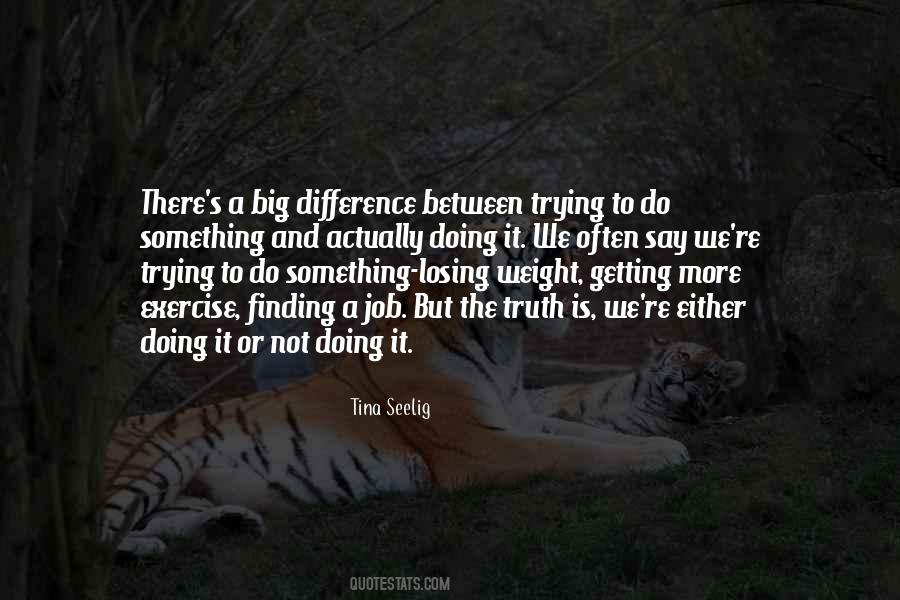 #76. My success has been something I've worked a long time at and it's been a gradual process. I compare it to the idea of someone losing a lot of weight over a period of a few years. You don't really notice the weight loss overall but if you compare photos from then and now there's a big difference. - Author: Ray William Johnson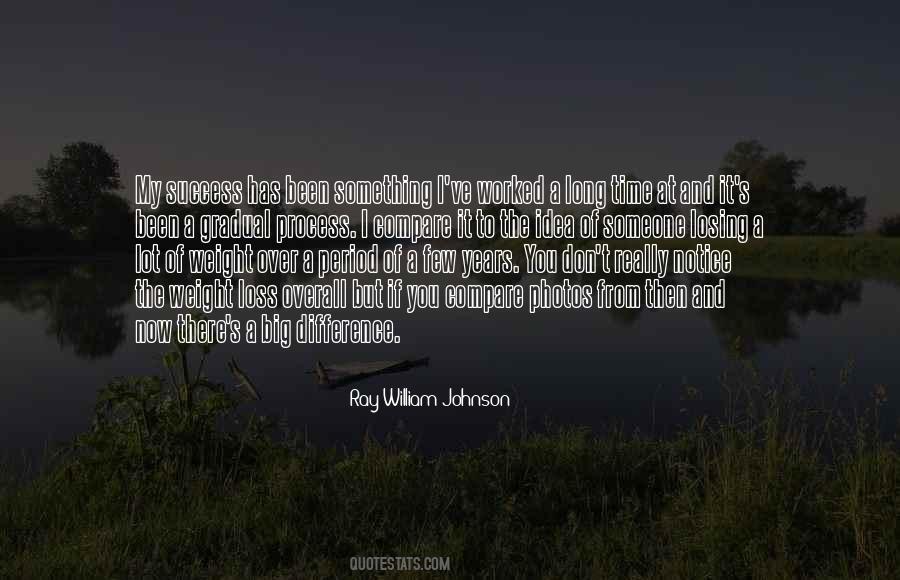 #77. people seem to be more motivated by the thought of losing something than by the thought of gaining something of equal value. - Author: Robert B. Cialdini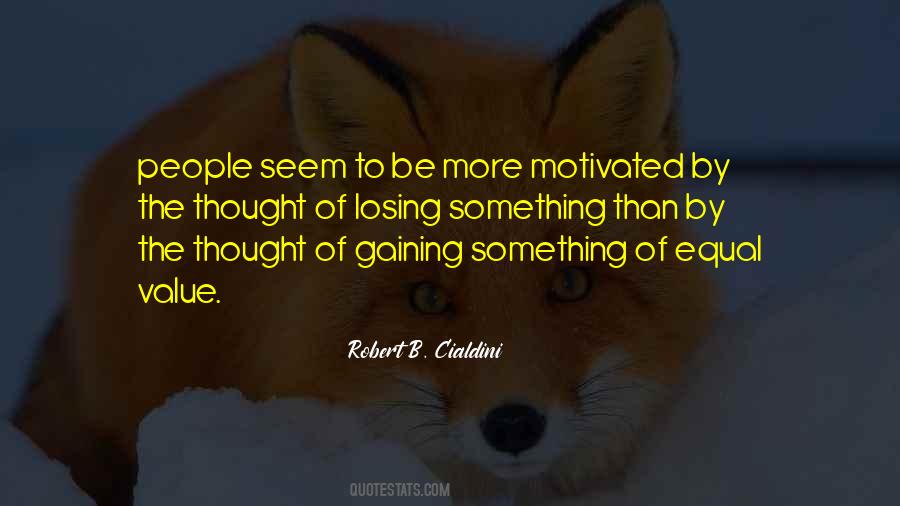 #78. The collar represented something of big importance to her. He knew she saw it as losing who she was. He saw it as her trusting him enough to let him be in charge. - Author: Starla Kaye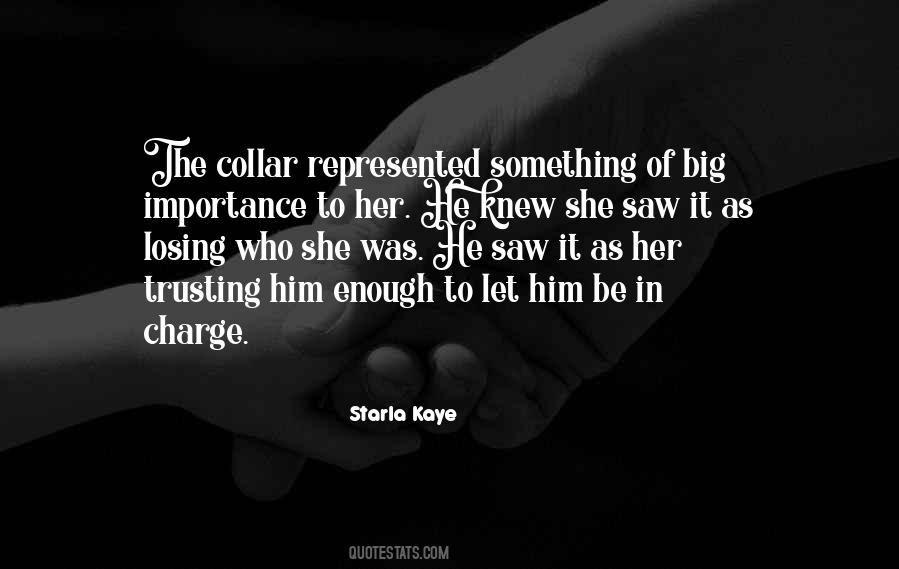 #79. Exercising leadership is an expression of your aliveness ... But when you cover yourself up, you risk losing something as well. In the struggle to save yourself, you can give up too many of those qualities that are the essence of being alive, like innocence, curiosity, and compassion. - Author: Ronald A. Heifetz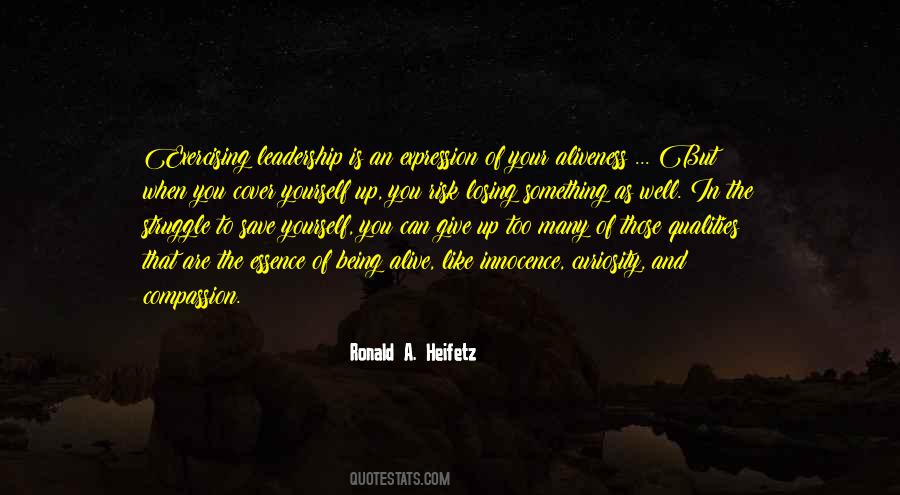 #80. You let him go? What the devil for?"
"Something's wrong with his eyesight." Any man who mistook Miss Turner for a dockside whore had to be losing his vision. - Author: Tessa Dare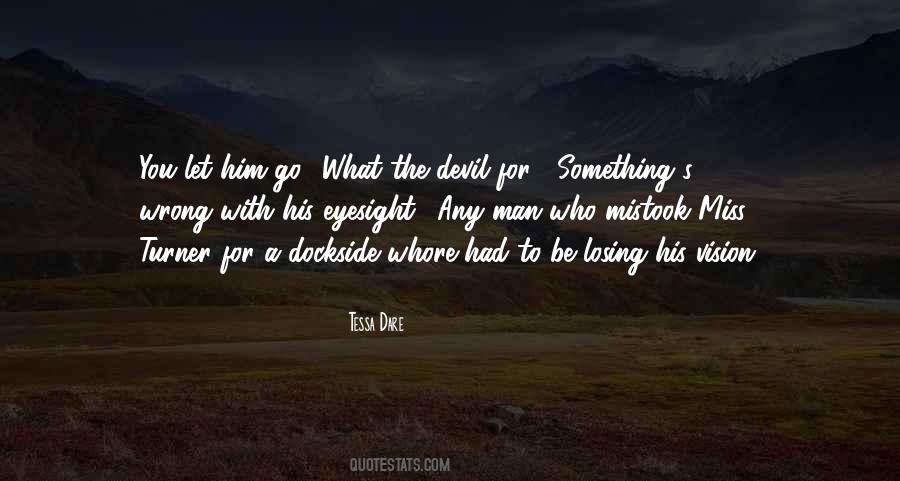 #81. I suspect that with men like General Petraeus, where honor means something - losing your life is secondary to losing your honor. - Author: Trey Gowdy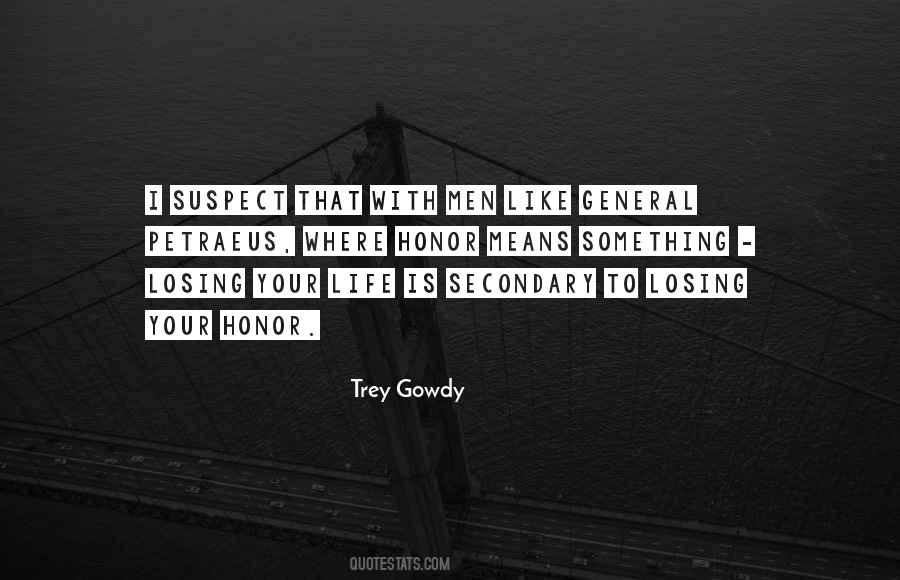 #82. A man never speaks of himself without losing something. What he says in his disfavor is always beleived, but when he commends himself, he arouses mistrust. - Author: Michel De Montaigne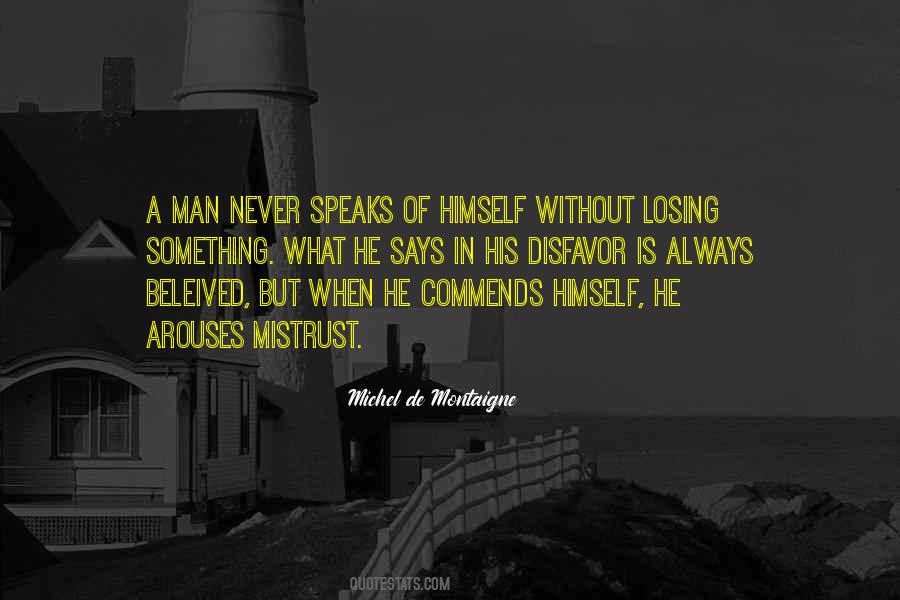 #83. There's something about losing friends, particularly young people, where it's not something that you get over. I don't believe there's a healing process. - Author: Chris Cornell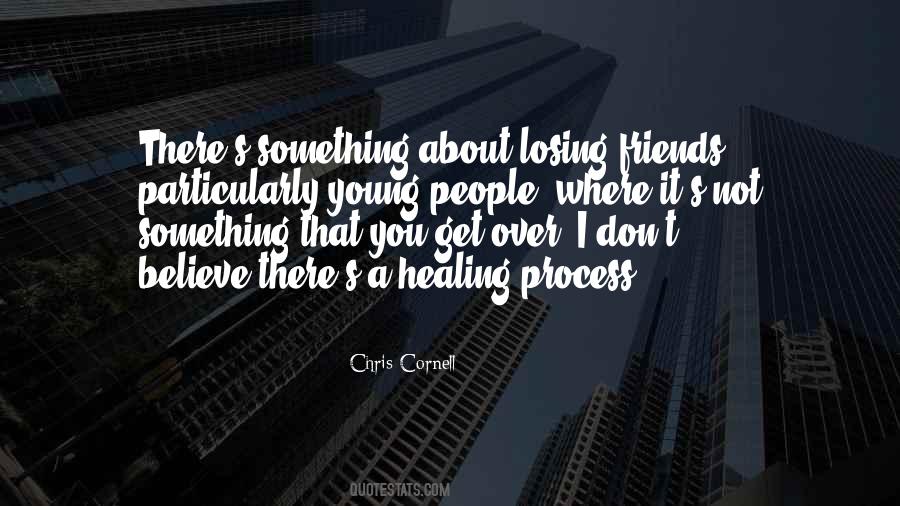 #84. With something like cancer, there is a feeling that you can fight it in some way or control your response to it, but with dementia there is the fear of losing control of your mind and your life. - Author: Kevin Whately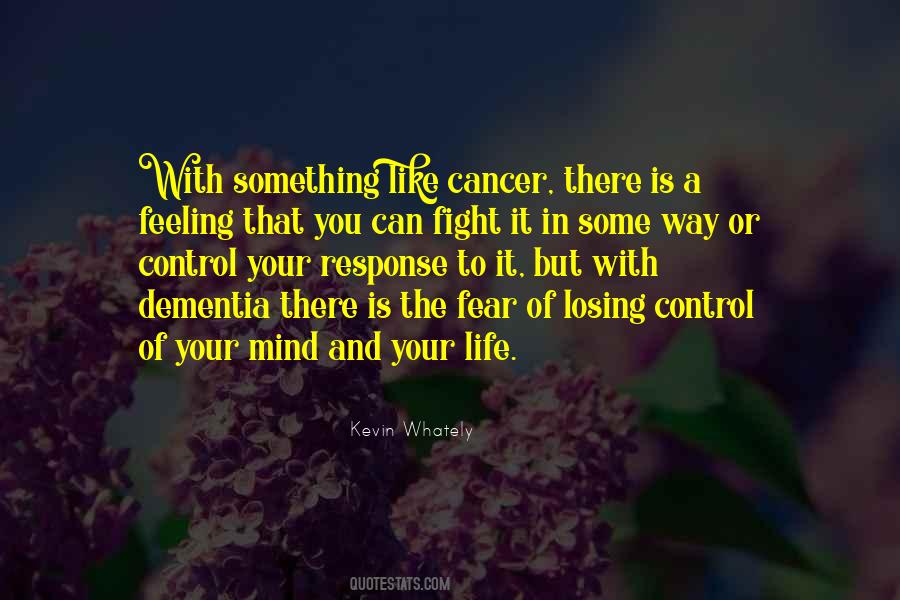 #85. Winning and losing are feelings; something in us knows if we have won or lost. - Author: Frederick Lenz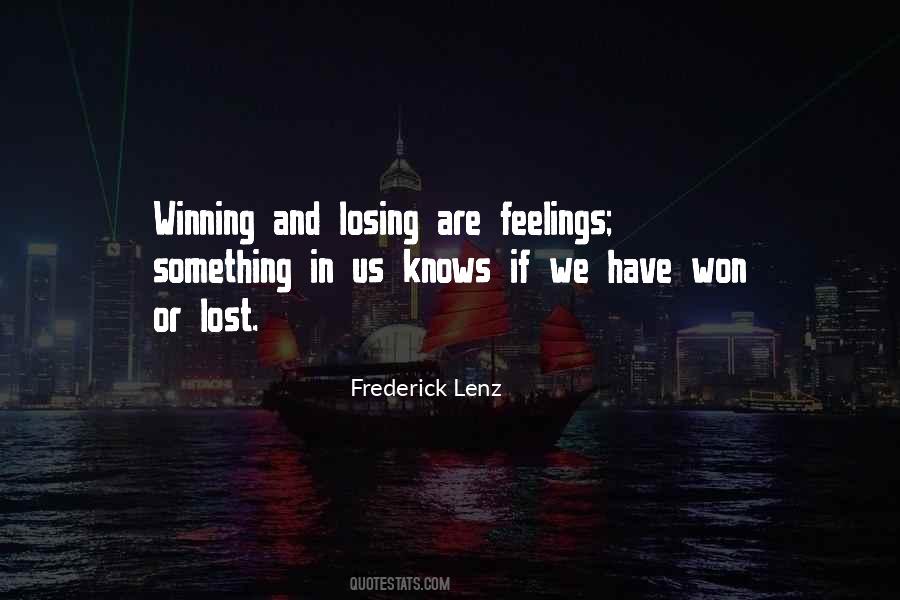 #86. It can be hard to feel like you have to start from scratch when you have invested so much time with a person, but shortly after my break up I realized something: I wasn't losing the chance to have love
I was getting the opportunity to do it all over again. - Author: Lauren Conrad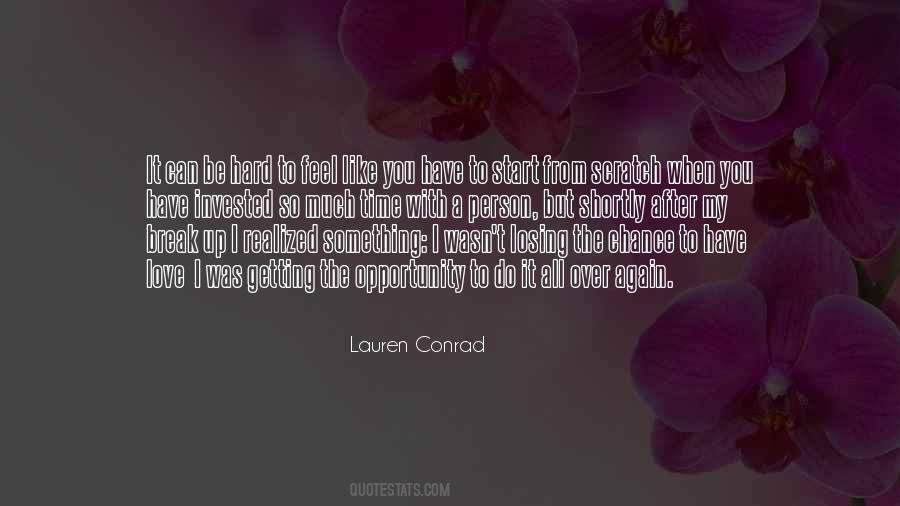 #87. Losing something is difficult while gaining something is easier. So try to gain beauty and make your life prettier. - Author: Debasish Mridha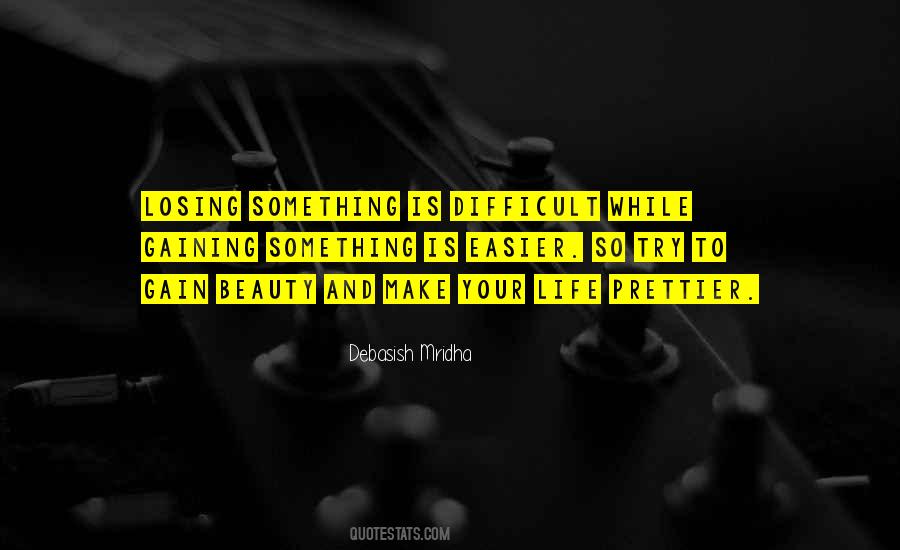 #88. By losing my external things, I found myself. I found something very powerful, very permanent, that I could have with me all the time. - Author: Isha Judd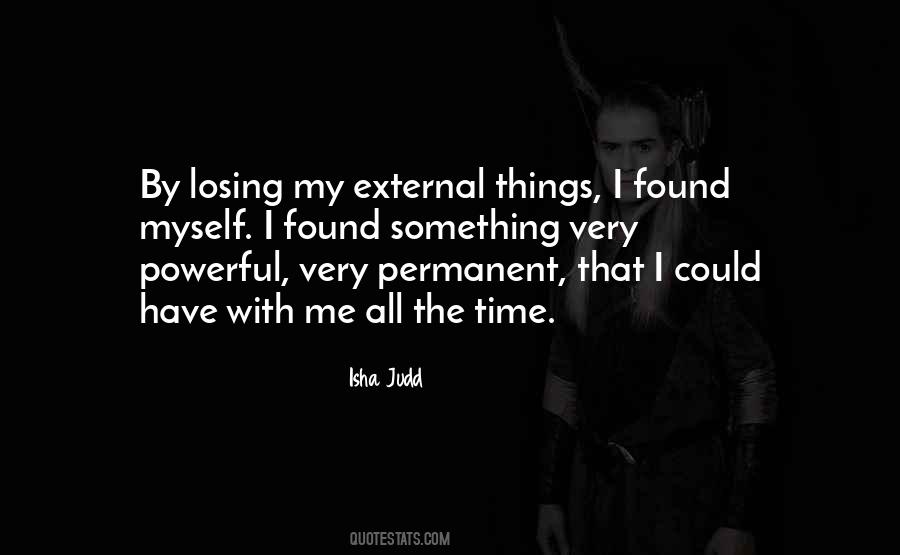 #89. The day you lose someone isn't the worst -at least you've got something to do- it's all the days they stay dead. - Author: Steven Moffat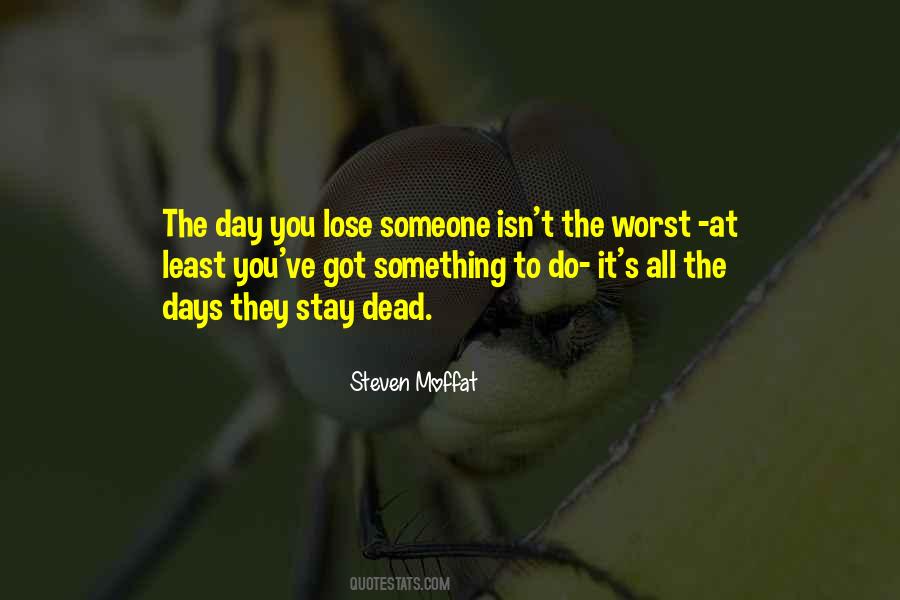 #90. If tomorrow all the bridges disappear in the world, then we can learn perfectly how very useful they were! Losing something is an excellent teacher! - Author: Mehmet Murat Ildan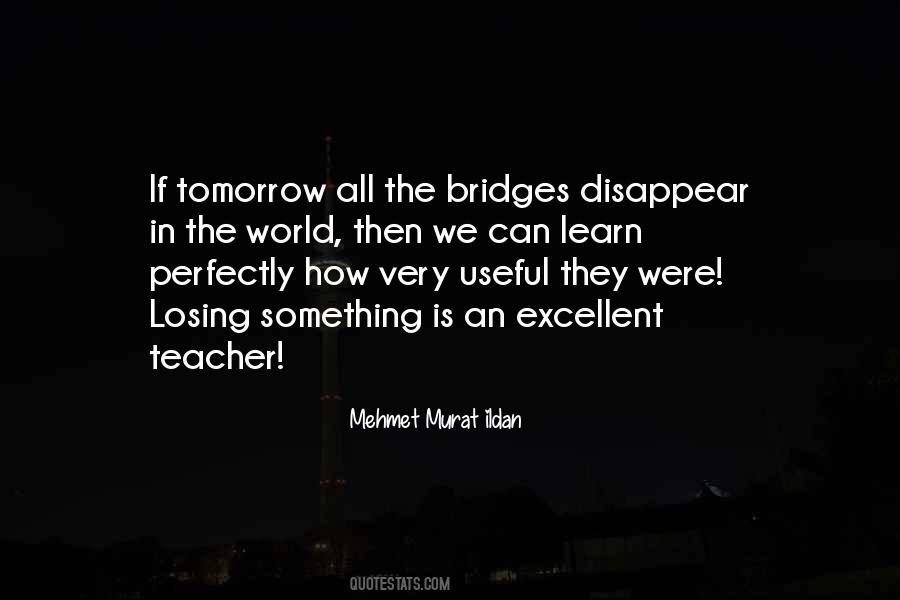 #91. Anytime you're gonna grow, you're gonna lose something. You're losing what you're hanging onto to keep safe. You're losing habits that you're comfortable with, you're losing familiarity. - Author: James Hillman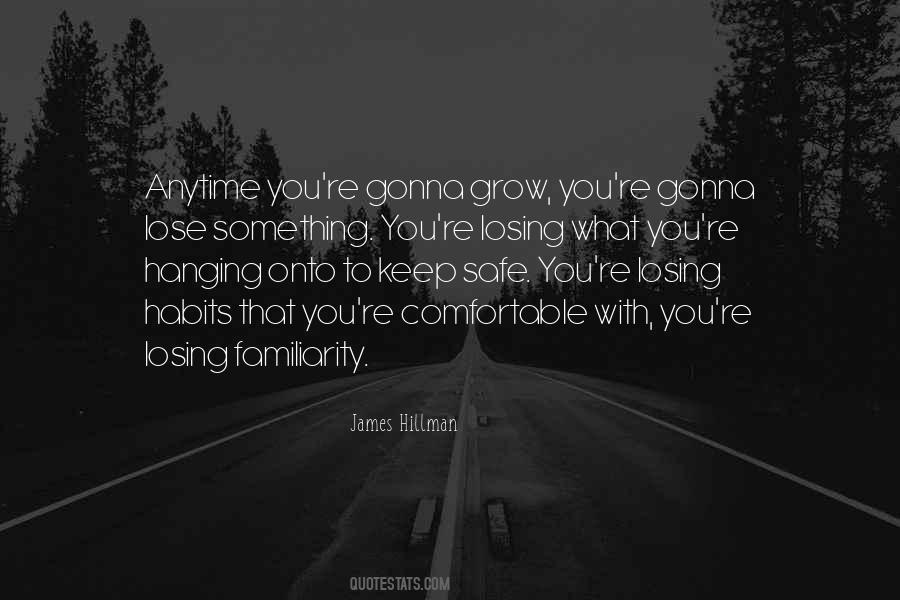 #92. But I have learned that you make your own happiness, that part of going for what you want means losing something else. And when the stakes are high, the losses can be that much greater. - Author: Emily Giffin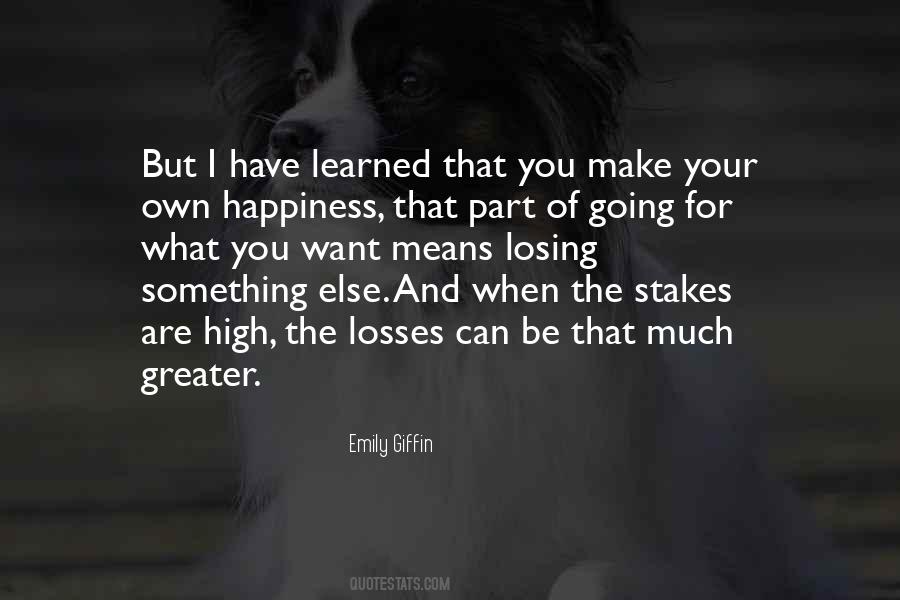 #93. You can never lose if you learn something from losing. - Author: Debasish Mridha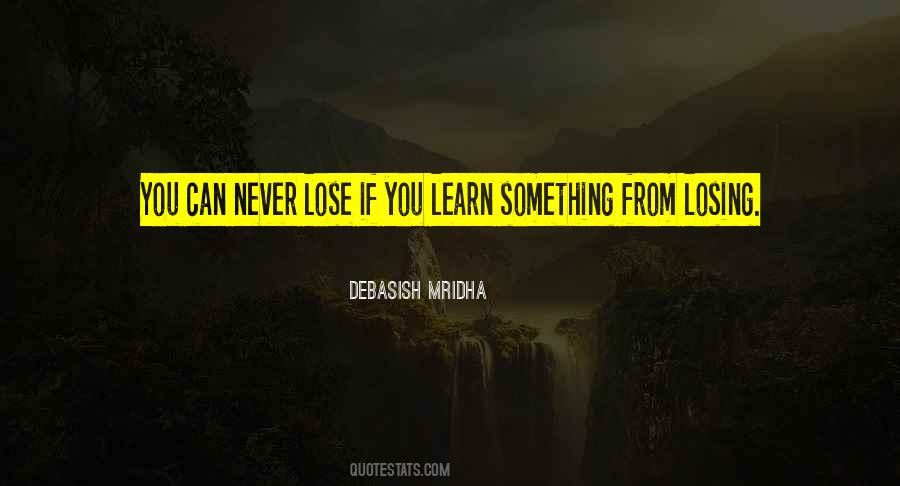 #94. Sometimes when you sacrifice something precious, you're not really losing it. You're just passing it on to someone else. - Author: Mitch Albom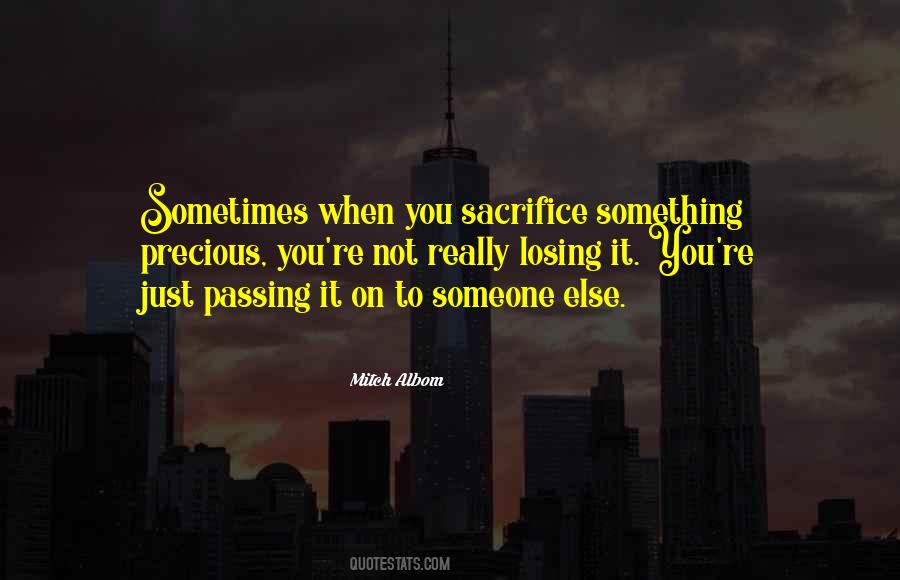 #95. Every single one of us possesses the strength to attempt something he isn't sure he can accomplish. It can be running a mile, or a 10K race, or 100 miles. It can be changing a career, losing 5 pounds, or telling someone you love her (or him). - Author: Scott Jurek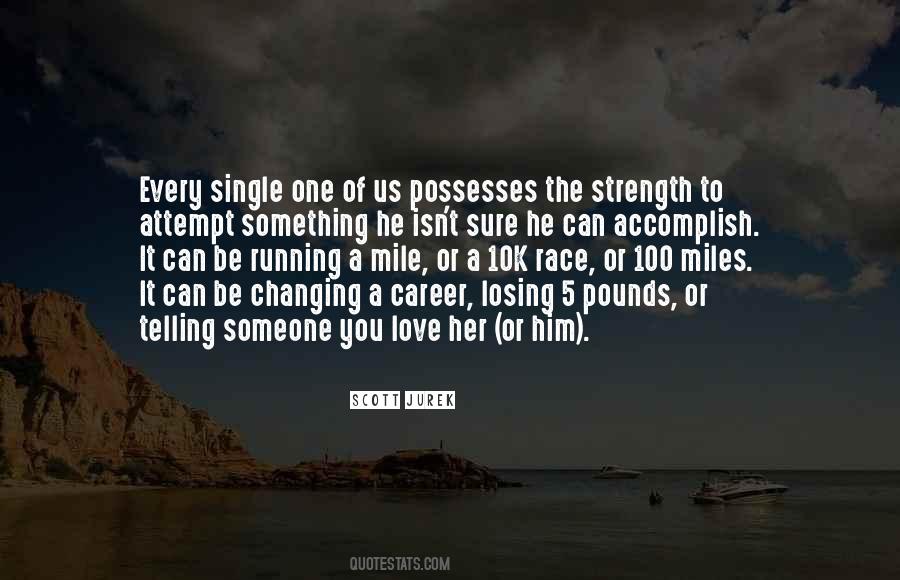 #96. From 1997 through 1999, I had gained so much. People don't realize how something like weight gain can make you sad. Losing weight has changed my life. If you can take control of your life, you can lose weight. - Author: La India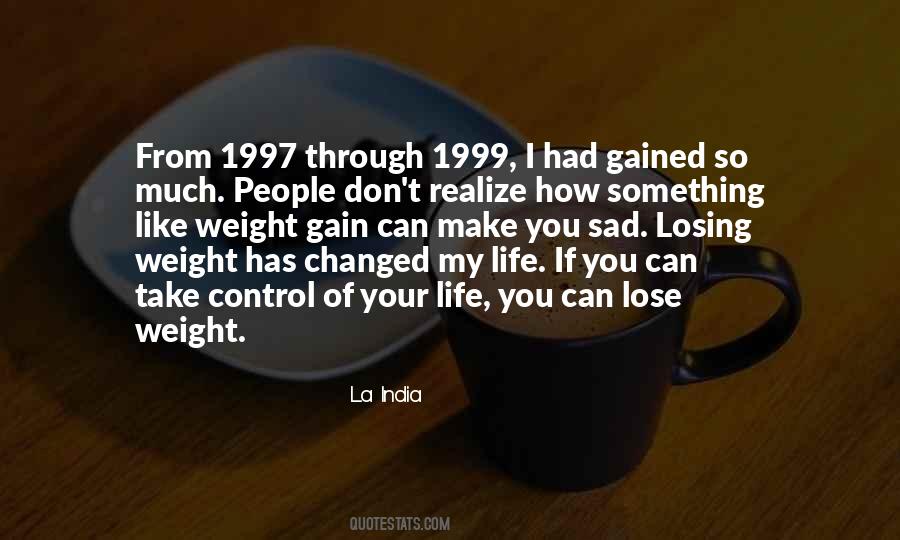 #97. We find by losing. We hold fast by letting go. We become something new by ceasing to be something old. - Author: Frederick Buechner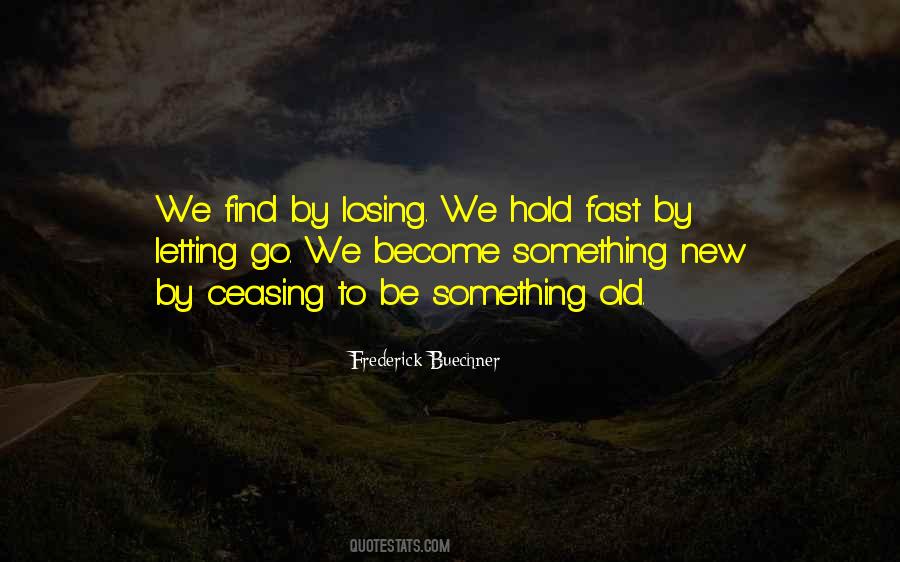 #98. Having something and losing it, it's so much crueler than never having had it. - Author: Victoria Schwab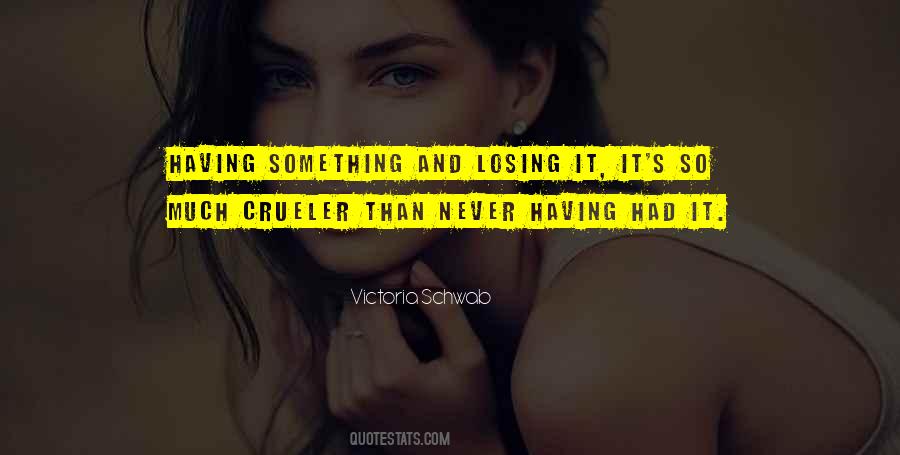 #99. He could lose himself in the copper warmth of her eyes. Except, no, this wasn't losing himself. This was finding something precious. - Author: Melissa Tagg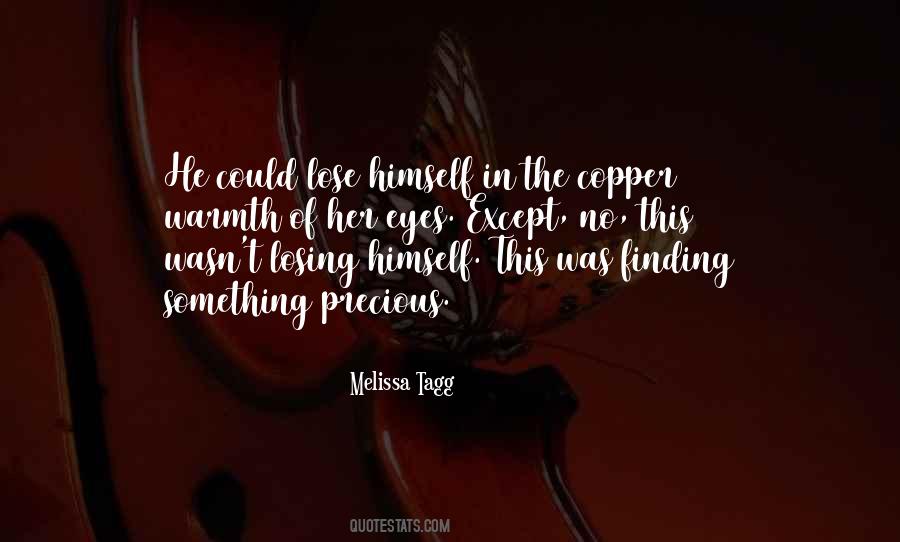 #100. It could seem like you are losing something right now, but do not be fooled. This is simply a turnaround orchestrated by your soul. Let it go. Release it. If it was not supposed to be removing itself from you now, it would not be doing so. - Author: Neale Donald Walsch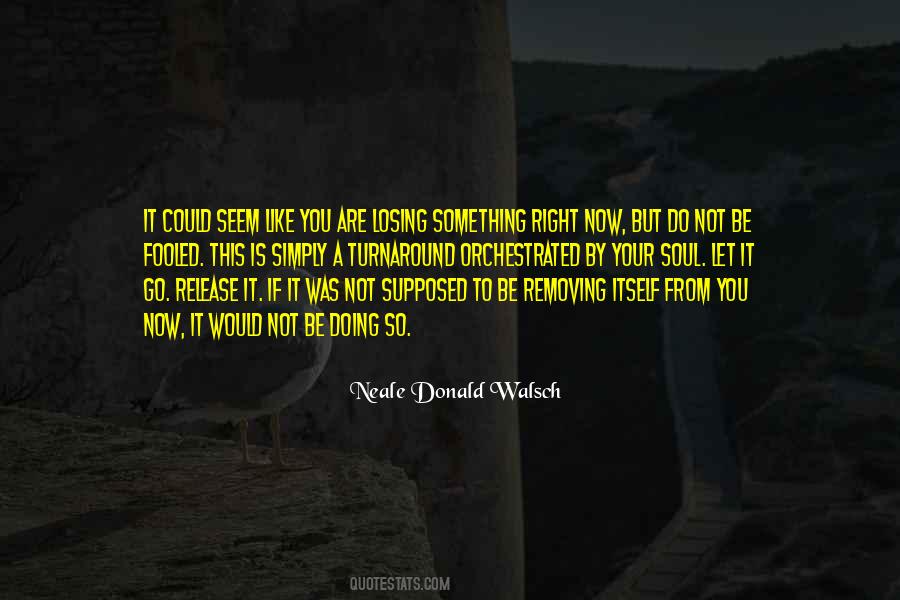 Famous Authors
Popular Topics