Living Young Famous Quotes & Sayings
List of top 100 famous quotes and sayings about living young to read and share with friends on your Facebook, Twitter, blogs.
Top 100 Quotes About Living Young
#1. Unless you have been to boarding-school when you are very young, it is absolutely impossible to appreciate the delights of living at home. - Author: Roald Dahl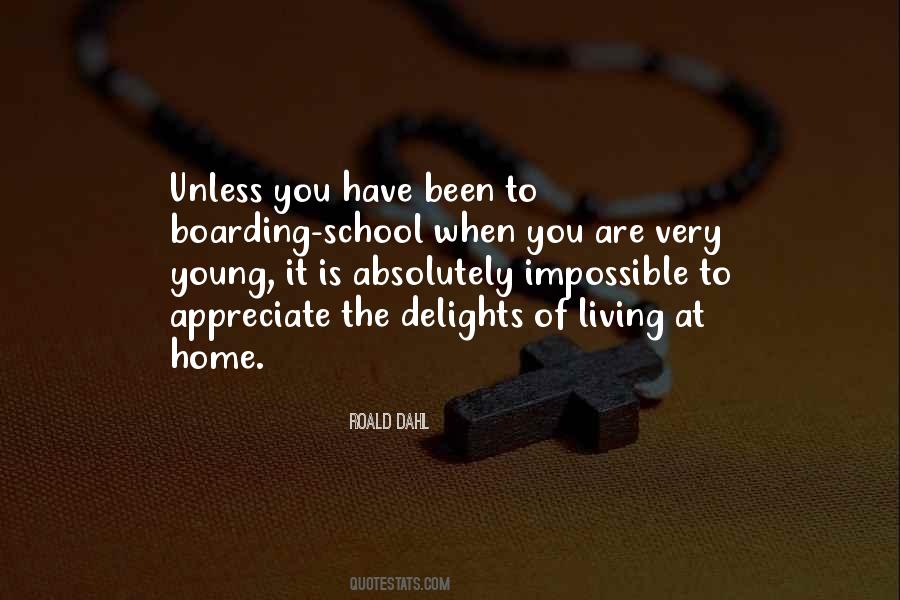 #2. Living life at a young age is like being a sponge thrust into the ocean. You absorb what's around you. If you're around people who are supportive and positive, that's how you look at the world. - Author: Freddie Prinze Jr.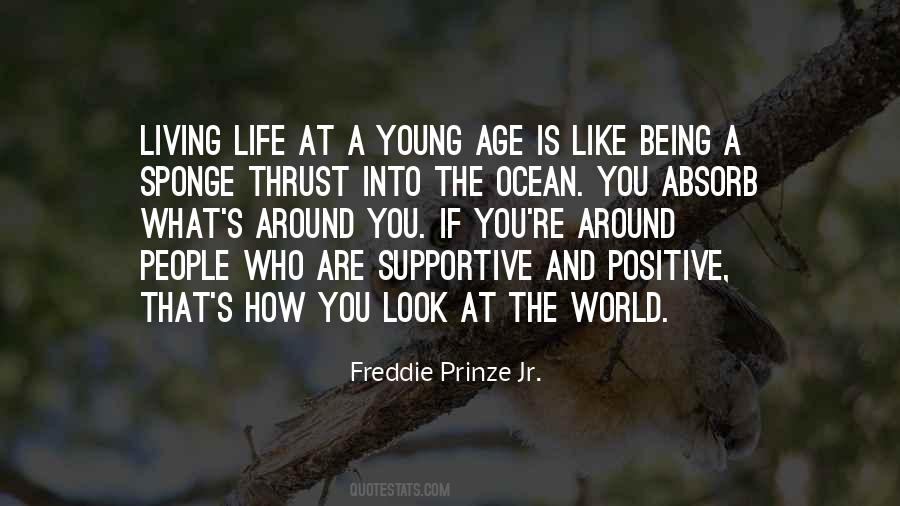 #3. I think I was just too young to even understand what was going on. When I was still living in South Africa, there was still so much racial tension. - Author: St. Lucia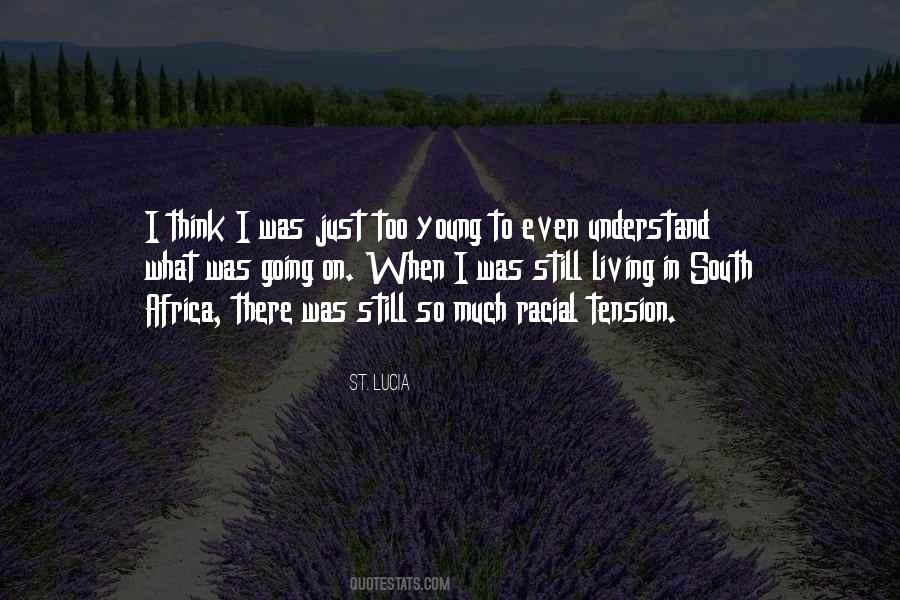 #4. I had an idea for a story about a young woman who was living with people who were different, not just superficially different - such as hair colour, or eye colour, or skin colour - but different in some significant way. - Author: Jean M. Auel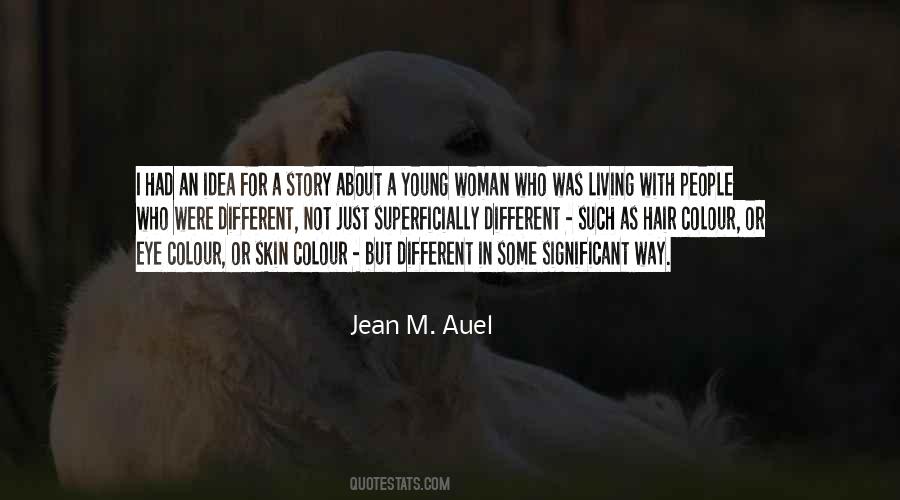 #5. The flower bloomed and faded. The sun rose and sank. The lover loved and went. And what the poets said in rhyme, the young translated into practice. - Author: Virginia Woolf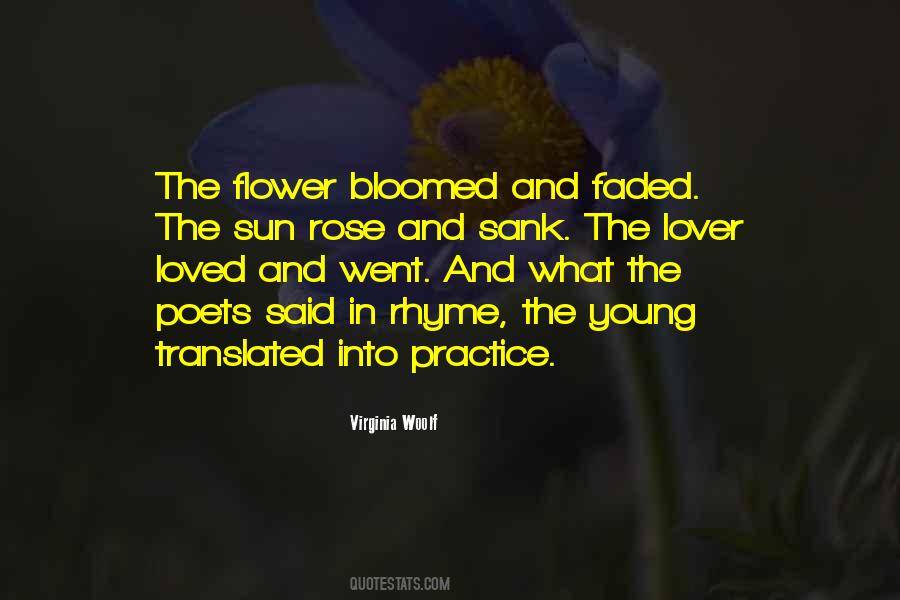 #6. I don't know why everyone feels the pressure to look young. Personally, I hate it. I don't want to inject Botox and look young forever. It's living in denial and anything that has an undercurrent of this philosophy is bad for your growth. - Author: Kangana Ranaut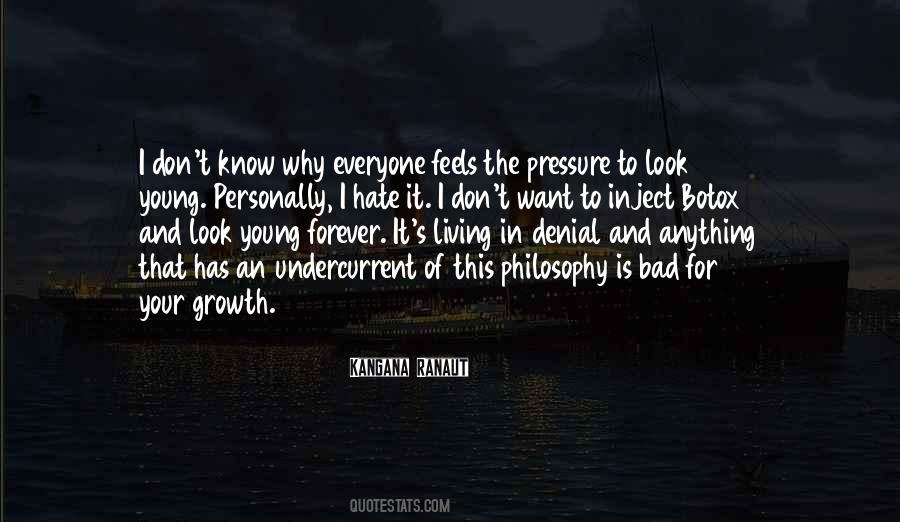 #7. You're the luckiest person in the entire world if you know what you really want to do, which I was lucky enough to know when I was very young. And you're the luckiest person in the world if you can then make a living out of it. - Author: Andrew Lloyd Webber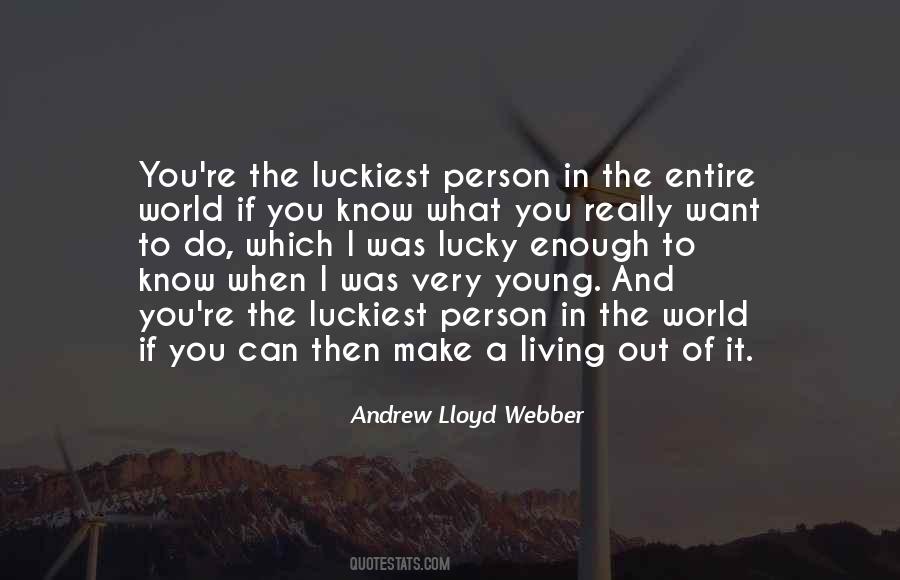 #8. I feel super lucky to be living in New York. I love the city, I love the energy. I always loved it. I had pictures of New York in my bedroom when I was young. - Author: Olivier Theyskens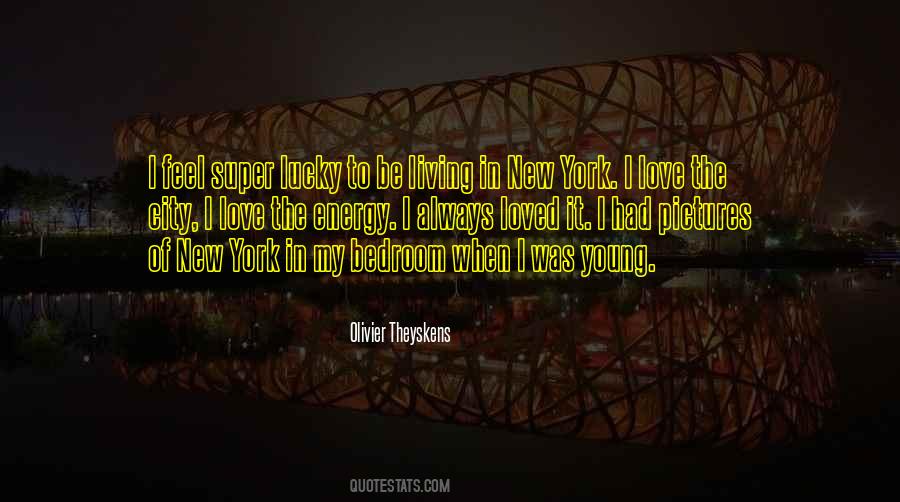 #9. My life, like most people's, has been negatively affected by cancer, and the thought of my young children living in an age where this is no longer humanity's No. 1 health fear was simply overpowering. - Author: Shane Smith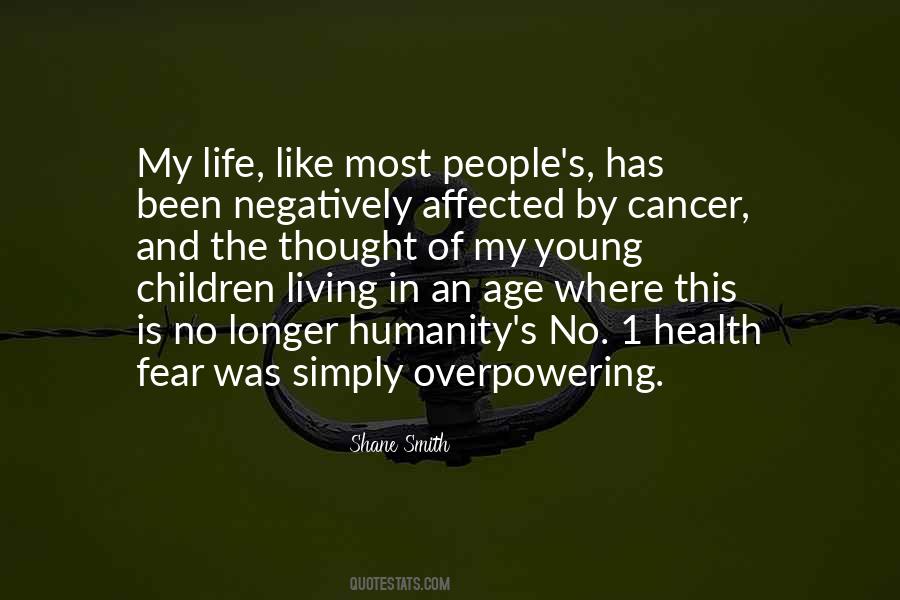 #10. What do people have against convicts? Is living together in the pen of freedom, where young people engage in mutual psychology, any more beautiful? - Author: Karl Kraus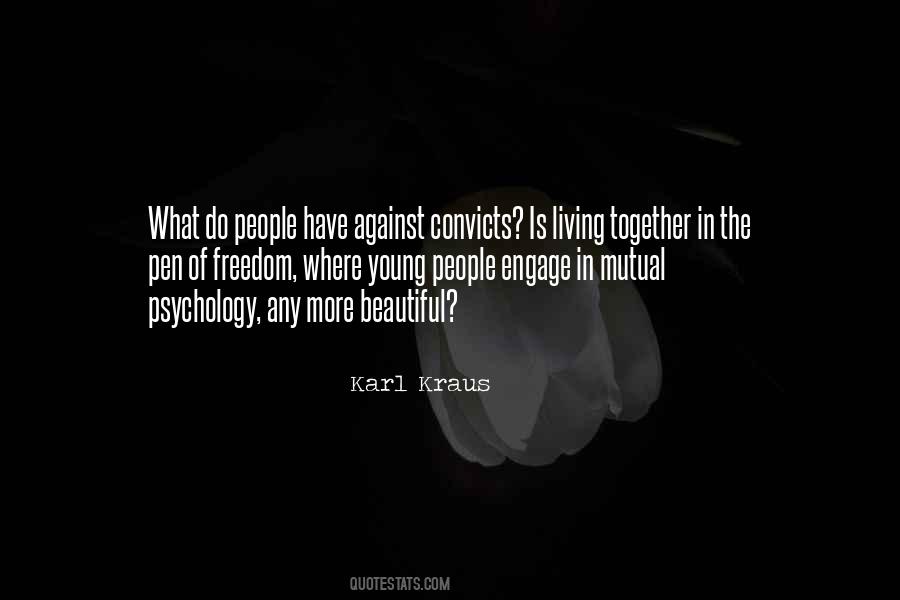 #11. You can get old pretty young if you don't
take care of yourself. - Author: Yogi Berra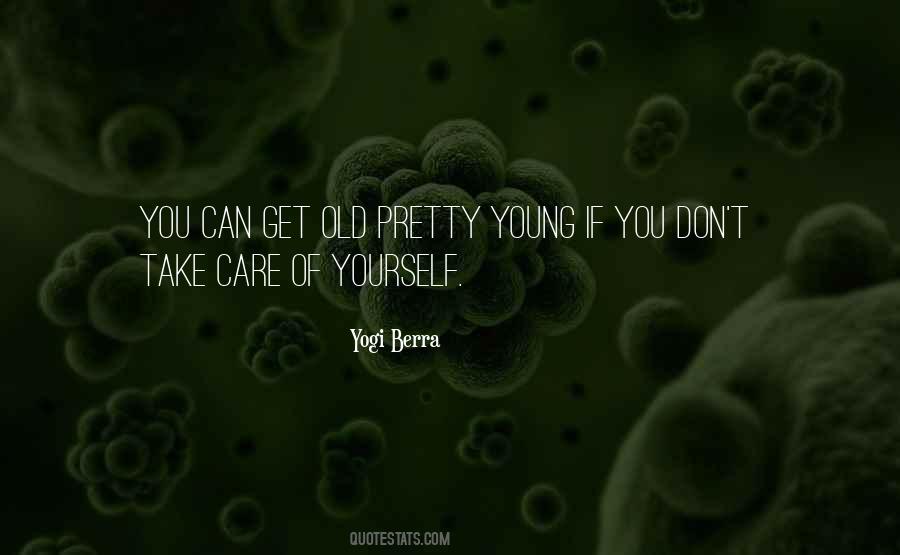 #12. I was pretty young when I bought my first place, and at that time didn't really view it as an investment. After living there for a few years I decided to move out of London, so I decided to rent it out for a few years. Then, as the property market continued to rise, I made the decision to sell. - Author: Andy Murray
#13. It seems to be a universal generality that while the old want to reminisce, the young are too busy living to bother. - Author: Doc Sanborn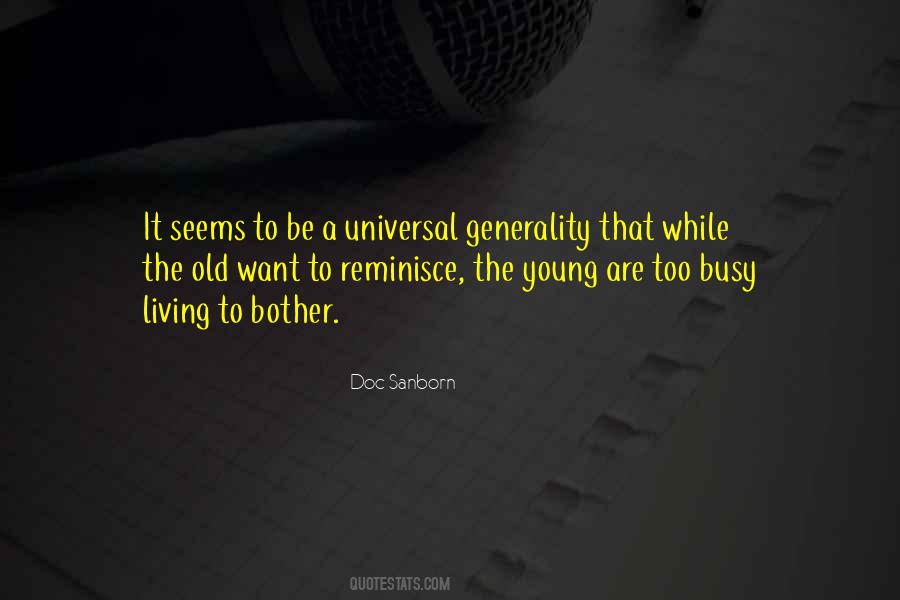 #14. You'll end up living a lonely life if you're waiting around for perfect. - Author: Samantha Young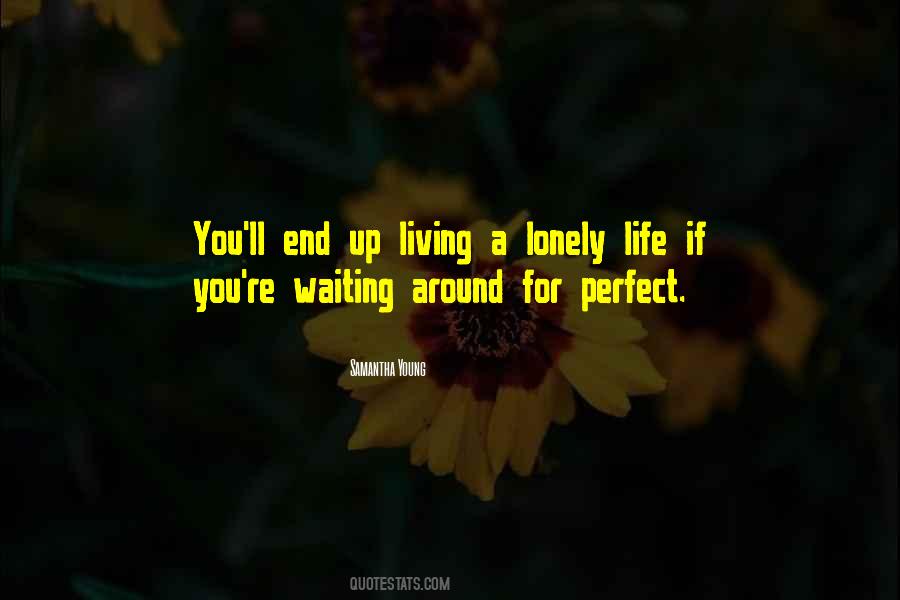 #15. Demond's family history wasn't so different from my own, did that mean we were living the same story over and over again, down through the generations? That the young and Black had always been dying, until all that was left were children and the few old, as in war? - Author: Jesmyn Ward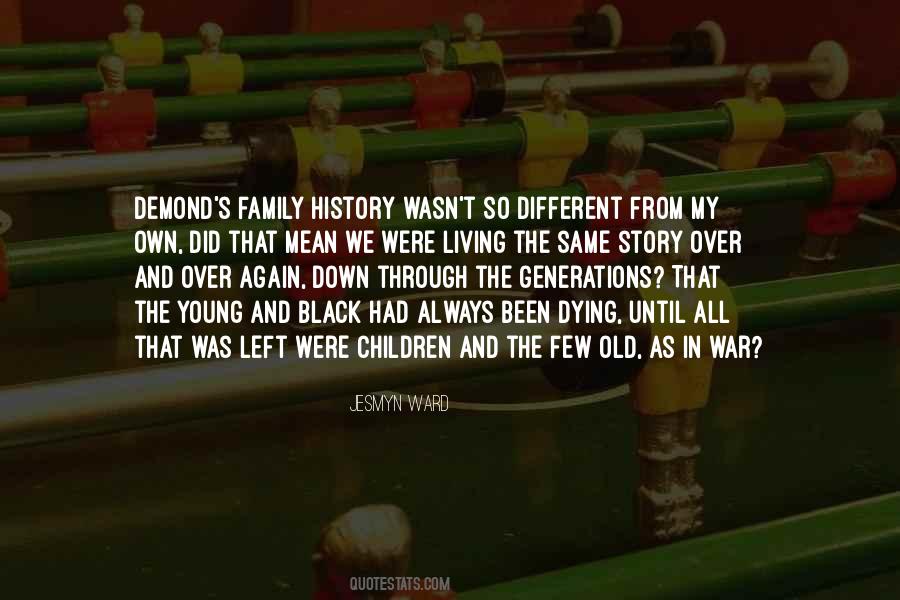 #16. So, regarding the time frame, I'm only too willing to admit that my crystal ball, like everybody else's, is cracked. If I could predict precisely, I would have started predicting the stock market and would now be living with a bunch of young women on Bora Bora, having bought it. - Author: Paul R. Ehrlich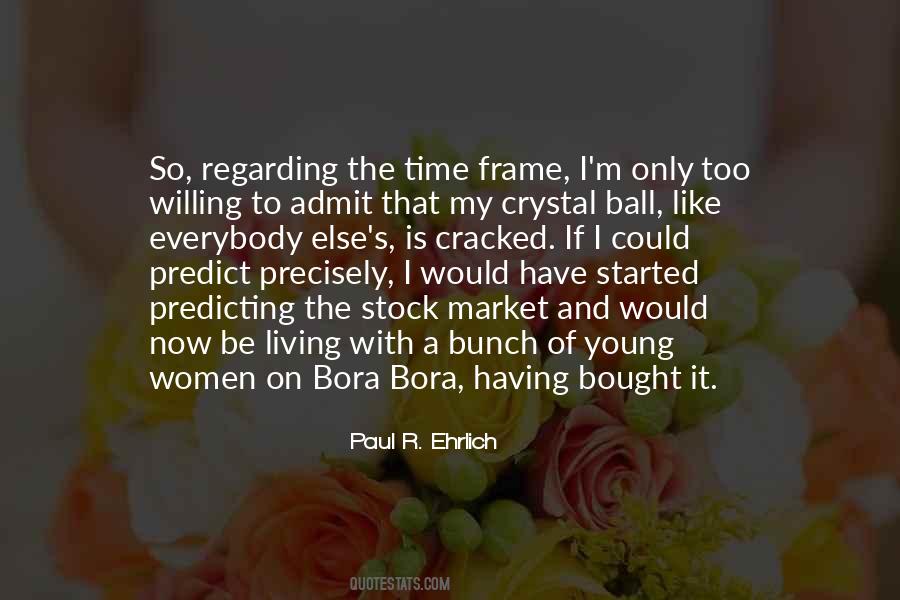 #17. He saw the irresistible allure of high school sports, but he also saw an inevitable danger in adults' living vicariously through their young. And he knew of no candle that burned out more quickly than that of the high school athlete. - Author: H. G. Bissinger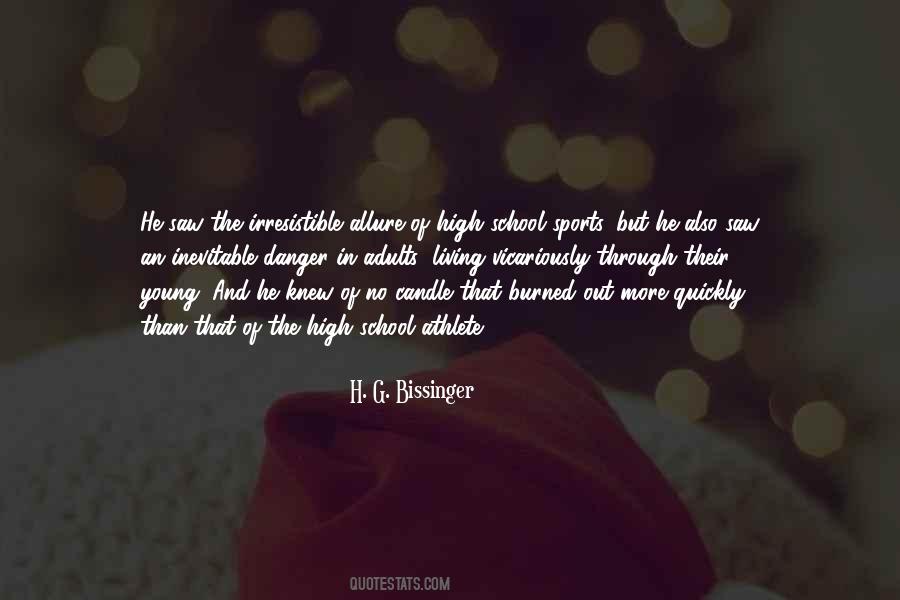 #18. The acting training in school was great, but it was mostly fun being young and in New York. Because my upbringing was so transient, New York ended up being my home. I've been living in New York longer than I have anywhere else in my life. - Author: Pedro Pascal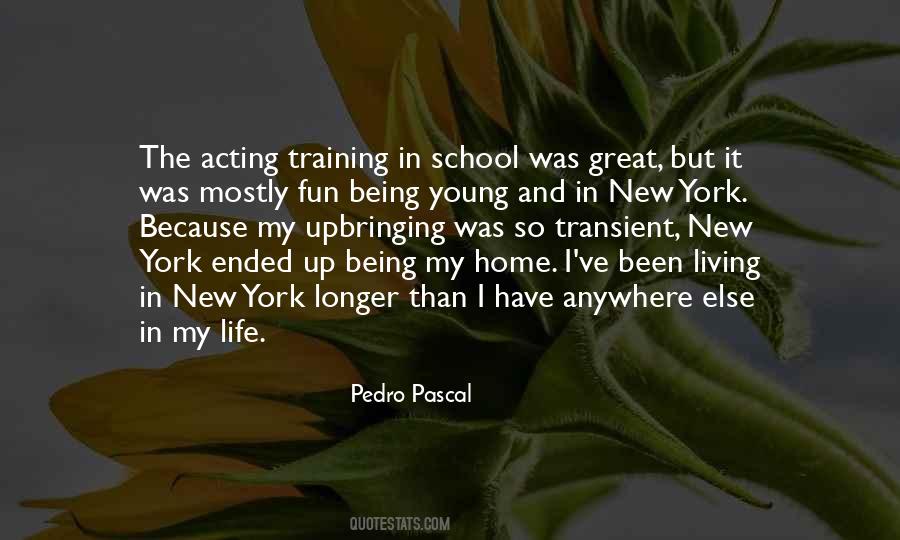 #19. The world does not owe men a living, but business, if it is to fulfill its ideal, owes men an opportunity to earn a living. - Author: Owen D. Young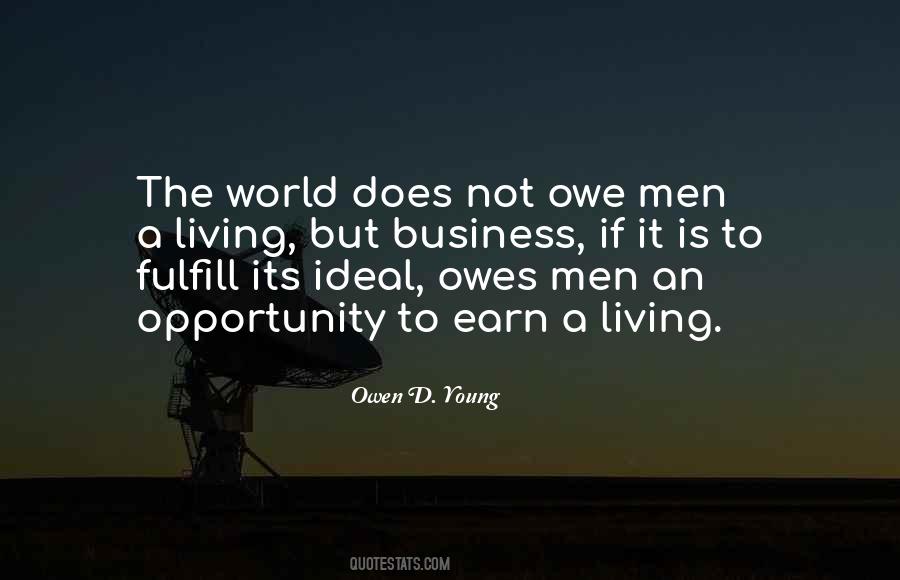 #20. God's Word is the living seed that brings new birth. It is the milk that nurtures the new life of a young Christian and the meat that builds the muscle of a mature believer. - Author: Colin S. Smith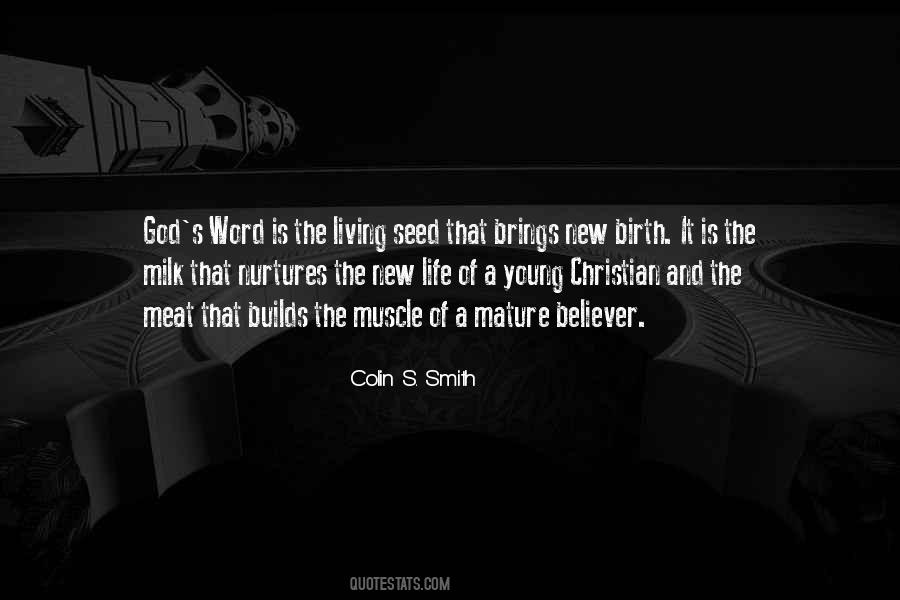 #21. If I gave up - " "Then you would begin to know the wonder and adventure of living in me, - Author: Wm. Paul Young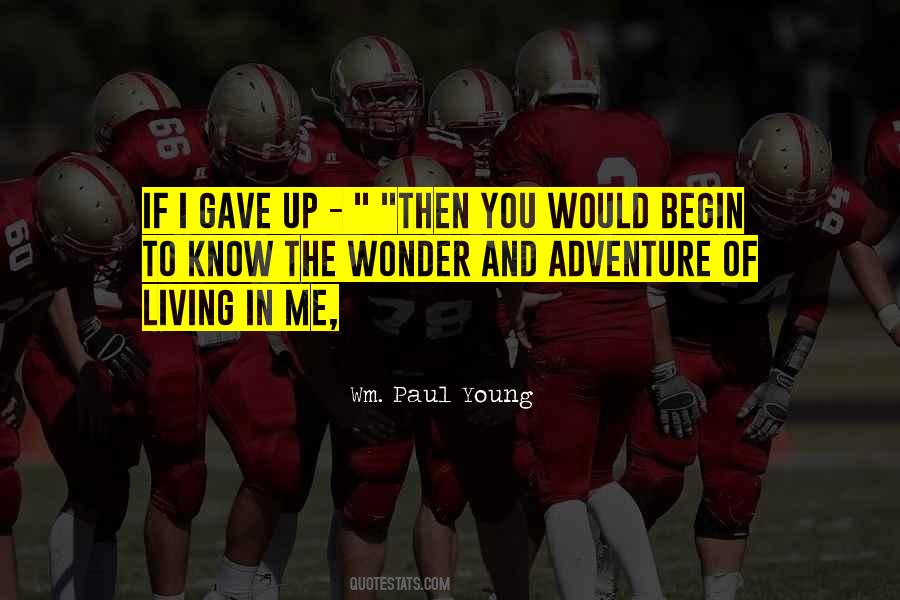 #22. You'll live for as long as you live, and once you stop living, you don't have to worry about staying alive any more because you'll be dead. - Author: Sebastyne Young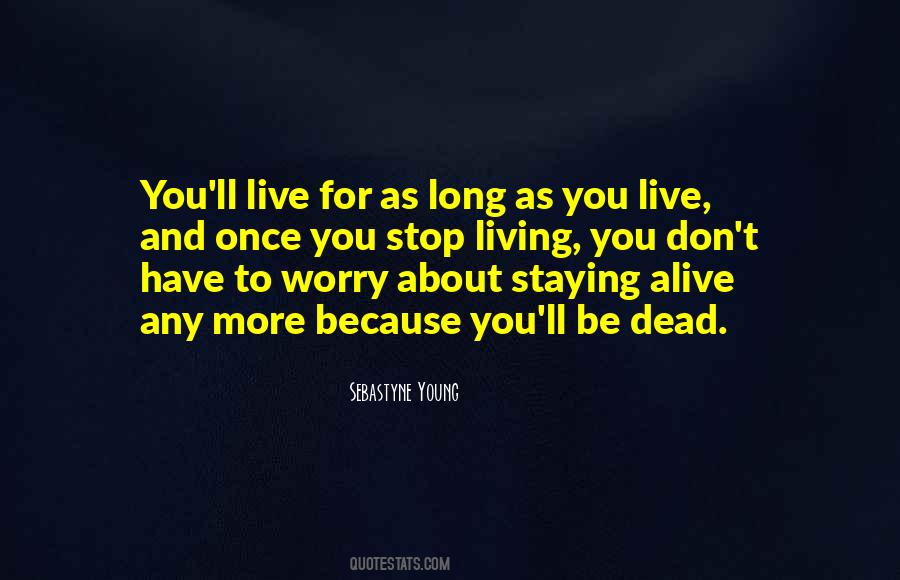 #23. I feel connected to the Second World War because my father lost his father in that war. So, through my dad and the effect it had on him of losing his father young, I always felt connected to the war. It goes back years, but it still feels to me as if we're completely living in it. - Author: Tom Hooper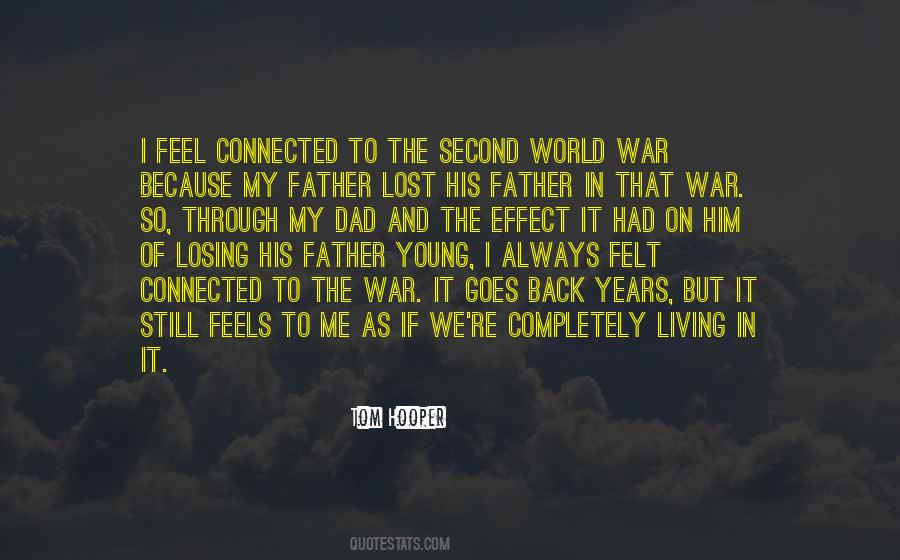 #24. You've got no time to lose / You are young, and you must be living / Go now, you are forgiven. - Author: Dispatch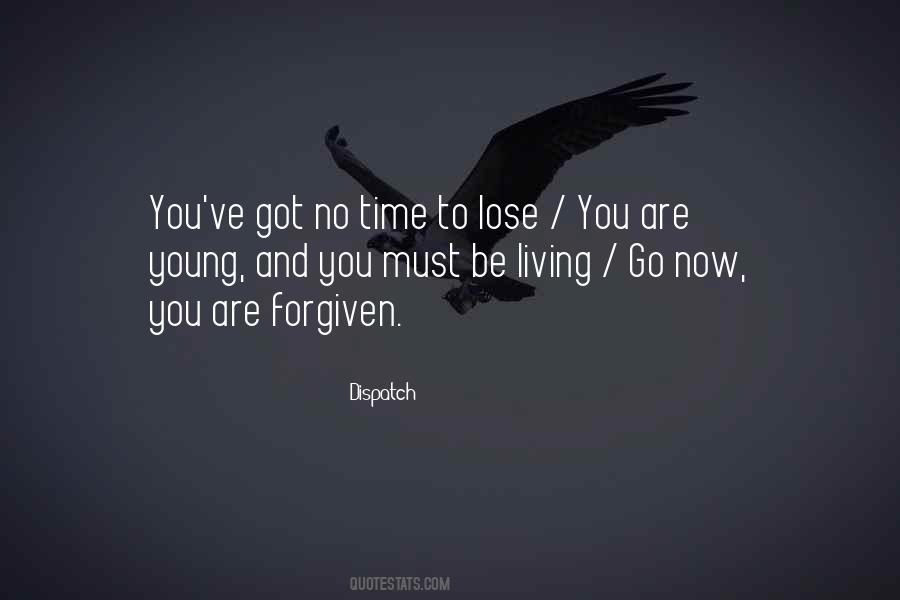 #25. - ' That's nonsense young one,
Your dreams are not very logical '
- ' The only non-sense I see here,
is a living a life; blinded,
By all that could have taken your breath away. - Author: Nikki Rowe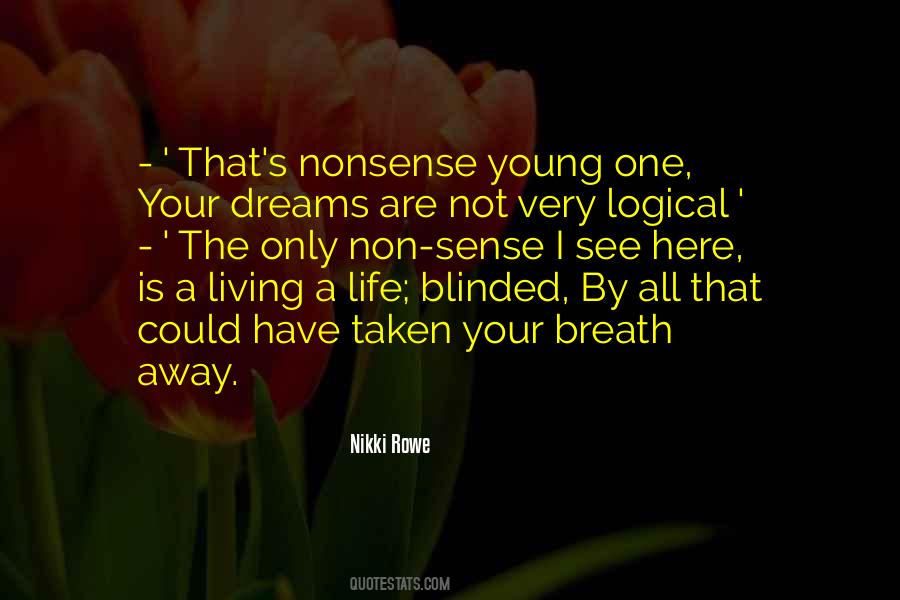 #26. My playground was the theatre. I'd sit and watch my mother pretend for a living. As a young girl, that's pretty seductive. - Author: Gwyneth Paltrow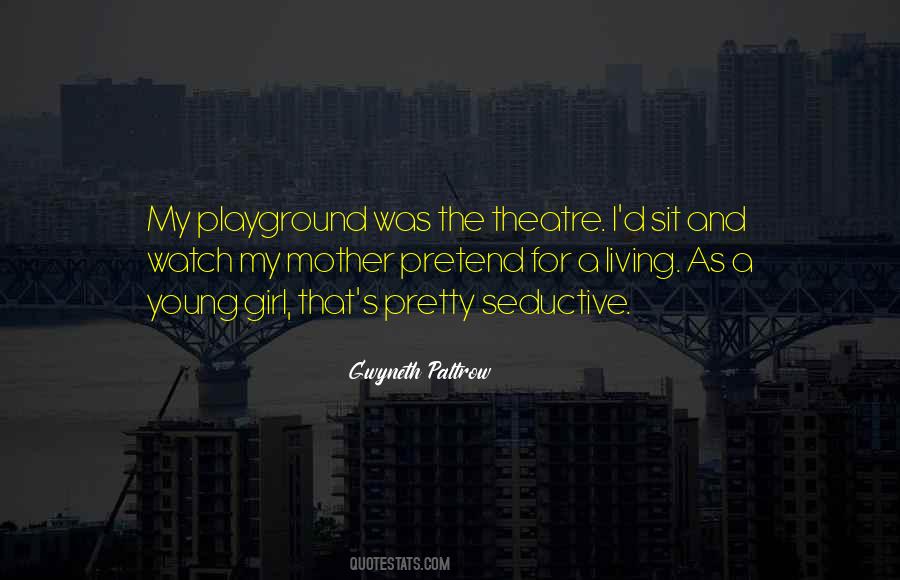 #27. Our goodness, our badness all develop from social experience, the company we keep, the things we're taught when we're young. We start with a clean slate. It's everyone else who fucks us up. - Author: S. Walden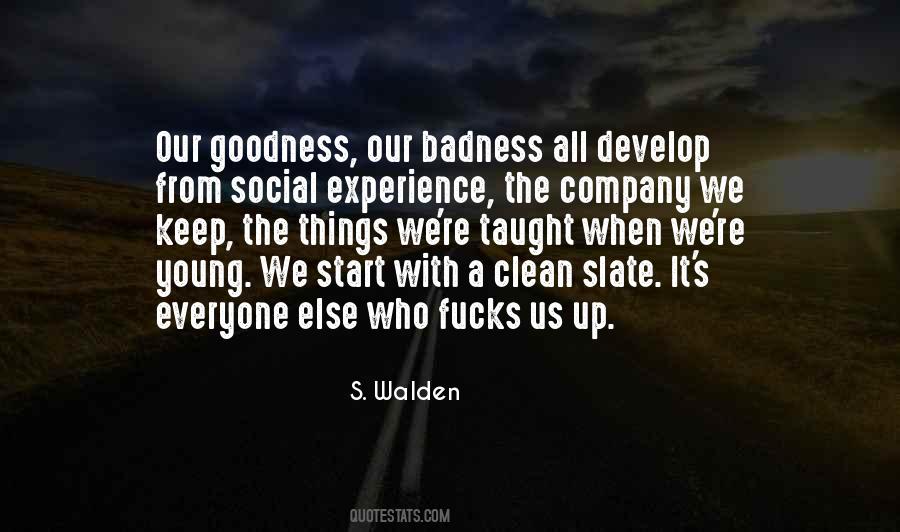 #28. I believe in living today. Not in yesterday, nor in tomorrow. - Author: Loretta Young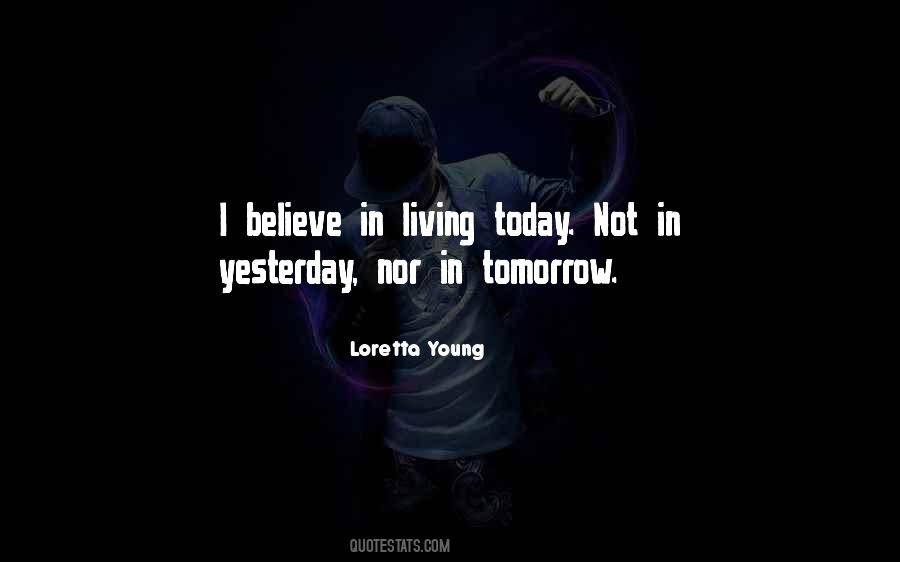 #29. The only way to know life is living it. - Author: John Northcutt Young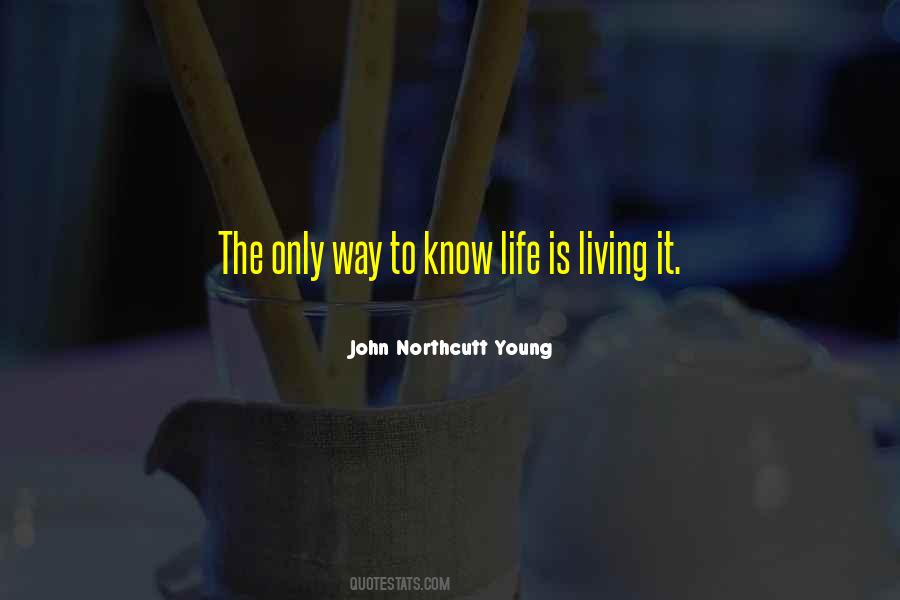 #30. Nowadays young people have great choice of occupations, hobbies, etc, so chess is experiencing difficulties because of the high competition. Now it's hard to make living in chess, so our profession does attract young people. - Author: Boris Spassky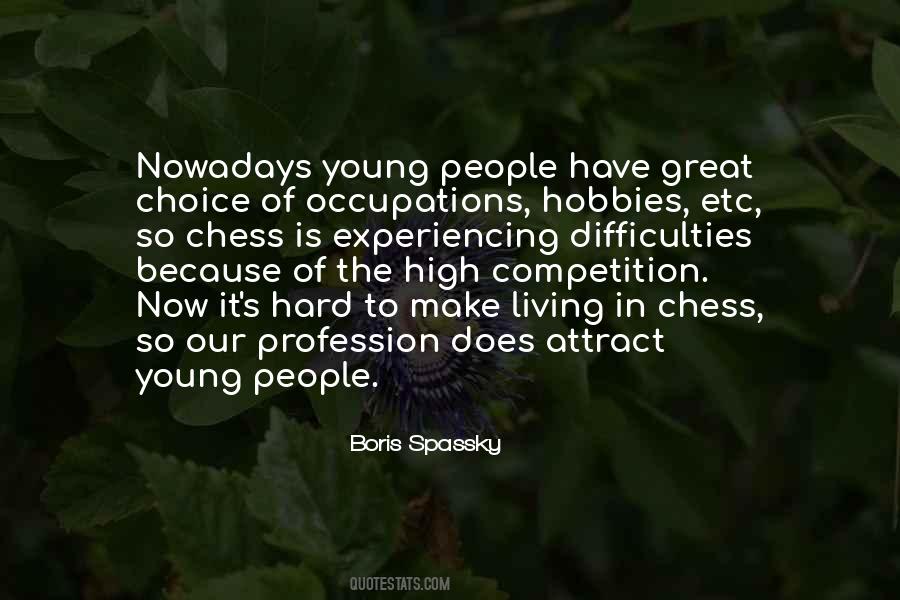 #31. I realized that whilst crying over the loss, the living did not seem adequate because they were not my loved one. The room full of strangers hurt me profusely. Even as I saw thousands of young people; I felt incomplete and more saddened because the one I wanted to see was buried. - Author: Phindiwe Nkosi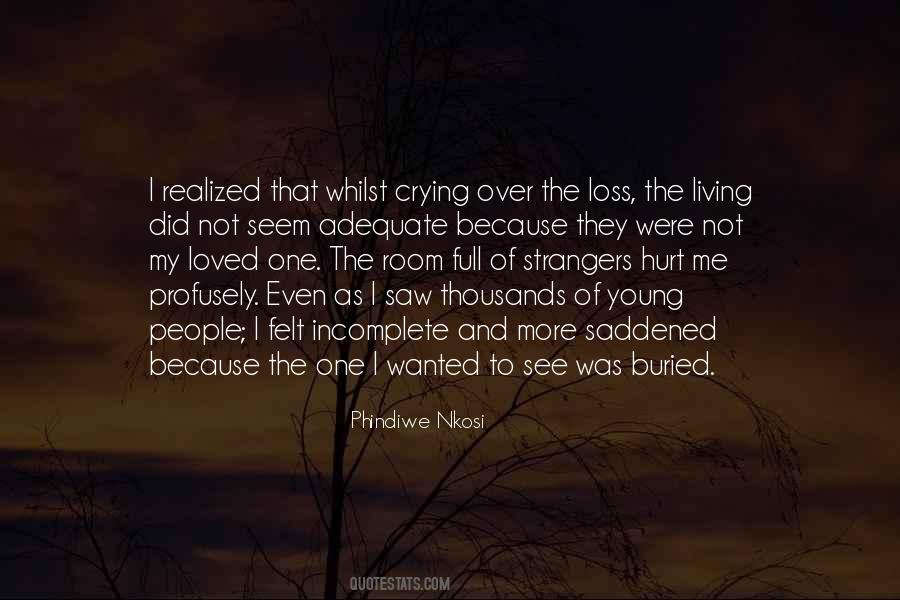 #32. When I see these young girls who are dreaming the dream that I'm living, it's very very exciting and it puts a big smile on my face. - Author: Sue Wicks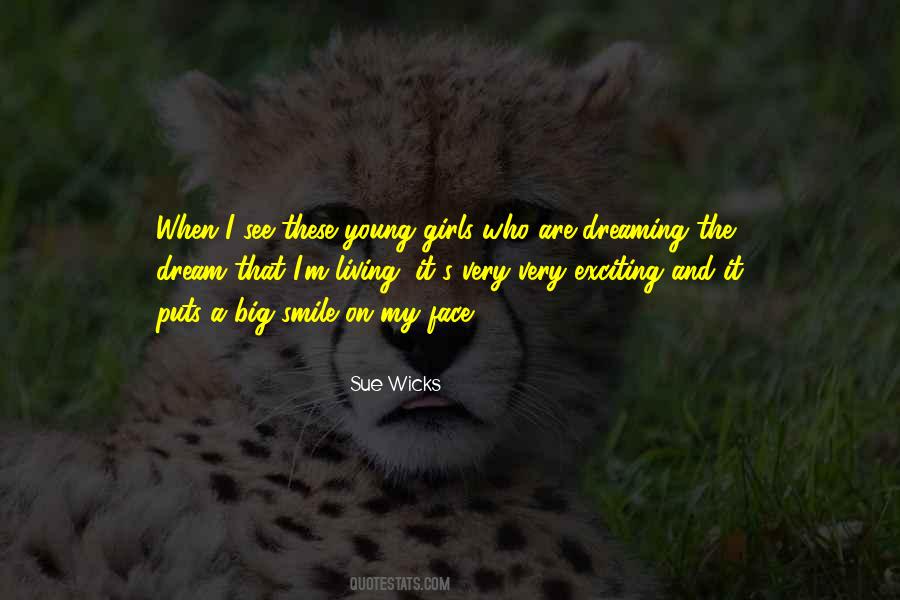 #33. We'd cry great waves of love and rage for this young woman, whose resistance made our own lives look empty as nadless ball sacks and sewed-up dry cunts, a girl-woman whose body was in defiance of over stab at "living" we took and failed on a daily basis. - Author: Lidia Yuknavitch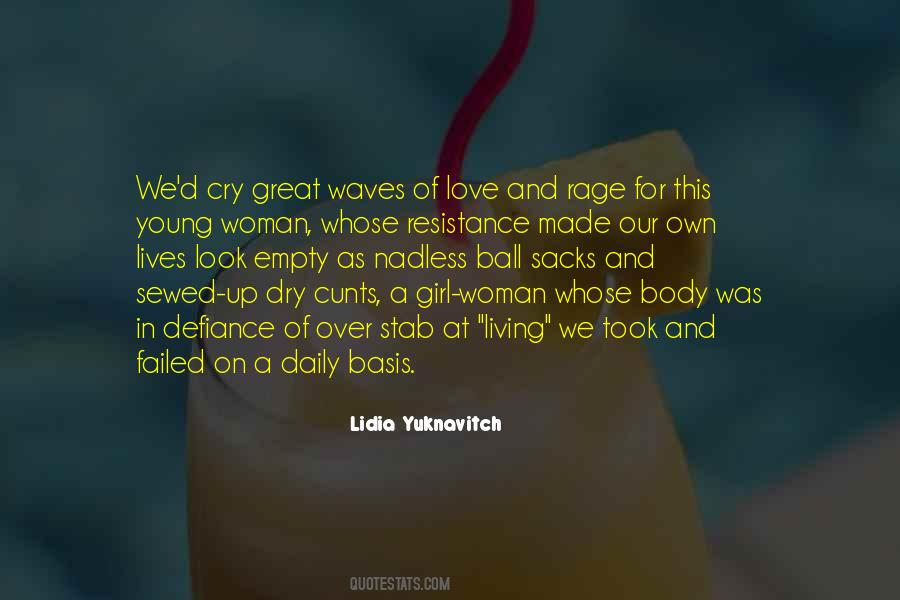 #34. Sometimes when you're young, you have moments of such happiness, you think you're living on someplace magical, like Atlantis must have been. Then we grow up and our hearts break into two. - Author: Stephen King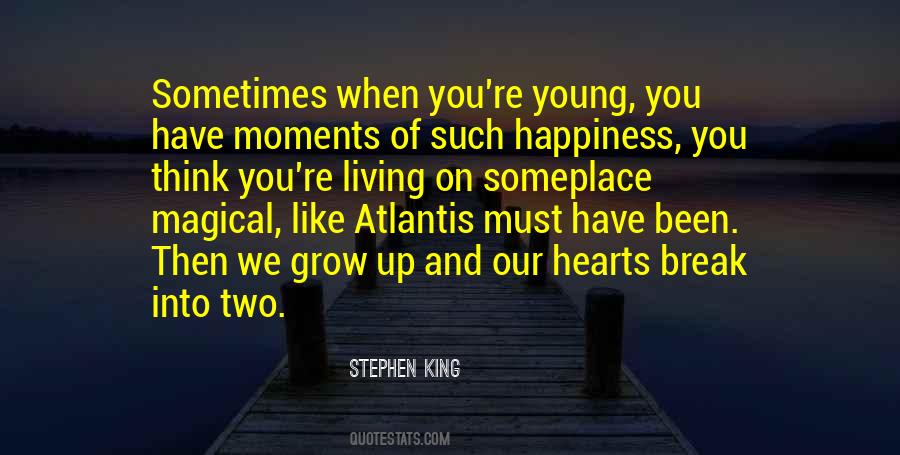 #35. Many South Africans qualify for working visas in the UK and are keen to experience working and living overseas. However, more and more young people are rebelling against the materialistic 'me' generation and are keen to find meaningful work during their stay. - Author: Susan Harris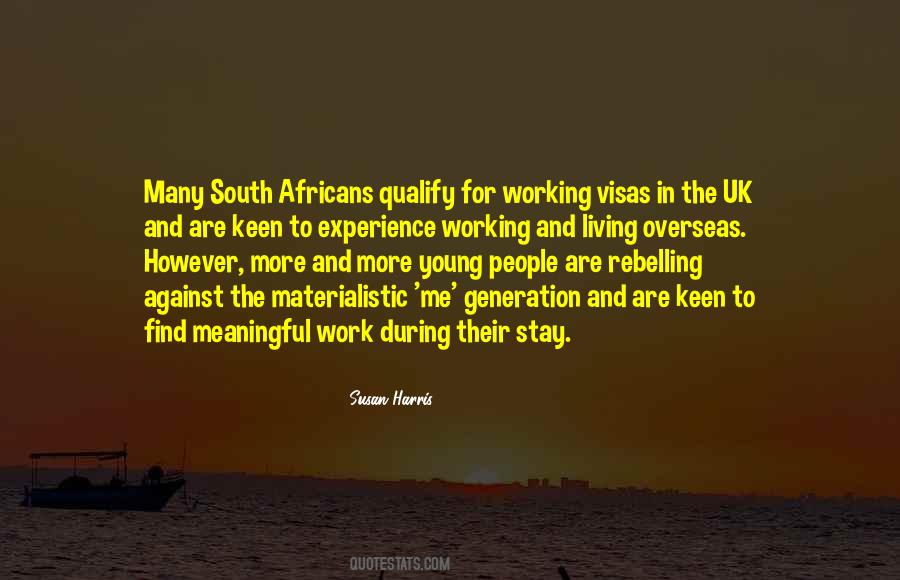 #36. All we have is
the present. The present's perfect, young
grasshopper, because we're breathing,
moving, laughing, crying, and are
surprised when we finally meet someone
we connect with. Stop living in the past
and wasting your present. You need to
tell Noah how you feel. - Author: Alison G. Bailey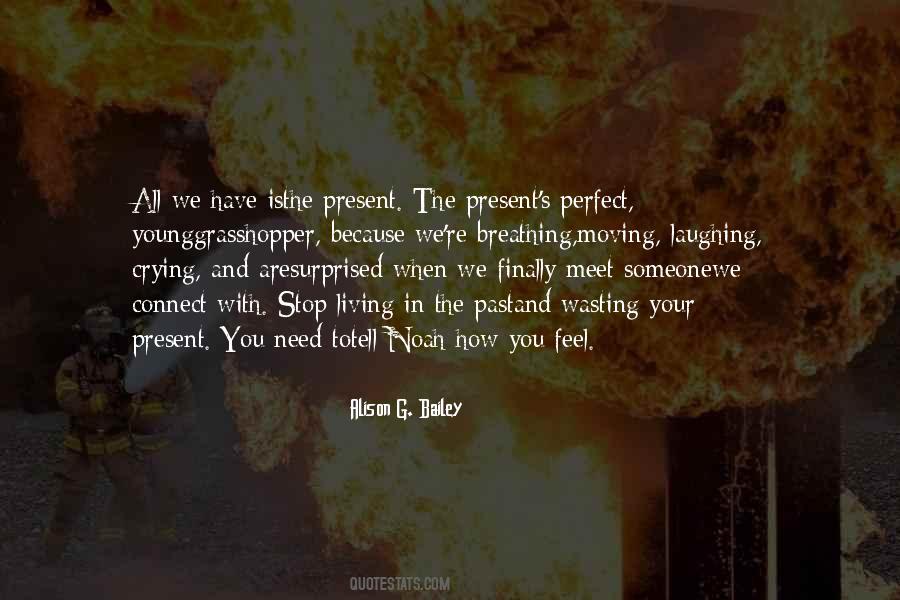 #37. I have not written my memoirs for those young people who can only save themselves from falling by spending their youth in ignorance, but for those whom experience of life has rendered proof against being seduced, whom living in the fire has transformed into salamanders. - Author: Giacomo Casanova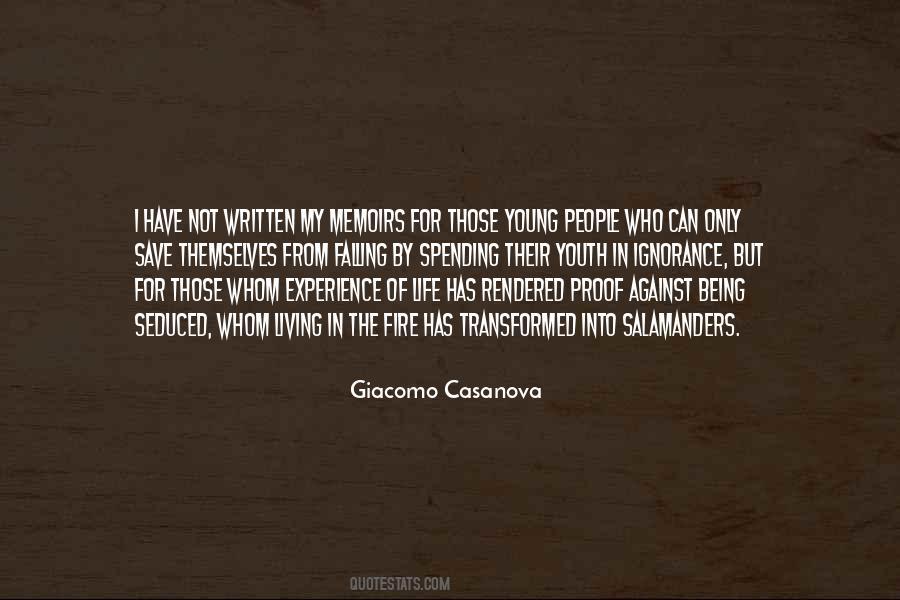 #38. Every living thing is both a whole system in and of itself as well as an essential part of other systems. - Author: Meredith L. Young-Sowers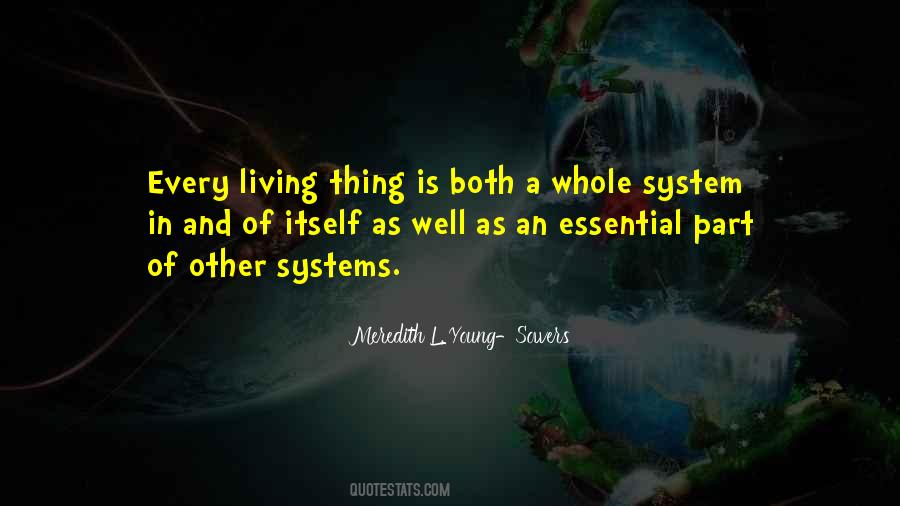 #39. I did some stage when I was a kid, around 16 or so. I was living in Melbourne and had a band. I was quite young. We weren't very good. Then I found a band in Perth. We played around for three years. We're in the 'History of Rock'N'Roll,' a book about Perth music. - Author: Paul Eenhoorn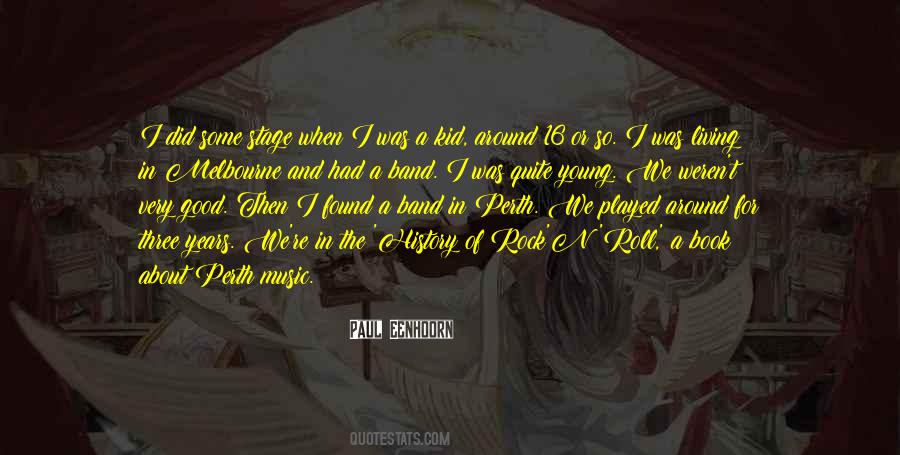 #40. I don't want you to be young and beautiful. I only want one thing. I want you to be kind-hearted - and not just towards cats and dogs. - Author: Vasily Grossman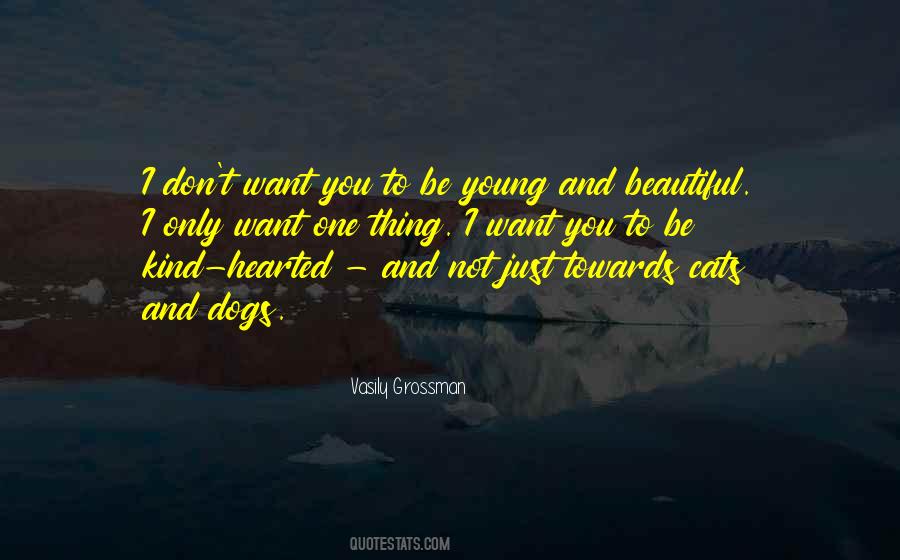 #41. The young whites, and blacks, too, are the only hope that America has, the rest of us have always been living in a lie. - Author: Malcolm X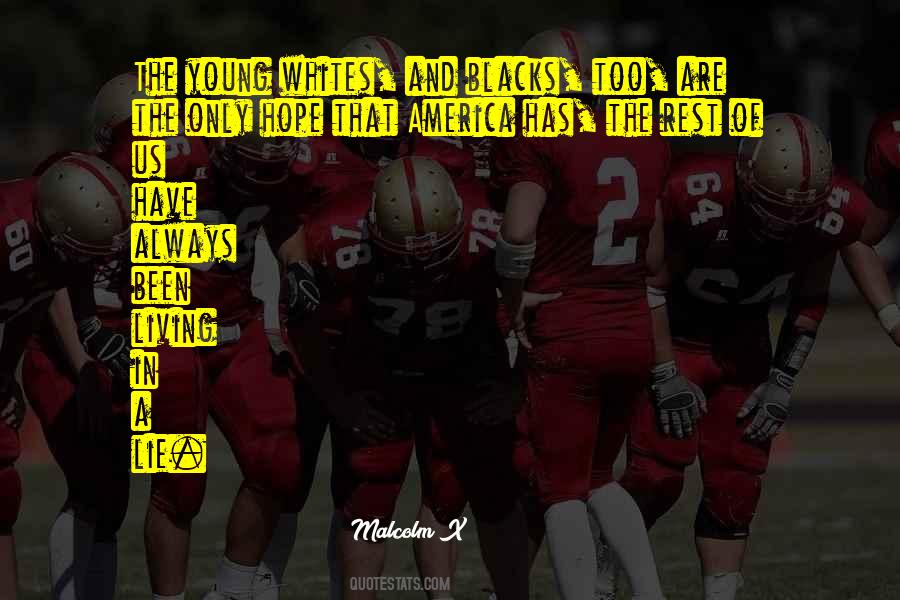 #42. Trees are living beings. And they have their own personalities... There are the young, eager saplings, all striving with each other... If you put your cheek against one of those, you almost sense the sap rising and the energy. - Author: Jane Goodall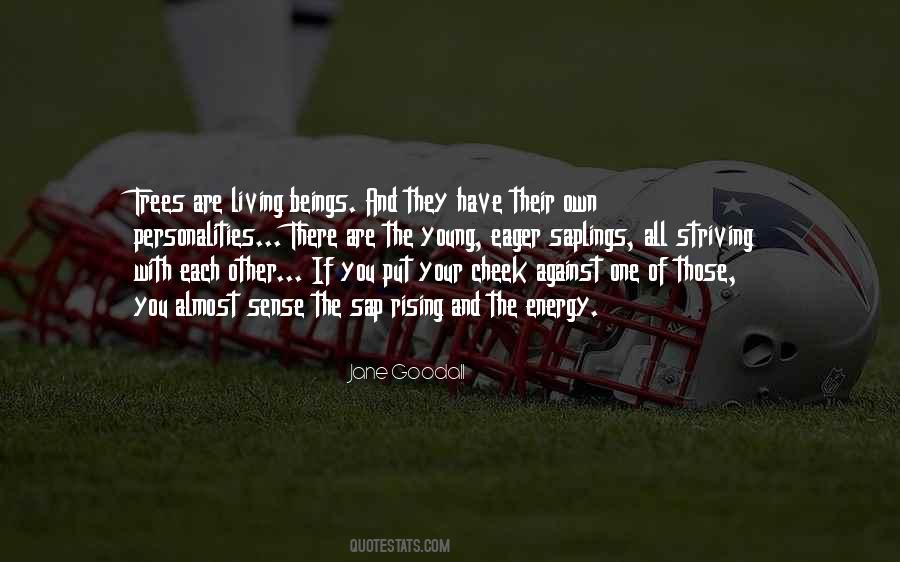 #43. When I arrived in Laos and found young Americans living there, out of free choice, I was surprised. After only a week, I began to have a sense of the appeal of the country and its people - along with despair about its future. - Author: Noam Chomsky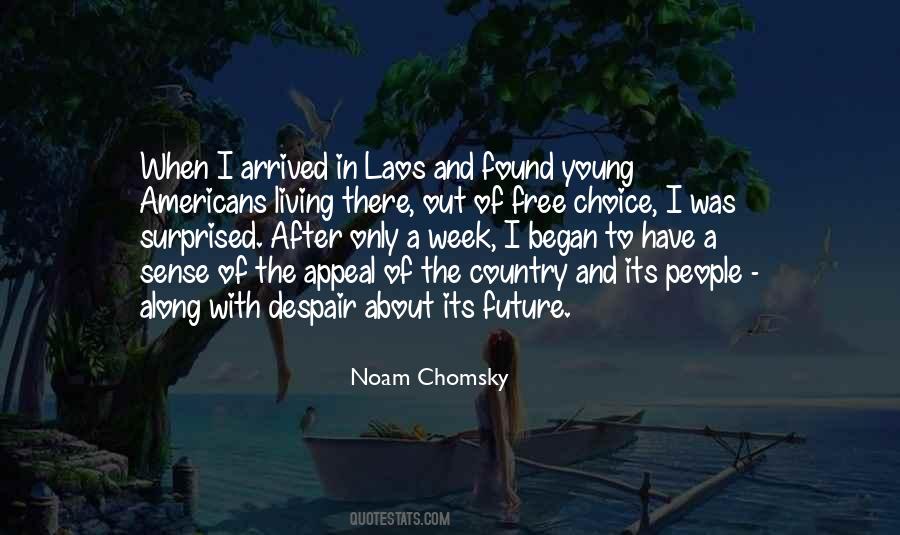 #44. For each and every person, our Lord and Master provides sustenance. Why are you so afraid, O mind? The flamingos fly hundreds of miles, leaving their young ones behind. Who feeds them, and who teaches them to feed themselves? Have you ever thought of this in your mind? - Author: Guru Nanak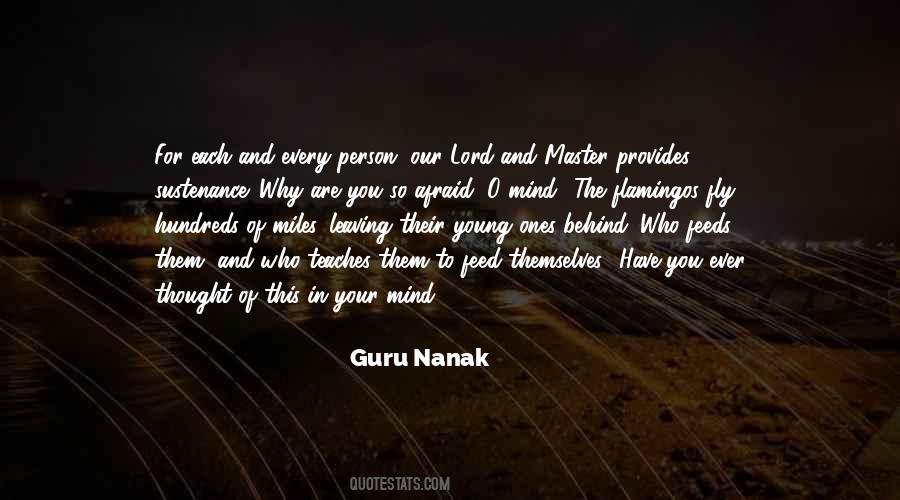 #45. ...for no matter whether the relationship was of short or long duration, no matter whether the partners were rich or poor, gay or straight, young or old, living together or married, giving up the relationship was hard for both people. - Author: Diane Vaughan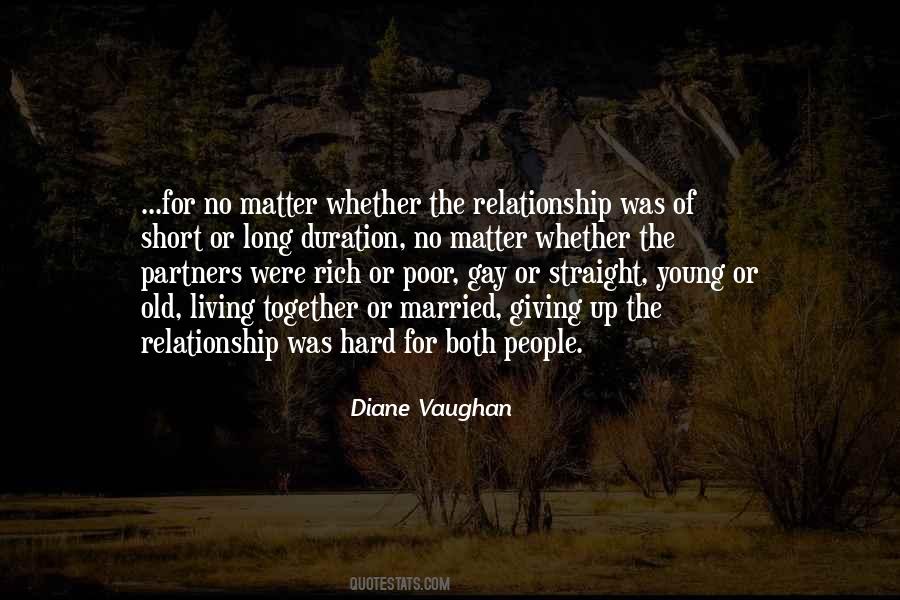 #46. I was too young to take it all in. I was too young to even realize I was young. I was just living my life. - Author: Tracy Austin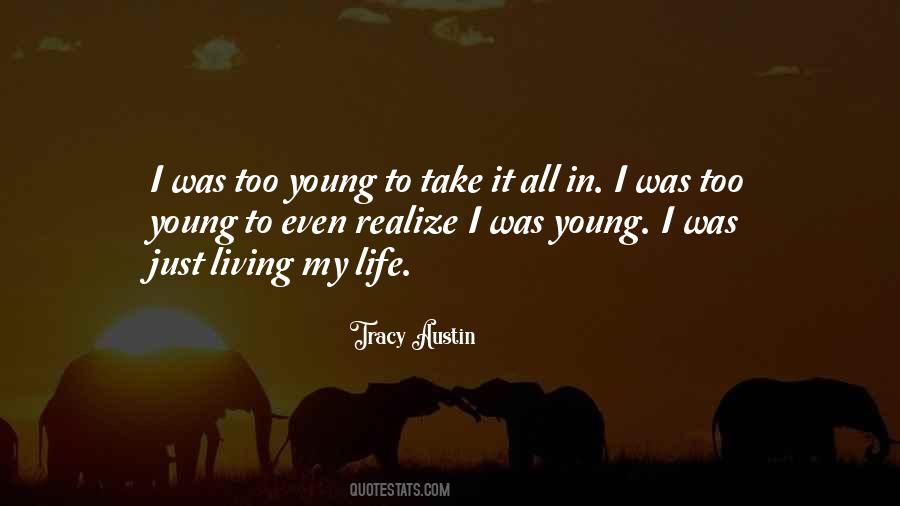 #47. If you keep an active life, you stay young. - Author: Lailah Gifty Akita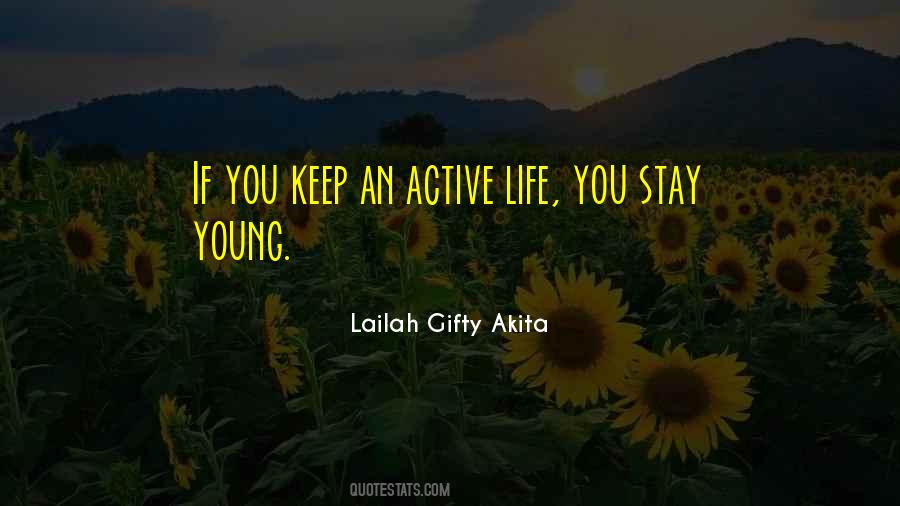 #48. Mum loves me being famous! She is so excited and proud, as she had me so young and couldn't support me, so I am living her dream, it's sweeter for both of us. It's her 40th birthday soon and I'm going to buy her 40 presents. - Author: Adele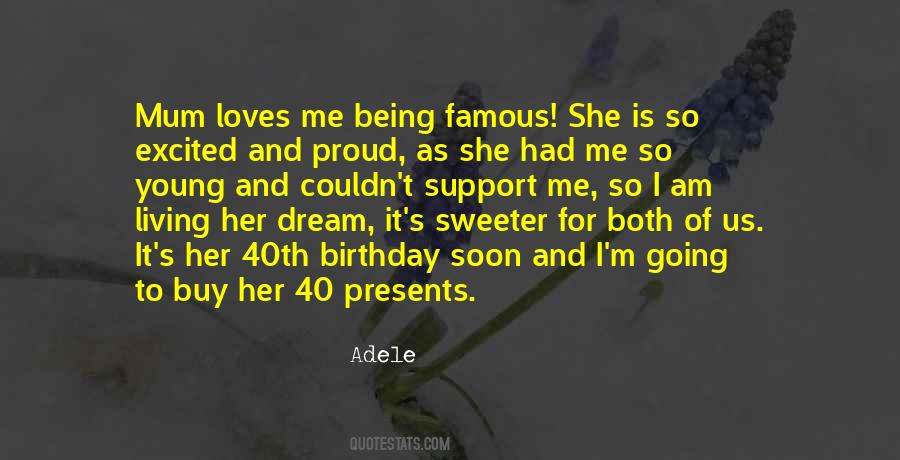 #49. I kind of like the idea of living a rather ordinary life as a shopkeeper, and I examine that possibility as one of the outcomes of the young Gerald Bostock growing older. - Author: Ian Anderson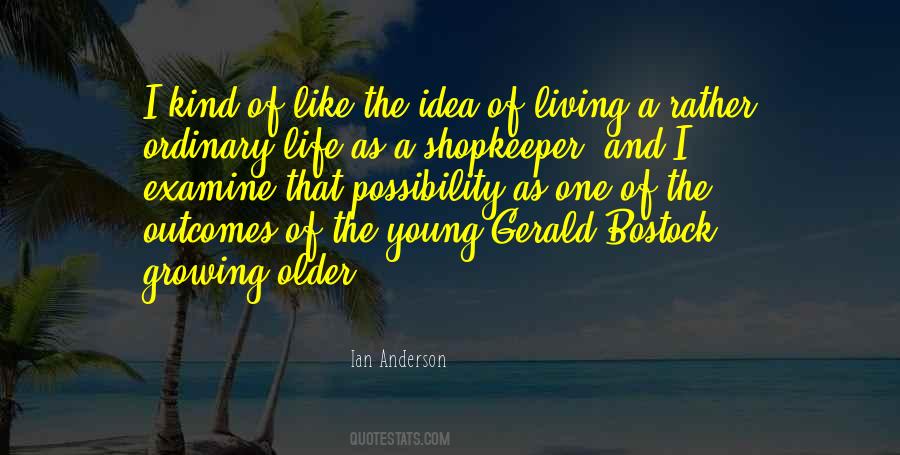 #50. As a matter of habit, I stop and pick up seashells that interest me, and I always put the ones I really like in a lovely Baccarat bowl in my living room. It's my way of remembering that I once was young and carefree. - Author: Adriana Trigiani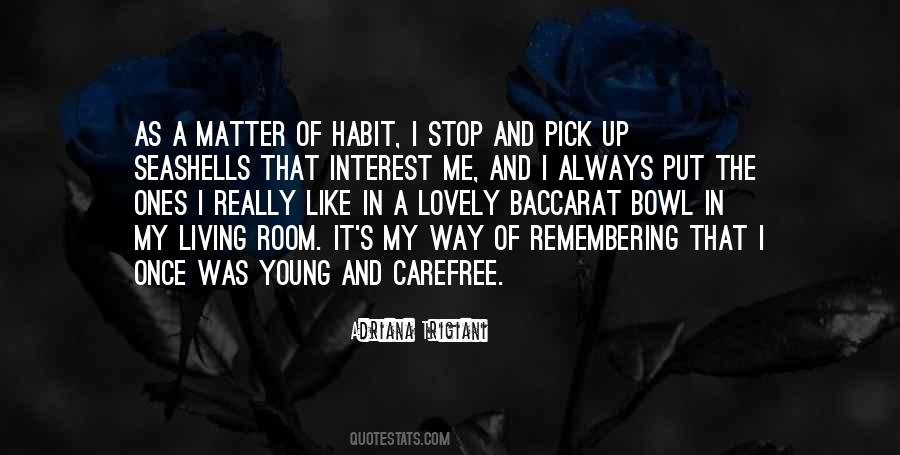 #51. My parents split up when I was young, and I was living with my mom for a little while, then I was kind of just on my own really young. It wasn't some kind of global tragedy, it was just never really a very close-knit family. So there was support in the sense that they didn't stand in my way. - Author: Ani DiFranco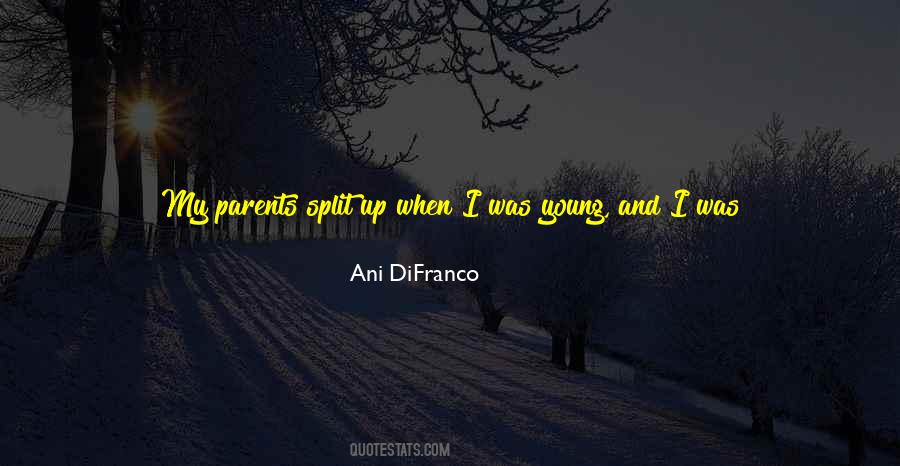 #52. Miss Marks, you see, makes her living by ... entertaining young, and not so young, sailors ... or any other members of the armed forced, or civilians, who enjoy ... being entertained by ladies who ... entertain. - Author: Rick Yancey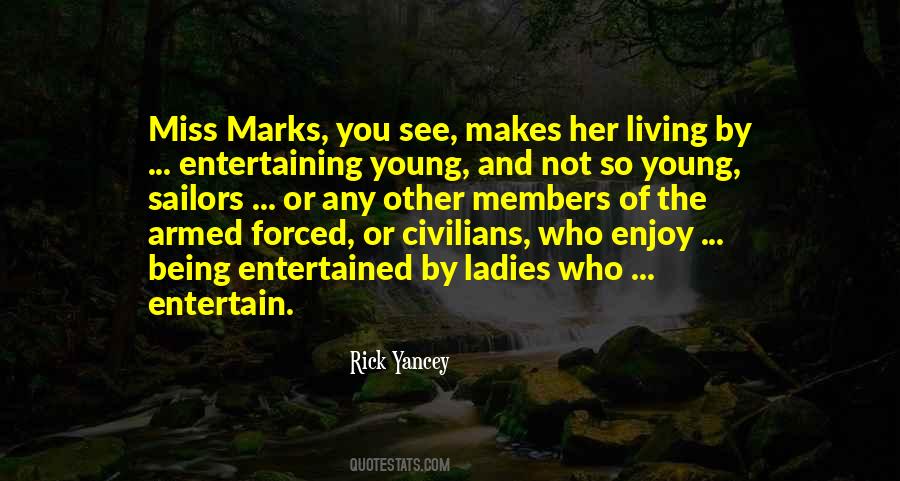 #53. We were young, and we had no need for prophecies. Just living was itself an act of prophecy. - Author: Haruki Murakami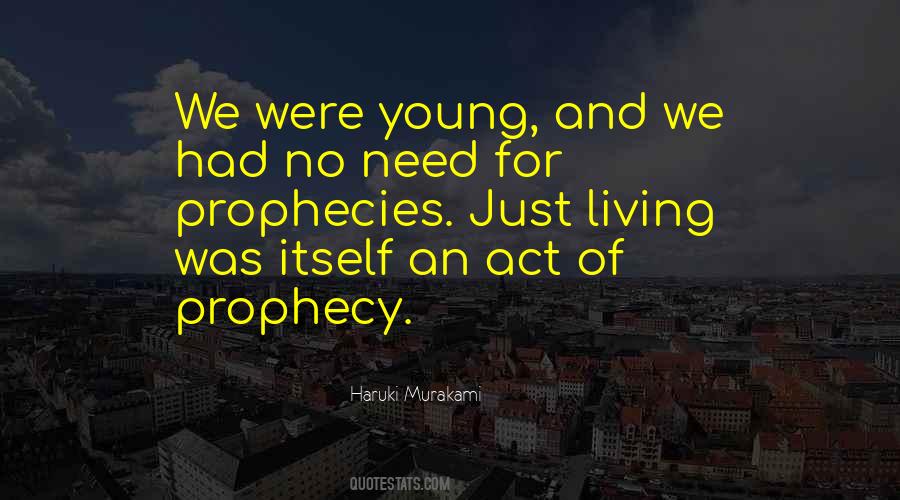 #54. No education can be of true advantage to young women but that which trains them up in humble industry, in great plainness of living, in exact modesty of dress. - Author: William Law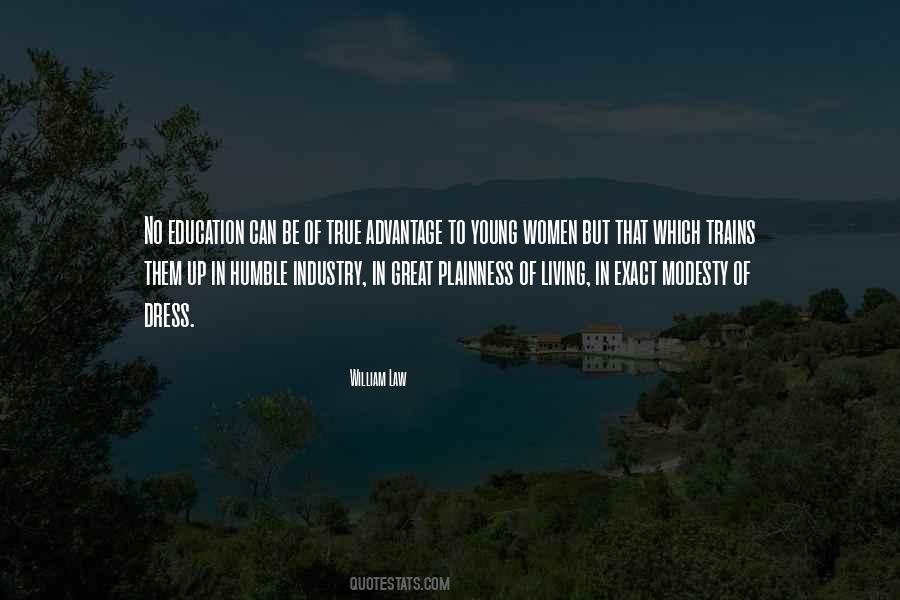 #55. Dance has become an exclusionary enterprise. To participate, one must be thinner than thin, of pleasing form, flexible, athletic and young. If you are not all these things, you will be allowed to dance in the privacy of your own living room. You just wouldn't dare to put yourself onstage. - Author: Clive Barnes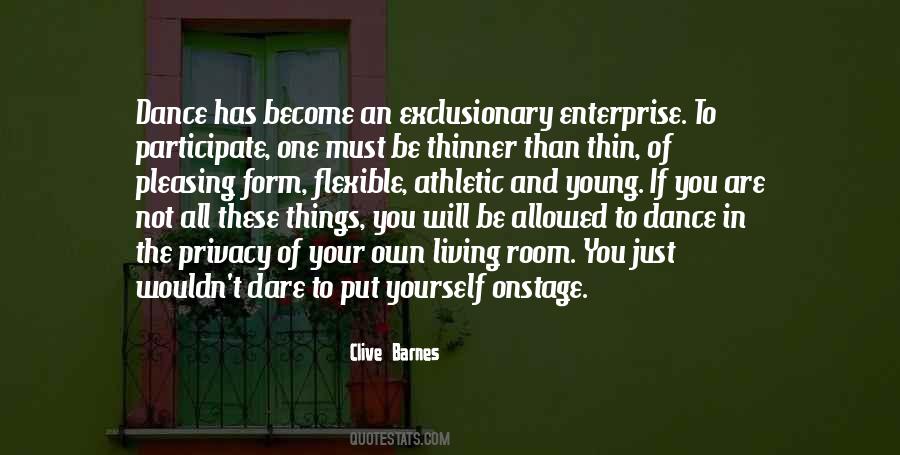 #56. Living with myself wasn't all that easy. I was not the young girl I once was. Once upon a time when I looked in the mirror, I saw this happy glow. Now nothing glowed except the leftover face cream from the night before. - Author: Brenda Perlin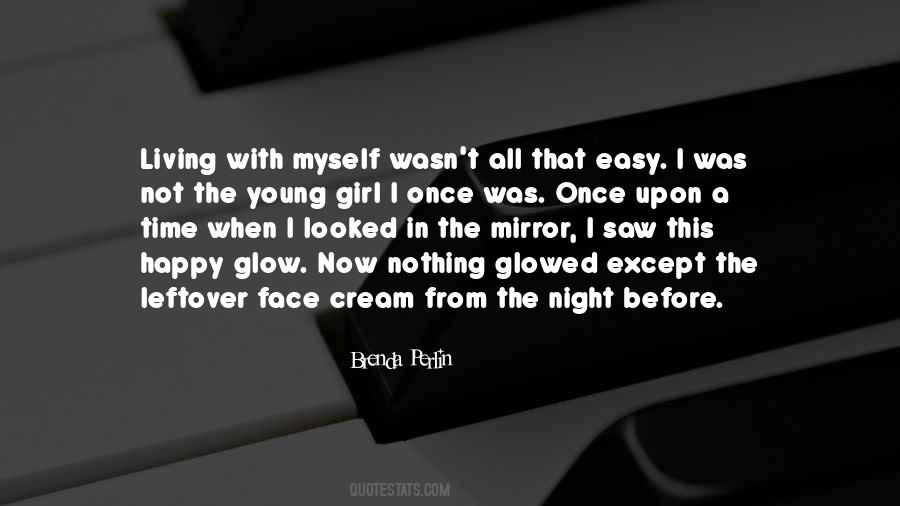 #57. For every young person living on the streets tonight, there are many at home zoning out inside their homes through video games, and even more who disengage from school. These are direct effects of internalized discrimination based on their age. - Author: Adam Fletcher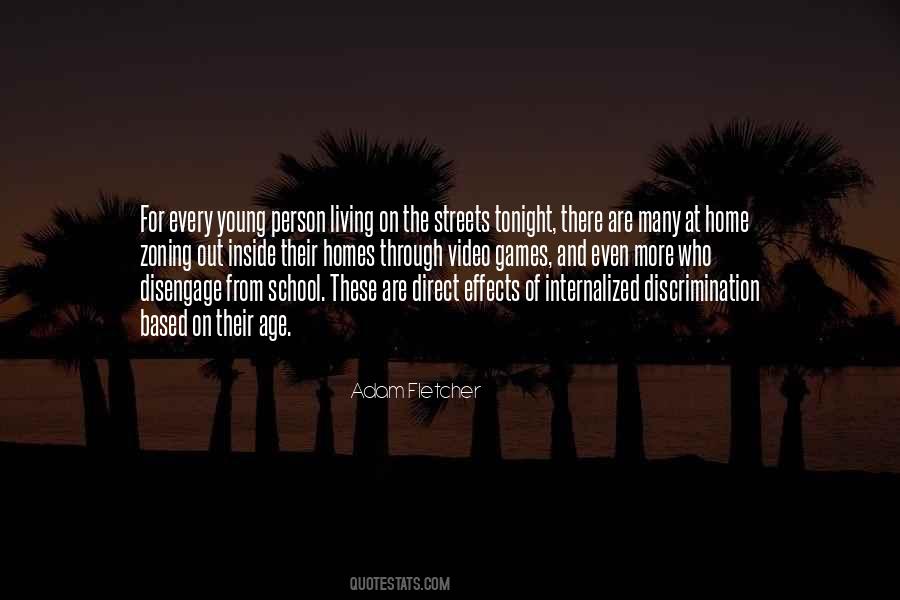 #58. I'm free - but I'm also not free because there are millions of young people living in Iran. A filmmaker can only do a little. - Author: Bahman Ghobadi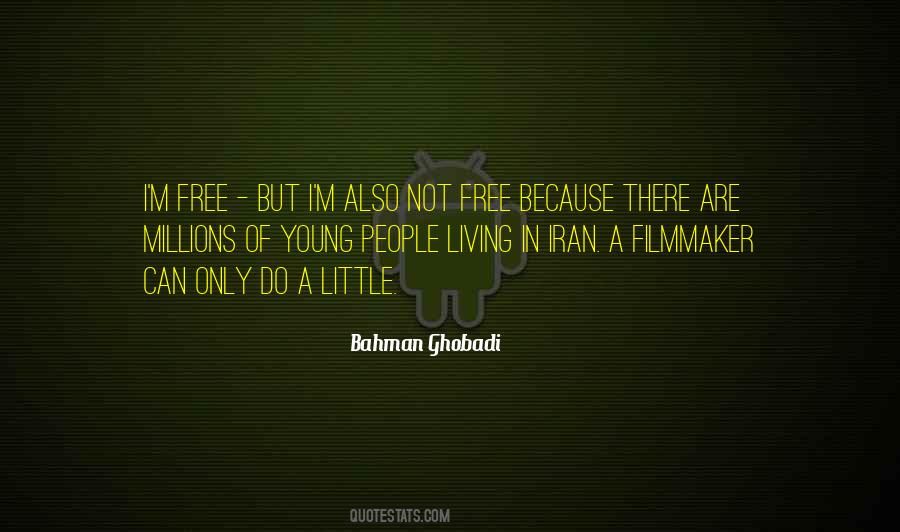 #59. The young think that failure is the Siberian end of the line, banishment from all the living, and tend to do what I then did
which was to hide. - Author: James Baldwin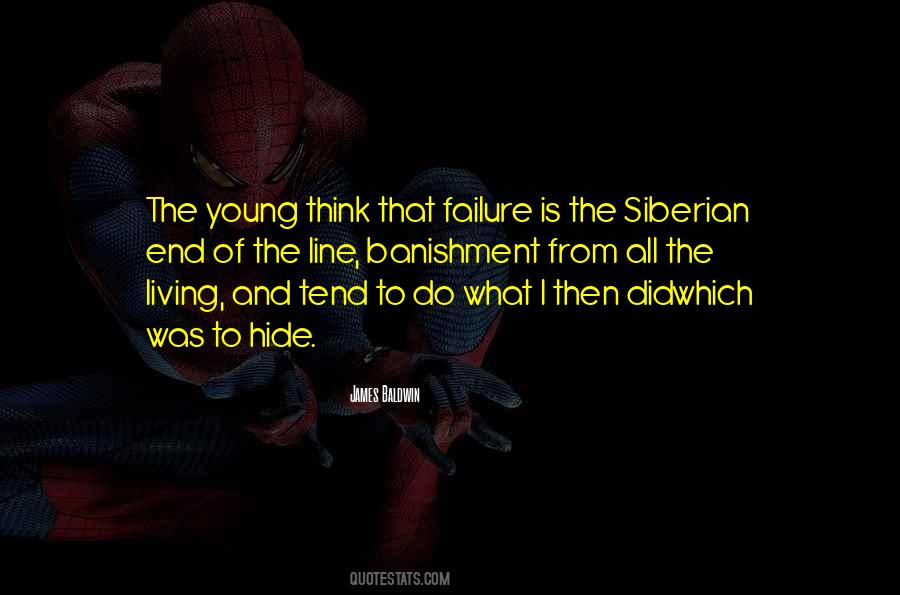 #60. When is death not within ourselves? ... Living and dead are the same, and so are awake and alseep, young and old. - Author: Heraclitus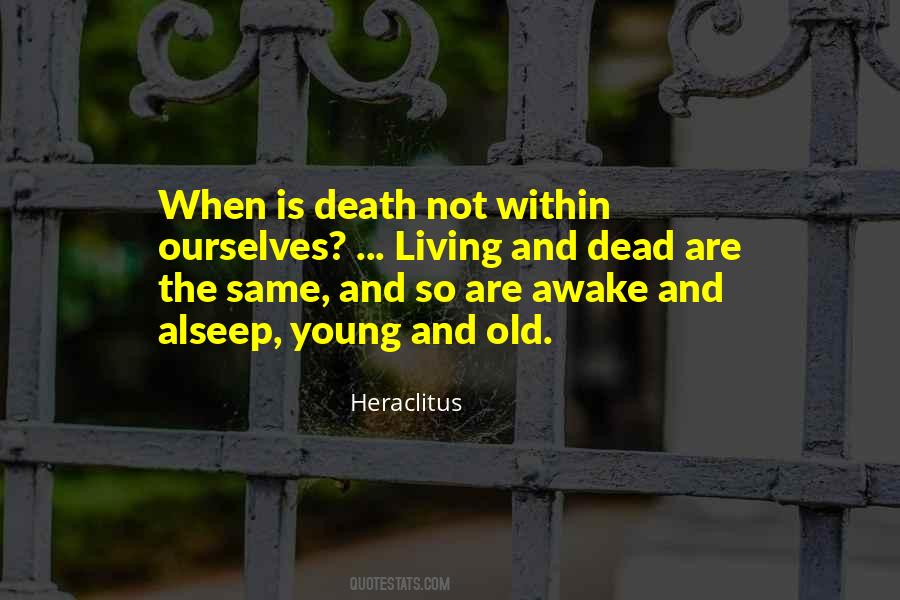 #61. All these girls swooning over hunky vampires, what they really want is to give away their freedom, to be controlled and told what to do and not have to think
and never die, of course. It's sick is what it is. I don't want to be a forever-young living corpse. - Author: Dean Koontz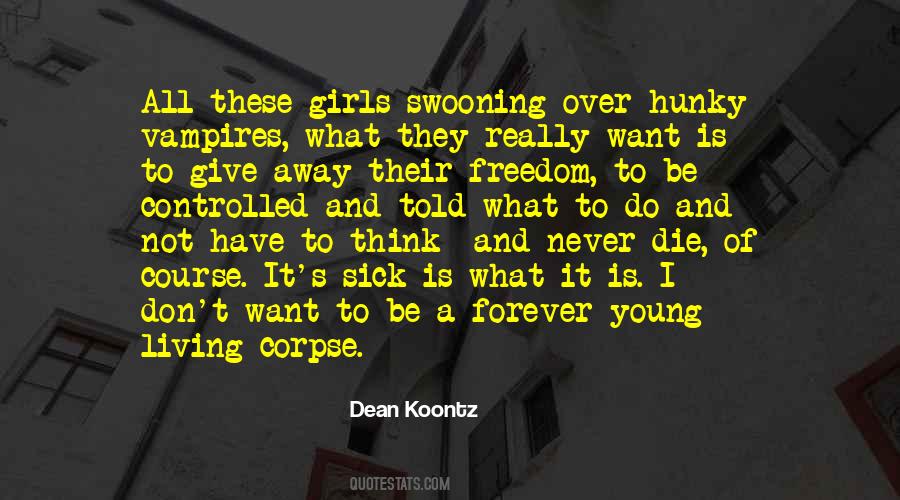 #62. Our legacy is not found in all the 'stuff' we've accumulated on our life's journey. It's written in the memories of those whose lives we've touched along the way. - Author: Justin Young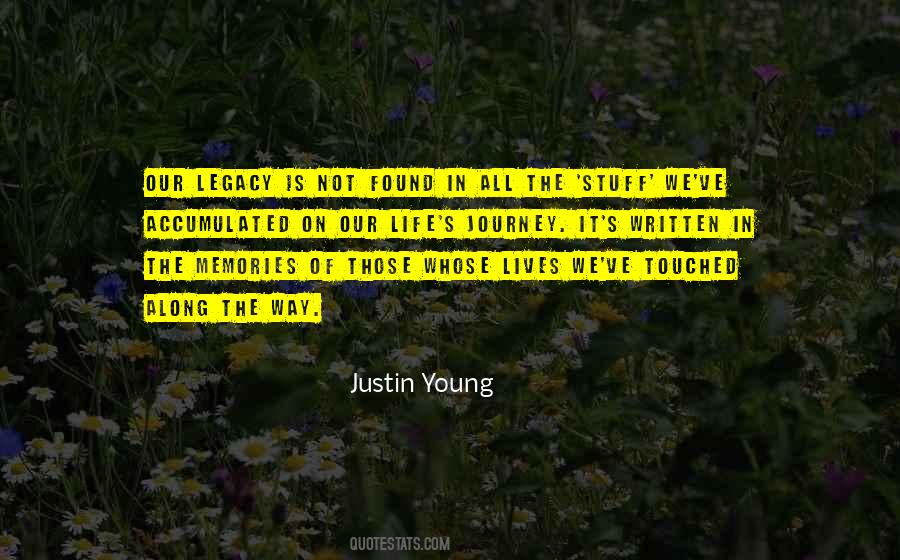 #63. With flamenco I was transported into a world where everyone is beautiful, because beauty is in everything, the glorious and the ugly; because flamenco celebrates living, through the cries of pain and the cries of joy, the symmetry of a young face and the character of an old face. - Author: Nellie Bennett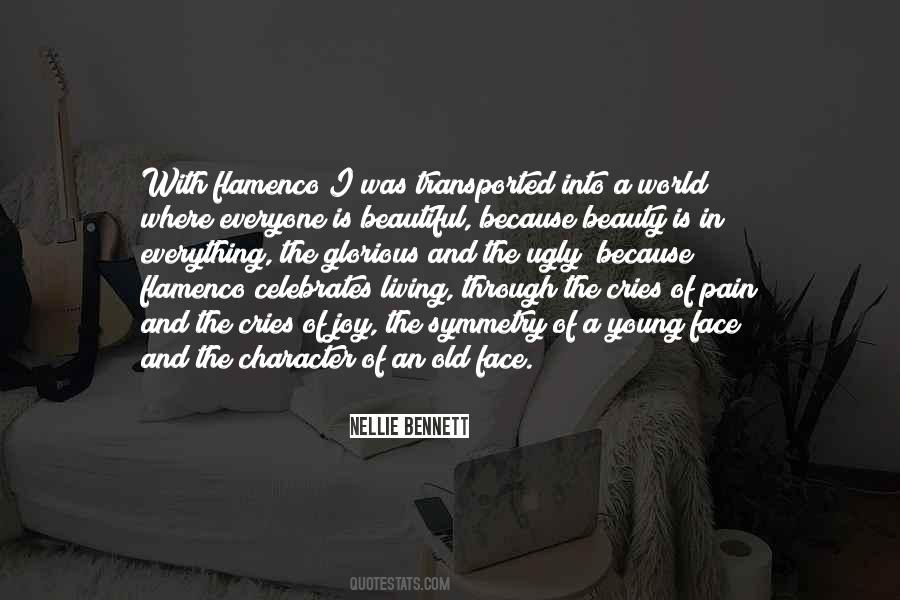 #64. Sometimes I just needed to talk about it, even though it singed like touching the end of a match. I just needed to feel that pain for a moment, to know that it was real. It was my pain. I had earned it by living through it. - Author: Shelly Crane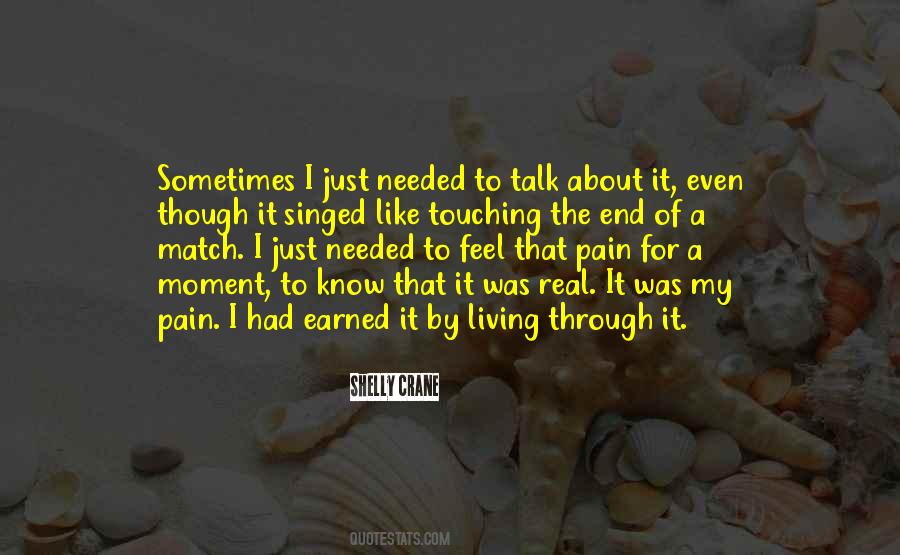 #65. I think that's what turns young men and women into writers - the happiness you discover living in books. - Author: Paul Auster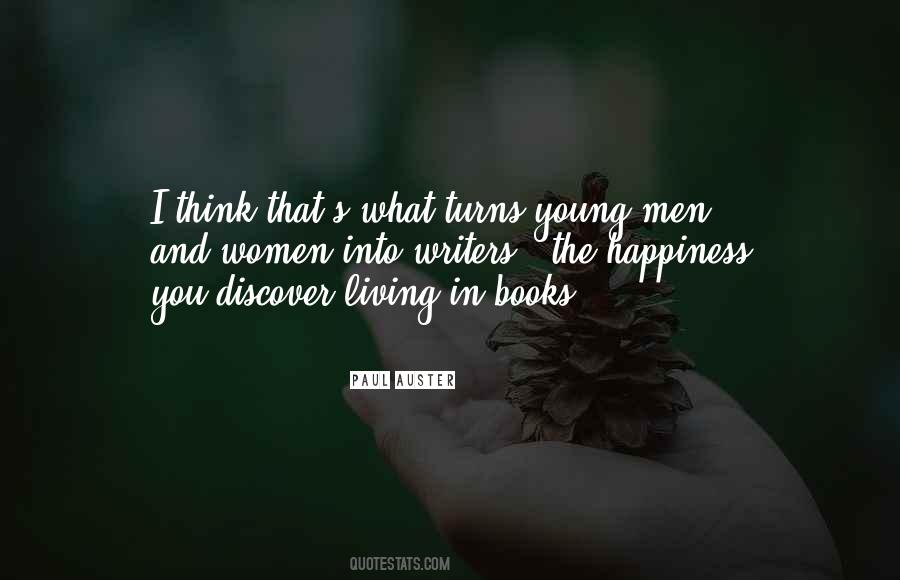 #66. I weep fer the livin. I weep fer the dead. I weep fer the yet to be born. - Author: Moira Young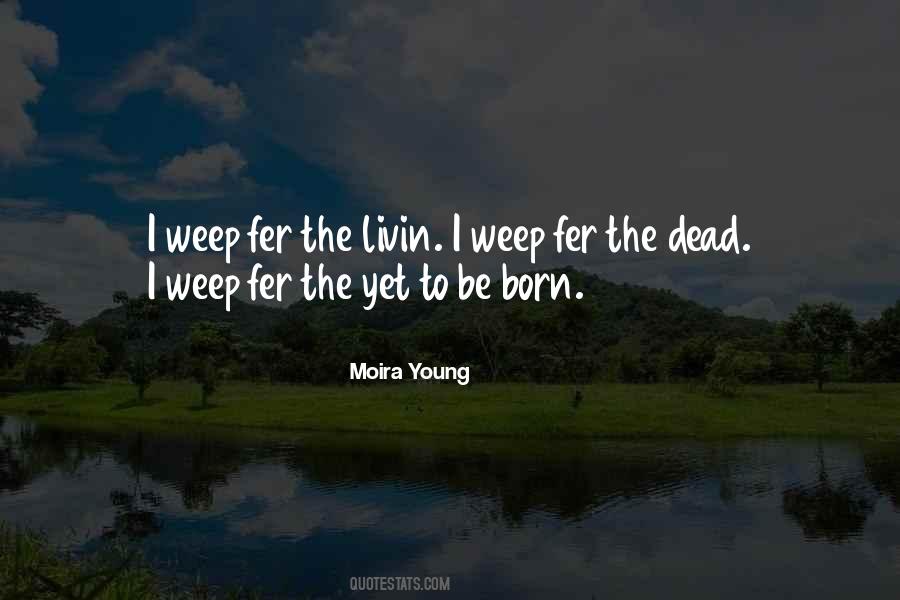 #67. life was extraordinary. She fought her battle against breast cancer for five years but refused to stop living. She married the love of her life and they enjoyed every moment they had together. When she died, she was robbed not only because she was so young, - Author: D.M. Hamblin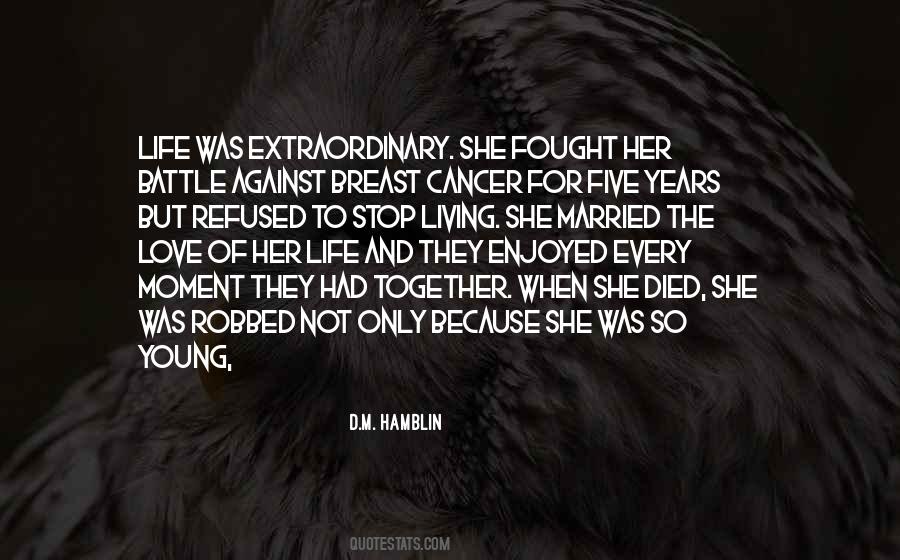 #68. Far more people make a living as professional chess players today than ever before. Thanks partly to the availability of computer programs and online matches, there has been a mini-boom in chess interest among young people in many countries. - Author: Kenneth Rogoff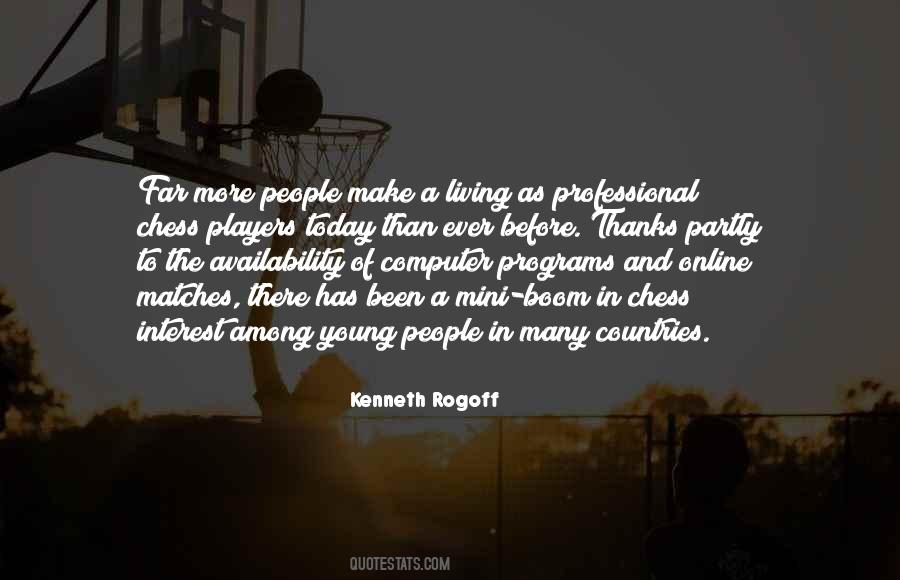 #69. L'Age Licence. As in: License to experience, mess up, license to fail, license to do... whatever, before you're settled. - Author: Lucy Knisley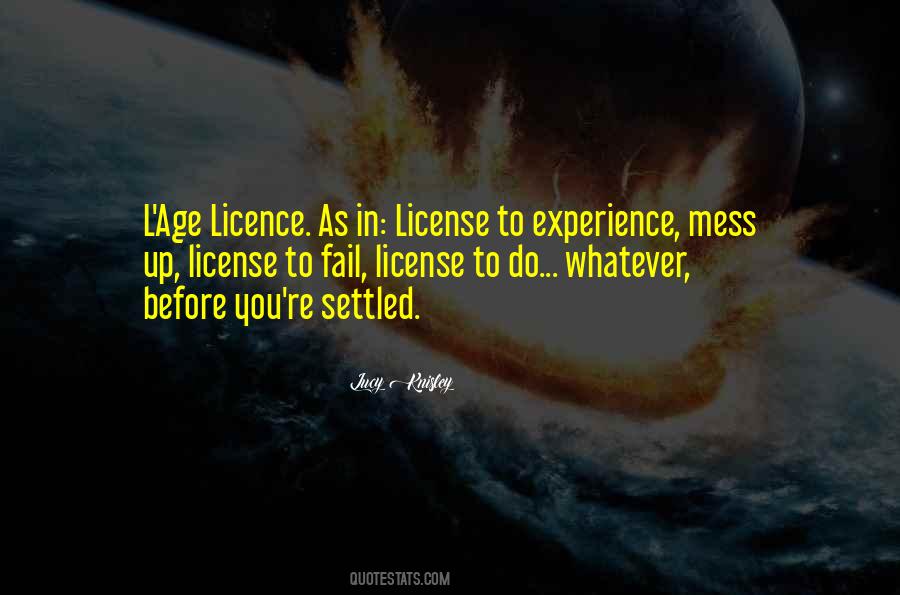 #70. I picture Generation X as young adults living in a state of perpetual adolescence. - Author: Chris Eigeman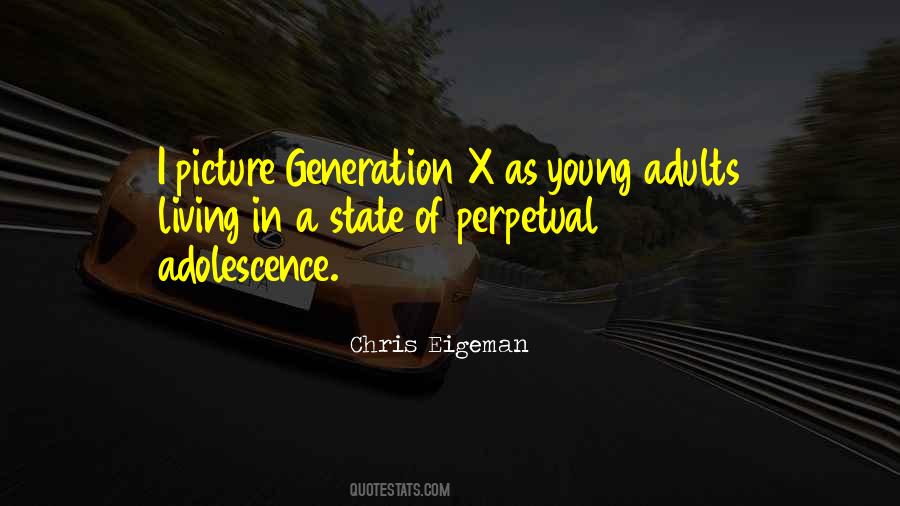 #71. The continuous invention of new ways of observing is man's special secret of living. - Author: John Zachary Young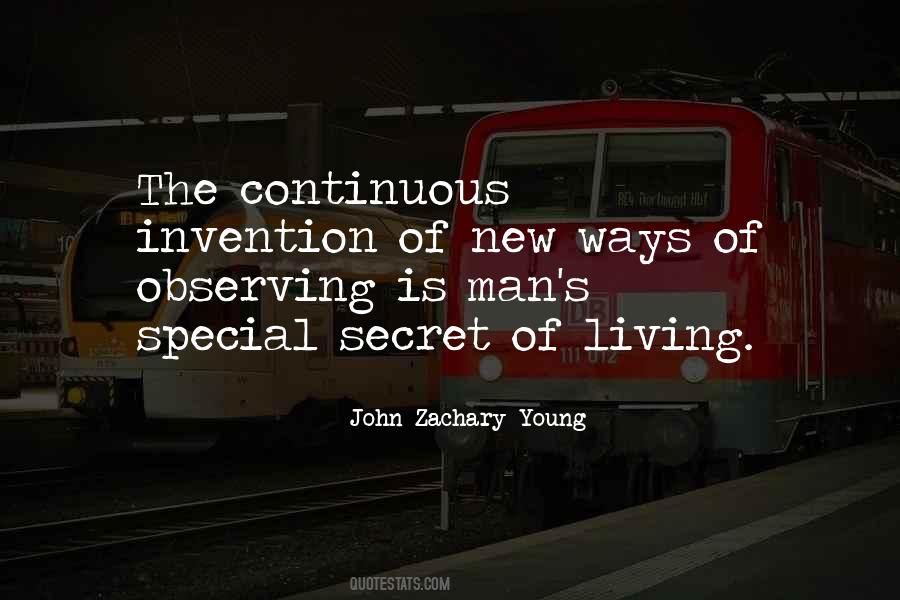 #72. I can't really tell how old I am, only that I'm too young to wonder if I asked the right questions in the past, and too old to wish the future will bring me all the answers. - Author: Gabriel Ba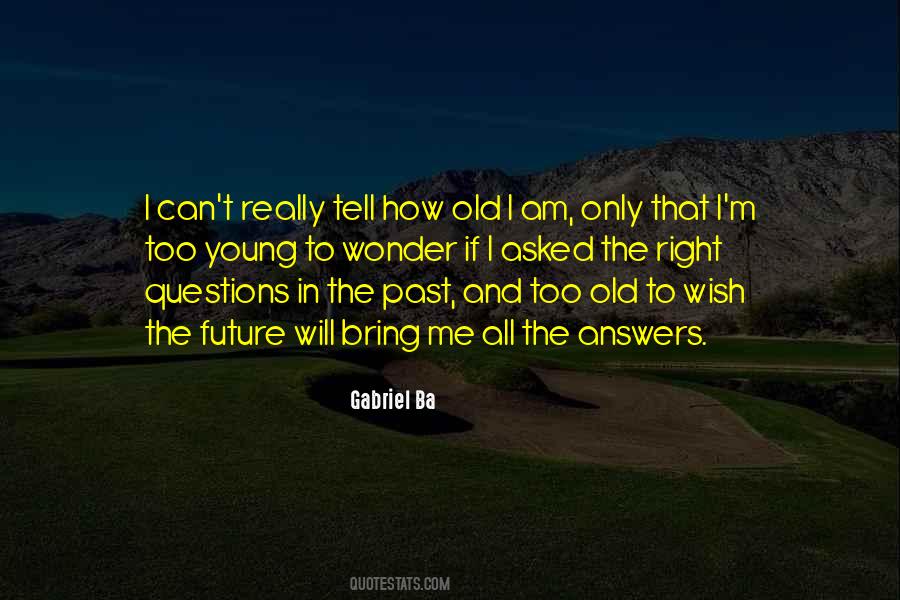 #73. At the end of every year, I add up the time that I have spent on the phone on hold and subtract it from my age. I don't count that time as really living. I spend more and more time on hold each year. By the time I die, I'm going to be quite young. - Author: Rita Rudner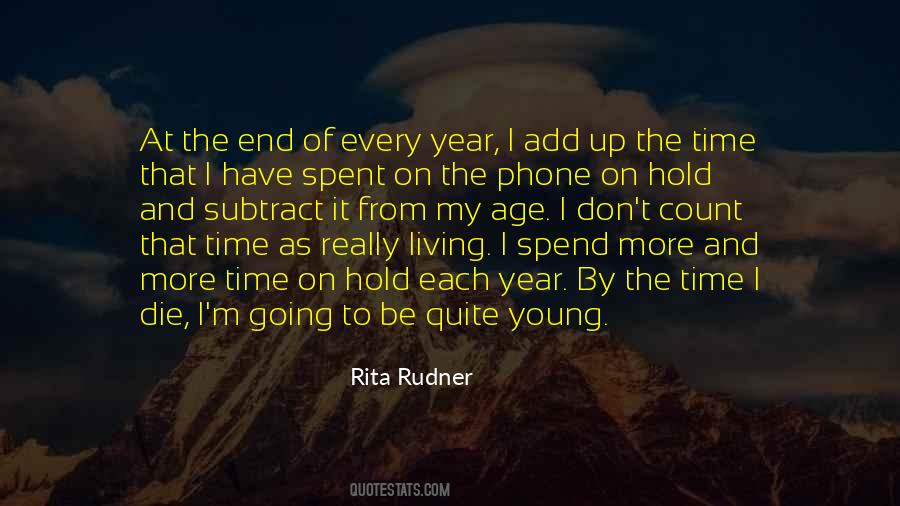 #74. College campuses are a focus of prevention efforts for meningococcal disease because of the increased incidence of the disease during adolescence and young adulthood, as well as transmission from crowded living conditions and social behaviors common among college students. - Author: Erik Paulsen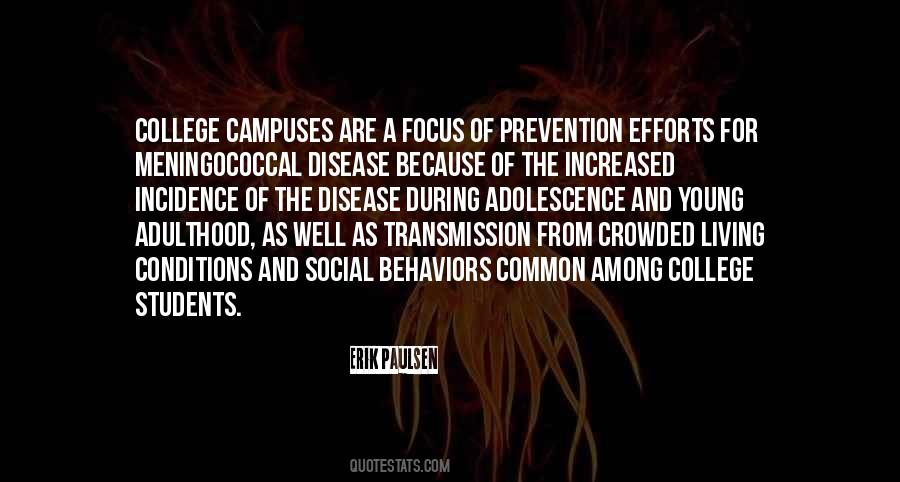 #75. Scoundrels [ ... ] simply don't die. The ones who die are always the gentle, sweet, and beautiful people. [ ... ] Scoundrels live a long time. The beautiful die young. - Author: Osamu Dazai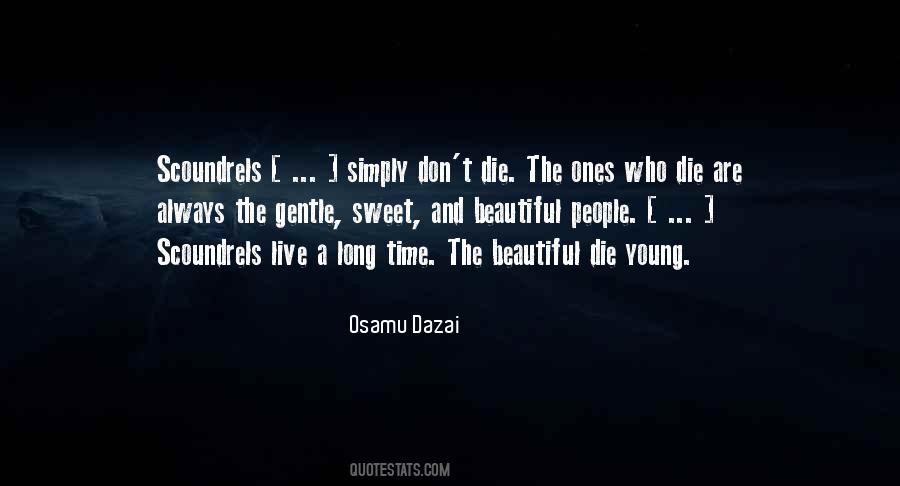 #76. To be damned is to be banished from, or be deprived of living in the presence of the Father and the Son. Who will live with him? They [who] will come up and inherit the highest glory that is prepared for the faithful. - Author: Brigham Young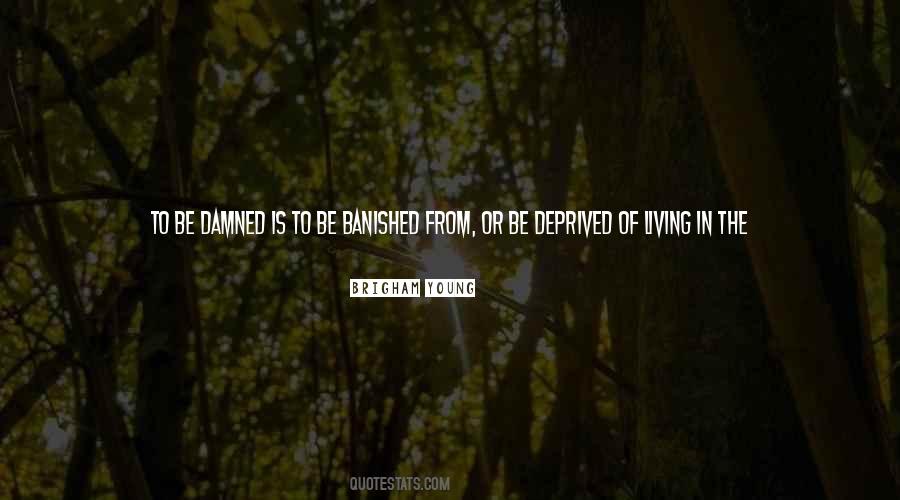 #77. A Christian school should be a place where young men and young women go through a period of spiritual formation and development so that they come out incredibly more proficient at living out their calling than they would have been had they not gone to school. - Author: Tony Campolo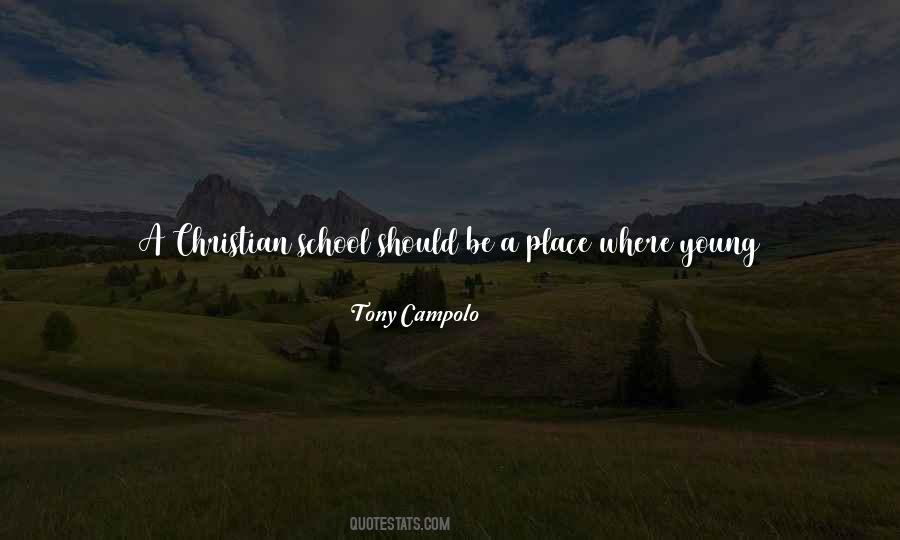 #78. I always tell young actors to have a back-up. You don't want to find yourself at the age of 30 still struggling to make a living out of acting. - Author: Rachel Ward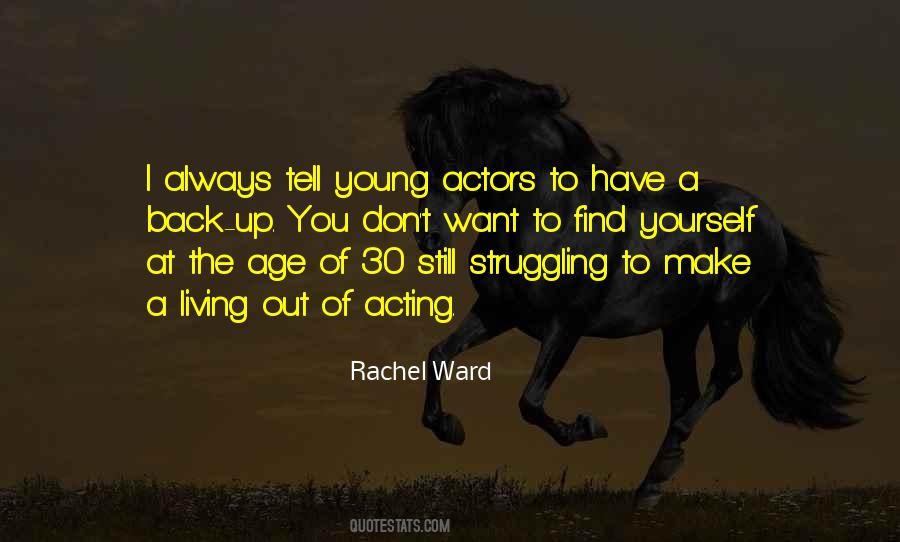 #79. [WASHINGTON]
It's alright, you want to fight, you've got a hunger
I was just like you when I was younger
Head full of fantasies of dyin' like a martyr?

[HAMILTON]
Yes

[WASHINGTON]
Dying is easy, young man. Living is harder - Author: Lin-Manuel Miranda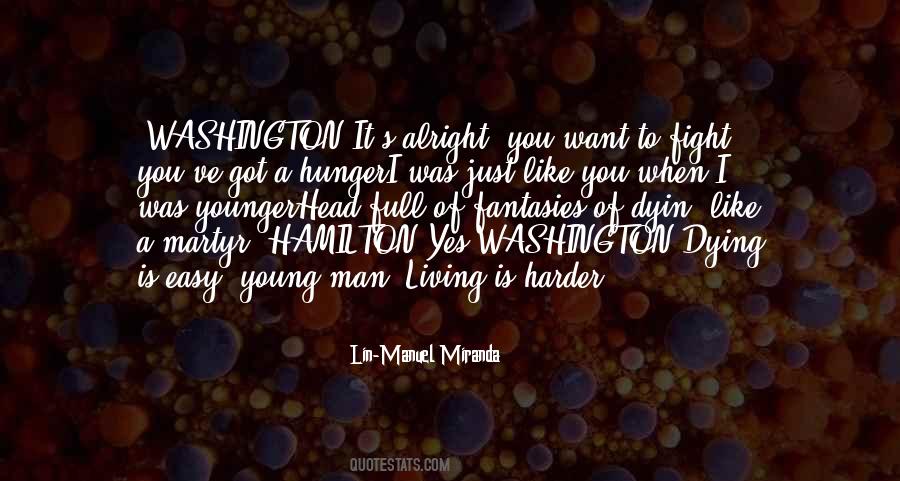 #80. I would like to comment on the God fiber within each living thing. This essence, this fiber of love and grace, runs in every vein, no matter how deeply buried. Each person has a God fiber, whatever their actions or hurt they have caused you or others. - Author: Meredith L. Young-Sowers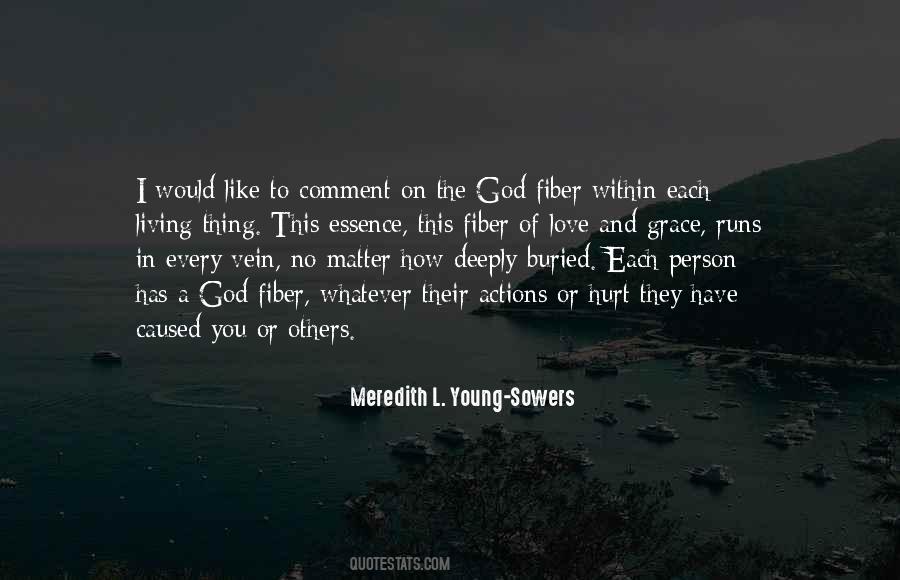 #81. He felt a strange pang. It was, perhaps, the fault of old Mr Jonathan, speaking of Juliet ... No Juliet here - unless perhaps one could imagine Juliet a survivor - living on, deprived of Romeo ... Was it not an essential part of Juliet's make-up that that she should die young? - Author: Agatha Christie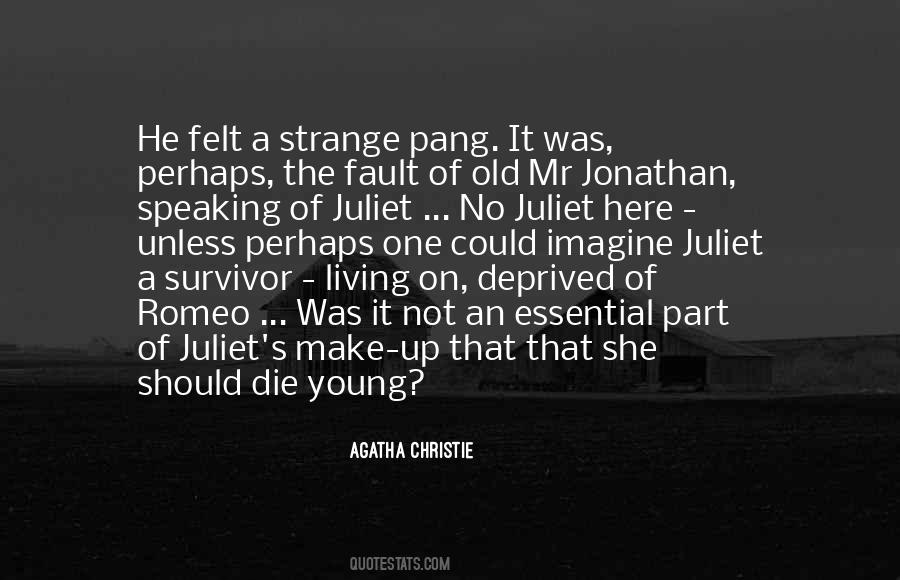 #82. If y'all see me in the news, and I make the news for something that I ain't got no business making it for, don't bash me. Say it was a young guy living. - Author: Clinton Portis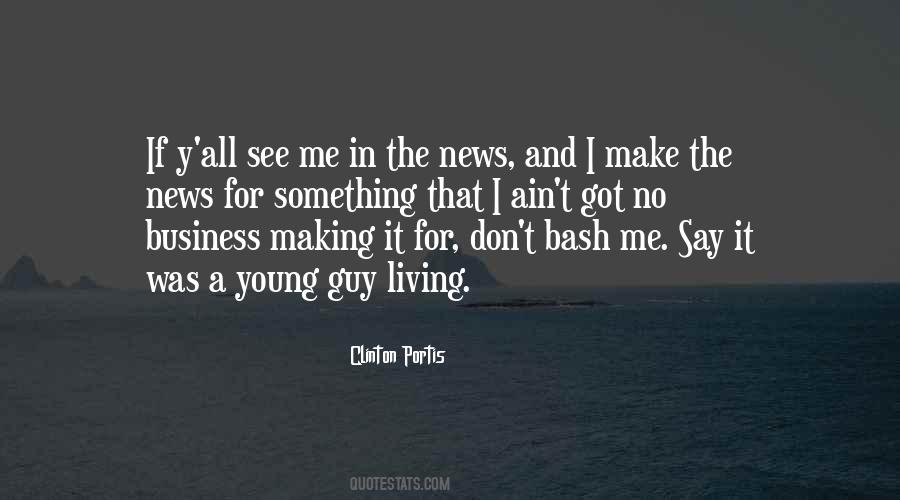 #83. You can be a great man and still be a fool. Many of our country's leaders can attest to that. Were they still living. - Author: Rachel E. Carter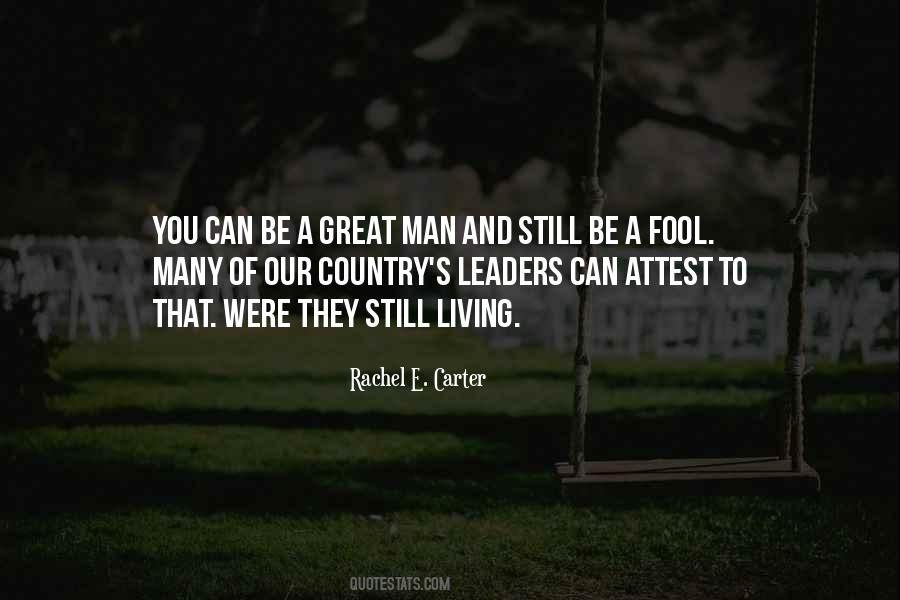 #84. When you are busy with living your life, age can never find you to make her mark. - Author: Debasish Mridha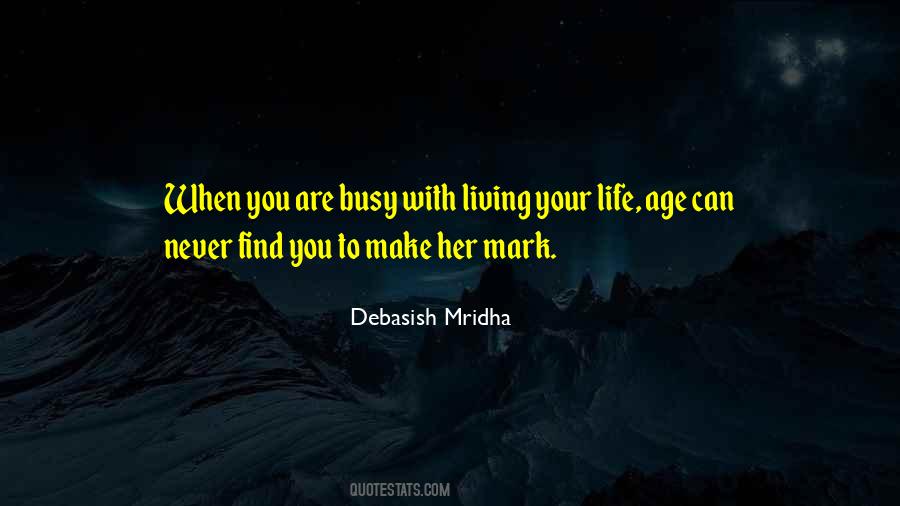 #85. Living is the original art. As a young man I wanted to be a poet and I learned along the way that I already was a poet. - Author: Mark Nepo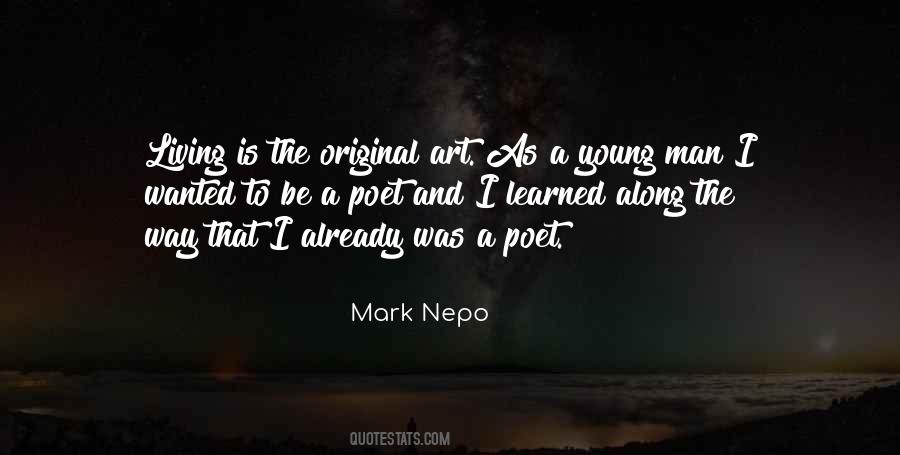 #86. I was just thinking of James Dean and Marilyn Monroe and how young they were when they died. I would like to be a pop icon who survives. I would like to be a living icon. - Author: John Travolta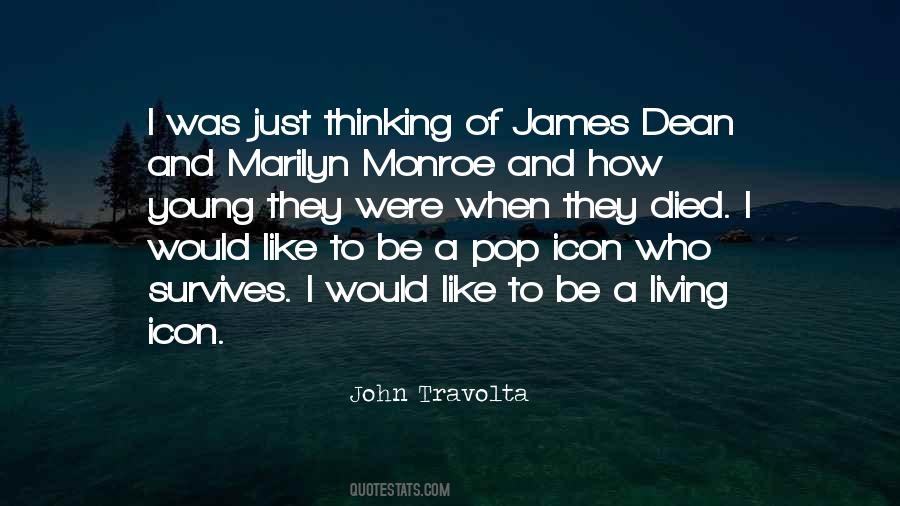 #87. Life isn't worth living unless you are young and surrounded by other young people in a beautiful cold garden perfumed by dirt and flowers and fallen leaves, gleaming in the string of lights, listening to the quiet city on the last fine night of the year. - Author: Lauren Groff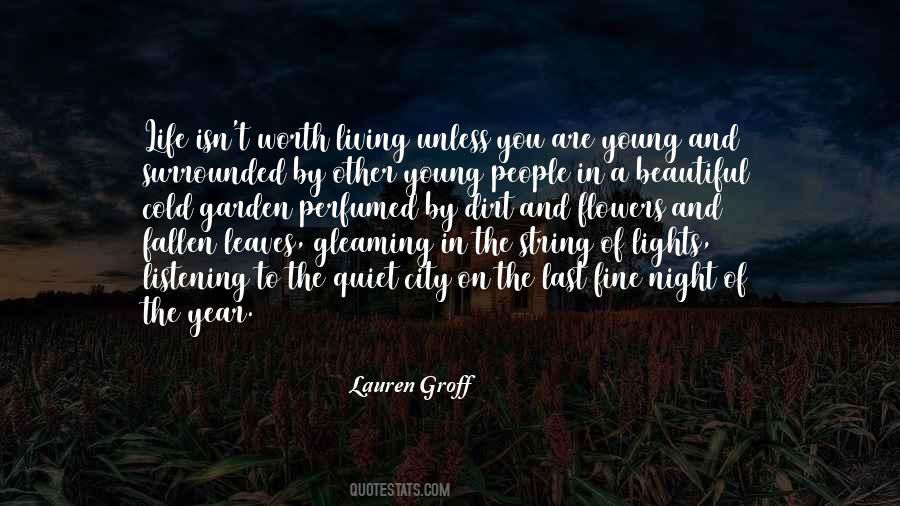 #88. If all I get is a little controversy for speaking the truth, if I did less, I would not be worth living. - Author: Andrew Young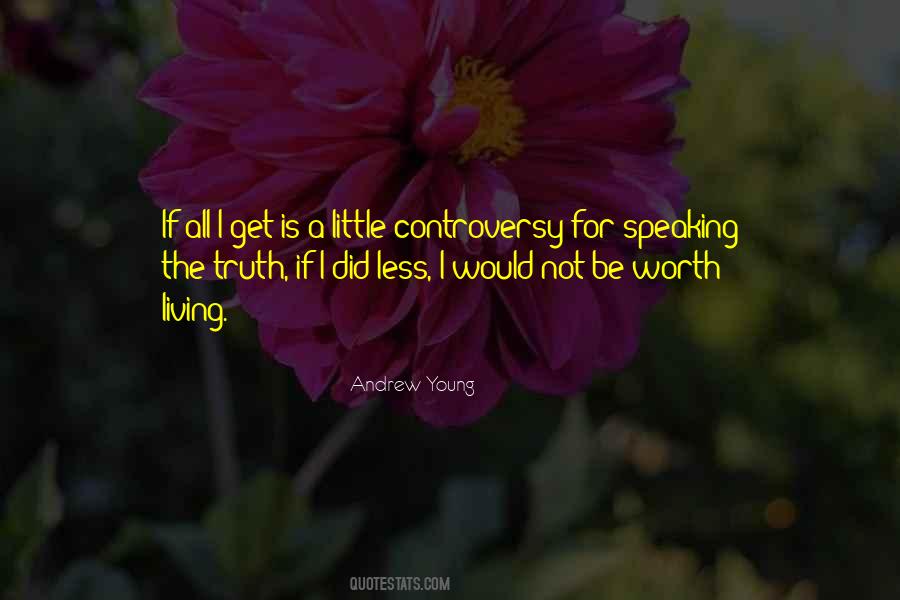 #89. I feel like a very lucky person. From the time I was young, I had a dream of becoming a writer. Now that dream has come true, and I am able to make my living doing something I really love. - Author: Bruce Coville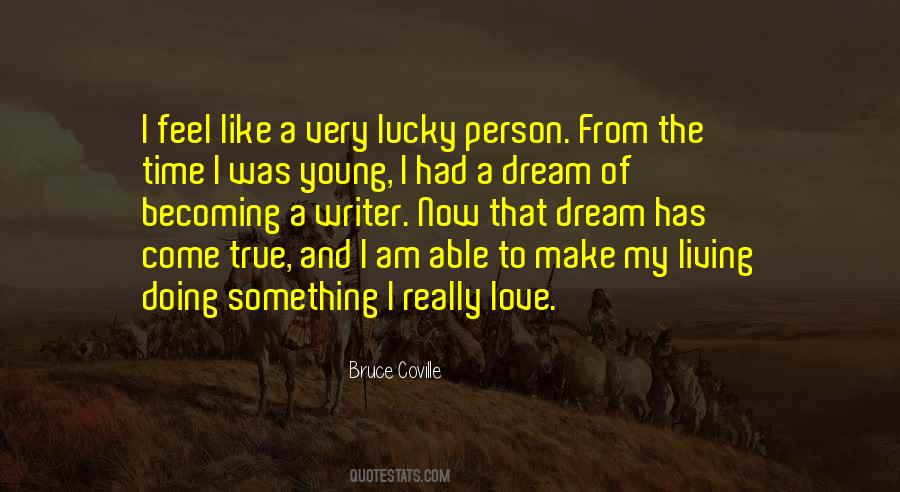 #90. Thinking in generations also means enabling our young to have a decent standard of living. - Author: Paul Tsongas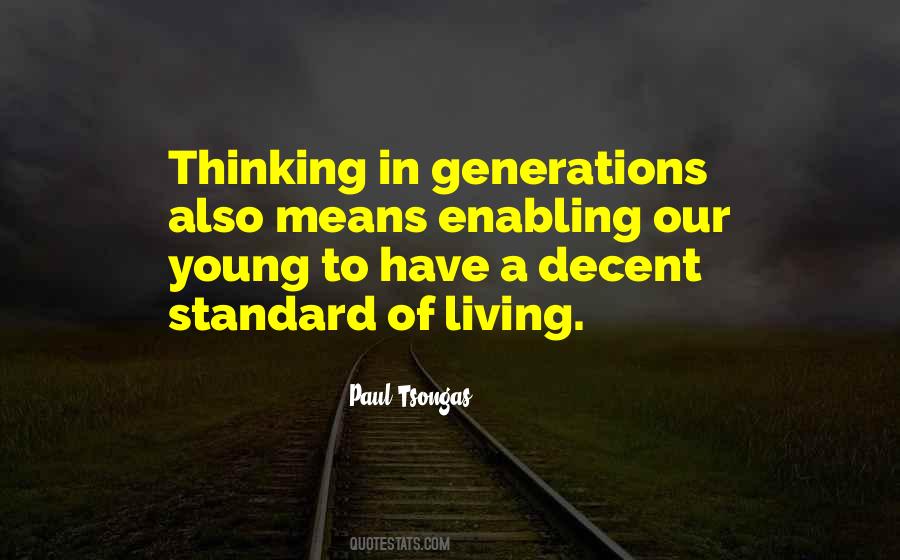 #91. I think that the ideals of youth are fine, clear and unencumbered; and that the real art of living consists in keeping alive the conscience and sense of values we had when we were young. - Author: Rockwell Kent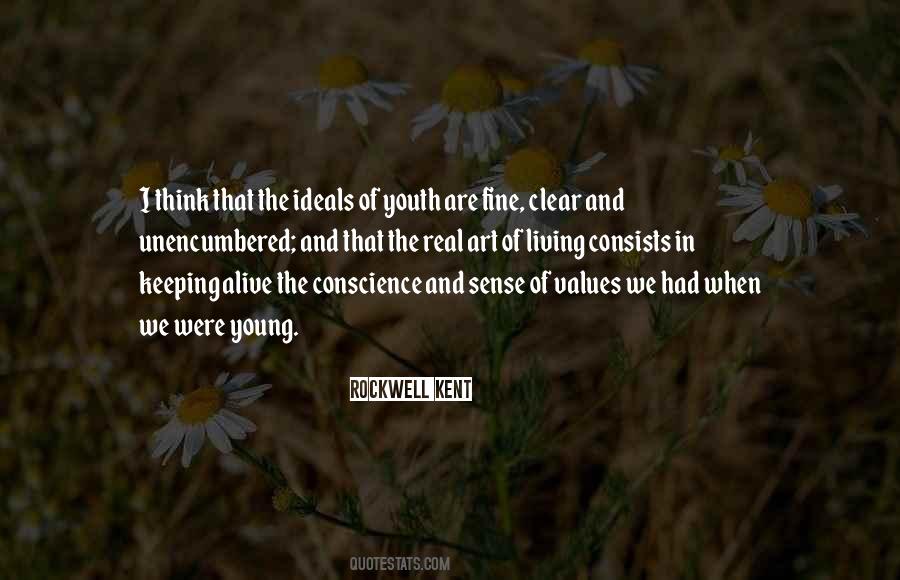 #92. As I looked and looked, the living face became visible in the dead, the young in the old. This is what must happen to old married couples, I thought: the young man is preserved in the old one for her, the beauty and grace of the young woman stay fresh in the old one for him. - Author: Bernhard Schlink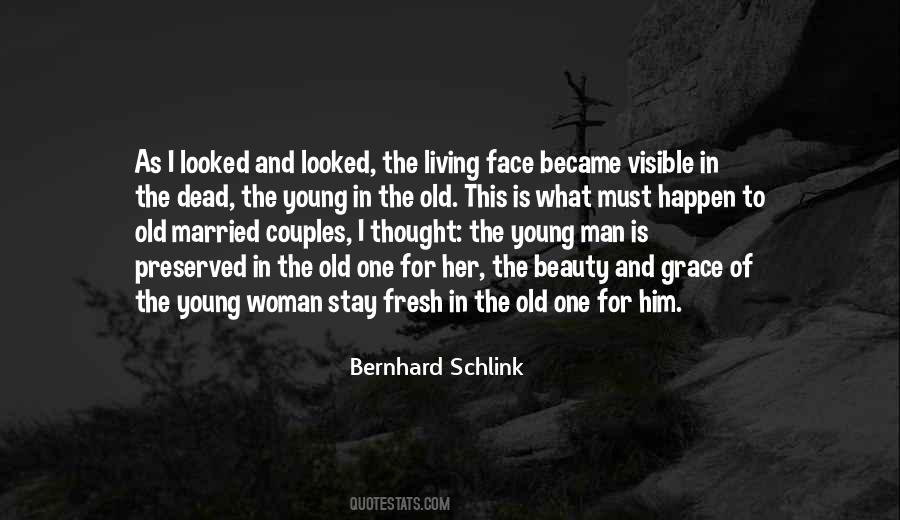 #93. I'd be like, 'You're a young, vibrant woman. Where are you?' I realized that I had been living in denial. - Author: Lorraine Bracco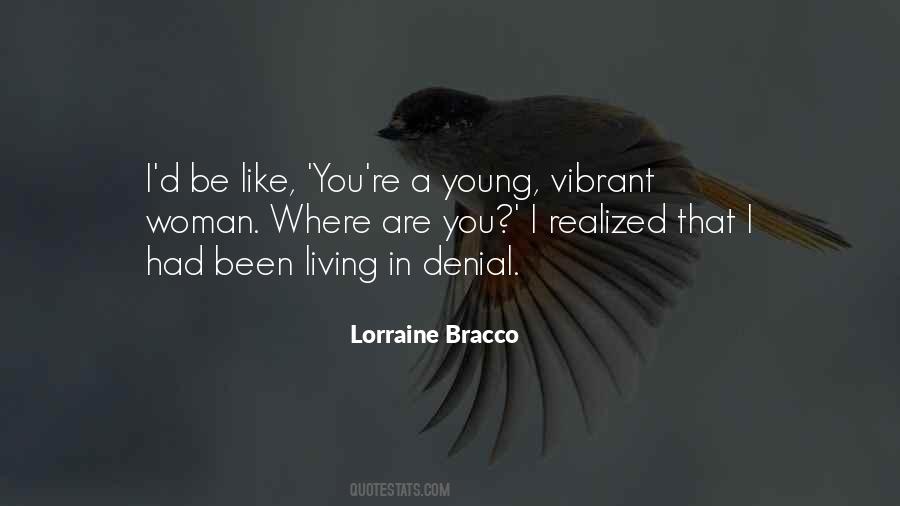 #94. For the first time in living memory, current generations of young people today are likely to be no better educated than their parents. - Author: Derek Bok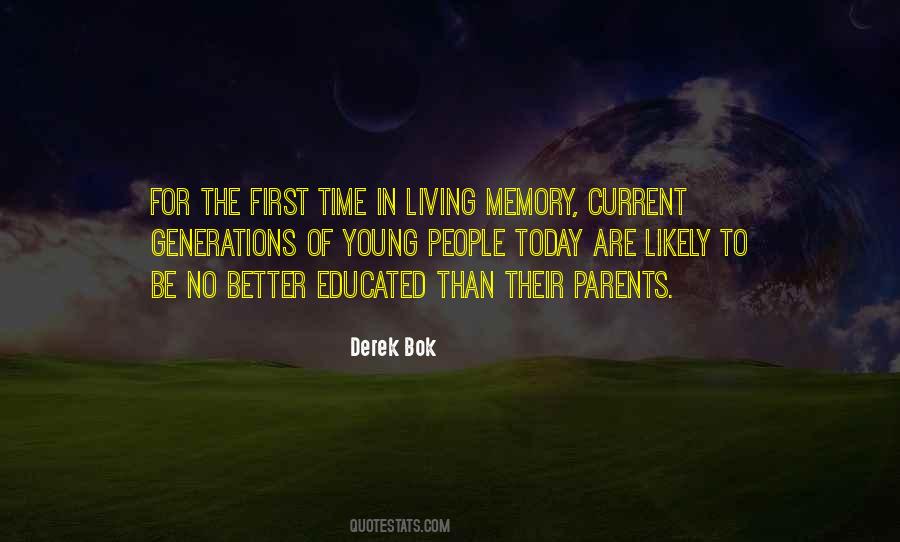 #95. The present's perfect, young grasshopper, because we're breathing, moving, laughing, crying, and are surprised when we finally meet someone we connect with. Stop living in the past and wasting your present. - Author: Alison G. Bailey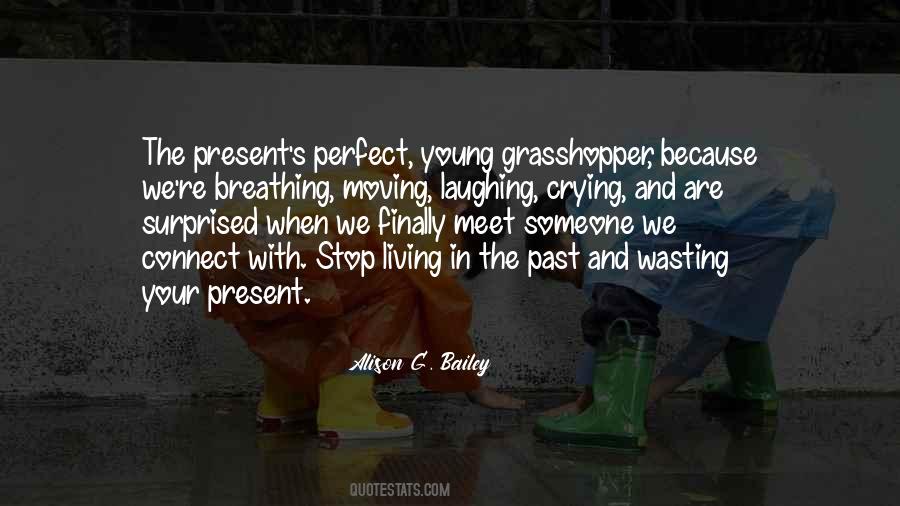 #96. By exchanging quality time for 'turn-up' times, what many of today's wayward youngsters have become - men and women of the village have failed them. - Author: T.F. Hodge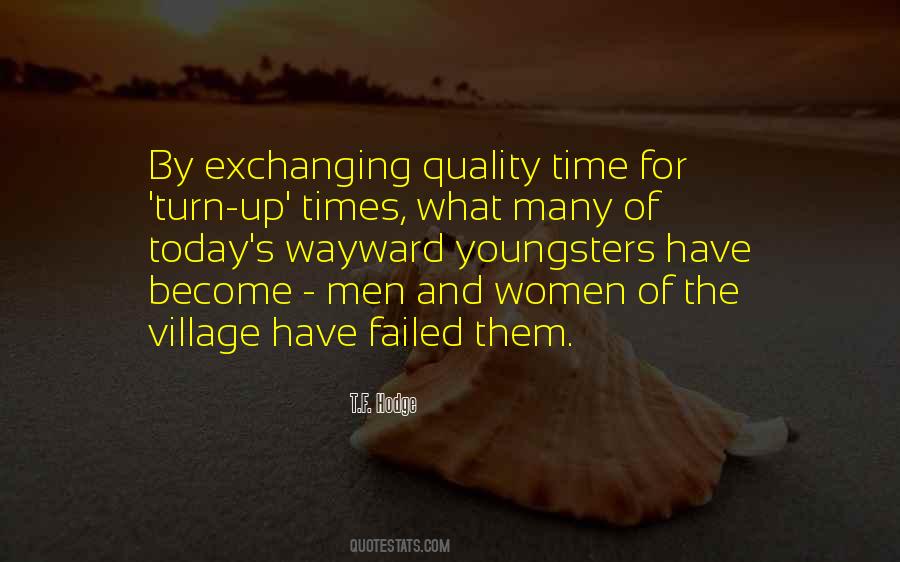 #97. You shall above all things be glad and young
For if you're young,whatever life you wear
it will become you;and if you are glad
whatever's living will yourself become. - Author: E. E. Cummings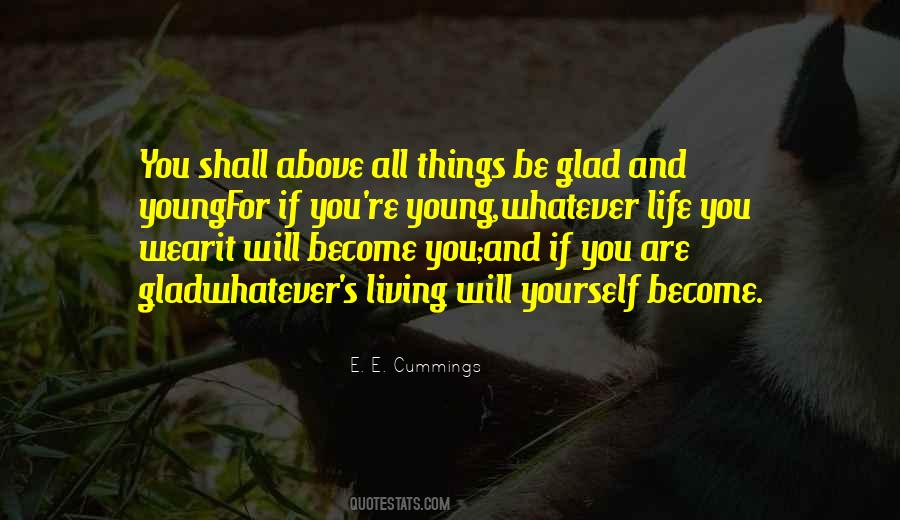 #98. It's like if a young woman writes it, then it's chick lit. We don't care if she's slaying vampires or working as a nanny or living in Philadelphia. It's chick lit, so who cares? You know what we call what men write? Books. - Author: Jennifer Weiner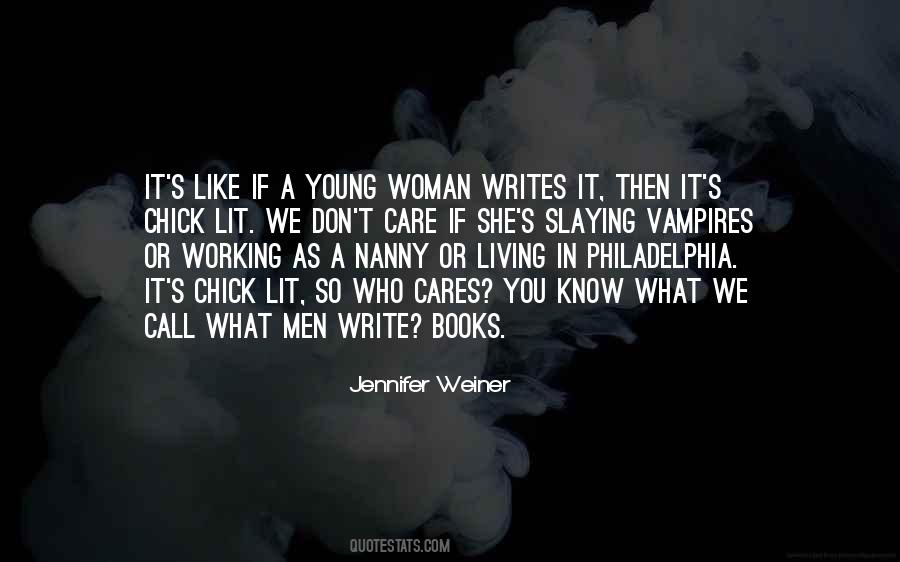 #99. When I was young I was one of the second generation of black people in Holland. My father was the first. My mother was white, and living with a black man at that time and having a how-you-say half-caste boy is not easy. - Author: Ruud Gullit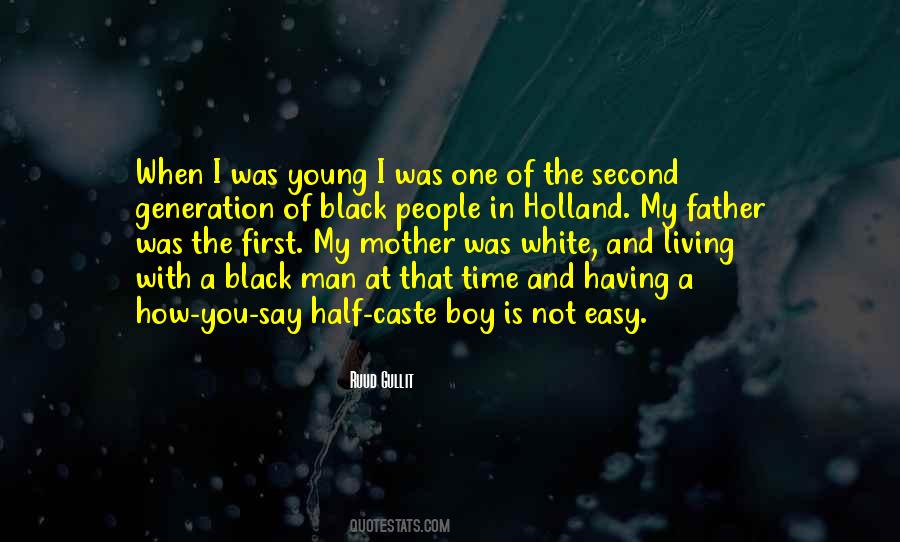 #100. Every day online, people, especially young people who are not developmentally equipped to handle this, are so abused and humiliated that they can't imagine living to the next day, and some tragically don't. And there's nothing virtual about that. - Author: Monica Denise Brown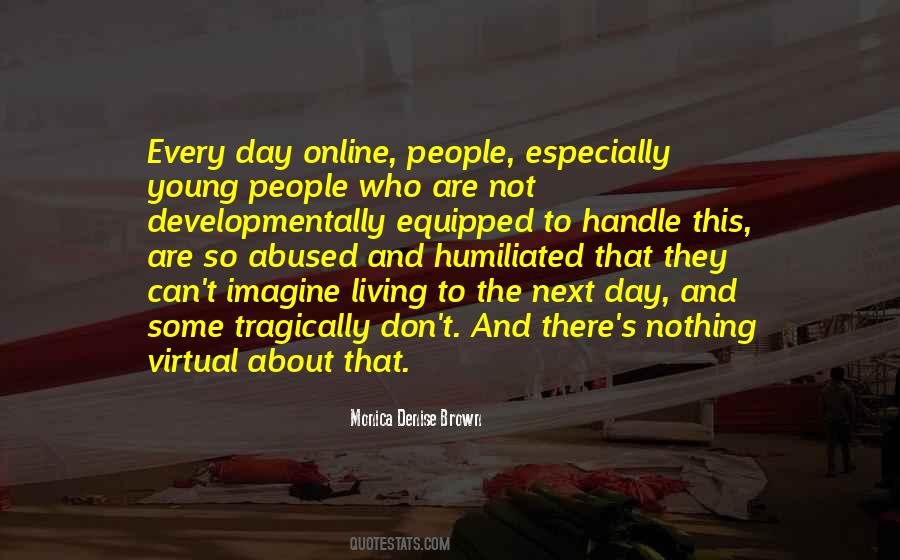 Famous Authors
Popular Topics