Living Art Famous Quotes & Sayings
List of top 100 famous quotes and sayings about living art to read and share with friends on your Facebook, Twitter, blogs.
Top 100 Quotes About Living Art
#1. Life is so horrible that one can only bear it by avoiding it. And that can be done by living in the world of art. - Author: Gustave Flaubert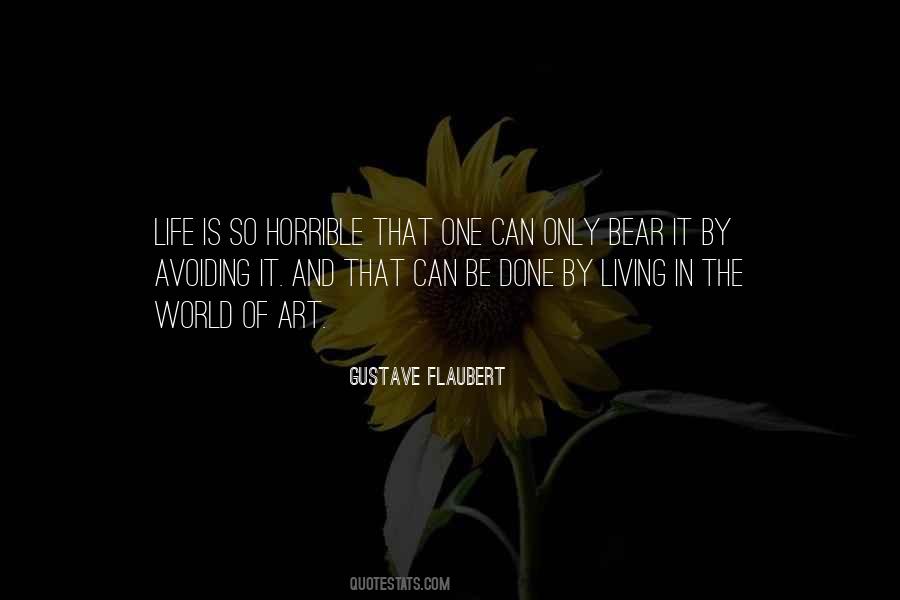 #2. First of all, the art of living; then as my ideal profession, poetry and philosophy, and as my real profession, plastic arts; in the last resort, for lack of income, illustrations. - Author: Paul Klee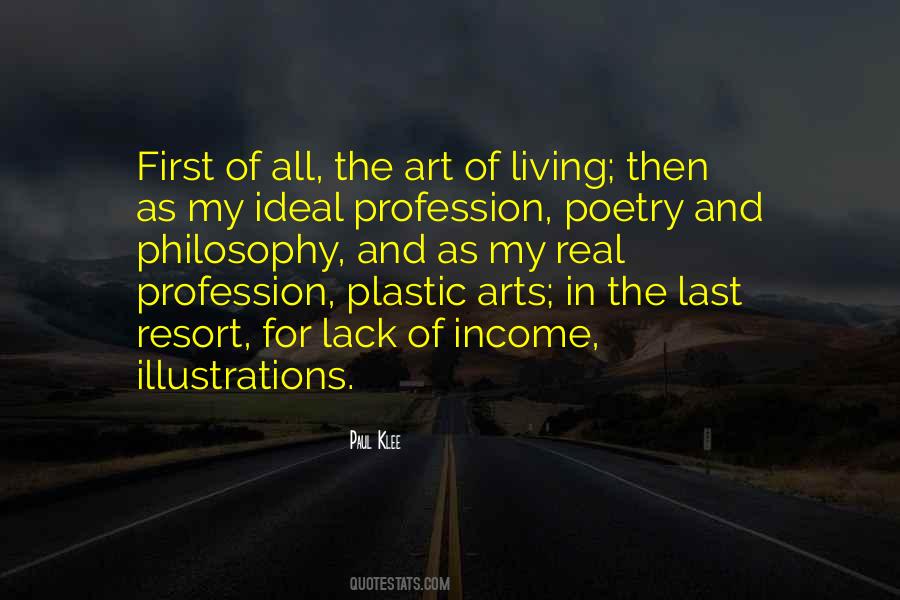 #3. We definitely don't exist just for the sake of welcoming death someday; I believe we live for the sake of living on." - Kazuto Kirigaya "Kirito" (Sword Art Online) - Author: Reki Kawahara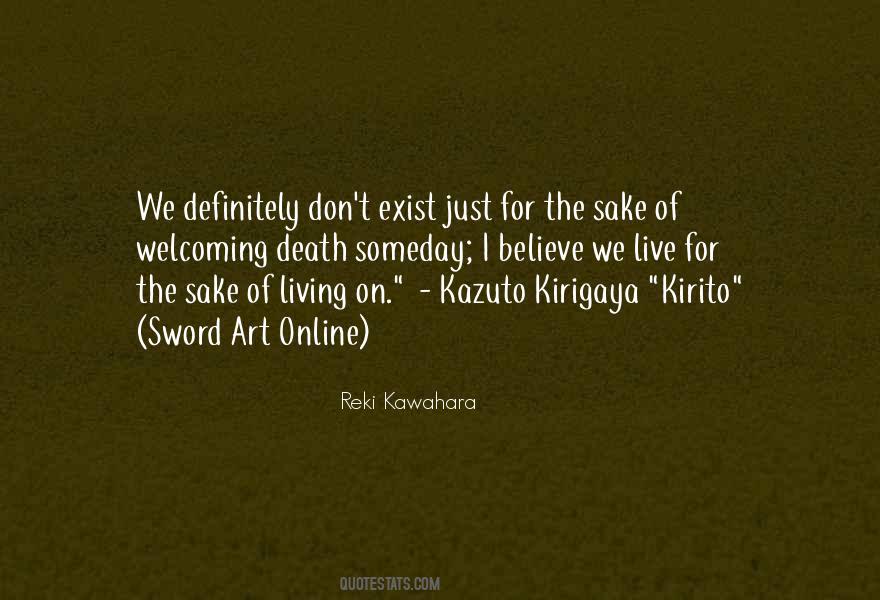 #4. If you love writing or making music or blogging or any sort of performing art, then do it. Do it with everything you've got. Just don't plan on using it as a shortcut to making a living. - Author: Seth Godin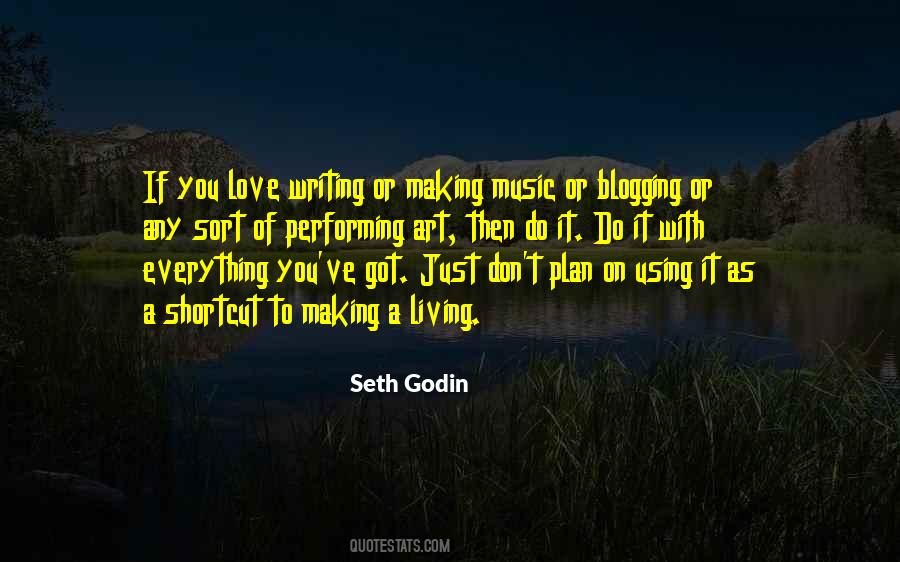 #5. Lovemaking is the consolation for living in the body, just as art is the consolation for living in the world. - Author: Laura Argiri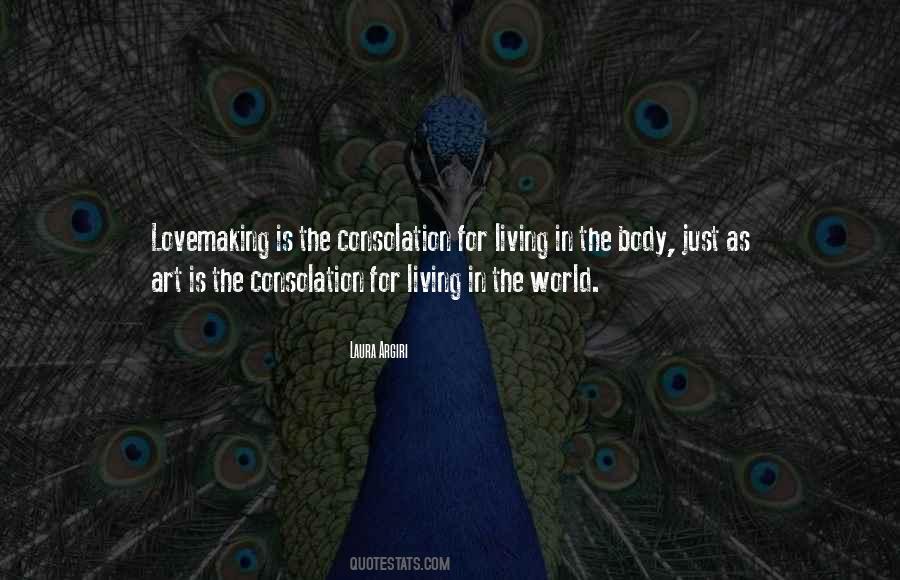 #6. There are many ways to find meaning in life, one of them is the love of art - Author: Ndiritu Wahome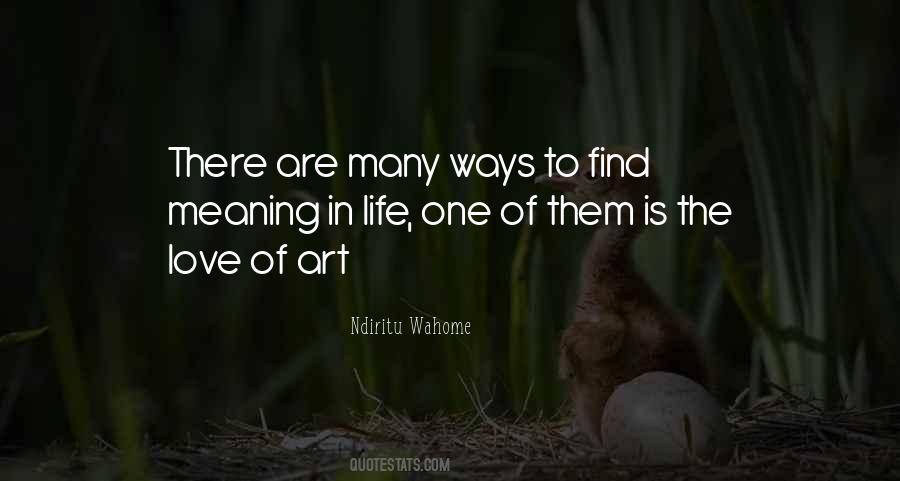 #7. Life is a living flute, yoga is the art of creating melody and rhythm in it. - Author: Amit Ray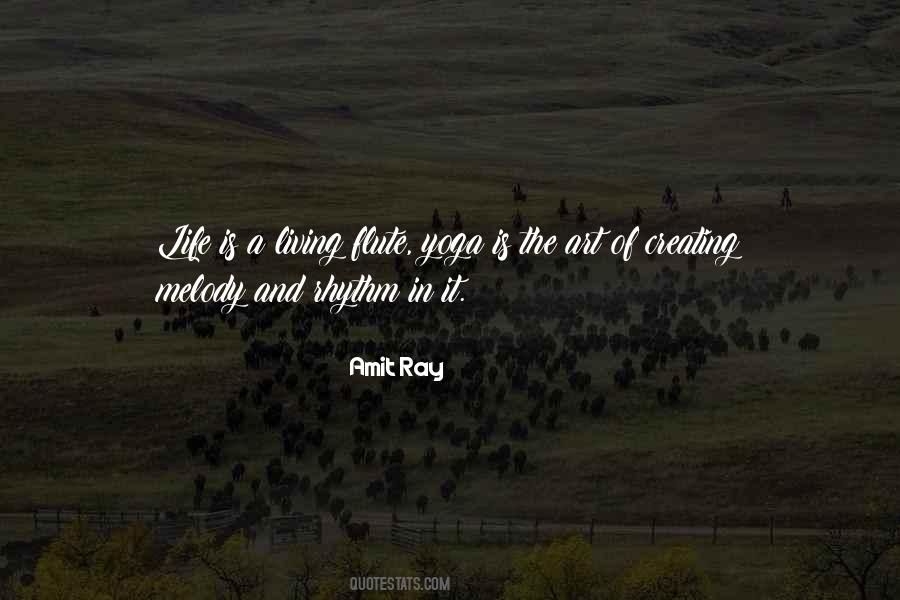 #8. I like living, breathing better than working ... my art is that of living. Each second, each breath is a work which is inscribed nowhere, which is neither visual nor cerebral, it's a sort of constant euphoria. - Author: Marcel Duchamp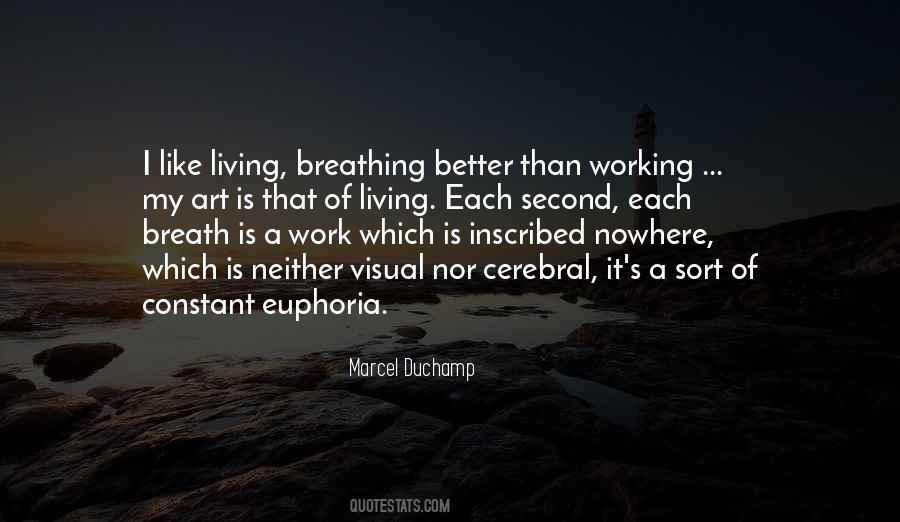 #9. He [P.G.Wodehouse] is I believe, the only man living who speaks with equal fluency the American and English languages. - Author: Max Eastman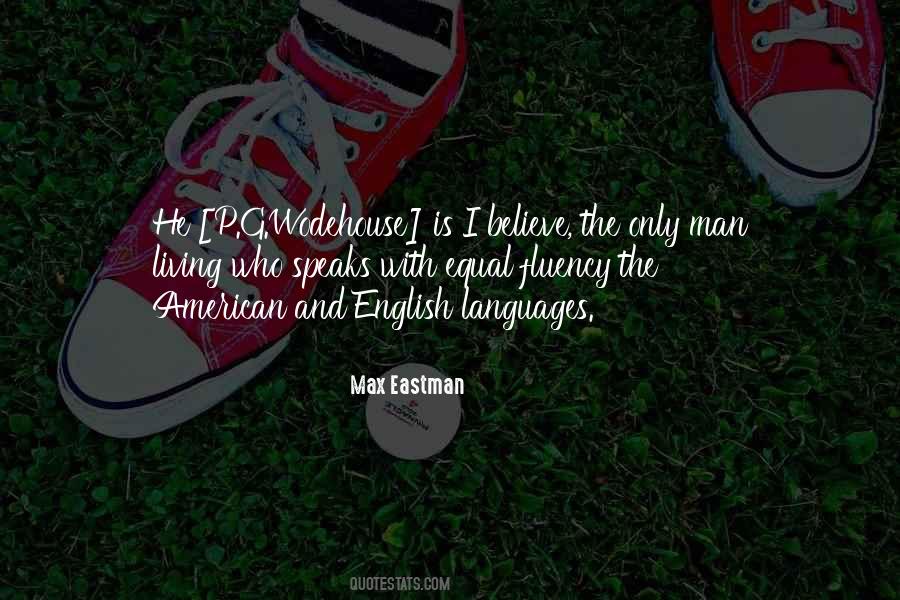 #10. Now, but these three," cried Jurgen, "are the glory of Philistia: and of all that Philistia has produced, it is these three alone, whom living ye made least of, that today are honored wherever art is honored, and where nobody bothers one way or the other about Philistia. - Author: James Branch Cabell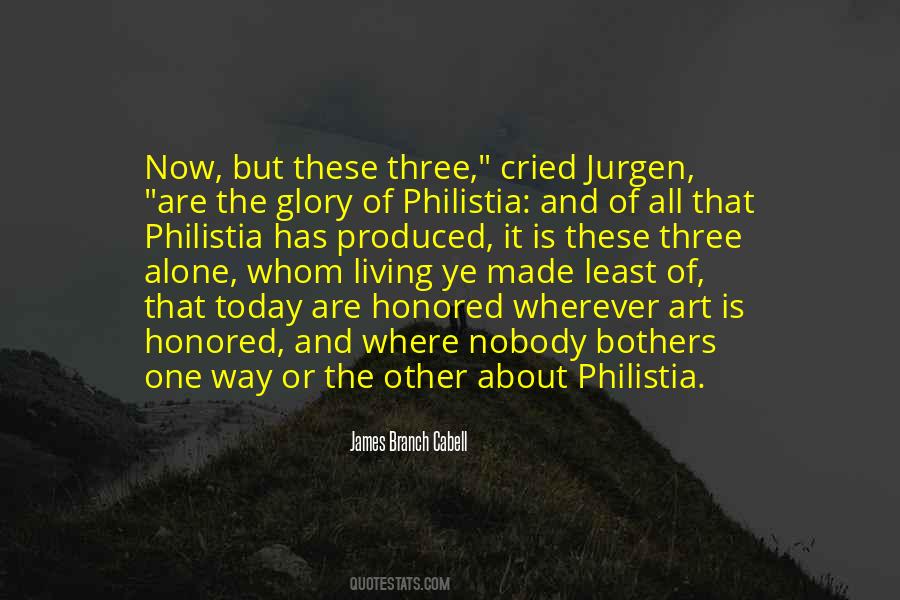 #11. Everybody thinks they know what art should be. But very few of them have the sense that is necessary to experience painting, that is the sense of sight, that sees colors and forms as living reality in the picture. - Author: Otto Dix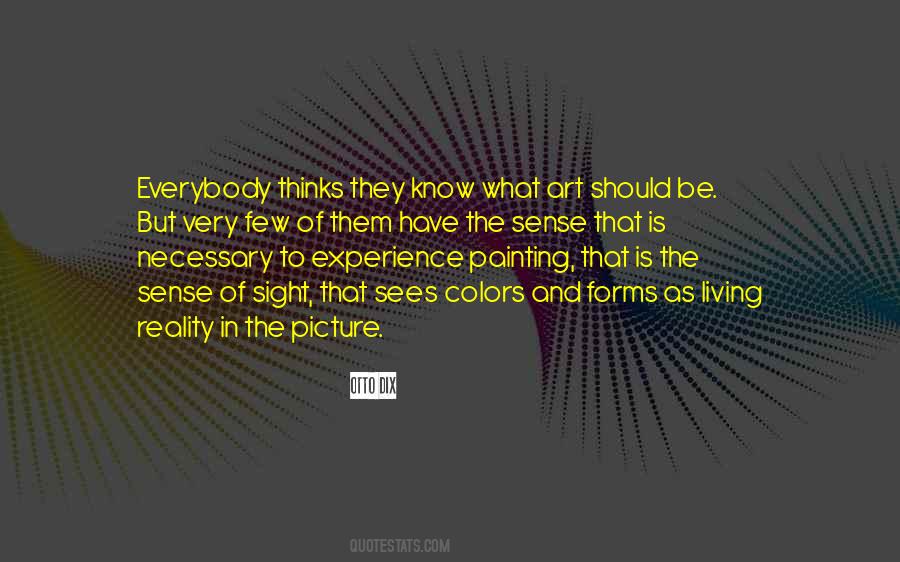 #12. Making a living out of acting sounded like science-fiction when I was growing up. I didn't know anyone around me who lived from anything related to art. - Author: Penelope Cruz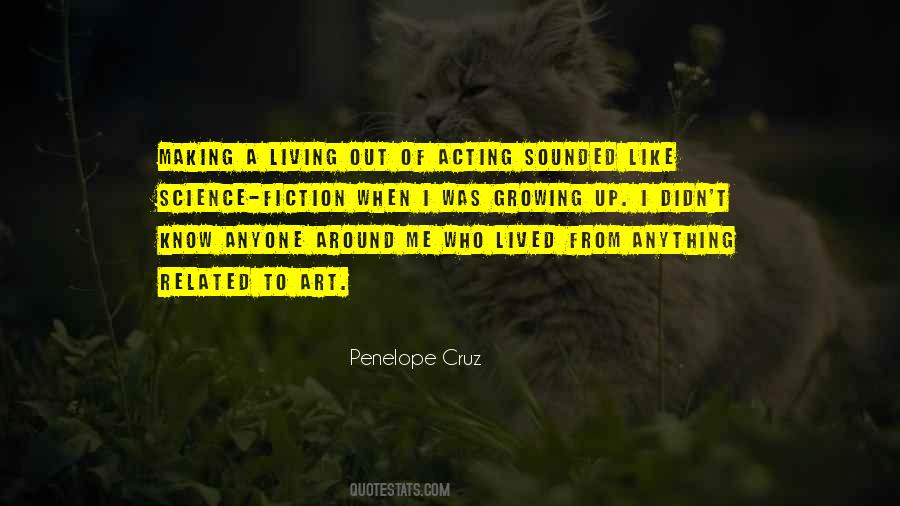 #13. After all, the goal is not making art. It is living a life. Those who live their lives will leave the stuff that is really art. - Author: Robert Henri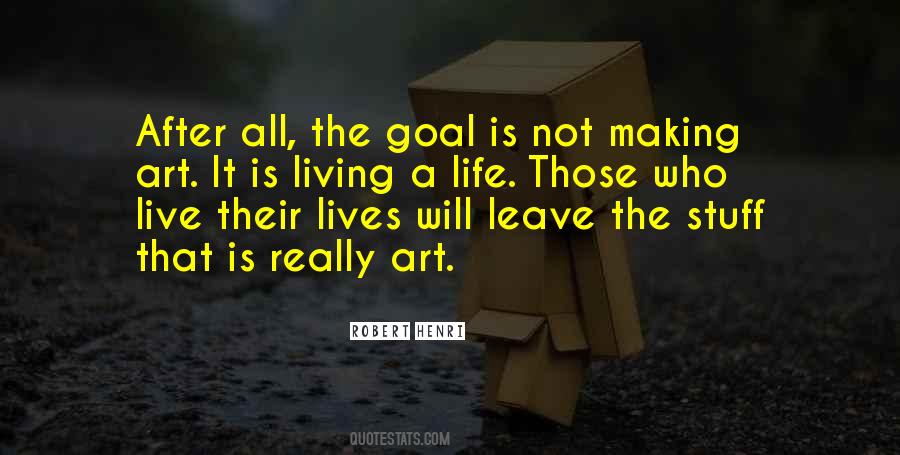 #14. I am an artist at living - my work of art is my life. - Author: D.T. Suzuki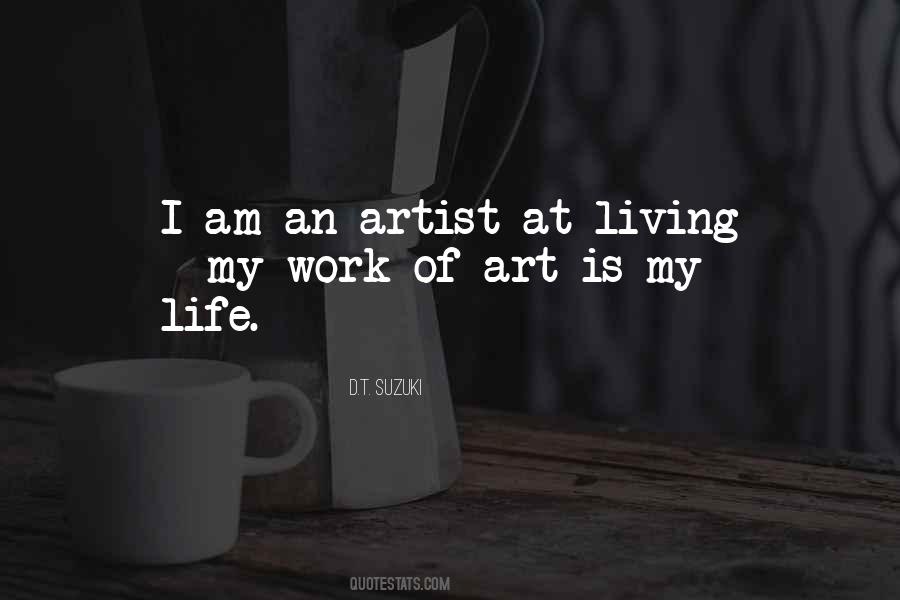 #15. That kind of pursuit is not beneficial to mankind: art for self aggrandizement at the cost of love. - Author: Anuradha Bhattacharyya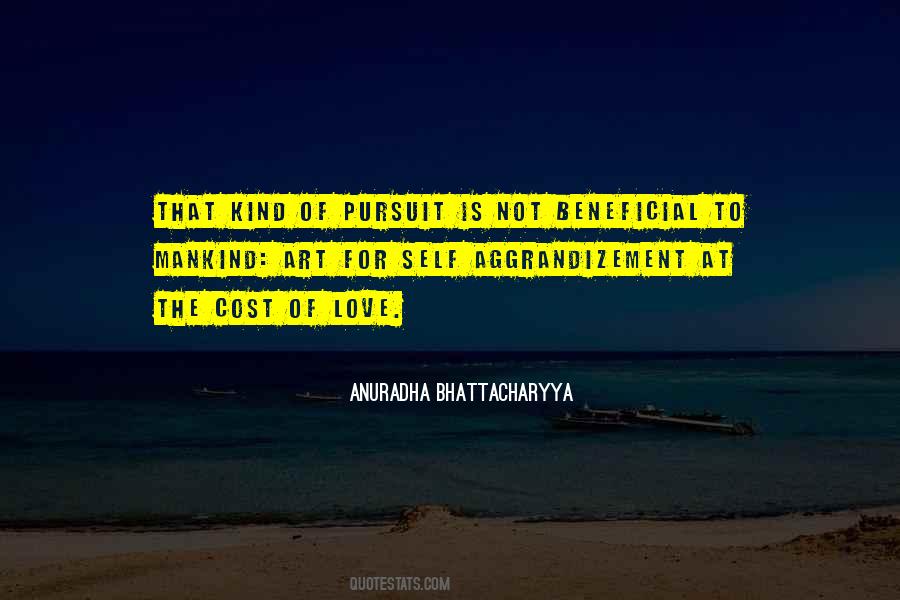 #16. Every living thing dies, Art. That's why we cherish it while we have it. That's why we respect the decisions our loved ones make for themselves. That's why we love, and why we care, and why we hurt. Because everything dies. - Author: Reilyn J. Hardy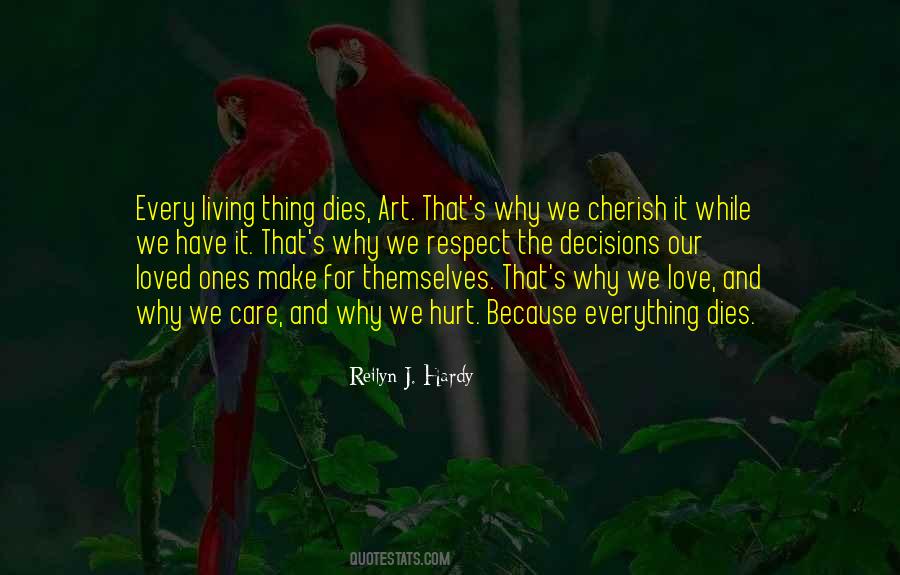 #17. Every few hundred years in Western history there occurs a sharp transformation. Within a few short decades, society - its worldview, its basic values, its social and political structures, its art, its key institutions - rearranges itself. We are currently living through such a time. - Author: Peter Drucker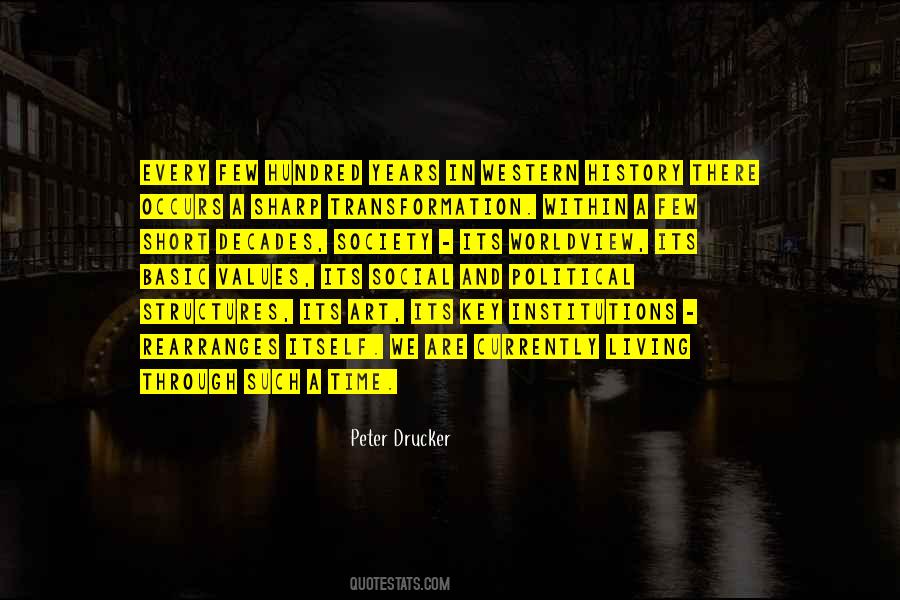 #18. ...maybe that's art. Seeing beauty others miss and capturing it. - Author: Jules Barnard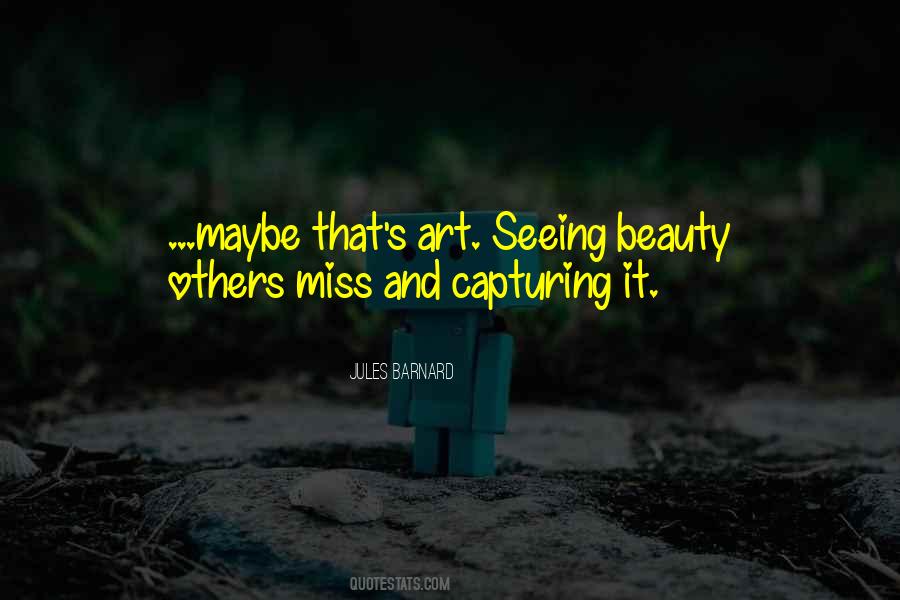 #19. The whole art of living is to regard people who cause us suffering as, in a degree, enabling us to accept its divine form and thus to populate our daily life with divinities. - Author: Marcel Proust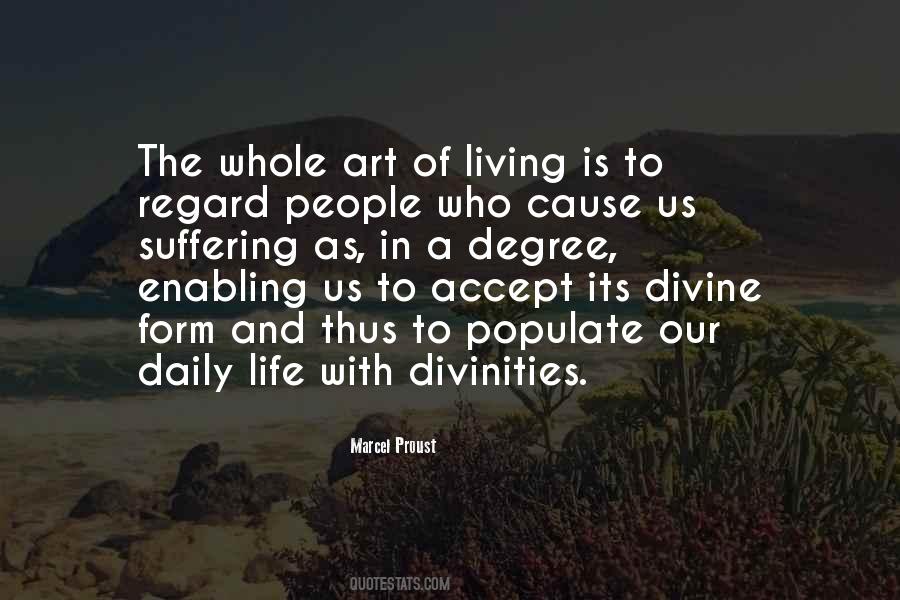 #20. It didn't get better, not in my book. I mean if you weren't looking too hard at what just happened or who might be down the road or at some other stuff. Maybe living well is the art of not looking at that, at the other stuff, when you don't have to. Or being okay with it. - Author: Peter Heller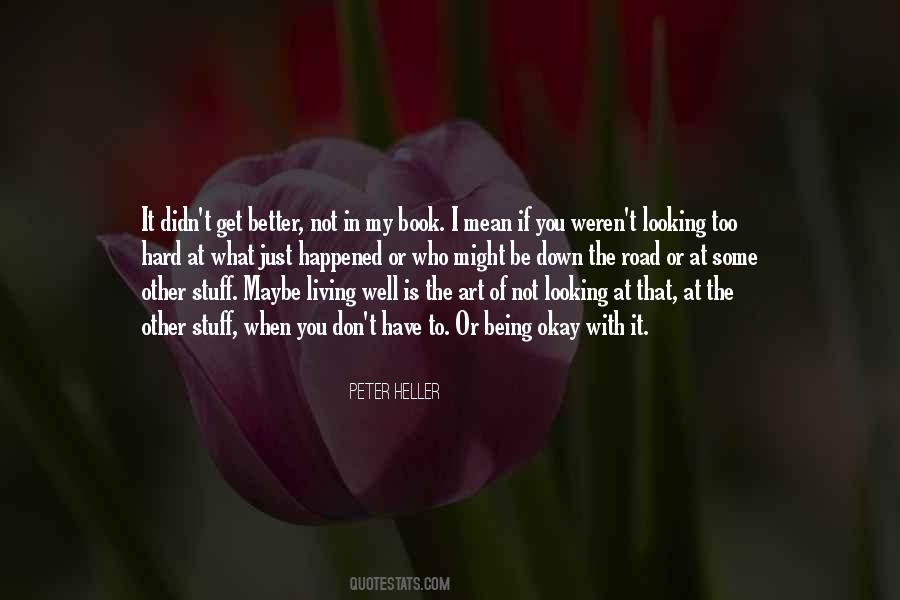 #21. Whoever uses the spirit that is
in him creatively is an artist. To
make living itself an art, that is
the goal. - Author: Henry Miller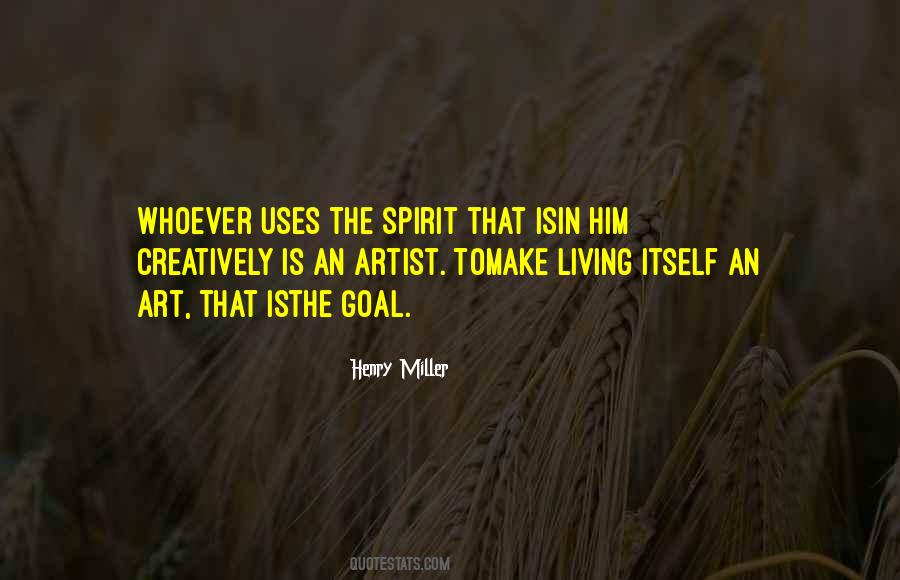 #22. Think of your day as a blank canvas, and everything you say, your art upon it. Then join your loved ones and friends, and create lasting beauty together, worthy of your inner Rembrandt. - Author: Tom Althouse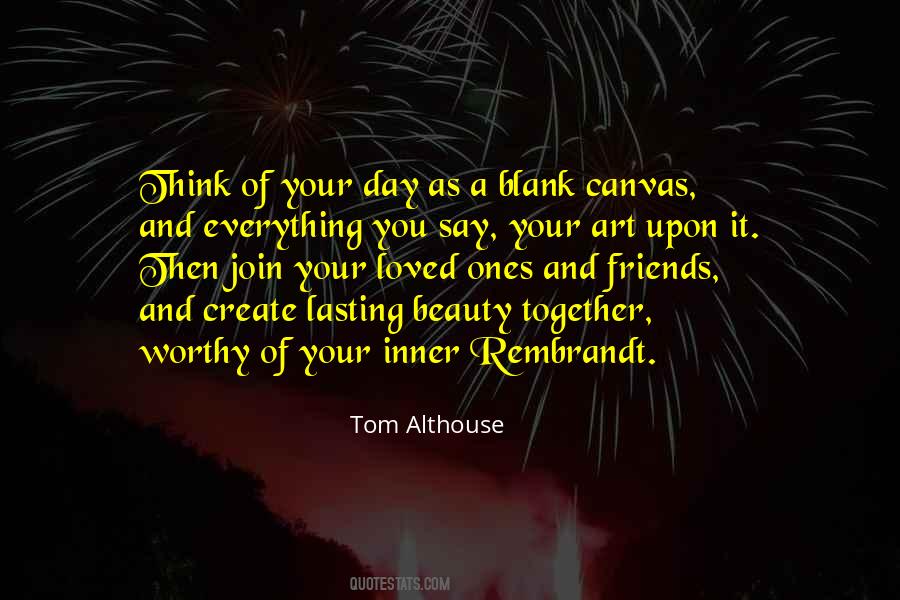 #23. If my fellow Americans could adopt even a fraction of the French attitude about food and life (don't worry, you don't have to sign on to the politics, too), managing weight would cease to be a terror, an obsession, and reveal its true nature as part of the art of living. - Author: Mireille Guiliano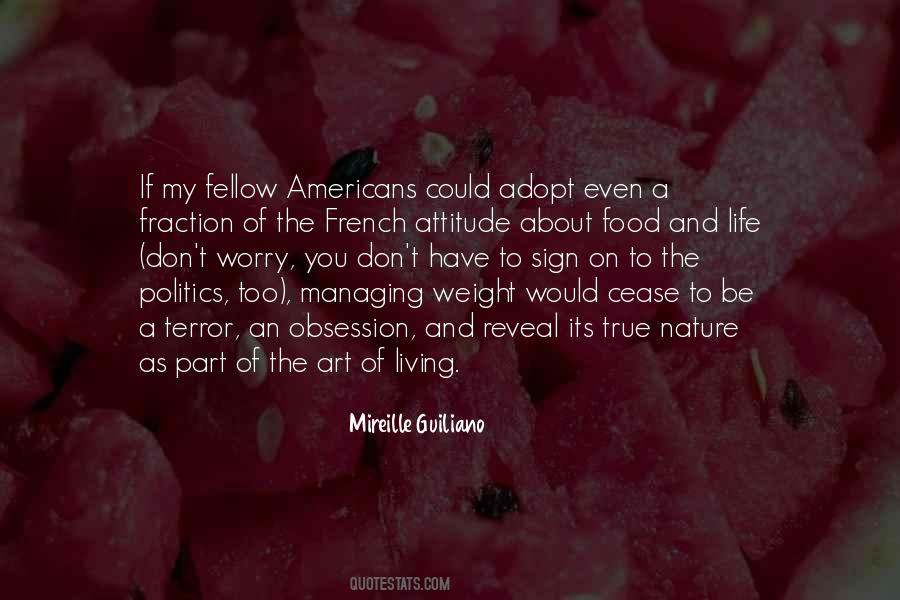 #24. A work of art is like living people. - Author: Muriel Spark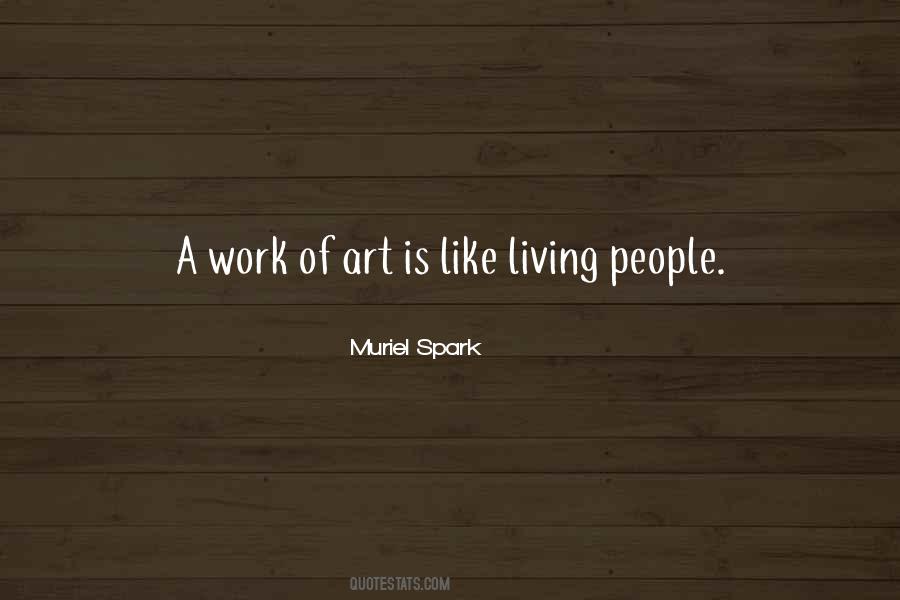 #25. A tattoo is a true poetic creation, and is always more than meets the eye. As a tattoo is grounded on living skin, so its essence emotes a poignancy unique to the mortal human condition. - Author: V. Vale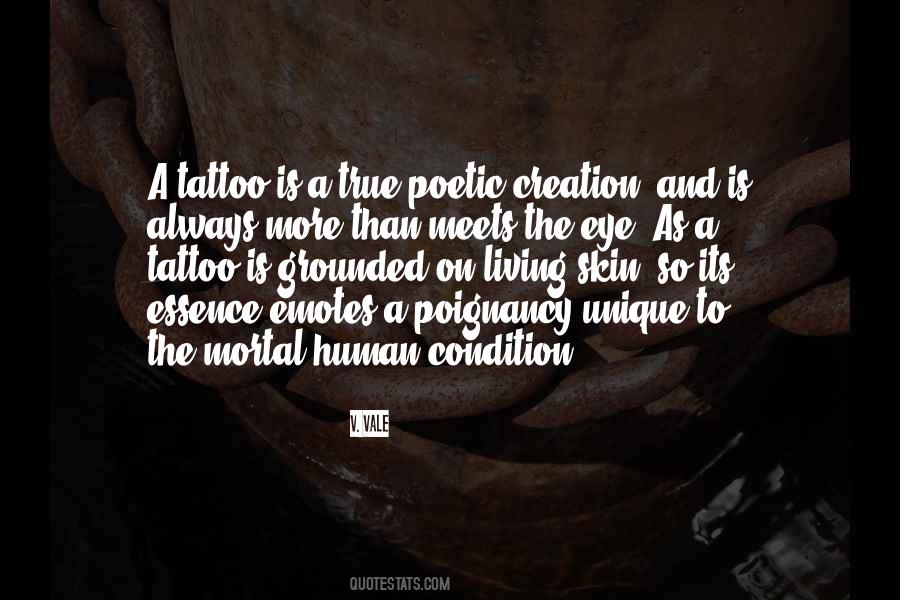 #26. True art is creation, and creation is beyond all theories. That is why I say to any beginner: Learn your theories as well as you can, but put them aside when you touch the miracle of the living soul. Not theories but your own creative individuality alone must decide. - Author: Carl Jung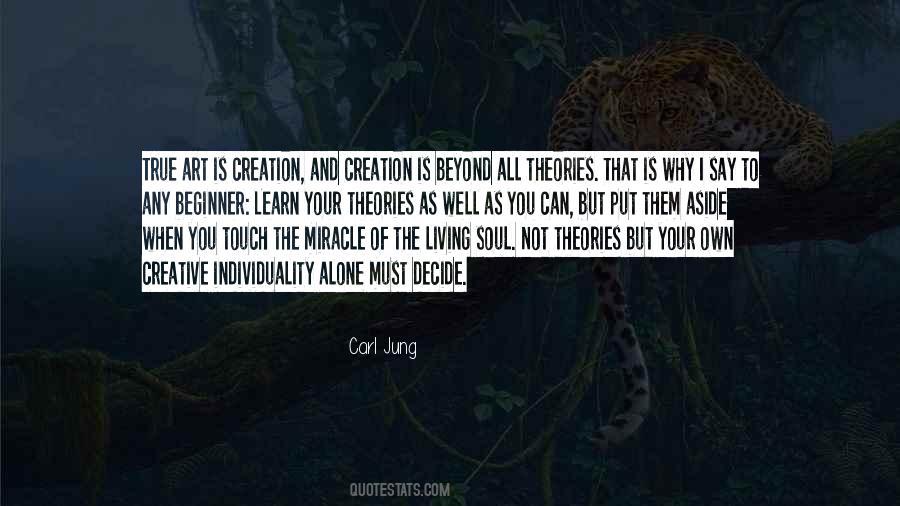 #27. Creativity is a way of living life, no matter what our vocation, or how we earn our living. Creativity is not limited to the arts ... - Author: Madeleine L'Engle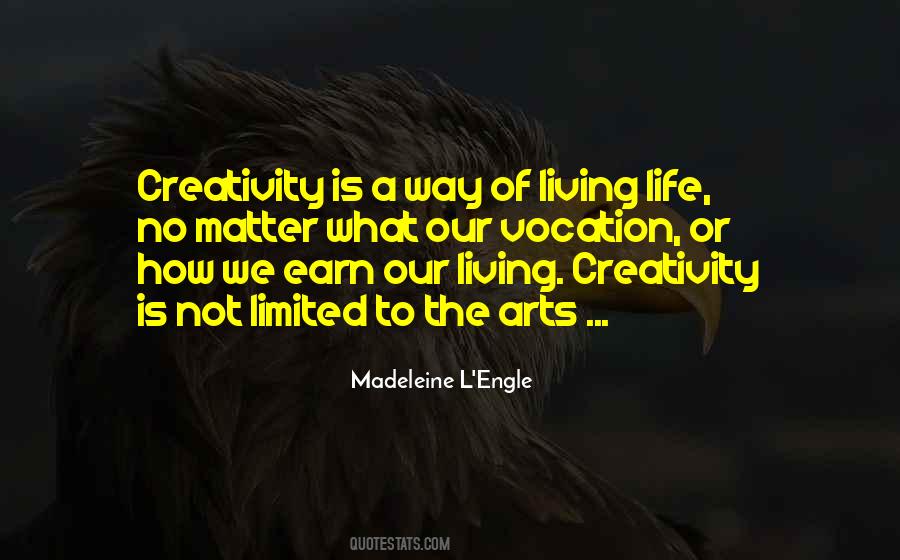 #28. I liked drawing and painting, because the only failure would be to listen to the doubters who wanted me to stop drawing and painting because 'you aren't going to make a living doing that.' I liked looking in art books at the work of painters. - Author: Billy Childish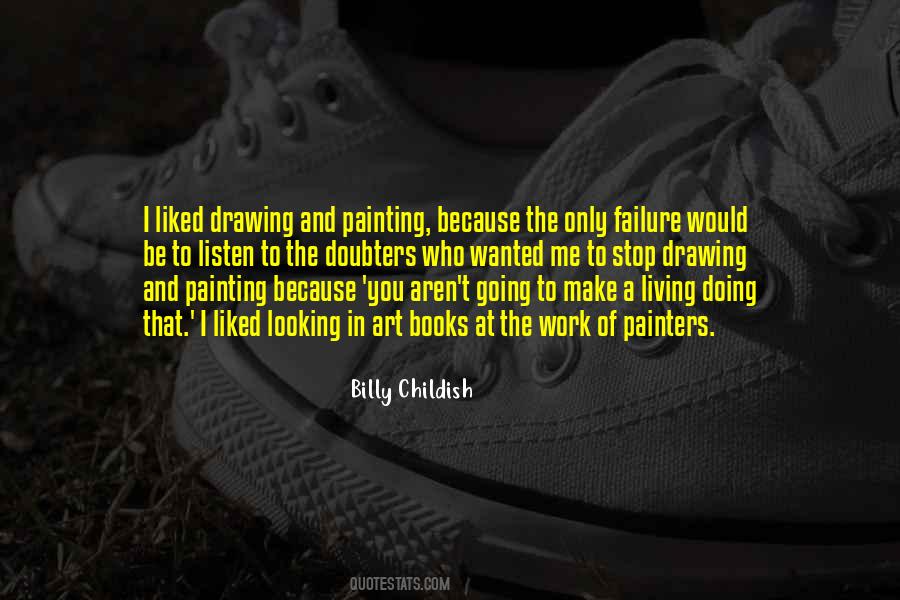 #29. The rebellion of art is a daily rebellion against the state of living death routinely called real life. - Author: Jeanette Winterson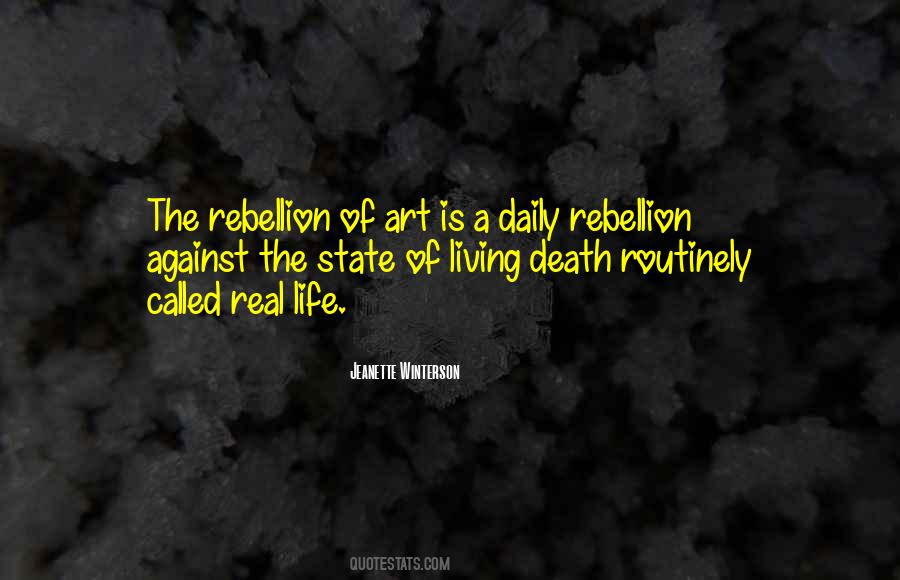 #30. Don't think too much. You'll create a problem that wasn't even there in the first place. - Author: Sukhraj S. Dhillon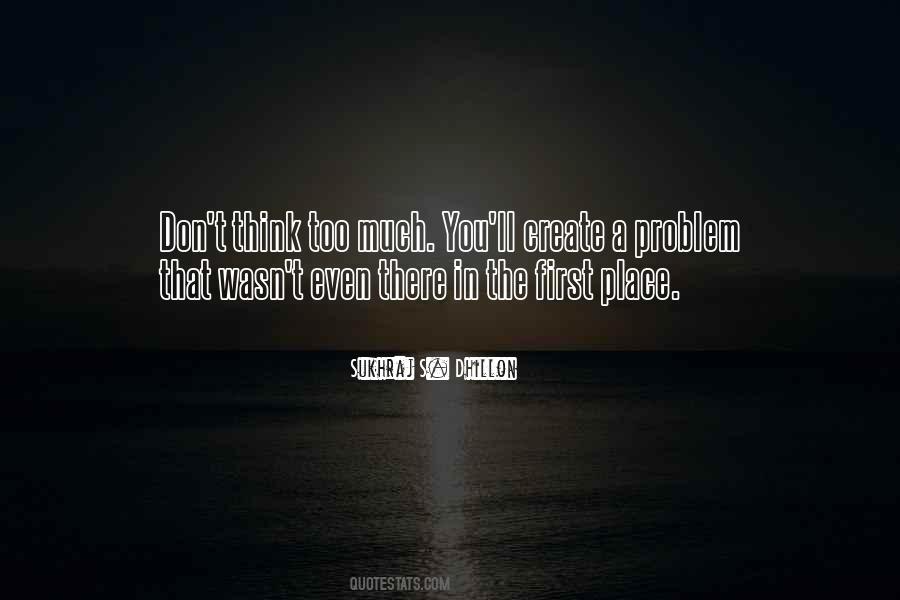 #31. What is the spiritual purpose of the arts? It is to learn structure. Once an artist creates a true structure, then divine love can pour into it and make it a living thing of beauty. - Author: Harold Klemp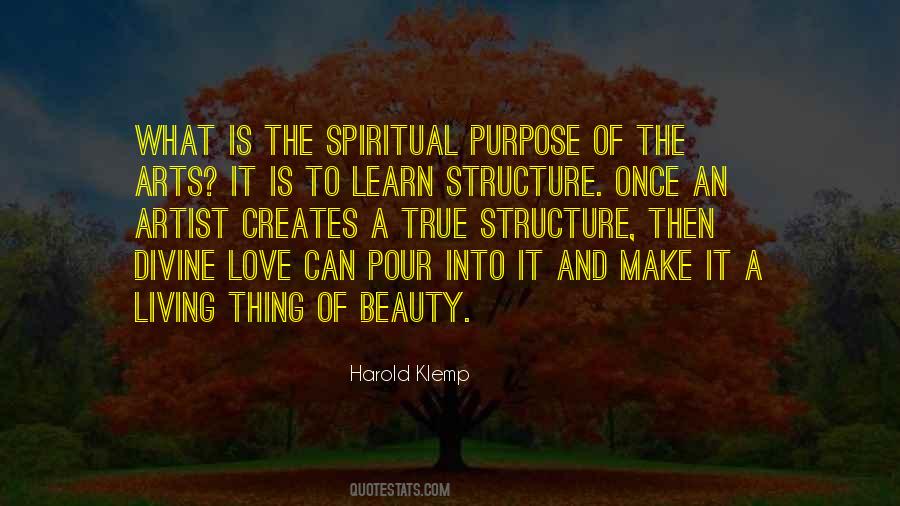 #32. Art and relligion are not professions: they are not occupations for which men can be paid. The artist and the saint do what they have to do, not to make a living, but in obedience to some mysterious necessity. They do not product to live - they live to produce. - Author: Clive Bell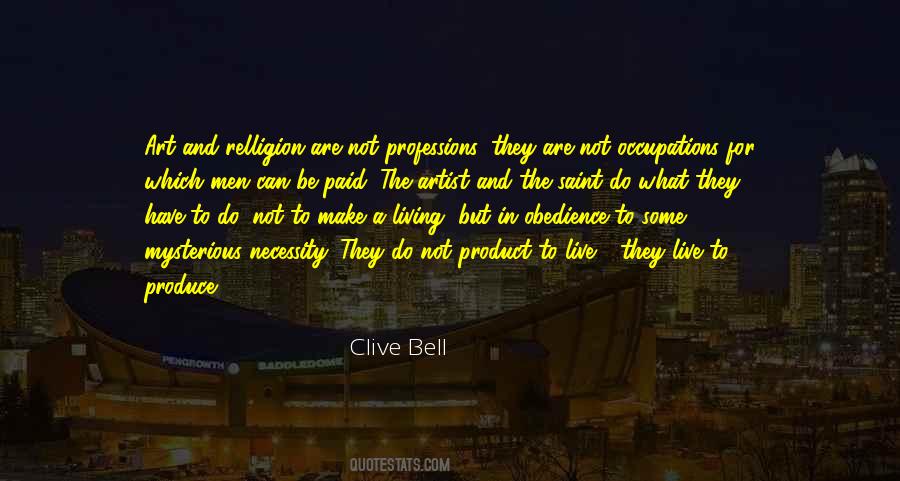 #33. Australia's is a special kind of philistinism, an immovable materialism which puts art and ideas of any kind deliberately and firmly to one side to let the serious business of living proceed without distraction. - Author: Robin Boyd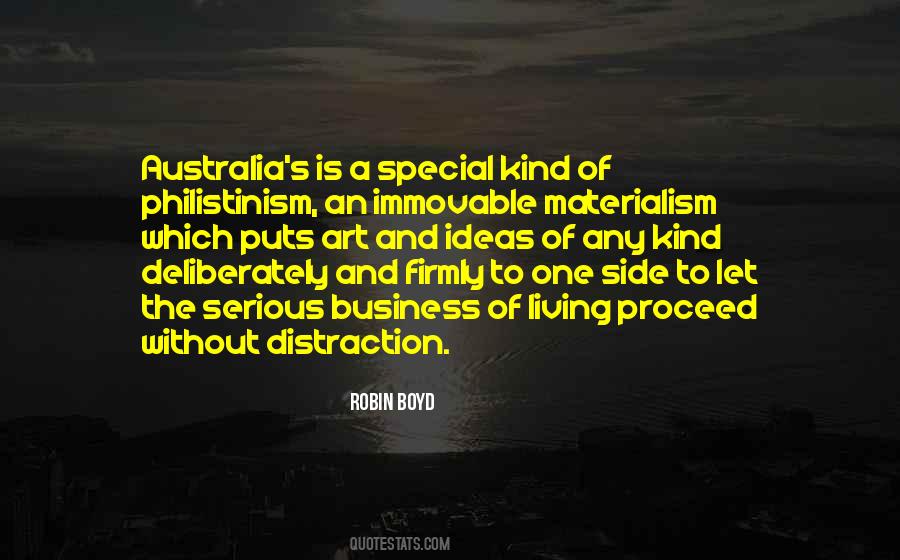 #34. The art of living easily as to money is to pitch your scale of living one degree below your means. - Author: Henry Taylor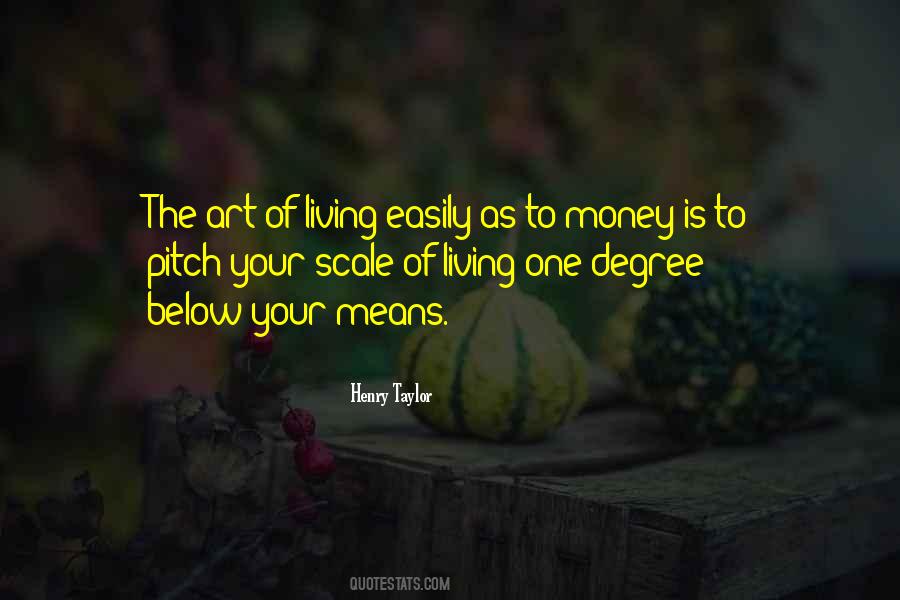 #35. Living is art.
Breathing and heart beating is music.
Seeing is painting the world with our eyes.
Touching is sculpting the shape of everything.
Life is the most intense art of all. - Author: Jacob Nordby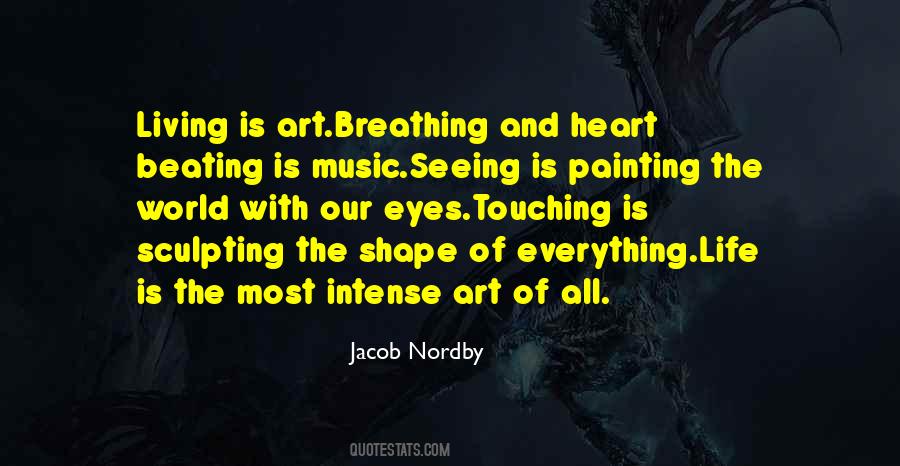 #36. The Art of a Relationship Living in a city is an art, not a science. Choosing to live in a city is choosing to enter into a relationship with it. And, like any human relationship, the relationship you have with your city is one that requires nurturing, constant practice and work. - Author: The School Of Life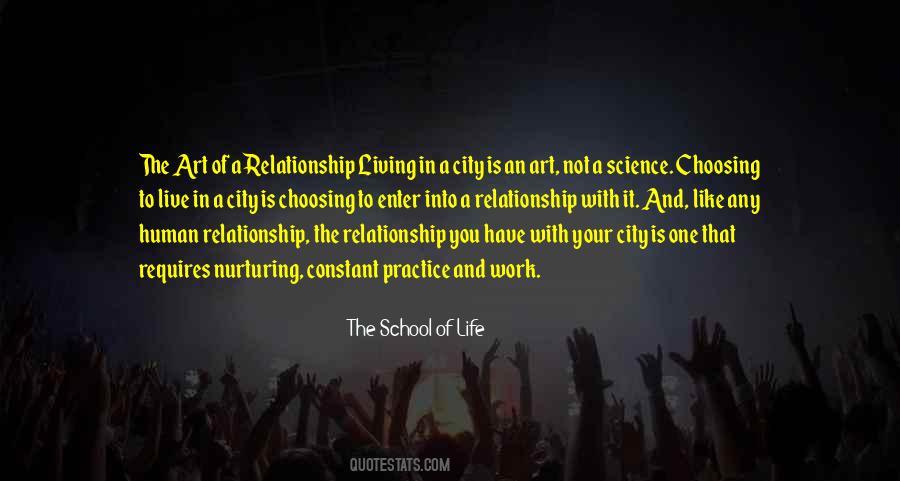 #37. The art of living is to rise above lesser things so that we can truly enjoy great things. And the message of Christmas is the greatest of all things. - Author: Craig D. Lounsbrough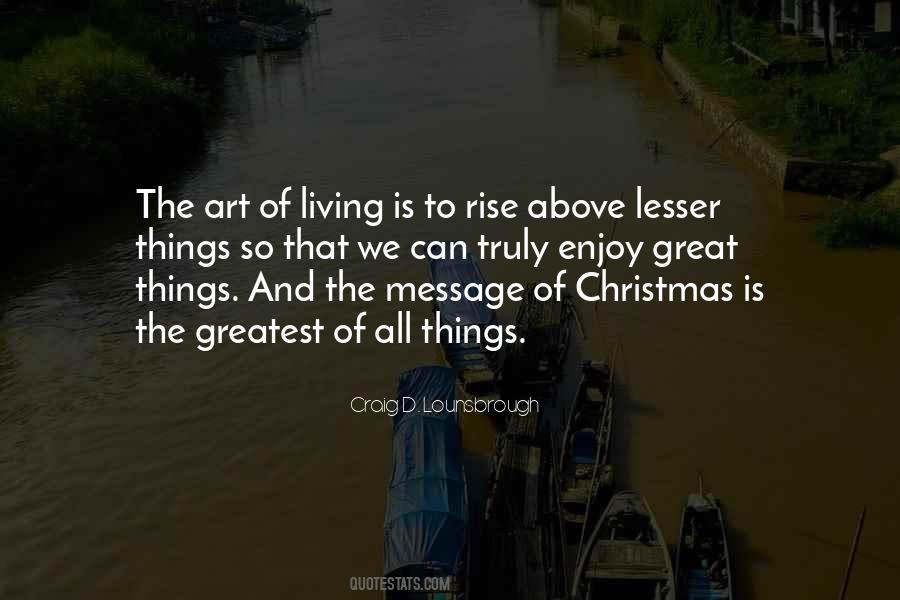 #38. I honestly don't know how you live without having a cat inside your house. It's like having a little living piece of art that is also very warm and soft. - Author: Hank Green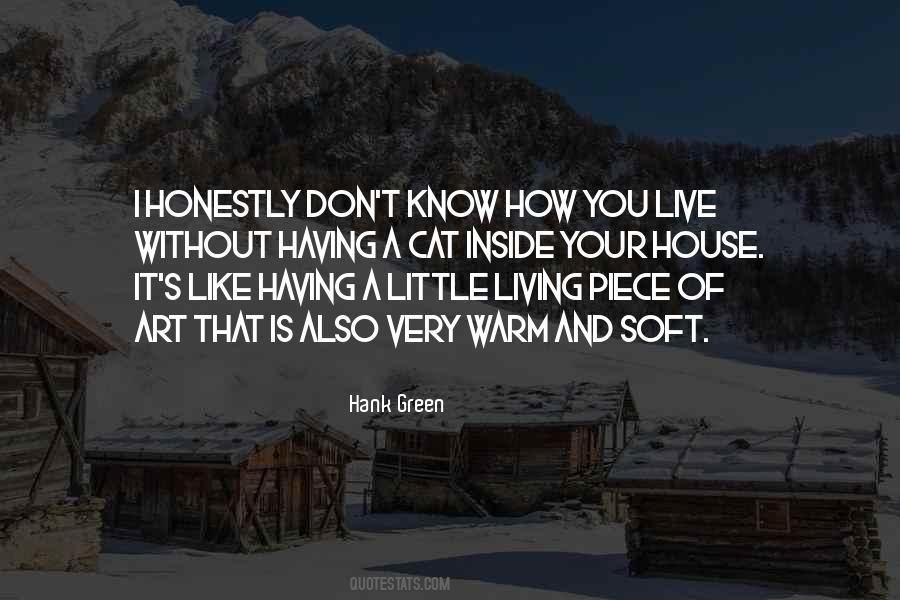 #39. Life is a collection of experiences. To experience each moment fully and accept it is an art. The art of living gracefully and never growing 'old'. - Author: Rashmi Bansal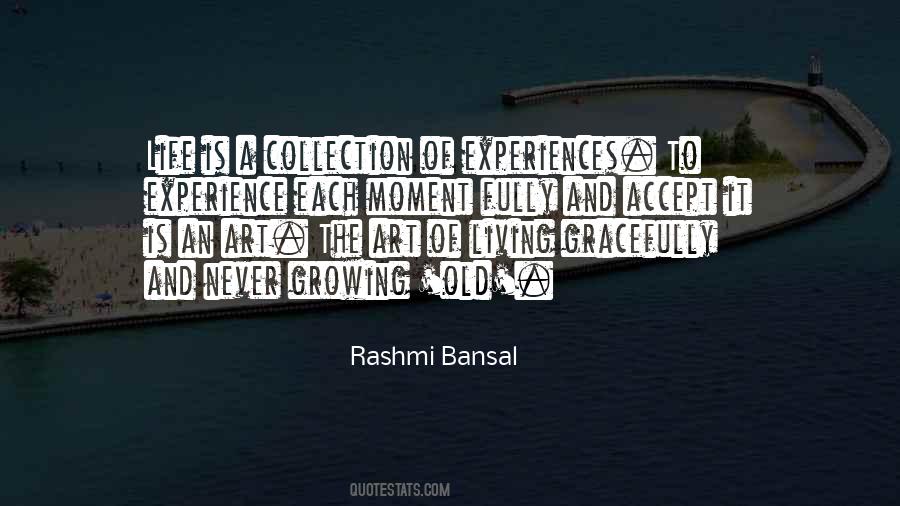 #40. All of those art-based fields are similar in that they're all hard to make a living in and they all require an intense amount of training and discipline. - Author: Alicia Witt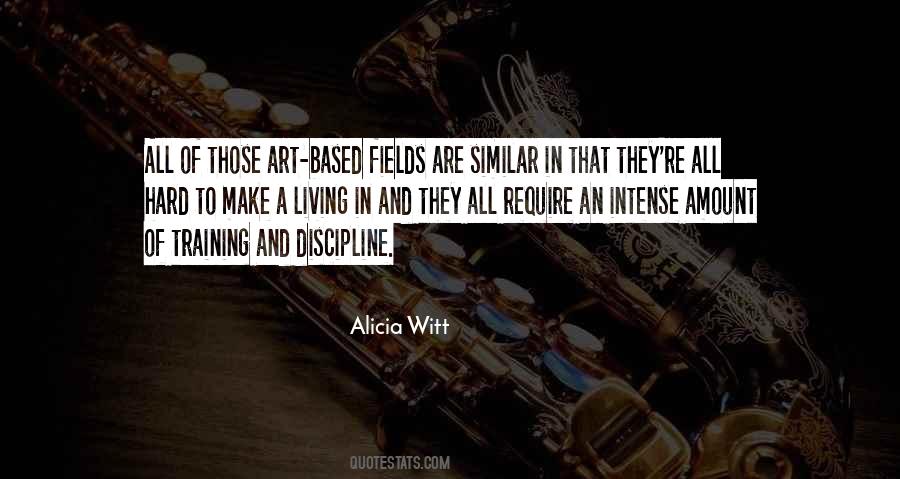 #41. Writers have the purity of their art and what they want to achieve with that, and that this purity is bound up with the messy material conditions of trying to make a living while doing that work. - Author: Chad Harbach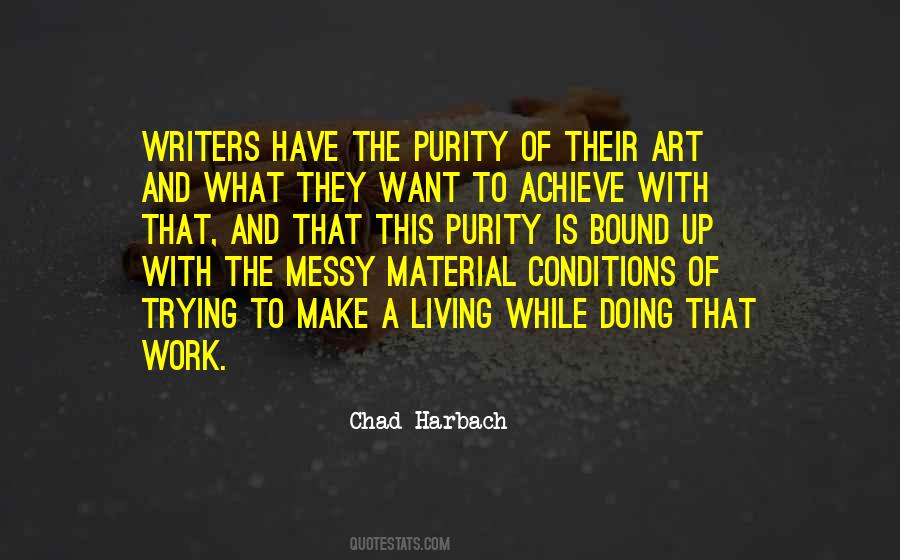 #42. Living through art is a better way to live - not necessarily making art, but being surrounded by art. I think it's just as banal as trying to show my version of the beauty in the world. It's about beauty at the end of the day. - Author: Ragnar Kjartansson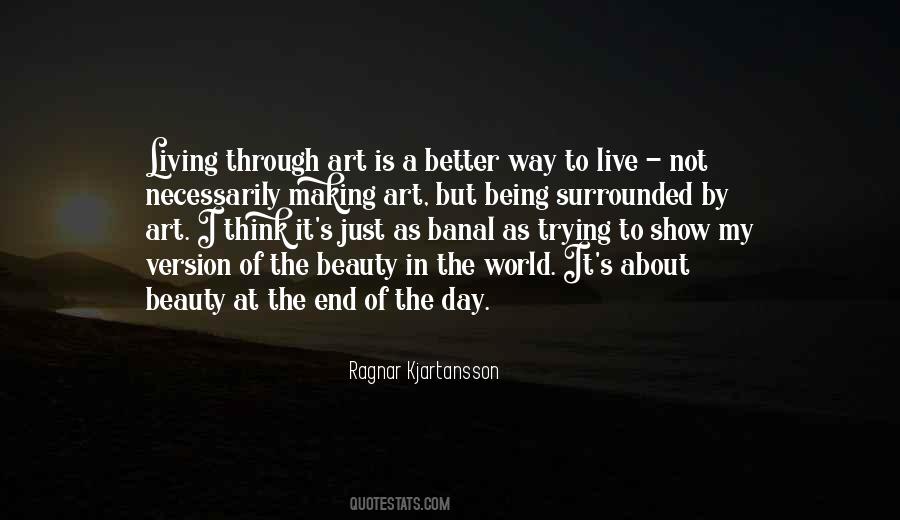 #43. The art of living your life has a lot to do with getting over loss. The less the past haunts you, the better. - Author: Richard Ford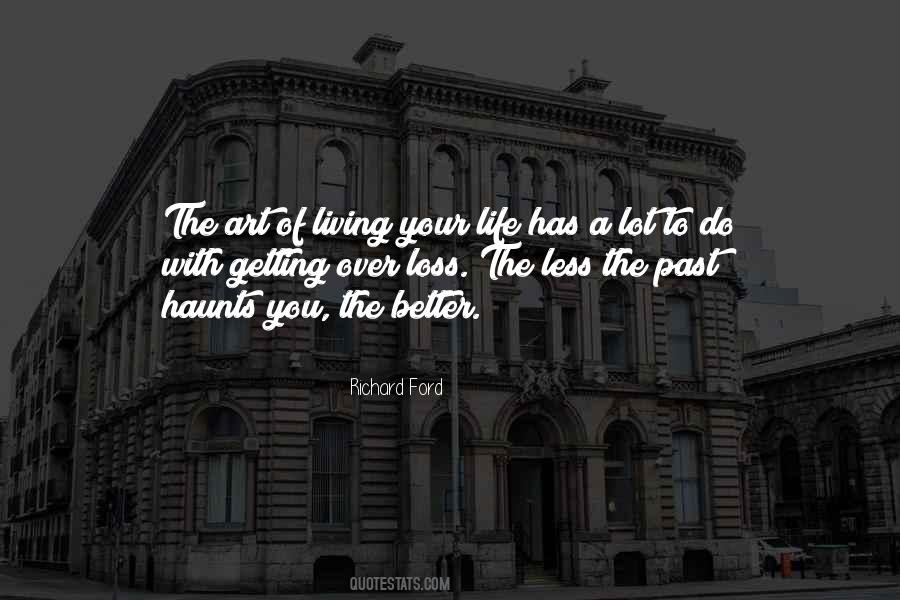 #44. Art is not to do with the practical side of making a living. It's to live a fuller human life. - Author: Henry Moore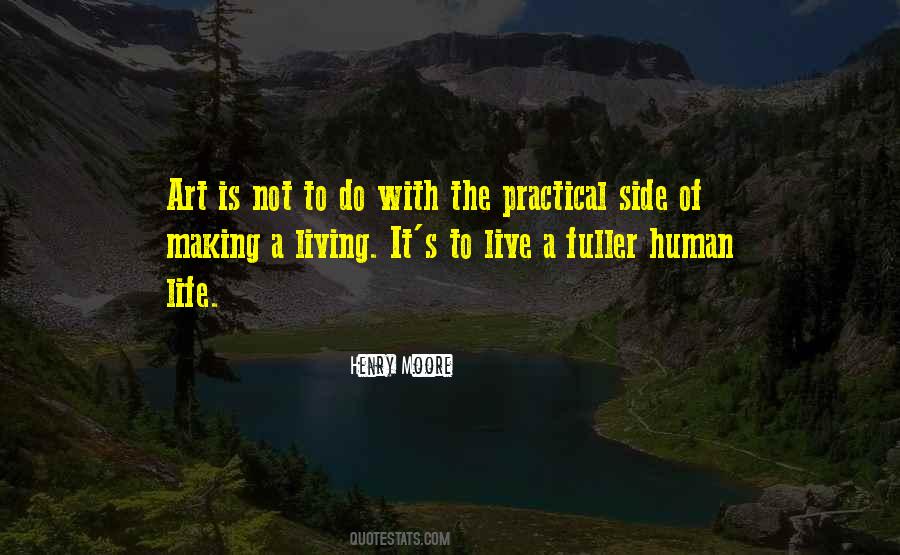 #45. He felt that there is a loose balance of good and evil, and that the art of living consists in getting the greatest good out of the greatest evil. - Author: Machado De Assis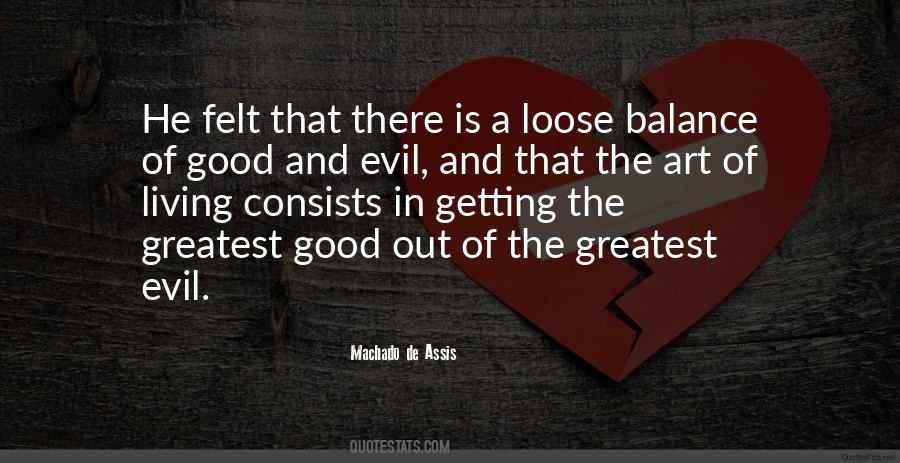 #46. There's no retirement for an artist, it's your way of living so there's no end to it. - Author: Henry Moore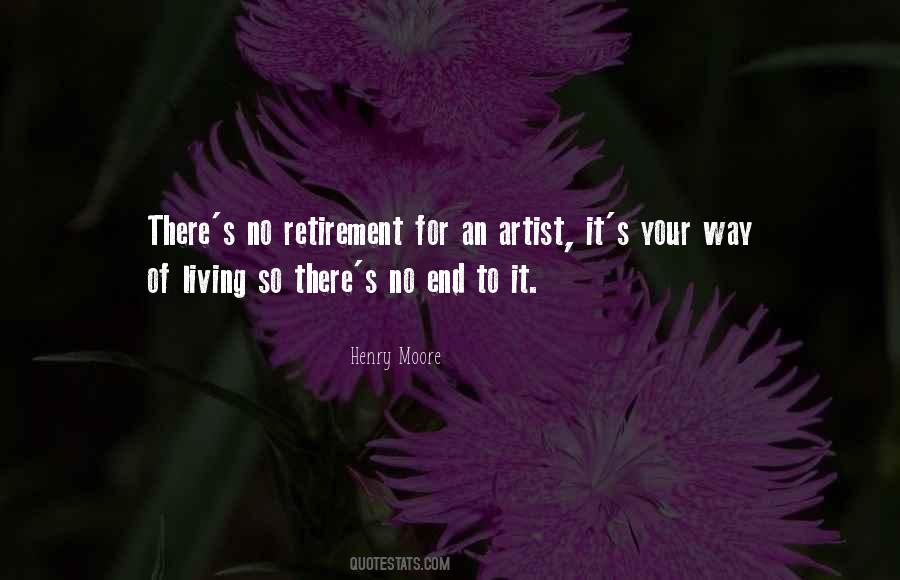 #47. All I wanted was my art and the chance to be the creator of my own world, my own reality. - Author: Charlotte Eriksson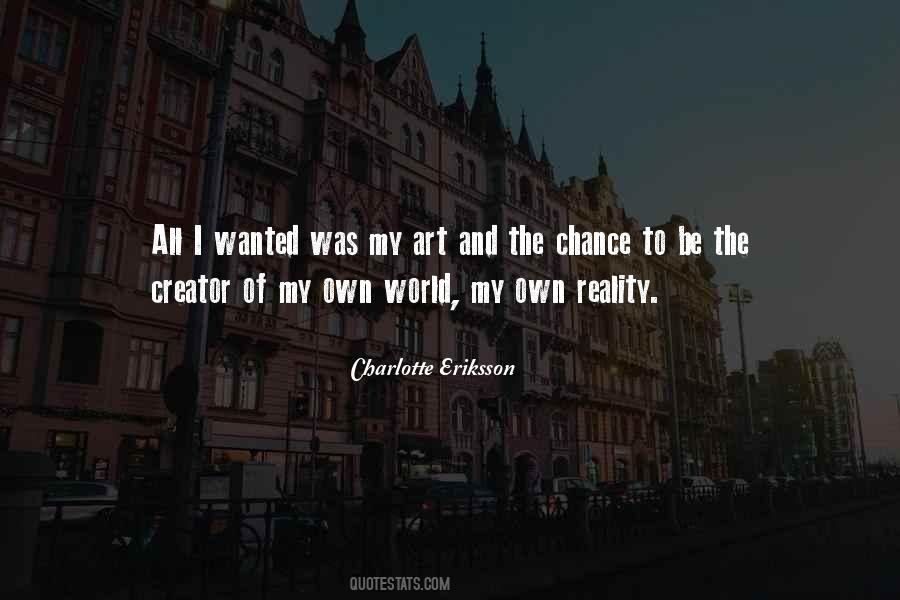 #48. The fight of satyagraha is for the strong in spirit, not the doubter or the timid. Satyagraha teaches us the art of living as well as dying. - Author: Mahatma Gandhi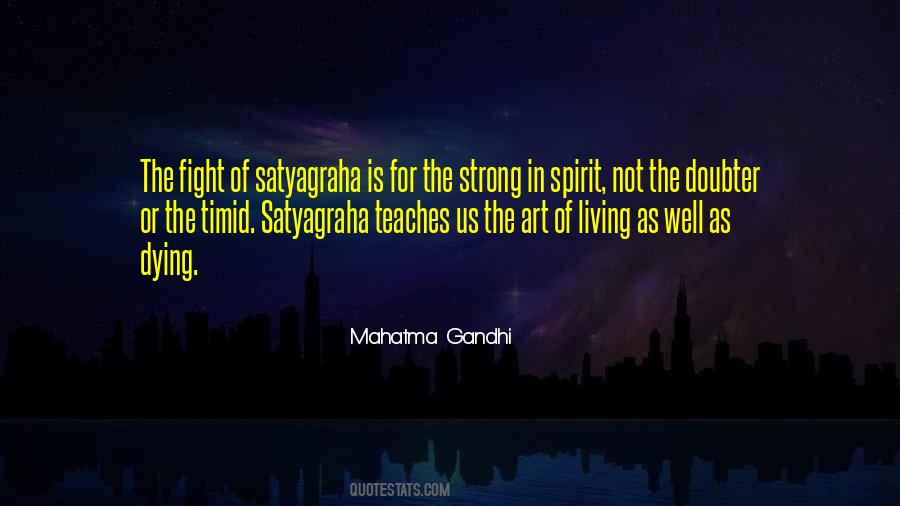 #49. Masters in all branches of art must first be masters in living, for the soul creates everything. - Author: Bruce Lee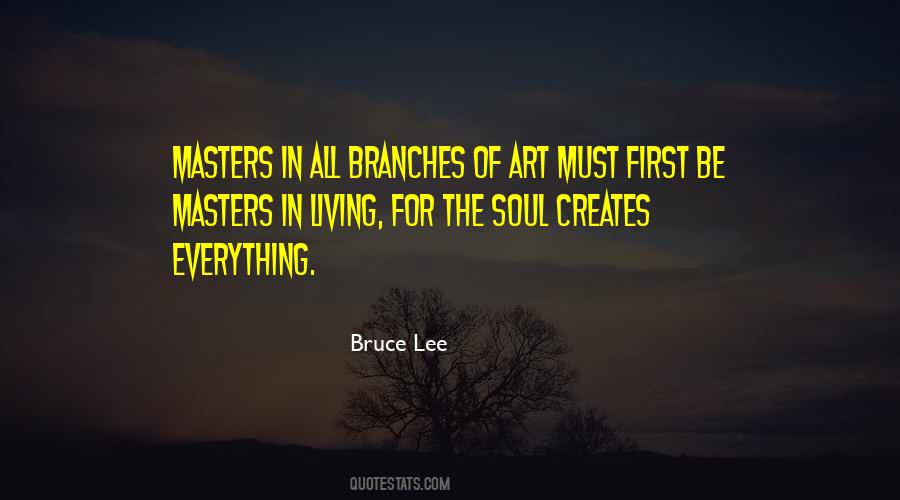 #50. We live mindfully by harvesting evocative scenes to pay attention to including the mountains and oceans, flowers and trees, love and friendship, music and literature, art and poetry. - Author: Kilroy J. Oldster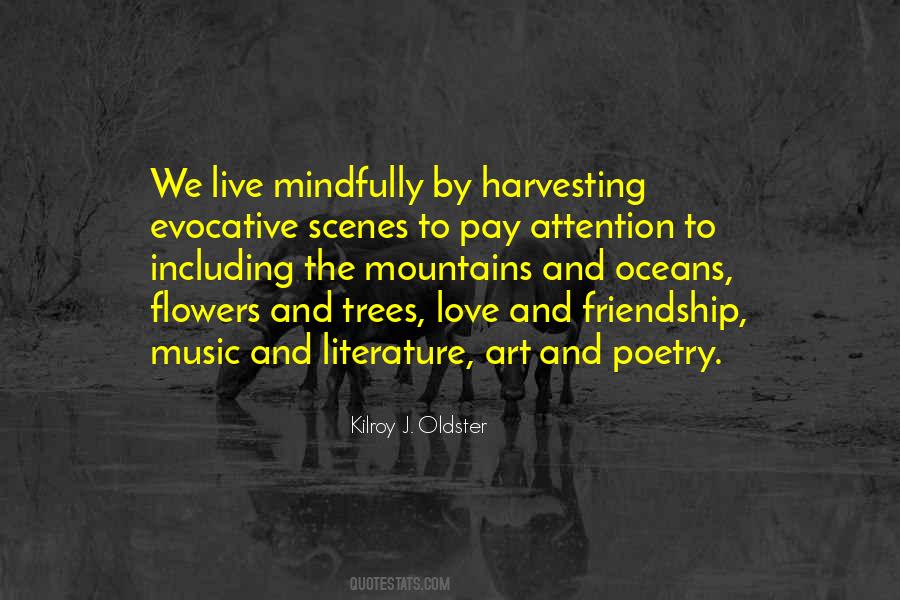 #51. The question is not ... if art is enough to fulfill my life, but if I am true to the path I have set for myself, if I am the best I can be in the things I do. Am I living up to the reasons I became a singer in the first place? - Author: Kathleen Battle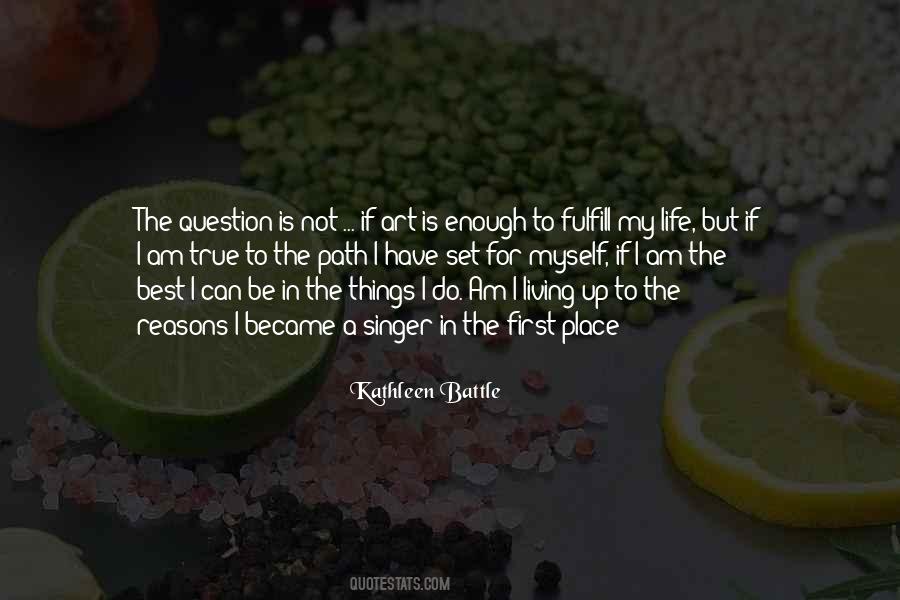 #52. The theatre, like the fresco, is art fitted to its place. And therefore it is above all else the human art, the living art. - Author: Romain Rolland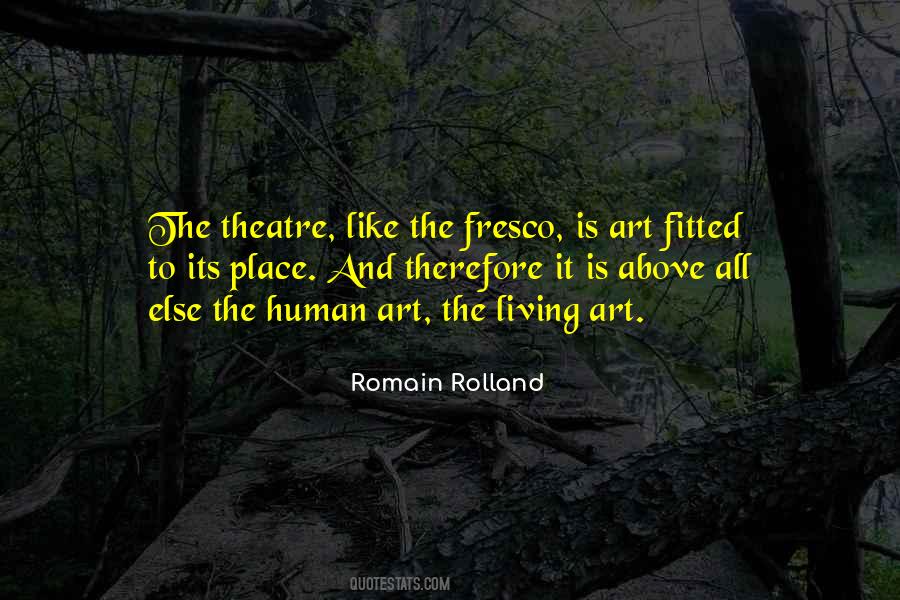 #53. Art is maybe a subversive activity. There is a certain rebellion when you are an artist at heart, even if only in the art of living. - Author: Philippe Petit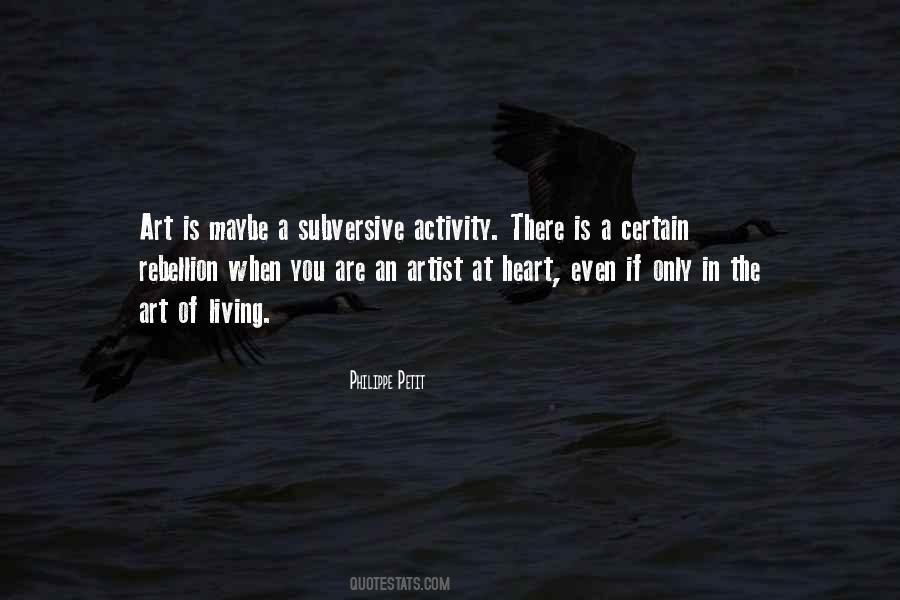 #54. Having previously graduated from a 2-year commercial arts class, I thought that commercial illustration was the best way to make a living doing art. But the more tattoos that I did, the more I realized what artistic career potential tattooing had and I enjoyed it. - Author: William Webb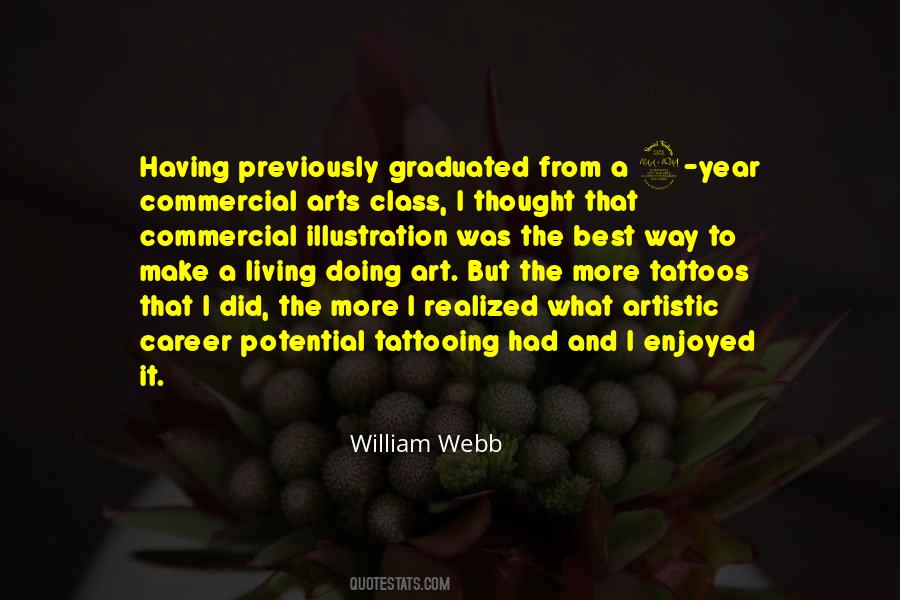 #55. It's really an interesting problem, trying to earn a living and serve art and serve kids. What I try to create are these visual layers so that readers feel the possibility exists that there might be something in the book they never saw before. - Author: Peggy Rathmann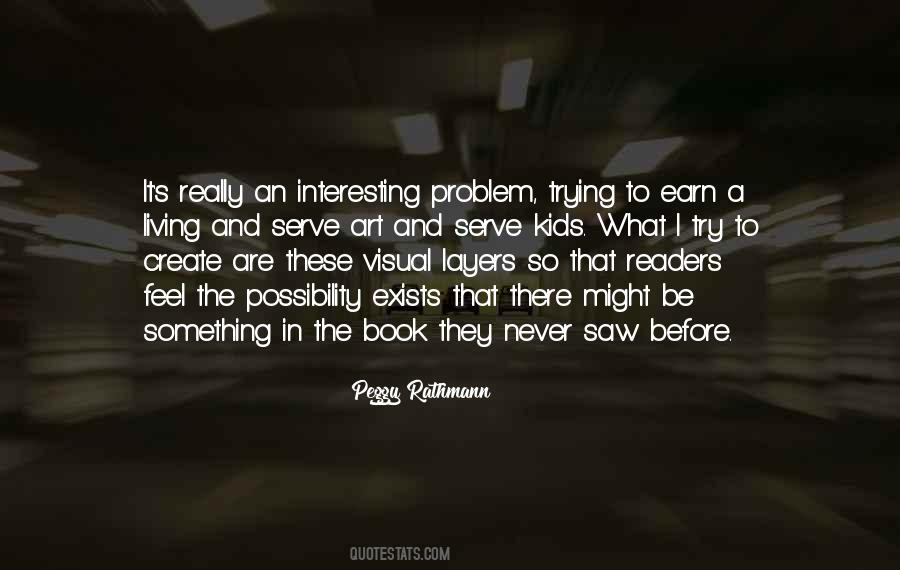 #56. Living with and studying good paintings offers greater interest, variety and satisfaction than any other pleasure known to man. - Author: Albert C. Barnes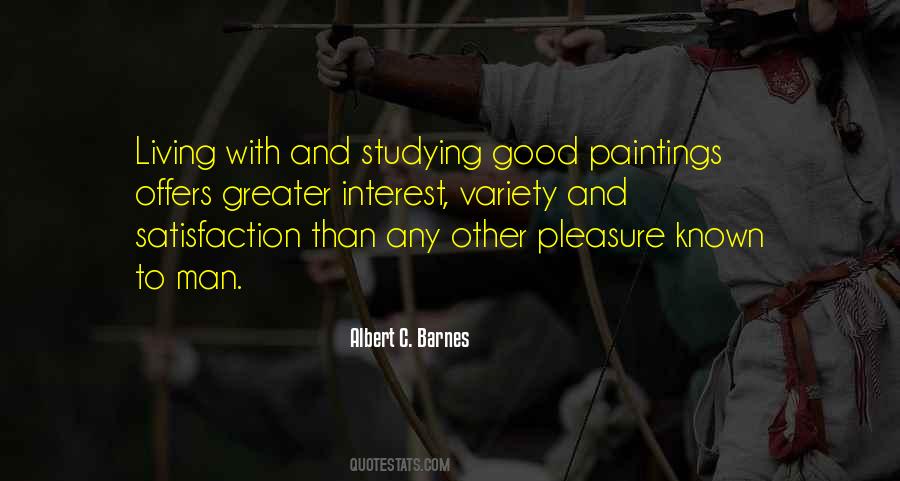 #57. I've never had to work out of the arts. I've always either been a writer or an editor, or something where I've made my living from doing what I love. You can't get any better than that. - Author: Len Wein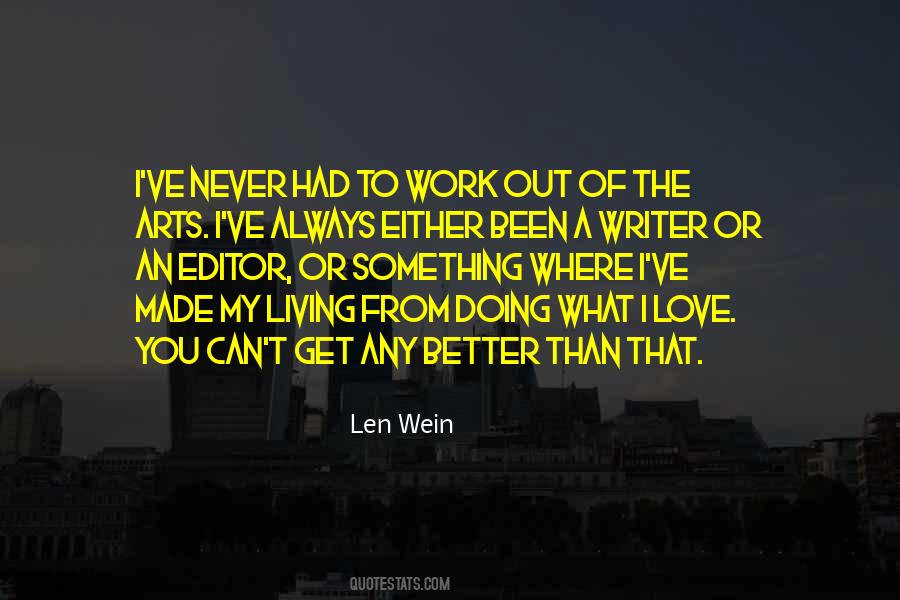 #58. You should sit in meditation for twenty minutes everyday - unless you're too busy; then you should sit for an hour. - Author: Sukhraj S. Dhillon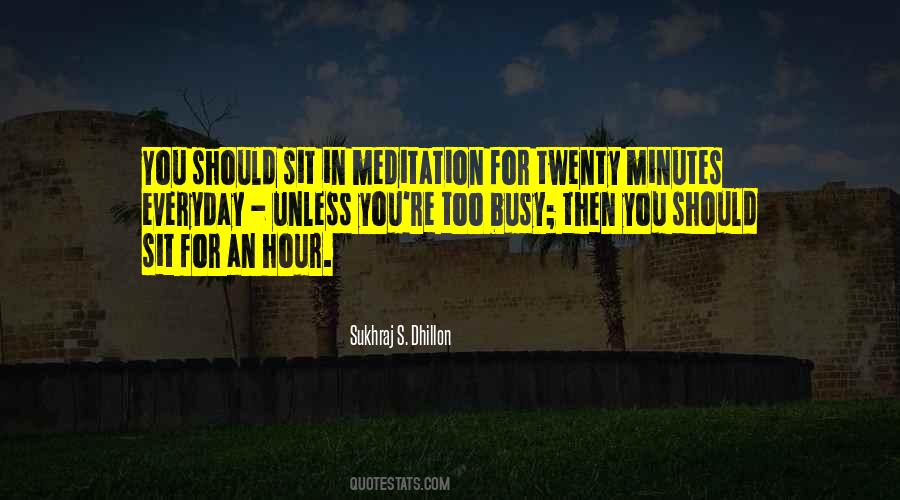 #59. When Lionel Giles began his translation of Sun Tzu's ART OF WAR, the work was virtually unknown in Europe. Its introduction to Europe began in 1782 when a French Jesuit Father living in China, Joseph Amiot, acquired a copy of it, and translated - Author: Sun Tzu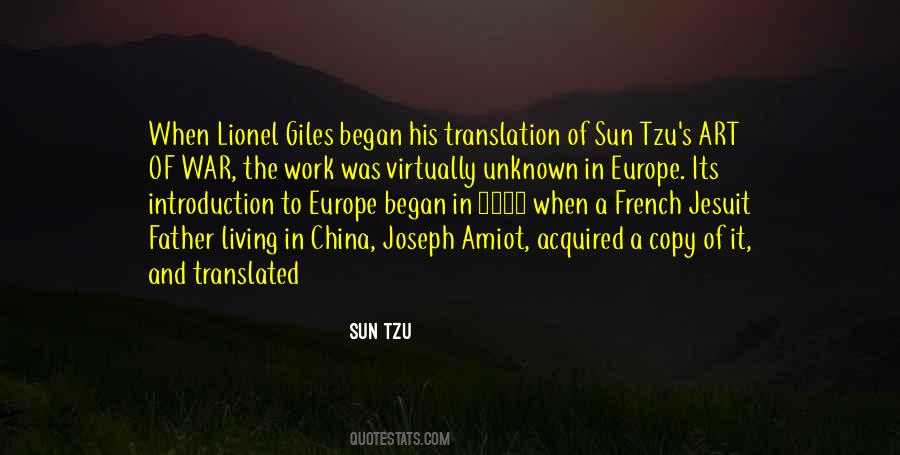 #60. I'm guilty of being fascinated by gadgets and toys and technology, but any penny that I spend, I try to make it be a part of what I do for a living. Because then you are forwarding. You are forwarding that art, forwarding that career ahead. - Author: Jeff Dunham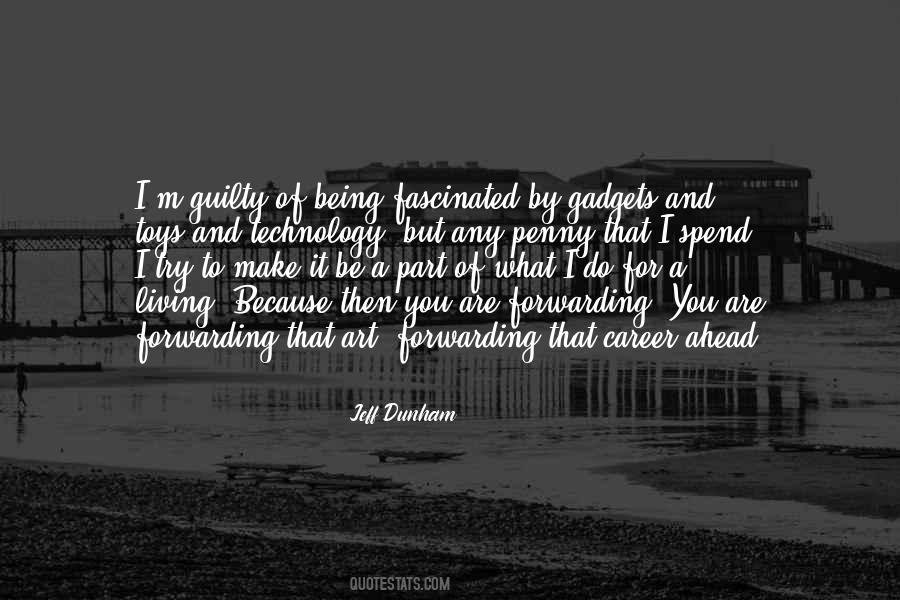 #61. Art is a partnership not only between those who are living but between those who are dead and those who are yet to be born. - Author: Edmund Burke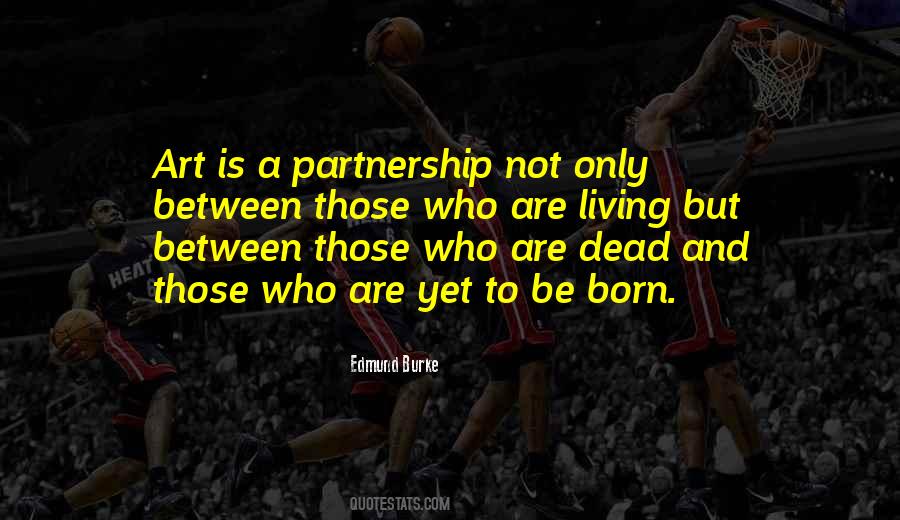 #62. Art is meant to provoke emotions, Avery. Its sole purpose is to arouse our senses, even if it disturbs. Even if it's ugly. Even if it fucking scares the living shit out of you. - Author: Lara Adrian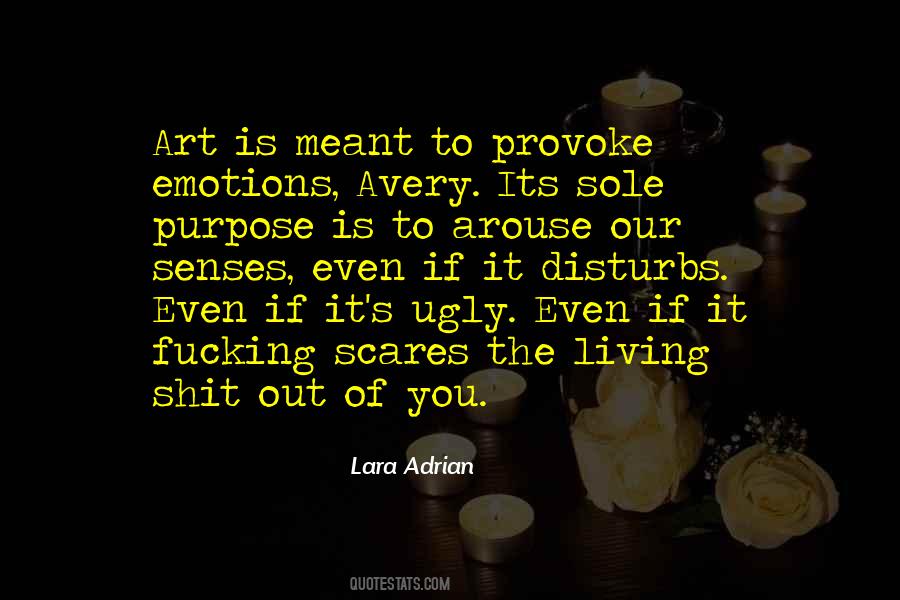 #63. A dog can be a living work of art, a constant reminder of the exquisite design and breathtaking detail of nature, beauty on four paws. - Author: Dean Koontz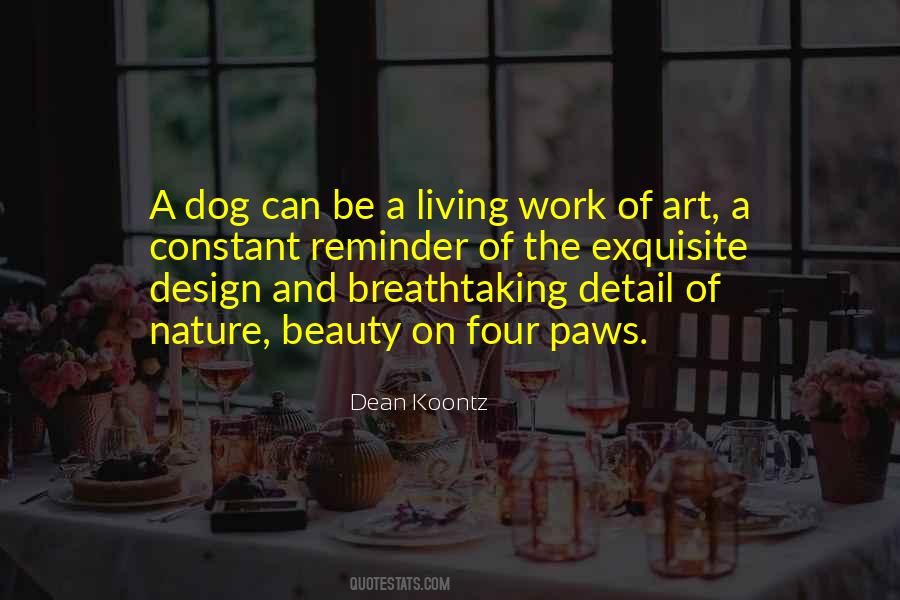 #64. Though a living cannot be made from art, art makes life worth living. It makes starving, living. - Author: John Sloan
#65. If knowing the truth is sufficient for you, then practice the art of philosophy. If only living the truth will suffice, then practice the art of love through your mind, your emotions, and your body. - Author: David Deida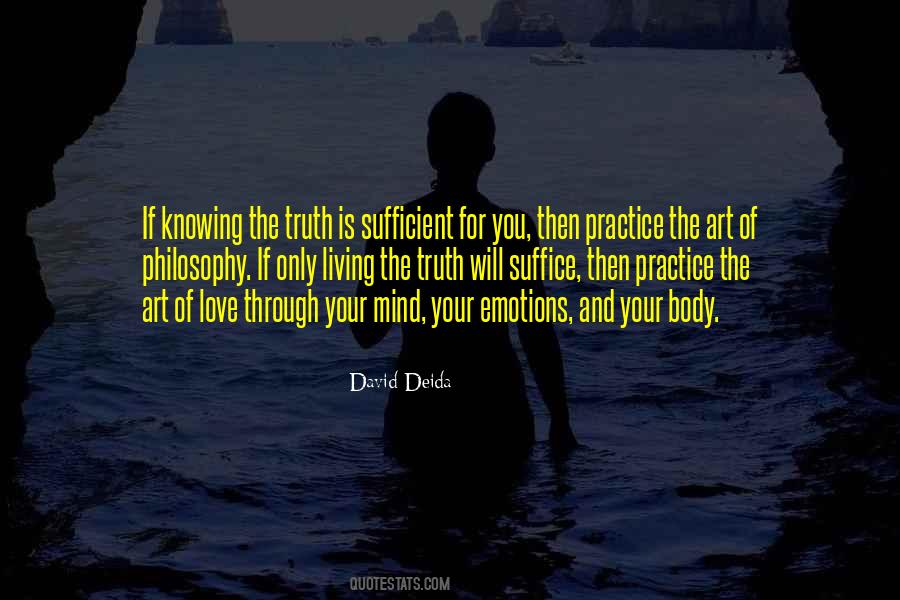 #66. That our popular art forms have become so obsessed with sex has turned the U.S.A into a nation of hobbledehoys; as if grown people don't have more vital concerns, such as taxes, inflation, dirty politics, earning a living, getting an education, or keeping out of jail. - Author: Anita Loos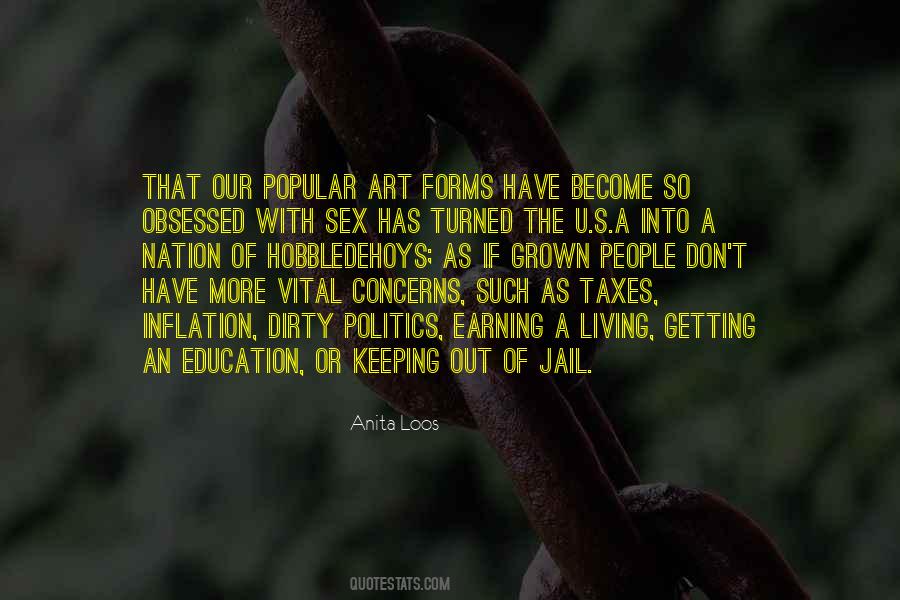 #67. I realised the bohemian life was not for me. I would look around at my friends, living like starving artists, and wonder, 'Where's the art?' They weren't doing anything. And there was so much interesting stuff to do, so much fun to be had ... maybe I could even quit renting. - Author: P. J. O'Rourke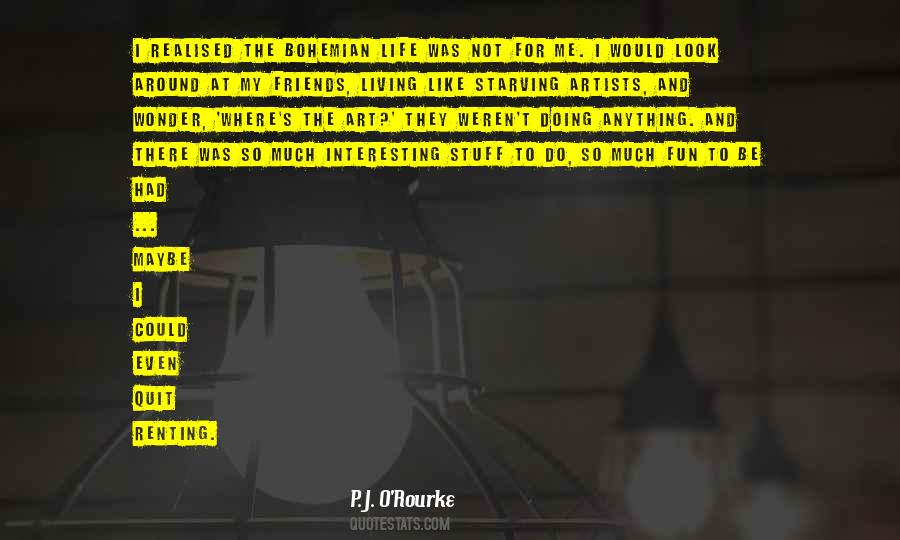 #68. Being an artist and a musician, I have witnessed the previous generation taking the art form, not as a way of making a living, but as a belief, an almost maniacal, sometimes insane devotion and commitment to communication. - Author: David Finckel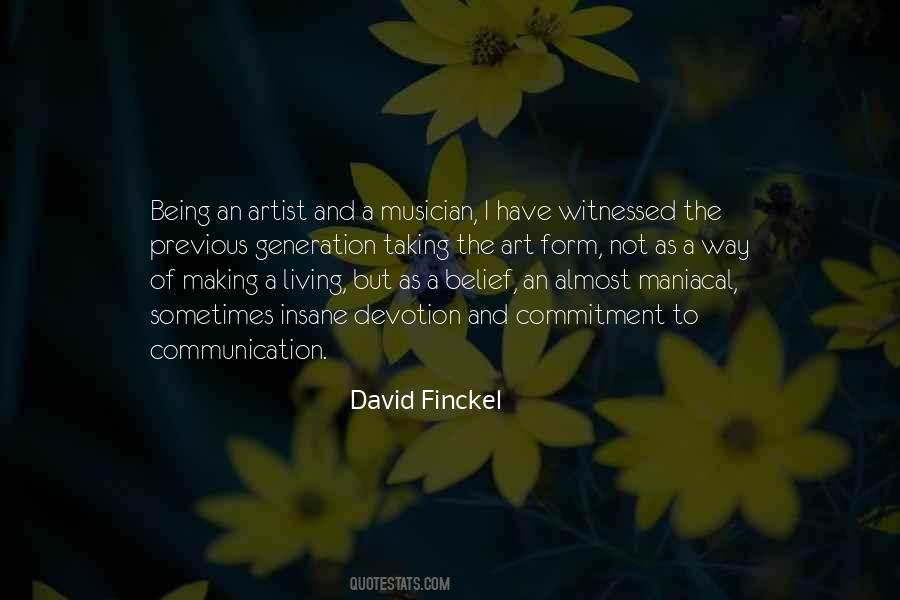 #69. Compassionate people are geniuses in the art of living, more necessary to the dignity, security, and joy of humanity than the discoverers of knowledge. - Author: Albert Einstein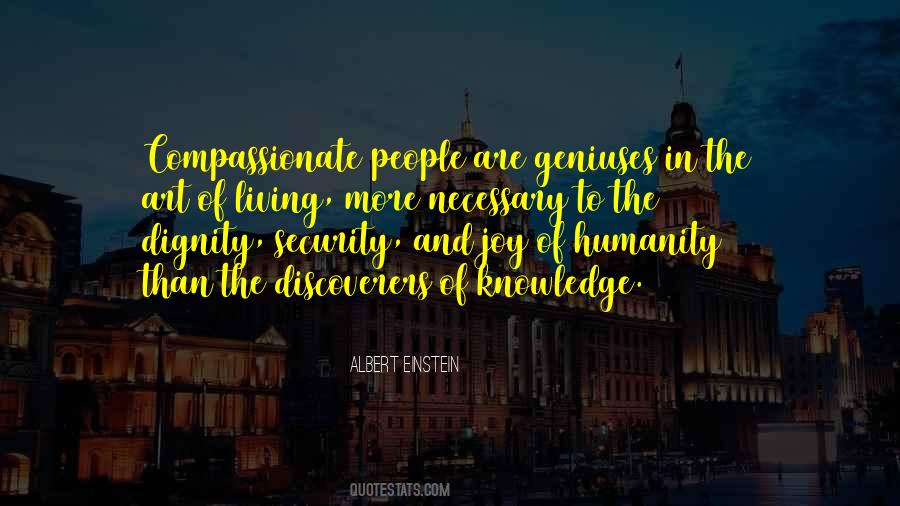 #70. I will never tell another person, "I don't understand you ... " and why? Because if I say that, it means that I am disabled in a way. The inability to connect to another's perspective is, I believe, a disability. - Author: C. JoyBell C.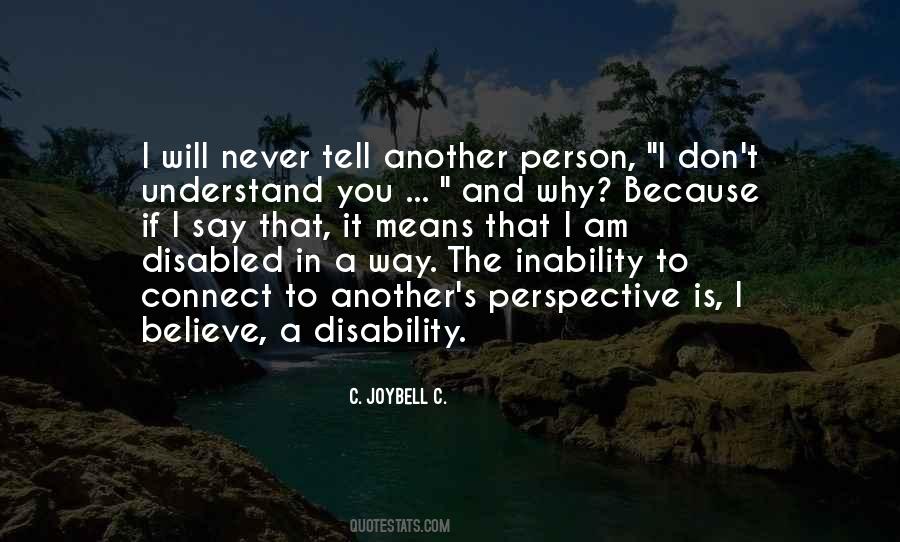 #71. Composition is a way of living out your philosophy and calling it art. - Author: Brian Eno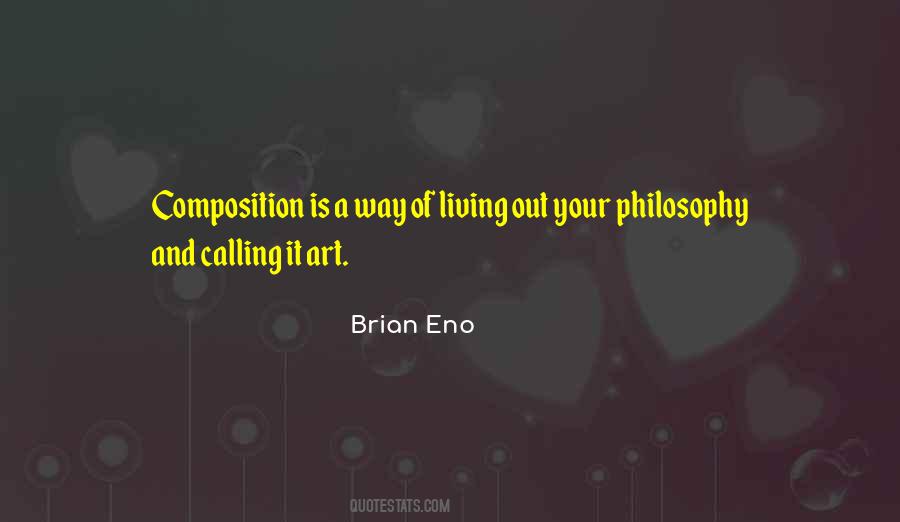 #72. I was always an artist. I was a broker to earn a living, but I was always thinking about my art. - Author: Jeff Koons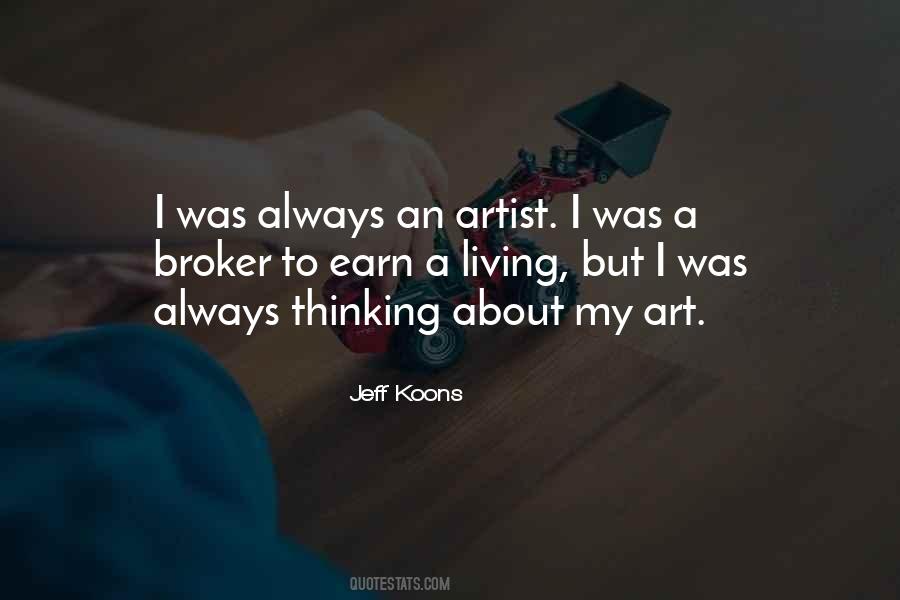 #73. The big pay-off was to work as an artist and gain some shred of respect from your friends, who were also artists. But there was never any notion that you could make a living out of art. On the rare occasions you had a gallery show, and sold a little work, well, that was just gravy. - Author: Edward Ruscha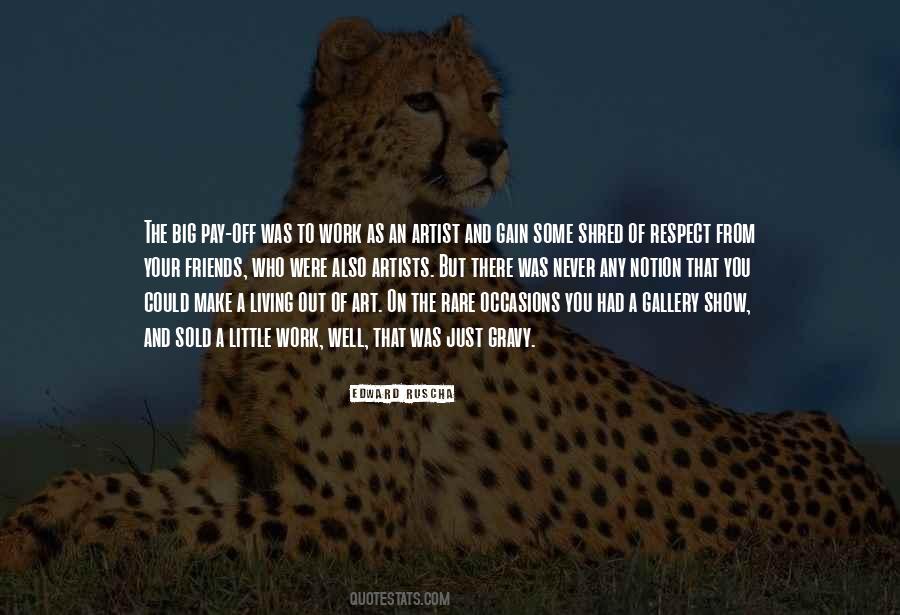 #74. The art of living consists in knowing which impulses to obey and which must be made to obey. - Author: Sydney J. Harris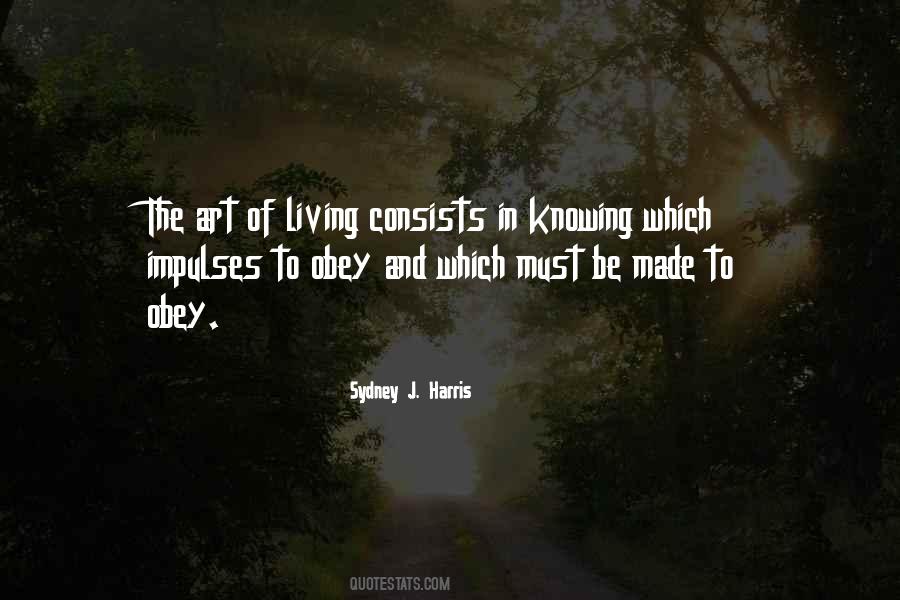 #75. Life isn't burger king. You can't always have it your way. - Author: Sukhraj S. Dhillon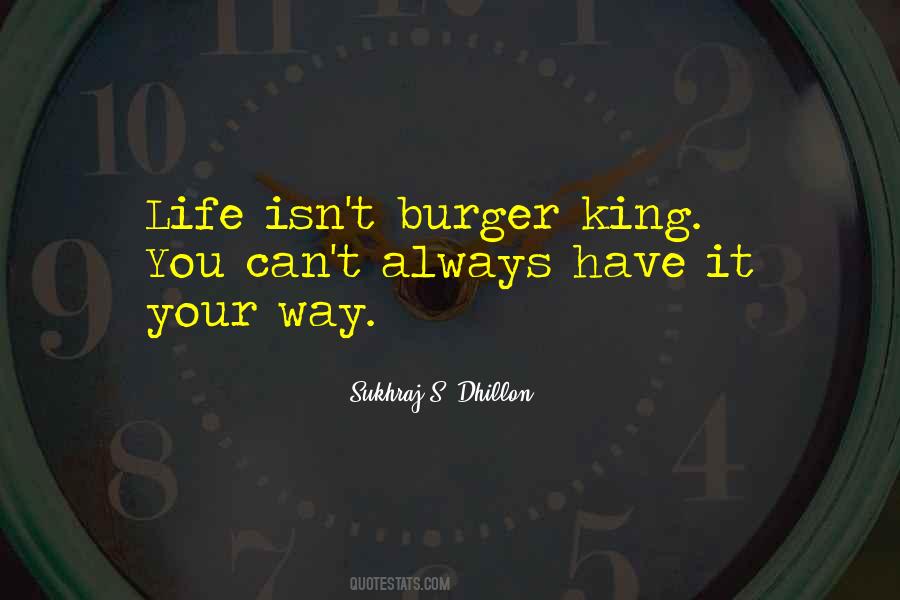 #76. Life is the greatest art of all, and the master artist is the man who is living the beautiful life. - Author: John Edgar Park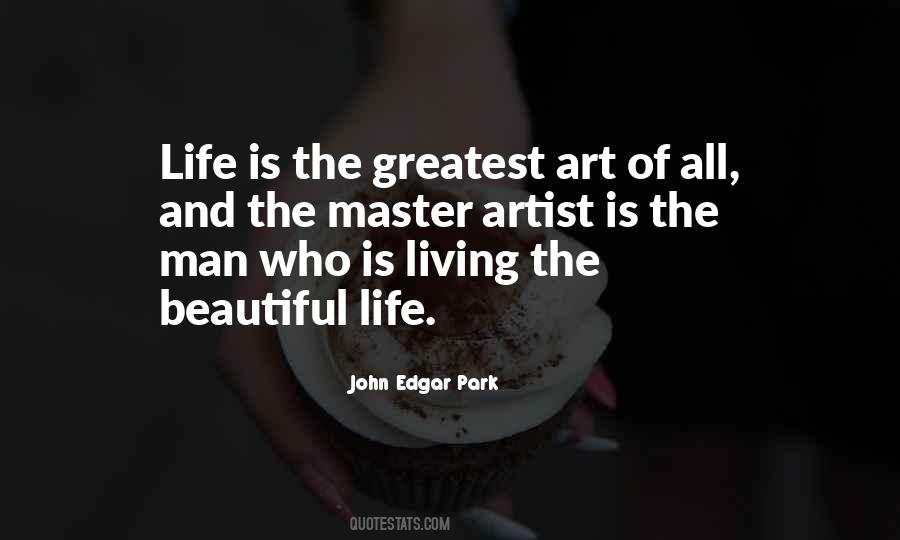 #77. Journalists justify their treachery in various ways according to their temperaments. The more pompous talk about freedom of speech and "the public's right to know"; the least talented talk about Art; the seemliest murmur about earning a living. - Author: Janet Malcolm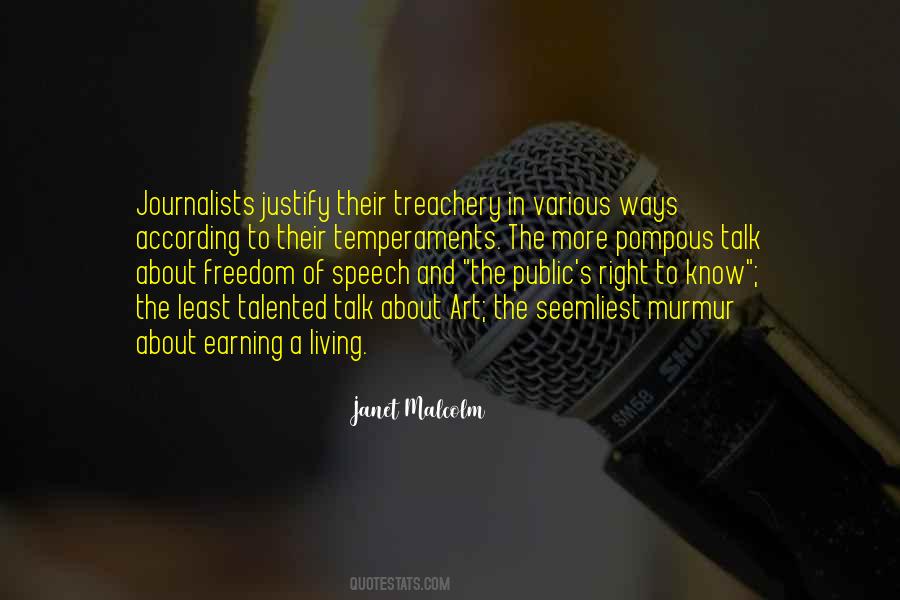 #78. If living life is an art , let us all become an artist - Author: Rajdeep Mittal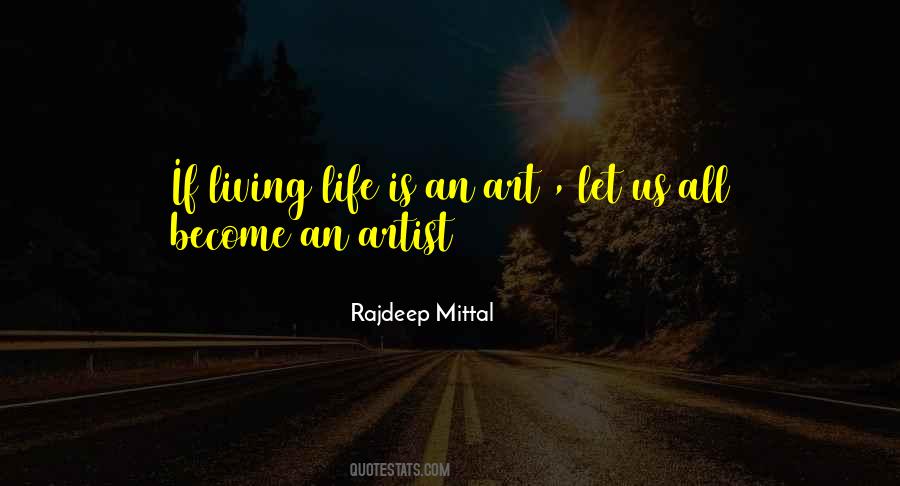 #79. Between the marketplace and government there exists all of that which makes life worth living-family life, spiritual life, the art and culture that make our spirits soar ... - Author: Hillary Clinton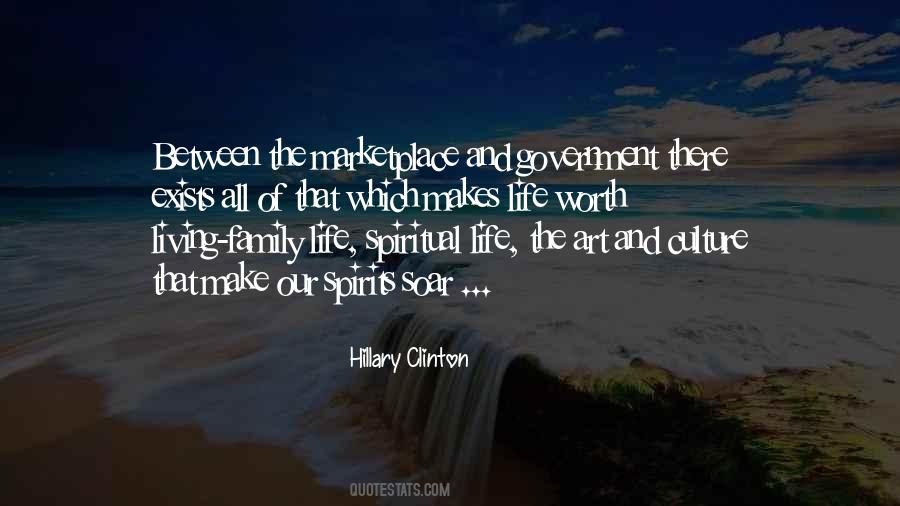 #80. Food is art, I believe. If you are going to be serving a living thing, you have to honor that living thing with some kind of care and thought and preparation to rationalize the taking of that life in some way. - Author: Bryan Fuller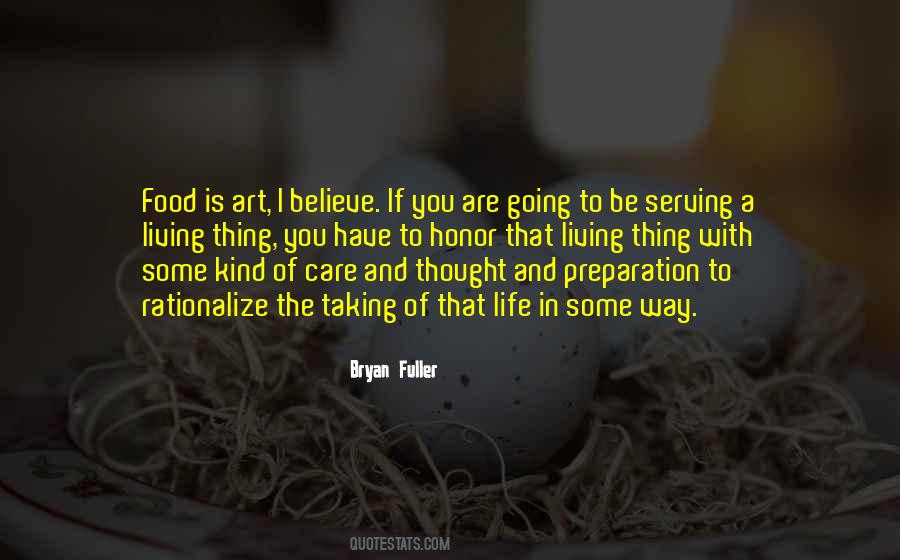 #81. Art is why I get up in the morning, but my definition ends there. You know, it doesn't seem fair that I'm living for something I can't even define, but there you are, right there, in the meantime. - Author: Ani DiFranco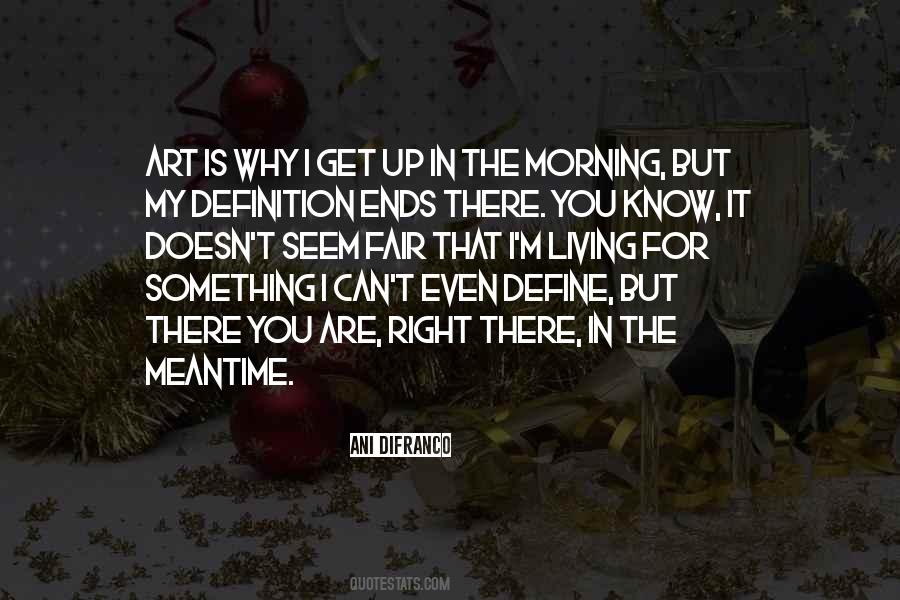 #82. Being on the run wasn't fun, but it was something I had to do. I was actually working in legitimate jobs. I wasn't living on people's credit cards. I was living like a character out of a movie. It was performance art. - Author: Kevin Mitnick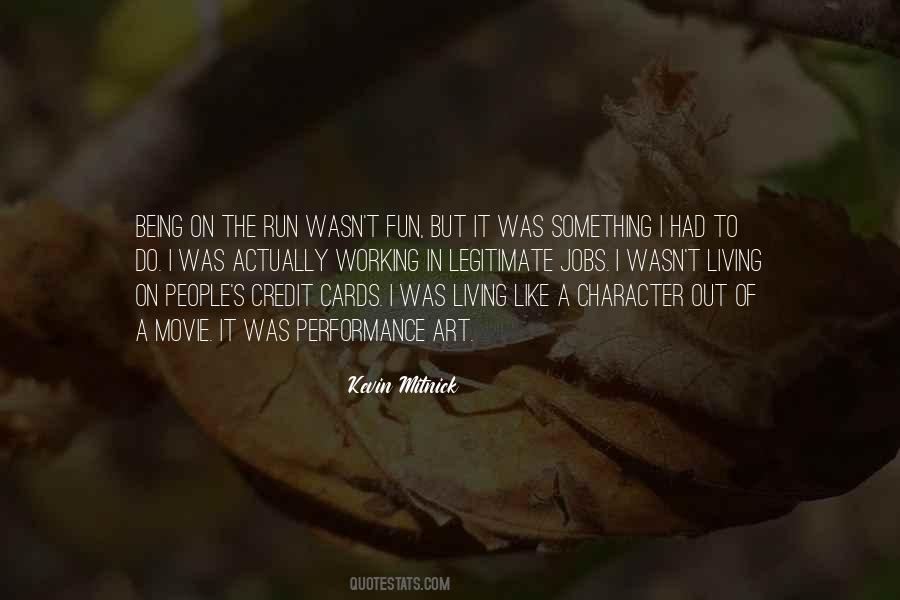 #83. What lives in art and is eternally living, is first of all the painter and then the painting. - Author: Vincent Van Gogh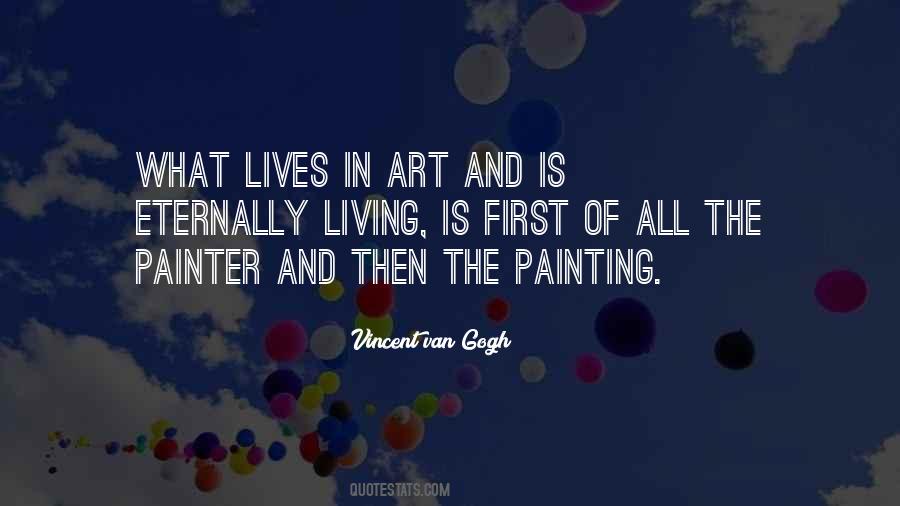 #84. I am lucky because I do fine art, and that is half of my living. And then illustration provides the other half. - Author: Molly Crabapple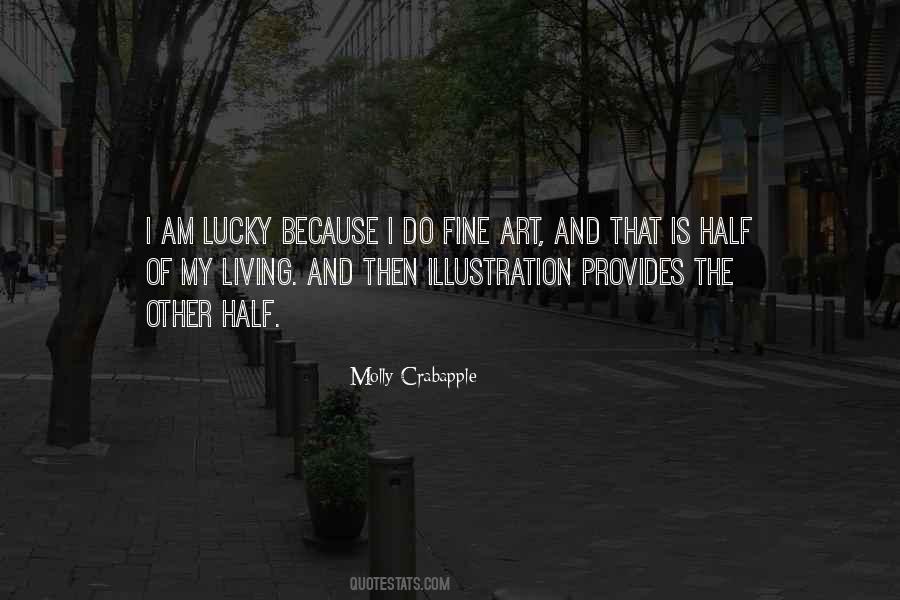 #85. Documenting little details of your everyday life becomes a celebration of who you are. - Author: Carolyn V. Hamilton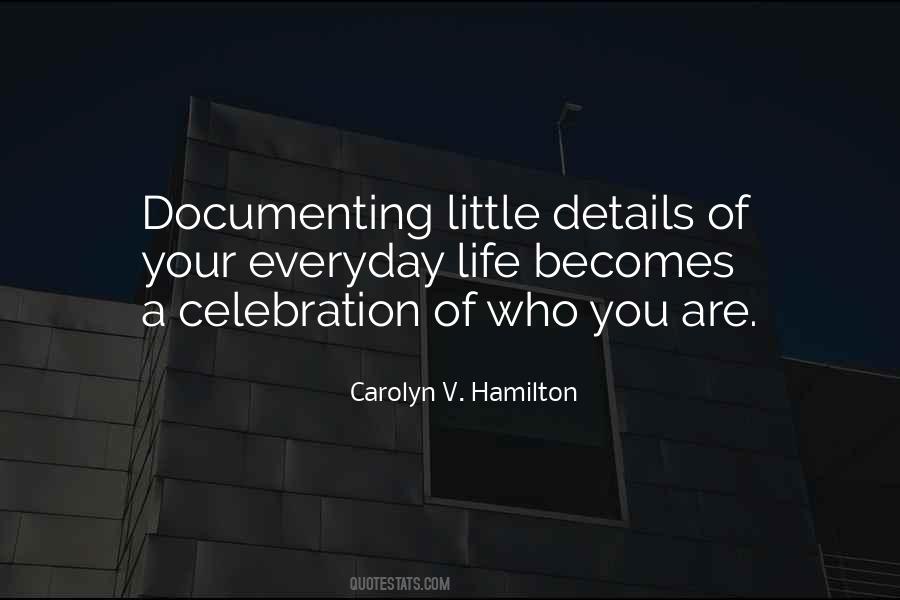 #86. We have been so successful in the past century at the art of living longer and staying alive that we have forgotten how to die. Too often we learn the hard way. As soon as the baby boomers pass pensionable age, their lesson will be harsher still. - Author: Terry Pratchett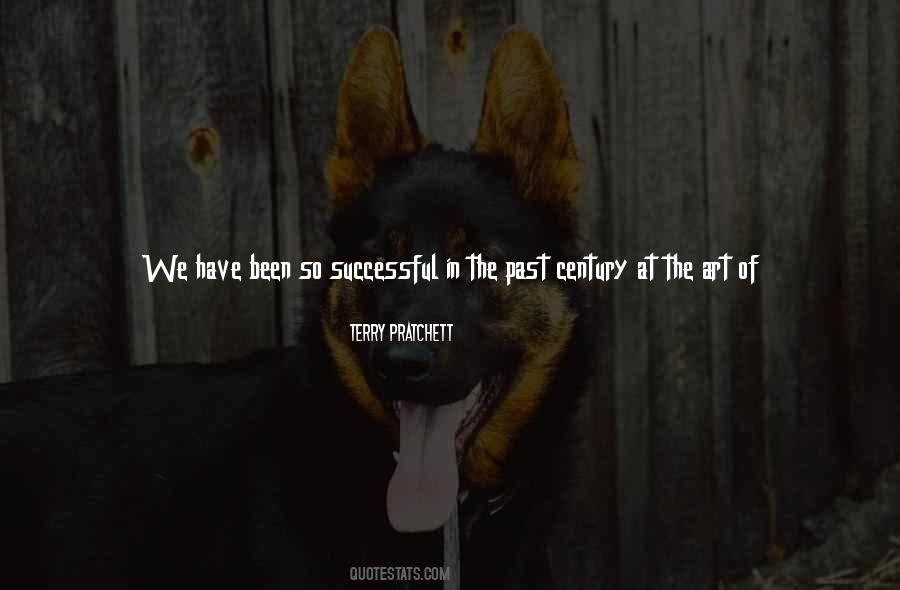 #87. My mother supported my every artistic ambition. I don't wonder why. I'm beyond grateful. But when I think of my grandparents barely surviving the war, I feel so pampered. What an indulgence to be an artist. So this is it, this is all I can offer, to the living and to the dead. - Author: Leela Corman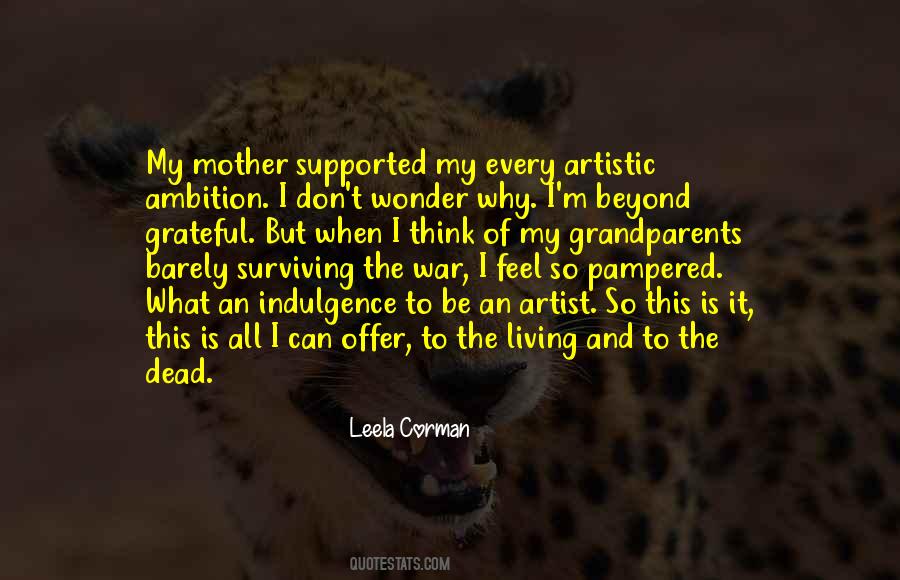 #88. I have so little mastered the art of tranquil living that wherever I go I trail storm clouds of drama around me. - Author: Mary Antin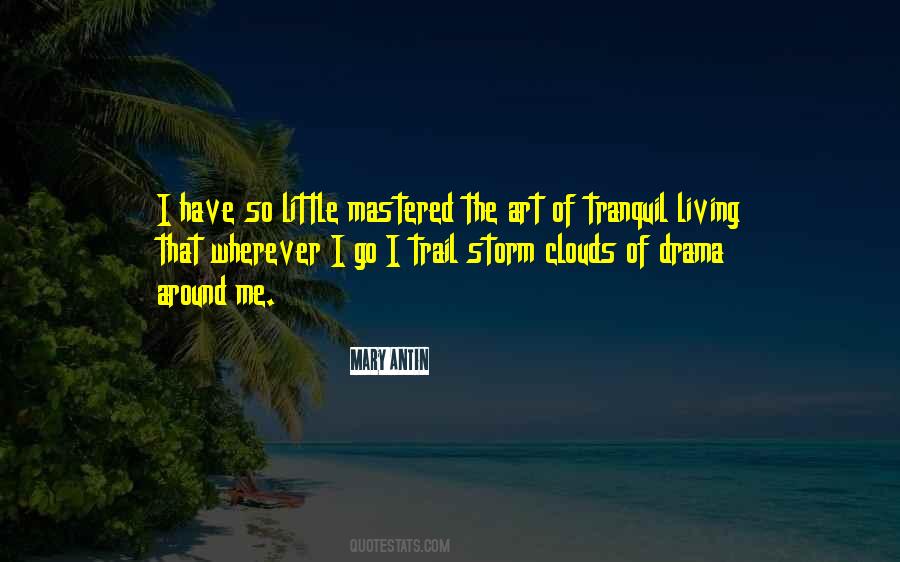 #89. We create our own reality. The blessing (or problem) with this is that when one creates one's own reality, one must live it! Are you living a blessing or is it a curse? - Author: Gary R. Ryan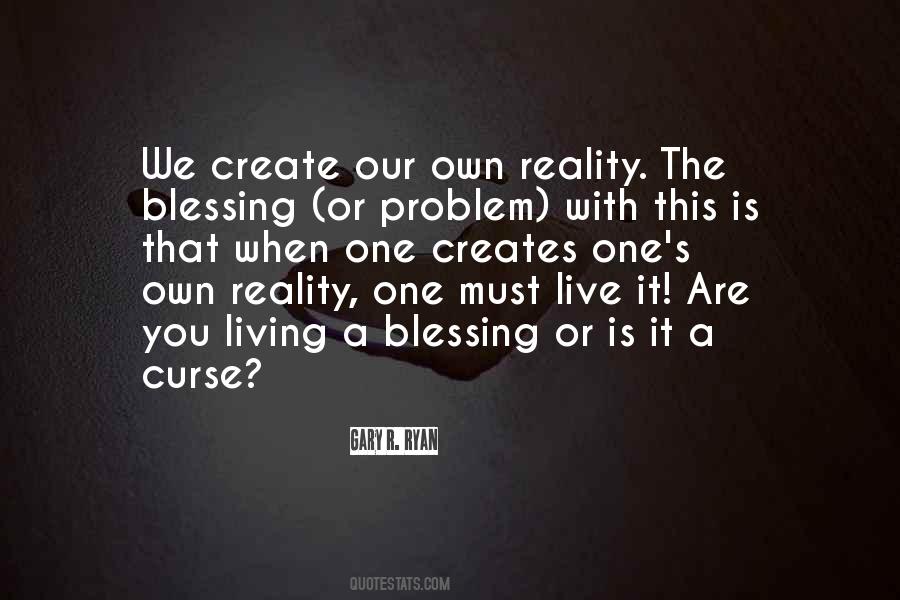 #90. As an adult I had mastered the art of looking without seeing and listening without hearing and eating without tasting and maybe even existing without living. - Author: Dan Groat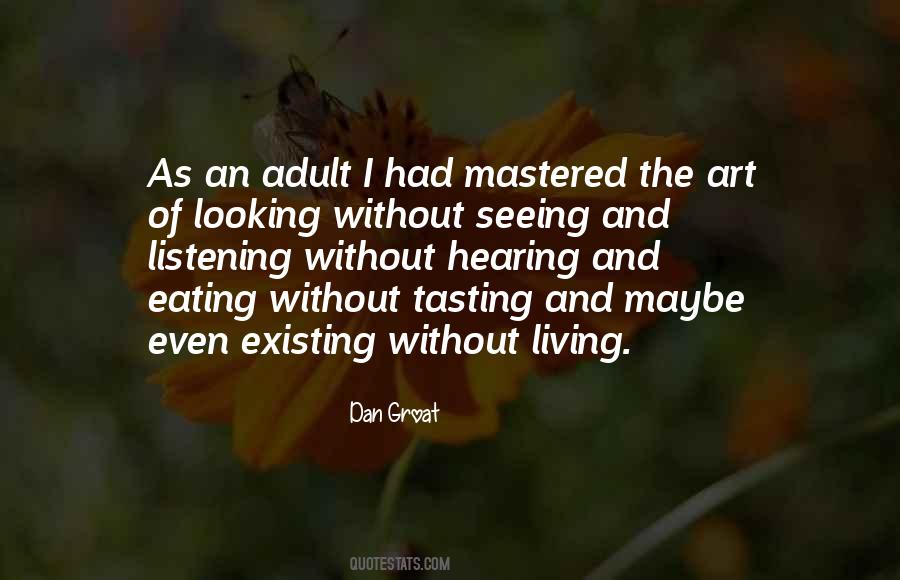 #91. Art always serves beauty, and beauty is the joy of possessing form, and form is the key to organic life since no living thing can exist without it. - Author: Boris Pasternak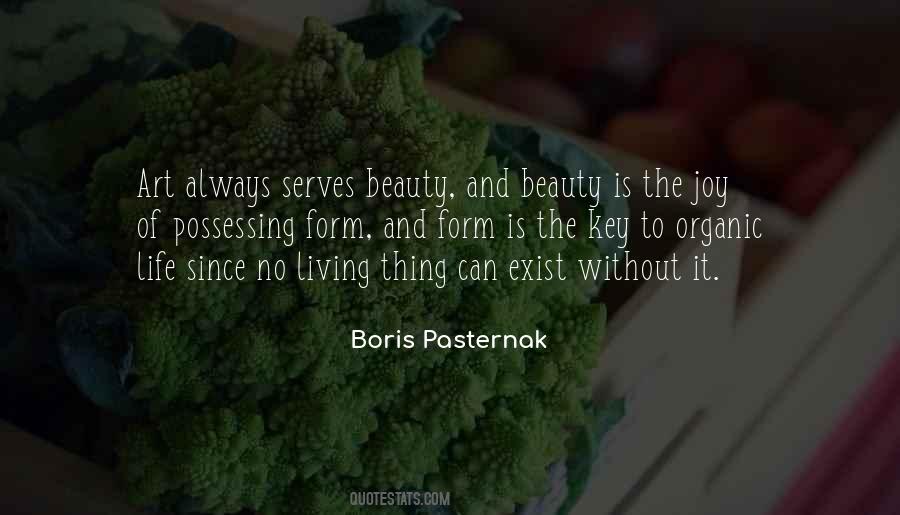 #92. What is art? It is not decoration. It is the re-living of experience. - Author: Rebecca West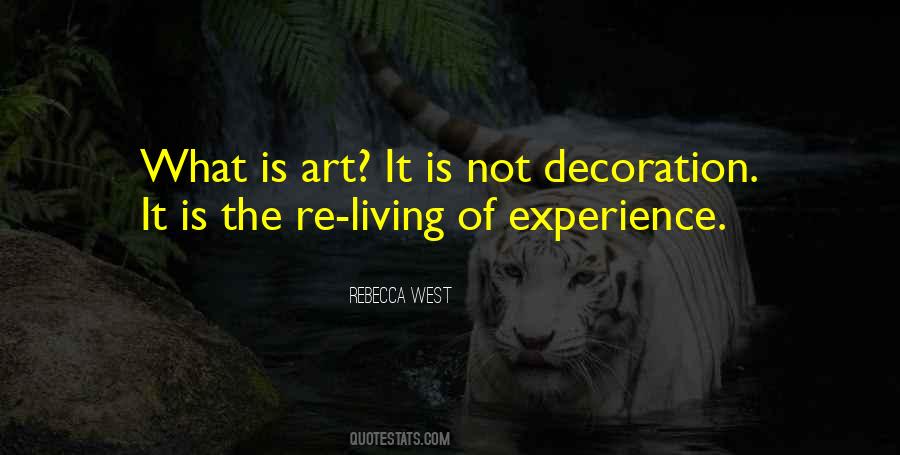 #93. The art of living has no history: it does not evolve: the pleasure which vanishes vanishes for good, there is no substitute for it. Other pleasures come, which replace nothing. No progress in pleasures, nothing but mutations. - Author: Roland Barthes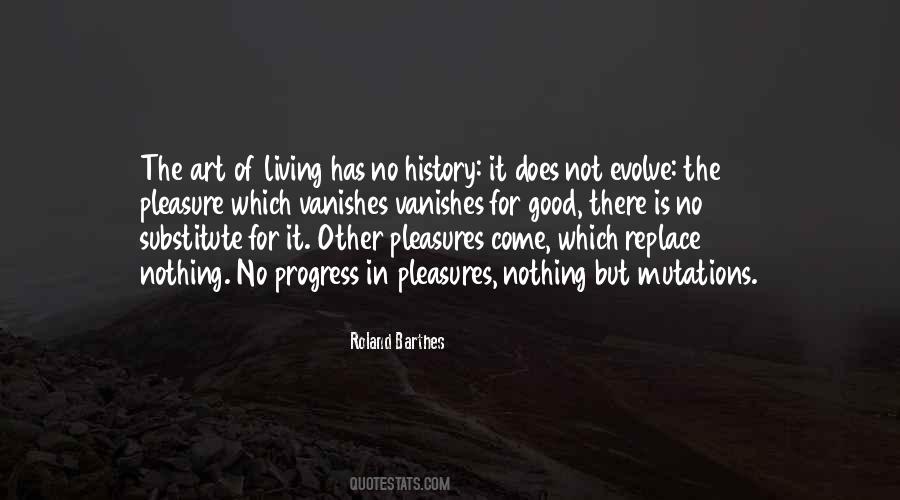 #94. The art of arguing is the art of living. We argue because we must, because life emends it, because, in the end, life itself is but an argument. - Author: Gerry Spence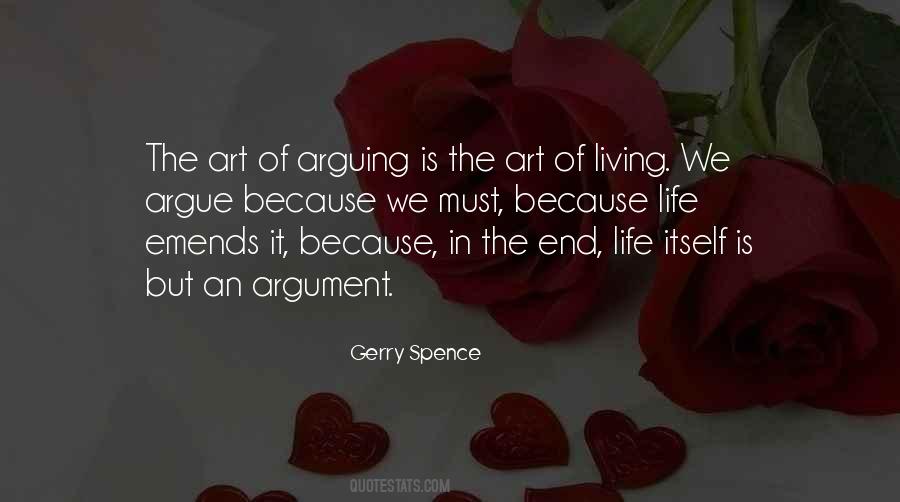 #95. The novel, as a living force, if not as a work of art, owes an incalculable debt to what we call, mistakenly, the new psychology, to Freud, in his earlier interpretations, and more truly, I think, to Jung. - Author: Ellen Glasgow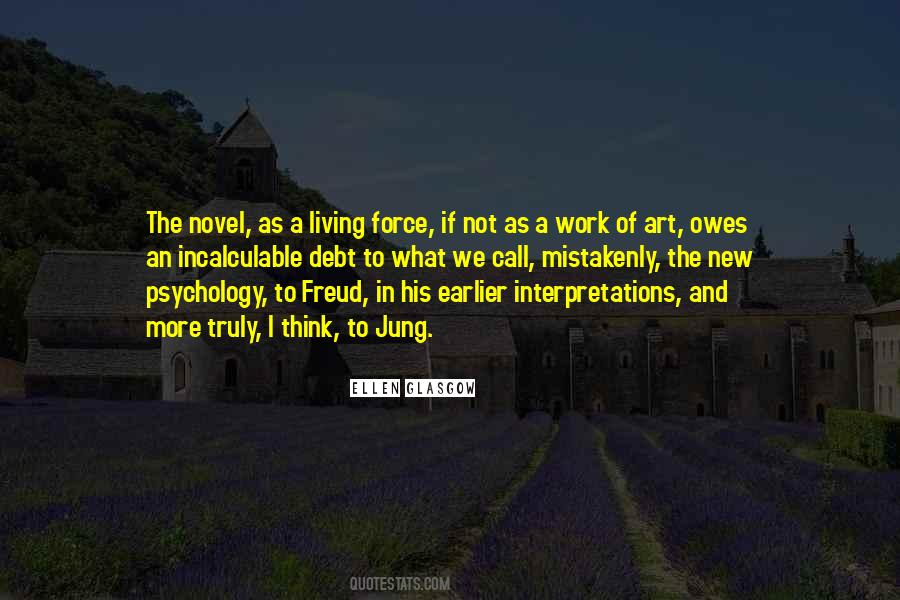 #96. Art is not an investment. Art is something you buy because you are financially solvent enough to give yourself a pleasure of living with great works rather than having to just see them in museums. People who are buying art at the top of the market as an investment are foolish. - Author: Arne Glimcher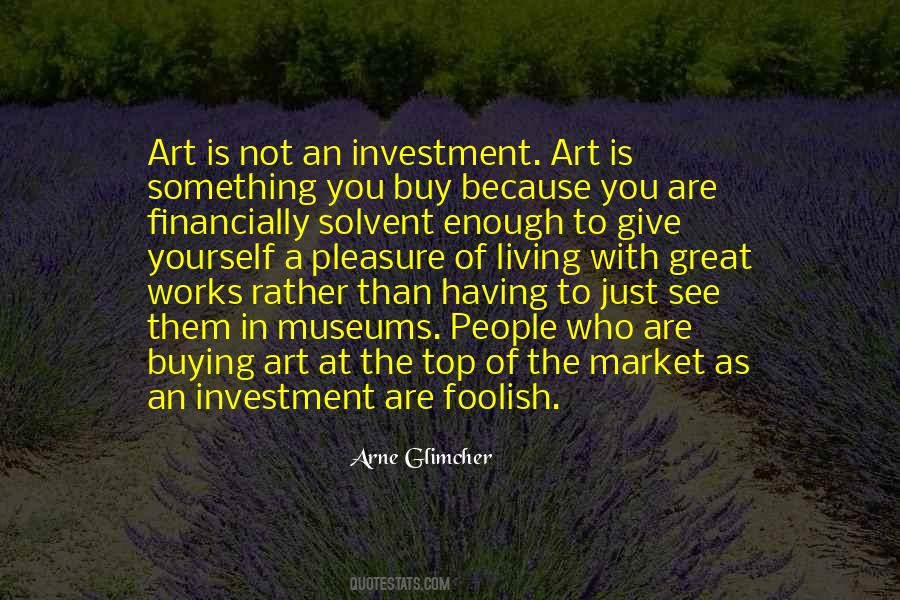 #97. The way I look is part of it. It sounds affected but I do see myself as a piece of living art. - Author: Klaus Nomi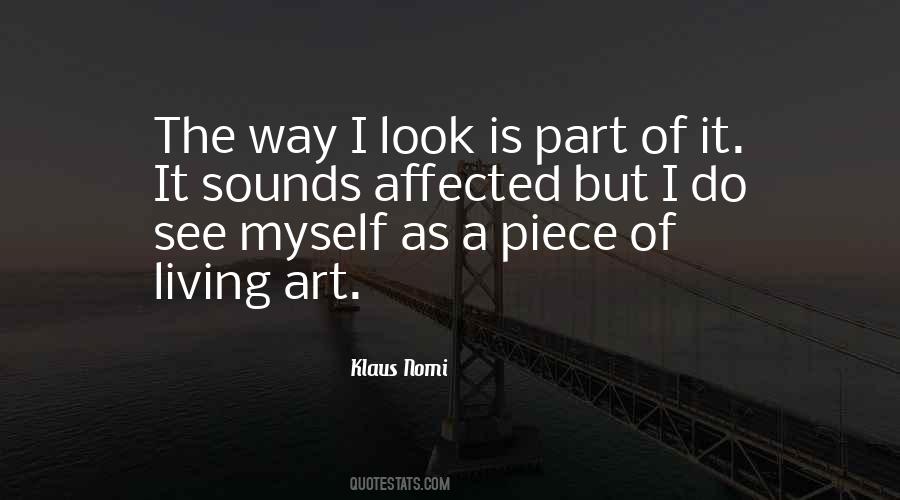 #98. ...love is as much an art as painting or living; it requires practice, finesse, determination, humility, energy and delicacy. - Author: Hannah Mary Rothschild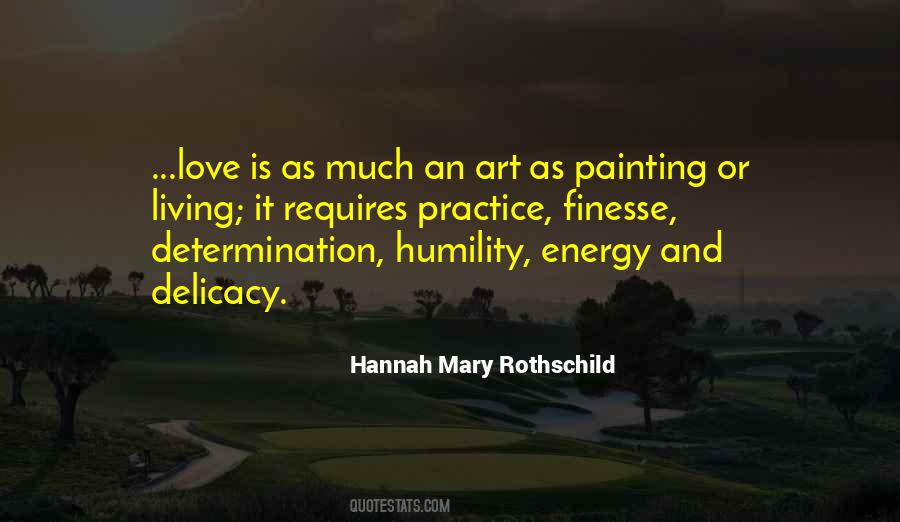 #99. Creating is living doubly. The groping, anxious quest of a Proust, his meticulous collecting of flowers, of wallpapers, and of anxieties, signifies nothing else. - Author: Albert Camus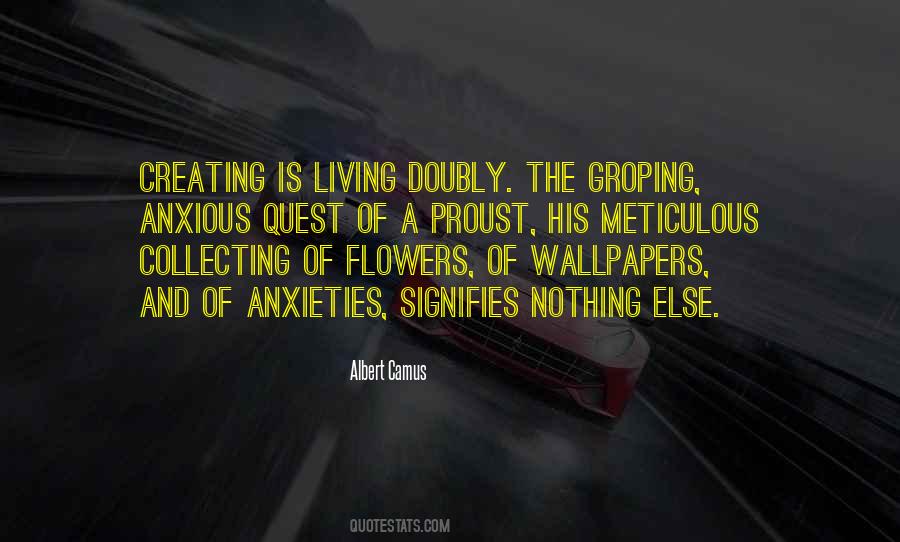 #100. Luck is when preparation meets opportunity. I'll share the formula I learned while forging my way forward as a full-time painter for forty-four years. The steps all break down to one simple sentence: Make art that connects with enough folks for you to earn a splendid living. - Author: Jack White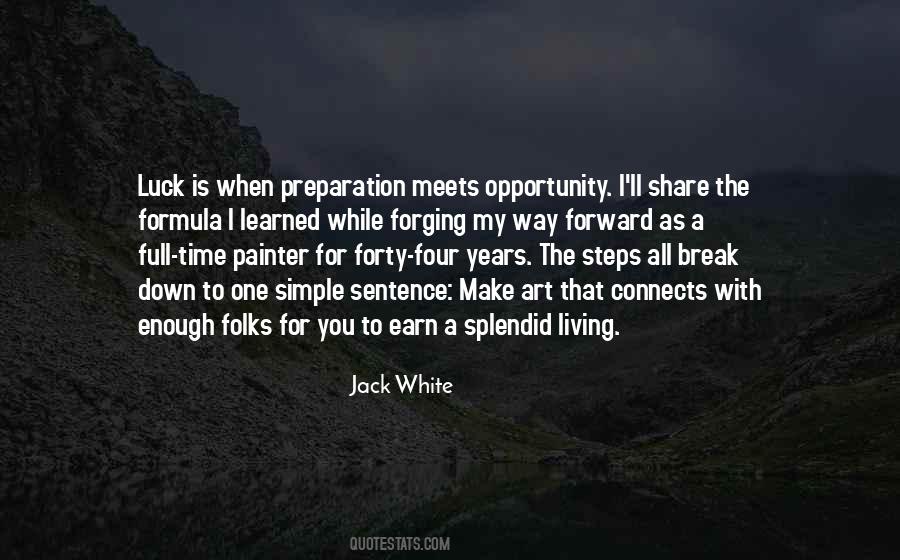 Famous Authors
Popular Topics