Living A Happy Life Famous Quotes & Sayings
List of top 100 famous quotes and sayings about living a happy life to read and share with friends on your Facebook, Twitter, blogs.
Top 100 Quotes About Living A Happy Life
#1. Abundant living is realizing that life is a privilege whether it's adhering to our scripts or not. - Author: Craig D. Lounsbrough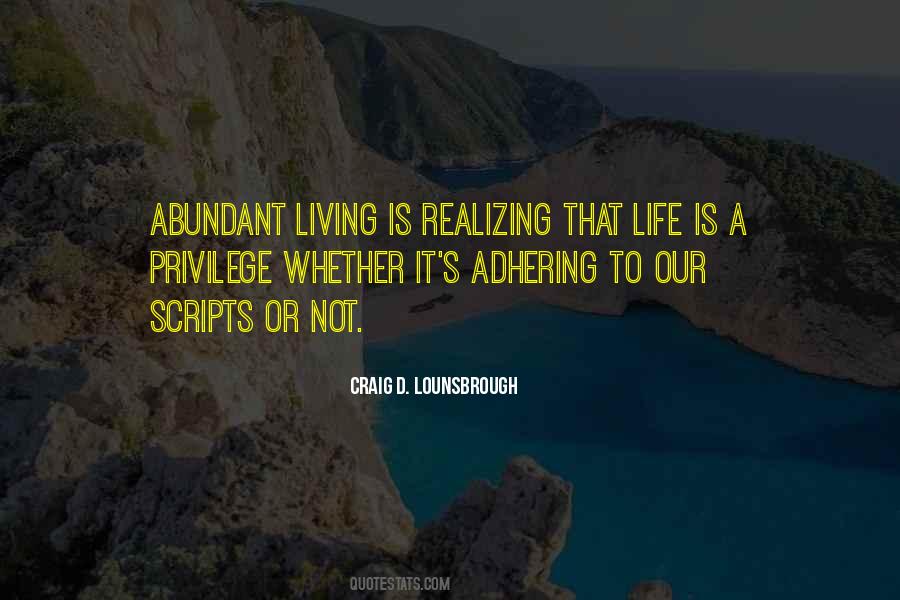 #2. One downside of living with a Were-cheetah is that he purrs when he's happy. At times, the apartment vibrated
all day from MeShack's enjoyment of life. - Author: Kenya Wright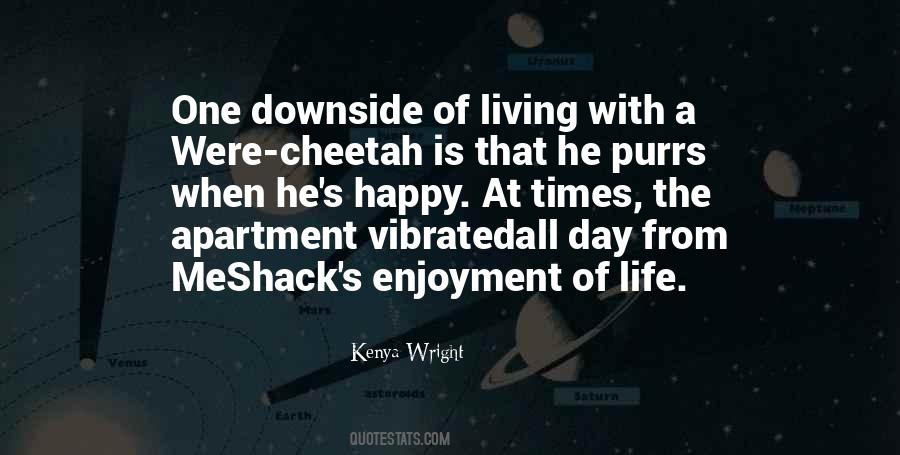 #3. Thank you. (Nykyrian)
For what? (Kiara)
For giving me a life worth living. I know I'm not worth it, and that I don't deserve it, but I swear to the gods I finally believe in that I will spend every moment I have left making you happy and trying to be worthy of you. (Nykyrian) - Author: Sherrilyn Kenyon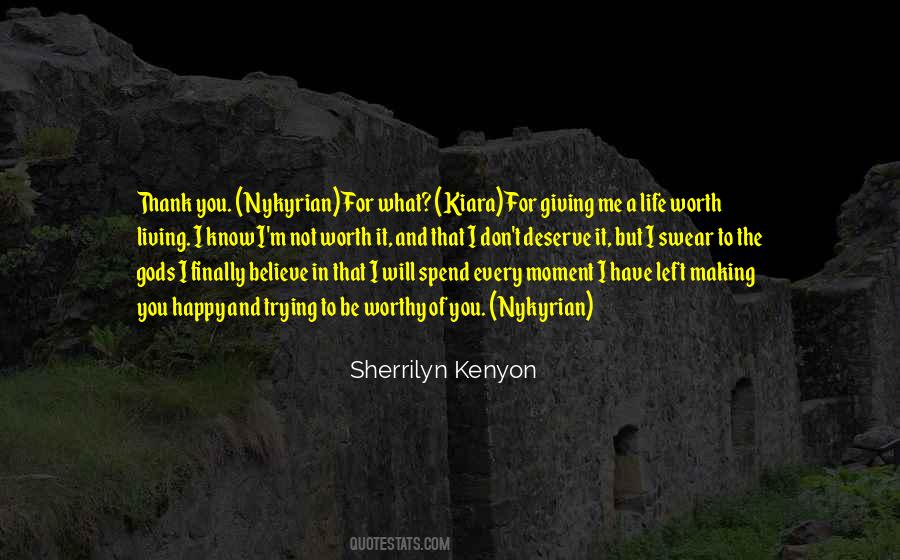 #4. If you concentrate always on the present, you'll be a happy man. You'll see that there is life in the desert, that there are stars in the heavens ... Life will be a party for you, a grand festival, because life is the moment we're living right now. - Author: Paulo Coelho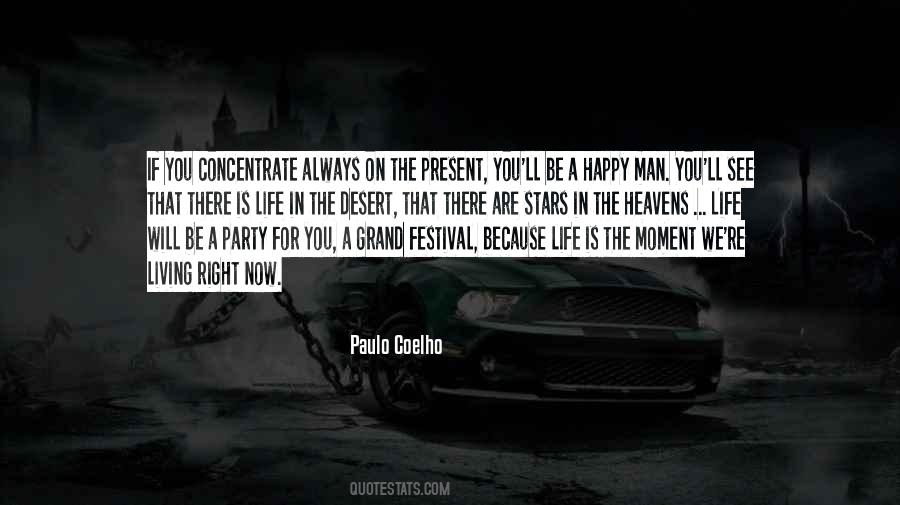 #5. This world can be quite wonderful once you let yourself be a part of it. - Author: Charlotte Eriksson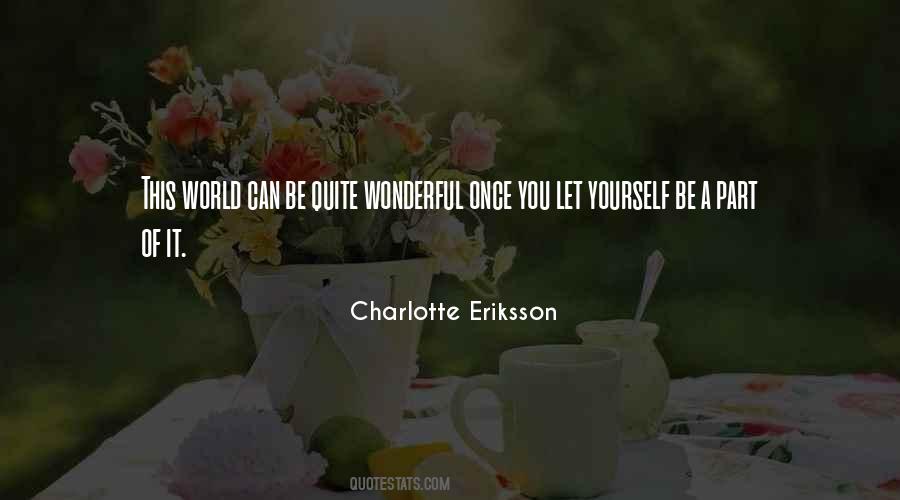 #6. I need to celebrate life because I'm in a good spot, I work hard, and I am happy with who I am and what I do for a living. - Author: Dustin Poirier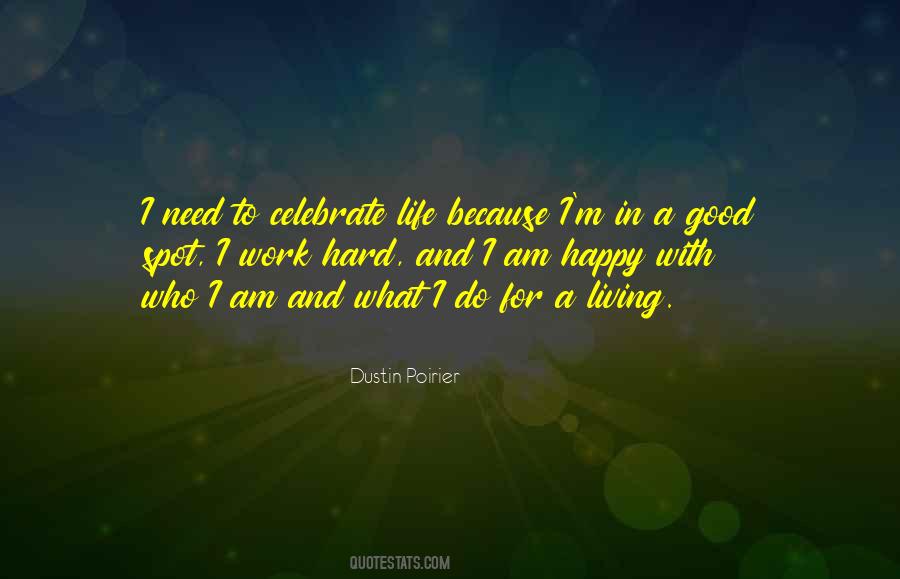 #7. We have to work for a living, but it is your life, so make sure you find something that you enjoy doing and people that you enjoy doing it with. Then, hopefully, you'll have a happy life. - Author: Julianne Moore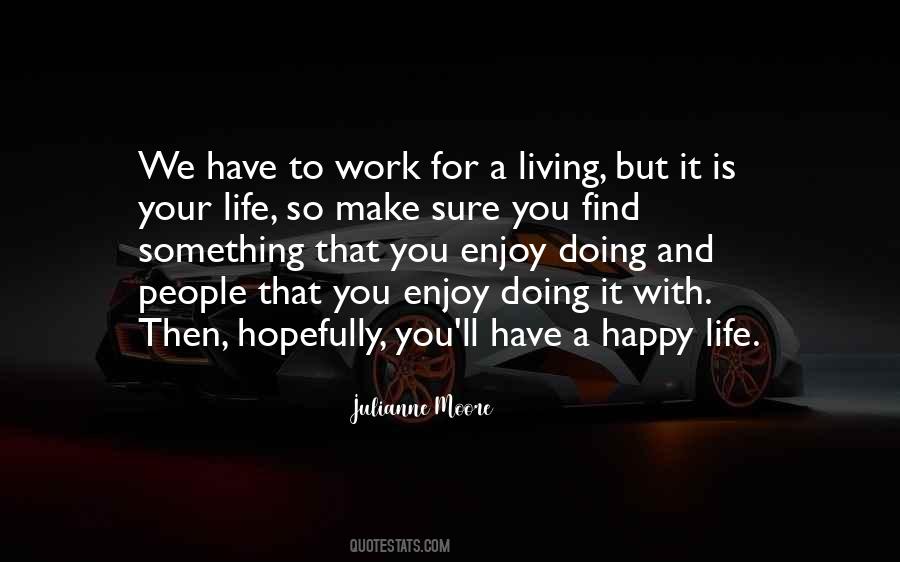 #8. Try to be happy within the context of the life we are actually living. Happiness is not a situation to be longed for or a convergence of lucky happenstance. Through the power of our own minds, we can help ourselves. - Author: Wayne Coyne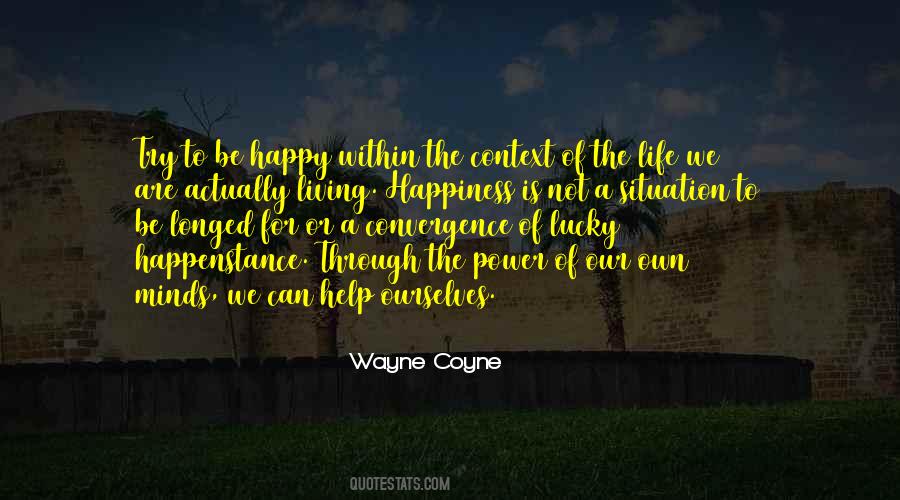 #9. Well we've left behind the 200X's, and we move onto the 20XX's. Maybe that will finally make us feel like we're living in the future, rather than a media controlled slave state where an iPhone is worth substantially more than a human life. Happy new year. - Author: Yahtzee Croshaw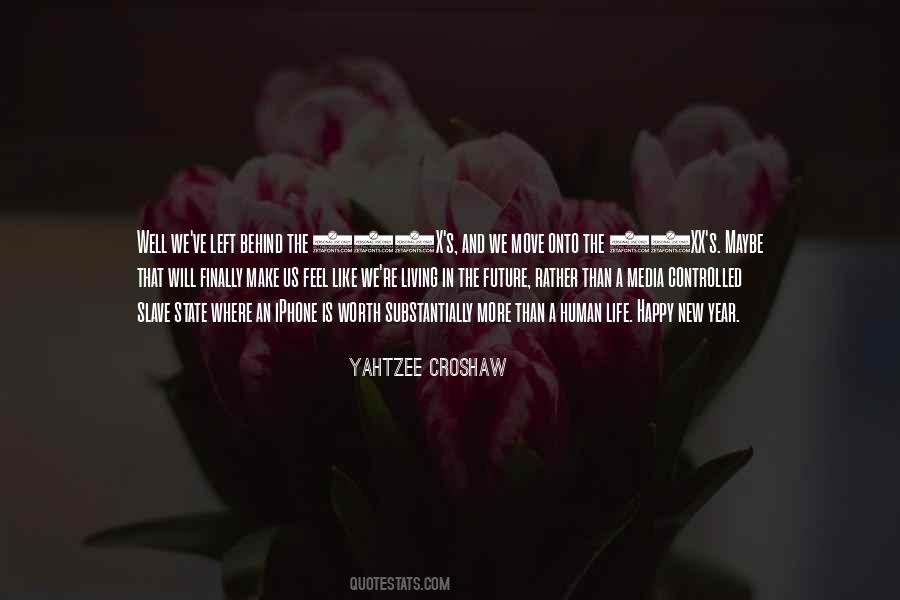 #10. Keep a vigil on those who push you down always and leave them alone. Stay away from them so that you don't waste your precious time refuting them, trying to impress them or proving your point to them. Let them not occupy any free space in your mind. - Author: Sanchita Pandey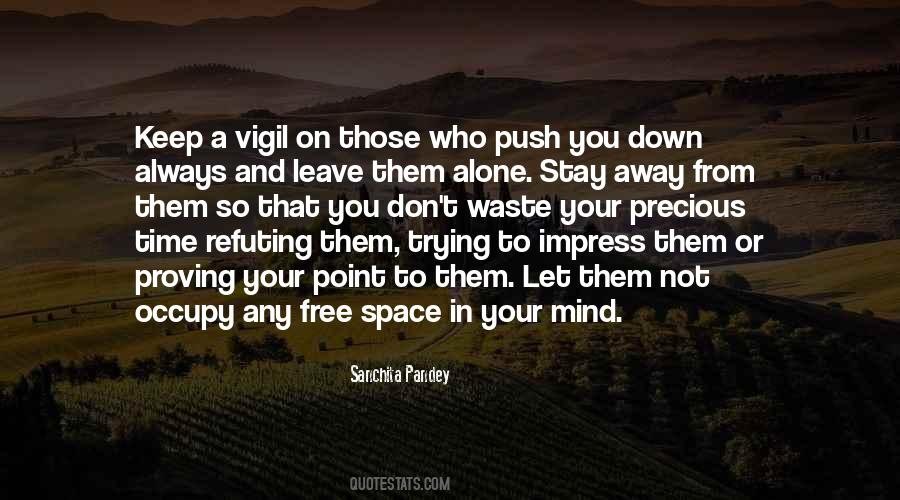 #11. There's no such thing as a normal highschool experience, Thorny. You assume everyone else is happy all he time and living an ideal life. You don't get that other people are pretending too. - Author: Chelsea Sedoti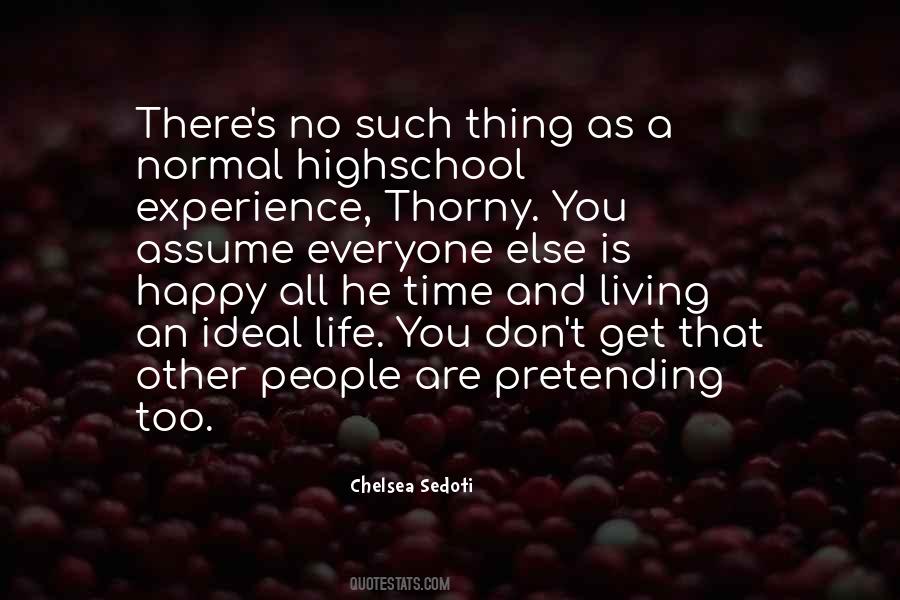 #12. I'm alive. When I'm eating that's all I think about. If I'm on the march, I just concentrate on marching. If I have to fight,it will be just as good a day as any to die. If you can concentrate always on the present, you'll be a happy man. Life is the moment we are living now. - Author: Paulo Coelho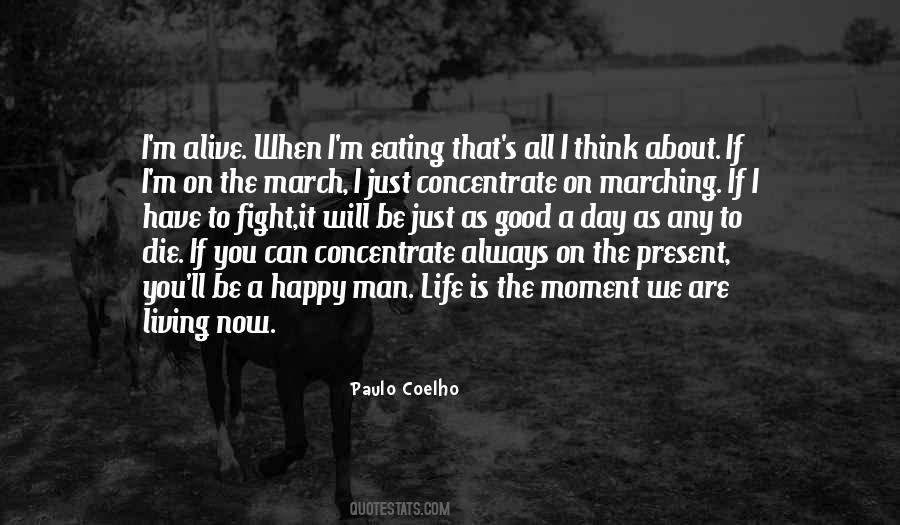 #13. Living a happy life is more than enough. - Author: Shrikant Rao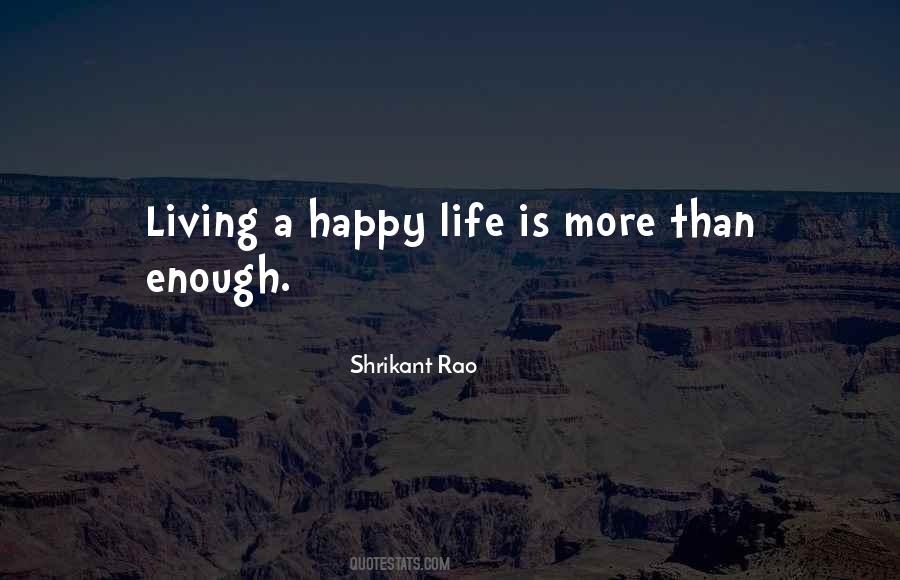 #14. I am so happy, too, though I never married. You know, there are many paths in a life. But the best ones are the ones where you are living the truth and search for good and giving to others. - Author: Jacqueline Novogratz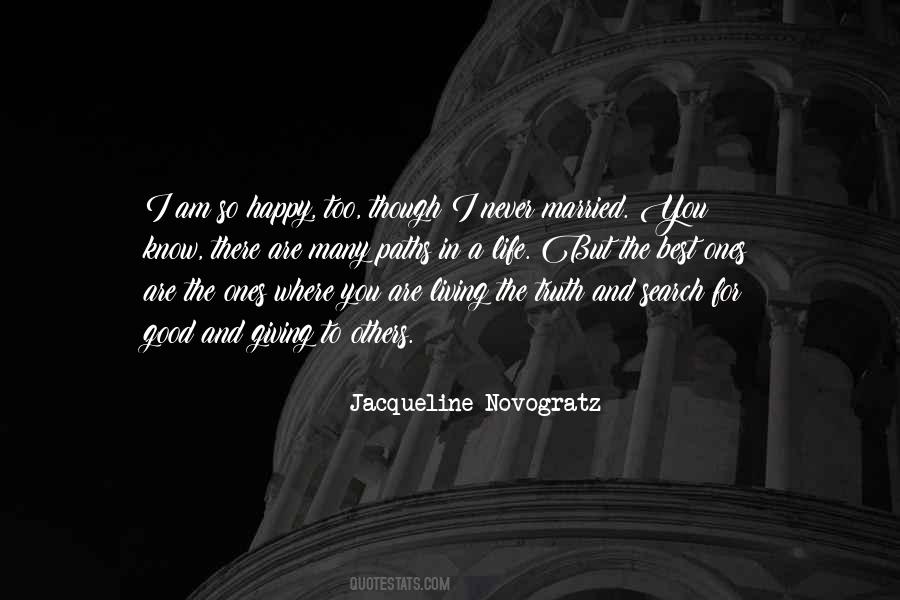 #15. After 19 years of experimenting, a thousand mistakes, over 400 books, at least 200 bad diets ... and a partridge in a pear tree, I have found what I believe are the best answers this planet has to offer about living a healthy, happy, and balanced life. - Author: Marilu Henner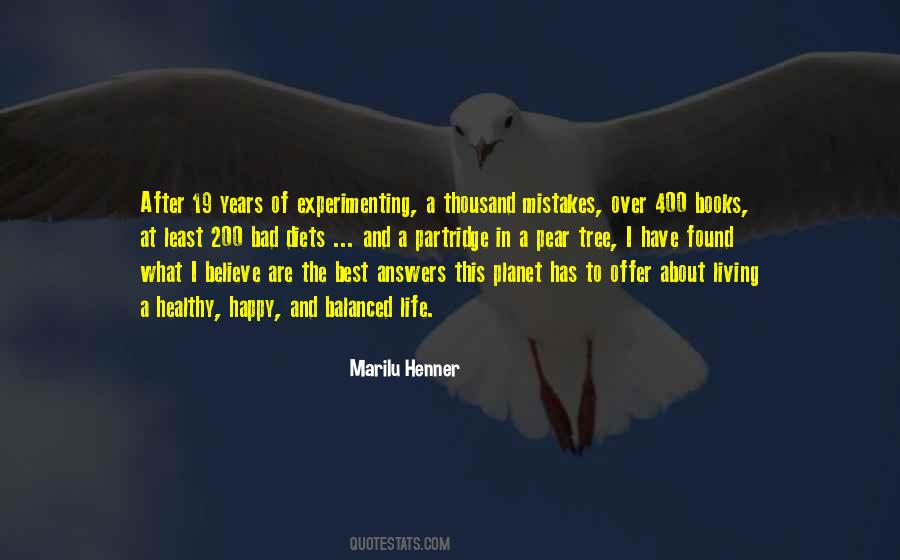 #16. Living the focused life is not about trying to feel happy all the time ... rather, it's about treating your mind as you would a private garden and being as careful as possible about what you introduce and allow to grow there. - Author: Winifred Gallagher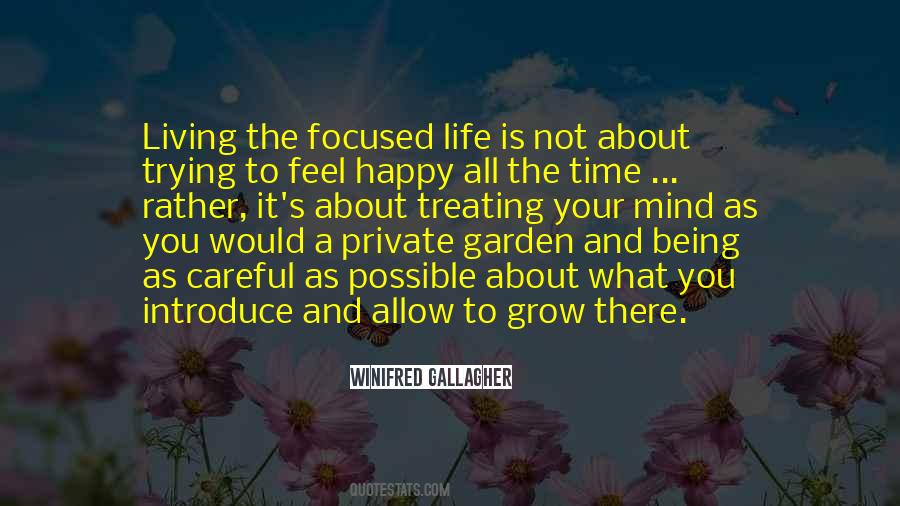 #17. You deserve to be rich. You deserve to live a happy life. You deserve peace of mind. You deserve respect. You deserve loving relationships. And YES, it's all possible. - Author: Maddy Malhotra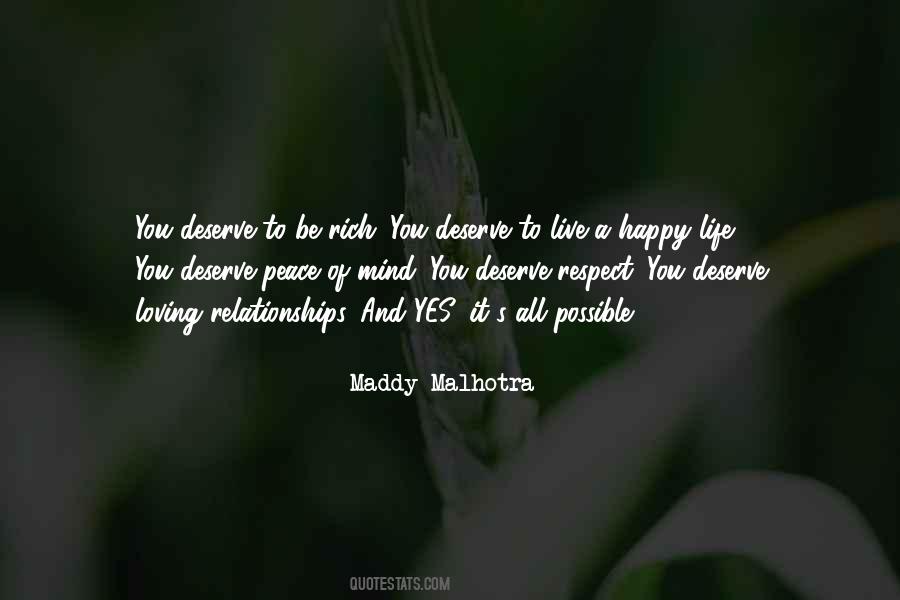 #18. Being happy requires that you define your life in your own terms and then throw your whole heart into living your life to the fullest. In a way, happiness requires that you be perfectly selfish in order to develop yourself to a point where you can be unselfish for the rest of your life. - Author: Brian Tracy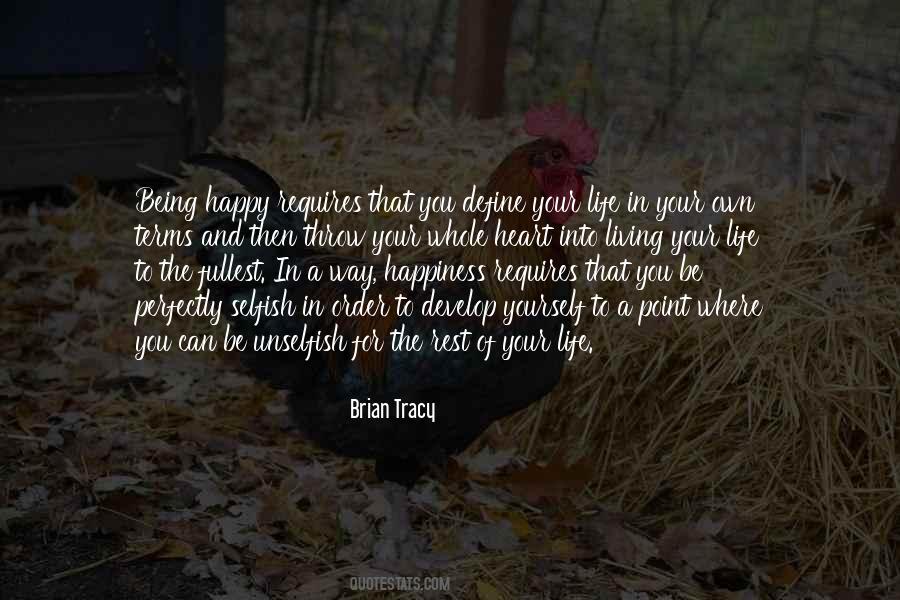 #19. I am not a doctor or a scientist, but merely a passionate layperson, a filter, a messenger. I spoke with so many patients who are living normal, happy, fulfilled lives, and their enthusiasm and great quality of life convinced me that you can indeed live with cancer. - Author: Suzanne Somers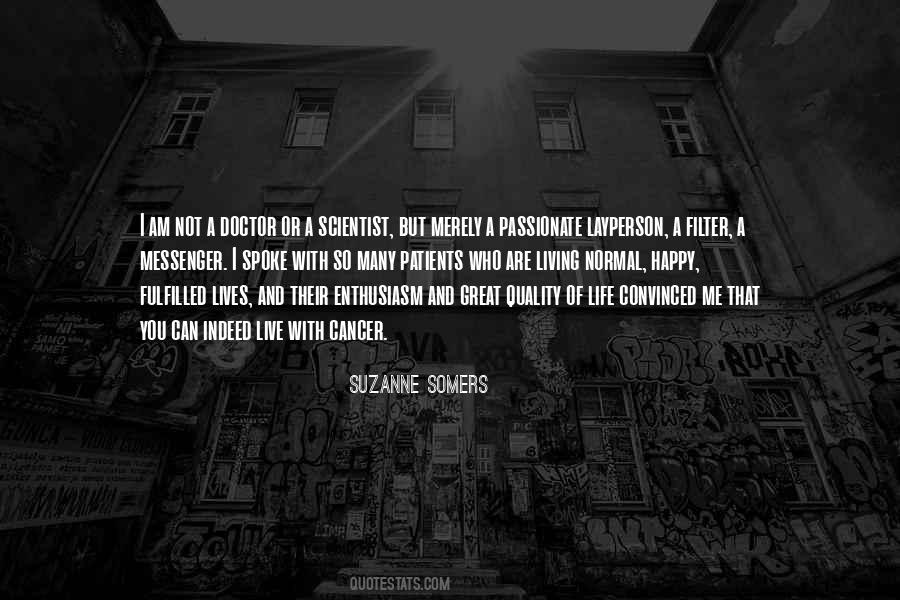 #20. Outsource your anxieties to God. This 'outsourcing' will help you in such a way that you will become only a witness to adverse situations, without becoming a part of the problem yourself. - Author: Sanchita Pandey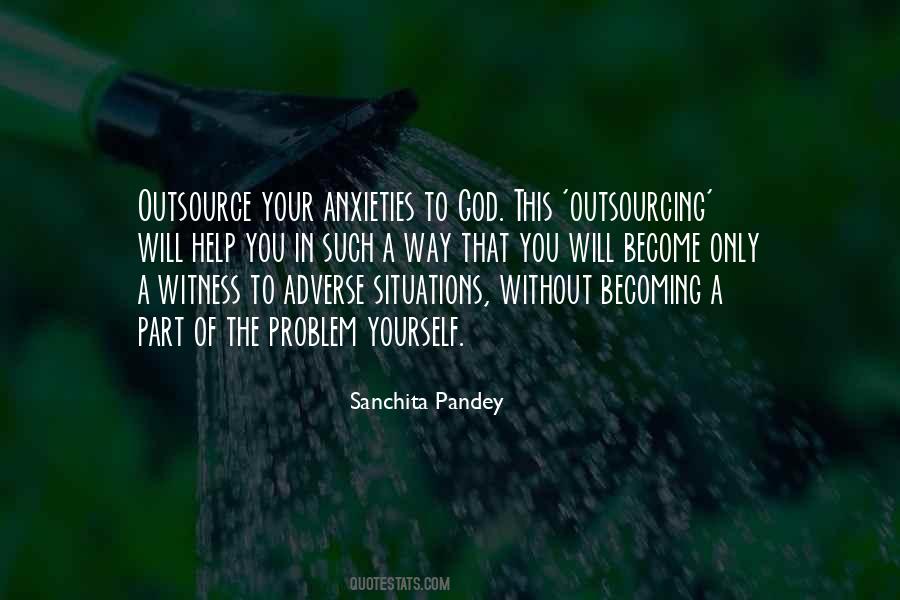 #21. I think living my happy, open life and showing young gay kids you can be successful, you can have love in your life, you can be a contributing member of society and you can be respected - I think that's it. - Author: Bryan Batt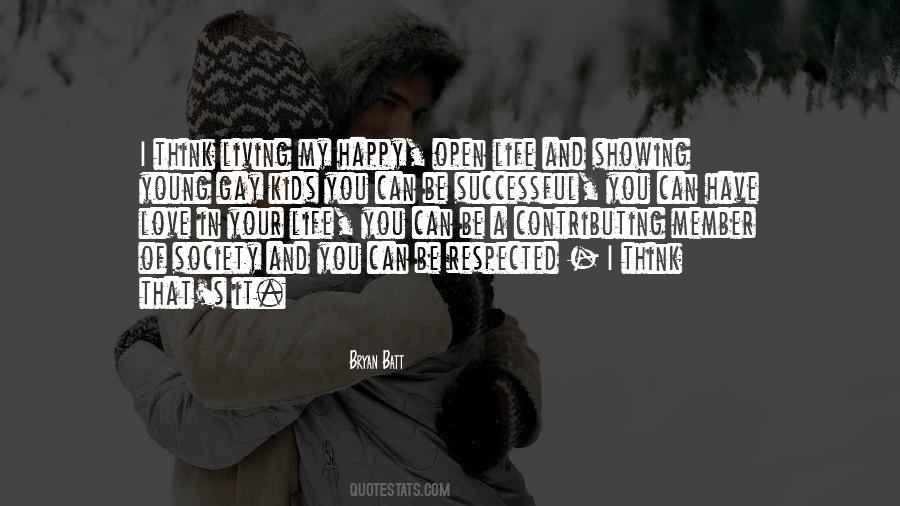 #22. Love is supposed to bring you peace and happiness. If you are not feeling this in a relationship, you are living an illusion. - Author: Leon Brown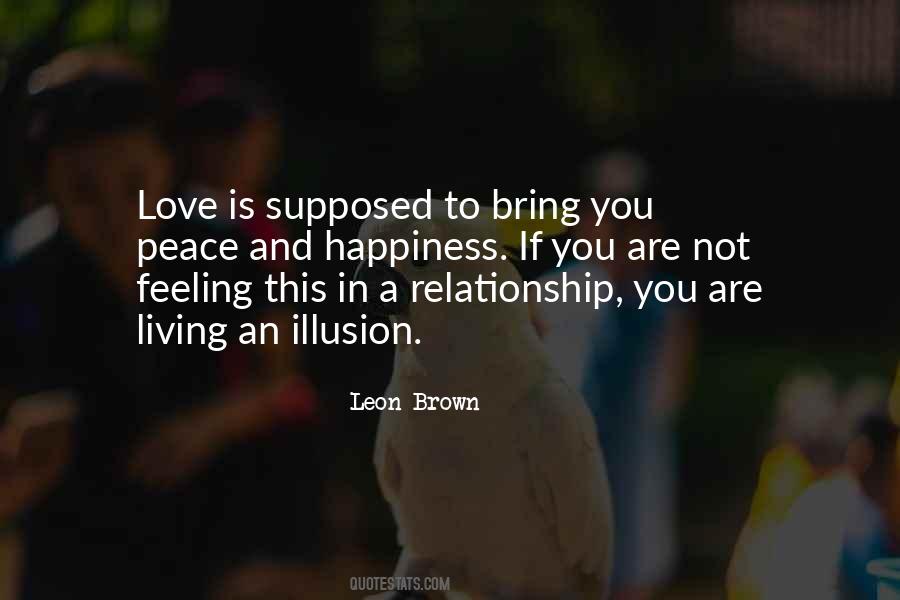 #23. Could it be fear? But what could be worse than living a sad, gray life, in which every day is the same? What could be worse than the fear that everything will disappear, including my own soul, and leave me completely alone in this world when I once had everything I needed to be happy? - Author: Paulo Coelho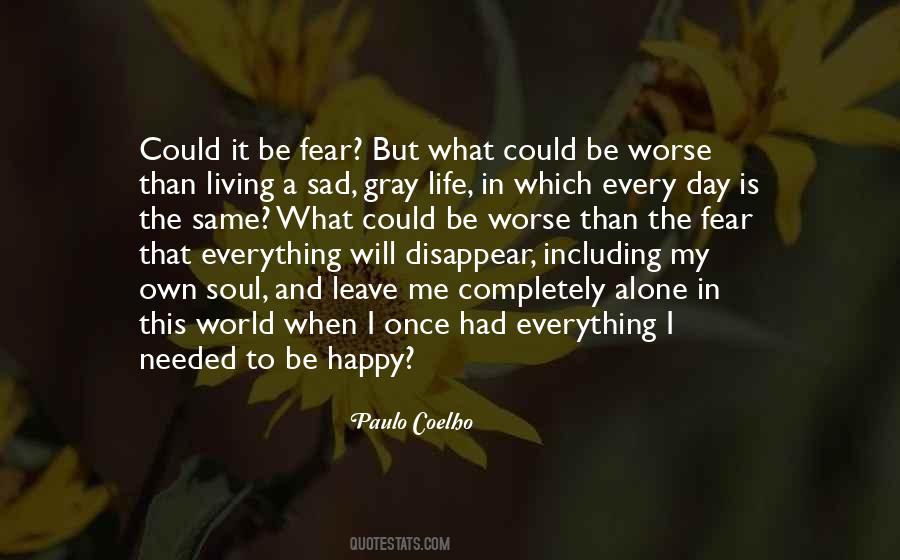 #24. Building a successful company (or living a happy life, for that matter) is not about embracing someone else's philosophy, but staying true to your own beliefs about the world and learning from the mistakes you make along the way. - Author: Ben Parr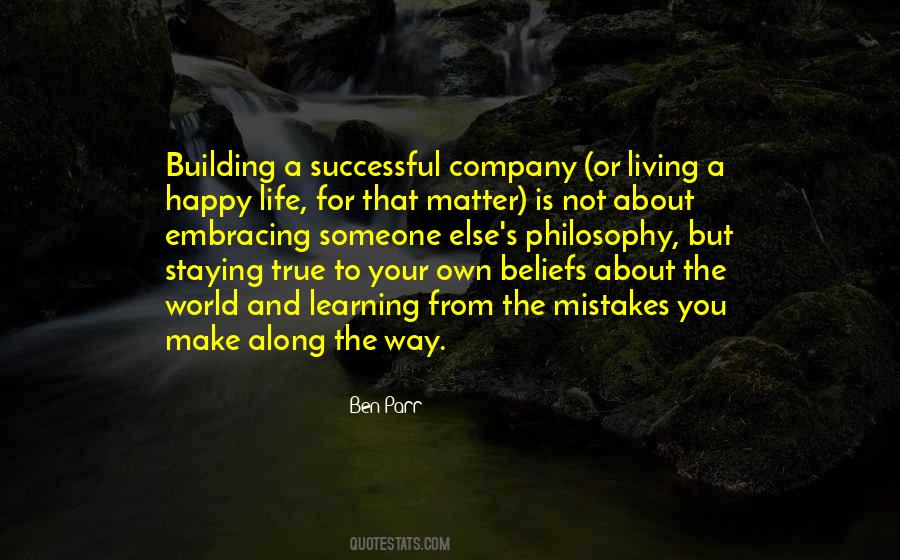 #25. At the end of the night they all seemed so happy. Maybe it was just because they hadn't seen each other in a while, but as they all gathered around hugging, kissing, and well-wishing each other, I found myself feeling for the first time in my life like maybe I'd missed out on something. - Author: Dito Montiel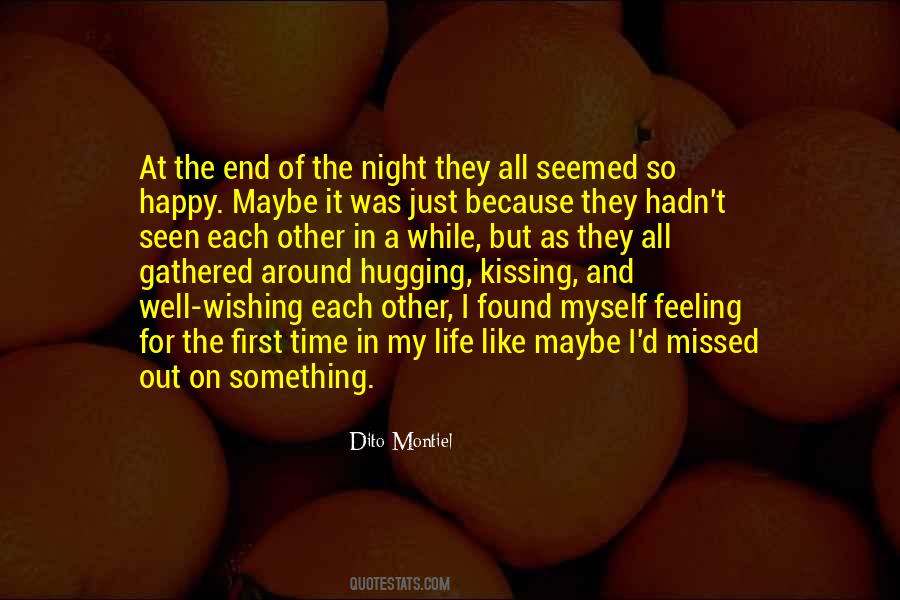 #26. There is no need for revenge. Living happily ever after is a sign that you have not let the past beat you. - Author: Leon Brown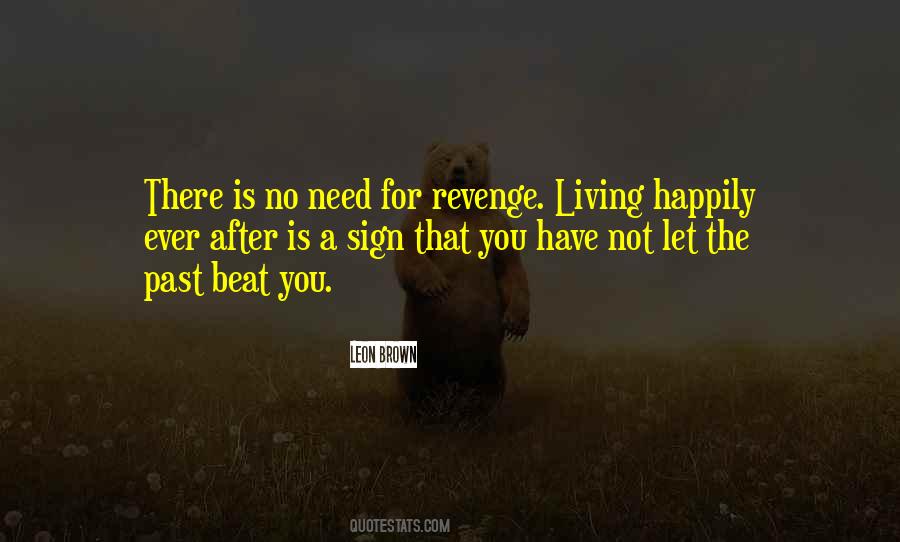 #27. A grateful heart is good medicine. - Author: Lailah Gifty Akita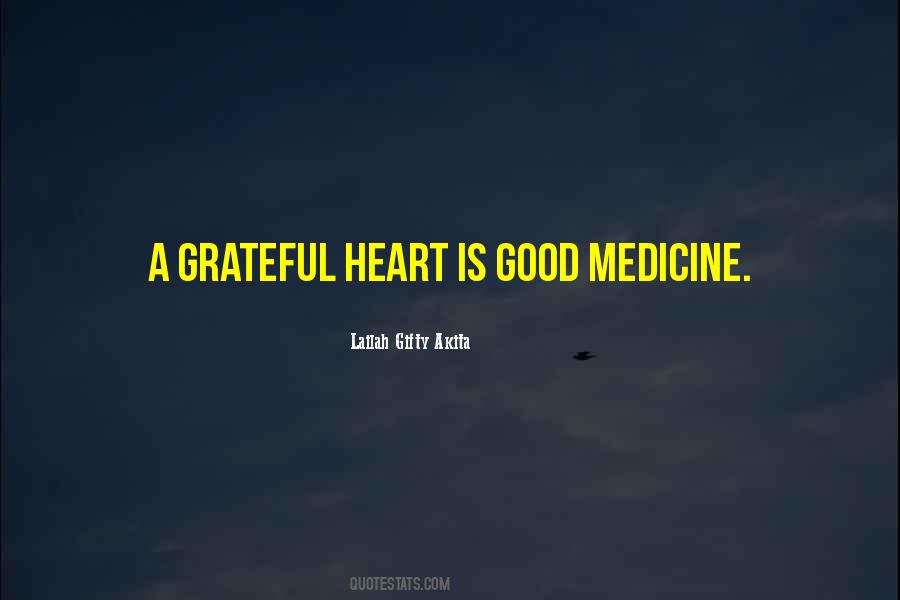 #28. I'm really, really happy with what I do for a living. I mean, that's what I consider work, like being on set, bringing a character to life and, you know, working with other actors and directors and stuff. - Author: Gabourey Sidibe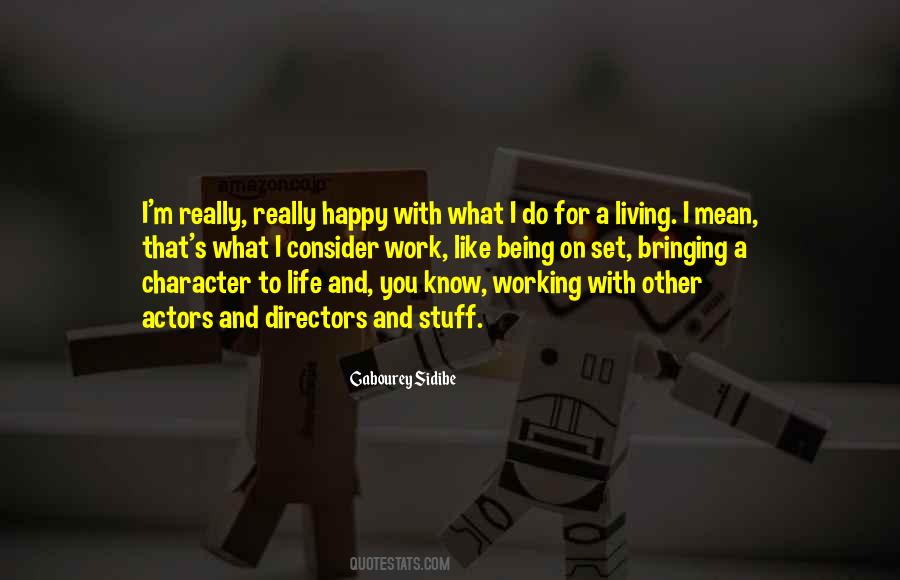 #29. So I let my shame own me, kill me, wilt me away into a thousand dead flakes, knowing if I kept it all in, she would never have to learn the dirtiness that was forever inside me
the bad, the ugly, the twisted. She could go on living her life happy, just like she deserved. - Author: Jessica Sorensen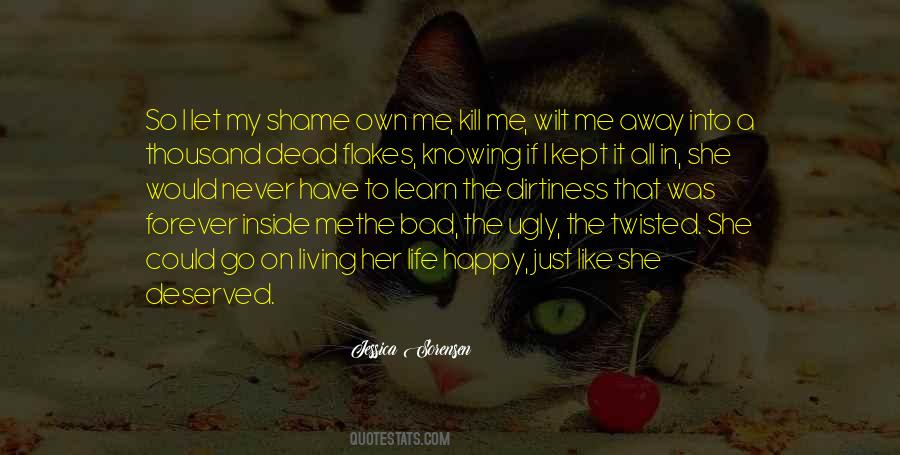 #30. Happiness is the little moments of joy you give yourself every single day, living a life in con stant pursuit of happy and joyous moments. - Author: Malti Bhojwani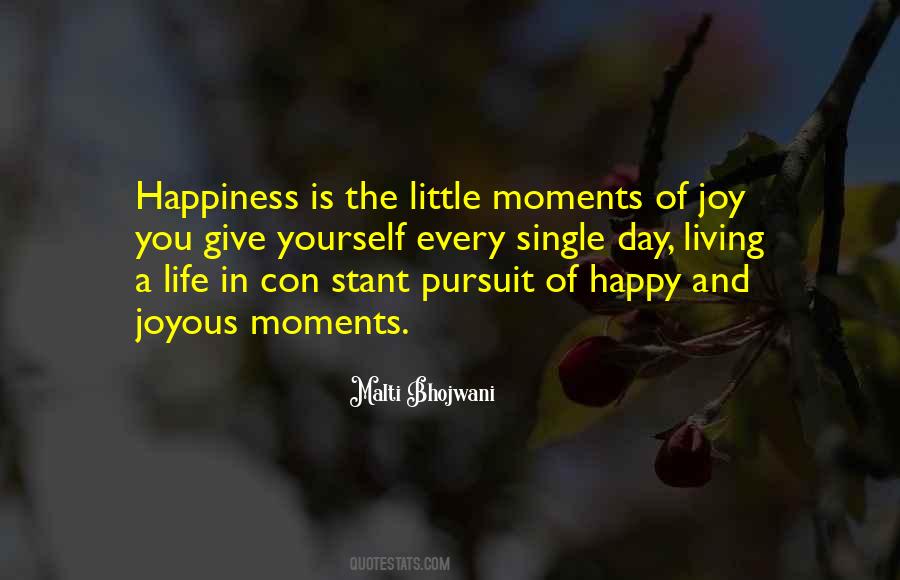 #31. It's funny, this thing about happiness. It's a commodity that was imported from America in the Fifties. I see myself simply as living my life ... I feel it's pushing your luck to define how happy you are. - Author: Francesca Annis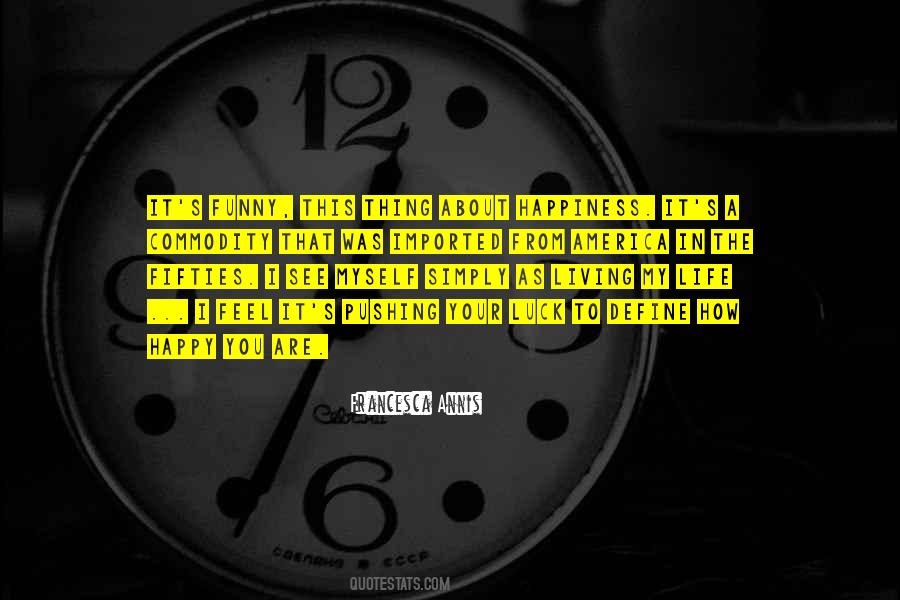 #32. Life is like a piano. White keys are happy moments and the black ones are sad moments. Both keys are played together to give us the sweet music called Life. - Author: Suzy Kassem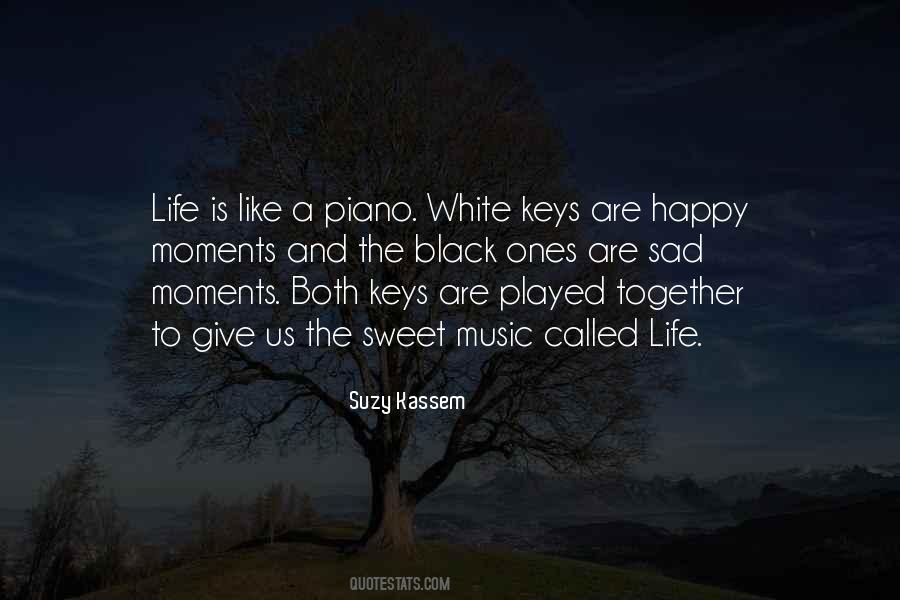 #33. Yesterday I was sad, today I am happy! Yesterday I had a problem, today I still have the same problem! But today I changed the way I look at it! - Author: C. JoyBell C.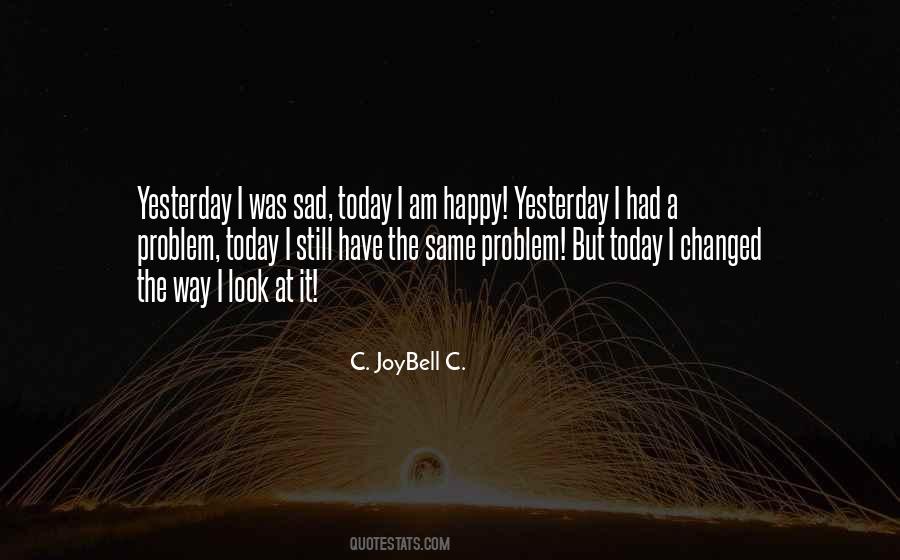 #34. If you wait for a cake to be given to you so you will be happy- then you will be happy when someone gives you a cake. But if you buy a cake (or bake one) for yourself so you will be happy, you have found the way of happiness. - Author: C. JoyBell C.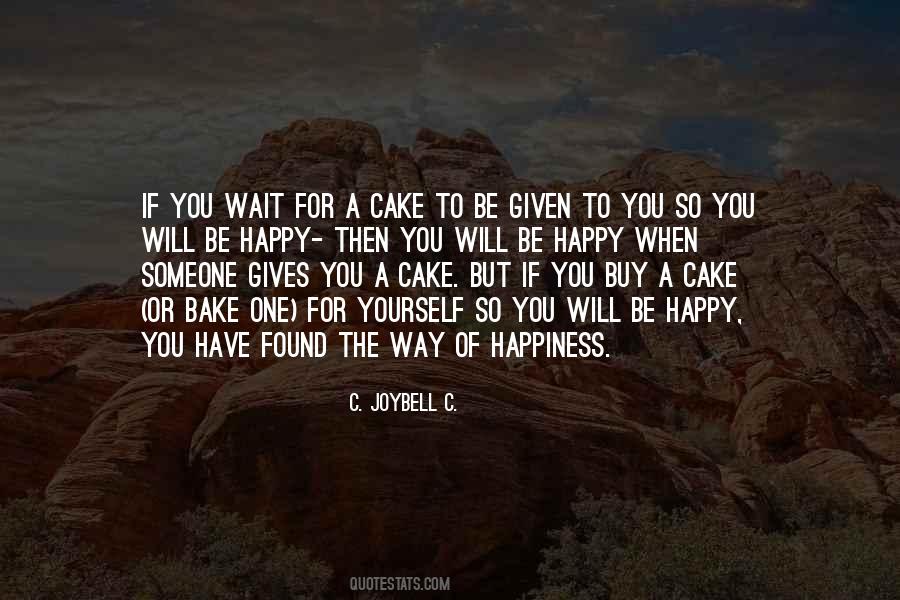 #35. I don't live in either my past or my future. I'm interested only in the present. If you can concentrate always on the present, you'll be a happy man. Life will be a party for you, a grand festival, because life is the moment we're living now. - Author: Paulo Coelho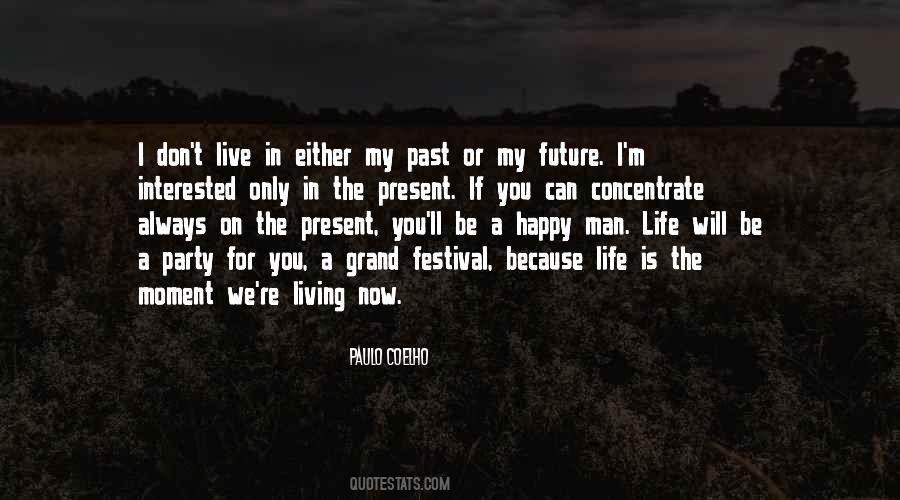 #36. Once you have life, there exists a hope. - Author: Lailah Gifty Akita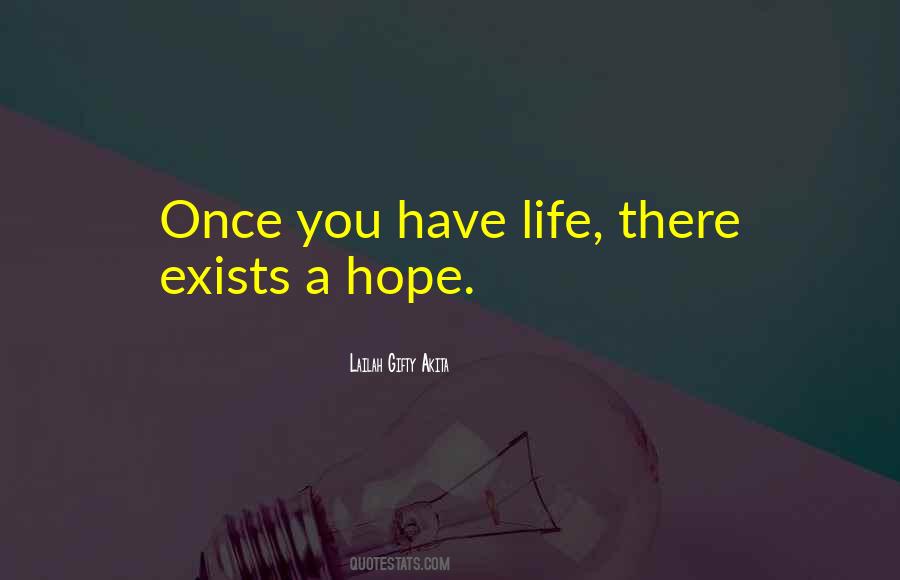 #37. A happy man doesn't reconsider life. - Author: Eraldo Banovac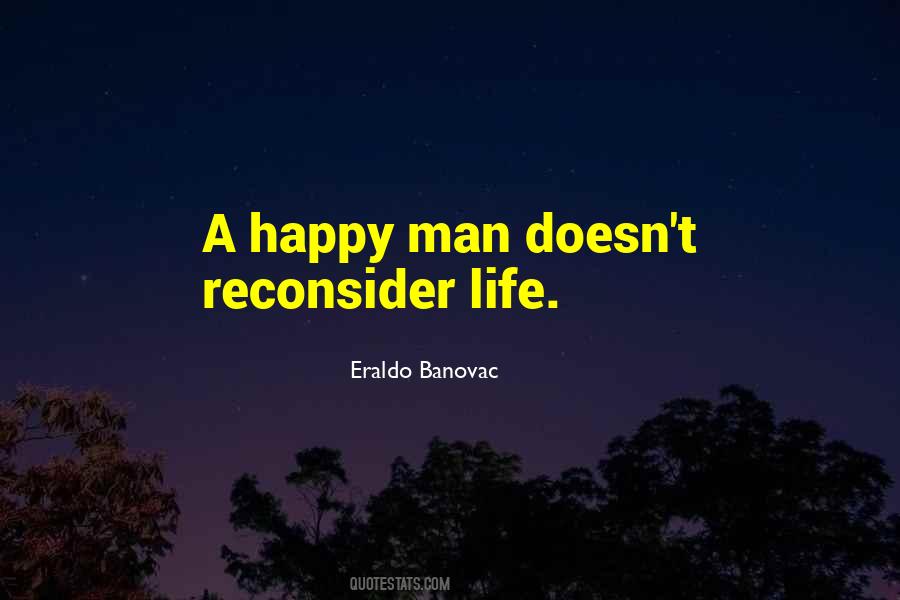 #38. As my father used to tell me, the only true sign of success in life is being able to do for a living that which makes you happy. - Author: Al Yankovic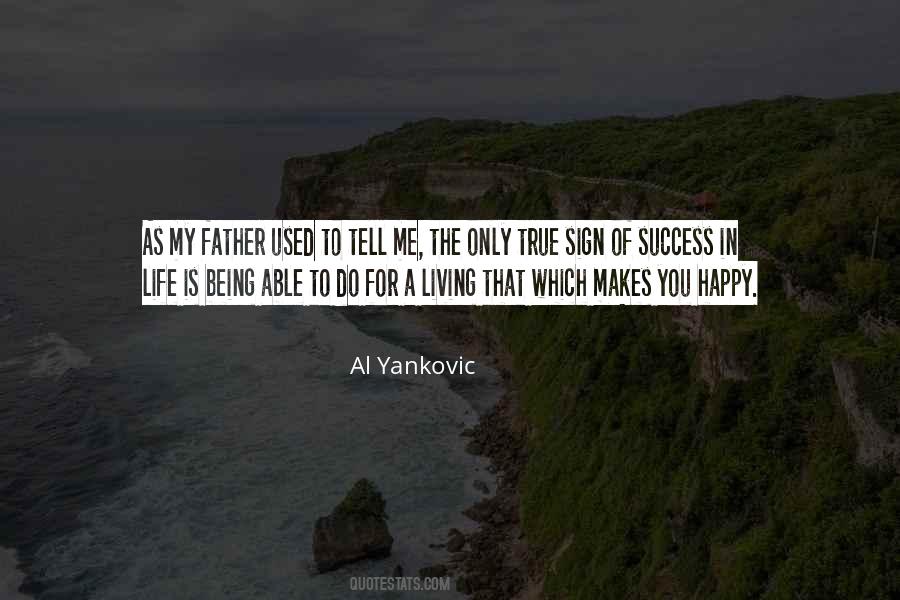 #39. Live a joyful life. - Author: Lailah Gifty Akita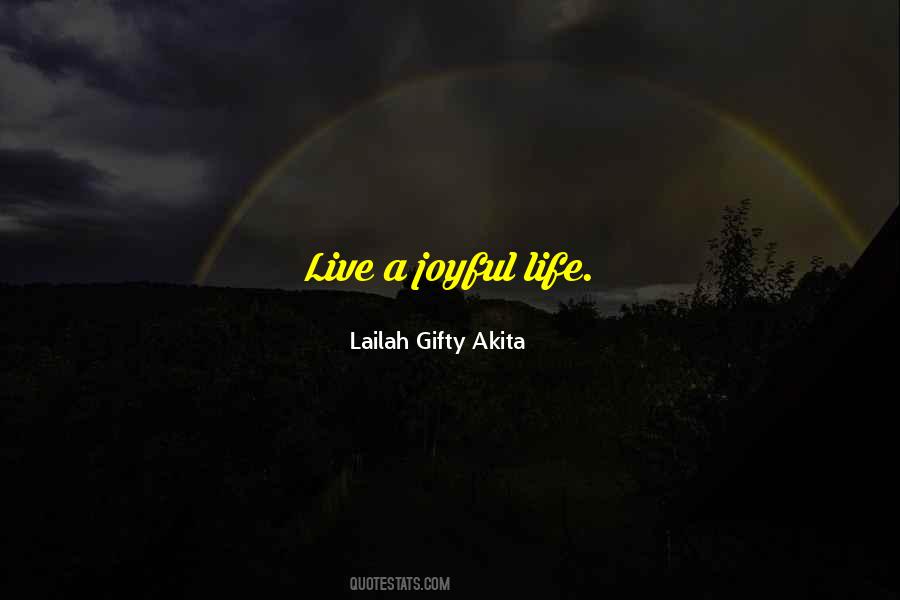 #40. Don't worry whether or not I am now happy. Today is only chapter one, we have yet to write a book. - Author: Lois Wyse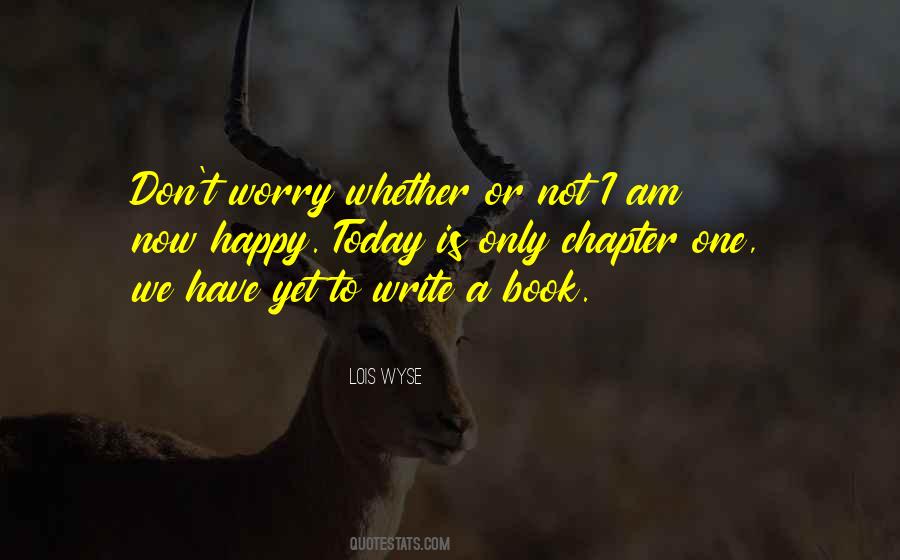 #41. Living's immediacy, you go full sail, you're in a fever of motion. Until it's safe and past and done and dead and you can say, like waking from a dream, "Yes I was happy then, yes now it's all over I can see I was happy then." Maybe that's the advantage of dying? - Author: Joyce Carol Oates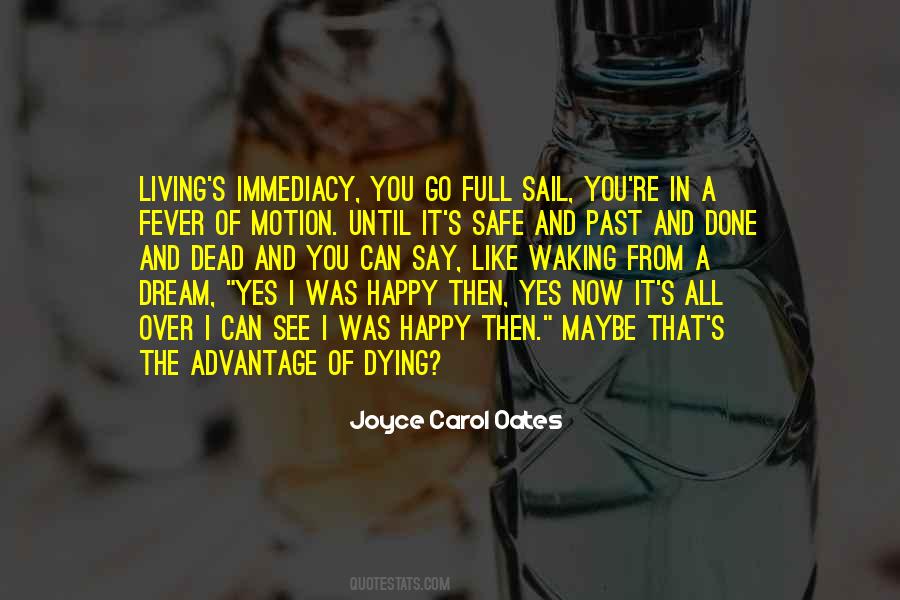 #42. What did a happy ending even mean in real life, anyway? In stories you simply said, 'They lived happily ever after,' and that was it. But in real life people had to keep on living, day after day, year after year. - Author: Scott Westerfeld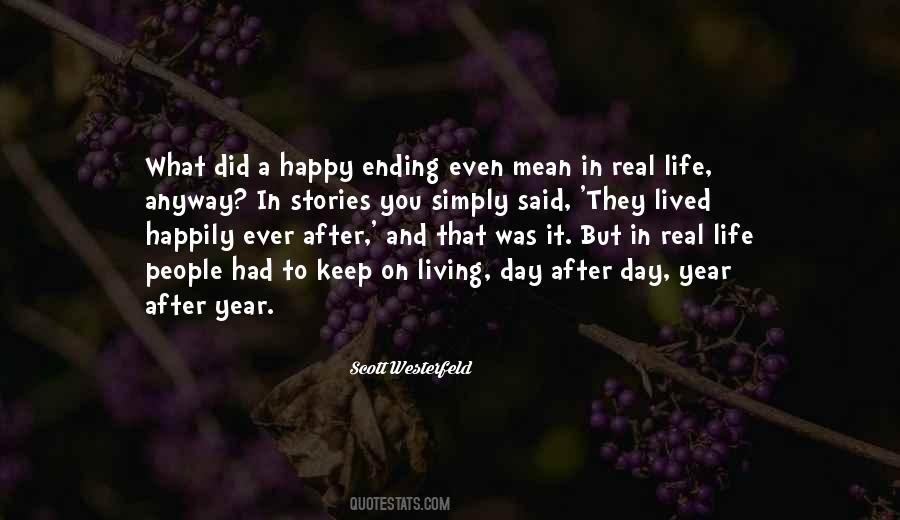 #43. Her body felt like it'd been beaten with a hose. This must be what it felt like to get old. It wasn't that your body fell apart from living so long. It was that you had to take so many stompings from life that you'd be happy when the time came to close your eyes and never open them again. - Author: Janet Fitch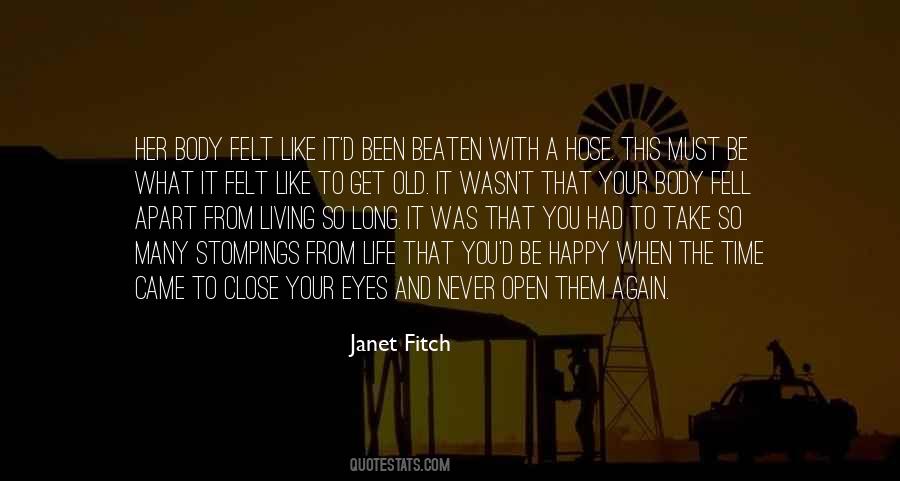 #44. What a sacred journey? - Author: Lailah Gifty Akita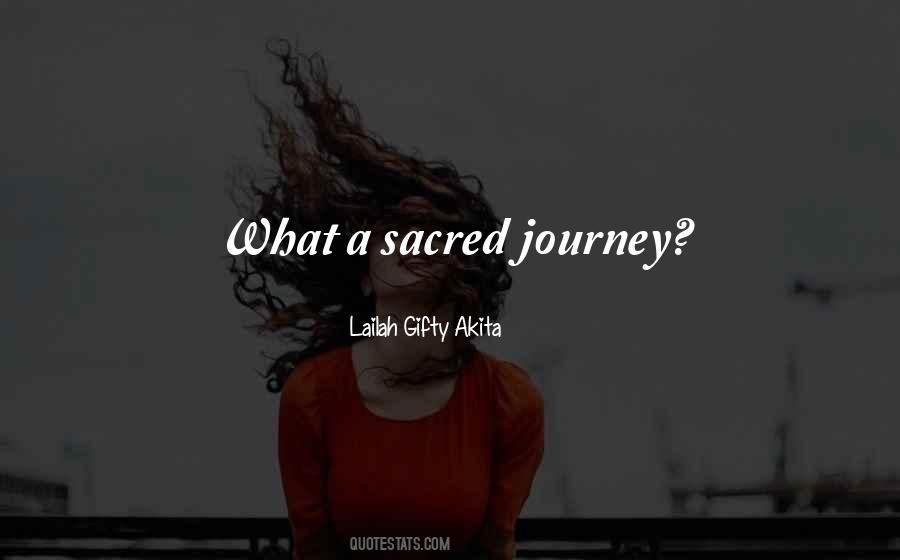 #45. Life is always good, if those who are living a round you are happy with what's going on. - Author: Auliq Ice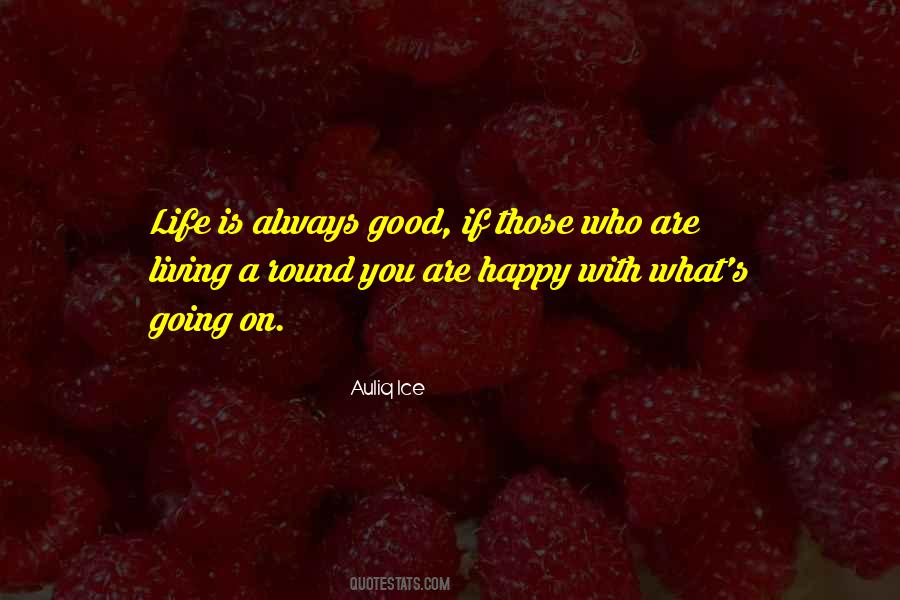 #46. I came to Southbury because I wanted to live a more simple life. When I was a child, I saw lots of movies about happy people living in Connecticut. And ever since then, that was where I wanted to live. I thought it would be like the movies. And it really is. It's exactly what I hoped it would be. - Author: Polly Bergen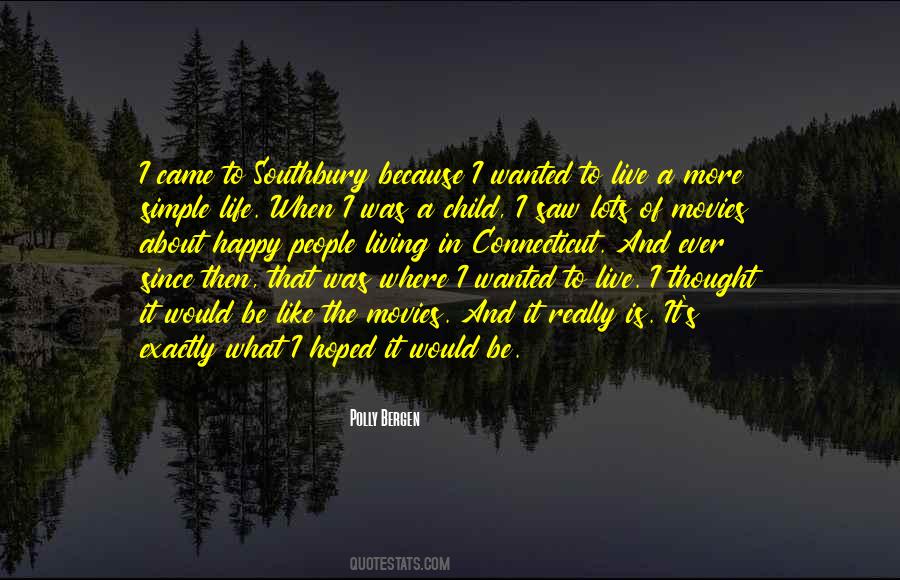 #47. We need so little to be happy. Happiness does not come from things. Happiness comes from living a full and exciting life. - Author: Ken Ilgunas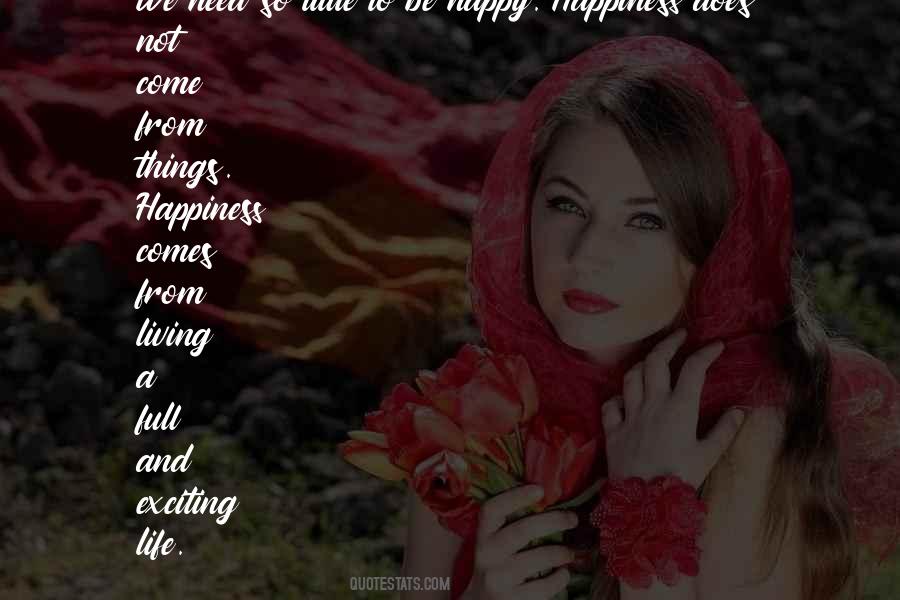 #48. Been living on this earth for so long now and still don't know what a happy life feels like. I'm ready for a change. - Author: Jonathan Anthony Burkett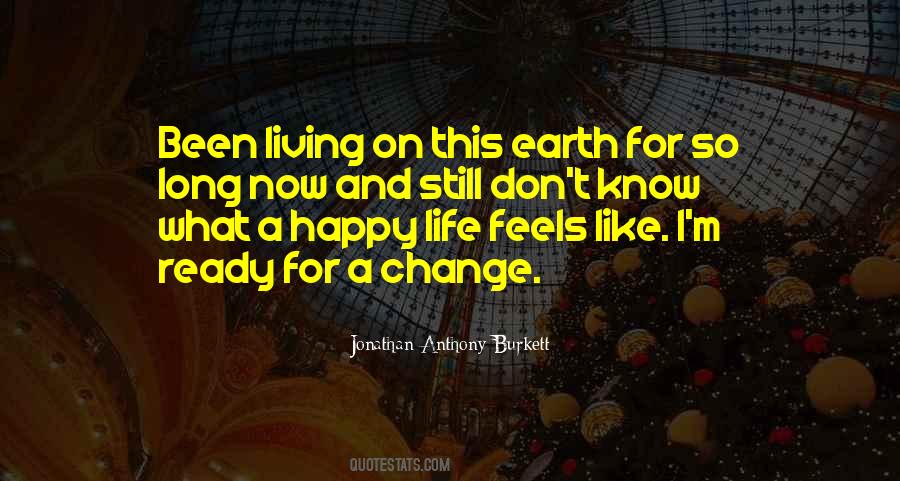 #49. But the summer had been a very happy one, too
a time of glad living with summer suns and skies, a time of keen delight in wholesome things; a time of renewing and deepening of old friendships; a time in which she had learned to live more nobly, to work more patiently, to play more heartily. - Author: L.M. Montgomery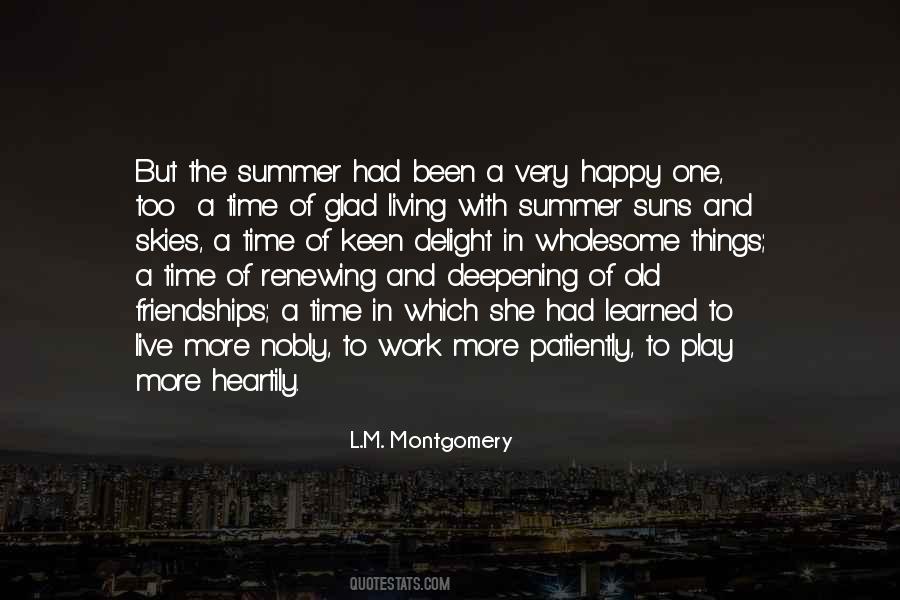 #50. Every single day you make a choice, to be happy and enjoy the ride ... or to be sad worrying about your life. the choice is yours. - Author: Ardianto Sony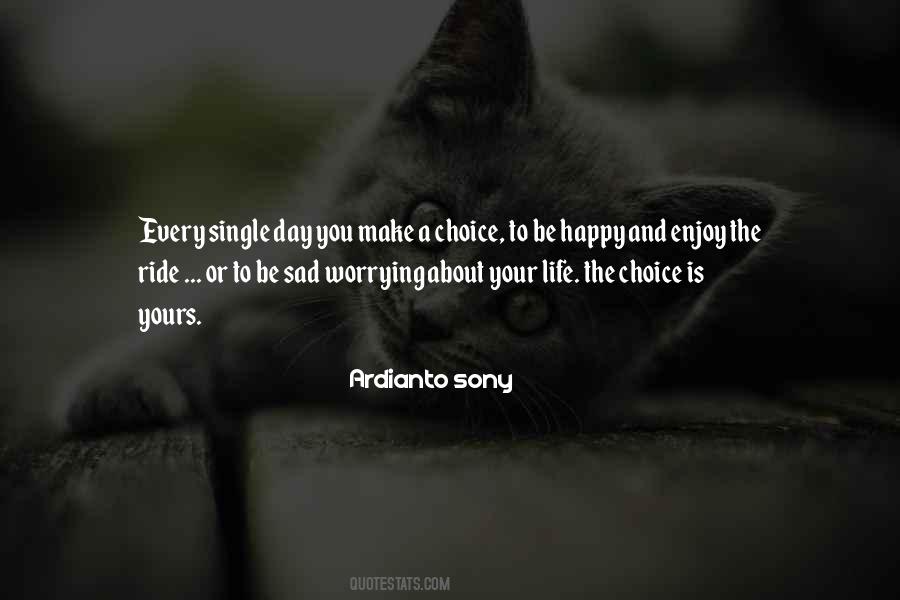 #51. Life's like a book: What matters is the hook.
Be it short or long, just live it strong.
Whether it's five stars, or how near or far, just soar! - Author: Ana Claudia Antunes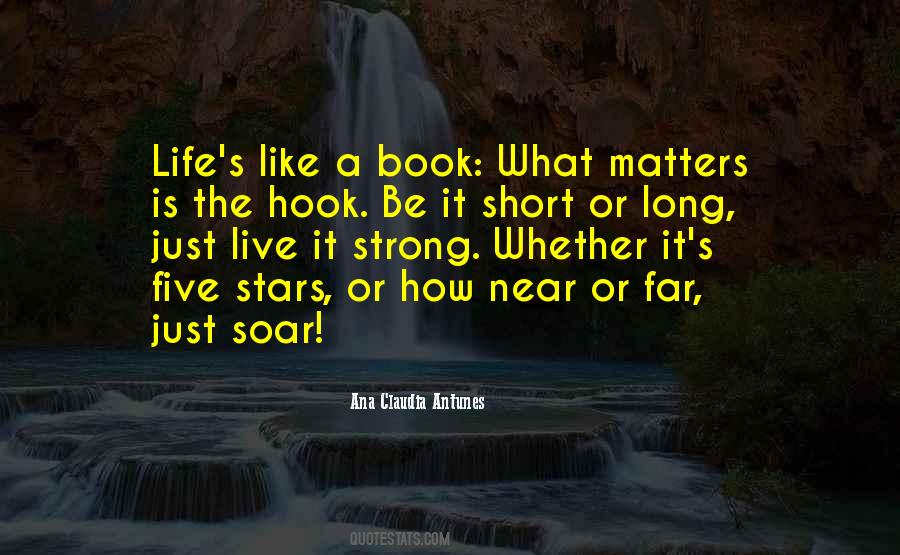 #52. Our whole life is wasted in trying to change others. For a change, try to change yourself! It is easier and at least under your control. - Author: Sanchita Pandey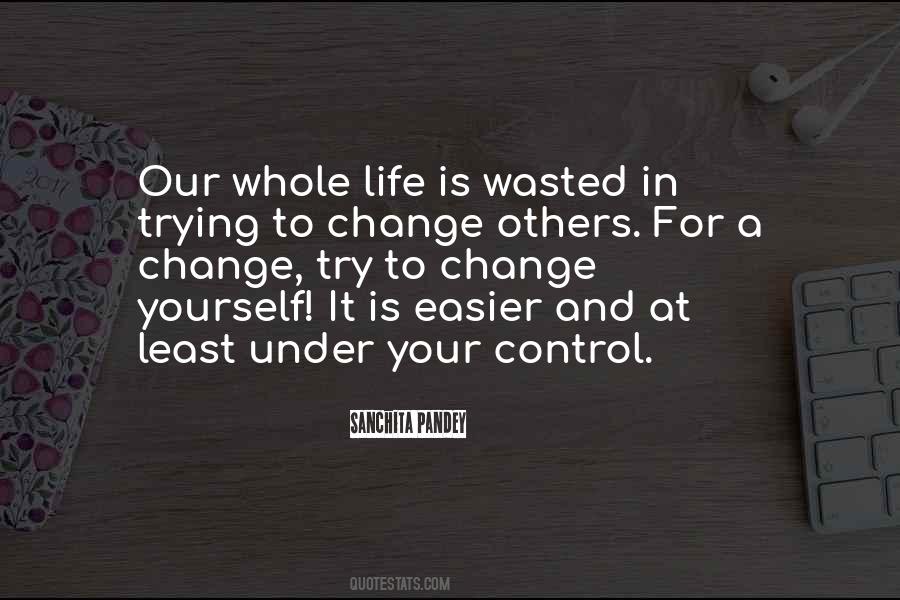 #53. Noronha's Laws

1. No man works harder than he must.
2. The joy of living, lies in making little things big.
3. Try never to do what you do not want to do. The secret of a happy old age is in never doing what you do not want to do. - Author: R.P. Noronha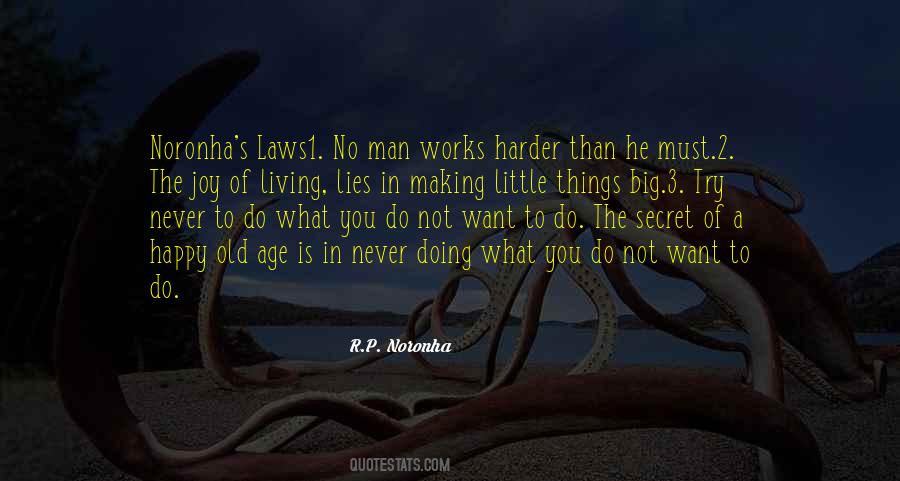 #54. No, I'm happy to go on living the life I've chosen. I'm a university teacher and I like my job. - Author: Antonio Tabucchi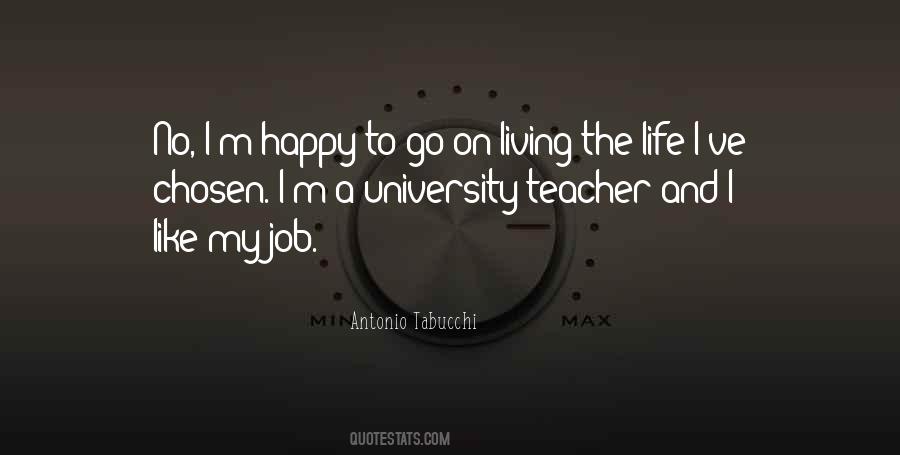 #55. I want to die living. And I want to be remembered as one who lived with purpose, joy and feeling. I want to spend my time learning what goes into a whole and happy life, then building that life the best I can. - Author: Steve Goodier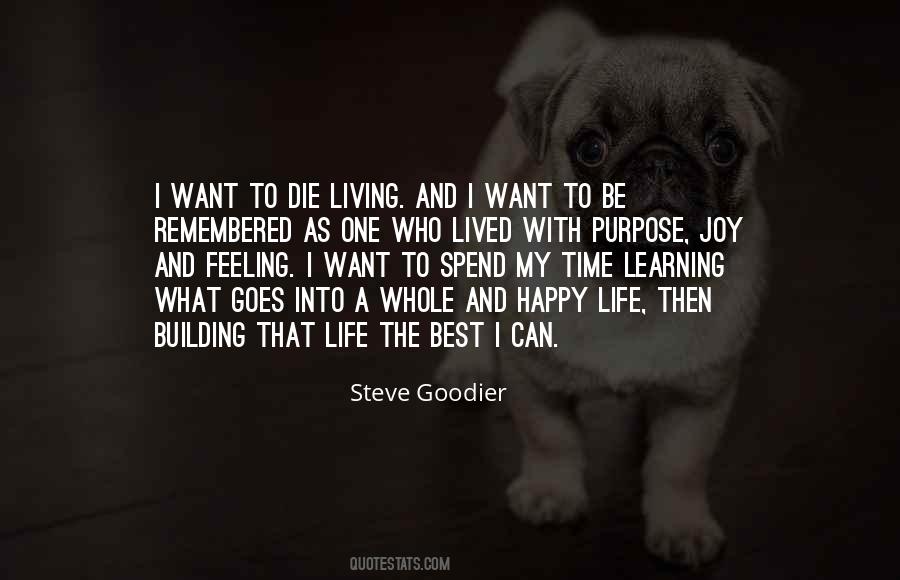 #56. I'm glad folks think I look different, I'm living a different, happy, more fulfilling life, and I'm thrilled that perhaps it shows. - Author: Renee Zellweger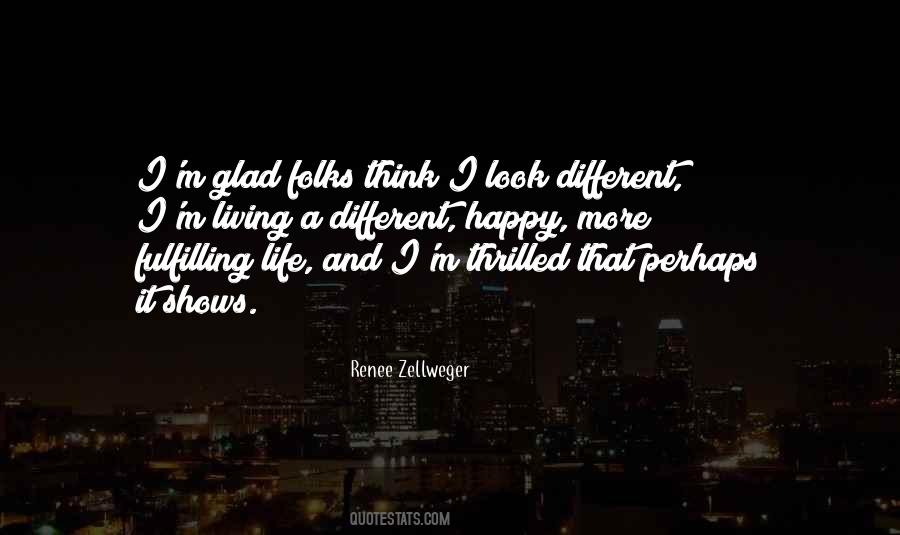 #57. Her eyes wandered back to the campus again, and she suddenly grew sober as the thought swept over her that in a few weeks more it would be hers no longer. This happy, irresponsible community life, which had come to be the only natural way of living, was suddenly at an end. - Author: Jean Webster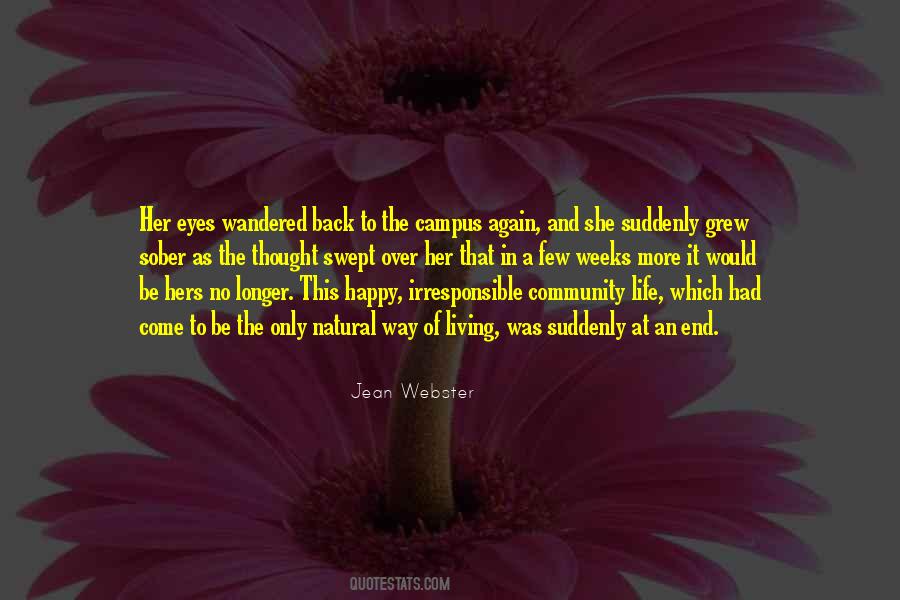 #58. A Godly Person Is Living Simple And Yet Happy
An Ungodly Person Is Living Luxuriously And Yet So Sad - Author: Baba Tunde Ojo-Olubiyo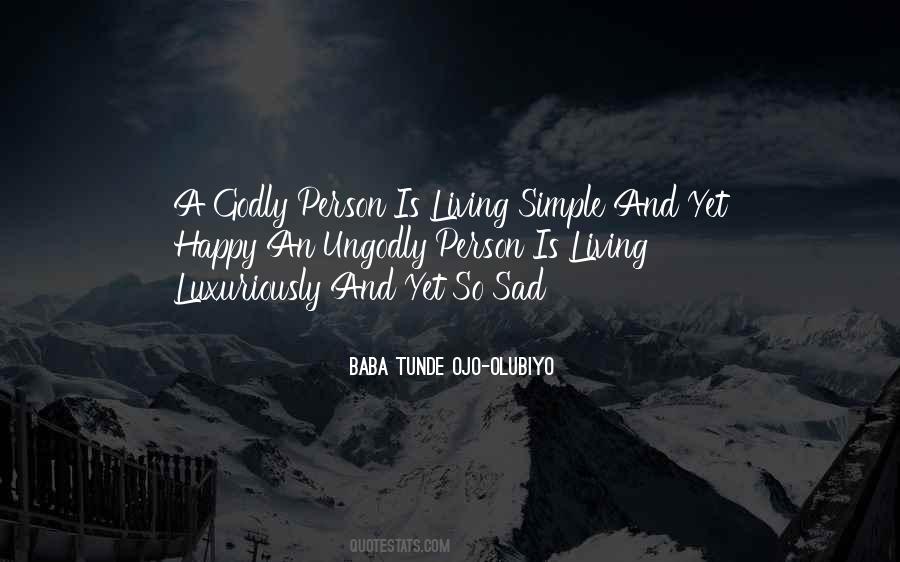 #59. Forget living a long life cause I don't see that happening with me living a life of misery, neglect, and pain. So I just want to die happy. - Author: Jonathan Anthony Burkett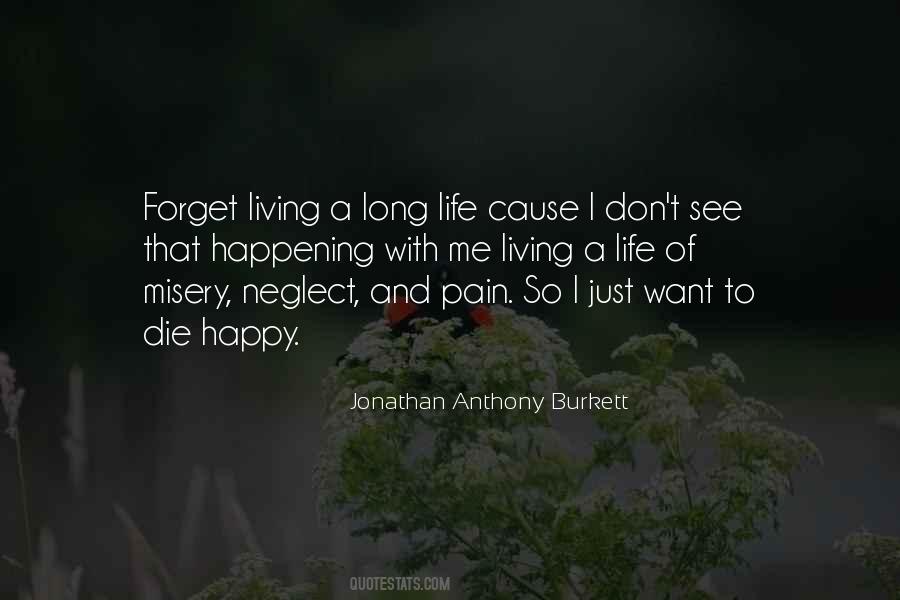 #60. You are worthy of love and you deserve to be happy. You have these beautiful qualities and many more because you are living the gift of a human incarnation. My hope is that you will embrace these truths and your birthright to live a life abundant in love, joy, and celebration. - Author: David Simon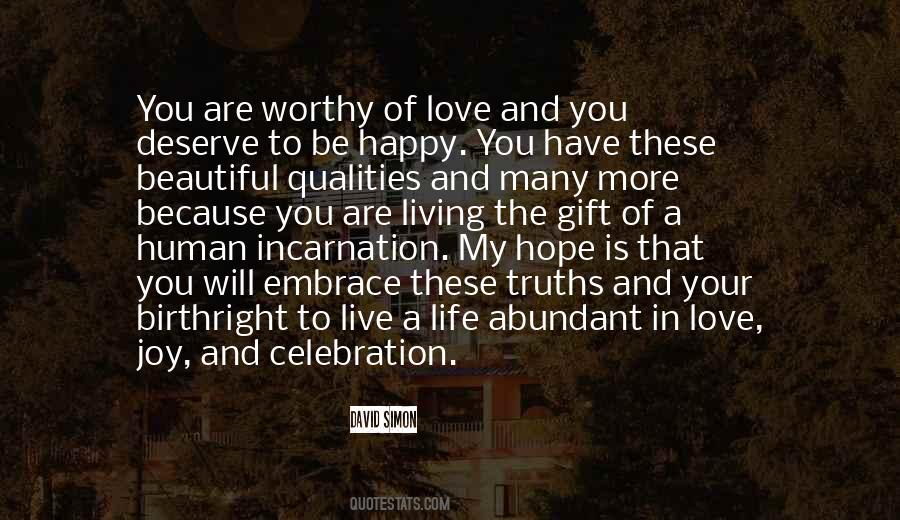 #61. Margarita was never short of money. She could buy whatever she liked. Her husband had plenty of interesting friends. Margarita never had to cook. Margarita knew nothing of the horrors of living in a shared flat. In short ... was she happy? Not for a moment. - Author: Mikhail Bulgakov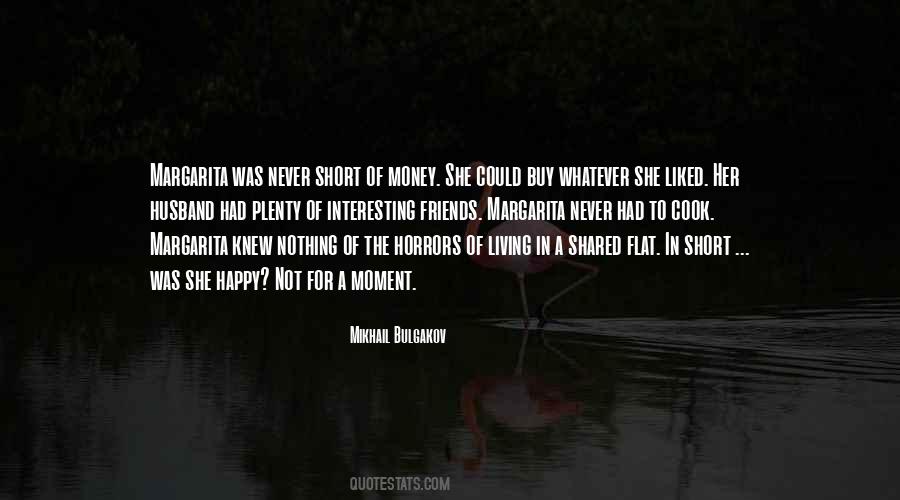 #62. It is completely surreal because two years ago I wasn't swimming, I was 10 kilos heavier and was on a completely different path in my life, I was still living in Sydney, I'm just so happy now. - Author: Libby Trickett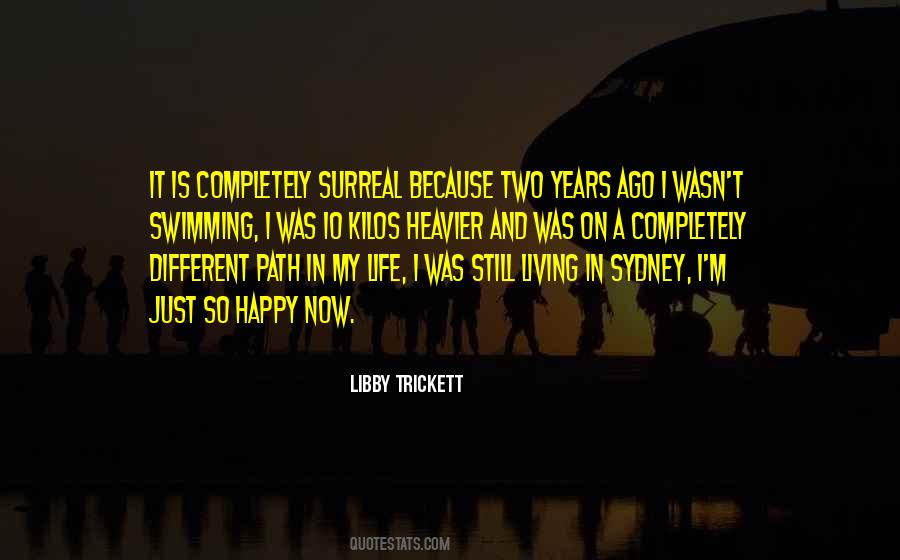 #63. A happy healthy soul; sacred life. - Author: Lailah Gifty Akita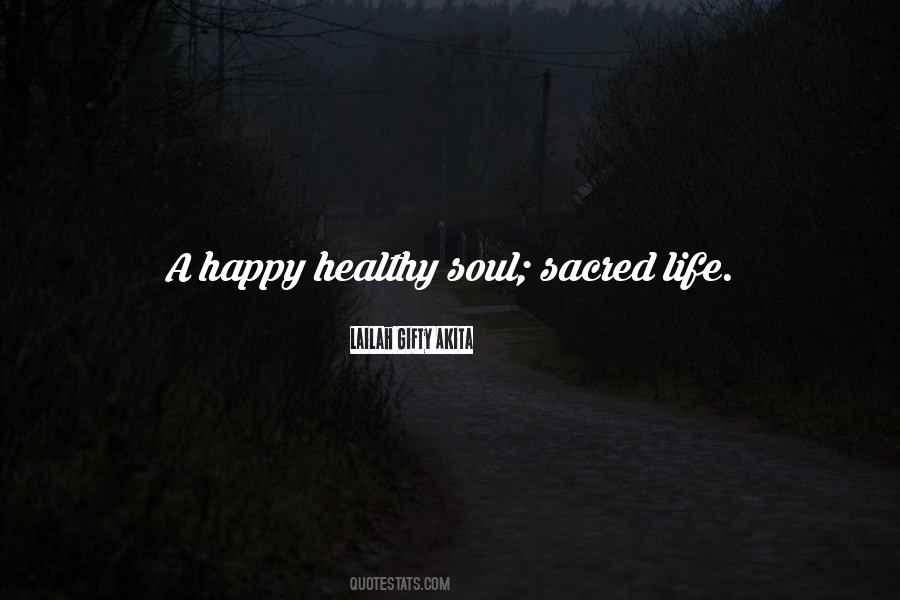 #64. Nature attunes children to receive the coded messages that parents issue how to live a joyful and virtuous life. - Author: Kilroy J. Oldster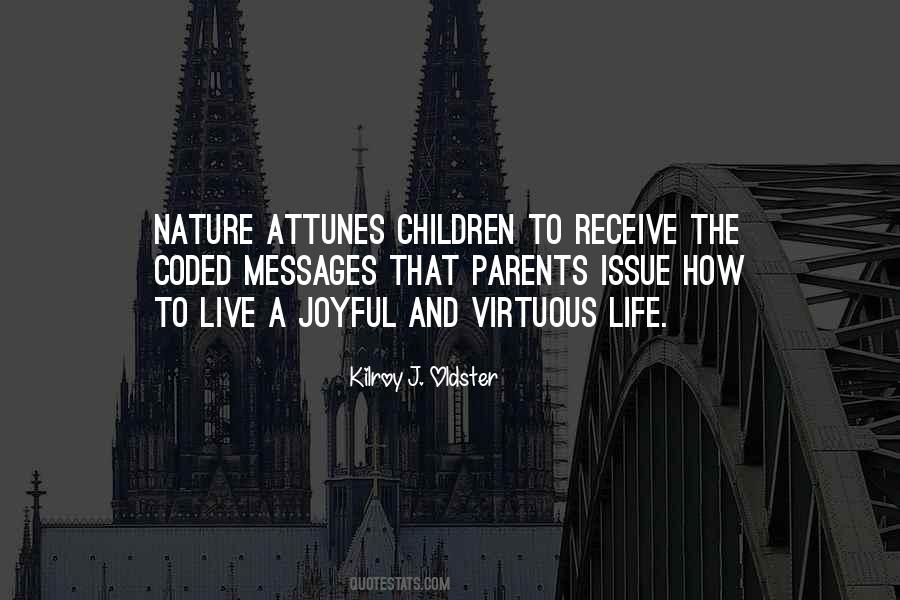 #65. We are living in a time of many wars. The call for peace must be shouted. Peace sometimes gives the impression of being quiet, but it is never quiet. Peace if always proactive and dynamic. - Author: Pope Francis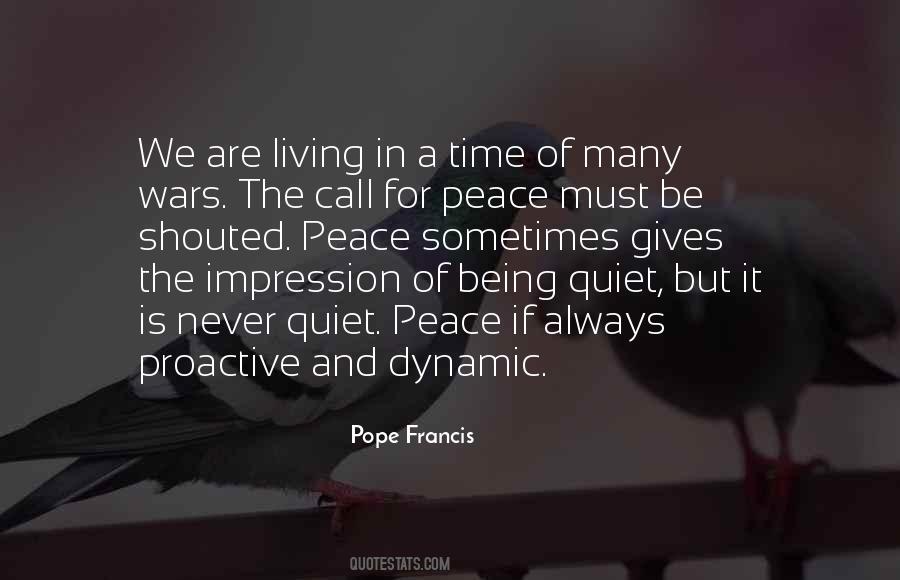 #66. Those who lack within themselves the means for living a blessed and happy life will find any age painful.
- How to grow old: ancient wisdom for the second half of life. - Author: Marcus Tullius Cicero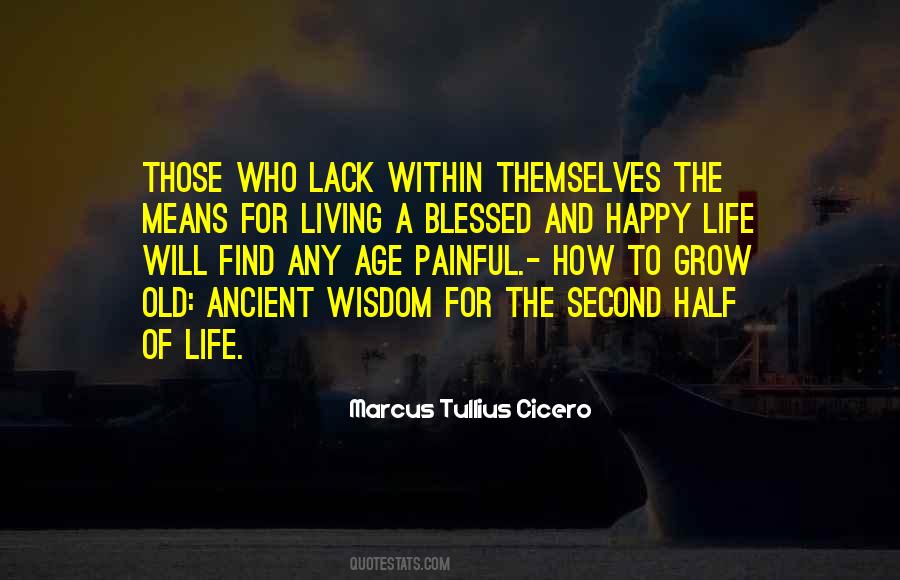 #67. IT'S MY CHOICE
I get a gift every morning, the gift of a new day,
It's up to me whether I make it bright, joyful or grey.
I can choose to be Happy, Successful and Content,
Or dishonor it with worry, anger or resent. - Author: Maddy Malhotra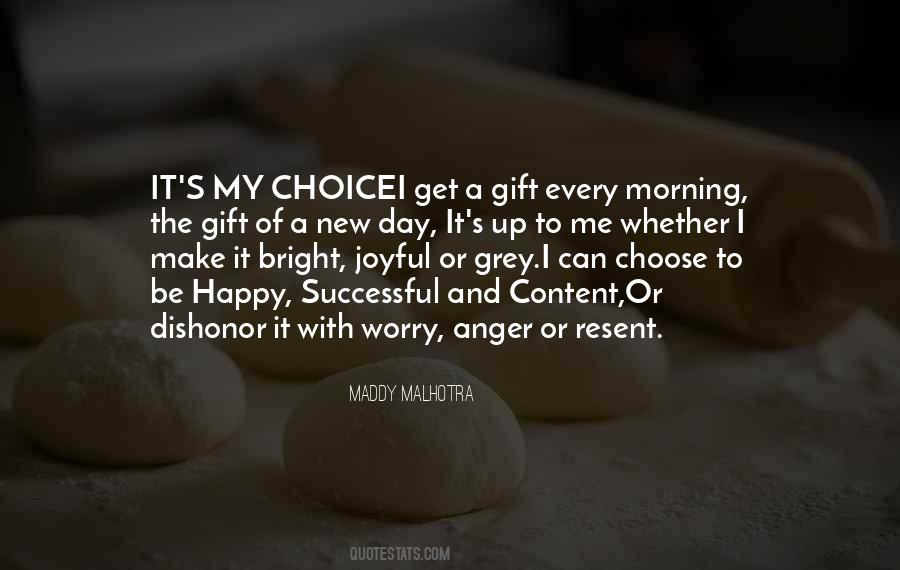 #68. Wearing fake happiness is as good as smearing foundation. A bit of moisture drains it all. - Author: Aniruddha Sastikar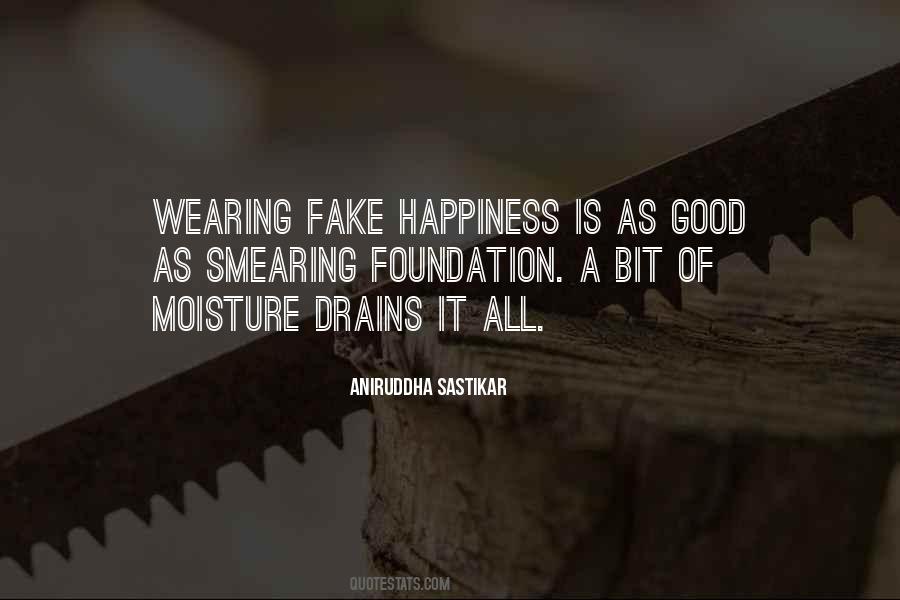 #69. My blog is a celebration of the unexpected, settled, happy life I find myself living in Portland, Maine, at the ripe old age of fifty with someone I deeply love and am very happy with. That's part of why I started the blog. - Author: Kate Christensen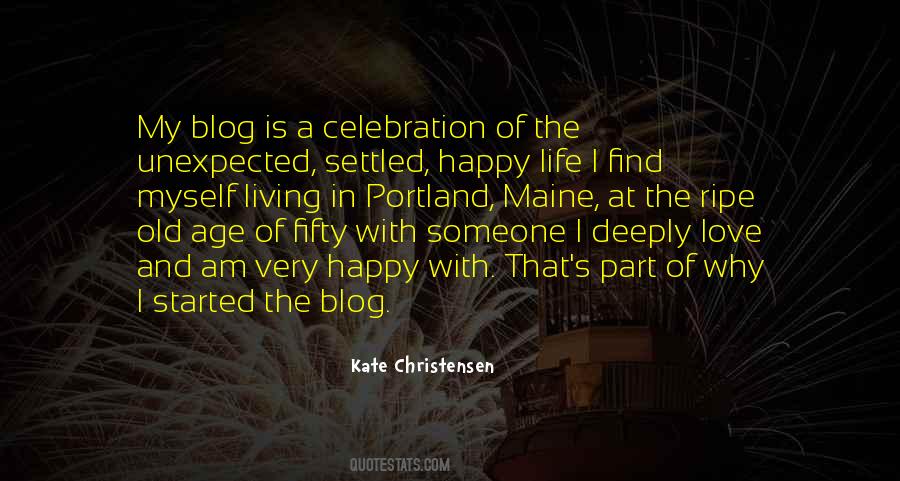 #70. I am not a fairy godmother or anything of that sort, but I hope to give you a happy home and a good education, and to send you out into the world true, brave, generous men, prepared to serve God truly all the days of your life."
~Aunt Persis - Author: Constance Savery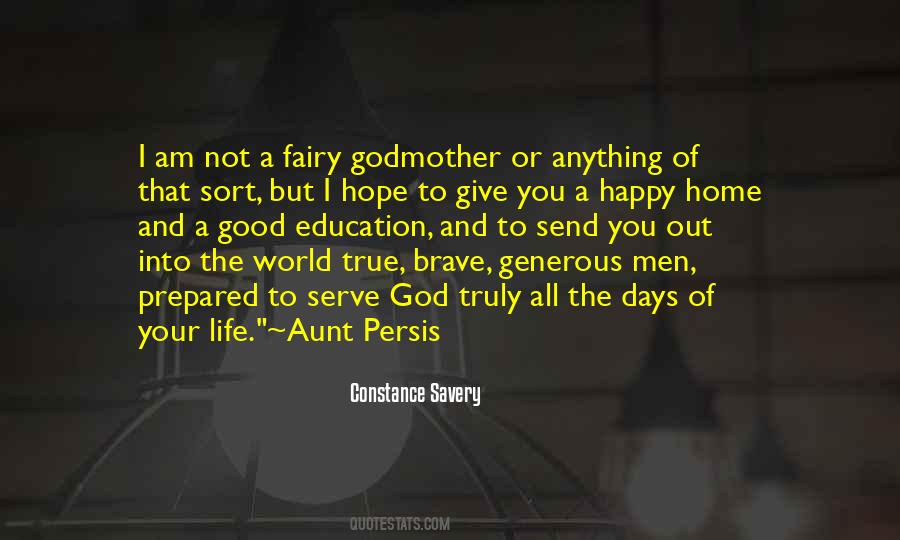 #71. You don't become happy by pursuing happiness. You become happy by living a life that means something. - Author: Harold S. Kushner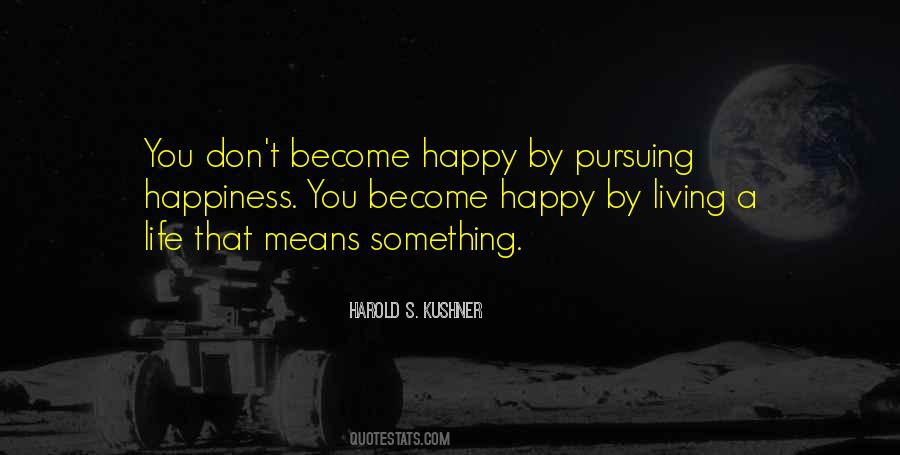 #72. It was a flight, a kind of fleeing, a kind of falling, falling higher and higher, spinning off the edge of the earth and beyond the sun and through the vast silent vacuum where there were no burdens and where everything weighed exactly nothing. - Author: Tim O'Brien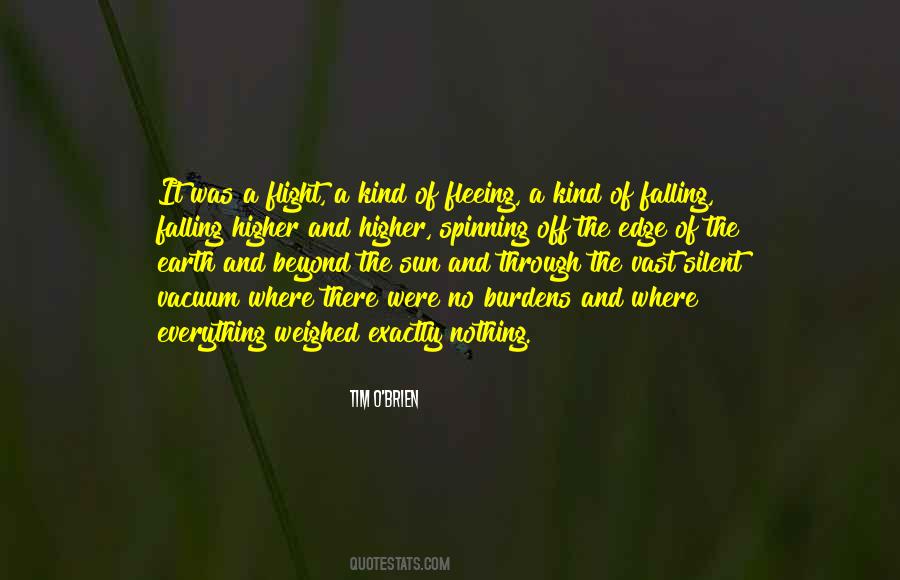 #73. me. That's what it does. Nothing is ever enough. You get more, and more, but you're never happy. It's a trap baited with all the things you want most. That life - it's not worth living. - Author: Christie Golden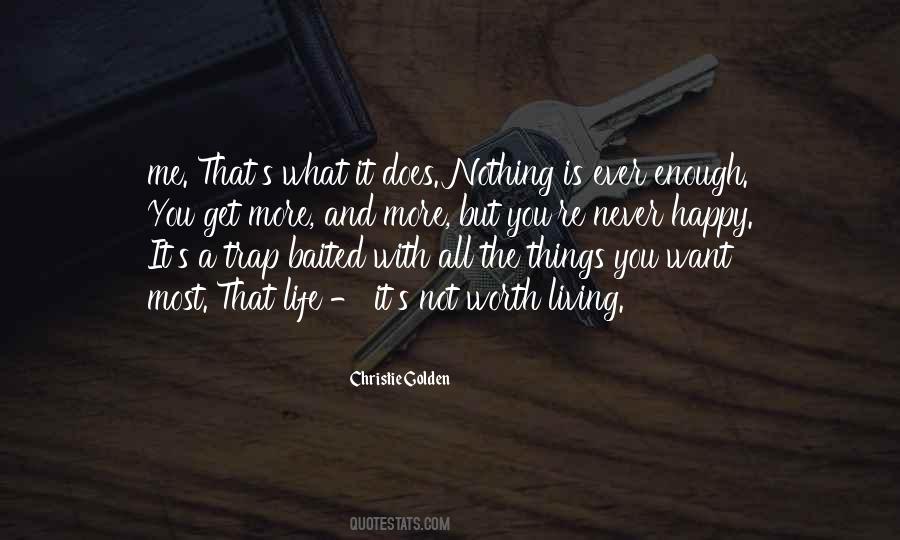 #74. Every cloud doesn't have a silver lining but making time to look at the beauty of clouds can give you peace of mind - Author: C.L. Bennett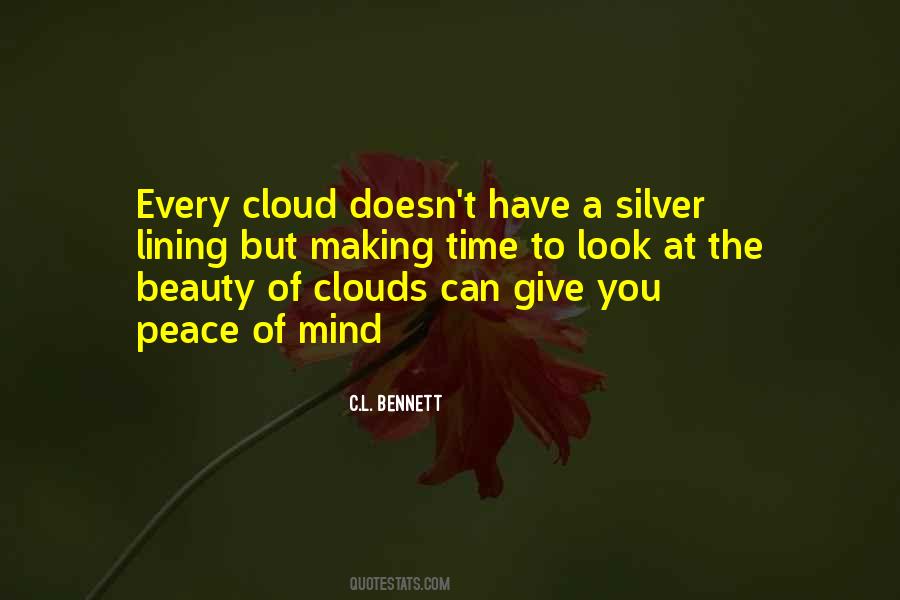 #75. There is some kind of a sweet innocence in being human- in not having to be just happy or just sad- in the nature of being able to be both broken and whole, at the same time. - Author: C. JoyBell C.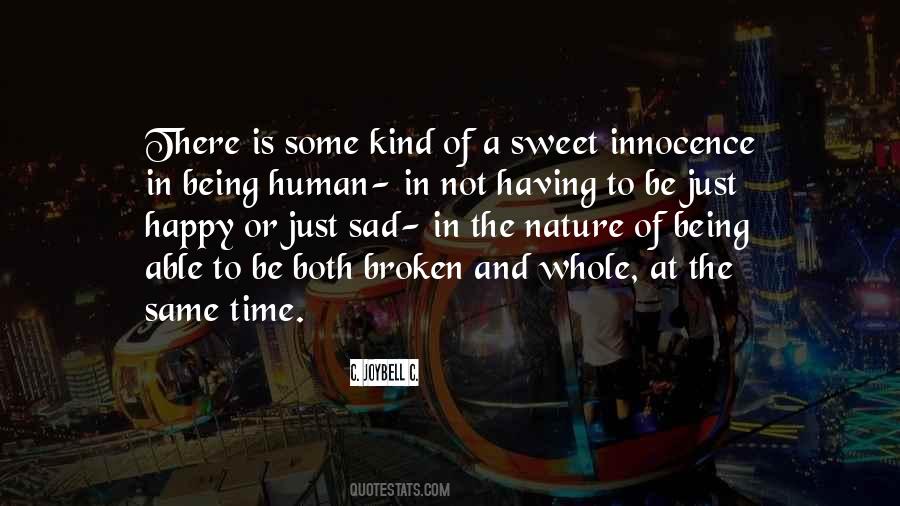 #76. It means much to have loved, to have been happy, to have laid my hand on the living Garden, even for a day. - Author: Jorge Luis Borges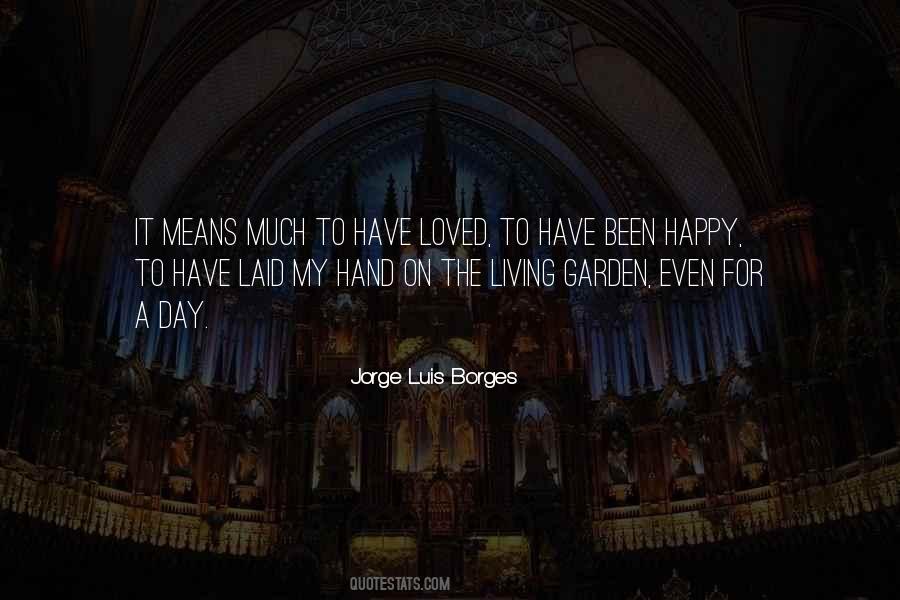 #77. It wasn't what I'd characterize as a happy part of my life, living as I was, a balled-up mass of unfulfilled desires. I was much younger, much hungrier, much more alone. But I was myself, pared down to the essentials. - Author: Haruki Murakami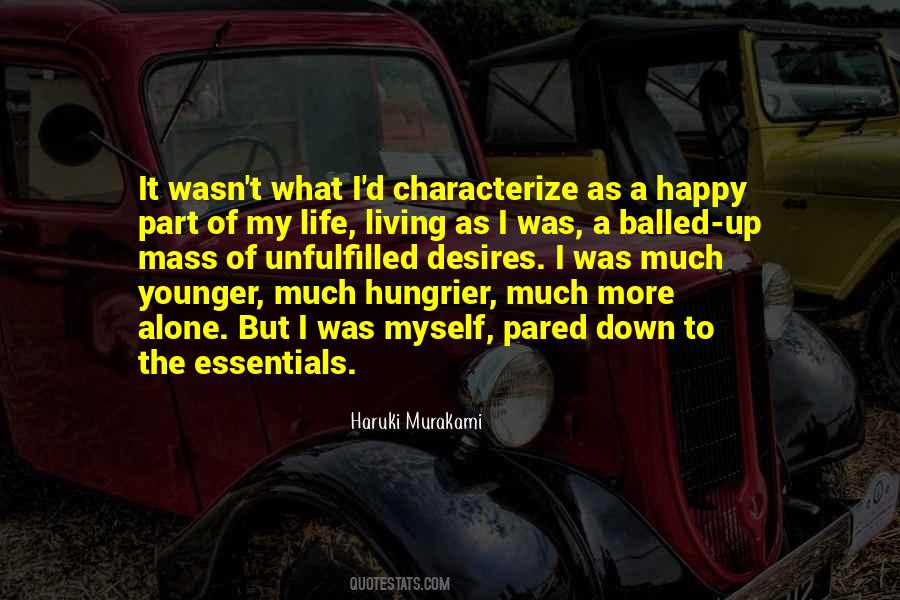 #78. I couldn't write a happy movie or romantic comedy to save my life. Yes, Noel Coward's an idol, but his plays are serious to me. 'Private Lives' and 'Design for Living' both have an edge. Without psychoanalyzing myself, I think I exorcise my demons in my work. - Author: John Logan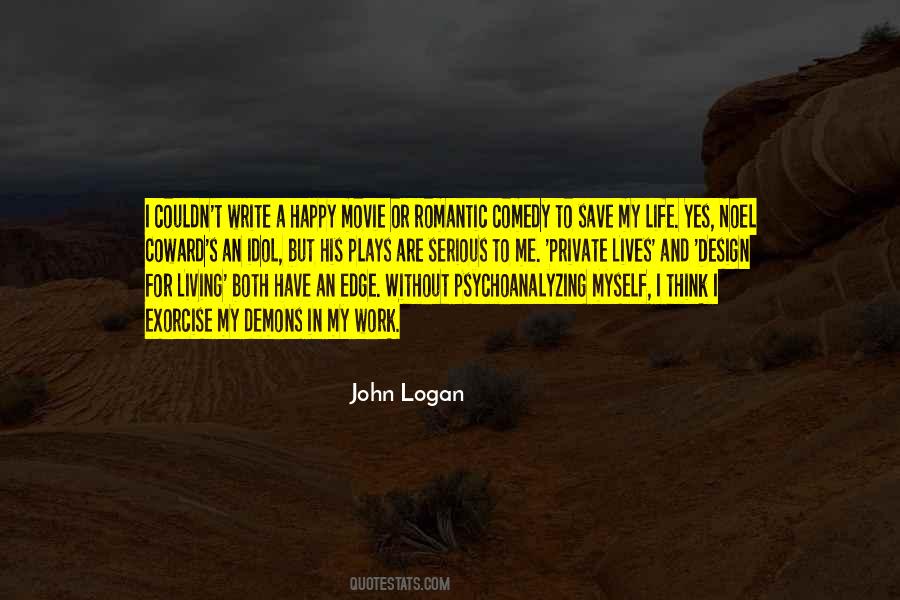 #79. Difficult times are ways to know and understand yourself and others in a better way.
(From 'Voyage to Happiness') - Author: Sanchita Pandey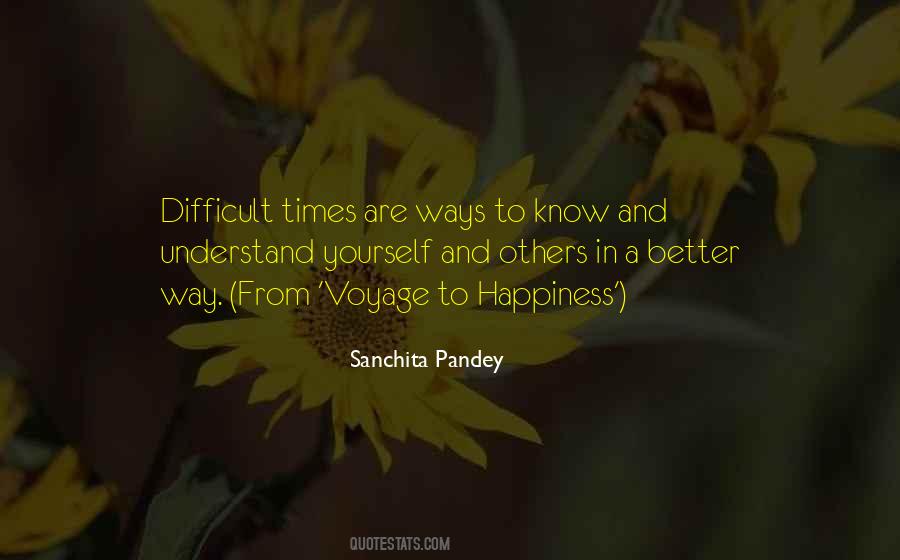 #80. Its best to live imperfectly happy living a life of your own choice than to imitate someone else and be a plastic doll. - Author: Upasana Banerjee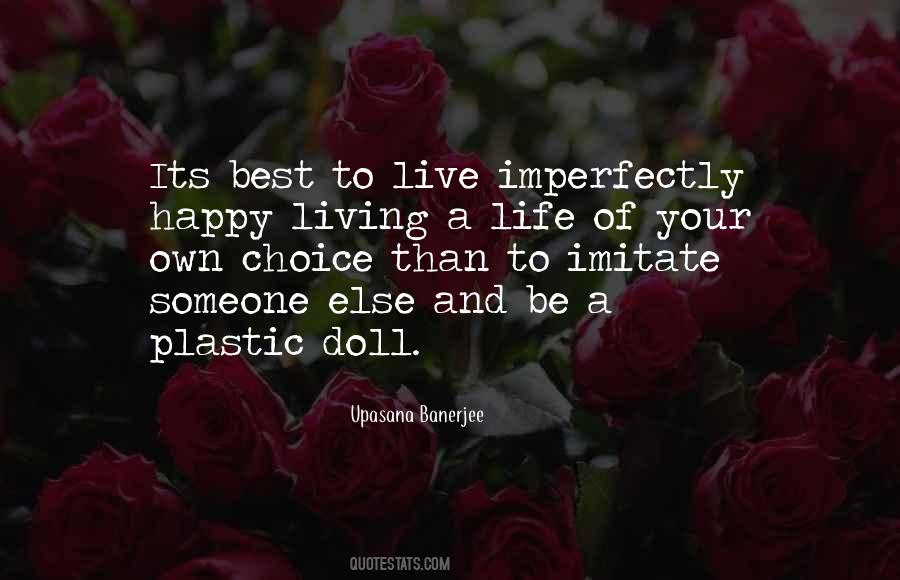 #81. As a being and life form, all of mankind must seek the absolute sunshine of being. To do otherwise is to deny the essence of life; which is growth in body mind and soul. These in turn reflects Self love. - Author: Auliq Ice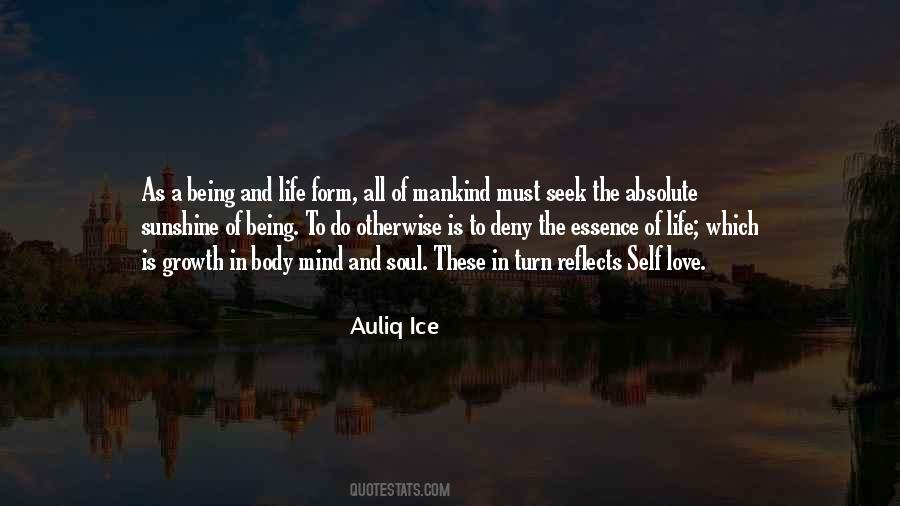 #82. Being in control of your life and having realistic expectations about your day-to-day challenges are the keys to stress management, which is perhaps the most important ingredient to living a happy, healthy and rewarding life. - Author: Marilu Henner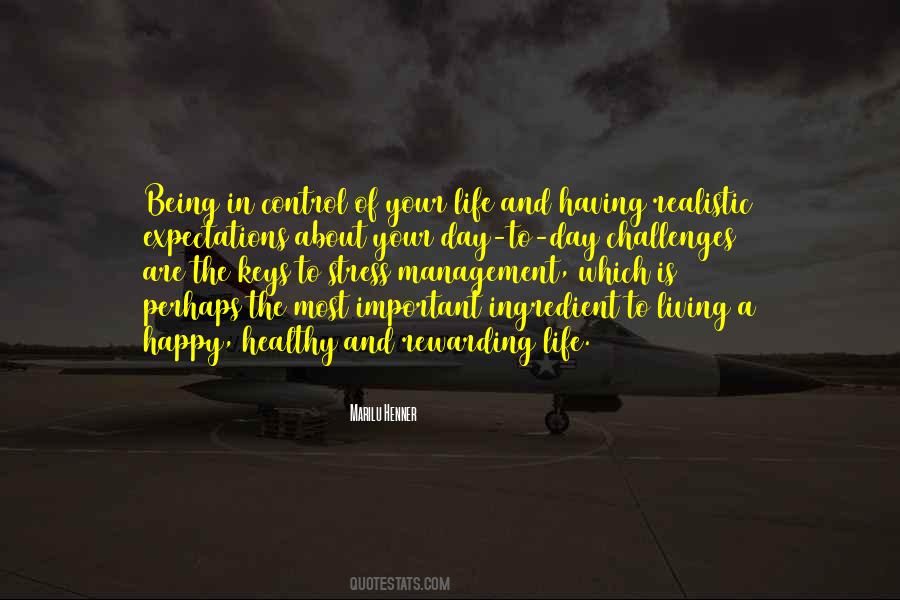 #83. One of the quiet agonies of life, is seeing people who love something, lose touch with what made them happy. It can happen to anybody.

No matter what you do for a living, where you live, or who you're with, it's important to remember why you wanted to do something for the first time. - Author: Jason Gay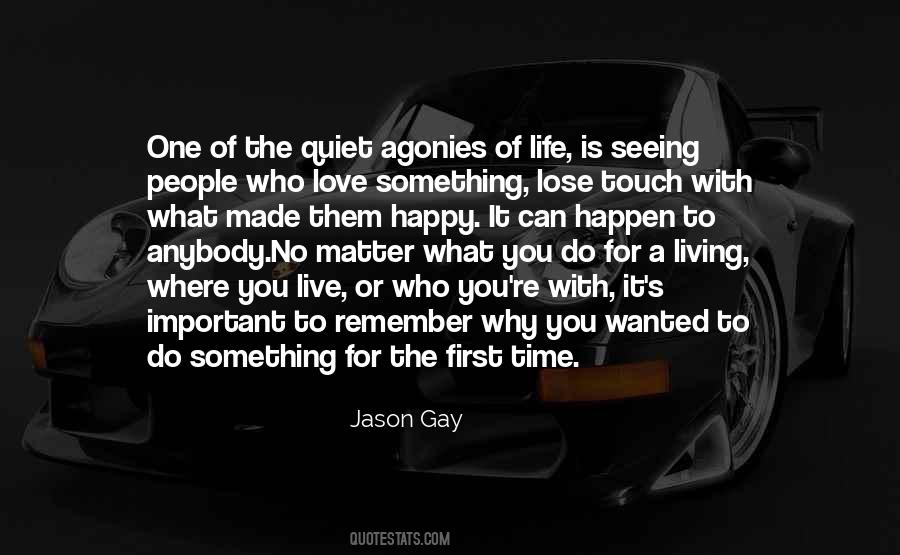 #84. It's no different from losing a loved one," he said. "You grieve, but then you have no choice but to go on living your life. You find a way to be happy again. It's not impossible. You just have to decide when you're ready to accept that they're gone. - Author: Julianne MacLean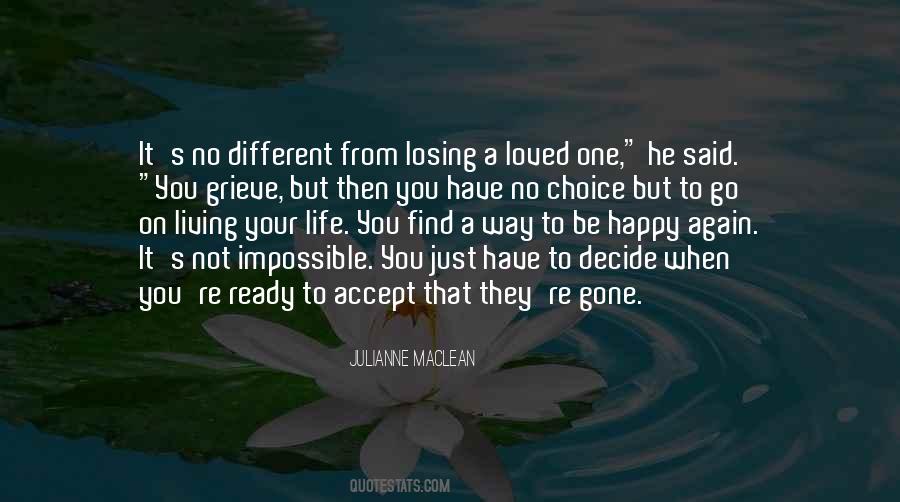 #85. Always bear this in mind, that very little indeed is necessary for living a happy life. - Author: Marcus Aurelius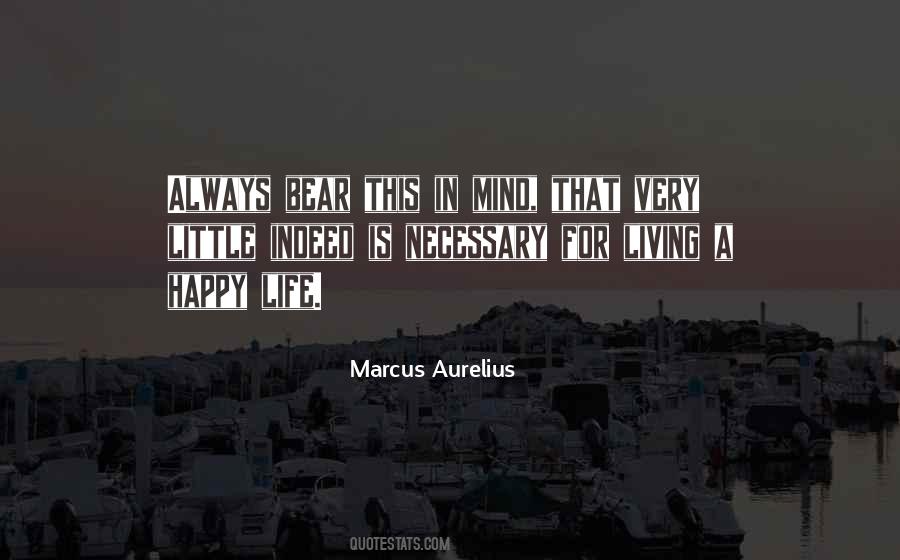 #86. The advantage of living your life consistently with determination, purpose and righteousness, every day is a success. There is victory in each good intention that you act upon! - HAPPY BIRTHDAY - Author: Carlos Wallace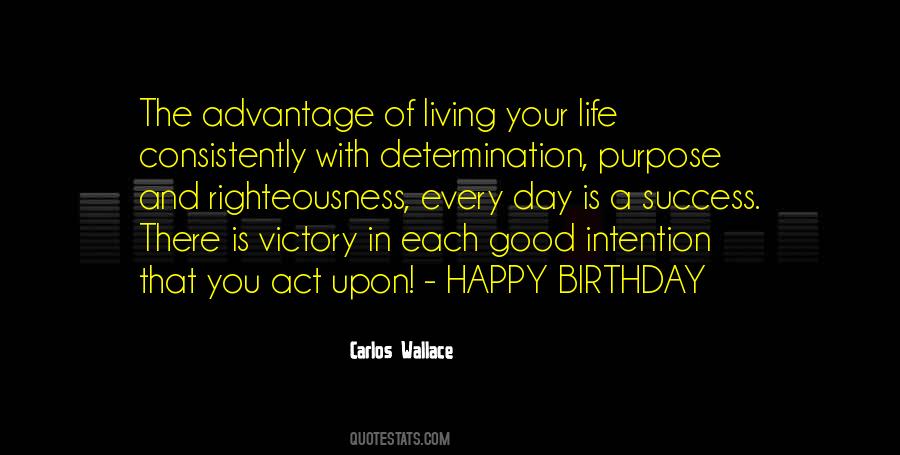 #87. Living a happy life is my main priority. You guys may think I am selfish for "wasting my talent" by staying away from events for a bit, but I am finally at a comfortable place where I can honestly say, if you guys see me out on tour again it's because I am there to win, and I'm going to go 100%. - Author: Andy Irons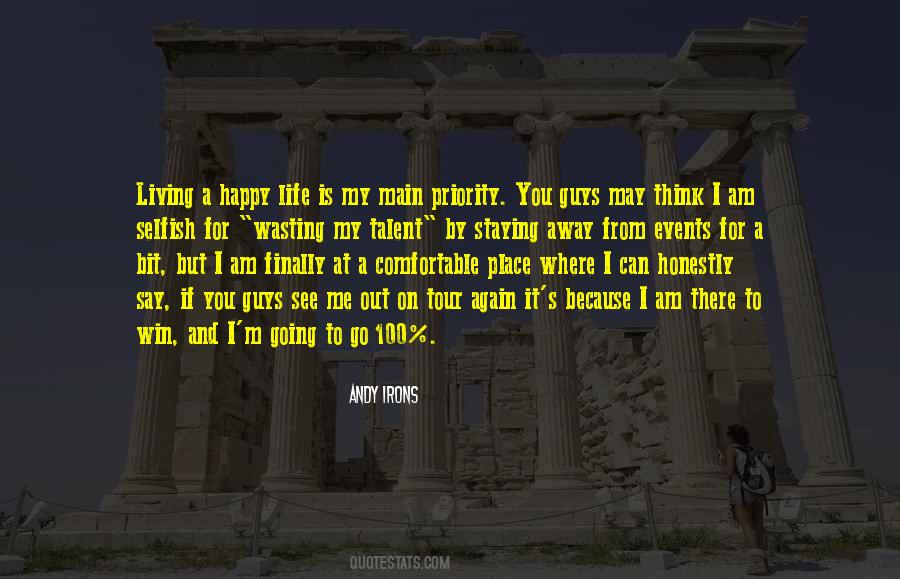 #88. It is the small trivial things in life that makes a human happy, like opening a pickle jar. - Author: KanyaACoffman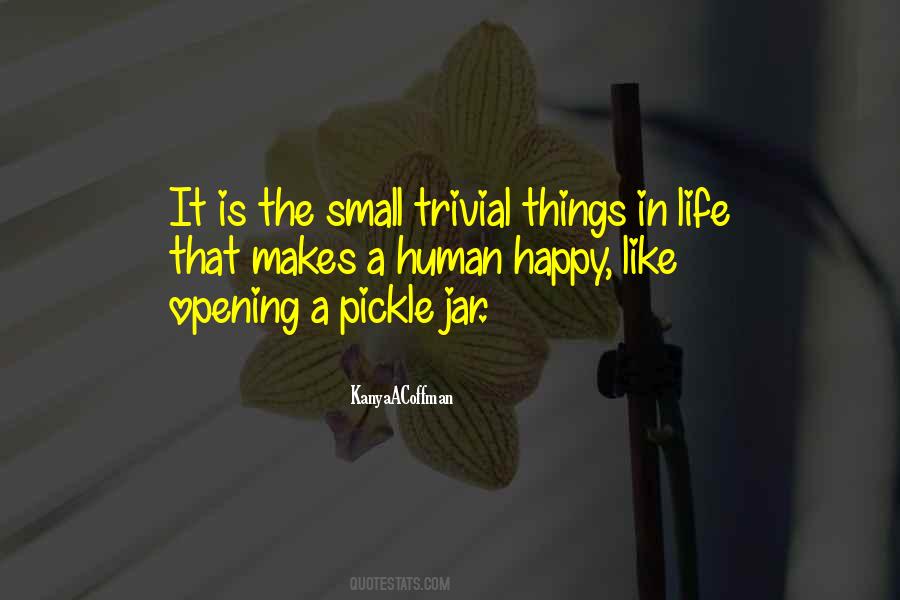 #89. The masses are not happy enough to want more out of life and not unhappy enough to reject their way of living or want a better life. - Author: Gudjon Bergmann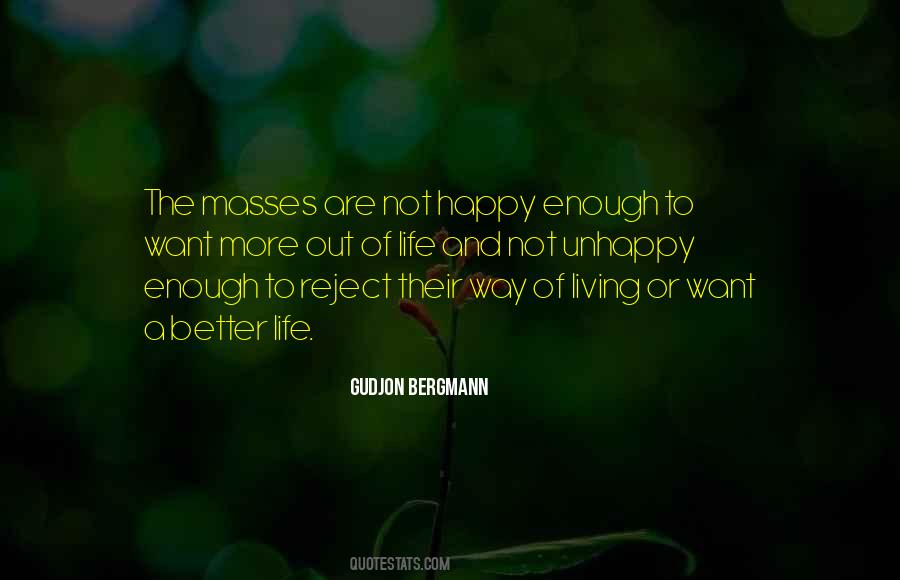 #90. I could pull my living in and live OK, but I don't want to live OK. I'm very happy to live in my penthouse, very happy I can pick up a check, very happy to have a great life and be able to spread my wealth a little bit. - Author: Joan Rivers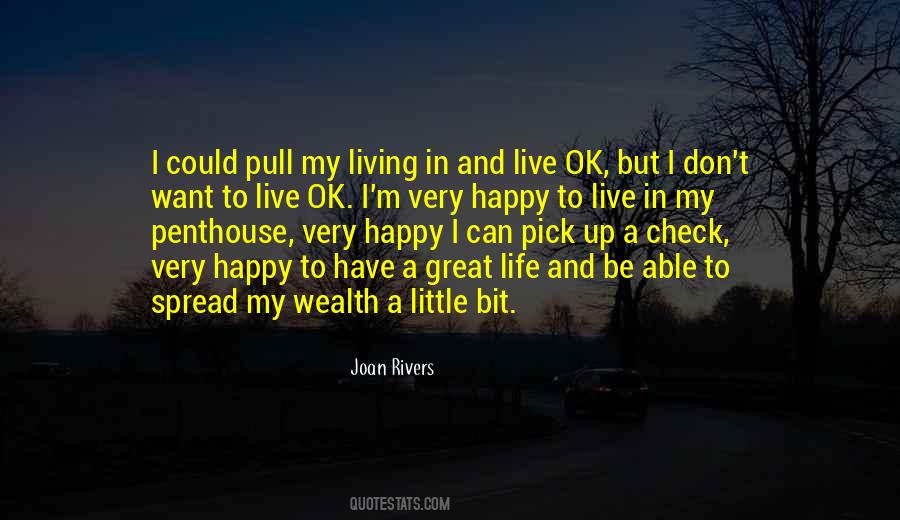 #91. In the past there were people who were not rich but contented with their living style, laughing and happy all day. But when the new rich people appear, people look at them and ask, 'why don't I have a life like that too, a beautiful house, car and garden,' and they abandon their values. - Author: Thich Nhat Hanh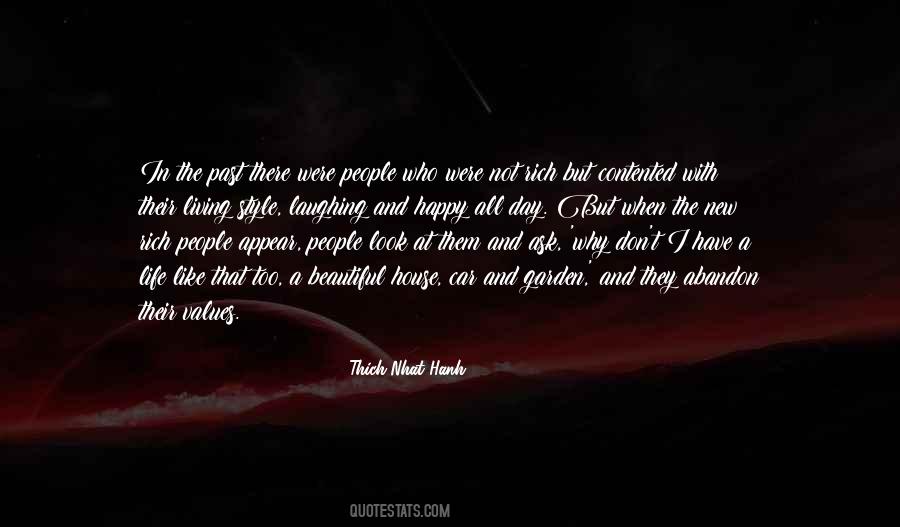 #92. Real joy and happiness come from living in such a way that our Heavenly Father will be pleased with us ... One cannot break God's commandments and be happy. We should remember the scripture, "Wickedness never was happiness" - Author: W. Eugene Hansen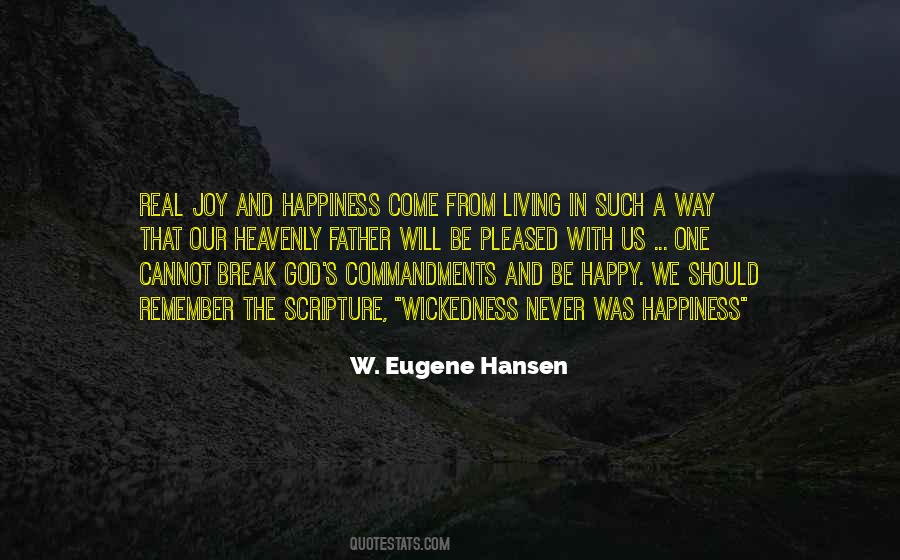 #93. I think I've found a purpose in acting; it's something I truly love and truly enjoy. It makes me happy. It makes me understand more about life, in front of the camera, than what I'm living beyond the camera. - Author: Ranbir Kapoor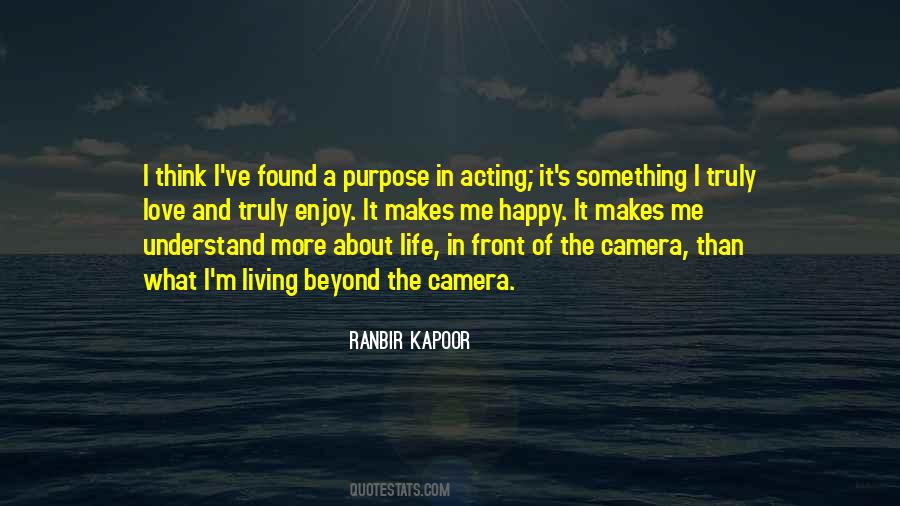 #94. Be happy while you're living, for you're a long time dead." Scottish Proverb - Author: Change Your Life Publishing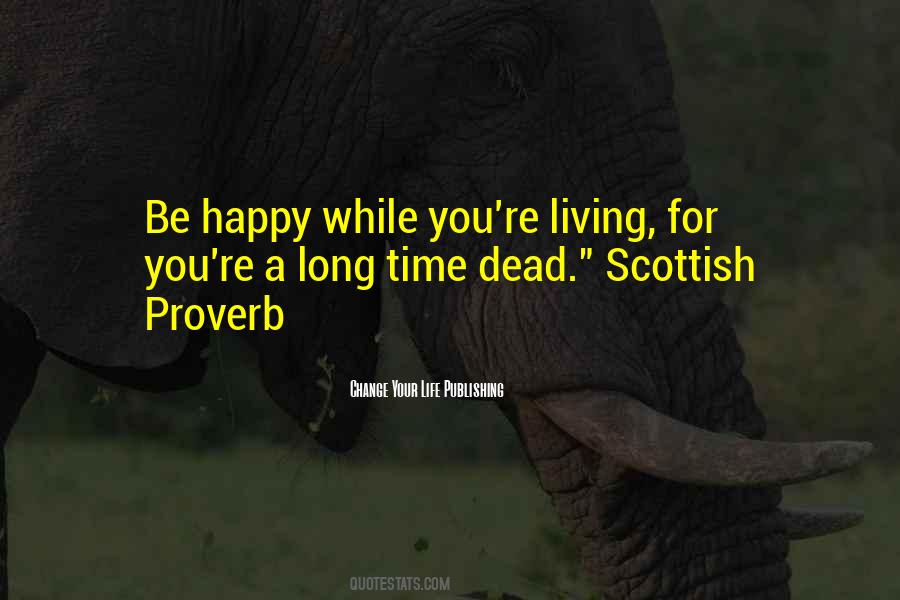 #95. I have the chance to do for a living what I like the most in life, and that's playing football. I can make people happy and enjoy myself at the same time. - Author: Ronaldinho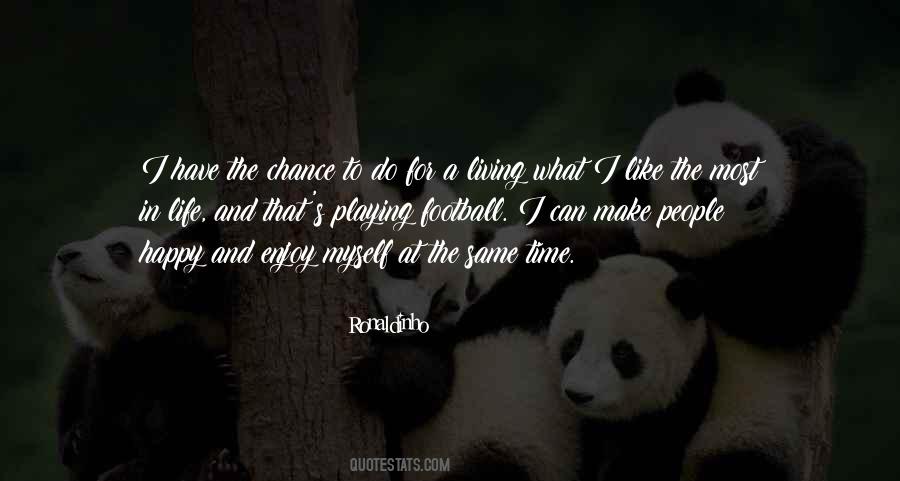 #96. A dead heart is a dead life; keep your heart alive; let your heart beat for something unique! - Author: Ernest Agyemang Yeboah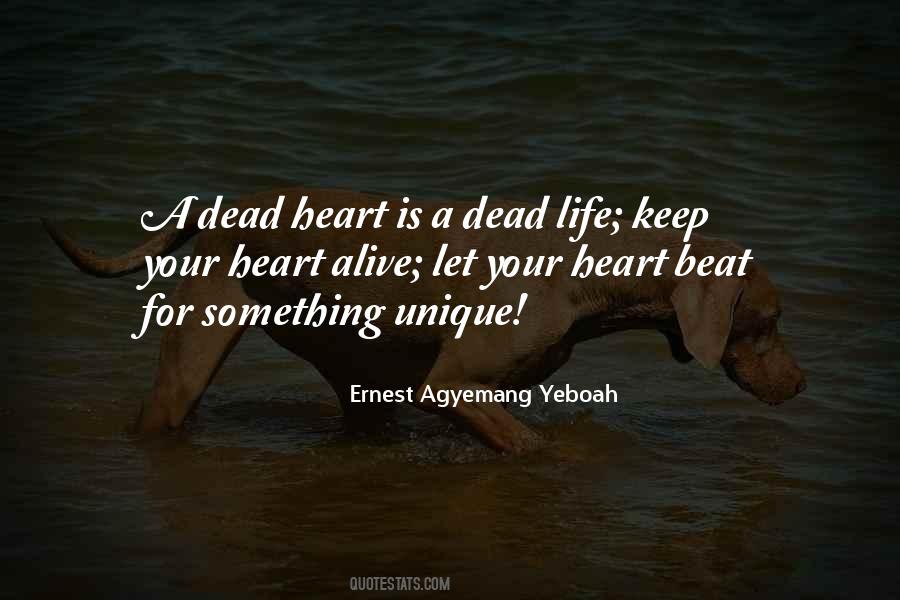 #97. A glorious life is a life live with gratitude. - Author: Lailah Gifty Akita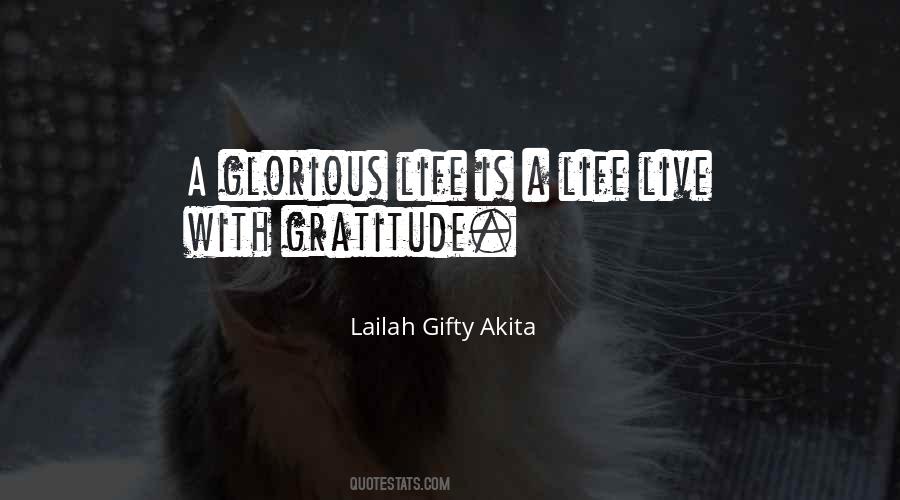 #98. Why does truth carry such a dreadful face? Why does subjugation carry such a happy mask? It becomes sad when people understand that they can lead a better life as long as they bow their heads, ignoring the truth. - Author: Lionel Suggs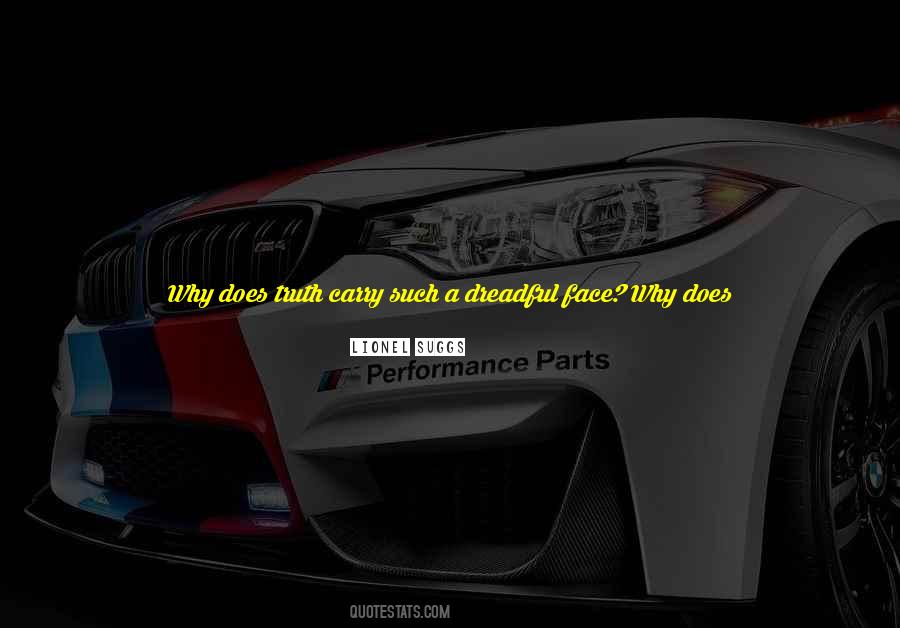 #99. They weren't happy. The otters knew they weren't living in a real river. It wasn't the life that they were meant to live, or even wanted to live, but there was nothing they could do to change it. - Author: Nicholas Sparks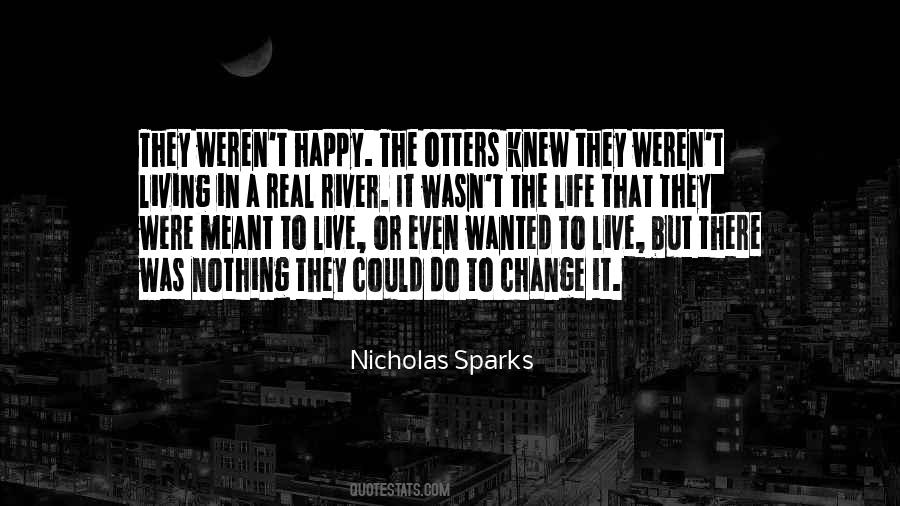 #100. I have made a personal decision NOT TO WORRY. This has tremendously contributed to my happiness!! - Author: Sandra M. Michelle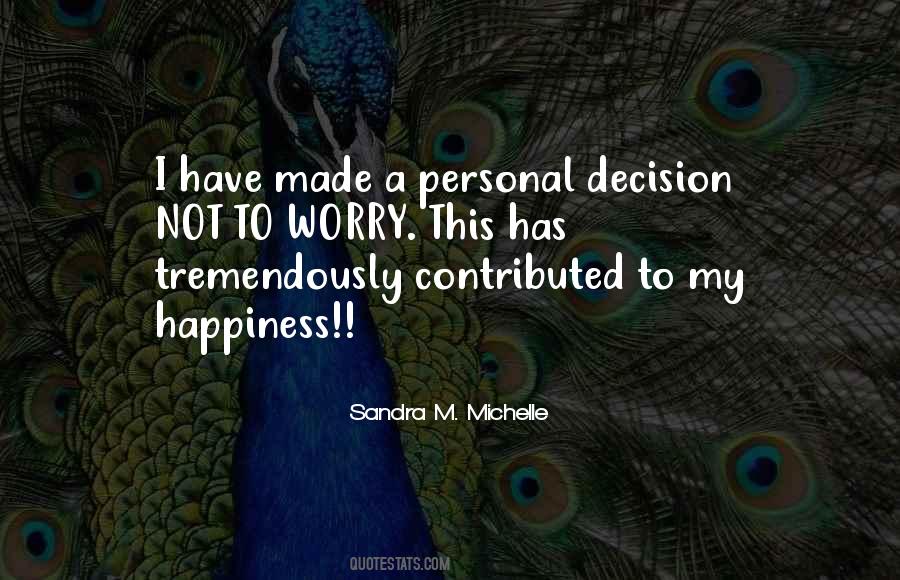 Famous Authors
Popular Topics