Life Beyond Death Famous Quotes & Sayings
List of top 62 famous quotes and sayings about life beyond death to read and share with friends on your Facebook, Twitter, blogs.
Top 62 Quotes About Life Beyond Death
#1. Cold Mountain Son
Forever not change
I live alone
Beyond life death - Author: Hanshan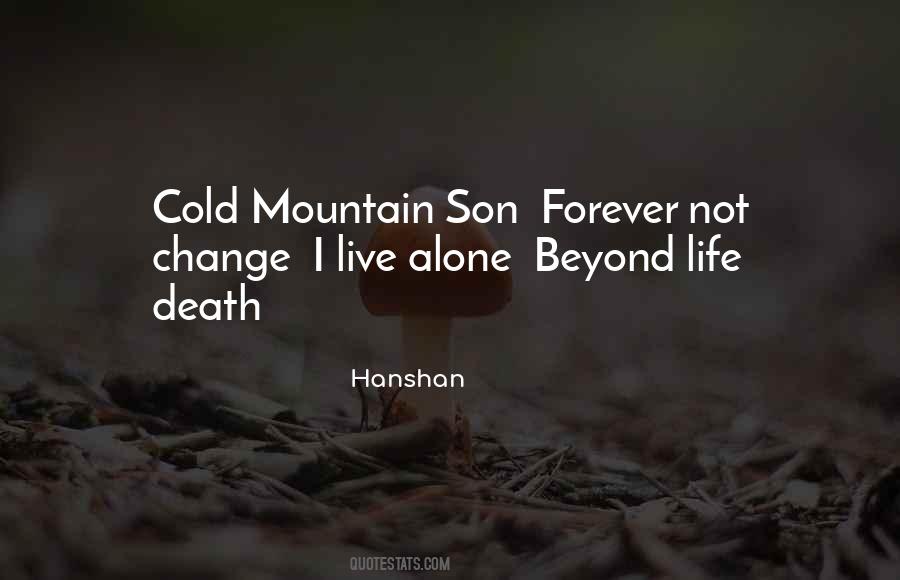 #2. The Christian hope is not that people will somehow avoid dying. The hope is, rather, that if we trust in Jesus then God will raise us, beyond death, to a new life. - Author: David McDonald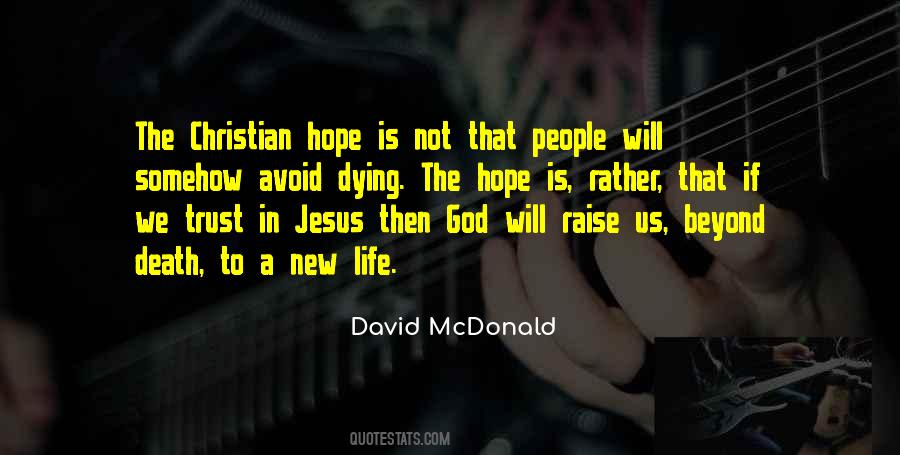 #3. Life is but a mask worn on the face of death. And is death, then, but another mask? 'How many can say,' asks the Aztec poet, 'that there is, or is not, a truth beyond?' - Author: Joseph Campbell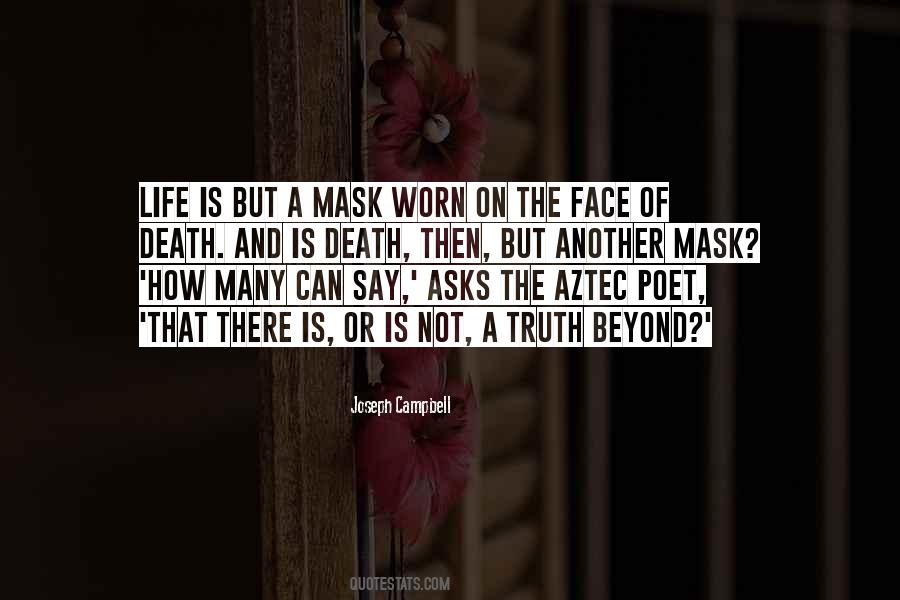 #4. There is a way beyond this life and beyond death, the path of liberation. In order to be liberated, you have to enter into the world of advanced meditation. - Author: Frederick Lenz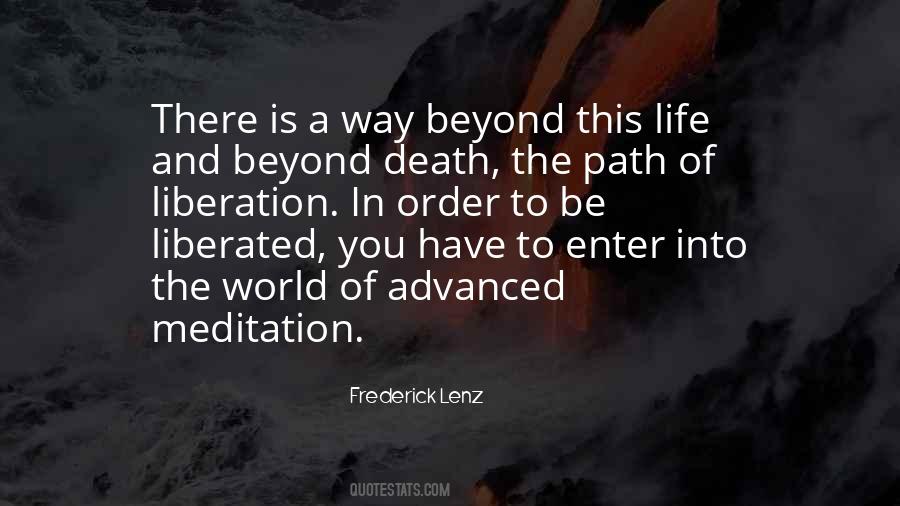 #5. If there was a hell beyond what he knew, he would welcome it. He had no reason not to.
After all, a life without living was simply a death without dying. What more was there to fear or hate but life, endless life, with no respite? - Author: Ais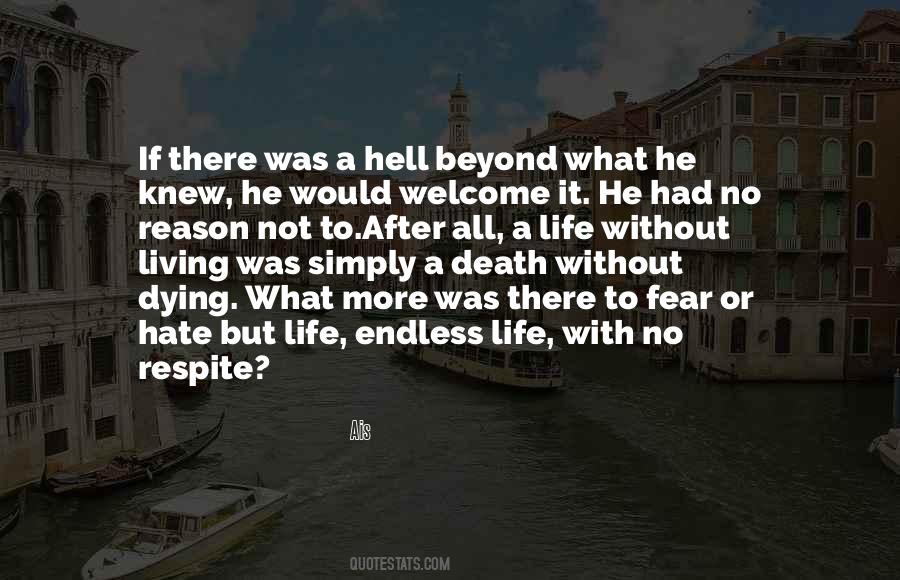 #6. Enlightenment means that you're living fully, and it means that you die fully. And then you go beyond life and death completely, everything, nothing, all, and beyond all. - Author: Frederick Lenz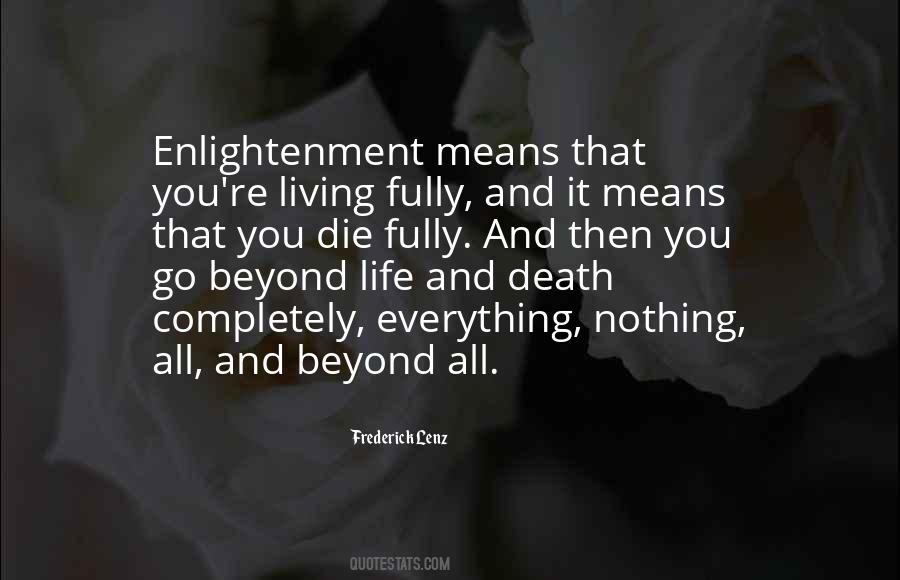 #7. He tried to disguise how tired and ill he was, how depressing the thought of death was to him and how he spent his days and nights thinking up schemes of living beyond what the prognosis said. His hope, if not his heart, would find a way. - Author: Noorilhuda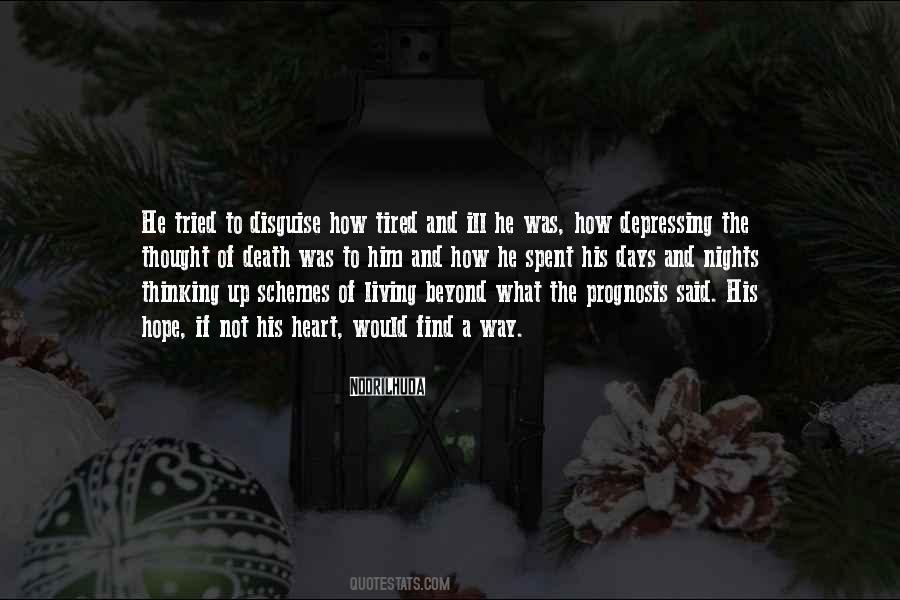 #8. She will not come back, but her beauty, her voice, will echo until the end of time. She believed in something beyond herself, and her death gave her voice power it didn't have in life. - Author: Pierce Brown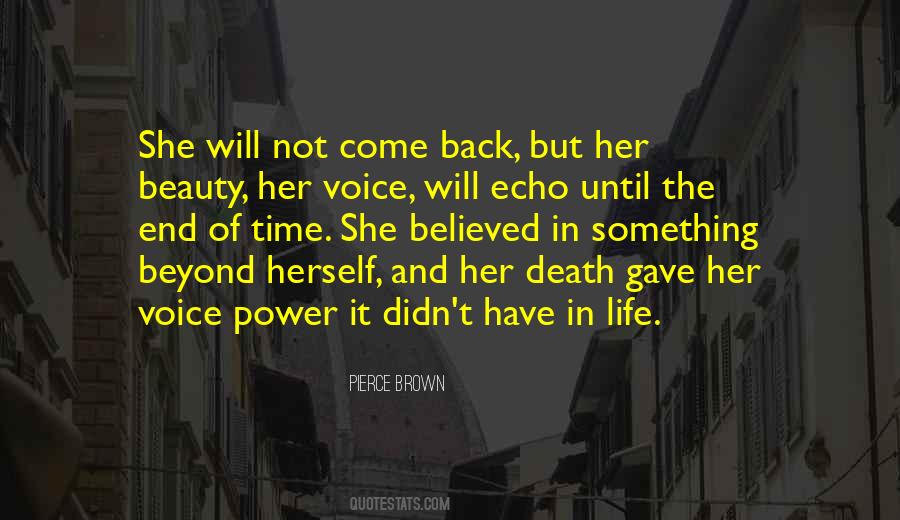 #9. Nothing you can do can prevent your death. Nothing you can do can prevent your rebirth. To step beyond life and death is self-discovery. - Author: Frederick Lenz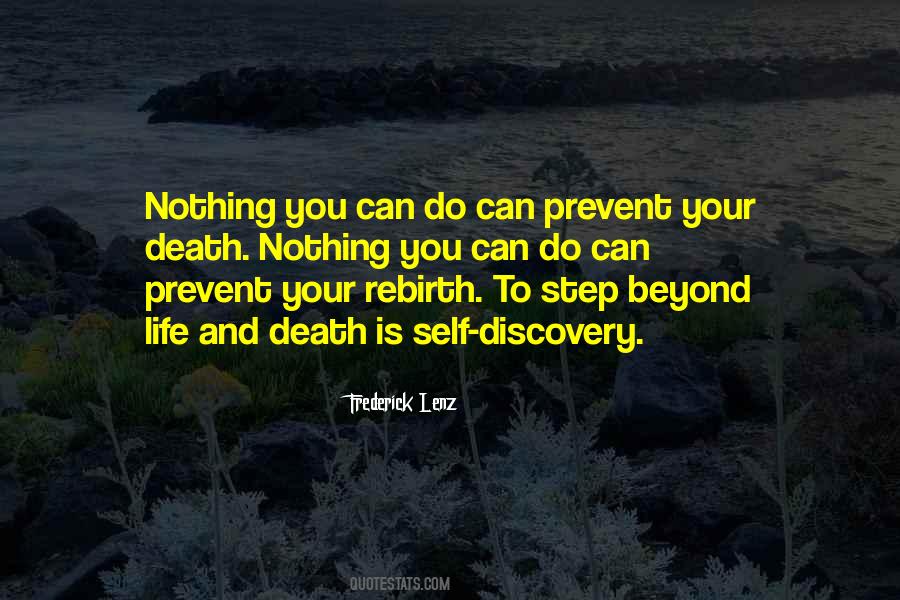 #10. What's fame? a fancy'd life in other's breath. A thing beyond us, even before our death. - Author: Alexander Pope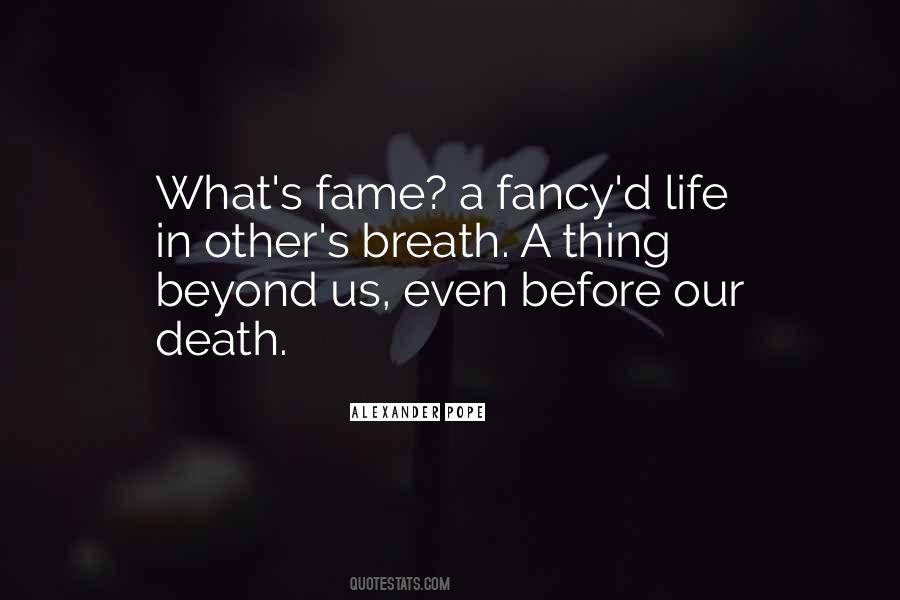 #11. She knew the risk. We both did. I'm glad that she was taken first, and not left on her own. Death is kinder than life. There is no more suffering beyond the grave. We will meet again soon, I hope. - Author: Jennifer Worth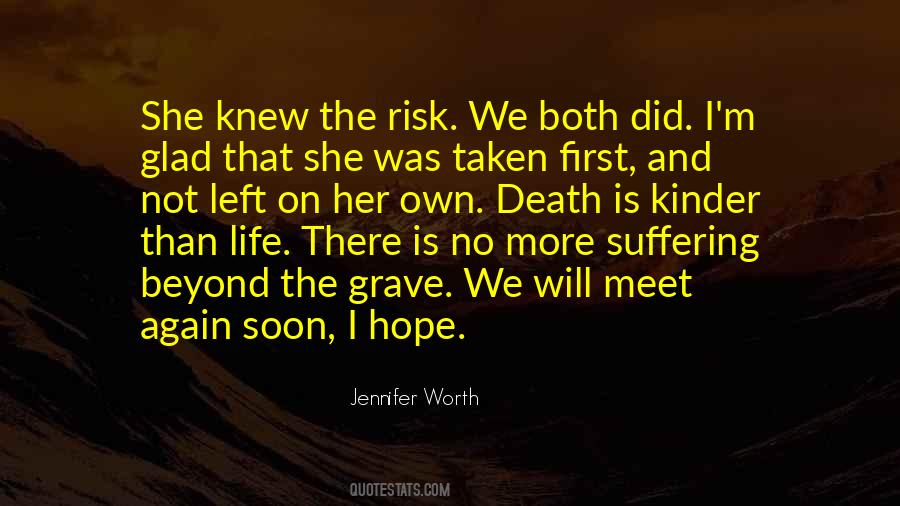 #12. To go back is nothing but death; to go forward is fear of death, and life everlasting beyond it. I will yet go forward. - Author: John Bunyan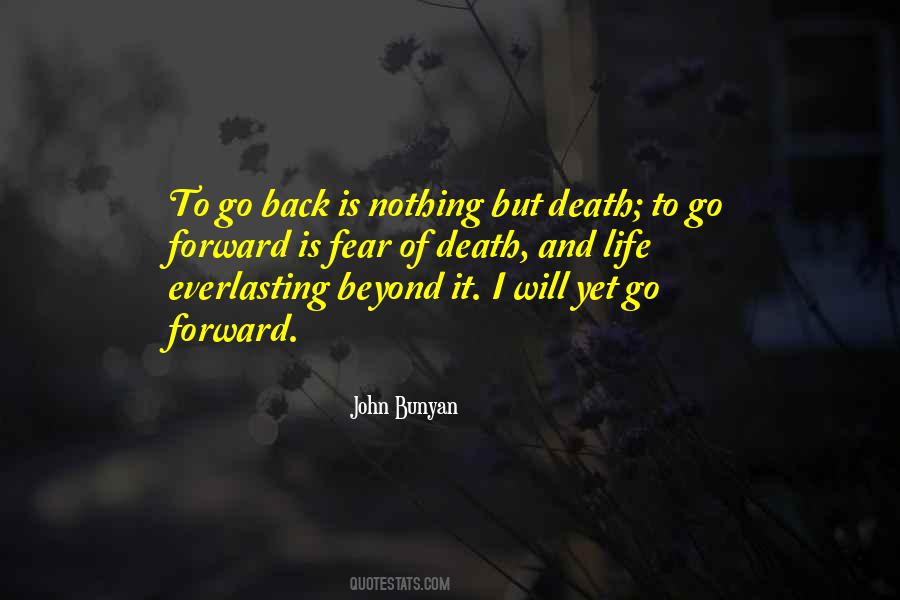 #13. That's what literature is. It's the people who went before us, tapping out messages from the past, from beyond the grave, trying to tell us about life and death! Listen to them! - Author: Connie Willis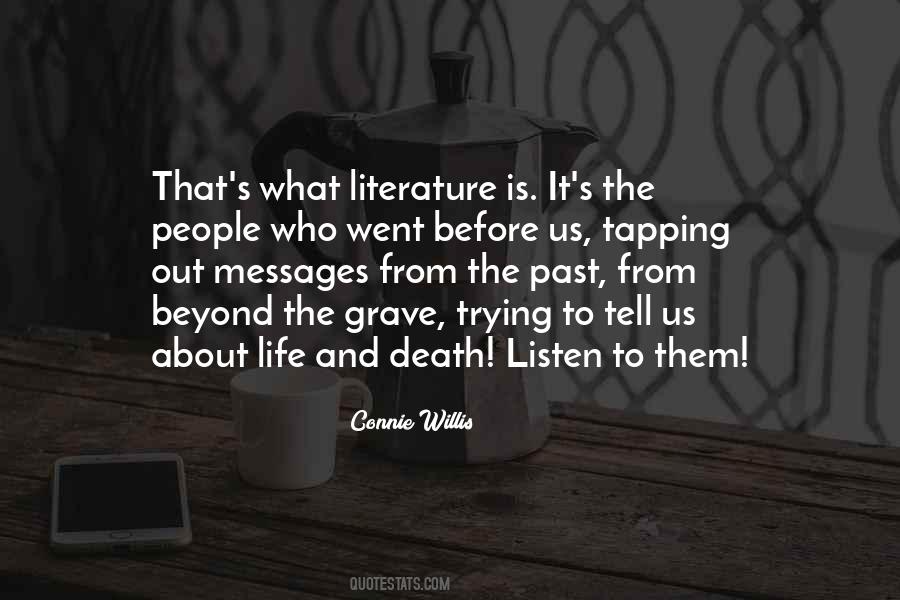 #14. Bureaucrats are a pox. They are supposed to be necessary. Certain chemicals in the body are supposed to be necessary to life, but cause death the moment they increase beyond a suitable limit - Author: Ezra Pound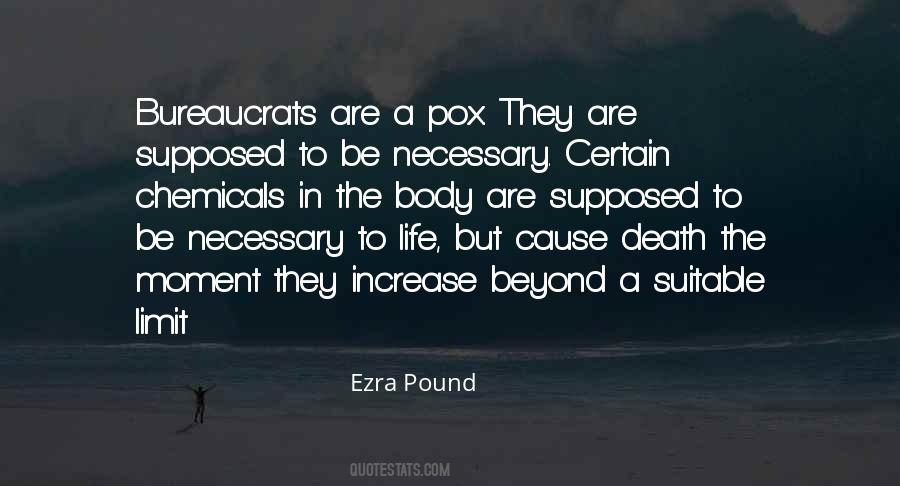 #15. The real you is timeless and beyond life and death. - Author: Sri Nisargadatta Maharaj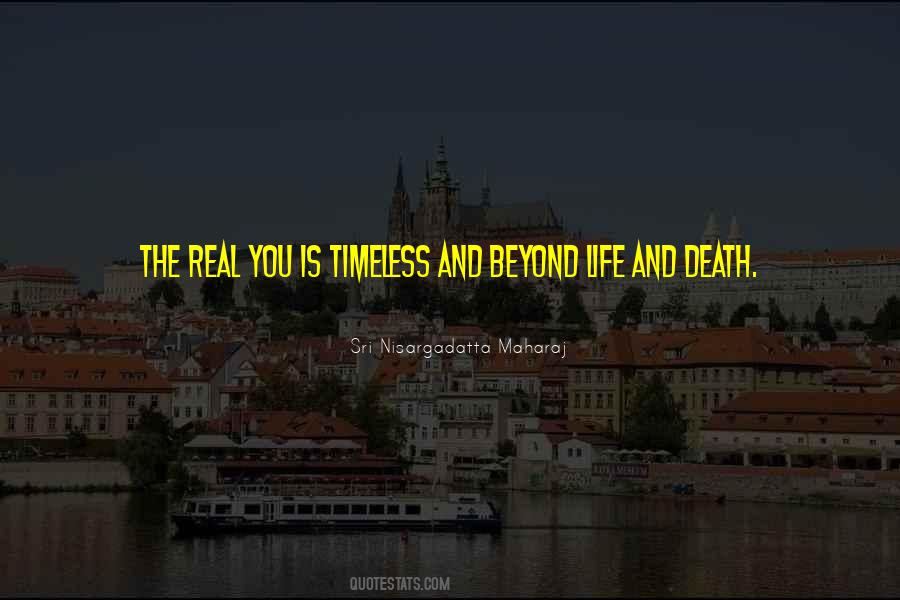 #16. Everybody here is so caught up in the game of life they don't see death. They don't see beyond their deaths. They are on the wheel of birth and death. - Author: Frederick Lenz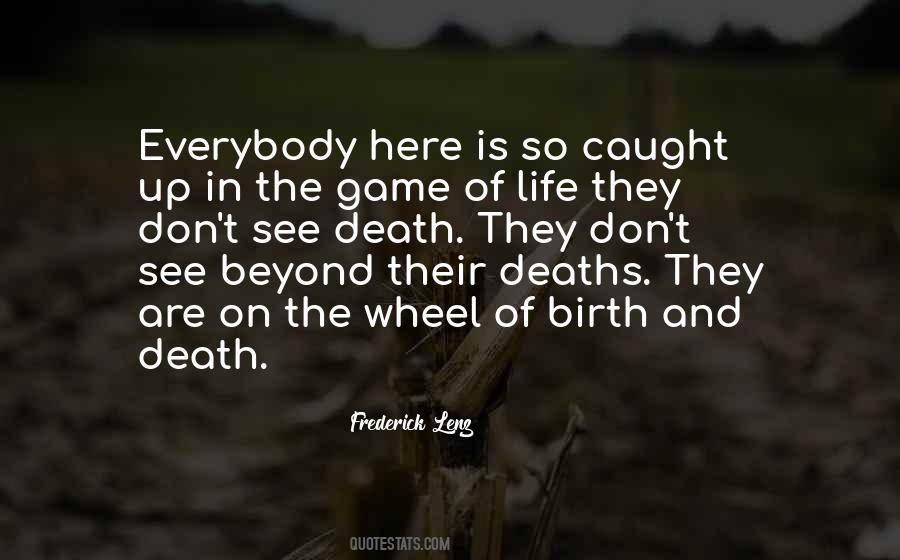 #17. They say (she had read somewhere) that no one ever disappears, up in the atmosphere, stratosphere, whatever you call space
atoms infinitely minute, beyond conception of existence, are up there forever, from the whole world, from all time. - Author: Nadine Gordimer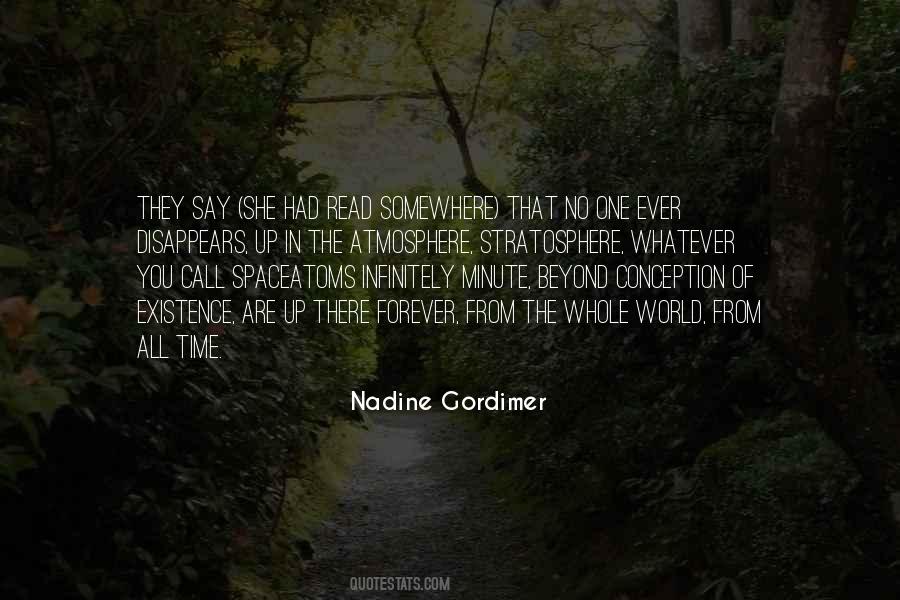 #18. An insult bestowed on your interior and exterior personality; for causes beyond control, kills you innumerably, till the last breath. - Author: Aniruddha Sastikar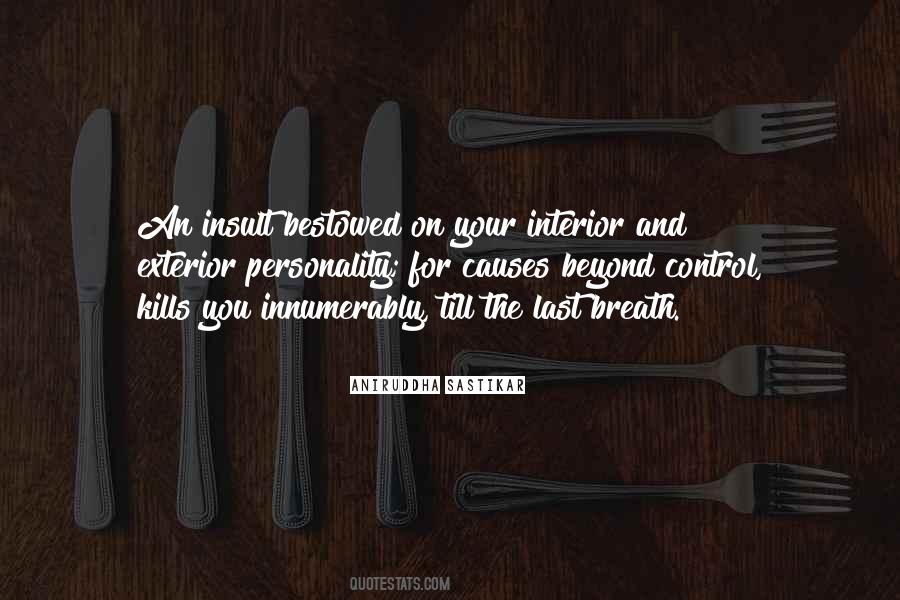 #19. I see a bright
portion
under the overhead light
that shades into
darkness
and then into darker
darkness
and I can't see beyond that. - Author: Charles Bukowski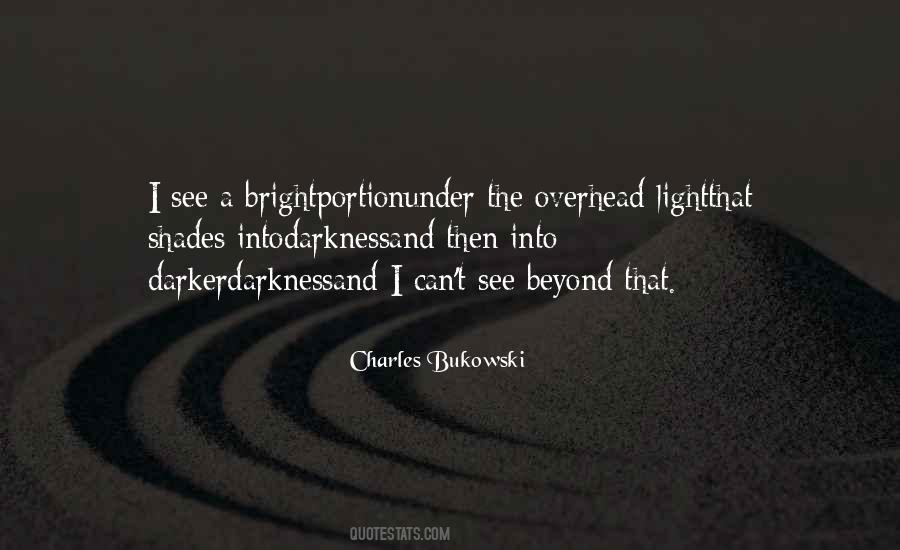 #20. I go now to my long rest in the timeless halls beyond the seas and the Mountains of Aman. It will be long ere I am seen among the Noldor again; and it may be that we shall not meet a second time in death or life, for the fates of our kindreds are apart. Farewell! - Author: J.R.R. Tolkien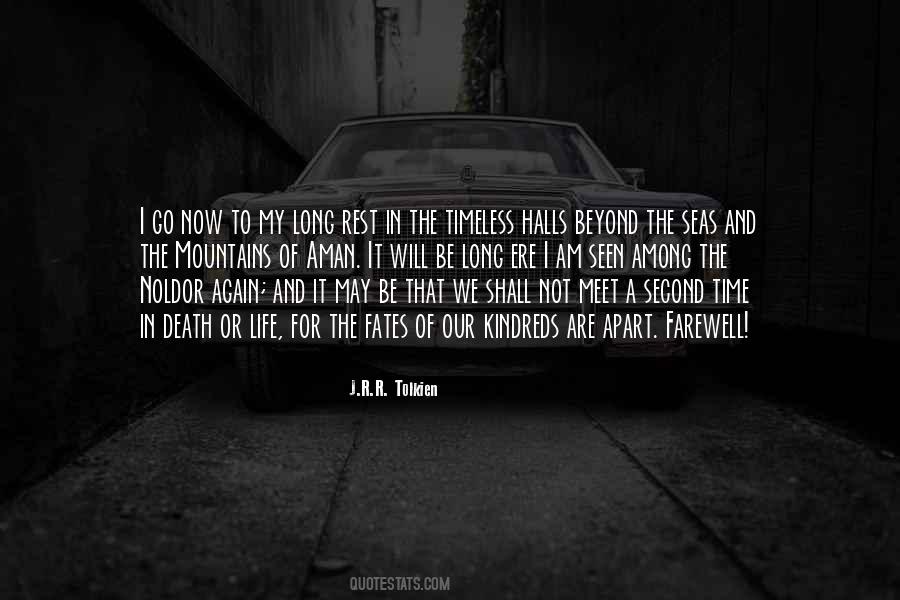 #21. There is a still point in eternity. There is a still point where all things intersect. There is a still point beyond life, time, and death. Your experience of the still point is enlightenment. - Author: Frederick Lenz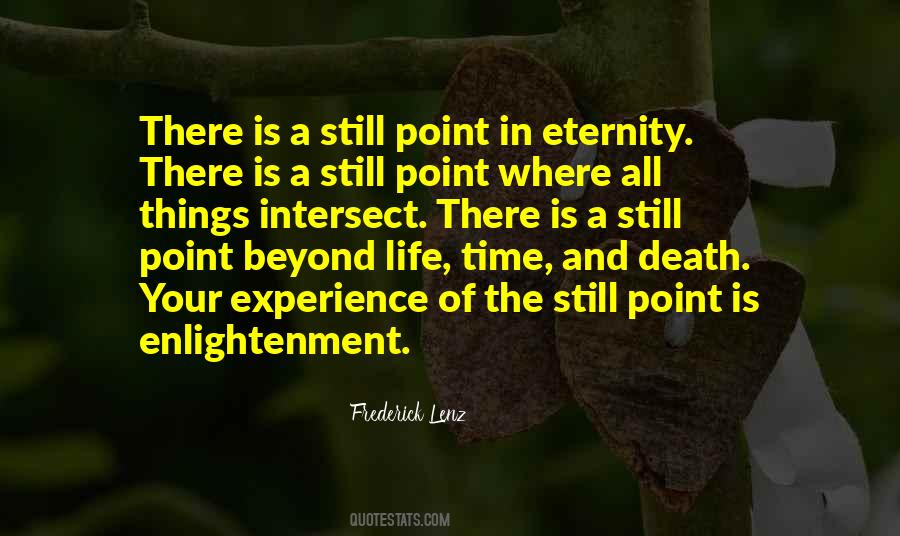 #22. Our hope in life beyond death is a hope made possible, not by some general sentimental belief in life after death, but by our participation in the life of Christ. - Author: Stanley Hauerwas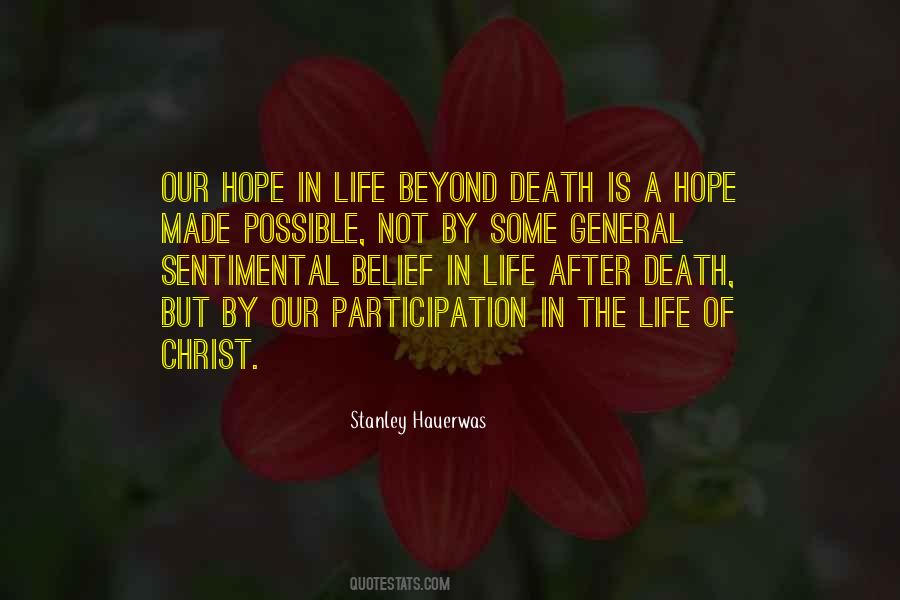 #23. He wore the memory of her embrace like armor, and though he knew it would not save his life, it would be all that was left to him to ease his passage into whatever lay beyond. - Author: Andrew Levkoff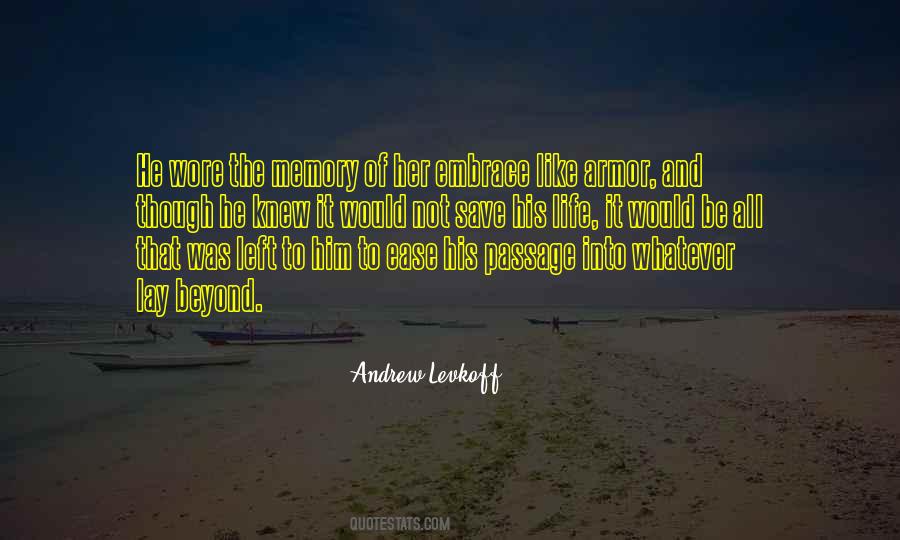 #24. My brother need not be idealized or enlarged in death beyond what he was in life, to be remembered as a good and decent man, who saw wrong and tried to right it, saw suffering and tried to heal it, saw war and tried to stop it. - Author: Edward Kennedy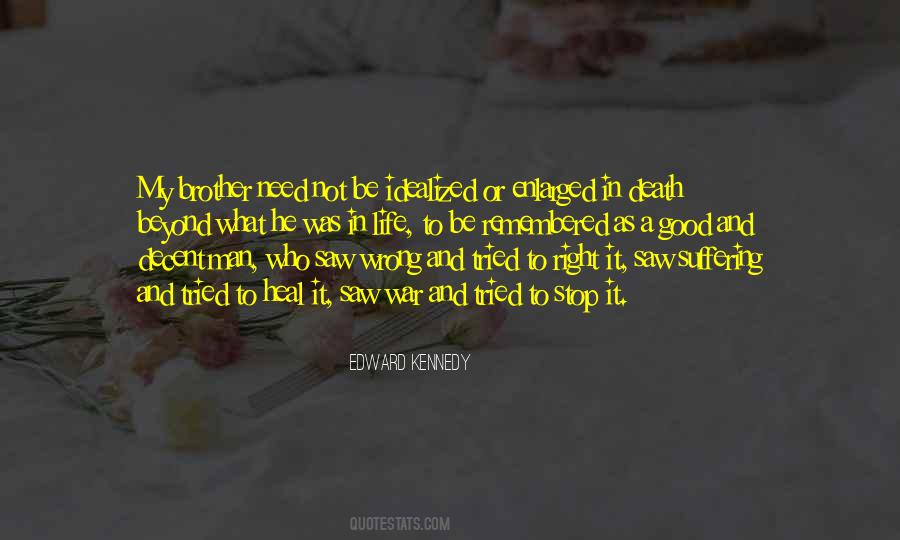 #25. Take me beyond the shadows of my doubts and teach me how to rely on the power of Your promises. When doubt overshadows my thoughts, help me shift my focus back to You, remembering that the mind fixed on the flesh is death, but the mind fixed on the Spirit is life and peace. - Author: Renee Swope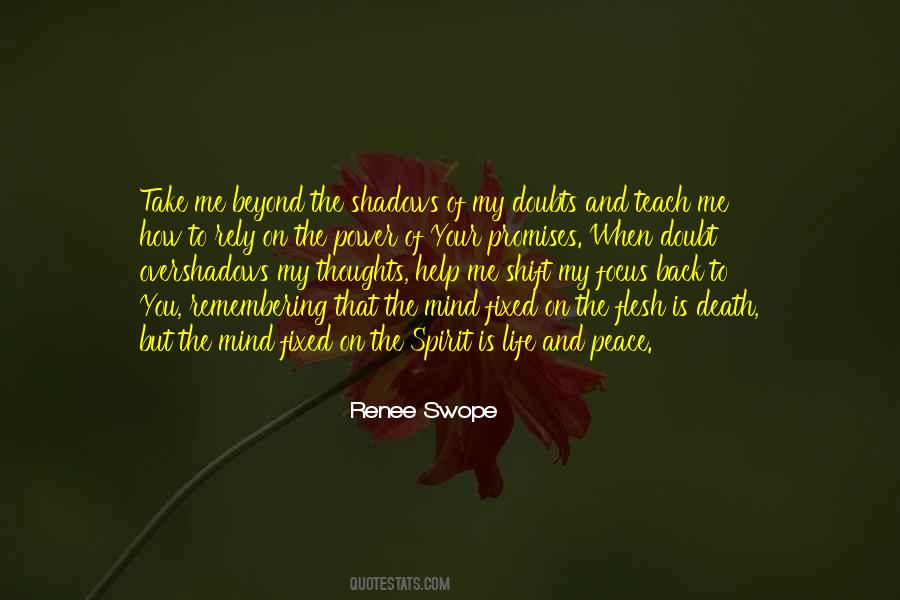 #26. Death is not the end of the road - it is merely a gateway to eternal life beyond the grave. - Author: Billy Graham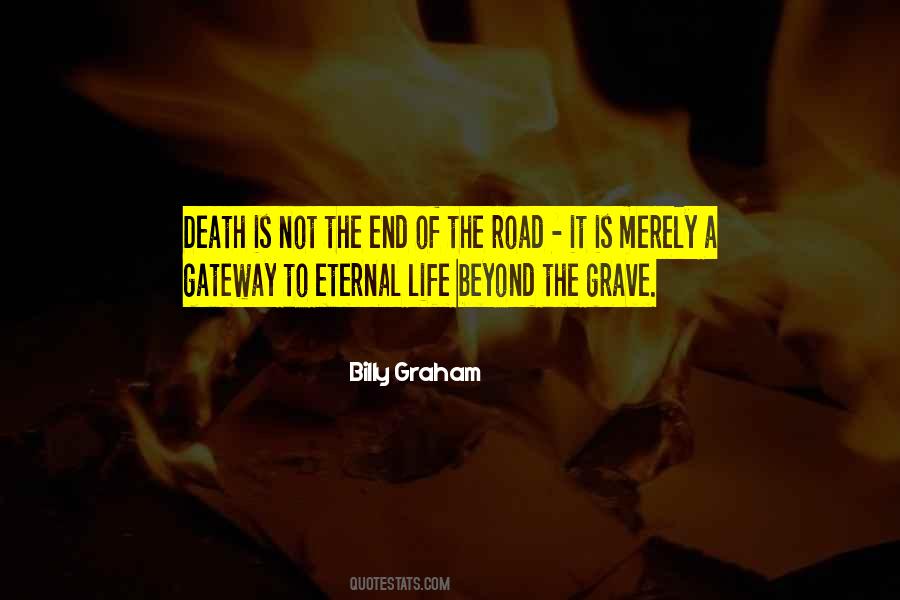 #27. I saw the years of my life spaced along a road in the form of telephone poles threaded together by wires. I counted one, two, three ... nineteen telephone poles, and then the wires dangled into space, and try as I would, I couldn't see a single pole beyond the nineteenth. - Author: Sylvia Plath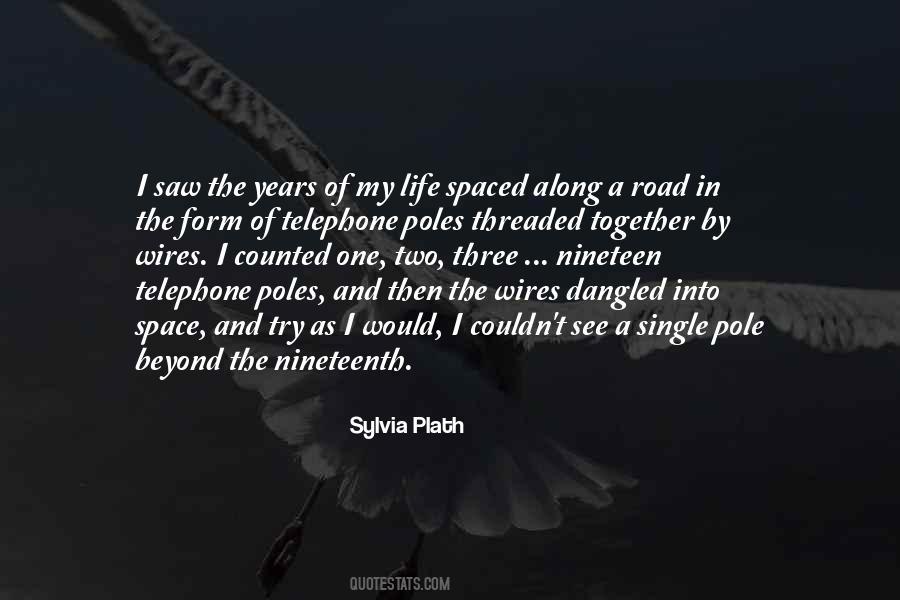 #28. No waiting the beyond, no peering toward it,
but longing to degrade not even death;
we shall learn earthliness, and serve its ends,
to feel its hands about us like a friend's. - Author: Rainer Maria Rilke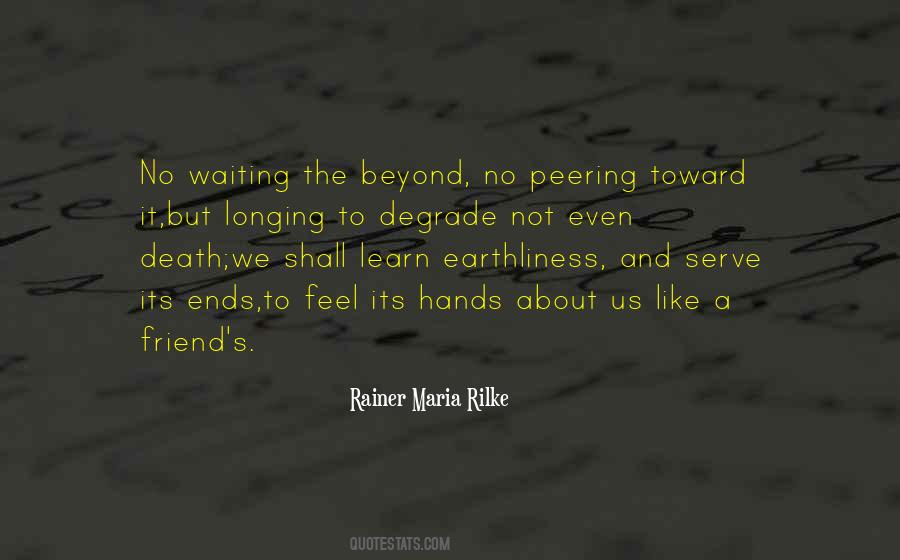 #29. Life is an endless circle within God. From before birth to beyond the transition called death, I am filled with life. My soul wears this earth garment I call my body, which I cherish and care for. When I finally lay it down, my soul continues to live, always in God's care and keeping. - Author: Daily Word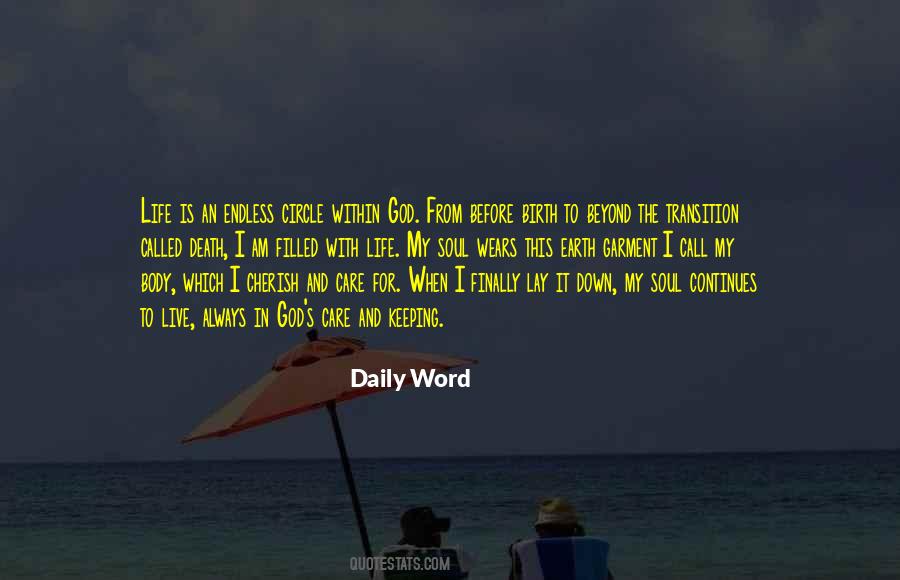 #30. Life is too short not to look beyond it. - Author: Alisa Hope Wagner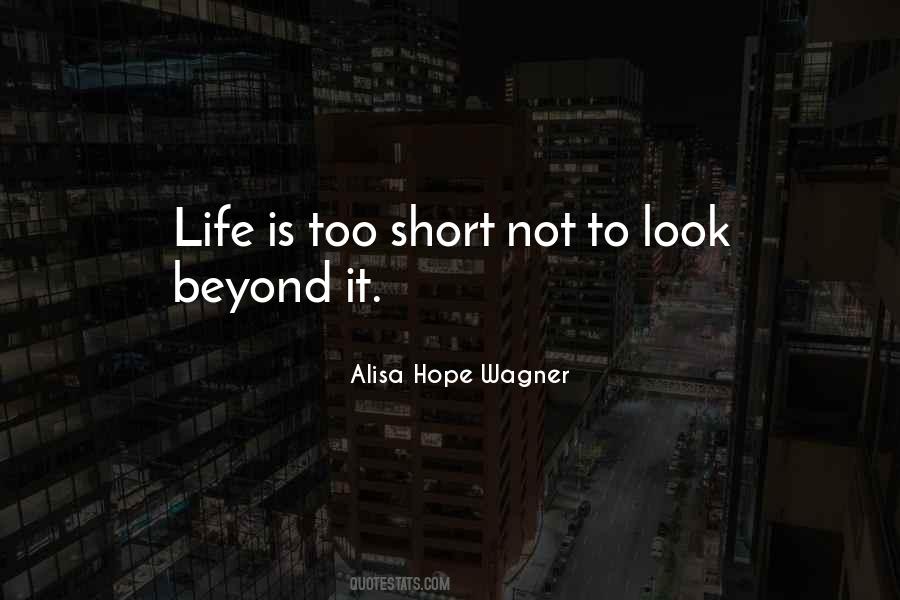 #31. We enjoy some gratification when our good friends die; for though their death leaves us in sorrow, we have the consolatory assurance that they are beyond the ills by which in this life even the best of people are broken down or corrupted. - Author: Saint Augustine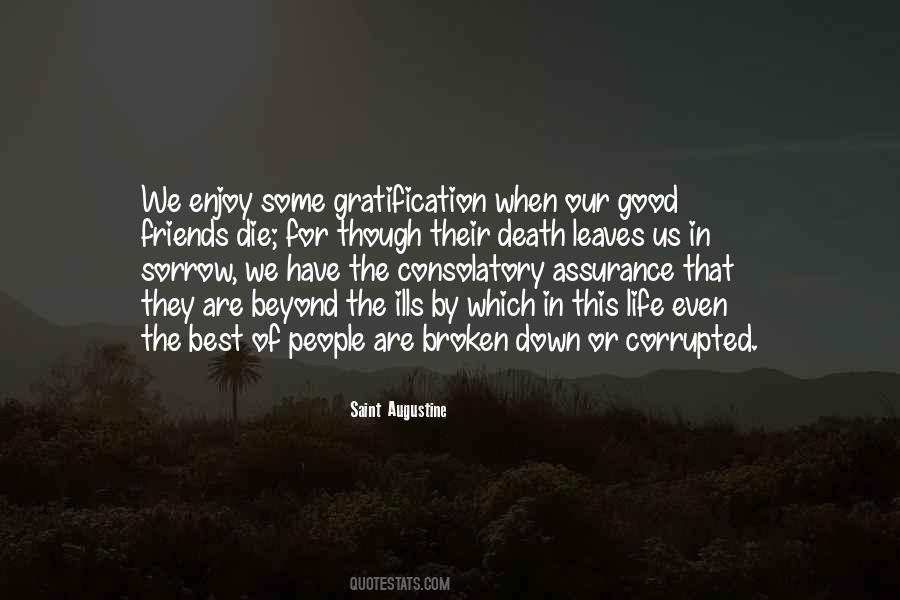 #32. Life & Death are beyond our control. We can't control where, how, or when we are born & we can't control where, how, or when we may die. Then why Worry about it. -RVM - Author: R.v.m.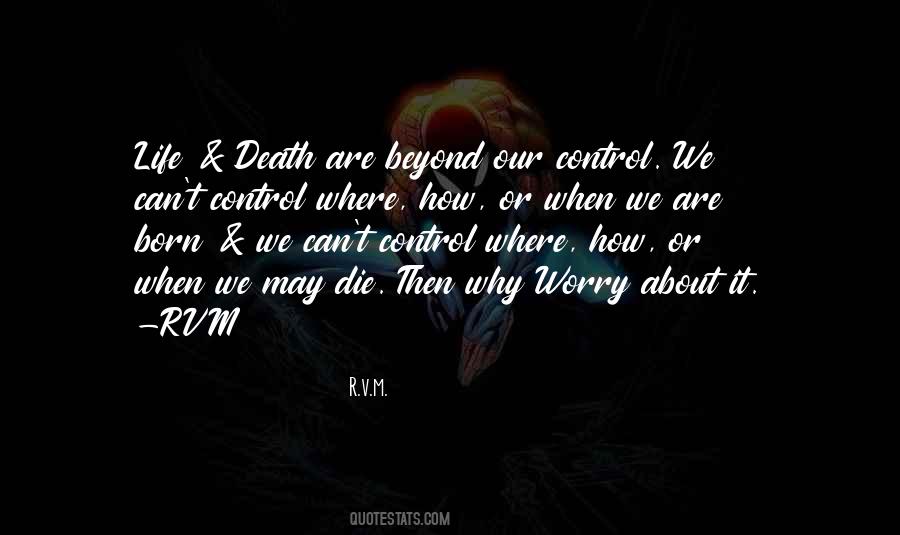 #33. Love is eternal. It has been the strongest motivation for human actions throughout history. Love is stronger than life. It reaches beyond the dark shadow of death. - Author: Vera Caspary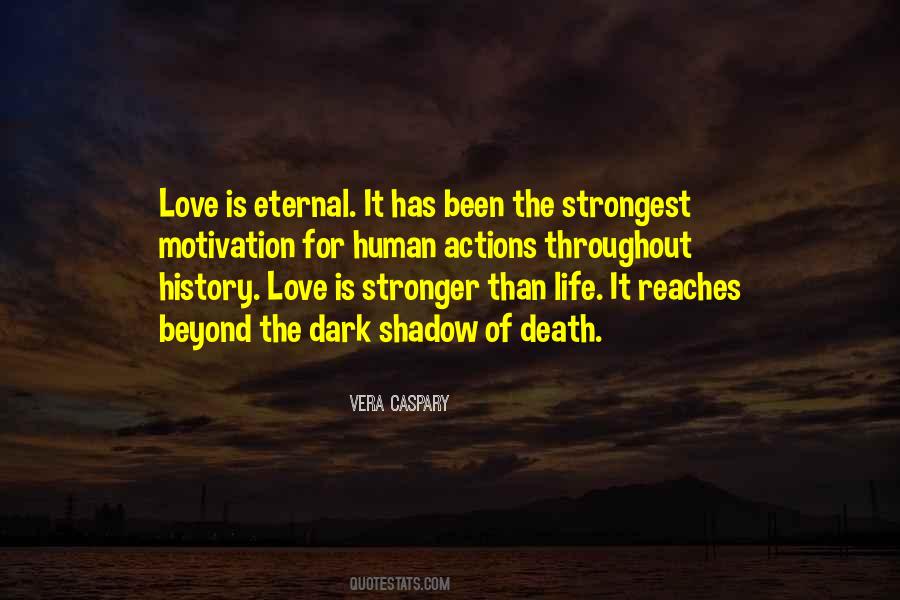 #34. The death then of a beautiful woman is unquestionably the most poetical topic in the world, and equally is it beyond doubt that the lips best suited for such topic are those of a bereaved lover. - Author: Edgar Allan Poe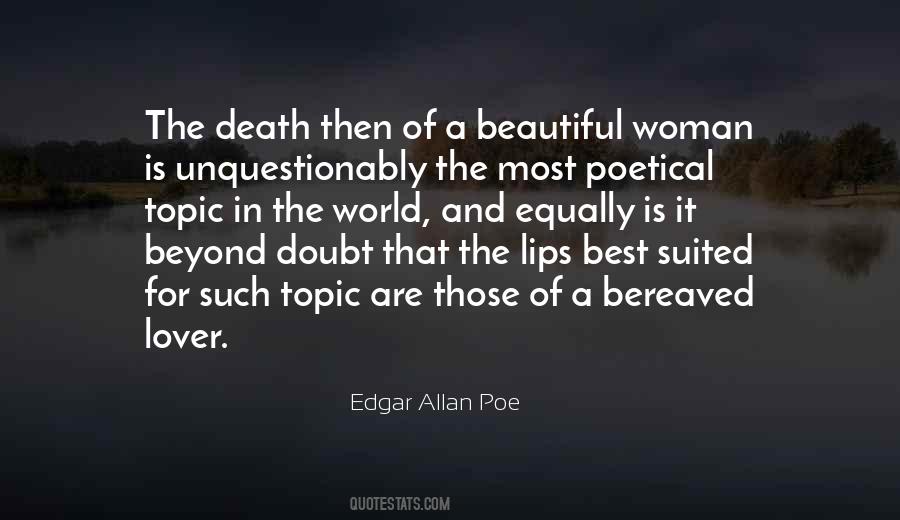 #35. And on Ammu's road (to Age and Death) a small, sunny meadow appeared. Copper grass spangled with blue butterflies. Beyond it, an abyss. - Author: Arundhati Roy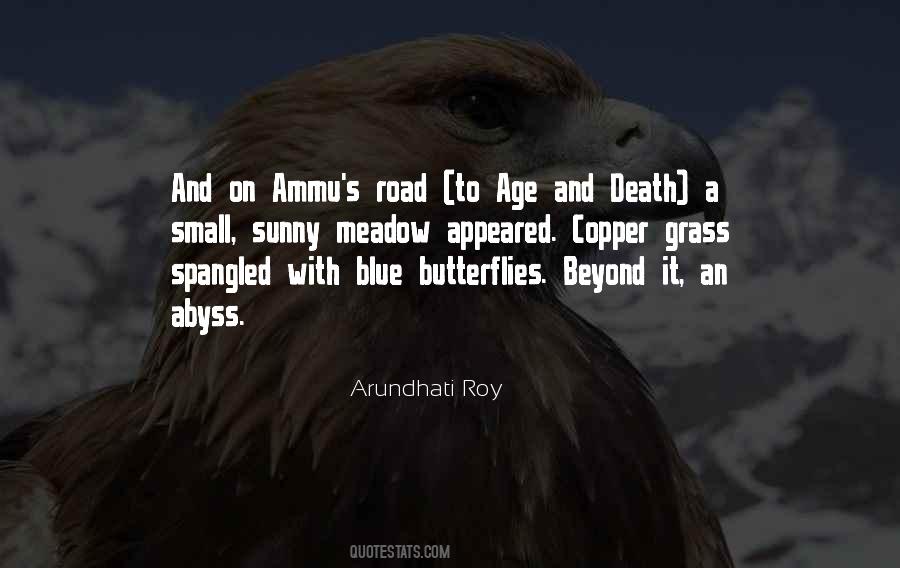 #36. The mountains were his masters. They rimmed in life. They were the cup of reality, beyond growth, beyond struggle and death. They were his absolute unity in the midst of eternal change. - Author: Thomas Wolfe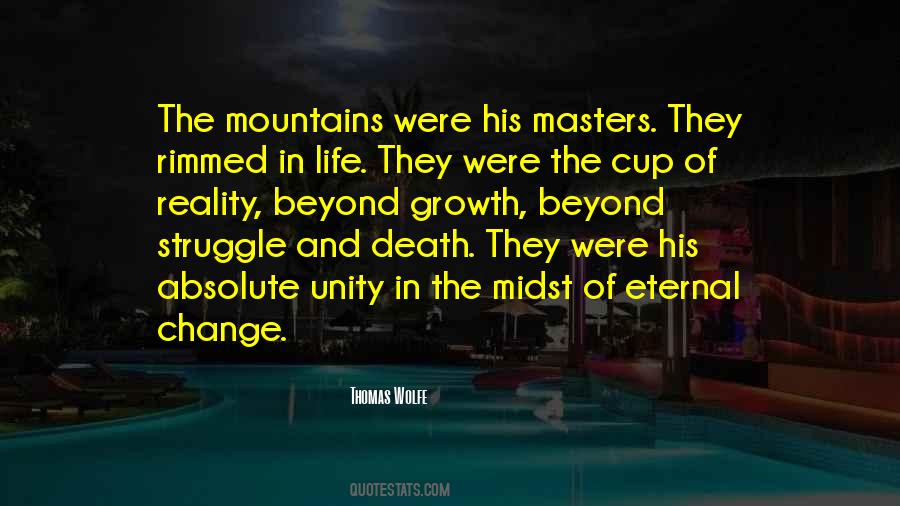 #37. In one sense there is no death. The life of a soul on earth lasts beyond departure. You will always feel that life touching yours, that voice speaking to you. He/She lives on in your life and in the lives of all others that knew him/her. - Author: Angelo Patri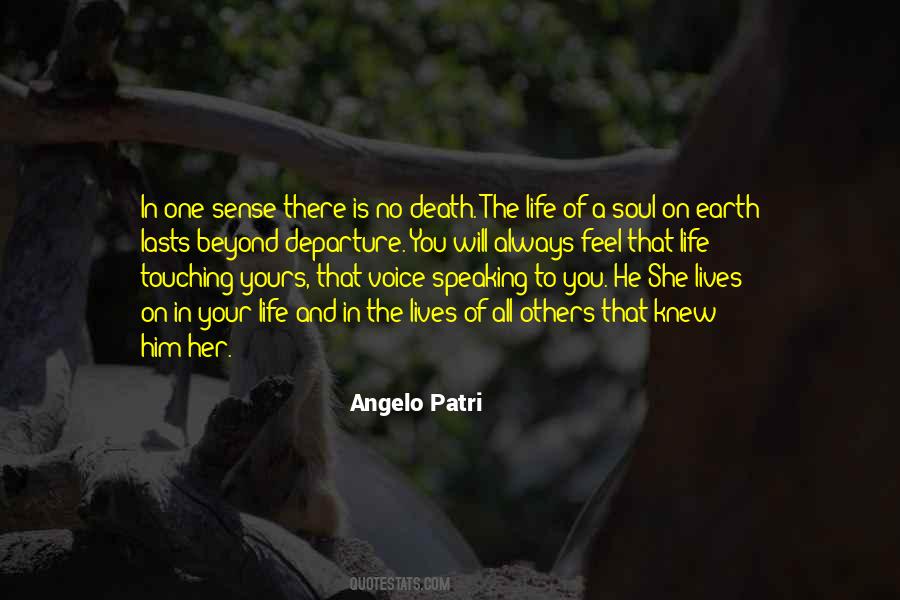 #38. And now brothers, I will ask you a terrible question, and God knows I ask it also of myself. Is the truth beyond all truths, beyond the stars, just this: that to live without him is the real death, that to die with him the only life? - Author: Frederick Buechner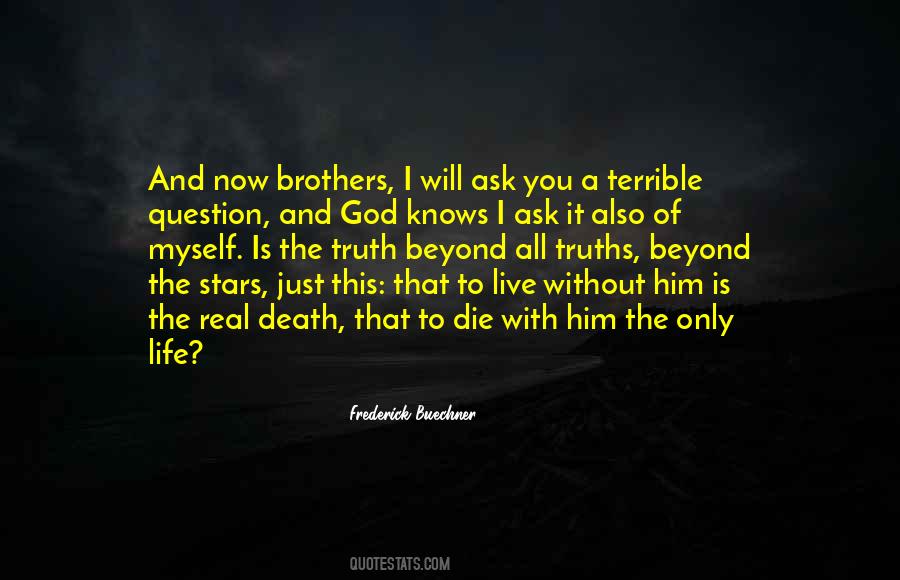 #39. Everything is changeable, everything appears and disappears; there is no blissful peace until one passes beyond the agony of life and death. - Author: Gautama Buddha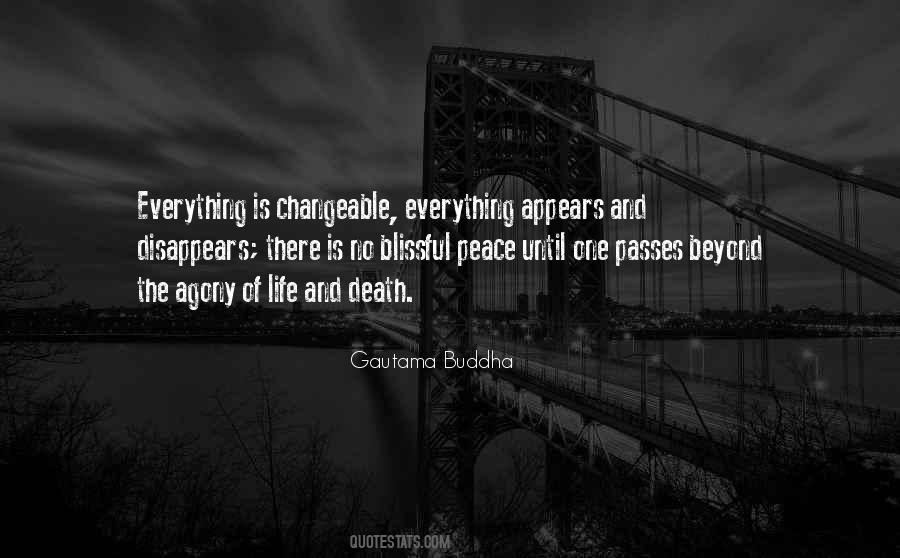 #40. To go back is nothing but death; but to go forward is fear of death and life everlasting beyond. - Author: John Bunyan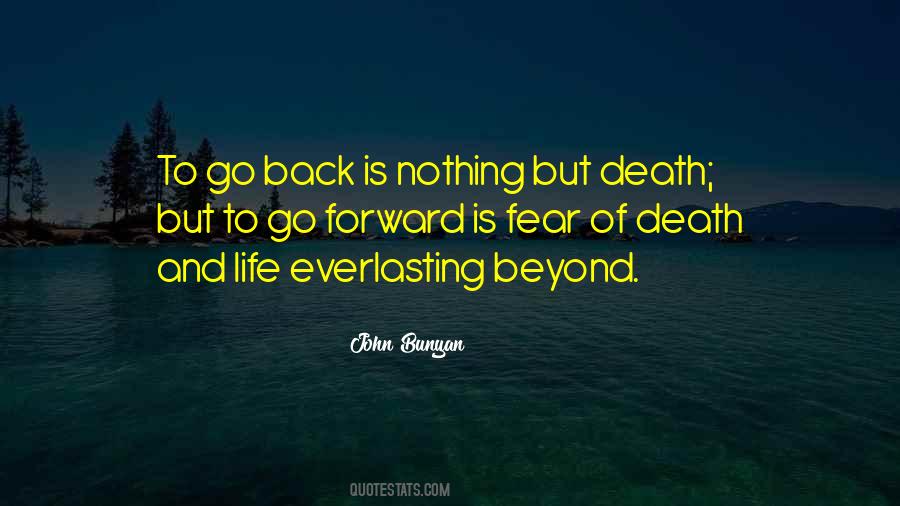 #41. Nirvana is a word that means enlightenment, being beyond the illusion of birth and death, the illusion of pain, the illusion of love, the illusion of time and life. - Author: Frederick Lenz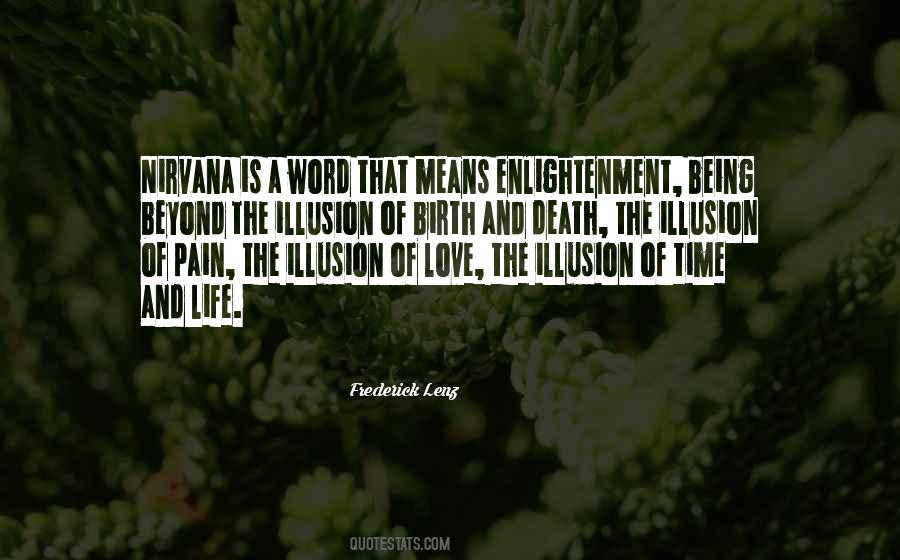 #42. Death is not the end of things, my sister. It is the beginning of a greater adventure than this small life you cherish can hold. And beyond these shores of death, there are great ships that fly from the golden seas to the skies of pearl. - Author: Douglas Clegg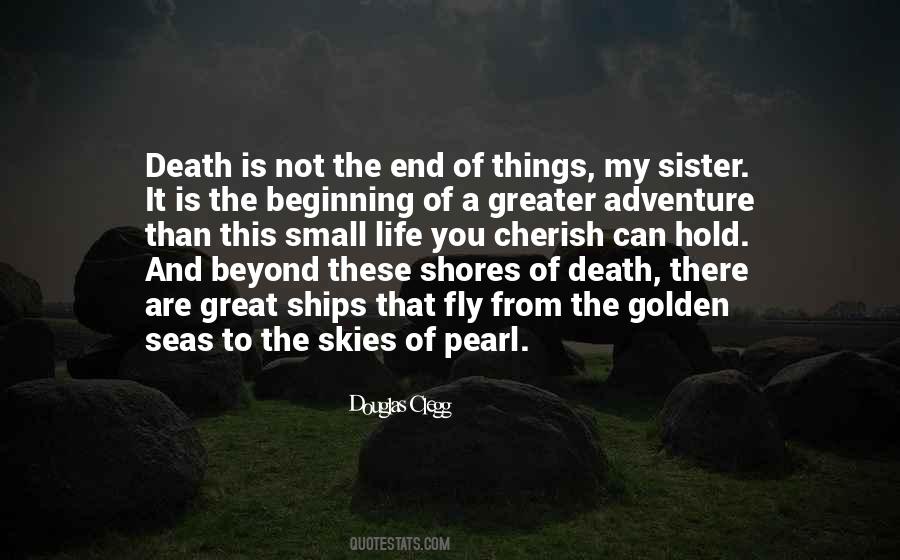 #43. Extremes mean borders beyond which life ends ... and a passion for extremism is a veiled longing for death. - Author: Milan Kundera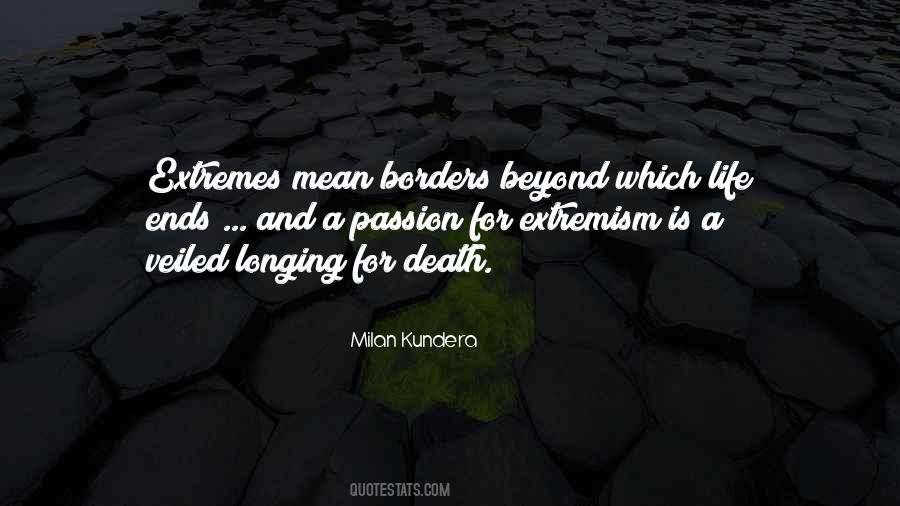 #44. When you meditate deeply, you will see beyond life and death. You will see that you can't die and you can't be reborn. You are existence itself. - Author: Frederick Lenz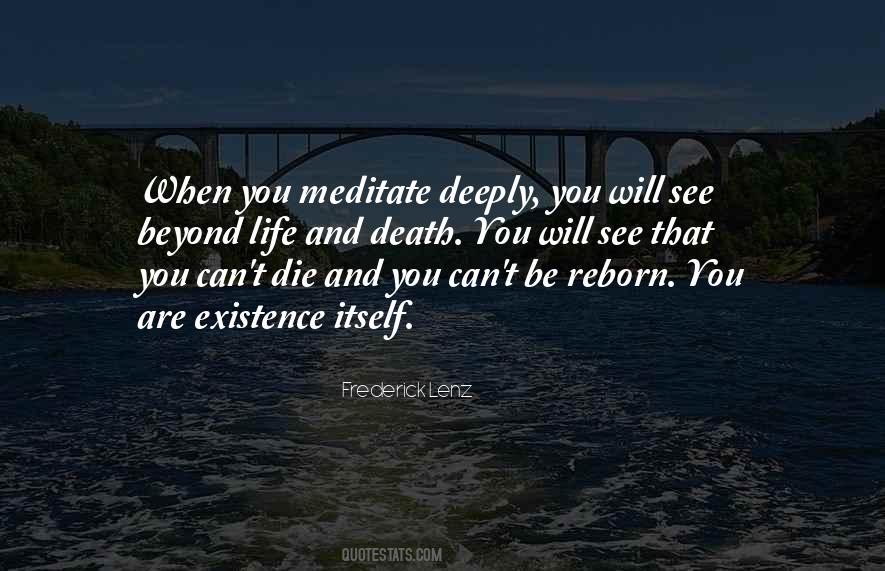 #45. In the world of Buddhist mind, in the advanced states, we go beyond time, space, life, death and Newsweek. - Author: Frederick Lenz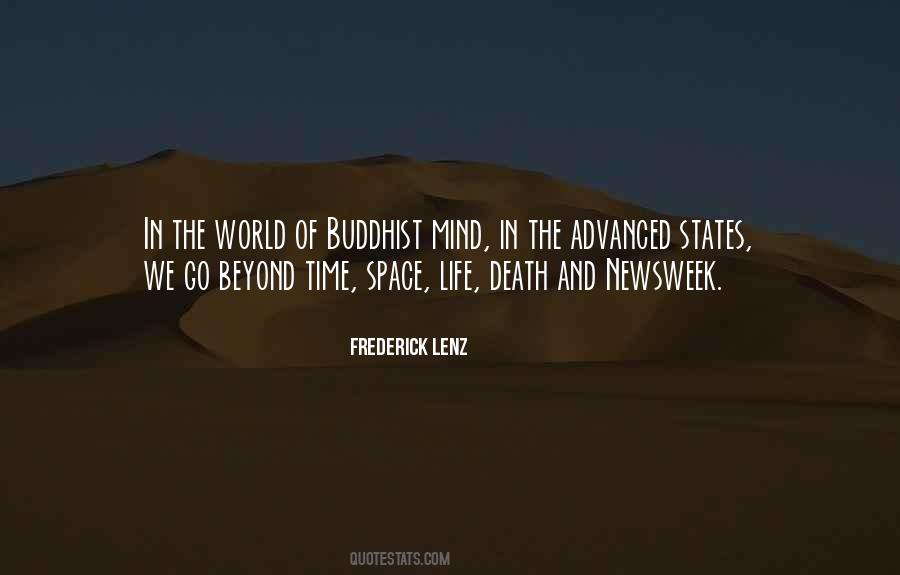 #46. I am firmly convinced that there is life after death, not in a primitive sense but as the entry of my completely finite person into God's infinity, as a transition into another reality beyond the dimension of space and time that pure reason can neither affirm nor deny. - Author: Hans Kung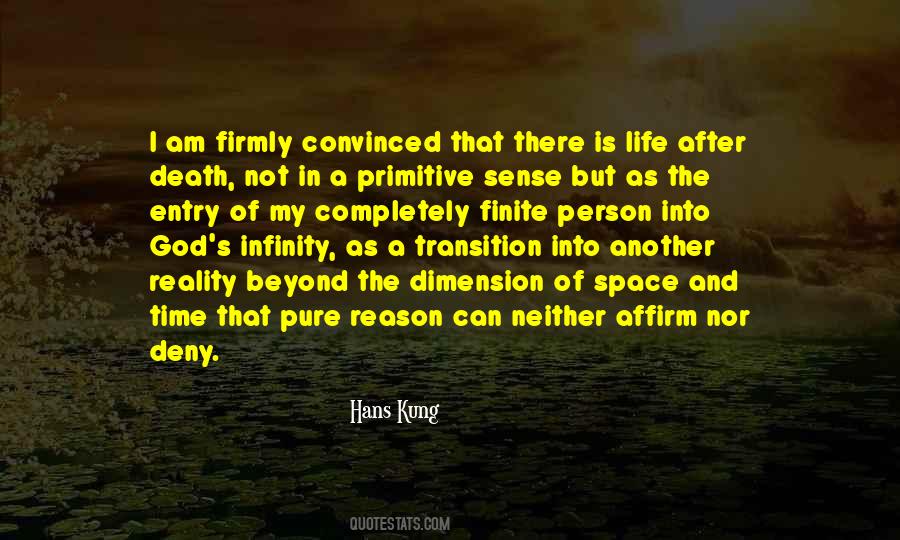 #47. Some people think God should in some way come to you and assist you, should answer your prayers. Why? It exists in perfect ecstasy beyond the dualistic consciousness. It's totally oblivious to you. It has no interest in your life or your death - it doesn't matter. - Author: Frederick Lenz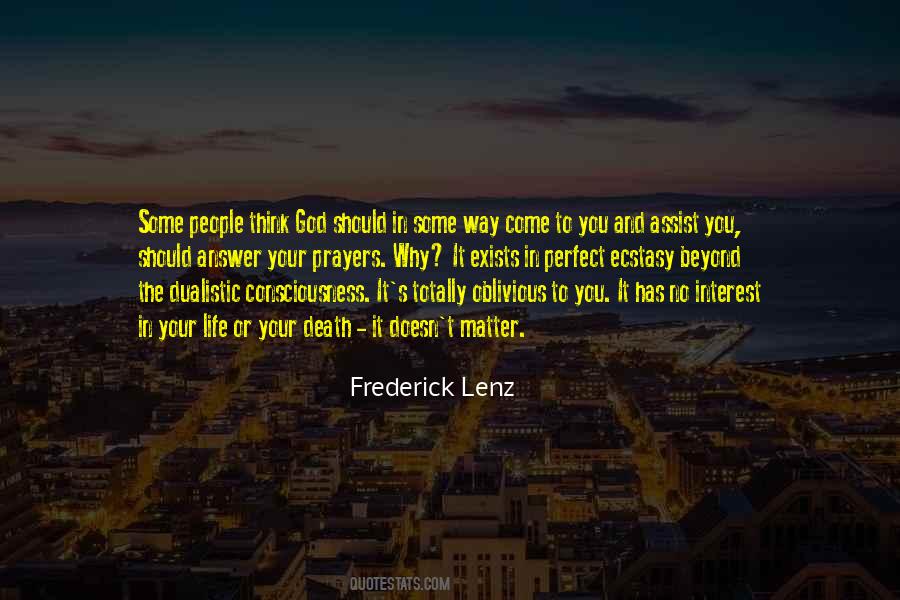 #48. I think in life there is only one absolute truth.
Death ... It's the only definitive horizon, sometime it leaps, runs across mountains and vanishes beyond oceans but the closer you get, the more you see and you know it is the final destination, the absolute truth. We are only living to die. - Author: Crystal Evans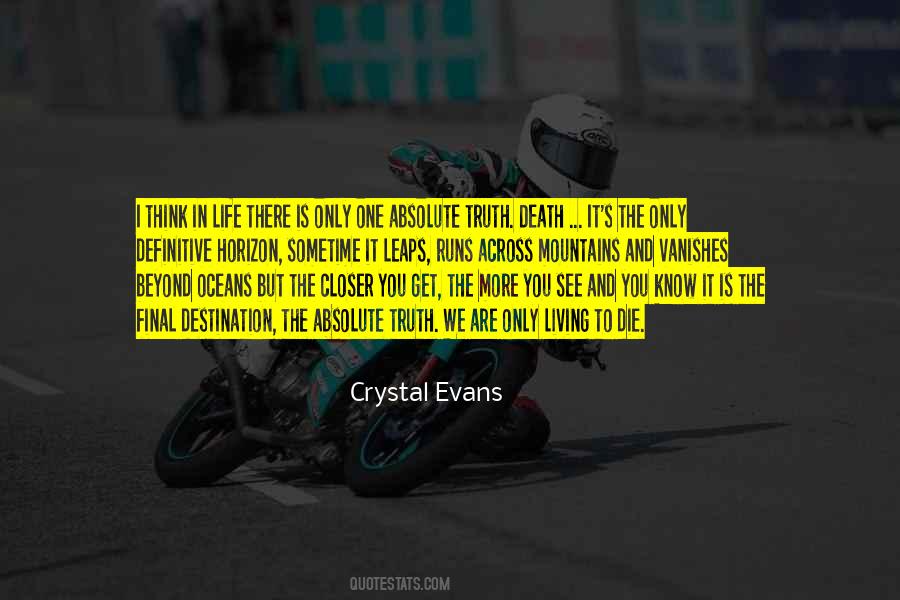 #49. this life is a kind of preparatory school for the great life that is awaiting us beyond death and time. - Author: D. Martyn Lloyd-Jones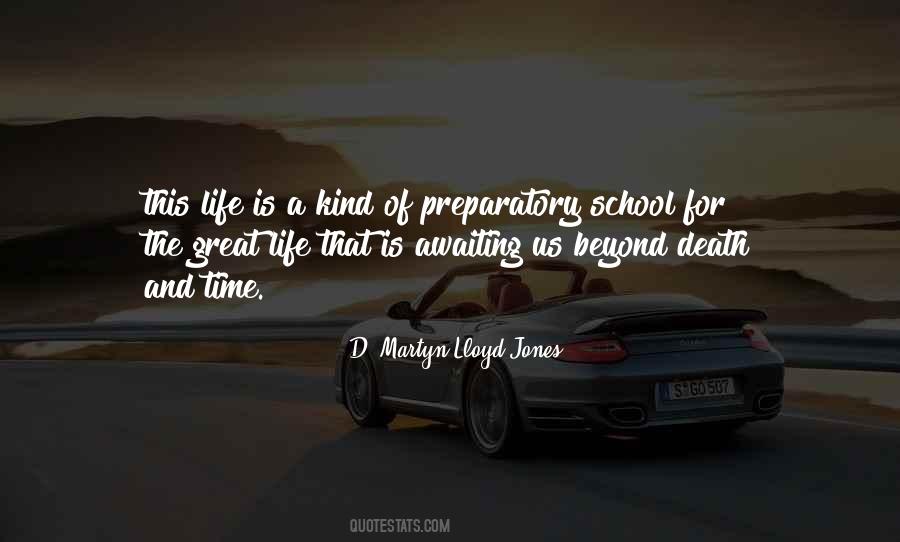 #50. Everybody, whether or not he puts the question vocally, wants to know whether life has any meaning, what his relation is to 'whatever gods there be,' why he is here, what his destiny is, how sin and pain may be overcome, whether prayer matters, what lies beyond death for himself and his loved ones. - Author: Georgia Harkness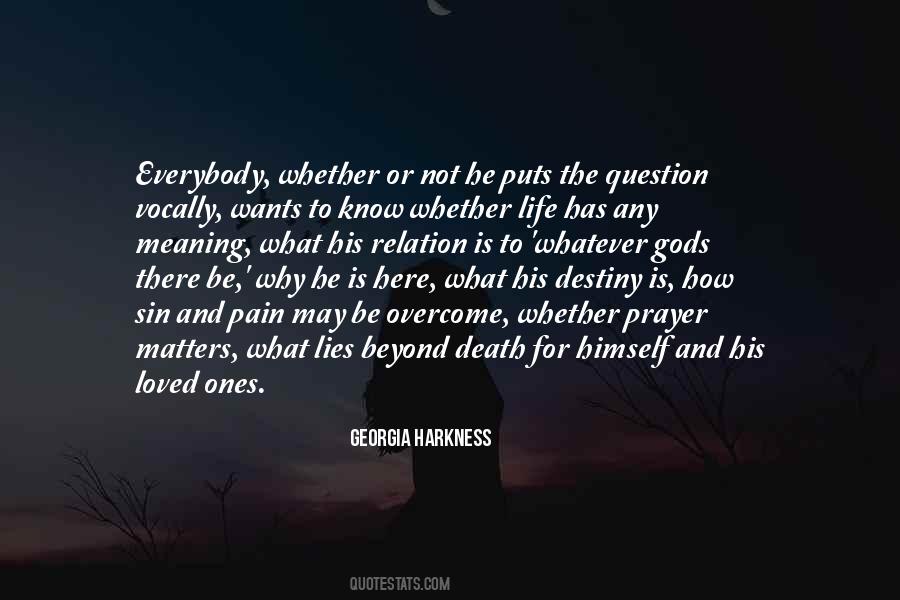 #51. There is no beyond, there is only here, the infinitely small, infinitely great and utterly demanding present. - Author: Iris Murdoch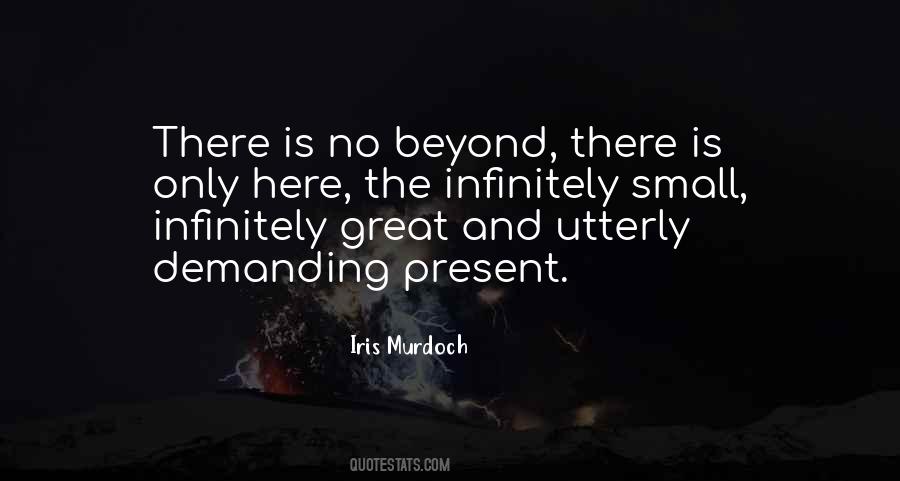 #52. Scientists have proven beyond a shadow of a doubt that there is life after death
though they say it's virtually impossible to get decent Chinese food. - Author: David Letterman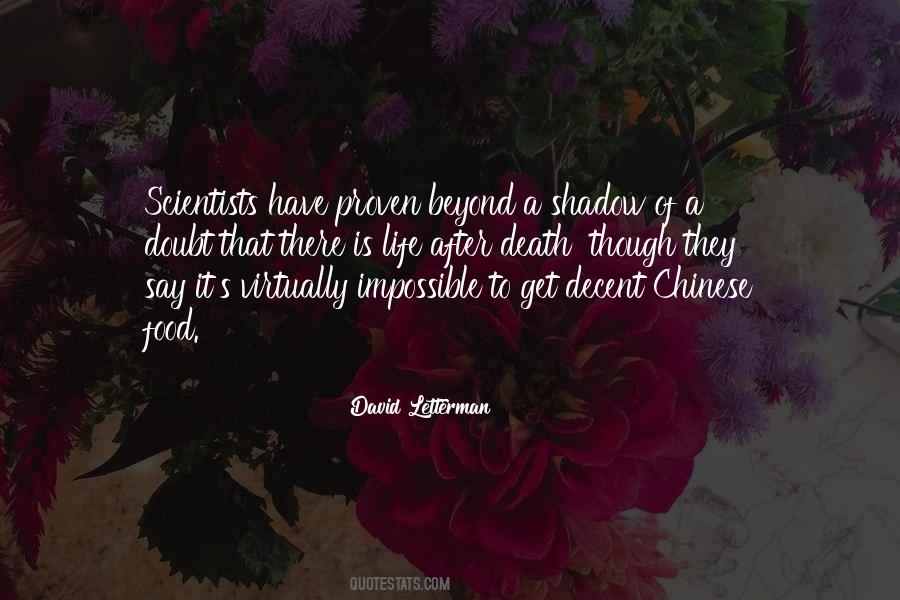 #53. When it comes time to die, you will not be afraid. By meditating, you will have already seen beyond life and death and you will see there is nothing to fear. - Author: Frederick Lenz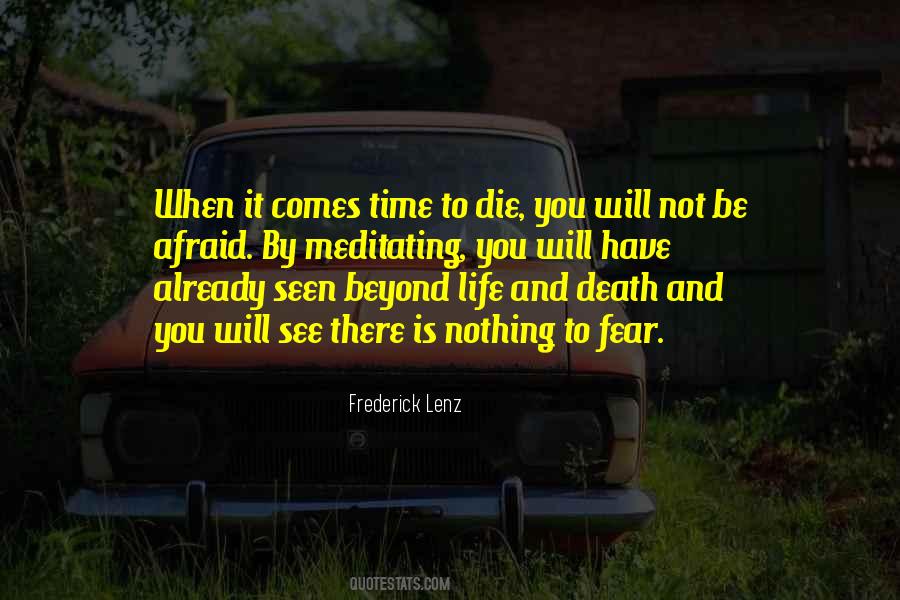 #54. I must confess, I have always wondered what lay beyond life, my dear.
Yeah, everybody wonders. And sooner or later everybody gets to find out. - Author: Neil Gaiman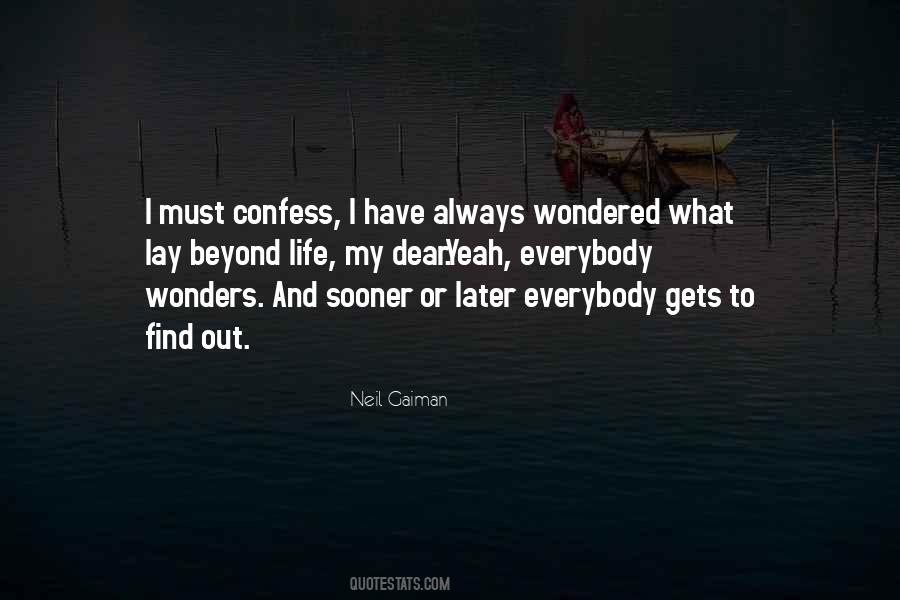 #55. There is life beyond death ... never fear what can be escaped. - Author: J.K. Rowling
#56. Love is undying,of that I feel certain.I mean deep,abiding,cherishing love.The love that gives protection even as you,my guardian angel,gave me protection long after you had gone-and continue to give this very day ...
A love beyond Death-a love that makes Life alive! - Author: Ruskin Bond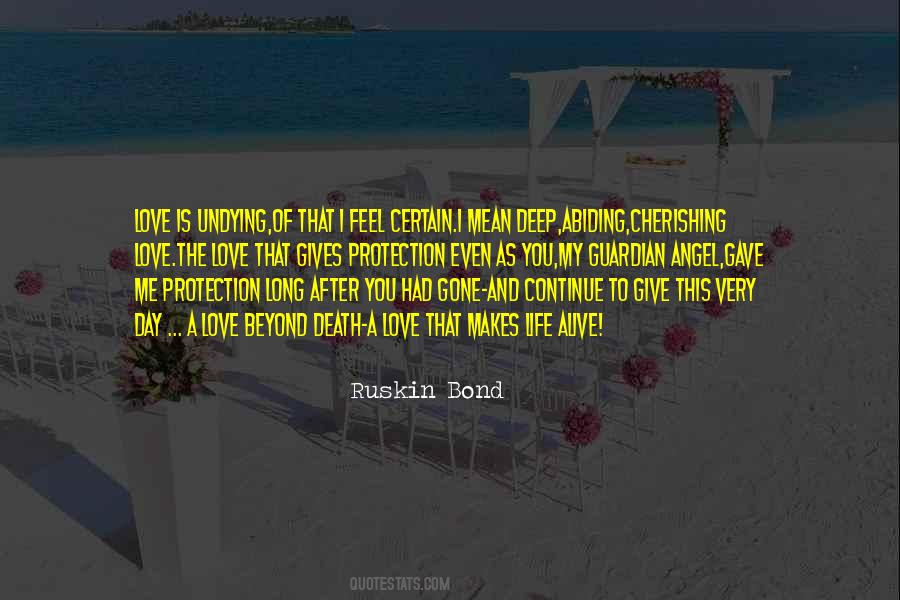 #57. Integrity of life is fame's best friend,
Which nobly, beyond death, shall crown the end. - Author: John Webster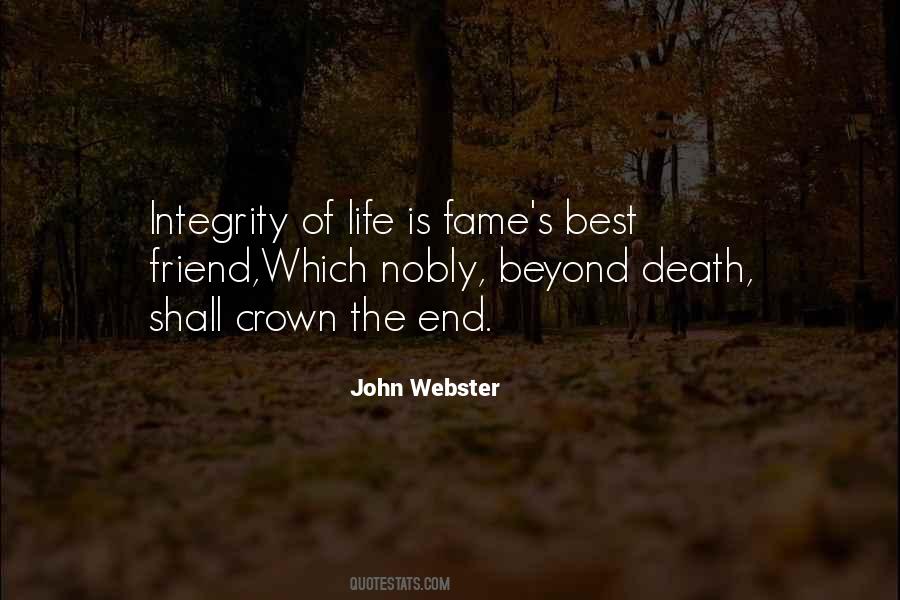 #58. I will love thee to the death,
And out beyond into the dream to come. - Author: Alfred Lord Tennyson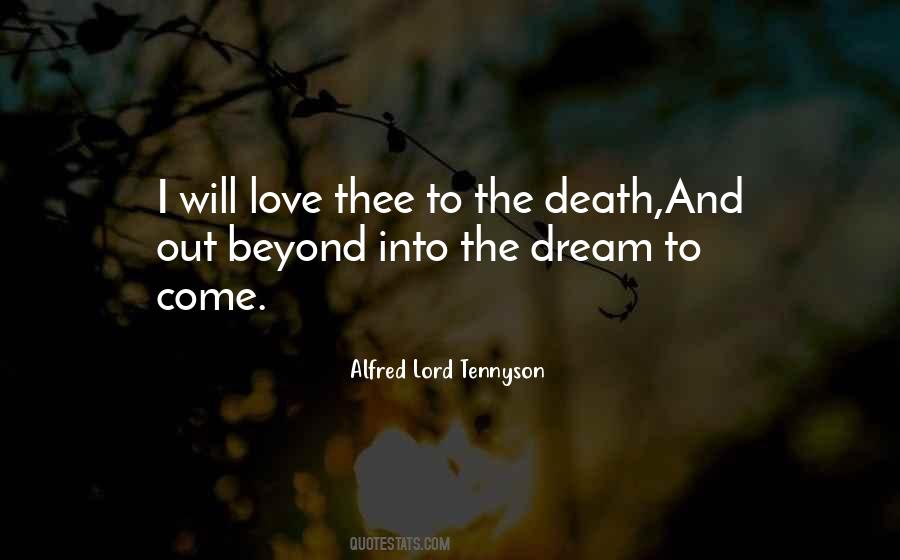 #59. Life could do nothing for her, beyond giving time for a better preparation for death. - Author: Jane Austen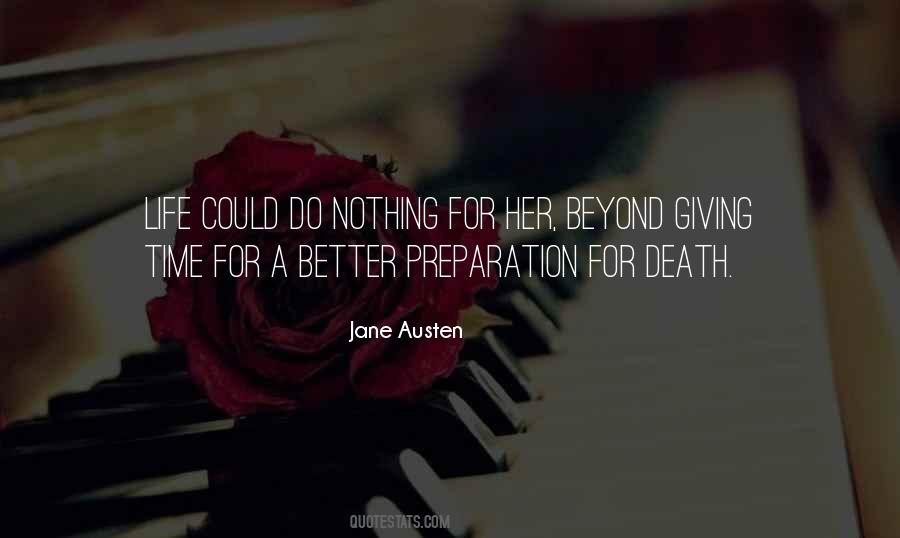 #60. But at the time of transition, your guides, your guardian angels, people whom you have loved and who have passed on before you, will be there to help you. We have verified this beyond a shadow of a doubt, and I say this as a scientist. There will always be someone to help you with this transition. - Author: Elisabeth Kubler-Ross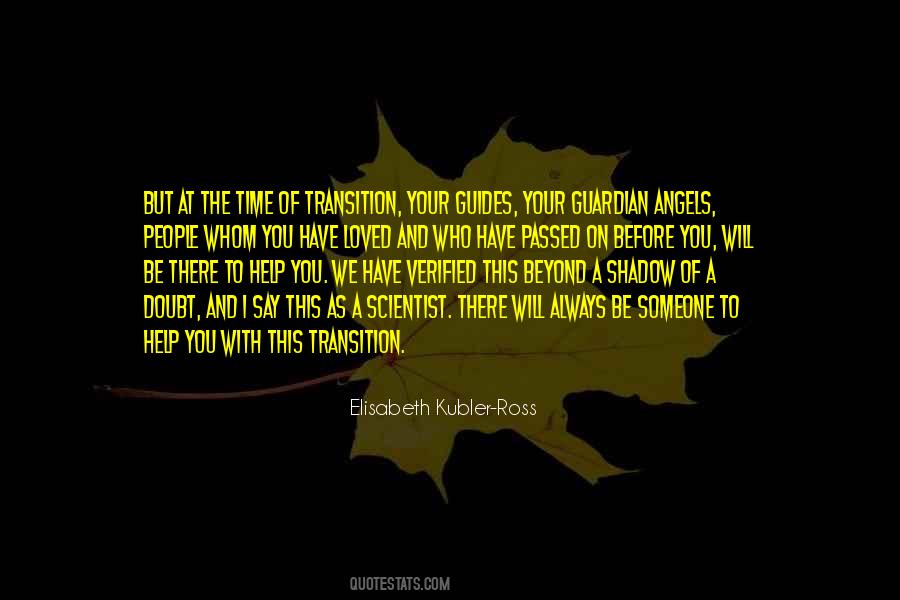 #61. We use the word "God" as representative of that which is timeless, immortal and infinite, that which produces order, which holds together the nucleus of an atom, which gives us life and death, neither masculine nor feminine, not a person, beyond any comprehension. - Author: Frederick Lenz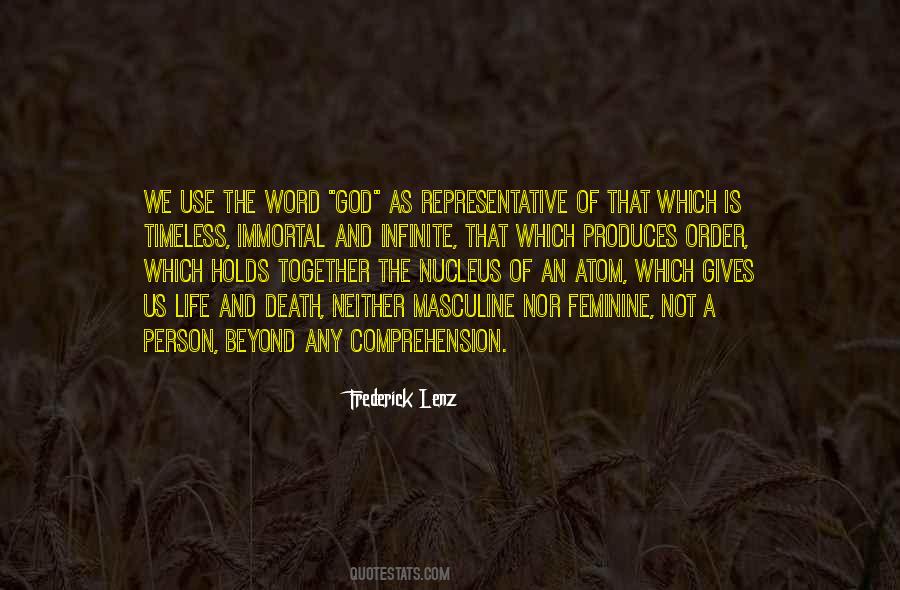 #62. Think of the great poetry, the music and dance and ritual that spring forth from our aspiring to a life beyond death. Maybe these things are justification enough for our hopes and dreams, although I wouldn't say that to a dying man. - Author: Don DeLillo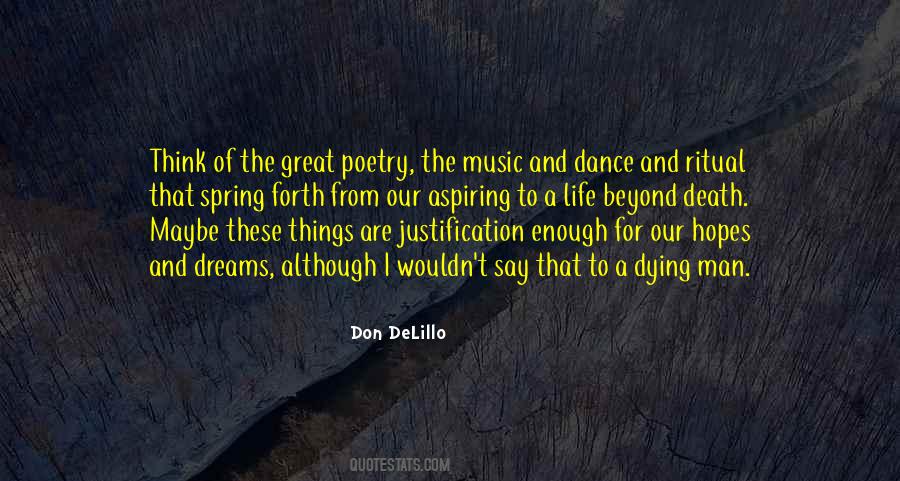 Famous Authors
Popular Topics