Letting Things Be Famous Quotes & Sayings
List of top 63 famous quotes and sayings about letting things be to read and share with friends on your Facebook, Twitter, blogs.
Top 63 Quotes About Letting Things Be
#1. What would it be like to let go of wanting things to be other than they are? - Author: Byron Katie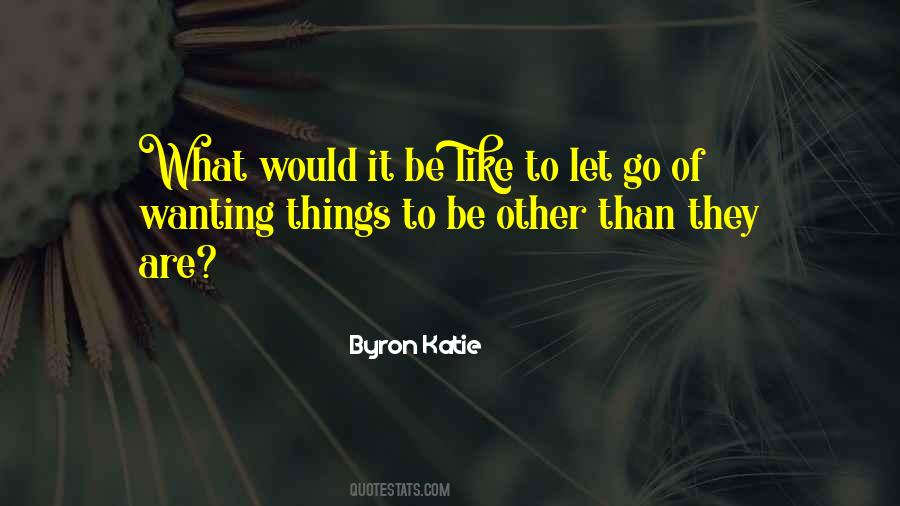 #2. I think I let go of the need for approval, ... It certainly feels good when you get it, but I used to be more desperate for it. Once I felt better inside about myself ... I could do everything based on how I want to do things. - Author: Ellen DeGeneres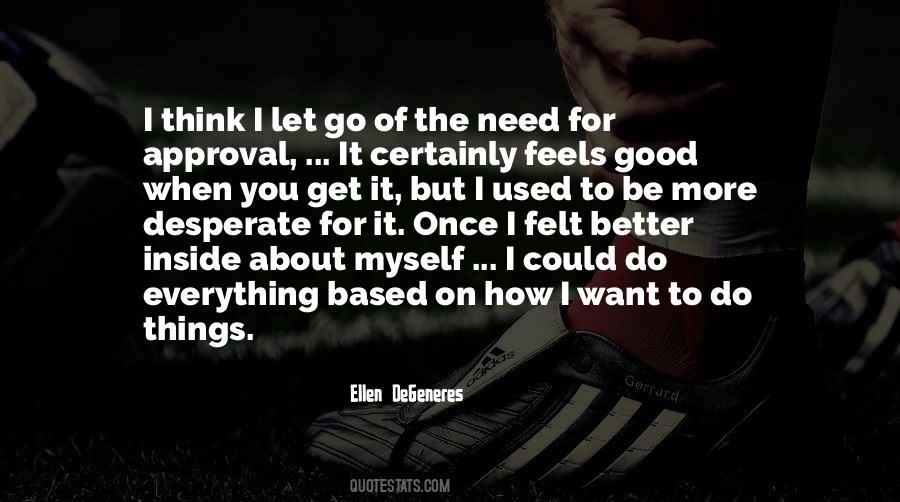 #3. The outside world will never understand that submission is not subjugation to another person, it's letting yourself be free of all those things that hold you back from experiencing the greatest sexual pleasures. - Author: Michelle Hughes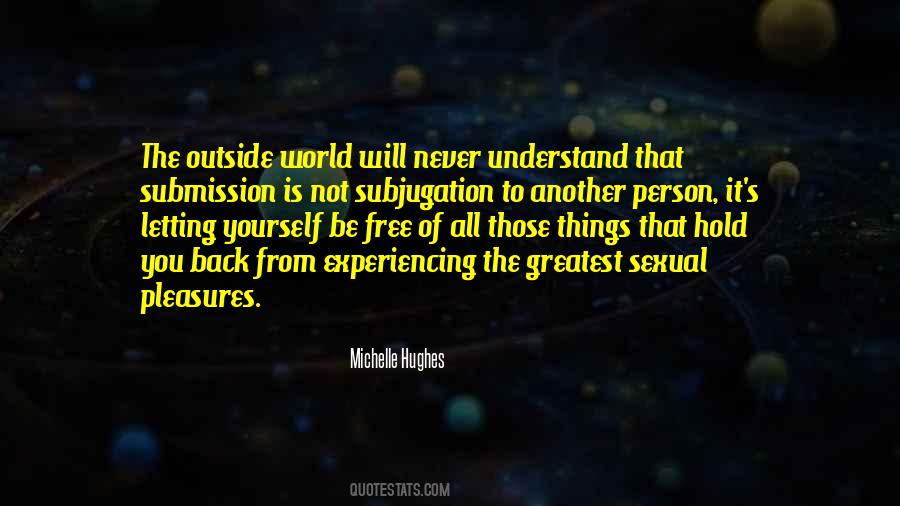 #4. We can travel a long way in life and do many things, but our deepest happiness is not born from accumulating new experiences. it is born from letting go of what is unnecessary, and knowing ourselves to be always at home. - Author: Sharon Salzberg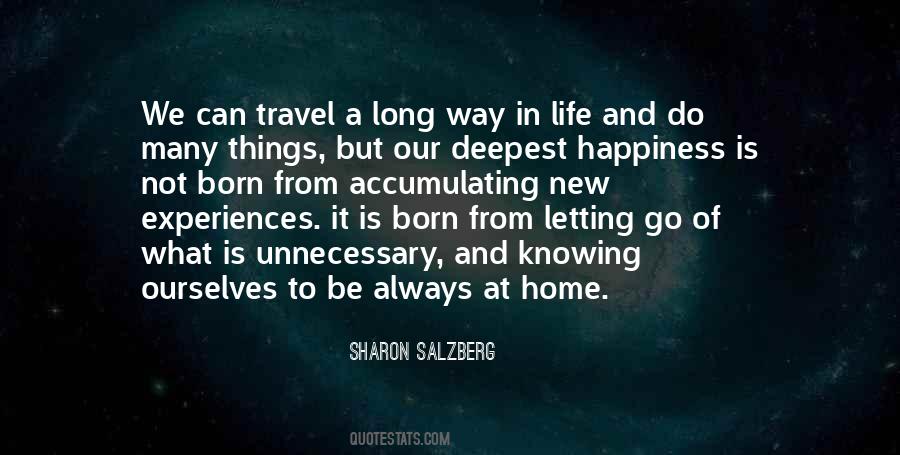 #5. Discipline means we don't let go of the things we know we should be doing, we do them! - Author: Jim Rohn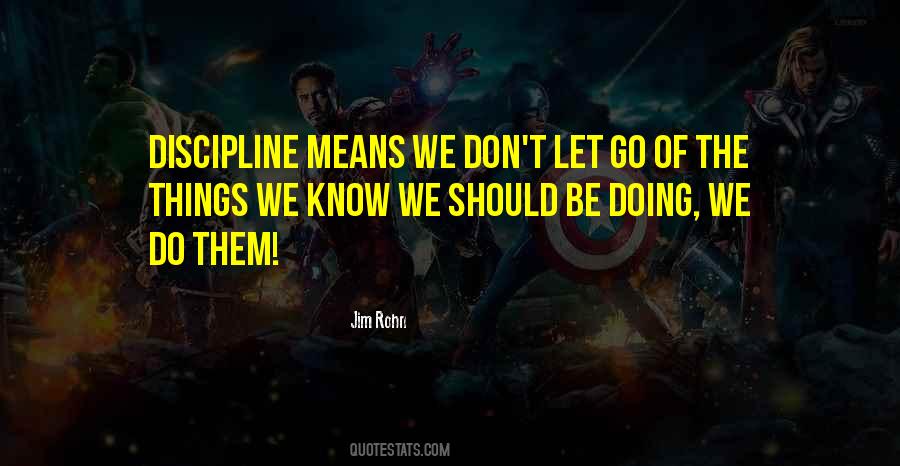 #6. You're letting go of having the best possible experience you can have regardless of who you are and where you are. I think that can be applied to all things, but it's easier said than done. - Author: Jason Mraz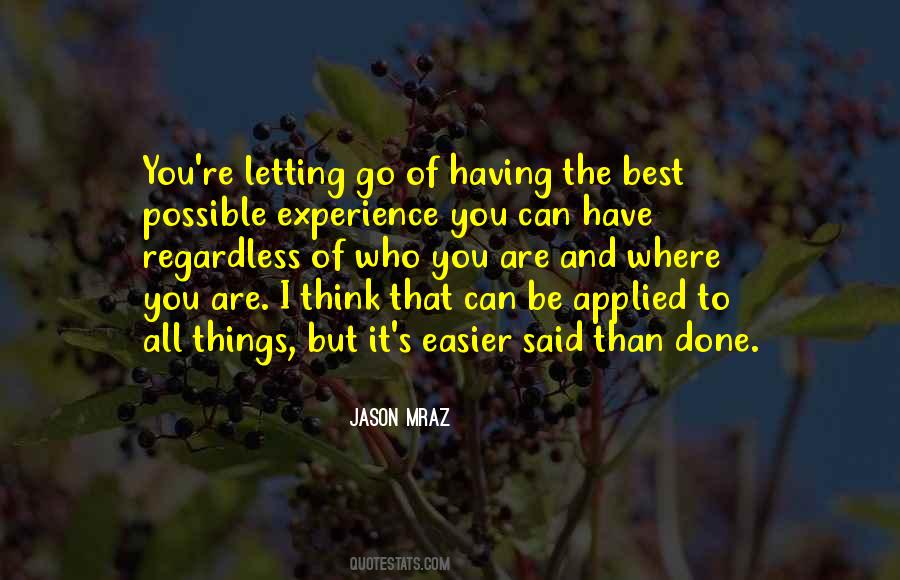 #7. It would be too frightening for me to consider myself a role model. But I like the idea of not being afraid of letting your imagination rule you, to feel the freedom of expression, to let creativity be your overwhelming drive rather than other things. - Author: Florence Welch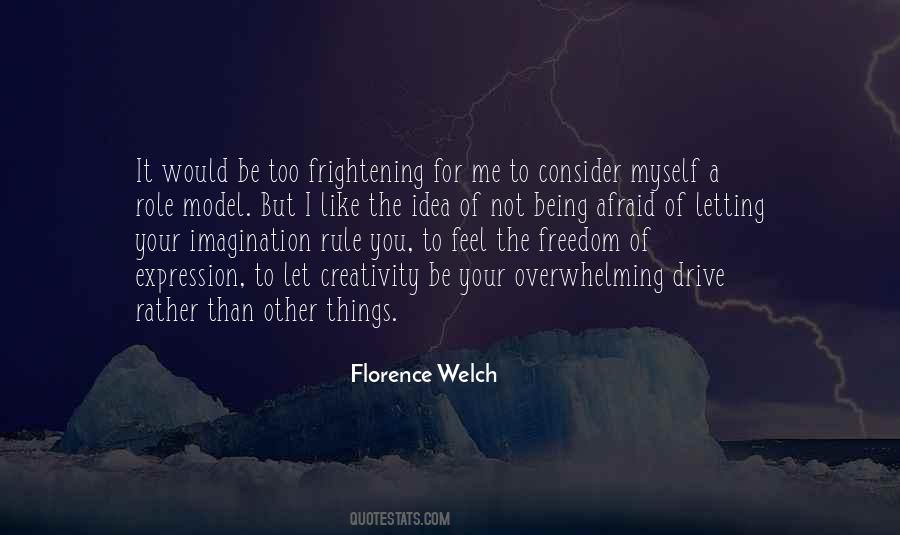 #8. I let go of all expectations. People, places and things are free to be themselves, and I am free to be me. - Author: Louise Hay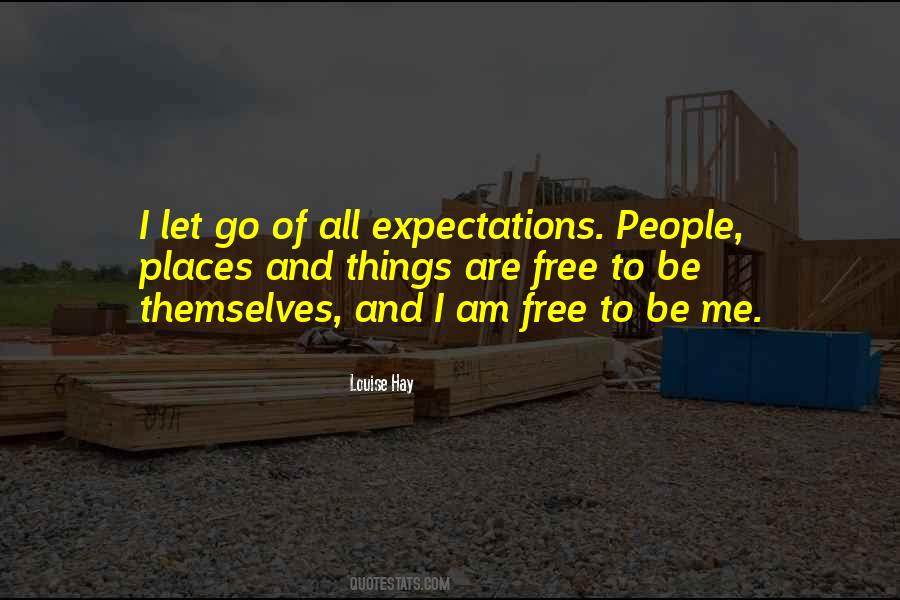 #9. Lines have to smile. There have to be life, blood and heart in things you let go. They have to be human, warm and alive - Author: Kay Bojesen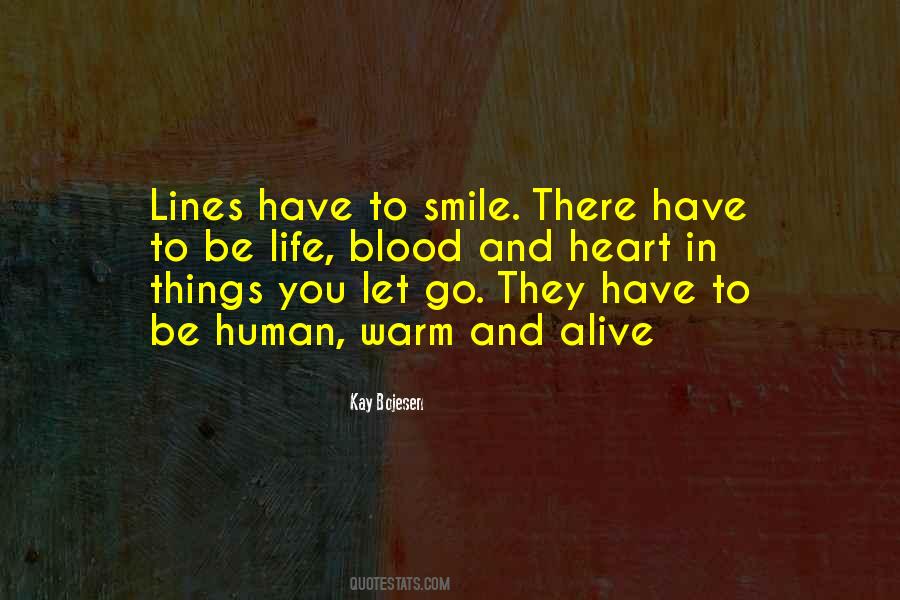 #10. Sometimes we may seem to be resisting letting go, when really, we just can't see a way to move forward - believing things can never change for someone as unworthy as us. - Author: Bryant McGill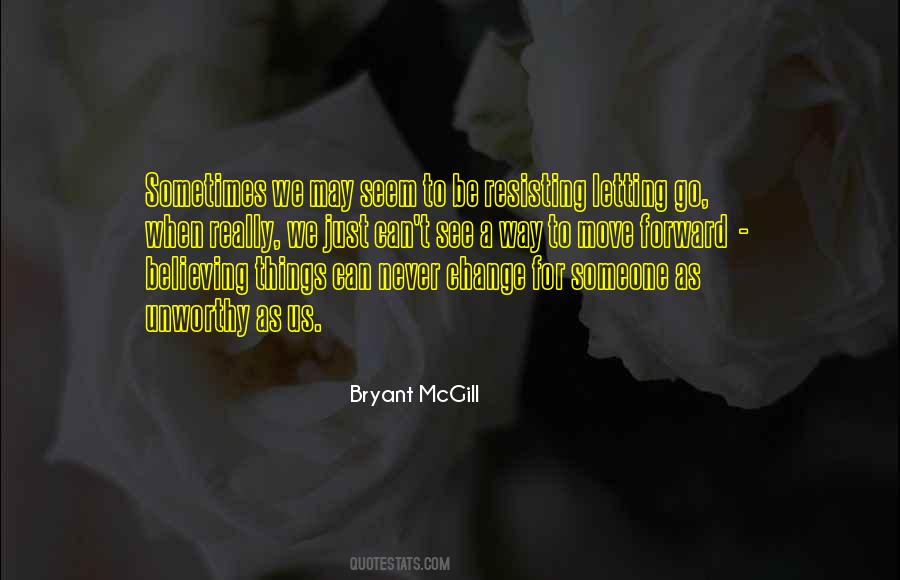 #11. There she stood, frightened, yet brave, not letting go her hold on what she meant to do, even when things seemed to be most against her. - Author: Elizabeth Gaskell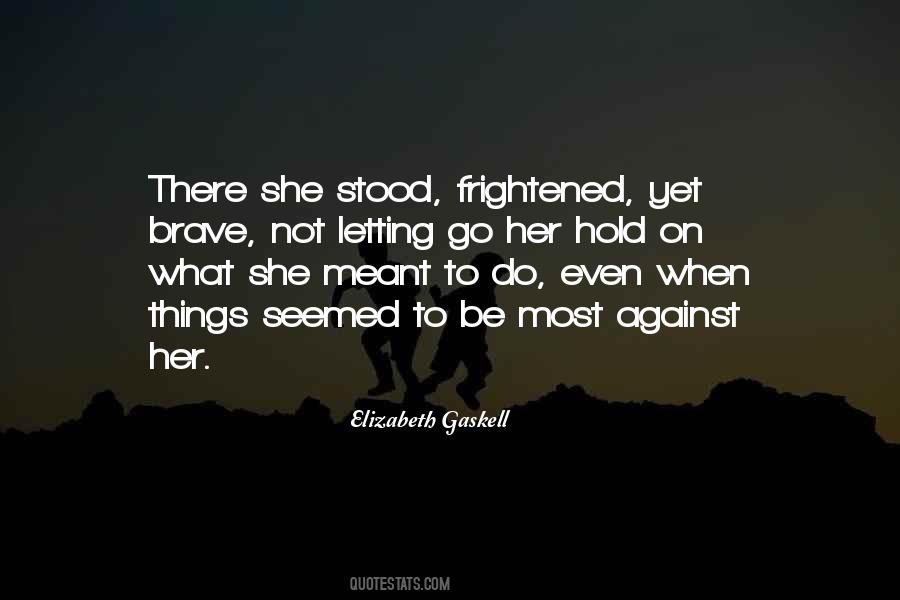 #12. To let go does not mean to get rid of. To let go means to let be. When we let be with compassion, things come and go on their own. - Author: Jack Kornfield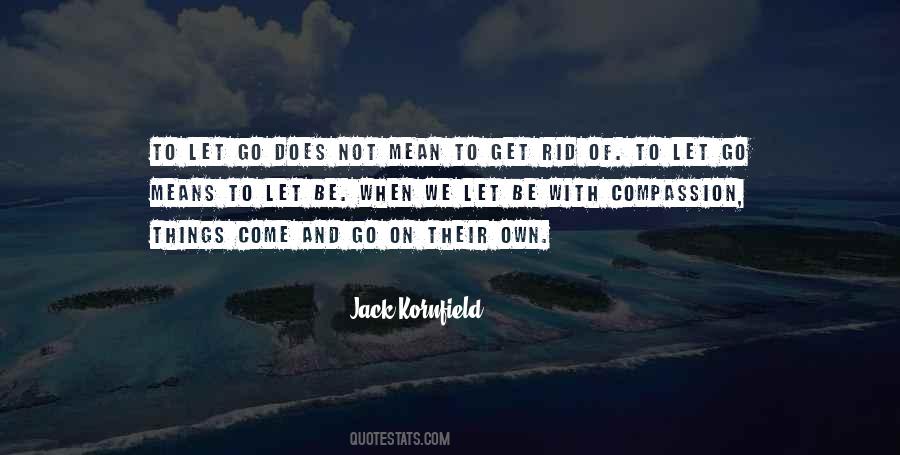 #13. Misfortune can force you into doing things you should be doing anyway. Lessons come from adversity. Anything can happen to anyone ... You can find a new lease on life - more meaning than you thought possible in simple things ... Let go. Live in the moment. Go forward. - Author: Christopher Reeve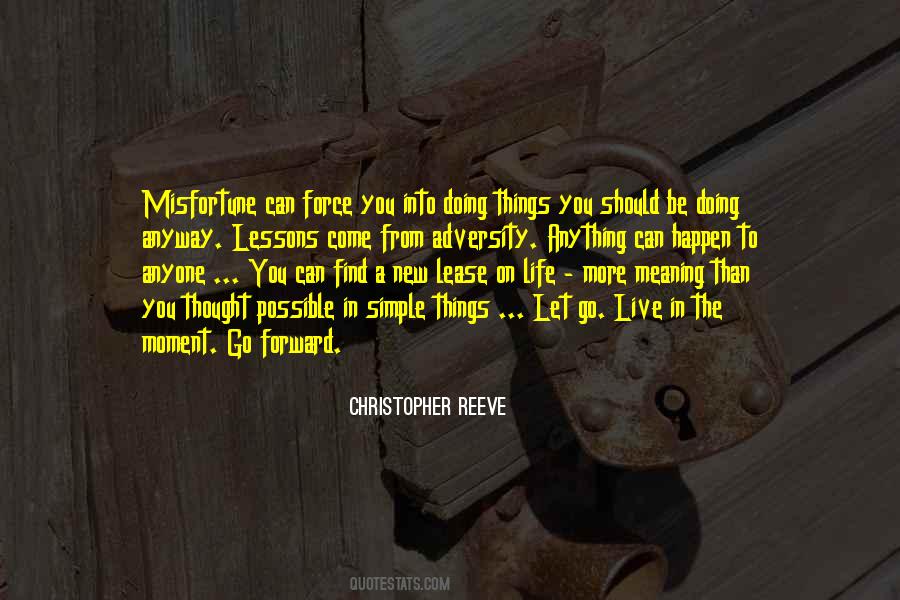 #14. It's good to be philosophical about certain things. Better than letting them destroy you." Of - Author: Harper Bliss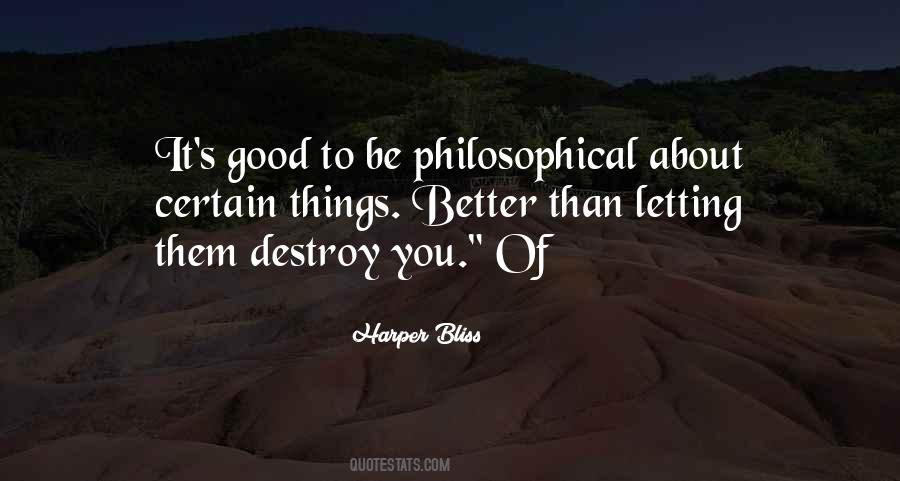 #15. By acknowledging their contribution and letting them go with gratitude, you will be able to truly put the things you own, and your life, in order. - Author: Marie Kondo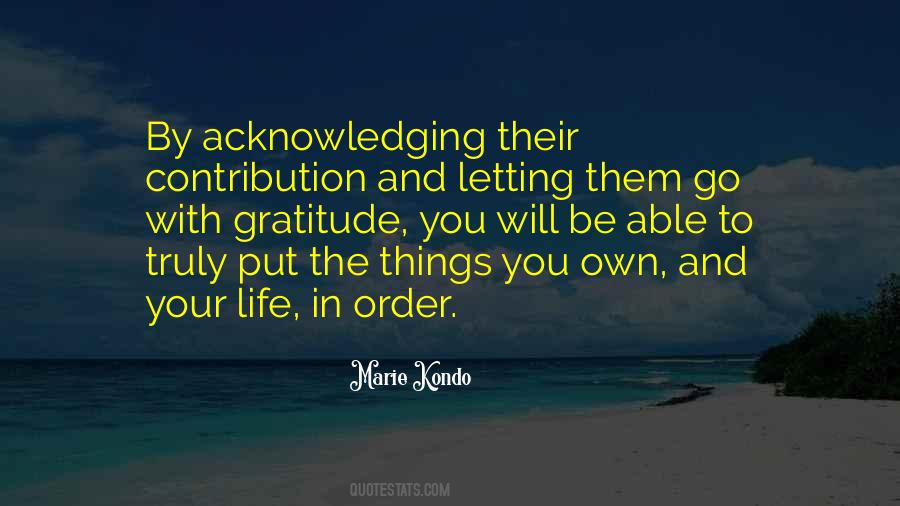 #16. The rain fluctuates between drizzle and torrential. It messes with your mind. It makes you think things will always be like this, never getting better, always letting you down right when you though the worst was over. - Author: Susane Colasanti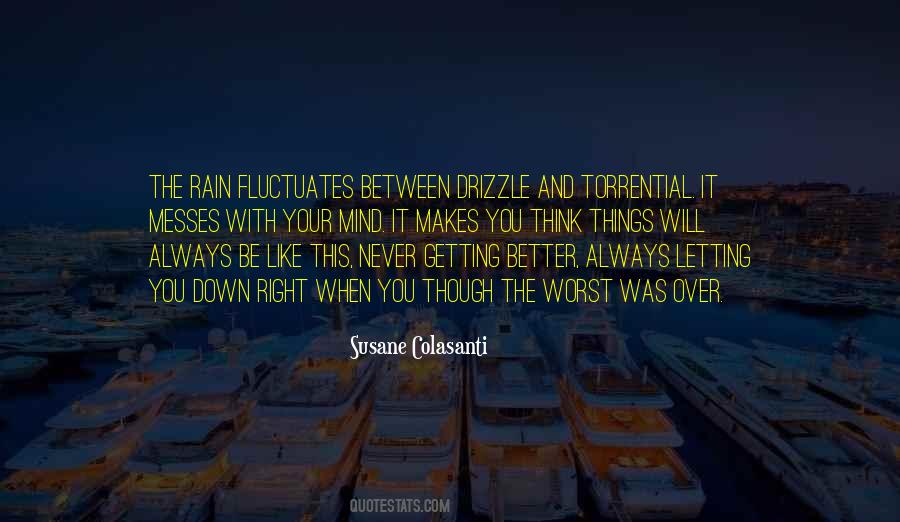 #17. I fell back into the sofa, letting my head thump against the wall. Of course, there would be something else to complicate things. I couldn't catch a break with a net the size of Texas. - Author: K.J. McPike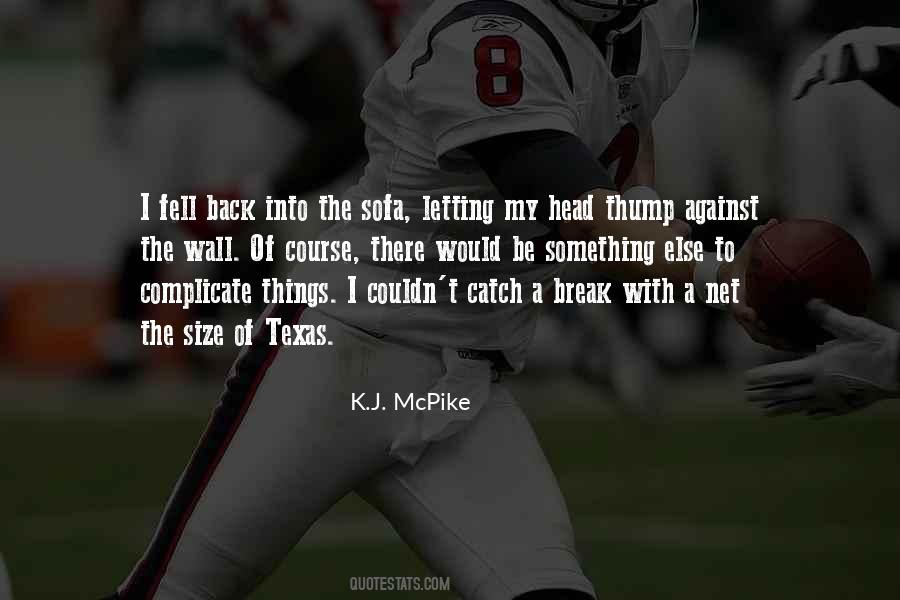 #18. There are standards. I like to be prepared, I guess I should say - that type of pressure of, "All right, now you go with abandon," you know. Now when you're in it, you let go of all the things - that's what happens when you're onstage. - Author: Jake Gyllenhaal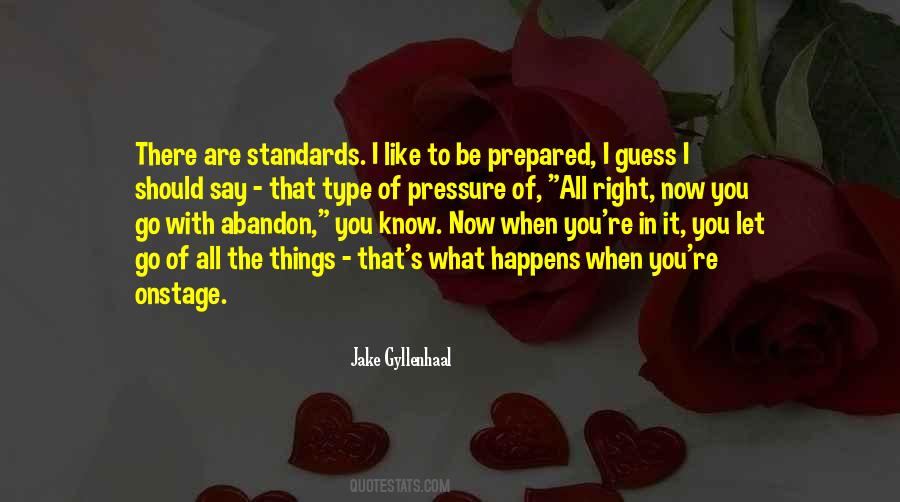 #19. It is important to remember that great things have no fear of time. We've got to let go of the idea that what we want to manifest has to be done on our time schedule. - Author: Pablo Picasso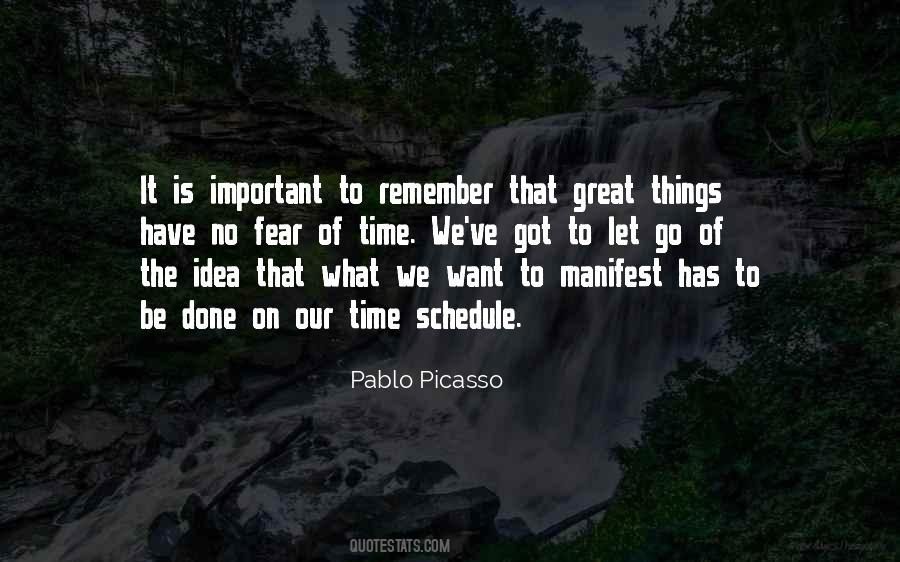 #20. The world is crammed with delightful things. I think young people make such a mistake about that - not letting themselves be happy. I sometimes think that happiness is the only thing that counts. - Author: Virginia Woolf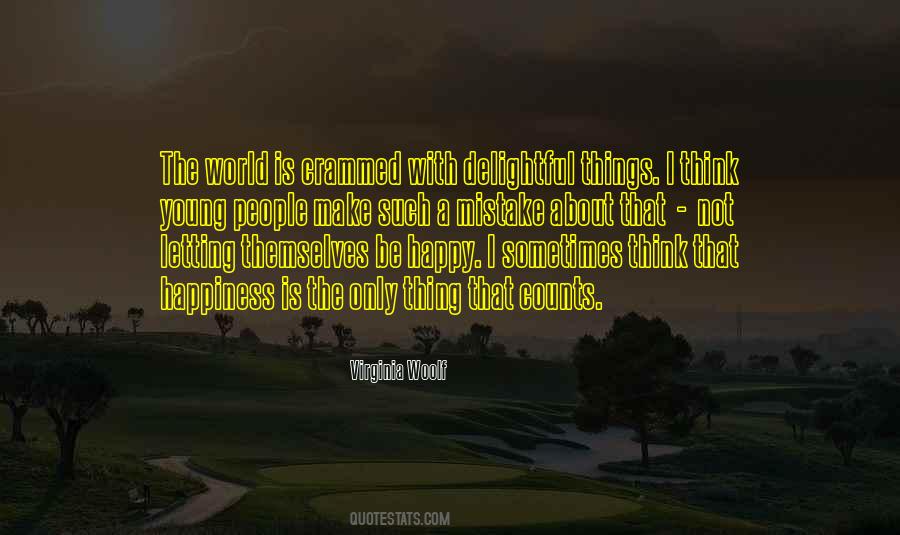 #21. Non-doing simply means letting things be and allowing them to unfold in their own way. - Author: Jon Kabat-Zinn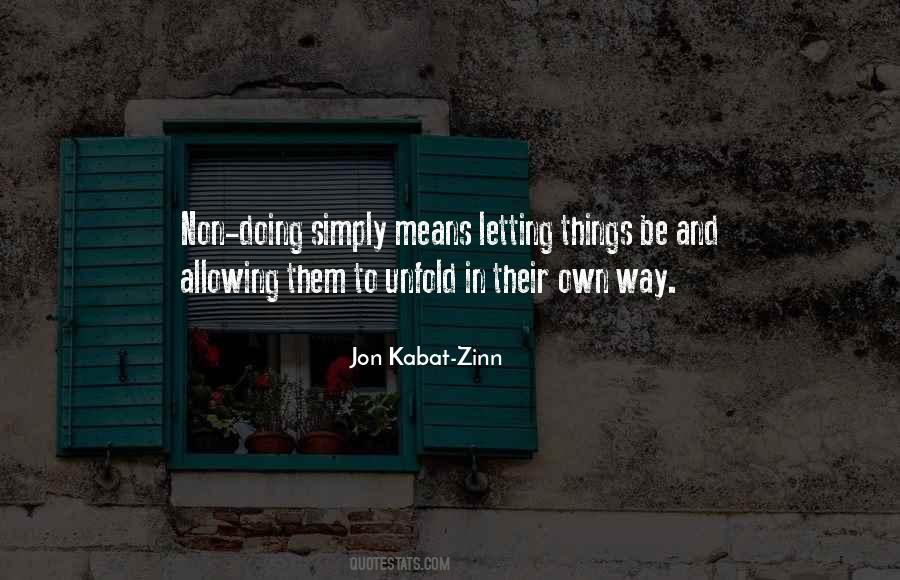 #22. For aging is an art. The years between its first intimations and the time of the ultimate letting go of all earthly things can-if the readiness and resolve are there-be the real harvest of our lives. - Author: Sherwin B. Nuland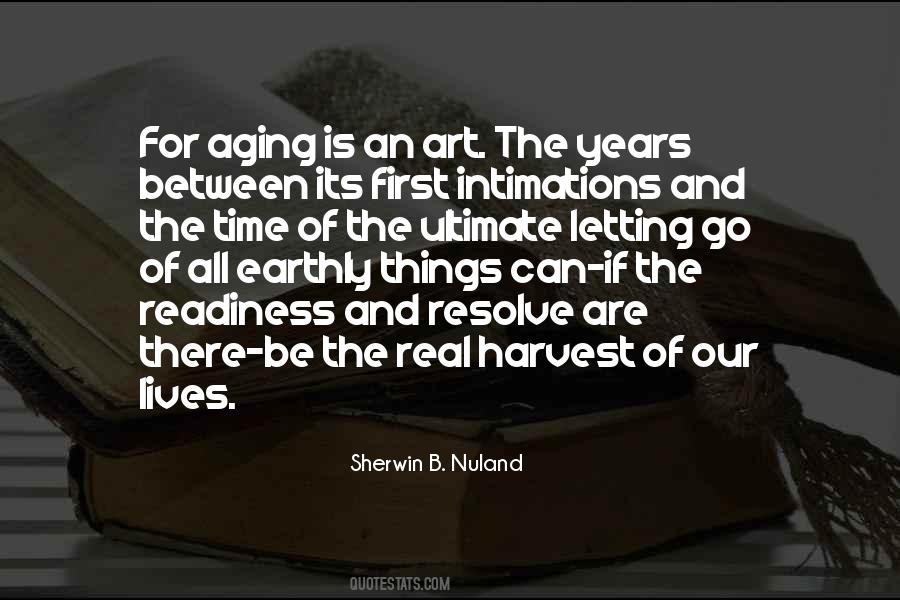 #23. As human beings, we are custom made to be happy. Why then would we want to change the order of things by not being happy? - Author: Stephen Richards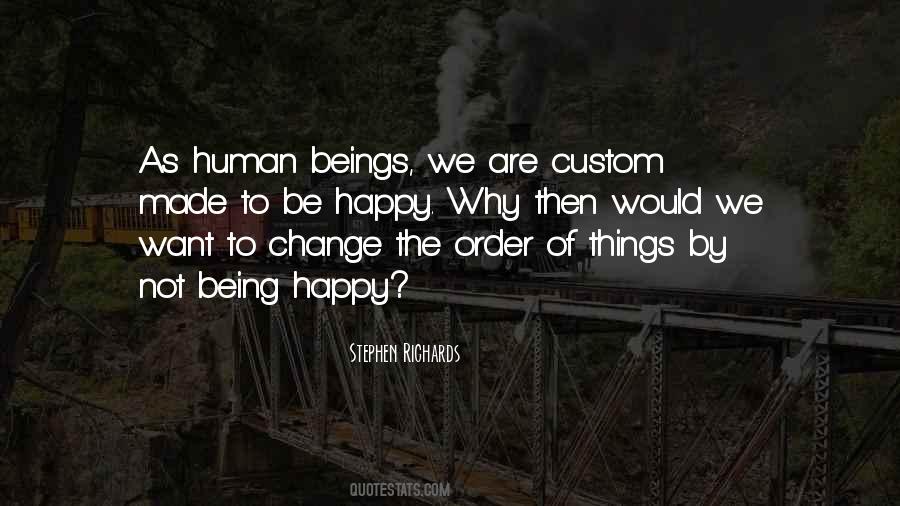 #24. Do external things distract you? Then make time for yourself to learn something worthwhile; stop letting yourself be pulled in all directions. - Author: Marcus Aurelius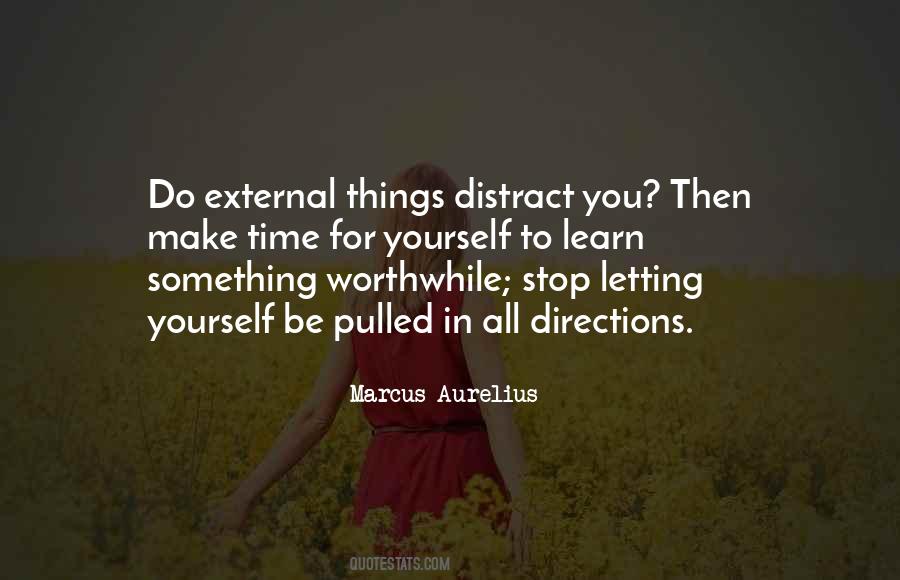 #25. I feel like my own background in improv and doing documentaries makes me really comfortable with a situation where you're letting things unfold and you don't have to be a jerk, stomping his feet, trying to get his way on everything. - Author: Seth Gordon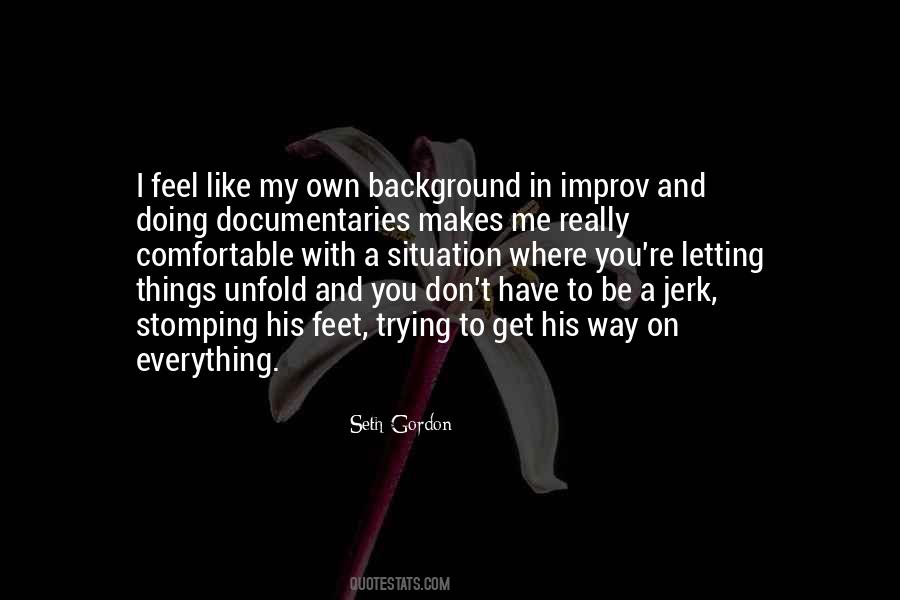 #26. Magic,' said Odd, and he smiled, and thought, if magic means letting things do what they wanted to do, or be what they wanted to be ... - Author: Neil Gaiman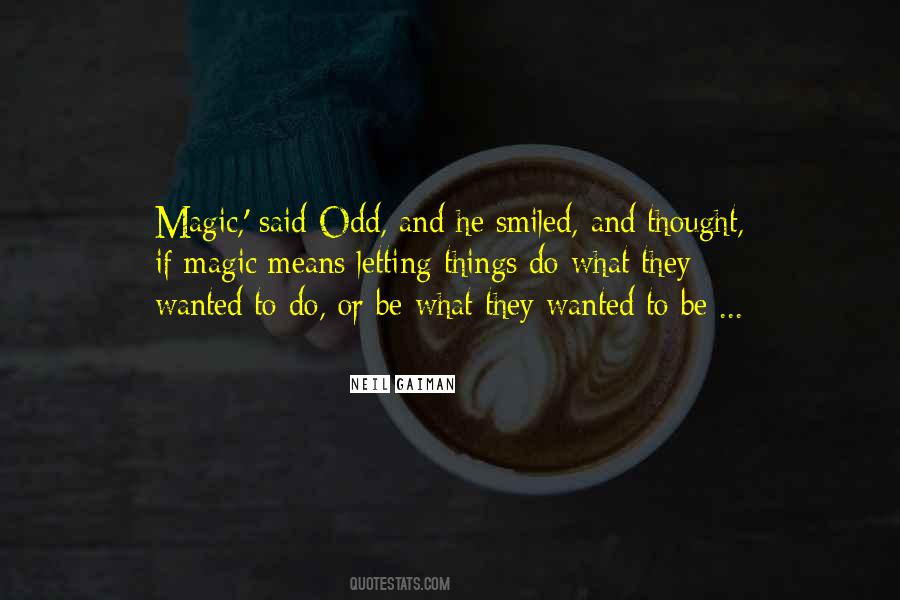 #27. There are three things in life ... not worrying what they are, not caring what others may think they are, and enjoying the wonder of what they might be. - Author: Tom Althouse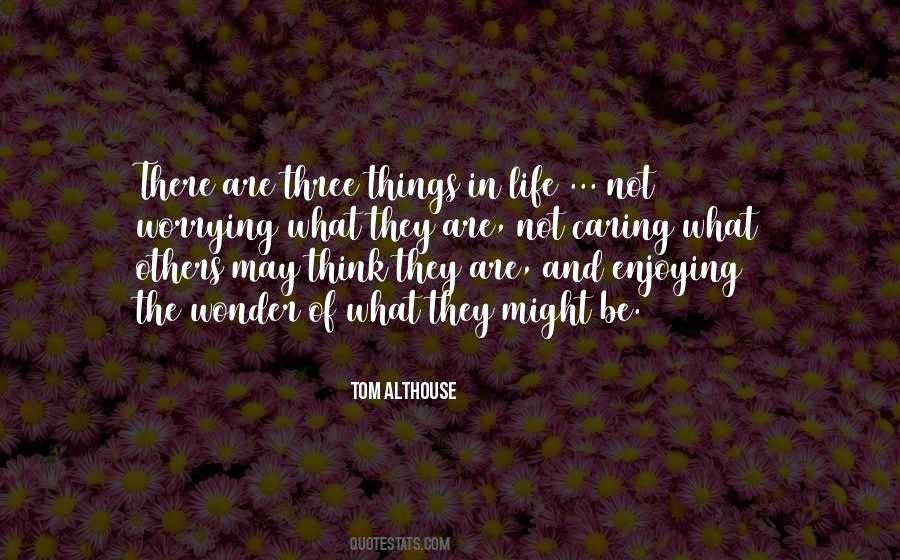 #28. I've learned that things change, people change, and it doesn't mean you forget the past or try to cover it up. It simply means that you move on and treasure the memories. Letting go doesn't mean giving up ... it means accepting that some things weren't meant to be. - Author: Lisa Brooks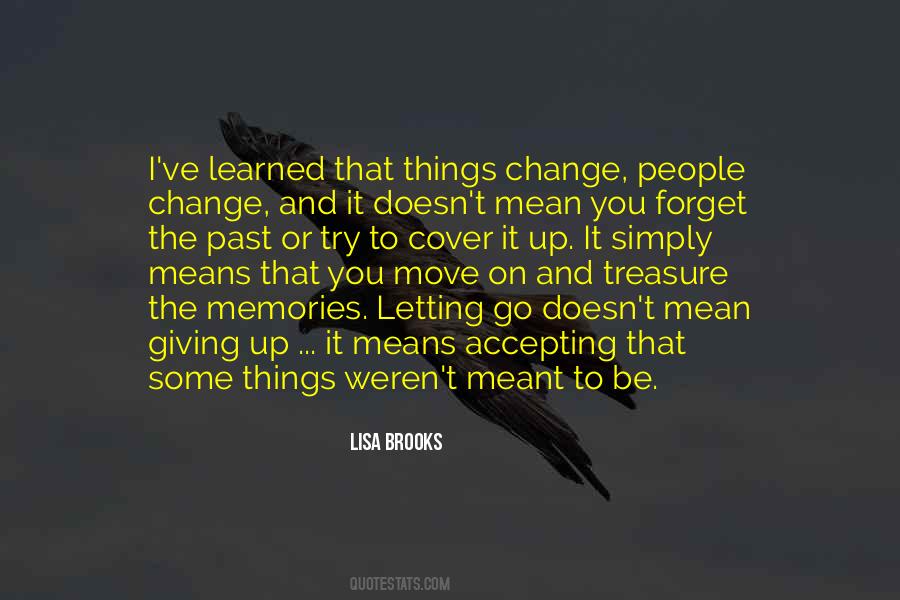 #29. There is great change to be experienced once you learn the power of letting go. Stop allowing anyone or anything to control, limit, repress, or discourage you from being your true self! Today is YOURS to shape - own it - break free from people and things that poison or dilute your spirit. - Author: Steve Maraboli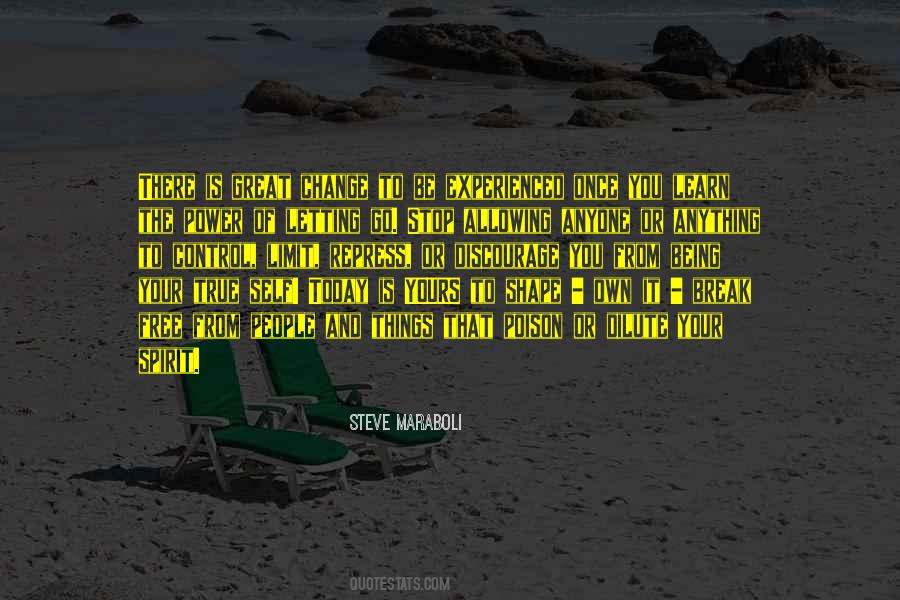 #30. Do not heed the jar of man's warring opinions. Let God be true and every man a liar. The Bible is the Bible still. If any man lack wisdom, let him ask of God. You have an unction from the Holy One, and you know all things. - Author: Horatius Bonar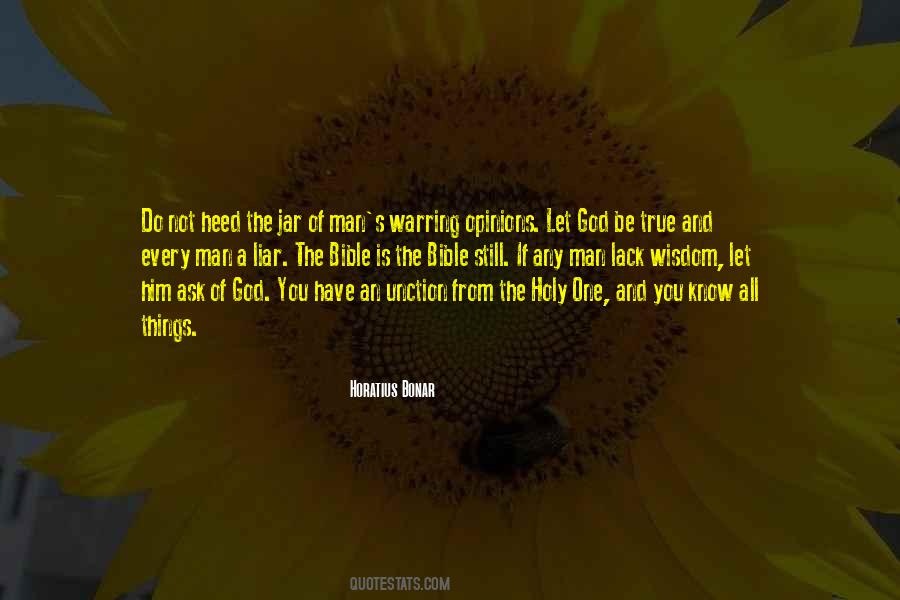 #31. It's not even so much about publicity, it's more just letting people know that things are available, because books aren't a flash in the pan thing. It's more like: "It took 20 years for this book to be done and now it'll be on a shelf for 20 years until the right person finds it." - Author: Ian Christe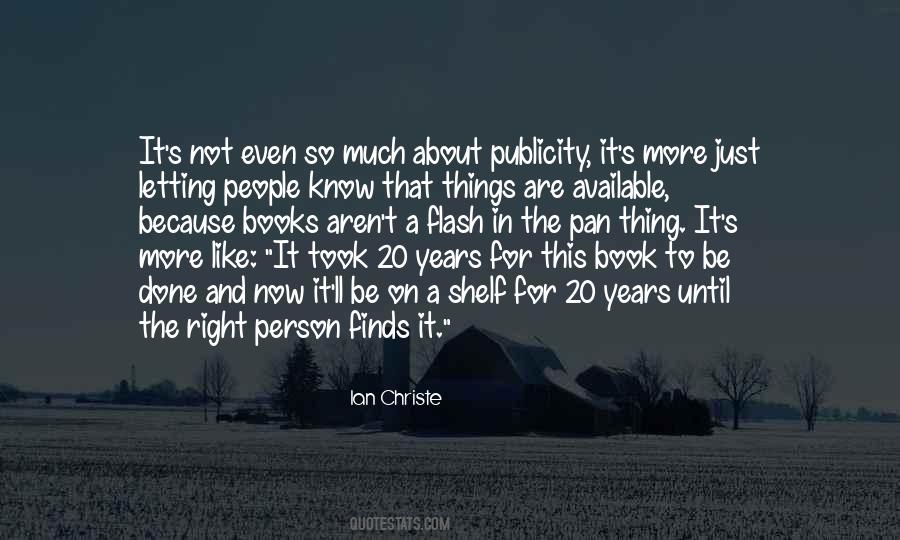 #32. There's a huge cost to freedom in letting people talk about how you print these plastic guns or letting them say these things about arming for tyranny. There's also a cost to letting the government say these ideas can't be expressed, this is treason. It's difficult. - Author: Glenn Greenwald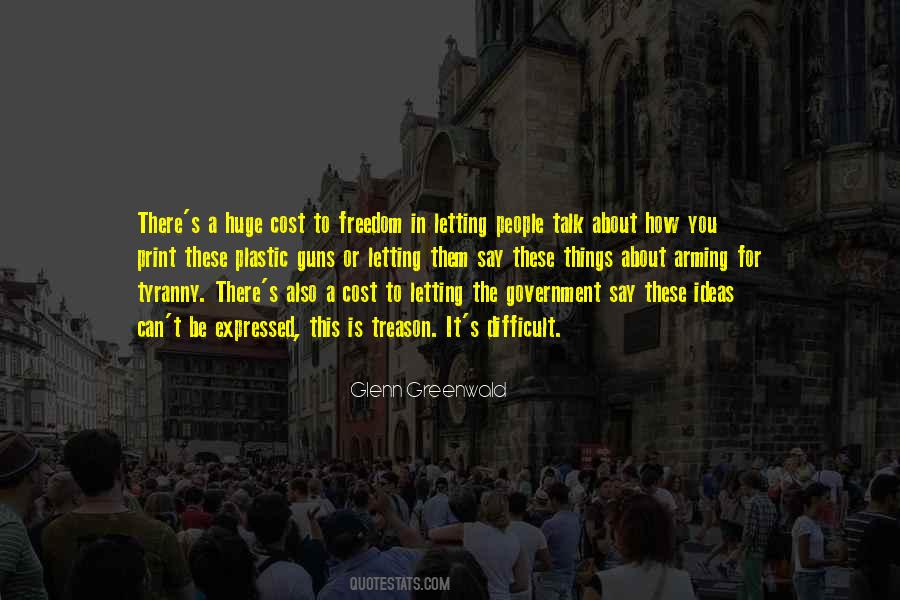 #33. Some things are not meant to be kept forever ... You know you have to stop and let go when things aren't going right, and everything you do is unappreciated. Remember what batman said? 'it is wiser to be alone but happy ... than with somebody who does nothing while you're doing everything ... ' - Author: Noemie Lenoir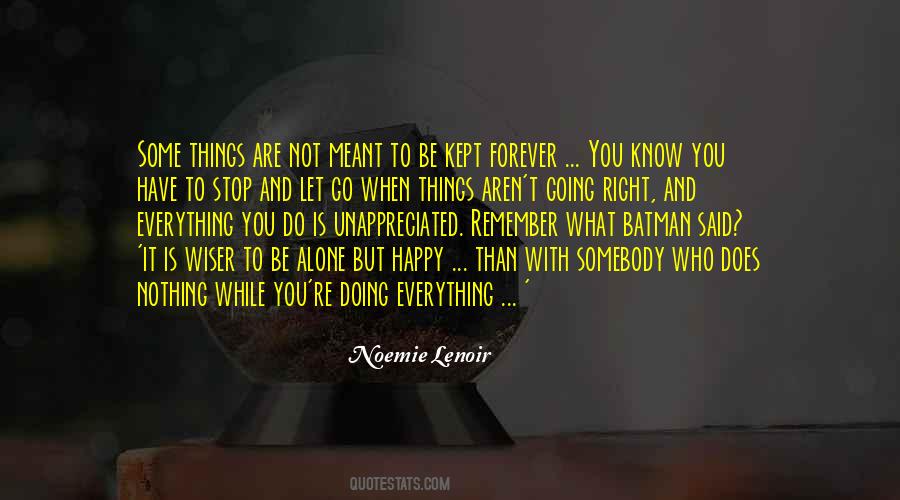 #34. Letting someone control your life for you and decide what you will be is a sure way of creating things to regret on the day of reckoning. - Author: Innocent Mwatsikesimbe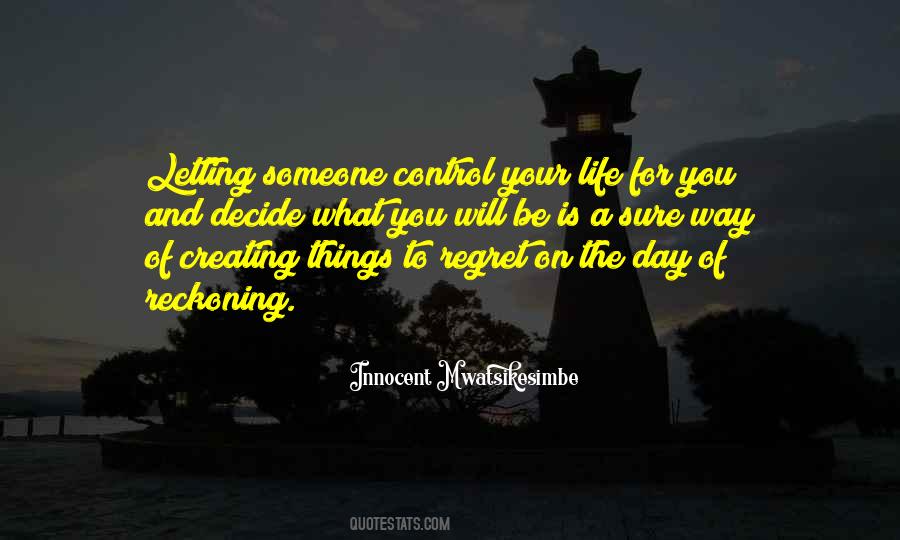 #35. Writers, actors, anybody working on an ensemble-type thing, there are going to be some creaks in the beginning. It seems like there's tremendous potential in just letting things sort of breathe a little bit. It's tremendously important. - Author: Edie Falco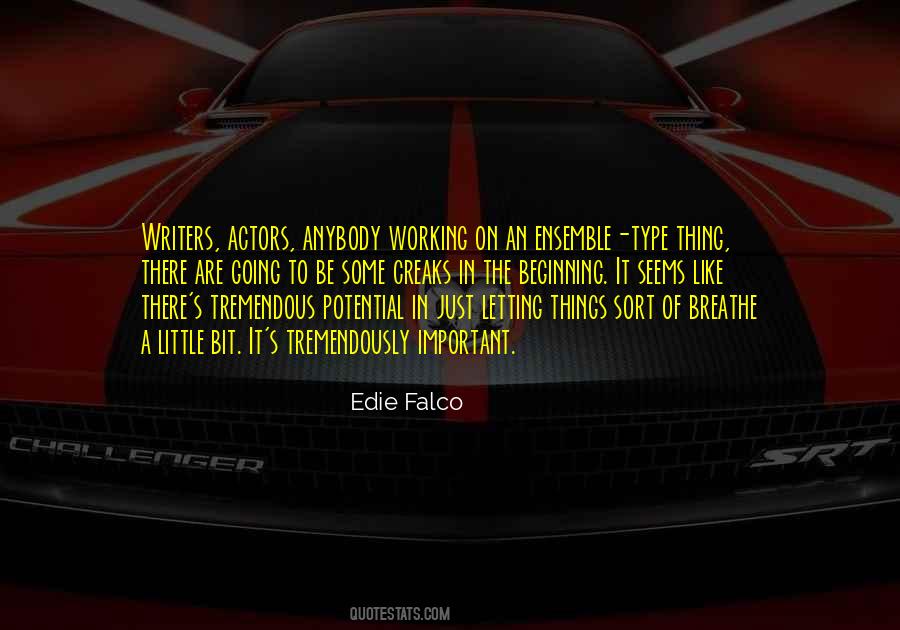 #36. I have no problem today letting people know I'm part of what they live. That's why I know about the things that make people the assholes they are. They have no choice but to be part of it. - Author: Andrew Dice Clay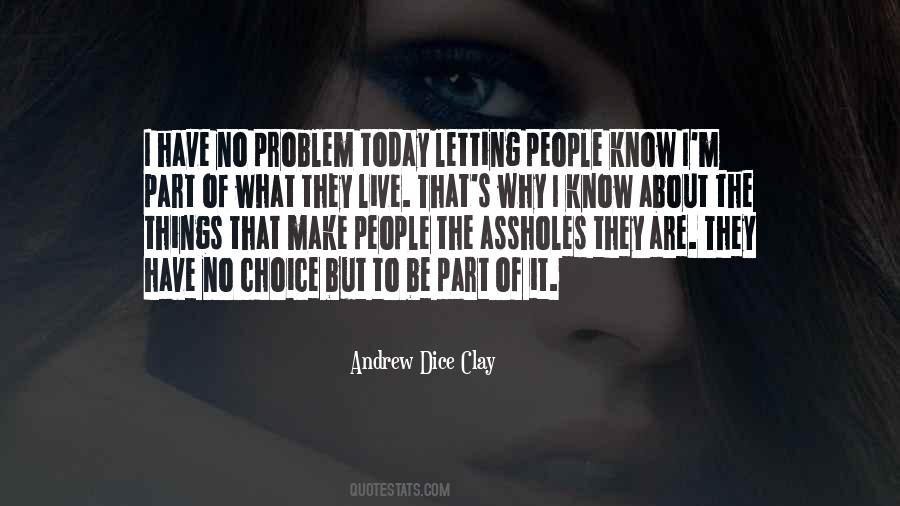 #37. Father, we thank you, especially for letting me fly this flight - for the privilege of being able to be in this position, to be in this wondrous place, seeing all these many startling, wonderful things that you have created. - Author: Gordon Cooper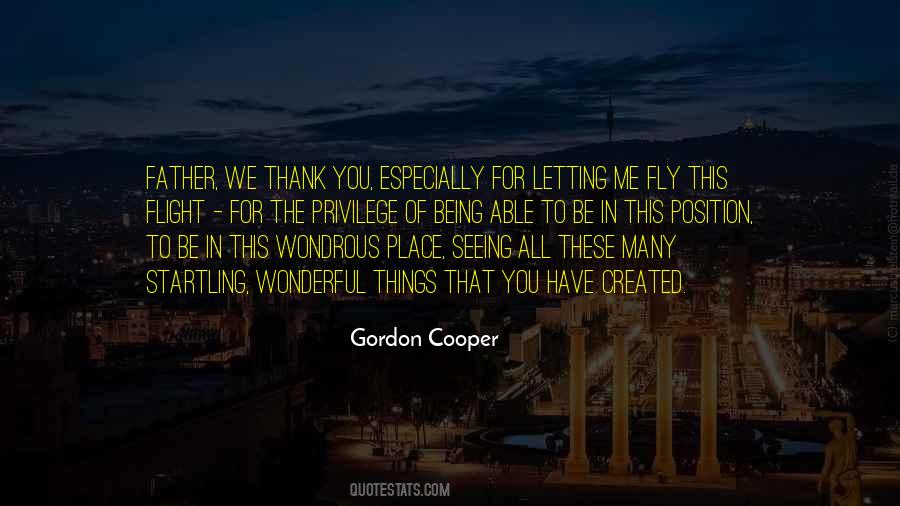 #38. I think I'm always conscious of not letting things fit into a specific box. Being a filmmaker and trying to chart a career, you never want anyone to be able to pigeonhole you into one specific thing. - Author: Jonathan Levine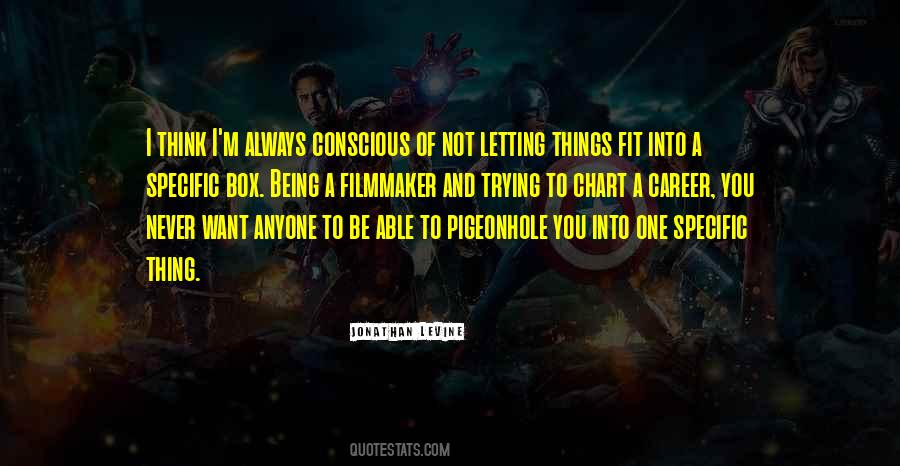 #39. At the beginning of my TV and movie stuff, I would be really critical of myself, but I've gotten better and better. There's always little things that I think, "Oh, that could have been whatever," but most of the time I'm able to let go and watch like an audience member. - Author: Mireille Enos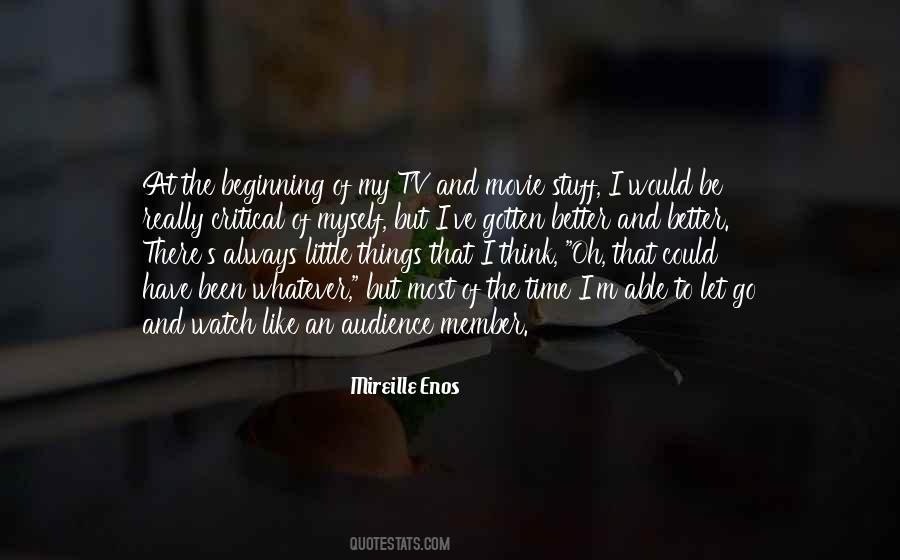 #40. I had never known the pleasure of reading, of exploring the recesses of the soul, of letting myself be carried away by imagination, beauty, and the mystery of fiction and language. For me all those things were born with that novel. - Author: Carlos Ruiz Zafon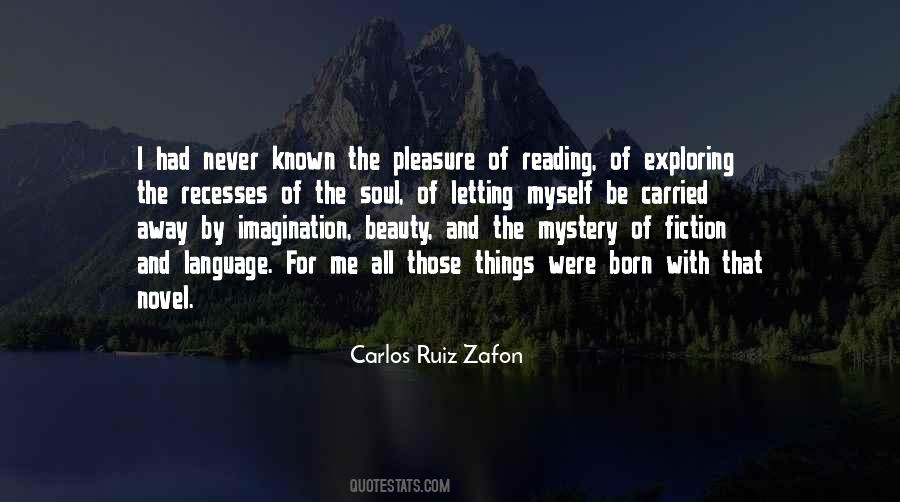 #41. My happiness came from learning my purpose, which is to be honest and to share things that normal people probably wouldn't share, in an effort to support and uplift other women. I love that my journey gives other women hope, letting them see how far God can bring a soul. - Author: Karrine Steffans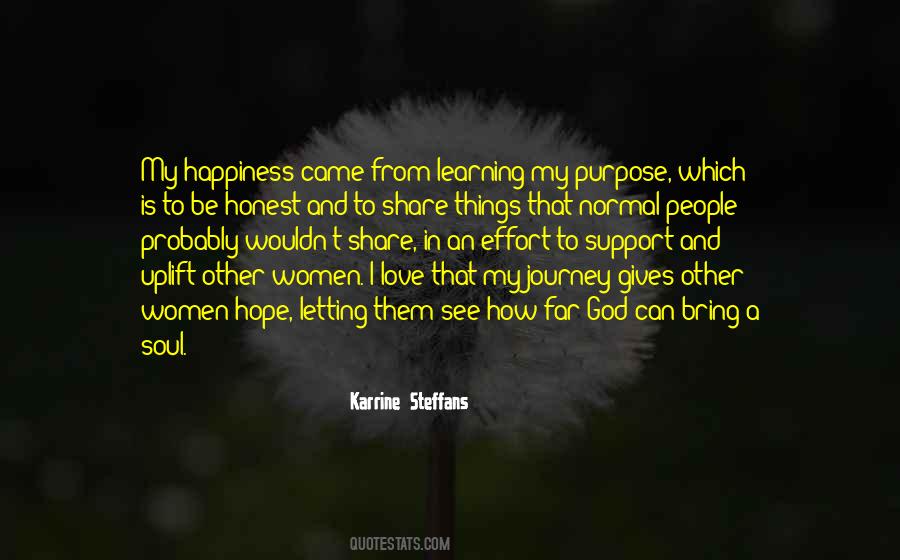 #42. Sometimes we need to let go of things in our lives to make room for better things. Stress less and live more. Don't waste your energy, when you have the choice to be happy. - Author: Brian Tracy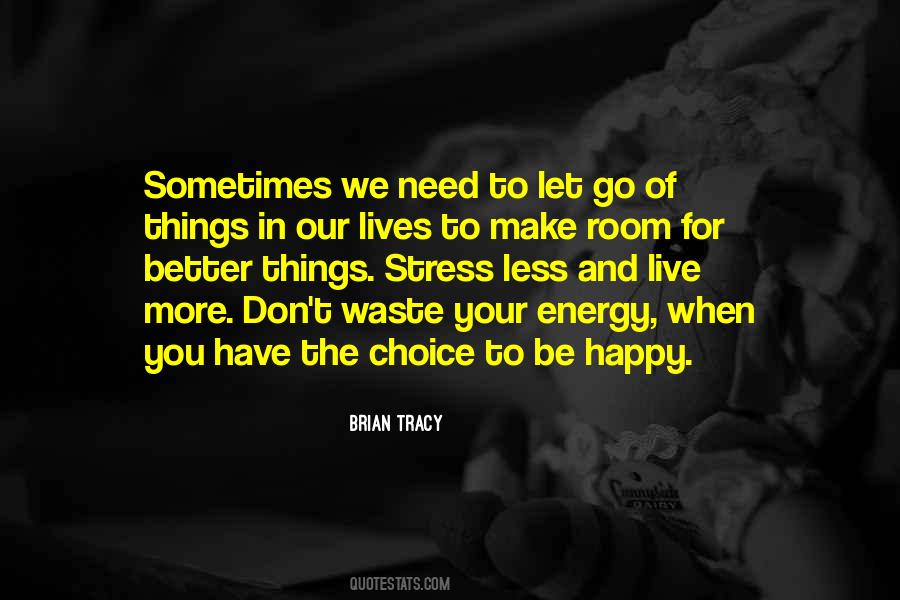 #43. Letting things go doesn't mean giving up, but rather accepting that there are things that cannot be - Author: N.a.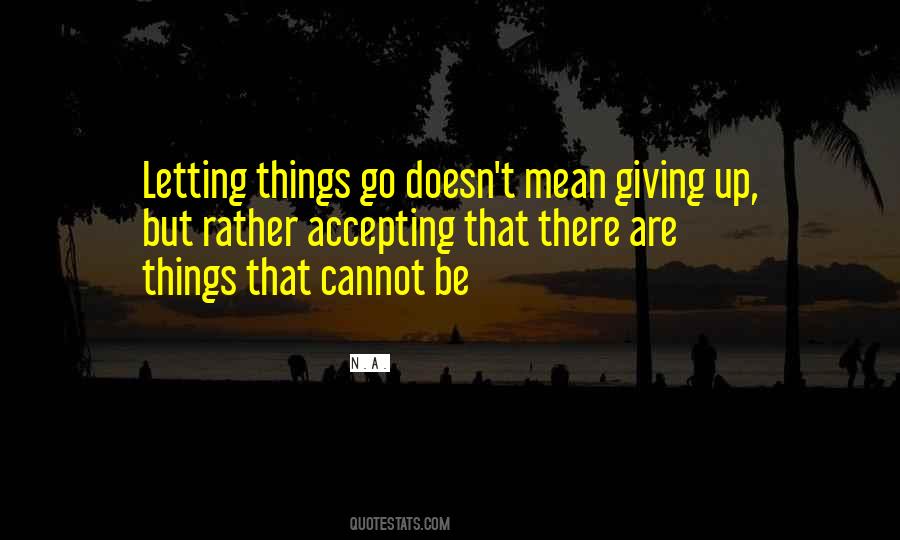 #44. Pretending not to be hurt is a brave thing to do ... But you know what? Crying is braver. Why? Coz not everyone can accept the fact that ... Not all things are meant for you. - Author: Lanie Lane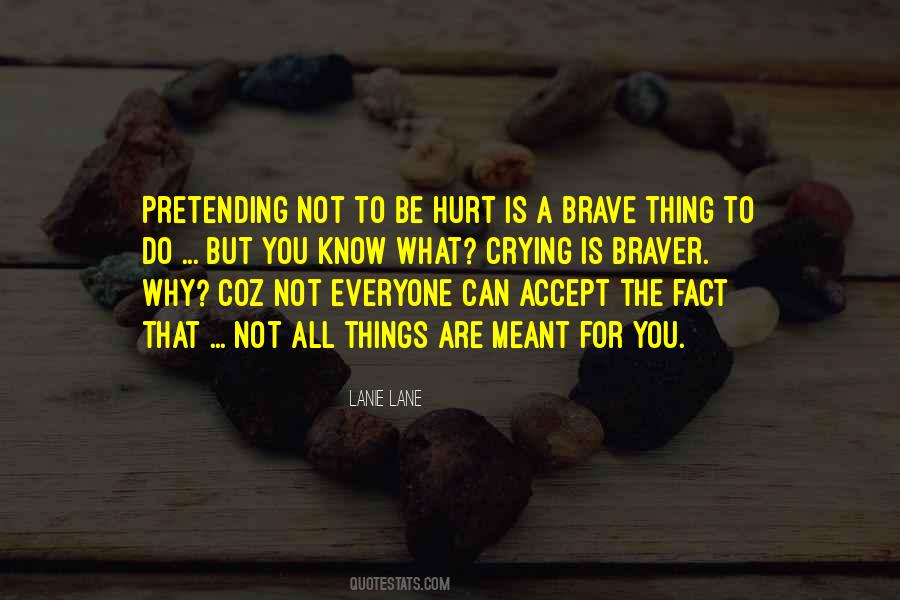 #45. I'm serious. You've been doing so much thinking with your head that you're ignoring your heart completely. There has to be a balance. The fact that both of you are letting other things consume you is about to ruin any chance you'll ever have at being happy. - Author: Colleen Hoover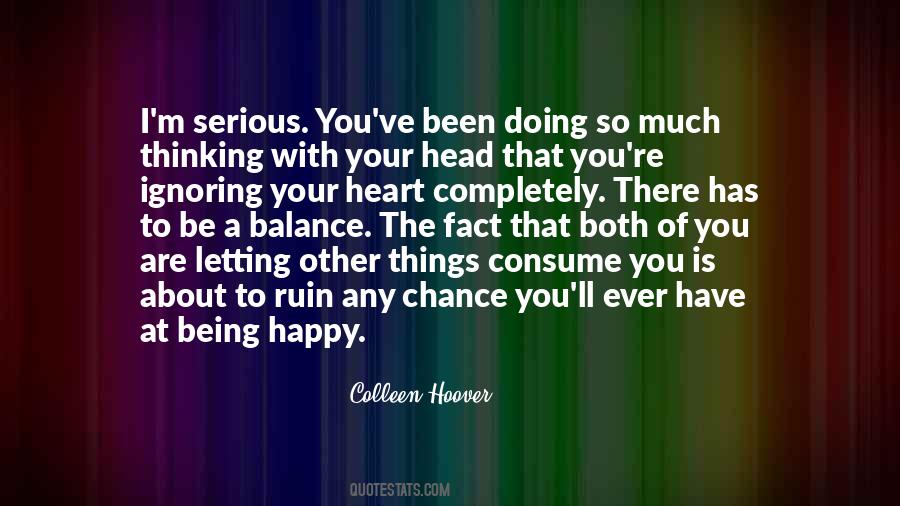 #46. We have to unclasp our palms and let go of every alternate reality where we're happier, stronger, brighter because of all the things we did differently. Those universes do not exist. But ours does. And it's okay here, if we open our eyes up and let it be. - Author: Heidi Priebe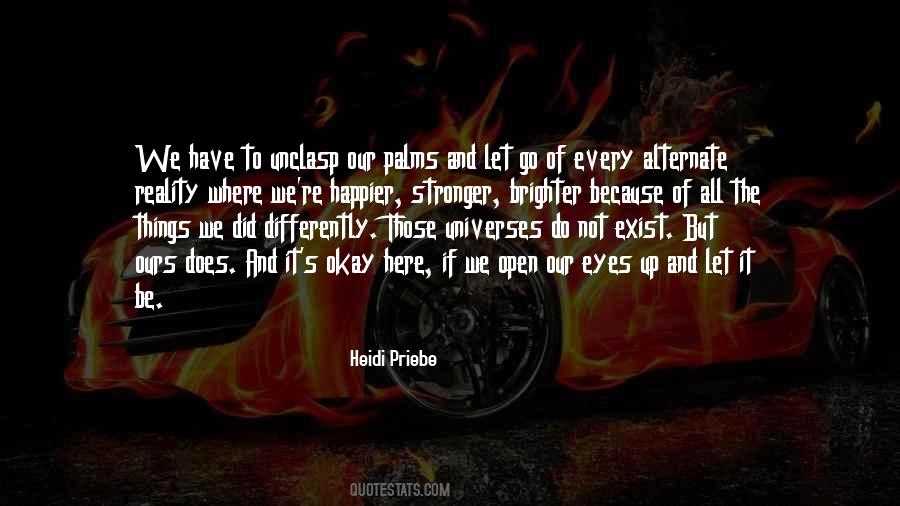 #47. Some things need to be let go before other things can be let in. - Author: Marianne Williamson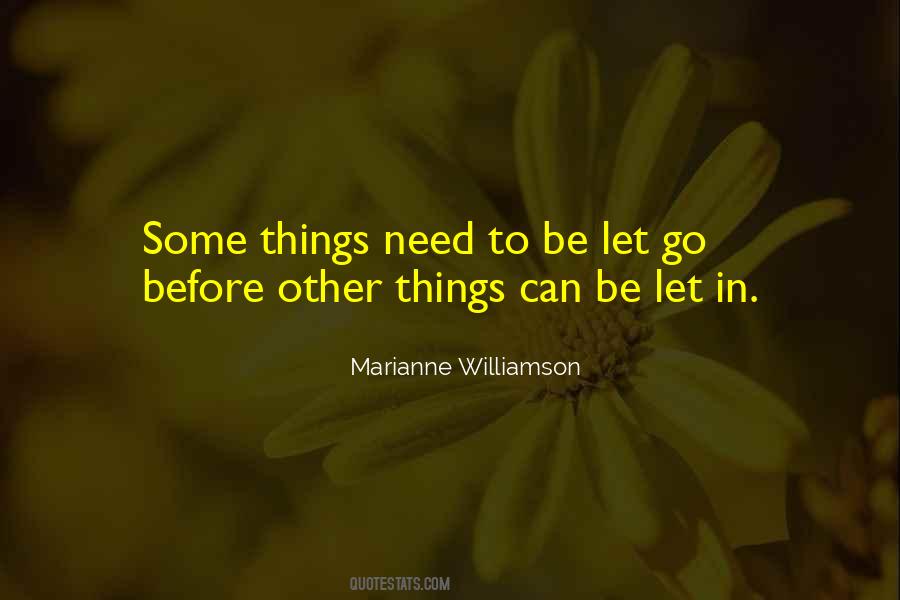 #48. I feel ashamed that so many of us cannot imagine a better way to do things than locking children up all day in cells instead of letting them grow up knowing their families, mingling with the world, assuming real obligations, striving to be independent and self-reliant and free. - Author: John Taylor Gatto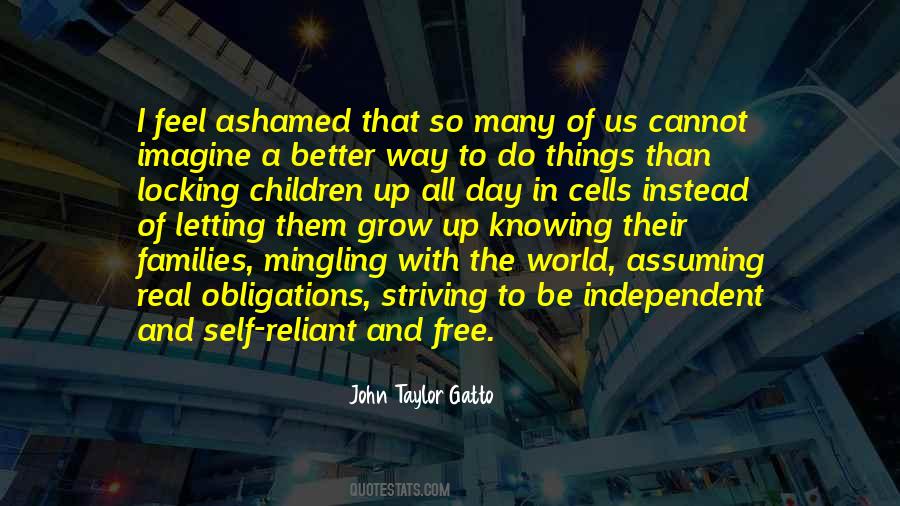 #49. True mastery can be gained by letting things go their own way. - Author: Stephen Mitchell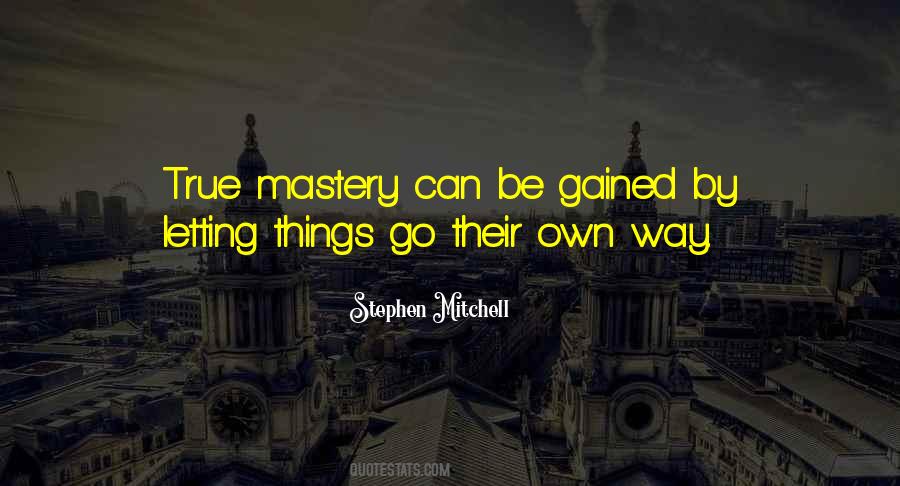 #50. But life can't be about holding on to the bad things. It has to be about grabbing on to the good things and letting the bad things go. - Author: Sophie Kinsella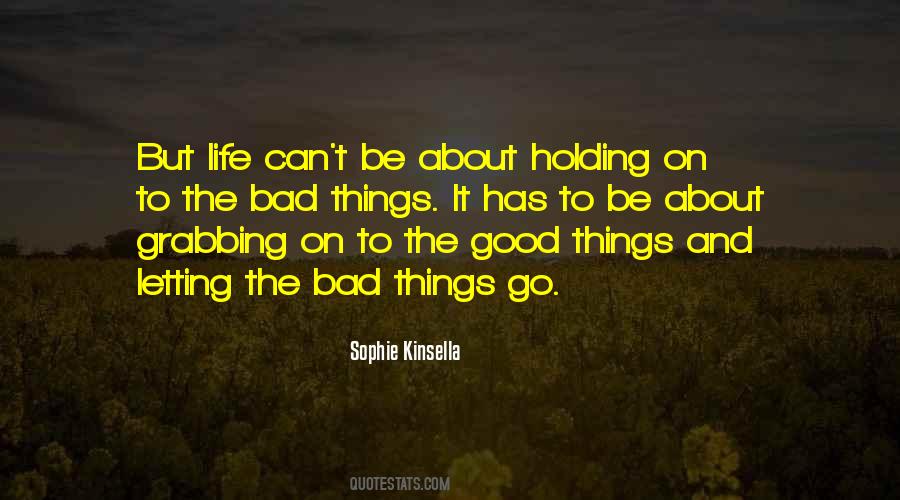 #51. Do not be deceived that you are weak because you have forgiven; instead be rest assured that you are now showing great strength - after all, forgiving is one of the most difficult things to do. - Author: Stephen Richards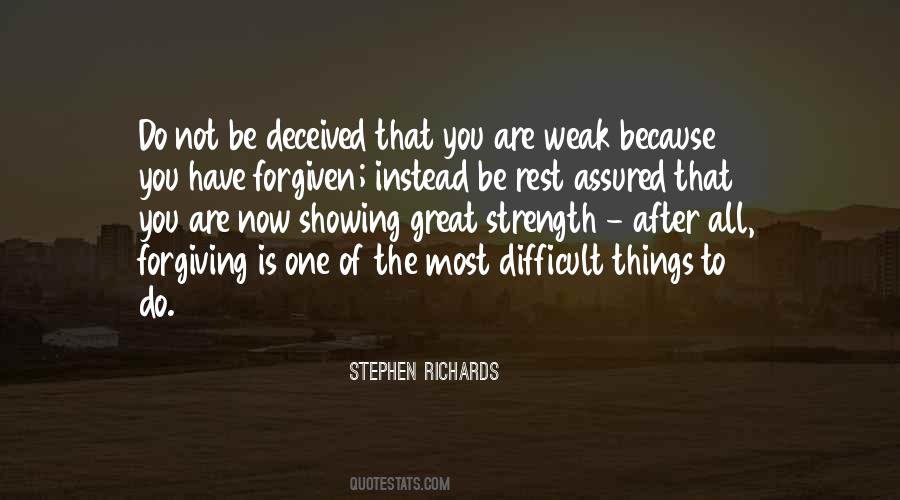 #52. You can meet someone who's just right, but he might not be meant for you. You break up, you lose things, you never feel the same again. But maybe you should stop questioning why. Maybe you should just accept it and move on. - Author: Winna Efendi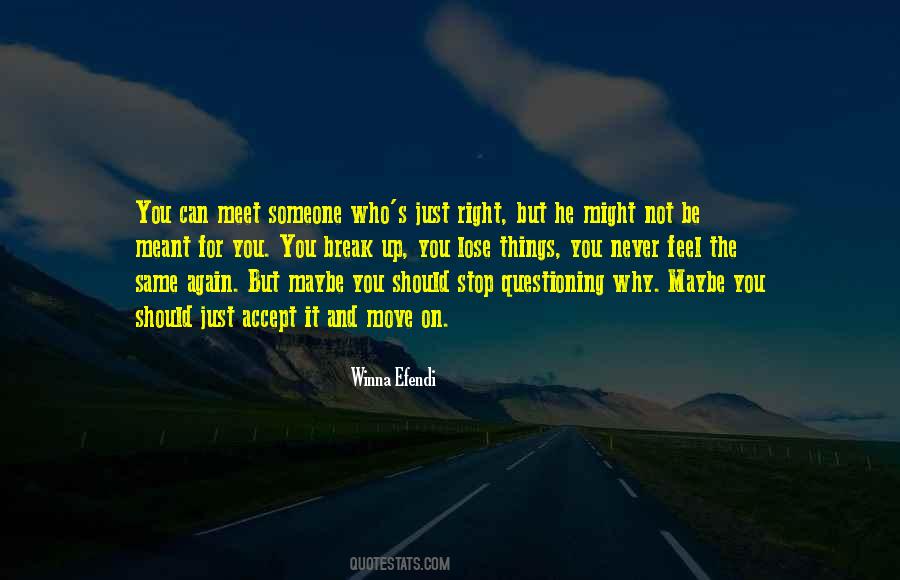 #53. Who in their right mind wouldn't listen to what Larry Bird tells them? He knows what it takes to be a successful player, and he's letting us do the things to have the success. - Author: Larry Bird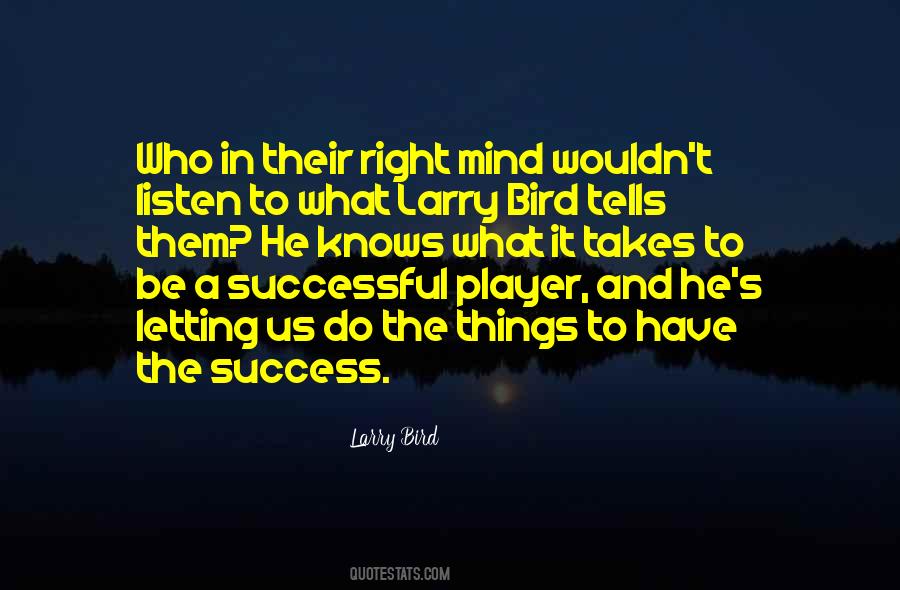 #54. In my life nothing goes wrong. When things seem to not meet my expectations, I let go of how I think things should be. It's a matter of not having any attachment to any fixed outcome. - Author: Deepak Chopra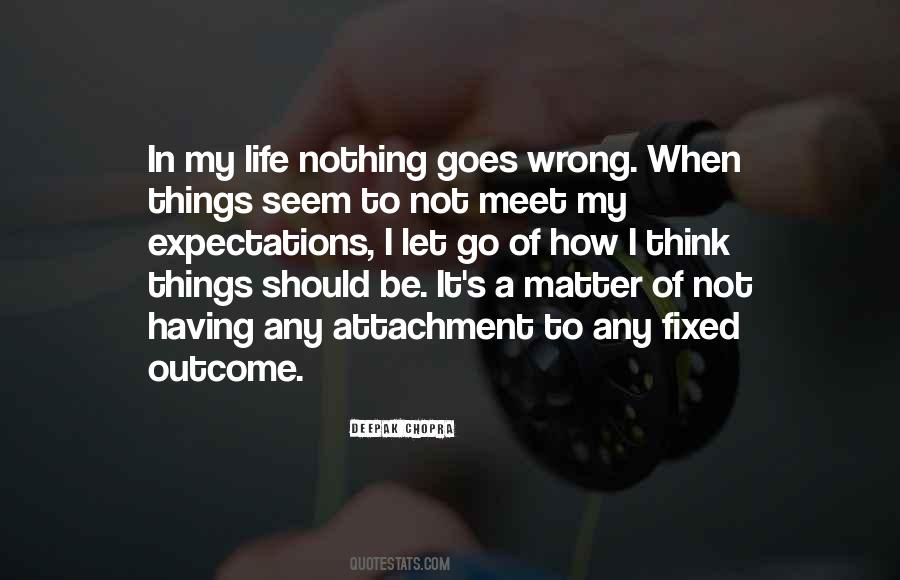 #55. Maybe the things she loved most weren't meant to be permanent. Maybe the fact that they existed was enough. - Author: Julie Schumacher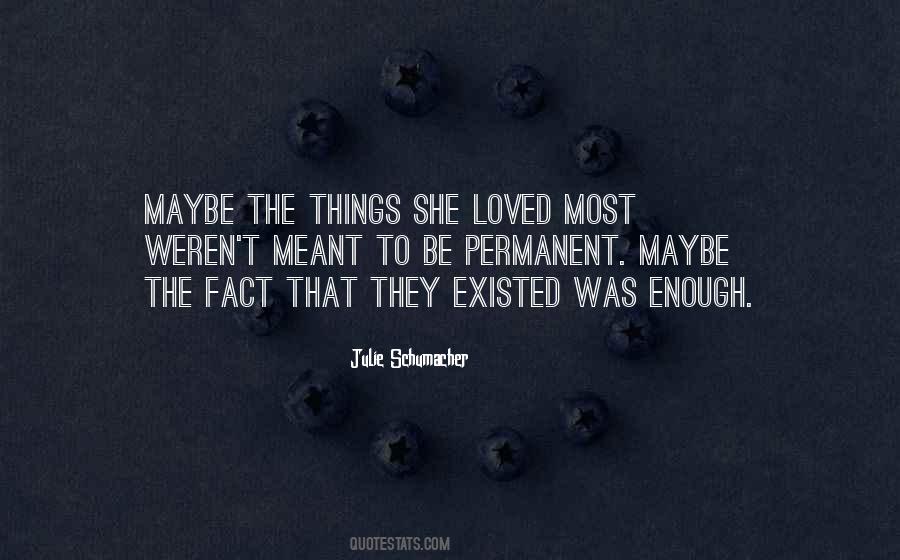 #56. Forgiveness means letting go of the hope for a better past. You won't be able to forgive yourself for not doing things differently until you stop wishing things were different - Author: Zoe York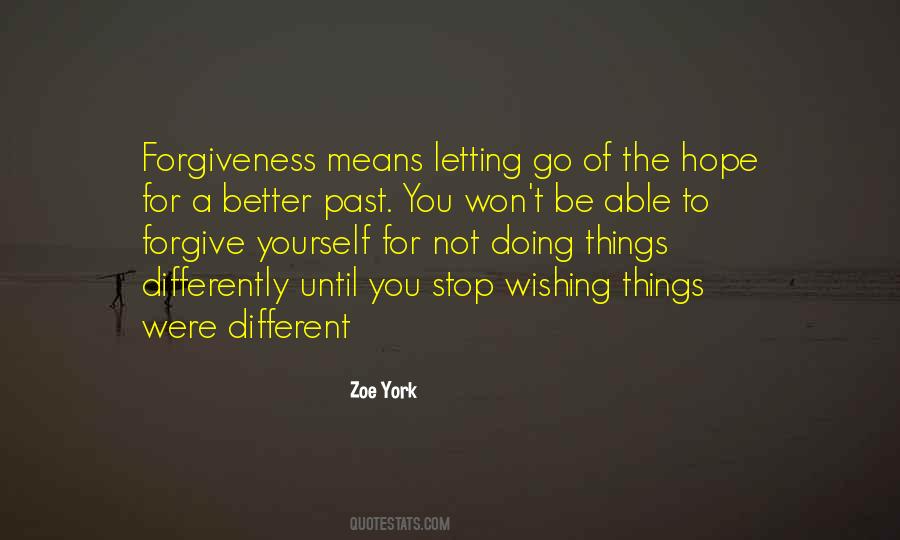 #57. The heart of the path is quite easy. There's no need to explain anything at length. Let go of love and hate and let things be. That's all that I do in my own practice. - Author: Ajahn Chah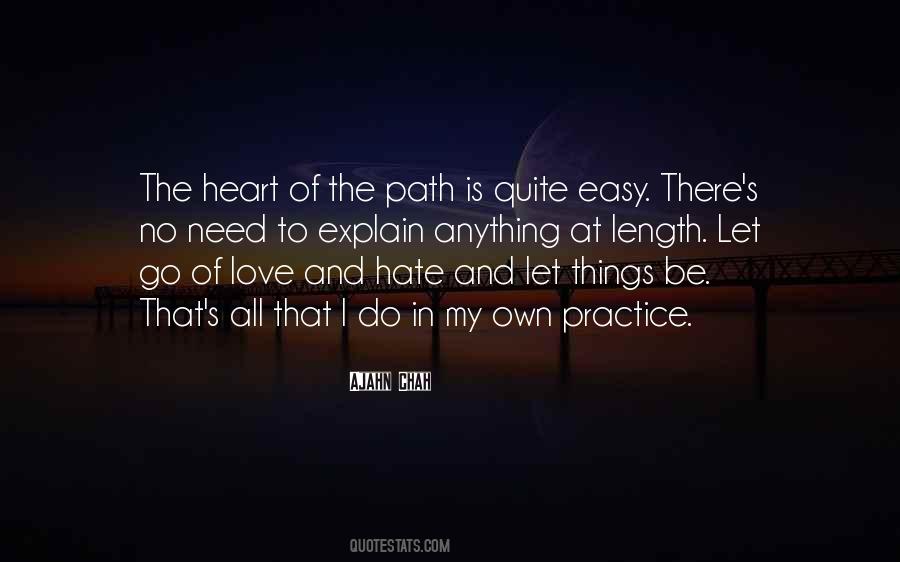 #58. It's OK if you don't know how much more you can handle. It's fine if you don't know what to do next. Eventually, you'll let go of how things should be and start to see possibility based on reality. It's YOUR life, grasp the steering wheel and force yourself to pay attention to where you're going. - Author: Wendy Keller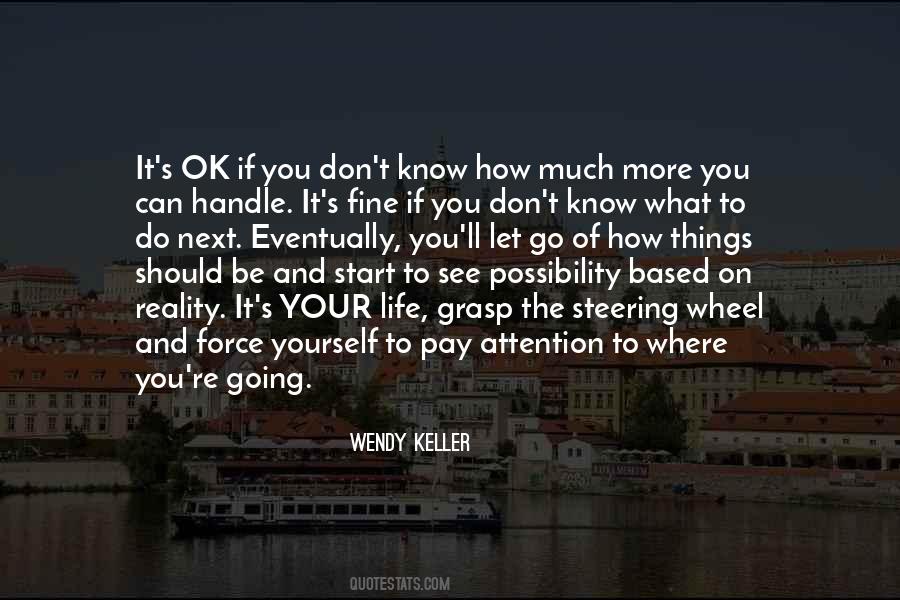 #59. Oh, I have a habit of letting myself be lectured on the things I know best. I like to see if they are understood in the same way I understand; for there are many ways of knowing the same thing - Author: Alfred De Vigny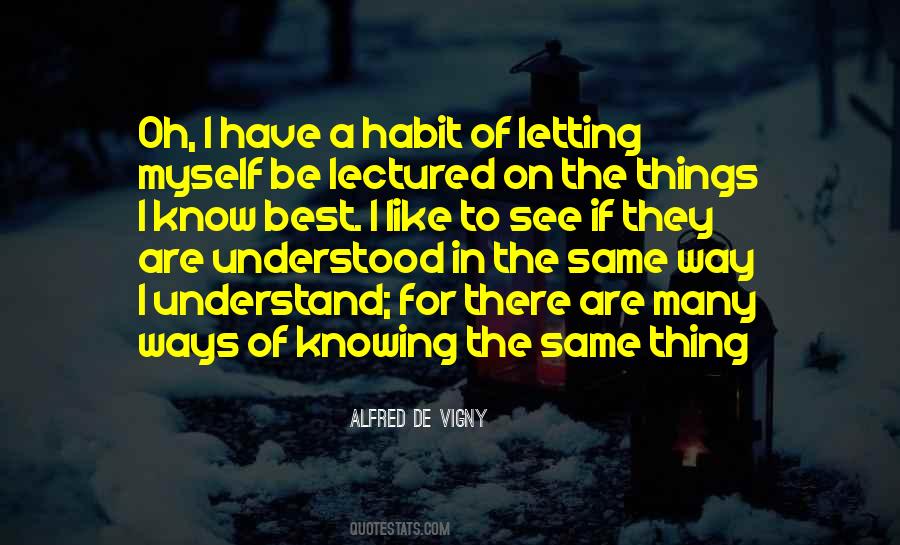 #60. Beware of letting small faults pass unnoticed under the idea it is a little one. There are no little things in training children; all are important. Little weeds need plucking up as much as any. Leave them alone and they will soon be great. - Author: J.C. Ryle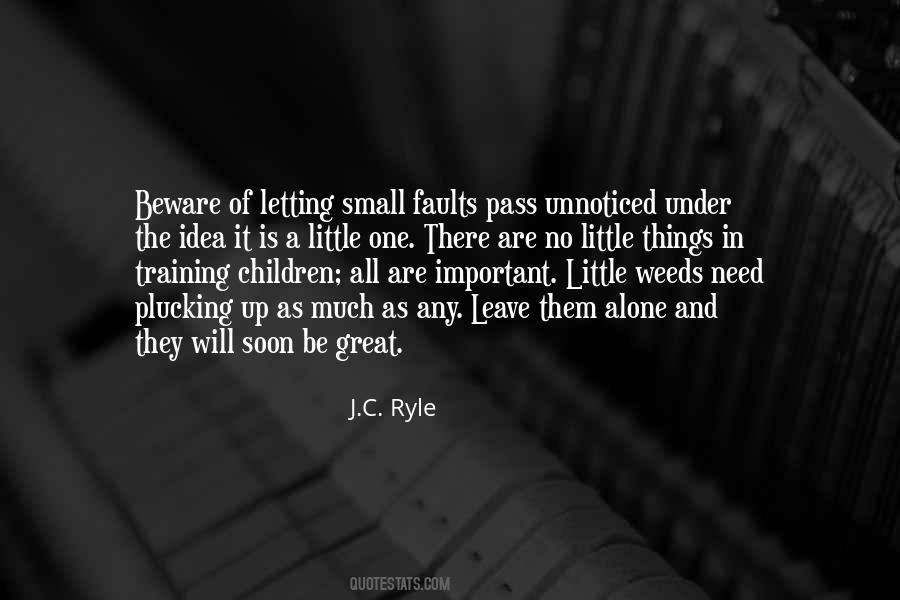 #61. We're always supposed to be happy and positive. There's something about letting yourself slip into that vulnerable space because you can really feel things there. It helps you grow as a person. I tend to enjoy being in a vulnerable space, in a weird way. - Author: Tristan Prettyman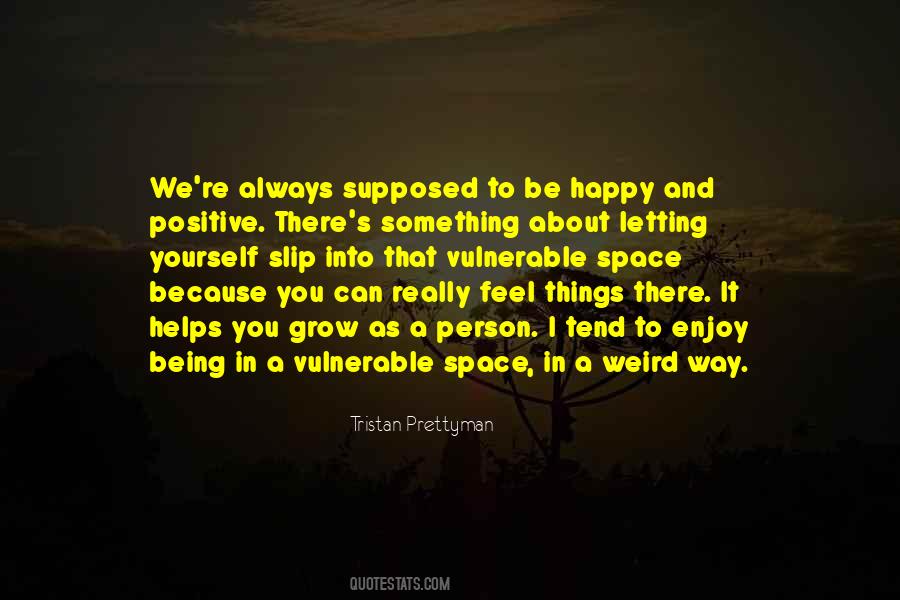 #62. There are a limited number of things we can be personal with. This understanding can bring us to pare down to what we really need, and to let go of that which we cannot hold in caring awareness.
We may learn that having too much can be another form of poverty. - Author: Gunilla Brodde Norris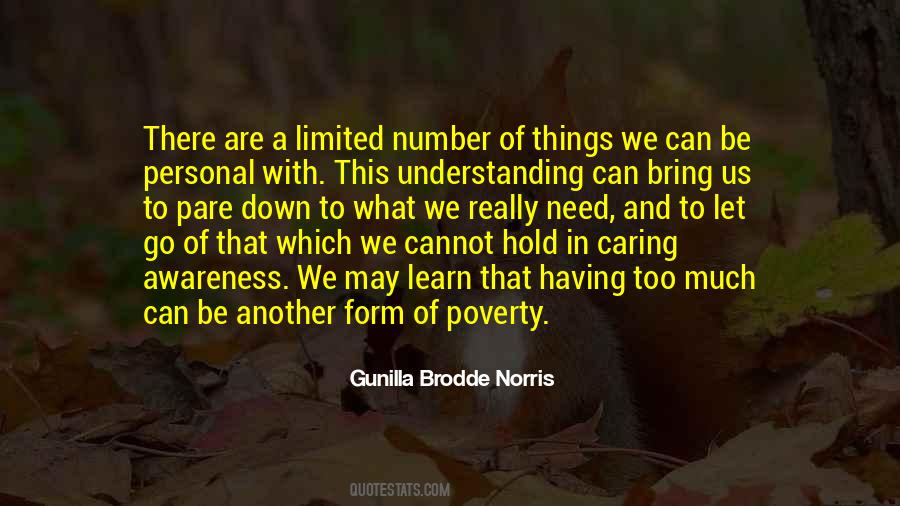 #63. The world is ruled by letting things take their course. It cannot be ruled by interfering. - Author: Laozi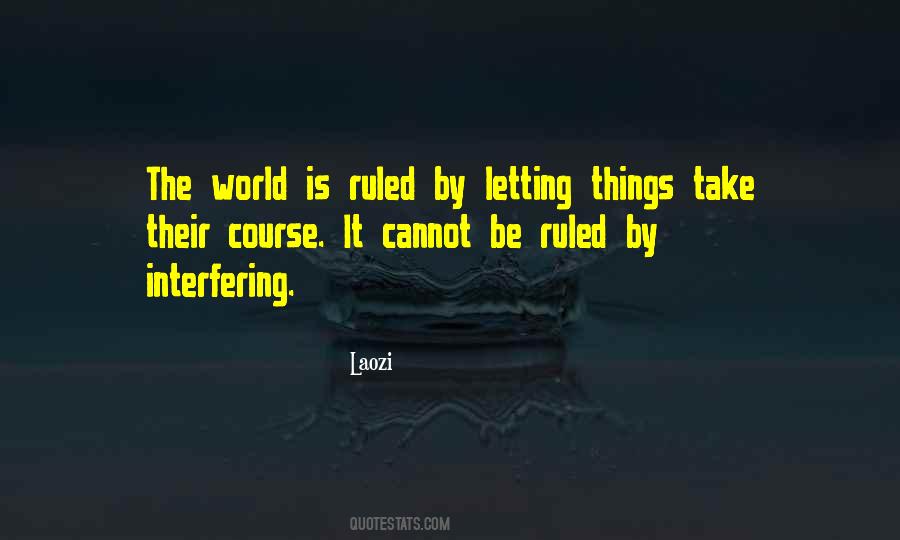 Famous Authors
Popular Topics