Letter N Famous Quotes & Sayings
List of top 48 famous quotes and sayings about letter n to read and share with friends on your Facebook, Twitter, blogs.
Top 48 Quotes About Letter N
#1. He's meeting his girl now, a girl not much older than 14. A five-and-ten-cents store Cleopatra, a four letter word. - Author: Kurt Vonnegut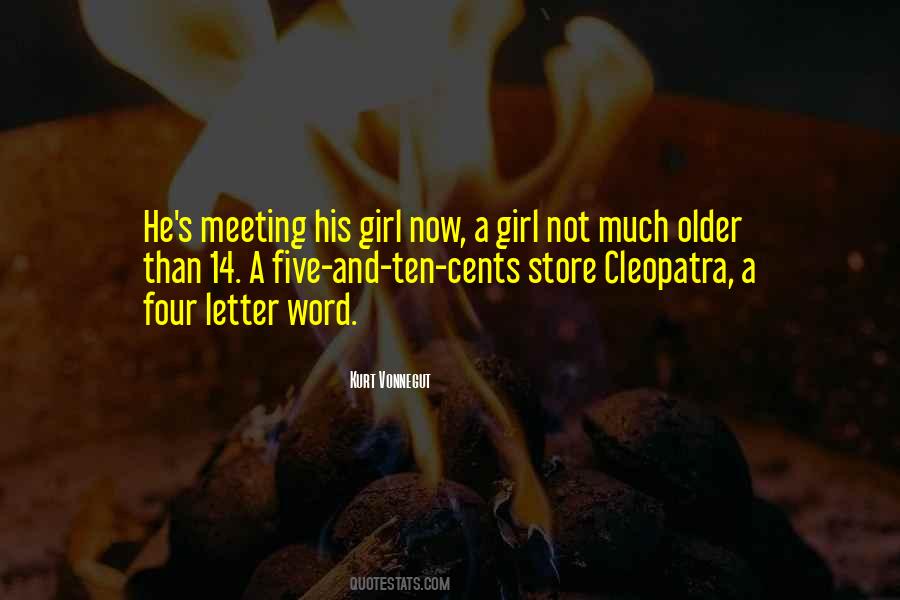 #2. Why does my action strike them as so horrible? Is it because it was a crime? What is meant by crime? My conscience is at rest. Of course, it was a legal crime, of course, the letter of the law was broken and blood was shed. Well, punish me for the letter of the law ... and that's enough. - Author: Fyodor Dostoyevsky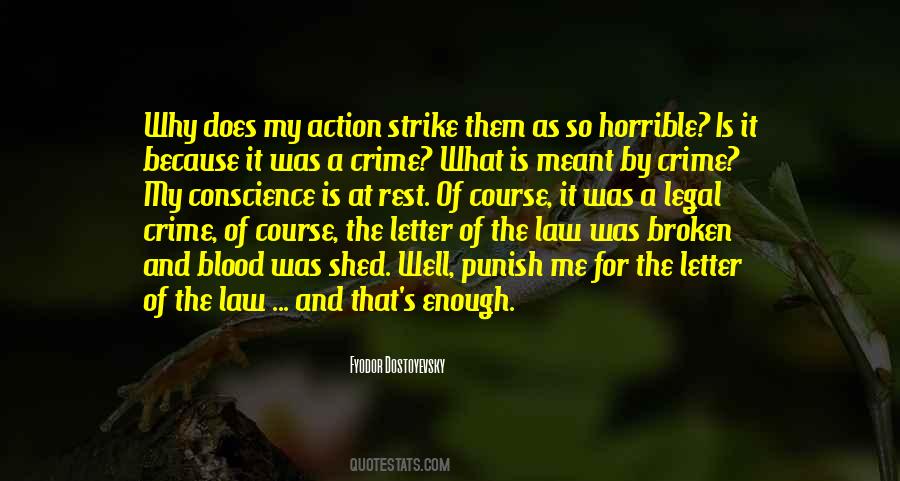 #3. Actually it deals ("as usual" I was about to say!) with Life, Love and Death. Because nothing in fact is more important. To occupy oneself with. To think of. To worry over. To be happy about. And so on. - Author: Ingmar Bergman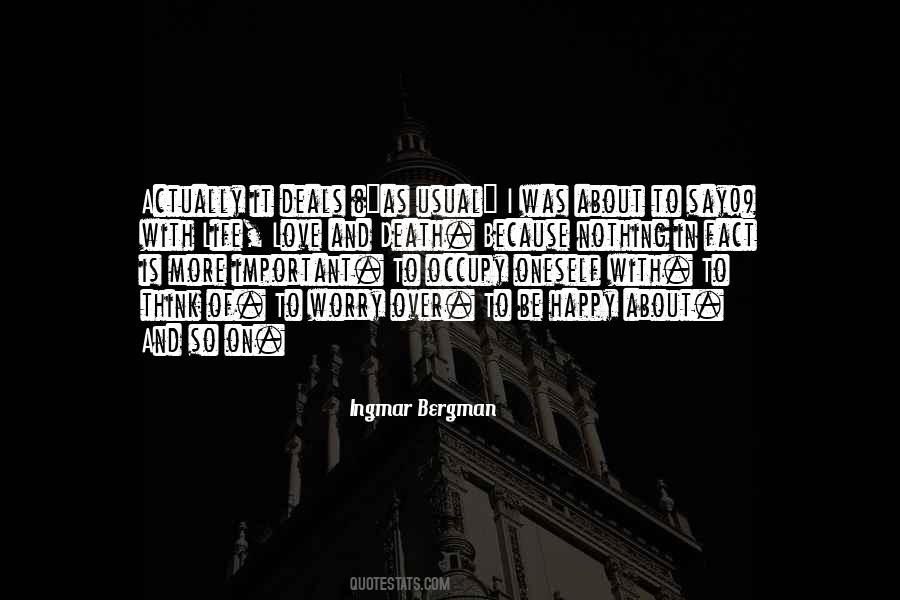 #4. Nothing is endless
I know that now
Let me go
V
-Violet's letter - Author: Jessica Shirvington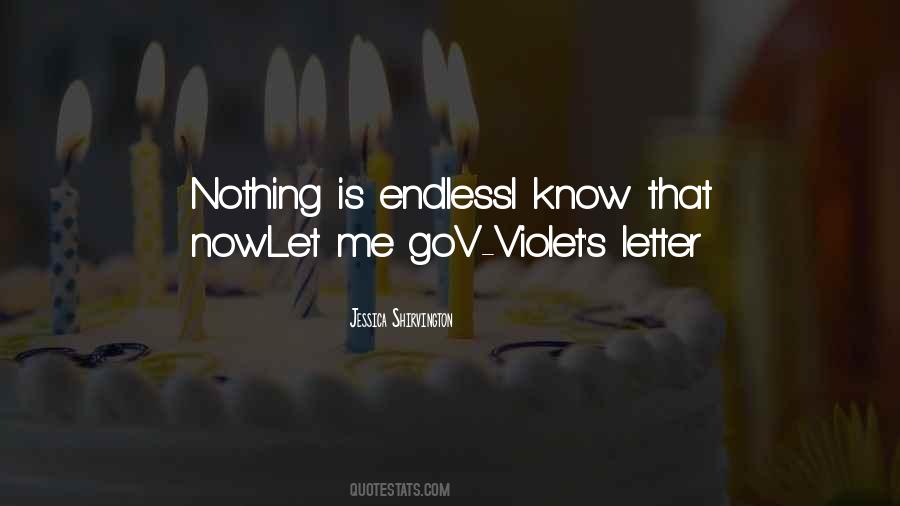 #5. Here in California, we passed a law against texting while driving. But there's no law preventing you from writing a letter while driving. - Author: Craig Ferguson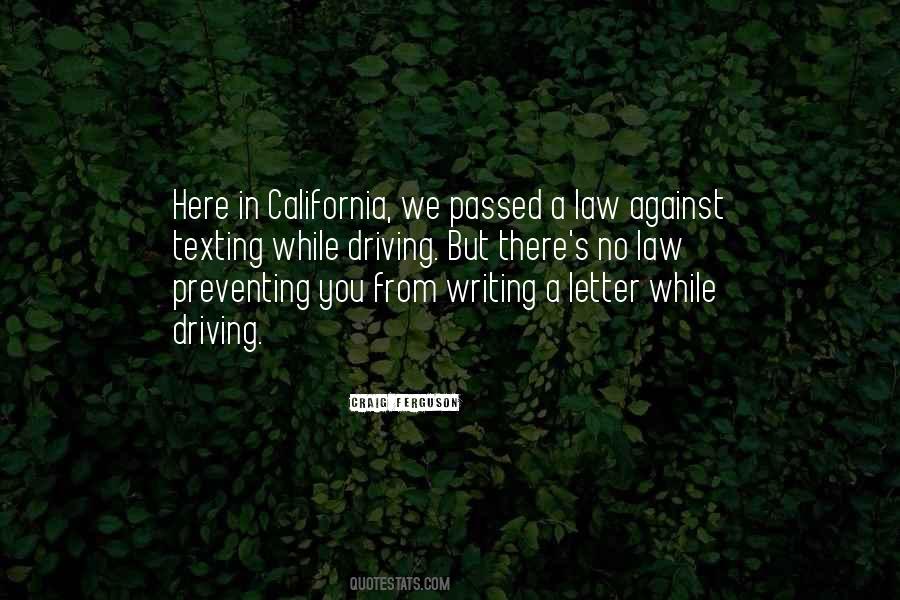 #6. Dull late-afternoon light glittered on the hanging copper pots in the kitchen where the old painter sat with his wine, smoking cigarette, a letter angrily crumpled on the table in front of him. - Author: Stephanie Cowell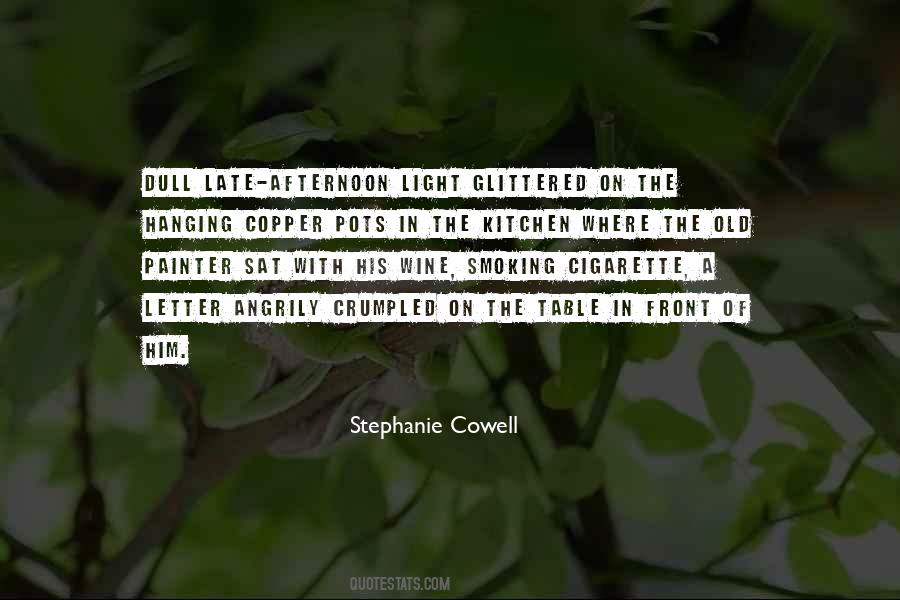 #7. This is not a letter but my arms about you for a brief moment. - Author: Katherine Mansfield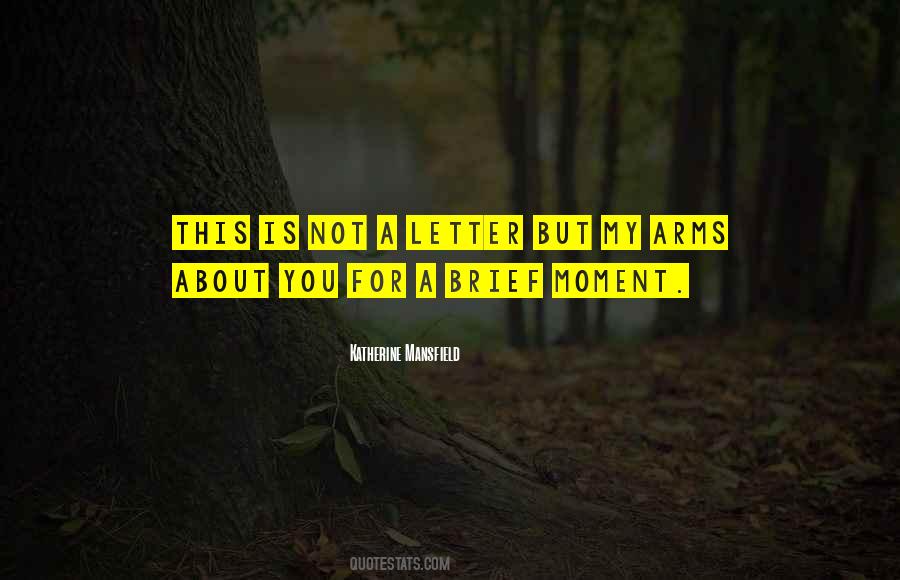 #8. Magnitudes are algebraically represented by letter, men by men of letters, and so on. - Author: Lewis Carroll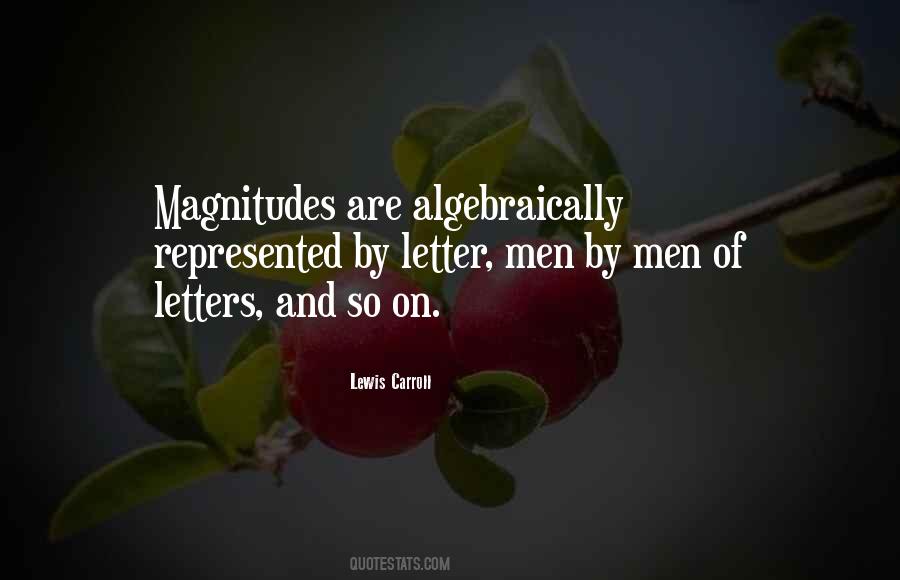 #9. A Letter is a Joy of Earth - It is denied the Gods - Author: Emily Dickinson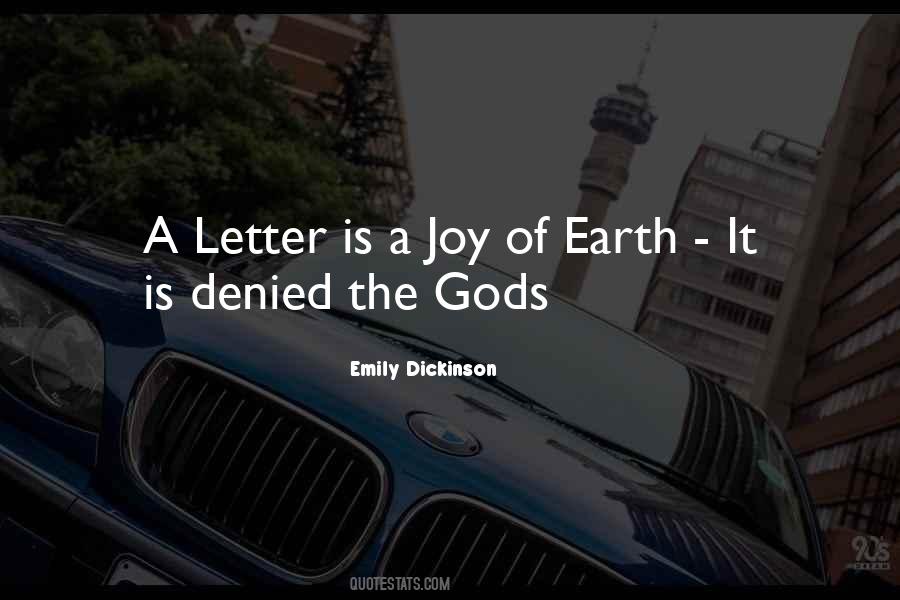 #10. The first microdot to be spotted by the FBI was in 1941, following a tip-off that the Americans should look for a tiny gleam from the surface of a letter, indicative of smooth film. - Author: Simon Singh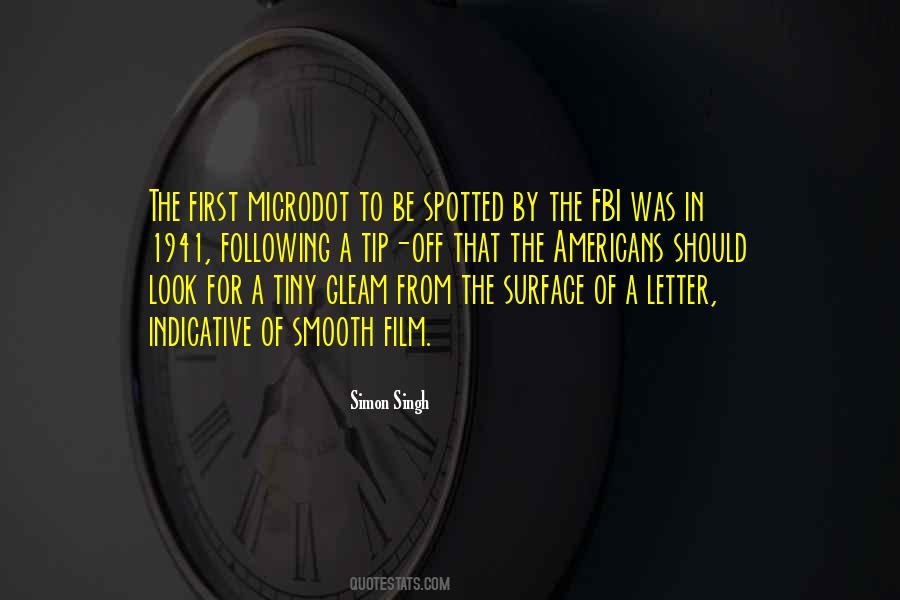 #11. The car bumper sticker for the discerning Sydney motorist, 'Is it true, or did Alan Jones tell you?', should be letter-boxed around the country. - Author: Kerry-Anne Walsh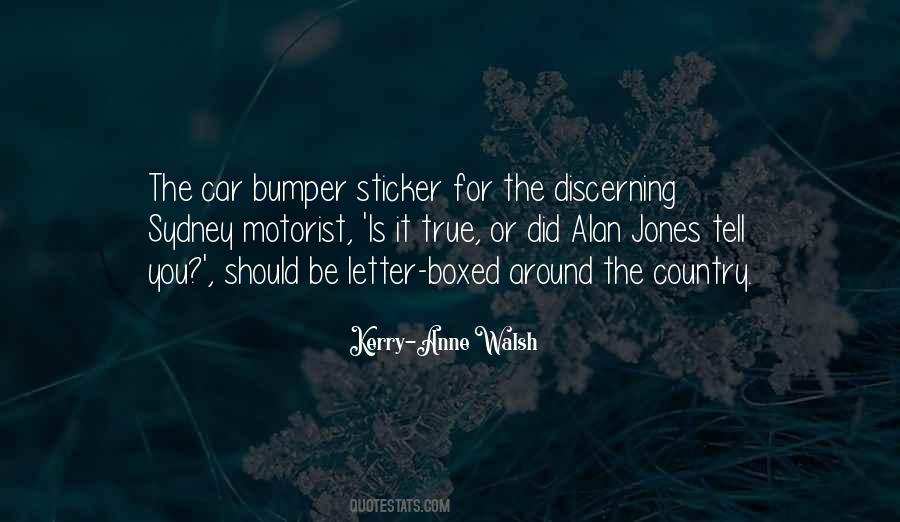 #12. I hold that the parentheses are by far the most important parts of a non-business letter. - Author: D.H. Lawrence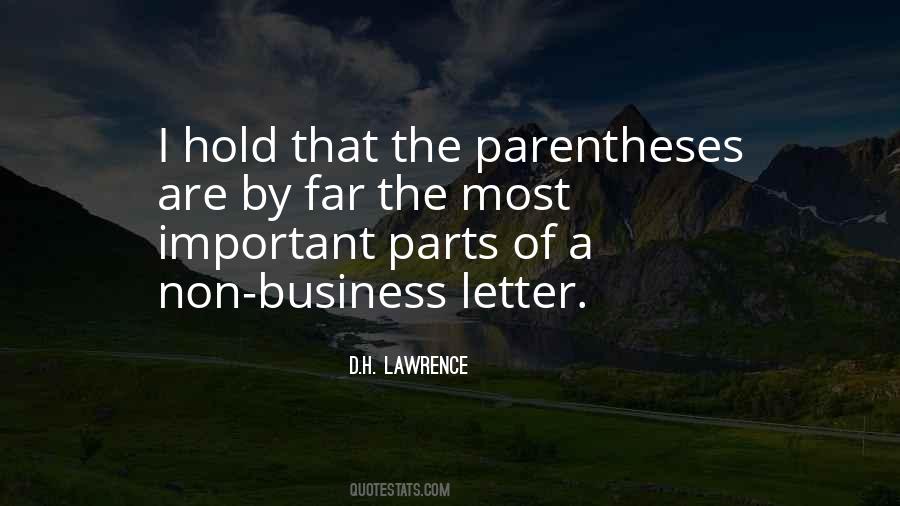 #13. That's the way to come to the Word of God. Read it as though it were His love letter to you. - Author: Howard G. Hendricks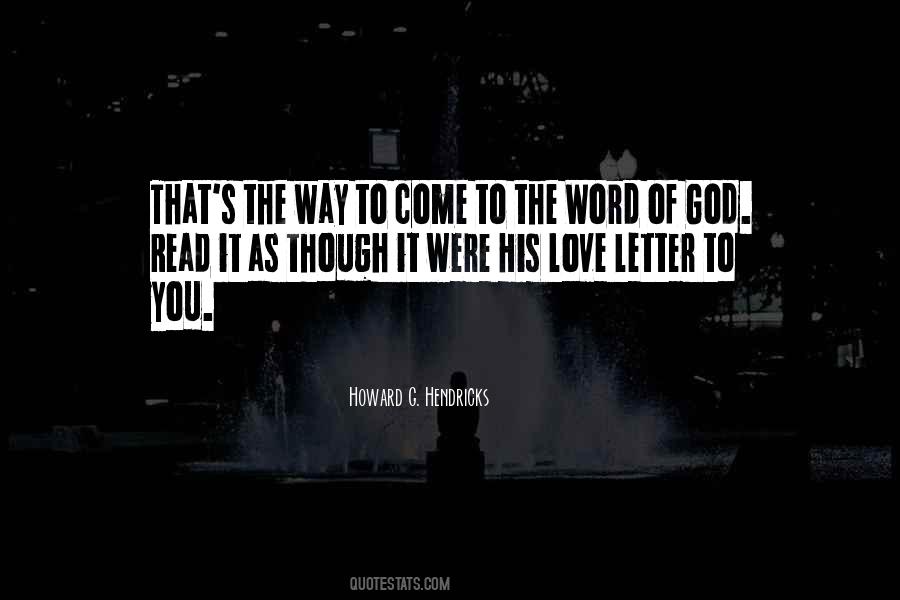 #14. I have made this letter longer than usual, only because I have not had the time to make it shorter. - Author: Blaise Pascal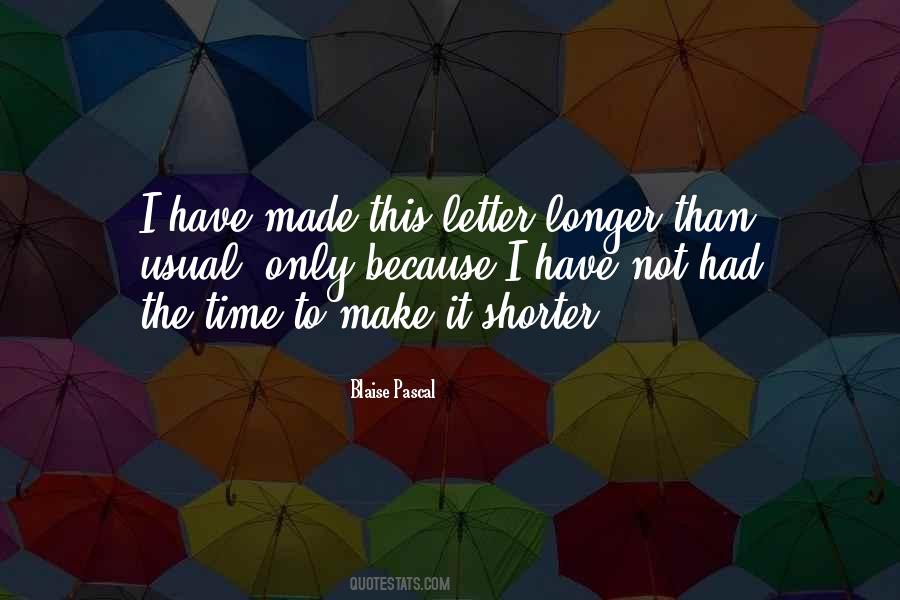 #15. Still, the novelty of any letter or package was sufficient that no one suggested opening it until the full measure of enjoyment should have been extracted from speculation about its contents. - Author: Diana Gabaldon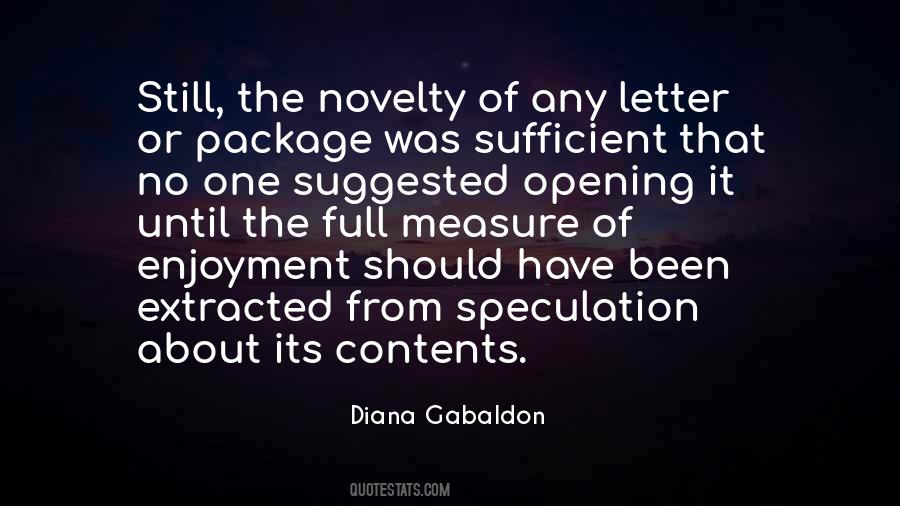 #16. It's a four-letter word for a part of the human anatomy but it's not m-i-n-d. - Author: Joseph Hansen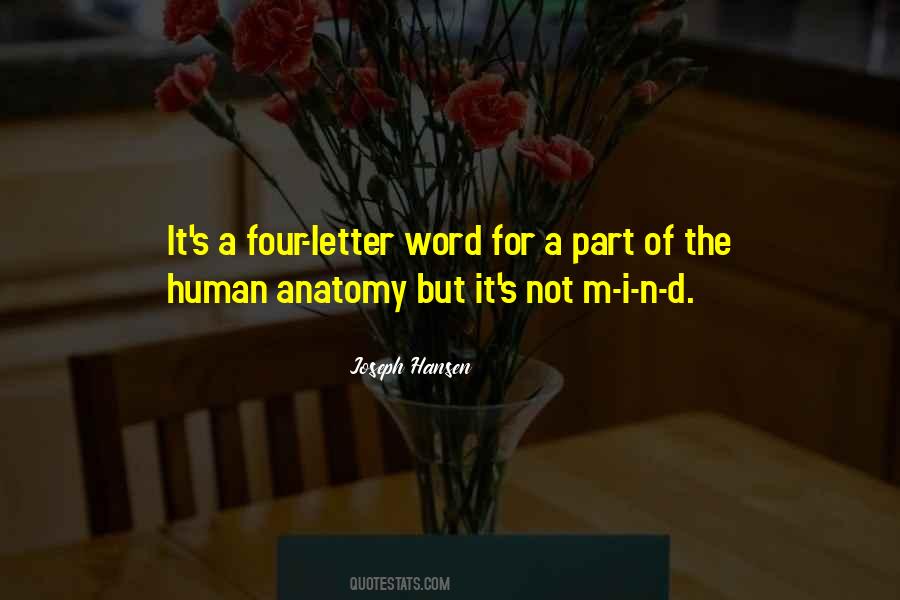 #17. ART, n. This word has no definition. Its origin is related by the ingenious Father Gassalasca Jape as "One day a wag - what would the wretch be at? Shifted a letter of the cipher RAT, And said it was a god's name! ... " - Author: Ambrose Bierce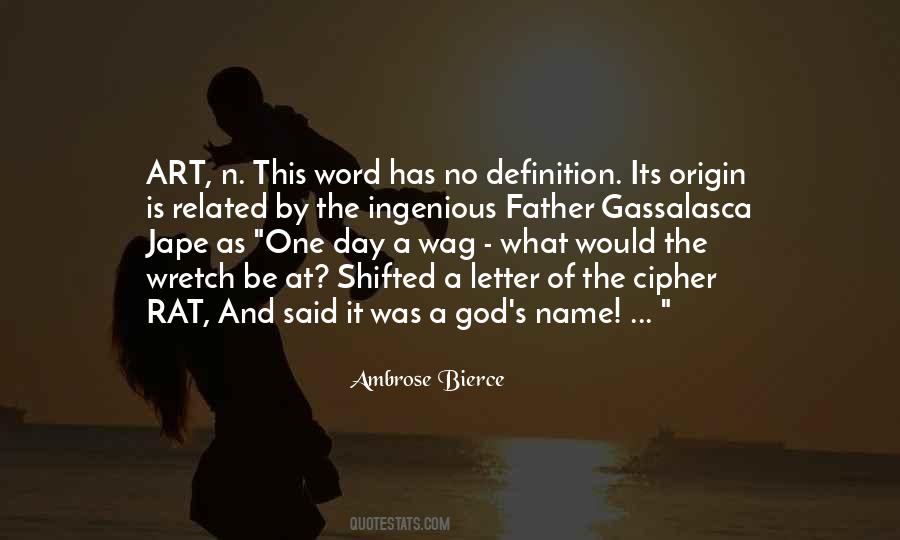 #18. ALPHA (A'LPHA) n.s.The first letter in the Greek alphabet, answering to our A; therefore used to signify the first. I am alpha and omega, the beginning and the ending, saith the Lord, which is, and which was, and which is to come, the Almighty.BibleRevelat. - Author: Samuel Johnson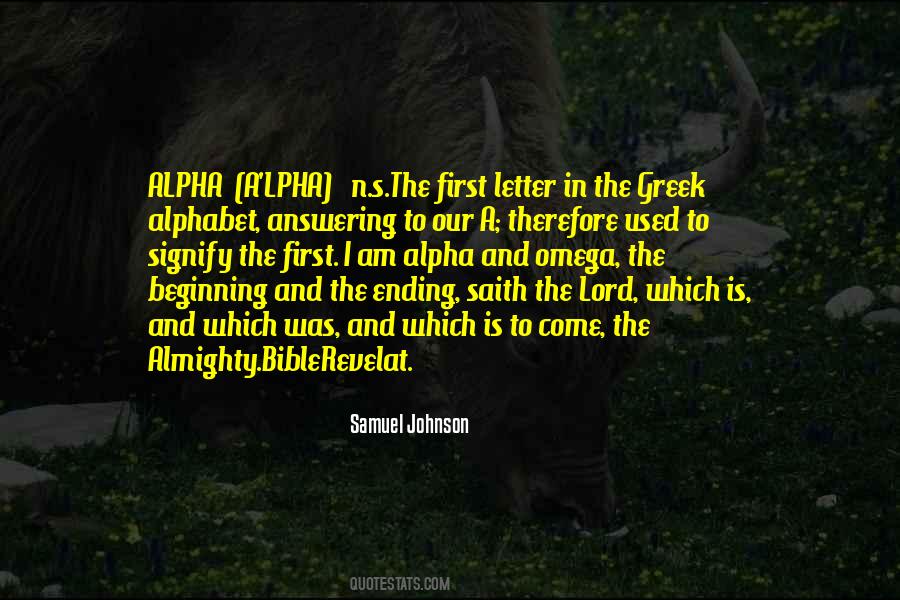 #19. One Corinthians 15, one of Paul's longest sustained discussions and the climax of the whole letter, is about the creator God remaking the creation - not abandoning it, as Platonists of all sorts, including the gnostics, would have wanted. - Author: N. T. Wright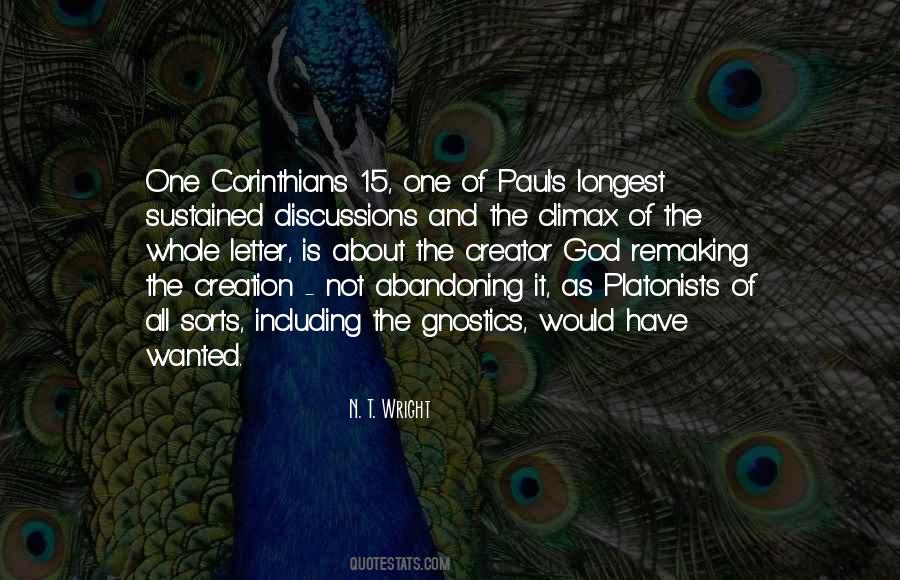 #20. I began to wonder if writers don't choose to love long-distance, a sure way of blending passion and prose. The love letter seems perfectly suited to the contradiction of a writer's life... the love letter may be the emblem of a vocation that demands solitude but desires communication. - Author: Cathy N. Davidson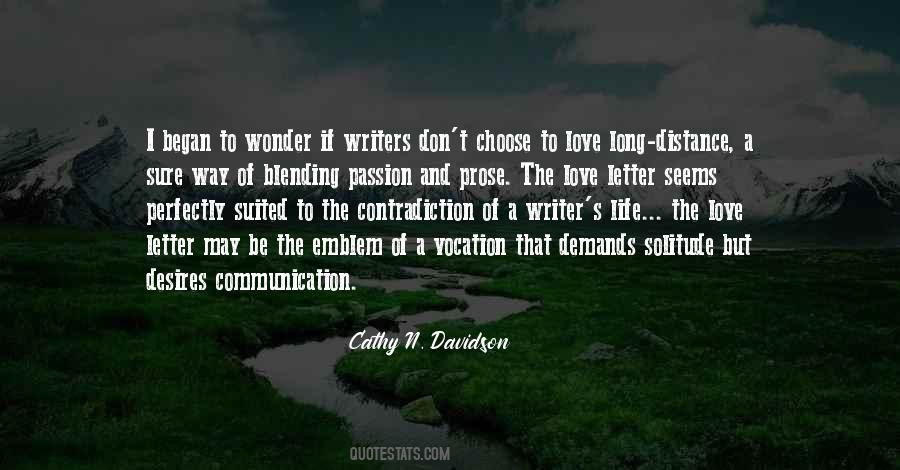 #21. I sent my Soul through the Invisible,
Some letter of that After-life to spell:
And by and by my Soul return'd to me,
And answer'd: 'I Myself am Heav'n and Hell - Author: Omar Khayyam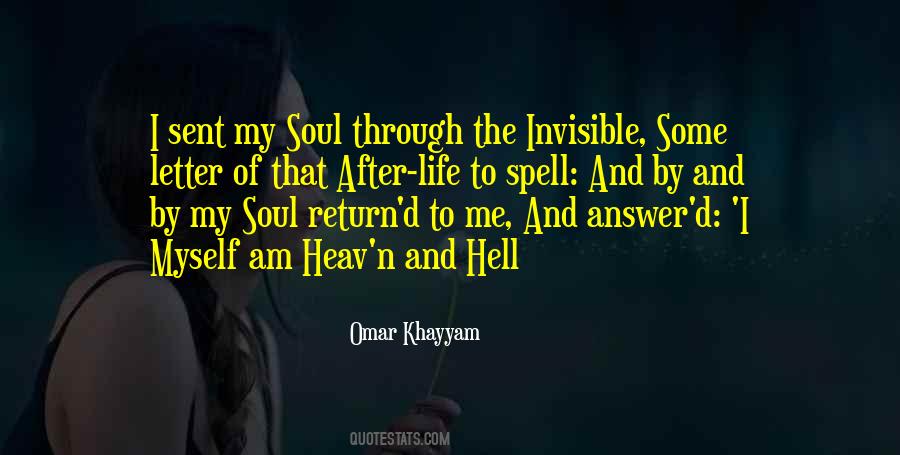 #22. And L-M-N-O-P is not one letter, but five. It took me forever to figure that out. - Author: Kim Harrison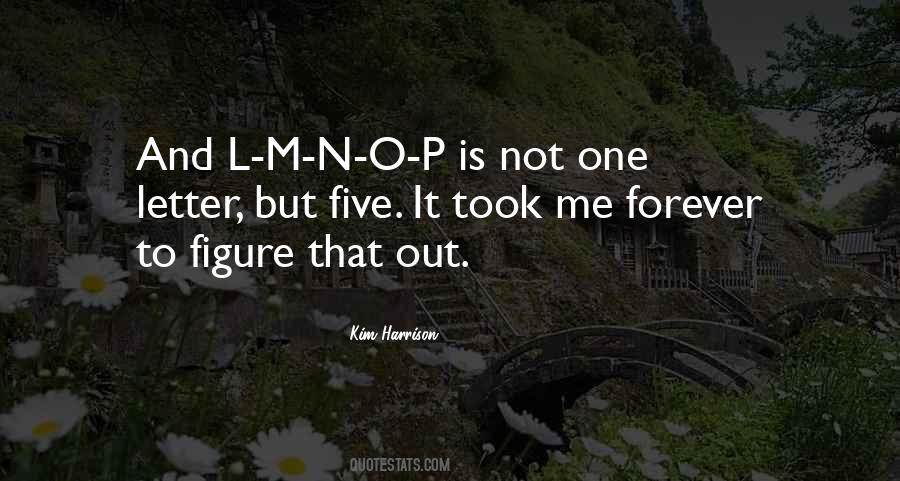 #23. One day Trurl the constructor put together a machine that could build anything beginning with the letter 'n'. - Author: Stanislaw Lem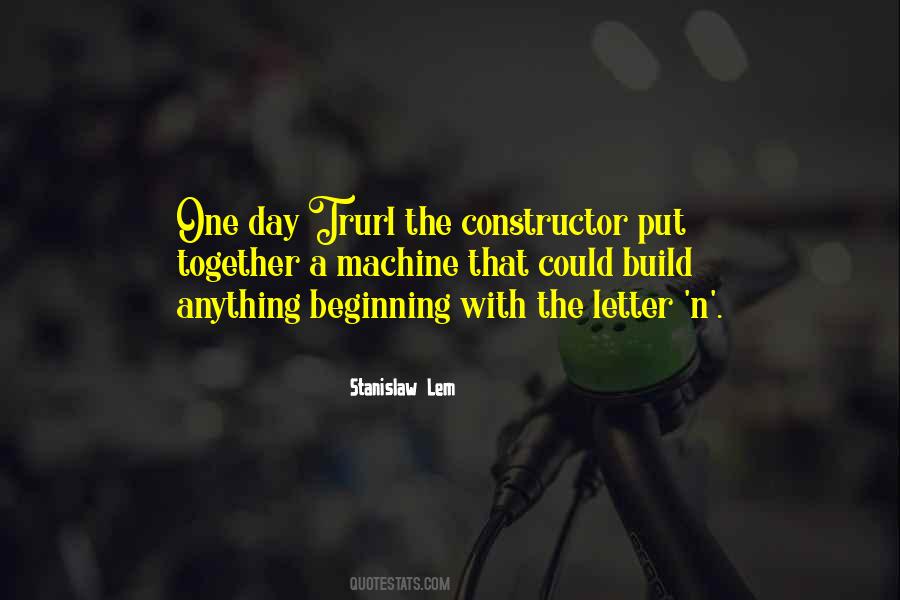 #24. X, n. In our alphabet being a needless letter has an added invincibility to the attacks of the spelling reformers, and like them, will doubtless last as long as the language. - Author: Ambrose Bierce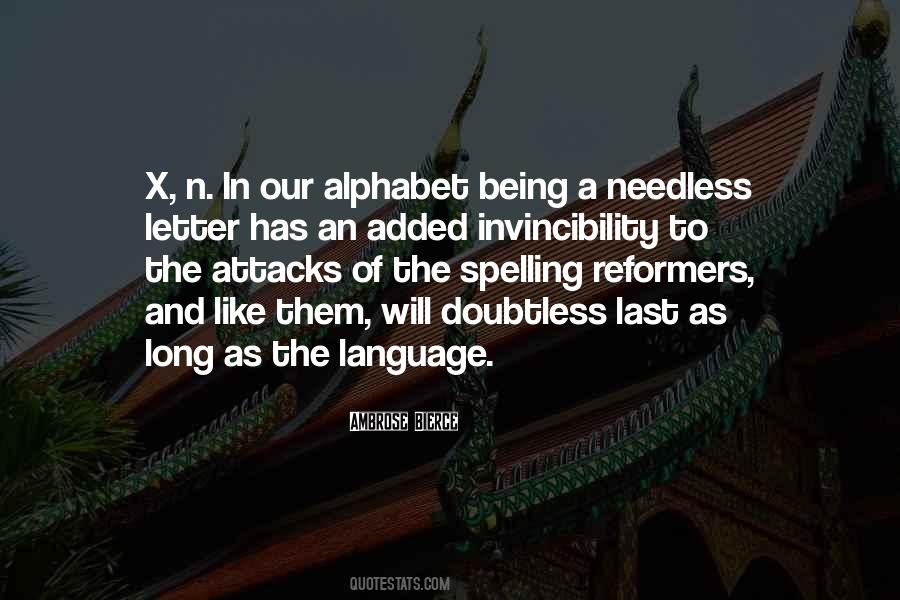 #25. The Easter egg which was not found
contained a letter from the hen who laid it,
saying Fuck your kids,
What about mine? - Author: Shay Caroline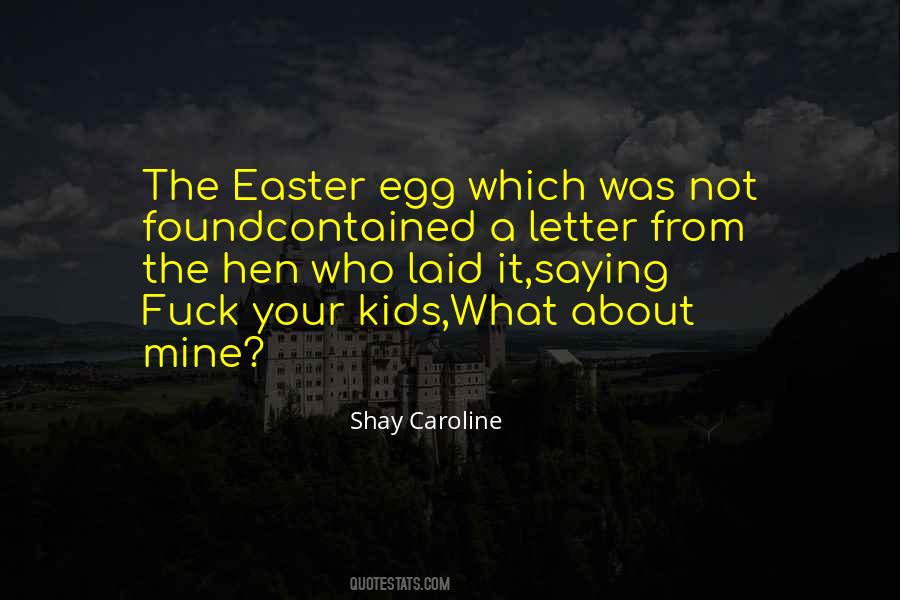 #26. Most of us do not like to look inside ourselves for the same reason we don't like to open a letter that has bad news. - Author: Fulton J. Sheen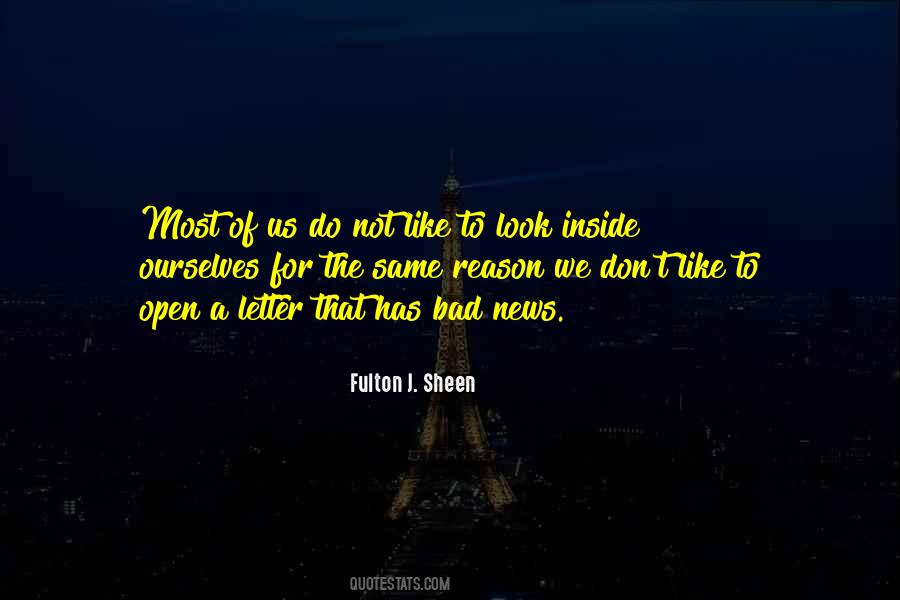 #27. 'Love Letter' reminds me of 'Chocolate Factory' and 'Happy People.' It's a little bit of both of those, yeah. I just wanted it to be classy, man. And romantic. And maybe 10 percent sexy. - Author: R. Kelly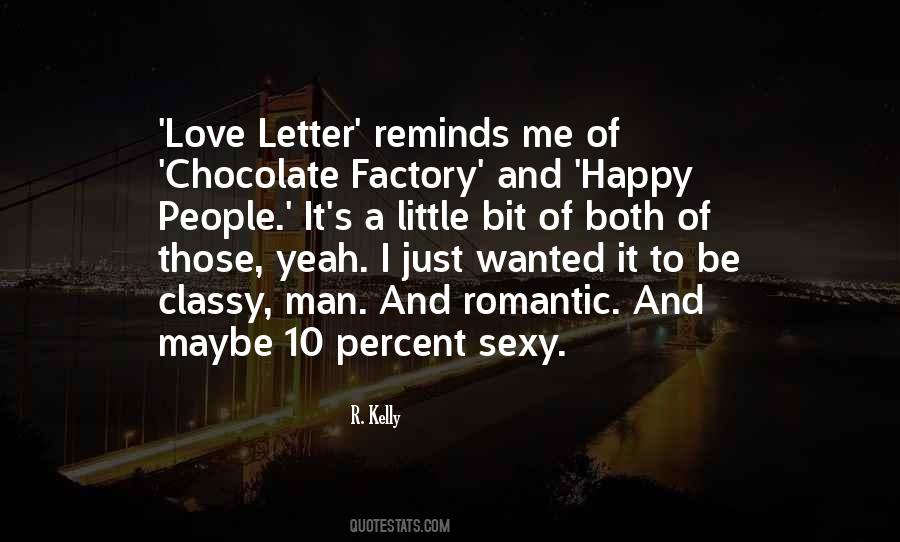 #28. Someday an opportunity will come. Think about Harry Potter. His life is terrible, but then a letter arrives, he gets on a train, and everything is different for him afterward. Better. Magical."
"That's just a story."
"So are we- we're stories too. - Author: Matthew Quick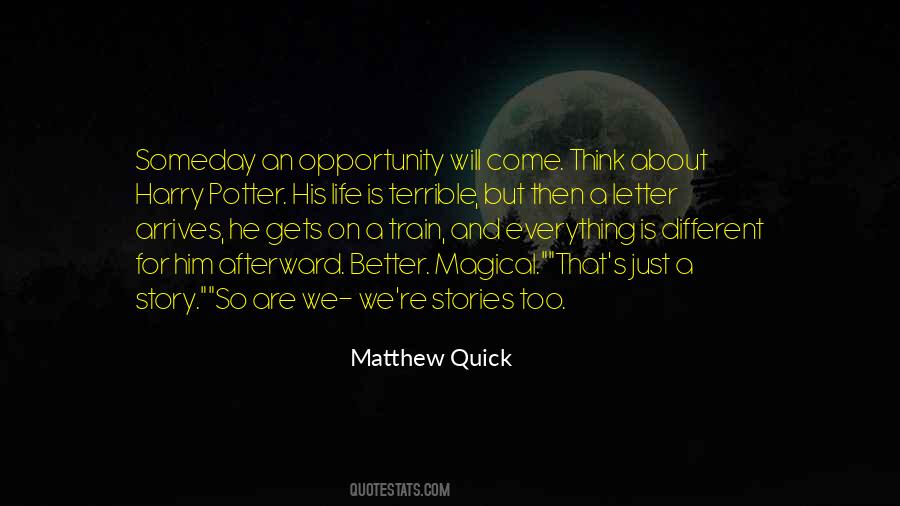 #29. [i]We were fighting so very hard and achieving so very little aside from staying alive. BUT THAT'S EVERYTHING, my father wrote to me, when I told him that in a letter.[/i] - Author: Helen Oyeyemi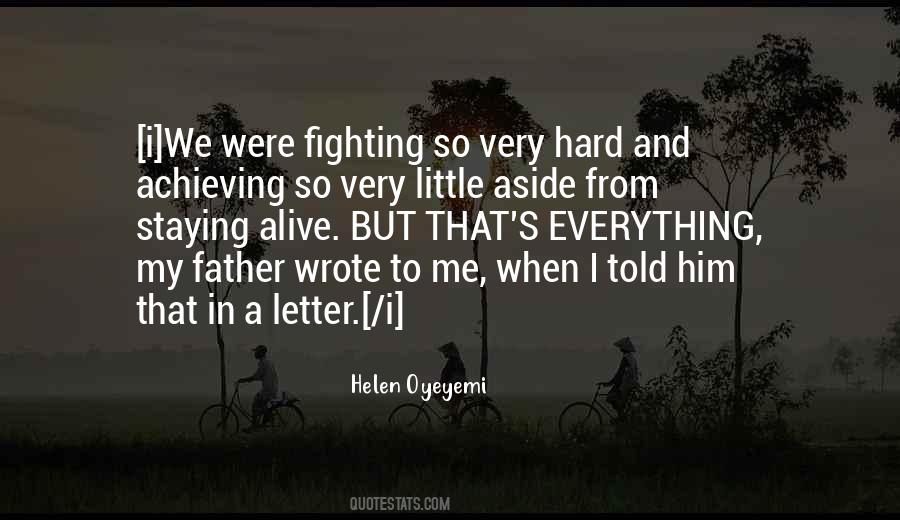 #30. The world is full of CEOs that think that just because they write a memo or they write a letter inside an annual report or they give a little video speech that gets sent around the company, they think that's what's really going to affect employees. - Author: Louis V. Gerstner Jr.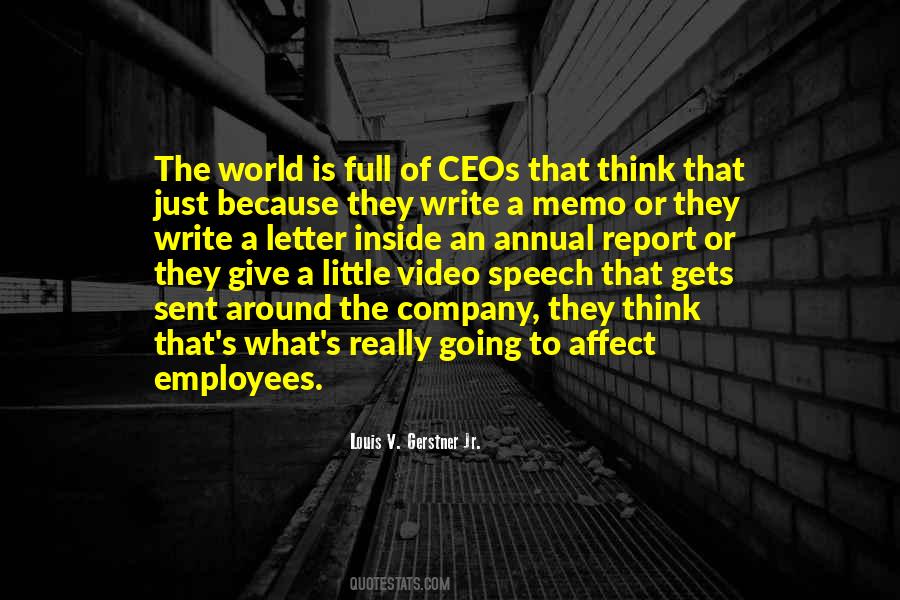 #31. Trust is just another five letter word, one that comes before not, - Author: Ellen Hopkins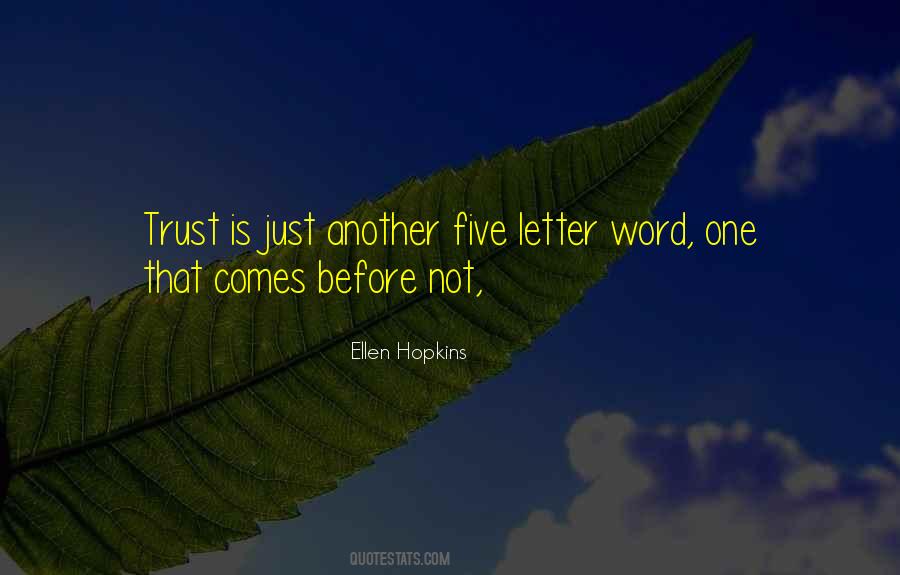 #32. But what can you say in a letter? - Author: Aleksandr Solzhenitsyn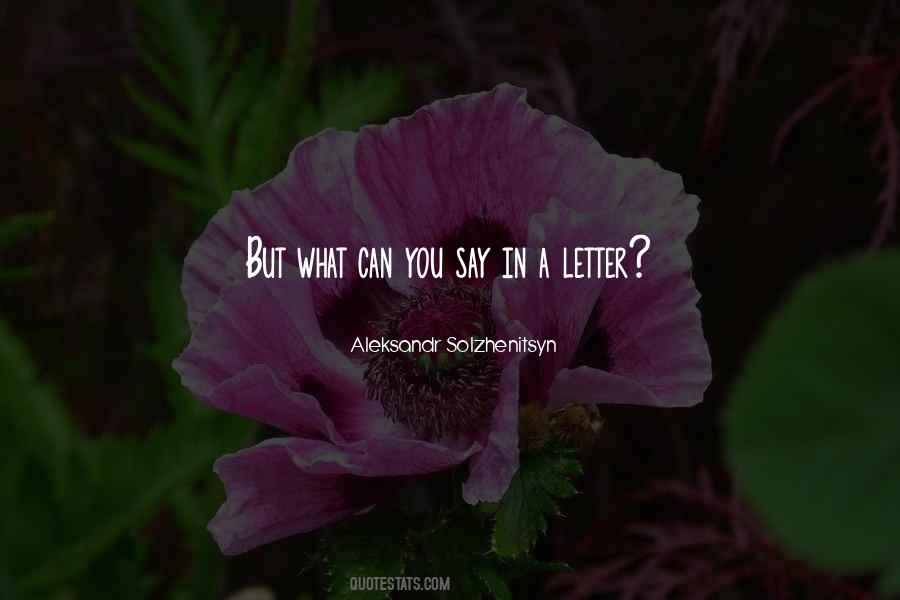 #33. A letter is an unannounced visit, the postman the agent of rude surprises. One ought to reserve an hour a week for receiving letters and afterwards take a bath. - Author: Friedrich Nietzsche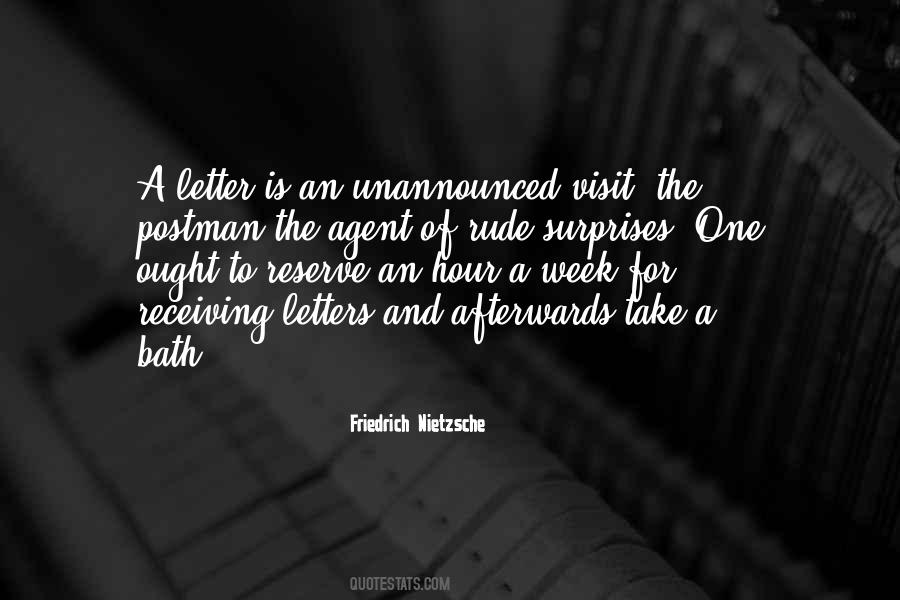 #34. I took the one letter he had for us. It was from the Switchblade Gas & Electric Company. I didn't know I had admirers there too, but I wasn't that surprised. I threw it in the trash with the IRS's love letters and closed the door without reply. - Author: The Harvard Lampoon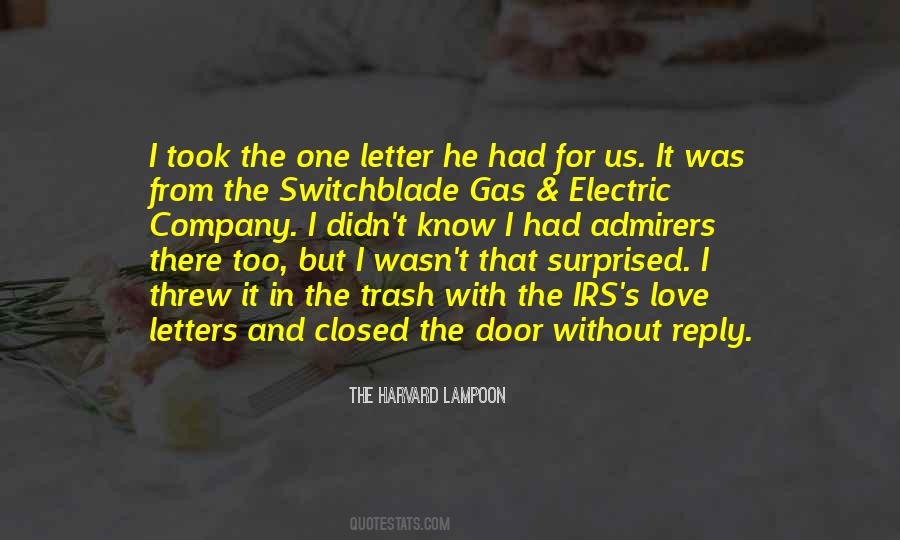 #35. Leonard Woolf in a letter to Lytton Strachey said he hated John Maynard Keynes "for his crass stupidity and hideous face". - Author: Leonard Woolf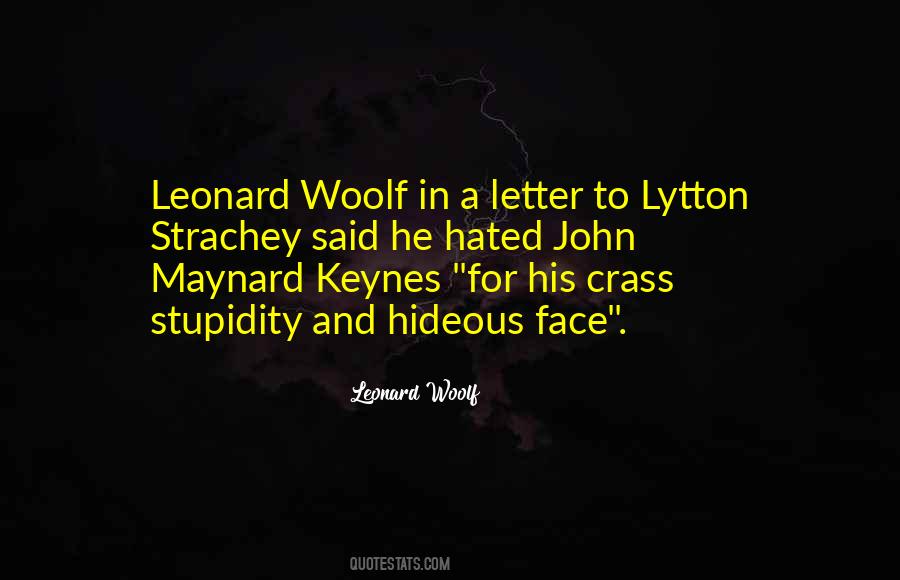 #36. Make no mistake about it: once a band has signed a letter of intent, they will either eventually sign a contract that suits the label or they will be destroyed. - Author: Steve Albini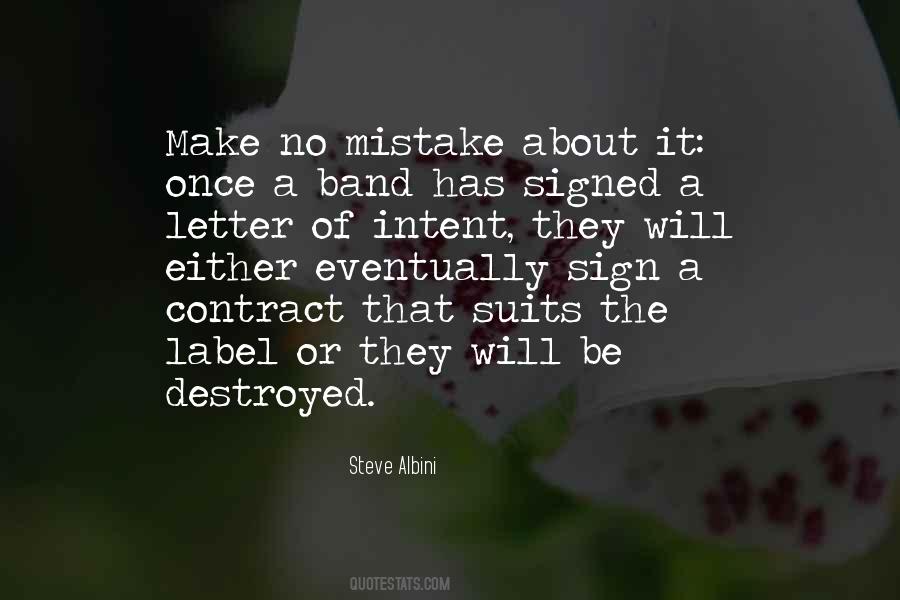 #37. Acceptance is the letter sealed within the envelope of inner peace. - Charmainism - Author: Charmaine Smith Ladd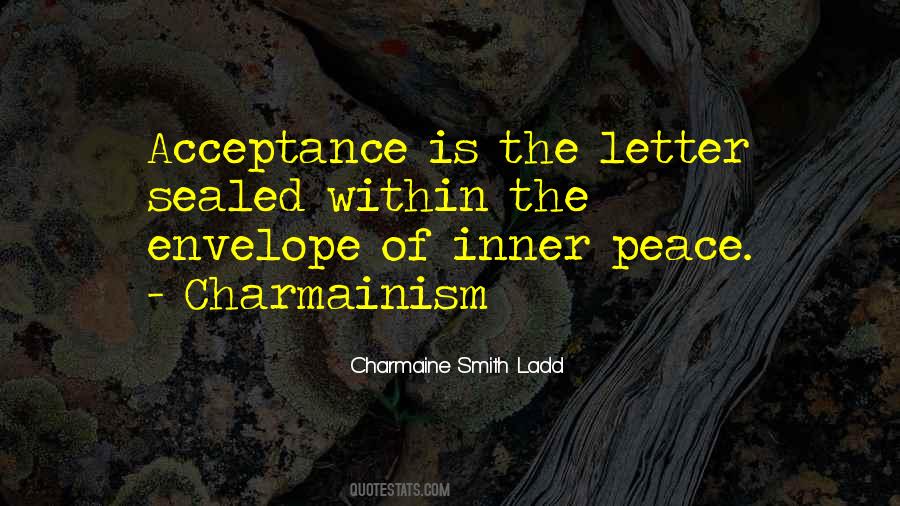 #38. Ever since I got your letter . . . I haven't been able to stop thinking about you. - Author: Jenny Han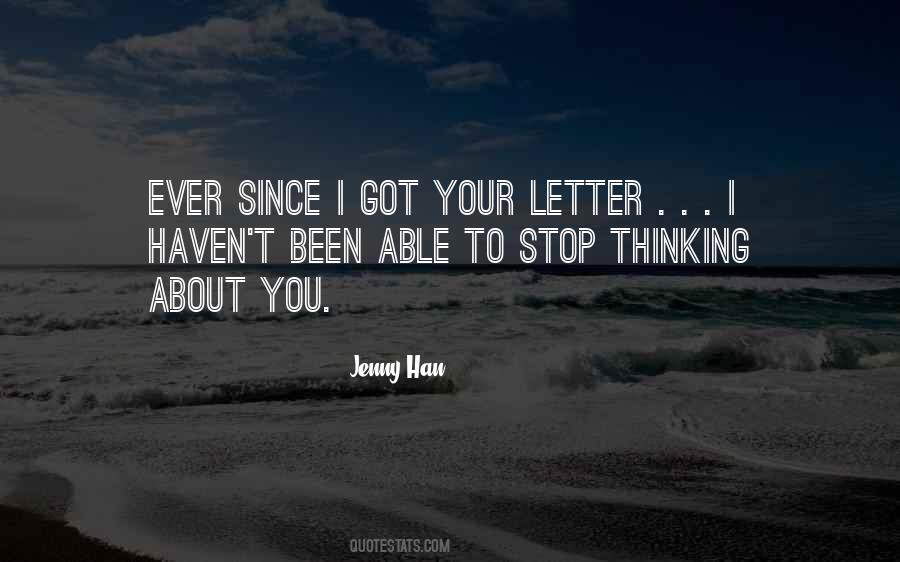 #39. Do not meet or overtake a patient who is moving about in order to speak to him or to give him any message or letter. You might just as well give him a box on the ear. I have seen a patient fall flat on the ground who was standing when his nurse came into the room. - Author: Florence Nightingale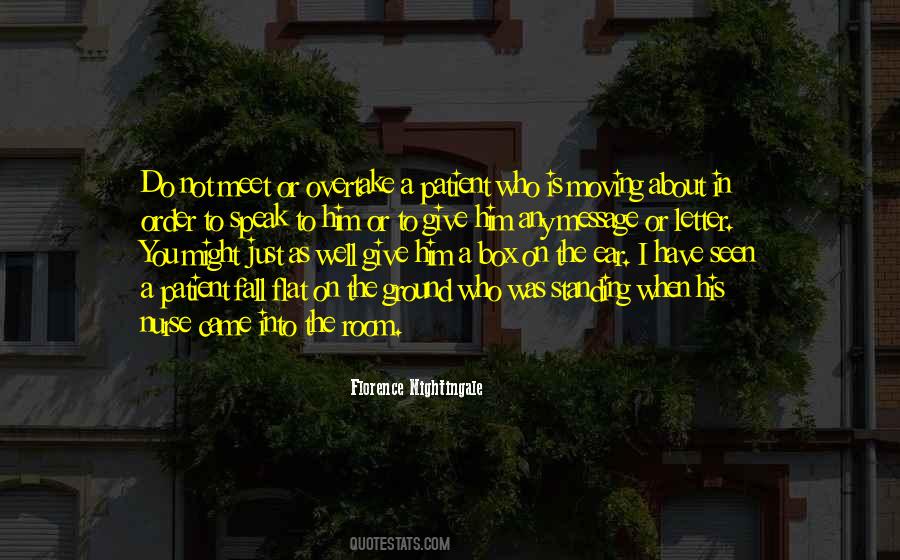 #40. Venerable are letters, infinitely brave, forlorn, and lost. - Author: Virginia Woolf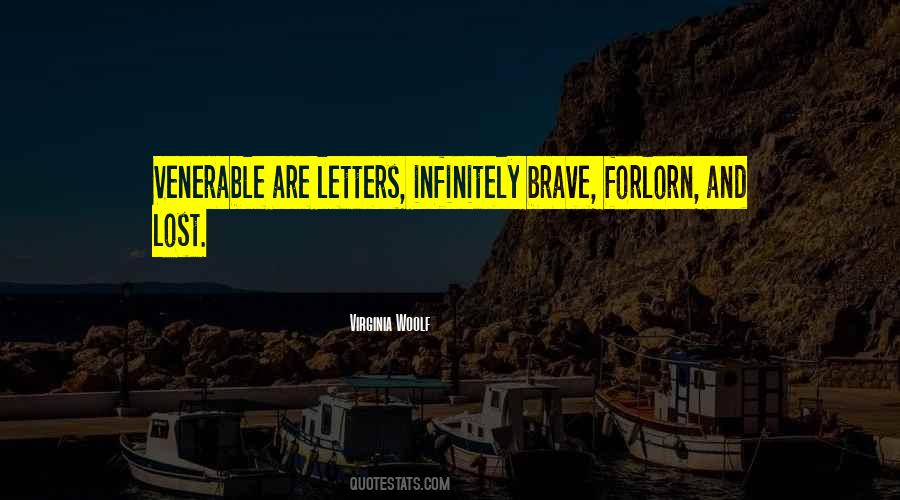 #41. Now suppose that at the end of the page you get another instruction: count all the commas in the next page. This will be harder, because you will have to overcome the newly acquired tendency to focus attention on the letter f. - Author: Daniel Kahneman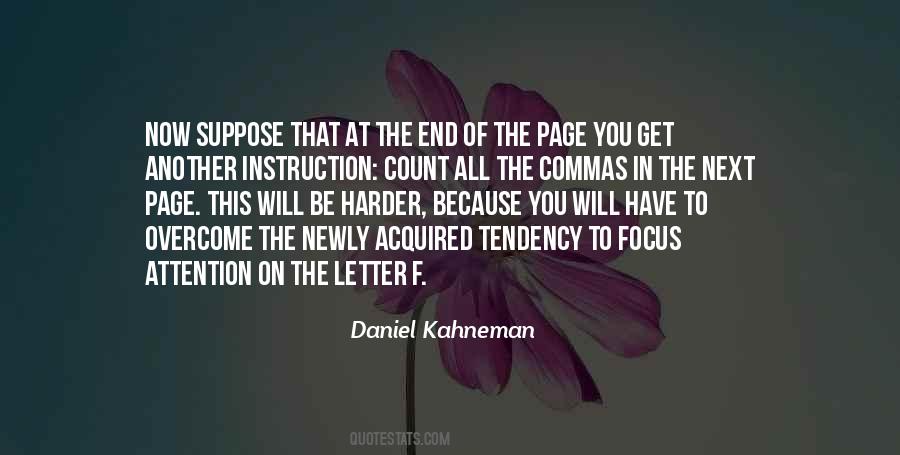 #42. He had Oly letter a little card that he taped on his wall. The thing read, 'The only liars bigger than the quack are the quack's patients.' Arty used to just keep me in stitches. Eleven years old he was then. - Author: Katherine Dunn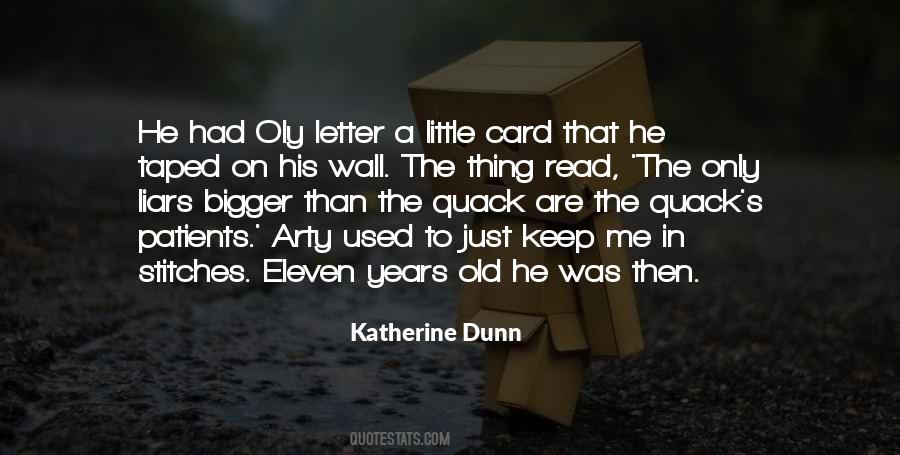 #43. I gave a friend a bottle of mercury for his eightieth birthday - a special bottle that could neither leak nor break - he gave me a peculiar look, but later sent me a charming letter in which he joked, "I take a little every morning for my health. - Author: Oliver Sacks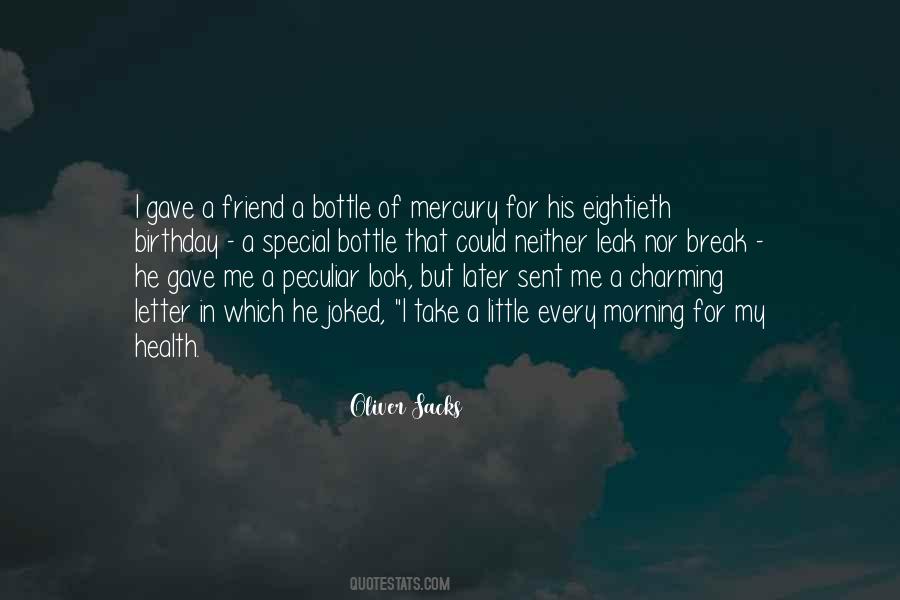 #44. Just as a painter needs light in order to put the finishing touches to his picture, so I need an inner light, which I feel I never have enough of in the autumn. - Author: Leo Tolstoy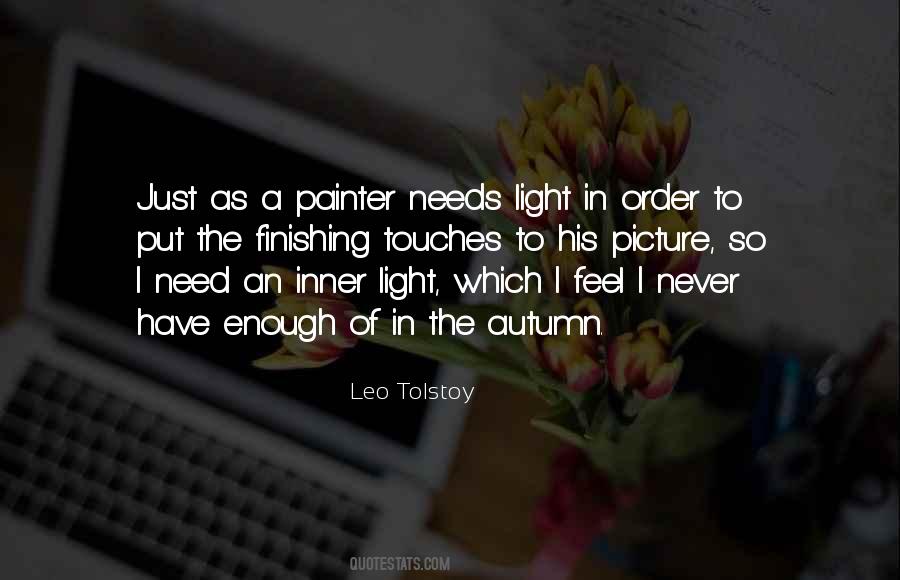 #45. Kieran unfolded the letter and scanned the scrawled message....
'Beware an English assassin.'
He knew exactly what this meant. - Author: Madeline Martin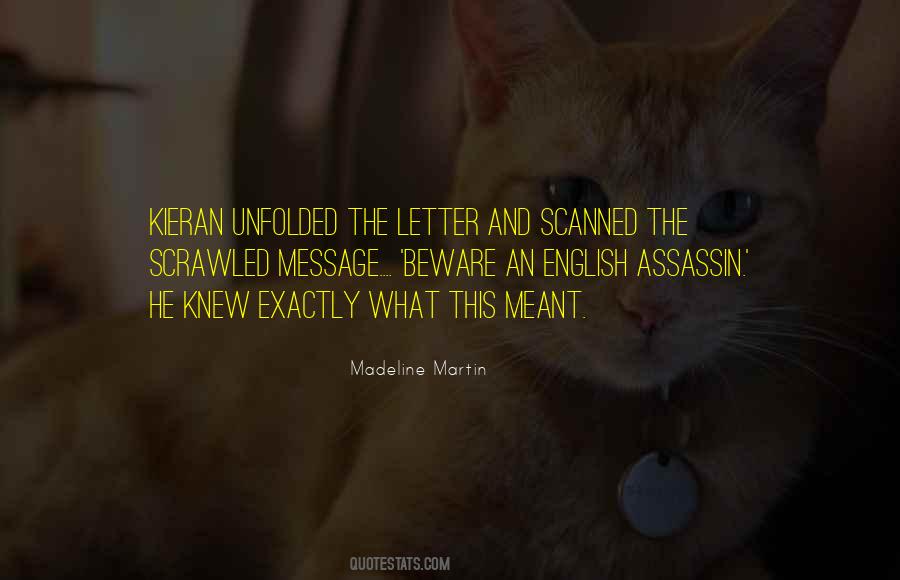 #46. A letter Lewis wrote reveals an 18-year-old with the energy of a schoolboy and the tastes of an octogenarian. - Author: Philip Zaleski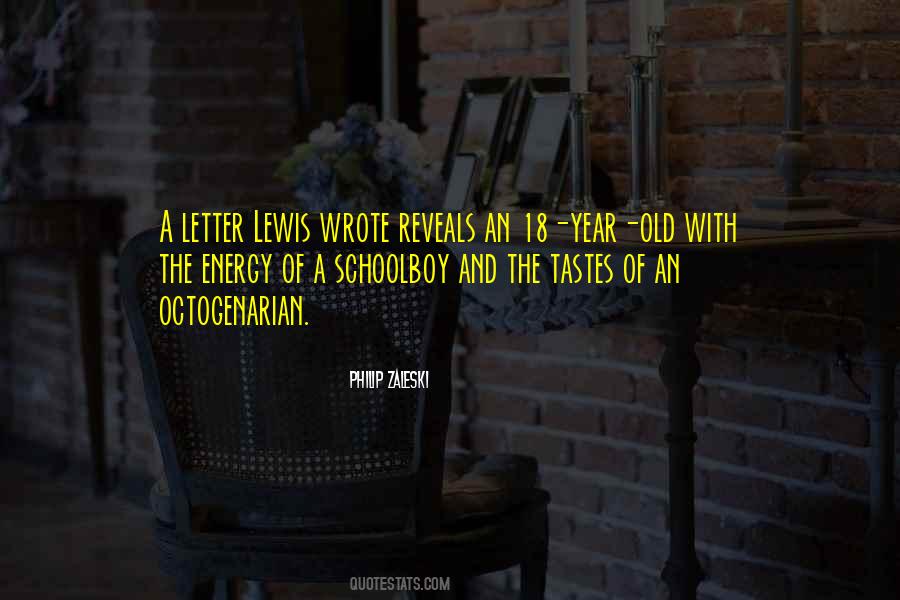 #47. The handwriting in the letter is the neatest I've ever seen. It looks like an old-fashioned love letter or something, every loop perfectly formed. I guess you have a lot of time to practice penmanship in prison. - Author: Roan Parrish
#48. Letter writing is an excellent way of slowing down this lunatic helterskelter universe long enough to gather one's thoughts - Author: Nick Bantock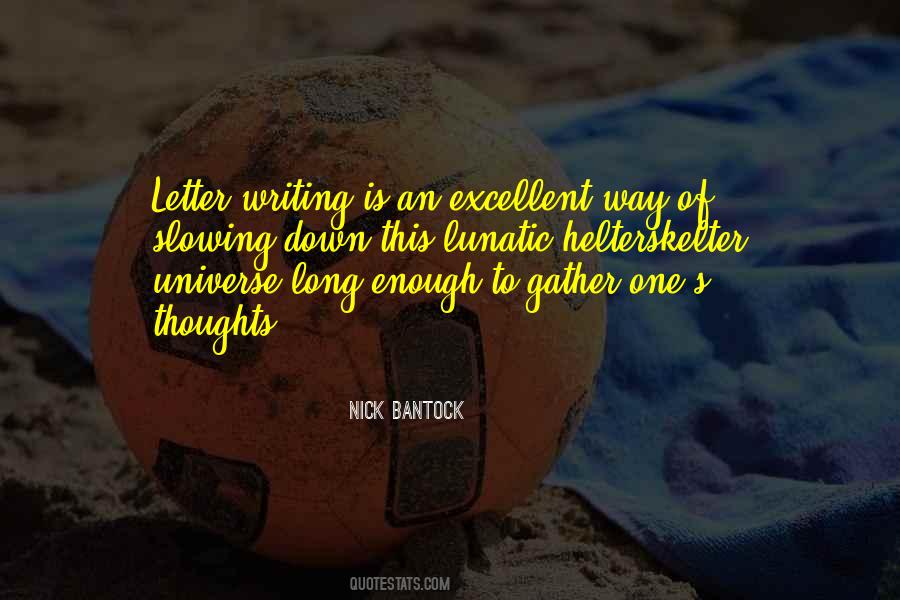 Famous Authors
Popular Topics