Learners Famous Quotes & Sayings
List of top 100 famous quotes and sayings about learners to read and share with friends on your Facebook, Twitter, blogs.
Top 100 Quotes About Learners
#1. Teachers are the architects of a Nation. They build characters, construct personalities and strengthen spirits in learners who become National Assets of tomorrow. - Author: Kavita Bhupta Ghosh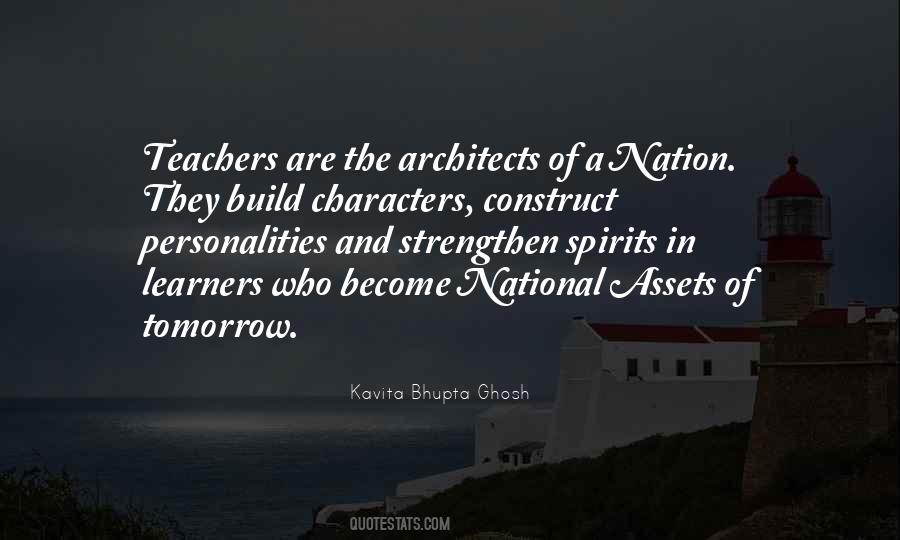 #2. If you were to visit a dozen talent hotbeds tomorrow, you would be struck by how much time the learners spend observing top performers. - Author: Daniel Coyle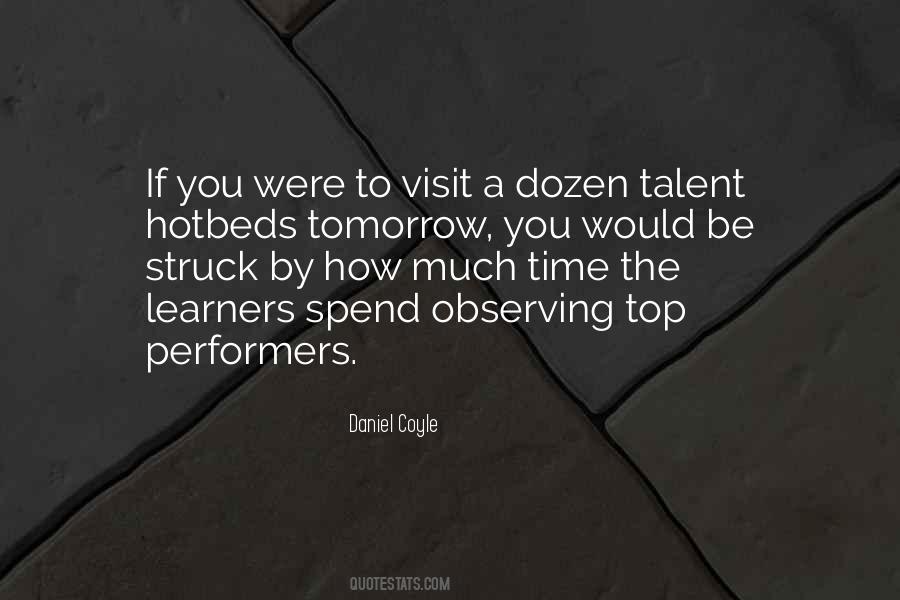 #3. Improving the skills of HR colleagues. The best learners are also teachers. Investing in building the skills of HR colleagues requires individuals to be clear and disciplined about a topical area, tool, or technology. - Author: David Ulrich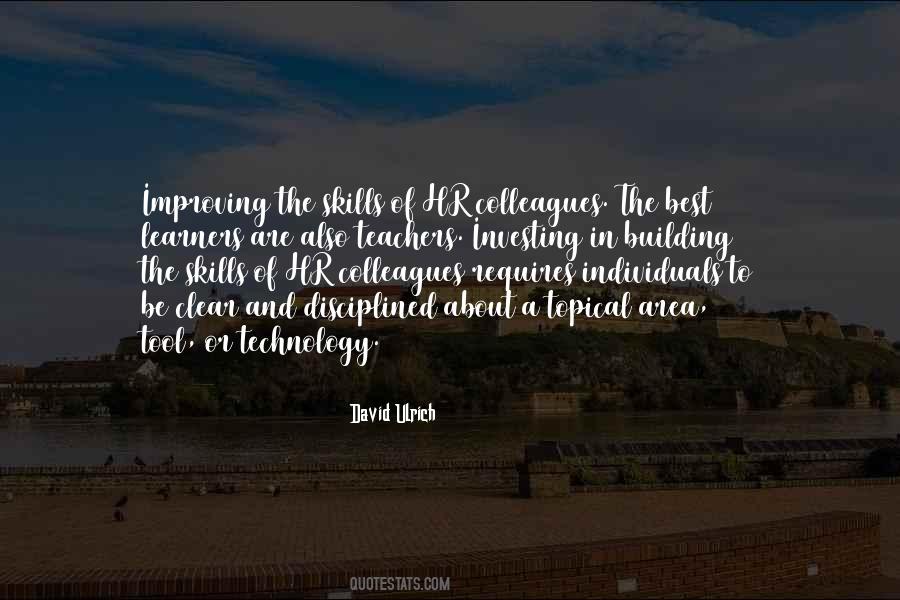 #4. A Teacher who has courage to laugh at herself or himself; laugh with students, and laugh off difficulties is the harbinger of positive trails and cheerful learning outcomes. - Author: Kavita Bhupta Ghosh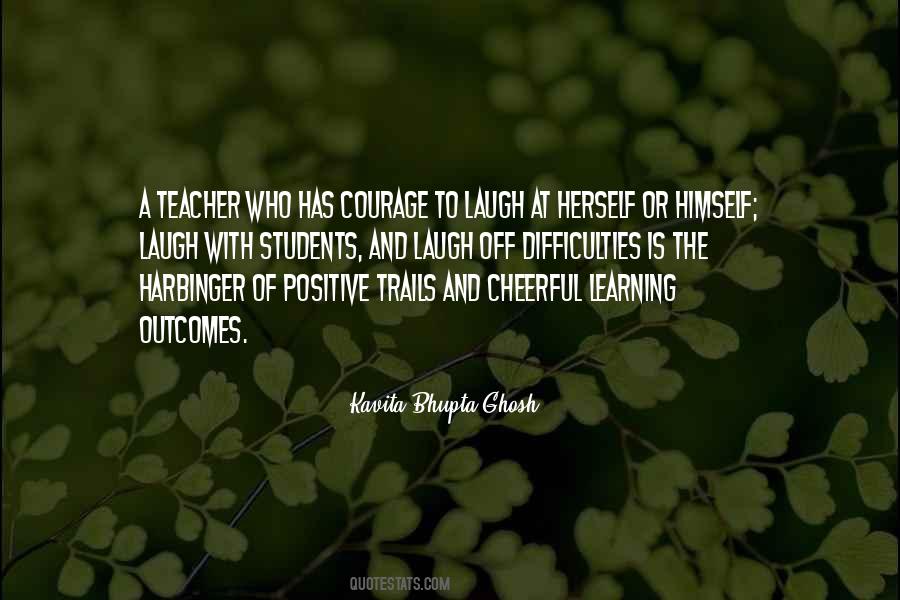 #5. Today's world needs a workforce of creative, curious, and self-directed lifelong learners who are capable of conceiving and implementing novel ideas. Unfortunately, this is the type of student that the Prussian model actively suppresses. - Author: Salman Khan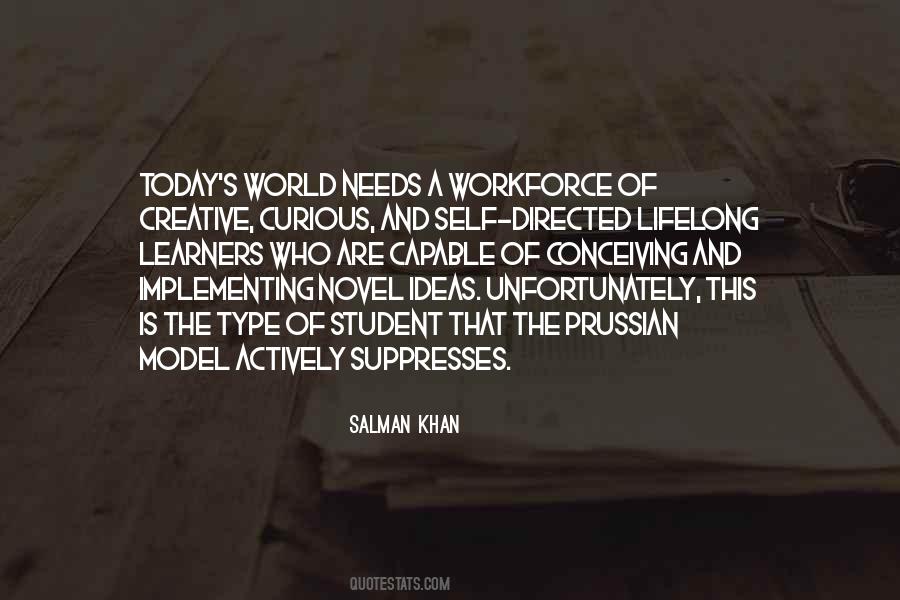 #6. When I was learned, knowledge was everything. Now that I'm a learner, kindness is everything. - Author: Leonard Sweet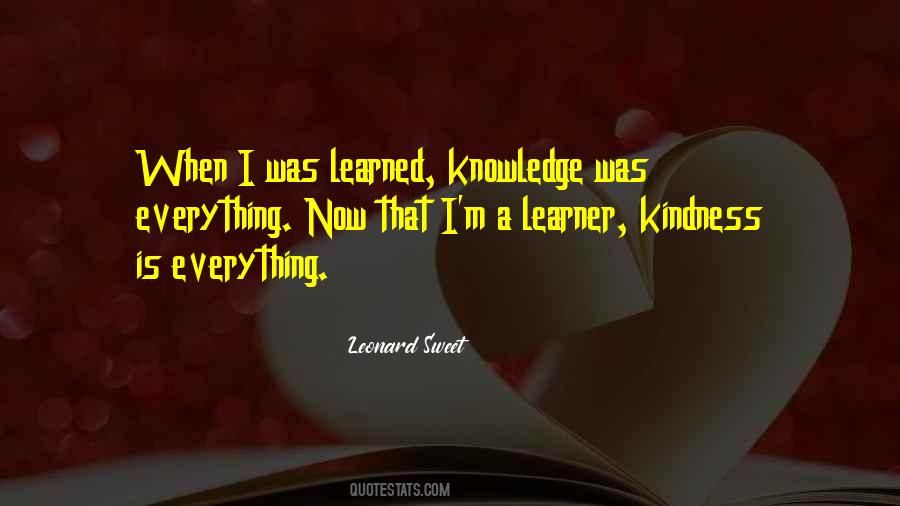 #7. Mistakes are expensive. Mistakes are good, because we can learn from them. I must be a slow learner because I repeat most of mine. - Author: Linda Greenlaw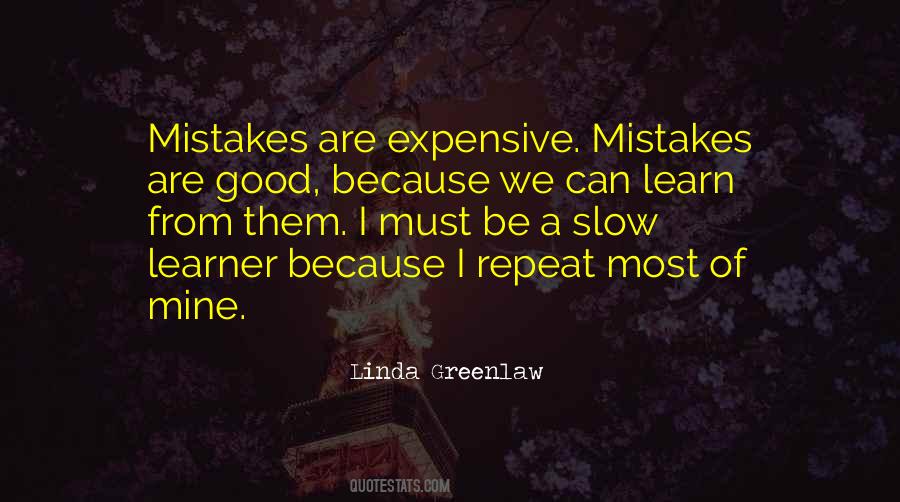 #8. If their students aren't learning, then they are not teaching. Adapt to global, auditory, tactile & visual learners. - Author: Ace Antonio Hall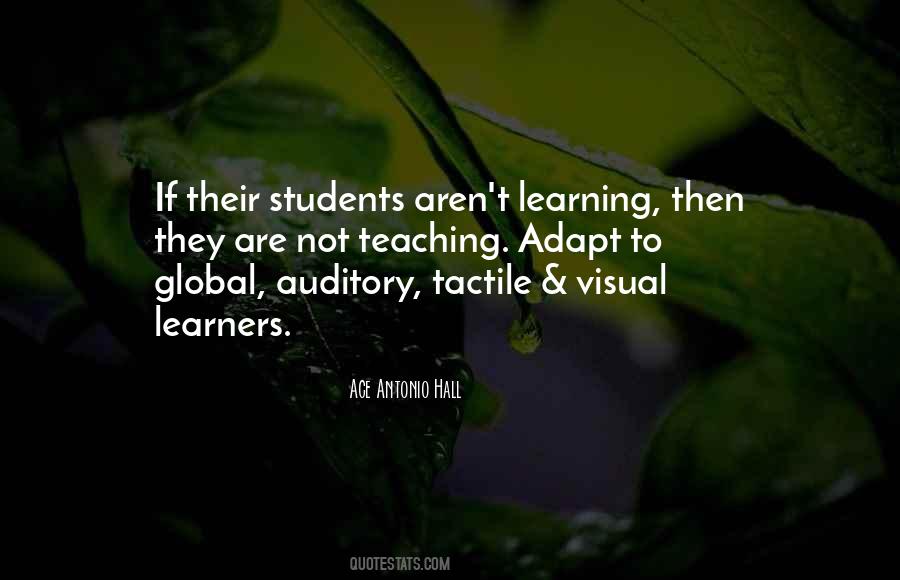 #9. Such enquiry cannot avoid the ethical dimension to education, the different ways in which people (teachers, wider community and learners) find value in some experiences and activities rather than in others. - Author: Richard Pring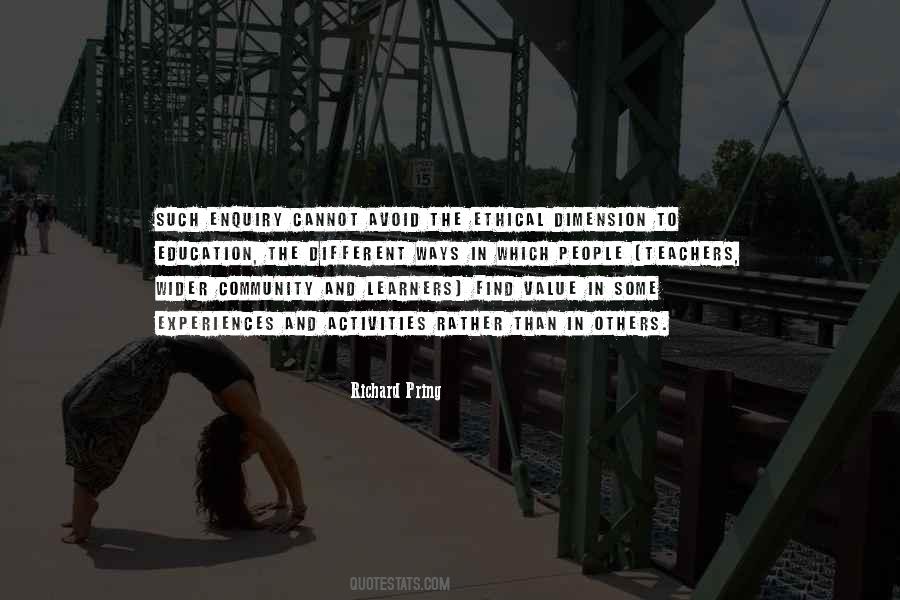 #10. I hire talented, creative, passionate learners who have a history of turning intention into reality. - Author: Jeff Henderson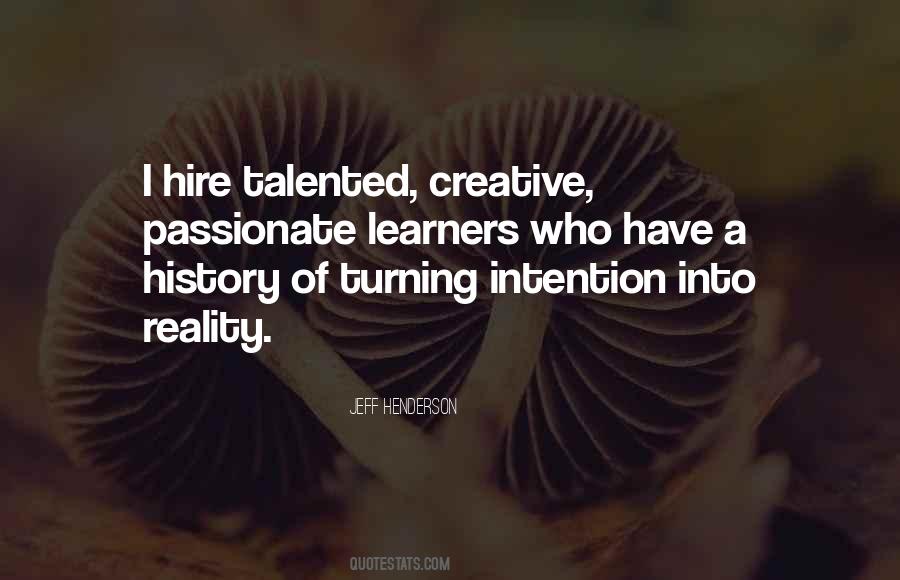 #11. In times of change, learners inherit the earth, while the learned find themselves beautifully equipped to deal with a world that no longer exists. - Author: Eric Hoffer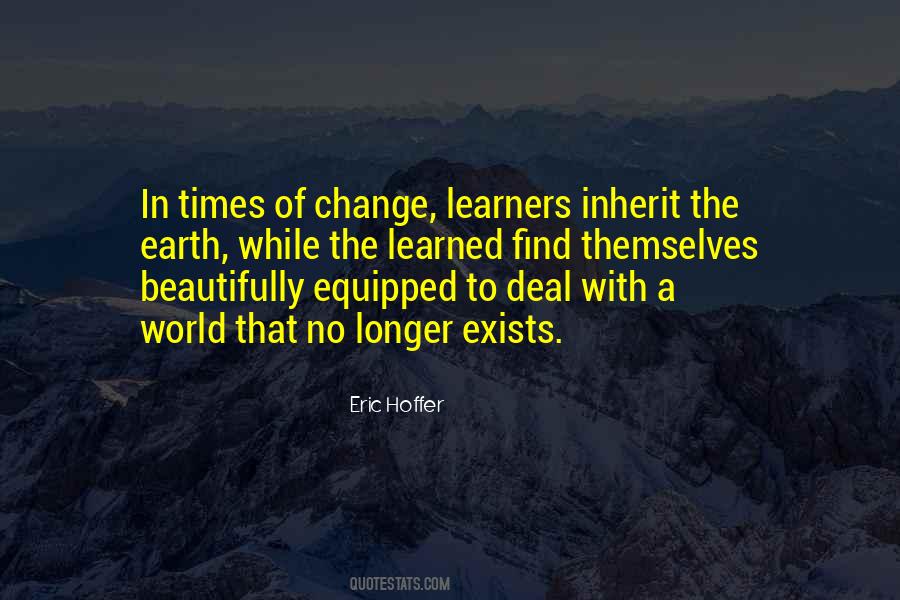 #12. Learners are doers, not recipients. - Author: Walter J. Ong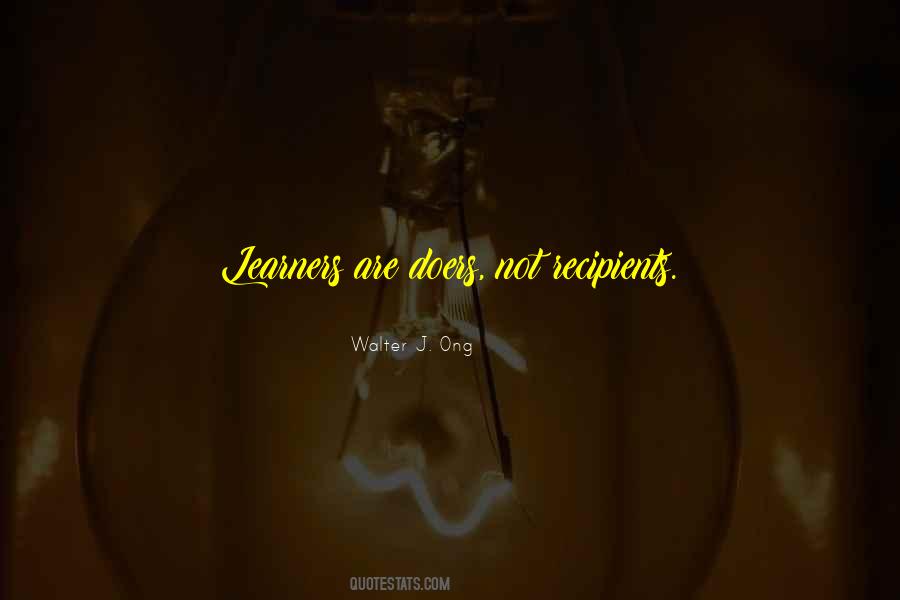 #13. Learning is finding out what you already know. Doing is demonstrating that you know it. Teaching is reminding others that they know just as well as you. You are all learners, doers, teachers. - Author: Richard Bach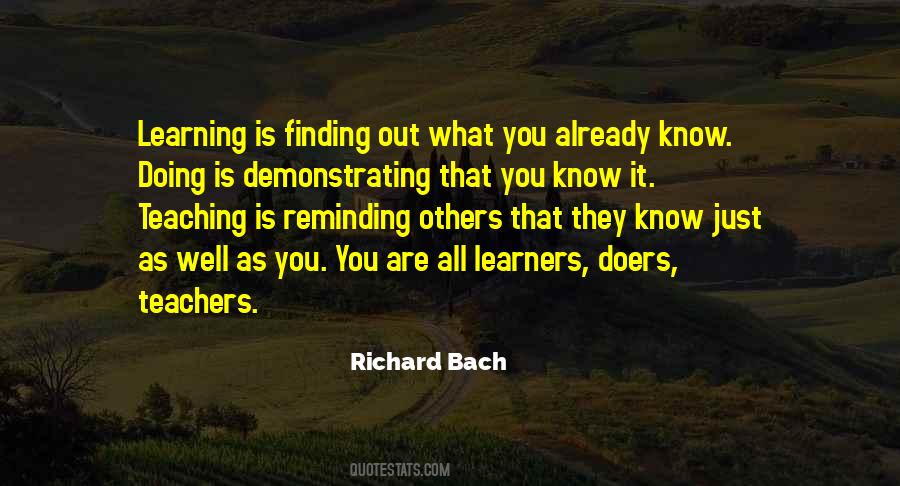 #14. Inviting children as gospel learners to act and not merely be acted upon builds on reading and talking about the Book of Mormon and bearing testimony spontaneously in the home. - Author: David A. Bednar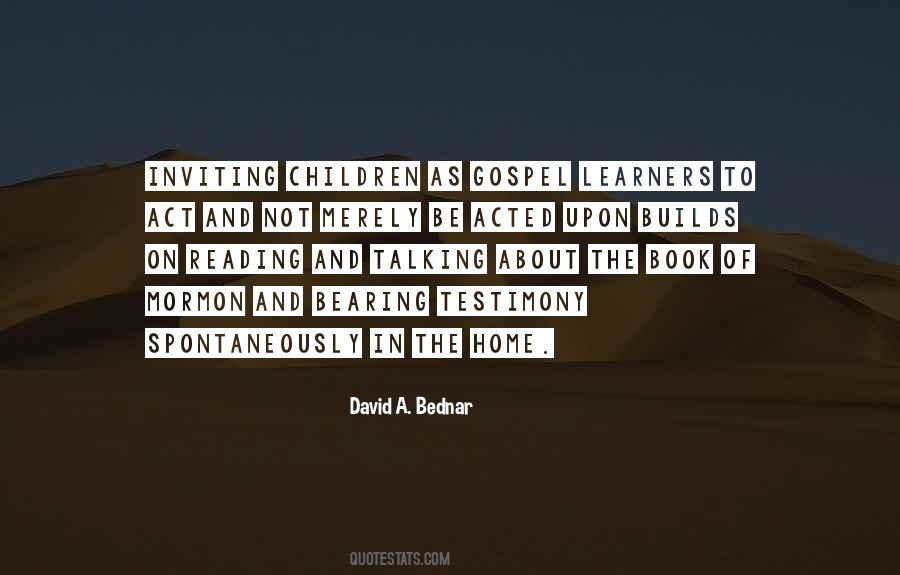 #15. Teachers should be made aware of visual stress symptoms and the potential difference coloured lights, overlays and lenses could make to a learners perception. - Author: Adele Devine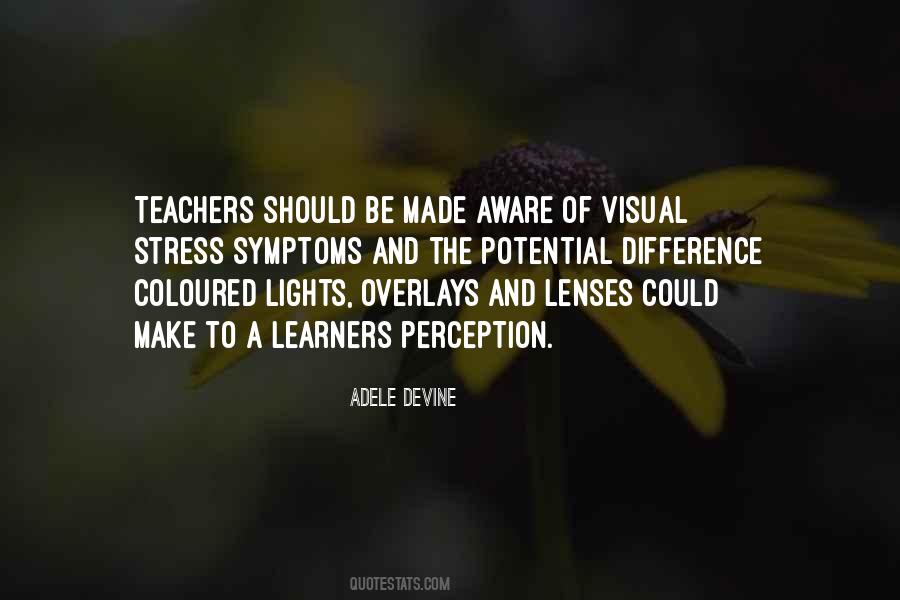 #16. Let the main object ... to seek and to find a method of instruction, by which teachers may teach less, but learners learn more. - Author: John Amos Comenius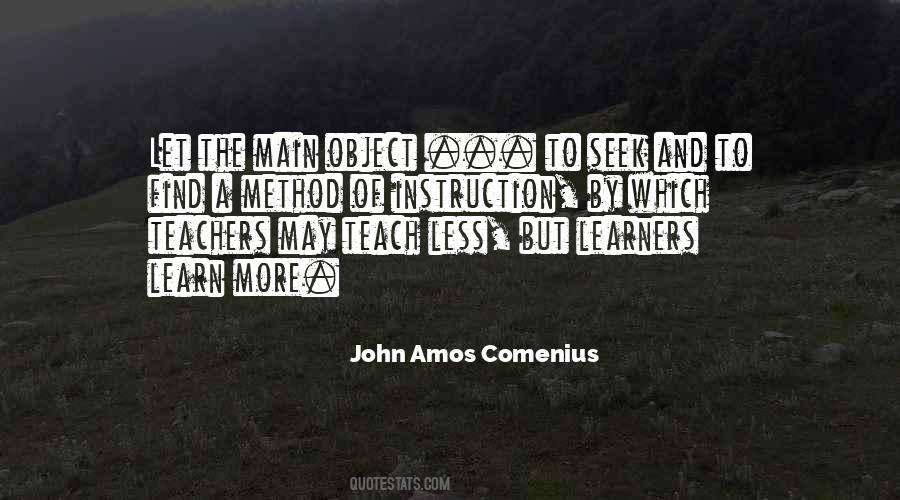 #17. For this discovery of yours will create forgetfulness in the learners' souls, because they will not use their memories; they will trust to the external written characters and not remember of themselves. - Author: Plato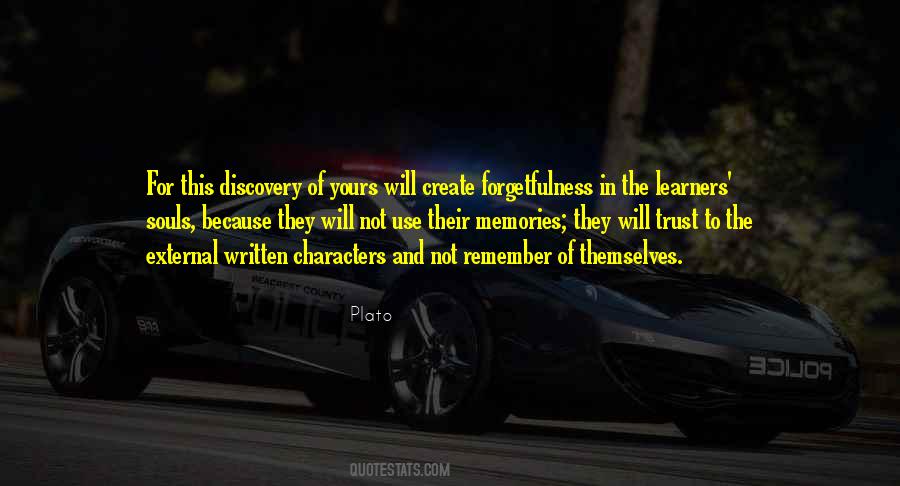 #18. The future belongs to the learners-not the knowers. - Author: Eric Hoffer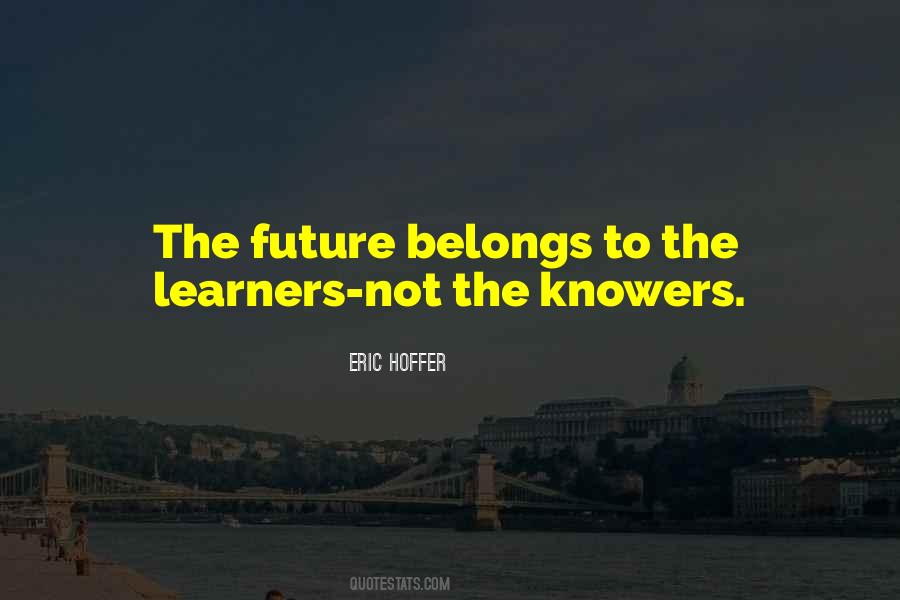 #19. Instead of standing on a stage each day, dispensing knowledge to my young charges, I should guide them as they approach their own understandings. - Author: Donalyn Miller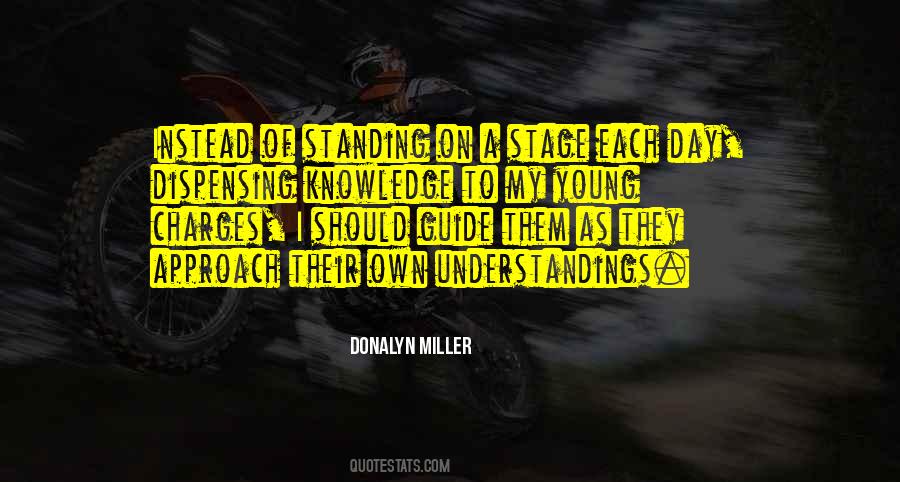 #20. Education is a business - the growth business. It cultivates the growth of our learners, translates the growth of new knowledge, and builds professional growth. - Author: Heidi Hayes Jacobs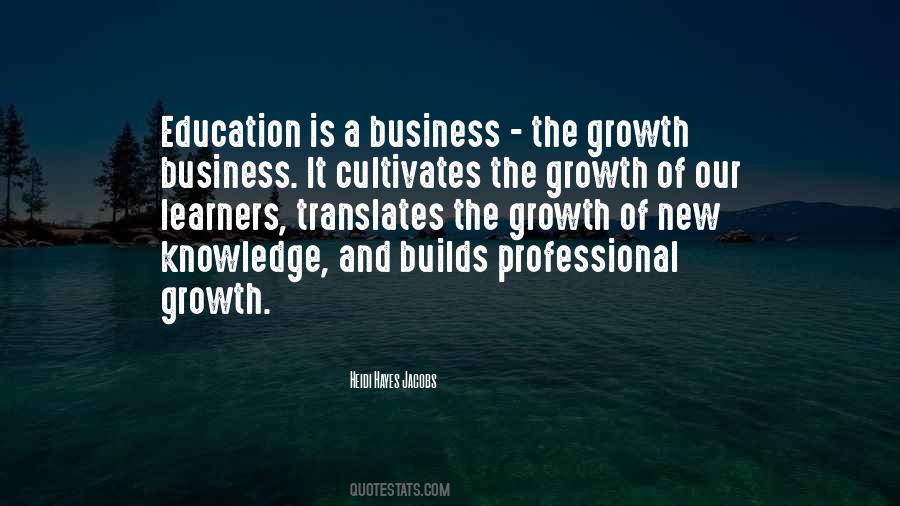 #21. The more we want our children to be (1) lifelong learners, genuinely excited about words and numbers and ideas, (2) avoid sticking with what's easy and safe, and (3) become sophisticated thinkers, the more we should do everything possible to help them forget about grades. - Author: Alfie Kohn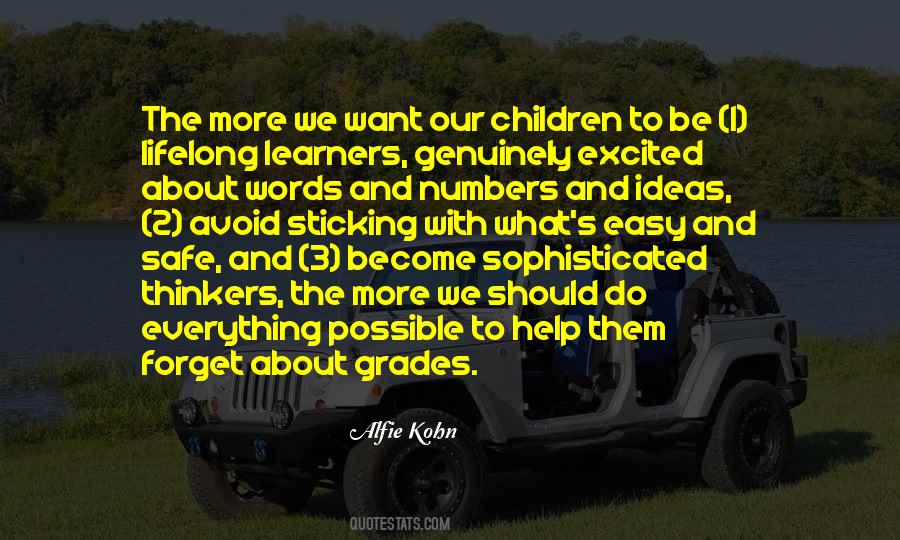 #22. The best teachers are those that can influence even the poorest of all learners. - Author: Kim Panti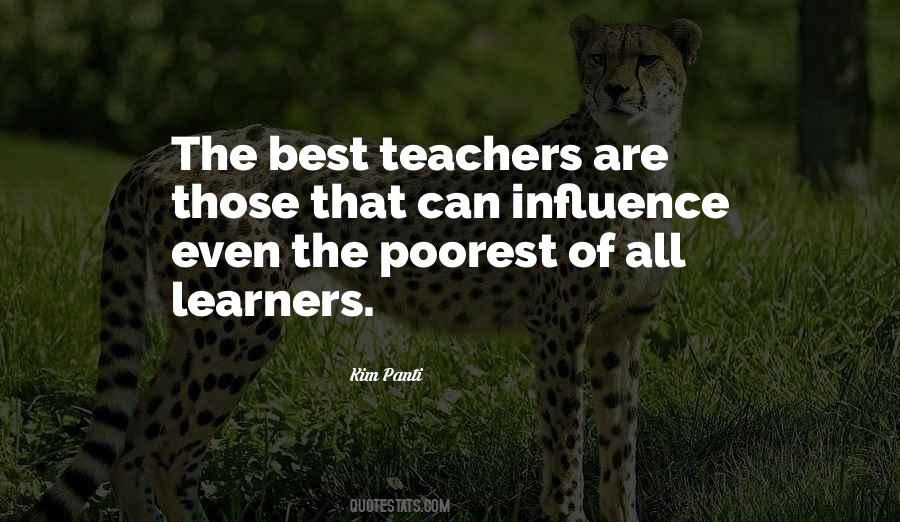 #23. Accepting the key premise that the learner is the primary customer of schooling means others follow naturally ... The core business of schooling is learning, and the quality of learning experienced by all learners should be the standard against which performance is measured. - Author: David Hood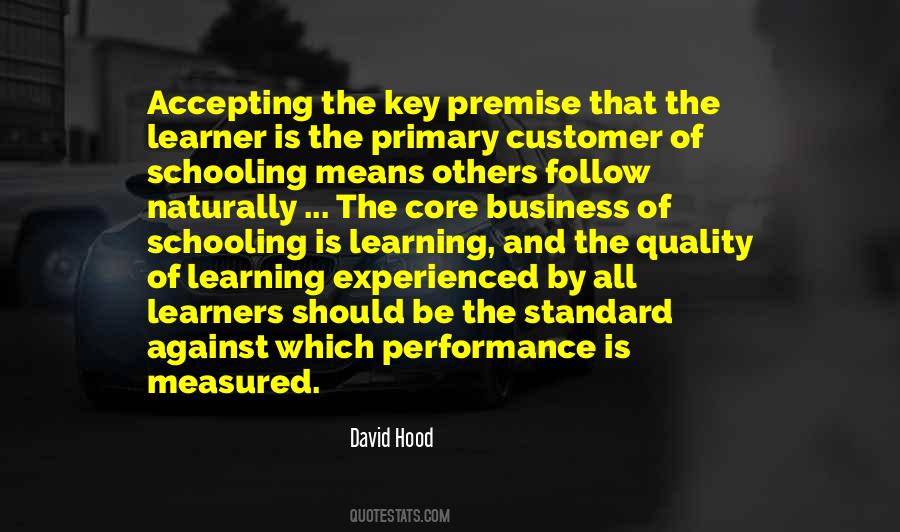 #24. We offer ourselves as learners; we would indeed be taught of Thee. 'Lord, teach us to pray. - Author: Andrew Murray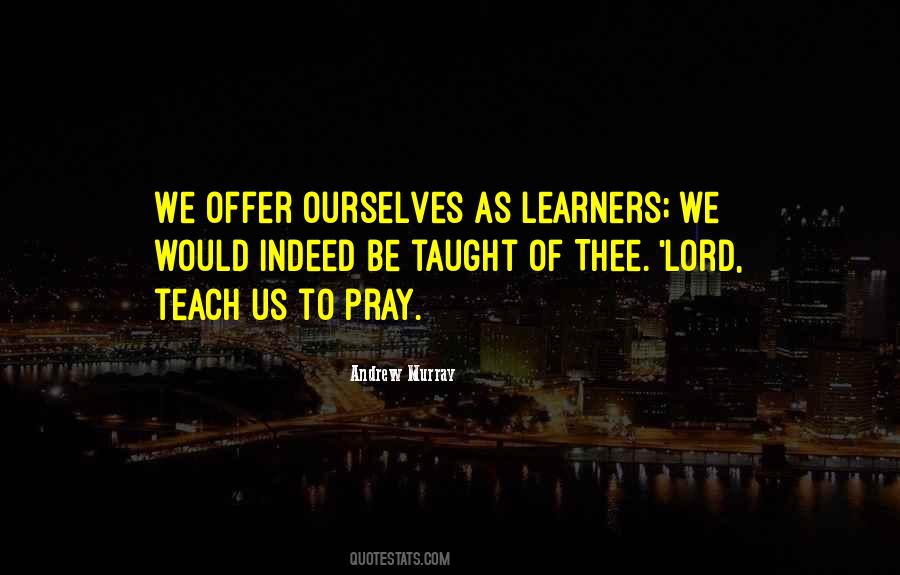 #25. From infancy onward, children are the most fantastic learners in the world. - Author: Daniel Quinn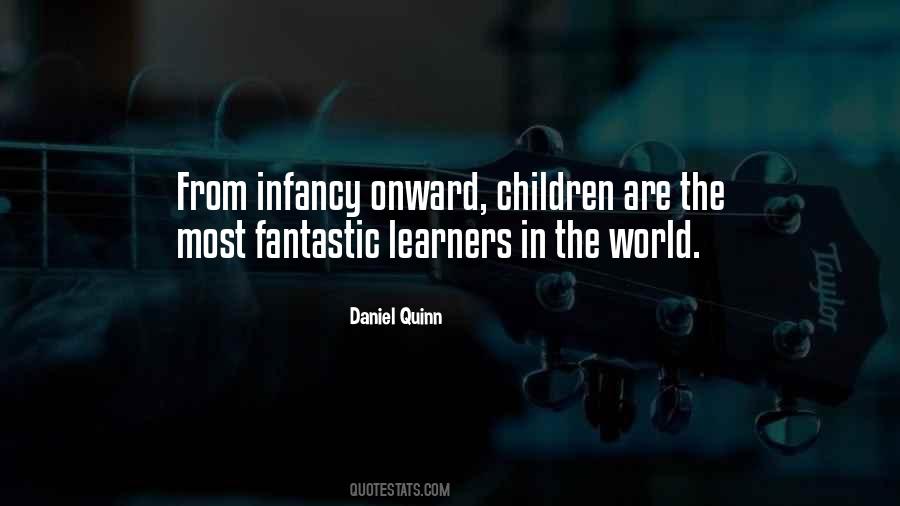 #26. Leaders are passionate learners. Leaders are always seeking ways to improve themselves by sharpening their skills. They fully embrace the fact that growing leaders lead growing organizations. - Author: Gary Rohrmayer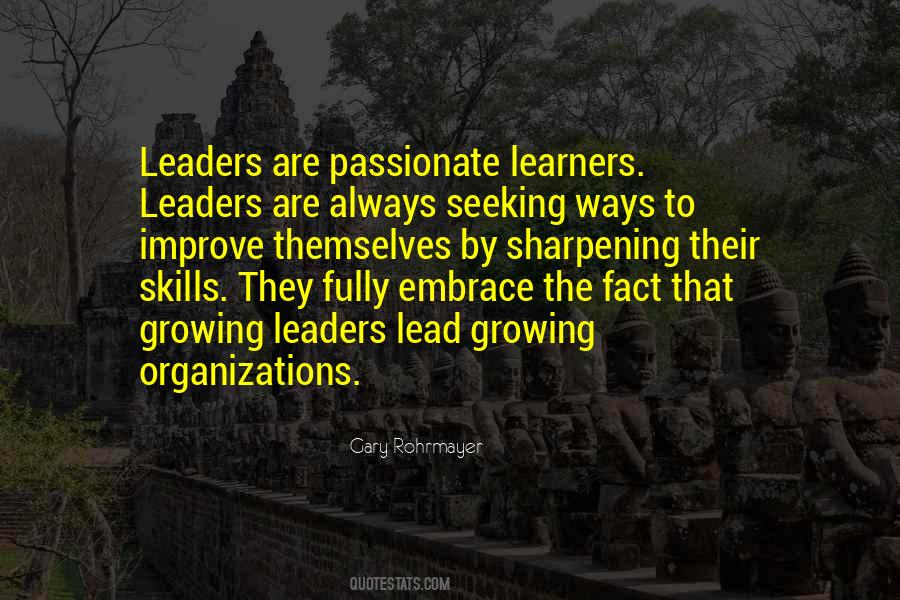 #27. Everyone who's a success, is a continual learner. - Author: Zig Ziglar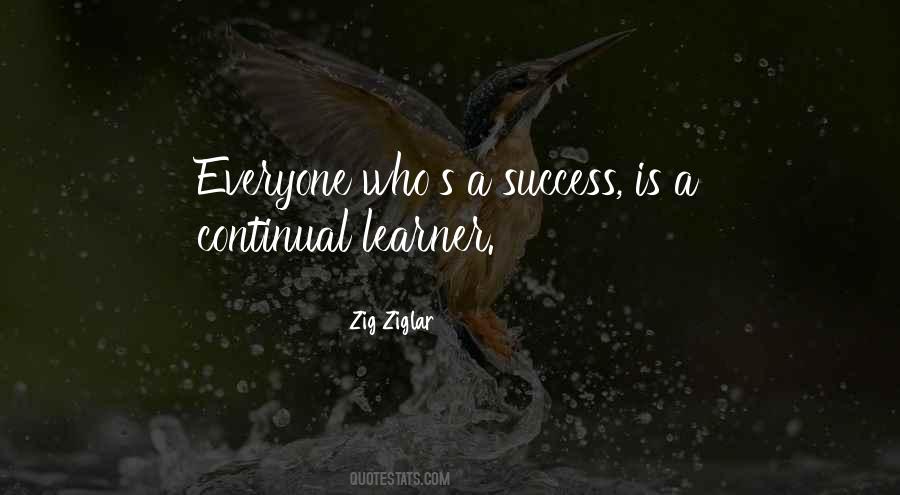 #28. all learners benefited from the deductive instruction regardless of differences in aptitude. - Author: Patsy M. Lightbown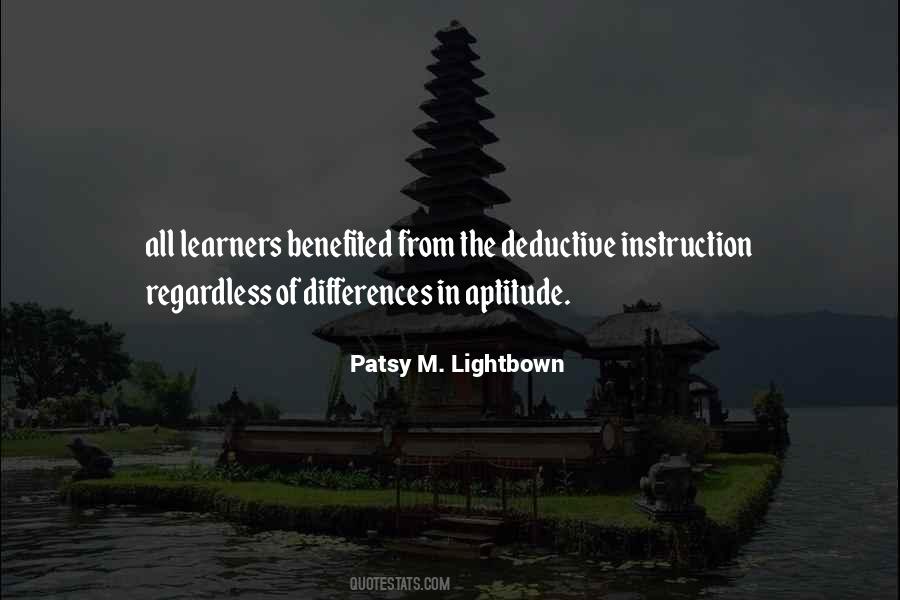 #29. The philosophy of project-based homeschooling - this particular approach to helping children become strong thinkers, learners, and doers - is dependent upon the interest and the enthusiastic participation and leadership of the learners themselves, the children. - Author: Lori McWilliam Pickert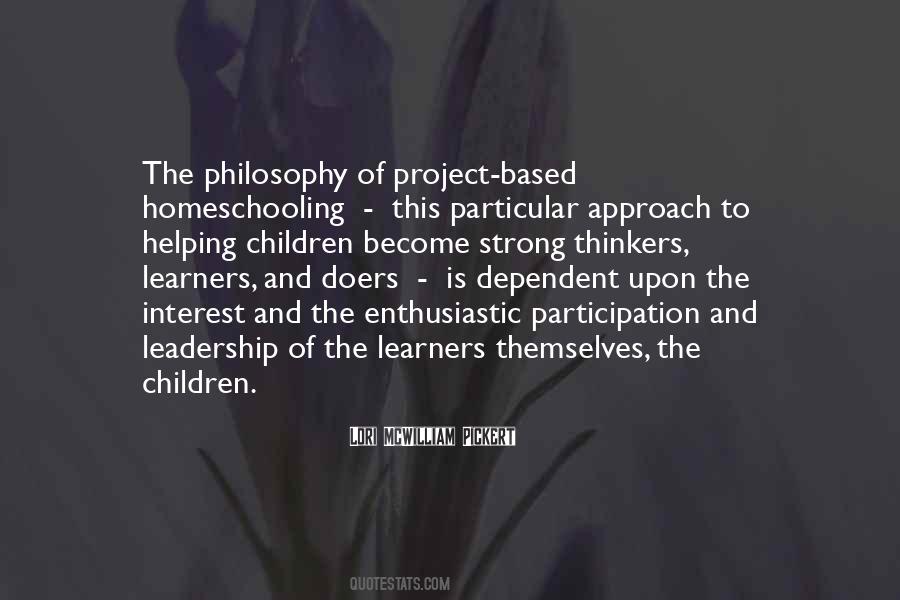 #30. If only education will aim at teaching learners' real life and life in books and not just books, learners will learn and understand real life and not just books, and they will dare to face life with real life lessons and lessons from books! - Author: Ernest Agyemang Yeboah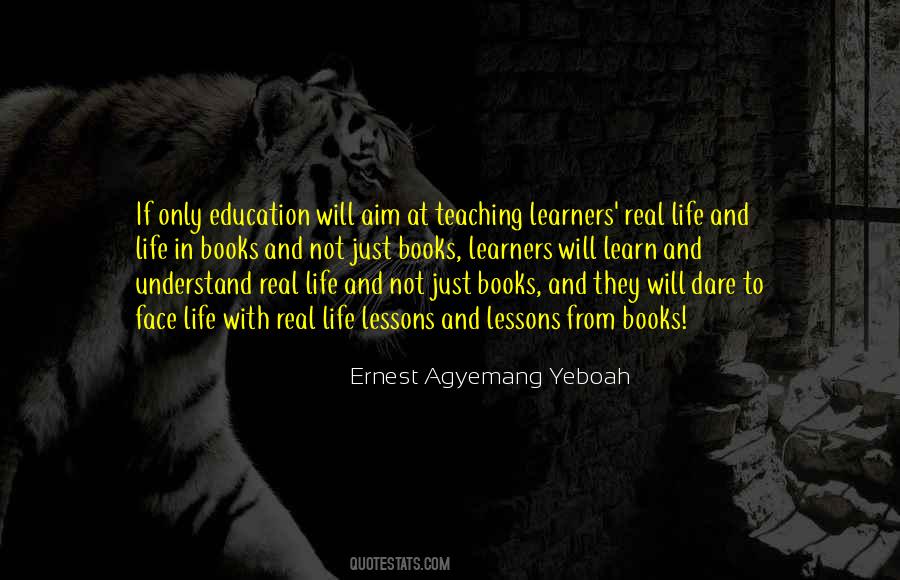 #31. Mature adults gravitate toward new values and understandings, not just rehashing and blind acceptance of past patterns and previous learning. This is an ongoing process and maturity demands lifelong learners. - Author: David W. Earle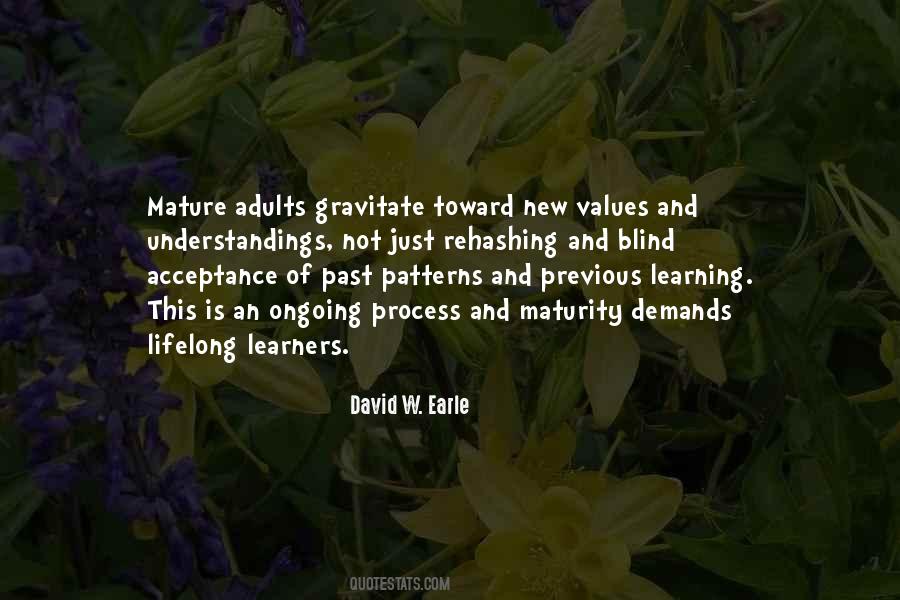 #32. The GA's new recruits have to be the slowest learners since the eradication of Down's syndrome. - Author: Peter Watts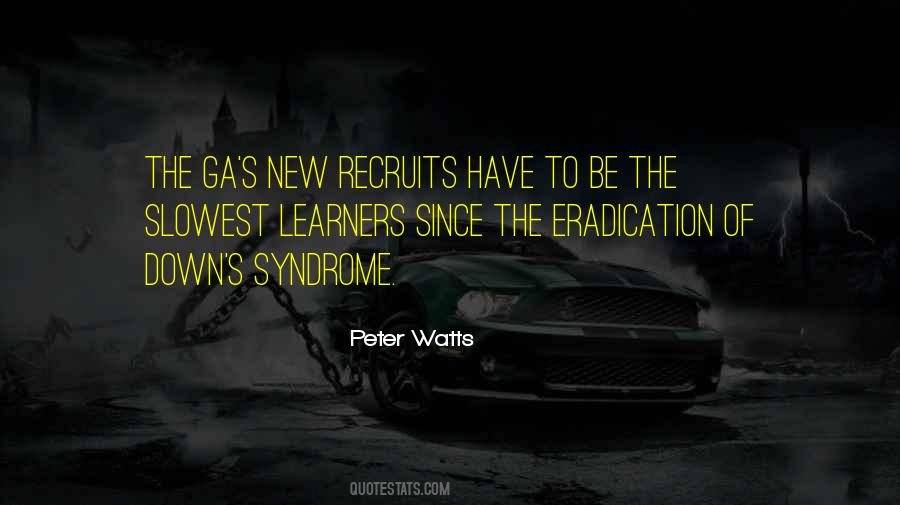 #33. A sympathetic parent might see the spark of consciousness in a baby's large eyes and eagerly accept the popular claim that babies are wonderful learners, but it is hard to avoid the impression that they begin as ignorant as bread loaves. - Author: Paul Bloom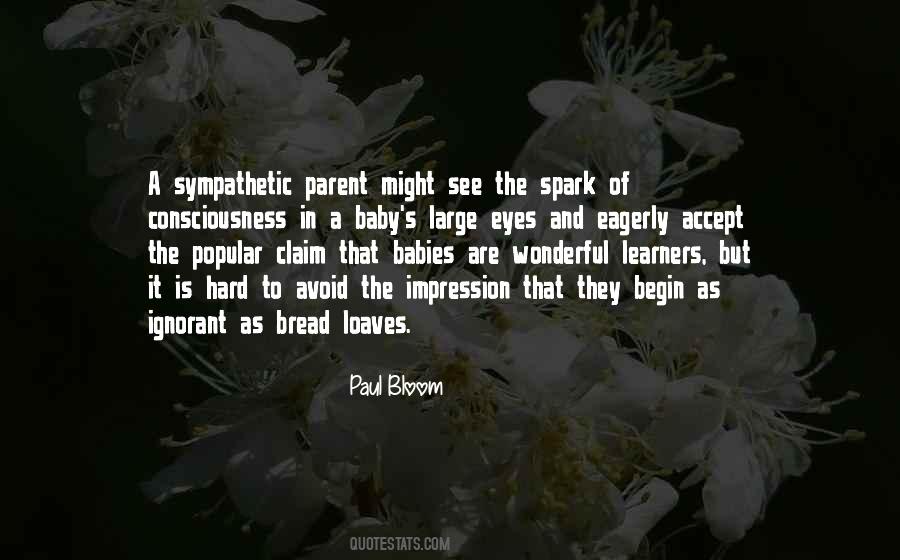 #34. In a world of change, the learners shall inherit the earth, while the learned shall find themselves perfectly suited for a world that no longer exists. - Author: Eric Hoffer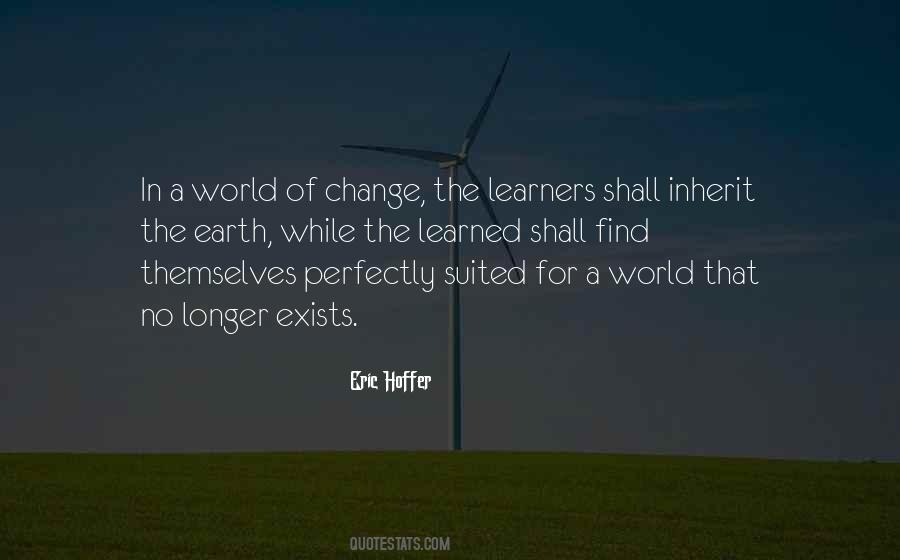 #35. Technology also addresses the necessity to cover a wide range of content in a short length of time by minimizing the need to take each step of the curriculum at a slow enough pace to teach the slowest learners in a single, teacher-directed way. - Author: Peggy Grant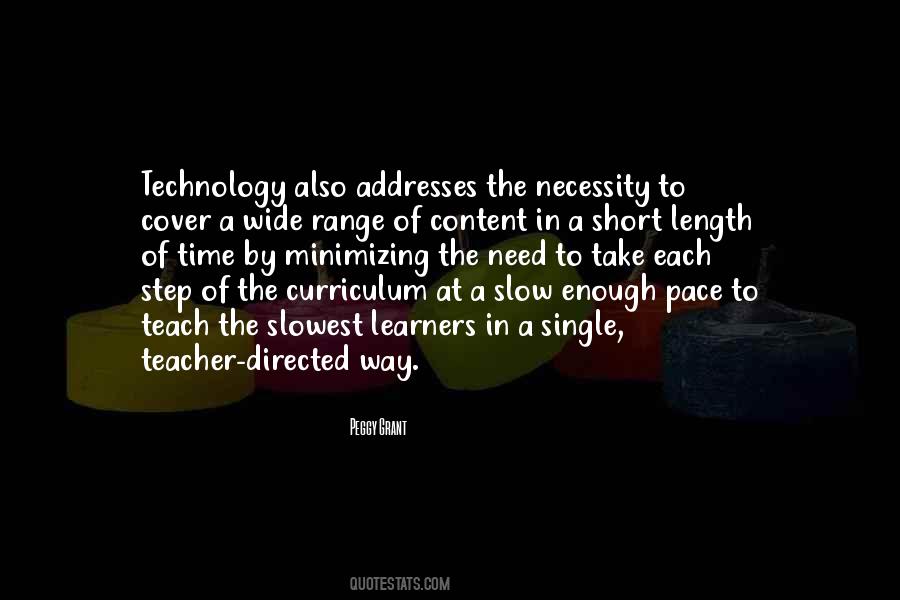 #36. The is no master in love, WE are all learners. - Author: Rudzani Ralph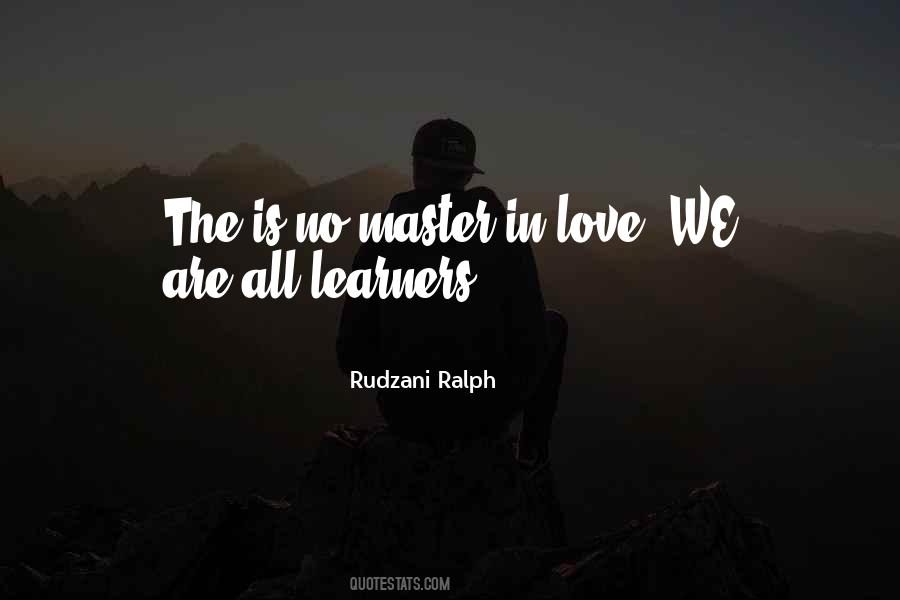 #37. Online learners need academic assistance technical assistance and cohort support. - Author: Ormond Simpson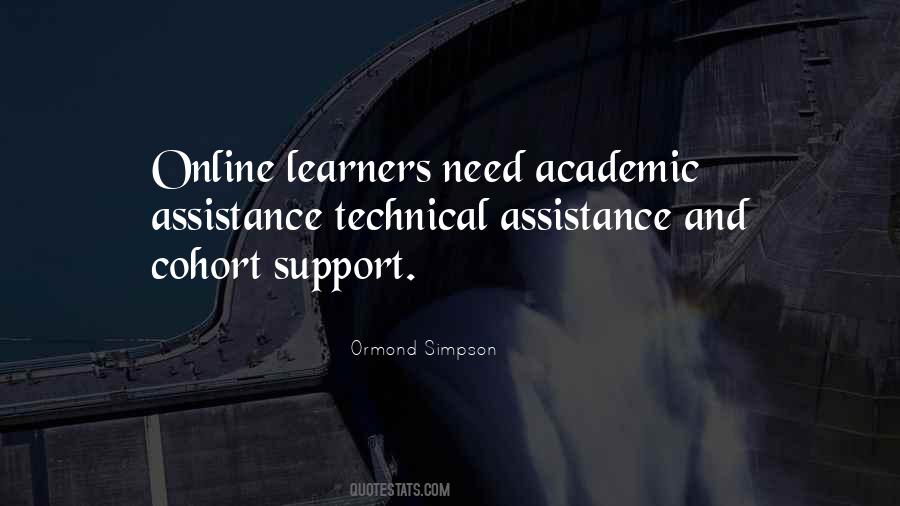 #38. Learning organizations are possible because, deep down, we are all learners. No one has to teach an infant to learn. In fact, no one has to teach infants anything. They are intrinsically inquisitive, masterful learners who learn to walk, speak, and pretty much run their households all on their own. - Author: Peter M. Senge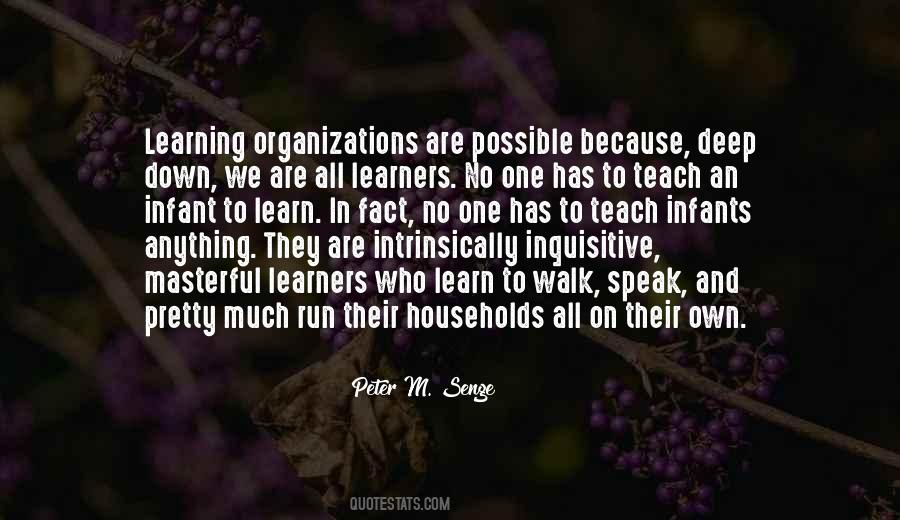 #39. I don't think there's any such thing as teaching people photography, other than influencing them a little. People have to be their own learners. They have to have a certain talent. - Author: Imogen Cunningham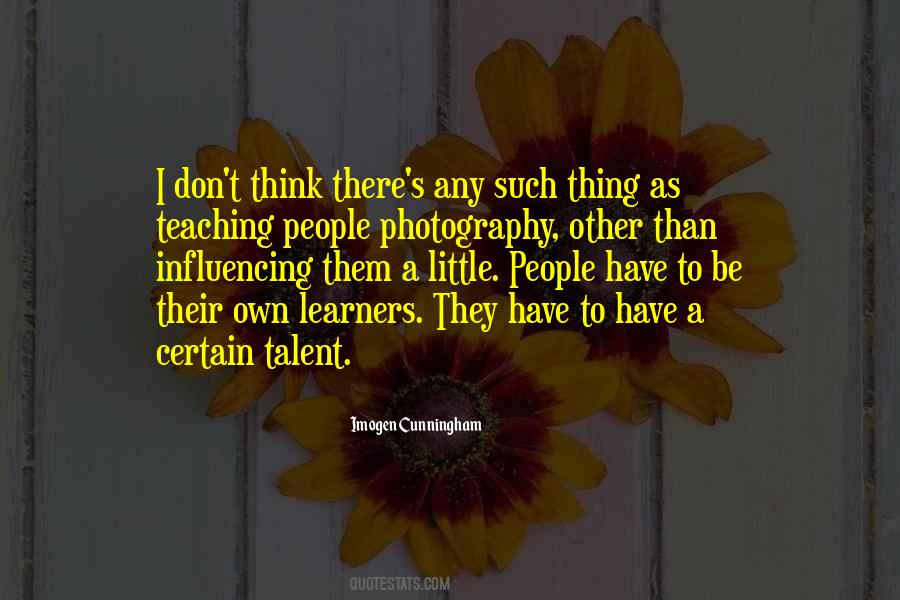 #40. To be a teacher in the right sense is to be a learner. I am not a teacher, only a fellow student. - Author: Soren Kierkegaard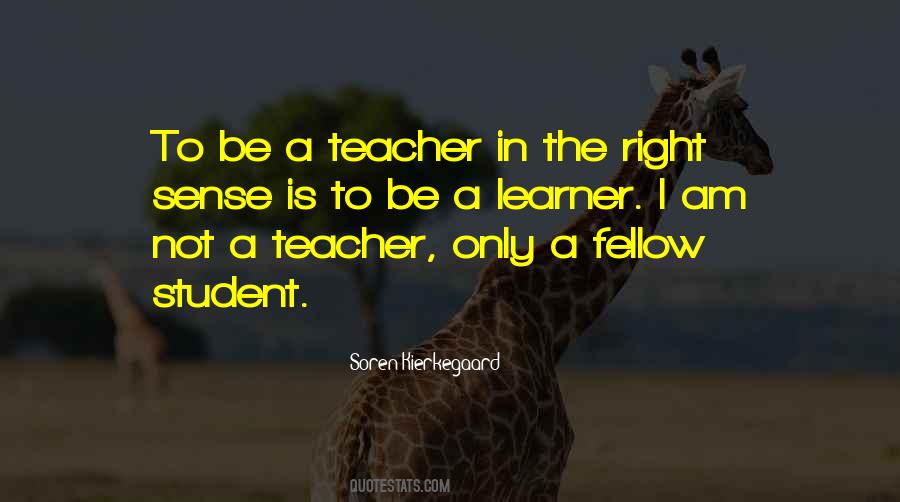 #41. The best leaders are the most dedicated learners. Read great books daily. - Author: Robin Sharma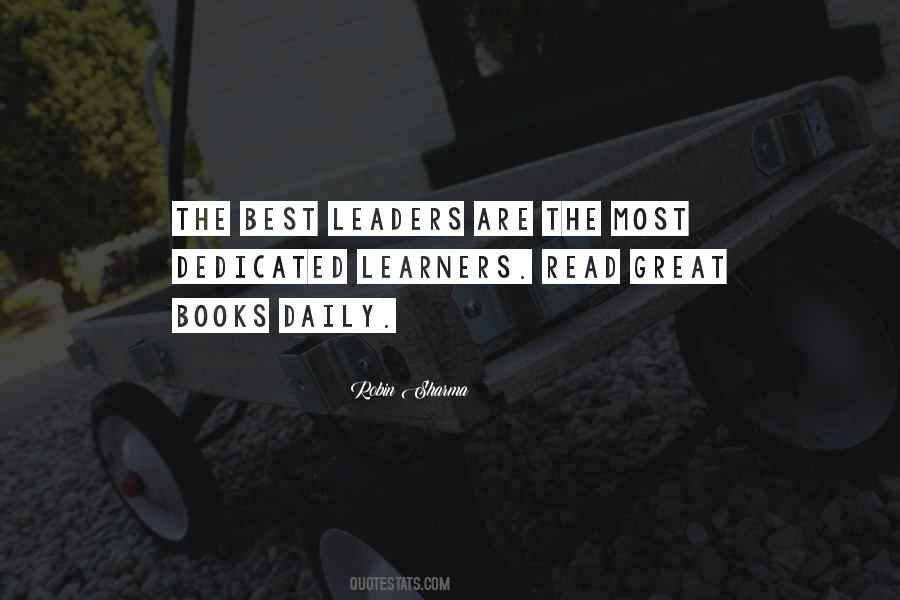 #42. Eve was not a born know-all. She was ignorant. But she was a good learner. - Author: Geoffrey Sampson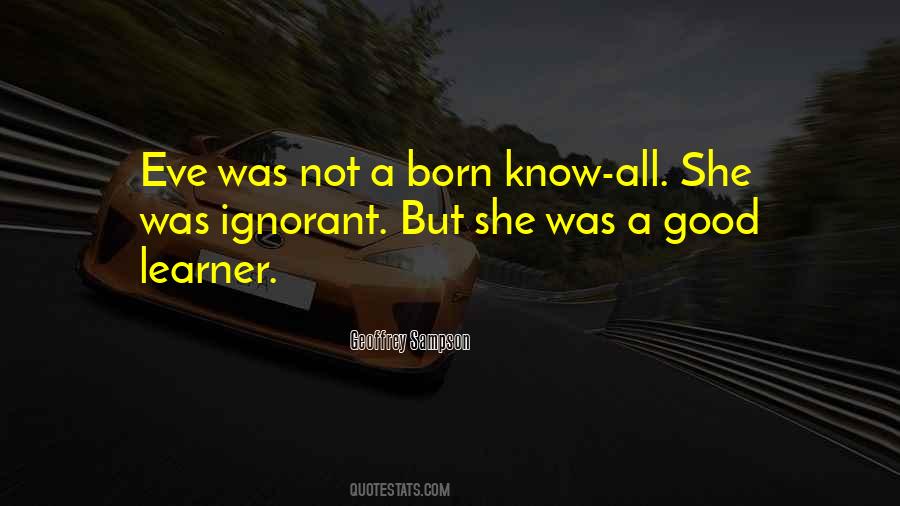 #43. I wrote two million words of crap. Maybe I'm just a slow learner . - Author: Charles Stross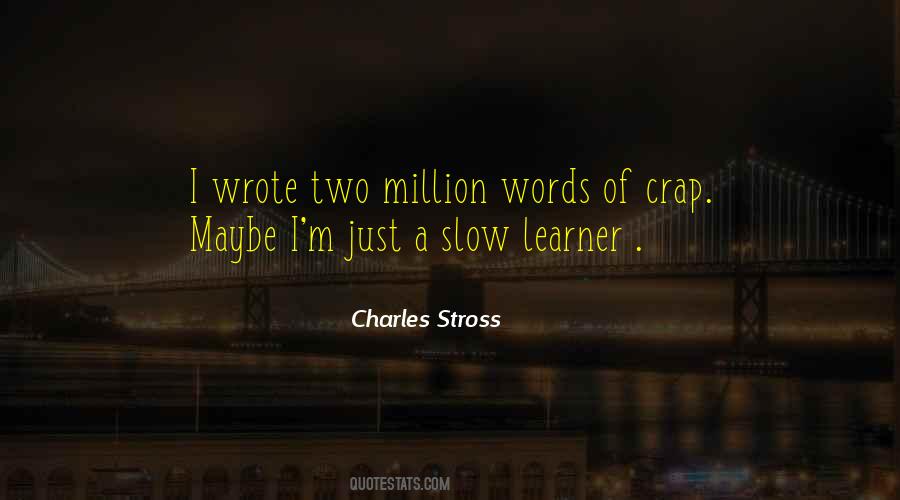 #44. Children, in a way, are constant learners. Certainly sponge-like. Absorbing everything without careful analysis, even though, at the same time, they are certainly capable of incredible insights. - Author: Yo-Yo Ma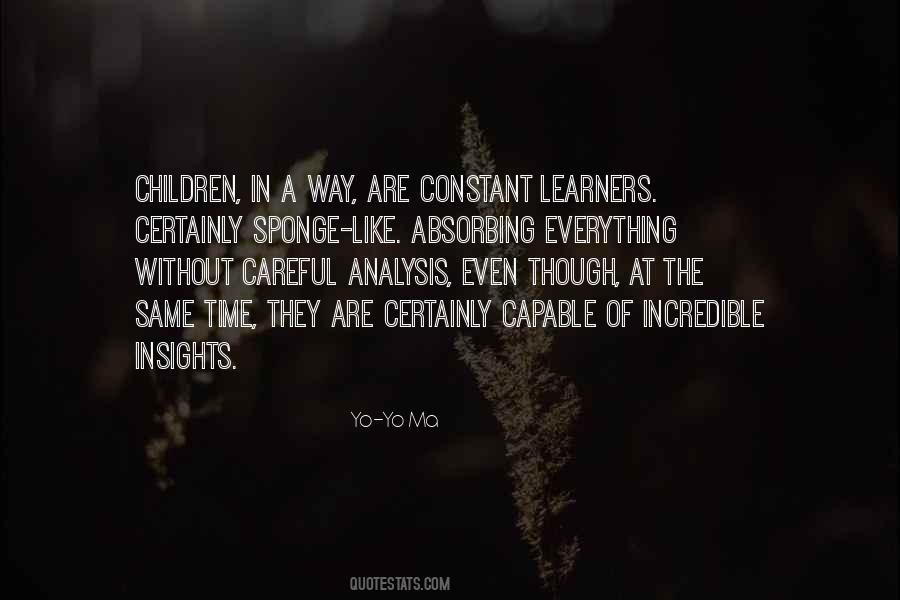 #45. Rather than pushing children to think like adults, we might do better to remember that they are great learners and to try harder to be more like them. - Author: Seymour Papert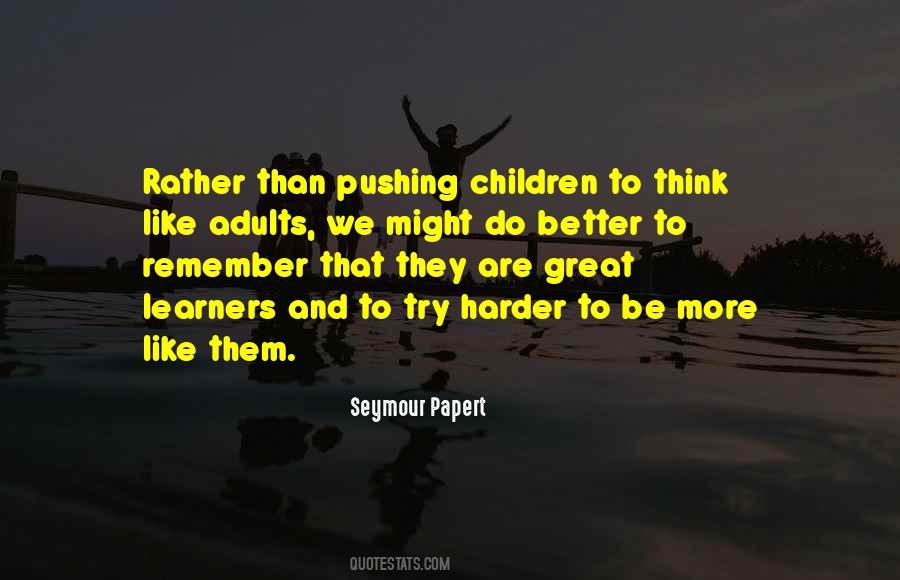 #46. Teachers and learners are correlates, one of which was never intended to be without the other. - Author: Jonathan Edwards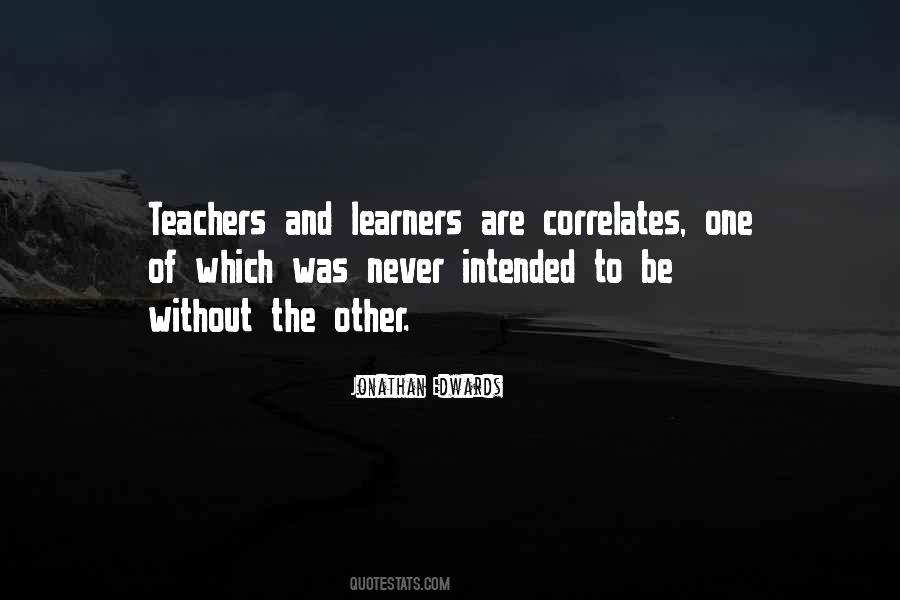 #47. Both teachers and learners go to sleep at their post as soon as there is no enemy in the field. - Author: John Stuart Mill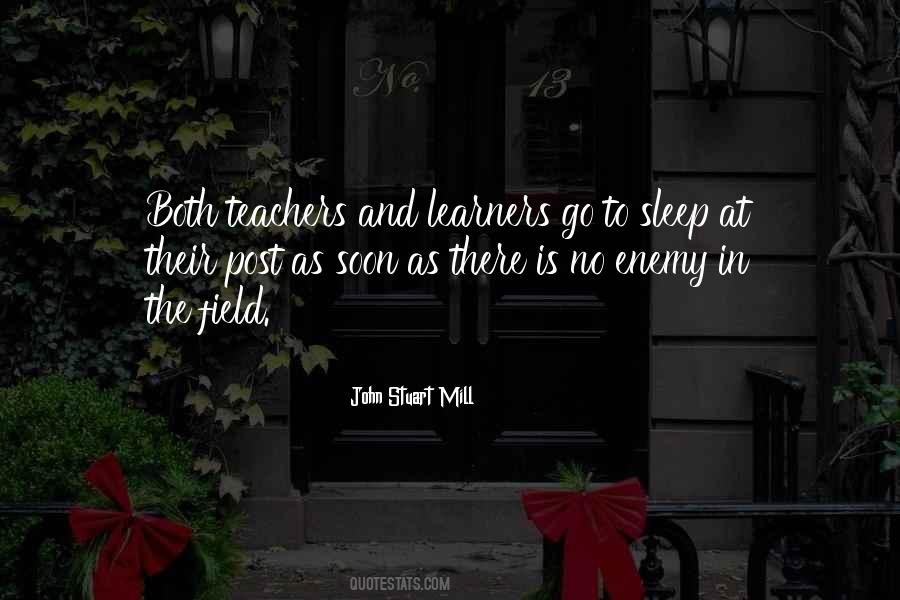 #48. For the master, surrender means there are no experts. There are only learners. - Author: George Leonard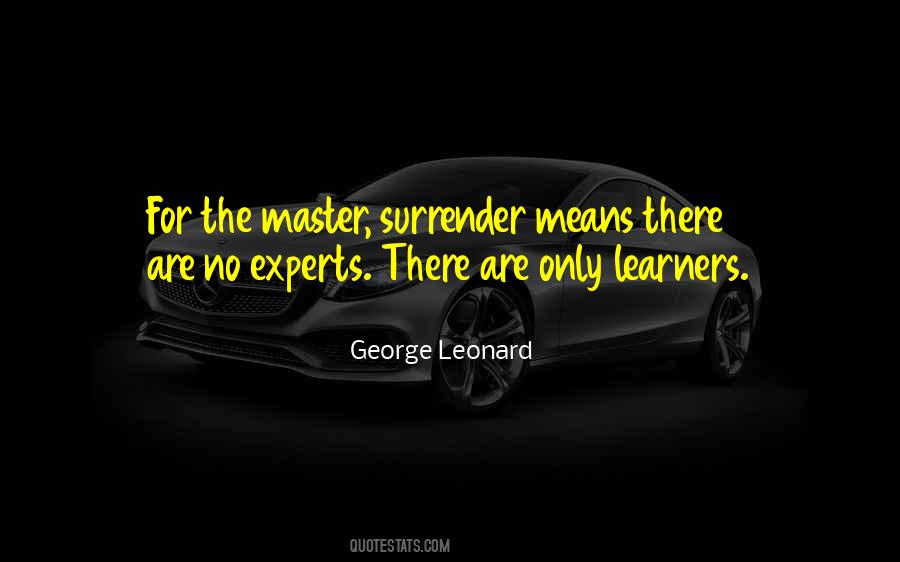 #49. Life is a classroom
only those who are willing to be lifelong learners will move to the head of the class. - Author: Zig Ziglar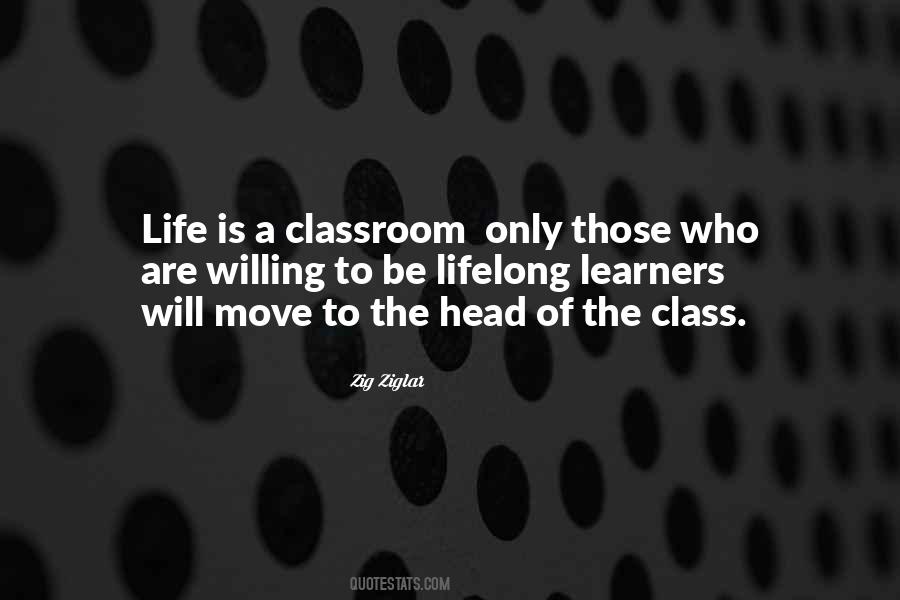 #50. I believe that teaching is a creative art in which evidence based knowledge is applied toward meeting the learning goals of learners. I believe that effective teaching is often the spark that ignites the imagination, possibility, and promise for learners, including the teacher. - Author: Barbara Paterson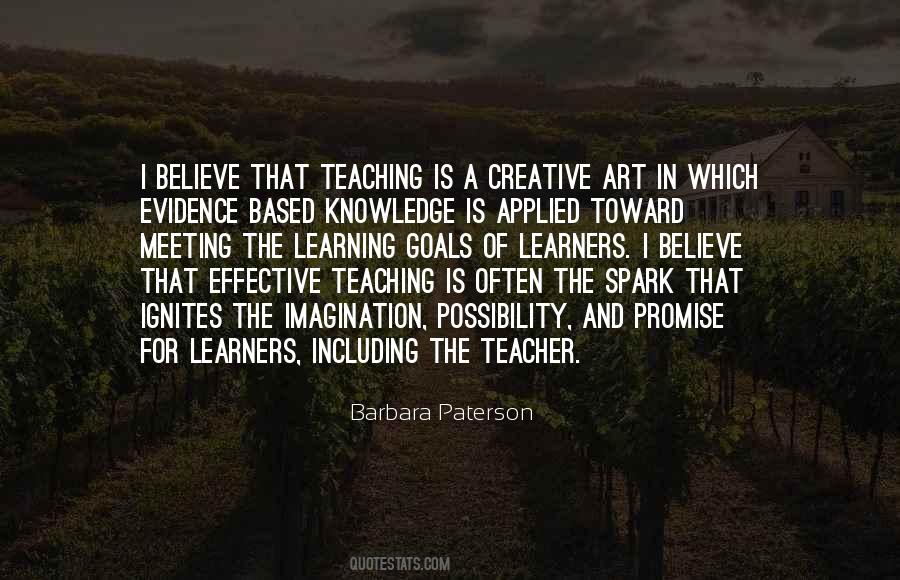 #51. I don't divide the world into the weak and the strong, or the successes and failures ... I divide the world into the learners and non-learners. - Author: Benjamin Barber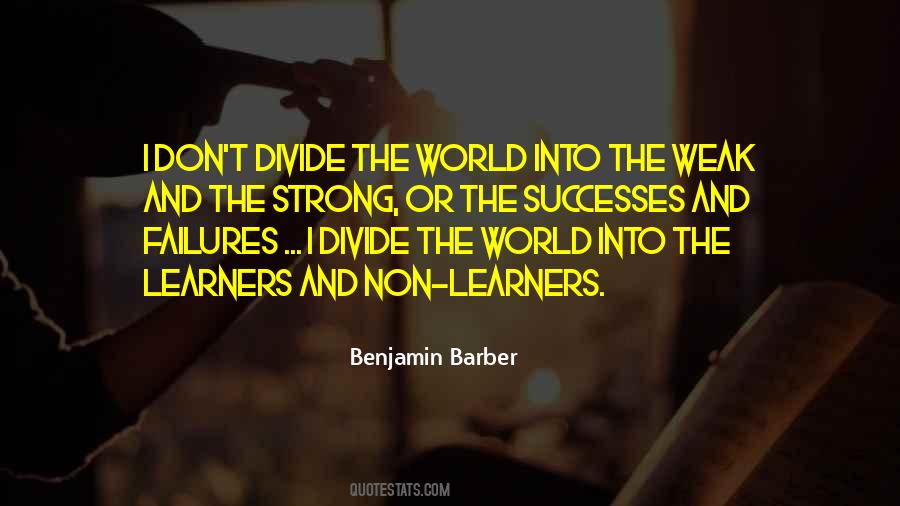 #52. The danger of lectures is that they create the illusion of teaching for teachers, and the illusion of learning for learners. - Author: Albert Camus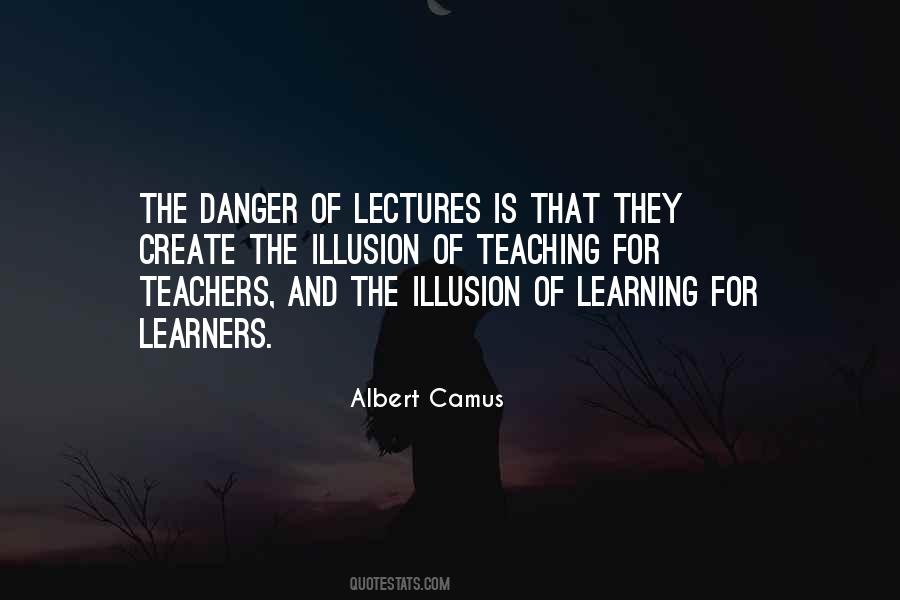 #53. I'm a very bad student, but a great learner. - Author: Tim Allen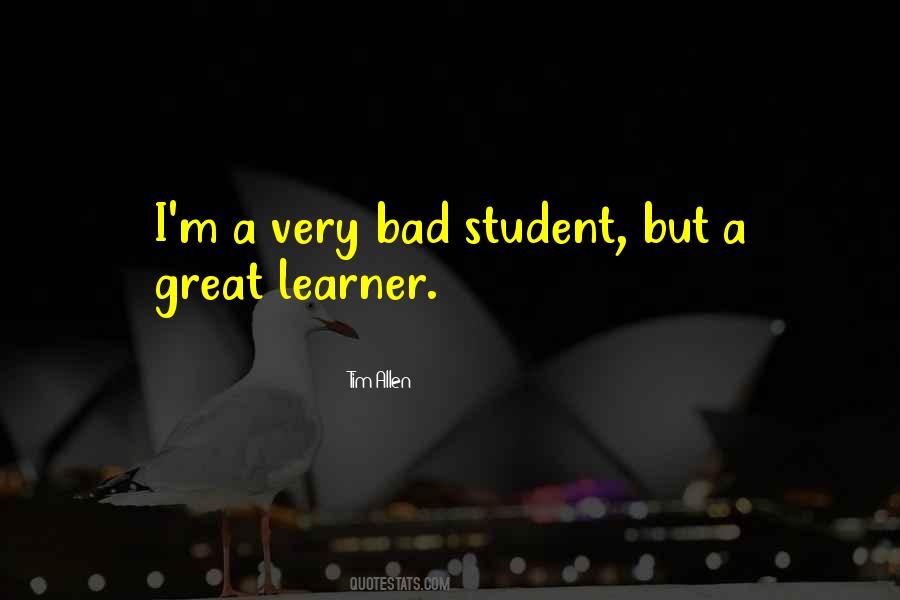 #54. If you yearn to learn, you'll learn to earn. - Author: Israelmore Ayivor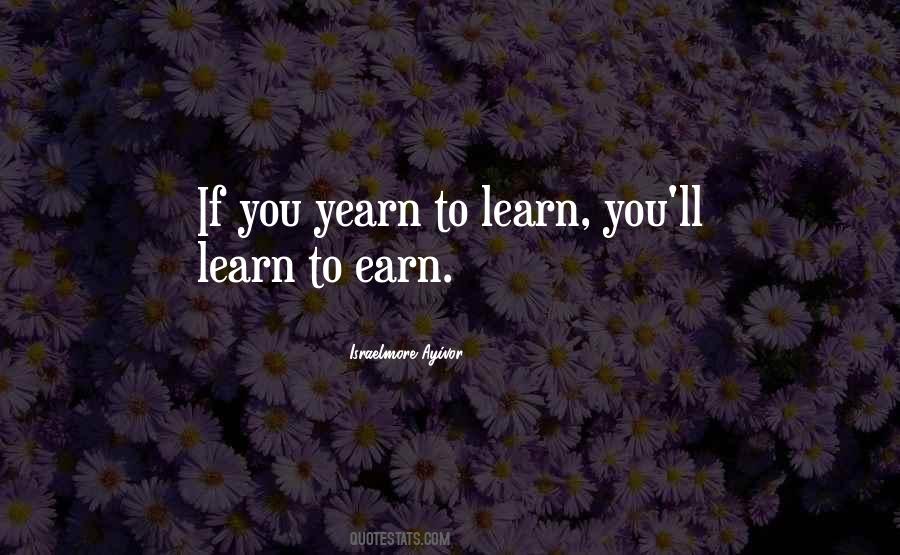 #55. The brainy class is made up of individuals who think for themselves and beyond formal education are continuous learners who tend to be self-taught. - Author: Maximillian Degenerez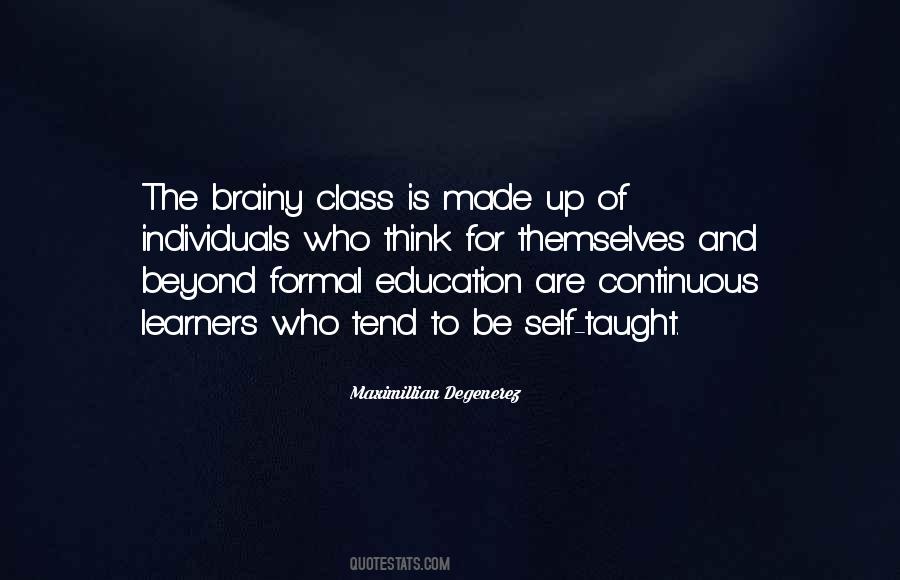 #56. Teachers have three loves: love of learning, love of learners, and the love of bringing the first two loves together. - Author: Scott Hayden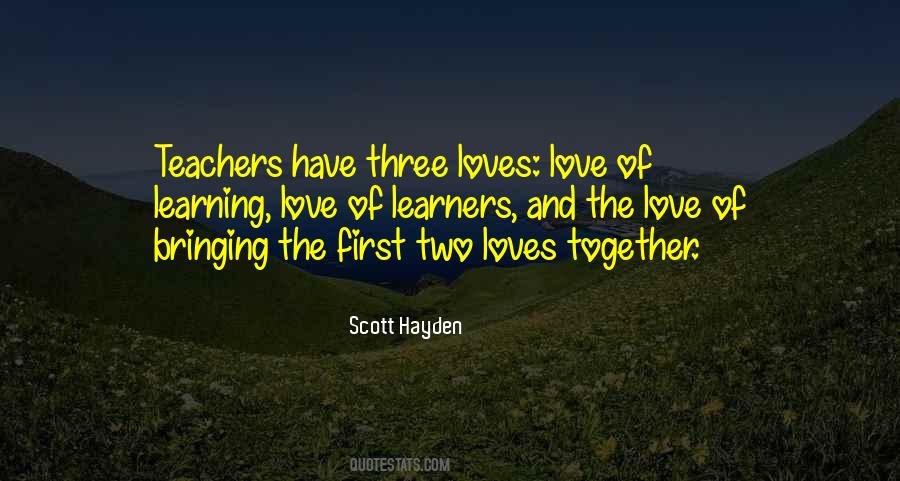 #57. Spiritual learners too slowly graduate like students of normal education. If you are mentally elevated, you can grasp and appreciate complex teachings. - Author: Girdhar Joshi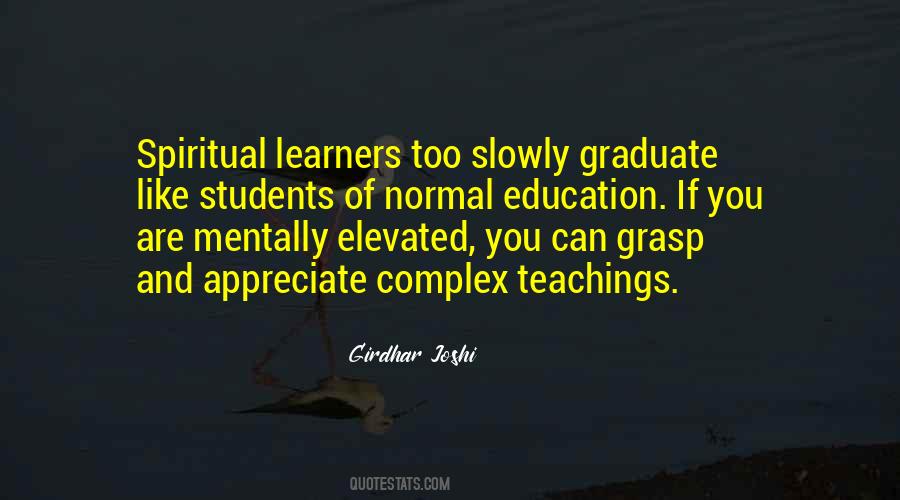 #58. Writers and learners will write better and learn more if they understand the "why" of what they are studying. - Author: William Zinsser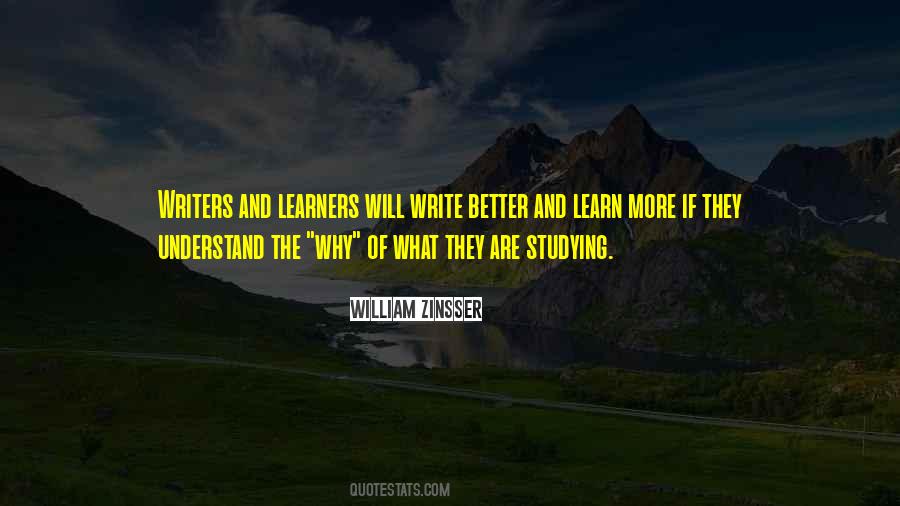 #59. It is also the fate of leadership to be misunderstood. It is a grave error for any leader to be oversensitive in the face of criticism, to conduct discussions as if he or she is a schoolmaster talking to less informed and inexperienced learners. - Author: Nelson Mandela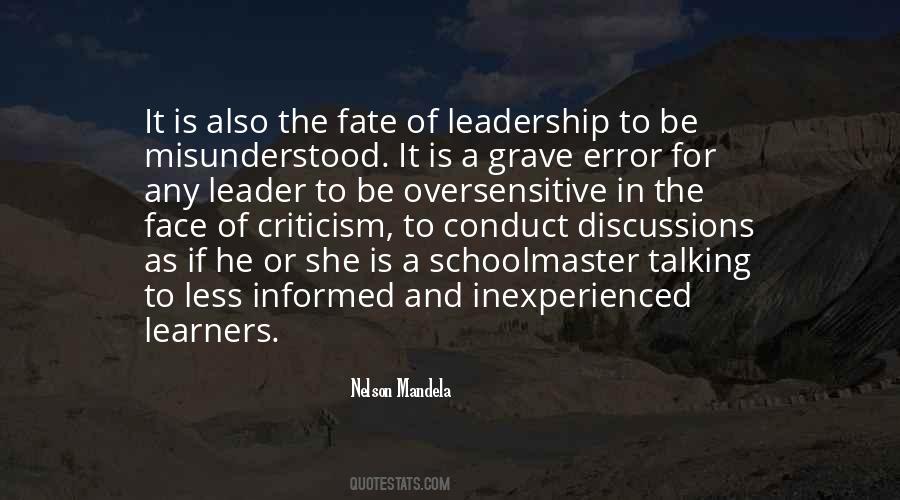 #60. The learner should be actively involved in the learning process. - Author: Malcolm Knowles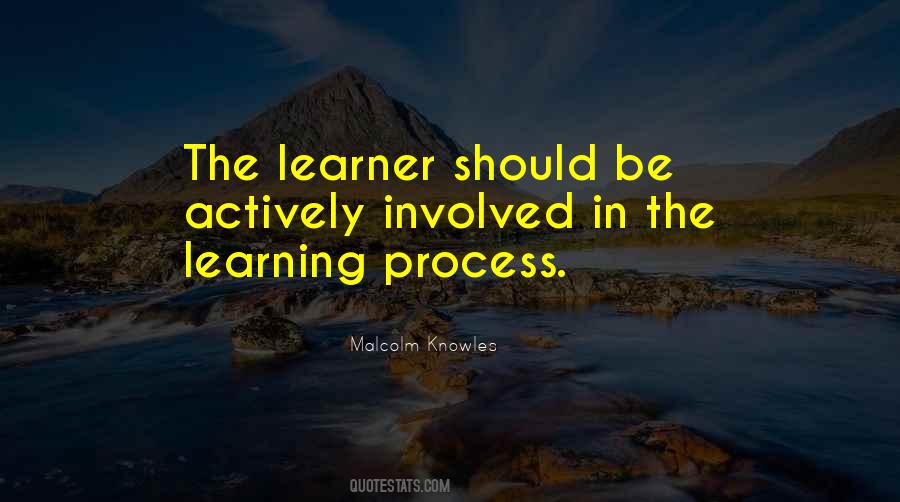 #61. Teens are by nature, experimental learners. There is no real understanding of biology without the lab ... - Author: Wendy Mogel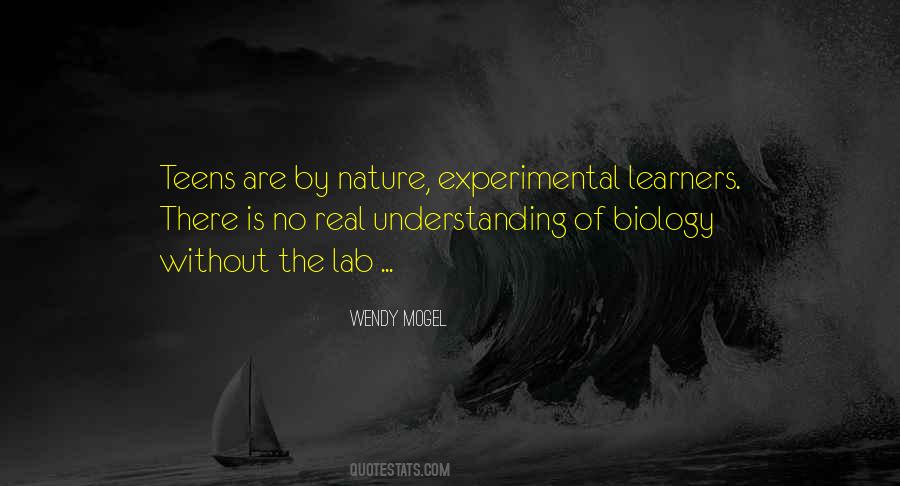 #62. To learn is not to know; there are the learners and the learned. Memory makes the one, philosophy the others. - Author: Alexandre Dumas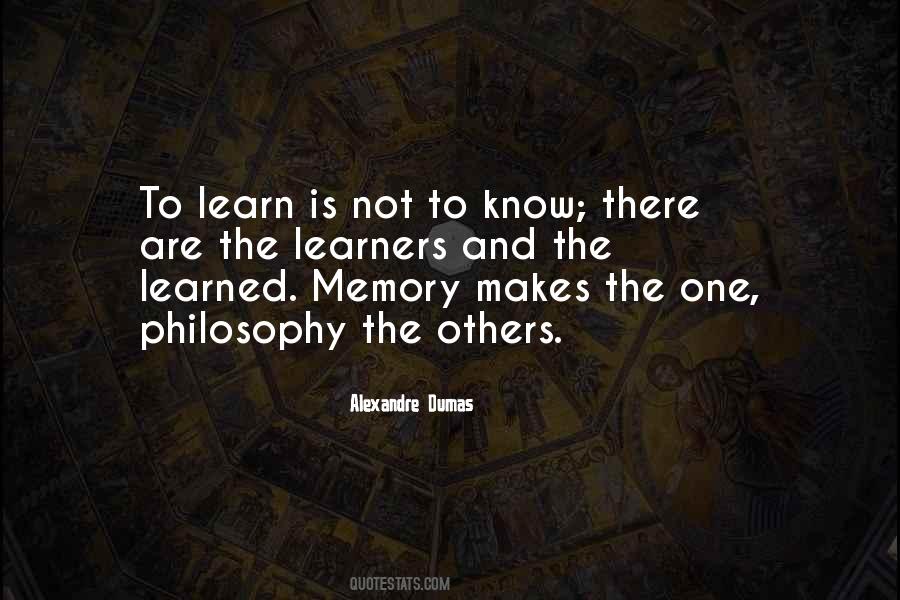 #63. In a time of drastic change, it is the learners who inherit the future. The learned find themselves equipped to live in a world that no longer exists. - Author: Warren G. Bennis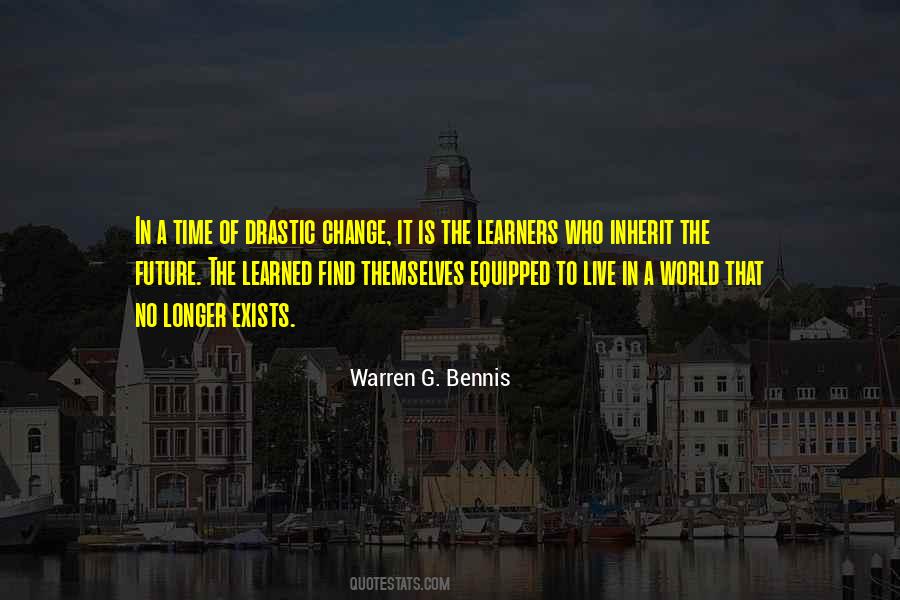 #64. What our world most requires now is the kind of education that foster love for humankind, that develops character-that provides an intellectual basis for realization of peace and empowers learners to contribute to and improve society. - Author: Daisaku Ikeda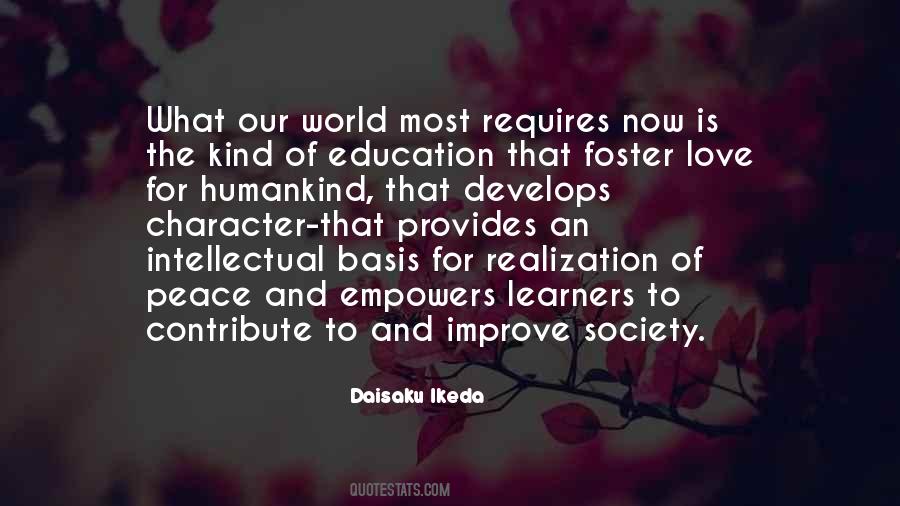 #65. Teachers and leaders and storytellers and healers will grow from the earth like blessed flowers, blossoming outward with Divine guidance, to lead the rest. - Author: Stacie Hammond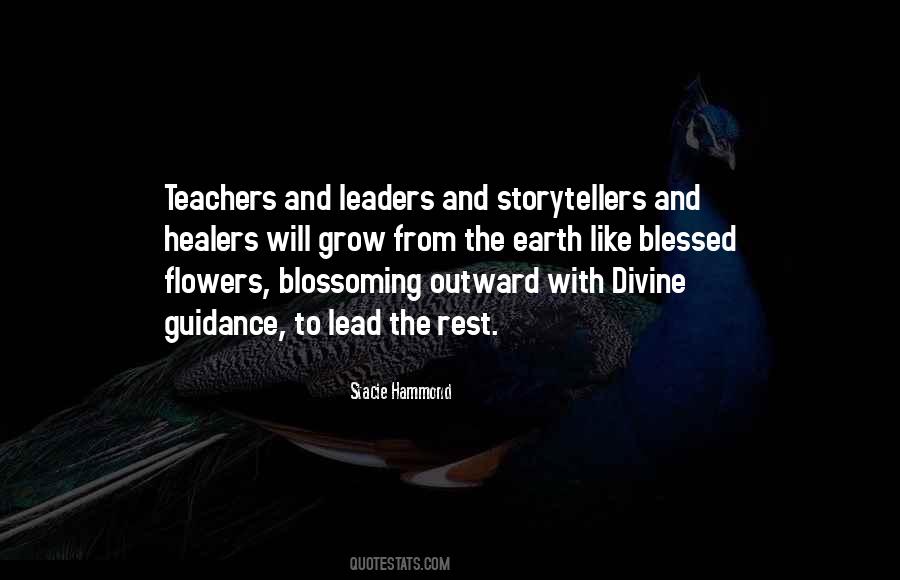 #66. Education ultimately depends on what happens in classrooms ... between teachers and learners. That is fundamental.' ... 'I hope that teachers will discover the optimism and direction to combat the energy - draining pressures and frustrations of most educational settings. - Author: David Perkins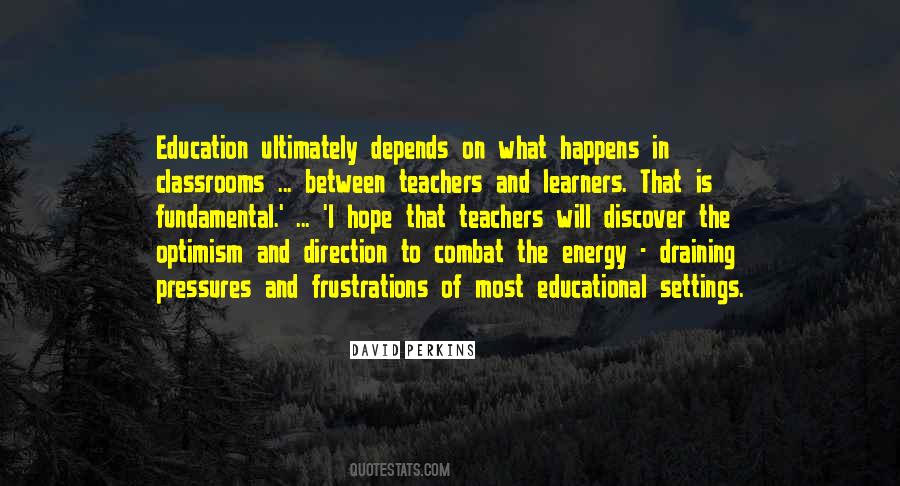 #67. After nearly making a terrible mistake not buying See's, we've made this mistake many times. We are apparently slow learners. These opportunity costs don't show up on financial statements, but have cost us many billions. - Author: Charlie Munger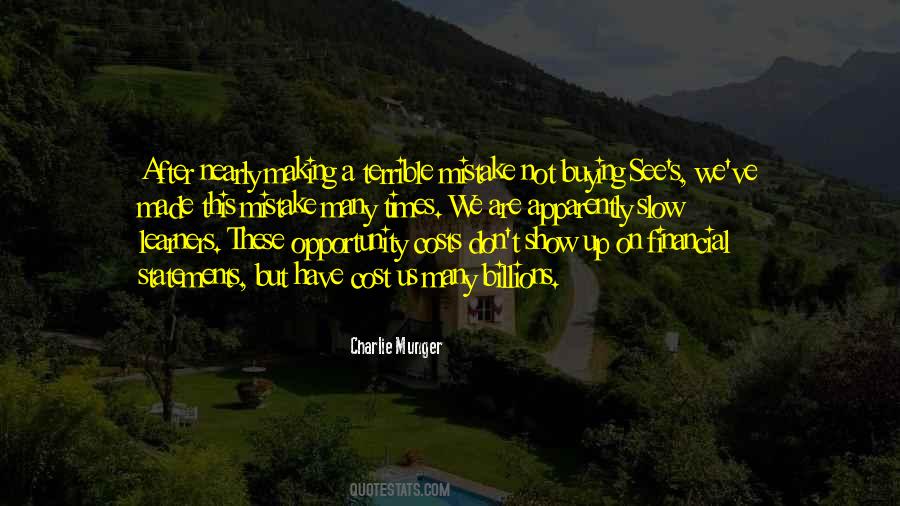 #68. Google has made teaching more challenging because learners believe that Google is their answer. But the learners are only forced to classrooms because questions are with teachers. Will Bing become learners' teacher by providing questions? - Author: Santosh Avvannavar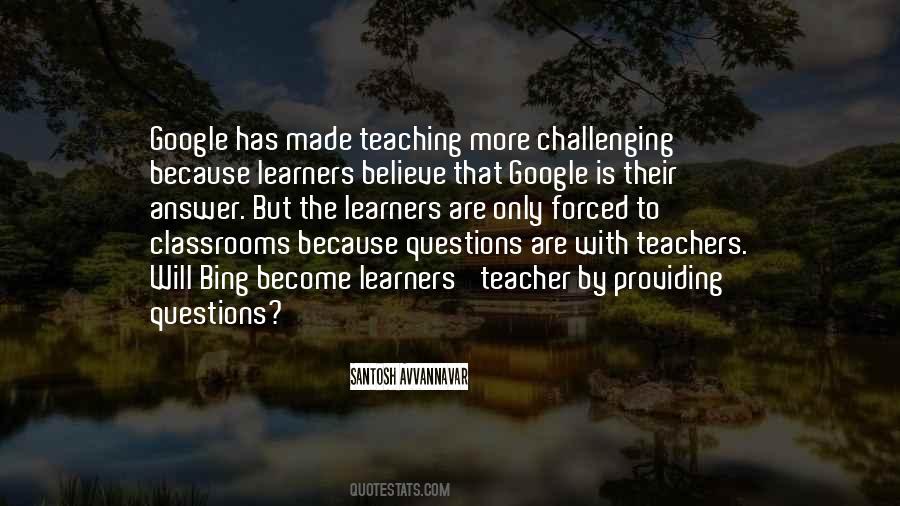 #69. most important characteristics of exceptional learners are their abilities, not their disabilities. - Author: Daniel P. Hallahan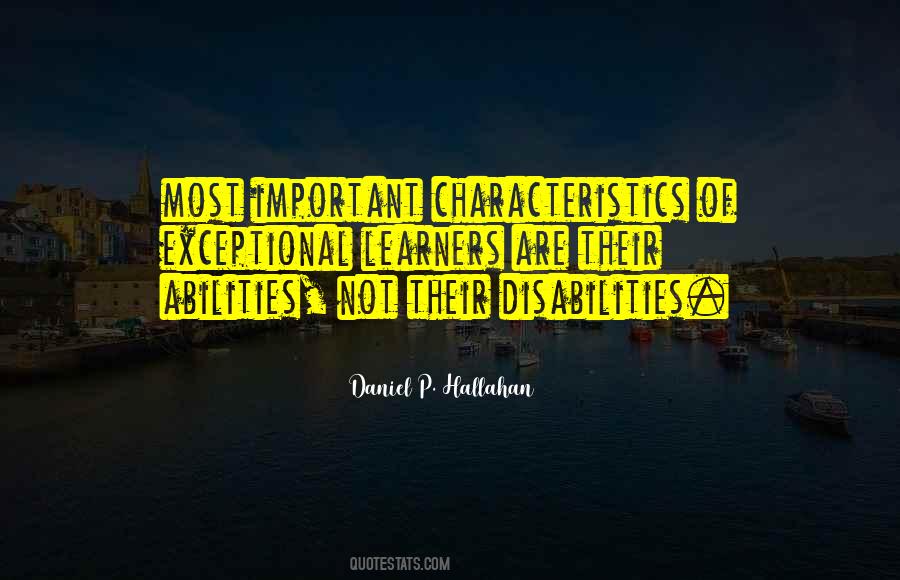 #70. Our society cannot afford a two-tiered system in which the affluent have access to superior education, while everyone else is subjected to a dull and incoherent classroom experience. Academic excellence, educational equity, and fairness demand a strong foundation of knowledge for all learners. - Author: E.D. Hirsch Jr.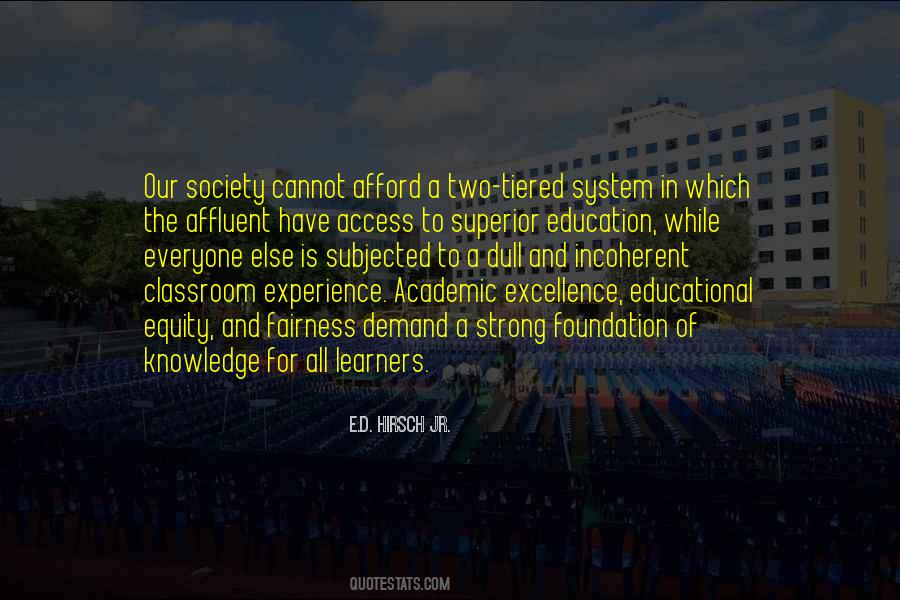 #71. A good teacher does not teach all that he knows. He teaches all that the learners need to know at the time, and all that the learners can accountably learn in the time given. - Author: Jane Vella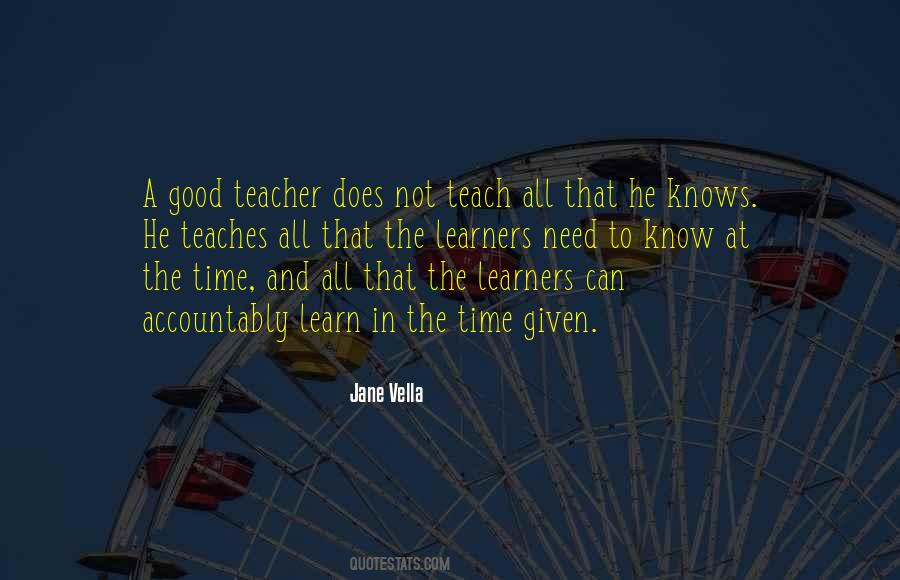 #72. Learners are encouraged to discover facts and relationships for themselves. - Author: Jerome Bruner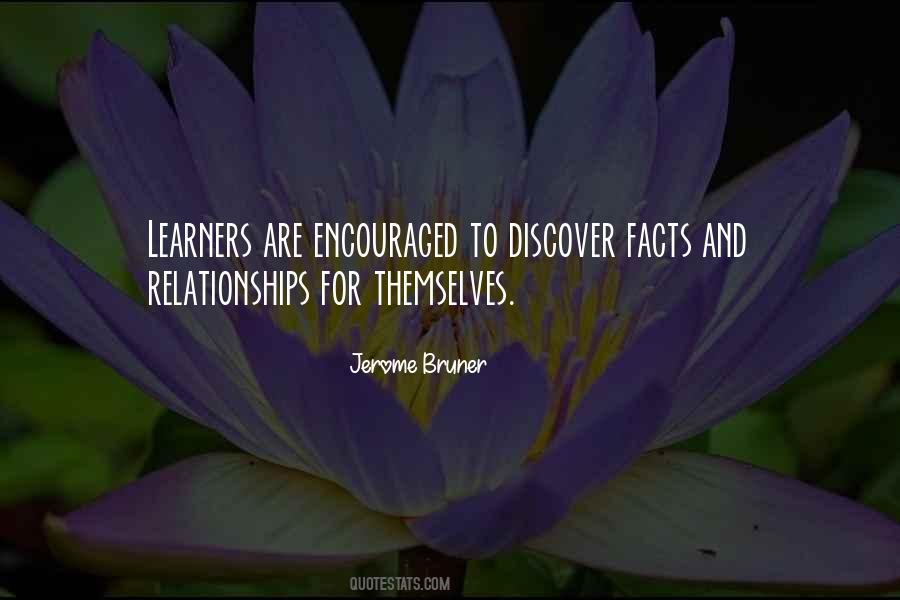 #73. What kinds of things and people might learners want to be in contact with in order to learn? - Author: Ivan Illich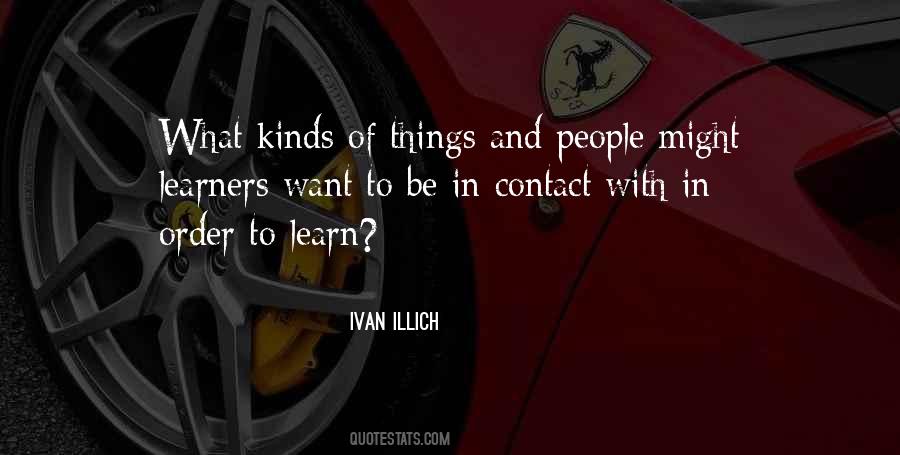 #74. Students become good learners when they are in the classes of teachers who are good learners. - Author: Andy Hargreaves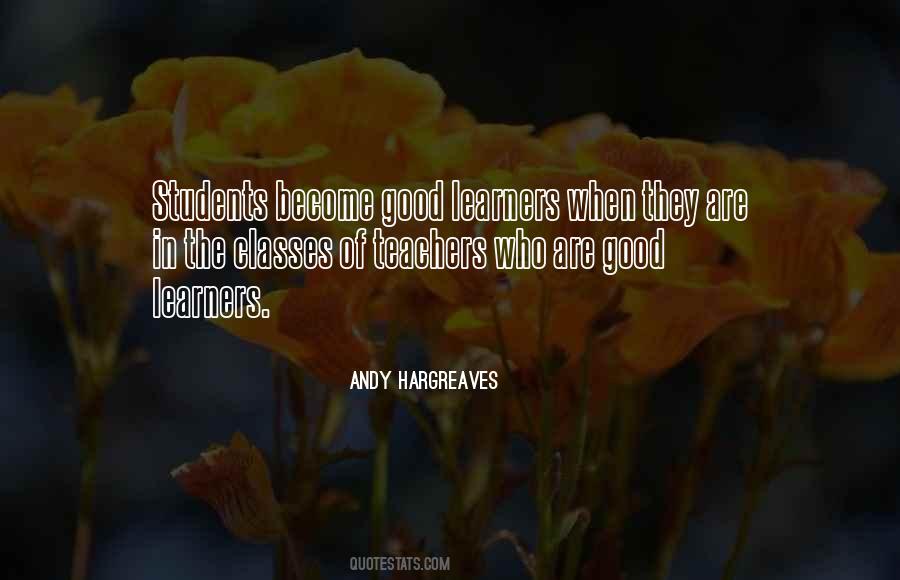 #75. Young people will always need mentors to guide and support them. - Author: Lailah Gifty Akita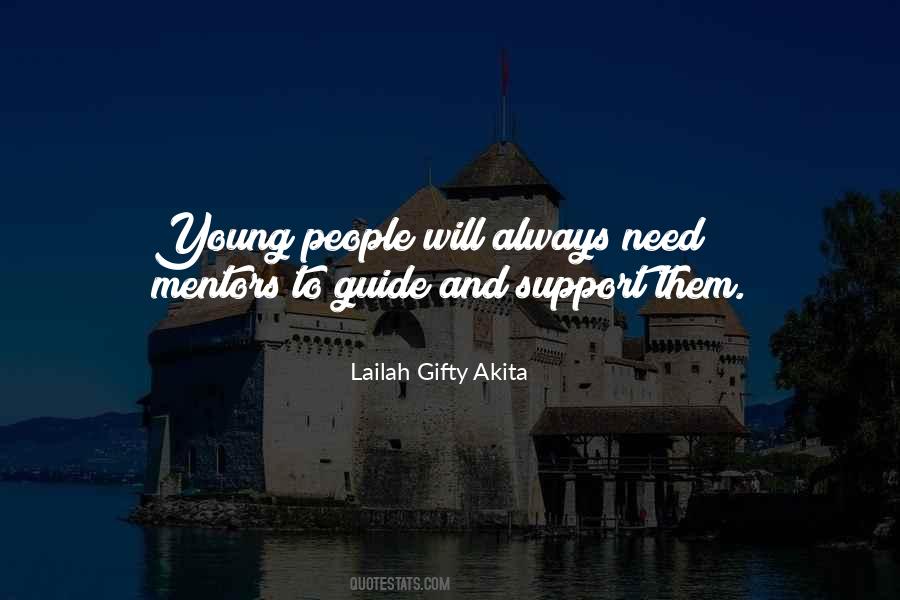 #76. I'm not an educator ... I'm a learner. - Author: Bill Gates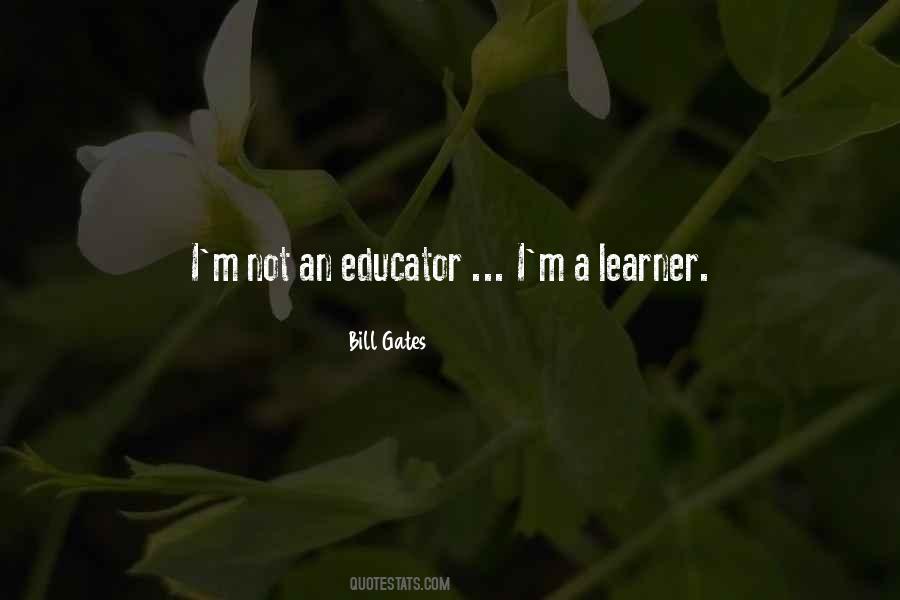 #77. People with large book collections are almost always diligent learners. - Author: Marie Kondo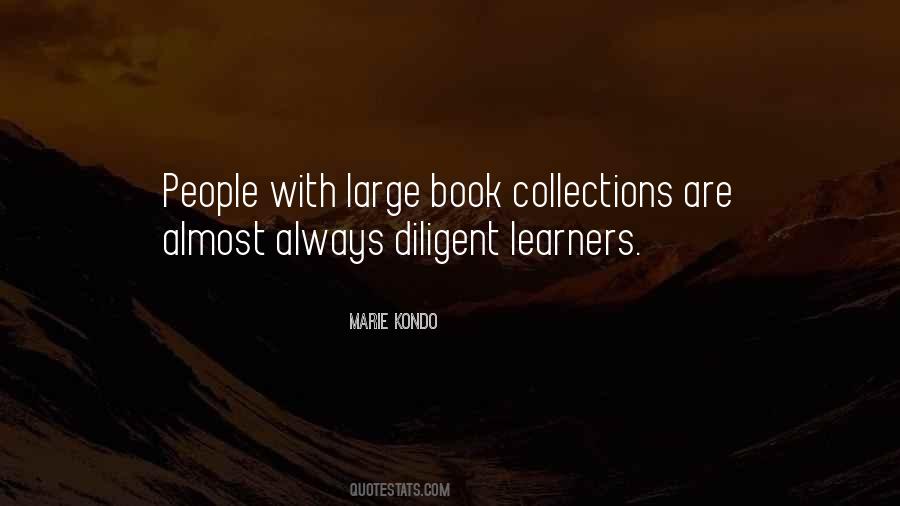 #78. There are the learners and the learned. Memory makes the one, philosophy the other. - Author: Alexandre Dumas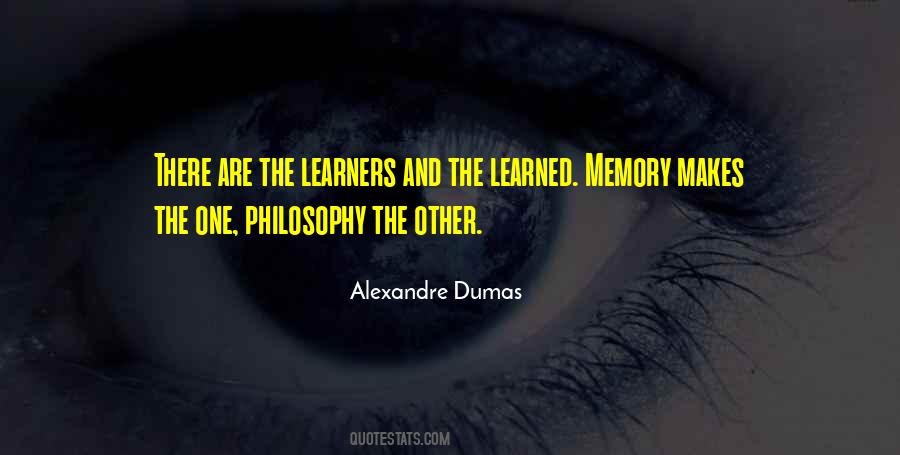 #79. I am convinced that the best learning takes place when the learner takes charge. - Author: Seymour Papert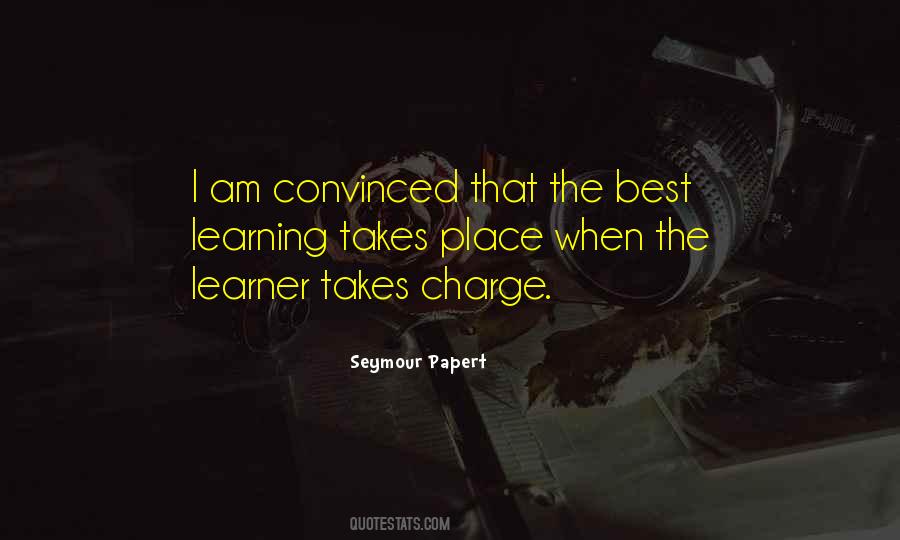 #80. I think we can be competitive on and off the field and create a model where our athletes are scholars and learners, too. - Author: Gordon Gee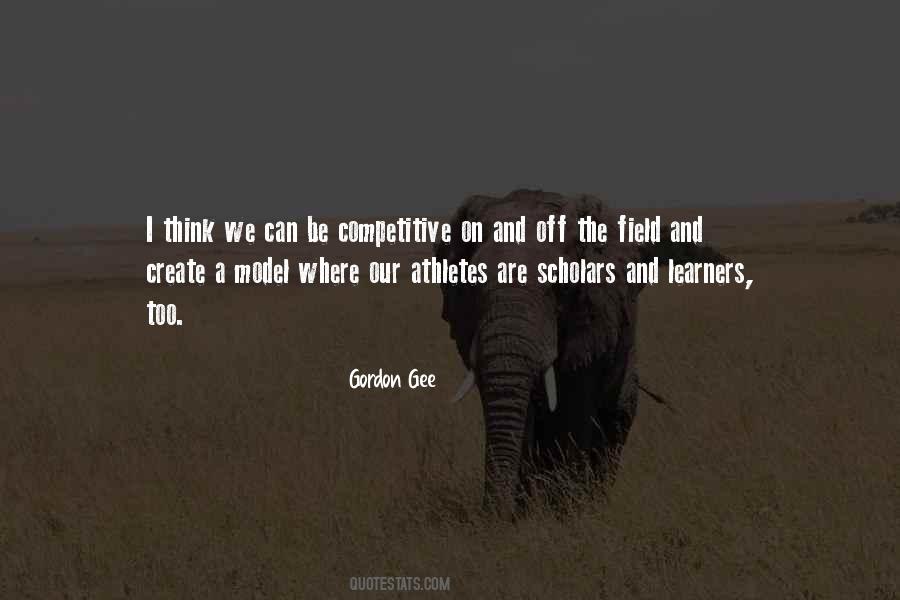 #81. The reason this will happen, and happen soon, is that learners will demand it to the point that management, teachers and administrators can no longer resist. The workers of the Games Generations will no longer accept, attend, or do training that is boring. So - Author: Marc Prensky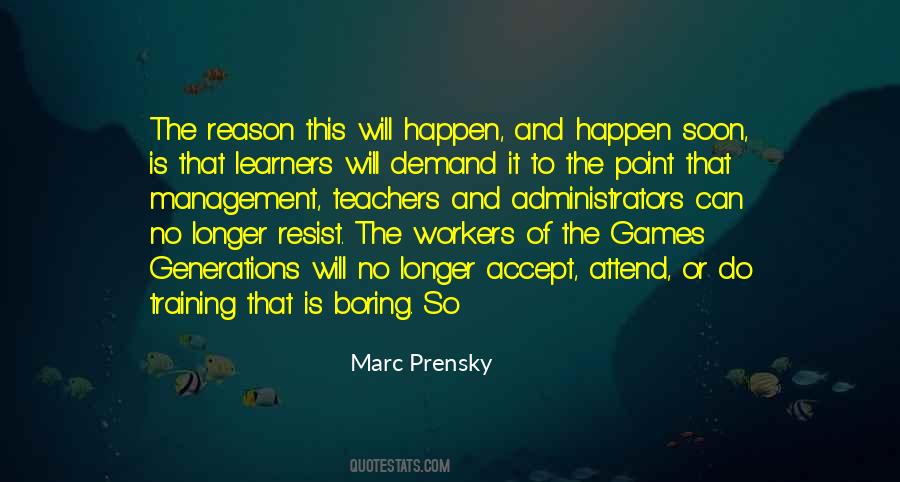 #82. The best leaders are the best notetakers, best askers, and best learners. - Author: Tom Peters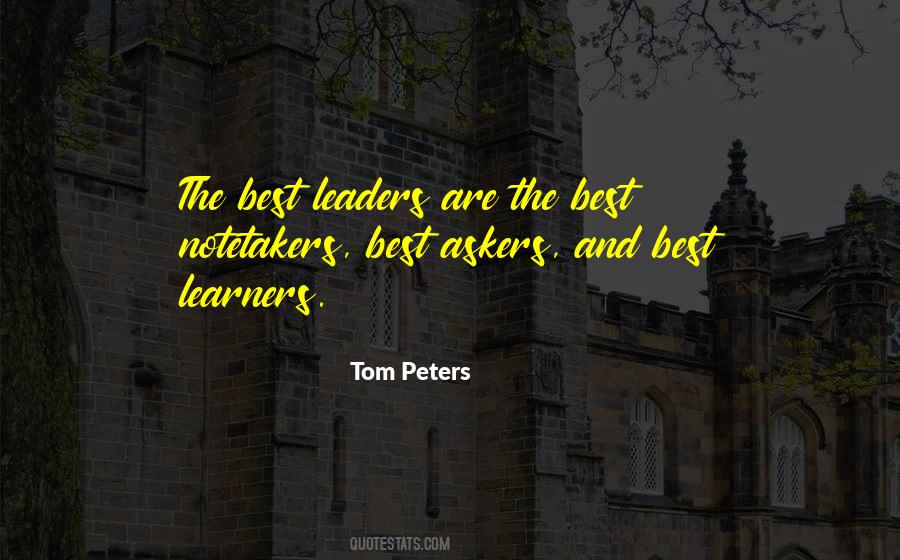 #83. The best learners ... often make the worst teachers. They are, in a very real sense, perceptually challenged. They cannot imagine what it must be like to struggle to learn something that comes so naturally to them. - Author: Stephen Brookfield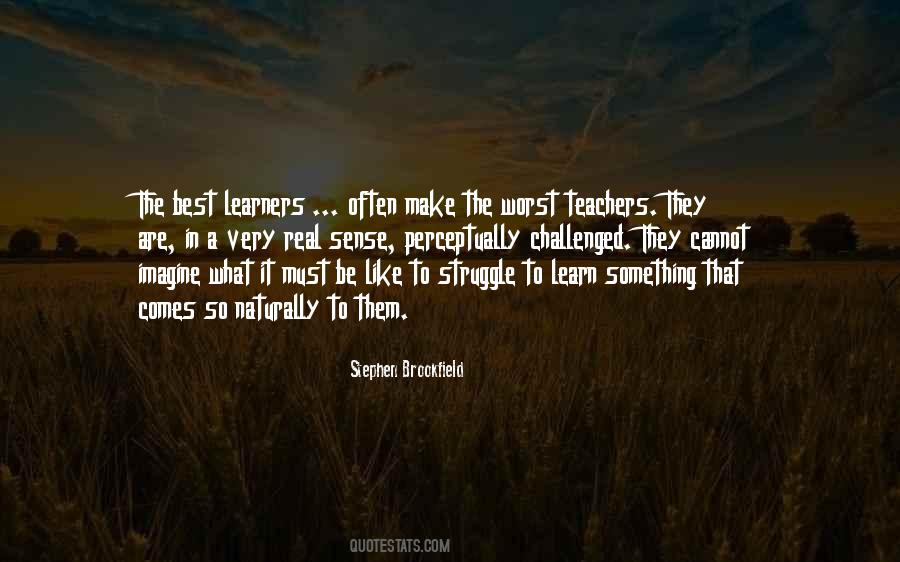 #84. Learning is not the product of teaching. Learning is the product of the activity of learners. - Author: John Holt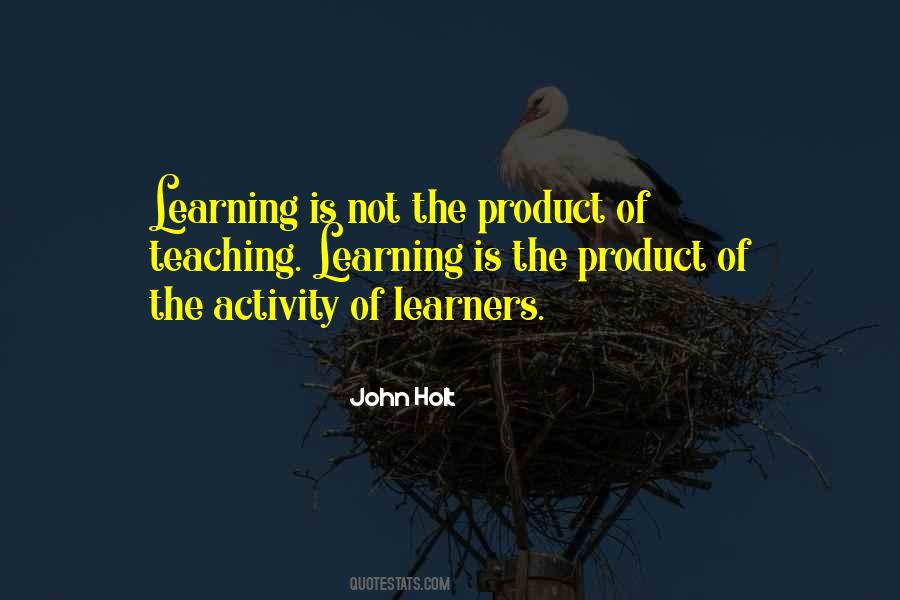 #85. Winners aren't those who lose the least, but rather those who learn the most from their losses on their way to victory. - Author: Orrin Woodward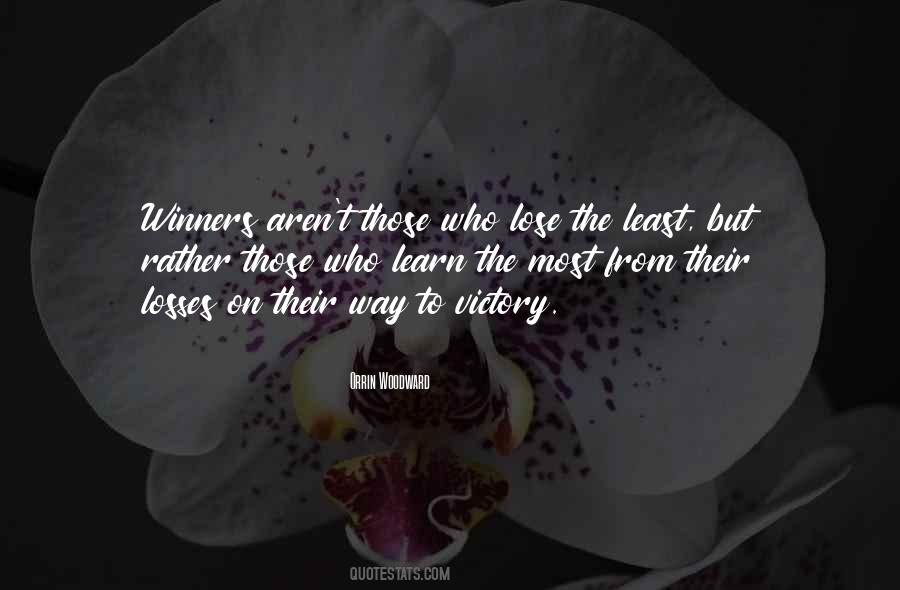 #86. They decided to allow their baby to be born. What they did not realize is that they themselves were the ones who would be 'born,' infants in a new world where magic is commonplace, Harvard professors are the slow learners, and retarded babies are the master teachers. - Author: Martha N. Beck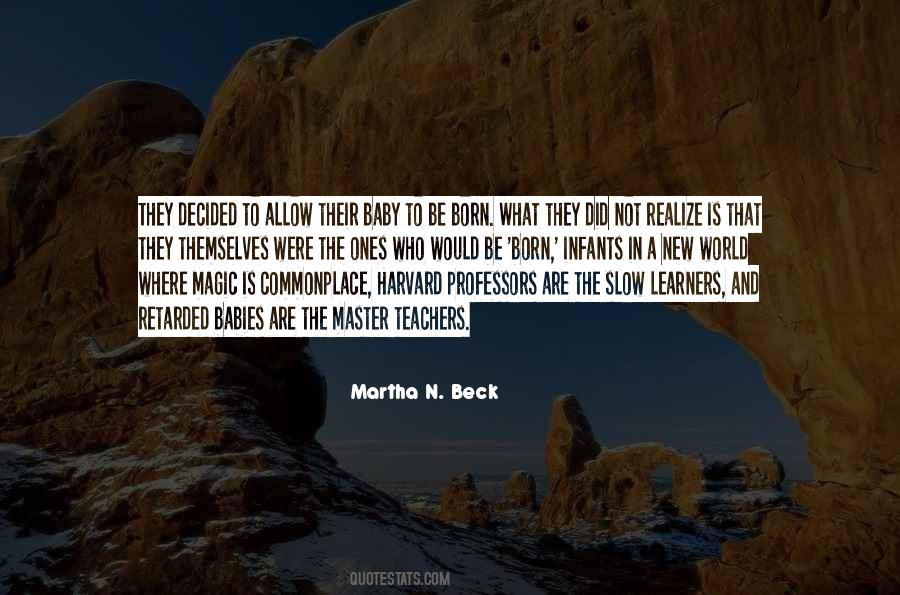 #87. We are by nature observers, and thereby learners. That is our permanent state. - Author: Ralph Waldo Emerson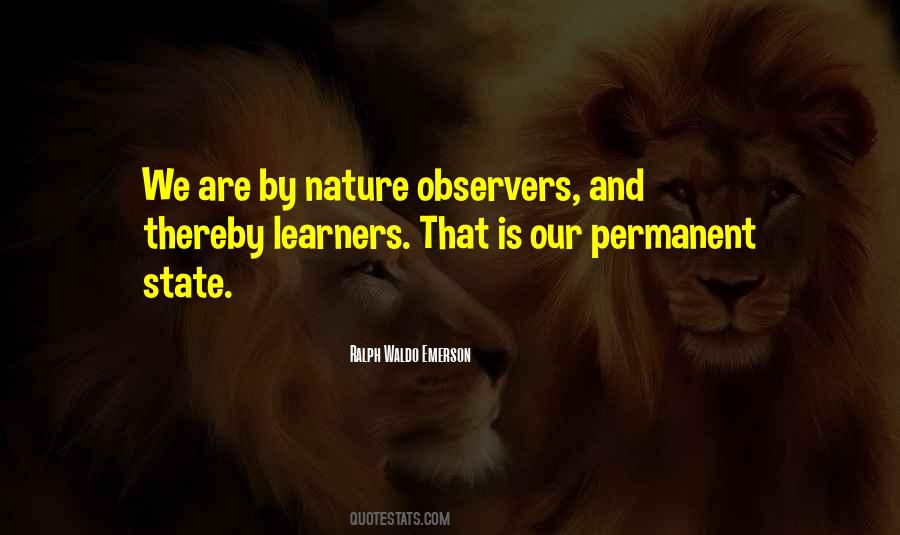 #88. Learning never ends, and as we enter the next century, it will be more and more important for all Americans to be lifelong learners ... every one of us can contribute in some way to a better-educated America. - Author: Barbara Bush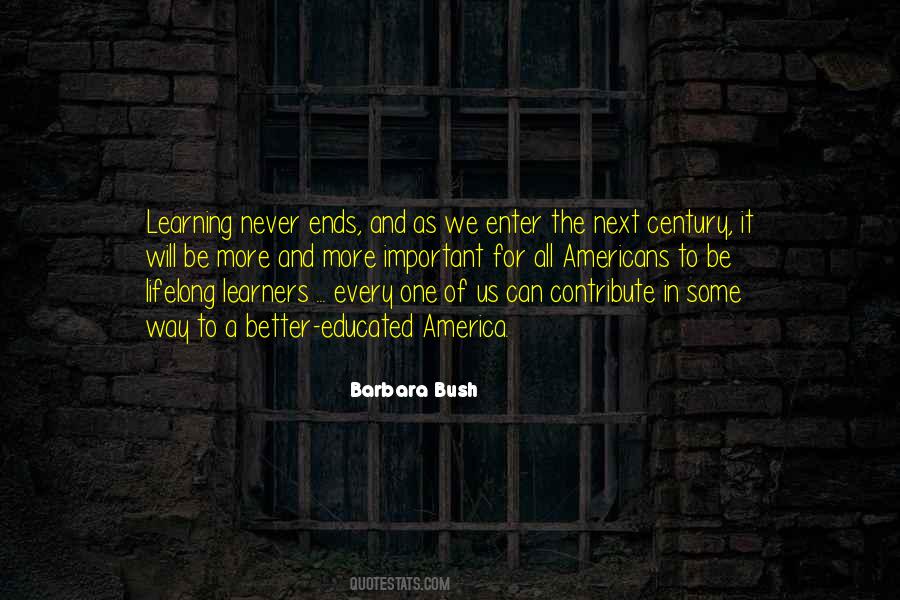 #89. What all disciplines have in common is a search for rules and a commitment to them. And what all great learners have is a deep appreciation for finding better rules and a commitment to keeping them. That is why great learners are careful about what commitments they make and then keeping them. - Author: Henry B. Eyring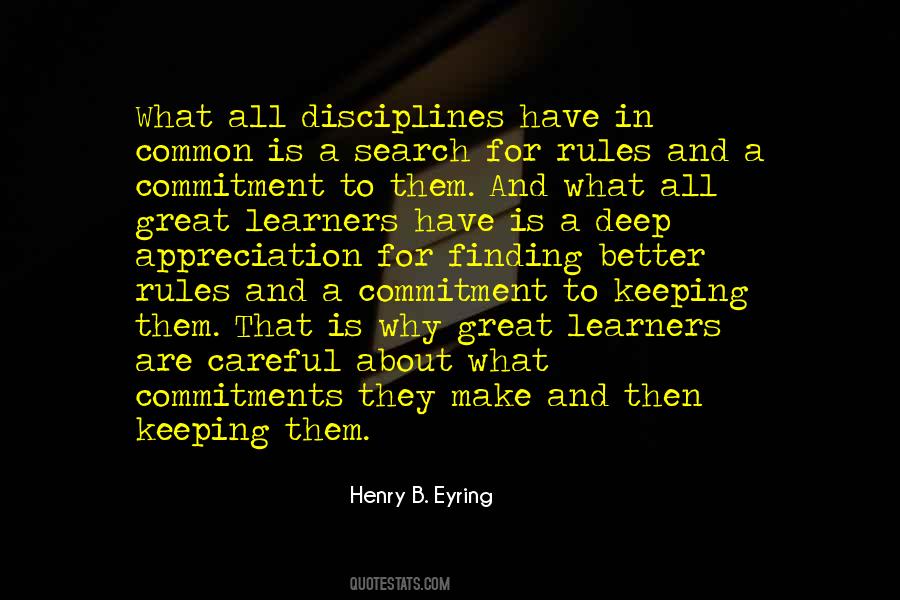 #90. Emotional attunement between teachers and learners is highlighted, as well as the central role of storytelling in traditional and contemporary learning. Research has also found that exploration and play, usually consigned to less important after-school activities, are central - Author: Louis Cozolino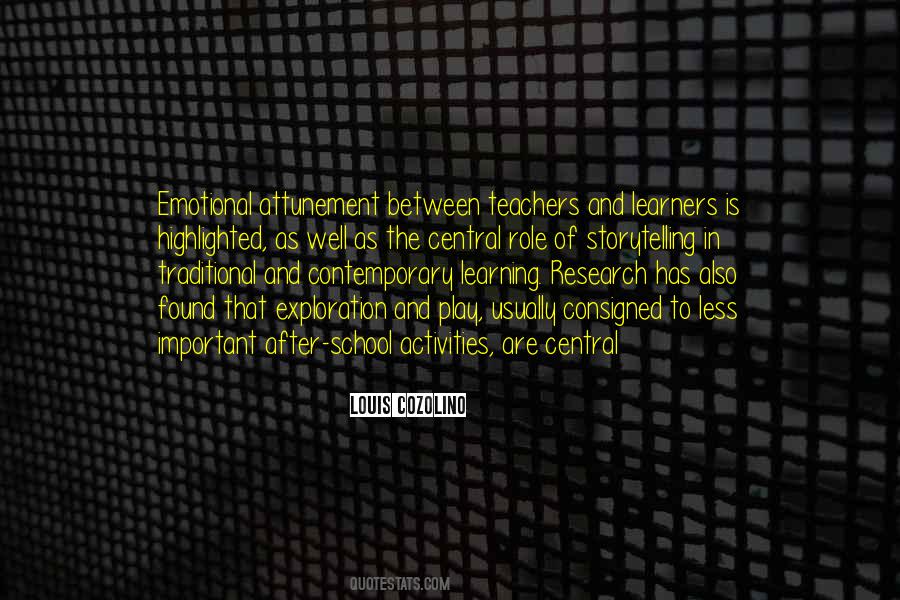 #91. The pursuit of learning is not a piece of content that can be taught. It is a value that teachers model. Only teachers who are avid, internally motivated learners can truly teach their students the joy of learning. - Author: Martin Haberman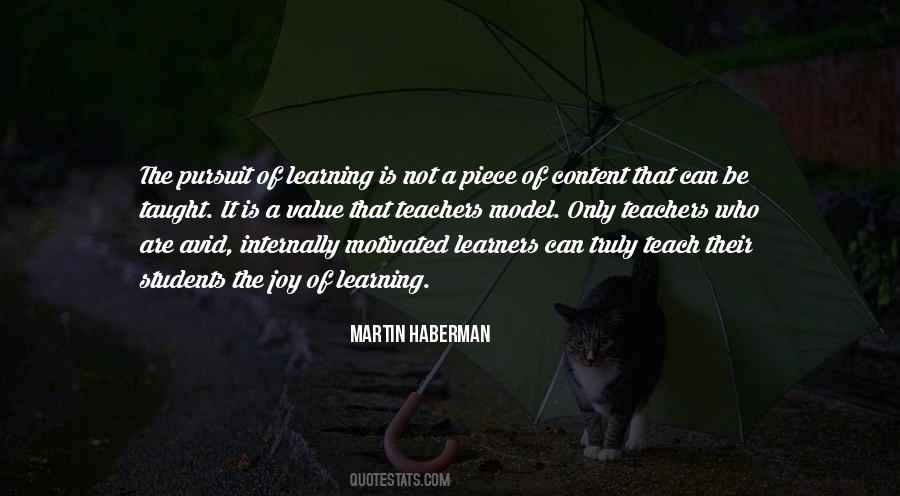 #92. All leaders are learners. The moment you stop learning, you stop leading. I learn as much as I can, from as many as I can, as often as I can. - Author: Rick Warren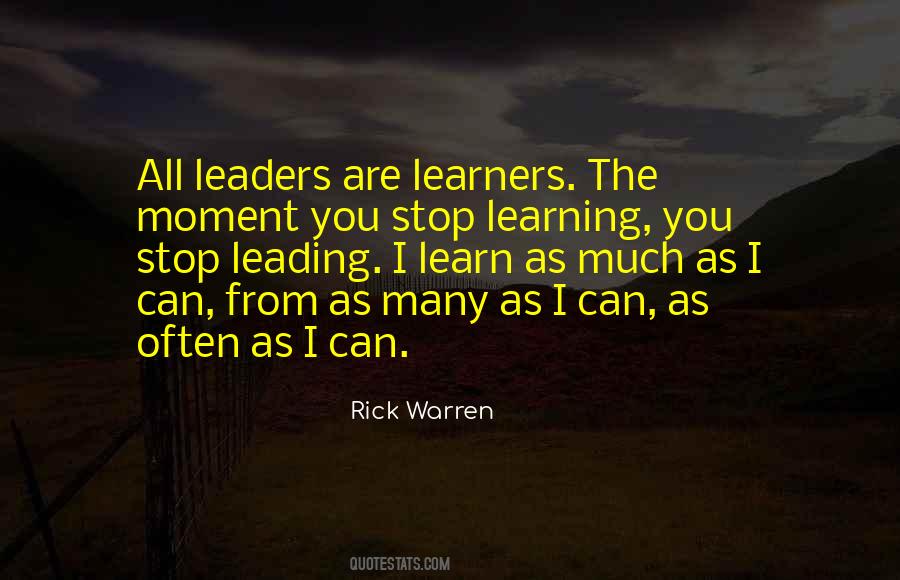 #93. Life is about learning and we all learn something from one another. Today I remember them and thank for their contribution to shape up my life. - Author: Pankaj Gupta
#94. Every child ought to be educated. - Author: Lailah Gifty Akita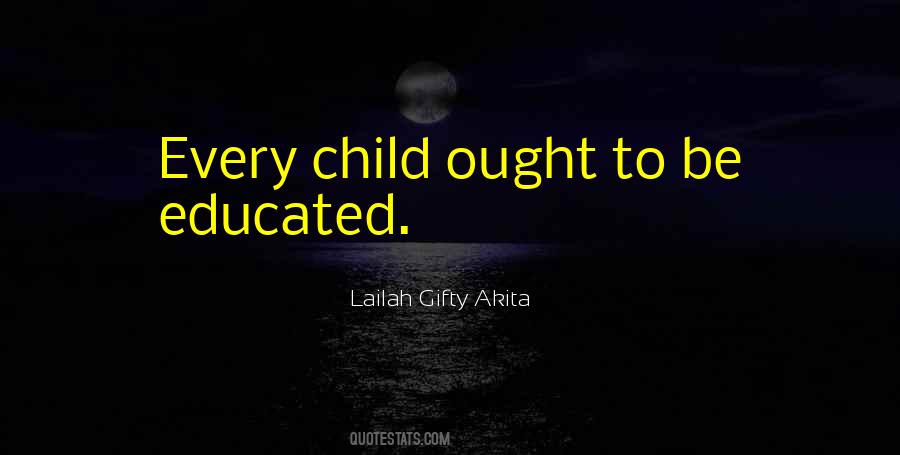 #95. When they got to Oklahoma there were still more white people waiting for them, squatting on the land the Indians had been promised in the latest worthless treaty. Slow learners, the bunch. - Author: Colson Whitehead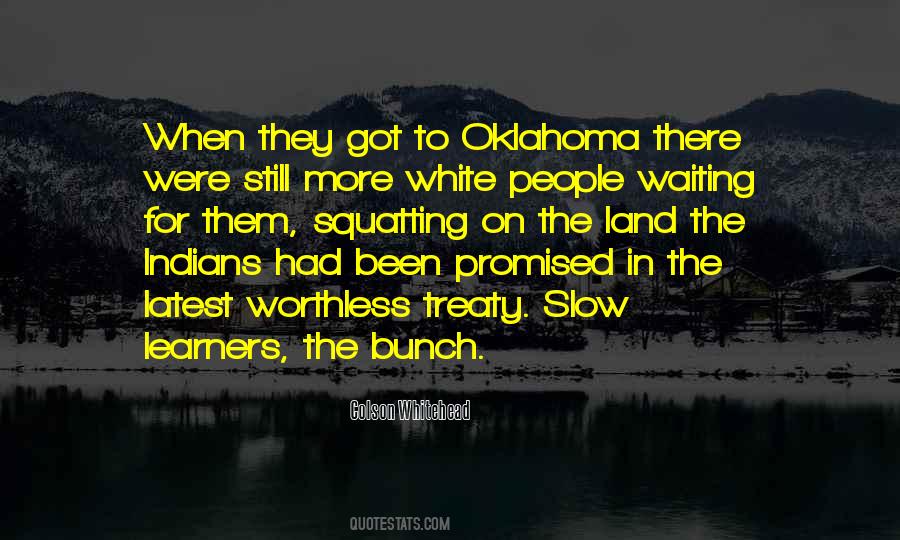 #96. Helping children master their emotions and relationships makes them better learners. - Author: Linda Lantieri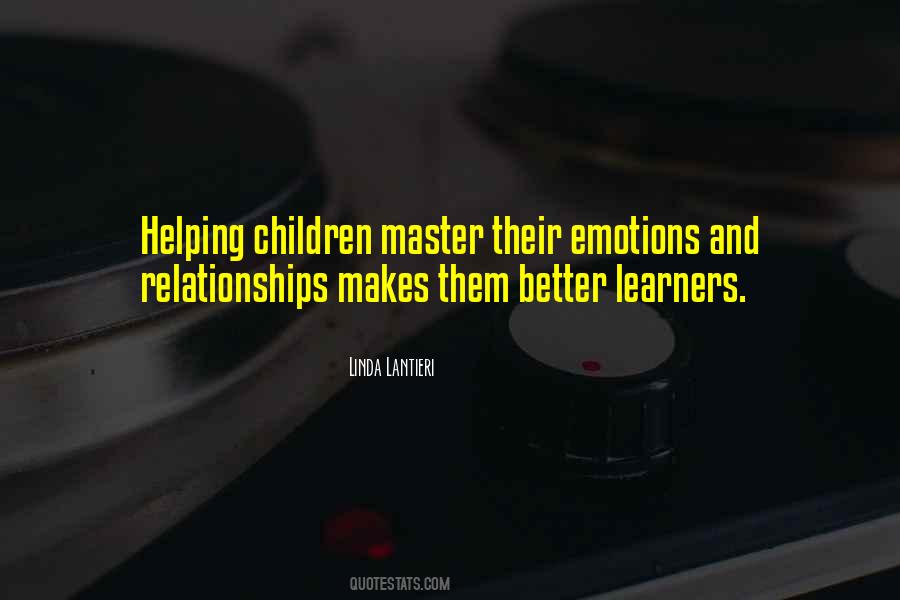 #97. All of the top achievers I know are life-long learners. Looking for new skills, insights, and ideas. If they're not learning, they're not growing and not moving toward excellence. - Author: Denis Waitley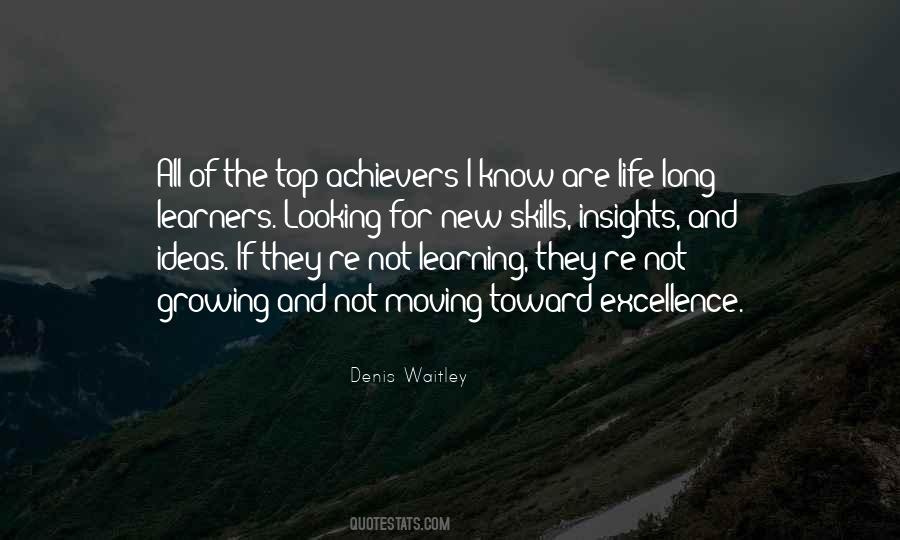 #98. The rigorous process of learning to develop and ask questions offers students the invaluable opportunity to become independent thinkers and self-directed learners. - Author: Dan Rothstein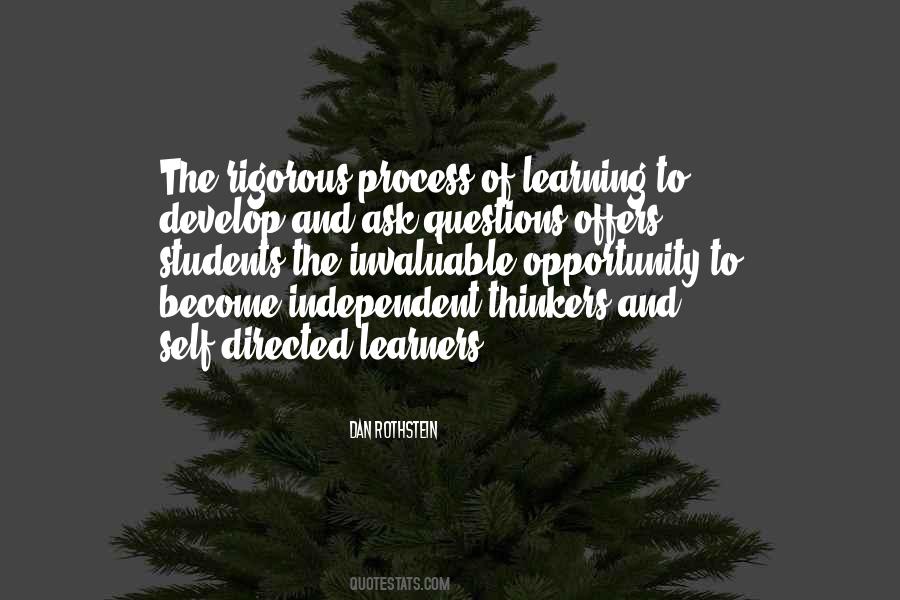 #99. I divide the world into learners and non-learners. - Author: Benjamin Barber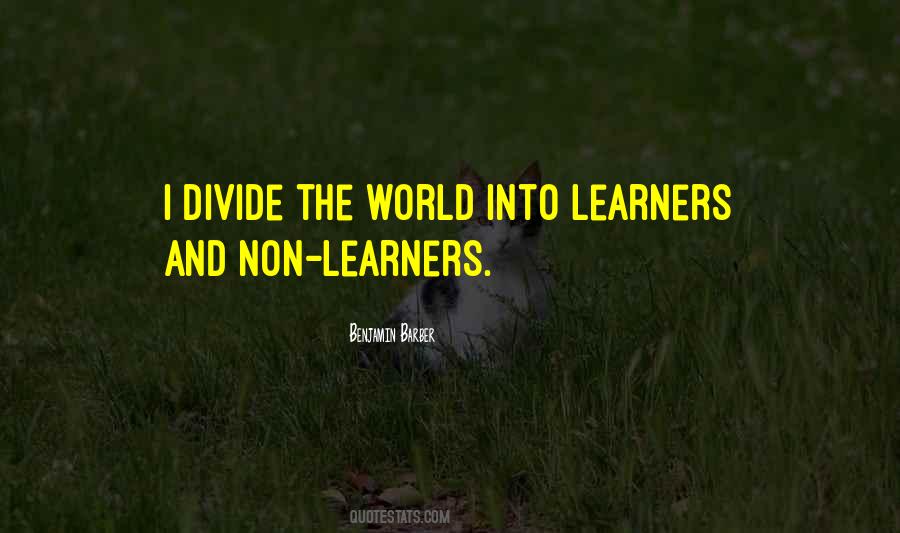 #100. I knew that I wanted to follow their example and become a teacher who would help students become self-directed learners. - Author: Bell Hooks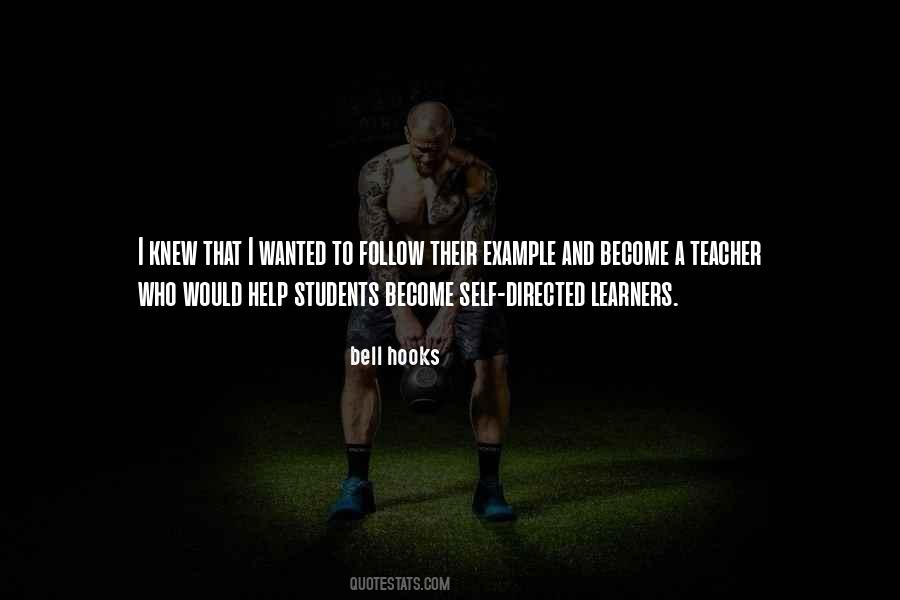 Famous Authors
Popular Topics