Jesus Death Famous Quotes & Sayings
List of top 100 famous quotes and sayings about jesus death to read and share with friends on your Facebook, Twitter, blogs.
Top 100 Quotes About Jesus Death
#1. I want to stop writing, stare you in the face, and scream: Jesus died! He chose the most grueling death to bring you to God! Everything is changed! You and I were destined for a horrifying encounter with God - we were "objects of wrath" (Eph. 2:3) - but that has all changed! Death - Author: Francis Chan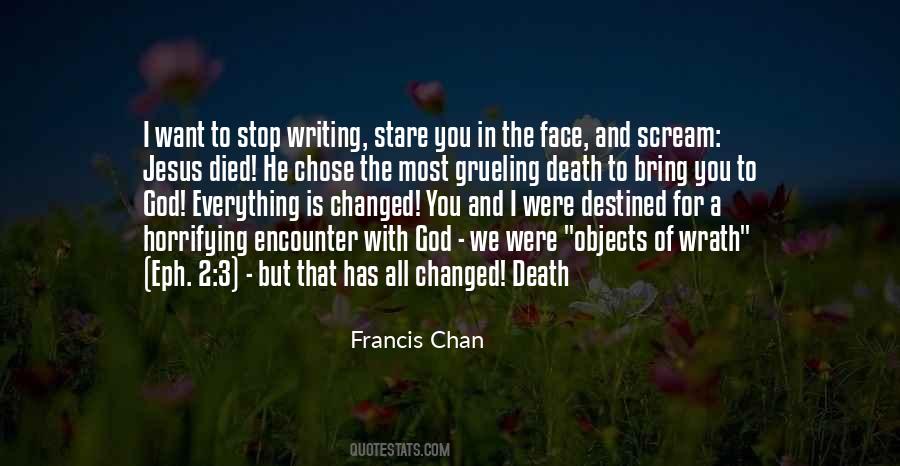 #2. For resurrection faith means courage to revolt against the "covenant with death" (Isa. 28:15), it means hope for the victory of life which shall swallow up and conquer life-devouring death. ~ p.14 - Author: Jurgen Moltmann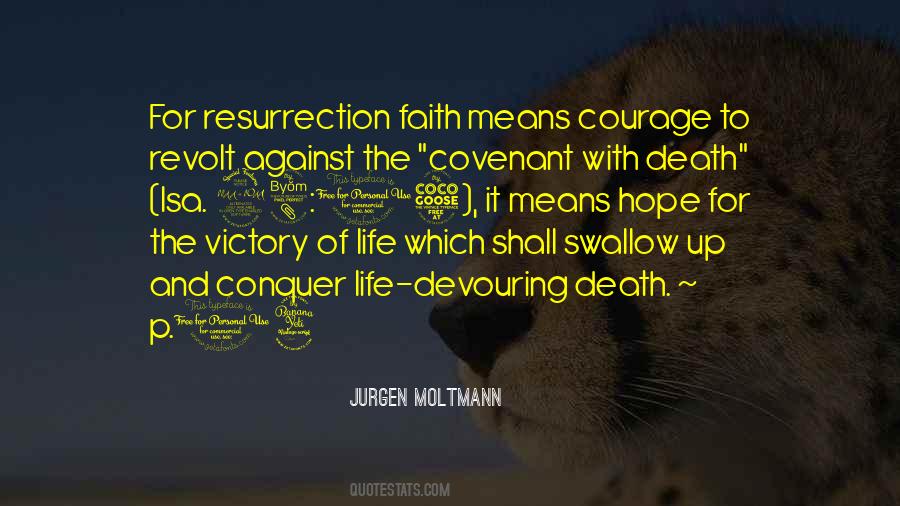 #3. Christ died for our sins. Jesus Christ, the eternal Son of God, took upon Himself a human nature and died a horrible death on our behalf. That is the reason for the cross. He suffered what we should have suffered. He died in our place to pay the penalty for our sins. - Author: Jerry Bridges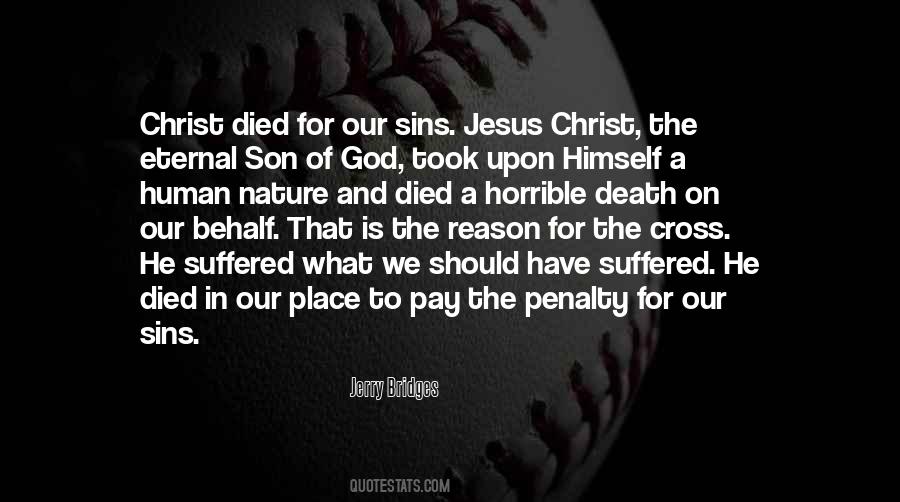 #4. Our sins are forgiven and we are accepted as righteous by God because of both the sinless life and sin-bearing death of our Lord Jesus Christ. There is no greater motivation for dealing with sin in our lives than the realization of these two glorious truths of the gospel. - Author: Jerry Bridges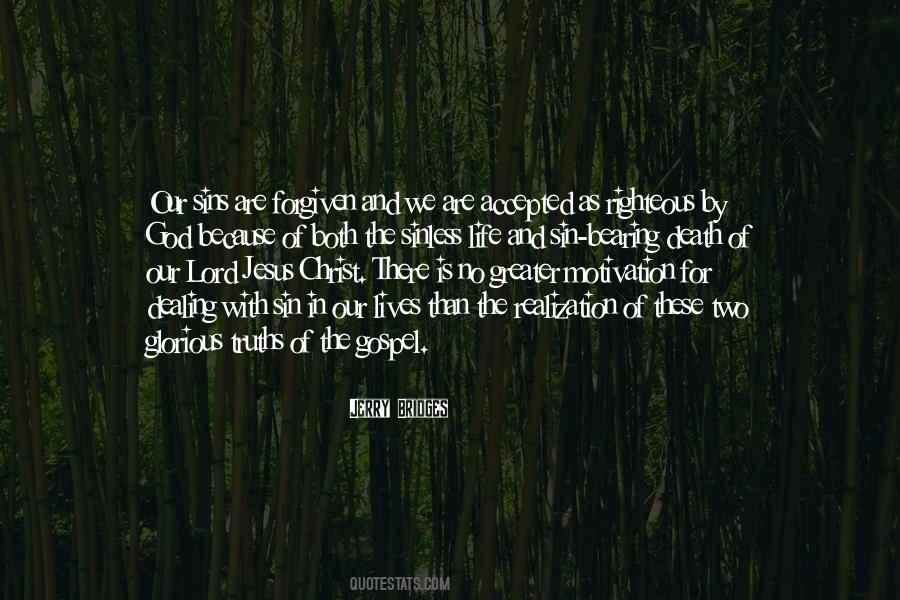 #5. Jesus, you've got a death wish."
"Right now I have a bathroom-and-sleep-somewhere safe wish, kid. - Author: Lilith Saintcrow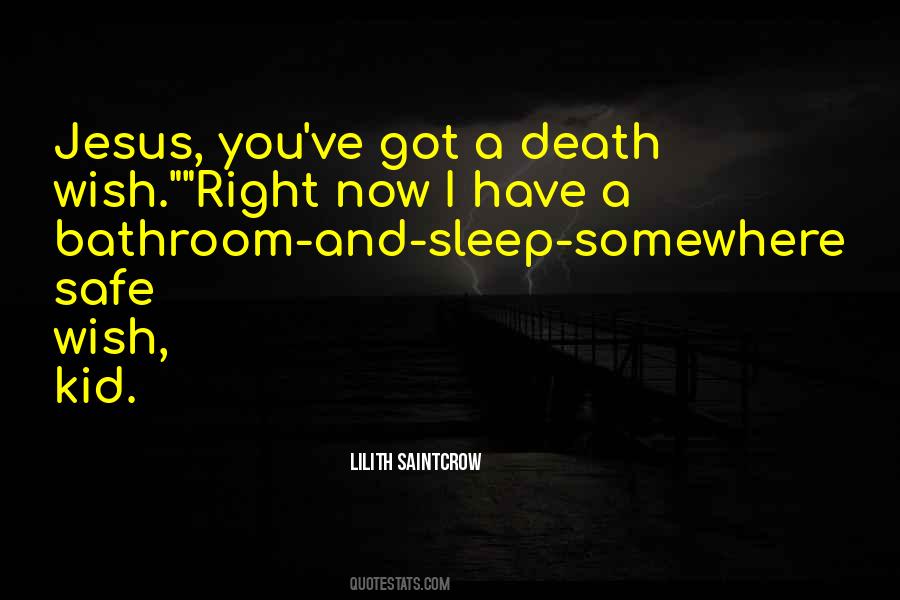 #6. Death may be the King of terrors ... but Jesus is the King of kings! - Author: Dwight L. Moody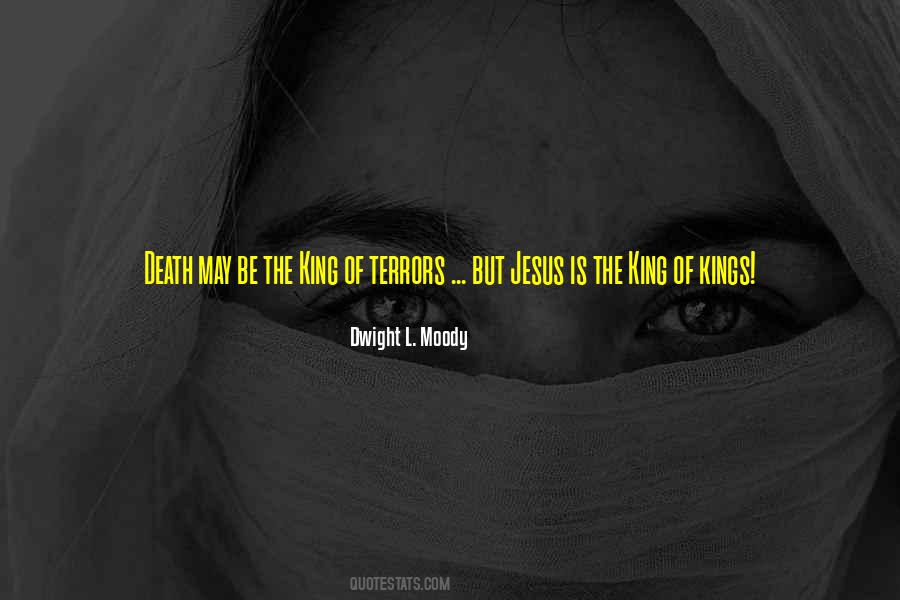 #7. The truth is in Jesus and it leads to the fullness of truth about God, man, creation, history, sin, righteousness, grace, faith, salvation, life, death, purpose, meaning, relationships, heaven, hell, judgement, eternity, and everything else of ultimate consequence. - Author: John F. MacArthur Jr.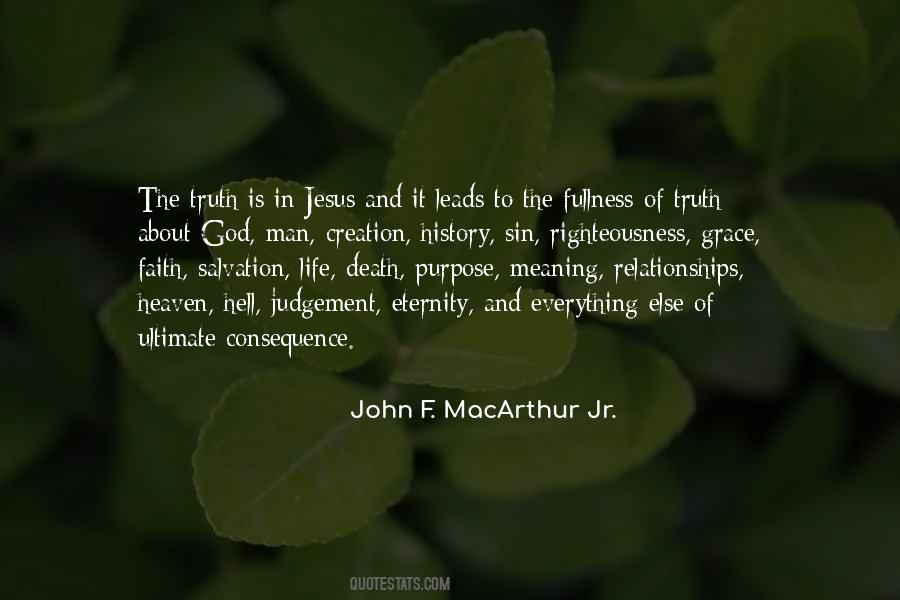 #8. A poet will even face death when he sees his people oppressed. - Author: Carolina Maria De Jesus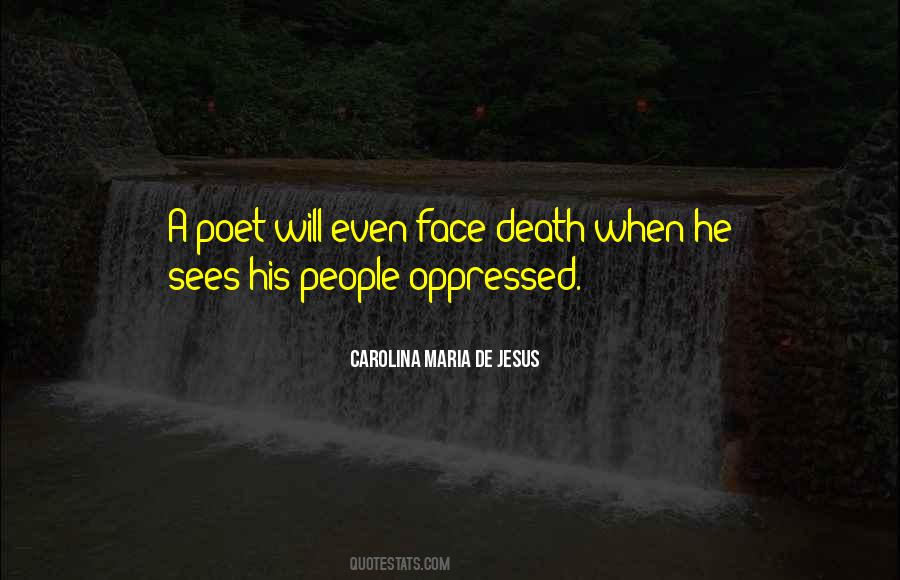 #9. What made Jesus' death uncommon, unusual? It was the dying of the just for the unjust. It was His sacrificial dying, His vicarious dying. He paid a debt He did not owe in behalf of the others too deeply in debt ever to pay. - Author: A.W. Tozer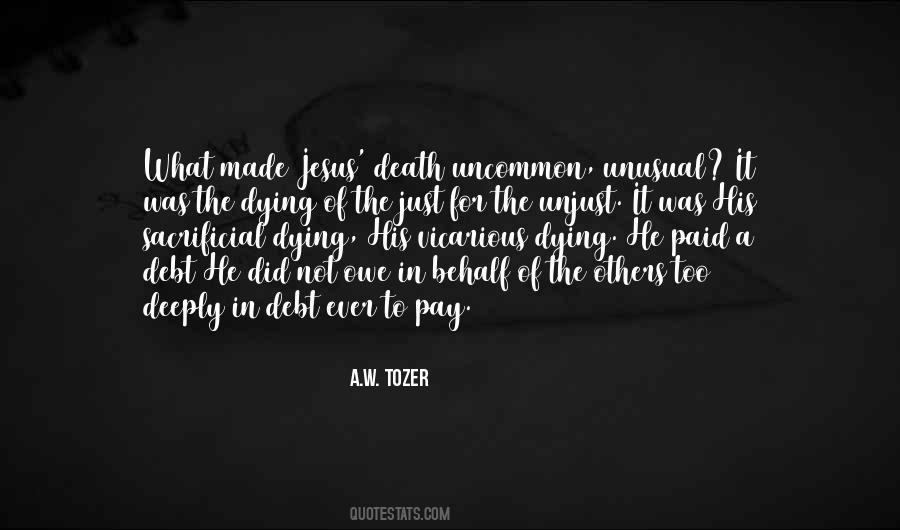 #10. When we are ready, [Jesus Christ's] pure love instantly moves across time and space, reaches down, and pulls us up from the depths of any tumultuous sea of darkness, sin, sorrow, death, or despair we may find ourselves in and brings us into the light and life and love of eternity. - Author: John H. Groberg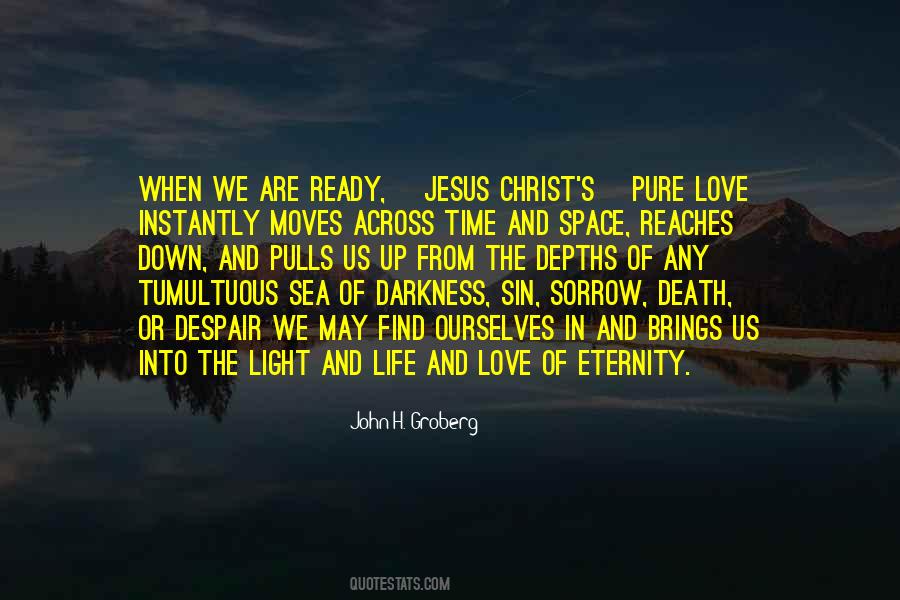 #11. He [Jesus] was the greatest human being who has ever lived. He was a moral genius. His ethical sense was unique. He was the intrinsically wisest person that I've ever encountered in my life or in my reading. His commitment was total and led to his own death, much to the detriment of the world ... - Author: Charles Templeton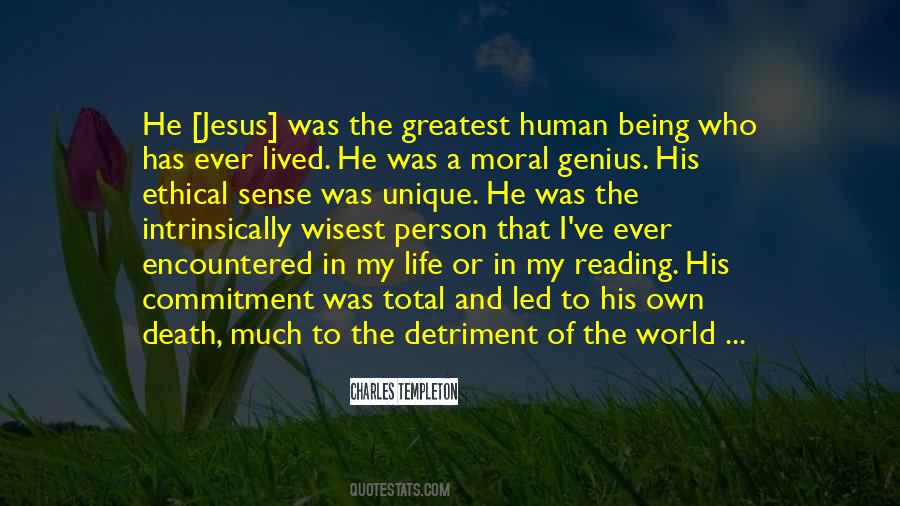 #12. The gospel is not mere forgiveness or grace, empty of content, but always refers to Jesus. So the gospel is good news about a human person who is God in our history, our world and who came to accomplish something in his life death and resurrection. - Author: William McDavid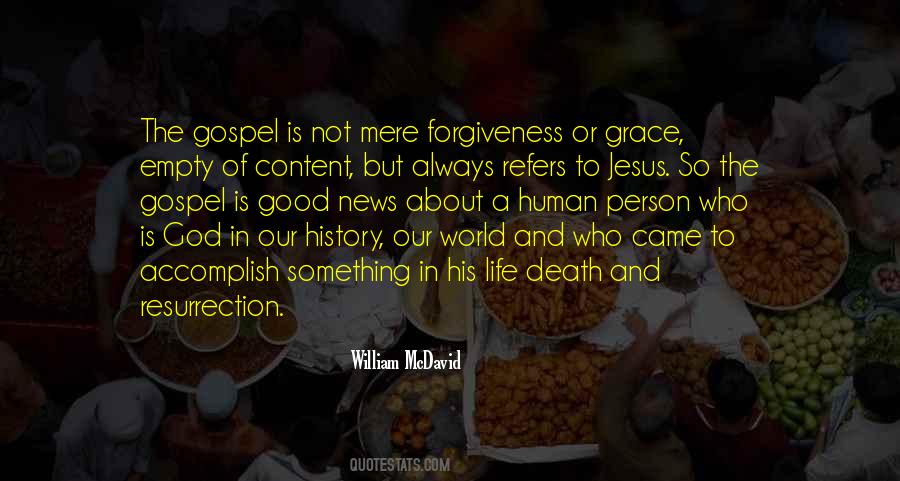 #13. human redemption was accomplished through Jesus's death and resurrection. - Author: Walter A. Elwell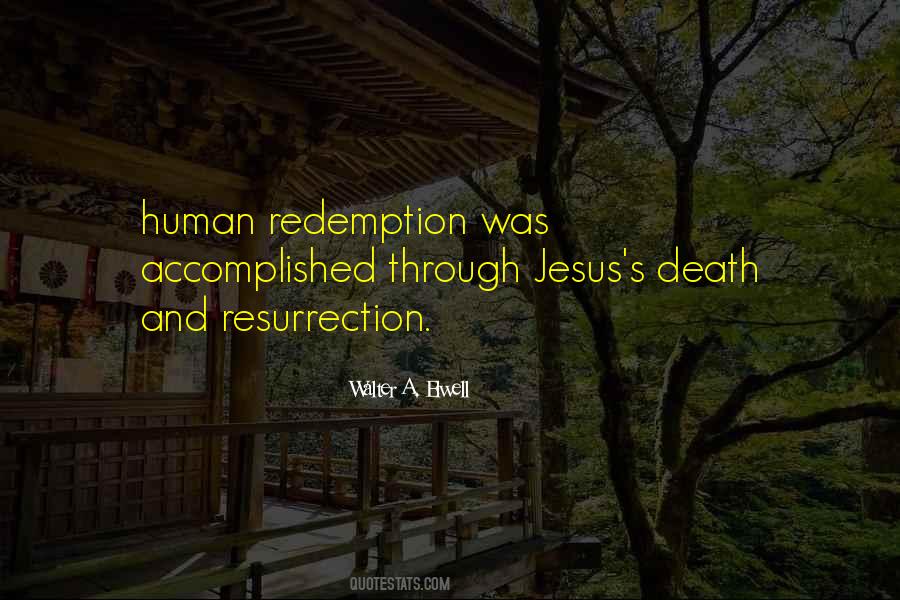 #14. There was need of a phantastic, indestructible optimism, and one far removed from all sense of reality, in order, for example, to discover in the shameful death of Christ really the highest salvation and the redemption of the world. - Author: Carl Jung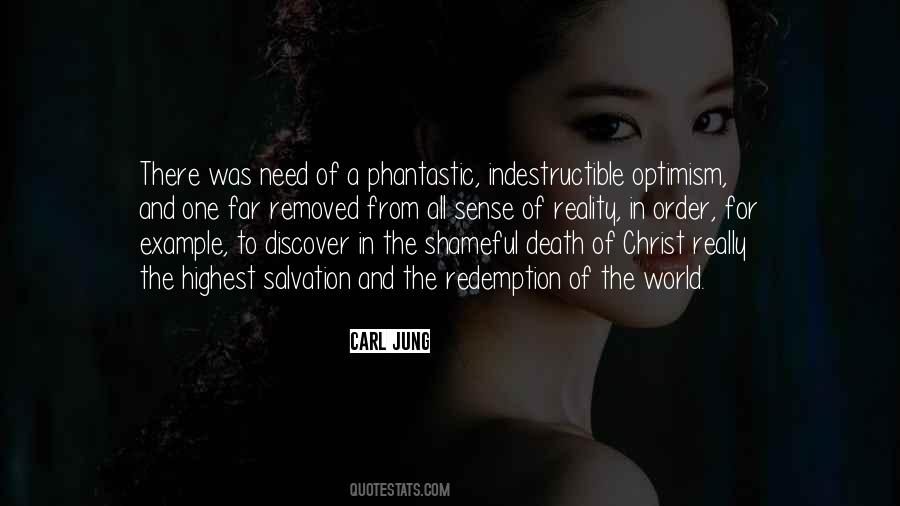 #15. When we see death, we see disaster. When Jesus sees death, he sees deliverance! - Author: Max Lucado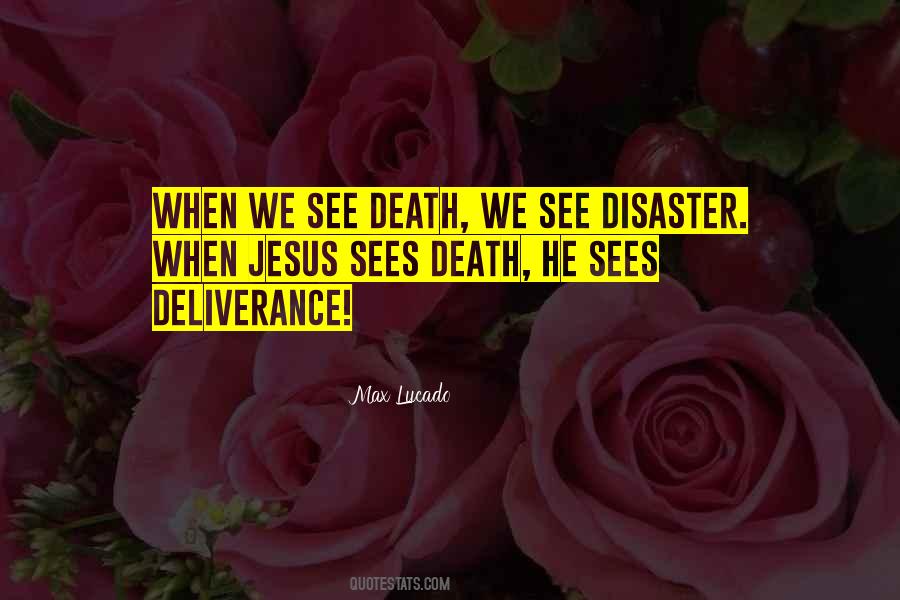 #16. Jesus, Lacey. You just scared me half to death."
I forced a laugh. "Only half? Damn. - Author: Violet Cross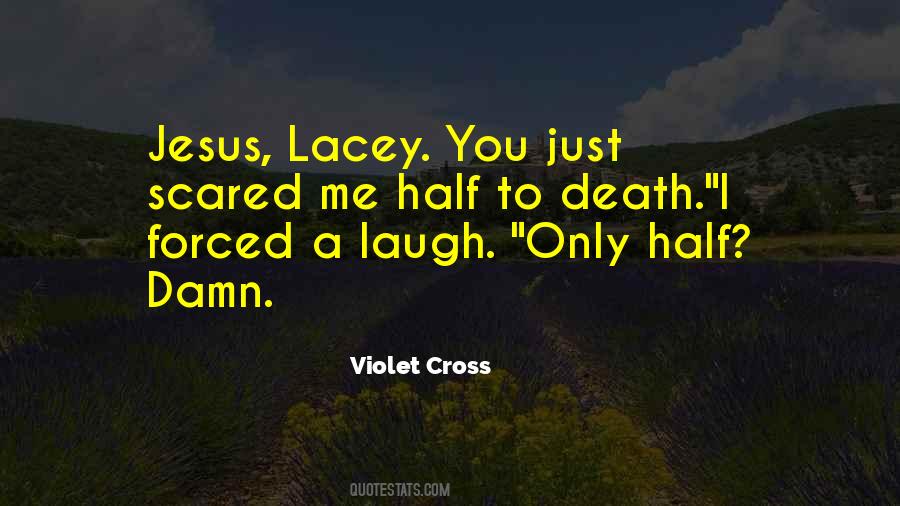 #17. The most important events in human history were the death and the resurrection of Jesus Christ. - Author: Billy Graham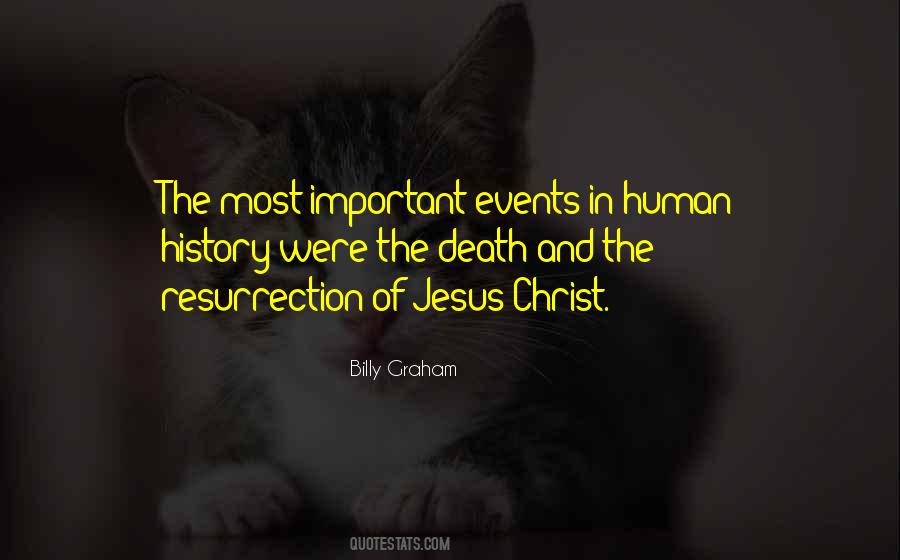 #18. Have we forgotten our calling? (2 Cor. 5:19-20) Remember that your first and foremost calling is to proclaim the gospel of Jesus Christ, and that gospel is a twofold message: His death for our sins and His resurrection for our lives. - Author: Kay Arthur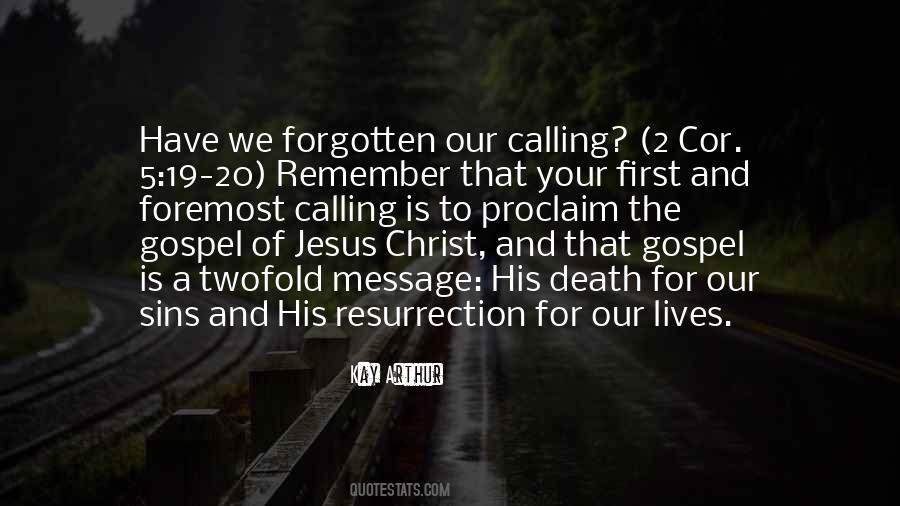 #19. We are told that Christ was killed for us, that His death has washed out our sins, and that by dying He disabled death itself. That is the formula. That is Christianity. That is what has to be believed. - Author: C.S. Lewis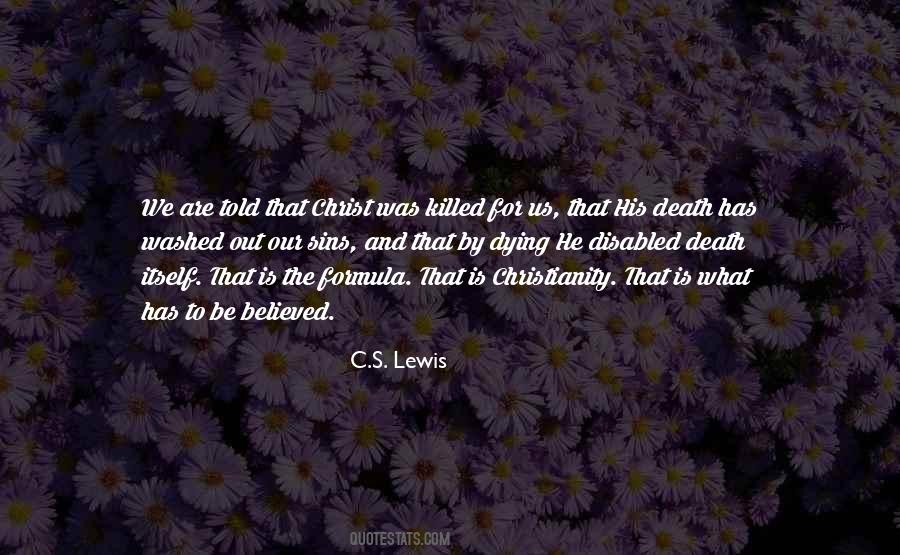 #20. Jesus did not ask us to believe that his death was a blood sacrifice, that he was going to die for our sins. - Author: Robert W. Funk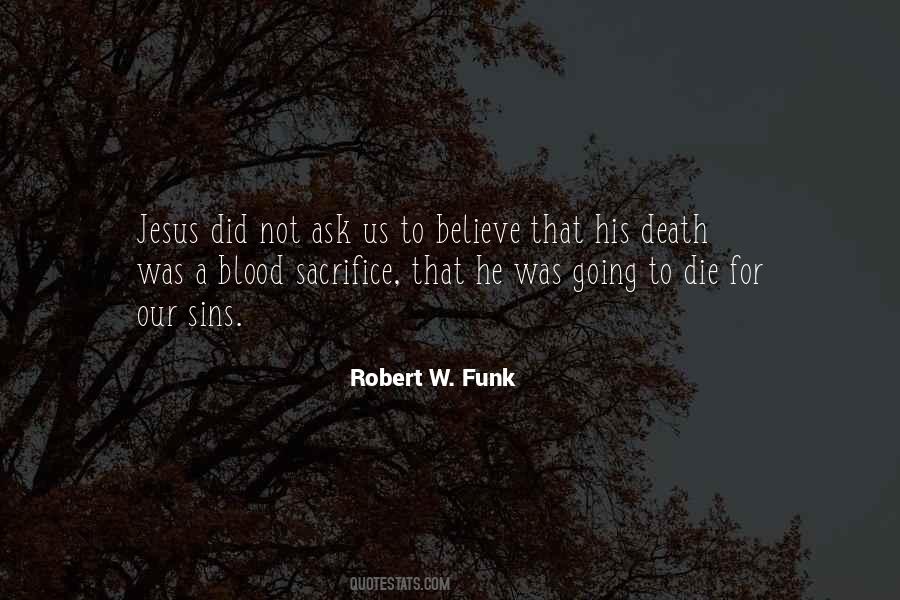 #21. Matty just rolled his eyes and walked over to his older brother. "Why is it when everyone thinks they're on their death bed, they suddenly find Jesus?"
Jayne shrugged and replied, "Because that's where he likes to hang out? - Author: Nonjon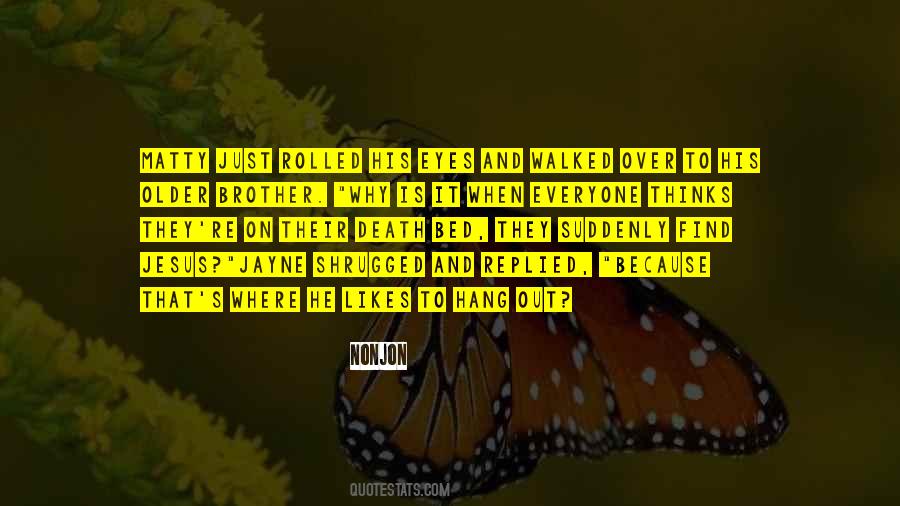 #22. Our crucifixes exhibit the pain, but they veil, perhaps necessarily, the obscenity: but the death of the God-Man was both. - Author: Charles Williams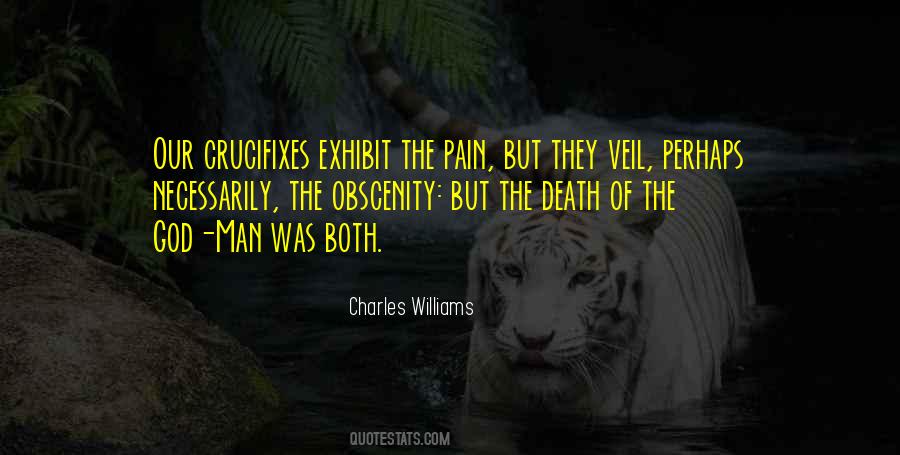 #23. Only you and I who love Jesus and have Him now before this life's death will be able to be among the special super-citizens of the Heavenly City, a special super-class of people! - Author: David Berg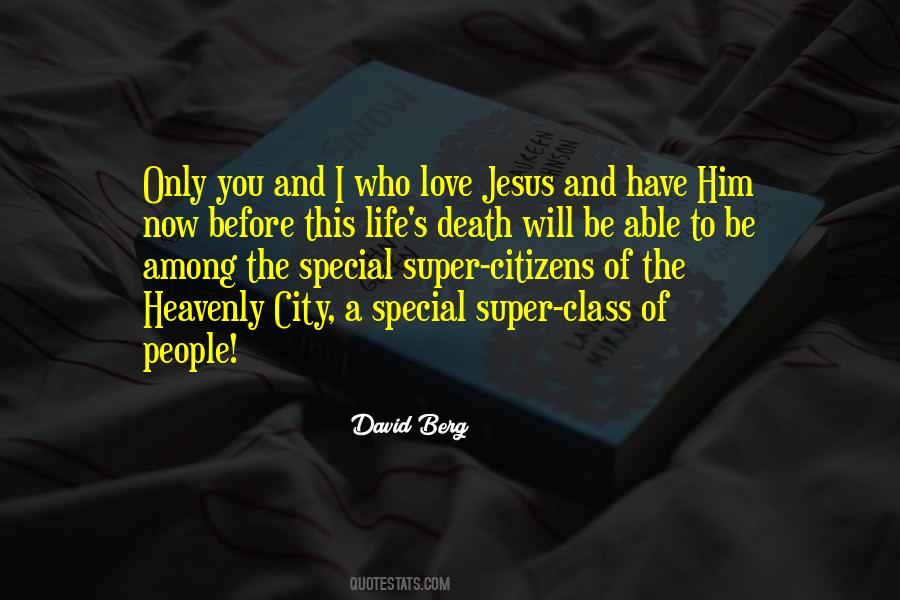 #24. Righteous Lord, I have many who falsely accuse me. Defend me from them! But I also know my sin, and my heart rightly accuses me. I rest in Jesus's atoning death for me. - Author: Timothy J. Keller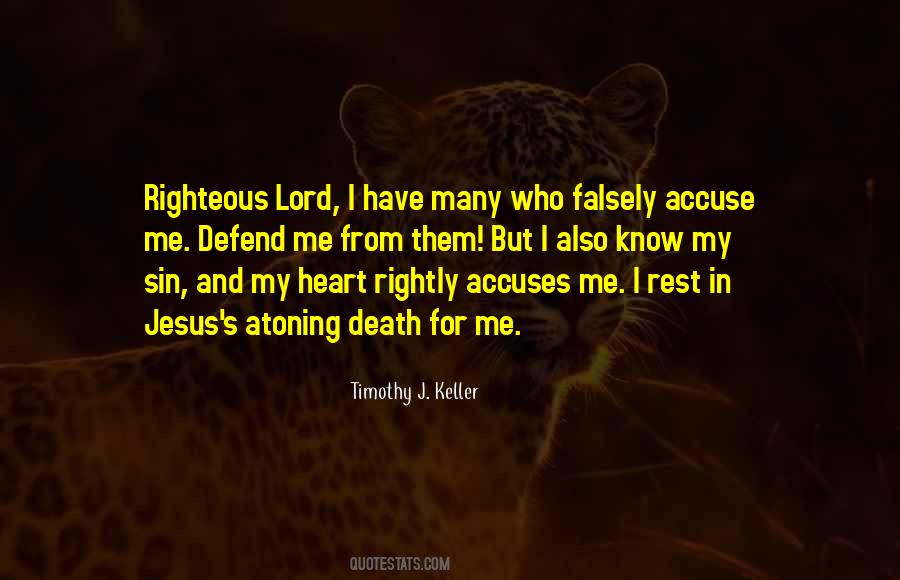 #25. God's loving plan to save sinners started with Jesus' death and resurrection. The influence God calls you to have for His Kingdom is very simple: just tell the world what He did for you. - Author: Tony Dungy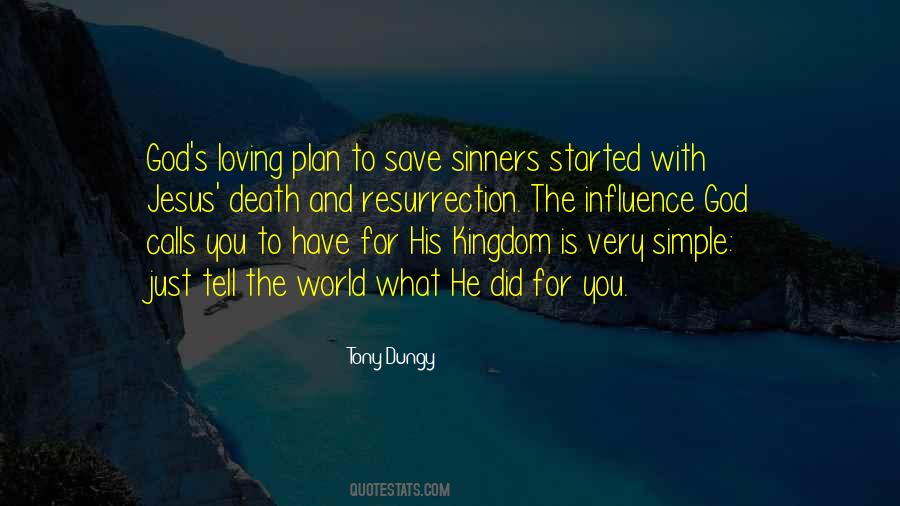 #26. There are an incalculable number of things within me that I frantically wish to be emptied of, and despite my most earnest efforts to remove them, they remain. And it is Easter that reminds me that God empties out tombs. - Author: Craig D. Lounsbrough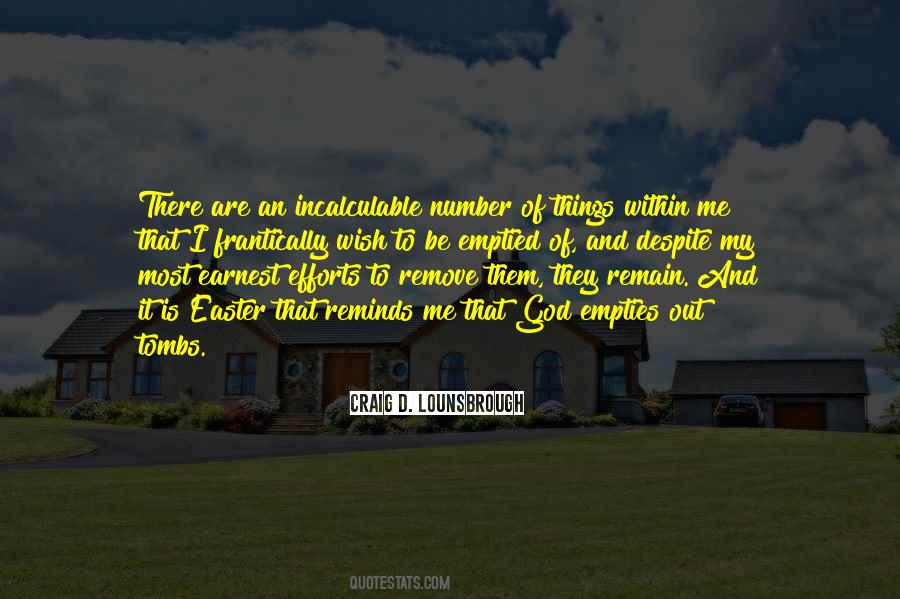 #27. The God of freedom, the true God, is ... not recognized by his power and glory in the history of the world, but through his helplessness and his death on the scandal of the cross of Jesus - Author: Jurgen Moltmann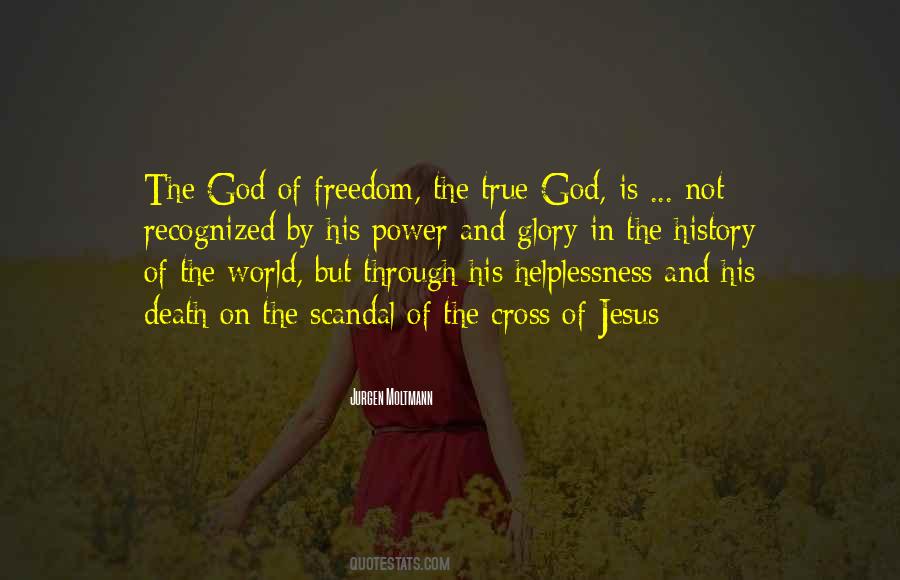 #28. Blessed be Thou, my Lord Jesus Christ, who didst foretell Thy death before the time, and in the Last Supper didst wonderfully consecrate Thy precious Body of material bread, and also charitably gave it to Thy Apostles, in memory of Thy most worthy Passion - Author: Brigit Of Kildare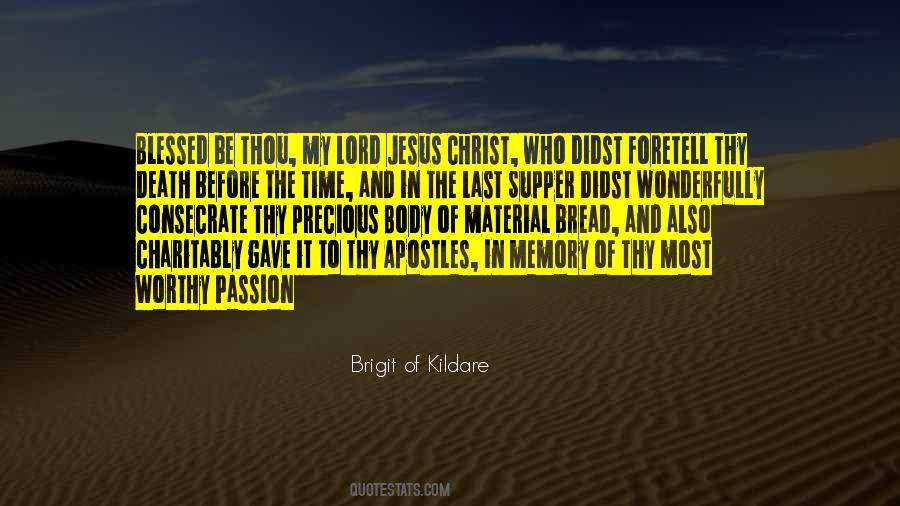 #29. Those who did know Jesus - those who followed him into Jerusalem as its king and helped him cleanse the Temple in God's name, who were there when he was arrested and who watched him die a lonely death - played a surprisingly small role in defining the movement Jesus left behing. - Author: Reza Aslan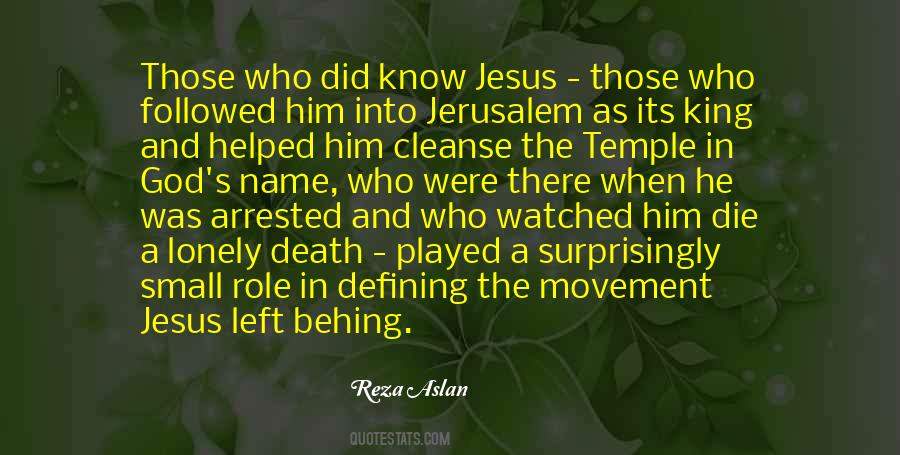 #30. Jesus was not conquered by death. By His death, He conquered death. - Author: Nancy Leigh DeMoss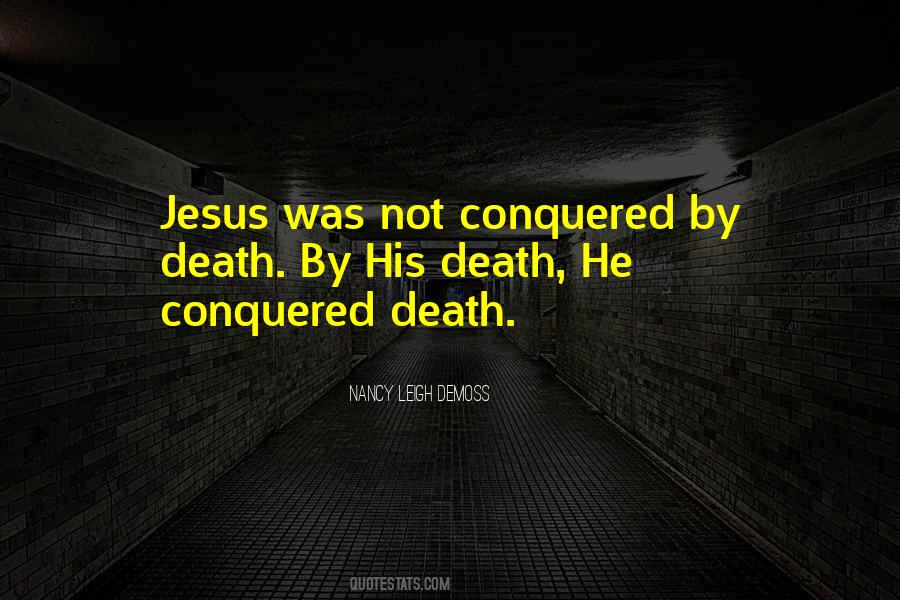 #31. Thus, a story concocted by Mark strictly for evangelistic purposes to shift the blame for Jesus's death away from Rome is stretched with the passage of time to the point of absurdity, becoming in the process the basis for two thousand years of Christian anti-Semitism. - Author: Reza Aslan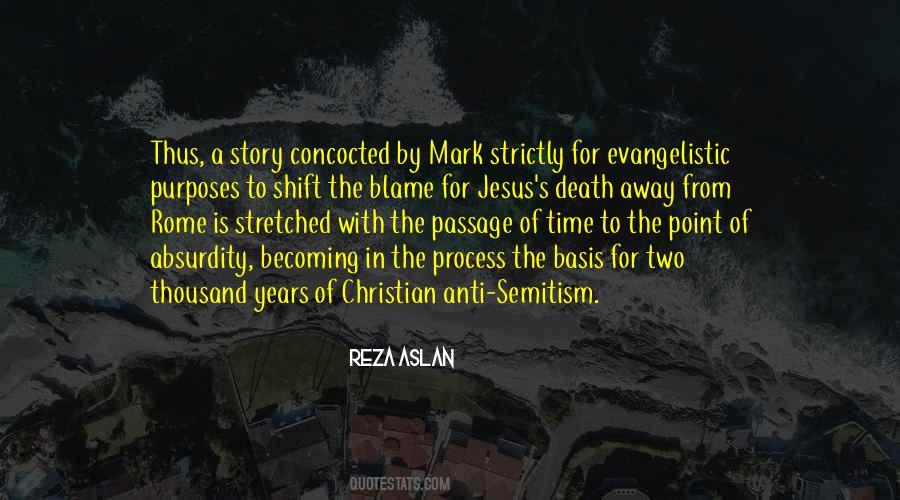 #32. O my Blessed God! let me climb up near to Him, and love, and long, and plead, and wrestle, and strech after Him, and for deliverence from the body of sin and death. Alas! my soul mourned to think i should ever lose sight of its Beloved again. O come, Lord Jesus, amen. - Author: David Brainerd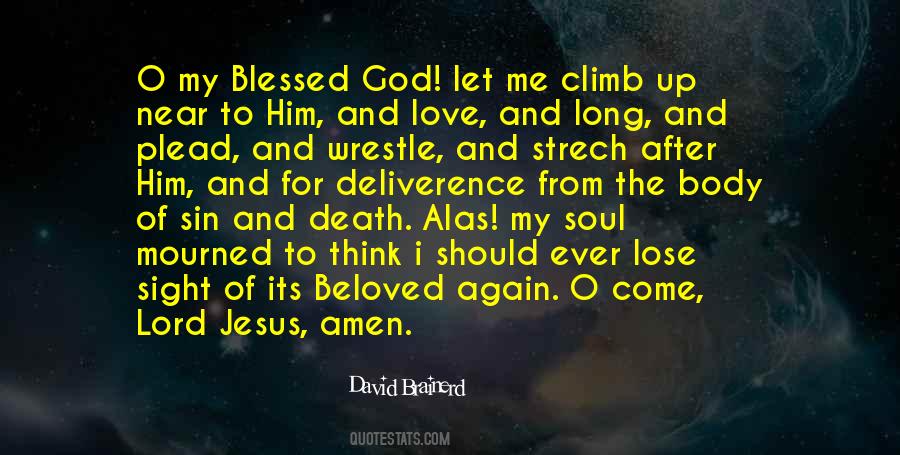 #33. This can come as a shock to those Christians who are so used to hearing that Jesus is the solution to sin that they assume that the remedy started with the death of Jesus. - Author: Doug Pagitt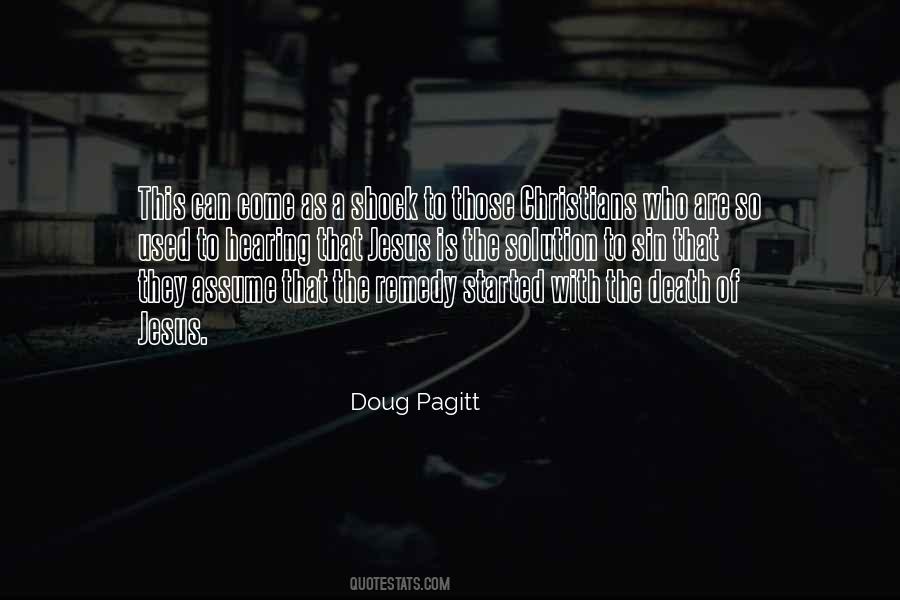 #34. What happens at the cross is a "blessed exchange." God gathers up all our sin, all our broken-ass junk, into God's own self and transforms all that death into life. Jesus takes our crap and exchanges it for his blessedness. - Author: Nadia Bolz-Weber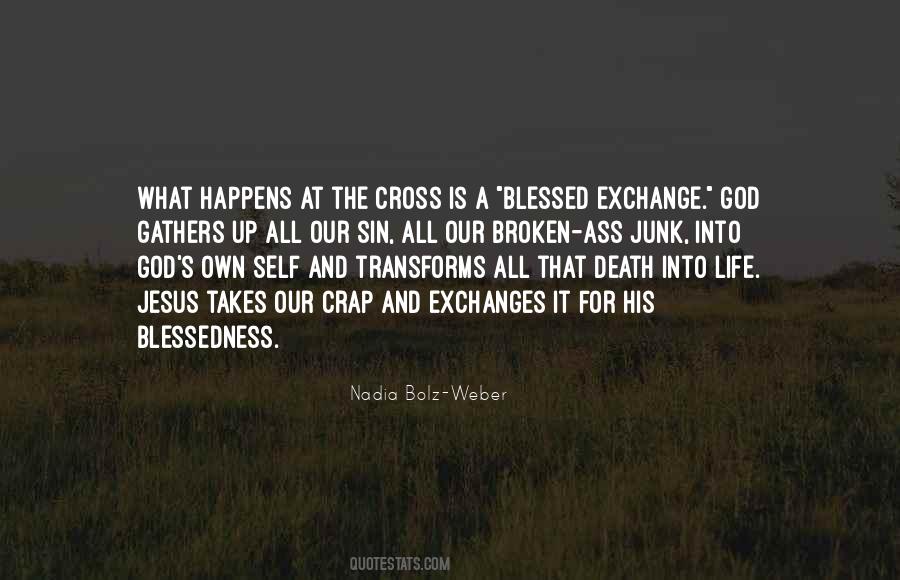 #35. Jesus didn't die an extravagant death so that we could live mediocre and comfortable lives. - Author: Jarrid Wilson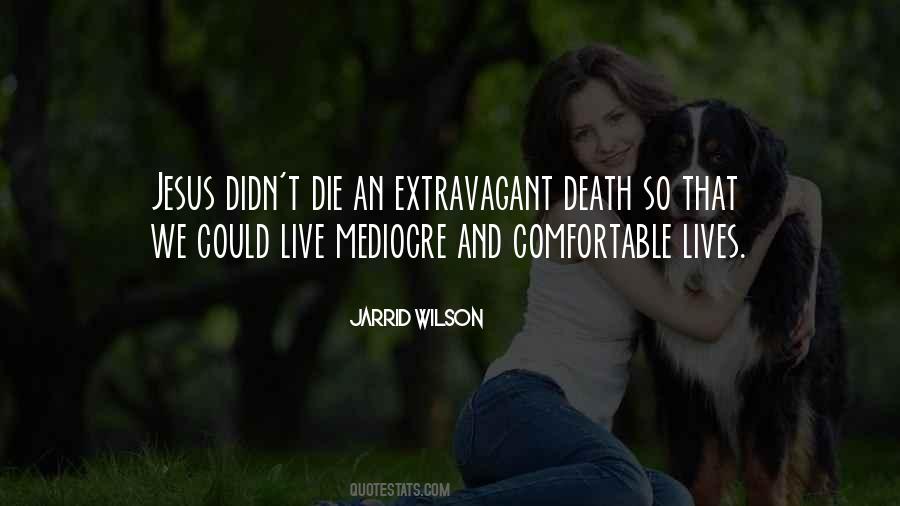 #36. Jesus' death wasn't to free us from dying, but to free us from the fear of death. Jesus came to liberate us so that we could die up front and then live. Jesus Christ wants to take us to places where only dead men and women can go. - Author: Erwin McManus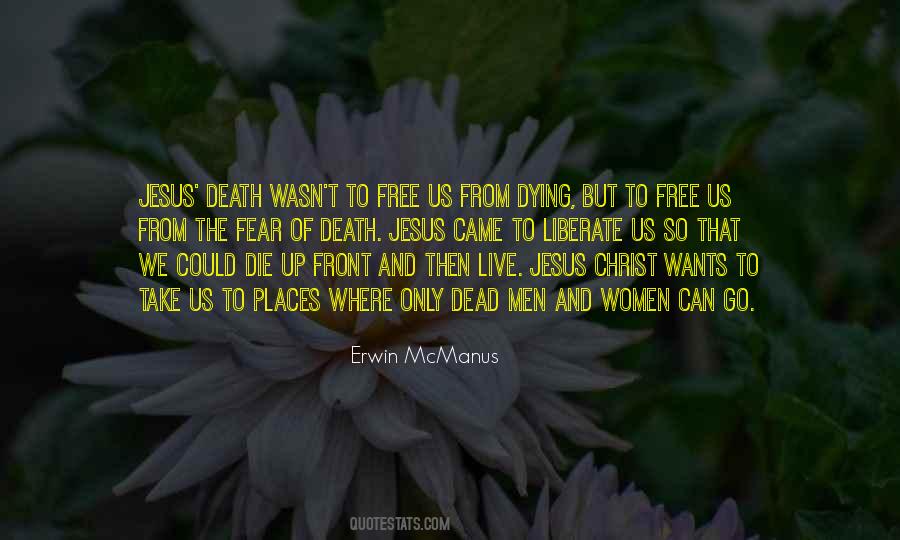 #37. If God has the answer to every question, maybe my appreciation for God should be shaped more by the number of questions and less by the wisdom of the answers. - Author: Craig D. Lounsbrough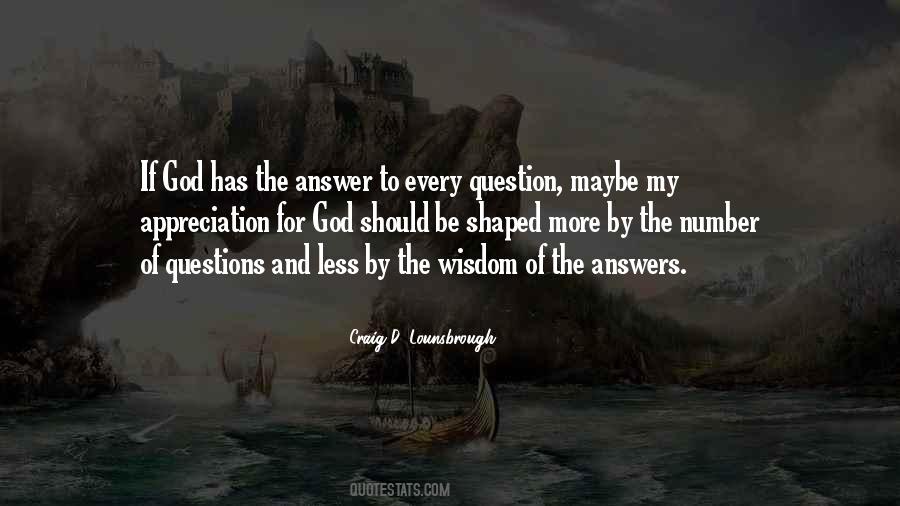 #38. No sin is necessarily connected with sorrow of heart, for Jesus Christ our Lord once said, "My soul is exceedingly sorrowful, even to death." There was no sin in Him, and consequently none in His deep depression. - Author: Charles Spurgeon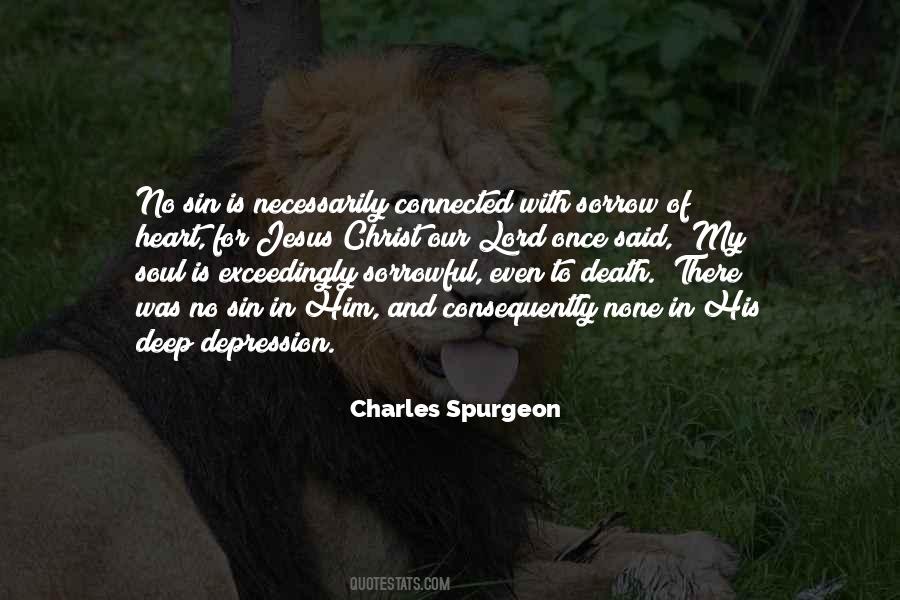 #39. Jesus' death on the cross is not an accident or an injustice that befell him; it is, rather, an act of sacrifice freely offered for the sake of God's people. - Author: Richard B. Hays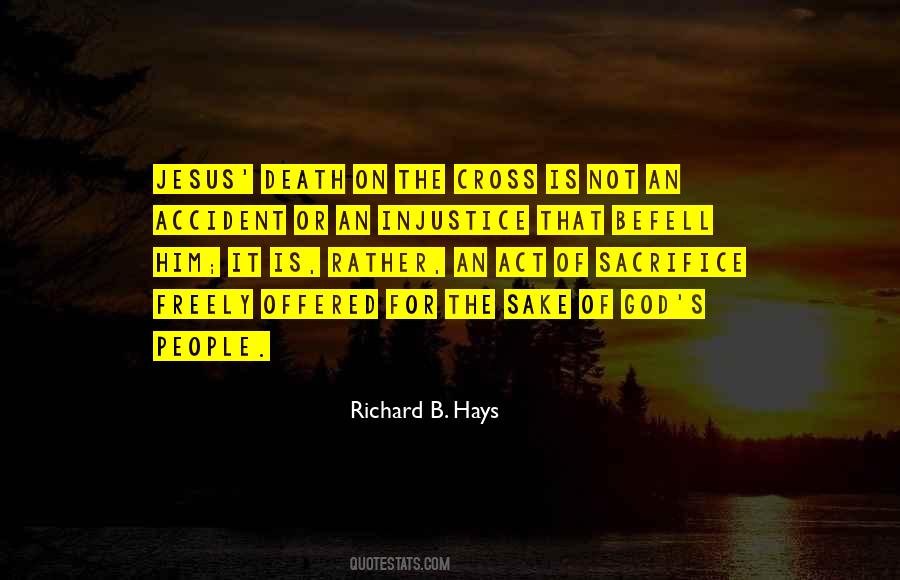 #40. Jesus, I know I am a sinner. I want to repent of my sins and turn and follow You. I believe You died for my sins and rose again victorious over the power of sin and death, and I want to accept You as my personal Savior. Come into my life, Lord Jesus, and help me obey You from this day forward. Amen. - Author: Elizabeth George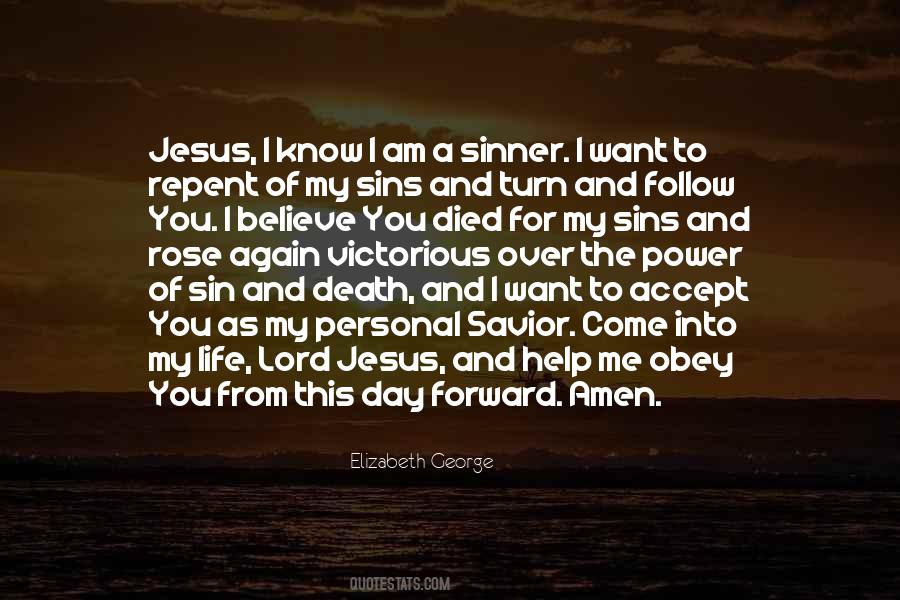 #41. I am He who lives, and was dead, and behold, I am alive forevermore. Amen. And I have the keys of Hades and of Death. - Author: Jesus Christ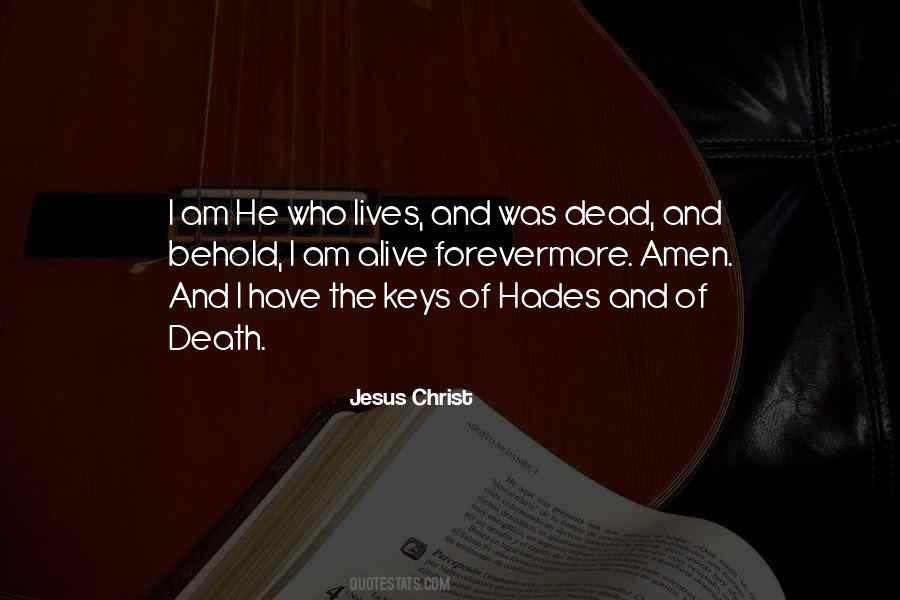 #42. I know the moment you died,
Jesus' face was smiling on you,
Welcoming you into His glorious city of gold.
I know you are enjoying the incredible light and peace of His presence right now - Author: Lisa Bedrick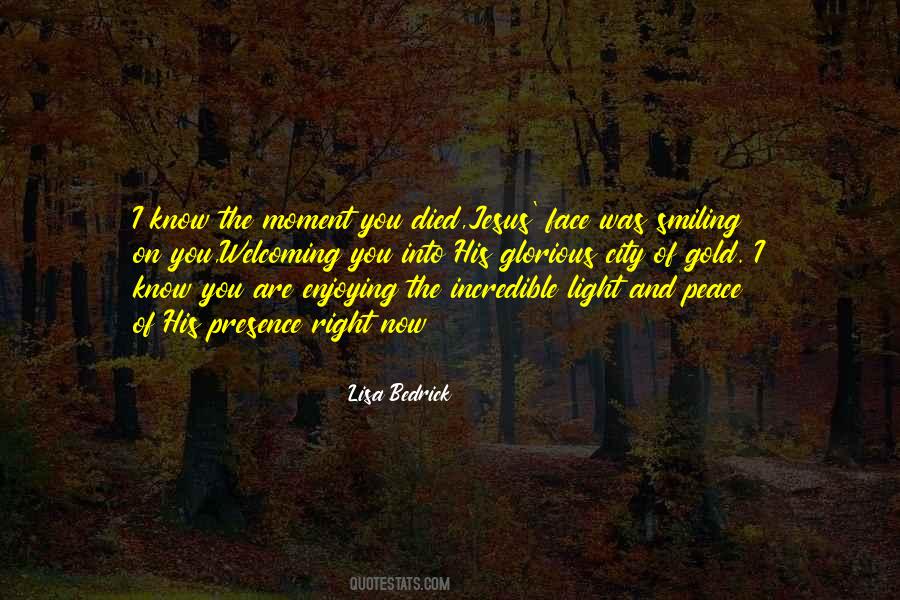 #43. Let it simply be said that we know more about the details of the hours immediately before and the actual death of Jesus, in and near Jerusalem, than we know about the death of any other one man in all the ancient world. - Author: Wilbur Smith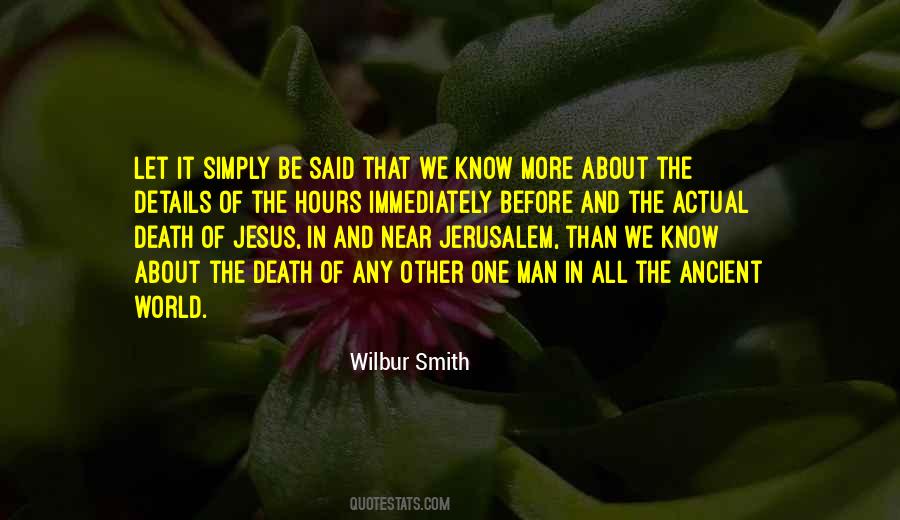 #44. So when the devil throws your sins in your face and declares that you deserve death and hell, tell him this: I admit that I deserve death and hell, what of it? For I know One who suffered and made satisfaction on my behalf. His name is Jesus Christ, Son of God, and where He is there I shall be also! - Author: Martin Luther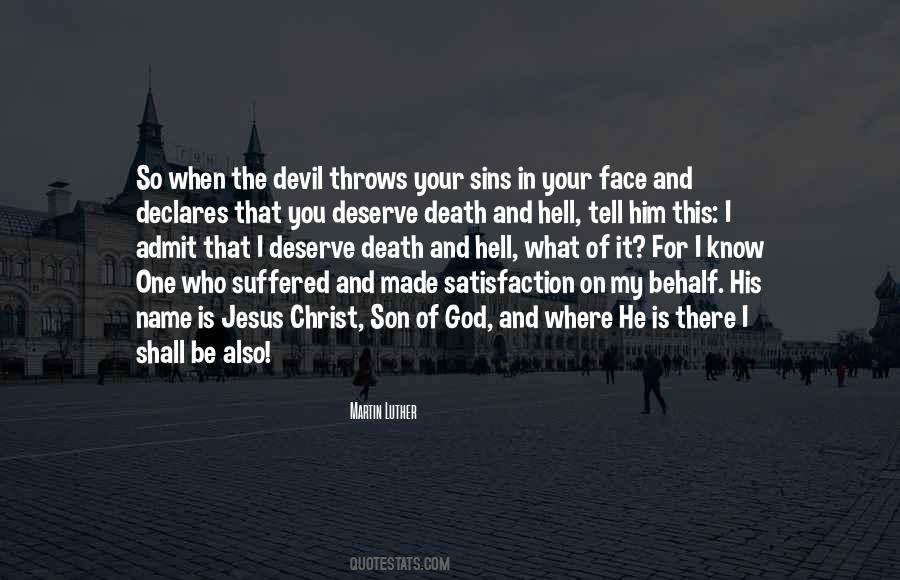 #45. Now the parable takes on a very personal focus. We can no longer enjoy observation without participation. We are part of the drama that is staged in this parable. Jesus came. What have we done with the truth of His message and the gift of His forgiving death? - Author: Lloyd John Ogilvie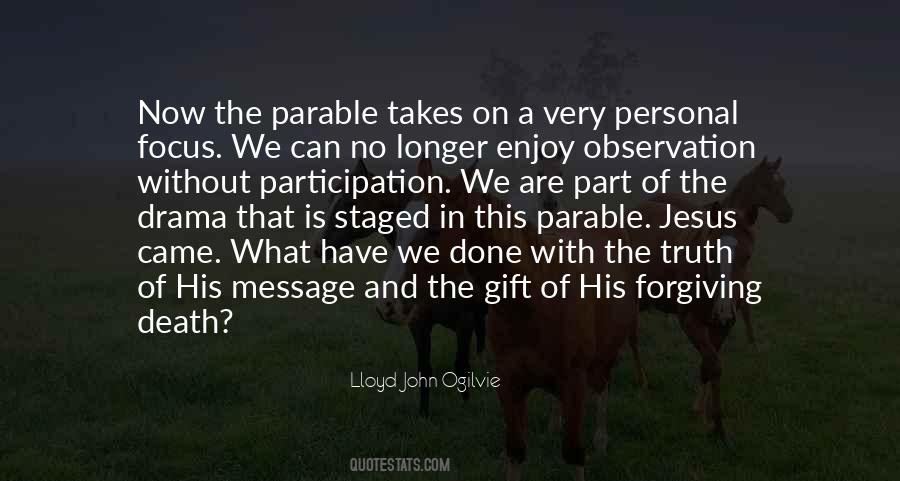 #46. Jesus was beaten, tortured, and spit on, and then he suffered a horrific death to pay for the sins of the world. - Author: Irene Garcia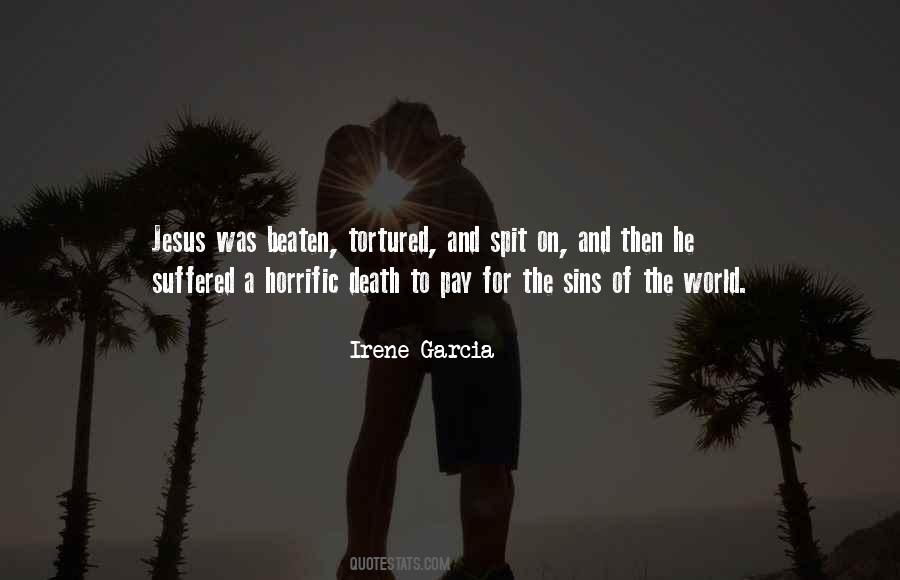 #47. Jesus didn't die to save me from God. Jesus died to save me from myself. - Author: Ricky Maye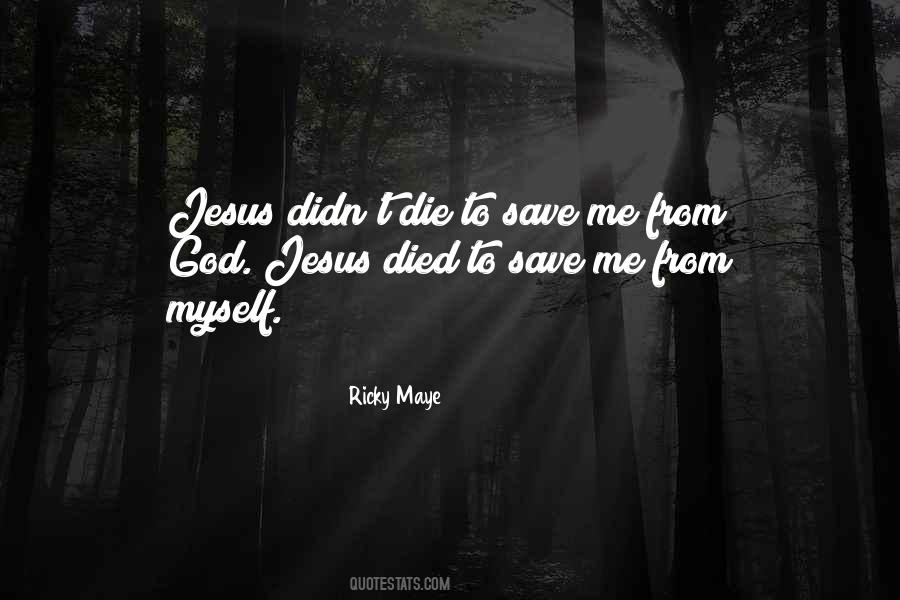 #48. A god of the 'possible' is no God. - Author: Craig D. Lounsbrough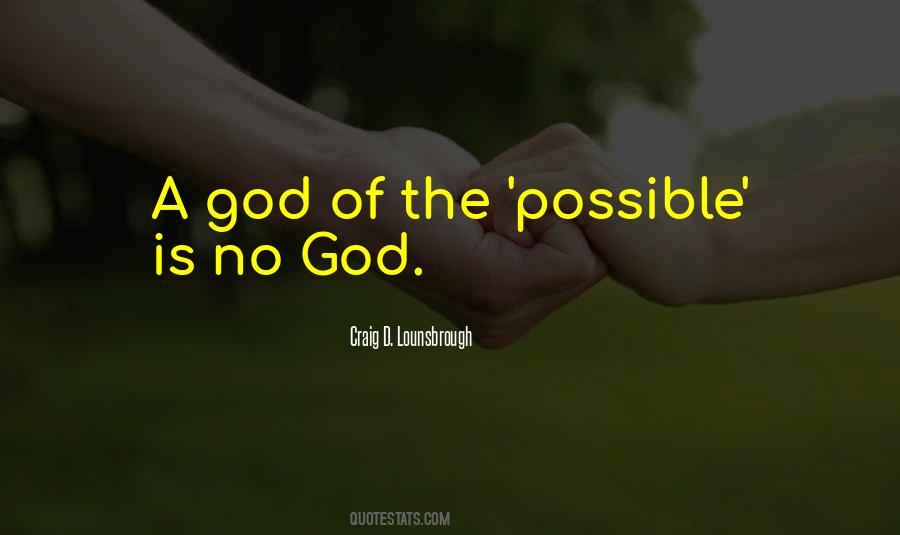 #49. The cross is Jesus going into the very lair of death. He goes to meet head-on that which frightens us the most. And what does He do? He battles it. He engages it. And finally he conquers it. - Author: Robert Barron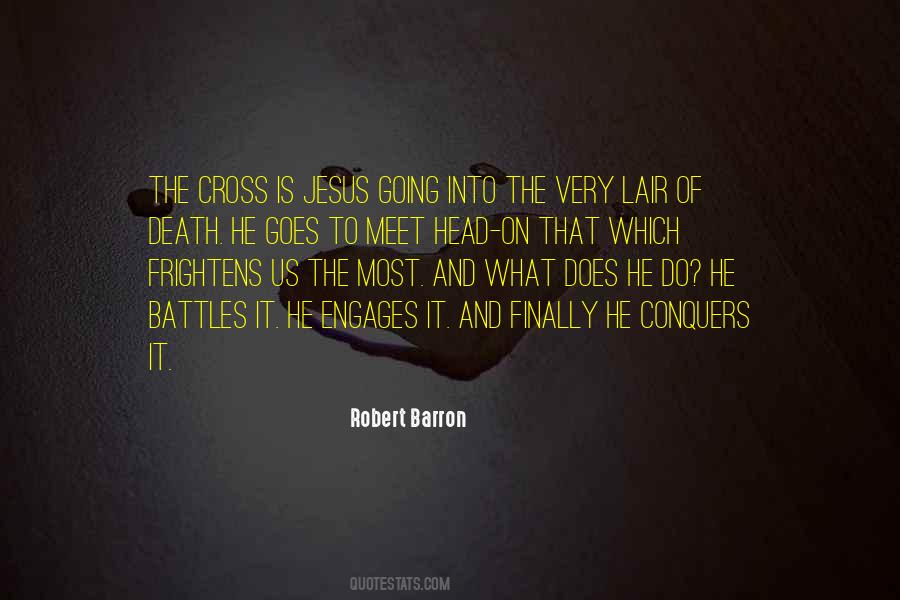 #50. Who is Jesus? The answer to that question is a matter of eternal life and eternal death. - Author: Stephen Nichols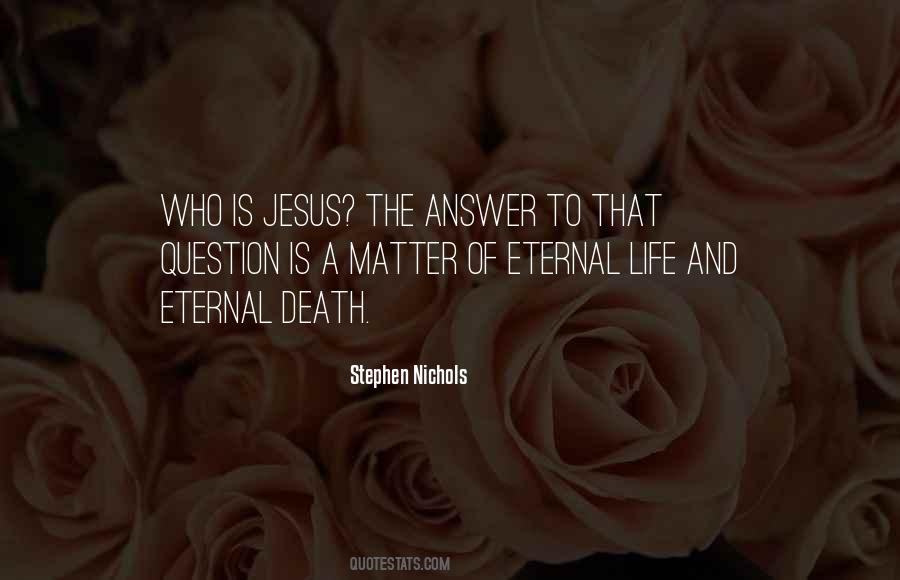 #51. Simon Gathercole argues that both Paul and the Gospel writers considered the good news to have three basic elements: the identity of Jesus as Son of God and Messiah, the death of Jesus for sin and justification, and the establishment of the reign of God and the new creation.12 - Author: Timothy Keller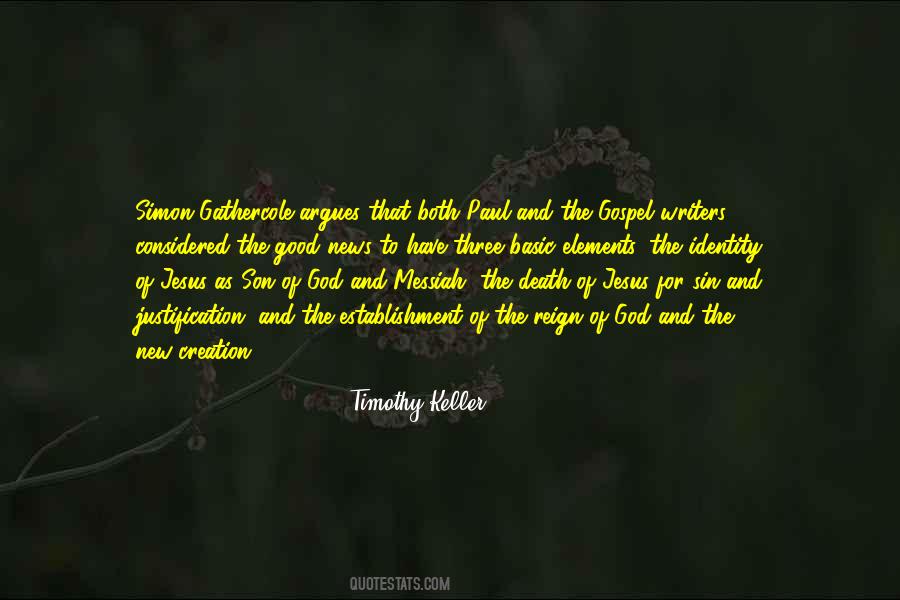 #52. Jesus proclaimed the favor of God in His very first sermon. Then He sealed the deal with His death and resurrection. Favor is a function of surrender. If we don't hold out on God, God will not hold out on us. - Author: Mark Batterson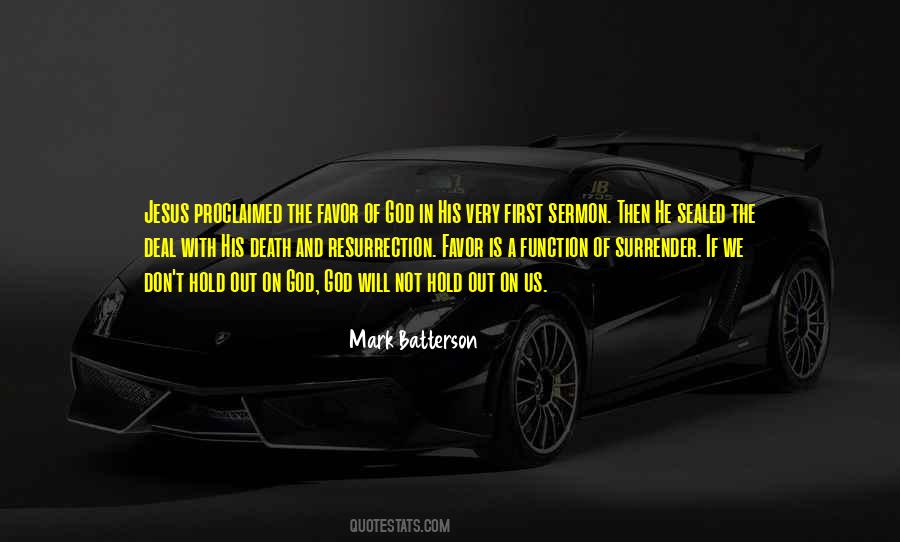 #53. Jesus Christ opened heaven's door for us by His death on the cross. - Author: Billy Graham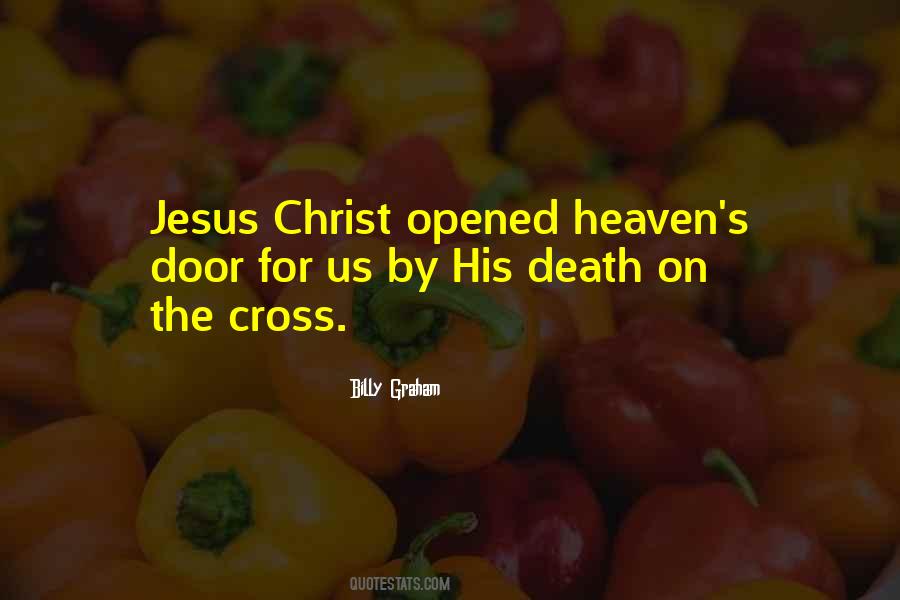 #54. Do you who are a Christian desire to be revenged and vindicated, and the death of Jesus Christ has not yet been revenged, nor His innocence vindicated? - Author: Saint Augustine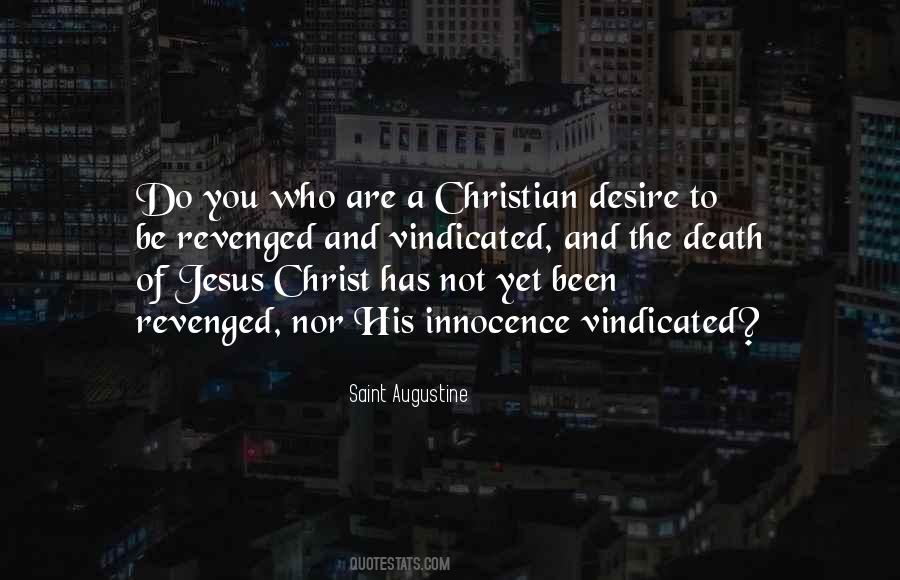 #55. In the New Testament outside the Gospels and the beginning of Acts, again and again, the fact of Jesus' resurrection is closely linked to our own ultimate resurrection, which isn't life after death - it's life after life after death. - Author: N. T. Wright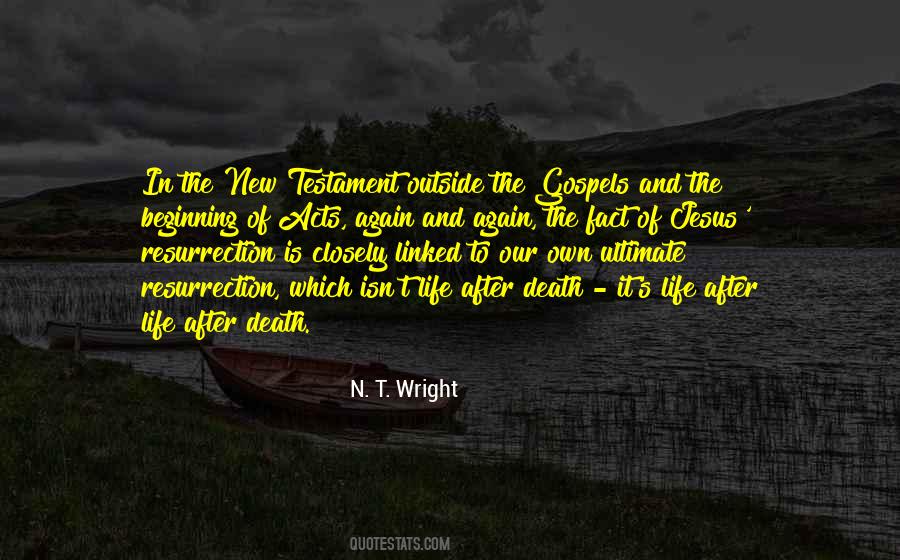 #56. Art is built on the deepest themes of human meaning: good and evil, beauty and ugliness, life and death, love and hate. No other story has incarnated those themes more than the story of Jesus. - Author: John Ortberg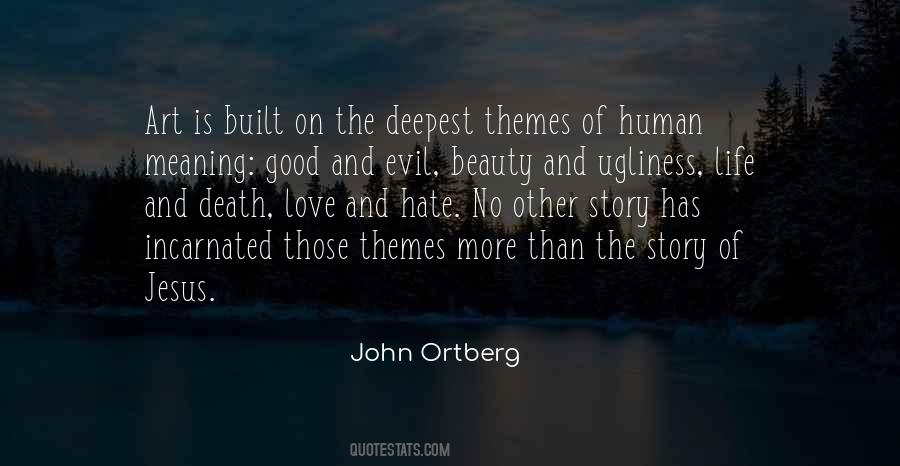 #57. If one's careful study of the facts shows that the Catholic Church is correct about Jesus-his life, teachings, death, and Resurrection-then why not give the Church the benefit of the doubt and carefully study her reasons for rejecting contraception, homosexual acts, and women's ordination? - Author: Carl E. Olson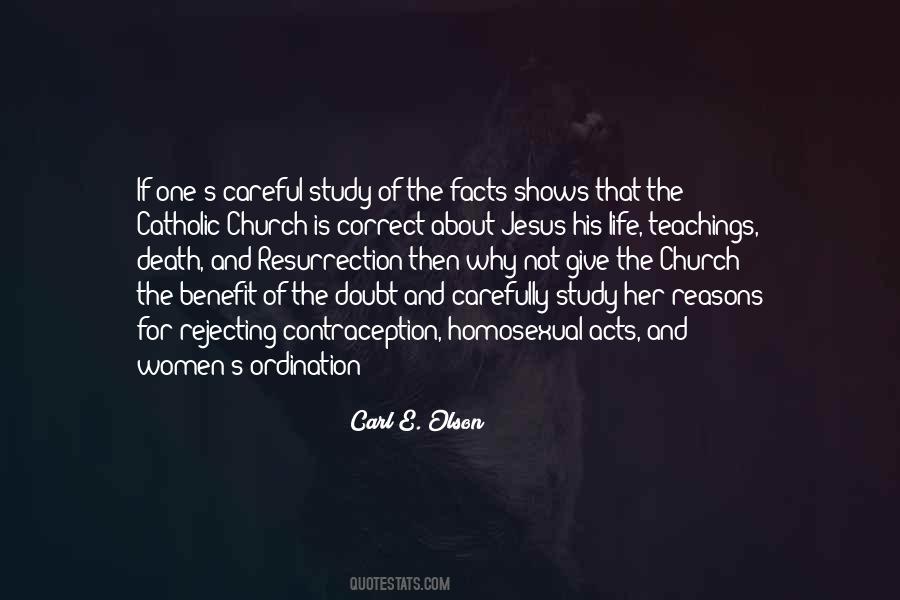 #58. All ministry that is faithful & eventually fruitful finds its roots in the life, death, & resurrection of Jesus Christ. - Author: Matt Chandler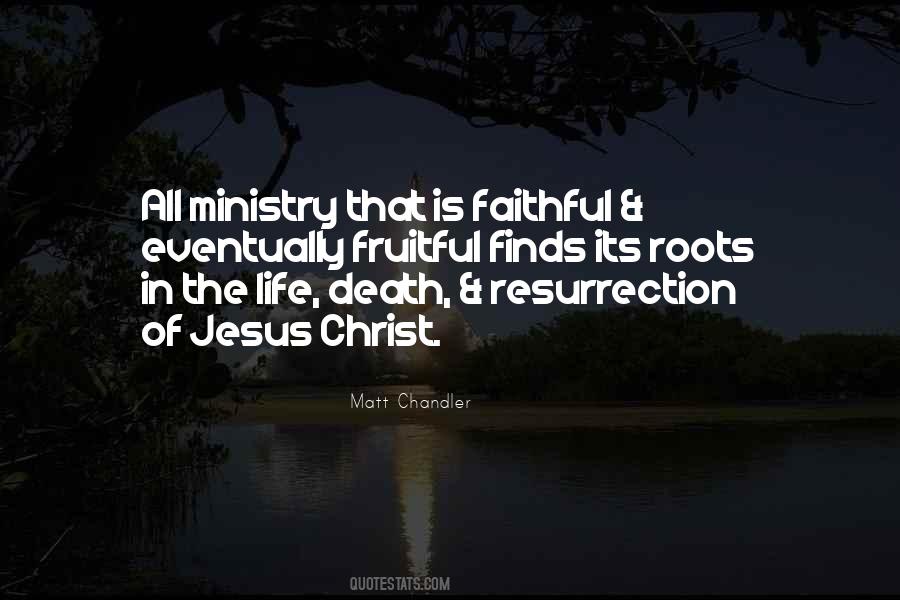 #59. Why are you afraid of death?

Because you don't understand the perfect love of Jesus.
Because perfect love casts out
fear. - Author: Ivor Myers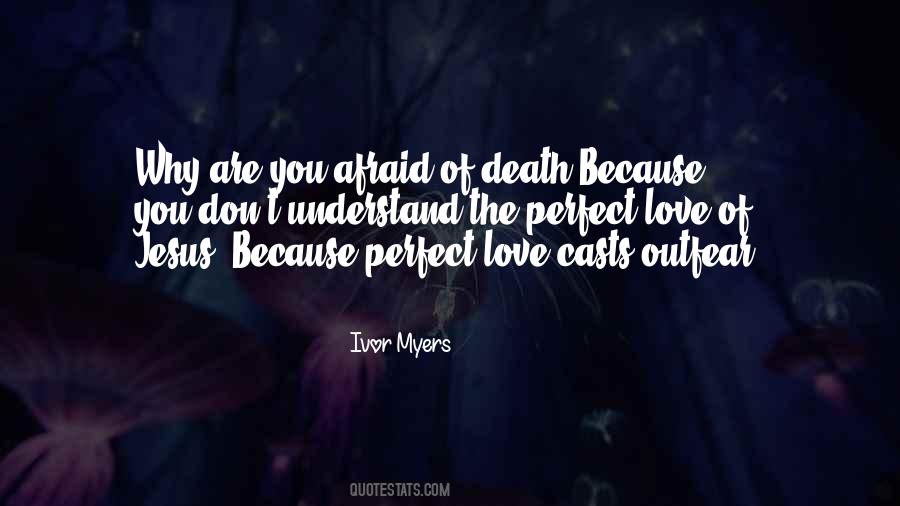 #60. I [Jesus] tell you the truth, those who listen to my message and believe in God who sent me have eternal life. They will never be condemned for their sins, but they have already passed from death into life. - Author: Anonymous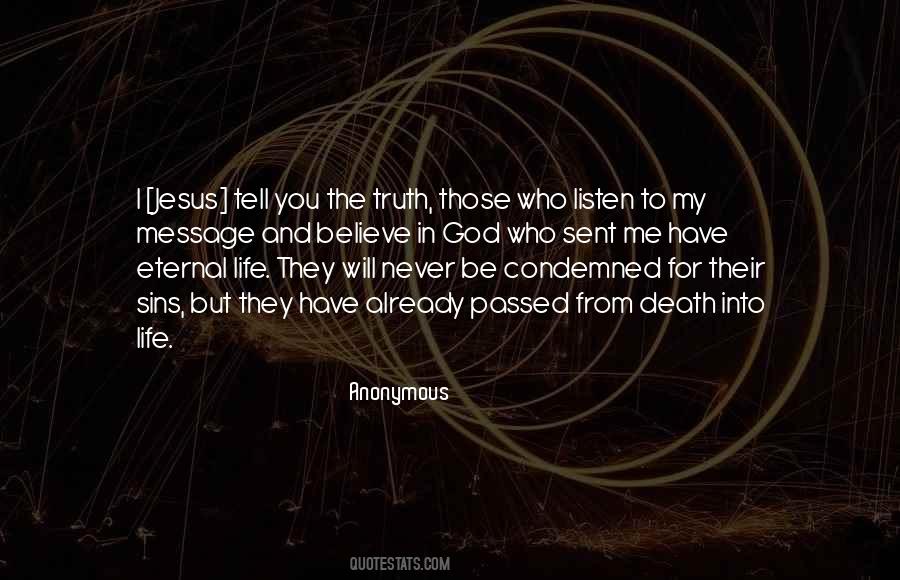 #61. Every time I go look for God amidst sorrow, I always find Jesus at the cross, in death and resurrection. This is our God. - Author: Nadia Bolz-Weber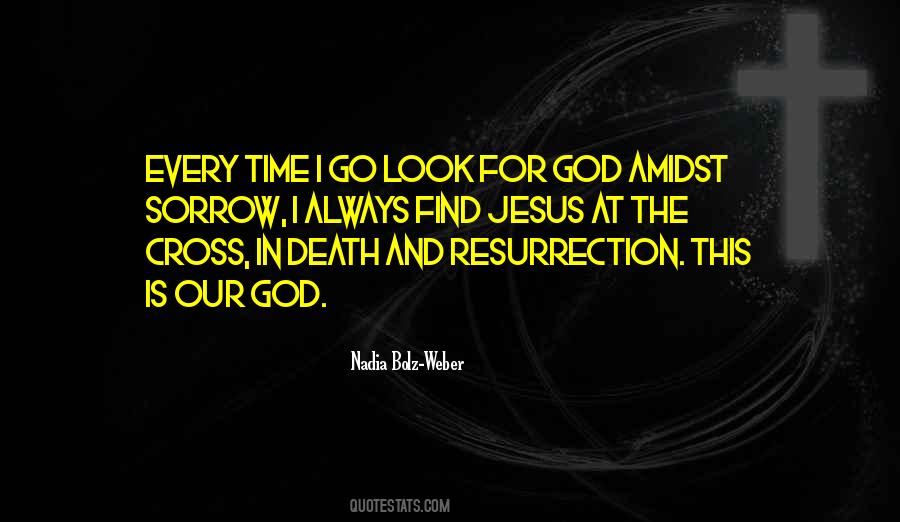 #62. Easter is the final solution to the finality of death. - Author: Craig D. Lounsbrough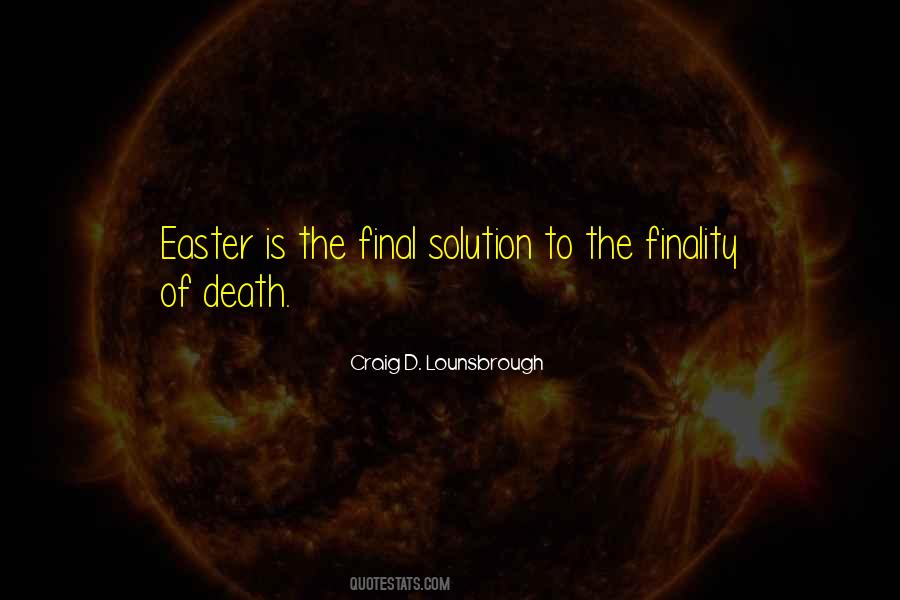 #63. The Secret Revelation of John opens, again, in crisis. The disciple John, grieving Jesus' death, is walking toward the temple when he meets a Pharisee who mocks him for having been deceived by a false messiah. These taunts echoed John's own fear and doubt. - Author: Elaine Pagels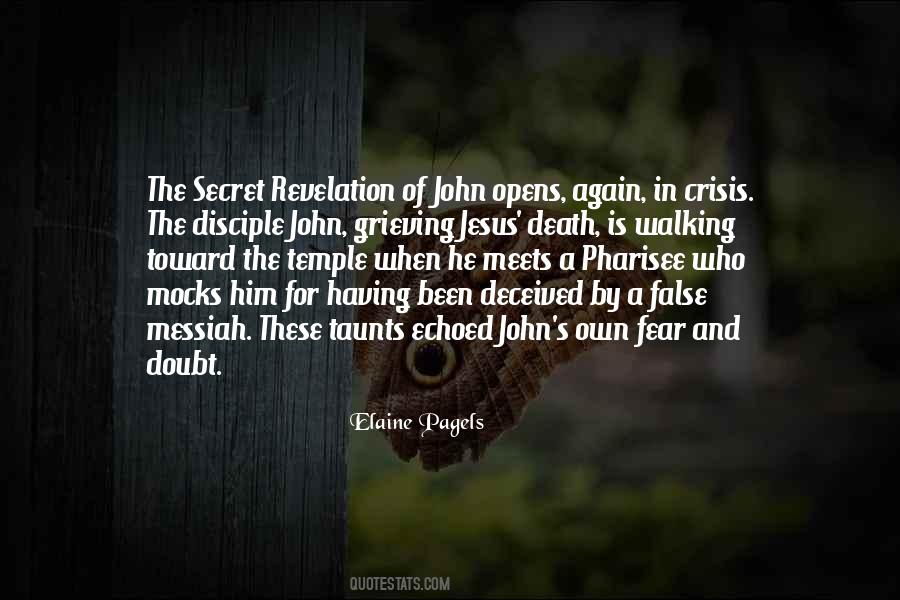 #64. My mother was the sweetest lady who ever lived on this planet, but if you tried to tell her that Jesus wasn't a Christian, she would stomp you to death. - Author: Dick Gregory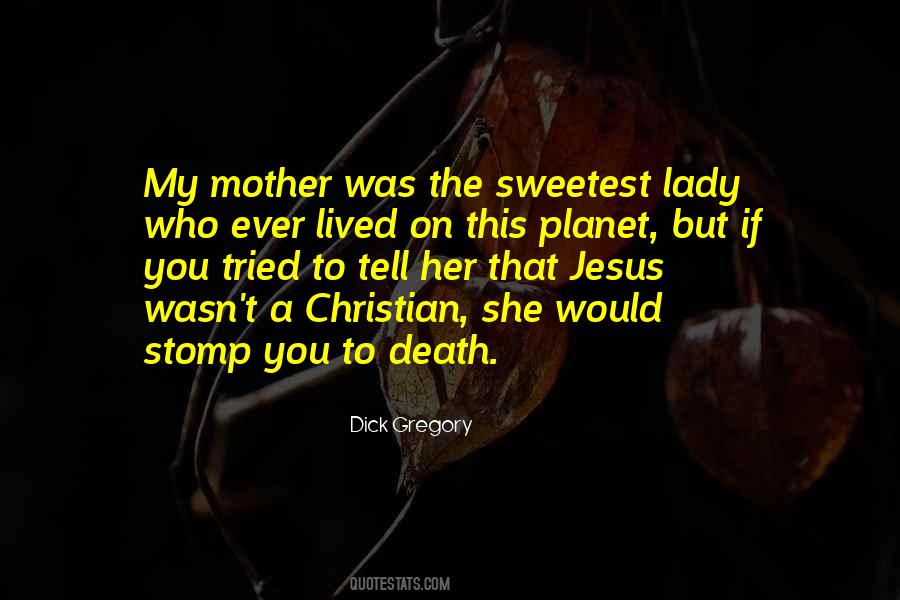 #65. Jesus might not think so, but maybe the dead are best left that way. - Author: Chris Scofield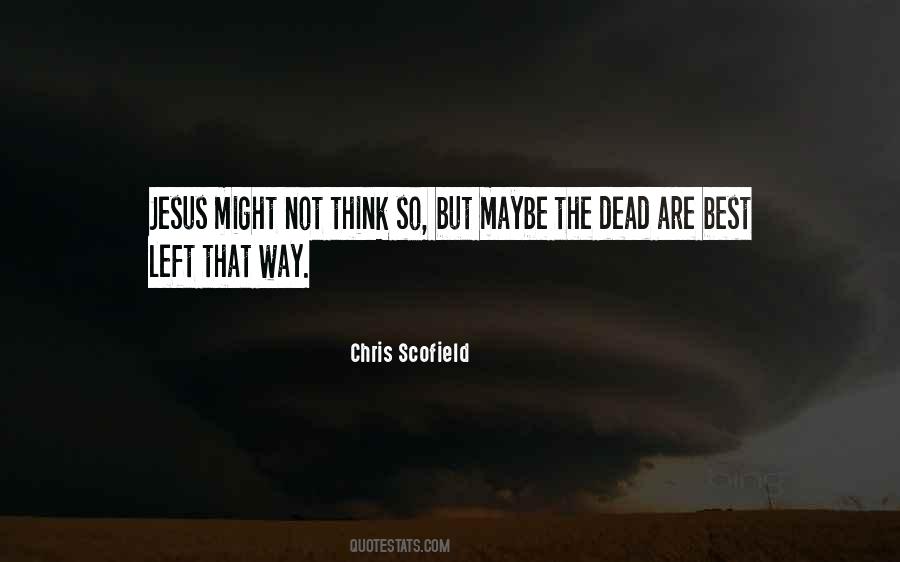 #66. The Christian story, centered as it is on the death and Resurrection of Jesus Christ, is the only story for making sense of desire and loss. - Author: Jen Pollock Michel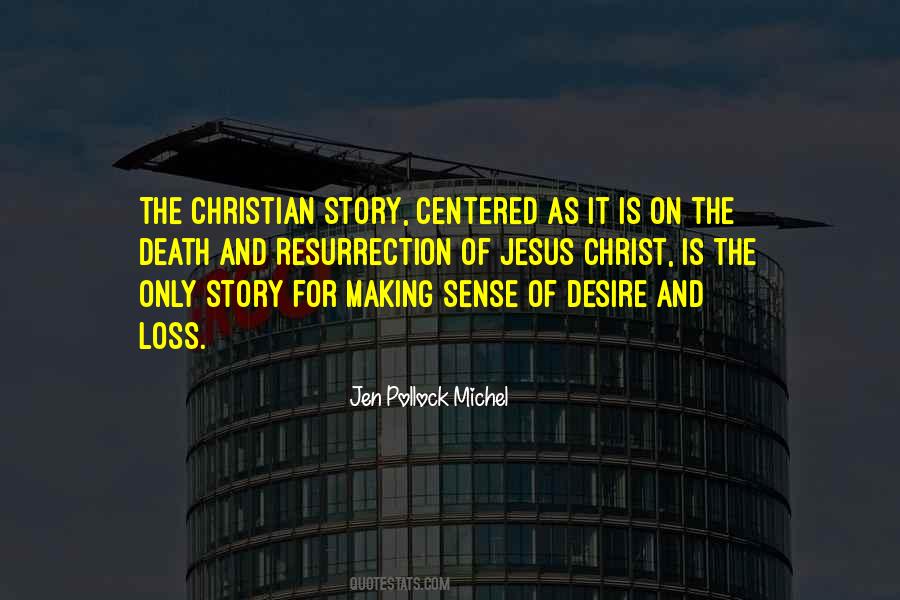 #67. Jesus' death, he said, broke down the temple barriers, dismantling the dividing walls of hostility that had separated categories of people. Grace found a way. - Author: Philip Yancey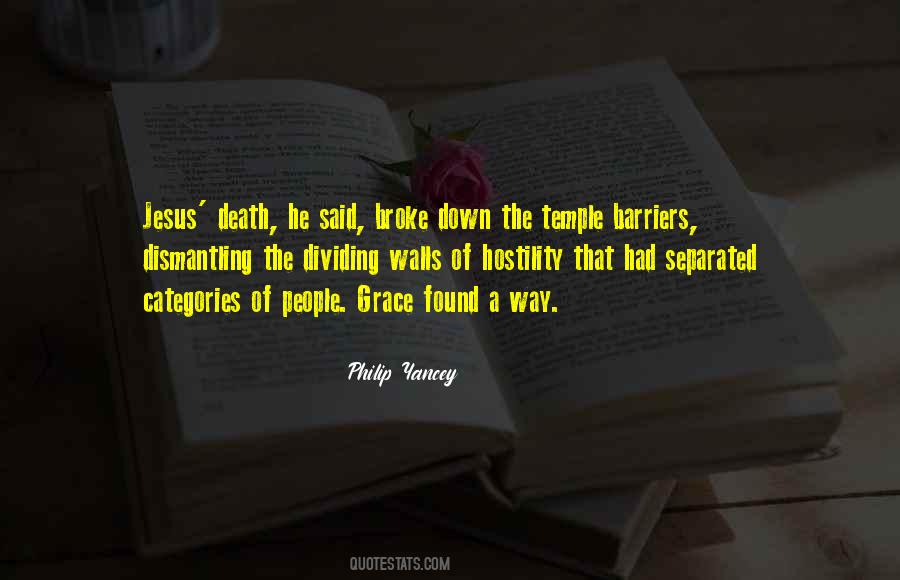 #68. Our suffering is not worthy the name of suffering. When I consider my crosses, tribulations, and temptations, I shame myself almost to death, thinking what are they in
comparison of the sufferings of my blessed Savior Christ Jesus. - Author: Martin Luther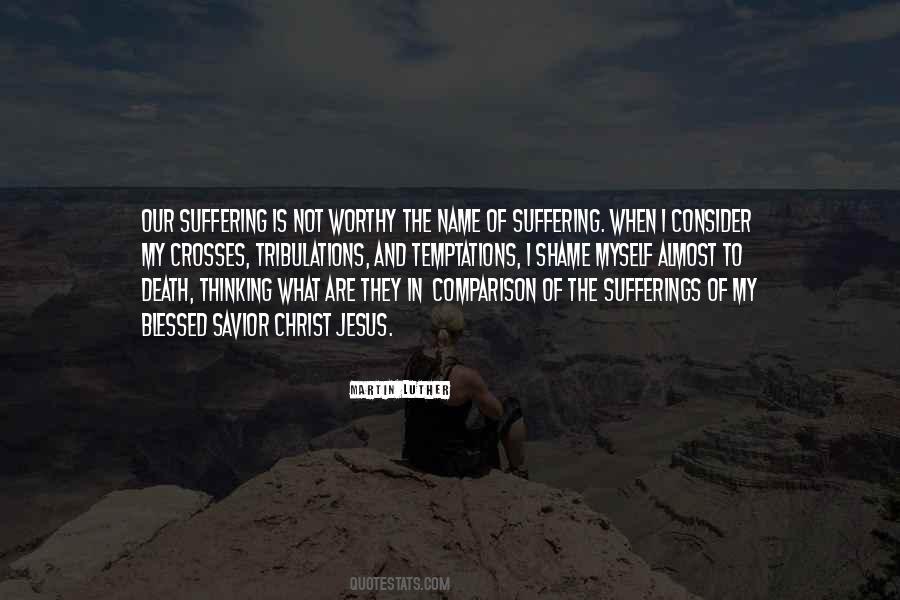 #69. While we may not be called to martyr our lives, we must martyr our way of life. We must put our selfish ways to death and march to a different beat. Then the world will see Jesus. - Author: Michael Tait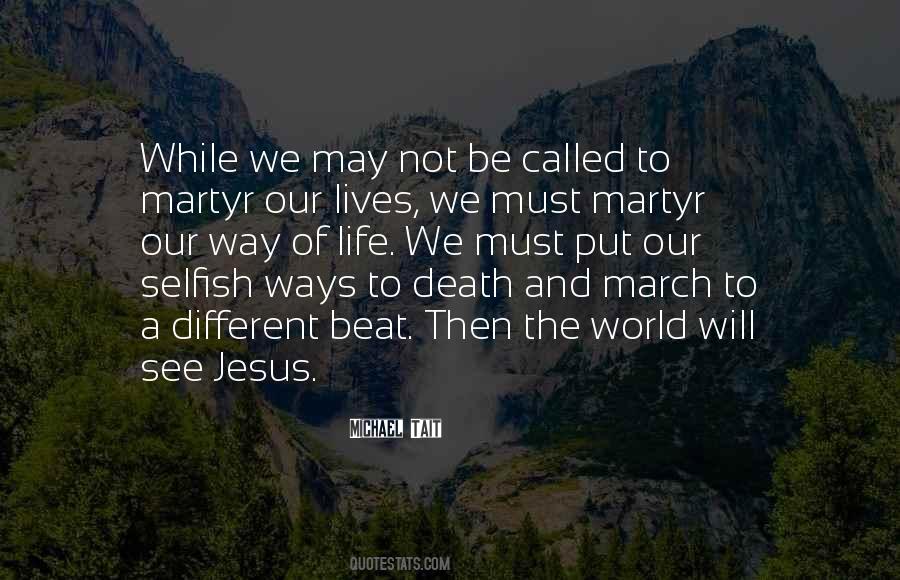 #70. Ah, Lord Jesus! I never knew Your love till I understood the meaning of Your death. - Author: Charles Spurgeon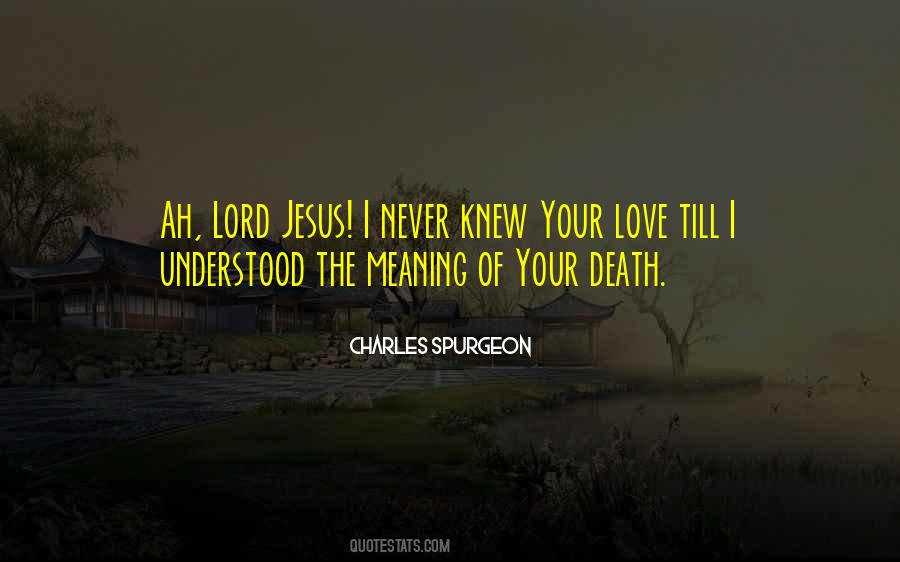 #71. Far too often, it is at the moment where we finally stand on the very precipice of some great thing that we turn and abandon it, for it is at these seminal moments that fear wins and greatness dies. The beauty of Christmas is that God steps over precipices. - Author: Craig D. Lounsbrough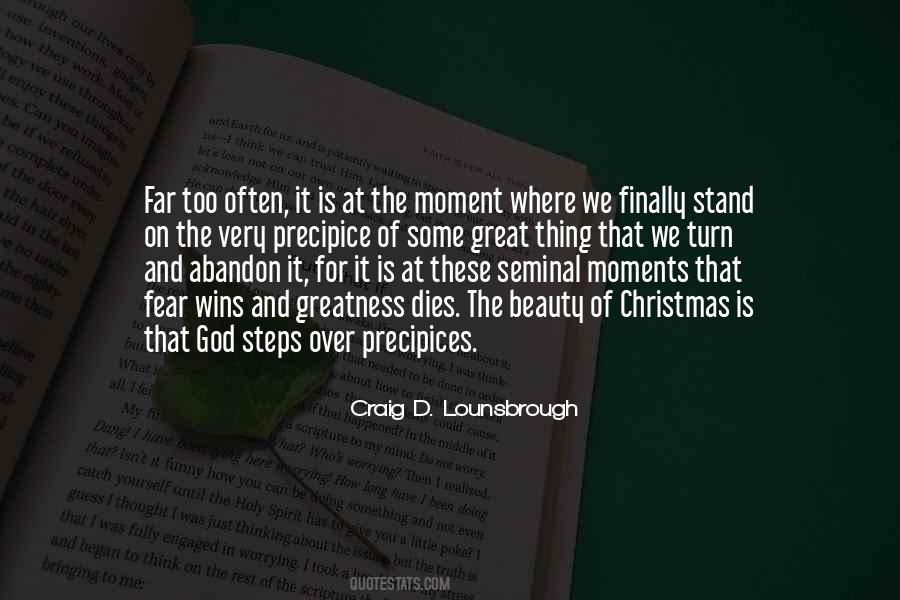 #72. if Christians are to know the greatness of Jesus Christ's victory over death, they must know that death is evil. - Author: Rob Moll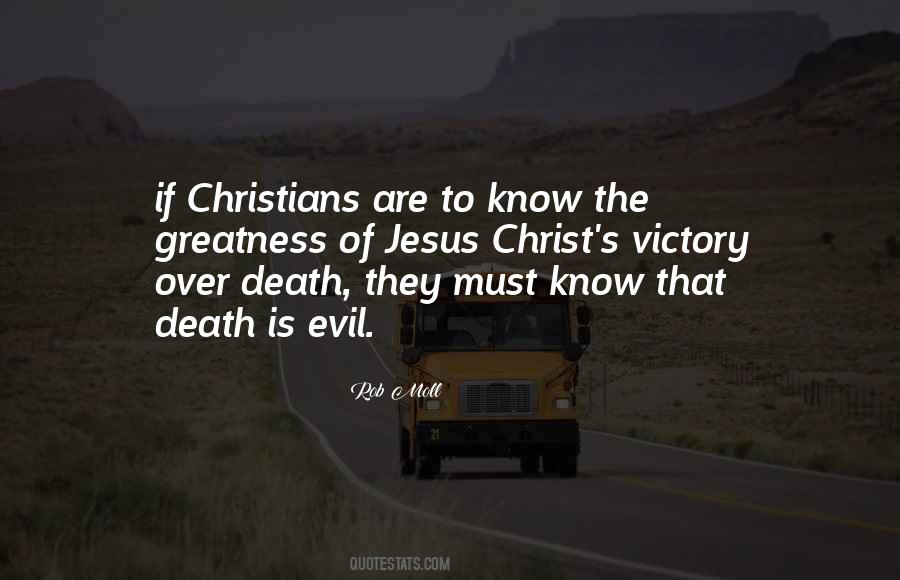 #73. Although I rail against it, death is the dark demarcation beyond which I am at the mercy of my own end. To the contrary, an empty tomb says that my end is at the mercy of God's beginning. - Author: Craig D. Lounsbrough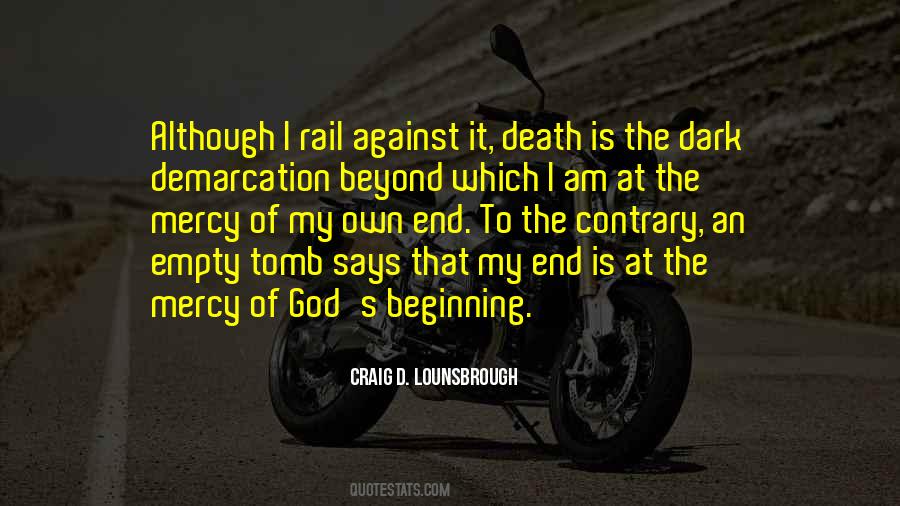 #74. We need to know that our limits do not define our limitations. And an empty tomb does exactly that. - Author: Craig D. Lounsbrough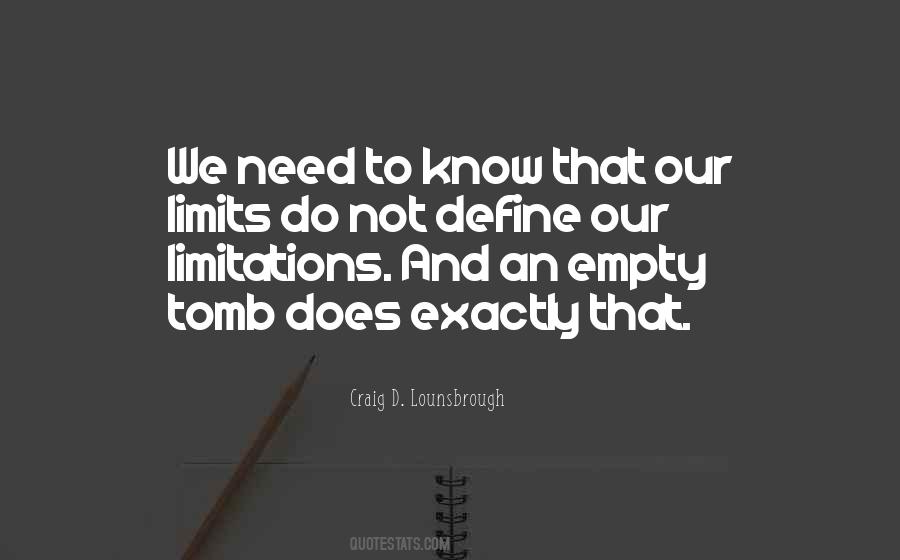 #75. The celebration of Holy Mass is as valuable as the death of Jesus on the cross. - Author: Thomas Aquinas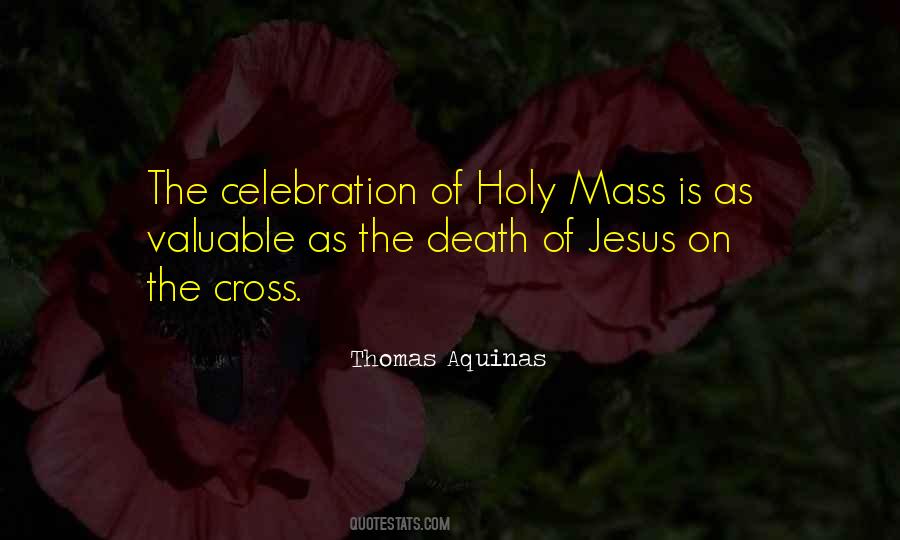 #76. It is of the very essence of Christianity to face suffering and death not because they are good, not because they have meaning, but because the resurrection of Jesus has robbed them of their meaning. - Author: Thomas Merton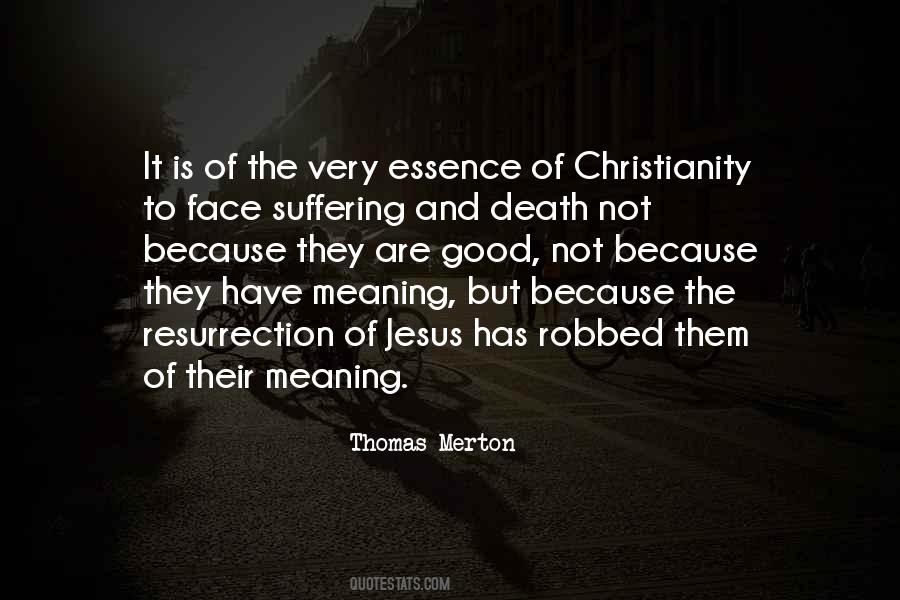 #77. III Buffalo Bill's defunct who used to ride a watersmooth-silver stallion and break onetwothreefourfive pigeonsjustlikethat Jesus he was a handsome man and what i want to know is how do you like your blueeyed boy Mister Death - Author: E. E. Cummings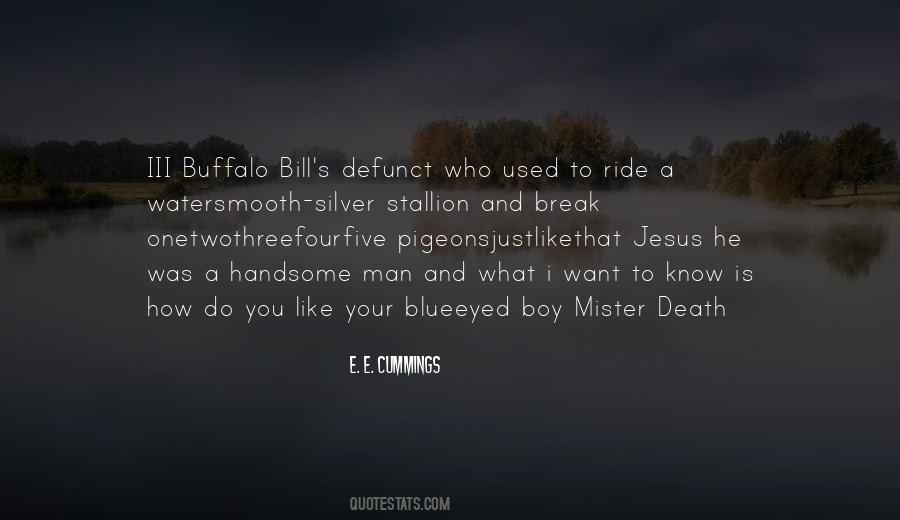 #78. I felt peace, even though I was still scared to death. I thought that, whatever would happen to me - I could still be killed. I didn't know - and in what I'd already been through, God was in control. - Author: Diet Eman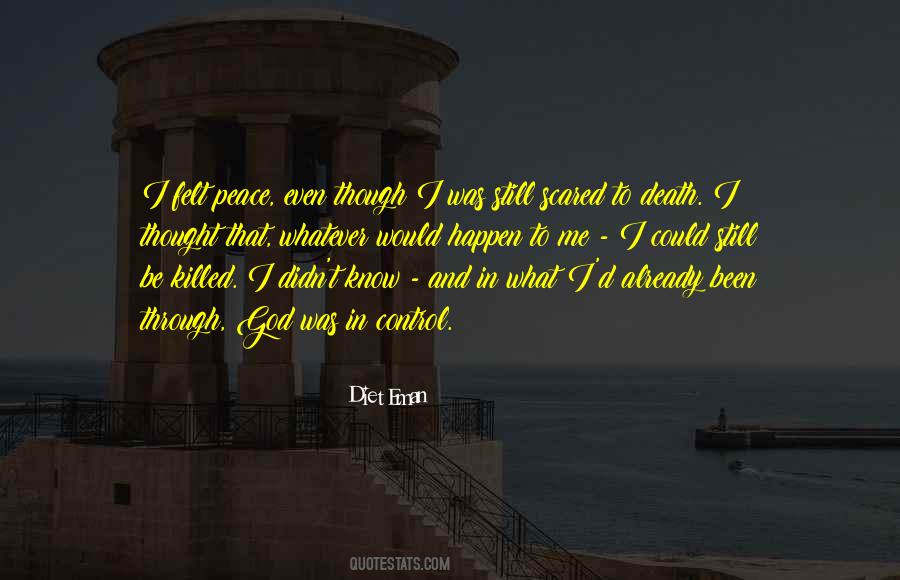 #79. The good news of Jesus Christ is that, although the law comes and destroys us, the Son of God comes and resurrects us. Our death is overturned by Christ's death. Our life is created by Christ's life. - Author: Tullian Tchividjian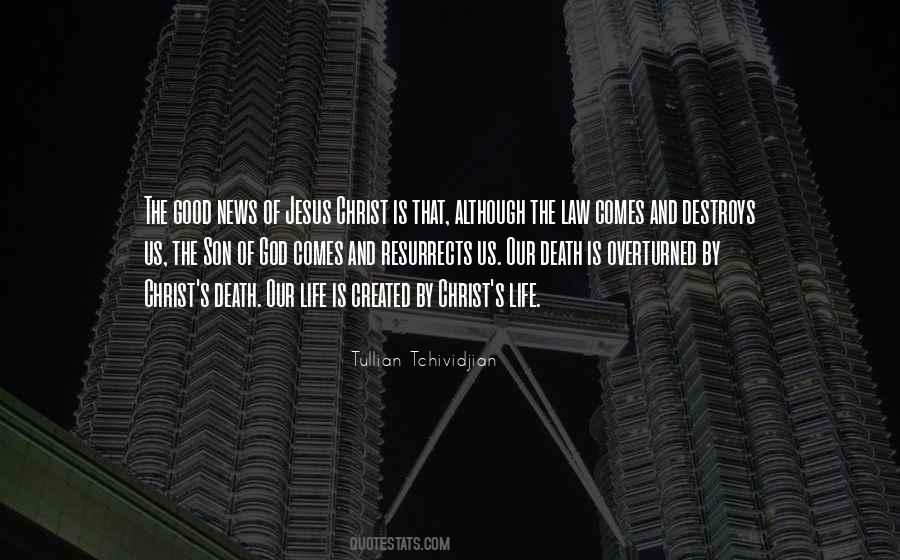 #80. A verse came to mind, one that has comforted Kari before. It was the shortest verse in the Bible: Jesus wept. If he cried over Jerusalem, if he cried over the death of Lazarus, surely he was crying now over the death of her dreams, the death of her marriage. - Author: Karen Kingsbury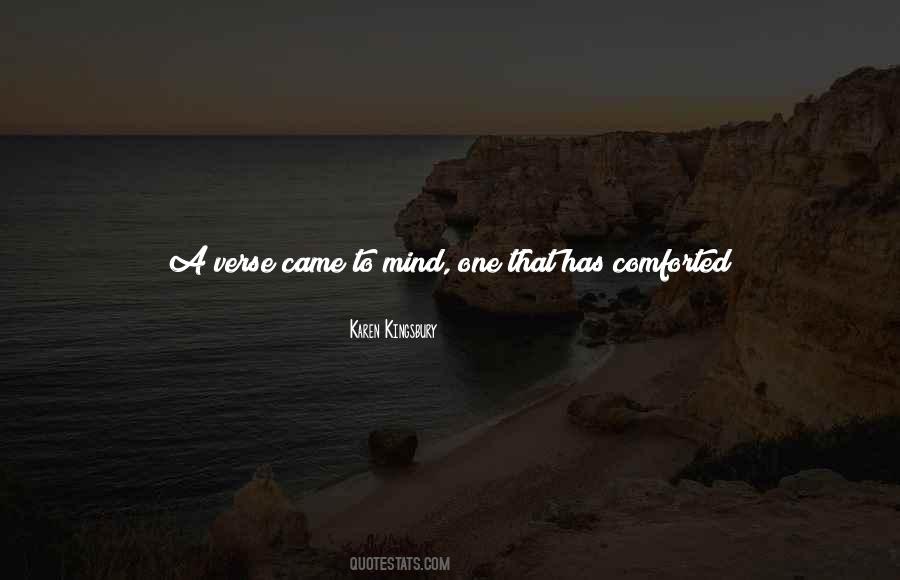 #81. I did nothing to deserve God's love; in fact, I was living as an orphan, without hope. Yet God chose to pursue a relationship with me, and through the death of his son Jesus, I was adopted into God's family. - Author: Steven Curtis Chapman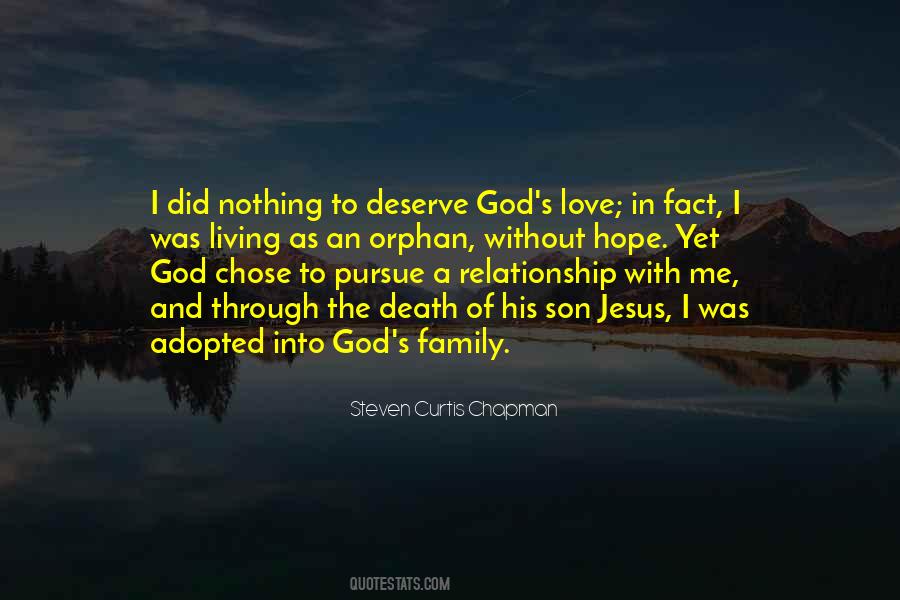 #82. Every way that we try to make our kids good that isn't rooted in the good news of the life, death, resurrection, and ascension of Jesus Christ is a damnable, crushing, despair-breedin g, Pharisee-produc ing law. - Author: Elyse Fitzpatrick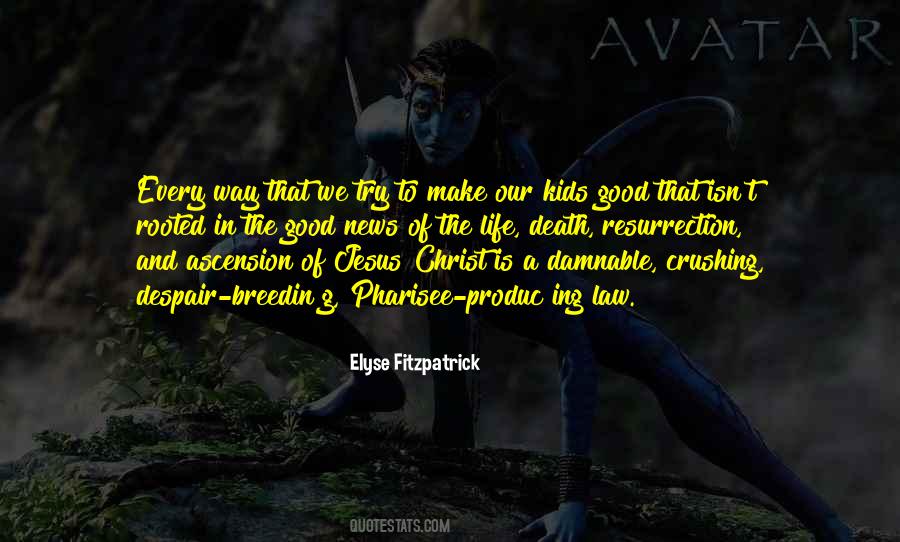 #83. I hope, by God's grace, that I am truly a Christian, not deviating from the faith, and that I would rather suffer the penalty of a terrible death than wish to affirm anything outside of the faith or transgress the commandments of our Lord Jesus Christ. - Author: Jan Hus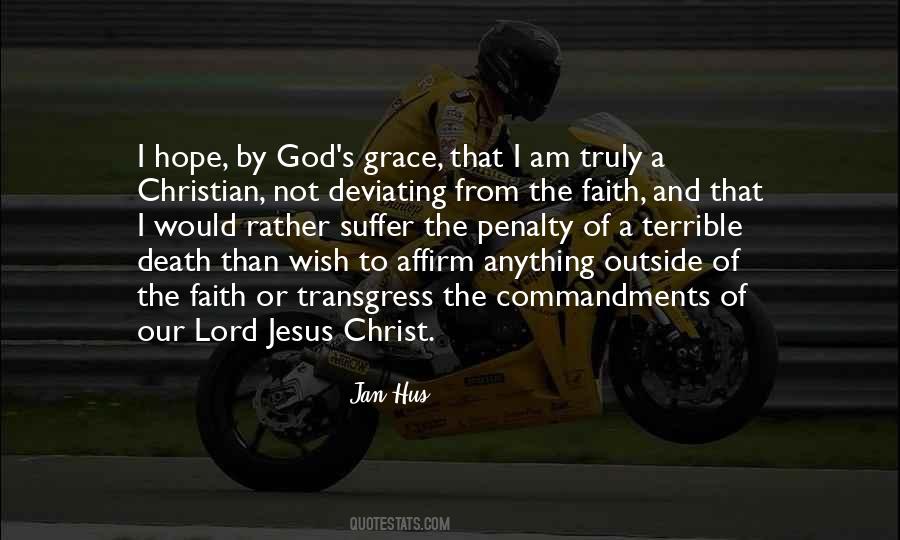 #84. But Jesus, when you don't have any money, the problem is food. When you have money, it's sex. When you have both it's health, you worry about getting rupture or something. If everything is simply jake then you're frightened of death. - Author: J.P. Donleavy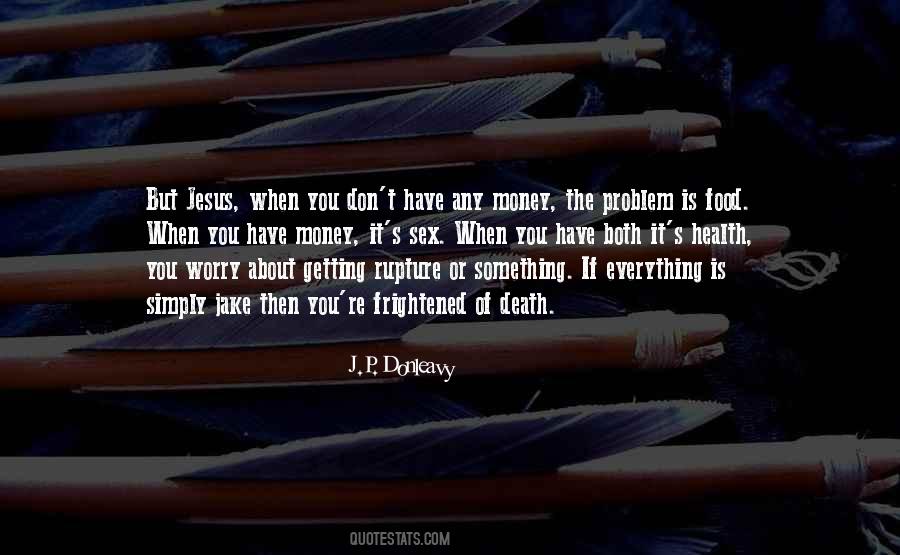 #85. Christ died not so that you could freely go on sinning, and therefore, continue dying; He died rather so that you could freely grow in obedience, and therefore, start living. - Author: Criss Jami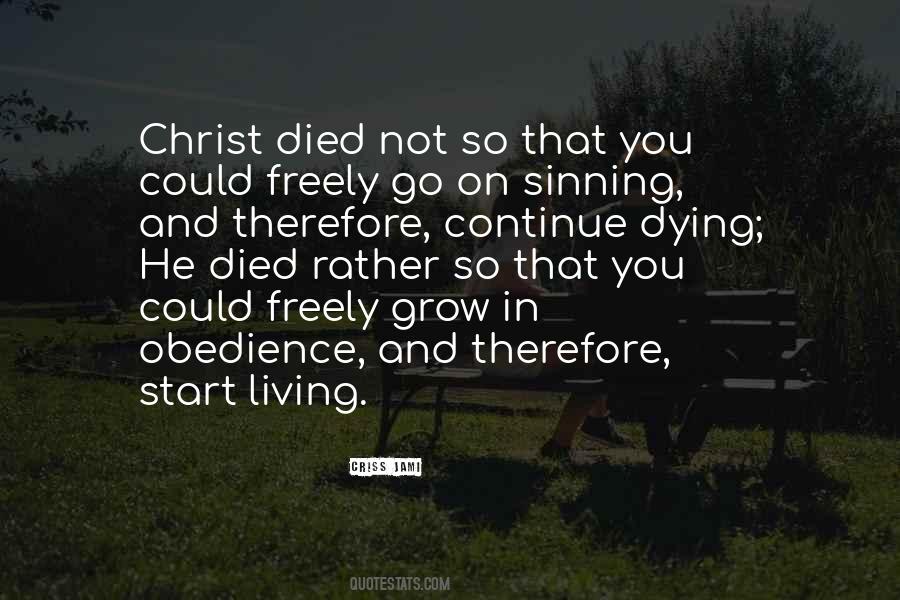 #86. When I was abandoned by everybody, in my greatest weakness, trembling and afraid of death, when I was persecuted by this wicked world, then I often felt most surely the divine power in this name, Jesus Christ ... So, by God's grace, I will live and die for that name. - Author: Martin Luther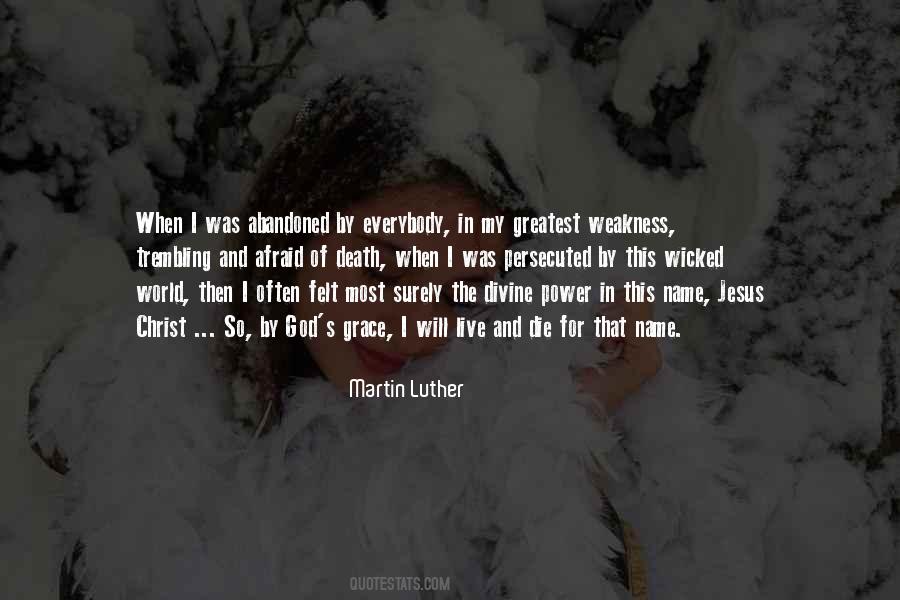 #87. We are not saved by feelings of sorrow over Jesus' death. We are saved when the Word of God 'pierces' our hearts (Hebrews 4:12), when we are convicted of our sins and trust Christ by faith. - Author: R. L. Hymers Jr.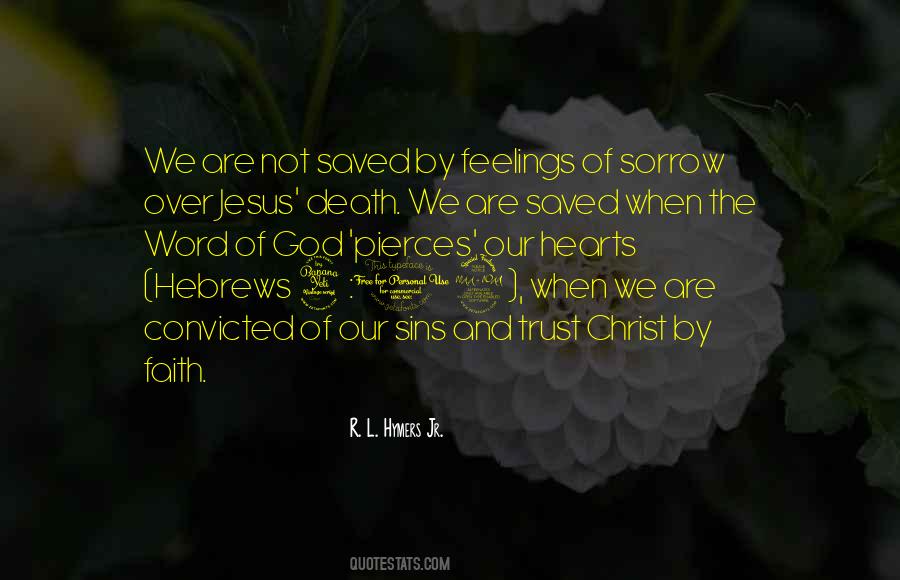 #88. And now brothers, I will ask you a terrible question, and God knows I ask it also of myself. Is the truth beyond all truths, beyond the stars, just this: that to live without him is the real death, that to die with him the only life? - Author: Frederick Buechner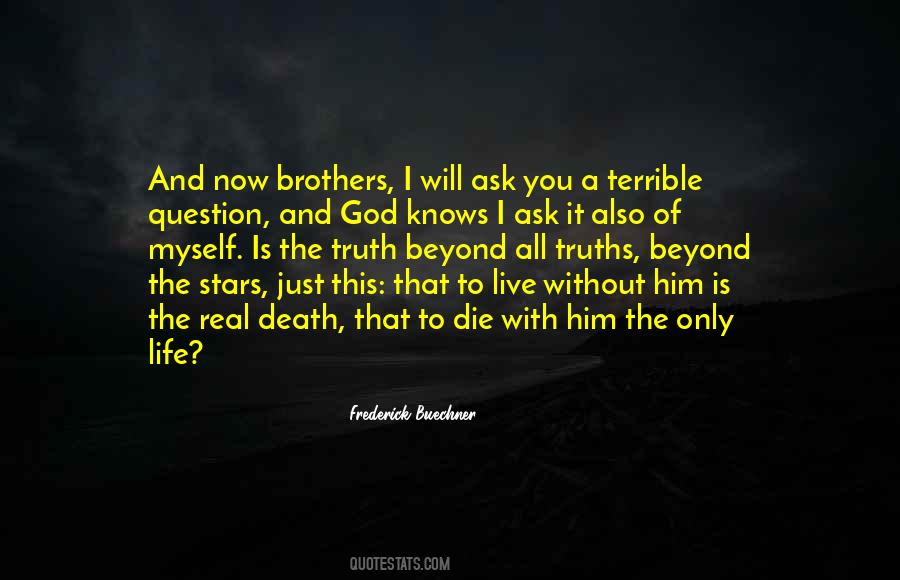 #89. No man can die unless Jesus opens the mystic door of death. - Author: J.C. Ryle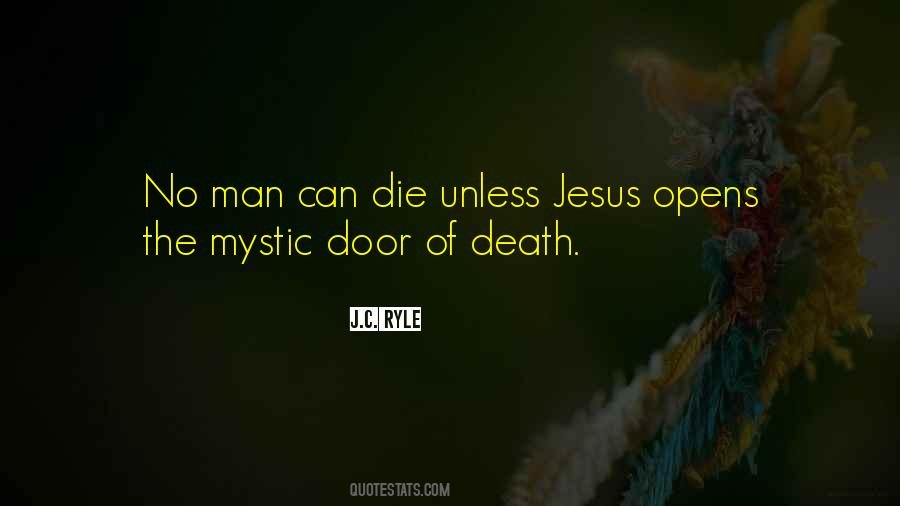 #90. The true philosopher lives his life as a dress rehearsal for death. - Author: Peter Kreeft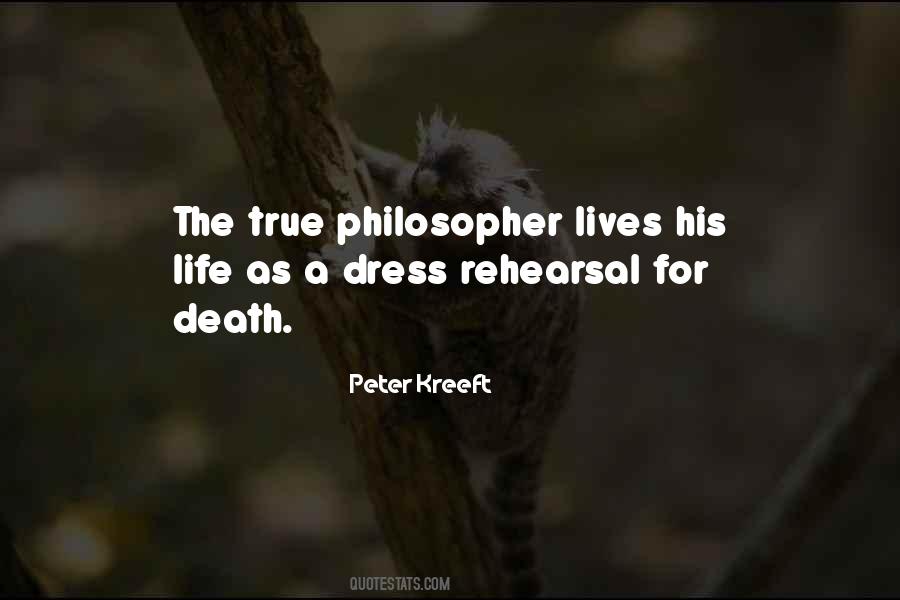 #91. The offspring of the woman, Jesus Christ, came into the world to save women who have dethroned God, taken His place, defined personhood as tissue, and willed the death of their own child. It can't be reversed, but it can be forgiven. That is why Christ died. - Author: John Piper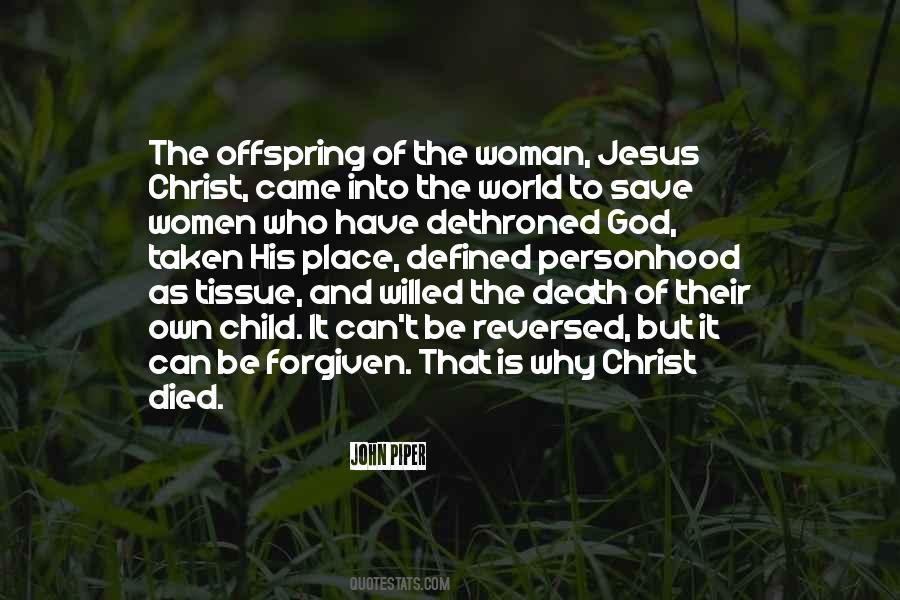 #92. Christ's death is the Christian's life. Christ's cross is the Christian's title to heaven. Christ "lifted up" and put to shame on Calvary is the ladder by which Christians "enter into the holiest," and are at length landed in glory. - Author: J.C. Ryle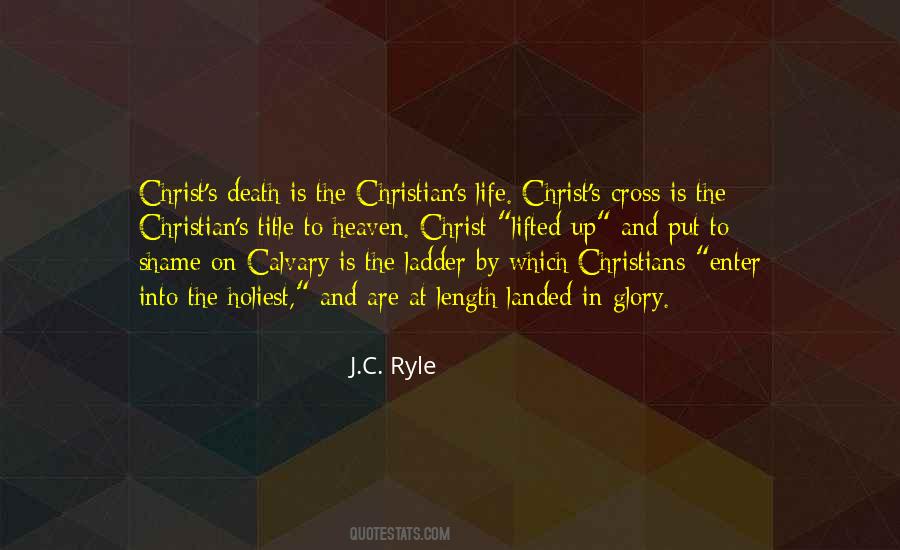 #93. Are you trying to be who Jesus wants you to be? Or do you trust him to bring out who he has already created you to be? It is vital to recognize the difference between these two questions because one leads to death, the other leads to life. - Author: Emily P. Freeman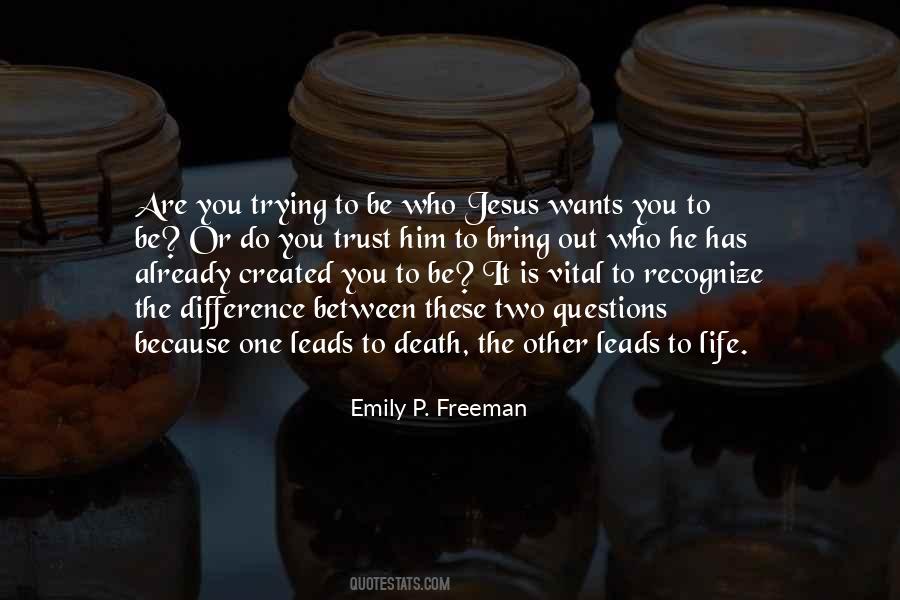 #94. The Christos-image
is most difficult to disentangle
from its art-craft junk-shop
paint-and-plaster medieval jumble
of pain-worship and death-symbol. - Author: Hilda Doolittle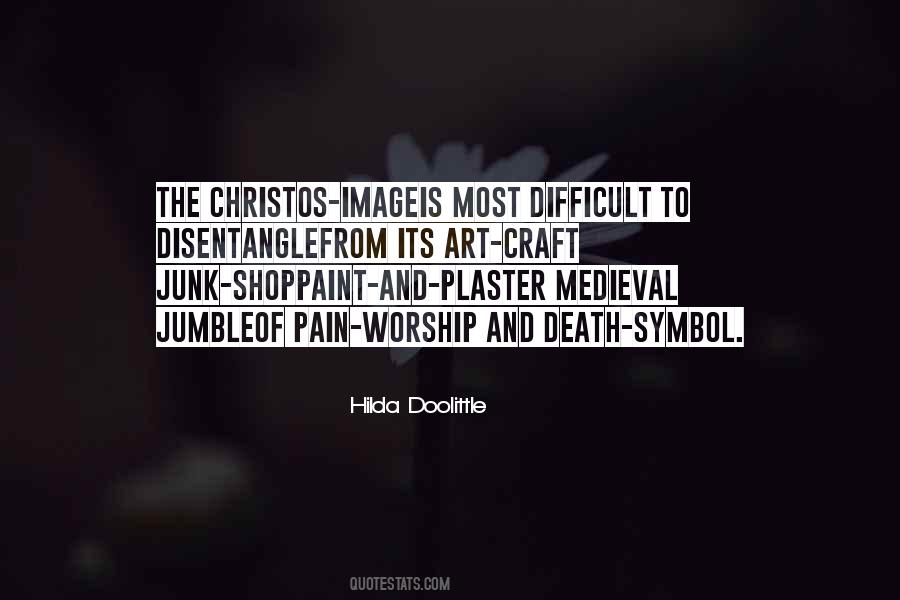 #95. God may thunder His commands from Mount Sinai and men may fear, yet remain at heart exactly as they were before. But let a man once see his God down in the arena as a Man-suffering, tempted, sweating, and agonized, finally dying a criminal's death-and he is a hard man indeed who is untouched. - Author: John Bertram Phillips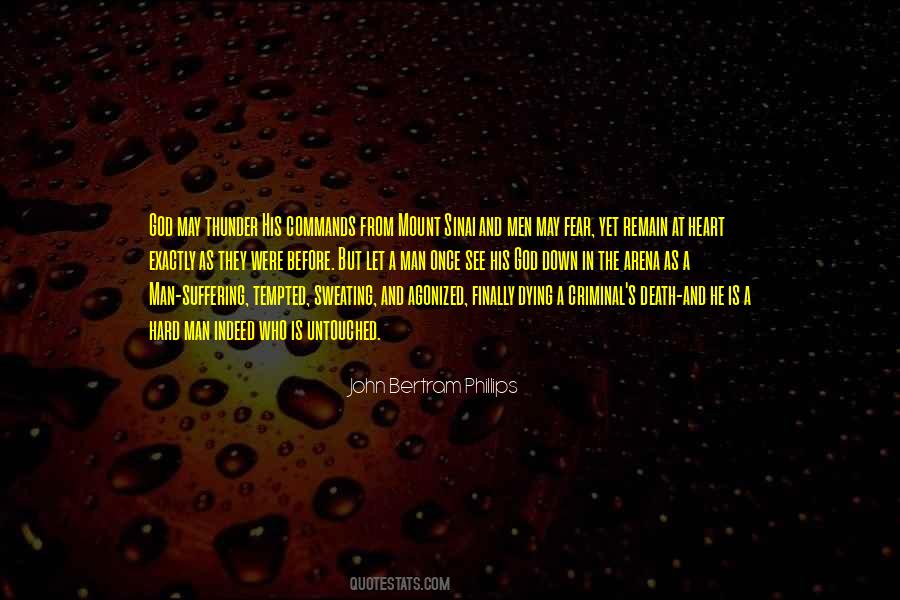 #96. Creation is the result, but not the beginning of love. Redemption is the manifestation of God as love, and therefore points to a love of absolute necessity and eternity. God is love, not God became love ... It is this love that we are planted by the incarnation, death, and resurrection of Jesus. - Author: Adolph Saphir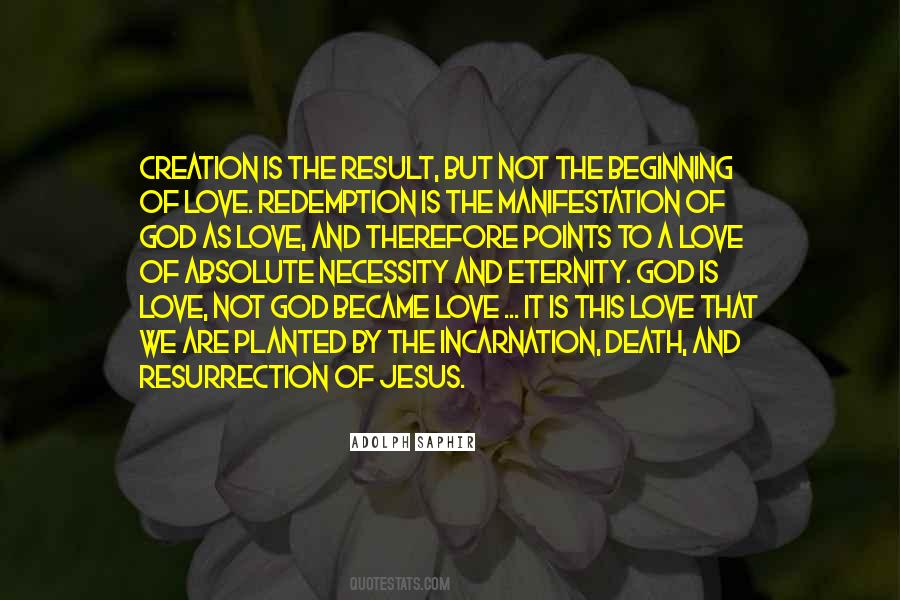 #97. The primary message of the Christian Church is that we were born in sin and we need to be rescued; we cannot rescue ourselves, so God comes to our rescue, pays the price of our sin and transforms us through the death of Jesus. - Author: John Shelby Spong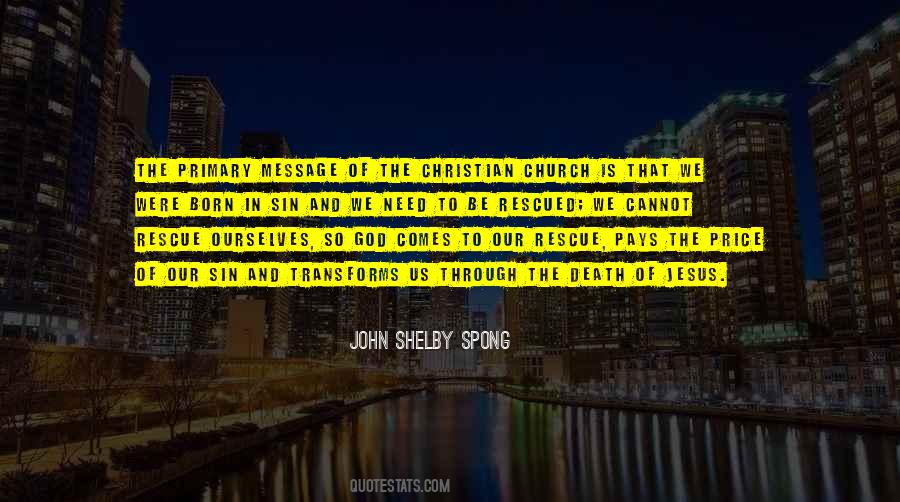 #98. From matters as crucial as the death of Jesus, to those as mundane as eating and drinking, the Bible presents the glo ry of God as the ultimate priority and the definitive criterion by which we should evaluate everything. - Author: Donald S. Whitney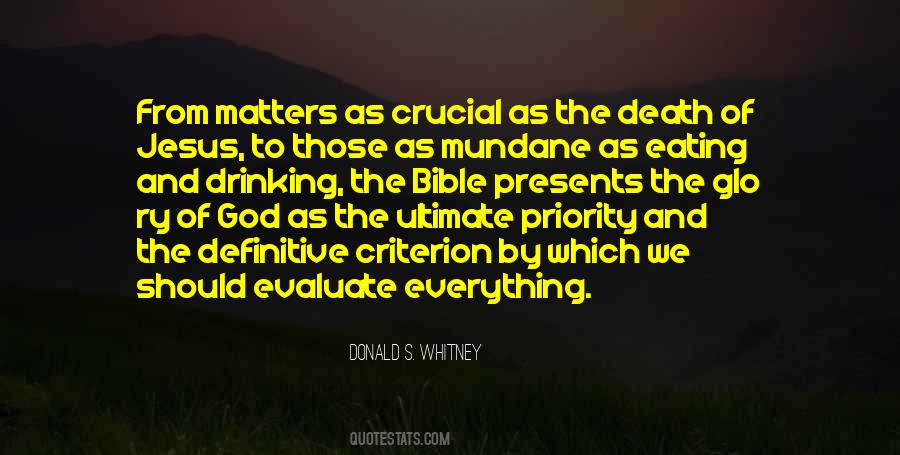 #99. If true love were only about feelings, Jesus would have been hugged to death for our redemption. Thank God for His cross this and every day. - Author: Mark Hart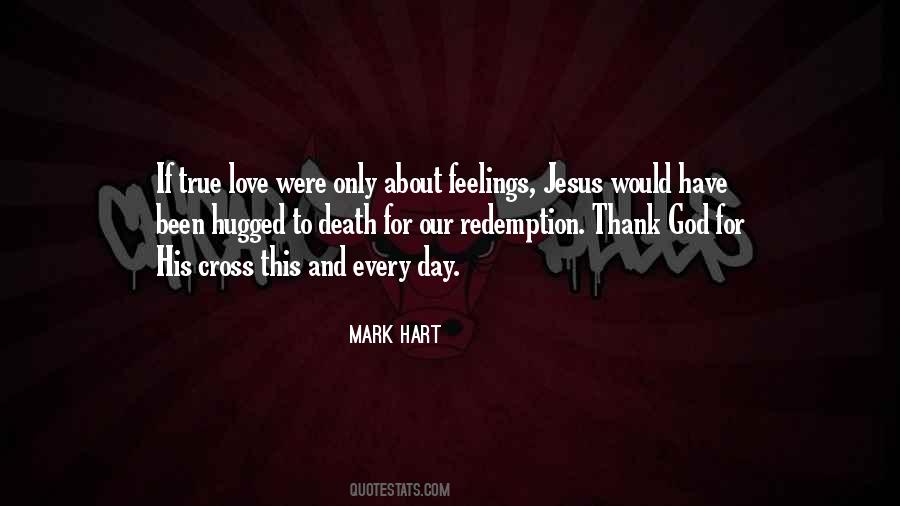 #100. Reflect on death as in Jesus Christ, not as without Jesus Christ. Without Jesus Christ it is dreadful, it is alarming, it is the terror of nature. In Jesus Christ it is fair and lovely, it is good and holy, it is the joy of saints. - Author: Blaise Pascal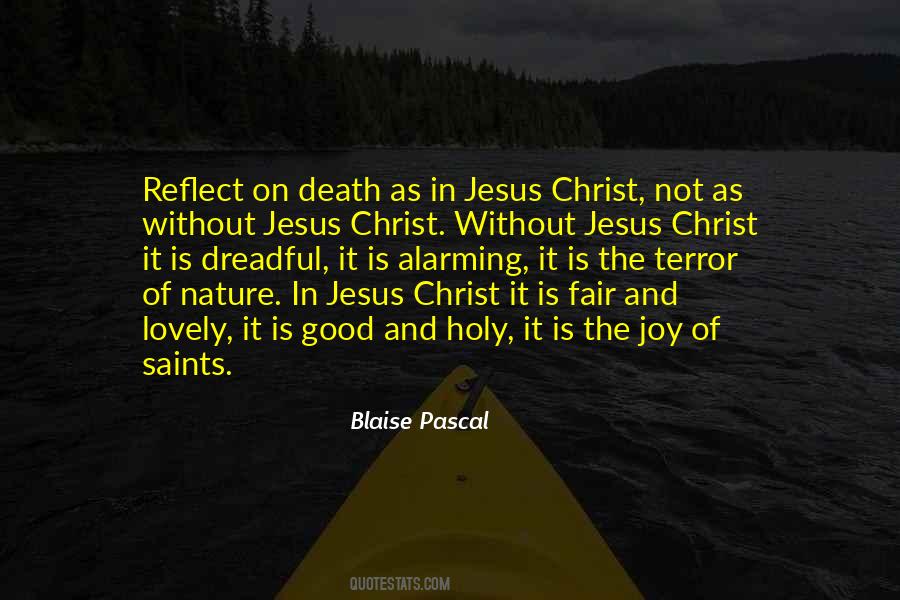 Famous Authors
Popular Topics