Interesting Situations Famous Quotes & Sayings
List of top 29 famous quotes and sayings about interesting situations to read and share with friends on your Facebook, Twitter, blogs.
Top 29 Quotes About Interesting Situations
#1. Fortunately, we have writers who very much respect the classic characters and the integrity of the classic characters, that are also terrific comedy writers and are able to put these classic characters in new and interesting, and quite funny situations for today. - Author: Bob Bergen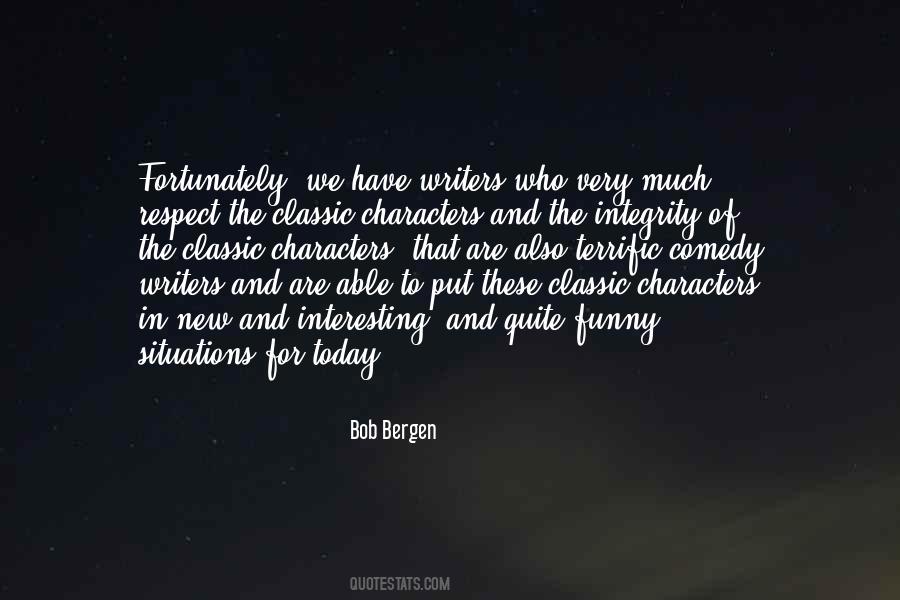 #2. Human nature is so well disposed towards those who are in interesting situations, that a young person, who either marries or dies, is sure of being kindly spoken of. - Author: Jane Austen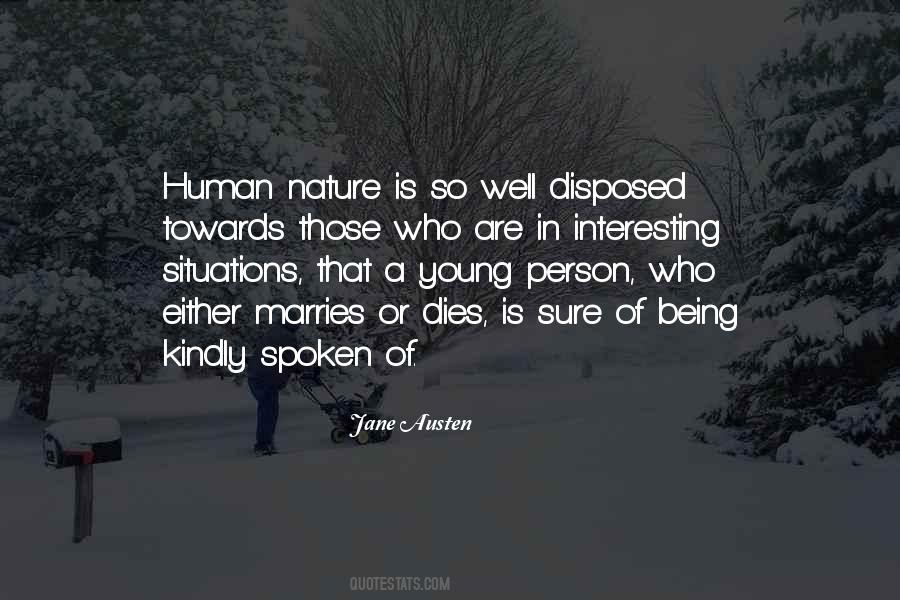 #3. I've never been conscious of having any real career plan, and I do not have a wish-list of actors, directors, screenwriters, or cameramen I'm hoping to work with. Life, I feel, has a way of leading us to the right situations and people, or at least to interesting ones. - Author: Viggo Mortensen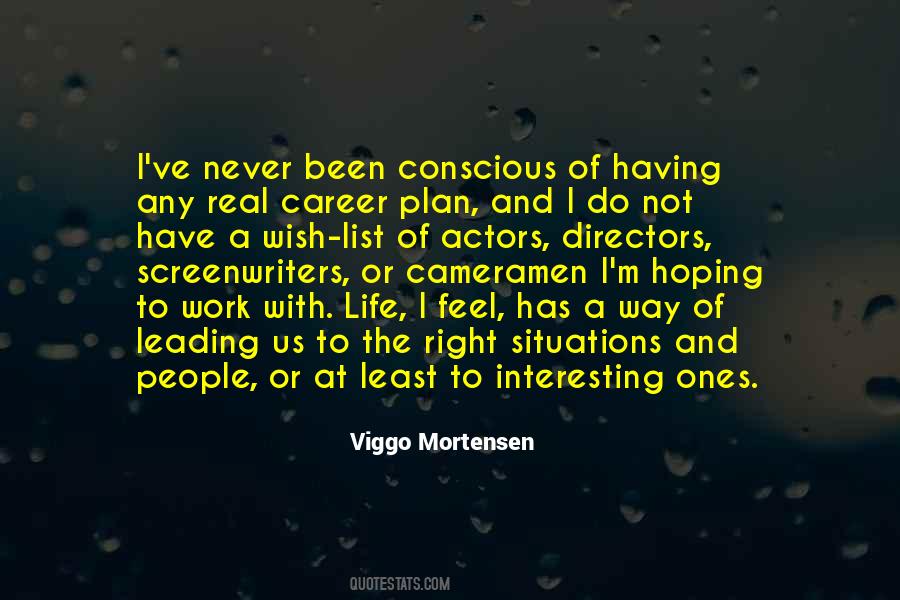 #4. Sometimes you get more creativity when you're in a box than when you can do anything. In really difficult situations, sometimes, you get the most interesting thinking. - Author: Jim Mullen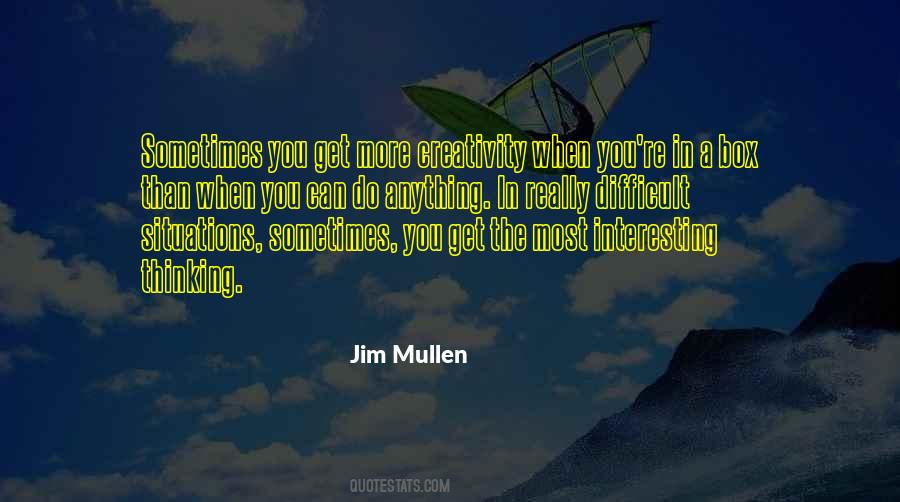 #5. I've been in some situations where people have treated me like a fascinating toy. You know, it's just like an interesting kind of fun thing to have a play with. It's very weird for me. I feel like a tiny baby. - Author: Lorde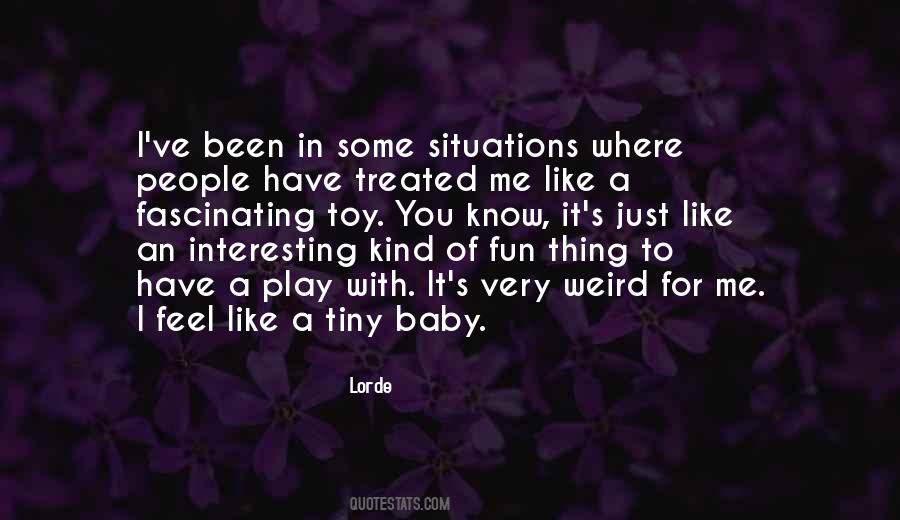 #6. I think there is great interest amongst the younger people in this music. I think that there is a lot of them that are looking for interesting situations and music that is stimulating. - Author: Dave Holland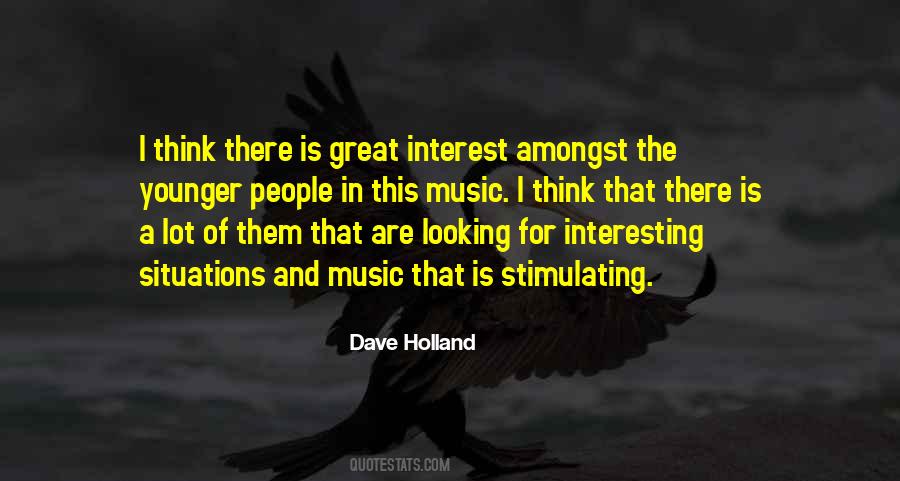 #7. Life presents some very interesting situations. When you're in the middle of a jam, you're not thinking, "Oh that's interesting." You're thinking, "How the hell am I going to get through this one. - Author: Art Hochberg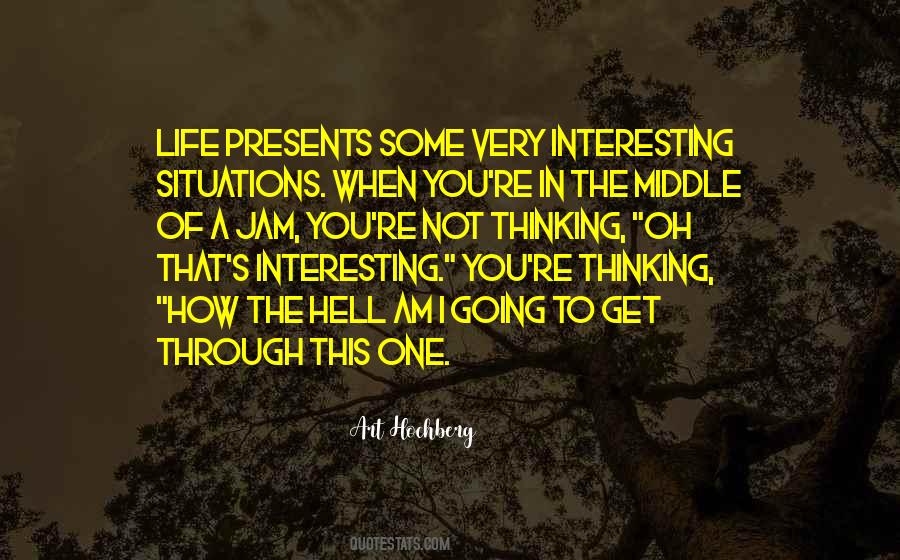 #8. I wouldn't marry you if you were the last man on earth."
"If I were the last man on earth it'd be because you drove the other poor suckers to early graves. - Author: Libba Bray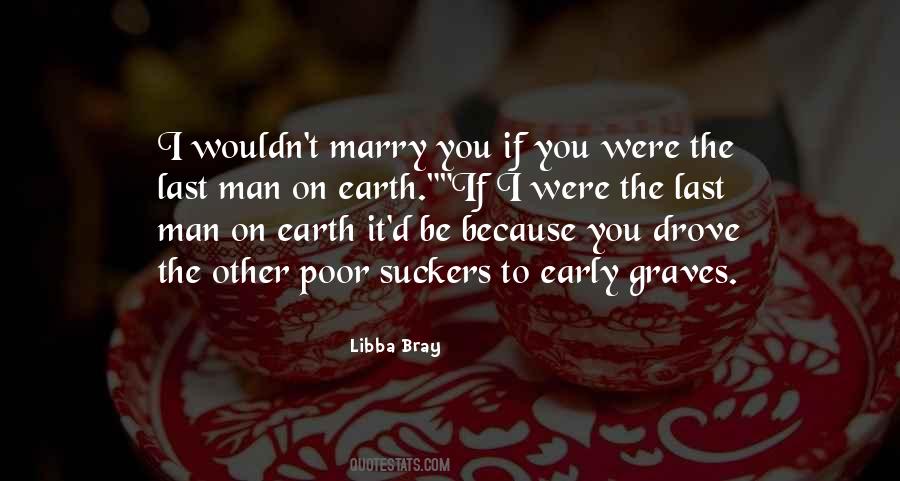 #9. My character is somebody who is smaller in stature and yet who's strong, so to see the fighting situations between people who are not generally thought of being strong is in itself unusual and therefore interesting, I think. - Author: Chiaki Kuriyama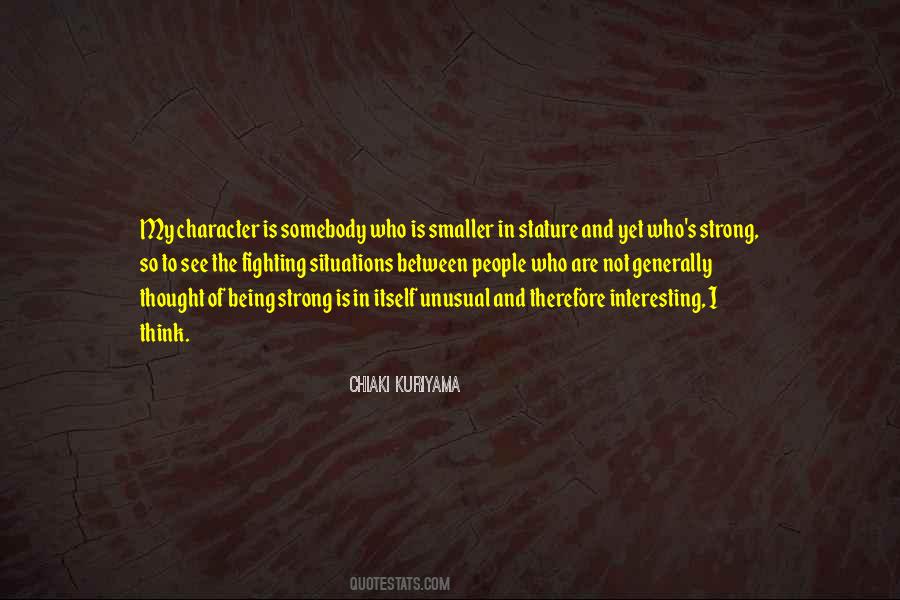 #10. Alma learned that her father drank out of bottles in the evening, and that those bottles sometimes contained danger (raised voices; banishment), but could also contain miracles - such - Author: Elizabeth Gilbert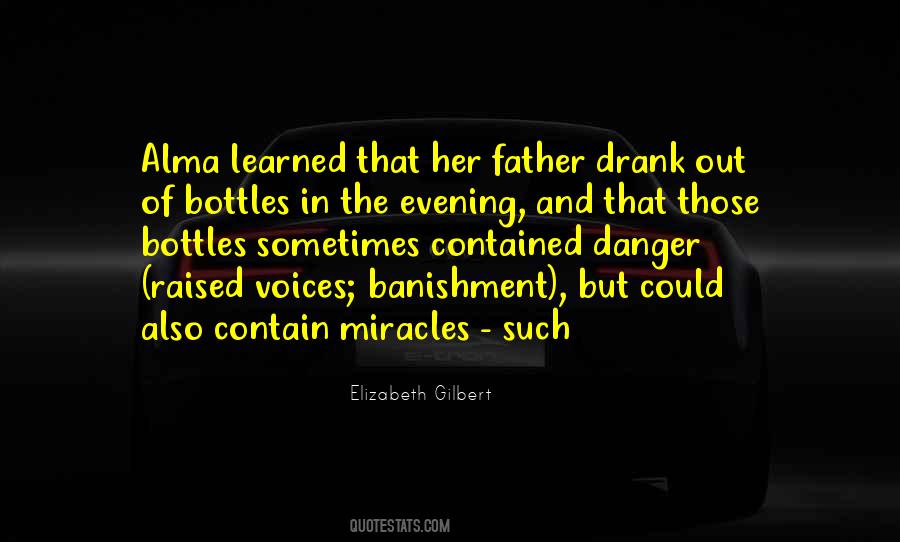 #11. It's interesting that people bring different things to oppressive and difficult situations, when they're reduced to the barest terms of survival. That's what provides tension in a lot of films. - Author: Sharon Salzberg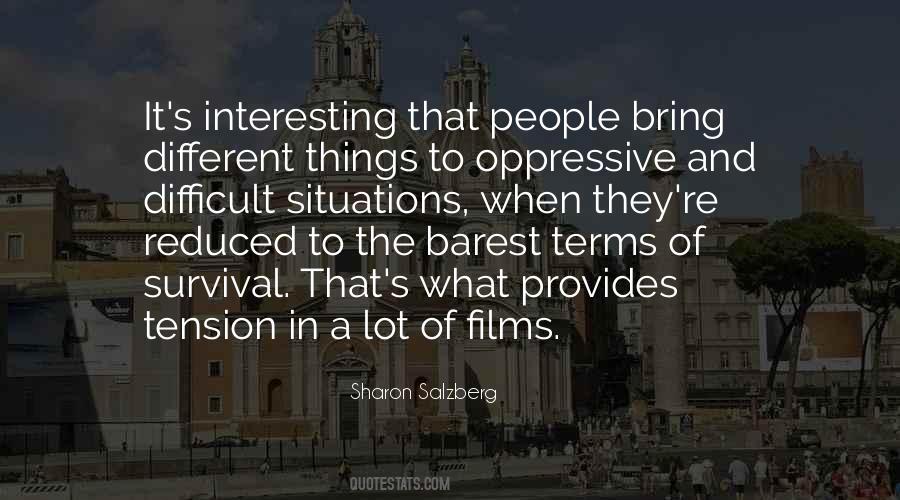 #12. I enjoy the creative side of the business side of being a restaurateur. That's my thing. The thing I'm constantly thinking about is, how do you create new, interesting situations that keep people coming back? - Author: Todd English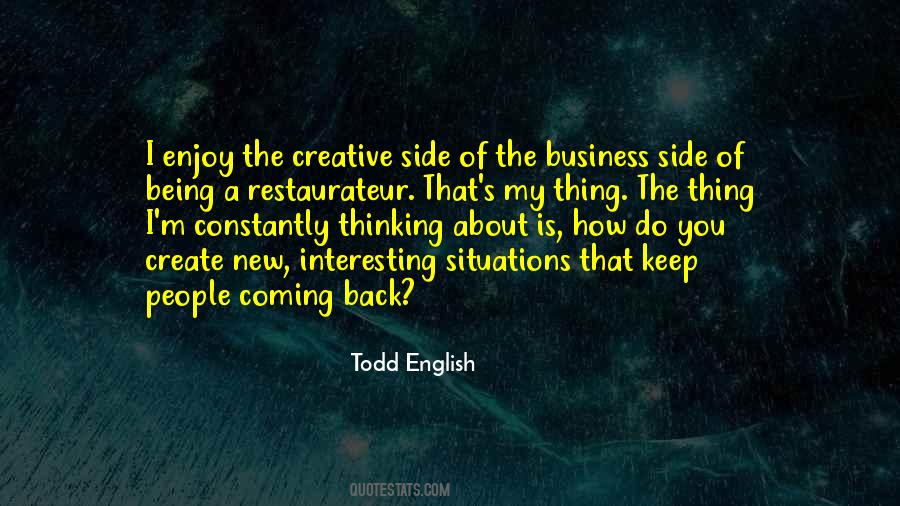 #13. I find people who want to help other people to be the most interesting. I come from a family of teachers, and my friends are teachers, often times in very difficult school situations. - Author: Jesse Eisenberg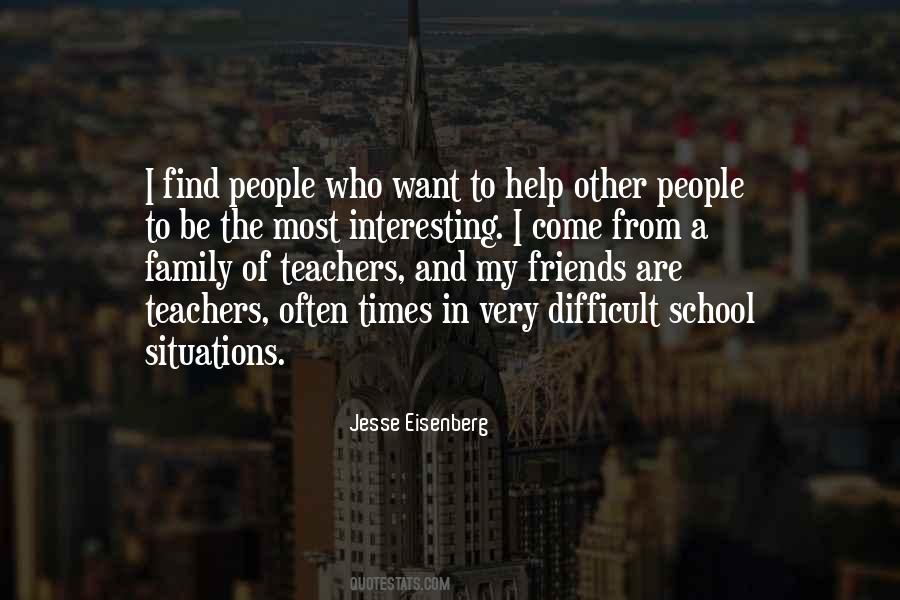 #14. A strong enough situation renders the whole question of plot moot, which is fine with me. The most interesting situations can usually be expressed as a 'what-if' question ... - Author: Stephen King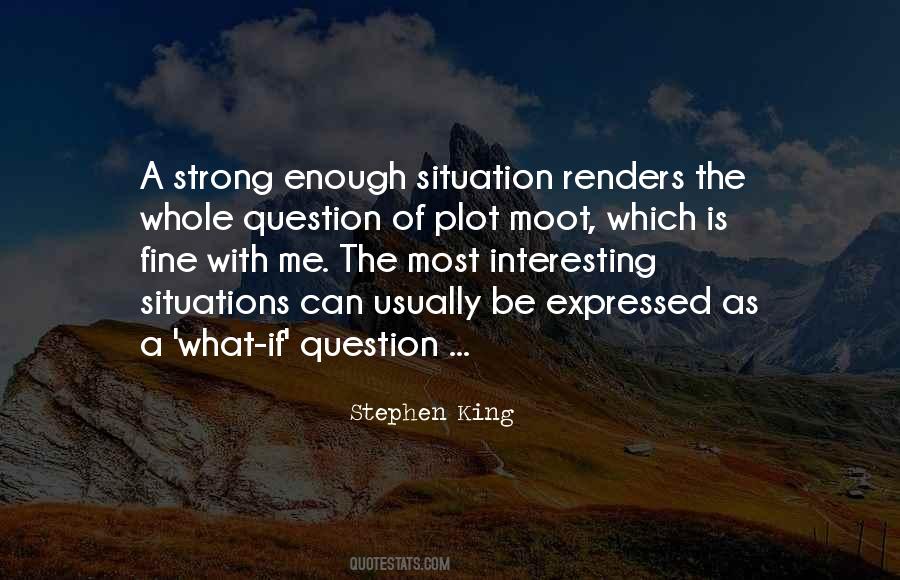 #15. Perpetuity in a home is a blanket for the cold years that come with age. - Author: Candace Wheeler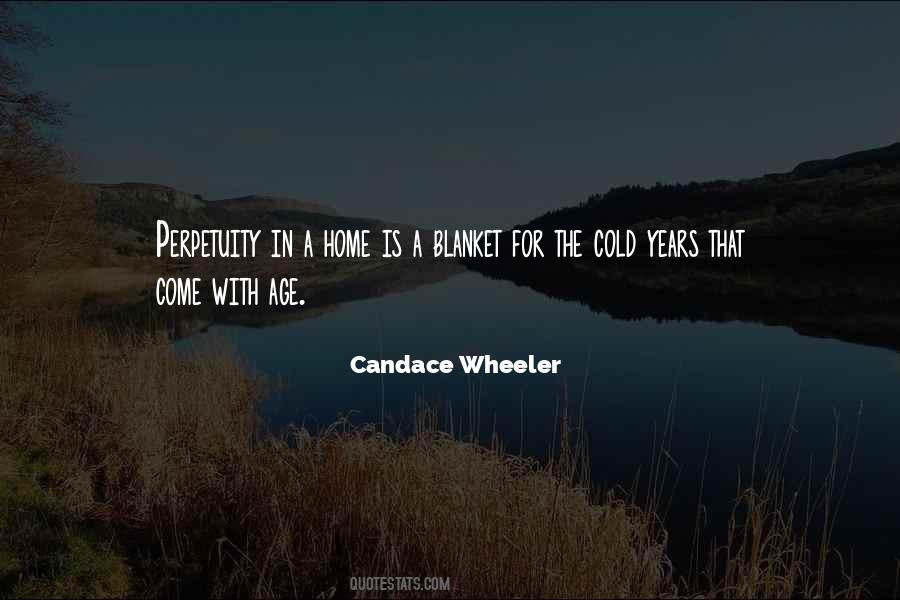 #16. His master was a man with the heart of a dog. He was a rambler, a rough-and-ready soldier of fortune, a one-of-a-kind two-leg who improvised the rules as he went along. They - Author: Paul Auster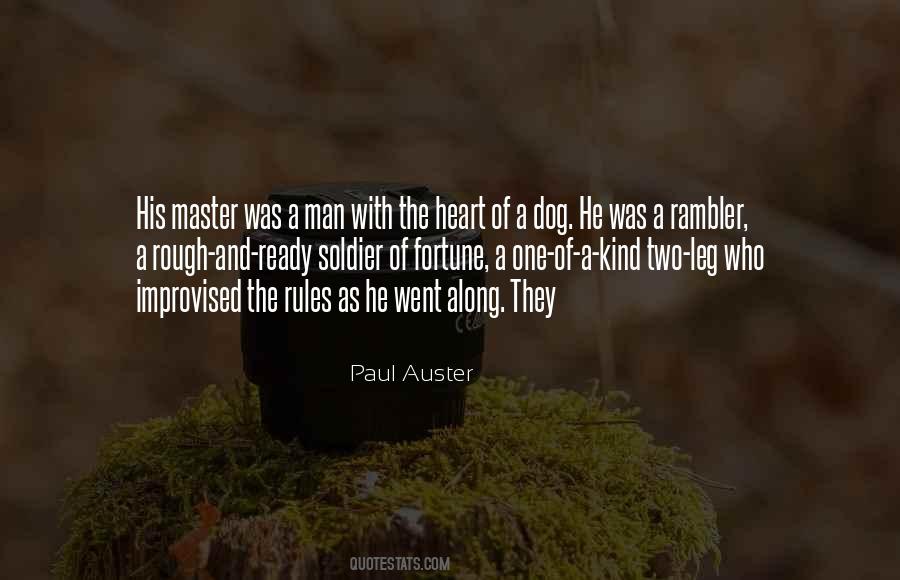 #17. The theoretically interesting category-mistakes are those made by people who are perfectly competent to apply concepts, at least in the situations with which they are familiar, but are still liable in their abstract thinking to allocate those concepts to logical types to which they do not belong) - Author: Anonymous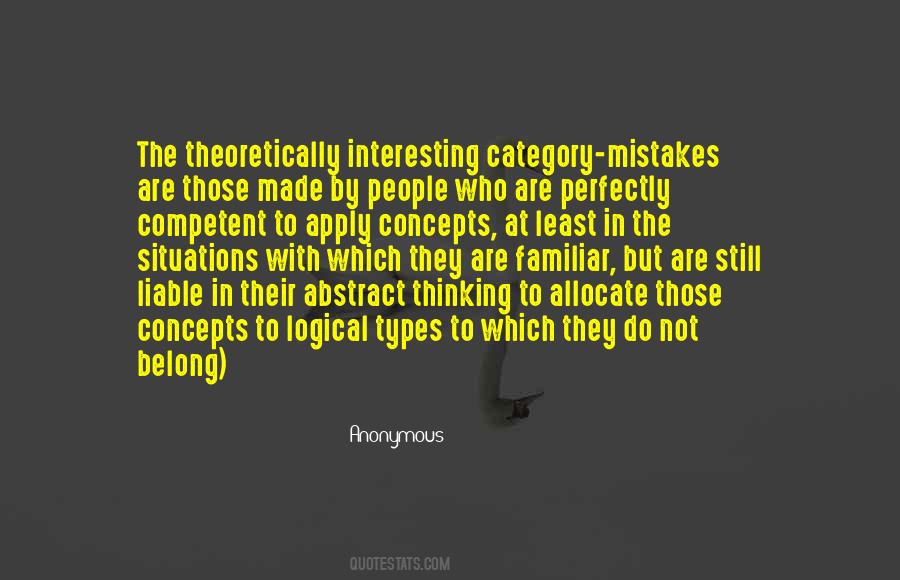 #18. You start getting hit with some very interesting situations in life - you as a parent - when they approach that teenage area, which is frightening because you still have memories of that age and the things you were doing at that age ... Please don't do what I did. - Author: Johnny Depp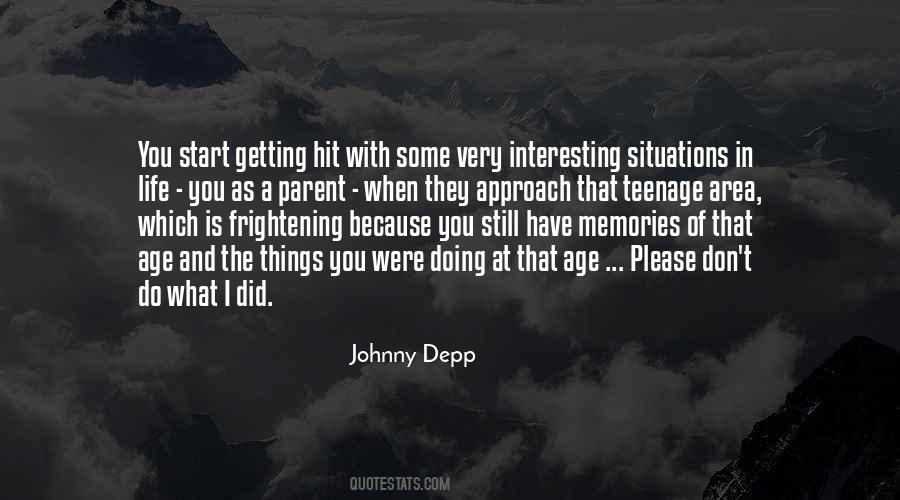 #19. All situations in which the interrelationships between extremes are involved are the most interesting and instructive. - Author: Wilhelm Von Humboldt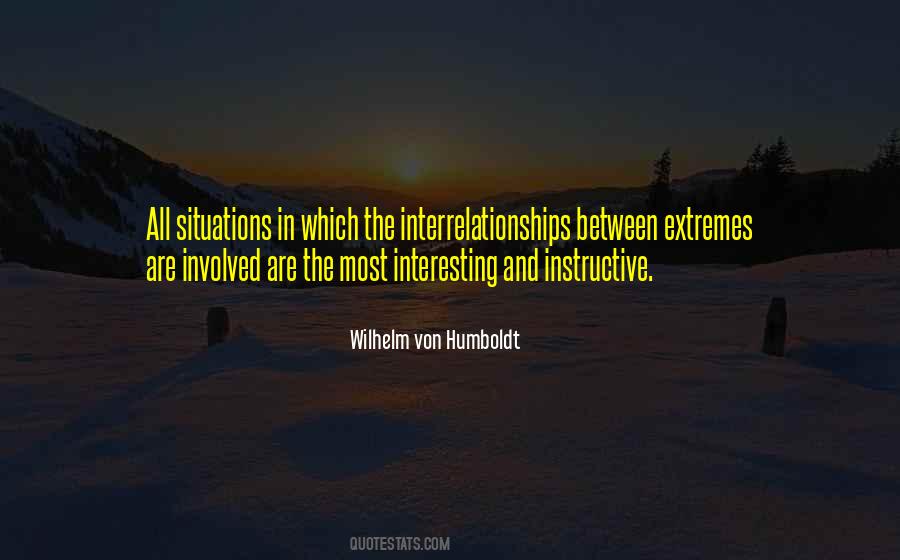 #20. To me, part of the fascinating profession of acting is to participate in all these strange situations, to try to understand all these interesting characters, fictitious or real, their human nature ... It's extraordinarily fascinating. - Author: Max Von Sydow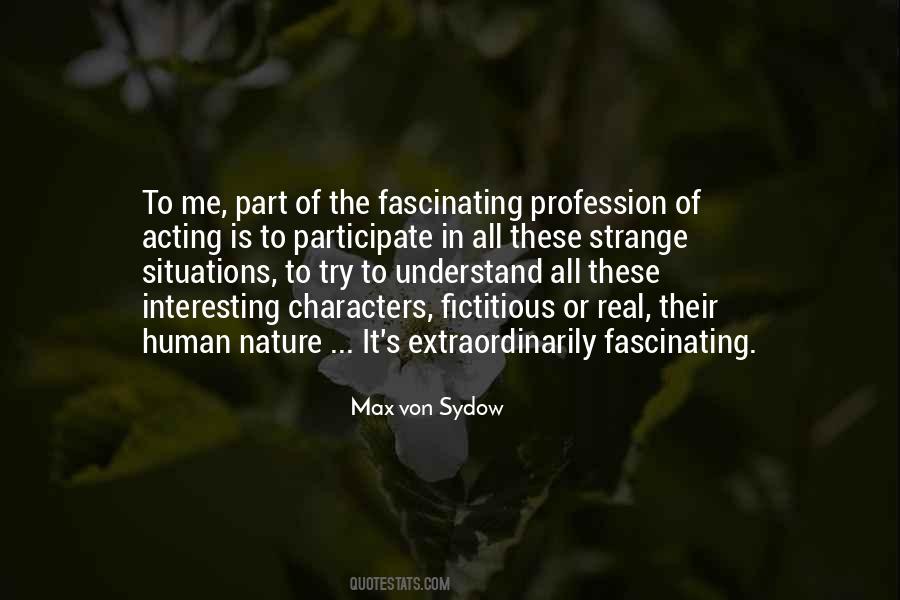 #21. Design is an art of situations. Designers respond to a need, a problem, a circumstance, that arises in the world. The best work is produced in relation to interesting situations - an open-minded client, a good cause, or great content. - Author: Ellen Lupton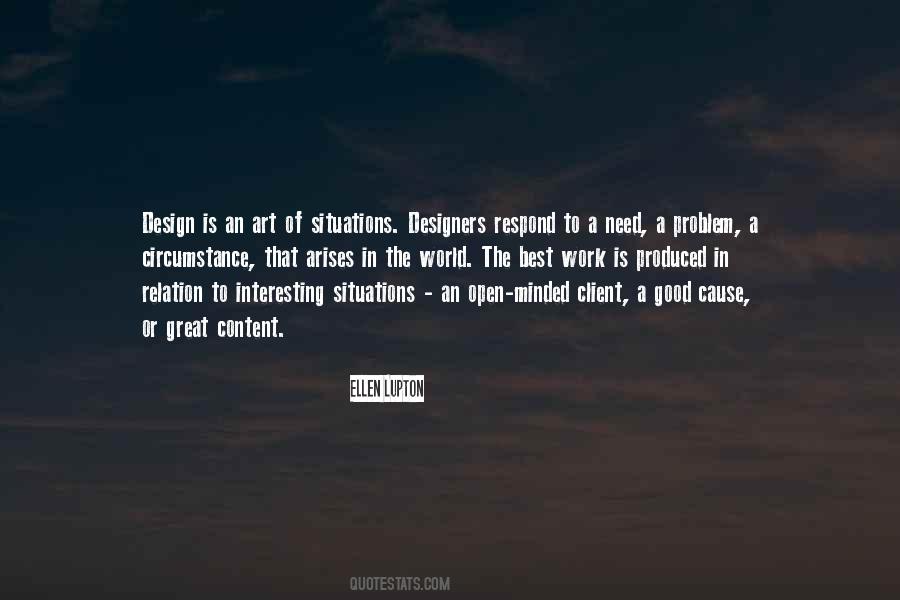 #22. A tax cut to compensate for a tax increase is not a cut - it's a con. - Author: Tony Abbott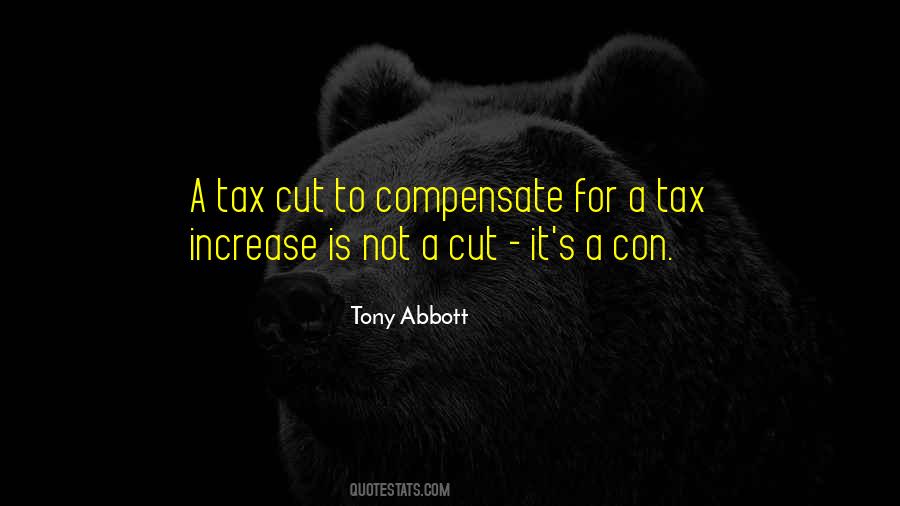 #23. Our live set's become increasingly complex recently; we've been doing stuff that's been vastly too much information for most people to deal with and I think it's quite interesting watching how people behave in those situations, under those circumstances. - Author: Sean Booth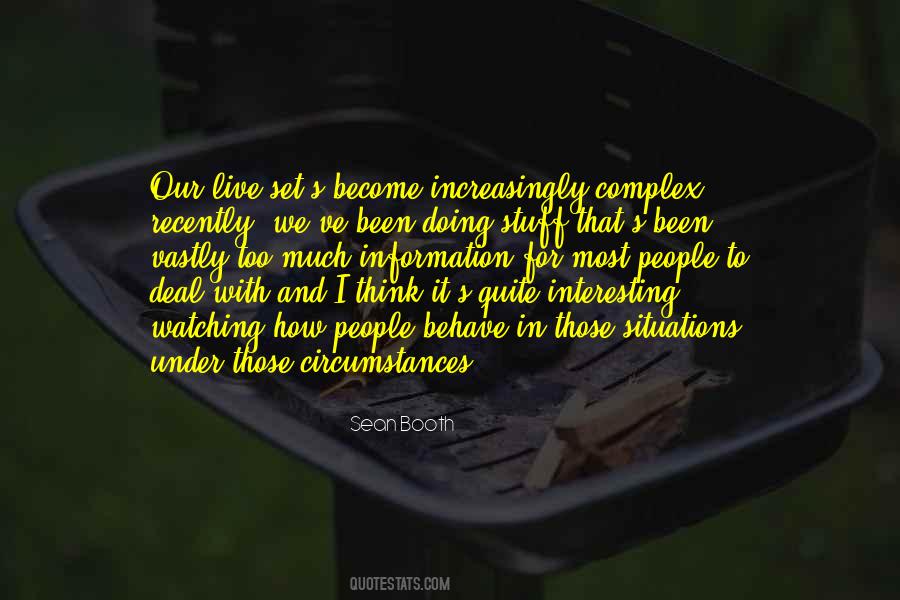 #24. I live well with very little things but not without my dignity - Author: Rui M.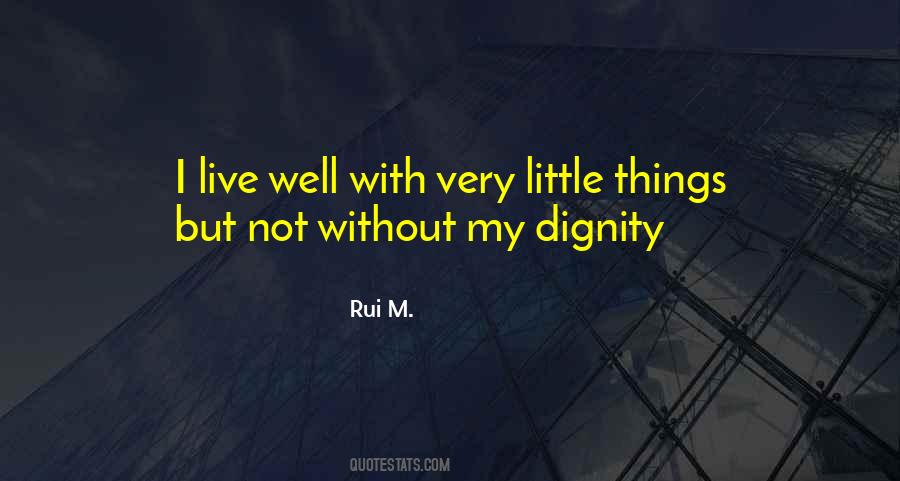 #25. I like to see what happens to people when they're thrown into really crappy situations. I think it's really interesting to watch what decisions they make, how they deal with the feelings they have. - Author: Luke Mitchell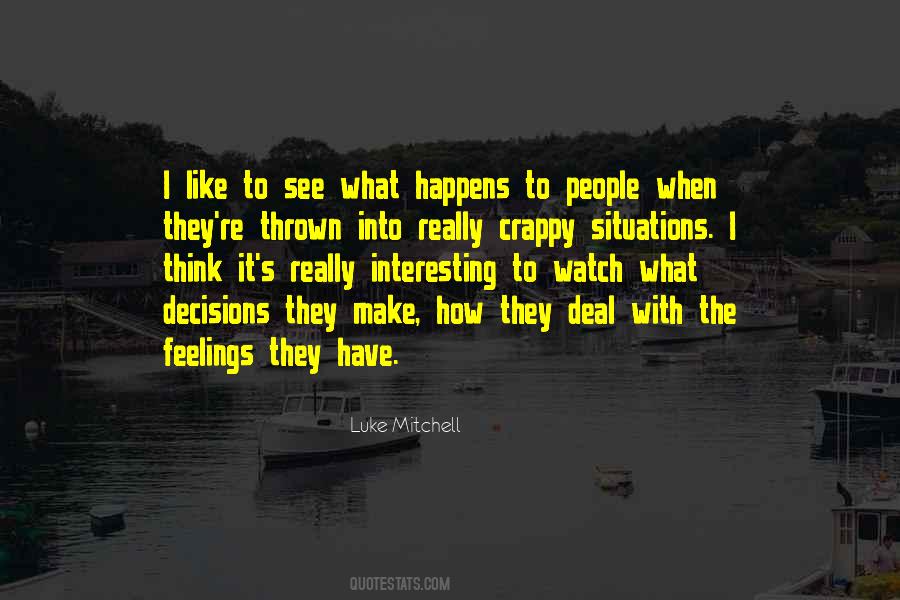 #26. You can't write the same book twice. Though I've been in historical musical situations, I can't go back and do that again. And though I run into artistic crises, they keep my life interesting. - Author: Max Roach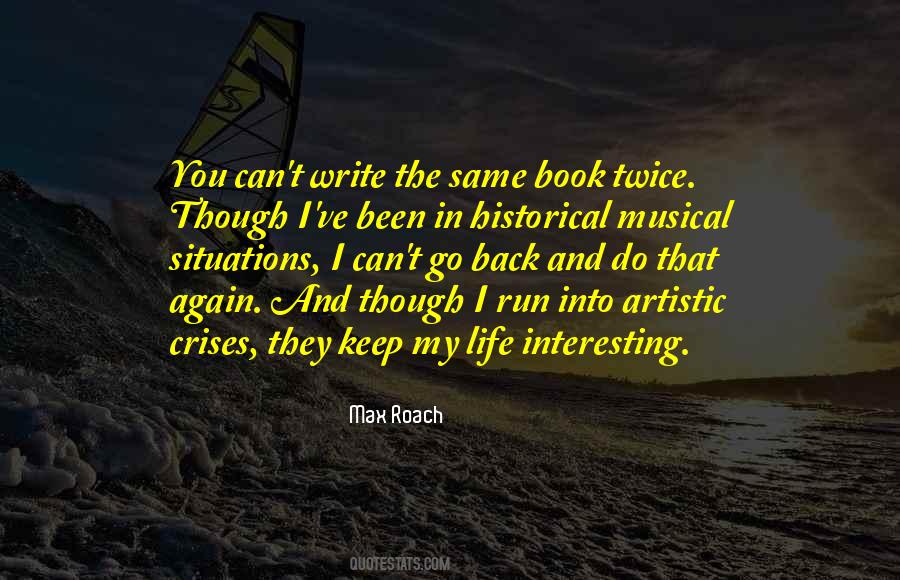 #27. I always think part of success is being able to replicate results, taking what is interesting or viable about yourself as a professional person and seeing if you bring it into different situations with similar results. - Author: Robert Downey Jr.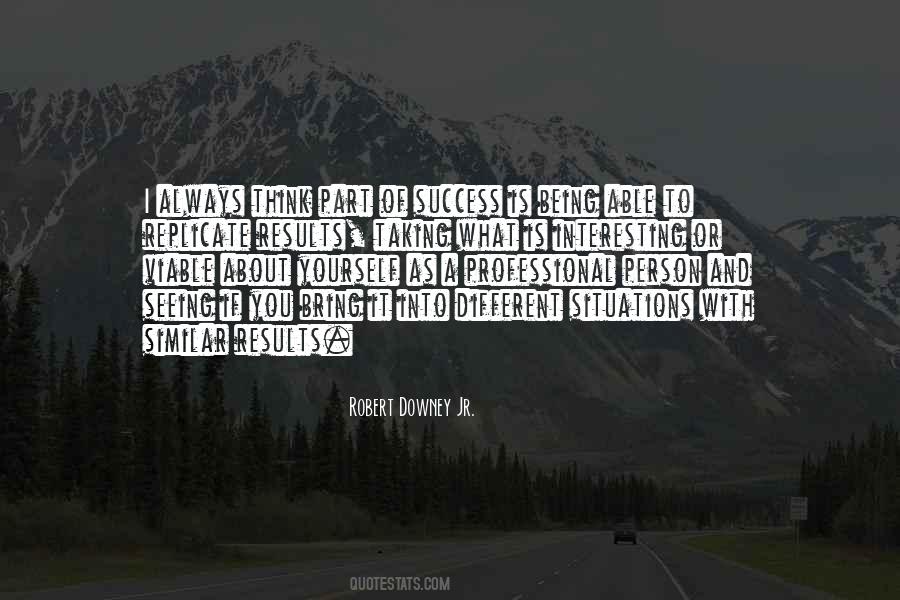 #28. The idea that 'Life' contains situations more interesting and more romantic than all the romances ever written. - Author: Marcel Proust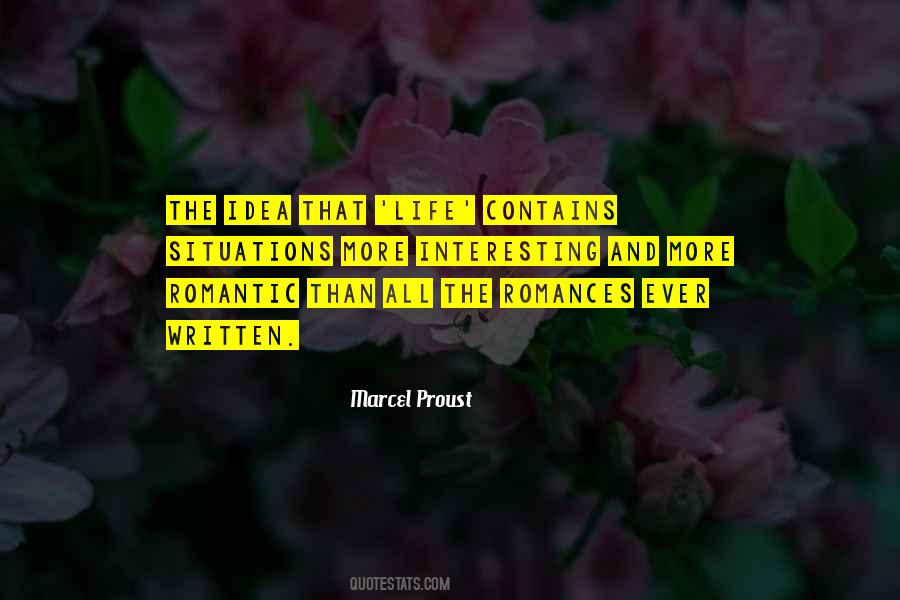 #29. Gradually I saw that it was less interesting for me, as an artist, to frame the world wholly according to my own perceptions. I wanted instead to create situations in which I allowed others' perceptions to surface with my own. - Author: Wendy Ewald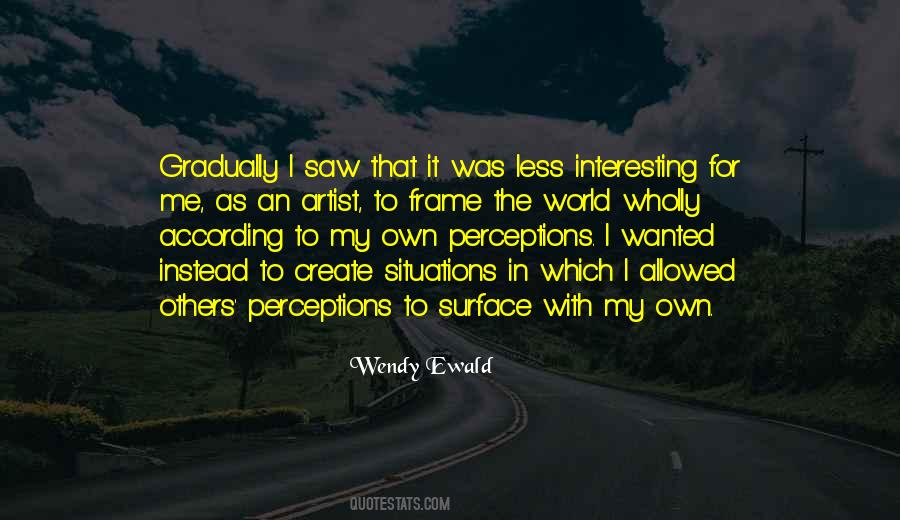 Famous Authors
Popular Topics