Inspiring People Famous Quotes & Sayings
List of top 100 famous quotes and sayings about inspiring people to read and share with friends on your Facebook, Twitter, blogs.
Top 100 Quotes About Inspiring People
#1. Some people help thousands of people directly, like Marie Curie or Susan B. Anthony. Others help us by inspiring us, like Amelia Earhart. But you do have to help someone. - Author: Brad Meltzer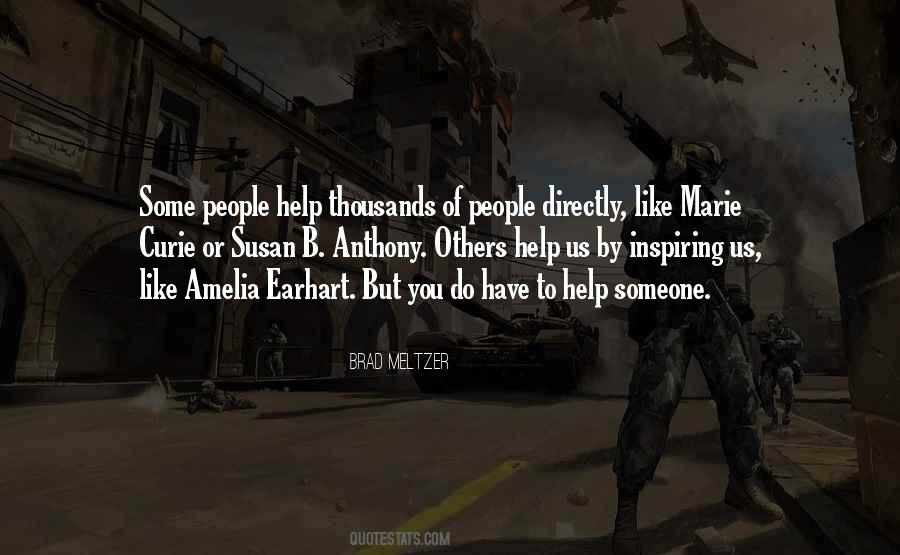 #2. It's always inspiring to me to meet people who feel that they can make a difference in the world. That's their motive, that's their passion ... I think that's what makes your life meaningful, that's what fills your own heart and that's what gives you purpose. - Author: Maria Shriver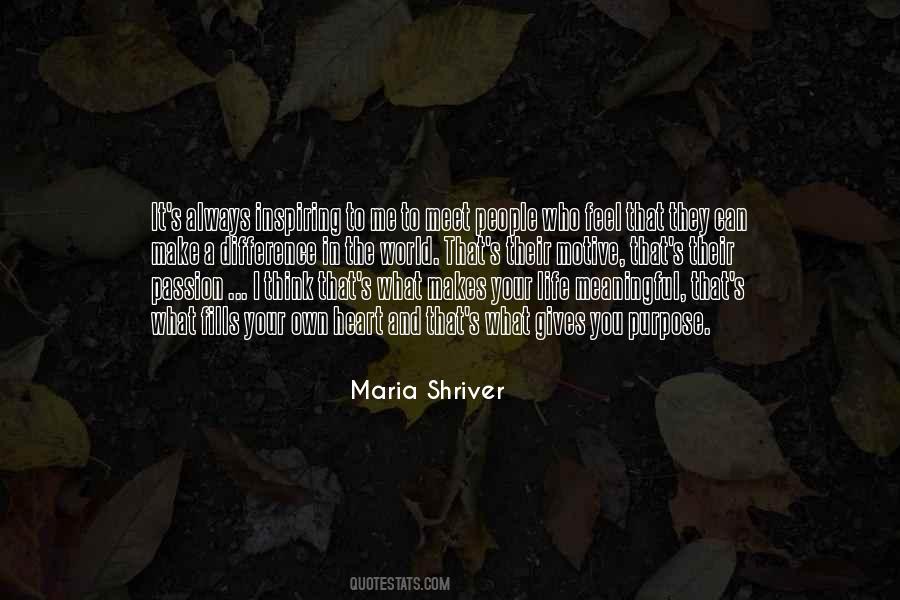 #3. The adult age begins with the blessed single strand of a grey hair. - Author: Lailah Gifty Akita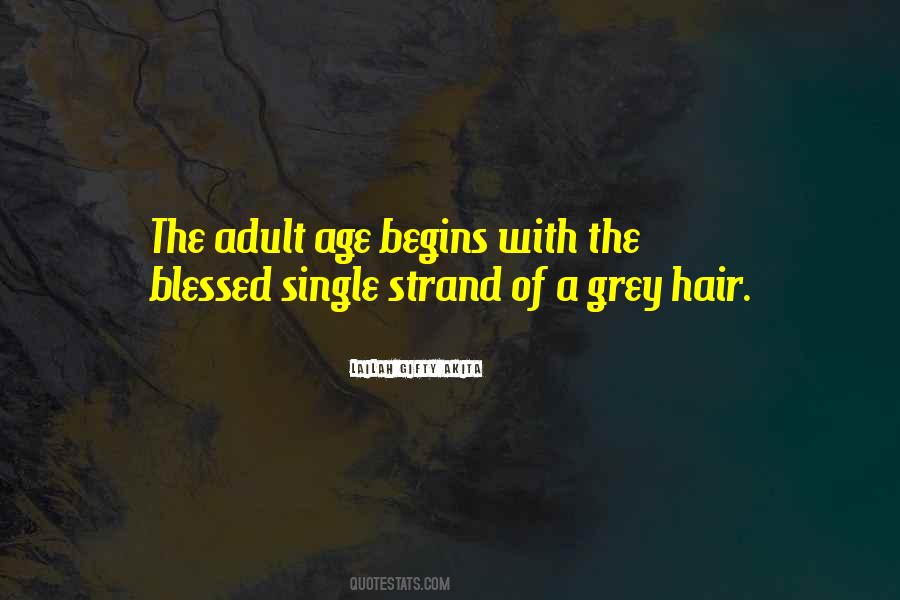 #4. Those who have changed the universe have never done it by changing officials, but always by inspiring the people. - Author: Napoleon Bonaparte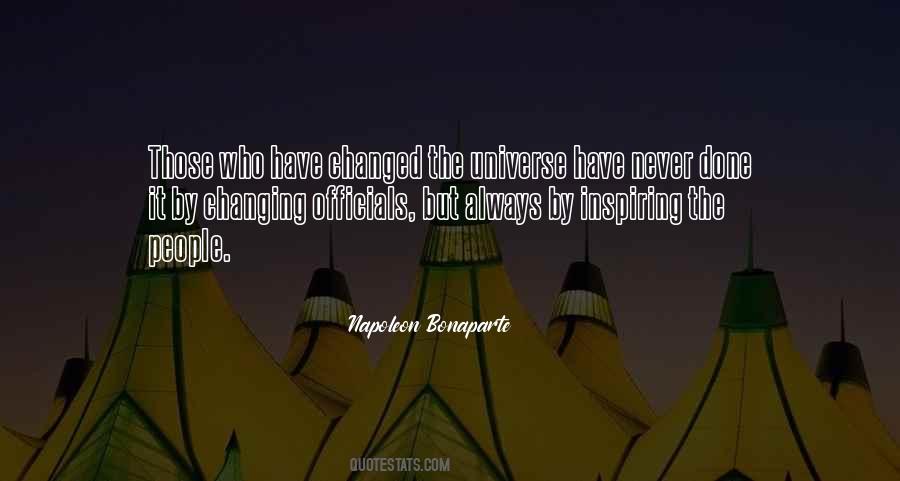 #5. My main goal as a songwriter is to make something that inspires people. To write things about my life that people can relate to. Whether it's a whole record or just one song for someone, I hope it can do that for them. Knowing that I have the ability to do that is inspiring to me. - Author: Kate Voegele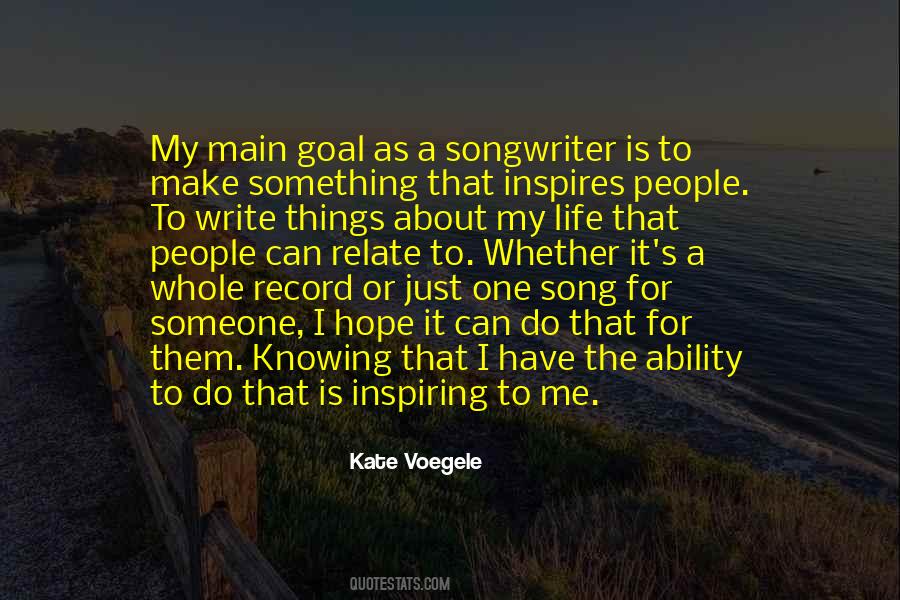 #6. If hate, the antonym of love, is one strong word that we all know it exist but despise, why do people like playing with LOVE like it's nonentity? - Author: PK Gyewu Akrofi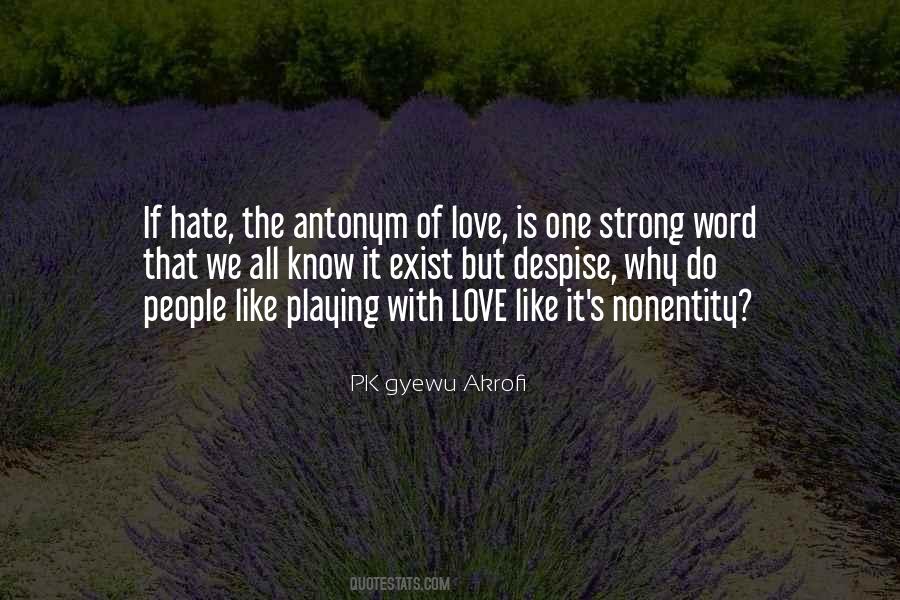 #7. Working with the actors, working with production designers, working with the creative people who surround the process is really fun, it's really inspiring and I take great pleasure in working with them. That's what's most fun about directing. - Author: Marc Webb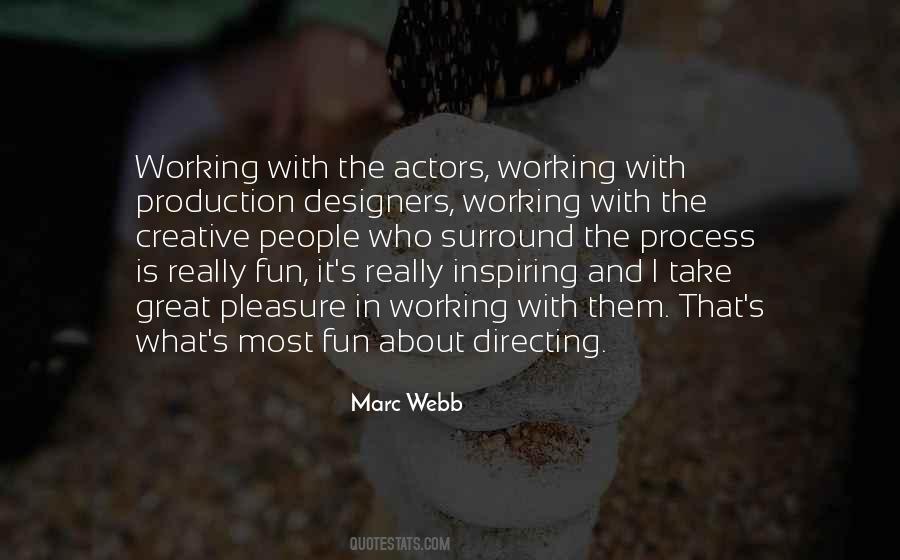 #8. I have always felt comfortable in blue jeans. I have found it interesting, however, that people also whistle at blue jeans. I have to admit that I like mine to fit. There's nothing I hate worse than baggy blue jeans. - Author: Marilyn Monroe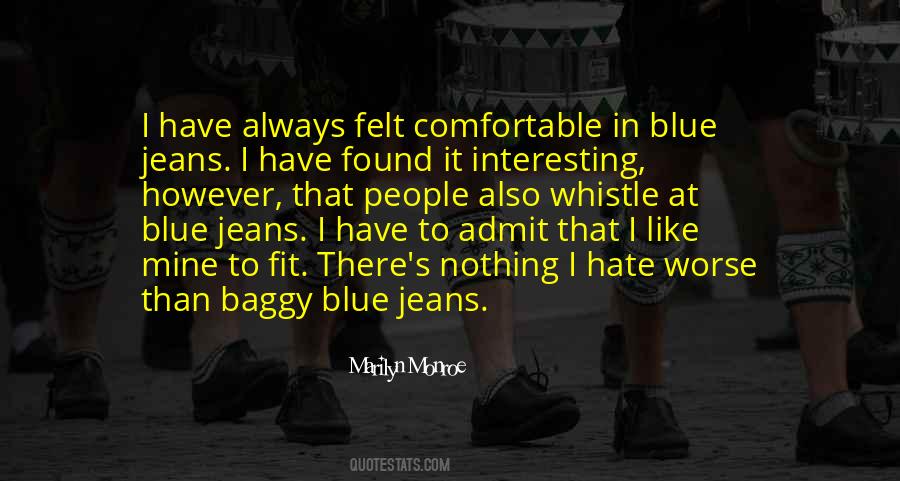 #9. Preserve the sayings of those people who are indifferent to the world. They say only that what Allah wishes them to say. - Author: Umar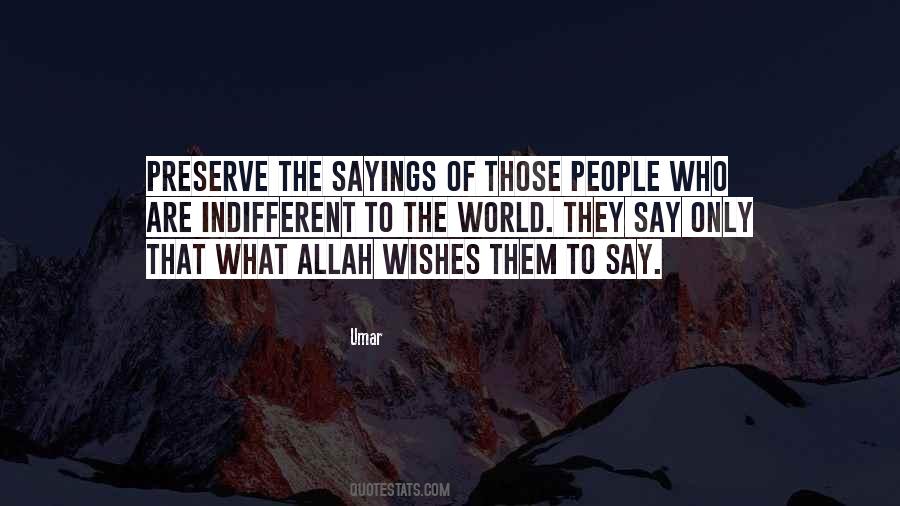 #10. The travel, the amazing work I have had the chance to do, the meetings with different people are all very inspiring and give me lots of positive energy. - Author: Saskia De Brauw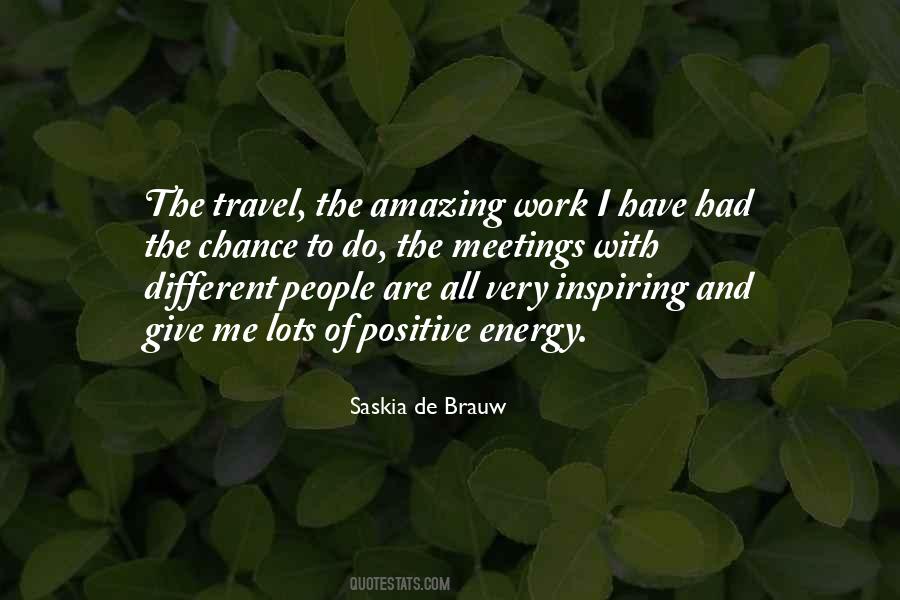 #11. Writers are socially observant. We find people endlessly fascinating, and real life is mysterious. Sometimes it's hard to stop staring at the strut and squawk of my fellow man. They can be quite inspiring. Sometimes it's hard to stop talking to them to see what in the world they're thinking. - Author: Julianna Baggott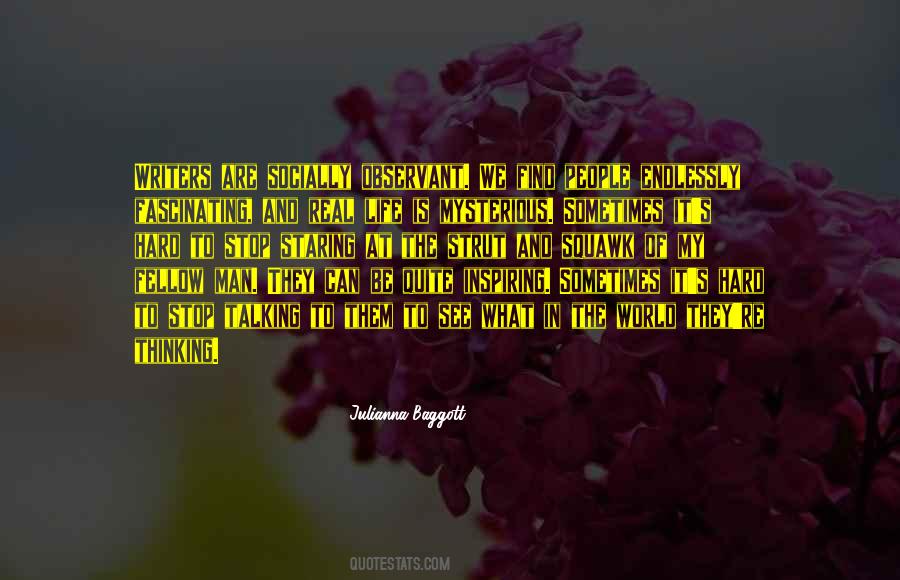 #12. God will save us. - Author: Lailah Gifty Akita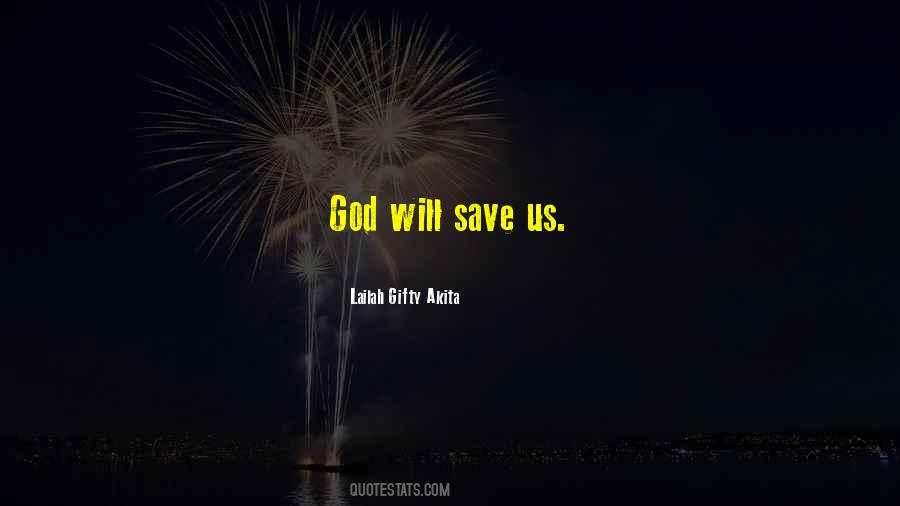 #13. Be thankful for the efforts of people who worked hard to get you where you are; you should not take it for granted and treat them with indifference. - Author: Roy T. Bennett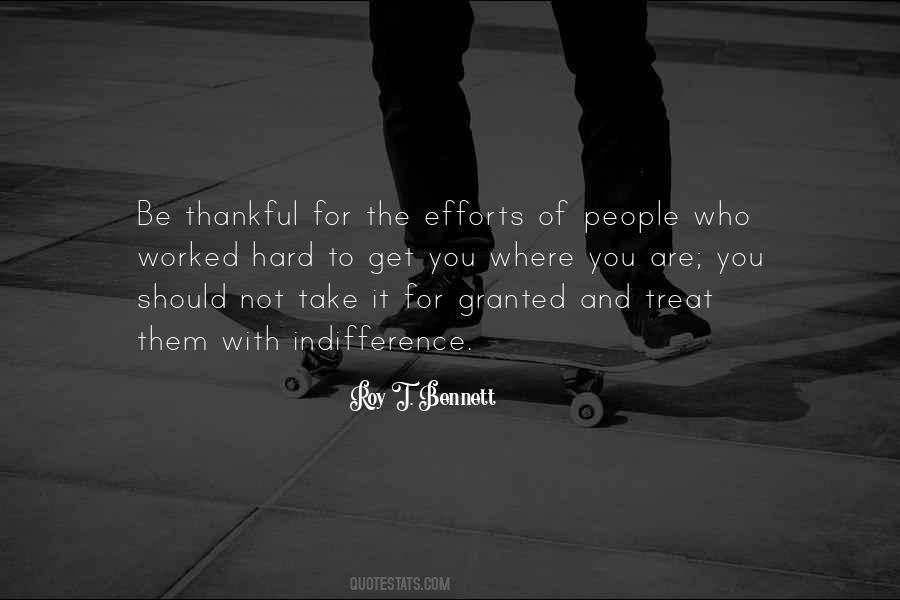 #14. Are the people in your life inspiring you or tiring you? - Author: Kris Carr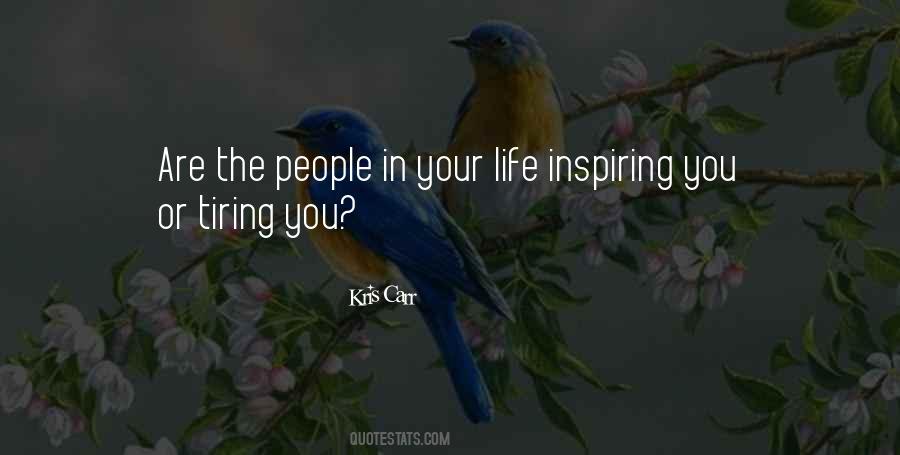 #15. People have struggled for the benefits of others, you can struggle at least for your own benefit. - Author: Amit Kalantri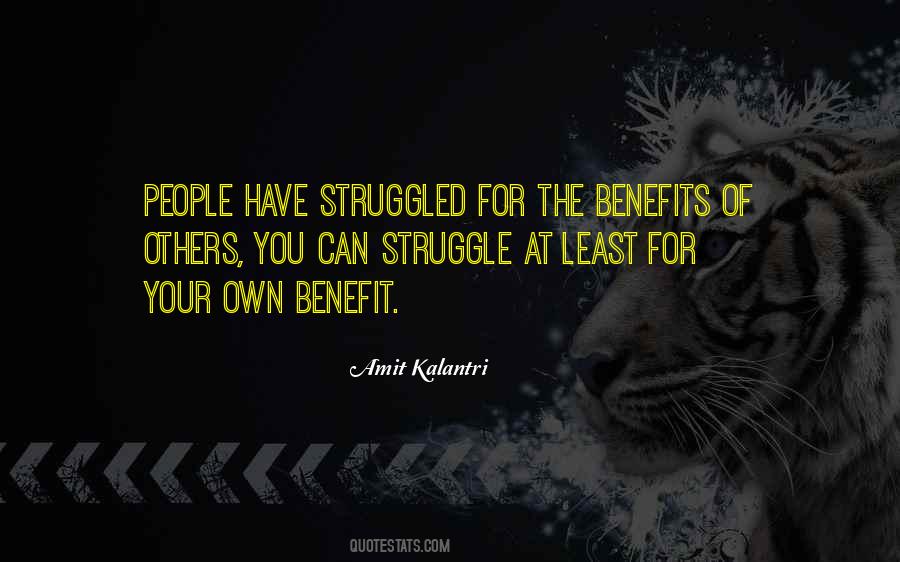 #16. I don't like to run, train, in groups. But racing, it's the groups that are most inspiring to me. I love racing with 52,000 people. I don't like training with any more than one person. Ever. - Author: Casey Neistat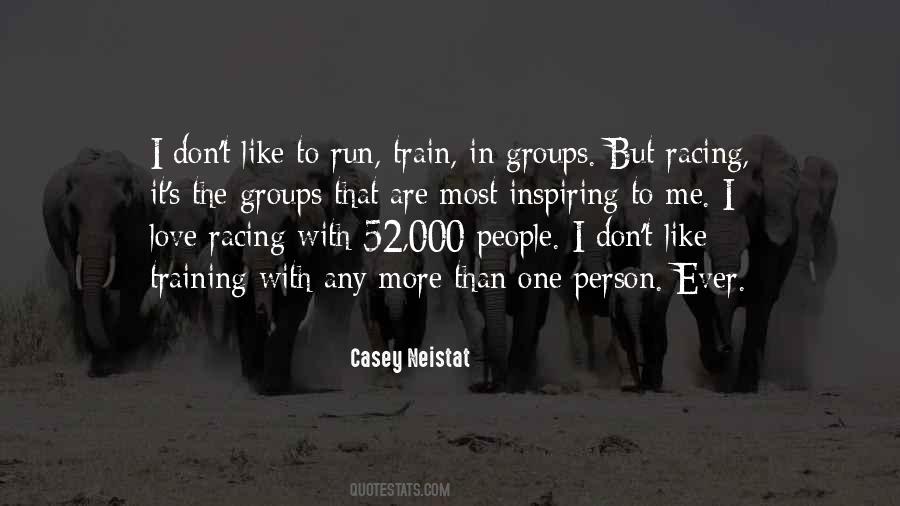 #17. People just want to know that they matter. - Author: Oprah Winfrey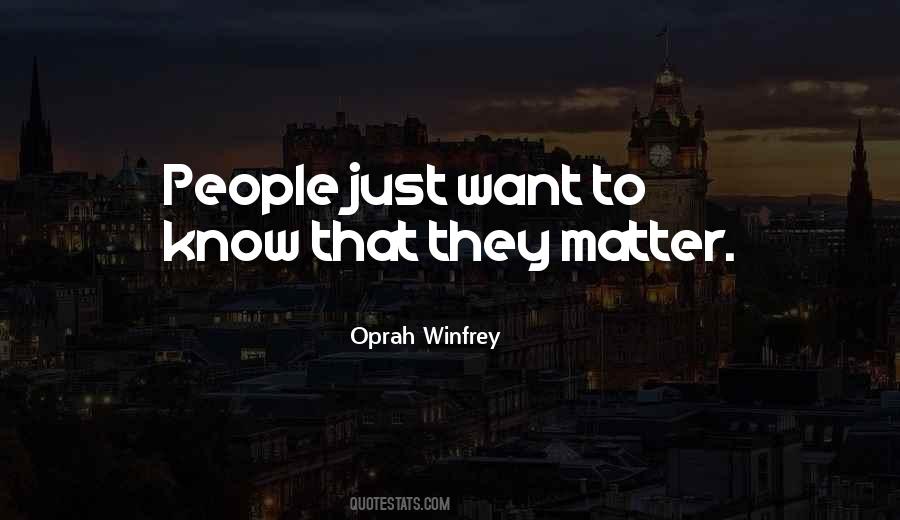 #18. I've worked with some of the most inspiring and genuinely nice people. - Author: Emma Bell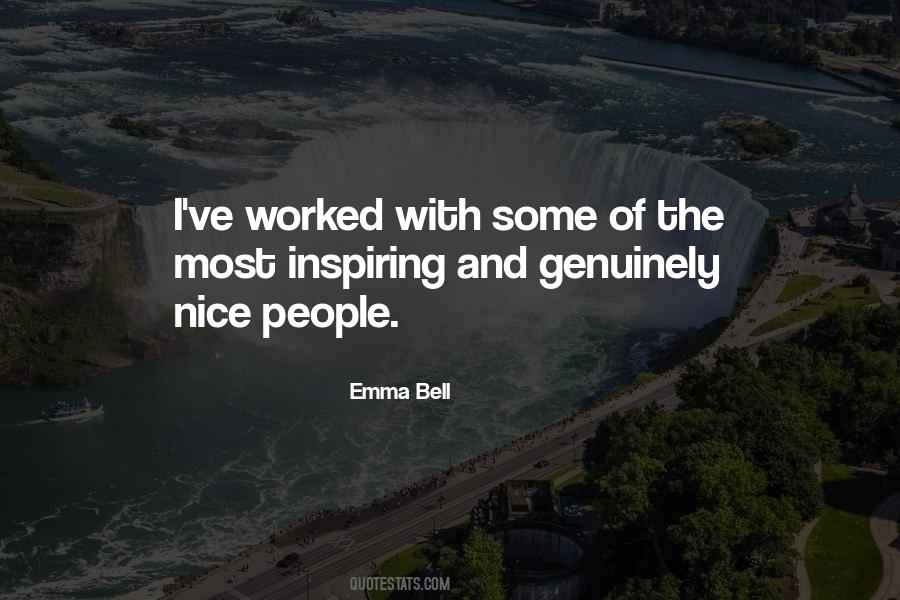 #19. David Axelrod says we need to inspire more young people to be journalists? How about inspiring journalists to be journalists? - Author: Ann Coulter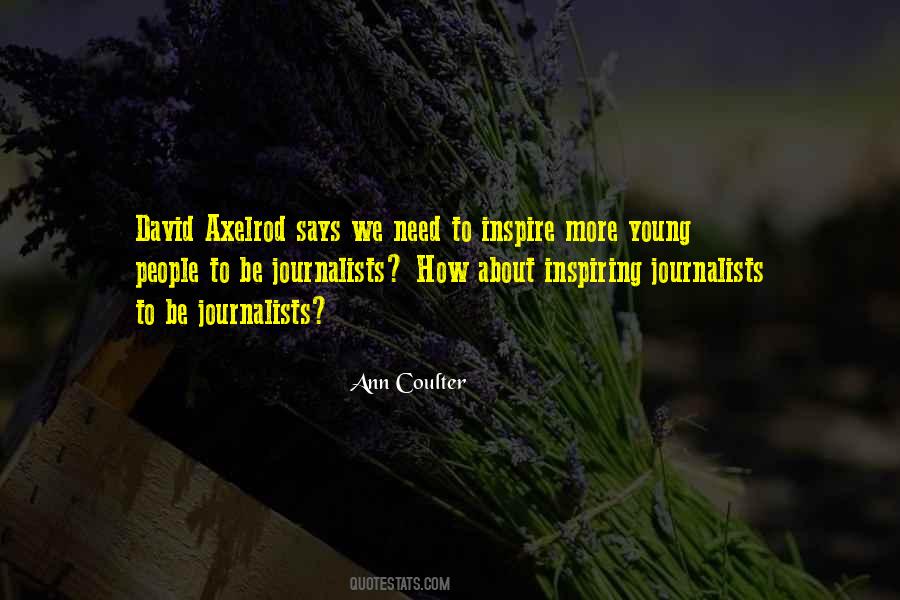 #20. I love what I do because I get to talk to the people who change the game: the influencers, visionaries who make things happen in music and culture. That's inspiring to me. - Author: Angie Martinez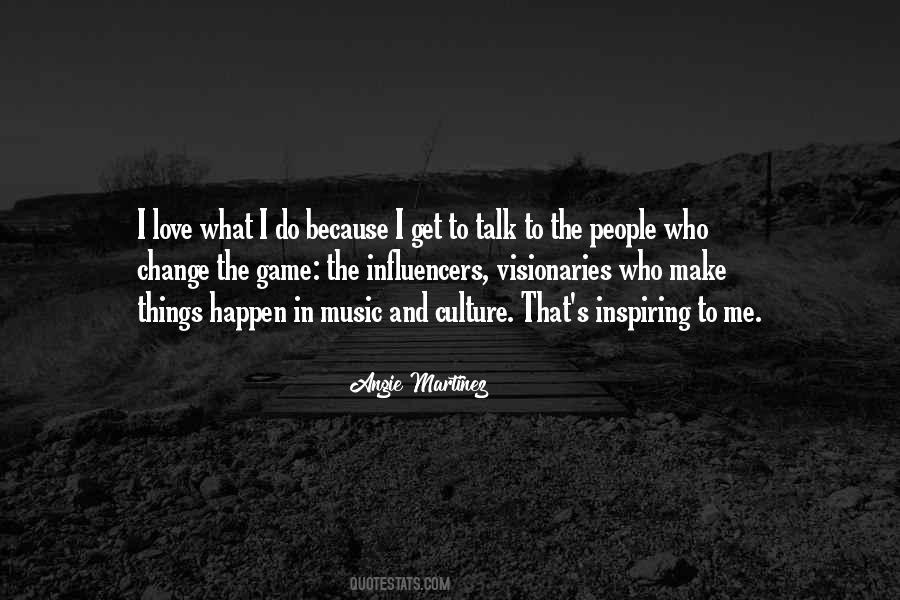 #21. Even if you follow other people's advice and model successful people and their blueprints, you will still fail if you don't have confidence in yourself. Everything - absolutely everything - starts with you. - Author: Paulo Coelho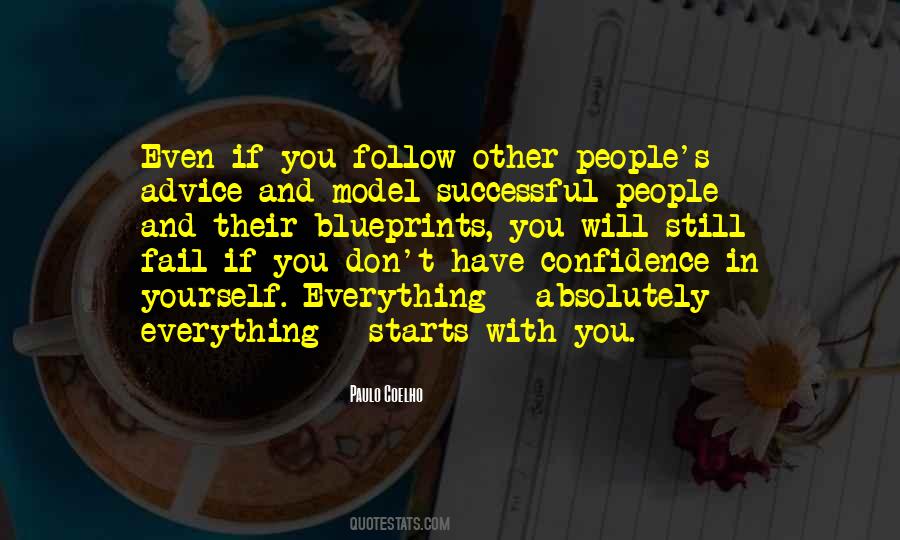 #22. I realized I love motivating and I love empowering and I love inspiring people. I did that as an athlete for 18 years, and I am able to do that as a motivational speaker now as well as doing work on television. - Author: Dominique Dawes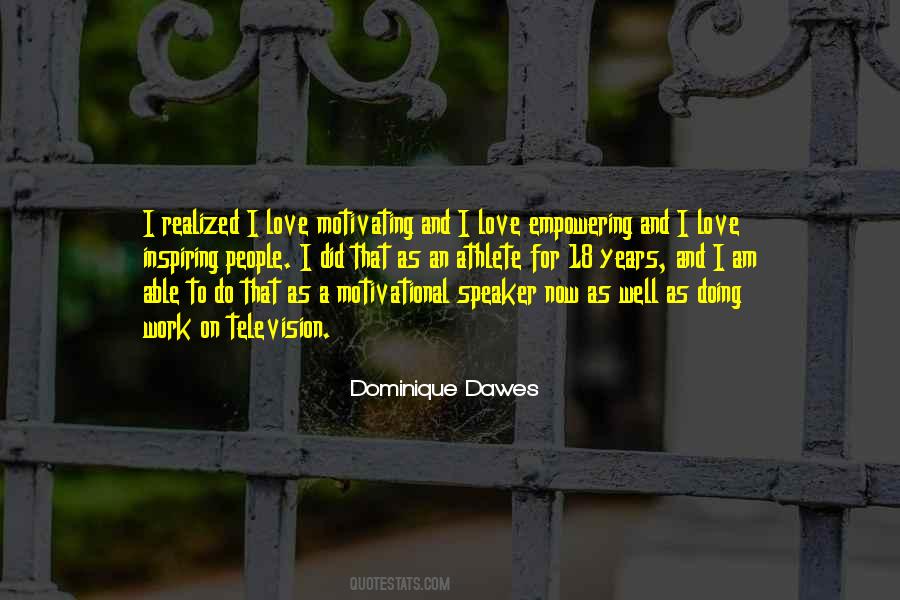 #23. Keep Inspiring everyday, because when you retire, you will lose desire, become tired, and expire. - Author: Michael Bassey Johnson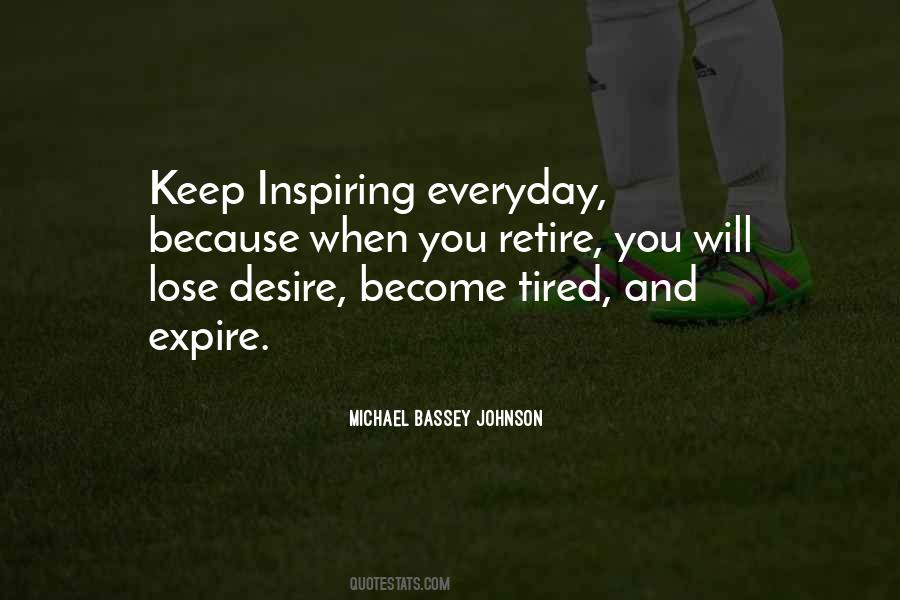 #24. I don't like the triumphalism of the American narrative, this kind of "chosen people" complex that American people have, so it's inspiring to see people snub their noses at the American empire and succeed. - Author: Ian Svenonius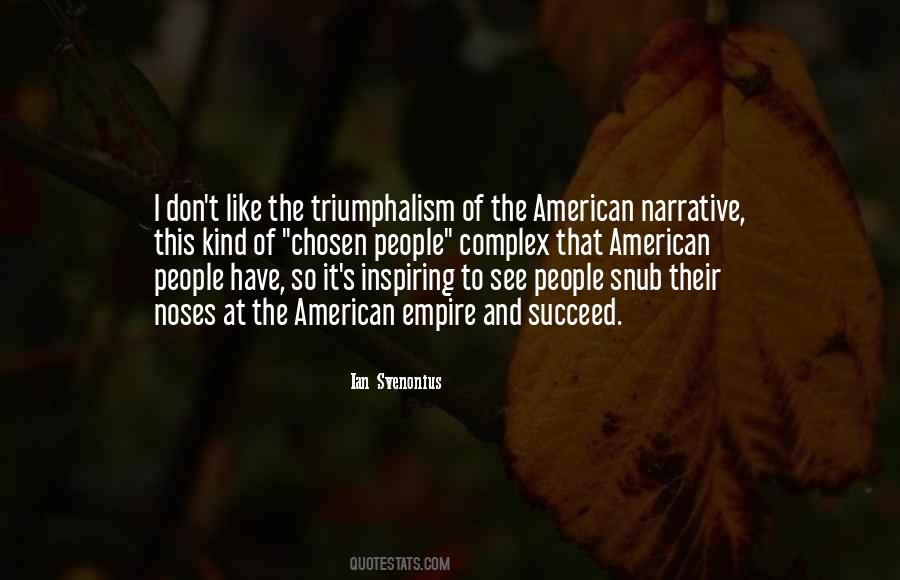 #25. And we're fortunate if we have parents who are great and loving and inspiring. But, unfortunately, there are people who don't have that. - Author: Keira Knightley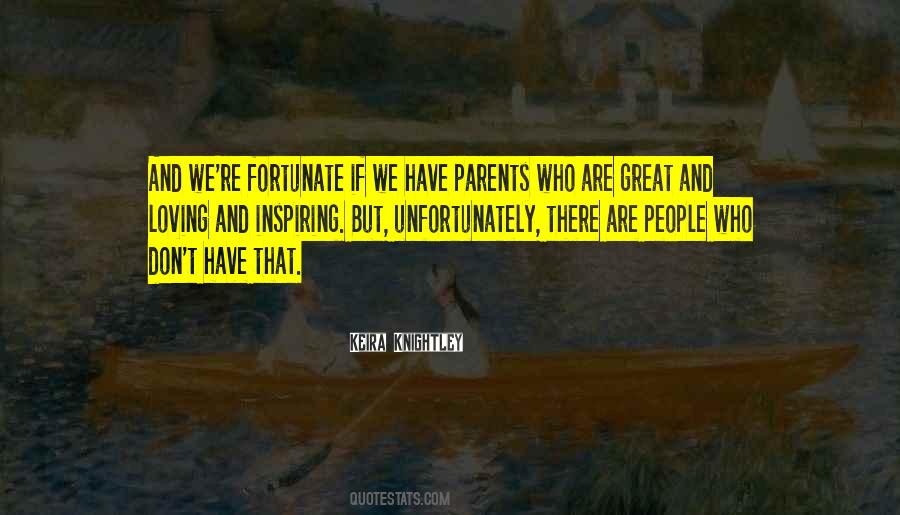 #26. To be a skilled politician, you have to be genuine. To really make it work, you have to love people. You have to love the contact, you have to love the energy, you've gotta love inspiring people and getting their adulation in return. You can't separate what's genuine from what is necessary. - Author: Robert Reich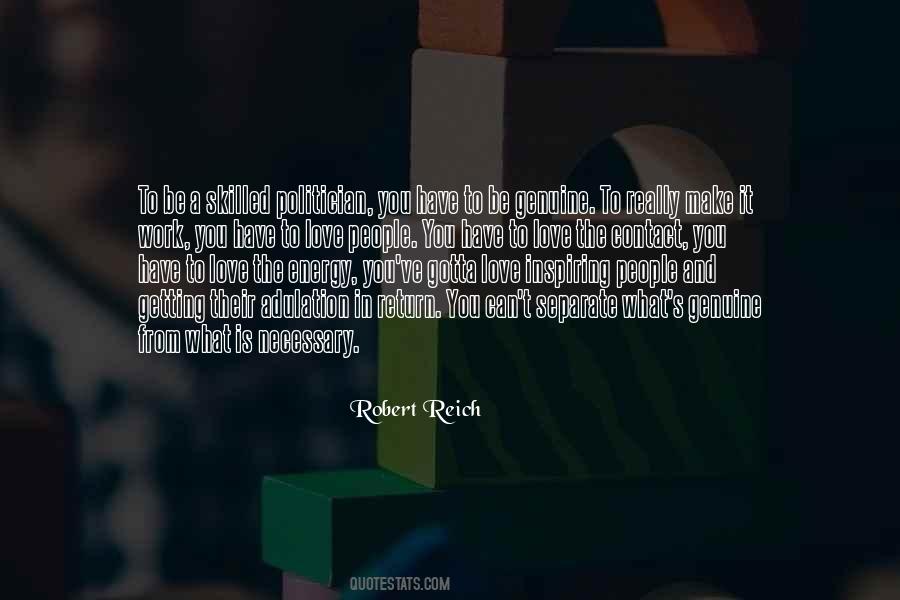 #27. Most people have an abundance of dreams, but lack the courage to follow them. Help them find that courage by inspiring them with yours. - Author: Steve Maraboli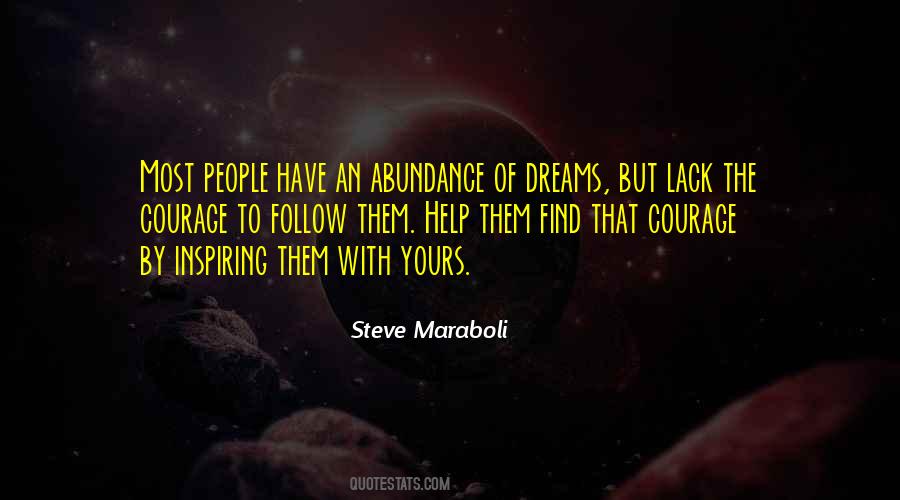 #28. Our world hinges on moral foundations. God has made it so. God has made the universe to be based on a moral law. So long as man disobeys it he is revolting against God. That's what we need in the world today: people who will stand for right and goodness. - Author: Martin Luther King Jr.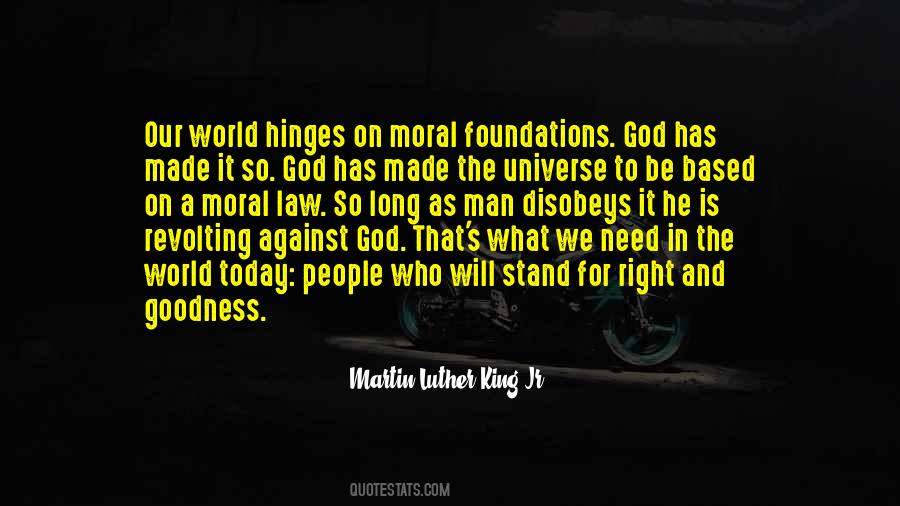 #29. It's so much easier to sit home and not exercise and criticize other people. What I love is inspiring people. People come up to me and say, 'I want to have two kids and wear a bathing suit and not feel terrible about myself. I see how hard you work and it makes me feel like I can do that too.' - Author: Gwyneth Paltrow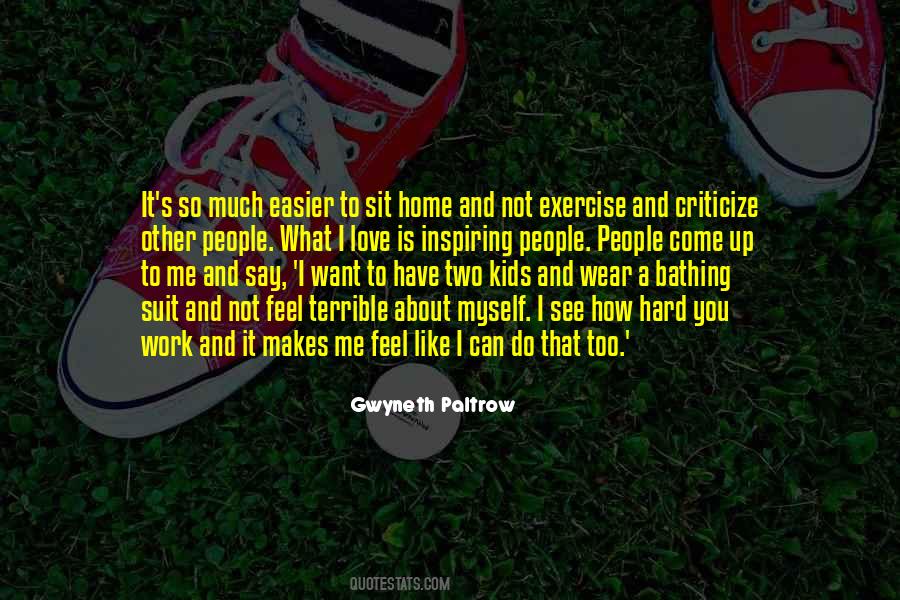 #30. You can attract the best smart creatives with factors beyond money: the great things they can do, the people they'll work with, the responsibility and opportunities they'll be given, the inspiring company culture and values, and yes, maybe even free food and happy dogs sitting desk-side. - Author: Eric Schmidt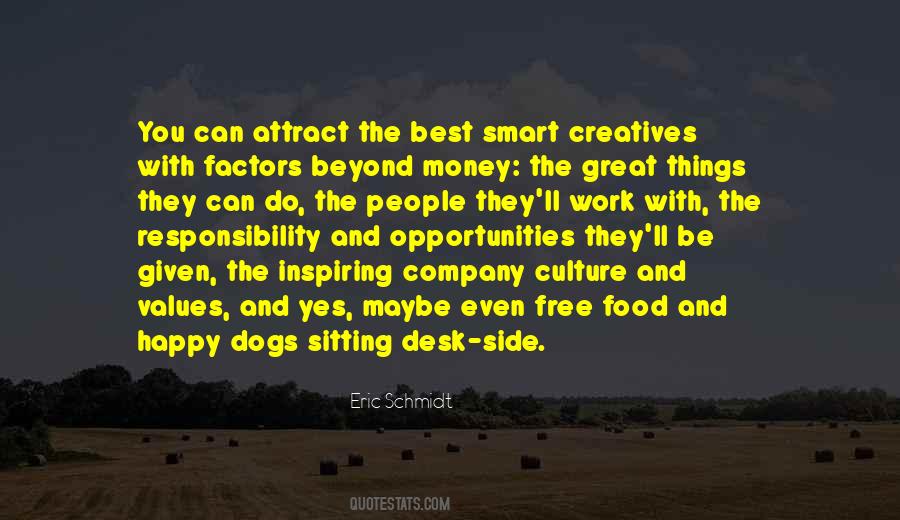 #31. If you can't force or are unwilling to force your people to follow you, with or without threats, you are not a leader. - Author: Lee Kuan Yew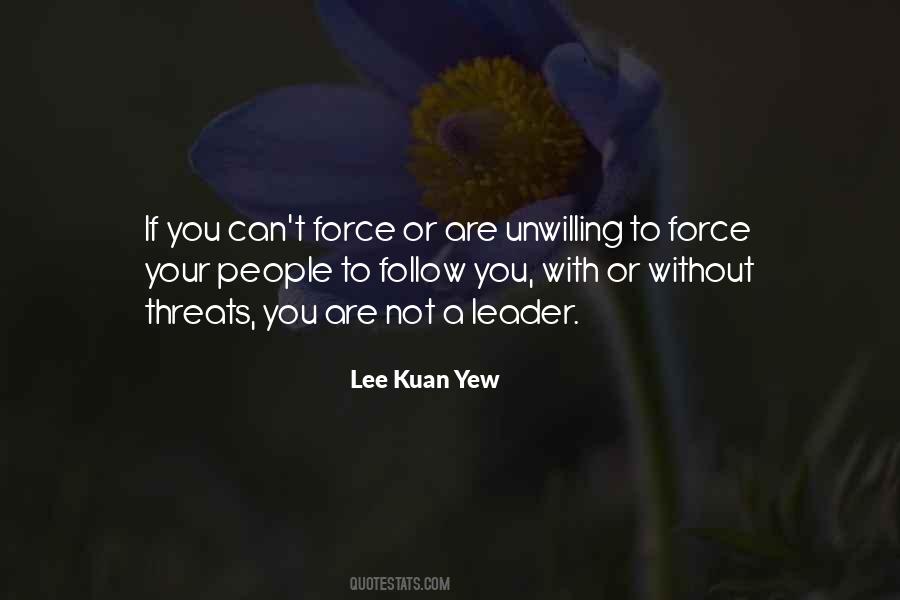 #32. We are an inspiration to one another. - Author: Lailah Gifty Akita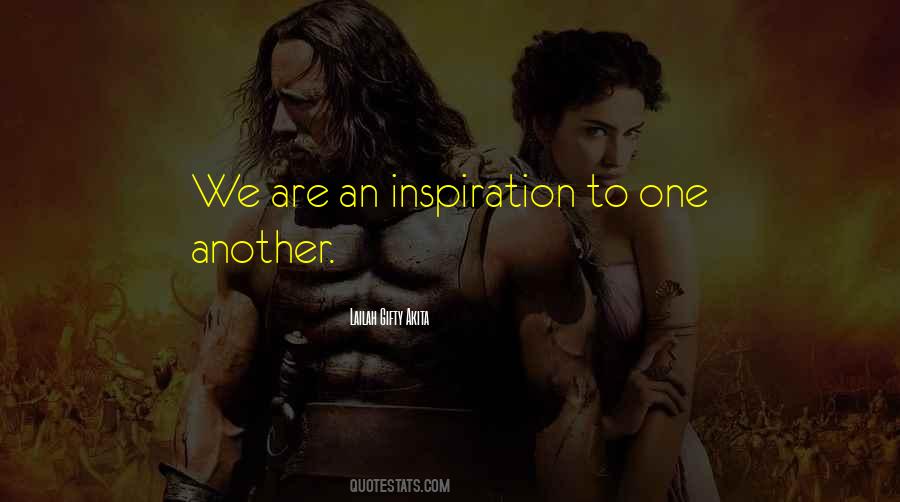 #33. It is not only business to business sake but human to human sake. - Author: Itzik Amiel
#34. The transformed person is a revolutionary only because he has revolutionized himself. He gives the people inspiration by holding up a mirror to their inner substance. - Author: Vironika Tugaleva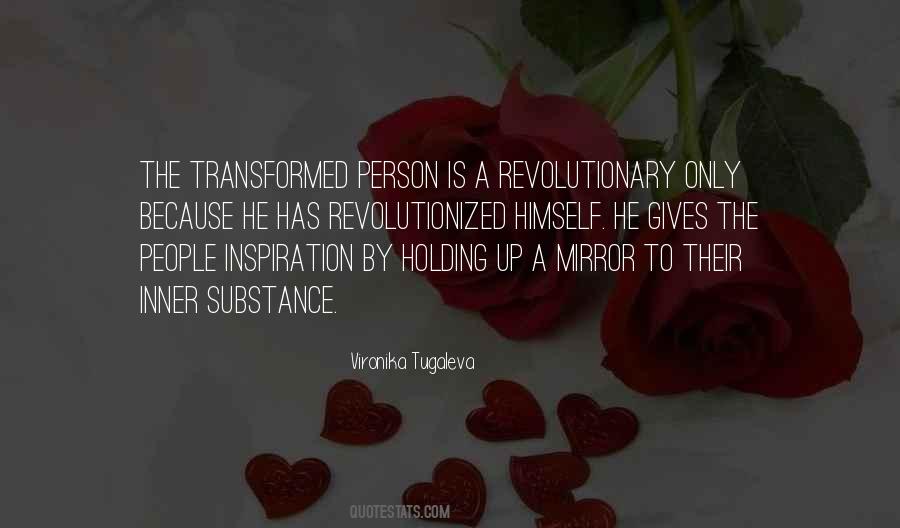 #35. Genes, I have learned, do not make a family. Families are the people that stick around through good and bad times. Sadness is a part of life. Choosing to be happy and see the glass half full is a struggle we all must make. - Author: Jaycee Dugard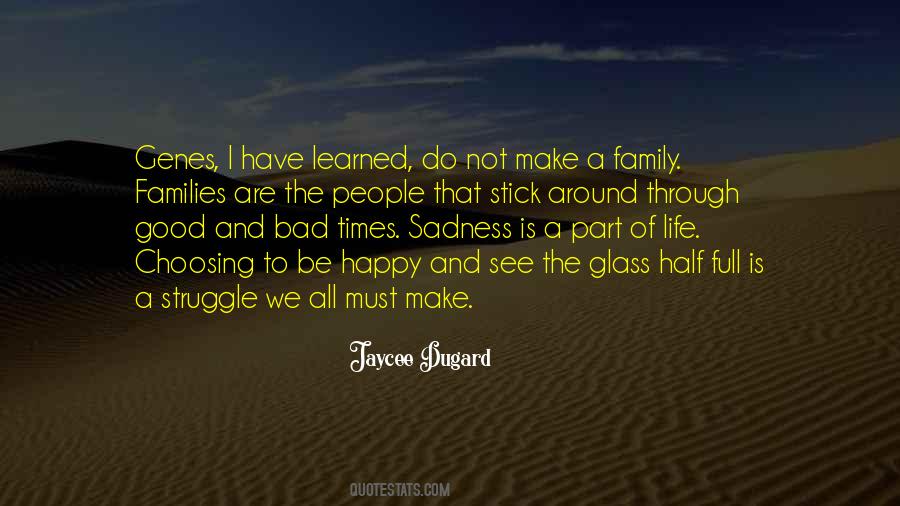 #36. Should we hold back from loving people because we carry the wounds of a few? - Author: Sydney Scrogham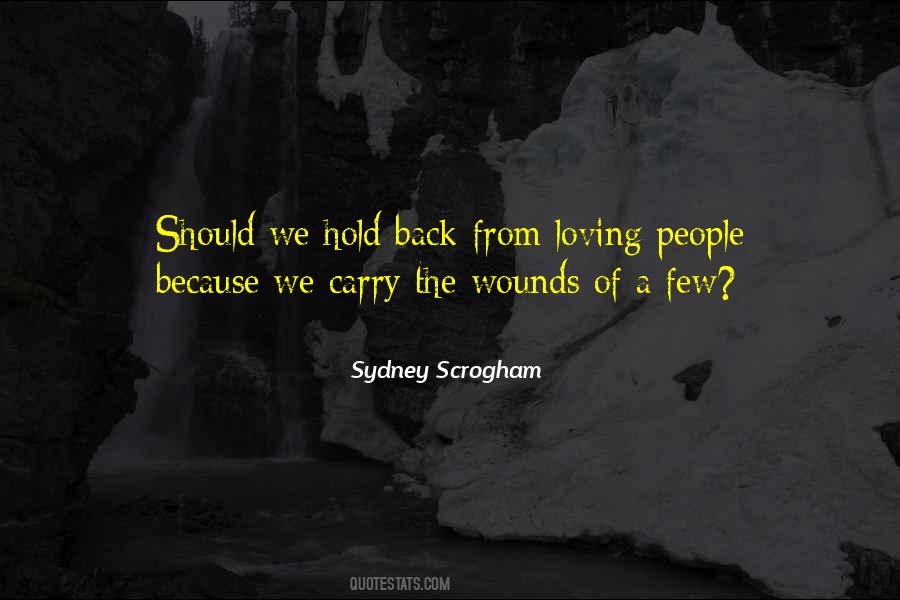 #37. Why should i expect yes cos everything i get no - Author: Kjiva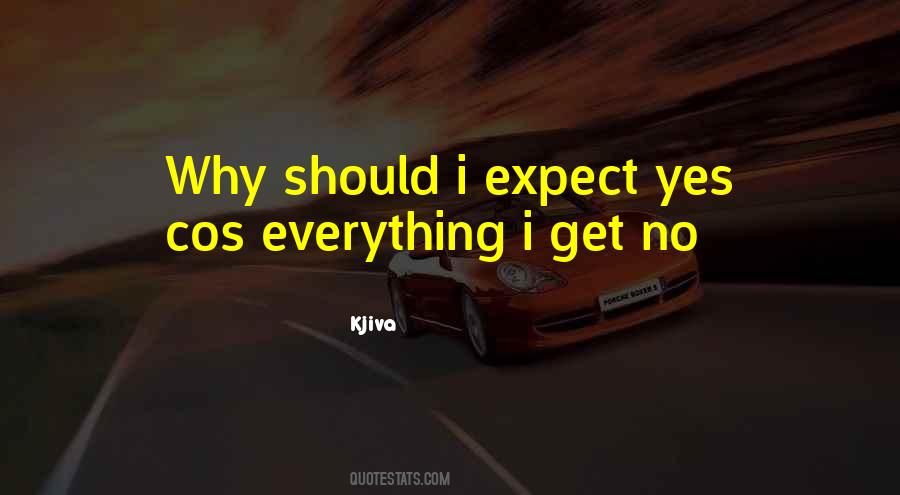 #38. I am aware of what you're talking about with FEMA camps. What is particularly disturbing about that is they are going to be on former military bases. A ton of people have expressed their concerns that what they're building are prison camps. - Author: Matt Shea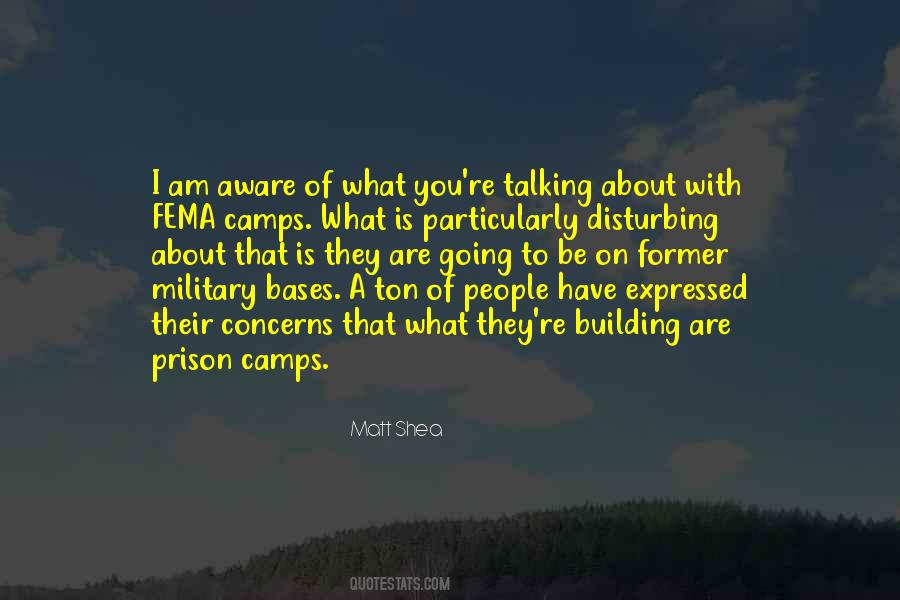 #39. Our mission is making the world's daily habits inspiring and entertaining. Which people come to work at Yahoo to build on that mission? Those who are inspired by that, and you can feel that passion in the products. - Author: Marissa Mayer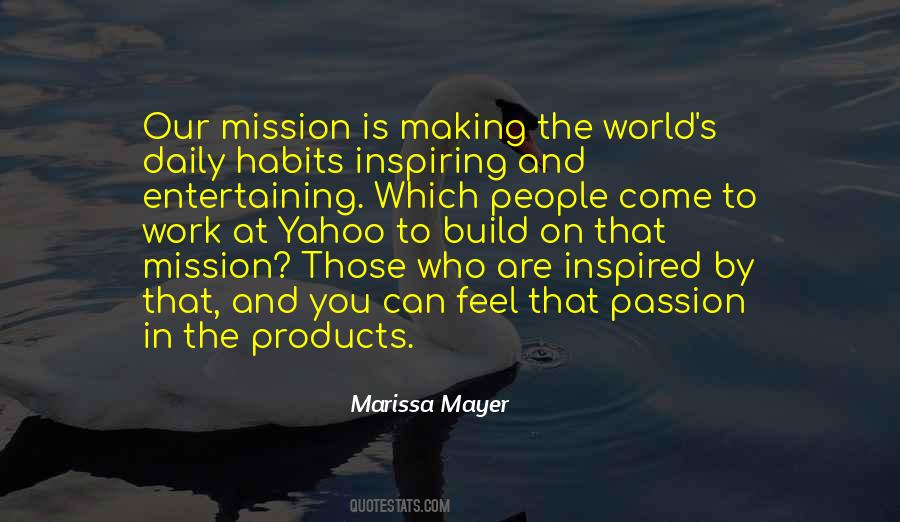 #40. When I see things that are inspiring, I must write a song about it. Some people make a t-shirt or slap something on a wall with paint, but I must make music and freestyle rap. - Author: Flula Borg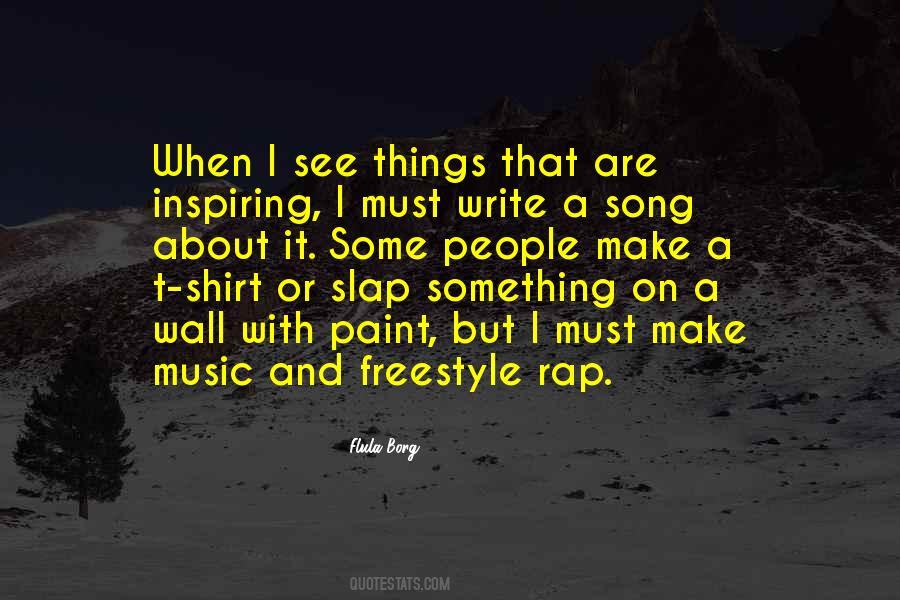 #41. Successful people don't have any fewer problems than unsuccessful people; they just have a different mindset in dealing with them. - Author: John C. Maxwell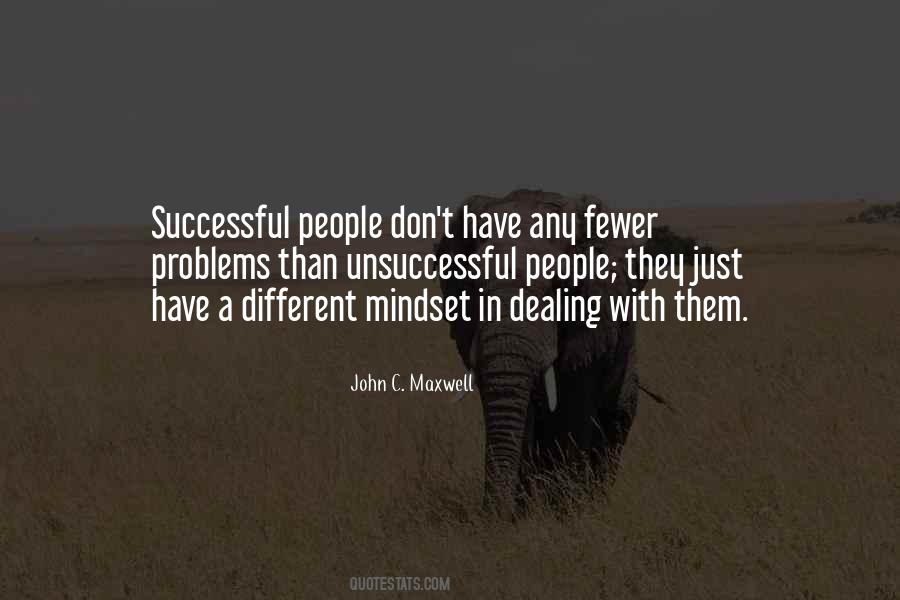 #42. Acting is like free therapy! Trying to make people laugh or cry can be inspiring. - Author: Julianne Hough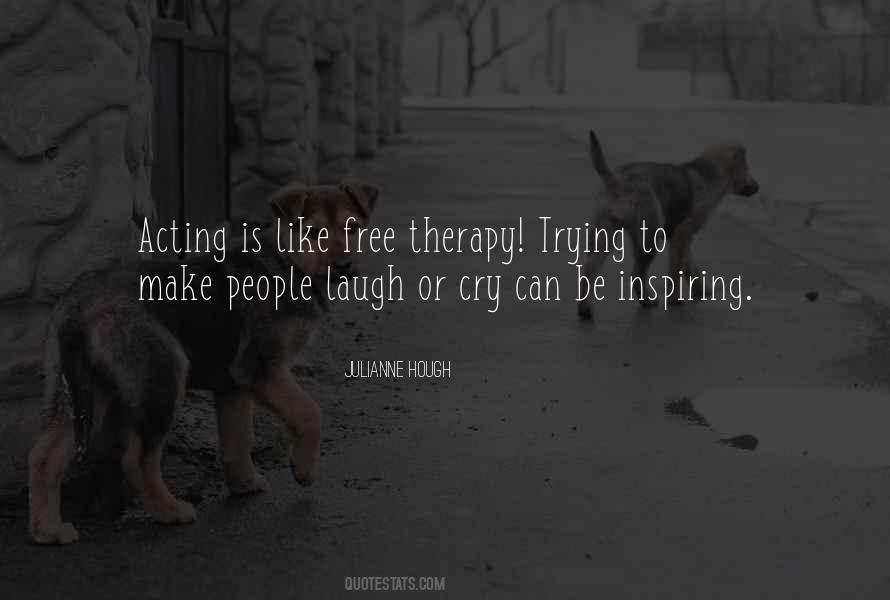 #43. Most people can do absolutely awe-inspiring things. Sometimes they just need a little nudge. - Author: Tim Ferriss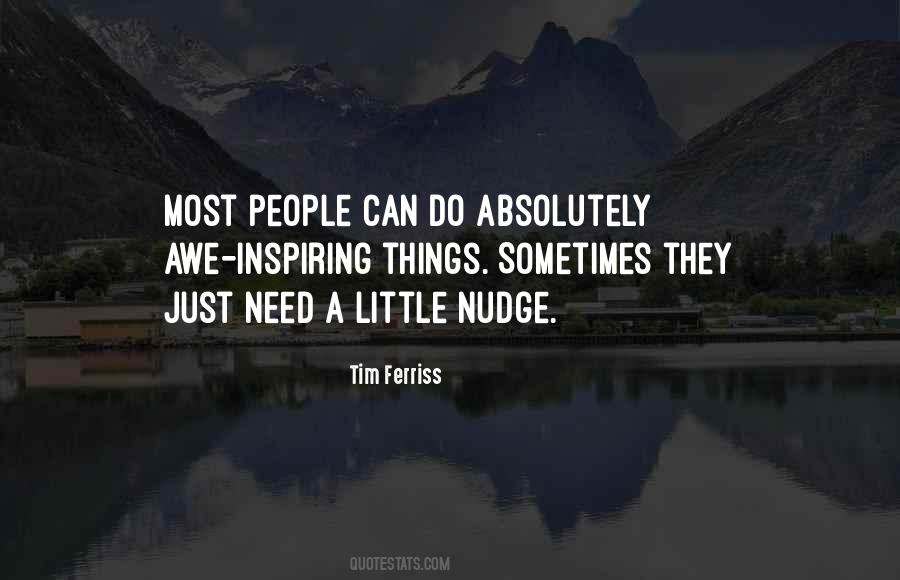 #44. It's really encouraging and inspiring to be around a gathering of so many people ... who really are committed to that vision. (While addressing the American Socialist Party, 2011) - Author: Glenn Greenwald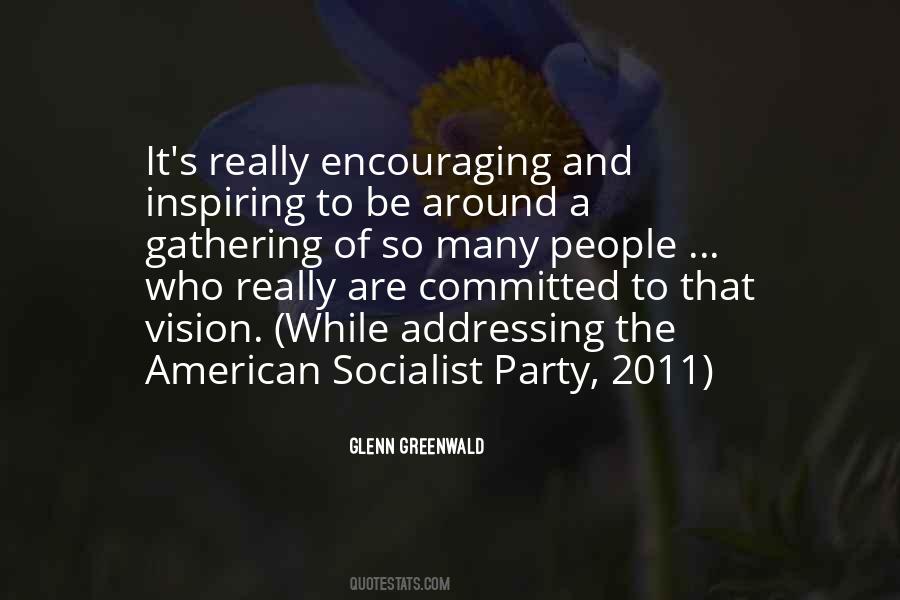 #45. To go again over the history of the struggle of resistance ... and to think 'Where are all these people today Where is the KGB' is very inspiring - Author: Natan Sharansky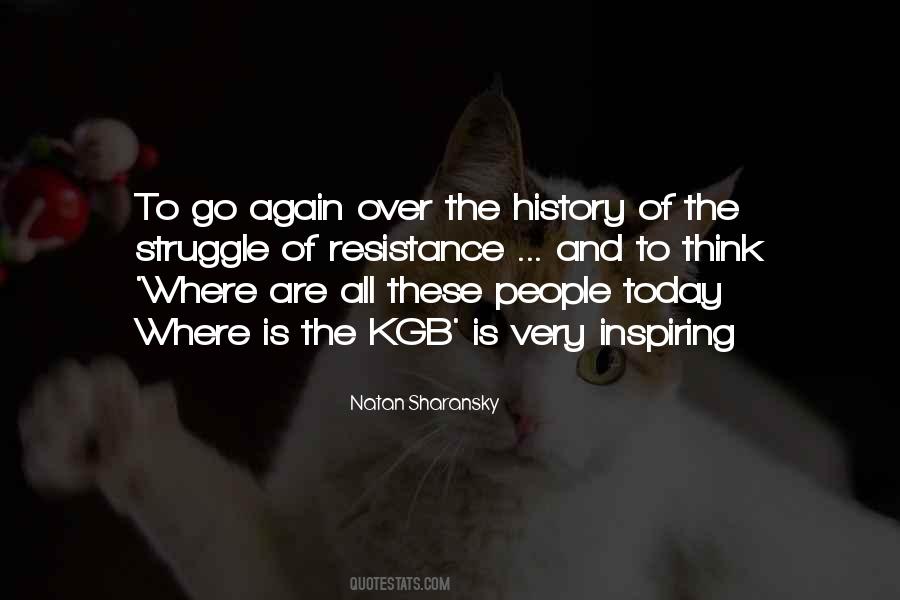 #46. People are starting to refer to 'The Giver' as a classic, but I don't know how that is defined. But if it means that 10, 20, 50 years from now kids will still be reading it, that is kind of awe-inspiring. - Author: Lois Lowry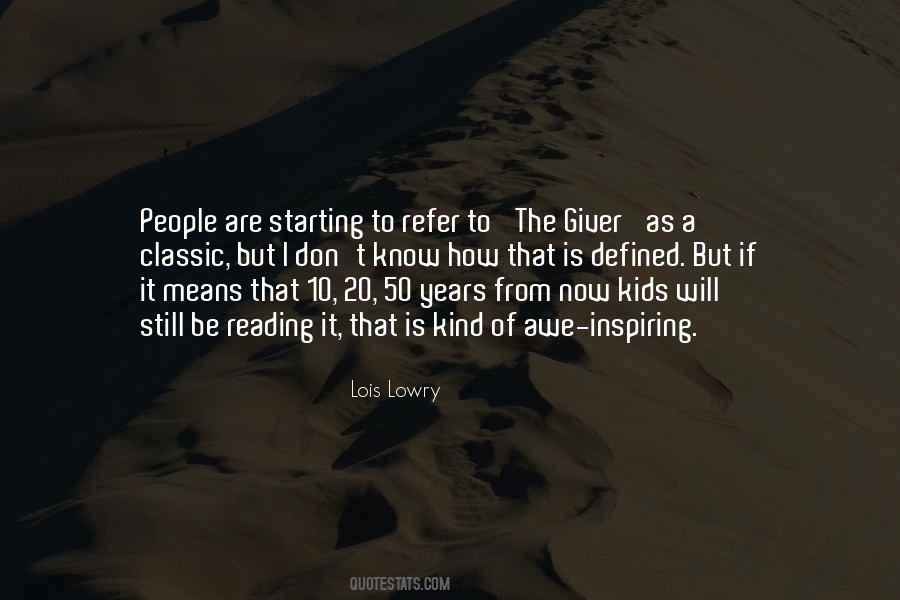 #47. Be kind, be fair and be just. - Author: Lailah Gifty Akita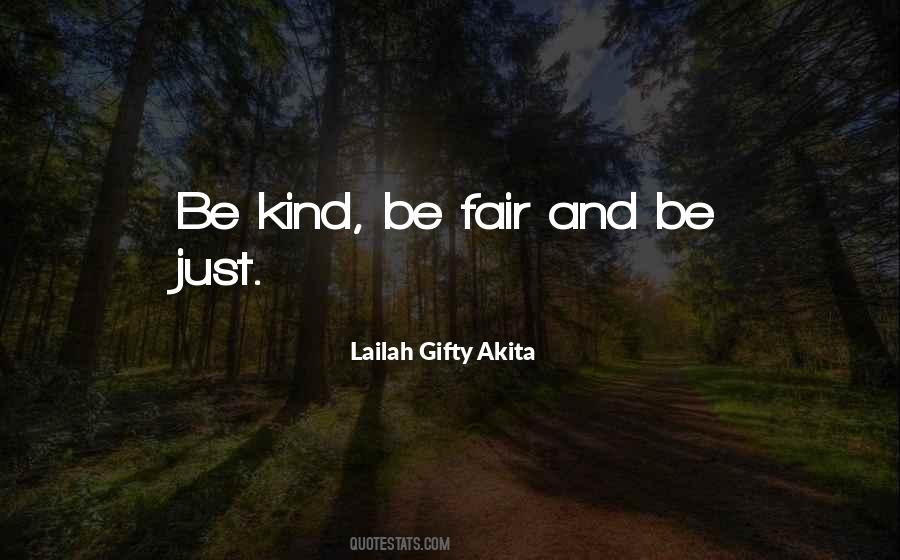 #48. A handful of lion-hearts can wake the whole world up. - Author: Abhijit Naskar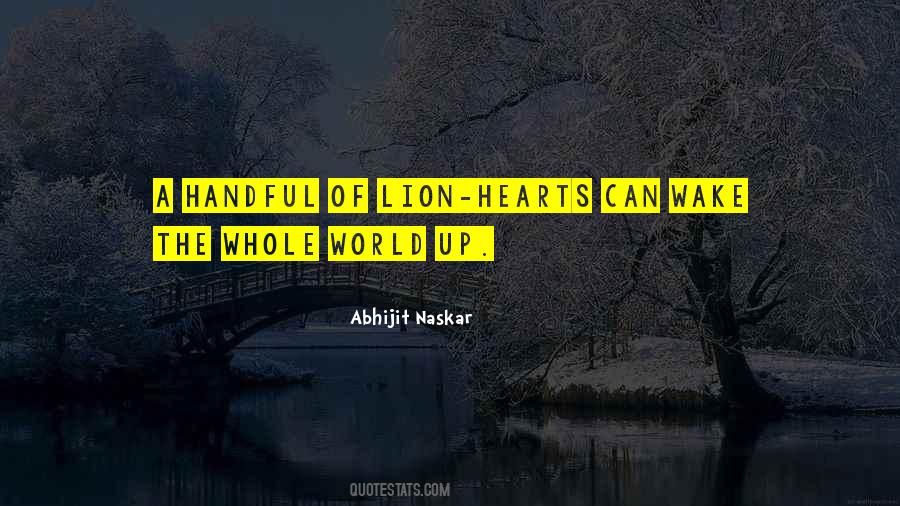 #49. One key to entrepreneurial success is to get a great group of people around you who believe in your idea. - Author: Richard Branson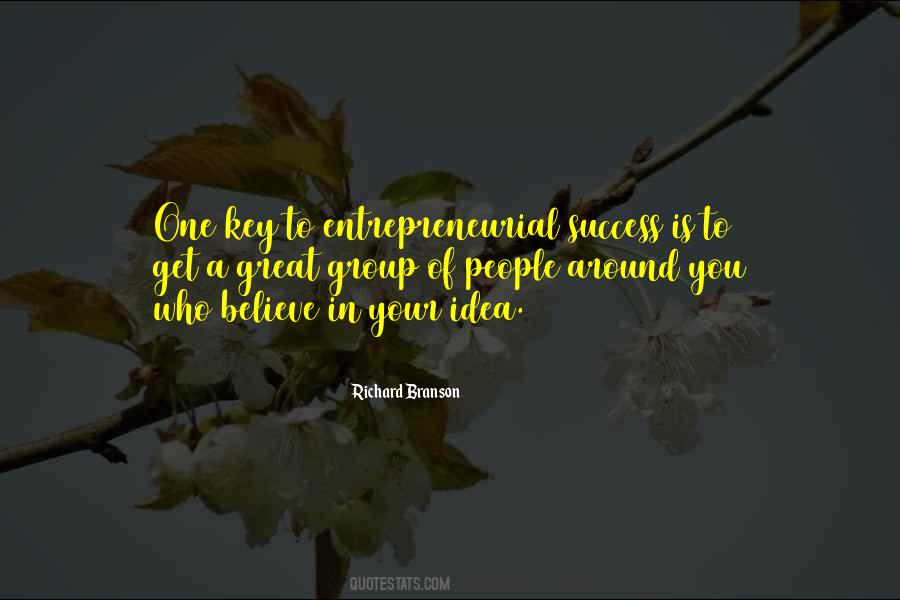 #50. There is more to life than I imagine - Author: Lailah Gifty Akita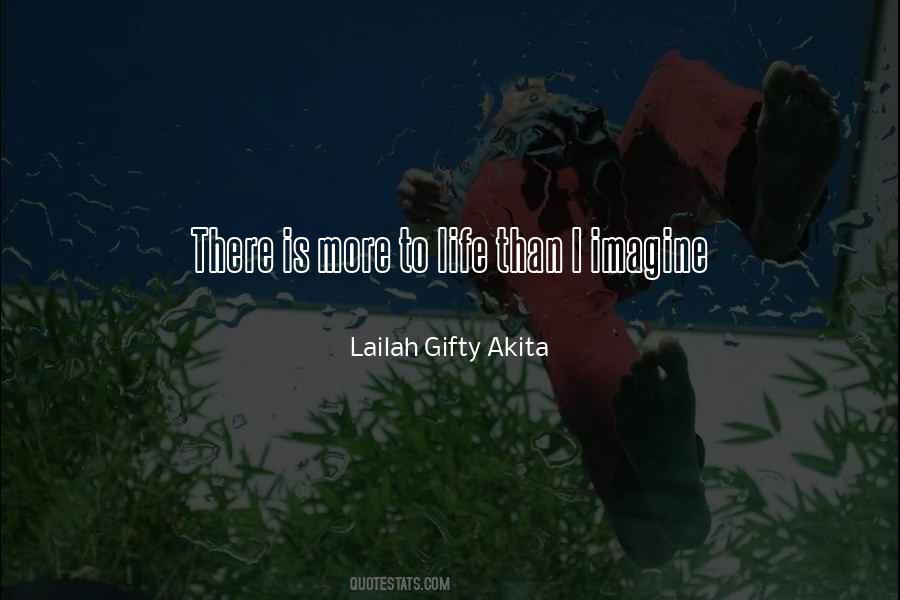 #51. If we had no faults, we would not derive so much pleasure from noting those of other people. - Author: Francois De La Rochefoucauld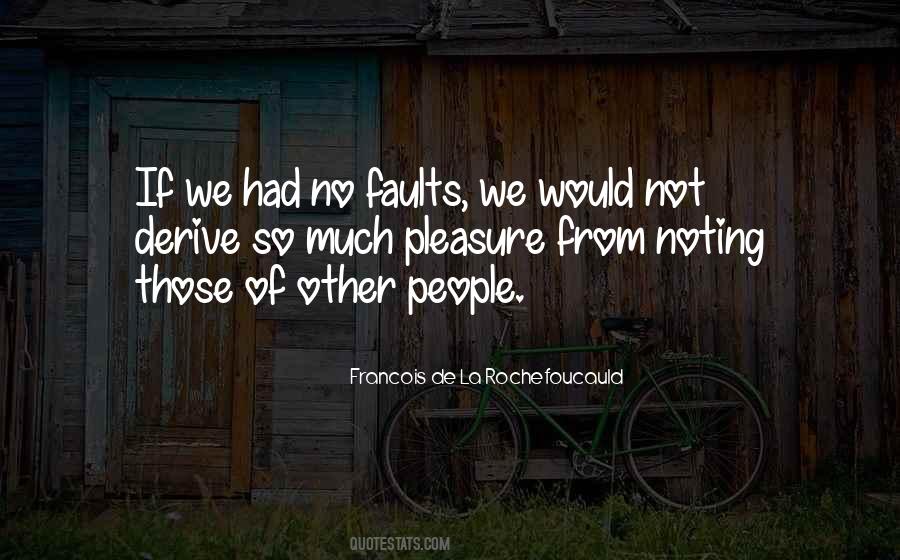 #52. All we are is our ideas, or people. That's what keeps us going to work in the morning, to hang around these great bright people. I've always thought that recruiting is the heart and soul of what we do. - Author: Steve Jobs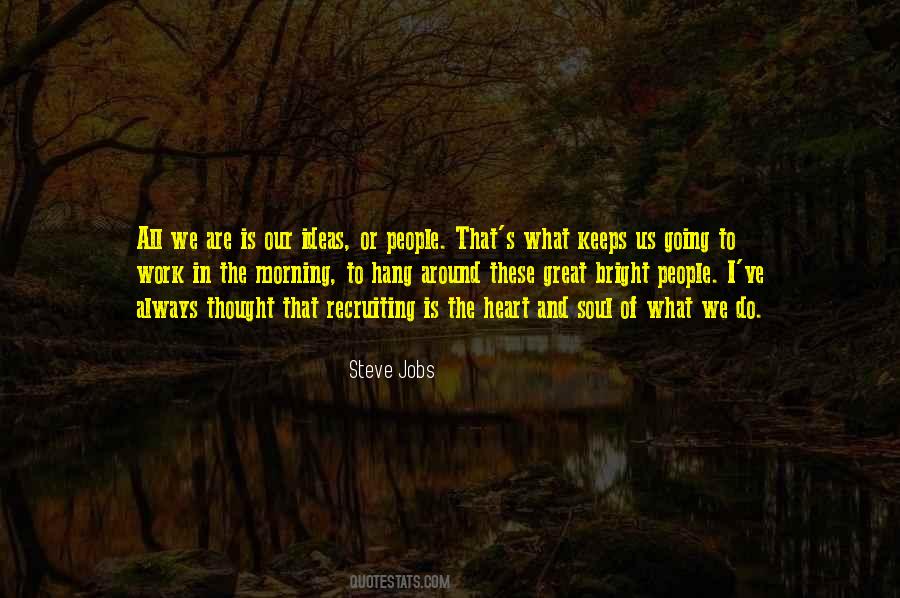 #53. When you're putting people on the moon, you're inspiring all of us to achieve the maximum of human potential, which is how our greatest problems will eventually be solved. - Author: Randy Pausch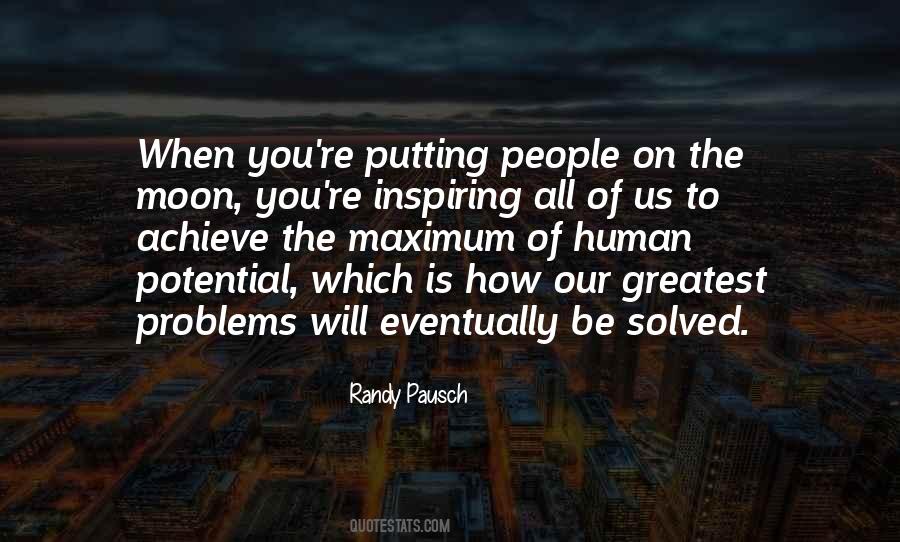 #54. Haiti is an amazing country. Even though the people there have so little, their attitudes resonate a crazy amount of love and joy. It is truly inspiring to see that. My love for the country starts with them. - Author: Noah Munck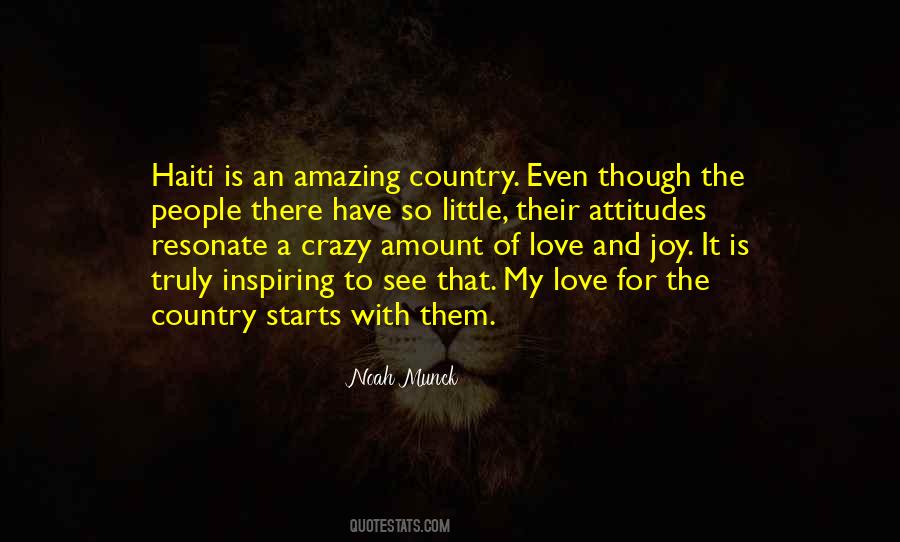 #55. The Holocaust survivors are among the most inspiring people I have had the privilege to meet. - Author: Jonathan Sacks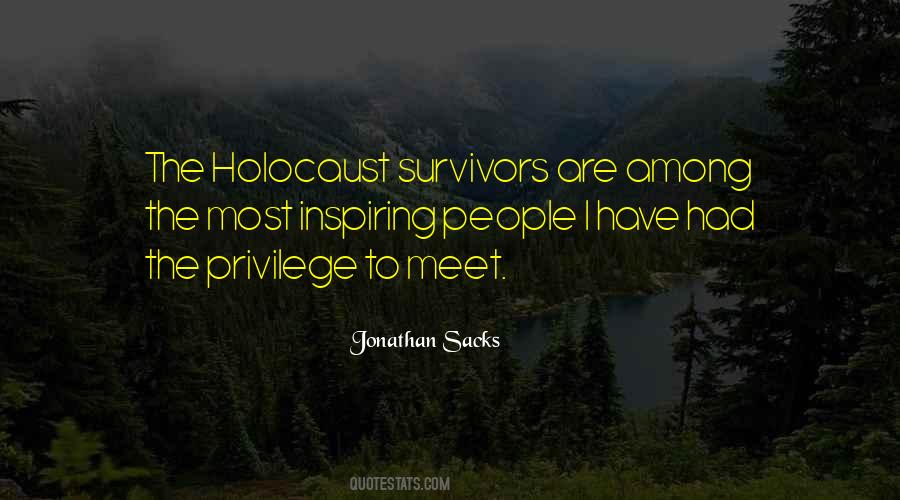 #56. There are two types of people: The ones who give you 50 reasons it can't be done ... and the ones who just do it. - Author: Hoda Kotb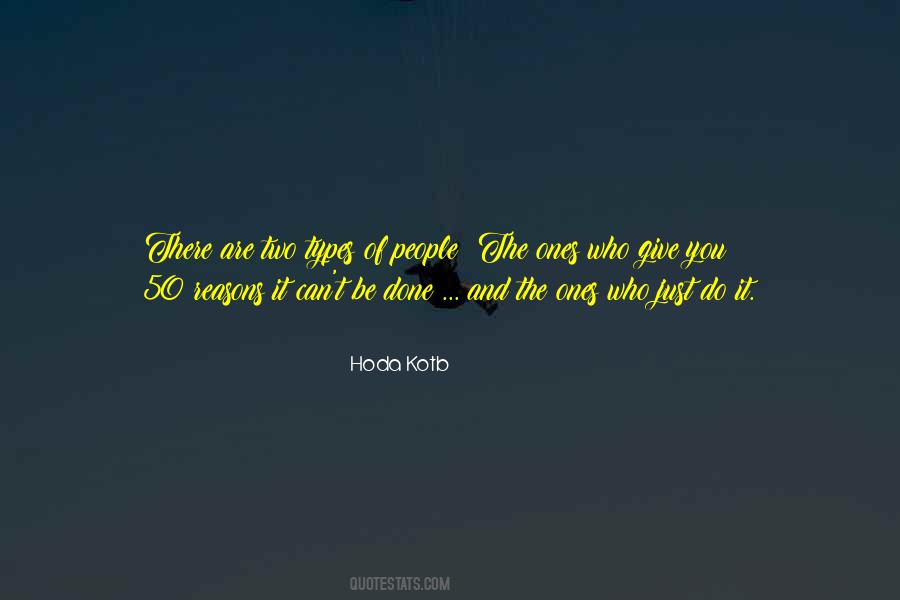 #57. One of the best ways to influence people is to make them feel important. - Author: Roy T. Bennett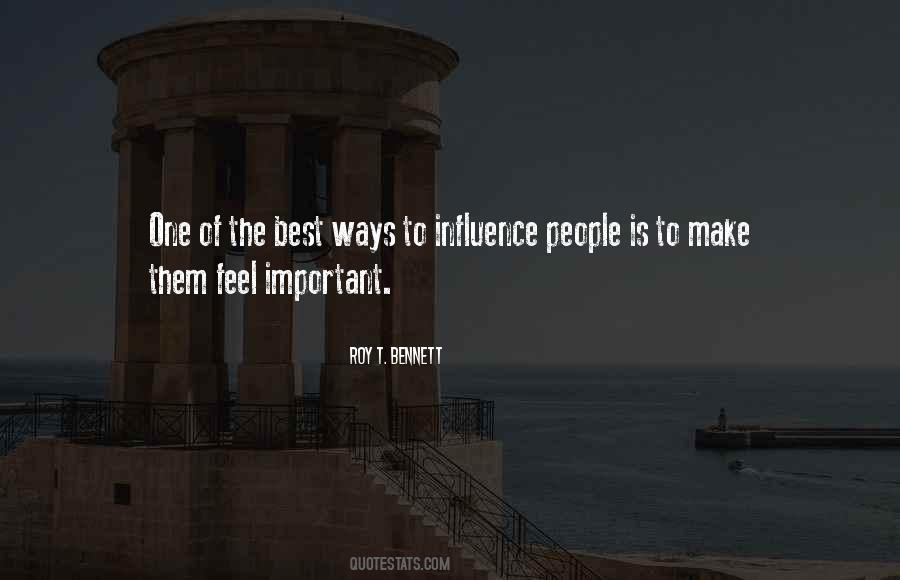 #58. For all the marathons I've run, including the Ironmans that I've run, immediately after the race, I clean myself up, do whatever I need to do to make sure I'm okay, and I get right back out there, and I cheer people on. Because it's the people who come in late in the race I find most inspiring. - Author: Casey Neistat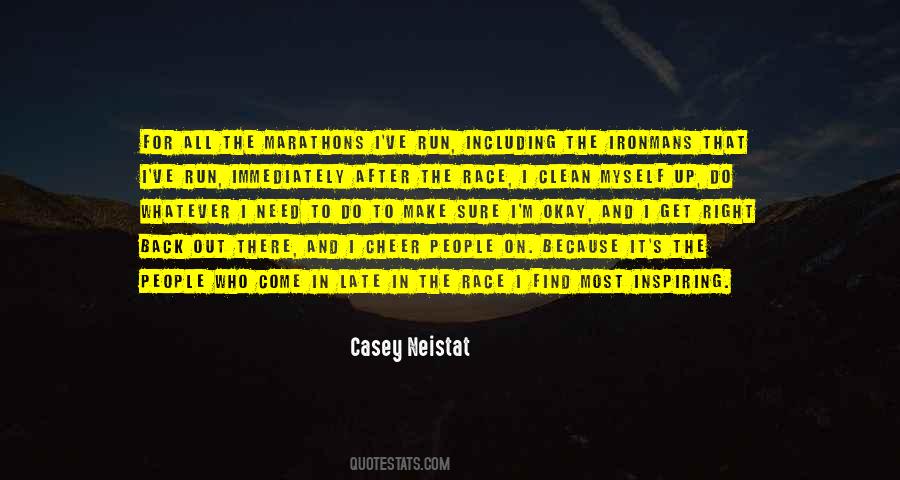 #59. Climbing is often group activity and it's always inspiring to see how other people, who share your passions, do things. - Author: Fred Nicole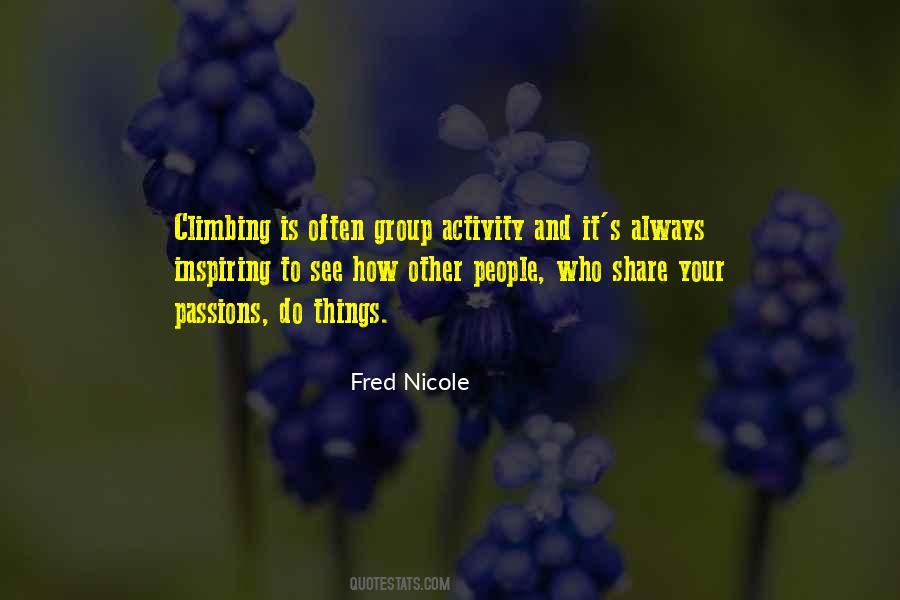 #60. It's amazing to be able to work with people right at the top of whatever they do ... inspiring photographers and stylists with very interesting visual language. The more I do it, the more I enjoy it. - Author: Edie Campbell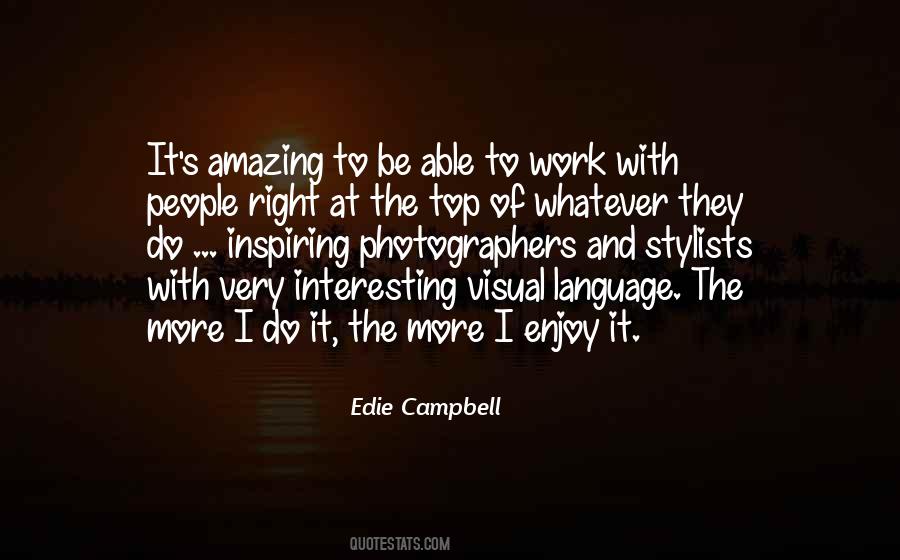 #61. The first thing I do in the morning when I awaken is say, 'Thank you, Lord!' I'm grateful to be alive, and I'm going to try to tell the truth as well as I know and tell it as eloquently as I can so that people can hear it. - Author: Maya Angelou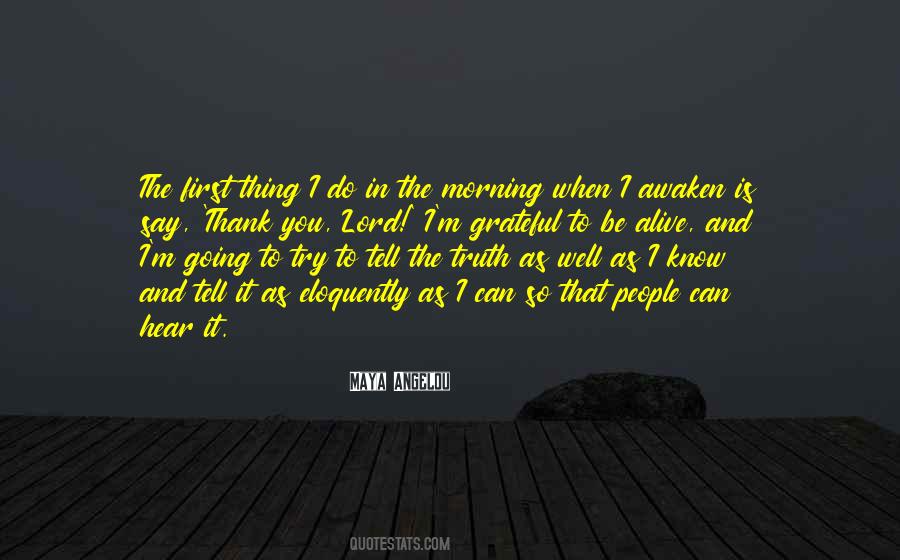 #62. One of the great bonuses of being a film actor is that I get to go to different places, meet inspiring people and learn different things. So all those details add up. - Author: Nicolas Cage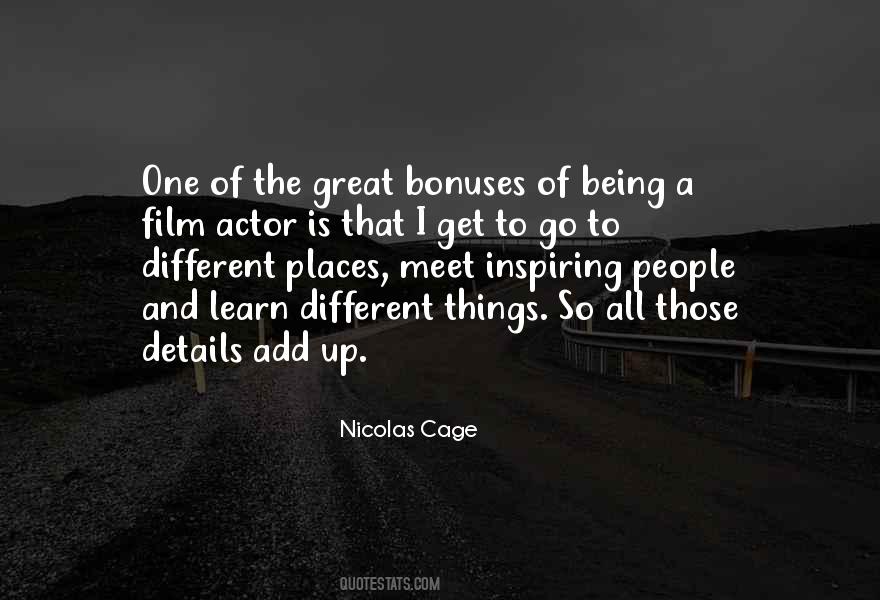 #63. We cannot wait for great visions from great people, for they are in short supply. It is up to us to light our own small fires in the darkness. - Author: Charles Handy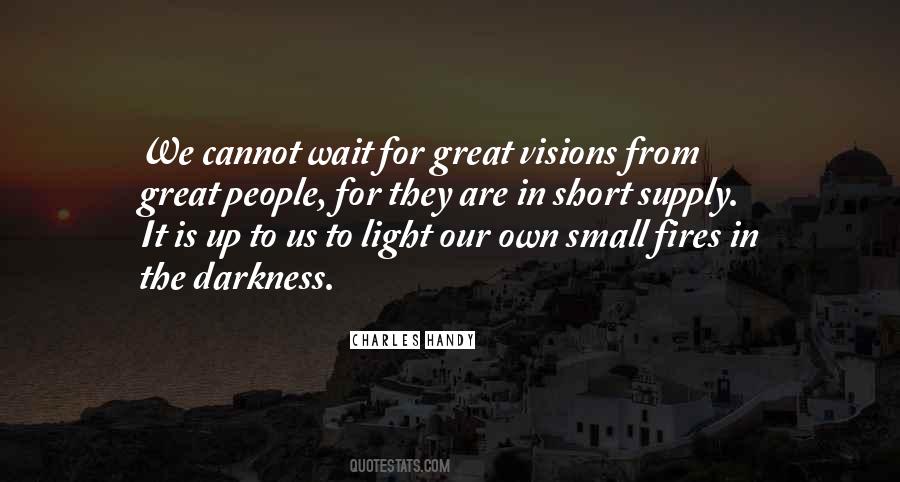 #64. Don't accept any negative criticism and negative thoughts. - Author: Lailah Gifty Akita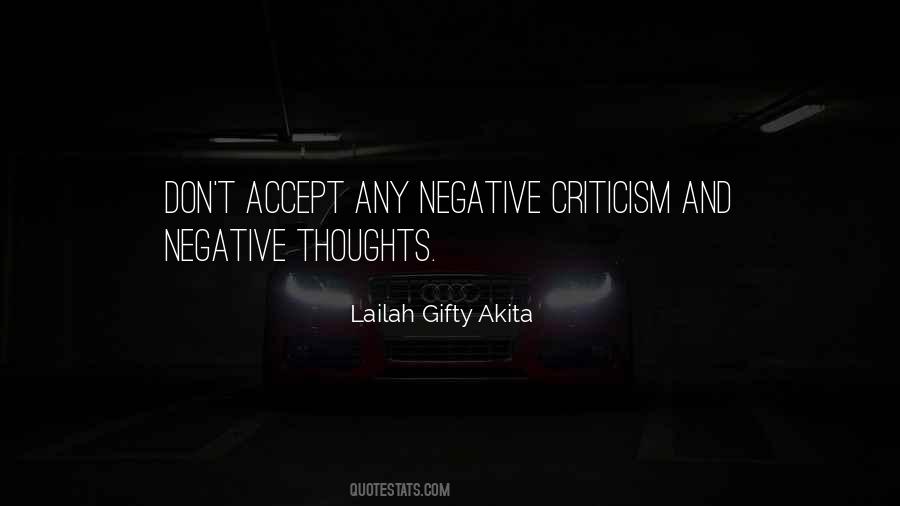 #65. People who say they don't see the acceleration of innovation is a wilful blindness. We are innovation at a wonderful speed for the basic things we think everyone should get. - Author: Bill Gates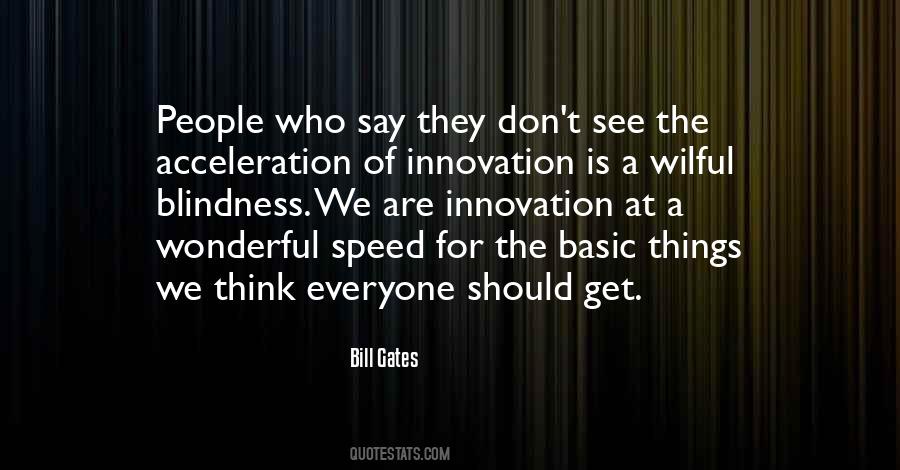 #66. Inspiring scenes of people taking the future of their countries into their own hands will ignite greater demands for good governance and political reform elsewhere in the world, including in Asia and in Africa. - Author: William Hague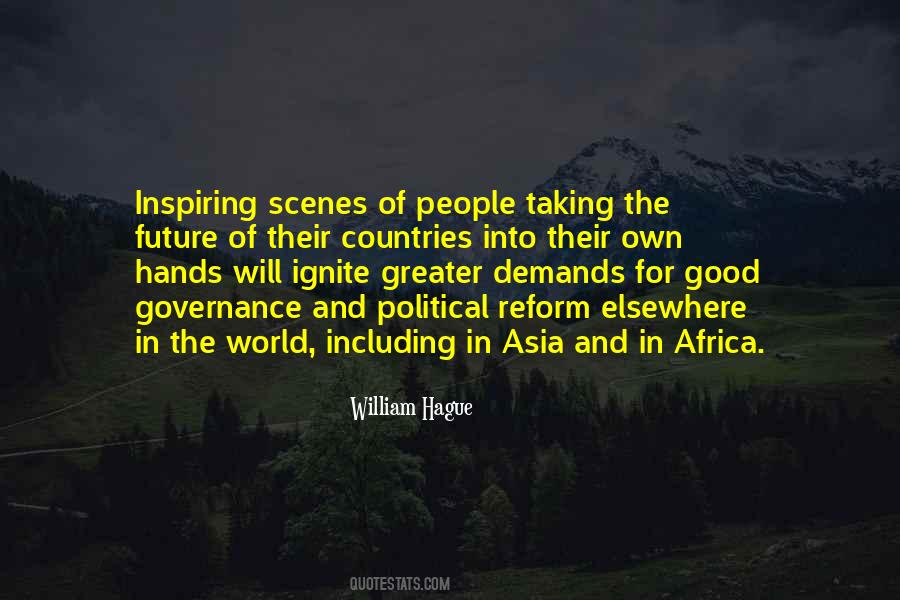 #67. The happiest people don't necessarily have the best of everything but they make the most of everything. - Author: Sam Cawthorn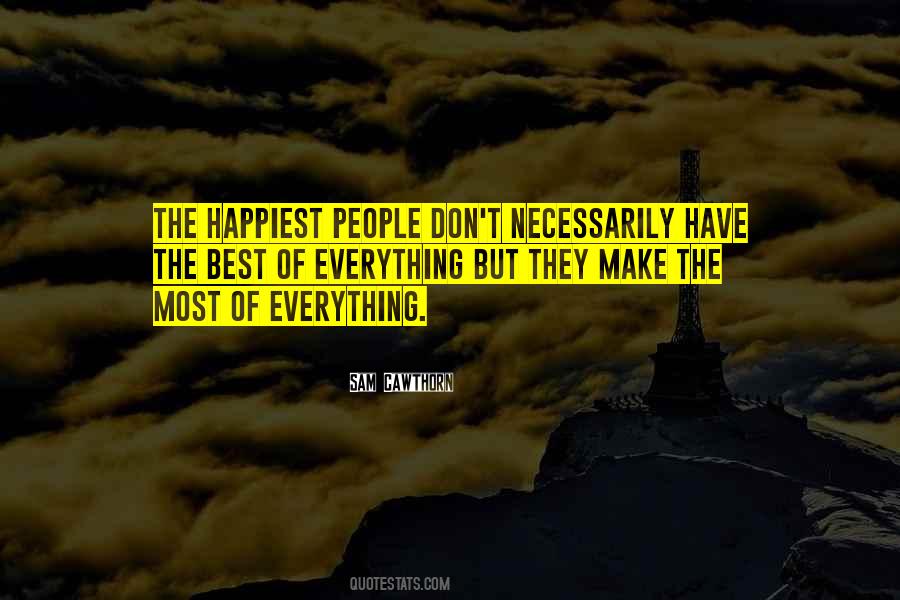 #68. We had a majority in 1990, 1994, 1996, we lost it every time. You know why? Because we compromised ... We don't need a majority. We need an irate, tireless minority. We need people who are just going to stand for the truth. - Author: Matt Shea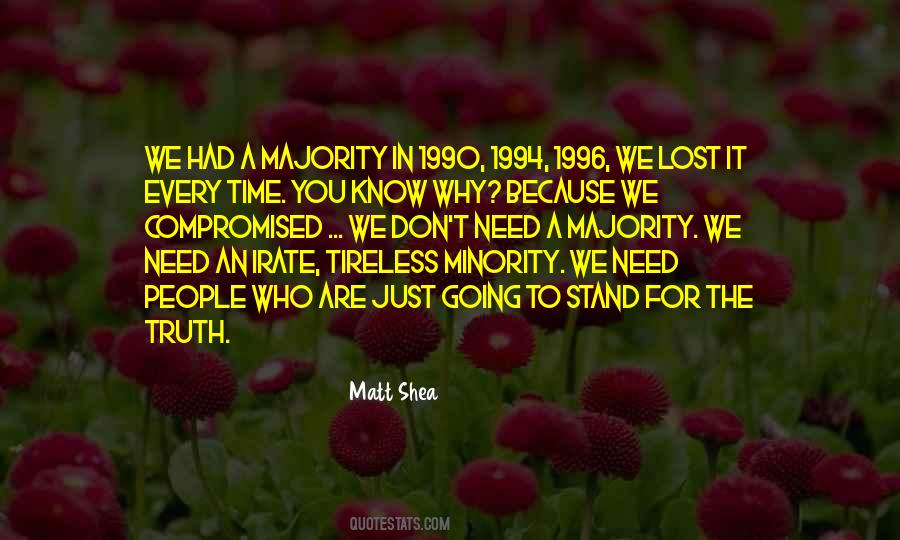 #69. We did a 60 page book in one day. She's one of the most photogenic, easy to shoot, inspiring, extraordinary people in front of the camera who I've ever photographed. Yes Taylor Swift has it all. My goodness that girl has it all, what can I say she's extraordinary. - Author: Nigel Barker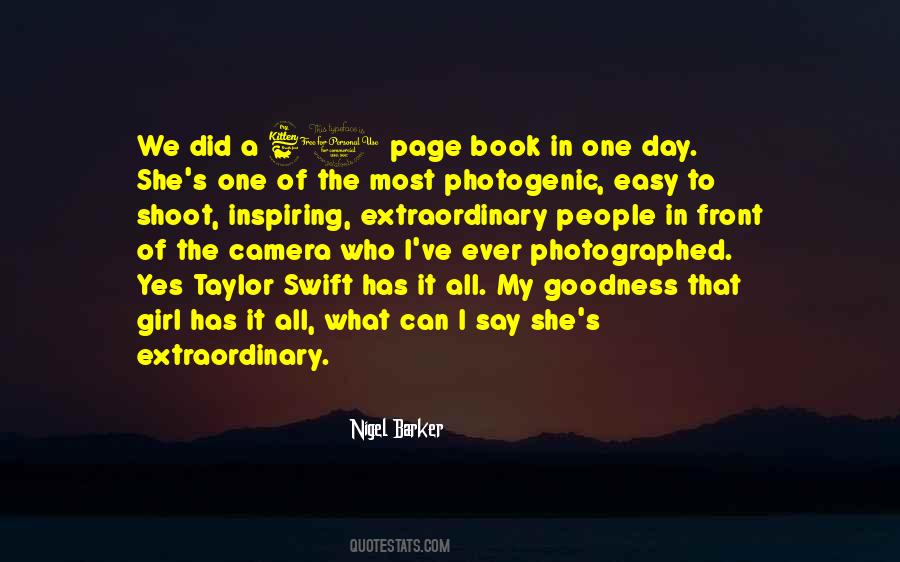 #70. I've always wanted to do things differently, and if one person or ten people are doing the same, then I want to do it differently. I love to travel, I love art, I love fashion. I love going to great restaurants and trying different things. Different cultures are inspiring to me. - Author: Molly Sims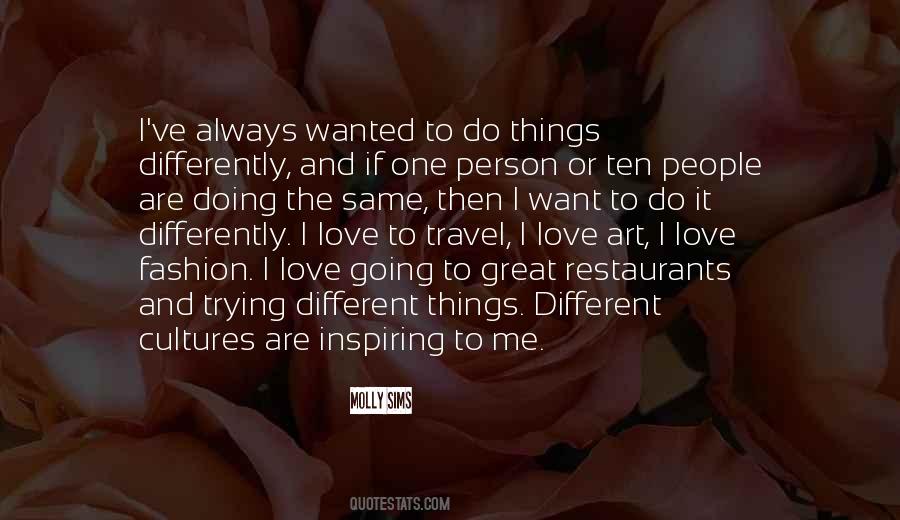 #71. Uniqueness does not come from external things that people do to themselves or other things like what they wear. All the uniqueness that radiates to the world comes from how you deal with the world, your best inner strengths. It never comes from a tattoo or a designer outfit. - Author: Eva Mozes Kor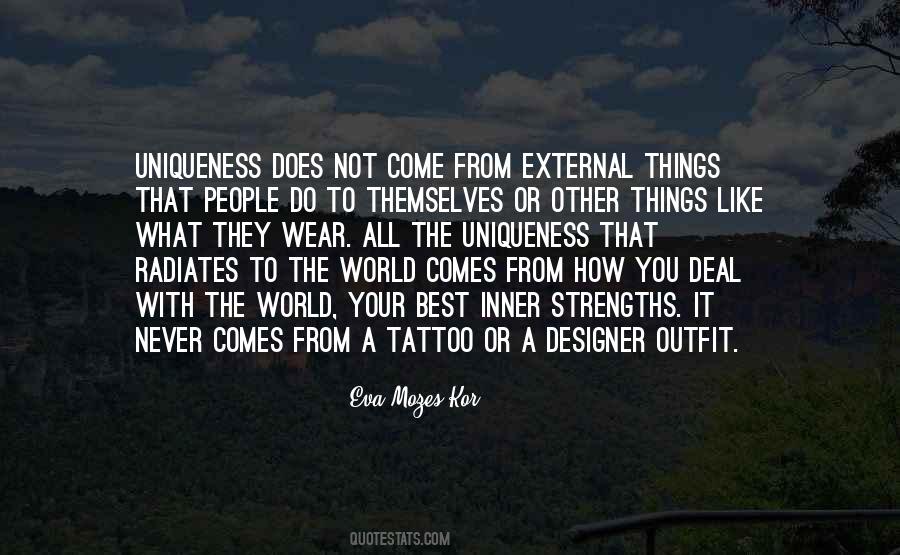 #72. Why are you still here?" she asked. "Shouldn't you be in a cave somewhere inspiring people? - Author: Kristin Cashore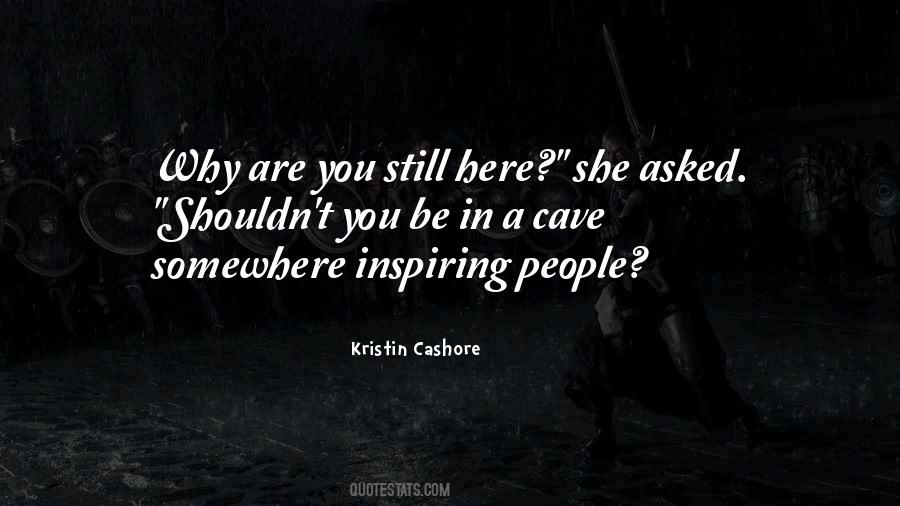 #73. Young people should think in a different way - they should be job givers not job seeker. - Author: Muhammad Yunus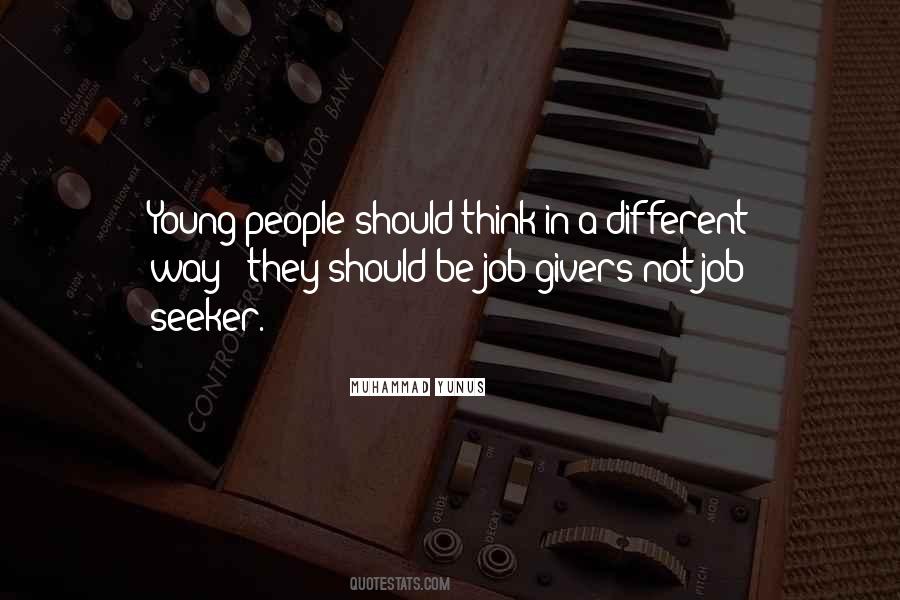 #74. Most of my act is improvisation. I'm inspired for the moment. Standing there in front of 2,000 or 3,000 people you don't know can be pretty inspiring. - Author: Howie Mandel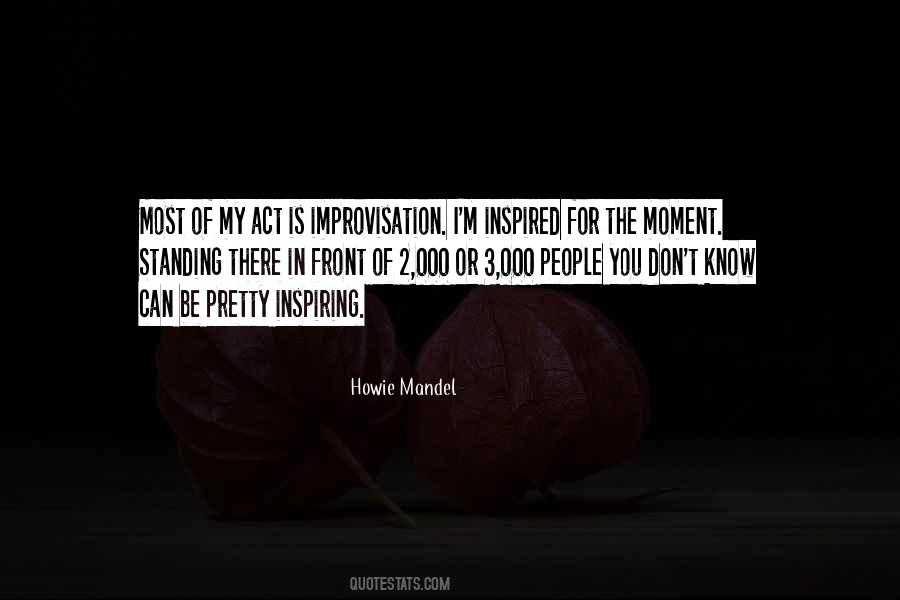 #75. Sometimes you need a major crisis to bring people together. - Author: Kishore Mahbubani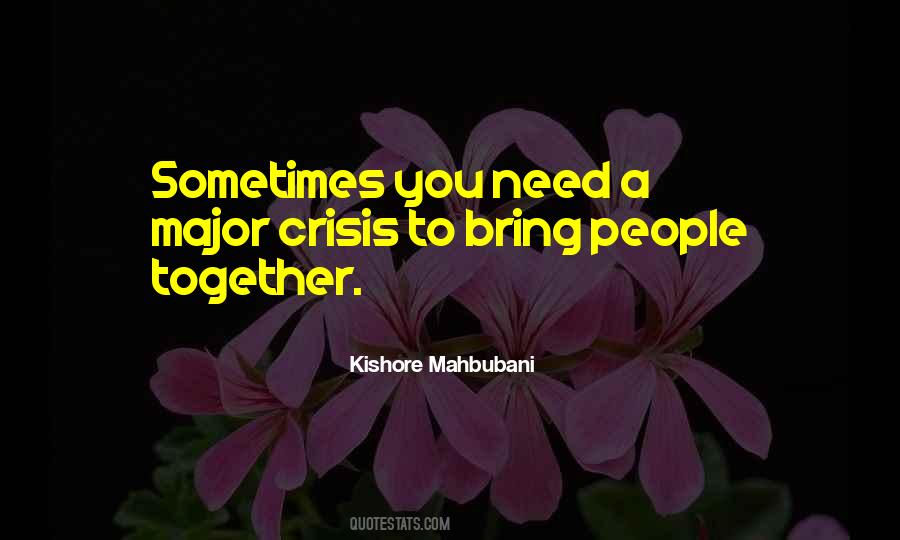 #76. I was around when my father finished the last payment of his house. I remember like it was yesterday. He had worked all those years to own that house and he cried. He was so excited and so happy and I want to see other people get that feeling, too. - Author: Magic Johnson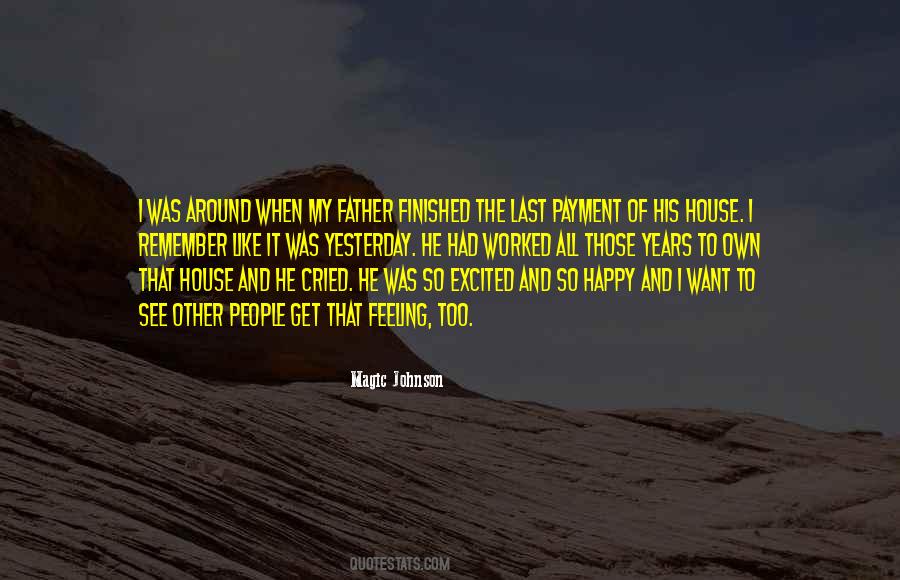 #77. Life and love generate effort, but effort will not generate them. Faith-in life, in other people, and in oneself-is the attitude of allowing the spontaneous to be spontaneous, in its own way and in its own time. - Author: Alan Watts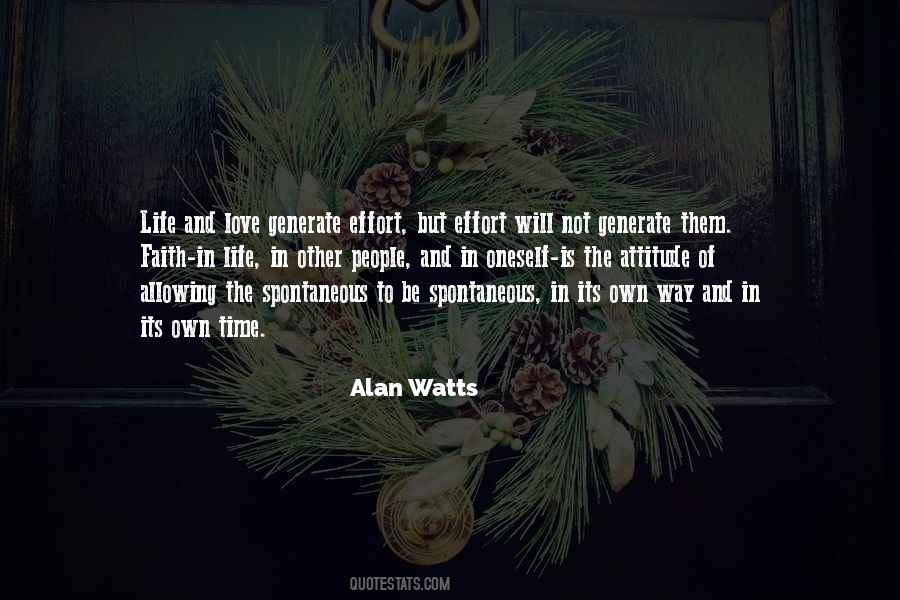 #78. May we greet each other with a smile, hug and speak kind words. - Author: Lailah Gifty Akita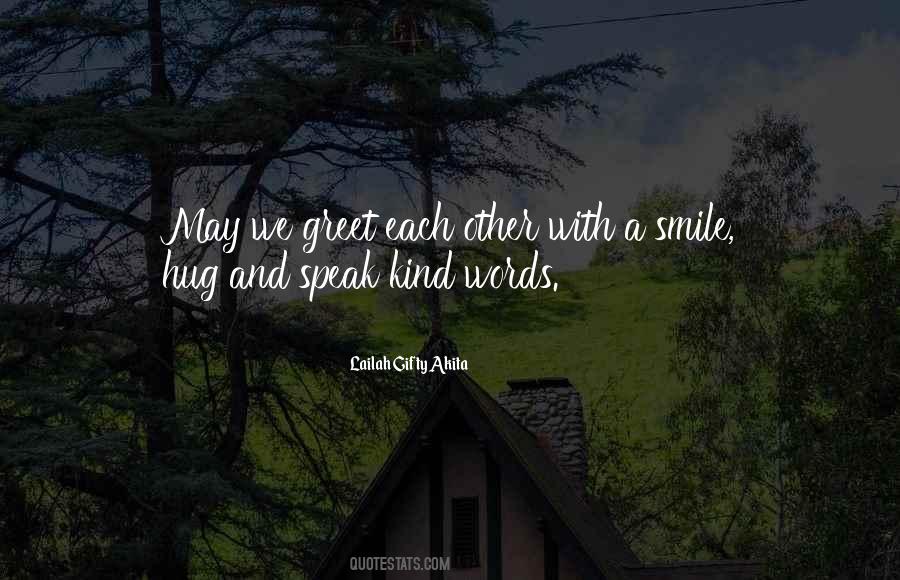 #79. No matter what you watch, it has an impact. So, why not use this medium to bring great stories to millions of people around the world with the goal of not only entertaining them but inspiring them. That's what motivates me. That's why I get up every day. - Author: DeVon Franklin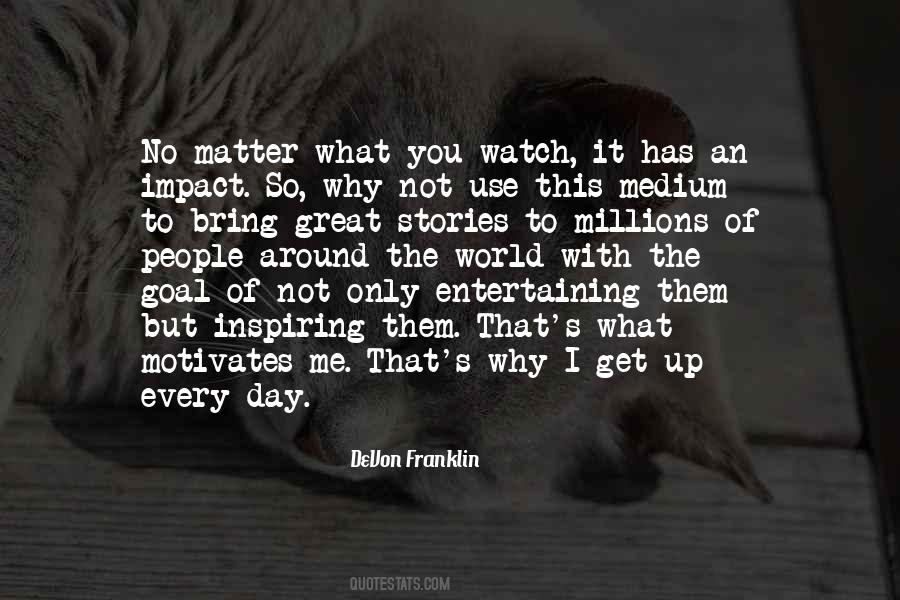 #80. People may not like you, but that's cool because your heart doesn't beat from their liking. You can't live to please everyone, you're not a puppet - Author: Amaka Imani Nkosazana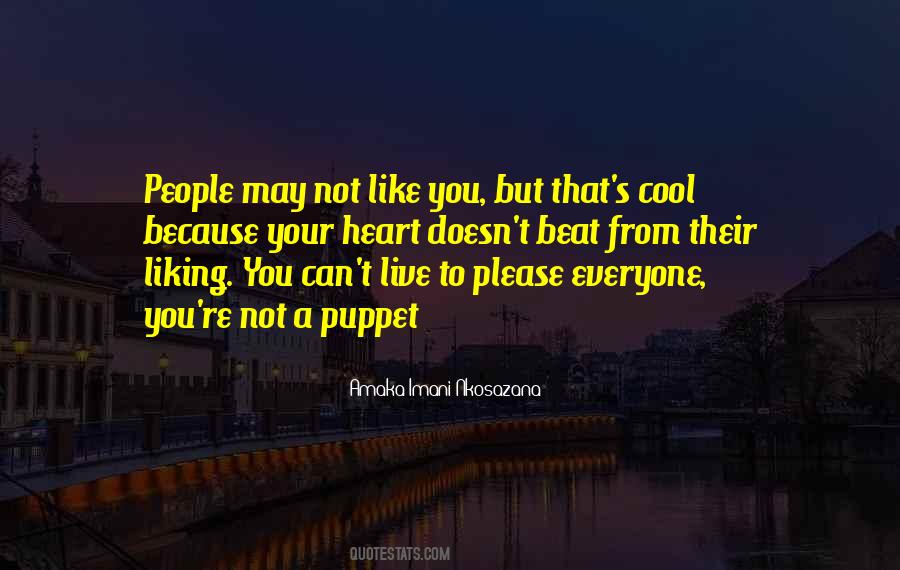 #81. Seeing what is wrong and how it could be made right propels us into action, but in that action we often leave other people behind and don't give ourselves enough time to be present, or to stop and reflect. Leaders have to get comfortable with pausing in that uncomfortable gap. - Author: Jennifer Lawrence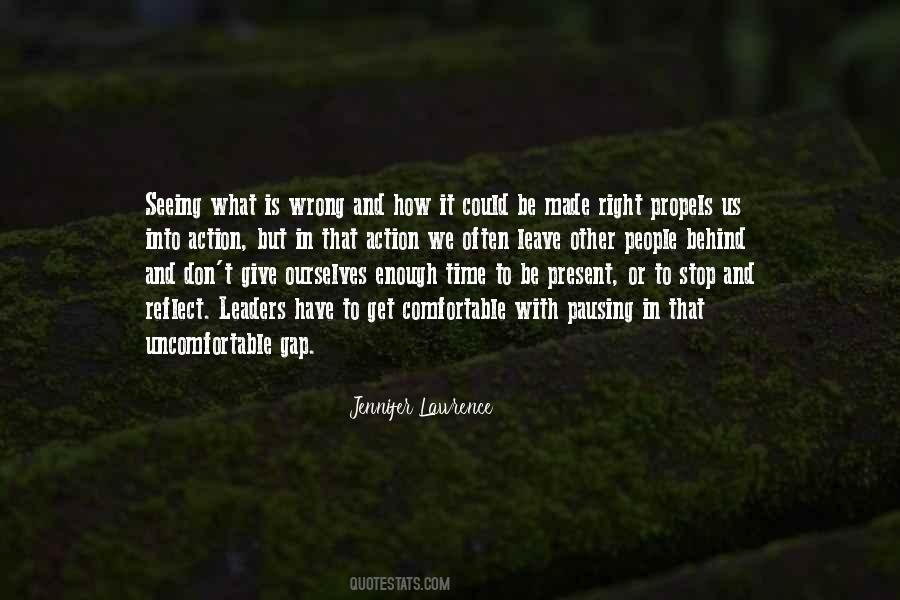 #82. Different personalities inspire me as an actor. Especially quirky personalities, maybe people I wouldn't normally get along with or be friends with - I find them inspiring for my work. I find sad emotions to be inspiring and stories of great people that kind of overcame odds. - Author: Laura Bell Bundy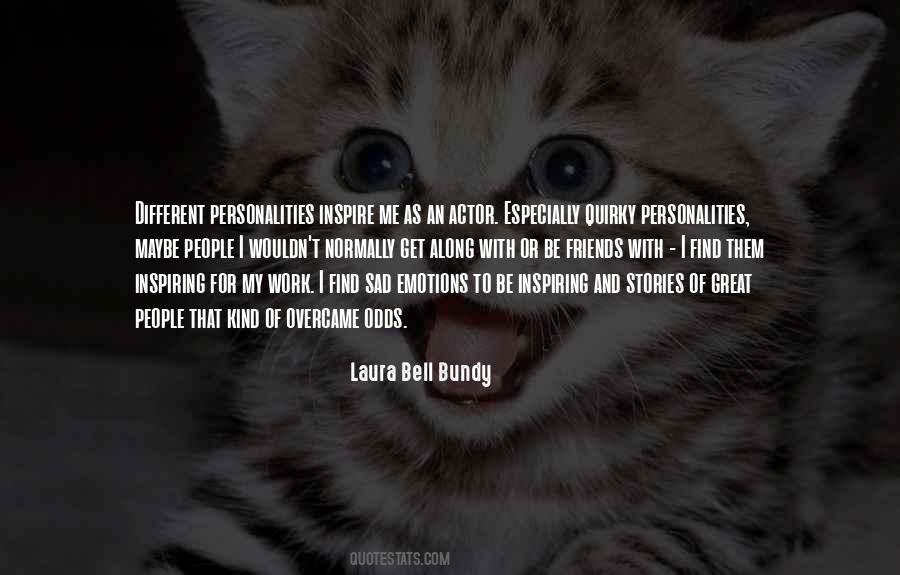 #83. These people are a part of me. And they are a part of America, this country that I love. - Author: Barack Obama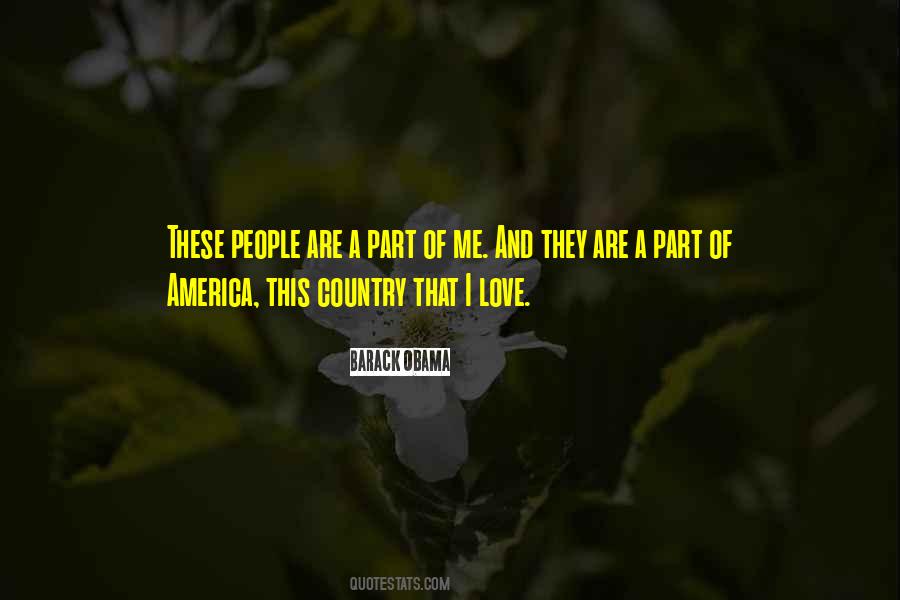 #84. Something significant, magical, and
inspiring happens with each word you read in the pages of a book. You explore new lands, meet new people, feel new emotions, and are no longer the same person you were one word prior to reading it. - Author: Martha Sweeney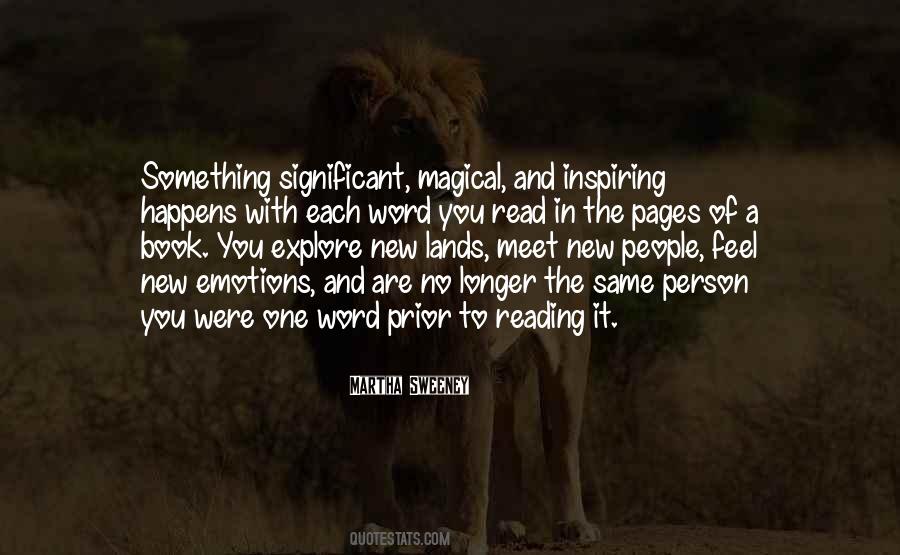 #85. There's so many inspiring people out there. - Author: John Mayer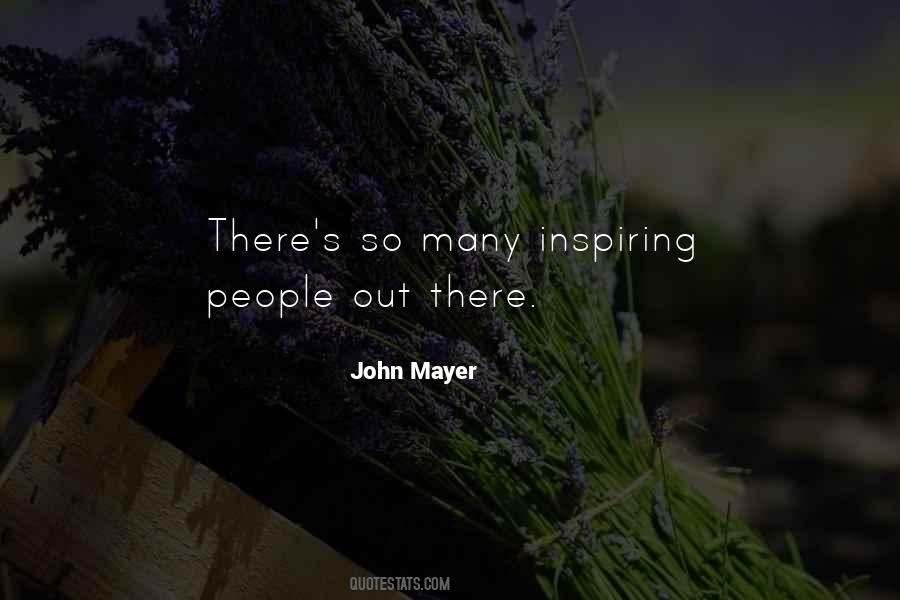 #86. Our sacred duty is to proclaim and preach the gospel of salvation to all people from every nation. - Author: Lailah Gifty Akita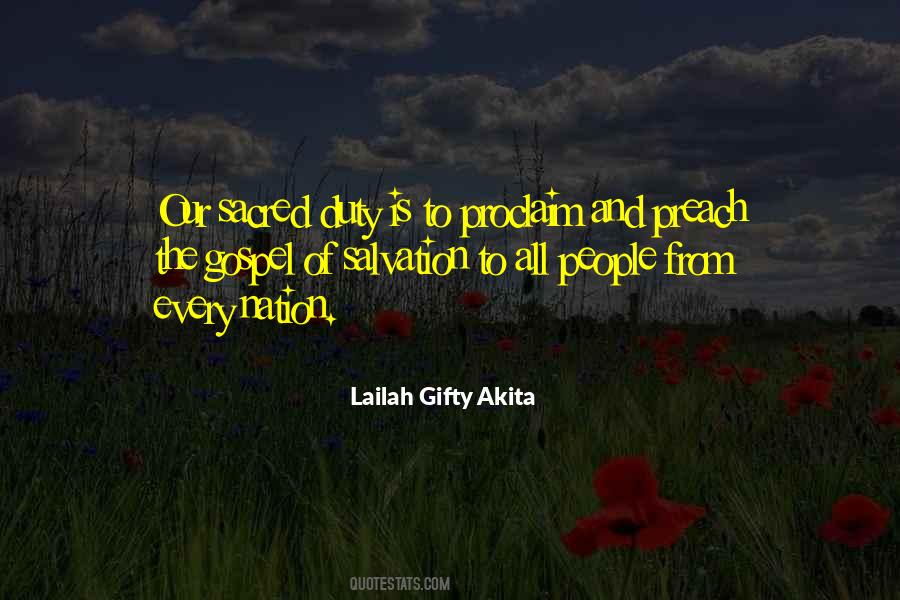 #87. If you're someone people count on, particularly in difficult moments, that's a sign of a life lived honorably. - Author: Rachel Maddow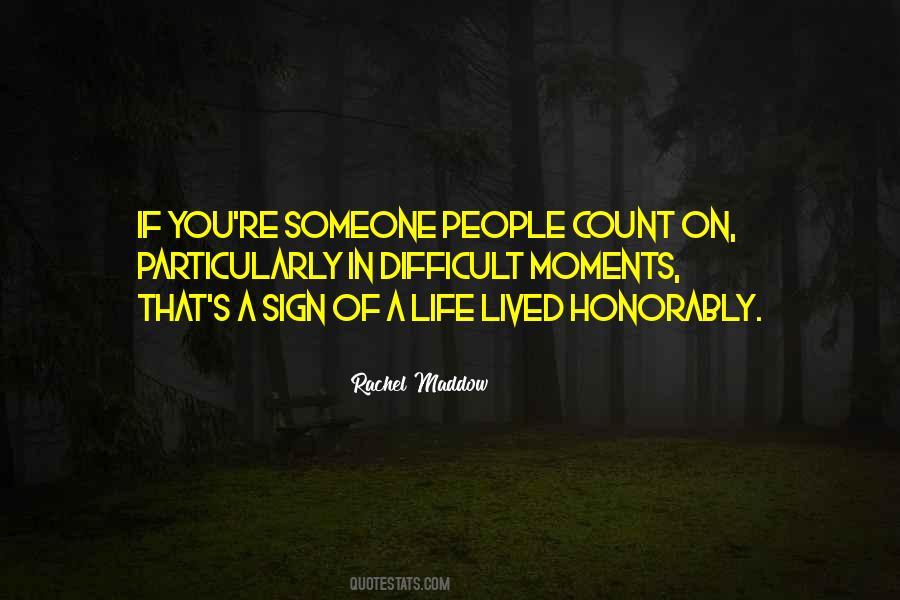 #88. We're all made the same but then born to change. Which then don't make us the same. - Author: Jonathan Anthony Burkett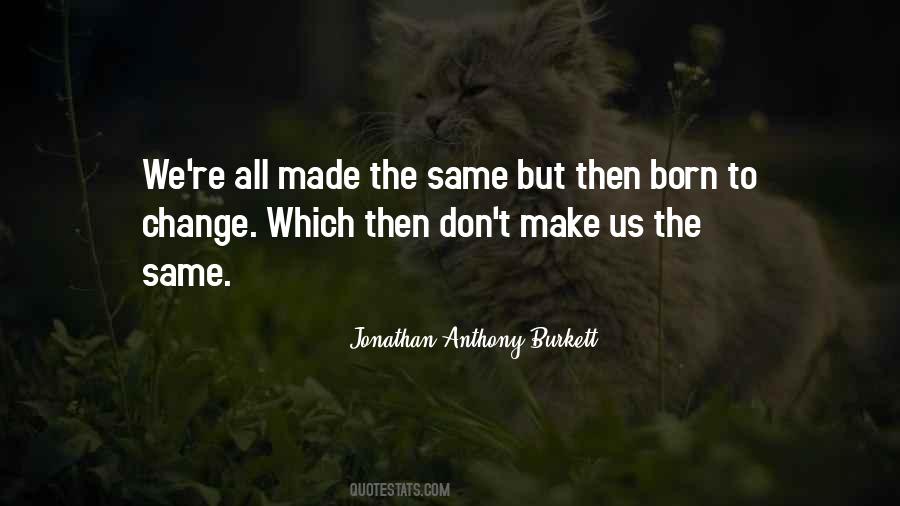 #89. Maybe we don't put our young people in situations often enough where they're allowed to fail. When you fail you gain experience, and with enough experience, you don't fail as often. - Author: Colin Powell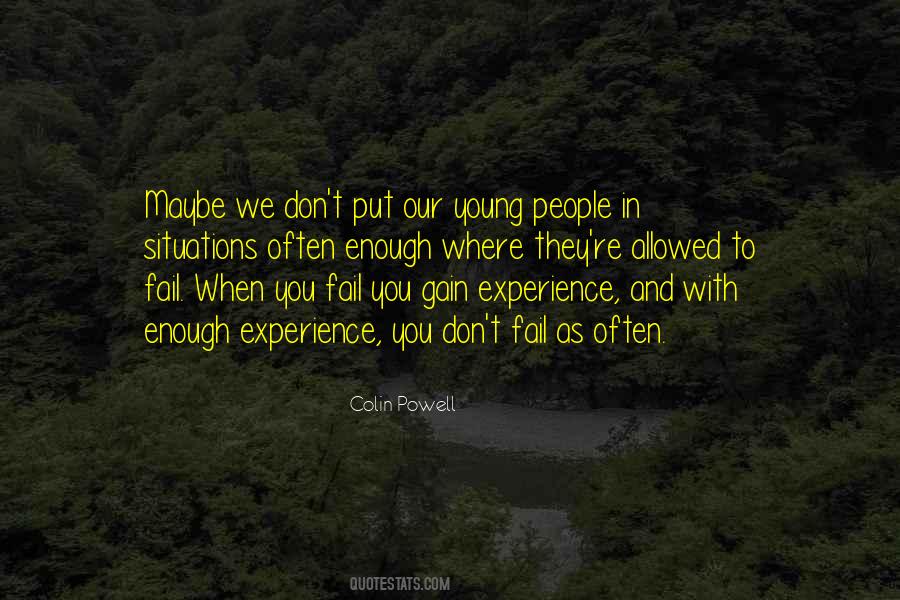 #90. I don't have an MBA, and I didn't go to Yale. I'm not an academic person and wasn't a good student. Instead, I've been taught by some of the most inspiring people in the world. - Author: Lapo Elkann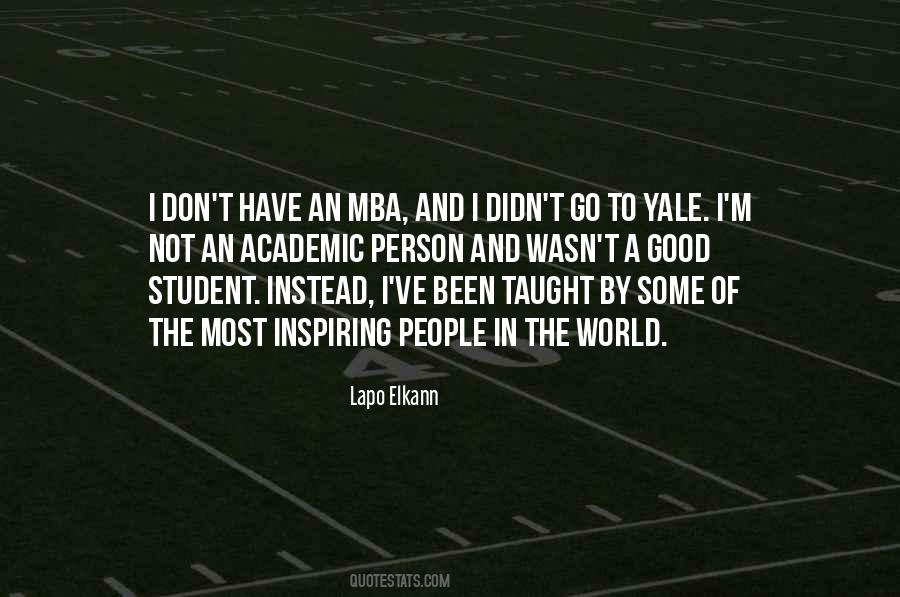 #91. The resilience and the resourcefulness of people to make a better life, to survive, to give their children something better than they had, is so inspiring. I look at how hard it must be to get up every day and fight that battle and I think, Wow, anything I'm doing just has to be in service. - Author: Kathy Calvin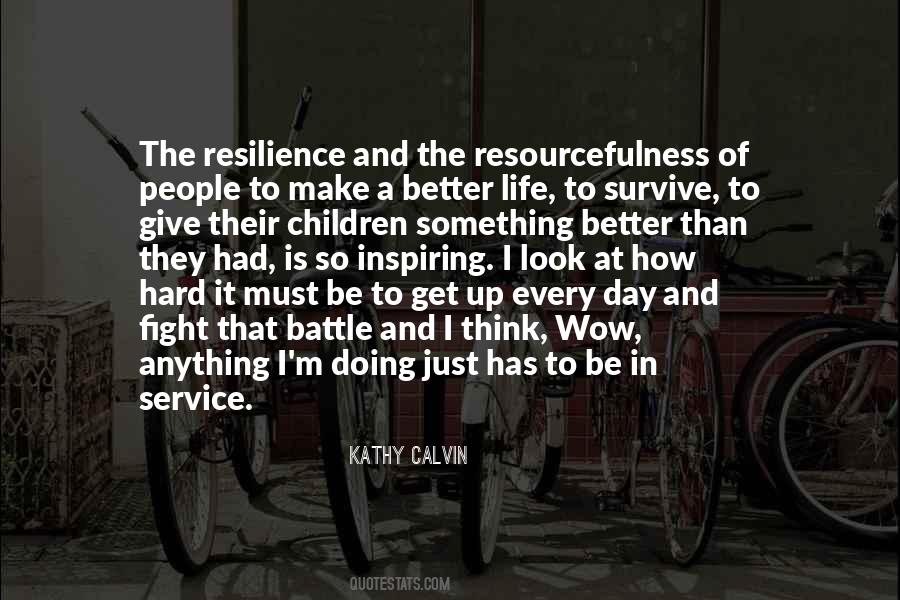 #92. The paradox of life; I wish to have healthy long life. But no one wants to show the glory of the gray hair. - Author: Lailah Gifty Akita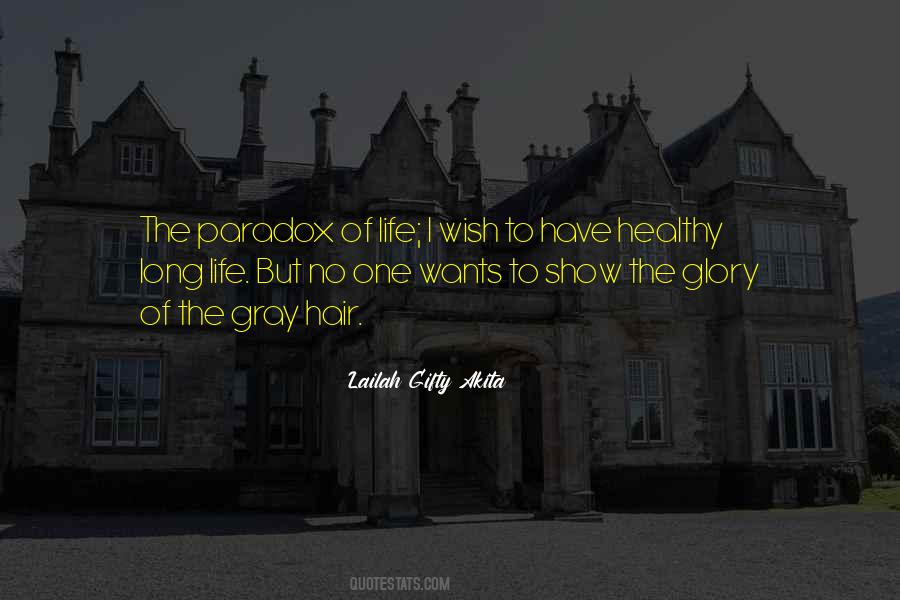 #93. That's what's inspiring to me-finding someplace where people haven't already seen themselves in a certain light. - Author: M.I.A.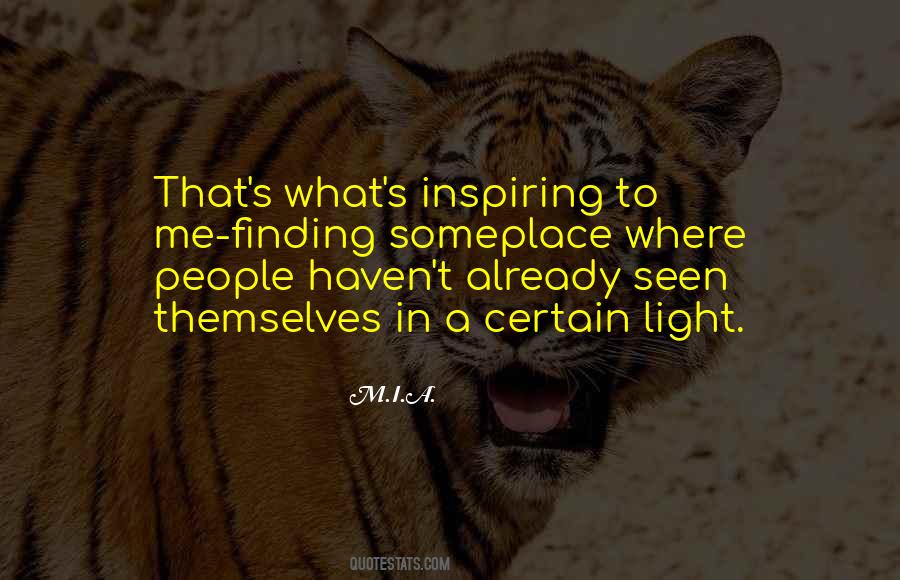 #94. It's so inspiring to be around other people who have ideas you haven't thought of, and all of a sudden you're like, 'Wow! That's so amazing!' I definitely want everything I do to just get better and better. - Author: Banks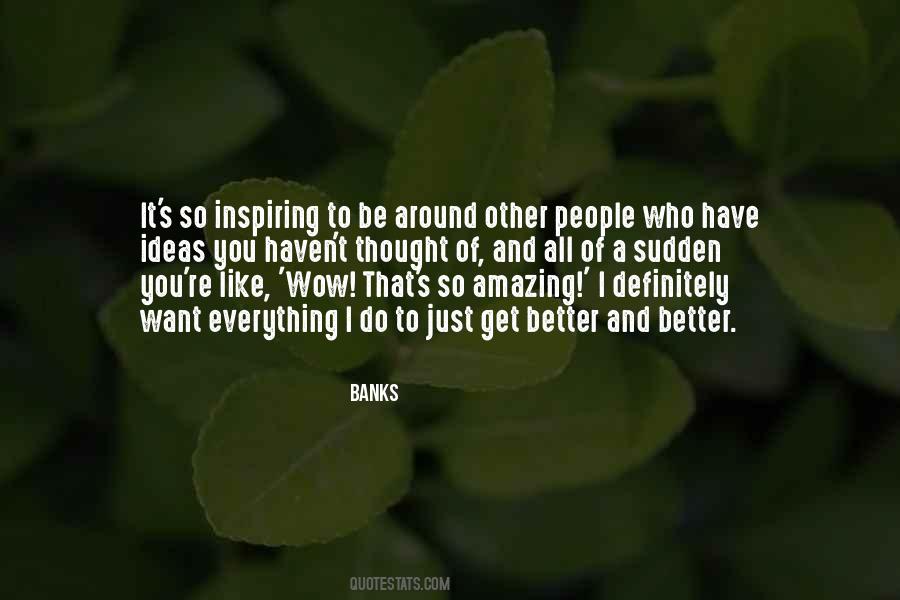 #95. We don't attack any veteran, at all, ever, for their service record. We thank them. And the fact that somebody wanted to do that for political gain, shows the desperation of which some people unfortunately in the Republican Party want to keep and seize power. - Author: Matt Shea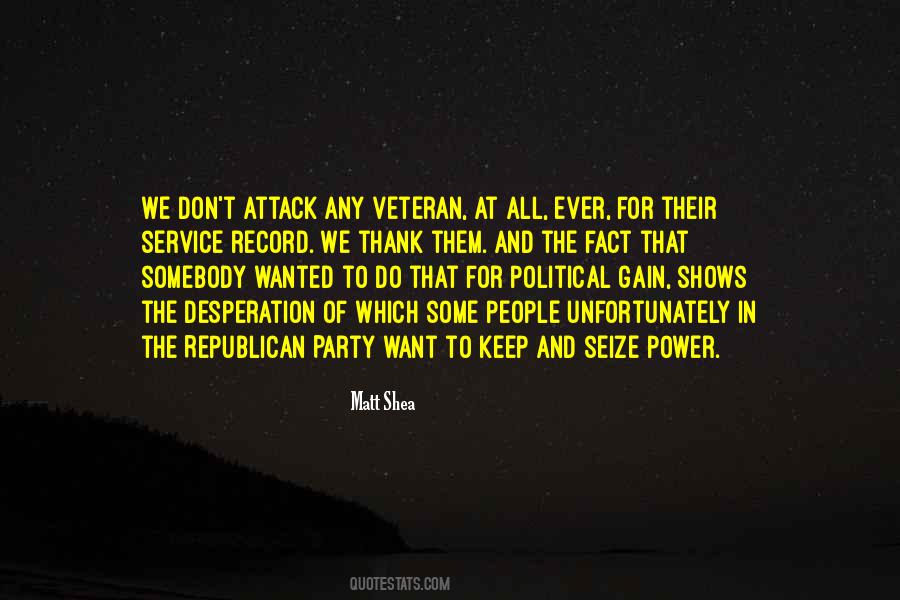 #96. People felt themselves watching him even before they knew that there was anything different about him. His eyes made a person think that he heard things that no one else had ever heard, that he knew things no one had ever guessed before. He did not seem quite human. - Author: Carson McCullers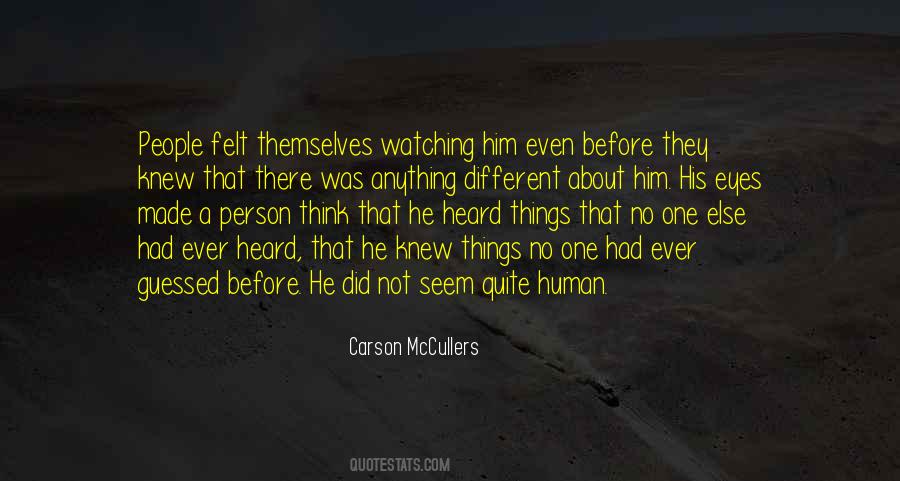 #97. Acquire knowledge and teach it to people. - Author: Umar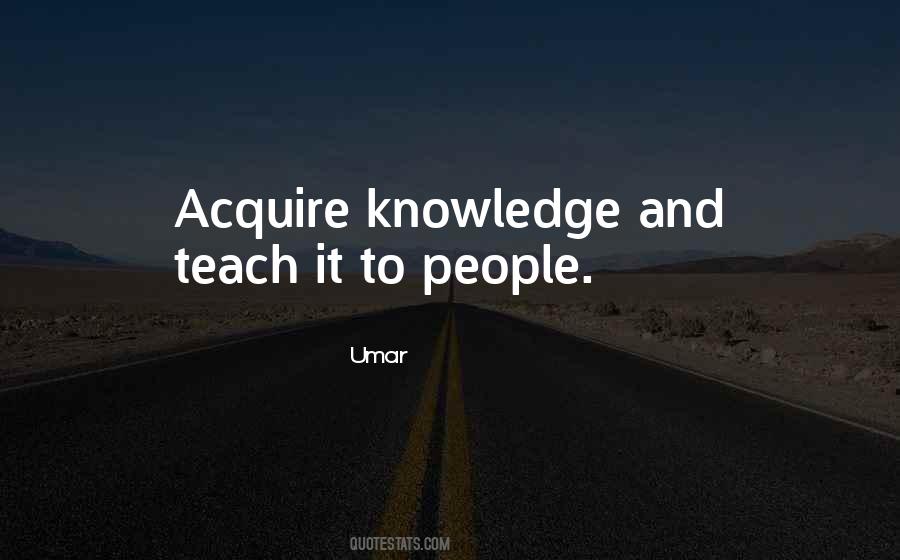 #98. I don't believe that the solutions in society will come from the left or the right or the north or the south. They will come from islands within those organizations, islands of people with integrity who want to do something. - Author: Karl-Henrik Robert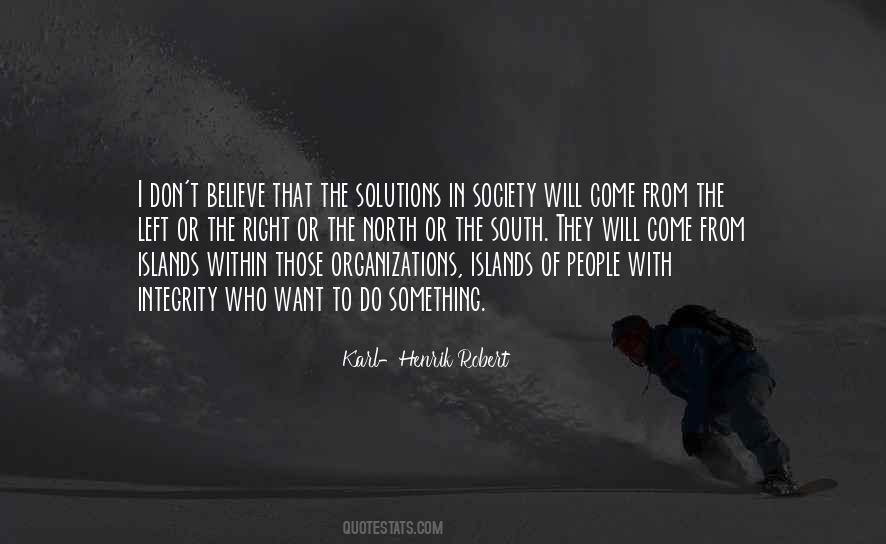 #99. It's just an inspiring journey in itself to stop drinking this late in my career after abusing alcohol and to have this kind of success so late when usually people give you like this window of success time. - Author: Ryan Montgomery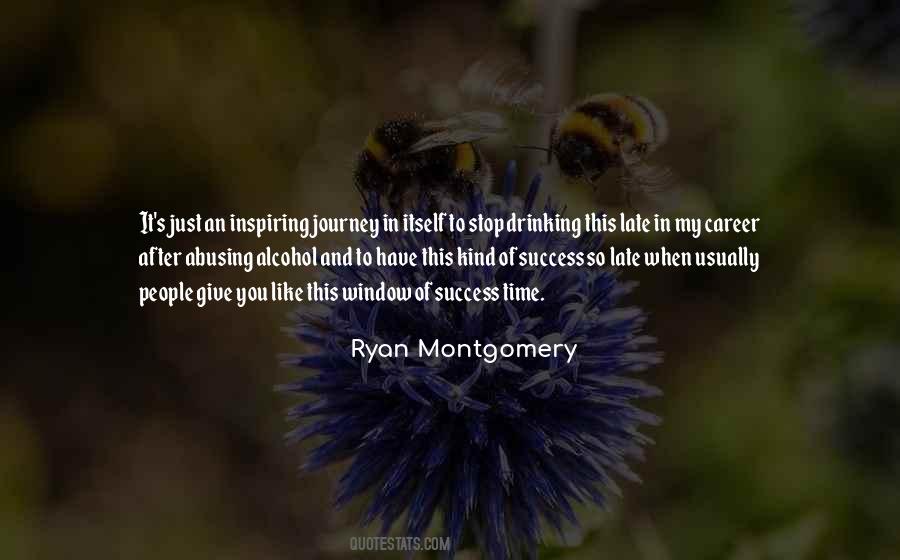 #100. May the God richly bless humankind. - Author: Lailah Gifty Akita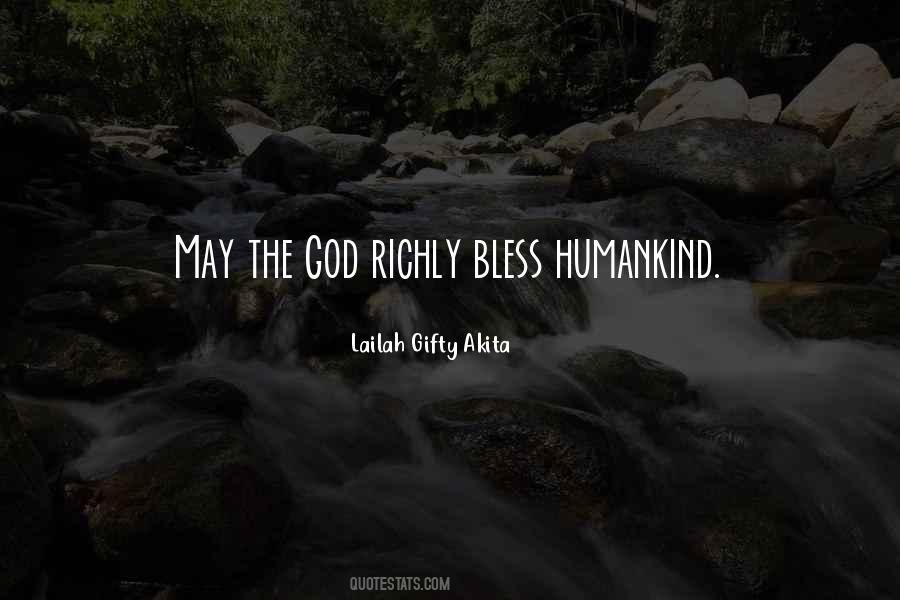 Famous Authors
Popular Topics