Ignite Me Famous Quotes & Sayings
List of top 43 famous quotes and sayings about ignite me to read and share with friends on your Facebook, Twitter, blogs.
Top 43 Quotes About Ignite Me
#1. I understand perfectly. He's fallen for your quiet, timid shell. For who you used to be. He has no idea what you're capable of. What you might do if you're pushed too far. - Author: Tahereh Mafi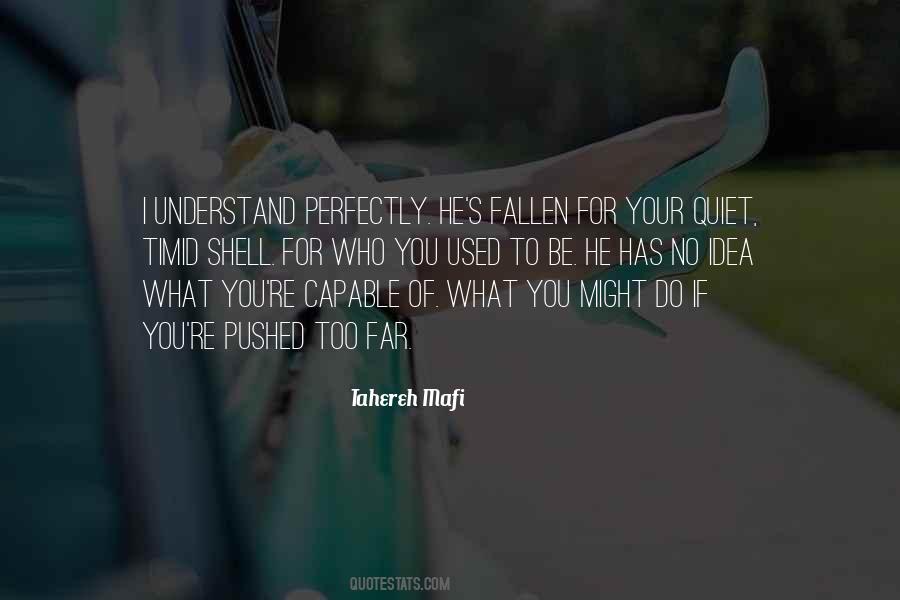 #2. His gaze slid over me like a veil of fire. He could ignite my deepest desires with a single glance. I decided right then and there no more reading romance novels by candelight. - Author: Darynda Jones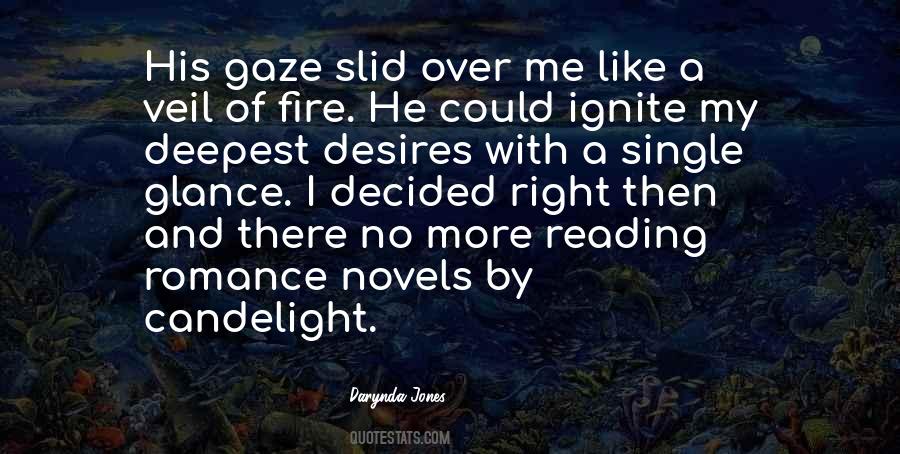 #3. I need to break down these self-made walls. - Author: Tahereh Mafi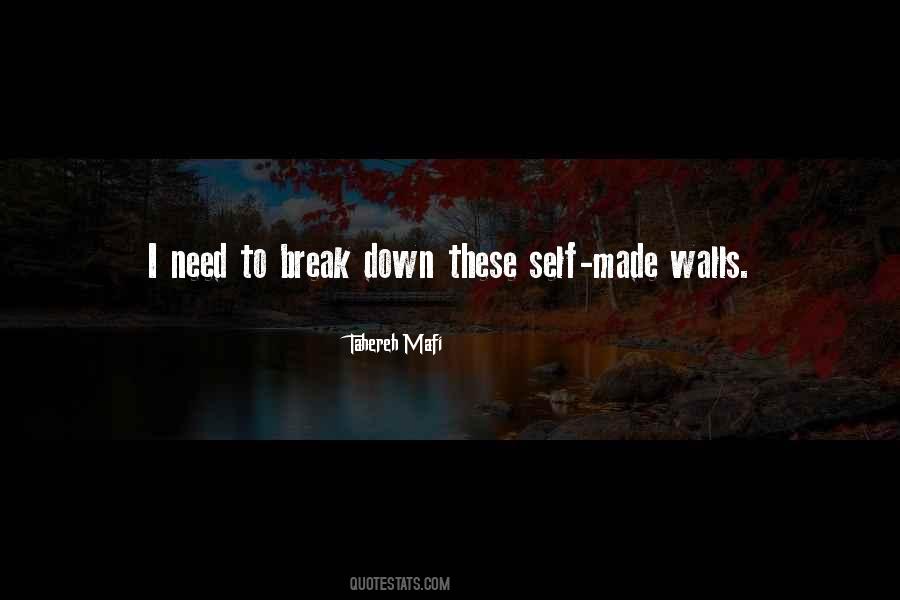 #4. Juliette, love," he says to me, still holding my eyes. "You have just started a war. - Author: Tahereh Mafi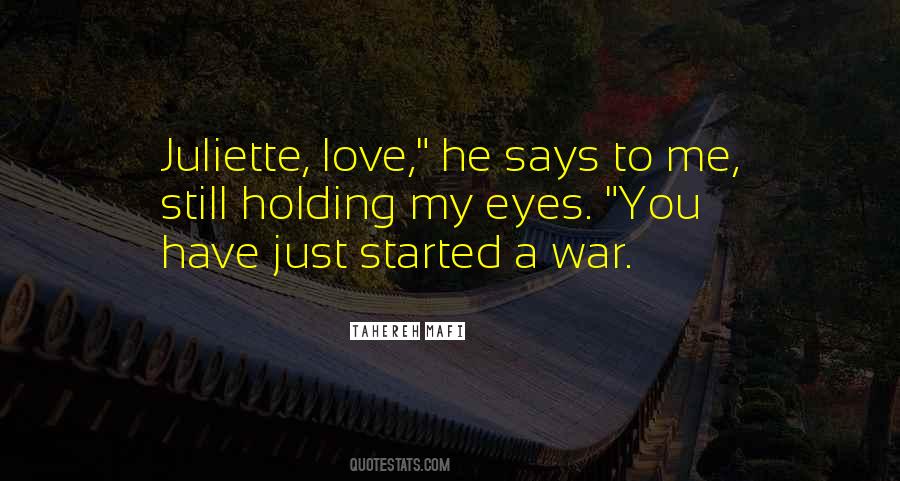 #5. We were two sad people stuck together. - Author: Tahereh Mafi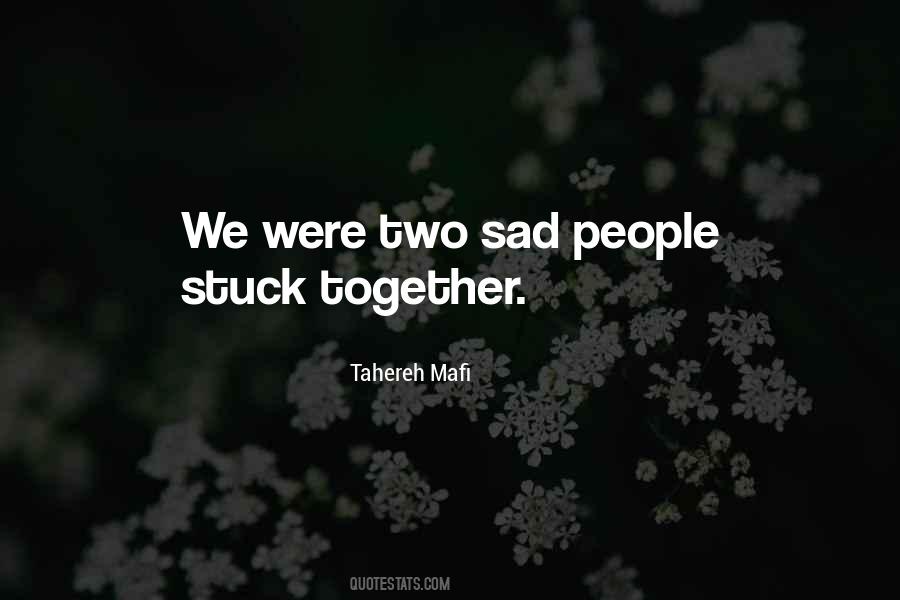 #6. Stop.
Stop time.
Stop the world.
Stop everything for the moment he crosses the room and pulls me into his arms and pins me against the wall and I'm spinning and standing and not even breathing but I'm alive so very very alive. - Author: Tahereh Mafi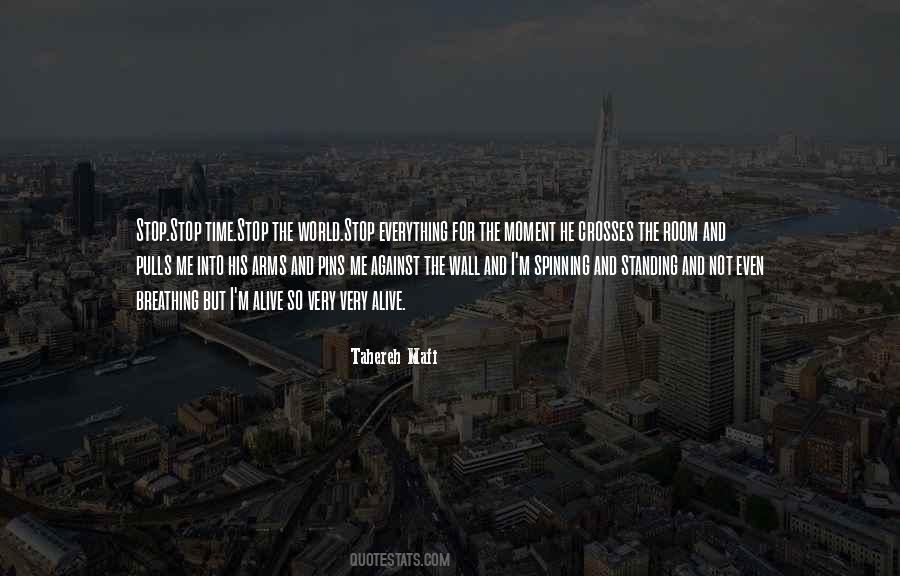 #7. I lived in a really dark place. I wasn't safe in my own mind. I woke up every morning hoping to die and then spent the rest of the day wondering if maybe I was already dead because I couldn't even tell the difference. - Author: Tahereh Mafi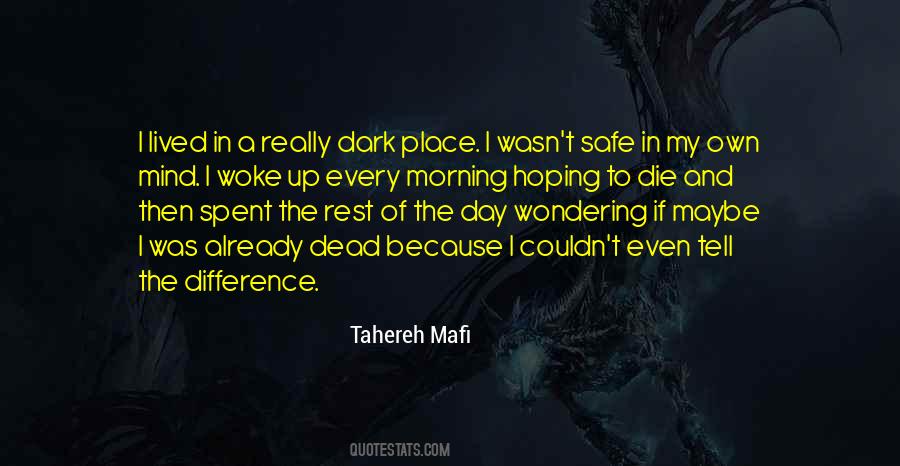 #8. One day Adam will realize that what he felt for me was just a crazy kind of desperation. We were two people who really needed someone to hold on to, and we had this past that made us seem so compatible. But it wasn't enough. Because if it were, I wouldn't have been able to walk away so easily. - Author: Tahereh Mafi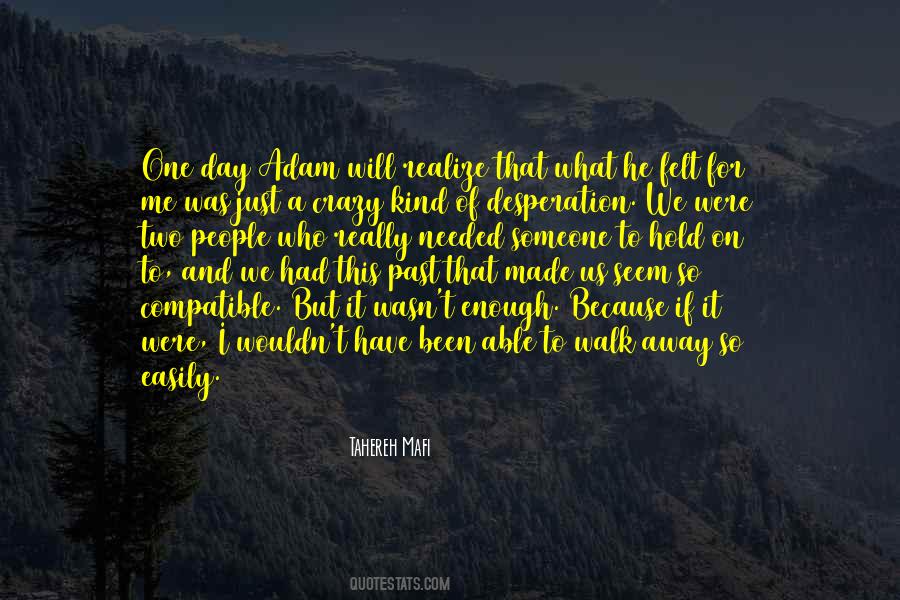 #9. It's a tangible thing; the kind of power that could tangle in my fingers. - Author: Tahereh Mafi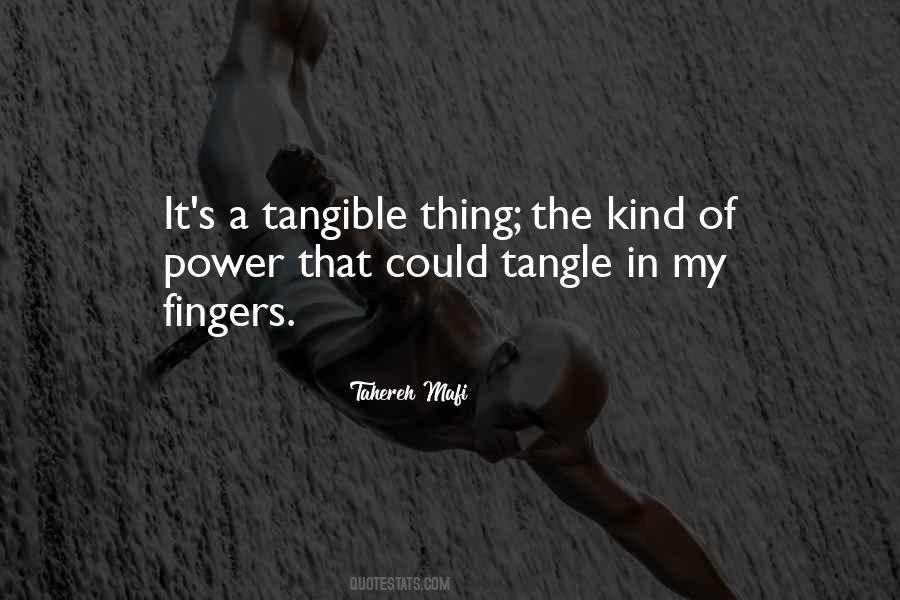 #10. I do want you," I say to him, my voice shaking. "I want you so much it scares me. - Author: Tahereh Mafi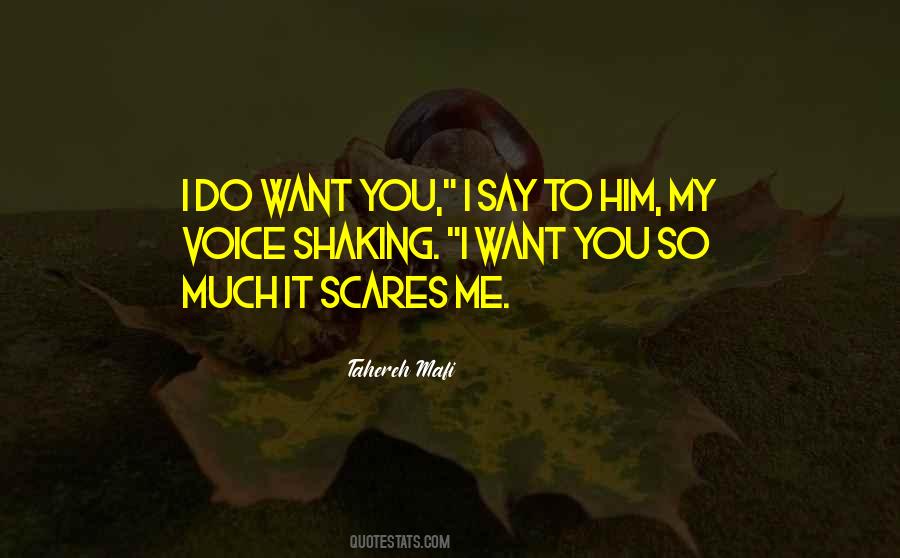 #11. Holy Spirit, please overrule in my life that I will never quench the fire that You have caused to burn. Let me never pour water on wood You may want to ignite. I pray on bended knee that You will come unquenched into my heart and stay there without any hindrance from me. In Jesus's name, amen. - Author: R.T. Kendall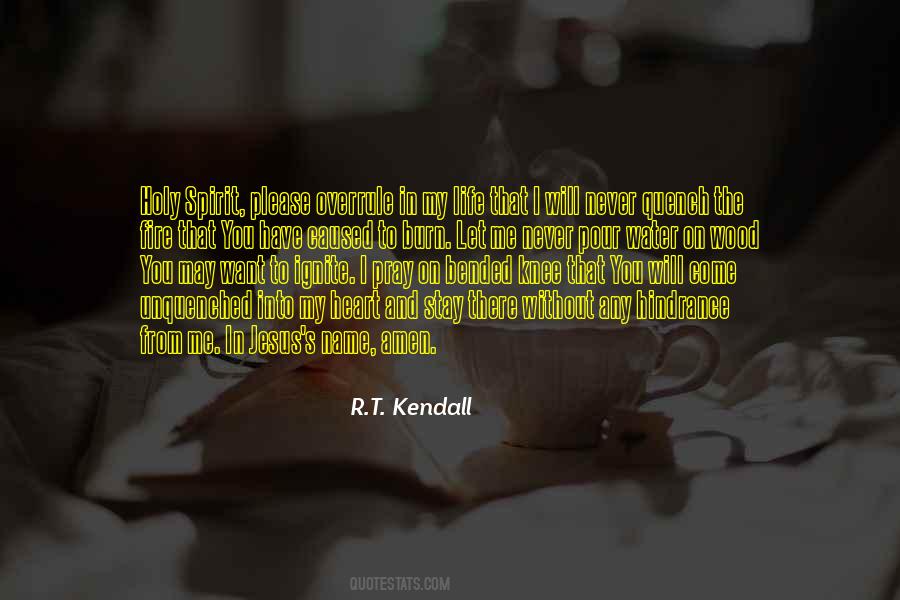 #12. Kenji-""So the minute you opened your mouth you just shattered all his dreams, huh?"
Juliette- "I will push you off the roof."
Kenji-"Yeah, I can definitely see why Adam wouldn't like you. - Author: Tahereh Mafi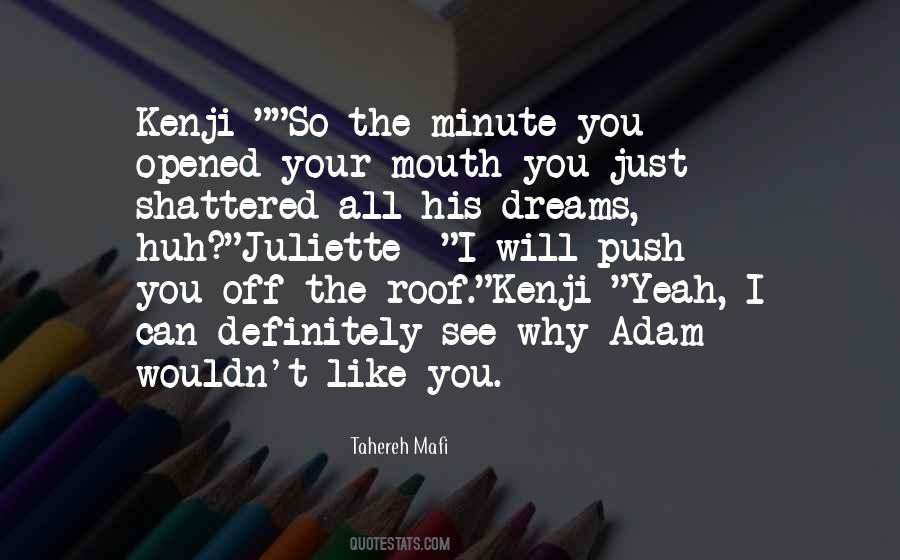 #13. Very well then, Ms. Ferrars. Good luck, and godspeed. Our world is in your hands. - Author: Tahereh Mafi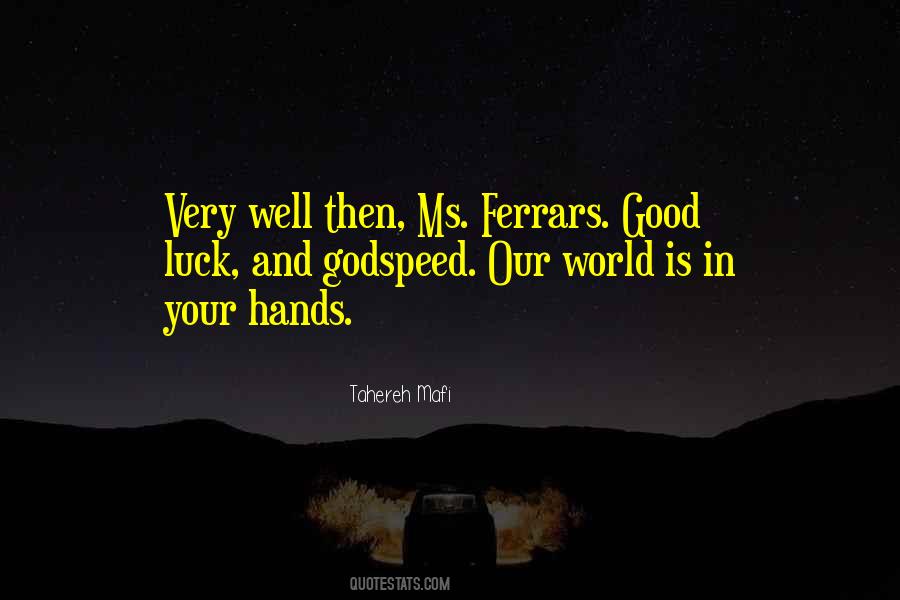 #14. I never even tried. Because I let the world teach me to hate myself. I was a coward who needed someone else to tell me I was worth something before I took any steps to save myself. - Author: Tahereh Mafi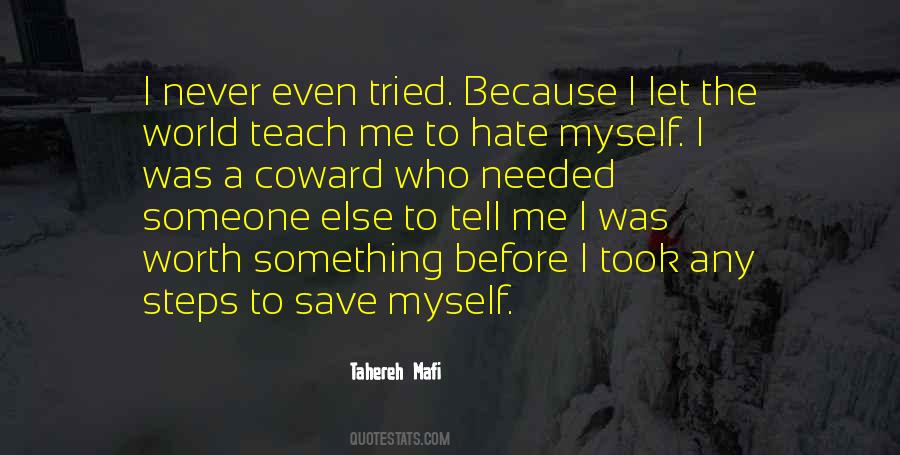 #15. So that's it?" Kenji says. "You just like him for his personality, huh?"
"What?"
"All of this," Kenji says, waving a hand in the air, "has nothing to do with him being all sexy and shit and him being able to touch you all the time?"
"You think Warner is sexy?"
"That is not what I said. - Author: Tahereh Mafi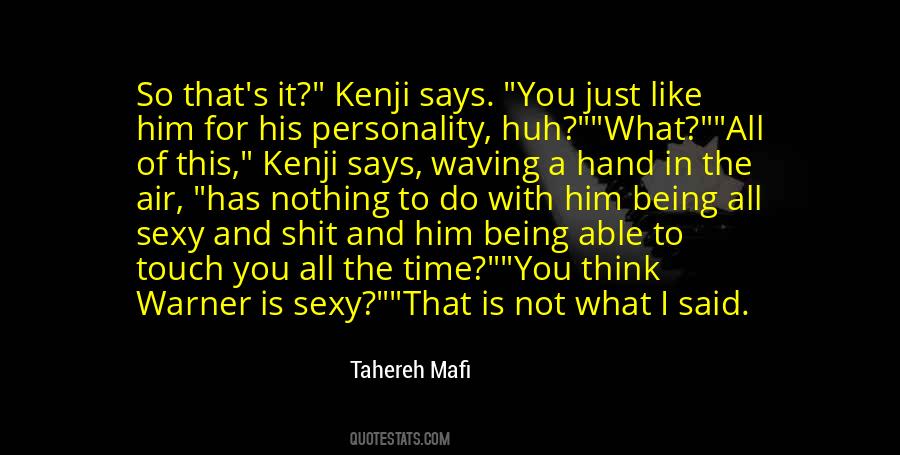 #16. I feel like I've been split open and stuffed with sunshine. - Author: Tahereh Mafi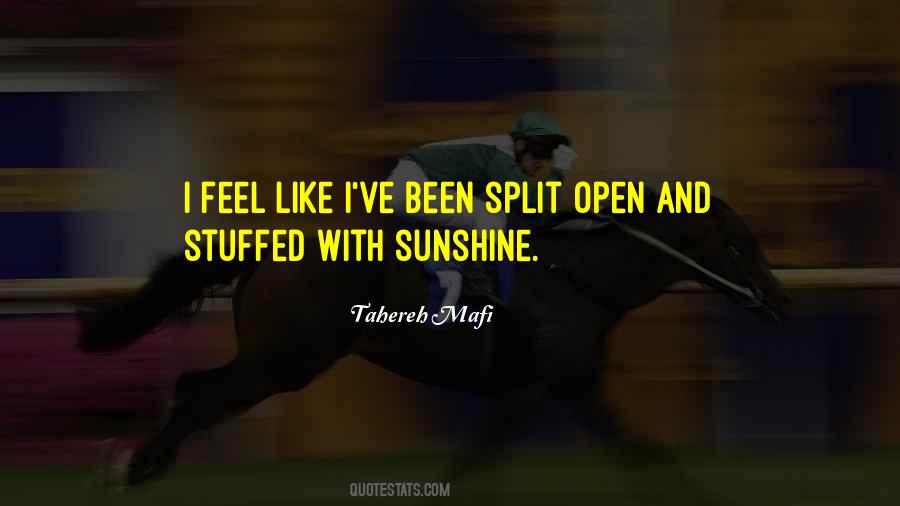 #17. I am going to MURDER YOU - "
"No," he says, pointing at me as he shifts backward again. "Bad Juliette. You don't like to kill people, remember? You're against that, remember? You like to talk about feelings and rainbows - - Author: Tahereh Mafi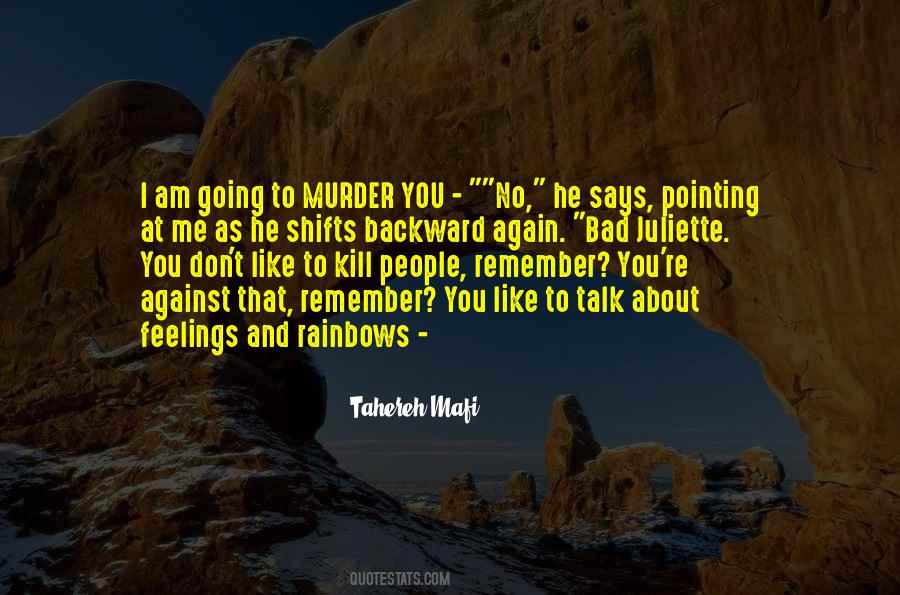 #18. There is nothing to fear. Nothing to worry about. Grieve nothing in this transitory world, he says softly. - Author: Tahereh Mafi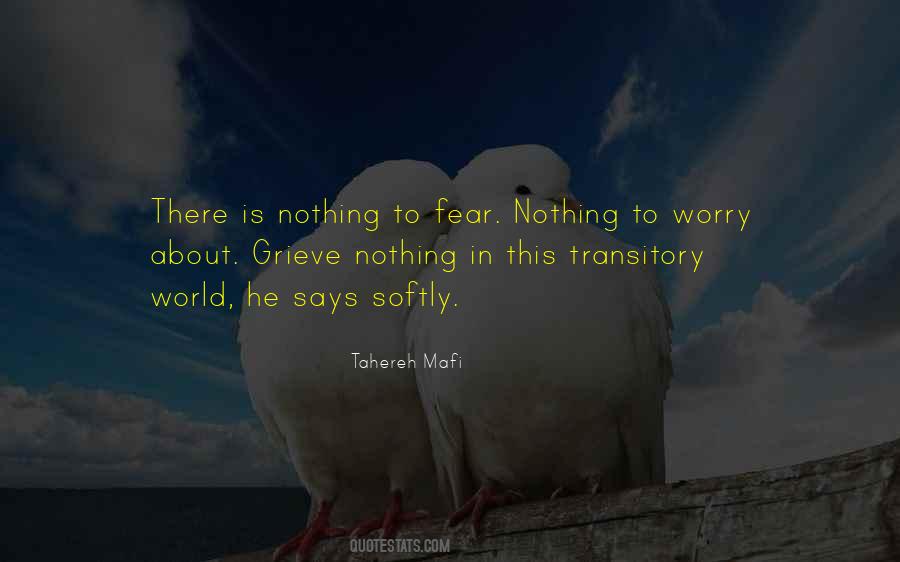 #19. Twice.
Once for Adam.
Once for Warner. - Author: Tahereh Mafi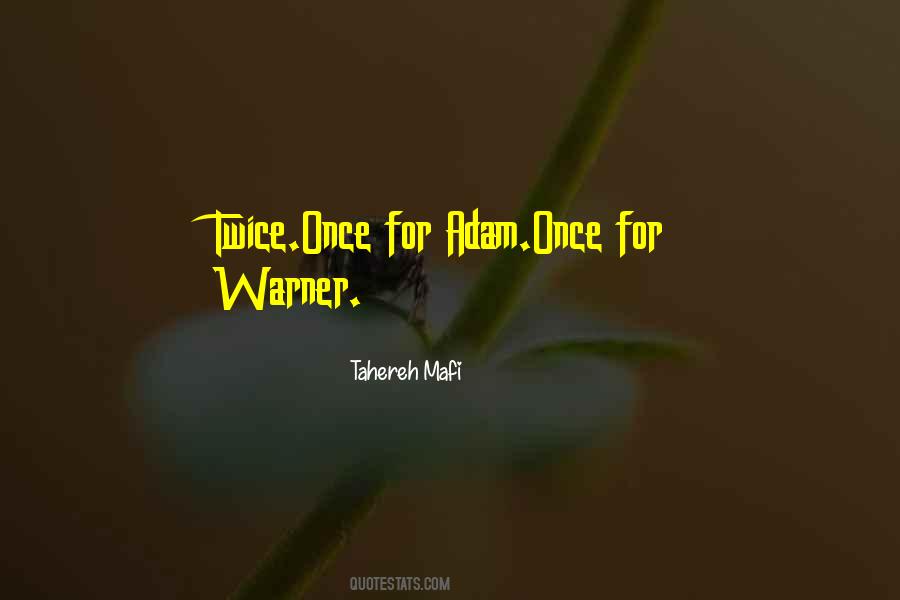 #20. My fist so rocky and and wrist so icy,
Might be, thrown off my rocker just slightly,
Feisty, claimin' hot temper don't ignite me,
I'm only gonna ask ya find the exit once politely - Author: T.I.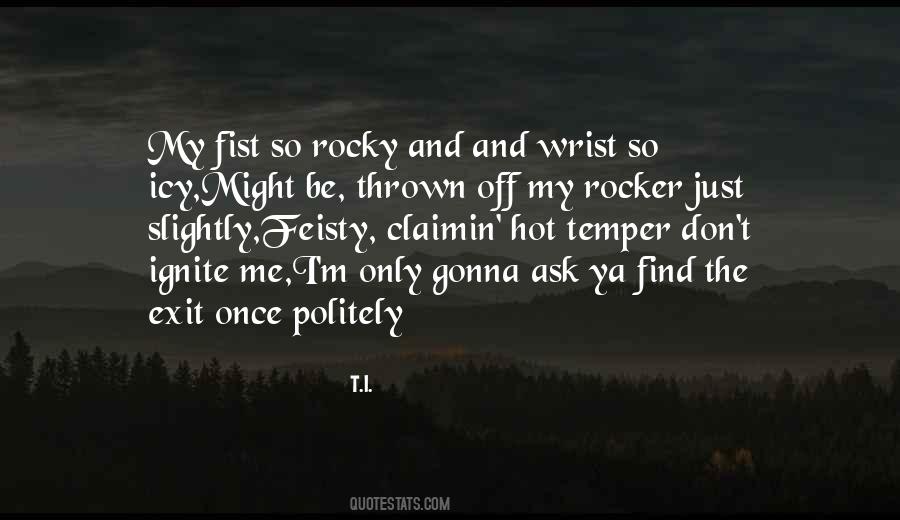 #21. I thought it was about us. About my escape. About our happily-ever-after.
And it was.
And it wasn't. - Author: Tahereh Mafi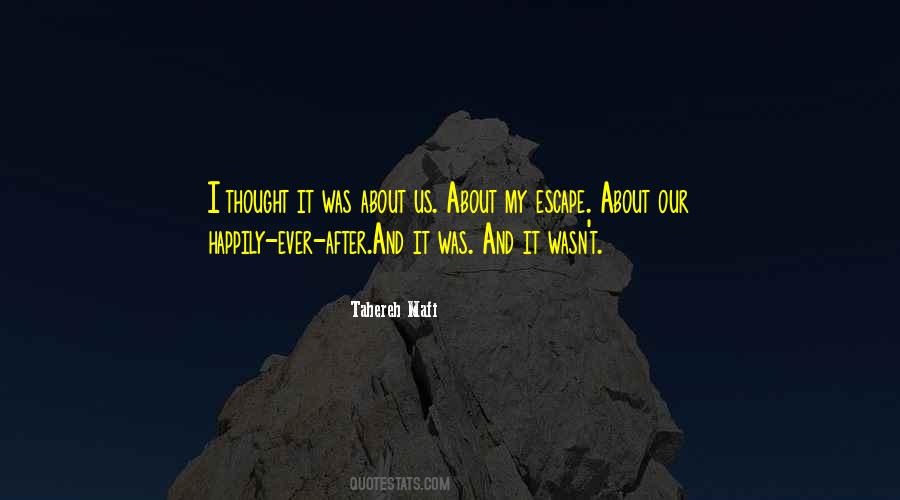 #22. I'm angry and mean and I can't be bothered to care. - Author: Tahereh Mafi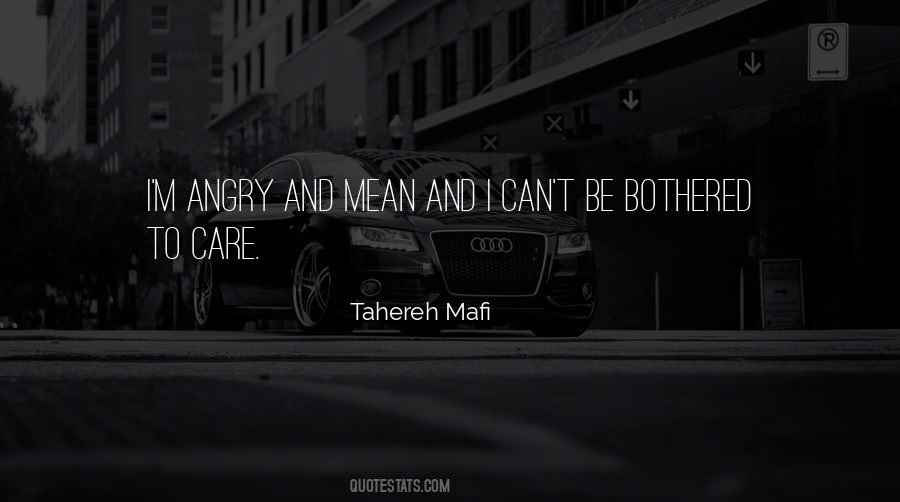 #23. You are pure flame. I touch you and I ignite. I kiss you and I burn to have more. You consume me ... like no other woman before you, and, I am certain, like no other ever could again. - Author: Lara Adrian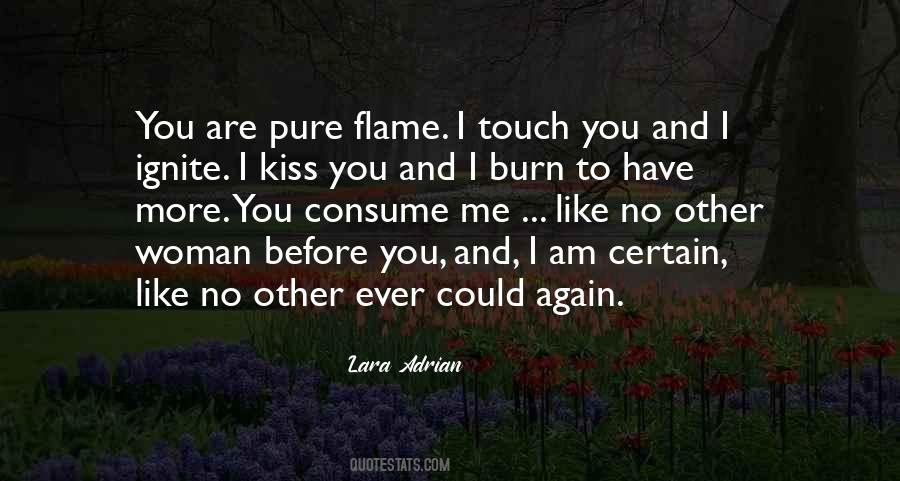 #24. And if you insist on continuing to make assumptions about my character, I'll advise you only this: assume you will always be wrong. - Author: Tahereh Mafi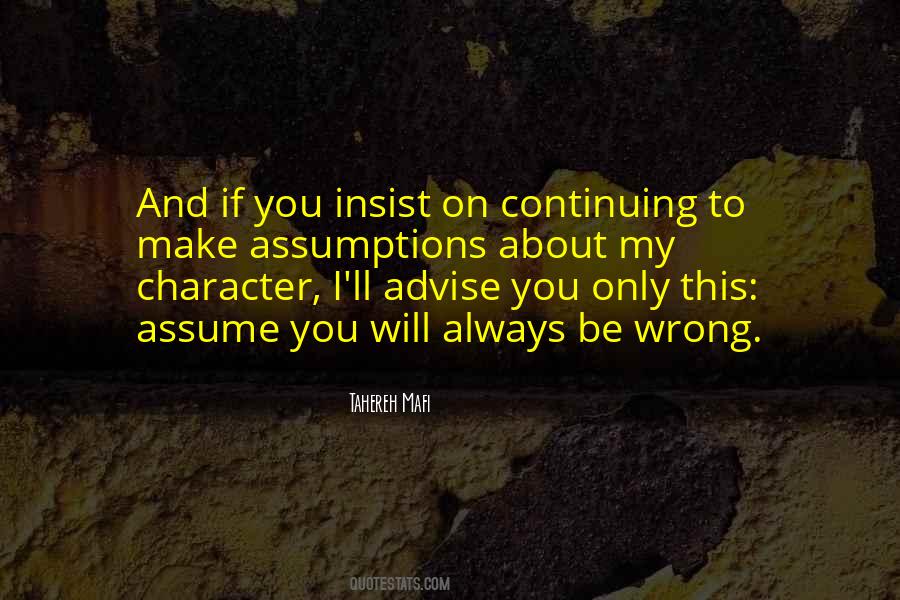 #25. Quinn," Alaric said quietly. "His aim is to ignite your temper. Perhaps you might allow me the chance to assist you this one time?"
"Fine, but you seem to be making a habit of it," she shot back. "We can discuss that later, too. Be my guest." - Author: Alyssa Day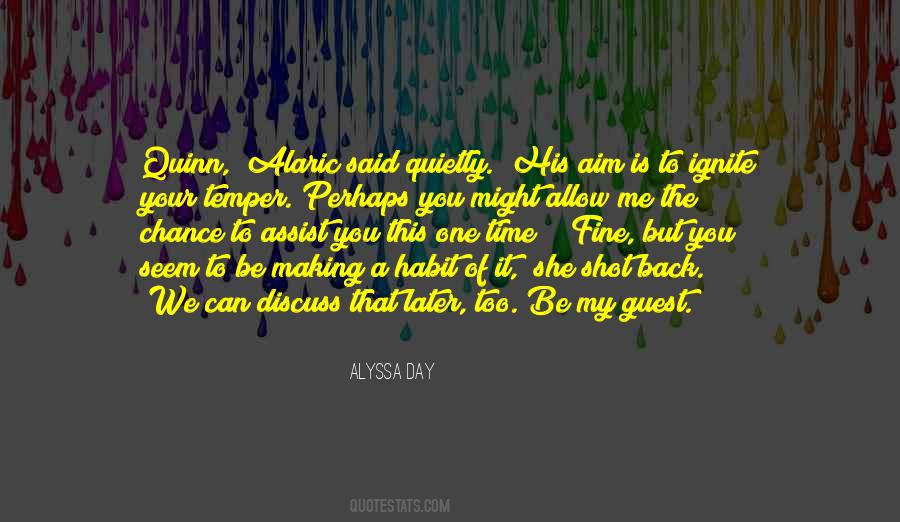 #26. I never wanted to kiss anyone more than I did when Dean Powell opened his beautiful, sleepy eyes and looked at me. - Author: Lily Paradis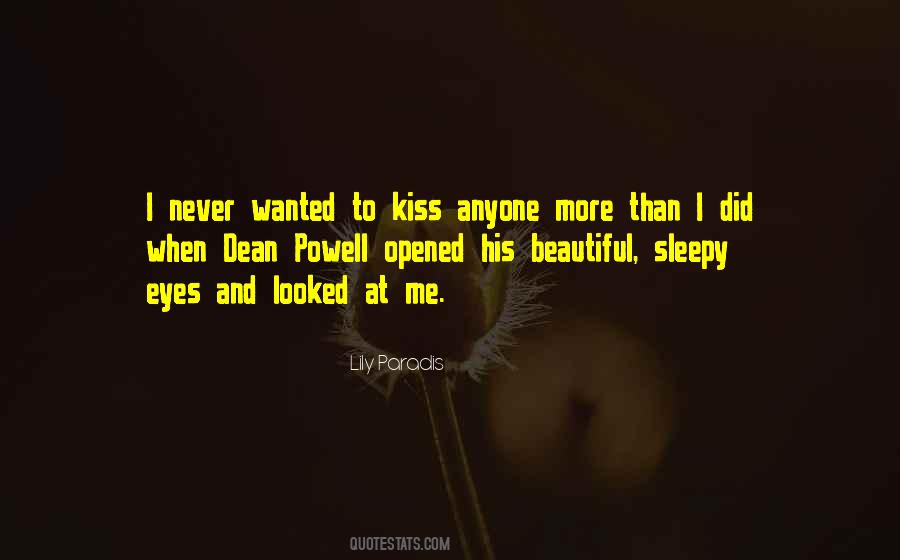 #27. Lauren," Kenzie managed finally as she dramatically fanned herself, and then me. "You did not just meet him last night."
"No really," I said when I could speak. "He kind of swept me off my feet. Literally. - Author: Lily Paradis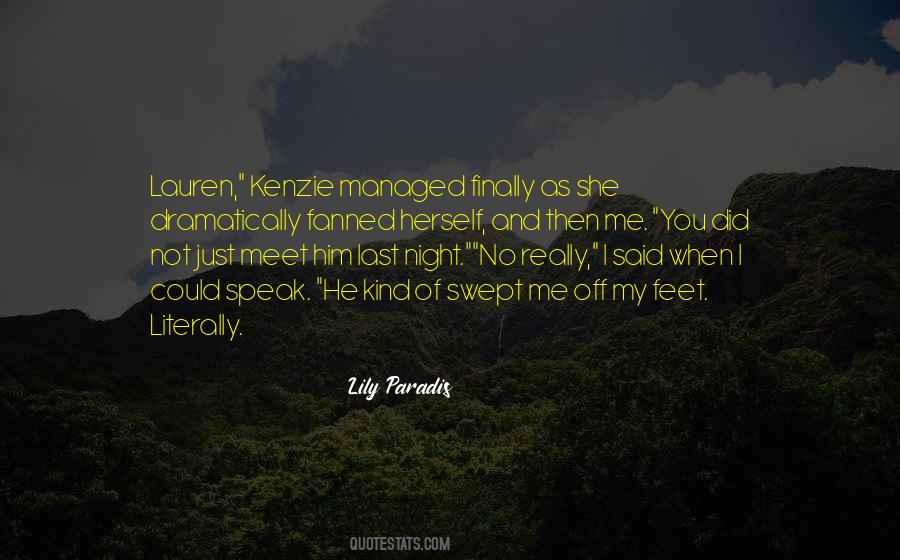 #28. Then how's this? You ignite for me, but more, you make me ignite for you. And no woman, not in my whole goddamned life, has made me ignite the way you do. - Author: Kristen Ashley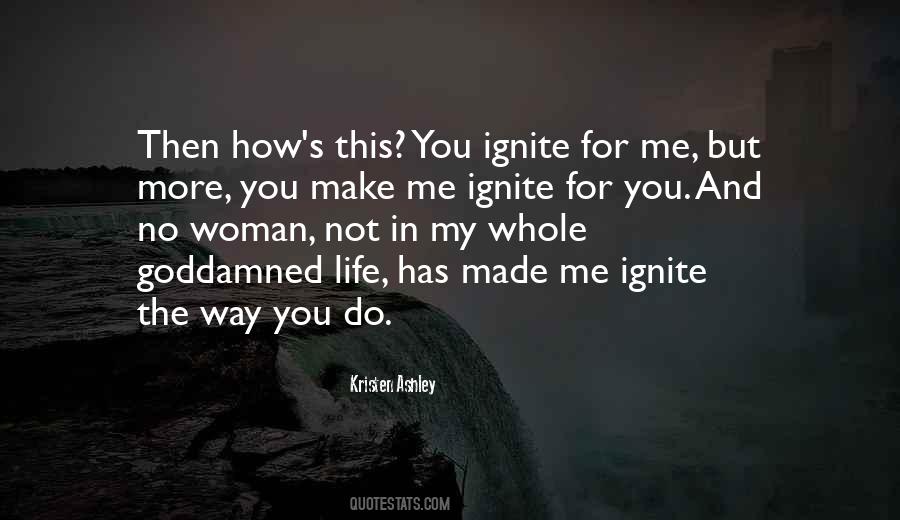 #29. If in my youth I had realized that the sustaining splendour of beauty of with which I was in love would one day flood back into my heart, there to ignite a flame that would torture me without end, how gladly would I have put out the light in my eyes. - Author: Michelangelo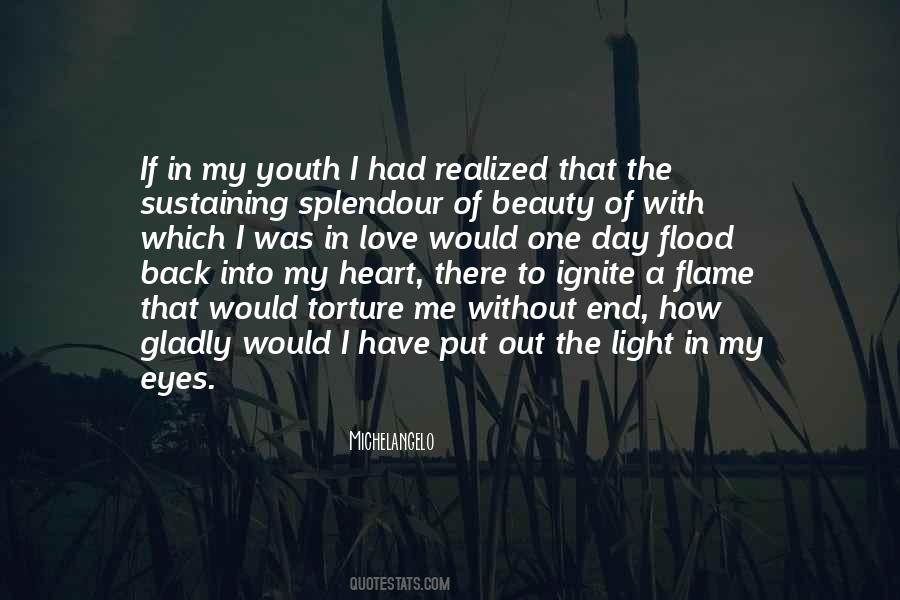 #30. I loved stories as a kid, both being read to me and enjoying on my own. All these stories inspired my imagination, and that's what I have always aimed at doing for my readers: ignite their imaginations. - Author: Tony DiTerlizzi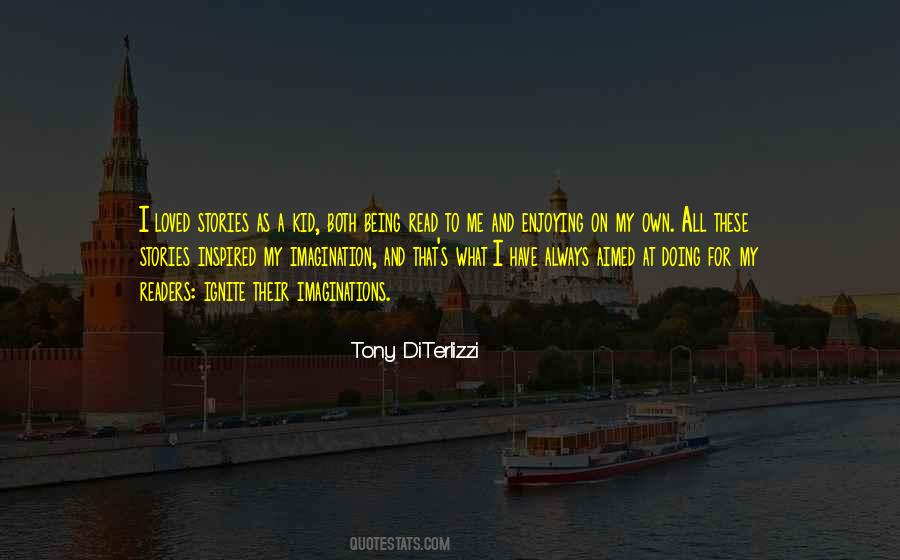 #31. I want you to be happy," I tell him, my eyes searching his. 'I want you to have a family. I want you to be surronded by people who care about you," I say. 'You deserve that. - Author: Tahereh Mafi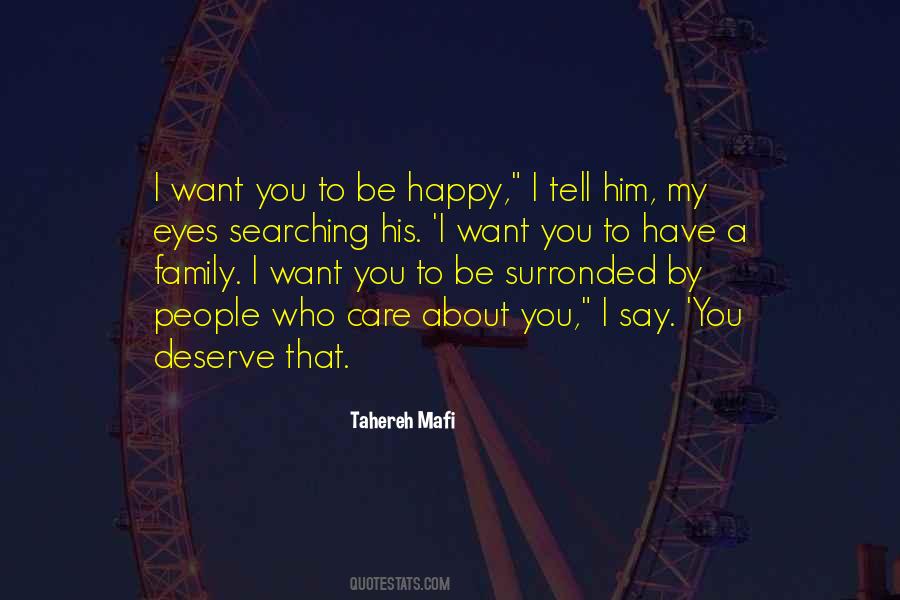 #32. You allow the world to think you're a heartless murderer," I tell him. "And you're not."
He laughs, once; his eyebrows lifting in surprise. "No," he says. "I'm afraid I'm just the regular kind of murderer. - Author: Tahereh Mafi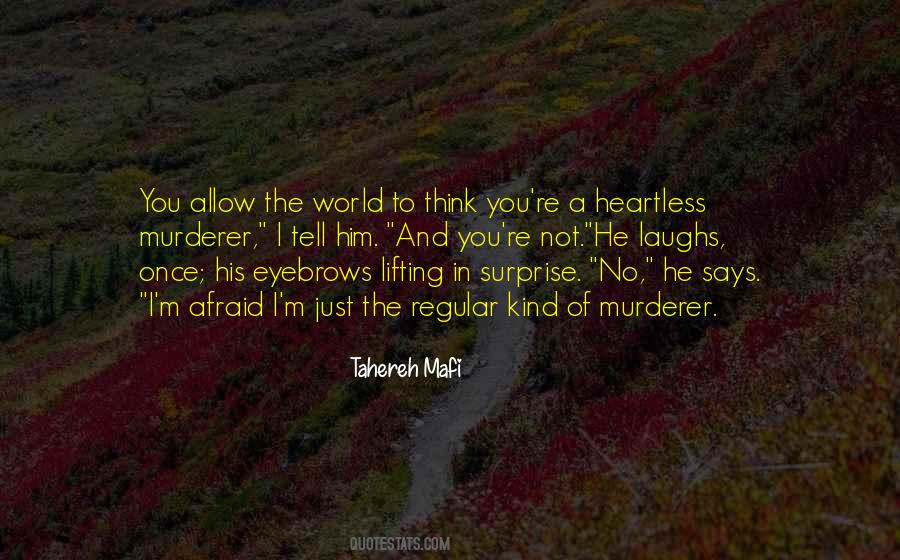 #33. People can think whatever they like ... I don't desire their validation. - Author: Tahereh Mafi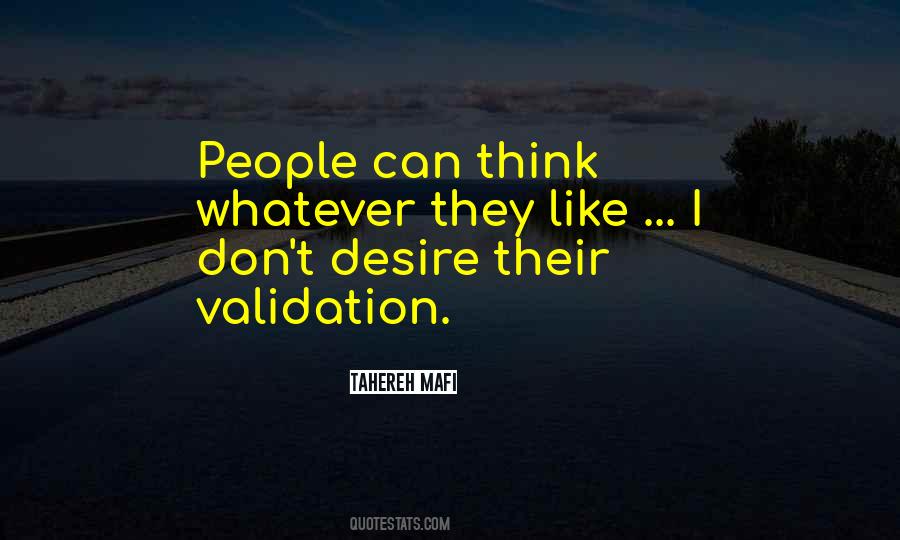 #34. I clench my fists and try not to scream and I tuck my friends in my heart and
revenge
I think
has never looked so sweet. - Author: Tahereh Mafi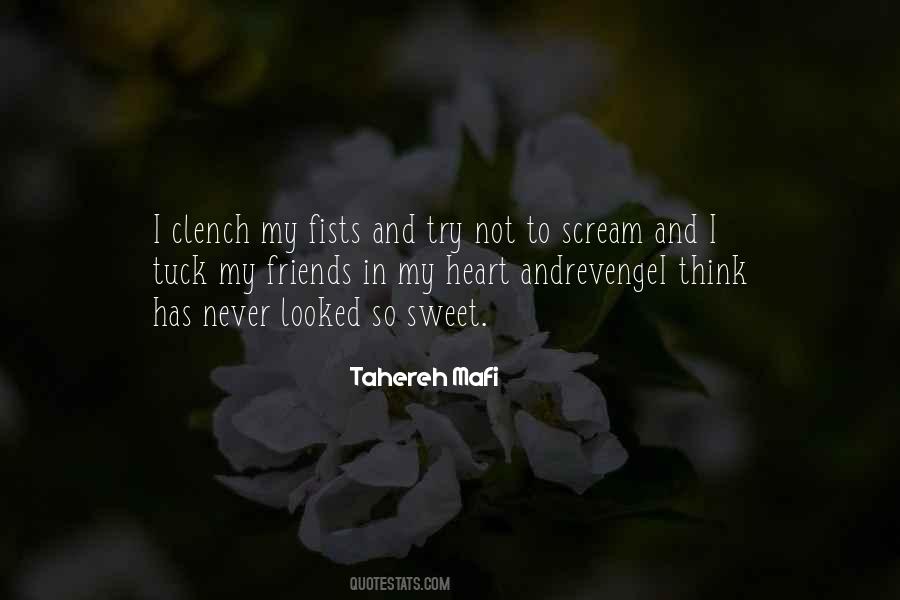 #35. It's not charity," I snap. "He cares about me
and I care about him!"
Warner nods, unimpressed. "You should get a dog, love. I hear they share much the same qualities. - Author: Tahereh Mafi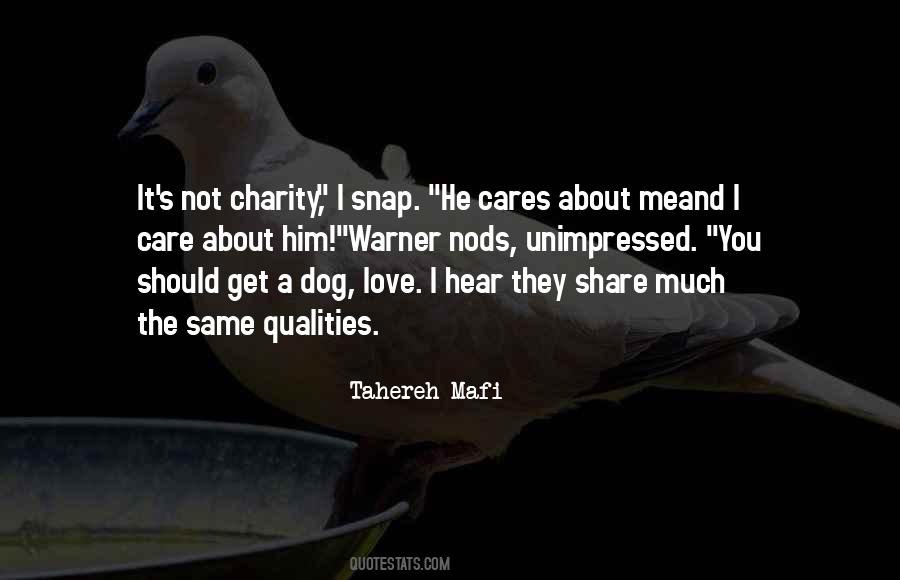 #36. I will keep the ground that God has given me and perhaps in his grace, he will ignite me again. But ignite me or not, in his grace, in his power, I will hold the ground. - Author: John Knox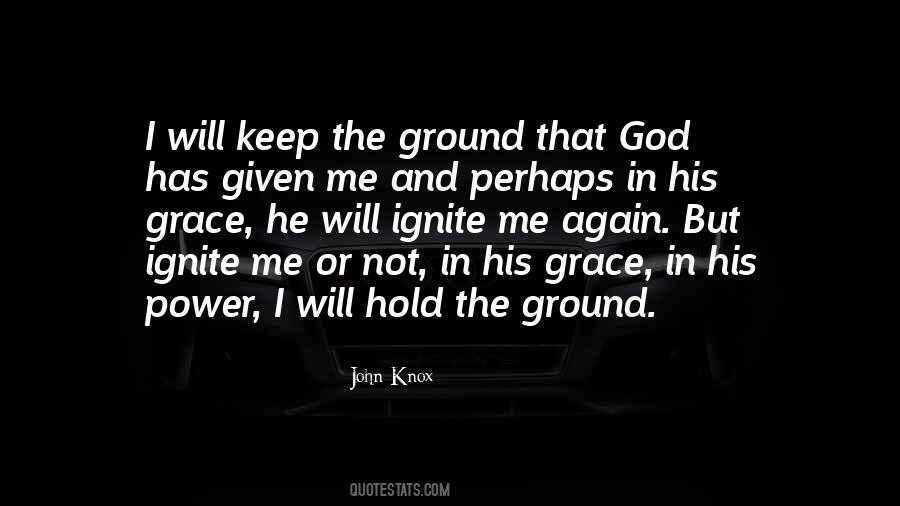 #37. I do know that I don't want to wake him.
We were up very late last night. - Author: Tahereh Mafi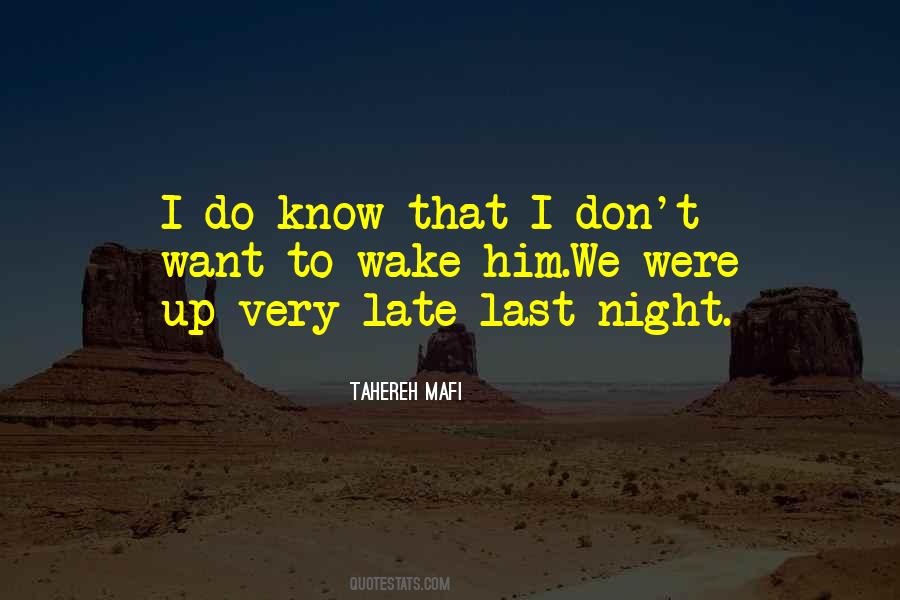 #38. I'm here for you kid. That's what friends are for. - Author: Tahereh Mafi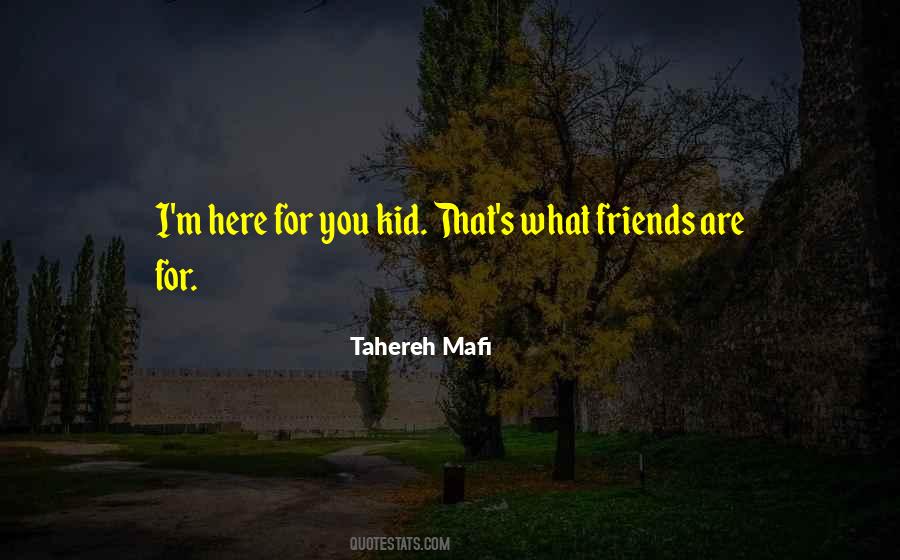 #39. I love you, Lauren Lindsay. I want to kiss you more than I want to breathe, but I don't want you to think you're just another notch in my belt. You're not. You're it for me. I want you to have everything and I want to make sure I'm good enough for you. You deserve more than who I was. - Author: Lily Paradis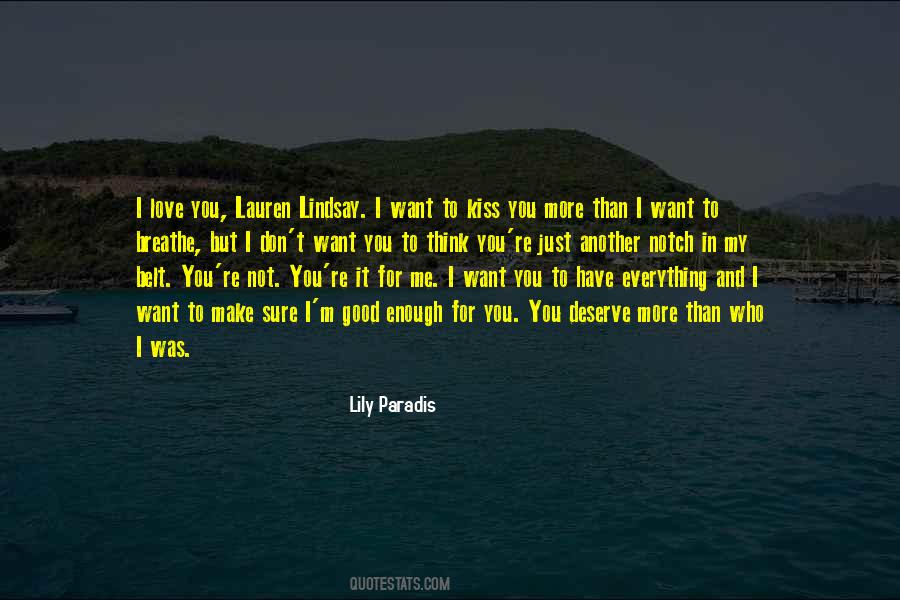 #40. Hang tight
Hold on
Look up
Stay strong
Hang on
Hold tight
Look strong
Stay up
One day I might break
One day I might
b r e a k
free - Author: Tahereh Mafi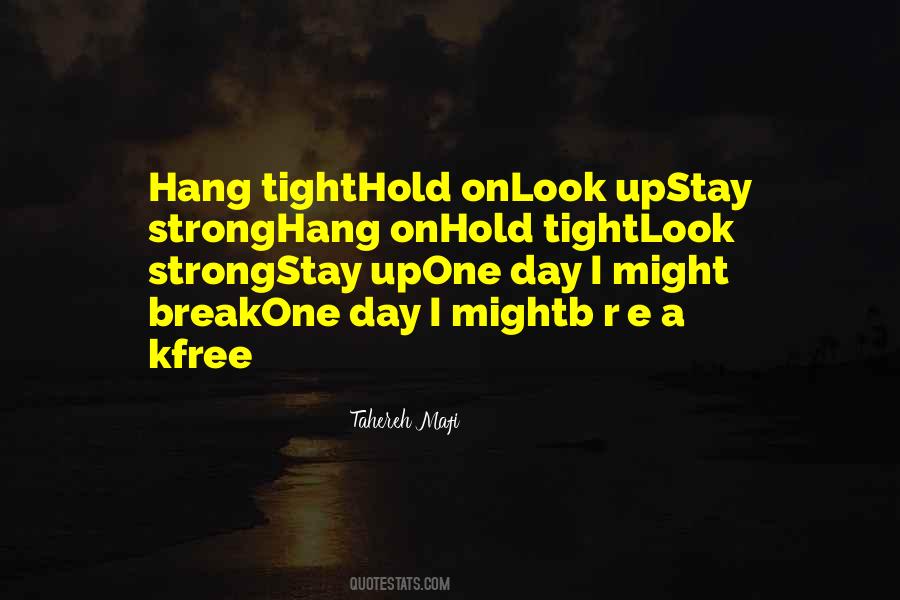 #41. So, let me get this straight," Winston says. "Our plan is basically seduce the soldiers and civilians of Sector 45 into fighting with us?"
Kenji crossed his arms. "Yeah, it sounds like we're going to go all peacock and hope they find us attractive enough to mate with."
"Gross," Brendan frowns. - Author: Tahereh Mafi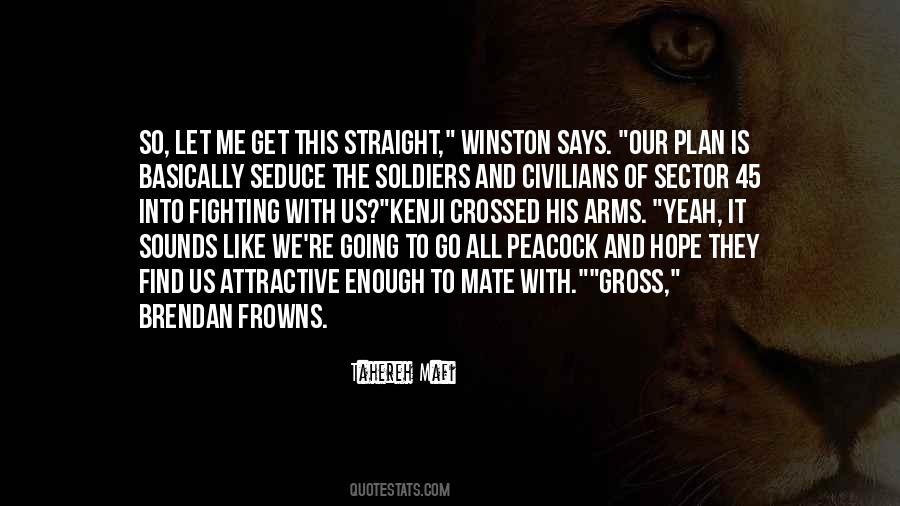 #42. We're too different now. We want different things. And this?" I say nodding at our hands. "All this managed to prove is that you are extremely good at turning me off - Author: Tahereh Mafi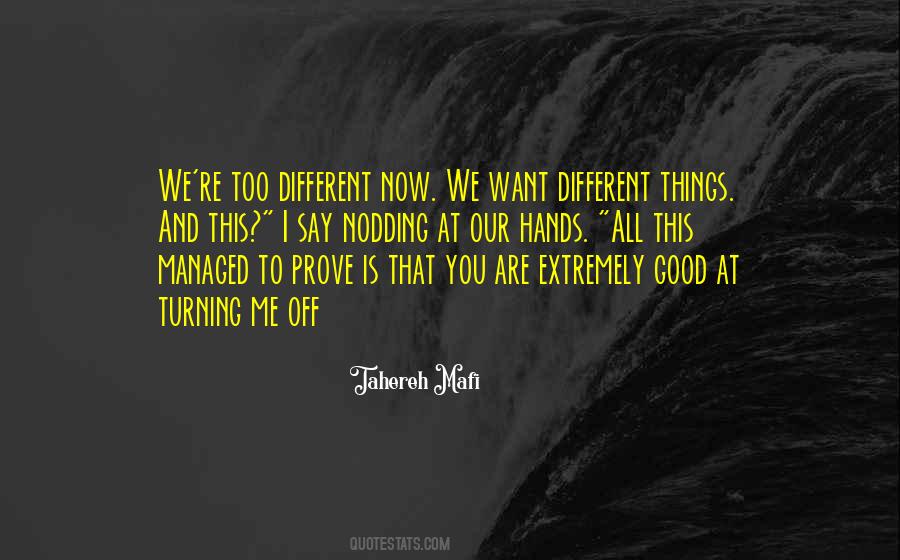 #43. The second our eyes met, I knew something has changed. Kenzie was right. He looked at me like he could see into my very soul, and it felt as if I couldn't breathe. - Author: Lily Paradis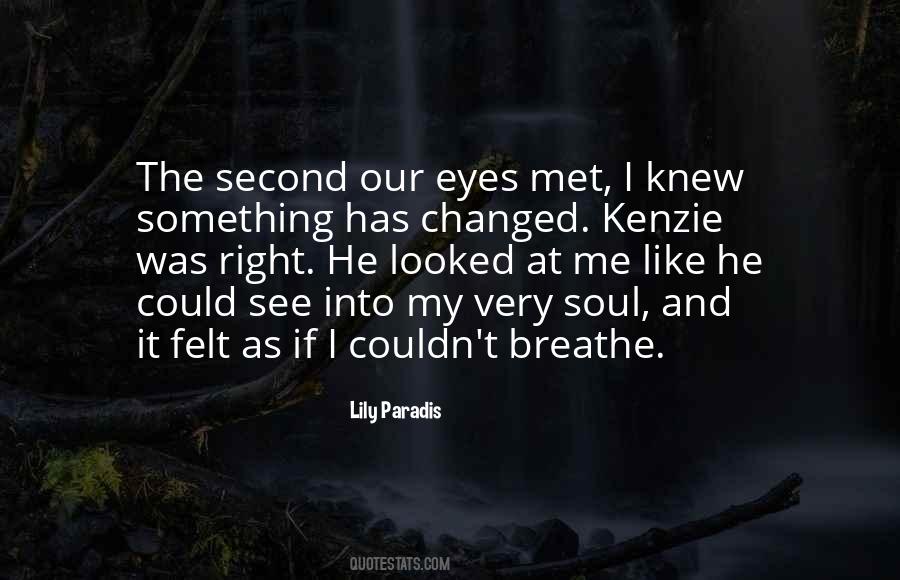 Famous Authors
Popular Topics