How We Should Live Our Lives Famous Quotes & Sayings
List of top 42 famous quotes and sayings about how we should live our lives to read and share with friends on your Facebook, Twitter, blogs.
Top 42 Quotes About How We Should Live Our Lives
#1. There is a fundamental question we all have to face. How are we to live our lives; by what principles and moral values will we be guided and inspired? - Author: H. Jackson Brown Jr.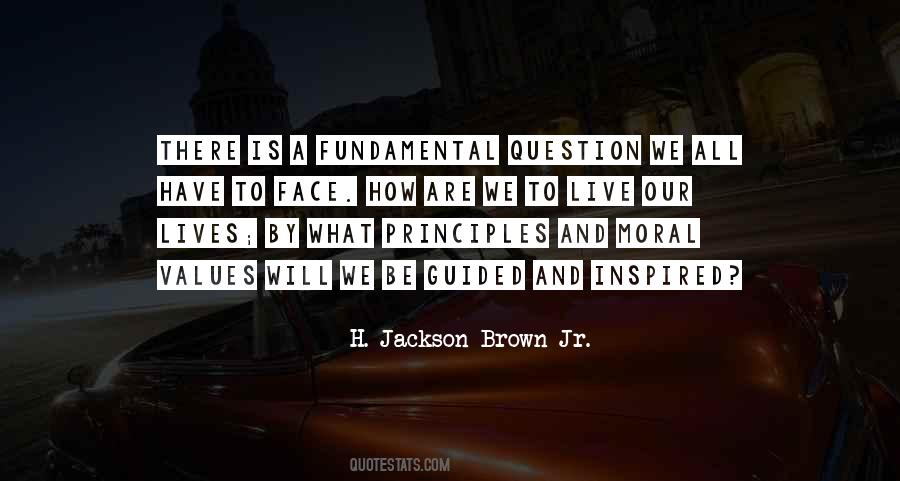 #2. We cannot tolerate one mistake from others, and yet God tolerates a planet covered with His own creation that live their entire lives sinning and denying Him, and yet continues to feed, clothe and protect them. - Author: Yasmin Mogahed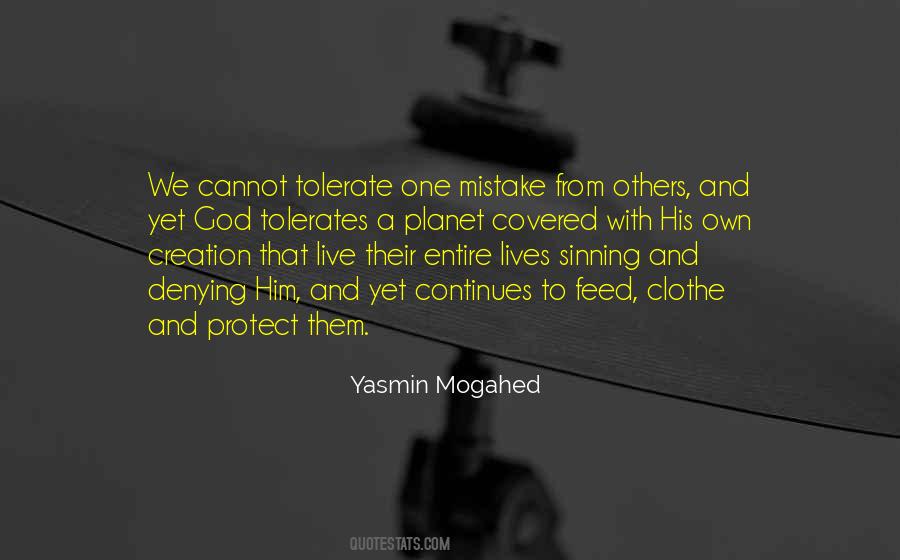 #3. think about the littler rules. Club rules. Social standards. Values. "The way things are normally done." Opinions, every one. Yet we live our lives as if they're immutable truths. - Author: Johnny B. Truant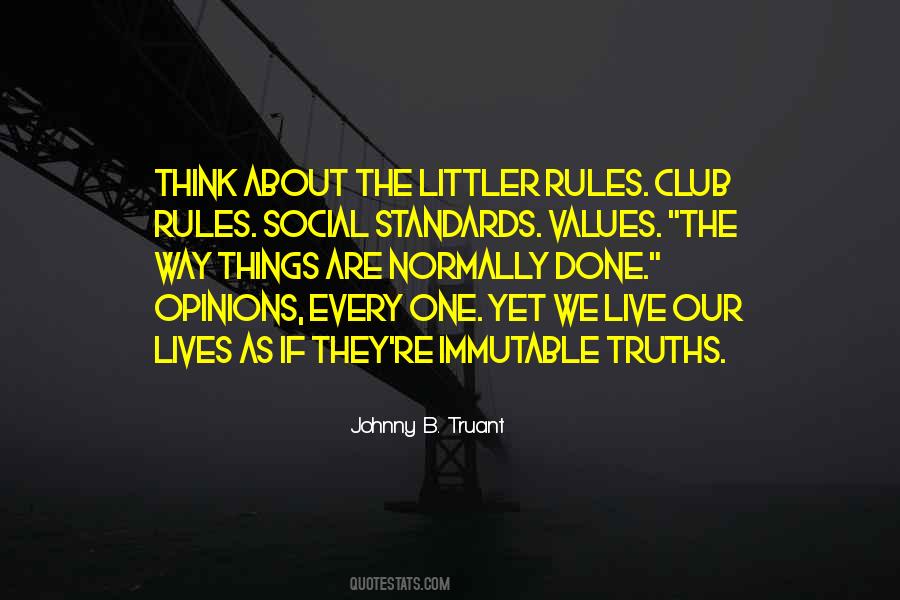 #4. Defining art is huge; I feel like it's such a subjective thing. It's more like what's not art. You know what I mean? I think there can be an art in the way people live their lives, and art can be a gift someone gives to somebody. - Author: Kathleen Hanna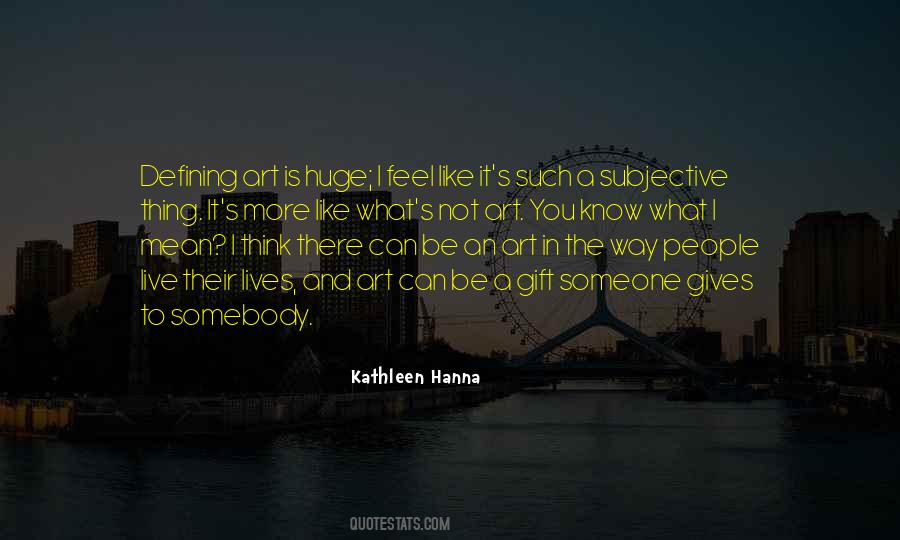 #5. We live our dreams, we do not live our lives - Author: Hisham Fawzi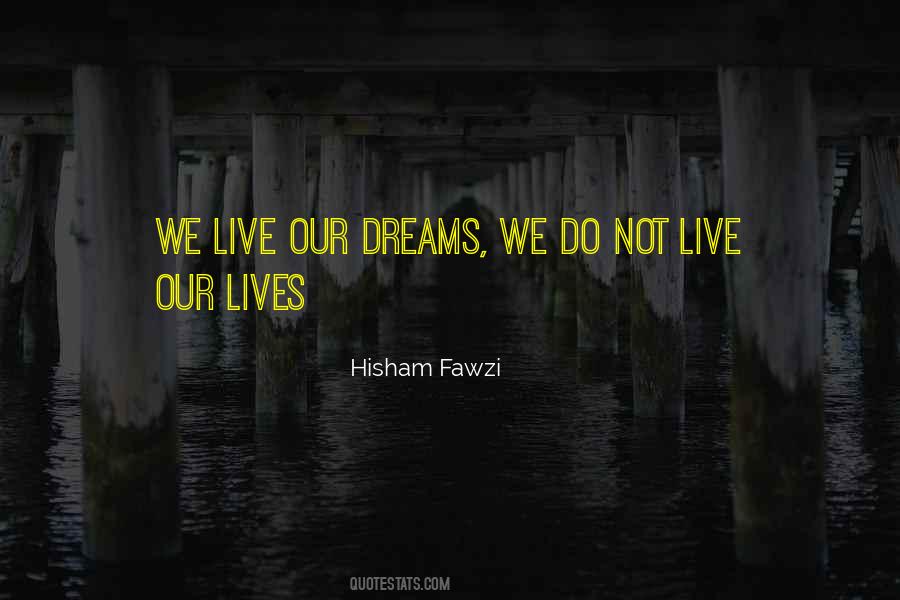 #6. One personal tip that my trainer gave me was, "Don't take things personally. People are calling on the worst days of their lives and you're their first point of contact. Be like a duck and let the water roll off your back." I live by those words when I'm at work. - Author: Cameron West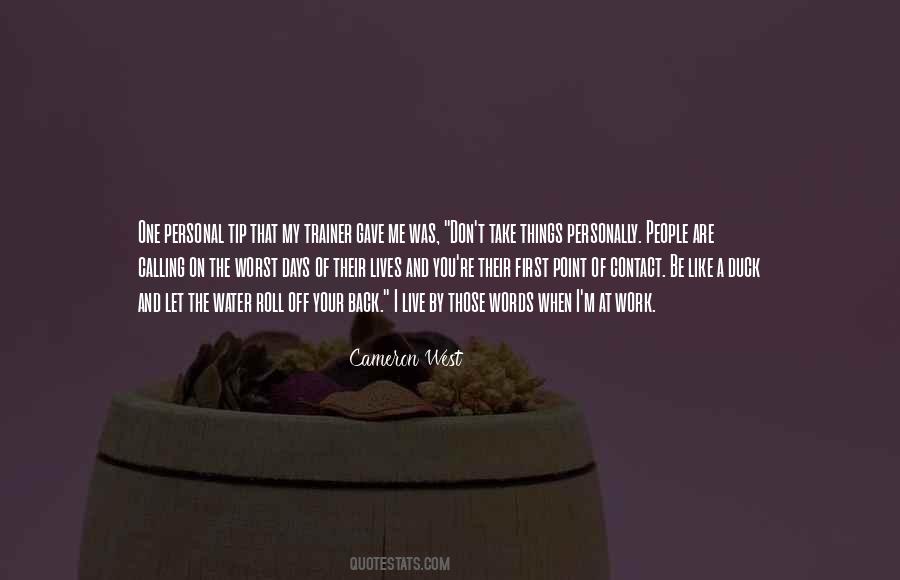 #7. To abandon all is to take our hearts, place them before the One who created them, and dare to believe He can live life powerfully through our surrendered lives. - Author: Mary E. DeMuth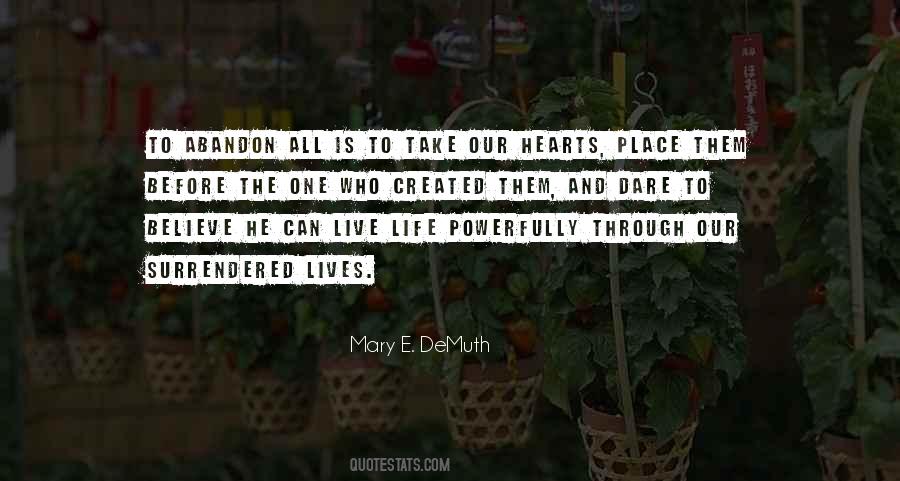 #8. It seems sensible to me that we should look to the medical profession, that over the centuries has helped us to live longer and healthier lives, to help us die peacefully among our loved ones in our own home without a long stay in God's waiting room. - Author: Terry Pratchett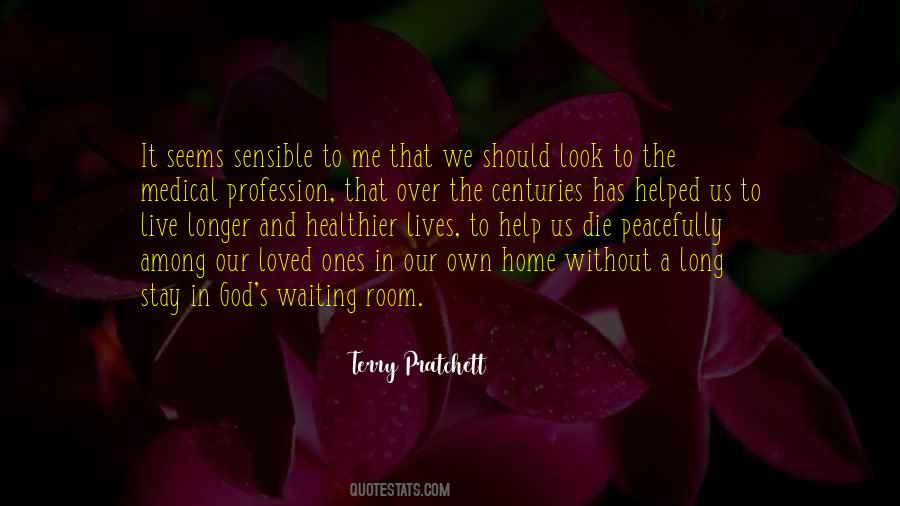 #9. Ultimately the men who choose against violence, against death, do so because they want to live fully and well, because they want to know love. These are the men who are true heroes, the men whose lives we need to know about, honor, and remember. - Author: Bell Hooks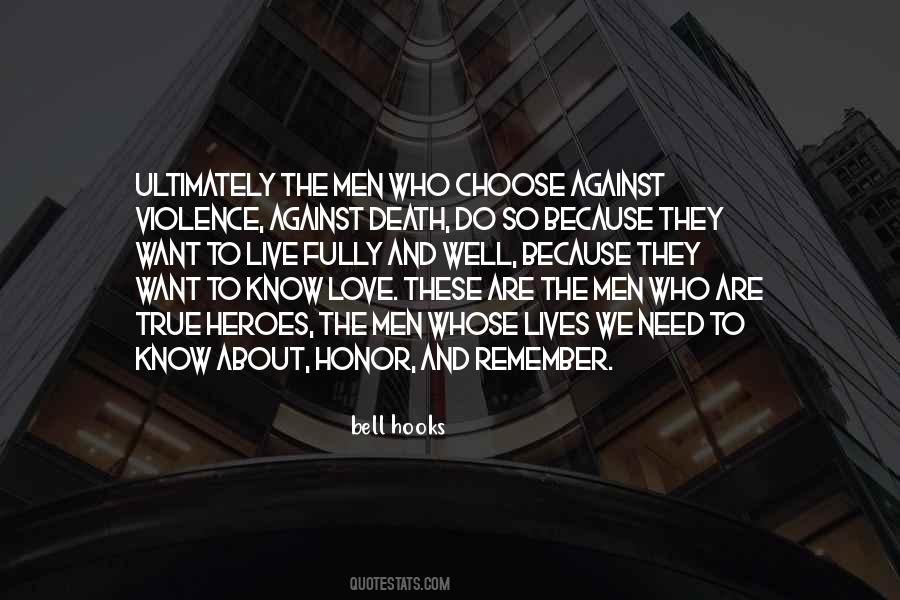 #10. Sonia lives her life fully. If she dies tomorrow, she'll die happy. If she lives the way you want her to live, she'll die miserable. So leave her alone, okay? - Author: Sonia Sotomayor
#11. We must look for ways to be an active force in our own lives. We must take charge of our own destinies, design a life of substance and truly begin to live our dreams. - Author: Les Brown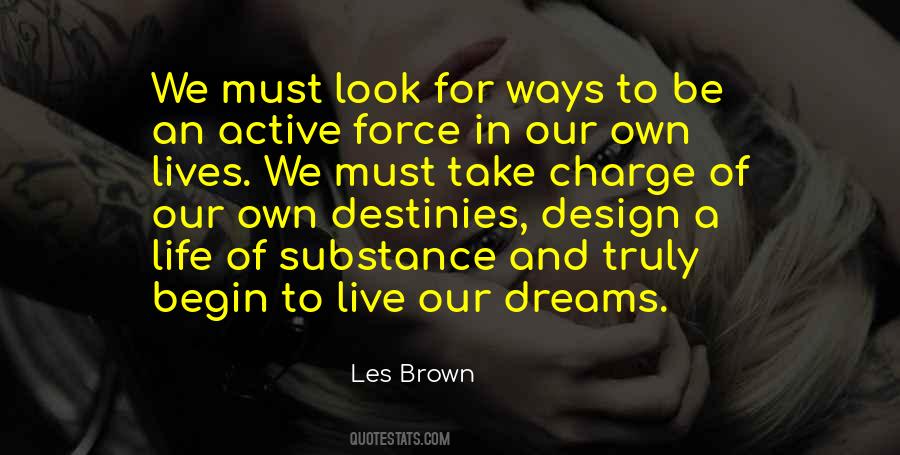 #12. Hell is the place for people who did not live their lives according to the best of what was in them. - Author: Harriet Rubin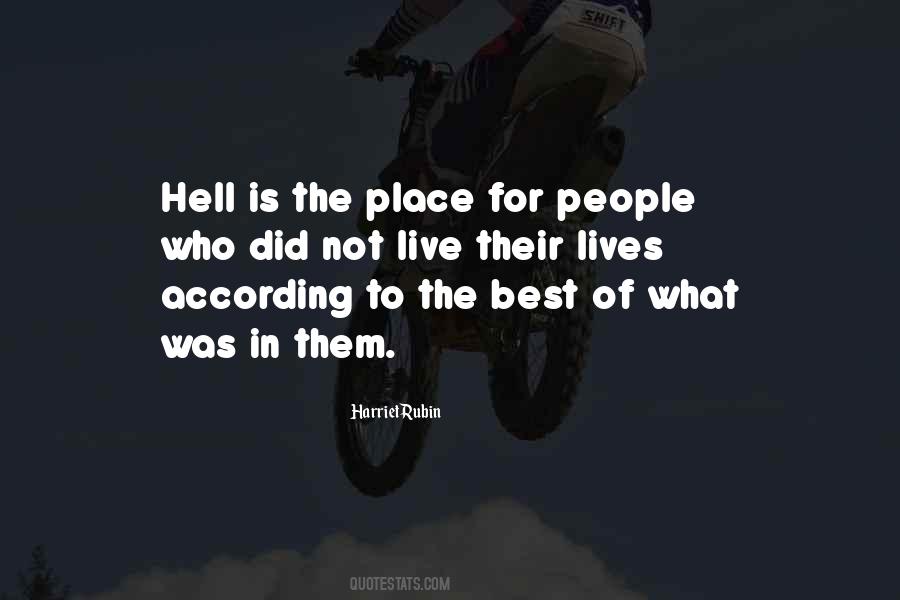 #13. Your perspective is vital to your happiness. Some, blind to the bountiful opportunities around them, live lives of sadness and despair with brief moments of joy. Be alive to the abundant potential that surrounds you so that you live a life of peace and happiness with periods of challenging growth. - Author: Richard G. Scott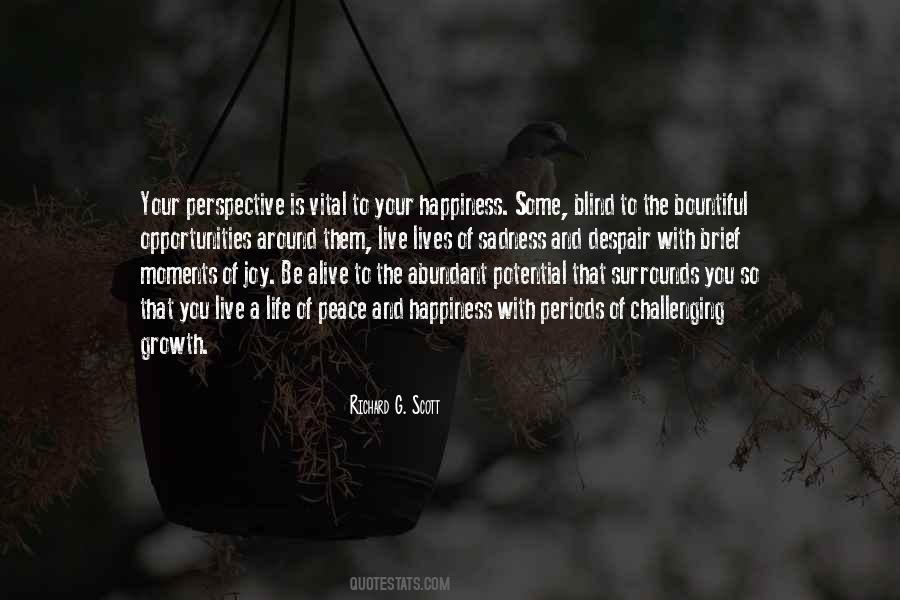 #14. I just want people to respect the privacy of my relatives in Taiwan ... They need to live their lives as well. - Author: Jeremy Lin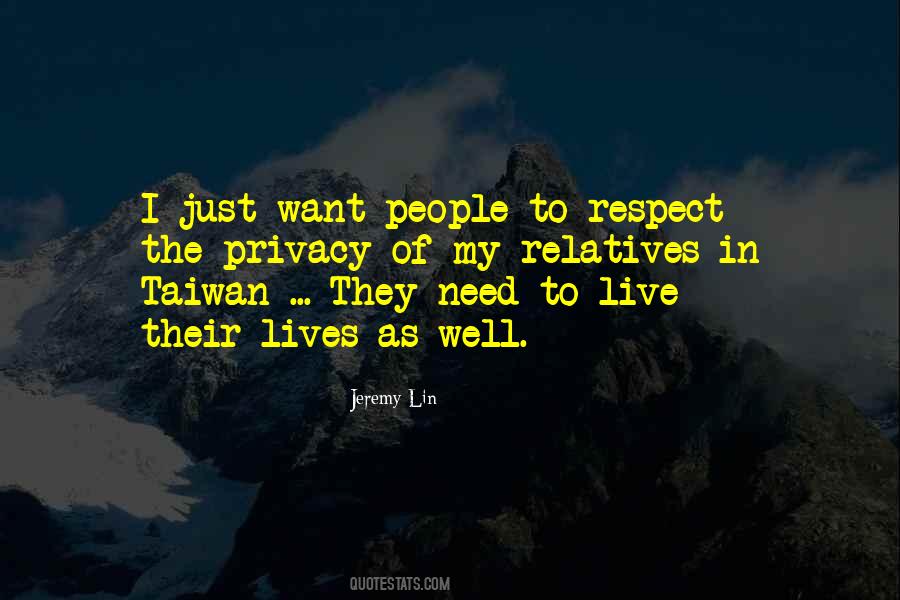 #15. YOLO. A slogan, a rallying cry, carpe diem for the skateboarder set: You only live once. But was it true? That was the problem, wasn't it? She had never thought about it in any deep way. She hadn't had the time or inclination to speculate about other lives: this one was hard enough to manage. - Author: Sharon Guskin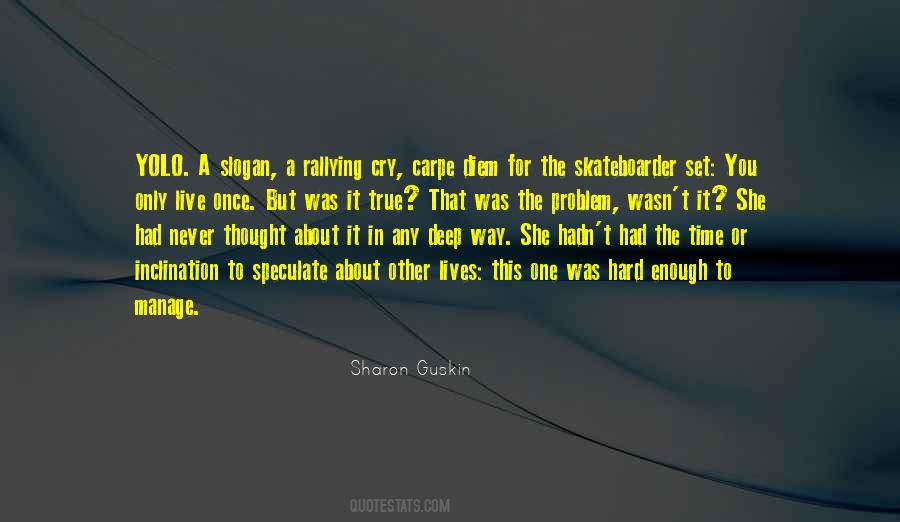 #16. Most of the time when we tell our children how to live their lives, it's because we don't respect them. We feel sorry for them, and we try to do for them what they should do for themselves. - Author: Miguel Ruiz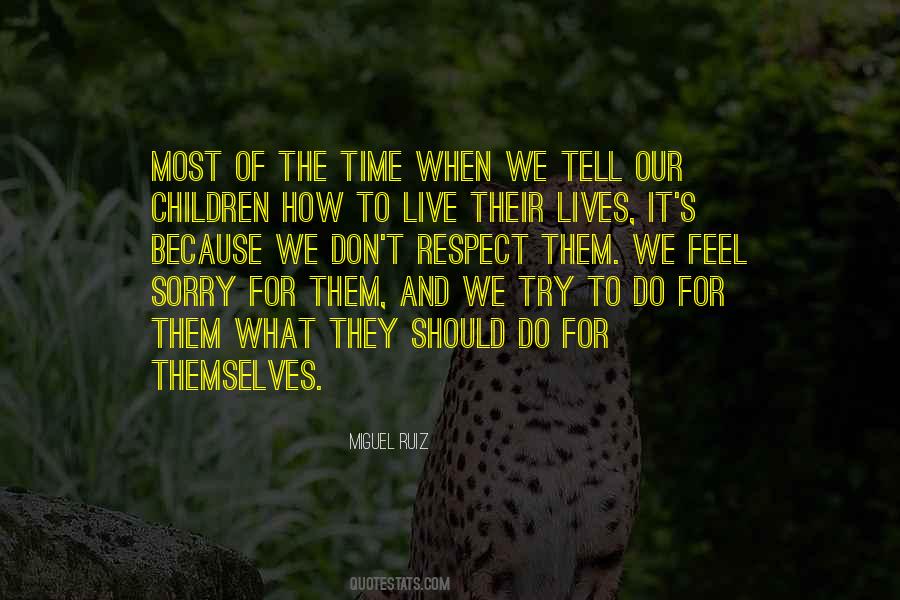 #17. I resent the fact that people in places like Boston, New York, Chicago, Los Angeles, and San Francisco believe that they should be able to tell us how to live our lives, operate our businesses, and what to do with the land that we love and cherish. - Author: Wilford Brimley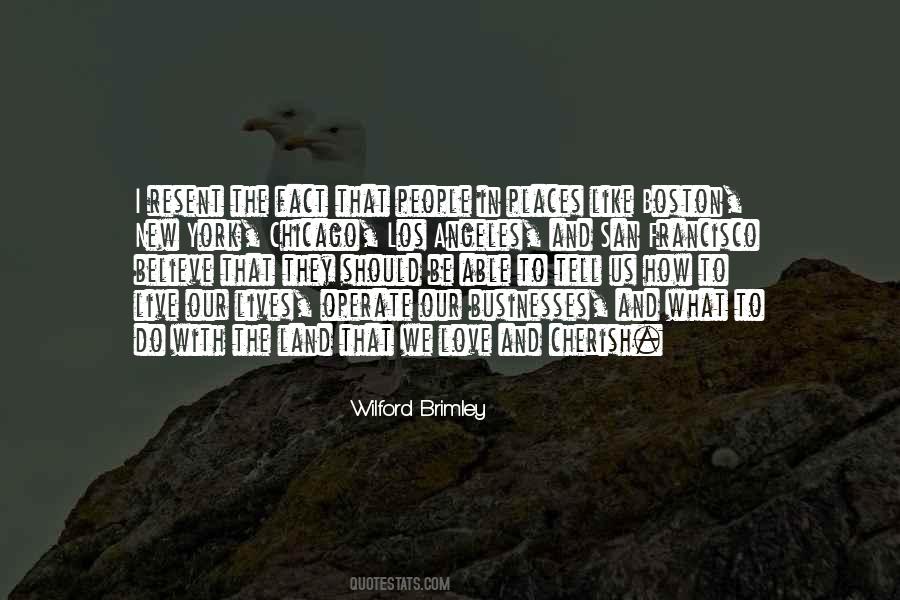 #18. Human beings have the largest impact on the overall health of the planet, and therefore we should be more responsible with how we live our lives. All of the tragedies that we are experiencing today can be linked back to the actions of human beings. - Author: Joseph P. Kauffman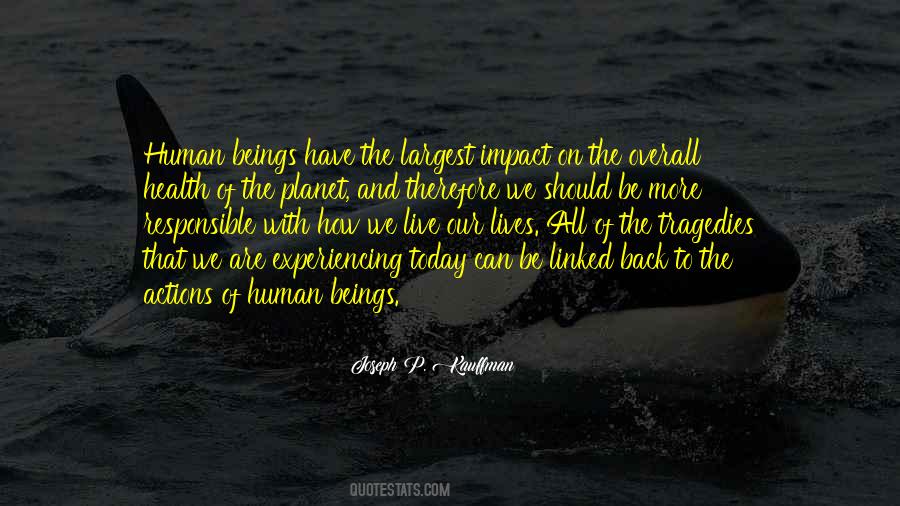 #19. Our government, taxes, and ideas of freedom are already duplicates of the Old World. Our politicians determine how we should live our lives - and our individual liberties are sacrificed for the benefit of the Fatherland. - Author: Harry Browne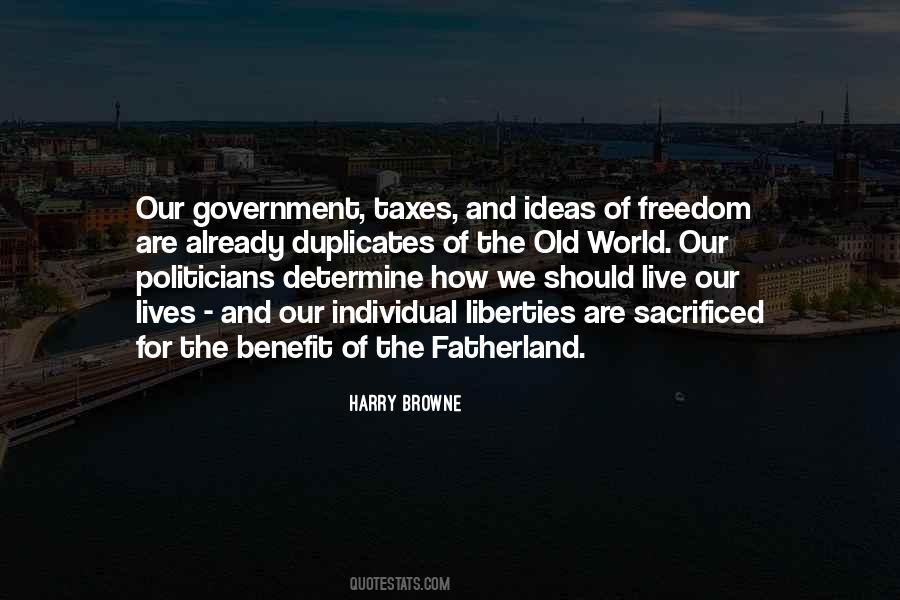 #20. Somatic Exercises can change how we live our lives, how we believe that our minds and bodies interrelate, how powerful we think we are in controlling our lives, and how responsible we should be in taking care of our total being. - Author: Thomas Hanna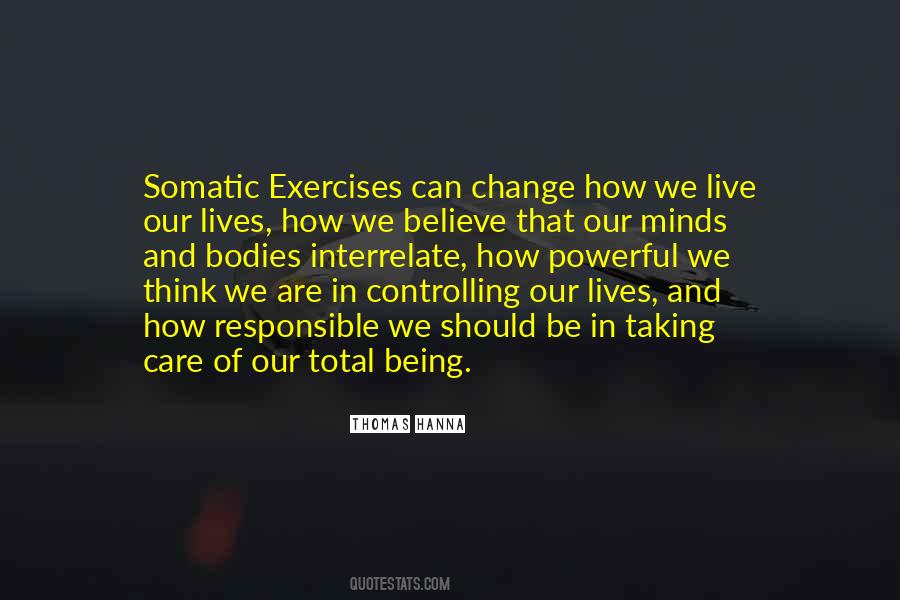 #21. I also believe that government has no business telling us how we should live our lives. I think our lifestyle choices should be left up to us. What we do in our private lives is none of the government's business. That position rules out the Republican Party for me. - Author: Jesse Ventura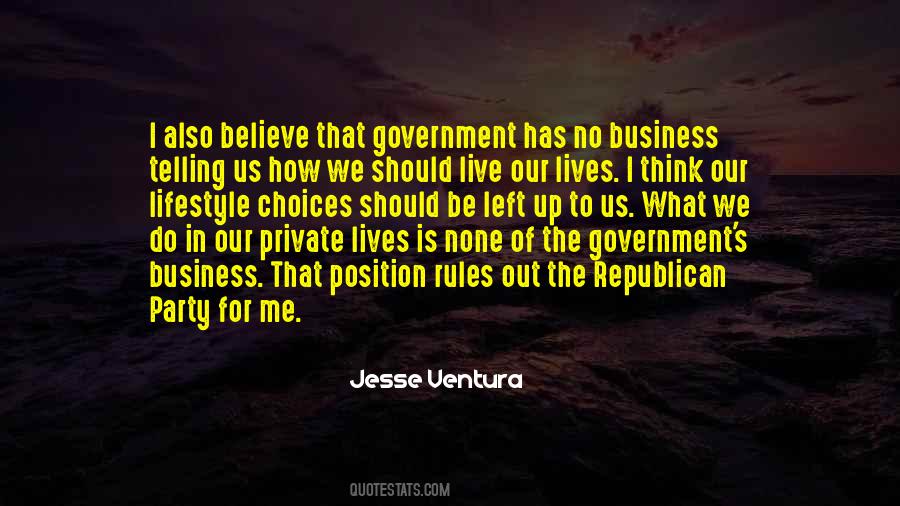 #22. Some people get to live life. Some people survive it. We're survivors. We can carve out our piece of happy, and, I swear to God, baby, right now, you got my vow, for you and for me, the rest of our lives, I'll bust my ass to carve our piece of happy. - Author: Kristen Ashley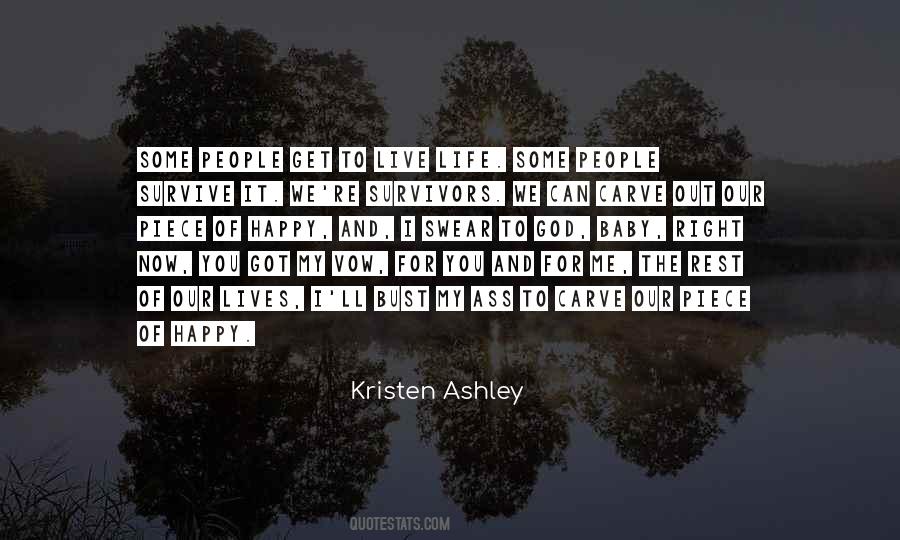 #23. I realized - and I am probably the last person in the world to realize this - that we live our lives with no editing. - Author: Alejandro Gonzalez Inarritu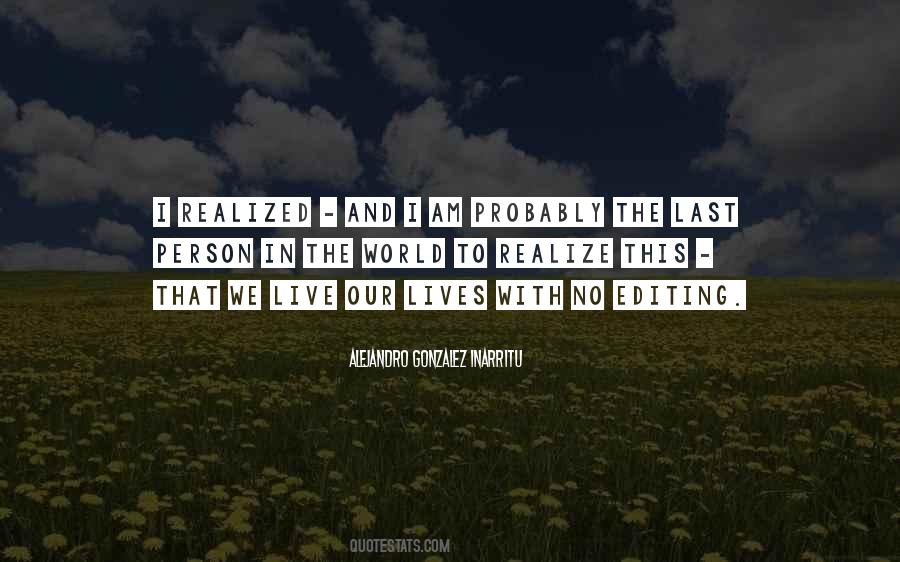 #24. We all gotta die, and we all gotta live with the things our dark sides do. People are afraid of their darkness, though. Spend their whole lives so scared of dyin' that they never get to live. Spend their whole lives pushin' down that darkness, until there ain't no light at all. - Author: Suzanne Palmieri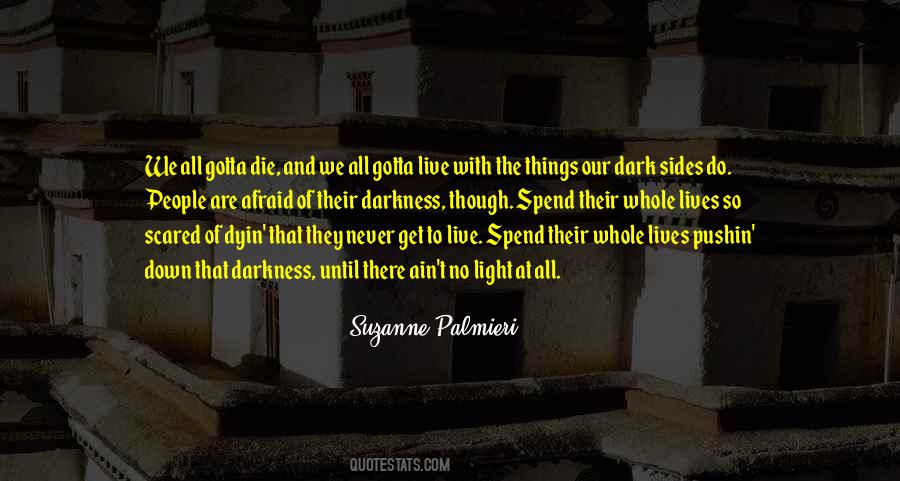 #25. Free men must live simple lives and have simple pleasures. - Author: William Morris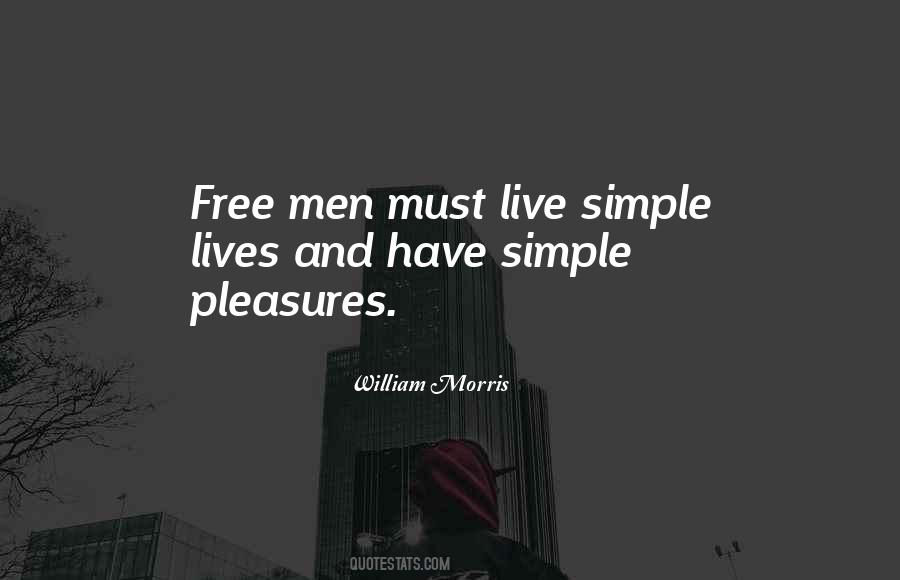 #26. Fools live in fear, a wise man lives in strength. - Author: Harbhajan Singh Yogi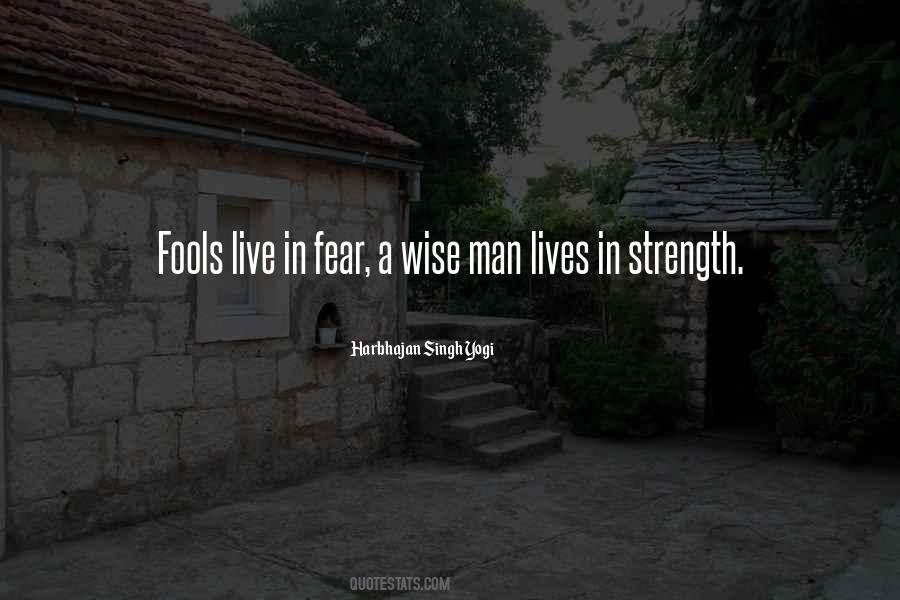 #27. Grace, not willpower, is what ultimately empowers us to live loving lives. Creativity, both in what spawns within the artist and the artifact, can be a vital source of that grace. - Author: Ronald Rolheiser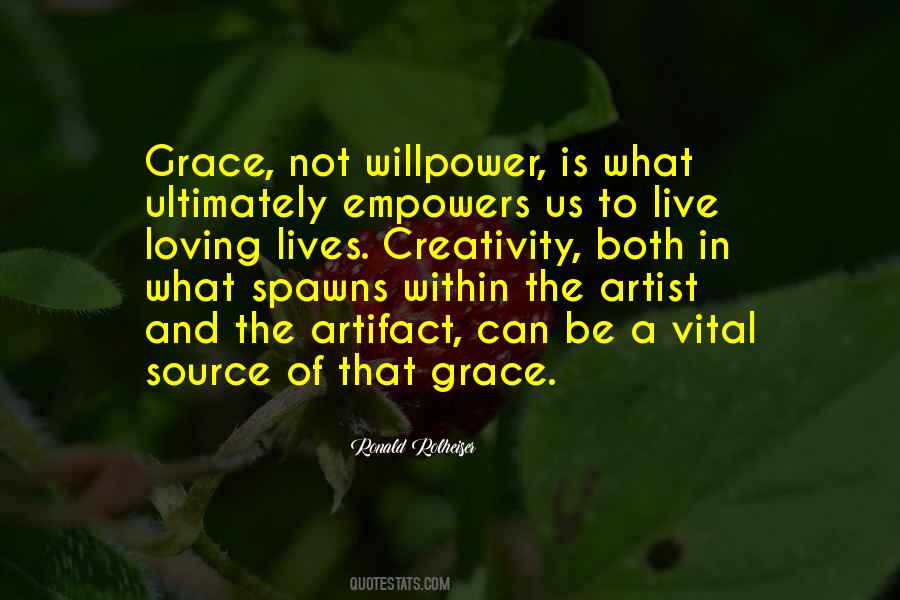 #28. I think that one of the biggest flaws of
mankind is that we become complacent with our lives. - Author: Daniel Willey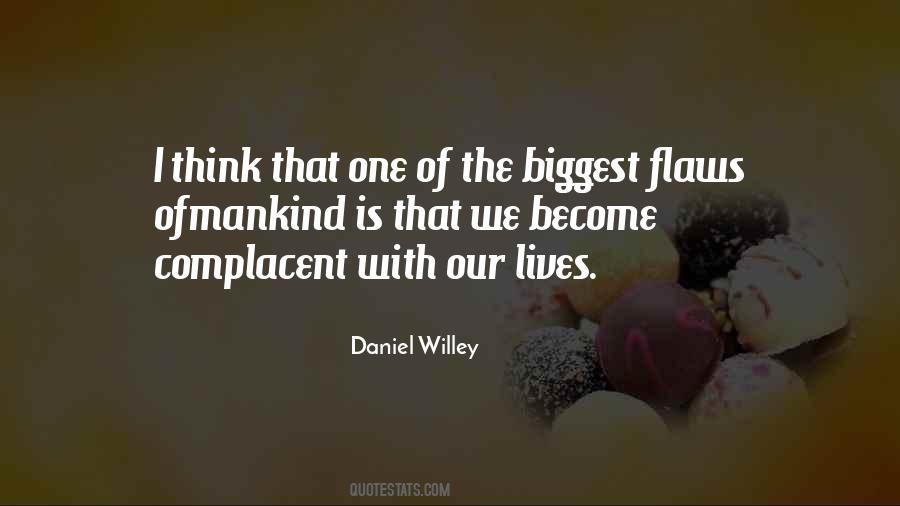 #29. Even someone who works with me, like this girl who works with me, her name is Sue. She lives with me and holds the fort; she takes care of all these little things. She takes care of the money situation, and I would not be able to live without someone like that. - Author: Caprice Bourret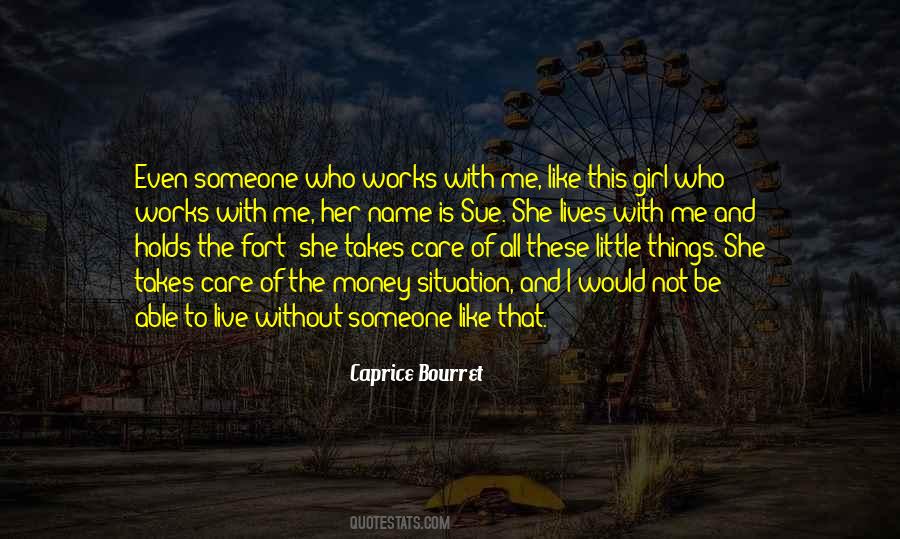 #30. Crisis' seems to be too mild a word to describe conditions in countless African-American communities. It is beyond crisis when in the richest nation in the world, African Americans in Harlem live shorter lives than the people of Bangladesh, one of the poorest nations of the world. - Author: Johnnetta B. Cole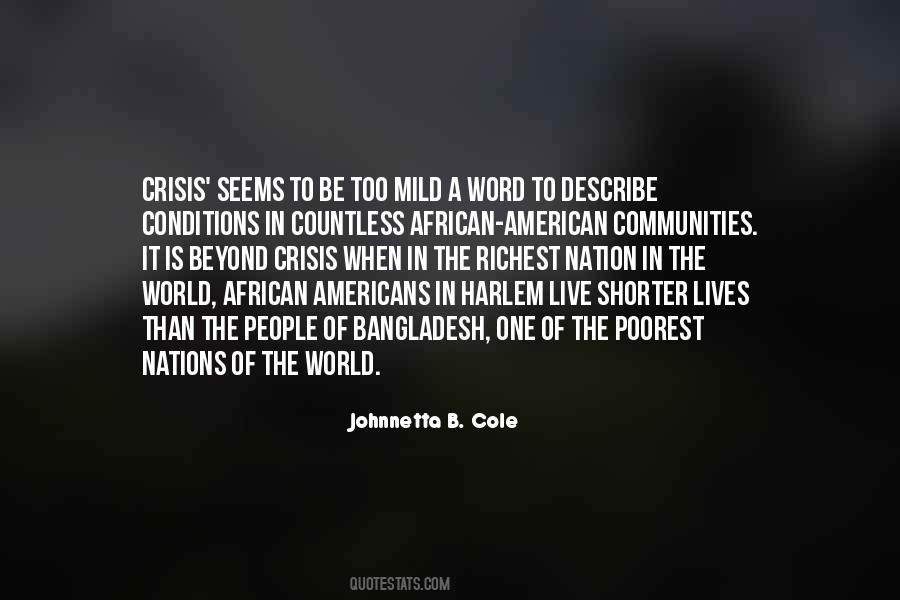 #31. Some live in poverty but with their honor; some live in wealth but with no honor! Some lives are respectable, some are disgraceful! - Author: Mehmet Murat Ildan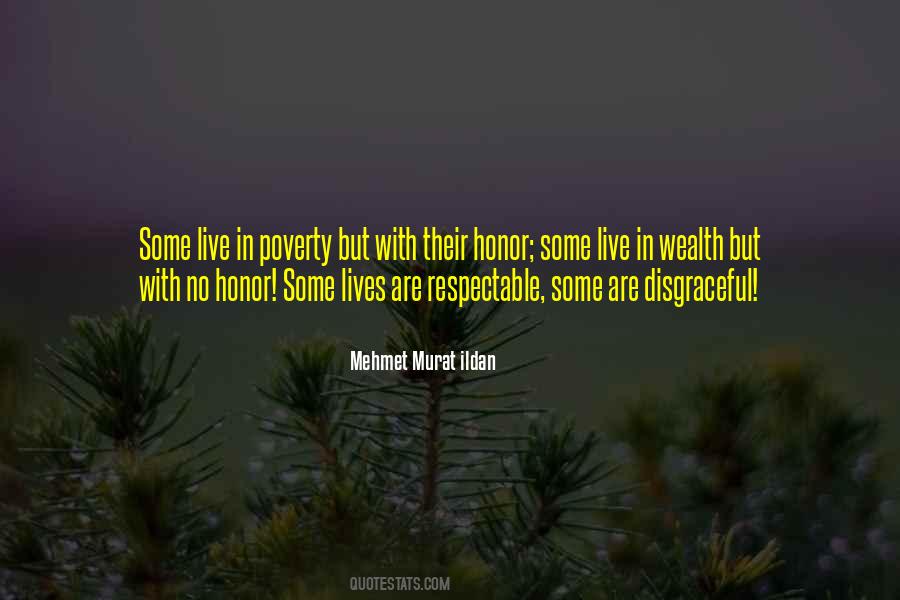 #32. When we ask people to live their lives through our models, we are potentially reducing life itself. How can we ever know what we might be losing? - Author: Jaron Lanier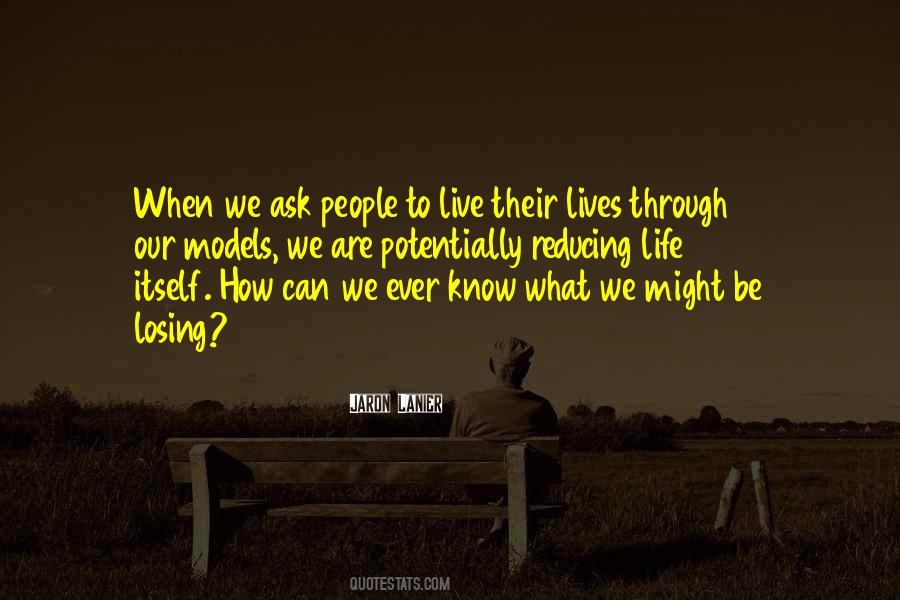 #33. It is naive to think that self-assertiveness is easy. To live self-assertively
which means to live authentically
is an act of high courage. That is why so many people spend the better part of their lives in hiding
from others and also from themselves. - Author: Nathaniel Branden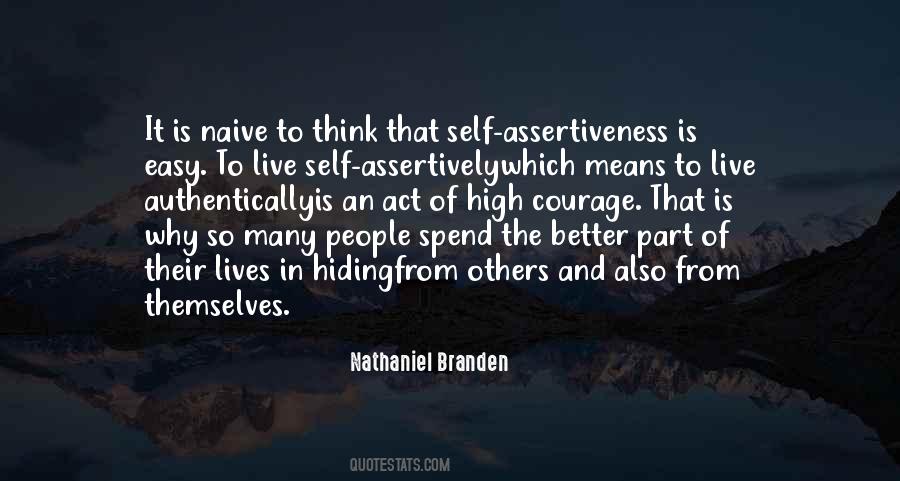 #34. I think we live in a unique time - the verbs that make up our online and mobile lives haven't been completely invented or imagined for us. That was kind of a life path I was on. - Author: Mark Pincus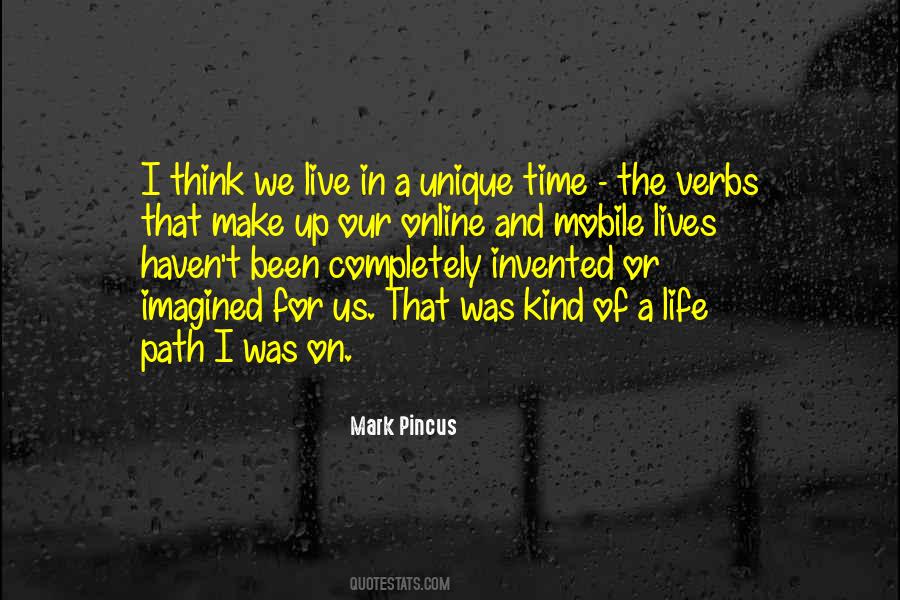 #35. Since fantasy isn't about technology, the accelleration has no impact at all. But it's changed the lives of fantasy writers and editors. I get to live in England and work for a New York publisher! - Author: Terri Windling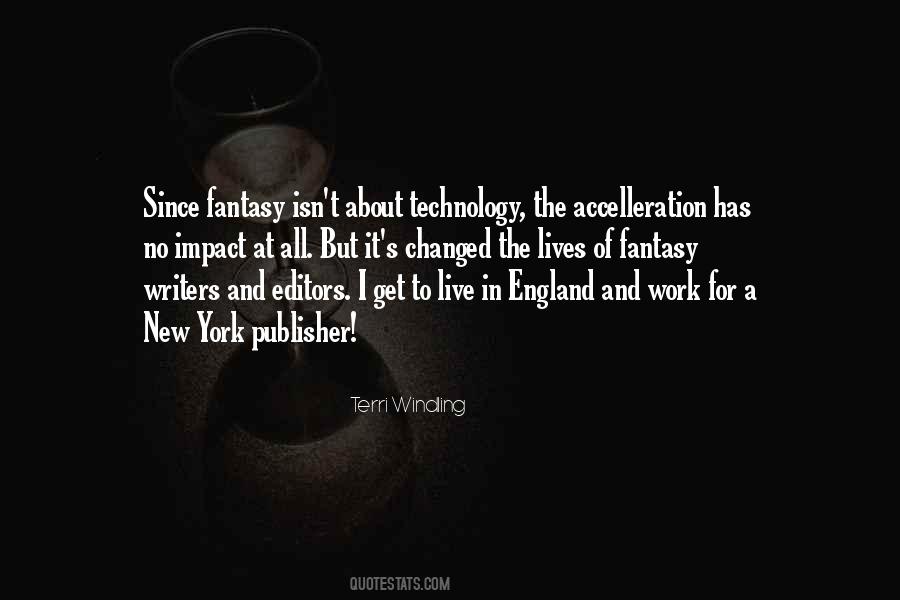 #36. You can choose to live your lives as demonstrations of your highest and grandest beliefs, rather than as denials of them. - Author: Neale Donald Walsch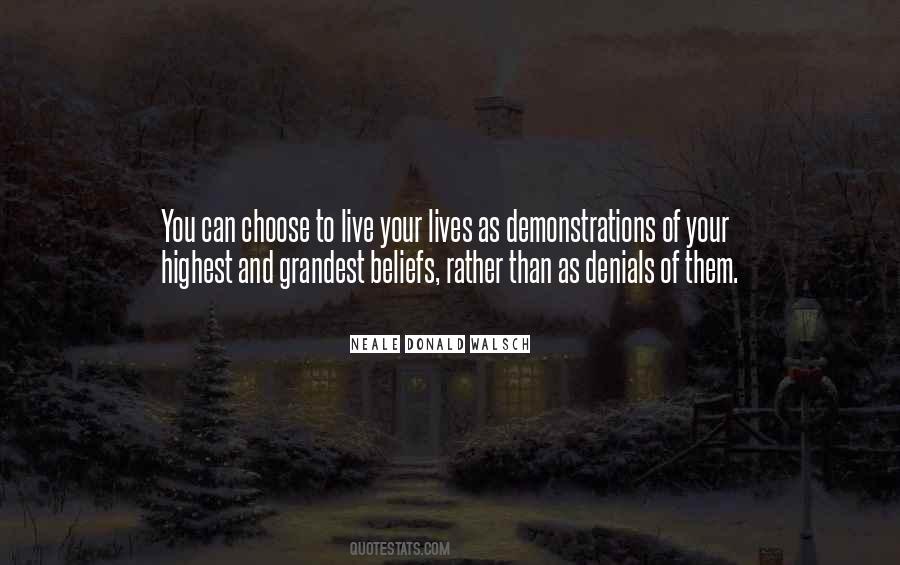 #37. Motherhood so often comes in conflict with women's capacity to express and live their own lives. - Author: Romola Garai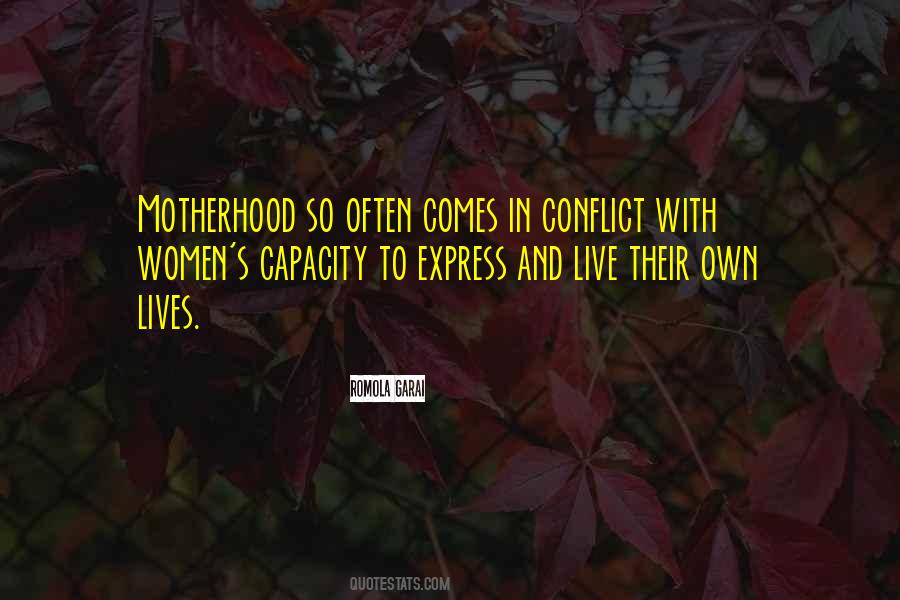 #38. We all have two lives: The true, the one we dreamed of in childhood And go on dreaming of as adults in a substratum of mist; the false, the one we love when we live with others, the practical, the useful, the one we end up by being put in a coffin. - Author: Fernando Pessoa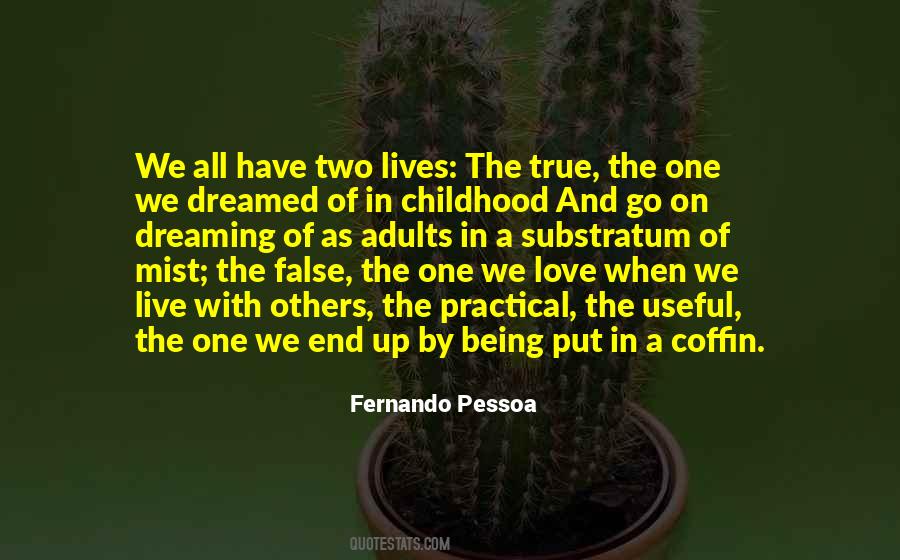 #39. Let us remember ... that in the end we go to poetry for one reason, so that we might more fully inhabit our lives and the world in which we live them, and that if we more fully inhabit these things, we might be less apt to destroy both. - Author: Christian Wiman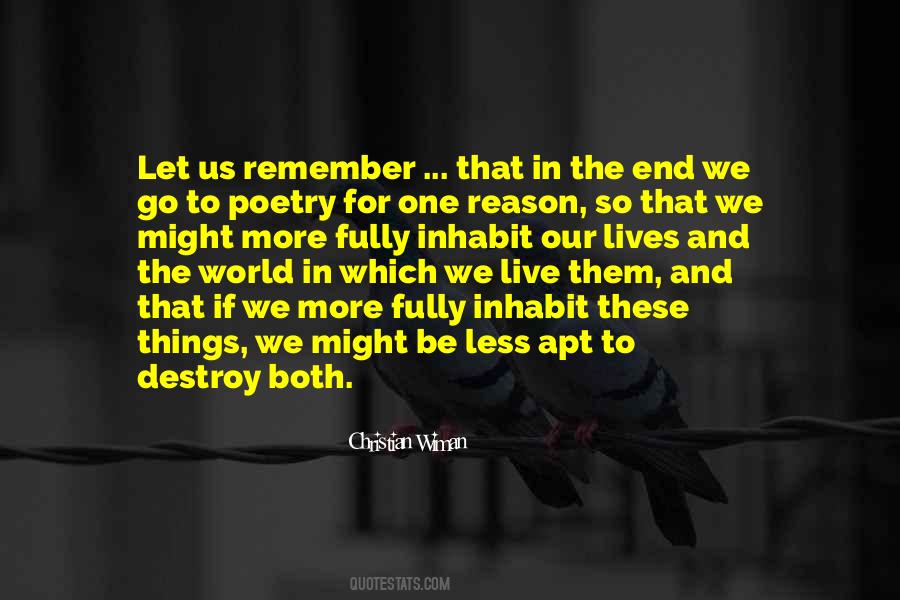 #40. If men live decently it is because discipline saves their very lives for them. - Author: Sophocles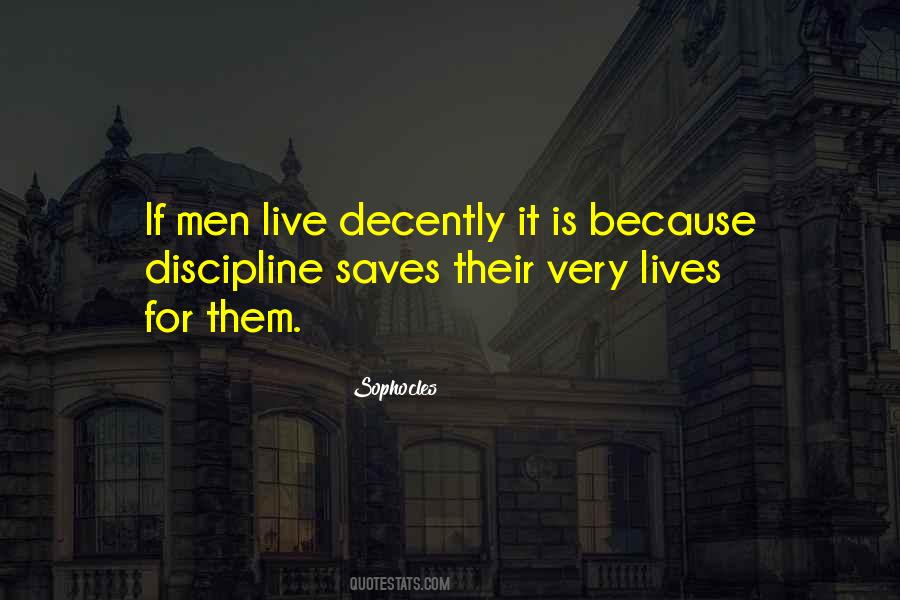 #41. We are not punished for our sins, we are punished by them. We can't live with guilt for the whole of our lives.. - Author: Susan Hill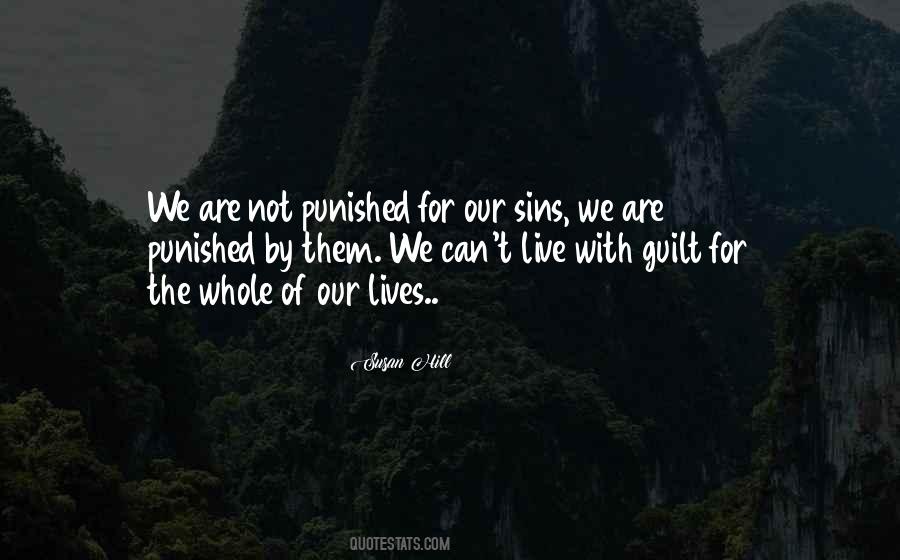 #42. Somebody should tell us, right at the start of our lives, that we are dying. Then we might live life to the limit, every minute of every day. Do it! I say. Whatever you want to do, do it now! There are only so many tomorrows. - Author: Pope Paul VI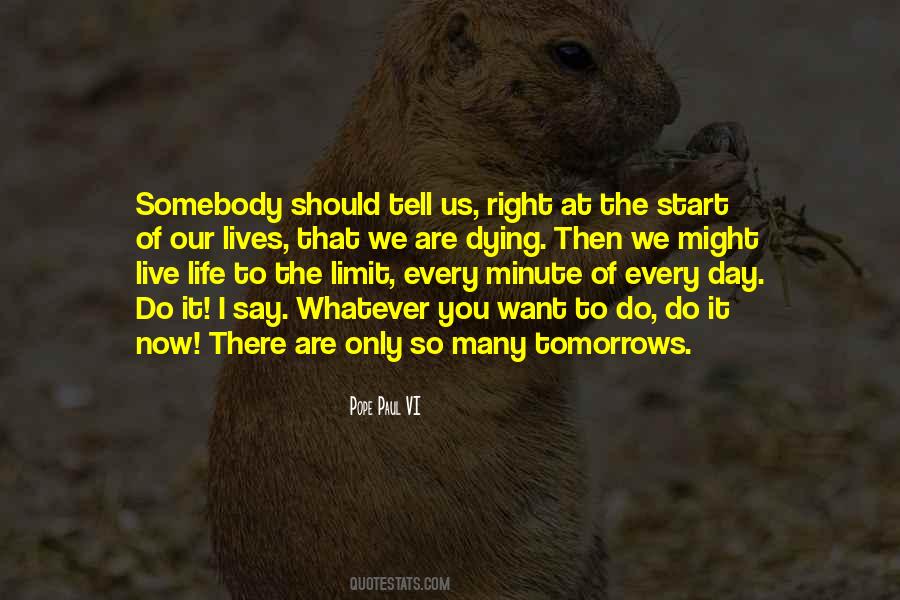 Famous Authors
Popular Topics