Home Roots Famous Quotes & Sayings
List of top 52 famous quotes and sayings about home roots to read and share with friends on your Facebook, Twitter, blogs.
Top 52 Quotes About Home Roots
#1. Tamils all over the world have a sense of belonging to the world itself, but our ancient roots come from India. I would like to explore India. I will keep coming back. This is the closest I can get to home. - Author: M.I.A.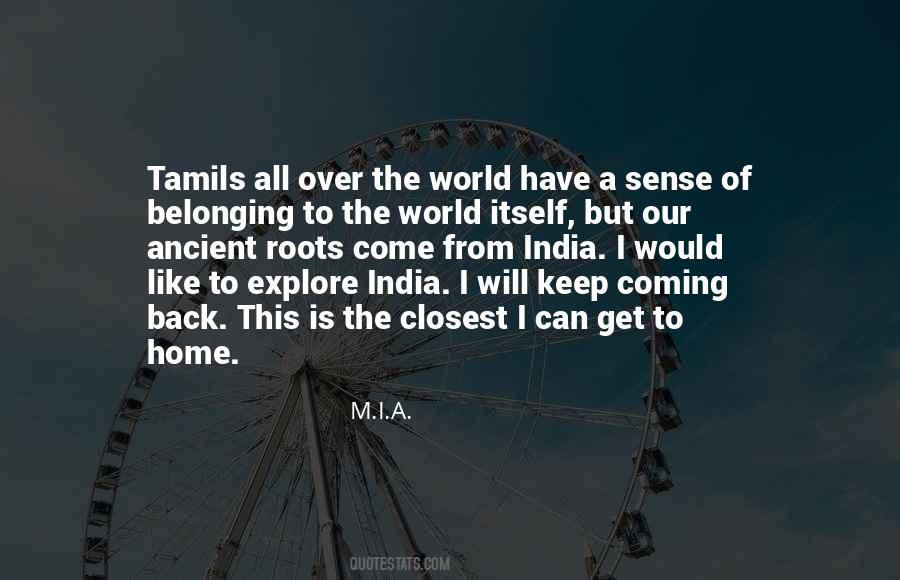 #2. If we had loads of money as a family, things would be different and they'd come to visit more and I'd get to spend more time here. But I'm laying down roots in America so when I'm there, just being at home, it's harder to break away from that. - Author: Rick Allen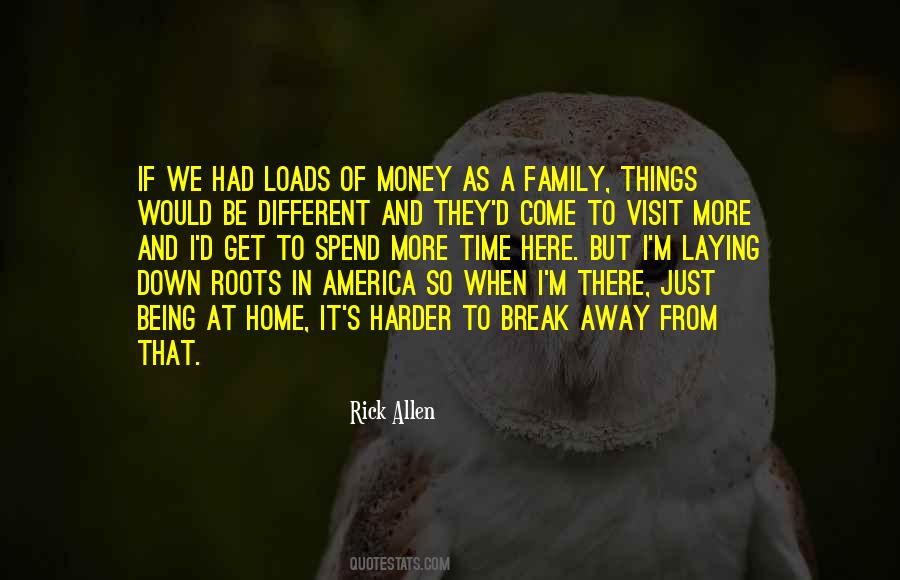 #3. You can have more than one home. You can carry your roots with you, and decide where they grow. - Author: Henning Mankell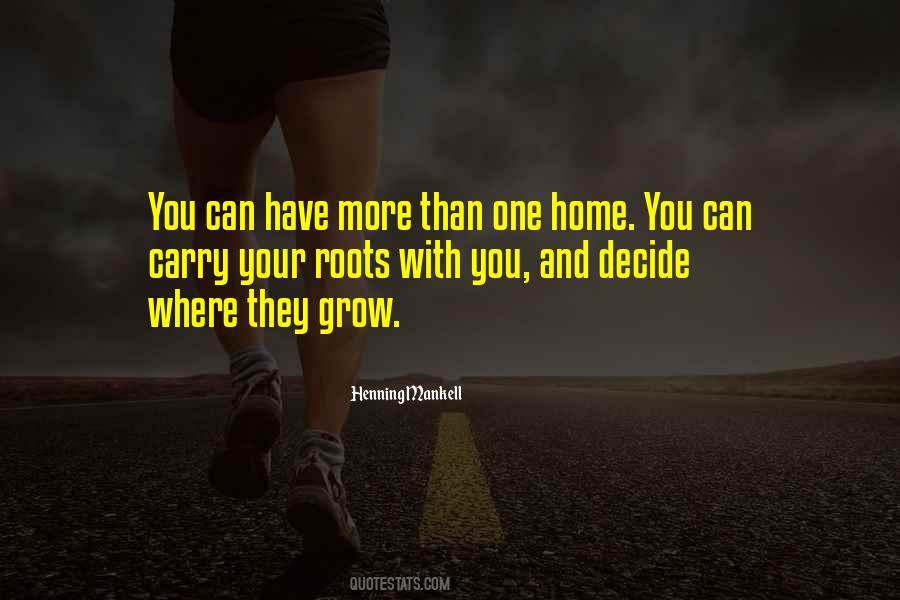 #4. Leaving home's a cinch. It's the staying, once you've found it, that takes courage. - Author: Catherine Watson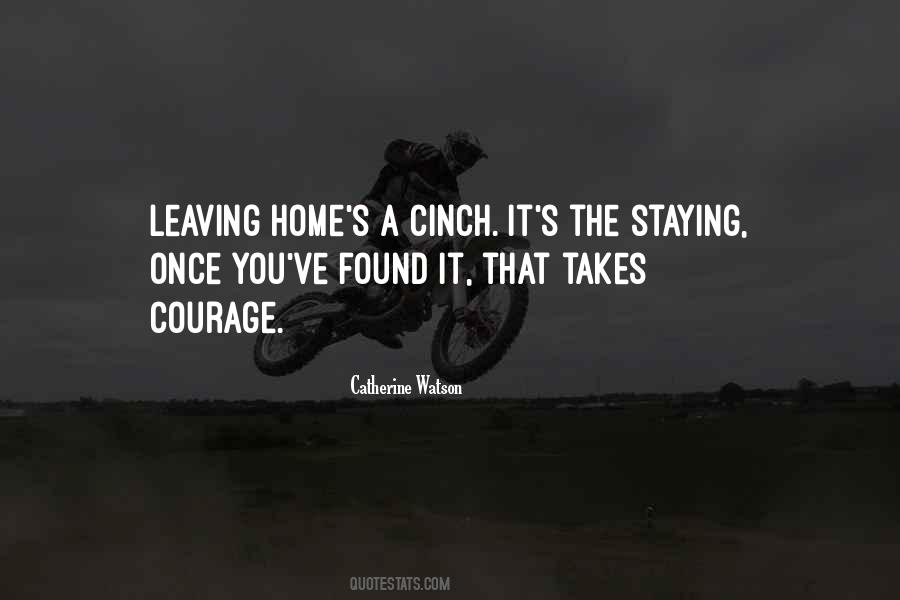 #5. Good parents give their children Roots and Wings. Roots to know where home is, wings to fly away and exercise what's been taught them. - Author: Jonas Salk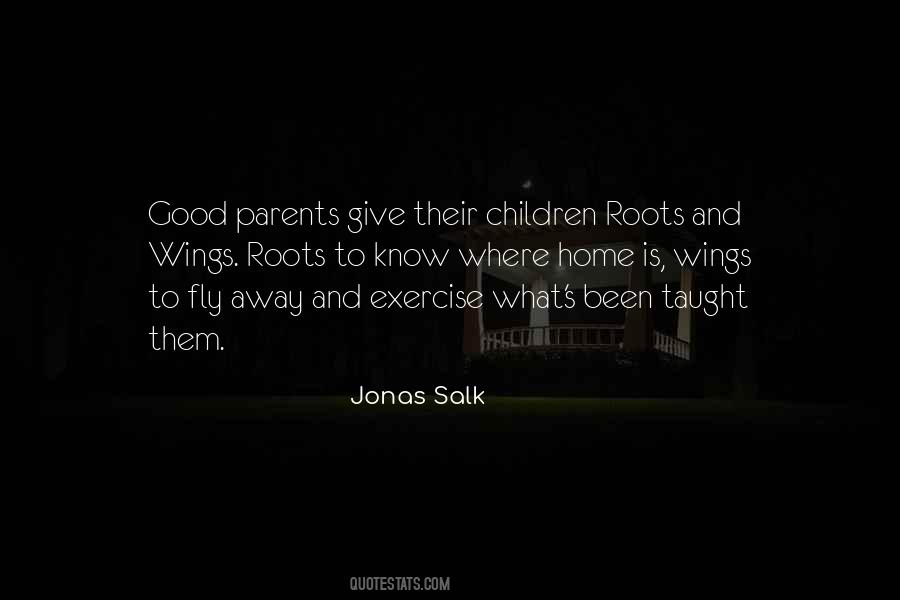 #6. Let us not forget, the financial crisis had its roots in the decision by Congress to embark on a course of social justice to get everyone that wanted a home into one, regardless of whether or not they could afford it. - Author: Ed Royce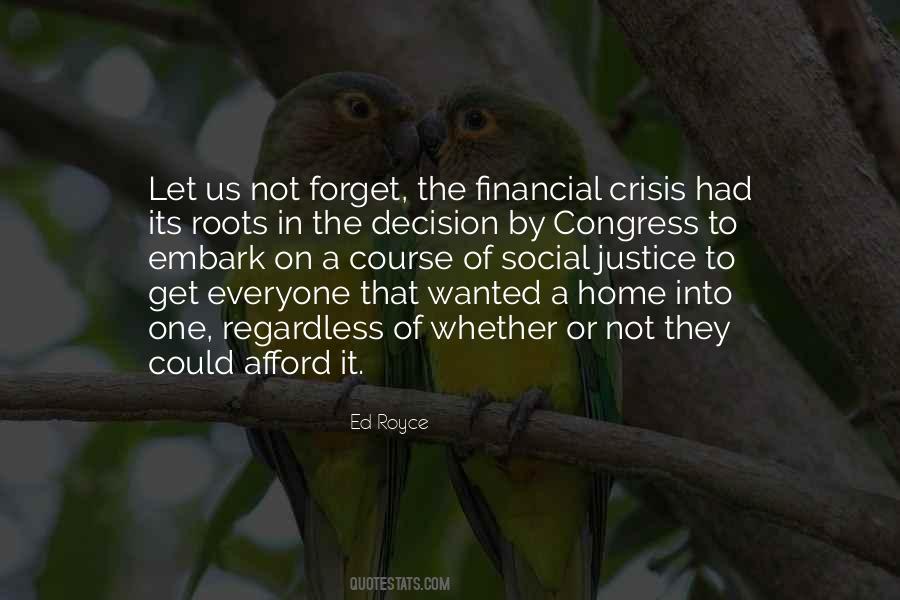 #7. I still love to go back to Mitchell [his home town] and wander up and down those streets. It just kind of reassures me again that there is a place that I know thoroughly, where the roots are deep. Everything had a place, a specific definition. - Author: George McGovern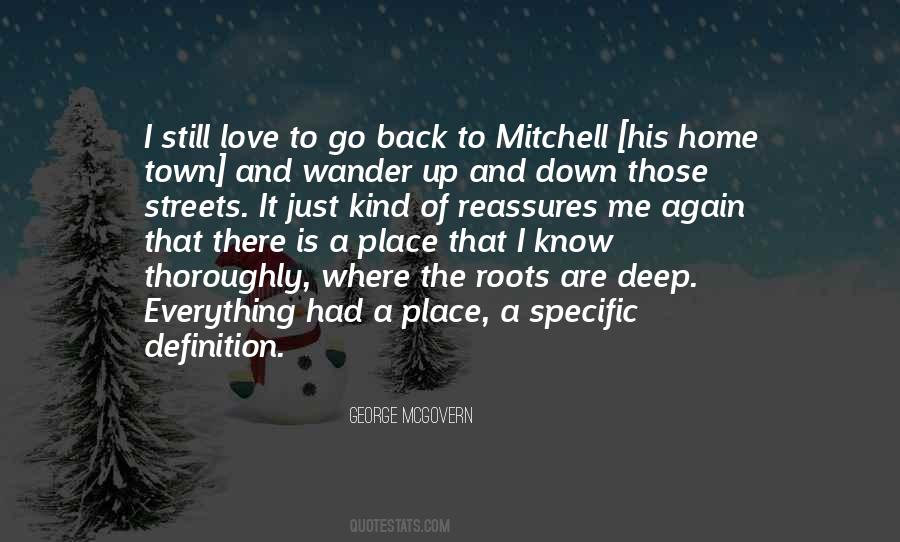 #8. Nothing ever comes to an end. Wherever one has sunk roots that emanate from one's best or truest self, one will always find a home. - Author: Liv Ullmann
#9. He wished he could have roots spreading under every inch of his lost soil, his beloved lost home, that he could have been part of something, that he could have been himself, walking down the road not taken, living a life in context and not the migrant's hollow journey that had been his fate - Author: Salman Rushdie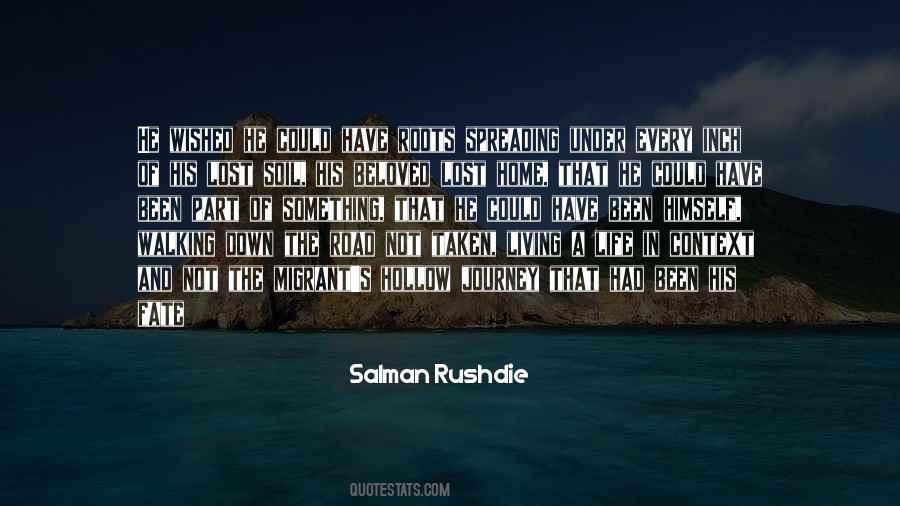 #10. Christianity has so much taken roots among us that drunkards sing gospel songs on their way home - Author: Bangambiki Habyarimana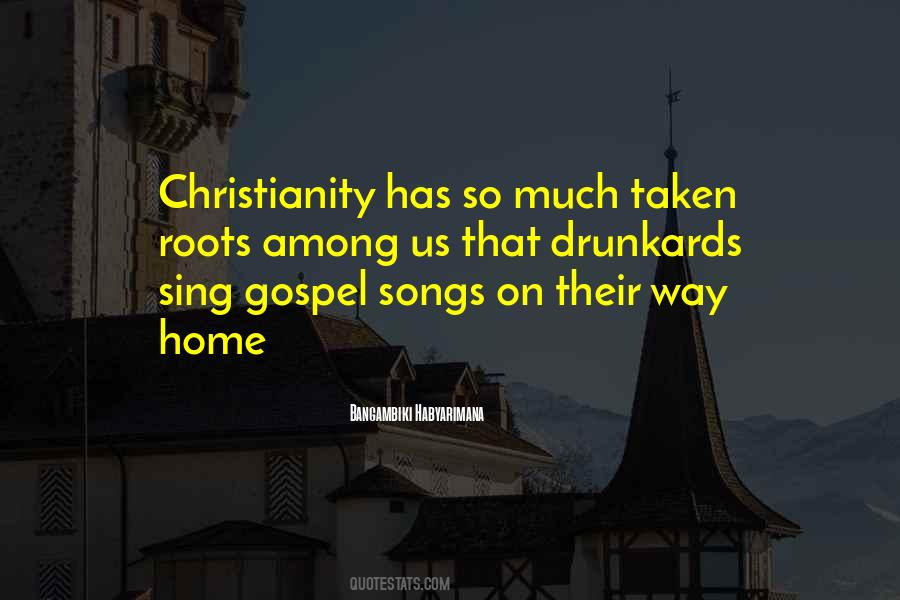 #11. Home's where you go when you run out of homes. - Author: John Le Carre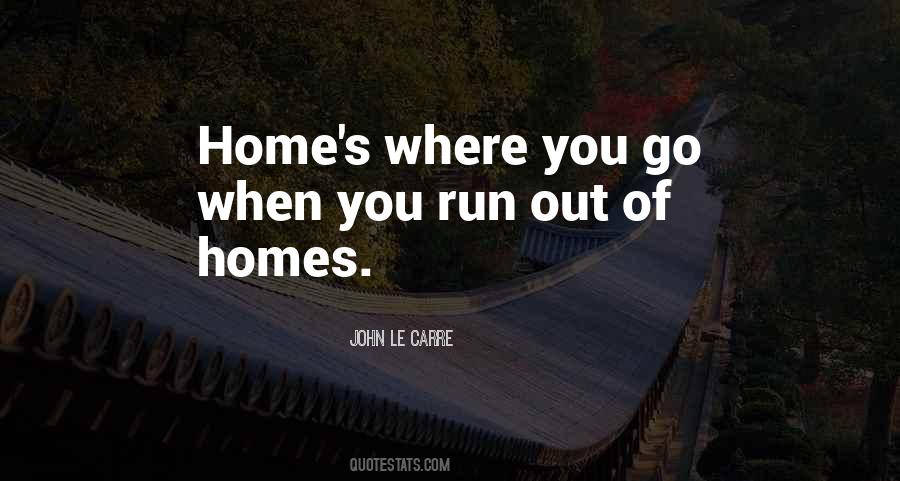 #12. There's a belief that wherever your Ancestors took shape from the sticks and stones that formed them, that's home. Ancestors from the coast leave their mark, Ancestors from the mountains, from the desert, they all leave their mark on the genes. When you come home, the genes rejoice. - Author: Kate Wilhelm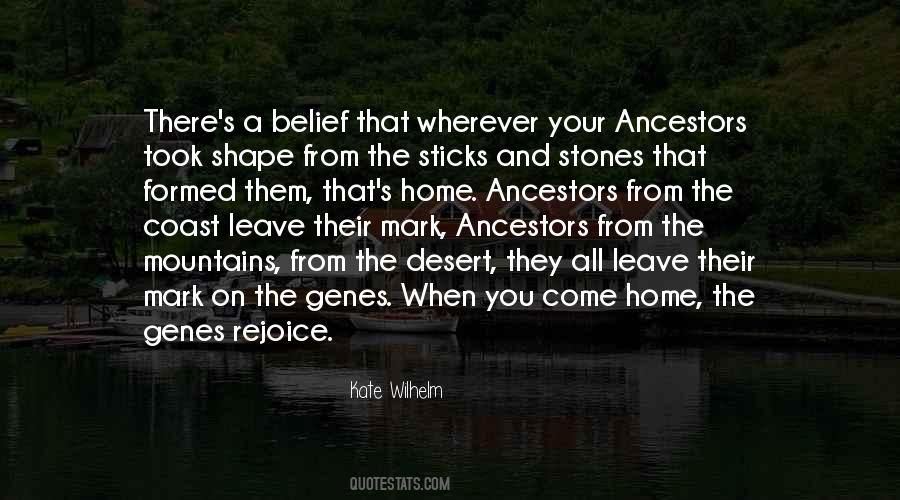 #13. Whether rich or poor, a home is not a home unless the roots of love are ever striking deeper through the crust of the earthly and the conventional, into the very realities of being, not consciously always; seldom, perhaps; the simplicity of loving grows by living simply near nature and God. - Author: Lucy Larcom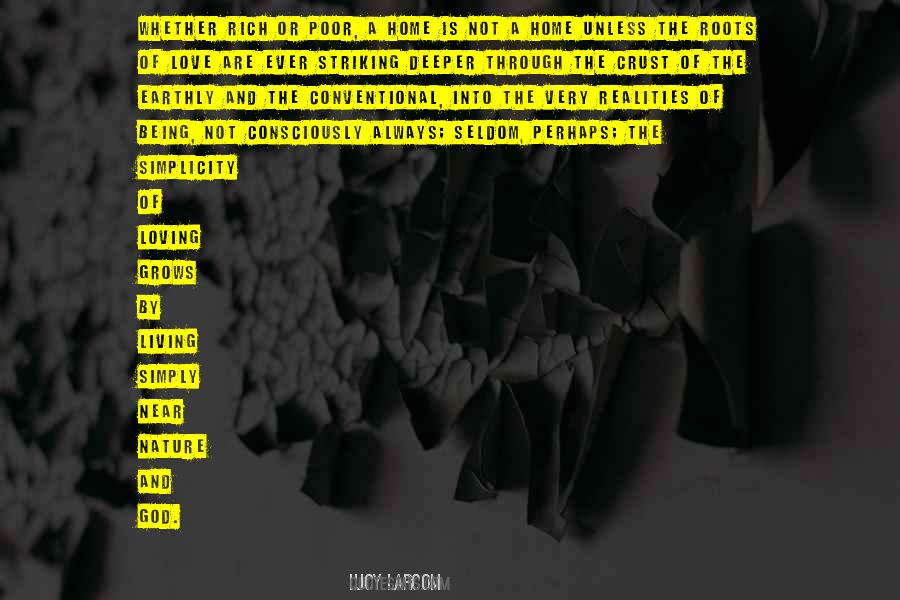 #14. And so much of my life has been about returning home and longing for home, wanting my children to know about my roots. And I thought I can't be the only one to feel this way so I thought it would be an interesting topic to explore. - Author: Sela Ward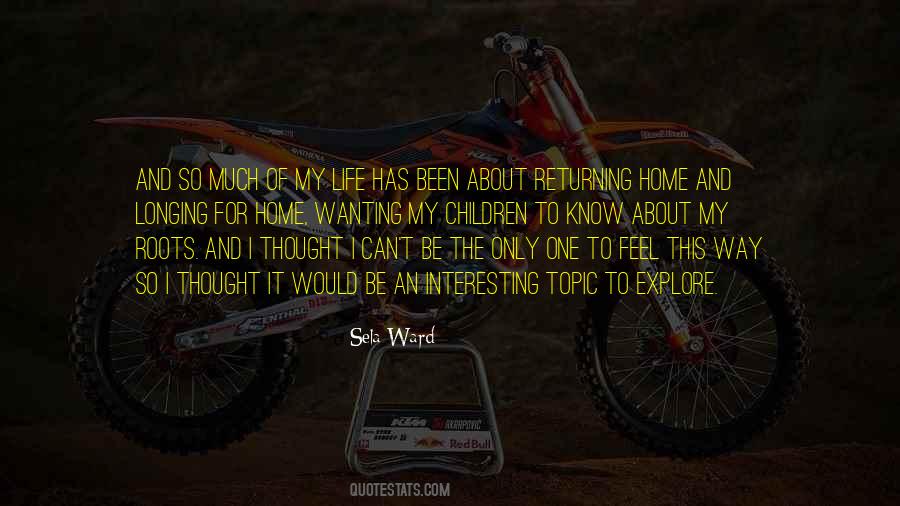 #15. I've always felt like a foreigner wherever I've lived. I don't feel much towards my Italian or Scottish roots, although I do cook the pasta at home. - Author: Tom Conti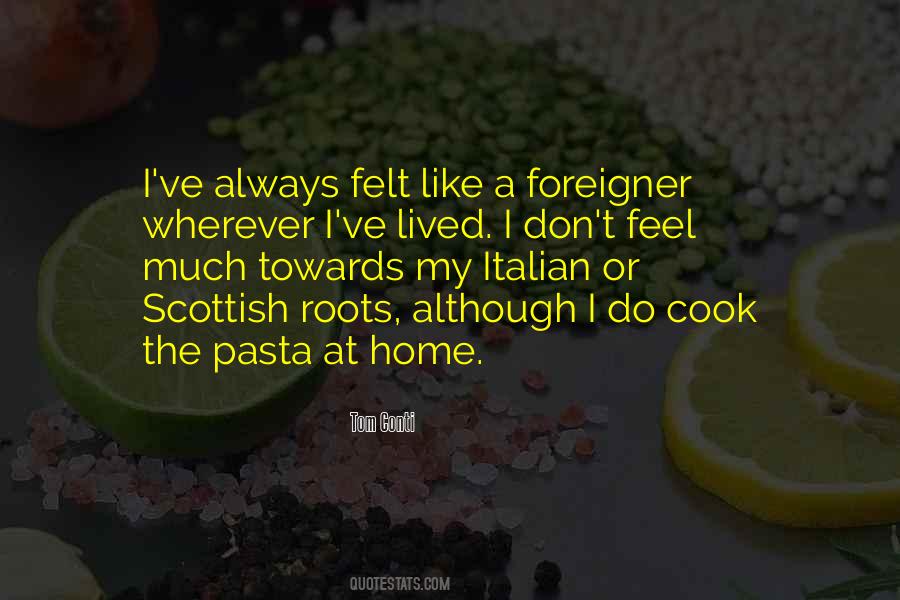 #16. Miley is always on, she's always funny, she's always writing songs, she's always making music. The parallel of the film is like Miley says, going back to her home, going back to her roots. Getting back to Tennessee was art imitating life imitating art. - Author: Billy Ray Cyrus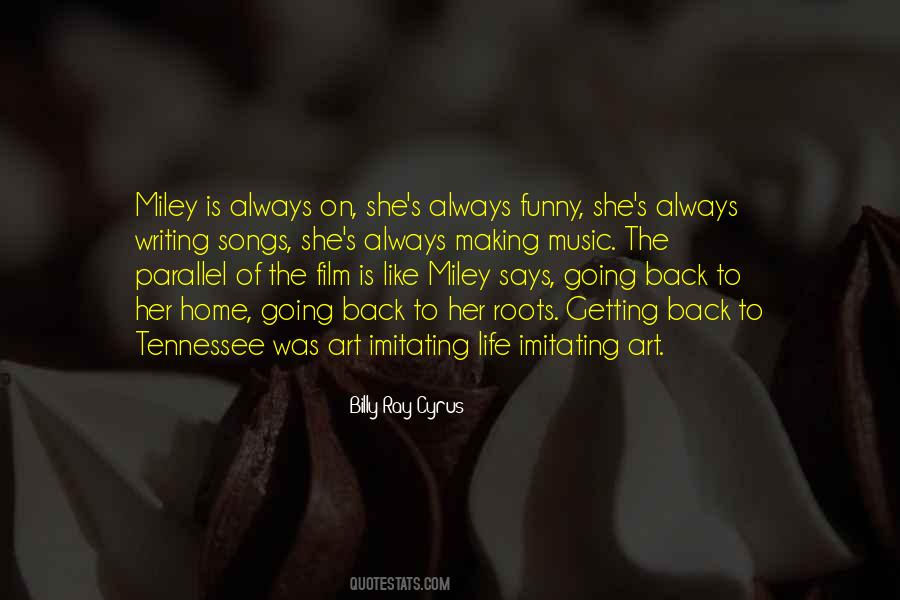 #17. Your roots aren't to be found in your childhood so much as in your child. It's he who provides your link to the world, and home is wherever he is. - Author: Carsten Jensen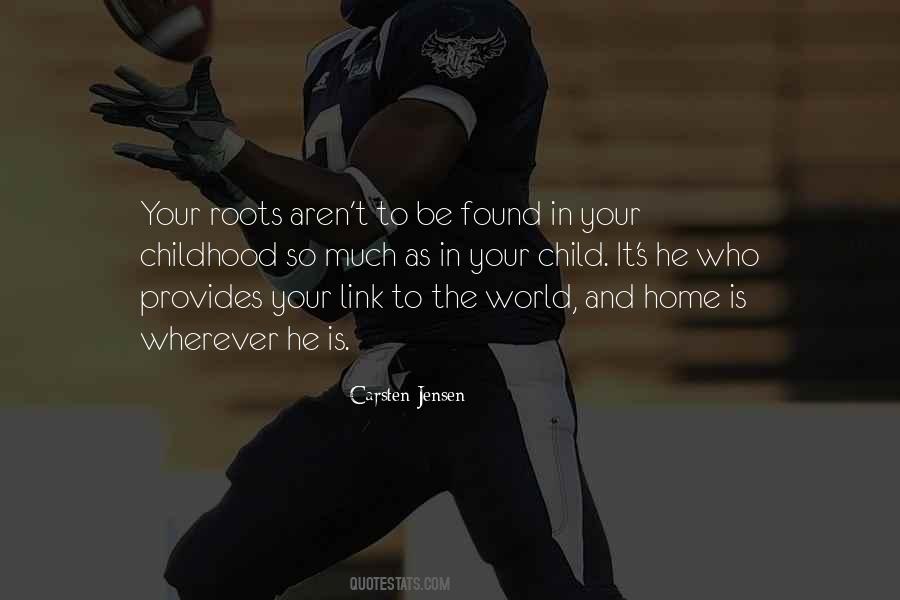 #18. A plaque hanging on the wall of my home invites me to remember where I came from-each day. It reads, "No matter if a tree grows to more than a thousand feet in height, each leaf, each day, must return to its roots for nourishment." - Author: Mary Ellen W. Smoot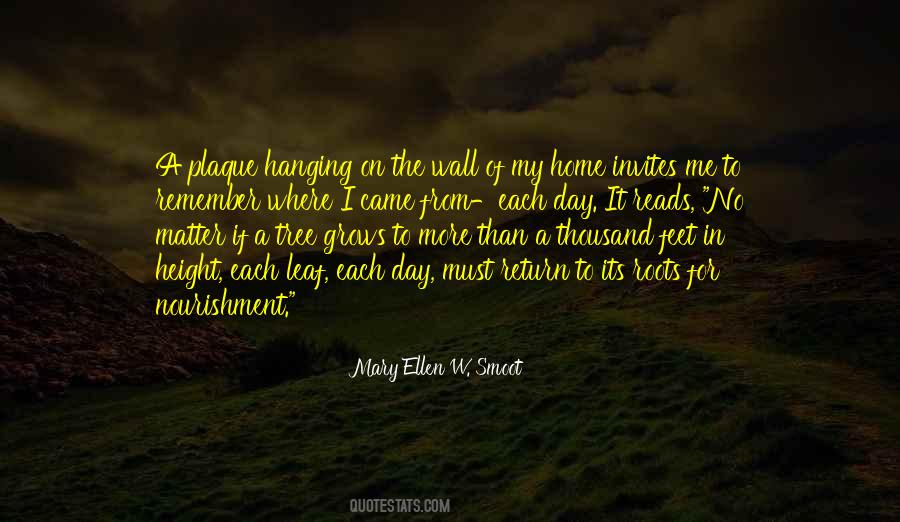 #19. How do you eat your roots? - Author: Kamila Shamsie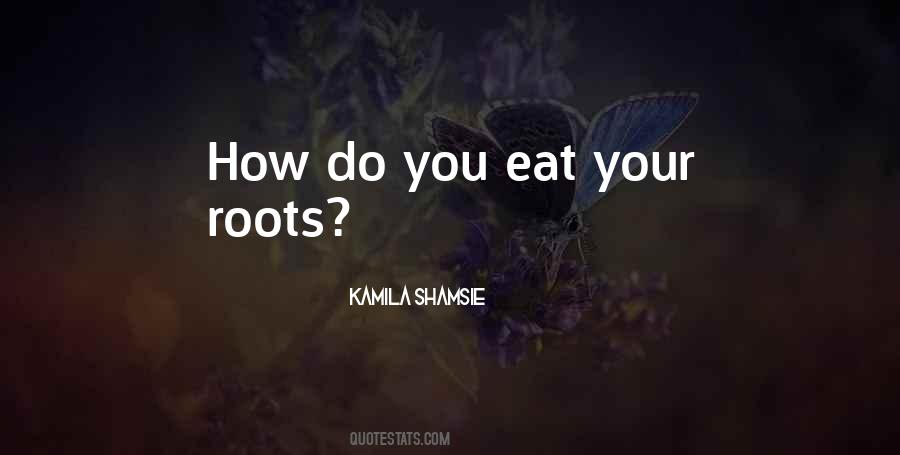 #20. Among the great struggles of man-good/evil, reason/unreason, etc.-there is also this mighty conflict between the fantasy of Home and the fantasy of Away, the dream of roots and the mirage of the journey. - Author: Salman Rushdie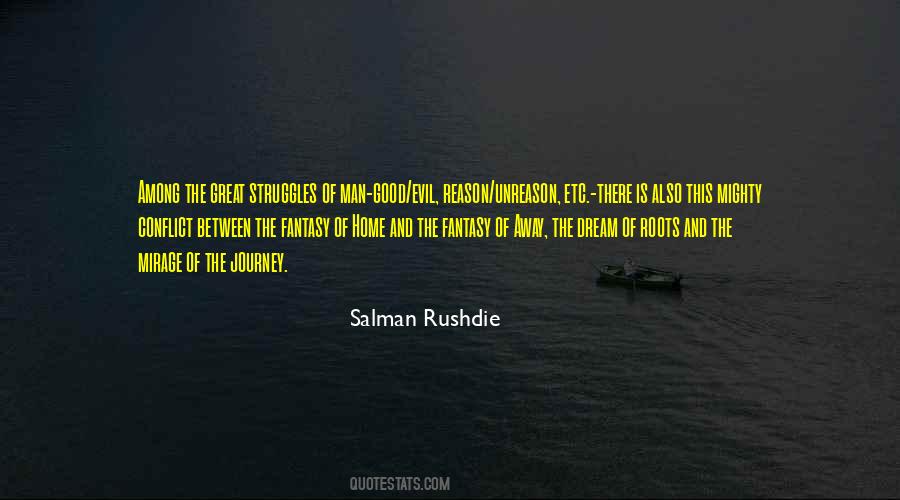 #21. Someone asked me what home was, and all I could think of were the stars on the tip of your tongue, the flowers sprouting from your mouth, the roots entwined in the gaps between your fingers, the ocean echoing inside of your rib cage. - Author: E. E. Cummings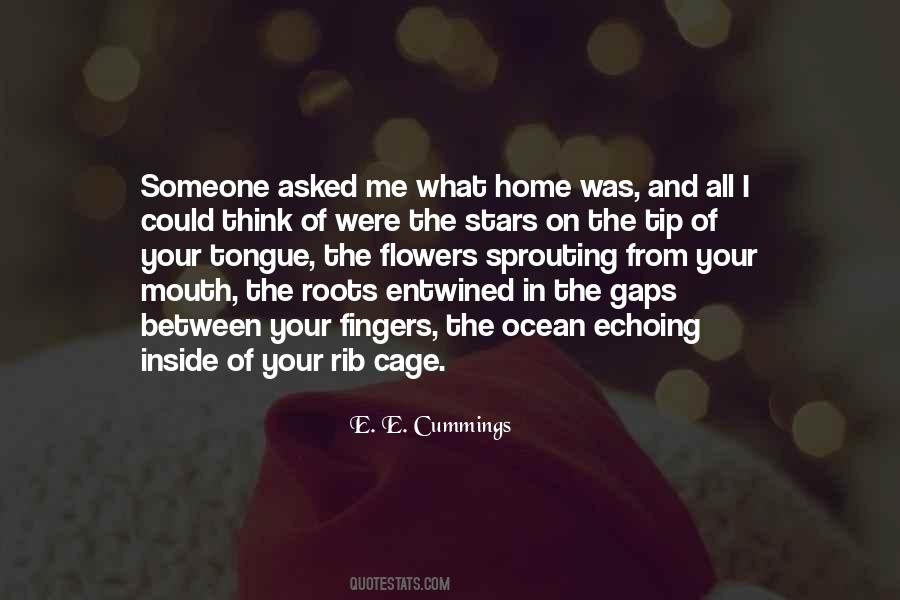 #22. I love Cleveland, and I love going back home. That's where my family is. That's where my roots are. - Author: Kym Whitley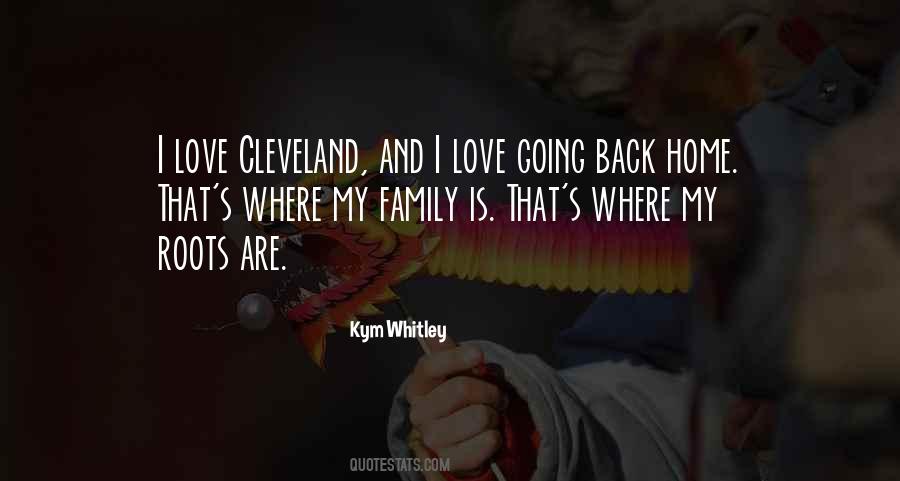 #23. Dig down, fly high, remember where you want to go, and one day you'll get there: Roots + Wings + Dreams=Home! - Author: Blue Balliett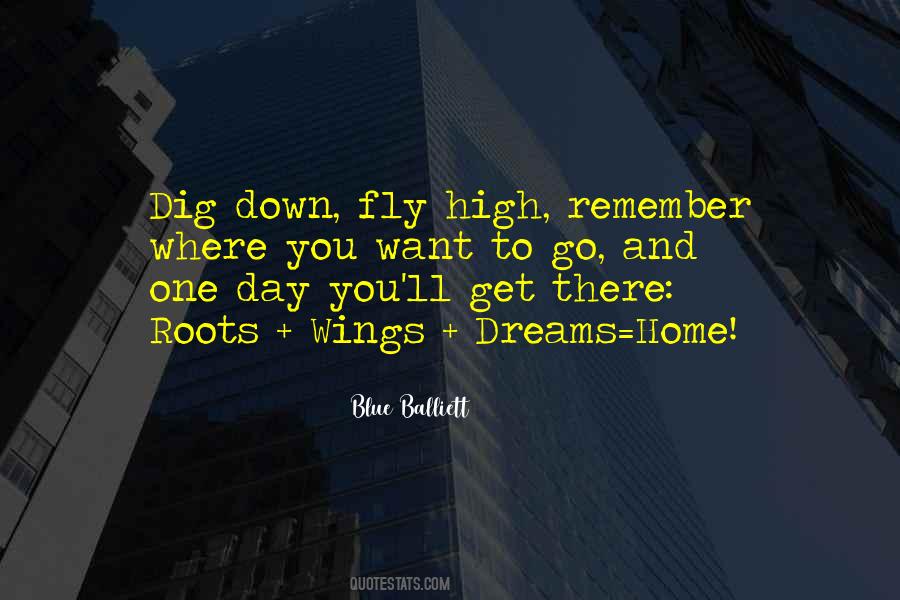 #24. It was a little thing, a baby tree, but still it tangled with things around it and required care to move. And when she pulled it out, it's roots still clung to Earth from it's old home. - Author: Ally Condie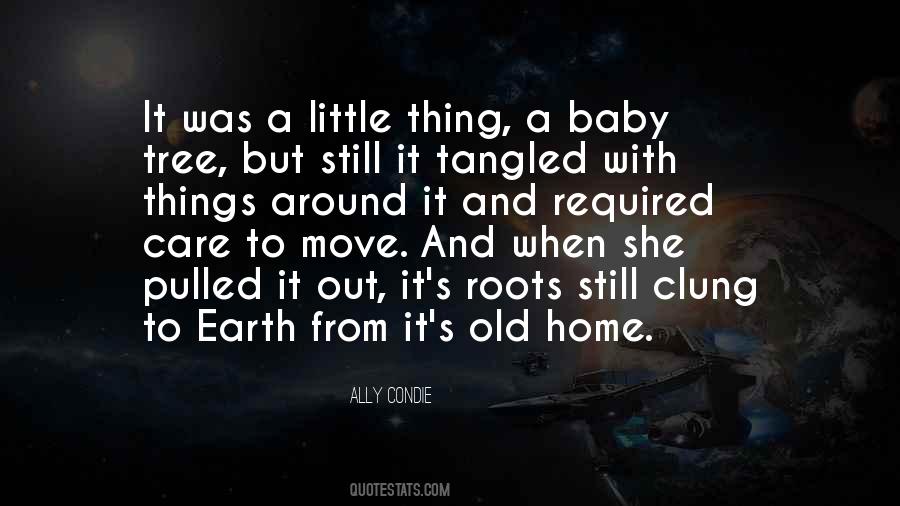 #25. The root of all desires is the one desire: to come home, to be at peace. - Author: Jean Klein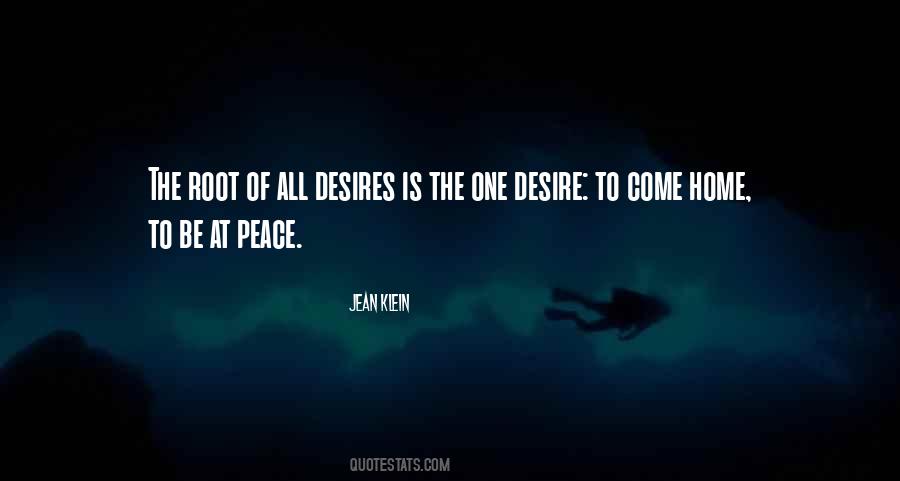 #26. If ever you do go back, what is it you want of Evesham?"
"Do I know? [ ... ] The silence, it might be ... or the stillness. To have no more running to do ... to have arrived, and have no more need to run. The appetite changes. Now I think it would be a beautiful thing to be still. - Author: Ellis Peters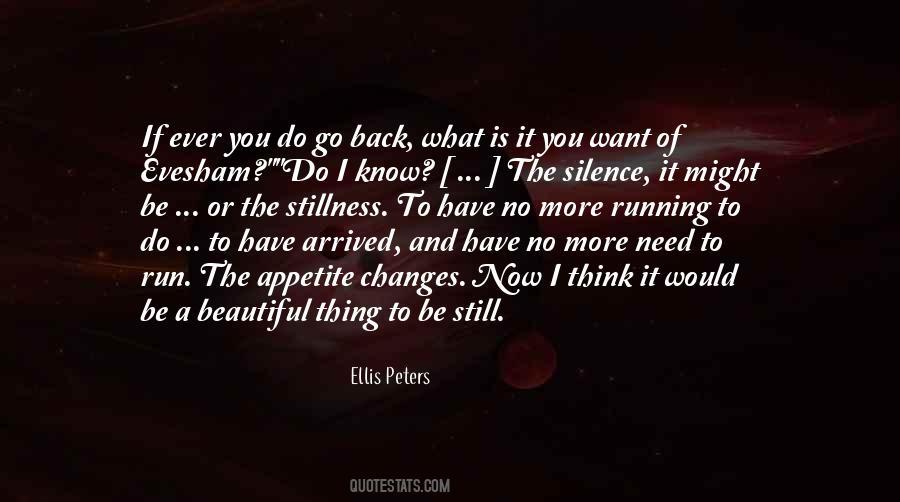 #27. It is not our exalted feelings, it is our sentiments that build the necessary home. The need to attach themselves makes wandering people strike roots in a day: wherever we unconsciously feel, we live. - Author: Elizabeth Bowen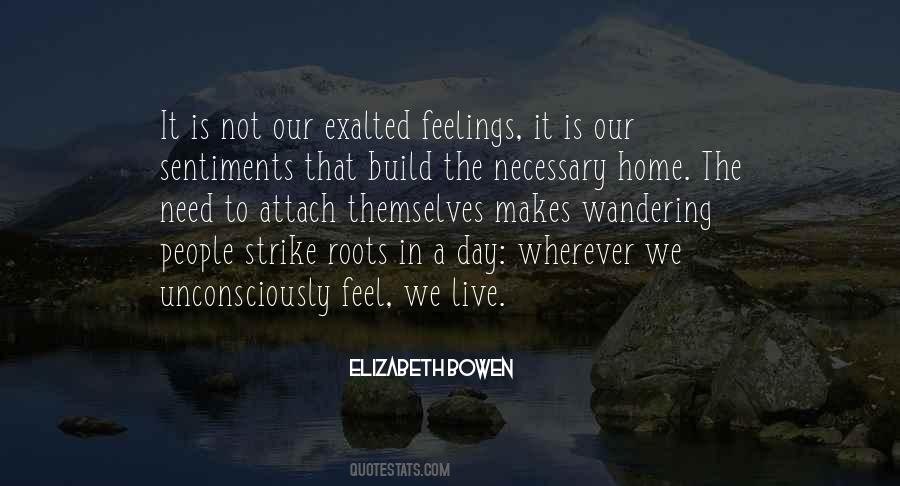 #28. Do you want to know the real reason I came back, Alix? It was because of you. You're my roots. Wherever you are would be home to me. - Author: Katherine Allred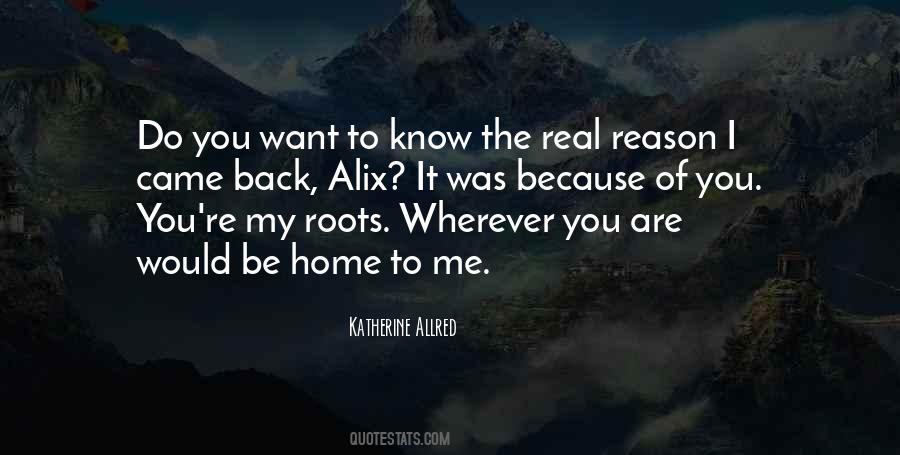 #29. I think it's bad for fellas when they lose their mothers. Mine was such a character. Oh it was sad, really sad. And, with her gone, the family home was gone, so what was left of any roots I had were completely dug up. - Author: Paul O'Grady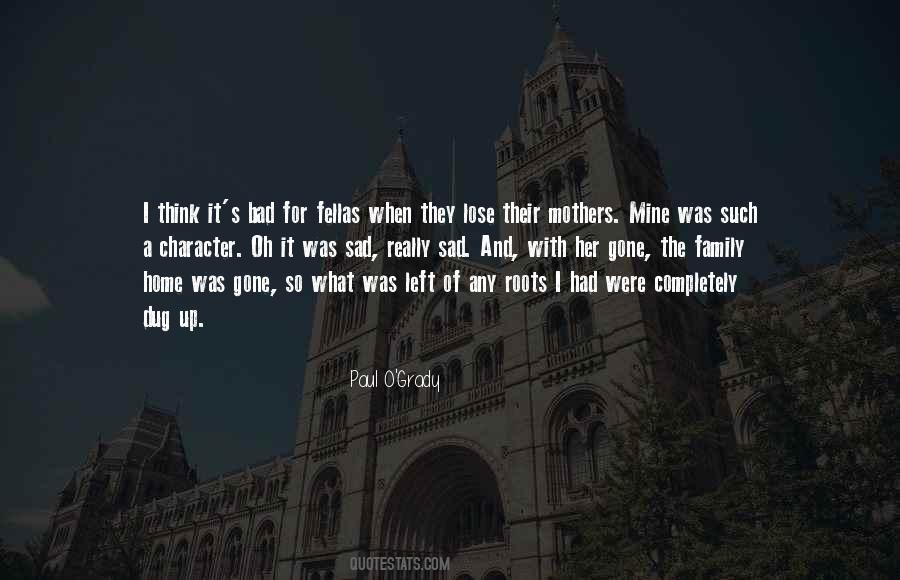 #30. Men? One never knows where to find them. The wind blows them away. They have no roots, and that makes their life very difficult. - Author: Antoine De Saint-Exupery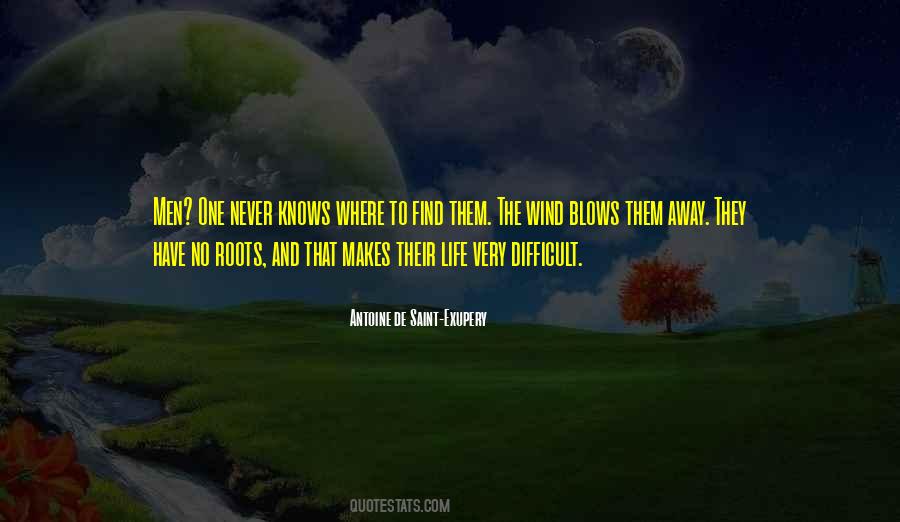 #31. A lot of my music is very roots-oriented, and that's country and soul. I've been in every roadhouse in the South, soaking in all of that ... Nashville is like a second home to me, and I'm just gravitating toward the songs. - Author: Taylor Hicks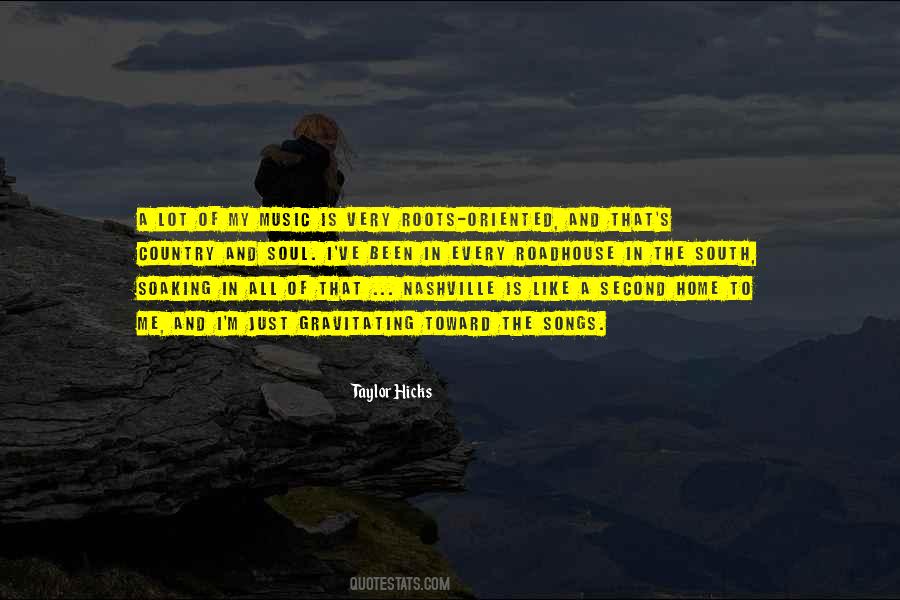 #32. The first thing I feel like we have the potential to do is to deliver to consumers more roots to their home. - Author: Michael K. Powell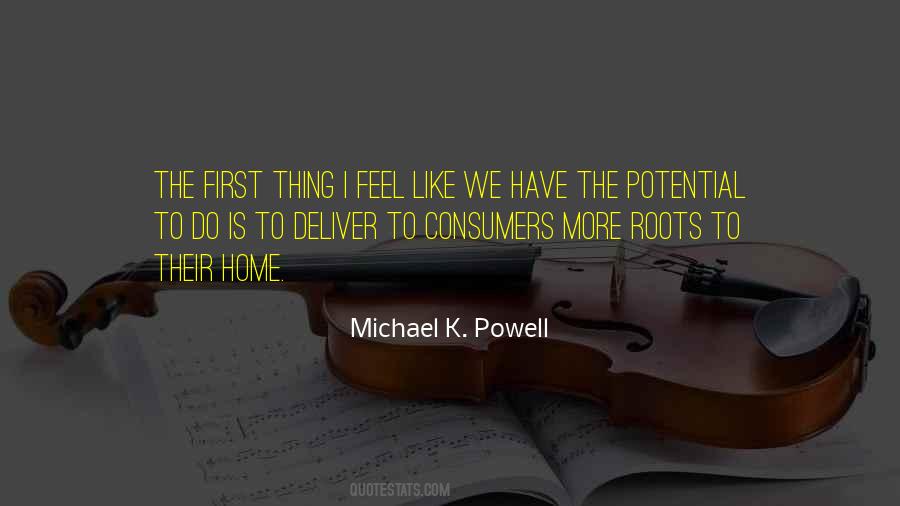 #33. When I was 12 years old, or however old I was when Bringing It All Back Home came out, I'd just skip back and forth endlessly between 'Subterranean Homesick Blues' and 'It's Alright, Ma' and 'Mr. Tambourine Man,' and now my Dylan roots are showing big time. - Author: Rodney Crowell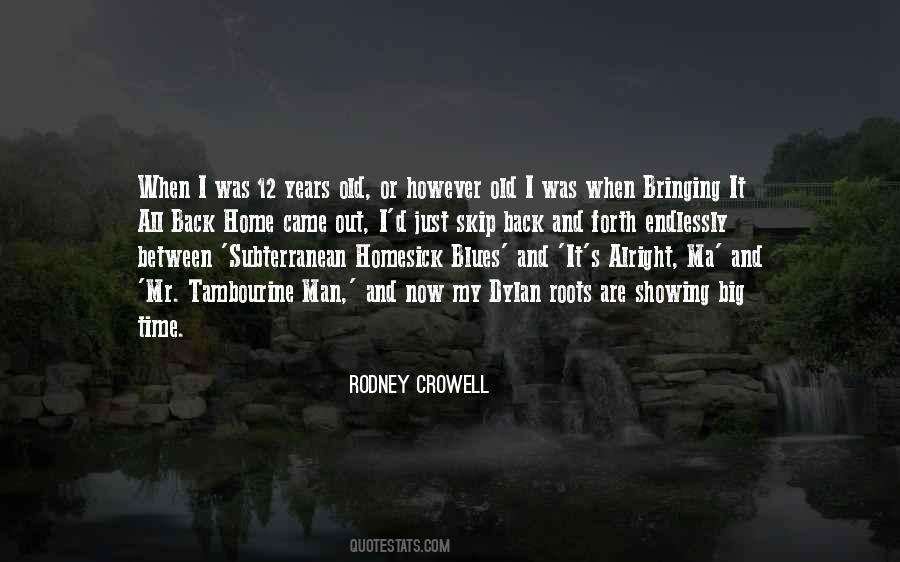 #34. In her fury she'd broken into Valencian, indicating the deepest possible roots in the land. I was impressed with how deeply she was from here, in a way I could never imagine being from anywhere, not even my home town. - Author: Elisabeth Eaves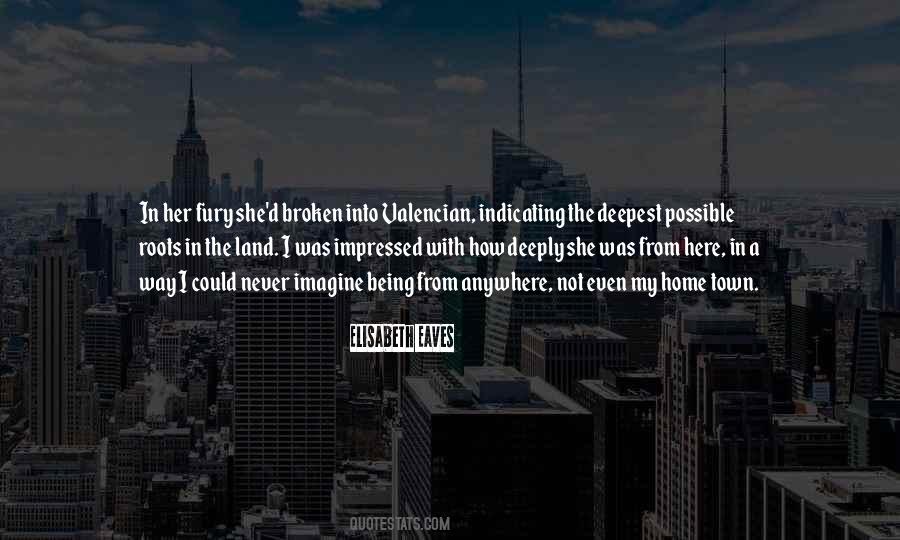 #35. But a lot of my training can be done in Aston - a lot of the hard work, so to speak. But a new atmosphere, a new place, and it's good for me because I didn't want to get stuck in one spot, so coming home is good, back and forth, you know, where my roots are. - Author: Elvis Stojko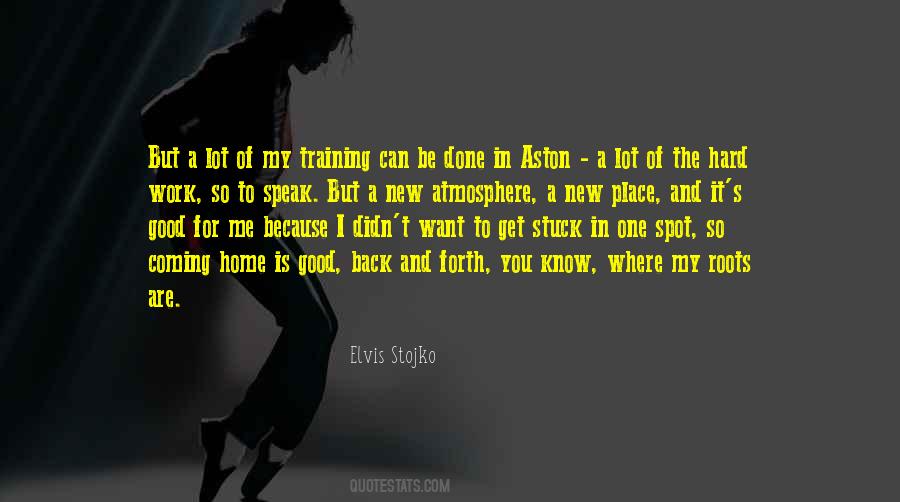 #36. Home is a notion that only nations of the homeless fully appreciate and only the uprooted comprehend. - Author: Wallace Stegner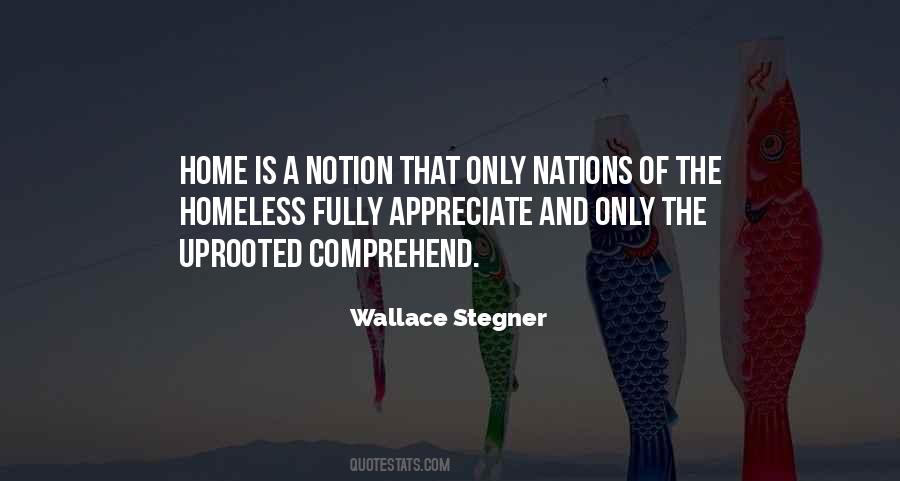 #37. My roots are on the live performing stage, so while I enjoy making films and the other things that I do, when I get on stage, I feel at home; I'm comfortable. - Author: Gregory Hines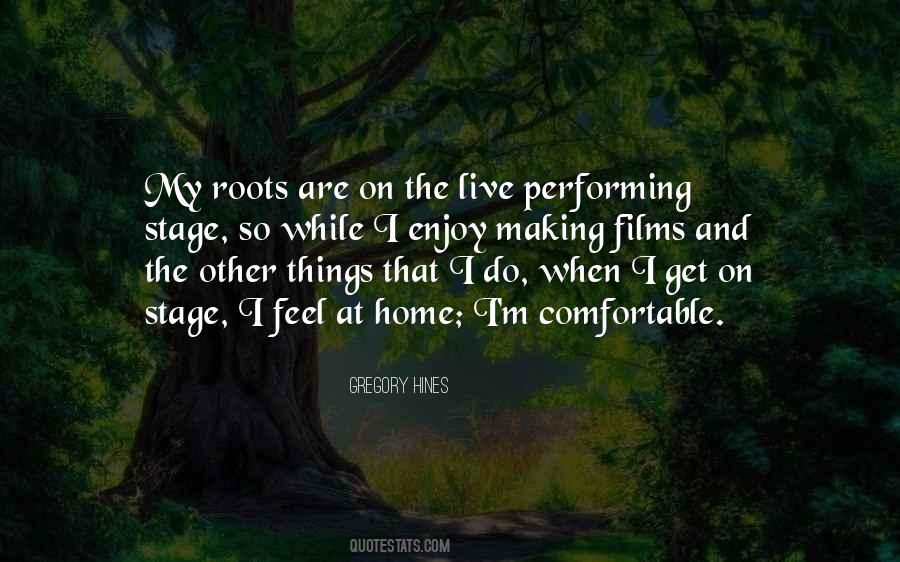 #38. I was happier going back to my roots: training like men do in my hometown of Pittsburgh. Back home the guys in the gyms don't lift to look good; they're lifting to lift. They do it because they want to squat more and bench more. - Author: Joe Manganiello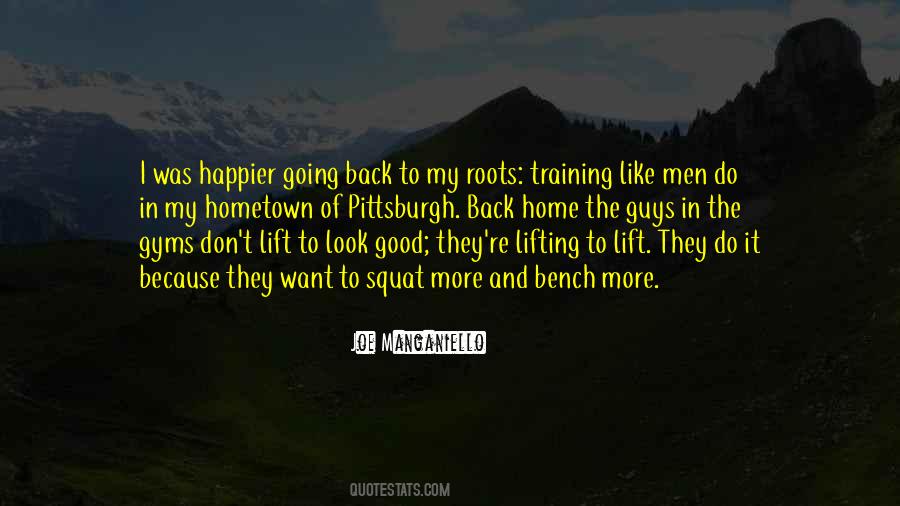 #39. Putting one's parents out to pasture in a nursing home has very deep historical roots in Western Europe. - Author: Francis Fukuyama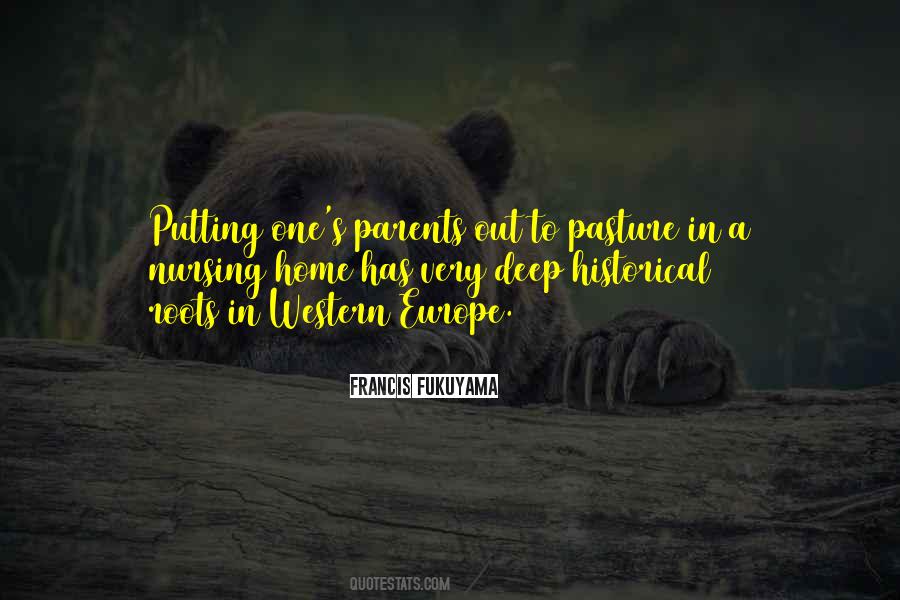 #40. I missed home like the ache of hunger, something in me left empty. I'd missed it every day since we crossed out of the valley, going over the mountains. Roots - yes. There were roots in my heart, as deep as any corruption could go. - Author: Naomi Novik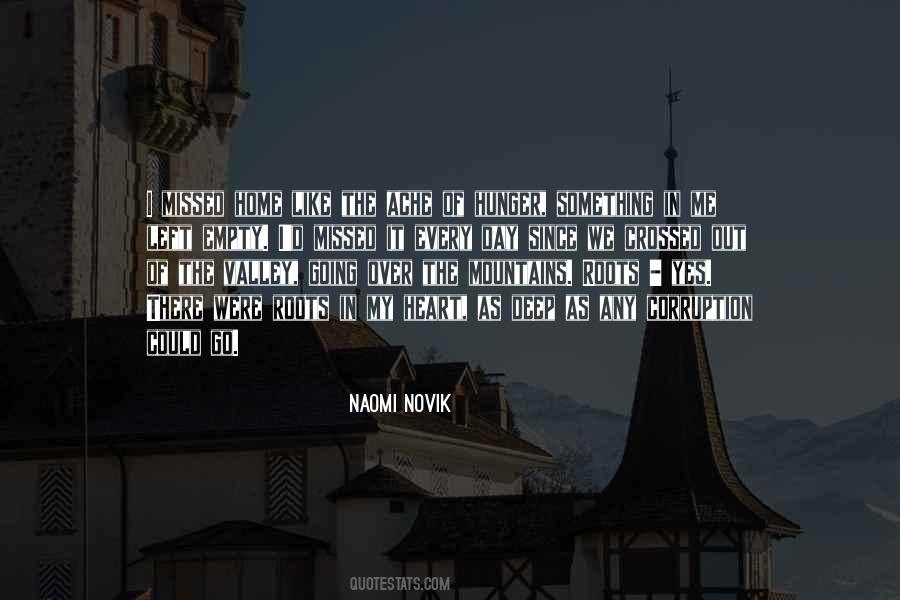 #41. Go spend time with the aspen trees. They'll tell you how it works. They'll tell you to look to your roots for energy. They'll tell you there's warmth below the surface. - Author: Kaya McLaren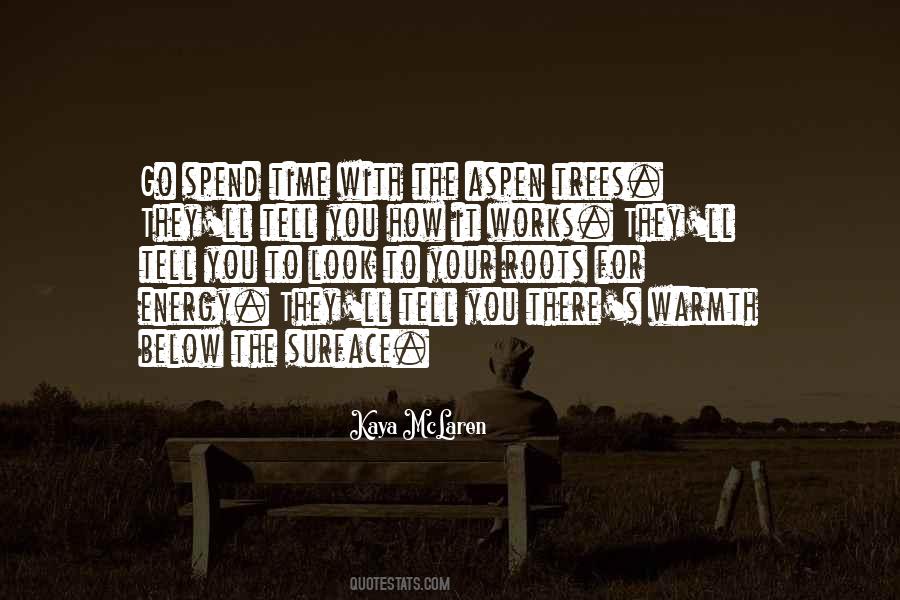 #42. We are drawn to certain locations where the land resonates with us and pulls us towards it. People can spend their entire lives looking for the places where they belong, places where they feel at home, where they fit and can comfortably set down roots. - Author: Mary Reynolds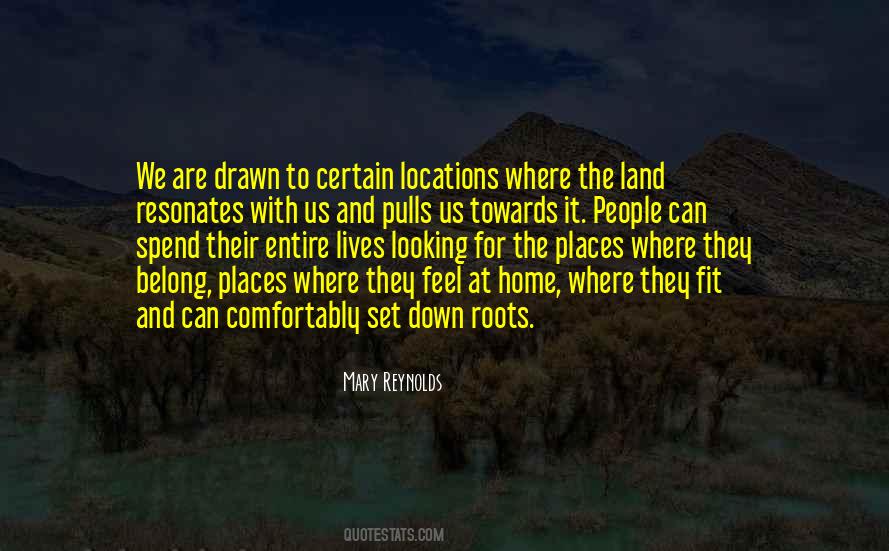 #43. Mama and I sat on a burping bus full of chickens in cages, and round-eyed babies on round mothers' laps. (The Pinata-Maker's Daughter) - Author: Eileen Granfors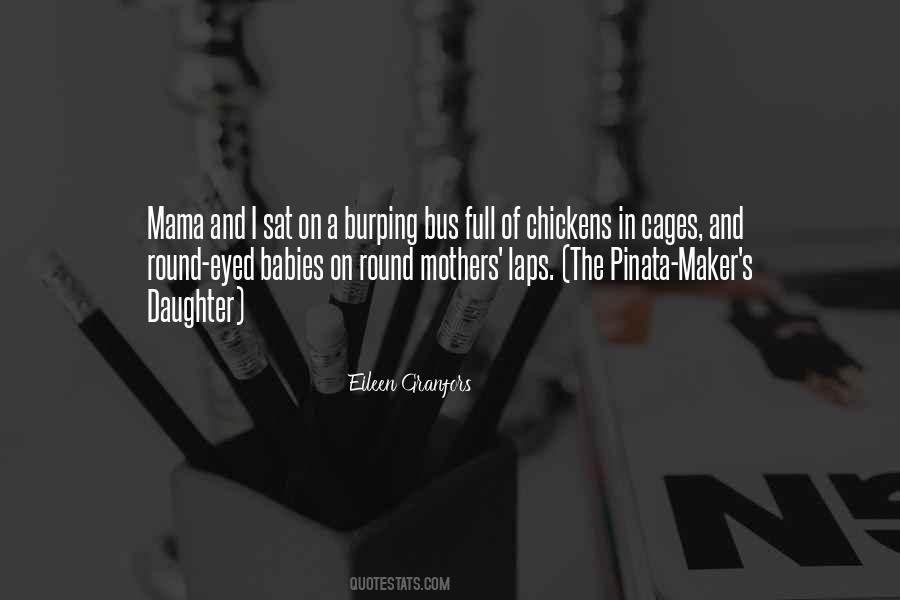 #44. If we wish to have a beautiful, peaceful and safe home, we need healthy expanding roots that go deep into the ground. These roots are our Routine, our Stability, our Structure. - Author: Natasa Nuit Pantovic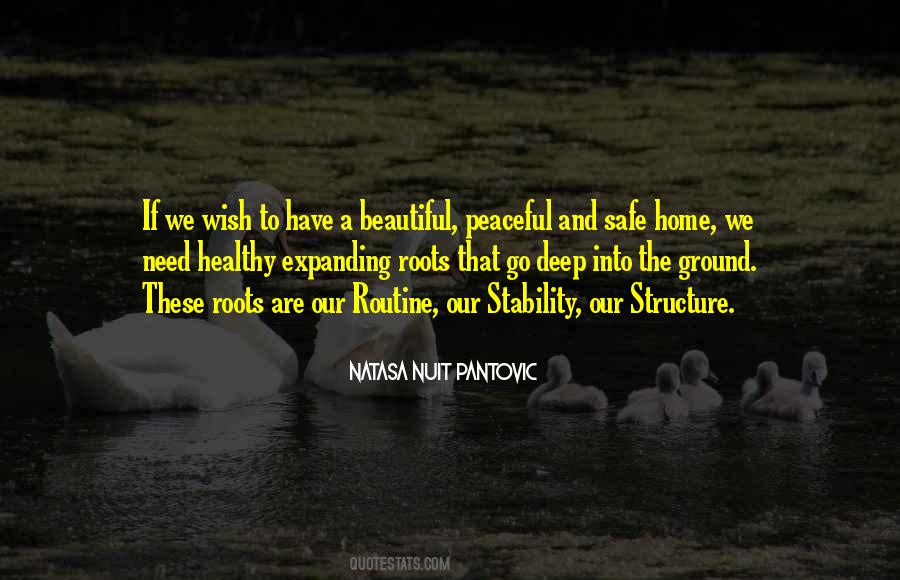 #45. it was when I stopped searching for home within others and lifted the foundations of home within myself I found there were no roots more intimate than those between a mind and body that have decided to be whole. - Author: Rupi Kaur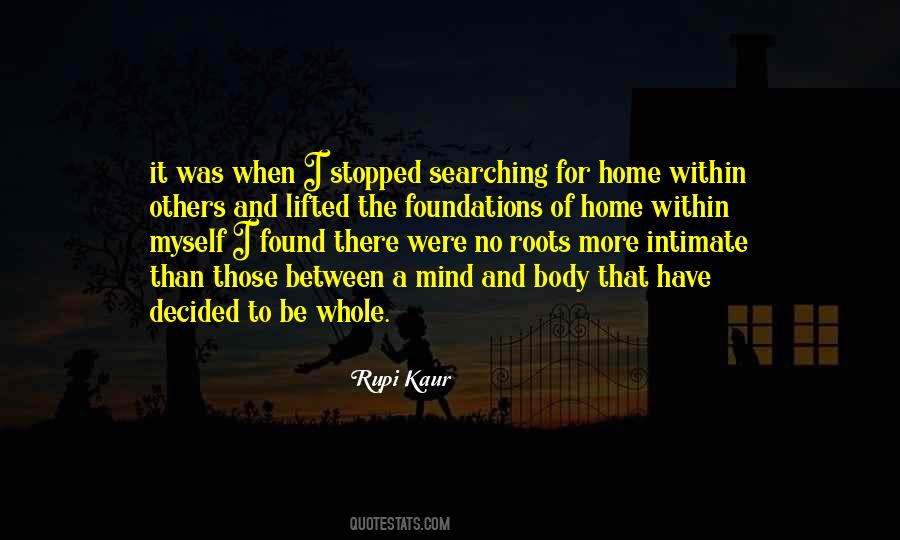 #46. You can become quite blase, and also, I have no sense of home; I don't have roots. I've never had that feeling that someone else is going to take care of me, ever. I don't trust people. - Author: Lykke Li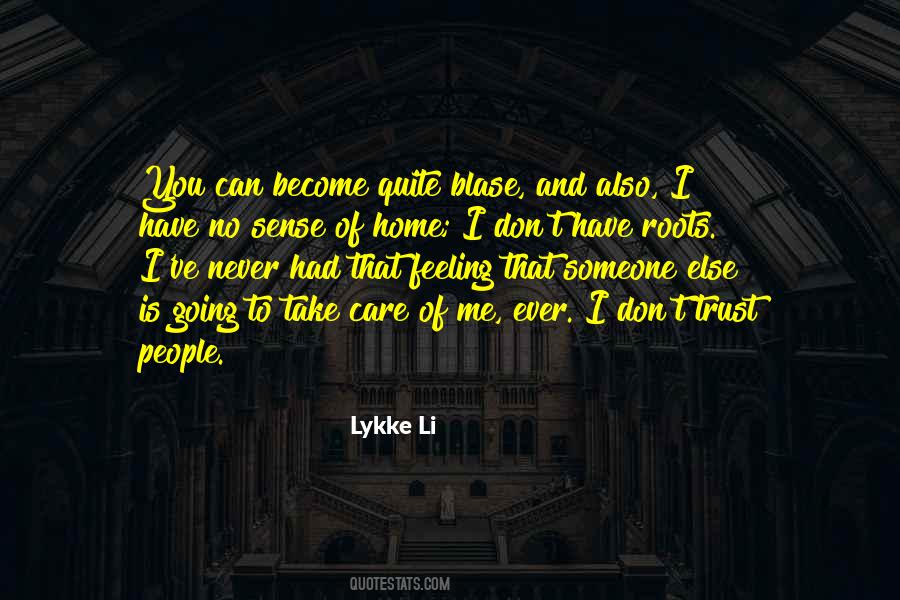 #47. Because I had my family, I felt like I could be a bird and fly and experience and do. Because I had roots somewhere, I knew that they would love me no matter what, and I could always go back home and they were going to love me. - Author: Gisele Bundchen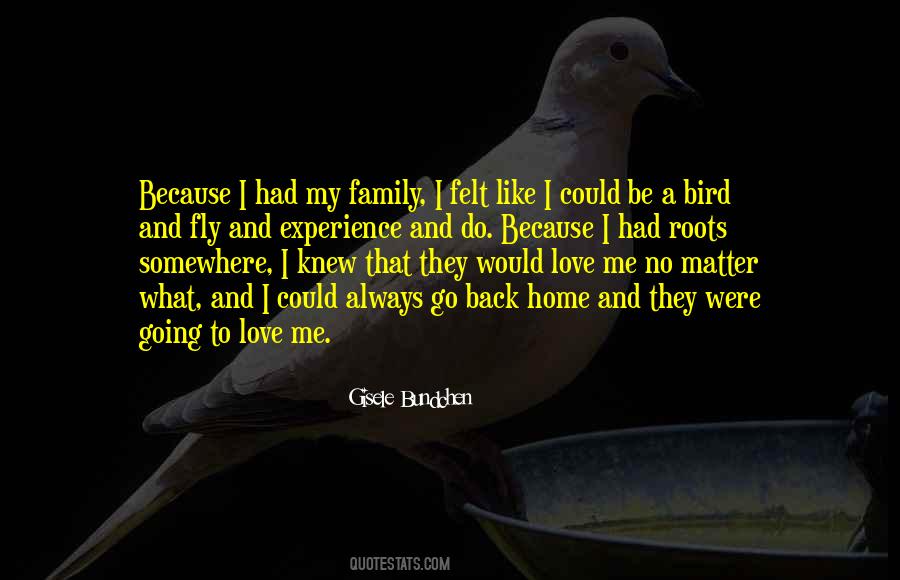 #48. Language is the only homeland. - Author: Czeslaw Milosz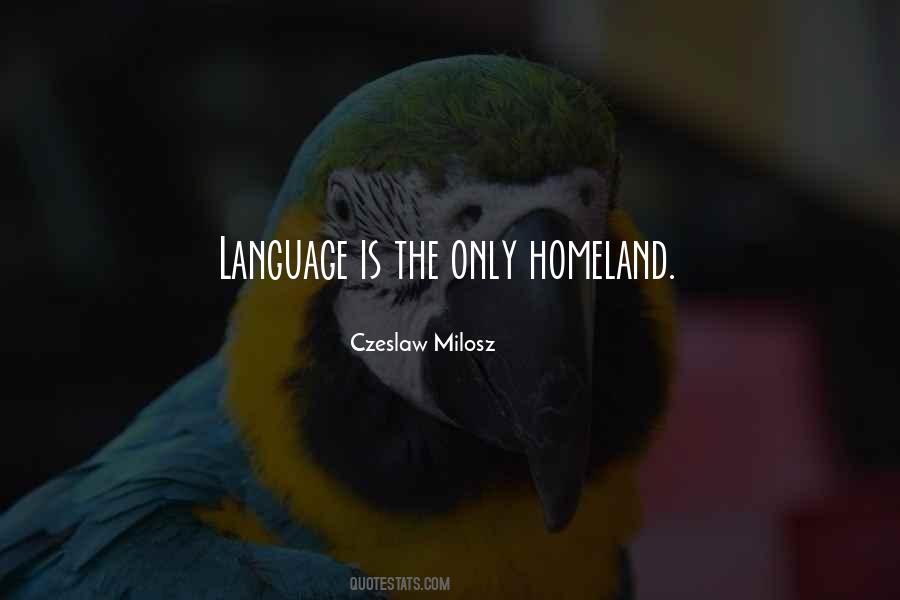 #49. In America, we all come from somewhere else, and we carry along some dream myth of home: a notion that something - our point of origin, our roots, the home country - is out there. - Author: Bobbie Ann Mason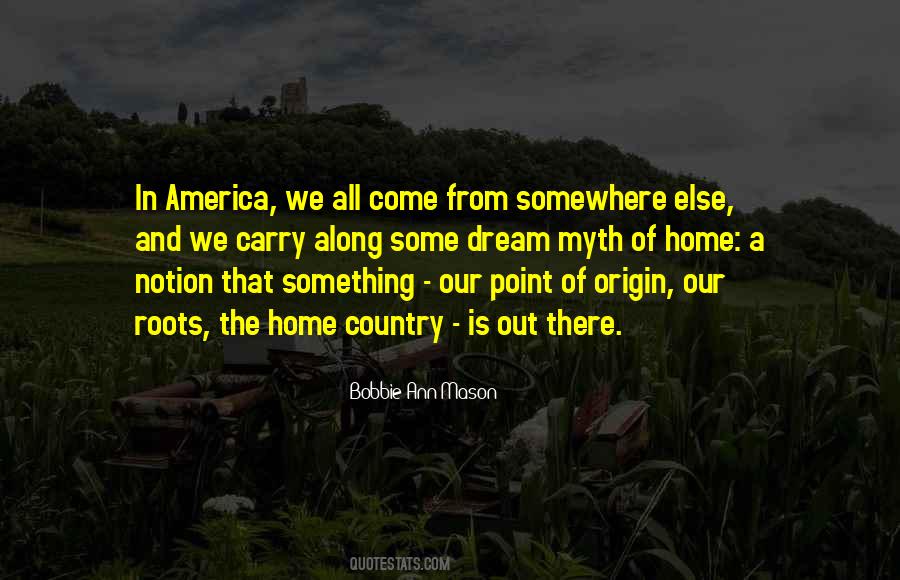 #50. I journeyed alone for almost ten years before I found home. Adoptions are like very delicate gardening with transplants and grafts. Mine took hold, rooted, and bloomed, even though there were inevitable adjustments to the new soil and climate. Yet I have not forgotten where my roots started. - Author: Ashley Rhodes-Courter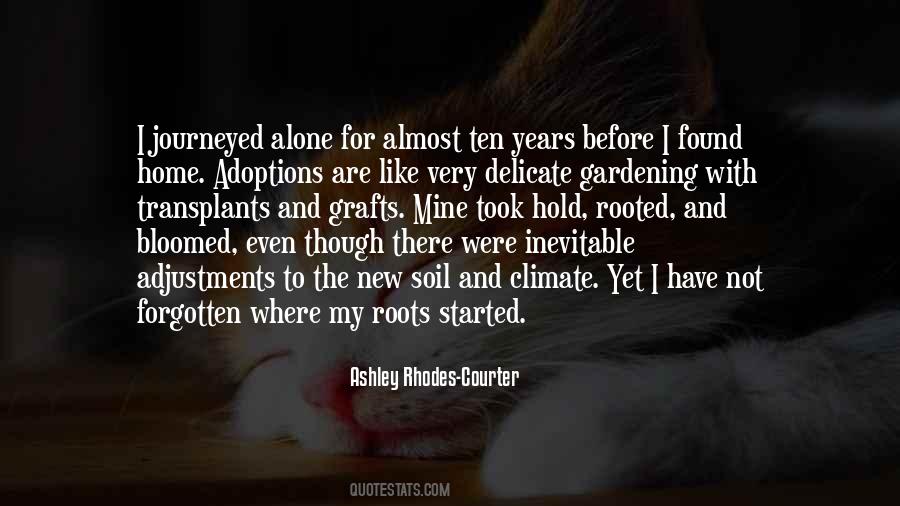 #51. Home is the seminary of all other institutions. There are the roots of all public prosperity, the foundations of the State, the germs of the church. There is all that in the child makes the future man; all that in the man makes the good citizen. - Author: Edwin Hubbel Chapin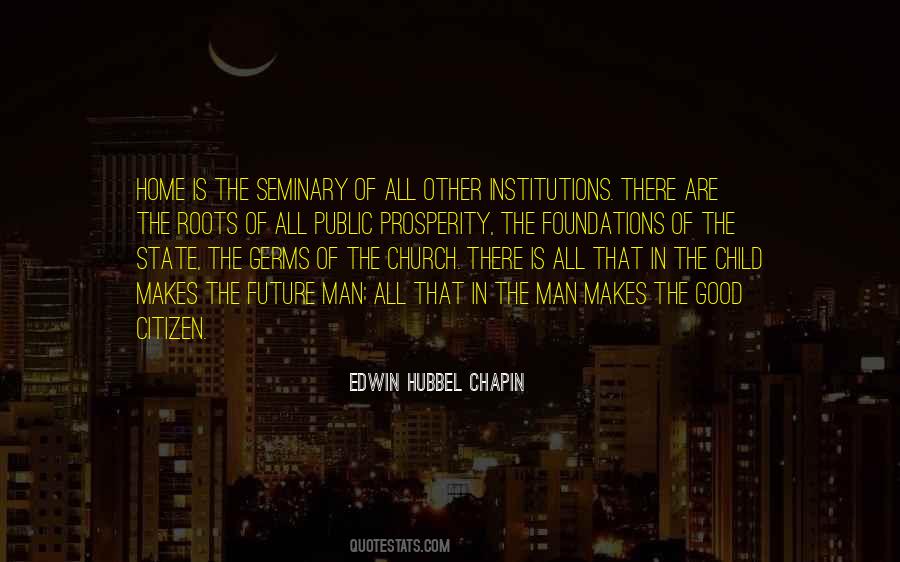 #52. A plant needs roots in order to grow. With man it is the other way around: only when he grows does he have roots and feels at home in the world. - Author: Eric Hoffer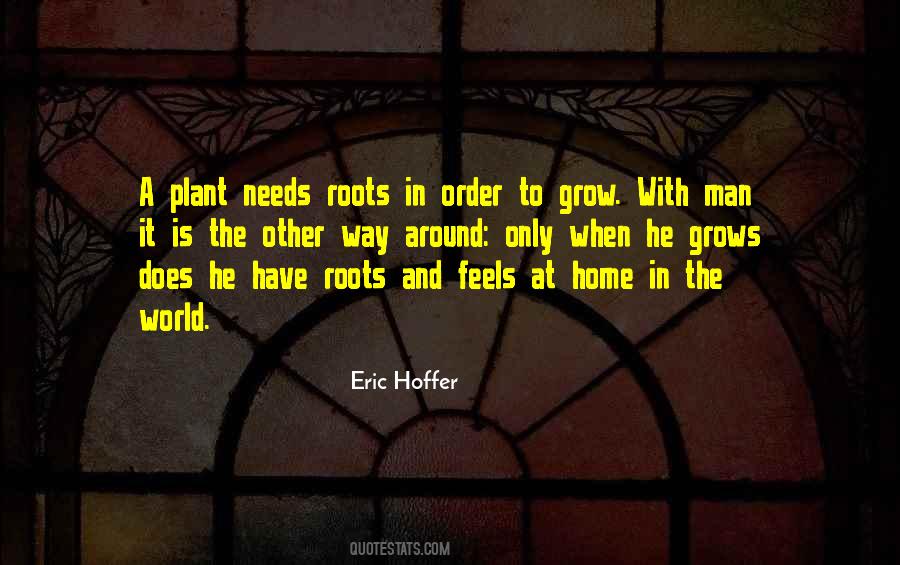 Famous Authors
Popular Topics