Heart And Mind Famous Quotes & Sayings
List of top 100 famous quotes and sayings about heart and mind to read and share with friends on your Facebook, Twitter, blogs.
Top 100 Quotes About Heart And Mind
#1. I loved him desperately, completely, and he wasn't threatening to consume me anymore. He already had. Everything that was me was him. My heart, mind and soul all were as much a part of him as they were me. - Author: Cassandra Giovanni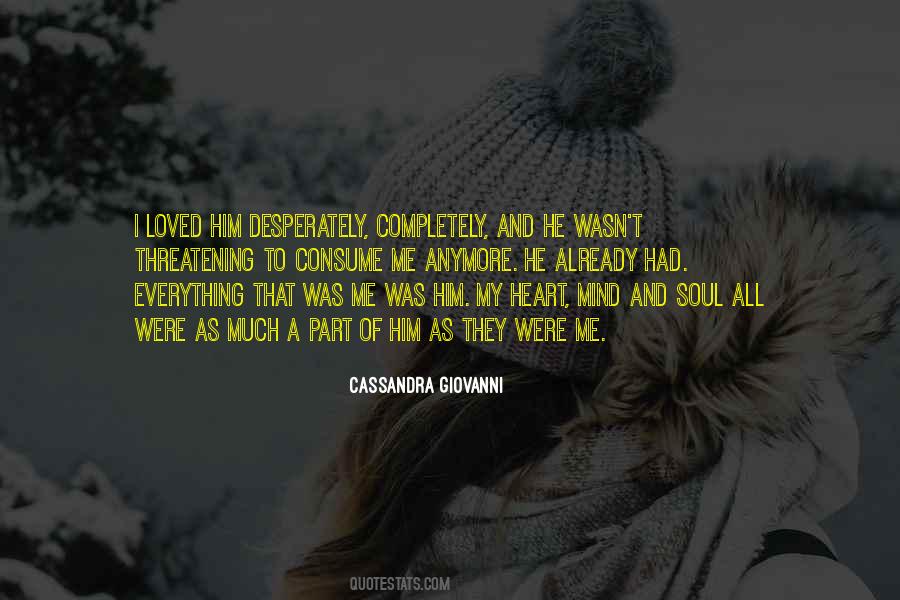 #2. Beauty is in the holiness of the heart and in the simplicity of mind. - Author: Debasish Mridha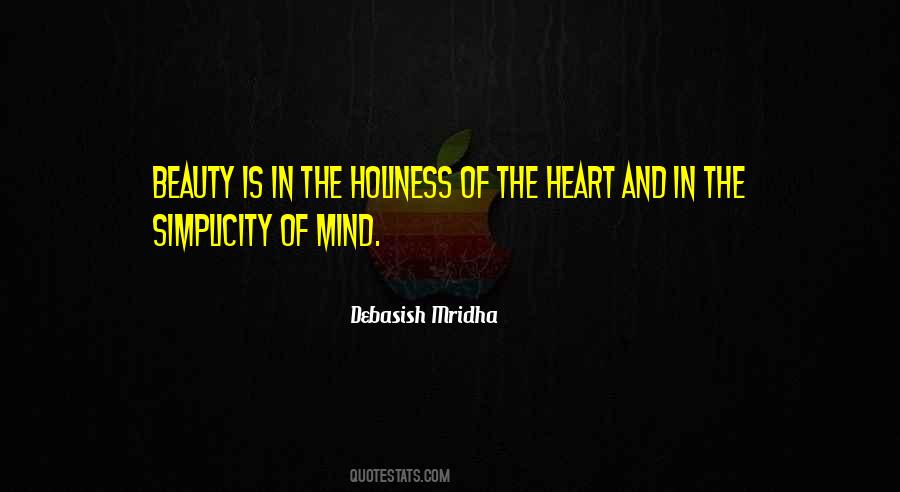 #3. My mind has taken over my heart,and now there is nothing left to be discussed. - Author: Narjit Singh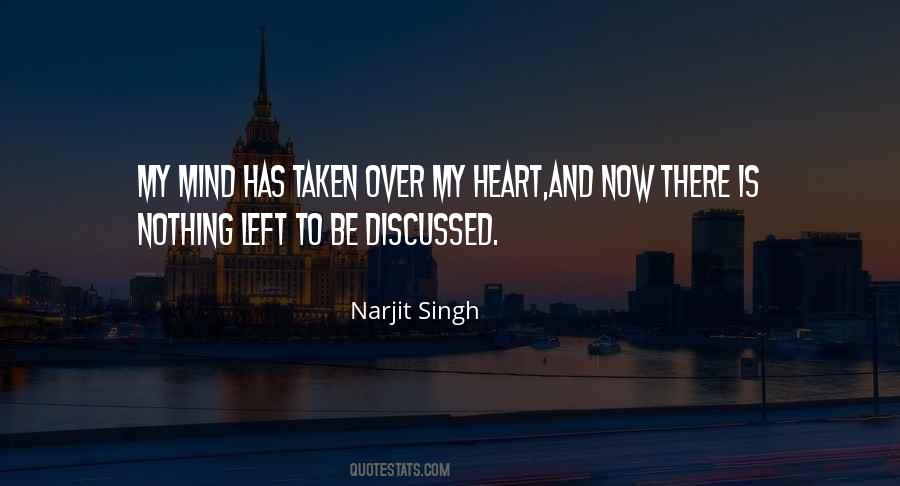 #4. When a turbulent mind and wounded heart surrenders to grace, breathing is easy. - Author: T.F. Hodge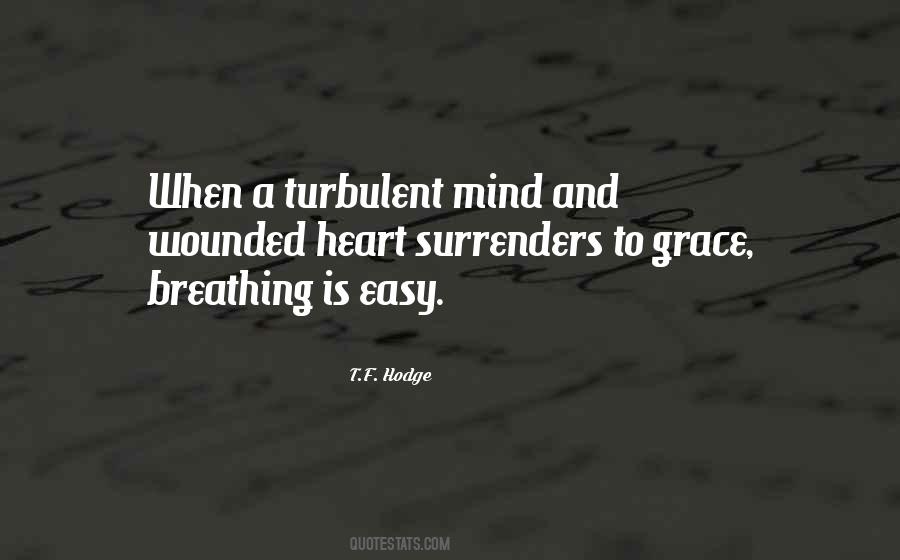 #5. To be a winner in life, be simple and be kind.
You will win the heart and you will win the mind. - Author: Debasish Mridha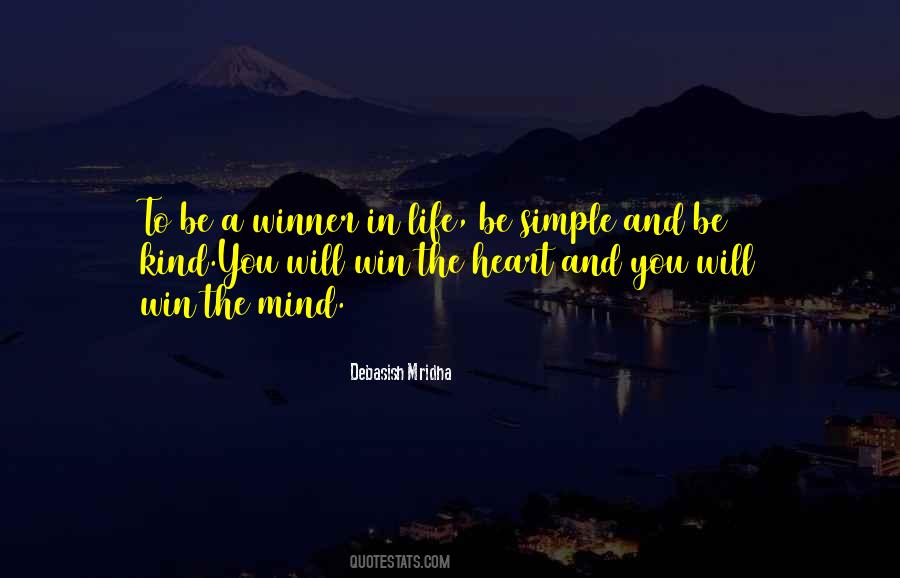 #6. The dark has teeth and it will bite,
It feasts begins on Sorry Night.
When cold and fear are intertwined,
They'll chew up your heart and feed on your mind.
Where have the souls gone? What do they see?
The gateway to Hell's eternity. - Author: Simon Holt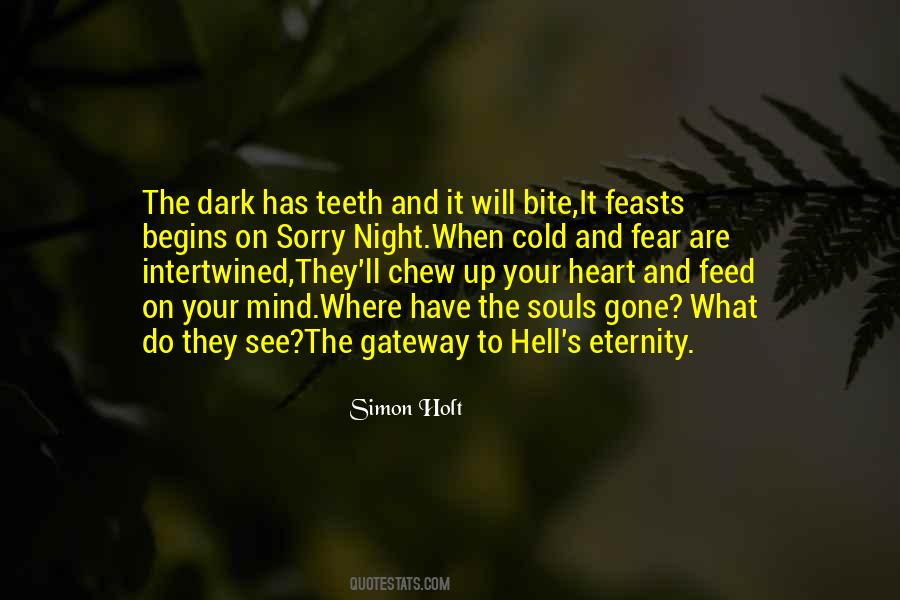 #7. The temporal heart resonates at whispers
From a Truth overarching
Of whose countenance
Timeless Intellect yearns vainly to fathom - Author: Ashim Shanker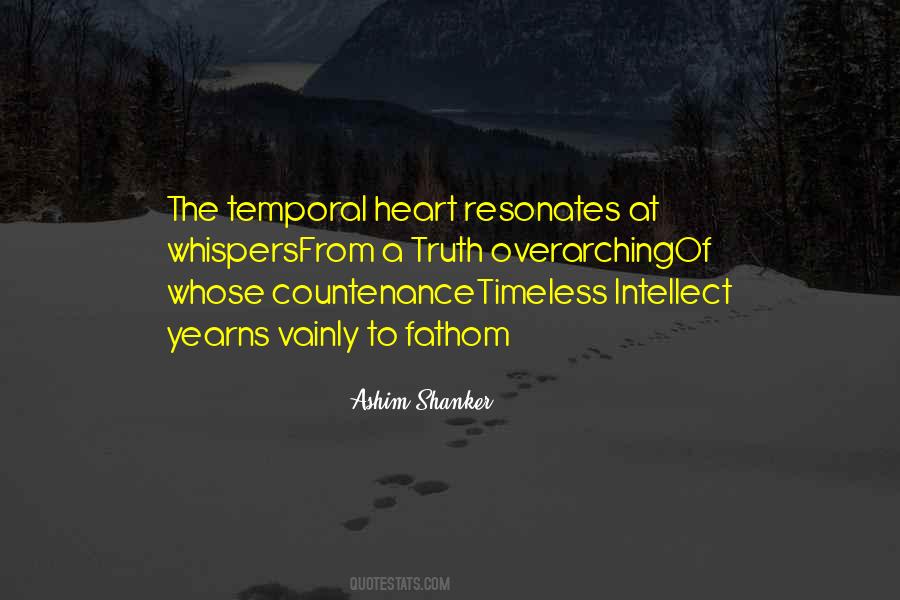 #8. Every good rowing coach, in his own way, imparts to his men the kind of self-discipline required to achieve the ultimate from mind, heart, and body. Which is why most ex-oarsmen will tell you they learned more fundamentally important lessons in the racing shell than in the classroom. - Author: Daniel James Brown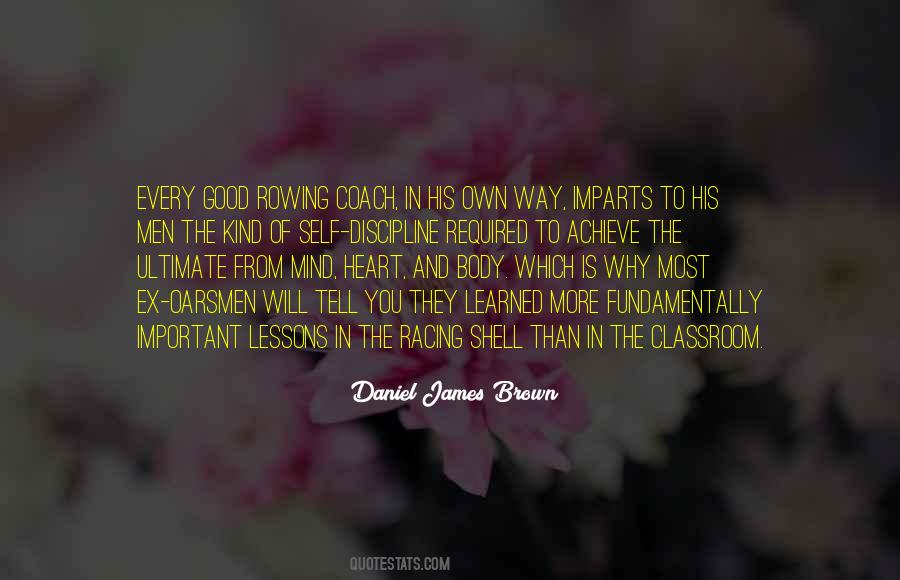 #9. You don't buy a Harley with your mind, you buy it with your heart and your balls. - Author: Robert Patrick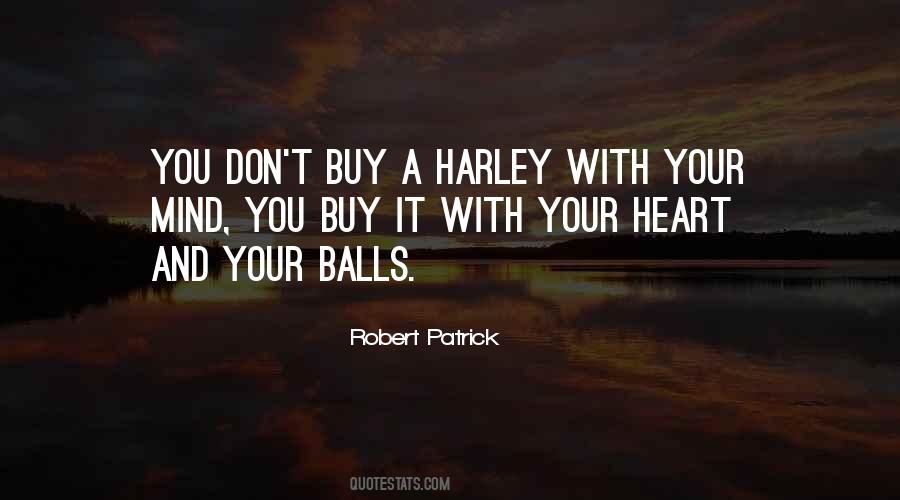 #10. We teach the student of Greek that the KEYS to understanding anything and everything in the Scripture - both the fundamental truths and the "deeper things" - are a HUMBLE HEART and a BELIEVING MIND. - Author: Peter S. Ruckman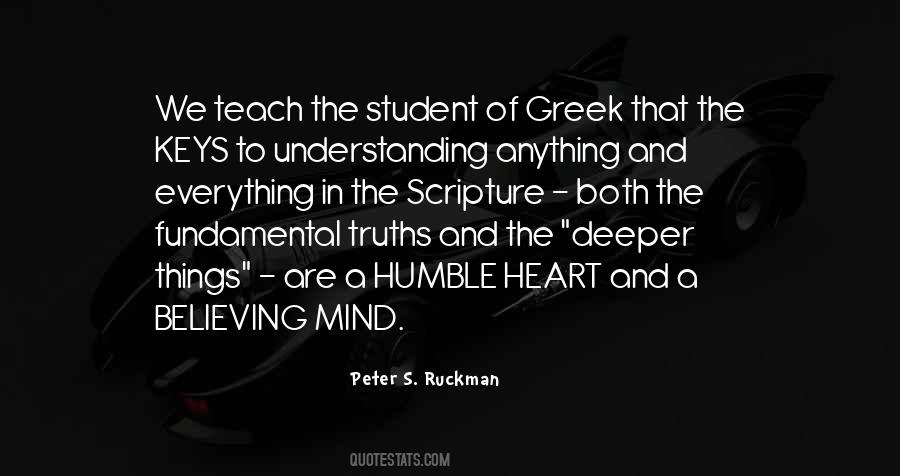 #11. Let the sun rise in your heart and set in your mind. - Author: Jana Fayne Kolpen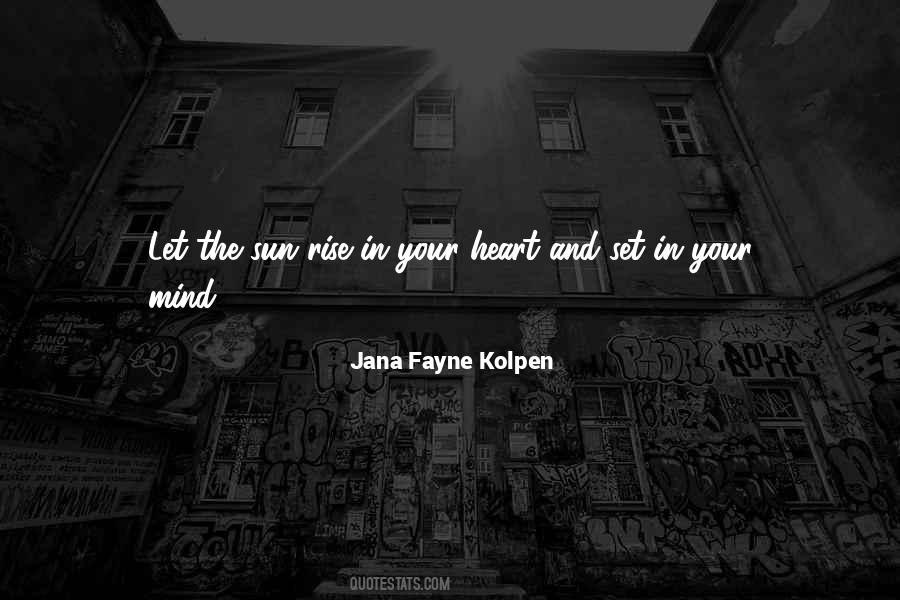 #12. I realized that they could take everything from me except my mind and my heart. They could not take those things. Those things I still had control over. And I decided not to give them away. - Author: Nelson Mandela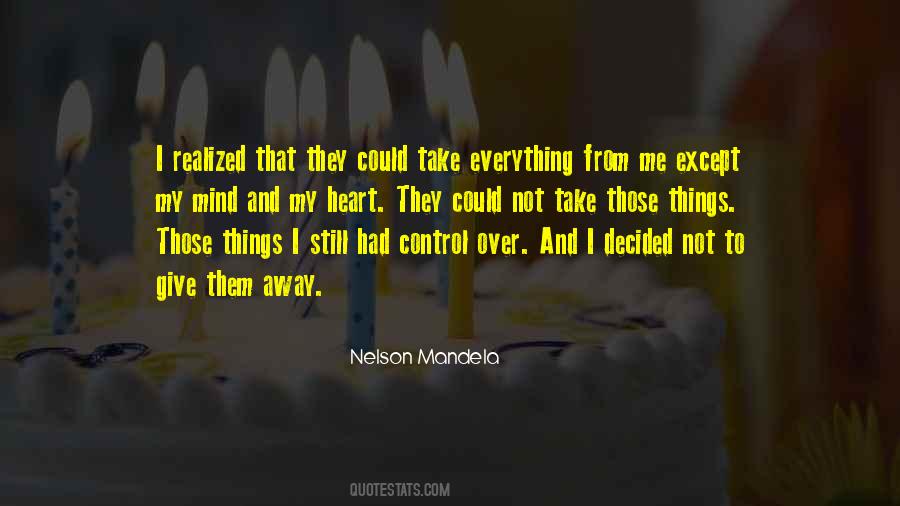 #13. Resonance happens when your mind and heart come into sync. - Author: Ravindra Shukla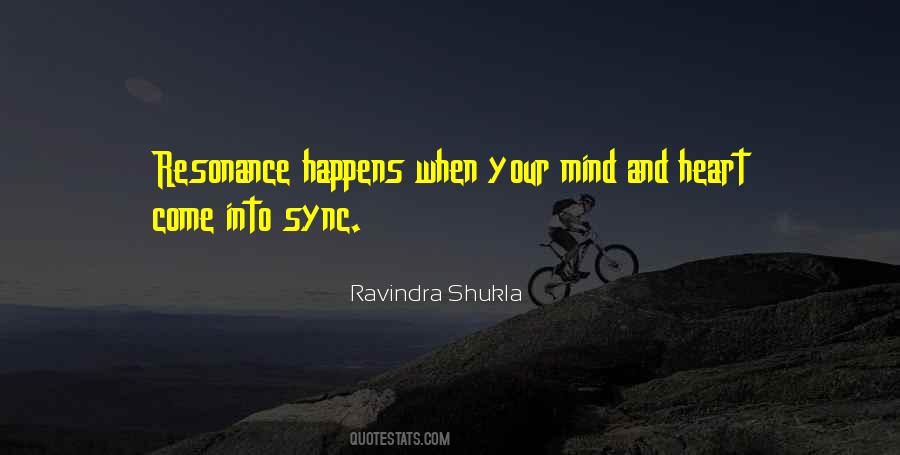 #14. How can something that is true in your heart and in your mind not be real? - Author: Hester Velmans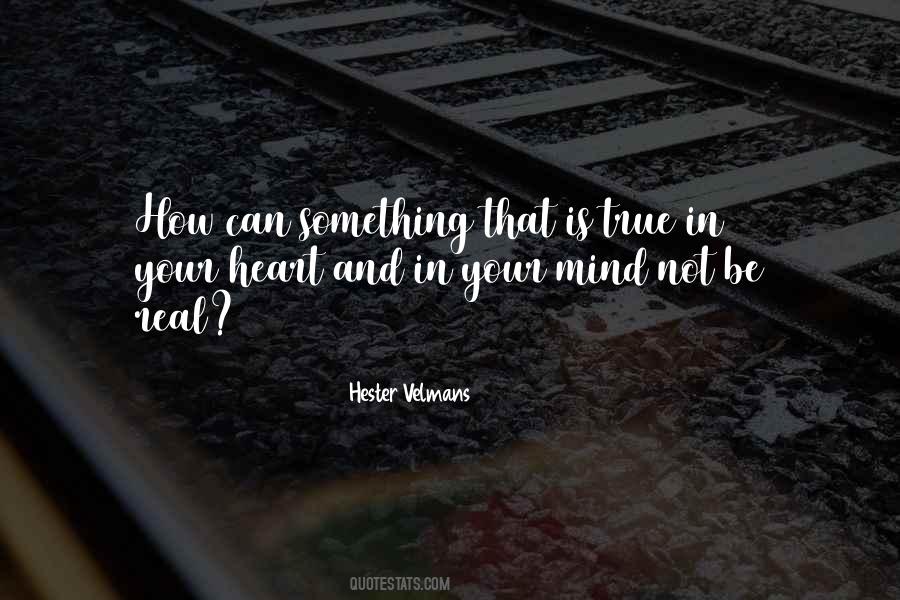 #15. Judicious books enlarge the mind and improve the heart ... - Author: Mary Wollstonecraft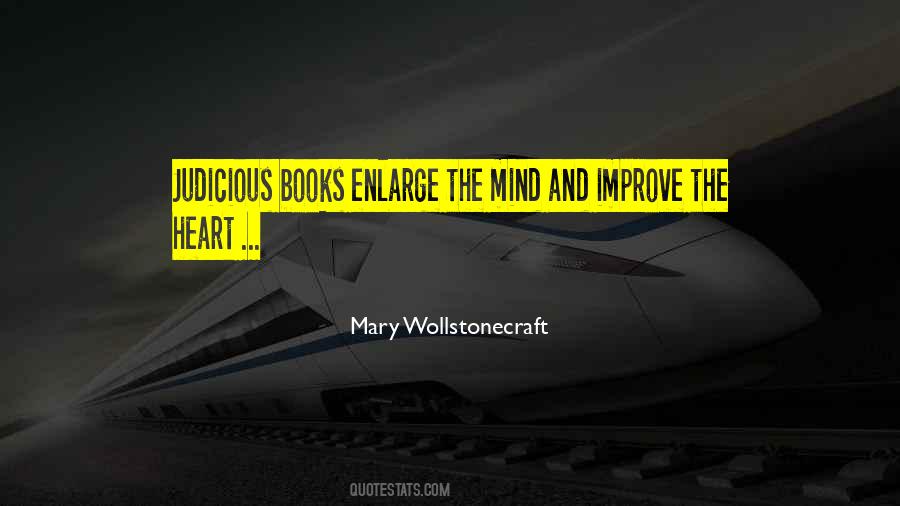 #16. In order for romance to deepen, you must touch the heart and mind of your wife before you touch her body. - Author: C.J. Mahaney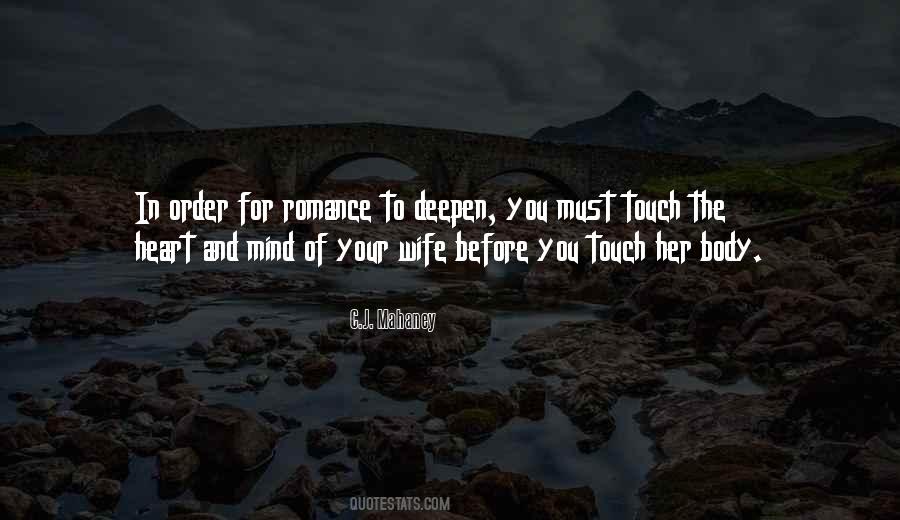 #17. Let us fill our mind with kindness, heart with love, and life with joy. - Author: Debasish Mridha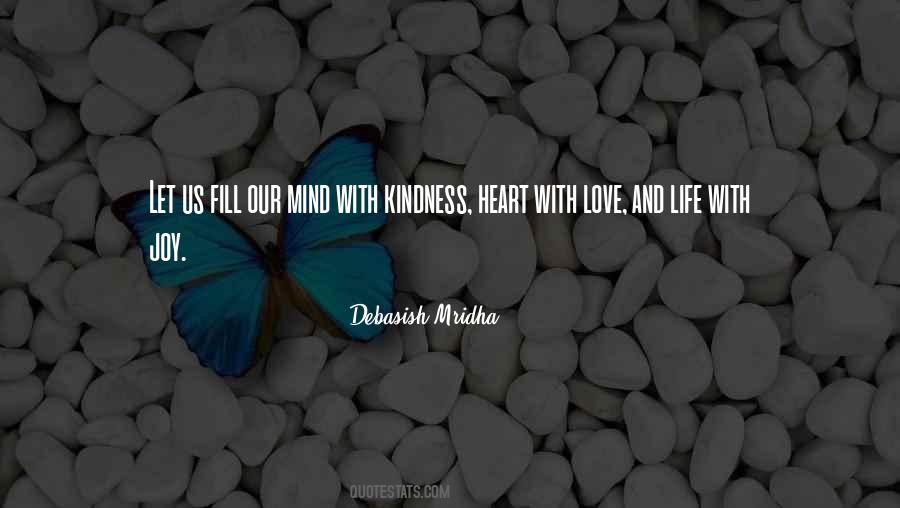 #18. Speak out your mind and your heart, you won't be bored. - Author: Lights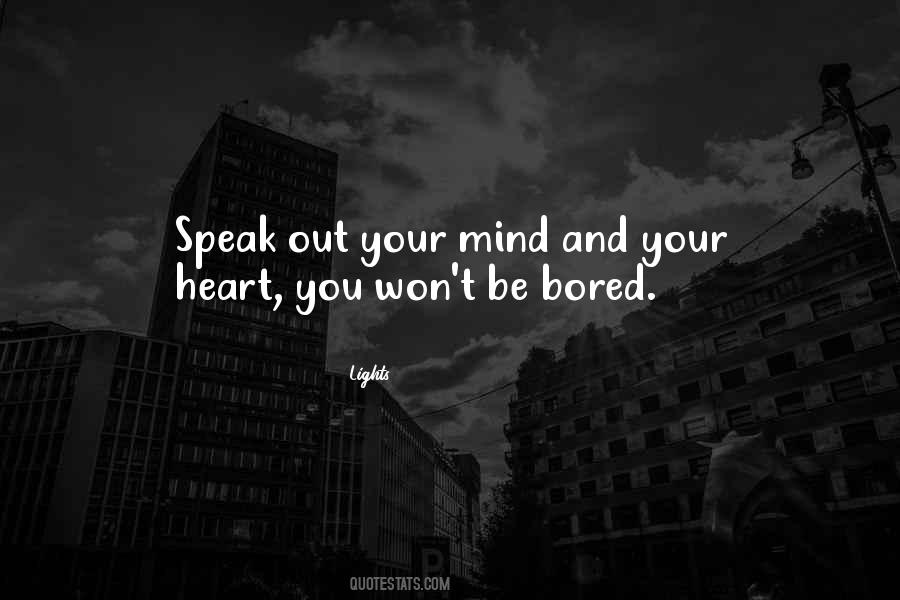 #19. The Great Spirit is everywhere; he hears whatever is in our minds and our hearts, and it is not necessary to speak to Him in a loud voice. - Author: Black Elk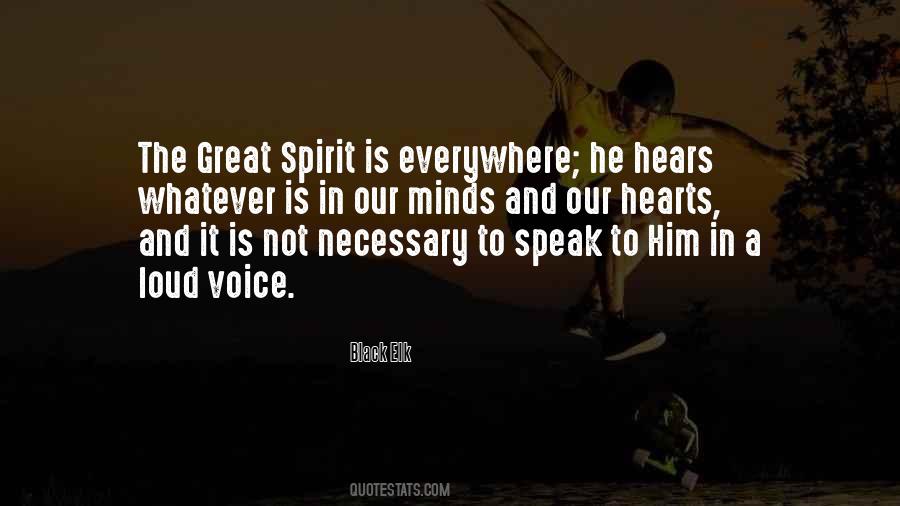 #20. I believe in human dignity as the source of national purpose, human liberty as the source of national action, the human heart as the source of national compassion, and in the human mind as the source of our invention and our ideas - Author: John F. Kennedy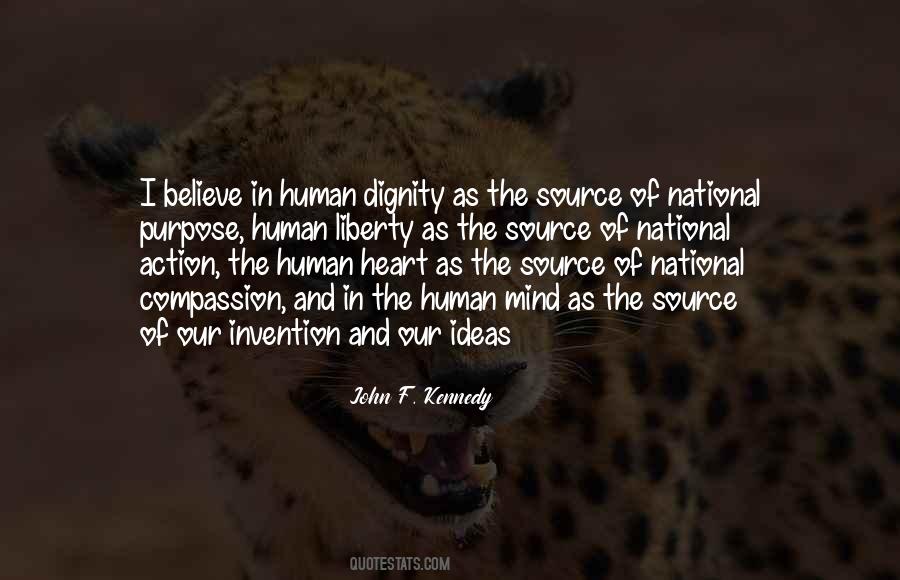 #21. Eventually it will become quiet enough so that you can simply watch the heart begin to react, and let go before the mind starts. At some point in the journey it all becomes heart, not mind ... The mind doesn't even get a
chance to start up because you let go at
the heart level. - Author: Michael Singer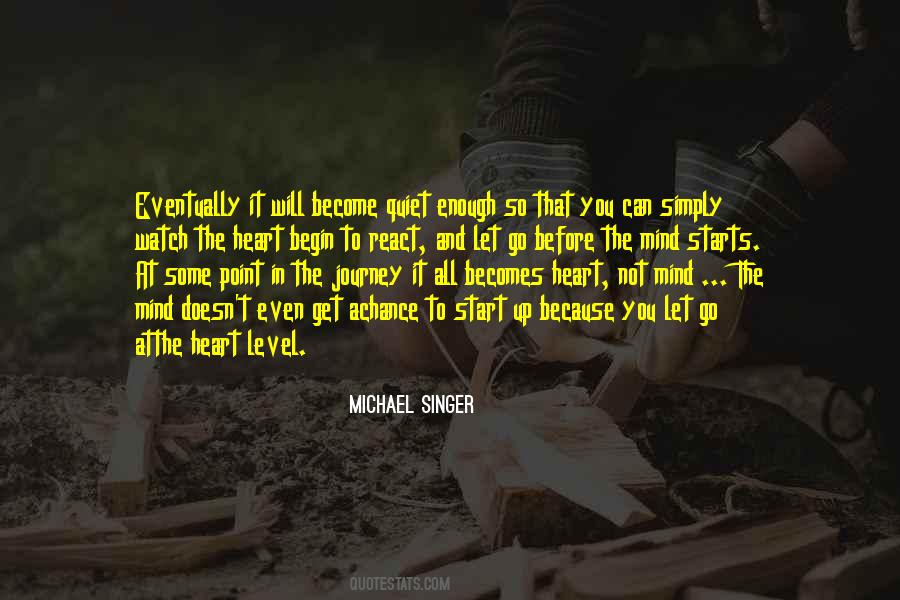 #22. And for yourself, may the gods grant you your heart's desire, a husband and a home, and the blessing of a harmonious life. For nothing is greater or finer than this, when a man and woman live together with one hear and mind, bringing joy to their friends and grief to their foes. - Author: Homer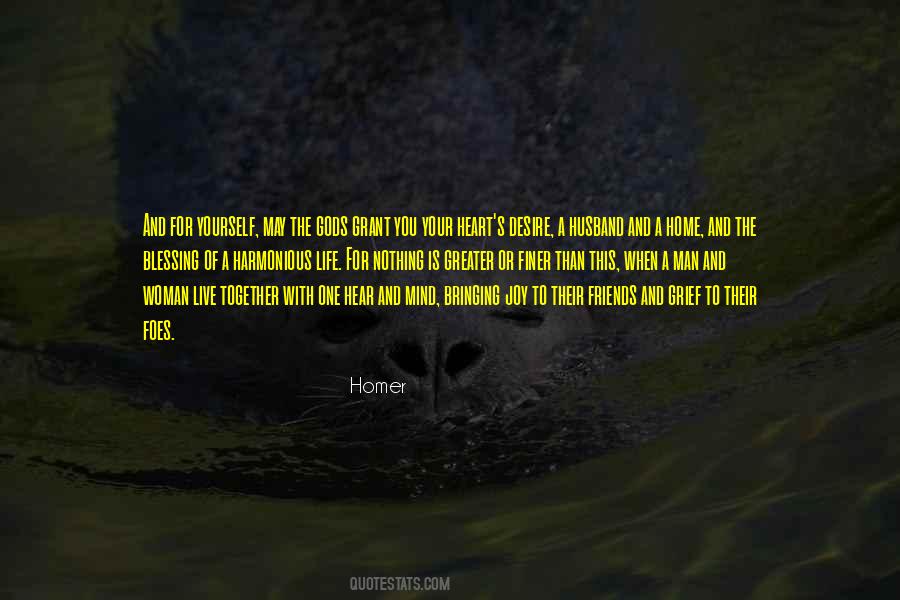 #23. The Self is the heart, self-luminous. Illumination arises from the heart and reaches the brain, which is the seat of the mind. The world is seen with the mind; so you see the world by the reflected light of the Self. - Author: Ramana Maharshi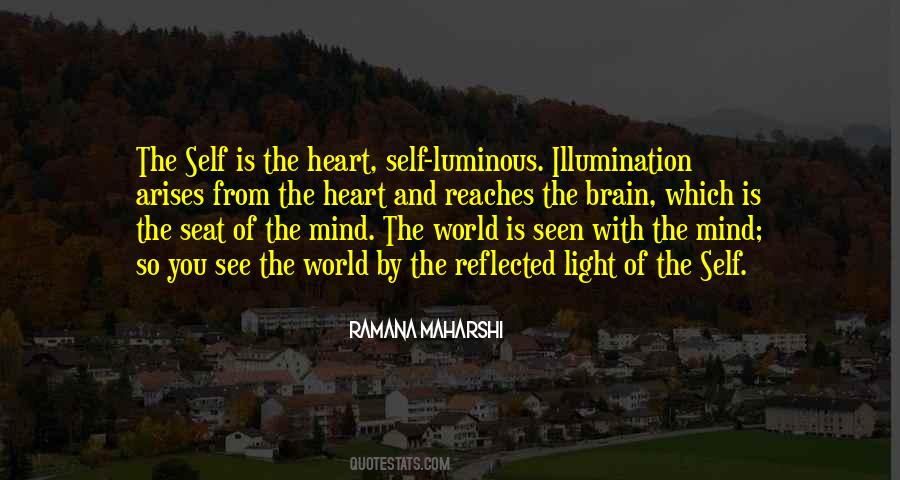 #24. I don't mind putting my heart out there for the audience, and for the country music fans ... to be vulnerable with them ... that's my job as an artist. - Author: Tyler Farr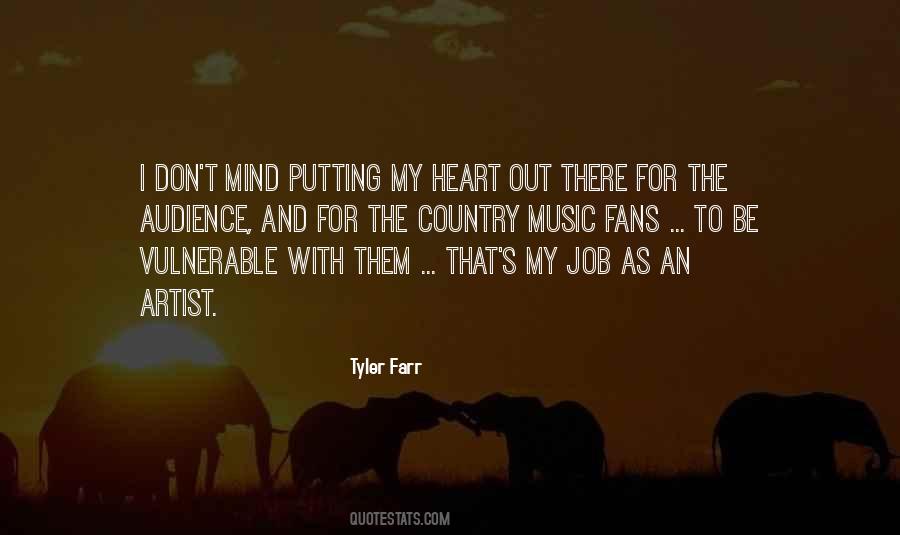 #25. Life of Ages, richly poured,
Love of God unspent and free,
Flowing in the Prophet's word
And the People's liberty!
Never was to chosen race
That unstinted tide confined;
Thine is every time and place,
Fountain sweet of heart and mind! - Author: Samuel Johnson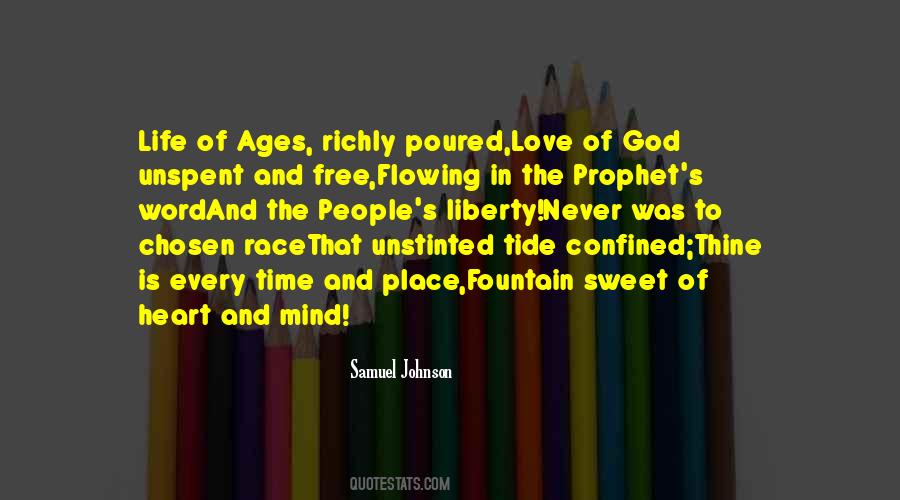 #26. When you move so quickly from innocence to a world of fear, pain and loss, it's as if the flesh of your heart and mind gets cut away, piece by piece, like slices taken off a ham. Finally, there is nothing left but bone. - Author: Leymah Gbowee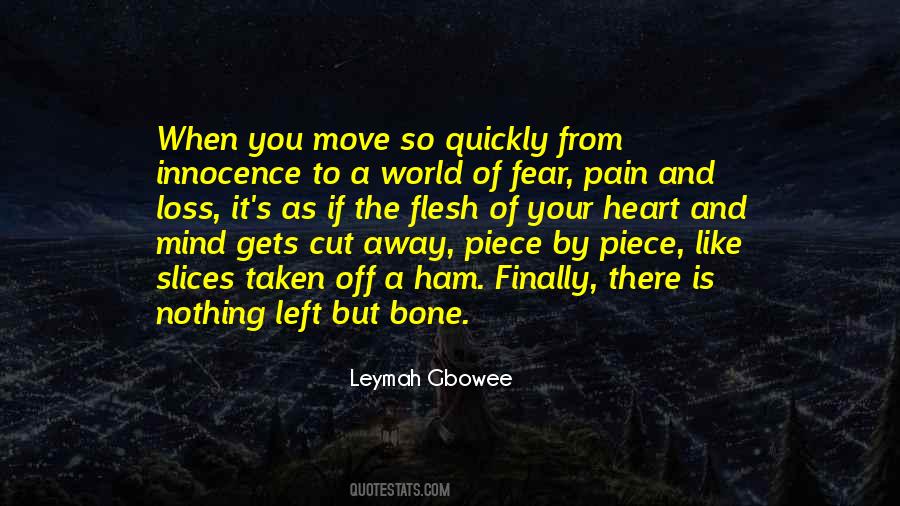 #27. When we begin to view our experiences through the lens of gratitude, our heart, mind and spirit naturally expand. - Author: David Brown Jr.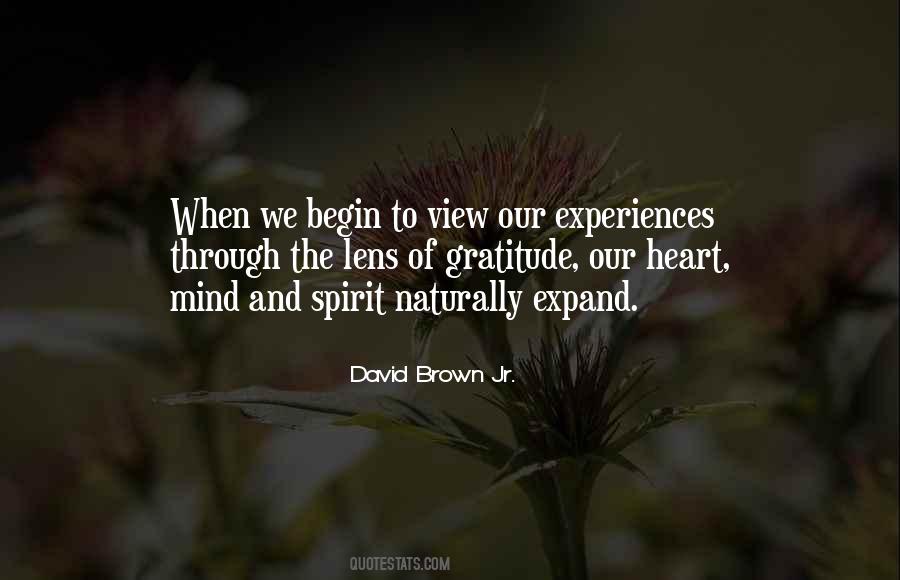 #28. But Catherine did not know her own advantages - did not know that a good-looking girl, with an affectionate heart and a very ignorant mind, cannot fail of attracting a clever young man, unless circumstances are particularly untoward. - Author: Jane Austen
#29. Great spiritual traditions are used as a means to ripen us, to bring us face to face with our life, and to help us to see in a new way by developing a stillness of mind and a strength of heart. - Author: Jack Kornfield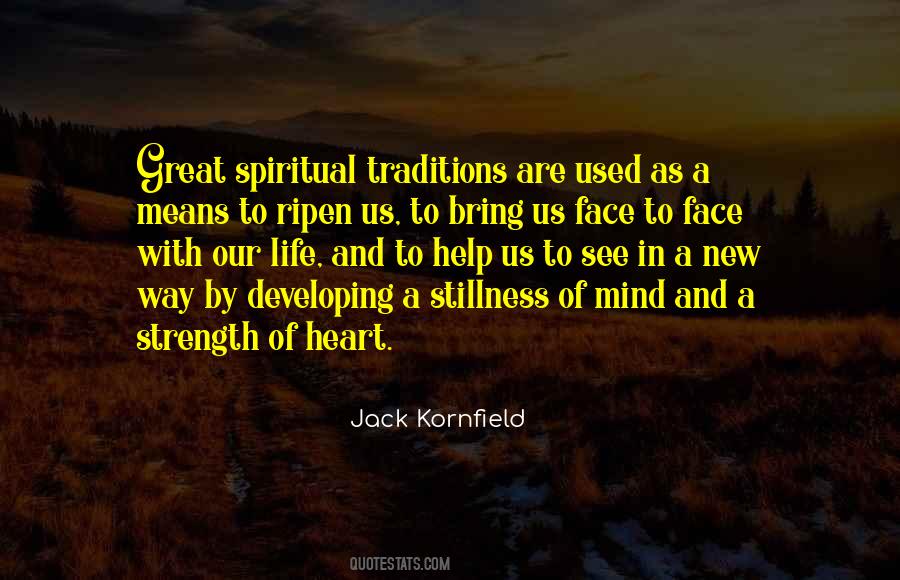 #30. Whatever I believed, I did; I did with my whole heart and mind as far as possible to do so ... - Author: Jean Toomer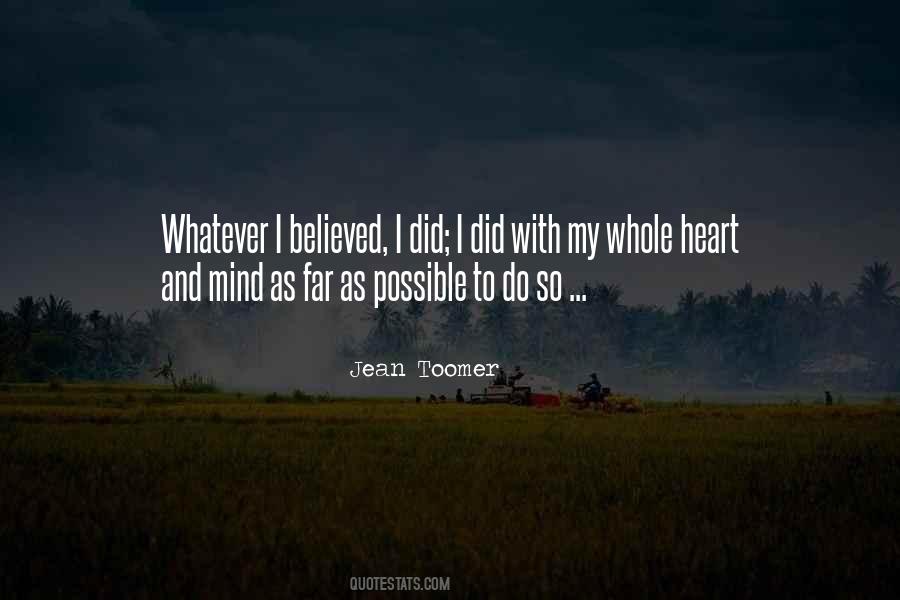 #31. And so, now, she runs. In her running, her mind leaves her.
And she can hear nothing but her heart, the blast making her deaf.
There is a great white silent empty in her running.
She runs. - Author: Lidia Yuknavitch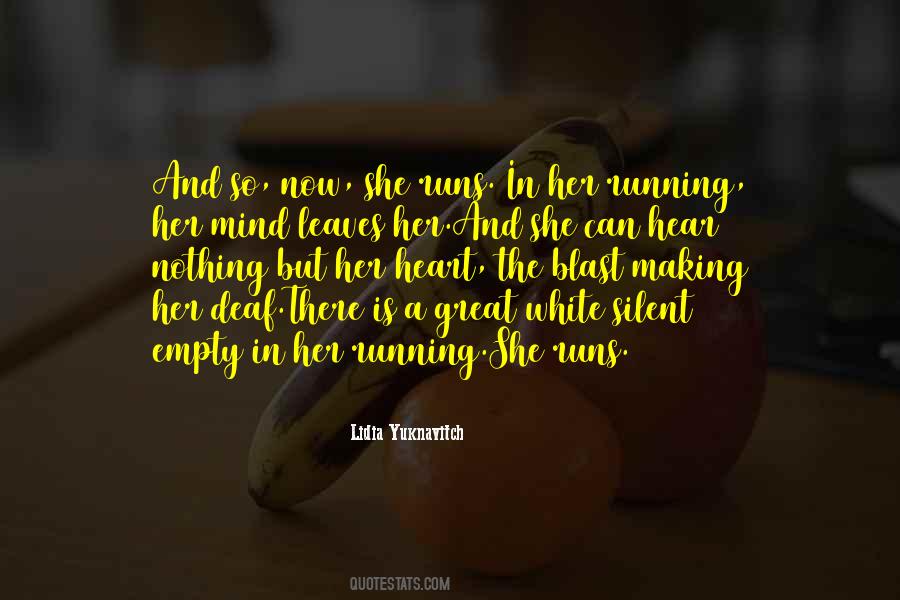 #32. Pasture, stone wall, and steeple,
What most perturbs the mind:
The heart-rending homely people,
Or the horrible beautiful kind? - Author: Louise Bogan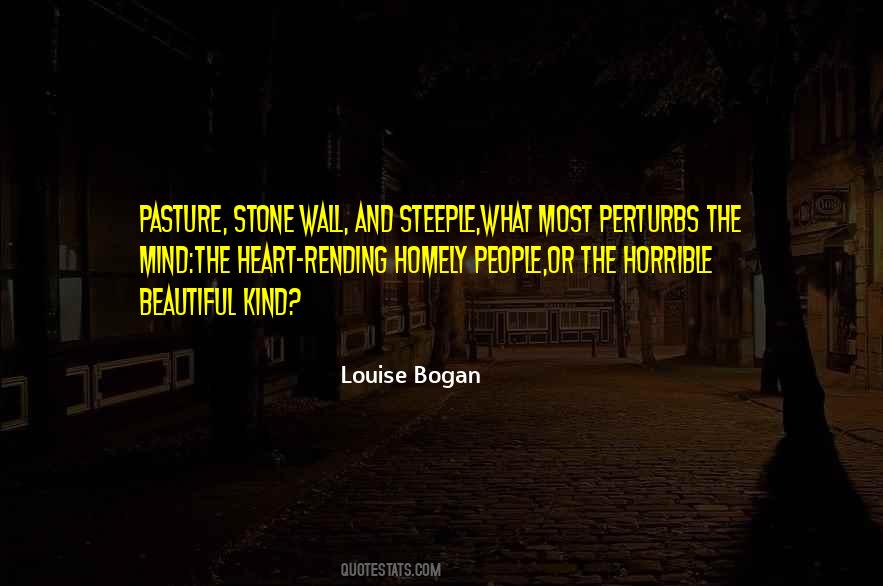 #33. She seems to think that running off and leaving me heartbroken is a good idea, so I decided that I'm going to take her home with me every single day to remind her that my heart beats only for her. That my day starts with her running through my mind and ends with her sleeping in my arms. - Author: Claire Contreras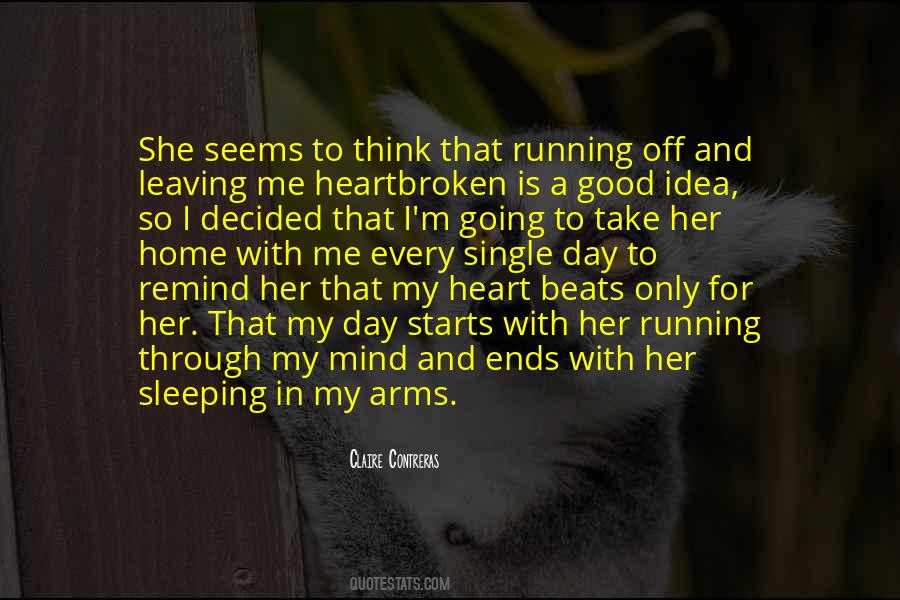 #34. All acts suppose certain dispositions, and habits of mind and heart, which may be in themselves states of enjoyment or of wretchedness, and which must be fruitful in other consequences besides those particular acts. - Author: John Stuart Mill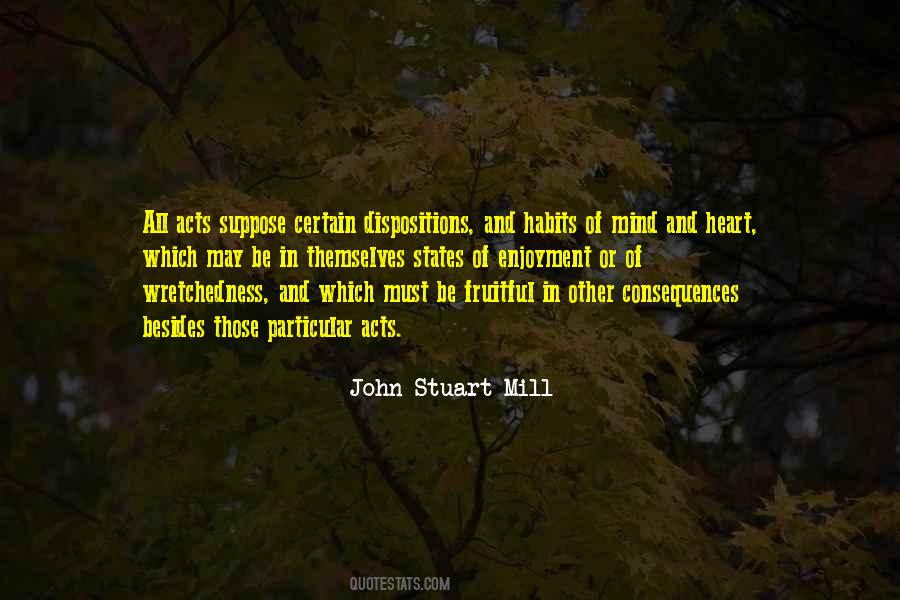 #35. I can be your quintessential good guy princess. I'll treat you right; I'll be there for you whenever you need me, even when you think you don't... but don't for one second let that fool you. I'm gonna own you Lena, body, mind, heart and soul. You'll be mine, totally, completely and irrefutably mine. - Author: G.L. Chapple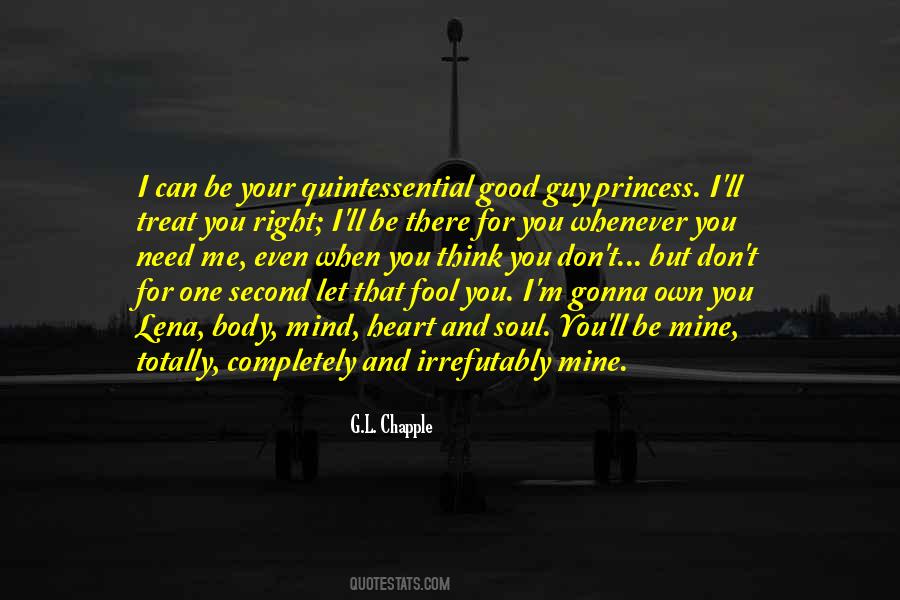 #36. Sometimes it takes heart to write about a thing, doesn't it? To let that thing out of the room way in the back of your mind and put it up there on the screen. - Author: Stephen King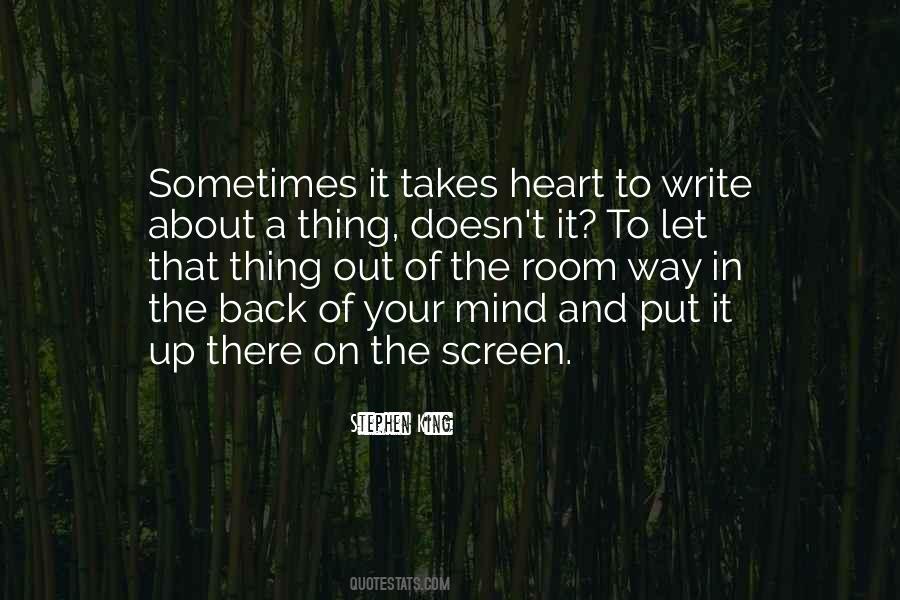 #37. Obedience unlocks the riches of the Christian experience. Prayer prompts and nurtures obedience, putting the heart into the proper "frame of mind" to desire obedience.
Of - Author: R.C. Sproul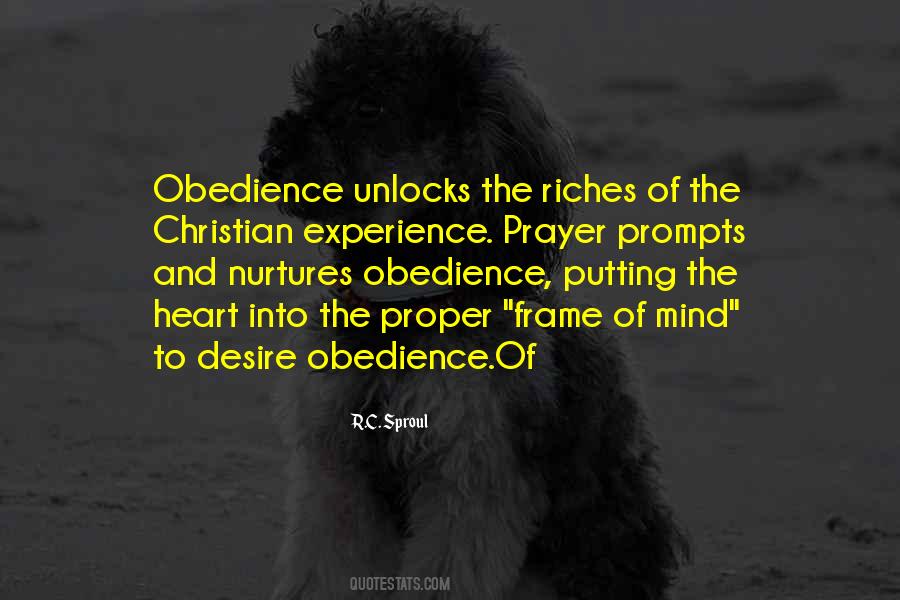 #38. What is a godly mother? A godly mother is one who loves the Lord her God with all her heart, soul, mind, and strength and then passionately, consistently, and unrelentingly teaches her child to do the same. - Author: Elizabeth George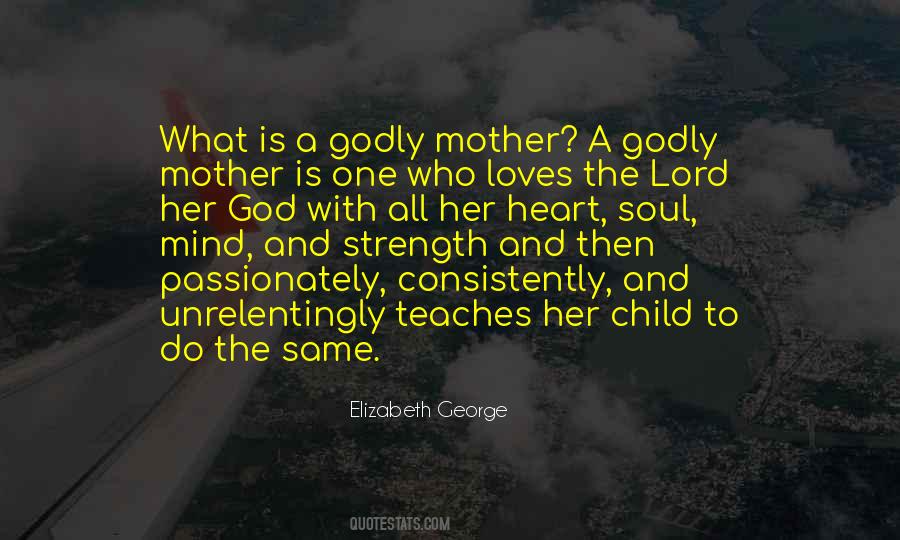 #39. To know your mind, to see your heart,to taste your pain, to touch your dreams, to trace your scars, and to worship your joy...is my sole interest. - Author: Beth McGirt Adams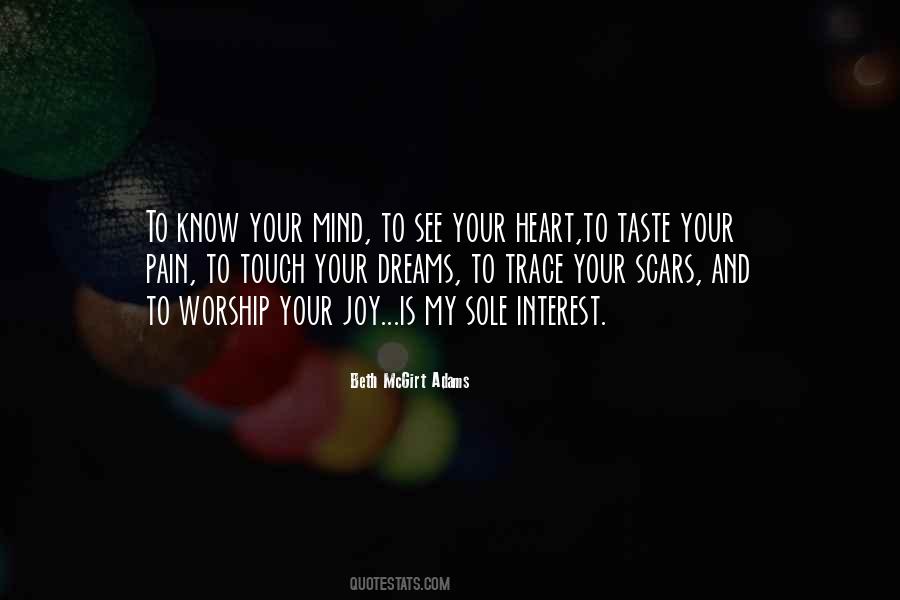 #40. But I believe in love, you know; love is a uniquely portable magic. I don't think it's in the stars, but I do believe that blood calls to blood and mind calls to mind and heart to heart. - Author: Stephen King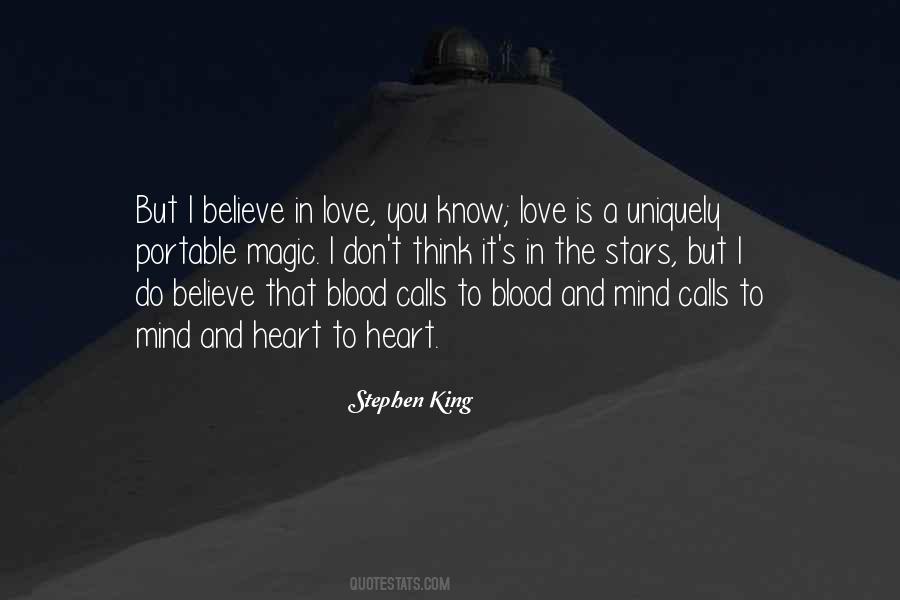 #41. I wish I could help everyone to understand this one simple fact: we believe in God because of things we know with our heart and mind, not because of things we do not know. Our spiritual experiences are sometimes too sacred to explain in worldly terms, but that doesn't mean they are not real. - Author: Dieter F. Uchtdorf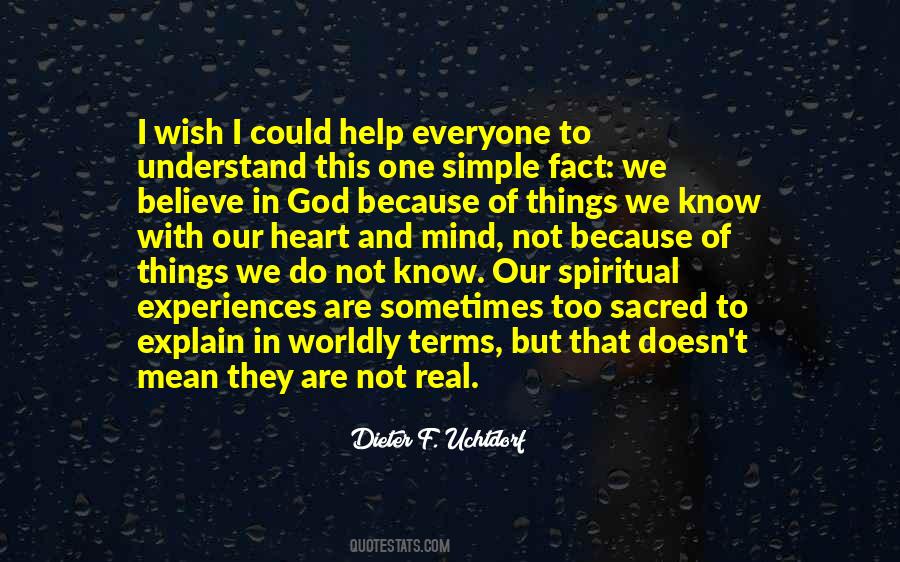 #42. I readied myself for the great effort of speaking with the throat-and-belly instead of the mind-and-heart. It is altogether a different skill. - Author: Catherynne M Valente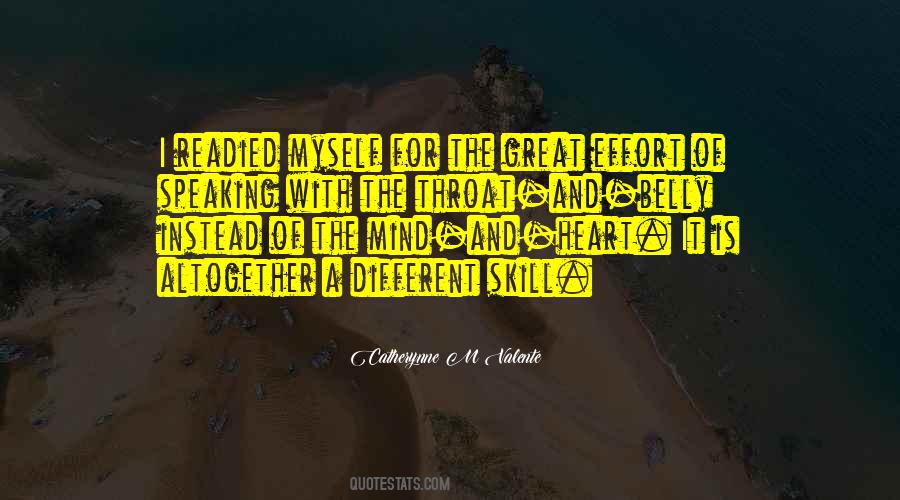 #43. You can't fight hearts and minds with money. - Author: Bob Lefsetz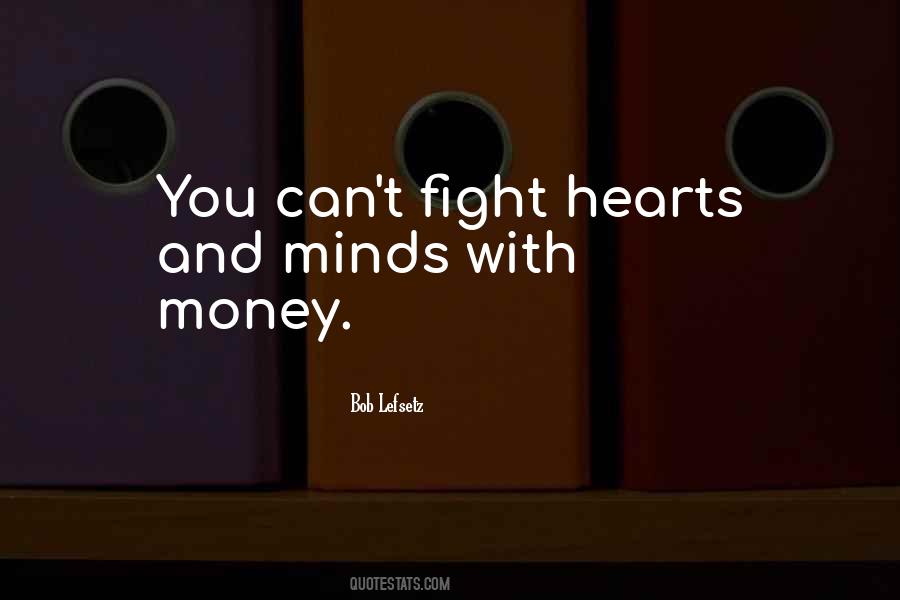 #44. Pain is the mind. It's the thoughts of the mind. Then I get rid of the thoughts, and I get in my witness, which is down in my spiritual heart. The witness that witnesses being. Then those particular thoughts that are painful - love them. I love them to death! - Author: Ram Dass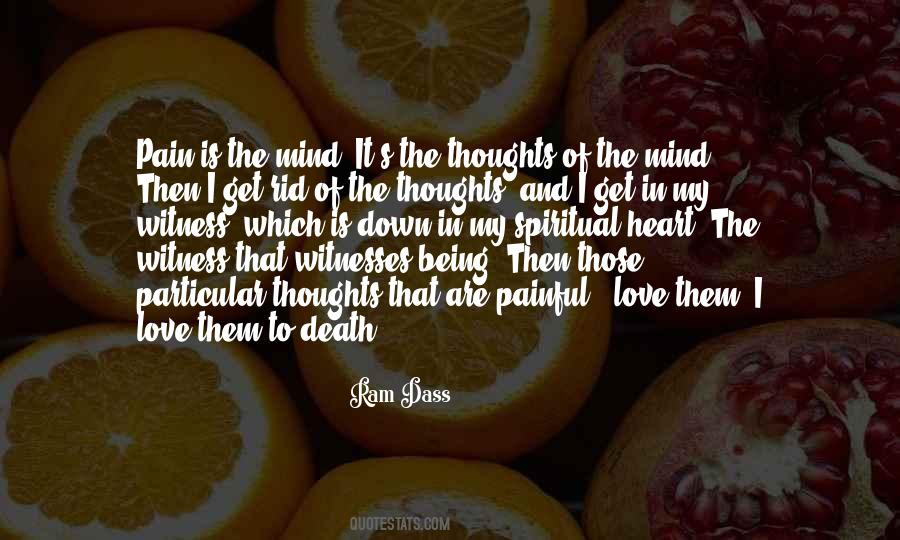 #45. To make a man happy, fill his hands with work, his heart with affection, his mind with purpose, his memory with useful knowledge, his future with hope, and his stomach with food. - Author: Frederick E. Crane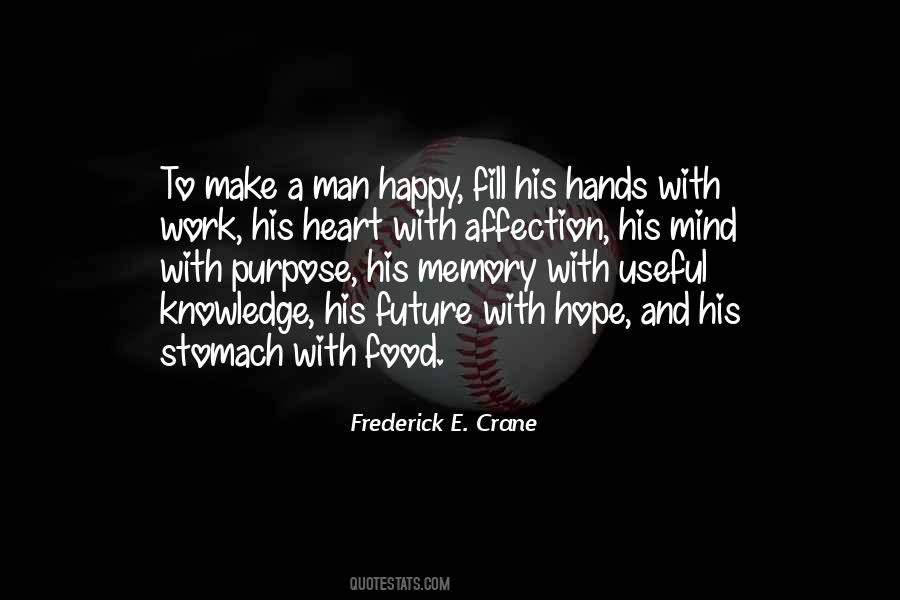 #46. Either by silencing the mind or by opening the heart, today's man can become tomorrow's God, tomorrow's Divinity. And embodied Divinity soon becomes revealed Immortality. - Author: Sri Chinmoy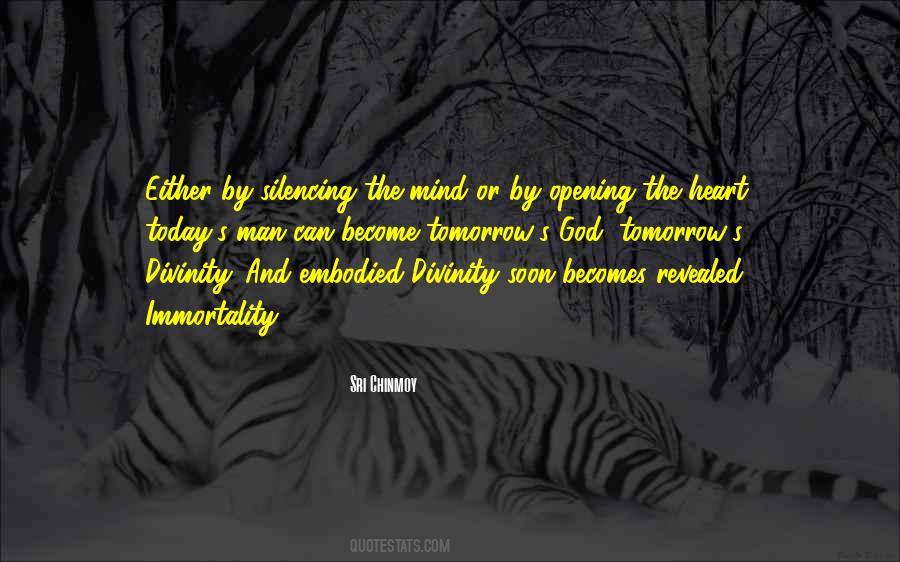 #47. but the truth is this. Peter opened his heart and mind to the Spirit's movement and acted as he was directed. Nothing more. We are merely hands and feet for the Spirit's use. - Author: Janette Oke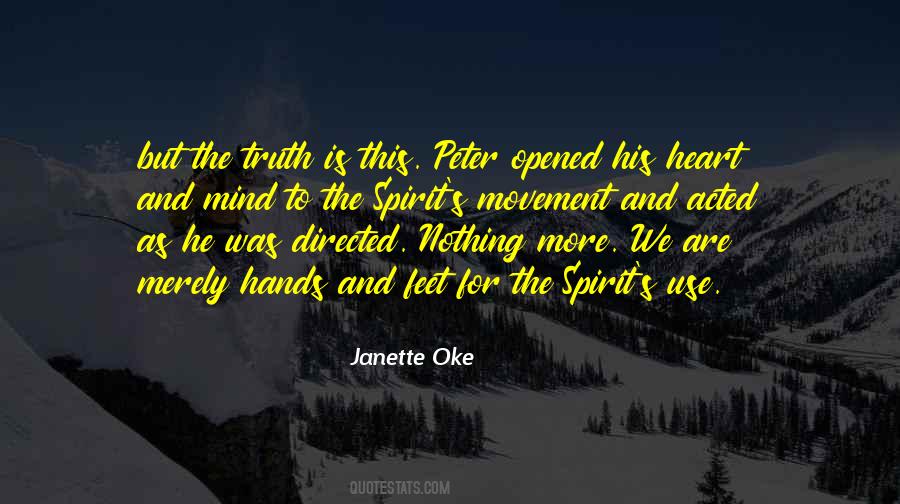 #48. Like all true stories, it was a mix of legends and facts, of myths imagined and deeds done, of the heart of darkness and the crown of light, of experiences borne and gaps filled, of things seen and visions that could only be authenticated by the mind's eye. - Author: Ken Liu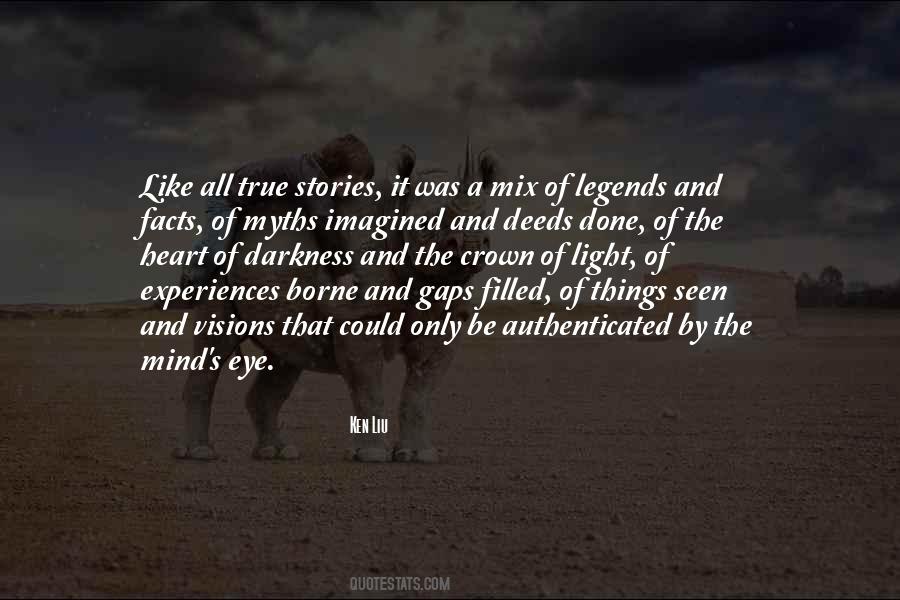 #49. There are men who love to gaze with the mind at things that can never be seen, feel at least the throb of a beauty that will never be known and hear over immense, bleak reaches the echo of that which is no celestial music but only their heart's vain cries. - Author: A.E. Coppard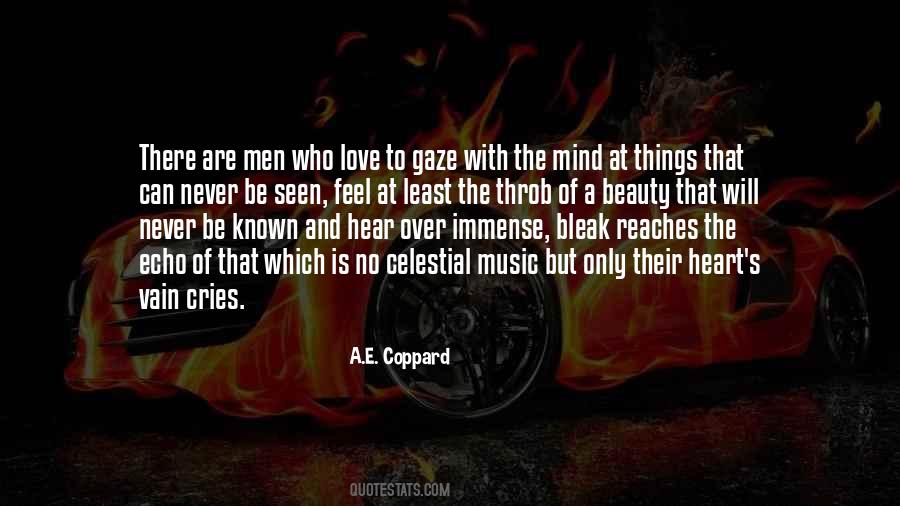 #50. Star performers are my favorite to manage and lead. Star performers are critical to any organization, and the key is how can you capture their heart-share and their mind-share when they're on this fast track. - Author: John Stumpf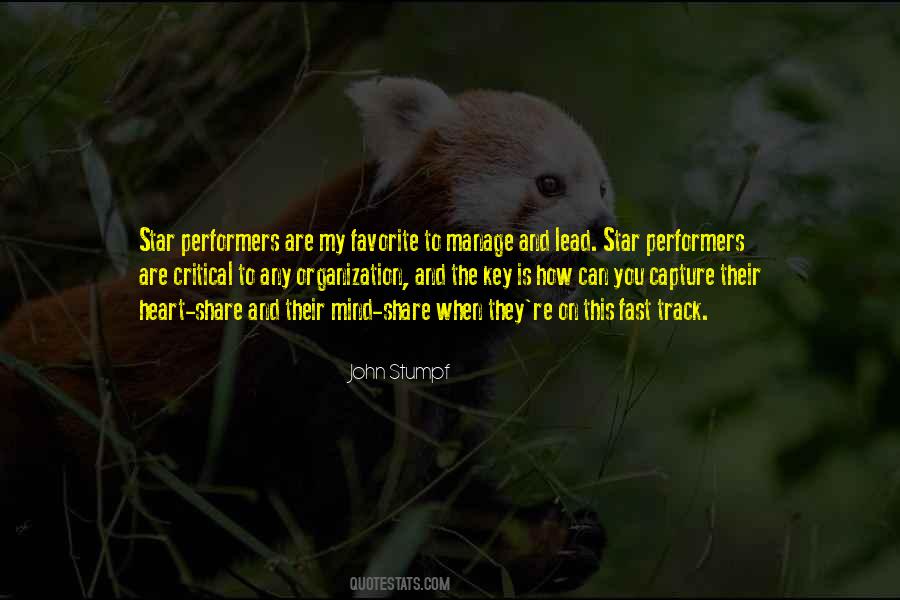 #51. What the mind can conceive and believe, and the heart desire, you can achieve. - Author: Norman Vincent Peale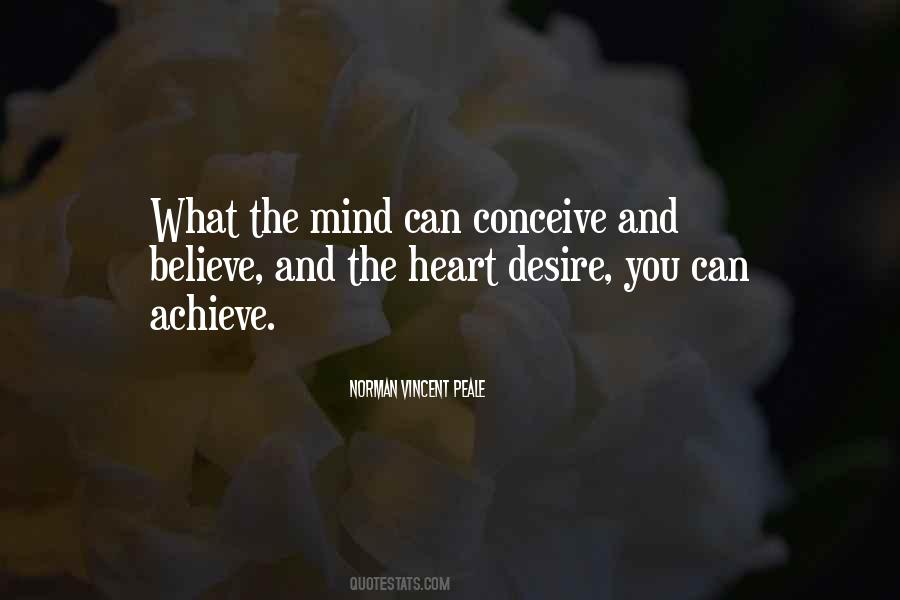 #52. Be not weary in well-doing. ... Out of small things proceedeth that which is great. Behold, the Lord requireth the heart and a willing mind. - Author: Thomas S. Monson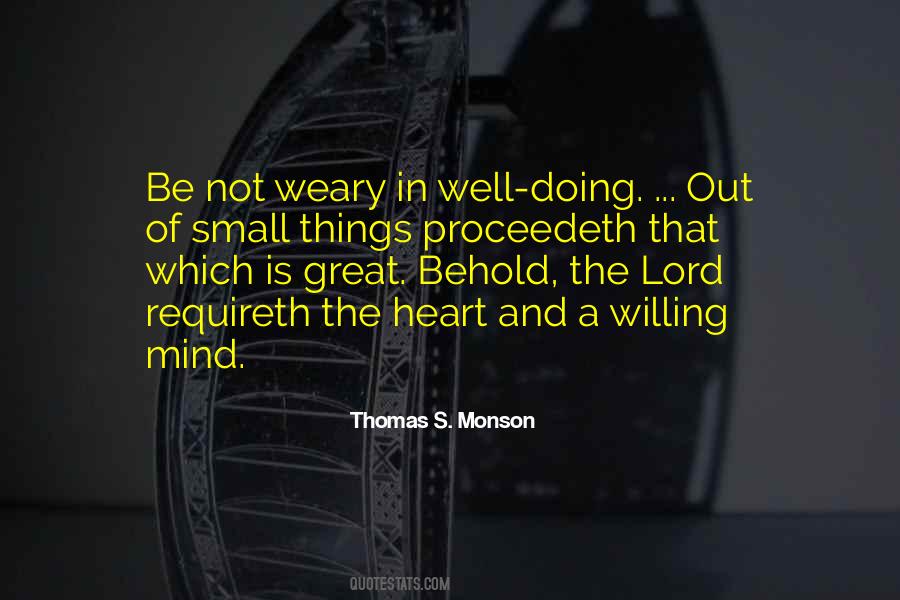 #53. The mind scolds the heart, which makes excuses and goes its own way. - Author: Mason Cooley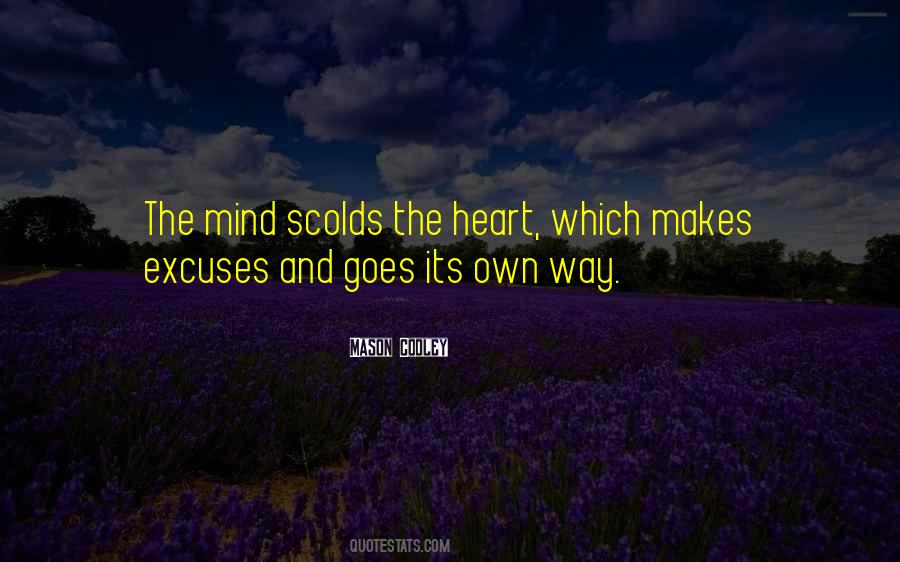 #54. Anger is not bitterness. Bitterness can go on eating at a man's heart and mind forever. Anger spends itself in its own time. - Author: Madeleine L'Engle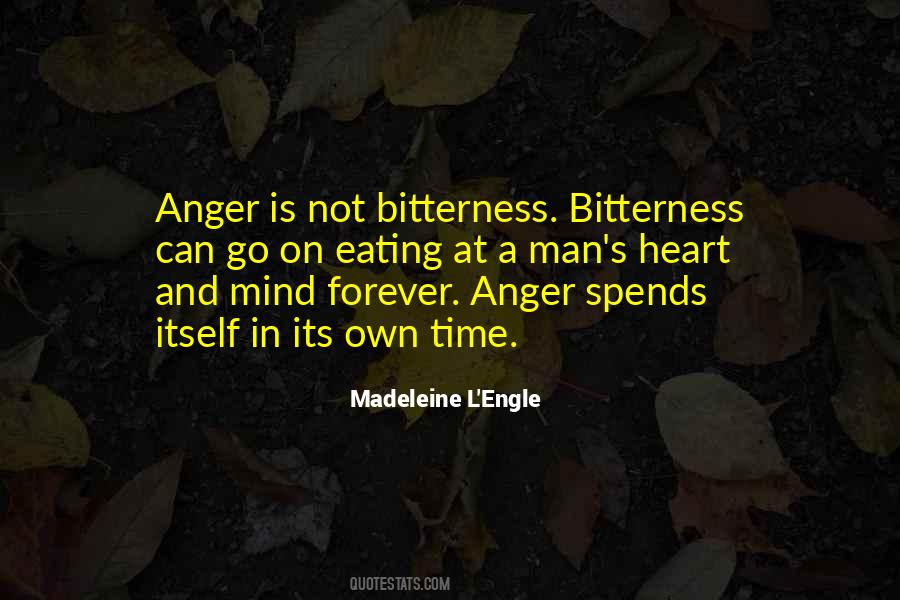 #55. I've got a lot of books in my head, so hopefully we can be friends for a long time. With all my heart, mind, body, and soul ... thank you! - Author: James Dashner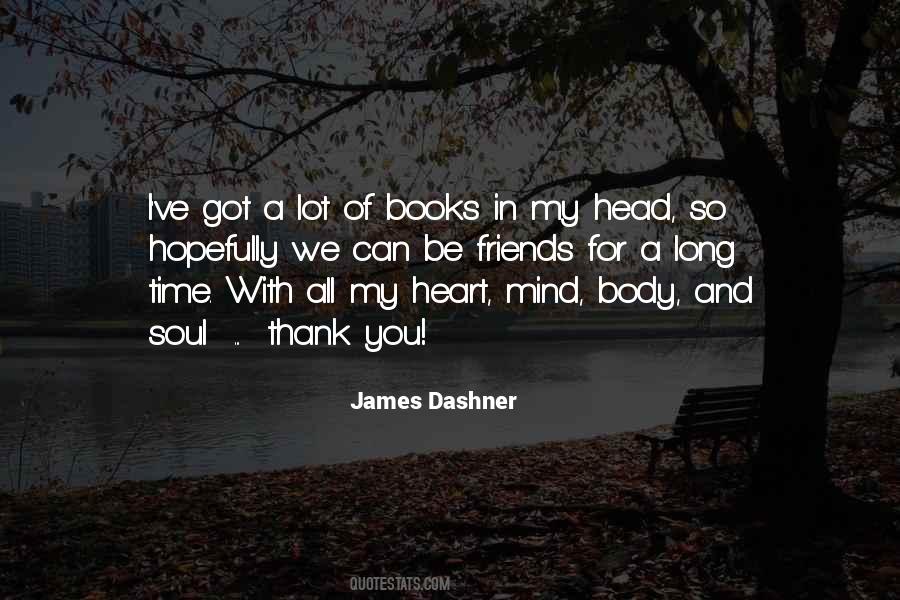 #56. The kirtana of Madhava has an almost magnetic influence. The mind and heart get totally attracted, then drawn into the inside world where one can meet the soul of the universe. Tune in and you will have a deeply rewarding, spiritual experience. - Author: Sacinandana Swami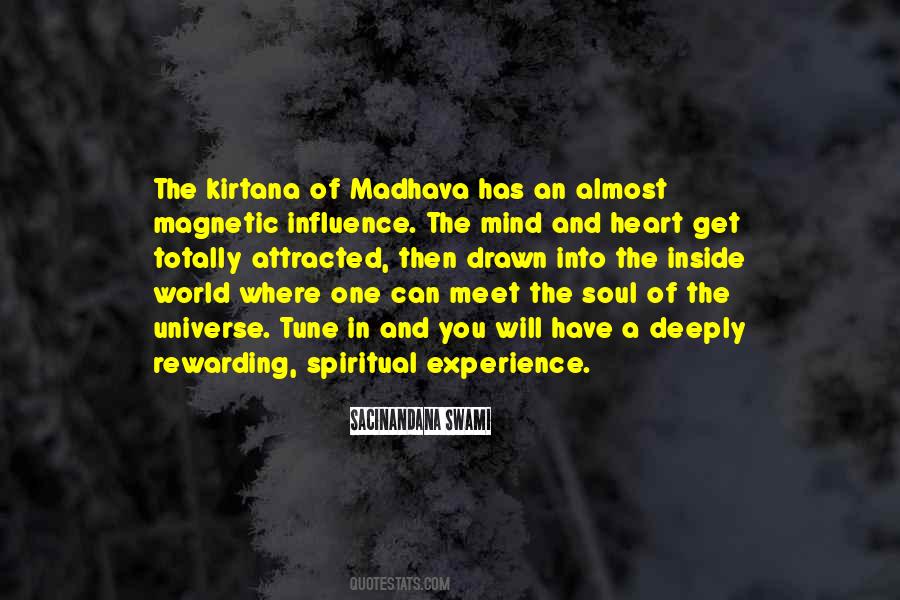 #57. Creating success is a tug of war between your mind and your heart-your fears and your dreams. If your fears win, you lose. - Author: Robert G. Allen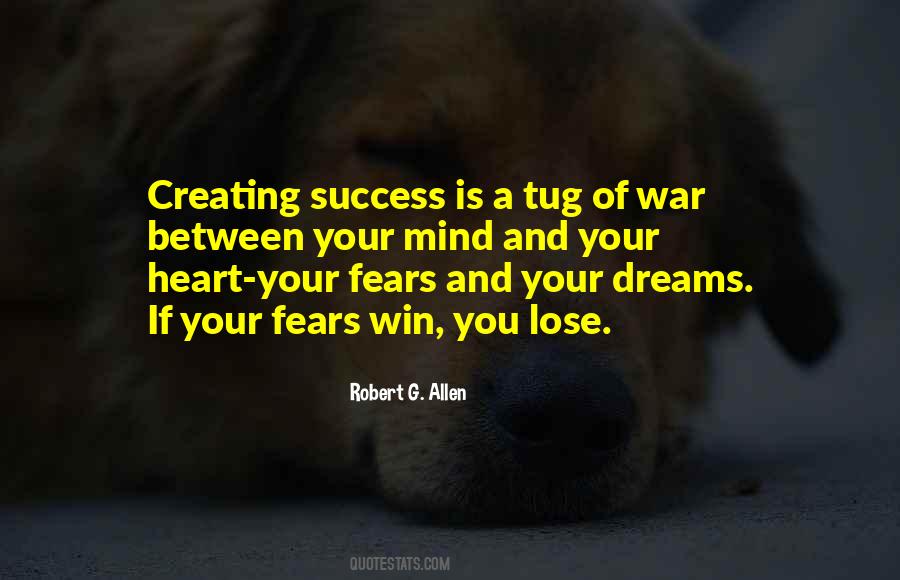 #58. When I give myself over to a good novel, I surrender to the truths fashioned from one writer's heart, mind and soul. I do not waste a nanosecond wondering whether what I'm reading 'really happened.' - Author: Julia Glass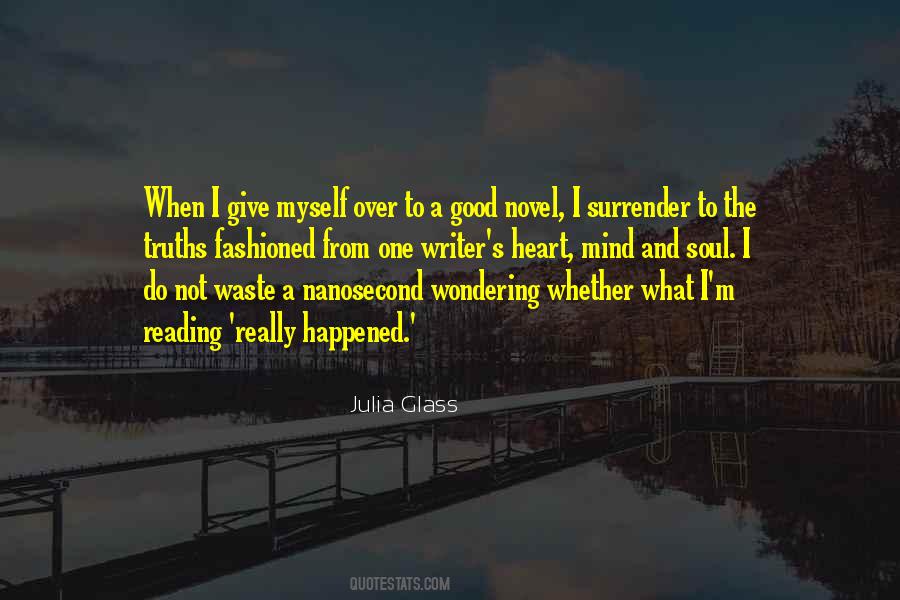 #59. For though your mind is active enough, your heart is darkened with corruption, and without a pure heart there can be no full or genuine sensibility. - Author: Fyodor Dostoyevsky
#60. I am safe and secure. I exhale any anxiety and inhale calm. As my world expands so do my heart and mind. I am willing to stay open and accept all the miracles and abundance the universe has to offer me. - Author: Kris Carr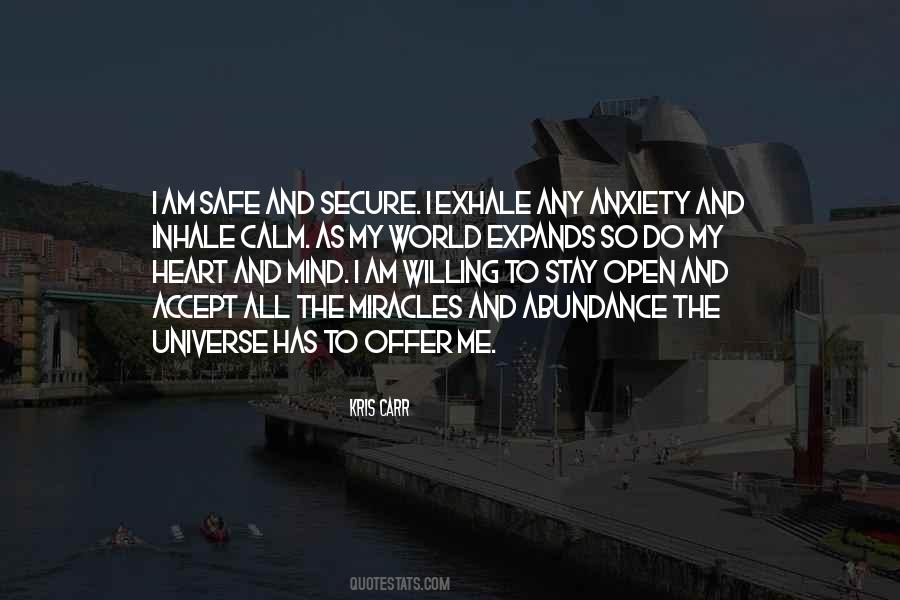 #61. What's important is that you make the leap. Jump high and hard with intention and heart. Pay no mind to the vision that the commission made up. It's up to you to make your life. Take what you have and stack it up like a tower of teetering blocks. Build your dream around that. - Author: Cheryl Strayed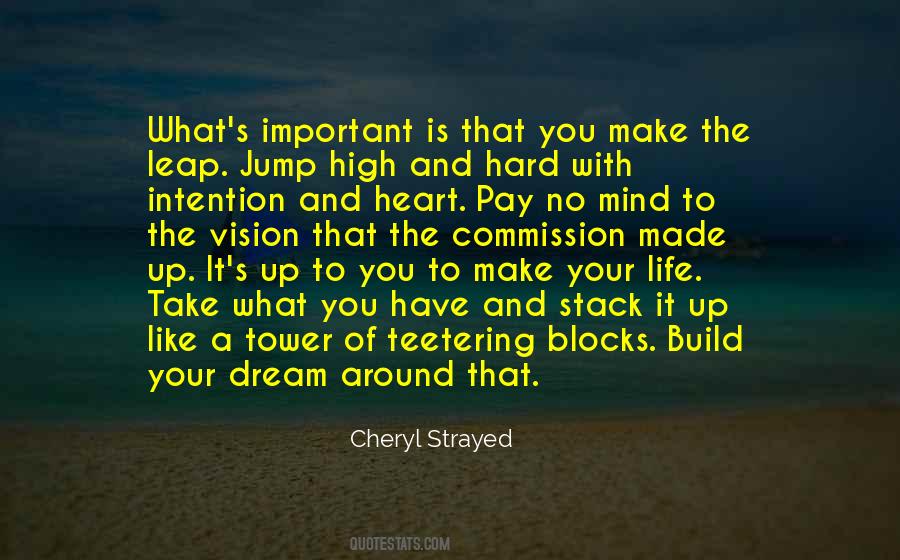 #62. You are
What you are looking for
In fragmented mirrors
Stop looking
Be Still
End the mind-noise
Silence Now
Eyes shut
Heart wide-open
And then you see
Everything! - Author: Gabriel Iqbal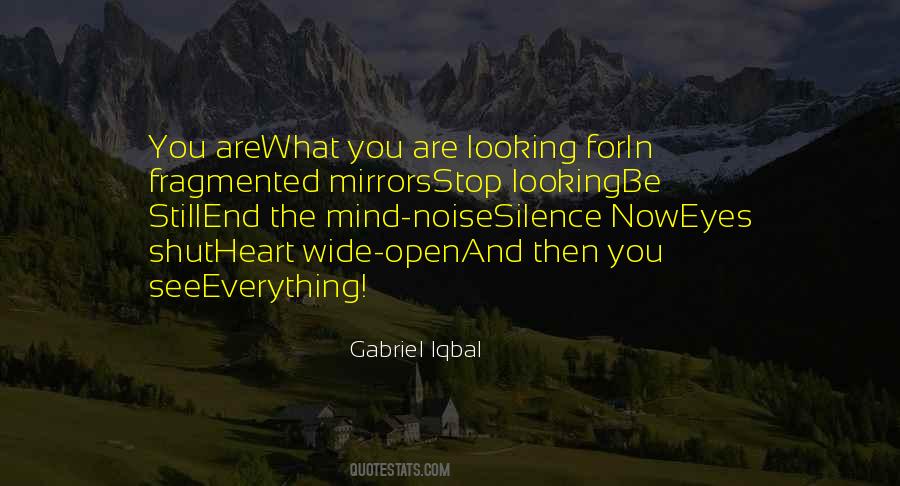 #63. Please maintain an open mind while exploring the depth and wealth of wisdom that is available through the practice of yoga. You may soon come to see the Union of all religions and philosophies if you maintain an open mind and heart. - Author: Dashama Konah Gordon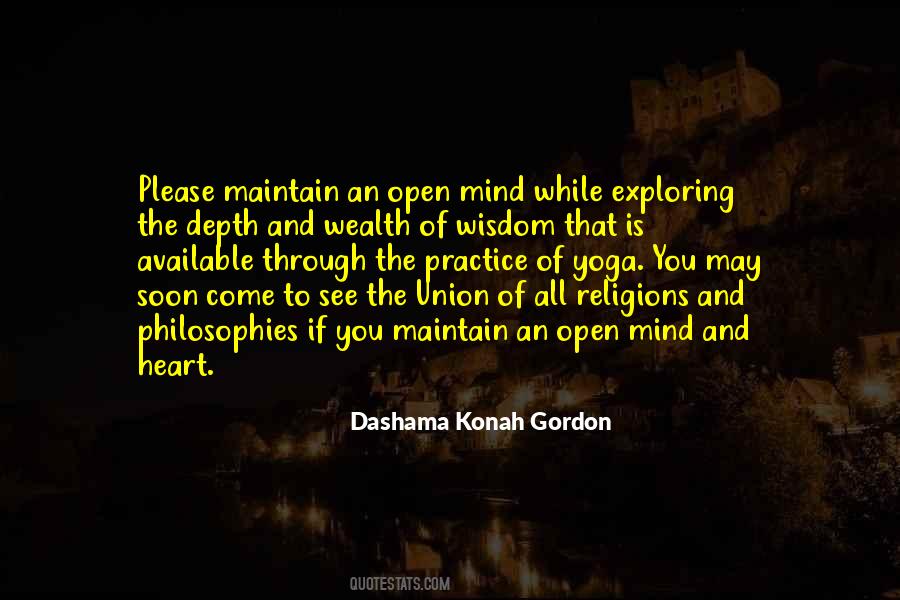 #64. One need not scale the heights of the heavens, nor travel along the highways of the world to find Ahura Mazda. With purity of mind and holiness of heart one can find Him in one's own heart. - Author: Zoroaster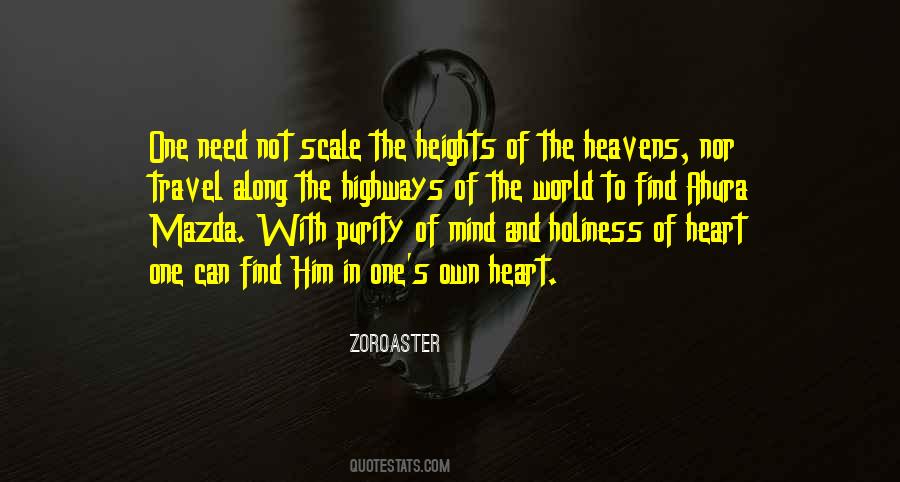 #65. A poet is a musician who can't sing. Words have to find a man's mind before they can touch his heart, and some men's minds are woeful small targets. - Author: Patrick Rothfuss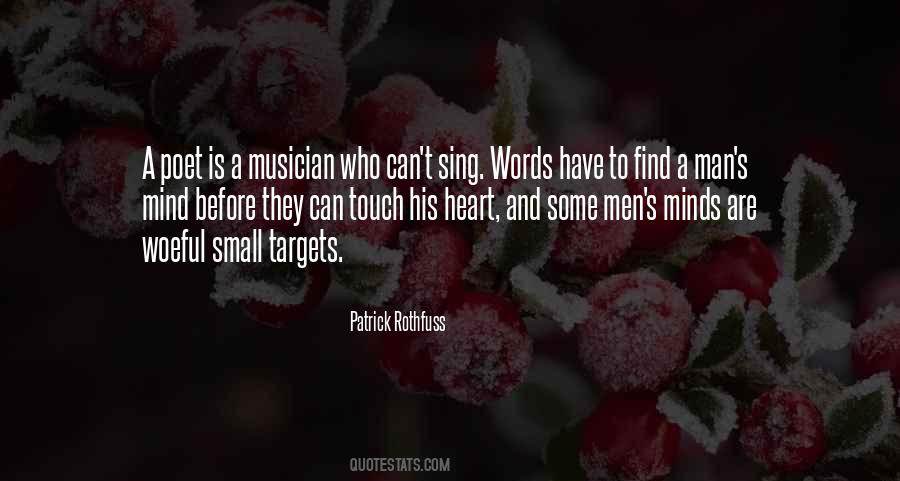 #66. ...sound Bible study transforms the heart by training the mind and it places God at the center of the story. - Author: Jen Wilkin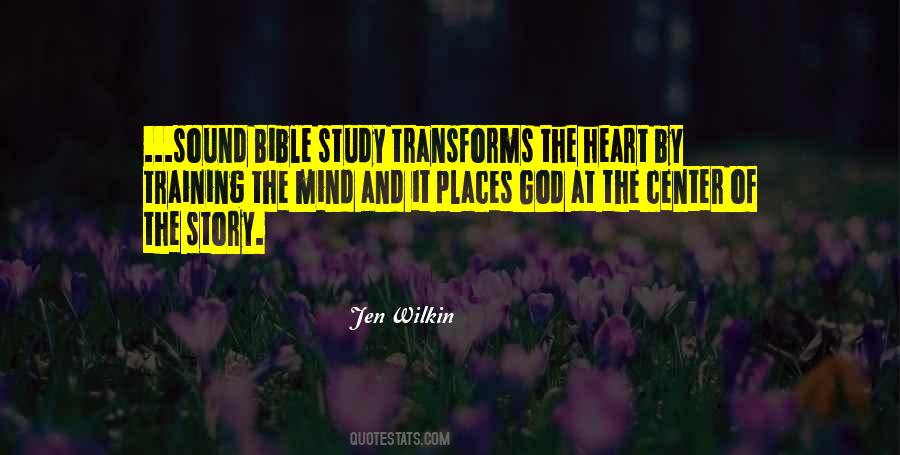 #67. Doubt and mistrust are the mere panic of timid imagination, which the steadfast heart will conquer, and the large mind transcend. - Author: Helen Keller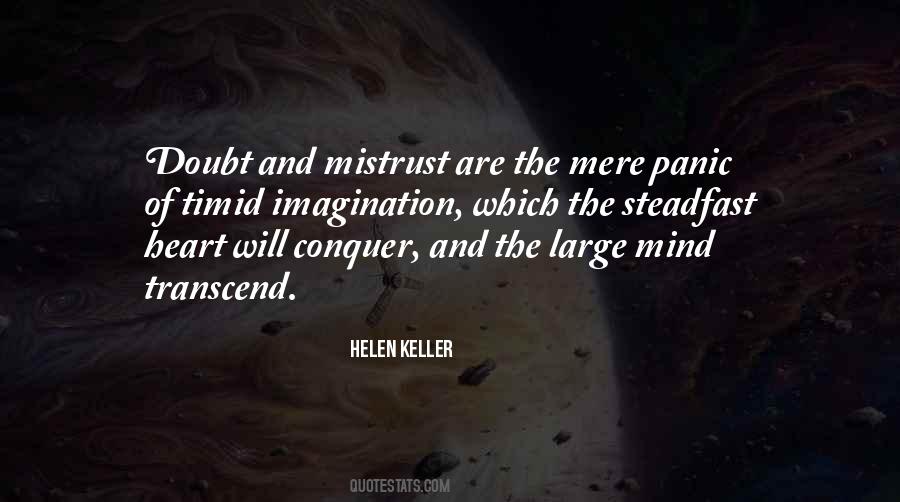 #68. Something Zachariah told me filled my mind and excited my heart: "A Sailor," he said, "chooses the wind that takes the ship from safe port ... but winds have a mind of their home. - Author: Avi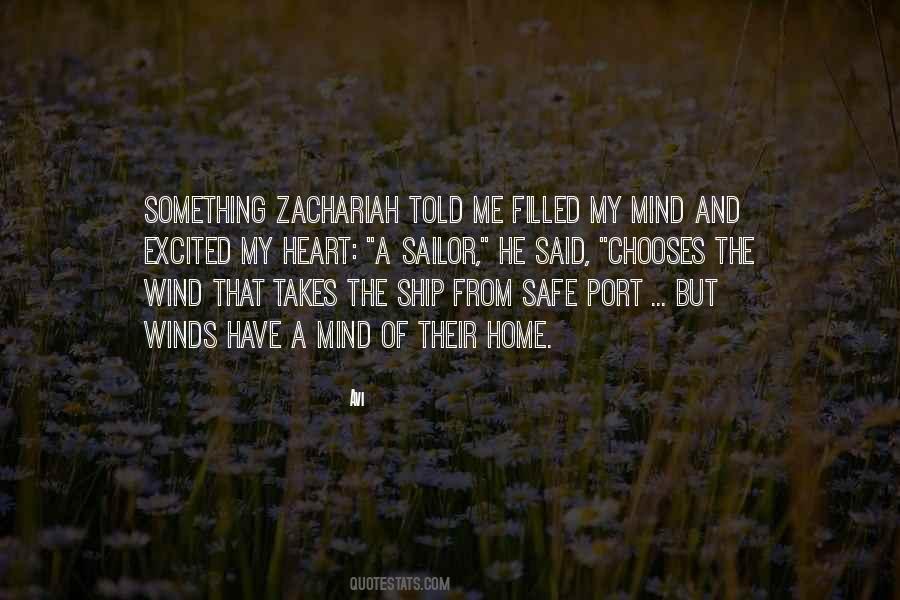 #69. A woman's belly is the garden of life. Her mind is the gateway to meaning. Her heart is the source of love. And her eyes are the light by which the whole world sees beauty. - Author: Toni Sorenson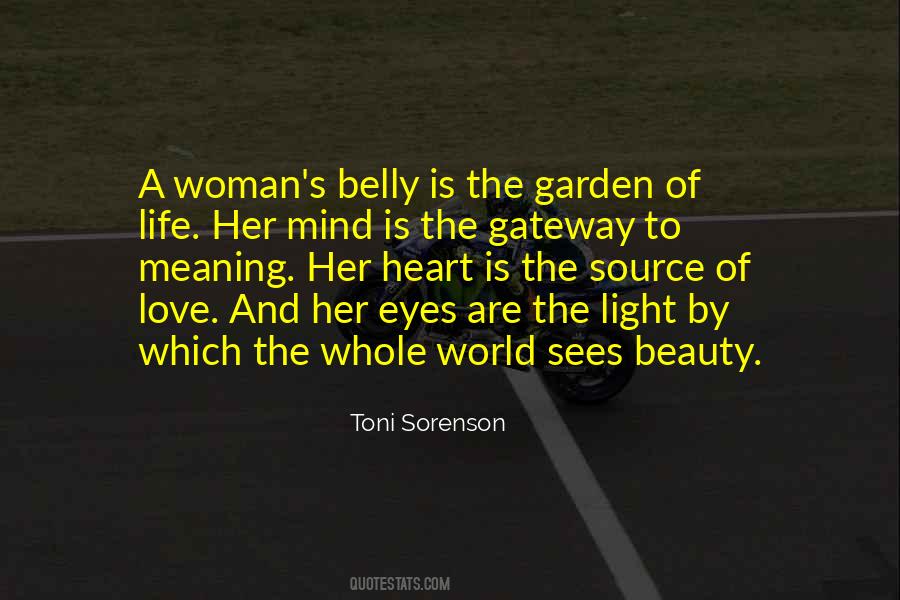 #70. There is in souls a sympathy with sounds:
And as the mind is pitch'd the ear is pleased
With melting airs, or martial, brisk or grave;
Some chord in unison with what we hear
Is touch'd within us, and the heart replies. - Author: William Cowper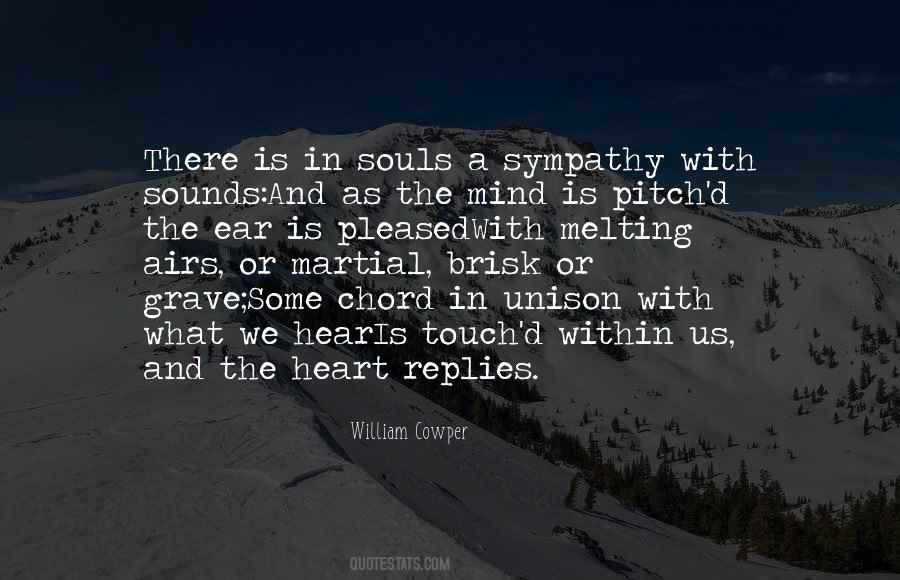 #71. Our Sages refer to Prayer as "Service of the Heart". But the heart cannot work properly unless the brain functions to stimulate and control its operation. In the physiology of Prayer, too, the mind plays as vital a role as the heart. - Author: Immanuel Jakobovits, Baron Jakobovits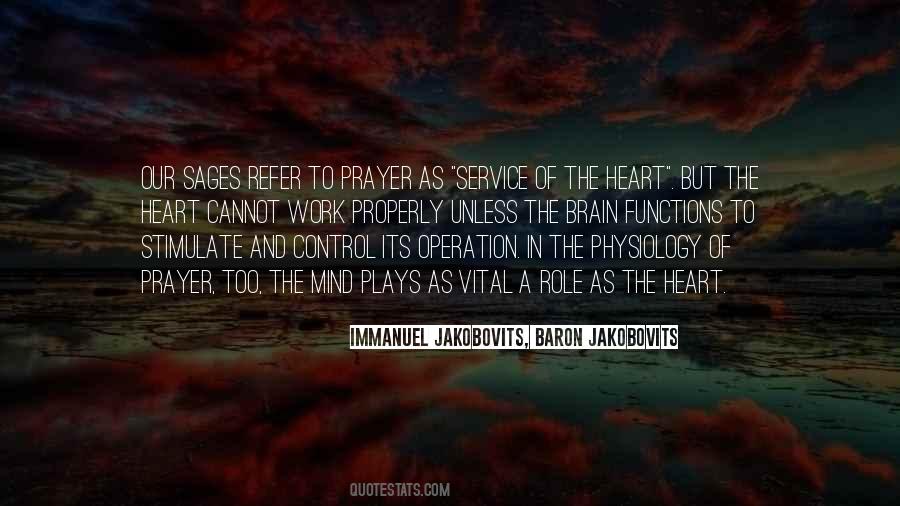 #72. You don't have to say anything. You don't have to teach anything. You just have to be who you are: a bright flame shining in the darkness of despair, a shining example of a person able to cross bridges by opening your heart and mind. - Author: Tsoknyi Rinpoche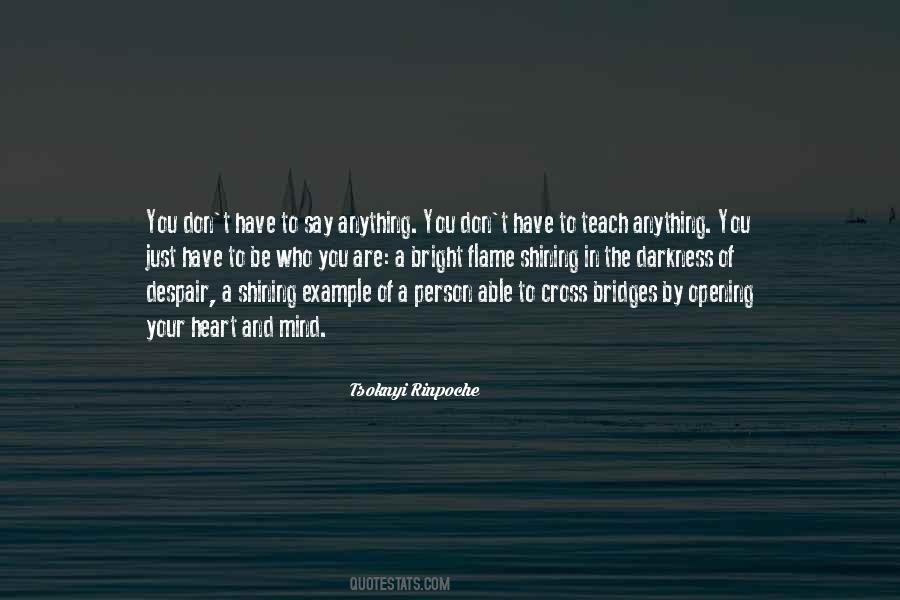 #73. It is here, it exists - but one must enter it naked and alone, with no rags from the falsehoods of centuries, with the purest clarity of mind - not an innocent heart, but that which is much rarer: an intransigent mind - as one's only possession and key. - Author: Ayn Rand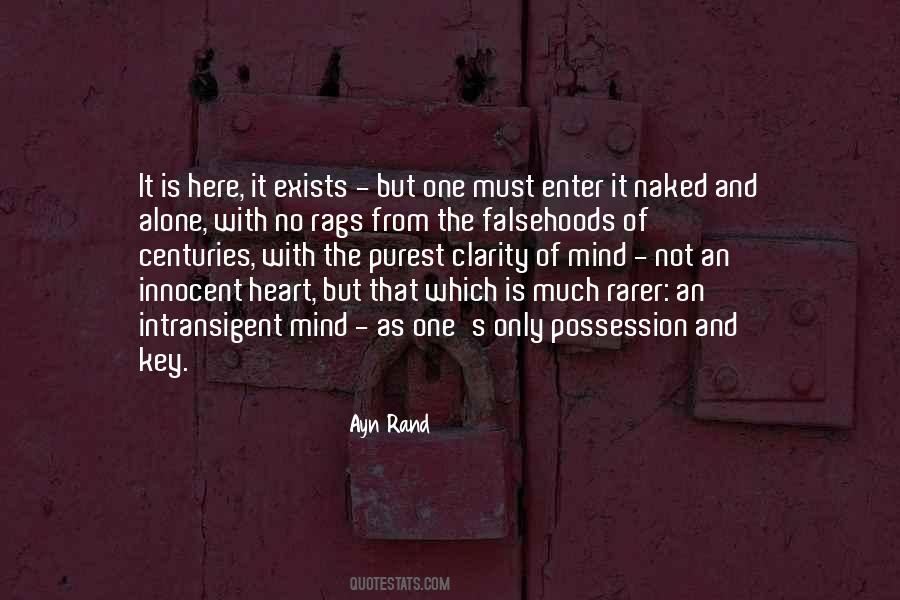 #74. Do now what you must,
work with your hands,
and work with your mind,
and work with all of your heart. - Author: Matshona Dhliwayo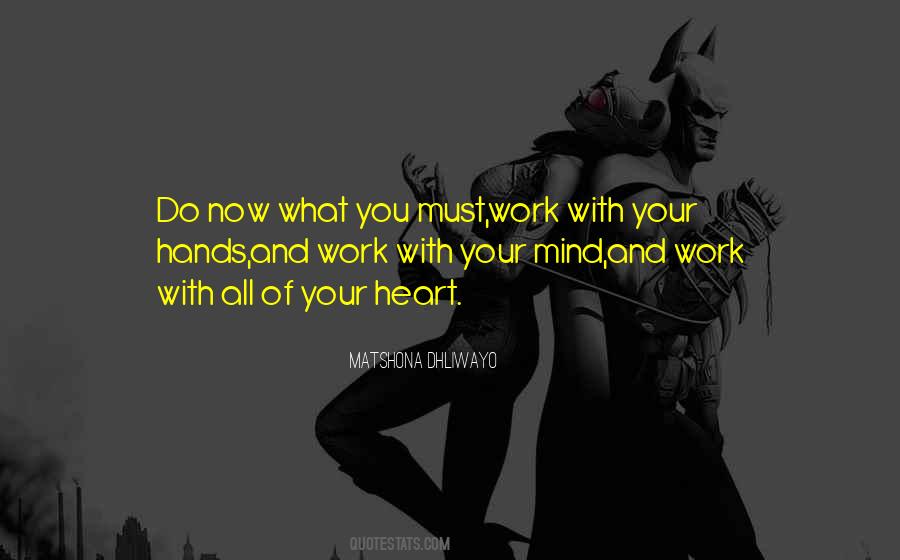 #75. The gloom encroaches upon my mind, and my heart flutters like a bird held fast in a fist. - Author: Hannah Kent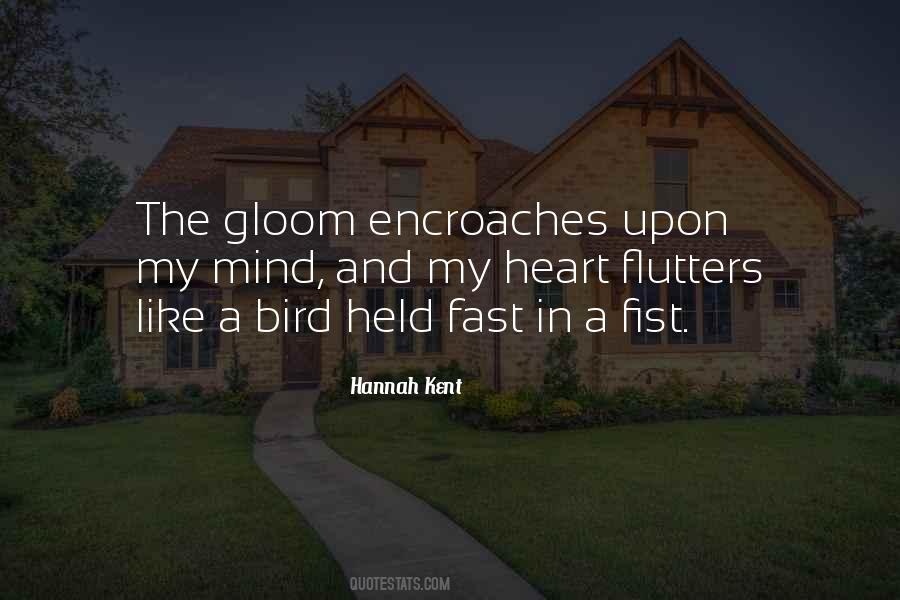 #76. A second chance is a direct pathway to a grateful heart and an astonished mind. - Author: Holly Elissa Bruno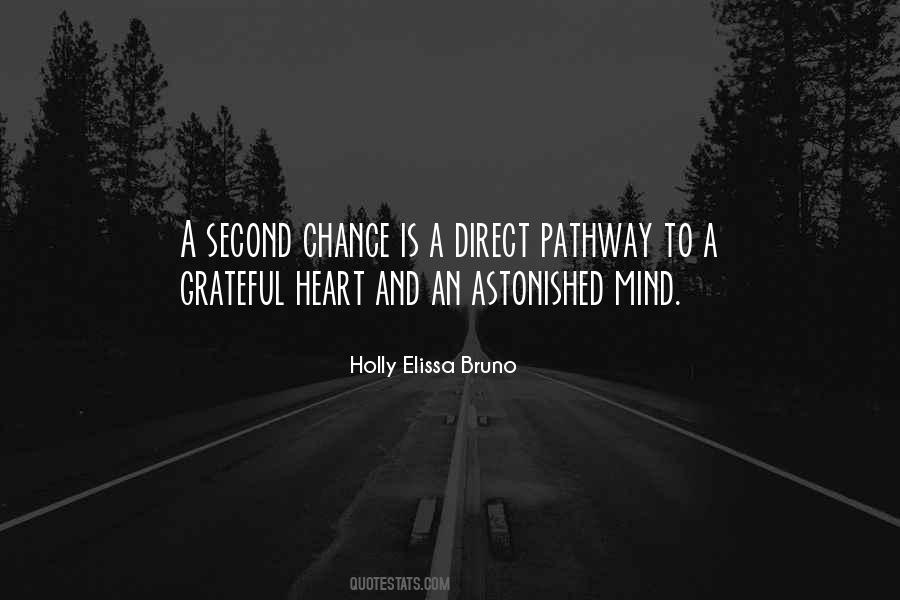 #77. And she had the magic I had never come across all my life. A minute with her messed up my mind and heart in a way that all the theories of right and wrong didn't matter anymore. All of a sudden opening my arms to the storm seemed a better choice, than dancing under the rainbows. - Author: Akshay Vasu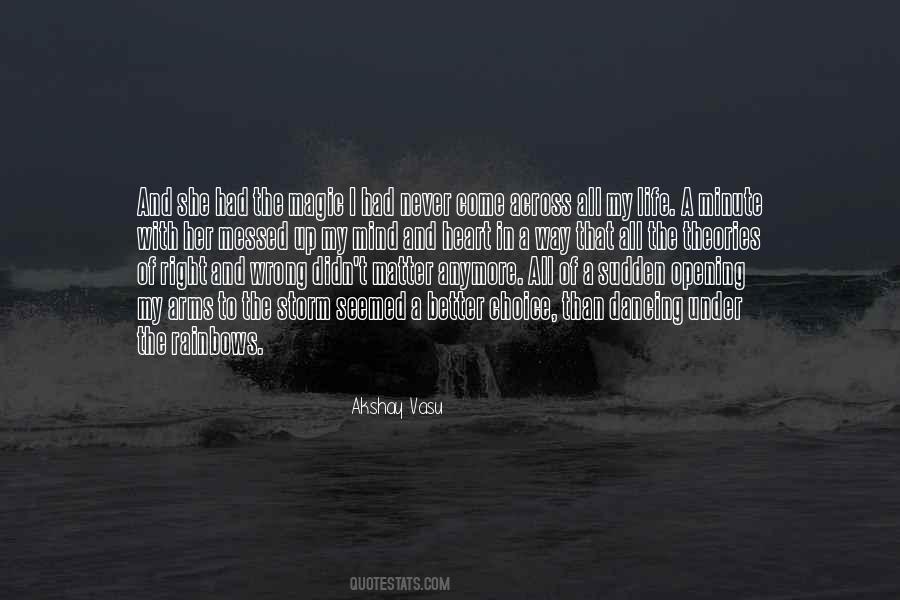 #78. Swing is so much more than a dance, it's a way of life. The music gets stuck in your mind and the dance is in your heart and the whole scene is engraved on your soul. You can fly. - Author: Nicholas Hope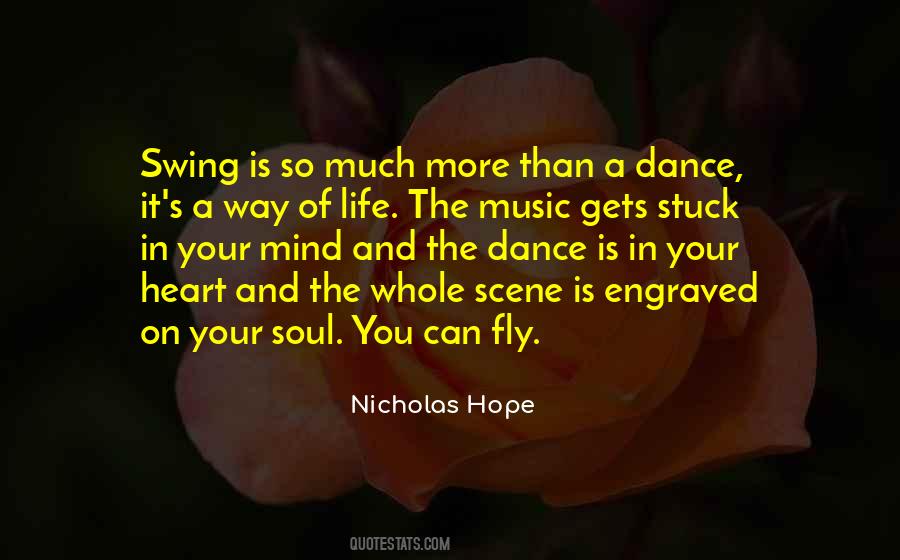 #79. Leadership is fragile. It is more a matter of mind and heart than resources, and it seemed that we no longer had the heart for those things that demanded discipline, commitment, and risk. - Author: Gene Kranz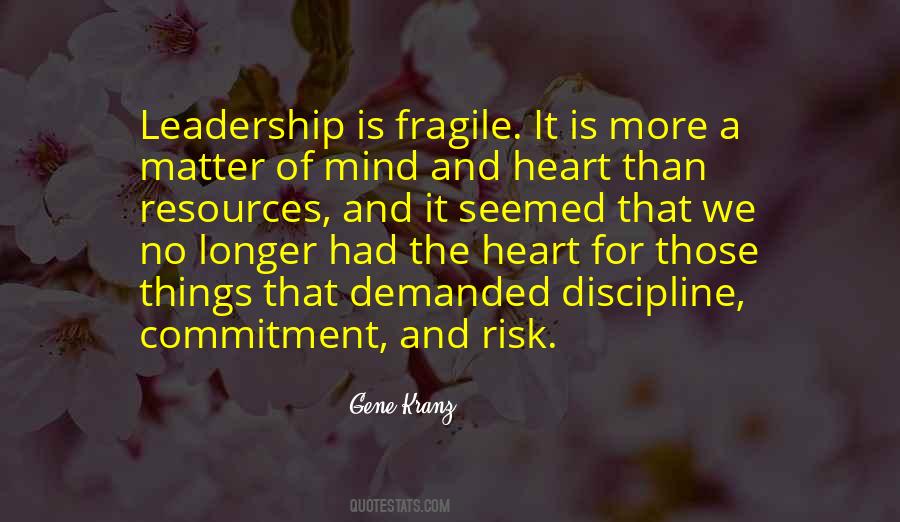 #80. I often want to drink a cup of moonlight so that I may calm my heart and soothe my mind. - Author: Debasish Mridha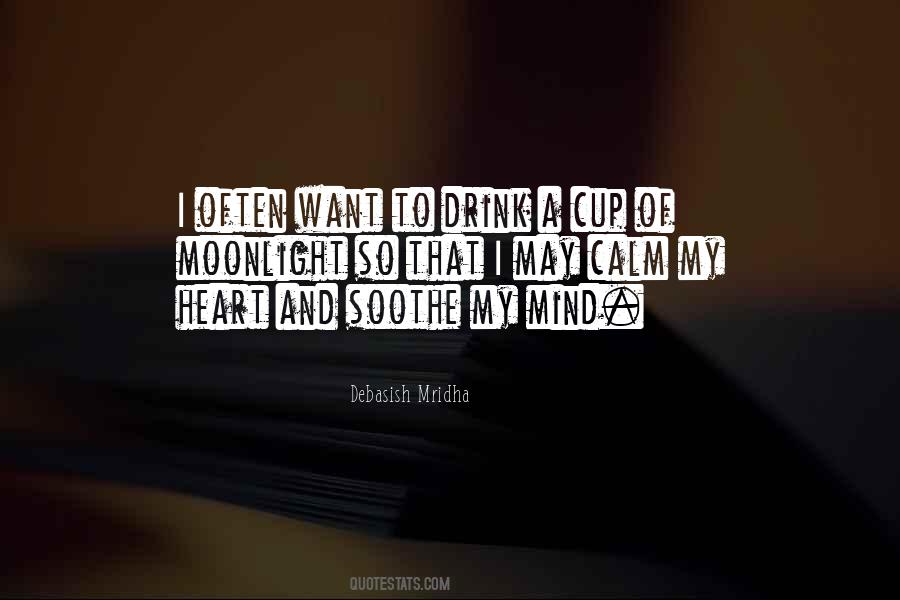 #81. His heart was flooded with immense love, and as he gazed on her he could feel his mind growing numb. - Author: Gustave Flaubert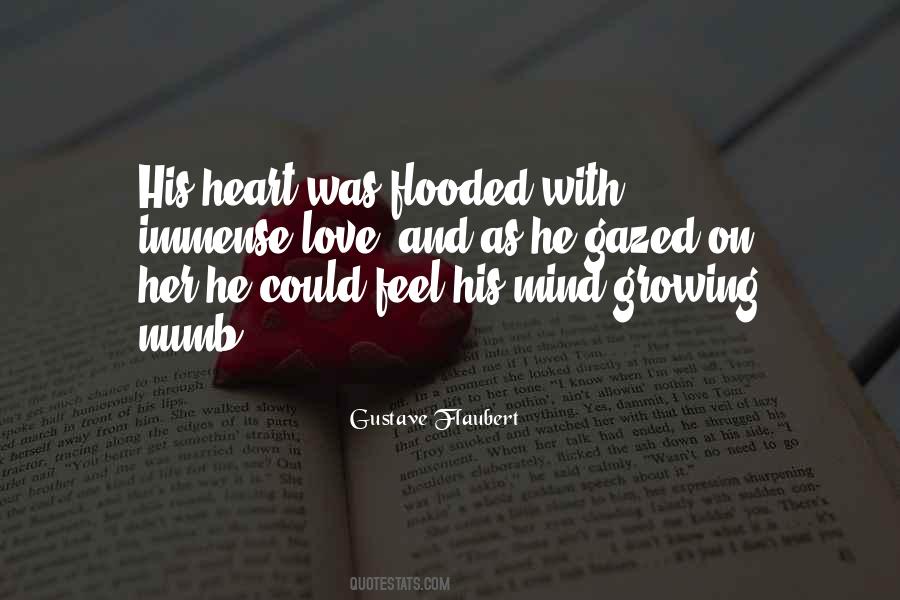 #82. And now I just keep running. Maybe not physically anymore, but my mind and heart are backpacking through the darkest corners of the world trying to get farther and farther away. - Author: Nyrae Dawn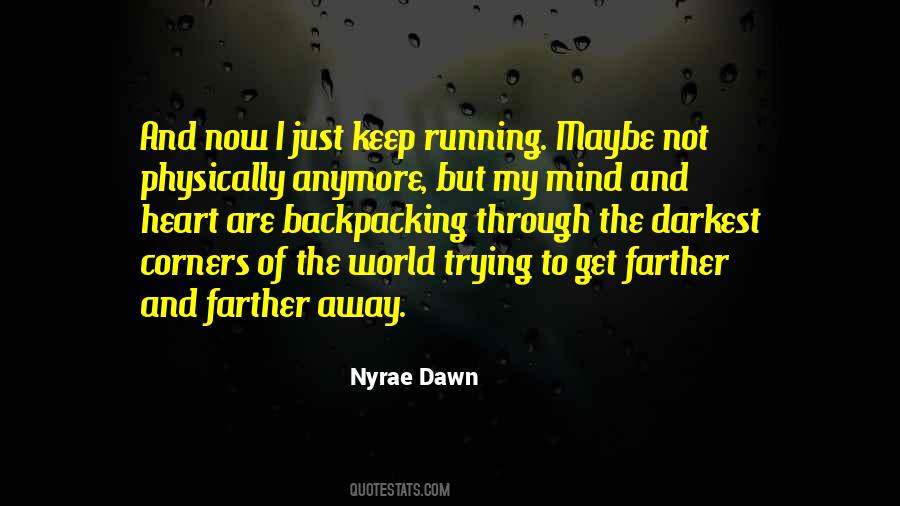 #83. A change of heart is the essence of all other change, and it has brought about me a reeducation of the mind. - Author: Emmeline Pethick-Lawrence, Baroness Pethick-Lawrence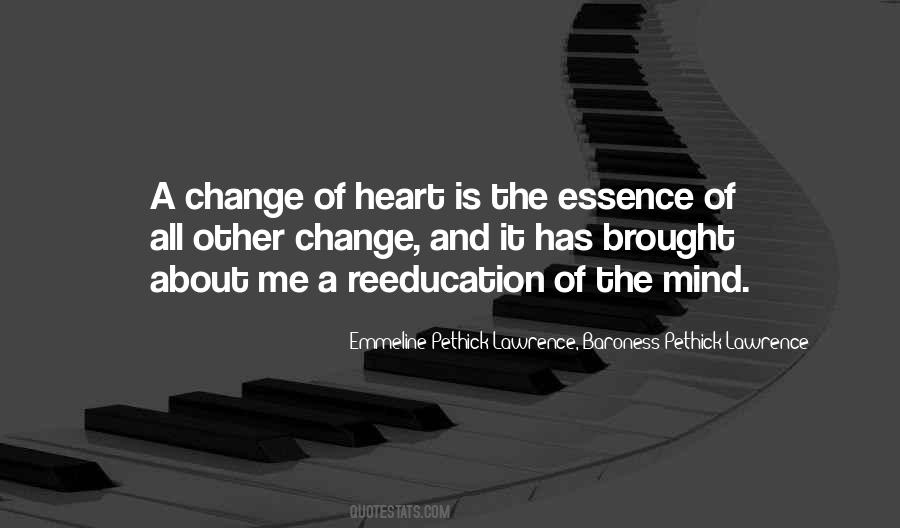 #84. The water in the pond inside my heart doesn't shine anymore. It has turned dark. Every ghost from my mind breaks all the barriers and take a dip there, making it darker. and every time it happens, my soul in the pond cries with pain. - Author: Akshay Vasu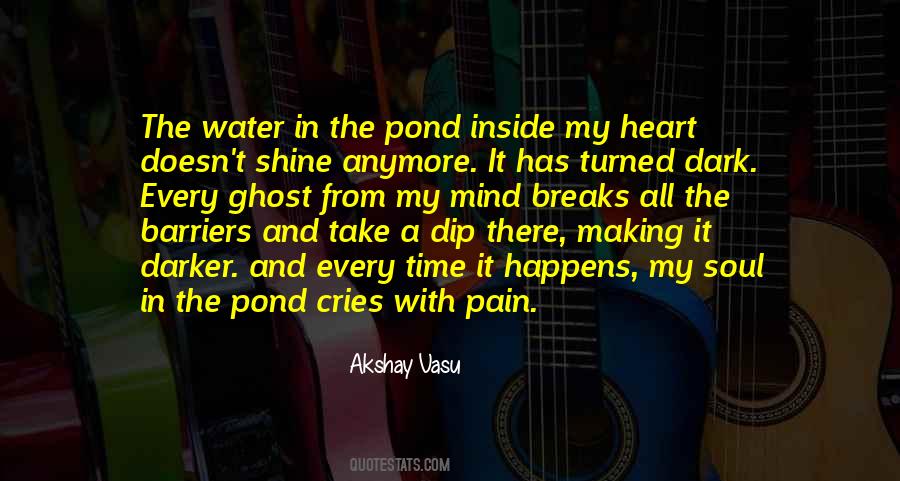 #85. Hearts everywhere bear scars of one form of hurt or the other, and it is necessary to keep this in mind when trying to understand why a person is the way he or she is. - Author: Innocent Mwatsikesimbe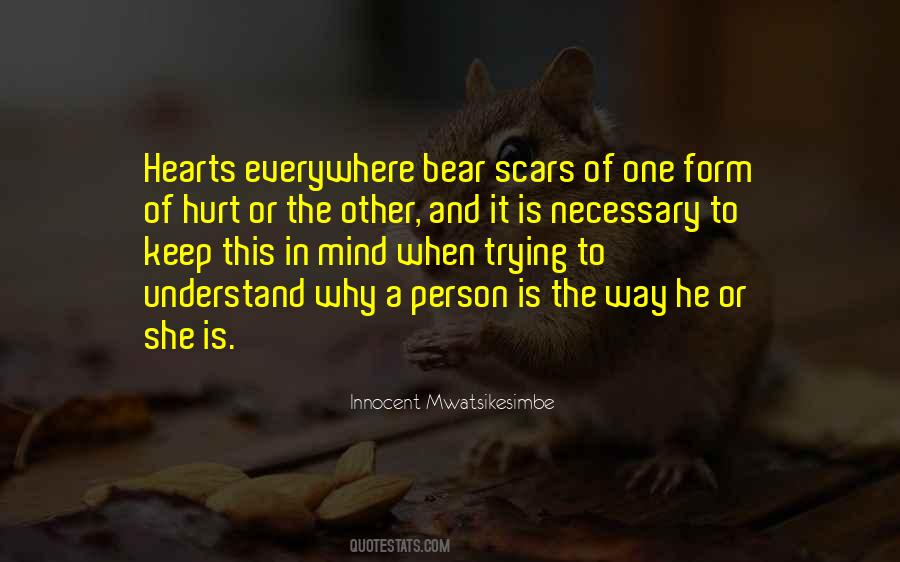 #86. No heart can conceive that treasury of mercies which lies in this one privilege, in having liberty and ability to approach unto God at all times, according to his mind and will. - Author: John Owen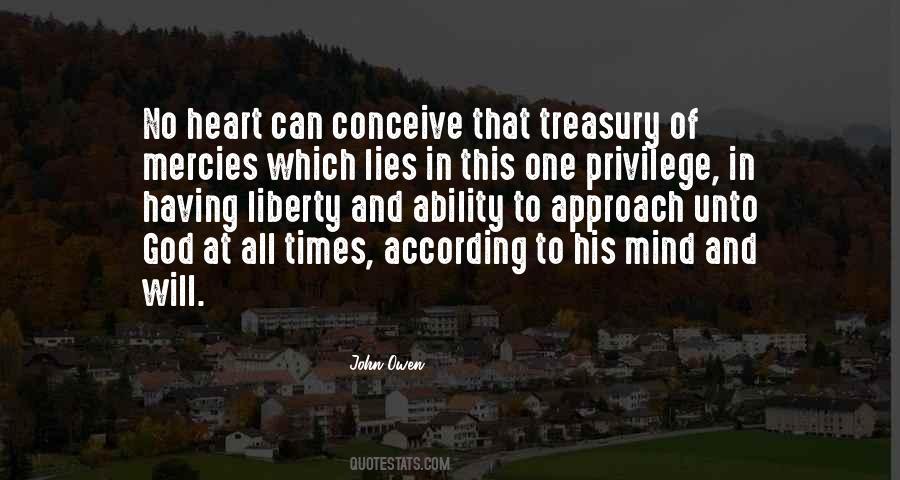 #87. You must direct your full, intense concentration on the heart. You must feel that you are not the mind. You have to feel that you are growing into the heart. You are only the heart and nothing else. - Author: Sri Chinmoy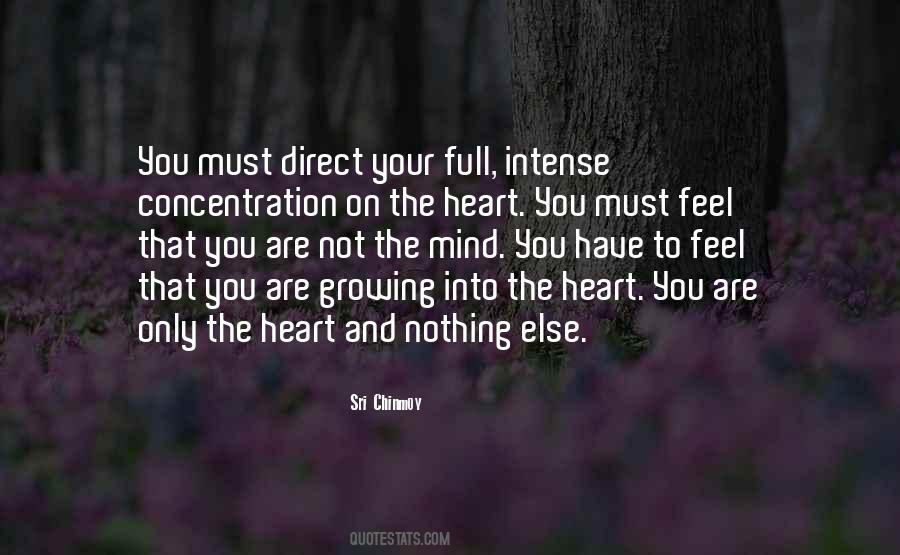 #88. Peace is not something petty, created by the mind; it is enormously great, infinitely extensive, and it can be understood only when the heart is full. - Author: Jiddu Krishnamurti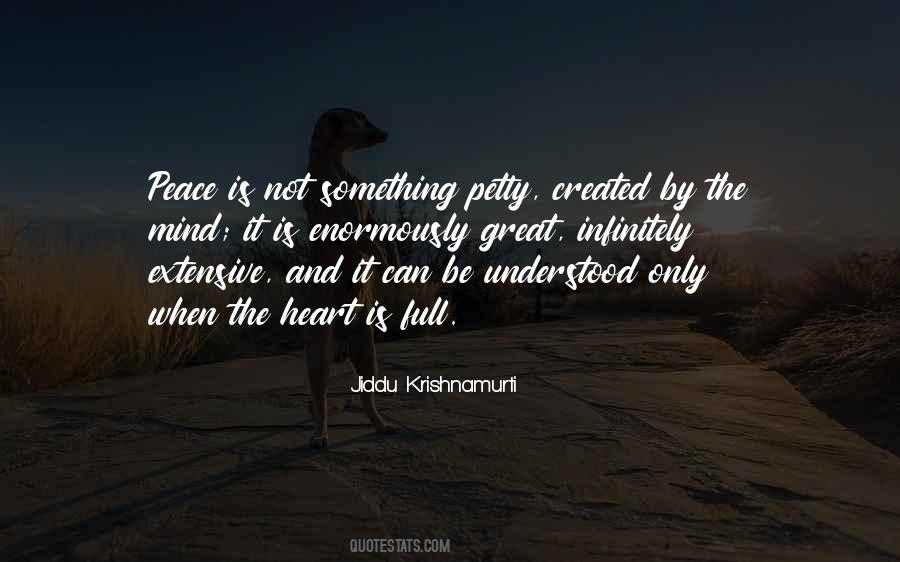 #89. Son, don't mind what's missing. Count allthat's free: friendship, laughter, all thelove your heart can carry, and time -- count time. - Author: Nikki Grimes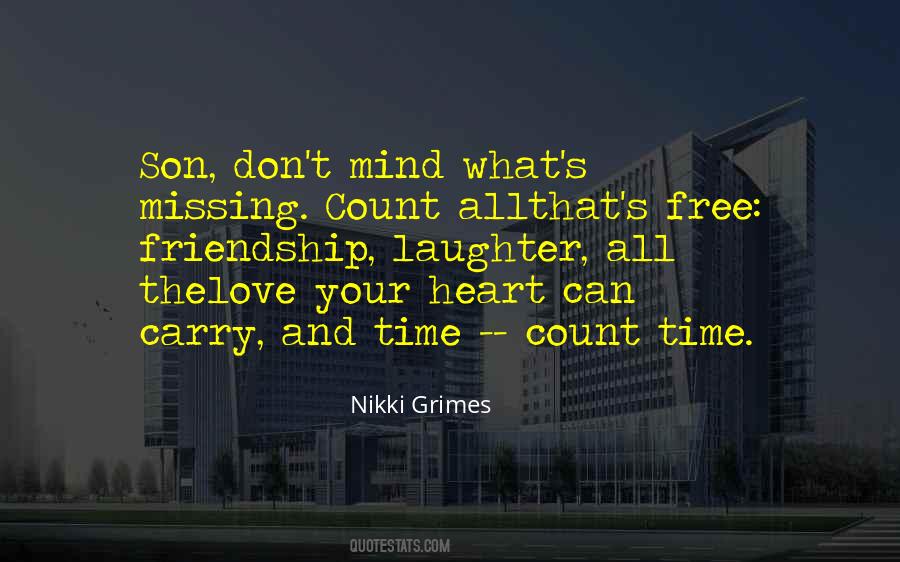 #90. Love and ruin are explained with letters of the alphabet.
The power of the word can describe the glory of the universe. It only requires an open mind and heart. - Author: J.R. Ortiz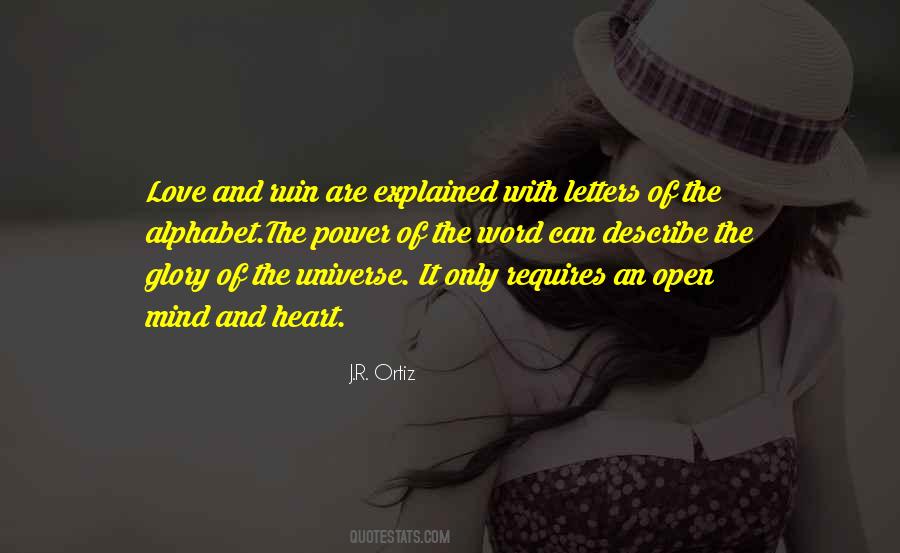 #91. She has man's brain
a brain that a man should have were he much gifted
and woman's heart. The good God fashioned her for a purpose, believe me when He made that so good combination. - Author: Bram Stoker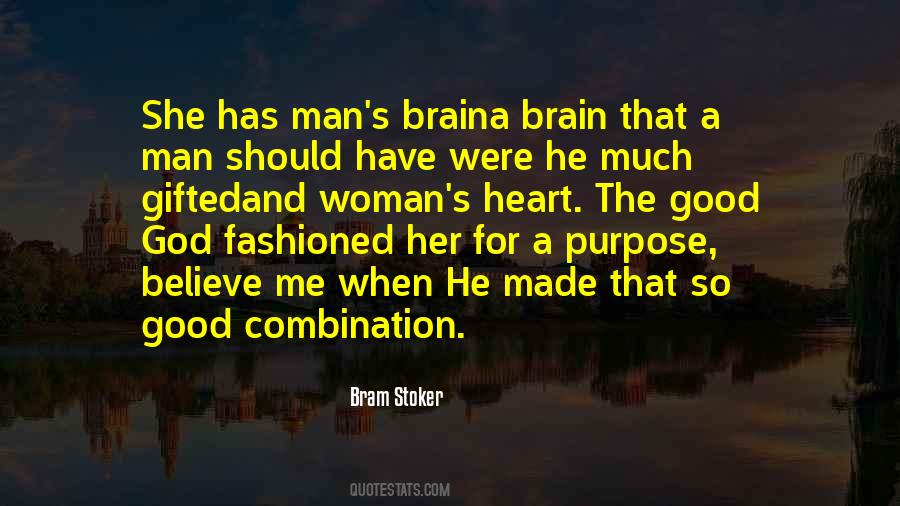 #92. The mind is your guard, the heart is your maid and the soul is your territory. Nobody else but you should have the control of these. - Author: Gloria D. Gonsalves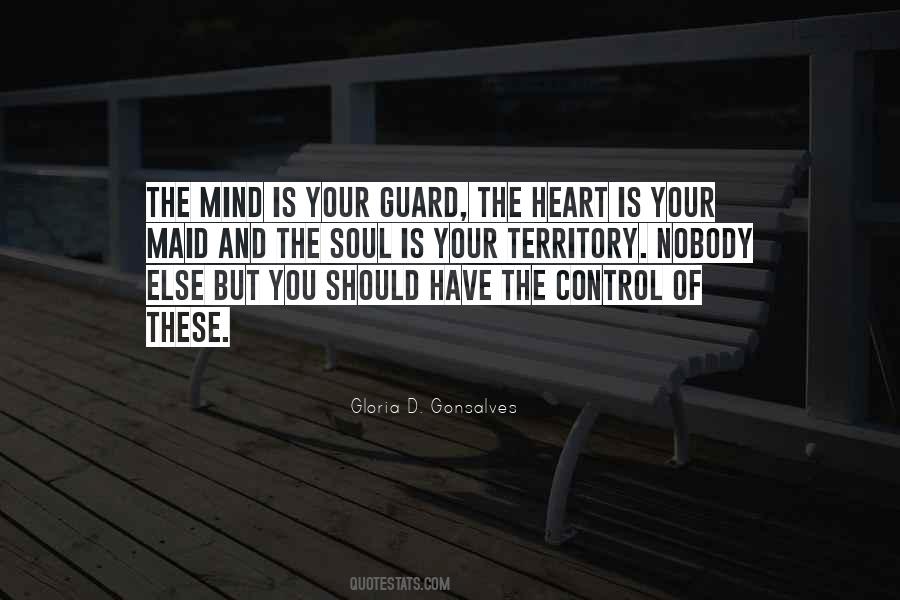 #93. Pursue your goals with all your heart, might, mind and strength. You are doomed to failure if you pursue them in a vacillating manner - Author: Robert D. Hales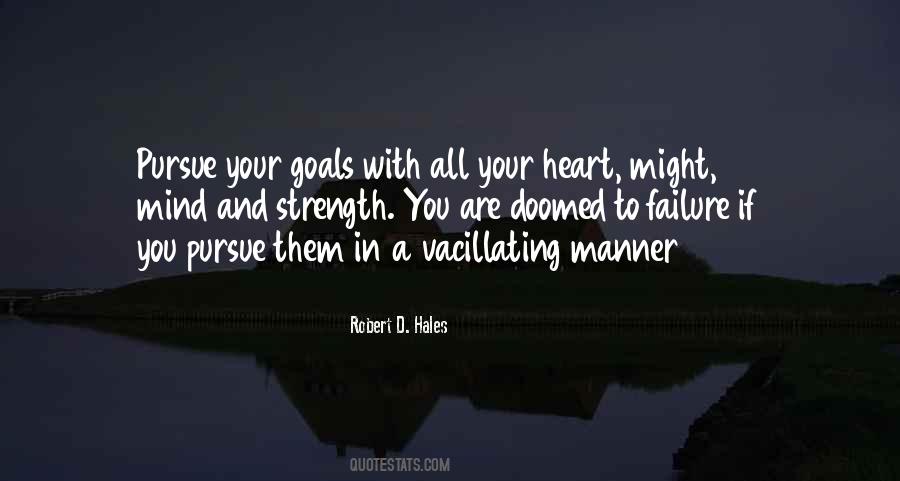 #94. An image of Sydney's face appeared in my mind's eye, calm and lovely.
I believe in you.
My anxiety faded.
I took a deep breath and met the gazes of all those watching me in the room.
Who was I to do this?
I was Adrian Ivashkov.
And I was about to kick some ass. - Author: Richelle Mead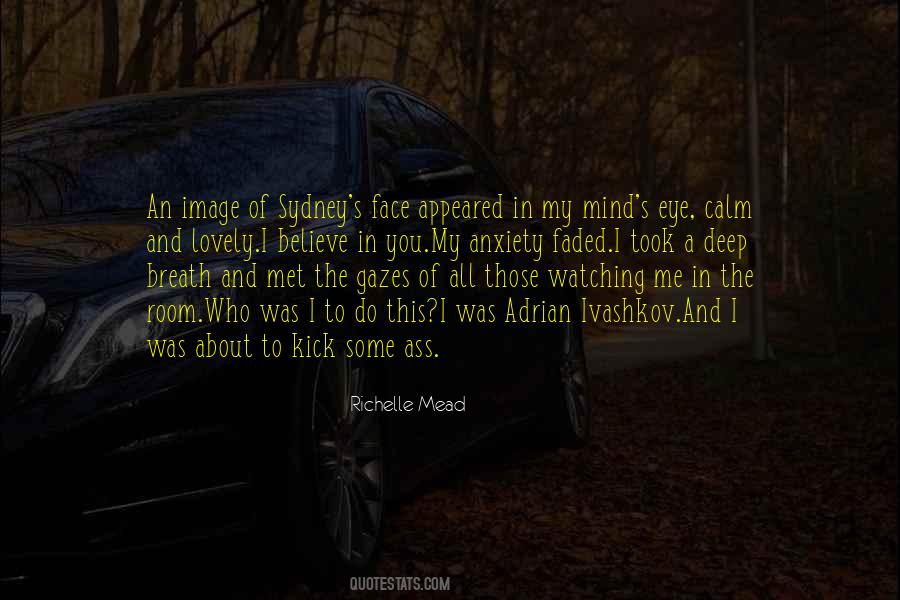 #95. The magical gem bracelet, in all of its yellow beauty, was out of its league. My mind and heart couldn't slow down." --- Jennifer Mills - Author: Dianne Bright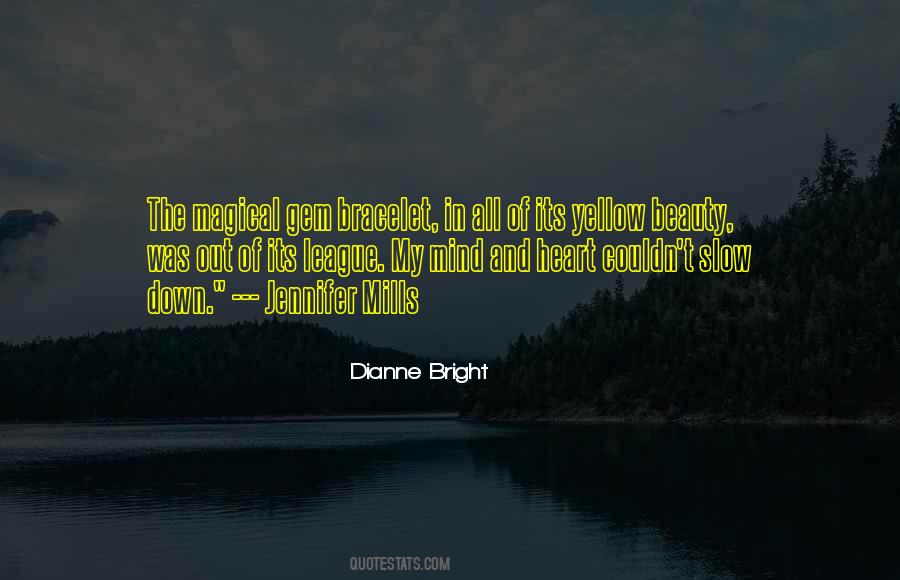 #96. One of my basic feelings is that the mind, and the heart alike, of the photographer must be dedicated to the glory, the magic, and the mystery of light. The mystery of time, the magic of light, the enigma of reality - and their interrelationships - are my constant themes and preoccupations. - Author: Clarence John Laughlin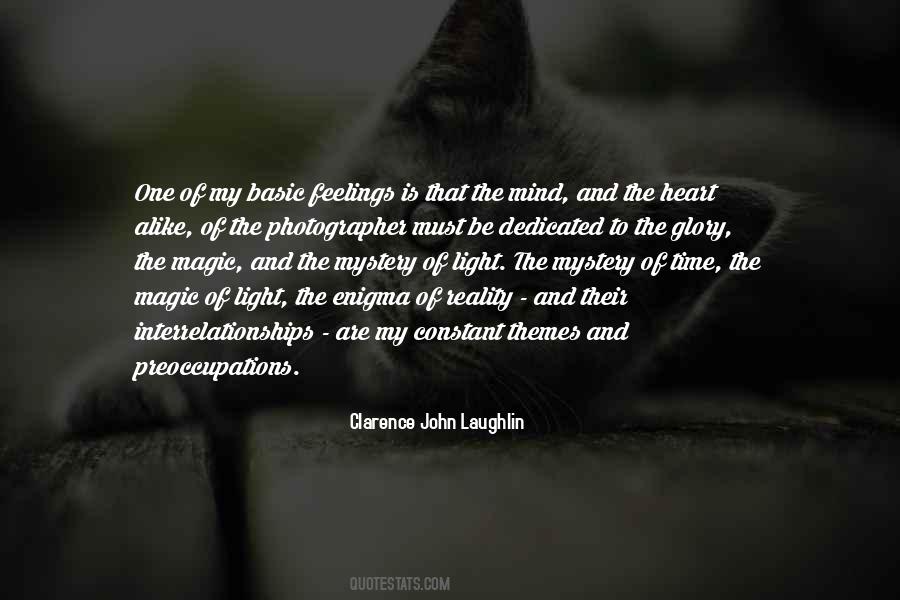 #97. Whatever your circumstances, whatever your past, the forces that determine your future are nowhere but within your own heart and mind. It is here that the star of your destiny shines. - Author: Daisaku Ikeda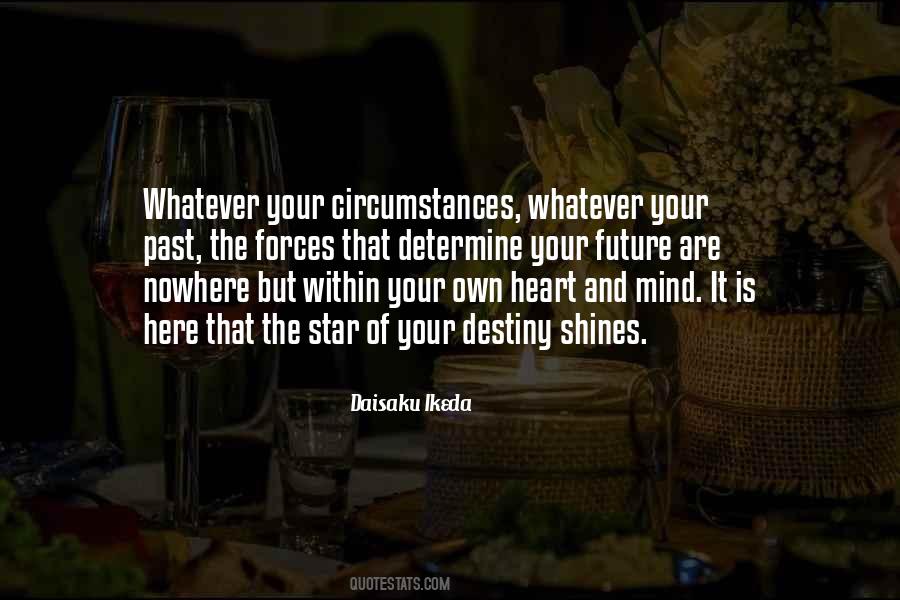 #98. Libraries shelter the spirit, provide food for the mind, and answer the questions raised by the problems of life. They have been the home of my heart since I was a very young child, in whatever place I happened to live. - Author: Roberta Gellis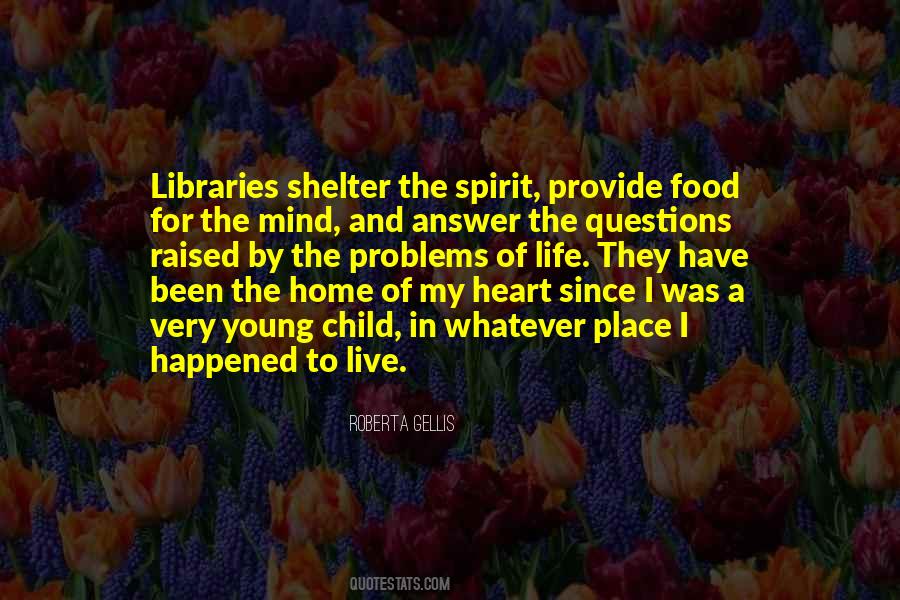 #99. Armed with my positive attitude and inherent stubborn nature, I keep my mind focused and my life moving forward. I stop to rest, pout and even cry sometimes, but always, I get back up. Life is giving me this challenge and I will plow through it, out of breath with my heart racing if I have to. - Author: Amy B. Scher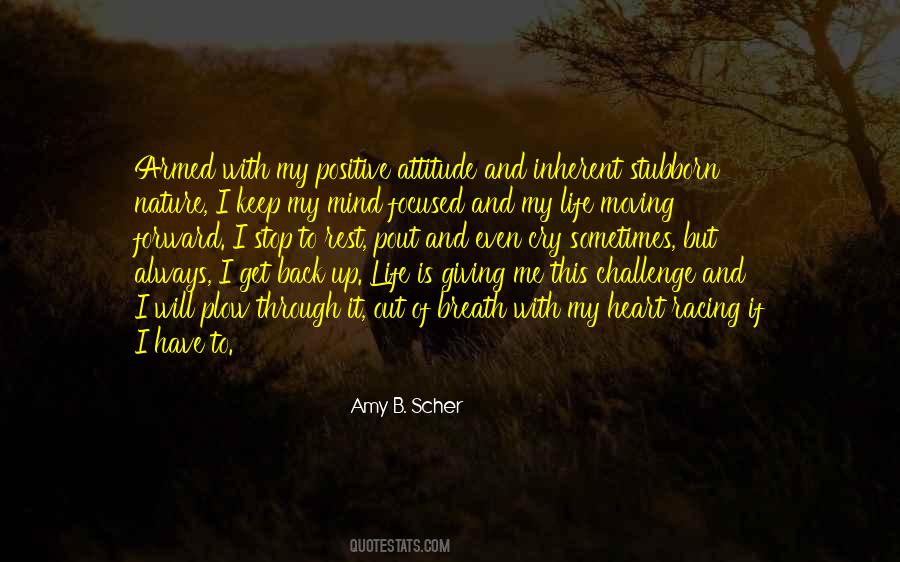 #100. And whilst so much escaped her mind, such could nay escape her heart, so eager to receive the witnesses of such chance-built things, like seed in soil. - Author: Luke Taylor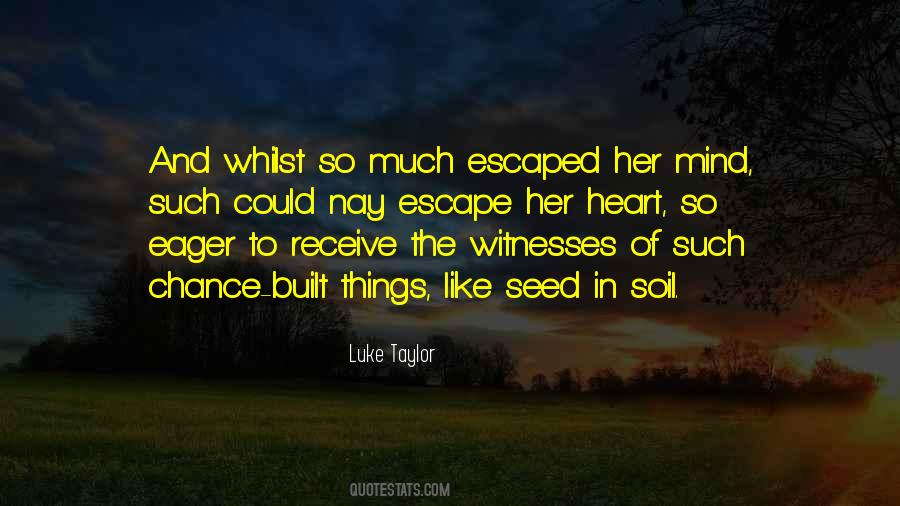 Famous Authors
Popular Topics