Healthy Heart Famous Quotes & Sayings
List of top 77 famous quotes and sayings about healthy heart to read and share with friends on your Facebook, Twitter, blogs.
Top 77 Quotes About Healthy Heart
#1. Inflammation in the body) is a very healthy 0.01, and all of my other indexes (for heart disease, diabetes, and other conditions) are at ideal levels. - Author: Ray Kurzweil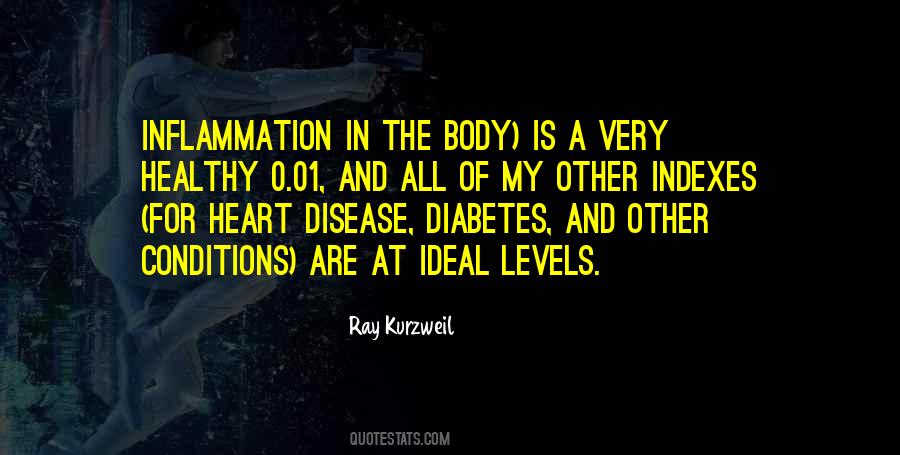 #2. I think you understood me wrong. I don't give a damn if he's alive. I don't care if he's healthy. He's dead to me, and that's what matters to me. - Author: Sahana Epari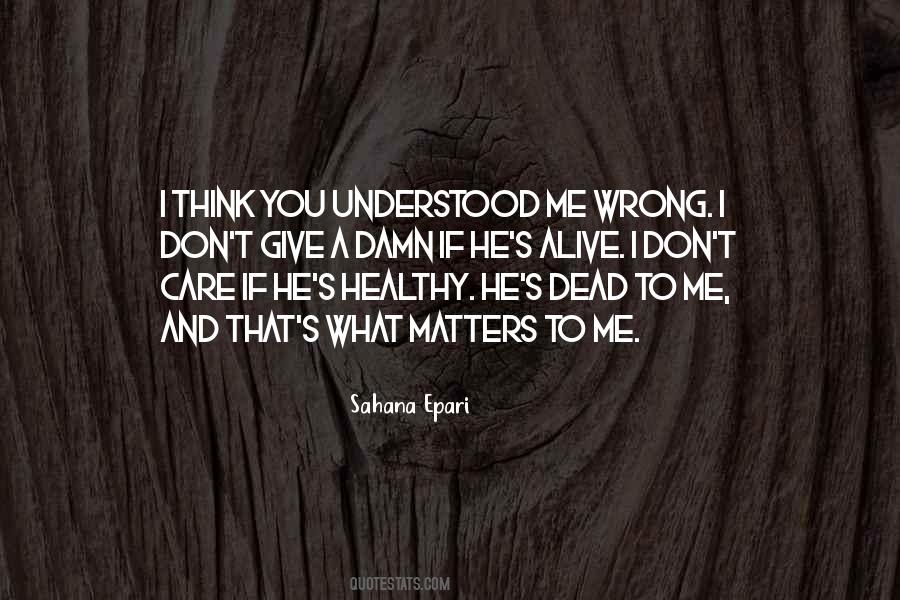 #3. Love is so exquisitely elusive. It cannot be bought, cannot be badgered, cannot be hijacked. It is available only in one rare form: as the natural response of a healthy mind and healthy heart.
- Author: Eknath Easwaran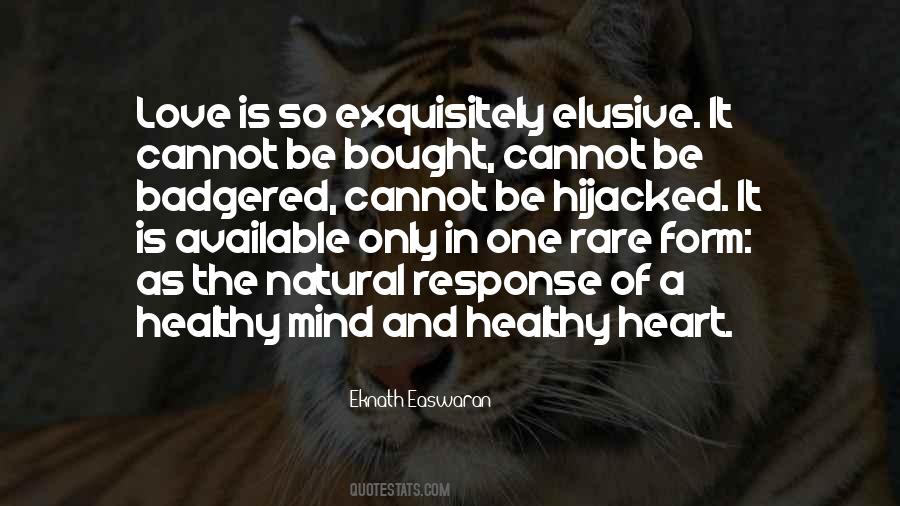 #4. The signs of good health are an intellect which is free from inhibition and arrogance, a heart which is full of compassion is healthy, a confusion-free mind, a trauma-free memory and a sorrow-free soul. - Author: Sri Sri Ravi Shankar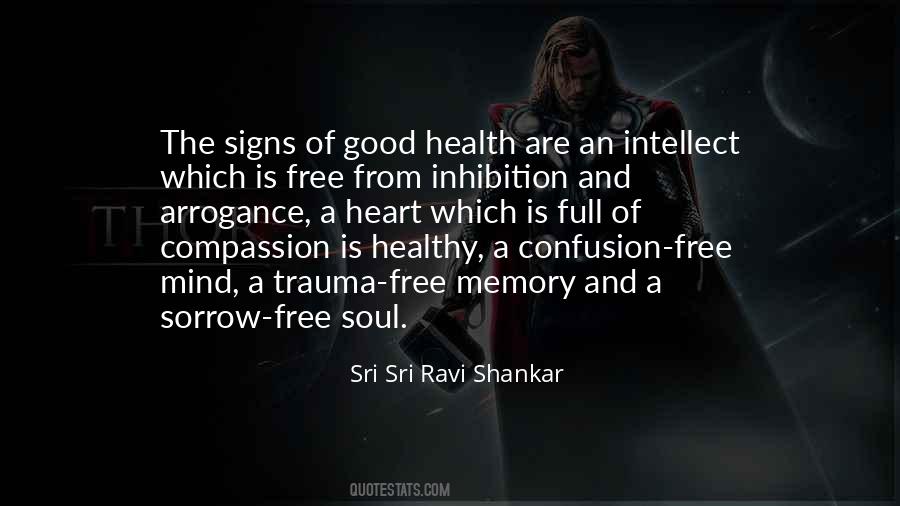 #5. Integrity is more than truth and honesty; integrity is an unshackled mind, a happy heart, and a light spirit. Integrity is inner peace with a clear, clean conscience. Integrity is self-respect, honor, and credibility. Integrity is healthy and unfettering, and it is worth defending. - Author: Richelle E. Goodrich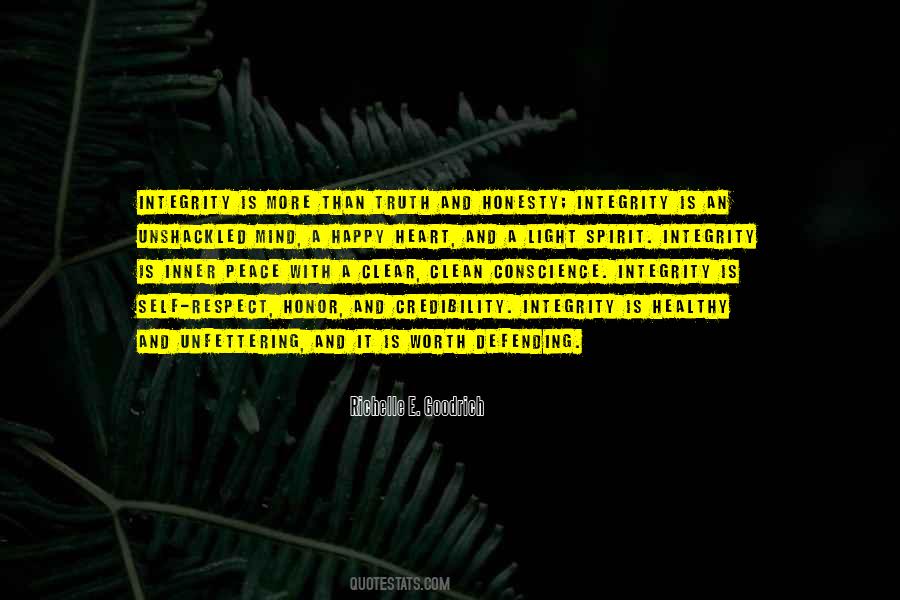 #6. Keep your heart always warm. - Author: Lailah Gifty Akita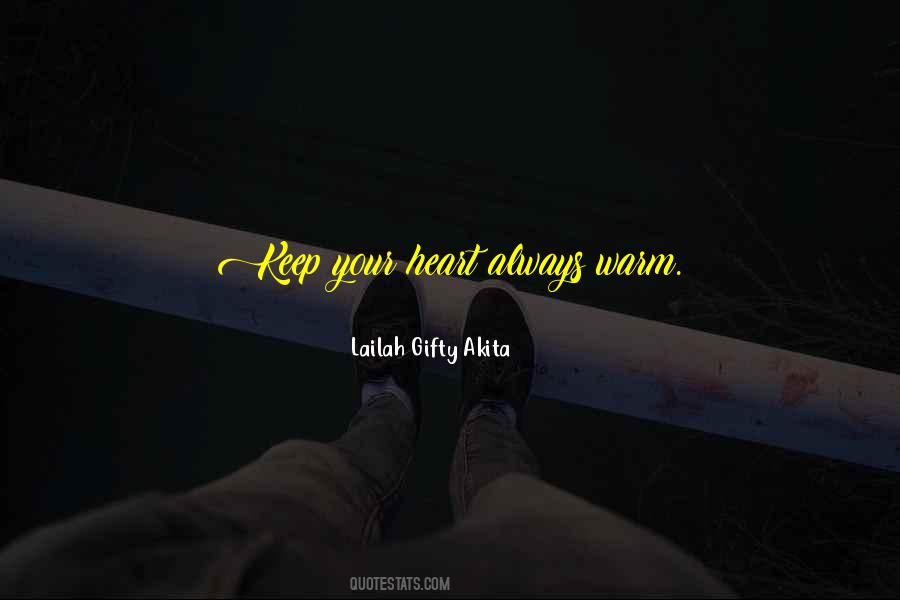 #7. This enzyme, called telomerase, slows the rate at which telomeres degrade, and research indicates that healthy people with longer telomeres have less risk of developing the common illnesses of aging - like heart disease, diabetes, and cancer, which are three big killers today. - Author: Elizabeth Blackburn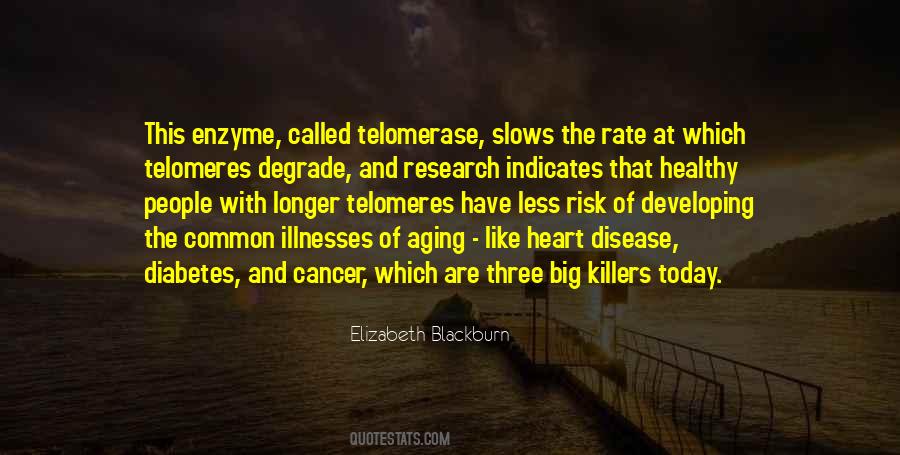 #8. Hating creates a hole in the heart. - Author: Lailah Gifty Akita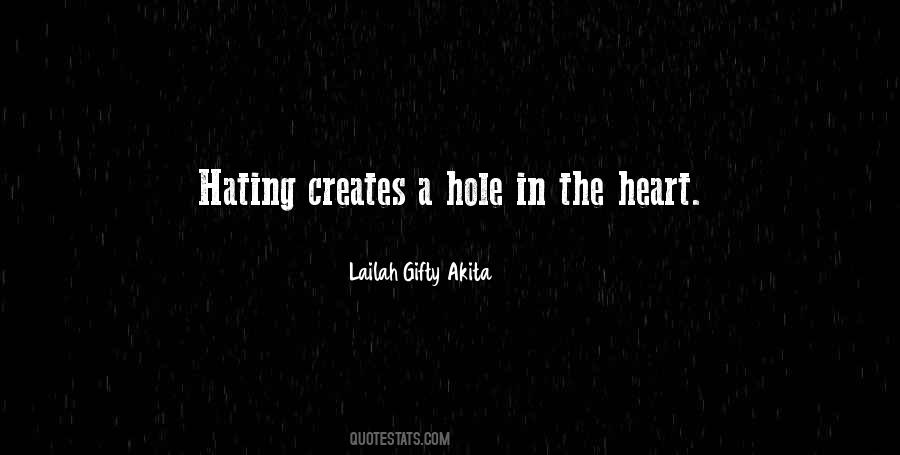 #9. Among identical twins who have the exact same genes, one may die early of a heart attack and the other may live a long, healthy life - depending on their lifestyle and what they eat. - Author: Michael Greger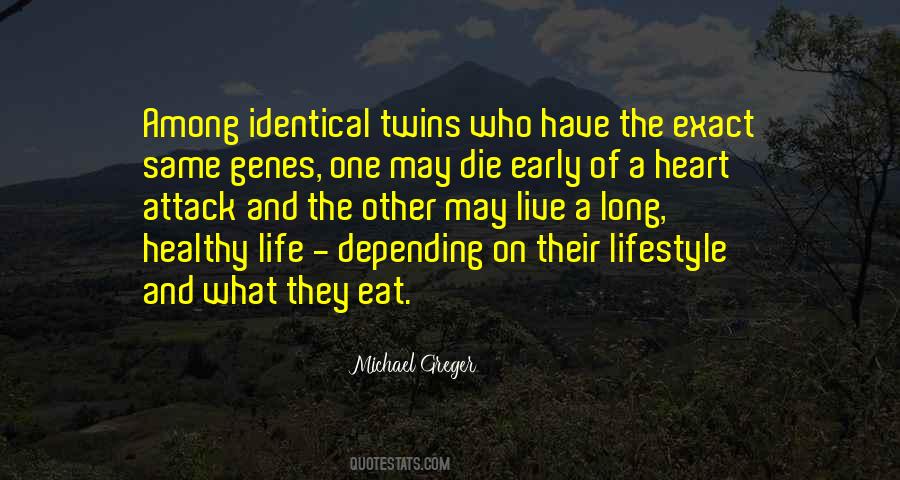 #10. Whatever you are physically ... male or female, strong or weak, ill or healthy
all those things matter less than what your heart contains. If you have the soul of a warrior, you are a warrior. All those other things, they are the glass that contains the lamp, but you are the light inside. - Author: Cassandra Clare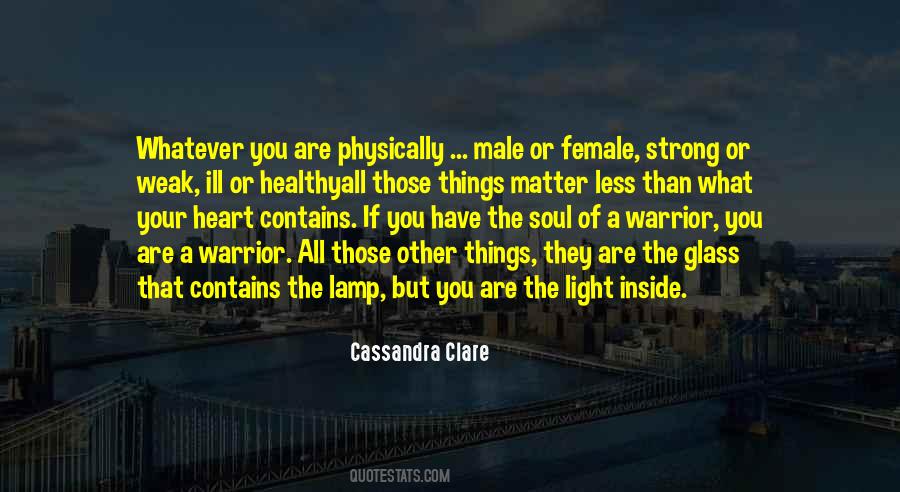 #11. The hate in heart can consume you not outside events. - Author: Lailah Gifty Akita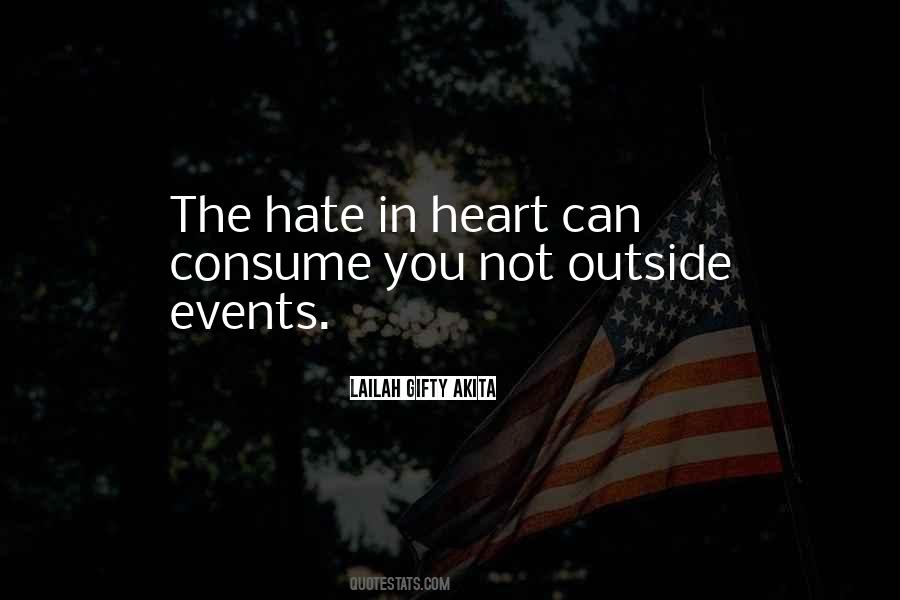 #12. Trying to improve your online reputation during a crisis is like trying to eat healthy food during a heart attack. - Author: Andy Beal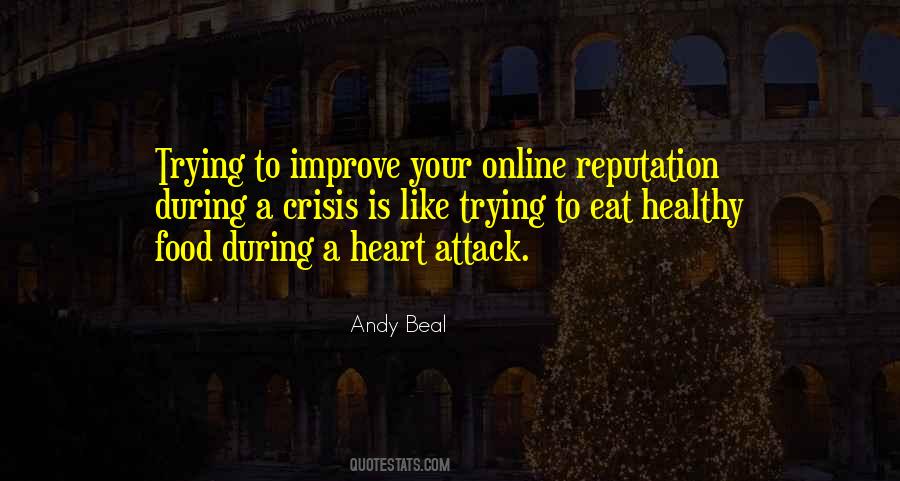 #13. Co-creating our lives from a heart-centered and spirit-connected space is simply more efficient, effective and healthy. - Author: Heidi DuPree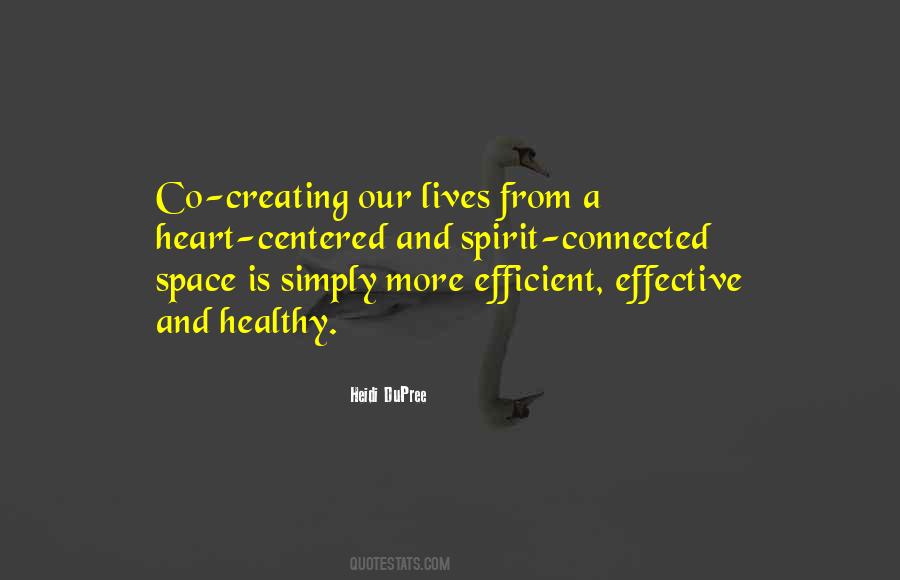 #14. The Pope is a man. The Pope needs the input of women, too. And the Pope, too, has a heart that can have a healthy, holy friendship with a woman. - Author: Pope Francis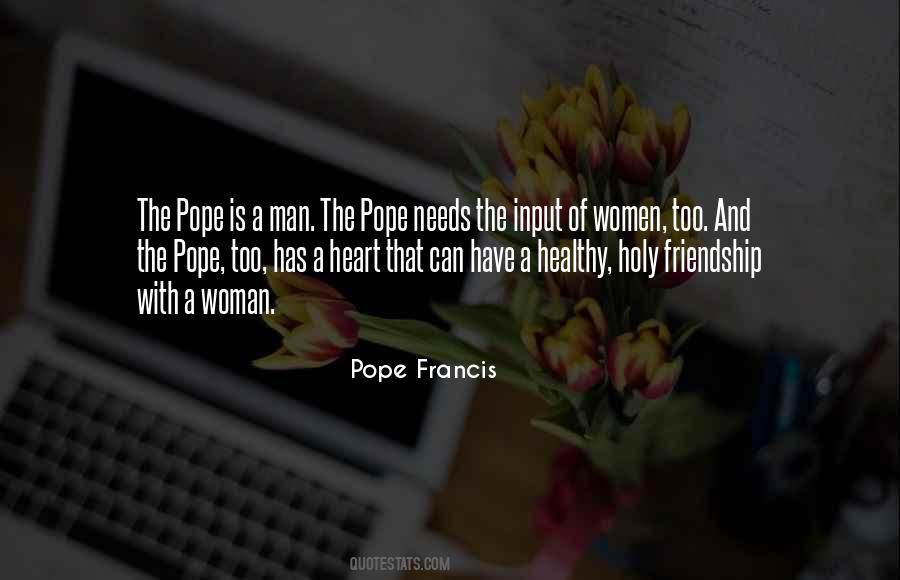 #15. I think I've learned that if you want to be successful, you have to tell your story honestly and from your heart - and I think a healthy sense of humor doesn't hurt either. - Author: Dorothea Benton Frank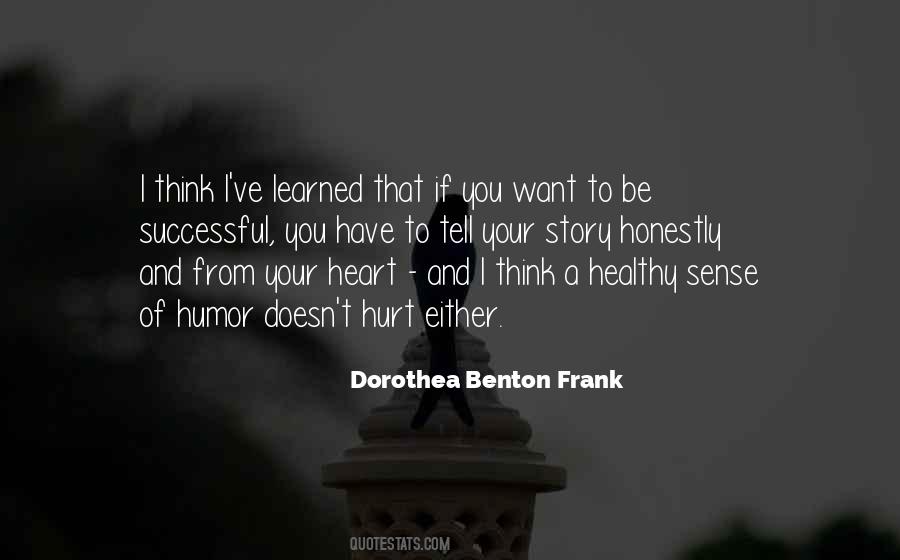 #16. Forgiveness heals any brokenness in the heart. - Author: Lailah Gifty Akita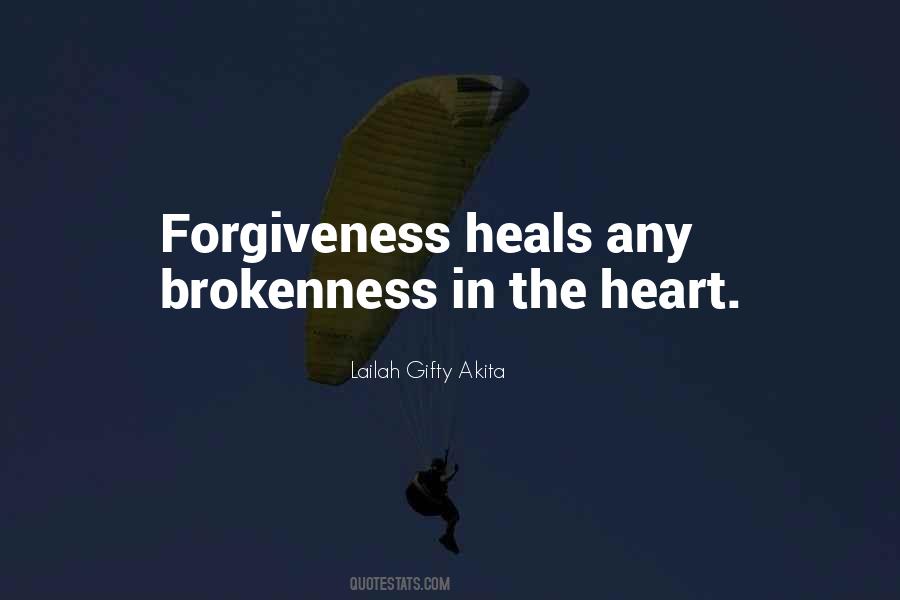 #17. Other case studies demonstrate that brainstorming is as essential to creativity as exercise is to a healthy heart. - Author: Tim Brown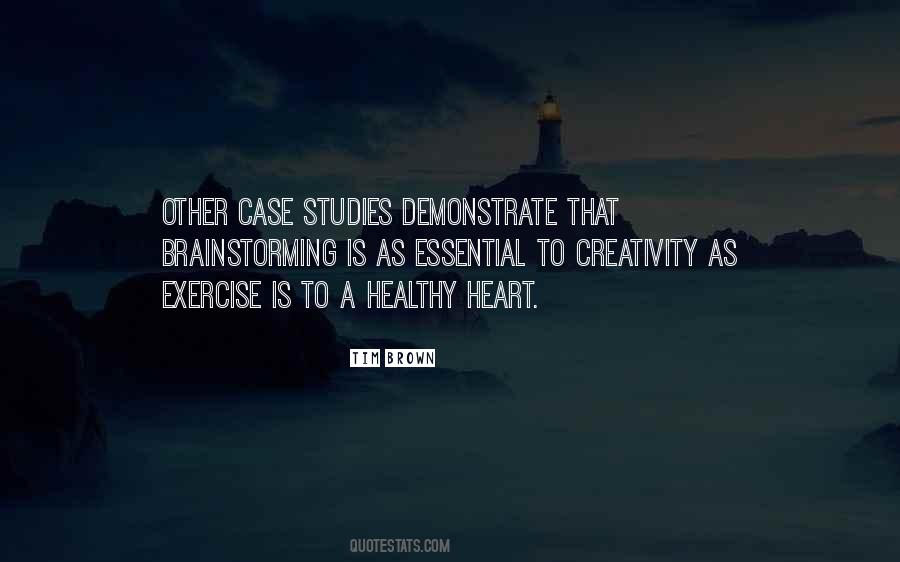 #18. A sick body with a good heart is more beneficial to future lives than a fit, healthy body that is used for self-cherishing. - Author: Thubten Zopa Rinpoche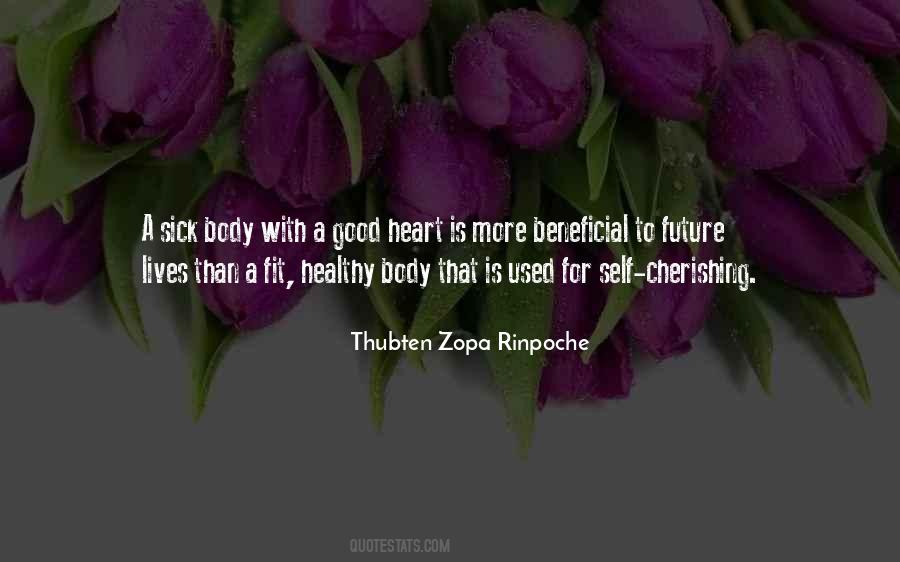 #19. I read every single letter. Some just break my heart. I've cried over letters that have come in, from young women and older women alike, saying to me, "You know, you made me want to stop crash dieting and just be healthy. You are my role model. I want to be like you." - Author: Evangeline Lilly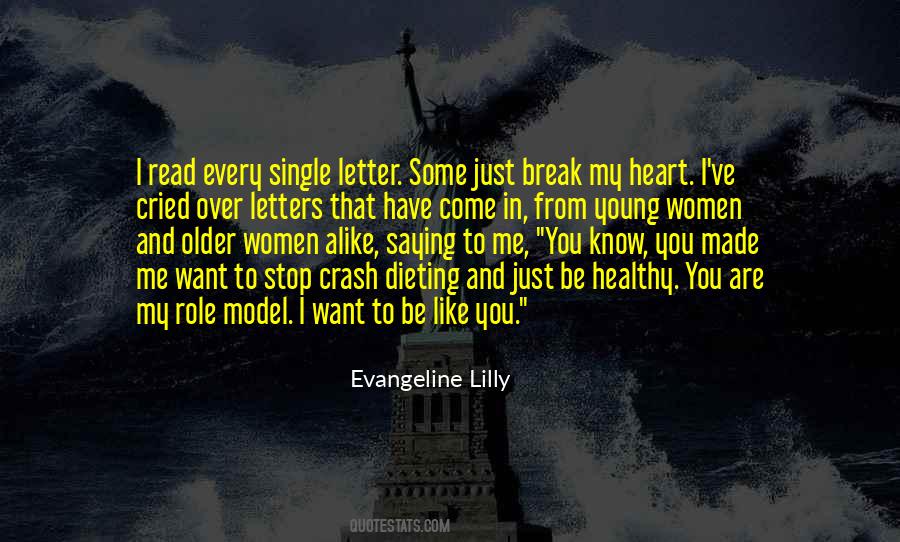 #20. I can exchange opinion with any neighbouring mind,
I have as healthy flesh and blood as any rhymer's had,
But O! my Heart could bear no more when the upland caught the wind;
I ran, I ran, from my love's side because my Heart went mad. - Author: William Butler Yeats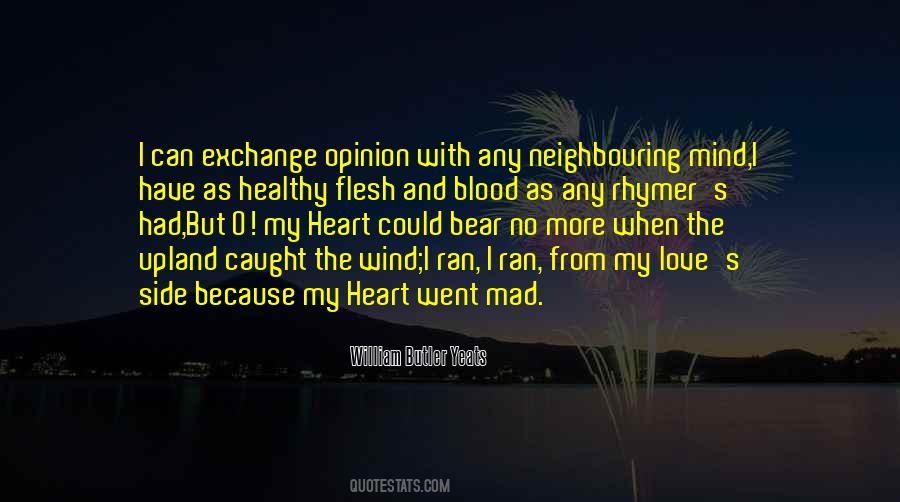 #21. In the teachings of many other contemplative or mystical traditions, the basic view is that people are fundamentally good and healthy. It's as if everyone who has ever been born has the same birthright, which is enormous potential of warm heart and clear mind. The - Author: Pema Chodron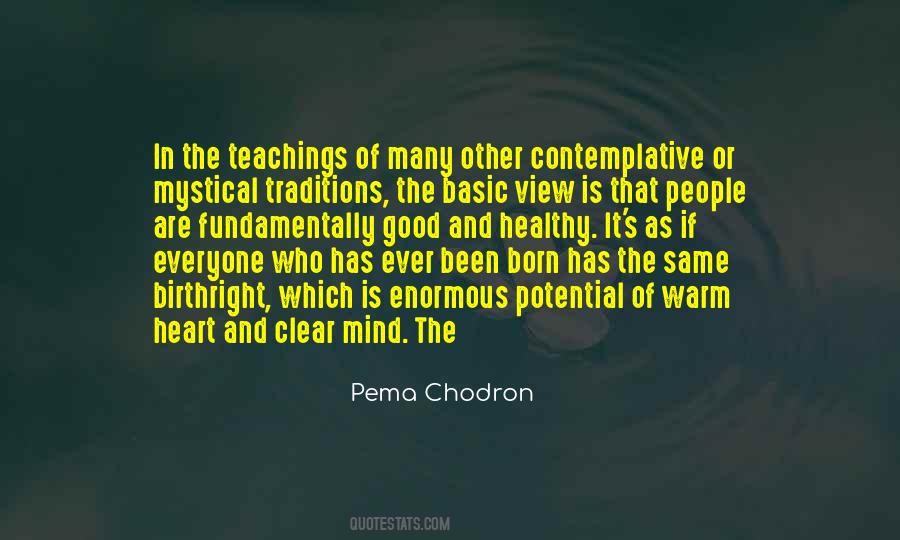 #22. If you are alive and healthy, you must know that this is your greatest success and your greatest chance in life! Celebrate this success with all your heart, with all your gratitude! - Author: Mehmet Murat Ildan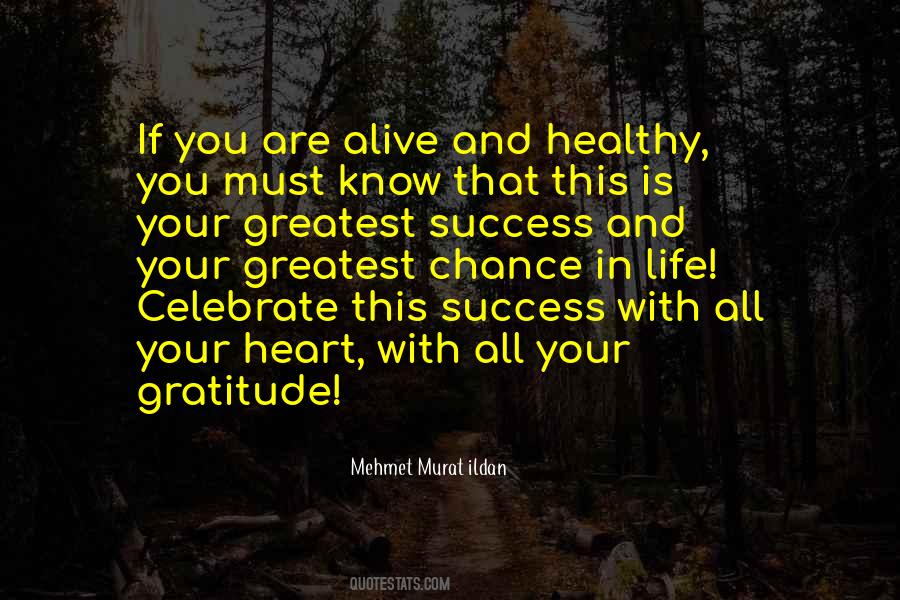 #23. What I do to take care of my heart is exercise and try to eat healthy. - Author: Martina Mcbride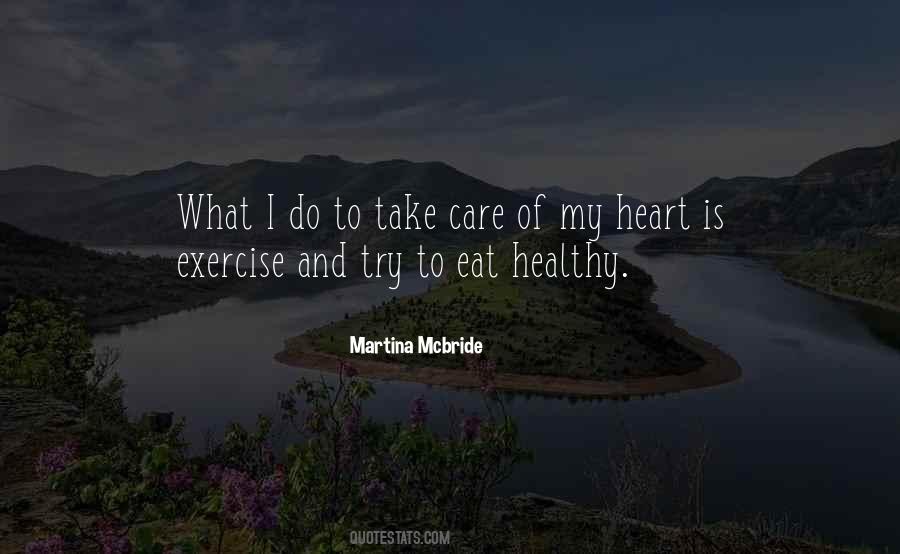 #24. We benefit from doing nothing, from going out to play, from giving from the heart and spending time in nature. Most of all we benefit from having healthy, strong, and loving relationships with other people and from exercising the altruistic parts of ourselves. - Author: Jo Ann Davis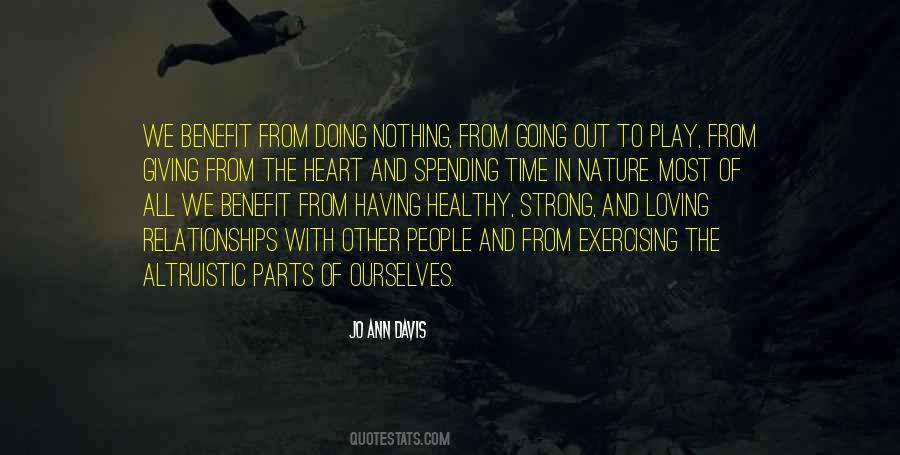 #25. It is the ability to focus our attention on self-motivating thoughts, rather than being mesmerised by negatives, which rests at the very heart of a healthy approach to life. - Author: Nick Baylis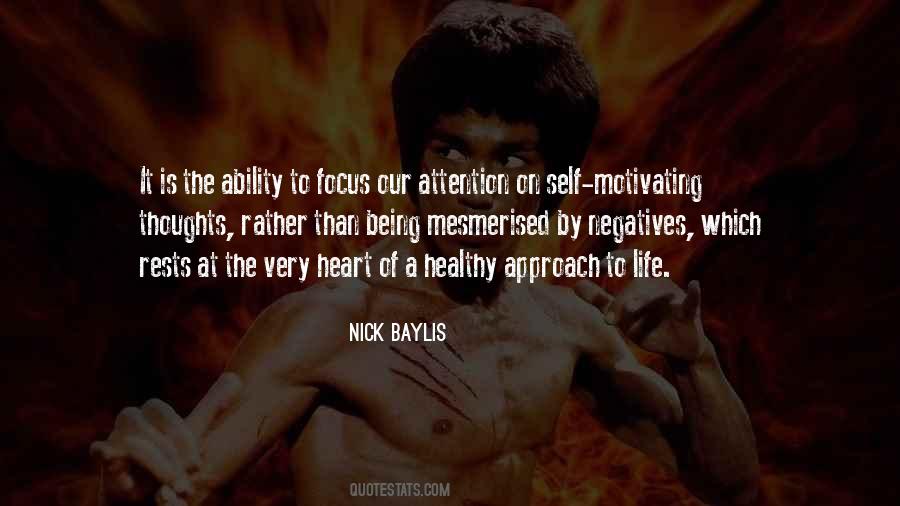 #26. Dietary patterns are set at a very early age - somewhere between four and eight years old. The research shows that children who have established a healthy diet are healthier in the longer range and less likely to develop cancer, heart disease, stroke, diabetes, and obesity. - Author: Gabriel Cousens M.D.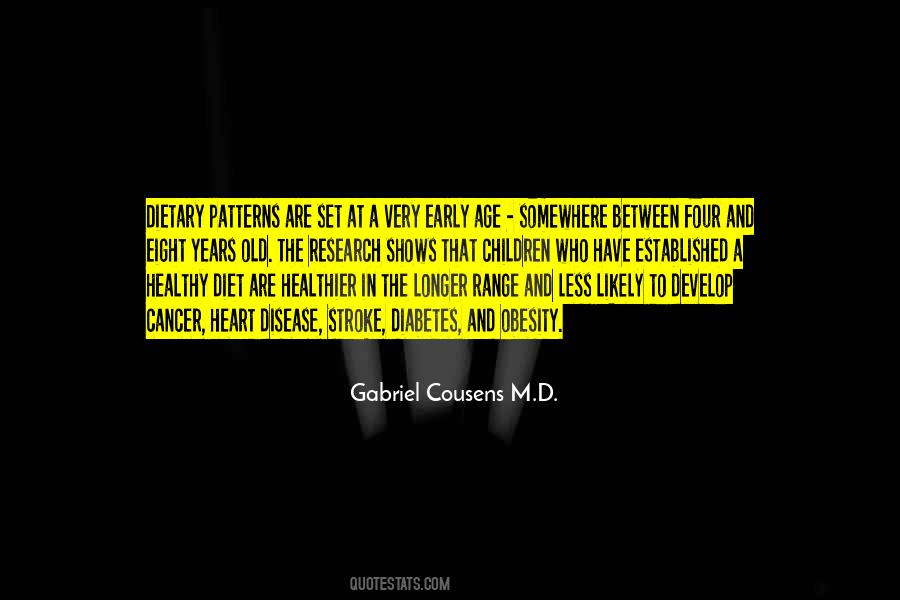 #27. I do believe in listening to your mind as well that that you need to be smart about certain things, to protect yourself. You need a healthy mix of both really, but it's important not to think so much that you're not able to follow your heart. - Author: Lily Collins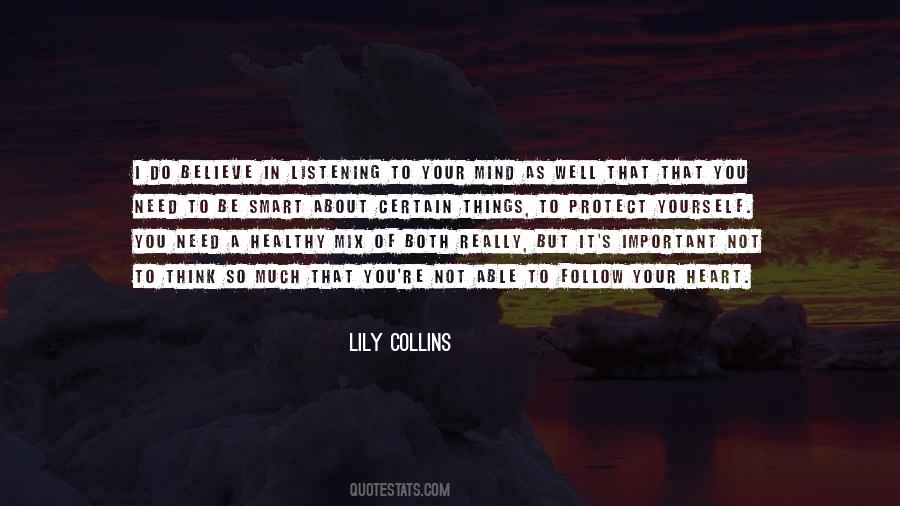 #28. If [you are] over the age of 10, the question isn't whether or not to eat healthy to prevent heart disease, it's whether or not you want to reverse the heart disease you already have. - Author: Michael Greger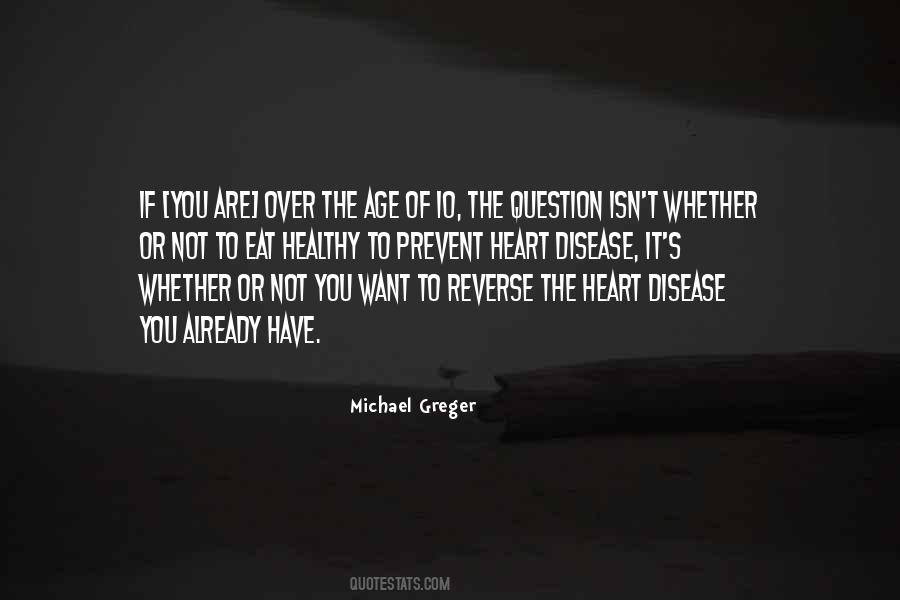 #29. If humans died in a healthy culture, they would not lock out the earth in metal coffins and carve their names on stone monuments, but would instead place the naked body in the earth and plant a tree above the silent heart. - Author: William Irwin Thompson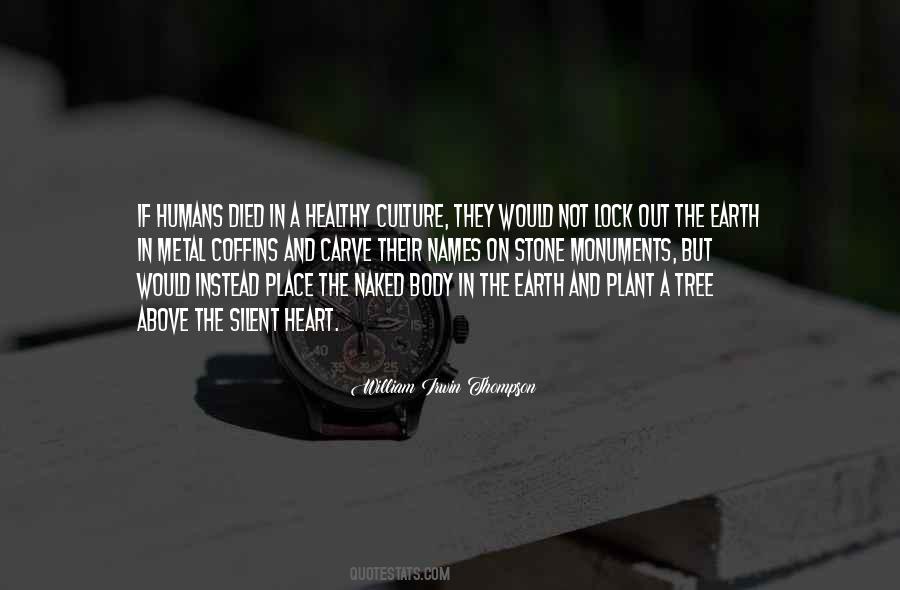 #30. Hugging is the seed of a happy heart. - Author: Lailah Gifty Akita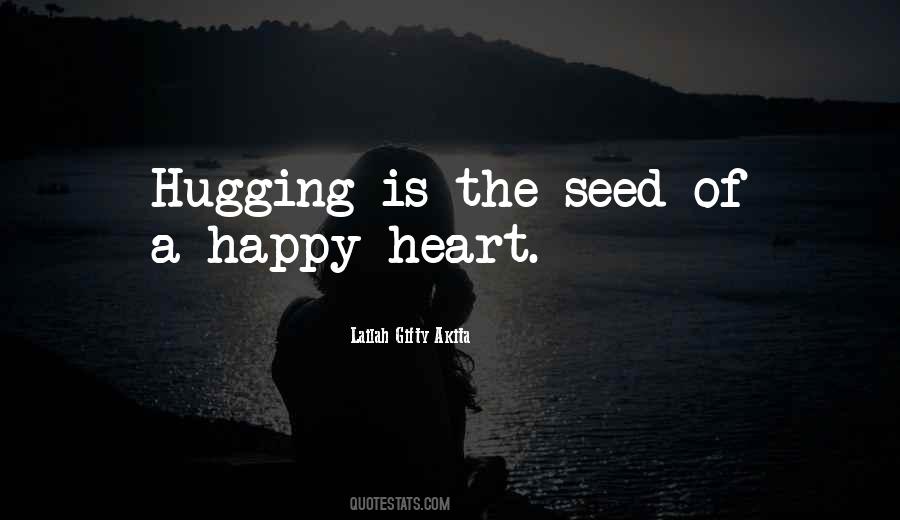 #31. Anguish heart attack is tightly packed on to people with actions full of emotions and personal tragedies yet they can overcome it with personal self esteem and nice thinking. - Author: Auliq Ice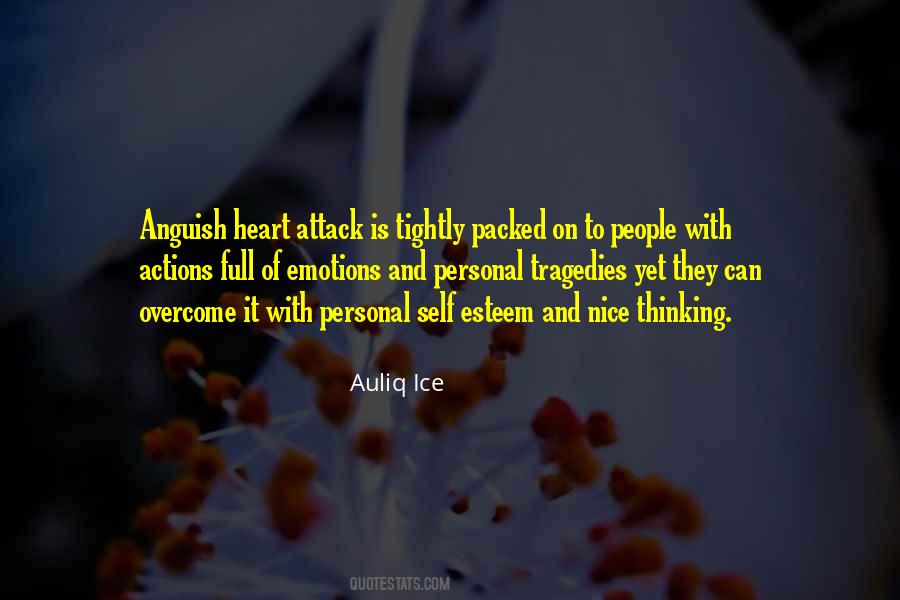 #32. For all the types of pain that can lead to suffering there is a solution. Through opening our hearts with compassion to the pain that life brings, we can truly cure our pain and avoid our suffering. Then we can walk in the valley of love and experience the vast space within our heart. - Author: Sebastian Pole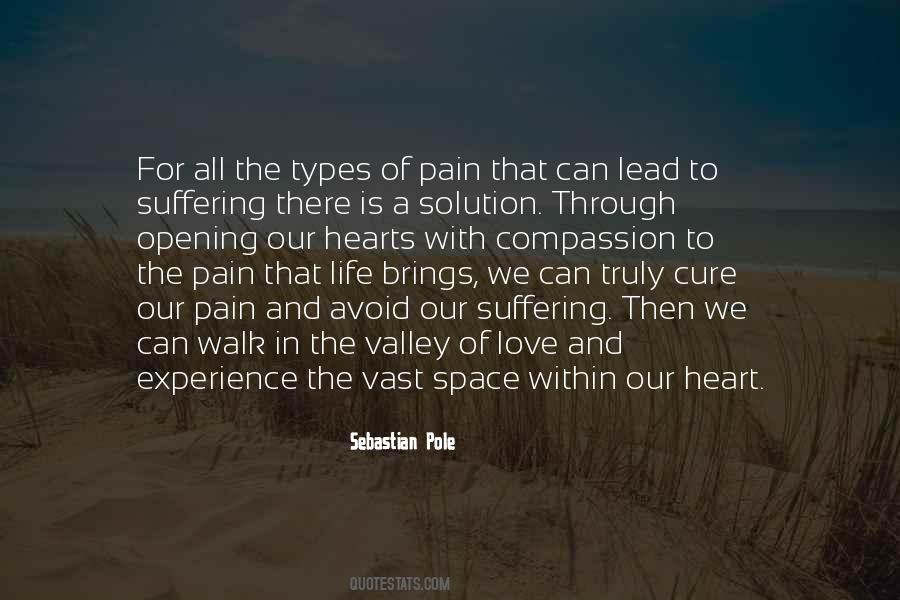 #33. A vibrant body, a radiant mind, a loving heart, and an honorable life. - Author: Stefan Emunds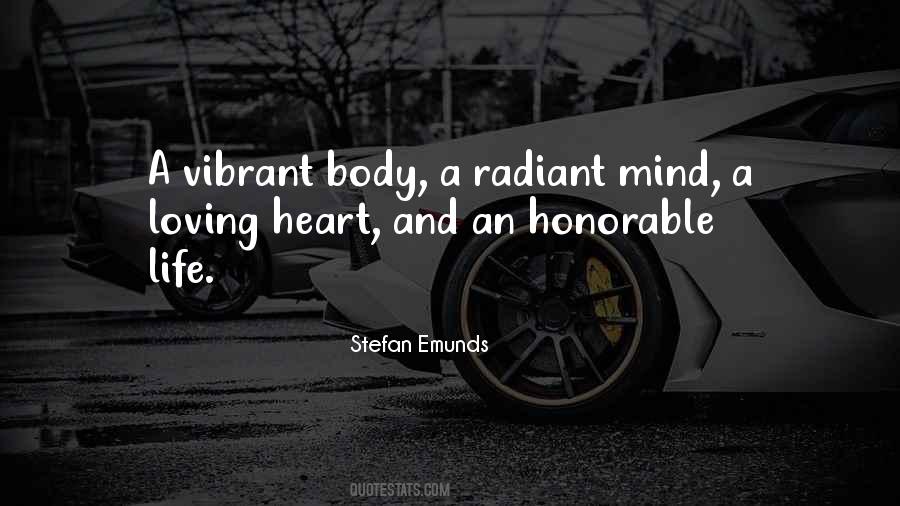 #34. A peaceful heart leads to a healthy body; jealousy is like cancer in the bones. - Author: Anonymous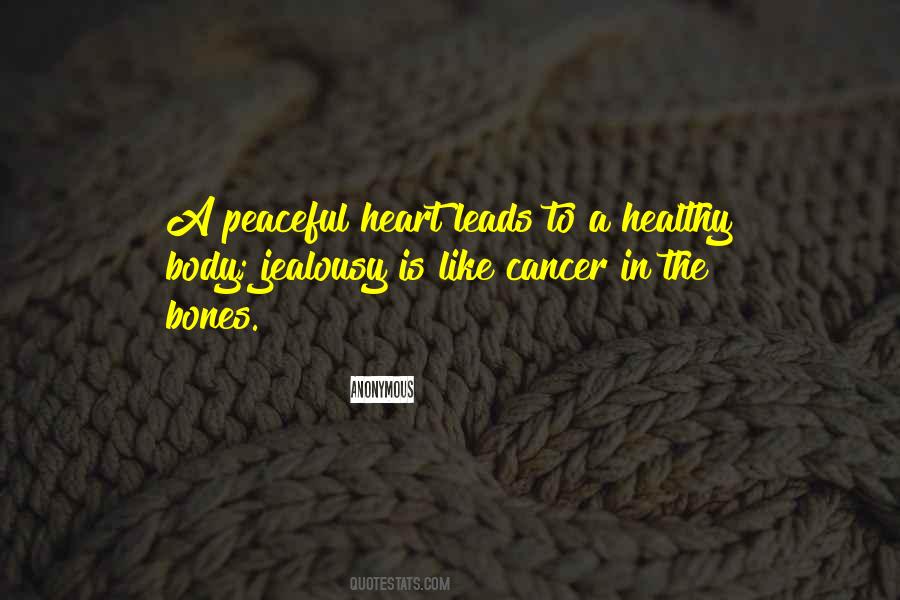 #35. It is plain that there is no separate essence called courage, no cup or cell in the brain, no vessel in the heart containing drops or atoms that make or give this virtue; but it is the right or healthy state of every man, when he is free to do that which is constitutional to him to do. - Author: Ralph Waldo Emerson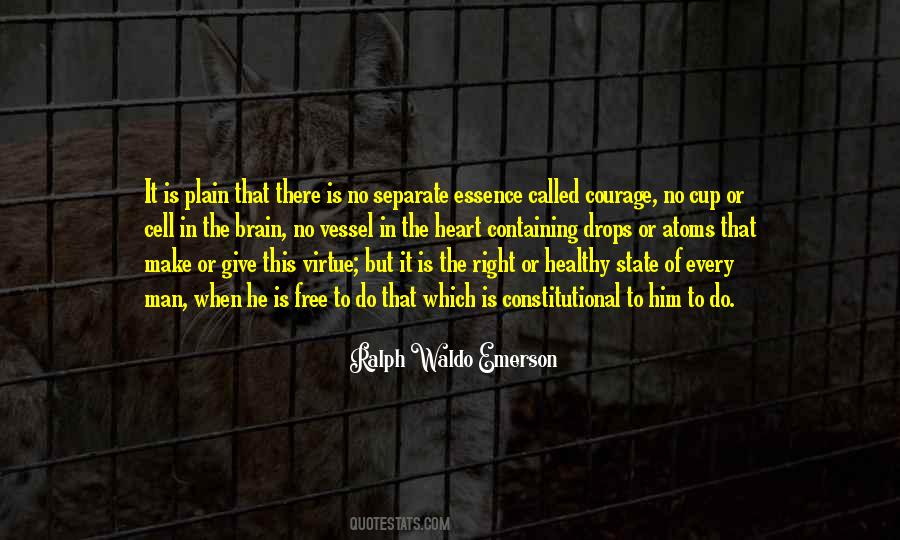 #36. If you dance to rhythm of music in your heart, you will restore your soul, and revive your spirit. - Author: Lailah Gifty Akita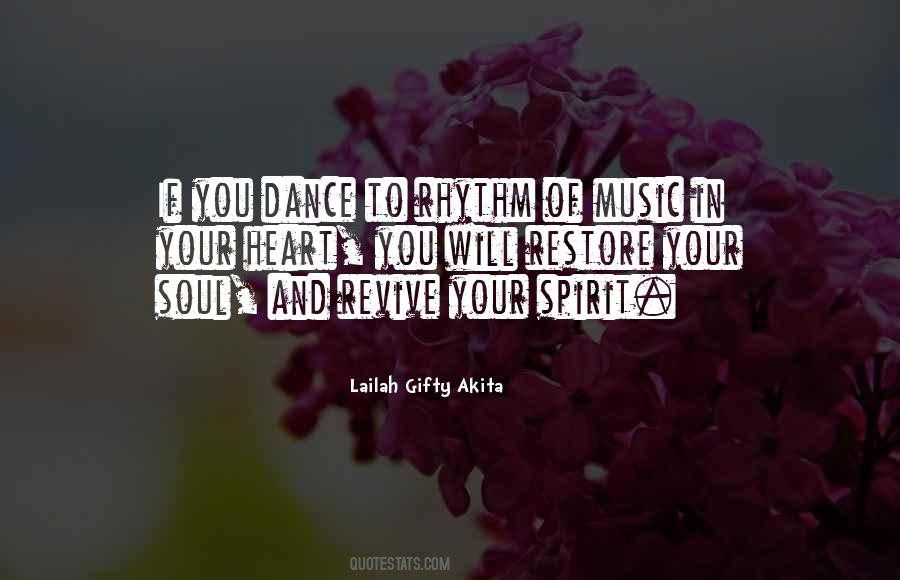 #37. Healthy and non-shaming mirroring is an important part of the process. We can gain this from a highly emotionally intelligent and effective peer group that has our best interests at heart. - Author: Christopher Dines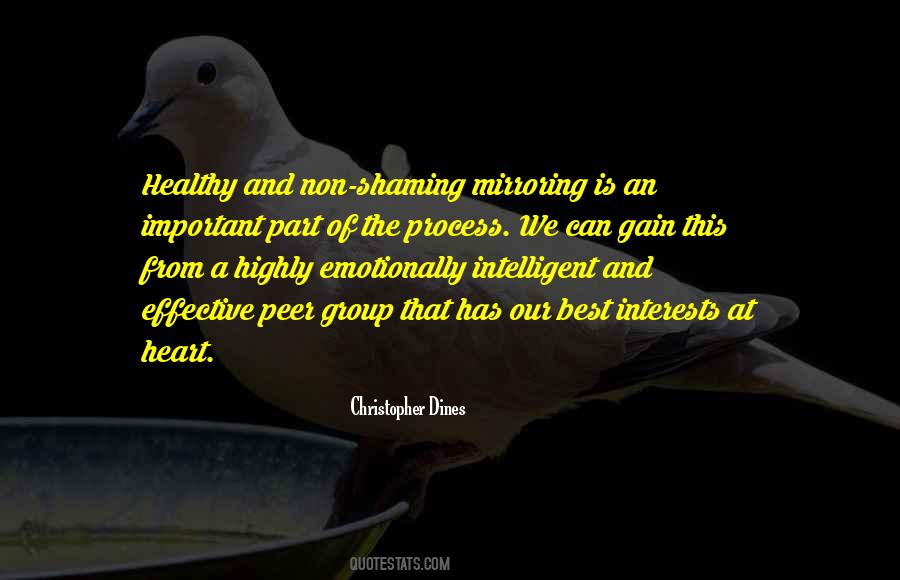 #38. A people are as healthy and confident as the stories they tell themselves. Sick storytellers can make nations sick. Without stories we would go mad. Life would lose it's moorings or orientation ... Stories can conquer fear, you know. They can make the heart larger. - Author: Ben Okri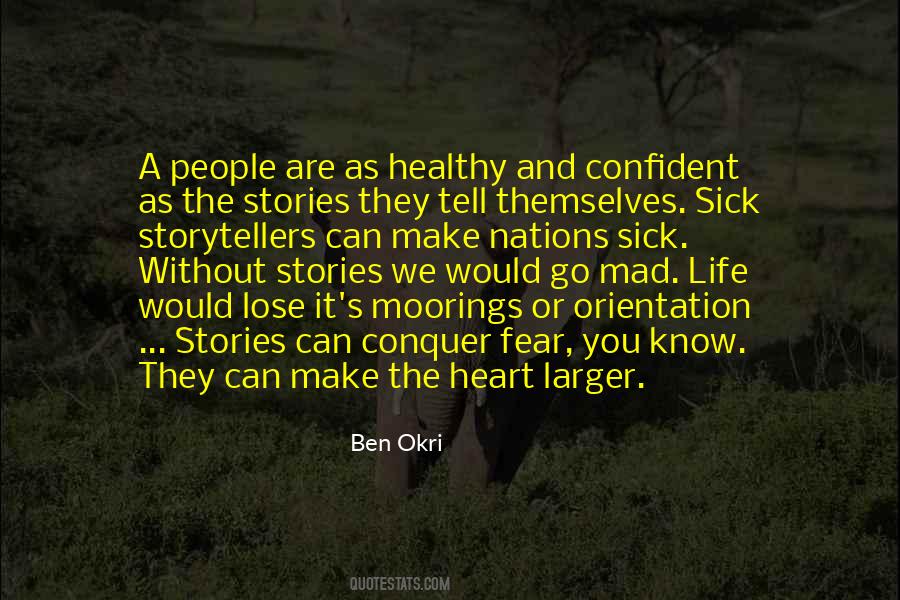 #39. The thousand mysteries around us would not trouble but interest us, if only we had cheerful, healthy hearts. - Author: Friedrich Nietzsche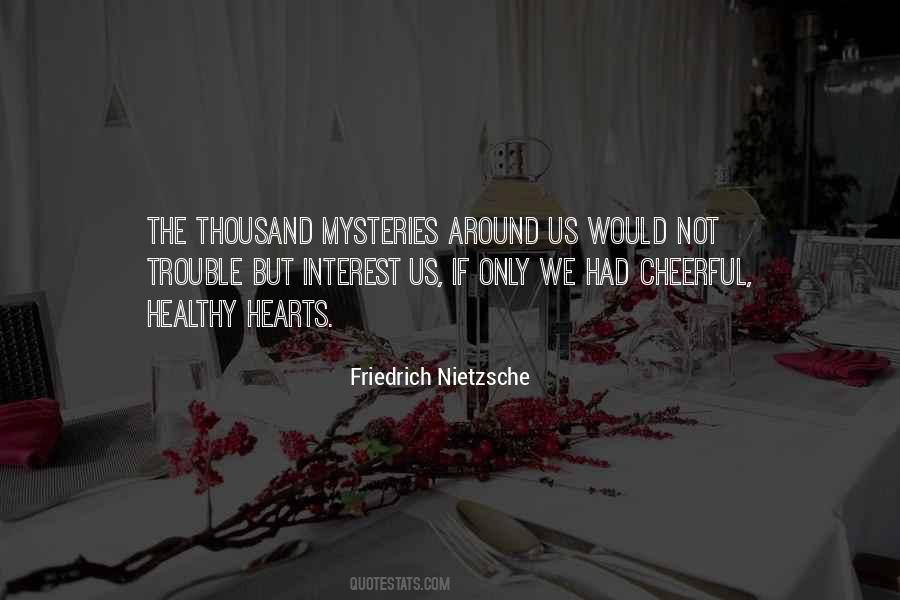 #40. If you attempt to build intimacy with a person before you've done the hard work of becoming a whole and healthy person, every relationship will be an attempt to complete the hole in your heart and the lack of what you don't have. That relationship will end in disaster.[1] - Author: Chip Ingram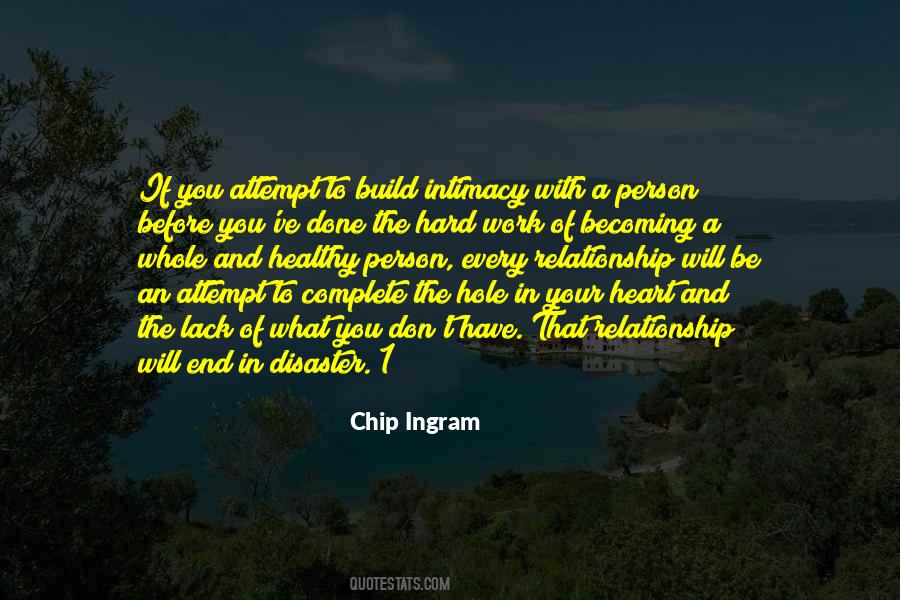 #41. Heavenly Father's interest in you does not depend on how rich or beautiful or healthy or smart you are. He sees you not as the world sees you; He sees who you really are. He looks on your heart. And He loves you because you are His child. - Author: Dieter F. Uchtdorf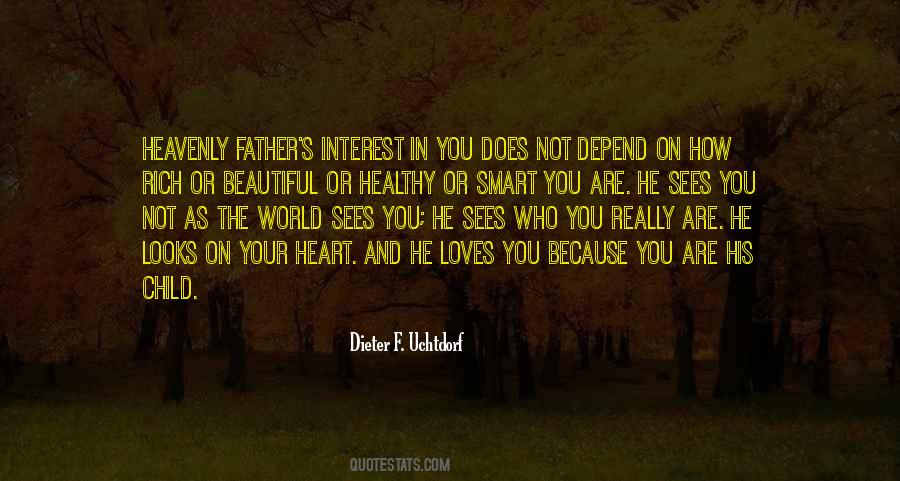 #42. My life is change with the heart of gratefulness. - Author: Lailah Gifty Akita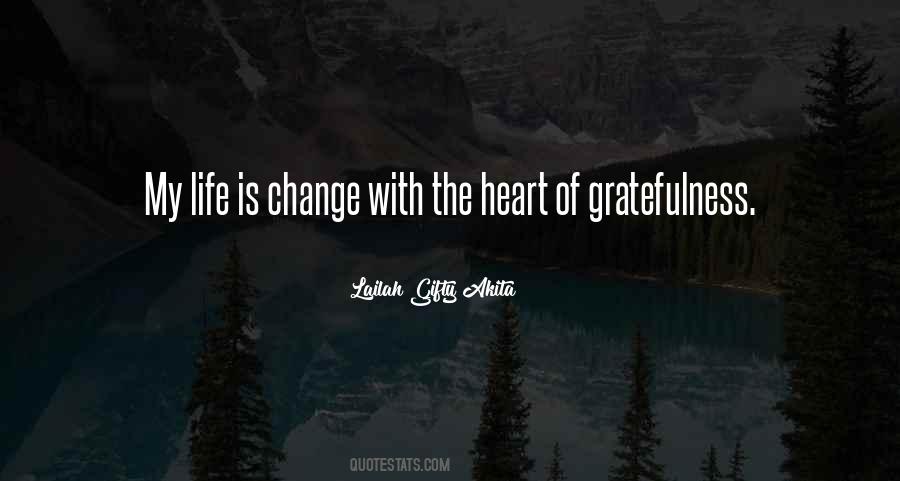 #43. My purpose ... to go on with my heart and soul, devoting all my energies to Girl Scouts, and heart and hand with them, we will make our lives and the lives of the future girls happy, healthy and holy. - Author: Juliette Gordon Low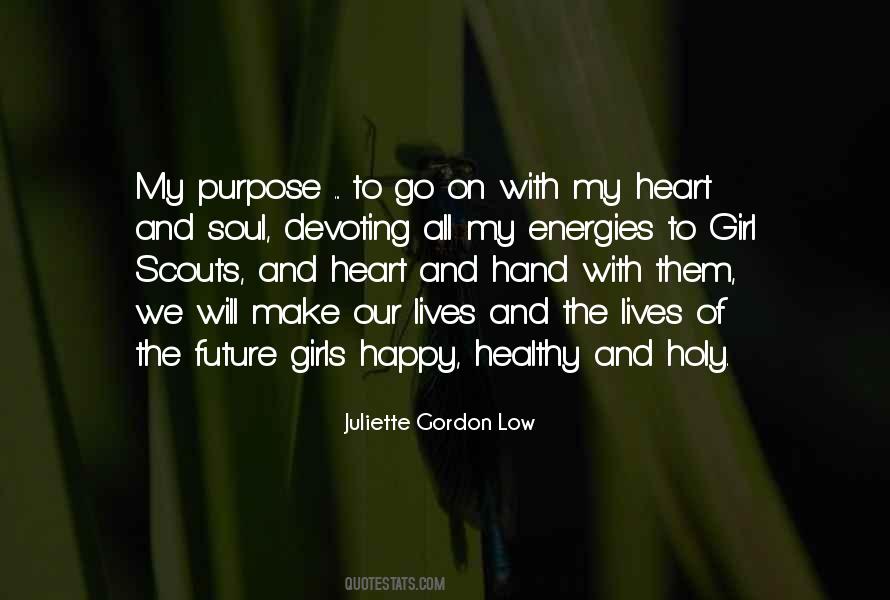 #44. For associations to emerge healthy and strong, they must re-engage with their members around the heart-centered why of why they exist, leverage current leadership, and build future leadership while they integrate the balance of technology and face-to-face experiences. - Author: Holly Duckworth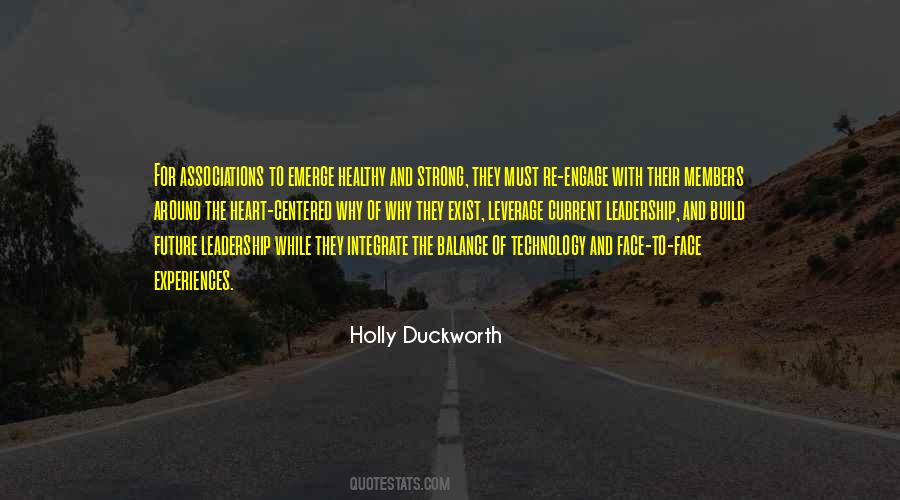 #45. I use music in the operating room to help create a healing environment for patients and staff. There is a reason that certain heart rates are healthy and certain beats of music heal and relax us. - Author: Bernie Siegel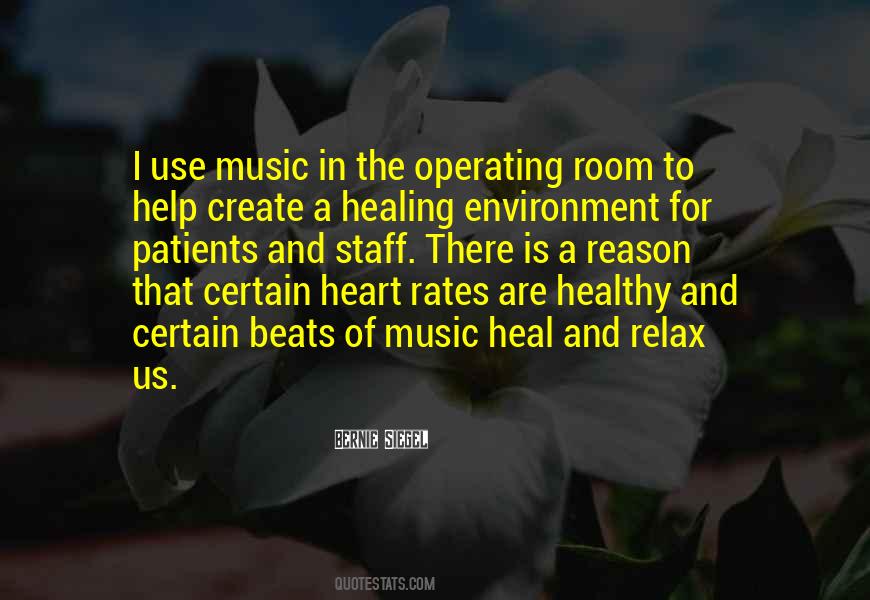 #46. Industry keeps the body healthy, the mind clear, the heart whole, and the purse full. - Author: Charles Simmons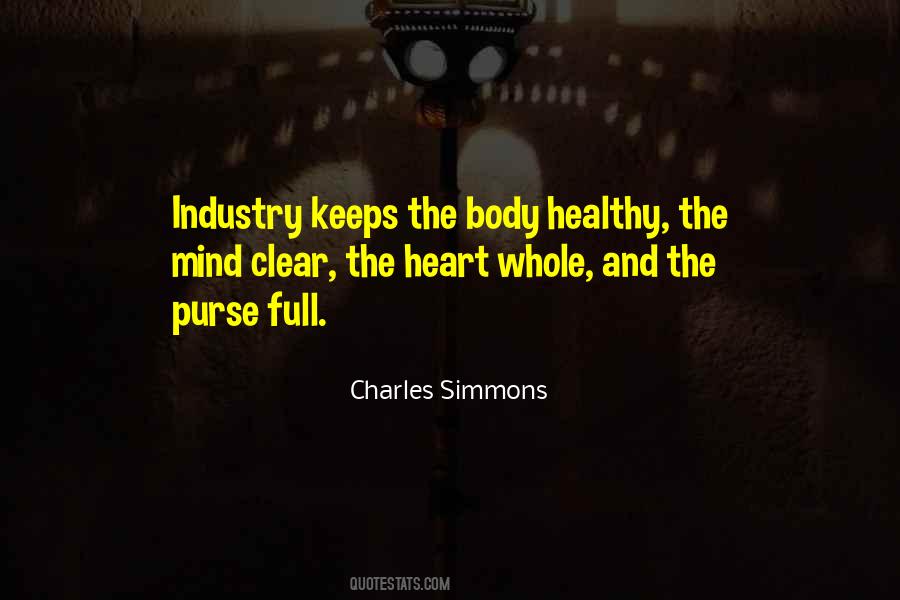 #47. Be strong in heart, spirit and mind. - Author: Lailah Gifty Akita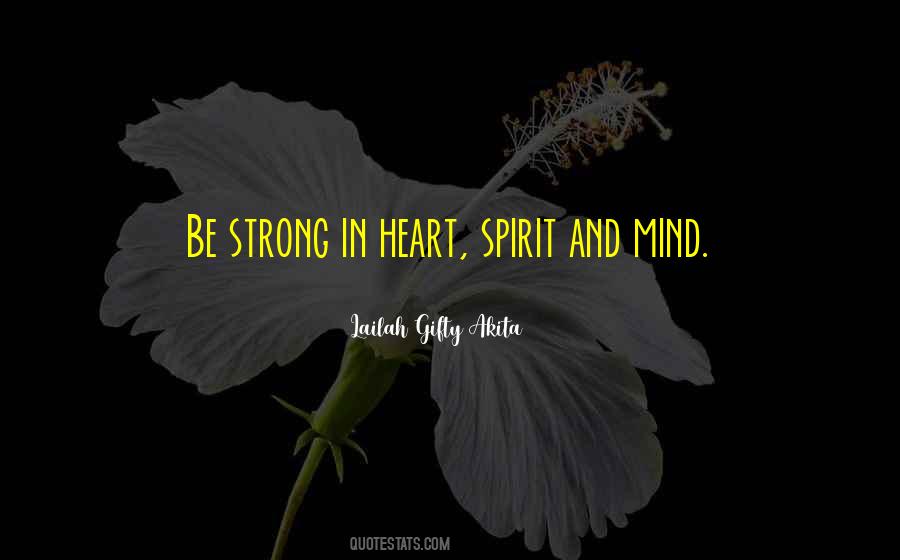 #48. No one person has to do it all but if each one of us follow our heart and our own inclinations we will find the small things that we can do to create a sustainable future and a healthy environment. - Author: John Denver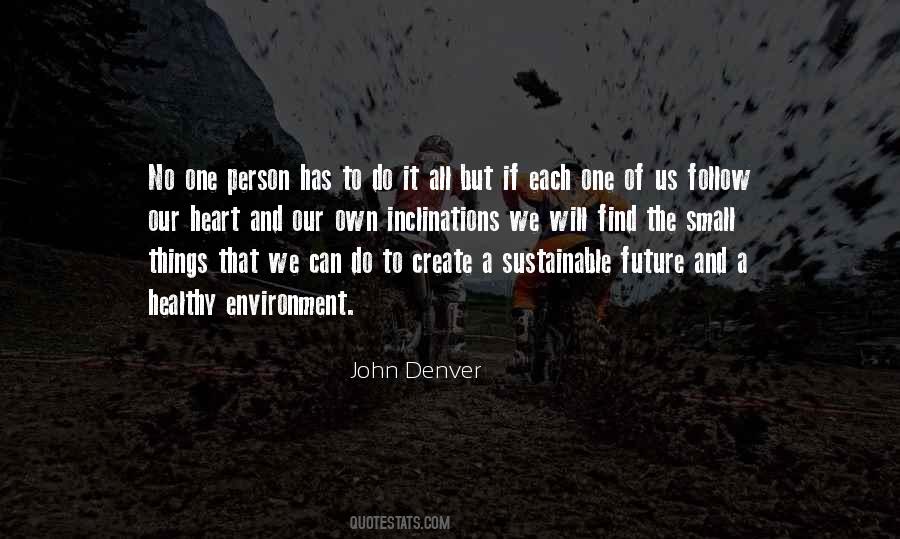 #49. No, that is not what I want for you, my little girl. I want you to be a woman with a wise and understanding heart, healthy in body and honest in mind. - Author: Carol Ryrie Brink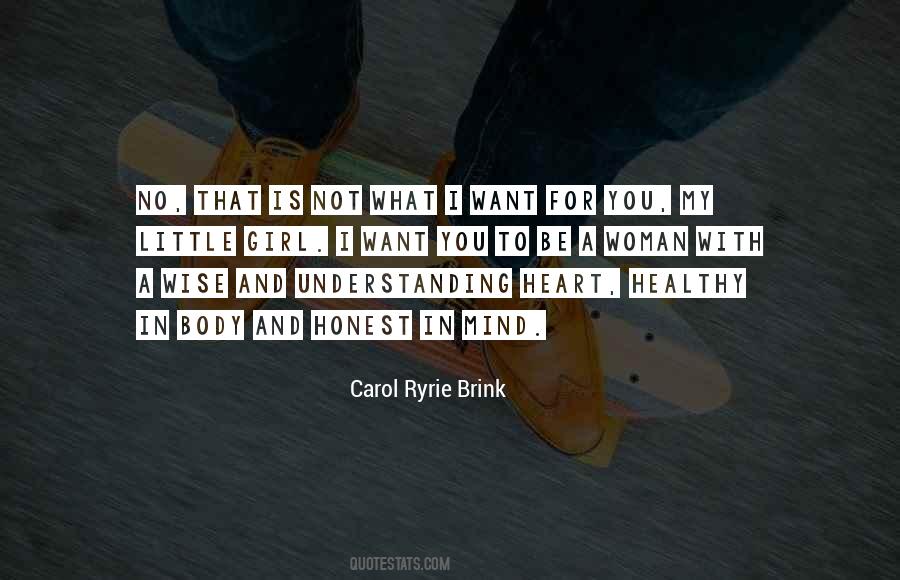 #50. A healthy man, indeed, is the complement of the seasons, and in winter, summer is in his heart. - Author: Henry David Thoreau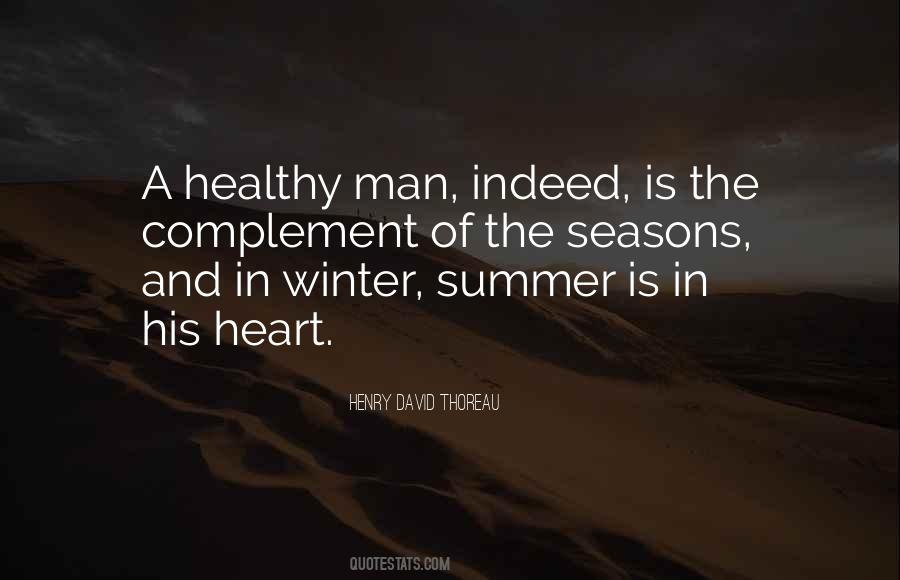 #51. We may reject someone because we think we are better than them, or we may reject someone because we are angry at them. The difference between healthy boundaries and rejection is the condition of our heart and why we are placing space between us and the other person. - Author: Heather Bixler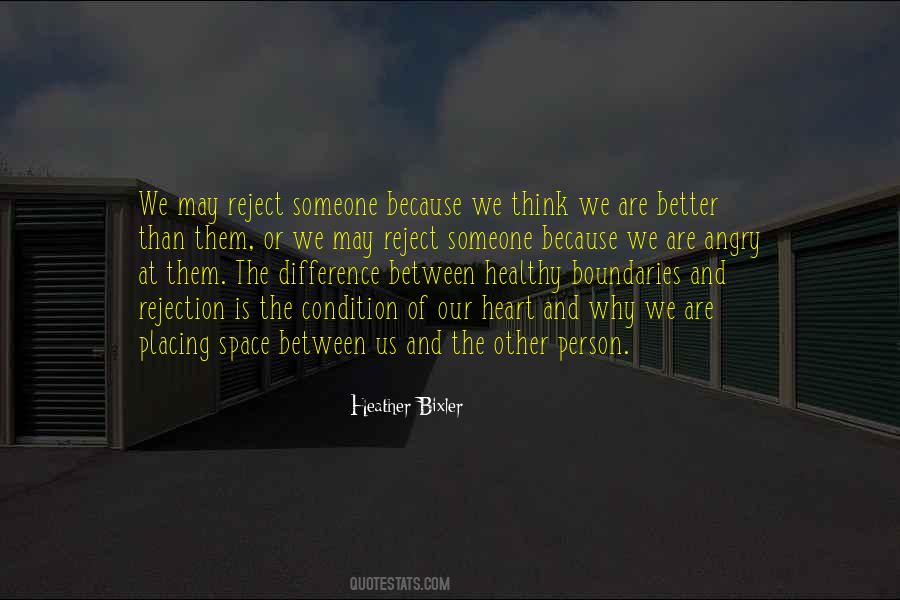 #52. We've all seen chicken portrayed as the low-fat, heart-healthy alternative to red meat for years, but it no longer adds up. You might want to lean away from eating birds and lean toward more plant-based options of protein like black beans, lentils, tofu, chickpeas and whole grains. - Author: Kathy Freston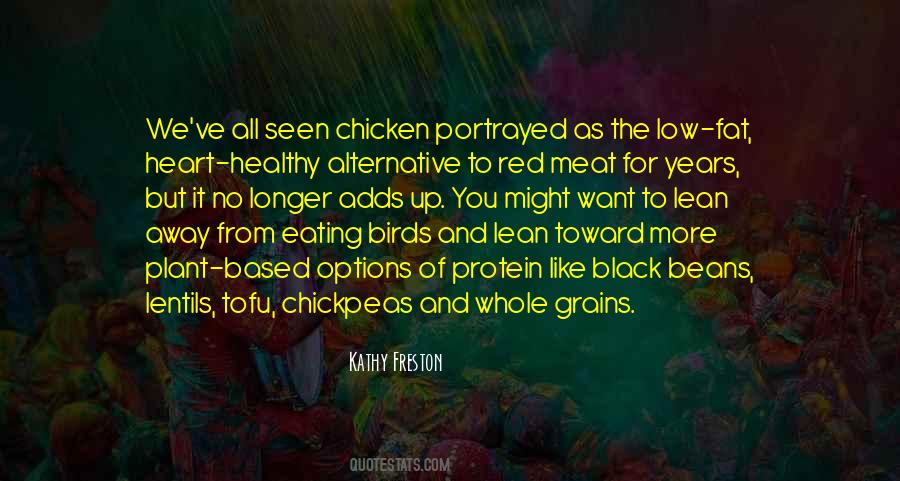 #53. Until our education system is repositioned to take care of the tripartite nature of a human being - head, heart and hand, we cannot make healthy progress as a nation or individuals. - Author: Ifeanyi Enoch Onuoha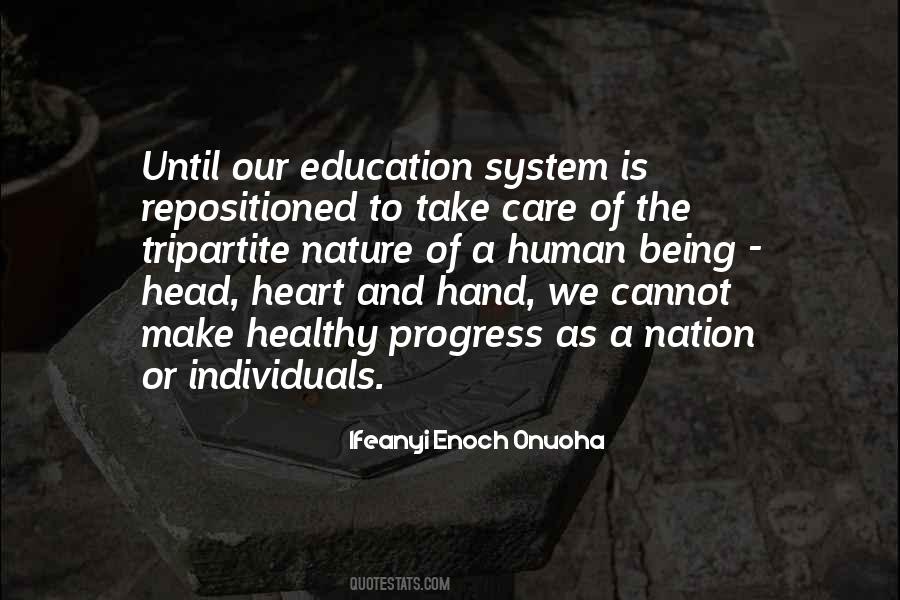 #54. Maybe one day we will be able to take a pill that keeps us young and healthy much longer. I believe in my heart that this will happen. - Author: Cynthia Kenyon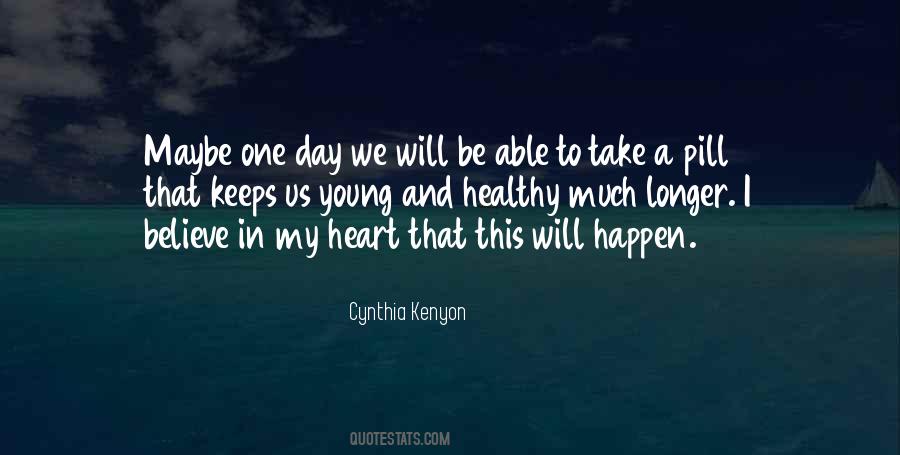 #55. Always be of good cheer. - Author: Lailah Gifty Akita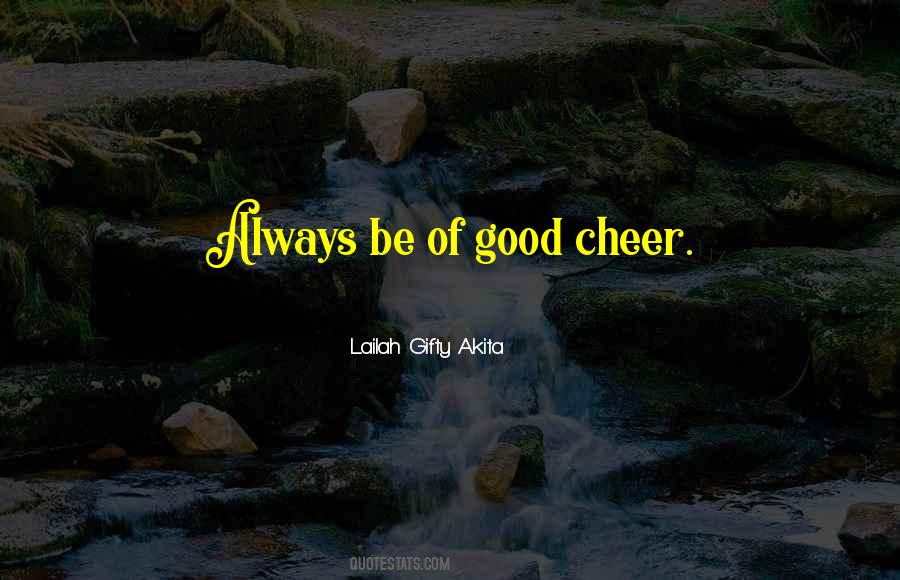 #56. The medical literature tells us that the most effective ways to reduce the risk of heart disease, cancer, stroke, diabetes, Alzheimer's, and many more problems are through healthy diet and exercise. Our bodies have evolved to move, yet we now use the energy in oil instead of muscles to do our work. - Author: David Suzuki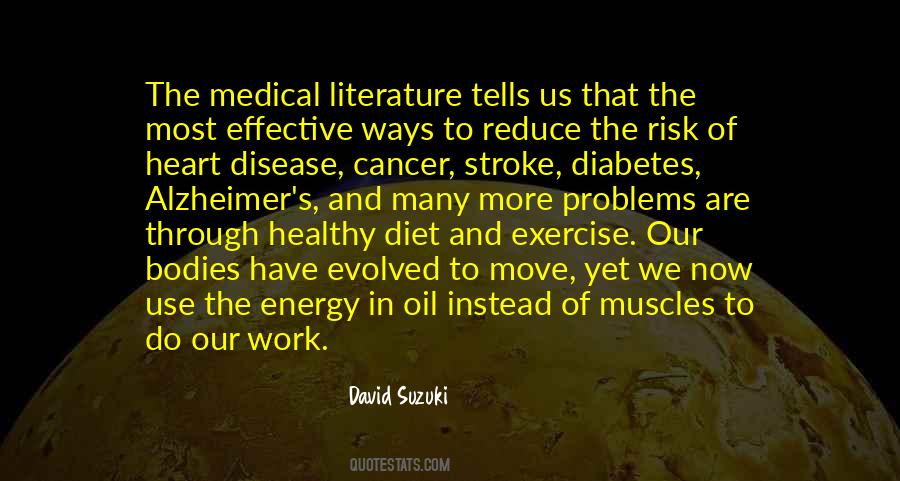 #57. The most chronic heart disease is caused by having greediness in your heart. Go for check ups regularly and learn how to swallow those lumpy pills of generousity. Be kind and be healthy - Author: Israelmore Ayivor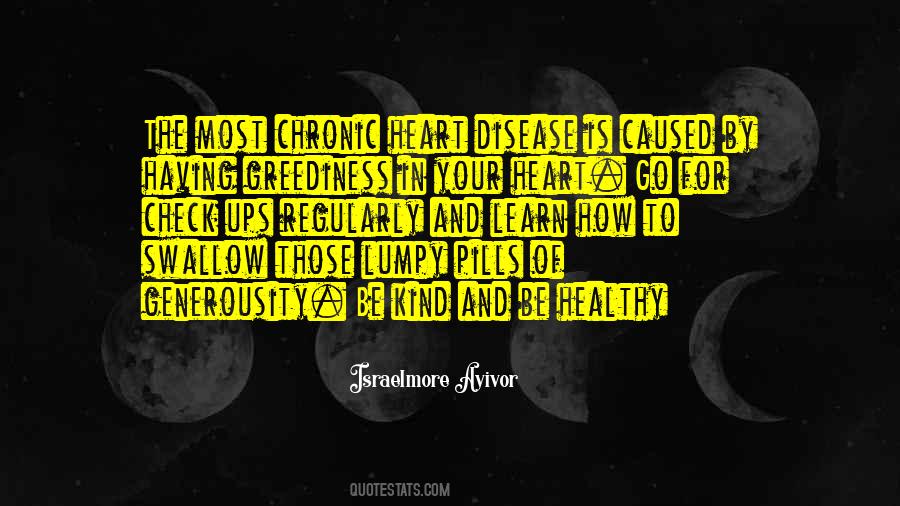 #58. Pure heart begets pure body, soul and spirit. - Author: Lailah Gifty Akita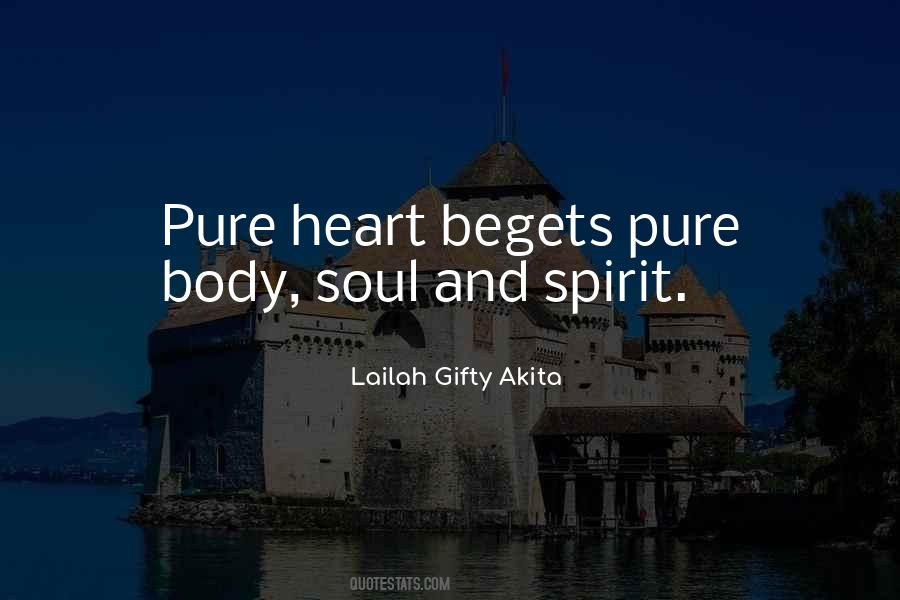 #59. Love is the strength of the heart. - Author: Lailah Gifty Akita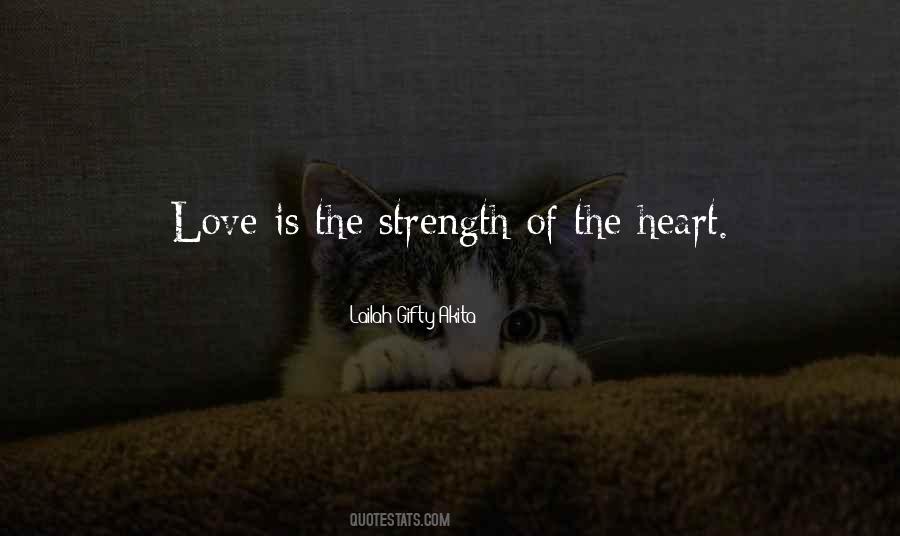 #60. If you pray, you purify your heart. - Author: Lailah Gifty Akita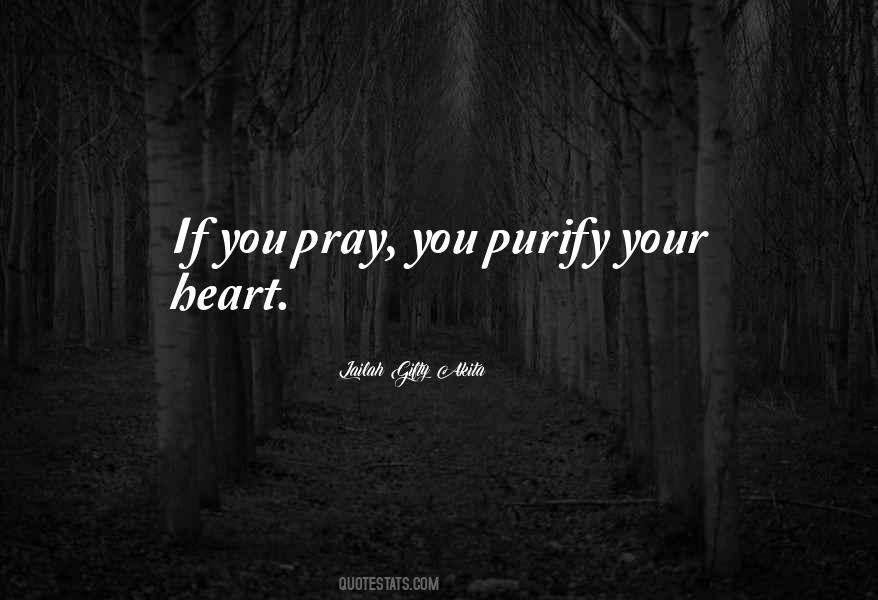 #61. It isn't a natural thing to keep on worrying about the morality of one's material prosperity. These are proclivities superinduced by modern conditions of the conscience. There is a natural resistance in every healthy human being to such distressful heart-searchings. - Author: H.G.Wells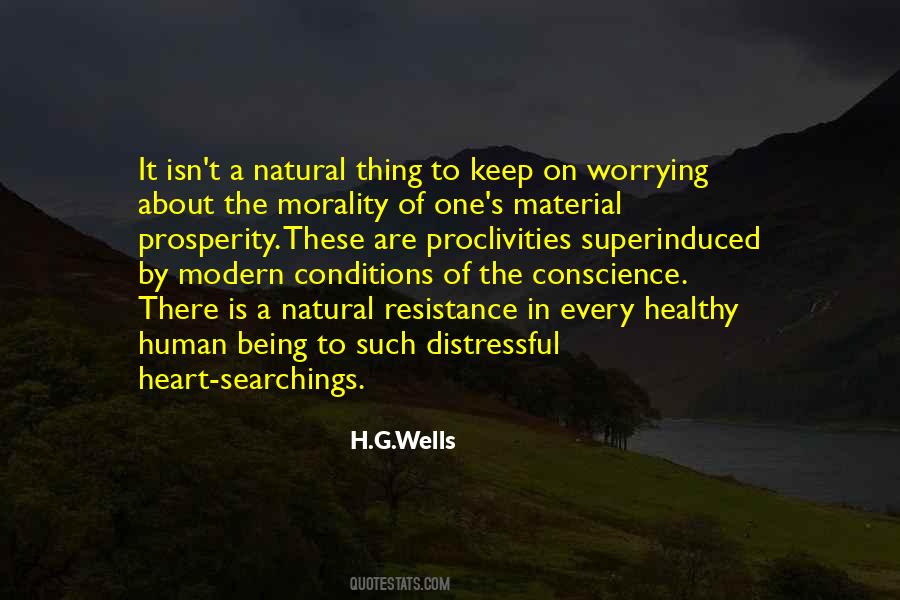 #62. Methinks it is a token of healthy and gentle characteristics, when women of high thoughts and accomplishments love to sew; especially as they are never more at home with their own hearts than while so occupied. - Author: Nathaniel Hawthorne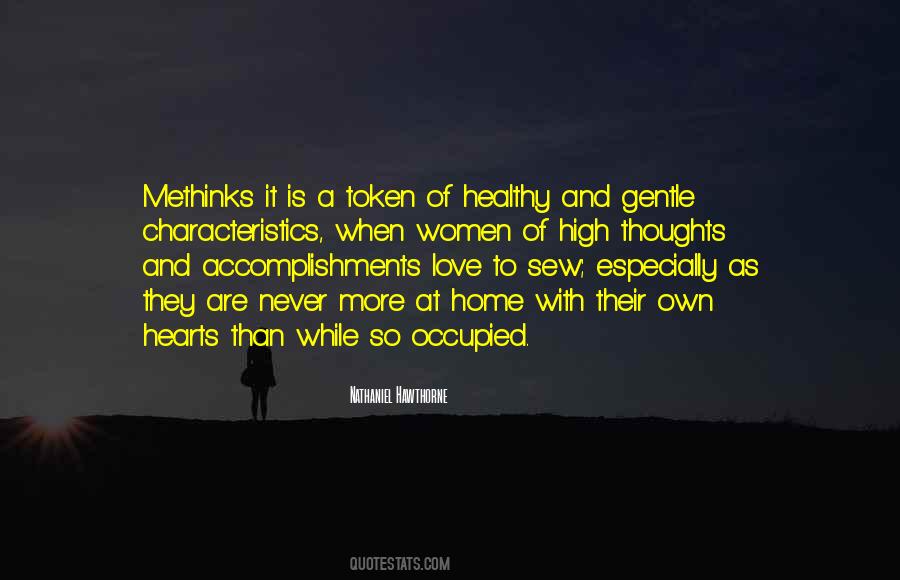 #63. Skepticism is healthy in matters of the intellect, but disastrous in matters of the heart. - Author: Marty Rubin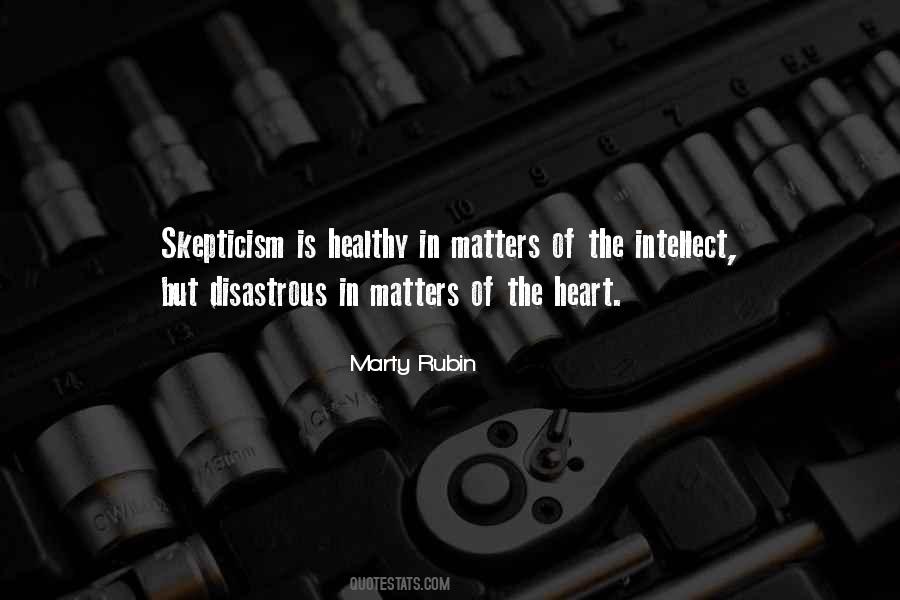 #64. No matter what you are physically, male or female , strong or weak, sick or healthy , everything is not as important as what you have in the heart . If you have the soul of a warrior, you are a warrior . All those other things are just the glass of the lamp , but you're the light shining inside. - Author: Cassandra Clare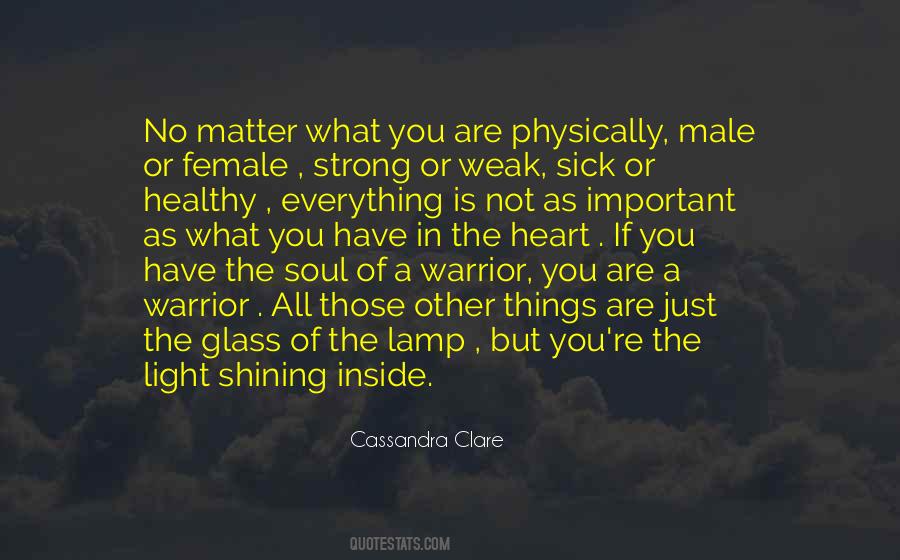 #65. Having three daughters, it is important for me to set a good example and teach them to make decisions that are healthy for your heart no matter what age you are. - Author: Martina Mcbride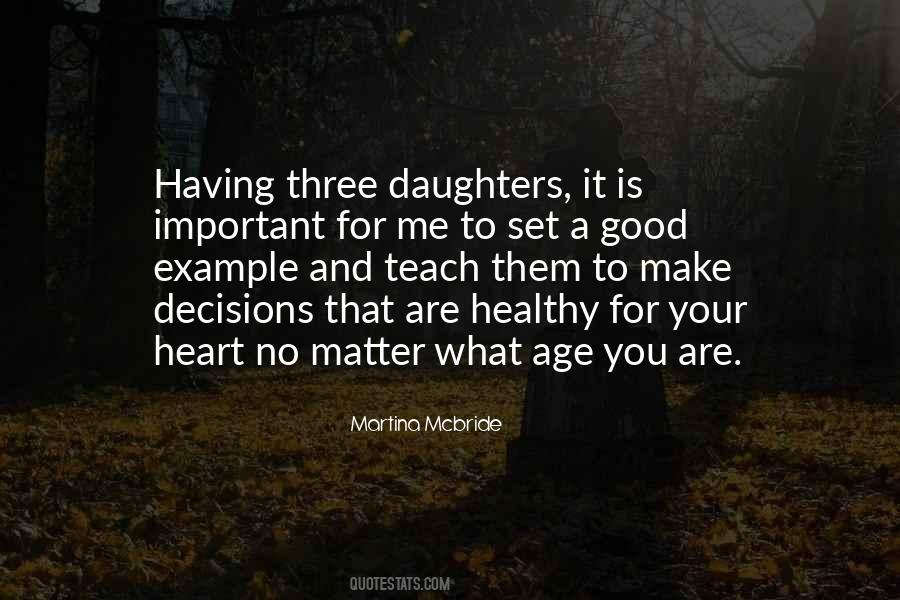 #66. I carry within my heart all the great memories. - Author: Lailah Gifty Akita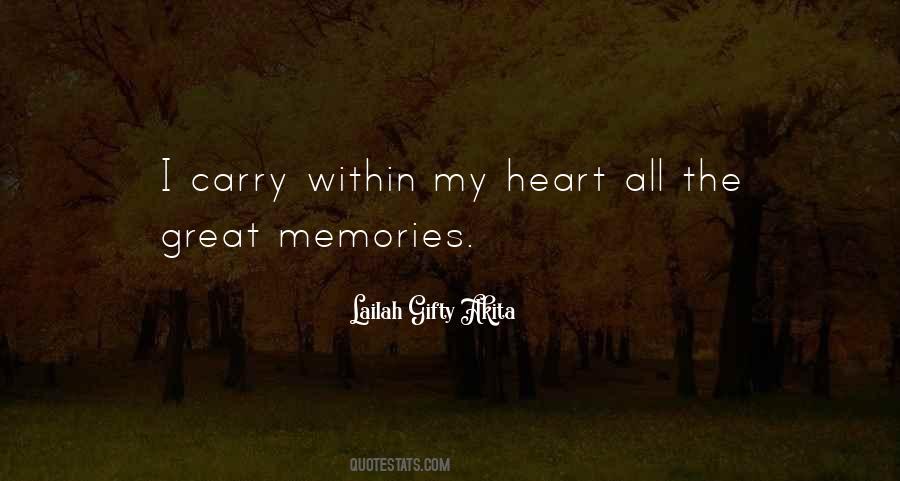 #67. My brain and my heart are really important to me. I don't know why I wouldn't seek help to have those things be as healthy as my teeth. I go to the dentist. So why wouldn't I go to a shrink? - Author: Kerry Washington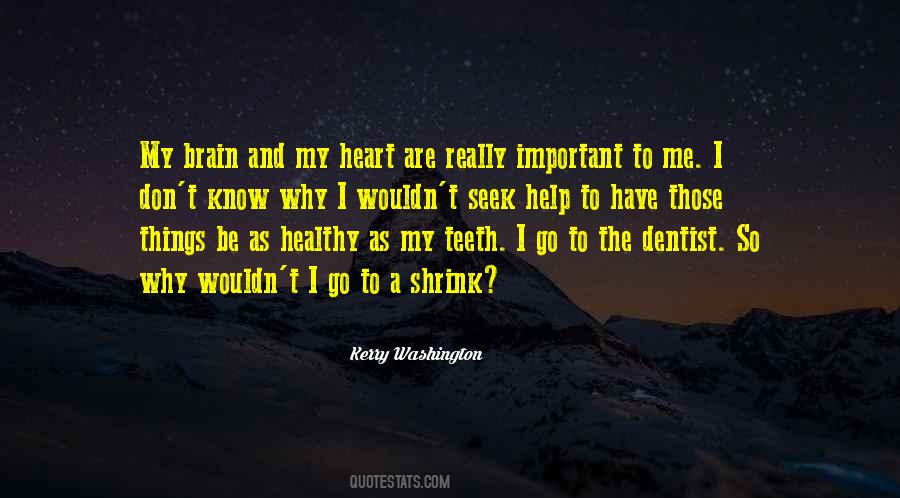 #68. Healthy feet can feel the very heart of Mother Earth. - Author: Sitting Bull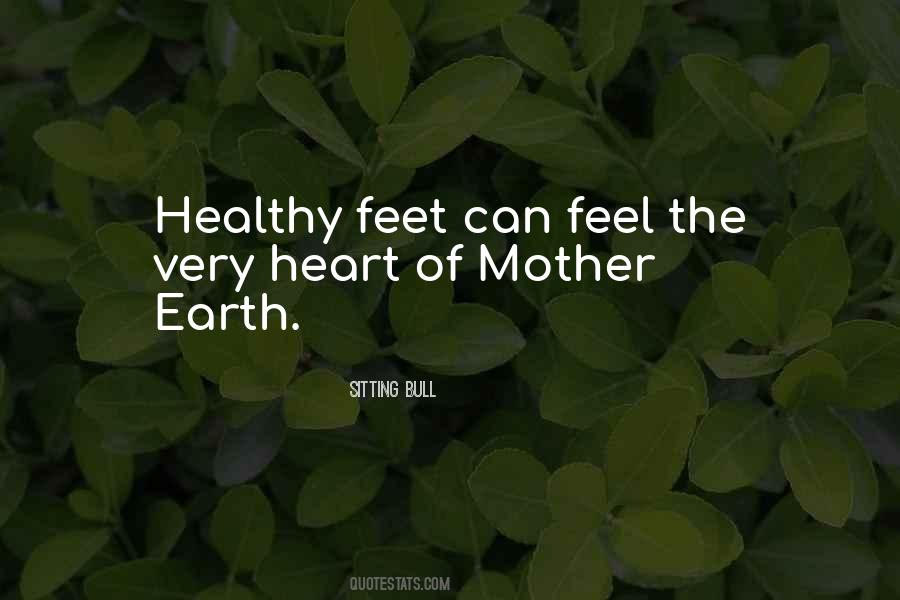 #69. A good wine has many qualities, I think. If drunk moderately, it is healthy and good for your heart. - Author: Tom Araya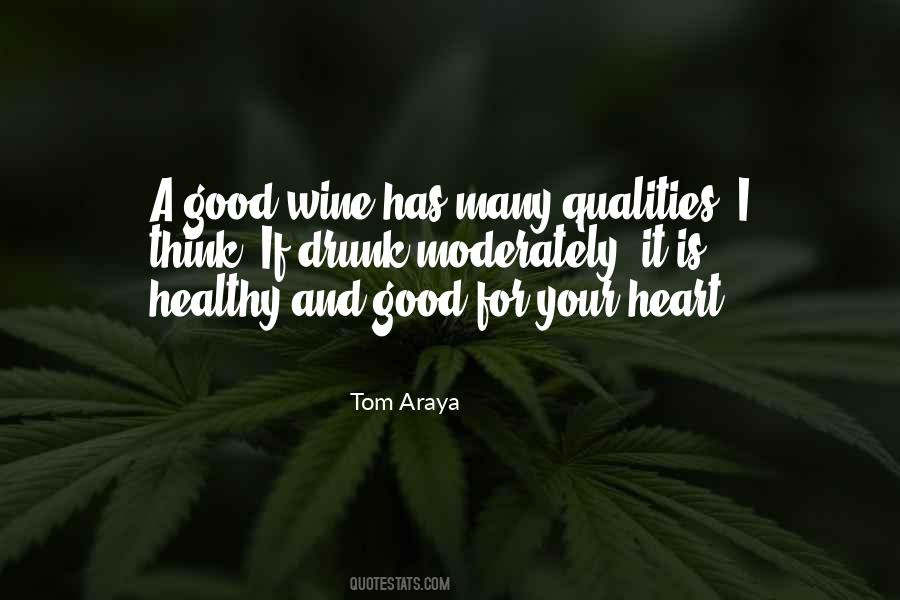 #70. A healthy body means a healthy mind. You get your heart rate up, and you get the blood flowing through your body to your brain. Look at Albert Einstein. He rode a bicycle. He was also an early student of Jazzercise. You never saw Einstein lift his shirt, but he had a six-pack under there. - Author: Steve Carell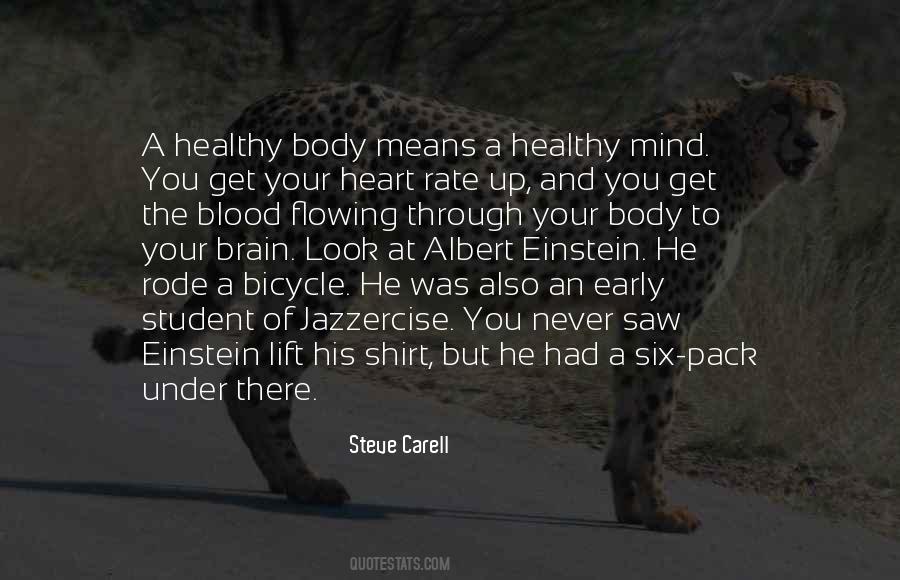 #71. My heart is filled with overflowing gratitude. - Author: Lailah Gifty Akita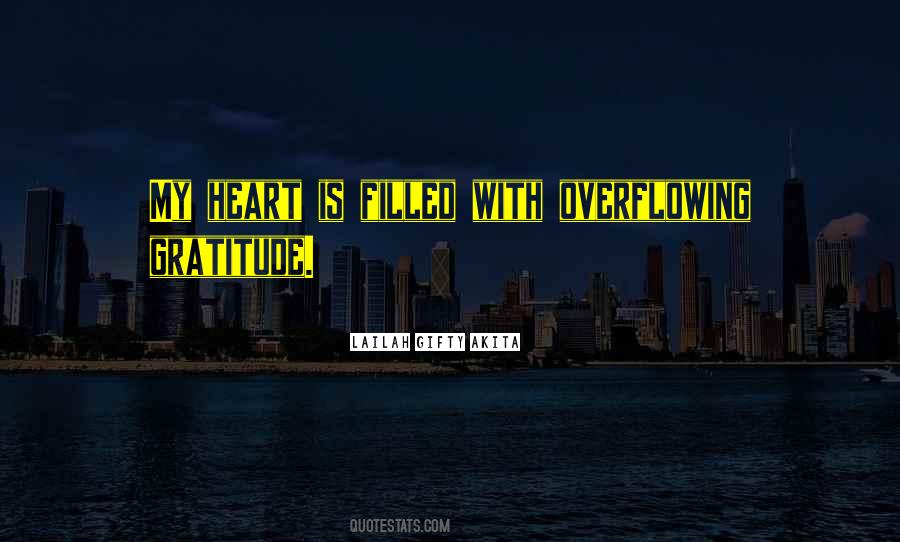 #72. No healthy man, in his secret heart, is content with his destiny. He is tortured by dreams and images as a child is tortured by the thought of a state of existence in which it would live in a candy store and have two stomachs. - Author: H.L. Mencken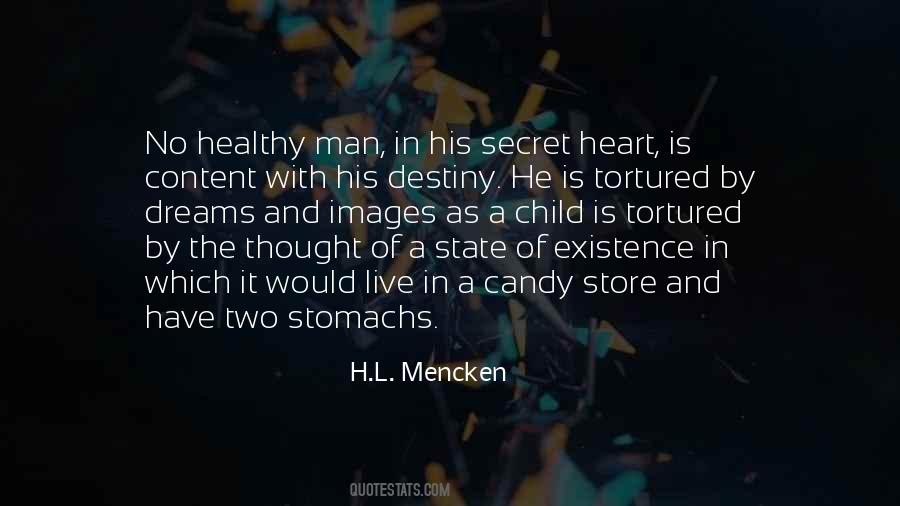 #73. These findings - the contents of Part II of this book - show that heart disease, diabetes and obesity can be reversed by a healthy diet. - Author: T. Colin Campbell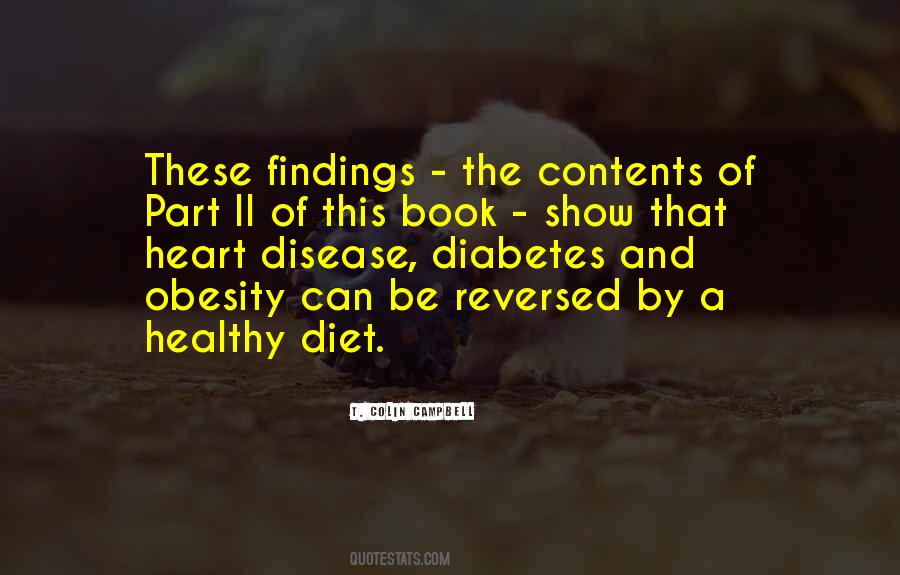 #74. The heart of the home beats in the kitchen and a healthy one beats three times a day - Author: Bangambiki Habyarimana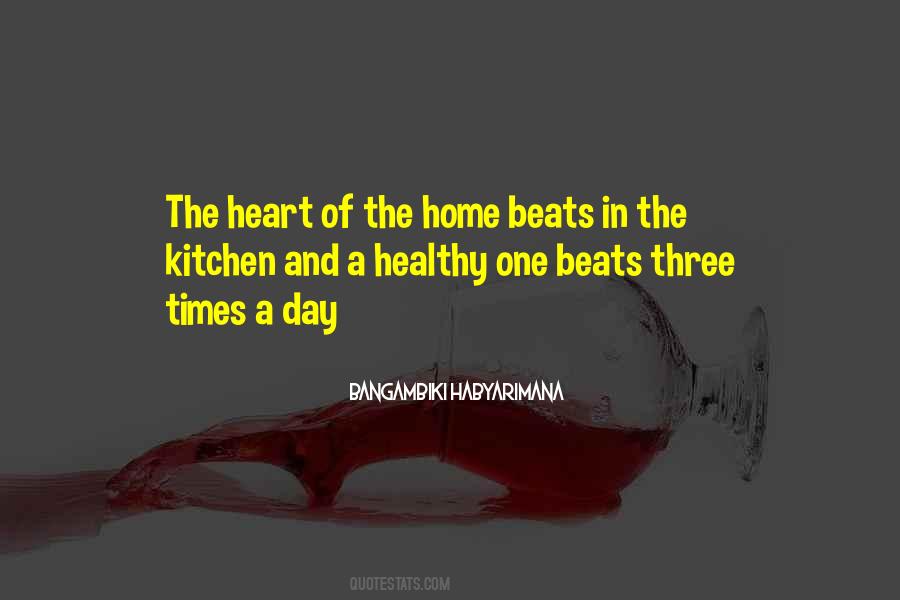 #75. Green strongly influences the heart and helps alleviate tension. Positive qualities associated with green are generosity, humility, and cooperation. Foods of the green vibration are all green fruits and green vegetables. - Author: Tae Yun Kim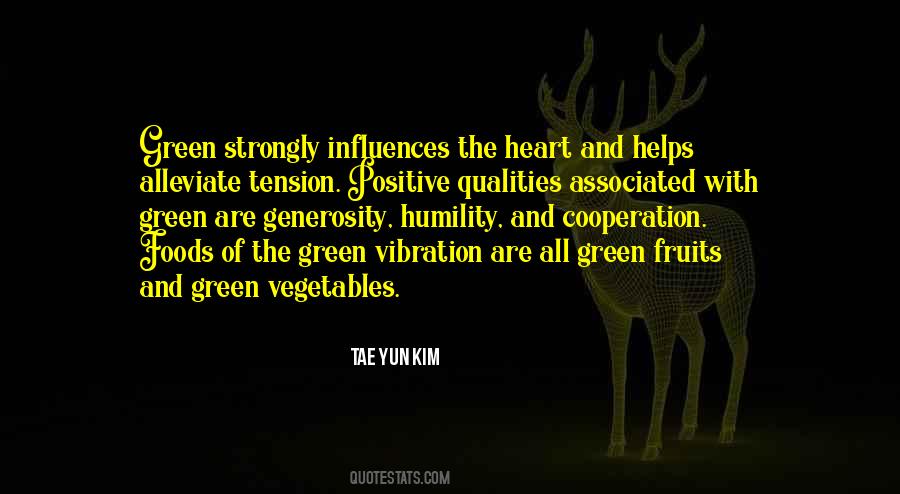 #76. Love is at the heart of the world, just as it is at the heart of your life. Your relationships with your lover, your family, your friends, and the world around you define the quality of your emotional wholeness and reflect your relationship with yourself. - Author: Sebastian Pole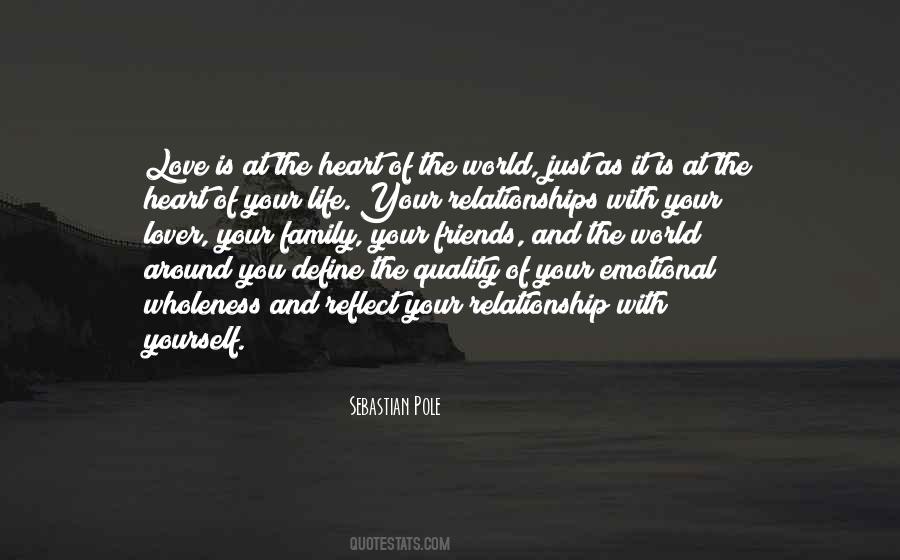 #77. Childhood nutrition and healthy eating is a cause that is extremely close to my heart. - Author: Marcus Samuelsson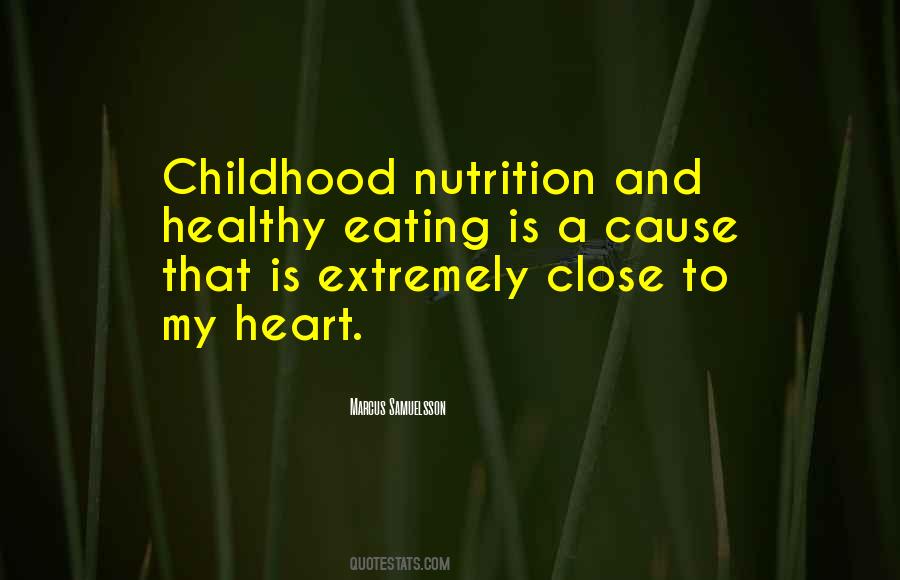 Famous Authors
Popular Topics