Healed Wounds Famous Quotes & Sayings
List of top 61 famous quotes and sayings about healed wounds to read and share with friends on your Facebook, Twitter, blogs.
Top 61 Quotes About Healed Wounds
#1. How else can we become reconciled, except one individual at a time? This Jesus you seek did not come to address nations. He washed the wounds of lepers. He dined with sinners. He healed all who came to him. One person at a time. - Author: Janette Oke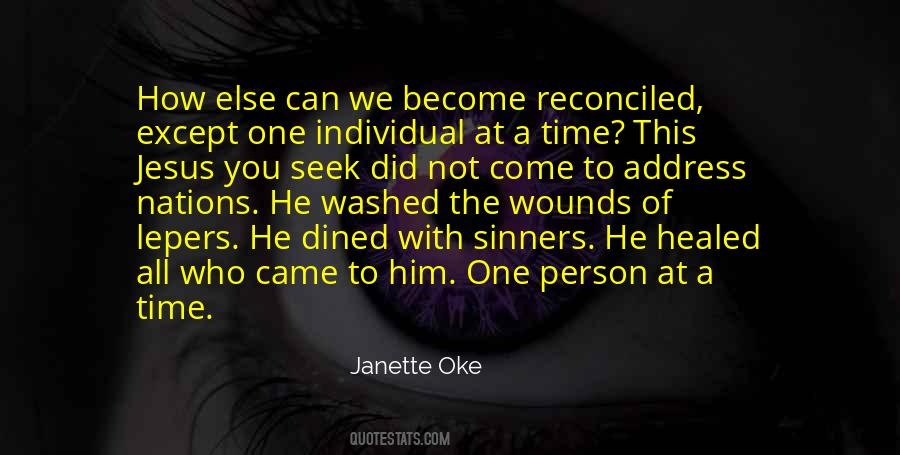 #2. A single poem
is worth a hundred
cozy winter nights
kind words
and healed wounds. - Author: Sanober Khan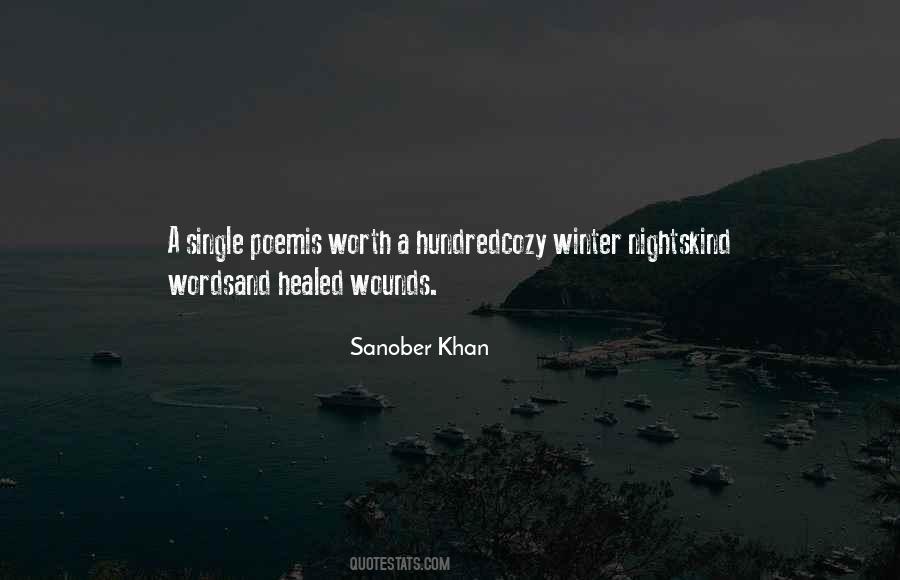 #3. It is the false shame of fools to try to conceal wounds that have not healed. - Author: Horace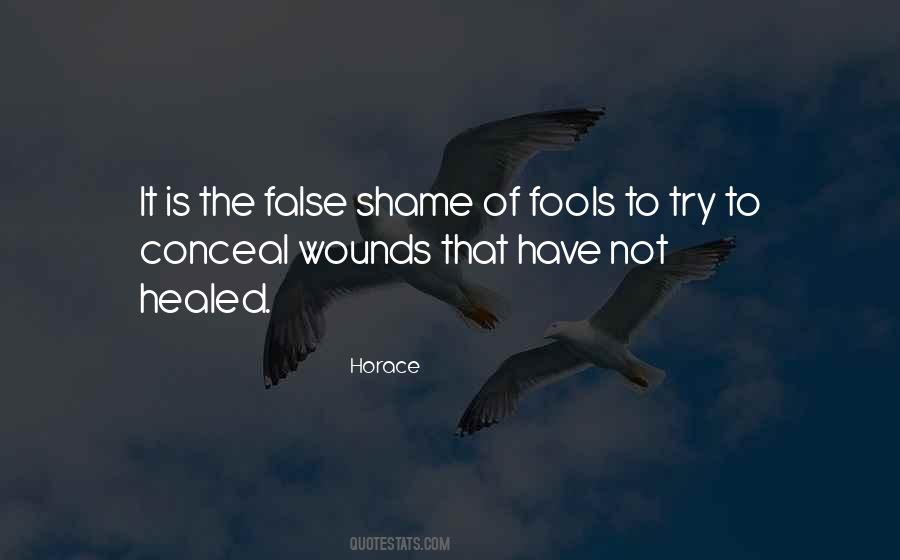 #4. We've been through a lot, and though many of the wounds have healed, the scars they've left behind still throb every now and then. - Author: Neha Yazmin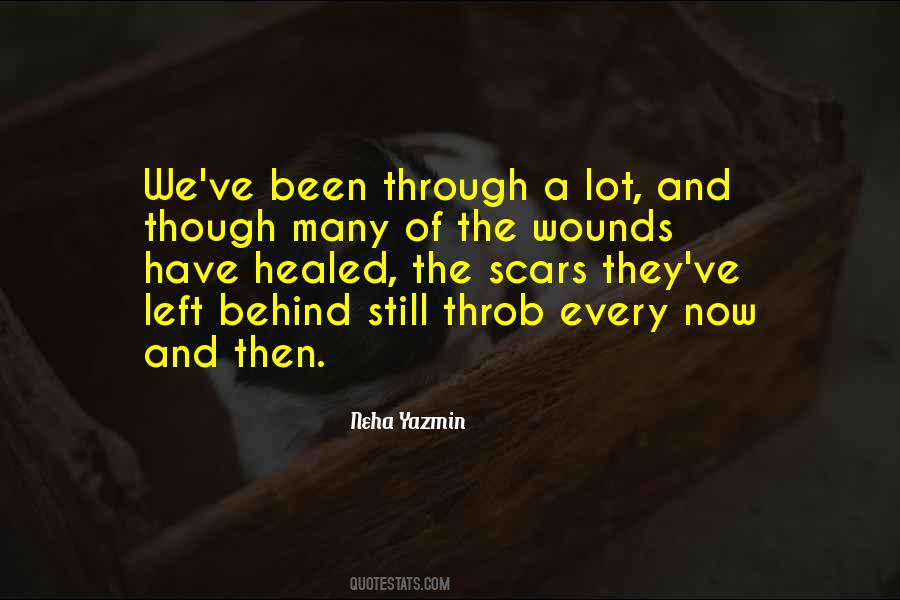 #5. Time healed all wounds, but there was nothing you could do to fix stupid. - Author: Chrissy Olinger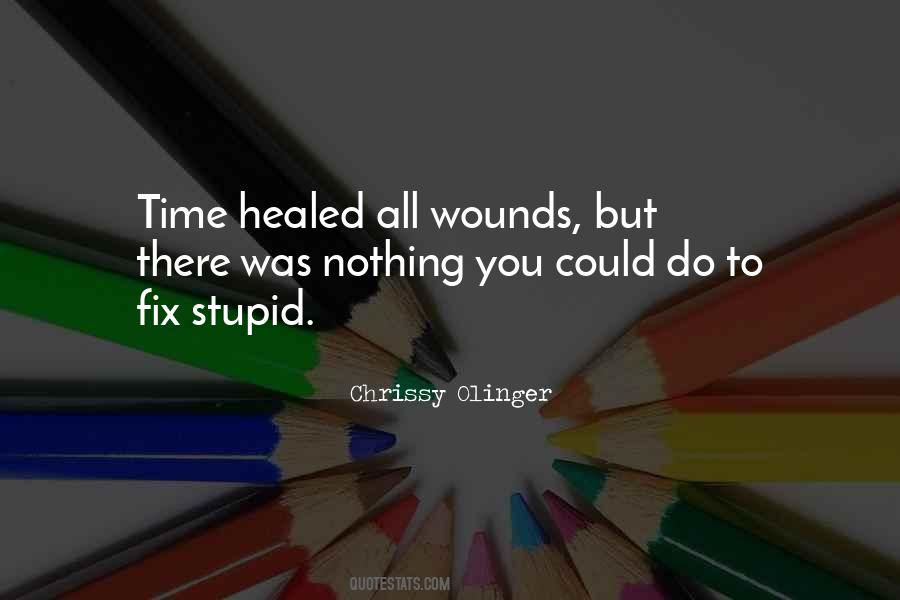 #6. Helen decided that the saying about "time healing all wounds" was a bunch of bull and probably only worked for people with very poor memories. The time she's spent apart from Lucas hadn't healed anything. The distance only made her miss him more. - Author: Josephine Angelini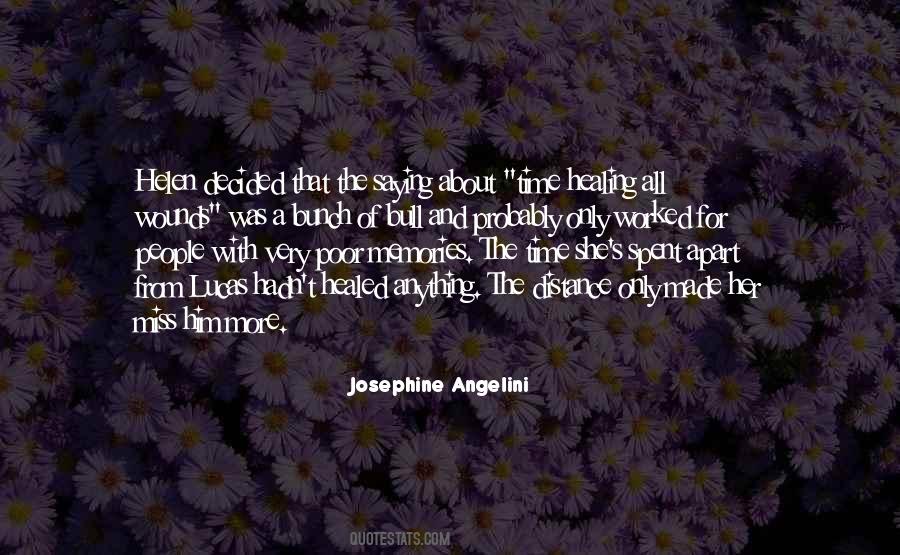 #7. The wounds of love can only be healed by the one who made them. - Author: Publilius Syrus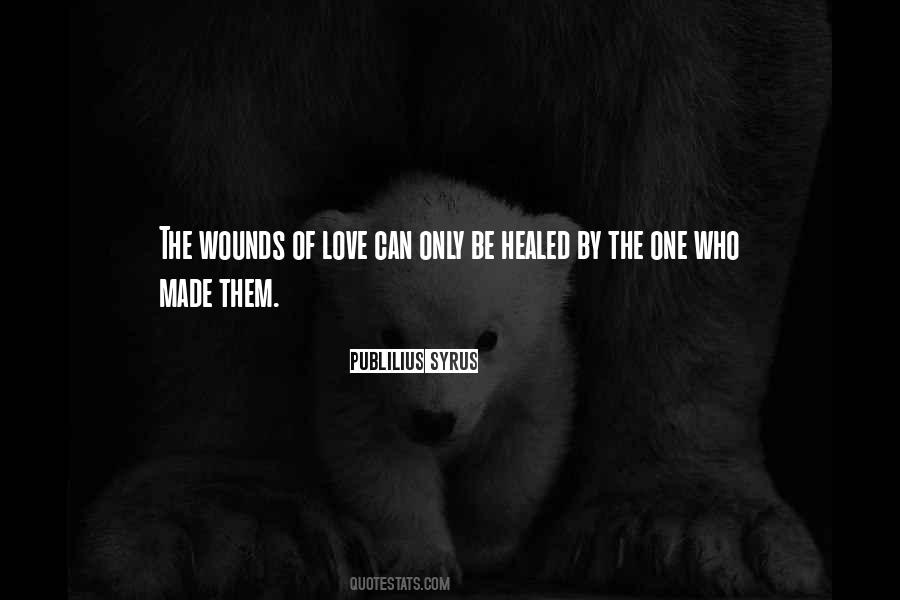 #8. The wounds on the body can be healed by medicine but the wounds in heart can only be healed by love. - Author: Hussain Rasheed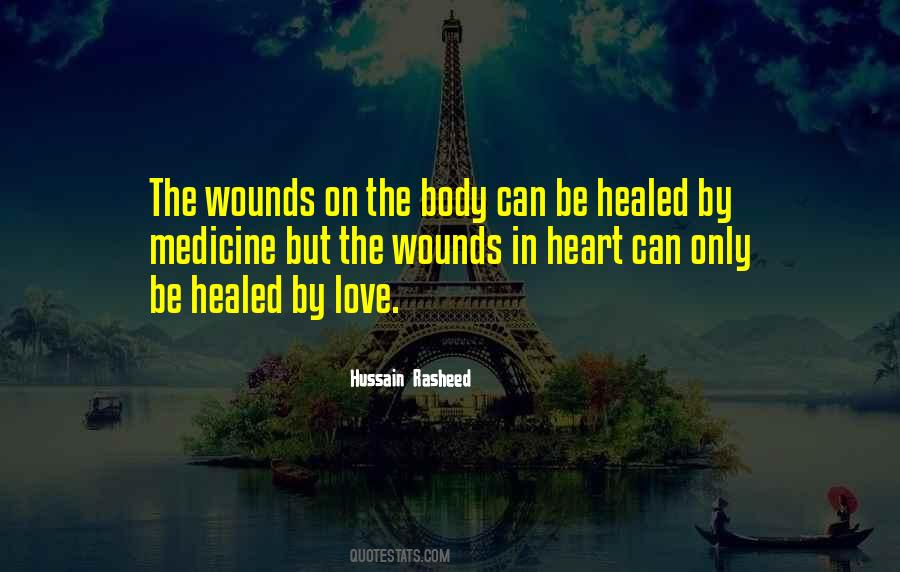 #9. Remember also that scars of all sorts are all right. Scars are wounds that have healed, not without a trace, but have healed nonetheless. Think of all the scar tissue around Christ's heart, Jesus our wounded healer. - Author: William Sloane Coffin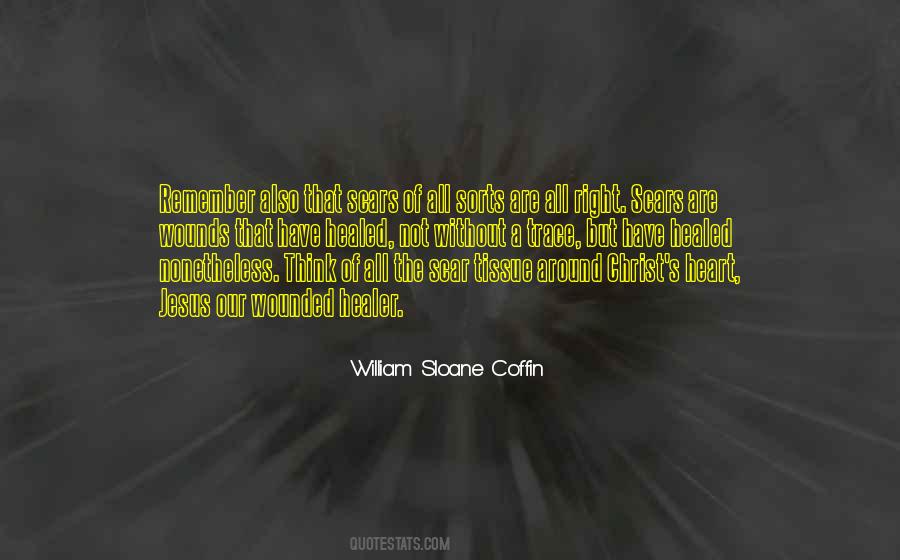 #10. It wasn't that I couldn't say it. I could. But there are times that you don't speak, because silence hurts less. There was no need to reopen old wounds when we both wanted them healed. - Author: Kat Howard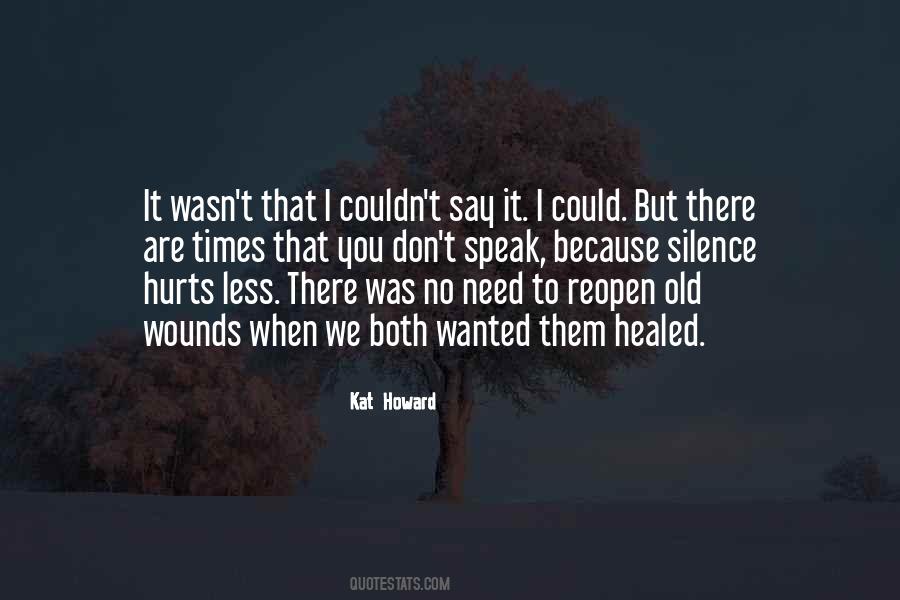 #11. But he was pierced for our transgressions, he was crushed for our iniquities; the punishment that brought us peace was upon him, and by his wounds we are healed. (Isa. 53:5) - Author: Angie Smith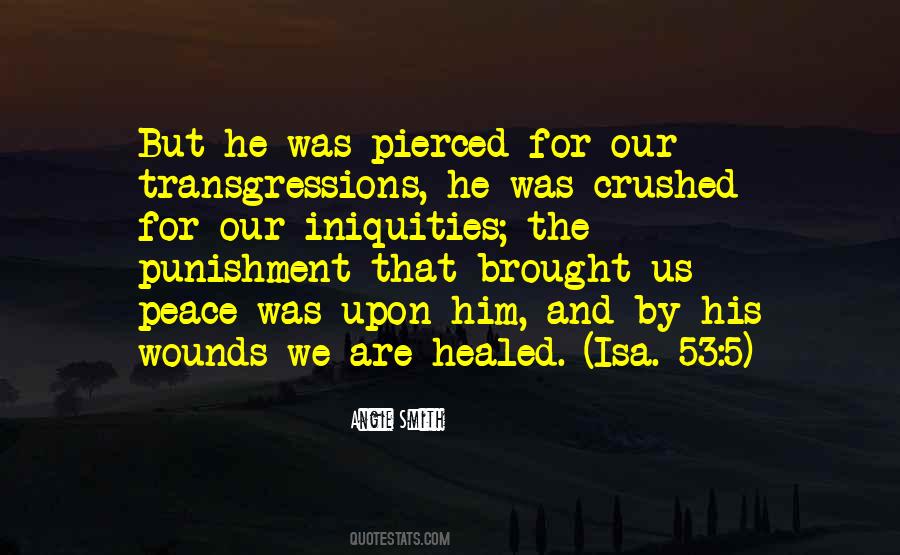 #12. A sharp reproof sometimes is a precious pearl, and a sweet balm. The wounds of secure sinners will not be healed with sweet words. - Author: Richard Sibbes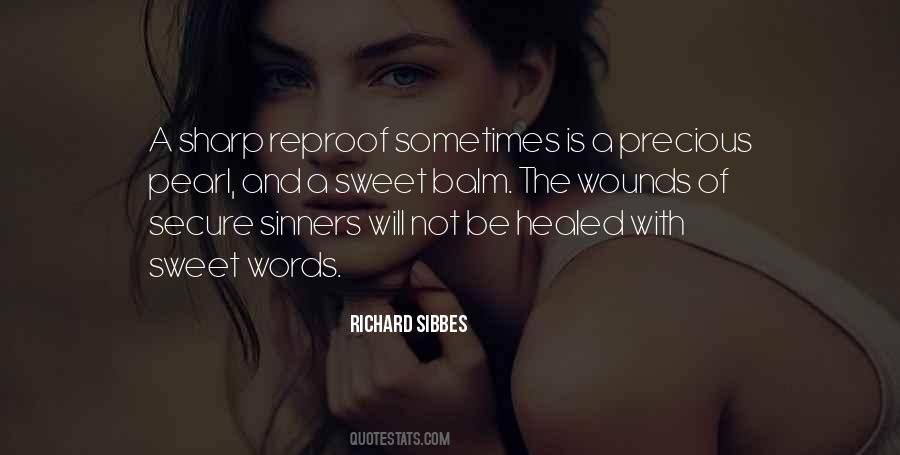 #13. Our sorrows and wounds are healed only when we touch them with compassion. - Author: Anonymous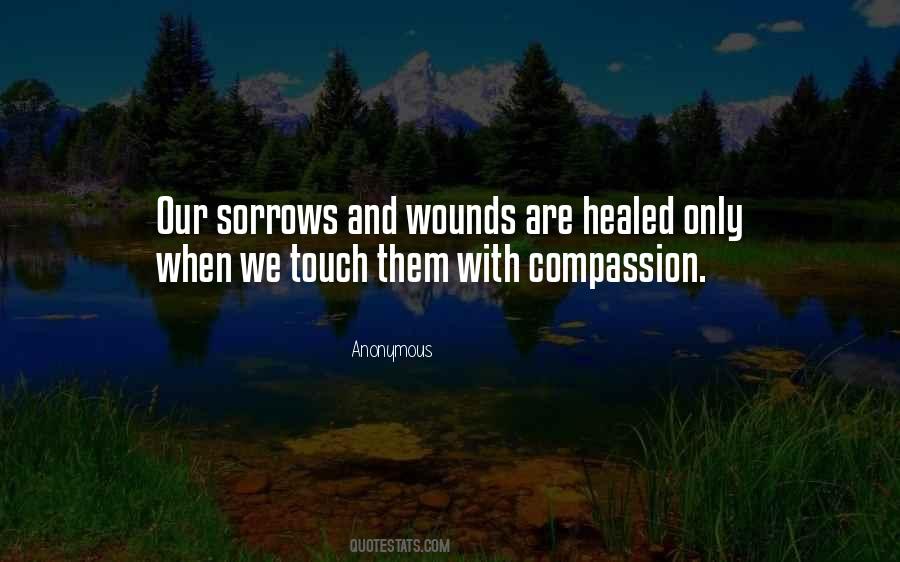 #14. They had lied. Time was not a friend that healed all wounds ;it was the enemy that ravaged and murdered youth. - Author: Sidney Sheldon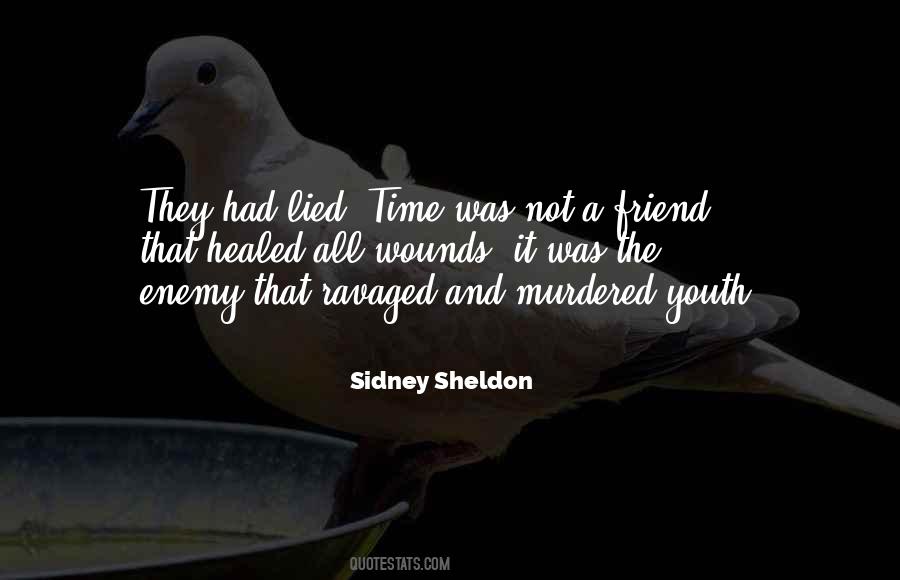 #15. They say that time heals all wounds. I've never believed that. Time may dampen the severity of a wound, but no true wound is ever completely healed. A scar lasts forever no matter how much Mederma you lather on it. The memory of a tattoo will be there long after you've had it burnt off. - Author: Jamie Schoffman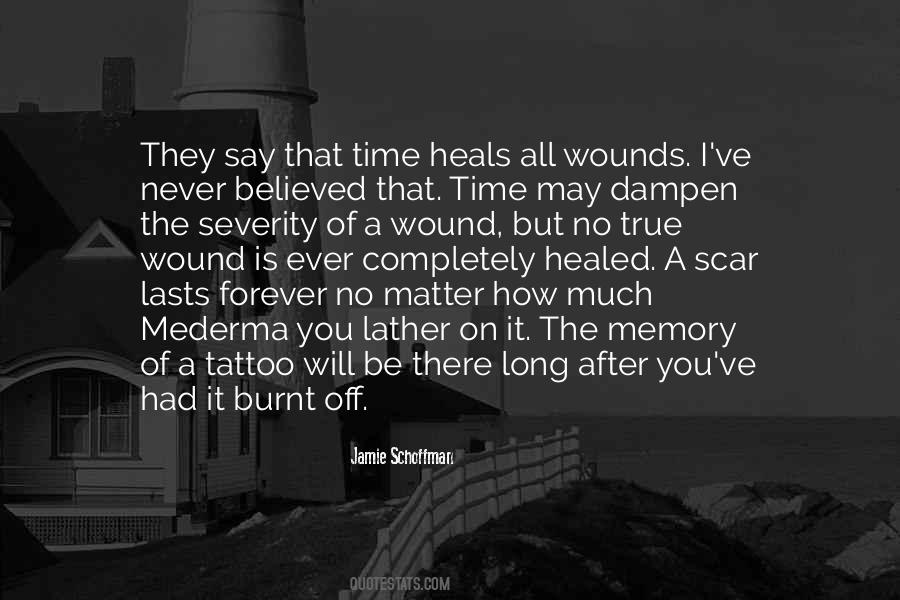 #16. Be grateful for every scar life inflicts on you. Where we're unhurt is where we are false. Where we are wounded and healed is where our real self gets to show itself. That's where you get to show who you really are - Author: Sara Gran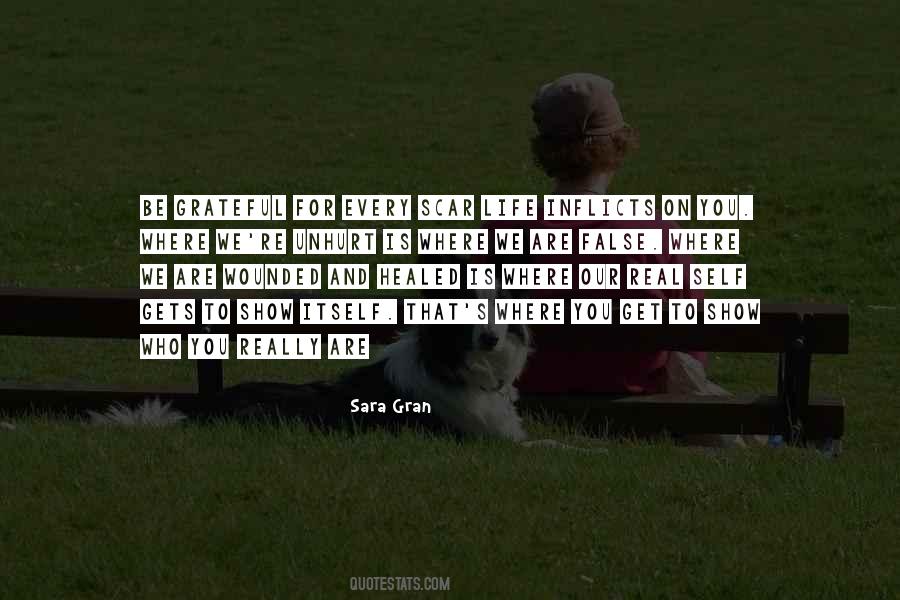 #17. Now, these were wounds I could have healed with a single thought. Just to feel pain, sometimes, was enough to cancel it. - Author: Matt Haig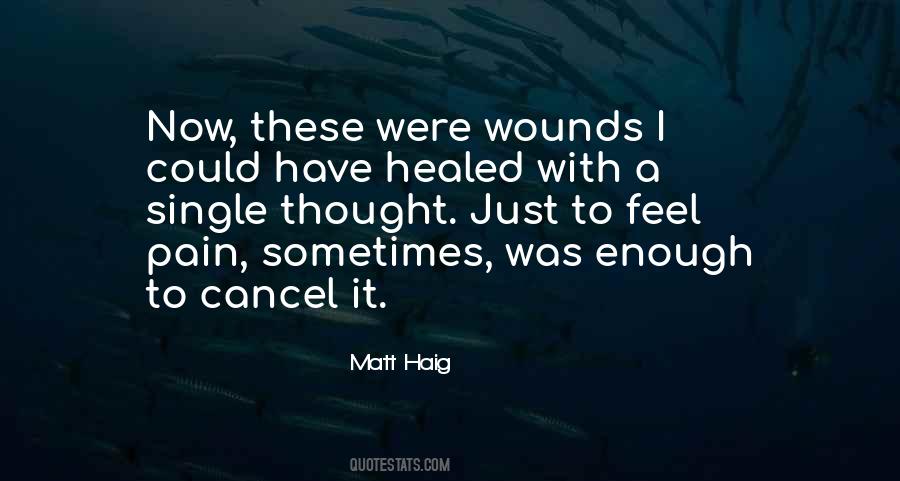 #18. I asked myself only when he needed my help, "How will the broken heal the wounded? - Author: Sanhita Baruah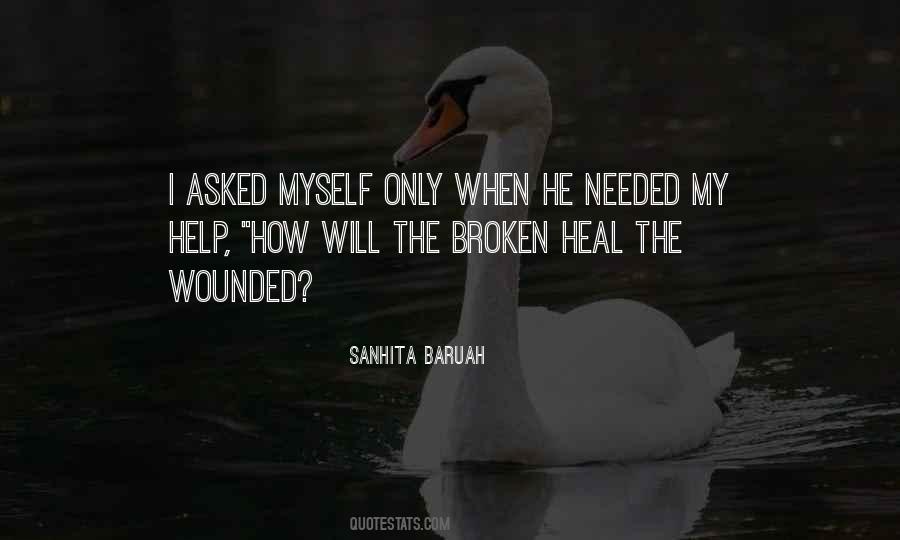 #19. A lot of my wounds have healed. They have left scars, and I can either hide my scars, put a long sleeve shirt on, and cover them up. Or, I can show them off and say, "Yeah, it happened." - Author: LeCrae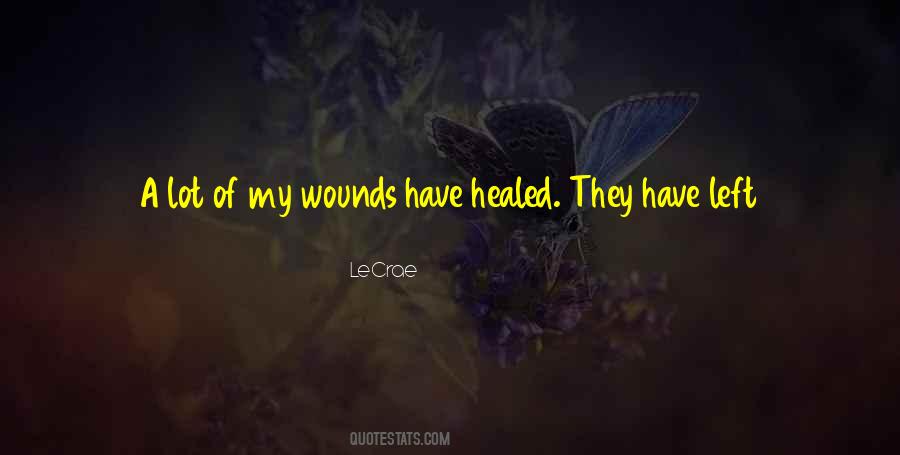 #20. There's a lot of wounded people out there who don't believe that there's any way they'll ever be healed from those wounds. - Author: LeCrae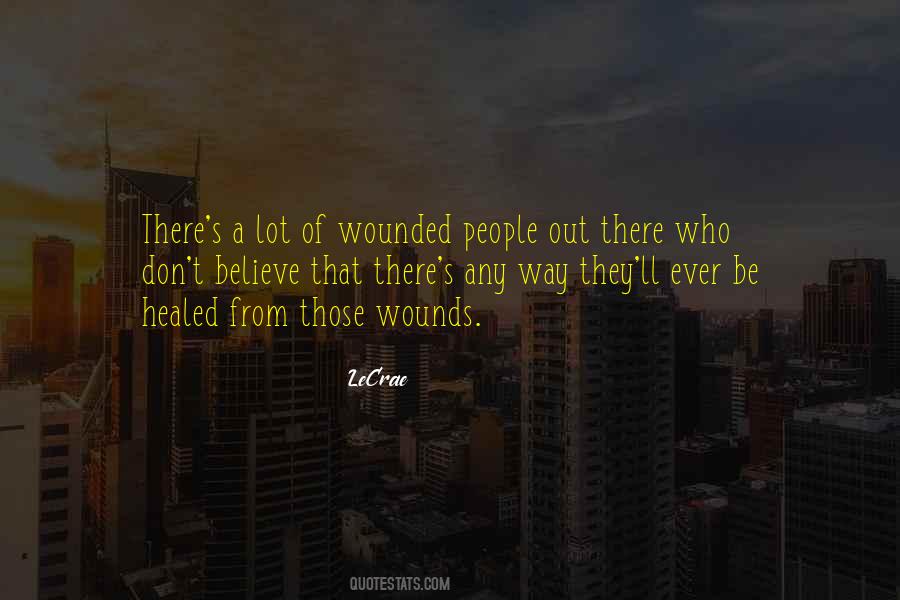 #21. Time is a double-edged sword: while it might heal all wounds; it also kills all the healed. - Author: Mokokoma Mokhonoana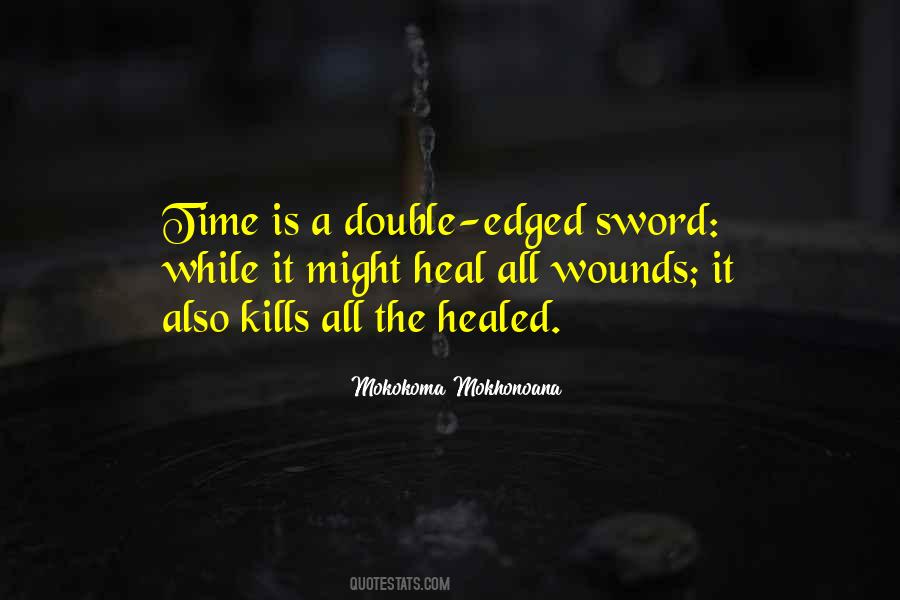 #22. He Himself bore our sins in His body on the TREE So that we might die to sin and live for righteousness By His wounds you have been healed - Author: Anonymous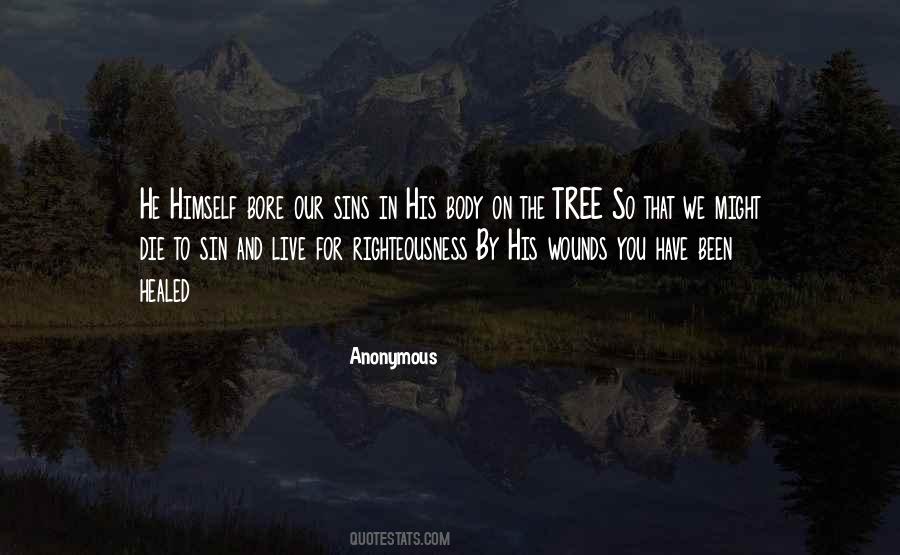 #23. part of her didn't want her wounds to be healed. Not yet. She wasn't ready. She still needed to kick against the hurt of her grief. The - Author: Erica James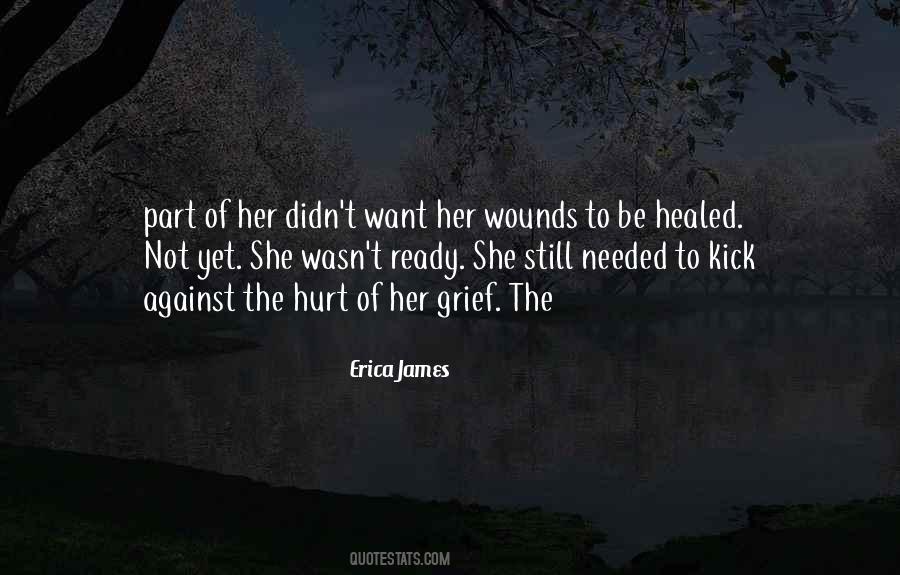 #24. Revenge is not worthy of you. If you concentrate on revenge, you will keep those wounds fresh that would otherwise have healed. - Author: Adeline Yen Mah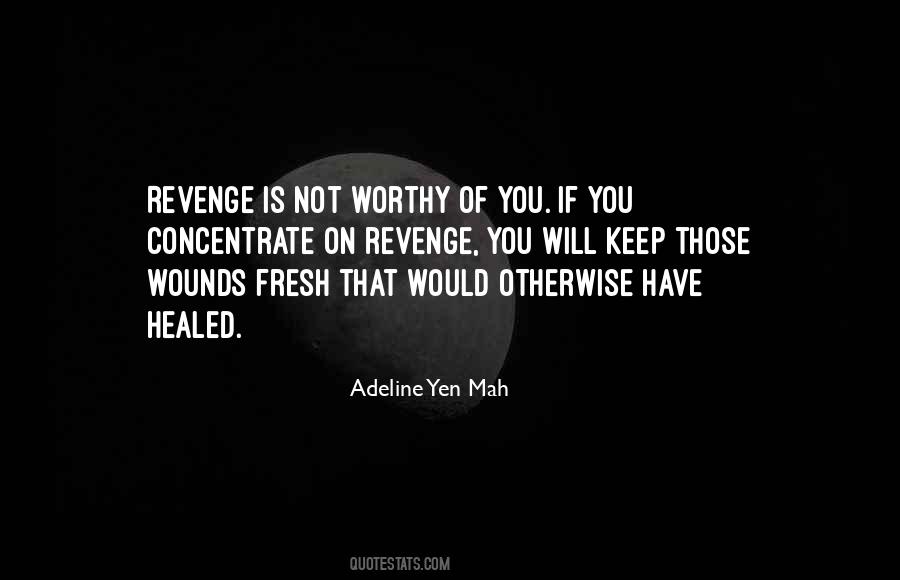 #25. Music is a really powerful way for me to catalyze all kinds of things. It's always been the cure. Through music, I've healed all the wounds I've had and celebrated all the good things in life. Through music, I turn things, good or bad, into energy. - Author: Juanes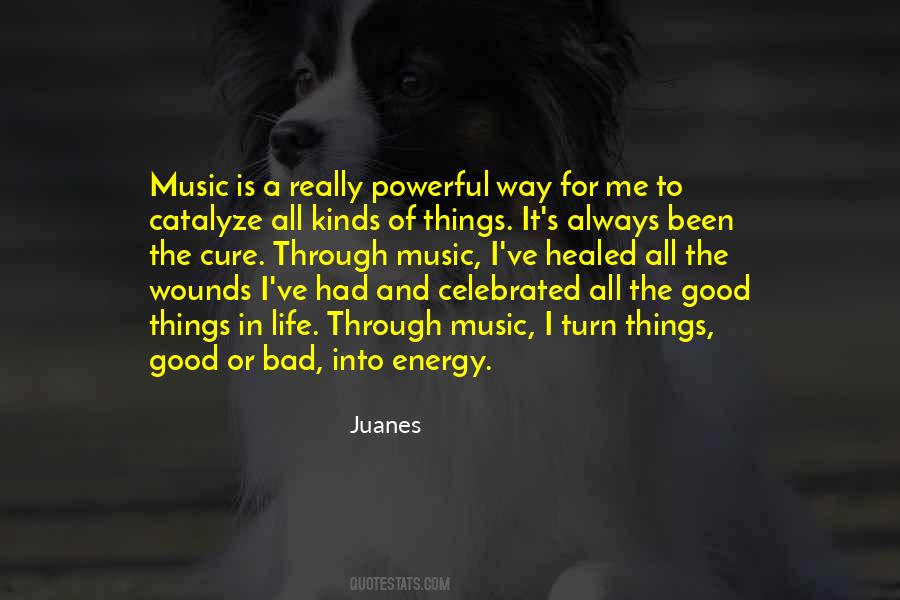 #26. I shall expose and reopen all the wounds which have already healed. - Author: Seneca.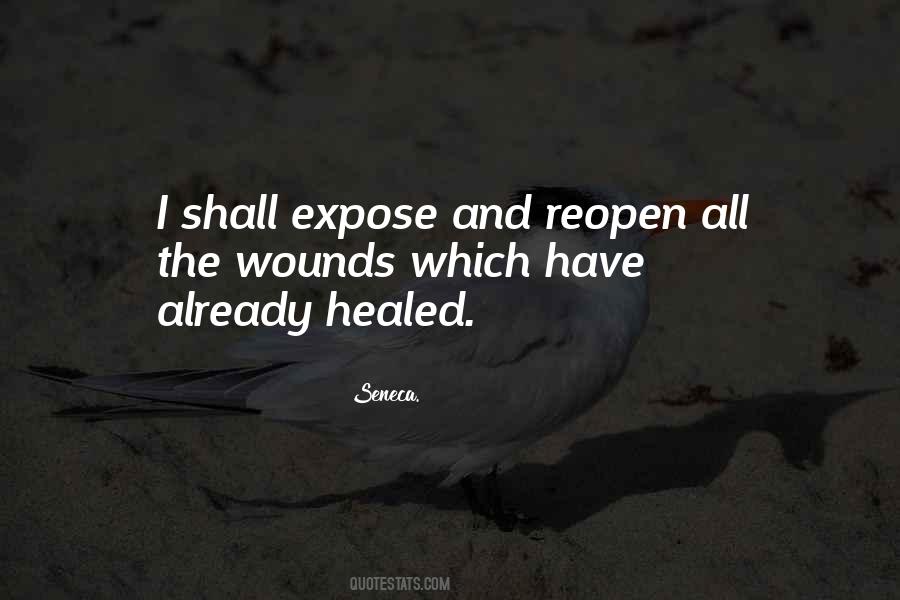 #27. Caligula - And what has Nature done for you?

Scipio - It consoles me for not being. Ceasar.

Caligula - Really? And do you think Nature could console me for being Ceasar?

Scipio - Why not? Nature has healed worse wounds than that. - Author: Albert Camus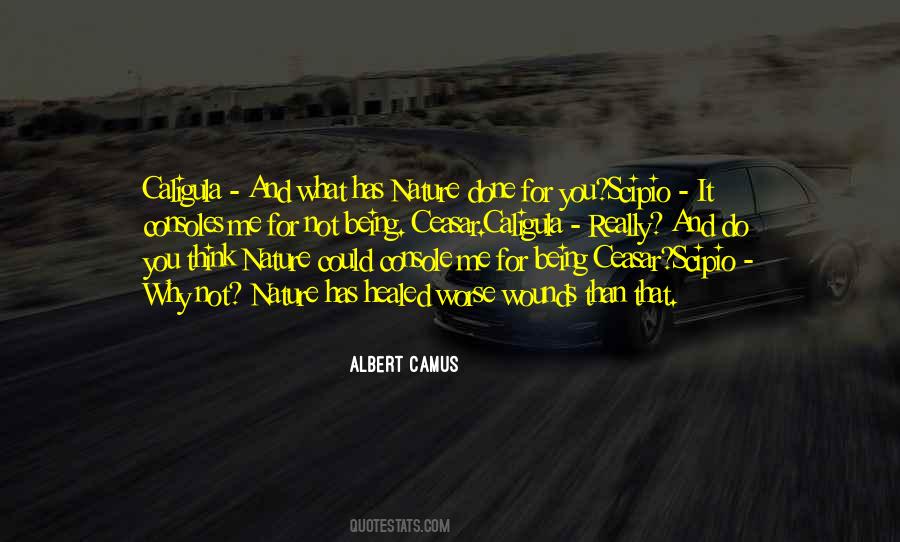 #28. Some choices can't be undone. Some wounds can't be healed. - Author: Terri Osburn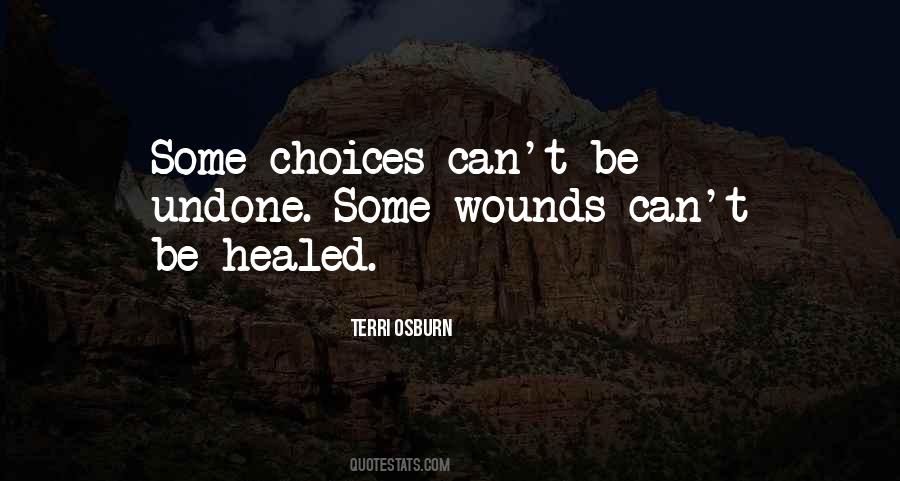 #29. I have not healed so much as learned to sit still and wait while pain does its dancing work, trying not to panic or twist in ways that make the blades tear deeper, finally infecting the wounds. - Author: Lauren Slater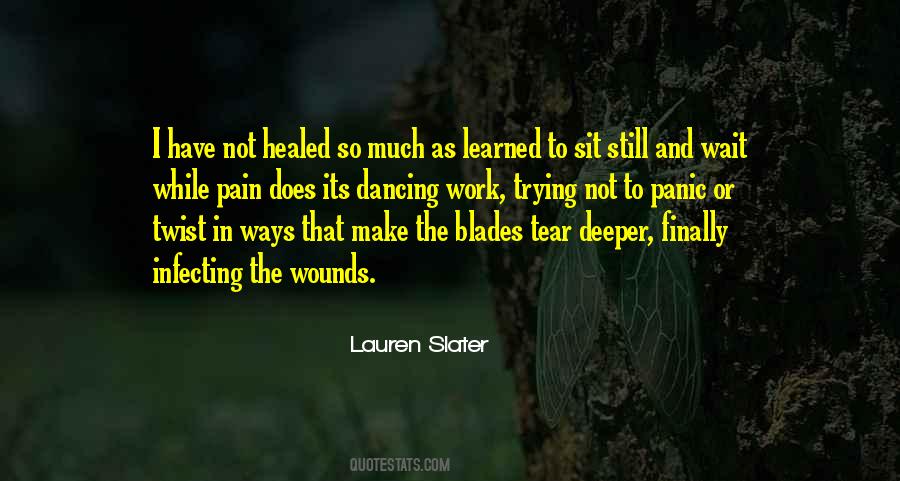 #30. As he made his way back to his estate, Baruk recalled his lone meeting with Vorcan, only a few nights after her awakening. She had entered the chamber with her usual feline grace. The wounds she had borne were long healed and she had found a new set of clothes, loose and - Author: Steven Erikson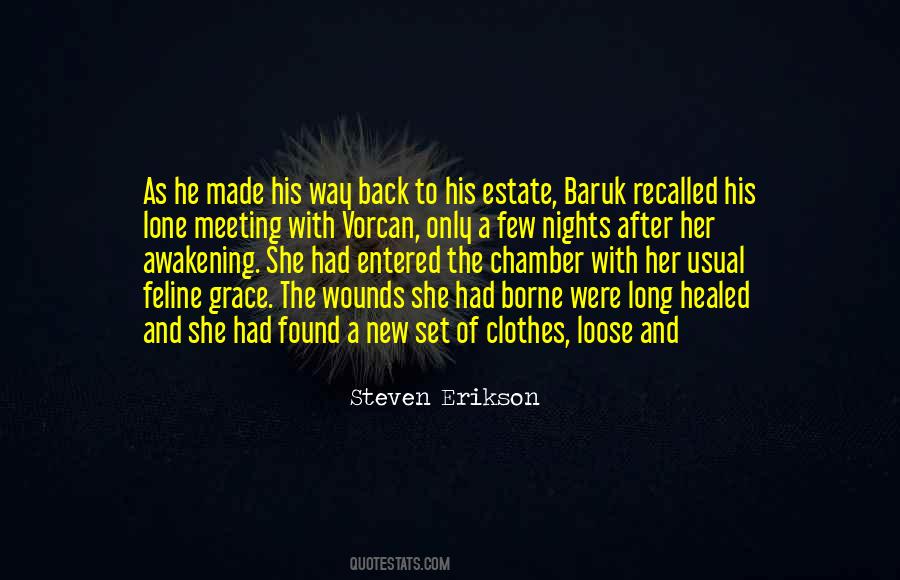 #31. Love's wounds can be healed only by the one who inflicts them. - Author: Publilius Syrus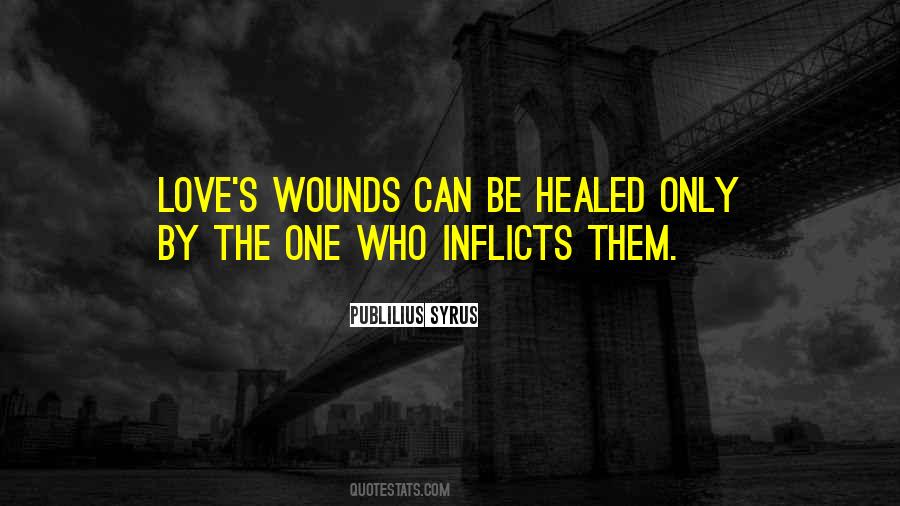 #32. But there are some wounds that can never be healed. - Author: Helen Garner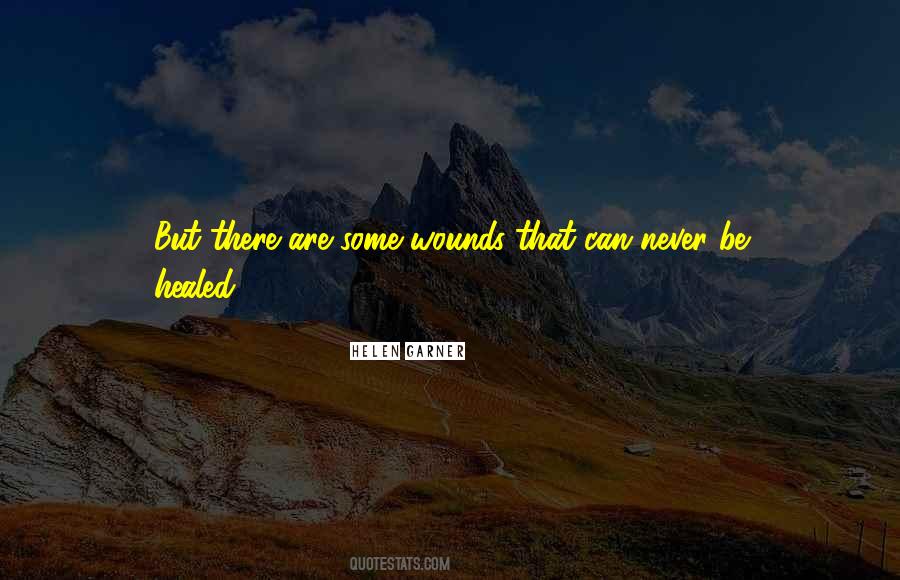 #33. It is by the Lord's stripes that we are healed, and it is through our own stripes that we, too, are given the authority for healing. In the place where the enemy wounds us, once we are healed, we are given the power to heal others. - Author: Rick Joyner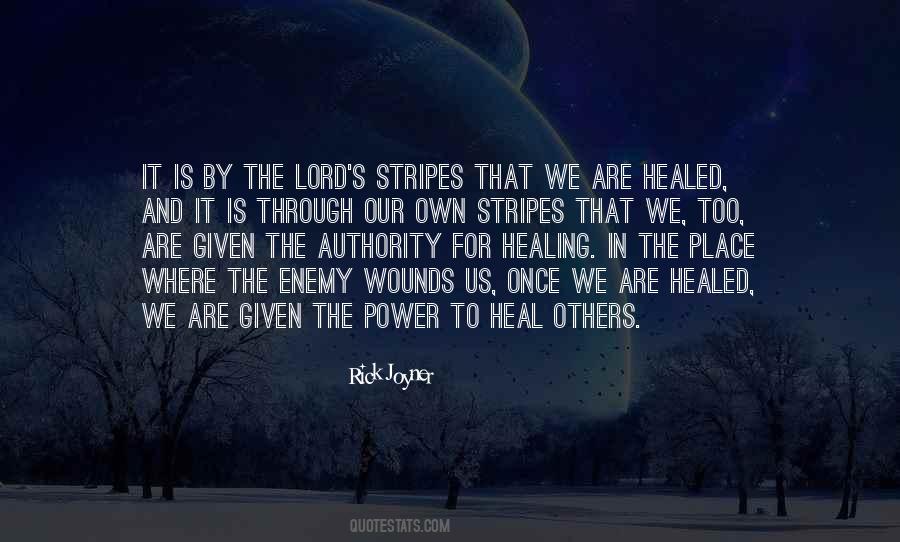 #34. We will not open healed wounds!"
"My wounds are not healed!" I stated just as firmly. "They will never be healed until justice is done! - Author: V.C. Andrews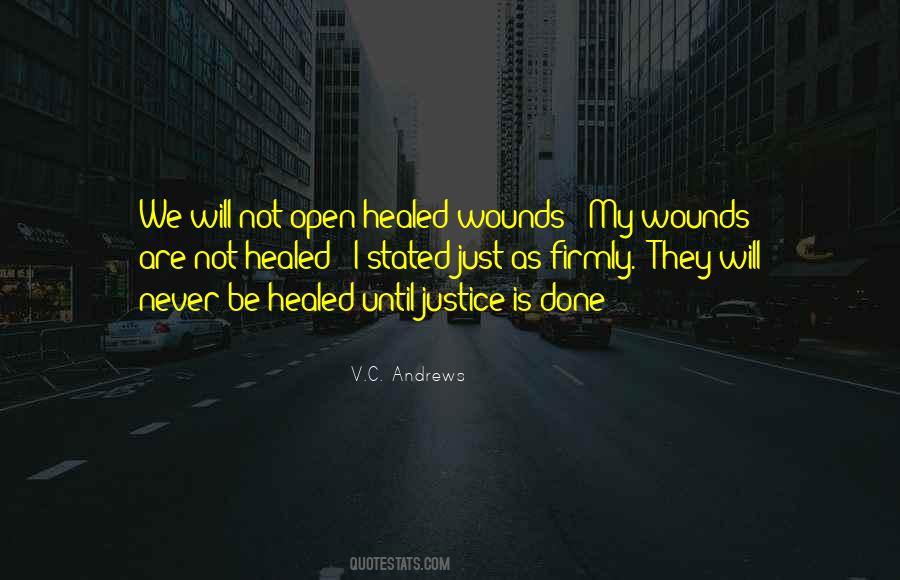 #35. One of the blessings human beings take for granted is the ability to remember pain without re-feeling it. The pain of the physical wounds is long gone ... and the other kind of hurt, the damage done to our spirits, has been healed. We are careful with those scarred places in each other. - Author: Lisa Kleypas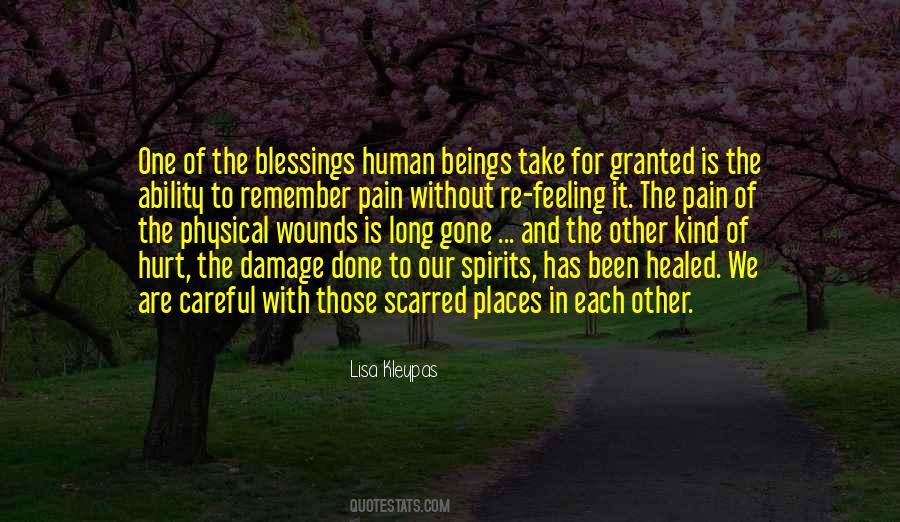 #36. Romantic Love delivers us into the passionate arms of someone who will ultimately trigger the same frustrations we had with our parents, but for the best possible reason! Doing so brings our childhood wounds to the surface so they can be healed. - Author: Harville Hendrix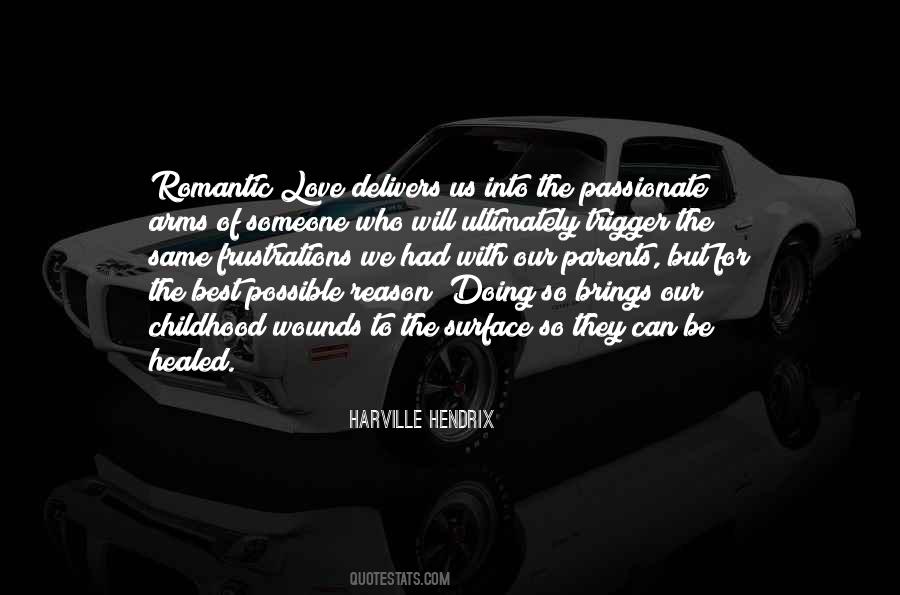 #37. God is like a lover. Sometimes he gives you so much pain that staying alive seems like a punishment but in the next moment he shows you so much love, affection and care that you forget all your pains. Yes, the wounds can't be healed completely but god compensates it with other happiness. - Author: Mayank Kashyap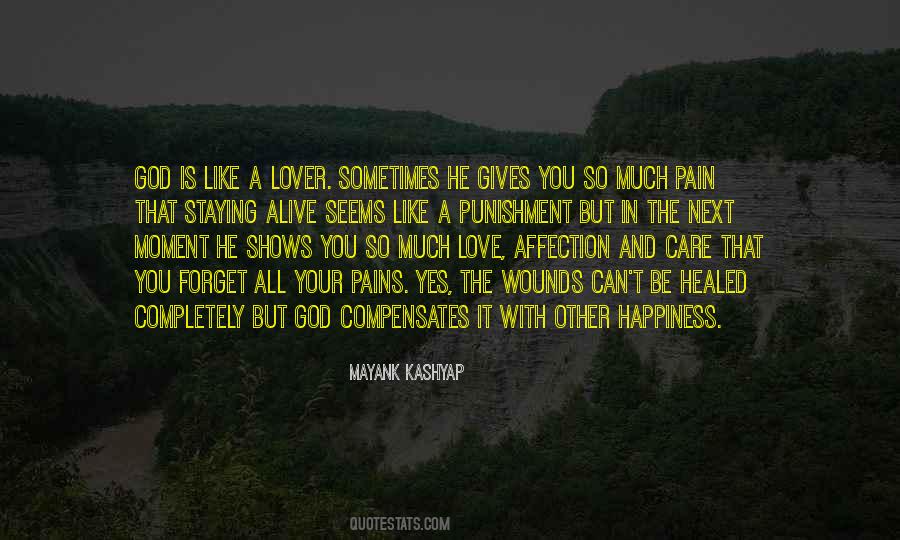 #38. The physical healed quickly, but those of the spirit ran deep, and in most cases, could only be concealed. Wounds of the spirit may scab over, but they never fully heal. - Author: J.K. Swift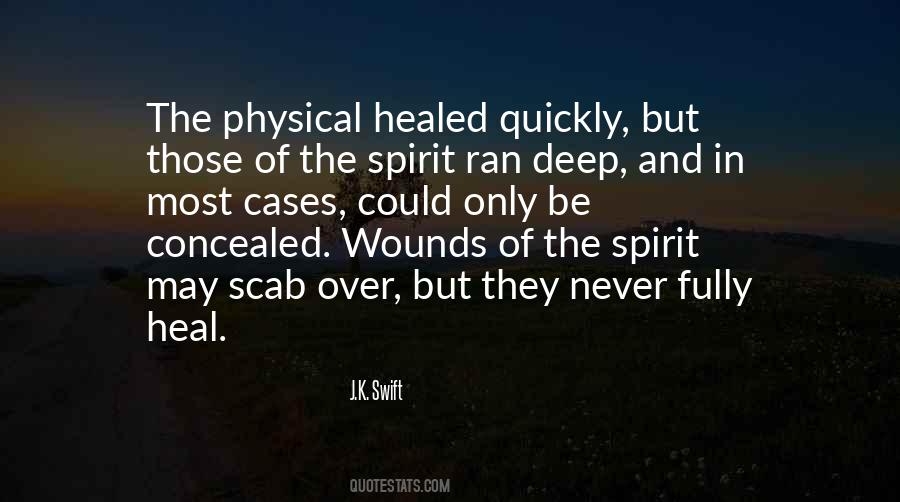 #39. The likeness of Your Church, O Lord, is that woman who went behind and touched the hem of Your garment, saying within herself: 'If I do but touch His garment I shall be whole' (Mt. 9:21). So the Church confesses her wounds, but desires to be healed. - Author: Ambrose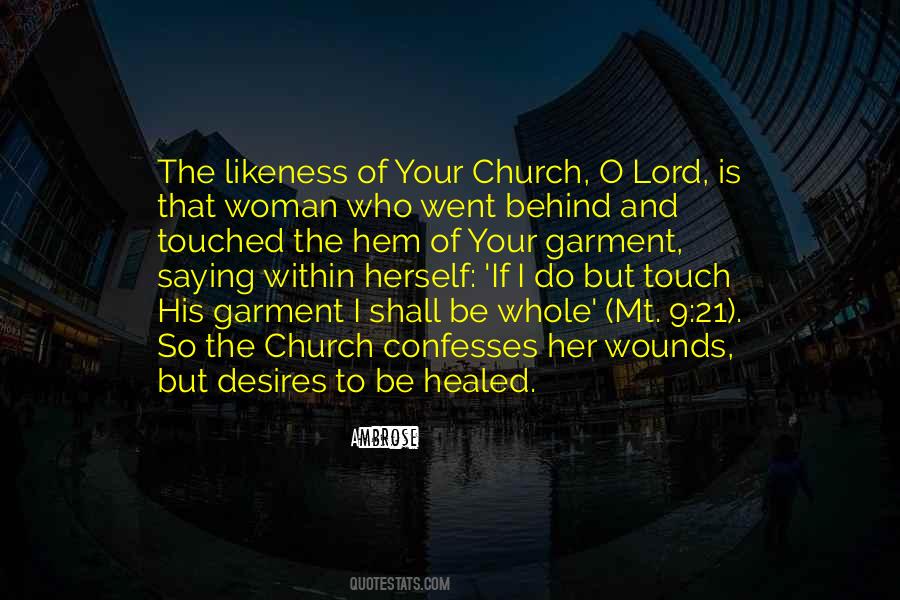 #40. The Lord healed all our wounds. - Author: Lailah Gifty Akita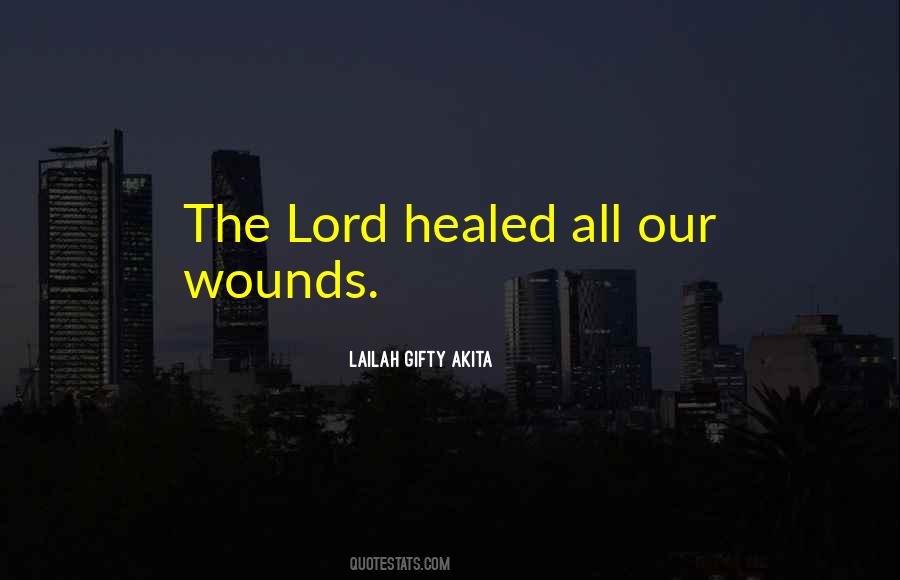 #41. When wounds are healed by love,
The scars are beautiful. - Author: David Bowles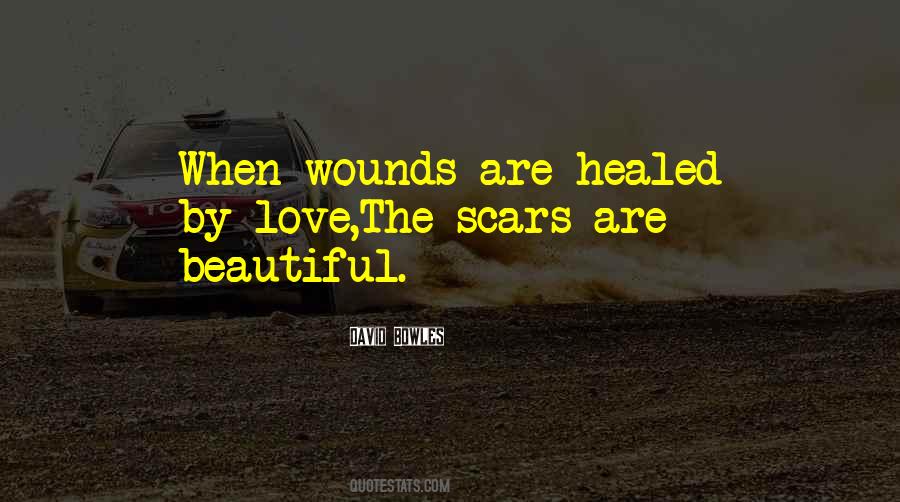 #42. Psychotherapy is what God has been secretly doing for centuries by other names; that is, he searches through our personal history and heals what needs to be healed - the wounds of childhood or our own self-inflicted wounds. - Author: Thomas Keating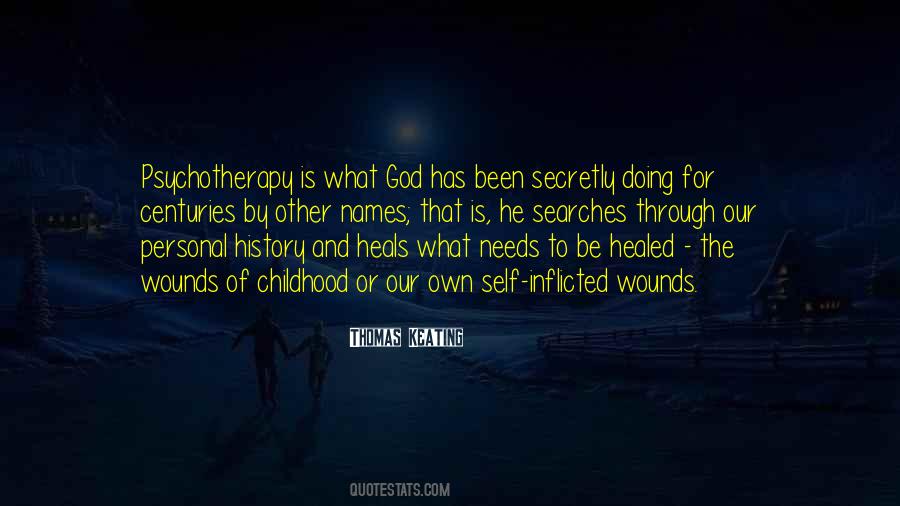 #43. A fool's errand, Little One. If you waited until all my wounds were healed, you would be here forever. - Author: Tiffany Reisz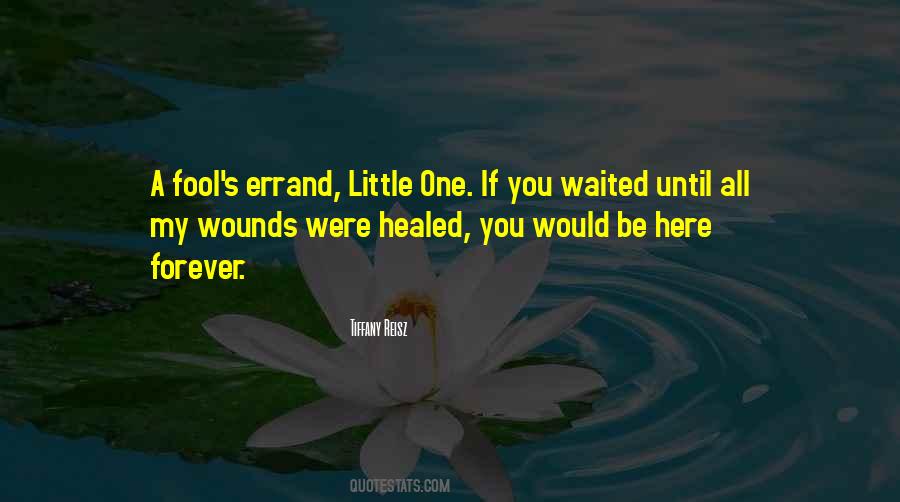 #44. He cried like a man,not like a boy.Not like he was frustrated or hadn't gotten his way,but like life was bitter.Like his wounds couldn't be healed. - Author: E. Lockhart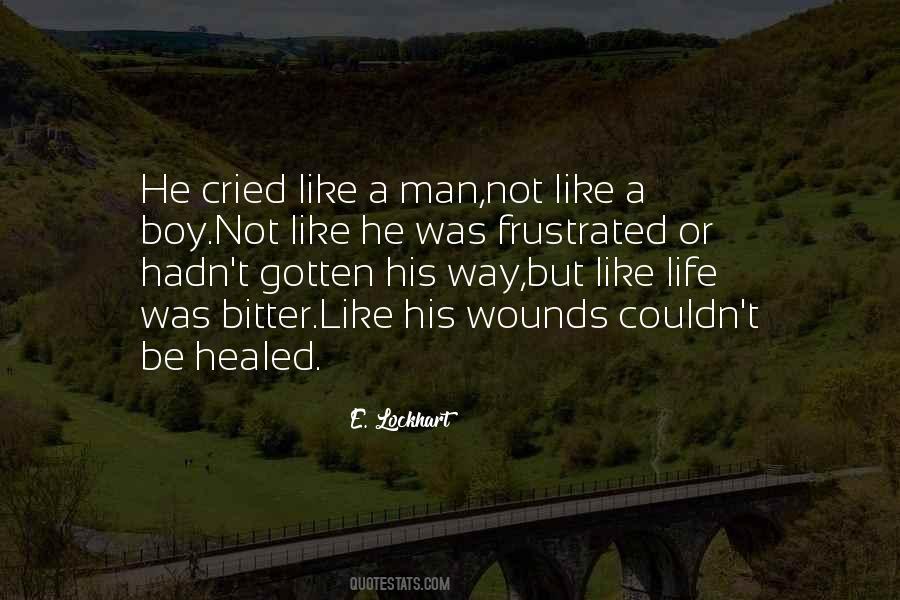 #45. Before it began to open new wounds, the war healed quite a few old ones: it shook us out of our lethargy, our life took on new meaning, we no longer lived without a purpose, eating and sleeping and excreting like animals. - Author: Costas Taktsis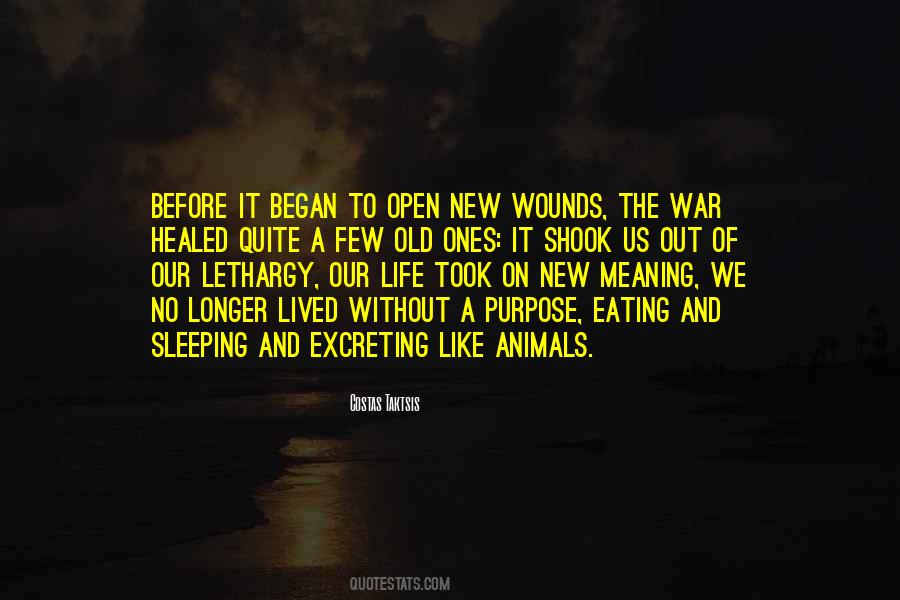 #46. I learned that true forgiveness includes total self-acceptance. And out of acceptance wounds are healed and happiness is possible again. - Author: Catherine Marshall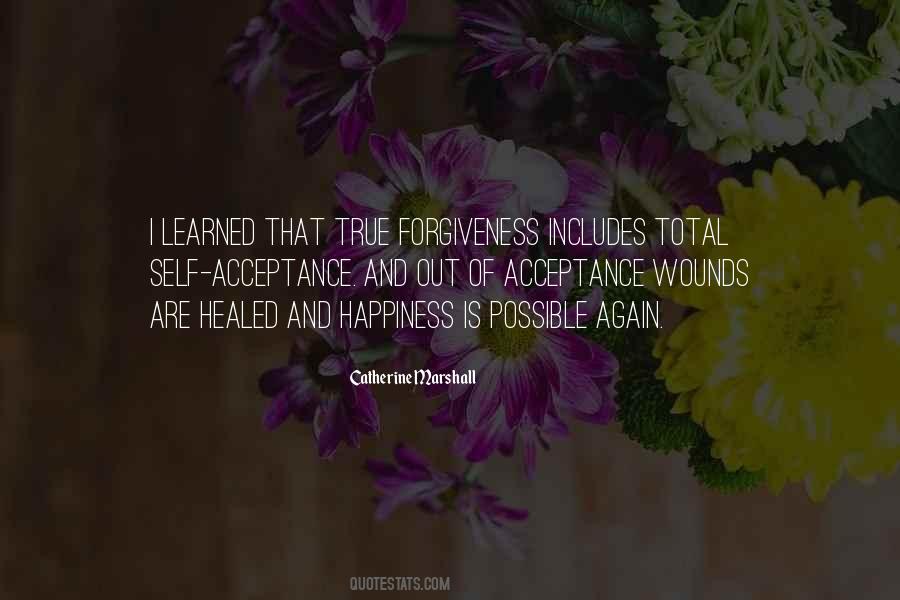 #47. A scar is a wound that has healed. We need to bring our wounds to Jesus, let Him heal them, and use our scars for Jesus. Our scars may be our greatest ministry. - Author: Adrian Rogers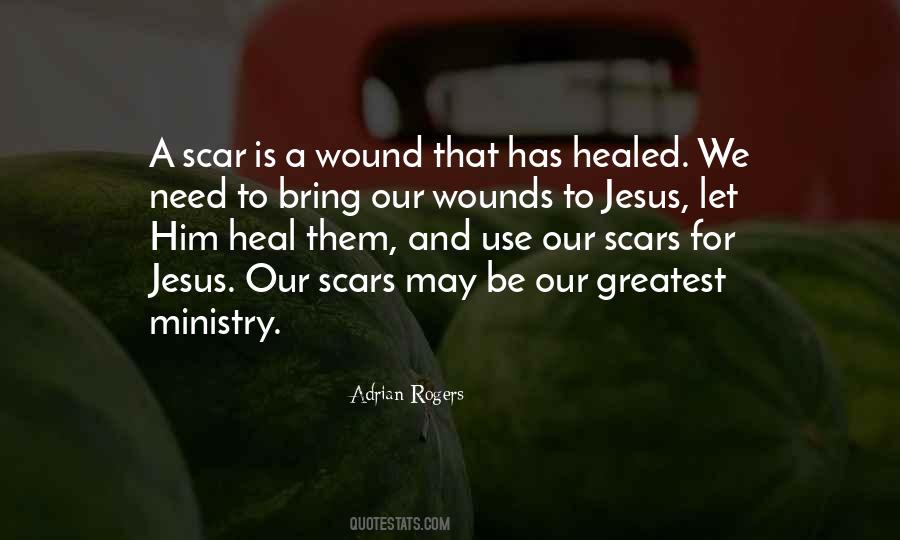 #48. All wounds heal. Even these."
"That's a lie." I tell him.
I'll never be healed of Eo. That pain will last forever.
"Some things do not fade. Some things can never be made right. - Author: Pierce Brown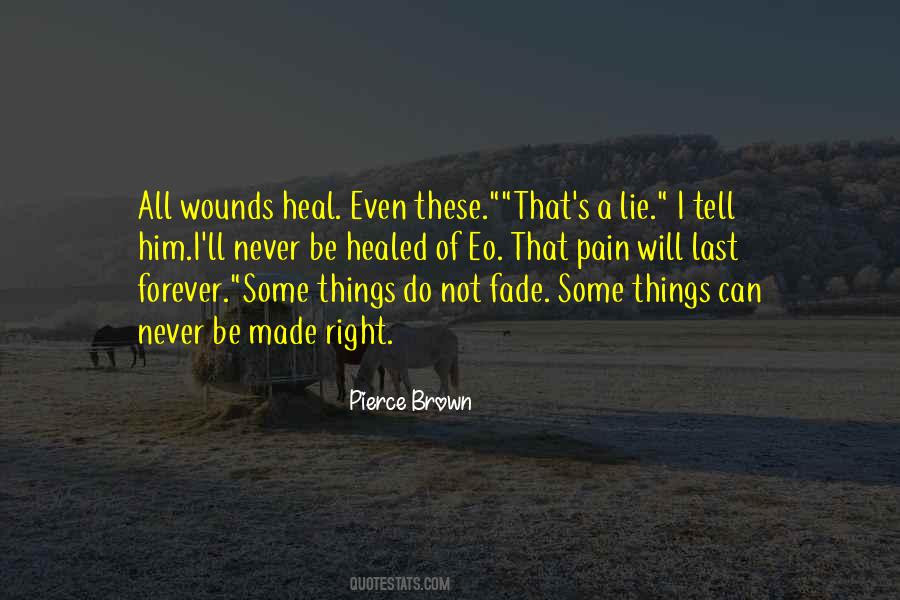 #49. The words wounded deeper than the bruises and the scars from any physical pain he inflicted on me. At least those wounds healed. - Author: Serena Valentino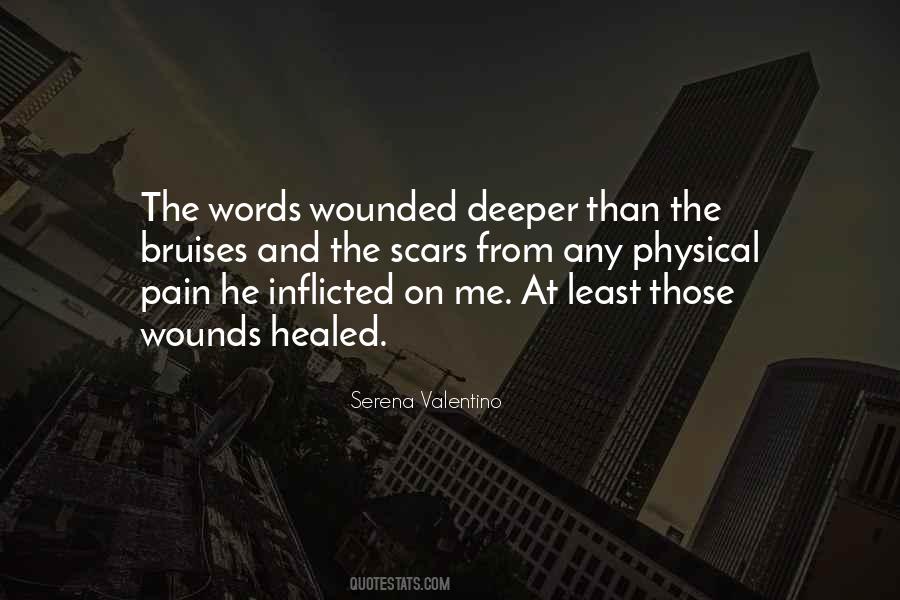 #50. Time doesn't heal; or at least, it hasn't healed such wounds for me, no matter what i told him earlier. Time is just another captor of mine.
-Medusa - Author: Heather Lyons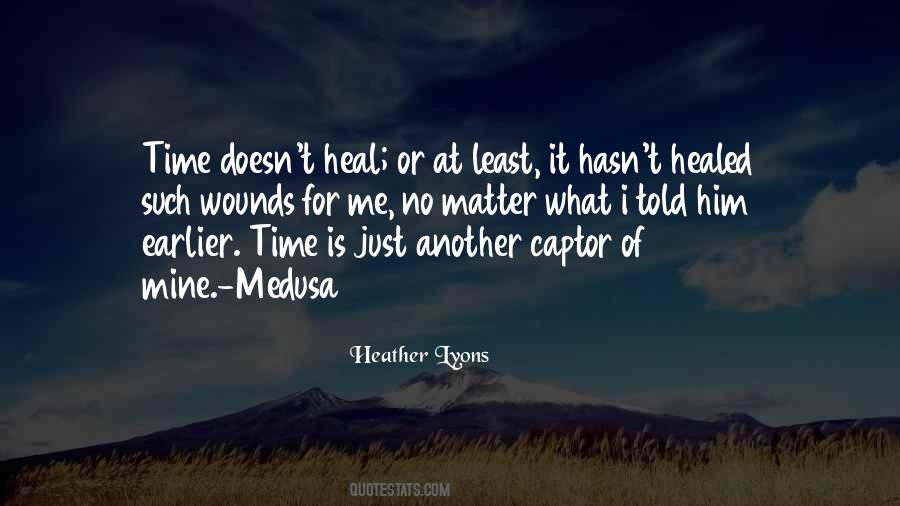 #51. Paranormal romance gives me the opportunity to explore love outside of its traditional boundaries. Common themes are hunger and uncontrollable desires, but I like to push further into wounds that cannot be healed and the way love can still find its way into the cracks of a fractured soul. - Author: Stephanie Draven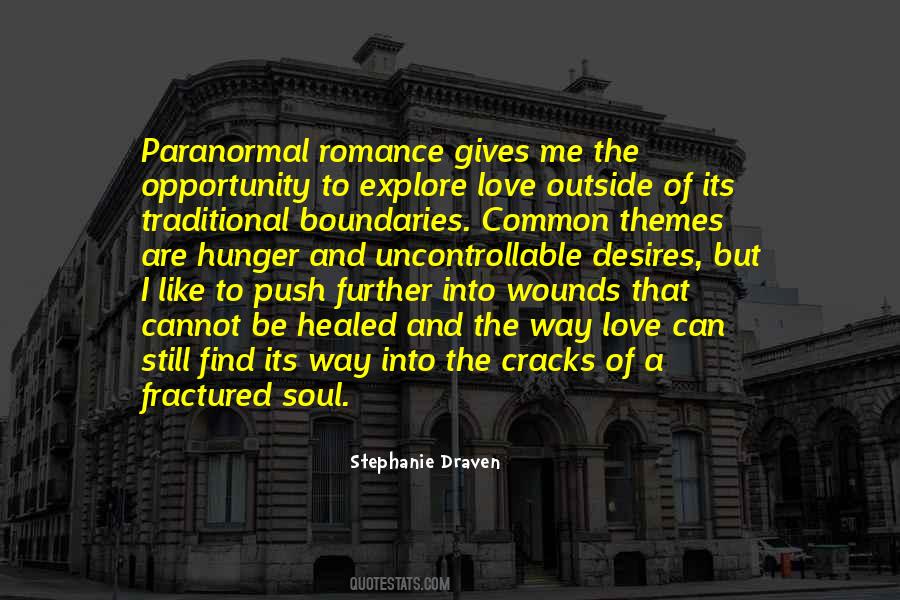 #52. D'ye ken that the only time I am without pain is in your bed, Sassenach? When I take ye, when I lie in your arms-my wounds are healed, then, my scars forgotten. - Author: Diana Gabaldon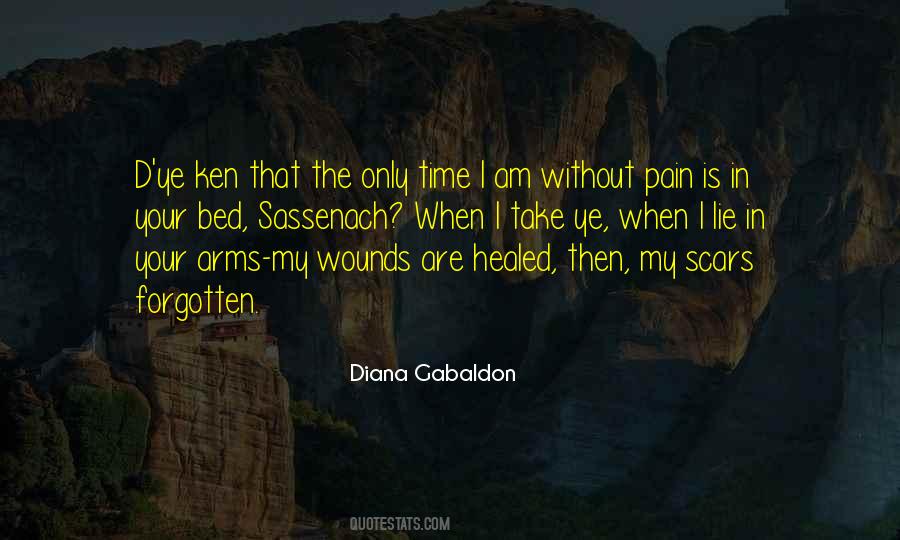 #53. We went to dinner and healed the wounds, at least to a certain degree. But I hope he understands the hurt he did to me. He put the boot into a pal and I don't think you should do that. - Author: Ian St. John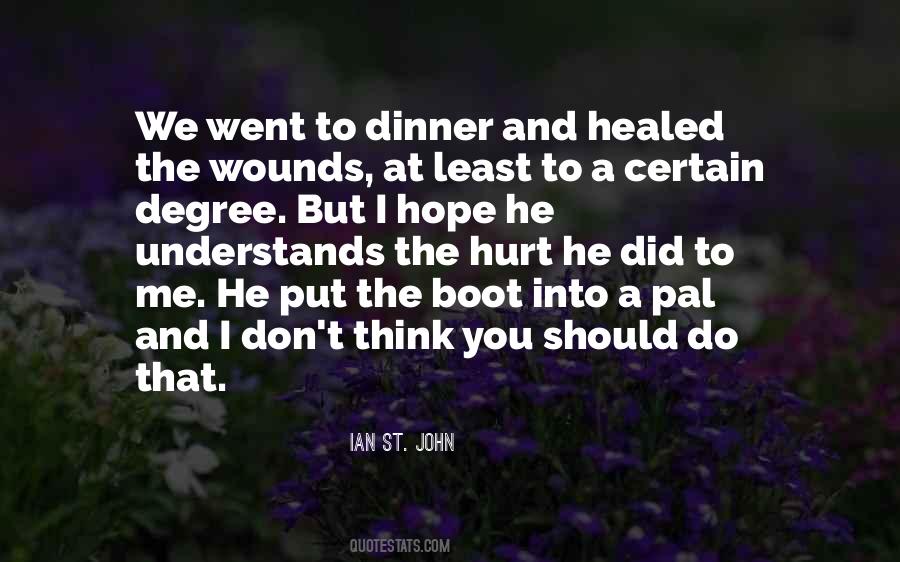 #54. some wounds aren't so easily healed. - Author: Orson Scott Card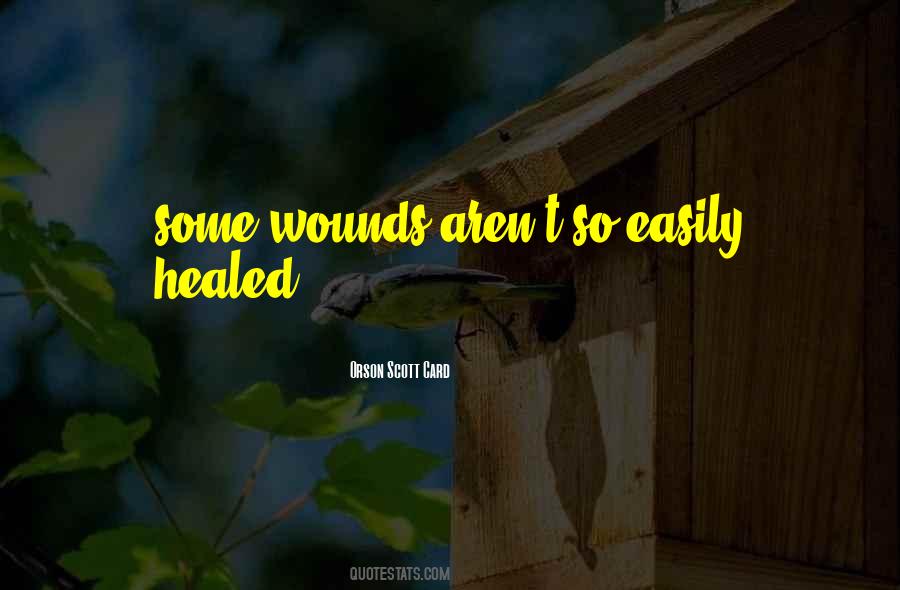 #55. An undying hatred, and a wound never to be healed. - Author: Juvenal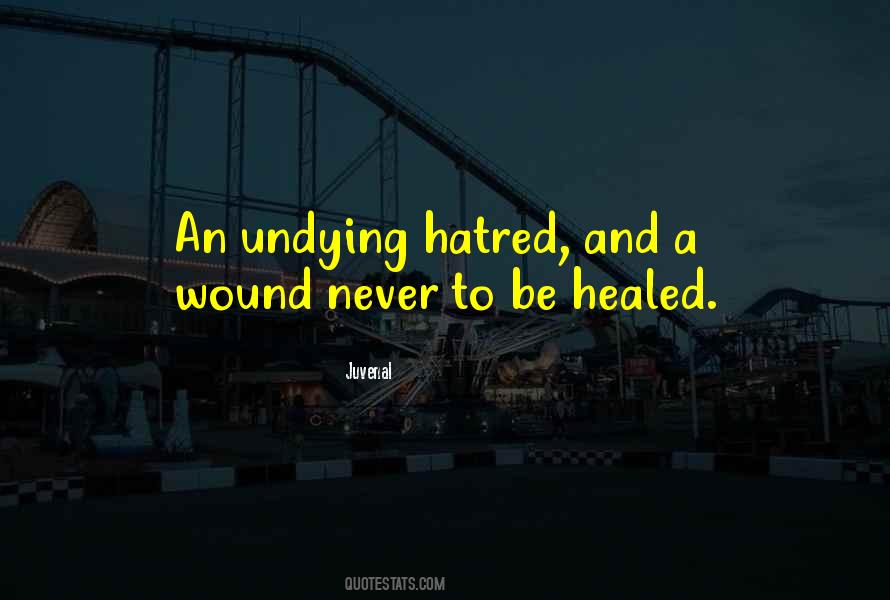 #56. Damon needed to be healed. Not from his physical ailments, but from the wounds that came from the ones he loved always leaving him. - Author: Lexi Blake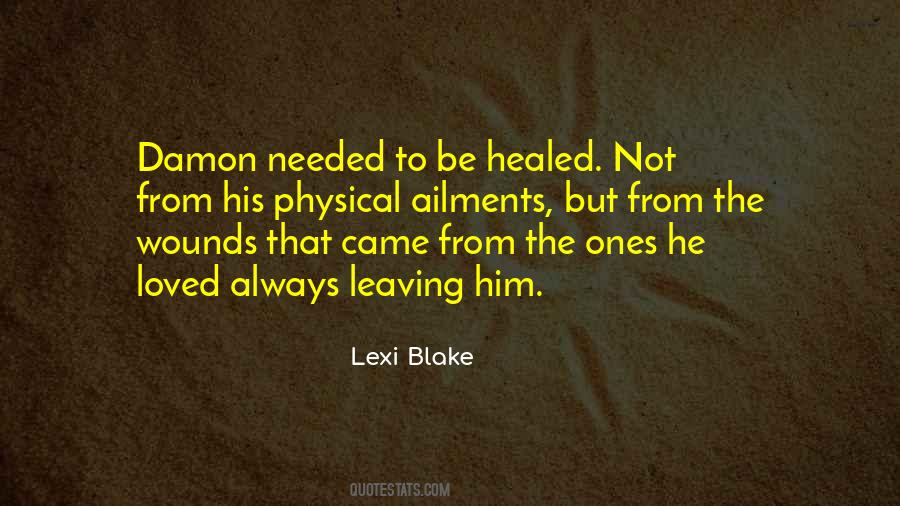 #57. Don't re-open old wounds in order to examine their origins. Leave them healed. - Author: Richard Bandler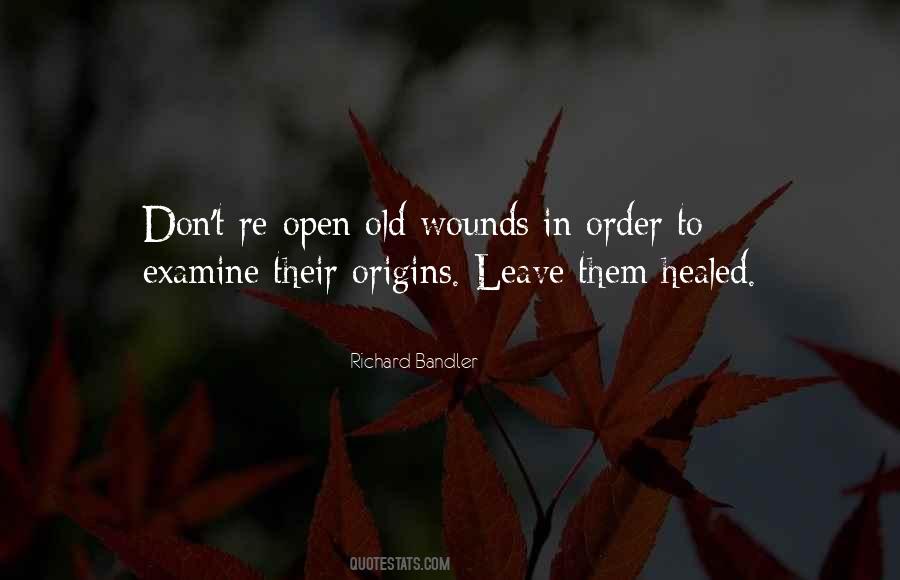 #58. He did not go after her himself, but those months after he fell out of the tree, though his physical wounds more or less healed - though he walked with a slight limp afterward - a kind of vacancy, a silence, hung around him, like a mantle on his shoulders. - Author: Amanda Coplin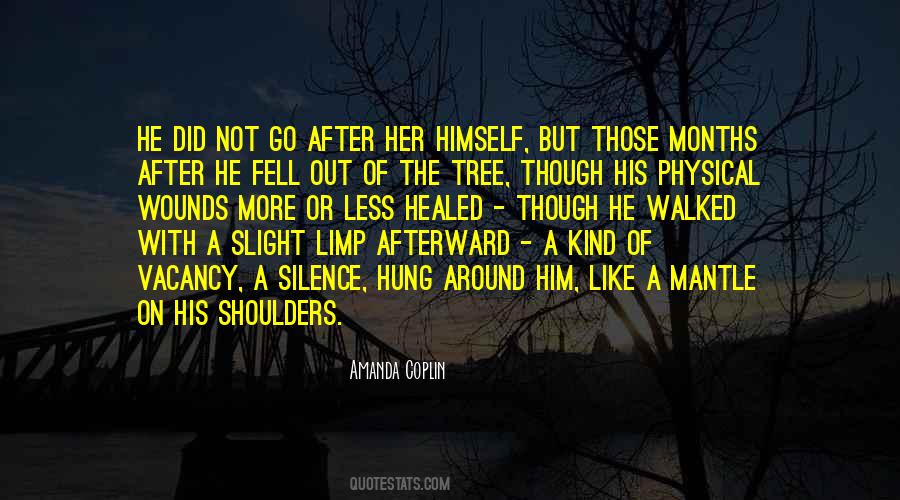 #59. Our scars are a witness to the world. They are apart of our story. Healed wounds that are symbols that God has restored us. - Author: Louie Giglio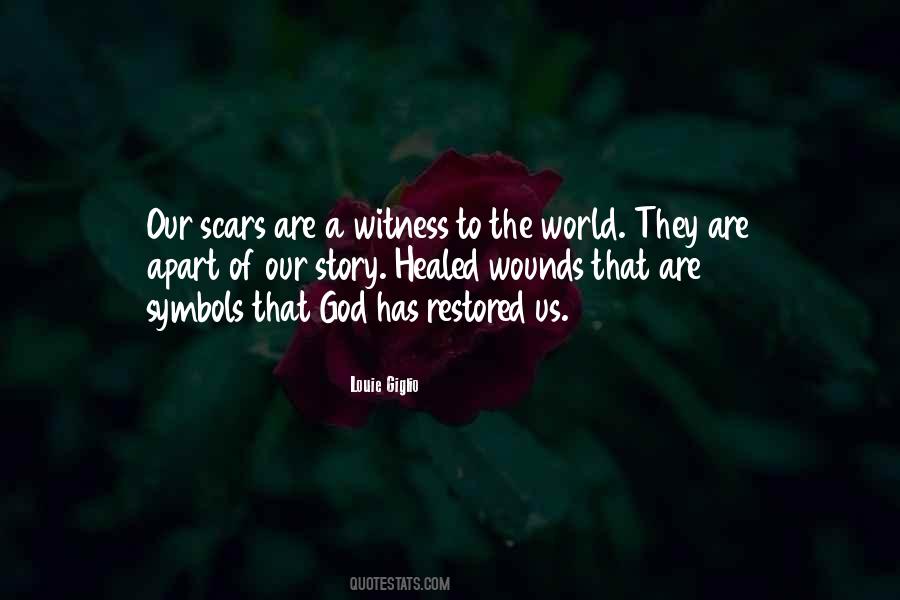 #60. Some wounds should be healed, no matter how much time has passed or how much time is left. - Author: Nalini Singh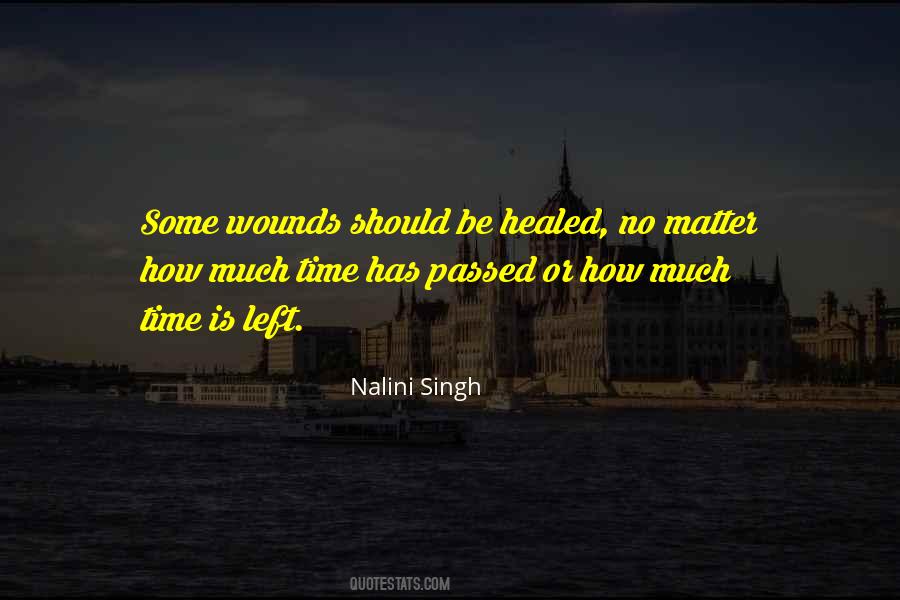 #61. You've heard the saying "time heals all wounds." Nothing could be further from the truth. Time won't heal all wounds. Jesus will. By His wounds, we are healed. That's what this book is all about. There is a real answer to the why question, and it's much better than anything you could ever make up. - Author: Dan Greenup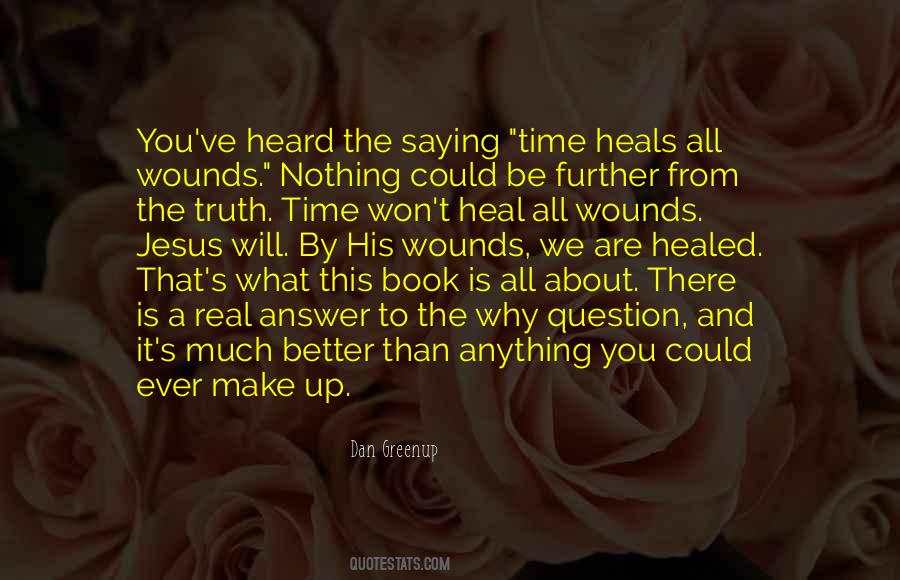 Famous Authors
Popular Topics