Having To Make A Choice Famous Quotes & Sayings
List of top 58 famous quotes and sayings about having to make a choice to read and share with friends on your Facebook, Twitter, blogs.
Top 58 Quotes About Having To Make A Choice
#1. I spent years thinking I had to make a choice between being true to myself and being with a man and not having a family, and trying to live something of a lie and being with a woman and having children ... - Author: Andrew Solomon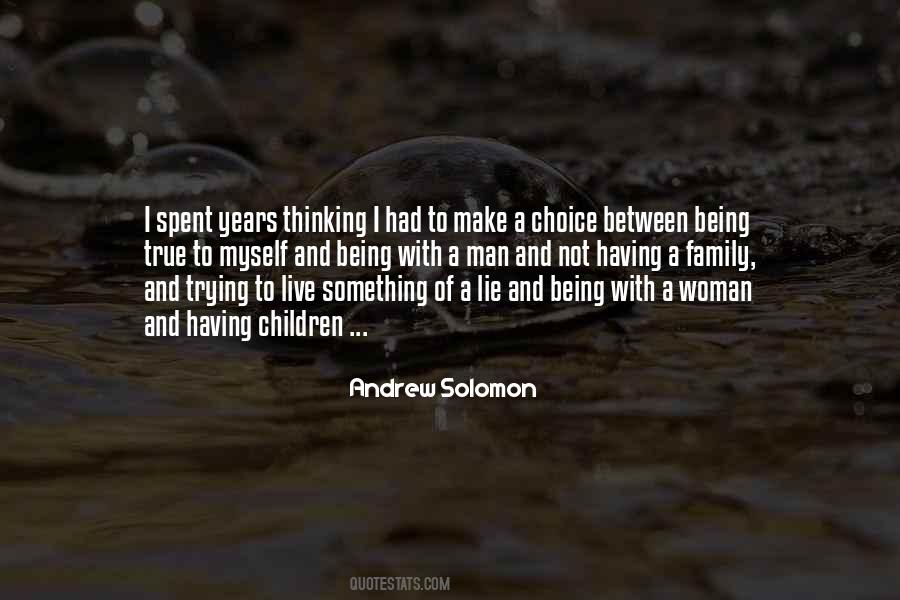 #2. The importance of knowing for certain that you have been saved cannot be understated. We do not know how many days, hours, or minutes God has granted us here to have an opportunity to make a choice. - Author: Kimberly McRae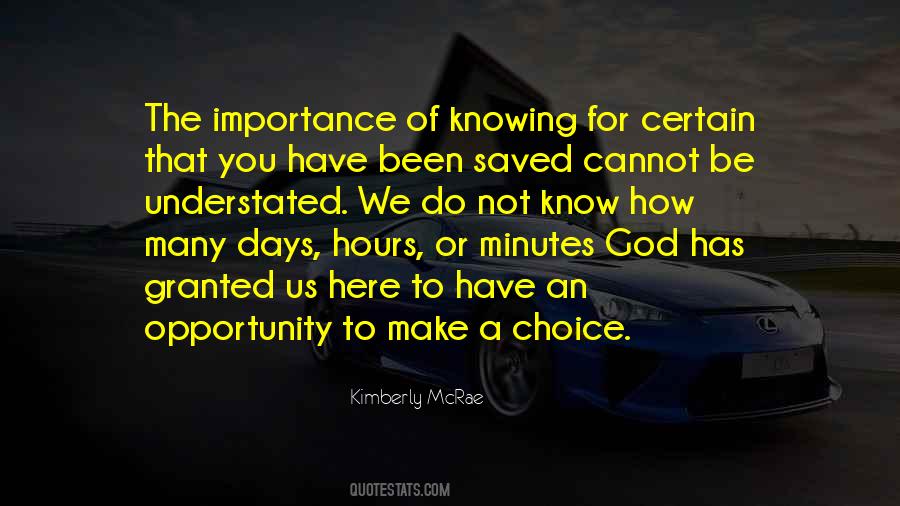 #3. I think that you make the best choice with the information that you have before you at that given time. - Author: Eriq La Salle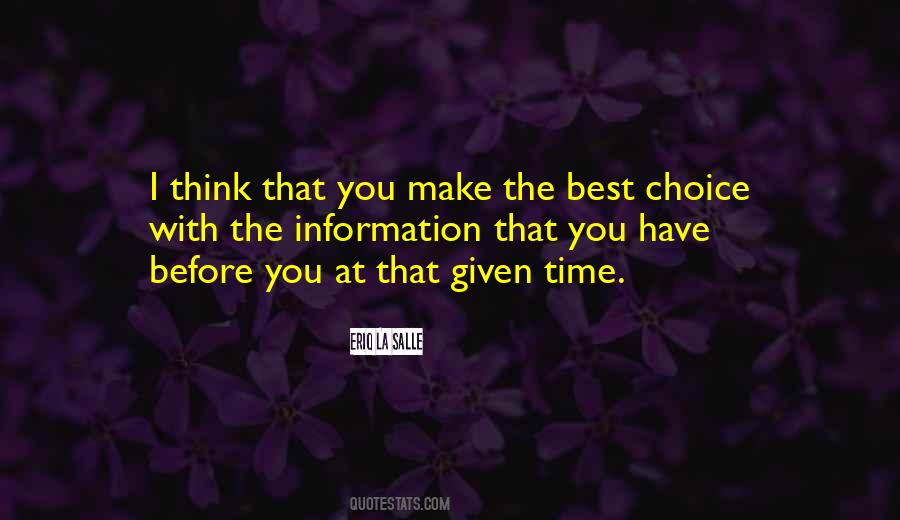 #4. Every day you make a choice either to sow some of your seed or to eat it. When you exercise faith and sow, you release God's law of prosperity. When you give in to your fear and eat your seed, or hide it, you release God's law of poverty. - Author: John Avanzini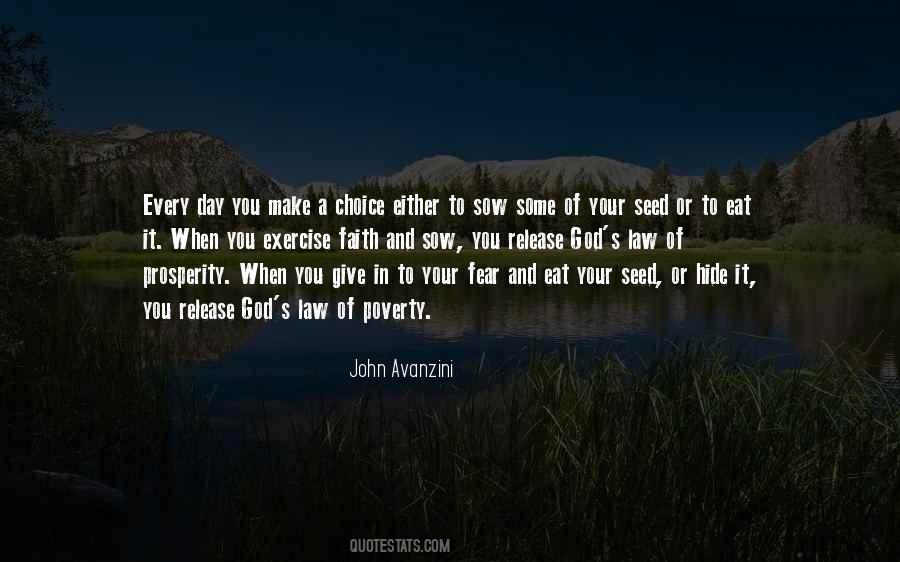 #5. Make choices in life that don't leave people bitter, worse off or confused. Any choice that leads you to do this is a choice that didn't include God in the decision making process. - Author: Shannon L. Alder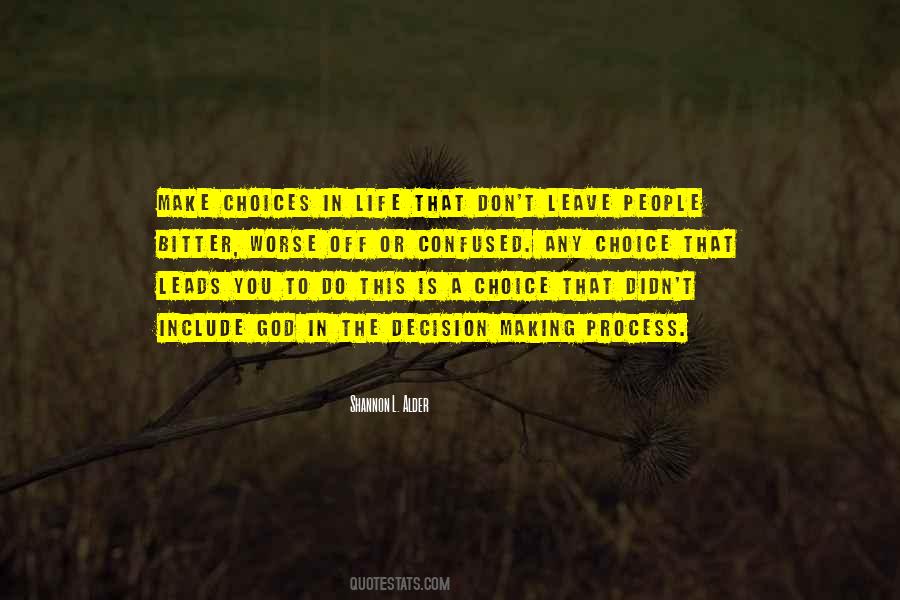 #6. No, let's make sure that people understand that this is a very important war that is helping to protect us here at home. And that we have no choice but to win it. As difficult as it is. - Author: John Boehner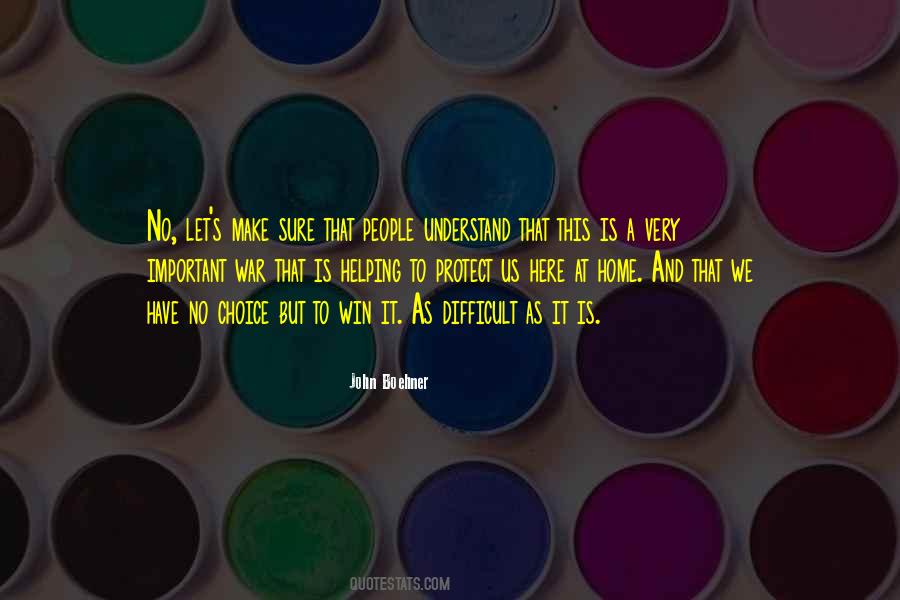 #7. One should make the best choice possible given the circumstances, and then avoid second-guessing for the sake of one's own sanity. - Author: Lisa Kleypas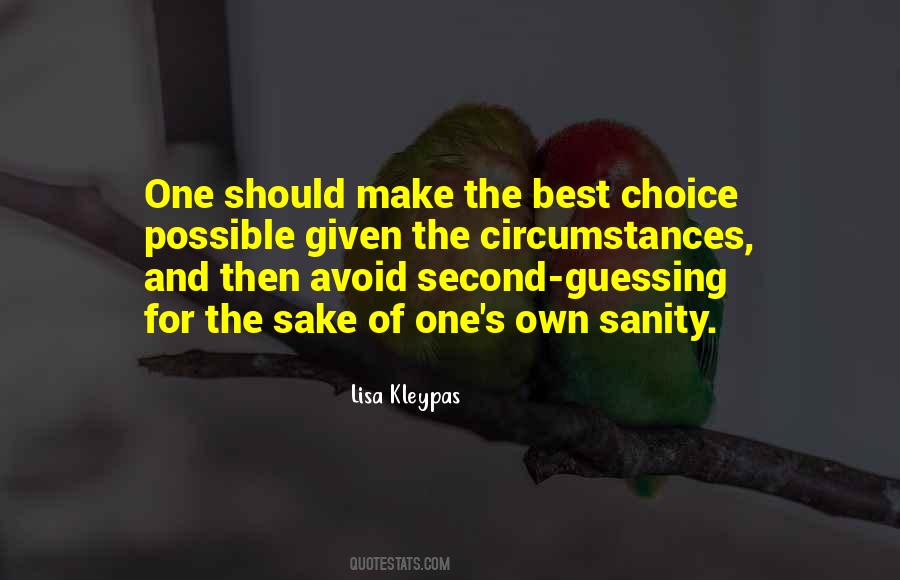 #8. Most professional women I know - myself included - long since gave up looking for a rulebook or a roadmap; we make it up as we go along. Every day presents a new choice, a new challenge, which makes long-term career planning seem like an especially abstract exercise. - Author: Nancy Gibbs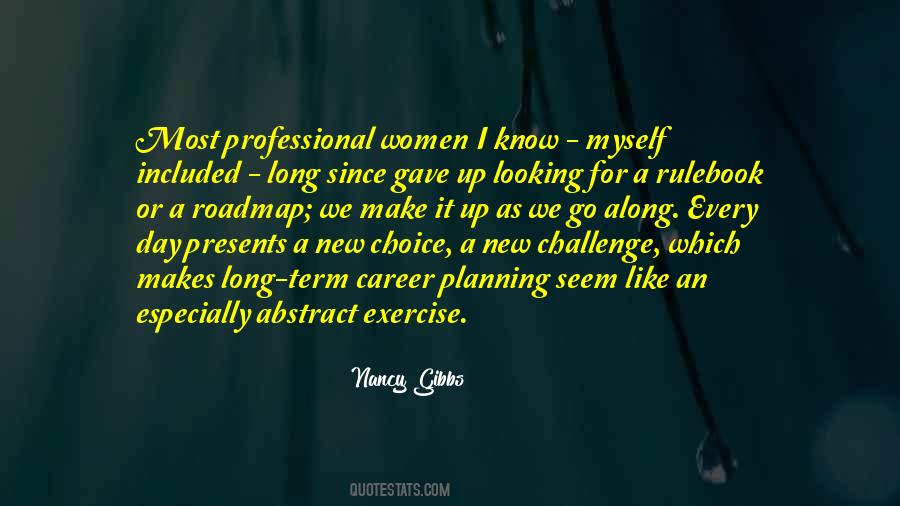 #9. The first thing to make clear is that scientists, freely making their own choice of problems and pursuing them in the light of their own personal judgment, are in fact co-operating as members of a closely knit organization. - Author: Michael Polanyi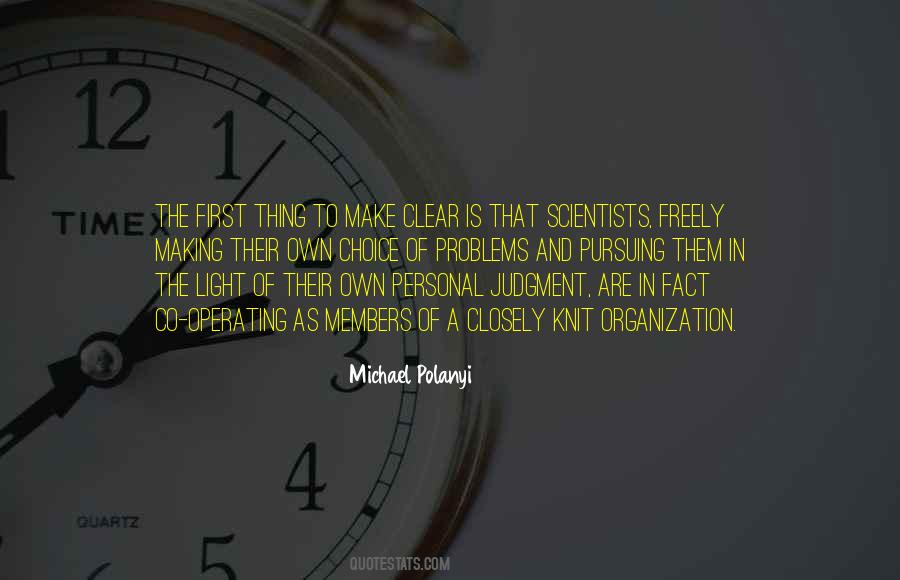 #10. Life is like a war. There will always be people trying to shoot you down. But it's your choice whether you're going to surrender, fight back, or dodge the bullet. - Author: Peyton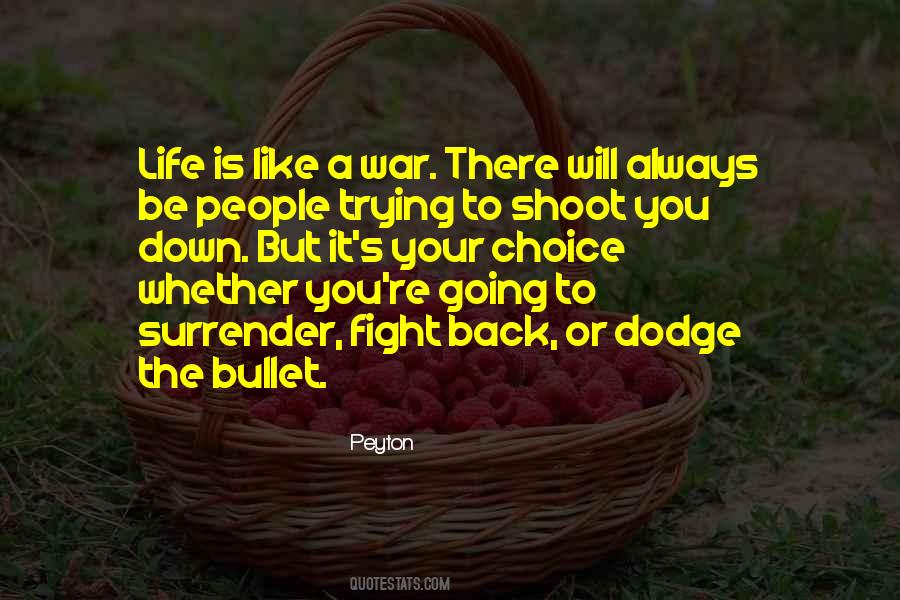 #11. The World we all share is given to us in trust. Every choice we make regarding the earth, air, and water around us should be made with the objective of preserving it for all generations to come. - Author: August Busch III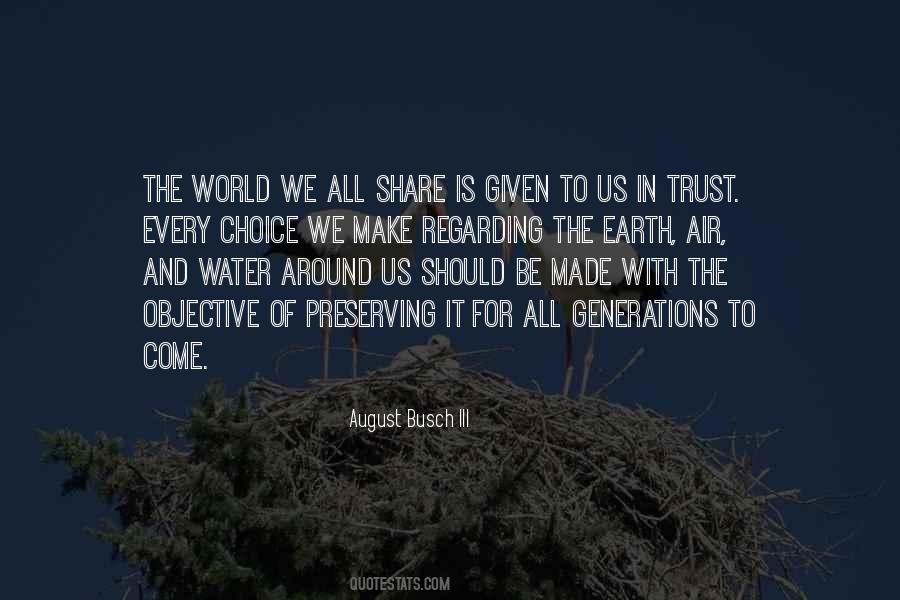 #12. The way to activate the seeds of your creation is by making choices about the results you want to create. When you make a choice, you activate vast human energies and resources, which otherwise go untapped. - Author: Robert Fritz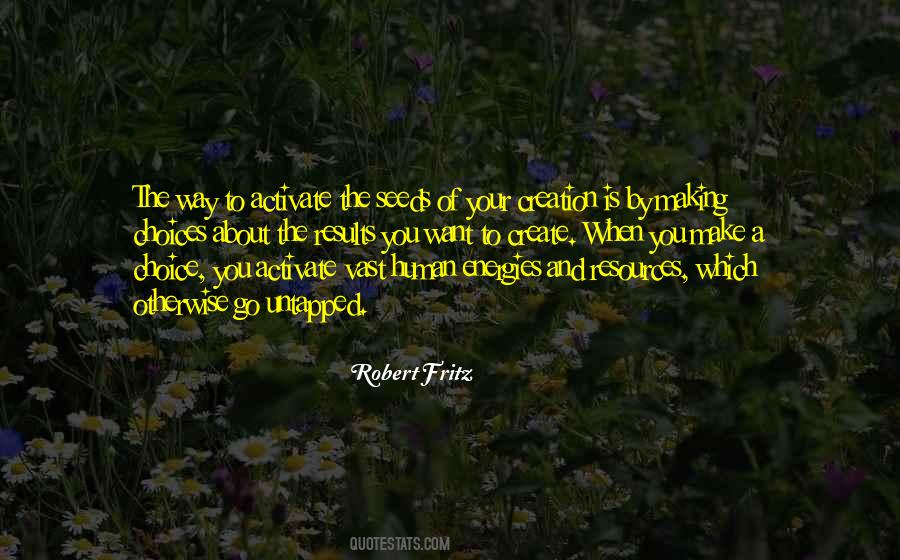 #13. Sometimes jn your life you make a decision and you find yourself questioning it. A lot. You don't regret it, exactly.you know that you probably made the best choice and that you're probably better off for it. But you do spend a lot of time wondering what the hell you were thinking - Author: K.A. Tucker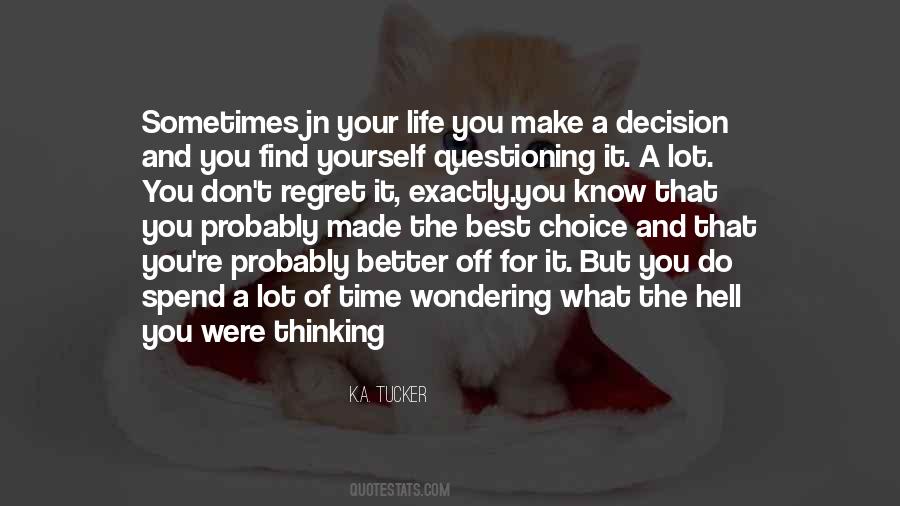 #14. Every choice we make affects the other. It always has ... We share our choices and our burdens. But that way neither of us has to carry the weight alone - You have never been alone. - Author: Olivia Fuller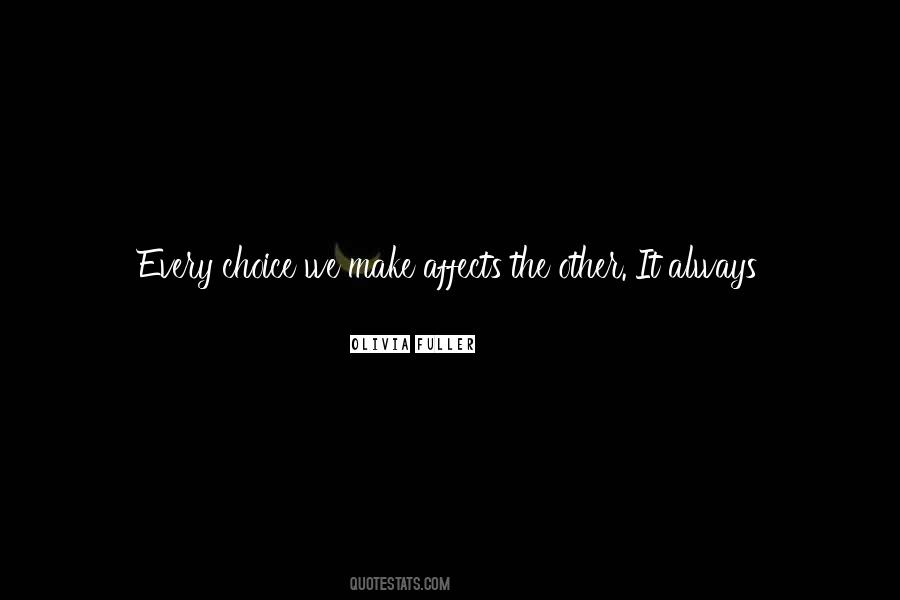 #15. No one can tell what the future holds, you're backs to the corner, you make the choice of how it goes. - Author: Kenny Loggins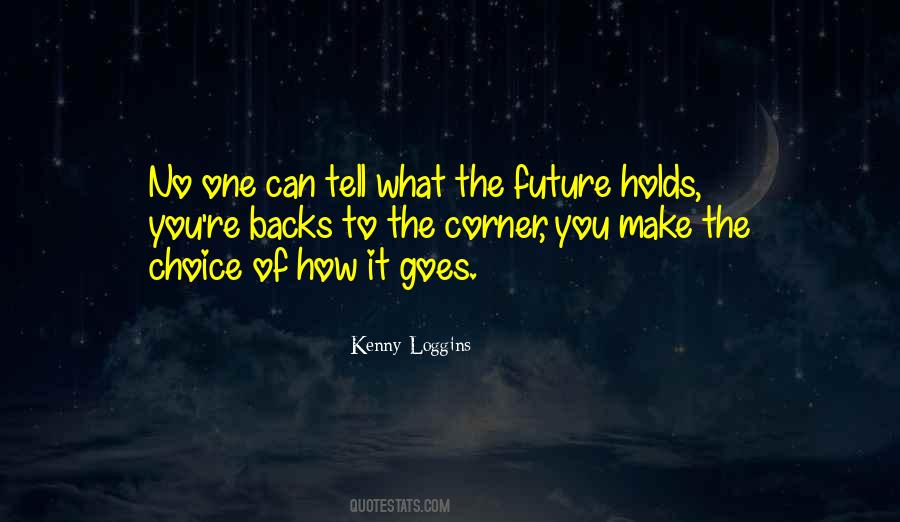 #16. You make what seems a simple choice: choose a man or a job or a neighborhood- and what you have chosen is not a man or a job or a neighborhood, but a life. - Author: Jessamyn West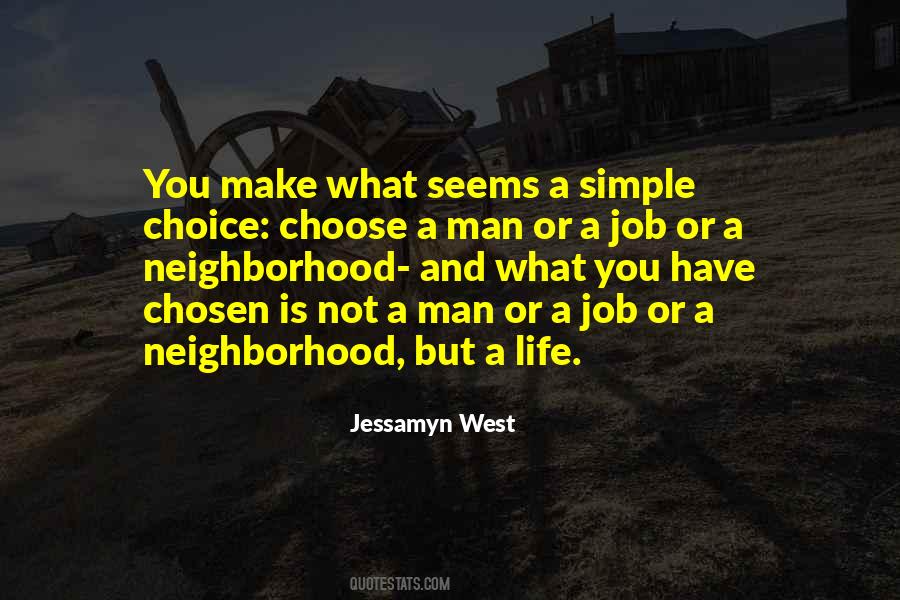 #17. I promise you, anybody given the choice of that kind of money or having to make a phone call to tell your dad that something like that has happened, it's not worth it. - Author: Jennifer Lawrence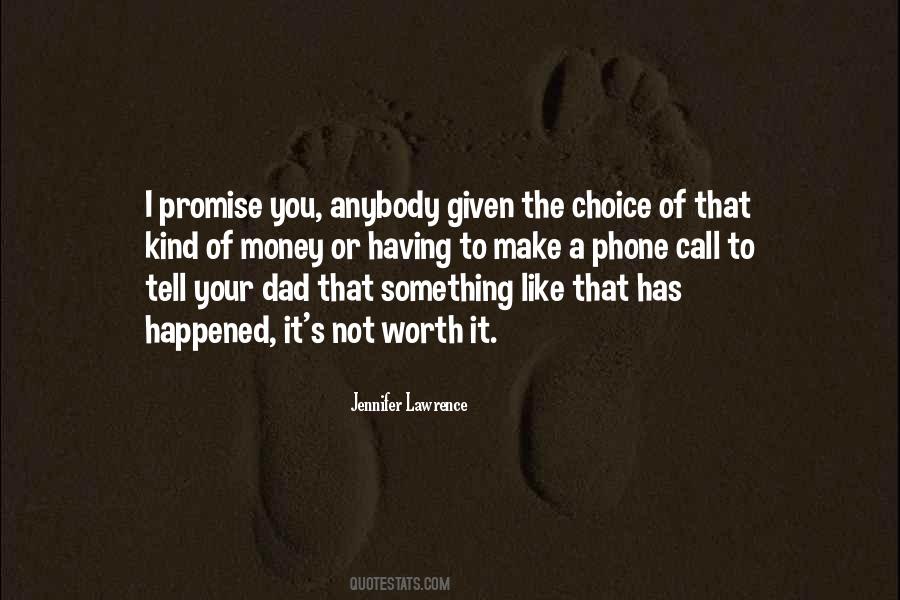 #18. My wolf wants to claim you. To make you mine. To protect you. But I'm trying to give you time, give you a choice even if it's killing me. It's why I keep messing up. I should've just staked my claim and let you deal with having me attached at your hip. - Author: Aileen Erin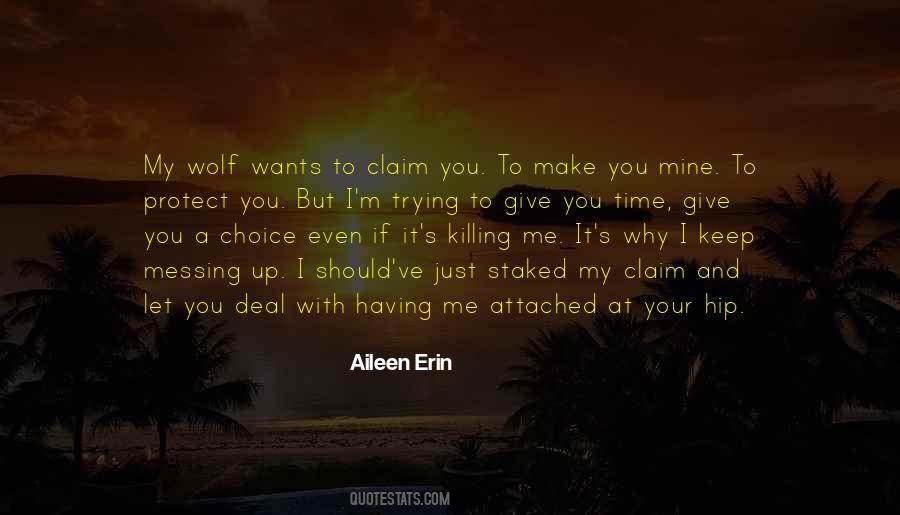 #19. I'm in favor of free trade, but I think if you had to make a choice between having technological progress versus free trade, you had one or the other, you should always pick technological progress. I think it's an incredibly important variable for creating more prosperity. - Author: Peter Thiel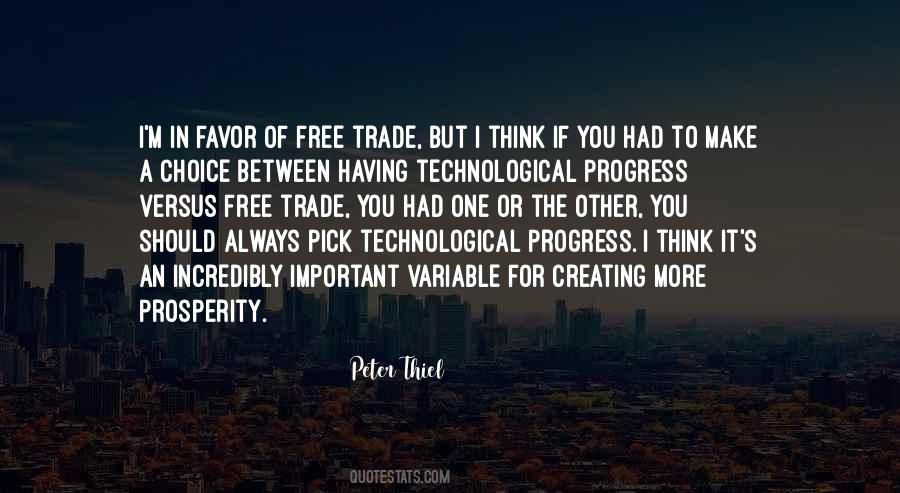 #20. I knew that I was going to have a life as a musician, because I always felt the pull. I don't remember ever having to make a choice. - Author: Steve Vai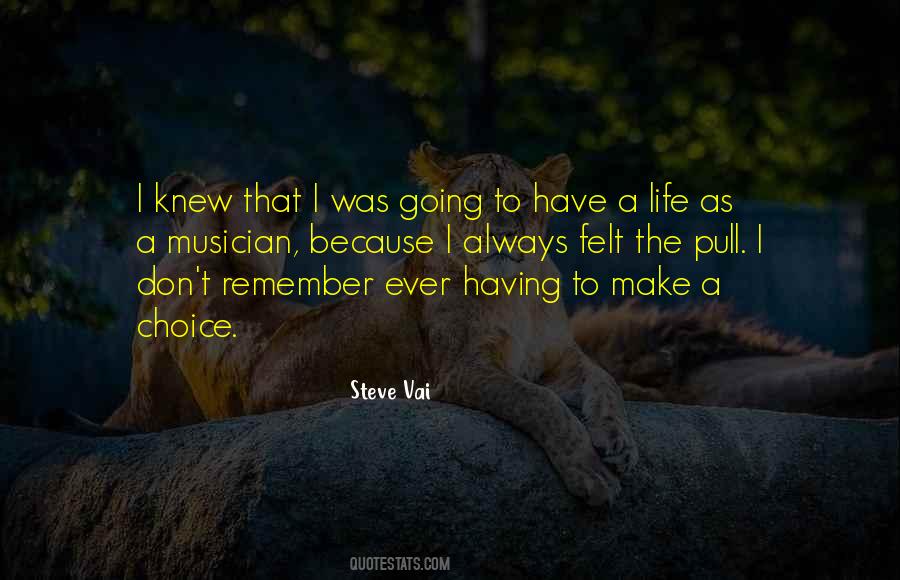 #21. It's about one moment. It's about hitting the wall and having to make a choice, or take a stand, or turn around and go back. - Author: Jason Robert Brown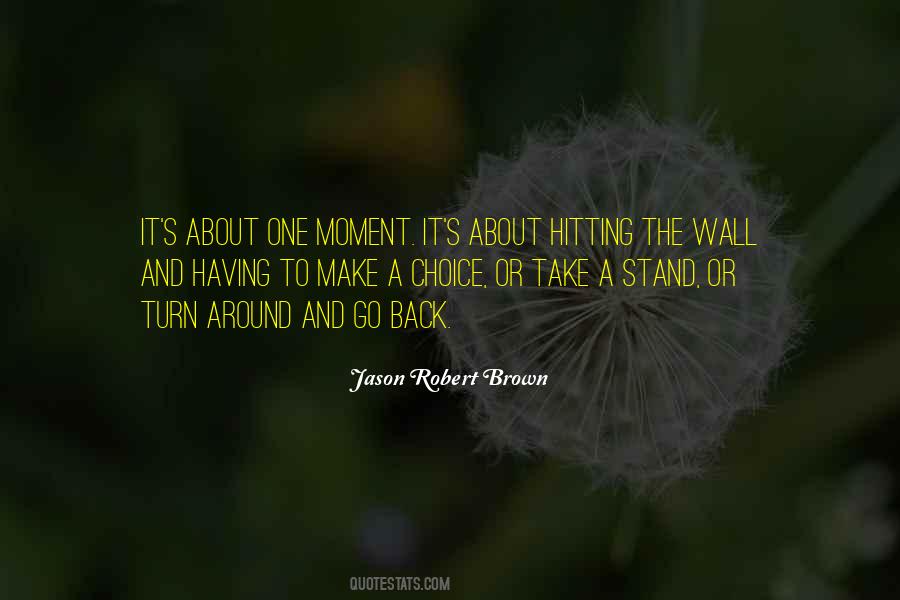 #22. You can't have all the answers now or you could never grow from making a choice. If you want to grow, you must face adversity and make decisions without having all the answers. - Author: Eric Buffington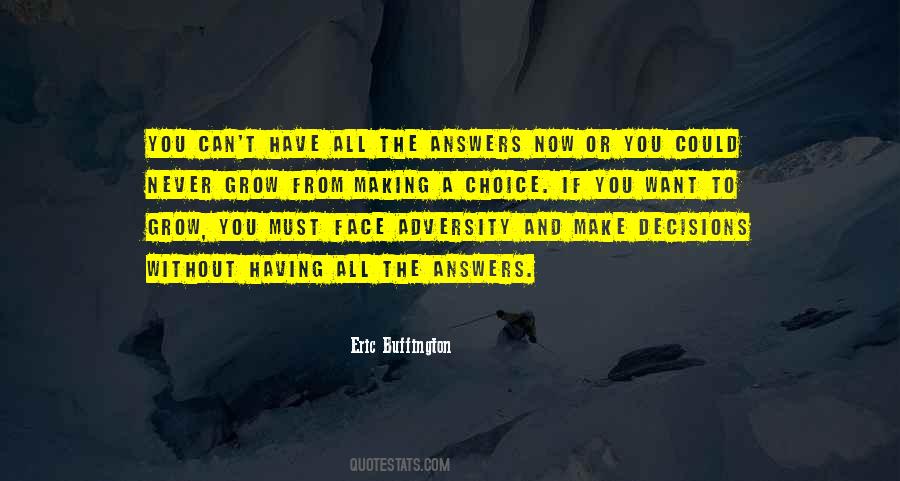 #23. But when I decided to move here, I found I had a choice between being liked and having a say. That's the choice you'll have to make as well. They will either love you and not respect you, or they will respect you and not love you. - Author: Philipp Meyer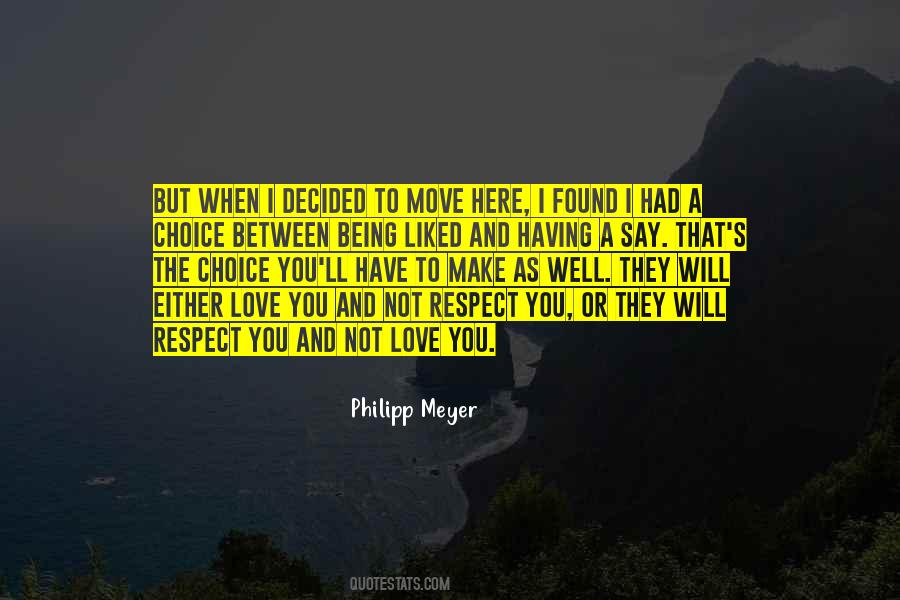 #24. It's like having to make a choice: a blessing or a curse. The one thing you can't do is choose neither. - Author: Philip Pullman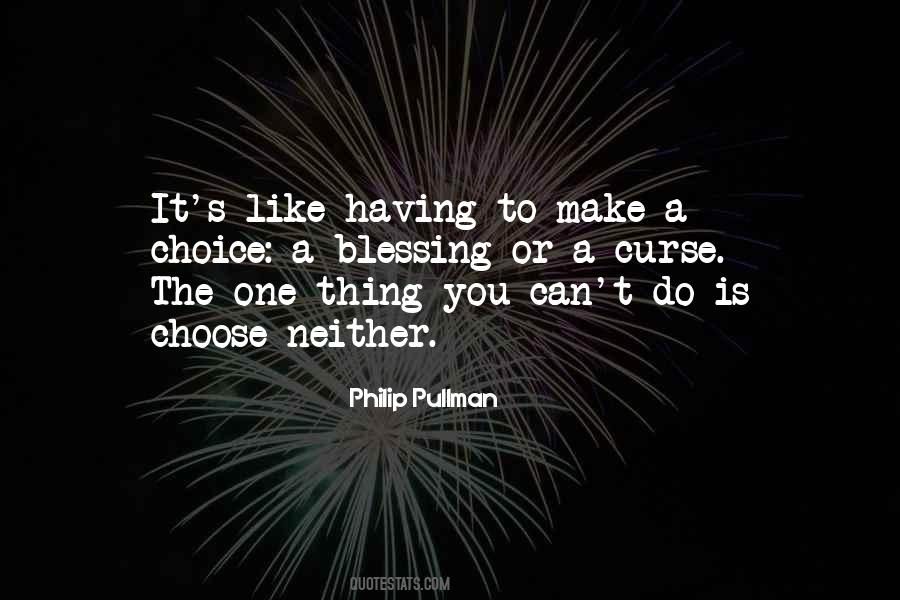 #25. Having tasted life without the pain of obligation perpetually burning him from within, he'd choose death over the return to bondage. He'd make that choice in an instant. Life as a slave was unspeakable; life as a slave who had briefly tasted freedom was unthinkable. - Author: Ian Tregillis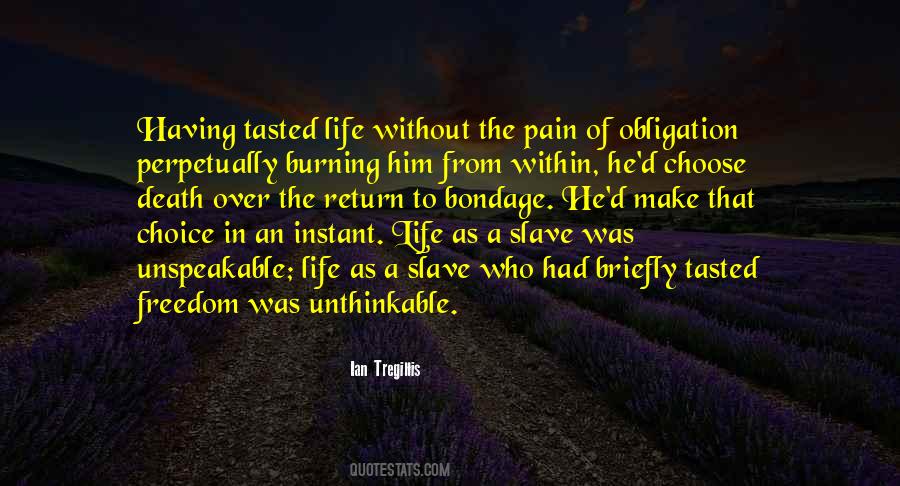 #26. Freedom is having a choice to make, to be who we want to be. - Author: Meljean Brook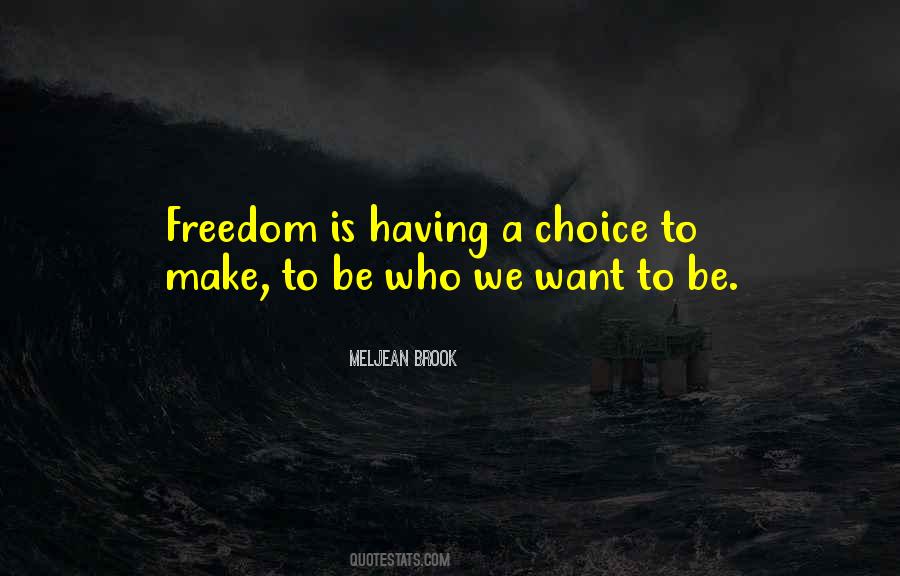 #27. At the end of the day, feminism is not about what choice you make, it's about having the ability to make a choice. - Author: Jennifer Baumgardner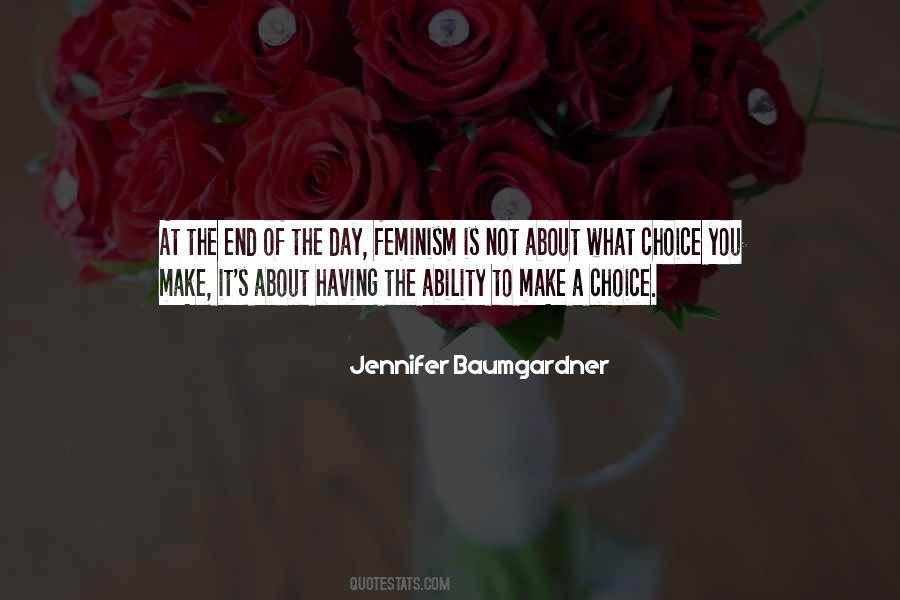 #28. I see the Master as a man having terrible choices to make; whatever he chooses will do harm, but maybe if he does the right thing, a little less harm will come about than if he chooses wrong. God preserve me from having to make that sort of choice. - Author: Philip Pullman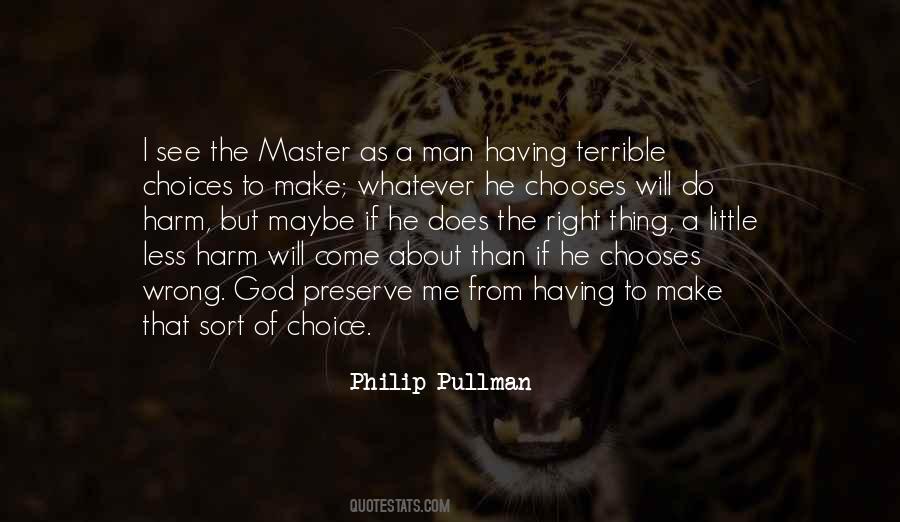 #29. Hell isn't having no choice.
It's having to make a choice between horrific things. - Author: Don Winslow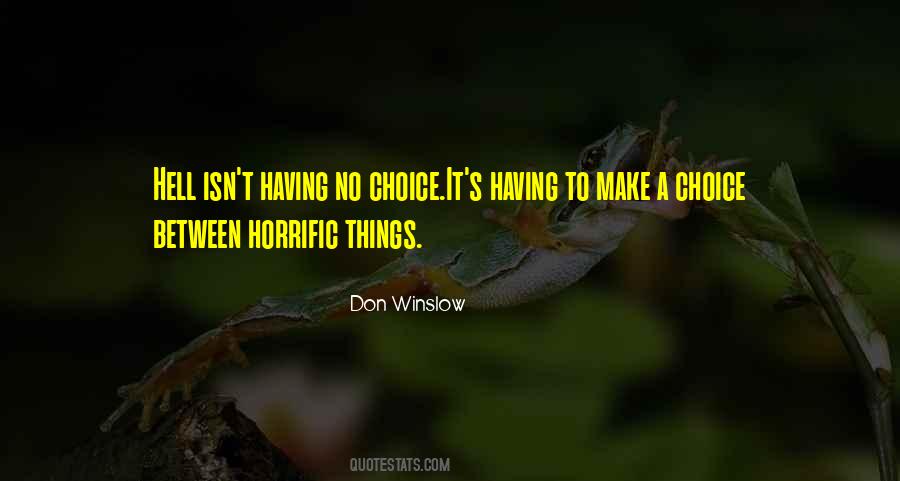 #30. I think the idea is that every person has to live for his or her own life and then make the choice to share it with other people. Maybe that is what makes people participate. - Author: Stephen Chbosky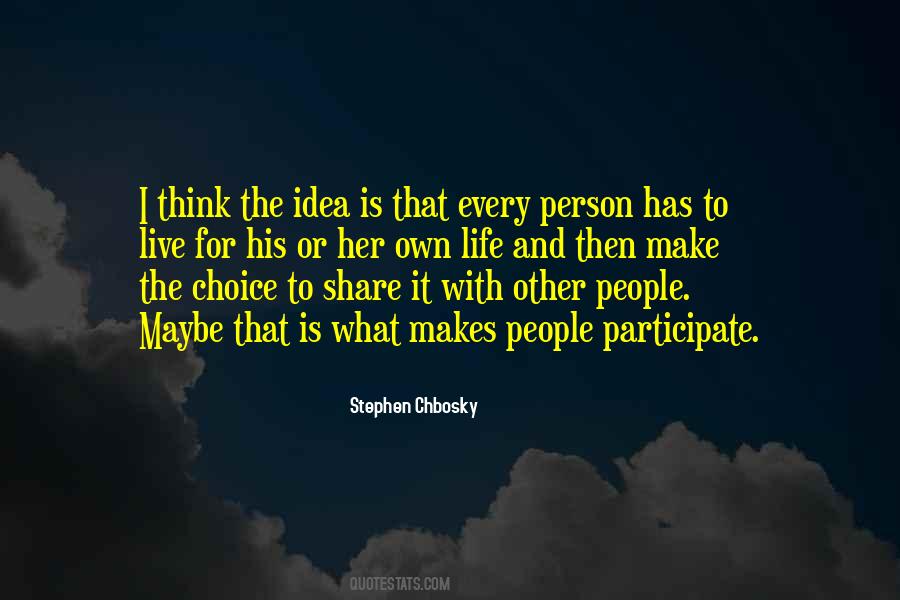 #31. Take a stand; go for the right choice. Don't just sit for anything; stand for something. Be specific because sometimes, when the meaning is not clear, there us absolutely no meaning! - Author: Israelmore Ayivor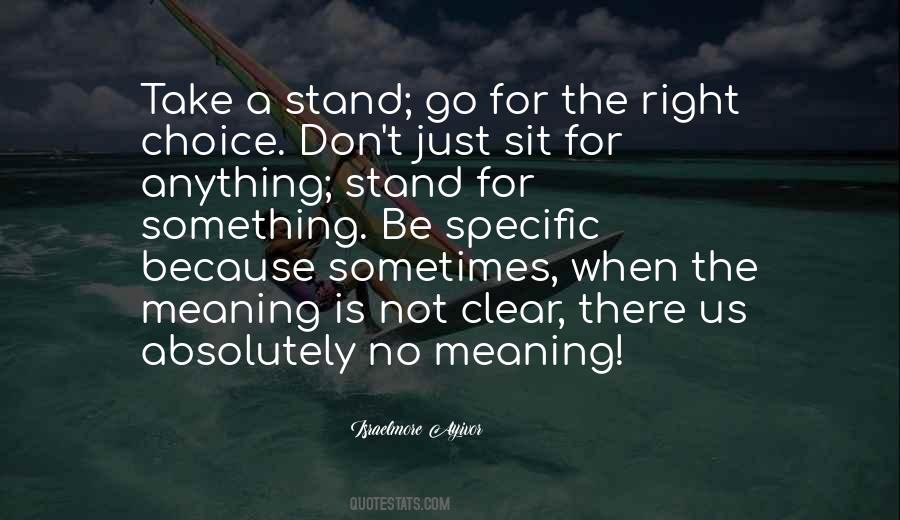 #32. Motherhood is a choice you make everyday, to put someone else's happiness and well-being ahead of your own, to teach the hard lessons, to do the right thing even when you're not sure what the right thing is ... and to forgive yourself, over and over again, for doing everything wrong. - Author: Donna Ball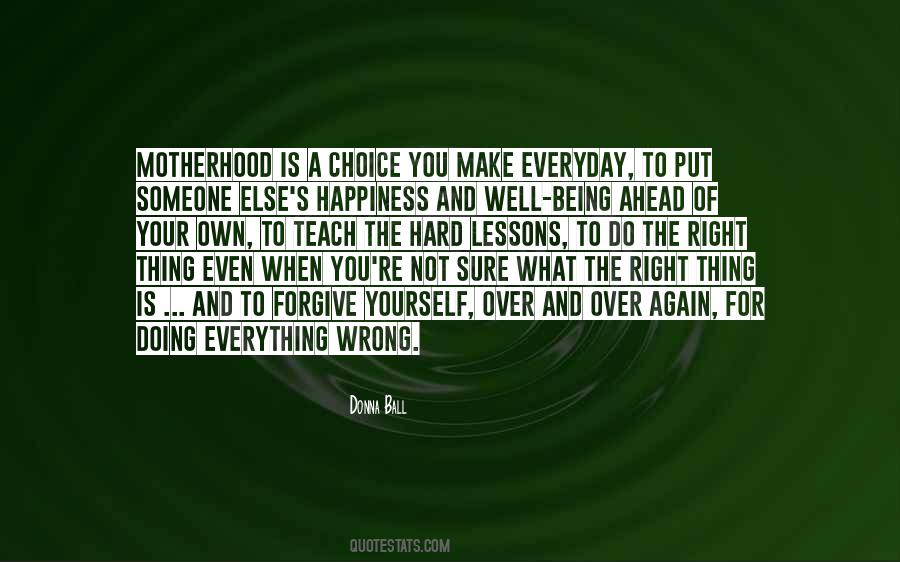 #33. I believe that love is the choice we make to raise ourselves and others to the highest planes of existence. - Author: Richard Paul Evans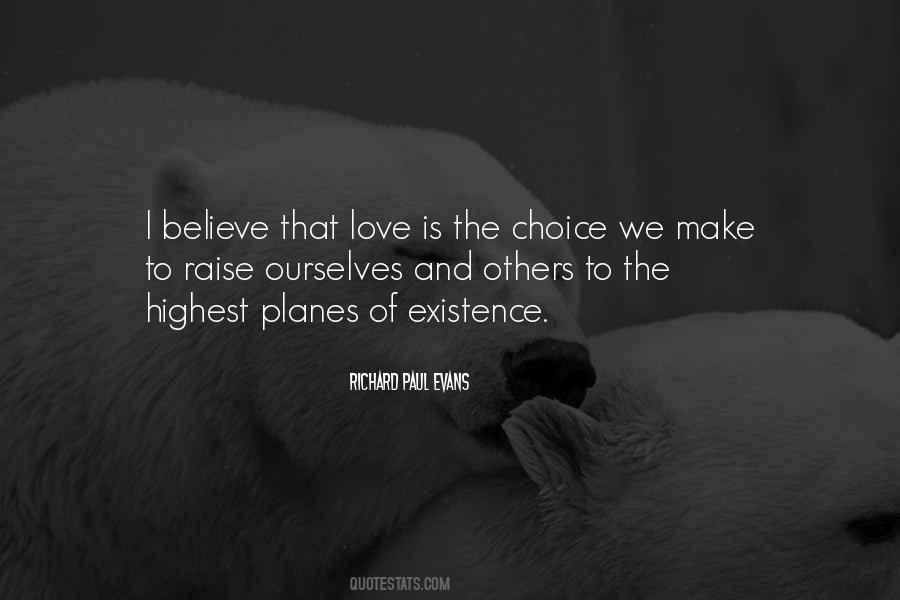 #34. For every choice you make, there is a consequence to face. Choose wisely! - Author: Kemi Sogunle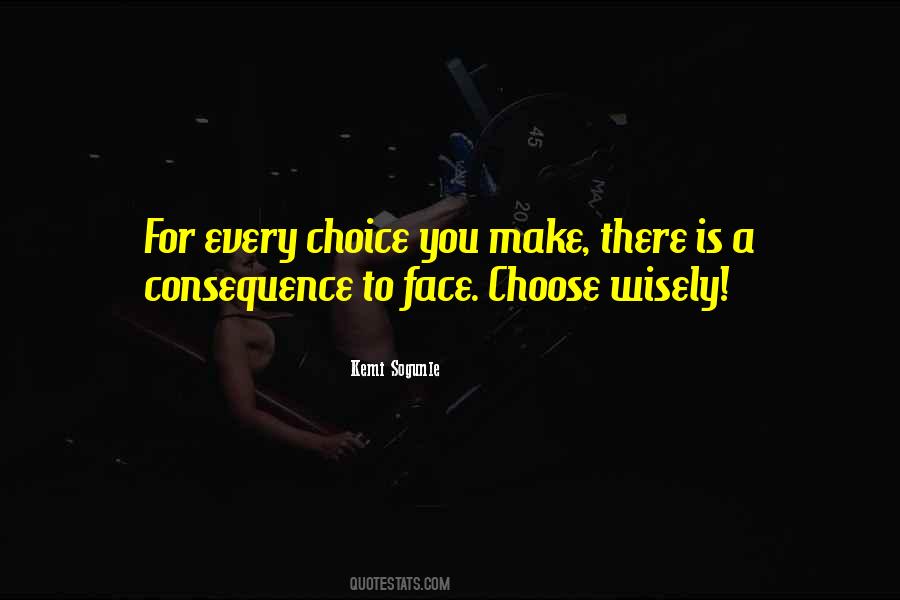 #35. Your trouble is that reaching final conclusions just isn't your thing. You're afraid the decision you make will deprive you of further choice, so that paralyzes your will. - Author: Evgenij Vodolazkin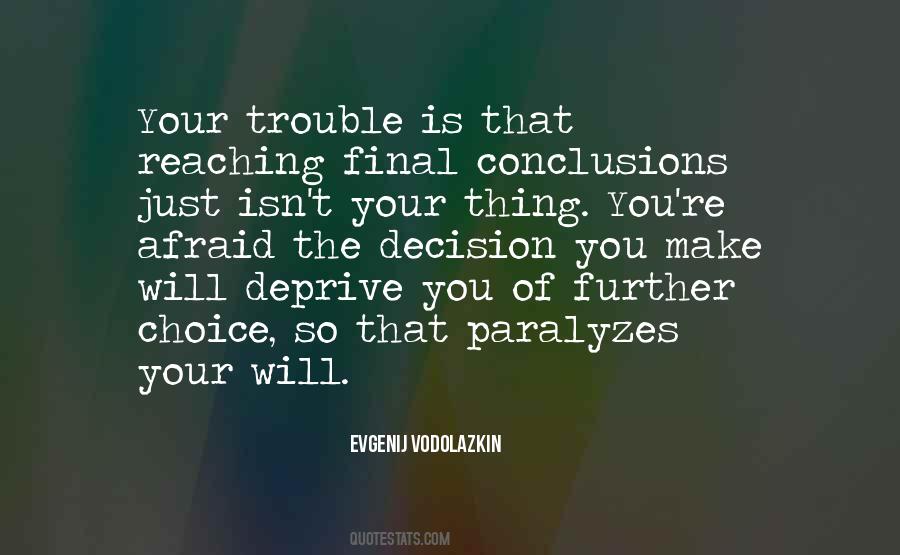 #36. You can look forward with love or backward with hate, and people have to make that choice for themselves. But holding on to bitterness is like drinking poison and waiting for someone else to die, and she by God wasn't going to waste her time like that. - Author: Abigail Strom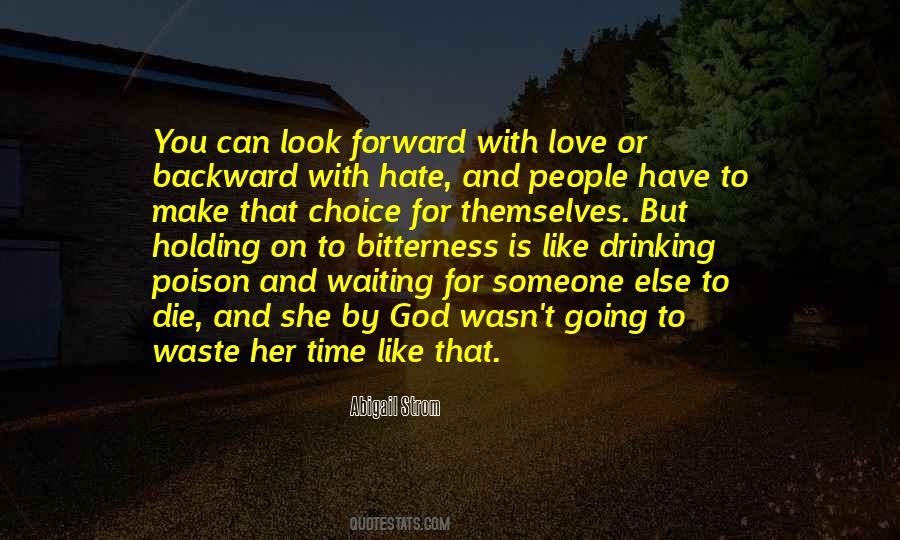 #37. But for the love of piss, make some sort of decision. If you don't want to eat babies and nail bloodbags to walls, that's your choice. What Sarren did or made you do in the past has nothing to do with it now. You're a vampire. Do whatever the hell you want. - Author: Julie Kagawa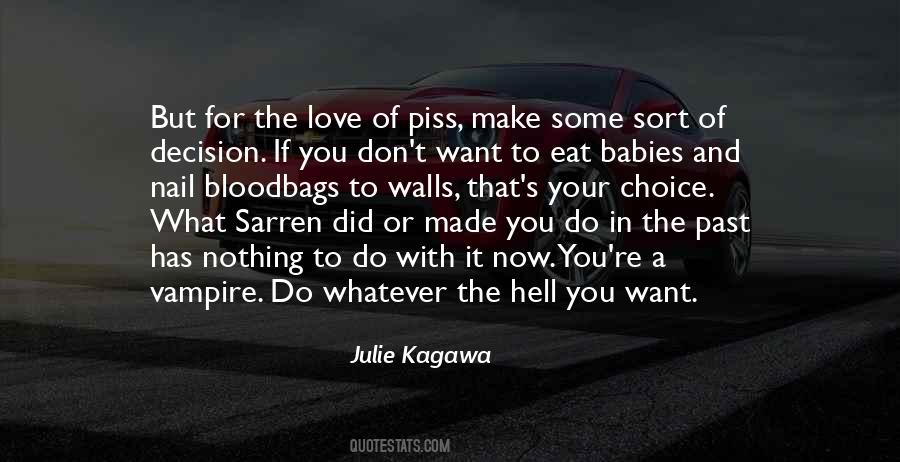 #38. If I had a choice, I would do comedy all the time. It's just the most challenging thing. To make someone laugh is the most challenging thing, and the most rewarding thing, in entertainment. - Author: Bruce Willis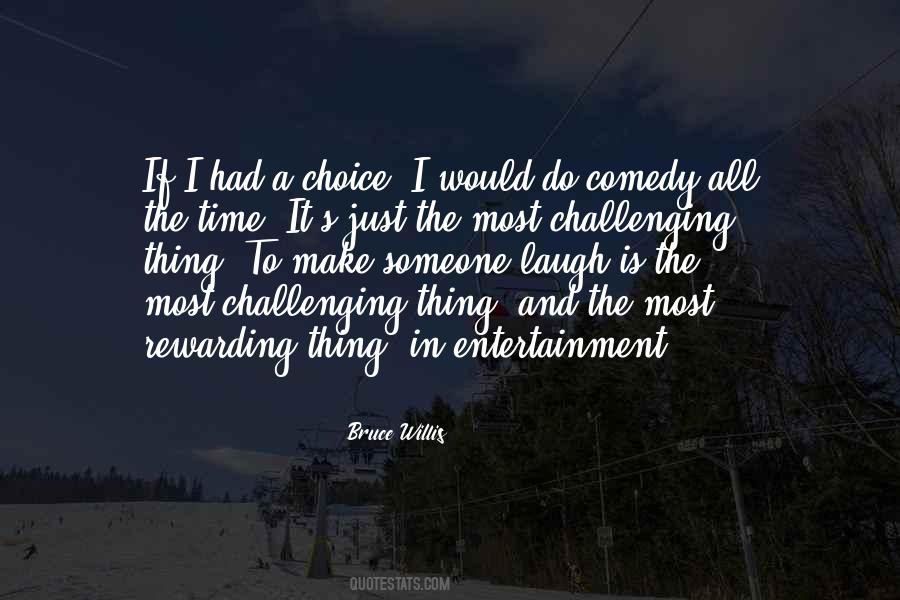 #39. It's a false choice to say we either have job safety or job growth. It's a false choice to suggest that the only way for a business to survive is to make sure workers have low wages and little or no benefits. There are ample models across this country where we've demonstrated the contrary. - Author: Thomas Perez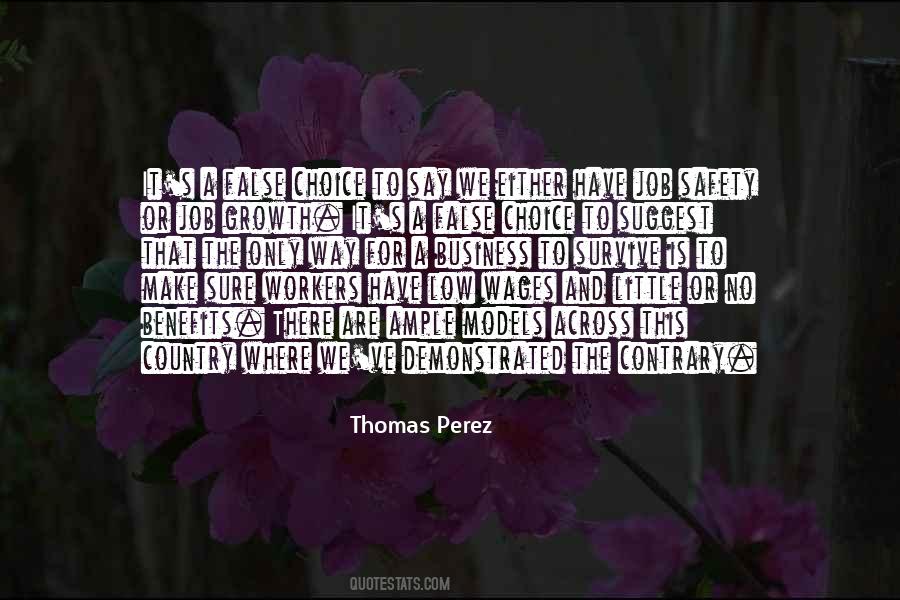 #40. She had said one time, make a choice and do it like Hercules. So if that is all of what is being offered, the idea is to always do it like Hercules and I always followed her advise and now I'm here talking to you. - Author: Harvey Keitel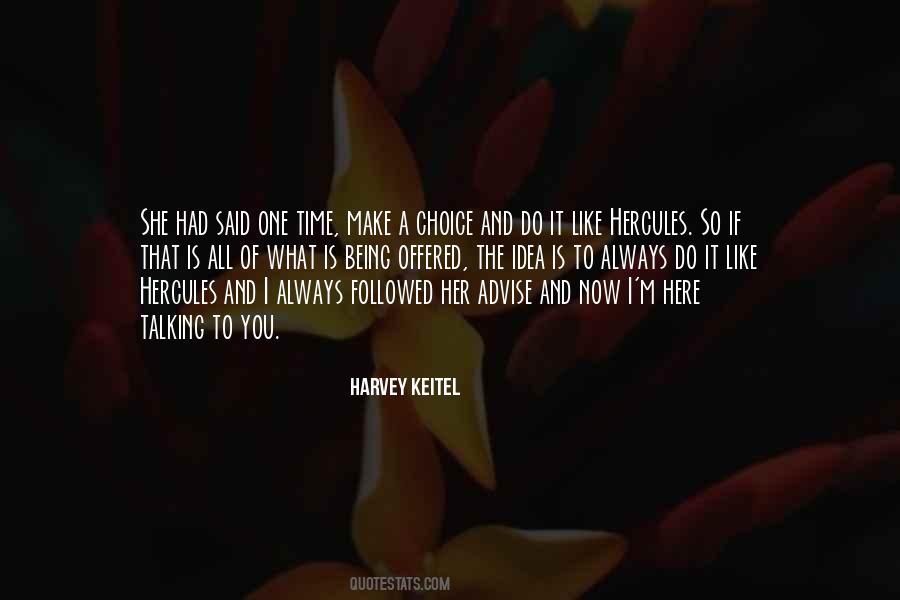 #41. William James said, "You cannot travel without until you have travelled within." Socrates said, "The unexamined life is not worth living." People who discover their sweet spot are people who take the inward journey and examine themselves. They make the choice to live until they die. - Author: Scott M. Fay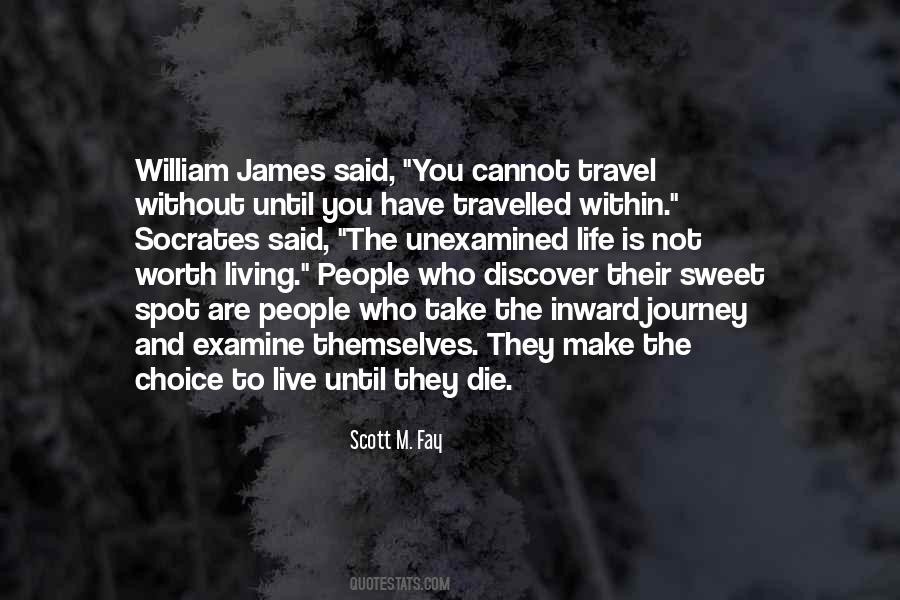 #42. It seemed like everything became centered and peaceful when there was no choice but to make nature the focus. - Author: Carine McCandless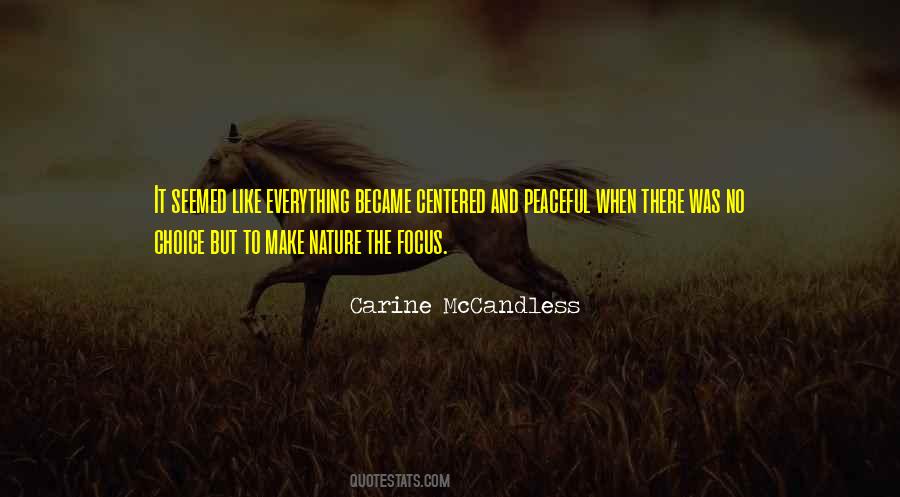 #43. You cannot serve god and mammon. You have to make a choice. - Author: Billy Graham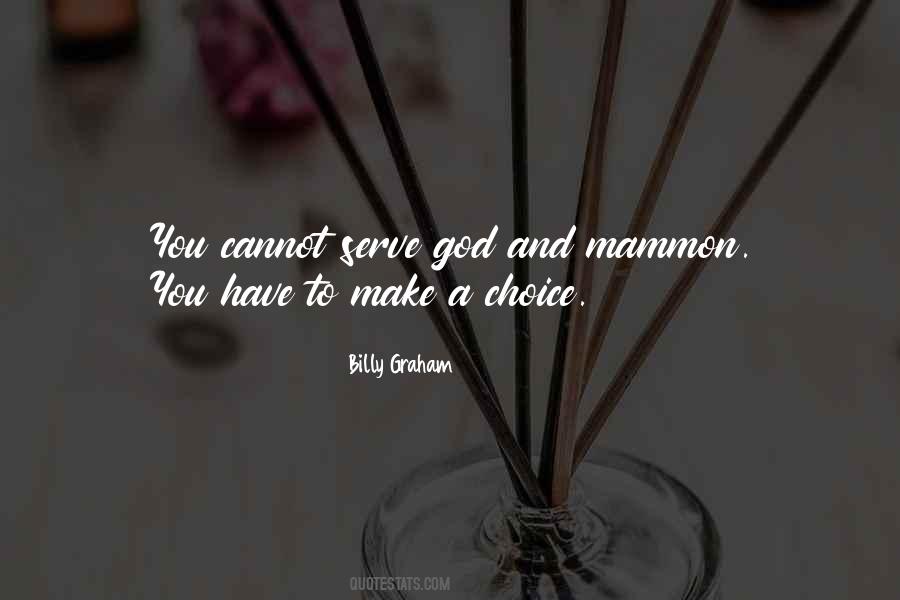 #44. If we actually thought about every decision we made, we'd be paralyzed ... You have to decide which decisions you're actually going to make, and then you have to let the rest of them go. - Author: David Levithan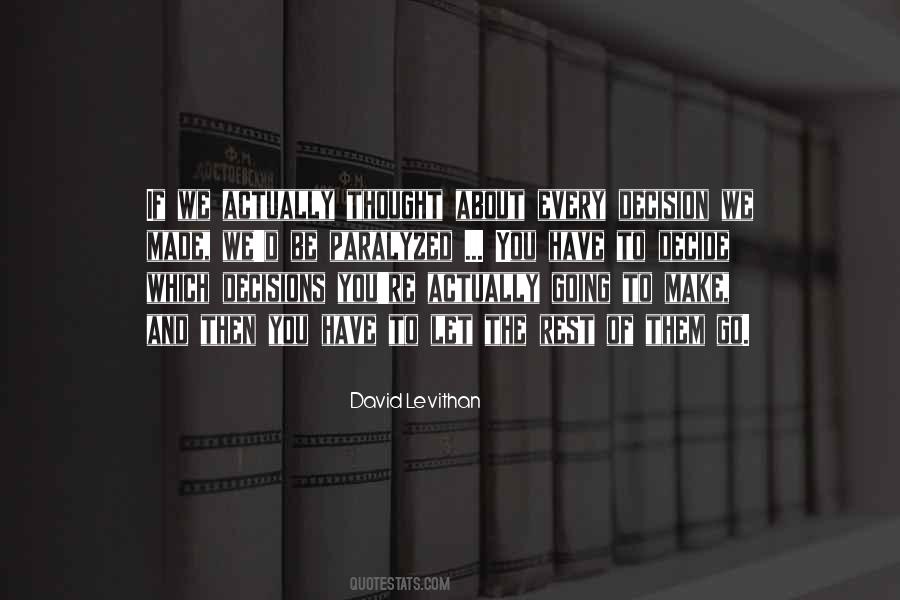 #45. Sometimes, you have to make the choice to forgive 10 times a day when you have these pockets of anger come up. That's a lot of work, but to me it's worthwhile. - Author: Amanda Lindhout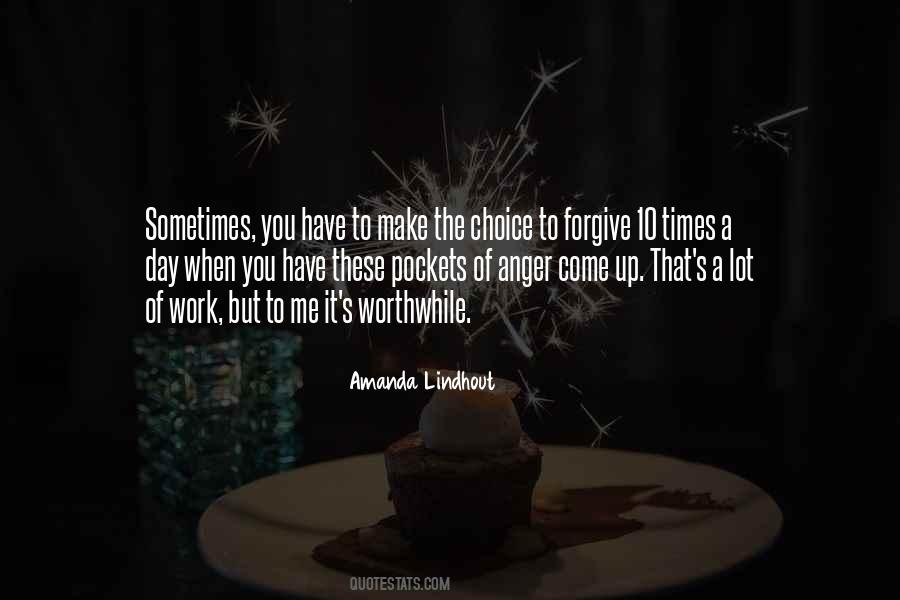 #46. In Endless Quest books, you start the plot, and the character has to make choices. Then you have to write one choice over here, one choice over there. The author might get one or two choices out. - Author: Margaret Weis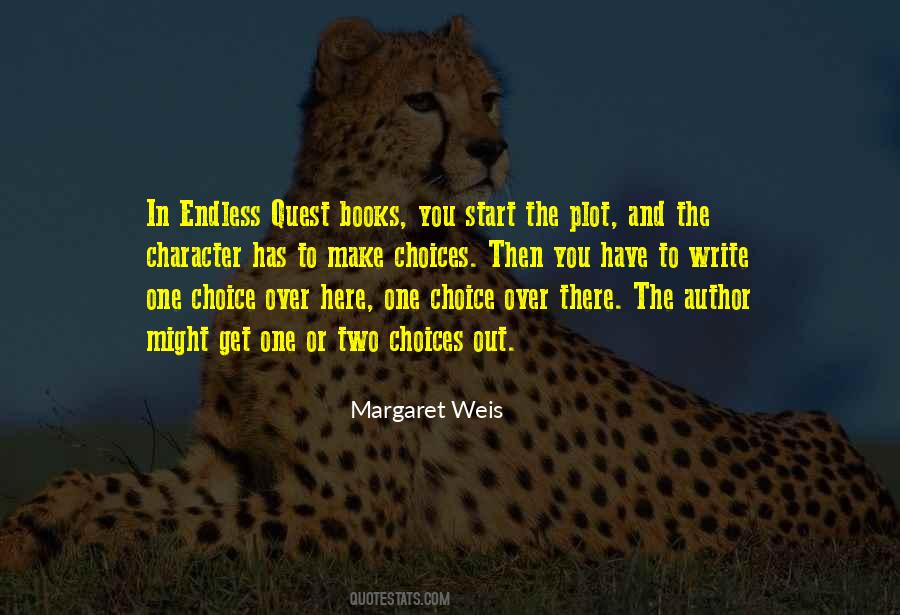 #47. So we will be brought one by one to the testing place, and we may never know when we are there. At that testing place there will be no dozen possible choices for us; just one and an alternative, but our whole future will be conditioned by the choice we make. - Author: A.W. Tozer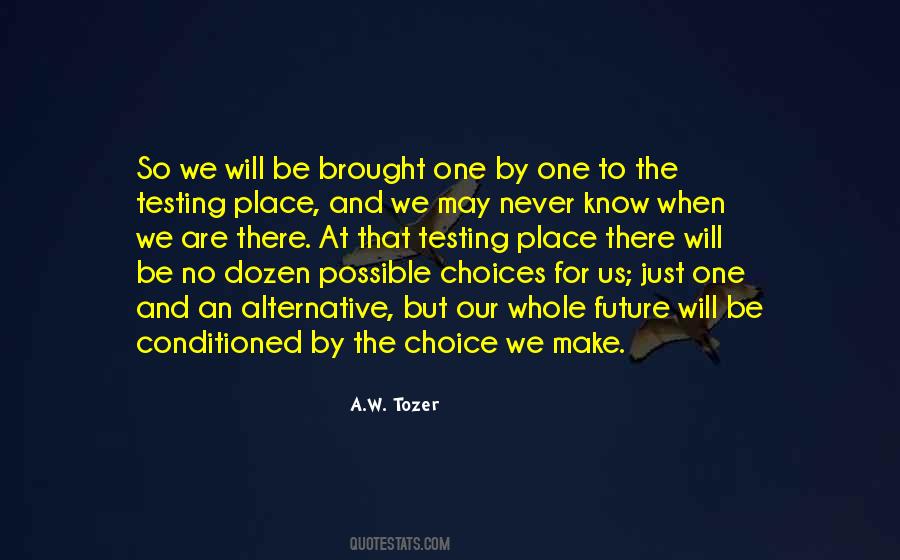 #48. We've figured out our roles: I wanted someone to take care of the male roles - the big stuff - and Laird [Hamilton] does that very well. I'm here to be the mom and make it better for him, and that's my choice. - Author: Gabrielle Reece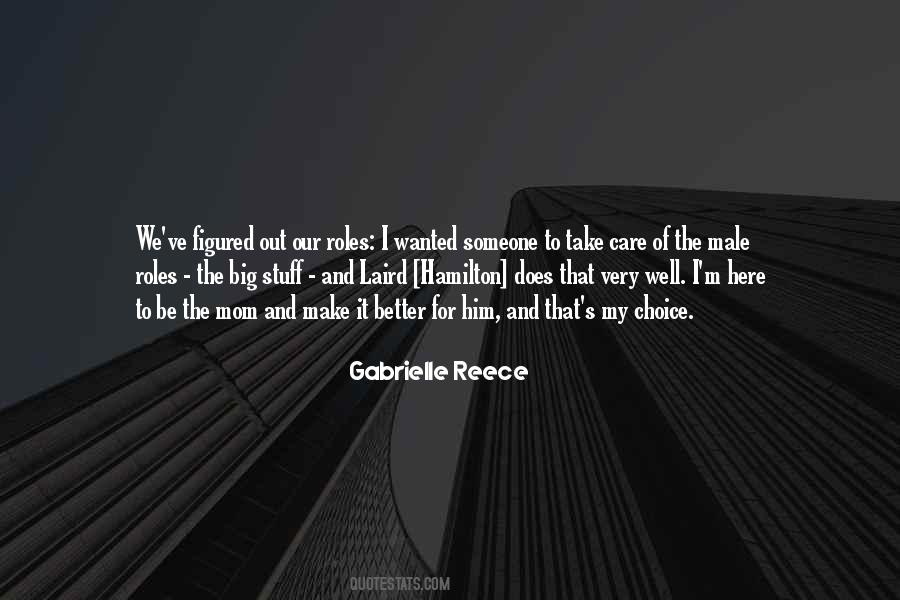 #49. Very few people voluntarily make things worse for themselves, if they have a choice. You know, there's the way we all like to think we behave, and then there's the way we actually do. - Author: Mhairi McFarlane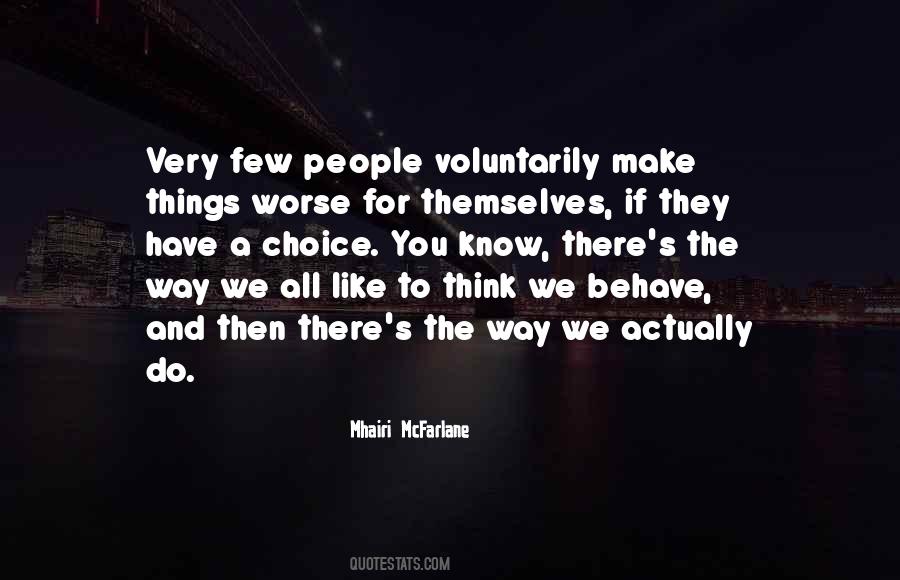 #50. I'm here. I'm always here. It's been how many years, Noah? How long are you going to push me away? I can't be with anyone else until I get closure from you. So tell me why? Why aren't we together? ... Stop being a little bitch and finally make a choice - Author: J.J. McAvoy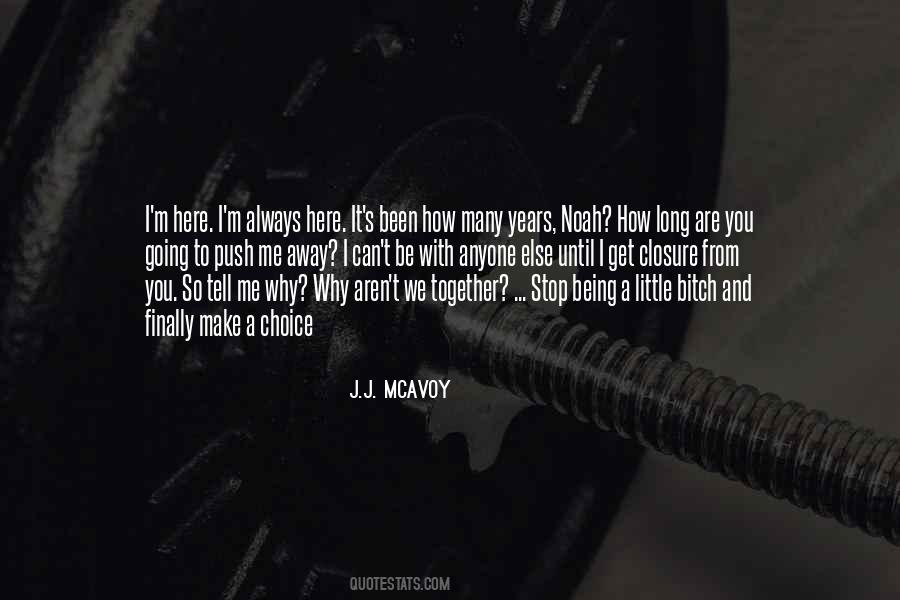 #51. I did make a choice when I got away from baseball to be there to get my kids off to college. - Author: Cal Ripken Jr.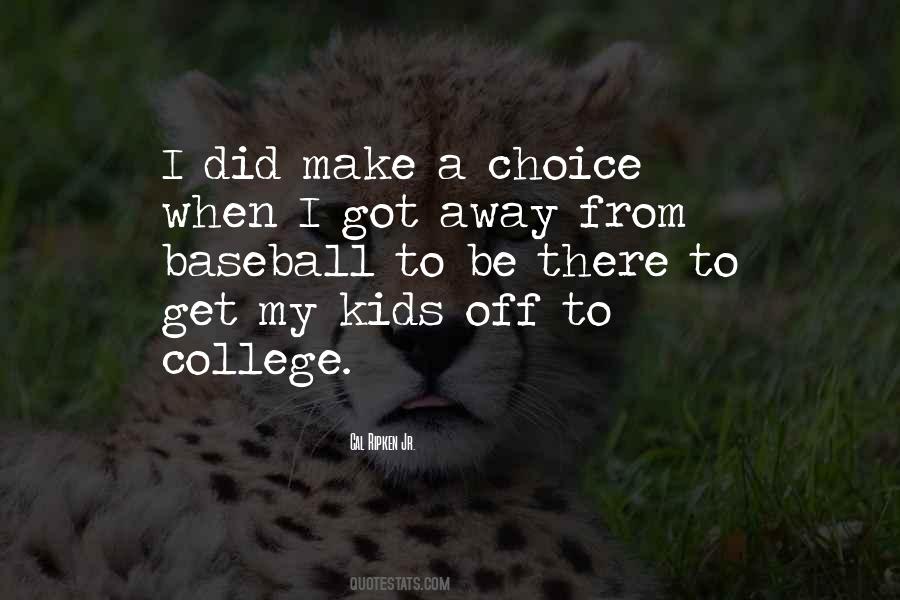 #52. A collection of plants is not a landscape, any more than a list of choice words is a poem. The merit is in the design, not the material it is expressed in, and the best designs, like the best poems, make ordinary material significant by its arrangement. - Author: Nan Fairbrother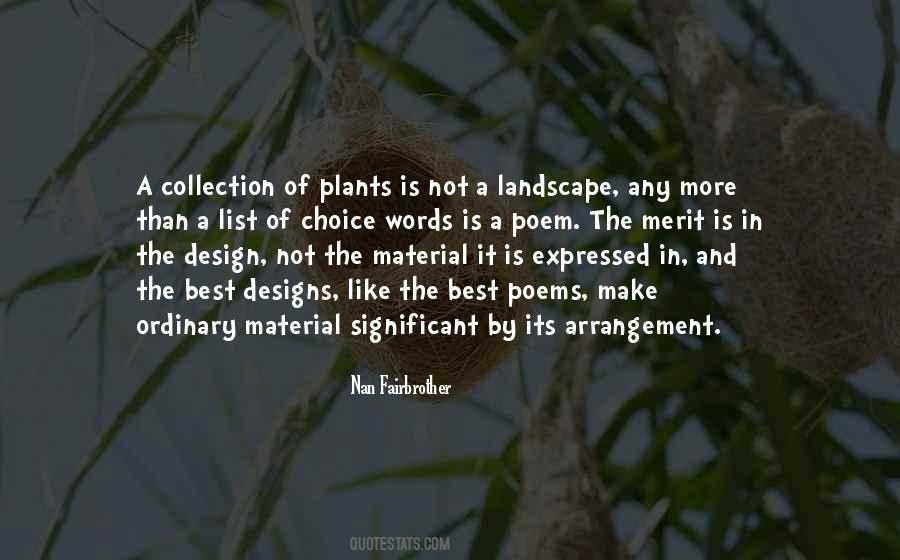 #53. Life is a choice.
You have to make a choice for your life. - Author: Lailah Gifty Akita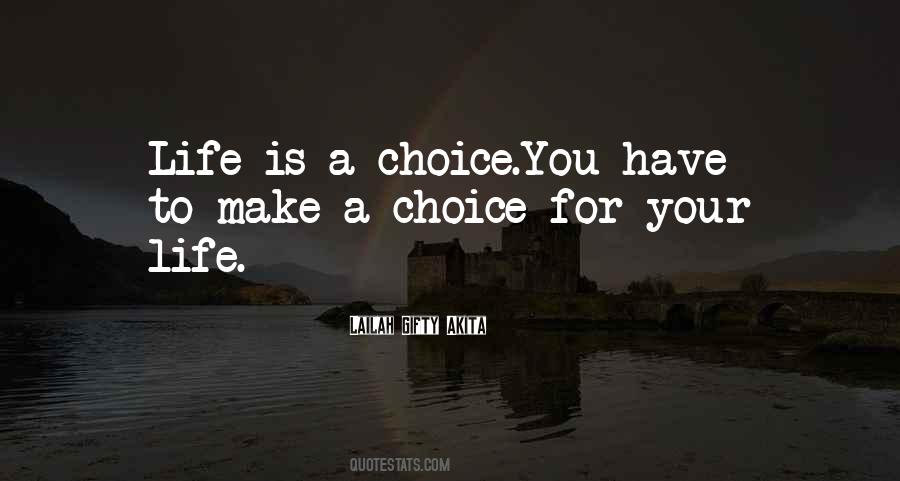 #54. I (God) will leave man to make the fateful guess, Will leave him torn between the no and yes, Leave him unresting till he rests in me, Drawn upward by the choice that makes him free, Leave him in tragic loneliness to choose, With all in life to win or all to lose. - Author: Edwin Markham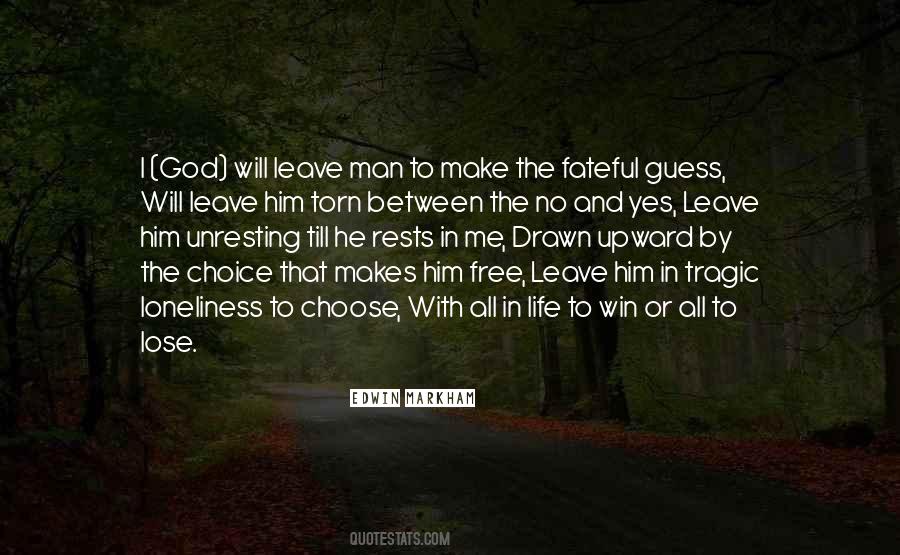 #55. Ultimately, everyone is acting out of what they feel is the best choice. In a way, they're all trying to improve the world. And I think that those basic choices make the world a better place. - Author: Chuck Palahniuk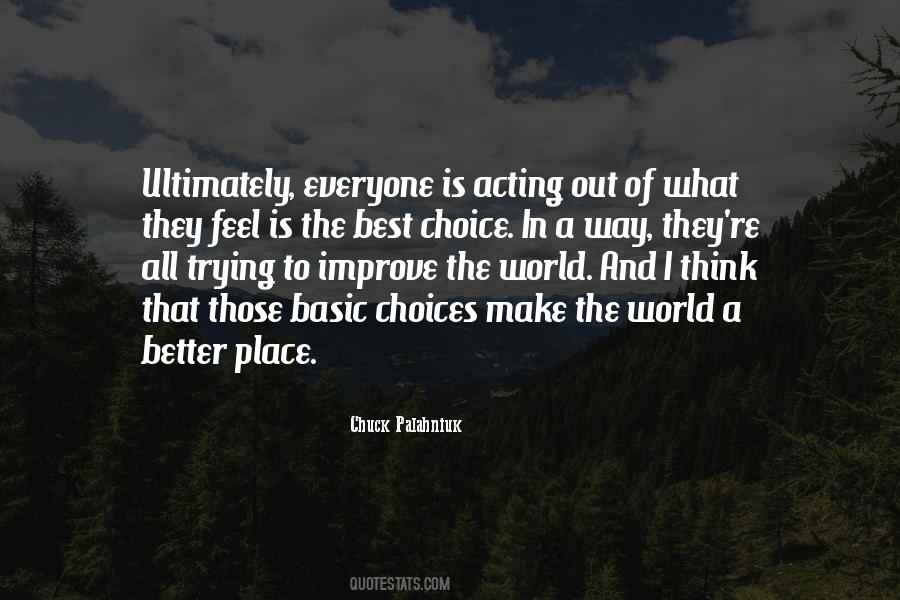 #56. You have two choices: You can make a living, or you can design a life. - Author: Jim Rohn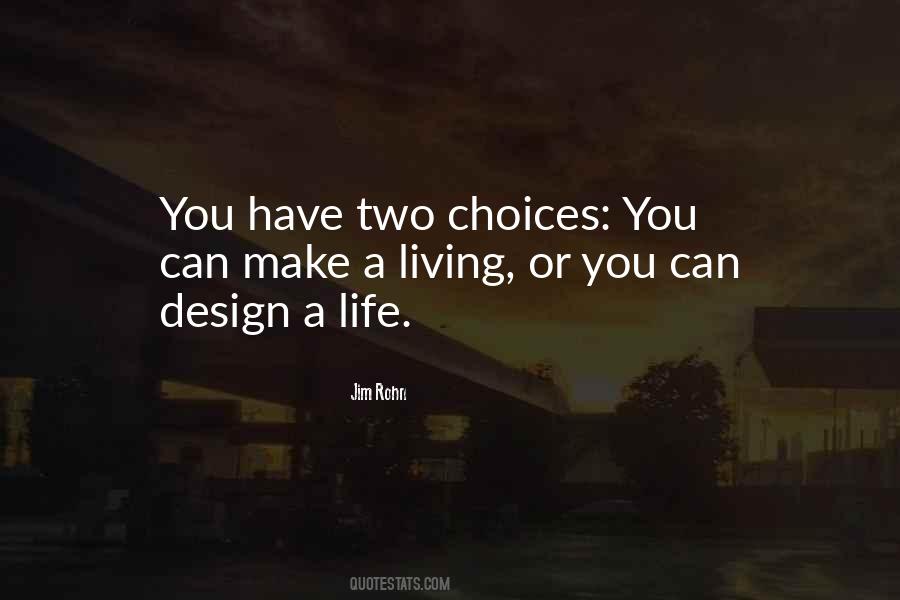 #57. A society has to make a choice: tolerate alternative lifestyles or build more prisons. - Author: Rick Steves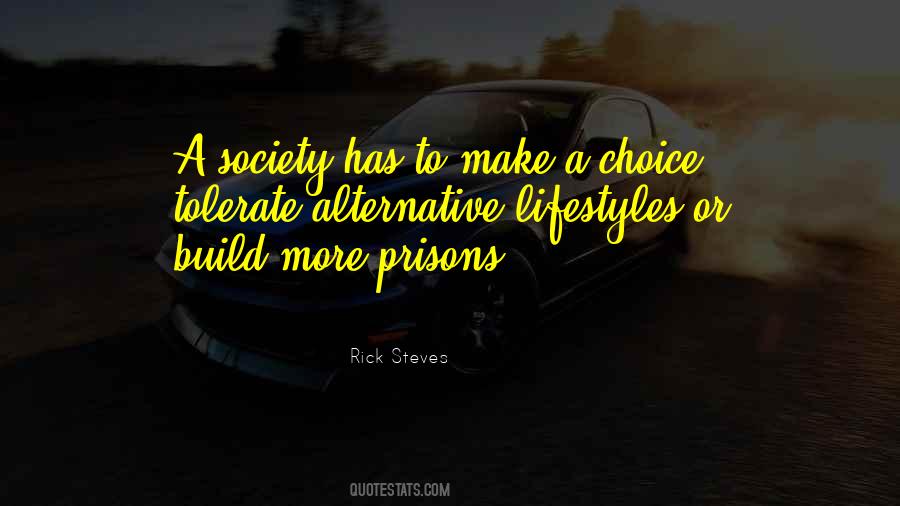 #58. Forgiveness is a choice only you can make. - Author: Michelle Moore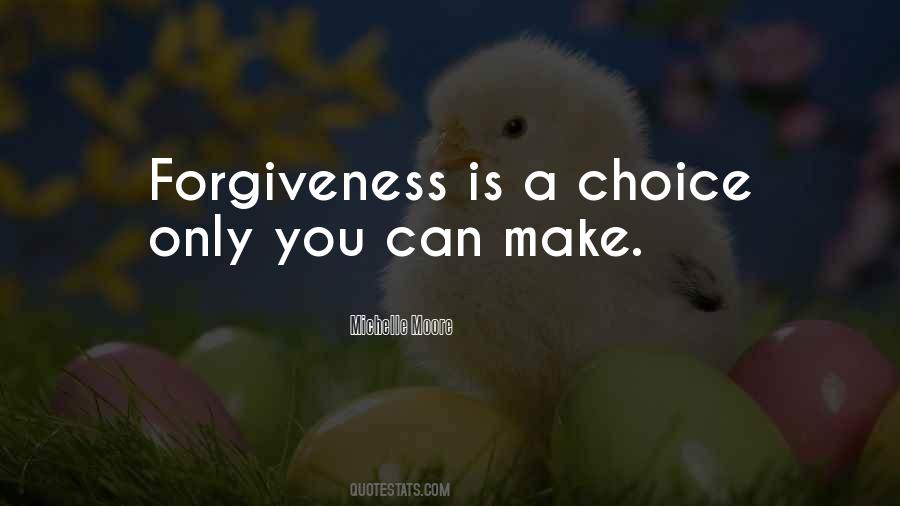 Famous Authors
Popular Topics