Happy Married Life Famous Quotes & Sayings
List of top 32 famous quotes and sayings about happy married life to read and share with friends on your Facebook, Twitter, blogs.
Top 32 Quotes About Happy Married Life
#1. When I first got married to my husband, he had boxes full of photos of my two stepsons, ages 5 and 8 at the time, and I put them together in some little albums and wrote notes about how happy I was that they were a part of my life. - Author: Nancy O'Dell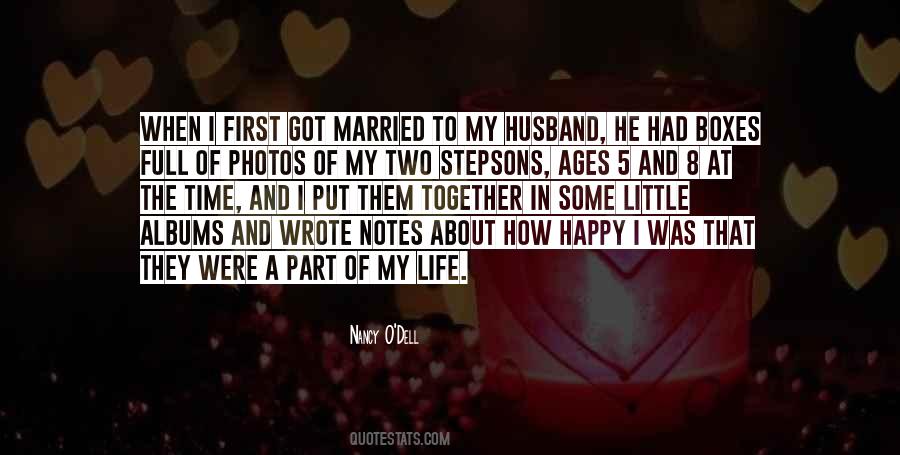 #2. I married a woman who is much better than me, I'm very fortunate to be with her and I know I'll be happy with her the rest of my life. - Author: Jim Caviezel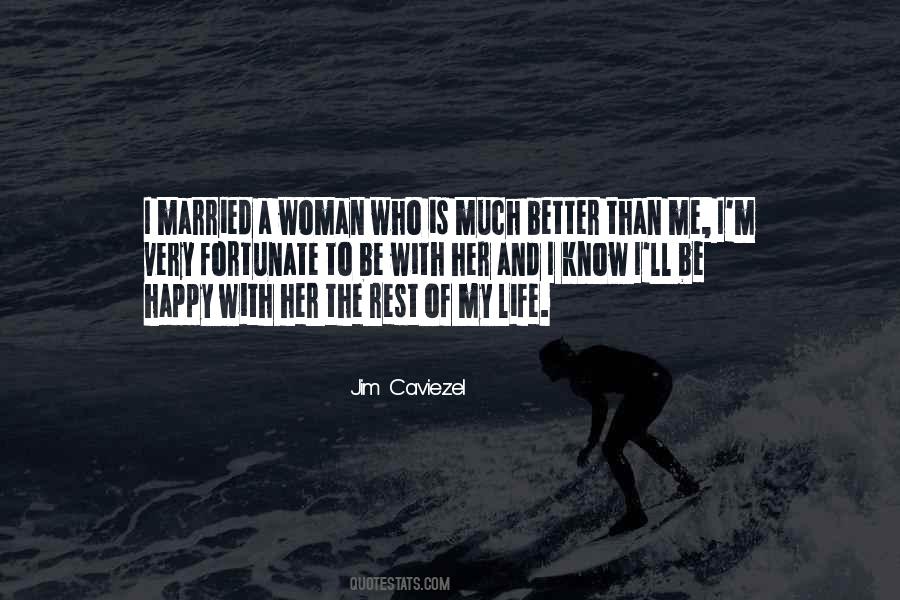 #3. You know marriage is like hunger. You yearn for it till you don't get the food. Once the stomach is full, you don't want more on your plate. But then hunger can subside only temporarily. It keeps coming back and that's how exactly a happy married life keeps going on, with all ups and downs. - Author: Shikha Kaul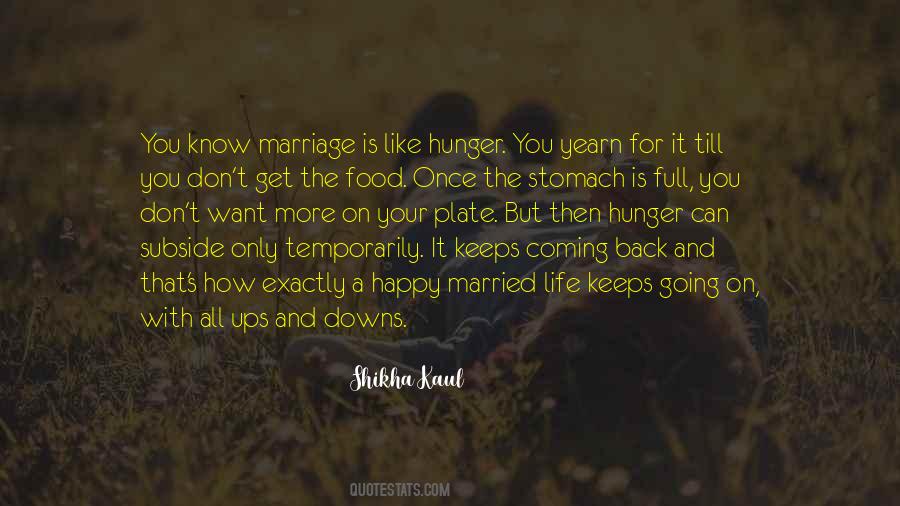 #4. The only luck I had in my life was when I married you. I knew it wouldn't last because I was too happy. I knew they would not let me be happy. - Author: Eddie Slovik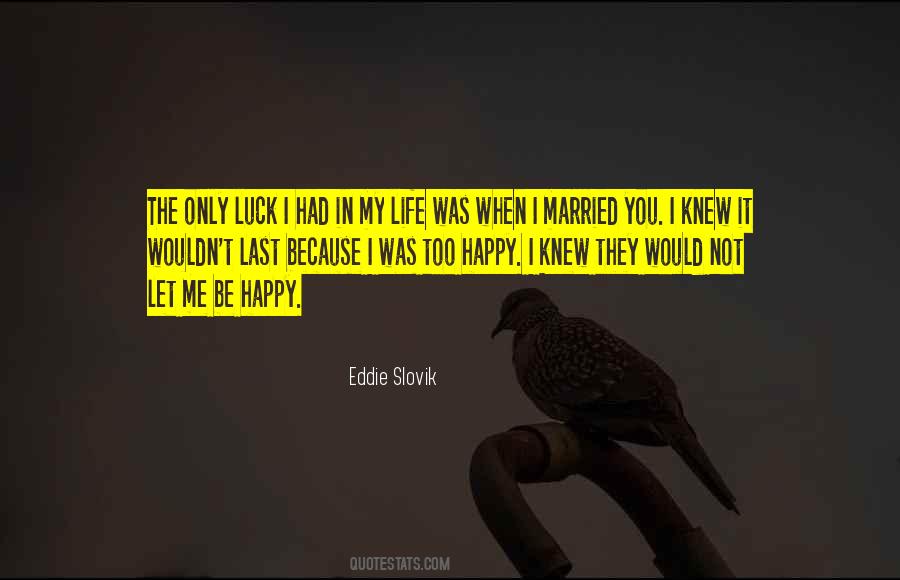 #5. I've three children, three grandchildren, I work, I travel, and I'm very happily married. I'm very satisfied and happy with my life and there really isn't anything I want. - Author: Joan Collins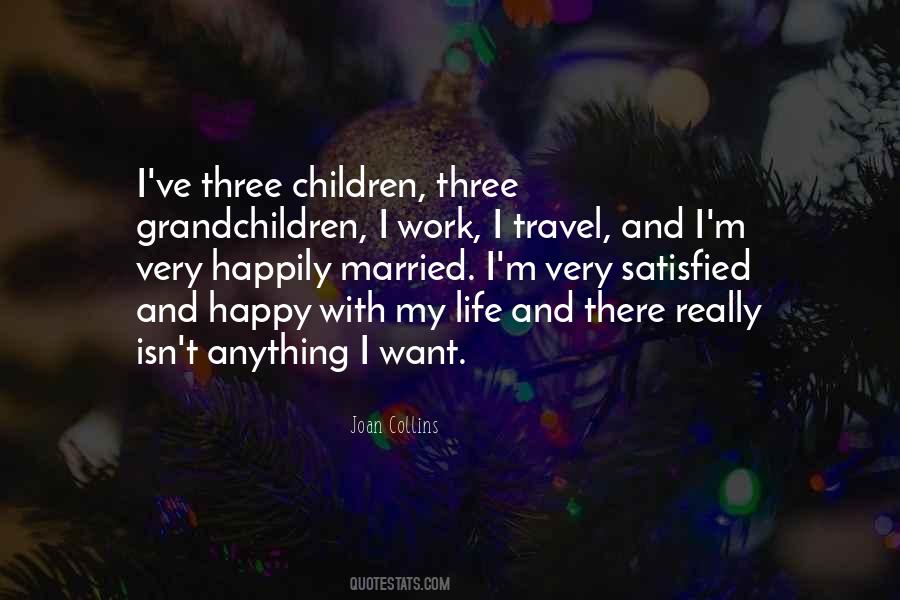 #6. My own sex life is very monogamous and happy ... just a happy married sex life! - Author: Tom Ford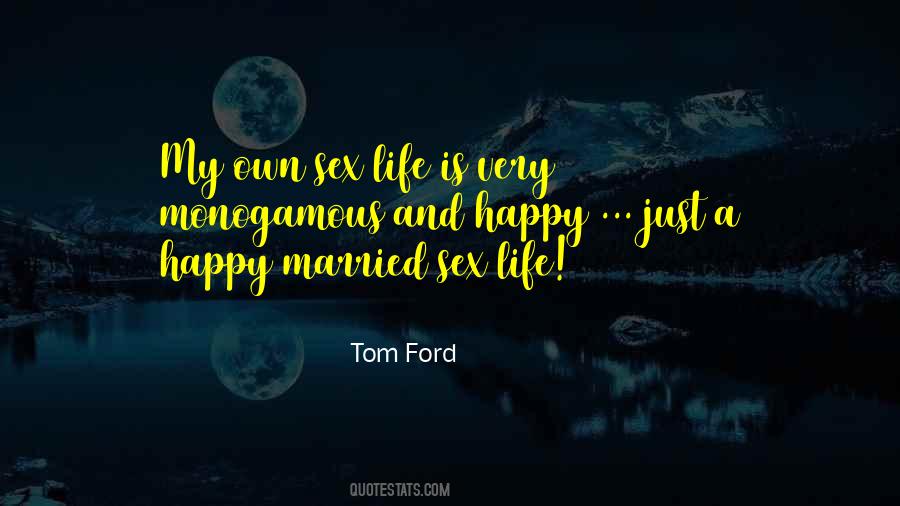 #7. I've been mainly a happy boy in my life. I married the right girl and we did what we wanted to do. - Author: Richard Ford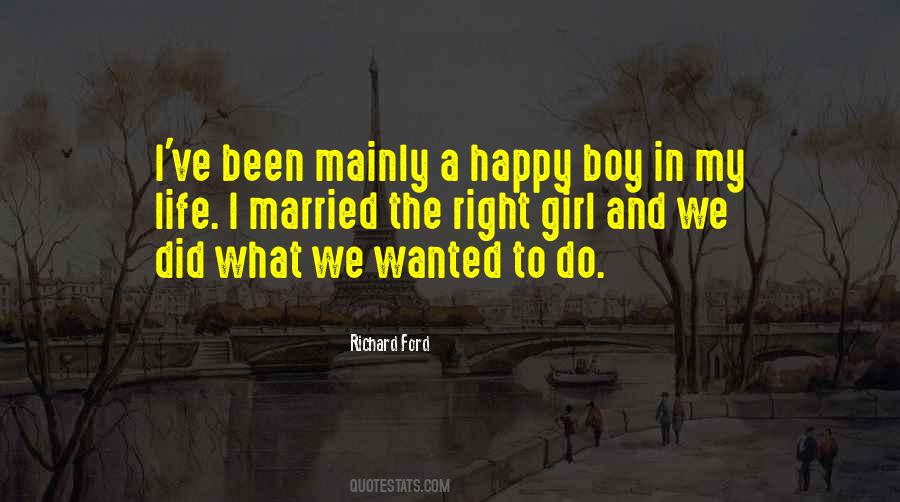 #8. It's most dangerous nowadays for a husband to pay any attention to his wife in public. It always makes people think that he beats her when they are alone. The world has grown so suspicious of anything that looks like a happy married life. - Author: Oscar Wilde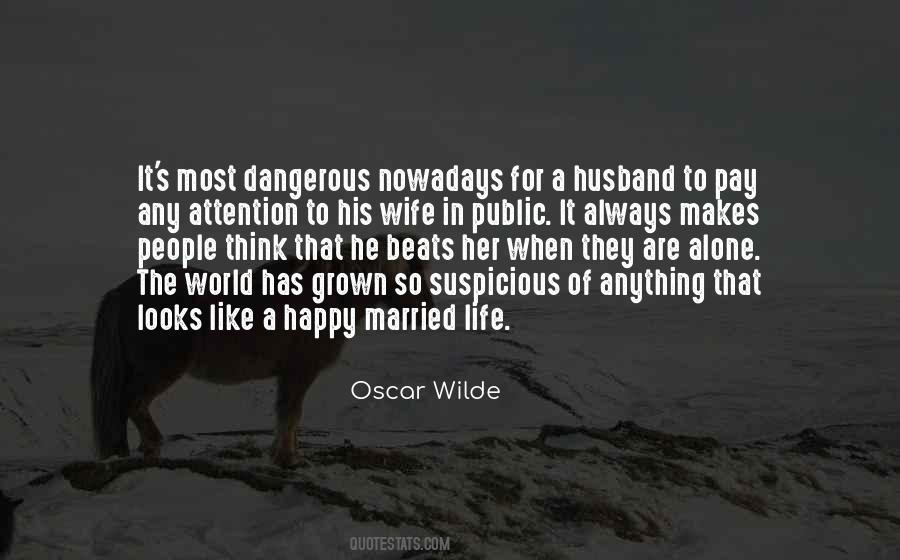 #9. You should get married. When I was younger, I was into the fame and fortune, and now I realize that a loving wife and happy children - that's life's greatest consolation prize. - Author: Emo Philips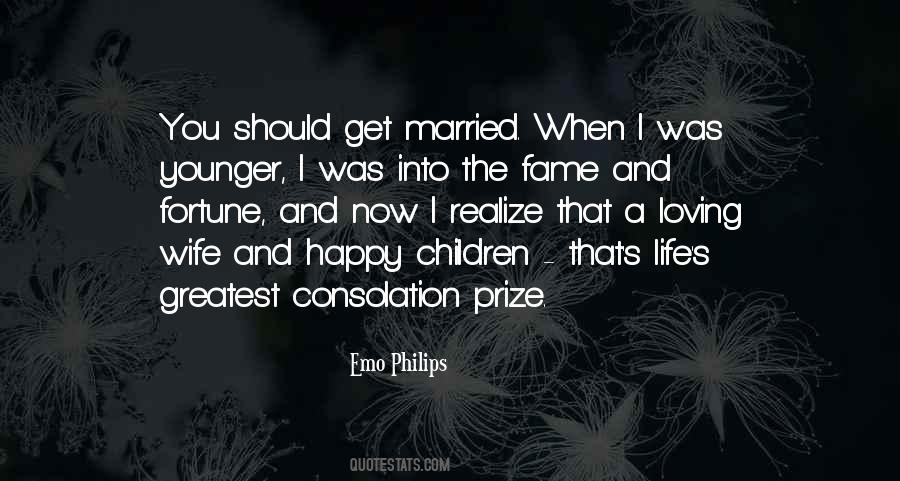 #10. I'd rather be single, happy, and lonely sometimes than married, lonely, and happy sometimes. - Author: Mark Fiore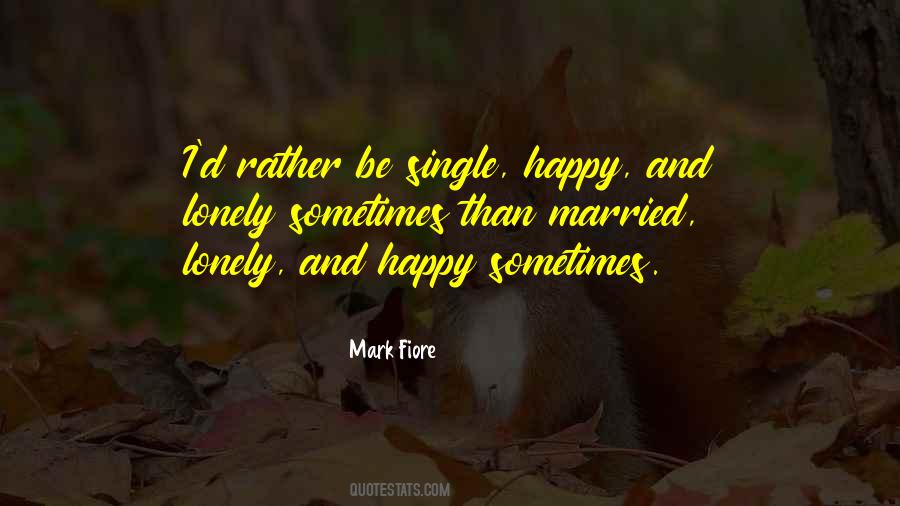 #11. We allow each other to pursue our goals. I wouldn't want to be married to someone who was not happy with what they were doing with their life and Bono wouldn't either. - Author: Ali Hewson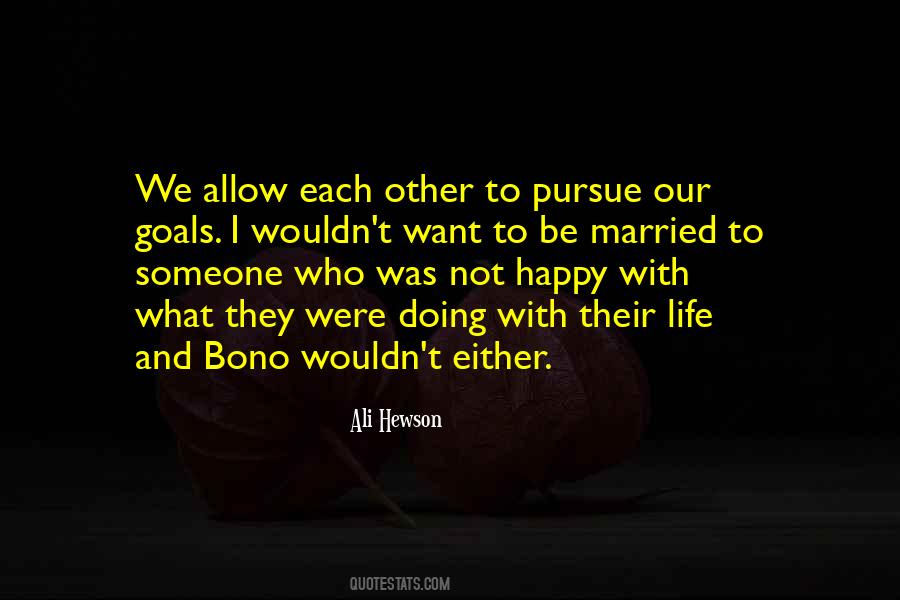 #12. I'm happy being single but I definitely want someone in my life. I want to eventually get married and have kids. - Author: Matthew Morrison
#13. Nothing funny about happy people. I don't know, you just look at a situation or a life, and you can kind of pick up the areas of conflict and delve in there, because that's where the most story is. If someone's happily married for 20 years, that's great, but it's not that funny. - Author: Kate Beaton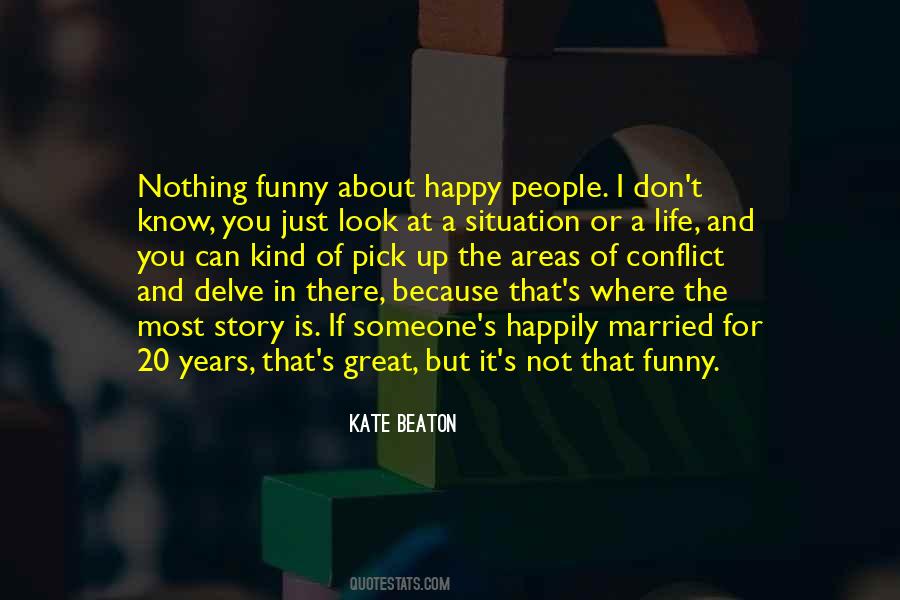 #14. When Larten heard that Alicia had married, he felt both jealousy and delight. A selfish part of him had hoped she'd mourn for him the rest of her life. But mostly he was happy that she'd found someone who could give her all that he had failed to provide. - Author: Darren Shan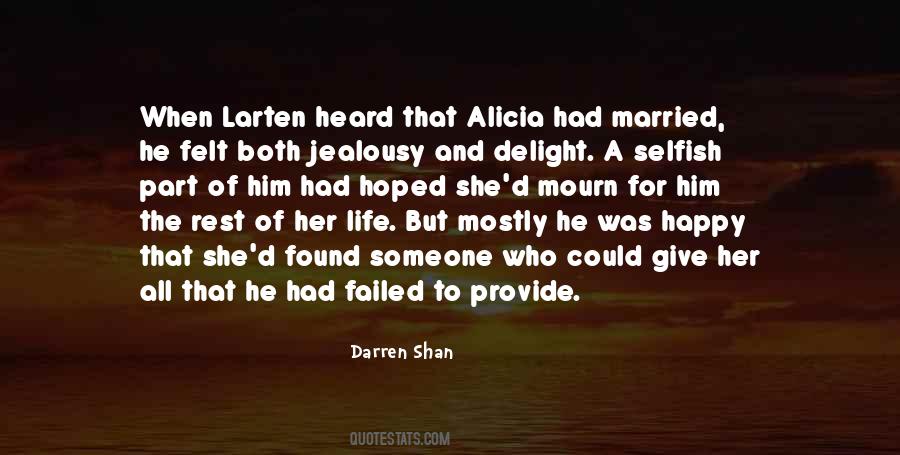 #15. Love, trust, sincerity and sex key element of happy married life. - Author: Minesh Shakya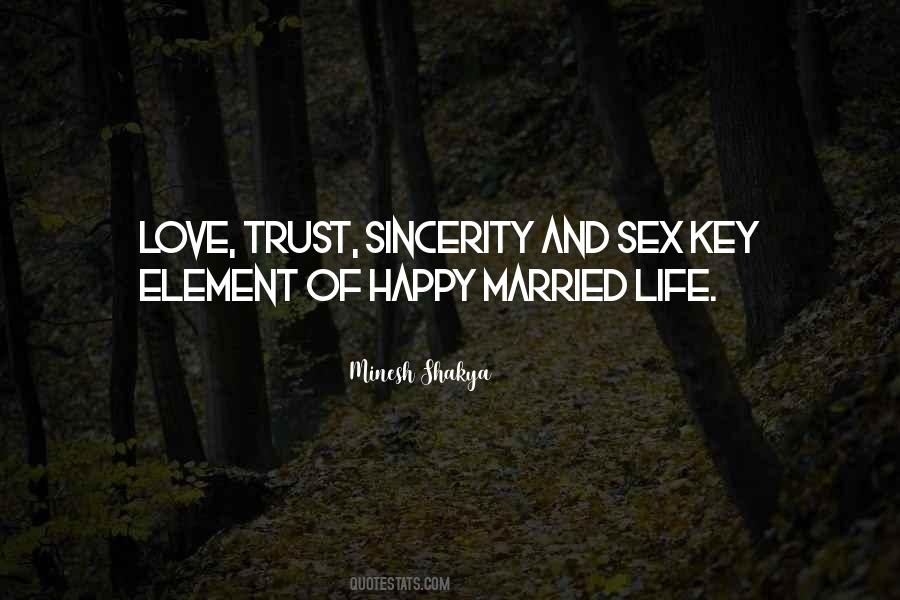 #16. Some people say the reason I am not married is that I don't understand small business and the toughest small business in the world is a family. But when you are happy and feel every minute of your life, what is the reason to get married? - Author: Mikhail Prokhorov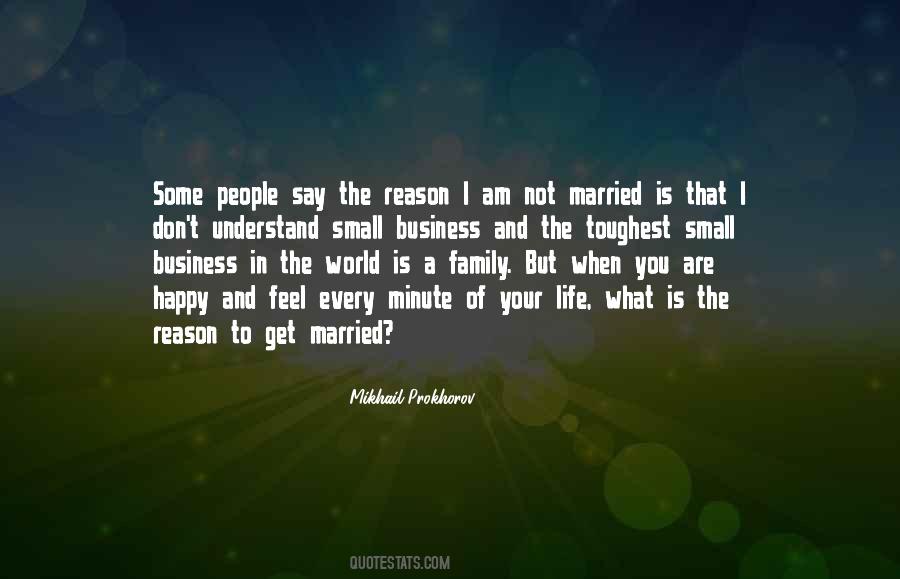 #17. How gracious to forgive the people who hurt you - Author: Lailah Gifty Akita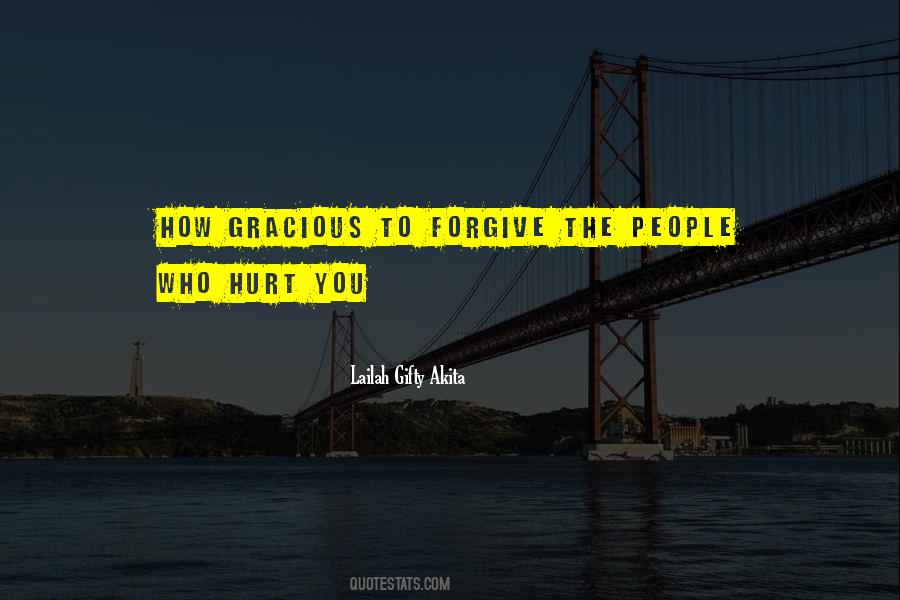 #18. To bear a child or to get married is not the primary goal for a lady who wants to become successful in life - Author: Sunday Adelaja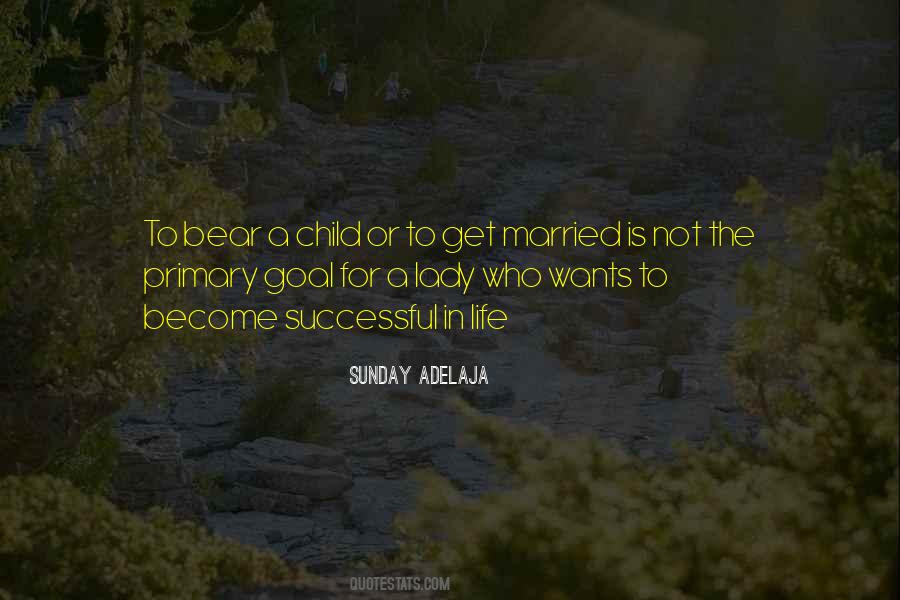 #19. Common courtesy plays a big role in happy marriages. People who are permanently married are polite to one another. They don't want to hurt one another's feelings, and they don't try to make the other one feel humiliated. People who are married for life are extremely kind to one another. - Author: Frank Pittman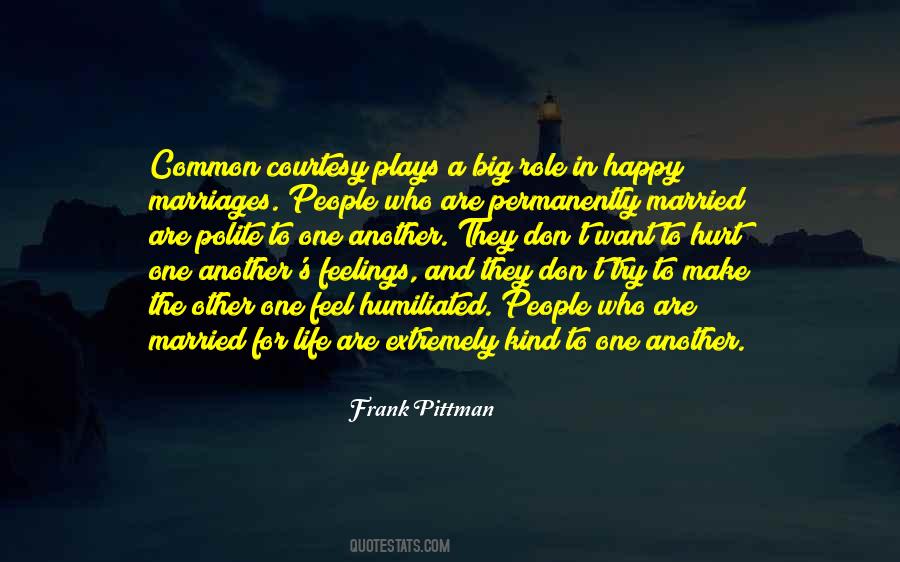 #20. There's also something about your bed; it's sort of a symbol of yourself and of your marriage, if you're married. Making your bed doesn't seem to be an important thing in a happy life, and yet it can be that tiny foothold into a more orderly life that sometimes people need. - Author: Gretchen Rubin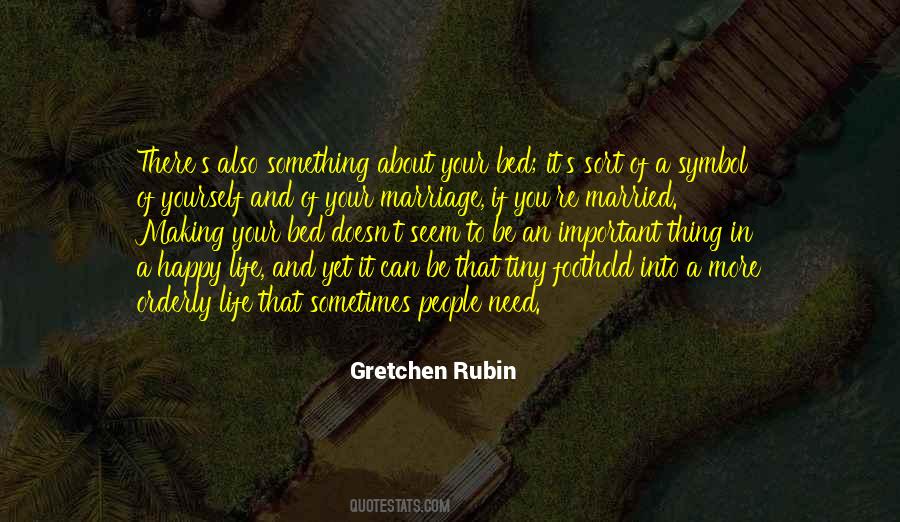 #21. Really, this horrid House of Commons quite ruins our husbands for us. I think the Lower House by far the greatest blow to a happy married life that there has been since that terrible thing called the Higher Education of Women was invented. - Author: Oscar Wilde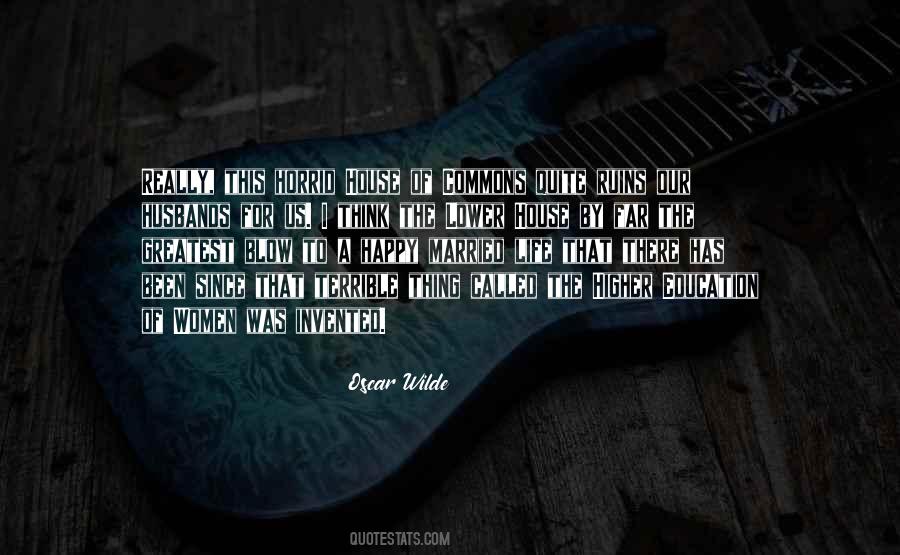 #22. I live in the suburbs, the final battleground of the American dream, where people get married and have kids and try to scratch out a happy life for themselves. - Author: Harlan Coben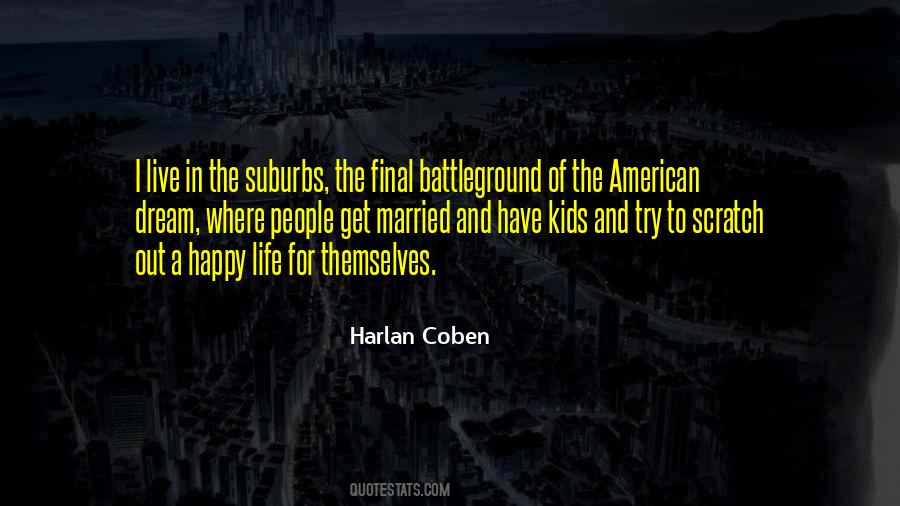 #23. As married people, we dwell on a spectrum between happy and unhappy, in love and out of love, and we move back and forth on that line decade by decade, year by year, week by week, even hour by hour. - Author: Ada Calhoun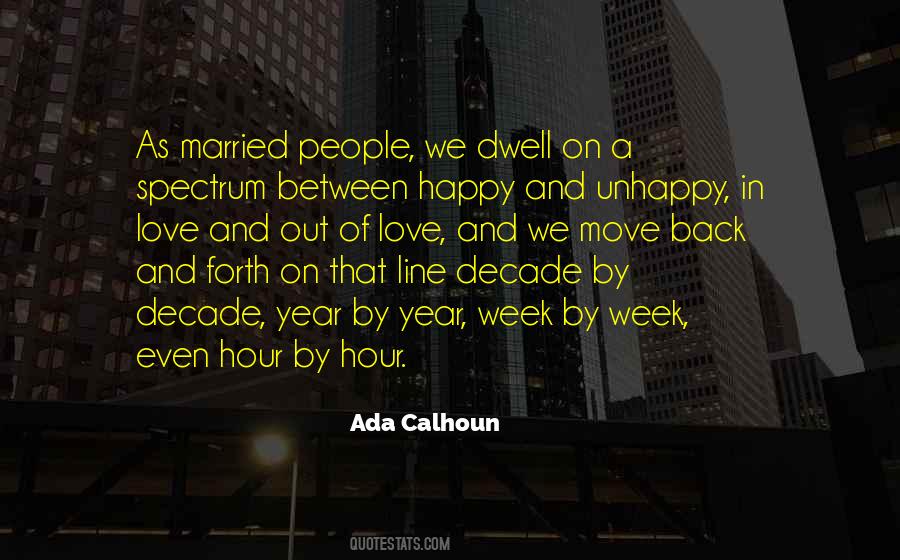 #24. I am so happy, too, though I never married. You know, there are many paths in a life. But the best ones are the ones where you are living the truth and search for good and giving to others. - Author: Jacqueline Novogratz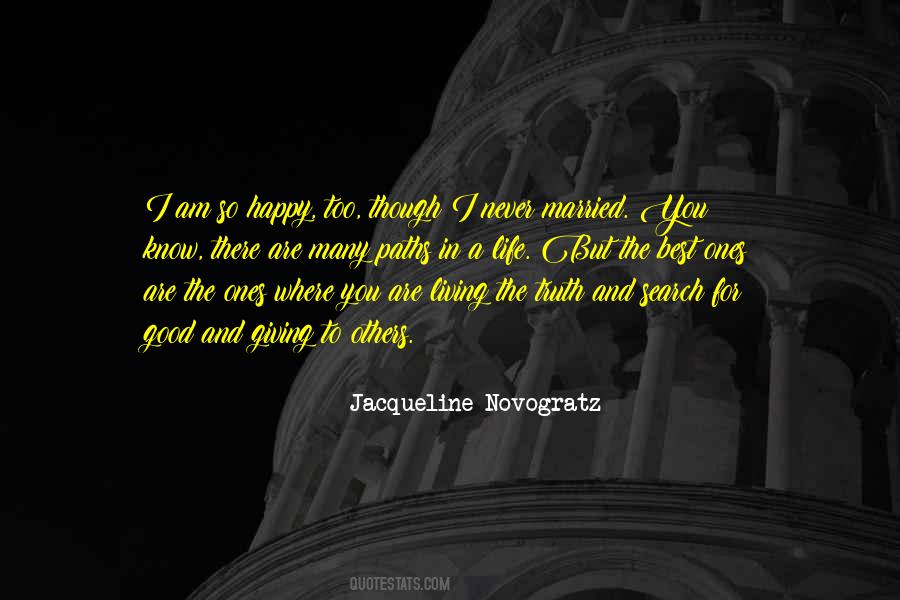 #25. You aren't intending to spend your married life quarreling, I hope?" Claude said, frowning as his brother passed a hand nervously through his hair and turned to the door. "I intend to be happy," Lord Francis said. "I shall see to it that I quarrel with Soph every day of our lives, Claude. - Author: Mary Balogh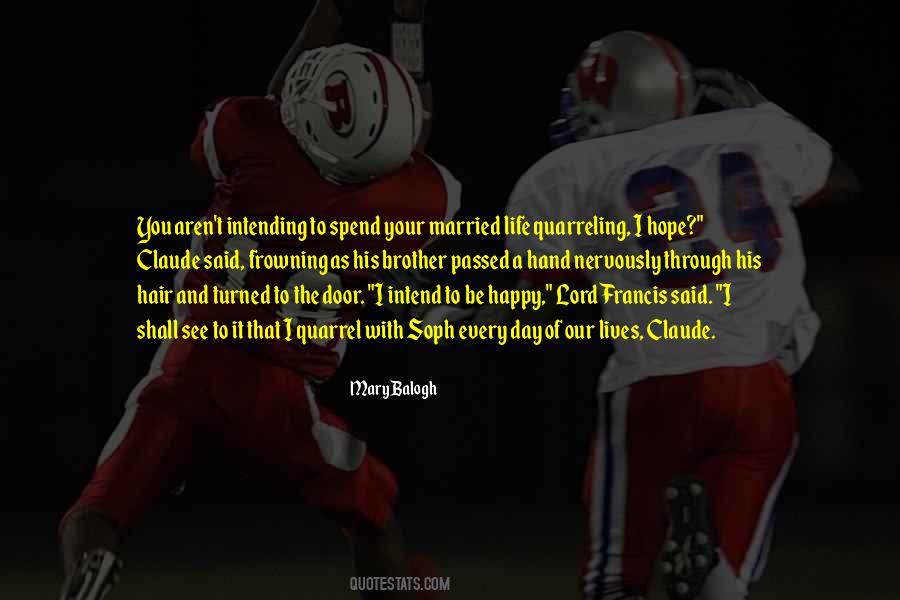 #26. I want Thy plan, O God, for my life. May I be happy and contented whether in the homeland or on the foreign field; whether married or alone, in happiness or sorrow, health or sickness, prosperity or adversity
I want Thy plan, O God, for my life. I want it; oh, I want it. - Author: Oswald J. Smith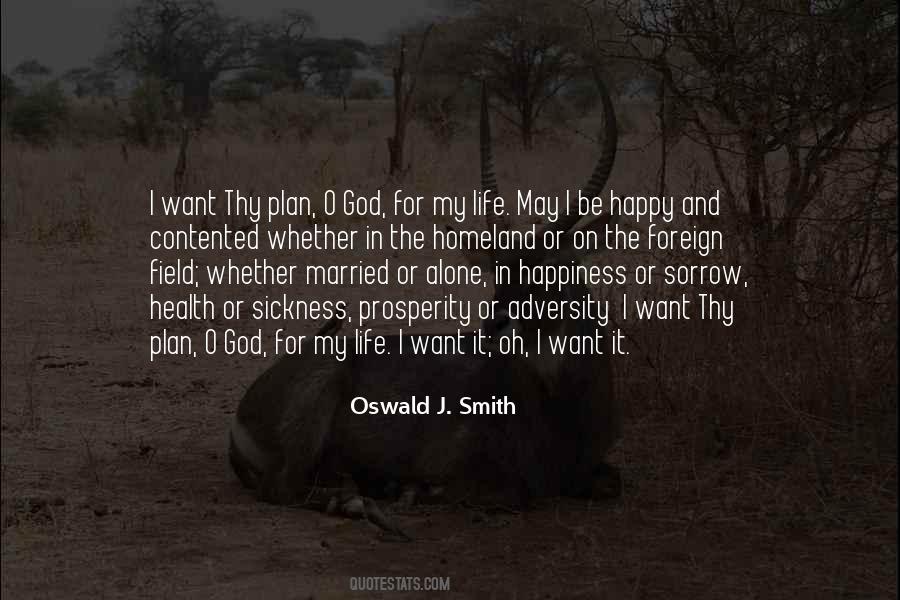 #27. I like marriage, family life and I wish to get married again. But opting out of an unhappy marriage was a duty toward myself & my future. - Author: Rossana Condoleo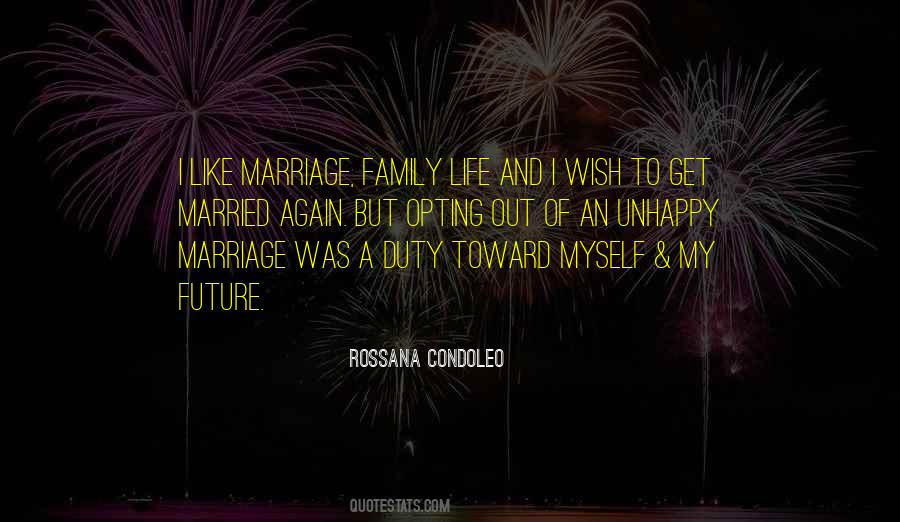 #28. But then, you know, I'm very happy, I've got to this stage in my life and I'm not dead. I haven't got married and divorced and done all that palimony business, you know all that mess. - Author: Michael Hutchence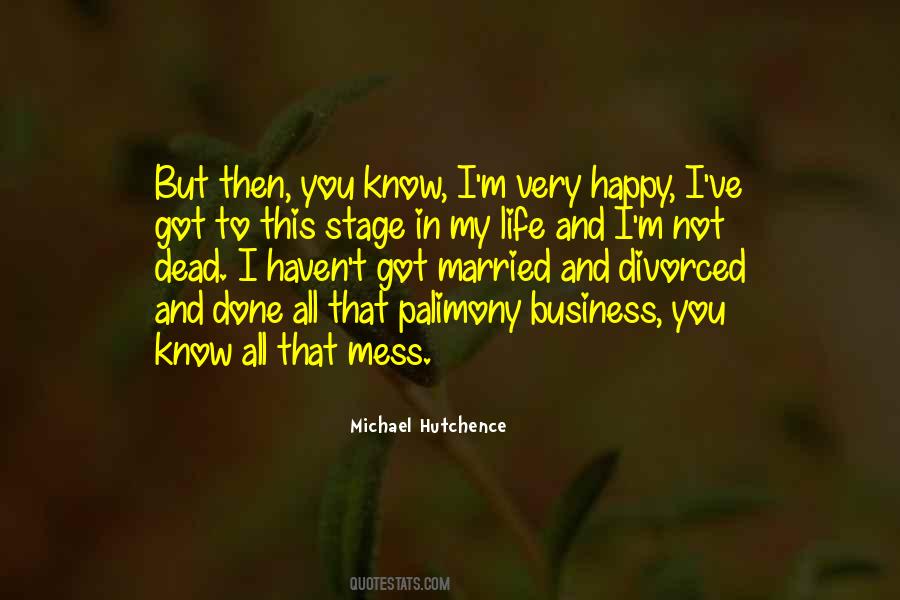 #29. Single or married, you are responsible for your own personal happiness. - Author: Kathy McClary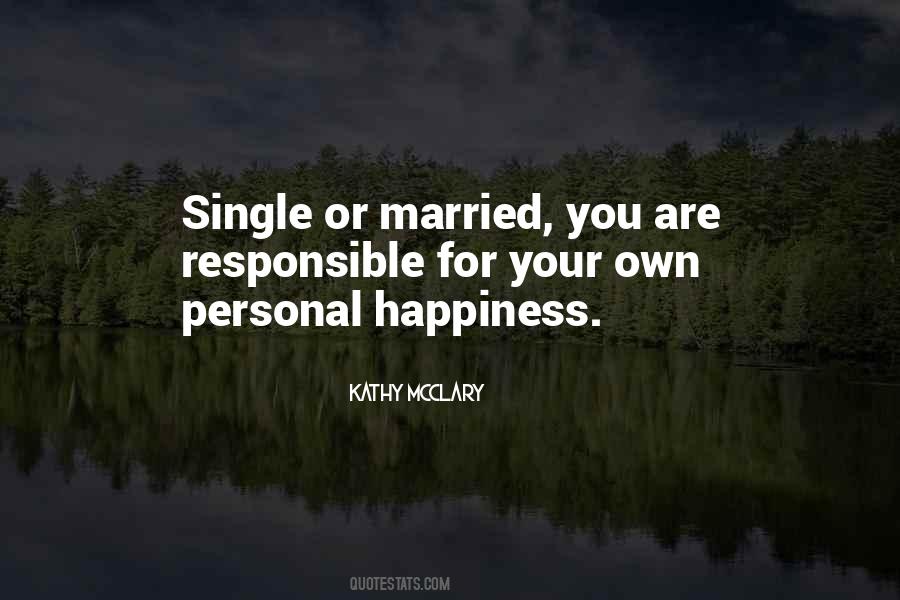 #30. It is really rare to find someone you really, really love and that you want to spend your life with and all that stuff that goes along with being married. I am one of those lucky people. And I think she feels that way too. So the romantic stuff is easy because you want them to be happy. - Author: Harry Connick Jr.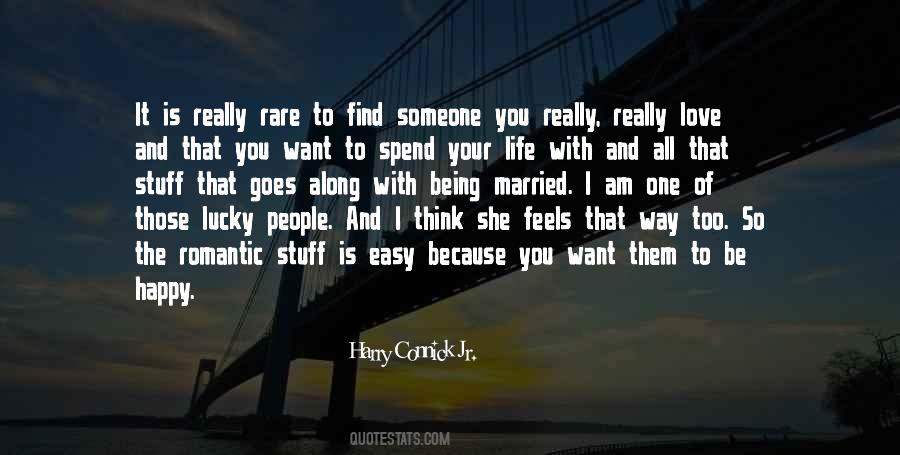 #31. When I am sitting home, and I am happy and I have my TV show and I don't need to work and I'm married now and I like to be in line by my pool with my yoga instructor wife and eating fruit and taking in the sun, then life is good. - Author: Alec Baldwin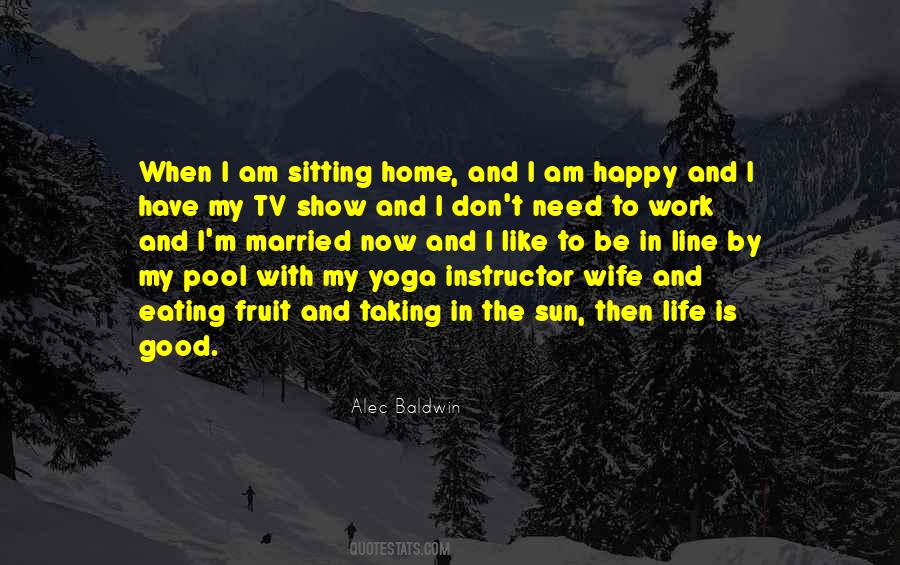 #32. You have the rest of your life to be married. Enjoy falling in love. When girls get caught up in the timeline, it becomes more about the wedding than the marriage. You should be with someone with whom you could elope this weekend and be happy. - Author: Lauren Conrad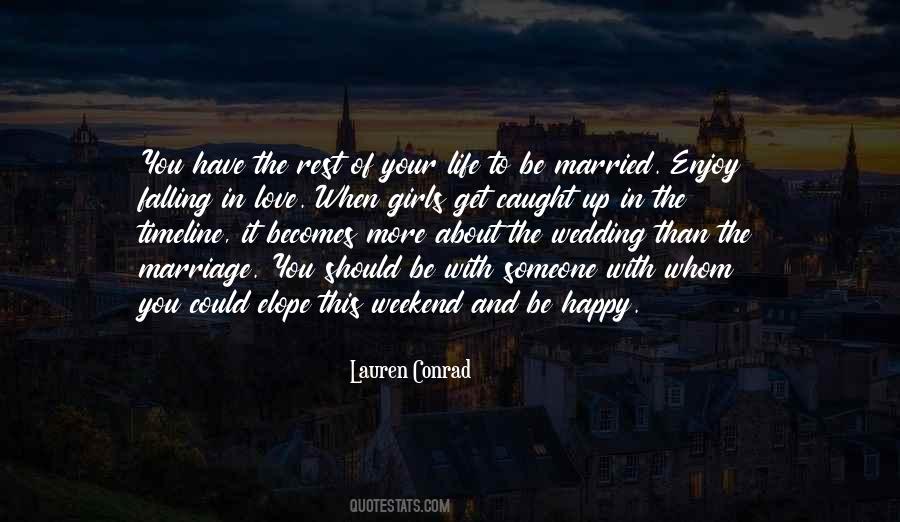 Famous Authors
Popular Topics