Happiness And Work Famous Quotes & Sayings
List of top 100 famous quotes and sayings about happiness and work to read and share with friends on your Facebook, Twitter, blogs.
Top 100 Quotes About Happiness And Work
#1. We have to work at decolonizing our mentality and achieving happiness within the limits of sacrifice we should be willing to make. We have to recondition our people to accept themselves as they are, to not be ashamed of their real situation, to be satisfied with it, to glory in it, even - Author: Thomas Sankara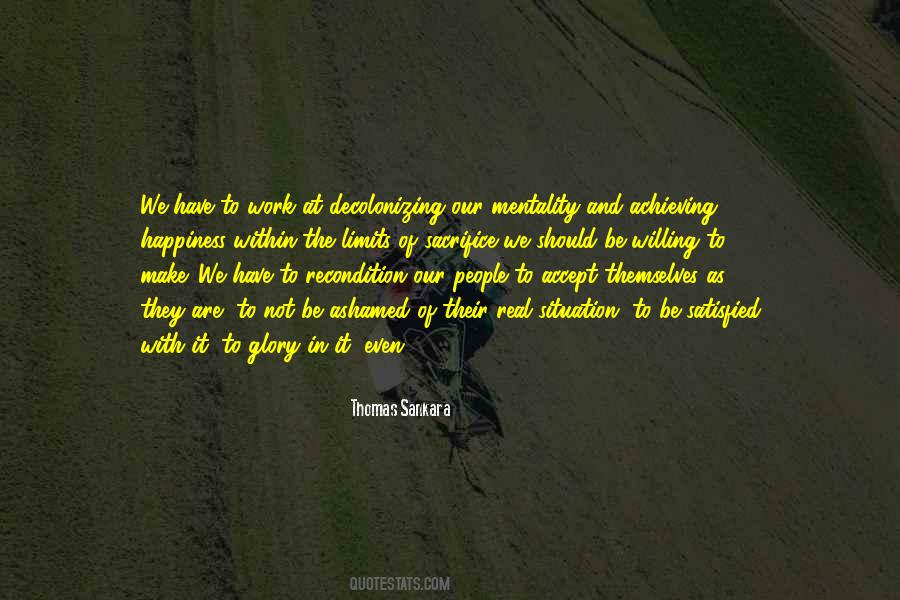 #2. Happiness being surrounded by good friends and family at a BBQ. - Author: Richie Norton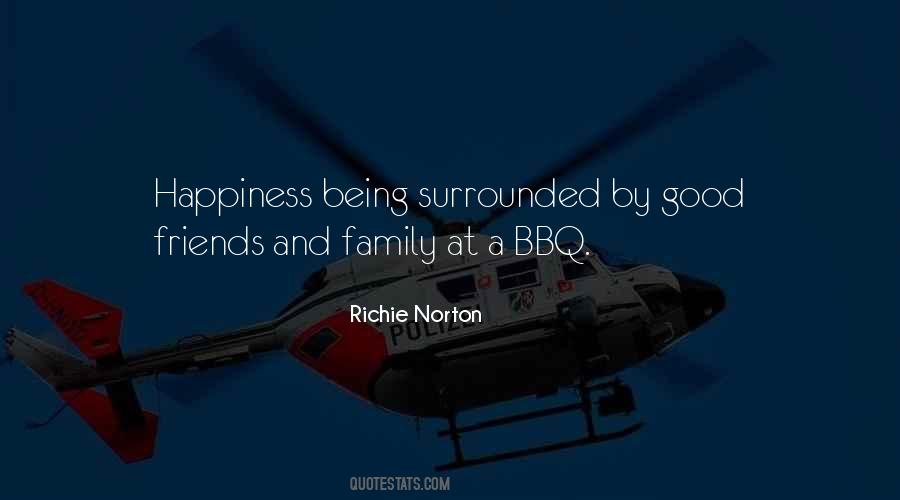 #3. There are things money can't buy and hard work can't win. One of them is happiness. - Author: Ray Kroc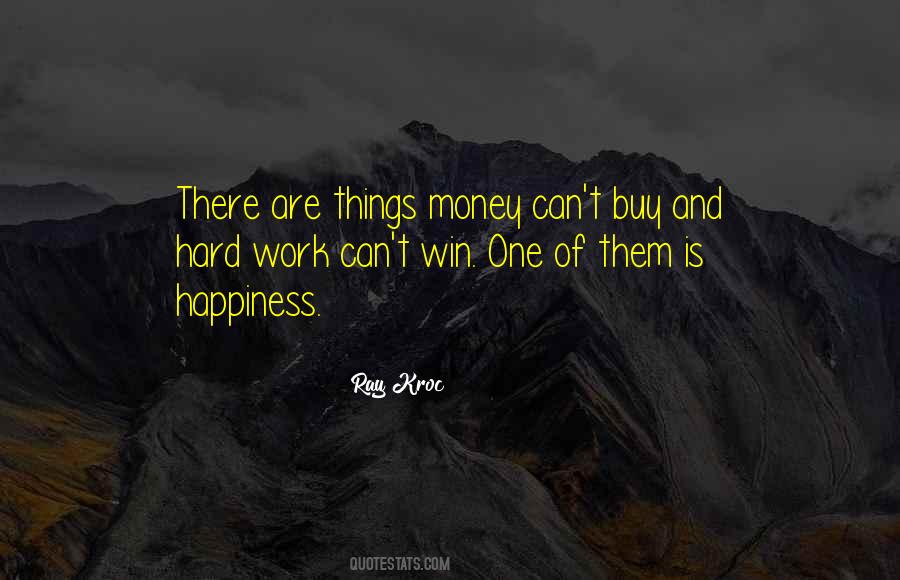 #4. Life has its insidious way of crawling its way back into your sphere and you're dumbed down again by so many distractions including work obligations, social niceties and mountains of clothes washing. - Author: Josh Langley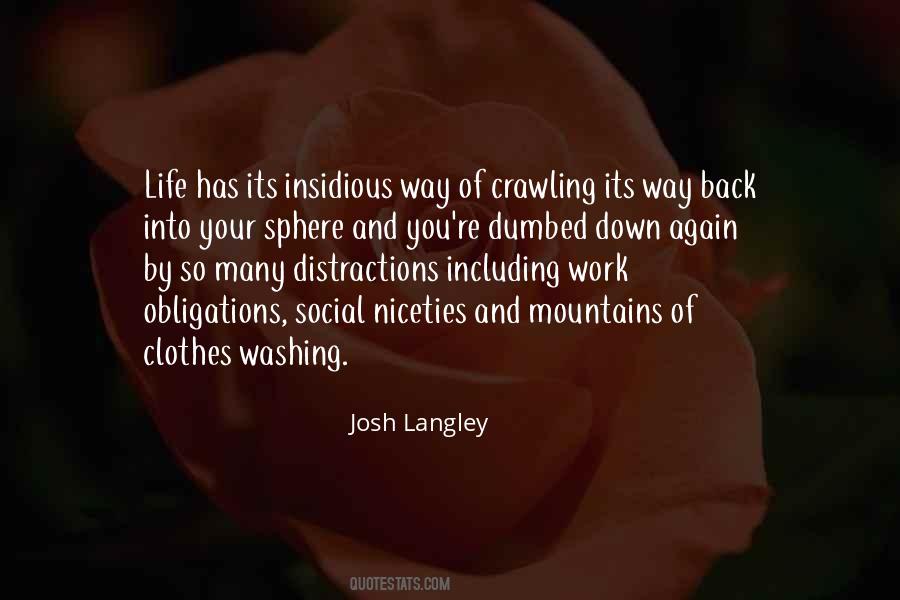 #5. I find my greatest happiness in thinking of those days in Homestead when I labored to bring a thing to perfection entirely by myself. In the evenings, I would go into the hills and look down on my work, and I knew that it was good, and my heart was elated. - Author: Charles M. Schwab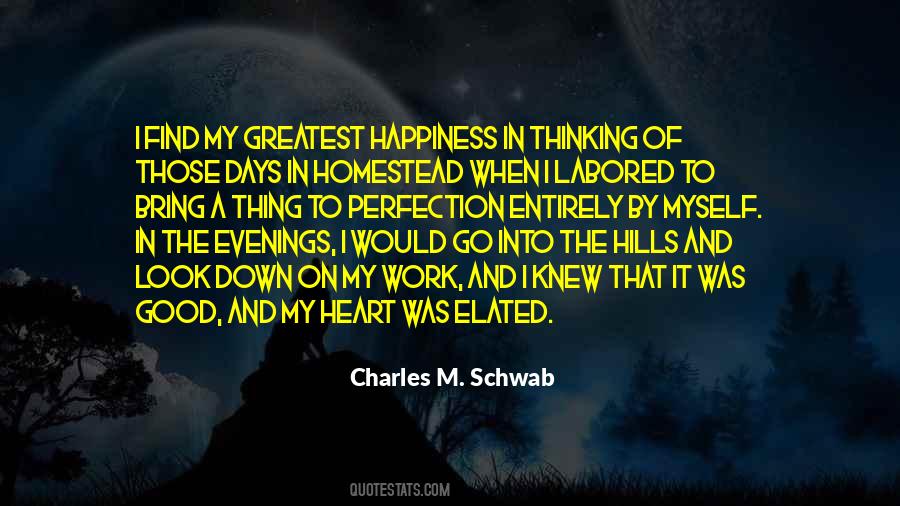 #6. We tend to think that it's up to others to respect our needs and fill them for us. But that doesn't ever work, and for the following reason:
If you have a hard time knowing what it is you really need, then how on earth can you logically expect someone else to know? - Author: Amanda Butterworth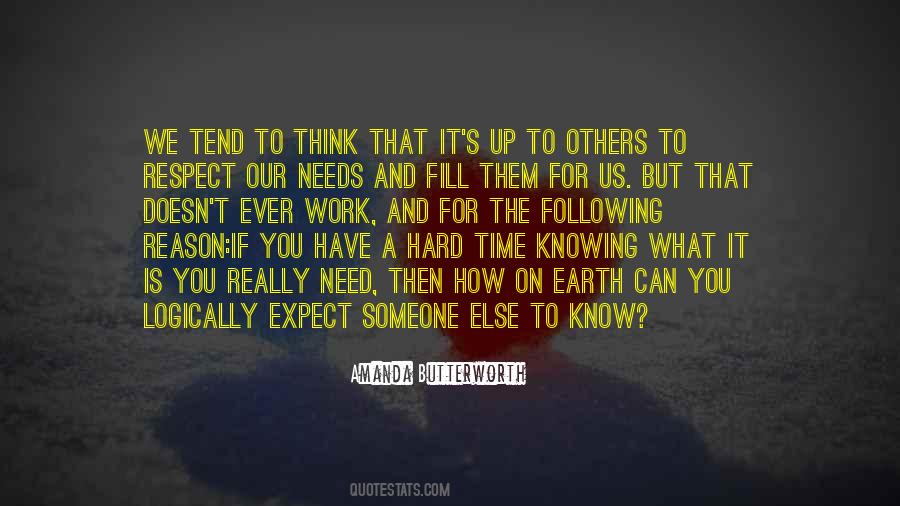 #7. If you establish serenity and happiness inside yourself, you provide the world with a solid base of peace. If you do not give yourself peace, how can you share it with others? If you do not begin your peace work with yourself, where will you go to begin it? - Author: Nhat Hanh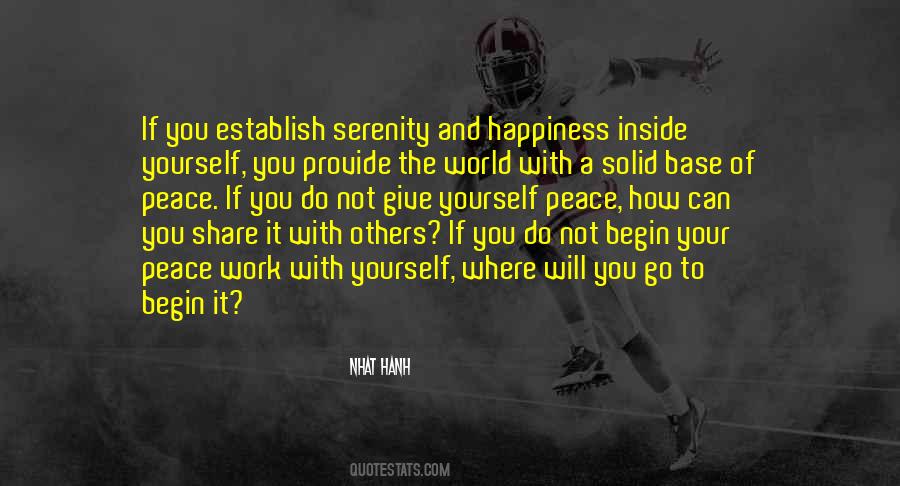 #8. The professional has learned that success, like happiness, comes as a by-product of work. The professional concentrates on the work and allows rewards to come or not come, whatever they like. - Author: Steven Pressfield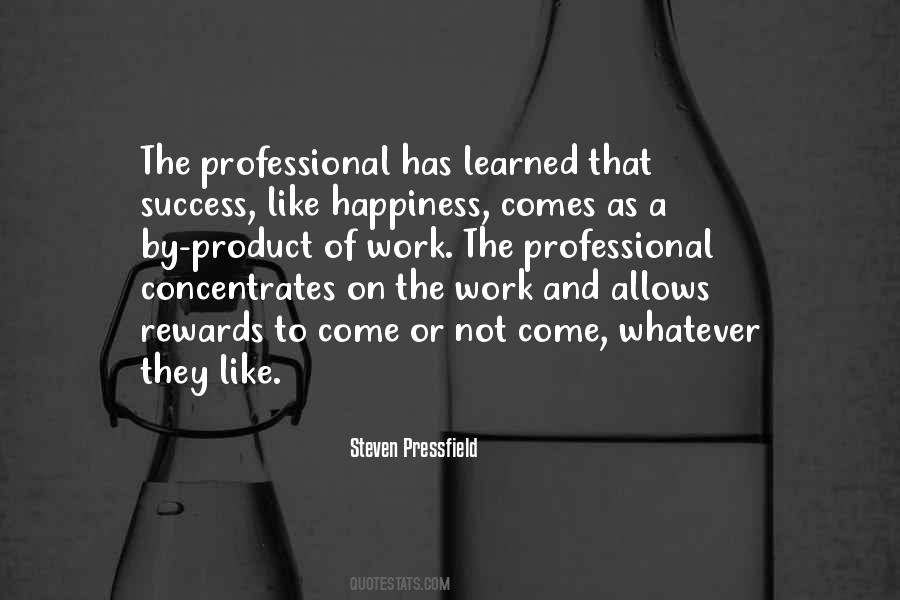 #9. Want to have better and more effective meetings? Get rid of the tables in your meeting room. It's weird but it works. - Author: Alexander Kjerulf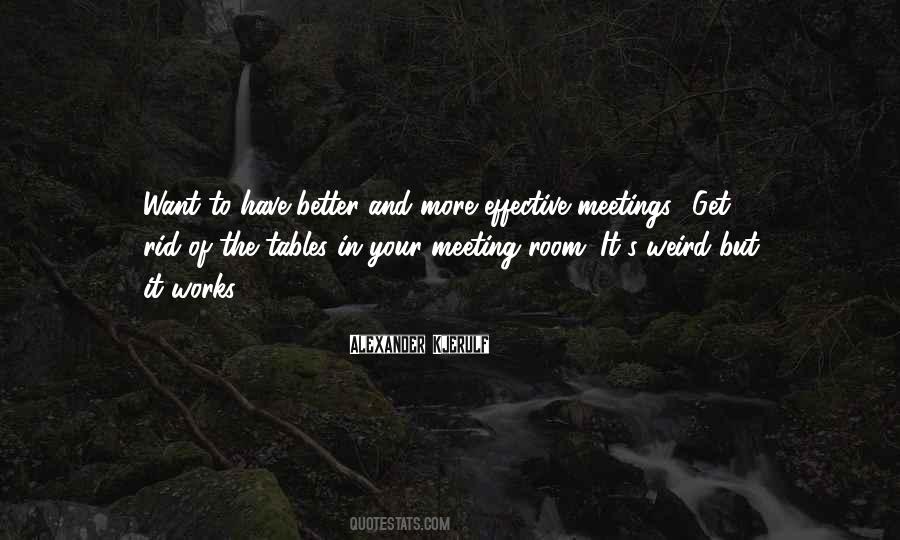 #10. Love and work are to people what water and sunshine are to plants. - Author: Jonathan Haidt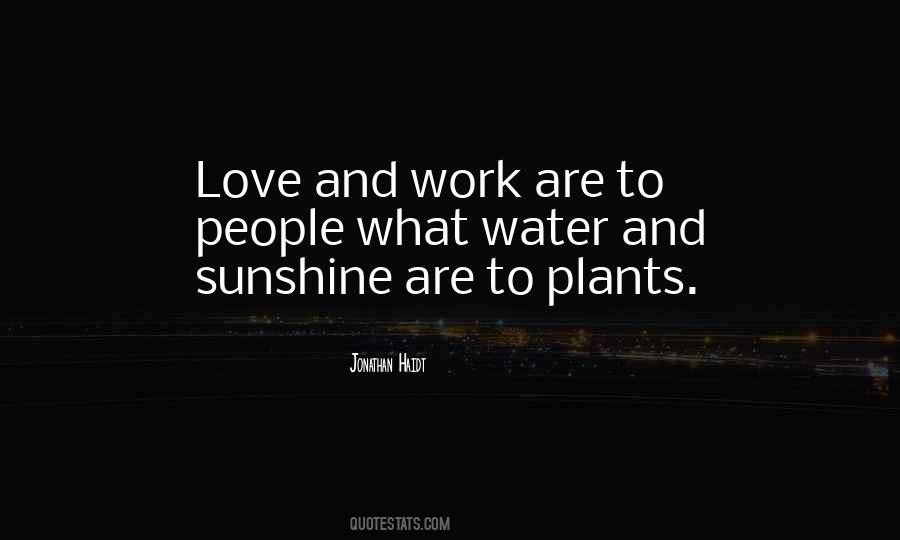 #11. Most of us need time to work through pain and loss. We can find all manner of reasons for postponing forgiveness. One of these reasons is waiting for the wrongdoers to repent before we forgive them. Yet such a delay causes us to forfeit the peace and happiness that could be ours. - Author: James E. Faust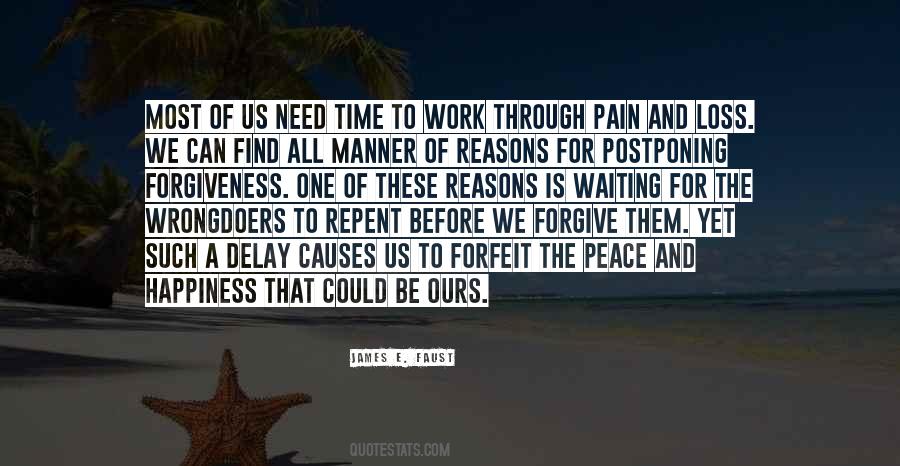 #12. Suppose churches taught that God is happy and that he is the source of all happiness. Suppose Christians believed that God calls them to view work, play, music, food, and drink as gracious gifts from God's hand to be responsibly enjoyed within the parameters of his commands. - Author: Randy Alcorn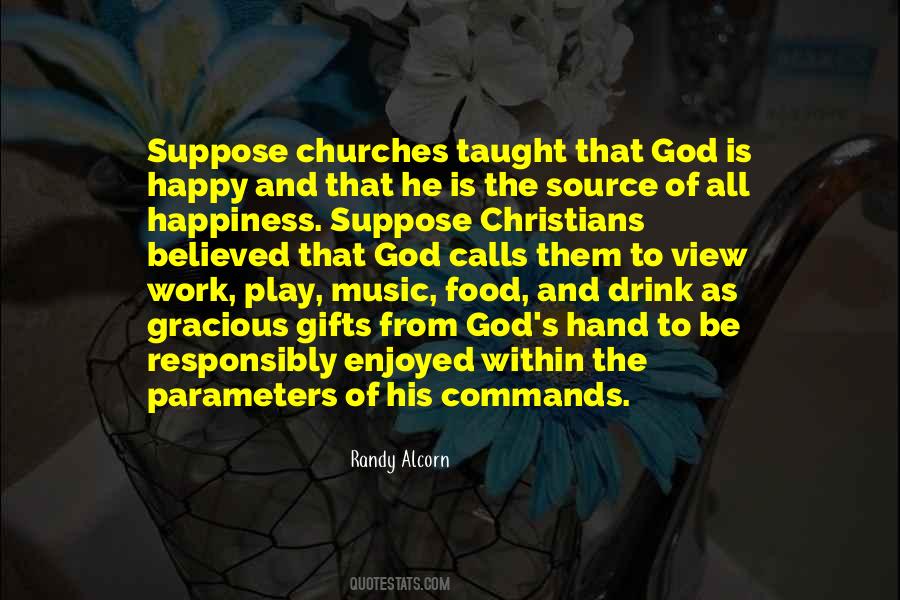 #13. Through a long and painful process, I've learned that happiness is an inside job - not based on anything or anyone in the outer material world. I've become a different and better person - not perfect, but still a work in progress. - Author: Alana Stewart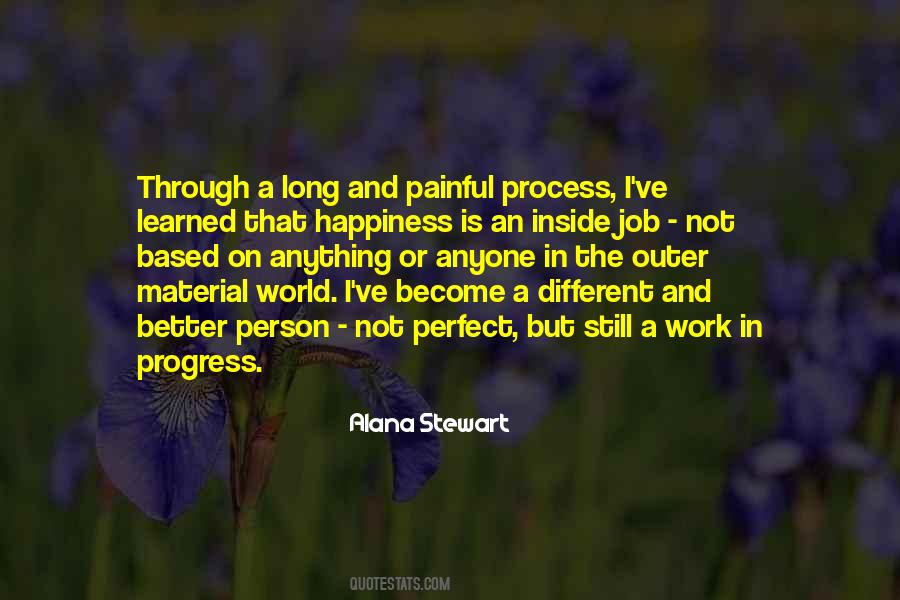 #14. What is the worth of a happiness for which you must strive and work?
Real happiness is spontaneous and effortless. - Author: Sri Nisargadatta Maharaj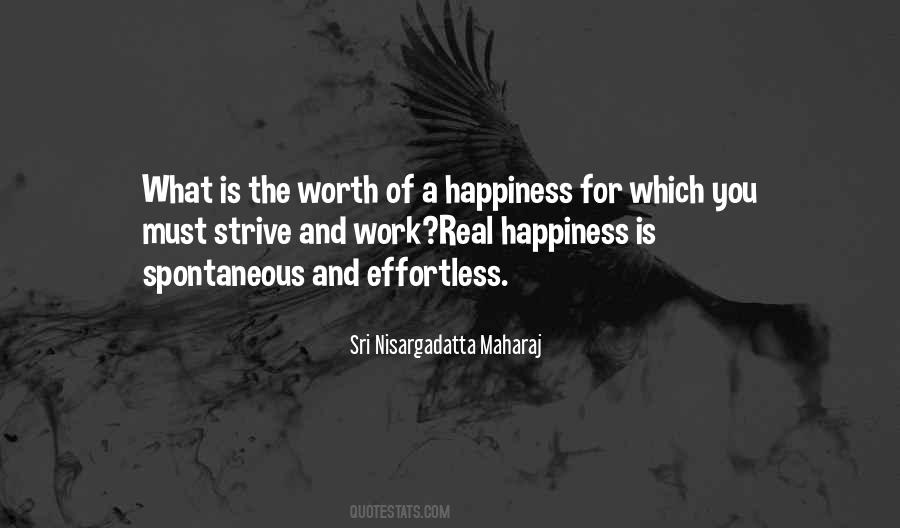 #15. Mannerism is always longing to have done, and has no true enjoyment in work. A genuine, really great talent, on the other hand, has its greatest happiness in execution. - Author: Johann Wolfgang Von Goethe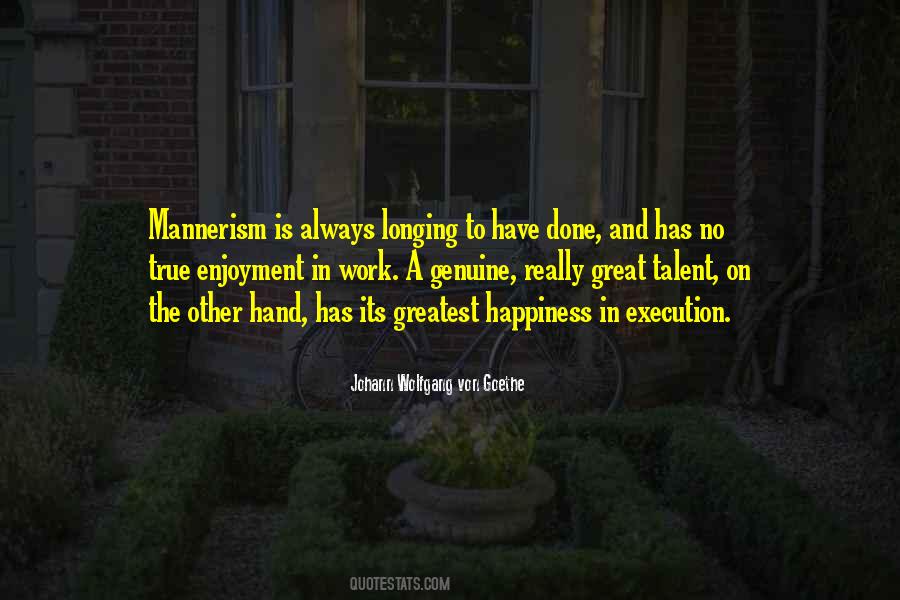 #16. I consider myself a martial artist and an actor. They can work together or individually. I love to do action. I love having a good role in which I can act and fight. That's double happiness. - Author: Mark Dacascos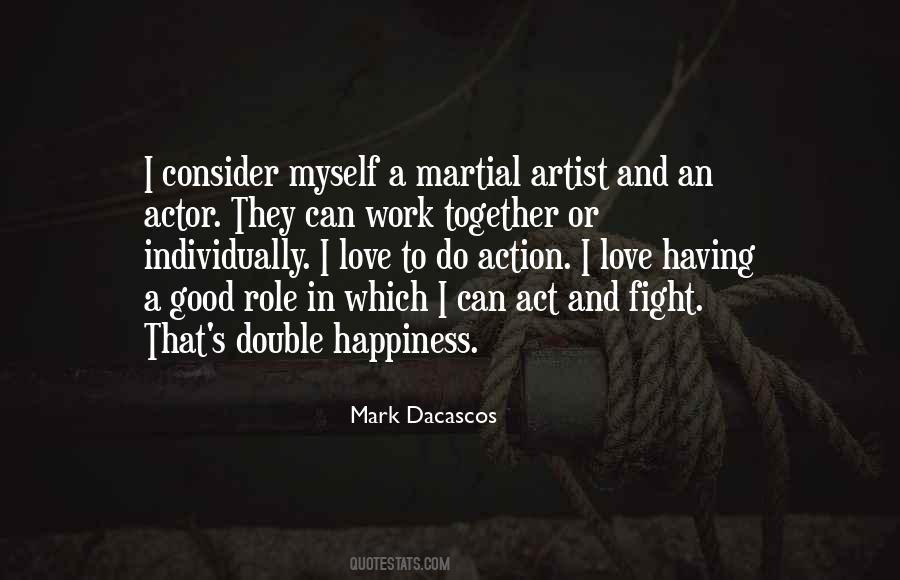 #17. Don't just sit there. Go do something and don't expect that it's going to be fun unless you make it fun. You have got to work on things. That is when you are happy. - Author: Frederick Lenz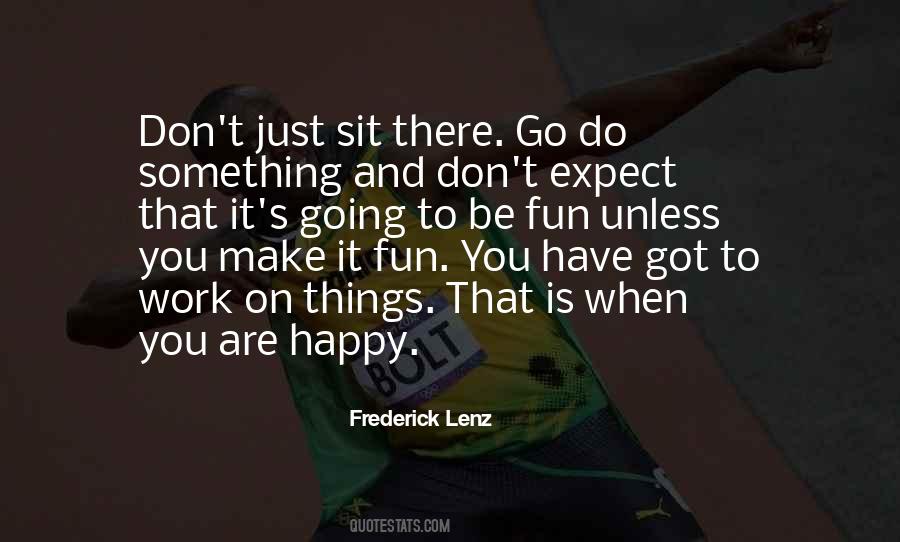 #18. Life is messy though, you know? Sometimes it's worth it to jump in and get your hands dirty. Happiness and contentment don't come along very often, so when they do, you need to hold on with everything you've got. If it doesn't work out, it doesn't work out, but at least you can say you tried. - Author: Cate Ashwood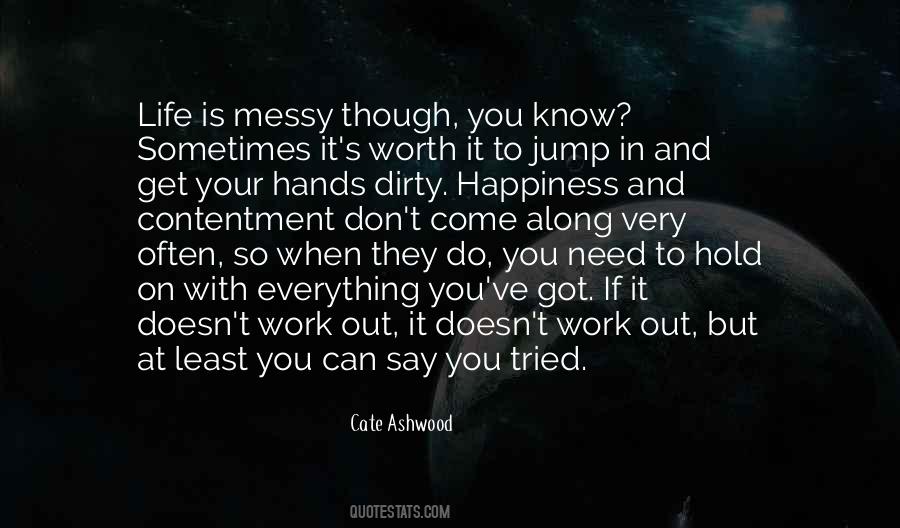 #19. It's just that when you agree to be mother to a child you haven't borne, your responsibility is twice as great. You must work even harder to ensure that child's happiness and welfare. - Author: Julia Quinn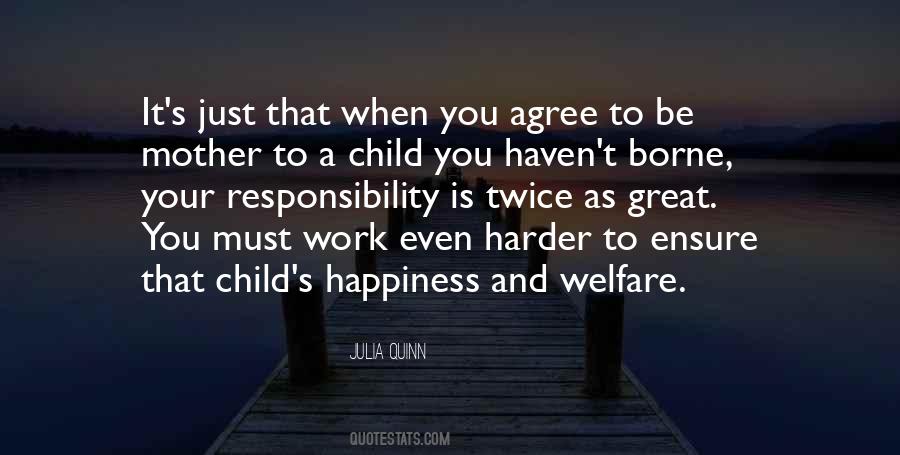 #20. We must become free. We are free; the work is to know it. We must give up all slavery, all bondage of whatever kind. We must not only give up our bondage to earth and everything and everybody on earth, but also to all ideas of heaven and happiness. - Author: Swami Vivekananda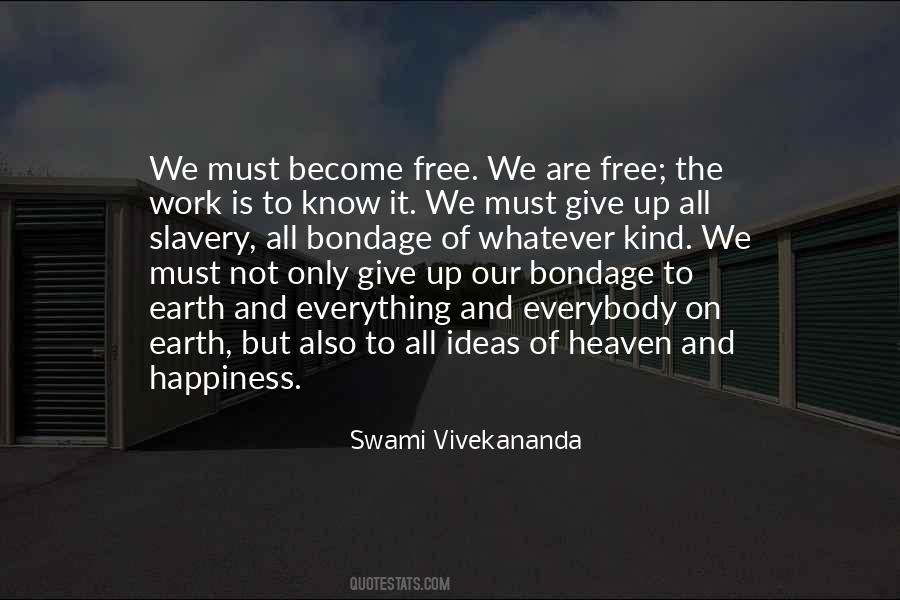 #21. We don't live to eat and make money. We eat and make money to be able to enjoy life. That is what life means, and that is what life is for. - Author: George Mallory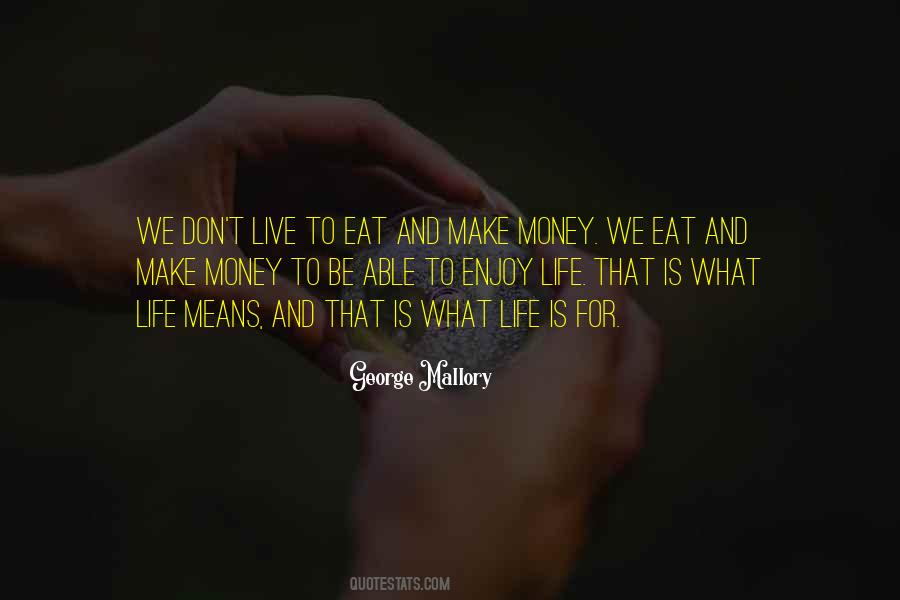 #22. I am living my dream because I get to work with my kids and watch them find their happiness. It's so rewarding - we brainstorm around a conference table and have a really great time doing it. - Author: Kris Jenner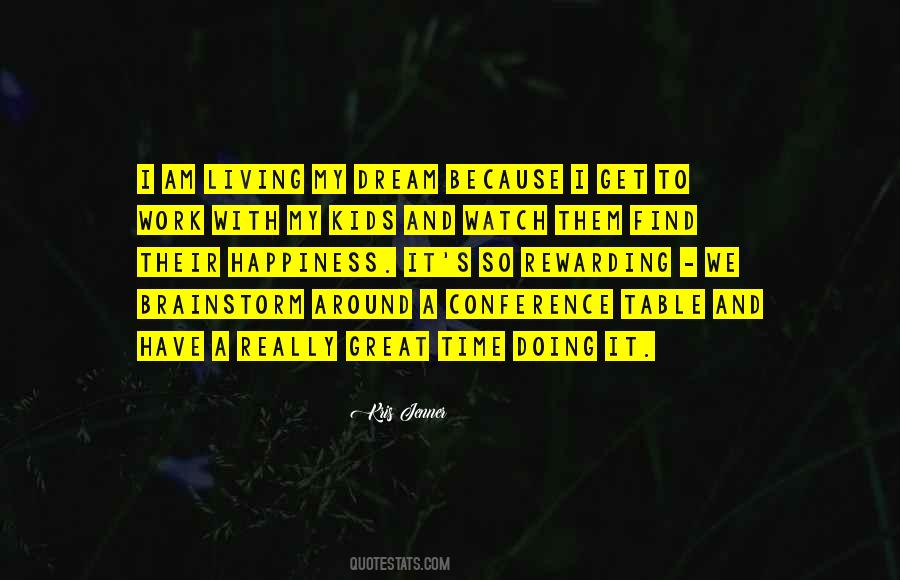 #23. One of the outstanding tragedies of this age of struggle and money-madness is the fact that so few people are engaged in the effort which they like best. Everyone should find his or her particular niche in the world's work, where both material prosperity and happiness in abundance may be found. - Author: Napoleon Hill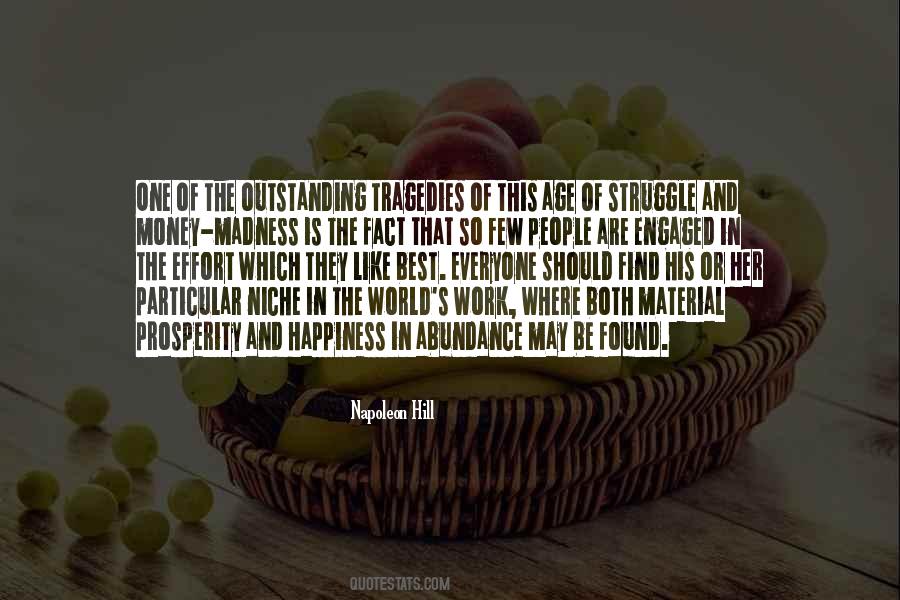 #24. Our work is the embodiment of our will. The spiritual manifestation of this work is its effect. When such work is properly done it brings happiness, and when carried out incorrectly it assuredly brings misery. Humanity! Your will is paramount! You can command Nature if you but obey her! - Author: Viktor Schauberger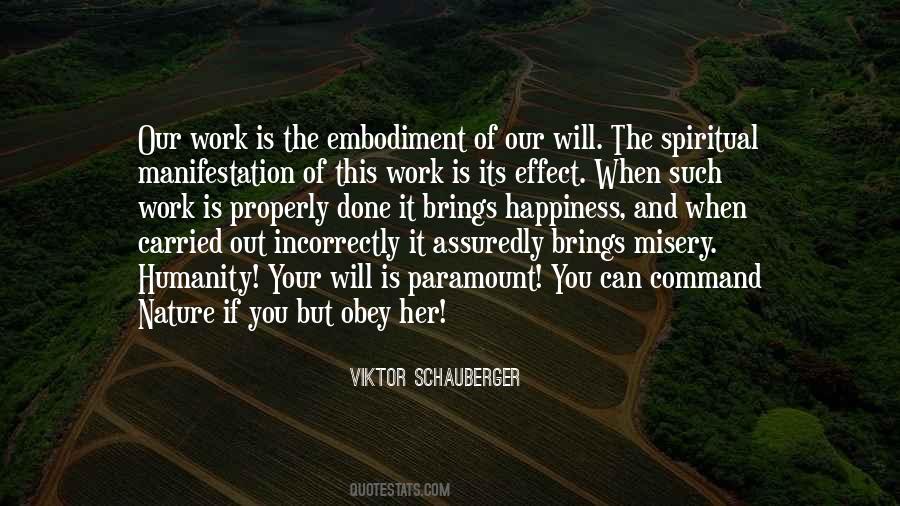 #25. There are no plans that always work in life. For me, the secret to happiness is being positive and looking at the brighter side of my life. - Author: Karisma Kapoor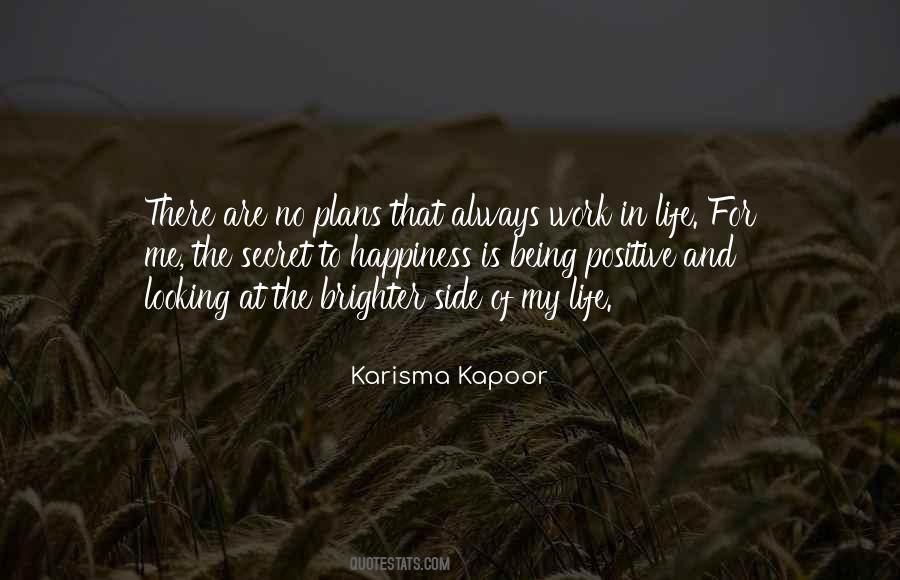 #26. When the founders wrote about life, liberty, and the pursuit of happiness, they didn't mean longer vacations and more comfortable hammocks. They meant the pursuit of learning. The pursuit of improvement and excellence. In hard work is happiness. - Author: David McCullough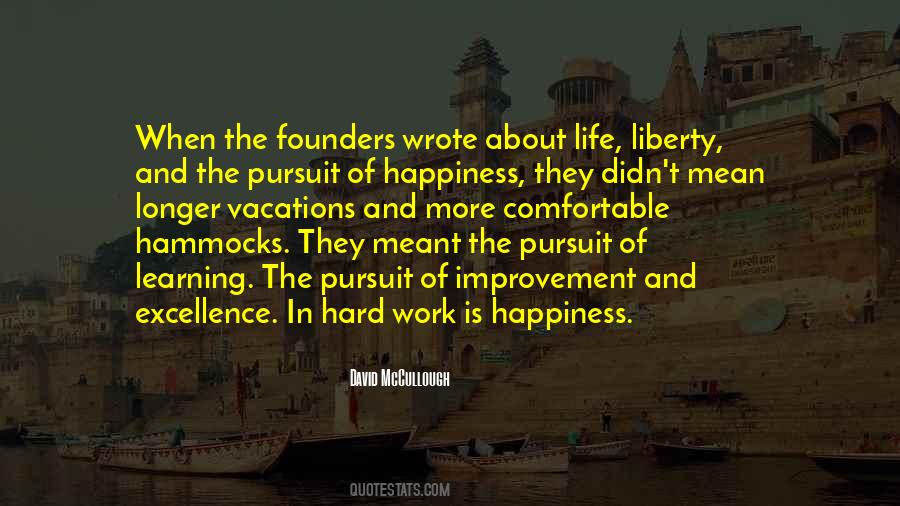 #27. I am so happy. I got love, I got work, I got money, friends and time. - Author: Alice Walker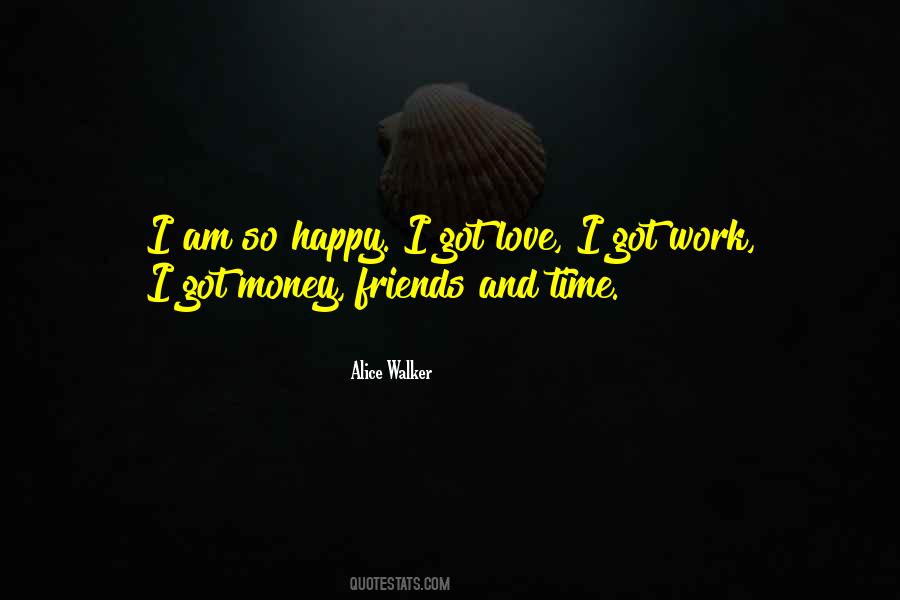 #28. [Children should contribute] to a family's essential survival and happiness. [In] an urban society, children are ... robbed of the opportunity to do genuinely responsible work. - Author: Dwight D. Eisenhower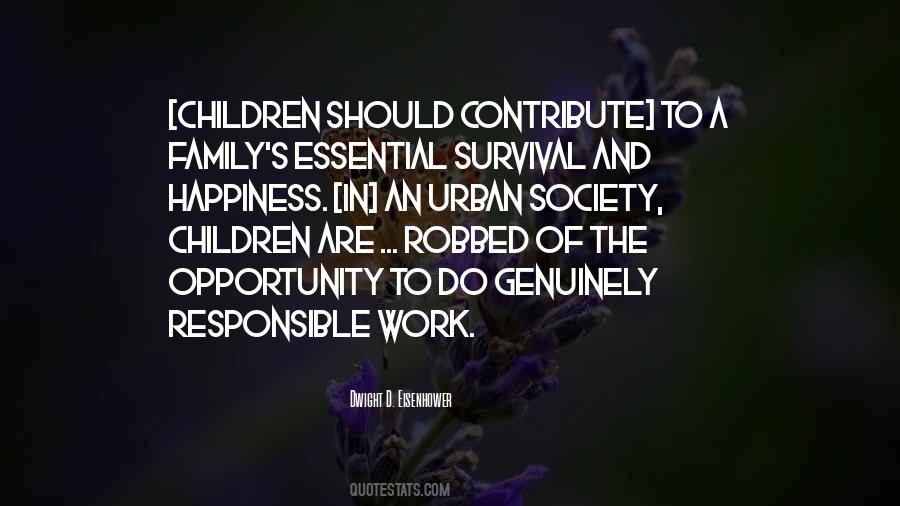 #29. People get work done, not buildings, not staffs in a generic sense, and not plans, but people - Author: Colin Powell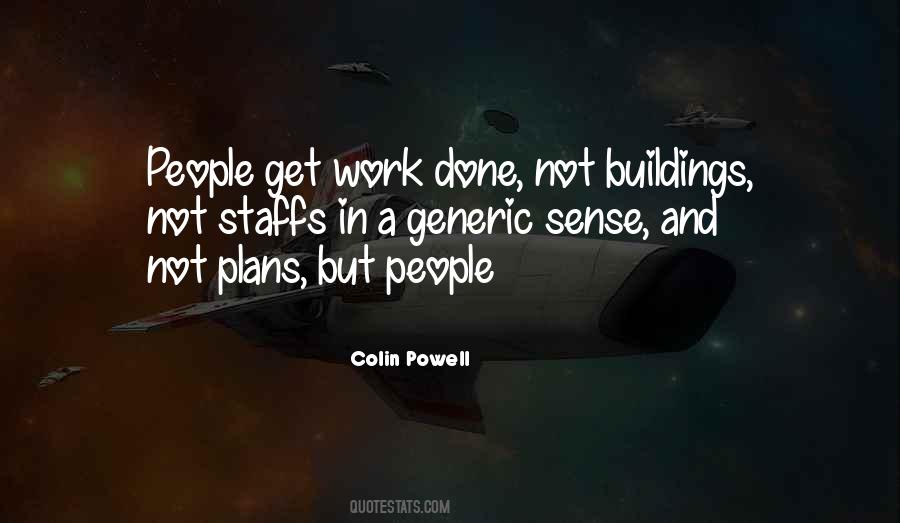 #30. In the broader sense, work is the means to achieve happiness, prosperity. and salvation. When work and duty and joy are commingled, then man is at his best. - Author: J. Richard Clarke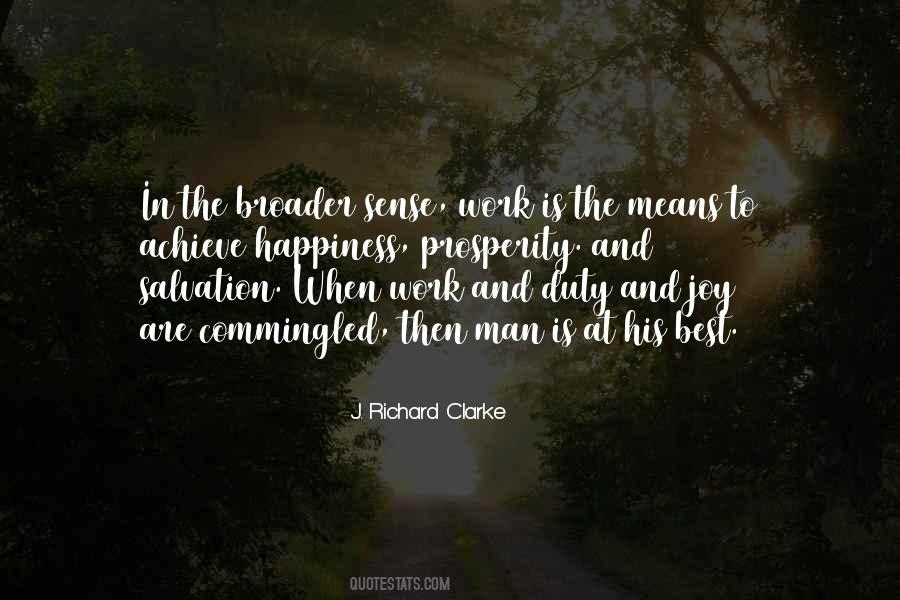 #31. You will not achieve happiness if you don't work hard; and it's a shame not to want to work hard. - Author: Euripides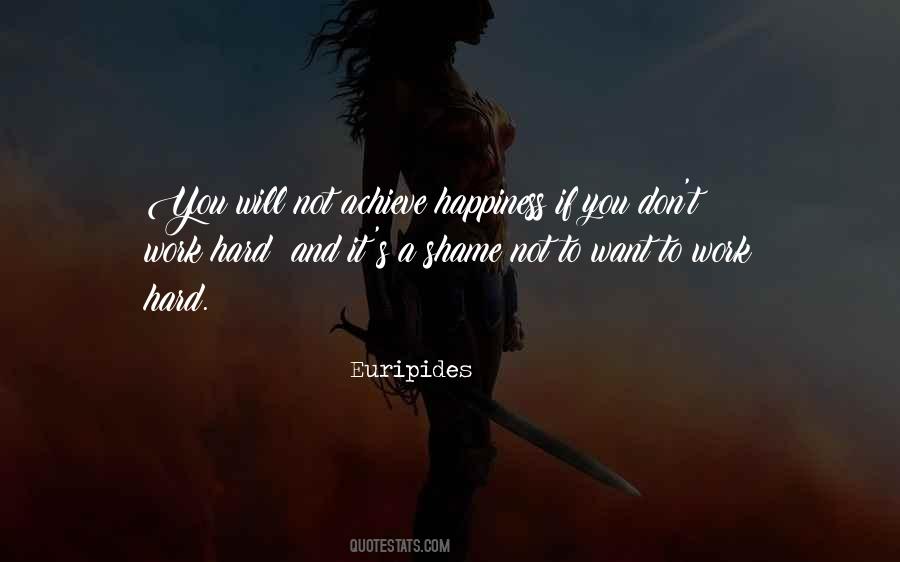 #32. When you dread getting up in the morning to go somewhere, you are going to the wrong place. - Author: Karen Larson-Reuter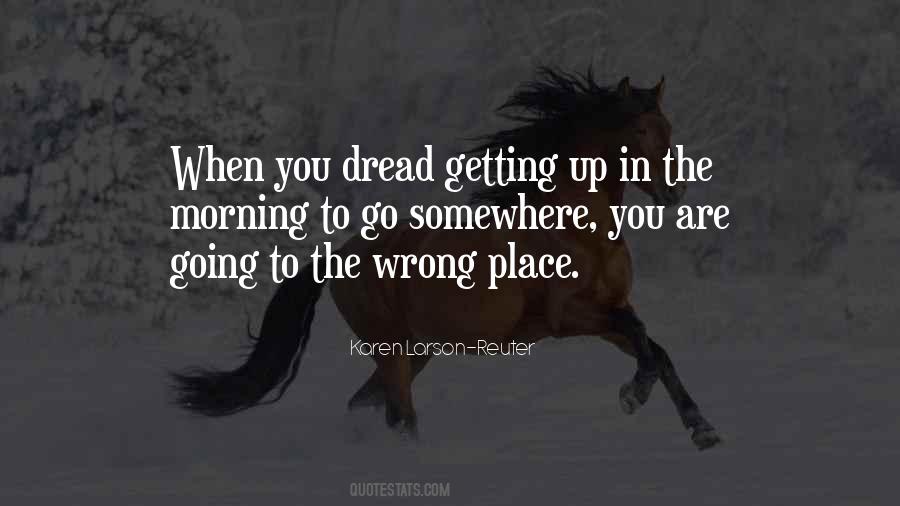 #33. As Christians, we needn't be at all ashamed of some impatience, longing, opposition to what is unnatural, and our full share of desire for freedom, earthly happiness, and opportunity for effective work. - Author: Dietrich Bonhoeffer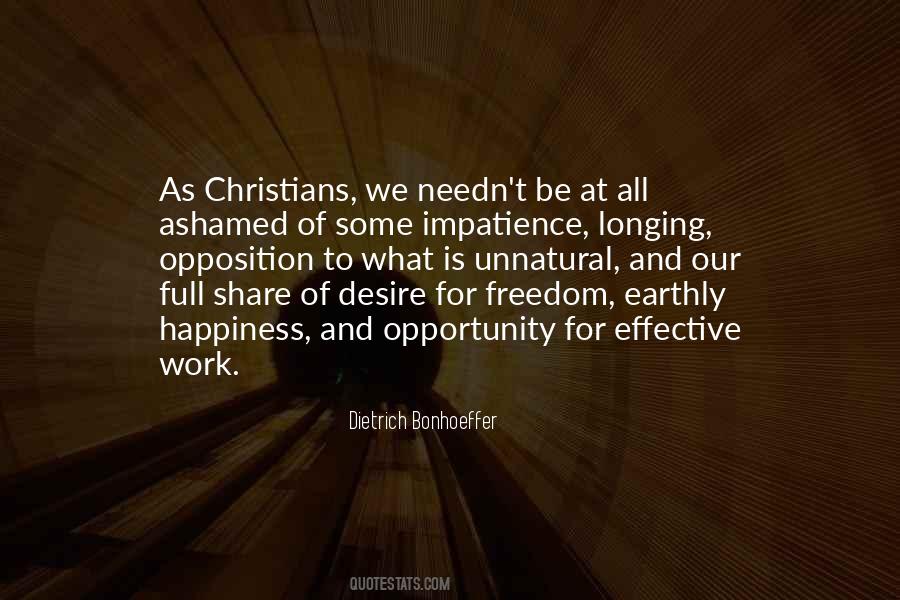 #34. The days seem short, and time seems too little to do what you love. - Author: Innocent Mwatsikesimbe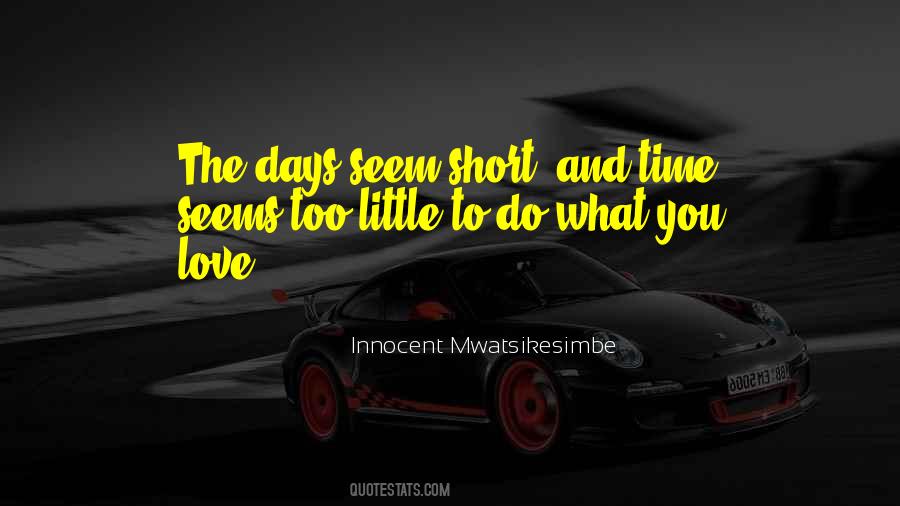 #35. Every artist wants his work to be permanent. But what is? The Aswan Dam covered some of the greatest art in the world. Venice is sinking. Great books and pictures were lost in the Florence floods. In the meantime we still enjoy butterflies. - Author: Romare Bearden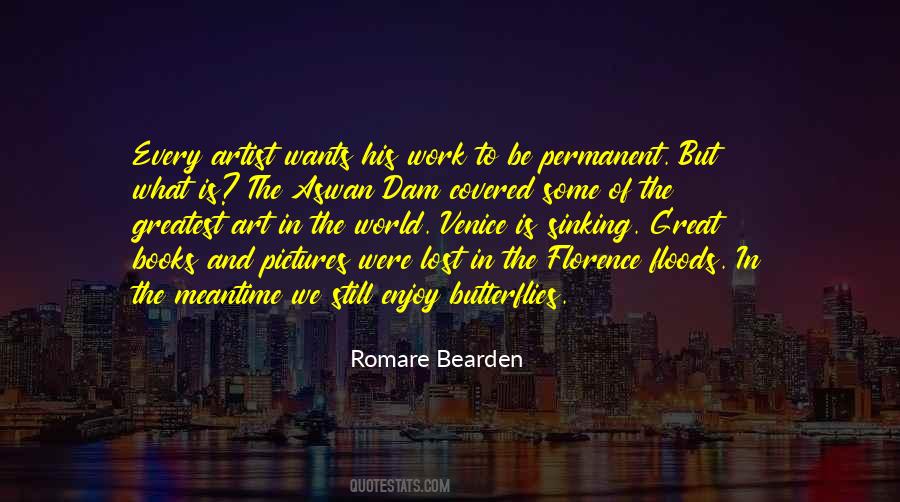 #36. A servant who serves excellently from his whole heart with due courage and humility is never a servant, but a master of his work! - Author: Ernest Agyemang Yeboah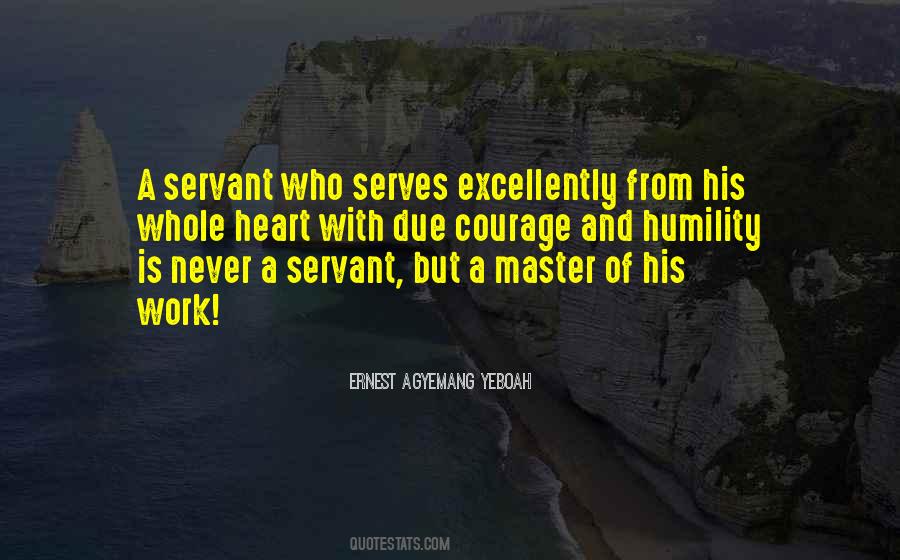 #37. Don't help me or serve me, but let me see it once, because I need it. Don't work for my happiness, my brothers-show me yours-show me that it is possible-show me your achievement-and the knowledge will give me the courage for mine. Mallory (the young artist) to Roark in "The Fountainhead" - Author: Ayn Rand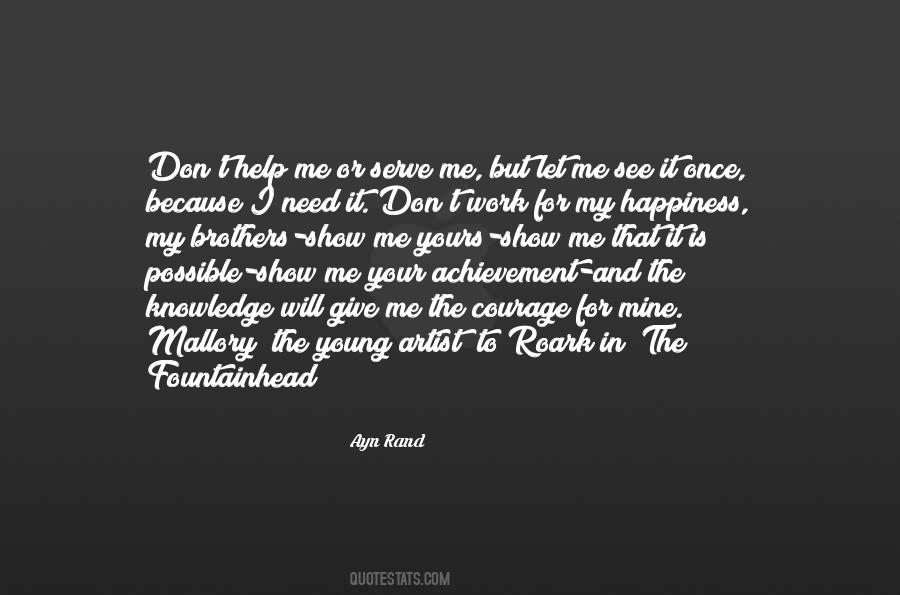 #38. Although Freud said happiness is composed of love and work, reality often forces us to choose love or work. - Author: Letty Cottin Pogrebin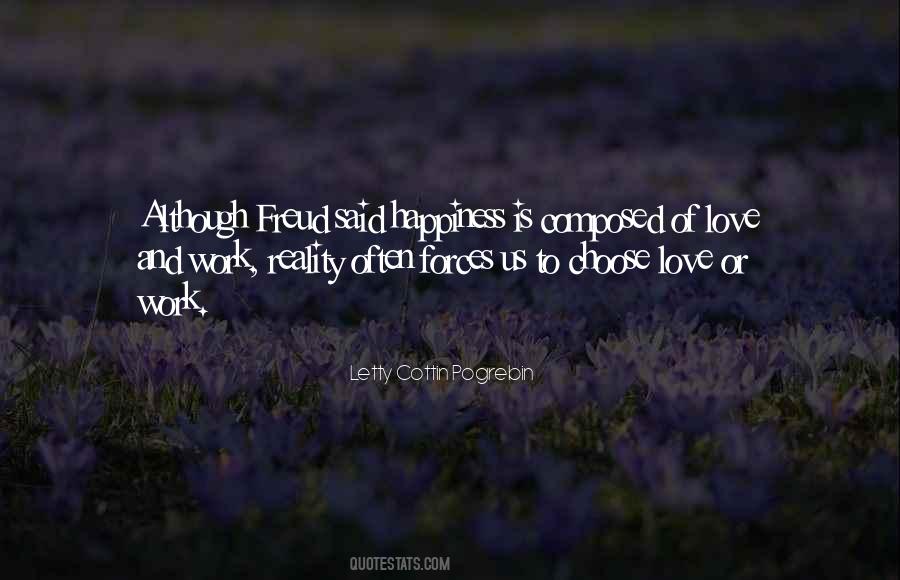 #39. All happiness depends on courage and work. - Author: Honore De Balzac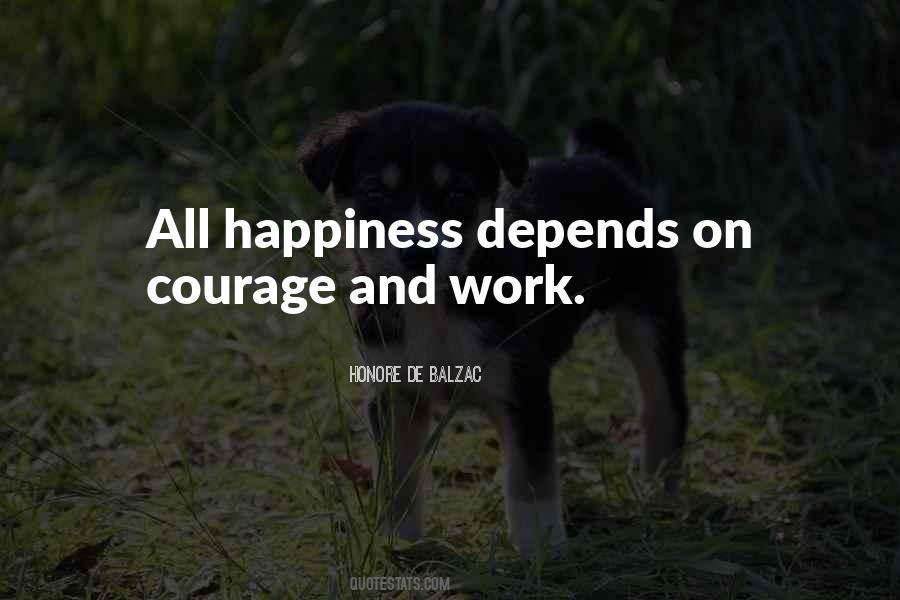 #40. Happiness doesn't come from getting what you want. It doesn't come from within, either. Happiness comes from *between*
from finding the right relationship between yourself and others, between yourself and your work, and between yourself and something larger than yourself. - Author: Jonathan Haidt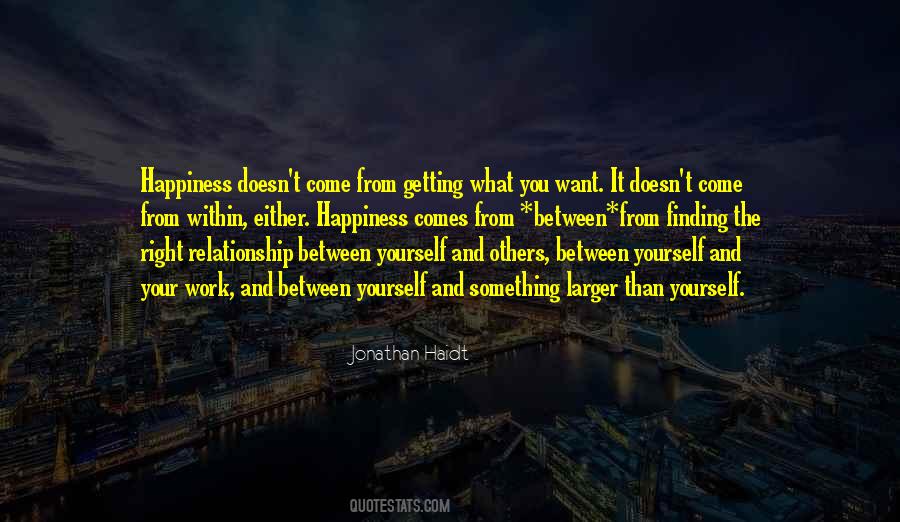 #41. Happiness is the result of inner maturity. It depends on us alone, and requires patient work, carried out from day to day. Happiness must be built, and this requires time and effort. In the long term, happiness and unhappiness are therefore a way of being, or a life skill. - Author: Matthieu Ricard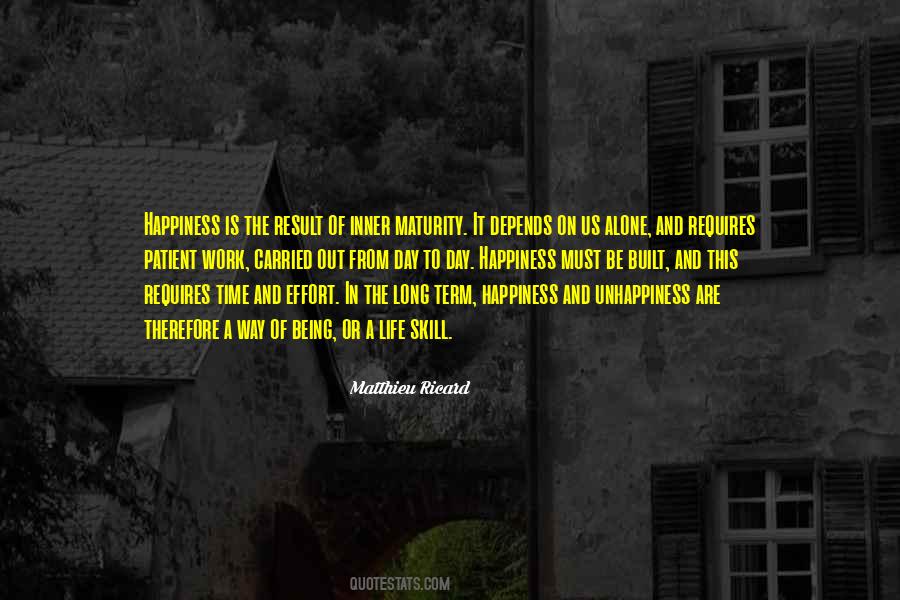 #42. I don't like the word 'balance.' To me, that somehow conjures up conflict between work and family ... as long as we think of these things as conflicting, we will never have happiness. True happiness comes from integration ... of work, family, self, community. - Author: Padmasree Warrior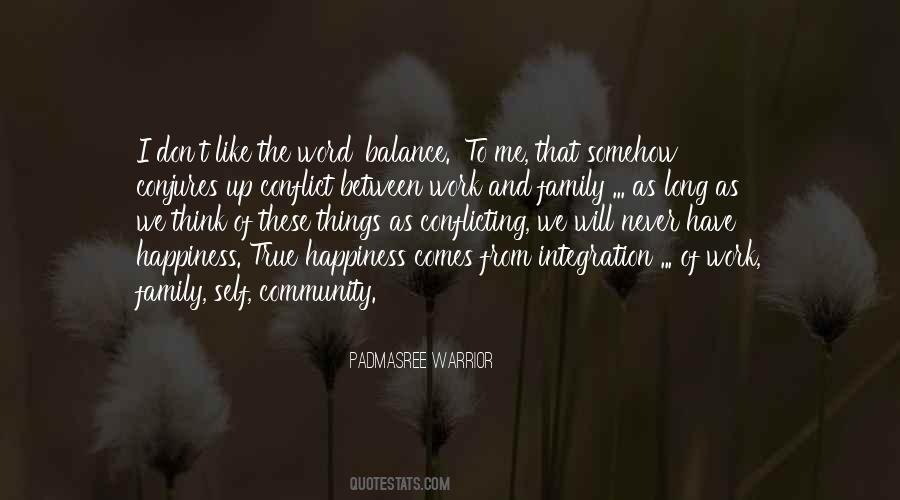 #43. See yourself as the perfect creation that you are, but at the same time, recognize with sincere honesty, the areas of your life that are out of balance and get to work to improve and grow. - Author: Dashama Konah Gordon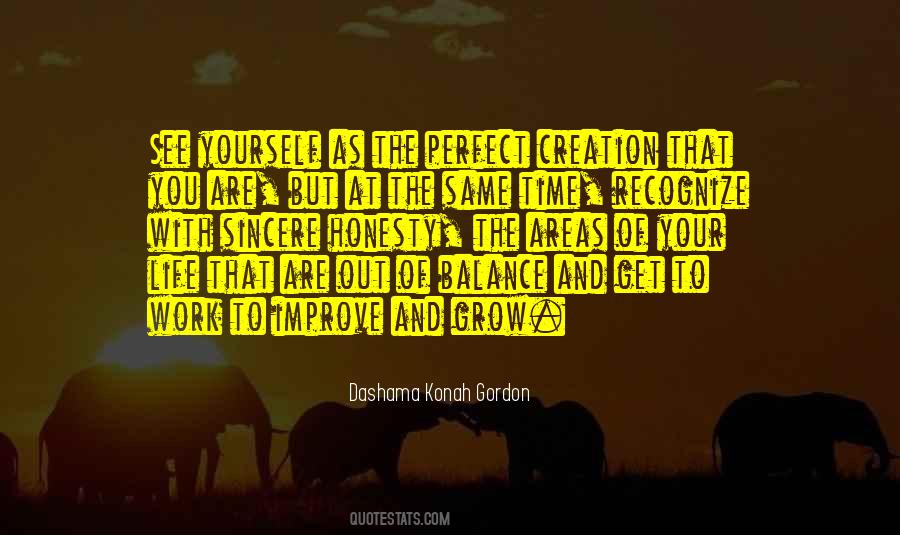 #44. Logically, you should go to school, get good grades, go to college, get a good degree, go into the workplace, then work hard and be happy.
The only problem is that happiness isn't logical. - Author: A.C. Ping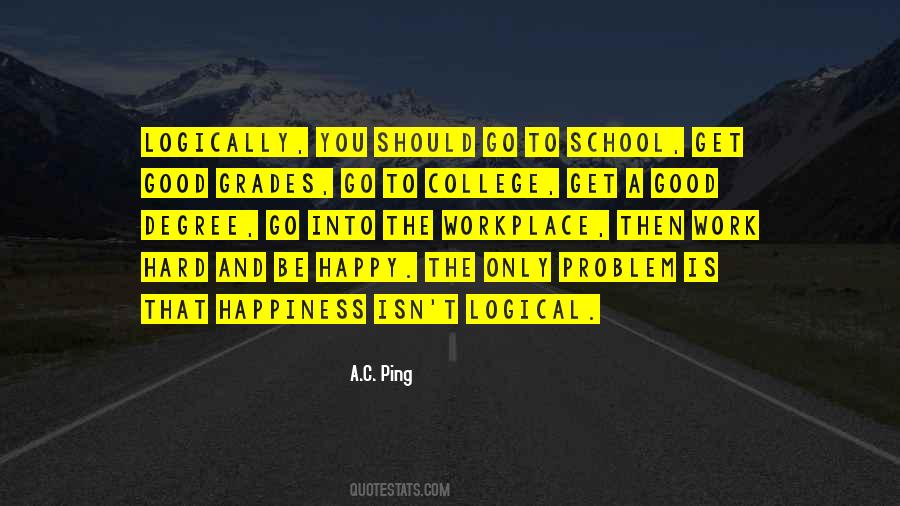 #45. Love, Work, Friendships and Life have to contain a foundation of commitment - Author: Kalon Jackson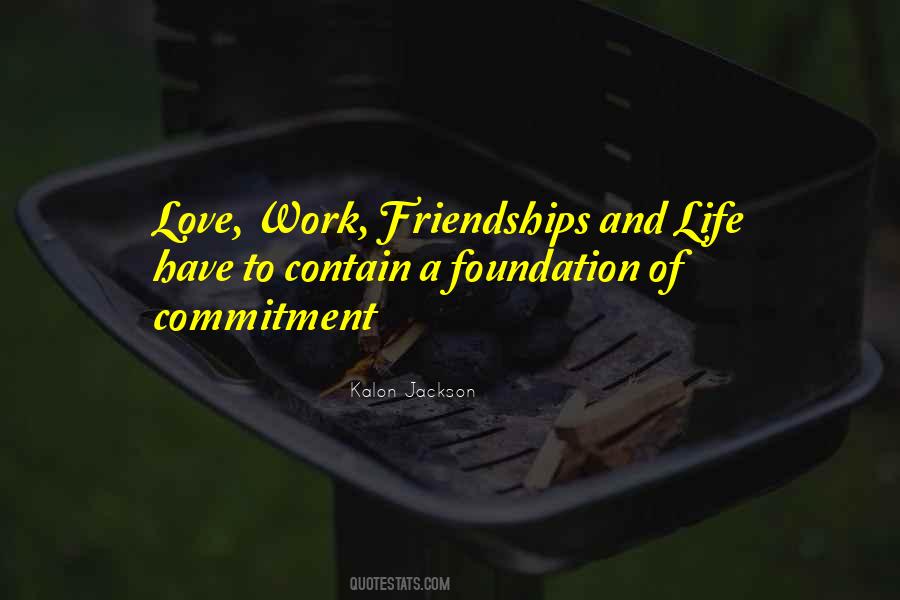 #46. There is work that is work and there is play that is play; there is play that is work and work that is play. And in only one of these lies happiness. - Author: Gelett Burgess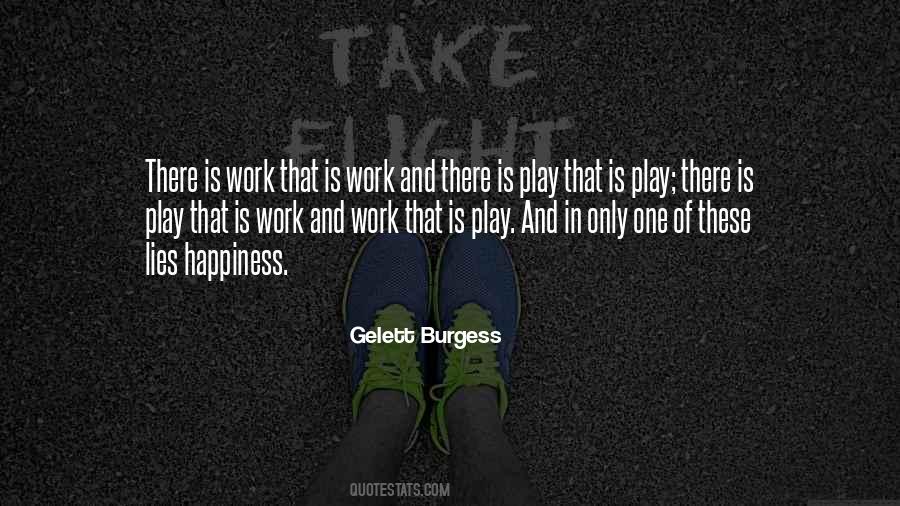 #47. Love what you do, do it with passion, work hard, and never give up. Money and happiness will come to you. - Author: Joseph C. Kunz Jr.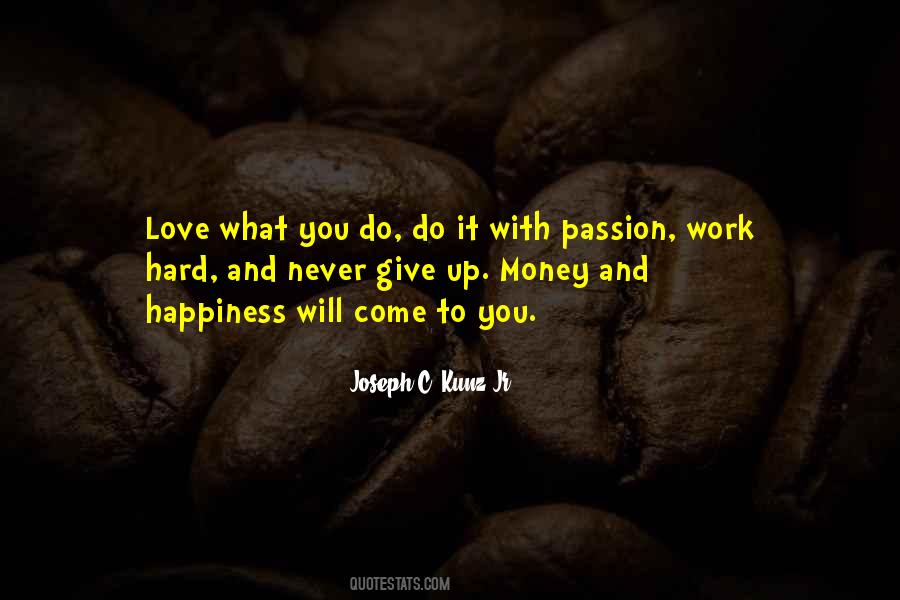 #48. While it may feel natural to devote yourself to your creative work and succumb to feelings of separation and alienation, it nevertheless isn't a terrific idea in terms of your overall happiness and health. - Author: Eric Maisel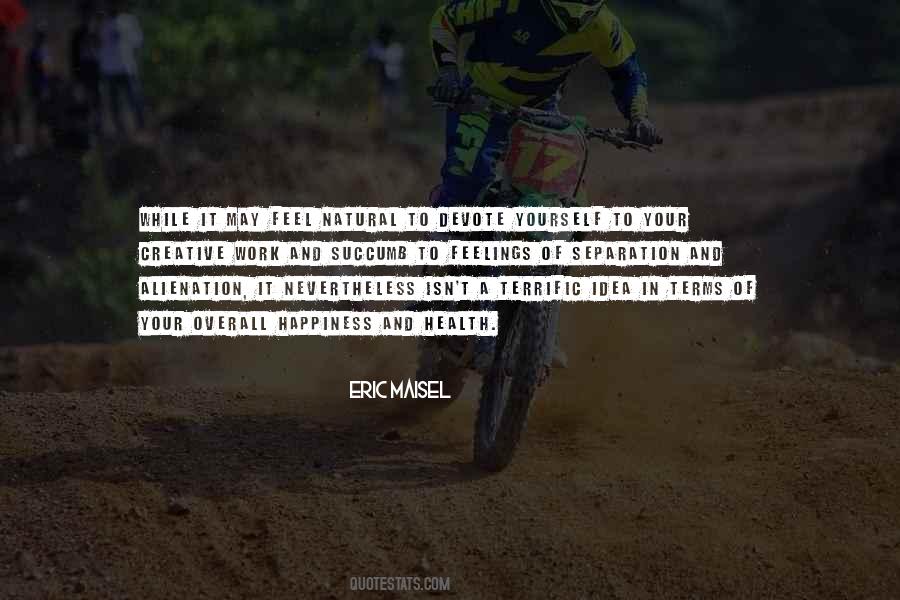 #49. In every single job, in every single business, in every single profession - in whatever you do - there can be the satisfaction and the happiness that comes from knowing that what you do is important, that what you do makes a difference in the lives of the people you serve. - Author: Wayne D. Dosick
#50. In God, happiness and purposeful work are a package deal. - Author: Jennifer Dukes Lee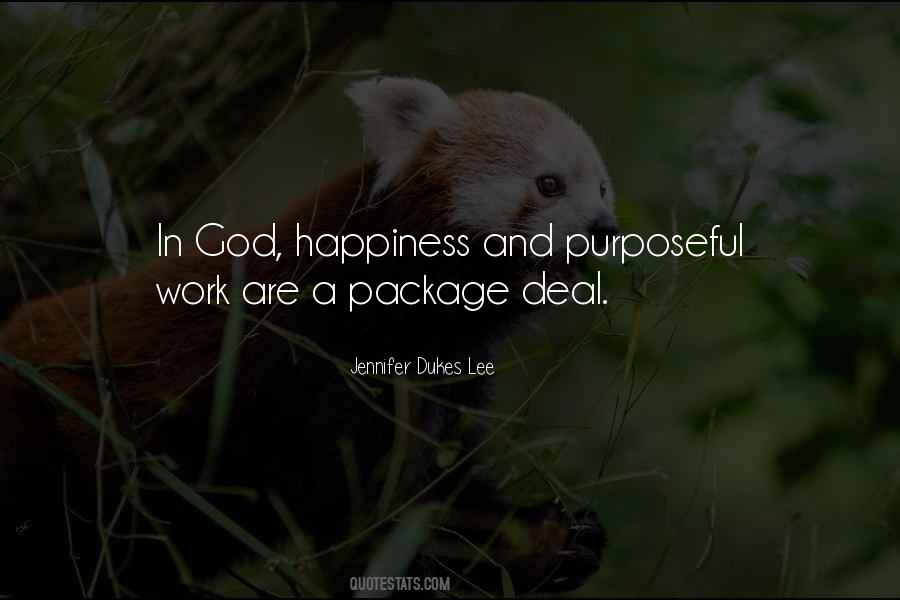 #51. Work and live to serve others, to leave the world a little better than you found it and garner for yourself as much peace of mind as you can. This is happiness. - Author: David Sarnoff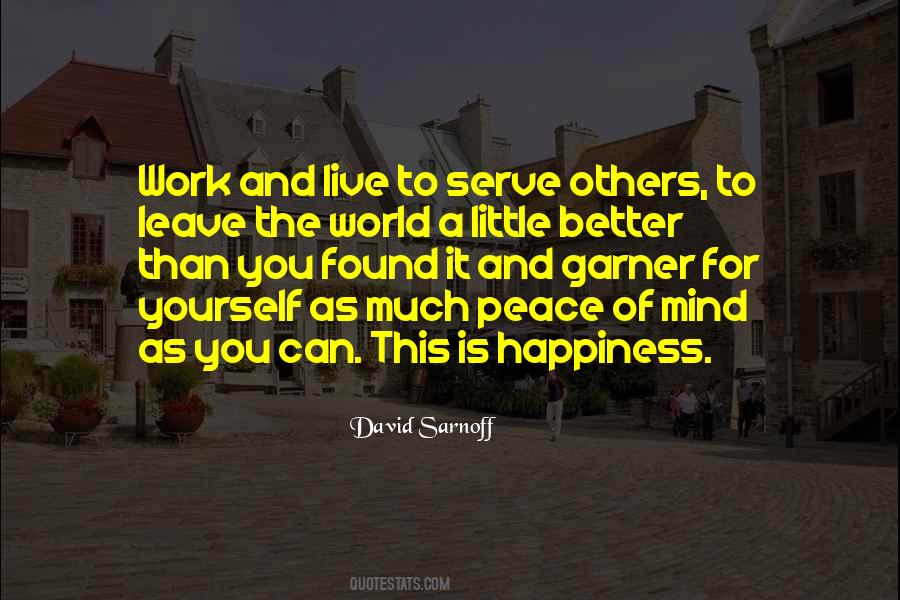 #52. Men who are driven are happy in their work and their vision but are not happy-go-lucky. Evelyn has a happiness and contentment most of the time
she's my balance. - Author: Oral Roberts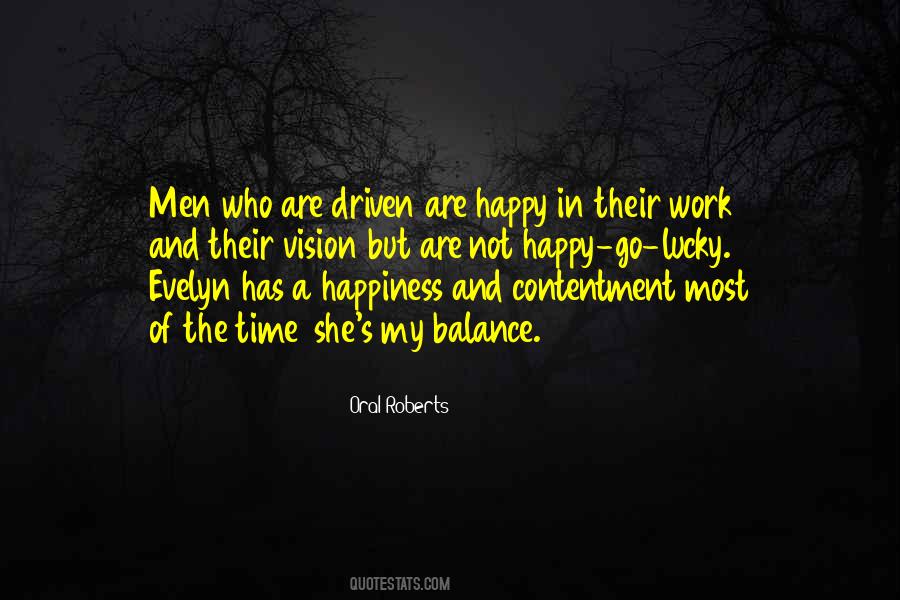 #53. Get up and move at work today! Don't spend the whole day on your butt. Take a walk. Get some exercise. Play a game. Move! - Author: Alexander Kjerulf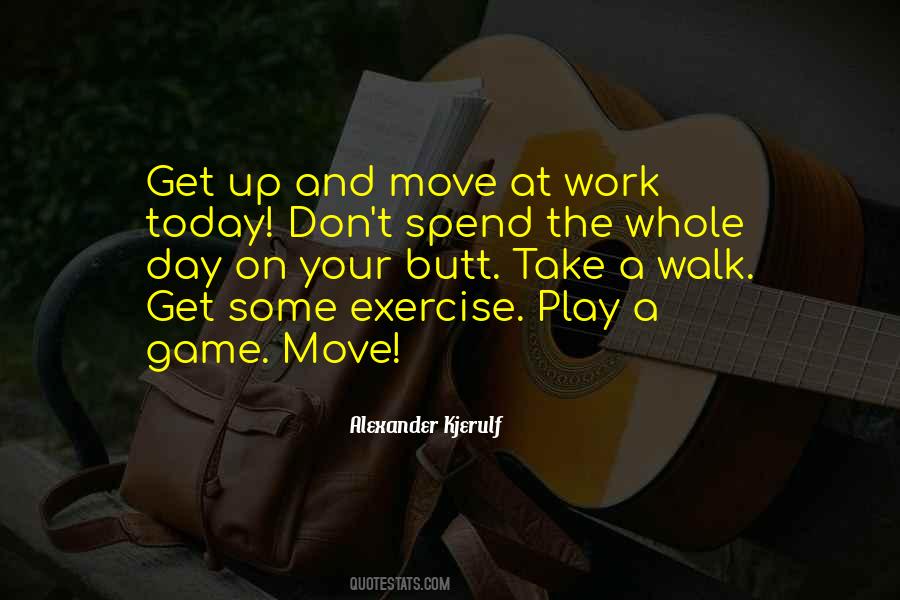 #54. Contentment is a state of mind and body when the two work in harmony, and there is no friction. The mind is at peace, and the body also. The two are sufficient to themselves. Happiness is elusive
coming perhaps once in a life-time
and approaching ectasy. - Author: Daphne Du Maurier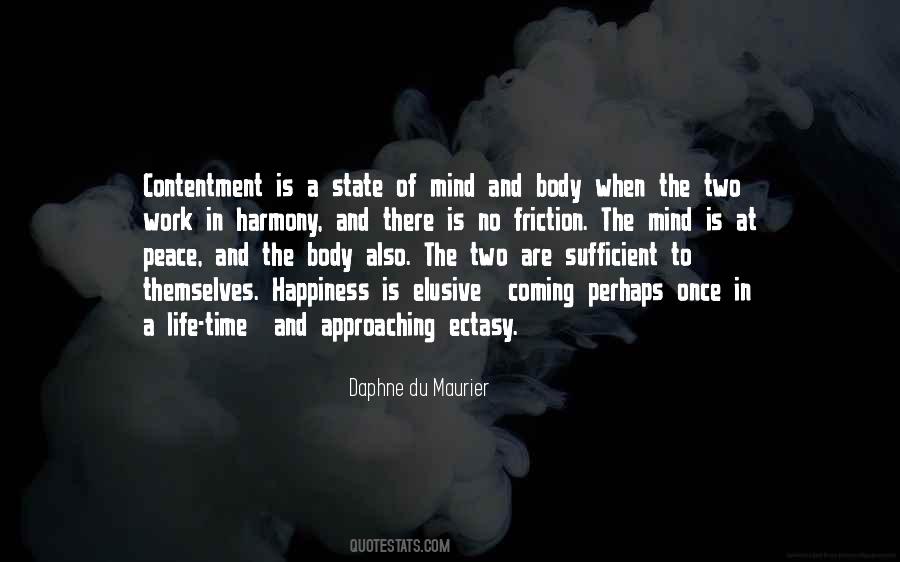 #55. God does not judge us by the multitude of works we perform, but how well we do the work that is ours to do. The happiness of too many days is often destroyed by trying to accomplish too much in one day. We would do well to follow a common rule for our daily lives
DO LESS, AND DO IT BETTER. - Author: Dale E. Turner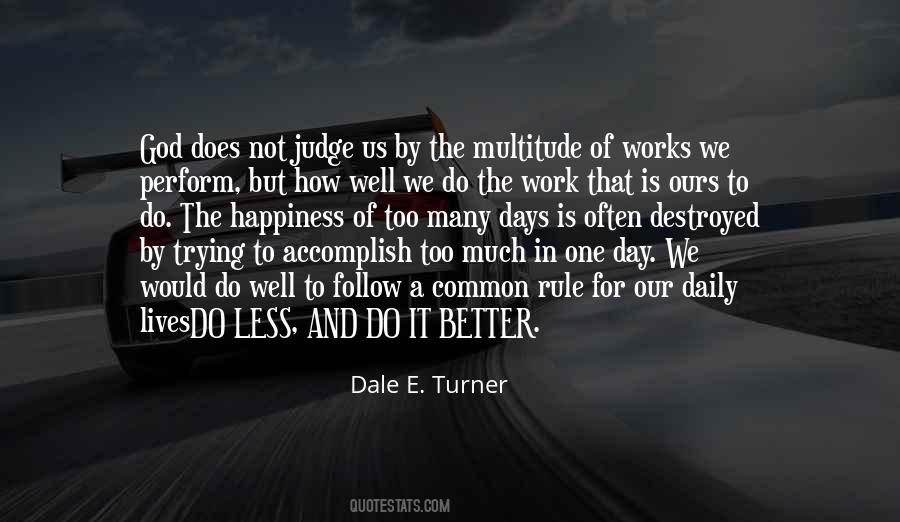 #56. You cannot wish for happiness but you can work towards your life goals and create lasting happiness. - Author: Roopleen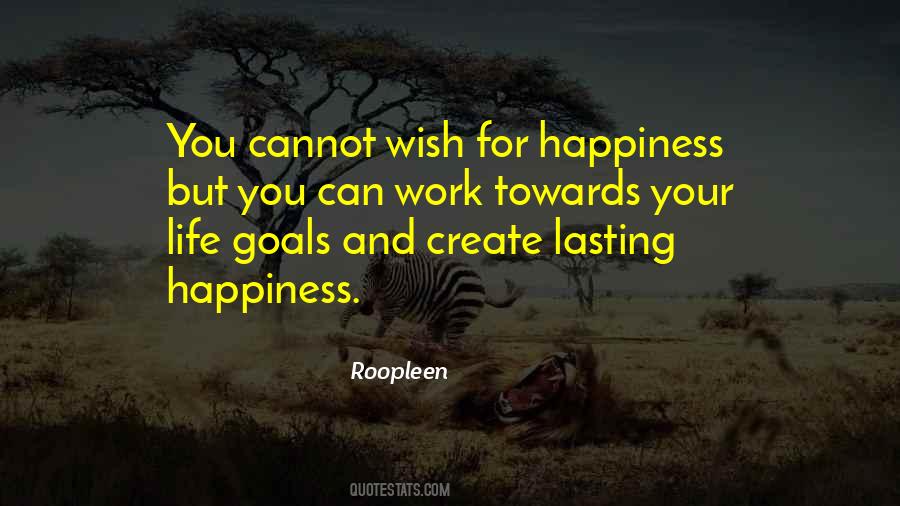 #57. If we cherish the virtues and the principles of our fathers, Heaven will assist us to carry on the work of human liberty and human happiness. Auspicious omens cheer us. Great examples are before us. Our own firmament now shines brightly upon our path. - Author: Daniel Webster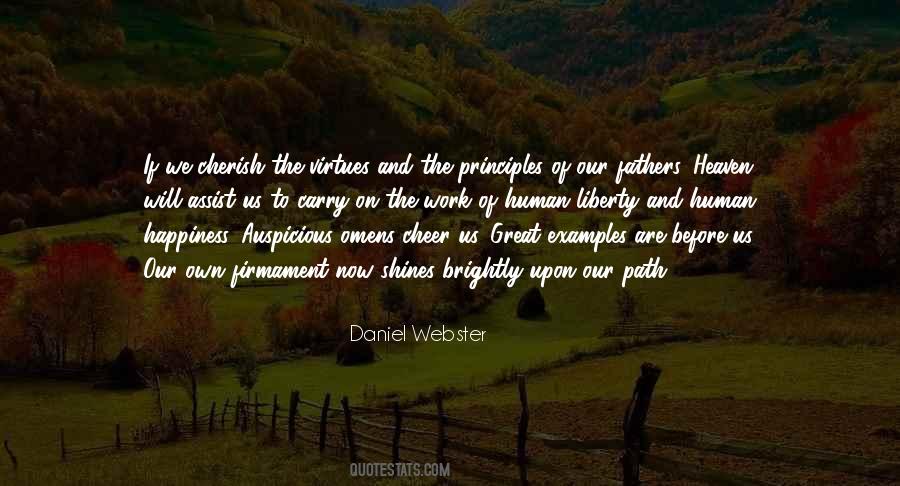 #58. Sometimes, just be. Do not think or worry, do not get angry under stress. Just pray and keep your faith in the Lord. Keep patience and see how well things will work out for you! - Author: Sanchita Pandey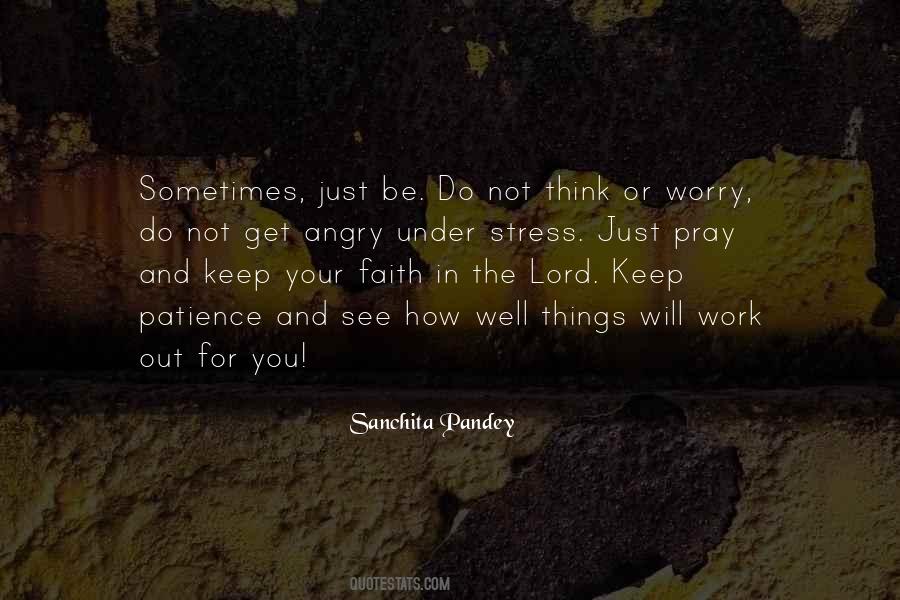 #59. Happiness comes when your work and words are of benefit to others. - Author: Gautama Buddha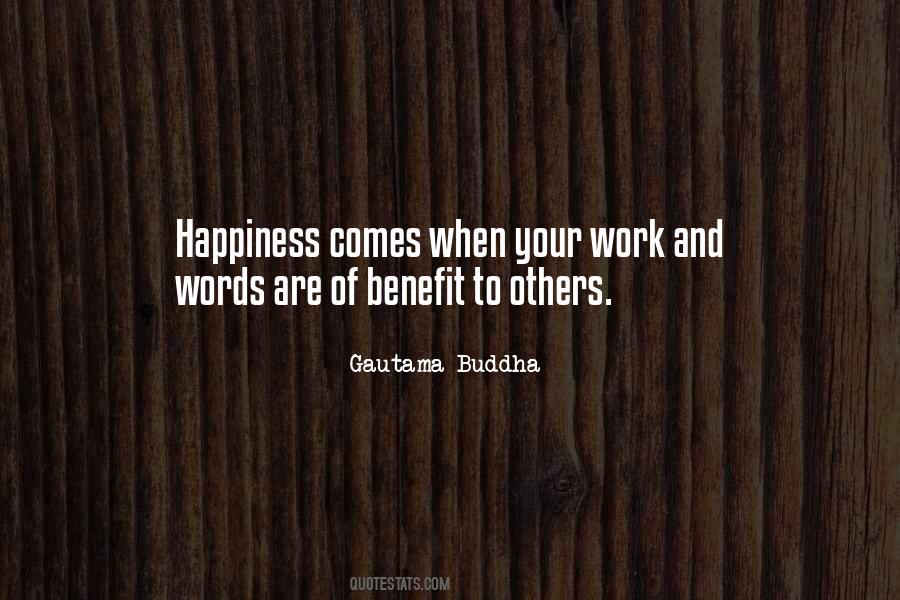 #60. Everybody has something, that one thing they must do to feel happy. I think this is yours, and I want you to be happy. You don't have to do it, but it's here if you choose to come back to it. - Author: Ilona Andrews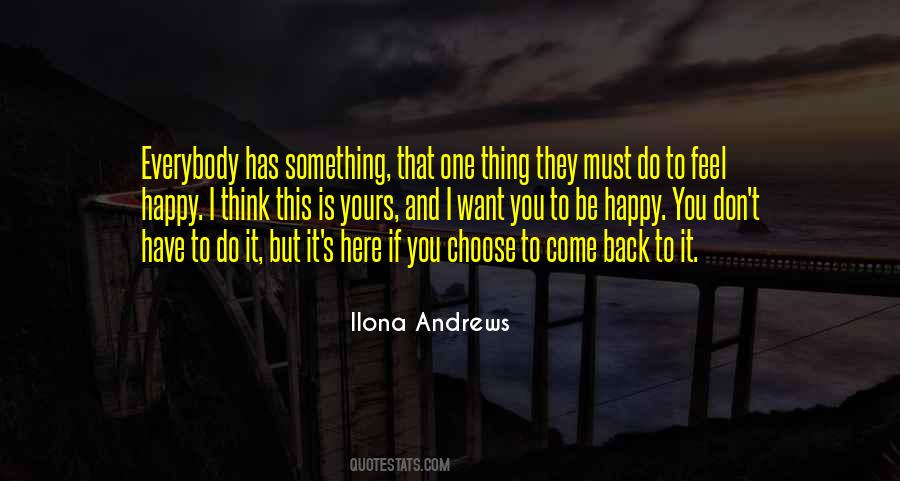 #61. If someday they say of me that in my work I have contributed something to the welfare and happiness of my fellow man, I shall be satisfied. - Author: George Westinghouse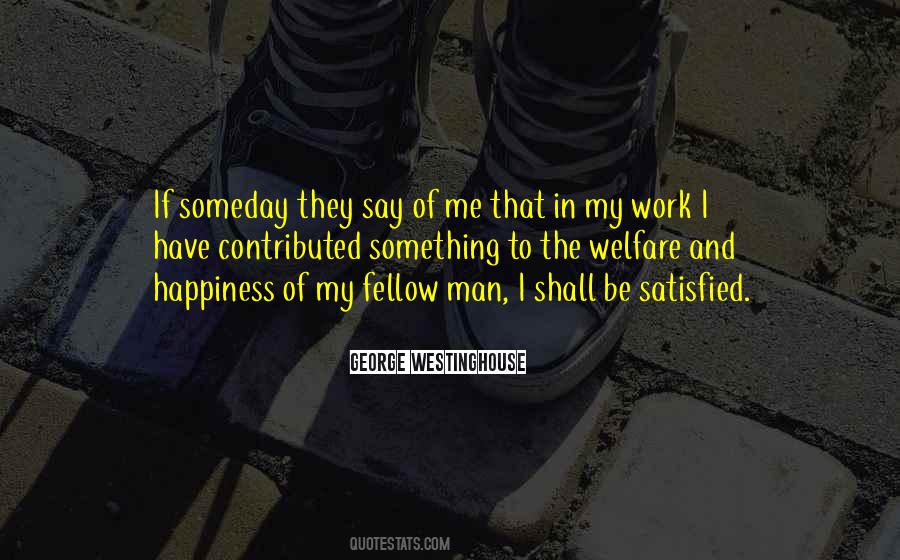 #62. And I sort of look at us as two of the luckiest guys [Bill Gates the other] on the planet because we found what we loved to do and we were at the right place at the right time and we've gotten to go to work every day with super bright people for 30 years and do what we love doing. - Author: Steve Jobs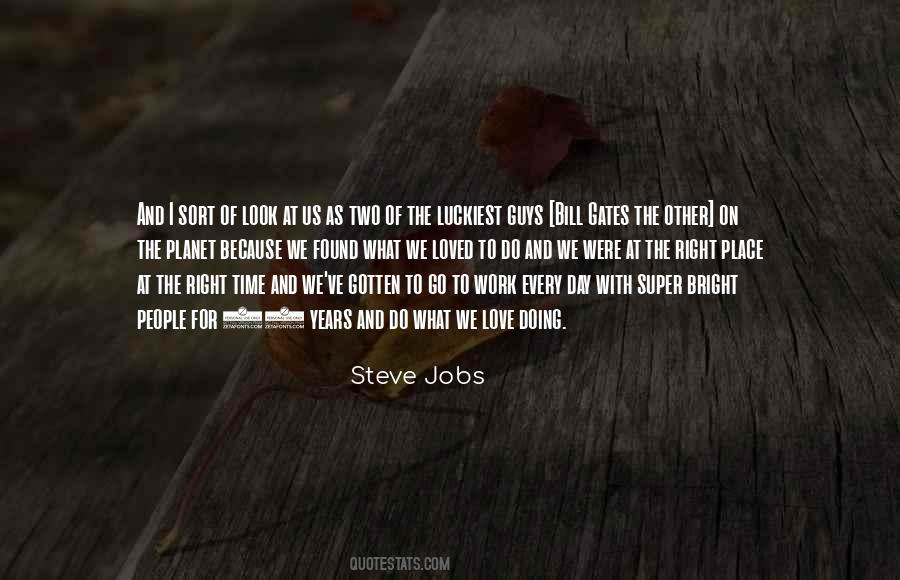 #63. When you know what pain is, and when you have to make a choice, you learn that it is a decision. People think it's a fairytale thing, love and happiness, but you have to work hard. And then - you feel it deeply. - Author: Mary J. Blige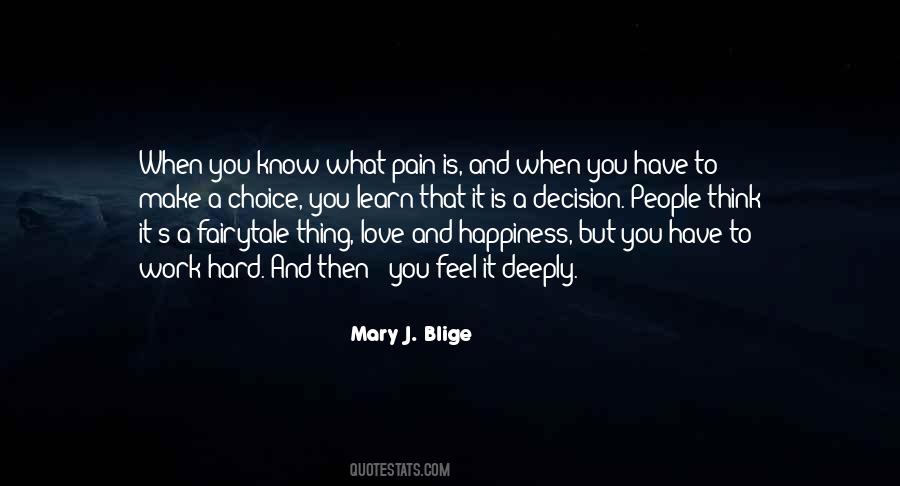 #64. There comes to everyone a turning point in their lives, M. Poirot. They stand at the crossroads and have to decide. My profession interests me enormously; it is a sorrow - a very great sorrow - to abandon it. But there are other claims. There is, M. Poirot, the happiness of a human being. - Author: Agatha Christie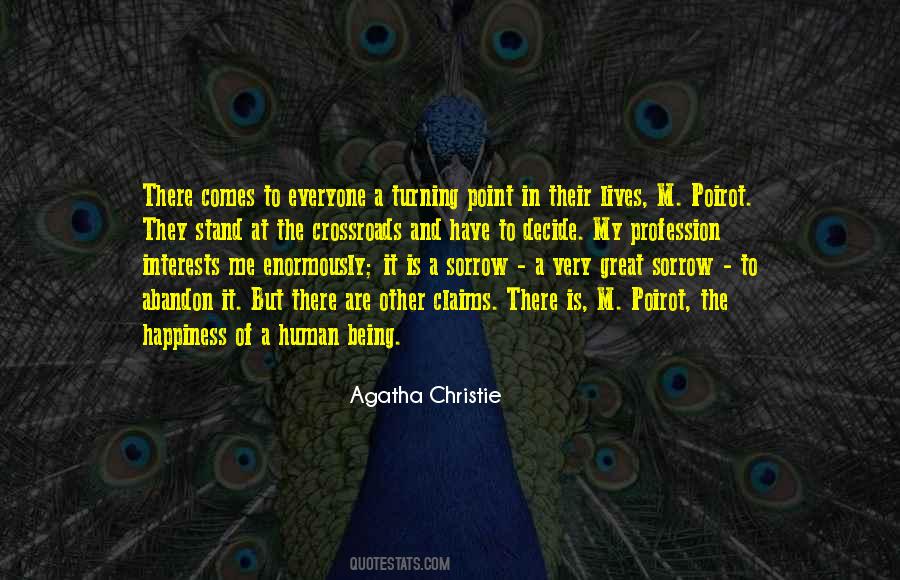 #65. There is no happiness without hard work - Author: Joanne Lipman And Melanie Kupchynsky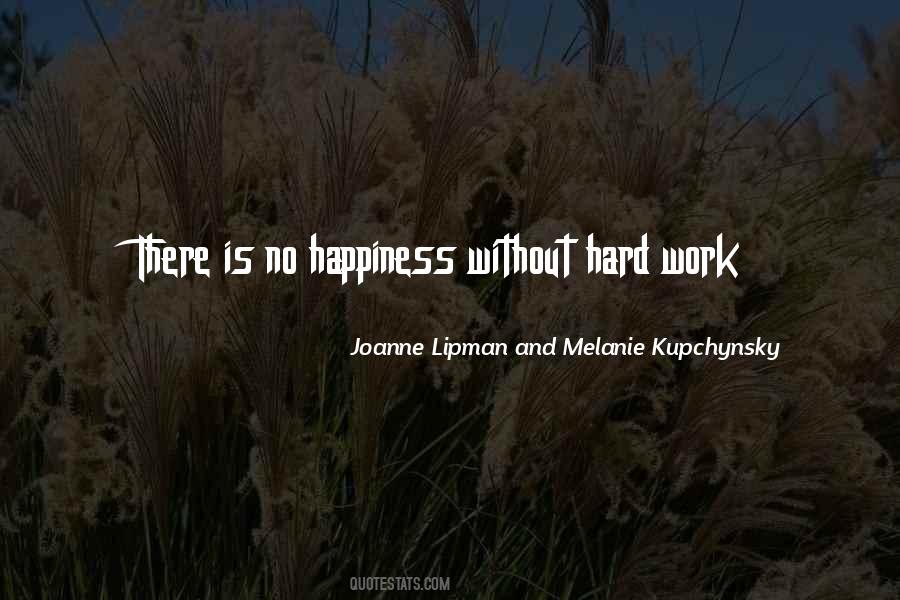 #66. Love wants to rise, not to be held down by anything base ... He who loves flies, runs, and rejoices; he is free and nothing holds him back. Derive happiness from yourself, from a good day's work, from the clearing that it makes in the fog that surrounds us. - Author: Henri Matisse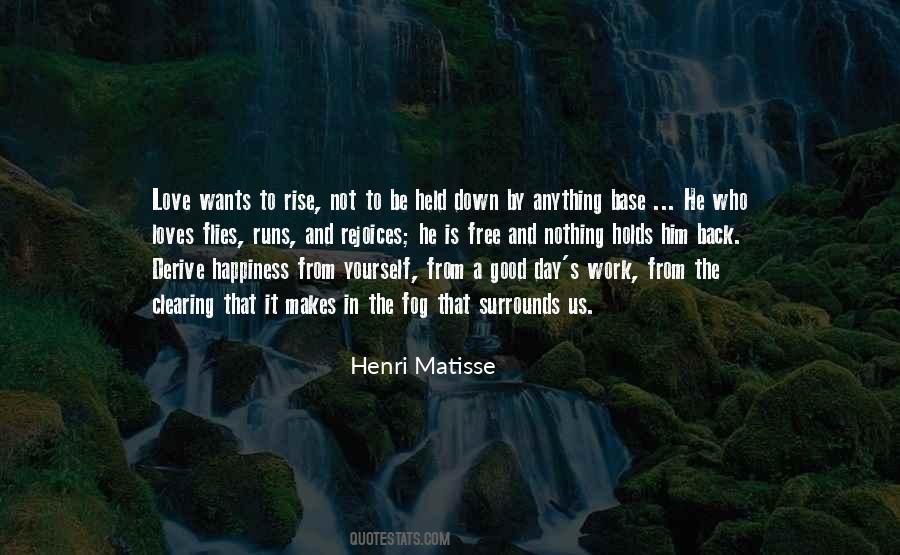 #67. Christ is with you. Do not abandon Him and He will not abandon you. You will see great sorrow, and in that sorrow you will be happy. This is my last message to you: in sorrow seek happiness. Work, work unceasingly. - Author: Fyodor Dostoyevsky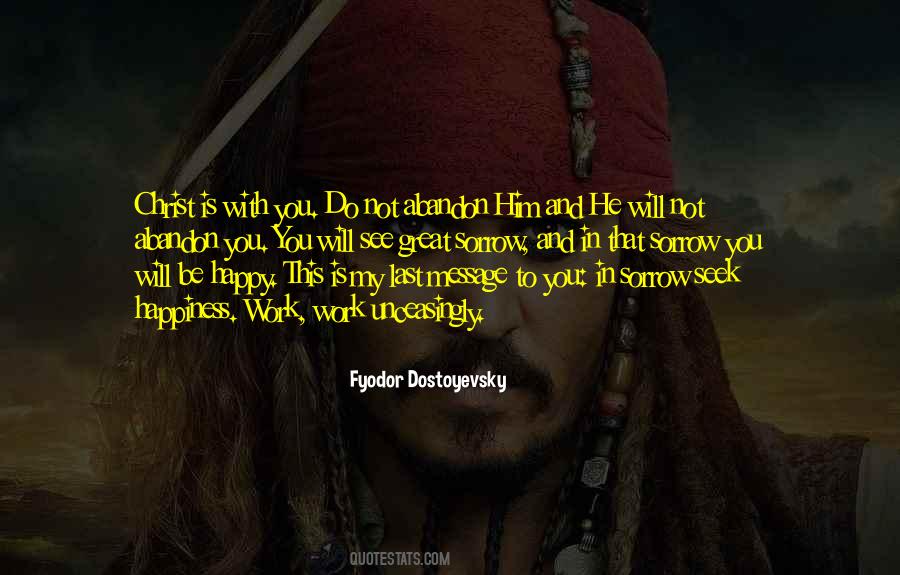 #68. It is not only my laboratory and my place of work but also my home, so that on the 30th October I was able to share my happiness immediately with my students and collaborators and, at the same time, with my wife and family. - Author: George Porter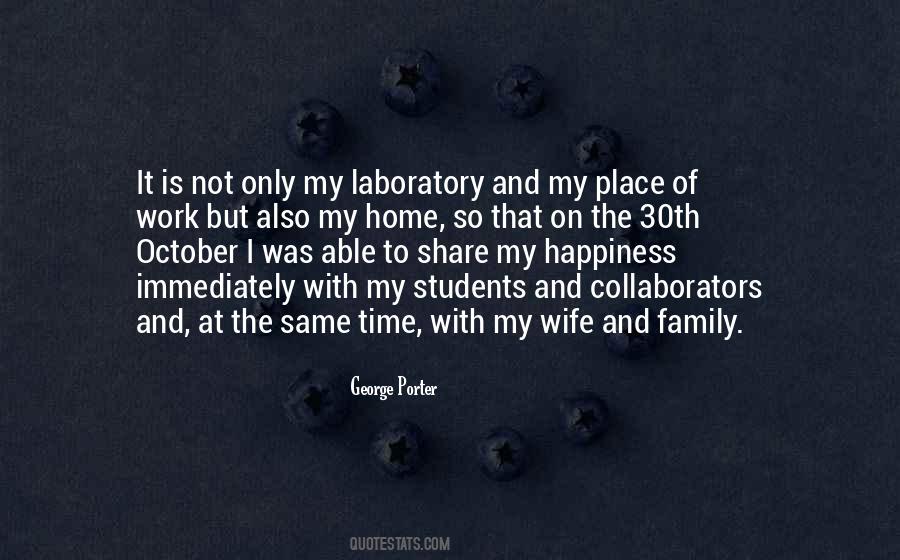 #69. I try to forget what happiness was, and when that don't work, I study the stars. - Author: Derek Walcott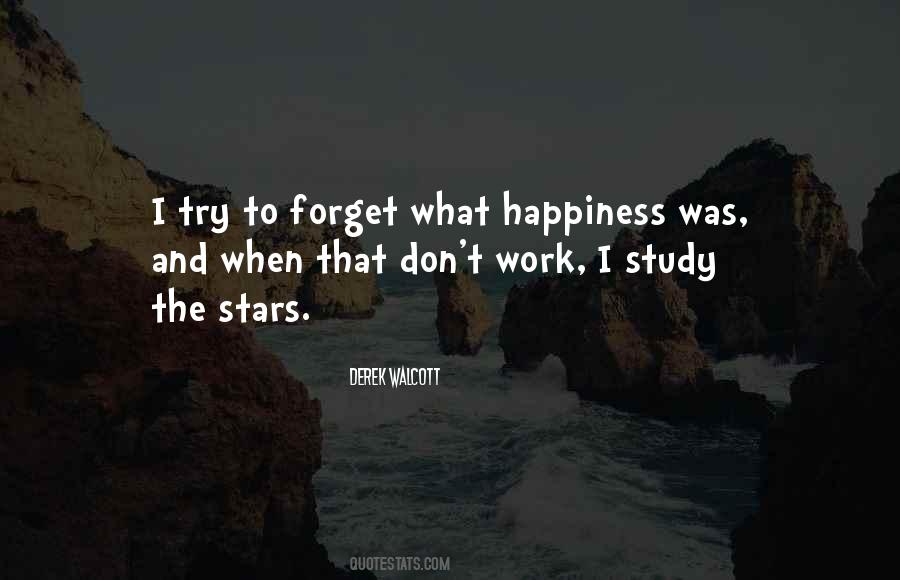 #70. You have to be very committed and find happiness in the work that you do. - Author: Zoe Saldana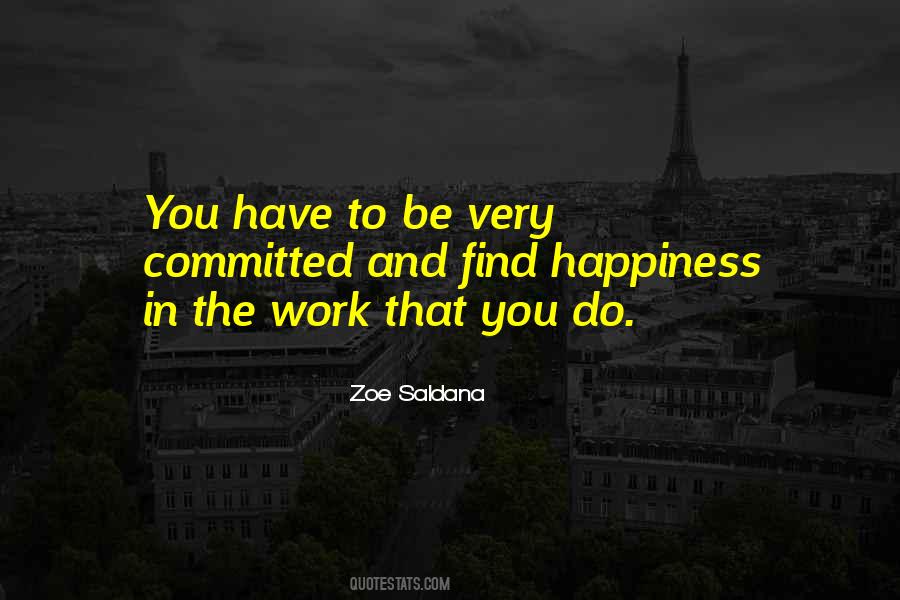 #71. Happiness does not fall out of the blue and dreams will not come true by themselves. We need to be down-to-earth and work hard. We should uphold the idea that working hard is the most honorable, noblest, greatest and most beautiful virtue. - Author: Xi Jinping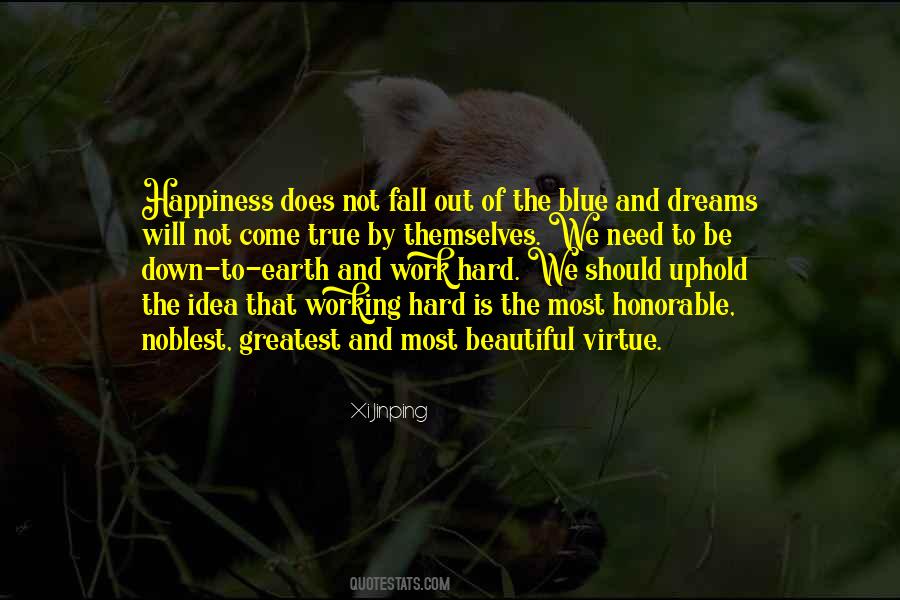 #72. Man does work for profit in order to enjoy pain; but in a positive sense, he works to enjoy the excitement and meaning that achievement provides for his own psychological growth and thereby his happiness. - Author: Frederick Herzberg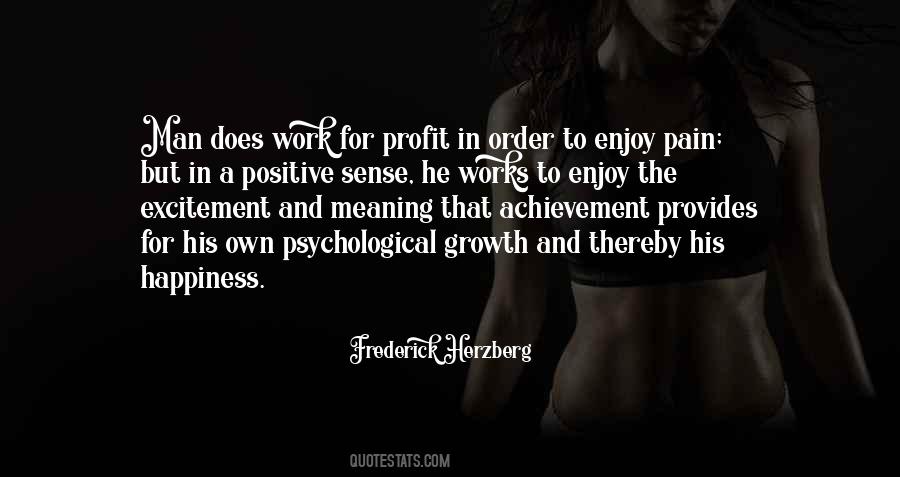 #73. Happiness seems to depend on leisure, because we work to have leisure, and wage war to live in peace. - Author: Aristotle.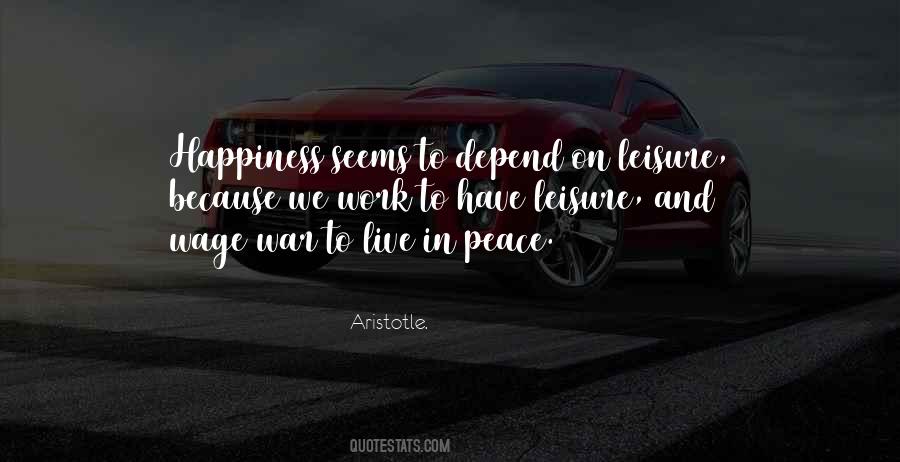 #74. Success in its highest and noblest form calls for peace of mind and enjoyment and happiness which come only to the man who has found the work that he likes best. - Author: Napoleon Hill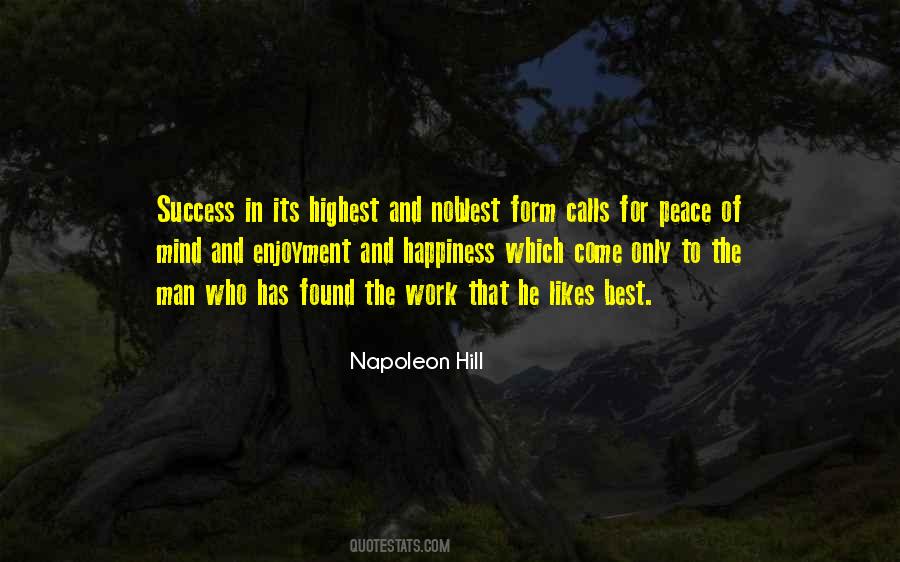 #75. Not many are the moments in life, where the easiest choice also happens to be the best one.
Cherish and remember those moments, but do not let them become a habit, for the fruits that hard work reaps are irreplaceable. - Author: Rosen Topuzov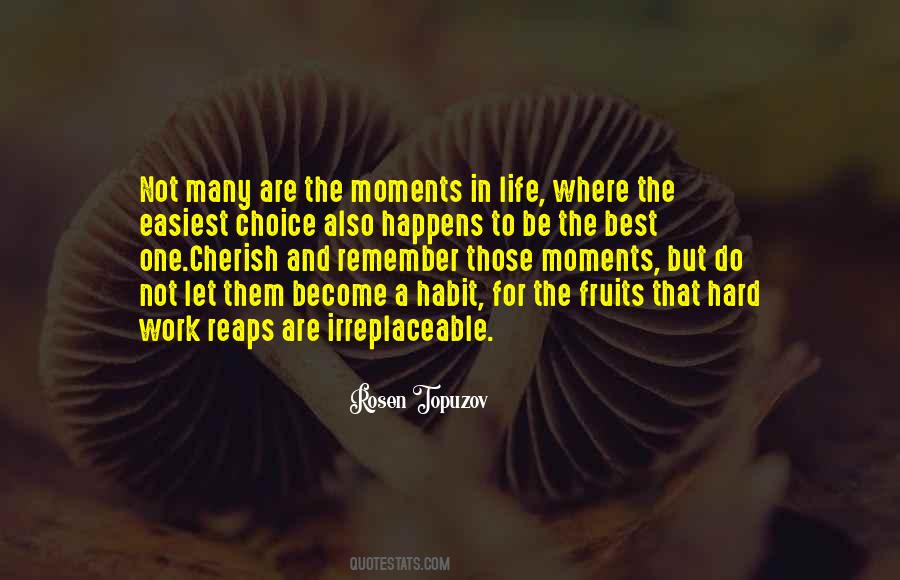 #76. If you want to feel more comfortable and happy, work on making the people around you more comfortable and happy. - Author: Kathy Freston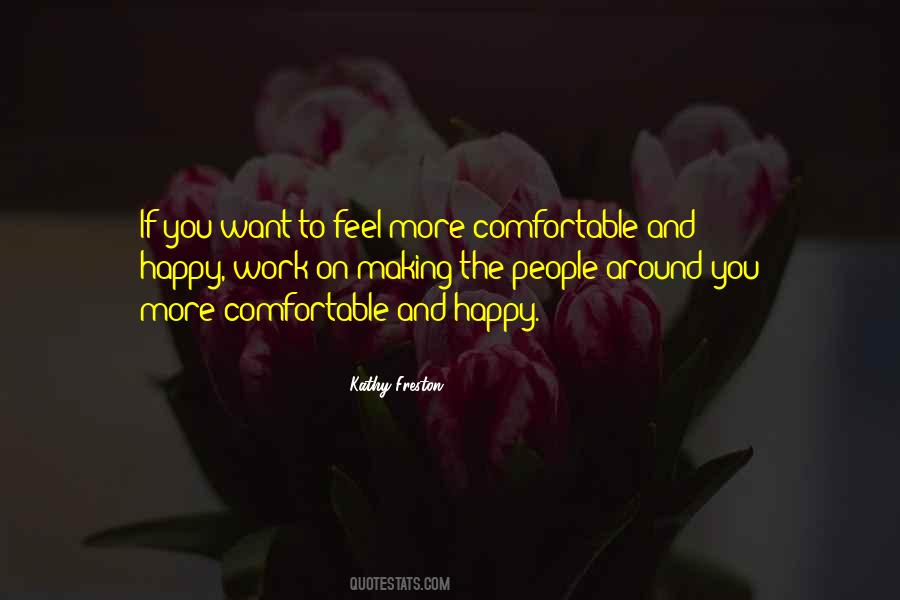 #77. It was difficult to enjoy the trees and flowers when I was so aware of all that I had not yet done - pruning, weeding, transplanting, mulching, composting, tagging. When I was doing the work myself, I was happy, free. - Author: Jay Neugeboren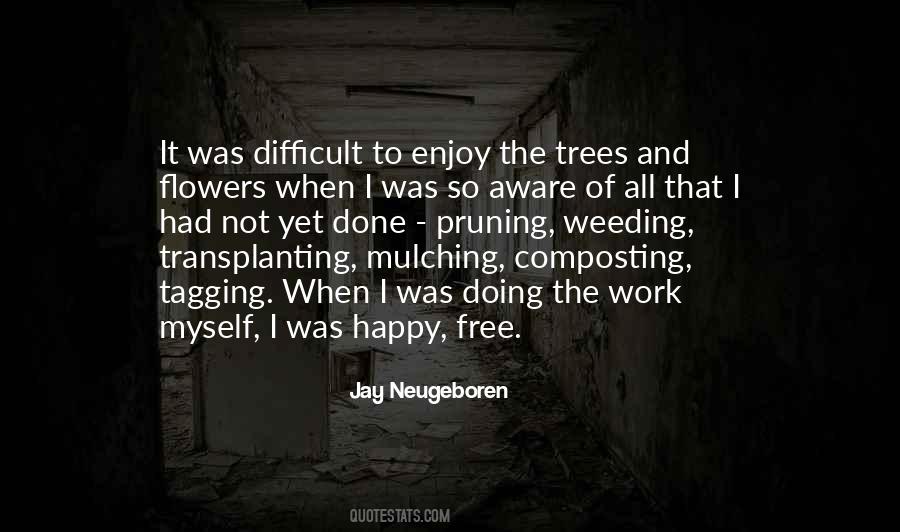 #78. Fight, fight, fight and get that money, money, money. 'Cause happiness can't buy even a nickel. - Author: Ari Gold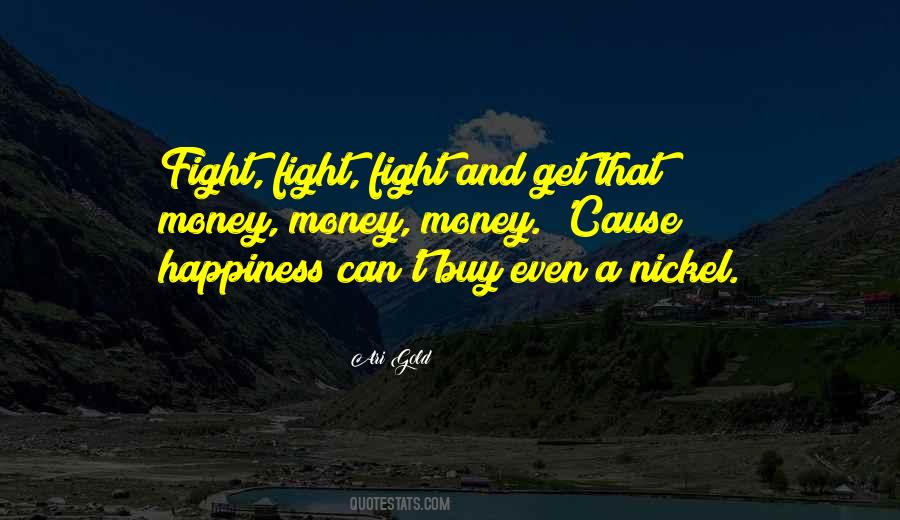 #79. Happiness is life served up with a scoop of acceptance, a topping of tolerance and sprinkles of hope, although chocolate sprinkles also work. - Author: Robert Breault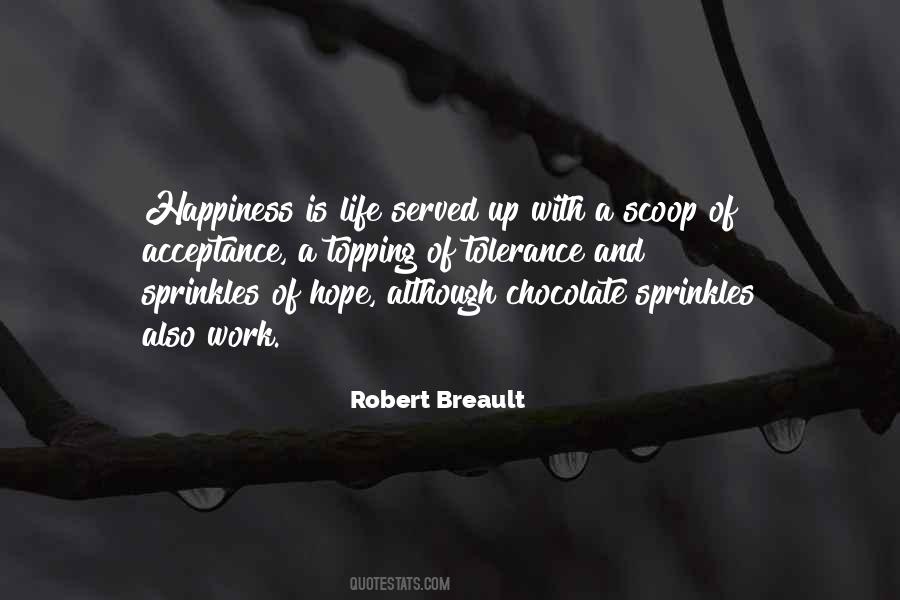 #80. Last year, [Pope Francis] was asked about his secret to happiness. He said slow down. Take time off. Live and let live. Don't proselytize. Work for peace. Work at a job that offers basic human dignity. Don't hold on to negative feelings. Move calmly through life. Enjoy art, books and playfulness. - Author: Timothy Egan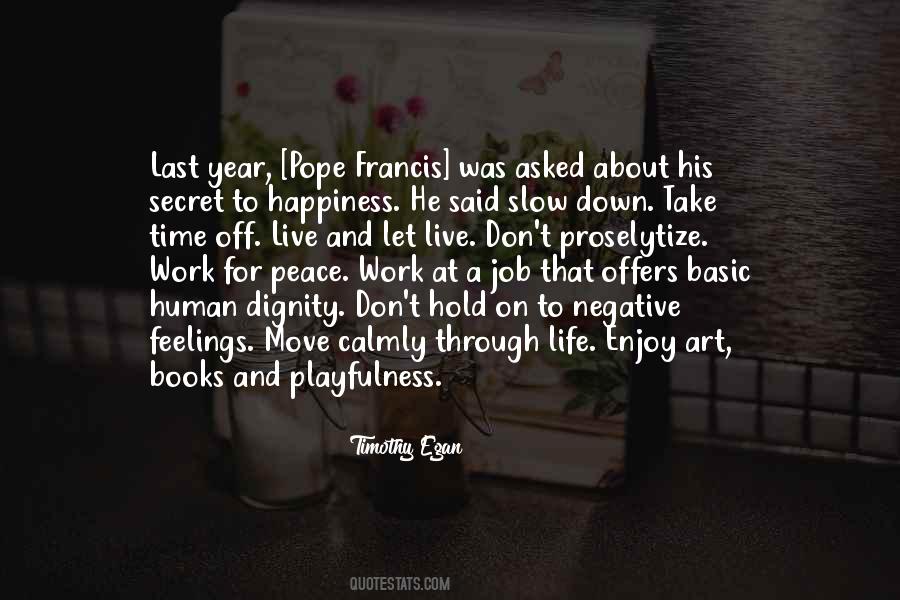 #81. Patience, persistence and hard work lead to success and happiness. Or you can do whatever the hell you want and with a bit or a whole lot of luck you'll stumble onto success and happiness. - Author: S.A. Tawks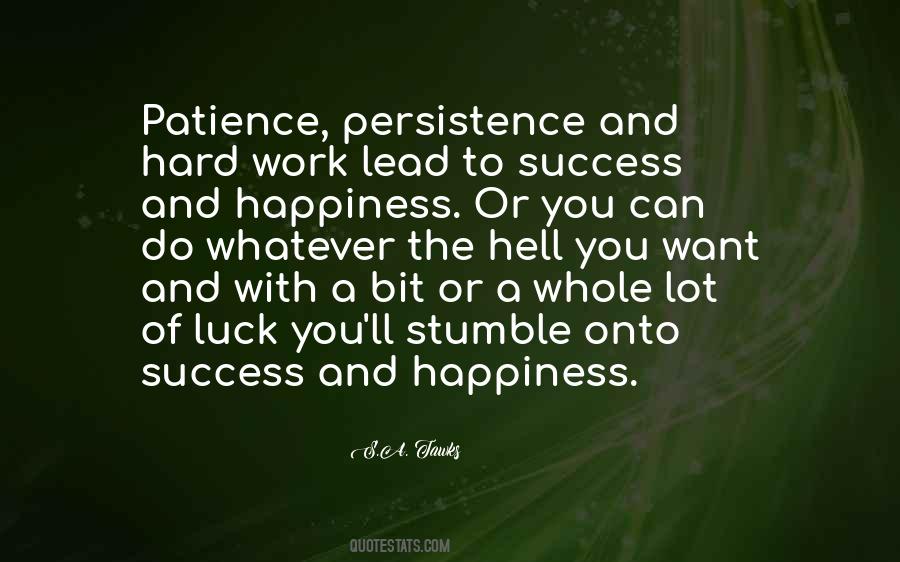 #82. Work out what is truly important to you. Research shows people with consistently high happiness scores prioritise their life according to the things they value. They've worked out what is most important to them and don't allow themselves to get sidetracked. - Author: Robert Holden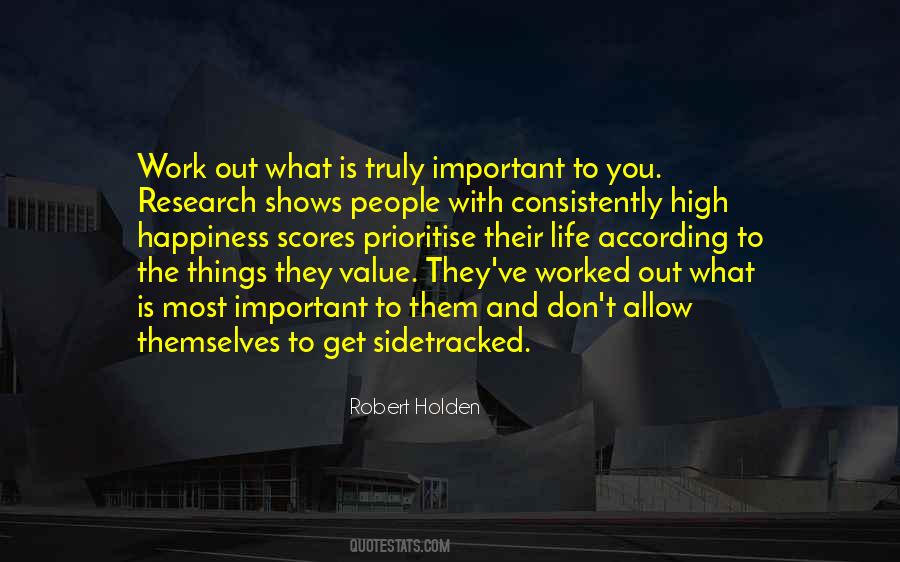 #83. Happiness isn't found in some finite checklist of goals that we can diligently complete and then coast. It's how we live our lives in the process. That's why the four pillars of happiness are faith, family, community and meaningful work. Those are priorities we have to keep investing in. - Author: Arthur C. Brooks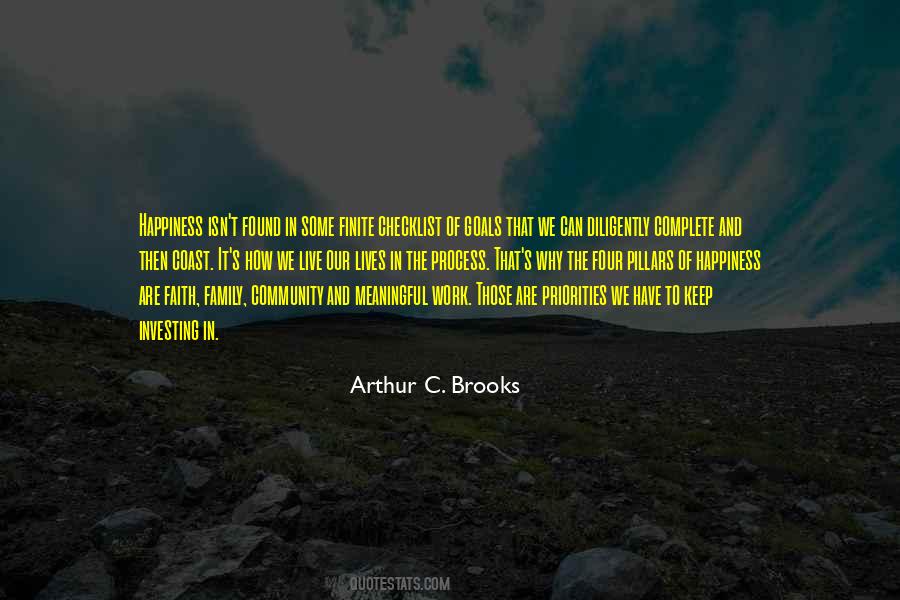 #84. Everything is a subject; the subject is yourself. It is within yourself that you must look and not around you ... The greatest happiness is to reveal it to others, to study oneself, to paint oneself continually in [one's] work. - Author: Eugene Delacroix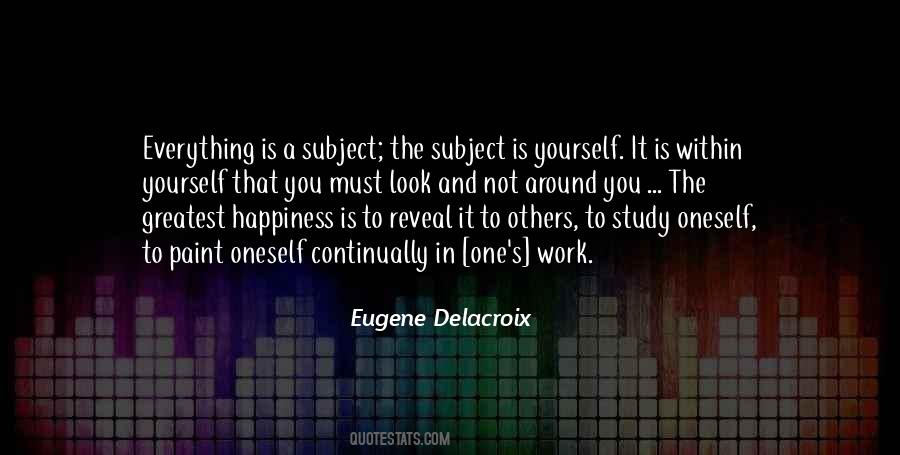 #85. Learn to say No - and to be rude about it when necessary. Otherwise you will not have time to carry out your duty, or to do your own work, and certainly no time for love and happiness. The termites will nibble away your life and leave none of it for you. - Author: Robert A. Heinlein
#86. You can't be happy at work every day. No matter how much you love your job, there are still going to be bad days. And that's cool - it's always OK to have a bad day at work. - Author: Alexander Kjerulf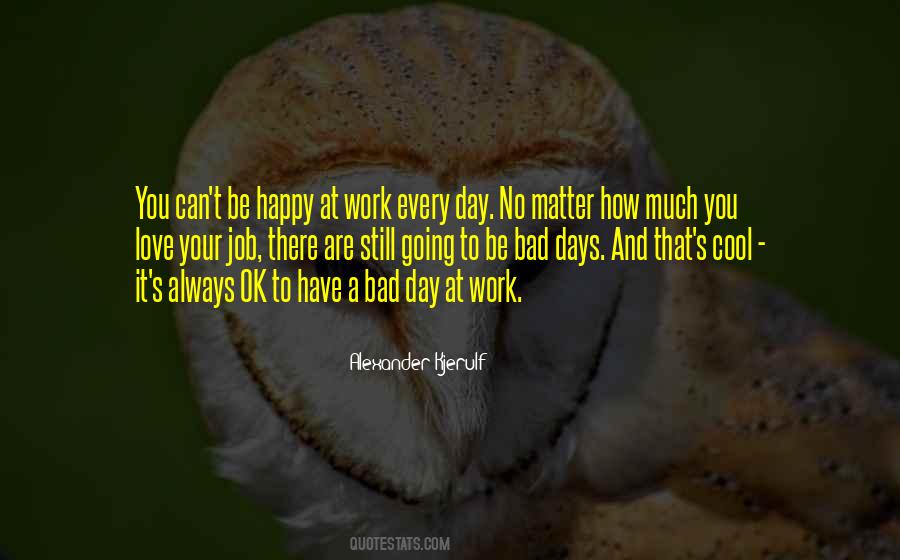 #87. How very beautiful and consoling our faith is! For the little work we do here on earth it promises in return all the joys of assured happiness. - Author: Rose Philippine Duchesne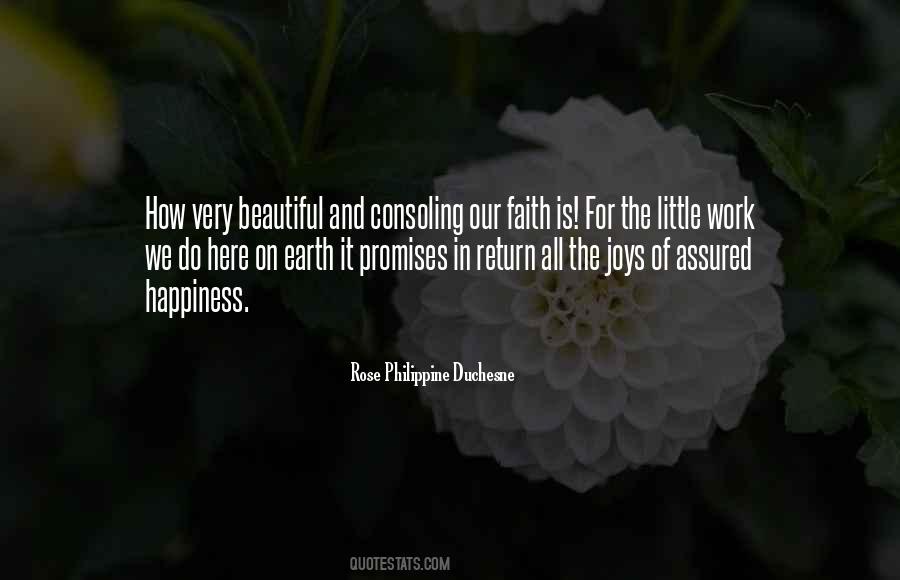 #88. And to know that joy - not just happiness, but true joy - comes when we give up our own agenda and let God work through us. Then we can begin to see the bigger picture, the eternal picture, rather than just the tiny brush stroke of our own lives. - Author: Laura Sobiech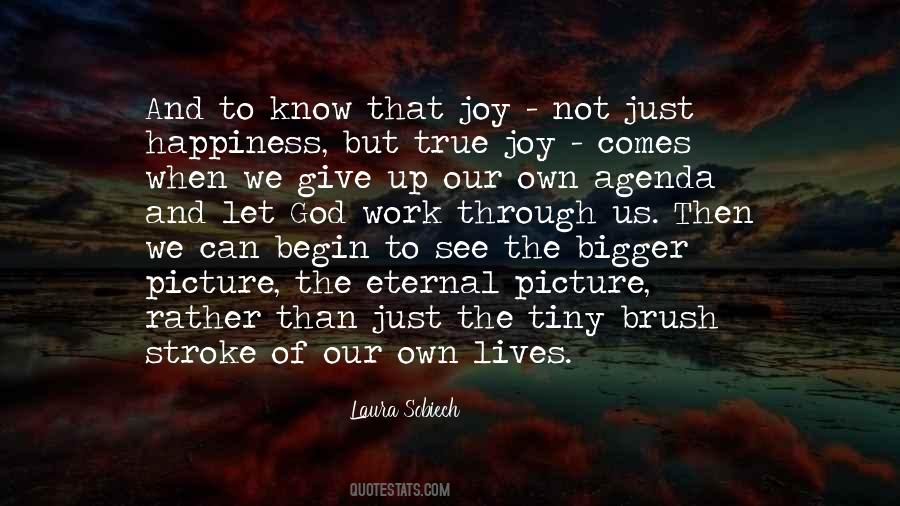 #89. The door available to everyone that can lead to happiness & success is the modest door of the public library. I found it to be so in my own life and work. - Author: Herman Wouk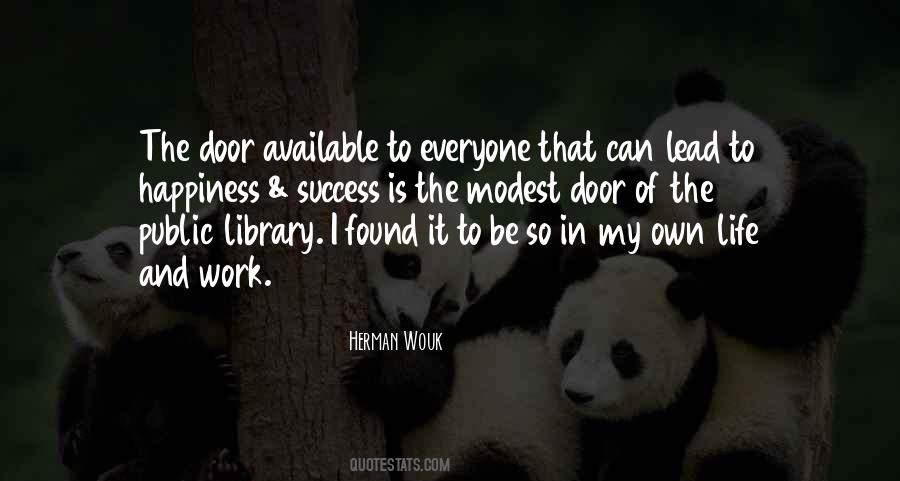 #90. I really love being alive. I love my family and my work. I love the opportunity I have to do things. That's what happiness is. - Author: Michael J. Fox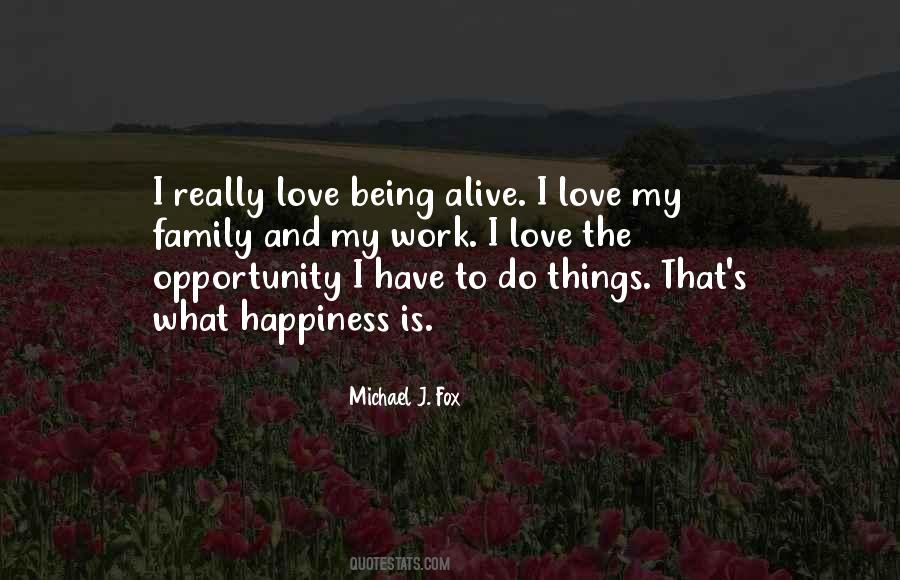 #91. Happiness comes in small doses folks. It's a cigarette butt, or a chocolate chip cookie or a five second orgasm. You come, you smoke the butt you eat the cookie you go to sleep wake up and go back to fucking work the next morning, THAT'S IT! End of fucking list! - Author: Denis Leary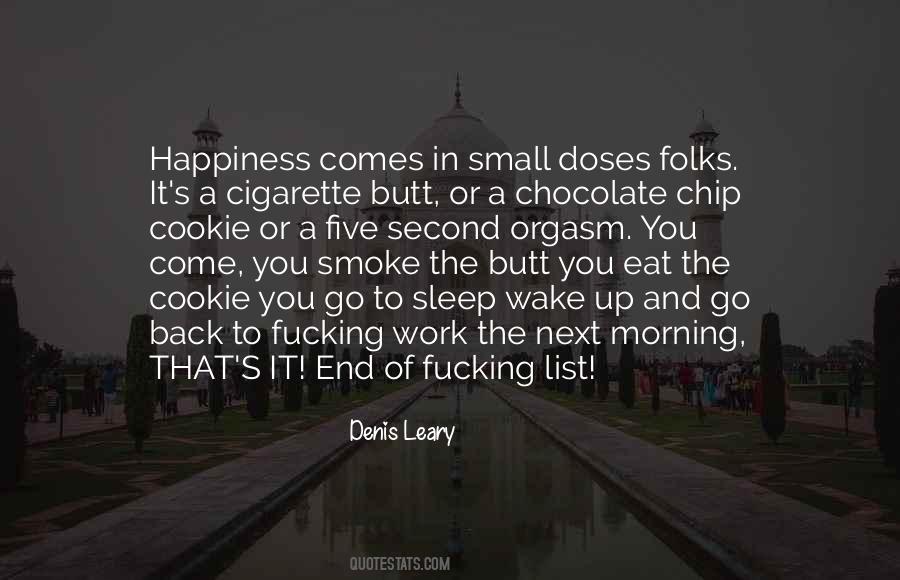 #92. Happiness is a habit, it isn't something that comes with new clothes. It's something you have to work at. So, start smiling and get out and take some exercise - Author: John Crace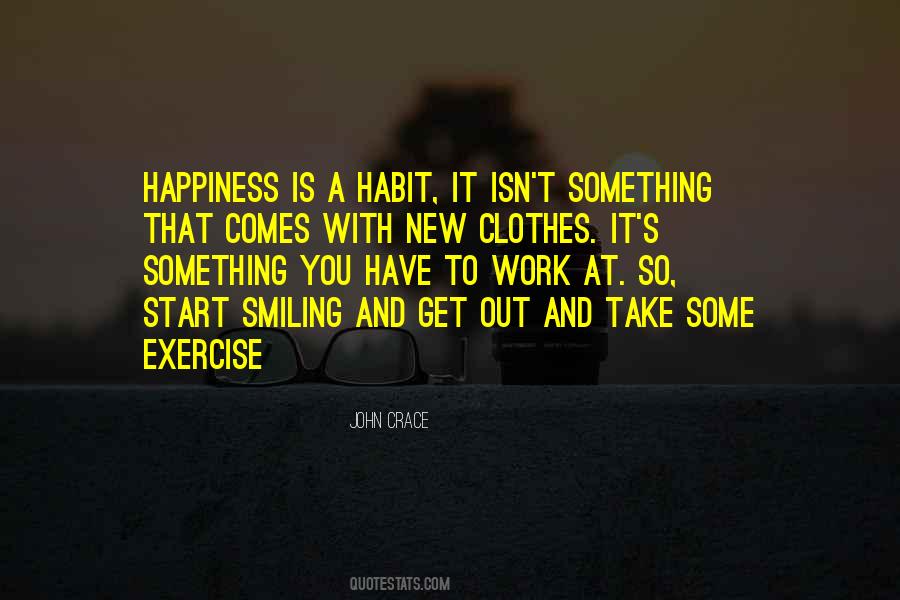 #93. Defender of the liberty that I idolize, myself more free than anyone, in coming as a friend to offer my services to this intriguing republic, I bring to it only my frankness and my good will; no ambition, no self-interest; in working for my glory, I work for their happiness. - Author: Marquis De Lafayette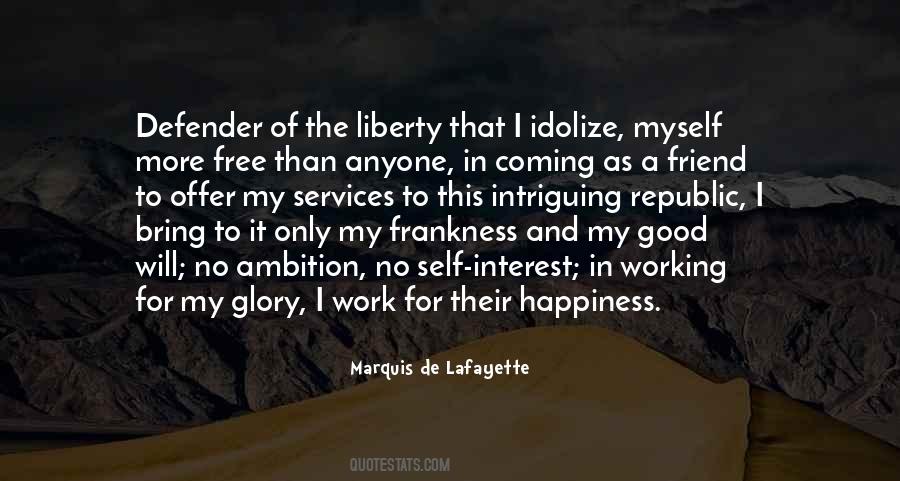 #94. Advice for a long and happy life - never tell a writer you have fixed their work. Ever. - Author: C.S. Woolley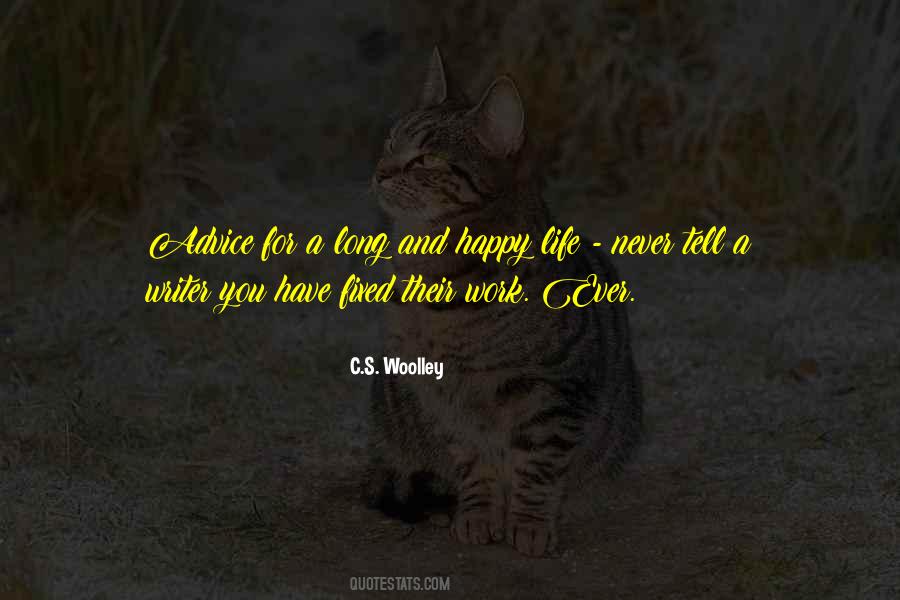 #95. Self esteem is not the same as being self centered, self absorbed or selfish. Self esteem is also not complacency or overconfidence, both of which and set us up for failure. Self esteem is a strong motivator to work hard. Self esteem is related to mental health and happiness. - Author: Glenn R. Schiraldi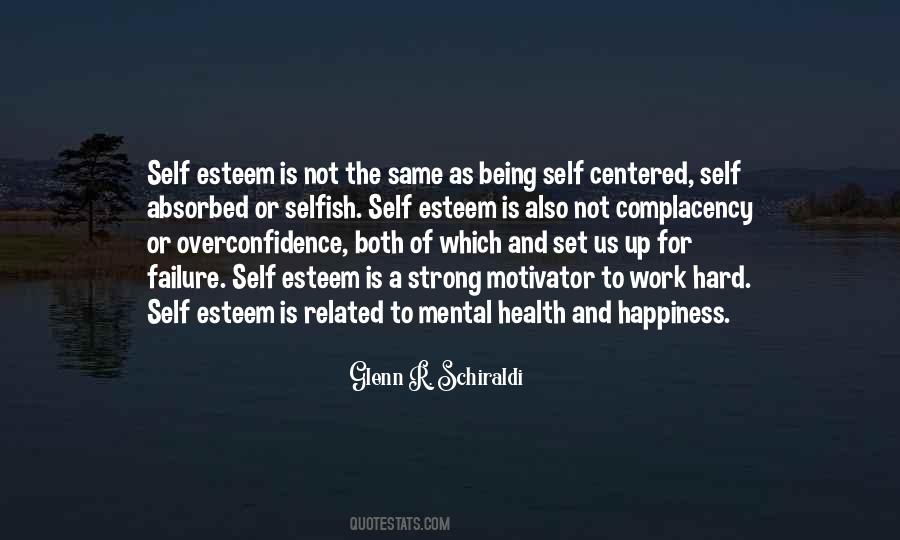 #96. If you want to be happy you have to work to make it happen. You can't just wish for it and you can't put it in the hands of other people. - Author: Michael Buckley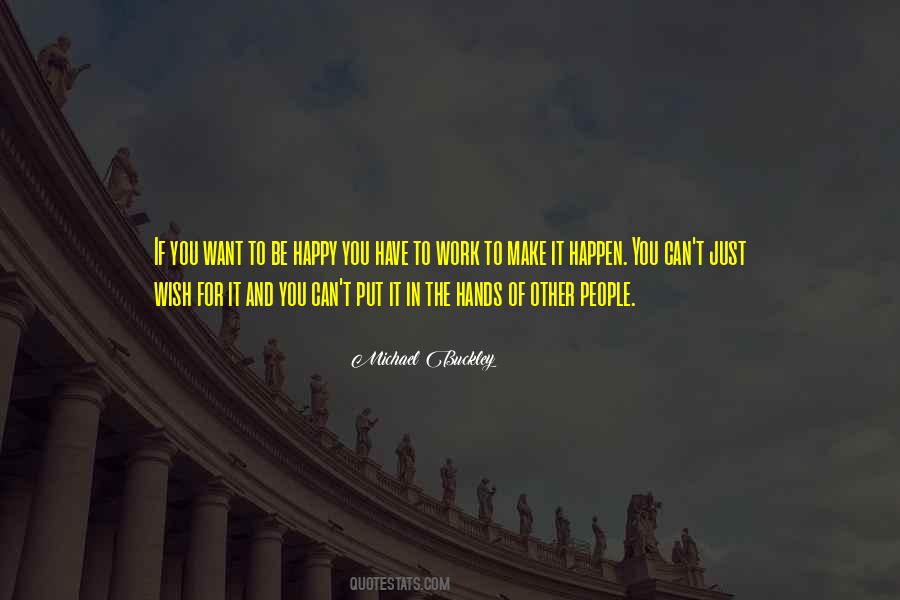 #97. Continuity of purpose is one of the most essential ingredients of happiness in the long run, and for most men that comes chiefly through their work. - Author: Bertrand Russell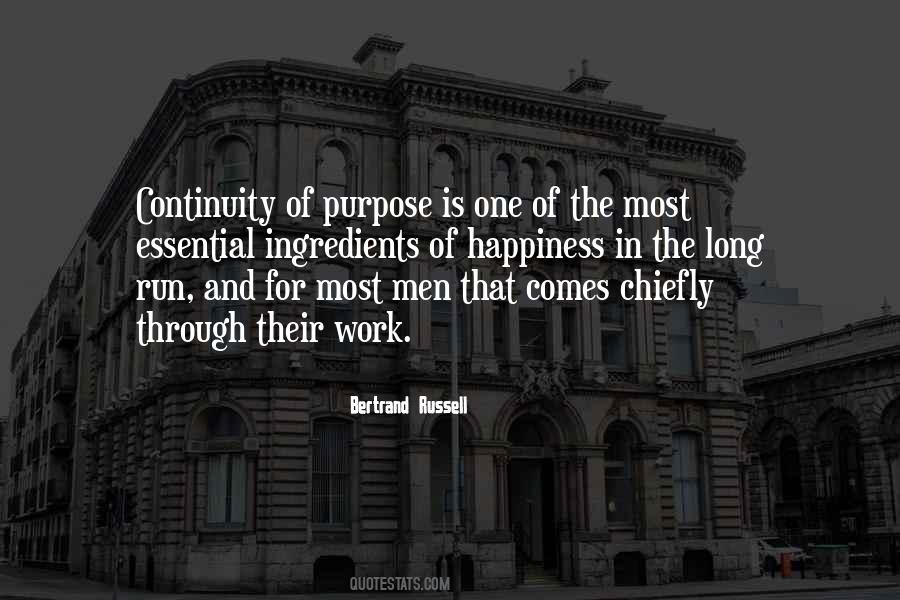 #98. Time spent for temporary happiness like movie or outing or weekend on a beach is all synthetic; with shelf life of a day or two. Work for your bigger dreams that should last for whole life. Then movie and beach would seem more interesting, realising that you have done something. - Author: Vikrmn
#99. 80% of man's happiness is based on love - love for others, love for self, love for family, love for friends, love for work, love for nature, and love for being loved. - Author: Ogwo David Emenike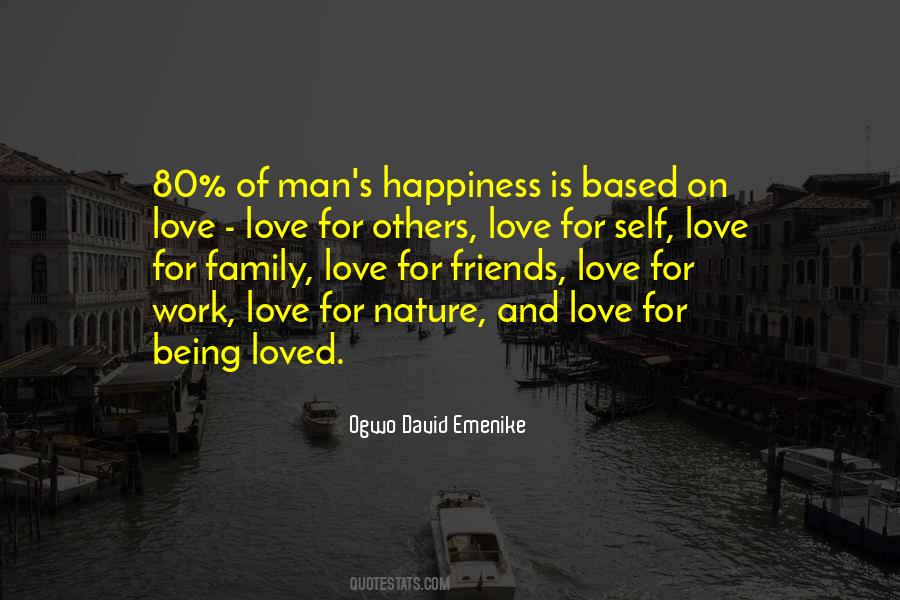 #100. These things I wish for you-tough times and disappointment, hard work and happiness. To me, it's the only way to appreciate life. - Author: Paul Harvey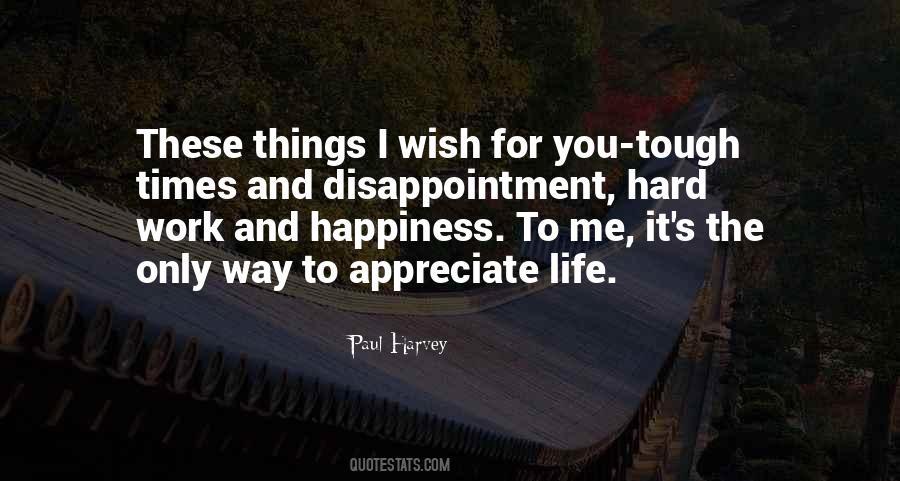 Famous Authors
Popular Topics