Great Poets Famous Quotes & Sayings
List of top 89 famous quotes and sayings about great poets to read and share with friends on your Facebook, Twitter, blogs.
Top 89 Quotes About Great Poets
#1. There are many unspeakable words, forgotten, or forbidden.
Great thanks to the poets who make them all become reachable. - Author: Toba Beta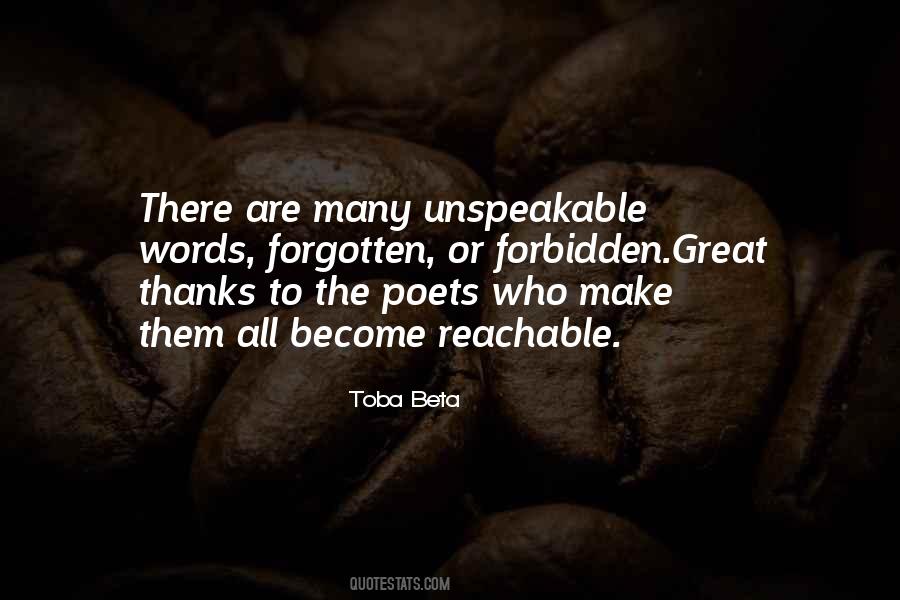 #2. Each young person is a poet of sorts, trying to sort out the poetics of their inner life and its relation to the great world around it. Each elder is a philosopher of sorts, trying to sort out the meanings and gleanings of a life as well as the necessary implications of the presence of death. - Author: Michael Meade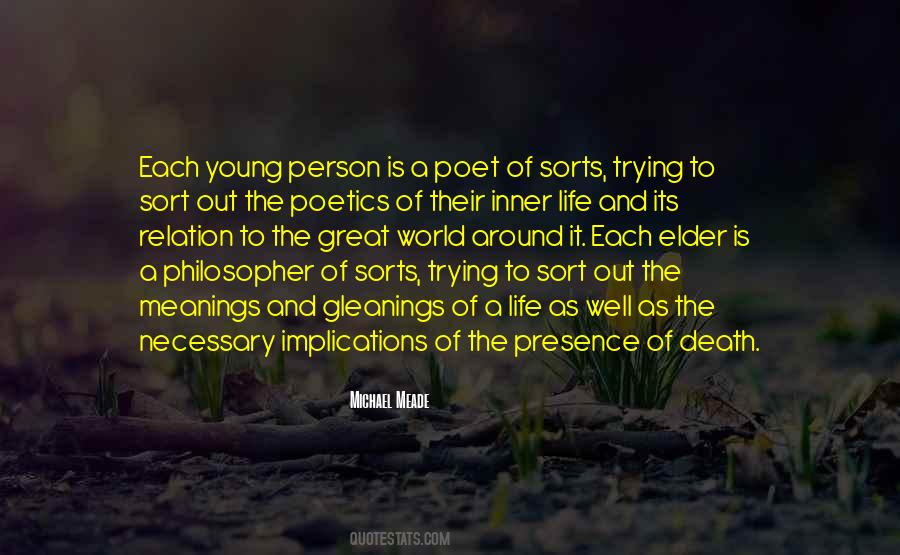 #3. We've always had a tradition in America of hounding our artists to death. Look at the list of our great artists, you see a continual history of defeat, frustration, poverty, alcoholism, drug addiction. The best poets of my generation are all suicides. - Author: James Dickey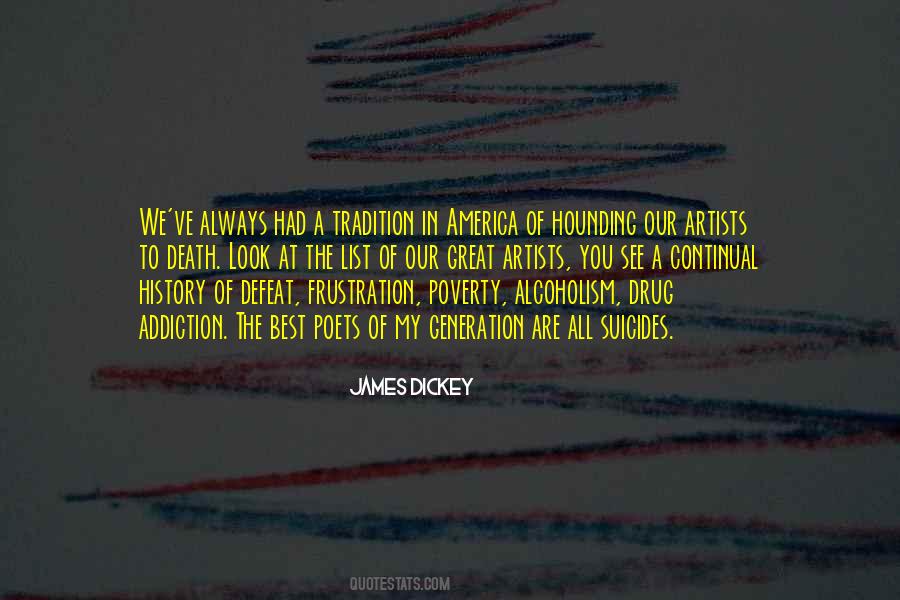 #4. I'm from Chicago, so the Chicago working-class poets still mean a great deal to me. - Author: Sandra Cisneros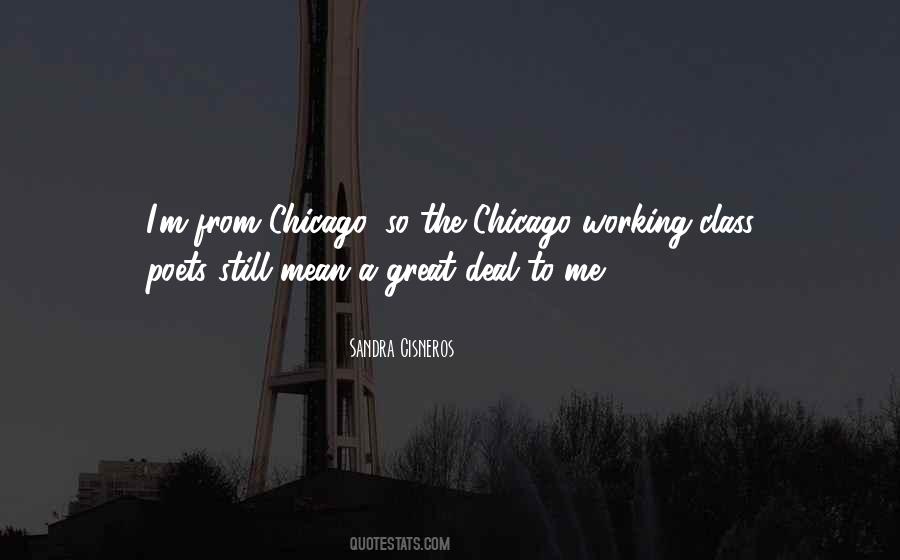 #5. I know who the great poets are. - Author: Jack Kerouac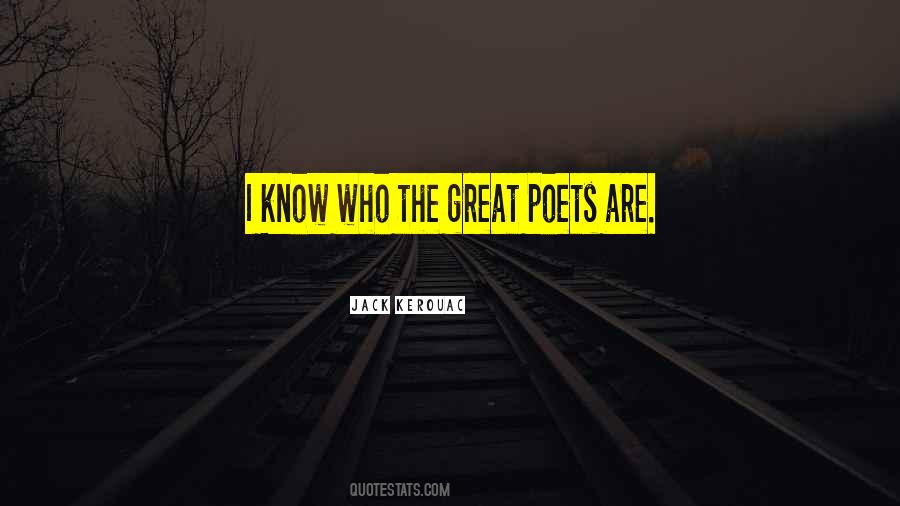 #6. Now, I do say, "It's possible. You might be the first. I'm not saying it's impossible, but the odds are very much against you." All great poets have been great readers and the way to learn your craft in poetry is by reading other poetry and by letting it guide you. - Author: Edward Hirsch
#7. Men of great talents, whether poets or historians, seldom escape the attacks of those who, without ever favoring the world with any production of their own, take delight in criticising the works of others. - Author: Miguel De Cervantes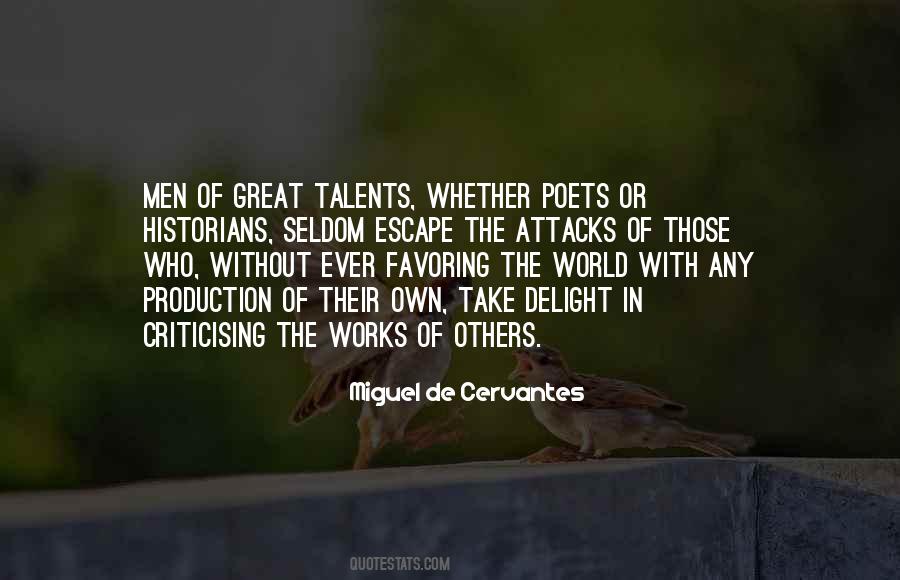 #8. As poets, we don't accept oppression; we are about a freedom of spirit, or whatever you want to call it. I think environmental concerns have to go to the deep place, so we speak from a place of great empathy for the planet - for the disadvantaged people, animals, places, cultures. - Author: Alison Hawthorne Deming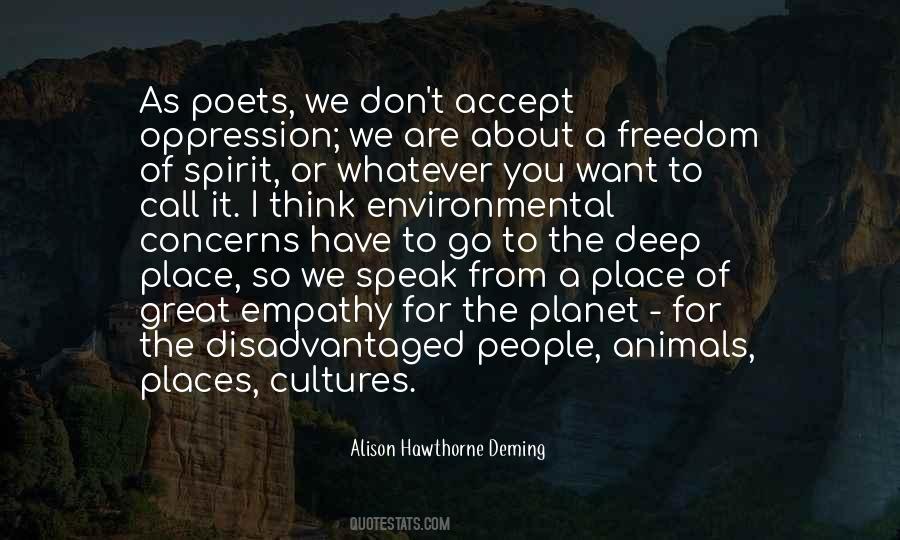 #9. Good artists exist simply in what they make, and consequently are perfectly uninteresting in what they are. A great poet, a really great poet, is the most unpoetical of all creatures. But inferior poets are absolutely fascinating. - Author: Oscar Wilde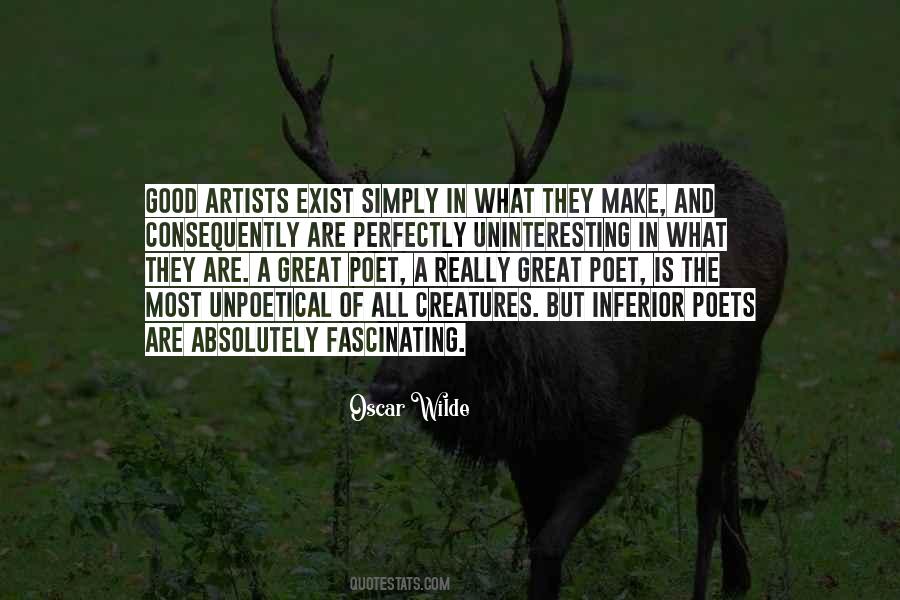 #10. When a great war has cut off the young men of a nation it never can be told thereafter what losses of scholars, poets, thinkers and great designers the country and the world have suffered. - Author: James Vila Blake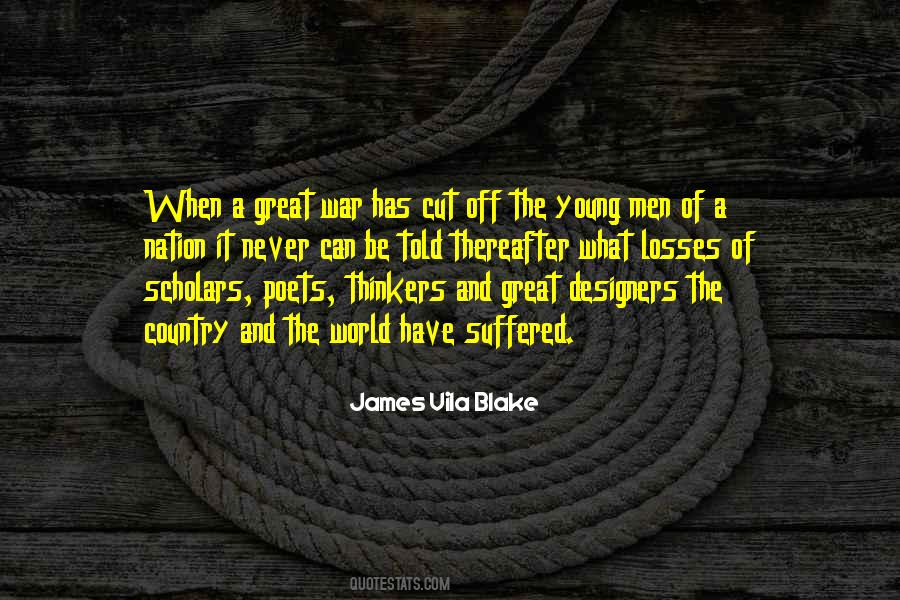 #11. The greatest poets are those with memories so great that they extend beyond their strongest experiences to their minutest observations of people and things far outside their own self-centeredness. - Author: Stephen Spender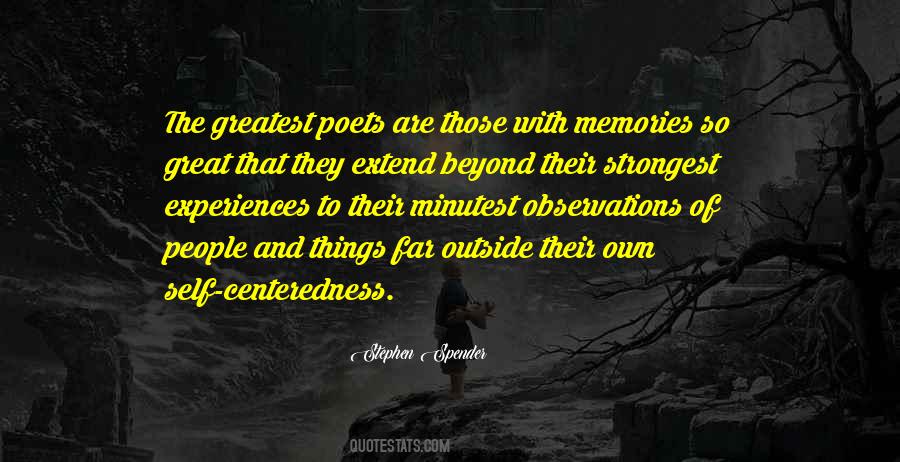 #12. The grocery store poets do everything they can to encourage us in our willing suspension of disbelief. - Author: Michael Pollan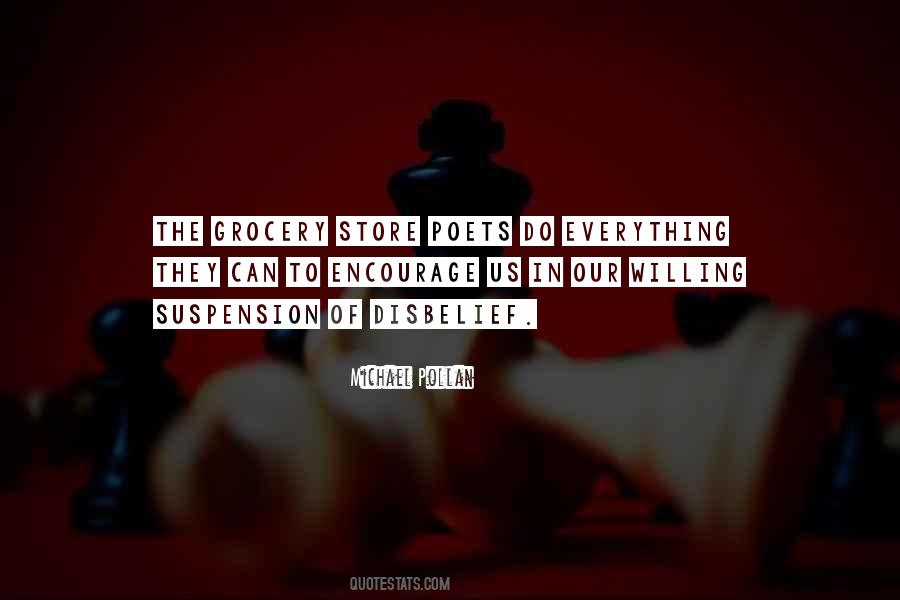 #13. The Life of Johnson is assuredly a great, a very great work. Homer is not more decidedly the first of heroic poets, Shakspeare is not more decidedly the first of dramatists, Demosthenes is not more decidedly the first of orators, than Boswell is the first of biographers. He has no second. ========== - Author: Anonymous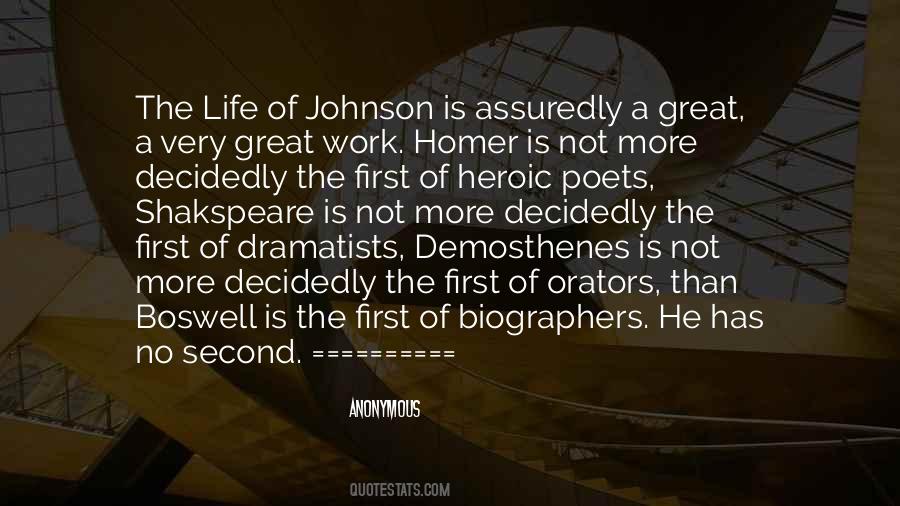 #14. I'd rather die fighting over great poets than over gods. - Author: Salman Rushdie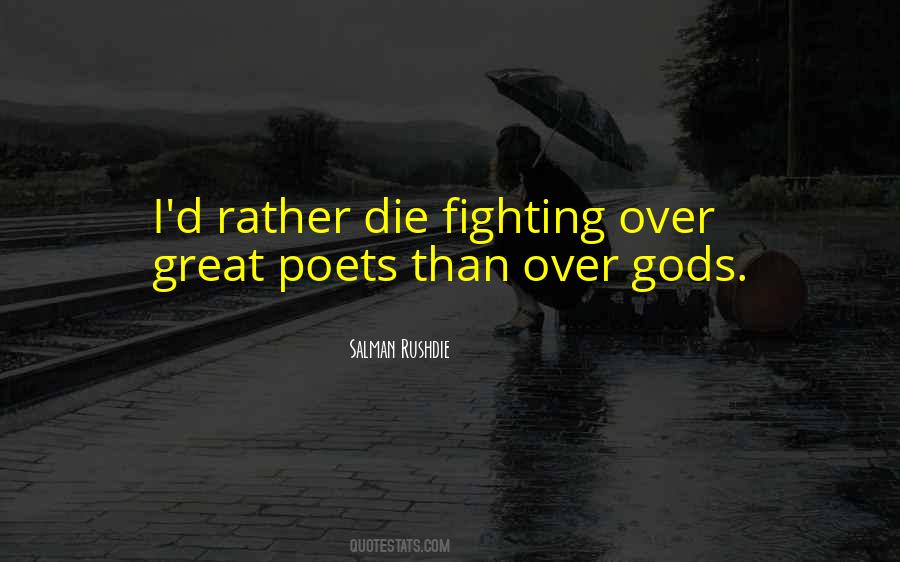 #15. Great writers experience their dreams. They put them on paper, where others can read about them. - Author: Ellen J. Barrier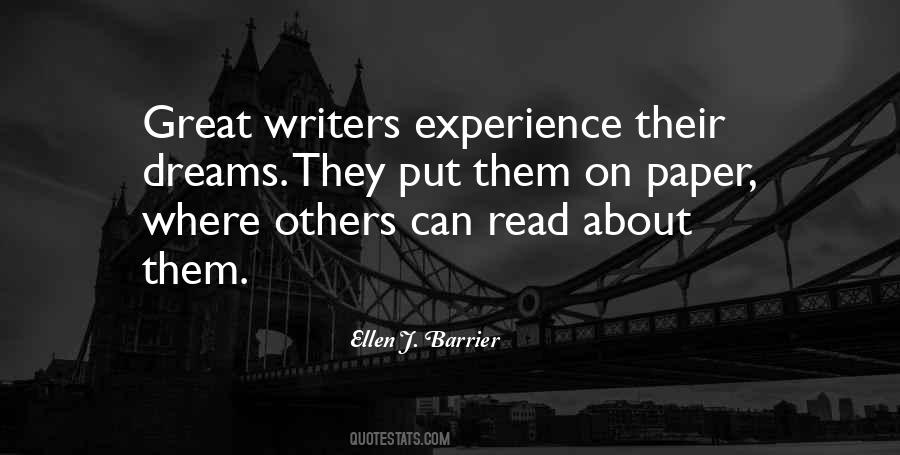 #16. [Judith Shakespeare] lives in you and in me [ ... ] she lives; for great poets do not die; they are continuing presences; they need only the opportunity to walk among us in the flesh. - Author: Virginia Woolf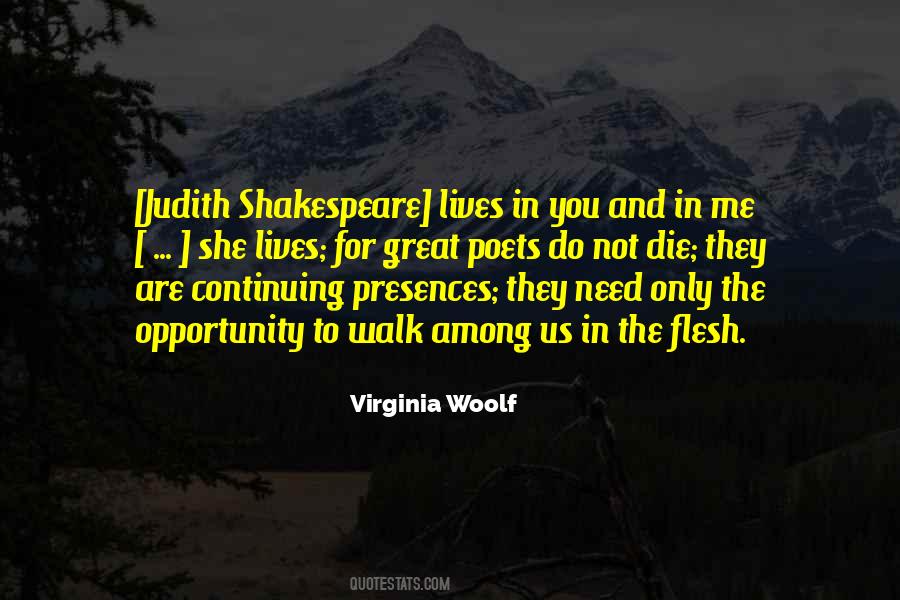 #17. I think writers are the most narcissistic people. Well, I musn't say this, I like many of them, a great many of my friends are writers. - Author: Sylvia Plath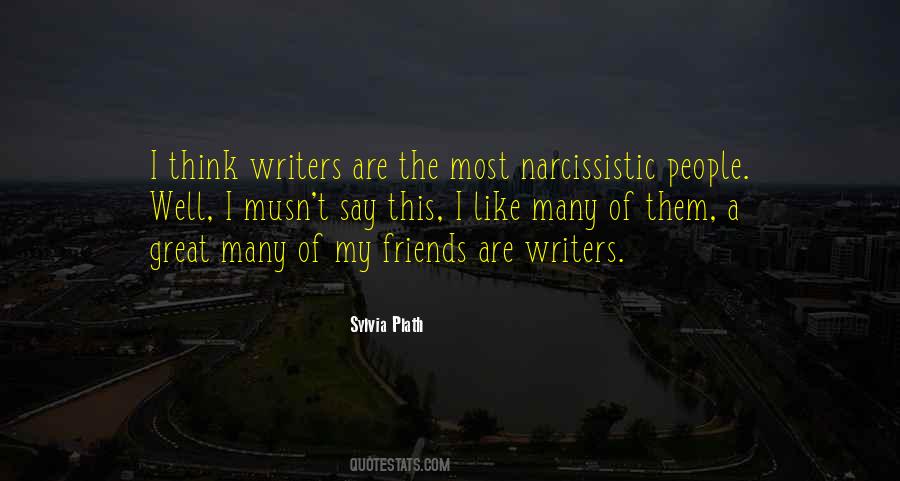 #18. One of my great surprises when I was in America was about twenty-five years ago in Harvard, hearing Randall Jarrell deliver a bitter attack on the way poets were neglected. Yet there were about two thousand people present, and he was being paid five hundred dollars for delivering this attack. - Author: Stephen Spender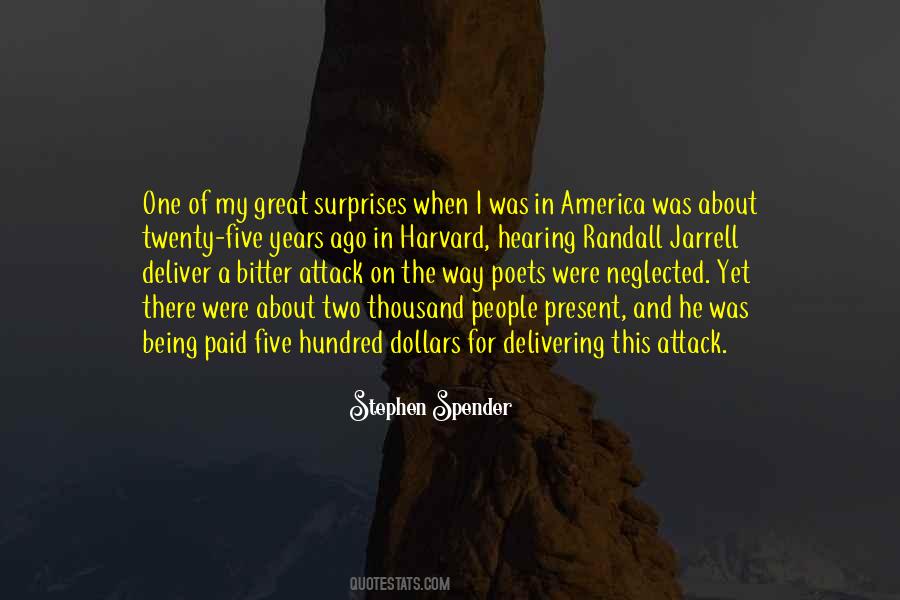 #19. I hope that most people at this point in time realize that Prince is one of the great poets of our time. I didn't say songwriter - I said poet. Prince is the closest thing we have to e. e. cummings and people are so stupid because they don't come in here and buy books of Prince poems. It - Author: Caroline Kepnes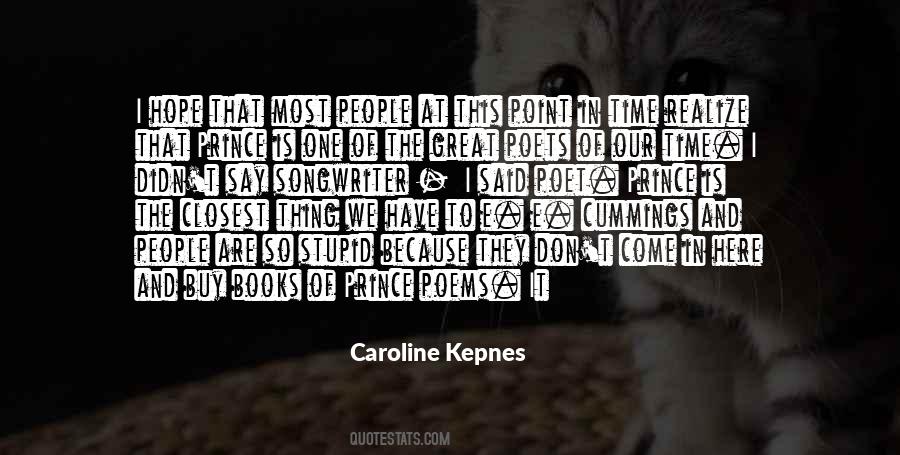 #20. Molecules are moving. Universes are colliding. Generations are being born and dying simultaneously, throughout eternity. As one of our great American poets, Walt Whitman, once said: "I contain multitudes." - Author: Frederick Lenz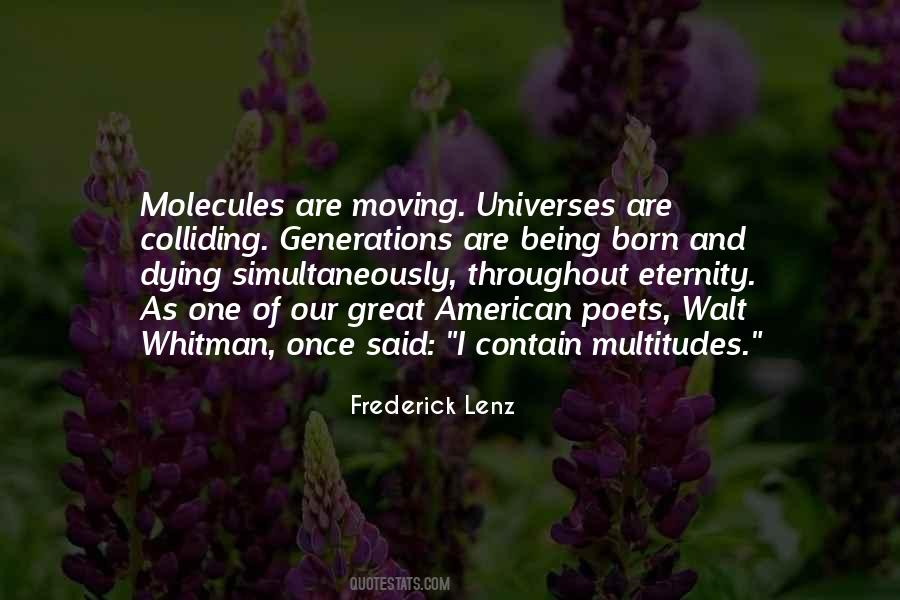 #21. I think great artists and great engineers are similar, in that they both have a desire to express themselves. In fact some of the best people working on the original Mac were poets and musicians on the side. - Author: Steve Jobs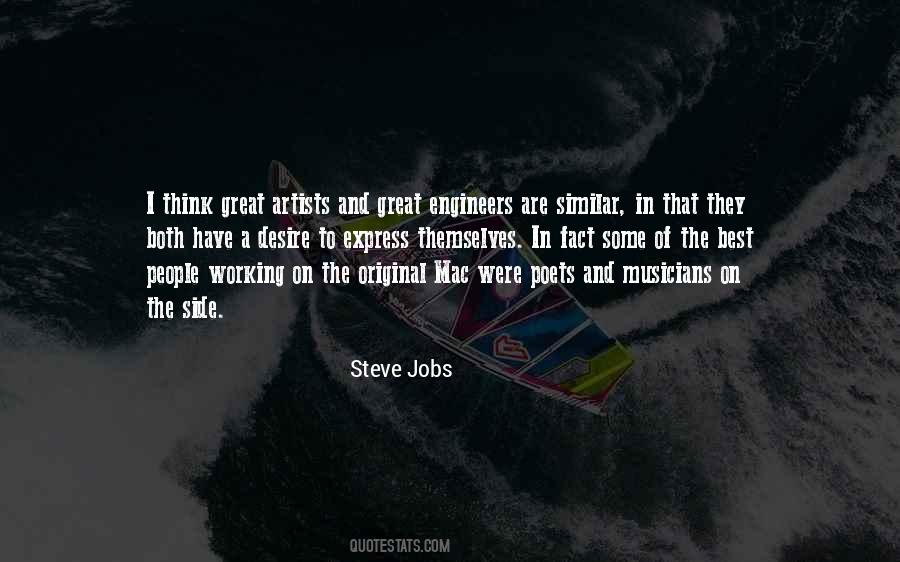 #22. Only those of our poets who kept solidly to the Shakespearean tradition achieved any measure of success. But Keats was the last great exponent of that tradition, and we all know how thin, how lacking in charm, the copies of Keats have become. - Author: Amy Lowell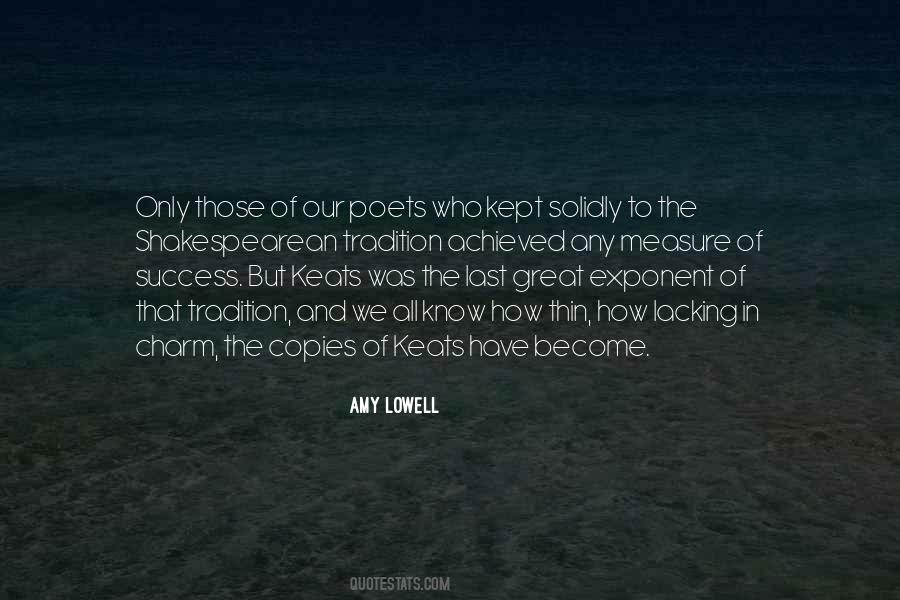 #23. Our hospital was famous and housed many great poets and singers. Did the hospital specialize in poets and singers or was it that poets and singers specialized in madness? - Author: Susanna Kaysen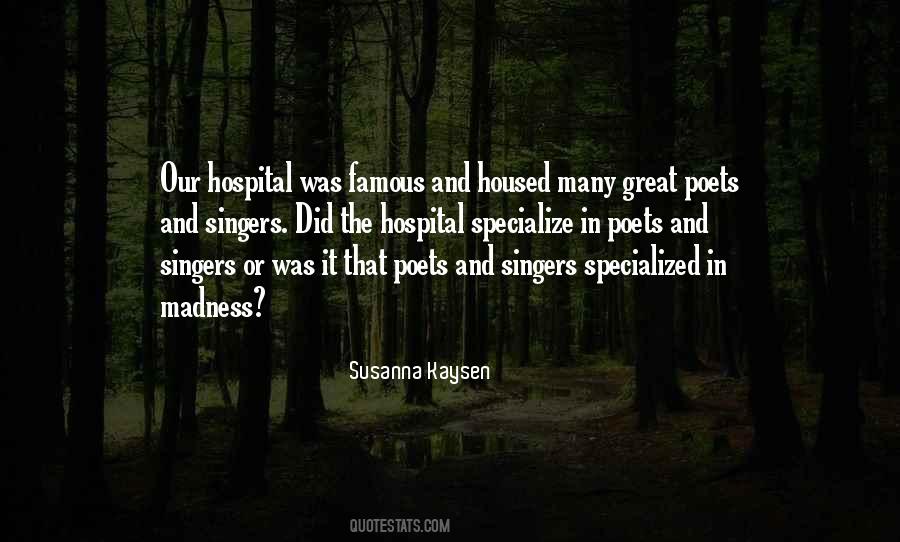 #24. Great poets are all philosophers too profound to systematize their ideas. Inside every dark visionary is a being of insidious reason waiting patiently for his host to die. From the cleft of the creative arises the categorical flower. - Author: Alex Stein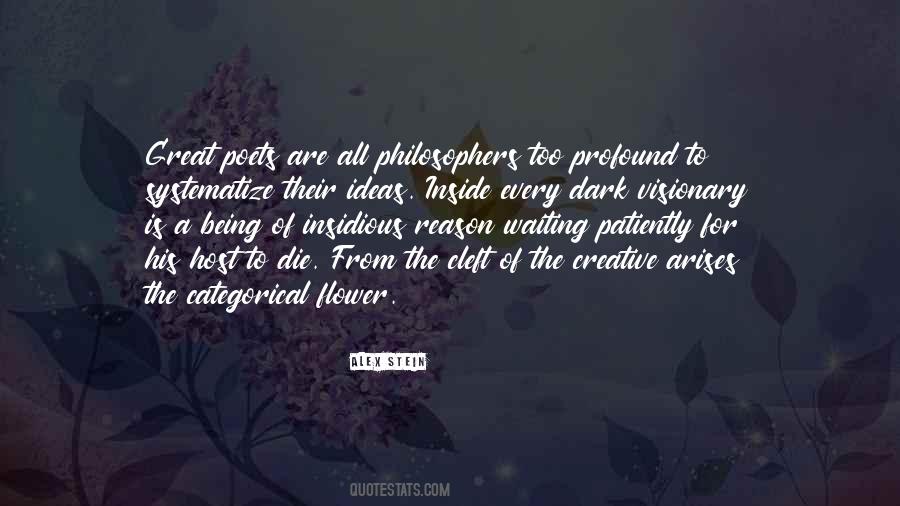 #25. Oh yes, children often commit murders. And quite clever ones, too. Some murderers, particularly the distinguished ones who are going to make great names for themselves, start amazingly early ... Like mathematicians and musicians. Poets develop later. - Author: John Lee Mahin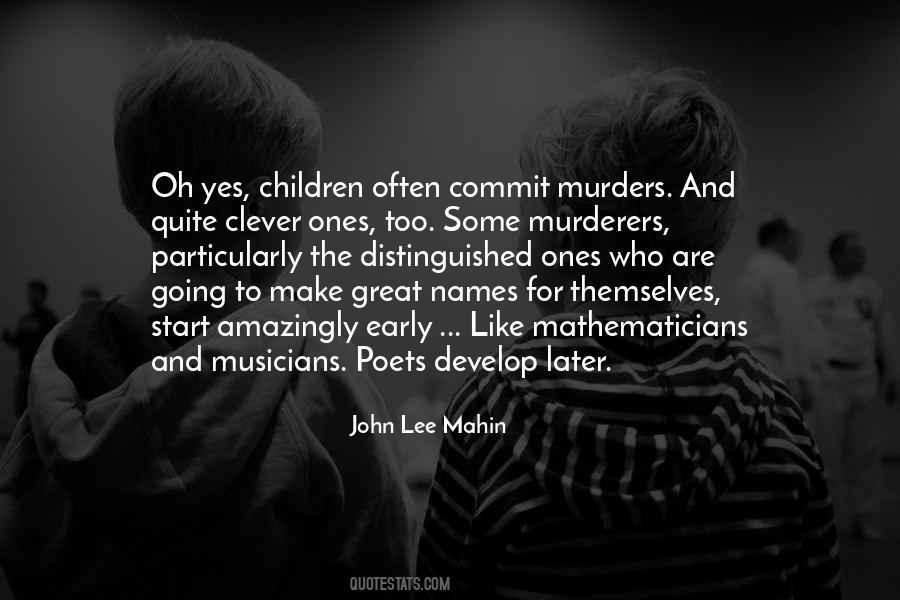 #26. Elegance? It may seem odd to non-scientists, but there is an aesthetic in software as there is in every other area of intellectual endeavour. Truly great programmers are like great poets or great mathematicians - they can achieve in a few lines what lesser mortals can only approach in three volumes - Author: John Naughton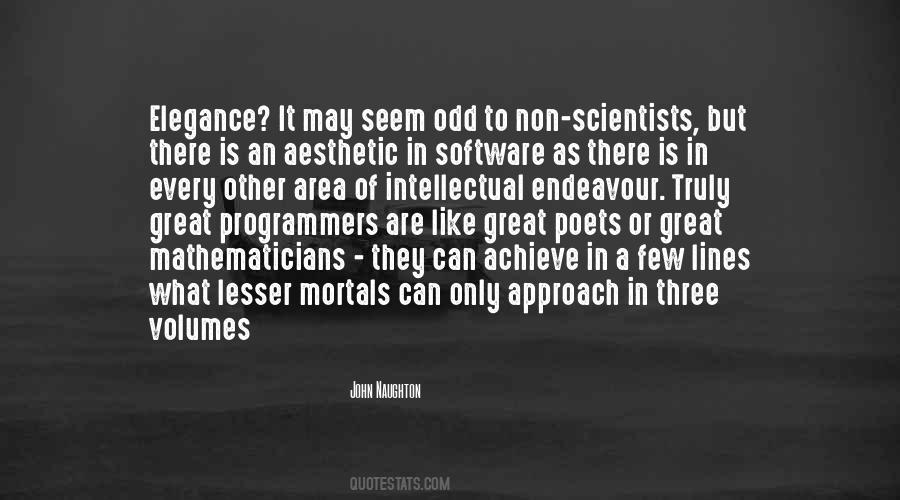 #27. The works of the great poets have never yet been read by mankind, for only great poets can read the. - Author: Henry David Thoreau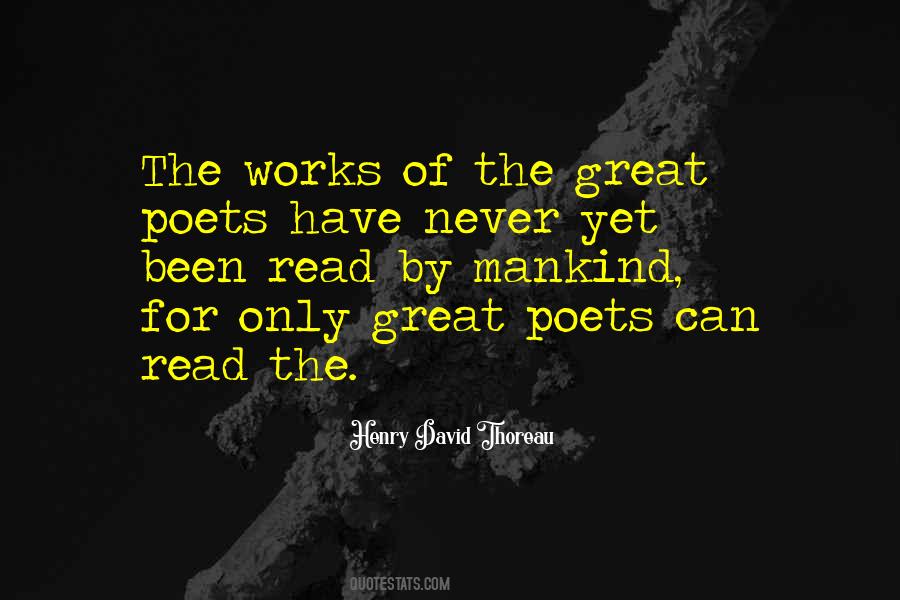 #28. We're certainly not perfect, and we're not probably even better than anybody else, except that perhaps we are given to certain kinds of contemplation that provide a valuable balance to the knee-jerk reactionary behavior of most of our newspapers and political leaders. Poets are great doubters. - Author: Sam Hamill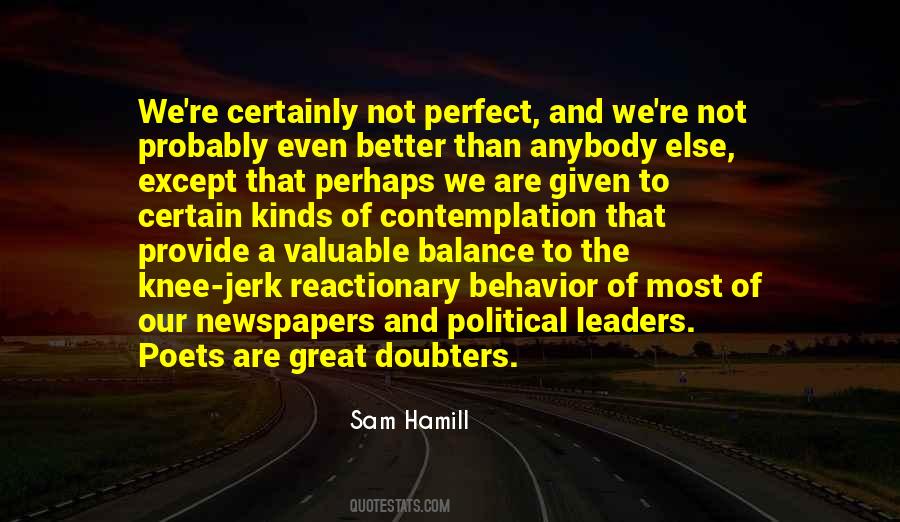 #29. Good poets borrow, great poets steal - Author: T. S. Eliot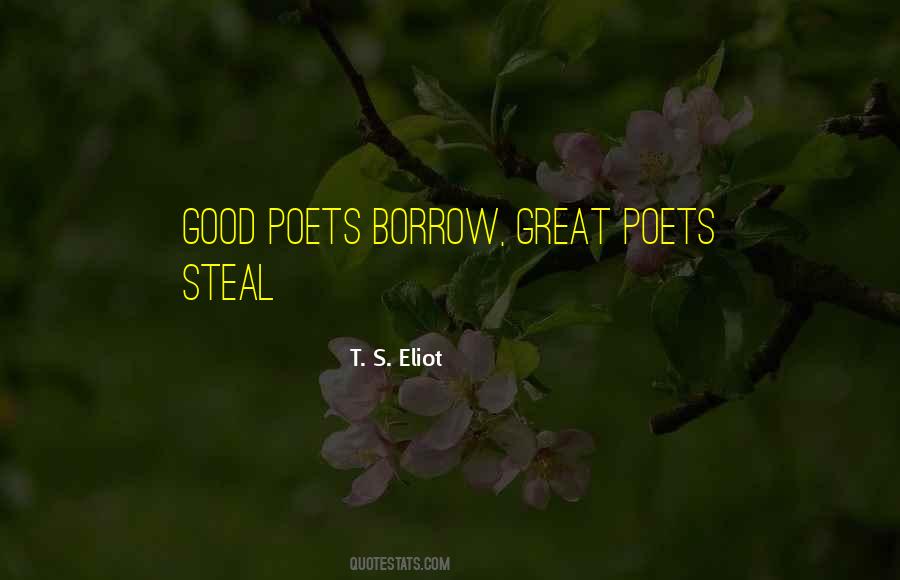 #30. I worked privately, and sometimes I feel that might be better for poets than the kind of social workshop gathering. My school was the great poets: I read, and I read, and I read. - Author: Mary Oliver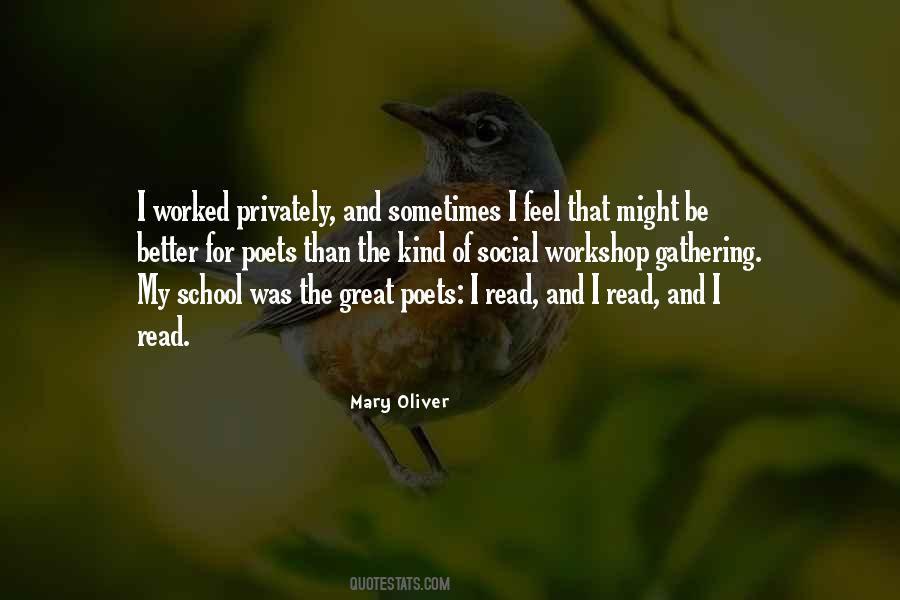 #31. I do not think men have more talent. There are a great many women in the arts; novelists, painters, sculptors, poets-but the proportion is far lower in the field of song writing. - Author: Dorothy Fields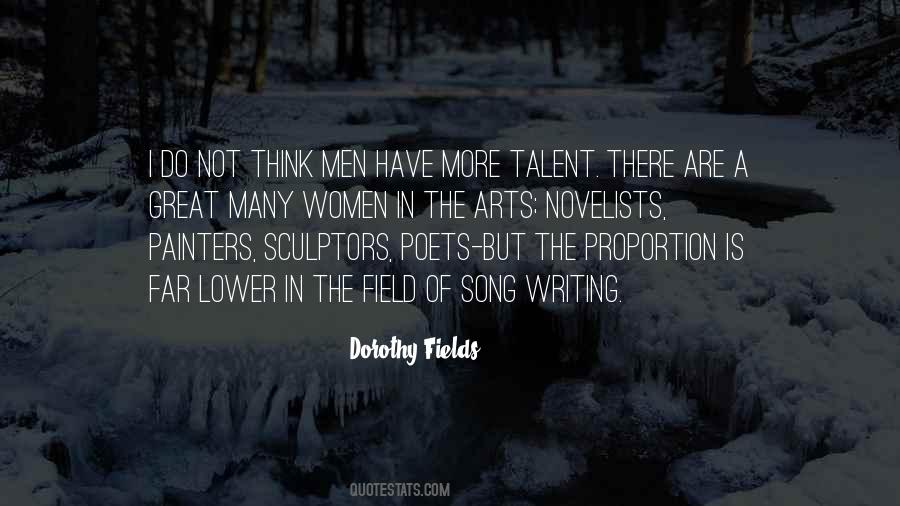 #32. The great poets have sympathized with the people. They have uttered in all ages the human cry. Unbought by gold, unawed by power, they have lifted high the torch that illuminates the world. - Author: Robert Green Ingersoll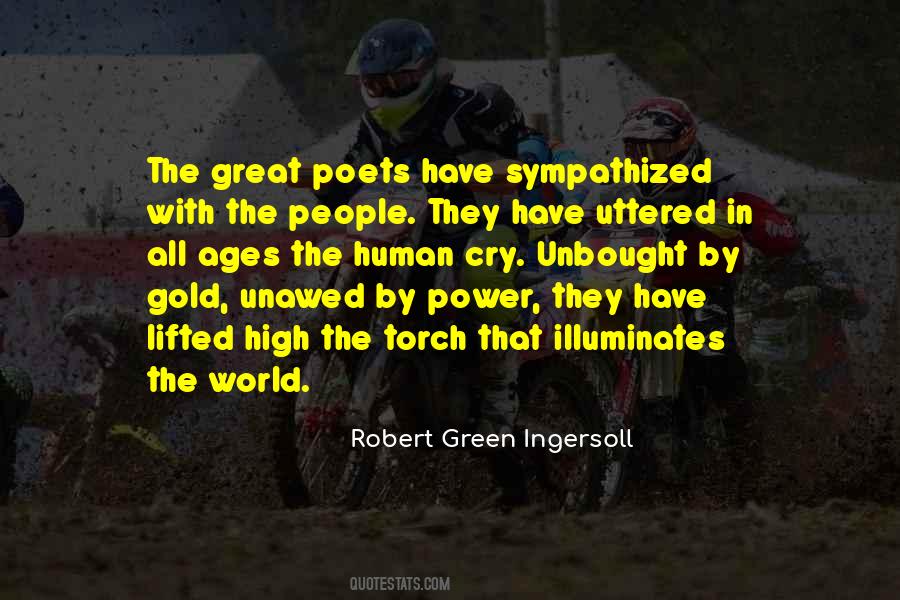 #33. There are very few great poets in the world. - Author: Tahar Ben Jelloun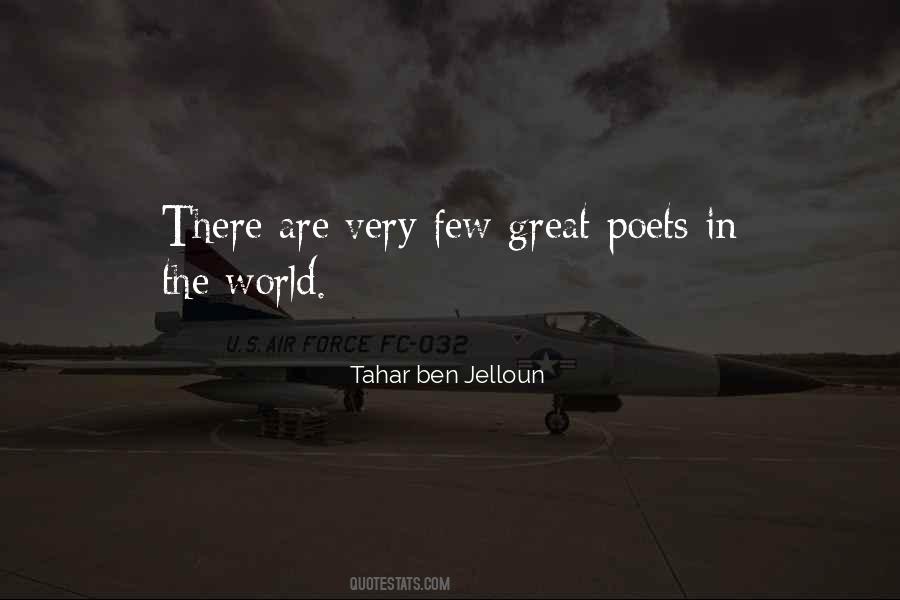 #34. Great poets are great copy editors. - Author: Dejan Stojanovic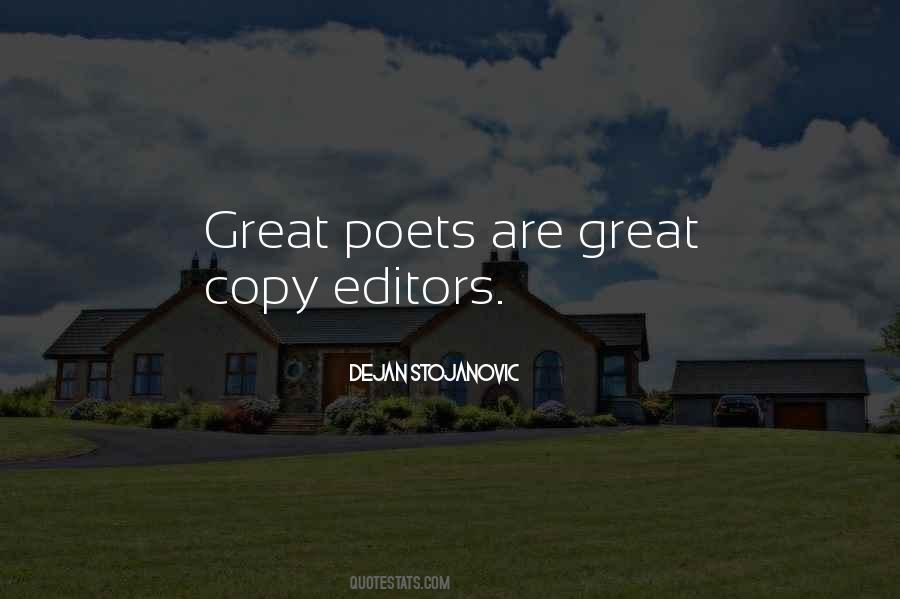 #35. The works of great poets have never been read by mankind, for only great poets can read them. - Author: Henry David Thoreau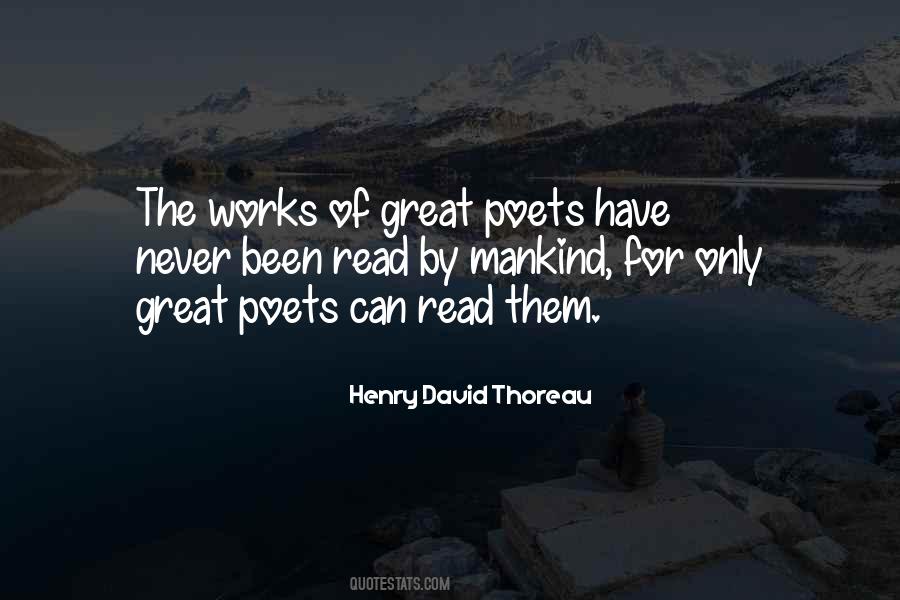 #36. Over many years so many poets have touched my imagination and opened paths for me - it hardly makes sense to list them. I have always read a great deal of poetry. - Author: Adrienne Rich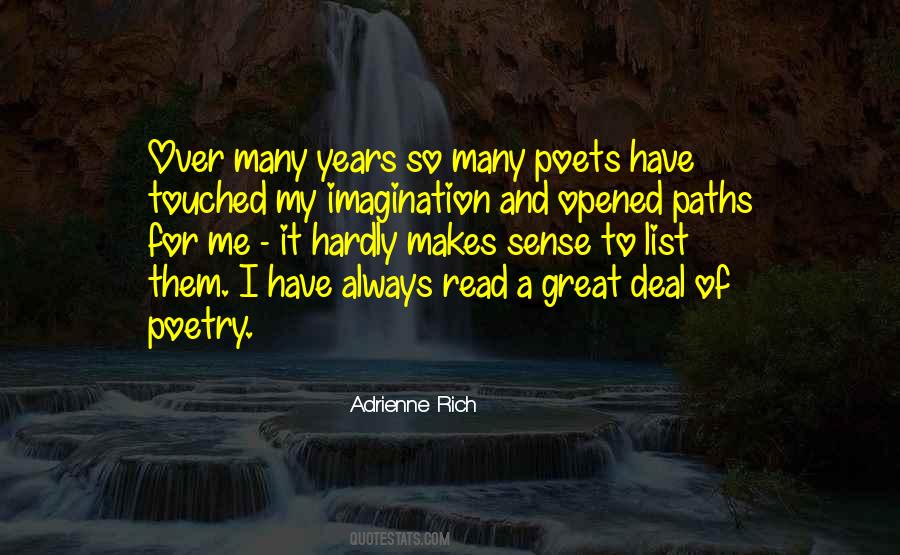 #37. People who stand near the water in the darkness are either lovers or poets. Or else ... one of that great gray number who've simply had it
who throw in their hand and won't play anymore. - Author: Wolfgang Borchert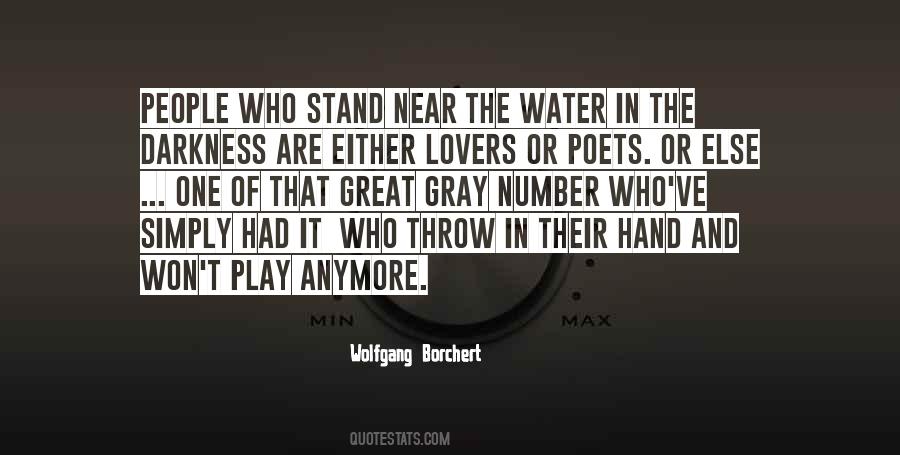 #38. England still waits for the supreme moment of her literature
for the great poet who shall voice her, or, better still, for the thousand little poets whose voices shall pass into our common talk. - Author: E. M. Forster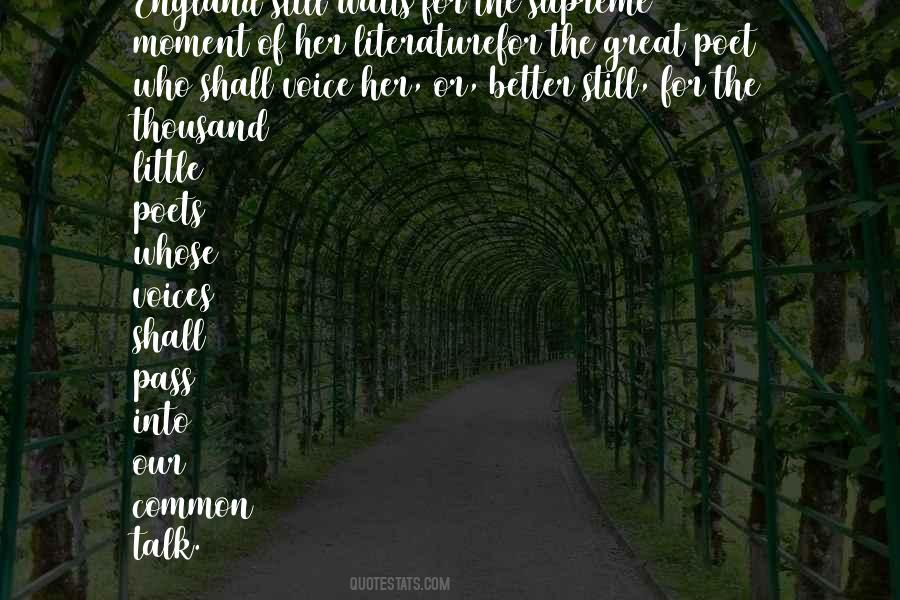 #39. All great poets have been men of great knowledge. - Author: William C. Bryant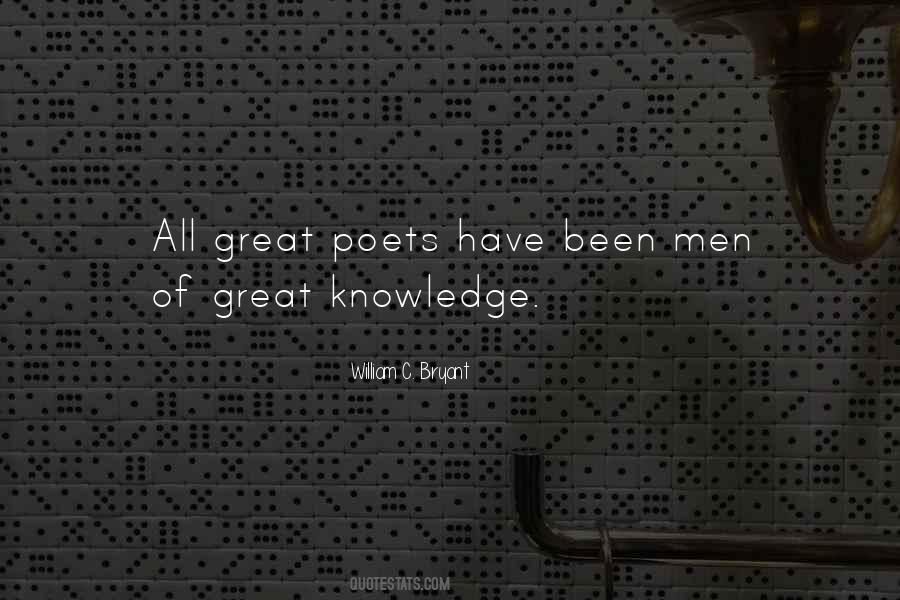 #40. Here we part from the "nature mystics," the mystic poets, and all who shared in and were contented with the illuminated vision of reality. Those who go on are the great and strong spirits, who do not seek to know, but are driven to be. - Author: Evelyn Underhill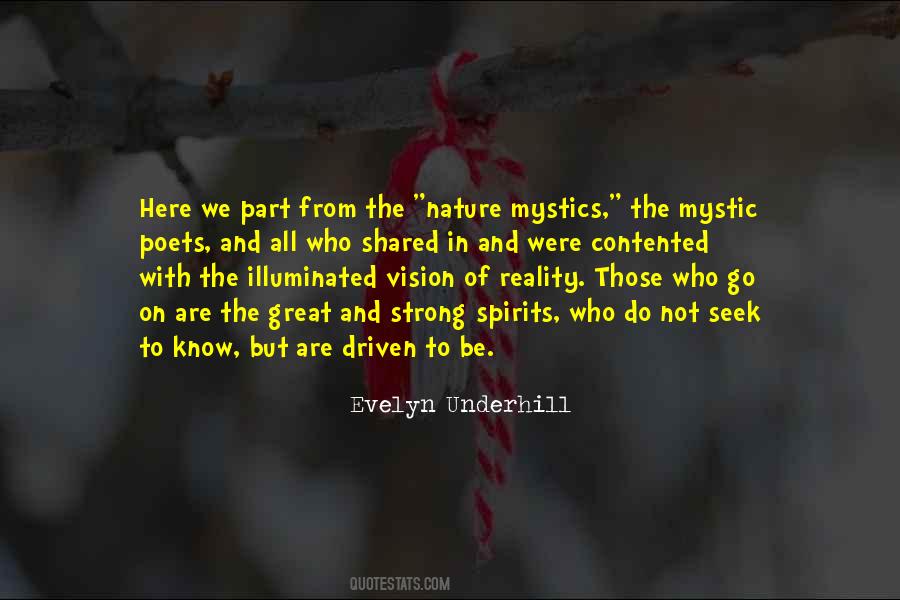 #41. I find great consolation in having a lot of poetry books around. I believe that writing poetry and reading it are deeply intertwined. I've always delighted in the company of the poets I've read. - Author: Edward Hirsch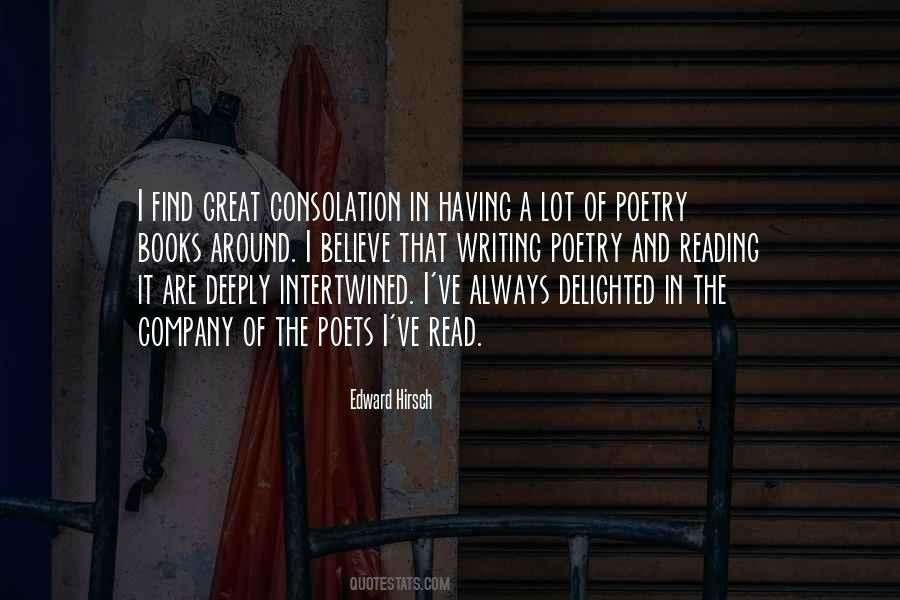 #42. Great courage was required to engage in such an adventure. But George was in love and Freeheart was faithful. And as the most delightful of poets says
What cannot Friendship guided by sweet Love? - Author: Anatole France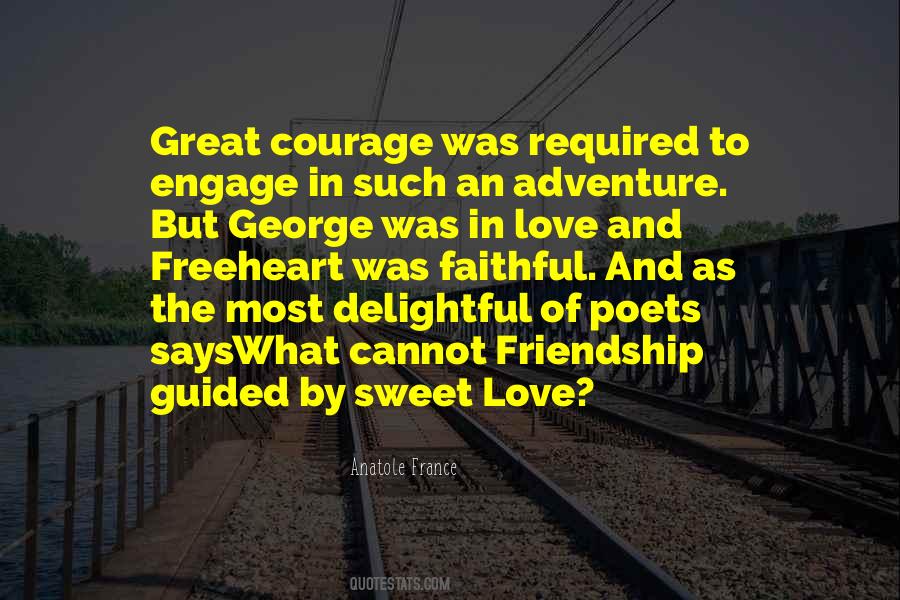 #43. Great Poets discover themselves. Little Poets have to be 'discovered' by somebody else. - Author: Marie Corelli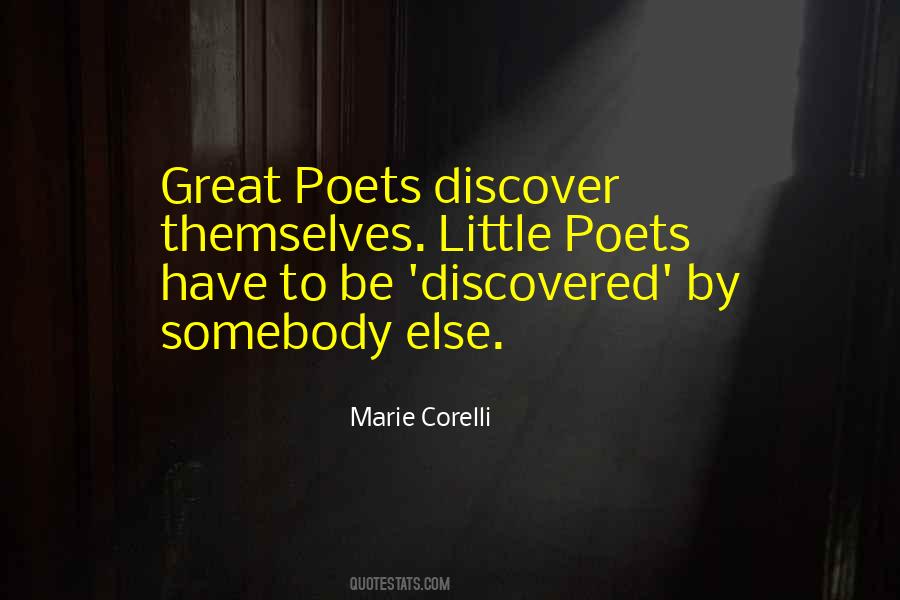 #44. I can't look at things in the simple, large way that great poets do. - Author: Isaac Rosenberg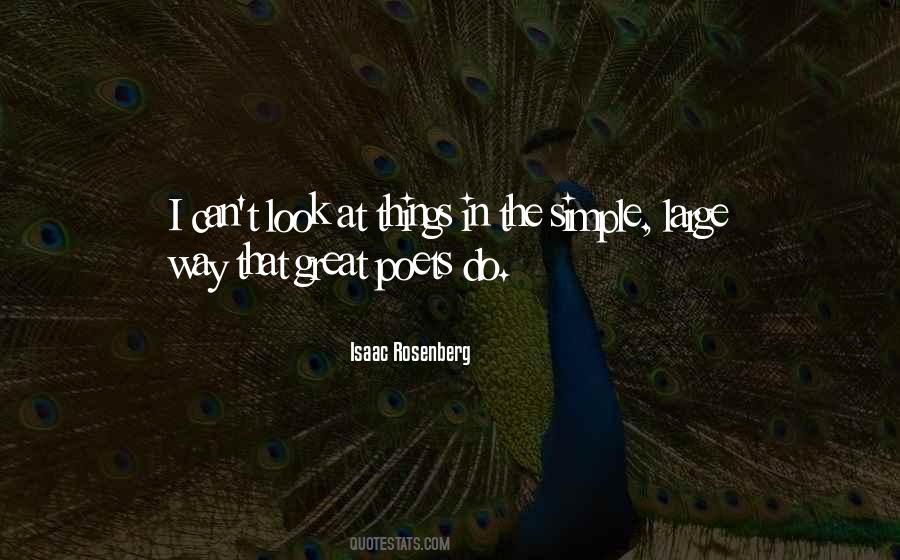 #45. The great leaders of business, industry, finance, and the great artists, musicians, poets, and writers became great, because they developed the faculty of creative imagination. - Author: Napoleon Hill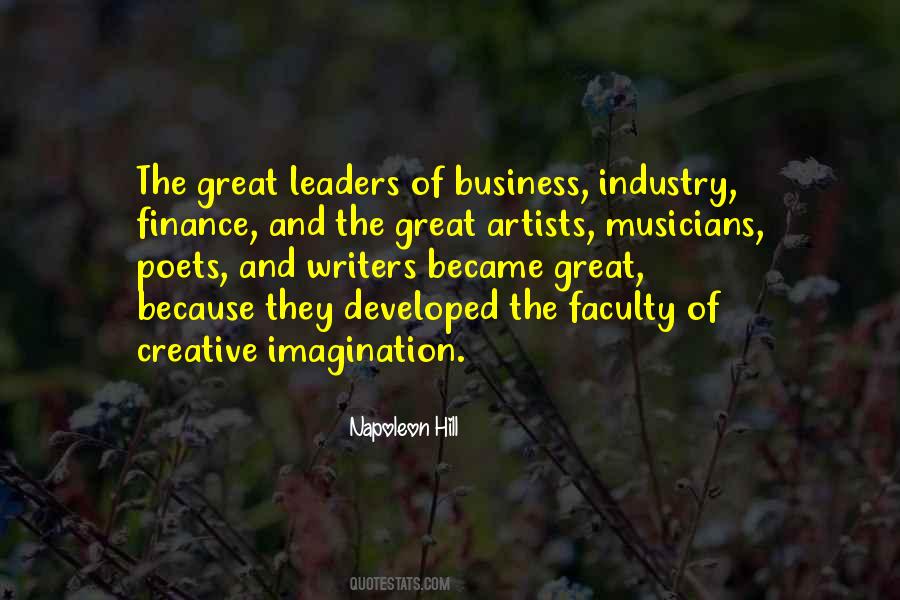 #46. True poets, like great artists, have scarcely any childhood, and no old age. - Author: Sophie Swetchine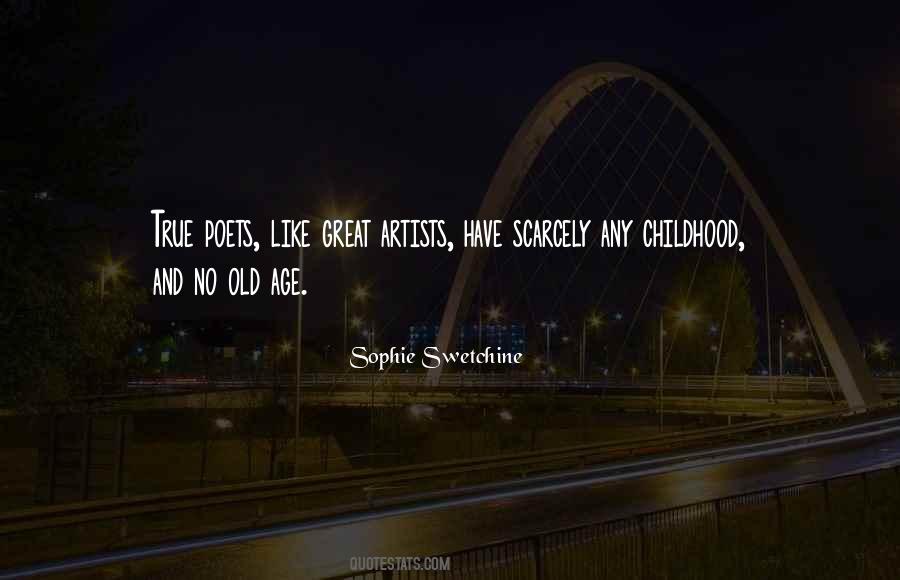 #47. There is poetry even in prose, in all the great prose which is not merely utilitarian or didactic: there exist poets who write in prose or at least in more or less apparent prose; millions of poets write verses which have no connection with poetry. - Author: Eugenio Montale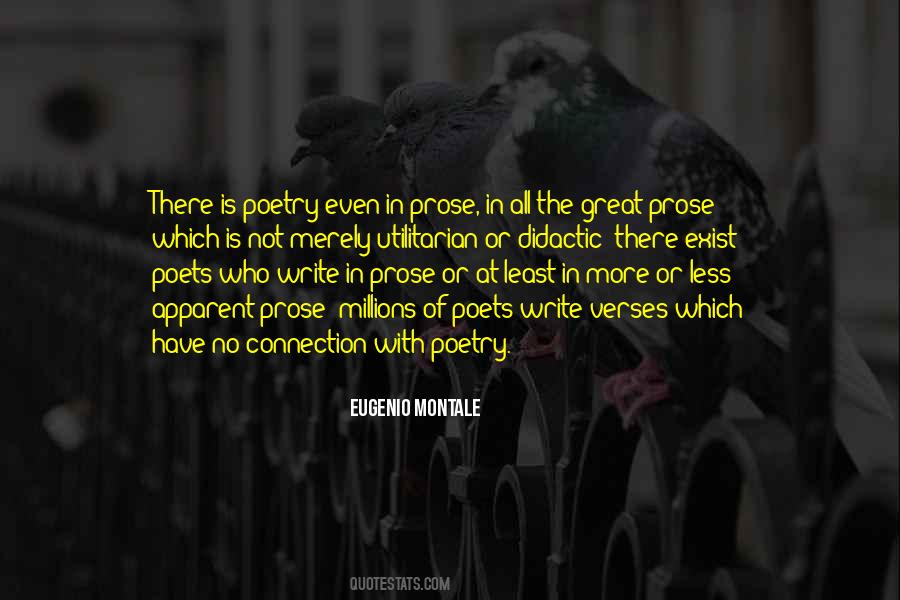 #48. Not all poetry wants to be storytelling. And not all storytelling wants to be poetry. But great storytellers and great poets share something in common: They had something to say, and did. - Author: Sarah Kay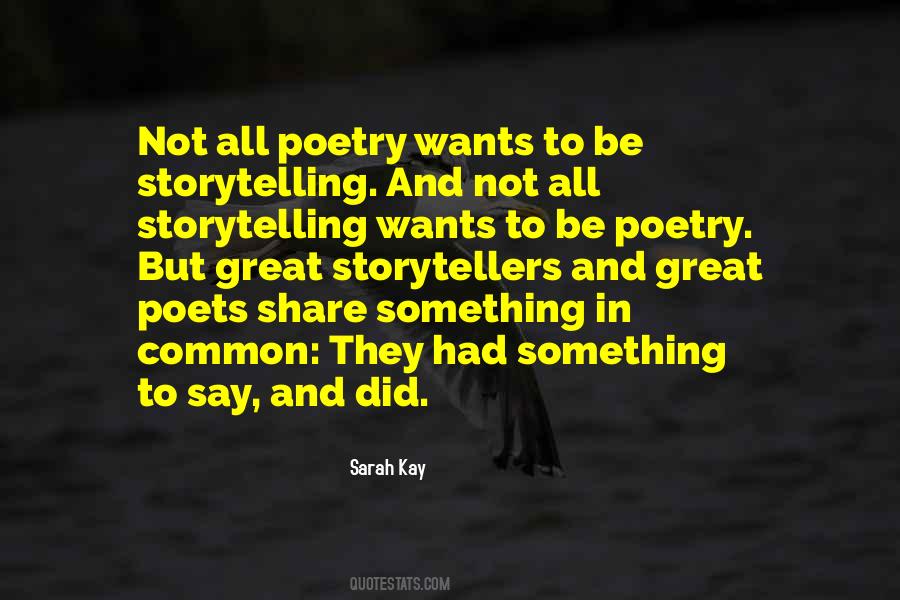 #49. I always thought I was going to be a great poet, and go and live in New York, where the great poets lived - you know, where Whitman had walked the streets. - Author: Garth Risk Hallberg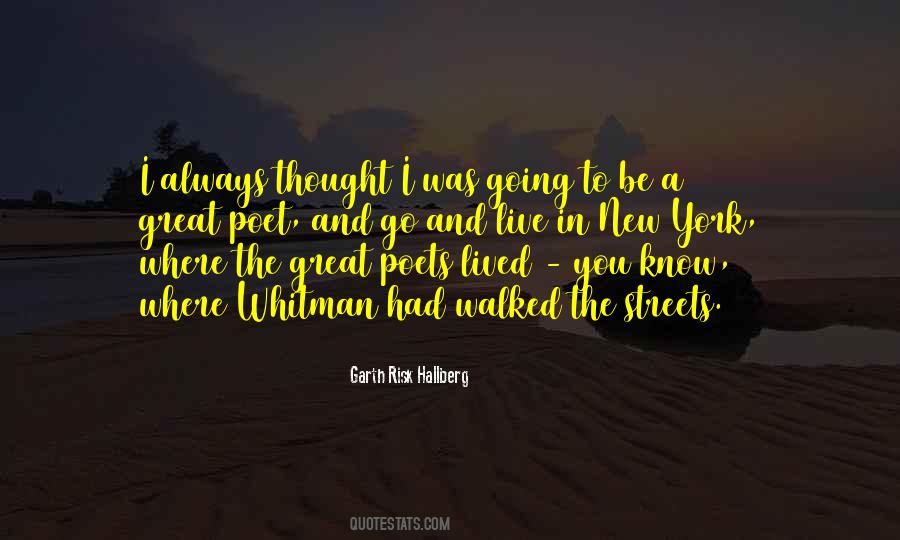 #50. How can you work on letting your thoughts go and getting synchronized into the moment and questioning your wild imagination. But I say just think of all the great Japanese and Chinese poets and scholars who were also meditators. - Author: Anne Waldman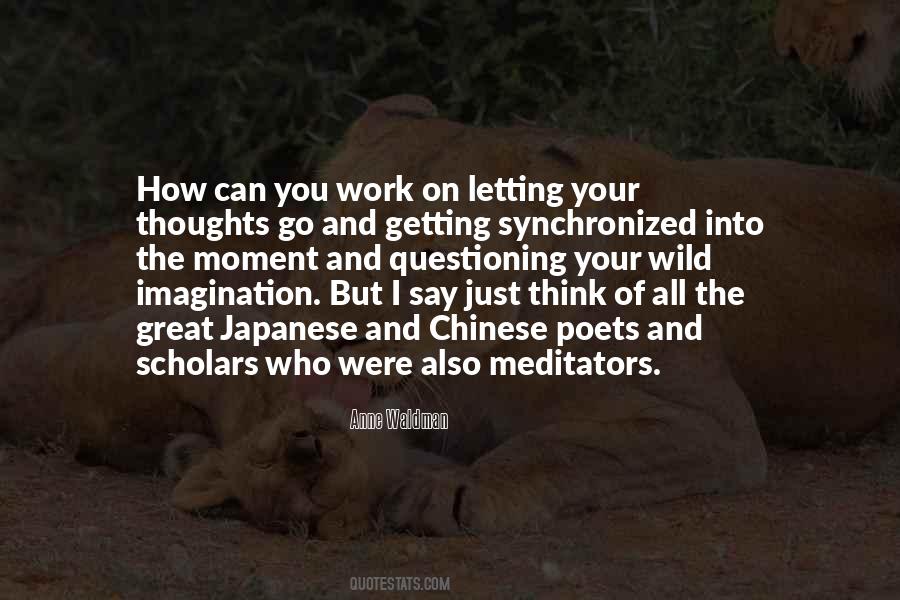 #51. We embark on this quest not from a simple desire, but from a mandate of our species to search for our place in the cosmos. The quest is old, not new. And has garnered the attention of thinkers great and small, across time and across culture. What we have discovered, the poets have known all along. - Author: Neil DeGrasse Tyson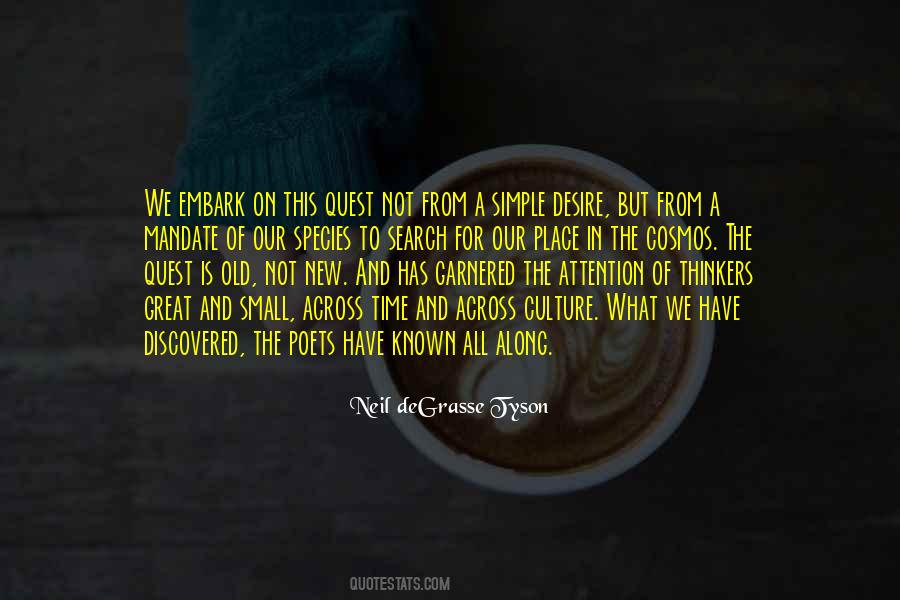 #52. The great pleasure that comes from reading poets such as Mark Doty and Marianne Moore is the realisation that the essential virtues - compassion, wonder, humility, respect for the mysterious - are far from conventionally heroic. - Author: John Burnside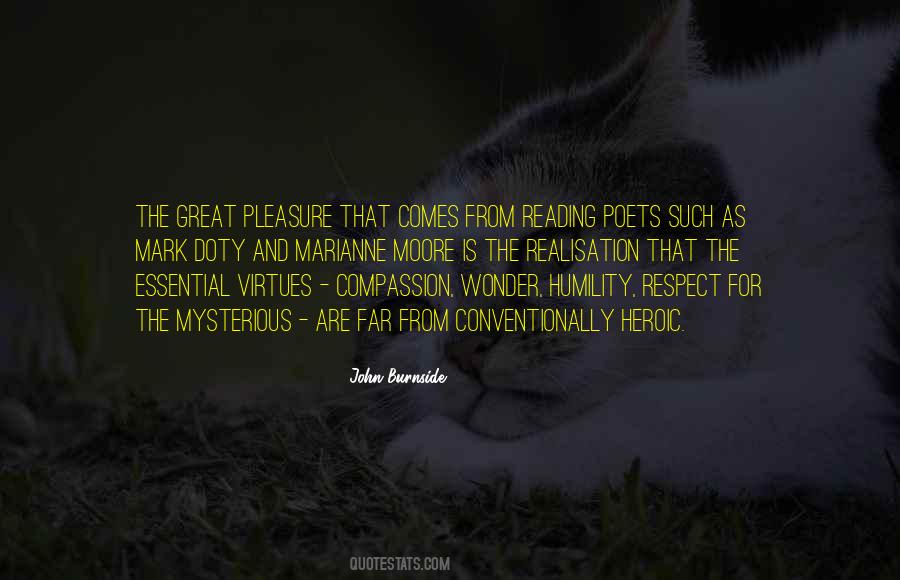 #53. The great religions are the ships, Poets the life boats. Every sane person I know has jumped overboard. - Author: Hafez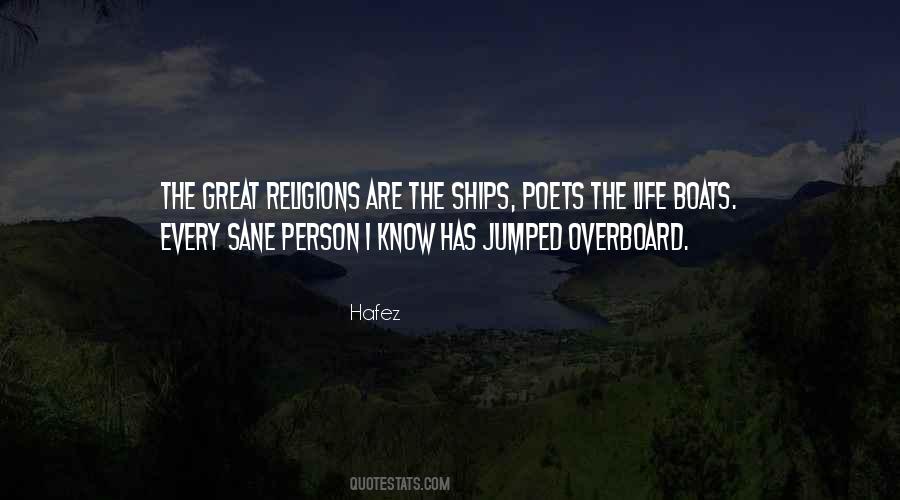 #54. Poets are all who love, who feel great truths, And tell them; and the truth of truths is love. - Author: Philip James Bailey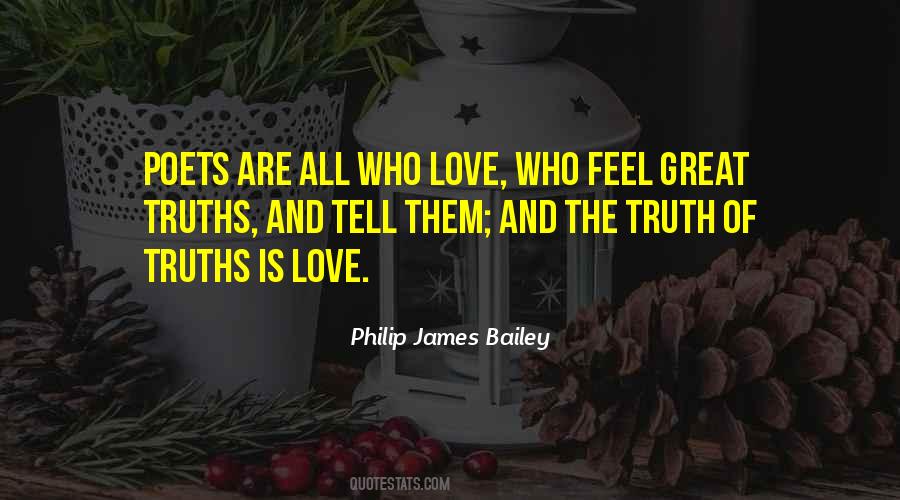 #55. People have many cruel expectations from writers. People expect novelists to live on a hill with three kids and a spouse, people expect children's story writers to never have sex, and people expect all great poets to be dead. And these are all very difficult expectations to fulfill, I think. - Author: C. JoyBell C.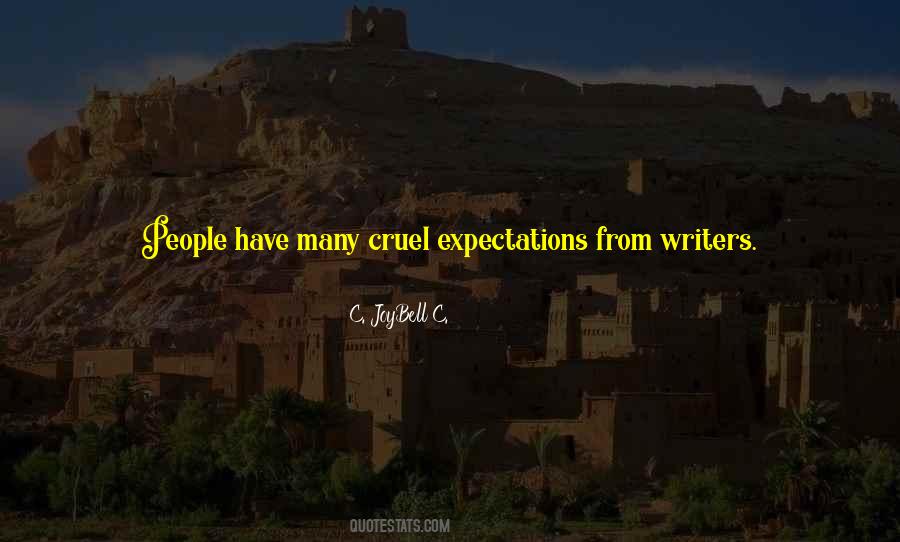 #56. If I were to die thinking that I'd written three poems that people might read after me, I would feel that I hadn't lived in vain. Great poets might expect the whole body of their work, but most of us - well, I would settle for a handful. - Author: Andrew Motion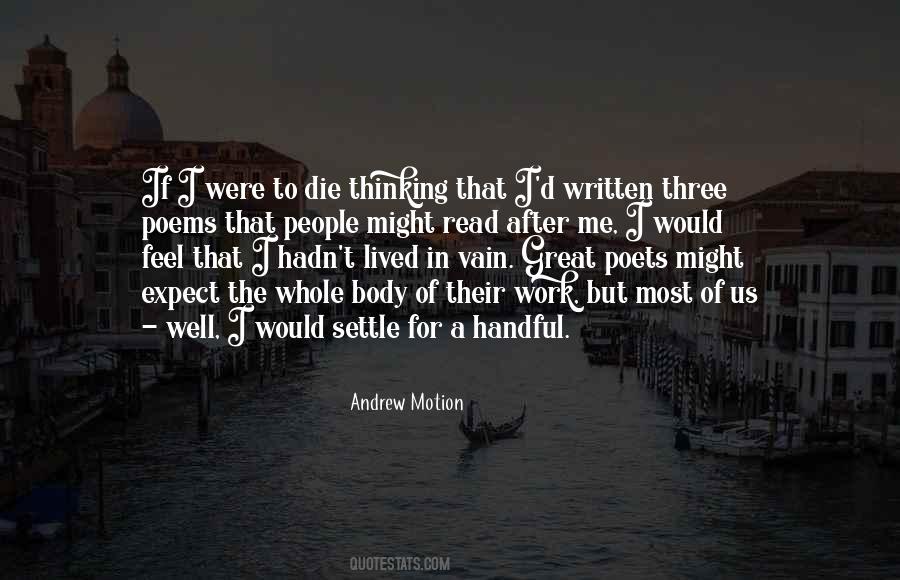 #57. One of the great criticisms of poets of the past is that they said one thing and did another. - Author: Philip Larkin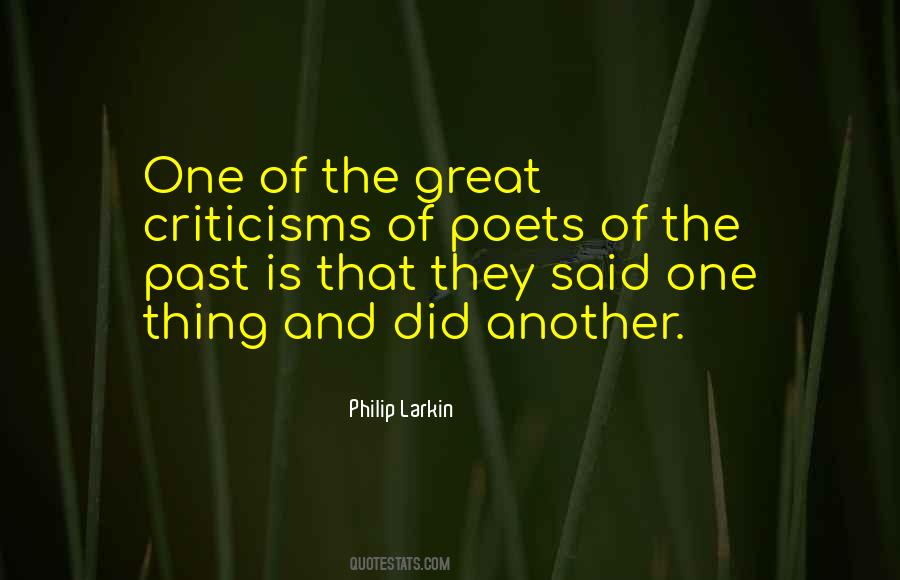 #58. That imperial guard which poets and humanists mount in relay around any great memory. - Author: Marguerite Yourcenar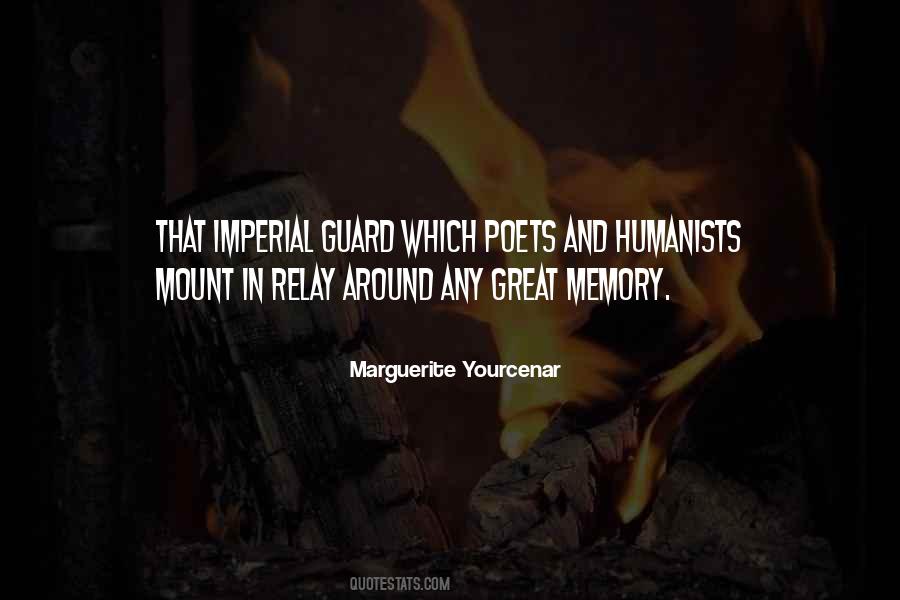 #59. Grab what you can and fight your way to a lifeboat.' Everyone associated with the slow printed word is fast becoming the Great Crested Newt of the culture. First it was the poets, the playwrights, then the novelists. Veteran newspapermen are next. - Author: Marisha Pessl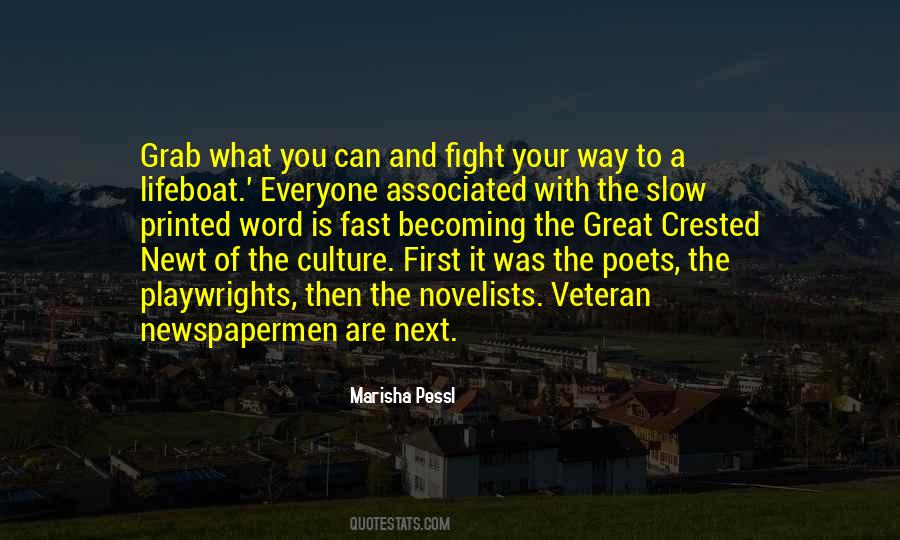 #60. In general, I distrust philosophy. Plato recommended chasing poets from the city; the 'great' Heidegger was a Nazi; Lukacs was a communist; and J. P. Sartre wrote: 'Any anti-communist is a dog.' - Author: Claude Simon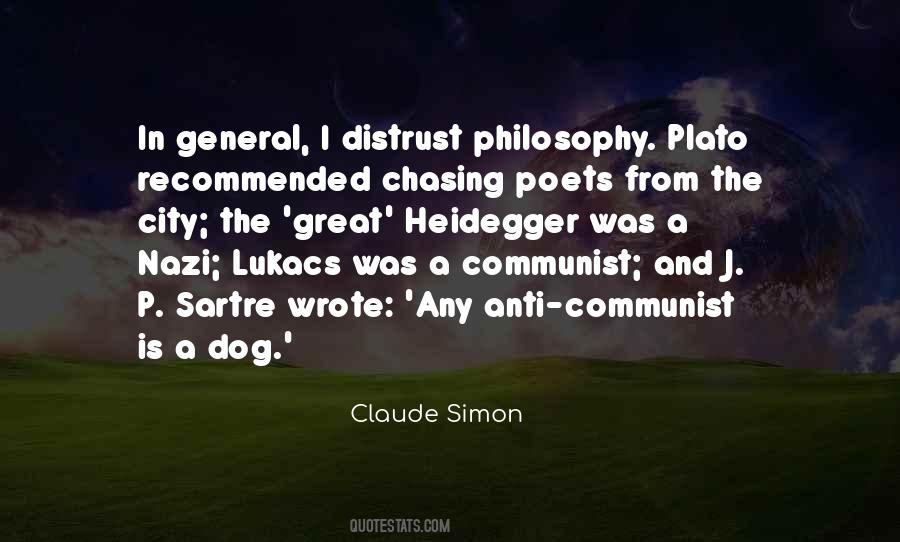 #61. I believe in magic ... There is magic in the creative faculty such as great poets and philosophers conspicuously possess, and equally in the creative chessmaster. - Author: Emanuel Lasker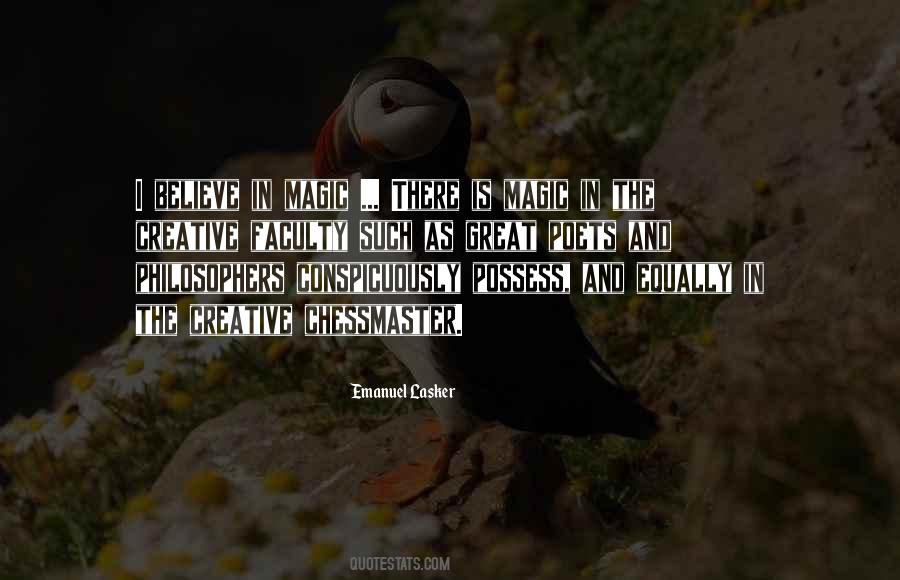 #62. The new king [Alexander the Great] should perform acts so important and glorious as would make the poets and musicians of future ages labour and sweat to describe and celebrate him. - Author: Plutarch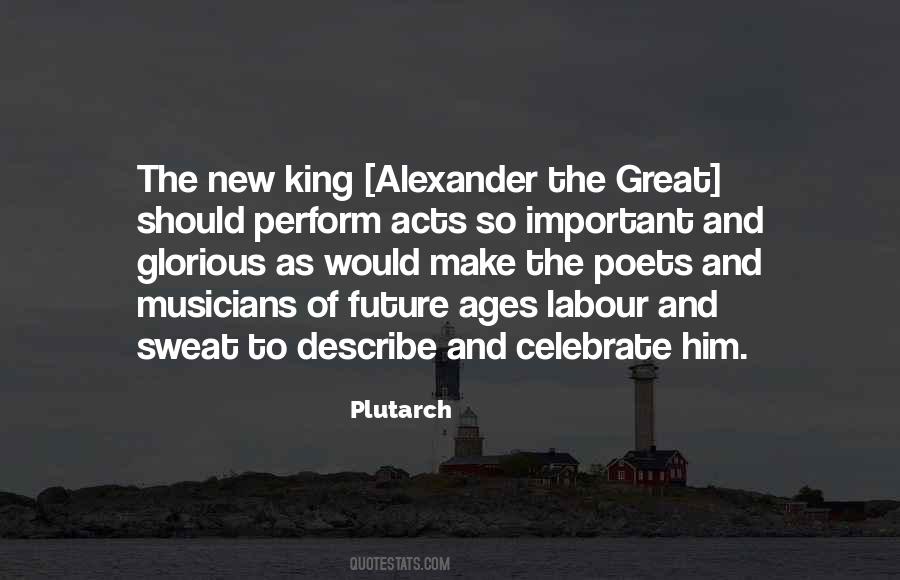 #63. Men saw the stars at the edge of the sea They thought great thoughts about liberty Poets wrote down words that did fit Writers wrote books Thinkers thought about it. - Author: Van Morrison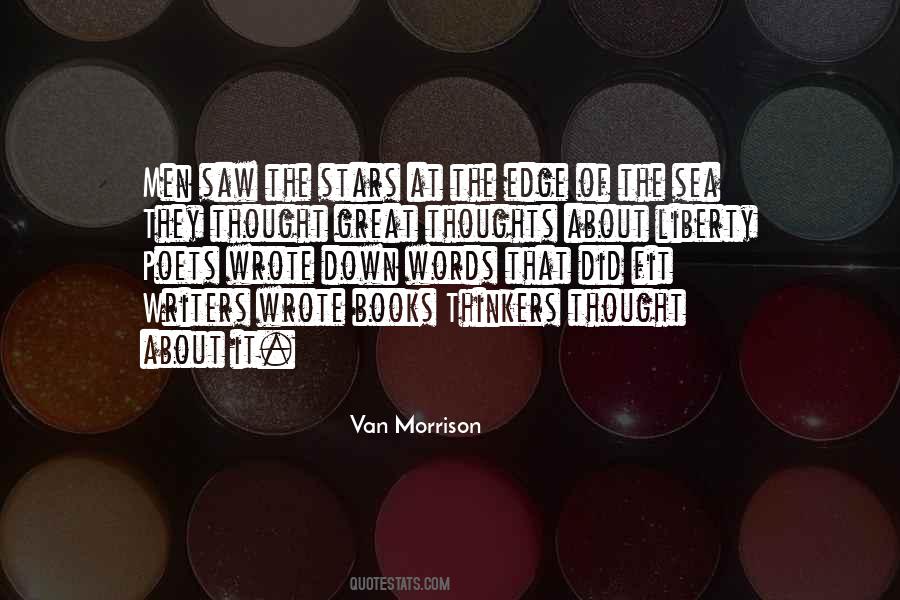 #64. There is, in all great poets, a wisdom of humanity which is superior to any talents they exercise. - Author: Ralph Waldo Emerson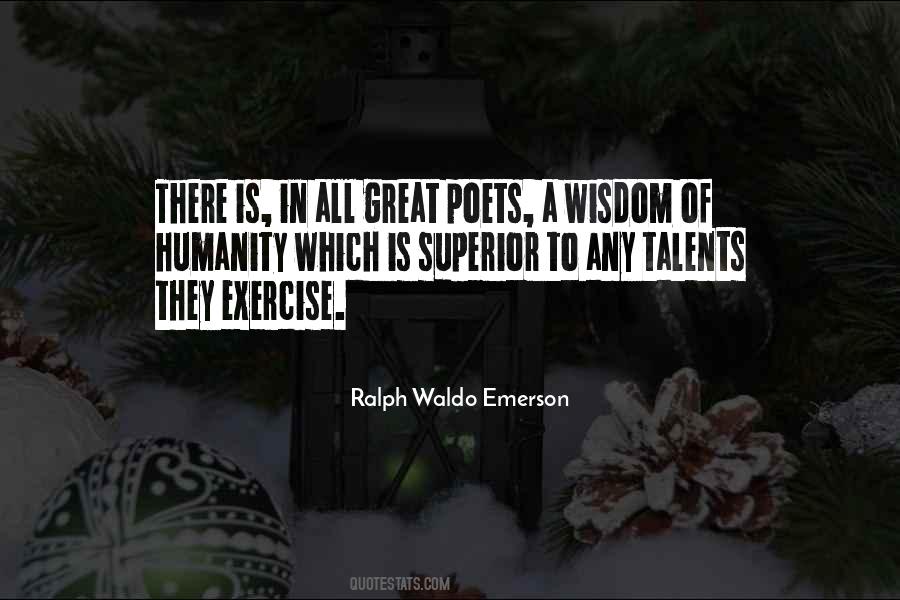 #65. Example moves the world more than doctrine. The great exemplars are the poets of action, and it makes little difference whether they be forces for good or forces for evil. - Author: Henry Miller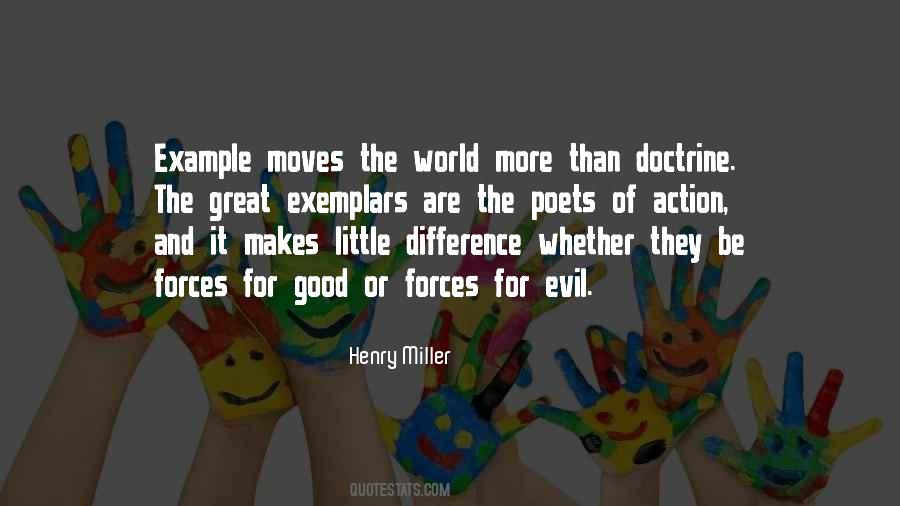 #66. This, I thought, is how great visionaries and poets see everything- as if for the first time. Each morning they see a new world before their eyes; they do not really see it, they create it. - Author: Nikos Kazantzakis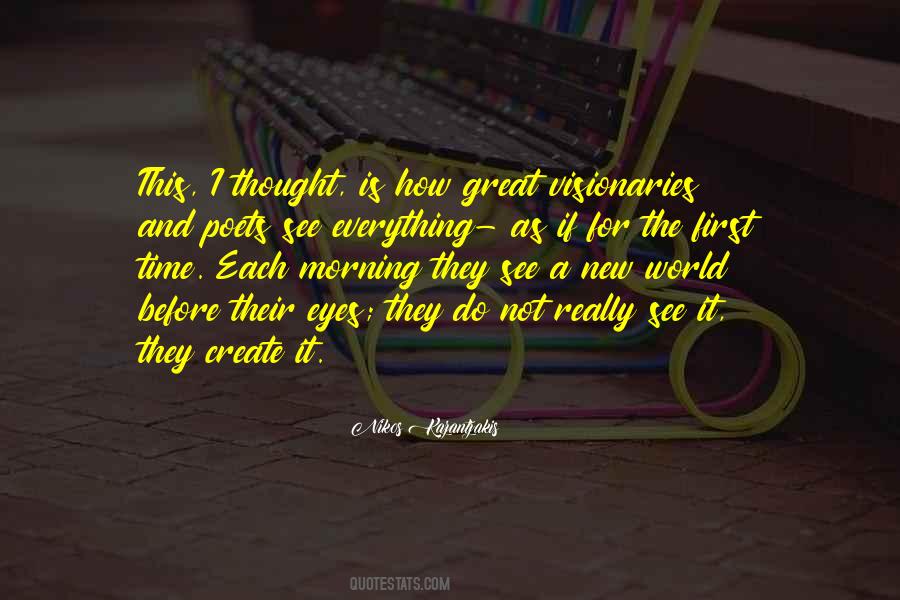 #67. A Shakespeare could have arisen only on English soil. In the same way, your great dramatists and poets express the nature and essence of the Norwegian people, but they also express that which is universally valid for all mankind. - Author: Gustav Stresemann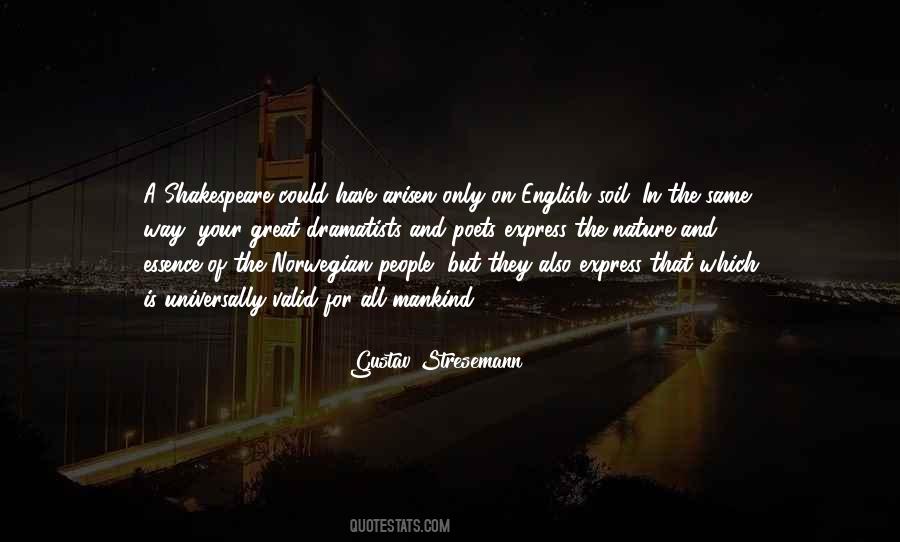 #68. Refined and delicate natures understand the cat. Women, poets, and artists hold it in great esteem, for they recognize the exquisite delicacy of its nervous system; indeed, only coarse natures fail to discern the natural distinction of the cat. - Author: Champfleury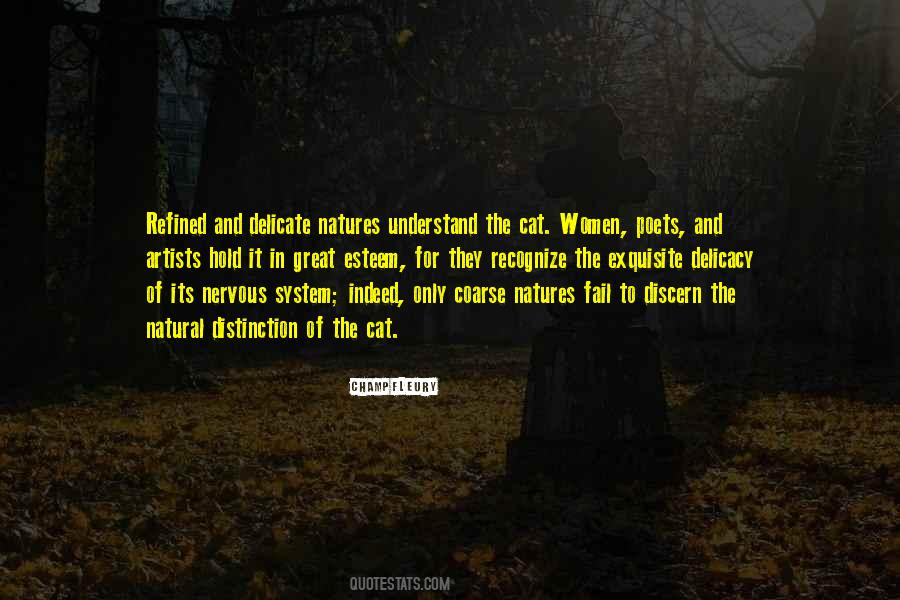 #69. America may have great poets and novelists, but she never will have more than one necromancer. - Author: Rebecca Harding Davis
#70. You can recollect the sayings of great men, you treasure up verse of renowned poets; ought you not be equally profound in your knowledge of the words of God, so that you may be able to quote them readily when you would solve a difficulty or overthrow a doubt? - Author: Charles Spurgeon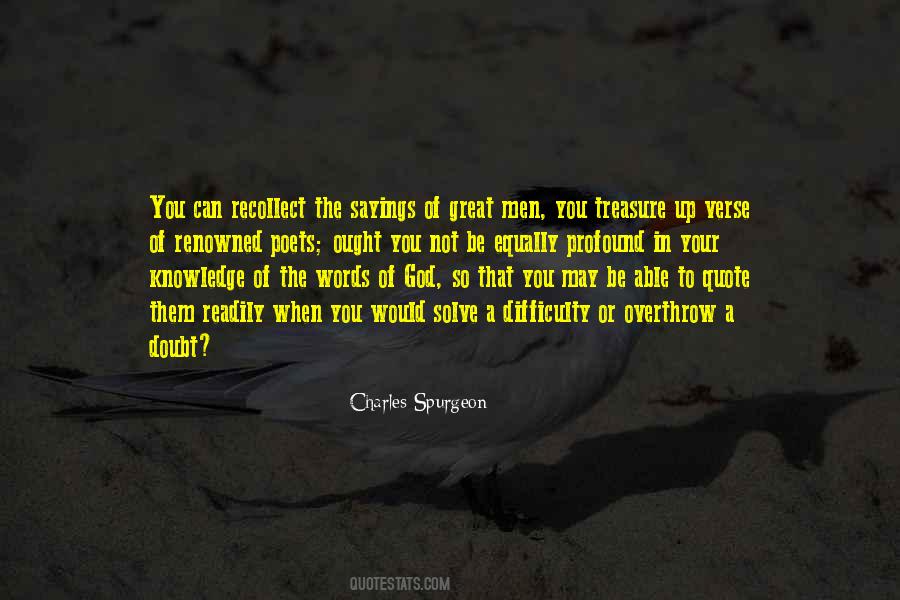 #71. Girls, there are poets who learn from you
to say, what you, in your aloneness, are;
and they learn through you to live distantness,
as the evenings through the great stars
become accustomed to eternity. - Author: Rainer Maria Rilke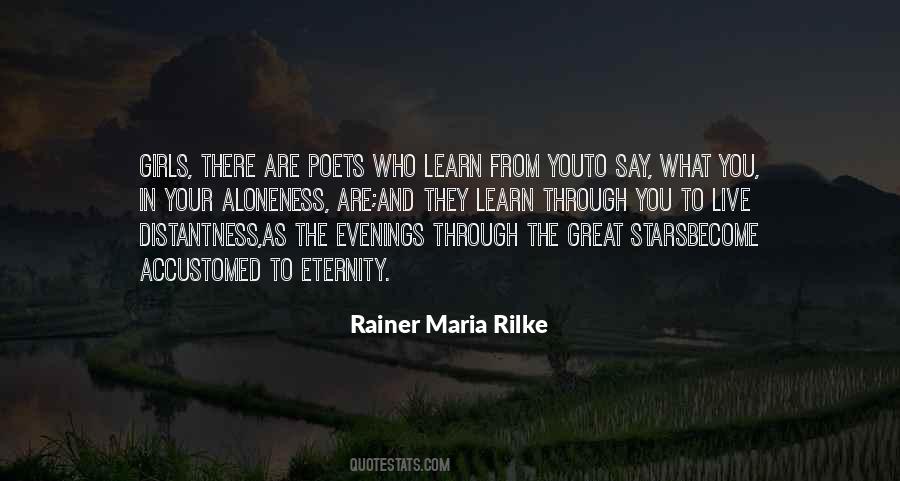 #72. Great men are rare, poets are rarer, but the great man who is a poet, transfiguring his greatness, is the rarest of all events. - Author: John Drinkwater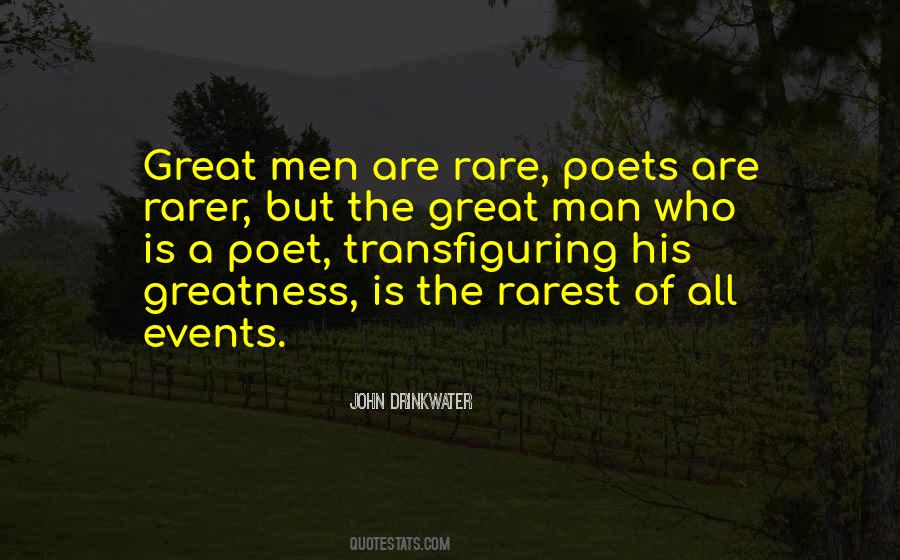 #73. The great poets are full of bullshit. Love has nothing on hatred's capacity to give a man purpose. - Author: Luke Scull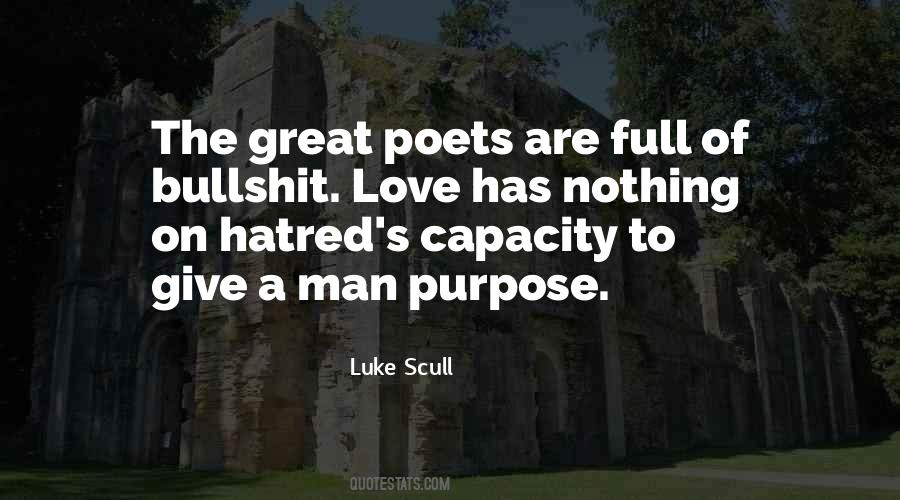 #74. All that is best in the great poets of all countries is not what is national in them, but what is universal. - Author: Henry Wadsworth Longfellow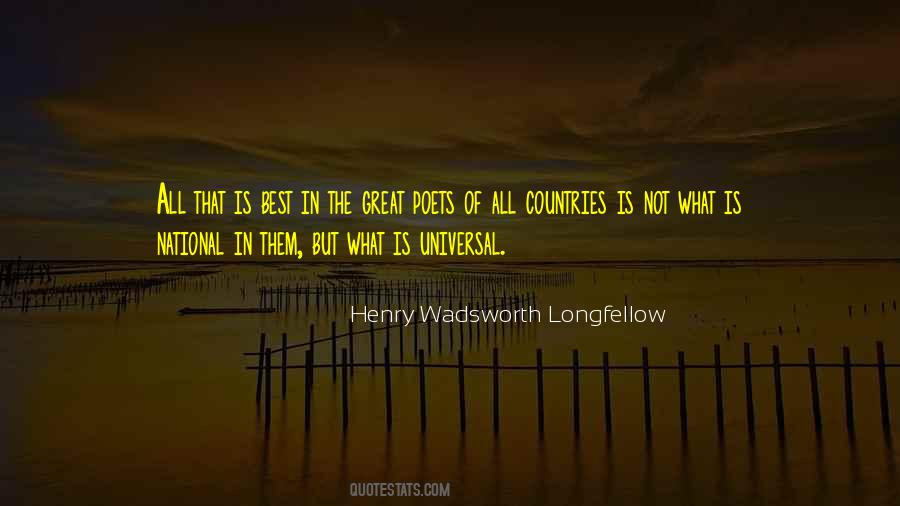 #75. Repetita iuvant. Italy, a land of great saints, poets, sailors, artists, statesmen, businessmen, lawyers, intellectuals, professors, journalists, whores, gangsters, religious parasites and dickheads. - Author: William C. Brown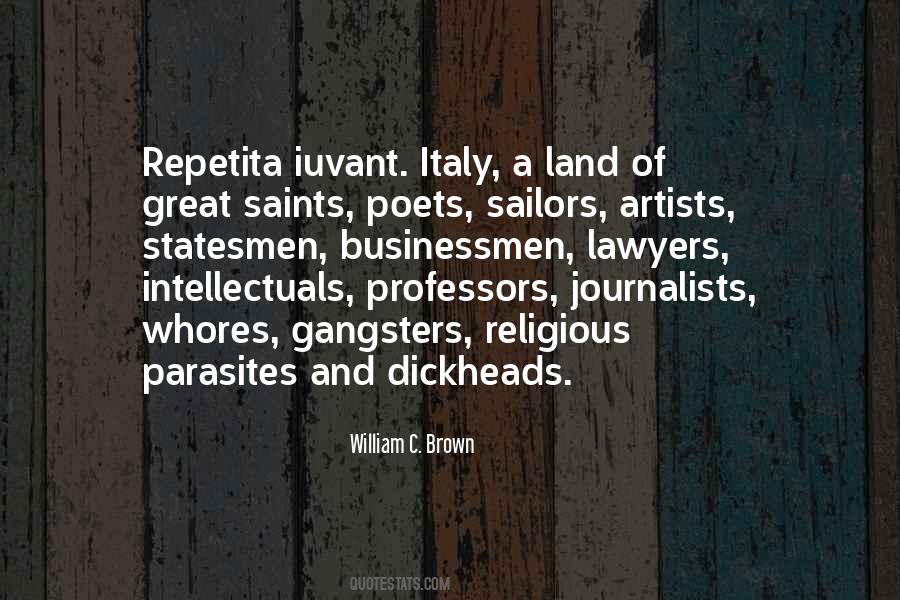 #76. Walt Whitman said, To have great poets, there must be great audiences. - Author: Jack Canfield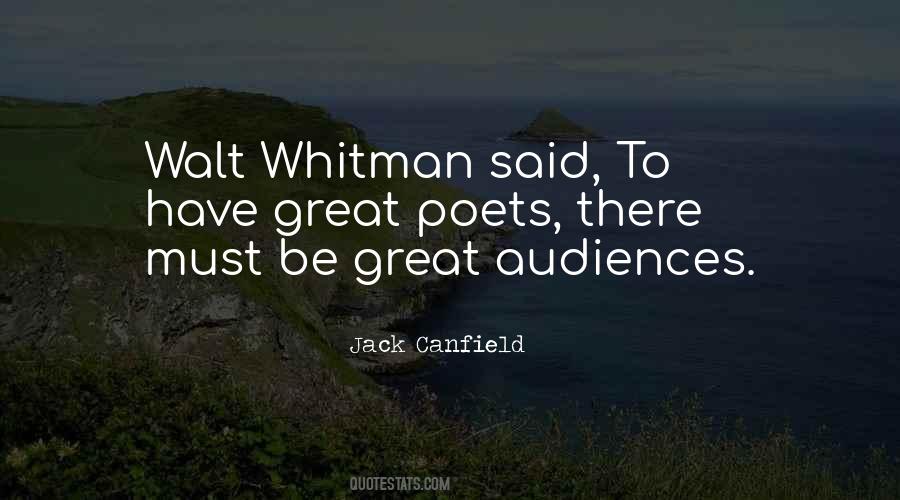 #77. Like every great writer before or since, Jonson understood that the best poets 'are both made and born'. That all great writing has to be hammered out and all great poets stand or fall by that 'second heat', their laboured revision. - Author: James Shapiro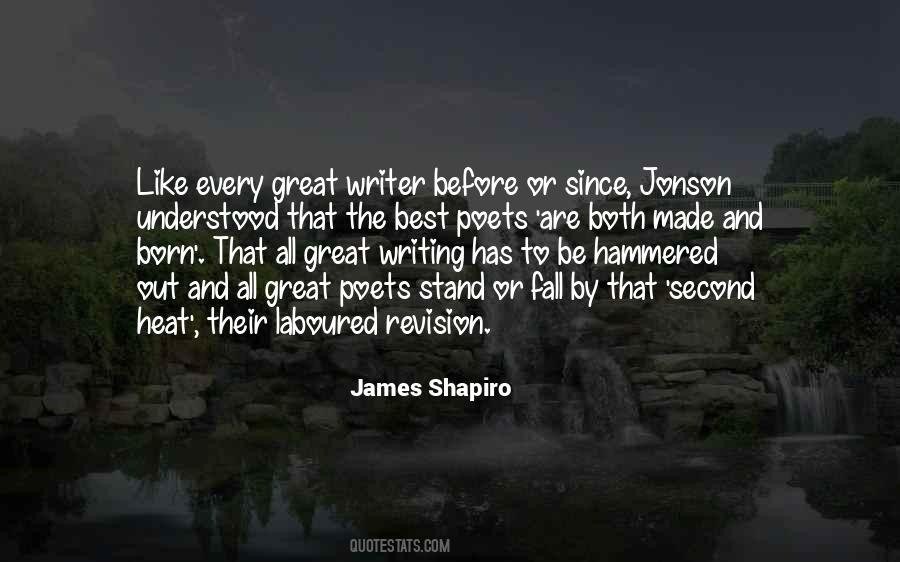 #78. Sorry - Quoth. It's the language of storms. They're great poets, some of them. - Author: Scott Hawkins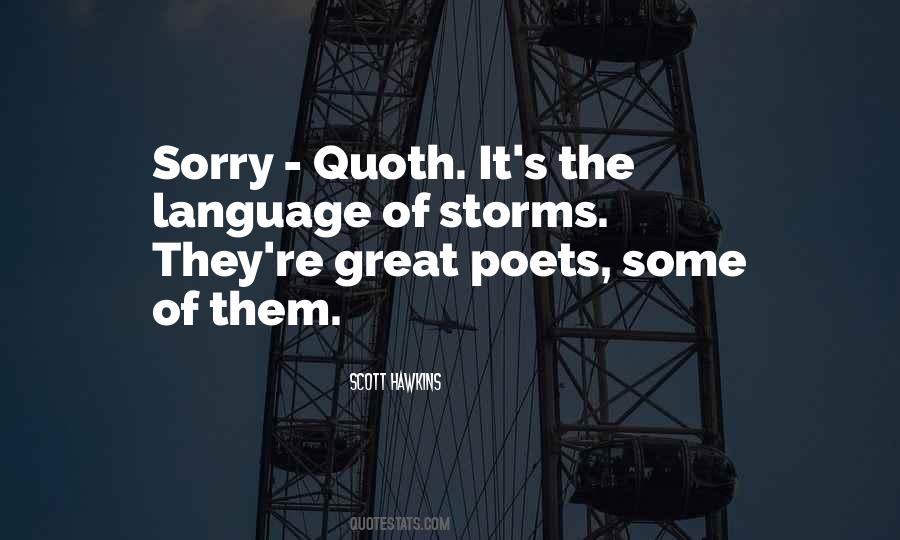 #79. To be a true poet is to become God.
I tried to explain this to my friends on Heaven's Gate. 'Piss, shit,' I said. 'Asshole motherfucker, goddamn shit goddamn. Cunt. Pee-pee cunt. Goddamn!'
They shook their heads and smiled, and walked away. Great poets are rarely understood in their own day. - Author: Dan Simmons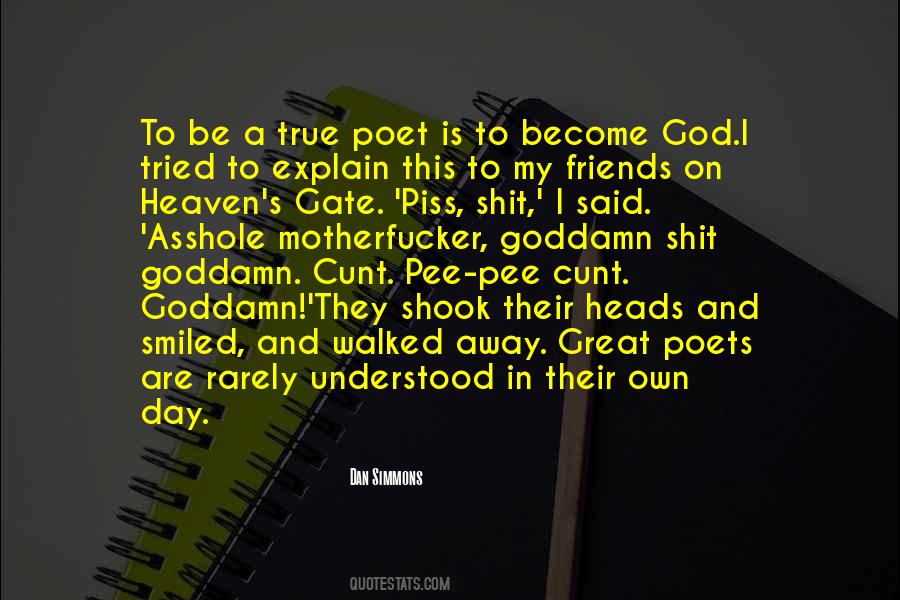 #80. The great philosophers are poets who believe in the reality of their poems. - Author: Antonio Machado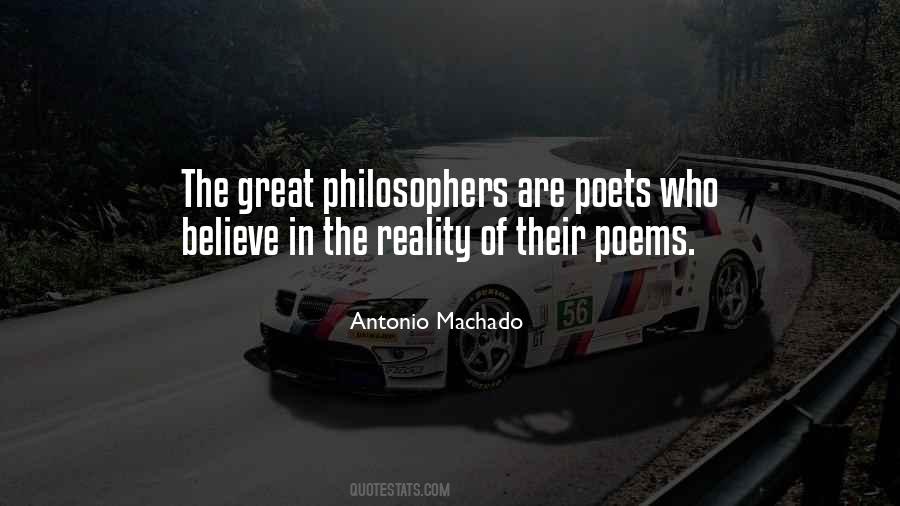 #81. Great statesmen seem to direct and rule by a sort of power to put themselves in the place of the nation over which they are set, and may thus be said to possess the souls of poets at the same time they display the coarser sense and the more vulgar sagacity of practical men of business. - Author: Woodrow Wilson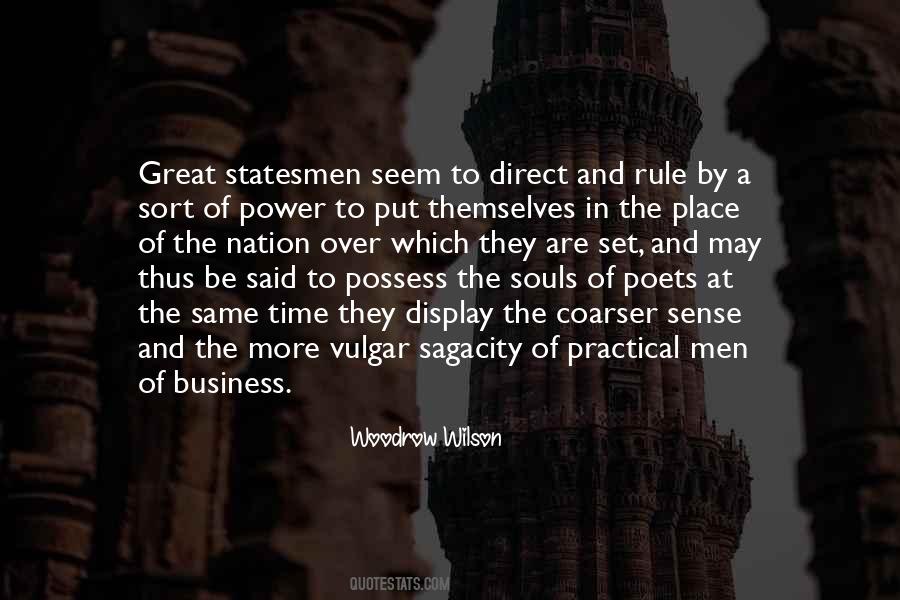 #82. Then, since all great poets are strange in their speech and actions, he must have achieved great fame, for his actions and conversations were the strangest of any man I ever knew. - Author: Robert E. Howard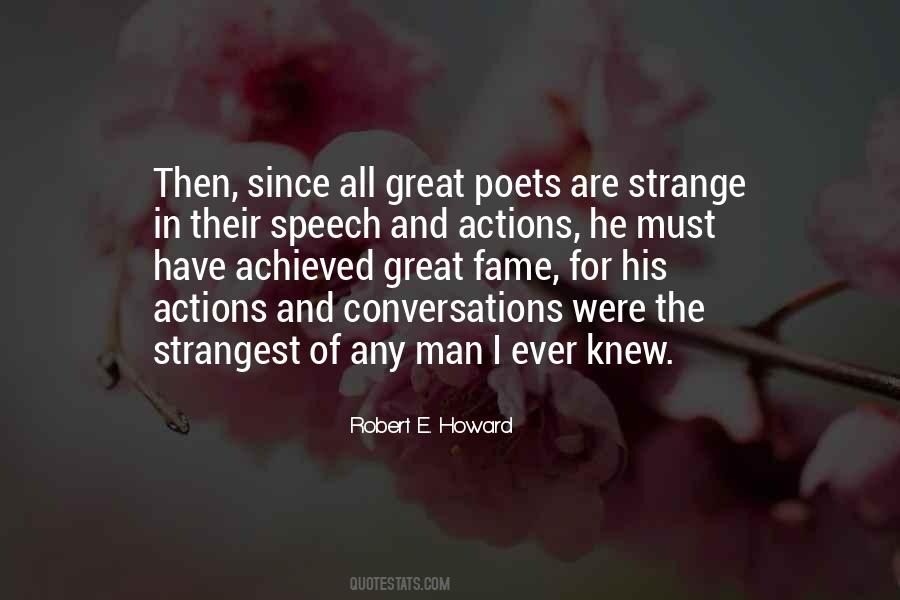 #83. When we want culture more than potatoes, and illumination more than sugar-plums, then the great resources of a world are taxed anddrawn out, and the result, or staple production, is, not slaves, nor operatives, but men,
those rare fruits called heroes, saints, poets, philosophers, and redeemers. - Author: Henry David Thoreau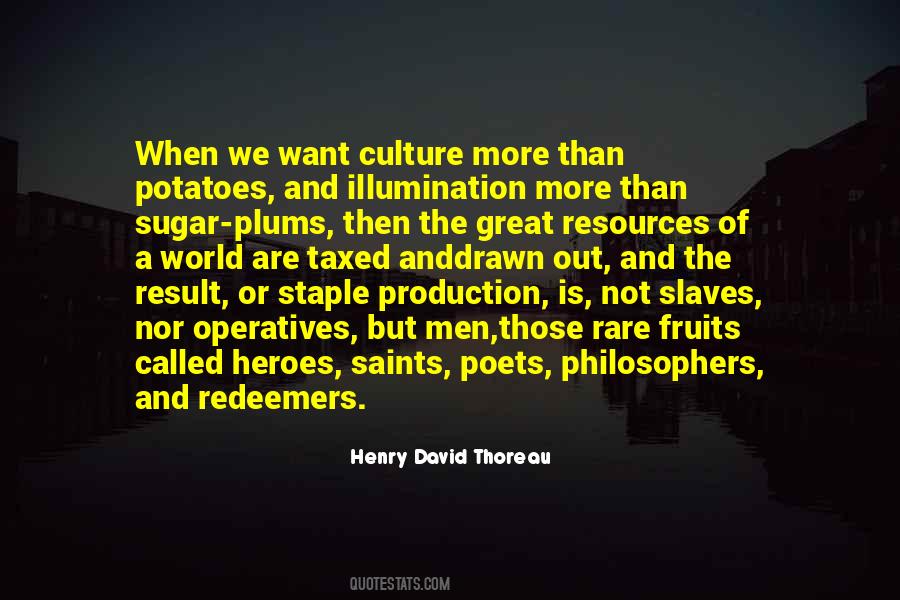 #84. Let us be thankful that there is no court by which we can be excluded from our share in the inheritance of the great poets of all ages and countries, to which our simple humanity entitles us. - Author: James Russell Lowell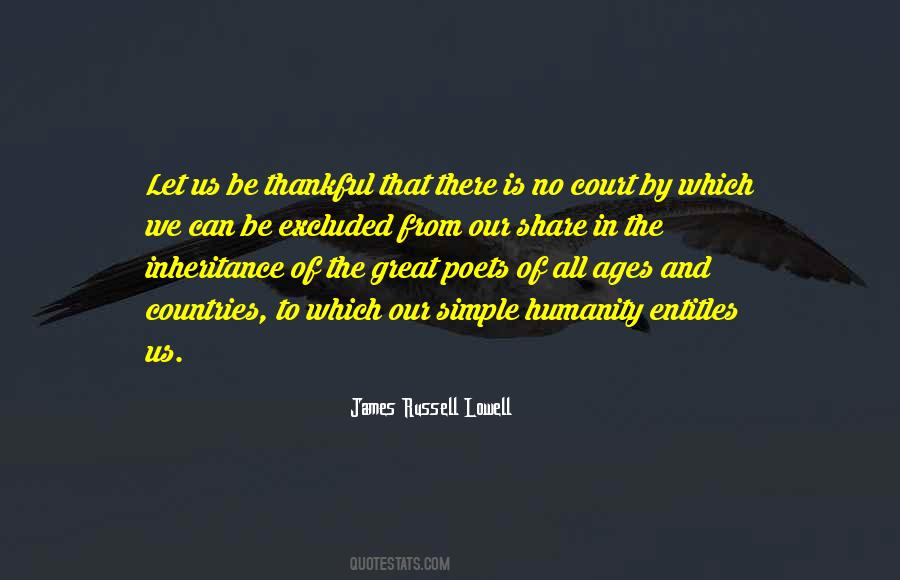 #85. When I say be creative I don't mean that you should all go and become great painters and great poets. I simply mean let your life be a painting, let your life be a poem. - Author: Osho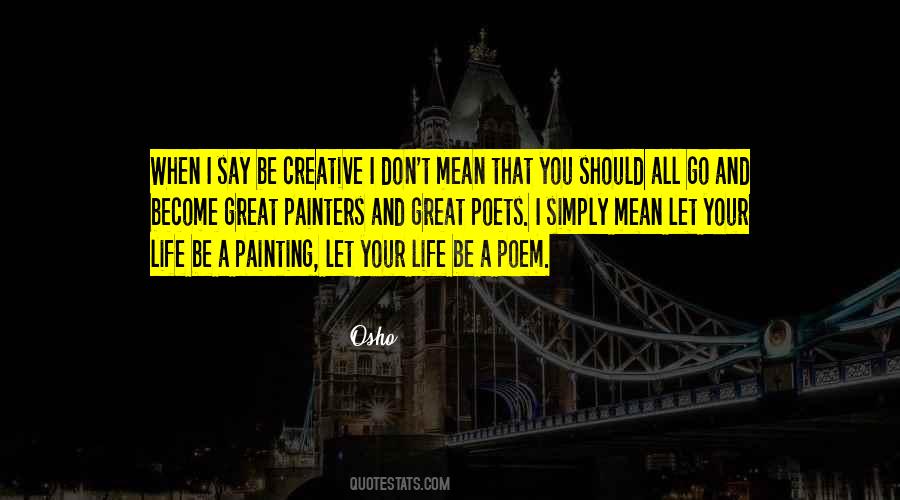 #86. When shall we see poets born? After a time of disasters and great misfortunes, when harrowed nations begin to breathe again. And then, shaken by the terror of such spectacles, imaginations will paint things entirely strange to those who have not witnessed them. - Author: Denis Diderot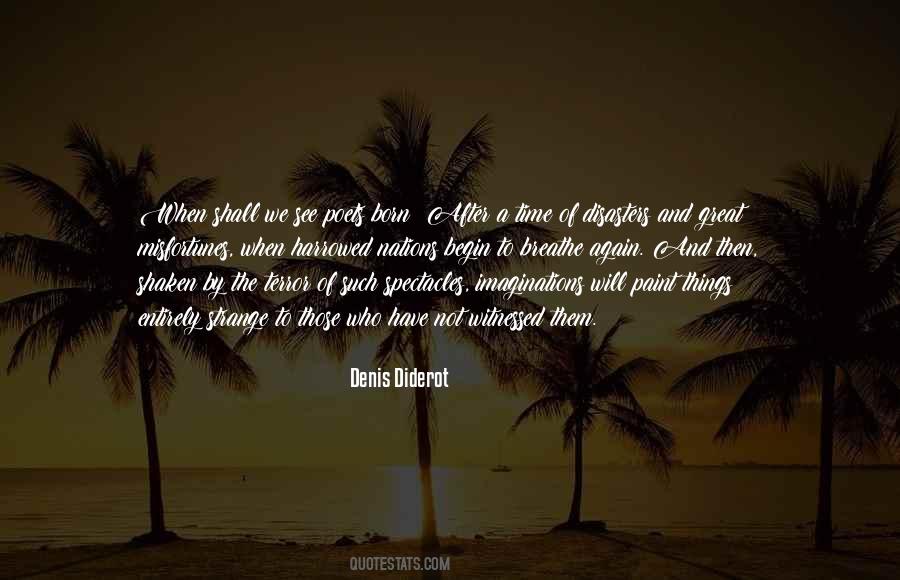 #87. And I myself a Catholic will be,
So far at least, great saint, to pray to thee.
Hail, Bard triumphant! and some care bestow
On us, the Poets militant below. - Author: Abraham Cowley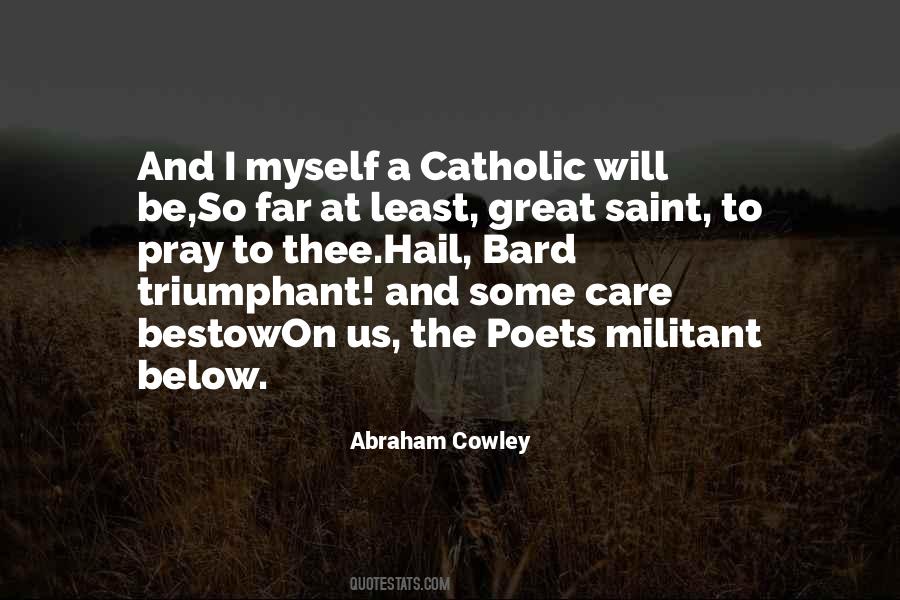 #88. Gascoigne, Ben Jonson, Greville, Raleigh, Donne,
Poets who wrote great poems, one by one,
And spaced by many years, each line an act
Through which few labor, which no men retract.
This passion is the scholar's heritage - Author: Yvor Winters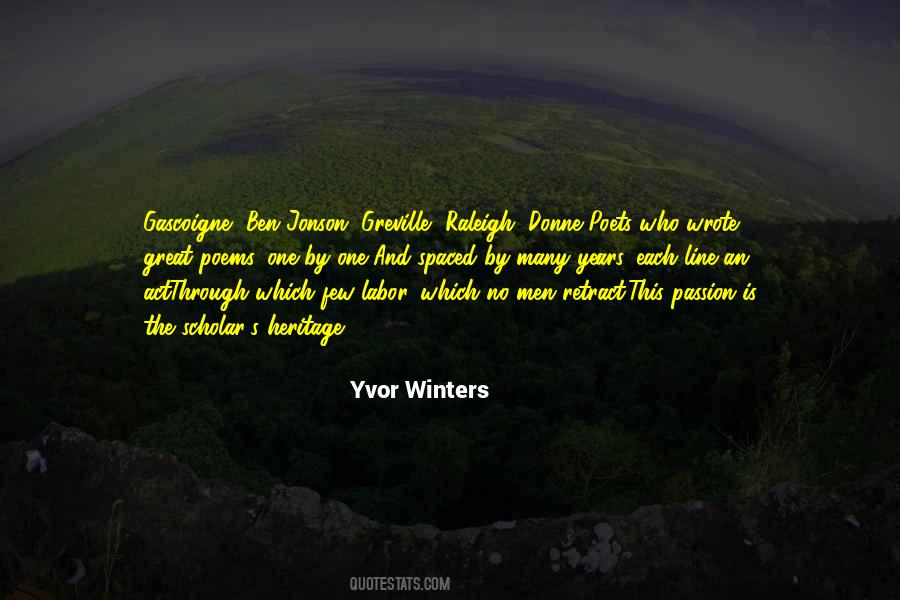 #89. Don't bow down to critics who have not themselves written great masterpieces. - Author: Lawrence Ferlinghetti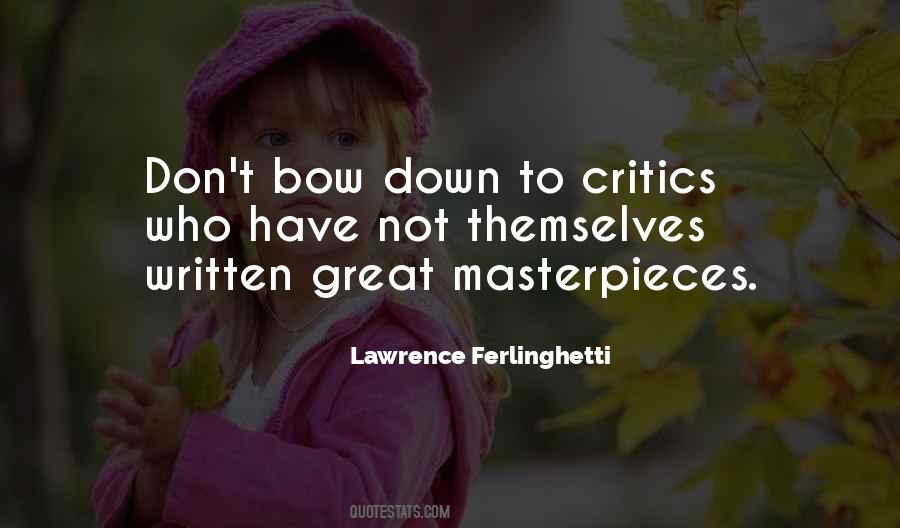 Famous Authors
Popular Topics