Good Live Famous Quotes & Sayings
List of top 100 famous quotes and sayings about good live to read and share with friends on your Facebook, Twitter, blogs.
Top 100 Quotes About Good Live
#1. So our lives In acts exemplary, not only win Ourselves good names, but doth to others give Matter for virtuous deeds, by which we live. - Author: George Chapman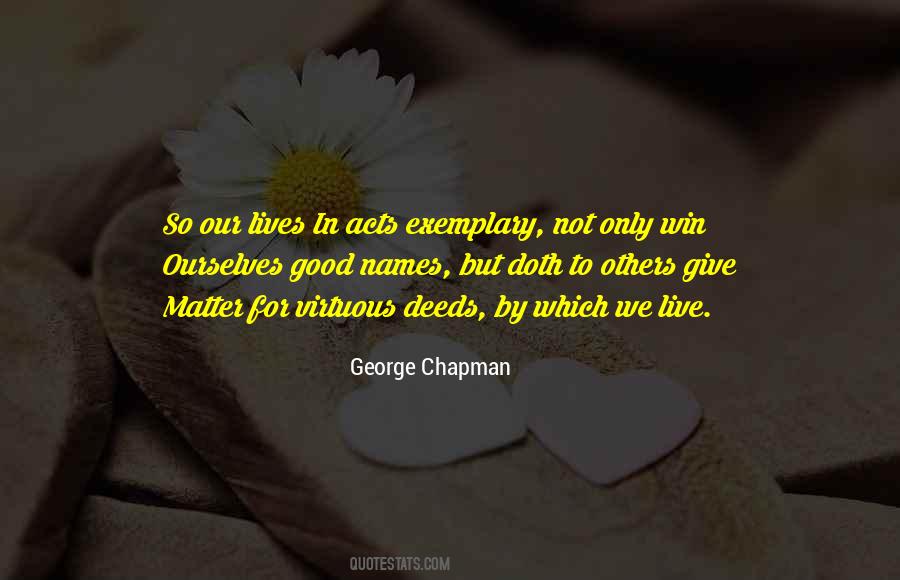 #2. If we live by subhuman means we might as well never have had the good fortune to be born human. - Author: Ihara Saikaku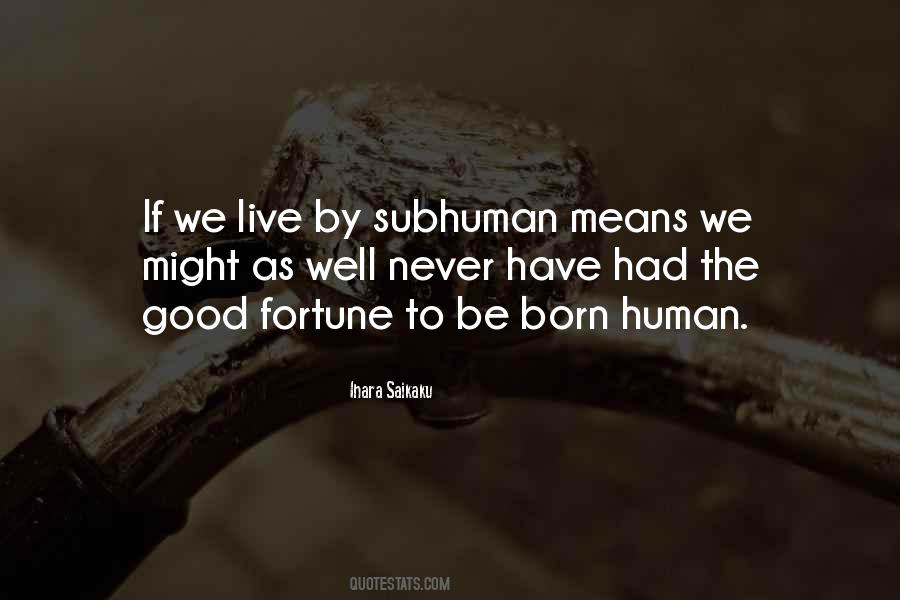 #3. Flaubert's famous sentence, "Madame Bovary, c'est moi" ("Madame Bovary, she is me"), in reality means, " Madame Bovary, c'est nous" ("Madame Bovary, she is us"), in our modern incapacity to live a "good-enough" life. - Author: Sophie Barthes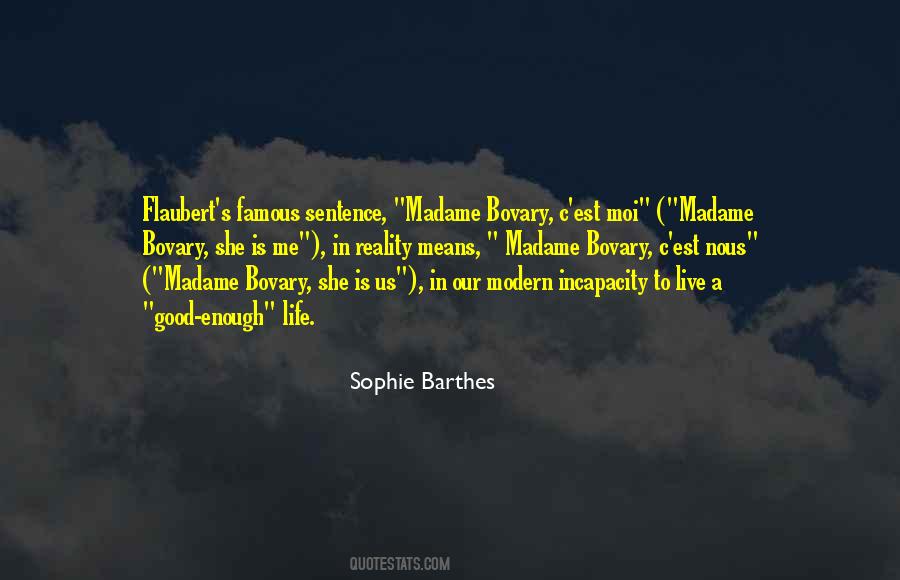 #4. I always wanted to live to about 70. I thought that'd be a good age. - Author: Evel Knievel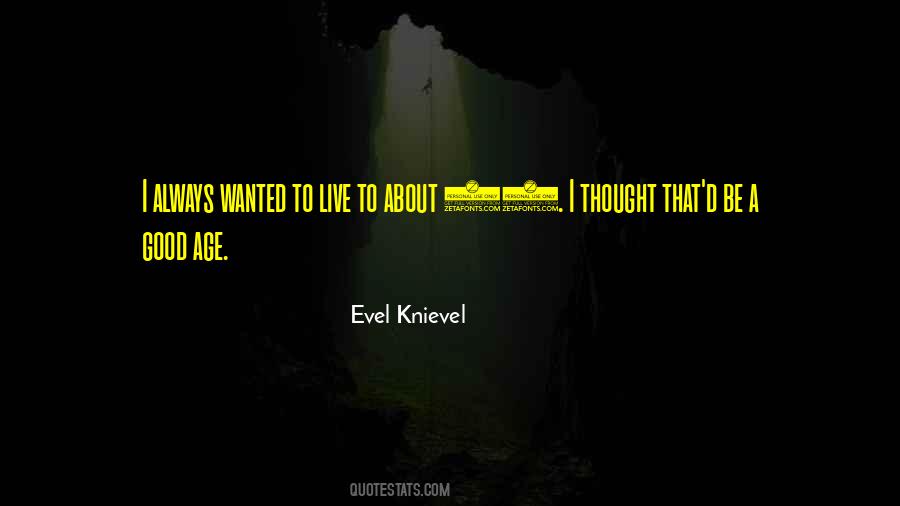 #5. You take the bad with the good, Rise up through it. Live in the mist of it. It's the bad that lets you know ho good the good really is. Don't let the bad leave you thinking like there ain't any good. There is, and lots of it, too. - Author: Charles Martin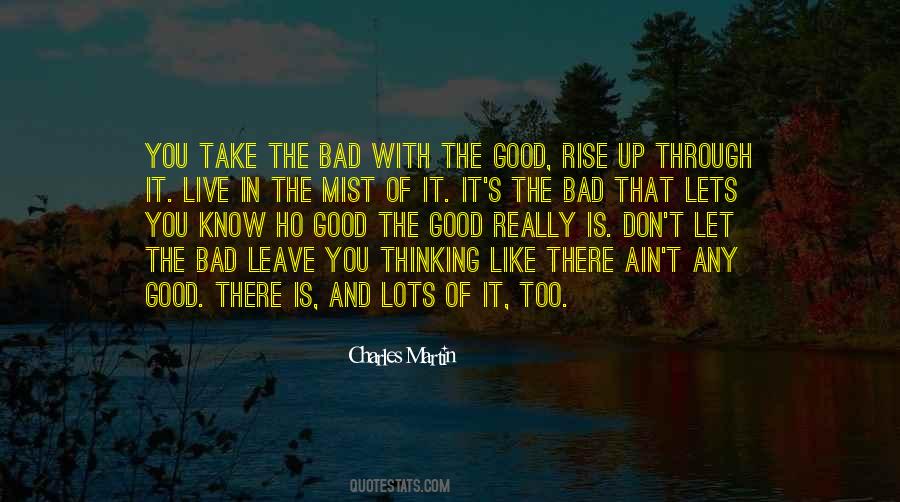 #6. You have to believe in its principles. Anything is possible, as long as it's for the good of the world. Make the exception. Live exceptionally. And if you can't do that, maybe we should consider whether you're right for the project. Think about it, then let's talk tomorrow. - Author: Amy Tan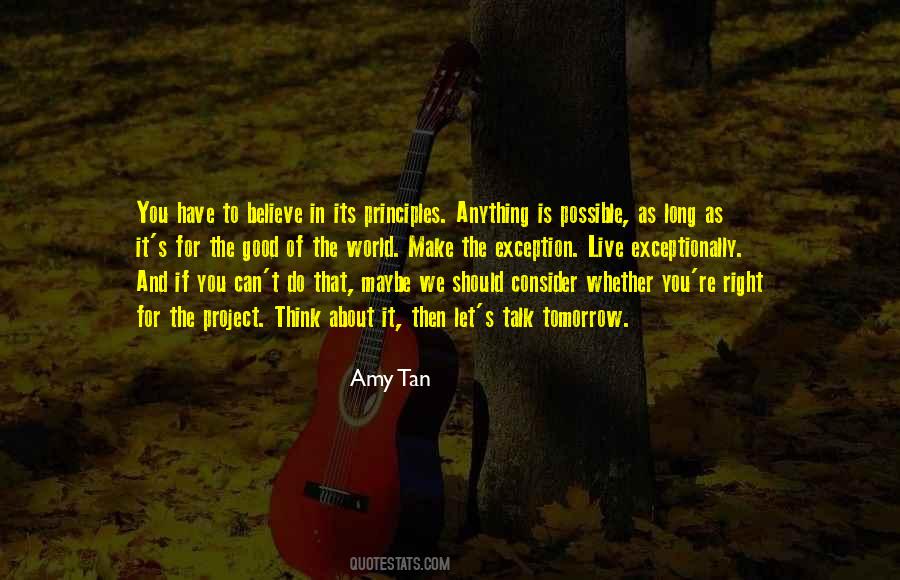 #7. Old movies are black-and-white; they've got good guys and bad guys. The thing was, I didn't want to live in the past anymore. It was time for my life to go full color. - Author: Eileen Cook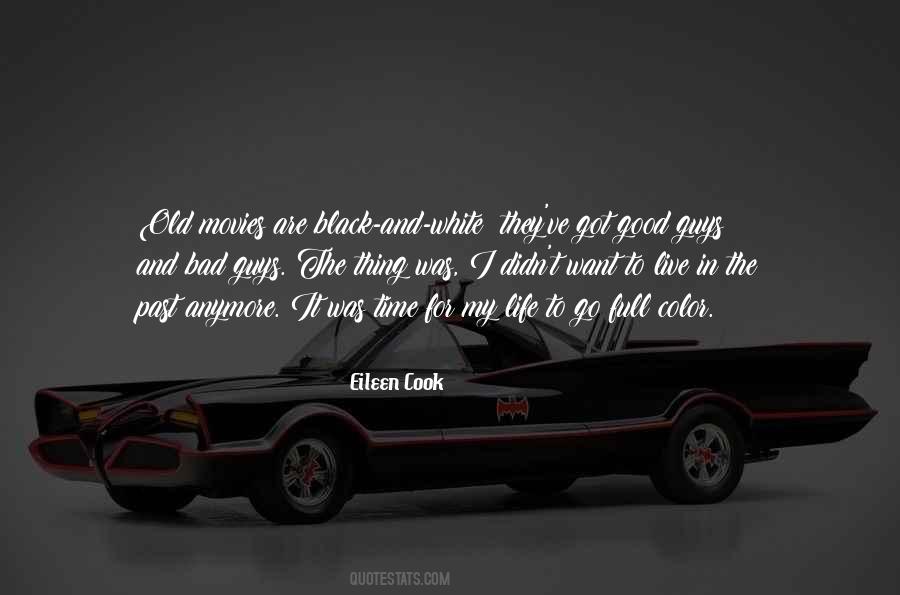 #8. Nothing has to happen for me to feel good! I feel good because I'm alive! Life is a gift, and I revel in it. - Author: Tony Robbins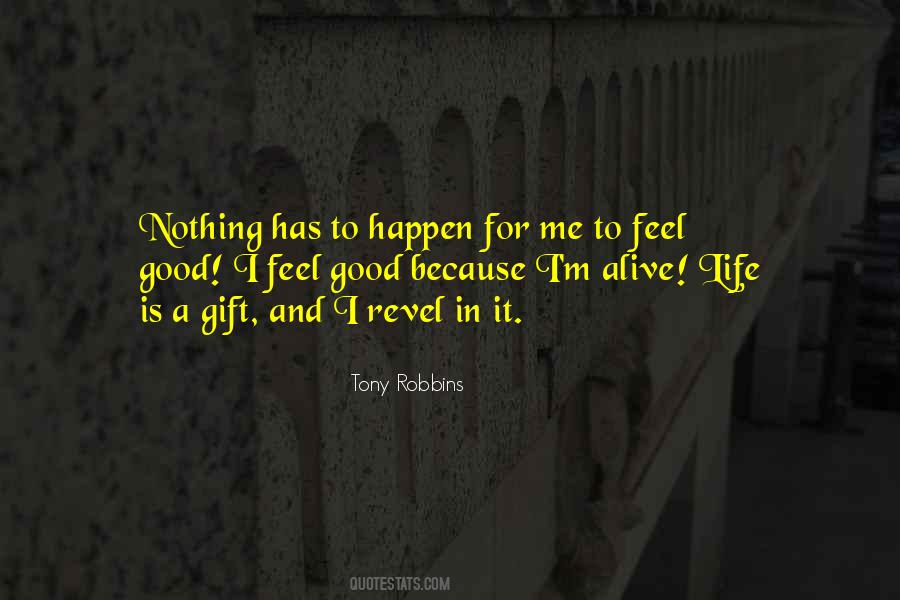 #9. I have to live, perhaps, till seventy years. As far as I know, I have good health. Half a century of existence may lie before me. How am I to occupy it? What am I to do to fill the interval of time which spreads between me and the grave? - Author: Charlotte Bronte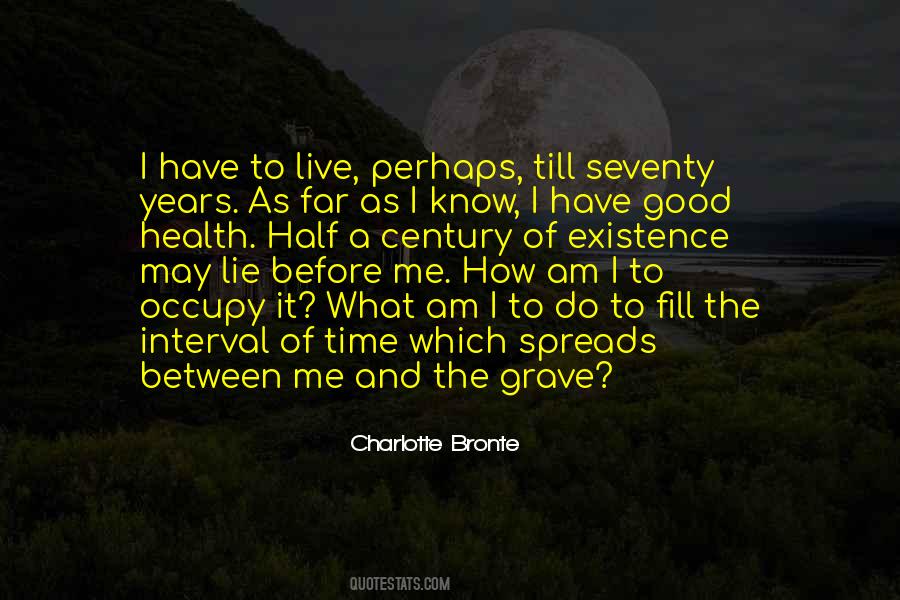 #10. It ain't over til it's over.Yogi Berra
A good way to live one's life - Author: Harold Kasselman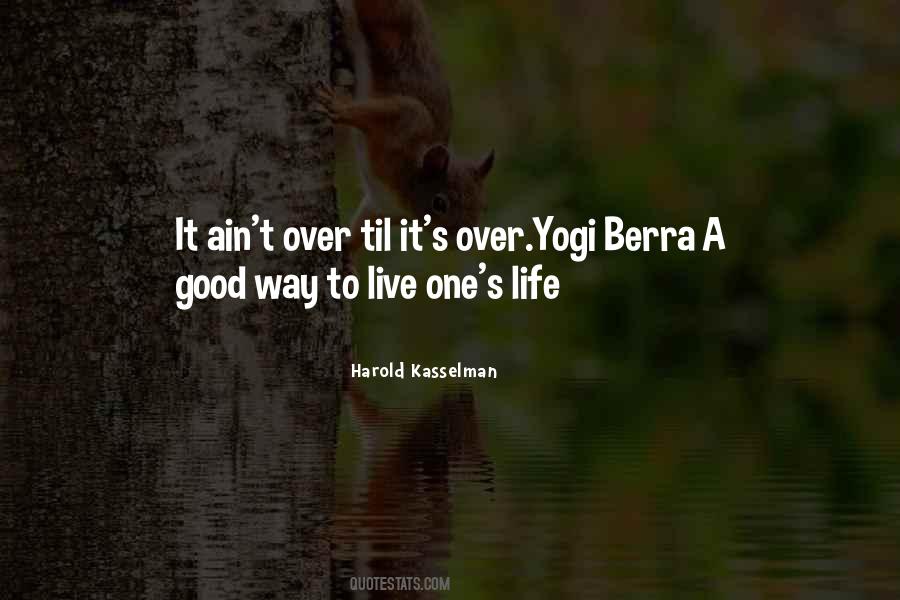 #11. It's good to be successful and have financial status but if you're only gonna live for the money, you're only gonna reach a certain status and I'm in there for greatness and peace of mind. - Author: Mike Tyson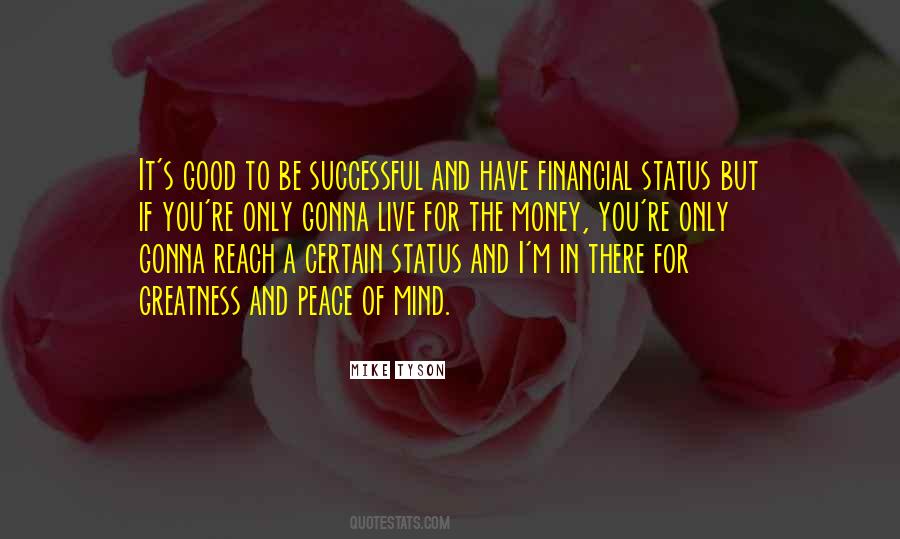 #12. Most of the time I'm thinking of you
All of the time I love you
Remembering the good times and the bad
So much as
Happened and
Maybe I'm loving too fast
All I know is I ...
Love you. And want to
Live with you
Only you
Will you be my wife? - Author: Monica Murphy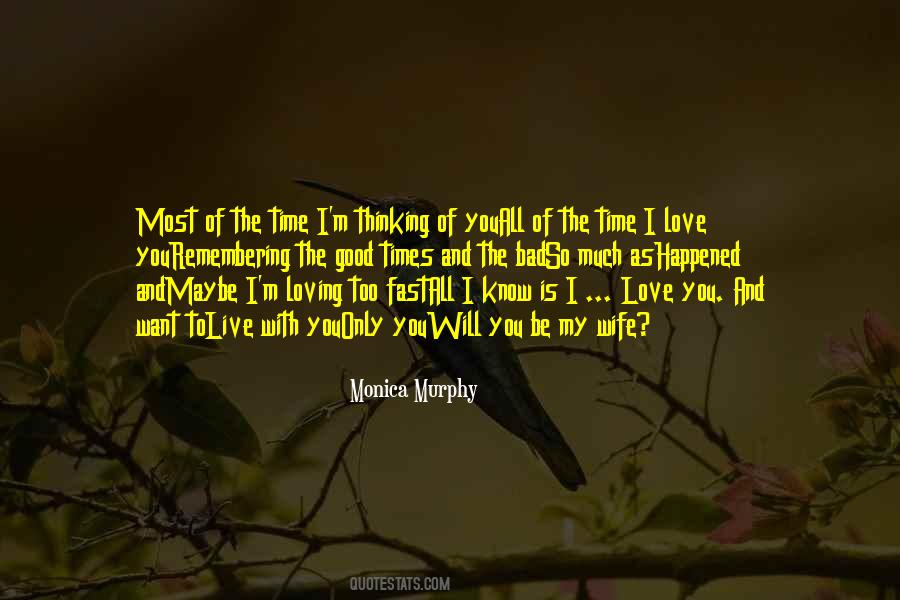 #13. We can't live without taxes, but we sure would like to have good ones. - Author: Charles Adams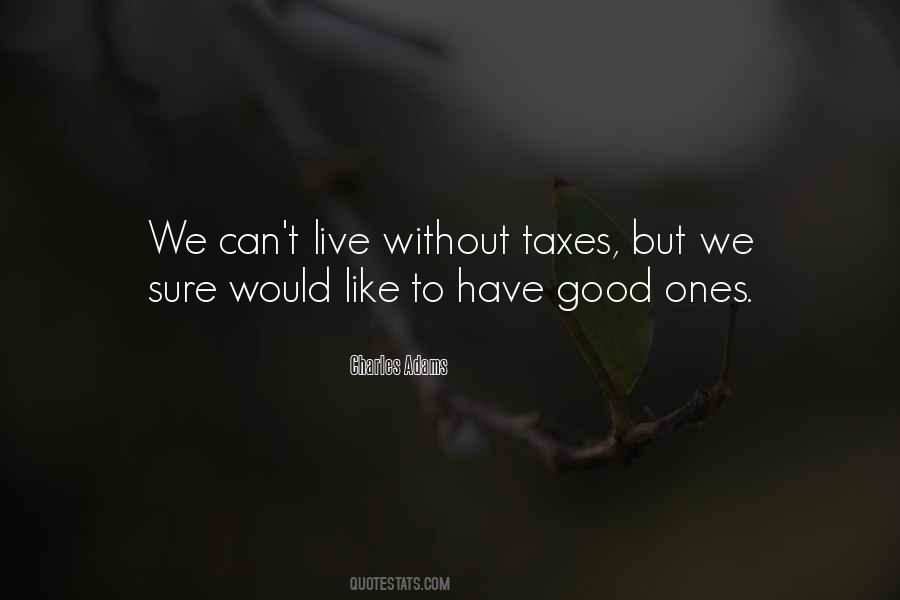 #14. Who is good and who is bad? Life isn't black and white, Javier. You and I, we're just trying to live in all the grey. Isn't that what you've done? Isn't that what you want? To live? - Author: Karina Halle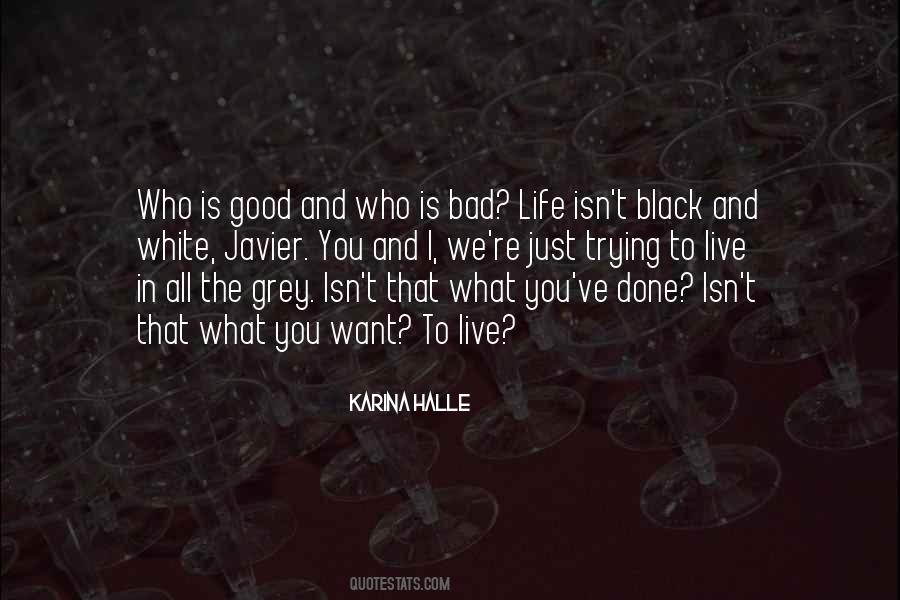 #15. Atlanta's a good example of a city that's quite sprawling, where there's a sharp division between where blacks and whites live, between where low-income and high-income families live. - Author: Raj Chetty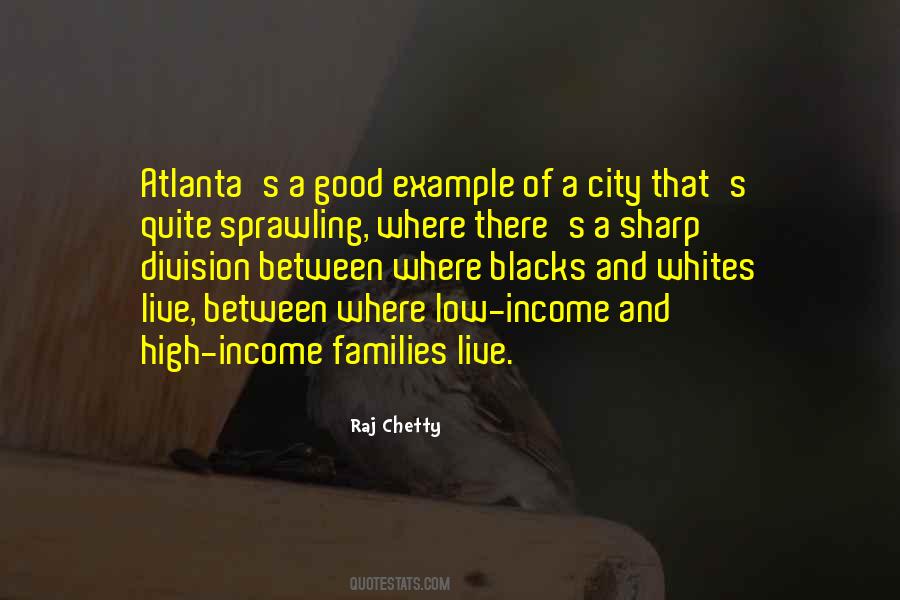 #16. Yet little by little, I was also becoming the girl who was learning to live with this, all of it, letting it weave together with everything else, the good and the bad, as life moved forward, because that's what life did, regardless of whether we were ready for it or not. - Author: Donna Freitas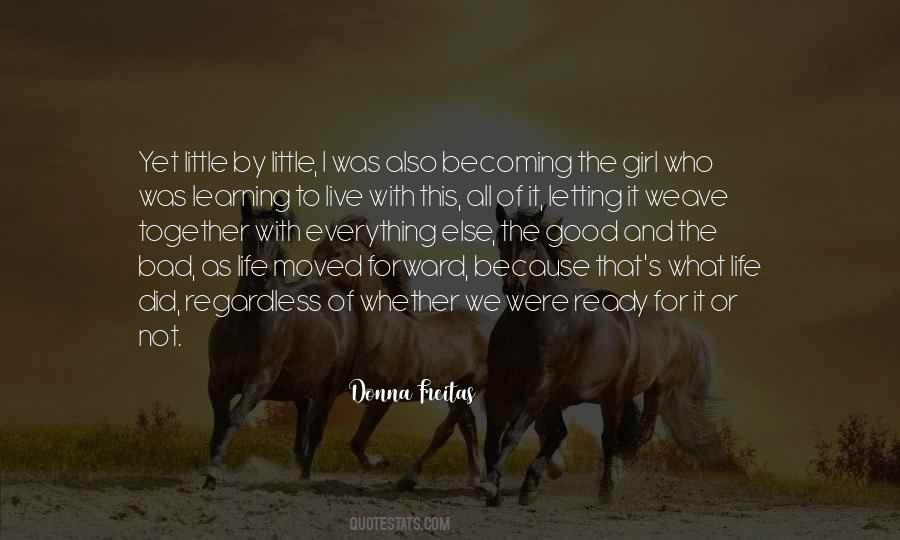 #17. To develop good thoughts and acts, we must live and associate with good people. - Author: David B. Haight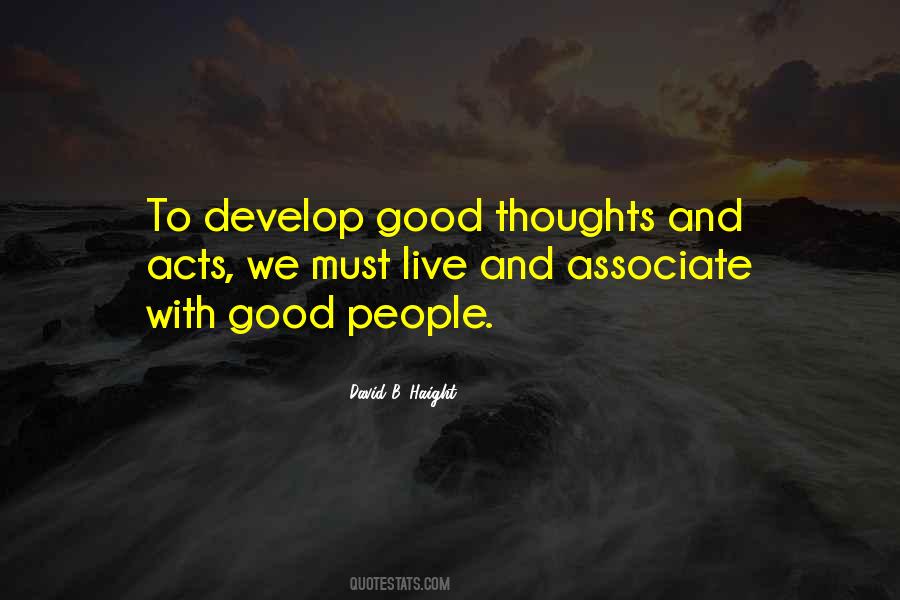 #18. Because I am a one-legged, black, short, woman I had to spend every day of my life pushing against what society told me I should be. I had to sell my value every day of my life. Confidence is what enables us to push back on reality. Once you get good at that, you can use it to live your joy. - Author: Bonnie St. John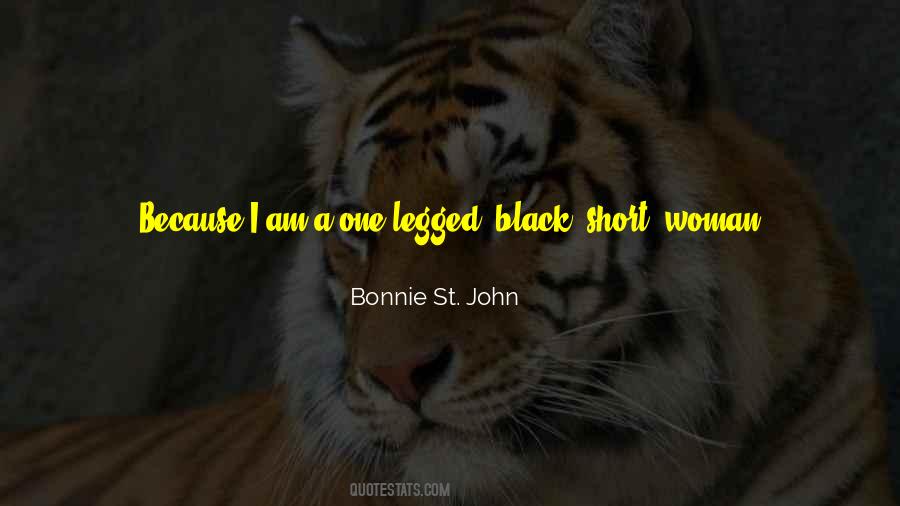 #19. The Marquesa would even have been astonished to learn that her letters were very good, for such authors live always in the noble weather of their own minds and those productions which seem remarkable to us are little better than a day's routine to them. - Author: Thornton Wilder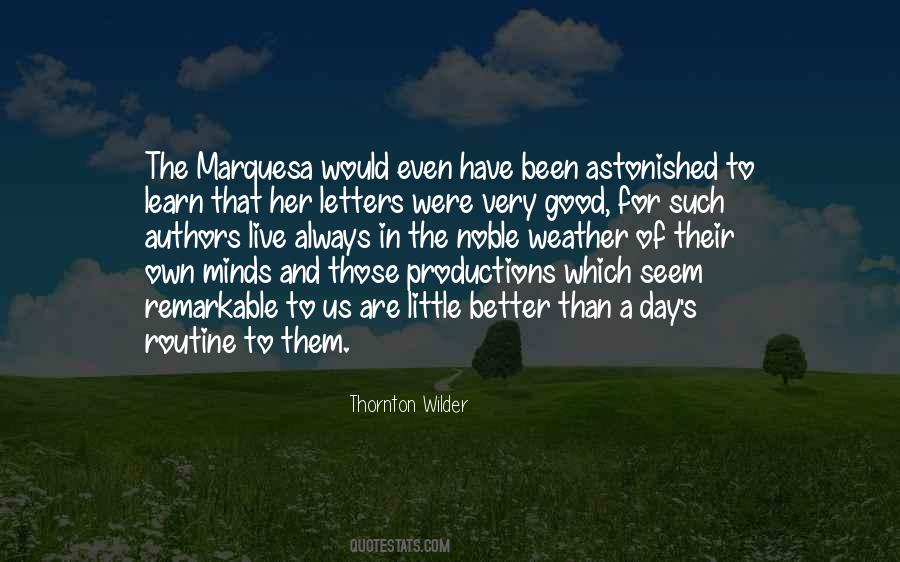 #20. Good fiction creates empathy. A novel takes you somewhere and asks you to look through the eyes of another person, to live another life. - Author: Barbara Kingsolver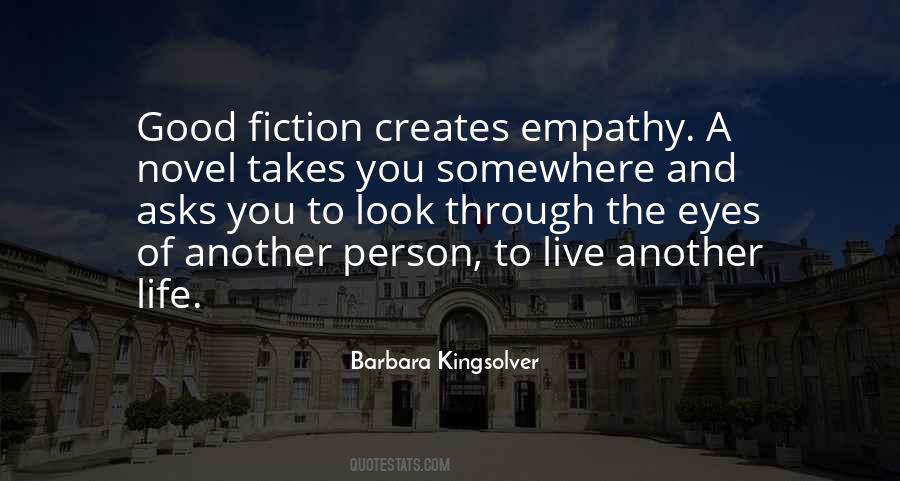 #21. Then I began to play. Variations on a G major chord, the most wonderful chord known to mankind, infinitely happy. I could live inside a G major chord, with Grace, if she was willing. Everything uncomplicated and good about me could be summed up by that chord. - Author: Maggie Stiefvater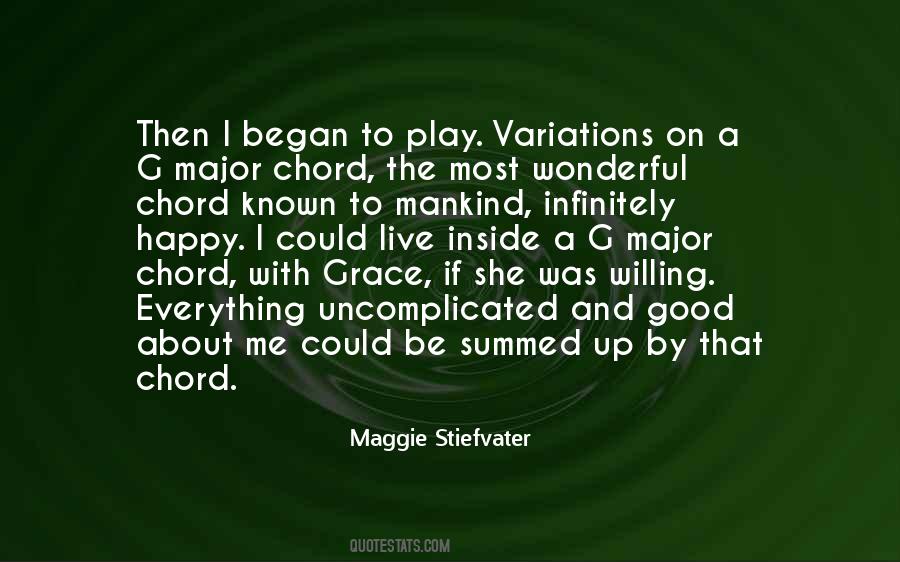 #22. Bad things happen to good people all the time. It sucks. It's not fair but then much of life isn't fair. It's how you live that matters. It's how you deal with the bumps in the road. - Author: Maya Banks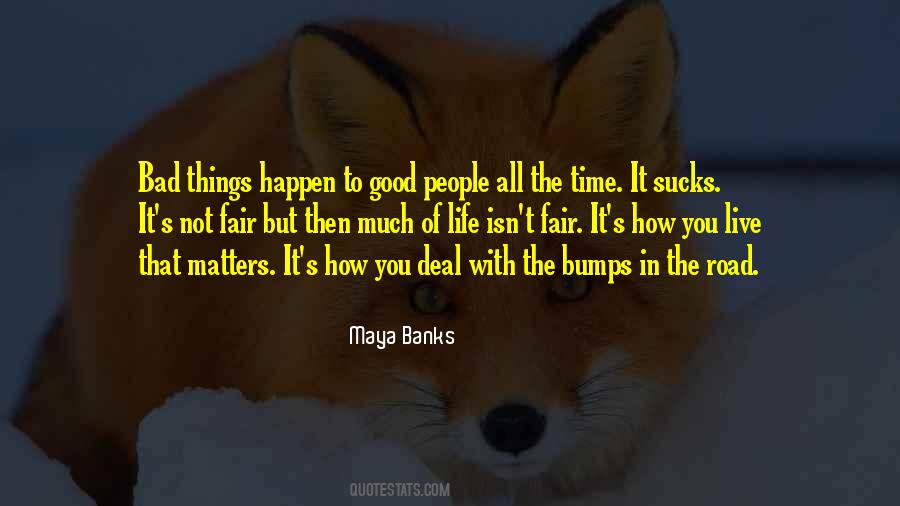 #23. Law is for the society; love is for the individual. Law is how you behave with others; love is how you behave with yourself. Love is an inner flowering; law is an outward performance. Because you live with people you have to be lawful, but that is not enough - good, but not enough. - Author: Rajneesh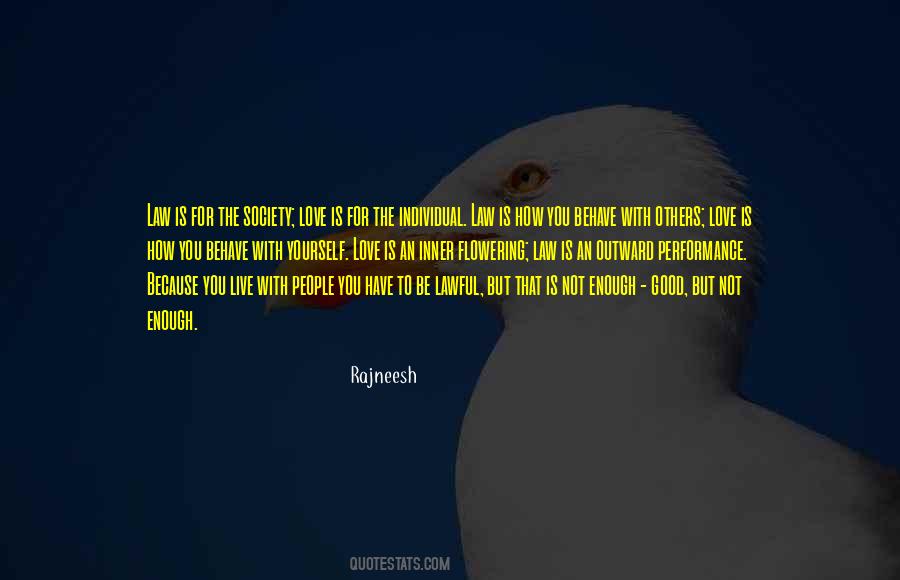 #24. And a good warrior knows when to lose a battle so she can live to fight the - Author: Jennifer Donnelly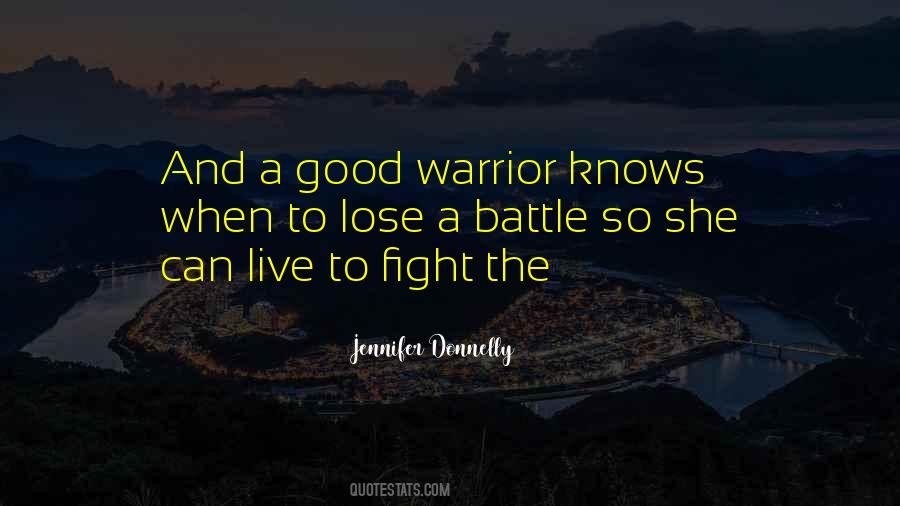 #25. I believe strongly in 'giving while living.' I see little reason to delay giving when so much good can be achieved through supporting worthwhile causes today. Besides, it's a lot more fun to give while you live than to give while you are dead. - Author: Chuck Feeney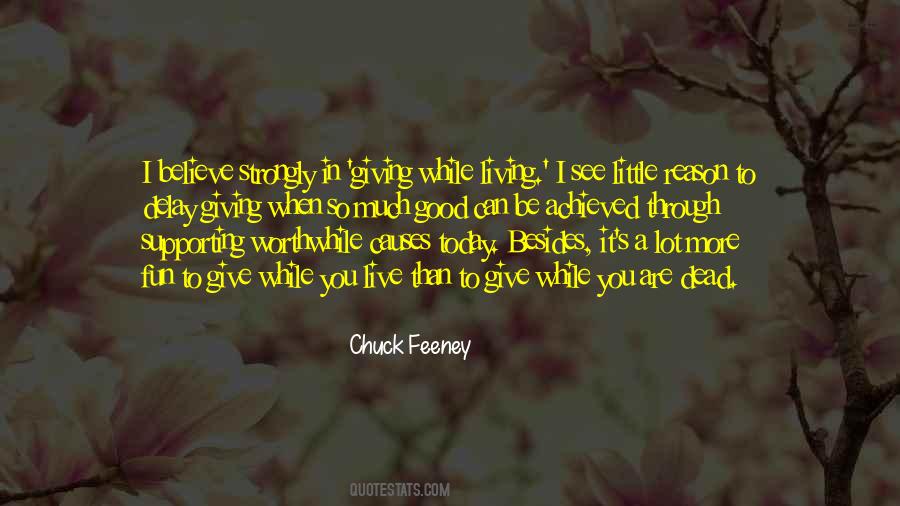 #26. Live comedy's a very reckless, foolhardy profession. You're only as good as your last gig so earnings fluctuate. - Author: Bill Bailey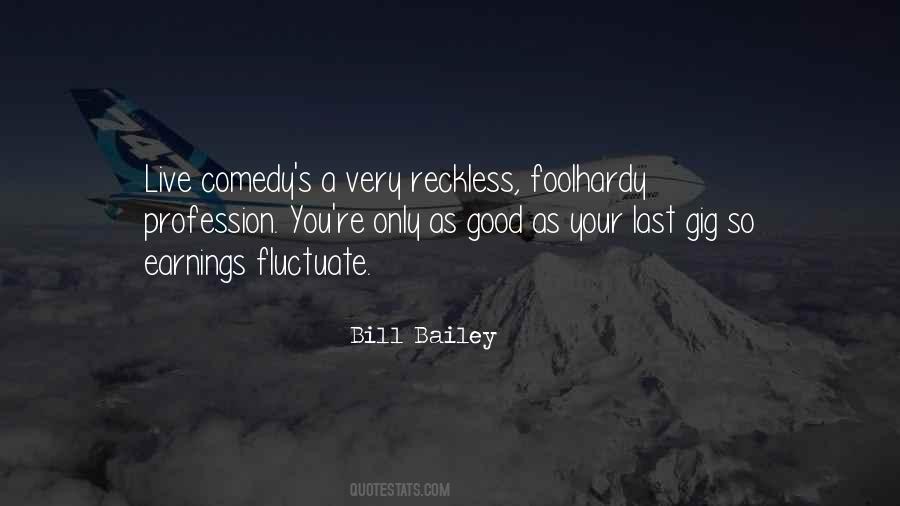 #27. Today is plenty; right now is enough. Tomorrow will come in good time. Until it does, live the depth of now. - Author: Ralph Marston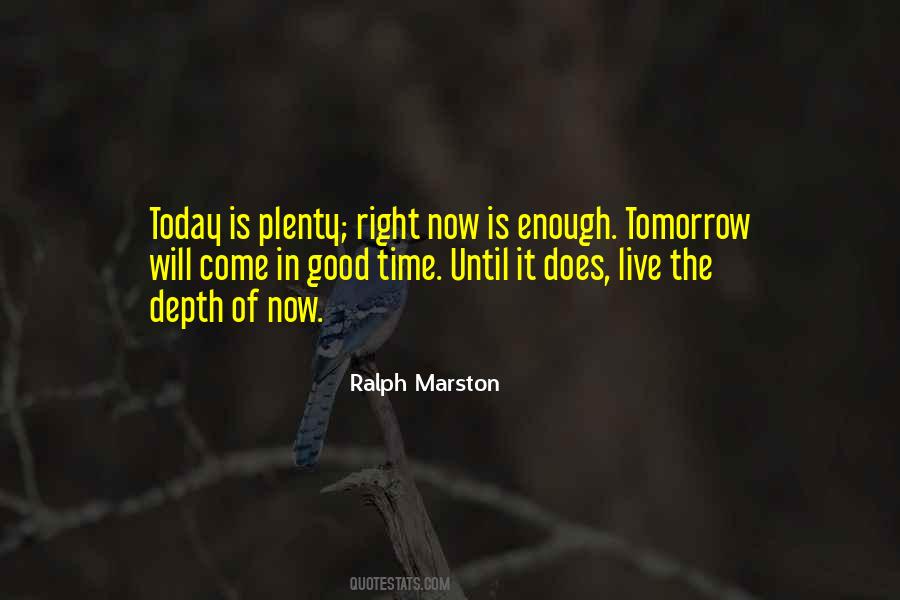 #28. When people try to use religion to address the natural world, science pushes back on it, and religion has to accommodate the results. Beliefs can be permanent, but beliefs can also be flexible. Personally, if I find out my belief is wrong, I change my mind. I think that's a good way to live. - Author: Lisa Randall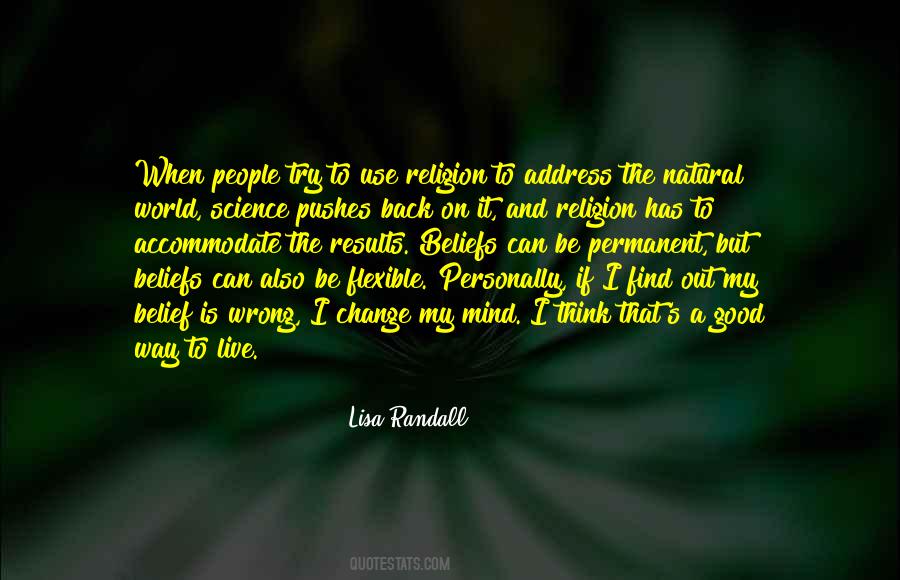 #29. If I did not simply live from one moment to another, it would be impossible for me to be patient, but I only look at the present, I forget the past, and I take good care not to forestall the future. - Author: Therese De Lisieux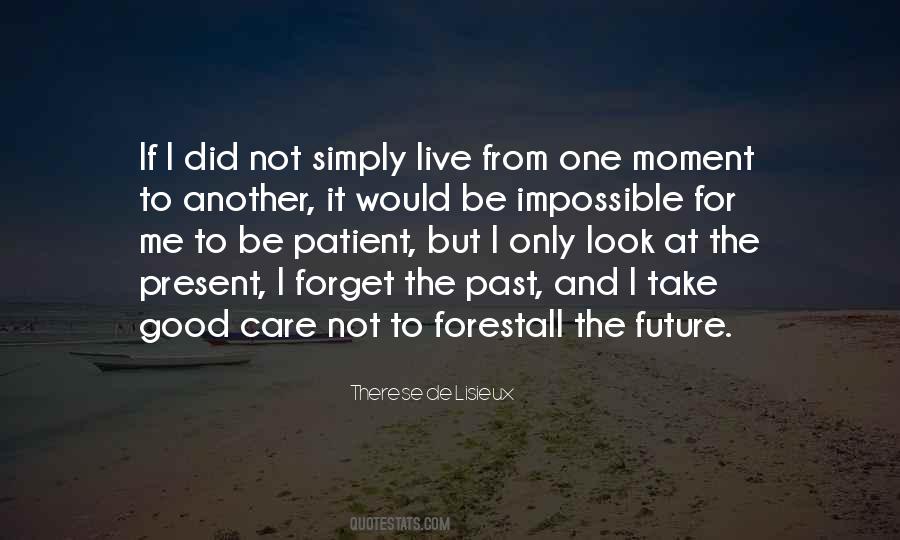 #30. Michael, Eleanor is without a doubt the most beautiful woman who has ever or will ever live. If you could take a nighttime thunderstorm and turn it into a woman, you would have a very good idea what she looks like. And a fairly good idea how she behaves as well. - Author: Tiffany Reisz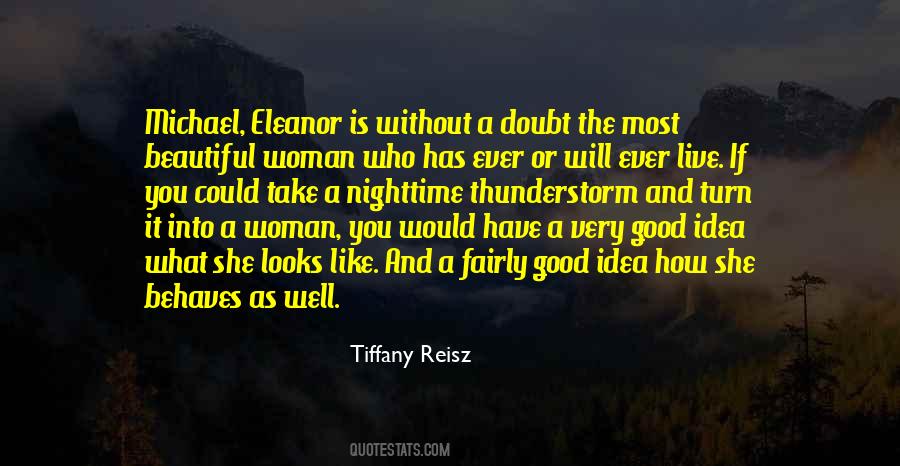 #31. How much good inside a day? Depends how good you live 'em. - Author: Shel Silverstein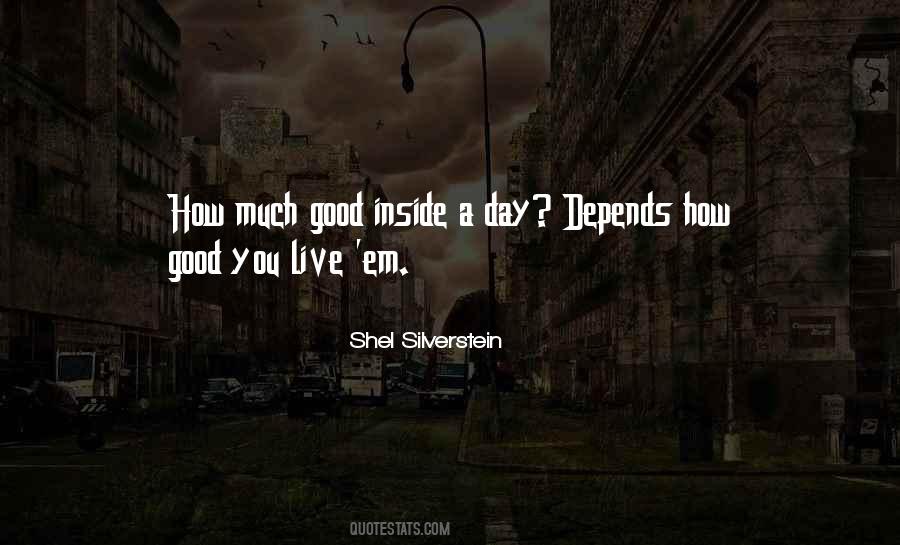 #32. I think that if the novel's task is to describe where we find ourselves and how we live now, the novelist must take a good, hard look at the most central facts of contemporary life - technology and science. - Author: Richard Powers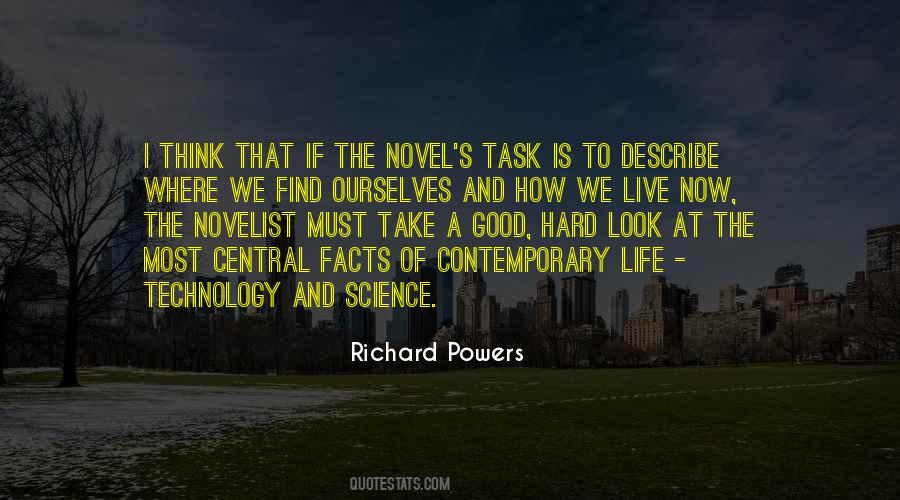 #33. O good Horatio, what a wounded name,
Things standing thus unknown, shall live behind me!
If thou didst ever hold me in thy heart
Absent thee from felicity awhile,
And in this harsh world draw thy breath in pain,
To tell my story ...
O, I die, Horatio; - Author: William Shakespeare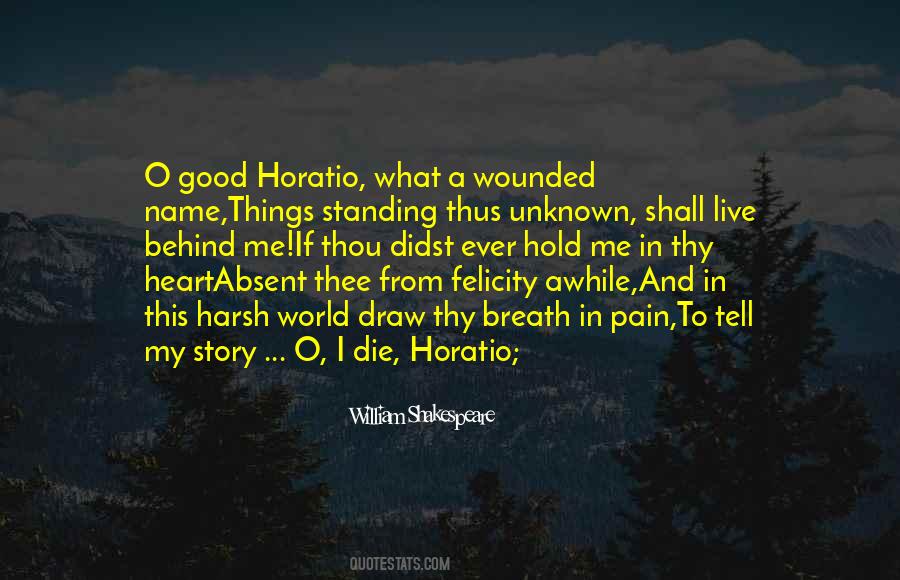 #34. want to live like there's no tomorrow. Love like I'm on borrowed time. It's good to be alive." ~ Musician Jason Gray - Author: Jason Gray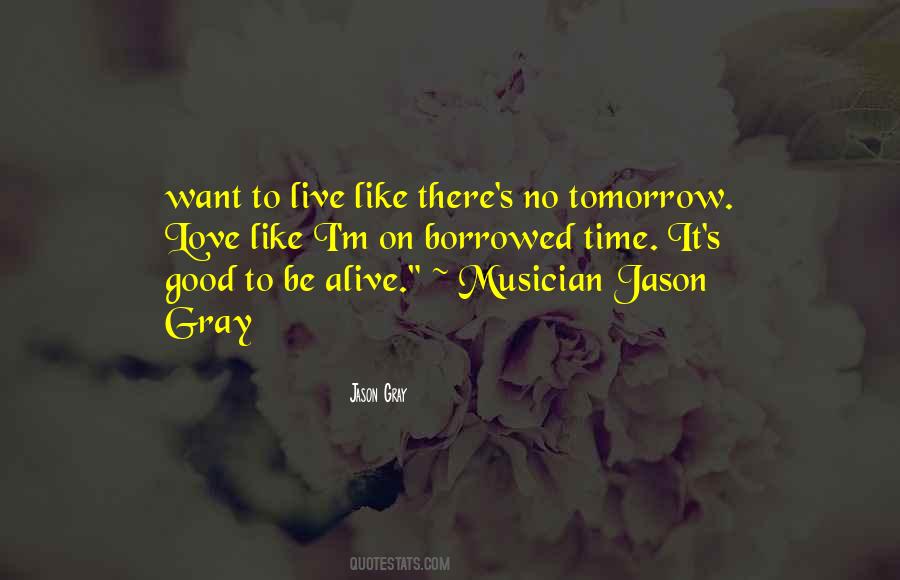 #35. Life was good, one had only to live it. - Author: Jorge Amado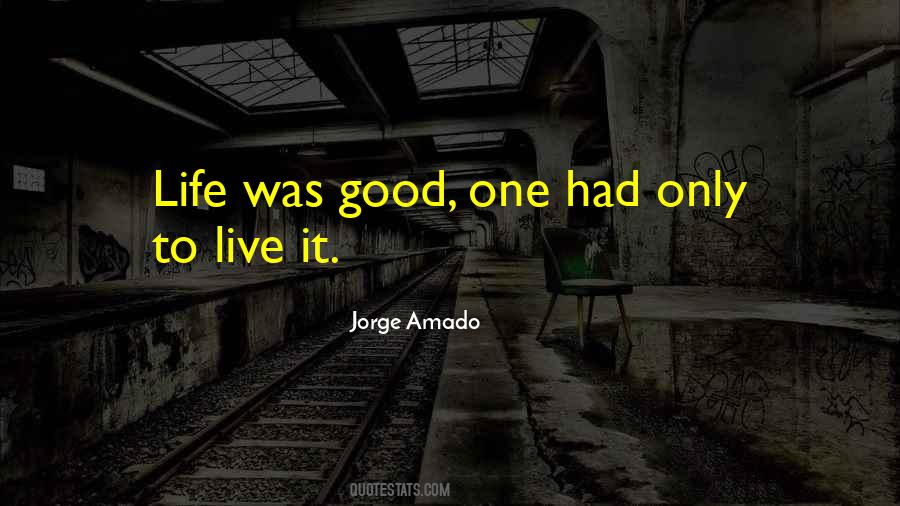 #36. Pachelbel's Canon filled the sun-drowned room where they learned each other and even then the fear flickered across him like an osprey's shadow: This is too good to live for long. - Author: Thomas Harris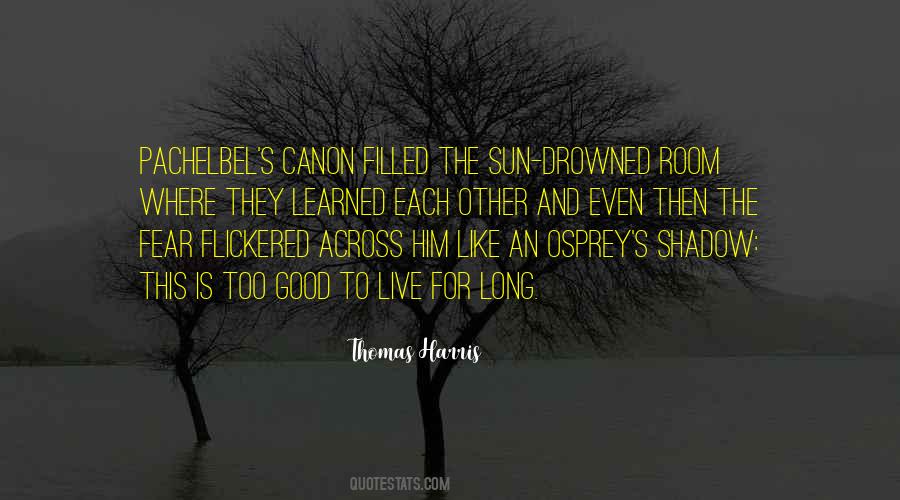 #37. I find myself getting so upset because I was never able to be a good mother for my daughter or a good grandmother for my granddaughter because I was always so sick. I only hope that I can live long enough to see my granddaughter graduate. - Author: Dorothy Moore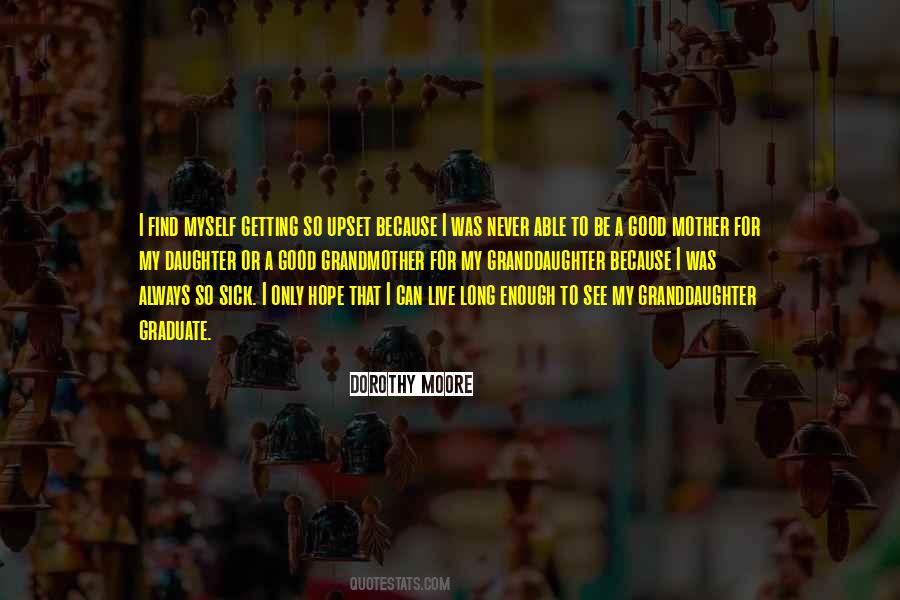 #38. "If you die, you get to heaven; and if you win, you enjoy the earth" (Gita). Even if you die in this attempt, well and good, many will take up the work, following your example. And if you succeed, you will live a life of great opulence. - Author: Swami Vivekananda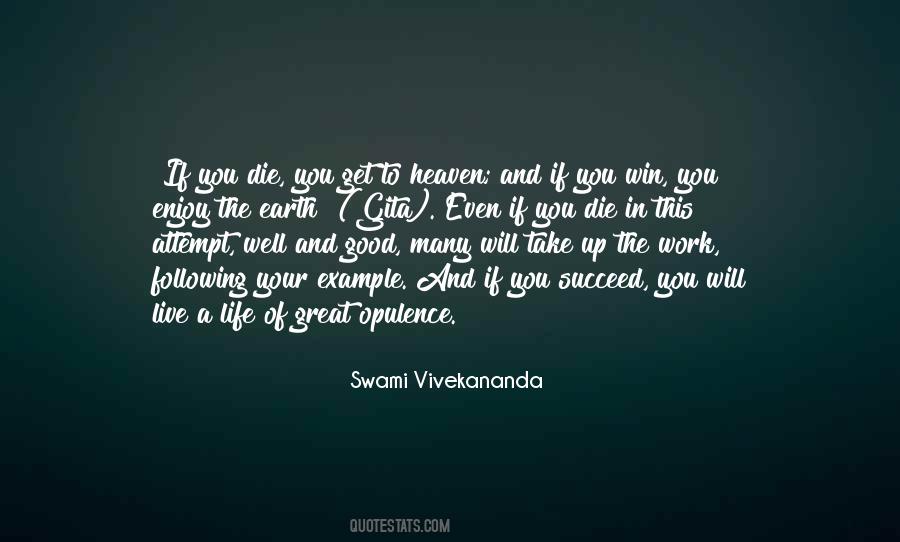 #39. Honestly, I don't recommend anyone get into music. If you have something else that you're good at, do that instead. This is a really tough world to live in. - Author: Skylar Grey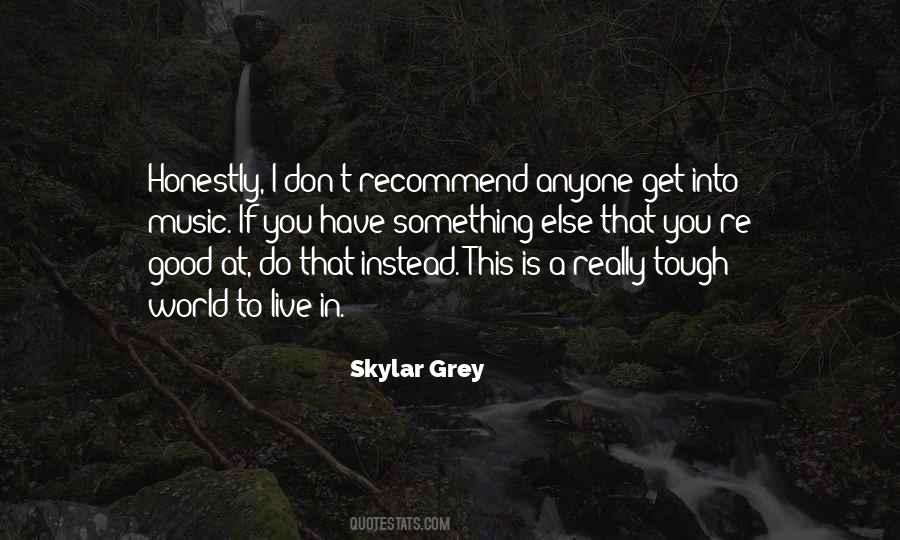 #40. A person had to learn to come to terms with the fate determined for him by God. It would do no good to grumble that one would rather be someone else or live somewhere else. Instead one had to try to make the best of the situation; that was the only way to fulfill God's plans. - Author: Jan Guillou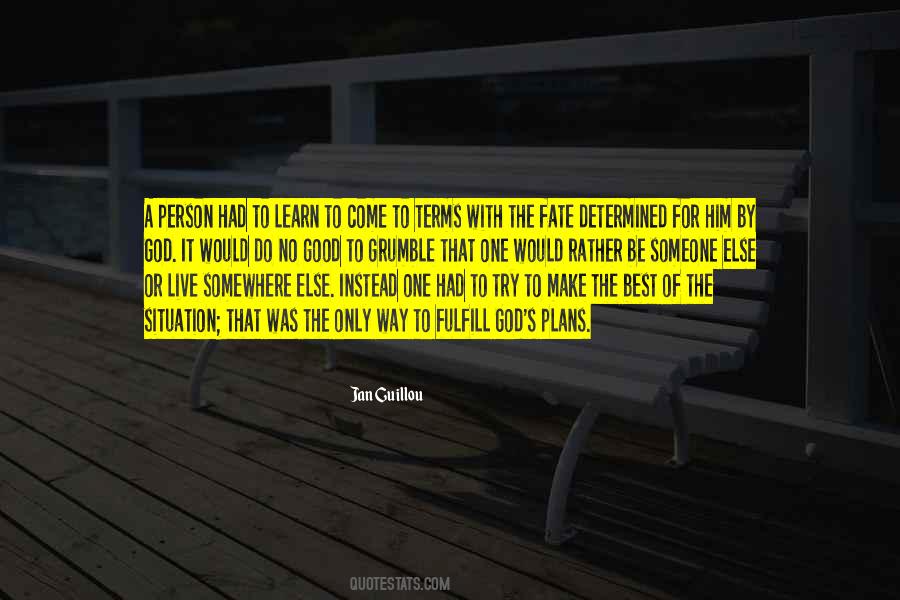 #41. It's not that I haven't had a good life. It's that I hadn't allowed myself to live a great one.
- from the essay Dear Someone, Amazed. - Author: Joanne Crisner Alcayaga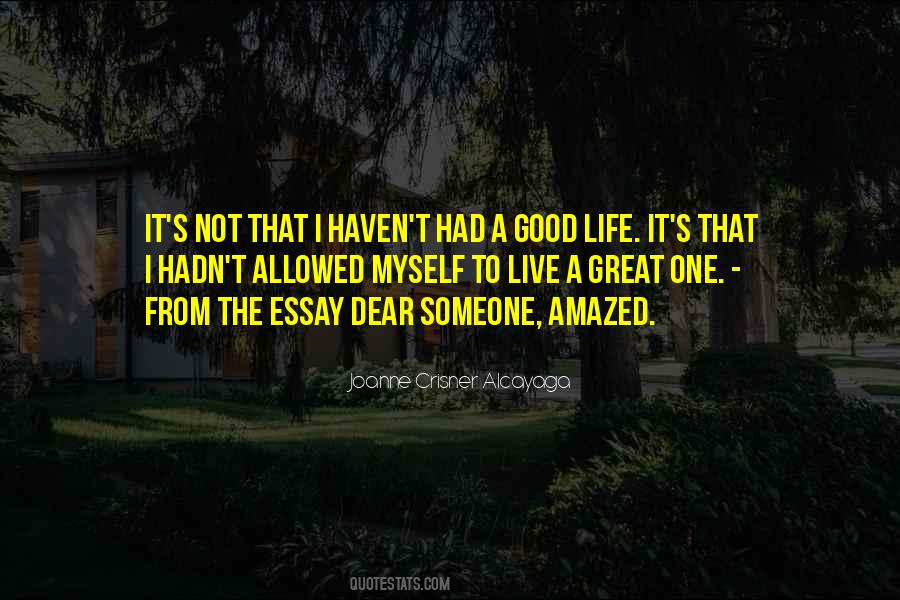 #42. One of the good things about being twelve or younger is that you tend to believe that you'll live forever. - Author: Dean Koontz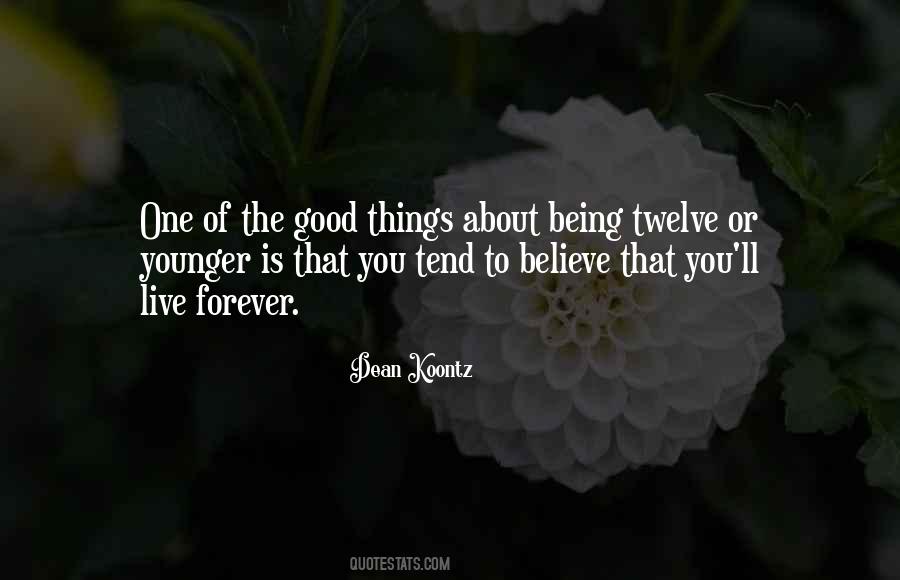 #43. Life on the farm had fed his soul since he was a child. he was ever grateful to Gott for giving him a chance to work the land and live by the seasons. It was a good life...but a lonely one for a man his age, a man too old to be living with his family. - Author: Rosalind Lauer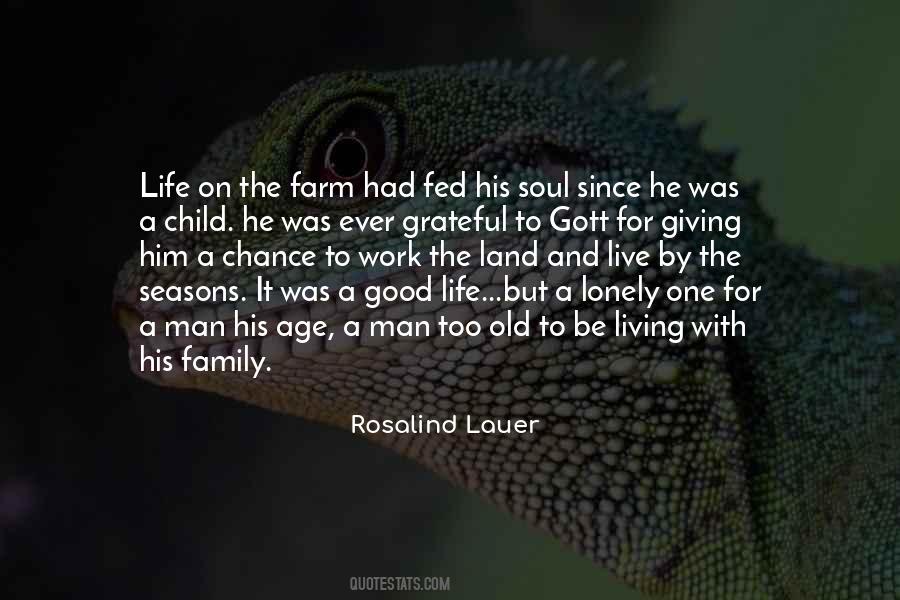 #44. I live near a remedial school. There is a sign that says, slow ... children. That can't be good for their self esteem. But look of course on the positive side, they can't read it. - Author: Jimmy Carr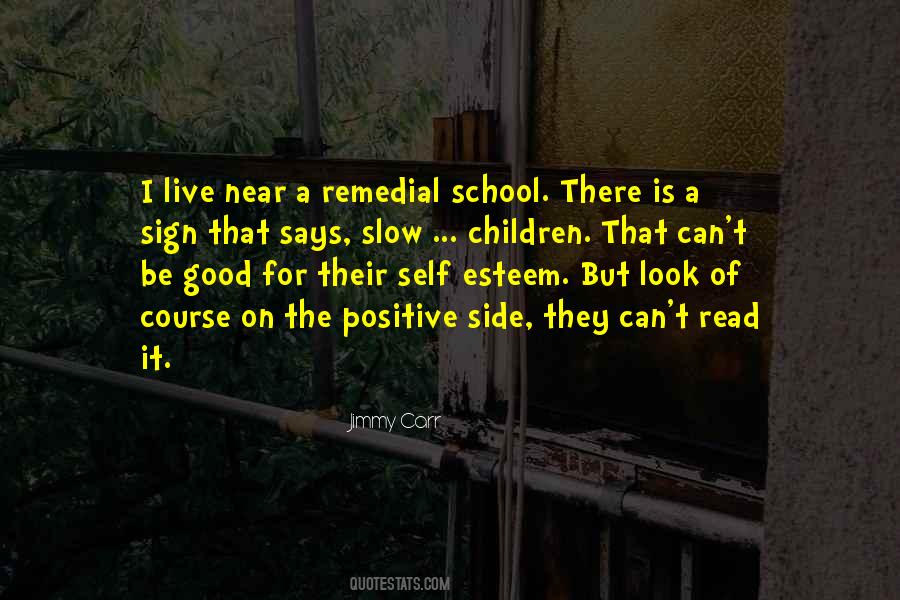 #45. When I wrote 'The Good Body,' I turned 40 and suddenly had this stomach. It seemed like the end of the world. Because I didn't value my body. I was constantly judging it, but I also didn't live in it. - Author: Eve Ensler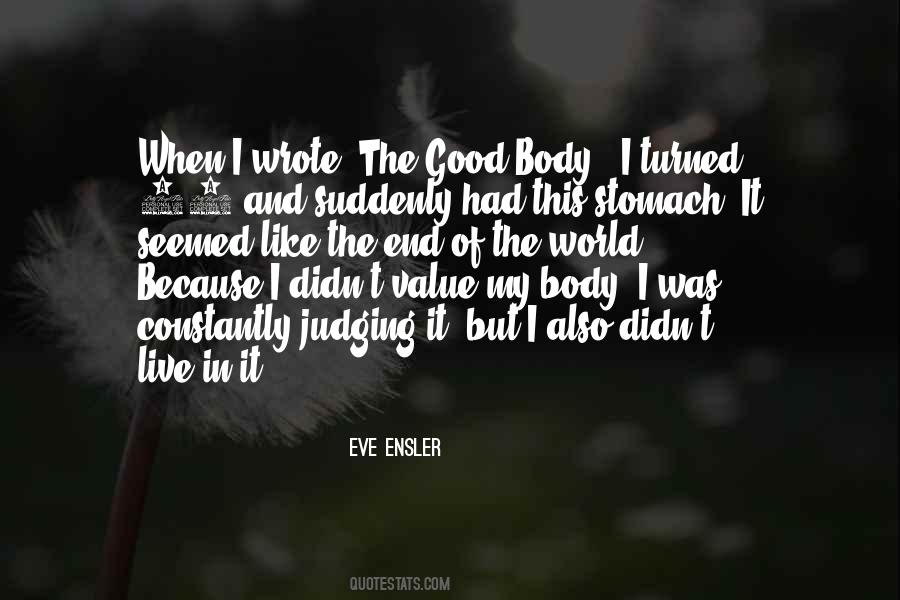 #46. But the truth of the matter is, to live a good life, as a good person, it doesn't matter how you got there. It just matters that you do. - Author: Hank Green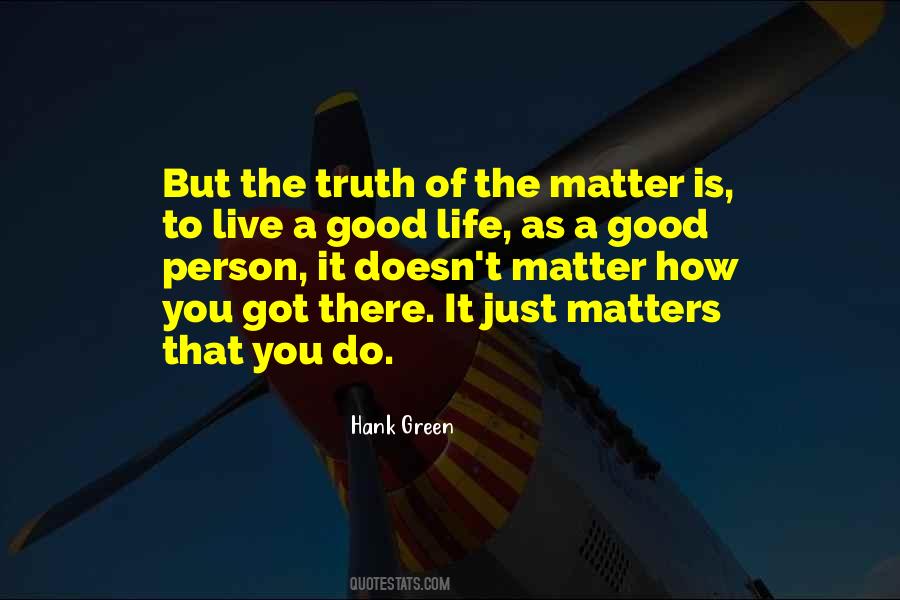 #47. I would not choose to go where I would be afraid to die, nor could I bear to live without a good hope for hereafter. - Author: Charles Spurgeon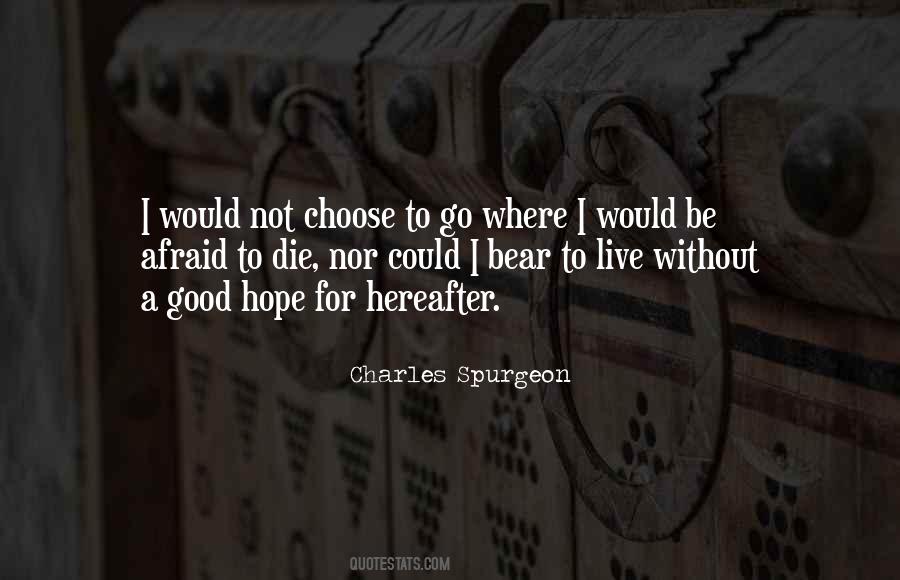 #48. Good, law-abiding, value-oriented citizens are the ultimate in hypocrisy; "majority rules" and the law are exactly the same as being the biggest bully on the block with the biggest stick-it is only might that allows one group to force another to live by its code of conduct ... - Author: William J. Murray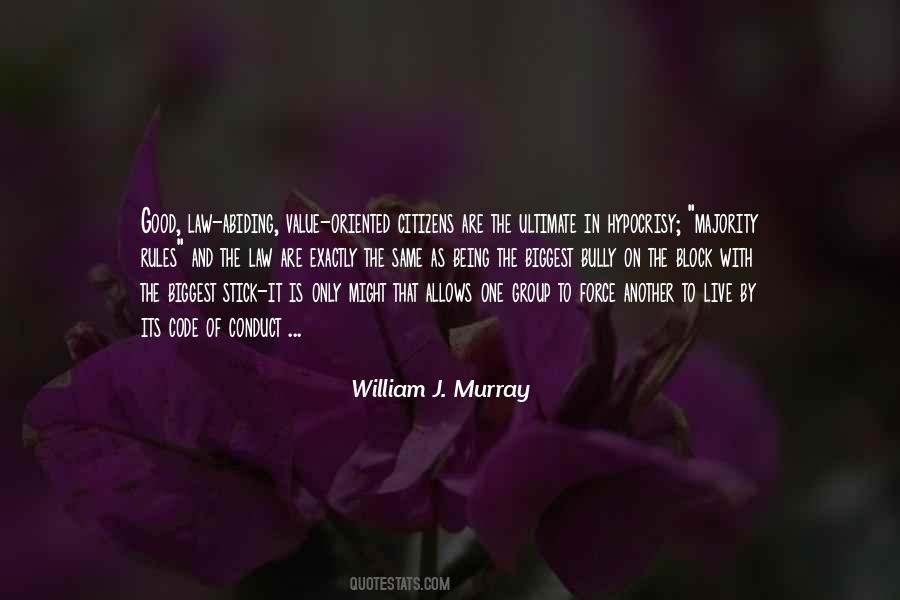 #49. I am alive, he says to himself, I am alive! And life energy surges hotly through him, and delight, and appetite. How good to be in a body - even this old beat-up carcass - that still has warm blood and live semen and rich marrow and wholesome flesh! - Author: Christopher Isherwood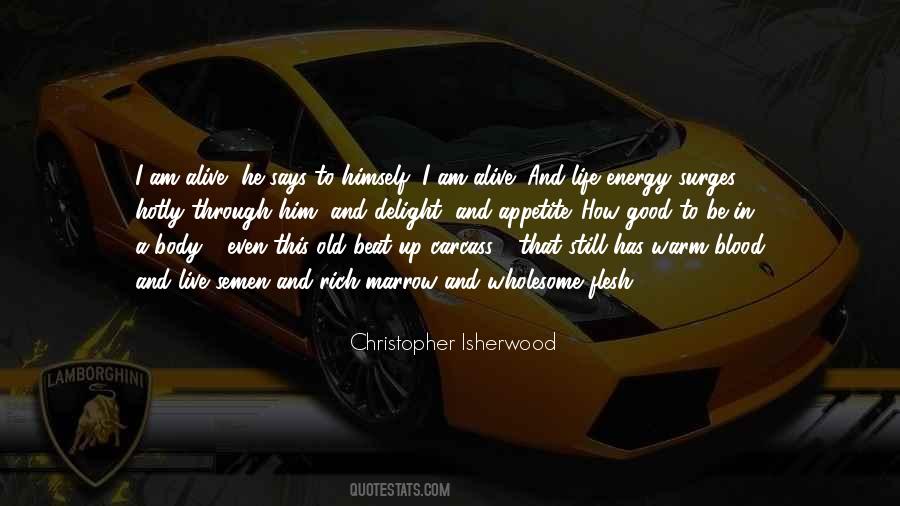 #50. I can hardly believe that the South and North can live in peace, unless we can get rid of the negroes ... I believe that it would be better to export them all to some fertile country with a good climate, which they could have to themselves. - Author: Abraham Lincoln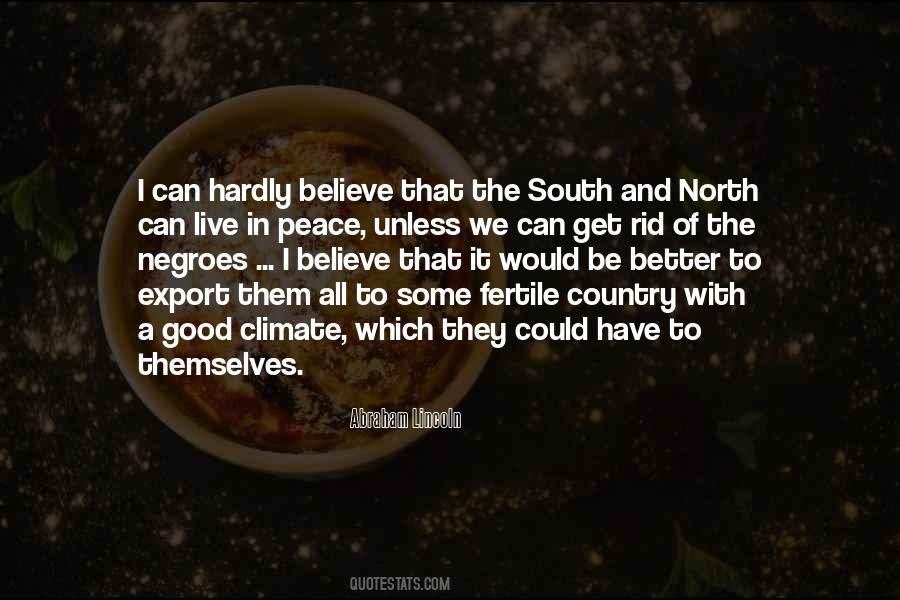 #51. All good ideas are terrible ...
Until people realize they are obvious. If you're not willing to live through the terrible stage, you'll never get to the obvious part. - Author: Seth Godin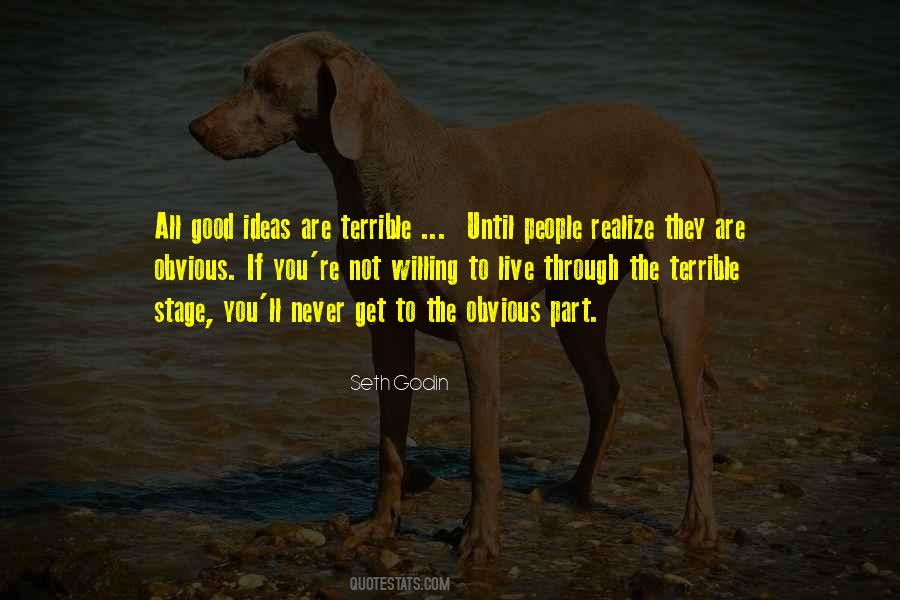 #52. Ah, don't grieve, little falcon,' he said with that tenderly melodious gentleness with which old Russian women speak. 'Don't grieve, little friend: you suffer an hour, you live an age! So it is, my dear. And we live here, thank God, with no offense. There's bad people, and there's good - Author: Leo Tolstoy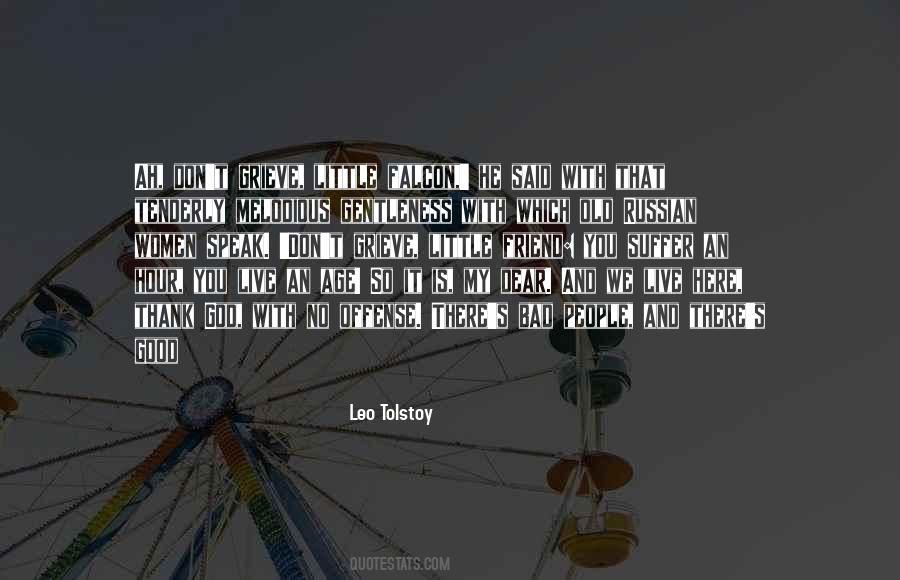 #53. We cannot fulfill our engagements with the Almighty without we have that Spirit with us. We should so live as to acknowledge the Good Spirit continually. We cannot do this unless we let the Spirit of God rule in temporalities as well as in spiritual matter. - Author: Daniel H. Wells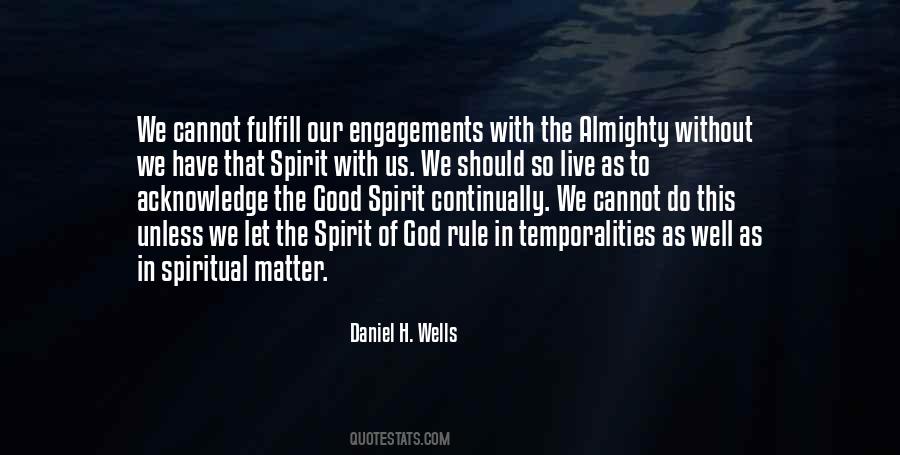 #54. We often do more good by our sympathy than by our labors. A man may lose position, influence, wealth, and even health, and yet live on in comfort, if with resignation; but there is one thing without which life becomes a burden
that is human sympathy. - Author: Frederic Farrar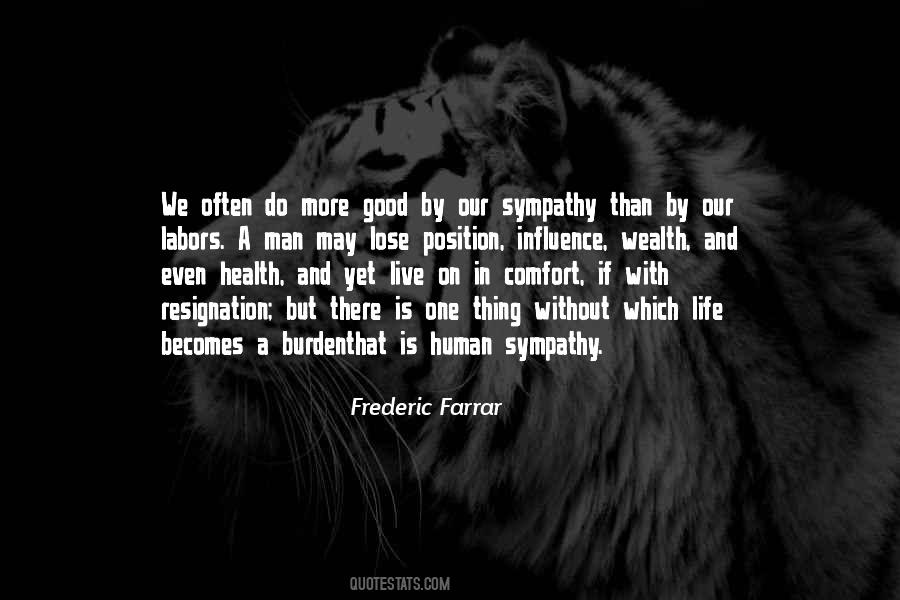 #55. The biggest difference between Jesus Christ and ethical and moral teachers who have been deified by man. Is that these moralists came to make bad people good. Jesus came to make dead people live! - Author: Ravi Zacharias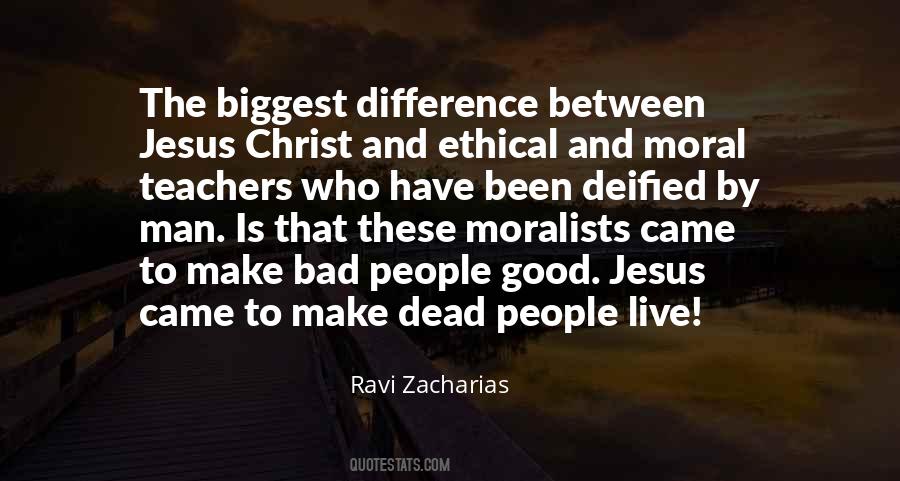 #56. I received many years of good advice from my father - how to live, how to play, how to be a gentleman. - Author: Arnold Palmer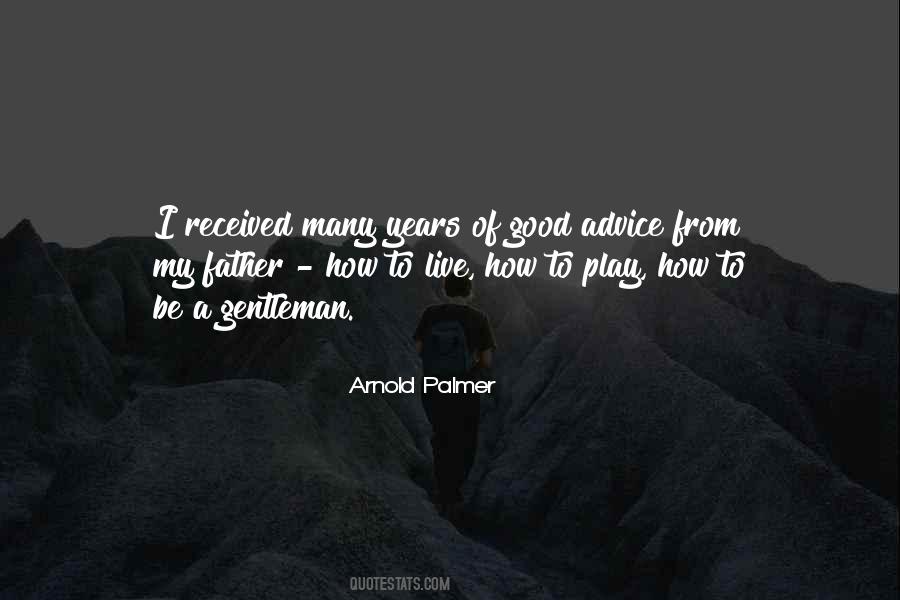 #57. I'm not good, Mac. Never have been.'
What-true confession time? my eyes tease. Don't need it.
'I want what I want and I take it.'
Is he warning me? What could he possibly threaten me with now?
'There's nothing I can't live with. Only things I won't live without. - Author: Karen Marie Moning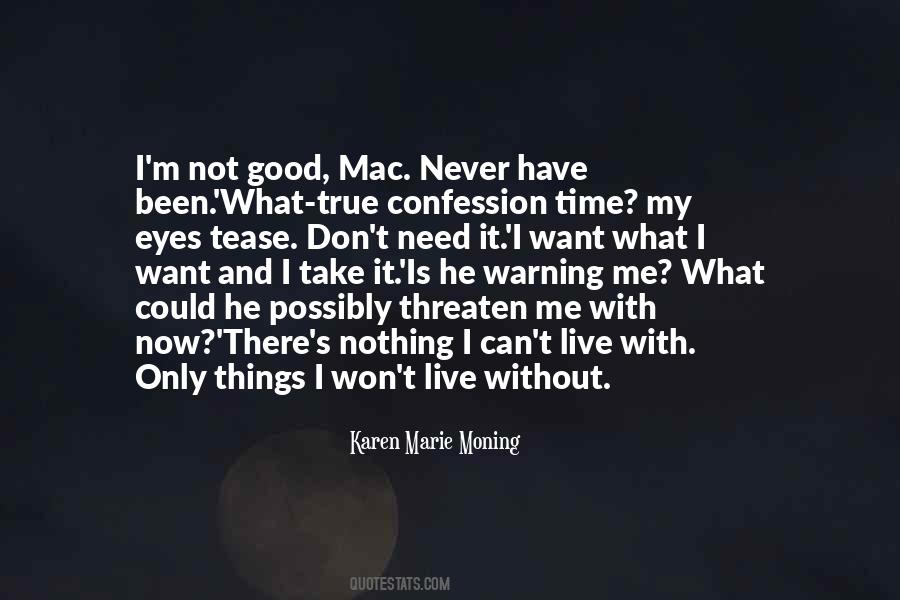 #58. You don't have to search so hard for meaning and destiny. If you focus on keeping yourself clear and in balance and you live from your heart, destiny and your highest-good path will unfold naturally at your feet. - Author: Melody Beattie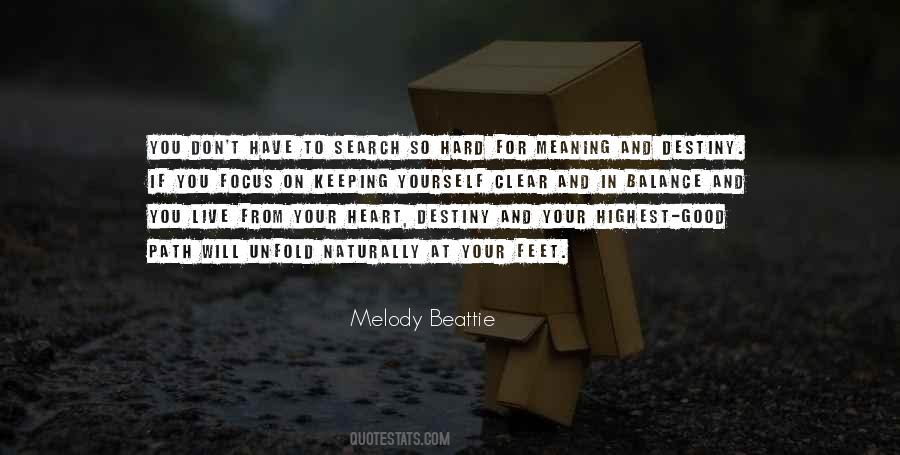 #59. The life my people want is a life of freedom. I have seen nothing that a white man has, houses or railways or clothing or food, that is as good as the right to move in the open country and live in our fashion. - Author: Sitting Bull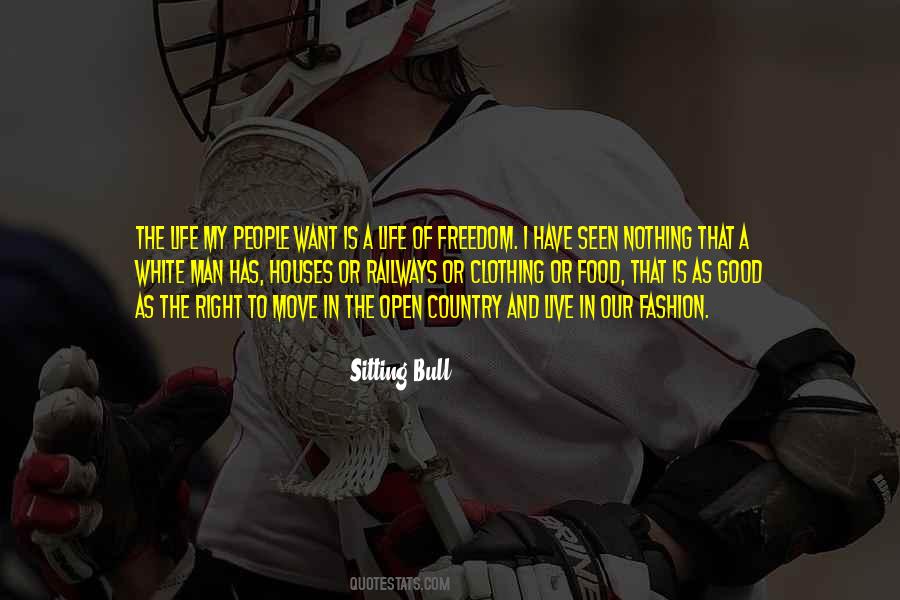 #60. A lot of my songs are about death and the fleetingness of life. It just feels good to remind myself about that a lot. For whatever reason. And it's a beautiful thing, actually. It seems to me like it's a beautiful way to live in the world and to relate to things, with an awareness of temporality. - Author: Phil Elvrum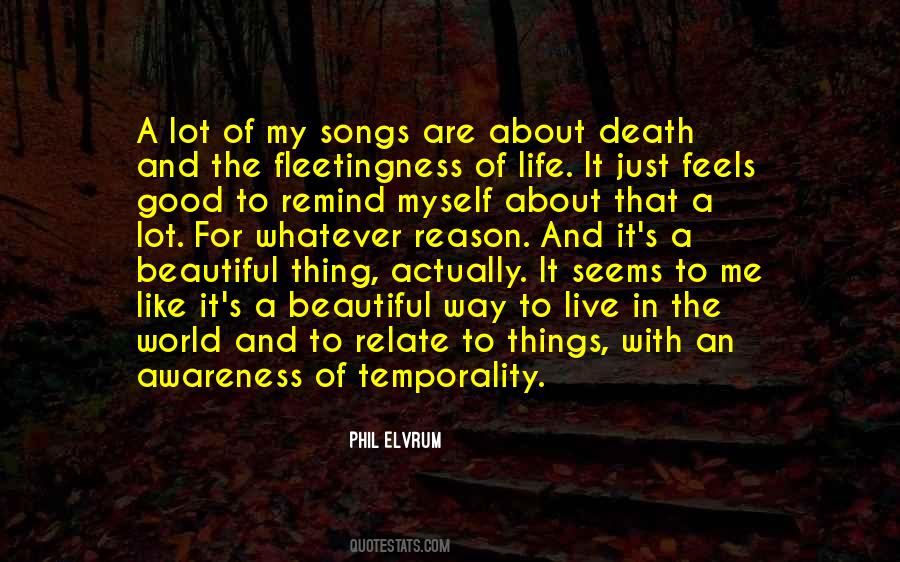 #61. By acknowledging and accepting the ultimate commonality, we can naturally and voluntarily develop the attitude of compassion and benevolence toward other people, other life-forms, and all beings. We will want to live for the good of all because we know that's the way we benefit ourselves, too. - Author: Ilchi Lee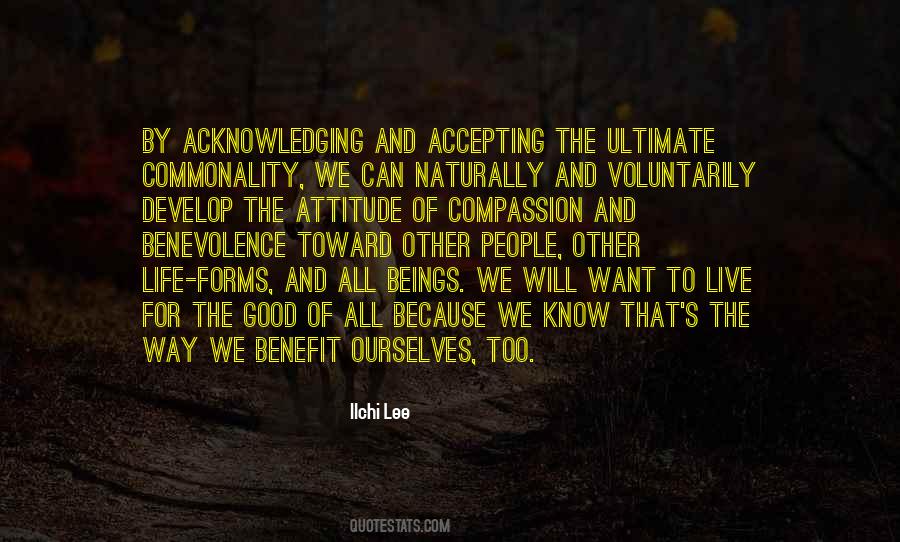 #62. What might not be there are the chances you have right now. If you can hold on another hour, another day - if you can live one more good, honorable minute - those are the victories. And they open up the whole world. - Author: Lia Habel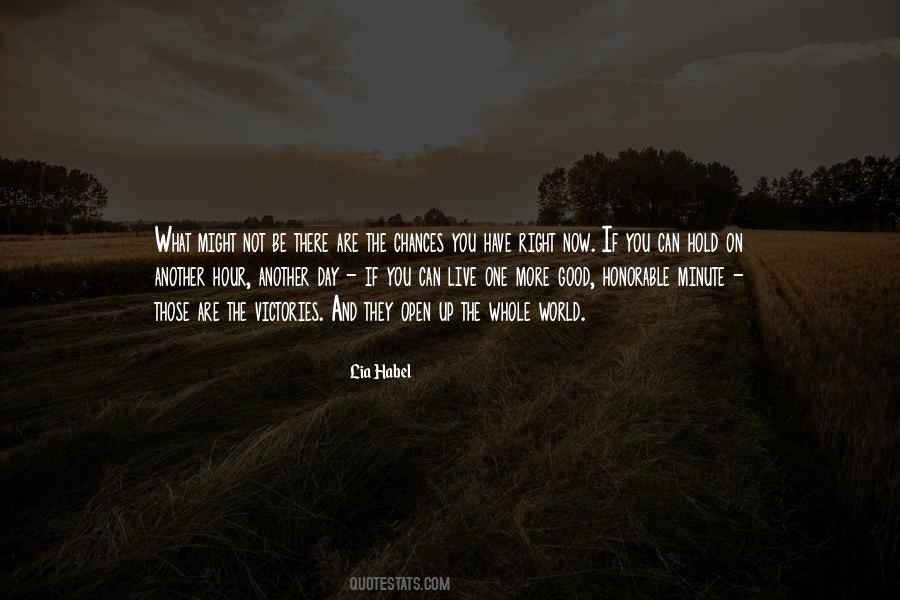 #63. I am deeply spiritual; I revel in those things that make for good - the things that we can do to shed a little light, to help place an oft-dissonant universe back in tune with itself ... Long live art, long live friendship, long live the joy of life! - Author: Jessye Norman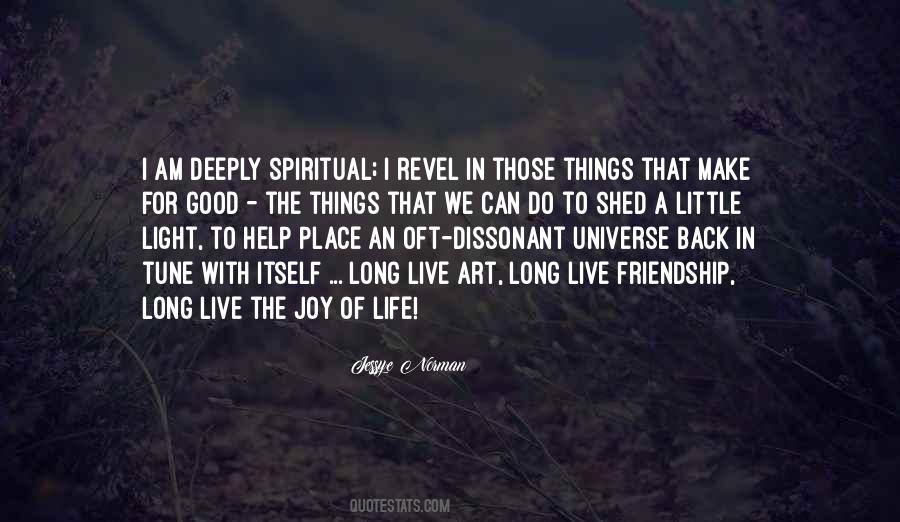 #64. I don't like expeditions where it is a total lottery whether you live or die. You have to keep those sort of good luck cards for rare occasions! - Author: Bear Grylls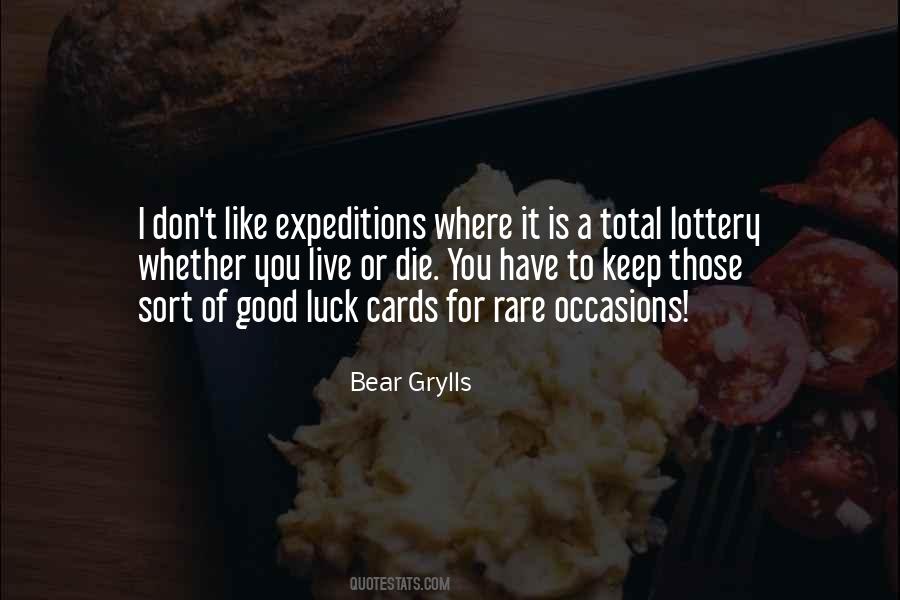 #65. My children have been all over the world, and I think it's so good for them: expanding their horizons and imagination and seeing how other people live. - Author: Keeley Hawes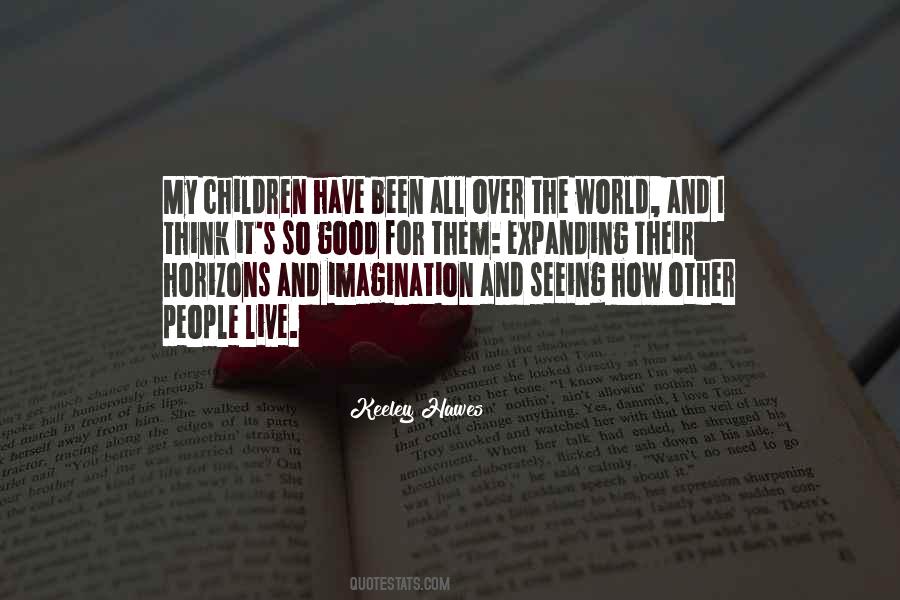 #66. If you live in a ghetto and really want not to just change your life and your family's life but change your ghetto's life, make your ghetto a good neighbourhood, learn science; try to be like Mark Zuckerberg, Bill Gates and Steve Jobs. - Author: Will.i.am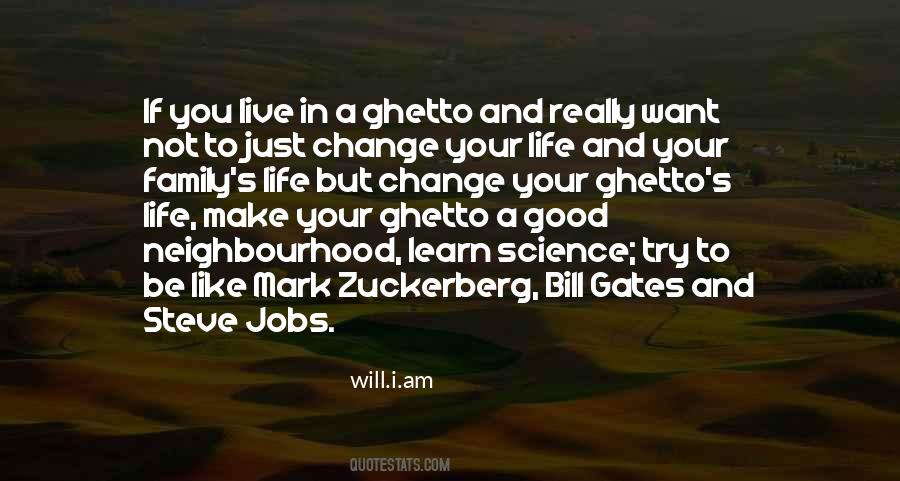 #67. Vianne knew Rachel wasn't asking how to hide in the barn; she was asking how to live after a loss like this, how to pick up one child and let the other go, how to keep breathing after you whisper "good-bye." "I can't leave her. - Author: Kristin Hannah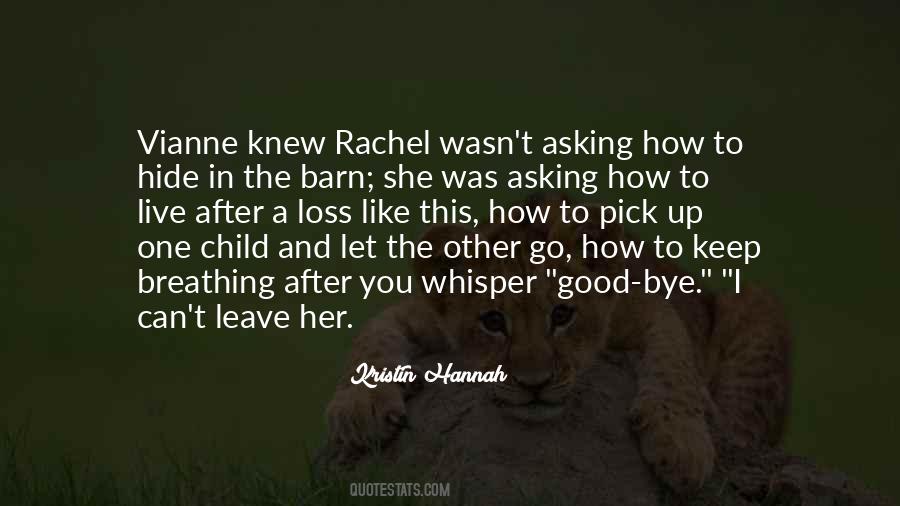 #68. One of the greatest feelings in life is the conviction that you have lived the life you wanted to live-with the rough and the smooth, the good and the bad-but yours, shaped by your own choices, and not someone else's. - Author: Michael Ignatieff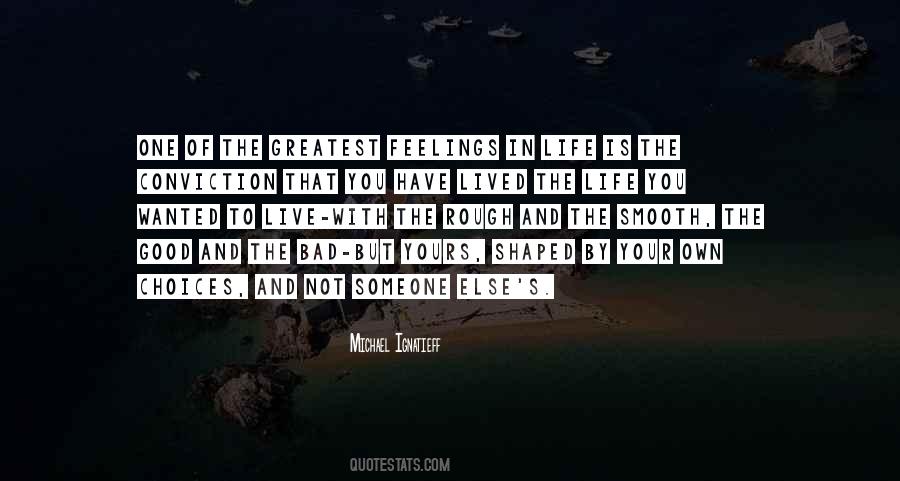 #69. Some live in poverty but with their honor; some live in wealth but with no honor! Some lives are respectable, some are disgraceful! - Author: Mehmet Murat Ildan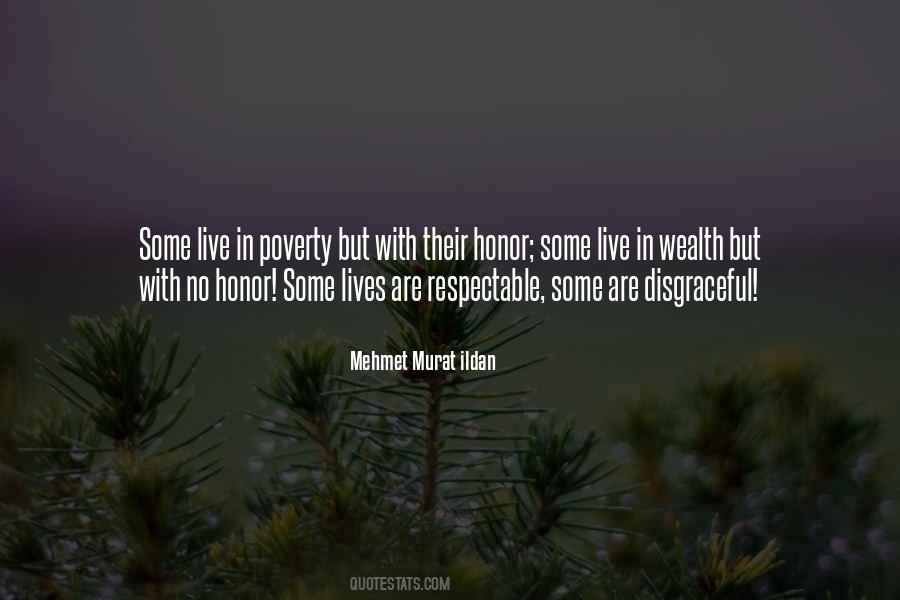 #70. Without death, there is hardly any threat strong enough to truly appreciate human life. He thinks: I am as good as dead
too afraid to live, only waiting, never taking a risk
I am as good as dead already. - Author: Joe Meno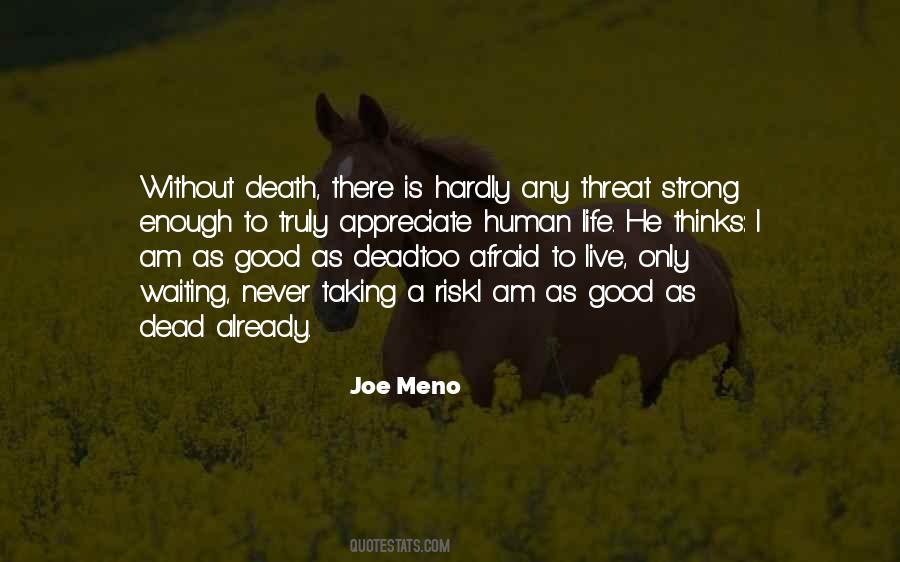 #71. We live in a vastly complex society which has been able to provide us with a multitude of material things, and this is good, but people are beginning to suspect we have paid a high spiritual price for our plenty. - Author: Euell Gibbons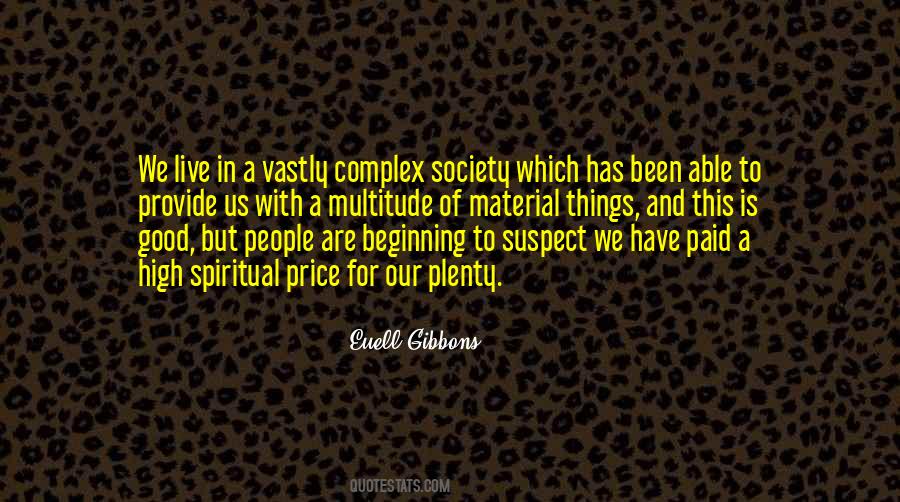 #72. But it is a perfect world, and you have a perfect life. You do have the power to control your day. You do have the power to think good thoughts. You do have the power to live your dreams! - Author: Robin S. Sharma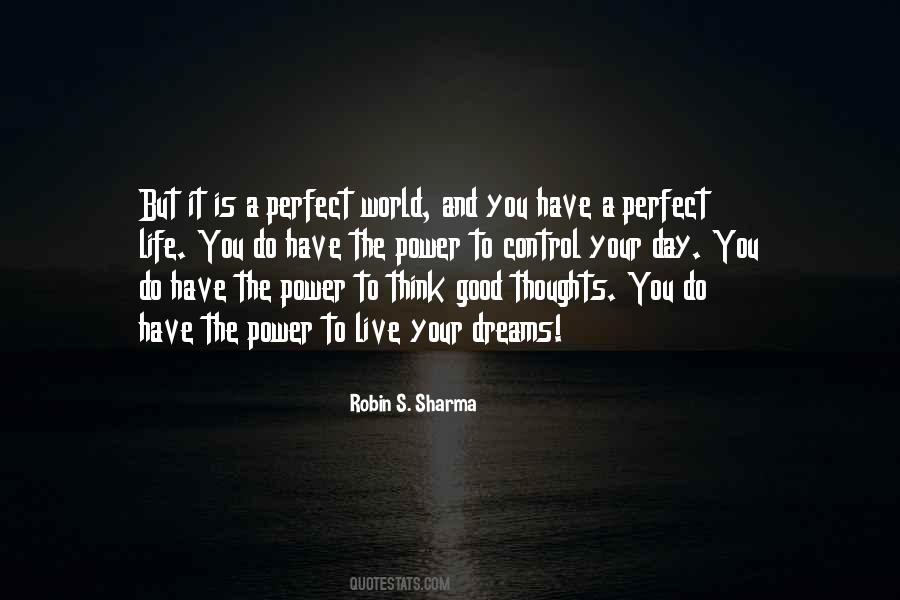 #73. I'm not good at living in the grim places ... when we did Gatsby, I lived in Claridges, that's where I wanted to live. I can't live in grimness and then go play a classy human being. - Author: Bruce Dern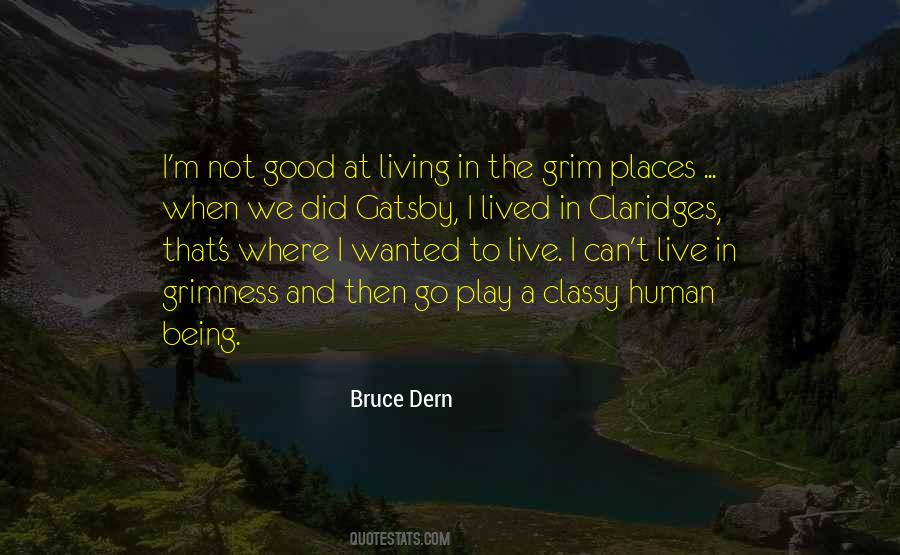 #74. Thank you God for helping me to overcome the bad to live the good. - Author: Jonathan Anthony Burkett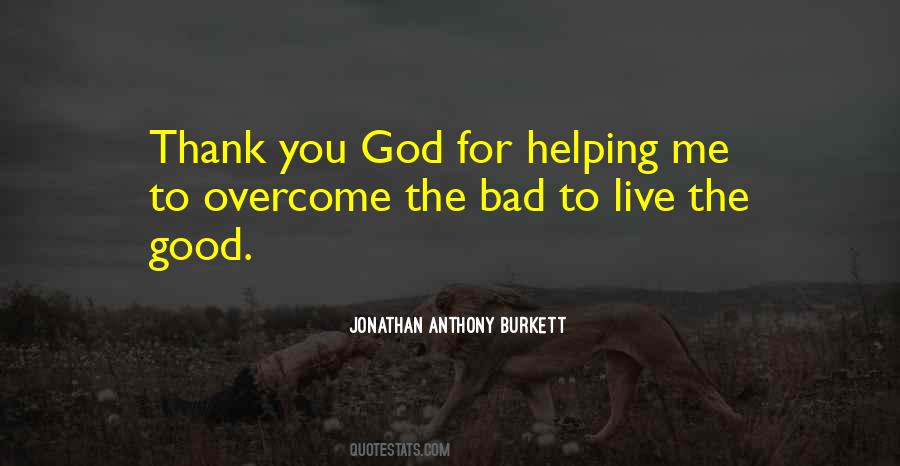 #75. Turn around and believe that the good news that we are loved is better than we ever dared hope, and that to believe in that good news, to live out of it and toward it, to be in love with that good news, is of all glad things in this world the gladdest thing of all. Amen, and come Lord Jesus. - Author: Frederick Buechner
#76. The internet is bringing our collective conscious together by showing the good and bad in humanity. Good Netiquette is the outcome. - Author: David Chiles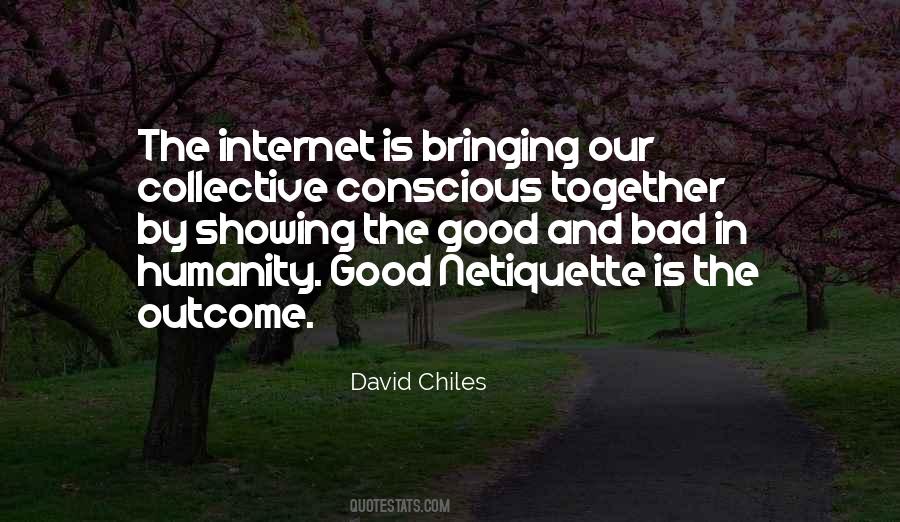 #77. The perfect life: to live in a world of peace in a lake district where the magistrate is good and honest, and to have an understanding wife and bright children. - Author: Zhang Zhao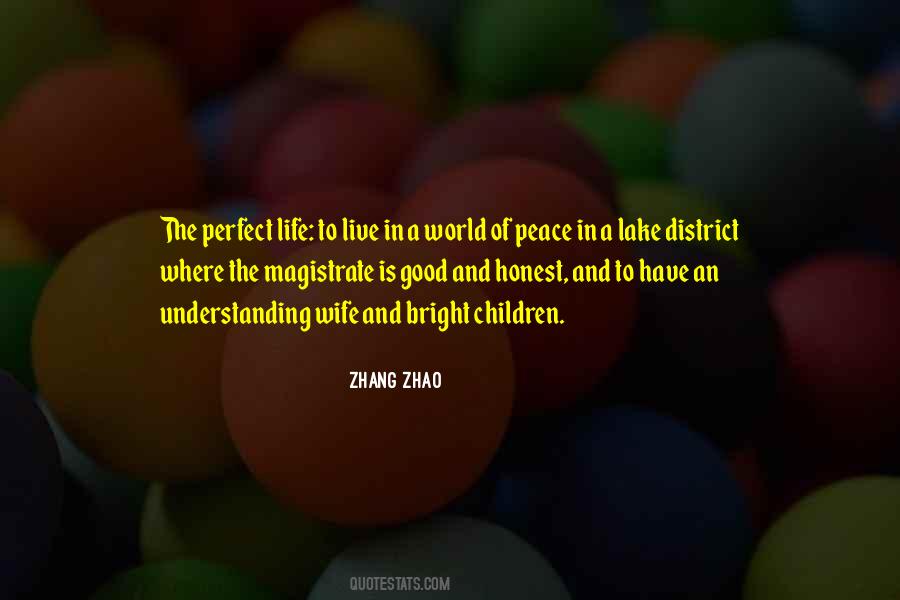 #78. We live in a culture that paces itself to the speed of machines. We are trying like good little robots to match our speed with theirs. Humans cannot move at the same rate as machines. When we attempt to, we lose contact with our own humanness. - Author: Tian Dayton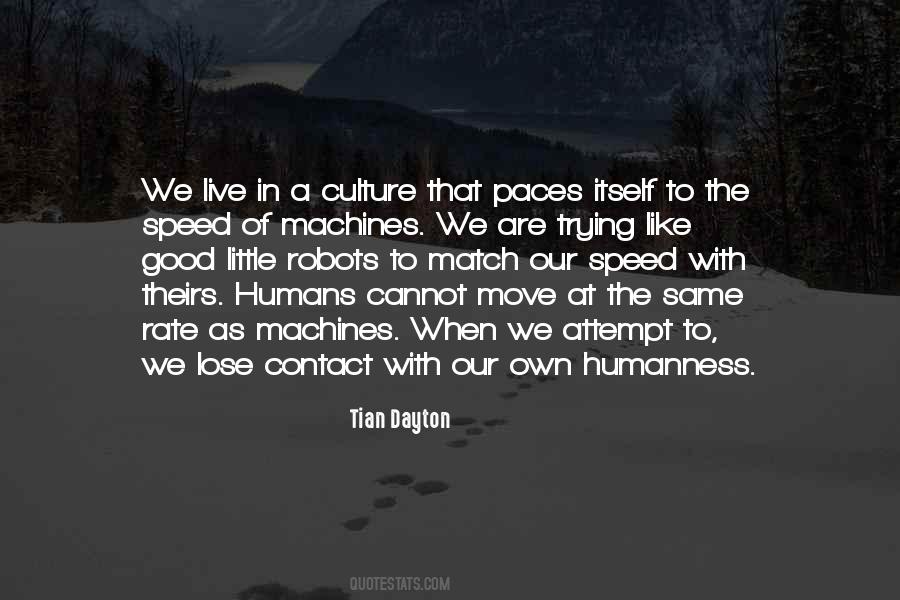 #79. *Live fast, die young, and, leave a good looking corpse.* is dumb. When dead, looks matters not. (Furthermore, the corpse will only look good for a day, or, twelve.) - Author: Mokokoma Mokhonoana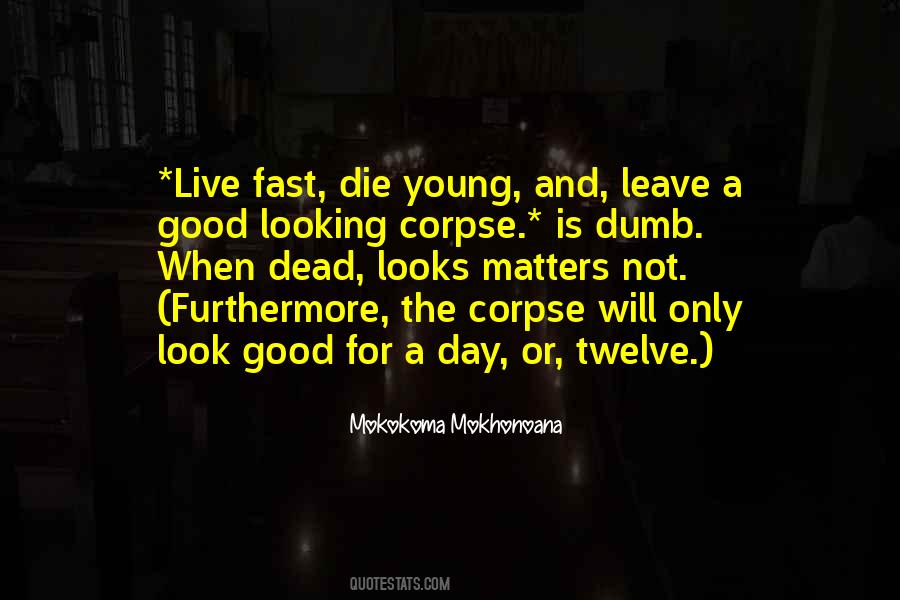 #80. Maybe I was great in the ring, but outside of boxing, I'm just a brother like other people. I want to live a good life, serve God, help everybody I can. And one more thing. I'm still gonna find out who stole my bike when I was 12 years old in Louisville and I'm gonna whup him. That was a good bike. - Author: Muhammad Ali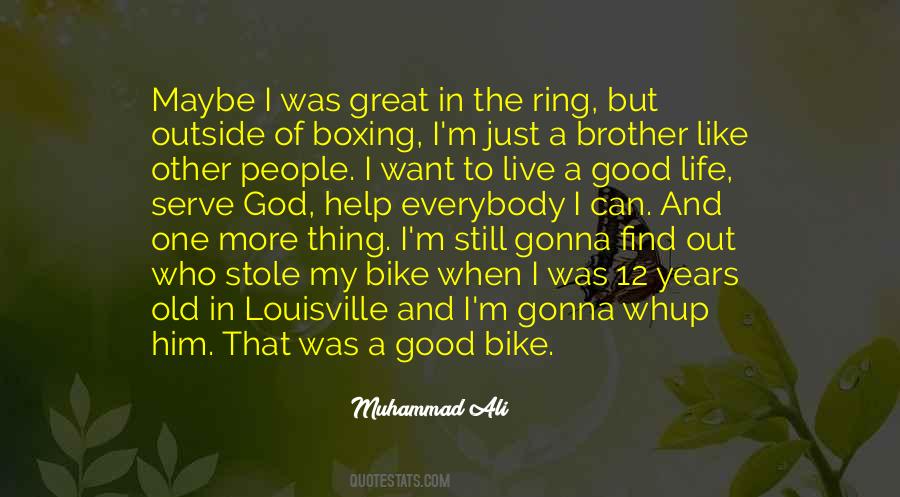 #81. To those who think that liberty is a good thing, and that it may someday be possible for people to live in a society fit for free, fully human individuals, a thorough education in the nature of language, its uses and abuses, seems indispensable. - Author: Aldous Huxley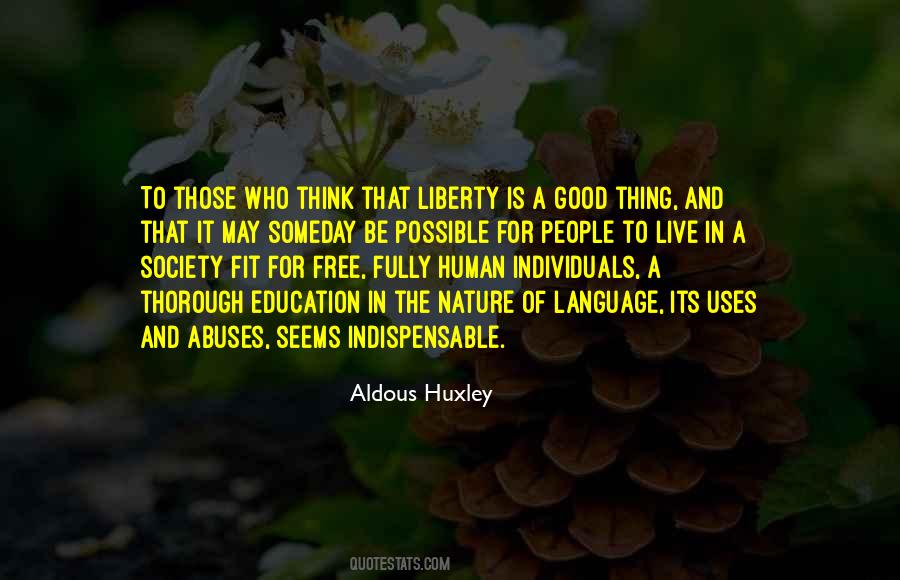 #82. It is all very well for 2% of the population to live in a monastic state of meatlessness while everyone else gorges their way towards environmental meltdown or the nearest heart clinic. Vegetarianism is good for the willing minority, but not much use as a campaign tool. - Author: Tristram Stuart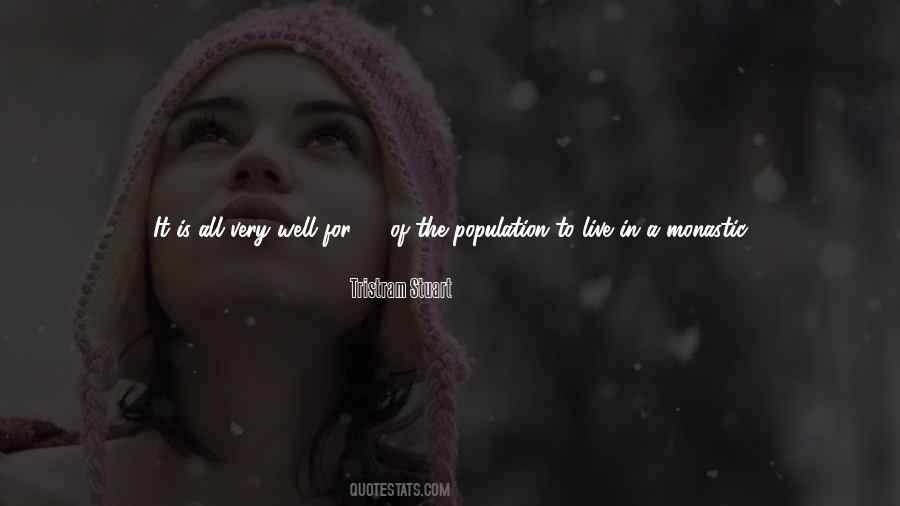 #83. To be a gourmet you must start early, as you must begin riding early to be a good horseman. You must live in France, your father must have been a gourmet. Nothing in life must interest you but your stomach. - Author: Ludwig Bemelmans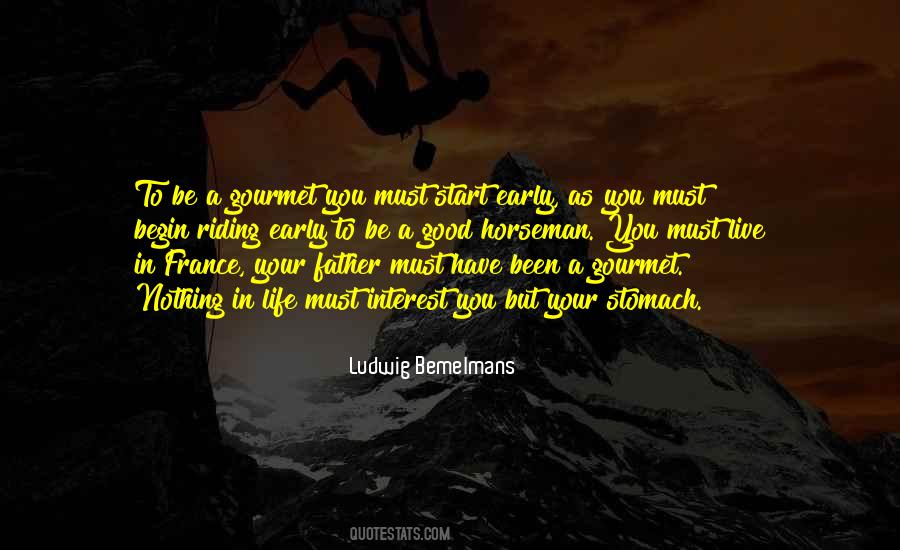 #84. He fought because it was considered the 'thing to do,' because he liked the people he had to live with, and because those people wouldn't have a good opinion of him if he didn't fight. People never needed much of a philosophic motive to make them do the socially approved things. - Author: Walter M. Miller Jr.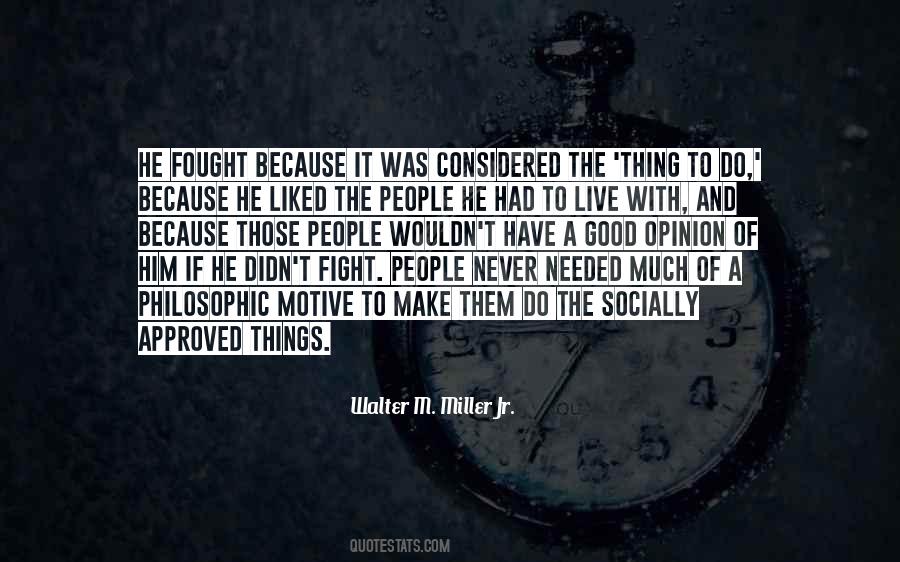 #85. Attitude is everything, they say . . . and I believe this to be true. If we learn to see the positive side of things, then we'll live longer, healthier, happier lives. A good way to do so is to stop complaining and start being grateful. - Author: David Hamilton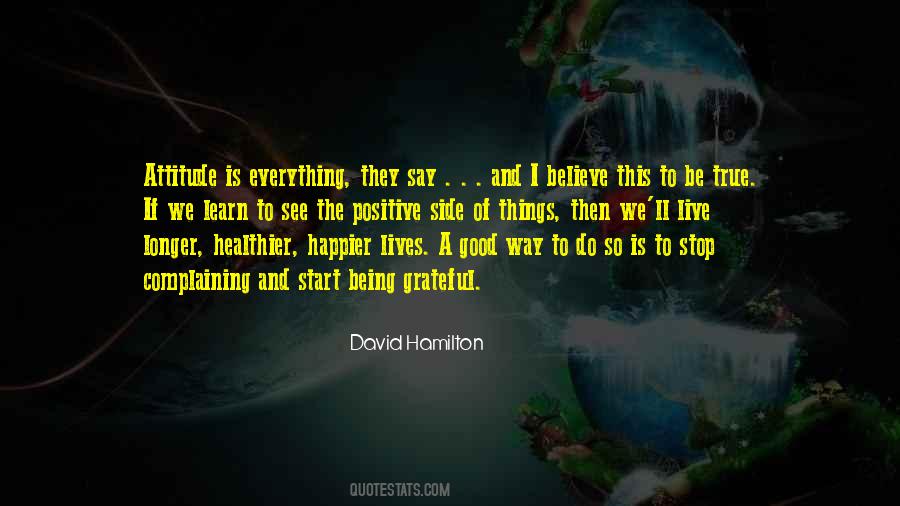 #86. You need to live a little, girl. There's nothing wrong with a little quick love if they're good. I hear he's good. - Author: Melissa Marr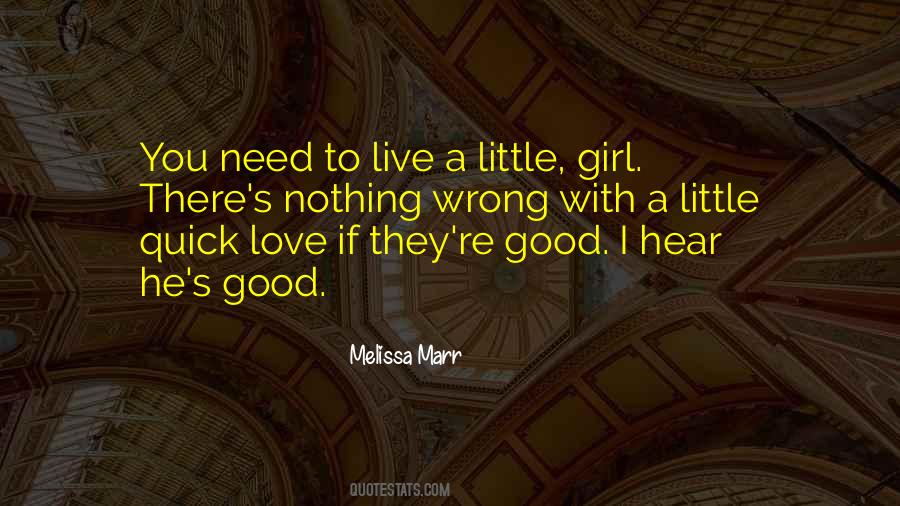 #87. The desire, let alone the gesture,to meet her needs was good enough to loft her spirits to the place where she could take the next step: ask for some clarifying word; some advice about how to keep on with a brain greedy for news nobody could live with in a world happy to provide it. - Author: Toni Morrison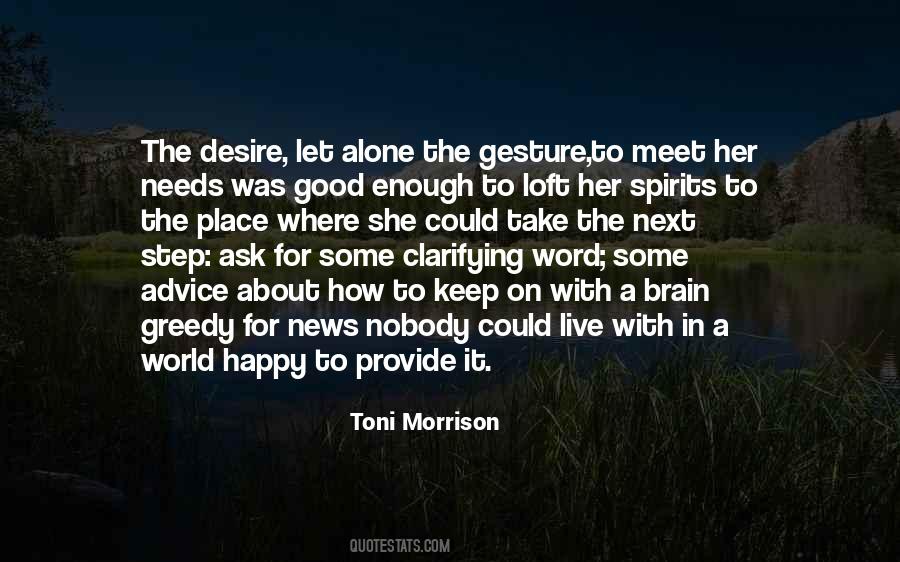 #88. Well, any love makes us vulnerable. Whatever we love will give the gift of pain somewhere along the road. But who would live sealed in spiritual cellophane just to keep from ever being hurt? There are a few people like that. I'm sorry for them. I think they are as good as dead. - Author: Gladys Taber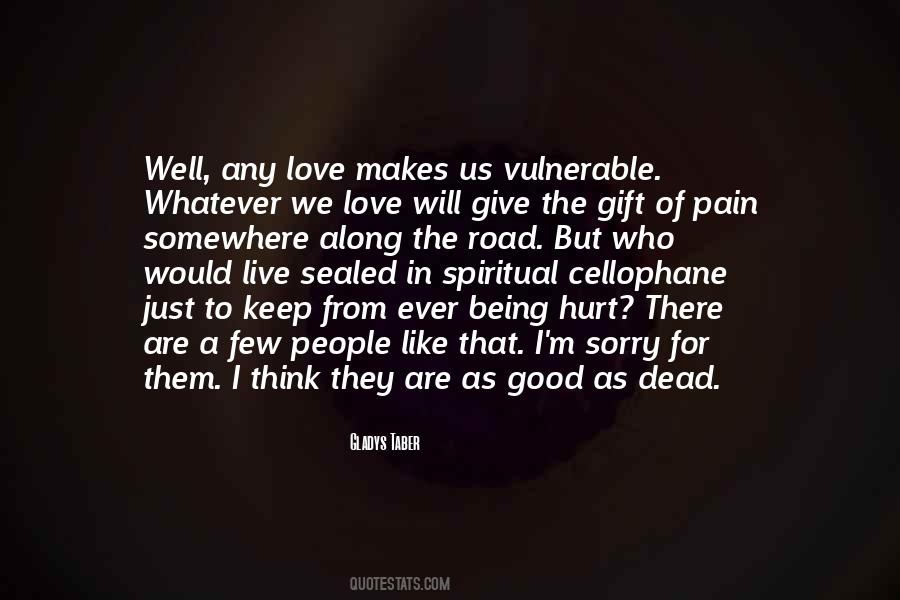 #89. The wonderful 17th Century poet, Robert Herrick, wrote a poem entitled, 'To Live Merrily and to Trust to Good Verses.' Easy to say, Robert Herrick; not always easy to do. But it's a good slogan, I think. - Author: Robert Pinsky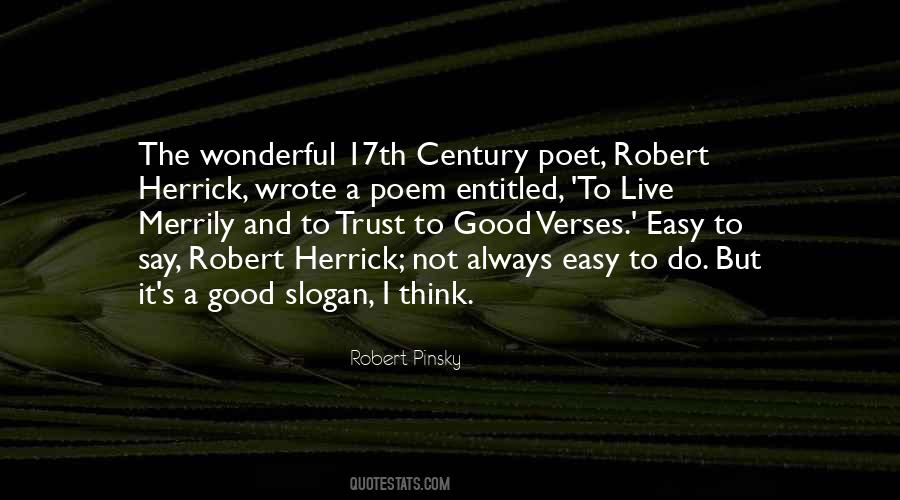 #90. I thought the line 'I am the daughter of the former governor of Alaska' was very funny. I think the word is 'sarcasm.' In my family we think laughing is good. My parents raised me to have a sense of humor and to live a normal life. - Author: Andrea Fay Friedman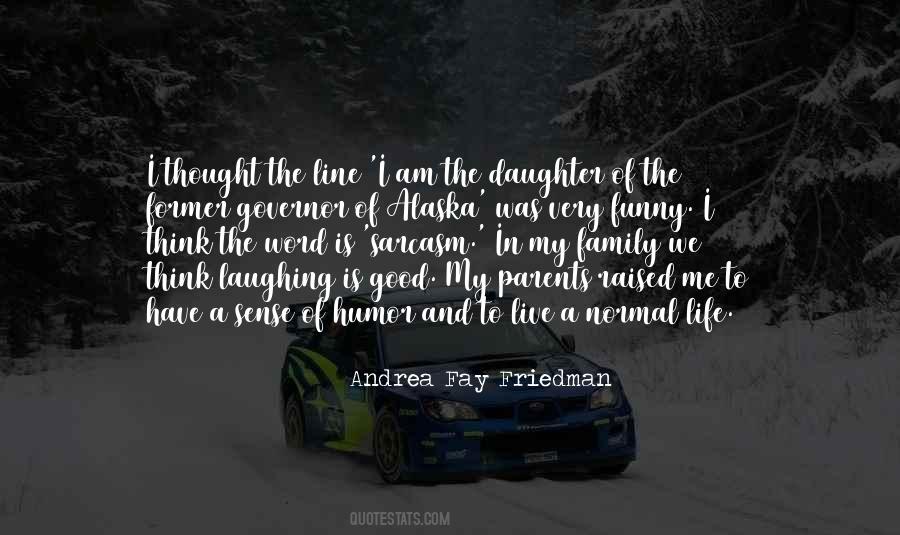 #91. I don't know whether machine translation will eventually get good enough to allow us to browse people's websites in different languages so you can see how they live in different countries. - Author: Tim Berners-Lee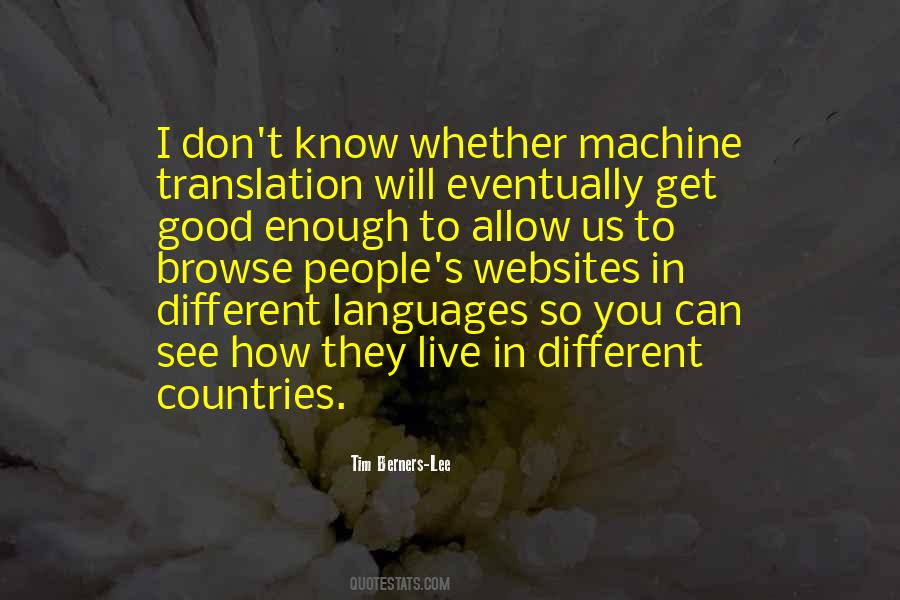 #92. That's a really good question - what is it like living with a writer? I guess it depends on the writer. You know what? They live in a fantasy world a lot of the time. My husband lives in a fantasy world. - Author: Rene Russo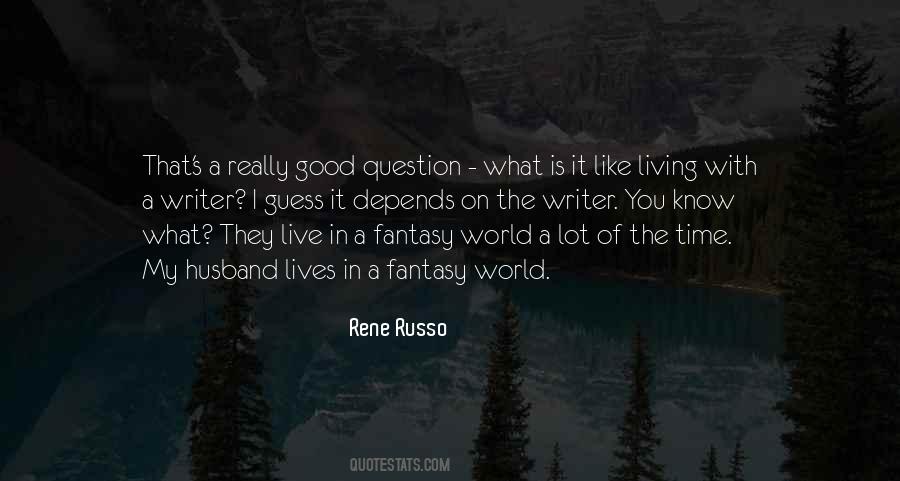 #93. I always thought I'd live in Paris, Rome, Madrid - at least for a while. It strikes me now that I didn't dream of Zanzibar or Papeete or Tashkent: even my fantasy was cautious, a good girl's fantasy, a blanched almond of a fantasy. Today, even that is enough to clench my fists and curl my toes. In - Author: Claire Messud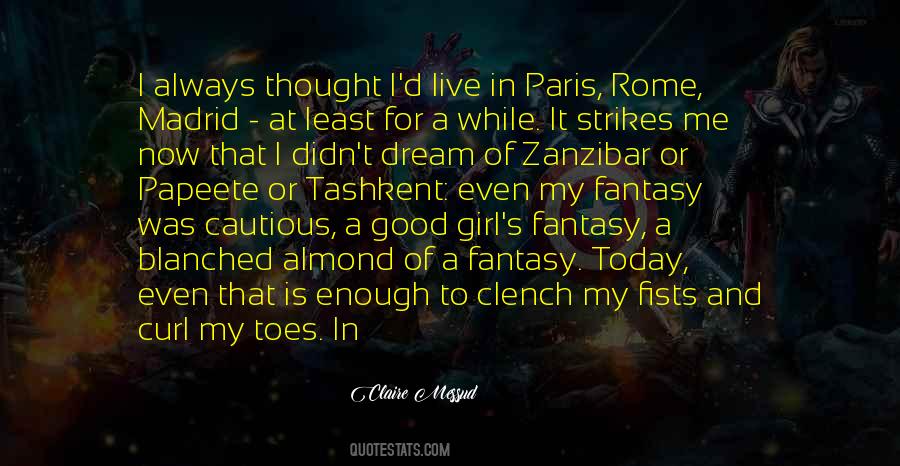 #94. One of the best things Dr. G. told me was that I didn't have to judge every new situation I encountered. Living alone, for example. She said I didn't have to say that living alone was good or bad, I could just live alone and not make a judgement on it. - Author: Natalie Taylor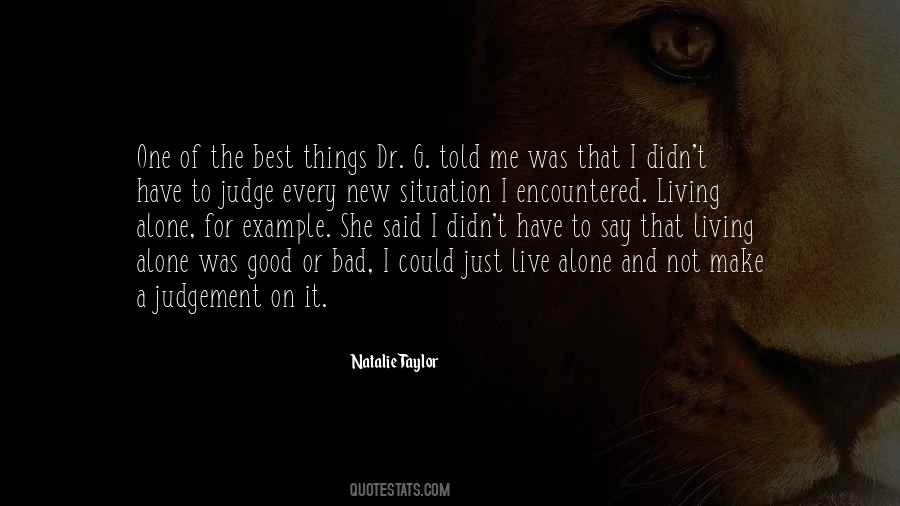 #95. The old who refuse to die merely on principle live on forever, to hate life and complain of all the things they could have been spared had they the good sense to die young. - Author: Michelle Franklin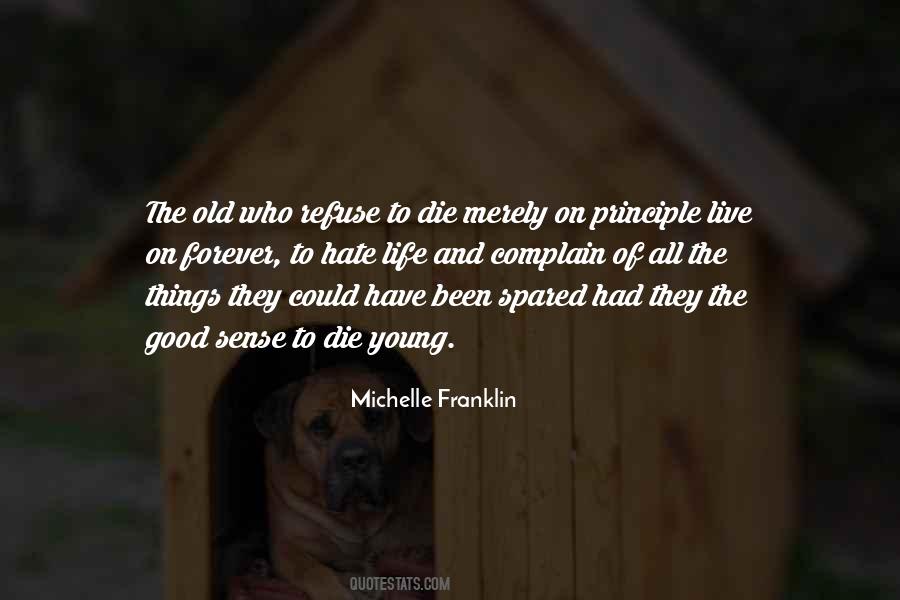 #96. There are certain recordings where my voice sounds good to me. Singing live I really enjoy, but I don't know how good it sounds. - Author: Doug Martsch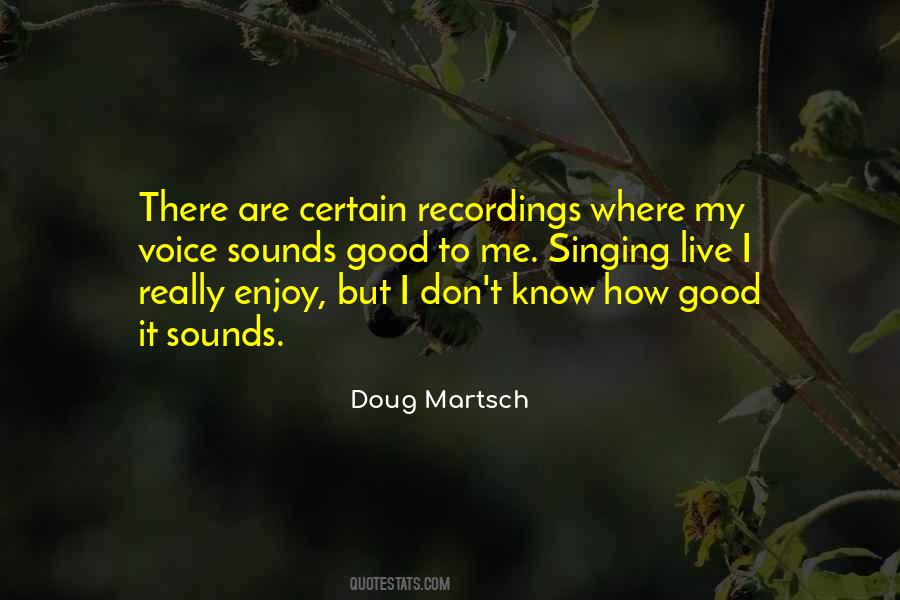 #97. Whatever its other limitations, the Big Apple and those who live there make room for their dogs and cats, take good care of them and abide by the rules made necessary by a huge population. - Author: Nick Clooney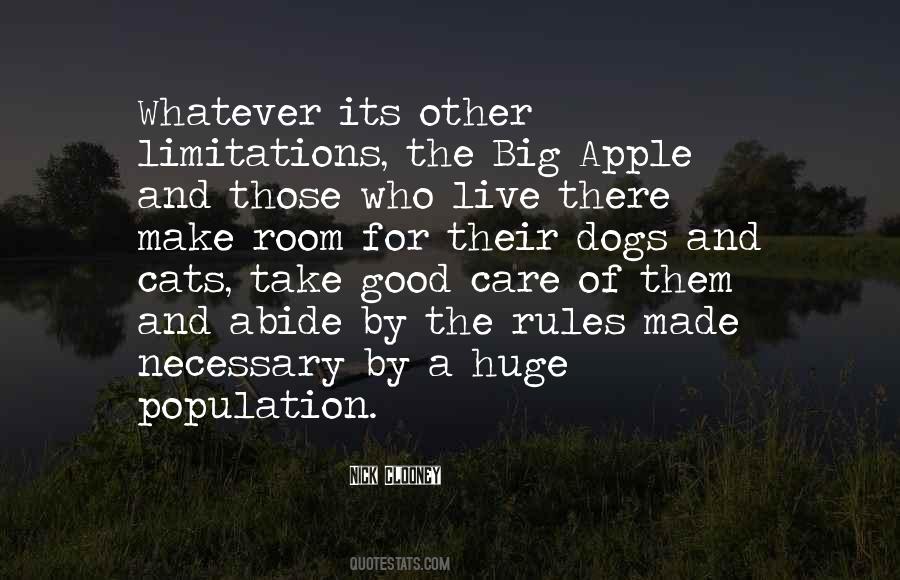 #98. Damn you!" Dagenham raged, "Don't you realize that you can't trust people? They don't know enough for their own good." "Then let them learn or die. We're all in this together. Let's live or die together. - Author: Alfred Bester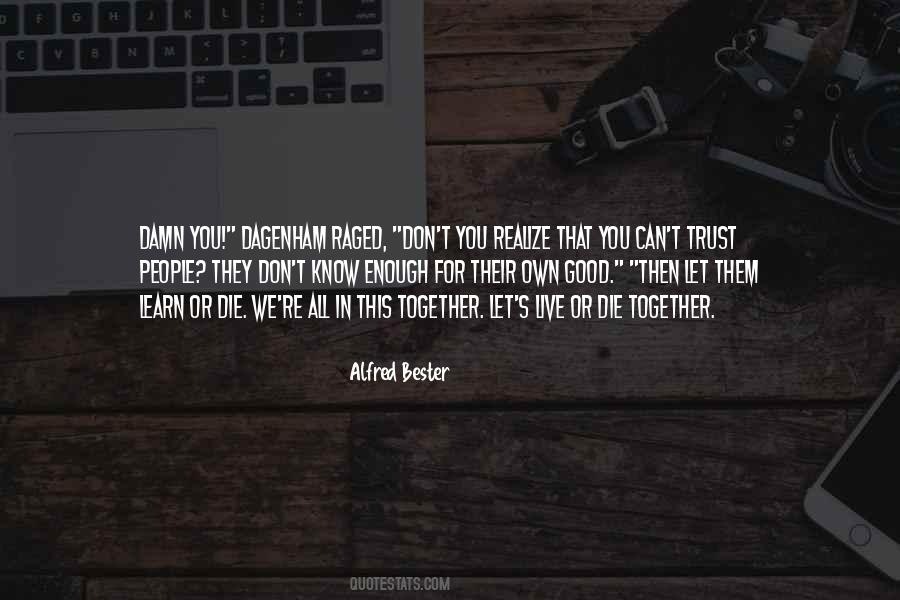 #99. I love the live performances and Las Vegas. I also like making films that are being discovered by another generation. Having been a teen idol of the '60s is great because you realize you left your generation with a smile and good memories. - Author: Connie Stevens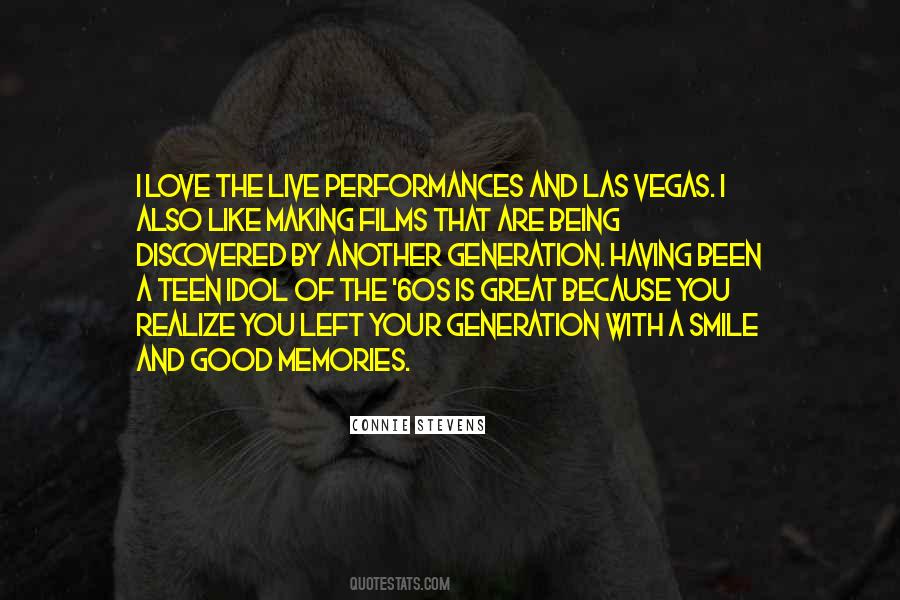 #100. The Church must be a place of mercy freely given, where everyone can feel welcomed, loved, forgiven, and encouraged to live the good life of the Gospel. - Author: Pope Francis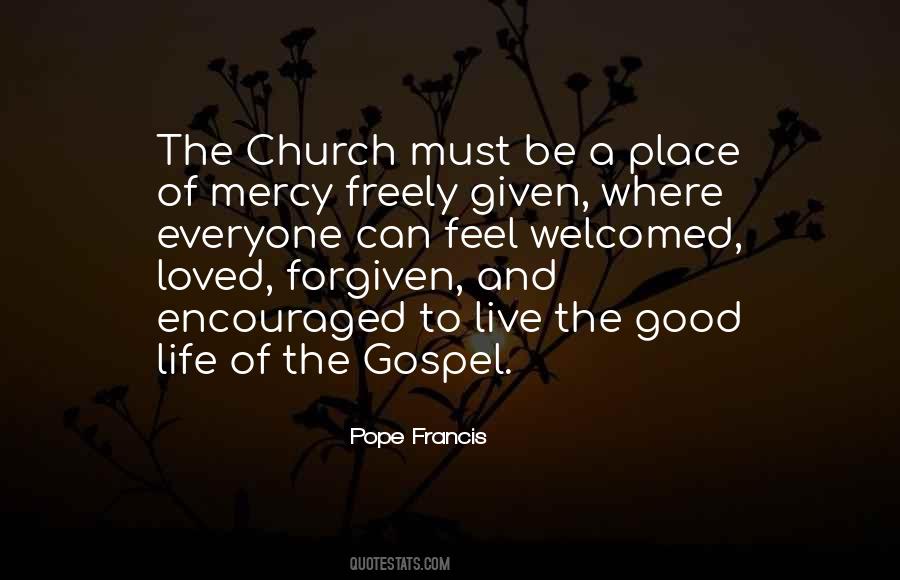 Famous Authors
Popular Topics