Future And Faith Famous Quotes & Sayings
List of top 100 famous quotes and sayings about future and faith to read and share with friends on your Facebook, Twitter, blogs.
Top 100 Quotes About Future And Faith
#1. I have no word of yours to assure me that our brief friendship held for you the same significance it held for me, but I must go on believing so. Every hope of the future is meaningless unless I have faith that you and I will share it together. - Author: Elizabeth George Speare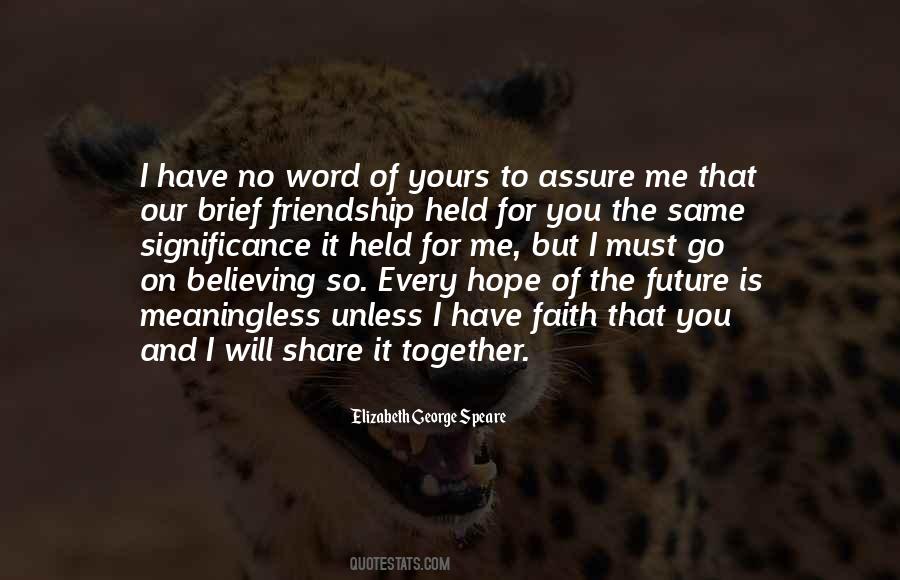 #2. Most people try to keep what they're losing or become depressed about what they can't maintain, but the right attitude is to accept change and have faith in a bright new future, because you must be aware of the opportunities that any calamity brings. - Author: Daniel Marques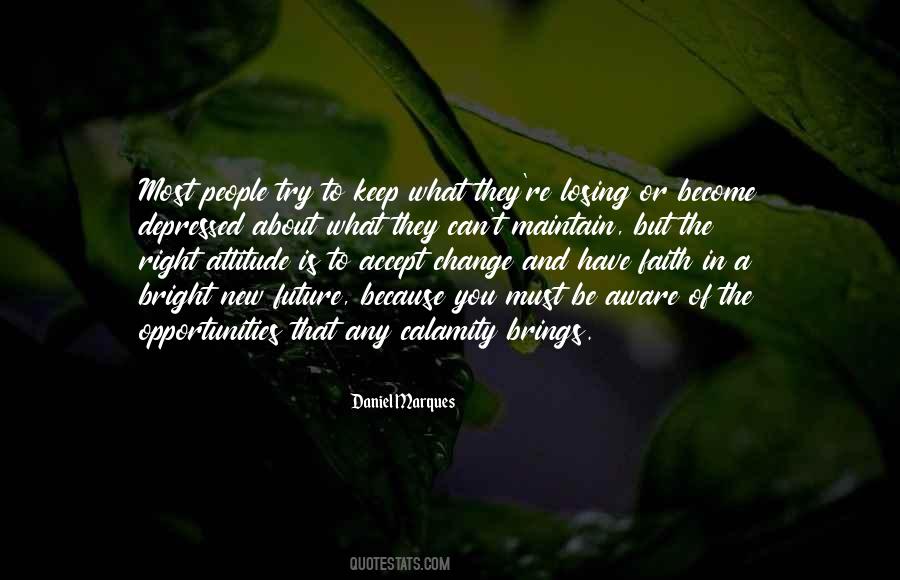 #3. At some point, most of us stop living out of imagination and start living out of memory. Instead of creating the future, we start repeating the past. Instead of living by faith, we live by logic. Instead of going after our dreams, we stop circling Jericho. But it doesn't have to be that way. - Author: Mark Batterson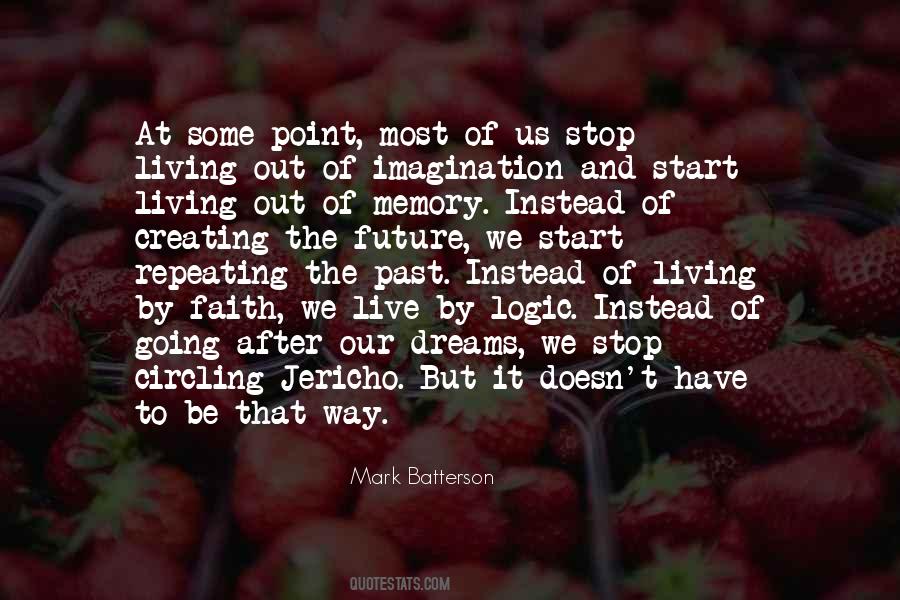 #4. The only limit to our realization of tomorrow will be our doubts of today. Let us move forward with strong and active faith. - Author: Franklin D. Roosevelt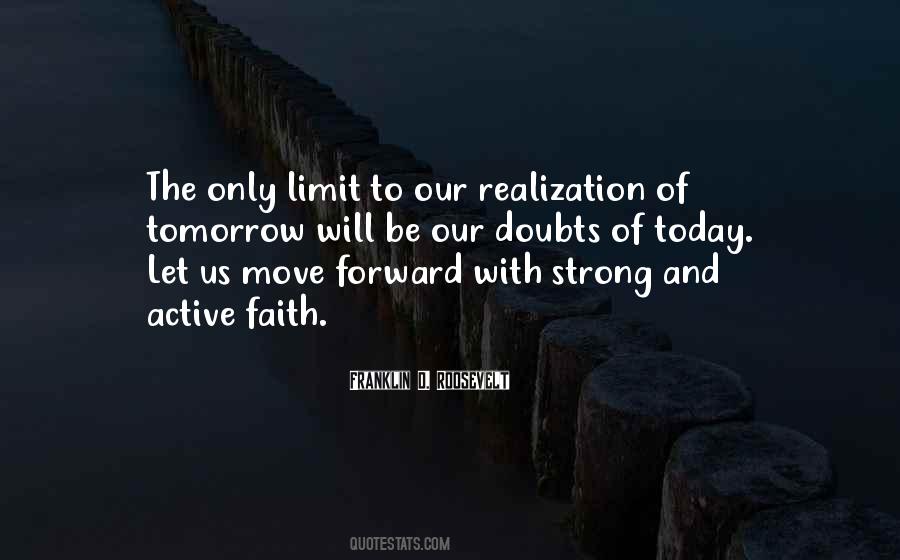 #5. We seem to have lost. We have not lost. To refuse to fight would have been to lose; to fight is to win. We have kept faith with the past, and handed on a tradition to the future. - Author: Patrick Pearse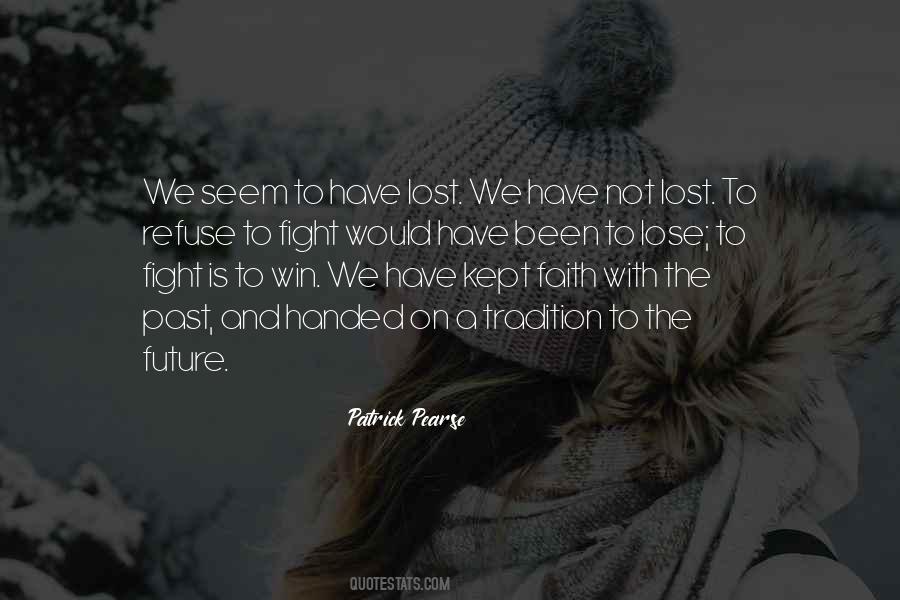 #6. Destiny to some people is a preconceived notion as a design of blind faith, while in fact destiny is a constitution of endowed efforts in an attempt to steer toward a desired outcome. Create your destiny and reach for your dreams, you only live once. - Author: Husam Wafaei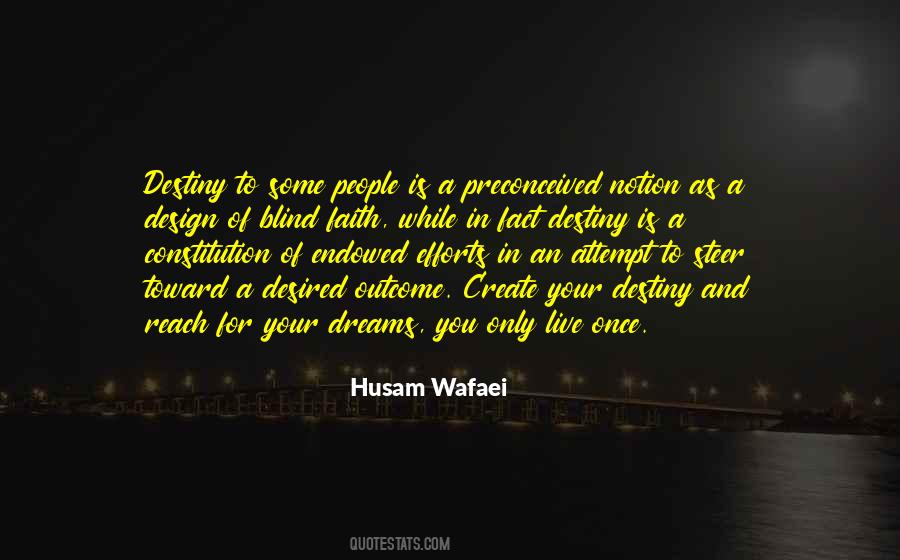 #7. The prisoner who had lost faith in the future - his future - was doomed. With his loss of belief in the future, he also lost his spiritual hold; he let himself decline and became subject to mental and physical decay. - Author: Viktor E. Frankl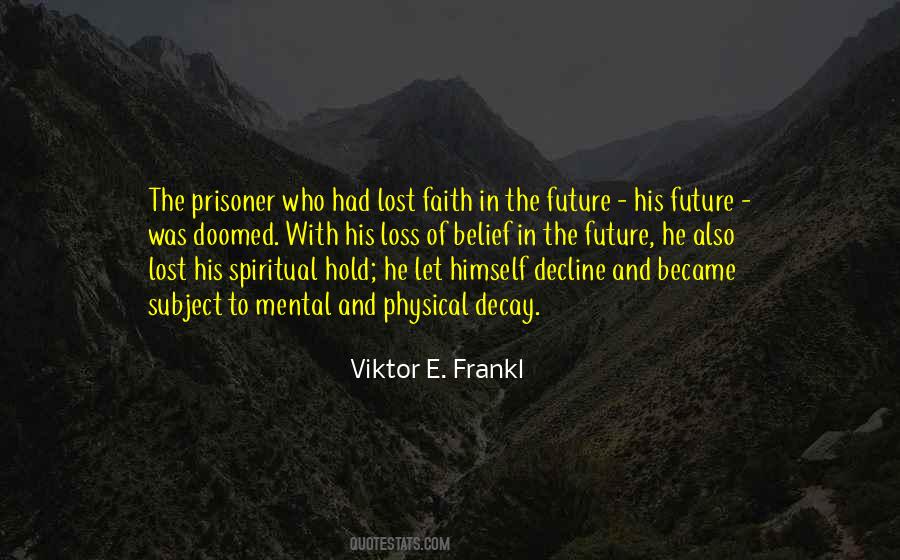 #8. The integrity of one's own mind is of infinitely more value than adherence to any creed or system. We must choose between a dead faith belonging to the past and a living, growing ever-advancing science belonging to the future. - Author: Luther Burbank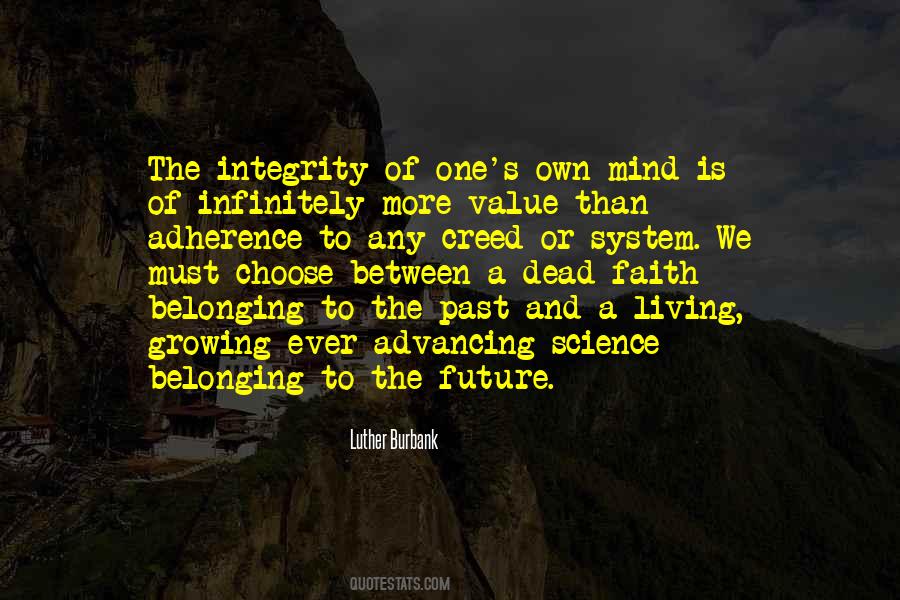 #9. Our hope concerning the future is great, and our faith is strong. We know we've scarcely scratched the surface of that which will come to pass in the years that lie ahead. - Author: Gordon B. Hinckley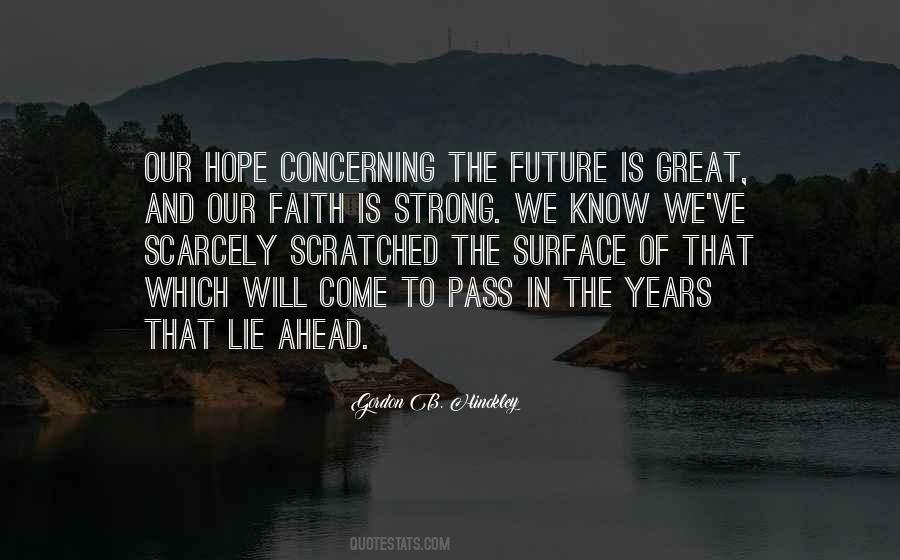 #10. Big will always be a part of my life. But I'm still on this Earth, so I have to live my life for now and the future. - Author: Faith Evans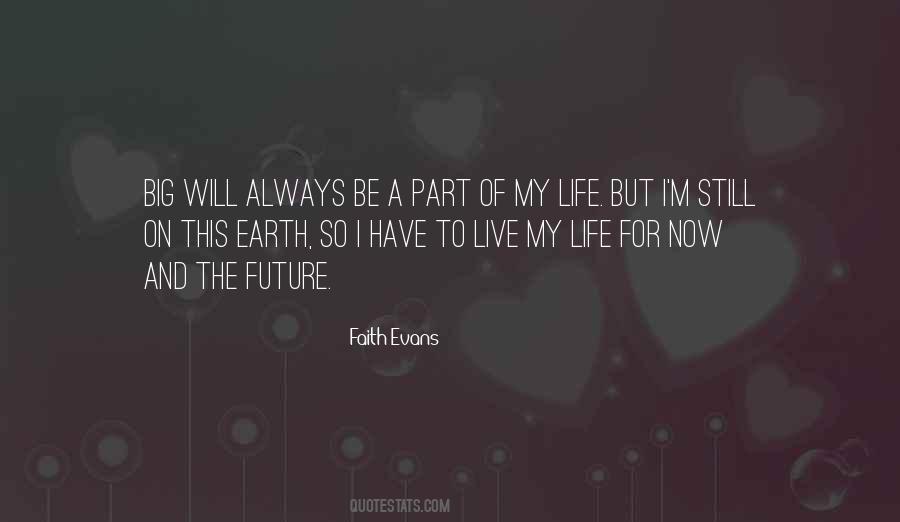 #11. A compassionate government keeps faith with the trust of the people and cherishes the future of their children. Through compassion for the plight of one individual, government fulfills its purpose as the servant of all the people. - Author: Lyndon B. Johnson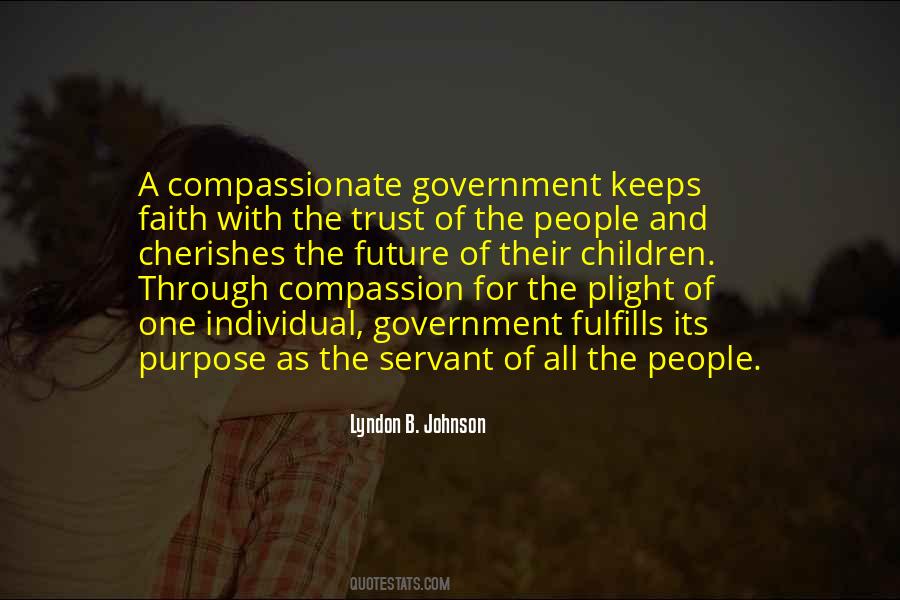 #12. Faith makes the uplook good, the outlook bright, the inlook favorable, and the future glorious. - Author: V. Raymond Edman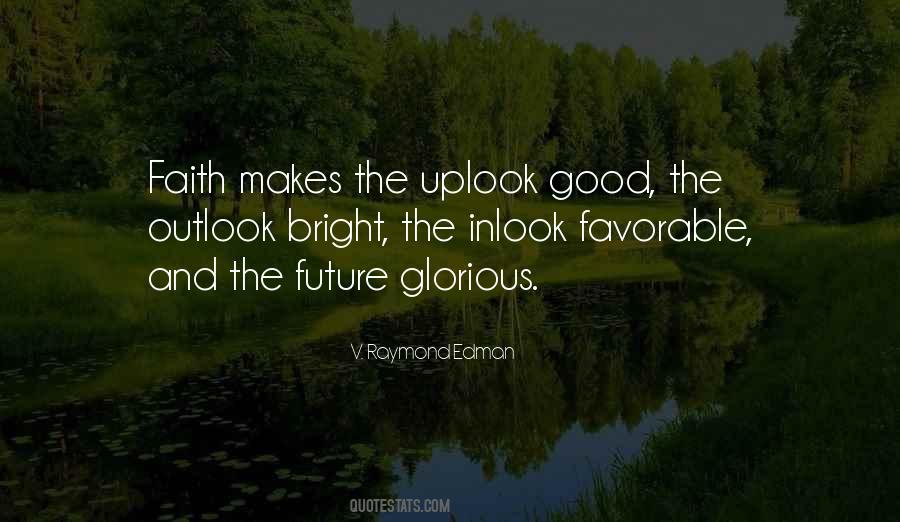 #13. Hope gives us reasons to live and pursue our dreams, expecting greater possibilities. - Author: Ellen J. Barrier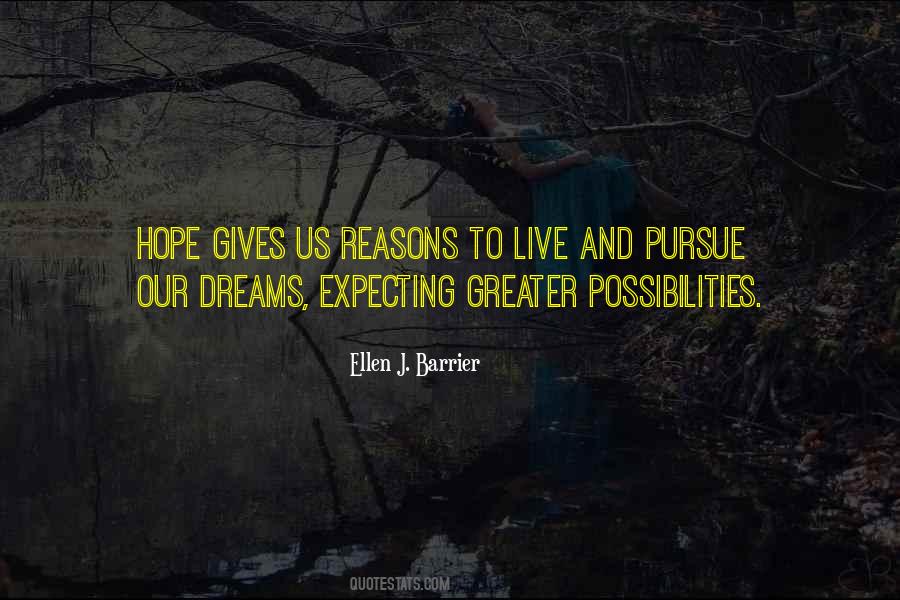 #14. Have faith in yourself and in the future. - Author: Edward Kennedy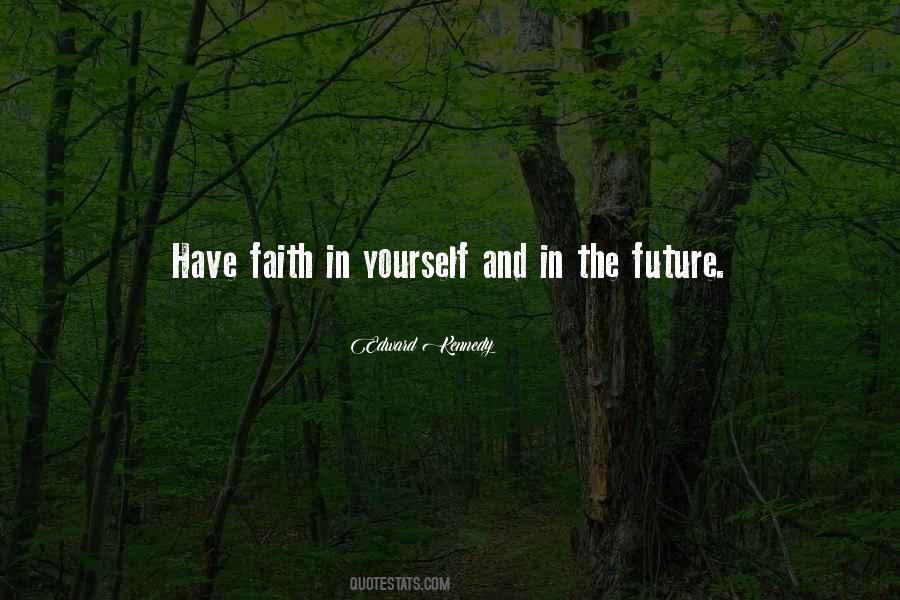 #15. In light of these facts Republicans have put forth a variety of proposals to make Social Security remain solvent for future generations. But up to this point, Democrats have chosen to oppose our good faith efforts and insist that indeed there is no problem. - Author: John Doolittle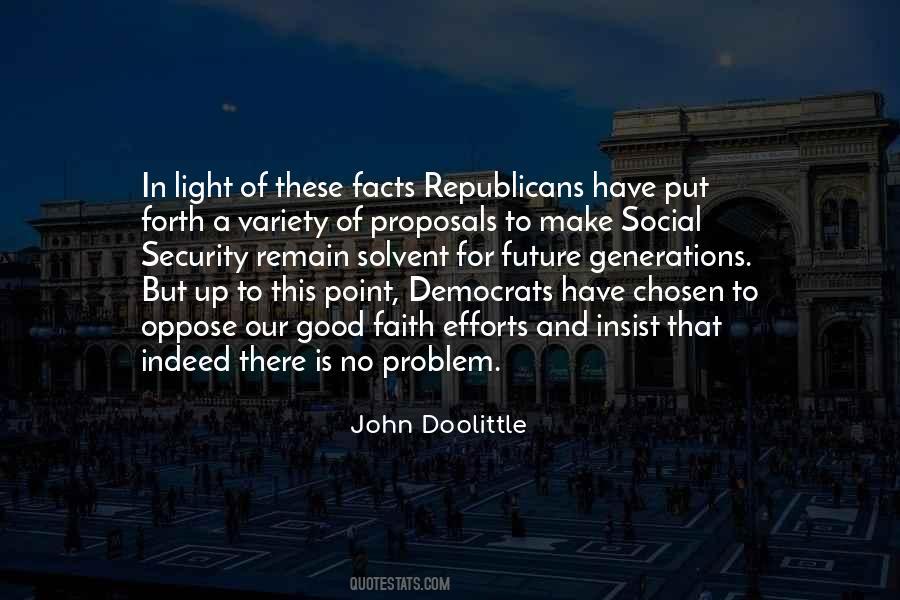 #16. The Lord grant that we may all of us have not only faith in Christ, but full assurance of faith, whereby we shall trust, for the present and for the future, everything in those dear hands that were nailed to the cross for us. - Author: Charles Haddon Spurgeon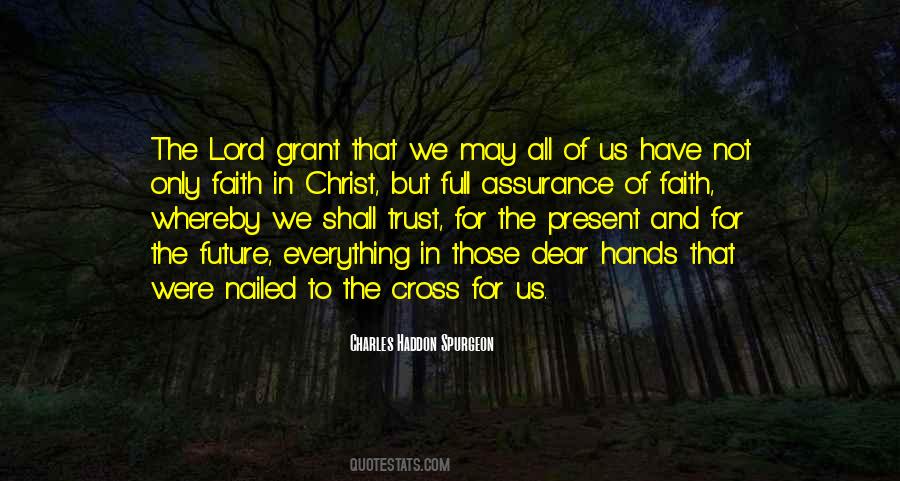 #17. The shadow of fear and uncertainty lies over most of us; for us the future seems far from being as clear and open as we believed it would be. - Author: Faith Baldwin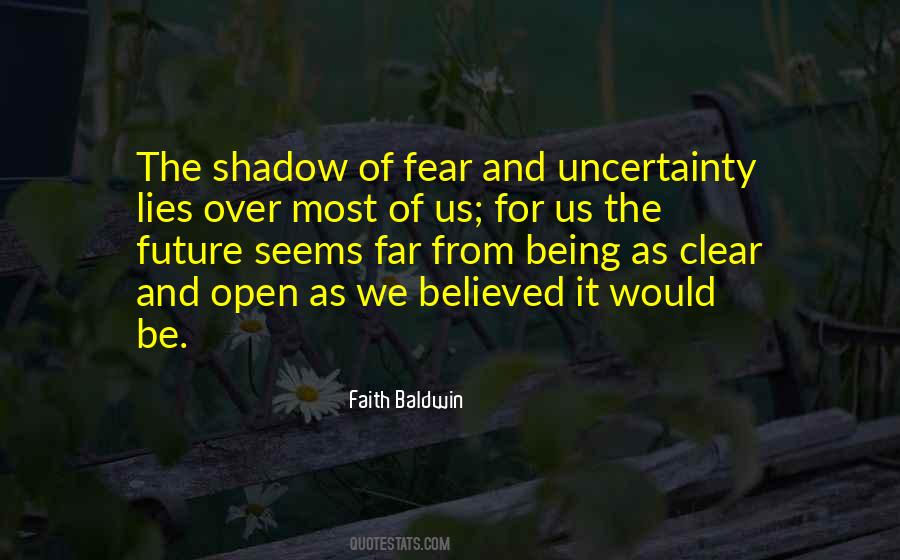 #18. Second chances, miracles, angels, faith and religion all promise us a way of doing things better to smooth over the regrets and hope we make better decisions in the future. We all want to become better than who we are now, and we're all continuing to know ourselves better. - Author: Laura San Giacomo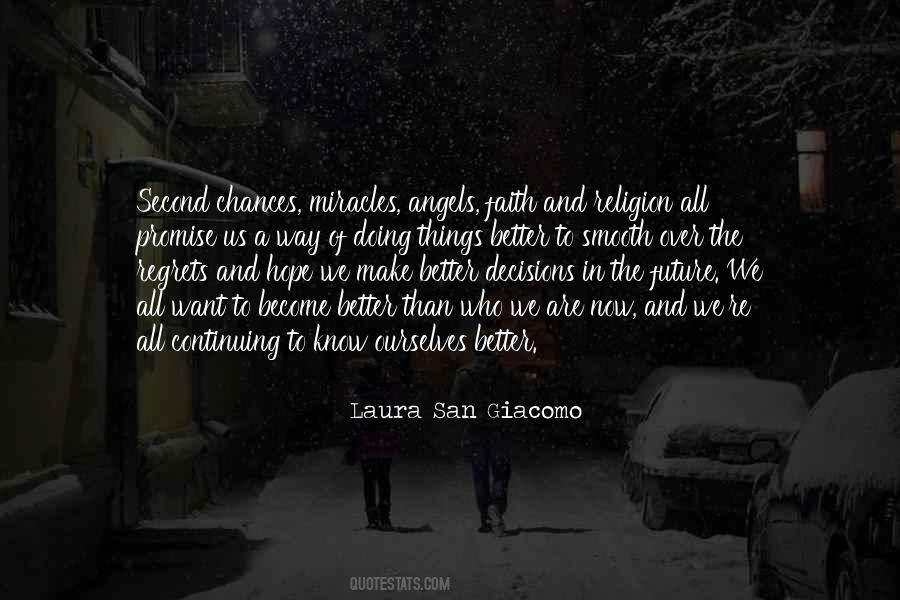 #19. Your future is not determined by the conditions around you. It is determined by your faith, your choices, and your efforts - Author: Paul V. Johnson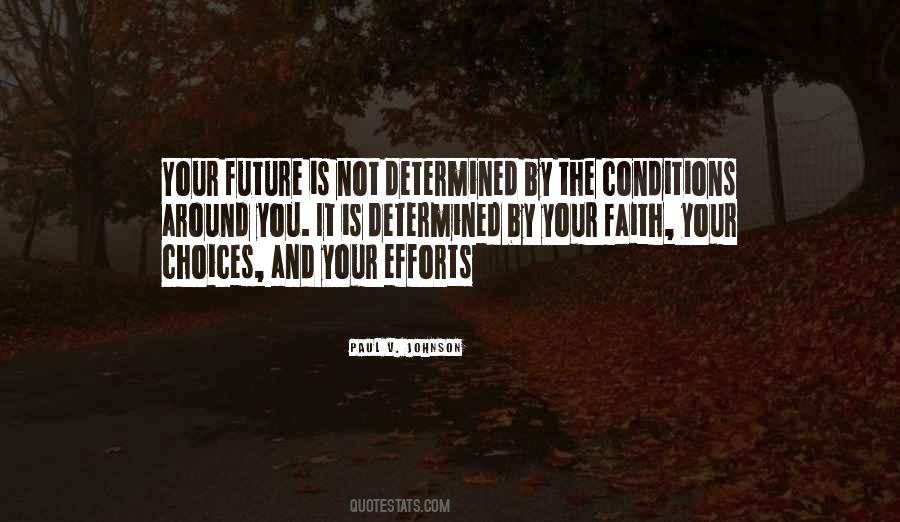 #20. If we were logical, the future would be bleak, indeed. But we are more than logical. We are human beings, and we have faith, and we have hope, and we can work. - Author: Jacques-Yves Cousteau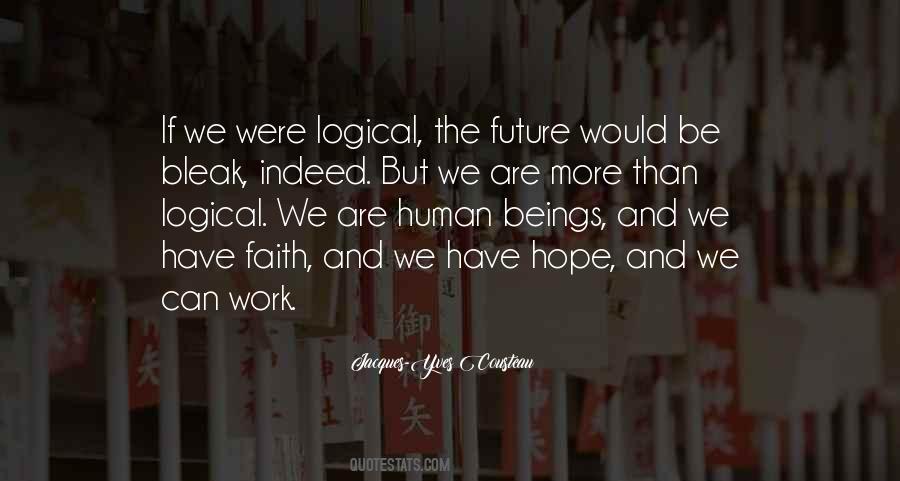 #21. Too many marketers assume that future will hold back and wait until they're ready for it. It won't. - Author: Faith Popcorn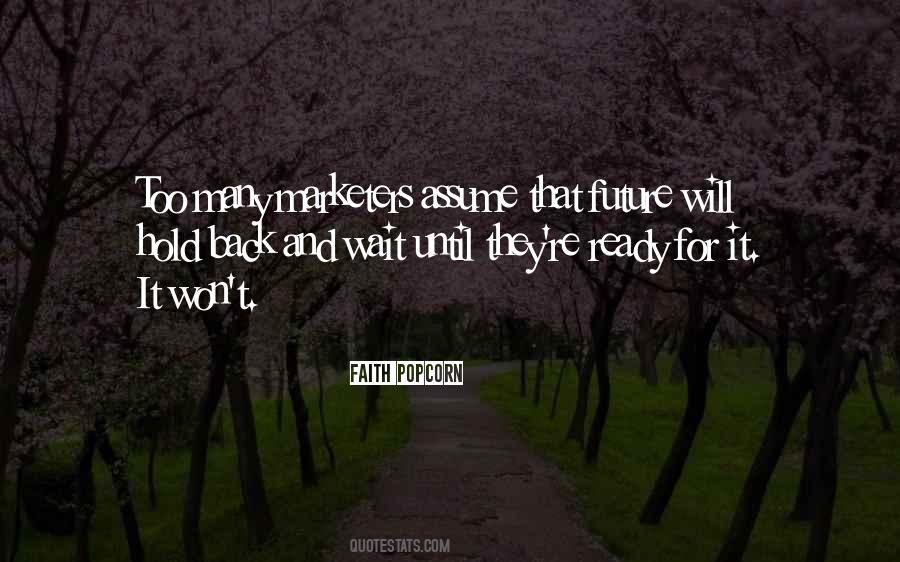 #22. The present is what is happening when you strip away all the resentments of your past and all the worries you have about your future. - Author: John Kuypers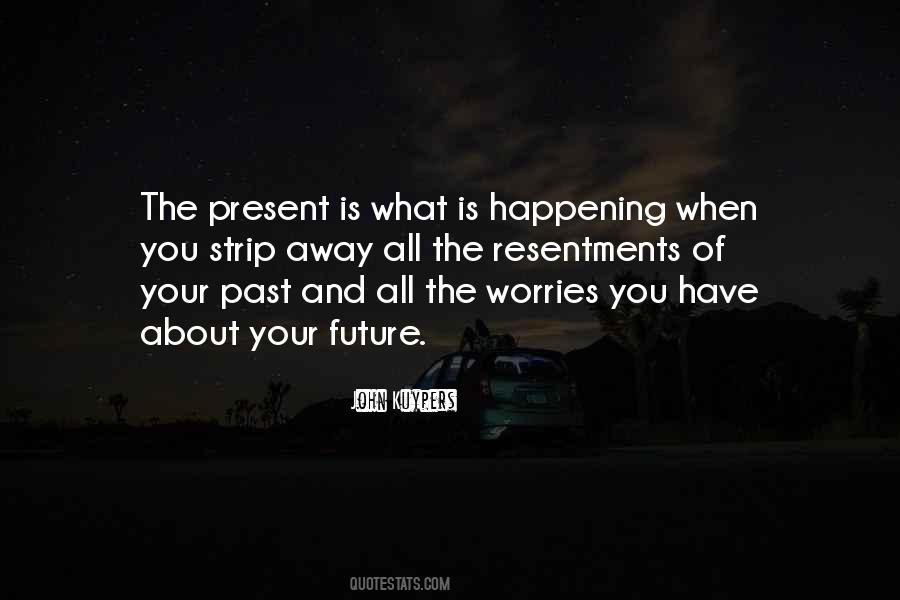 #23. Each one of you has a glorious future if you dare believe me. Have a tremendous faith in yourselves, like the faith I had when I was I was young ... Have that faith, each one of you, in yourself - that eternal power is lodged in every soul - and you will revive the whole of India. - Author: Swami Vivekananda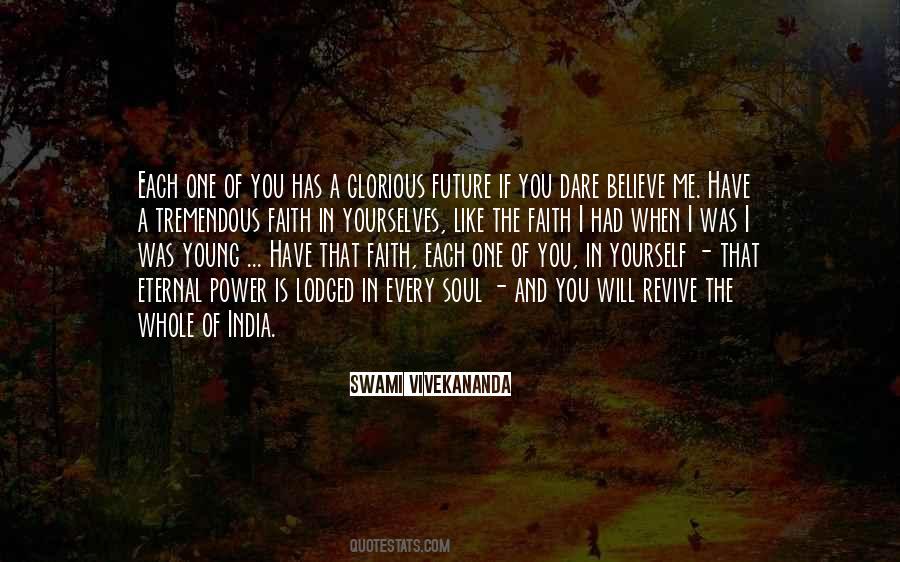 #24. Difficult and painful as it is, we must walk on in the days ahead with an audacious faith in the future. - Author: Martin Luther King Jr.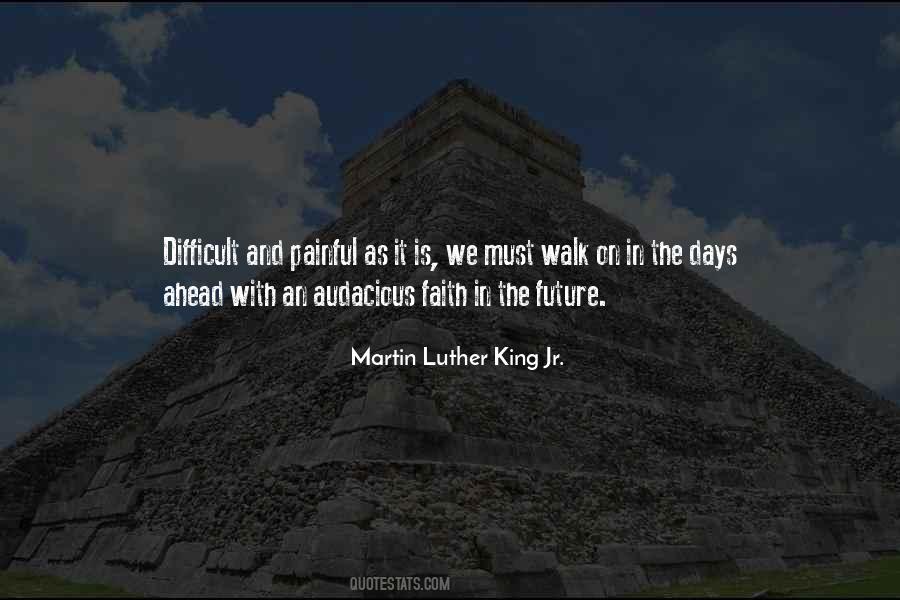 #25. My theory is, if you can do comedy and you can be in a scene with someone like Brad Garrett and hold your own, you've really got a future in this business. - Author: Faith Ford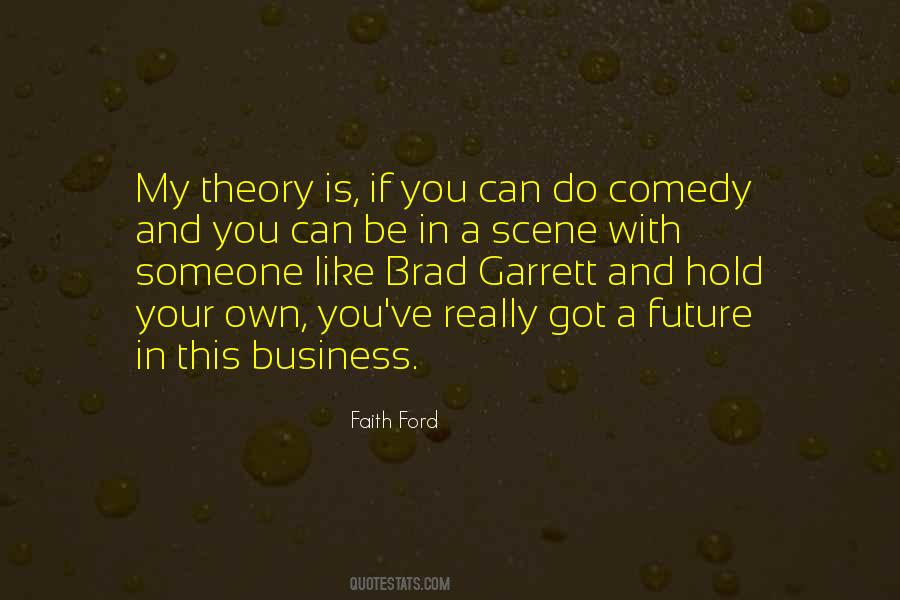 #26. You cannot predict the future but you can love and then love some more. - Author: Julieanne O'Connor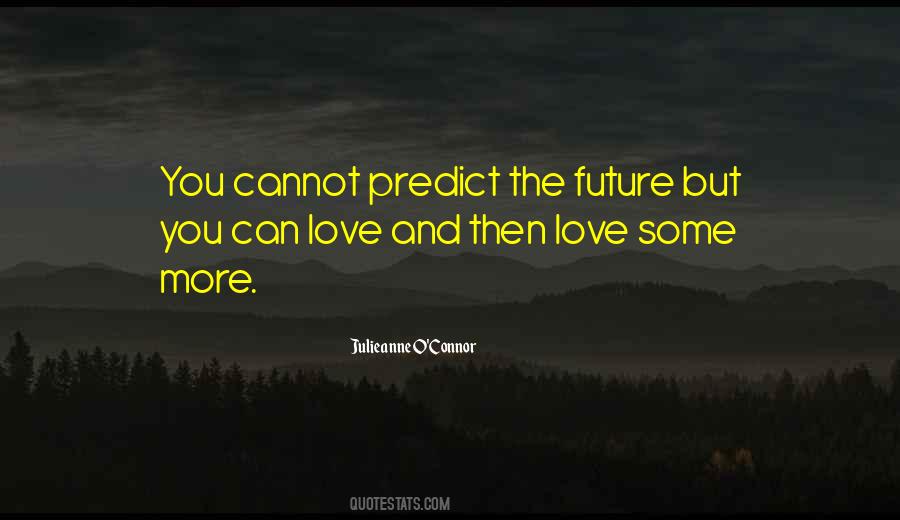 #27. We remember the specter of sectarian violence
al Qaeda's attacks on mosques and pilgrims, militias that carried out campaigns of intimidation and campaigns of assassination. And in the face of ancient divisions, you stood firm to help those Iraqis who put their faith in the future. - Author: Barack Obama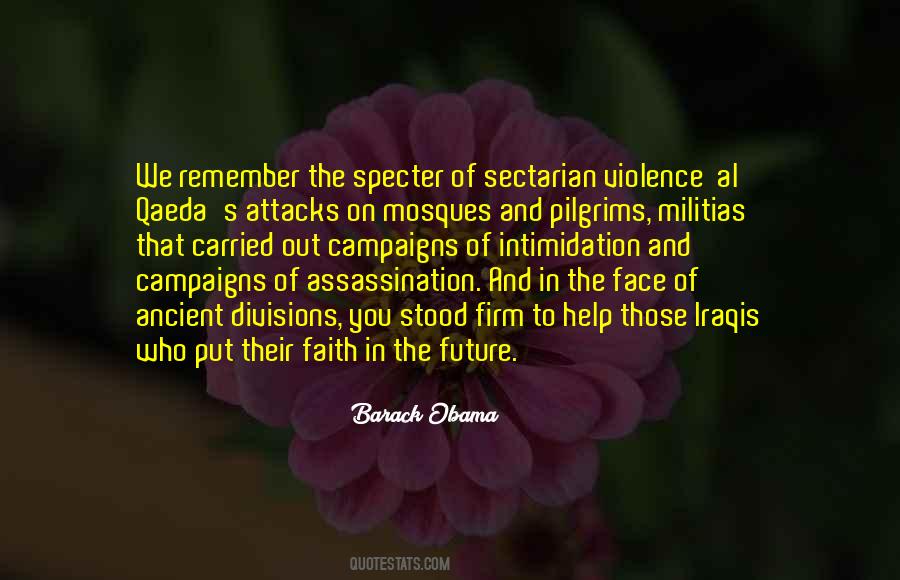 #28. I have to believe SF writers will continue to inspire the public to have faith in - to demand! - a future that is at least as big and bold as the past. - Author: Edward M. Lerner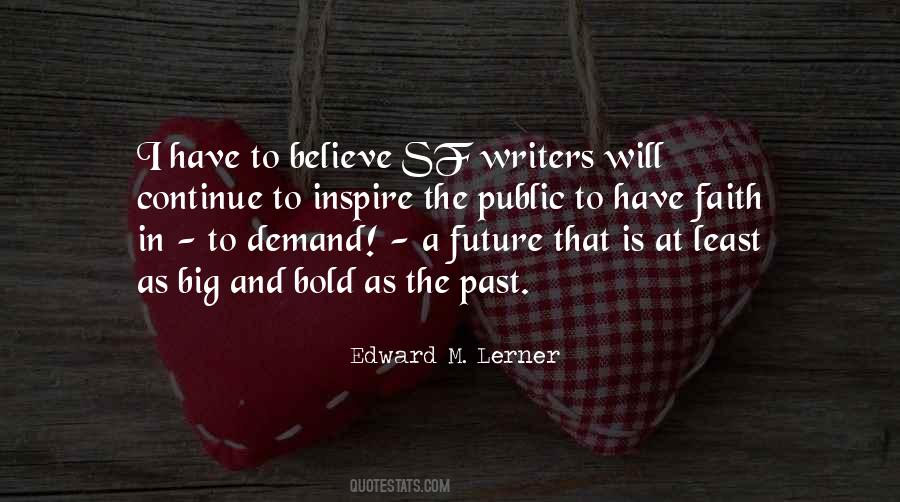 #29. Nothing but Christian faith gives to the furthest future the solidity and definiteness which it must have if it is to be a breakwater for us against the fluctuating sea of present cares and thoughts. - Author: Alexander MacLaren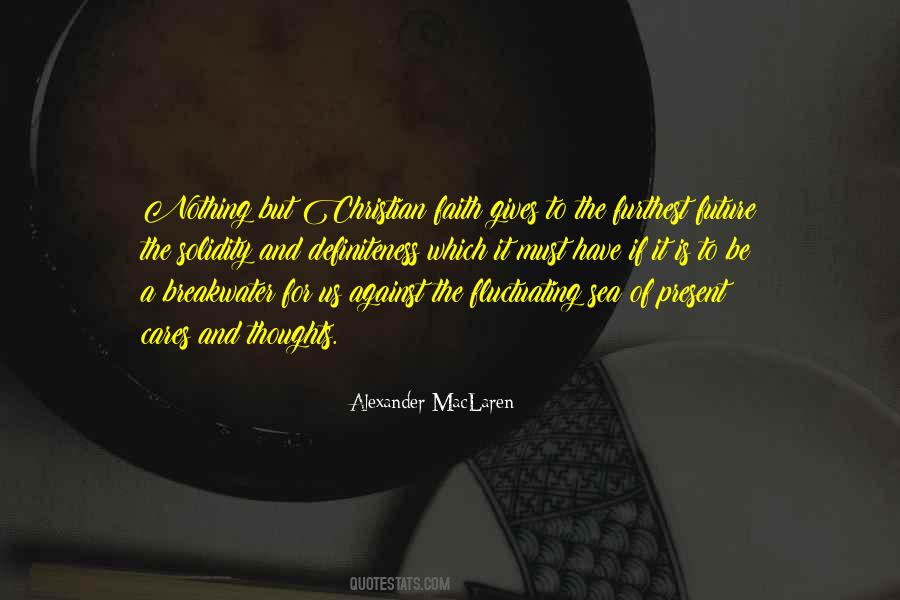 #30. Truth, covenants, and ordinances enable us to overcome fear and face the future with faith. - Author: Russell M. Nelson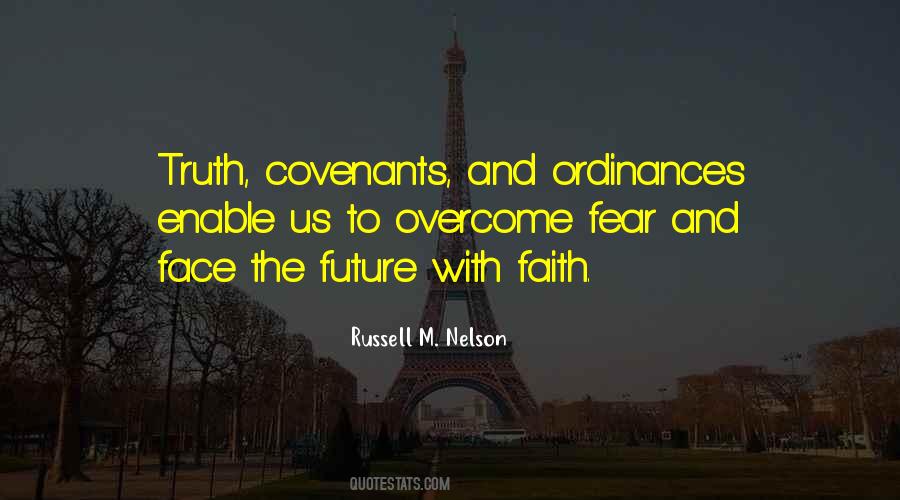 #31. Living in the moment works sometimes, but when alone, it clouds over your memories and dreams, and those are what I need to survive. - Author: D.S. Mixell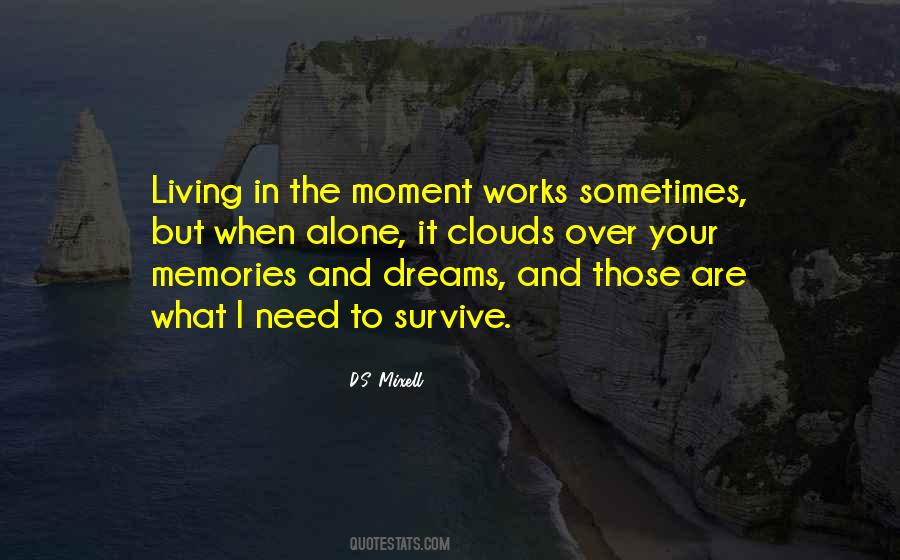 #32. Four in five of us are, to some extent, members of faith communities. If just a fraction of this huge body of believers were to connect their faith to sustainable development and act accordingly, with the support of their institutions, the gains could be world-changing - Author: Ian Christie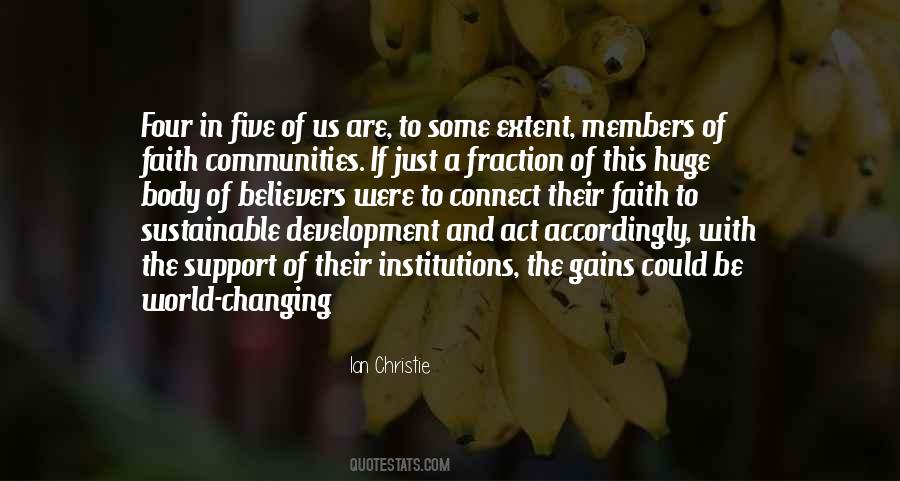 #33. Faith allows us to confidently walk with God into a future filled with joy; one that can become an extraordinary and amazing adventure. - Author: Mary C. Neal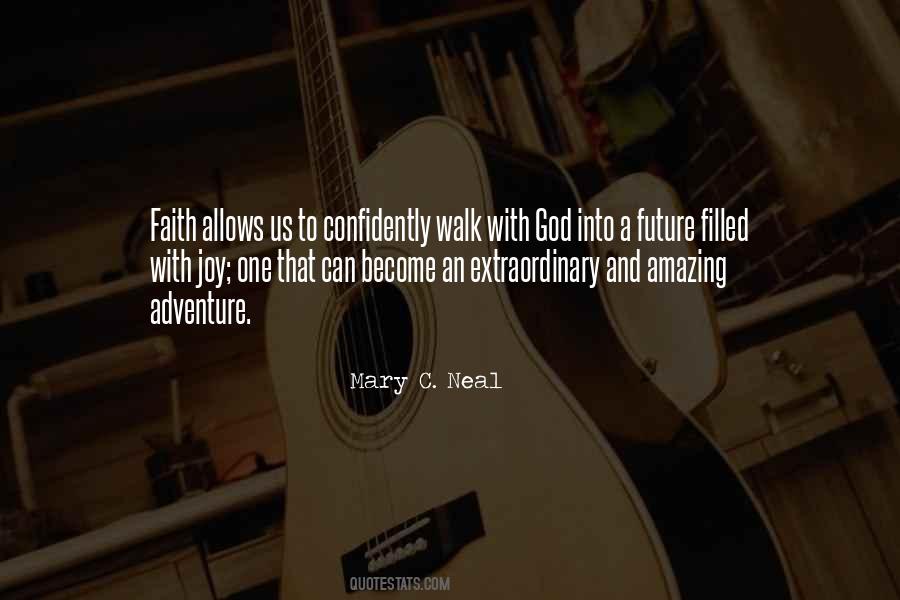 #34. The American people and the Israeli peoples share a faith in the future and believe that democracies can shape their own destinies and that opportunities should be available to all. Throughout its own extraordinary history, Israel has given life to that promise. - Author: Barack Obama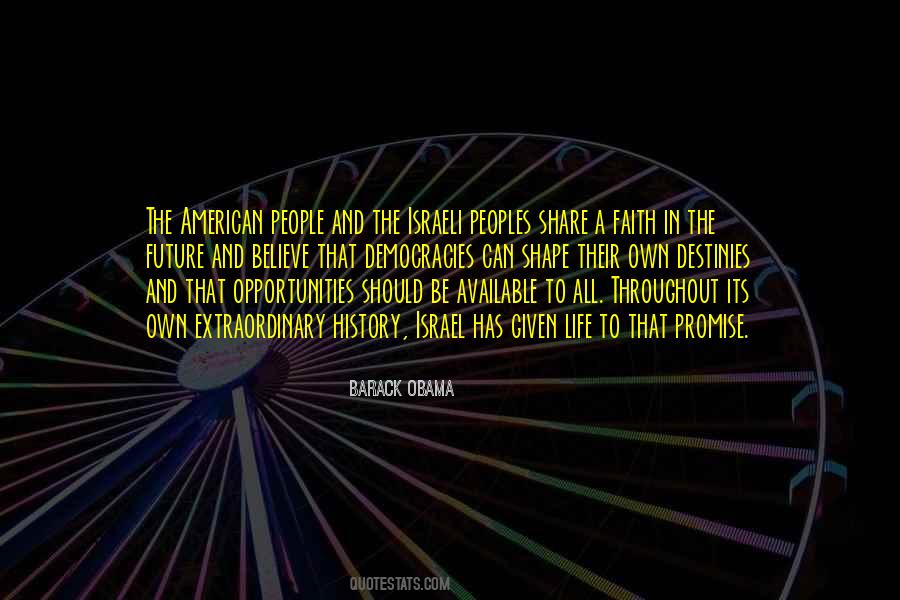 #35. I believe that when you think of the negative, and you get up discouraged - 'There's nothing good in my future' - I really believe it almost ties the hands of God. God works where there's an attitude of faith. I believe faith is all about hope. - Author: Joel Osteen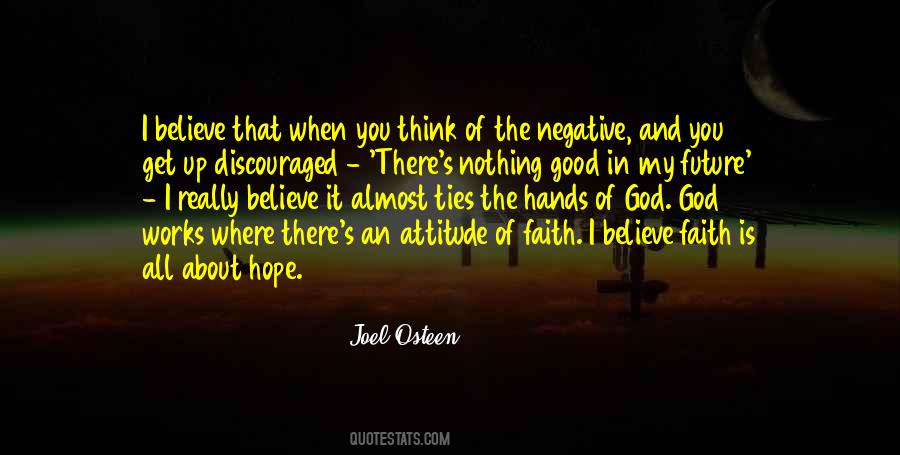 #36. I am part of the Fellowship of the Unashamed ... My past is redeemed, my present makes sense, and my future is in God's hands ... I am a disciple of Jesus. I must go till he comes, give until I drop, speak out until all know, and work until he stops me. - Author: Patrick Madrid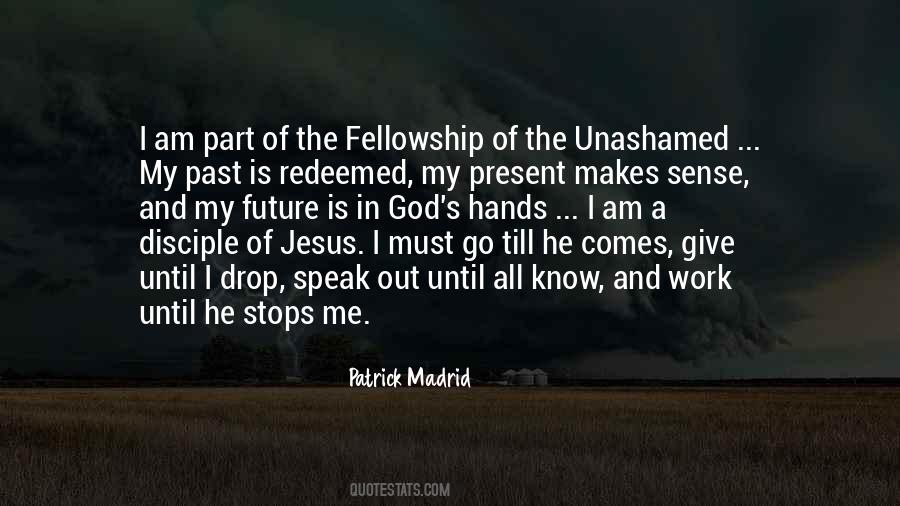 #37. There is little faith involved in setting out on a journey where the destination is certain and every step in between has been mapped in detail. Bravery, trust, is about leaving camp in the dark, when we do not know the route ahead and cannot be certain we will ever return. - Author: Bear Grylls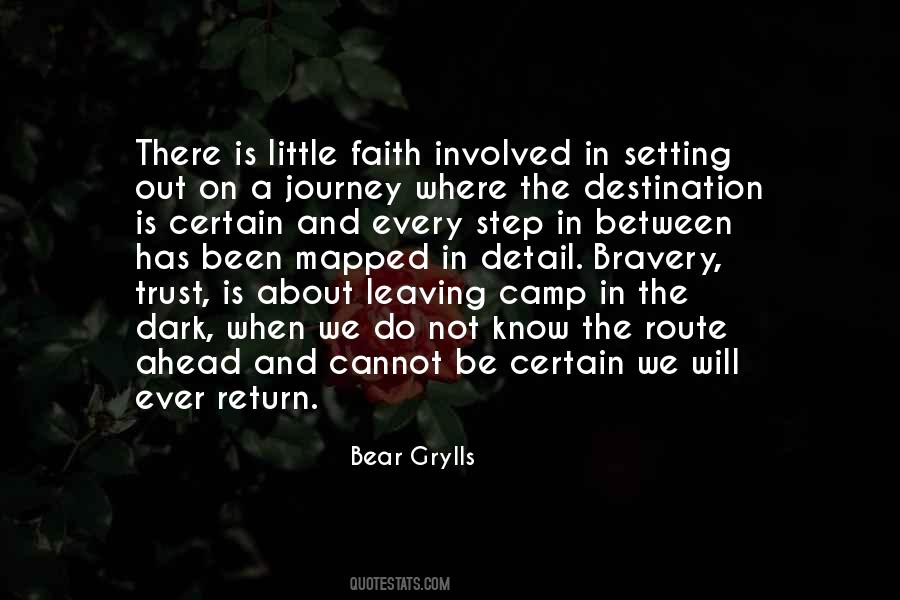 #38. Have faith in the future and accept your fate. - Author: Navy Topaz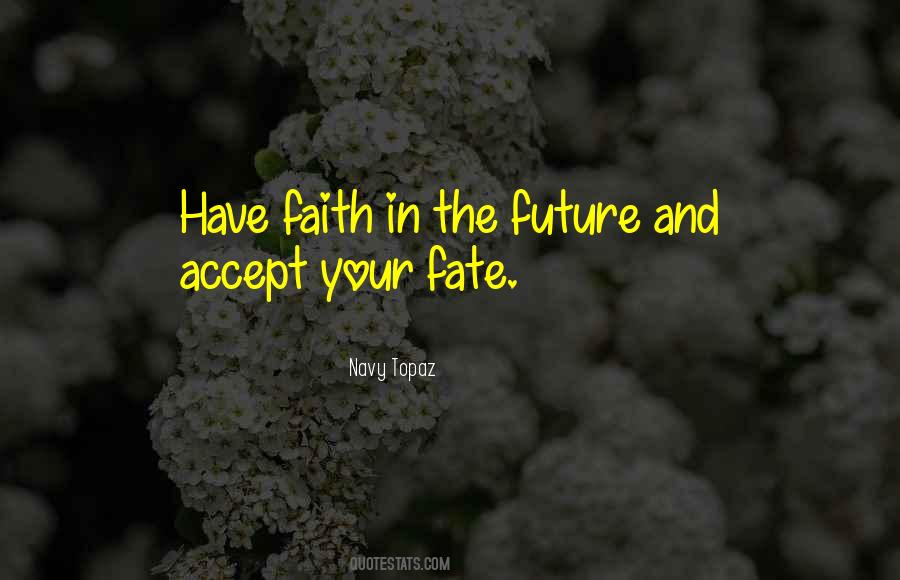 #39. For my future I have no concern, and as a true philosopher, I never would have any, for I know not what it may be: as a Christian, on the other hand, faith must believe without discussion, and the stronger it is, the more it keeps silent. - Author: Giacomo Casanova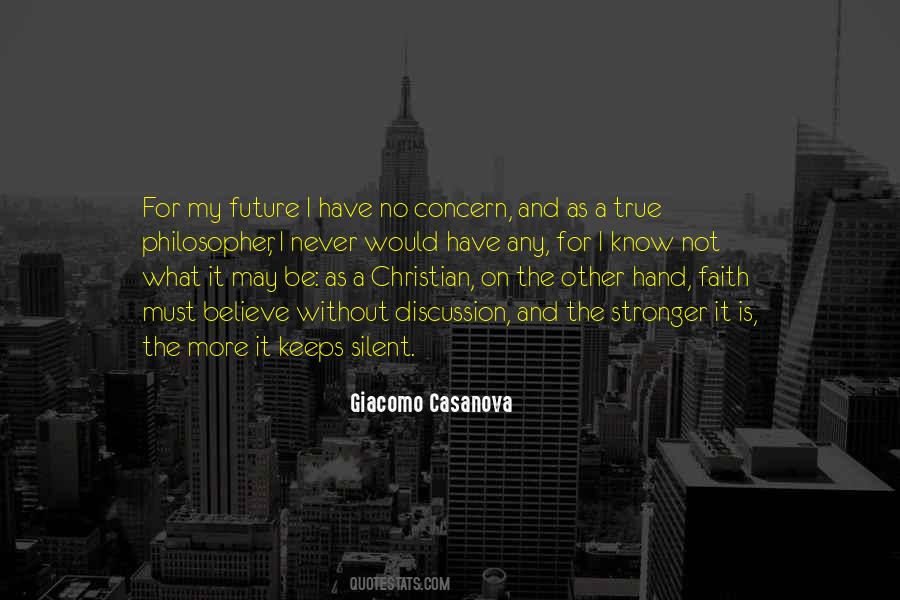 #40. I have great faith in the future of books - no matter what form they may take - and of science fiction. - Author: Connie Willis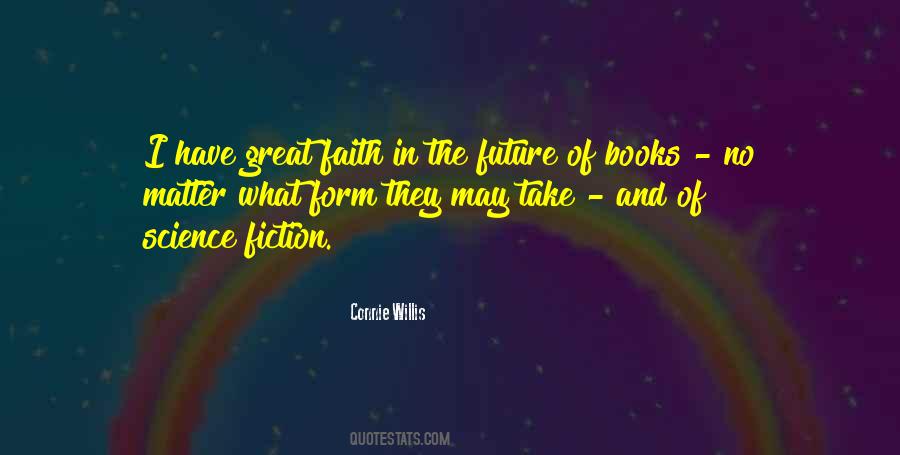 #41. Faith isn't the ability to believe long and far into the misty future. It's simply taking God at His Word and taking the next step. - Author: Joni Eareckson Tada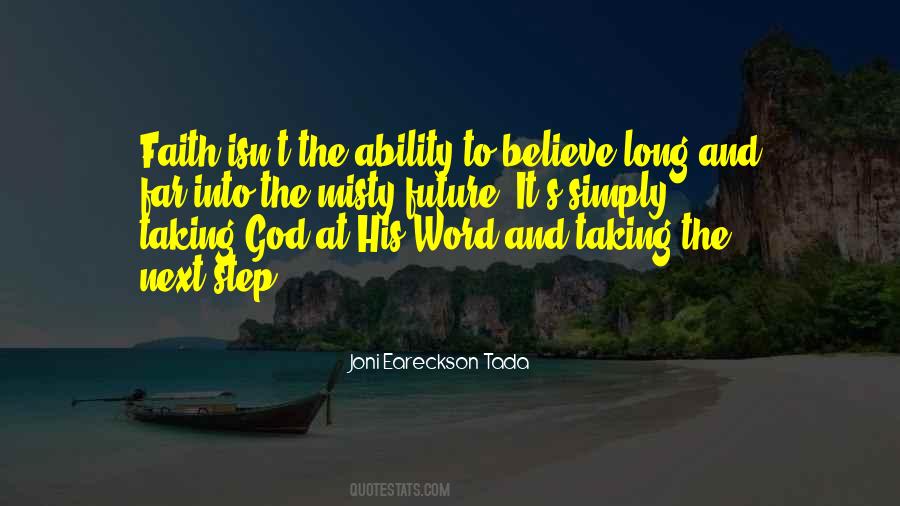 #42. I pray for faith that my future will be good if I live today well, and in peace. I will remember that staying in the present is the best thing I can do for my future. I will focus on what's happening now instead of what's going to happen tomorrow. - Author: Melody Beattie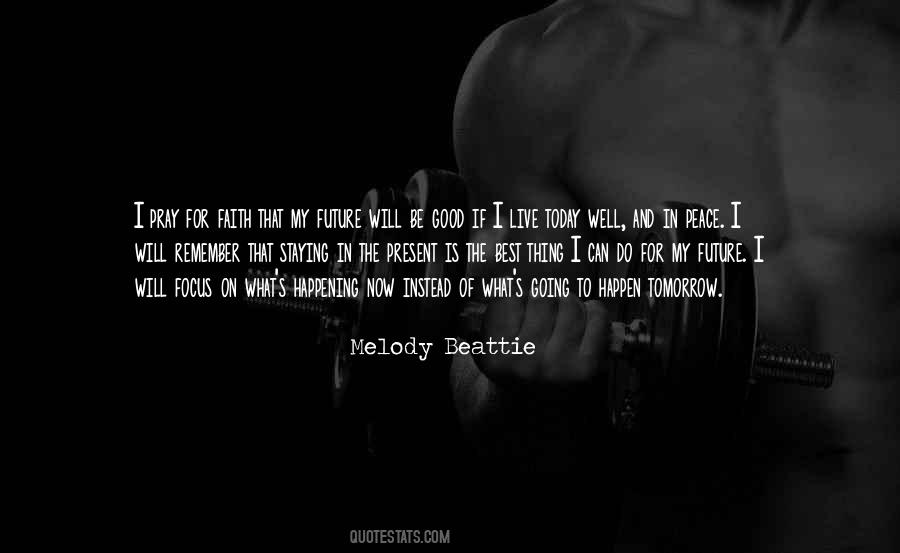 #43. Remember to forget what lies behind, reach and press forward. - Author: Jim George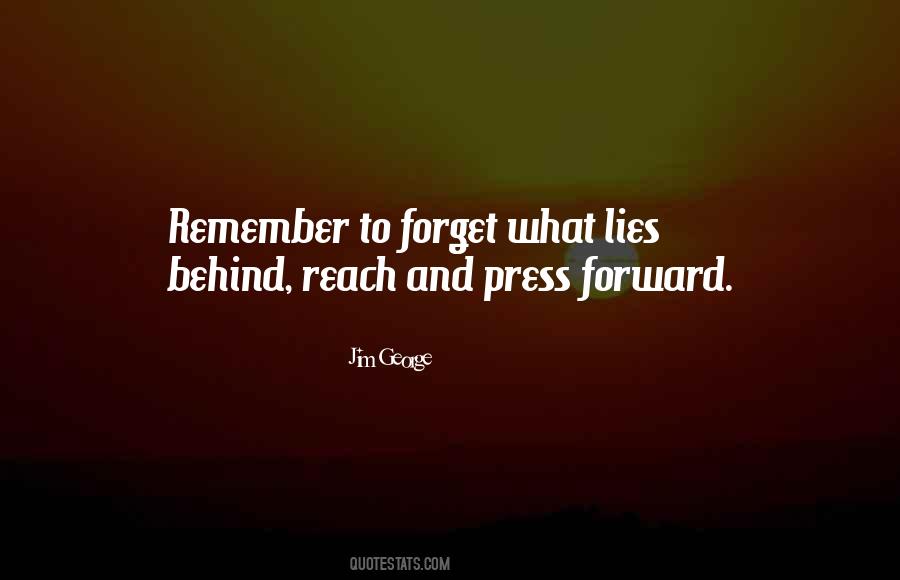 #44. The differences between the conservative and the radical seem to
spring mainly from their attitude toward the future. Fear of the
future causes us to lean against and cling to the present, while faith
in the future renders us receptive to change. - Author: Eric Hoffer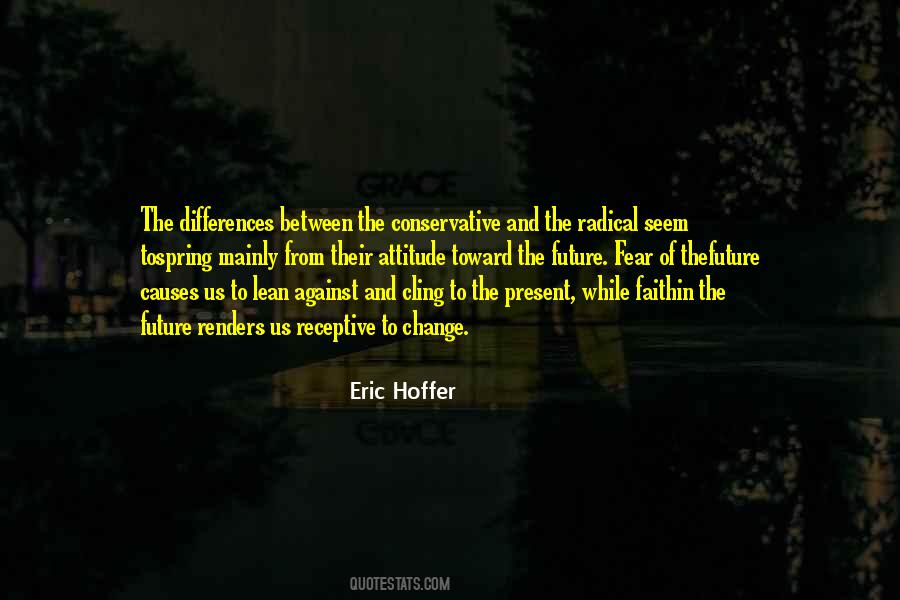 #45. When the Holy Spirit comes into your life, He will show you things to come; you will no longer be in the dark. You will no longer walk in confusion but live each day in the light. You will face the future with faith and confidence. He is the Spirit of reality, Hallelujah! - Author: Chris Oyakhilome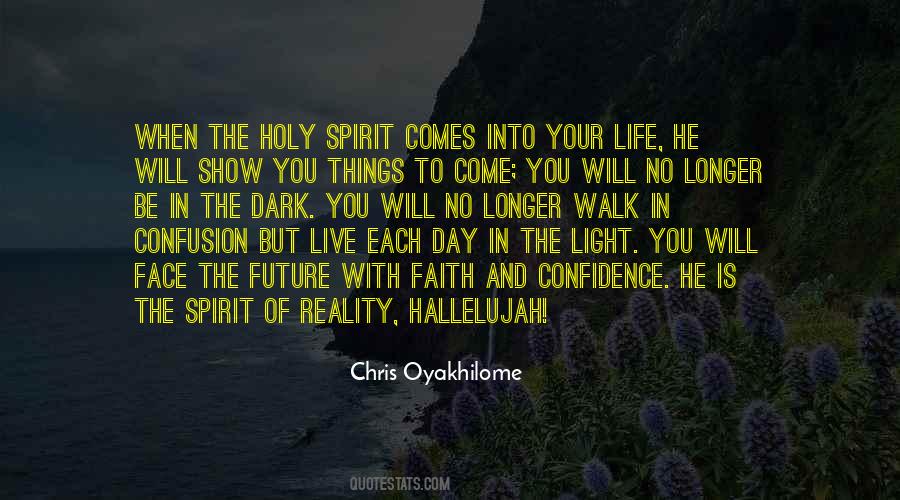 #46. Faith keeps our ships moving, while empathy and the memories of our experiences guide us to wisdom. - Author: Suzy Kassem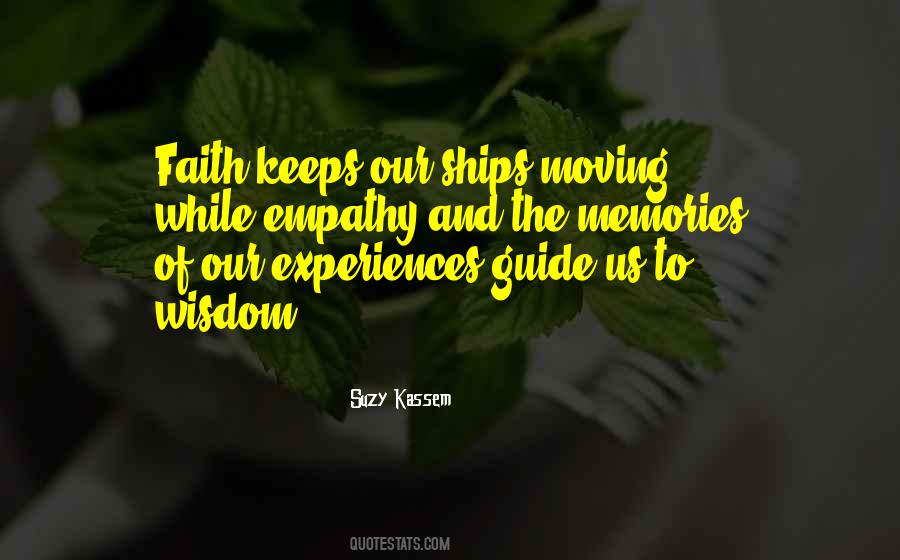 #47. You have the power to shape your life the way you want it to be. Every though, every word, every action guides you with a purpose. And that purpose is to fulfill your destiny. Some may say you're just a dreamer. But everything imagined began with a dream. - Author: Amaka Imani Nkosazana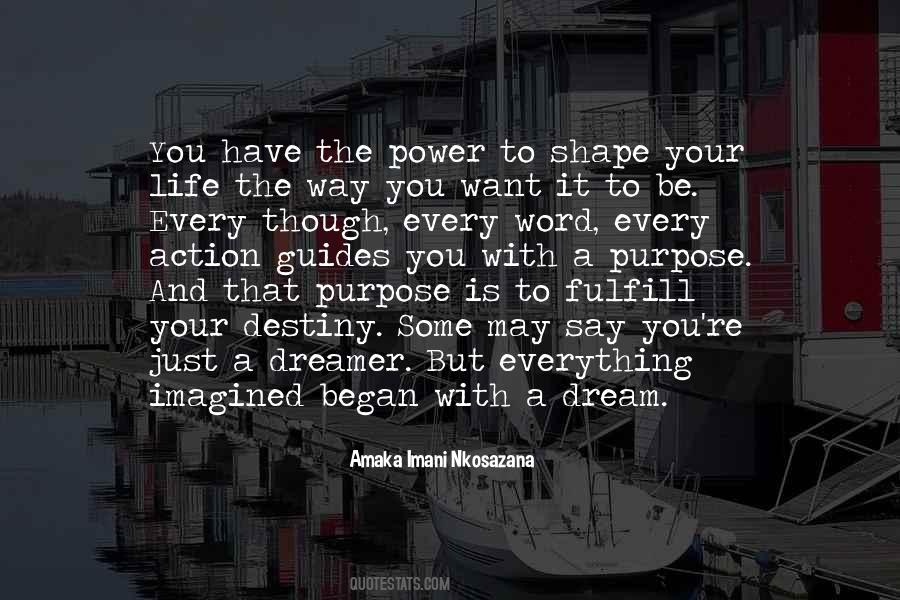 #48. Where power is not joined with faith in the future, it is used mainly to ward off the new and preserve the status quo. - Author: Eric Hoffer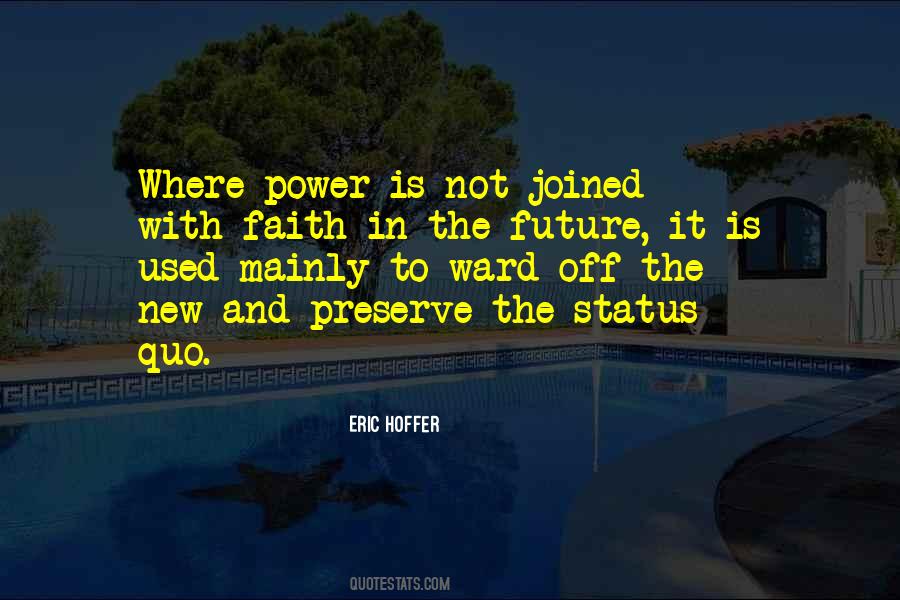 #49. We are overcome by the "cares ... of this life" when we are paralyzed by fear of the future, which hinders our going forward in faith, trusting in God and His promises. It is up to each of us to set the priorities and to do the things that make our soil good and our harvest plentiful. - Author: Dallin H. Oaks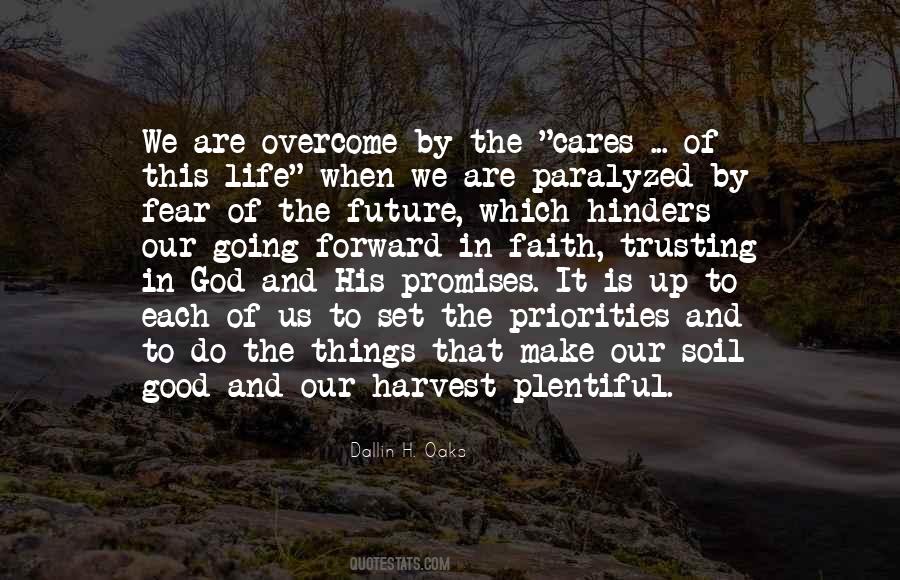 #50. For God, nothing is impossible. And, if he wanted, in the future women would give birth from their ears. - Author: Francois Rabelais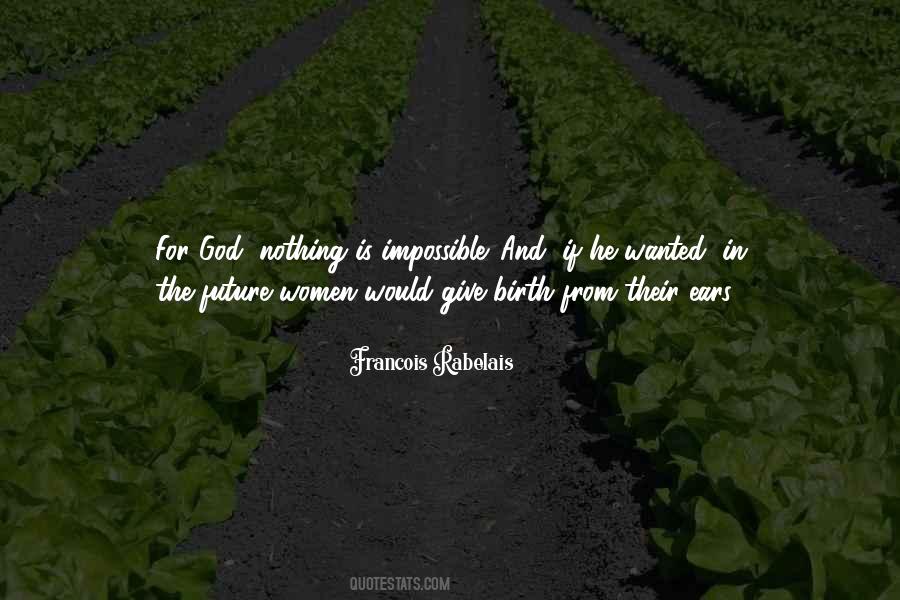 #51. And although I see few results, future missionaries will see conversions following every sermon. May they not forget the pioneers who worked in the thick gloom with few rays to cheer, except such as flow from faith in the precious promises of God's Word. - Author: David Livingstone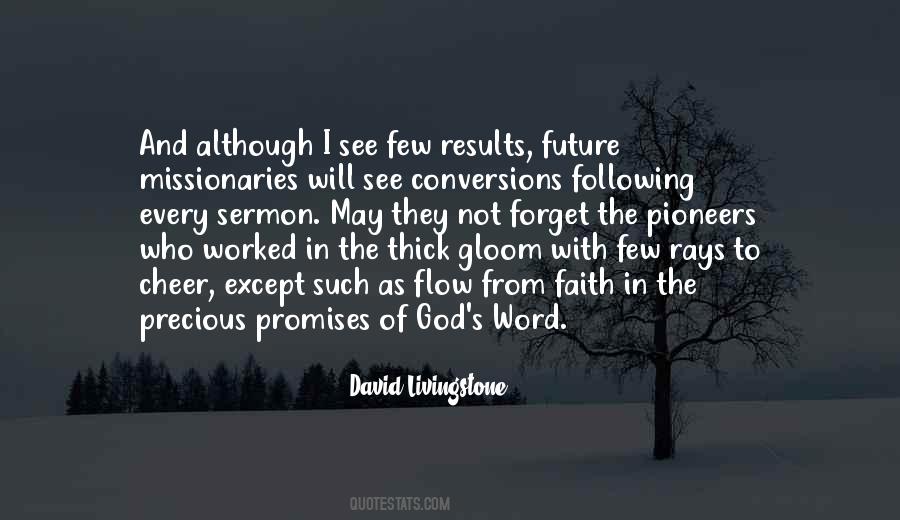 #52. Marriage is an expression of love and respect and trust and faith in the future, but the union of husband and wife is also an alliance against the challenges and tragedies of life, a promise that with me in your corner, you will never stand alone. - Author: Dean Koontz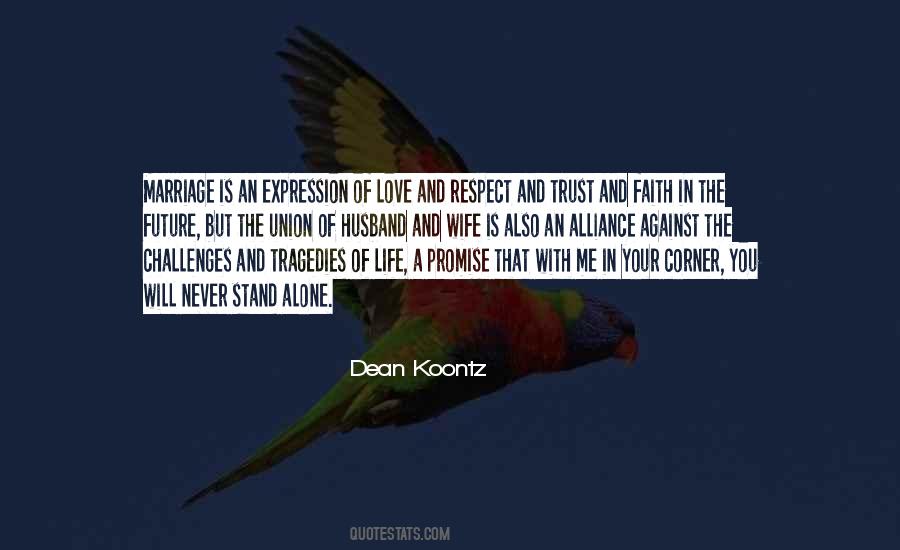 #53. What unites Oklahomans today is what has always united us: Our unshakable faith. Our love of family and compassion for others. The unlimited promise of a hopeful future. - Author: Brad Henry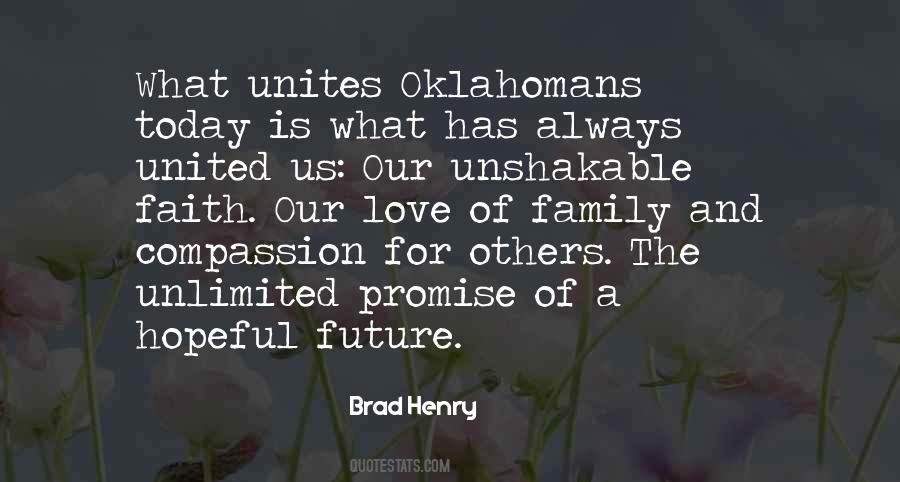 #54. I bear witness of the power of the priesthood given to the Church to protect us and guide us. And because we have that, we have no fear of the future. Fear is the opposite of faith. We move forward, certain that the Lord will watch over us, particularly in the family. - Author: Boyd K. Packer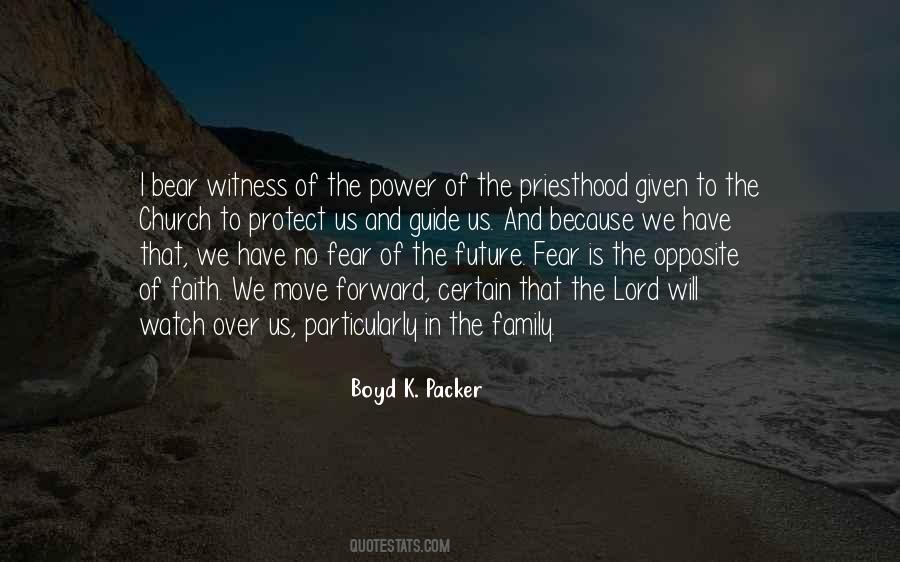 #55. Inbetween yesterday's regret and tomorrow's dream is today's opportunity. Seize the chance! - Author: Ifeanyi Enoch Onuoha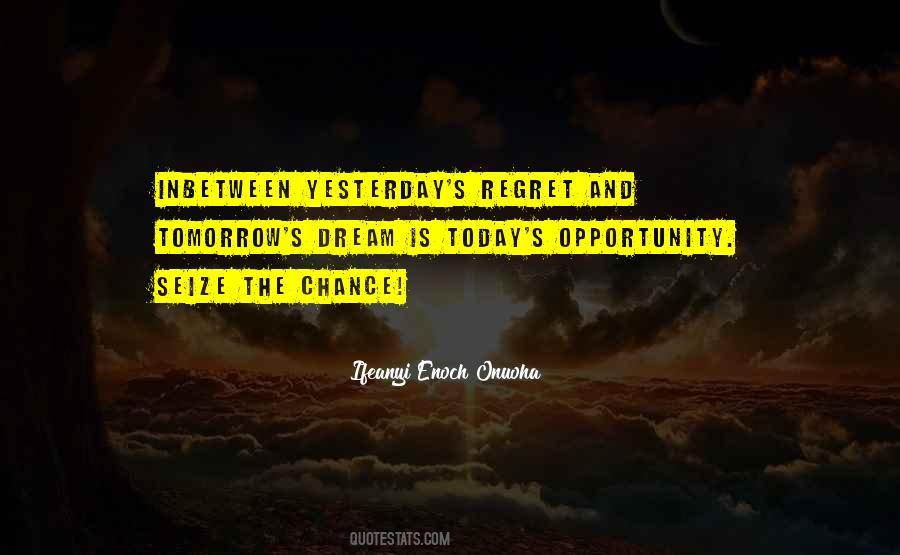 #56. Choose your friends with caution; plan your future with purpose, and frame your life with faith. - Author: Thomas S. Monson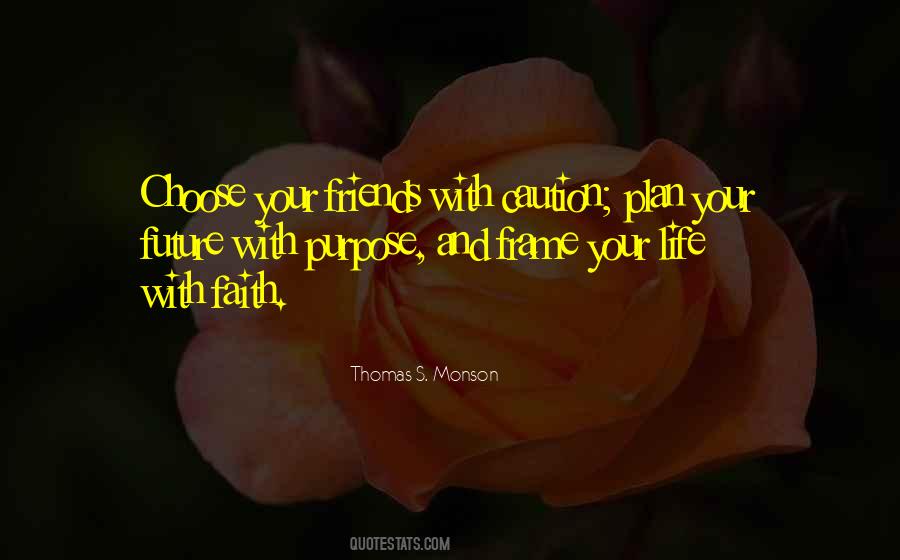 #57. Just having children is a risk, Kate. We are gambling on the future, investing in the unknown with nothing but hope and blind faith. How can we keep our own safe when anyone else is in danger? - Author: Florence Engel Randall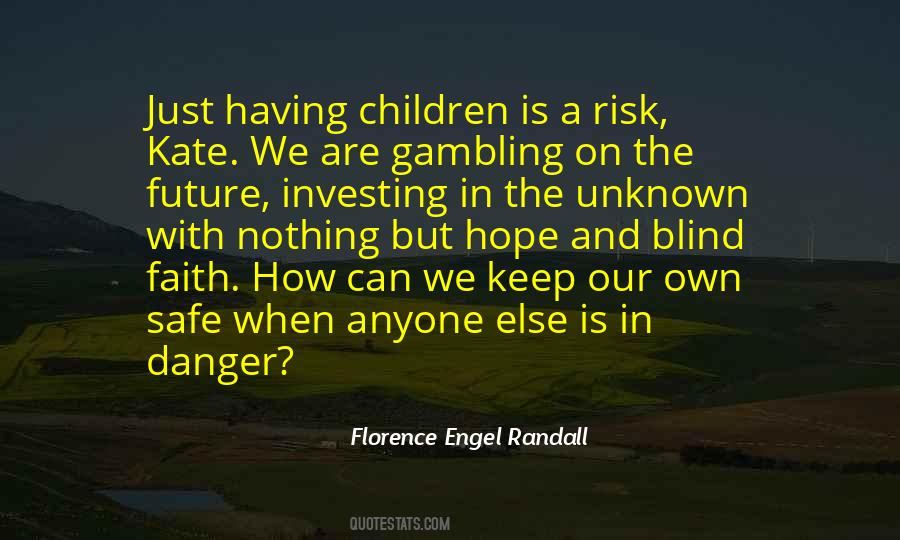 #58. It's the nature of the beast within us to keep going back to the familiar rather than to strap on faith and face the future. - Author: Charles R. Swindoll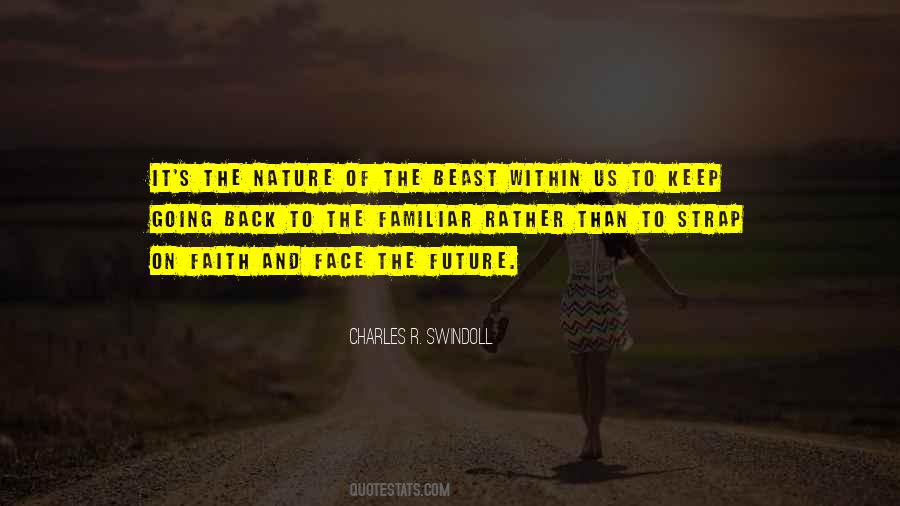 #59. Paul faced each stage of his illness with grace - not with bravado or a misguided faith that he would "overcome" or "beat" cancer but with an authenticity that allowed him to grieve the loss of the future he had planned and forge a new one. - Author: Paul Kalanithi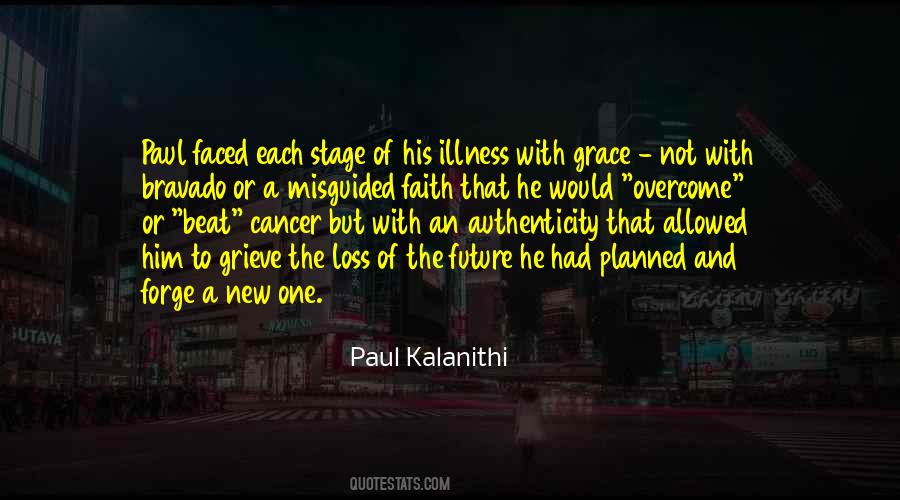 #60. I give this to you because it is the key that will unlock the door between your past and your future. - Author: Nicole Sager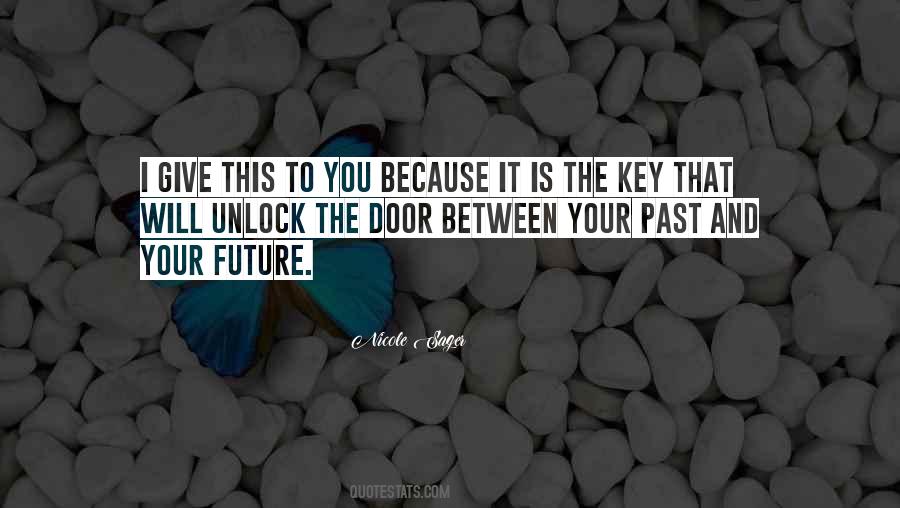 #61. I am pleading for the future; I am pleading for a time when hatred and cruelty will not control the hearts of men. When we can learn by, reason and judgment and understanding and faith that all life is worth saving, and that mercy is the highest attribute of man. - Author: Clarence Darrow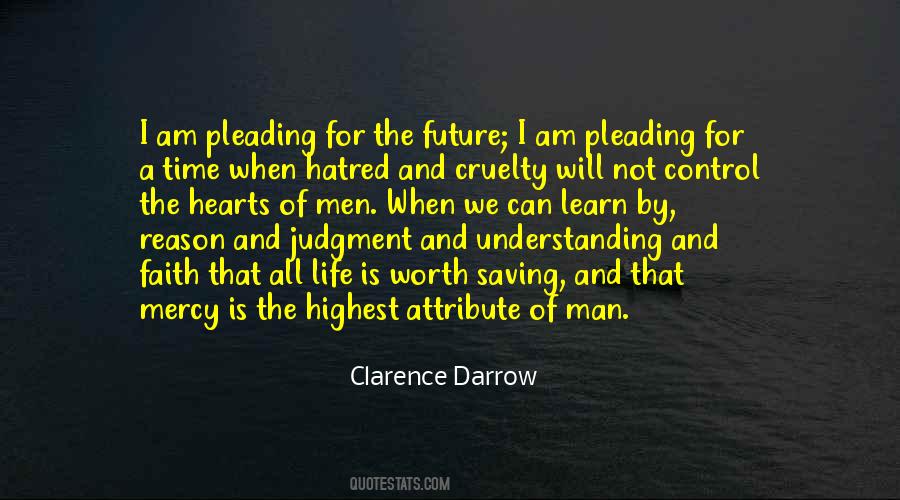 #62. Jesus gave us, His children, three reasons for not worrying about this life: It is unnecessary because of our Father, it is uncharacteristic because of our faith, and it is unwise because of our future. - Author: John F. MacArthur Jr.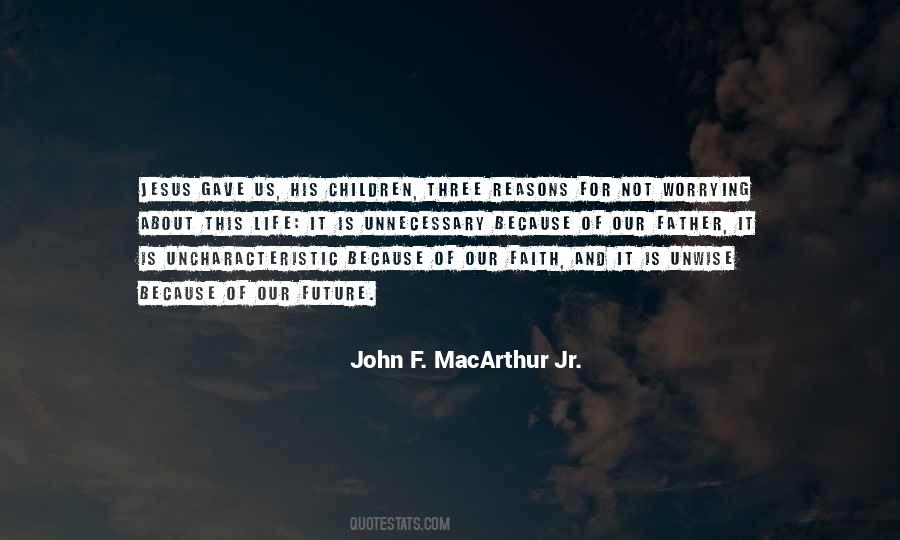 #63. The past can be a rudder that guides you or an anchor tha hinders you. Leave your mistakes with God and look to the future by faith. - Author: Warren W. Wiersbe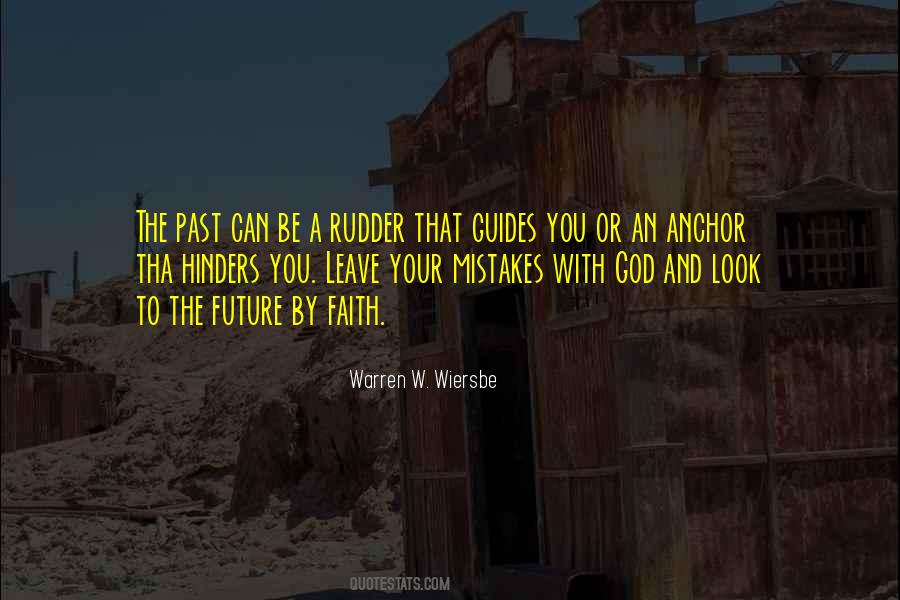 #64. God is calling you to relinquish your old habits and beliefs that are holding you back from being all He called you to be. To trust that He has something bigger and better in store for you. - Author: Dana Arcuri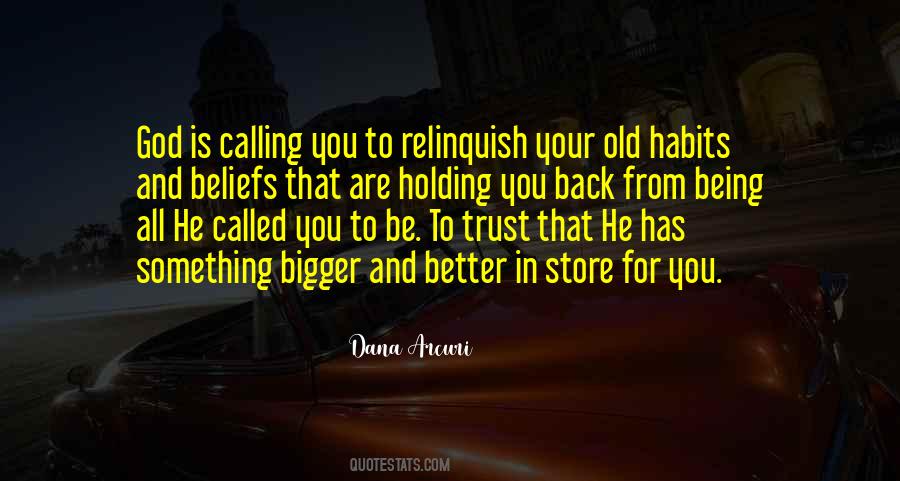 #65. In the treatment of the child the world foreshadows its own future and faith. All words and all thinking lead to the child, - to that vast immortality and wide sweep of infinite possibility which the child represents. - Author: W.E.B. Du Bois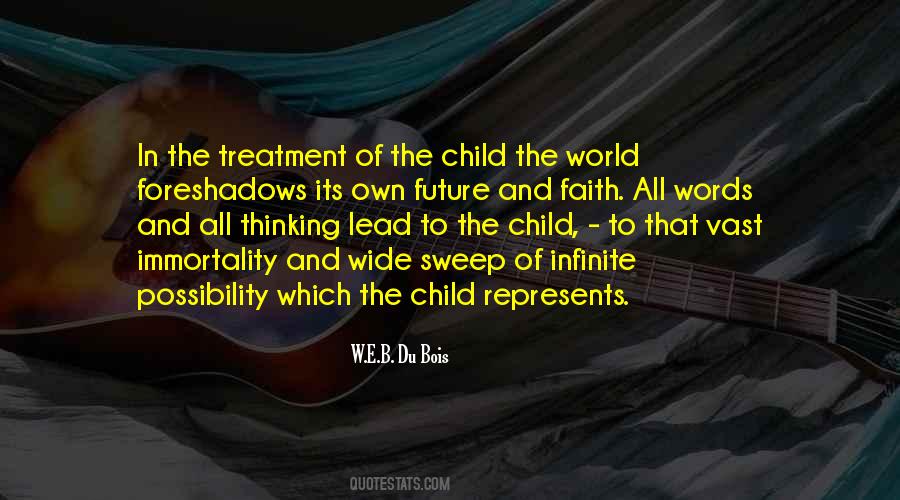 #66. He longed for that year right after the injury, before he met Andy, when it seemed that everything might be improved upon, and that his future self might be something bright and clean, when he knew so little but had such hope, and faith that his hope might one day be rewarded. - Author: Hanya Yanagihara
#67. Eternity is not just looking to the future and our place with God in Heaven, but it is looking at our Eternity as if it were only moments away. - Author: Beth Nimmo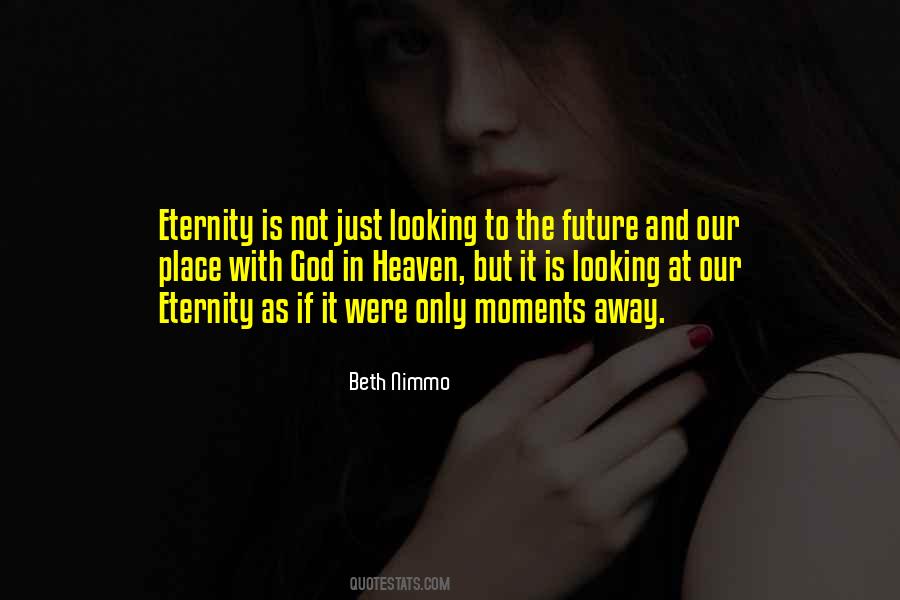 #68. Without faith, there is no imagination; without imagination, there is no innovation; and without innovation, there is no future. - Author: Mitri Raheb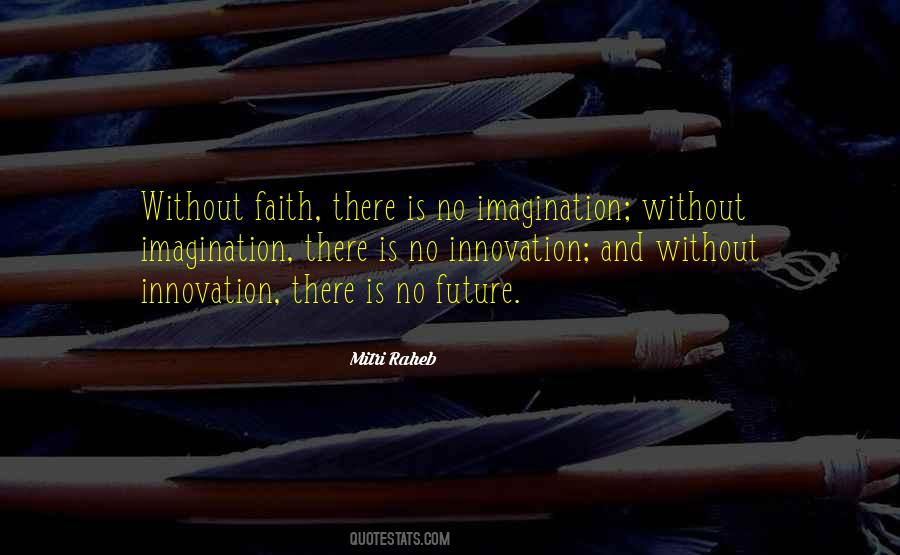 #69. The people of Liberia know what it means to be deprived of clean water, but we also know what it means to see our children to begin to smile again with a restoration of hope and faith in the future. - Author: Ellen Johnson Sirleaf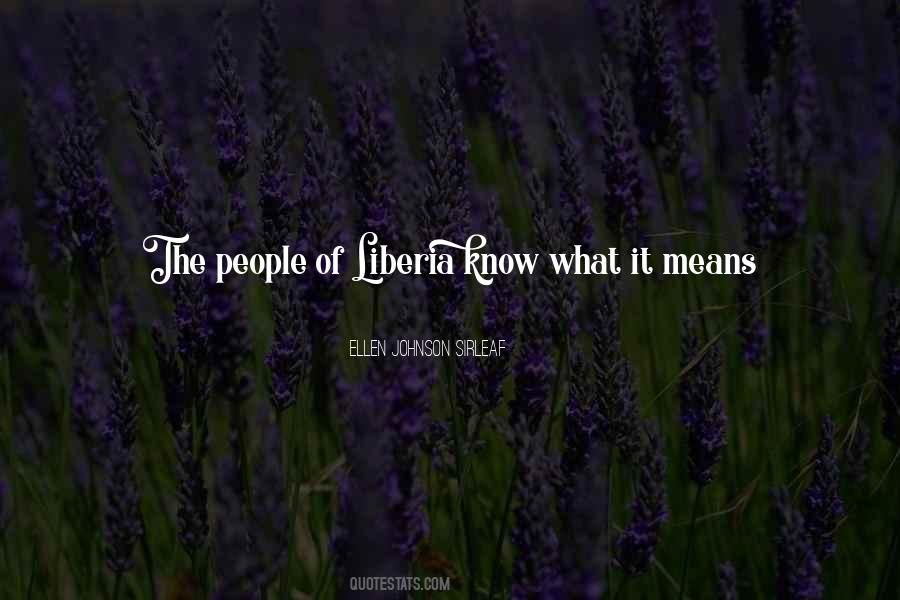 #70. Your destiny is in your mind, just faith it and have a brighter destination. - Author: Oladosu Feyikogbon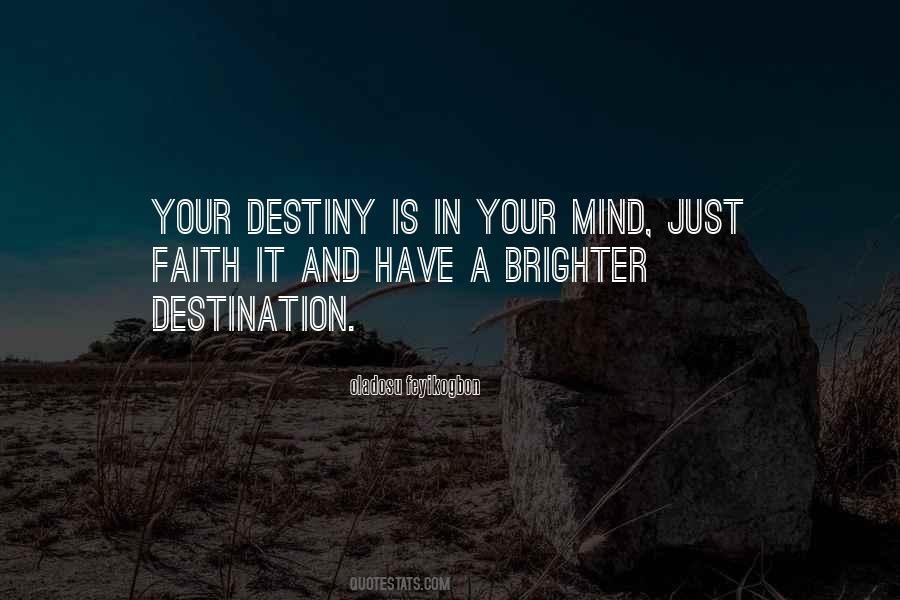 #71. I will never give up on what I love. I will never back down. I will never let go of anything that is important to me. I will hold my course steady and my God will help me see it through. This is my promise, my anthem and my path. This is my future and I own it. - Author: Shannon L. Alder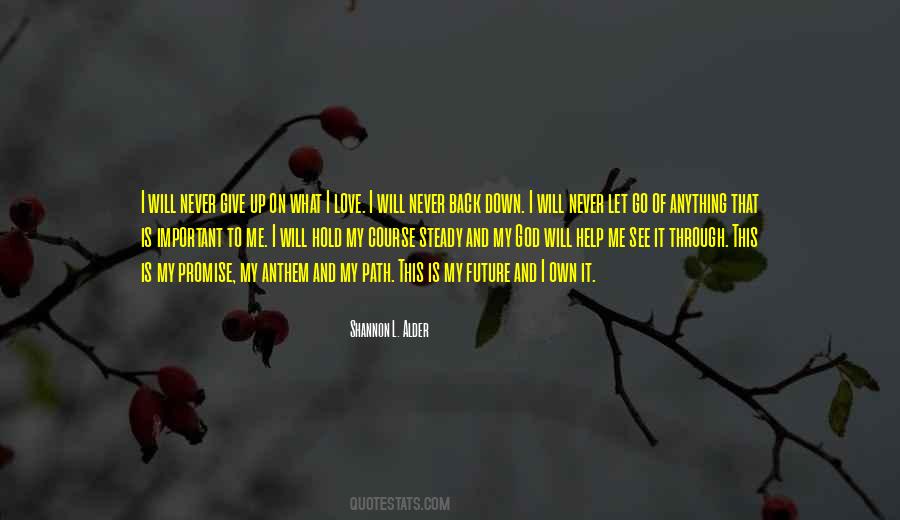 #72. Think Positively.
Network well.
Eat healthy.
Work Smart.
Stay Strong.
Build faith.
Worry less.
Read more.
Be happy.
Volunteer freely.
Relax often.
Love always.
Live eternally
and you will see doors open to your favor. - Author: Ifeanyi Enoch Onuoha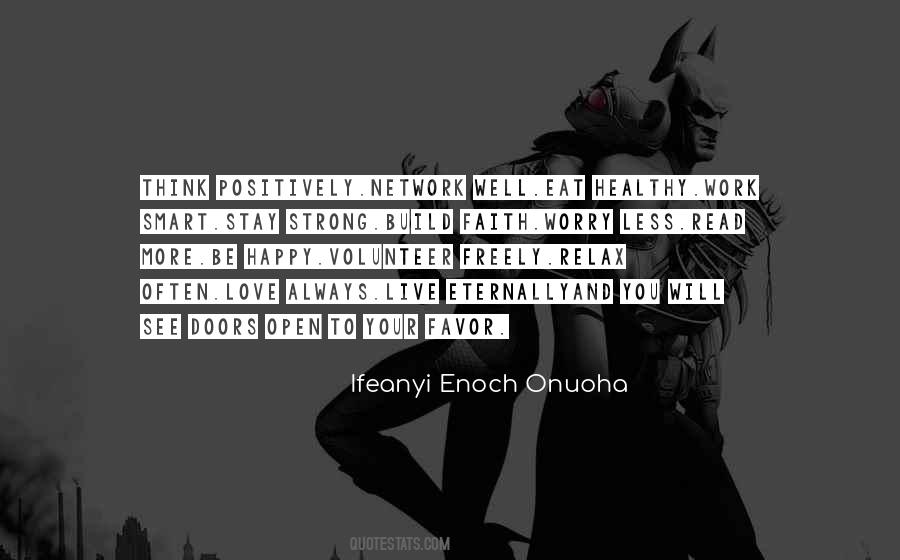 #73. The logical mind creates fears based on past experiences and predicts a negative future, but the Universe is unpredictable. Therefore, your future can be hundred times better than your past. Either have faith or listen to your fears. Both cannot exist together! - Author: Maddy Malhotra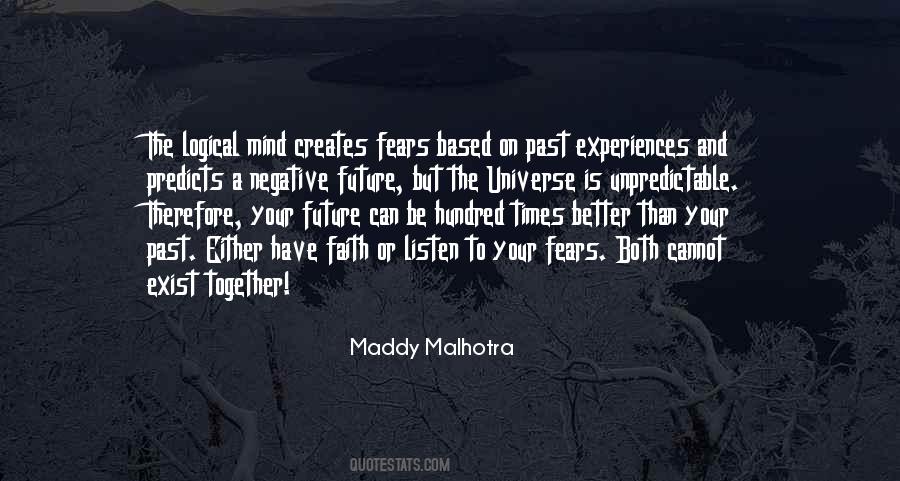 #74. A person who has sympathy for mankind in the lump, faith in its future progress, and desire to serve the great cause of this progress, should be called not a humanist, but a humanitarian, and his creed may be designated as humanitarianism. - Author: Irving Babbitt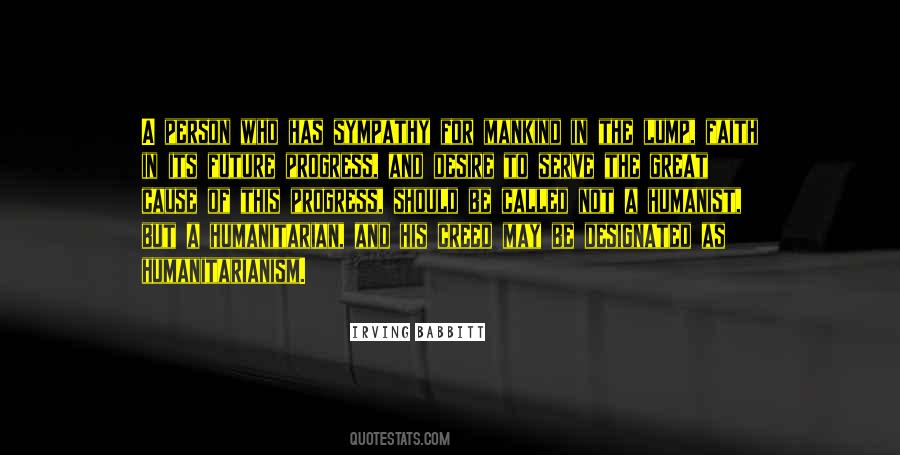 #75. Faith enables the believing soul to treat the future as present and the invisible as seen. - Author: J. Oswald Sanders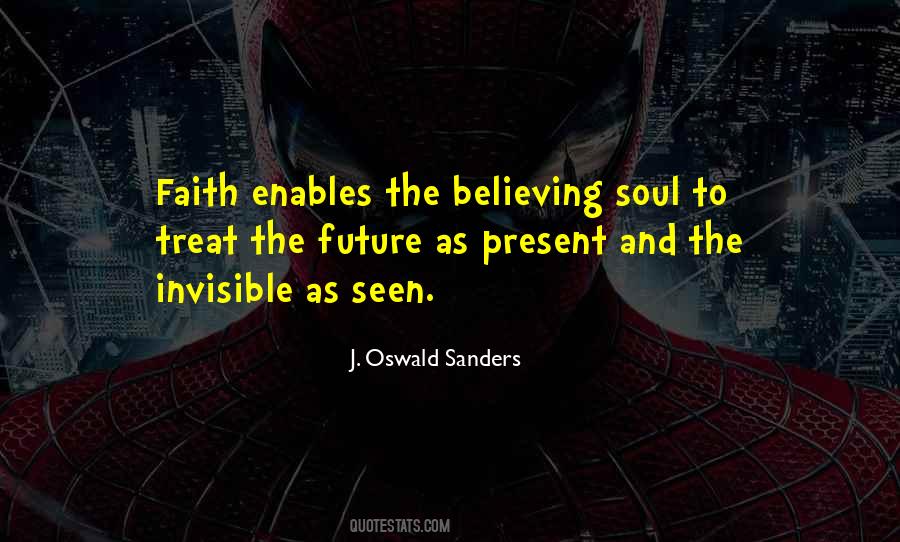 #76. I have faith in the future of this promised land of America and in its institutions of representative government, but more than that, I have faith in you, the youth of America, to build even more securely on the foundations laid by the faith and devotion of your pioneer fathers. - Author: Harold B. Lee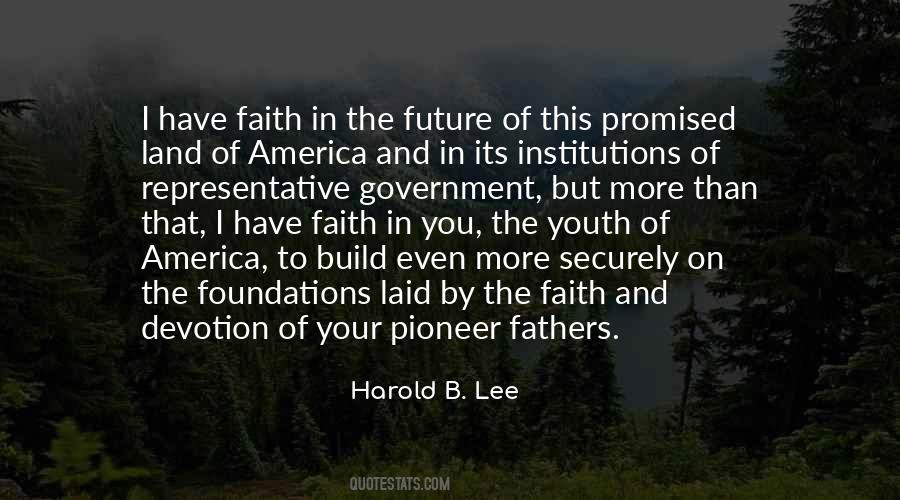 #77. you are the faint line between faith and blindly waiting - letter to my future lover - Author: Rupi Kaur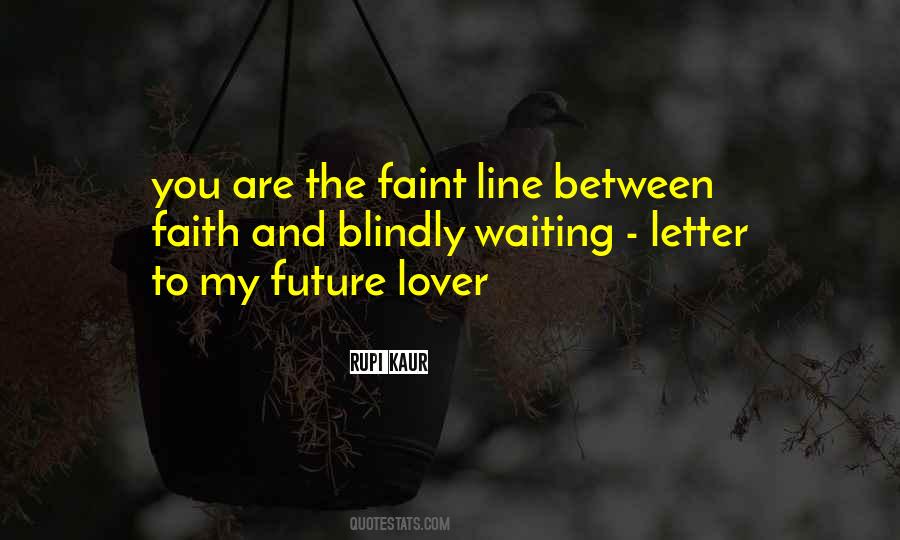 #78. Strange are the pictures of the future that mankind can thus draw with this brush of faith and these many-coloured pigments of the imagination! Strange, too, that no one of them tallies with another! - Author: H. Rider Haggard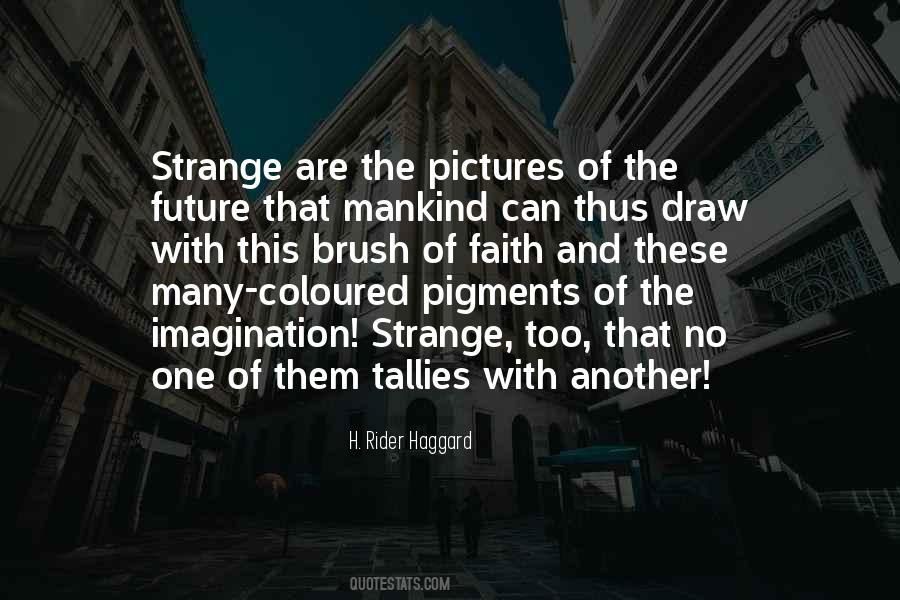 #79. Thank you for reminding me that the future is in God's hands.'" "'You're welcome. And remember, wherever you go, in body and mind, you simply need to call out to God and He is there - Author: Tricia Goyer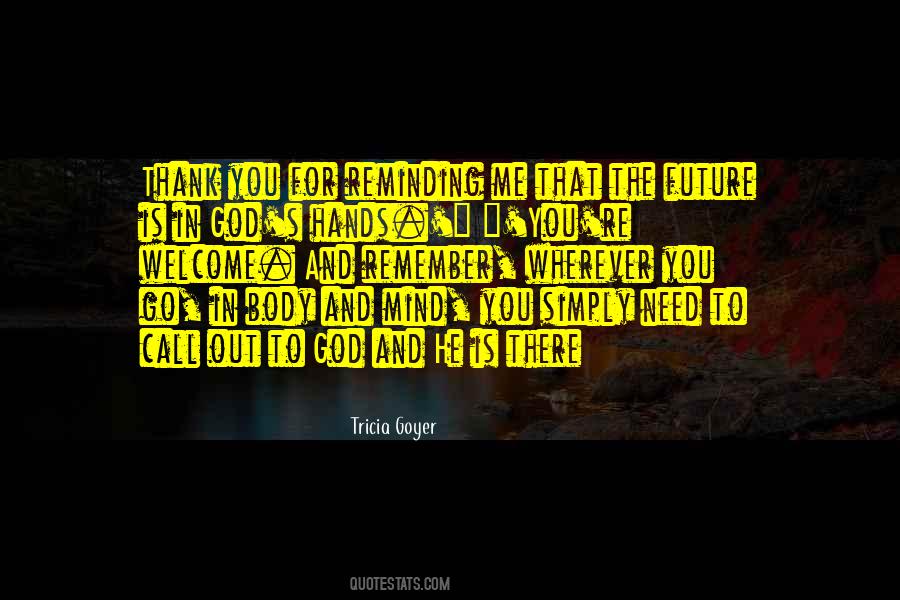 #80. We simply must have faith in each other, faith in our ability to govern ourselves, and faith in the future of this Nation. Restoring that faith and that confidence to America is now the most important task we face. - Author: Jimmy Carter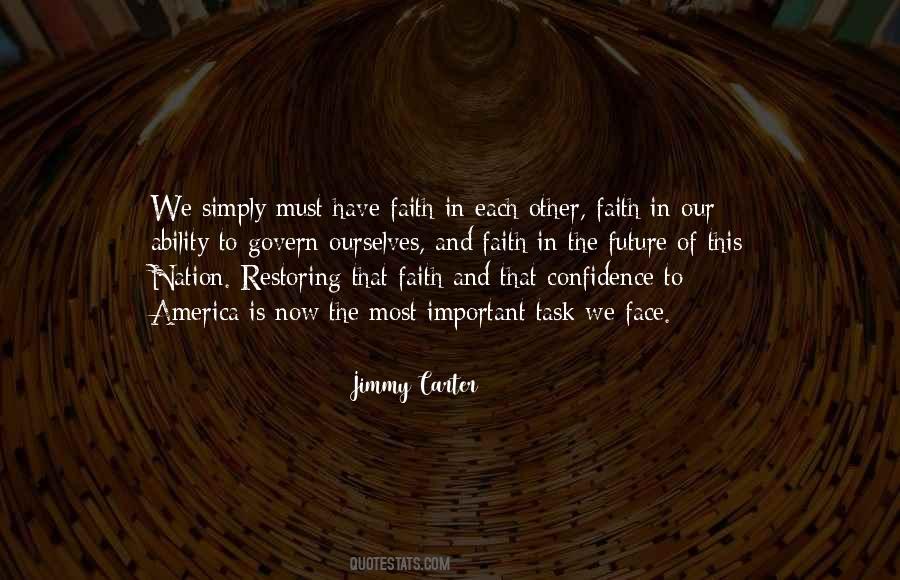 #81. The past is a source of knowledge, and the future is a source of hope. Love of the past implies faith in the future. - Author: Stephen E. Ambrose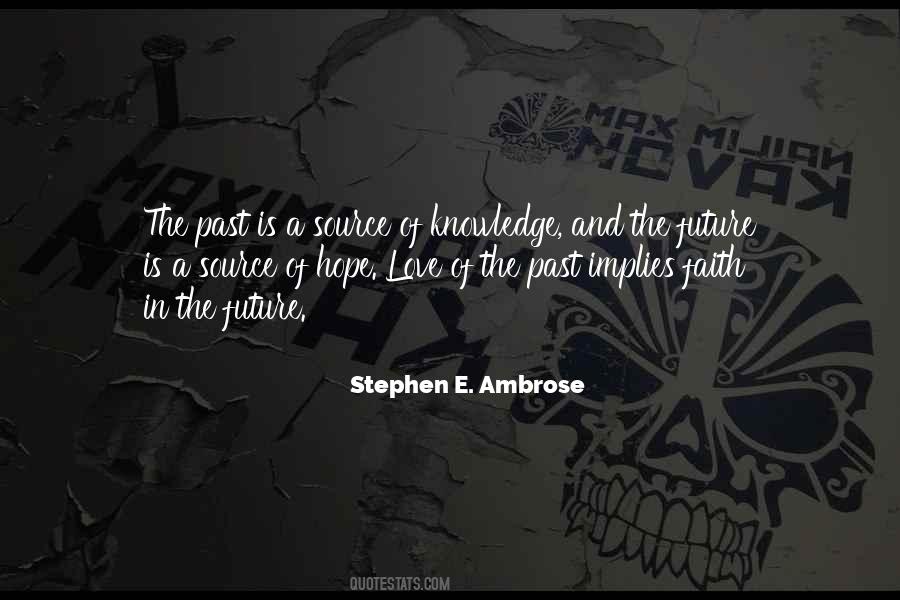 #82. Pakistan is heir to an intellectual tradition of which the illustrious exponent was the poet and philosopher Mohammad Iqbal. He saw the future course for Islamic societies in a synthesis between adherence to the faith and adjustment to the modern age. - Author: Benazir Bhutto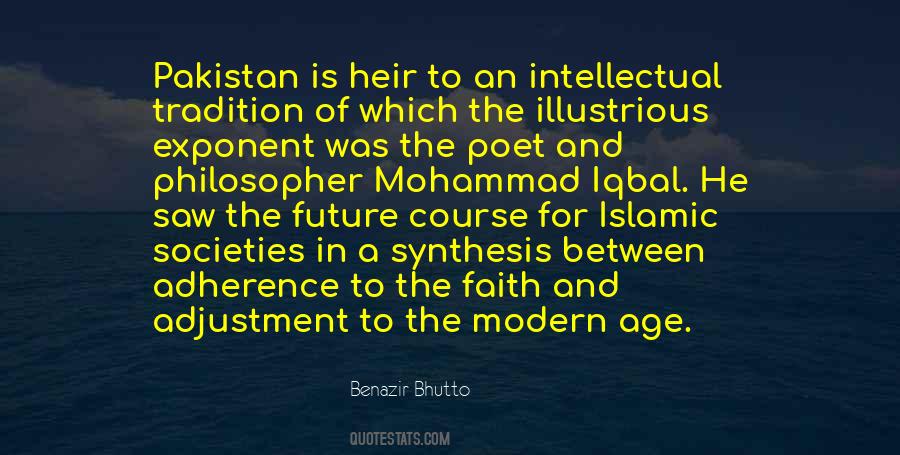 #83. The future of Conservatism lies in our beliefs and values, not by throwing them away. We need to shed associations that bind us to past failures, but hold faith with those things that make us Conservatives. - Author: Iain Duncan Smith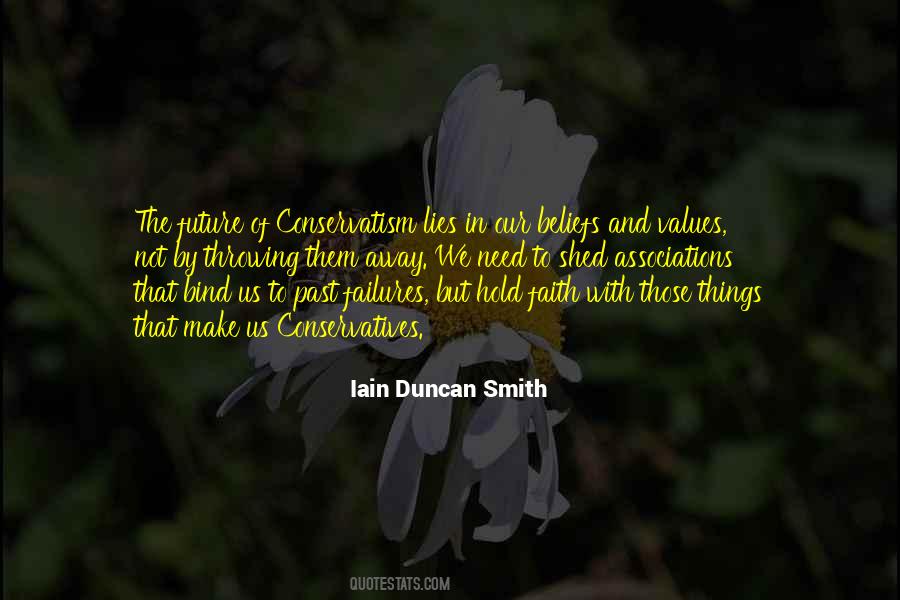 #84. Events in the train of prophecy that had their fulfillment away in the past are made future, and thus by these theories the faith of some is undermined. - Author: Ellen G. White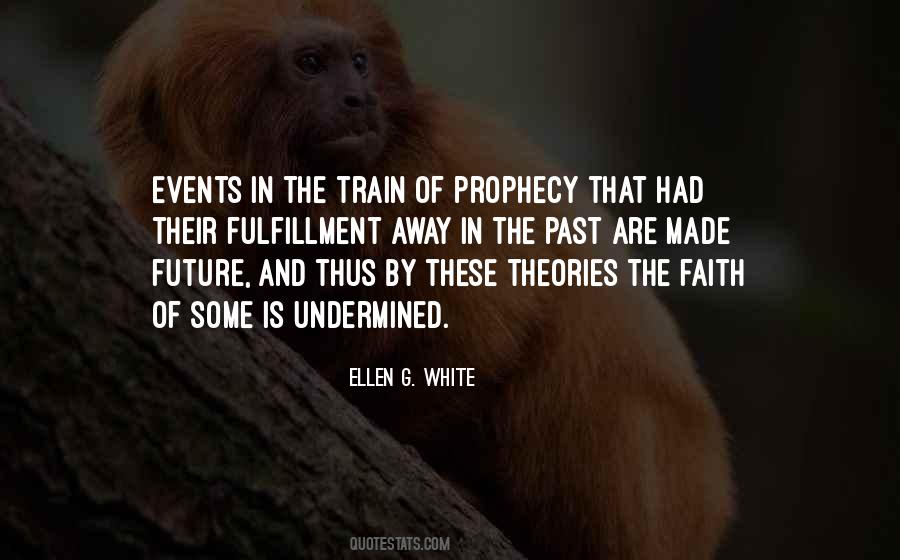 #85. Allow your dreams a place in your prayers and plans. God-given dreams can help you move into the future He is preparing for you. - Author: Barbara Johnson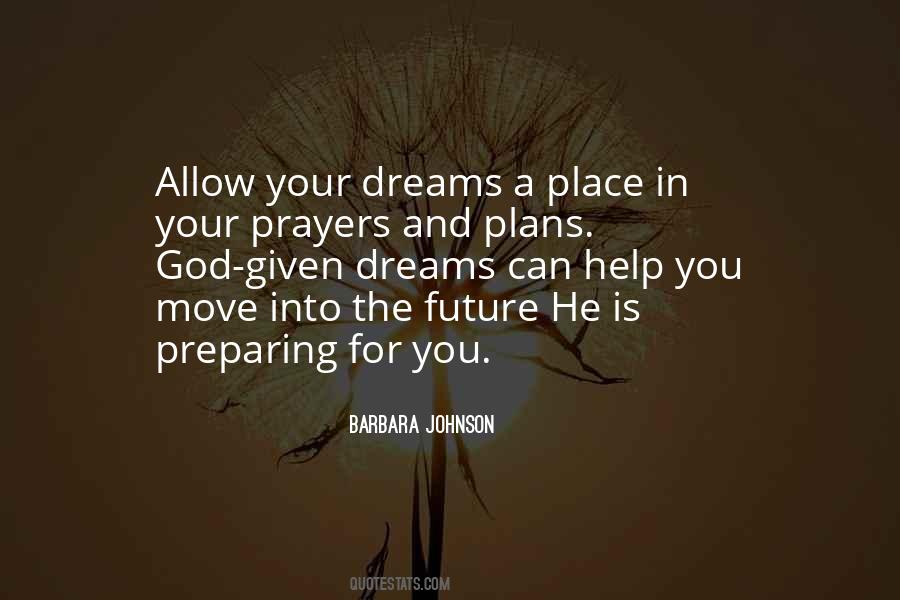 #86. He wants you to understand that there are no wasted moments. For His glory He uses everything that's happened, everything that's happening, and everything that will happen - past, present, and future. - Author: Louie Giglio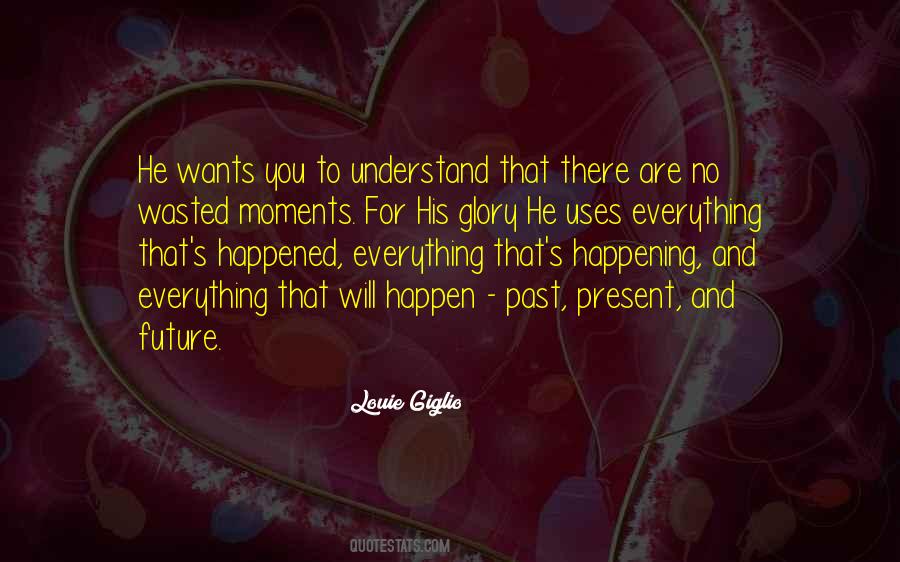 #87. Sorrow, anger and resentment look back, worry looks around, while faith, hope, and optimism look to the future. - Author: Dan Miller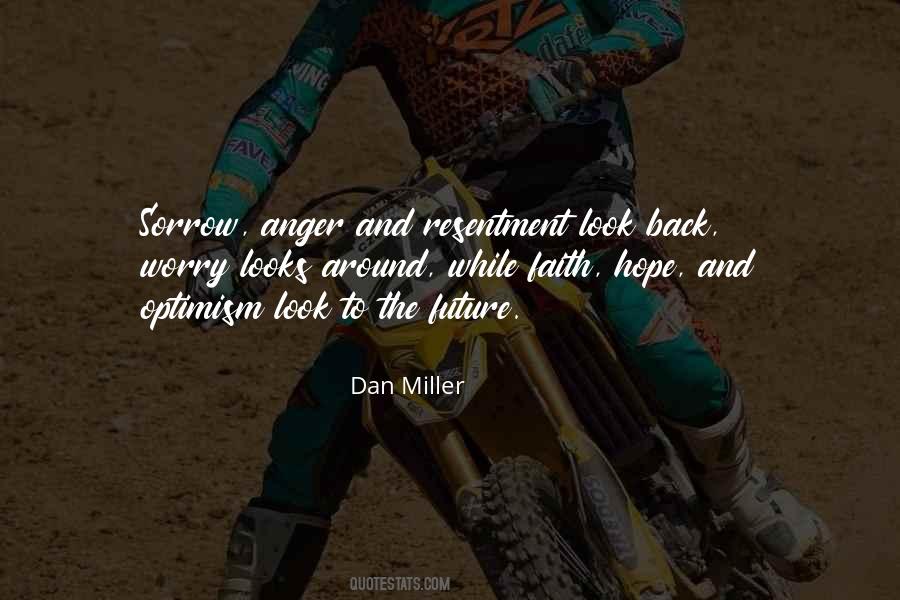 #88. Science and technology were the only keys to opening the door to the future, and people approached science with the faith and sincerity of elementary school students. - Author: Liu Cixin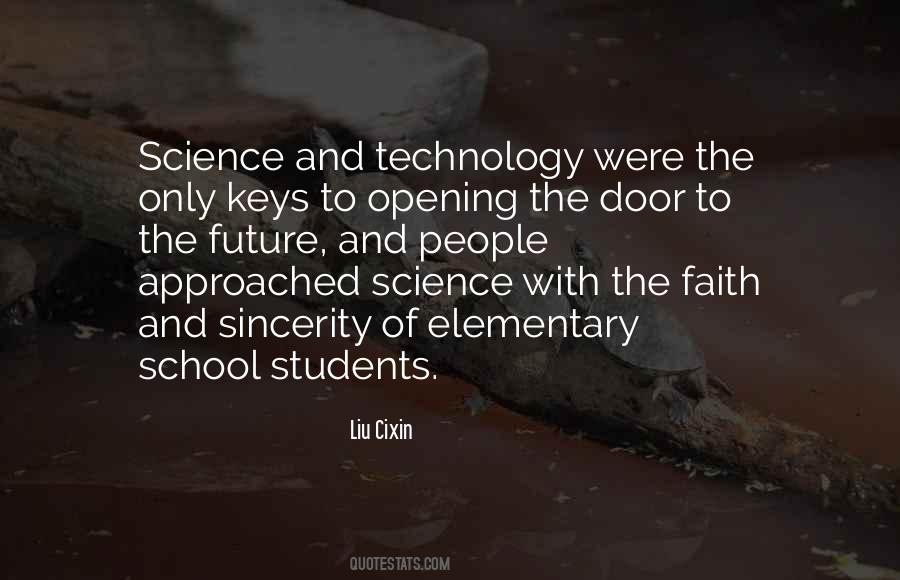 #89. When we place our faith in Christ, God becomes our Father, we become his children, other believers become our brothers and sisters, and the church becomes our spiritual family. The family of God includes all believers in the past, the present, and the future. - Author: Rick Warren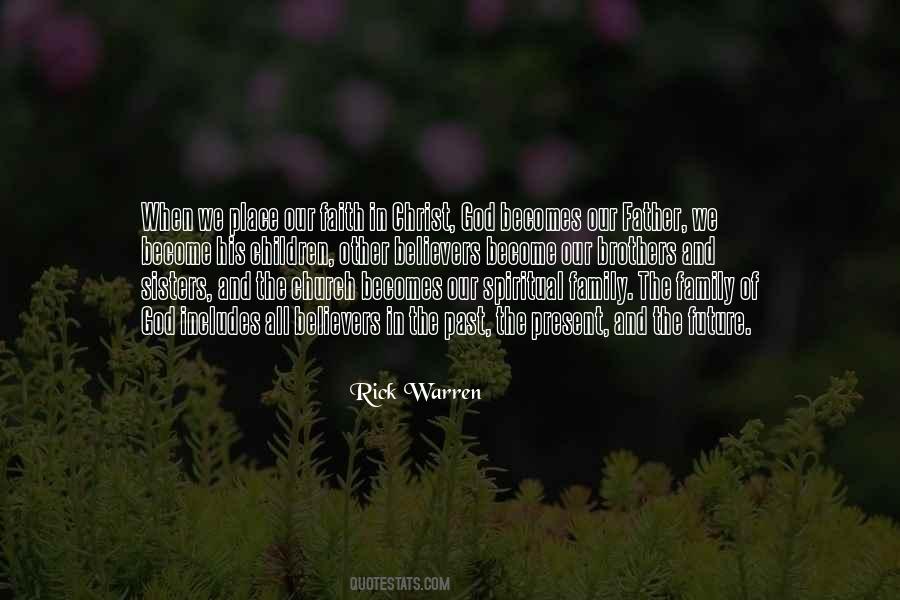 #90. I welcome the role that people of faith play in building Britain's future - and the Catholic communion in particular is to be congratulated for so often being the conscience of our country, for helping 'the least of these' even when bearing witness to the truth is hard or unpopular. - Author: Gordon Brown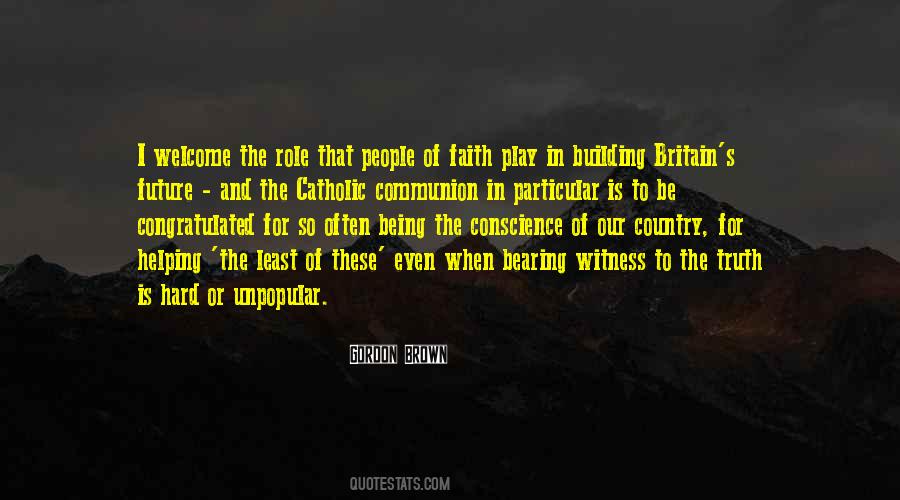 #91. The future can be anything we want it to be, providing we have the faith and that we realize that peace, no less than war, required blood and sweat and tears. - Author: Charles Kettering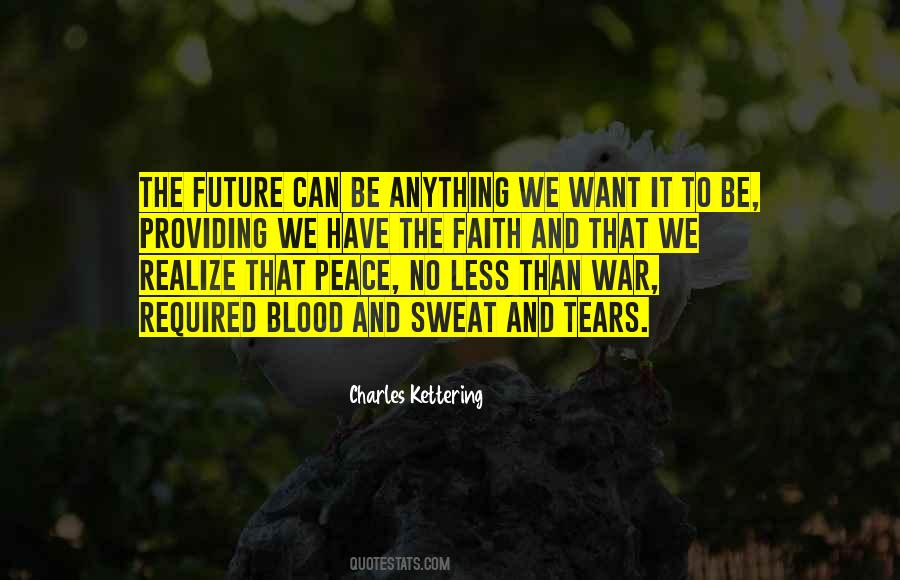 #92. The children have been a wonderful gift to me, and I'm thankful to have once again seen our world through their eyes. They restore my faith in the family's future. - Author: Jackie Kennedy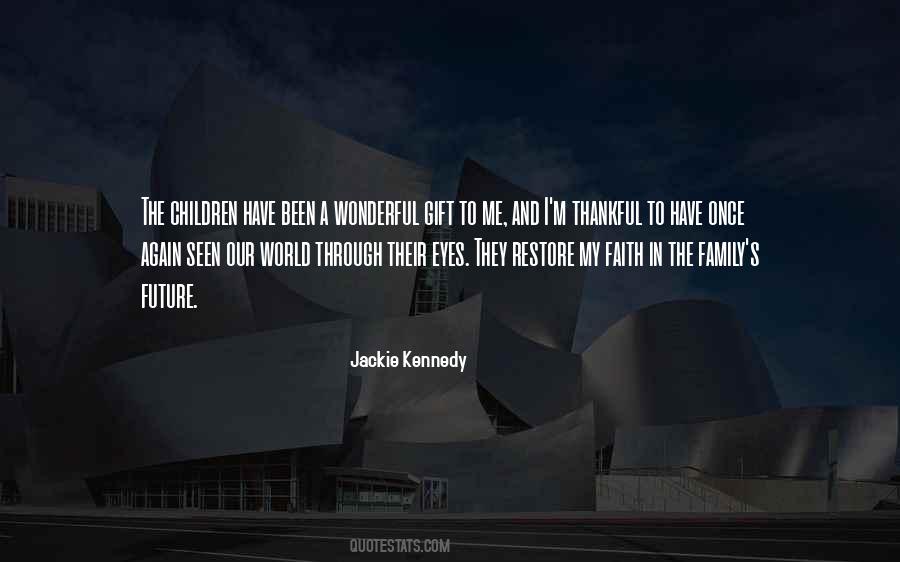 #93. Look up, look up, and let your faith continually increase. Let this faith guide you along the narrow path that leads through the gates of the city into the great beyond, the wide, unbounded future of glory that is for the redeemed. - Author: Ellen G. White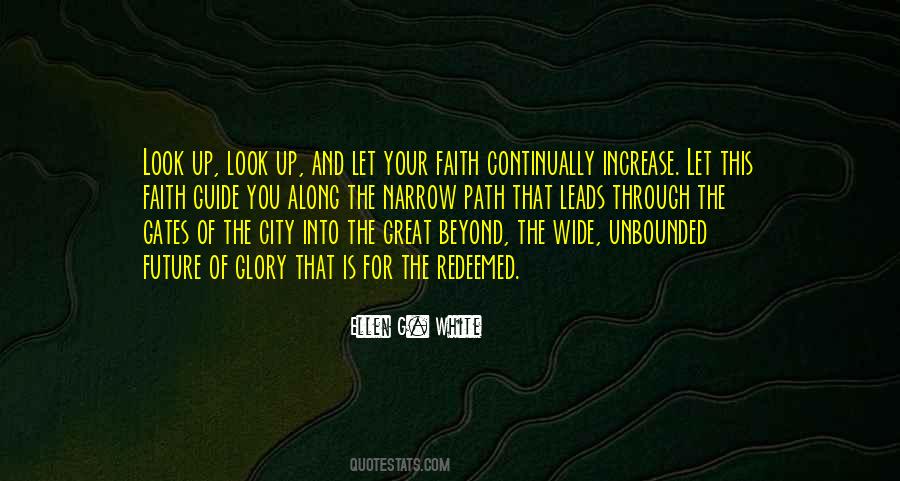 #94. Man has only wisdumb to gain knowledge but God alone has wisdom, for he possesses all knowledge past, present and future and there is not one iota of knowledge that he does not possess or will not possess. - Author: C.R. Lord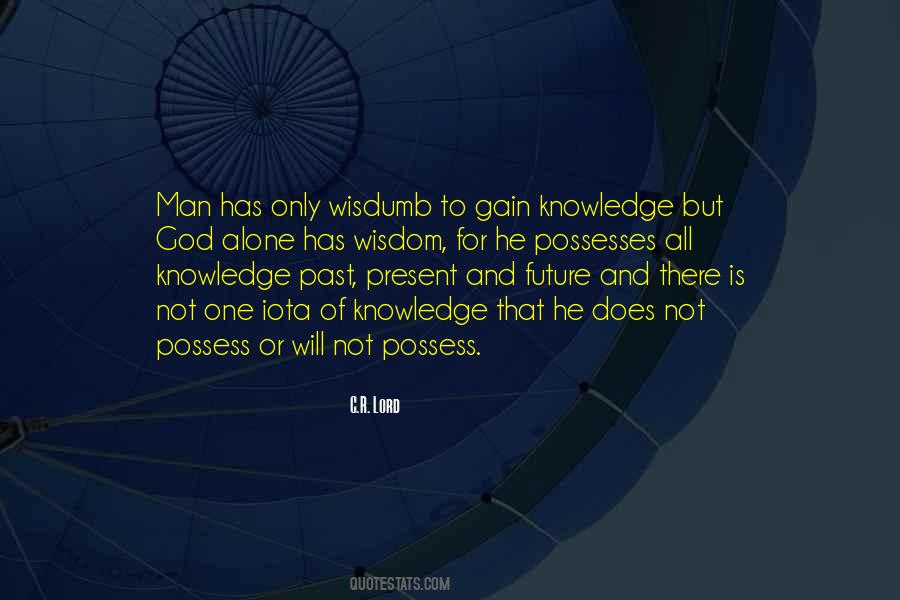 #95. May we be the kind of good faith Christians who shape the future by asking the right questions and then confronting what is wrong, clarifying what is confused, celebrating what is good, and creating what the world is missing. - Author: David Kinnaman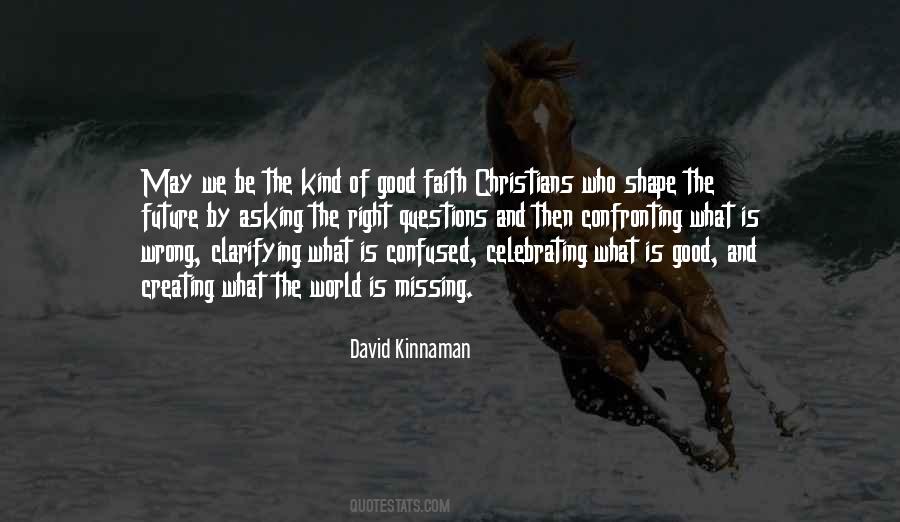 #96. No sinner is irreparable or irredeemable. No sin is so great that the blood of Jesus cannot cover it. His love is so deep and wide that he can, in one moment of our faith, forgive our past, present, and future sins. Sin is simply not a problem for God. - Author: Judah Smith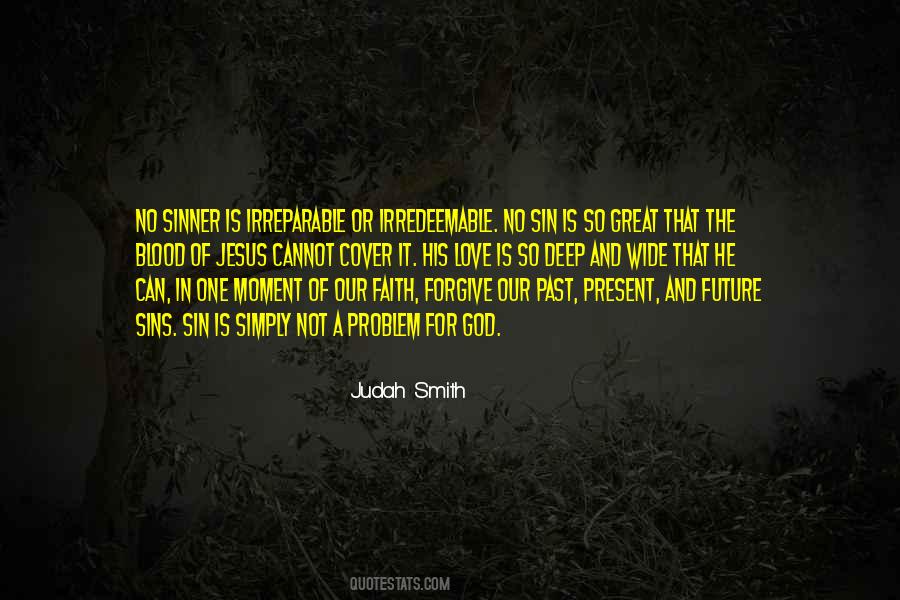 #97. Everything starts with faith. Faith causes us to see good things in the future, and because of this we develop a vision of success and prosperity in life. - Author: Casey Treat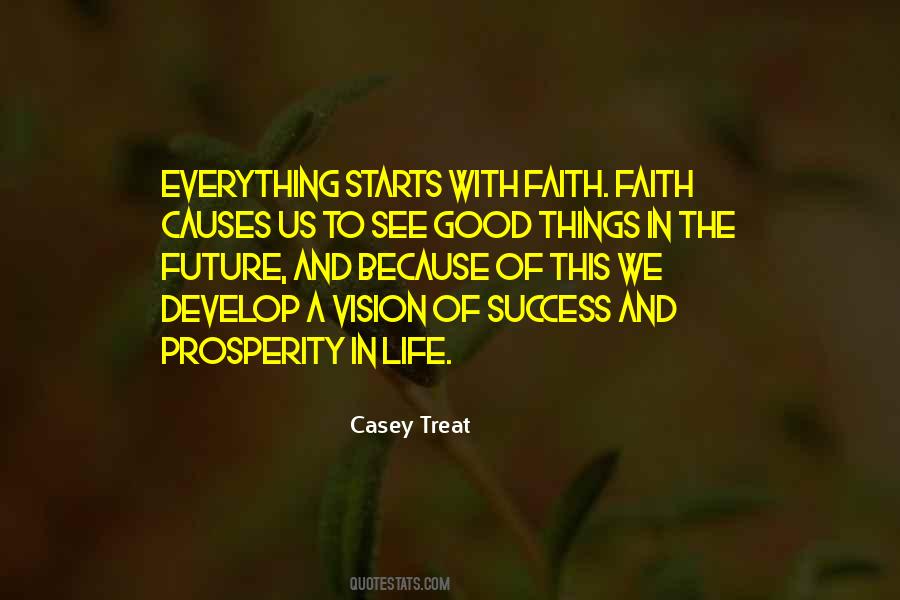 #98. If we maintain our faith in God, love of freedom, and superior global air power, the future looks good. - Author: Curtis LeMay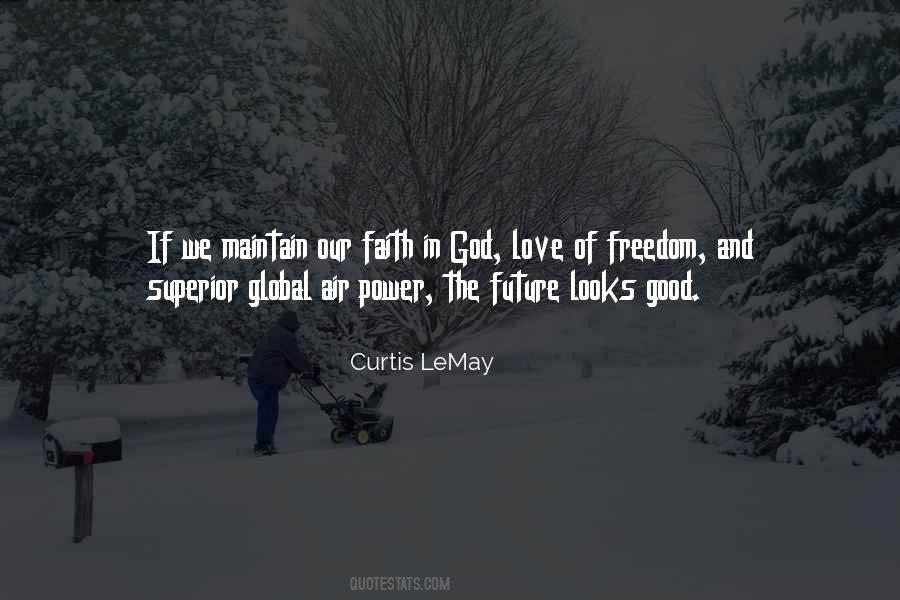 #99. You can never run from your past; it defines who you are today. But, use your Awo given intelligence and enjoy the future ... because THAT only comes once.' VAALBARA The Land of Shadows - Author: Michelle Horst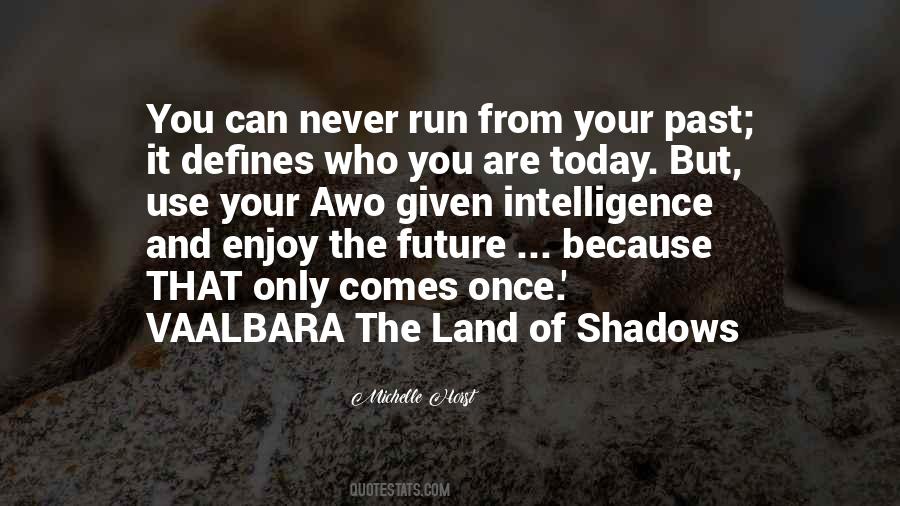 #100. The future of religion is connected with the possibility of developing a faith in the possibilities of human experience and human relationships that will create a vital sense of the solidarity of human interests and inspire action to make that sense a reality. - Author: John Dewey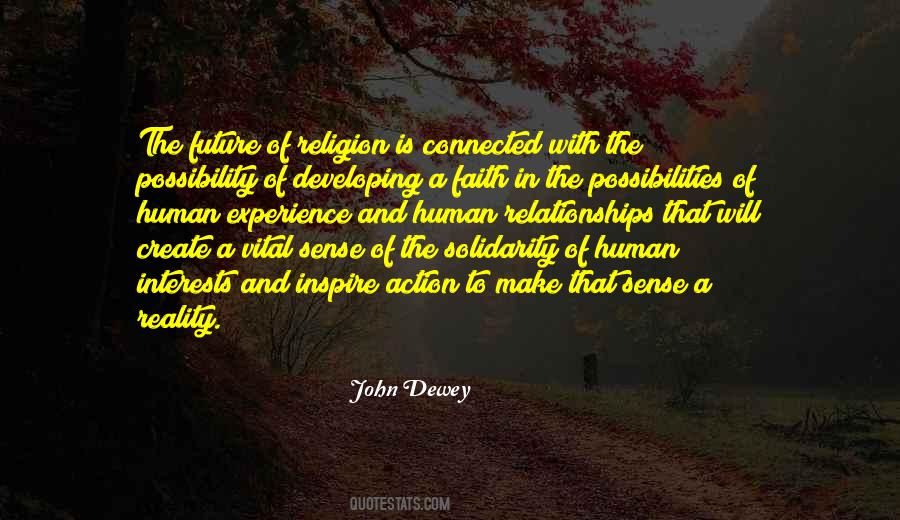 Famous Authors
Popular Topics