Friendships Over Time Famous Quotes & Sayings
List of top 46 famous quotes and sayings about friendships over time to read and share with friends on your Facebook, Twitter, blogs.
Top 46 Quotes About Friendships Over Time
#1. I think all women have a friend who at some point dumped them or betrayed them or deeply disappointed them. And at the same time all women have a friend who they dumped or betrayed or hurt in some way. That's universal in women's friendships. - Author: Lisa See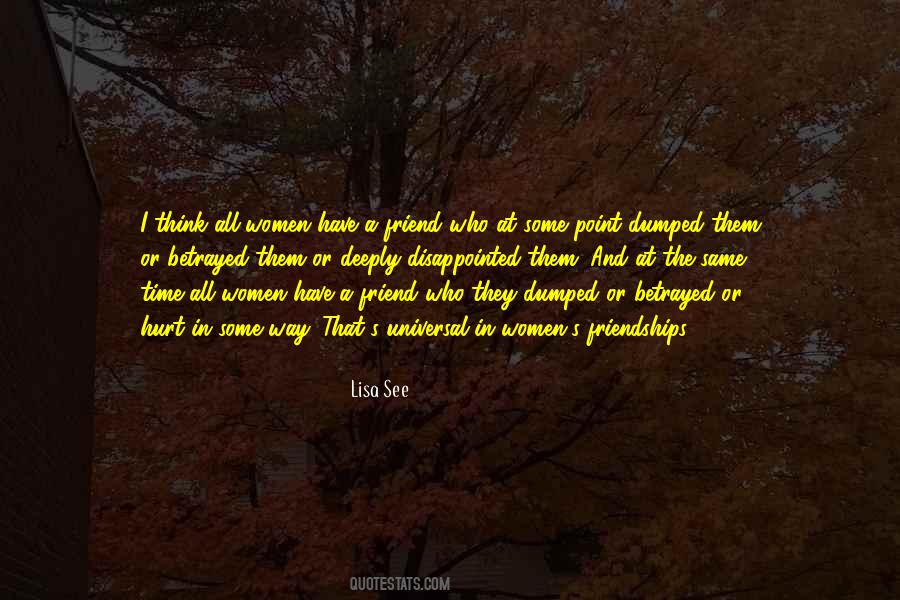 #2. Because the best kind of friendships never really ended. They could be put on pause for a short while or divided by space and time. But real friends - the truest ones - always waited and never missed a beat. - Author: Bethany-Kris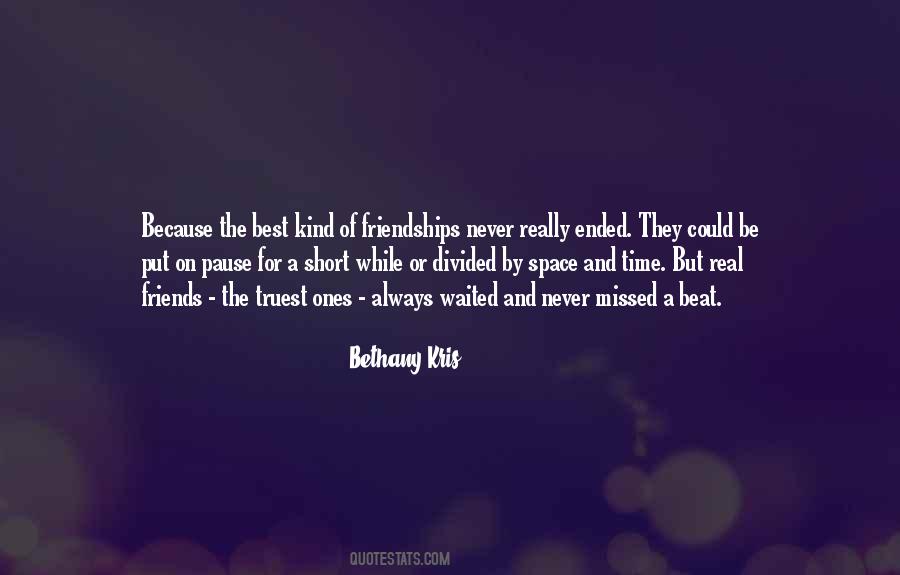 #3. They say distance makes old friendships fade away. They say with time and distance lovers forget one another. I find it quite the opposite. Distance, time, they all enhance the aroma of every moment two close souls once spent together, they magnify every little shared pleasure. - Author: Carol Vorvain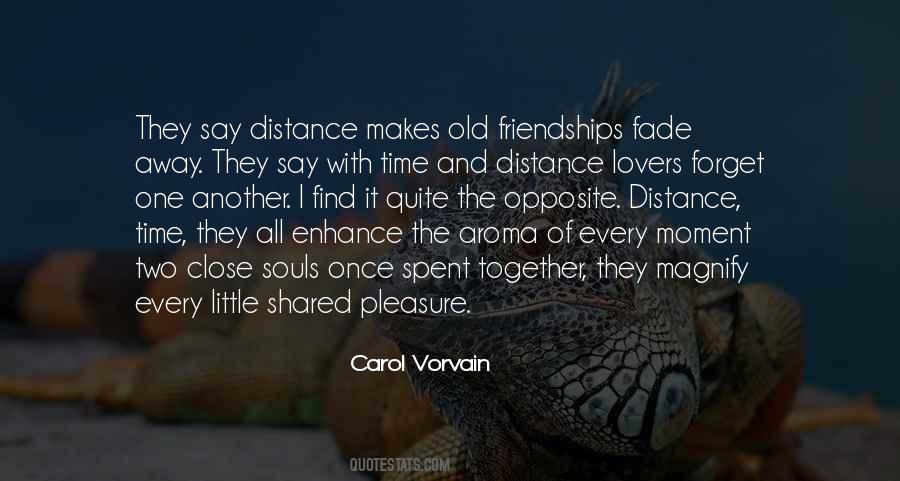 #4. Here in the big city people spend their time thinking about work and about money; they don't give some value to friendships and it can be depressing. - Author: Adriana Lima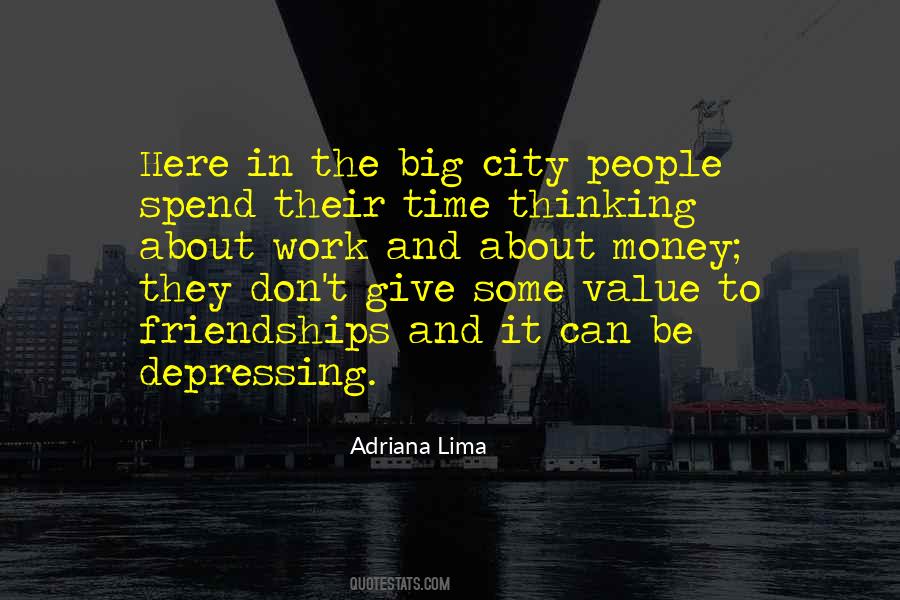 #5. Under a waxing moon--when dead moon awakens--Goddess becomes maiden swelling with light. This is the time of the Mystic East Gate...a time when the magick of Goddess revives. This is the time for new beginnings, new friendships, new powers...a time when a shattered soul may be reborn. - Author: Teresa Joyce Jackson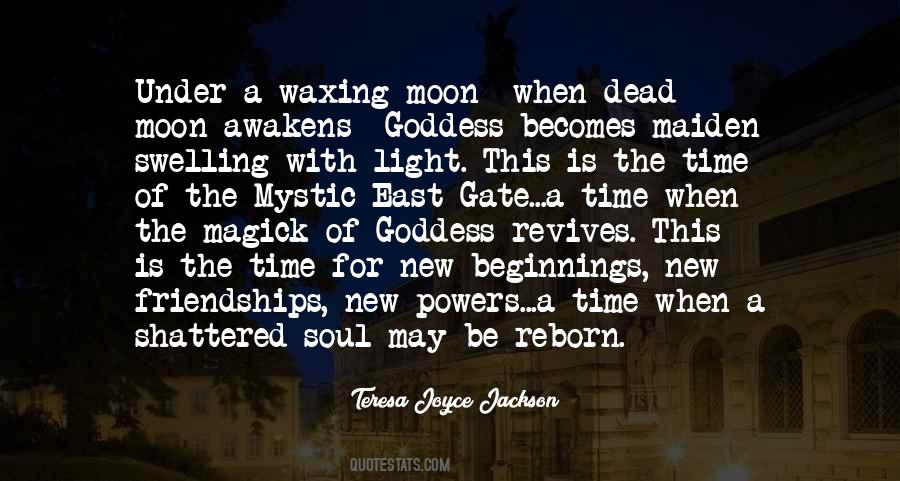 #6. I had a great time cheering for the team that I grew up idolizing and watching. The best part about the experience was the friendships I made and being part of an organization that is so involved with the community. - Author: Lauren Gardner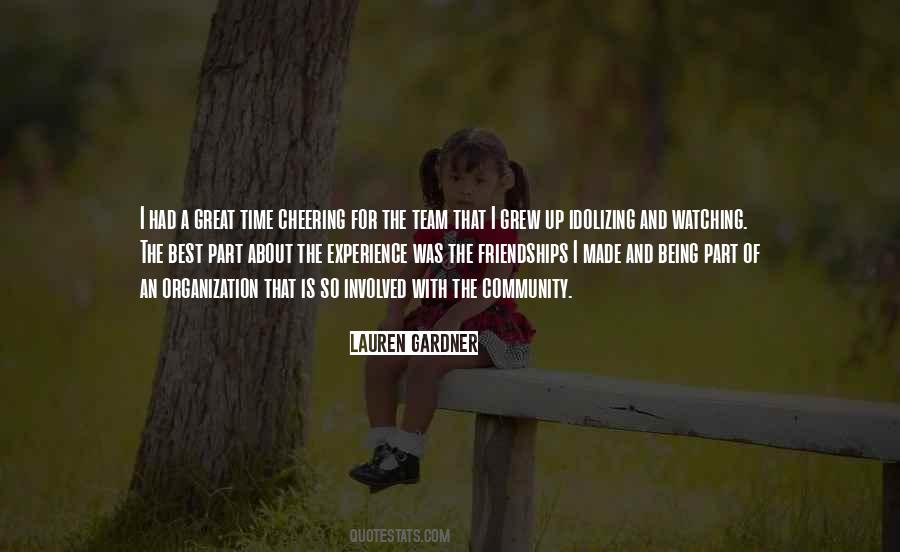 #7. That's the difference, a true friend is happy for you no matter what you do and what you have and quite frankly I didn't have the time for meaningless conversations or friendships that drained me of my energy. - Author: Christie Barlow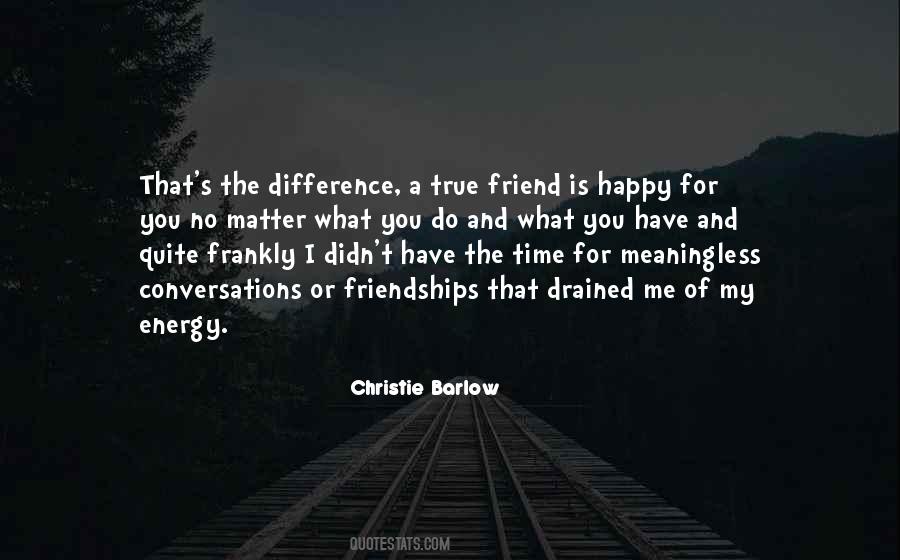 #8. Most of my good friends are my friends from high school or childhood, and they're not actors - they have 9-to-5 jobs. But I've obviously, over time, developed friendships with actors. It's two completely different worlds. - Author: Emily Meade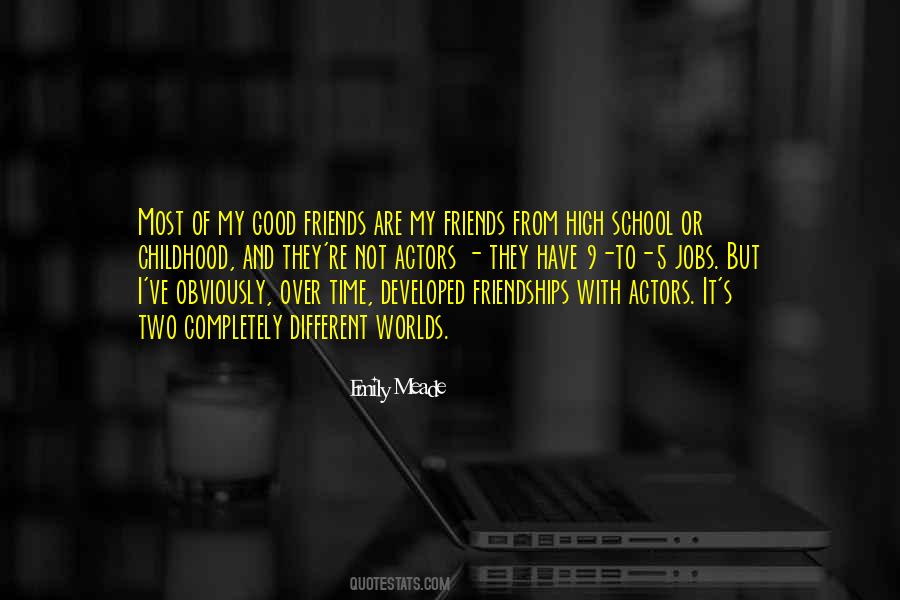 #9. I think the best friendships are those that can stand the test of time, where the friendship is based more on who you are than on what you do or what you have. - Author: Steve Pavlina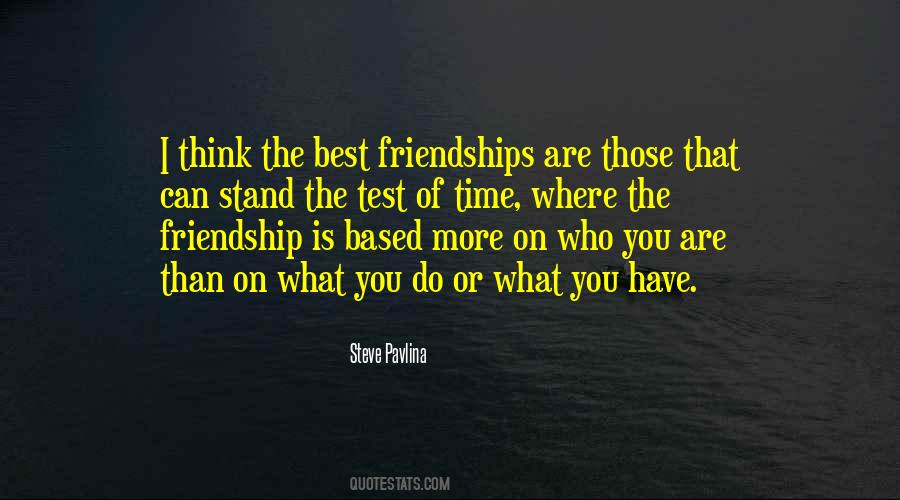 #10. The calendar says I had known him only a few months but there exist friendships which develop their own inner duration, their own eons of transparent time, independent of rotating, malicious music. - Author: Vladimir Nabokov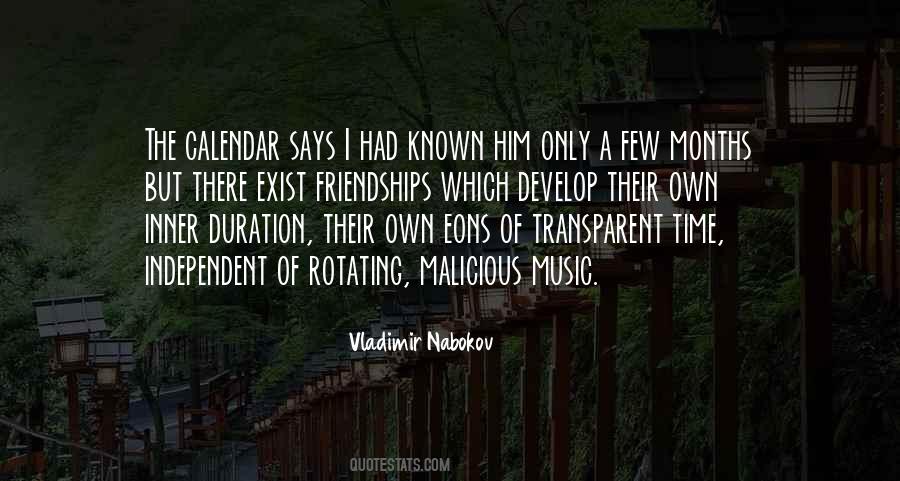 #11. Being a teenager is an amazing time and a hard time. It's when you make your best friends - I have girls who will never leave my heart and I still talk to. You get the best and the worst as a teen. You have the best friendships and the worst heartbreaks. - Author: Sophia Bush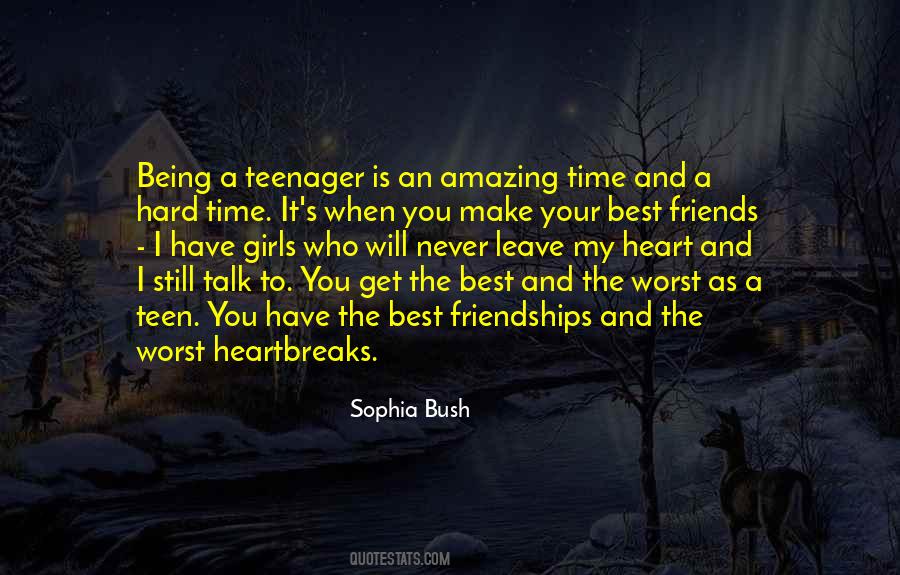 #12. I promote reading. I travel anywhere any time. In my books the indivuals face fears, issues, love, friendships, and are reminded qently that God is near! Great reads by Linda Green, Rosemary barkes,Liz Thompson, Richard Paul Evans - Author: Susan Kay Box Brunner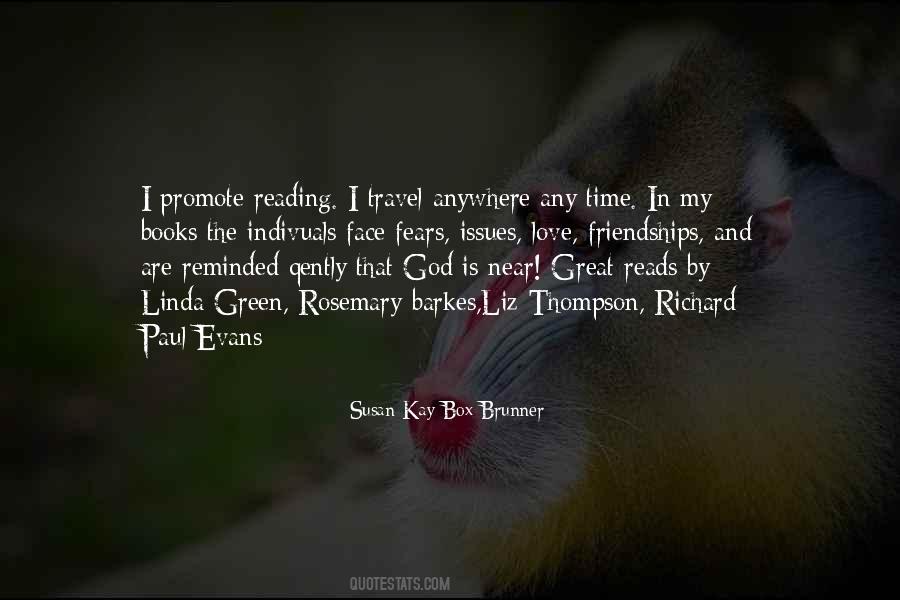 #13. You and I are so different: I am one word at a time one foot in front of the other, slowly, always testing how surely footing is before proceeding to the next sentence with ruminative breaks for buttered toast and coffee. - Author: Carlene Bauer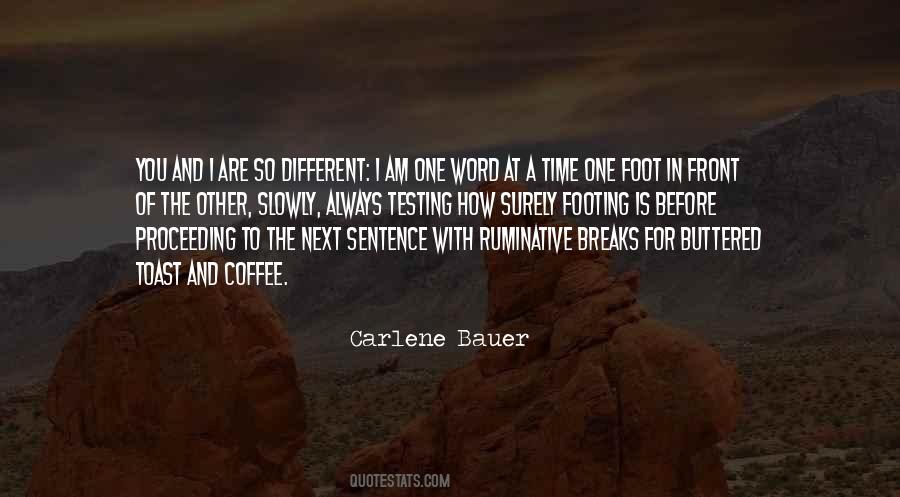 #14. I don't agree on spending time with someone who is more attached to his cell phone than he is to me. - Author: Mohamed Ghazi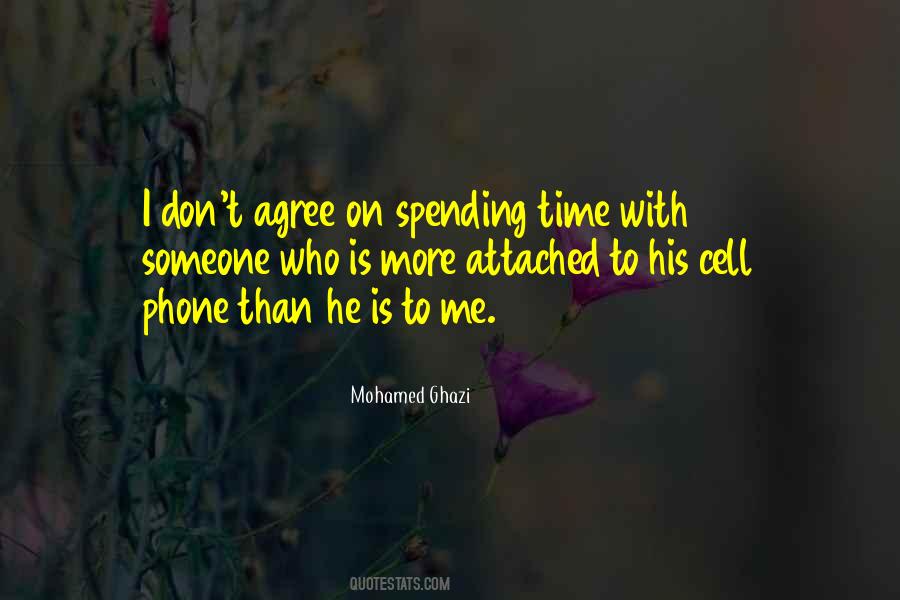 #15. Actually, my friendships are changing because my friends have kids, so that's a new aspect to the material. Not just that I don't want to have kids, it's that I'm having a hard time relating to people I know. - Author: Jen Kirkman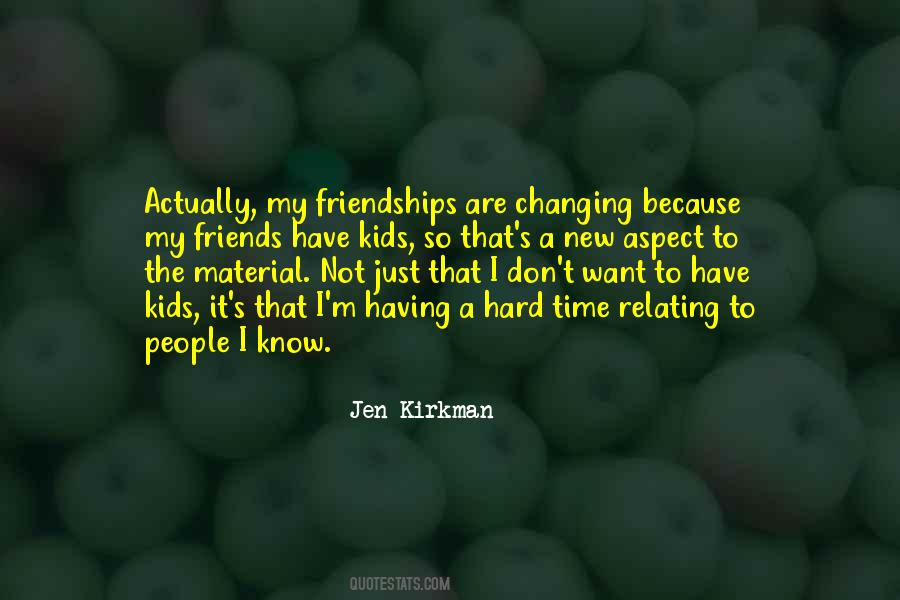 #16. ...but the tenure of friendships has never been governed by the passage of time. - Author: Amor Towles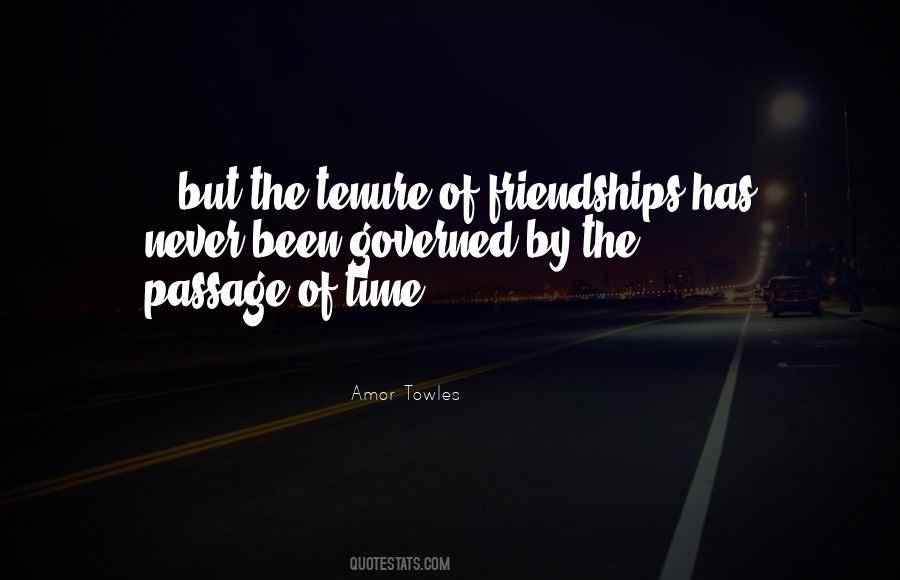 #17. Insanity is starting over a million times, expecting to feel the spark you never did the first time. - Author: Shannon L. Alder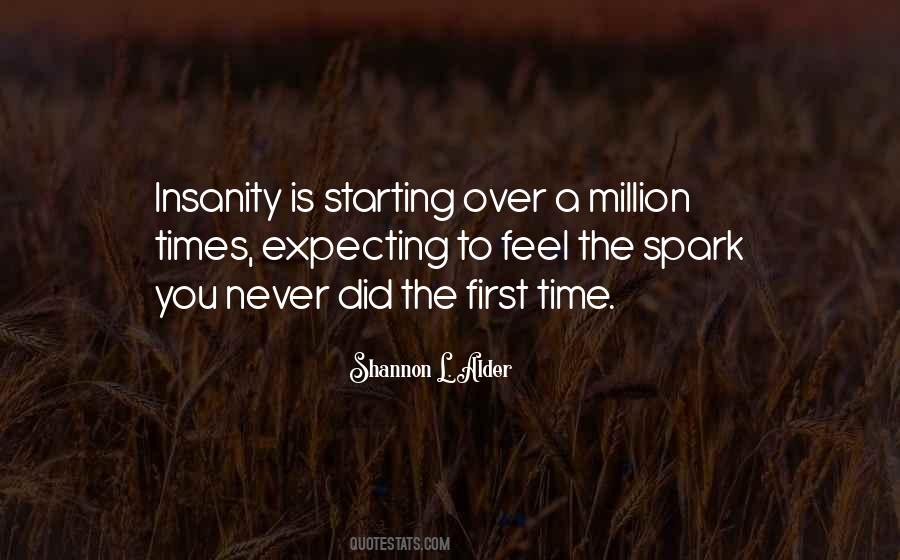 #18. Okay, he thinks, perhaps it's time for everybody to move on; nothing lasts forever, it's part of the physics of friendships, alliances, whatever it might be they perpetrated for a while among themselves. - Author: Paul Russell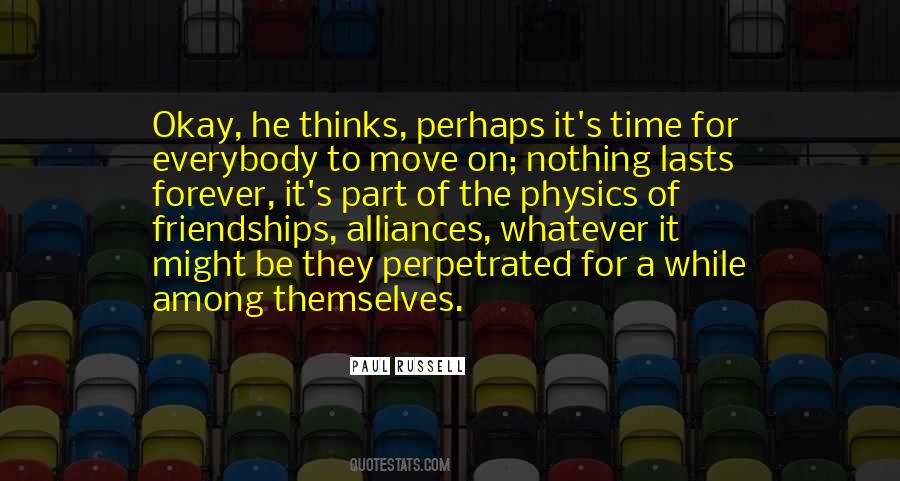 #19. So it has been, again and again throughout my life, as I form connections with people and then lose them to distance and time. I mourn those losses, even when I know my erstwhile friends are safe and happy among their own kin. - Author: Marie Brennan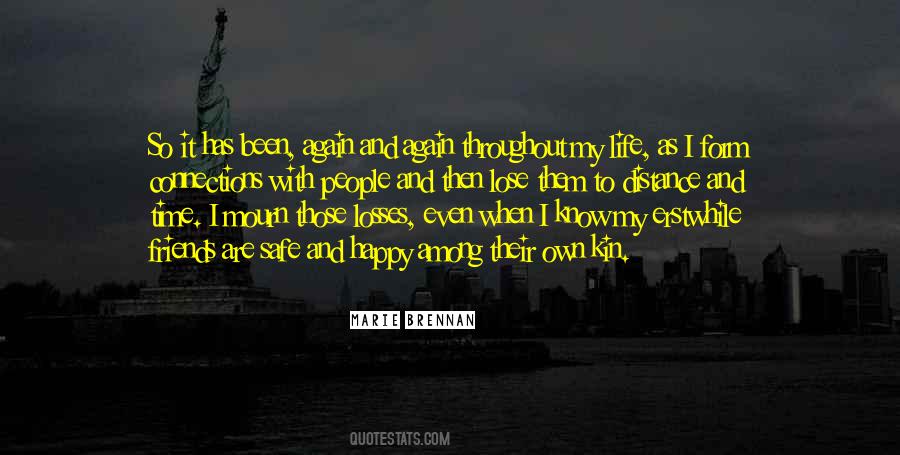 #20. Now the baby boomers, i.e., us, are getting older, and were suddenly discovering that there are great things about getting older. You have time for your friendships and you appreciate them in ways that you didn't before. - Author: Anna Quindlen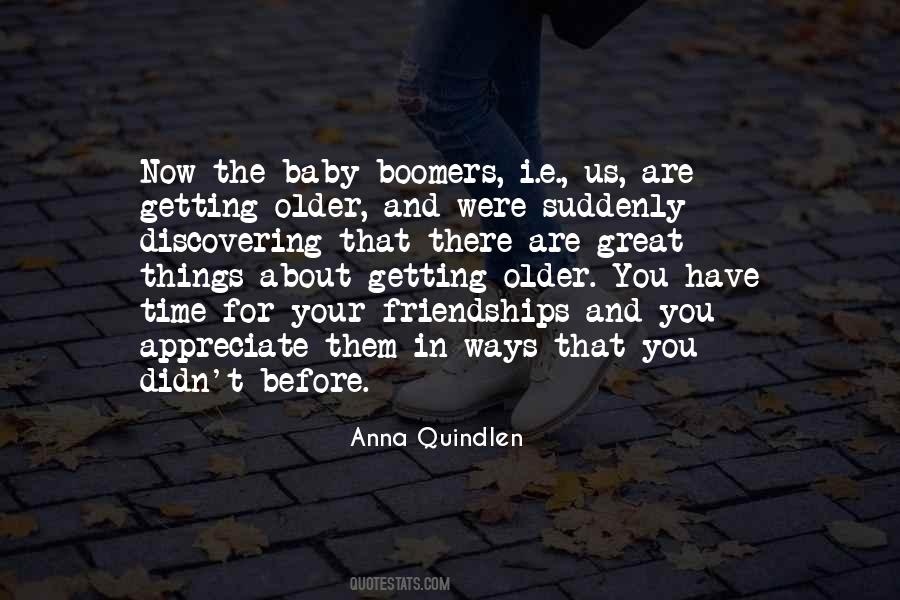 #21. It's funny, I'd rather be known as a writer who crafted a really nice piece about women's friendships over time. But that doesn't roll off the tongue like 'YouTube sensation.' - Author: Kelly Corrigan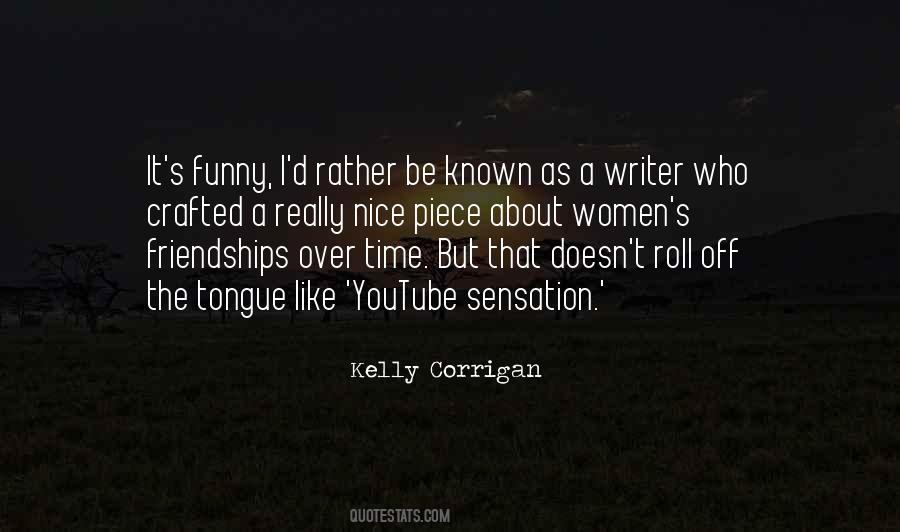 #22. You accumulate a great deal of acquaintances and friendships over the years, and you can't always spend as much time as you would like. - Author: Jamie Farr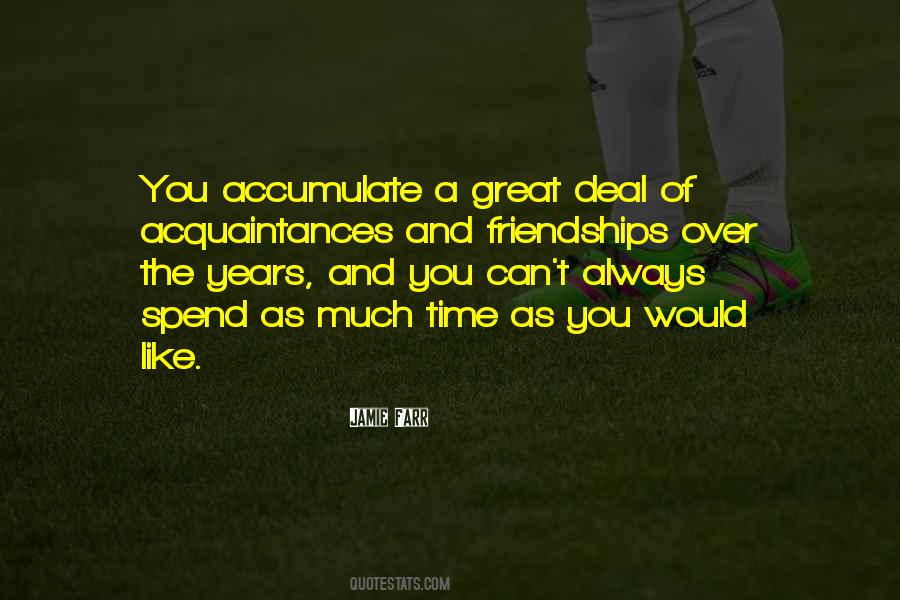 #23. Long friendships are like jewels, polished over time to become beautiful and enduring. - Author: Celia Brayfield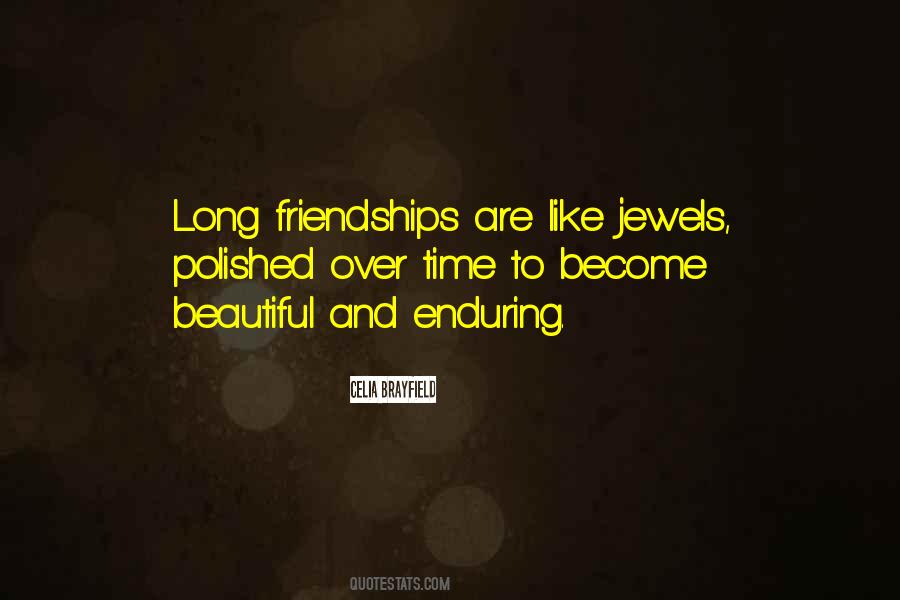 #24. Many a time from a bad beginning great friendships have sprung up. - Author: Terence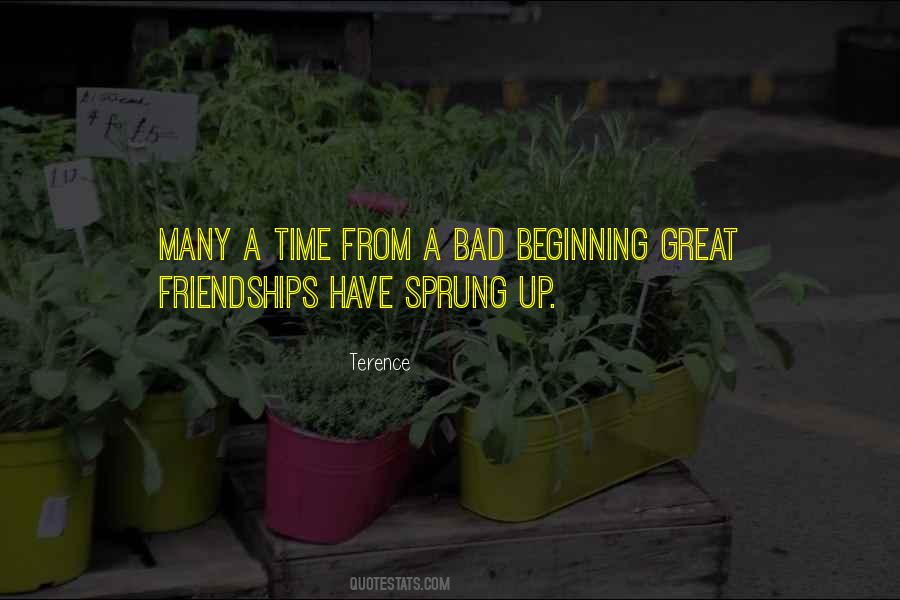 #25. I've spent most of my life and most of my friendships holding my breath and hoping that when people get close enough they won't leave, and fearing that it's a matter of time before they figure me out and go. - Author: Shauna Niequist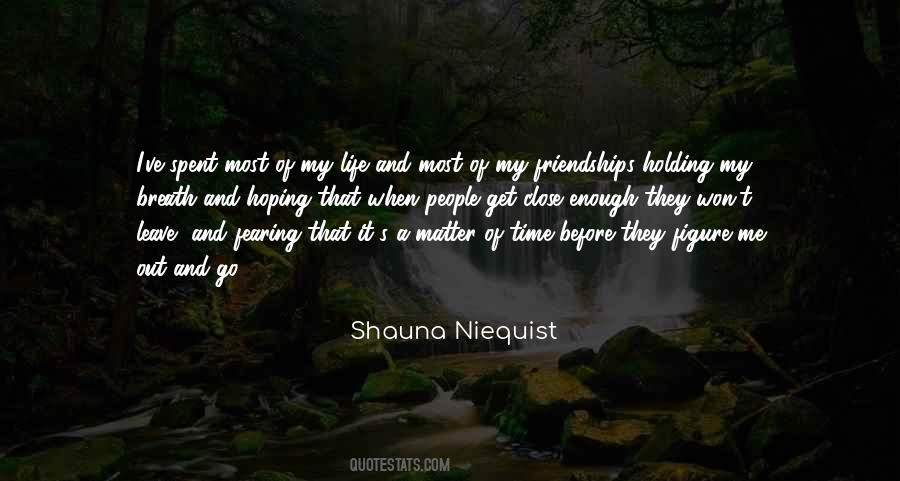 #26. I've enjoyed my time in the American League, the fans of Southern California and other friendships. - Author: Joe Torre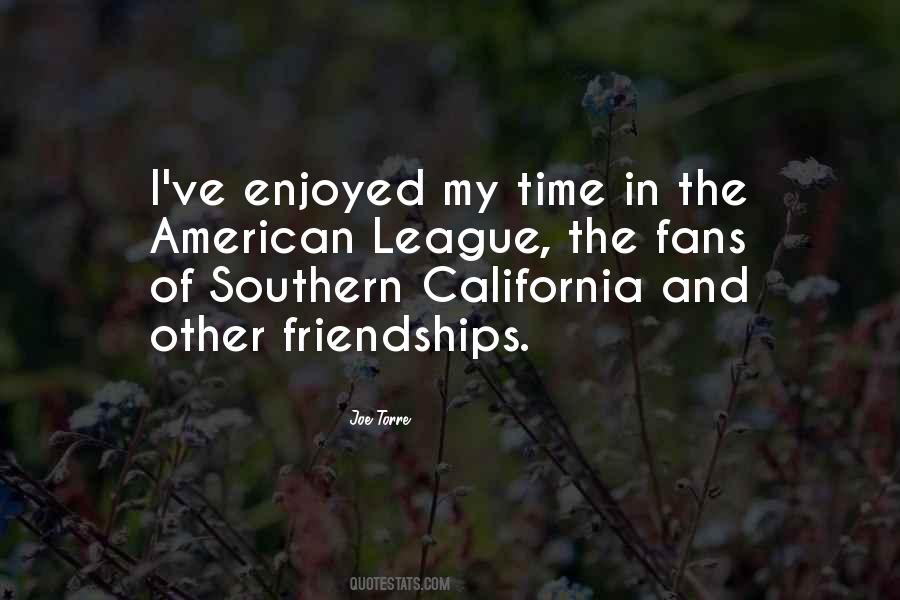 #27. All careers go up and down like friendships, like marriages, like anything else, and you can't bat a thousand all the time. - Author: Julie Andrews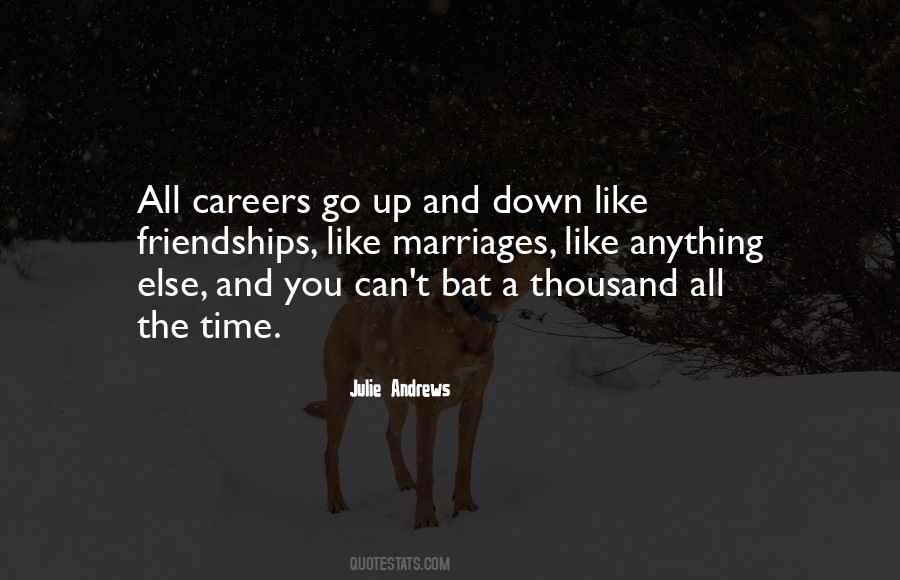 #28. Most people are enduring a marginalized isolation. One of the great obstacles to modern friendships is the 'religion of rush.' People are rushing all the time through time. Friendship takes time. - Author: John O'Donohue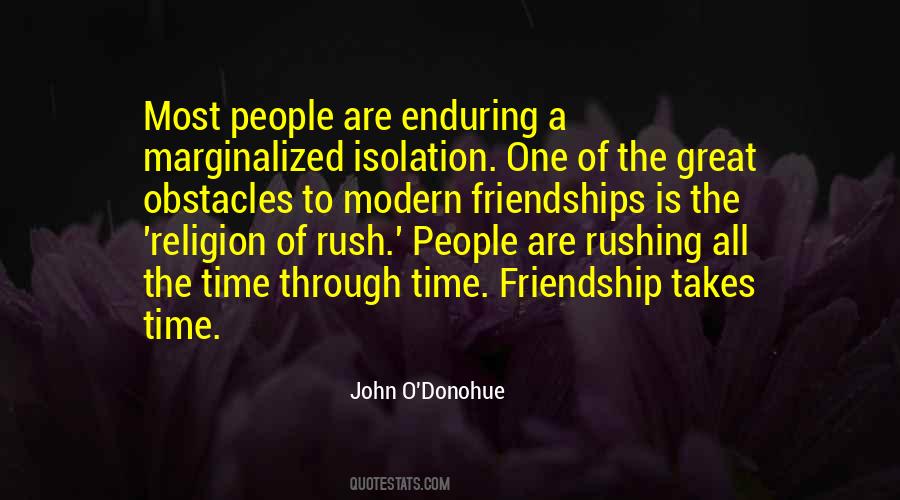 #29. Vote; it's the most important right granted to you as a citizen. But unless you are a politician, stay out of politics because your gains will not change anything and your losses will only make you waste your time and many friendships. - Author: Ben Tolosa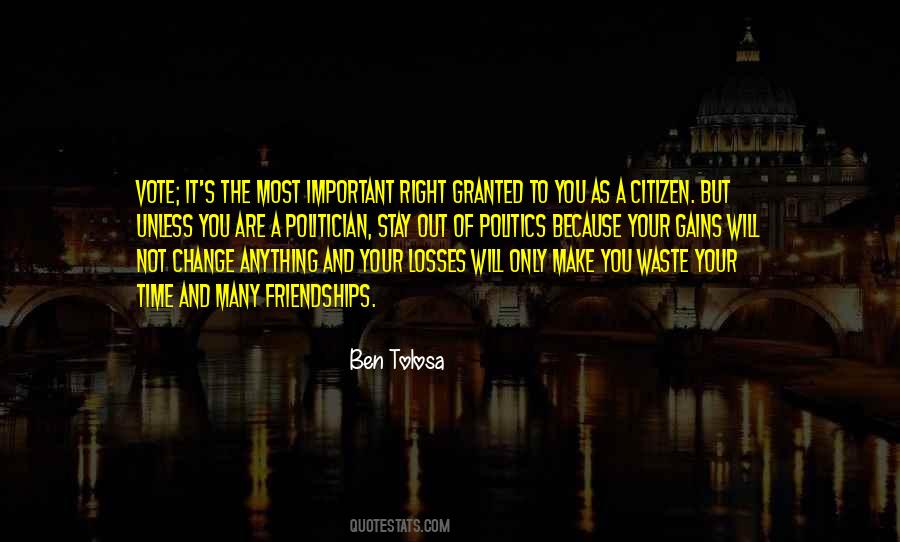 #30. The prince who relies upon their words, without having otherwise provided for his security, is ruined; for friendships that are won by awards, and not by greatness and nobility of soul, although deserved, yet are not real, and cannot be depended upon in time of adversity. - Author: Niccolo Machiavelli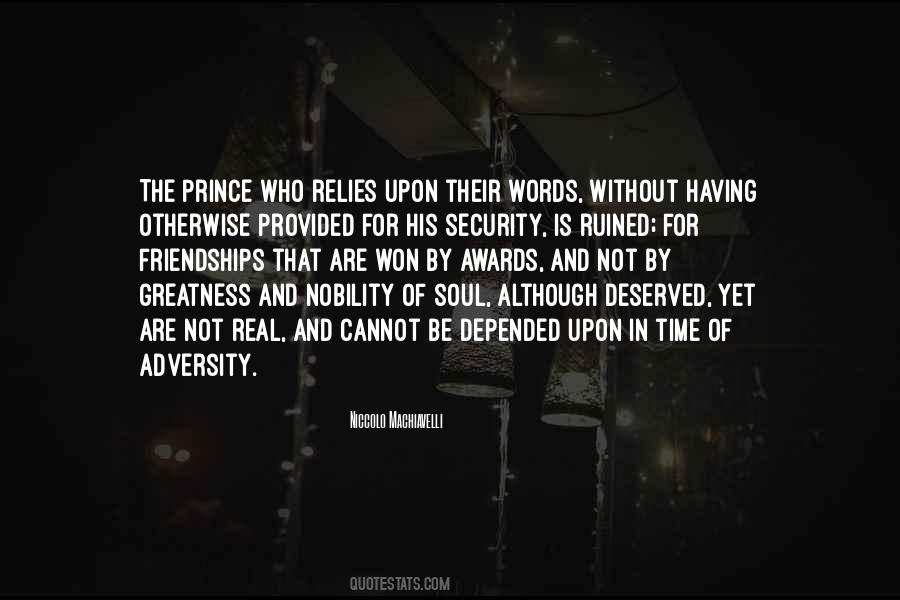 #31. The best kind of friend is the one you could sit with,hardly saying a word, and then walk away feeling like that was[the]best time you've ever had - Author: Molly Detweiler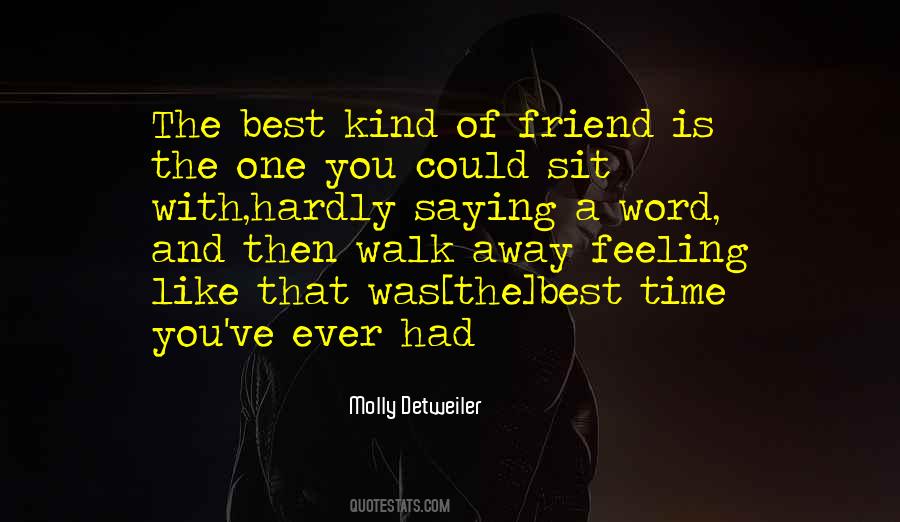 #32. I no longer have the energy for meaningless friendships, forced interactions or unnecessary conversations. If we don't vibrate on the same frequency there's just no reason for us to waste our time. I'd rather have no one and wait for substance than to not feel someone and fake the funk. - Author: Joquesse Eugenia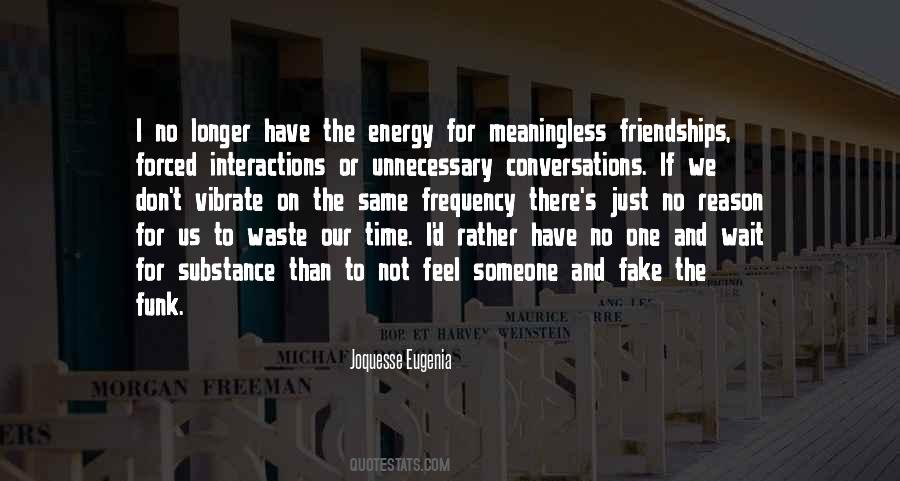 #33. I said, wouldn't it be nice, instead of having these women fight with each other over men, which seems to be more of a cliche, wouldn't it be wonderful if they were the true comrades and it took these men much more time to infiltrate their friendships. - Author: Jennifer Beals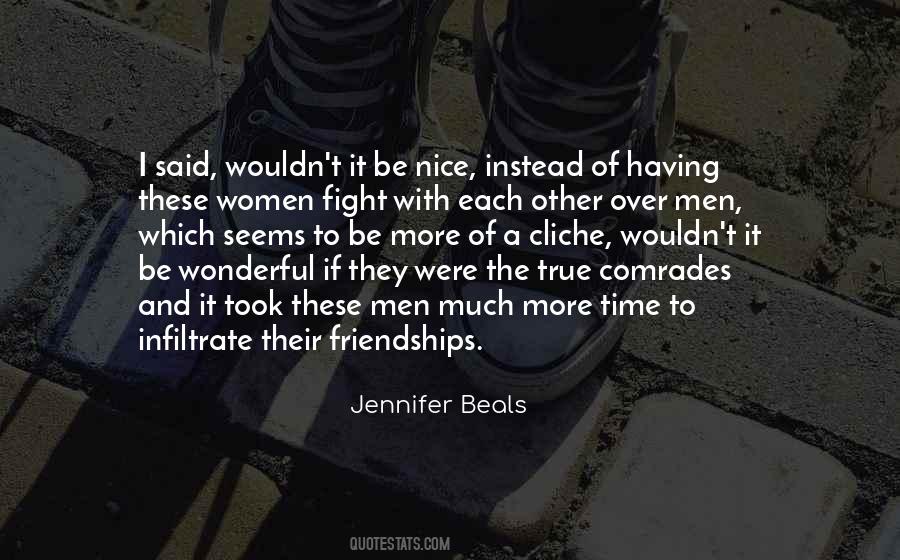 #34. All are friends in heaven, all faithful friends,
And many friendships in the days of Time
Begun, are lasting there and growing still. - Author: Robert Pollok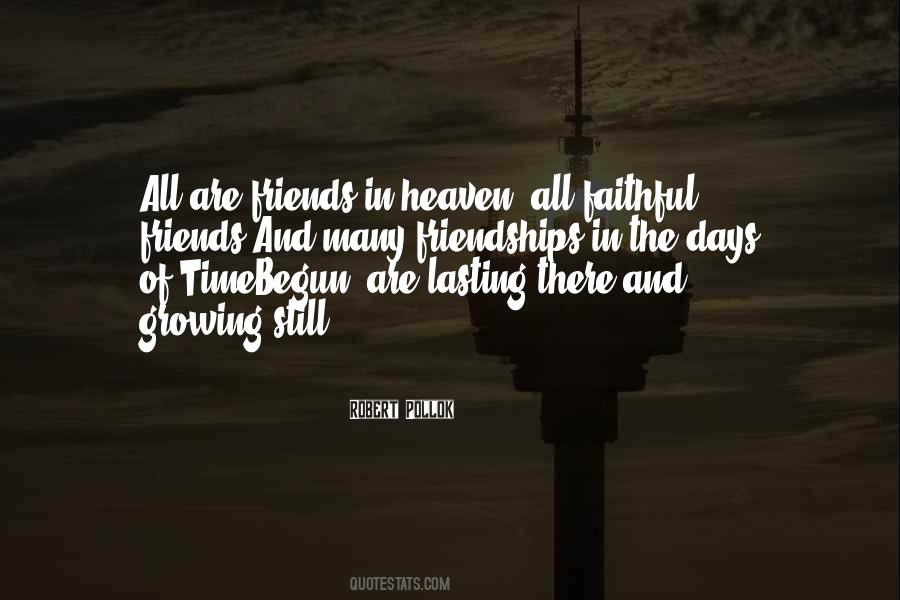 #35. Lack of reciprocity ruins friendships, but makes love affairs exciting for a time. - Author: Mason Cooley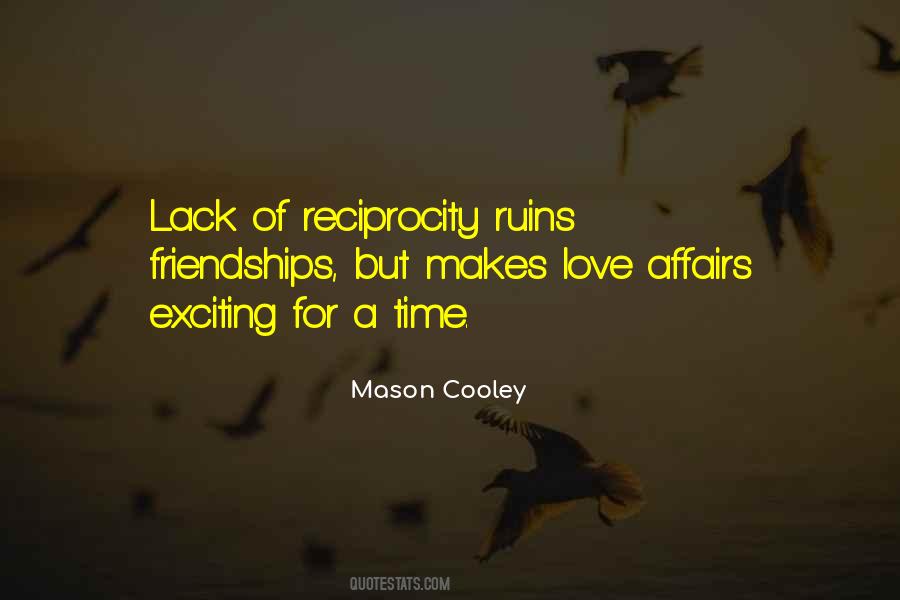 #36. Sometimes friendships go bad, she tells herself. Relationships soften and rot like old fruit. They have their time, and then they shrivel and grow putrid. She - Author: Jennie Fields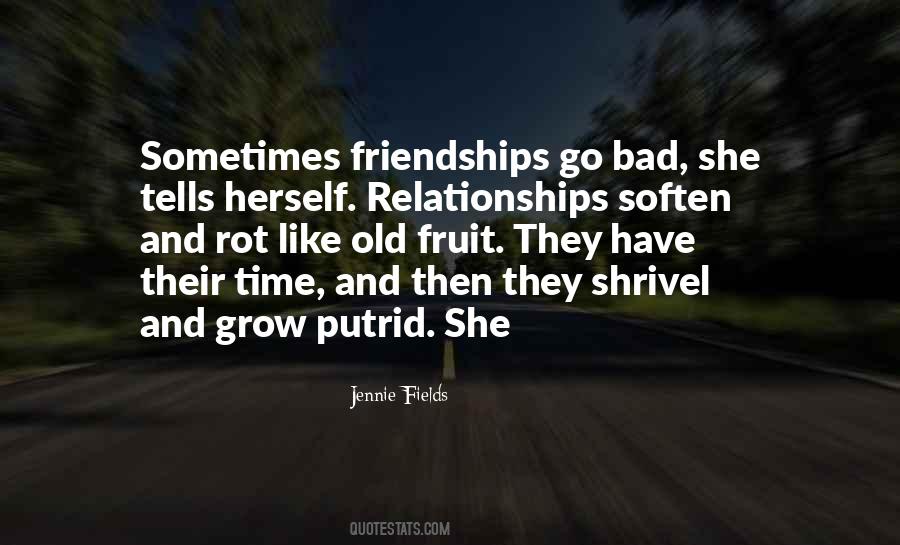 #37. Long afterward Amory thought of sophomore spring as the happiest time of his life. His ideas were in tune with life as he found it; he wanted no more than to drift and dream and enjoy a dozen new-found friendships through the April afternoons. - Author: F Scott Fitzgerald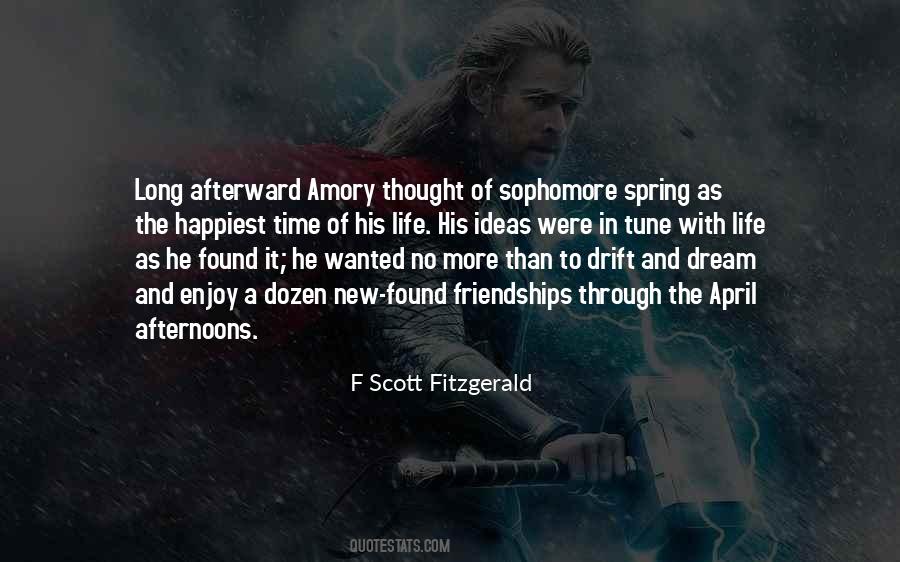 #38. There have been some friendships lost over this. That's the most difficult for me. I find it very uncomfortable to know that I was at one time close friends with someone, and because of jealousies and misunderstandings and so on, these friendships have dissolved. - Author: Donald Johanson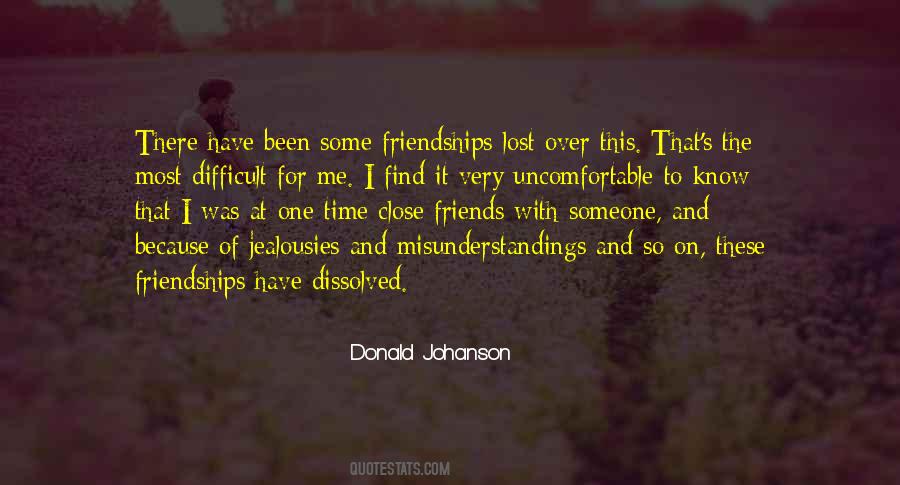 #39. I think the girls are attracted to me because they can relate to me. The girls are nice when you're in my situation, but since I'm in here [in jail] I spend more time writing to them about the relationship, rather than living it, but there are good friendships formed never-the-less. - Author: Richard Ramirez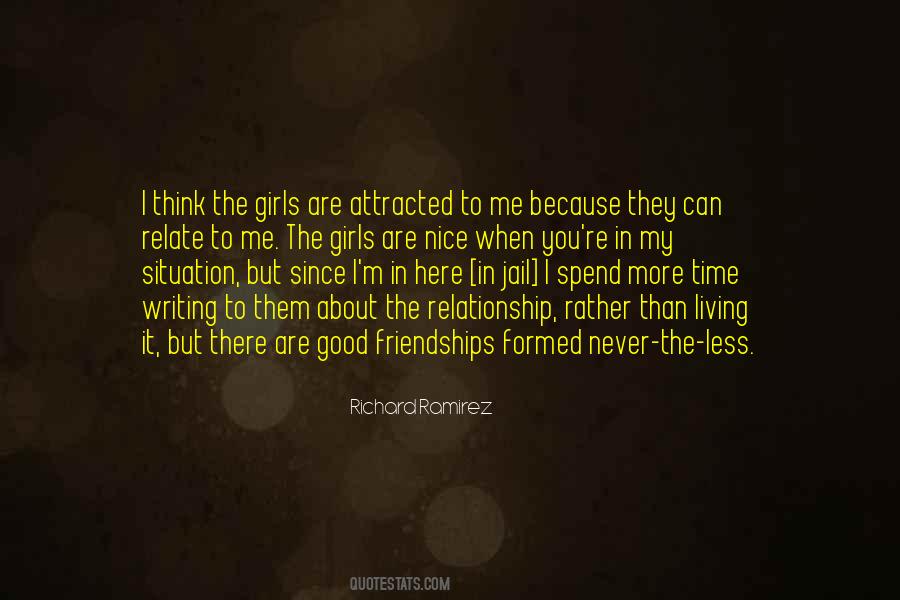 #40. I try to cultivate friendships, because they are great assets. And I tend to make them last over time. Nevertheless sometimes they end mysteriously and you don't really know for what reason. Just like loves.= - Author: Dacia Maraini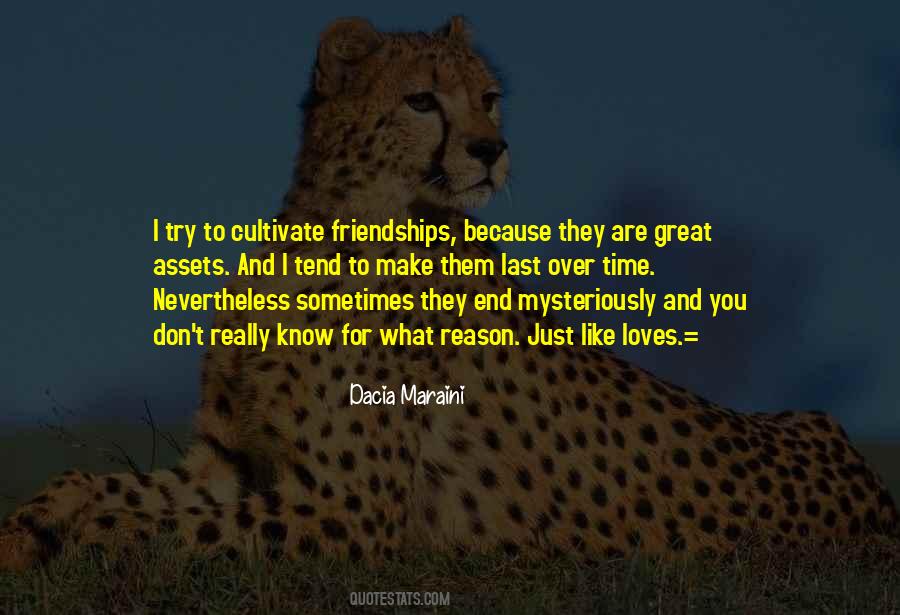 #41. I'm far from being reclusive. I have 30- or 40-year friendships that I prefer to meeting new people. I go to an occasional party, but just because I don't go to a lot of events, and I'm not out in public all the time doesn't mean I'm anti-social or a recluse. - Author: Kirk Kerkorian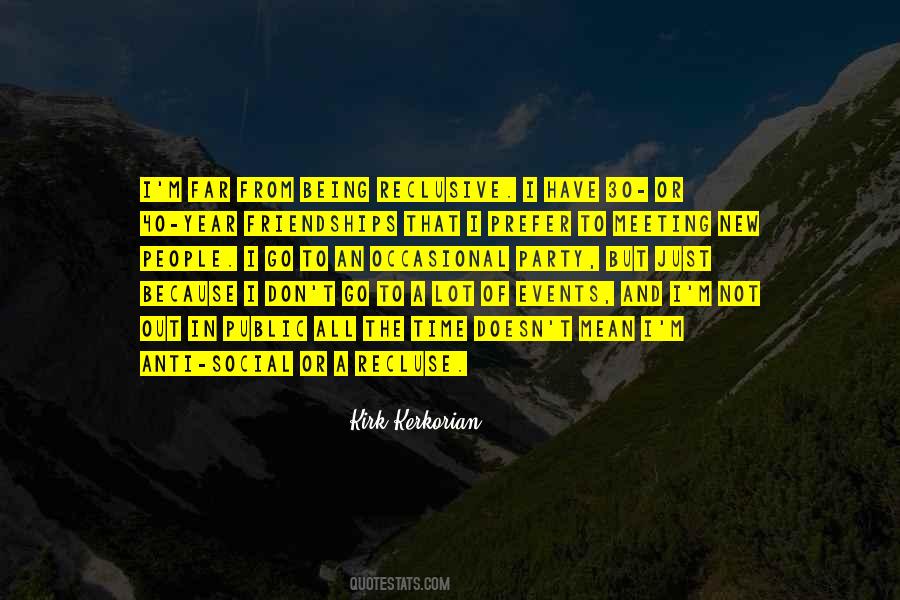 #42. Anyone can become your best friend when you spend time together and share your feelings about life. However, not every best friend can free you from yourself. This is when you reconsider the word "best" and decide to expand your circle to include others. - Author: Shannon L. Alder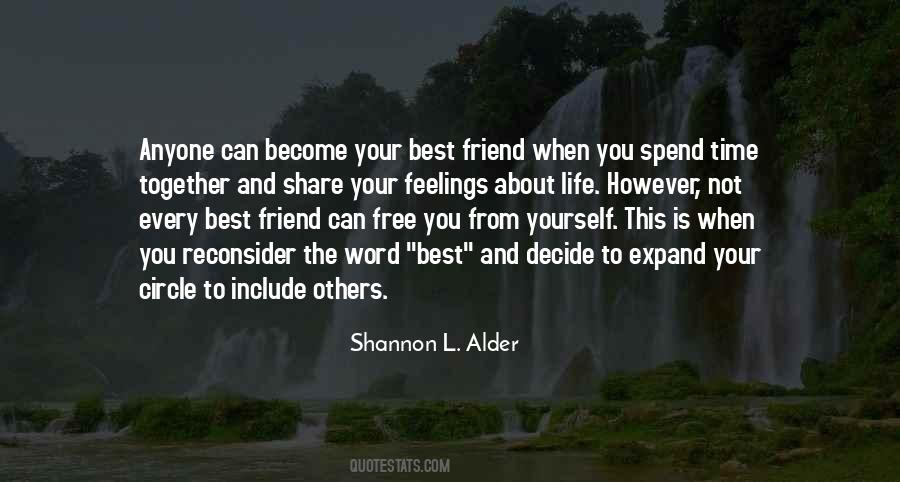 #43. Every time you make creative, interactive, and harmonious jazz with your Redeemer, whether in your home, friendships, community, church, or at work, while staying inside of his parameters, you are expanding what you touch to the size of God's kingdom. - Author: Paul David Tripp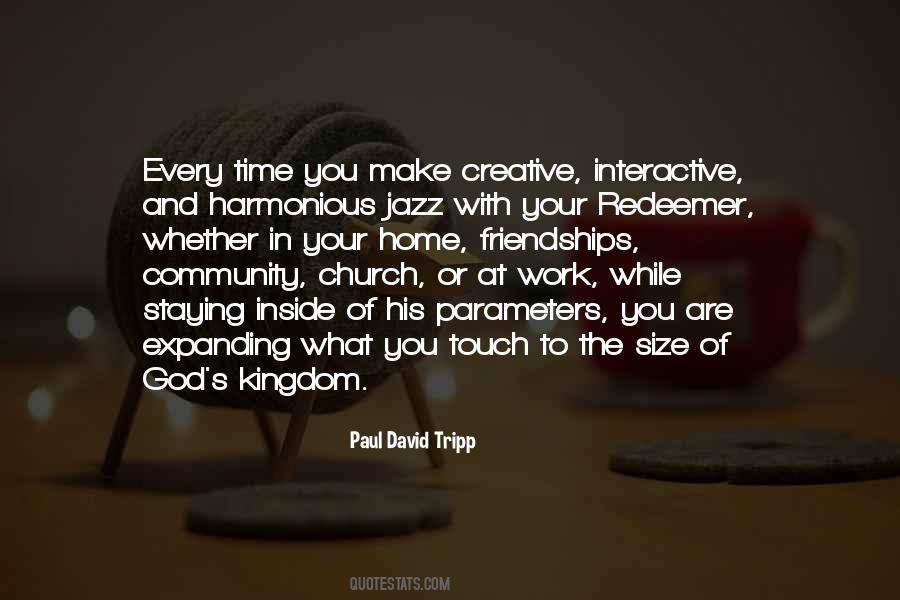 #44. Friendship is a promise. Made in the heart,
unbreakable by distance,
unchangeable by time. - Author: Unknown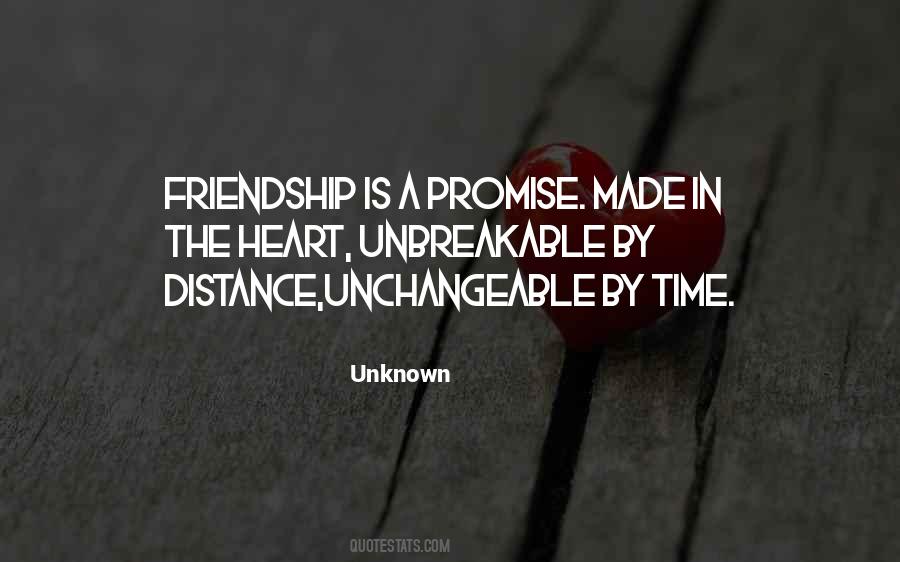 #45. Don't let a thief into your house three times. The first time was enough. The second time was a chance. The third time means you're stupid. - Author: C. JoyBell C.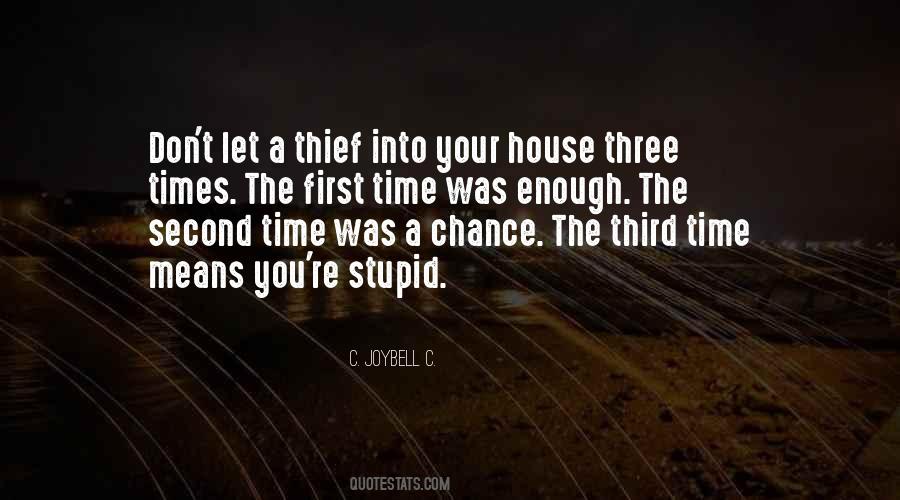 #46. Most friendships, if the end at all, end not by earthquake, but by erosion. Your time together, which you used to take for granted, becomes something you need to schedule.
Slowly you're aware that the easy intimacy you shared got lost somewhere. You talk more and more about the past. - Author: Alex Robinson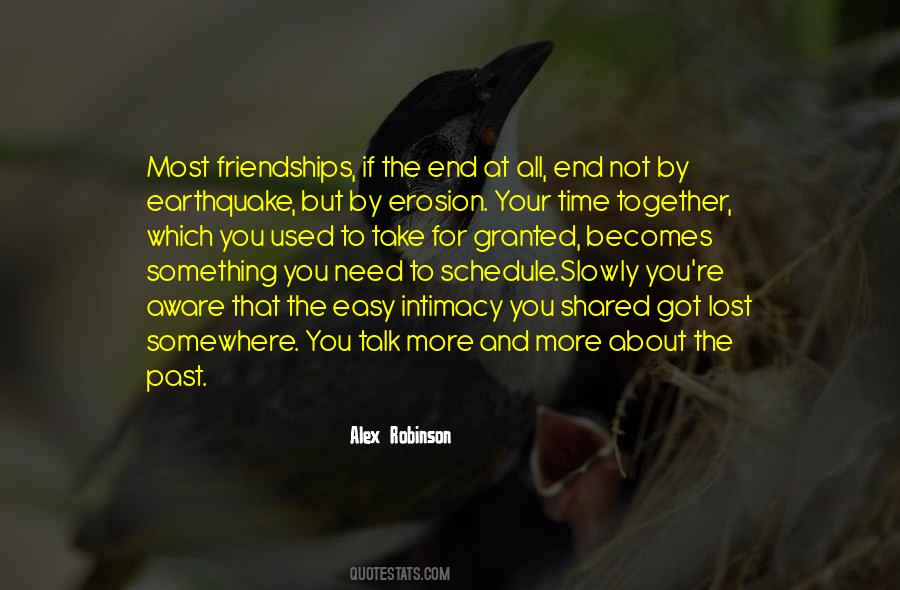 Famous Authors
Popular Topics