Forgotten Love Famous Quotes & Sayings
List of top 100 famous quotes and sayings about forgotten love to read and share with friends on your Facebook, Twitter, blogs.
Top 100 Quotes About Forgotten Love
#1. Mercy, how we do so often love to immortalize those despised and forgotten in life. - Author: Timothy Beal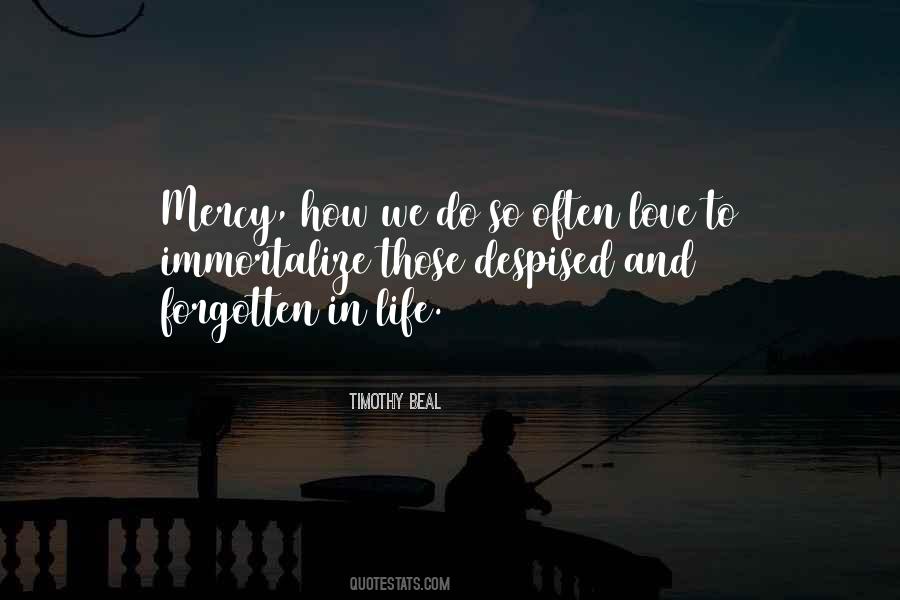 #2. What's the name of the word for the precise moment when you realize that you've actually forgotten how it felt to make love to somebody you really liked a long time ago? - Author: Neil Gaiman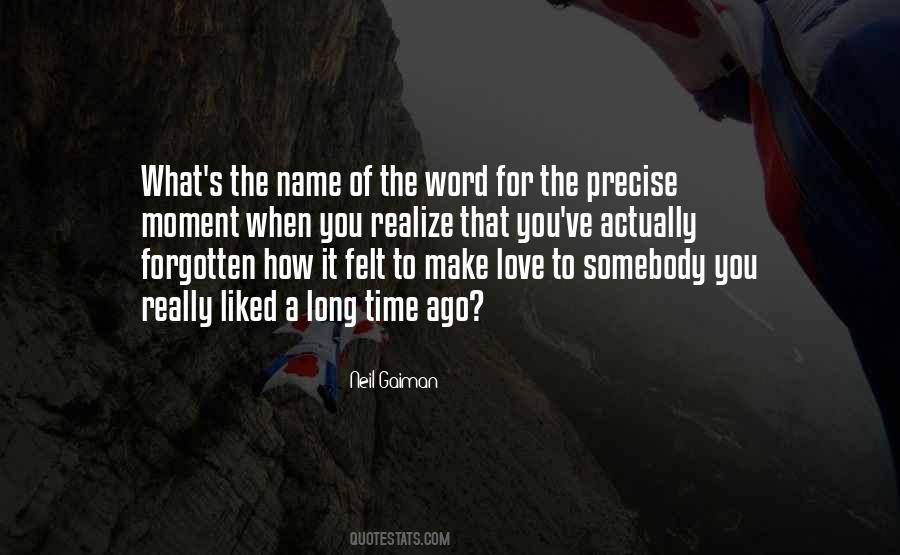 #3. Drifting, On a sea of forgotten teardrops, On a lifeboat, Sailing for Your love - Author: Jimi Hendrix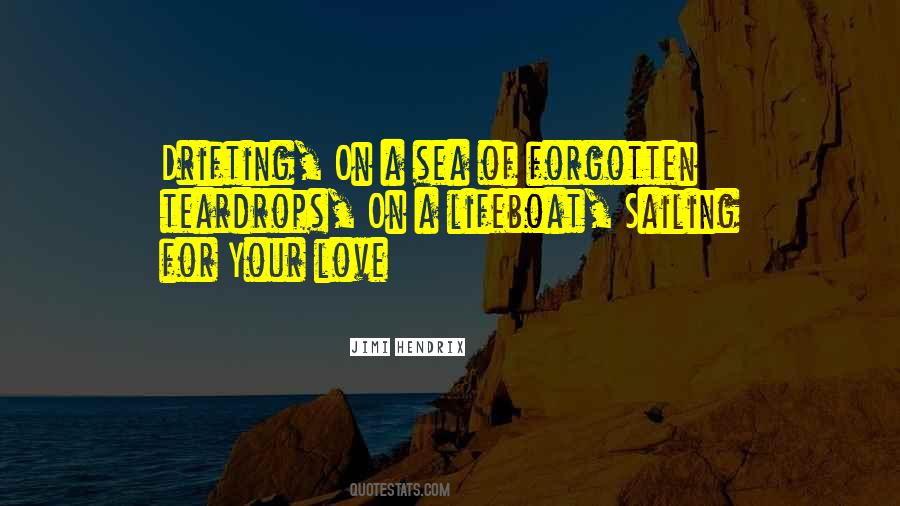 #4. And as for the people you loved, even their names will escape you. Did you not mean what you said when you said, I will love you forever? You did. Though now it's hard to remember ... - Author: P.K. Page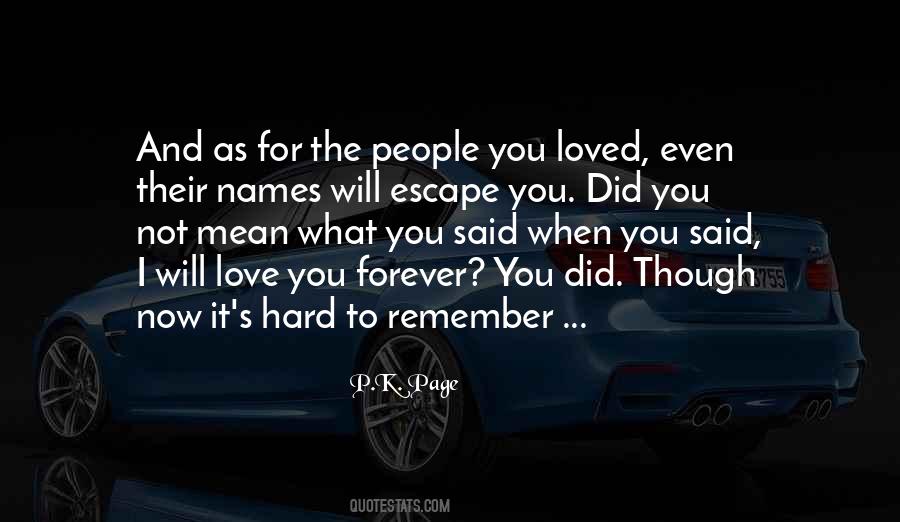 #5. Was that all my love was, all it meant? So light, so easily gone and forgotten? Is solace that simple? And solace is not even the right word: I'm happy. - Author: Pauline Reage
#6. I wasn't aware that hope require a reason, any more than love. In case you have forgotten - I have no talent for hoping. I don't hope. I know. I believe. I expect. - Author: Tessa Dare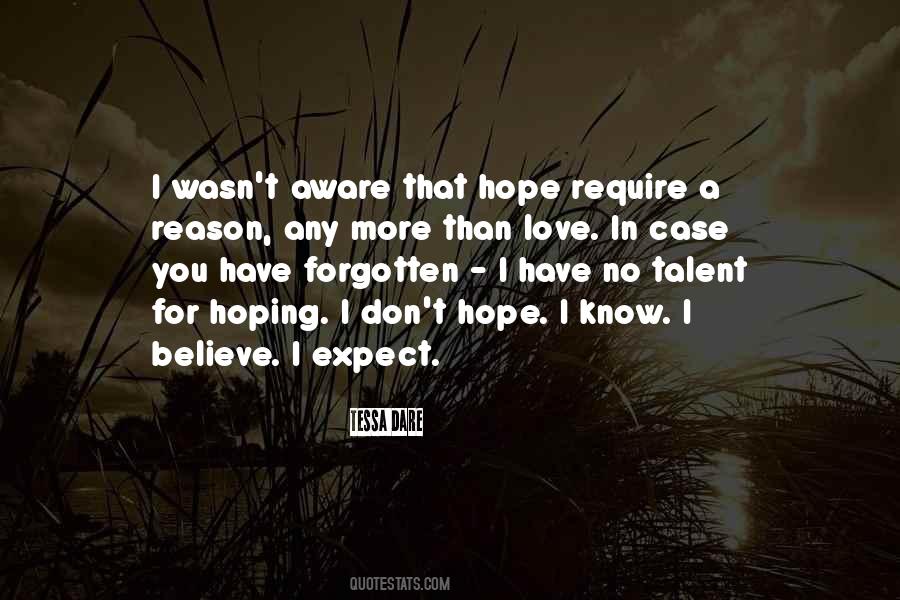 #7. if
love
is a
battlefield,
then i
must have
forgotten
all of
my armor
at home.

-a war i never agreed to fight - Author: Amanda Lovelace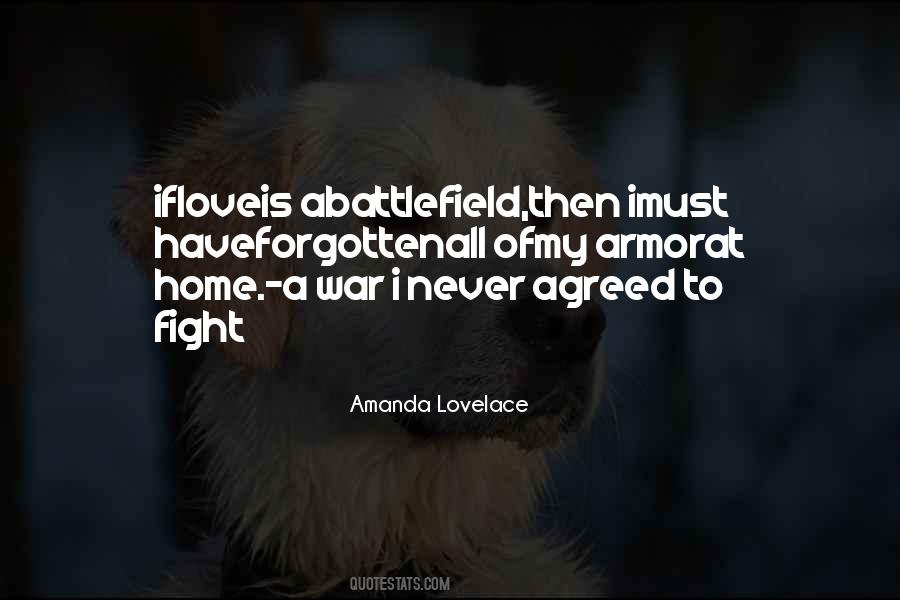 #8. Give me Your eyes for just one second, Give me Your eyes so I can see, Everything that I keep missing, Give me Your love for humanity, Give me Your arms for the broken-hearted, The ones that are far beyond my reach, Give me Your heart for the ones forgotten, Give me Your eyes so I can see - Author: Brandon Heath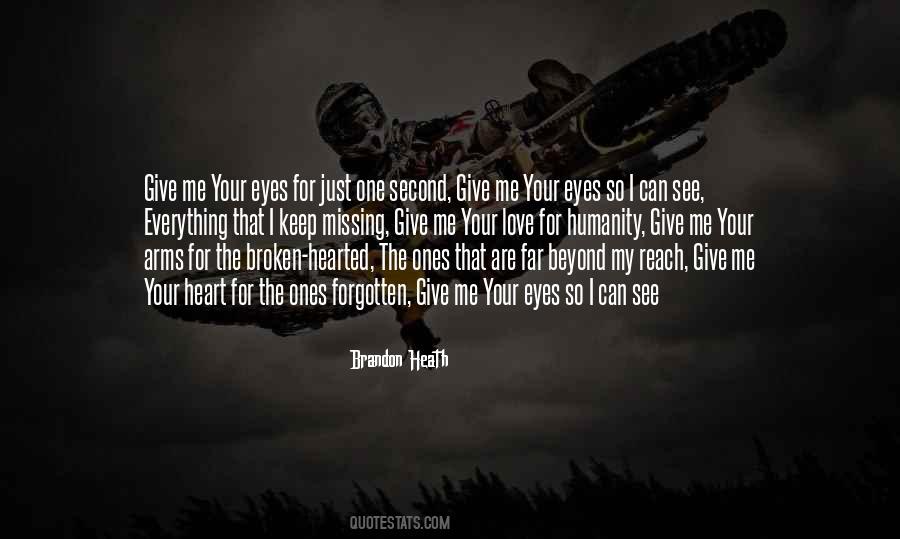 #9. I'll always want him. Until every sun goes dark in every sky, until I am nothing more than long-forgotten cosmic dust, I will want him. And even then I suspect my particles will long for his. - Author: Ann Aguirre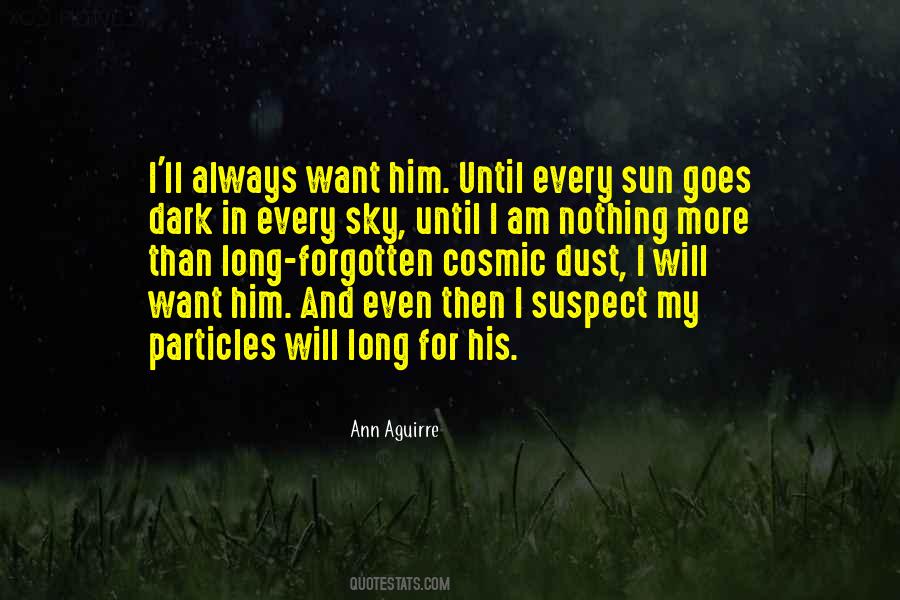 #10. I know you've forgotten me, but I'll remember you as long as I live. - Author: Julio Alexi Genao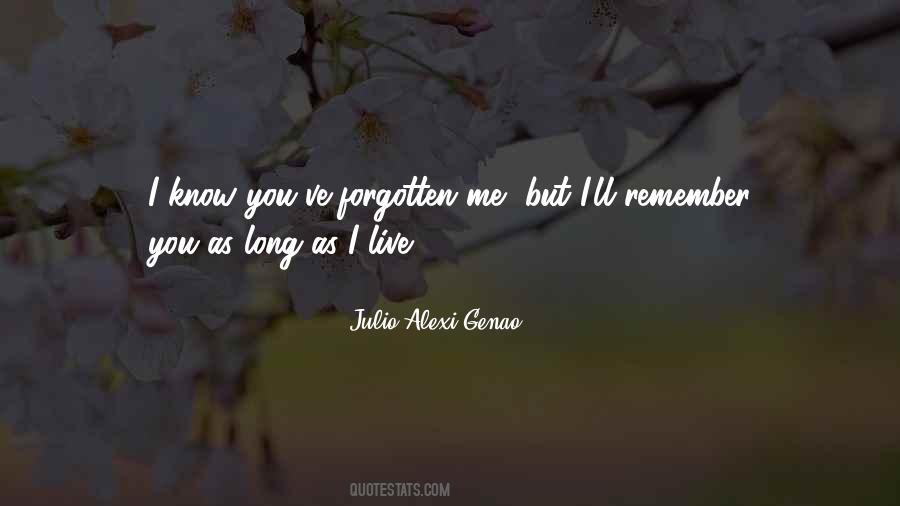 #11. We want big results-sooner rather than later. And we've forgotten that God showers his extraordinary gifts through ordinary means of grace, loves us through ordinary fellow image bearers, and sends us into the world to love and serve others in ordinary callings. Michael Horton, Ordinary, 14 - Author: Michael S. Horton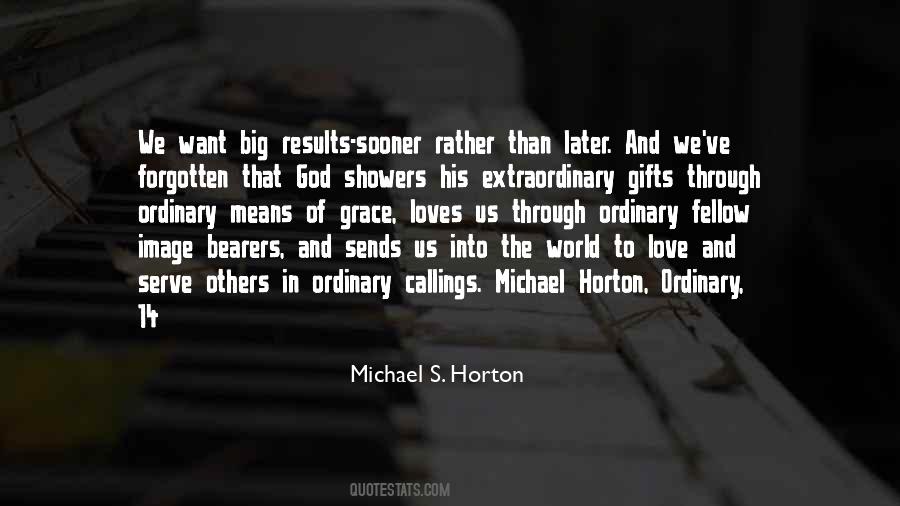 #12. Sometimes it seems that you've forgotten me. But I'm happy with that. Because forgetting me will only give you the chance to remember me. But I never remember you, coz you're always on my mind. - Author: Sajan Kc.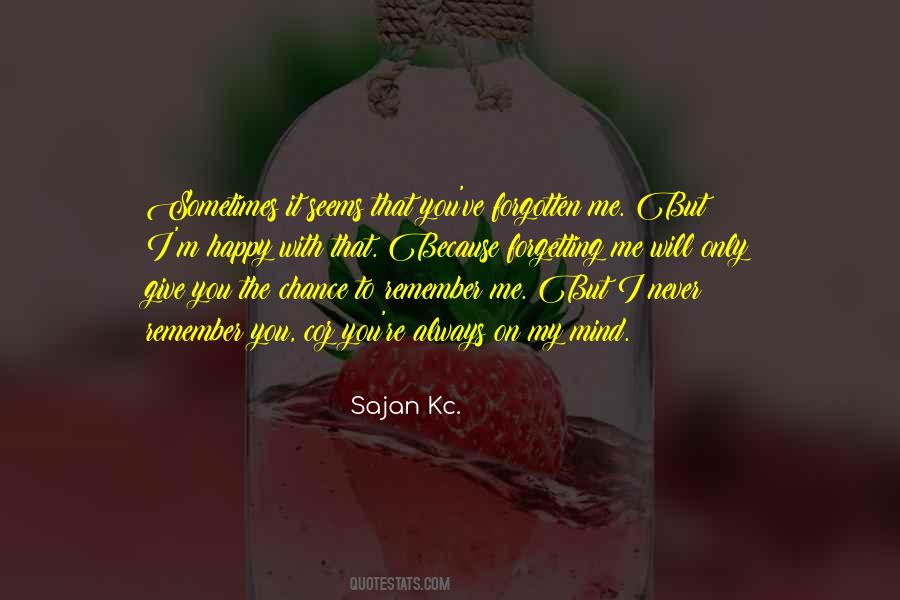 #13. Tonight
Since I'd forgotten for a moment where you are,
I search for you with hope in my bones. - Author: Hester Knibbe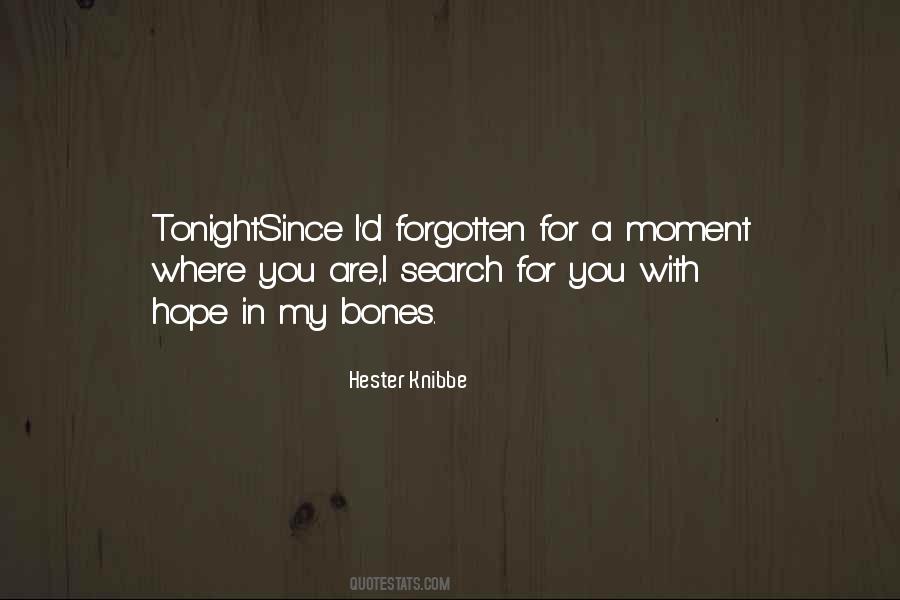 #14. I think love is caramel. Sweet and fragant; always welcome. It is the gentle golden colour of a setting harvest sun; the warmth of a squeezed embrace; the easy melting of two souls into one and a taste that lingers even when everything else has melted away. Once tasted it is never forgotten. - Author: Jenny Colgan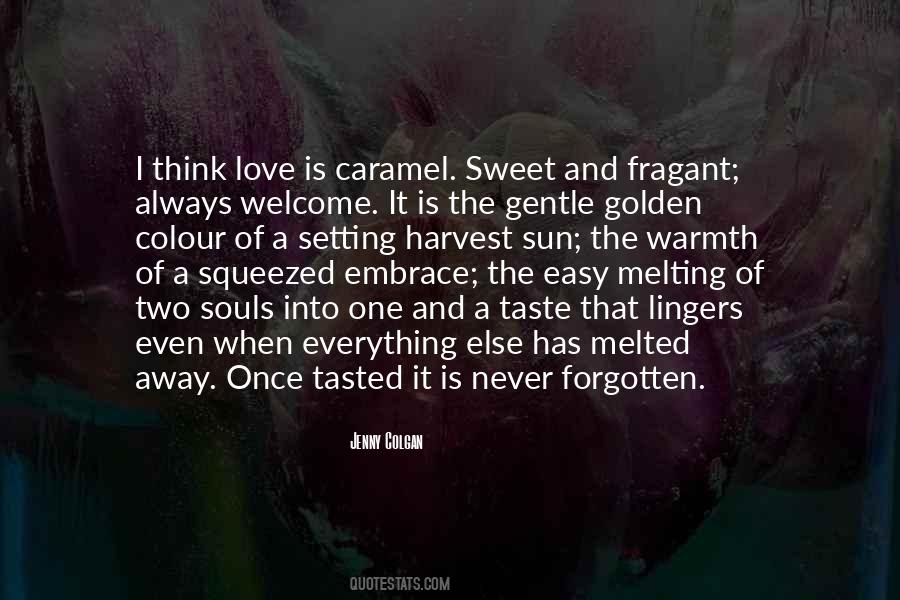 #15. It's just that old people always think young people haven't really learned about love; and young people think that old people have forgotten about love; and, you know, they're both wrong. - Author: Isaac Asimov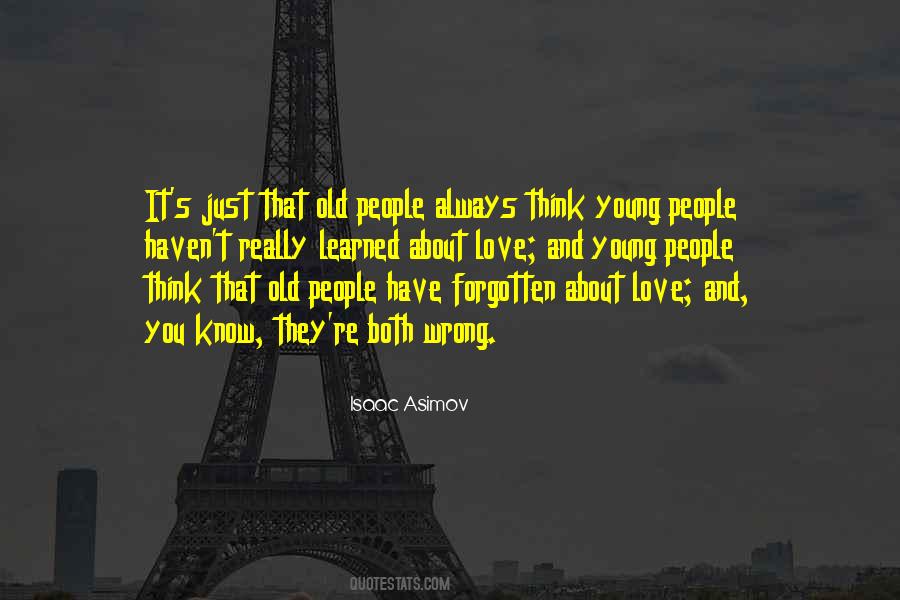 #16. I shall never forget you. I have never forgotten anyone whom I once knew. My life has never been crowded, and seems not likely to be so. - Author: George Eliot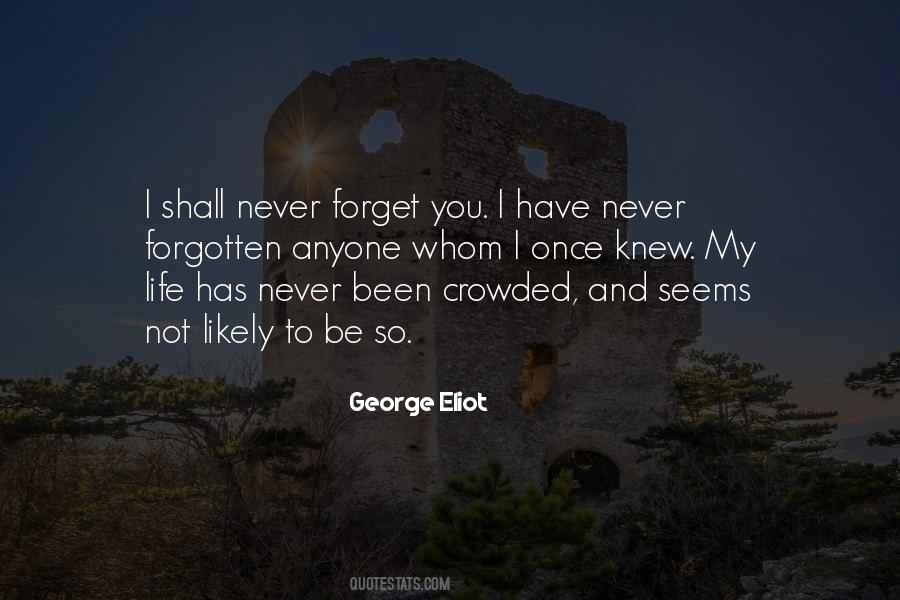 #17. Love is like death, it must come to us all, but to each his own unique way and time, sometimes it will be avoided, but never can it be cheated, and never will it be forgotten. - Author: Jacob Grimm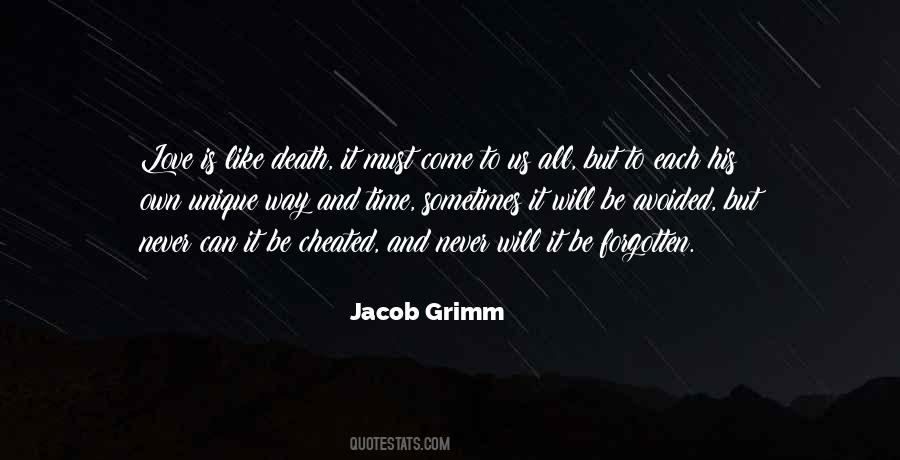 #18. The wind is awake, pretty leave, pretty leaves, Heed not what he says, he deceives, he deceives; Over and over To the lowly clover He has lisped the same love (and forgotten it, too). He will be lisping and pledging to you. - Author: John Vance Cheney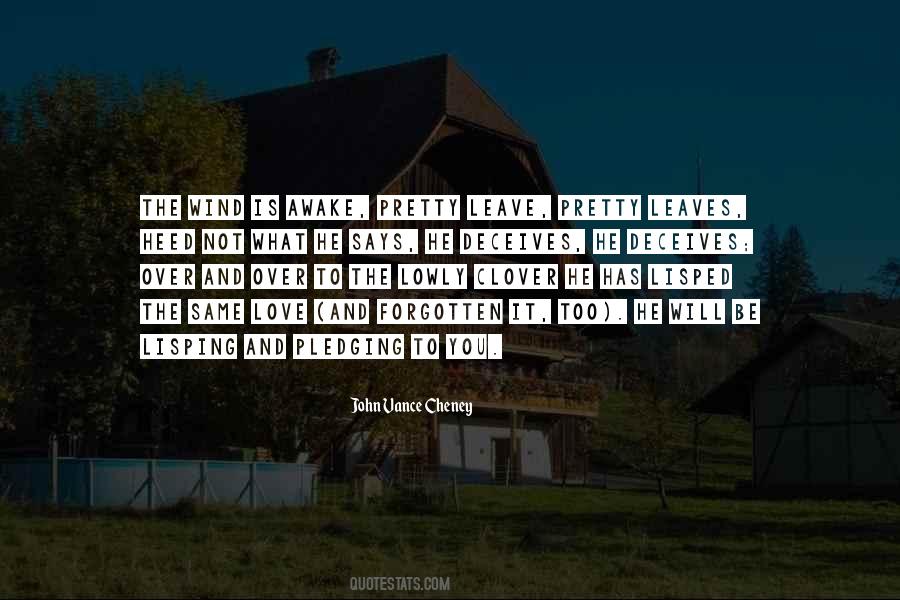 #19. I had indeed suffered successively through Gilberte, through Mme de Guermantes, through Albertine. Successively also I had forgotten them and only my love, dedicated at different times to different beings, had lasted. - Author: Marcel Proust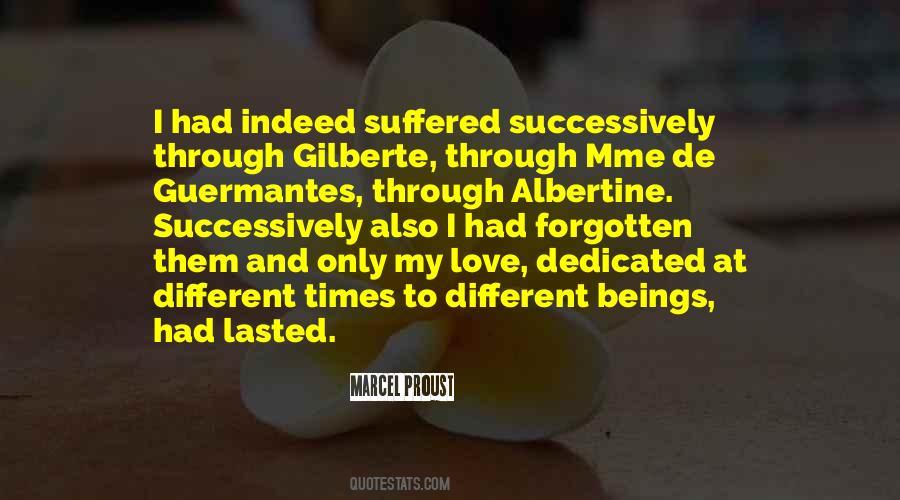 #20. In the fairy tale, an incomprehensible happiness rests upon an incomprehensible condition. A box is opened and all evils fly out. A word is forgotten and cities perish. A lamp is lit and love flies away. An apple is eaten and the hope of God is gone. - Author: G.K. Chesterton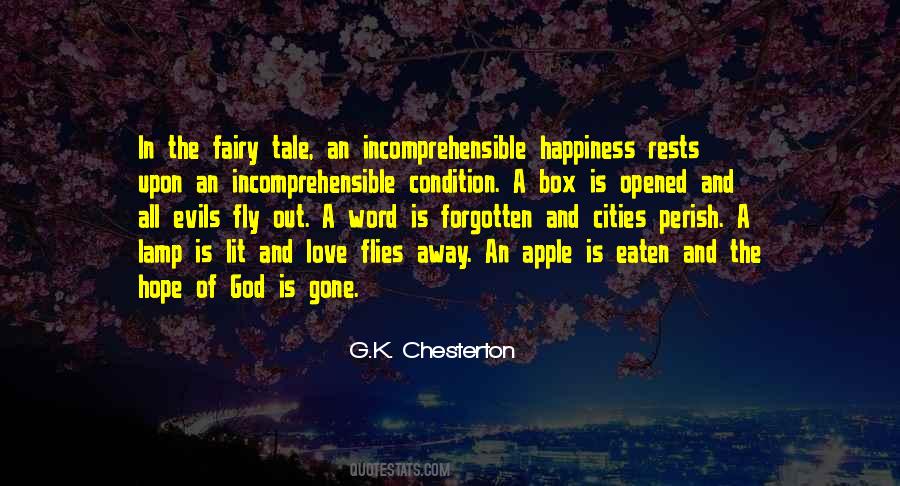 #21. If we look closely at this earth, where God seems so utterly forgotten, we shall find that it is He, after all, who commands the most fidelity and the most love. - Author: Sophie Swetchine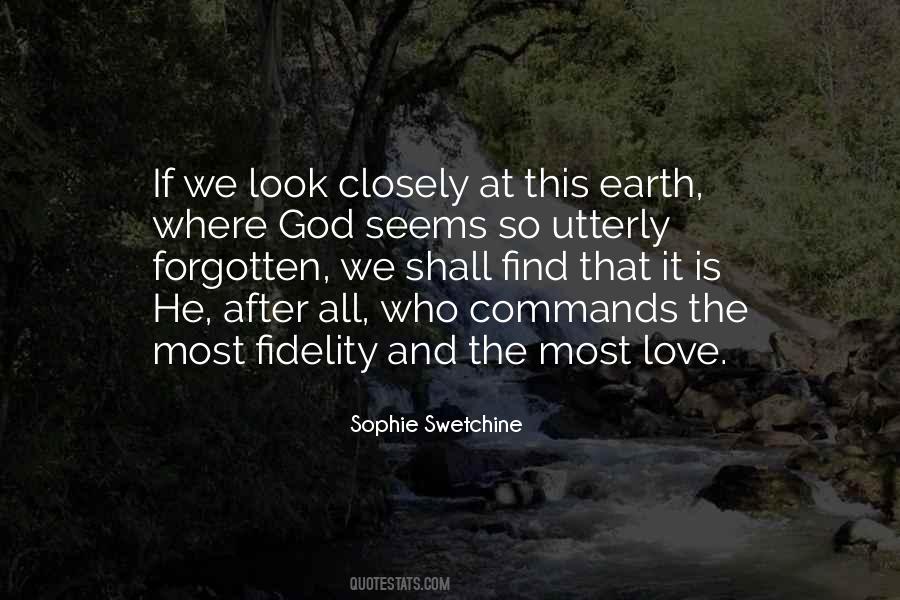 #22. To be lost and forgotten-to be abandoned-is a shared and terrible fear, just as our fondest hope, as we grow older, is that we might leave some parts of us behind in the hearts of those we love and in that way live on. - Author: Stewart O'Nan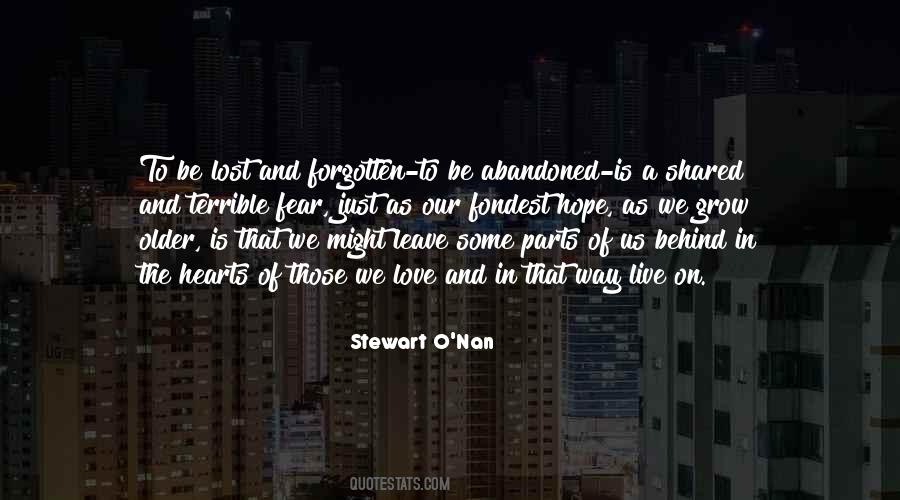 #23. How terrible to be forgotten by the god that made you, even if you're just a room. How could you love something that could do that anytime? - Author: Peter S. Beagle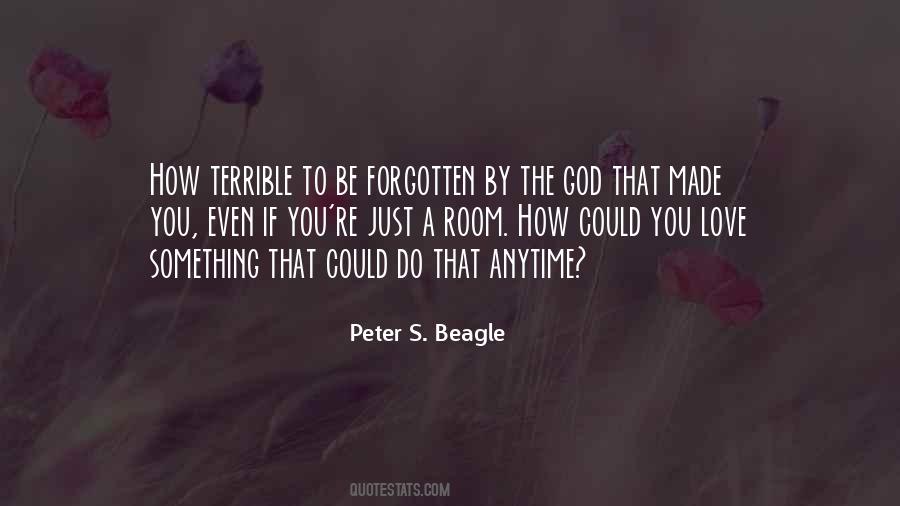 #24. Even when this world is a forgotten whisper of dust between the stars, I will always love you. - Author: Sarah J. Maas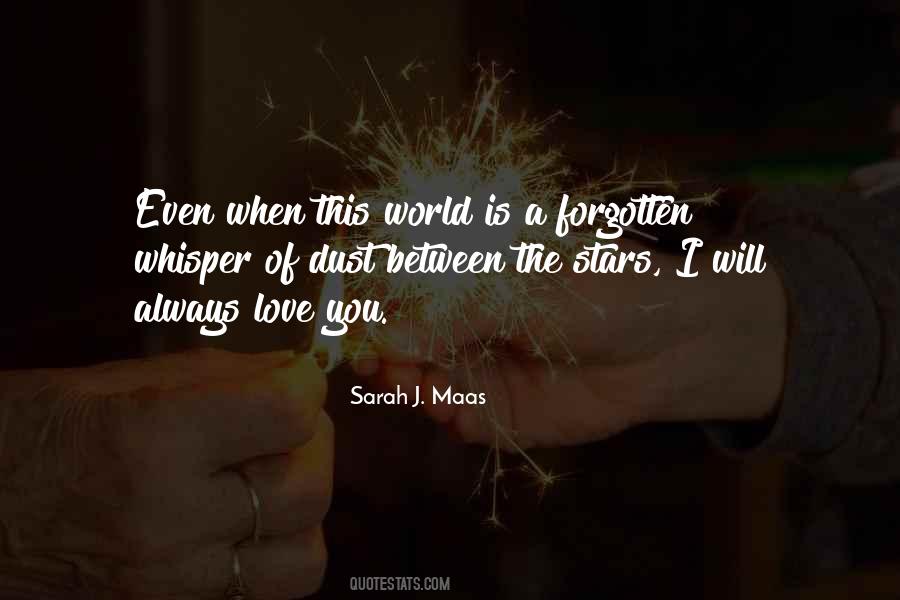 #25. Write your name in kindness, love and mercy on the hearts of the thousands you come in contact with year by year, and you will never be forgotten. - Author: Thomas Chalmers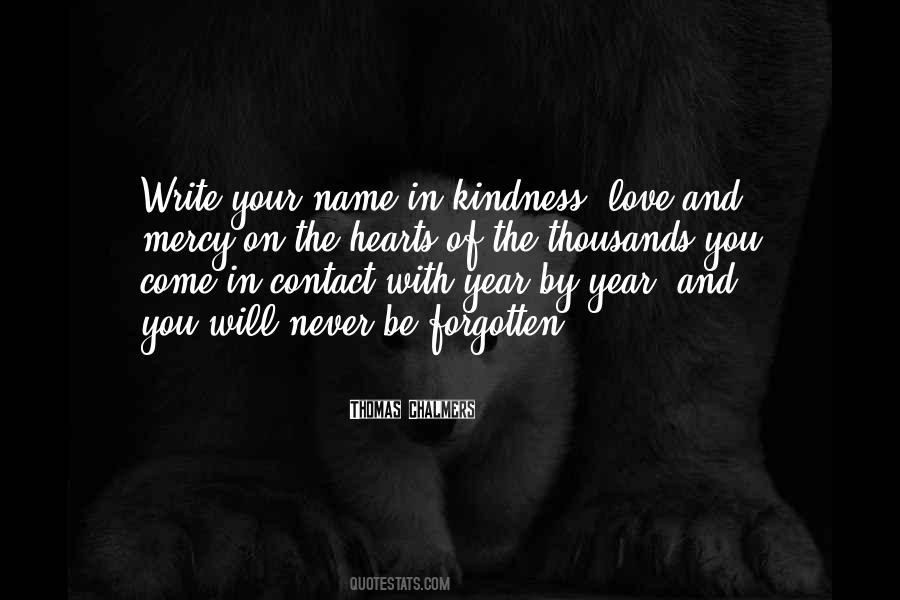 #26. Like a first love, the place where peace is first found is never, ever forgotten. - Author: Louise Penny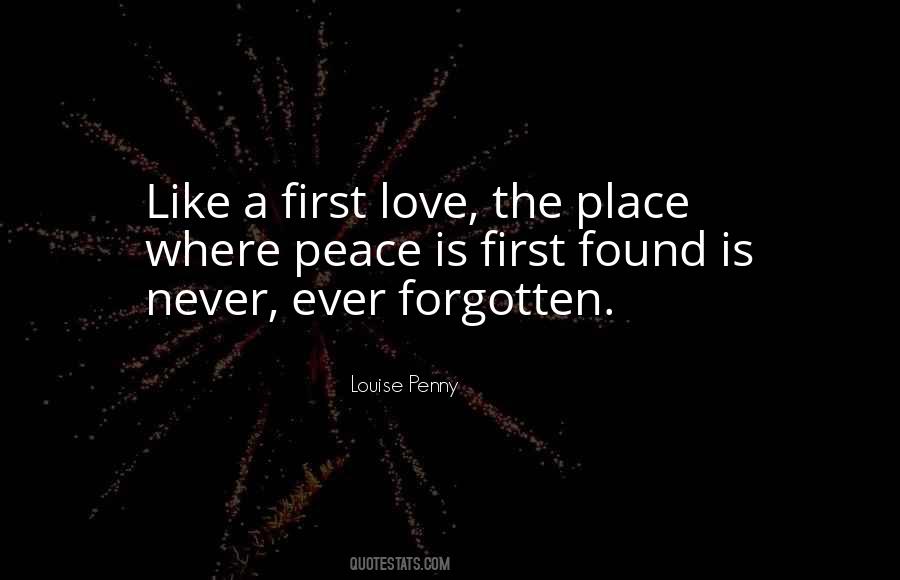 #27. People have forgotten this truth," the fox said. "But you mustn't forget it. You become responsible forever for what you've tamed. You're responsible for your rose. - Author: Antoine De Saint-Exupery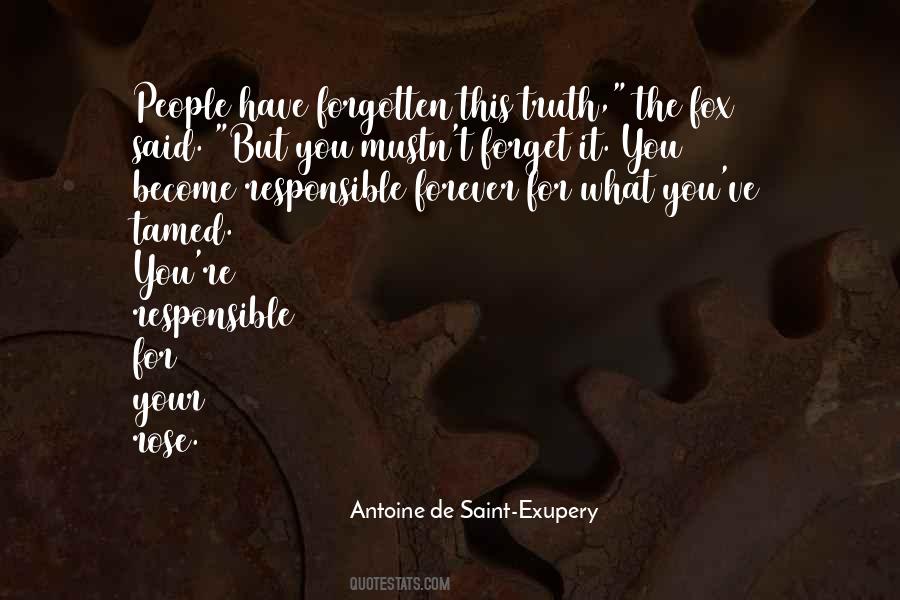 #28. And in case you've forgotten" - I yank her by my hoodie, our noses crushing together - "you're carrying around the heart of the girl I'm fucking in love with. Be more careful with her life. - Author: L.J. Shen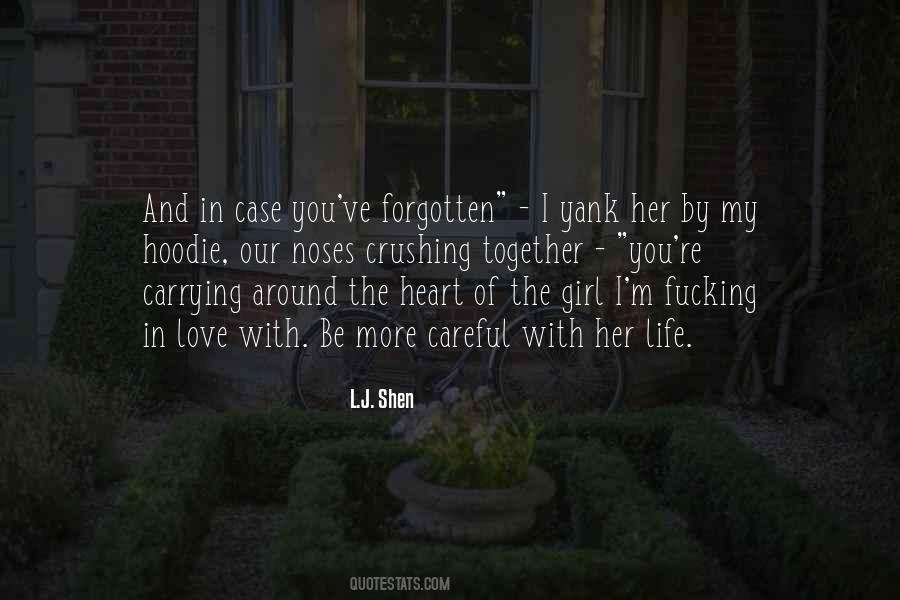 #29. If we have no peace, it is because we have forgotten that we belong to each other. - Author: Mother Teresa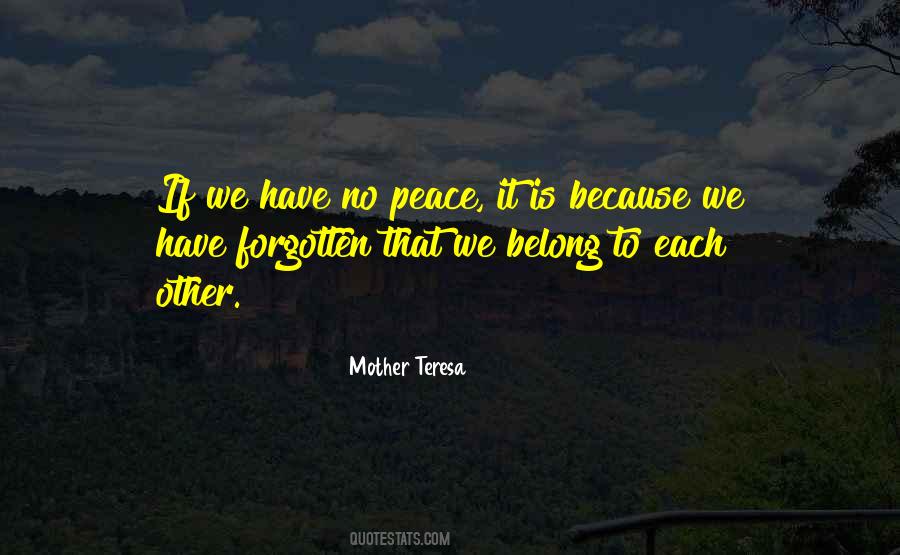 #30. Love is the answer to a question that I have forgotten - Author: Regina Spektor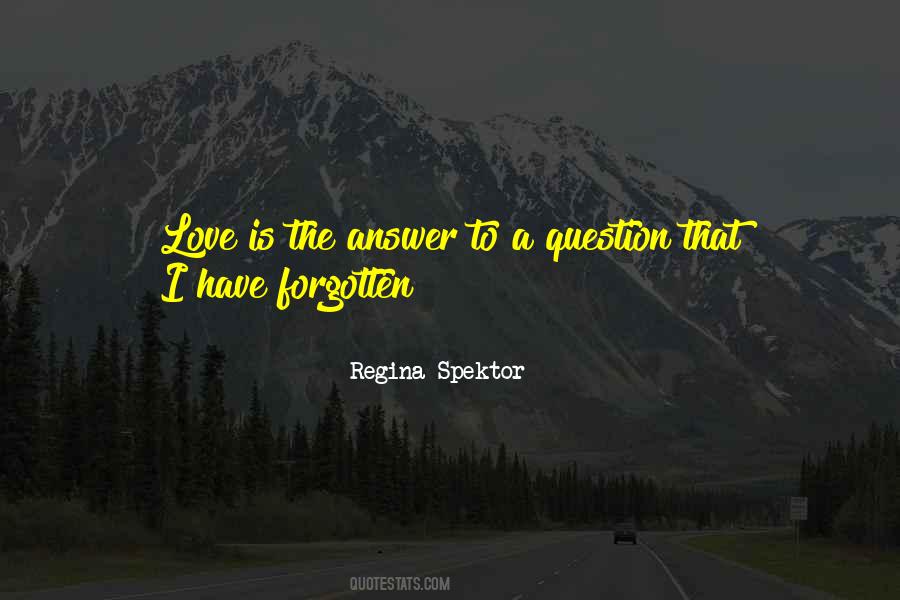 #31. I fell in love with you like the stars fell in love with the sky, without you I am empty and bare. - Author: Seja Majeed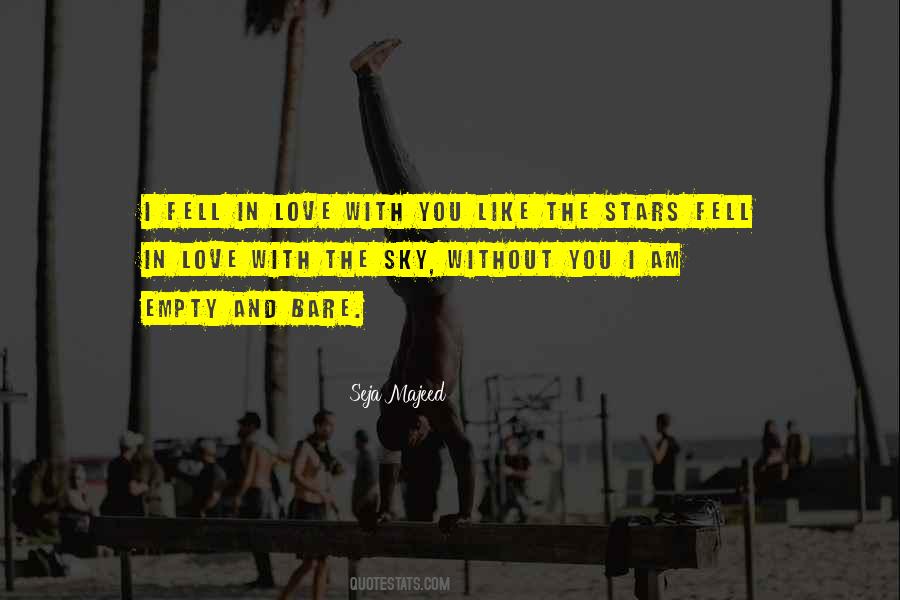 #32. While many of us give to the hungry orphan, we have forgotten to love her. - Author: Marquita Burke-DeJesus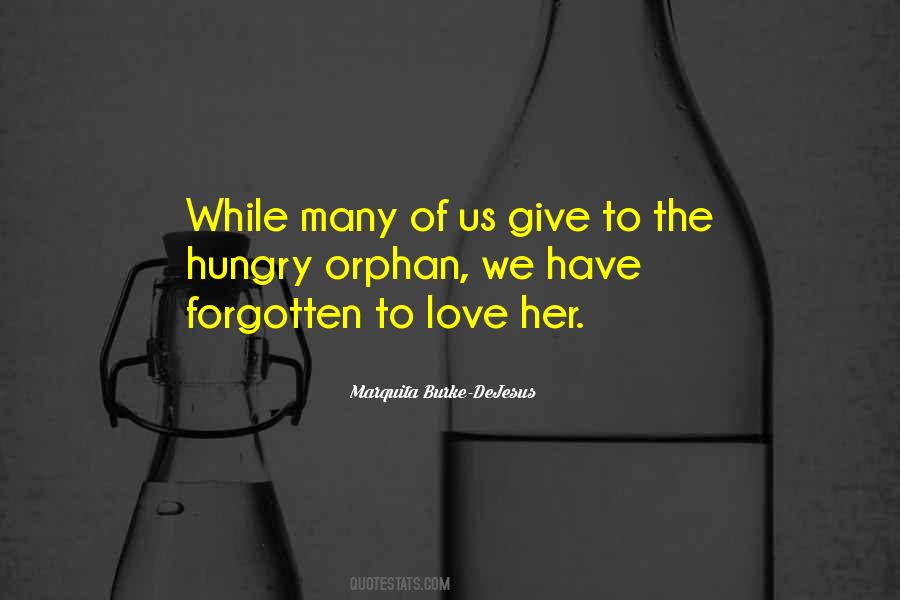 #33. When you get as old as I am, you kind of believe there's nothing new under the sun, but there's always a fresh way of looking at something. That's why I love working with young people. They remind you of things you used to know and have since forgotten. - Author: Jacki Weaver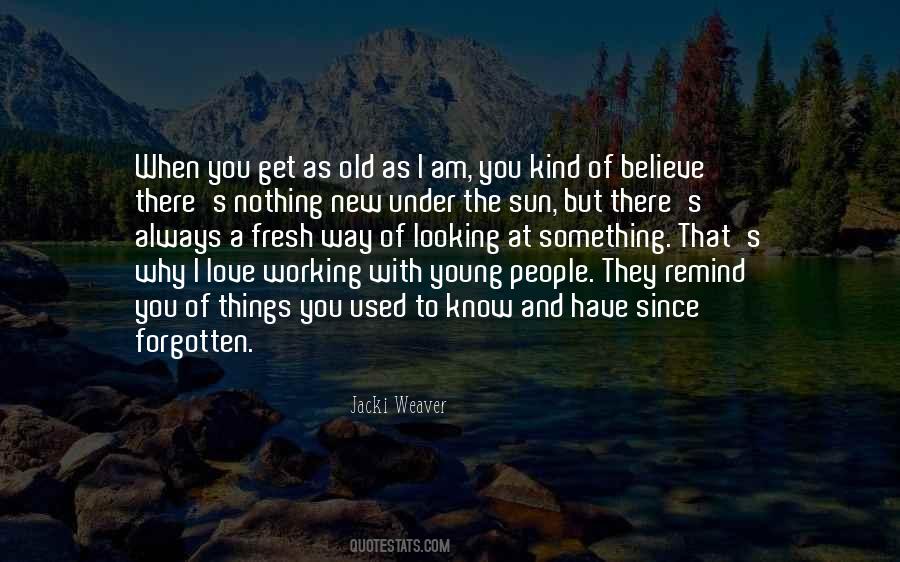 #34. Love can be broken but never forgotten. - Author: Ivy Devlin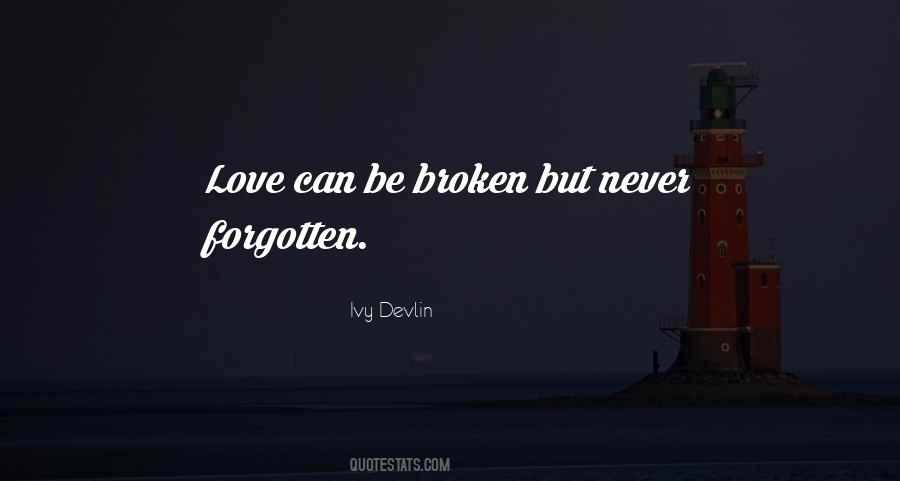 #35. Today the heart of God is an open wound of love. He aches over our distance and preoccupation. He mourns that we do not draw near to Him. He grieves that we have forgotten Him. He weeps over our obsession with muchness and manyness. He longs for our presence. - Author: Richard J. Foster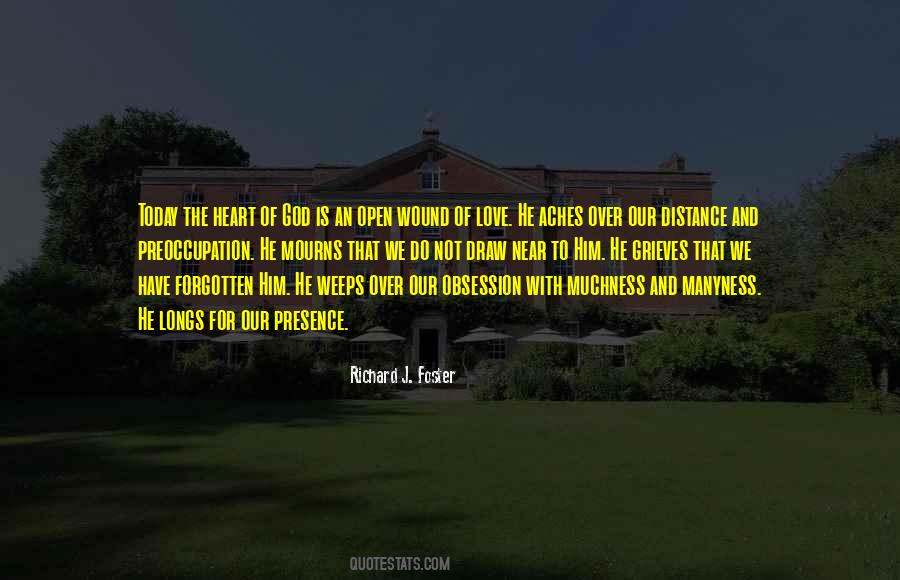 #36. . . .though the names of lovers are forgotten in time, their names
written across the sky as ogham threads are traced
between the stars - Author: John Daniel Thieme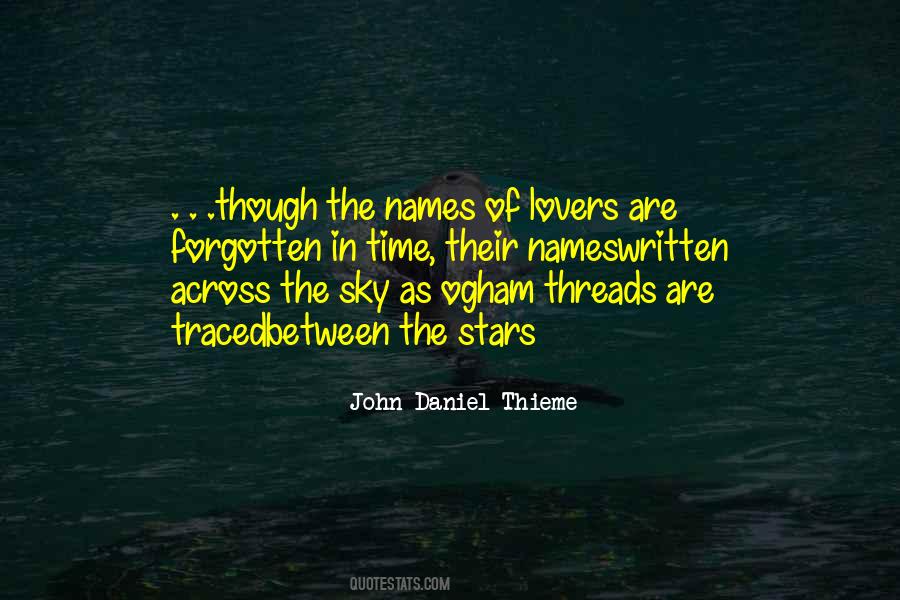 #37. I love you. There is no limit to what I can give to you, no time I need. Even when this world is a forgotten whisper of dust between the stars, I will love you." Aelin - Author: Sarah J. Maas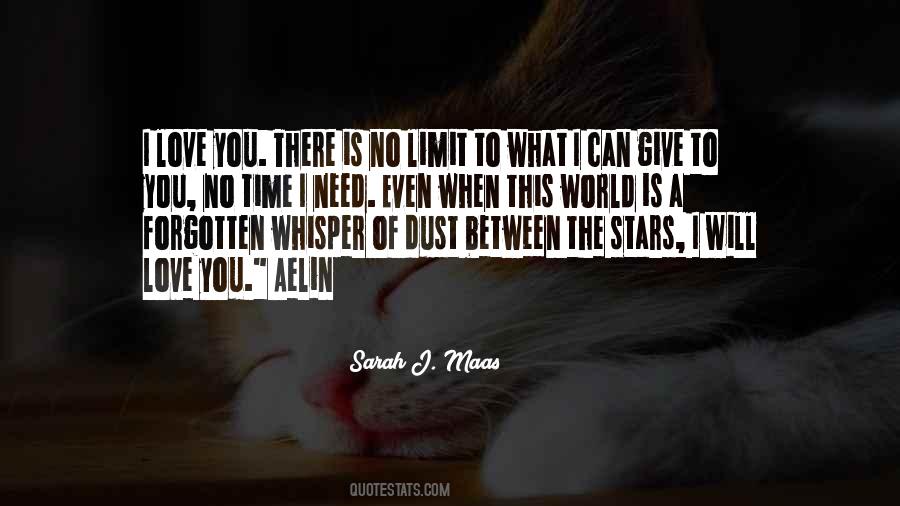 #38. Your heart is the roots to God.
Your heart is nourished by truth, by God, but you have forgotten the heart.
Come back to the heart, and you will be able to know the truth.
You will be able to know the truth as the truth and the false as the false. - Author: Swami Dhyan Giten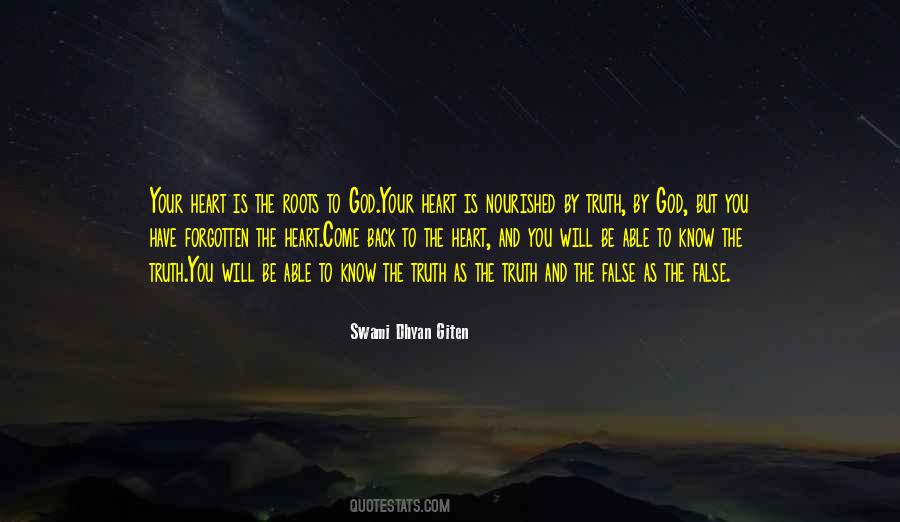 #39. Because of the Prada name, I can do things that people normally would not care about in the culture. I can have an exhibit by some forgotten artist who I love, and because it's Prada, people will come see it. - Author: Miuccia Prada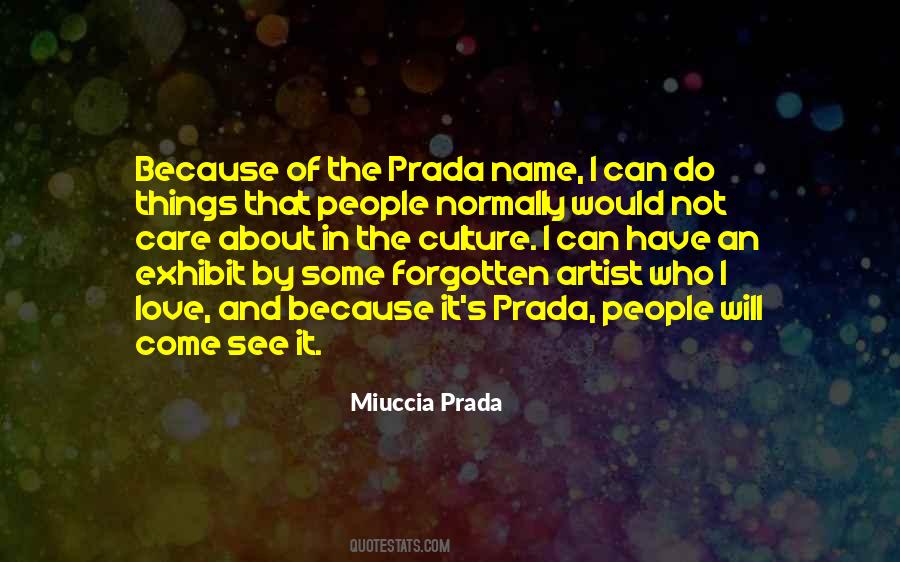 #40. Well, now,
if little by little you stop loving me
I shall stop loving you little by little.
If suddenly
you forget me
do not look for me,
for I shall already have forgotten you. - Author: Pable Neruda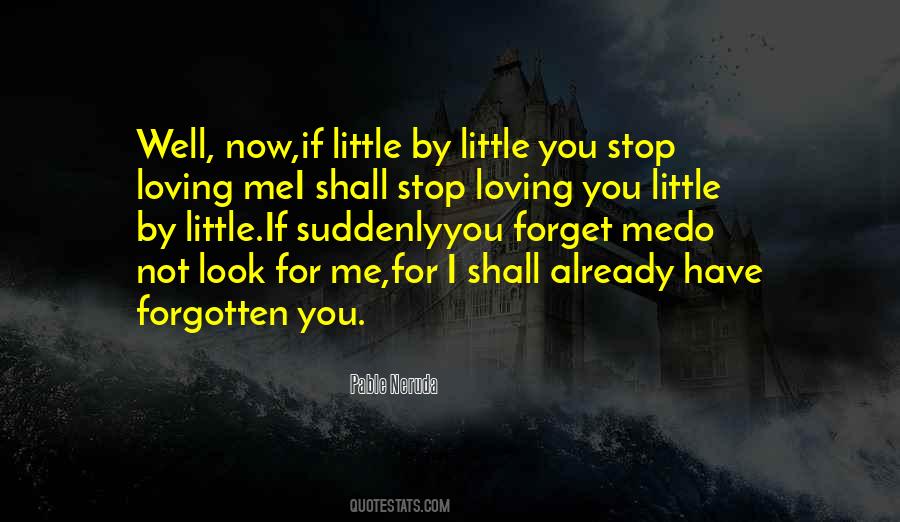 #41. My life's work has been to prompt others and be forgotten. Remember that night when Christian came to your balcony? That moment sums up my life. While I was below in the shadows, others climbed up to kiss the sweet rose. - Author: Cyrano De Bergerac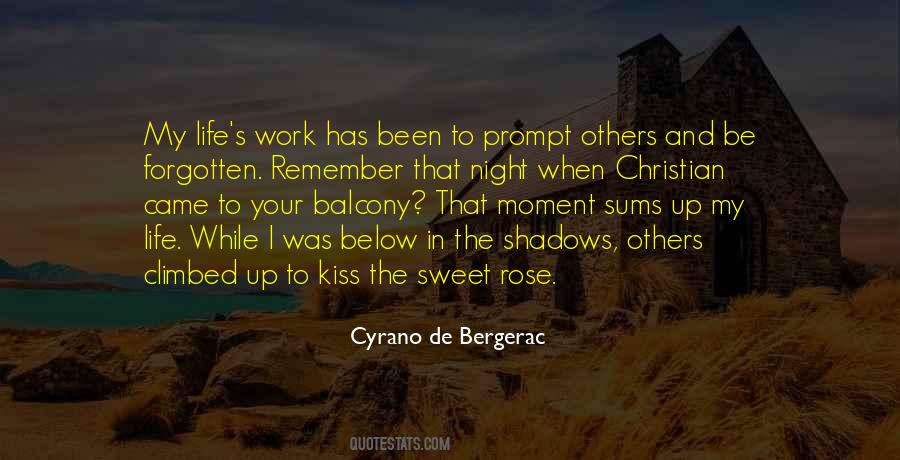 #42. He felt a happiness stirring deep inside him, shining a light into recesses of his soul that had long been devoured by darkness. - Author: Erik Tomblin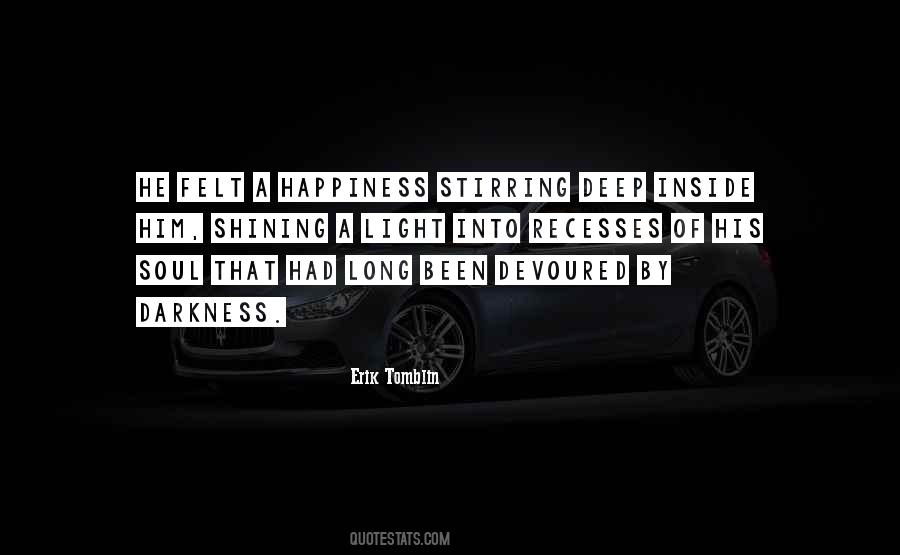 #43. There is no love, there is only the lie we tell ourselves that things are more important than they actually are, that our lives will have meaning beyond all the other lives that have come before us and been forgotten, that there is hope in any of this. - Author: Chad Kultgen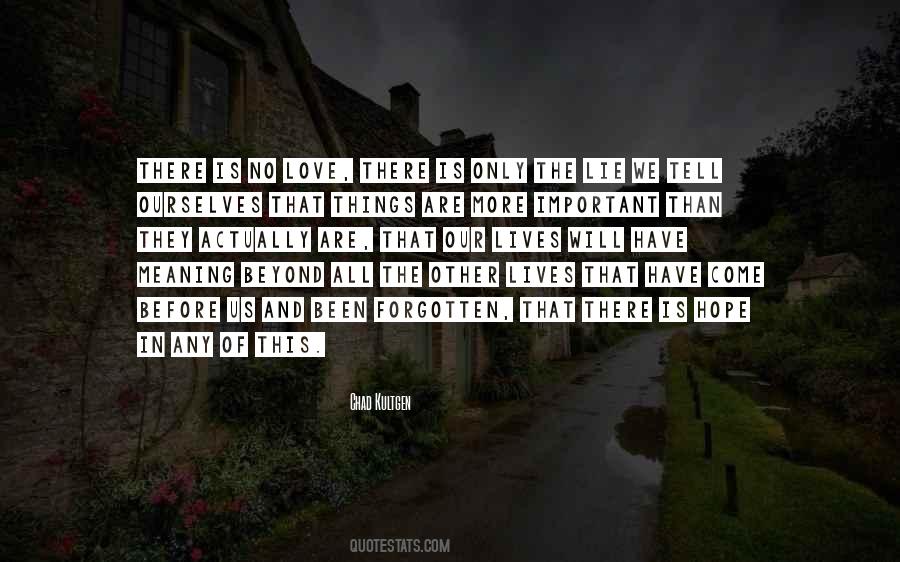 #44. As a child, acting just seemed like a natural extension of my love of play - and if you've forgotten how to play, you shouldn't be an actor. - Author: Simon McBurney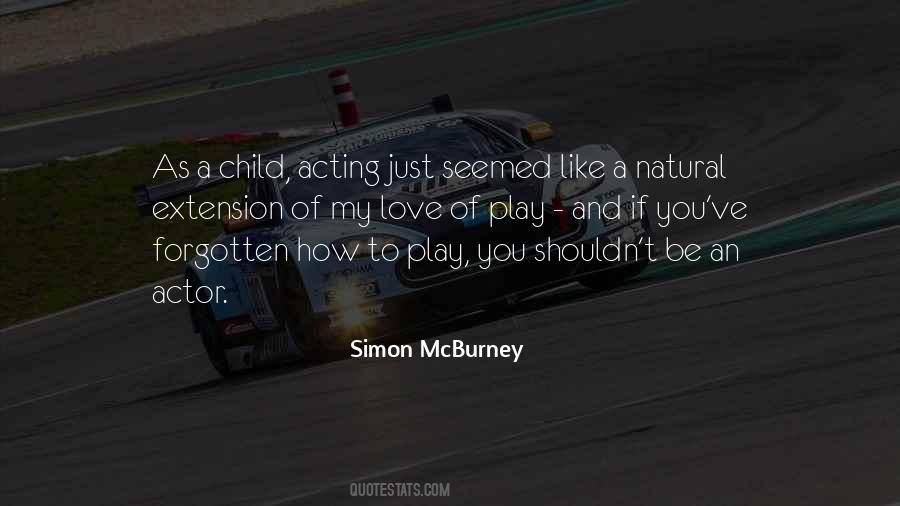 #45. The stars, like the hollow eyes of a god forgotten, marry the sadness of the exhausted hour and inspire a little chaos, a little gentleness, to those below.

I look up at the sky and see everything I've ever lost,
waiting for me. - Author: Marlen Komar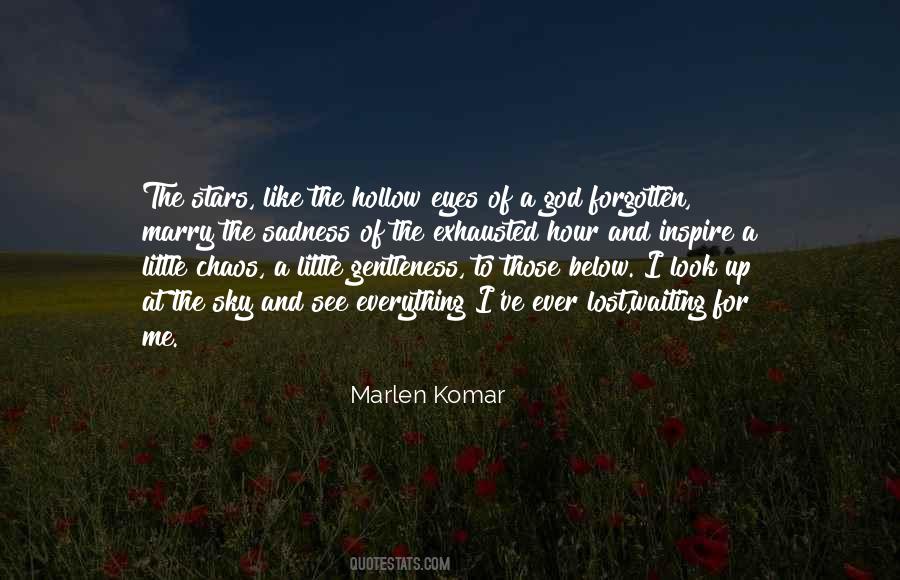 #46. A love letter lost in the mail, forgotten, miss delivered and then discovered years later and received by the intended is romantic. A love letter ending up in someone's spam filter is just annoying. - Author: B.J. Neblett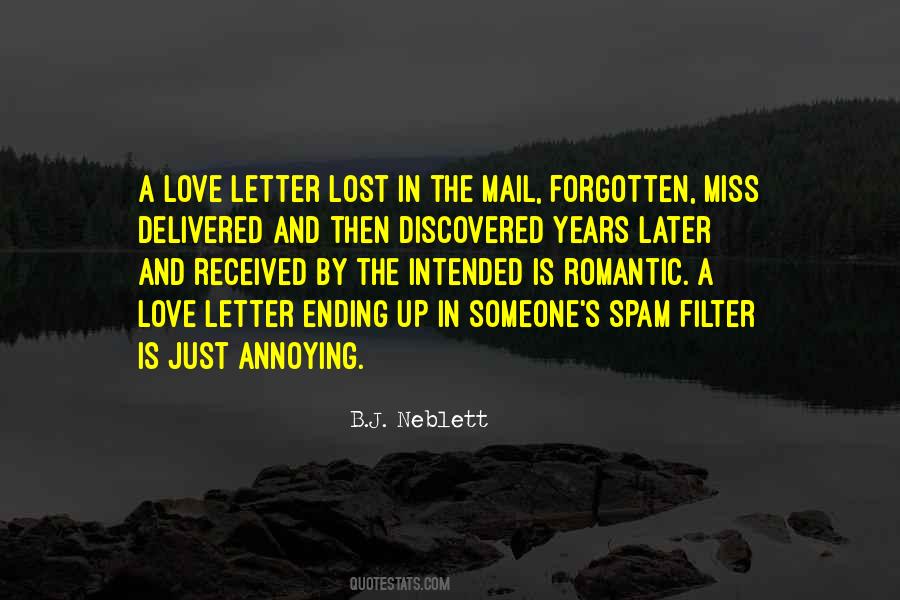 #47. I thought that I was the Warrior and Cersei was the Maid, but all the time she was the Stranger, hiding her true face from my gaze. "Pray for me, if you like," he told his cousin. "I forgotten all the words. - Author: George R R Martin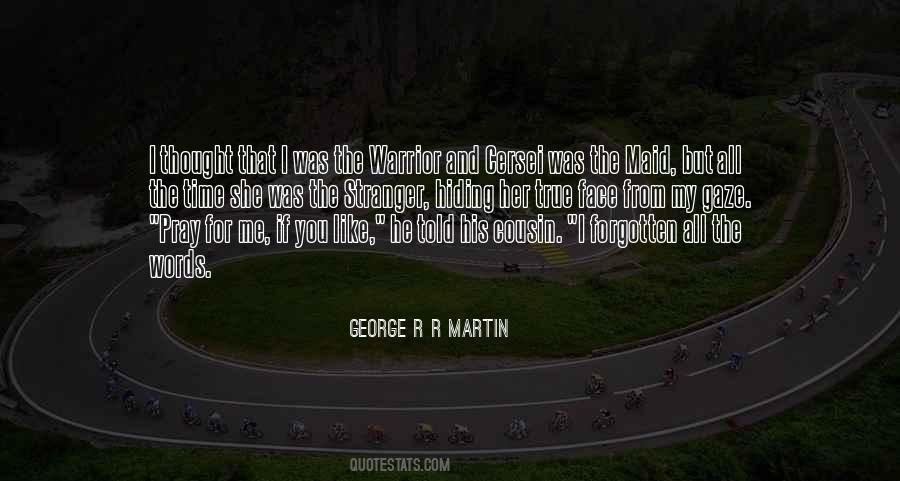 #48. I was glad to be tenderly remembered, to be gently pitied, not to be quite forgotten. - Author: Charles Dickens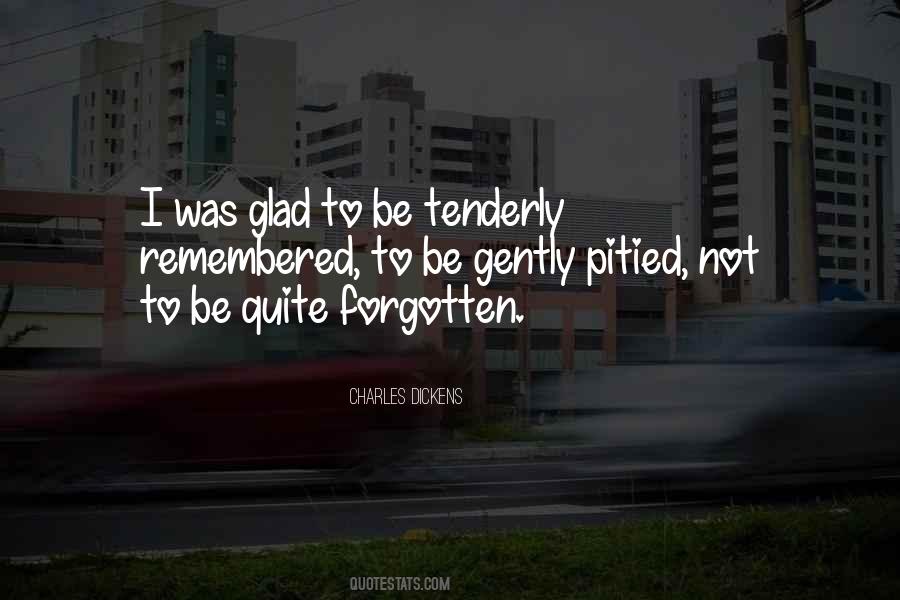 #49. Pure love of God is our nature, but we are so much diverted, so much distracted by the externals that we've forgotten that it's our essence. - Author: Radhanath Swami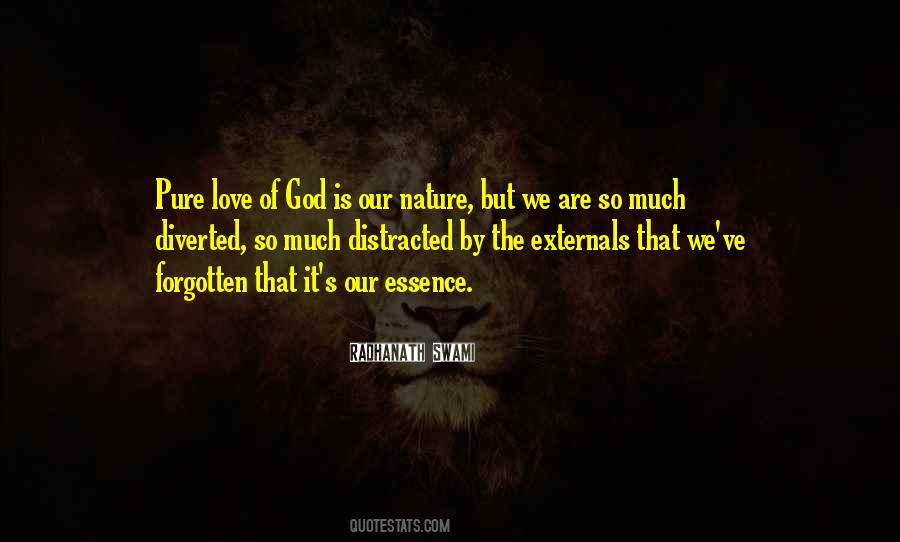 #50. You forget all of it anyway ... You forget who was cool and who was not, who was pretty, smart, athletic, and not ... You forget all of them. Even the ones you said you loved, and even the ones you actually did. They're the last to go. And then once you've forgotten enough, you love someone else. - Author: Gabrielle Zevin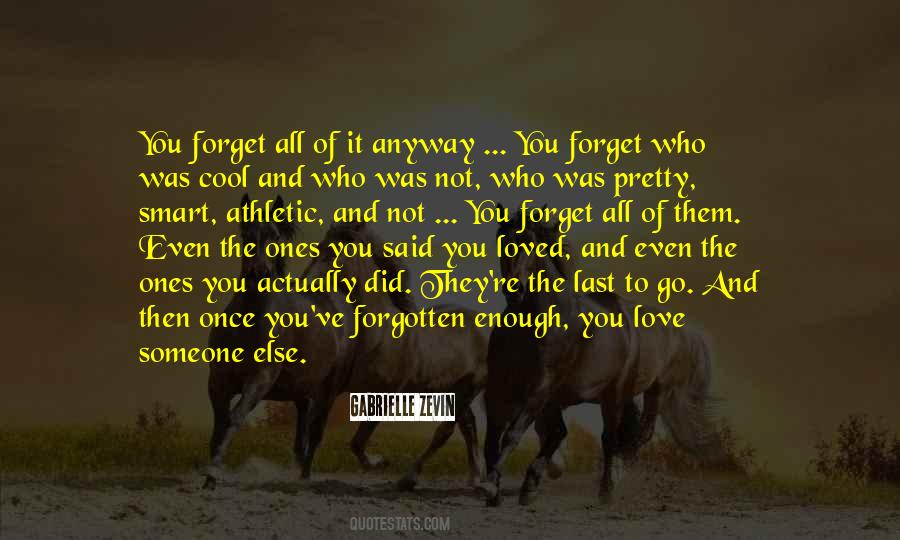 #51. Accustomed long to contemplating love and compassion I have forgotten all difference between myself and others - Author: Milarepa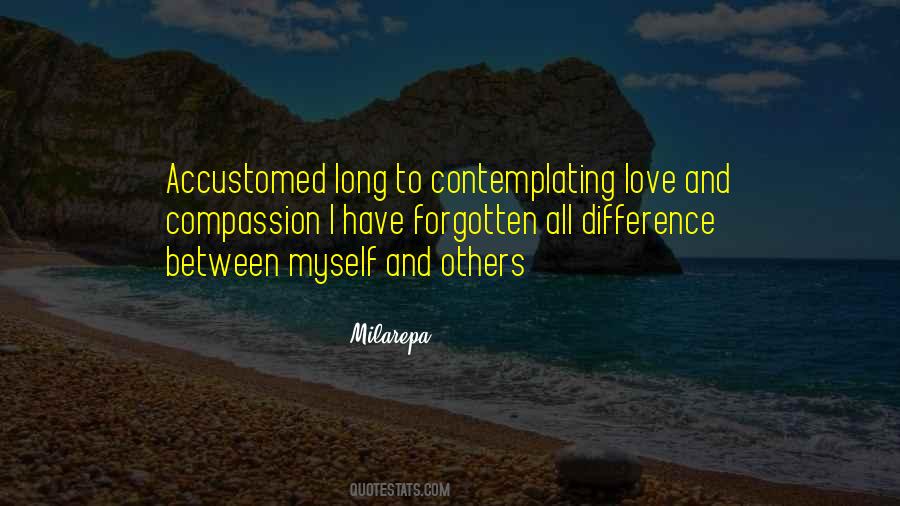 #52. I thought you had forgotten me."
"I have spent my life remembering you. - Author: Meredith Ann Pierce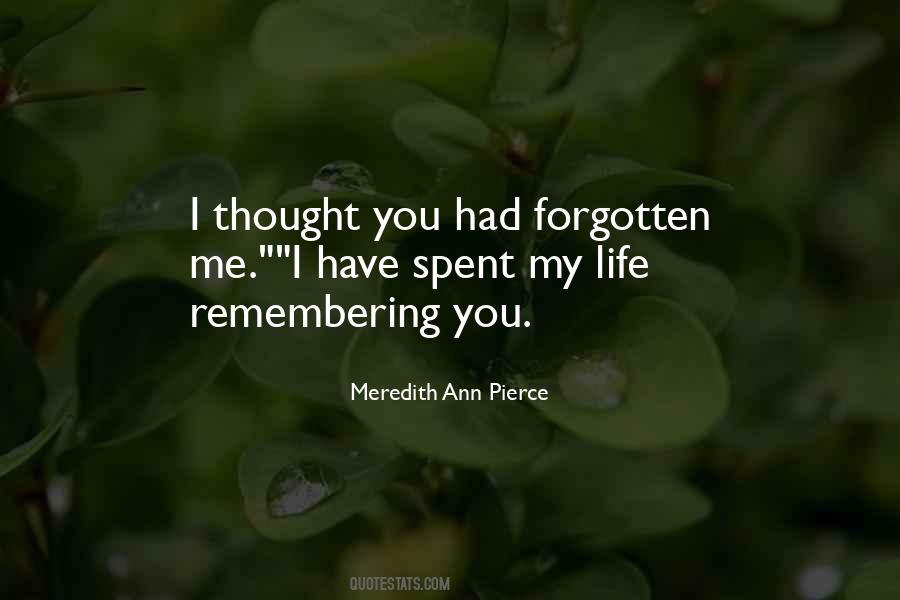 #53. Nothing is forgotten in the processes of idealization. Reveries of idealization develop, not by letting oneself be taken in by memories, but by constantly dreaming the values of a being whom one would love. And that is the way a great dreamer dreams his double. His magnified double sustains him. - Author: Gaston Bachelard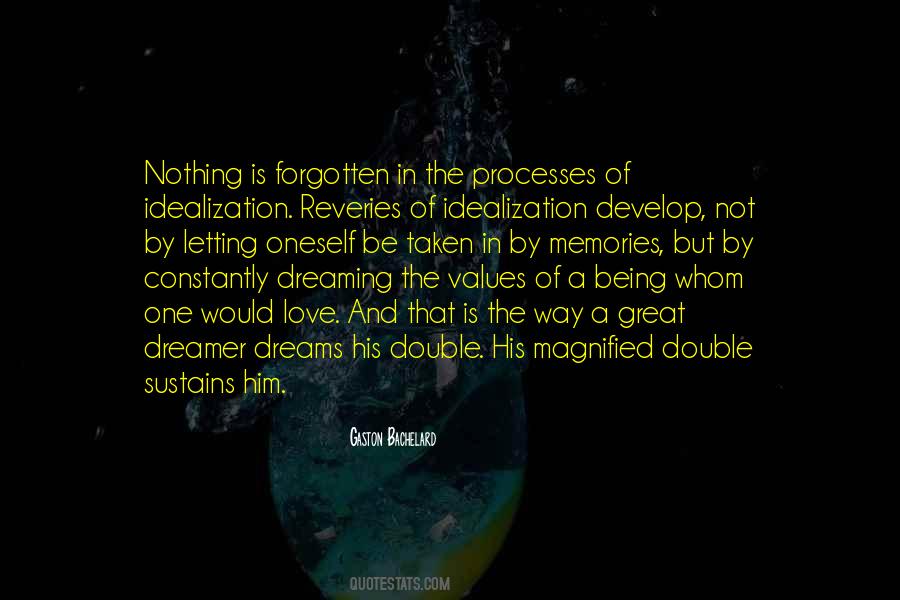 #54. You have infiltrated me completely, you make me feel alive Harlow, and I love that feeling. I have had my heart walled off for so long, and you have melted it so I can feel again. ~Beckett - Author: S.M. Stryker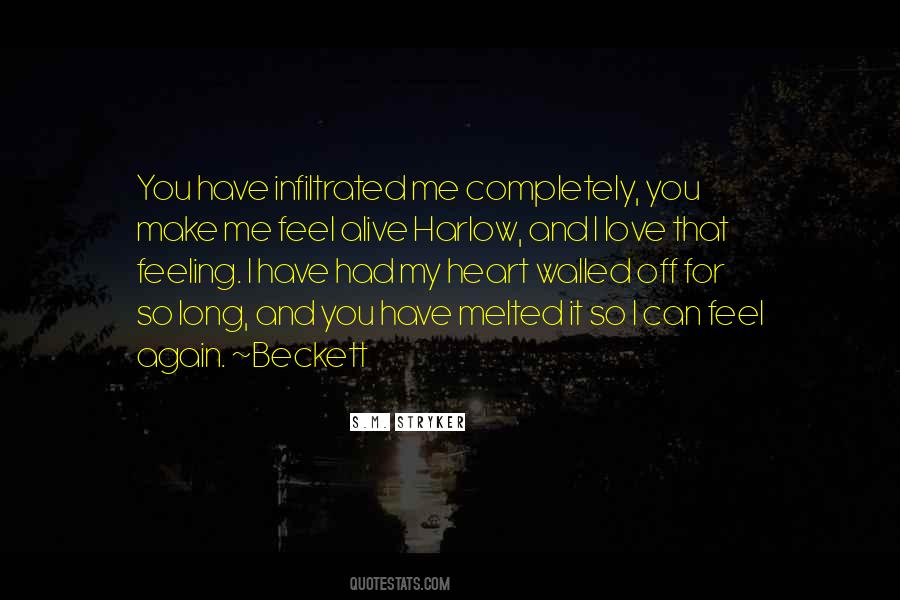 #55. A baby is a small member of the home that makes love stronger, days shorter, nights longer, the bank roll smaller, the home happier, the clothes shabbier, the past forgotten, and the future worth living for. - Laurens van der Post and Jane Taylor - Author: David Jeremiah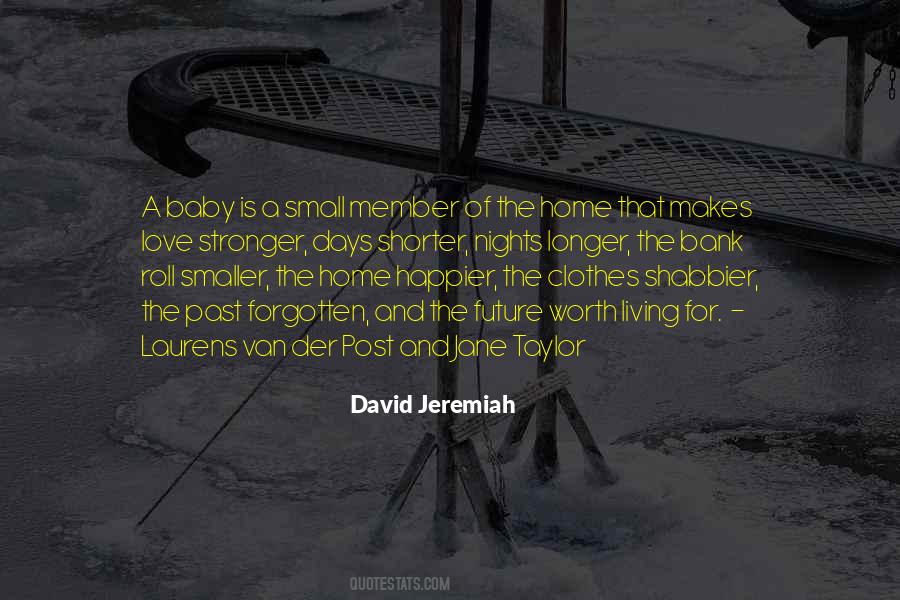 #56. He made her play and she had almost forgotten how. Life had been so serious and so bitter. He knew how to play and swept her along with him. - Author: Margaret Mitchell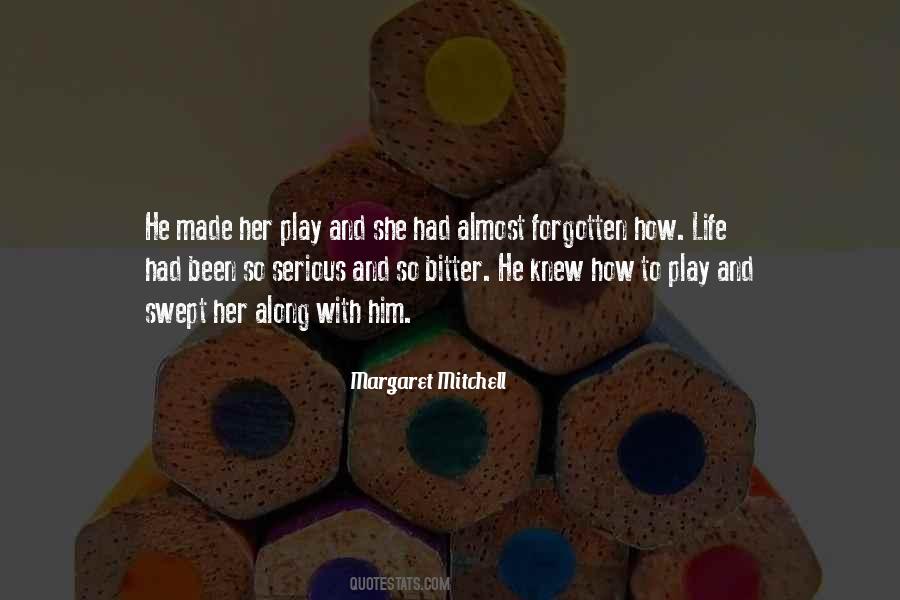 #57. Somewhere we went wrong
Our love is like a song
But you won't sing along
Have you forgotten
About us - Author: Demi Lovato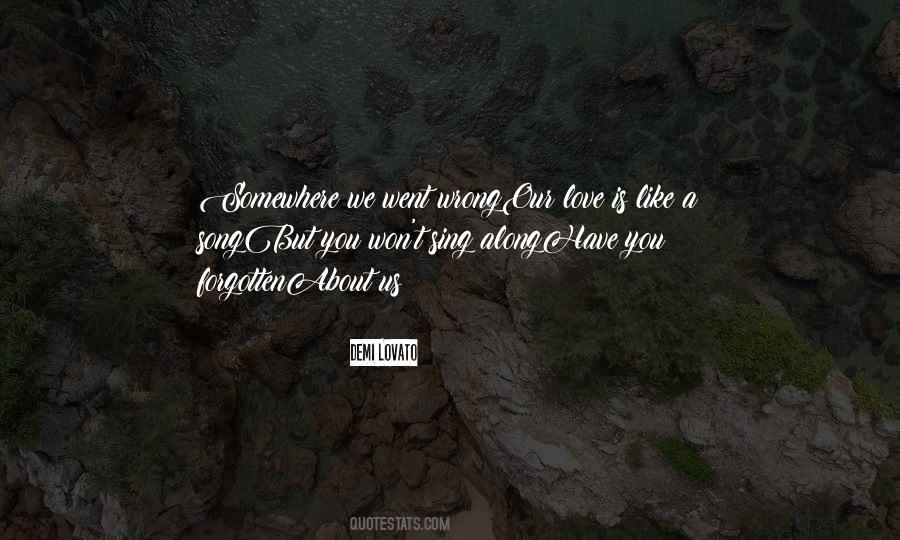 #58. Thou doth not know the tragedy of a tale between two hearts till the tears of a forgotten love dissolve into the scars of yearning and seep through the cracks of the broken, leaving behind a trail of crimson for all but one to see. - Author: Raneem Kayyali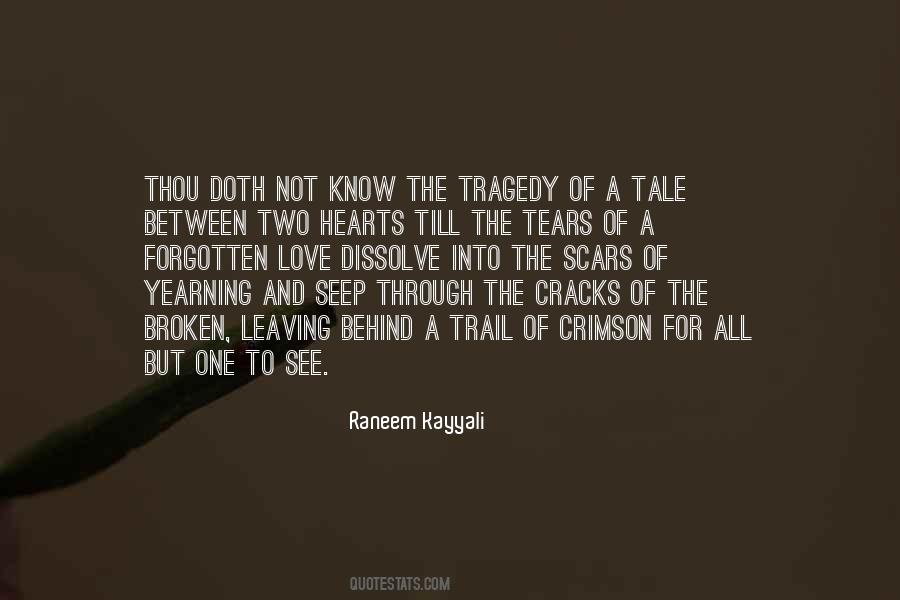 #59. A tear rolls from Harlow's eye. "You've already won me. Your best quality is your heart Beck. It was your heart I fell in love with. ~Harlow - Author: S.M. Stryker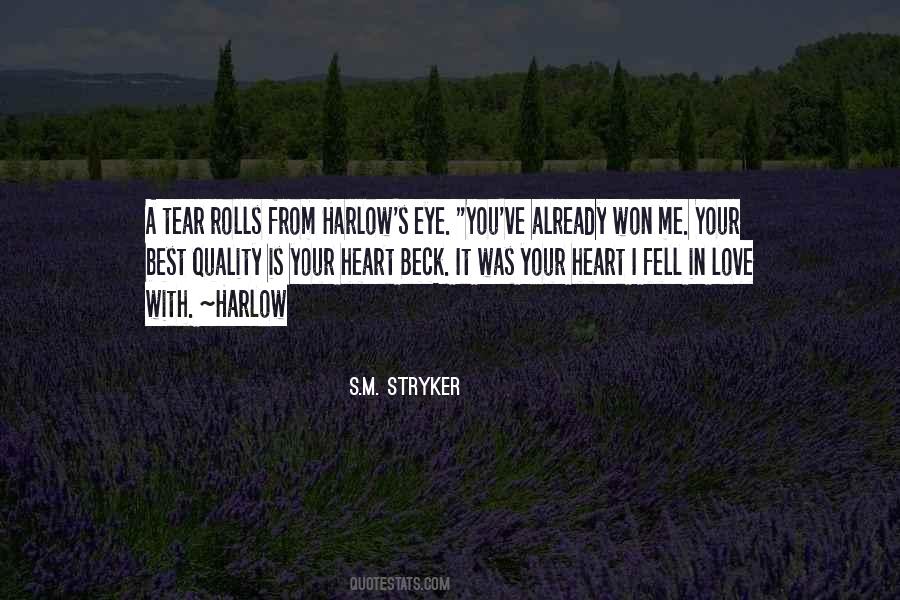 #60. My wife is really sentimental. One Valentine's Day I gave her a ring and to this day she has never forgotten those three little words that were engraved inside Made in Taiwan! - Author: Leopold Fechtner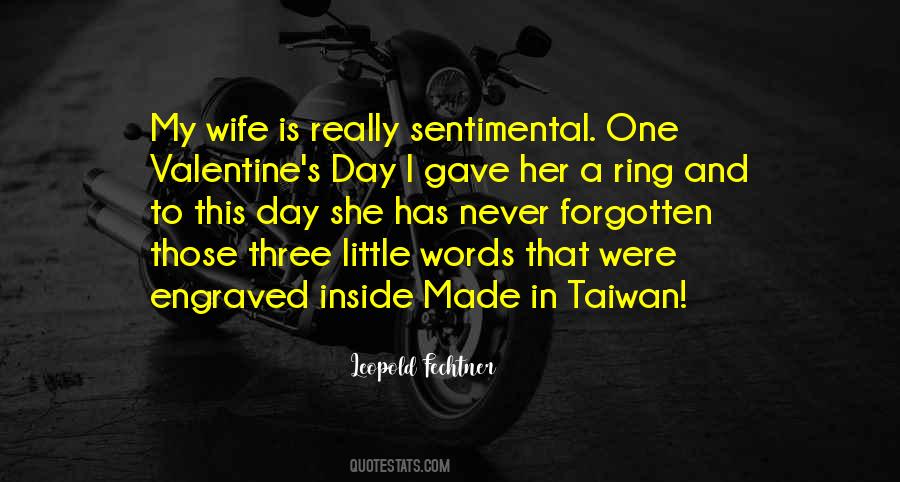 #61. [I]t doesn't matter whom you love or where you move from or to, you always take yourself with you. If you don't know who you are, or if you've forgotten or misplaced her, then you'll always feel as if you don't belong. Anywhere. (xiii) - Author: Sarah Ban Breathnach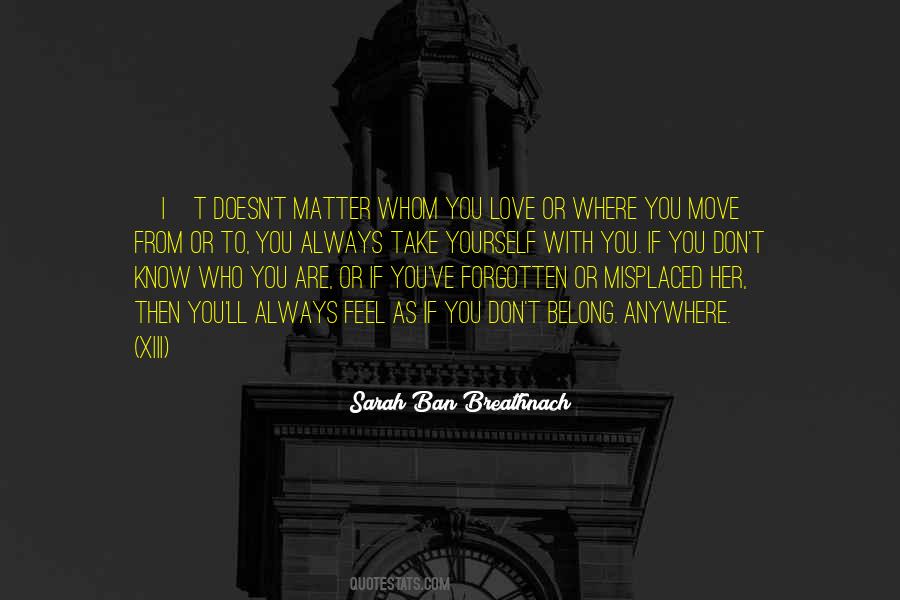 #62. Aristotle Onassis rescued me at a moment when my life was engulfed with shadows. He brought me into a world where one could find both happiness and love. We lived through many beautiful experiences together which cannot be forgotten, and for which I will be eternally grateful. - Author: Jackie Kennedy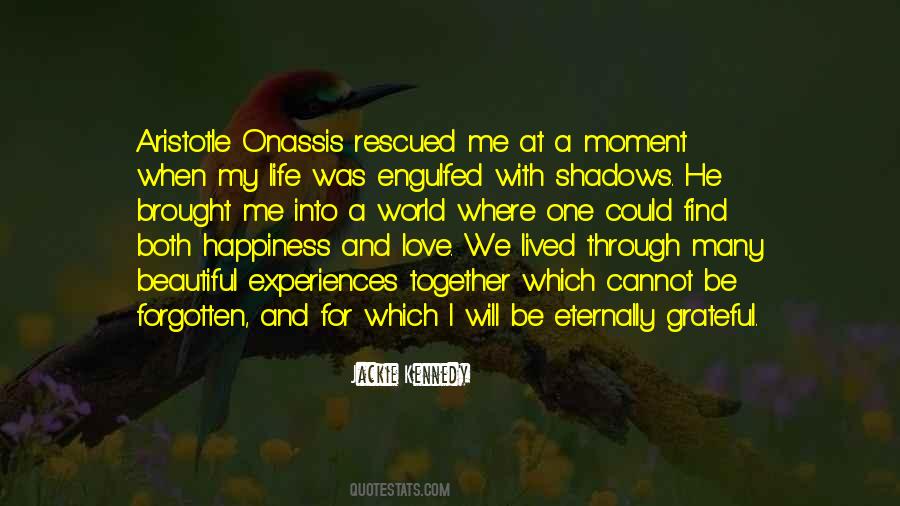 #63. Sitting on my bed with all these things I used to love but not loving them anymore, I just wanted to set them on fire. That's when I knew I was never going to be all right again. - Author: Wendy Walker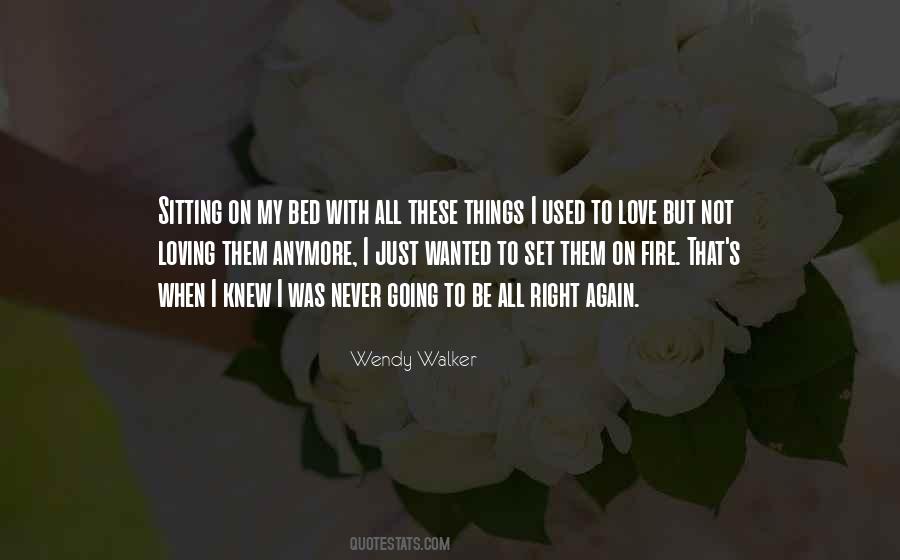 #64. He didn't know if his capacity to love had been stunted, buried beneath the need for survival for so long it had forgotten how to breathe.... - Author: Brooke McKinley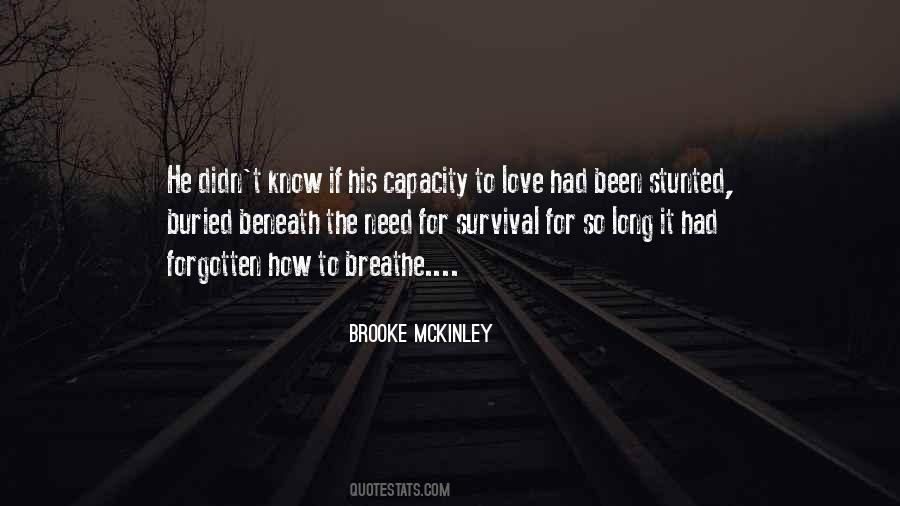 #65. As we rise higher in the understanding of ourselves, the national and racial dissonances will be forgotten in the universal rhythms of Truth and Love. - Author: Ruth St. Denis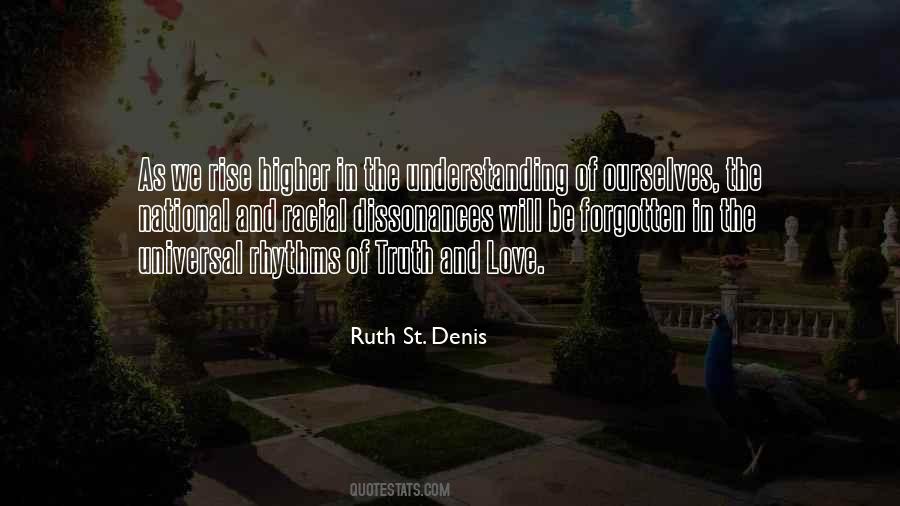 #66. How easily this unthinking family love was forgotten. - Author: Ian McEwan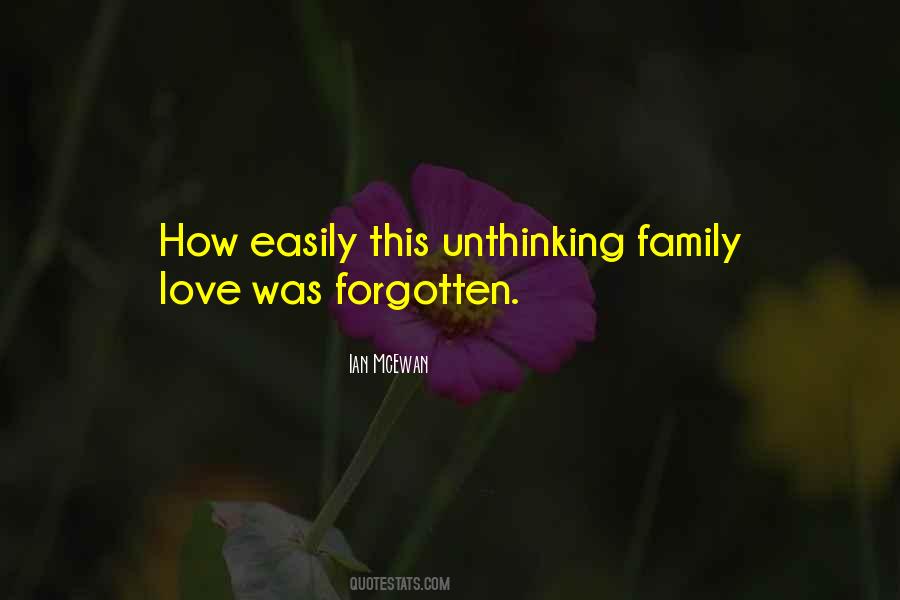 #67. The language itself, whether you speak it or not, whether you love it or hate it, is like some bewitchment or seduction from the past, drifting across the country down the centuries, subtly affecting the nations sensibilities even when its meaning is forgotten. - Author: Jan Morris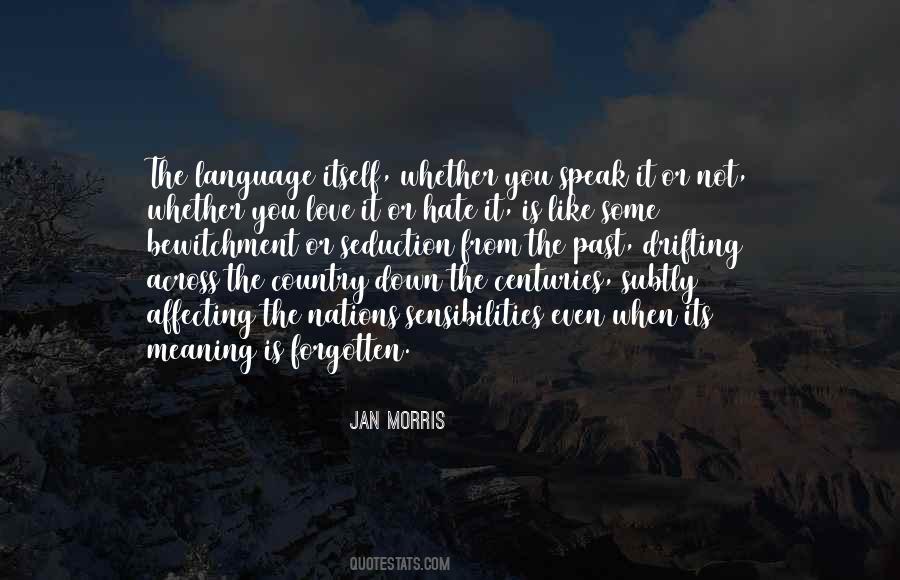 #68. I think of New York City lost in stars
forgotten as a blue haired pet of childhood love
Tonight the night is full; - Author: Gregory Corso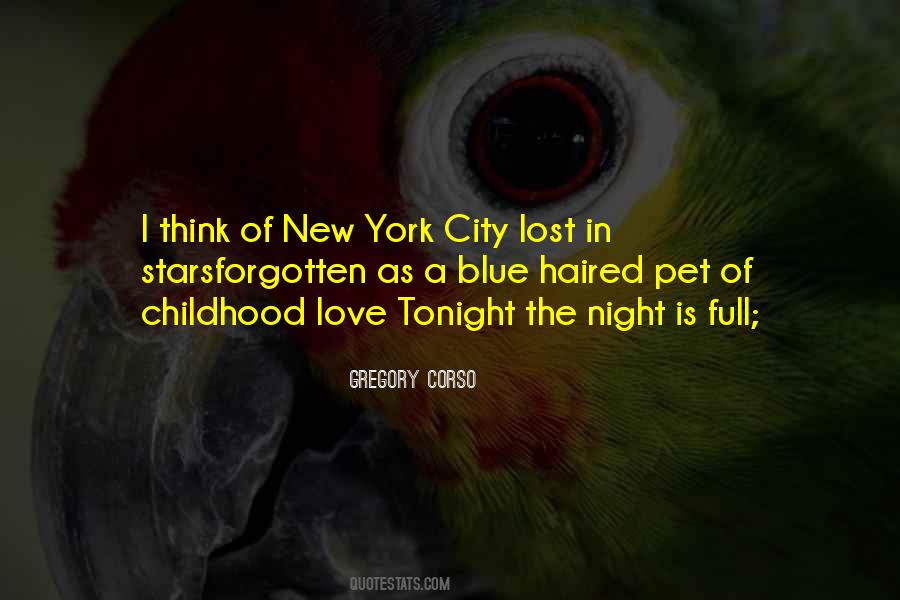 #69. I saw now that love could not be stopped, forgotten, or transferred, no matter what schemes the mind and body devised. - Author: Wendy Higgins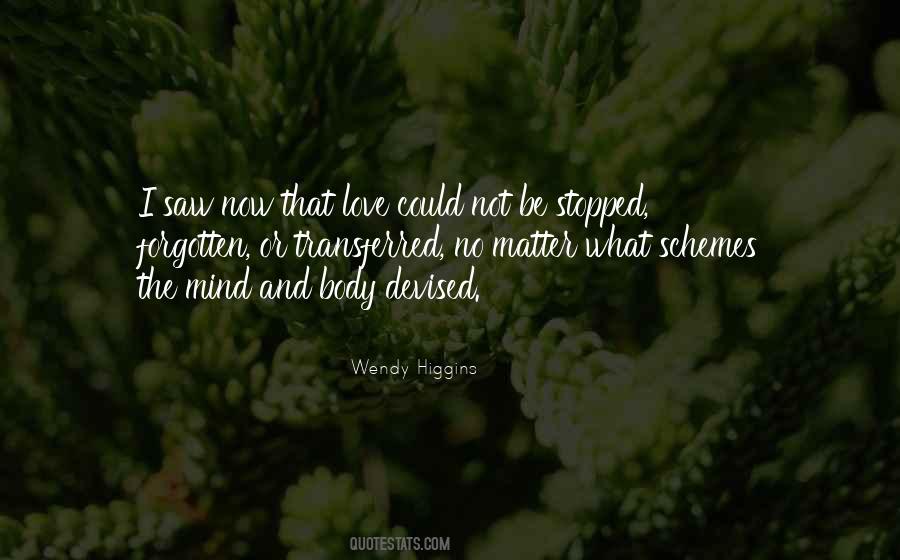 #70. I Believe she thought I had forgotten my station; and yours, sir.'
'Station! Station!
your station is in my heart, and on the necks of those who would insult you, now or hereafter. - Author: Charlotte Bronte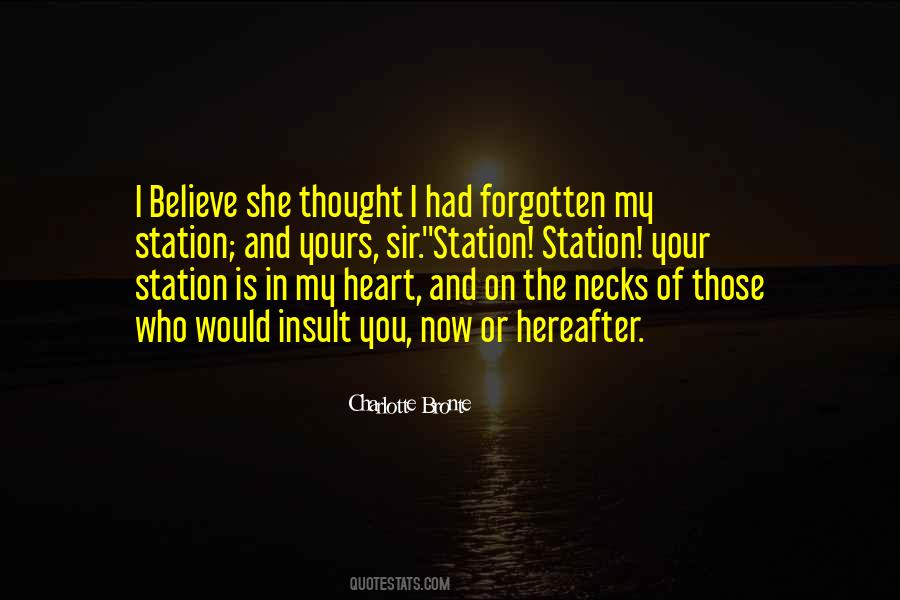 #71. Don't for a minute think that God has forgotten about you or doesn't have your back. And don't base God's love or desire to help you on your opinion of yourself. Base it on who God says He is. - Author: Susan May Warren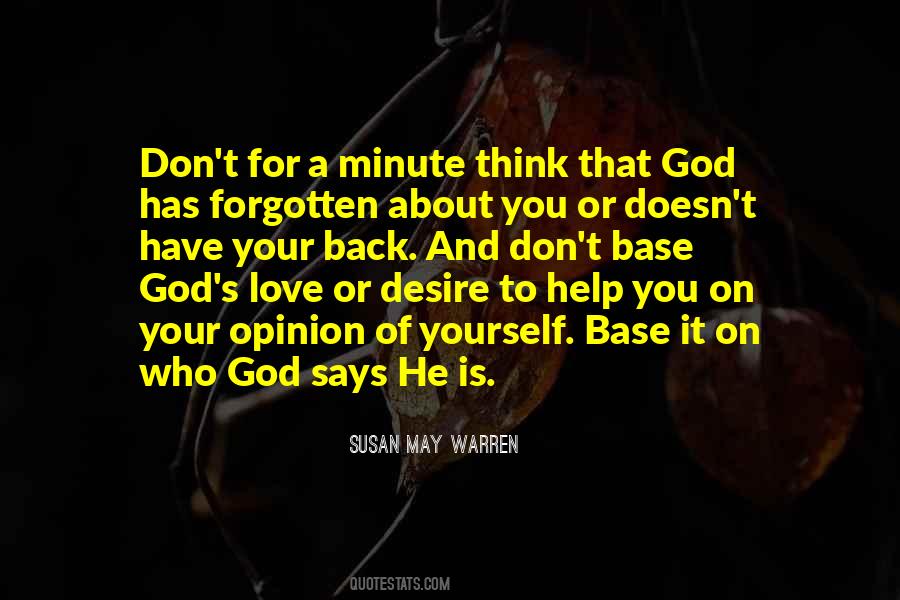 #72. Delirium: "What's the name of the word for the precise moment when you realize that you've actually forgotten how it felt to make love to somebody you really liked a long time ago?"
Dream: "There isn't one."
Delirium: "Oh. I thought maybe there was. - Author: Neil Gaiman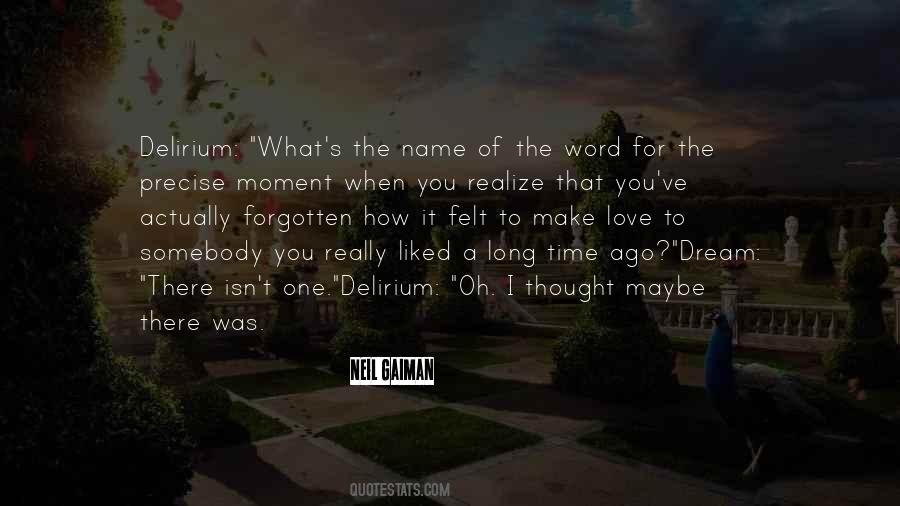 #73. Lovers cannot imagine any opposition, no matter how small, to the beloved. They cannot endure to see the beloved veiled by something that causes Him to be forgotten. Moreover, lovers regard as futile any speech not about the beloved, and any act not related to Him as ingratitude and disloyalty. - Author: Fethullah Gulen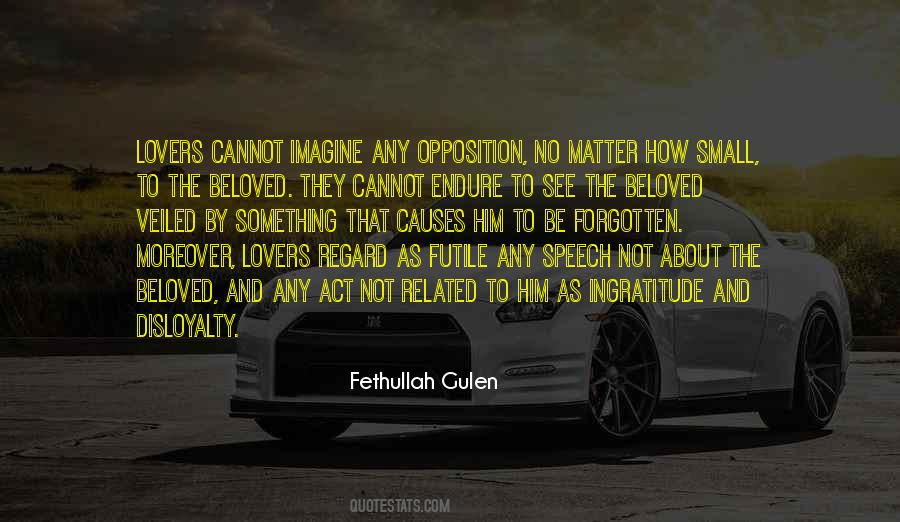 #74. A sacrifice ever remembered.
Never forgotten.
Another day we live.
A sacrifice for you. Only for you.
And so shall it be,
For evermore.
Paviamma - Author: Mary E. Pearson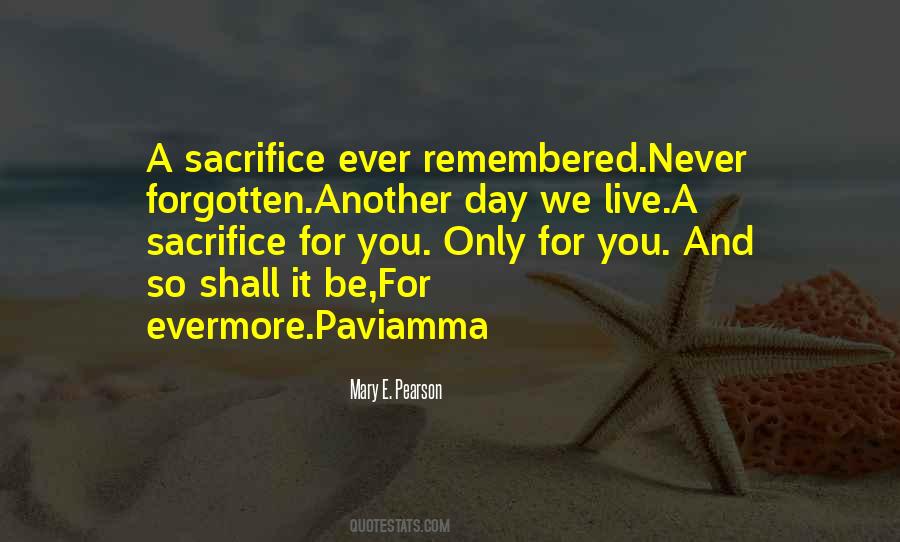 #75. A necklace of pearls on a white neck.
We had lost the sense of discovery which had infused the anarchy of our first year. I began to settle down.
... the old house in the foreground, the rest of the world abandoned and forgotten; a world of its own of peace and love and beauty ... - Author: Evelyn Waugh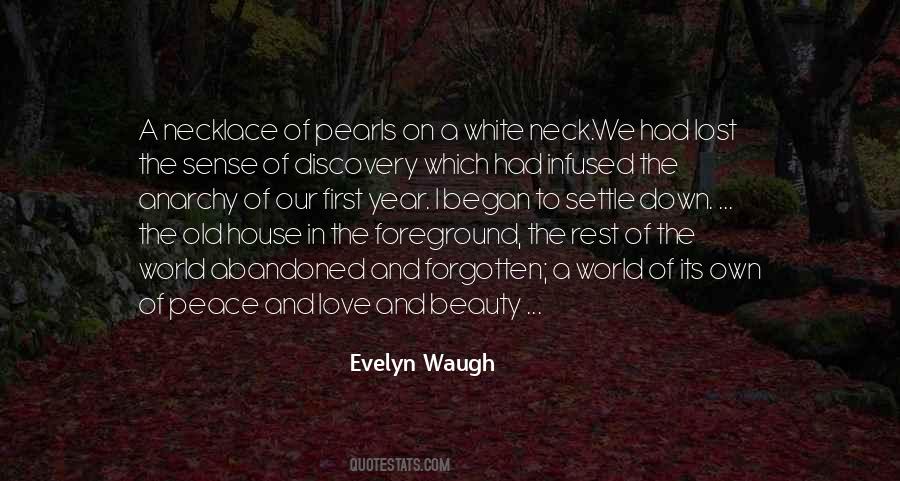 #76. So we don't believe that life is beautiful because we don't recall it but if we get a whiff of a long-forgotten smell we are suddenly intoxicated and similarly we think we no longer love the dead because we don't remember them but if by chance we come across an old glove we burst into tears. - Author: Marcel Proust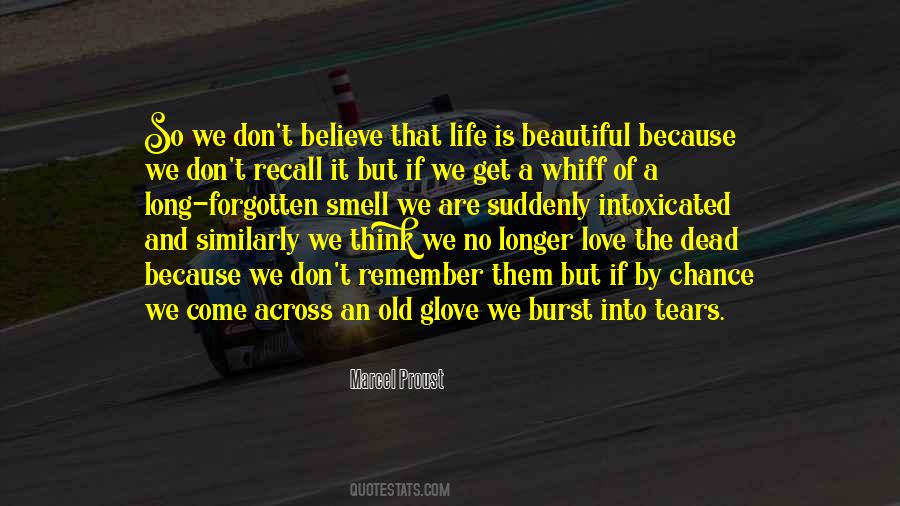 #77. If you were falling in love and you could go back in time and relive a day and see the banal things you did that you'd forgotten about, you'd weep, looking at that day. - Author: Alexander Payne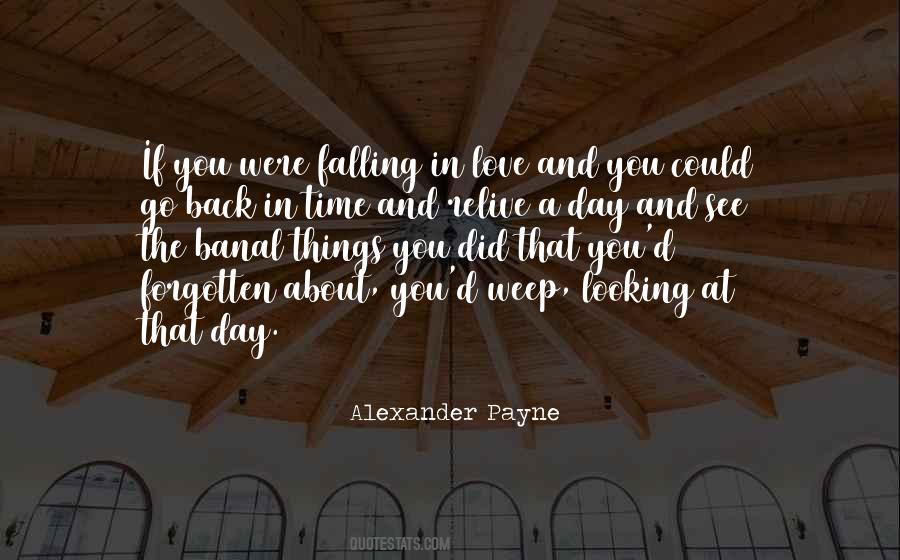 #78. Looking her in her now tear-filled eyes, I cupped her face in my hands. "We may not be together, but we will never be through. ~ Beckett - Author: S.M. Stryker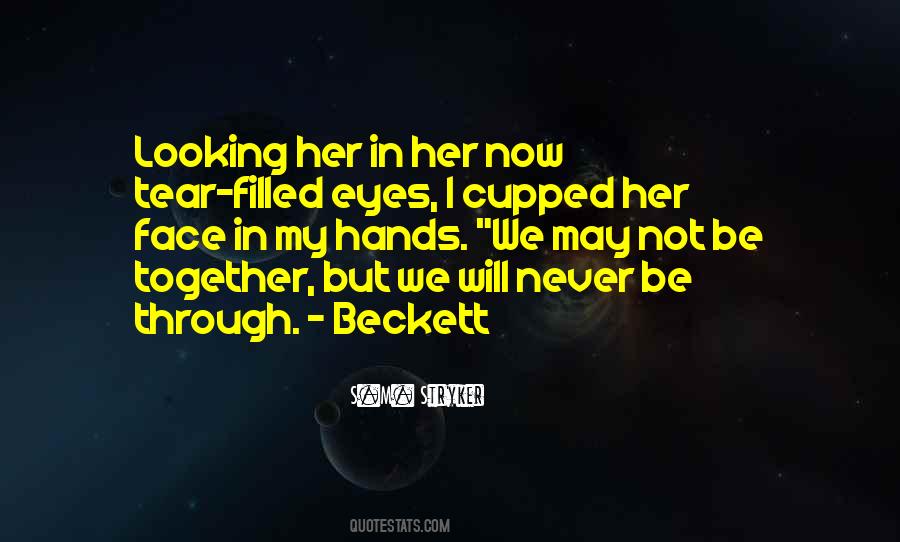 #79. Love the person who has forgotten what it is to be cared for and Ignore the person who just misses the feeling ... - Author: Coco Nicole Estef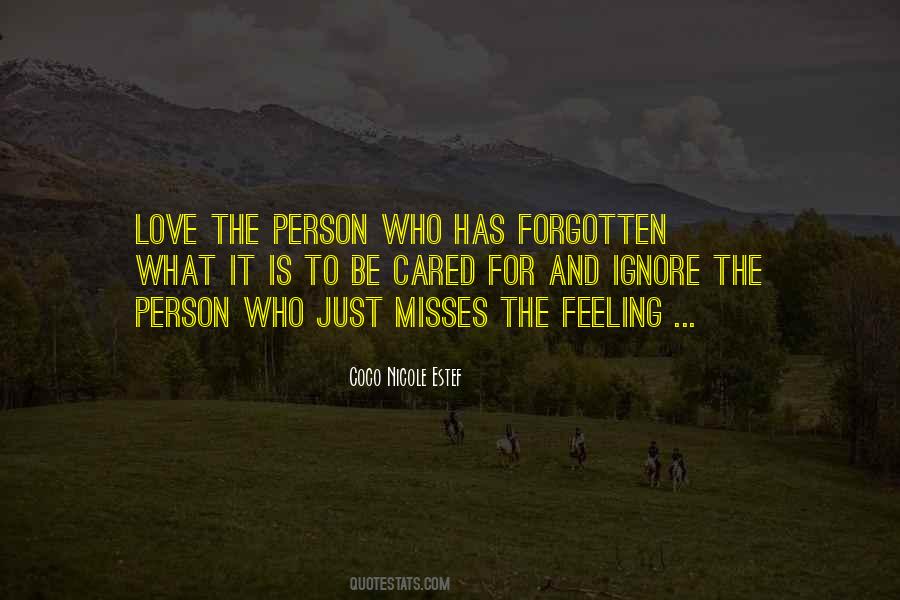 #80. Familiar like a forgotten song from long ago that takes you back to a moment the second you hear it. And you recognize who you were. Then. And now. And you have to figure out how to reconcile the two. - Author: Katy Regnery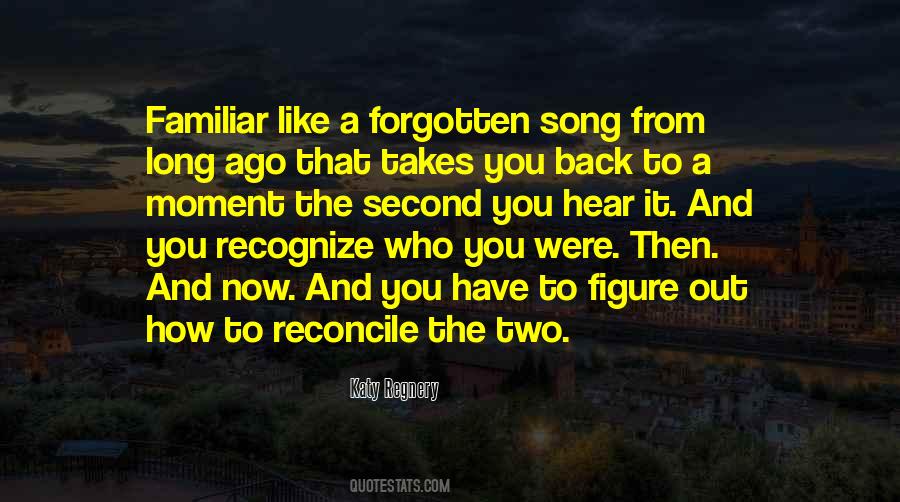 #81. Denis's love for Mattia had burned itself out, like a forgotten candle in an empty room, leaving behind a ravenous discontent. - Author: Paolo Giordano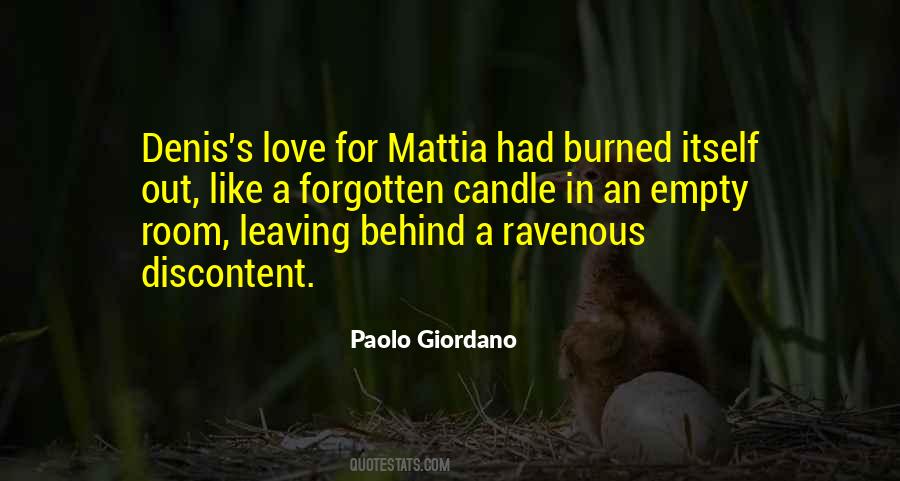 #82. Even as one heat another heat expels, or as one nail by strength drives out another, so the remembrance of my former love is by a newer object quite forgotten. - Author: William Shakespeare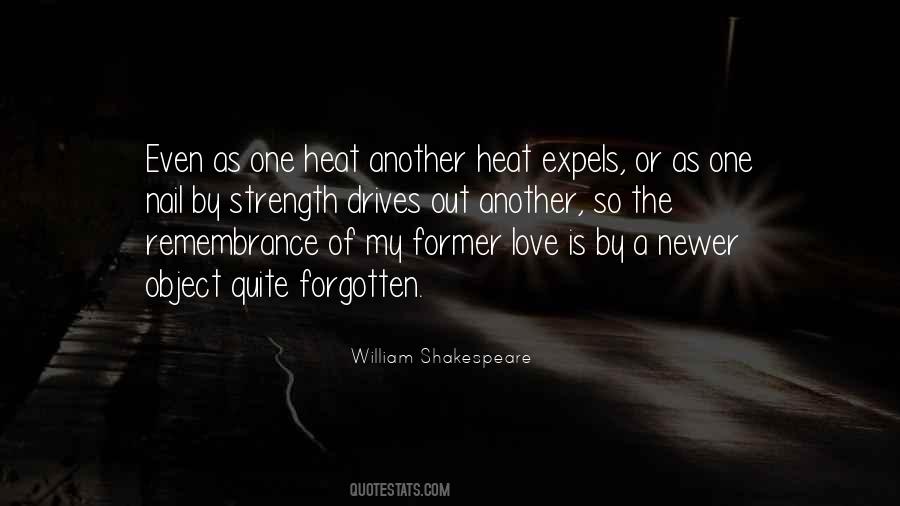 #83. Having had virtually no contact with the outside world for the last few weeks, Evan had temporarily forgotten the social norms governing shopping conduct or approaching celebrities in public. - Author: Zack Love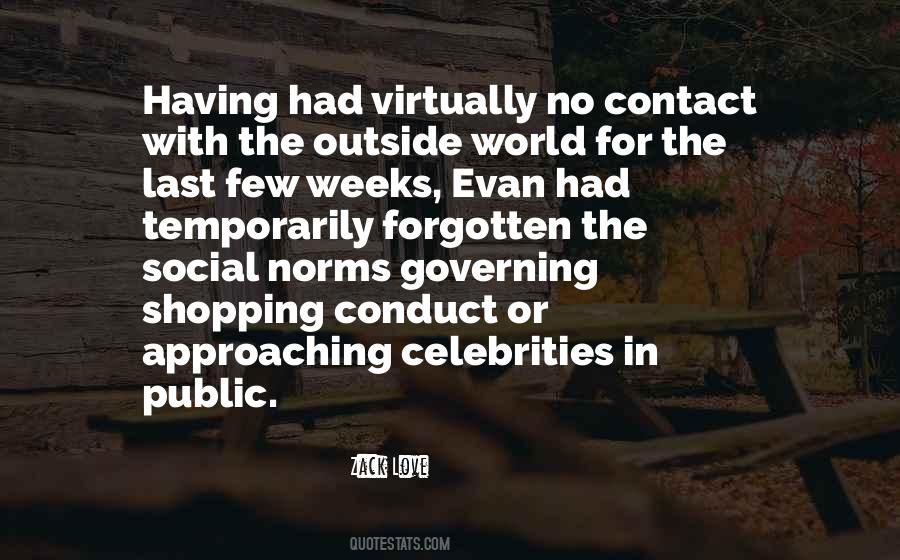 #84. I hate her."
Merlin laughed, tossing the stick down. "Not so. You have forgotten how to love. That's a different sorrow. - Author: Catherine Fisher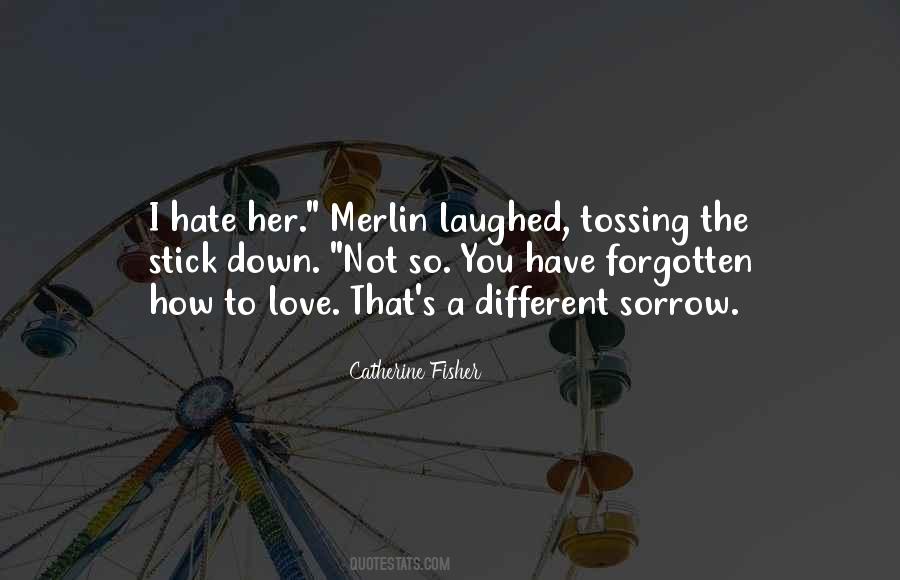 #85. God's Fatherly prerogative, is a kingly attribute so sweetly veiled in love, that the King's crown is forgotten in the King's face, and His sceptre becomes, not a rod of iron, but a silver sceptre of mercy - the sceptre indeed seems to be forgotten in the tender hand of Him who wields it. - Author: Charles Haddon Spurgeon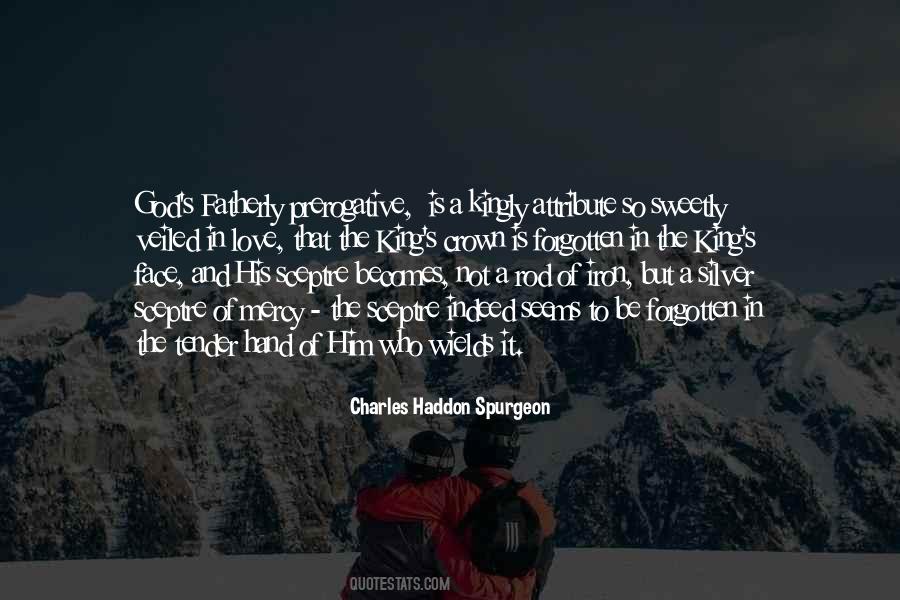 #86. His hands are saying that he wants to hold her. His feet are saying that he wants to chase after her ... He's probably forgotten that I'm here, beside him - Author: Ai Yazawa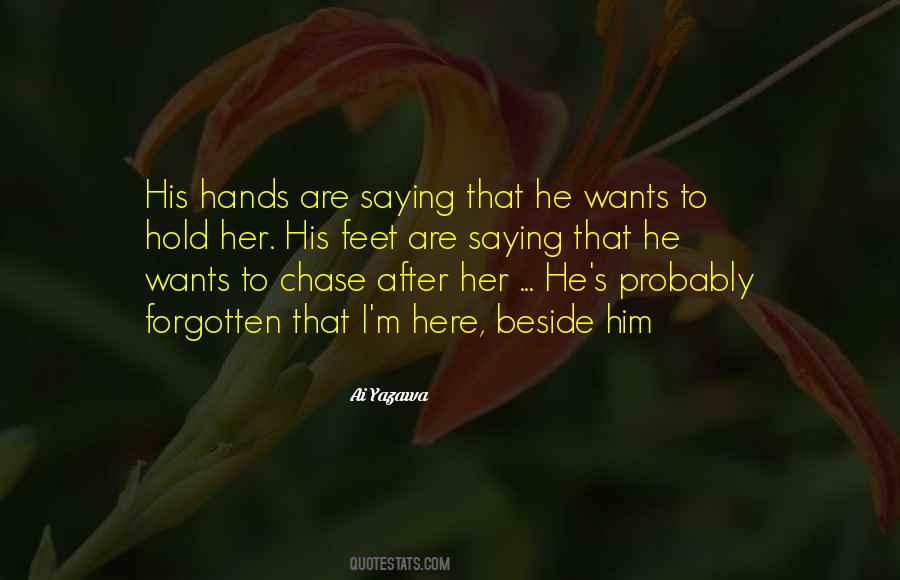 #87. She loves you. She's just forgotten how to show it. - Author: Lisa See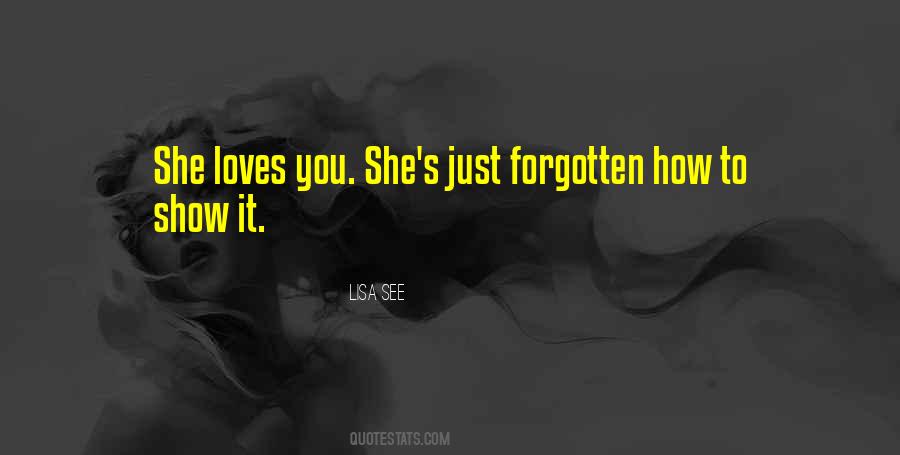 #88. With a name like Cush Jumbo, you never get forgotten. The 'Jumbo' is from my father, who is Nigerian, and 'Cush' was a king in ancient Egypt. It's a name that took a few years to grow into, but now I feel it was meant to be. It's absolutely who I am, and I love it. - Author: Cush Jumbo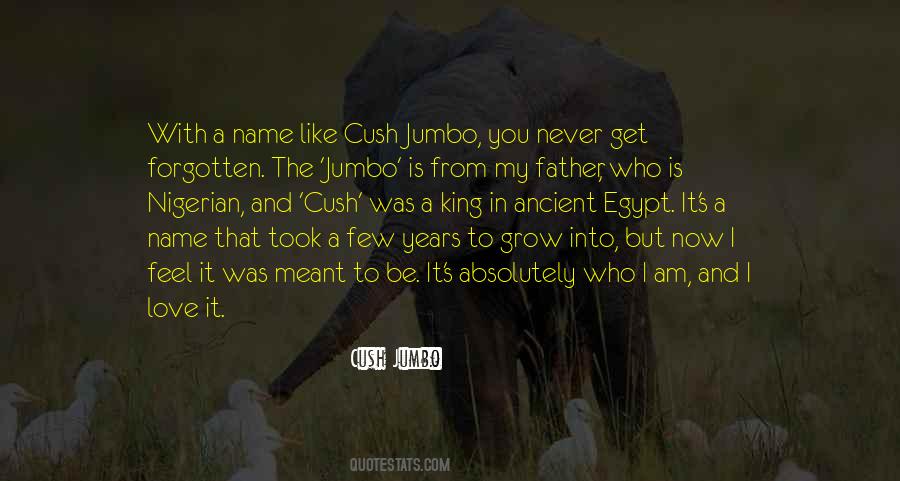 #89. I once sacrificed something I love for the God I love even more, and He has never forgotten me for it. - Author: Thomas S. Monson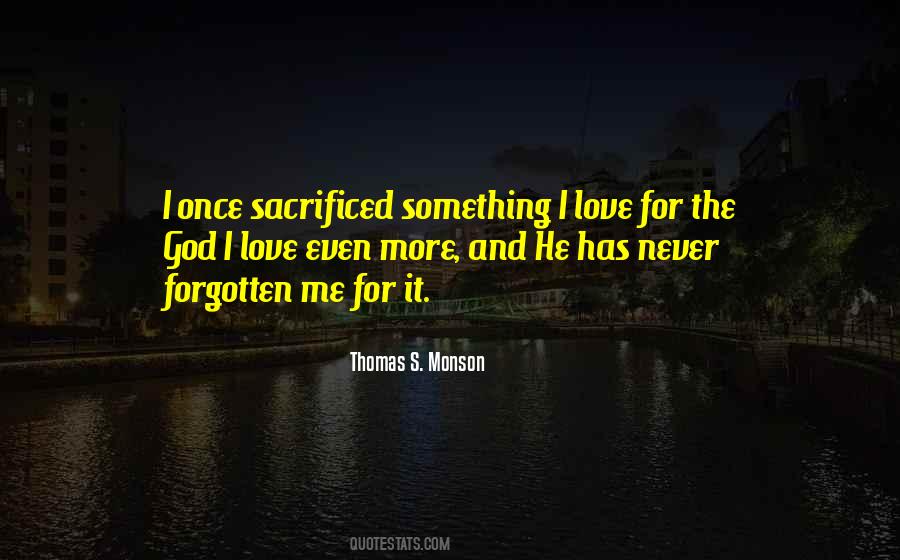 #90. O Heavenly Children, you chant God's name but you have forgotten him. He does not want your verses, or the coins from your purses, but for you to love and embrace each other. To uphold truth, justice and peace - and to respect your father and mother, fellow sisters and brothers. - Author: Suzy Kassem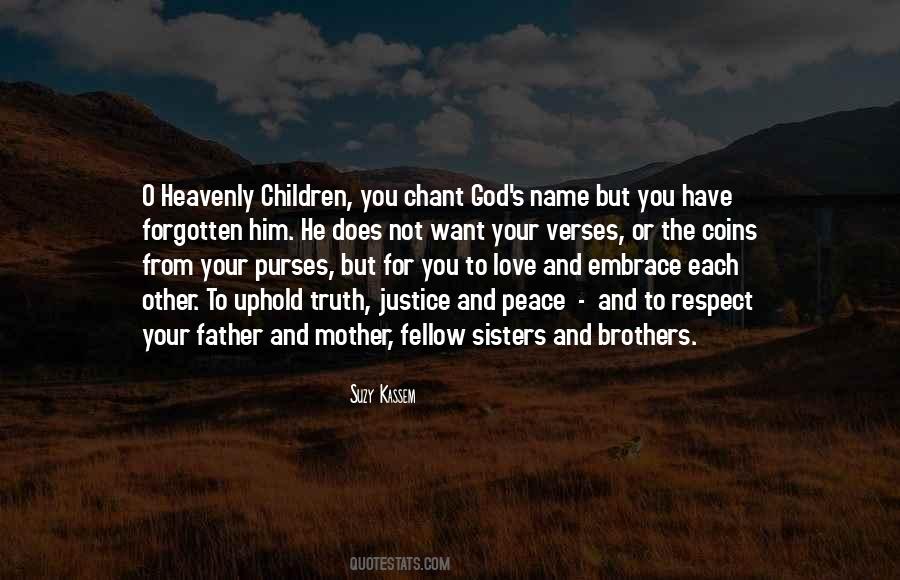 #91. I could have loved you once And said it But then you went away And when you came back Love was a forgotten word, Remember? - Author: Marilyn Monroe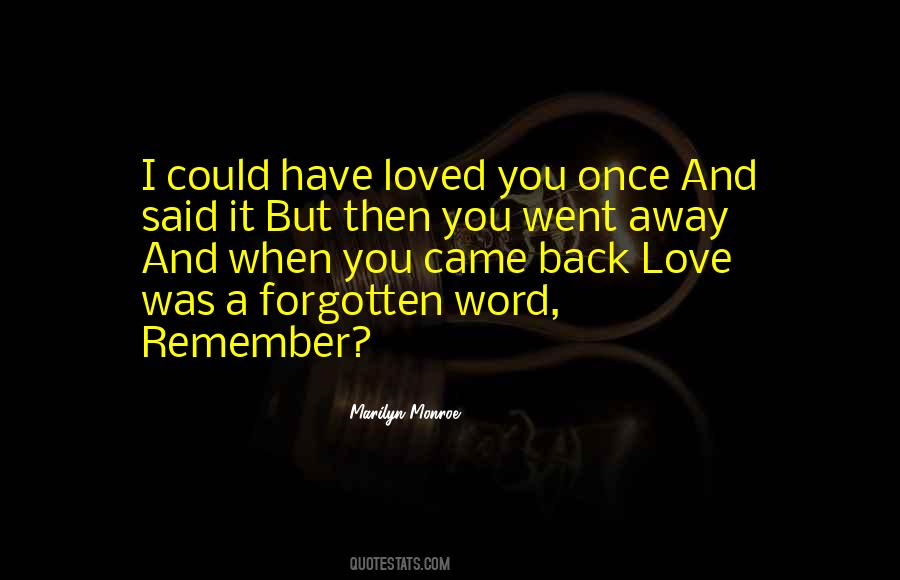 #92. We've forgotten that God showers his extraordinary gifts through ordinary means of grace, loves us through ordinary fellow image bearers, and sends us out into the world to love and serve others in ordinary callings. - Author: Michael S. Horton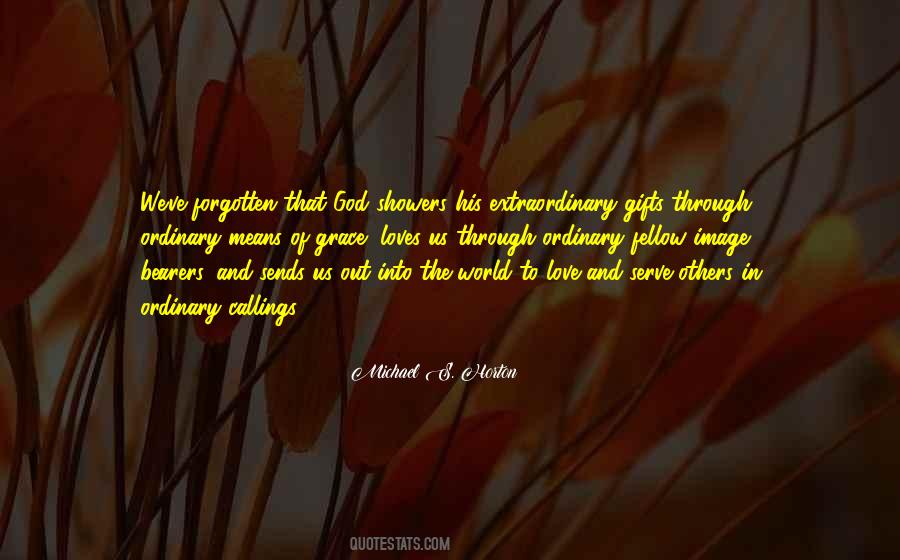 #93. I wish they would all go away.

Except the Fool. I wished he would join me. Somehow, I had always thought he would join me. Now, I could not recall why. Perhaps I had buried that in the stone. - Author: Robin Hobb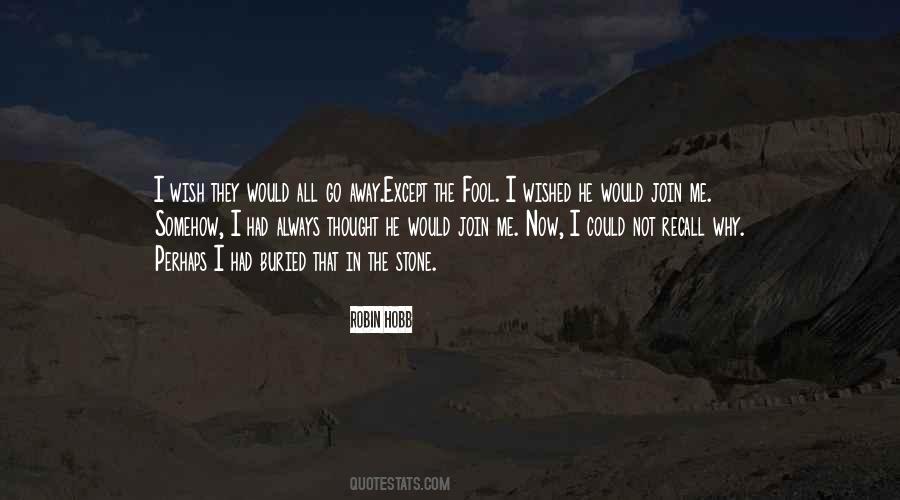 #94. Herondales." Zachariah's voice was a breath, half laughter, half pain. "I had almost forgotten. No other family does so much for love, or feels so much guilt for it. Don't carry the weight of the world on you, Jace. It's too heavy for even a Herondale to bear. - Author: Cassandra Clare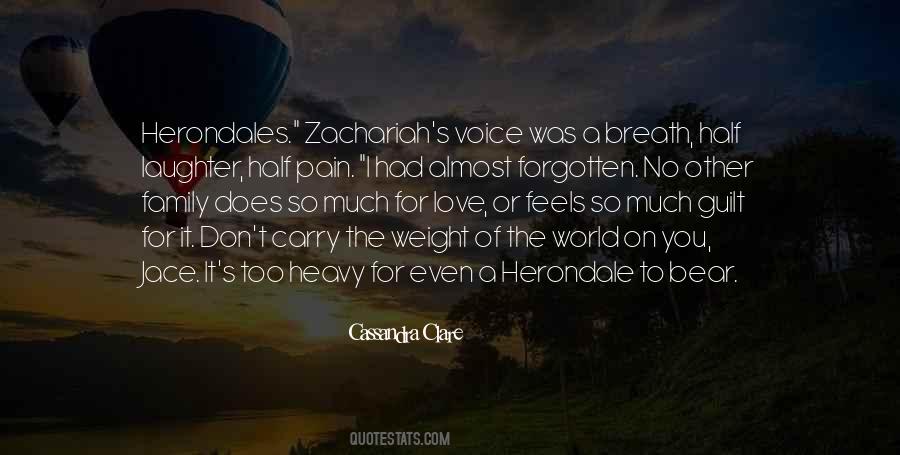 #95. He knew that, in the eyes of God, all things are interlinked; he knew that justice does indeed spring in great surprise from the acts and consequences of ages long forgotten; and he knew that love is not broken by time. - Author: Mark Helprin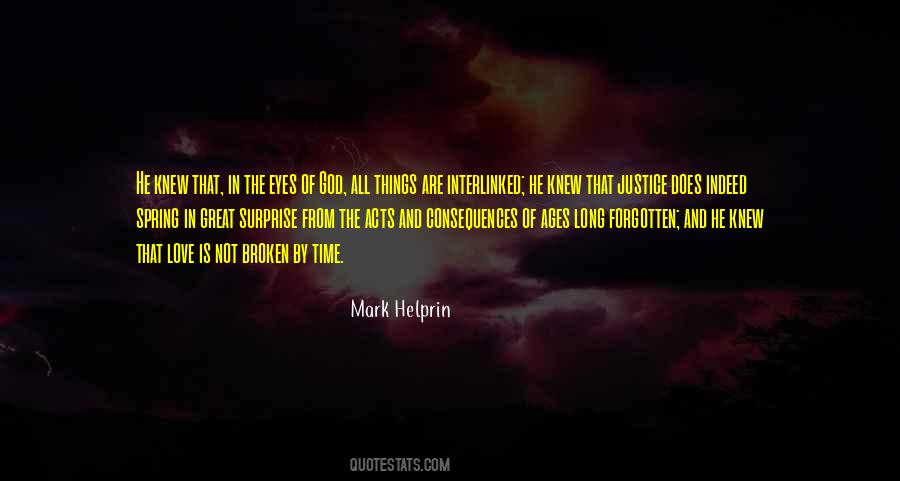 #96. I kiss him with everything that I have and everything that I am. I kiss him with the passion of a woman tasting the promise of true love for the very first time in her life. Every man before him forgotten. - Author: Mia Asher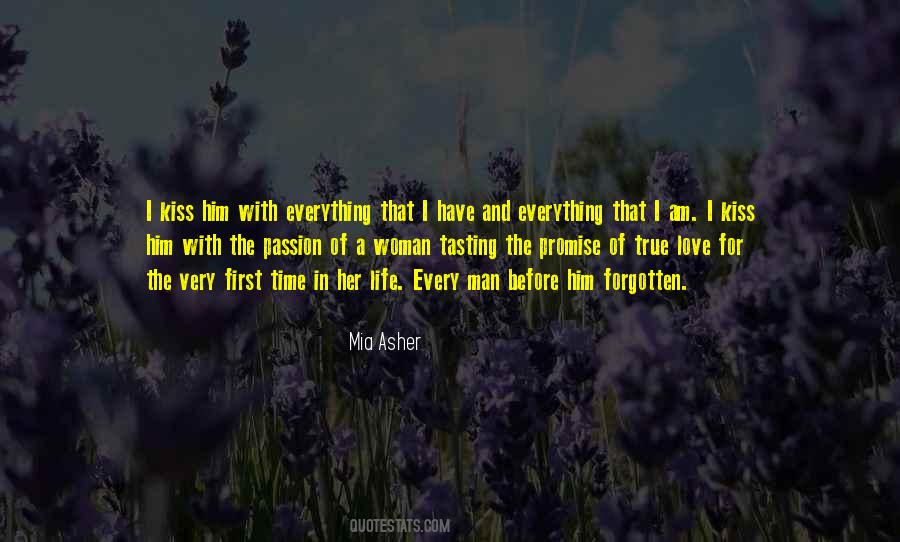 #97. Search for the stranger inside you, forgotten even by your death. - Author: Sorin Cerin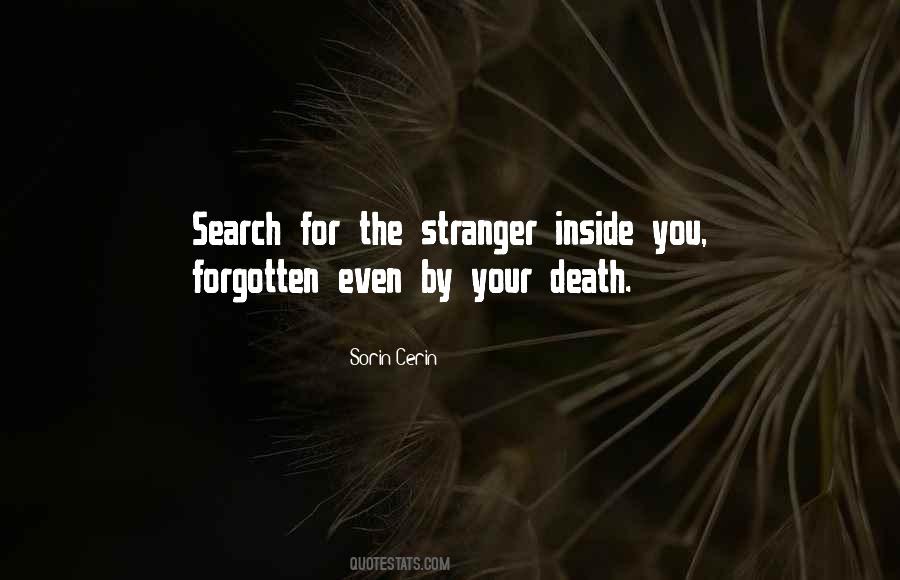 #98. She was invisible. Forgettable. Forgotten. - Author: Johnny Worthen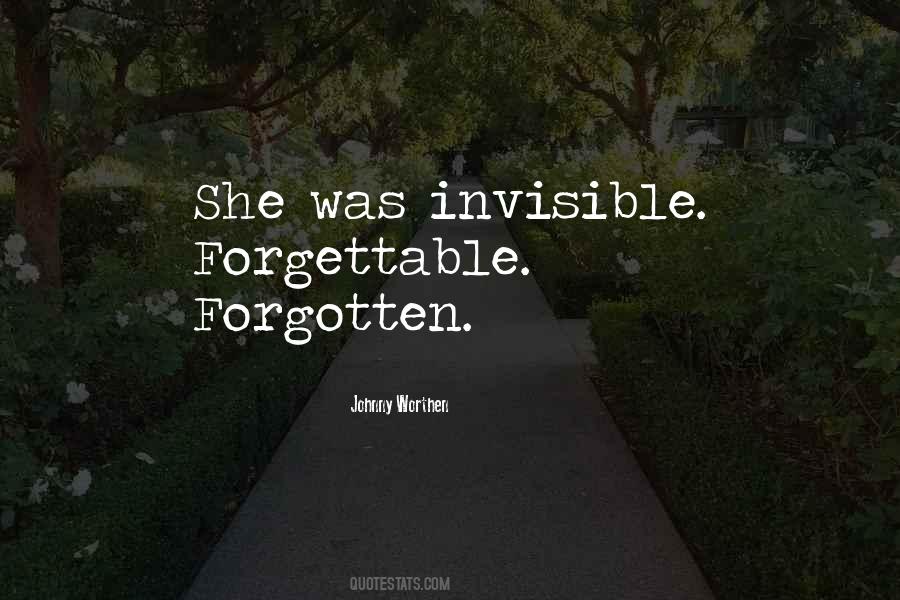 #99. Oh, fancy! All these. I really have forgotten a lot of these. Oh, here's The Amulet and here's The Psamayad. Here's The New Treasure Seekers. Oh, I love all those. No, don't put them in shelves yet, Albert. I think I'll have to read them first. - Author: Agatha Christie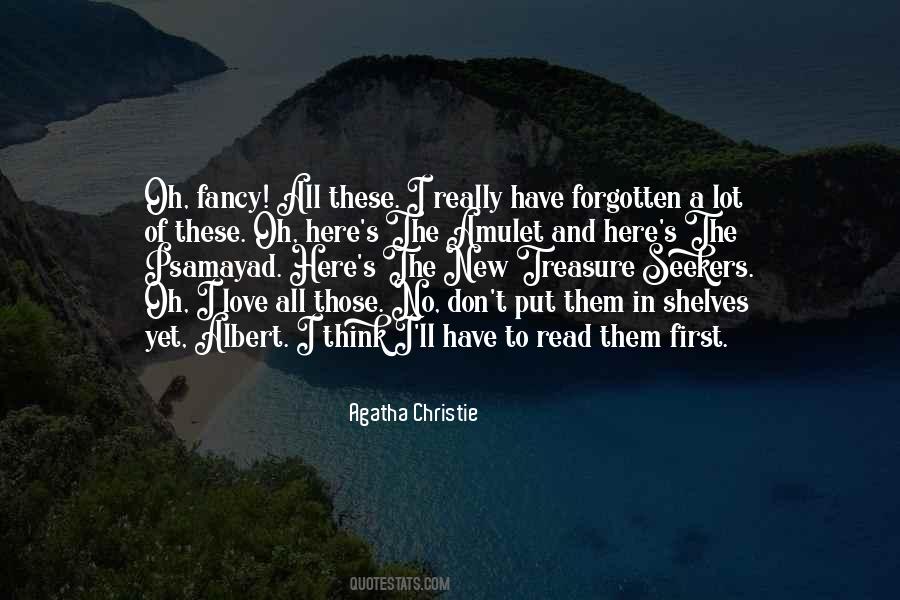 #100. I'd never forgotten him, despite spending half my life trying to forget him. I'd given him everything: my love, my body, my pride, & parts of my heart & mind that I could never get back. - Author: Beth Harbison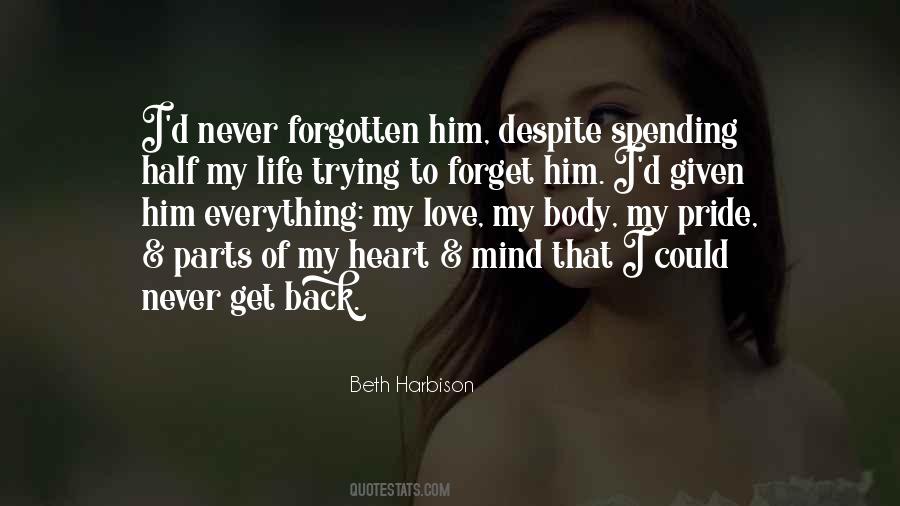 Famous Authors
Popular Topics