Forgives Famous Quotes & Sayings
List of top 100 famous quotes and sayings about forgives to read and share with friends on your Facebook, Twitter, blogs.
Top 100 Quotes About Forgives
#1. DECISIONS
History forgives those who have taken wrong decisions, but never forgives those who have not taken decisions at all. Therefore, take a decision today to make your decision. - Author: Sirshree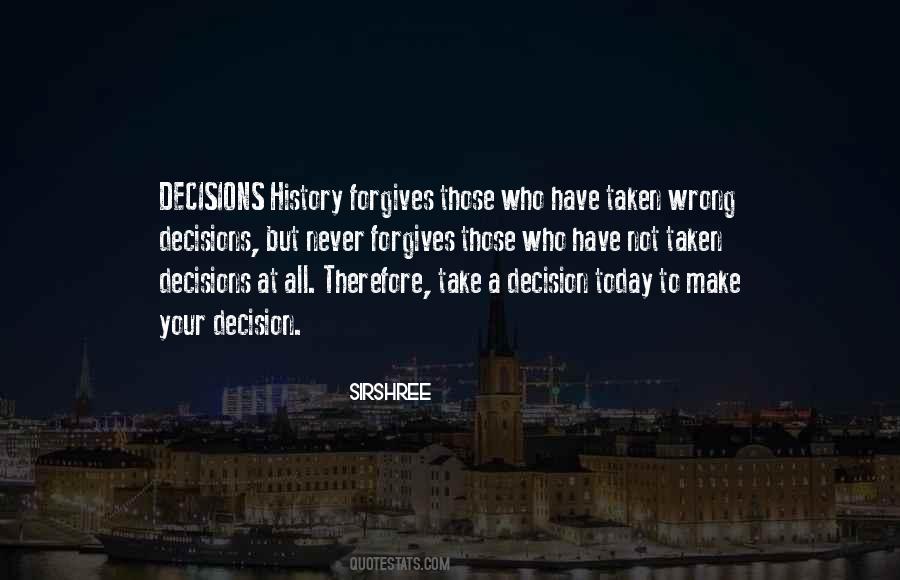 #2. You think God will never forgive you, but the only God is beauty and beauty always forgives. It forgives with its infinite indifference. - Author: Glen Duncan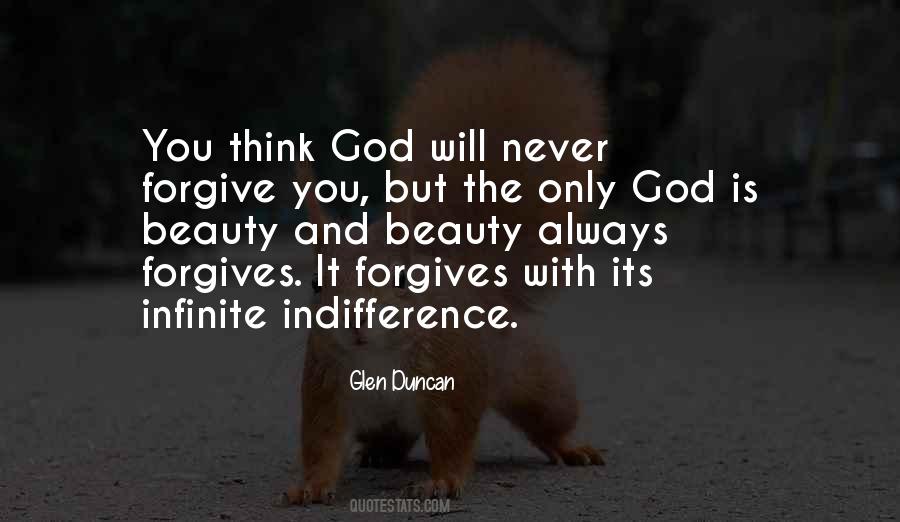 #3. The ultra distance forgives injury, fatigue, bad form, and illness. A bear with determination will defeat a dreamy gazelle every time. - Author: Scott Jurek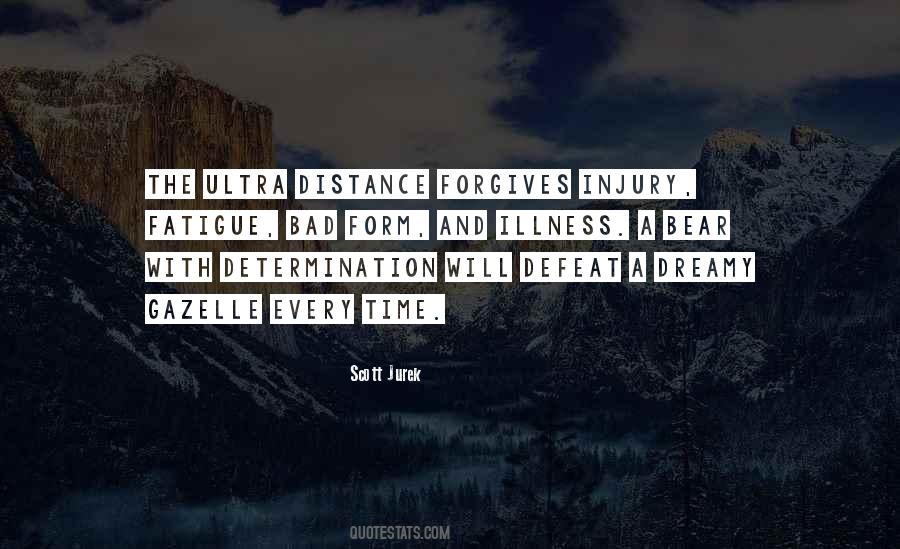 #4. Forgiveness is capital 'L' Love in action. Until you have to forgive someone, you haven't loved. You just think you have. Until somebody forgives you, you don't know humility. [p342, 1st paperback edition] - Author: Rea Nolan Martin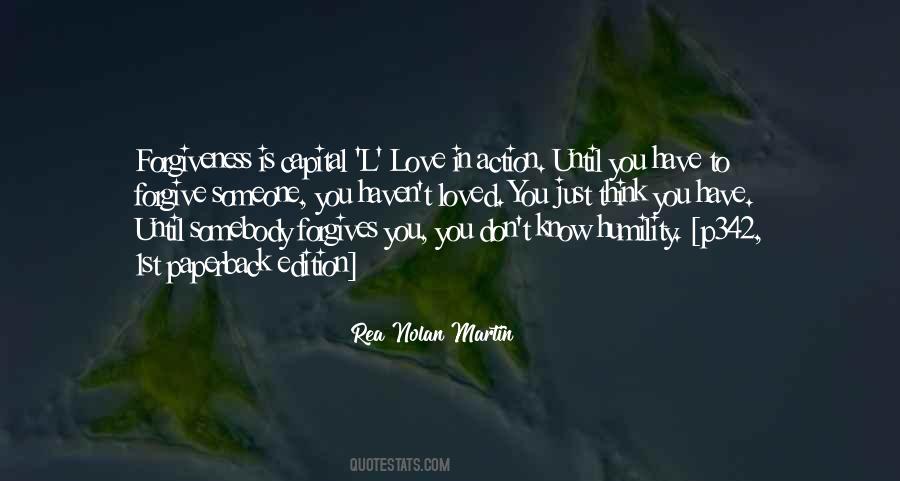 #5. The more a man knows, the more he forgives. - Author: Catherine The Great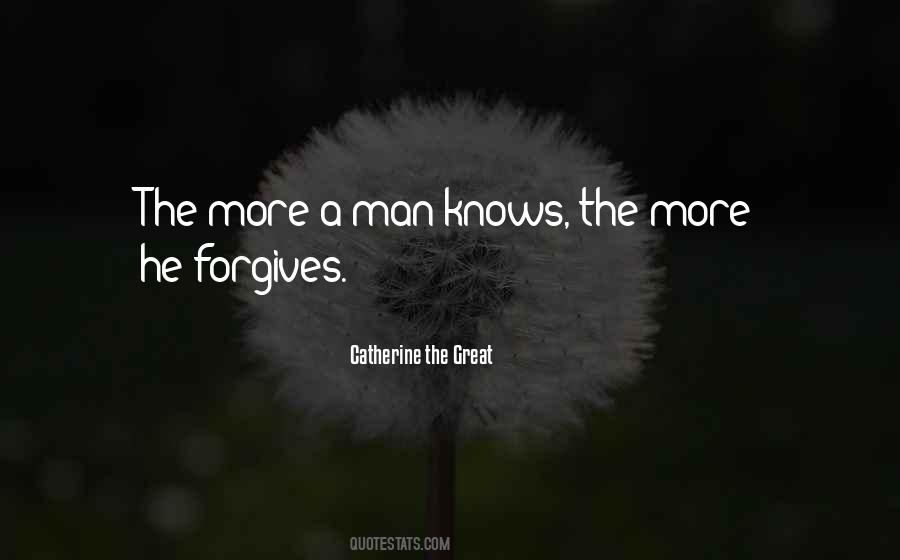 #6. God forgives us ... who am I not to forgive? - Author: Alan Paton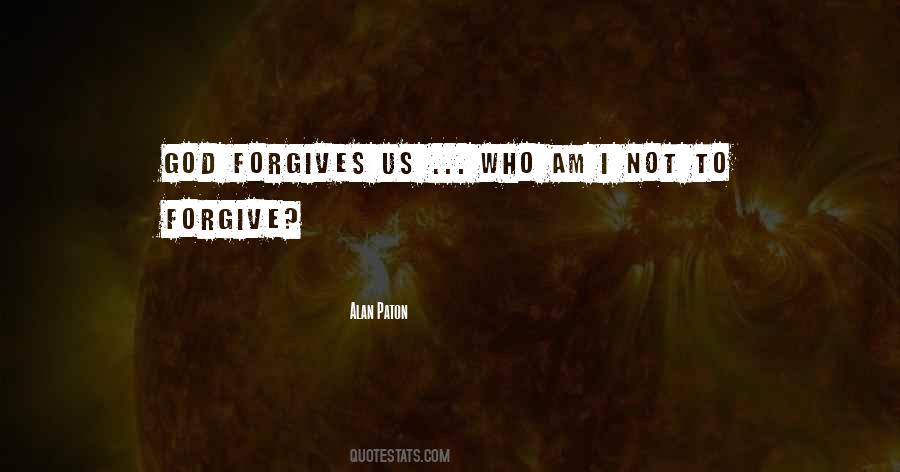 #7. No one really forgives unless he has been hurt. - Author: Lewis B. Smedes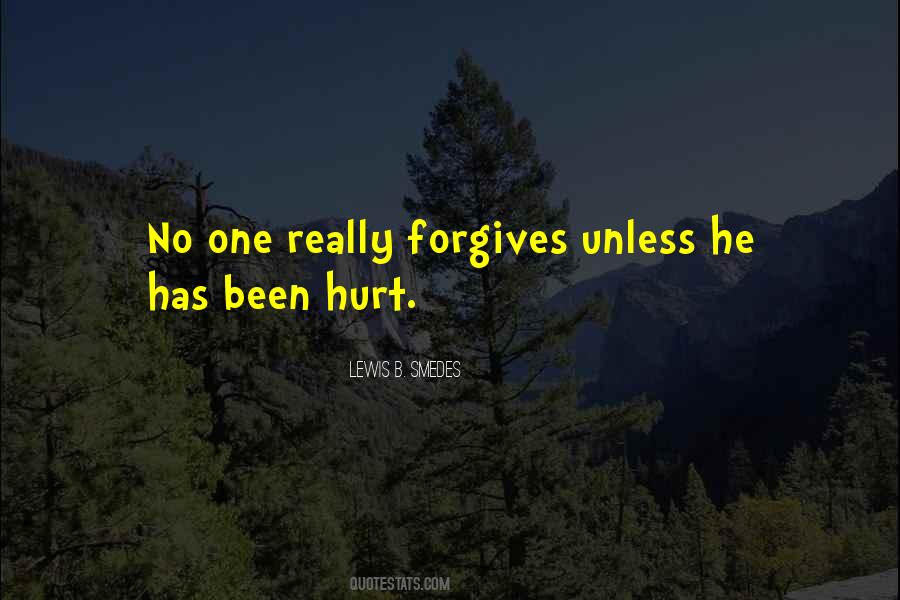 #8. Kindness, I think, comes from learning hard lessons well, from falling and picking yourself up. It comes from surviving failure and loss. It implies an understanding of the human condition, forgives its many flaws and quirks. - Author: Lisa Unger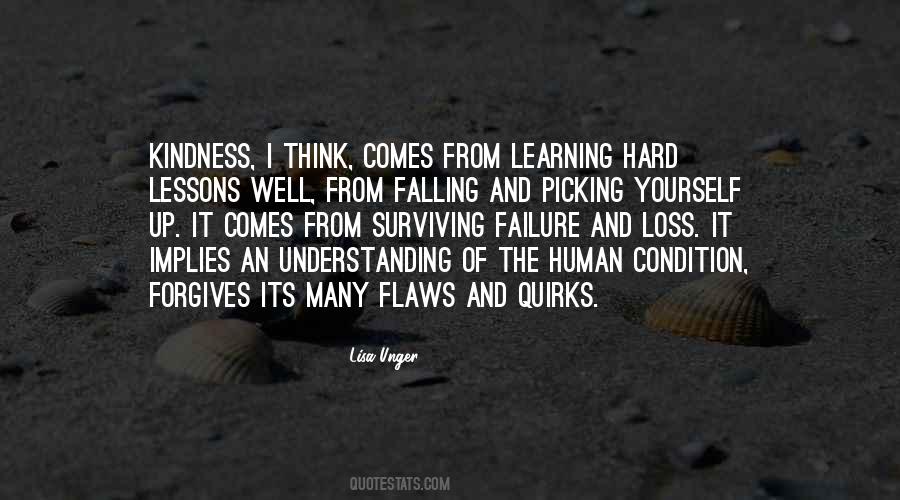 #9. As far as I concerned, God loves ever'body so God forgives ever'body so ever'body gonna get to heaven. - Author: Laila Ibrahim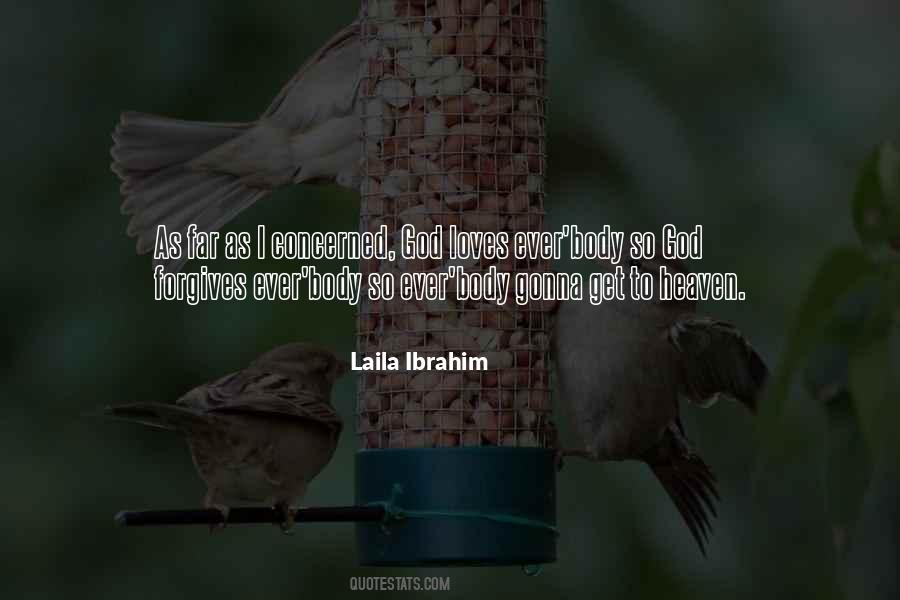 #10. Love always trust and forgives. - Author: Lailah Gifty Akita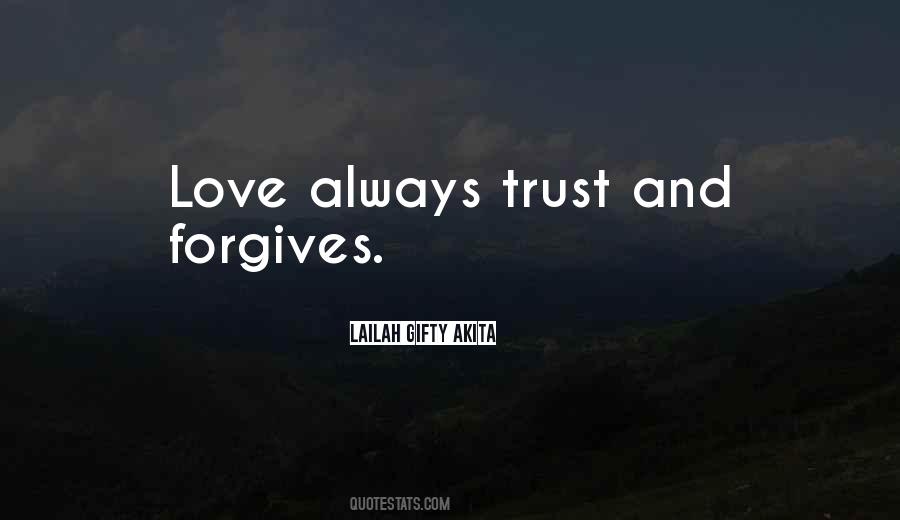 #11. Morning not only forgives, it forgets. - Author: Marty Rubin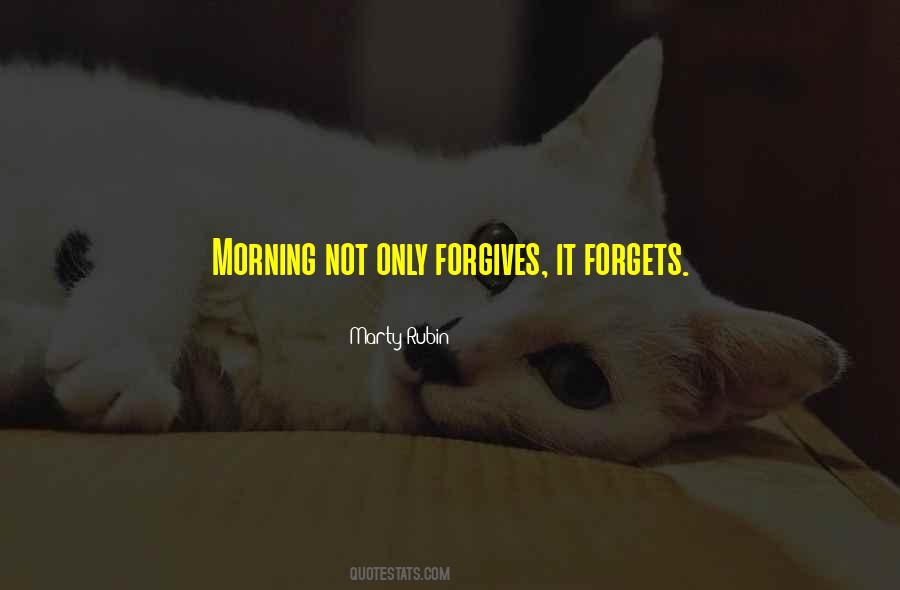 #12. It does not matter who forgives you, if you're the one who can't forget. - Author: Jodi Picoult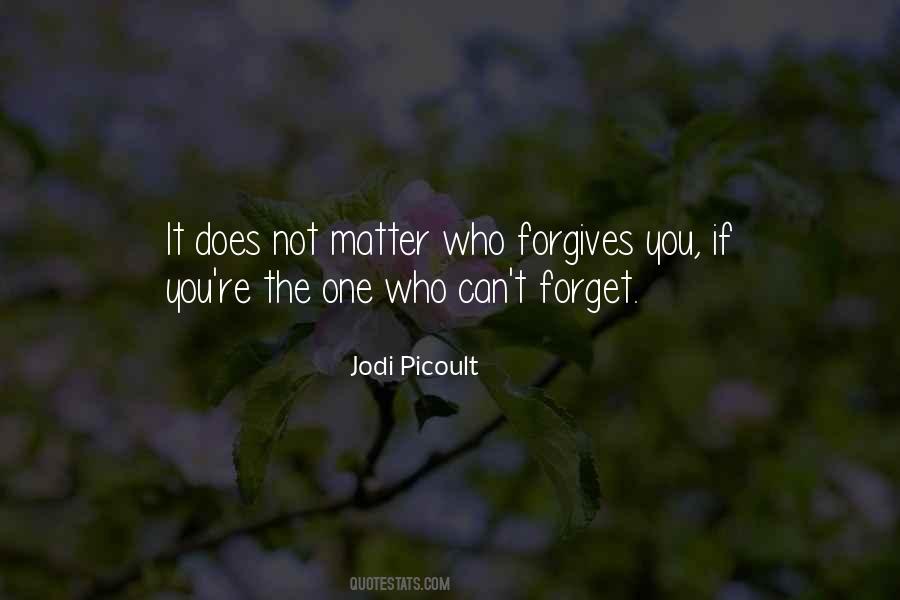 #13. What is it to bring the man out of his sepulchre if you leave him dead? Why lead him into the light if he is still blind? We thank God, that he who forgives our iniquities also heals our diseases. - Author: Charles Spurgeon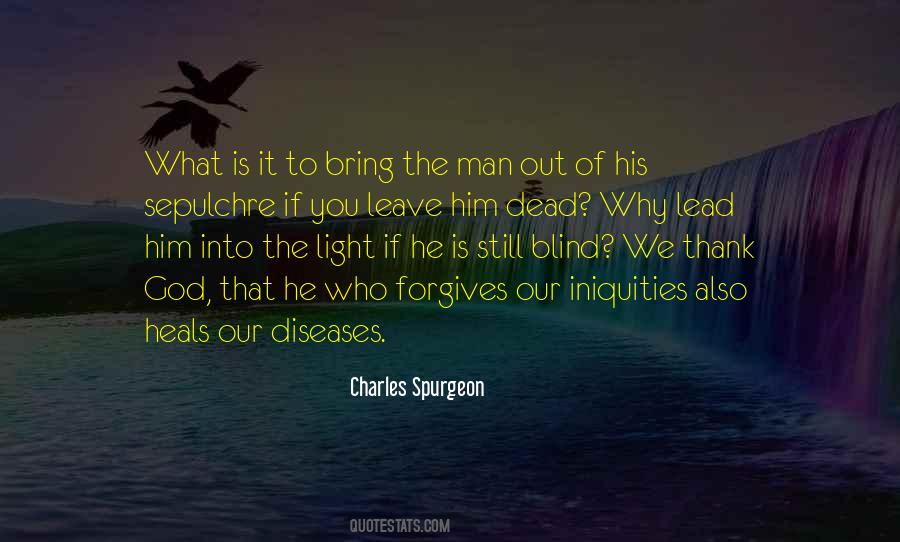 #14. We can't be perfect all the time and that's okay. In the heat of the battle, in the heat of the moment, you might say things or do things that aren't right, but at the same time, Christ forgives us. Christ will always forgive you. - Author: Mark Teixeira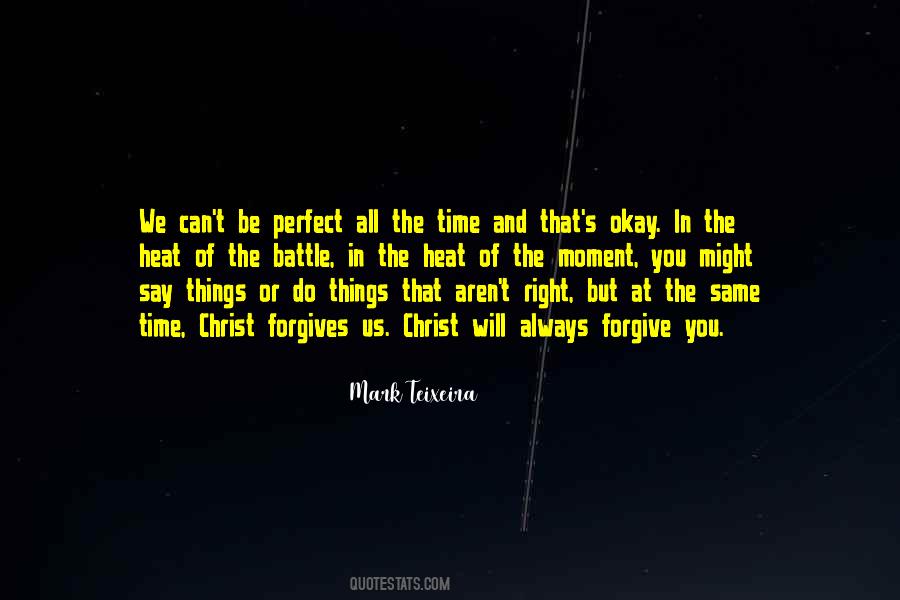 #15. I'm just a person who forgives and forgets. I have a hard time holding grudges. - Author: Zachery Ty Bryan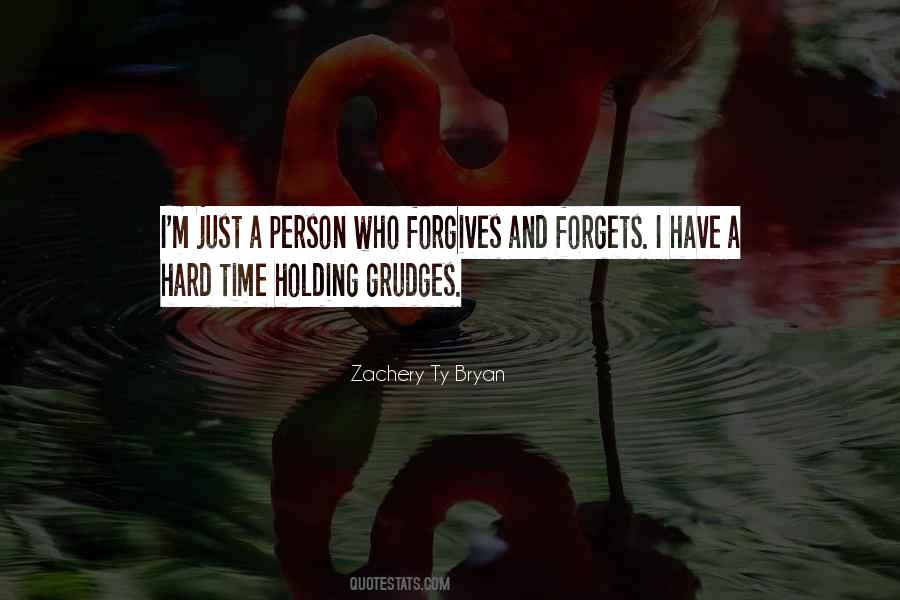 #16. Every time God forgives us, God is saying that God's own rules do not matter as much as the relationship that God wants to create with us. - Author: Richard Rohr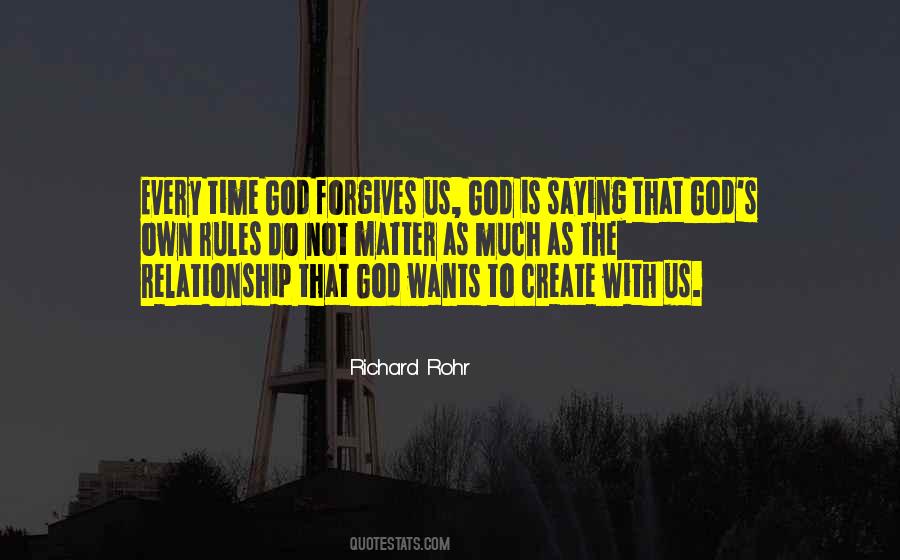 #17. Man forgives woman anything save the wit to outwit him. - Author: Minna Antrim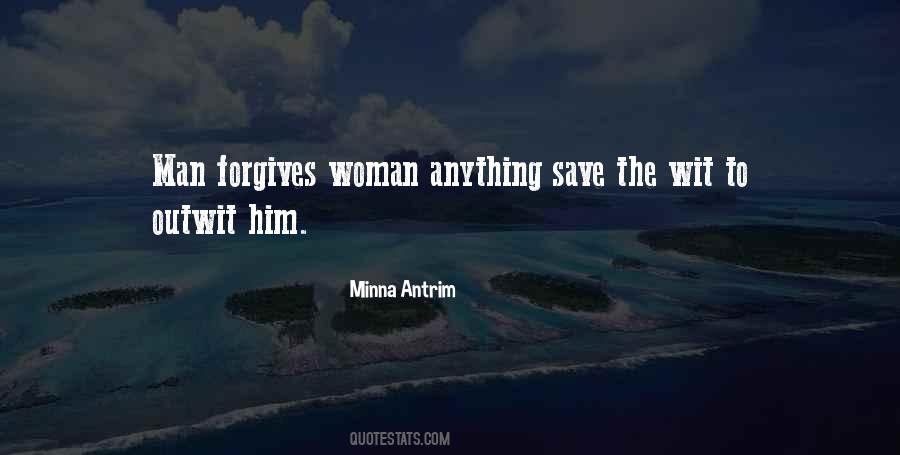 #18. Every time I pray, I ask for forgiveness. I'm a sinner. I sin every single day. But I do know that God loves me. I do know that God forgives me. It helps me in my every day life because there's nothing anyone can do to me that I can't forgive them for. - Author: Mark Teixeira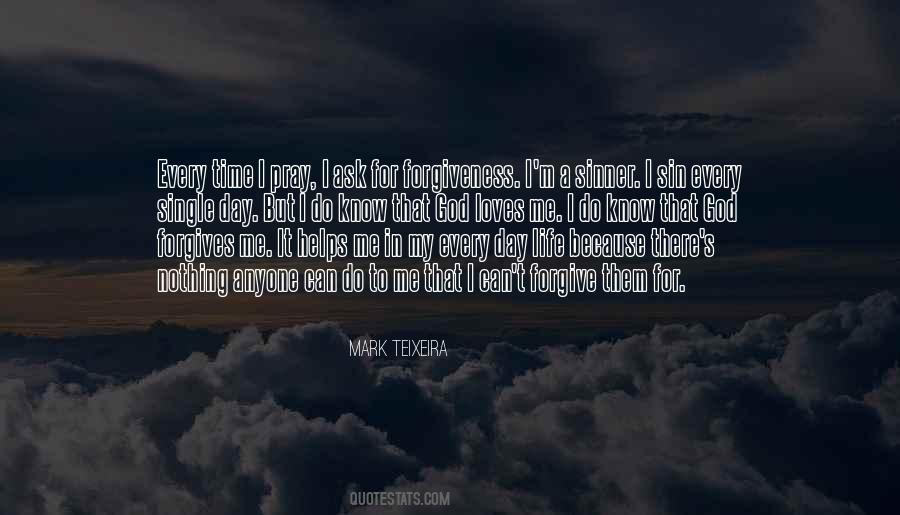 #19. When God forgives, He at once restores. - Author: Theodore Epp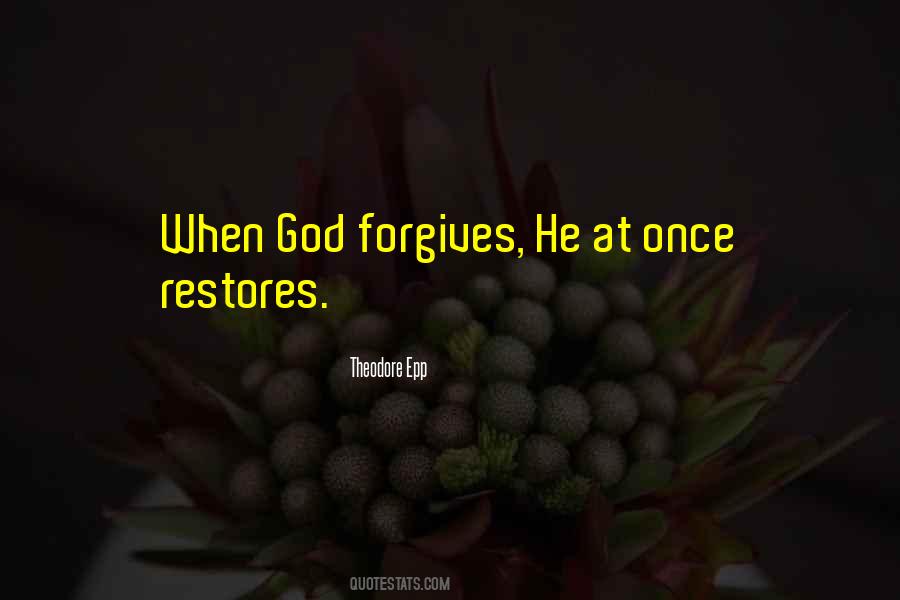 #20. Jesus is the light of the world. His light shines through all darkness. His love heals all hatred. His grace and mercy forgives all sins. The anointing of his blood heals the sick and the lame. His guarding angels will forever protect you and his word will forever guide you. - Author: Colishia S. Benjamin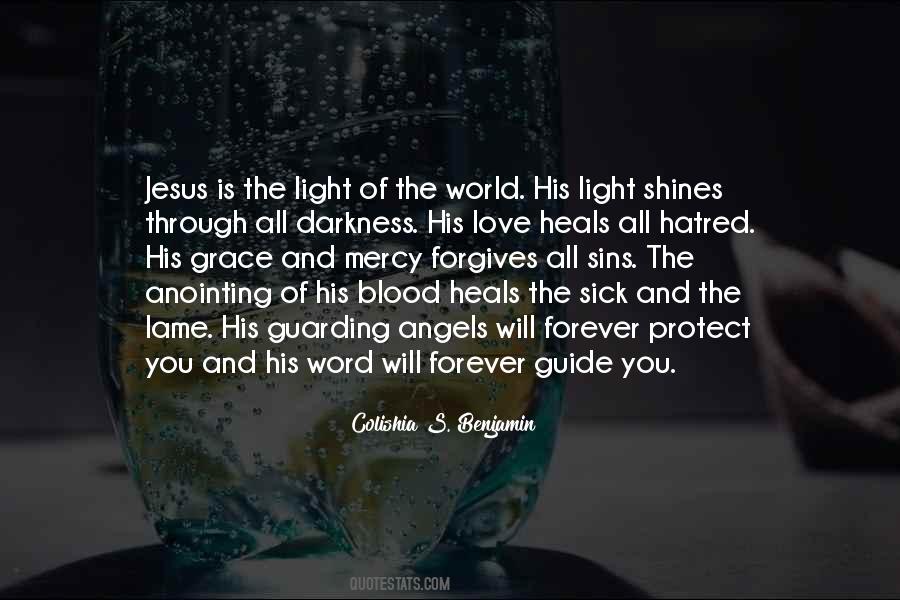 #21. Force may subdue, but love gains, and he that forgives first wins the laurel. - Author: William Penn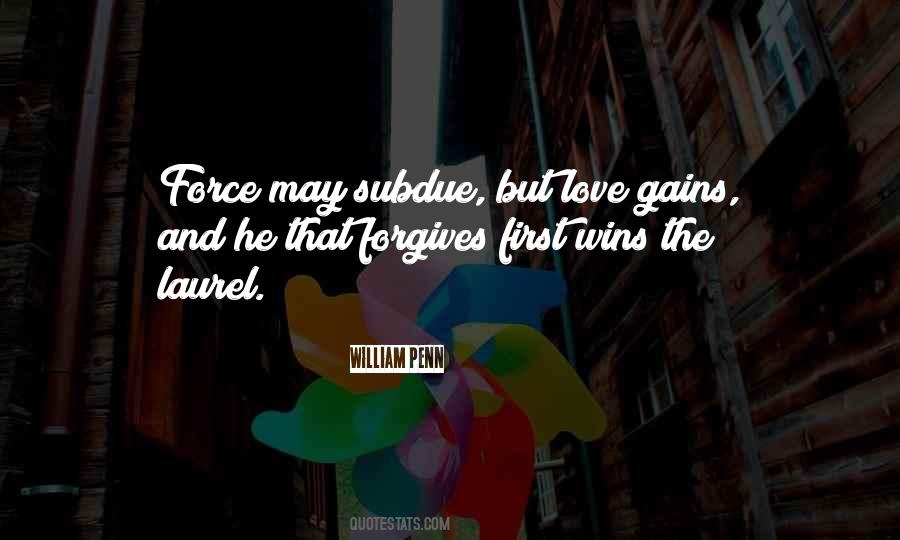 #22. There is a kind of sense of truth and reconciliation that is non-formalized, but it's understood and accepted. Haitians are Haitians and there is an inherent loyalty that forgives an awful lot. - Author: Sean Penn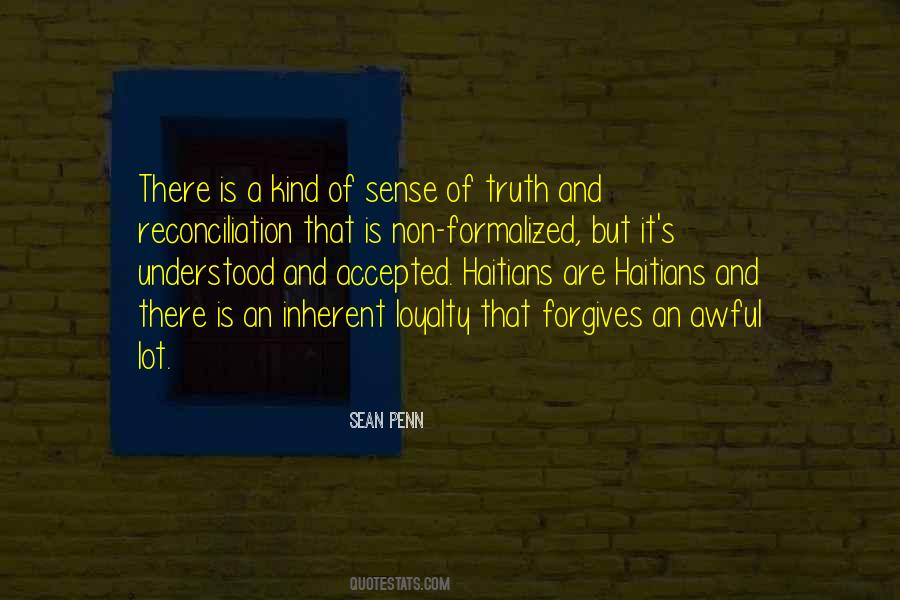 #23. He had only to touch me to turn my tears into sighs and my anger to desire. How accomodating love is; it forgives everything. - Author: Isabel Allende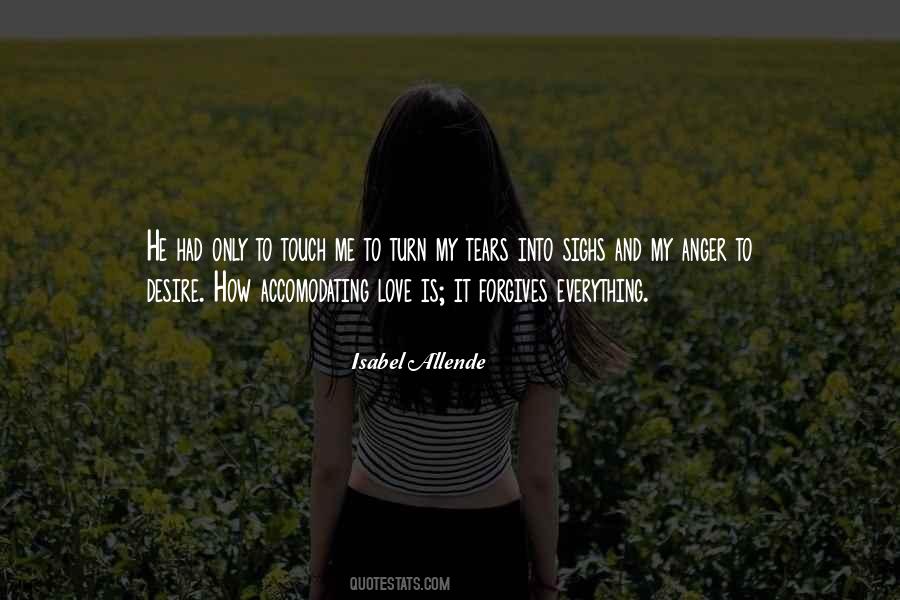 #24. When God forgives us for hitting Him with a club we should manage to put up with the pin pricks we get from our fellows. - Author: Helmut Thielicke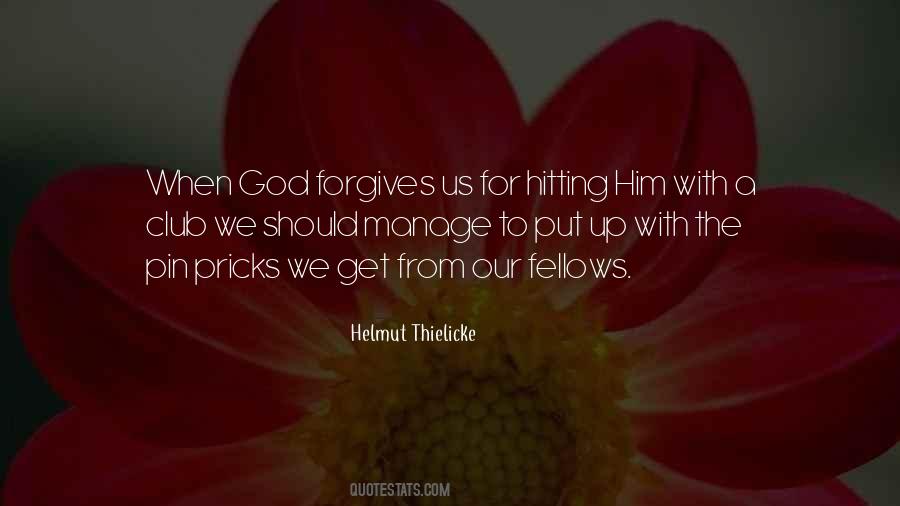 #25. A new day always forgives you, unless it's raining and you wake up in jail. - Author: Bob Thurber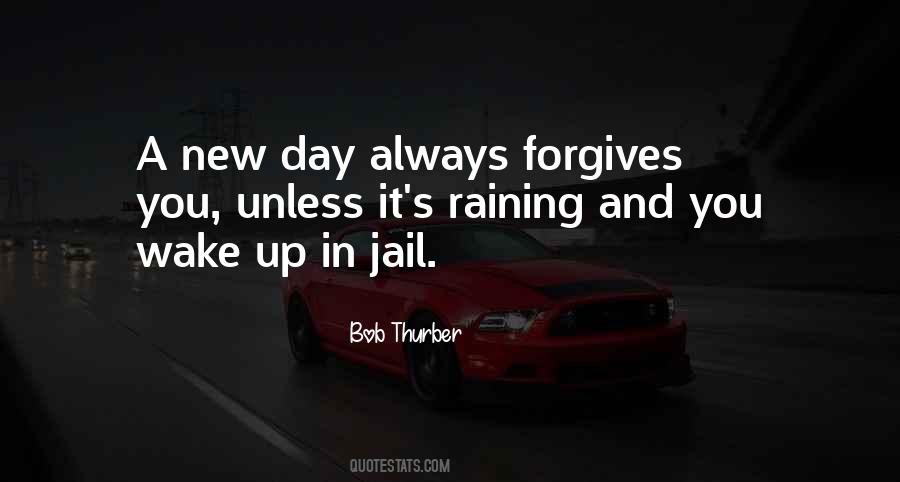 #26. Even if God forgives you, you do not forgive yourself. You live in your sorrow like a room of mirrors that reflects on and on to eternity. - Author: Rebecca Johns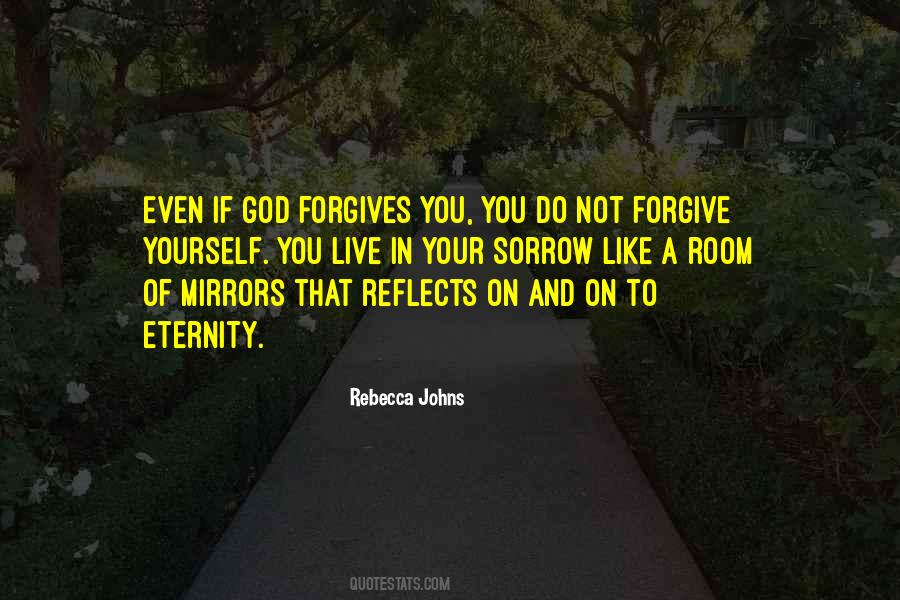 #27. I think we've taken a step toward something truly magnificent. But humankind almost never forgives true greatness. - Author: Orson Scott Card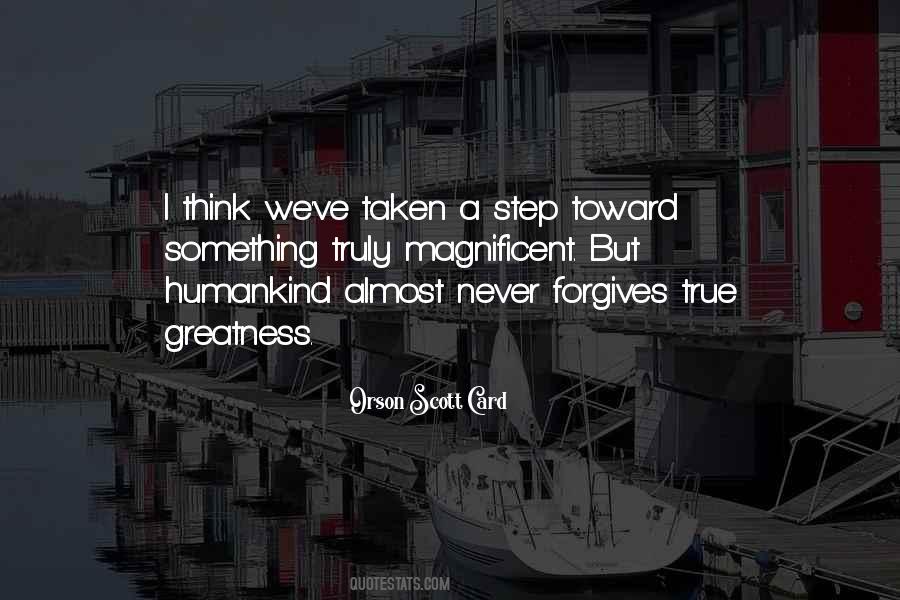 #28. It doesn't come in pretty packages. Sometimes it dents and bruises and does things it regrets, but it also forgives, shows mercy, and supports. It soothes and fights to the death. - Author: Angie McKeon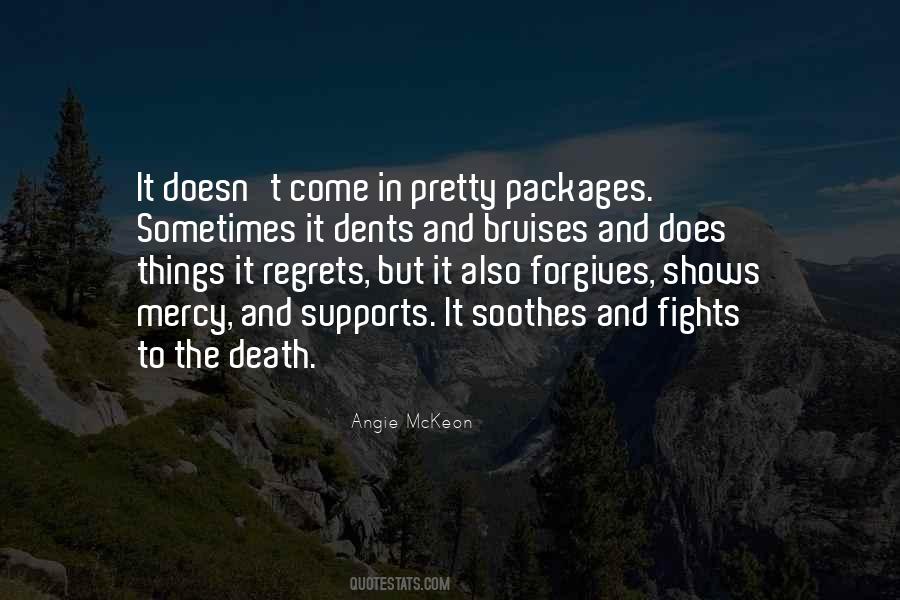 #29. Life never forgives weaknesses. - Author: Adolf Hitler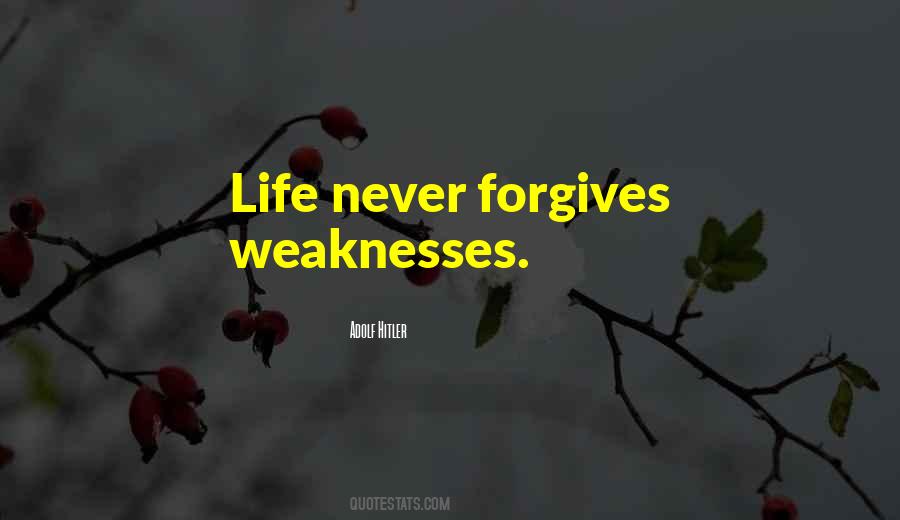 #30. A trusting heart is forgiven and, in turn, forgives. - Author: Brennan Manning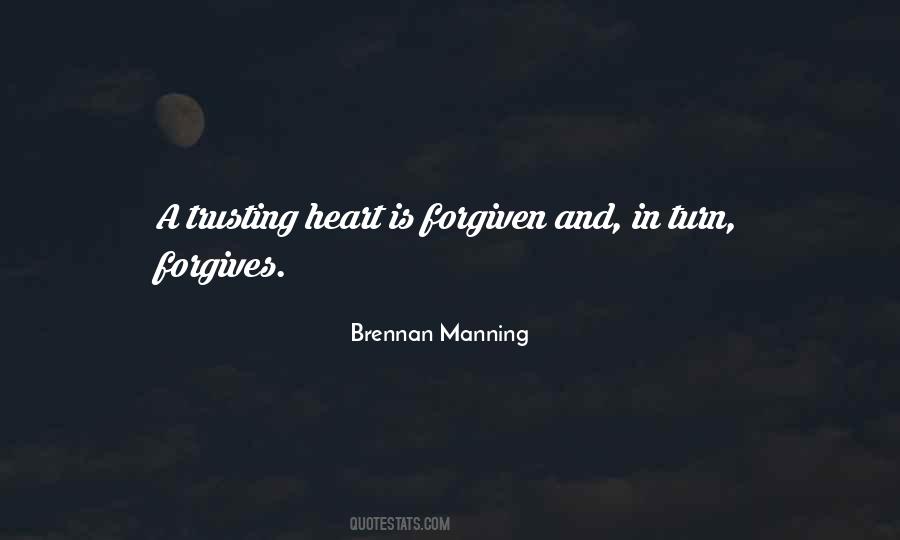 #31. A good wife always forgives her husband when she's wrong. - Author: Milton Berle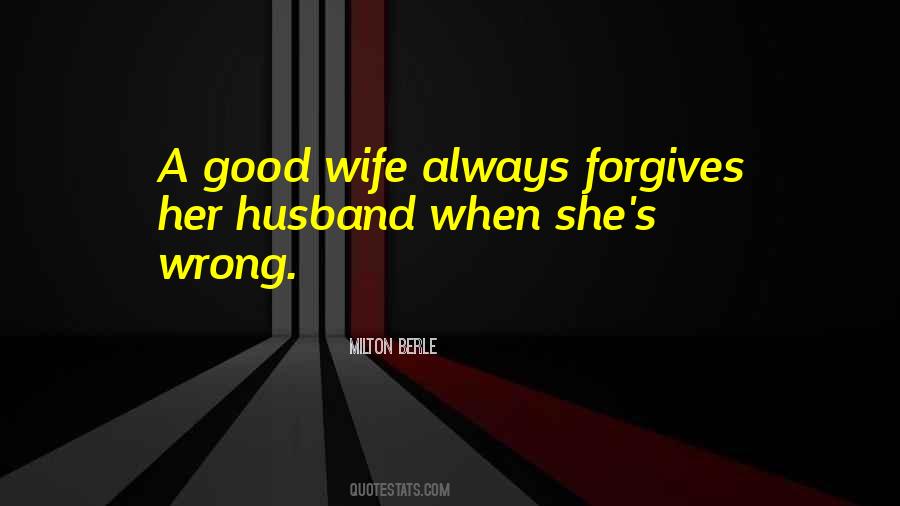 #32. To forgive, one must love and be loved. Only those who forgive can be free. Whoever forgives is a prisoner no more. - Author: Jan-Philipp Sendker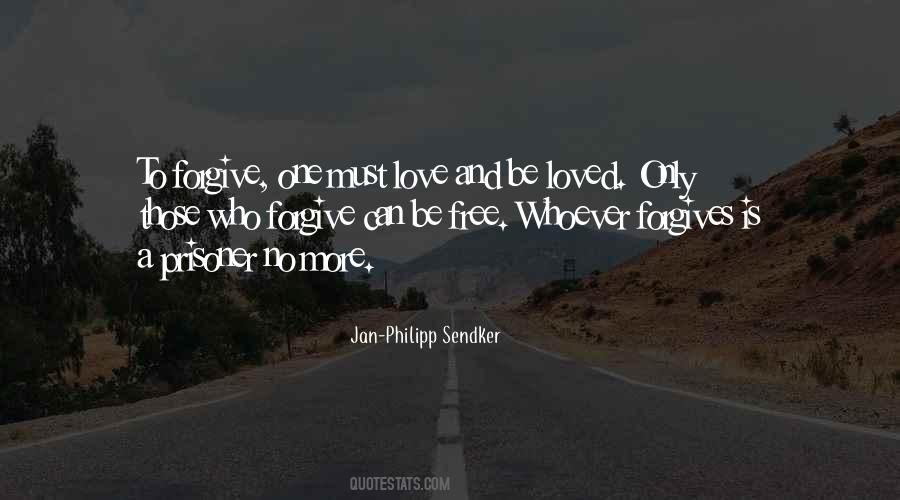 #33. In "Drive," there's a heightened male edge. In "Only God Forgives," it was almost crawling back into the womb of the mother. And now with "The Neon Demon," being reborn as a 16-year-old girl. - Author: Nicolas Winding Refn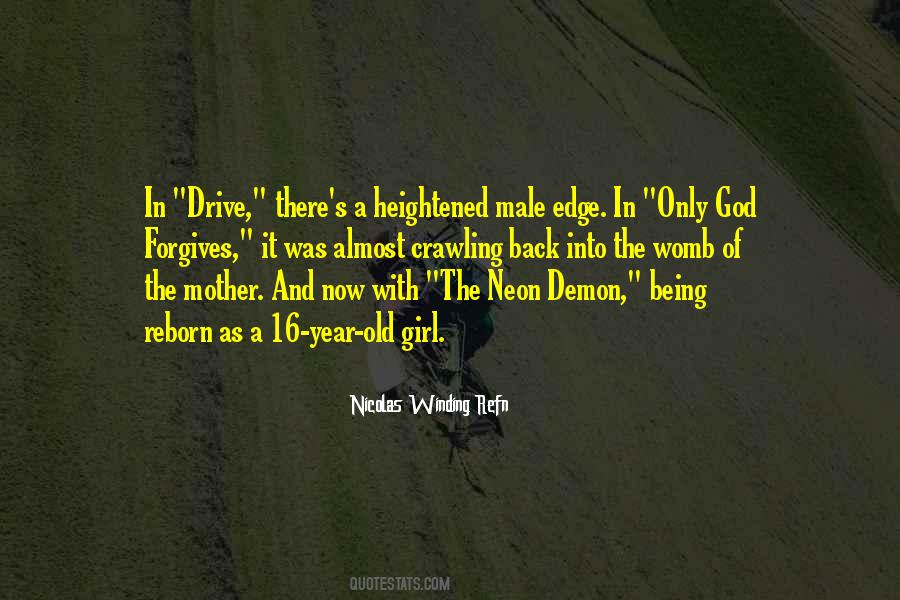 #34. I change too quickly: my today refutes my yesterday. When I ascend I often jump over steps, and no step forgives me that. - Author: Friedrich Nietzsche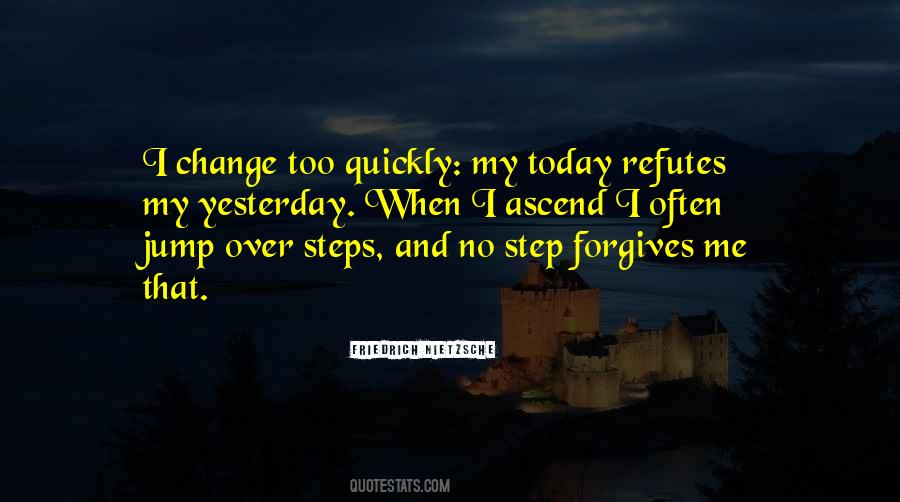 #35. The mind that too frequently forgives bad actions will at last forget good ones. - Author: Frederic Reynolds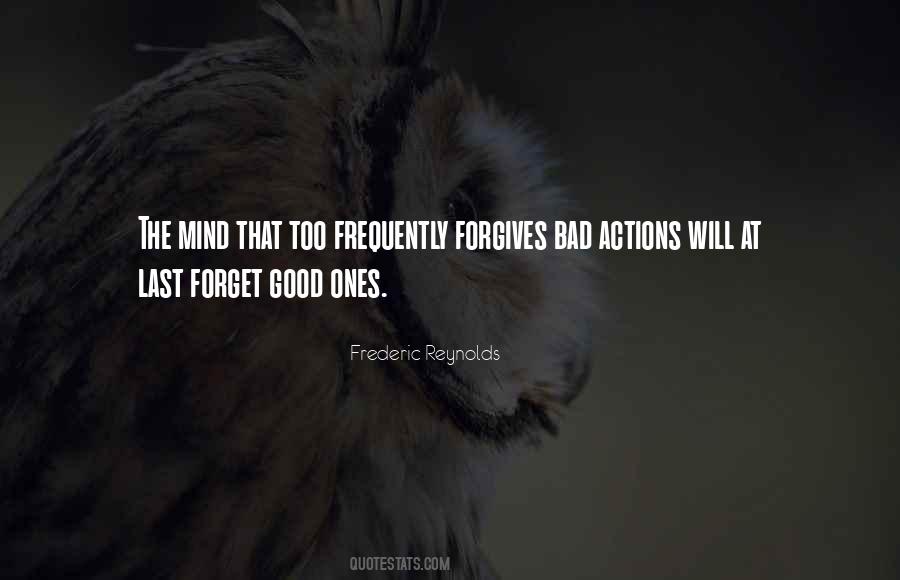 #36. God forgives us, as - when - we forgive them who injure us - and ourselves. These last weeks I think I have understood what many times in the past I thought I knew - but we never know - we never reach the end of understanding - the understanding of God - the mystery of his love ... - Author: Lucy Beckett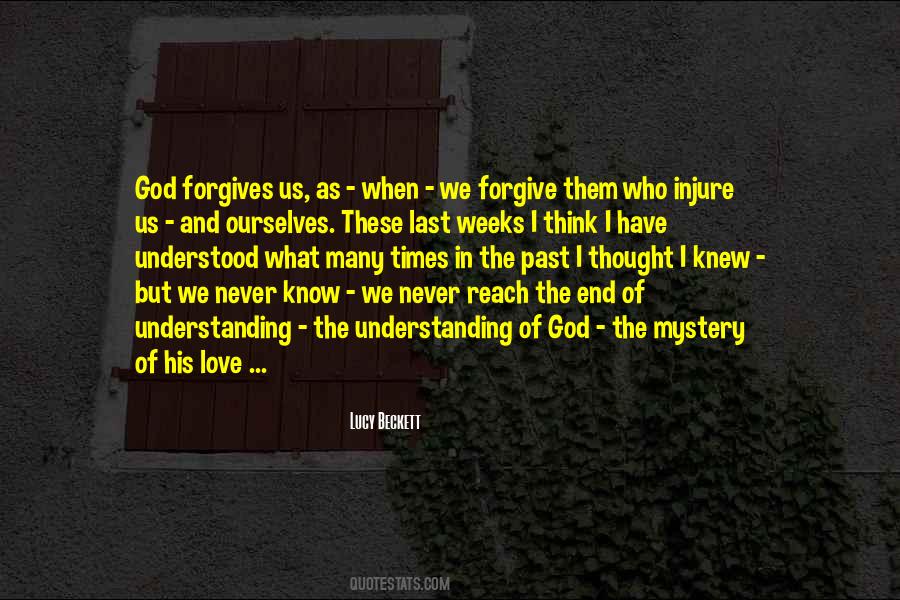 #37. If somebody tells you 'History will never forgive you,' just laugh at him! Because when the history comes, you won't be here! The threat of history never forgives you is a useless threat! - Author: Mehmet Murat Ildan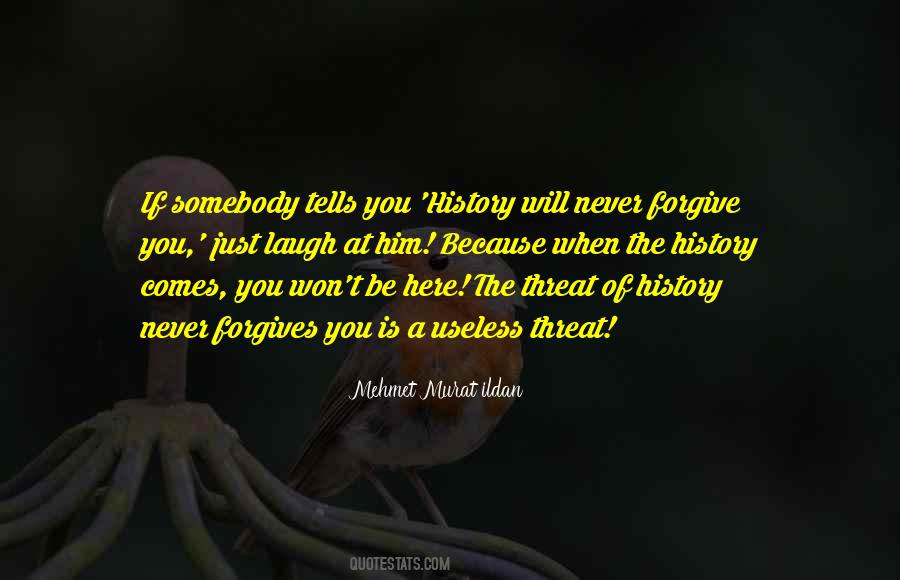 #38. Jesus understands our weaknesses and sins; and he forgives us if we allow ourselves to be forgiven. - Author: Pope Francis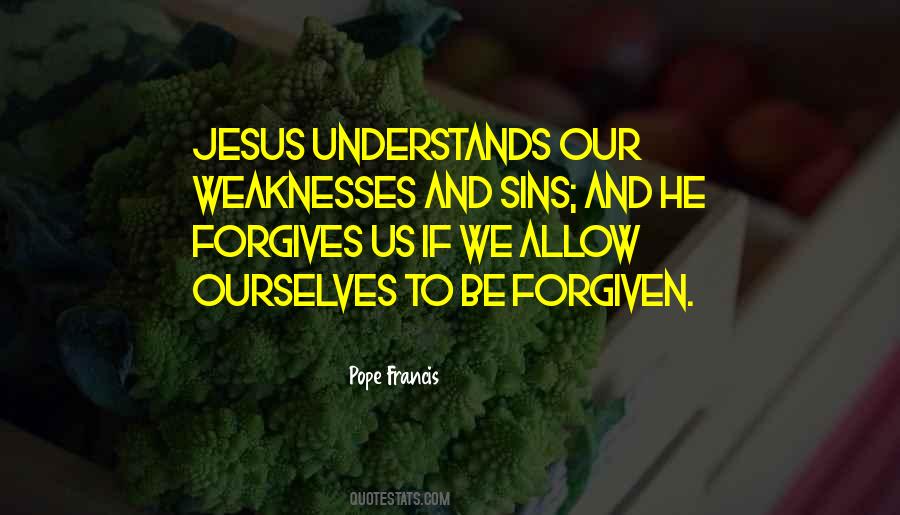 #39. Remember this: a story that must be told never forgives silence. Speech is the mouth's debt to a story. - Author: Okey Ndibe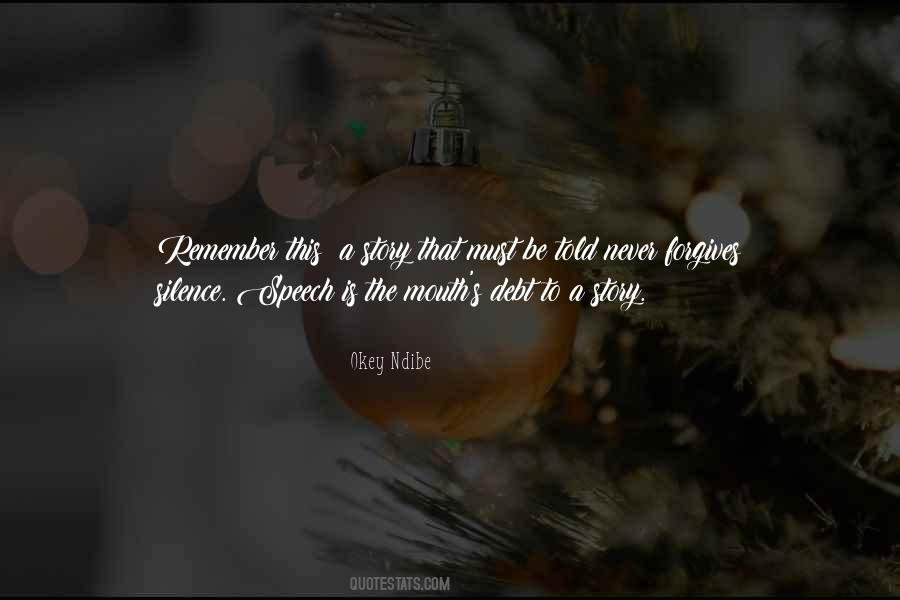 #40. Nothing makes me want to obey more than knowing that God unconditionally loves me and forgives me even when I disobey. - Author: Tullian Tchividjian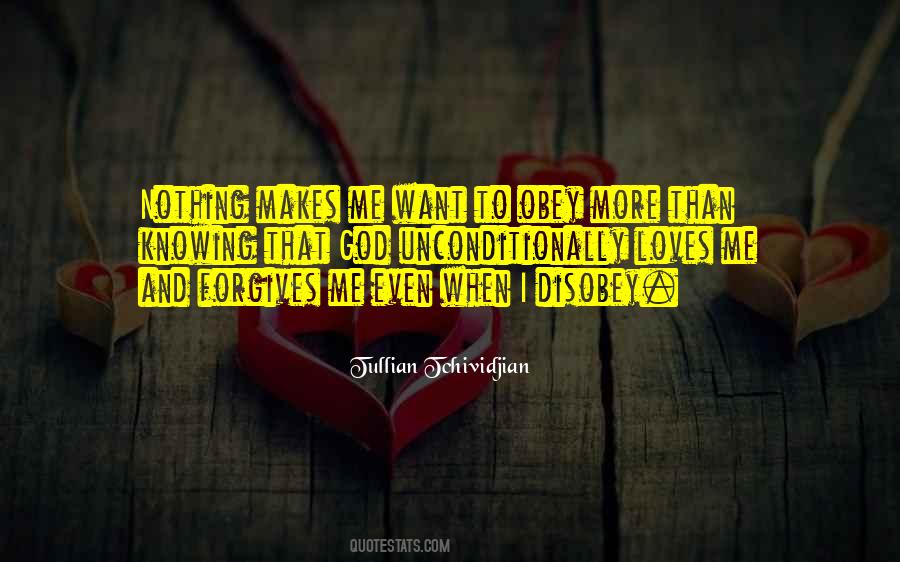 #41. My heart forgives and releases. Inner peace is my goal. - Author: Louise Hay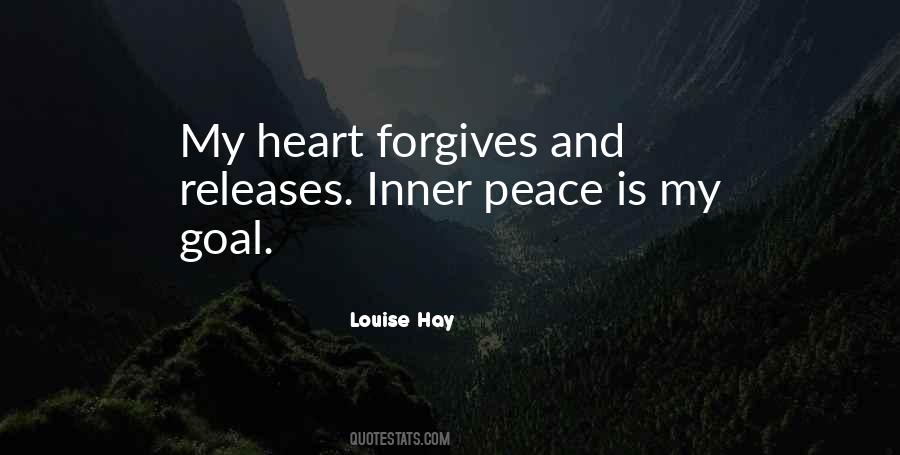 #42. I might be angry with you, but a father always forgives his children, even if those children are not of his own blood. - Author: Jeaniene Frost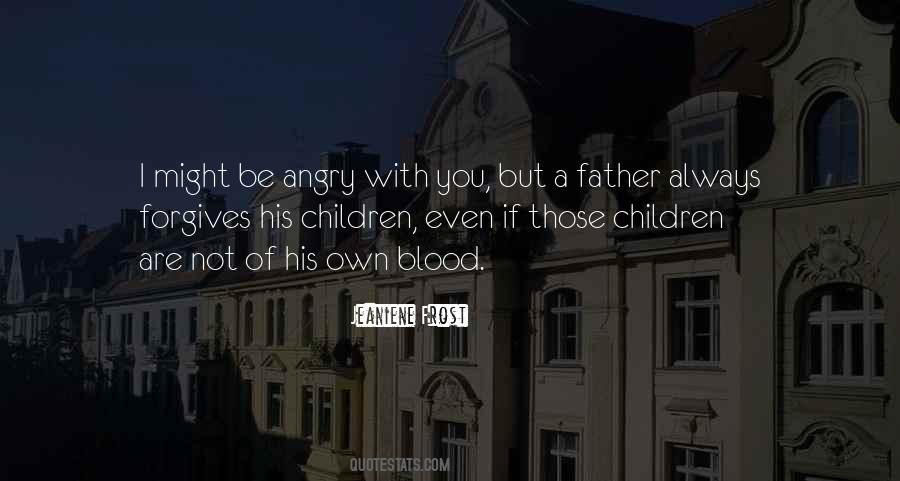 #43. The more one forgives himself - by giving himself to a cause to serve or another person to love - the more human he is and the more he actualizes himself. - Author: Viktor E. Frankl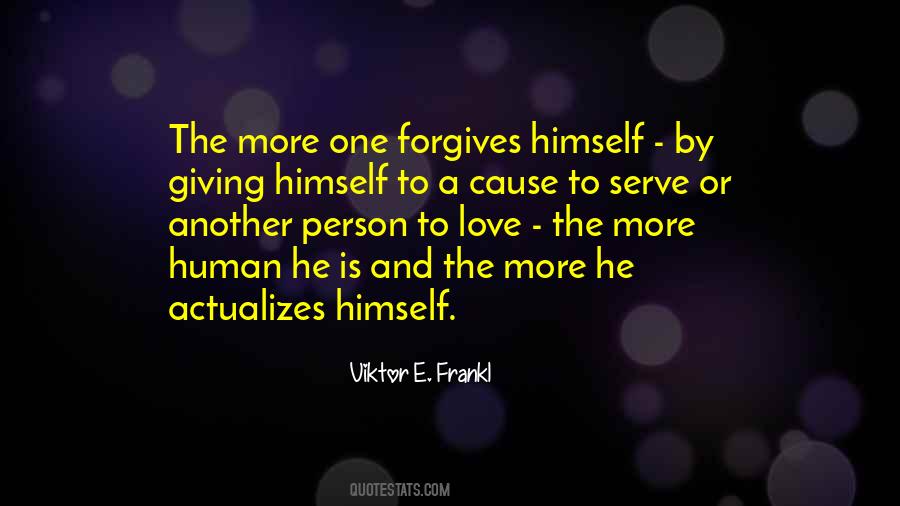 #44. God forgives not with a decree but with a caress. Jesus too goes beyond the law and forgives by caressing the wounds of our sins. - Author: Pope Francis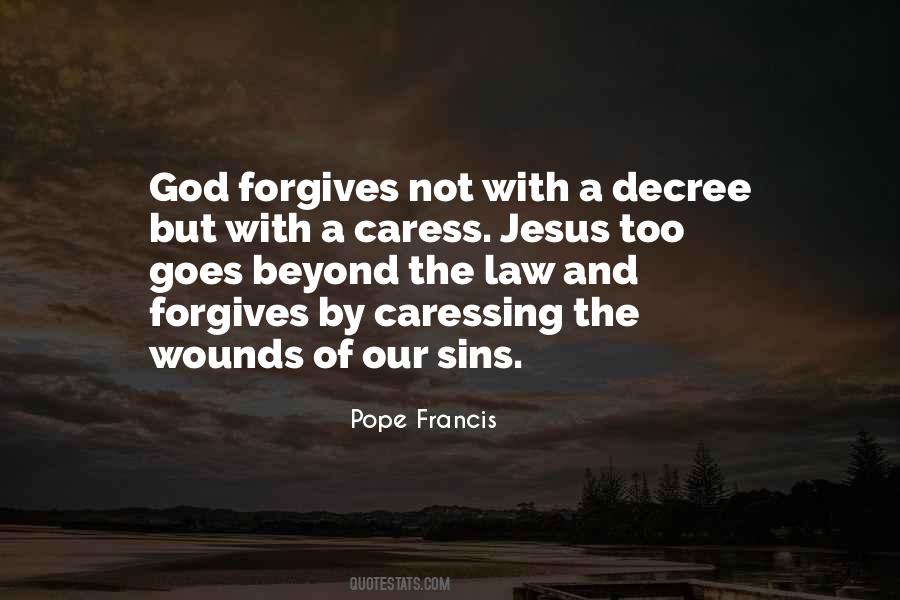 #45. I know that within you there is an energy of forgiveness that forgives me and sets me free. My words and actions have no power over you. You are free and I am free. All is well between our spirits. Peace is the order of the day. - Author: Michael Bernard Beckwith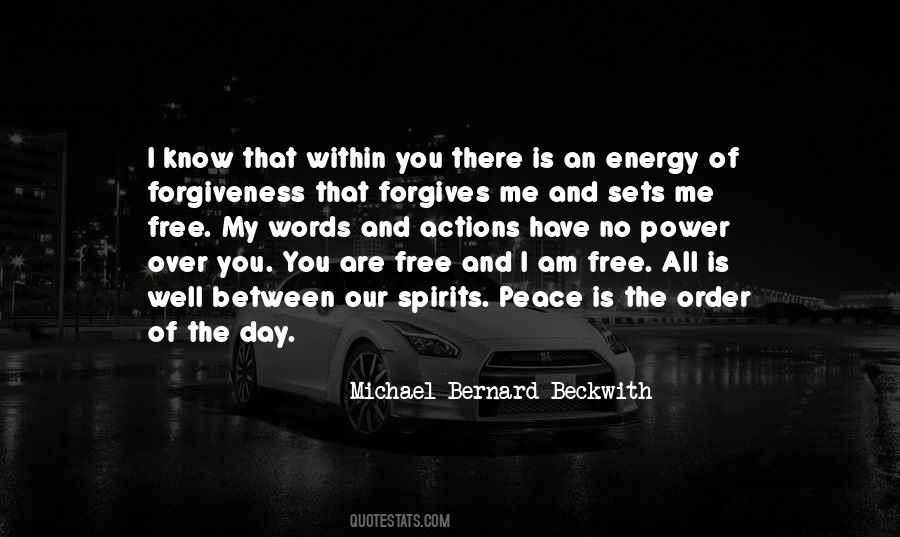 #46. Forgiveness is attention without judgment. It heals the one who forgives and the one who is forgiven. - Author: Deepak Chopra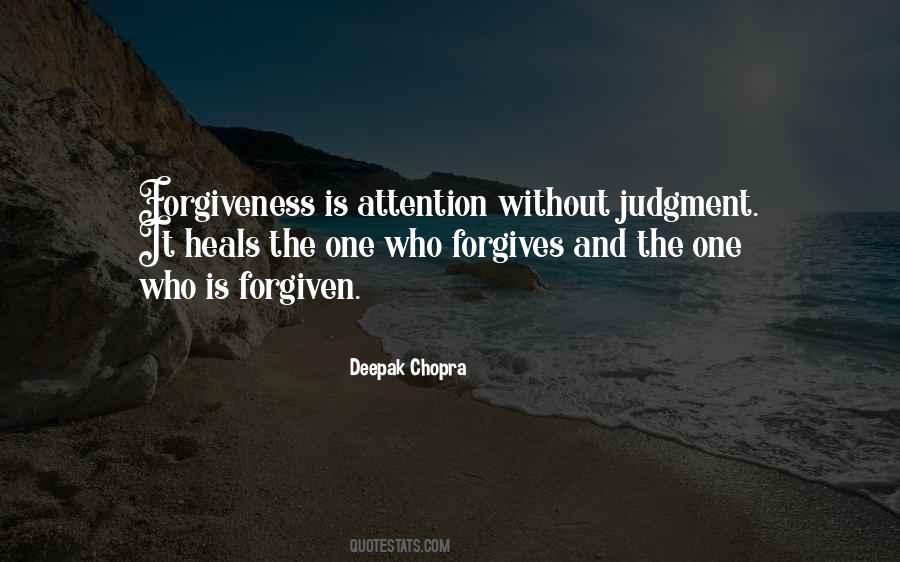 #47. If I repent now will God forgive me?
No, but if God forgives you, you will repent. - Author: Rabia Basri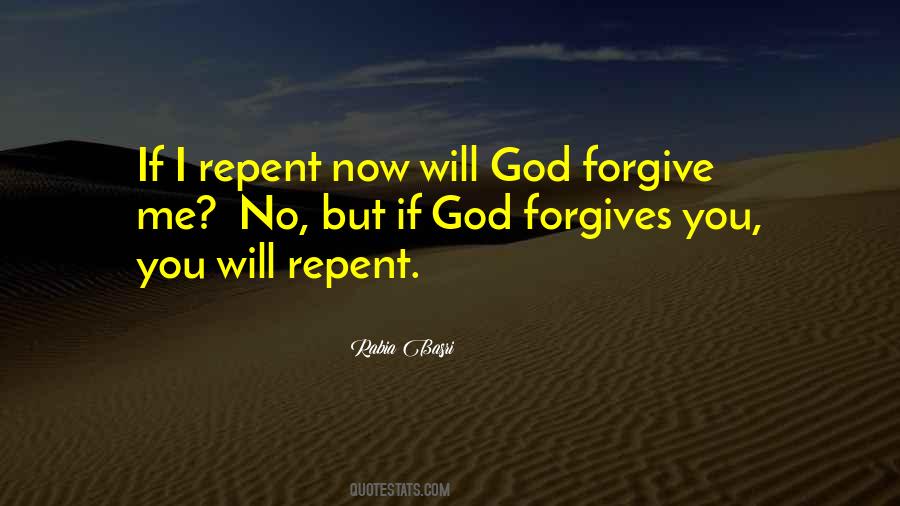 #48. The cut worm forgives the plow - Author: William Blake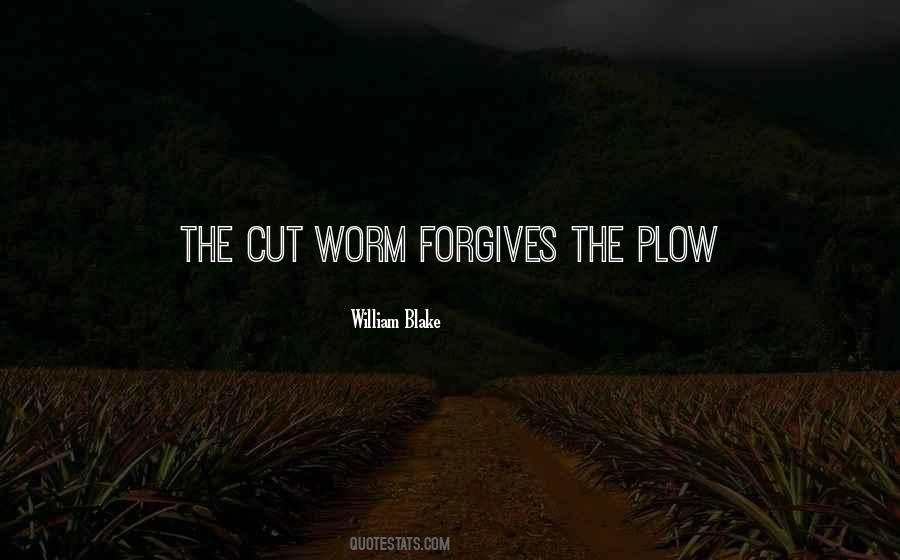 #49. When God forgives a sinner who humbly confesses his sin, the devil loses his dominion over the heart he had taken. - Author: Bernard Of Clairvaux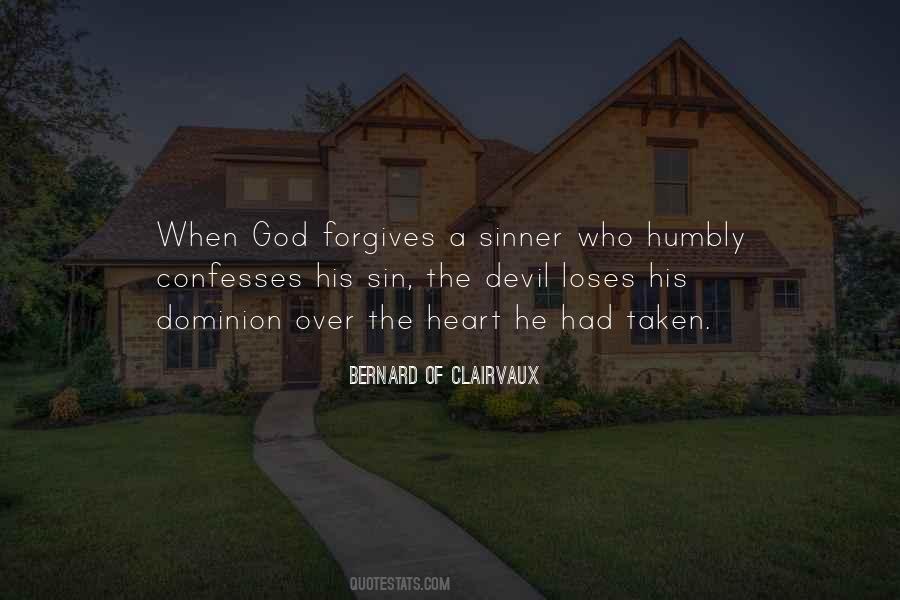 #50. He has the greatest love who forgives his greatest enemies. - Author: Matshona Dhliwayo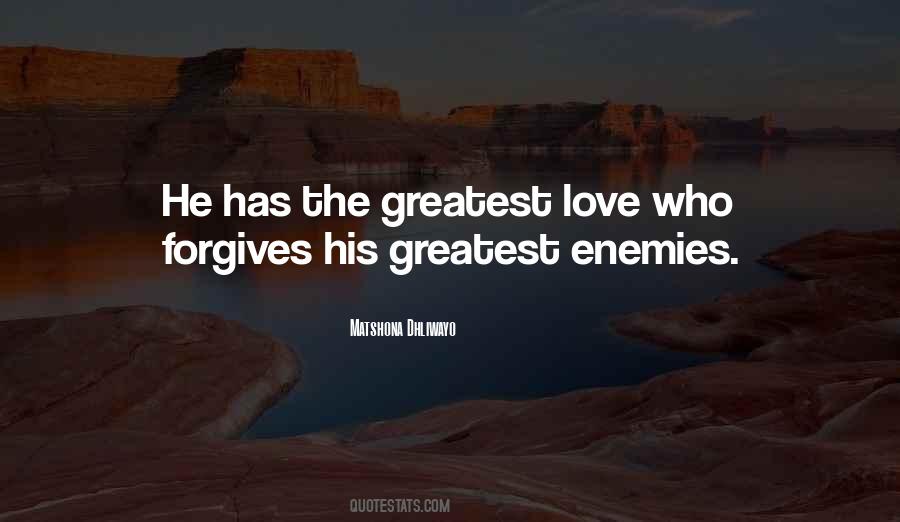 #51. Love forgives all things. You don't even need to ask. - Author: Lisa Kleypas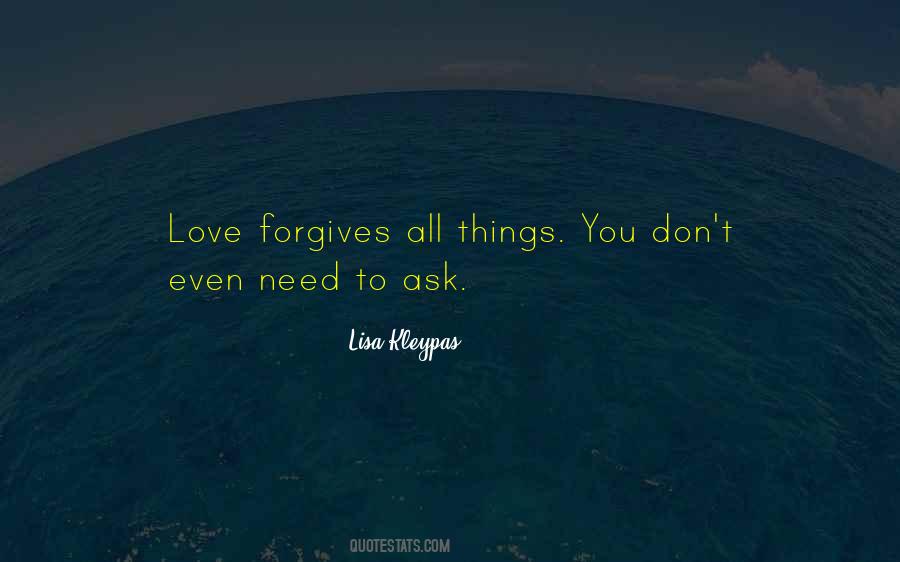 #52. Society often forgives the criminal; it never forgives the dreamer. - Author: Oscar Wilde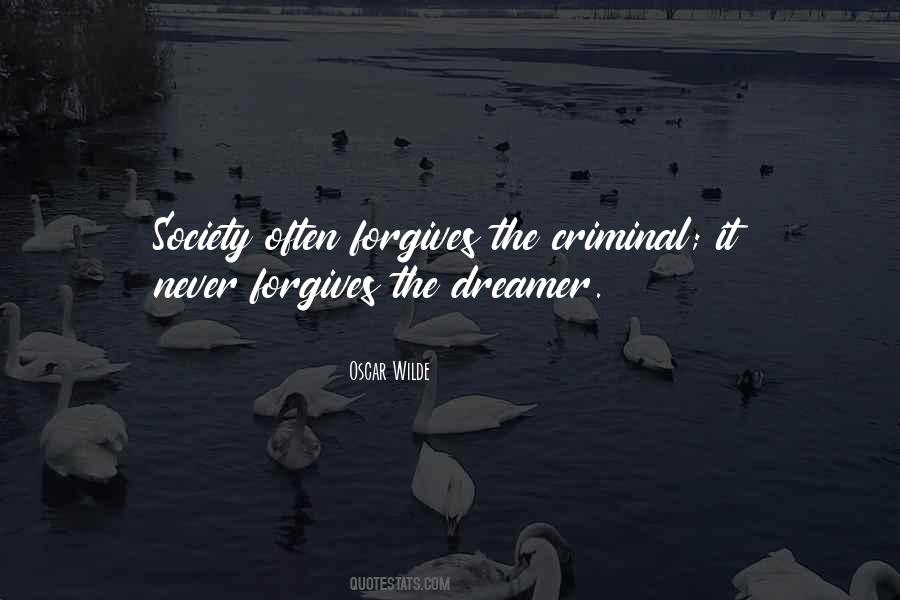 #53. The one who forgives never brings up the past to that person's face. When you forgive, it's like it never happened. True forgiveness is complete and total. - Author: Louis Zamperini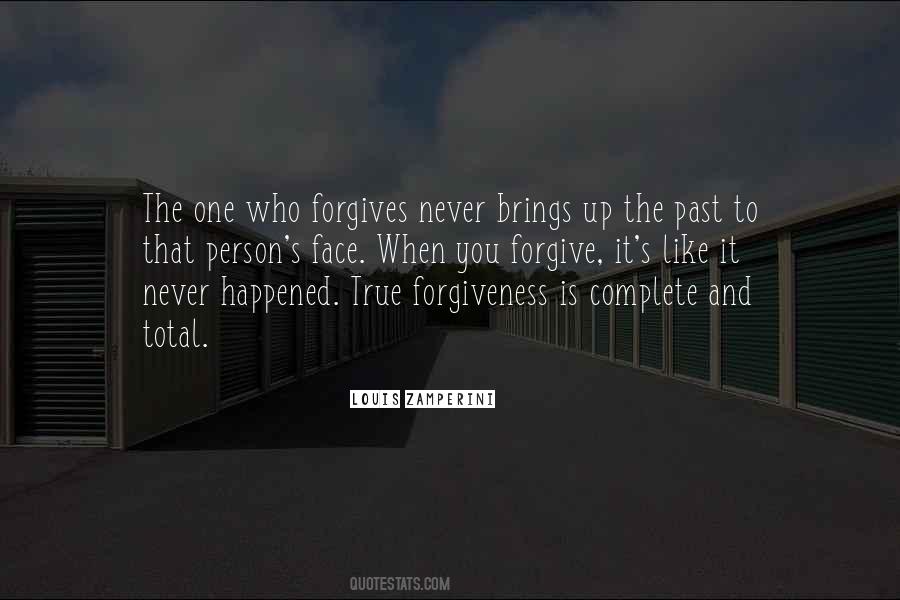 #54. War forgets peace. Peace forgives war. War is the death of the life human. Peace is the birth of the Life Divine. Our vital passions want war. Our psychic emotions desire peace. - Author: Sri Chinmoy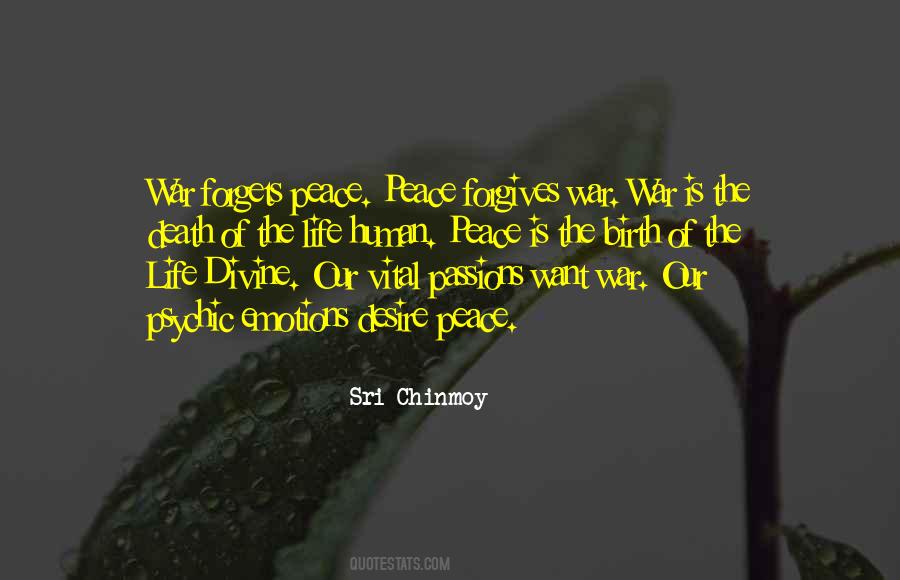 #55. I am not I.
I am this one
walking beside me whom I do not see,
whom at times I manage to visit,
and whom at other times I forget;
who remains calm and silent while I talk,
and forgives, gently, when I hate,
who walks where I am not,
who will remain standing when I die. - Author: Juan Ramon Jimenez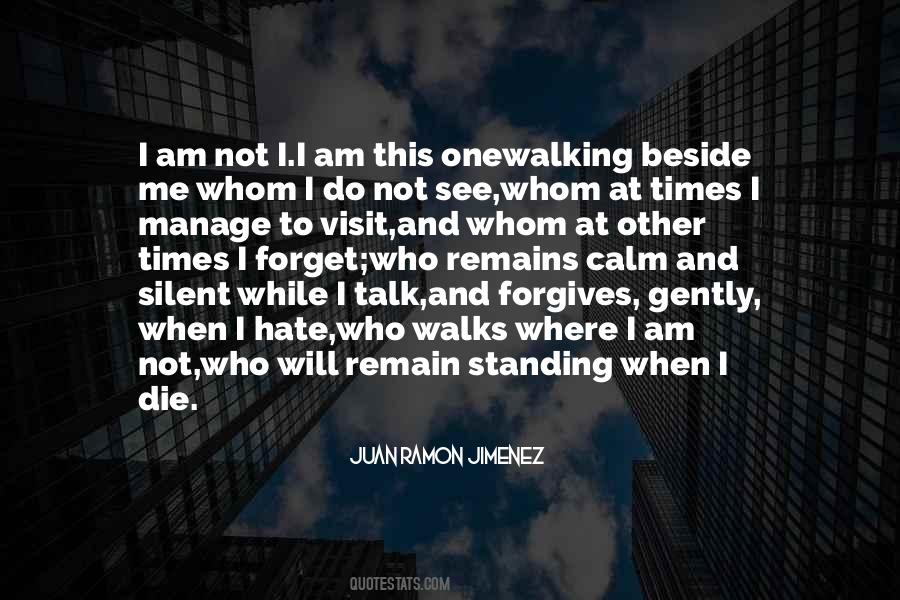 #56. God forgives those who invent what they need. - Author: Lillian Hellman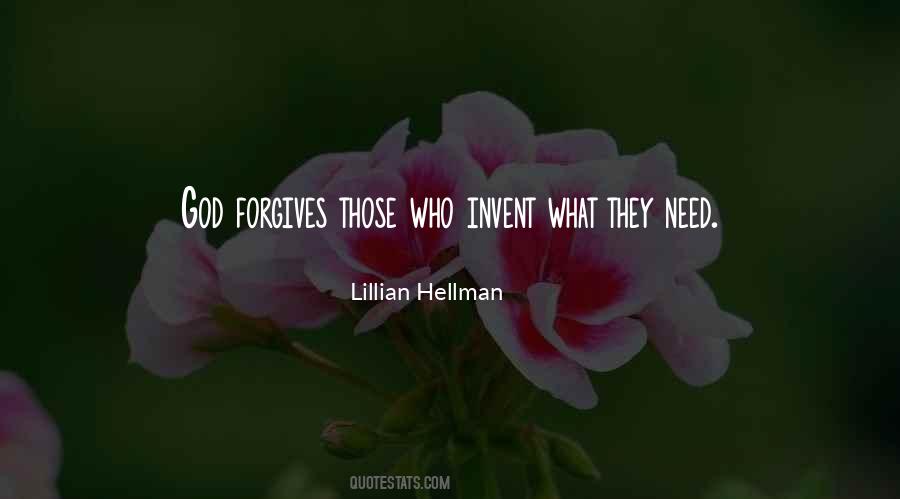 #57. A mom forgives us all our faults, not to mention one or two we don't even have. - Author: Robert Breault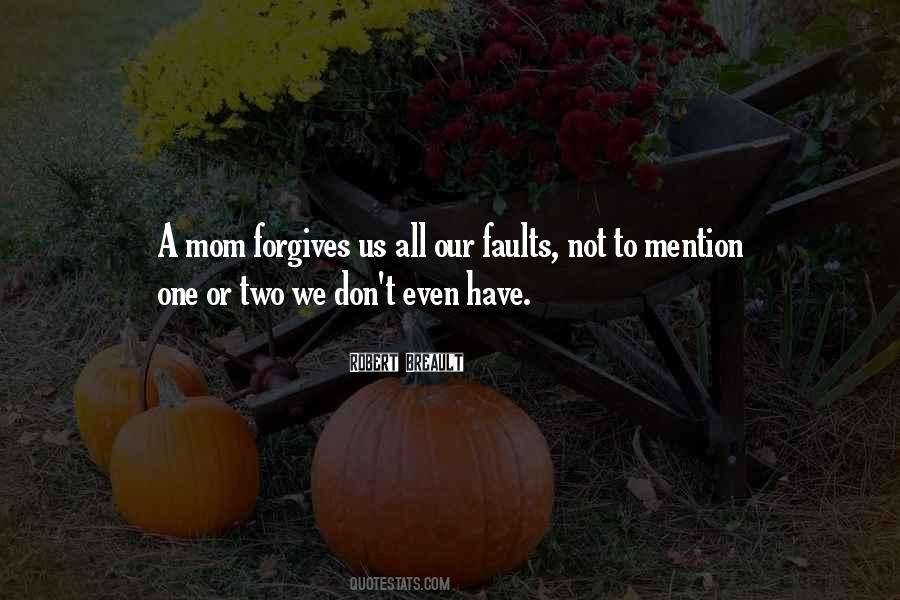 #58. The universe forgives those who give until their hearts are aching and their spirits weak, and finds a way to renew all strength and cure all ills, in this world or the next, if a soul can just have faith. - Author: Janet Morris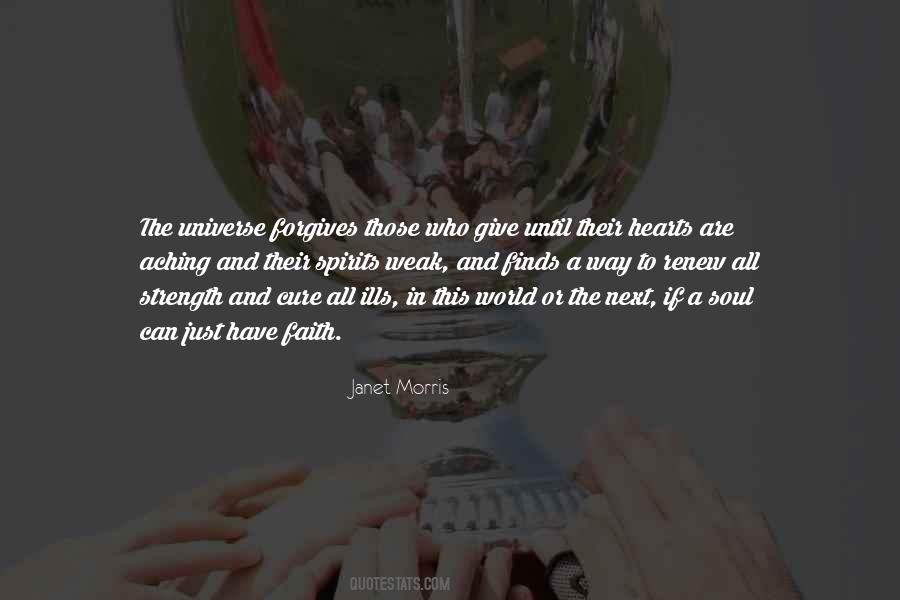 #59. Society seldom forgives those who have discovered the emptiness of its pleasures, and who can live independent of it and them. - Author: Marguerite Gardiner, Countess Of Blessington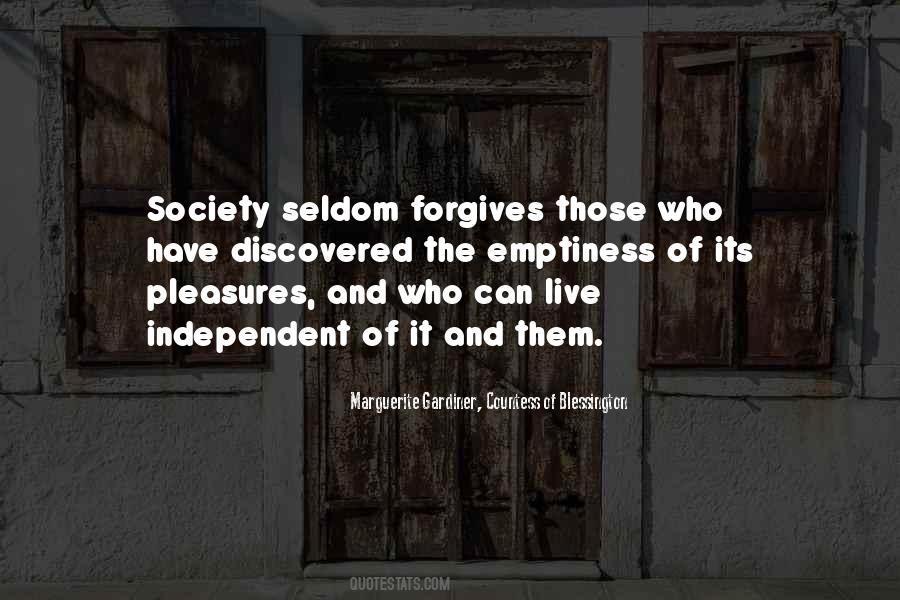 #60. The greatest gift of surrender was that it helped me to realize that it is arrogant of me not to forgive myself when God forgives me. - Author: Iyanla Vanzant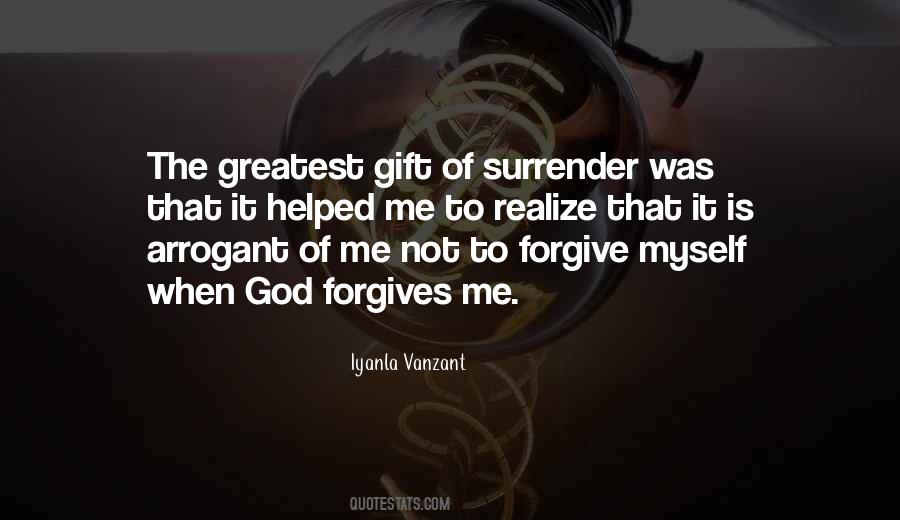 #61. Forgiveness is the best policy and the person who forgives is the best. - Author: Abdulazeez Henry Musa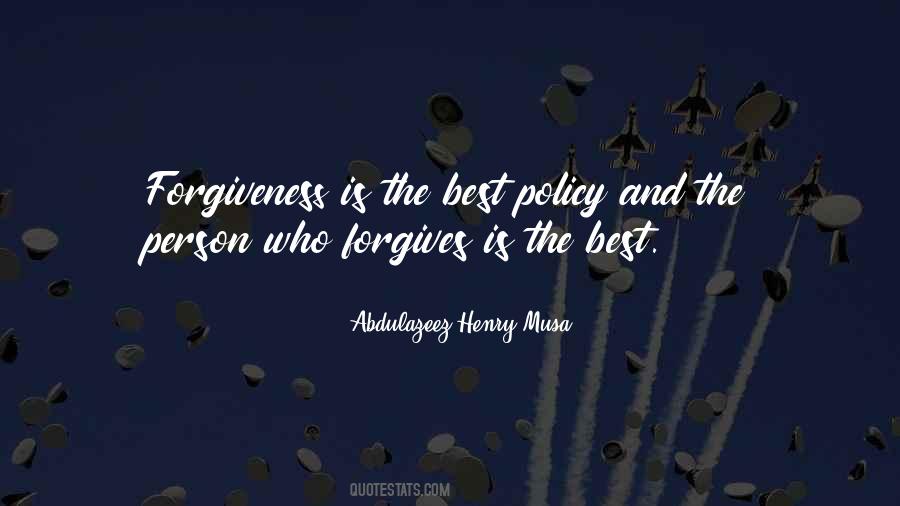 #62. Democracy may become frenzied, but it has feelings and can be moved. As for aristocracy, it is always cold and never forgives. - Author: Napoleon Bonaparte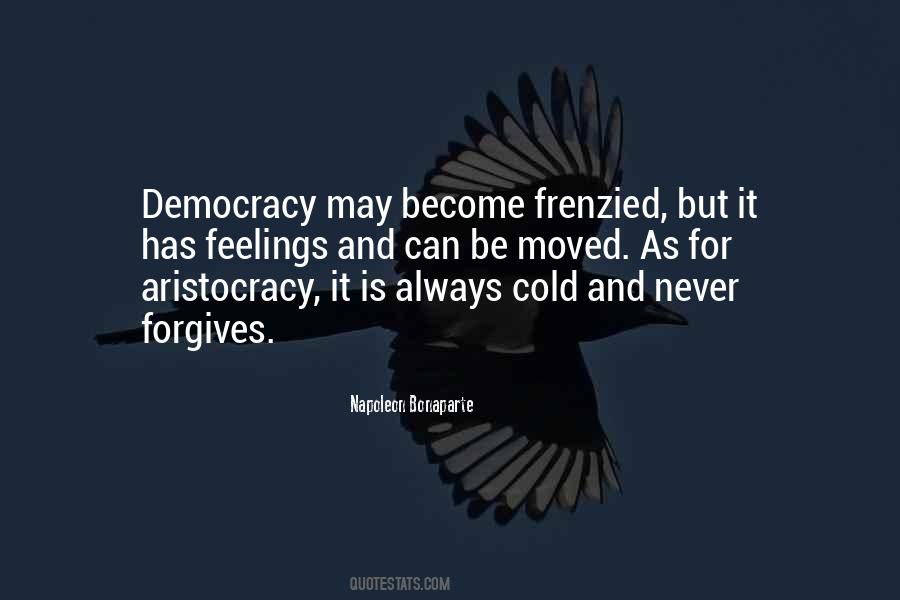 #63. I want my teammates to see that I'm following Christ. But, I'm also human, so there are times I slip and make mistakes but I know Christ forgives me. - Author: Torii Hunter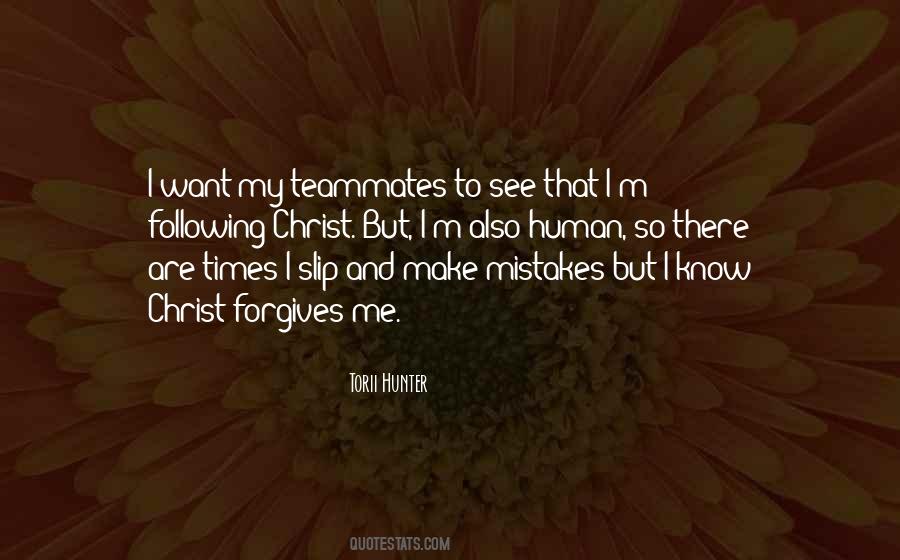 #64. Love - Love forgives the lover even his lust. 63 - Author: Friedrich Nietzsche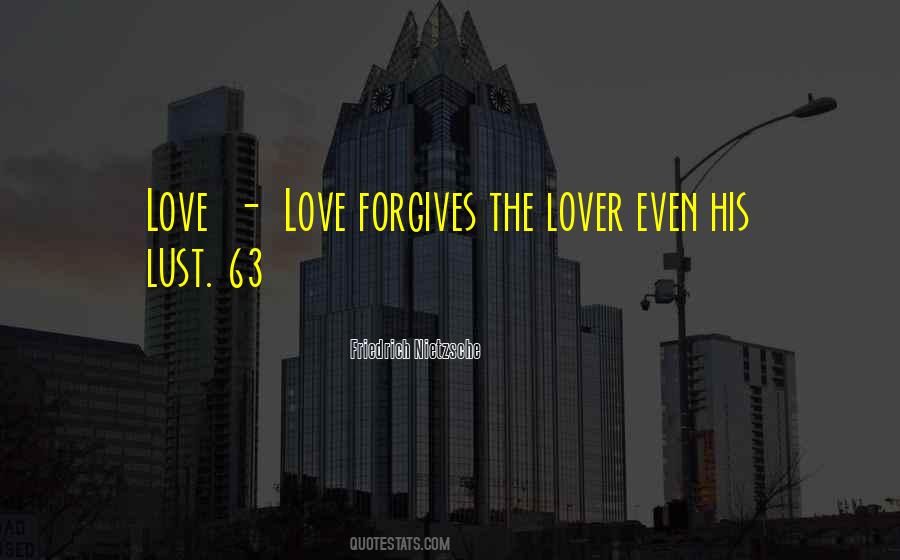 #65. The Ventoux is a god of Evil, to which sacrifices must be made. It never forgives weakness and extracts an unfair tribute of suffering. - Author: Roland Barthes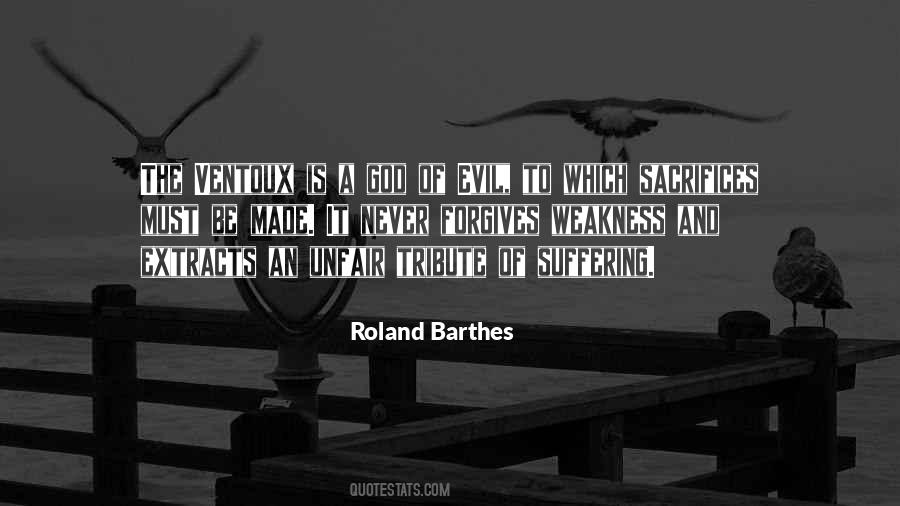 #66. Only God truly forgives, man sometimes forgives, nature never forgives. - Author: Jerome Lejeune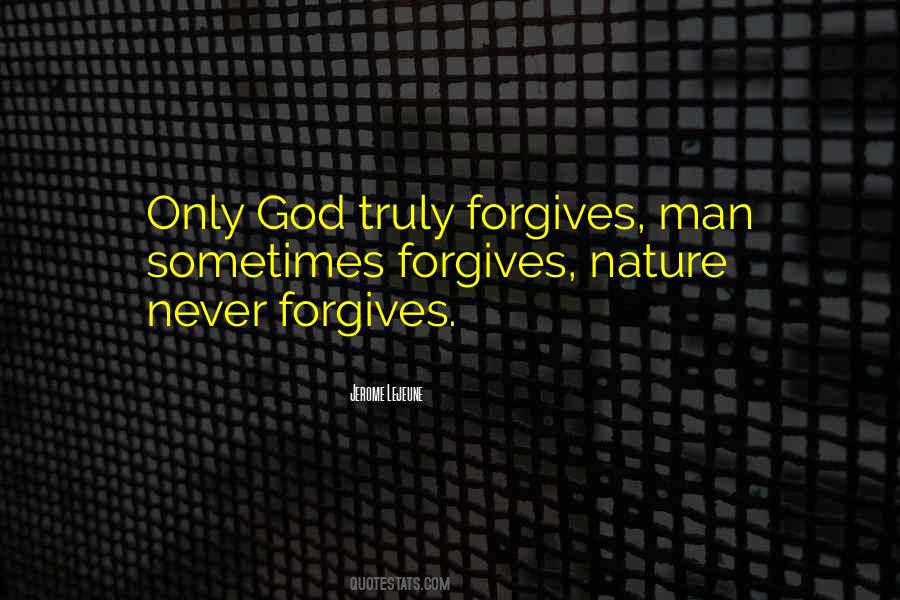 #67. Forgiveness is almost a selfish act because of its immense benefits to the one who forgives. - Author: Lawana Blackwell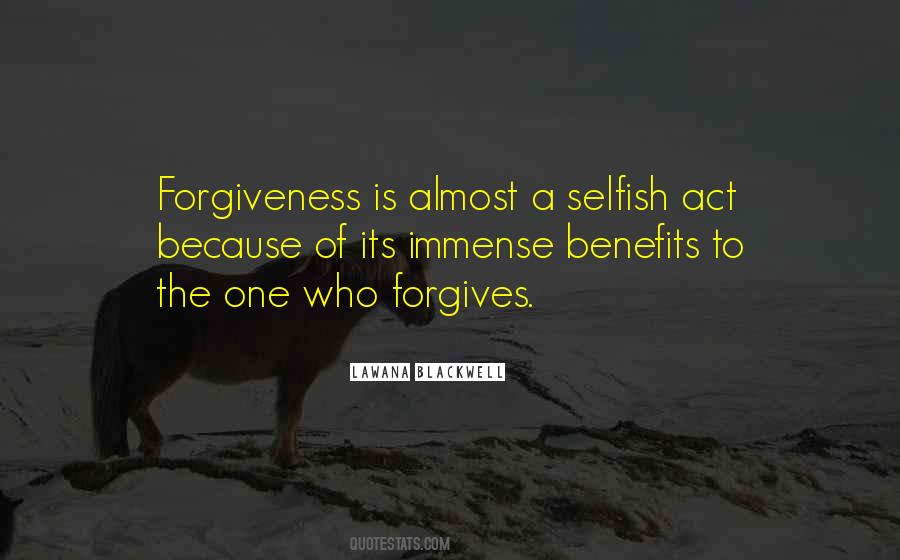 #68. He makes those just who are unjust, forgives those who deserve to be punished, and favors those who deserve no favor. - Author: Charles Haddon Spurgeon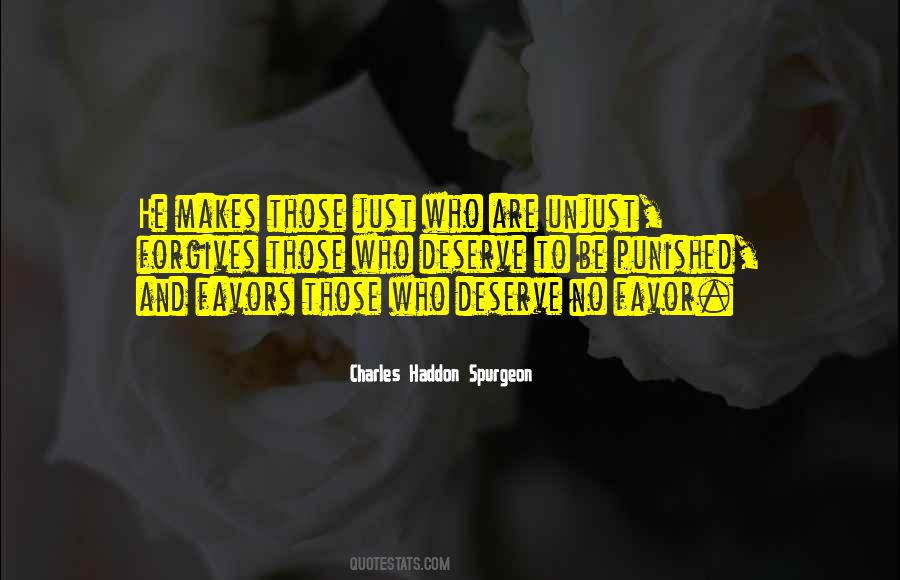 #69. Give me strength to forgive. Because he who forgives is the greatest. And I know I cannot forget. - Author: Mesa Selimovic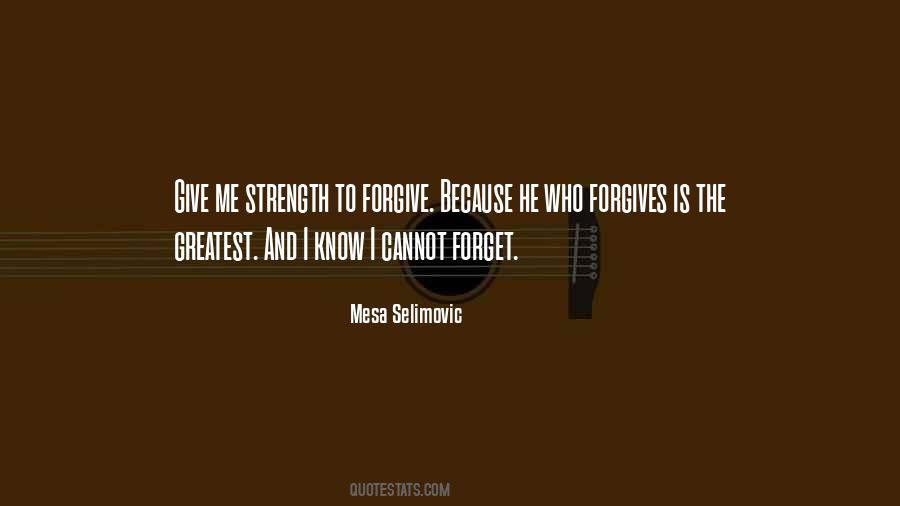 #70. By three things the wise person may be known. What three? He sees a shortcoming as it is. When he sees it, he tries to correct it. And when another acknowledges a shortcoming, the wise one forgives it as he should. - Author: Gautama Buddha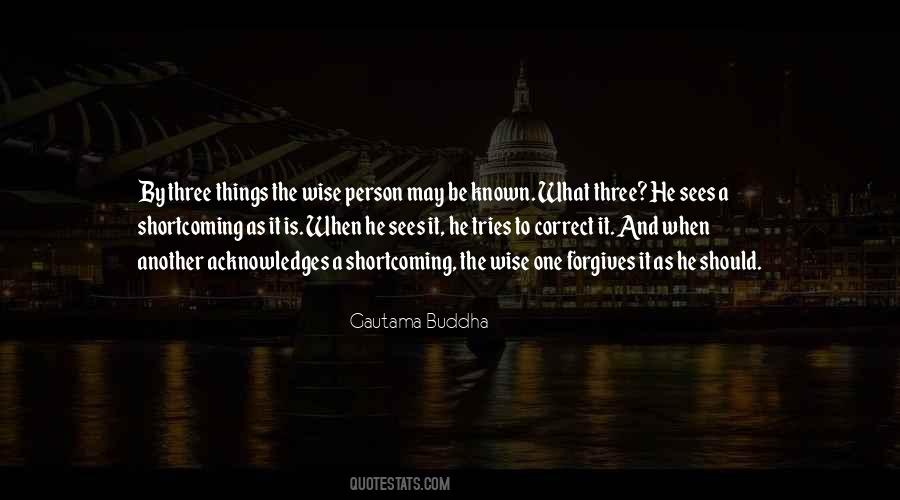 #71. Love forgives the lover even his lust. - Author: Friedrich Nietzsche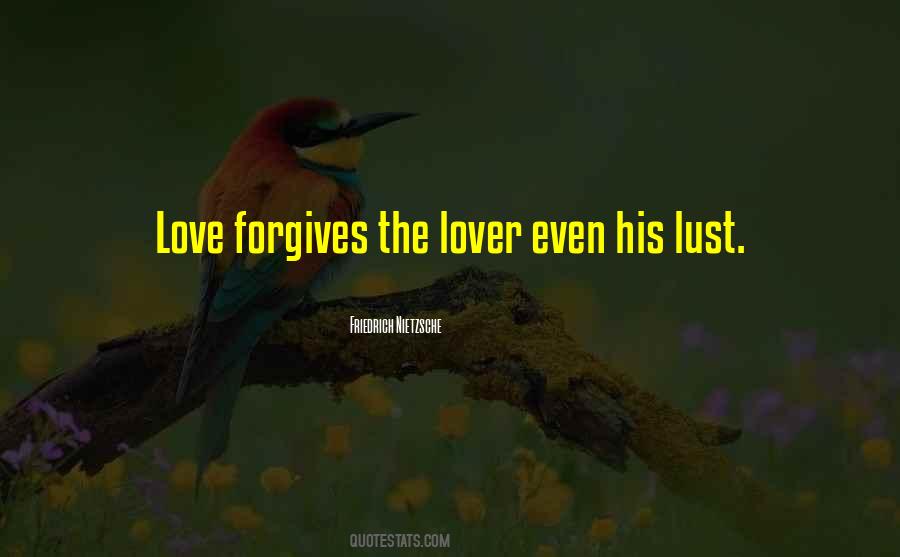 #72. The moment of confession is not merely when one hears another pronounce the words: God forgives you, or 'in God's name I absolve you.' Rather it is that point at which the sinner unfeignedly experiences himself as truly judged and pardoned by God. - Author: Thomas C. Oden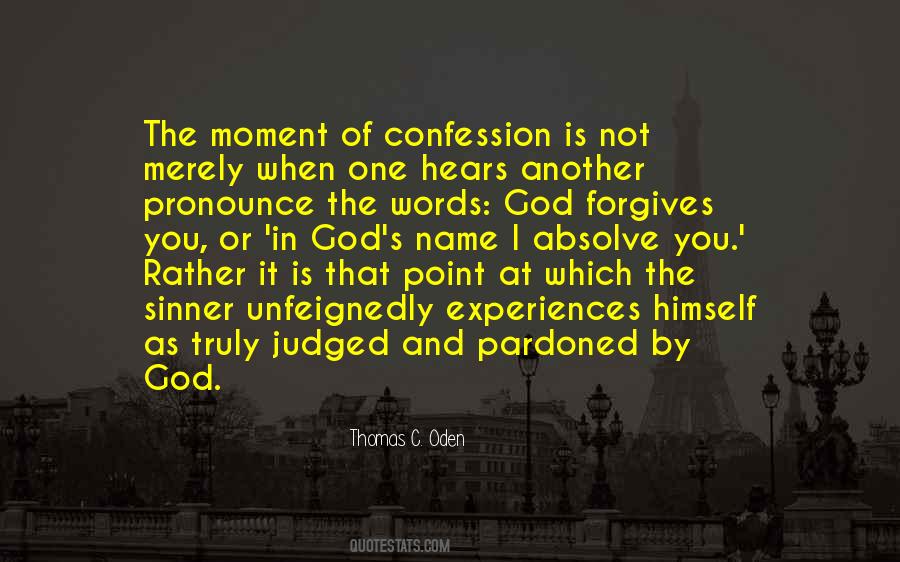 #73. I've looked on many women with lust. I've committed adultery in my heart many times. God knows I will do this and forgives me. - Author: Jimmy Carter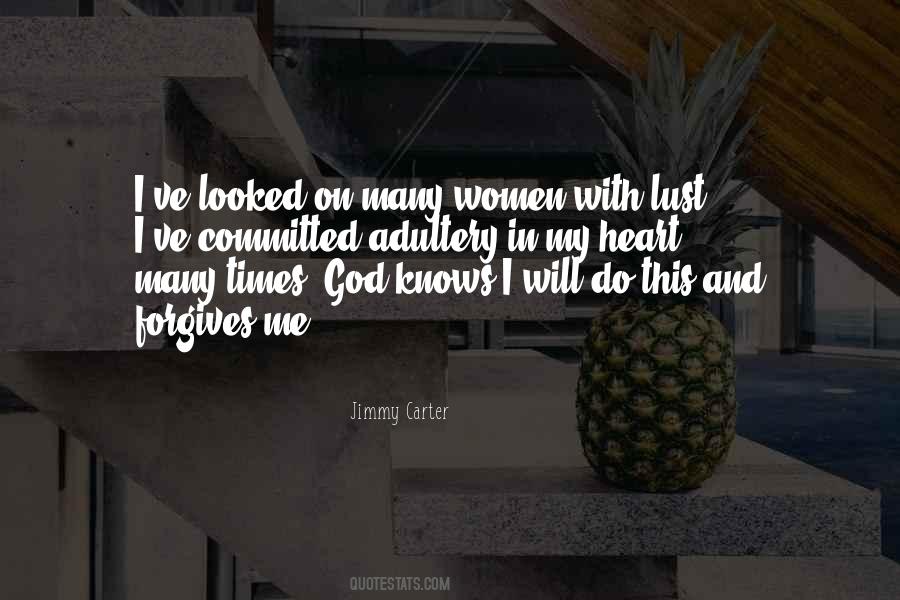 #74. A human being is not someone who once in a while makes a mistake, and God is not someone who now and then forgives. No, human beings are sinners and God is love. - Author: Philip Yancey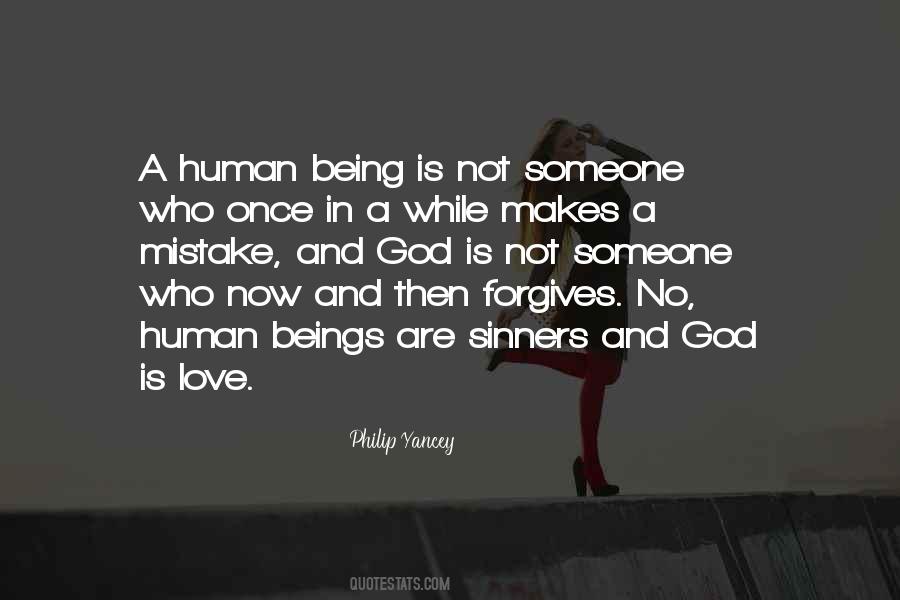 #75. Simply having the courage to say senseless things made me euphoric. I was free, with no need to seek or to give explanations for what I was doing. This freedom lifted me to the heavens - where greater love, one that forgives everything and never allows you to feel abandoned, once again enveloped me. - Author: Paulo Coelho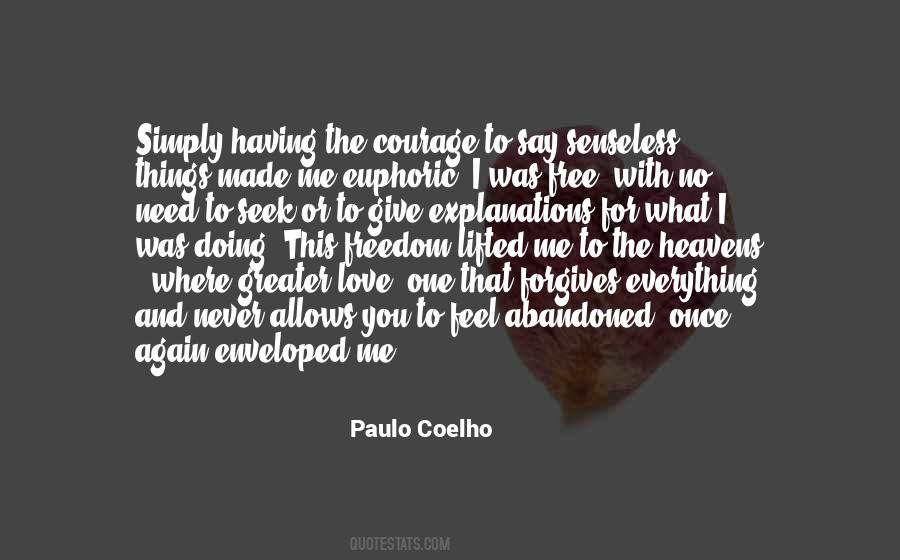 #76. Every one of us can blame somebody for something that has happened in our lives. But don't waste your time. What we need most is a steady stream of love flowing among us. Love that quickly forgives, willingly overlooks, and refuses to take offense. - Author: Charles R. Swindoll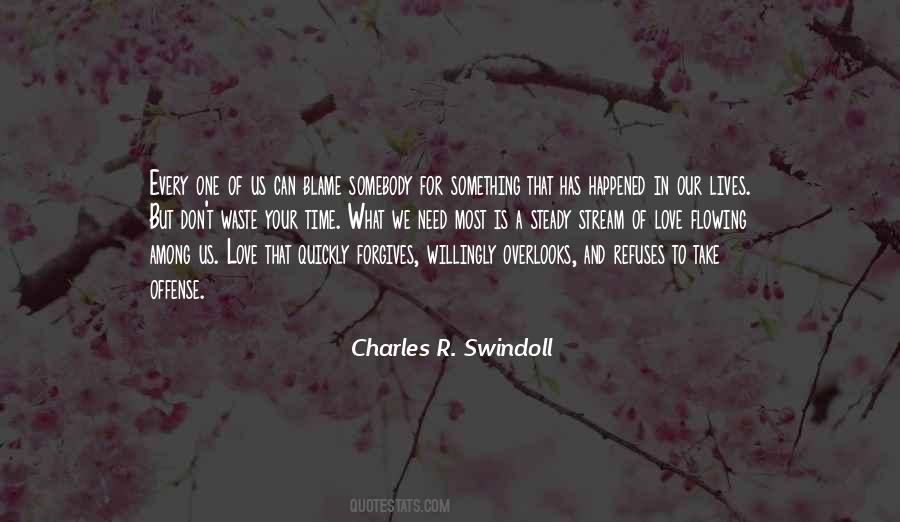 #77. God is continually, literally, second-by-second covering our sin under His Son's blood and forgiving us our sins. God cannot love us unless He forgives us and cannot forgive us without a commitment to love us. - Author: Dan B. Allender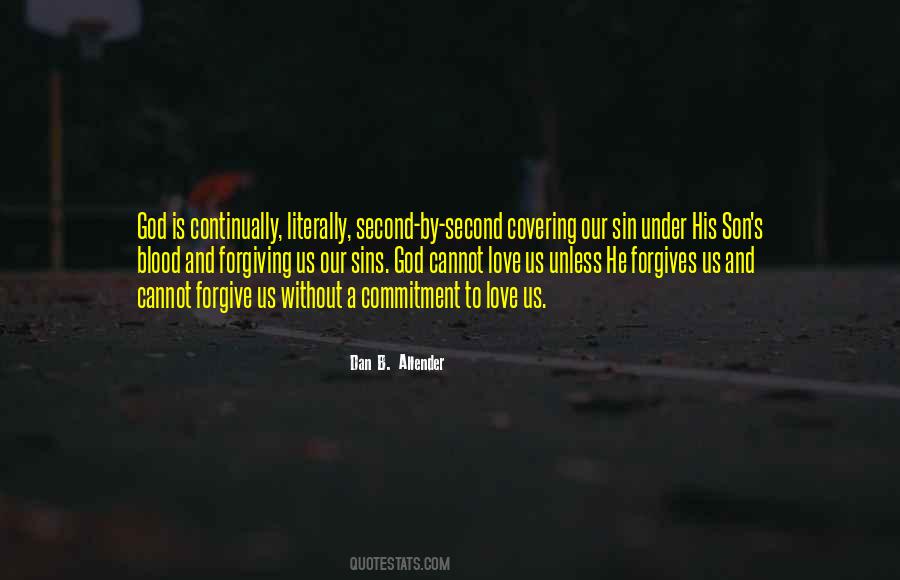 #78. When God forgives, there is an immediate and
complete change in relationship. Instead of hostility, there is love and acceptance. Instead of enmity, there is friendship. - Author: Billy Graham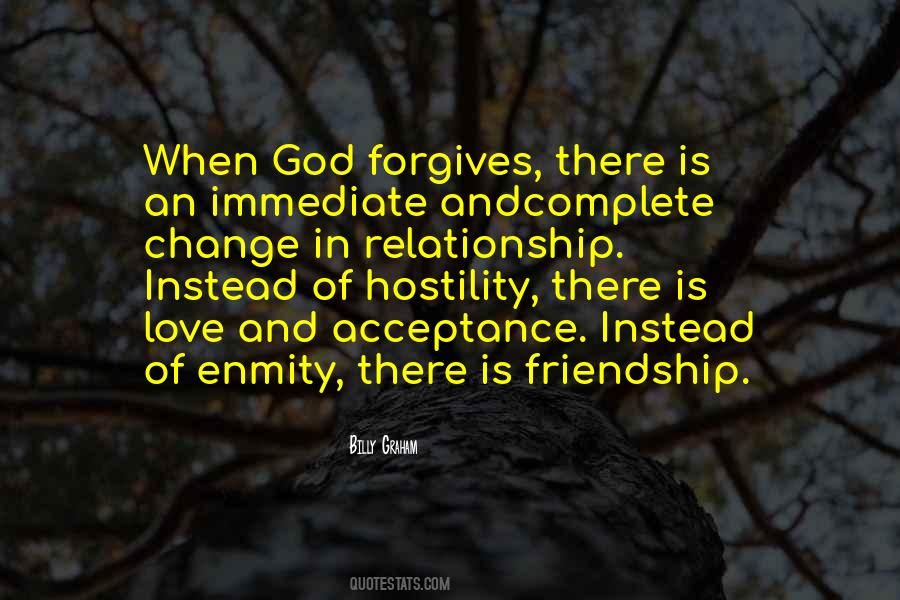 #79. Society can overlook murder, adultery or swindling; it never forgives preaching of a new gospel. - Author: Edmund Burke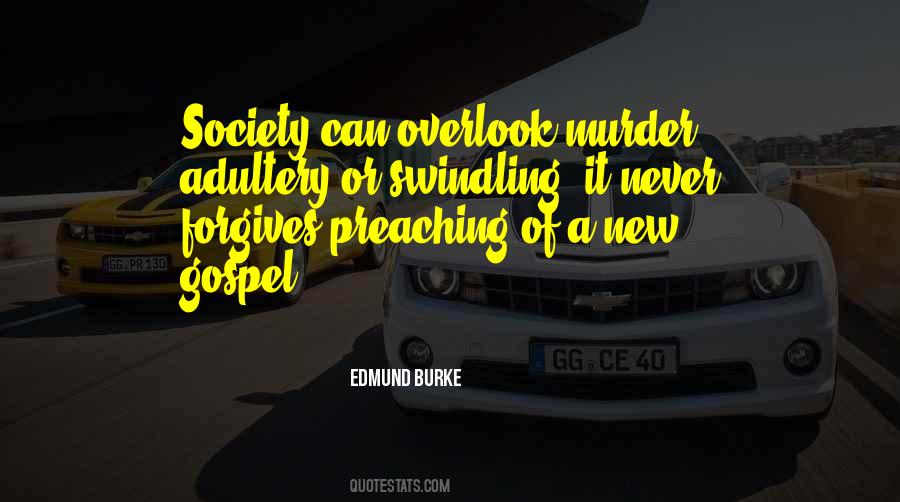 #80. God always forgives when you are totally repentant and you desire to change. He forgives ... and He never gets tired of forgiving. Never. You may get tired asking. I hope not. He never, never tires of forgiving. Never. - Author: Mother Angelica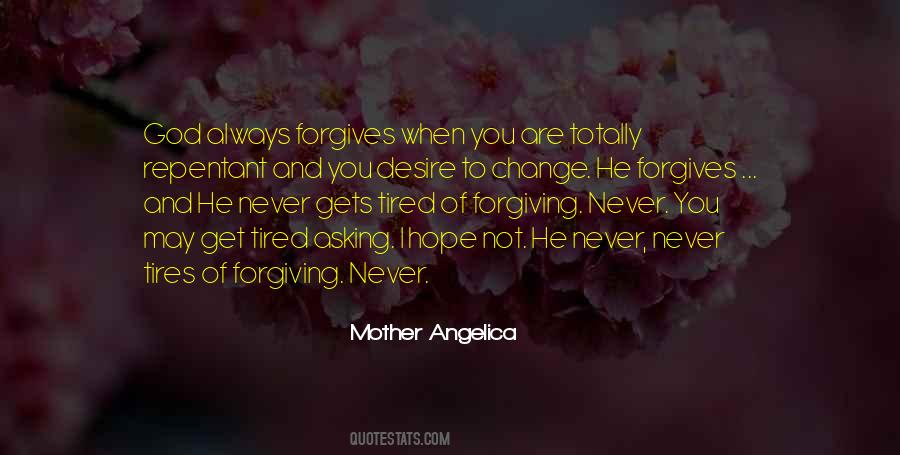 #81. The ragamuffin gospel reveals that Jesus forgives sins, including the sins of the flesh; that He is comfortable with sinners who remember how to show compassion; but that He cannot and will not have a relationship with pretenders in the Spirit. - Author: Brennan Manning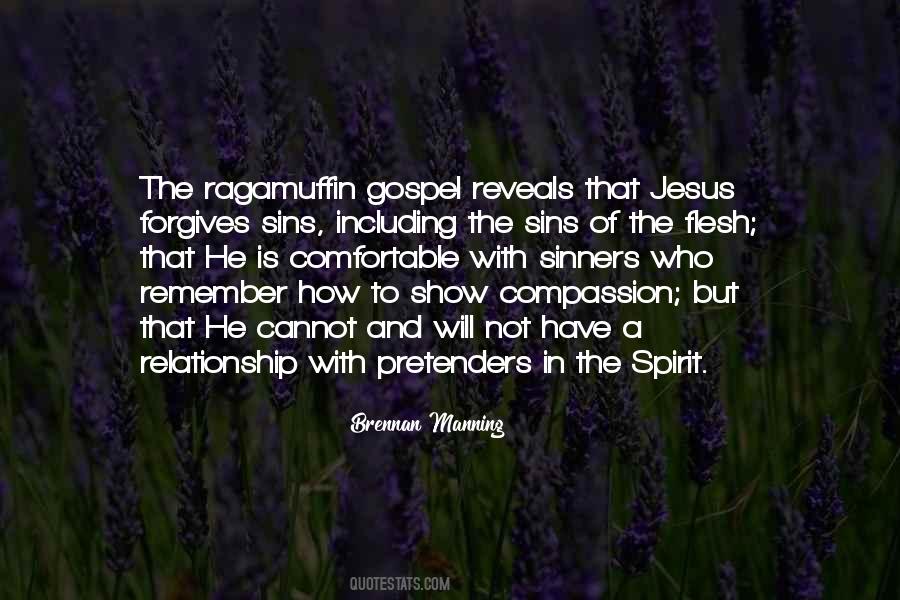 #82. Anna's words from long ago came back to him. We are all beautiful but broken people. Jesus forgives us, even when we don't deserve it. That's a pretty good reason to be forgiving. - Author: Elizabeth Camden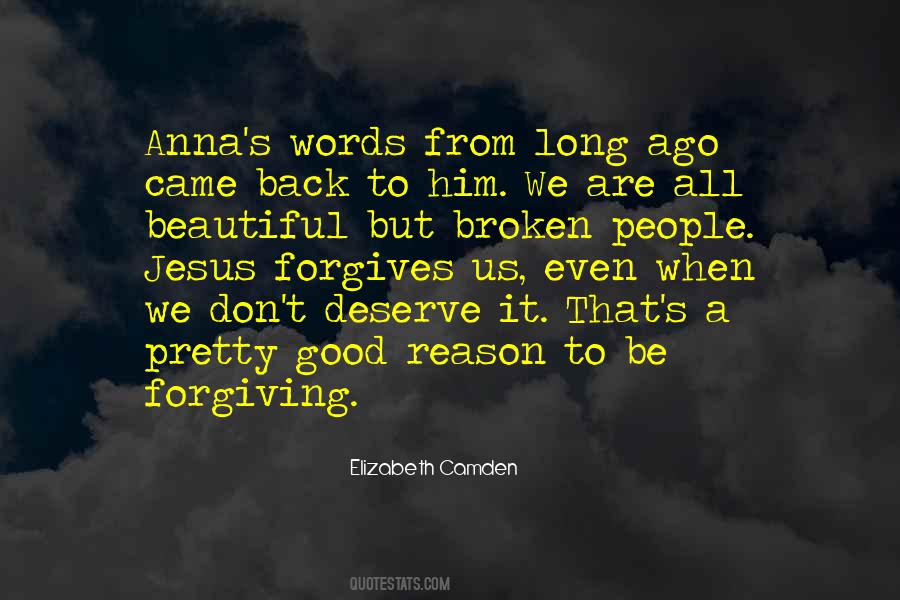 #83. God is not bound by a body, yet He is a Person. He feels, He thinks, He loves, He forgives, He sympathizes with the problems and sorrows that we face. - Author: Billy Graham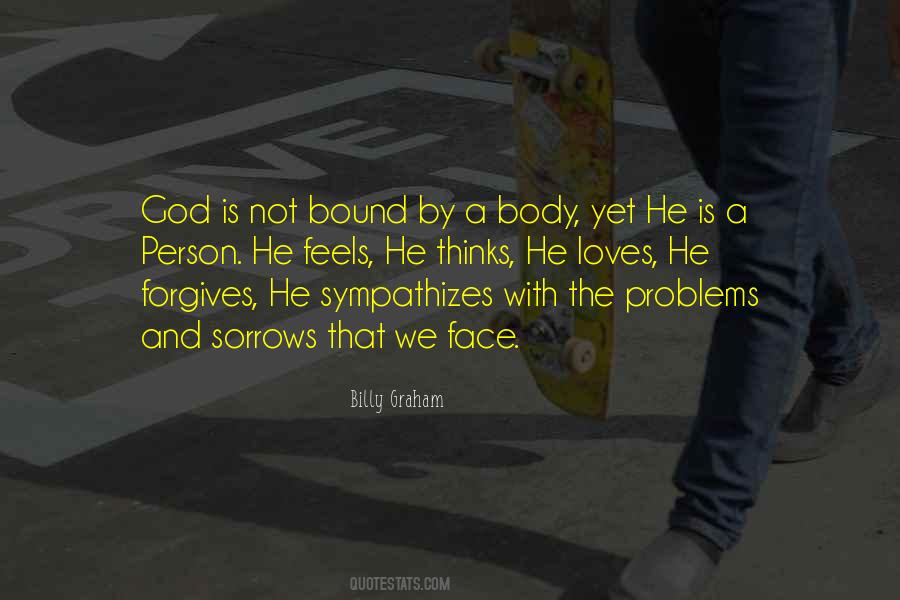 #84. "Love covers a multitude of sins," (I Pet. 4:8). That is, for love towards one's neighbor, God forgives the sins of the one who loves. - Author: Theophan The Recluse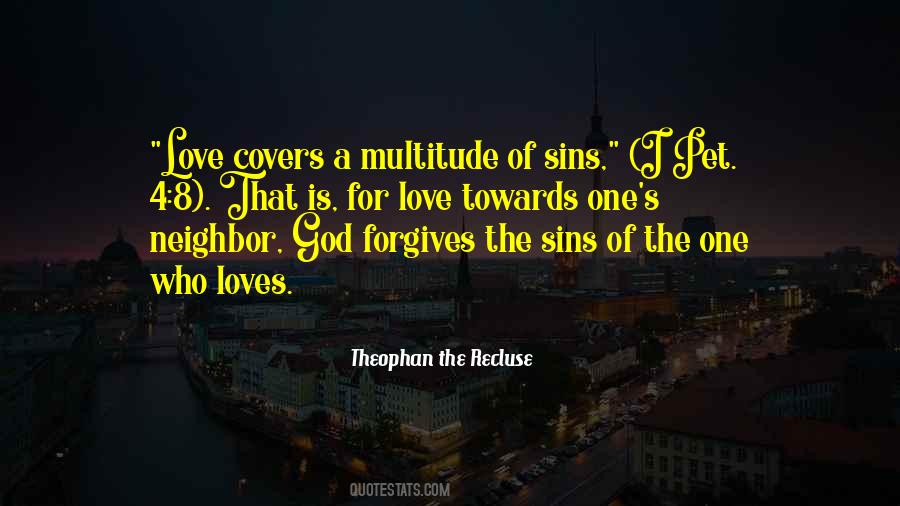 #85. True, the name of the product wasn't so great. Kindle? It was cute and sinister at the same time - worse than Edsel, or Probe, or Microsoft's Bob. But one forgives a bad name. One even comes to be fond of a bad name, if the product itself is delightful. - Author: Nicholson Baker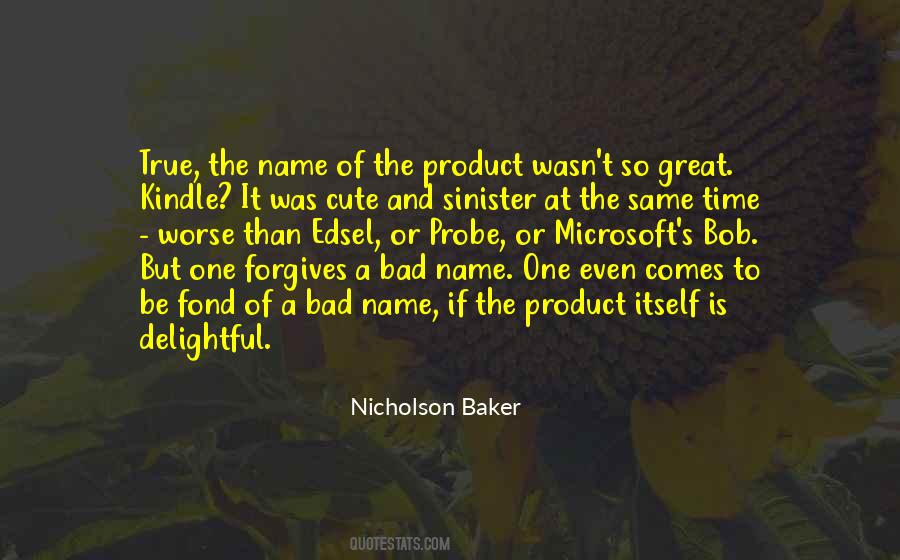 #86. Forgiveness is a very curious thing, in that you must not only know how to forgive; but you must also know how to accept forgiveness. Both of these aspects are equally important. When someone forgives you - believe it. - Author: C. JoyBell C.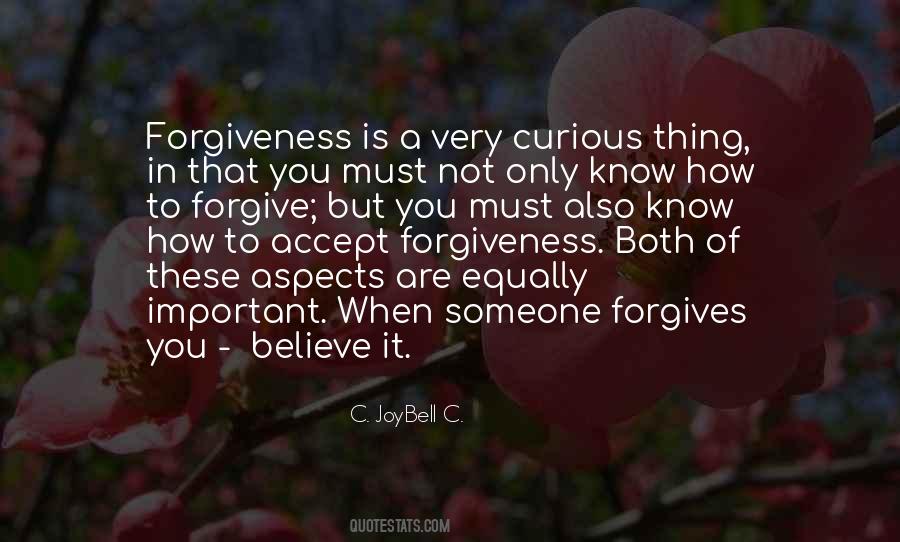 #87. It is said that the offender never forgives. Certainly it is quite explicitly hard for the one in the wrong to do so. And it takes more spiritual asset than continued alcohol often leaves. - Author: Louise Jordan Miln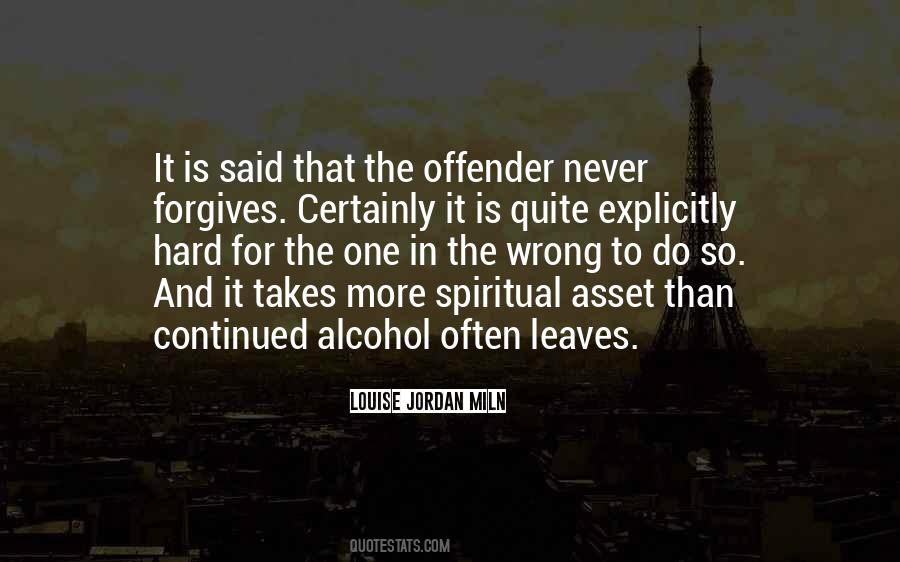 #88. ...It's not that the worm forgives the plough; it gives it no mind. (Pain occurs, in passing.) (lines 37-39 in the poem 'Fantasia on a Theme from IKEA') - Author: Philip Gross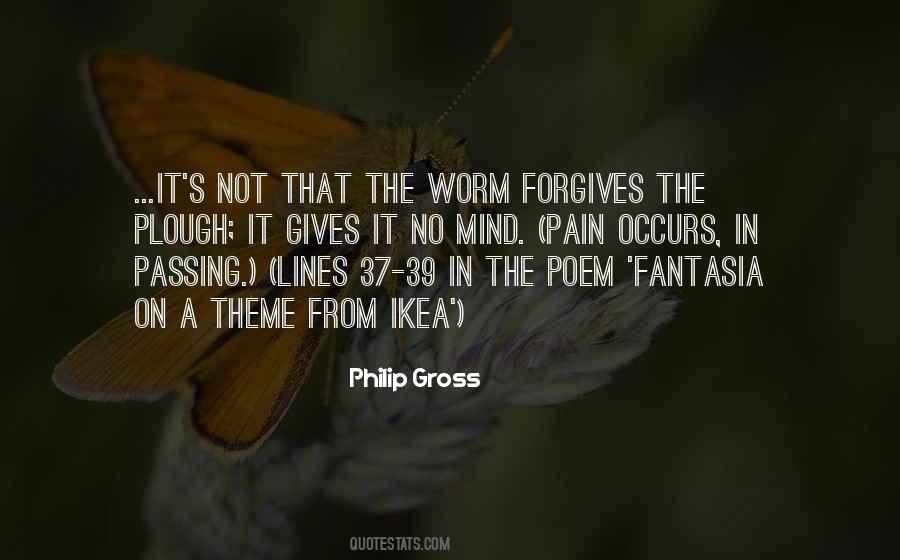 #89. Love is patient. Love is kind. Love always forgives, trusts, supports, and endures. Love never fails. When every star in the heavens grows cold, and when silence lies once more on the face of the deep, three things will endure: faith, hope, and love. - Author: Jim Butcher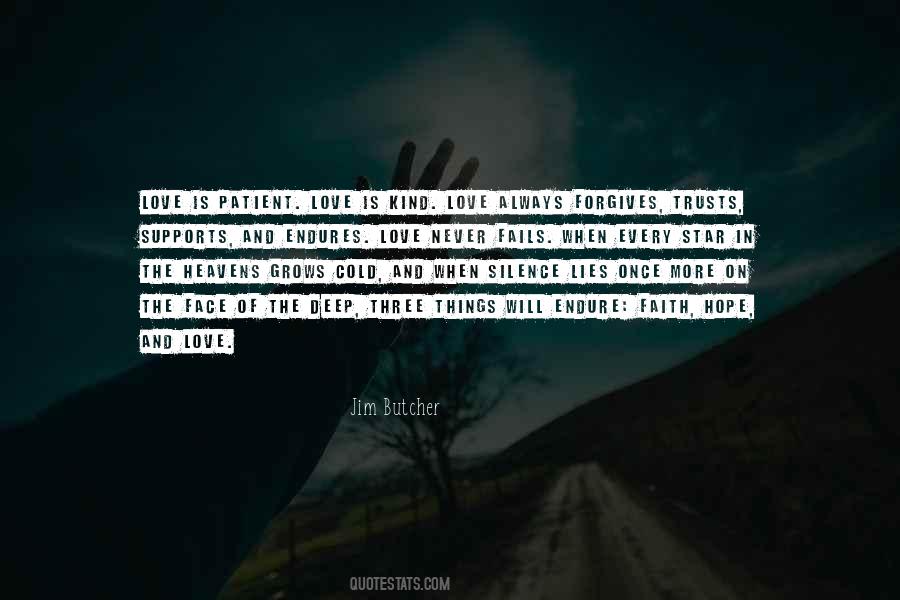 #90. Better to be blinded by love than hate; one forgives and the other refuses. - Author: T.F. Hodge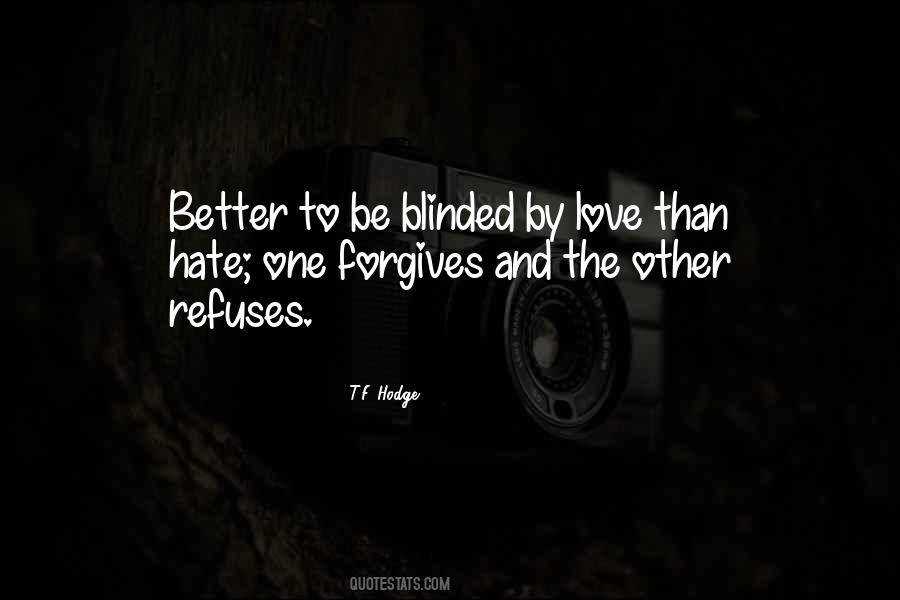 #91. If Jesus forgave those who nailed Him to the cross, and if God forgives you and me, how can you withhold your forgiveness from someone else? - Author: Anne Graham Lotz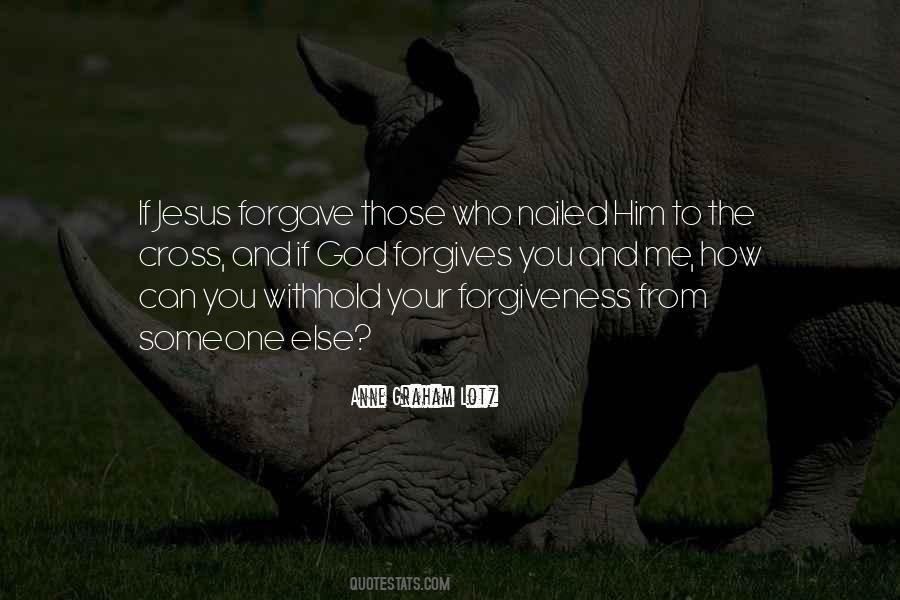 #92. God shall not forgive that person until he forgives his brother, for rancor is a serious affliction that festers in one's heart and blocks good things from coming to one. - Author: Hamza Yusuf
#93. People don't give a flying fuck if Uncle Jeffrey really forgives them for missing his last birthday party. They want to know that the world is a place where Uncle Jeffrey can and should forgive them. - Author: Jim Butcher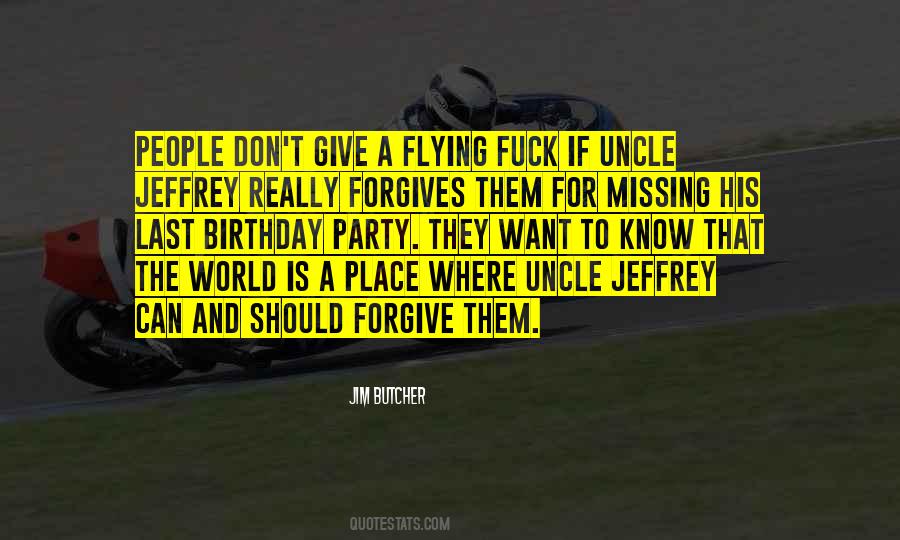 #94. Anyone who idolizes you is going to hate you when he discovers that you are fallible. He never forgives. He has deceived himself, and he blames you for it. - Author: Elbert Hubbard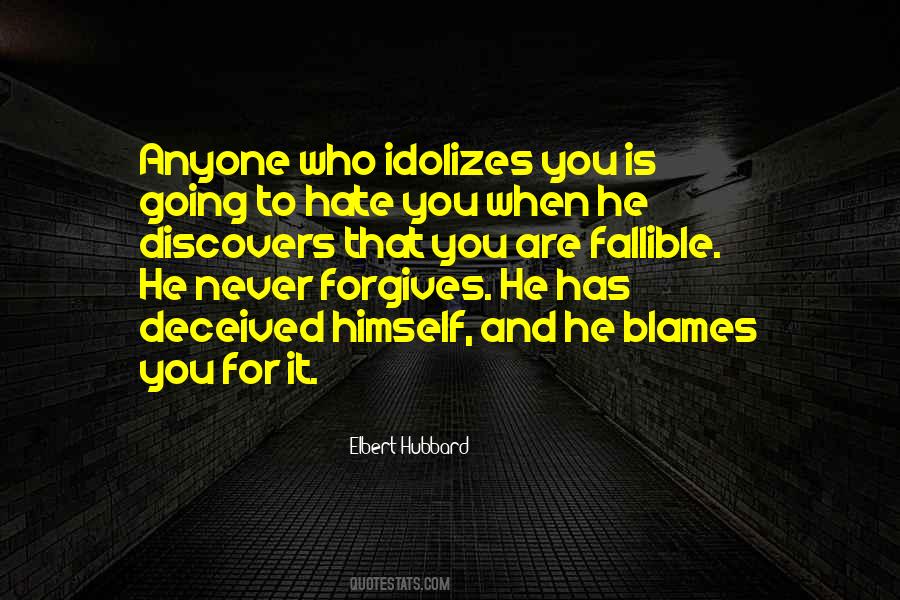 #95. Love ever gives-forgives-outlives and ever stands with open hands. And while it lives, it gives. For this is love's prerogative - to give and give and give ... - Author: William Arthur Dunkerley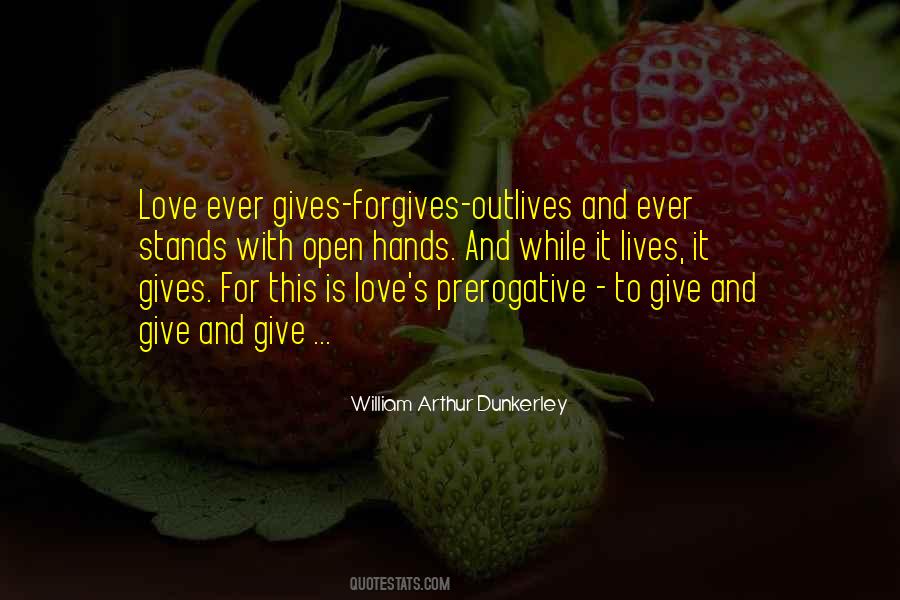 #96. Who loves a lot, forgives a lot. - Author: Amado Nervo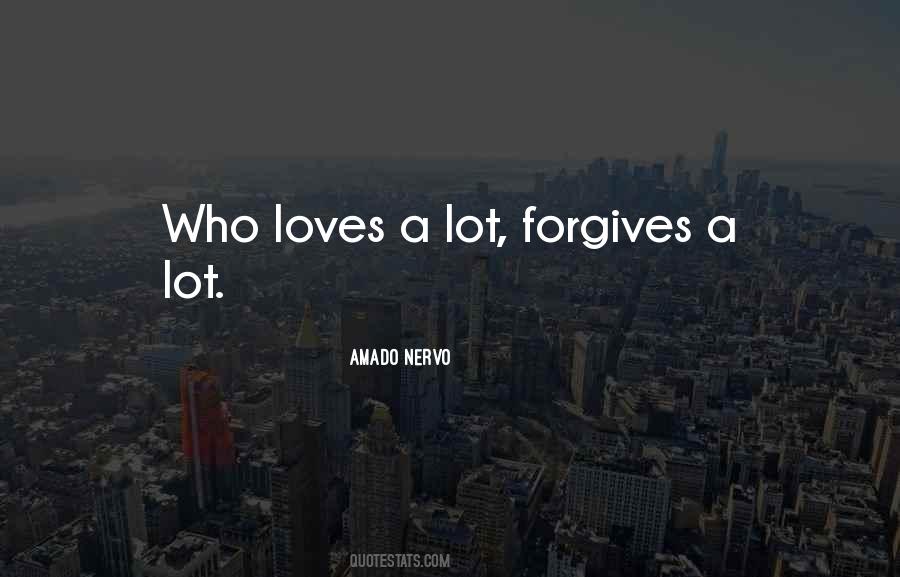 #97. The man who forgives pays a tremendous price - the price of the evil he forgives. - Author: David W Augsburger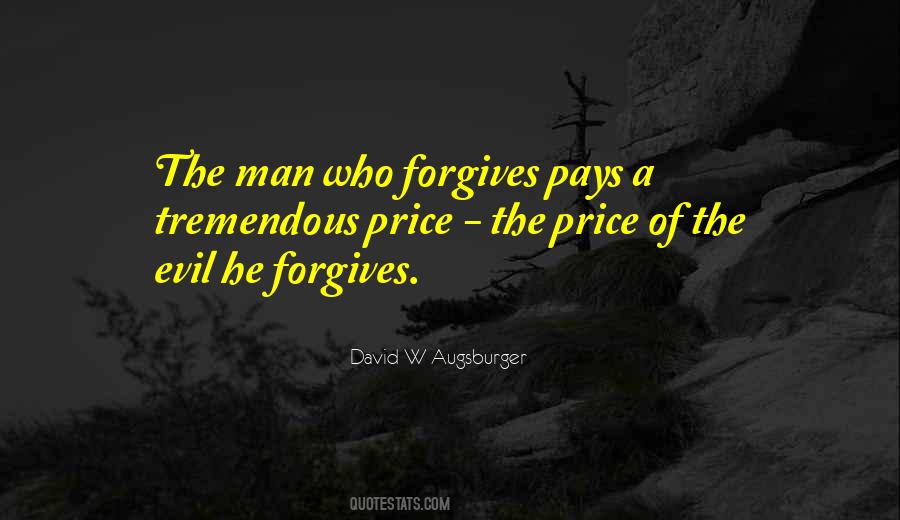 #98. Most laws condemn the soul and pronounce sentence. The result of the law of my God is perfect. It condemns but forgives. It restores - more than abundantly - what it takes away. - Author: Jim Elliot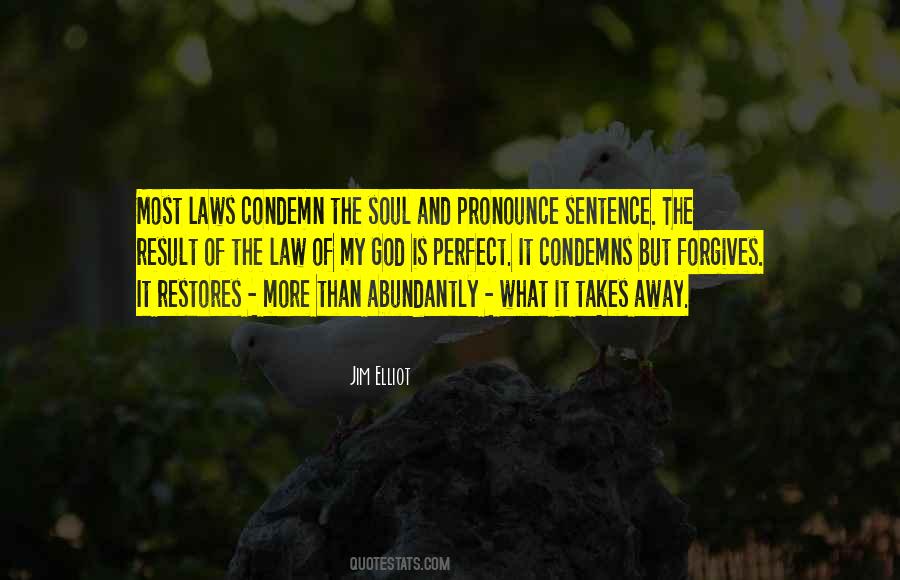 #99. If I owe Smith ten dollars and God forgives me, that doesn't pay Smith. - Author: Robert Green Ingersoll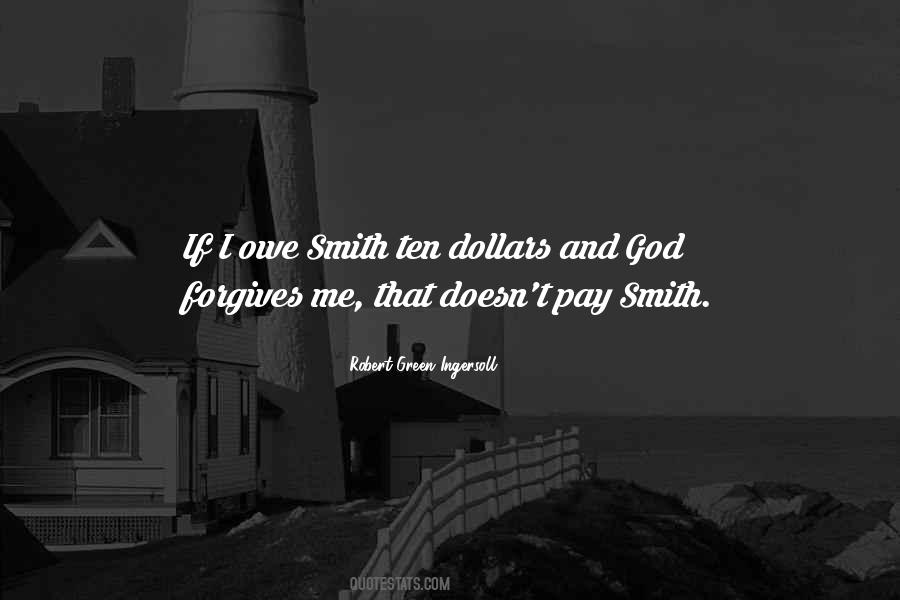 #100. I needed help. Why didn't you help me? ... God ... forgives me. Why didn't you? - Author: Mitch Albom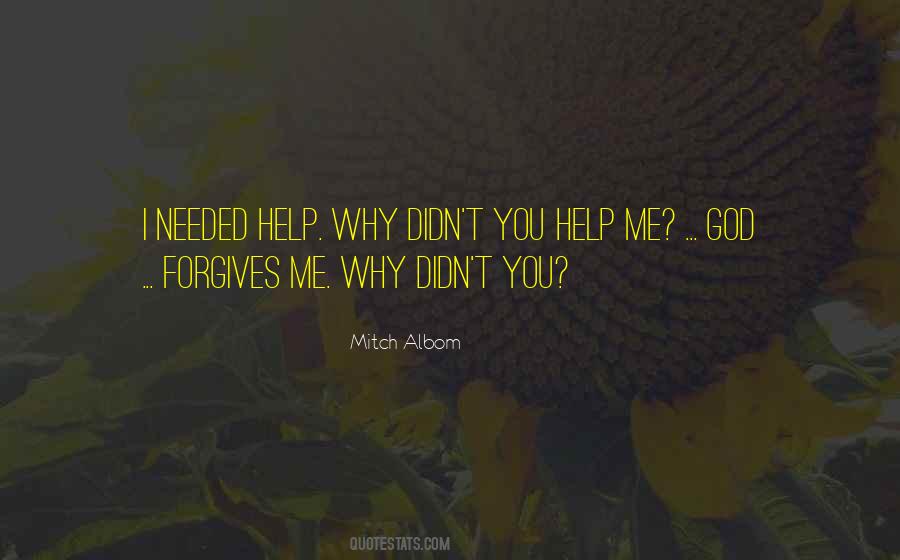 Famous Authors
Popular Topics