Food And Happiness Famous Quotes & Sayings
List of top 45 famous quotes and sayings about food and happiness to read and share with friends on your Facebook, Twitter, blogs.
Top 45 Quotes About Food And Happiness
#1. It was always a relief when she came home to him. Like water or food. Like music or that moment when you cut yourself with a knife and squeeze the skin and no blood oozes out. - Author: Francesca Lia Block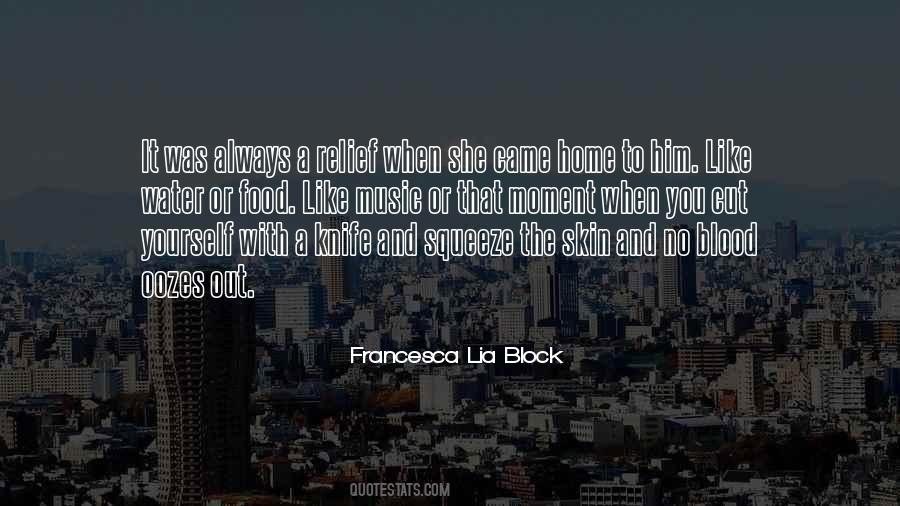 #2. Happy we were the, for we had a good house, and good food and good work. - Author: Richard Llewellyn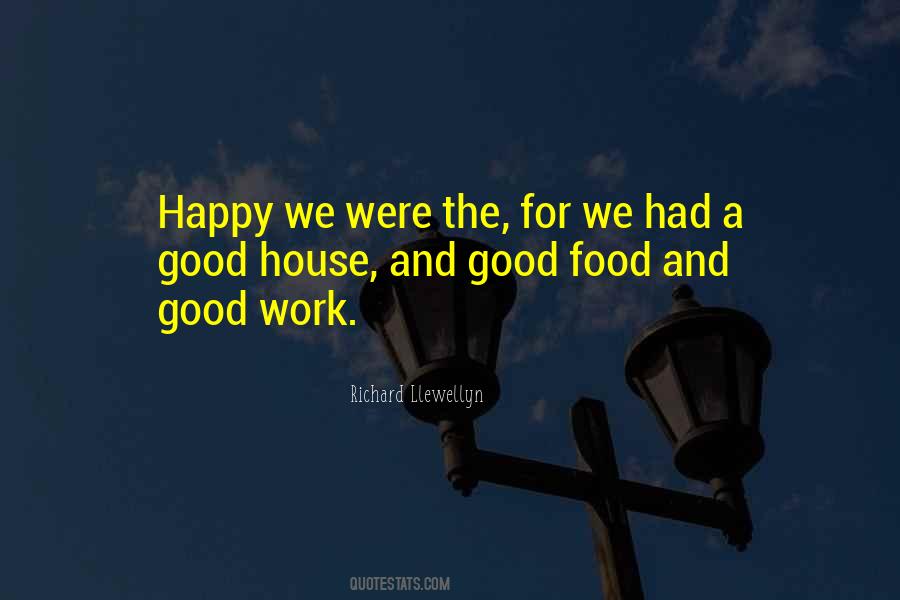 #3. After initial needs are met-enough food, shelter, comfort-there is no correlation between money and happiness. That's a difficult thing for people to believe. - Author: Geneen Roth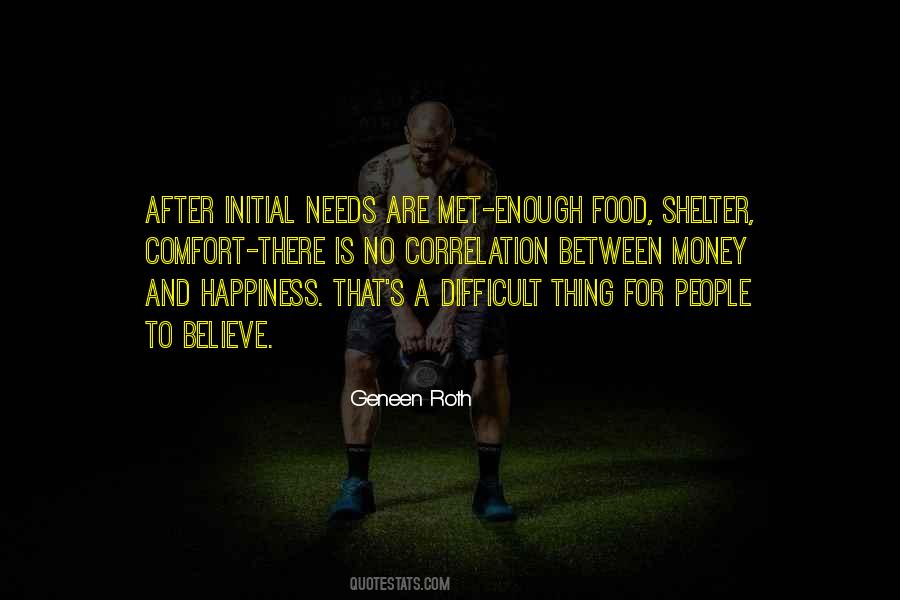 #4. Arguably the only goods people need these days are food and happiness. - Author: Terence Conran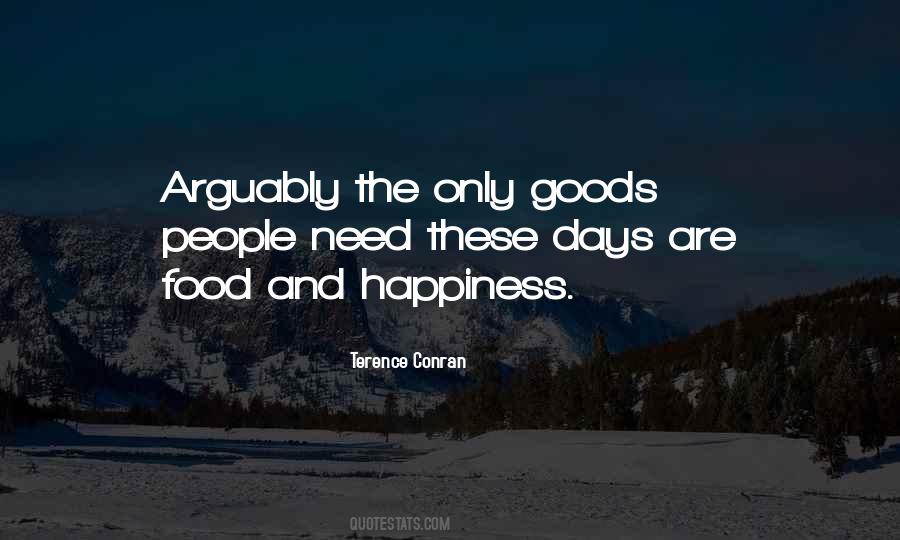 #5. Once again, when you upgrade sensations from an addiction to a preference, you can enjoy things such as gourmet food and music, without having your happiness depend on them. - Author: Ken Keyes Jr.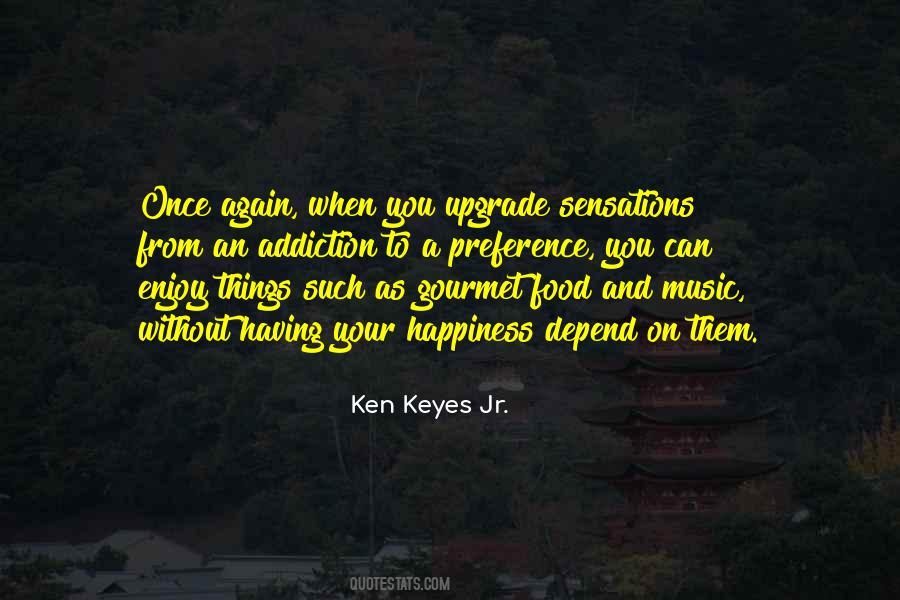 #6. I take care of my flowers and my cats. And enjoy food. And that's living. - Author: Ursula Andress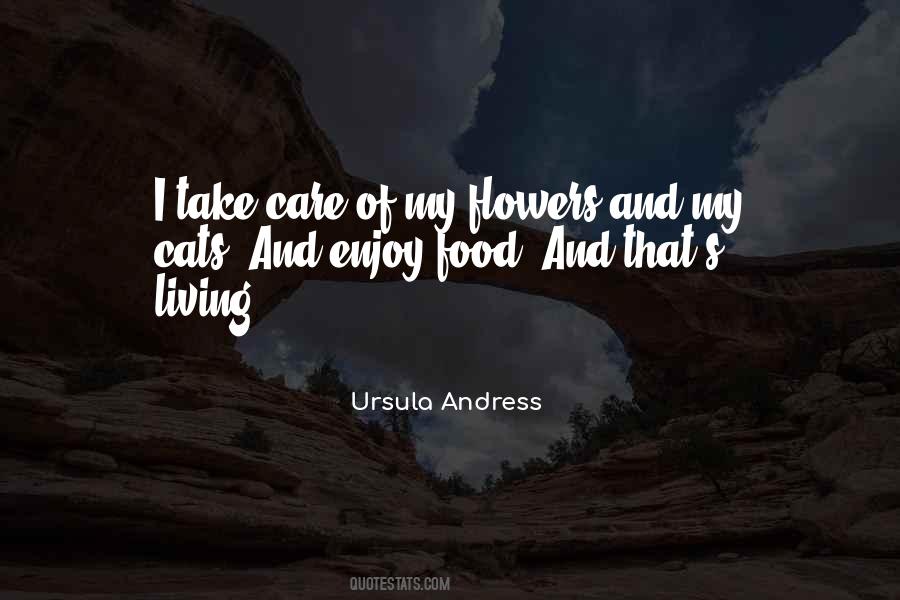 #7. Few of us are aware that the act of eating can be a powerful statement of commitment to our own well-being, and at the same time the creation of a healthier habitat. Your health, happiness, and the future of life on earth are rarely so much in your own hands as when you sit down to eat. - Author: John Robbins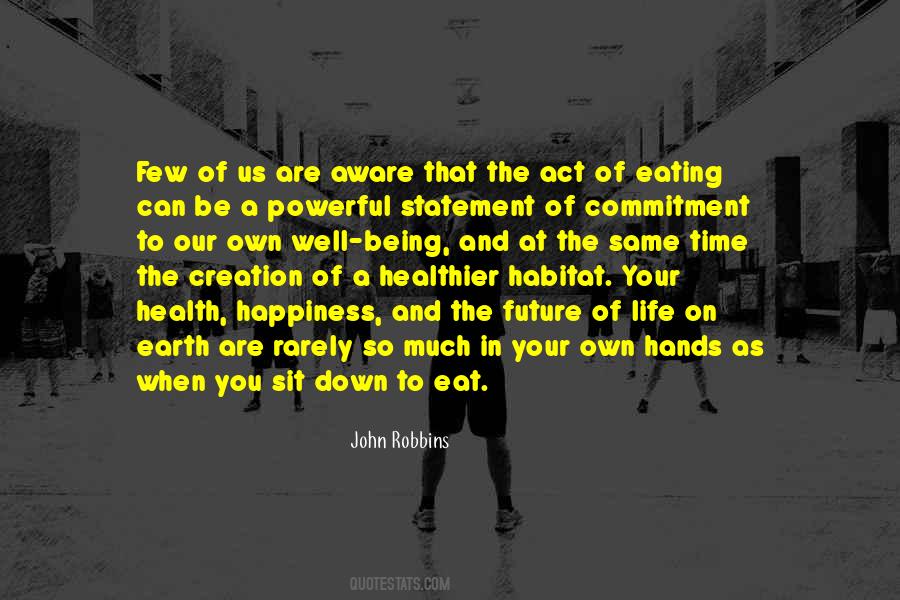 #8. I am a practical girl, and a life is only so long. It should be spent in as much peace and good eating and good reading as possible and no undue excitement. That is all I am after. - Author: Catherynne M Valente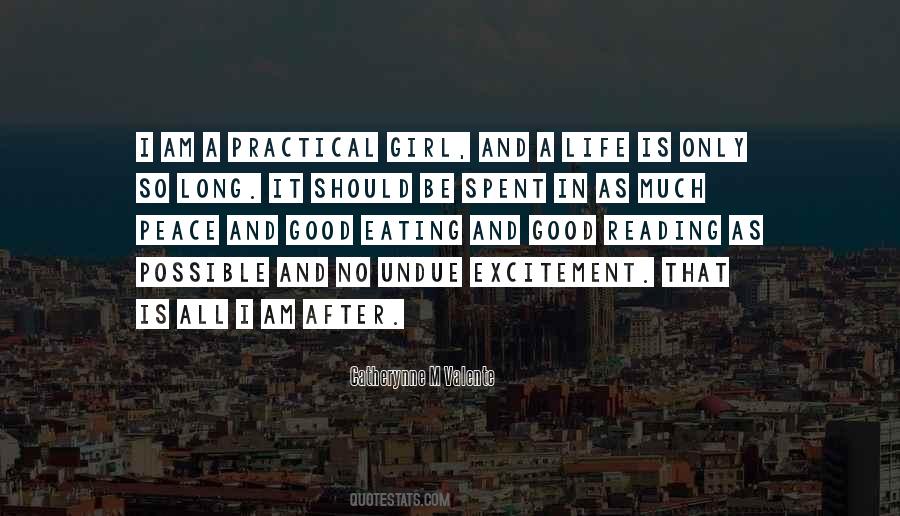 #9. (Happiness smelled like Park's house. Like Skin So Soft and all four food groups.) - Author: Rainbow Rowell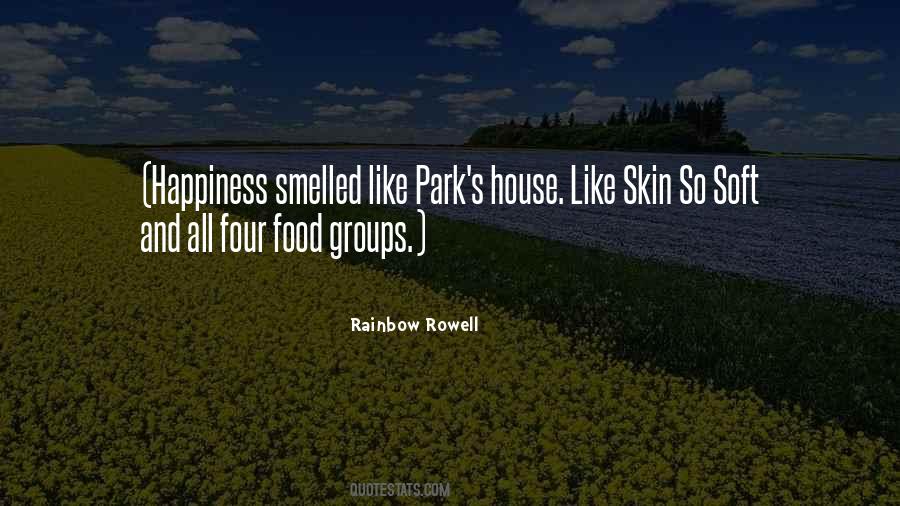 #10. If you want to keep people happy, just keep the food and entertainment rolling. - Author: E.A. Bucchianeri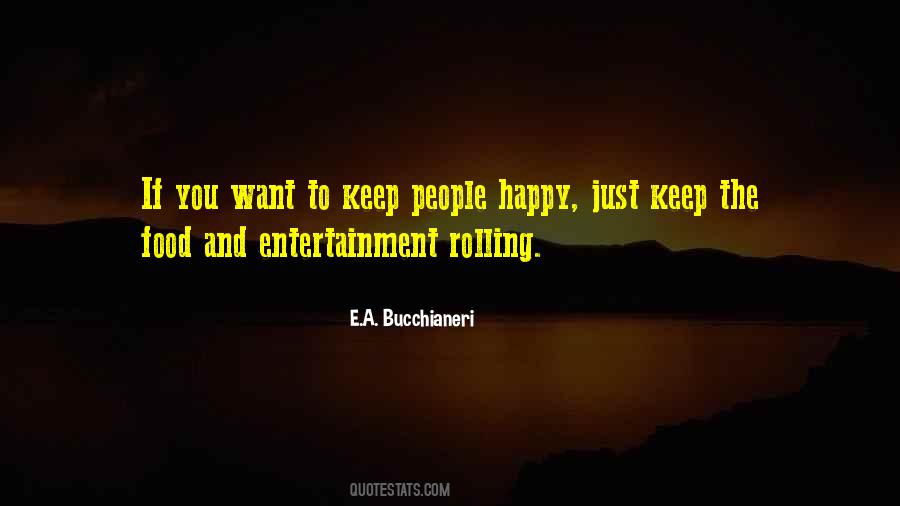 #11. And he, like many jaded people, had few pleasures left in life save good food and drink. - Author: Honore De Balzac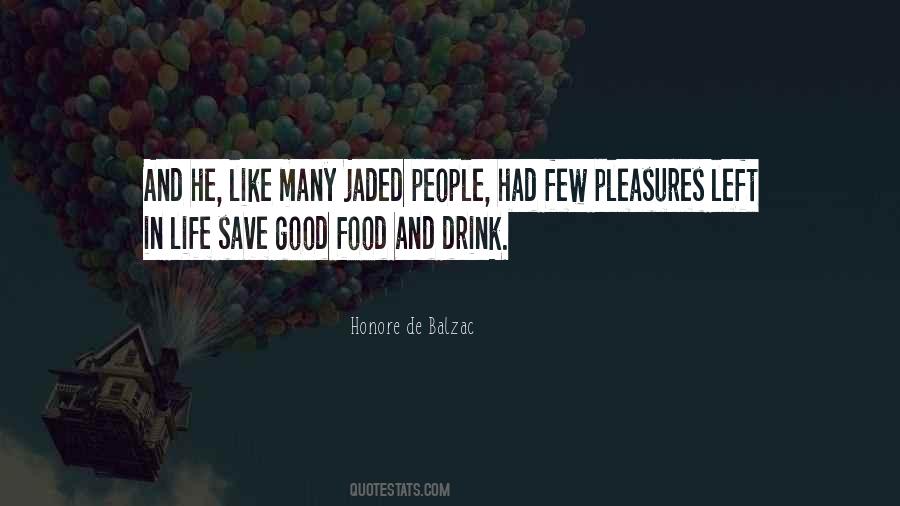 #12. It is a miracle if we can find true friends, and it is a miracle if you have enough food to eat, and it is a miracle if you get to spend your days and evenings doing whatever it is you like to do ... Lemony Snicket, The Lump of Coal - Author: Shirley A. Moore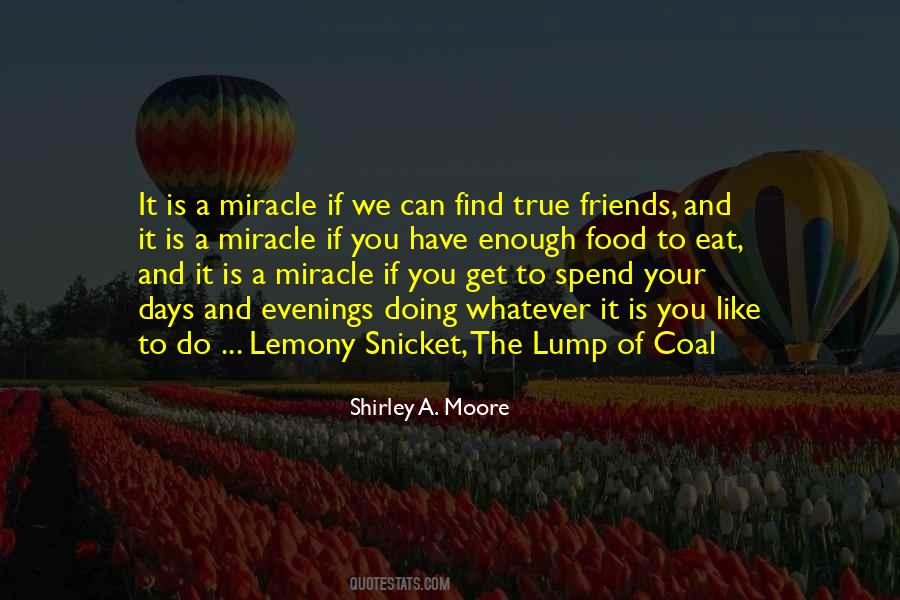 #13. Be a hard worker. Work and happiness are like mother and daughter. Work brings forth happiness. Hard work brings great happiness. Enjoy life. - Author: Israelmore Ayivor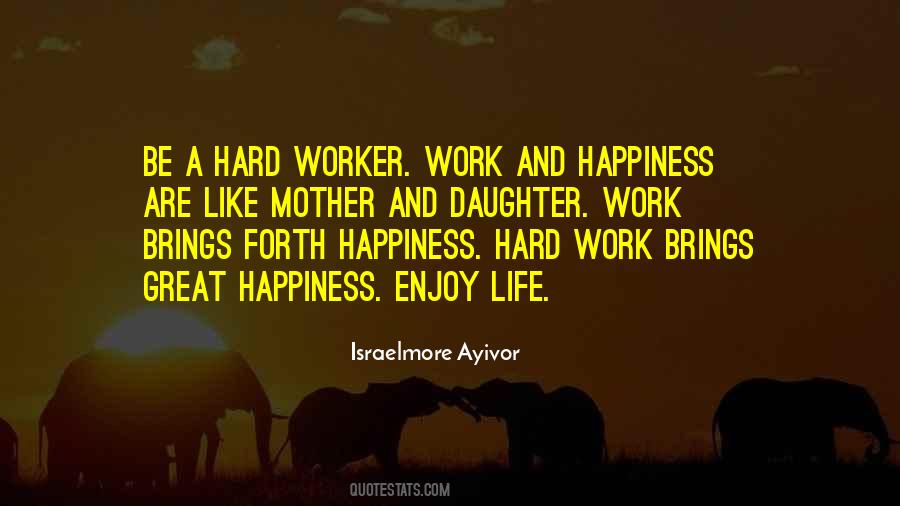 #14. Flowers always make people better, happier, and more helpful; they are sunshine, food and medicine to the mind. - Author: Luther Burbank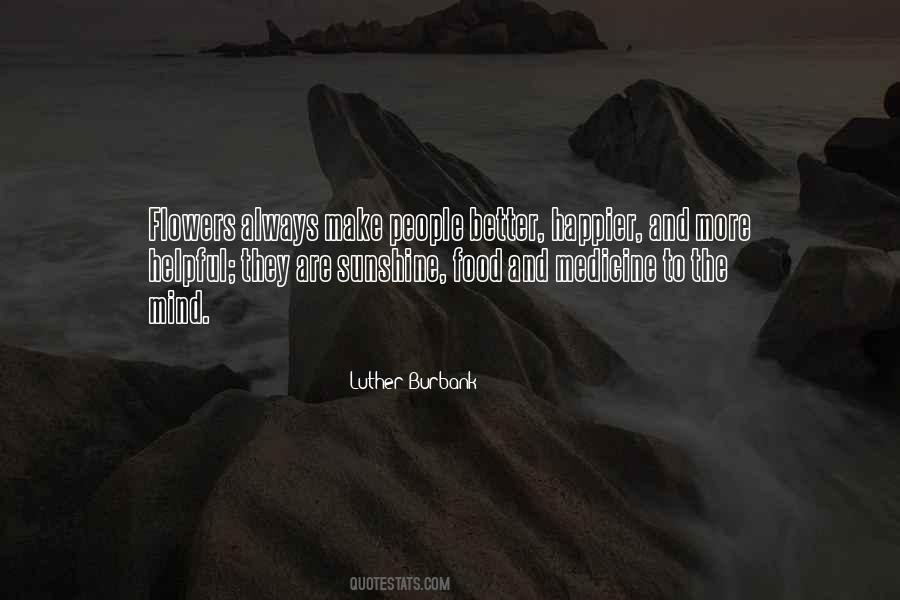 #15. He who needs only coarse food, water and drink, and as pillow his folded arms will find happiness without further search. - Author: Confucius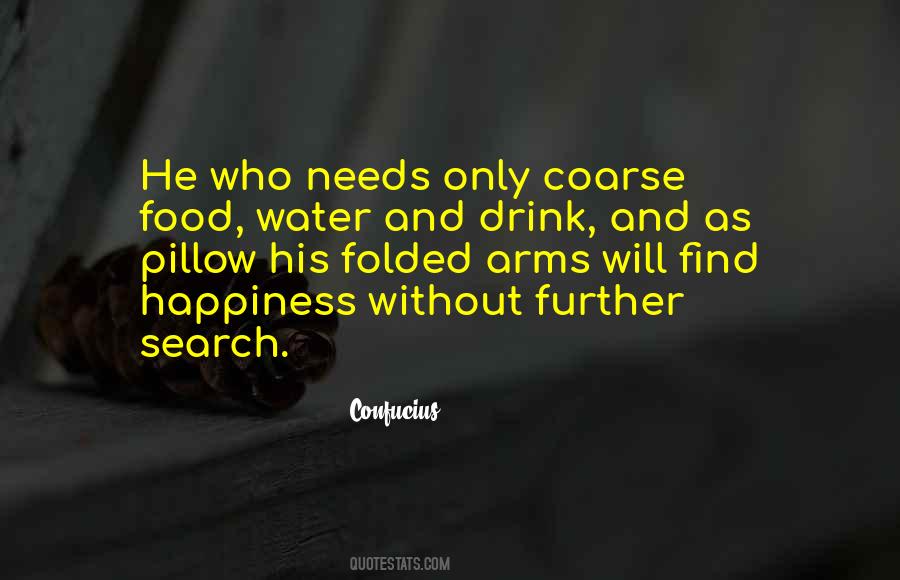 #16. It's great to feel happy. Go, do what makes you feel happy. Do it shabbily and get shallow happiness; Do it hard and feel the hardest happiness! - Author: Israelmore Ayivor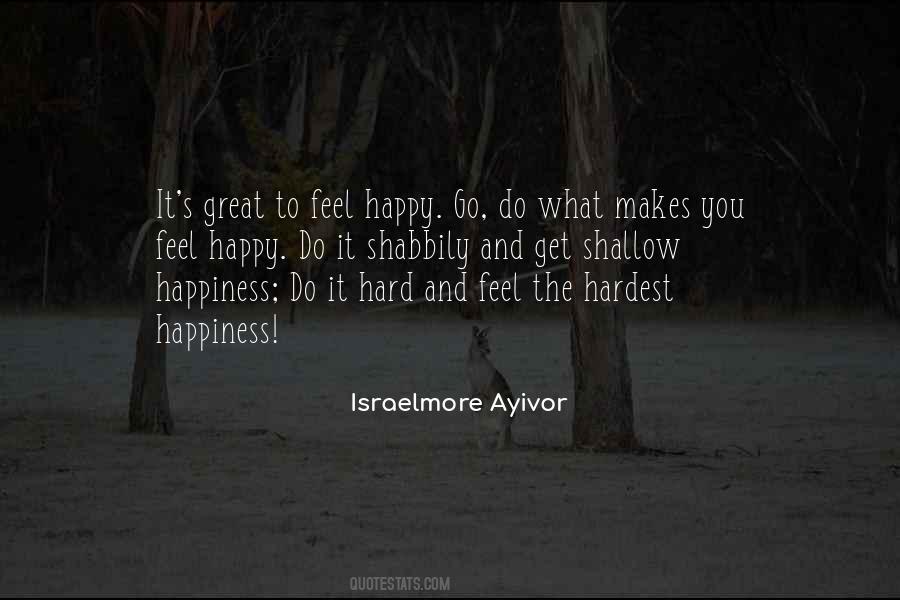 #17. Gratitude is the best food to start and sustain you. Hankering creates hunger, unhappiness, bellyache, headache and heartache - and often leaves a bitter taste - Author: Rasheed Ogunlaru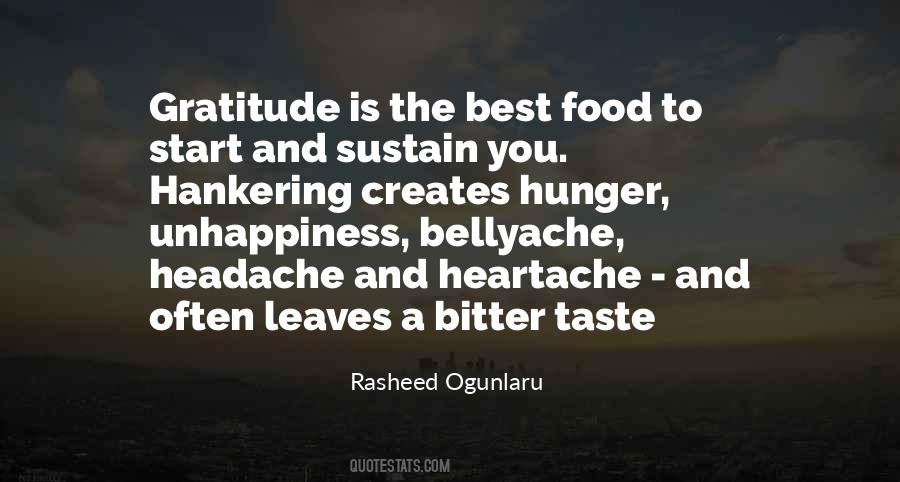 #18. If more of us valued food and cheer and song above hoarded gold, it would be a merrier world. - Author: J.R.R. Tolkien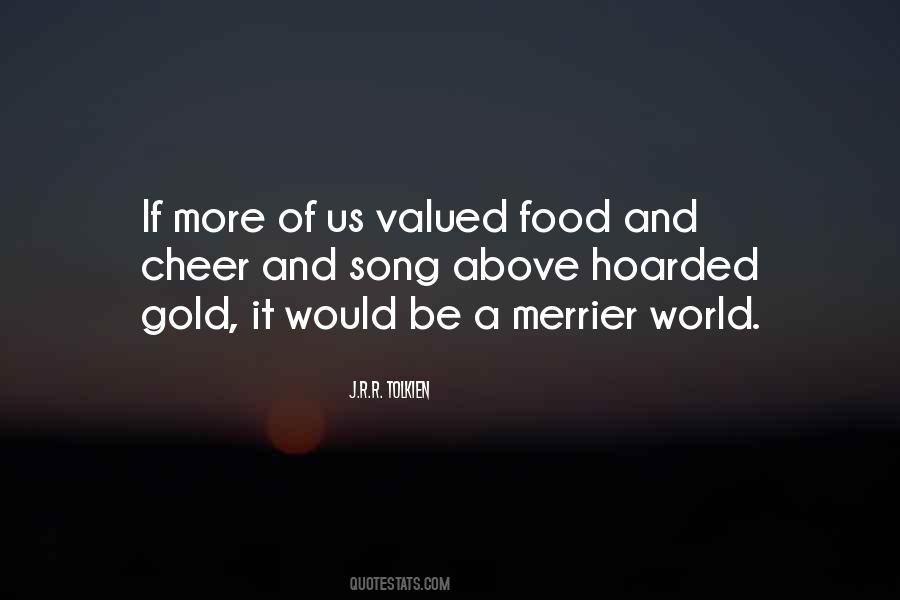 #19. He toasted his bacon on a fork and caught the drops of fat on his bread; then he put the rasher on his thick slice of bread, and cut off chunks with a clasp-knife, poured his tea into his saucer, and was happy. - Author: D.H. Lawrence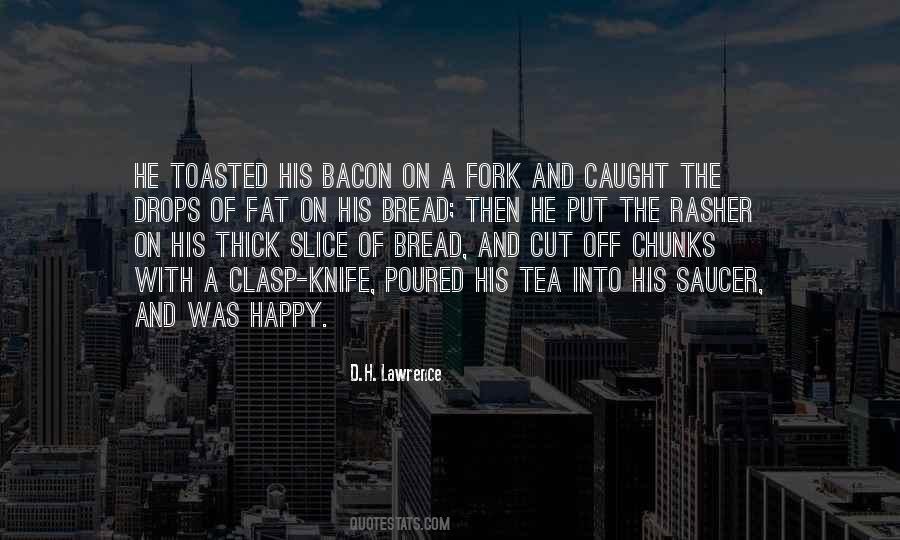 #20. Great sex and awesome food is what conquered the beast, not beauty. The key to happiness is to fuck like a porn star and cook like a five star chef. - Author: Travis Luedke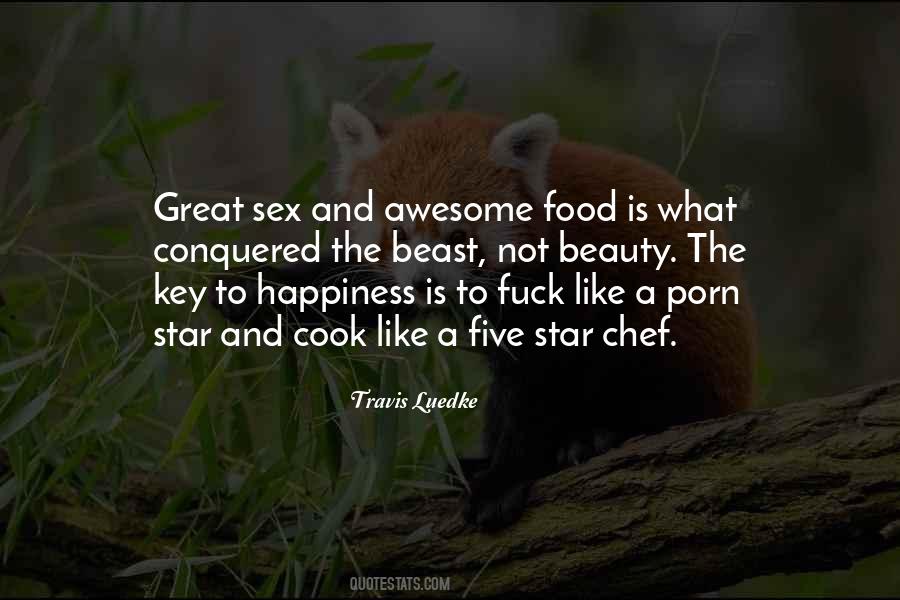 #21. I had to get honest enough to admit it: I relied on food more than I relied on God. I craved food more than I craved God. Food was my comfort. Food was my reward. Food was my joy. Food was what I turned to in times of stress, sadness, and even in times of happiness. - Author: Lysa TerKeurst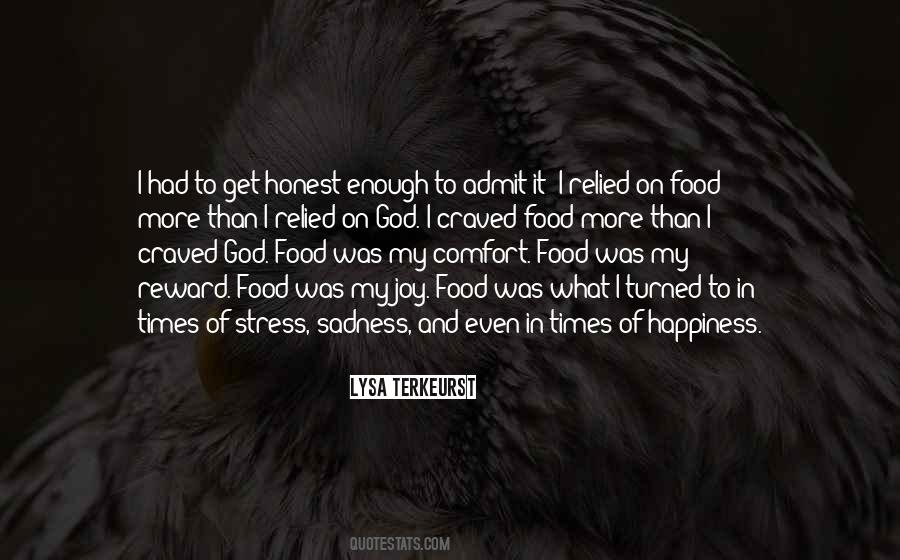 #22. Happiness makes us older, less romantic, less in need of dreams. Discontent, not happiness, is the food of youth and poetry. - Author: Nan Fairbrother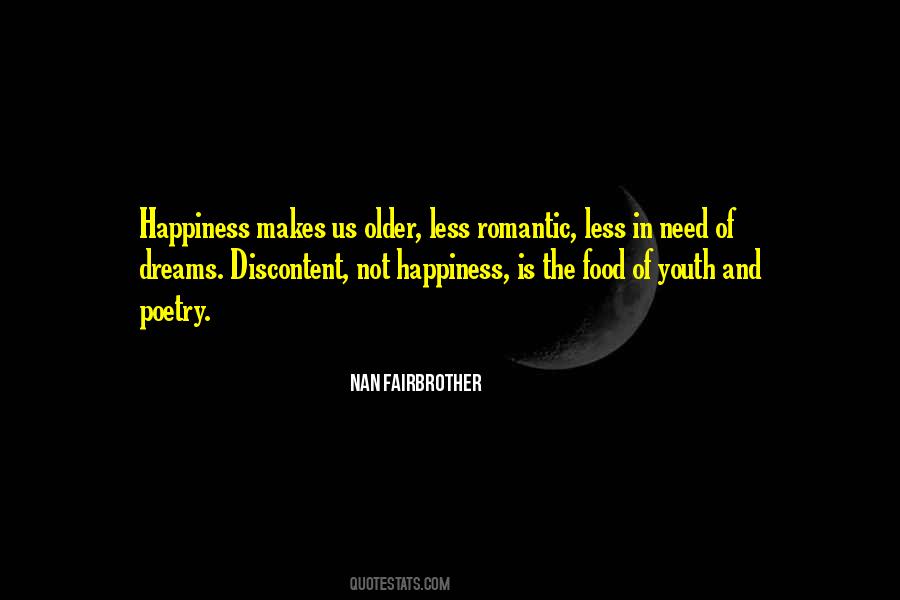 #23. The fastest and cheapest way to eradicate poverty is not by giving food but by giving hope, love, and education. - Author: Debasish Mridha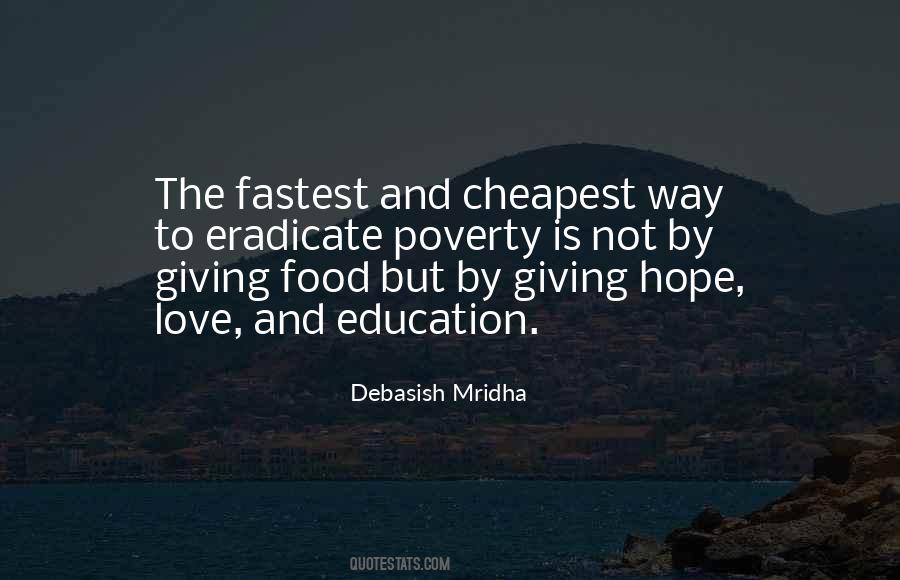 #24. Helping others is not limited to providing food, shelter, and so forth, but includes relieving the basic causes of suffering and providing the basic causes of happiness. - Author: Dalai Lama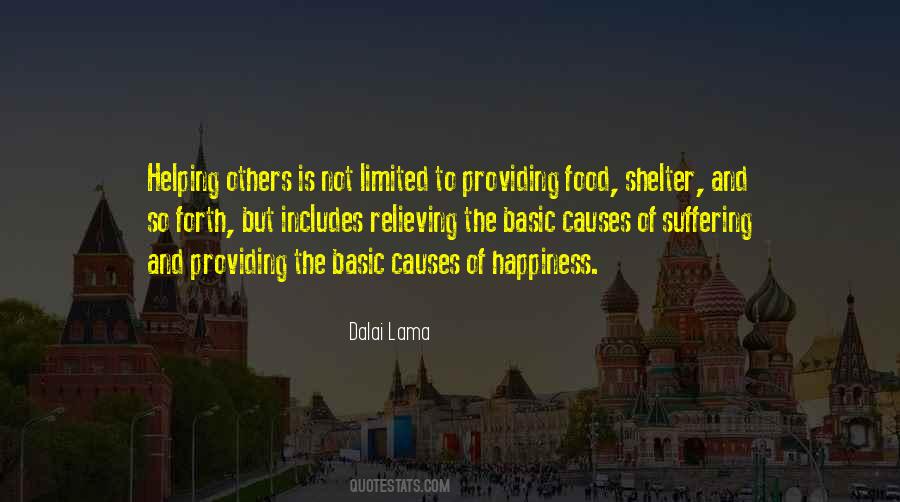 #25. A sandwich and a cup of coffee, and then off to violin-land, where all is sweetness and delicacy and harmony. - Author: Arthur Conan Doyle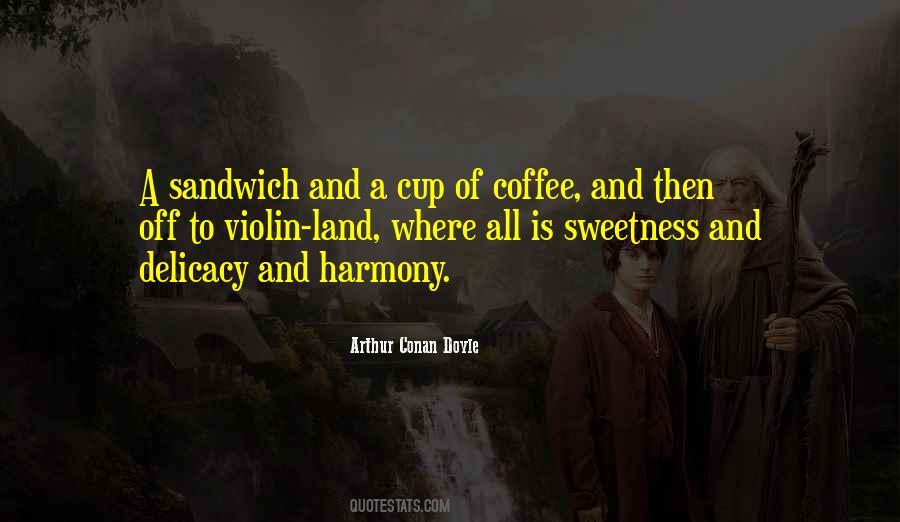 #26. We thought of wine as something as healthy and normal as food and also as a great giver of happiness and well being and delight. - Author: Ernest Hemingway,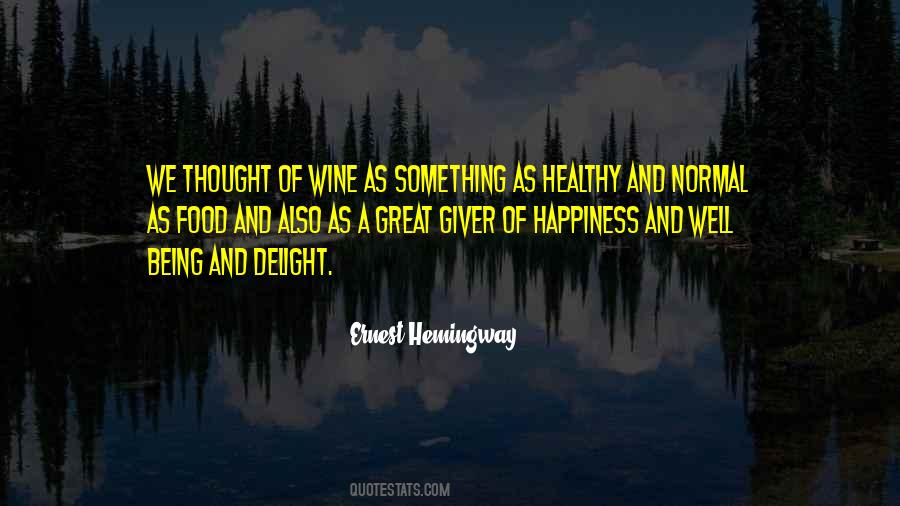 #27. The single greatest lesson the garden teaches is that our relationship to the planet need not be zero-sum, and that as long as the sun still shines and people still can plan and plant, think and do, we can, if we bother to try, find ways to provide for ourselves without diminishing the world. - Author: Michael Pollan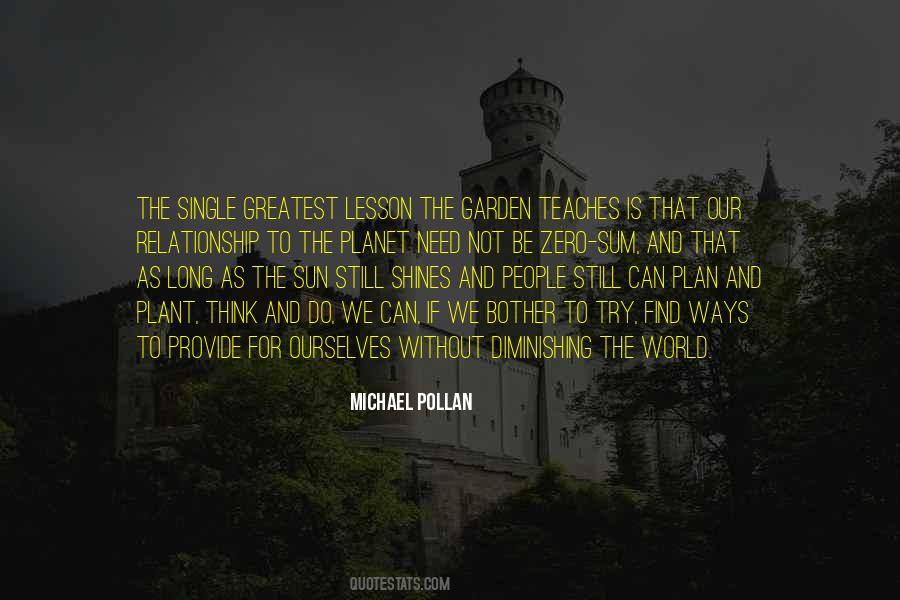 #28. Praise is literal food for feminine qualities. If you want your woman to grow in her radiance health, happiness, love, beauty, power and depth, praise these qualities. Praise them daily. A number of times. - Author: David Deida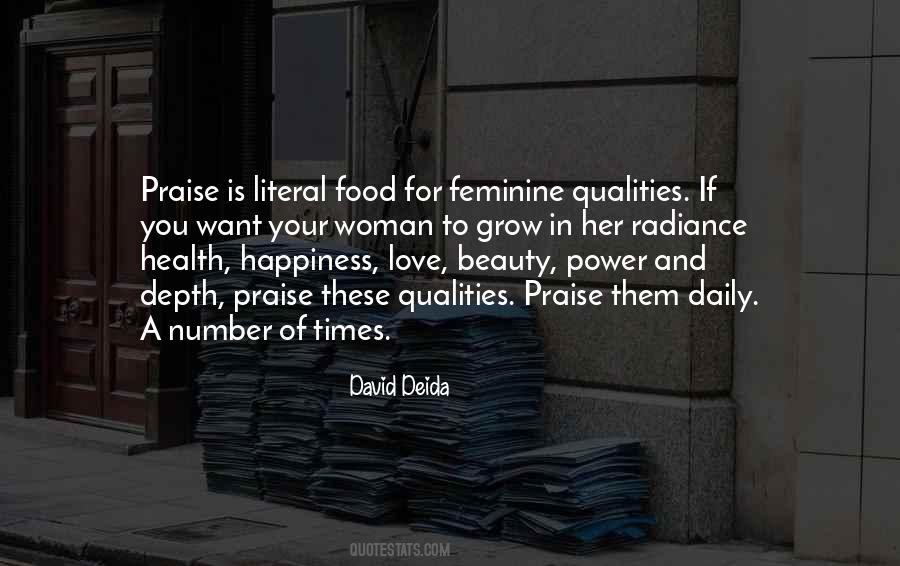 #29. Feeling inspired, being challenged. Learning something new, something meaningful. Knowing change is possible and I can make that happen. Understanding and loving others, feeling truly connected and authentic. Good food, great sex, and belly laughs. All the basic foundations of happiness, really! - Author: Jaime Murray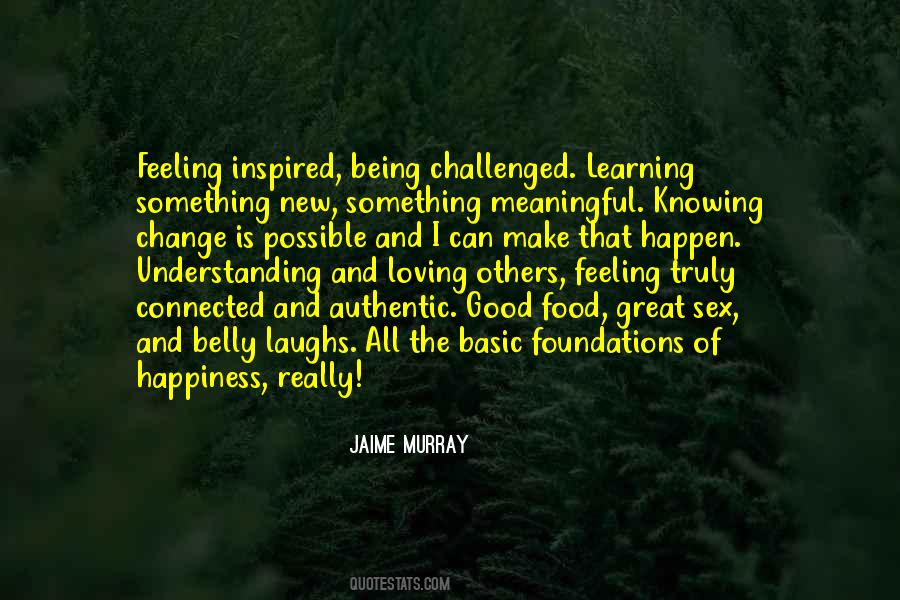 #30. Lollypop
... the passion contained merely kisses
placed upon lips, neck and cheek
these young lovers of the castle
of which our fairytale speaks ... - Author: Muse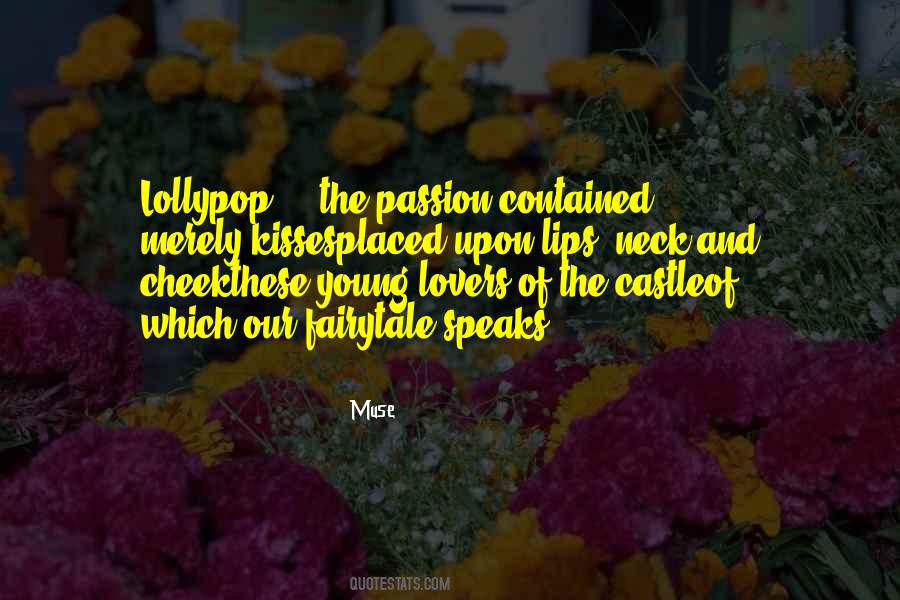 #31. I am thankful when I am hungry because then I know that when I eat, the food will taste better. Life has taught me that my true contentment rests in hope, and the pleasure itself is secondary. It is self-awareness, not happiness, that maintains peace. - Author: Criss Jami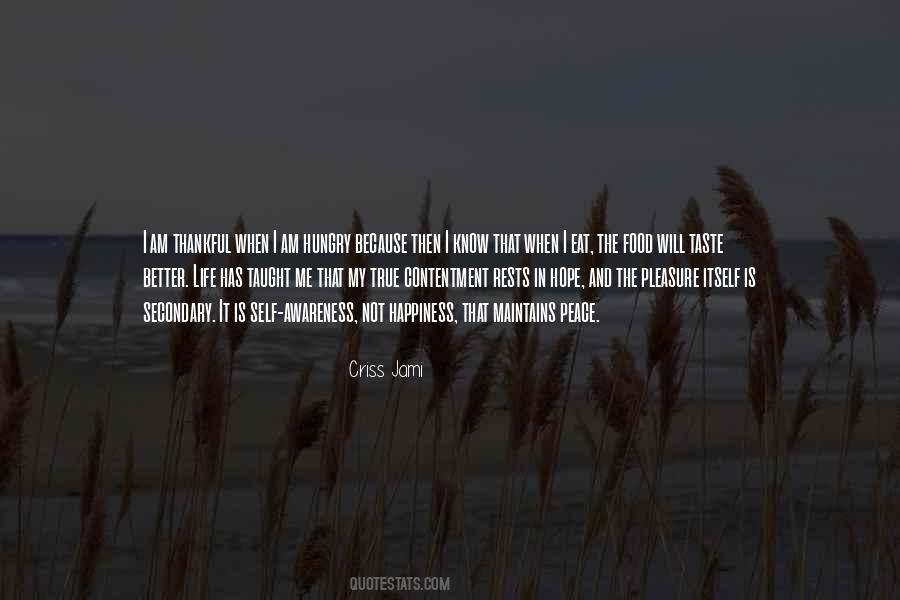 #32. If mediocrity is your benchmark, you always sit on the bench! - Author: Ernest Agyemang Yeboah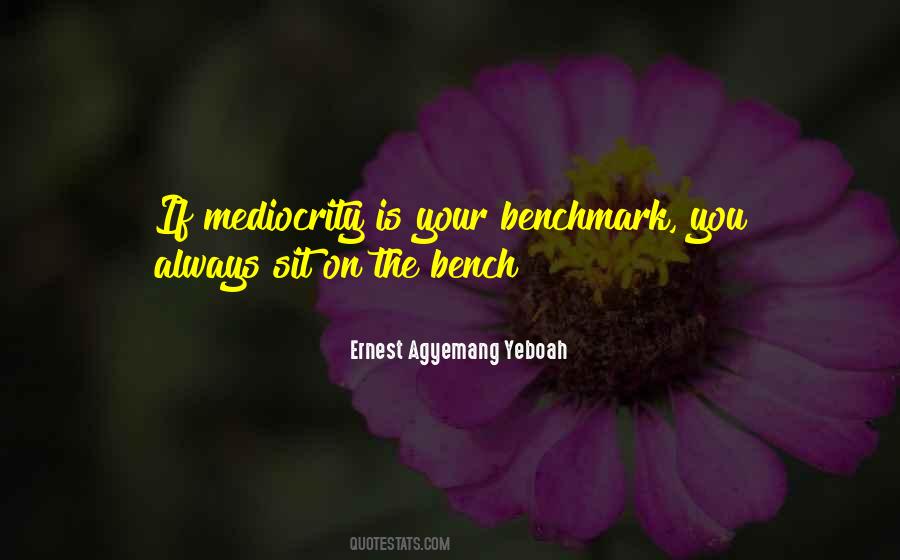 #33. MODERATION.SMALL HELPINGS. SAMPLE A LITTLE BIT OF EVERYTHING. THESE ARE THE SECRETS OF HAPPINESS AND GOOD HEALTH. - Author: Julia Child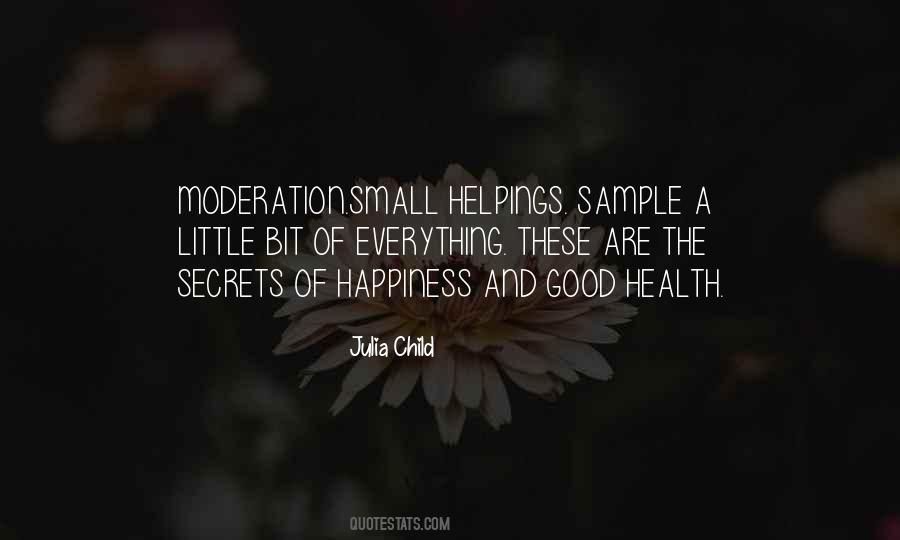 #34. Suppose churches taught that God is happy and that he is the source of all happiness. Suppose Christians believed that God calls them to view work, play, music, food, and drink as gracious gifts from God's hand to be responsibly enjoyed within the parameters of his commands. - Author: Randy Alcorn
#35. Complaining from lack of food doesn't always affect my emotions. complaining from lack of knowledge, passion, creative ideas and happiness always does. - Author: Sameh Elsayed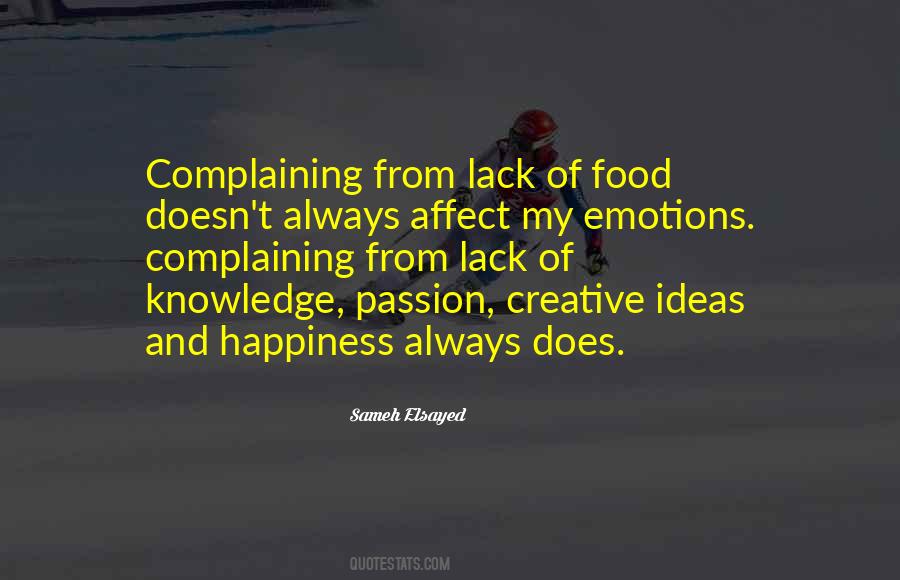 #36. We passed gas stations and chain food restaurants, with their billboards advertising happiness. I know the images in magazines and on TV aren't true representations of the world; I mean, that's obvious. But I still get this sinking feeling of disappointment, as if it is the world I should see. - Author: Ethan Hawke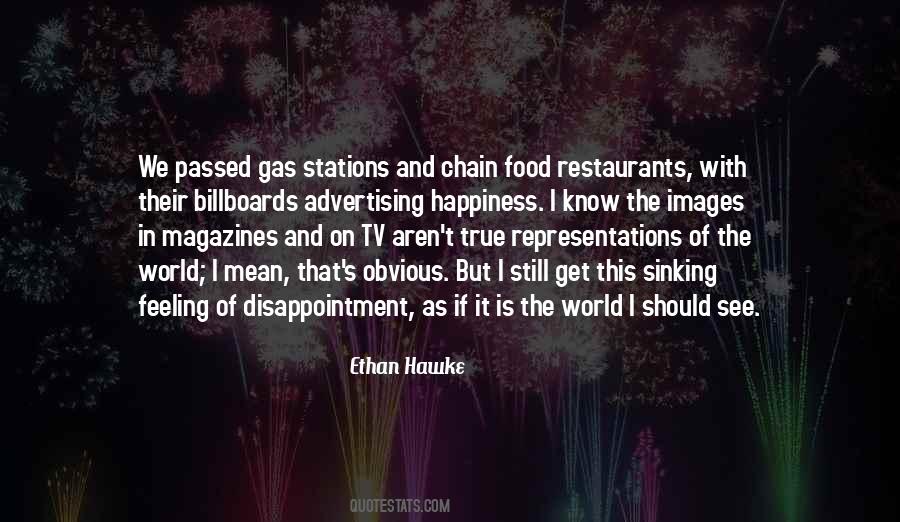 #37. Enjoy losing weight. Enjoy eating healthy, delicious food. Do not wait until you reach your destination to feel good. Take as much happiness and joy as you can from your weight loss journey. - Author: Harry Papas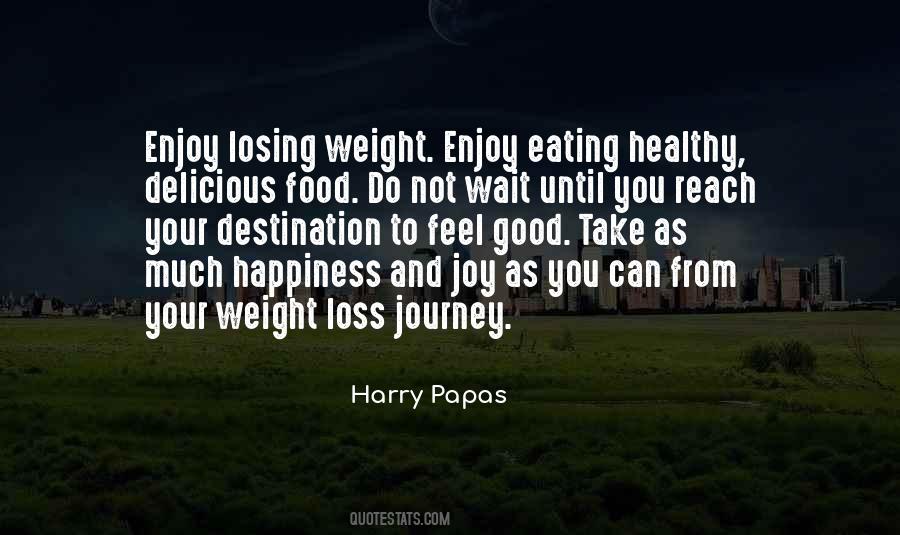 #38. People, especially women, are judged on their bodies. And food, far from being a source of energy and enjoyment, becomes a battleground of guilt and shame and excess and deprivation. Everywhere we look, success and sexiness and happiness seem to belong to the thin. - Author: Emma Woolf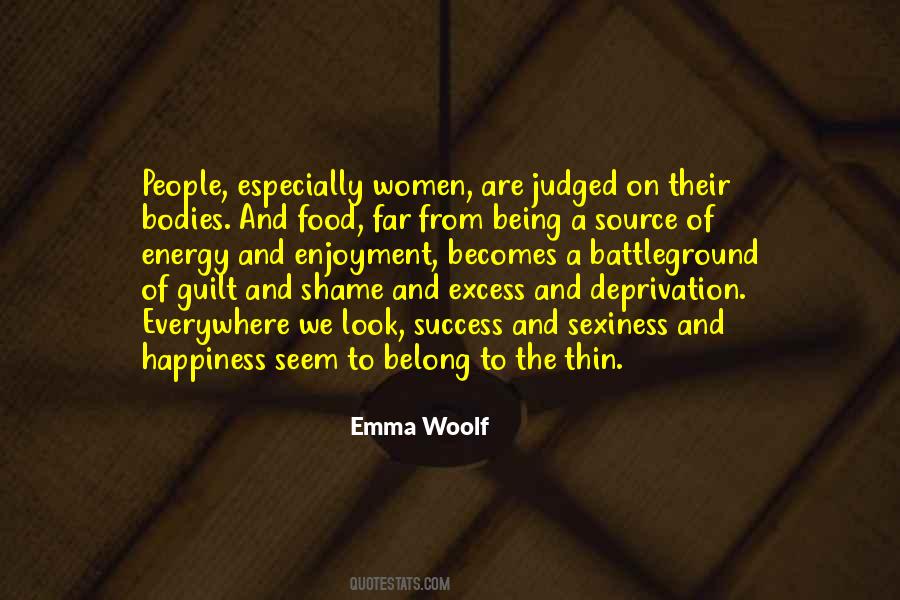 #39. The universe is your attendant. It will bestow you with the silverest of its sunshine, coolest of moonlight and the most fragrant air. Each drop of water that goes into your thirsty body will turn into God's nectar that will nourish the cells of your body and make sure that you shine once again! - Author: Sanchita Pandey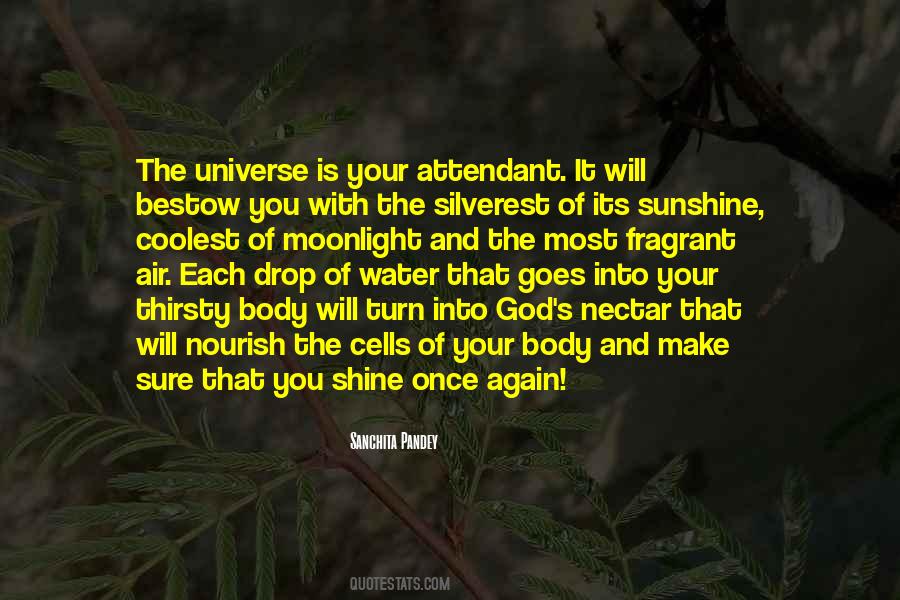 #40. It's like getting an extraordinary meal after you've been eating junk food for a long time. The taste just sweeps through your sensibilities, bringing all-out contentment, and the sheer goodness of it makes up for every bad meal you ever had. - Author: Joan Bauer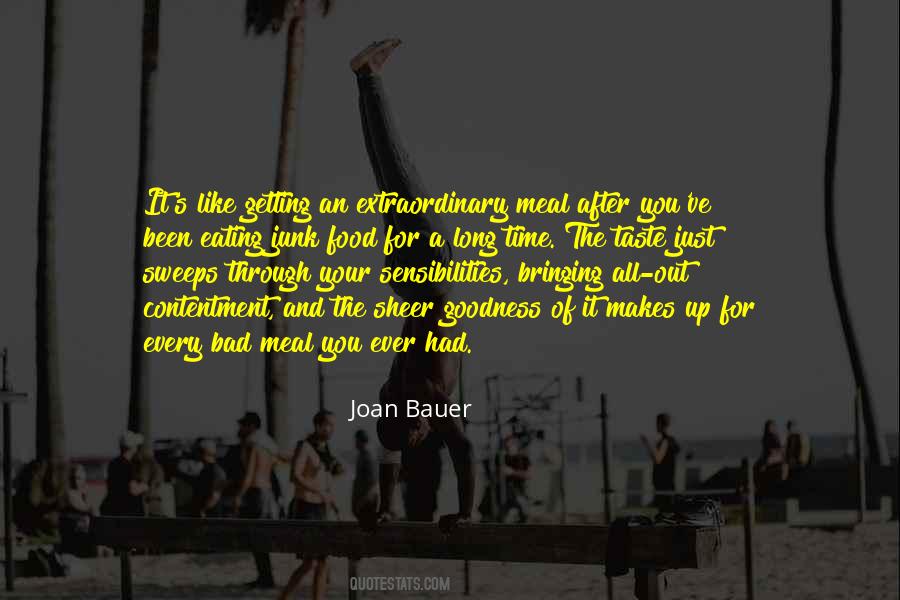 #41. Pay attention to the things that are critical to your happiness and the happiness of others. - Author: Israelmore Ayivor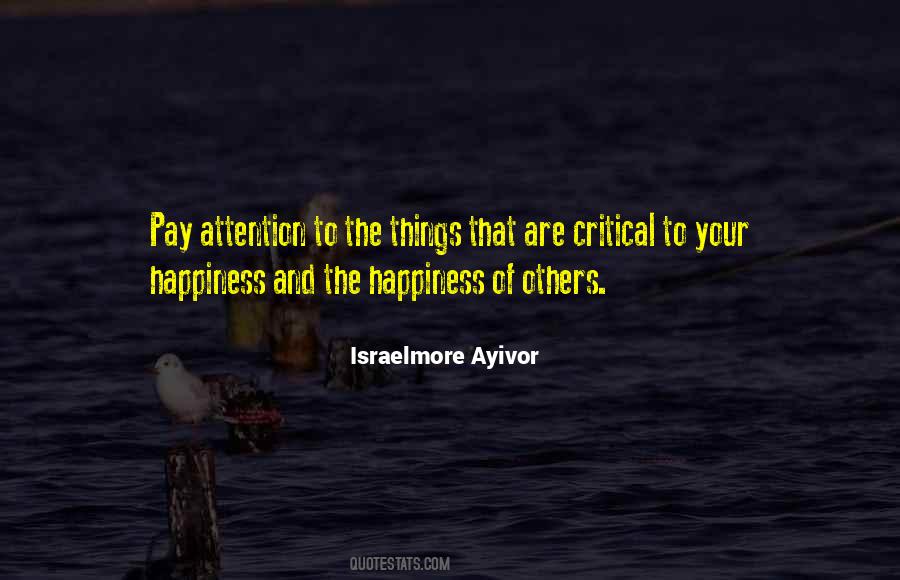 #42. IT'S NICE WHEN YOU DECIDE TO LIKE SOMEONE
AND, WITHOUT DECLARING YOURSELF,
DO WHAT'S POSSIBLE
TO FURTHER HIS HAPPINESS.
THIS CAN TAKE THE FORM OF GIFTS,
LOVELY FOOD, PUBLICITY, OR
ADVANCED WARNING. - Author: Jenny Holzer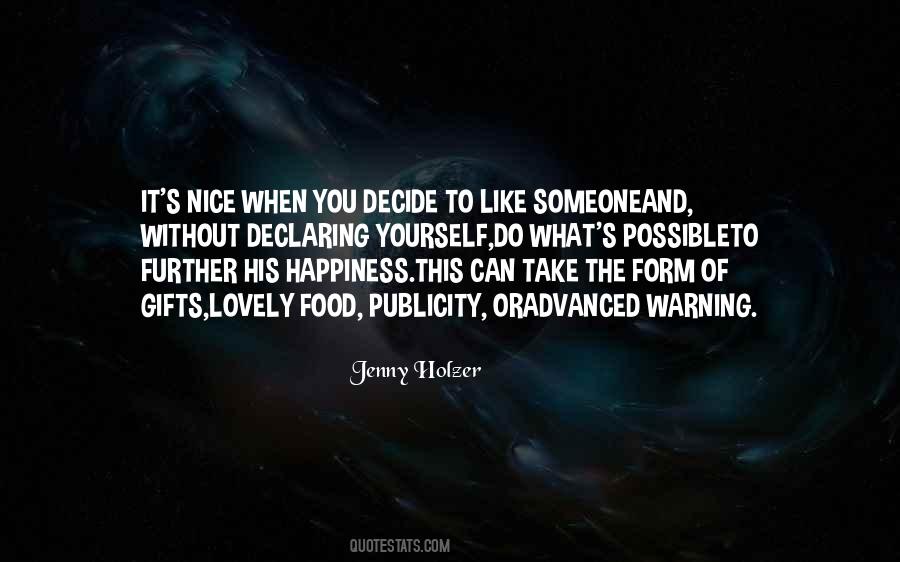 #43. Both my happiness and unhappiness I owe to the love of pleasure; of sex, travel, reading, conversation (hearing oneself talk), food, drink, cigars and lying in warm water. - Author: Cyril Connolly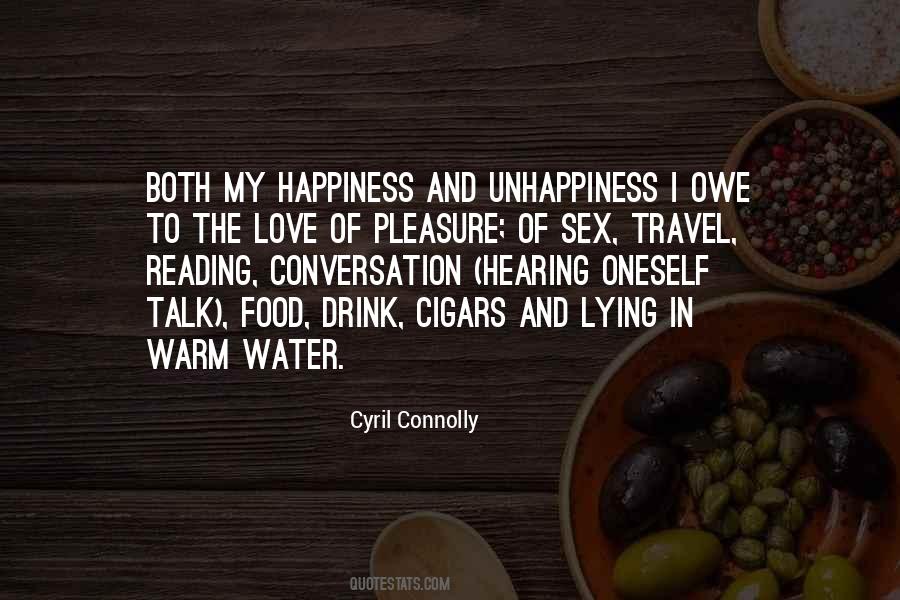 #44. Hospitality consists in a little fire, a little food, and an immense quiet - Author: Ralph Waldo Emerson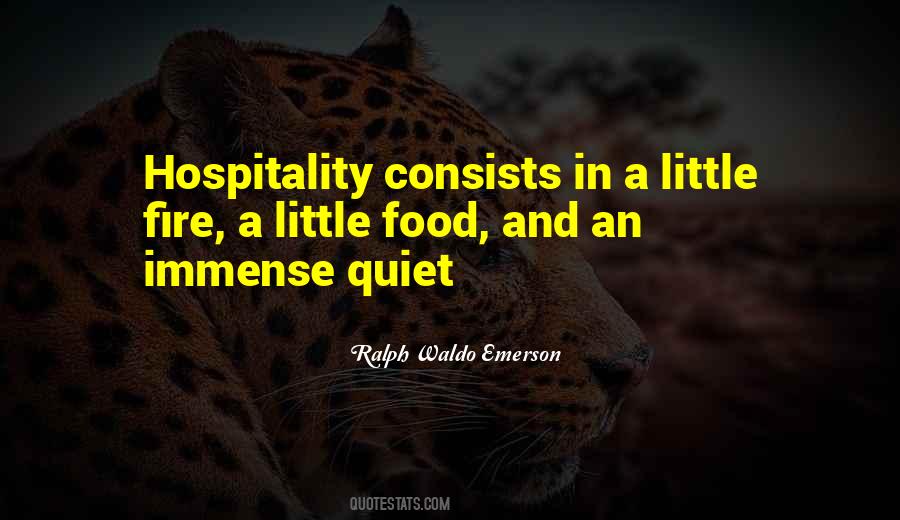 #45. True happiness for me is playing a concert in Blink-182, and then hanging out with my friends and my wife and son, and going out for Mexican food. - Author: Mark Hoppus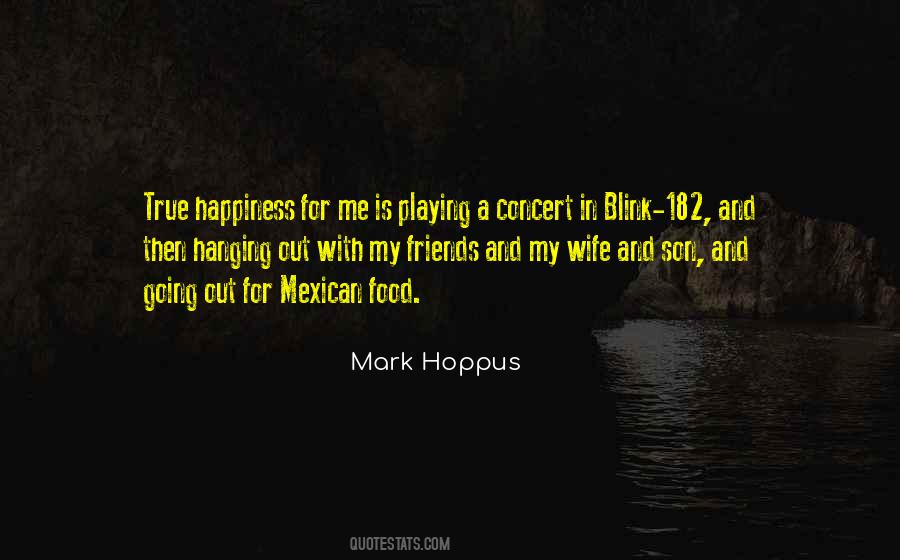 Famous Authors
Popular Topics