Fear Of The Past Famous Quotes & Sayings
List of top 100 famous quotes and sayings about fear of the past to read and share with friends on your Facebook, Twitter, blogs.
Top 100 Quotes About Fear Of The Past
#1. Only when all conceptions of space and time, life and death, are exploded, when the grip of the past and fear of the future become merely conditions of one's past, only then can one live in the present fully. - Author: Alberto Villoldo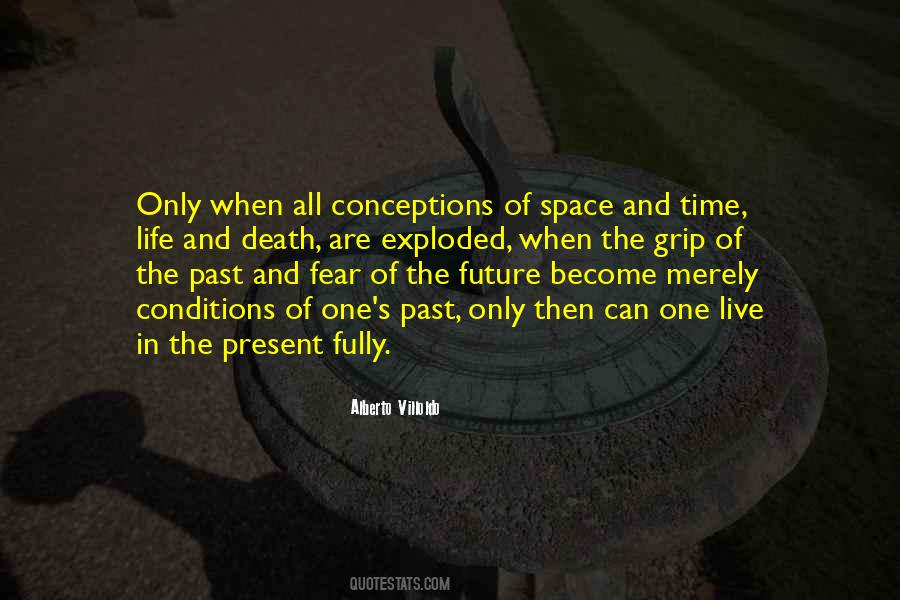 #2. I confess that I am often lost in all the dimensions of time, that the past sometimes feels nearer than the present and I often fear the future has already happened. - Author: Deborah Levy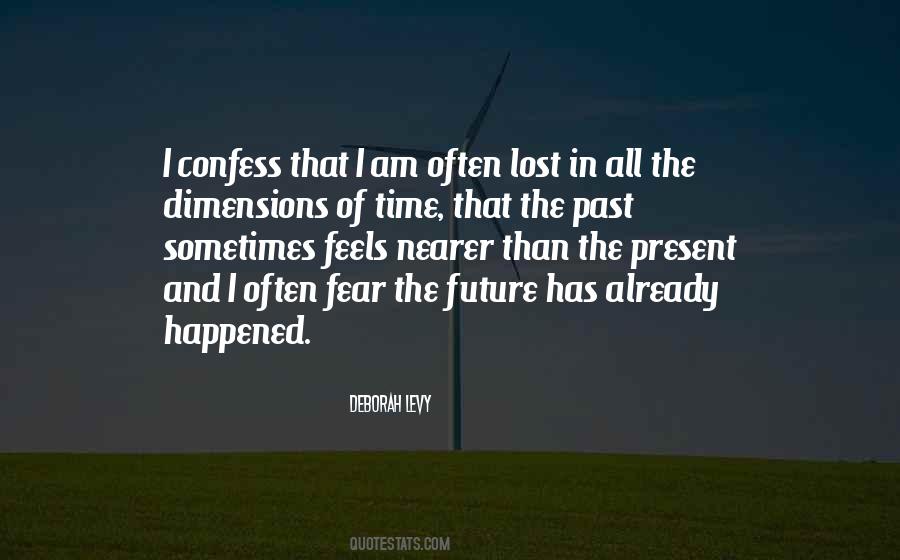 #3. Every pain, addiction, anguish, longing, depression, anger or fear
is an orphaned part of us
seeking joy,
some disowned shadow
wanting to return
to the light
and home
of ourselves. - Author: Jacob Nordby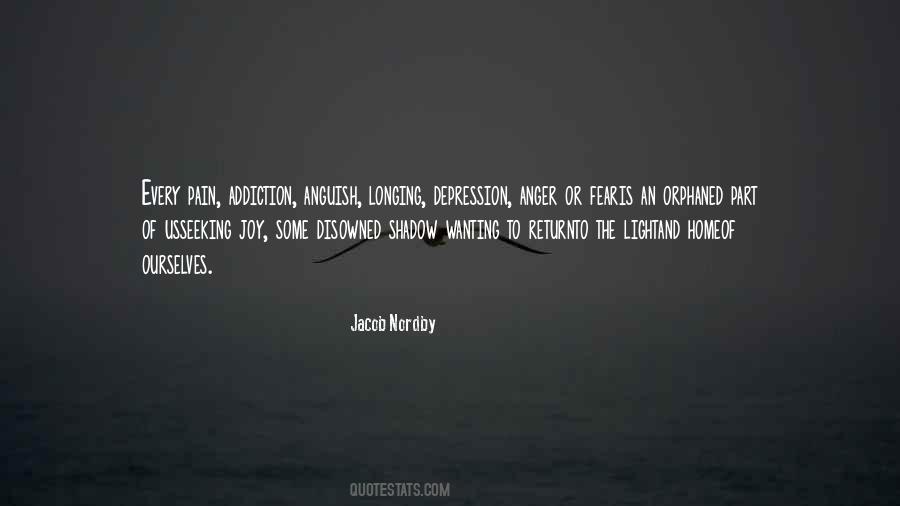 #4. Before one may scare the plain people one must first have a firm understanding of the bugaboos that most facilely alarm them. One must study the schemes that have served to do it in the past, and one must study very carefully the technic of the chief current professionals. - Author: H.L. Mencken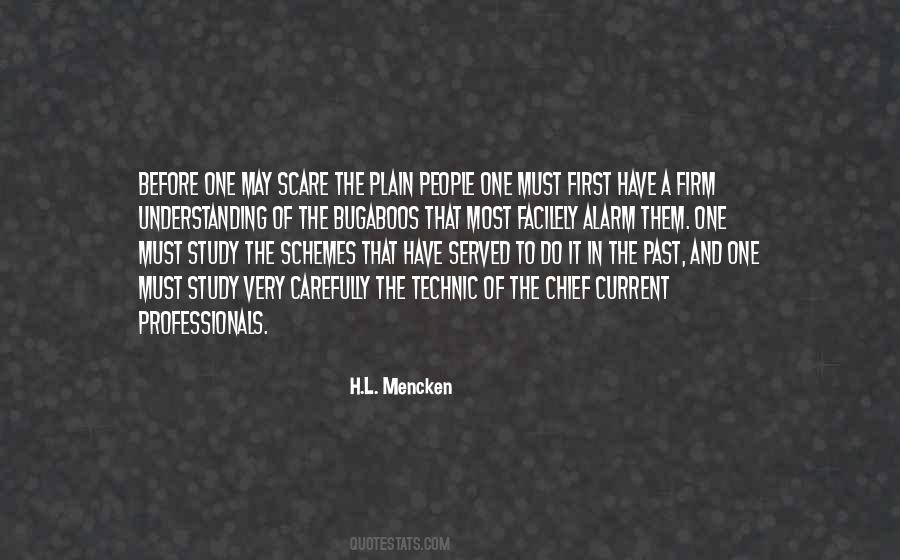 #5. Others fear what the morrow may bring. I am afraid of what happened yesterday. - Author: Aziz Ansari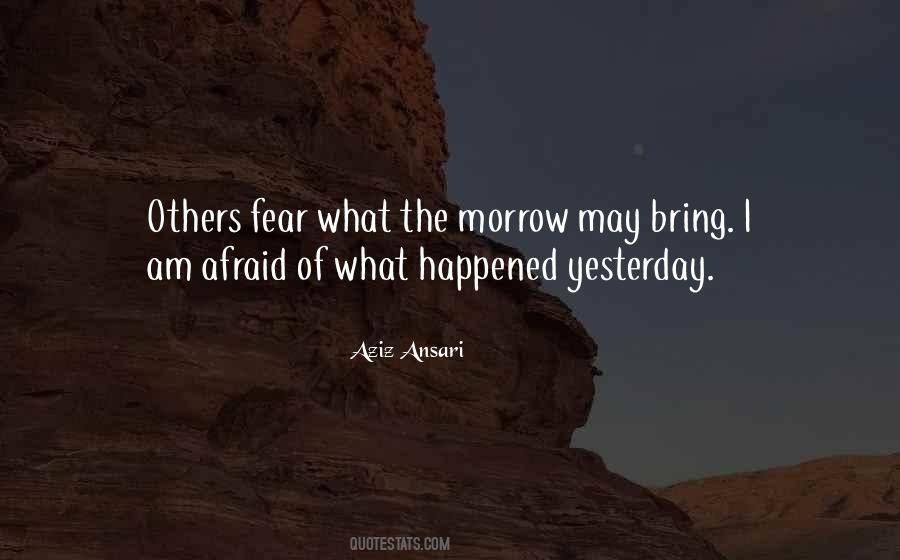 #6. To enjoy the beauty of life, live profoundly in the present moment without the fear of the past or future. - Author: Debasish Mridha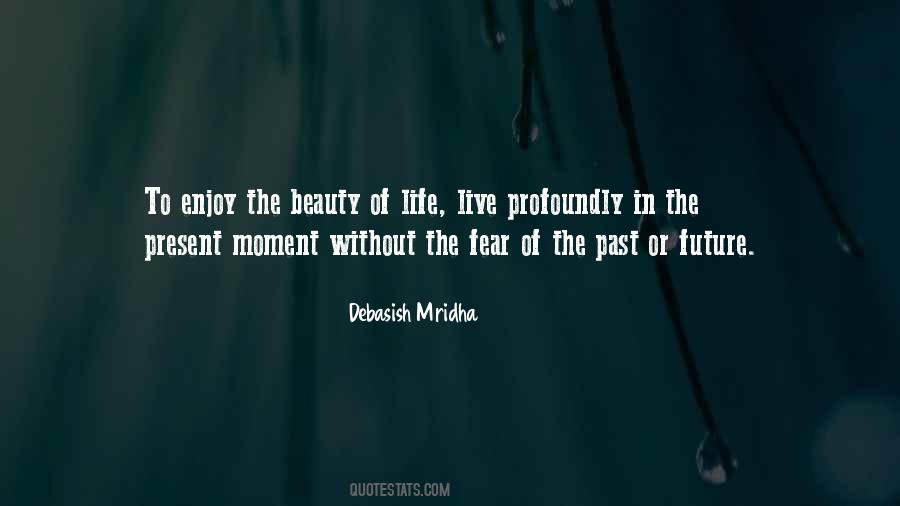 #7. [T]hese losses of the Church in the past hundred years give us reason to fear in the present misfortune that in another hundred years we may lose the Church entirely in Europe. So, keeping this fear in mind, blessed are those who cooperate in extending the Church elsewhere. - Author: Vincent De Paul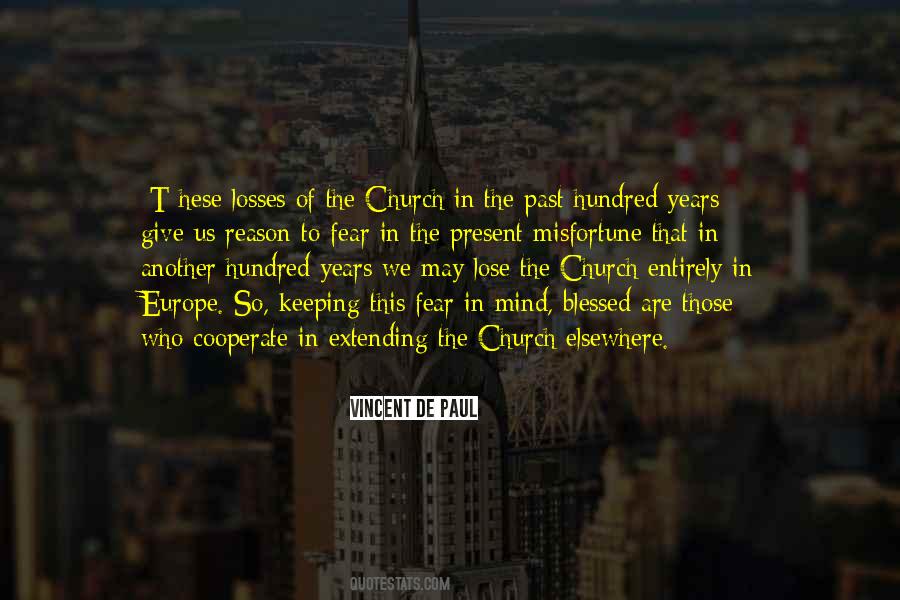 #8. One who cannot leave himself behind on the threshold of the moment and forget the past, who cannot stand on a single point, like a goddess of victory, without fear or giddiness, will never know what happiness is; and, worse still, will never do anything that makes others happy. - Author: Friedrich Nietzsche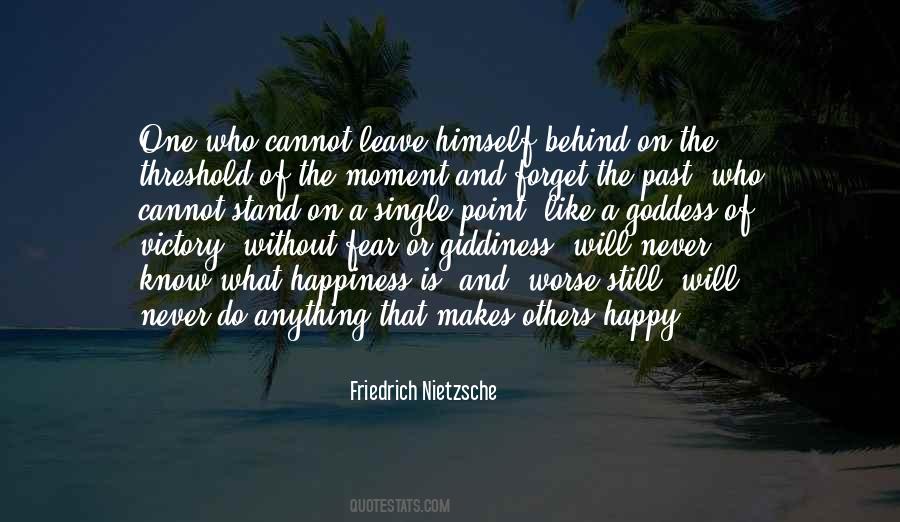 #9. I think 'tradition' is in the past - and how can someone really 'fear' a color? A man may prefer navy to turquoise, but a self assured man could wear any color and he knows that. It's a distinction of confidence. - Author: Jean Pigozzi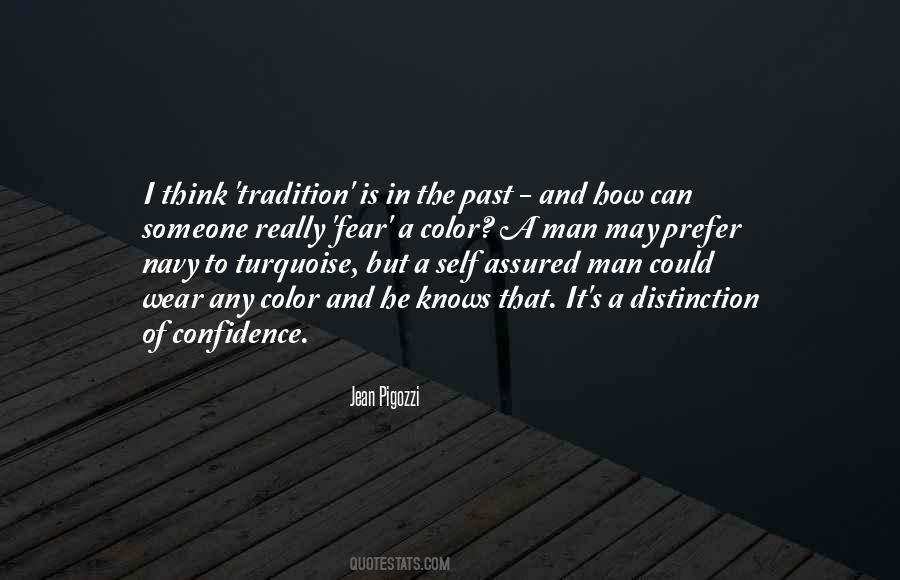 #10. Fear is the anticipation of the pain in the future. Anger is the remembrance of pain in the past. Hostility is wanting to get even. - Author: Deepak Chopra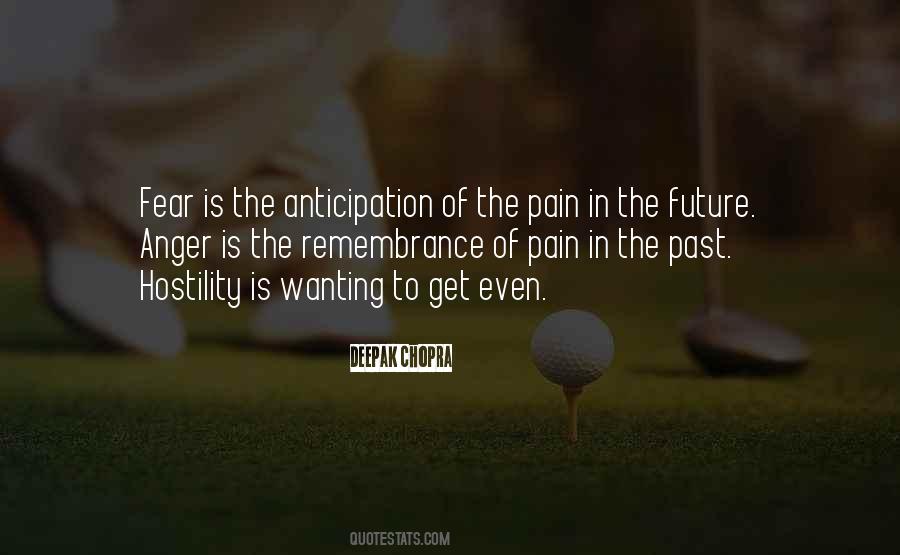 #11. The past haunts the present in more ways than we think. It certainly scares the living daylights out of ME"~ Old Wrinkly - Author: Cressida Cowell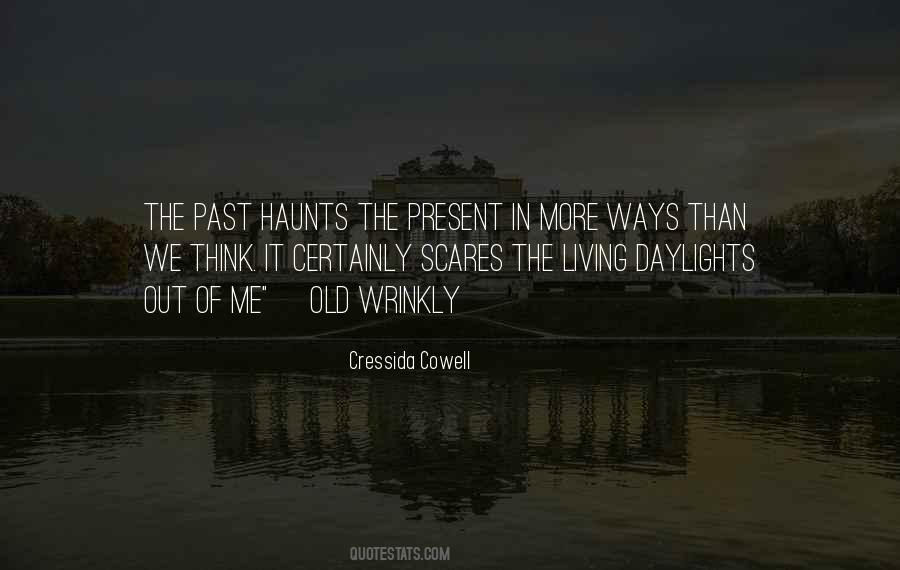 #12. Mindfulness allows you to face the past with courage, whether it is scarred with pain or caressed with joy, and it gently holds you in the safe haven of the present without allowing you to become overwhelmed with what may or may not be waiting in the future. - Author: Deborah A. Beasley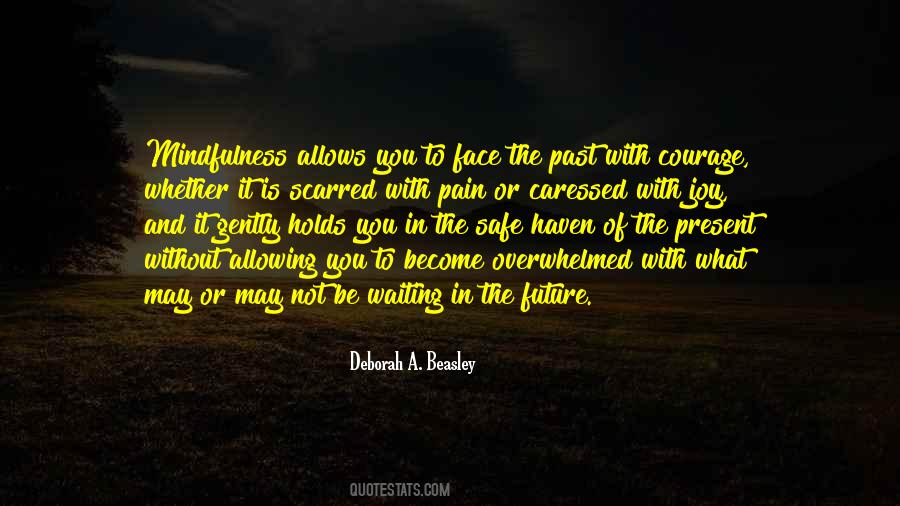 #13. A memory elbowed its way past Bishop's fear and stood defiant in the forefront of his mind. Bishop Washington never forgot a face. - Author: Ninie Hammon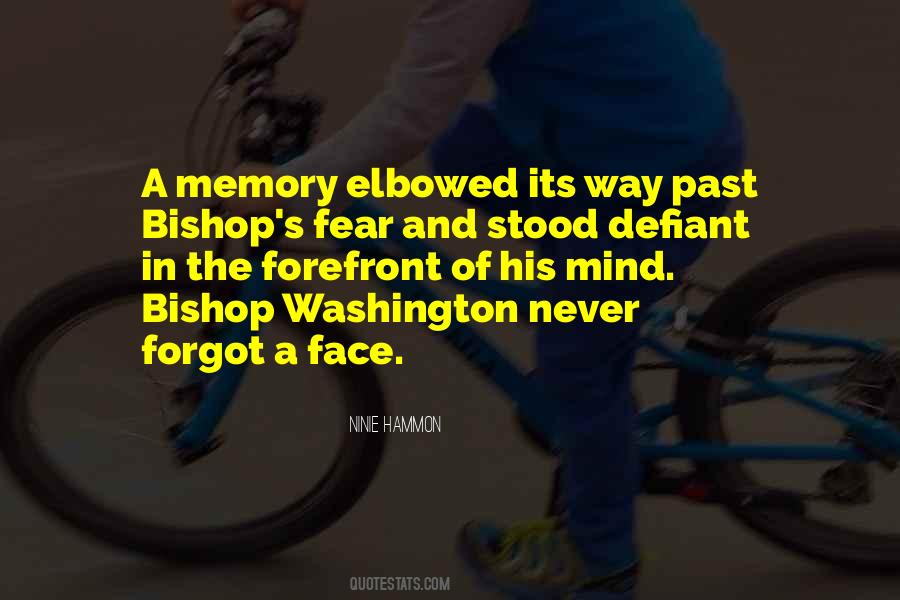 #14. Enjoy the present hour, Be thankful for the past, And neither fear nor wish Th' approaches of the last. - Author: Abraham Cowley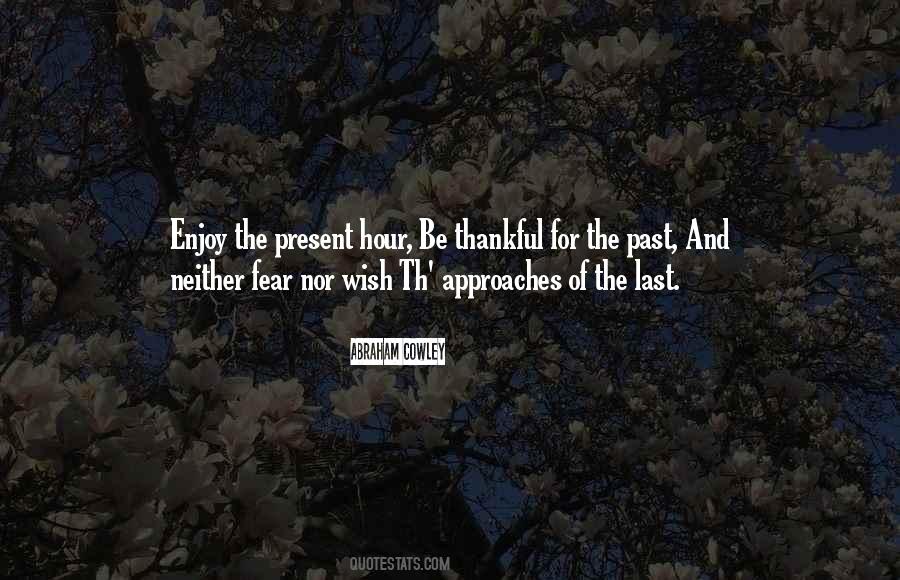 #15. Unlike films, plays don't take place in the past. The fear,anxiety of the actors is happening now, in front of you. If performing is risky, we identify with the possibility of granduer and disaster" ("The Body" and Seven Stories). - Author: Hanif Kureishi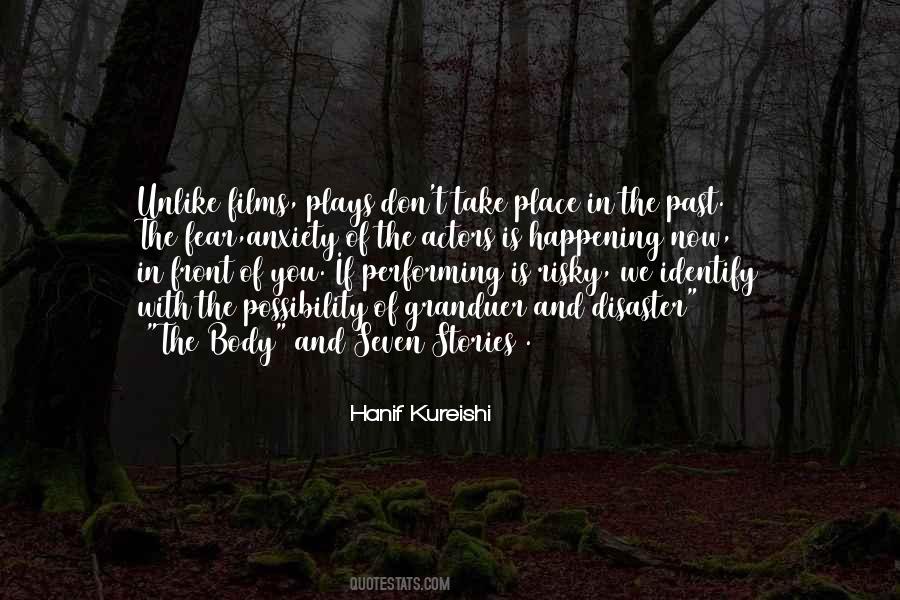 #16. There be many shapes of mystery; And many things God brings to be, Past hope or fear. And the end men looked for cometh not, And a path is there where no man thought. So hath it fallen here. - Author: Euripides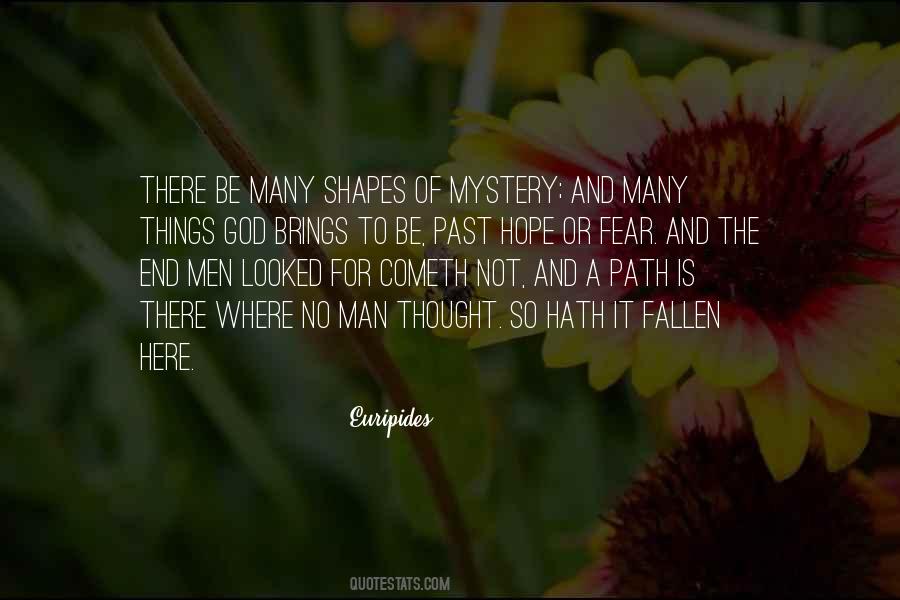 #17. Have no fear in the devil and acknowledge the insecurities, mistakes of the past, and disappointments that you have long failed to accept as new beginnings and see the child within you begin to heal. - Author: Forrest Curran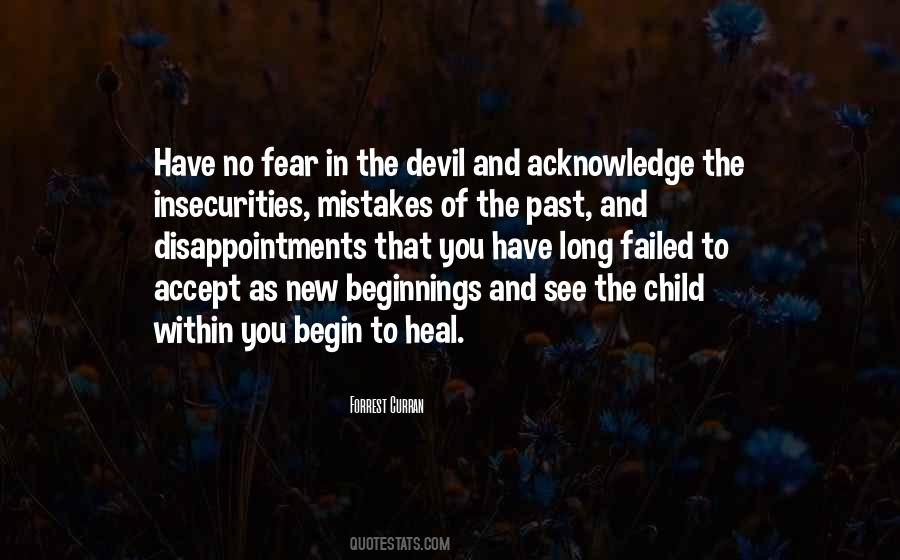 #18. Were I to live my life over again, I should live it just as I have done. I neither complain of the past, nor do I fear the future. - Author: Michel De Montaigne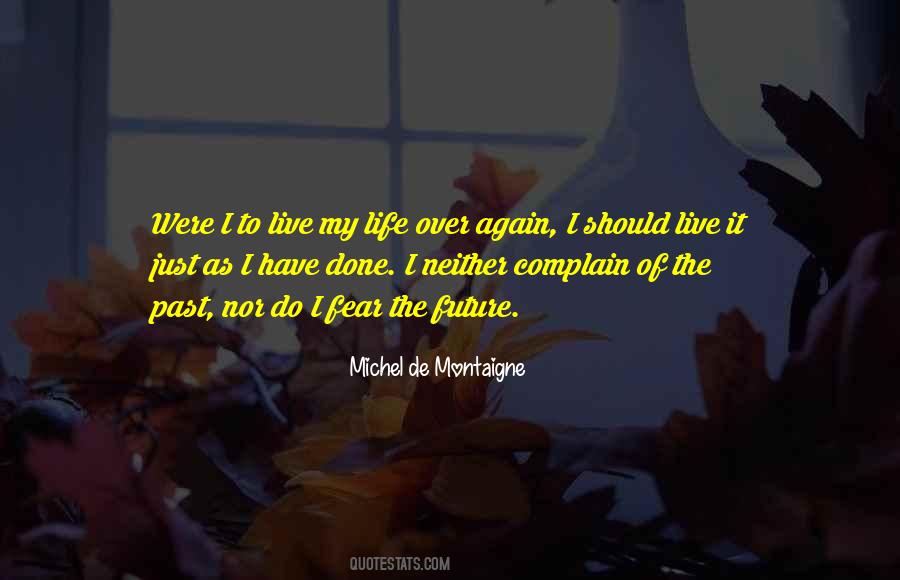 #19. I devoured the books because they were the rays of light peeking out from the doorframe, and perhaps past that door there was another world, one beyond the gripping fear that undergirded the Dream. - Author: Ta-Nehisi Coates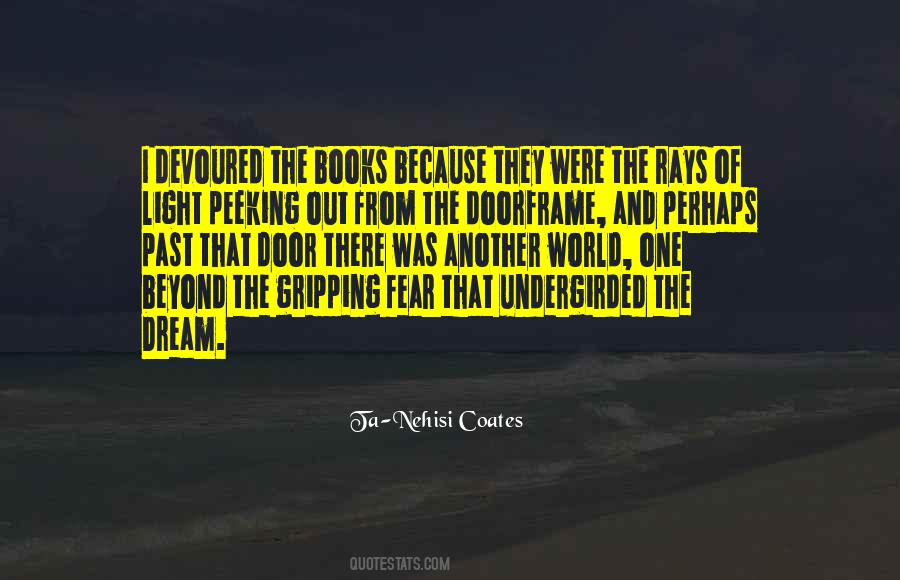 #20. I embarked on a campaign of honey and kindness, which, if you've never tried it, is very hard to do with someone who thinks you are chickenhearted and has in the past called you a poxy sluggard. It is especially hard if every day you are plagued with fear about what might happen next. - Author: Laurie Halse Anderson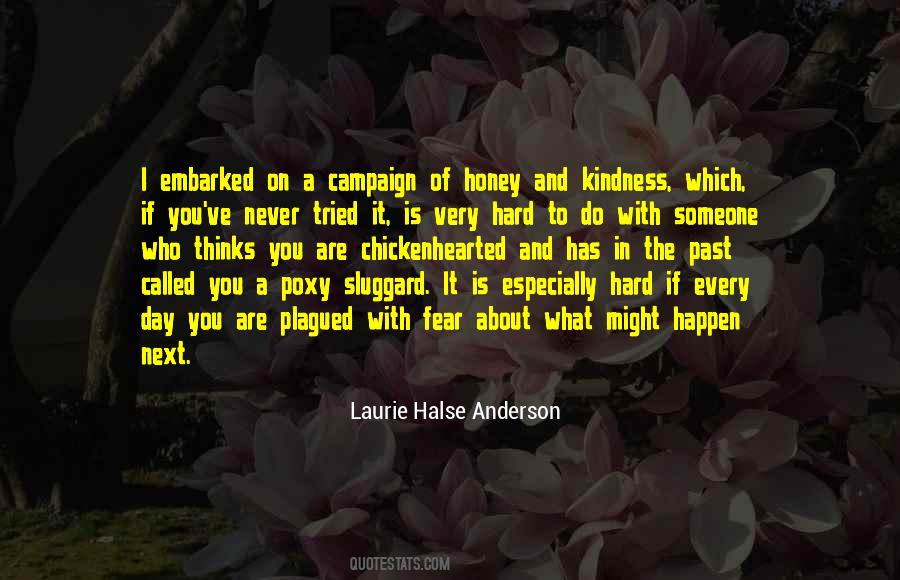 #21. The Bedouin was troubled by a familiar bundle of Middle Eastern bogeys: America in general and the CIA in particular; Jews, or if not Jews, then Christians; women's sexuality - both the fear of a "past" and the dread of present emancipation signaled by the absence of a veil. - Author: Geraldine Brooks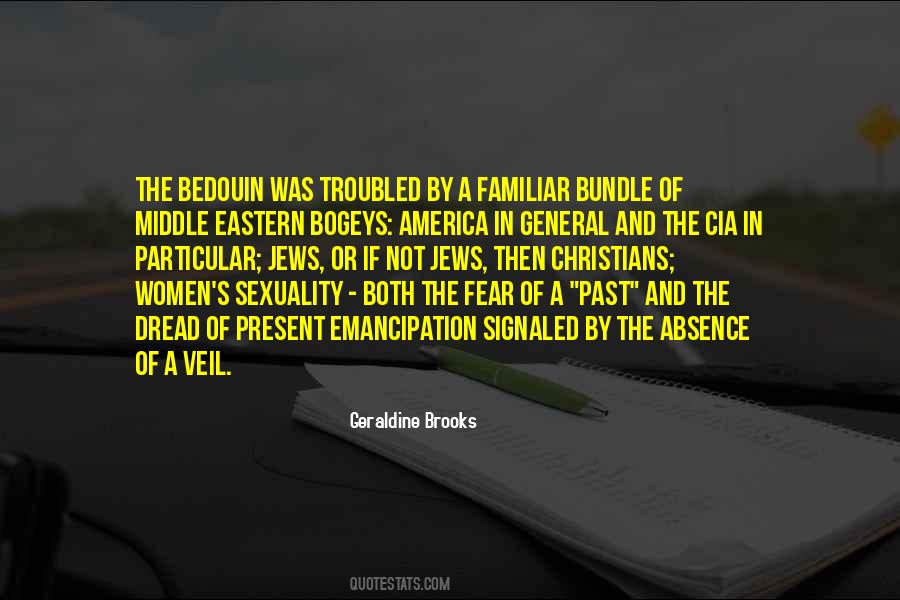 #22. The present is too often squandered grieving the past or fearing the future, which makes the present nothing more than a cheap facsimile of what was or what will be instead of what it could be. - Author: Craig D. Lounsbrough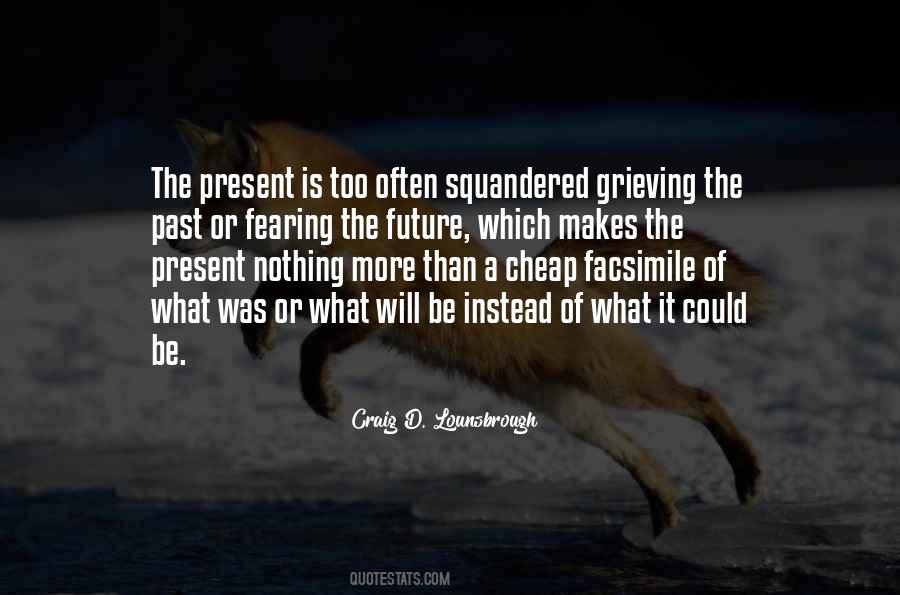 #23. An exciting and inspiring future awaits you beyond the noise in your mind, beyond the guilt, doubt, fear, shame, insecurity and heaviness of the past you carry around. - Author: Debbie Ford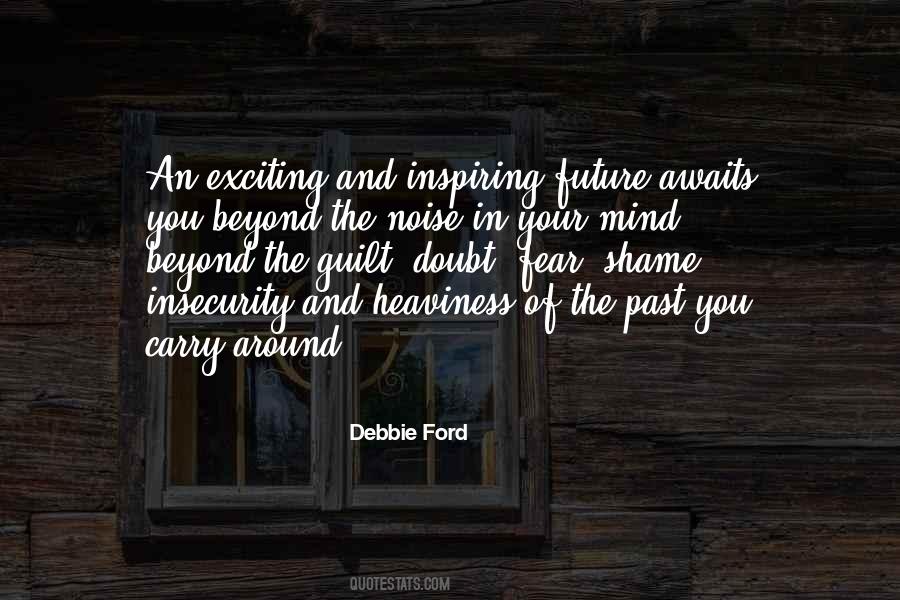 #24. I miss the fears of the past few weeks, rendered small by my fears now. - Author: Veronica Roth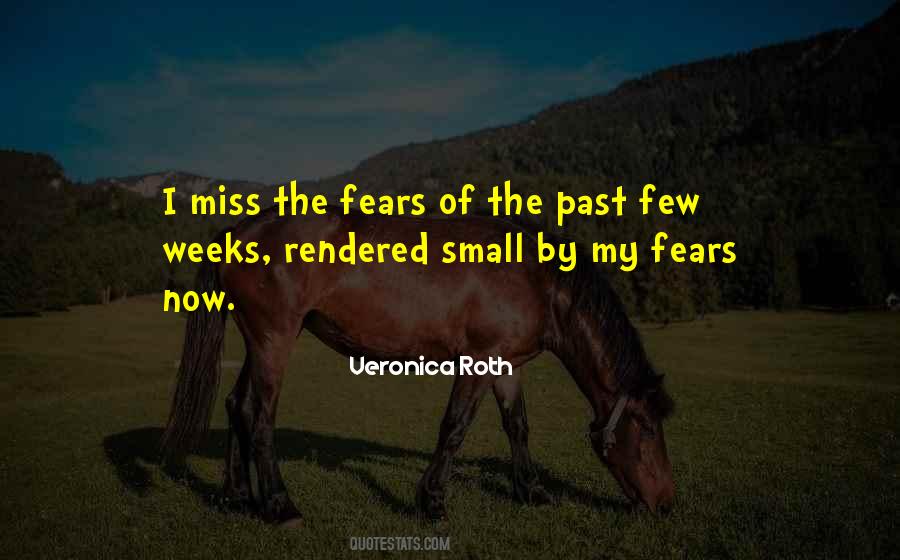 #25. Release and resolve fear, and what you want flows freely. - Author: Shirley Maclaine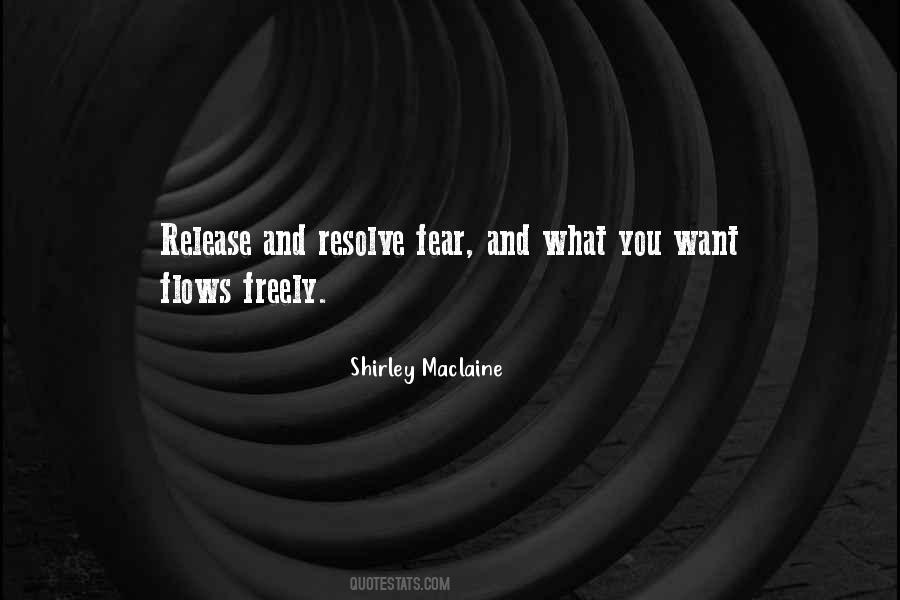 #26. I know you like to be in control and you operate a lot from fear but you have to break the bounds of your past Nicole and rewrite the story you've been telling yourself based off of others experiences. You have to create your own experience, write your own story. - Author: Kathryn Perez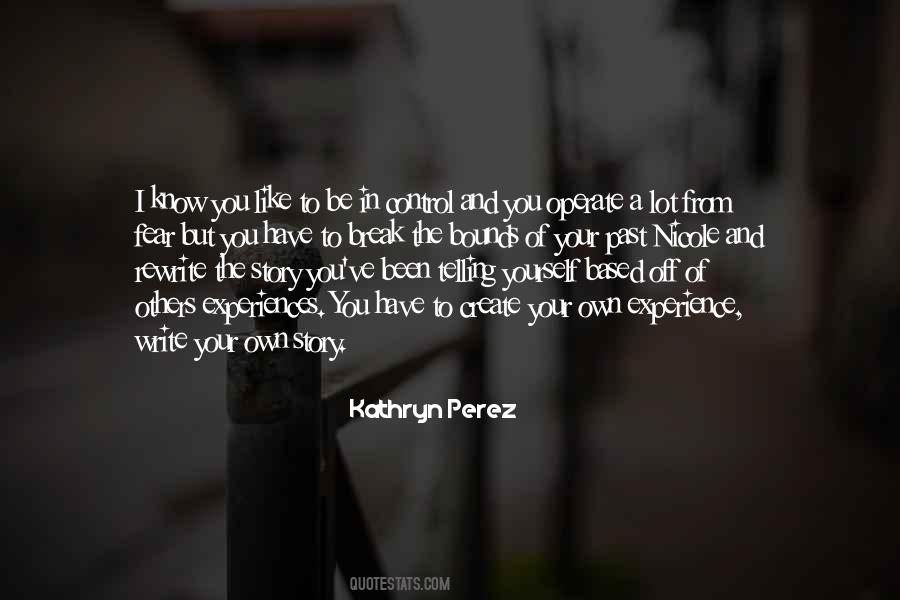 #27. I feel the fear touches on something deeper. A sense perhaps of, "My life is speeding past me and I can't get a handle on it." - Author: Sandra Cisneros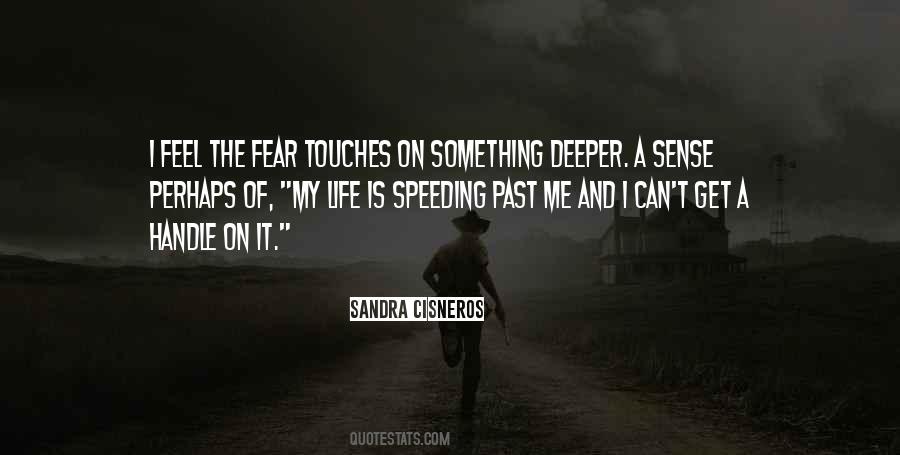 #28. -No- I swallowed past the fear in my throat- But I'm afraid of fucking it up.
- We all fuck things up, Gav. it's how we fix them after we've broken them matters. - Author: Kenzie Cade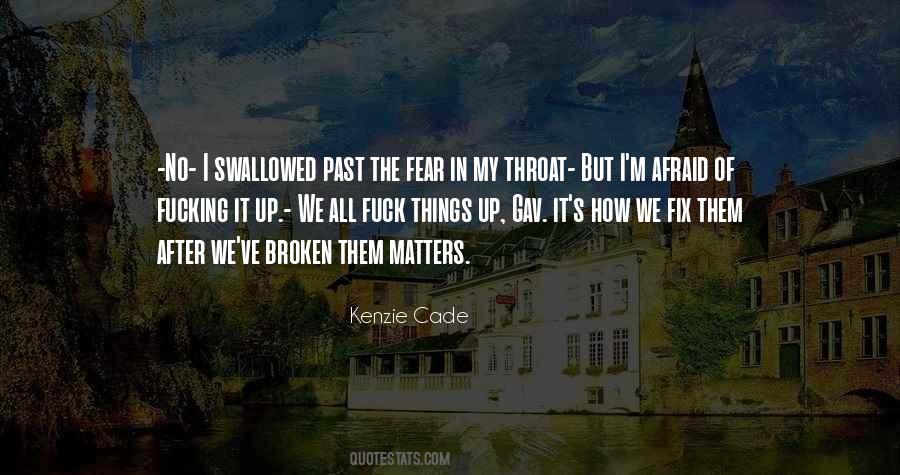 #29. Luckily, I'm not a stand-up comedian, so I don't get the fear of standing on stage in front of a dead audience: my humorous pieces have to make it past an editor before they get exposed to the public. - Author: Charles Stross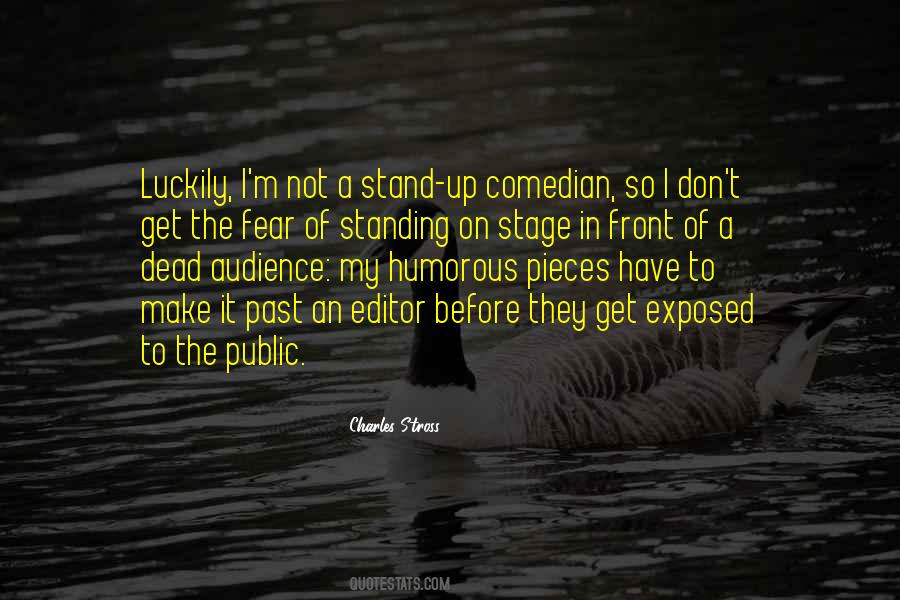 #30. He was praying the Psalms, as he'd done in times past, with the enemies of King David translated into his own enemies of fear and remorse and self-loathing, which, in their legions, had become as armies of darkness. - Author: Jan Karon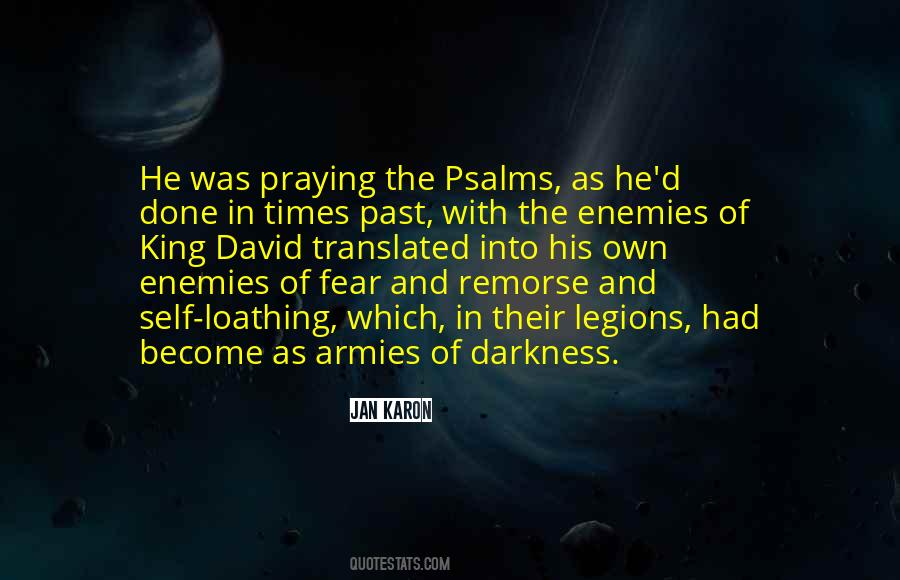 #31. Hesia was right. The real test of person is whether they can see past the names and labels." His gaze was steady."I've seen you. You laugh, you fear, you cry, you love. You're as human as me, Na'Chi - Author: Kylie Griffin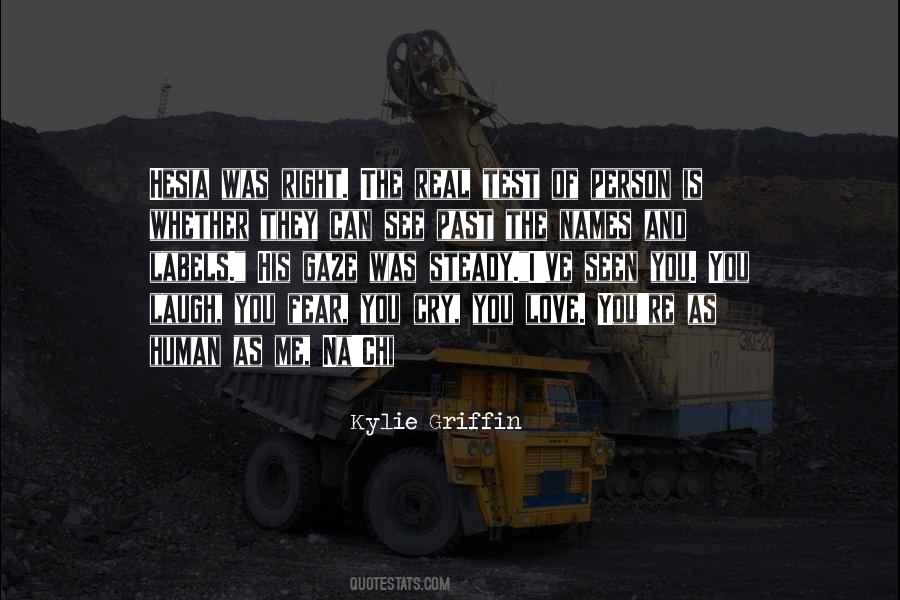 #32. Many of us crucify ourselves between two thieves - regret for the past and fear of the future. - Author: Fulton Oursler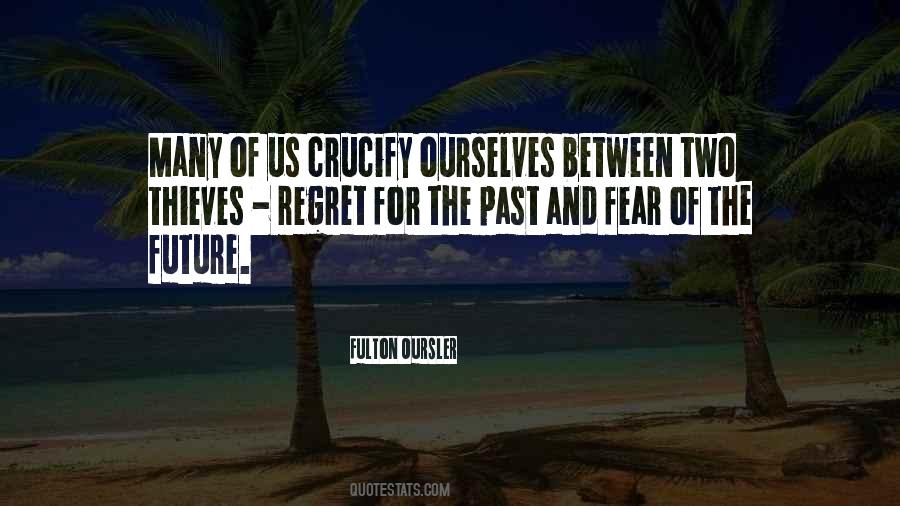 #33. Don't let the sadness from the past and fear of the future ruin the happiness of the present. - Author: Kid Cudi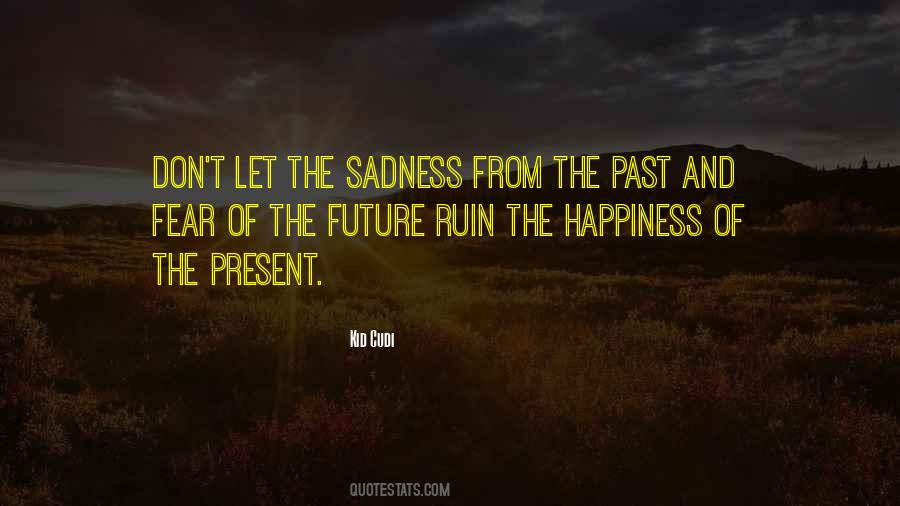 #34. Our past is not, as some fear, a series of events carved in stone that we must carry around for the rest of our lives ... but a kaleidoscope of experiences that, when viewed through different lenses, can 'color' (change) how we see our present and future. - Author: Bill Crawford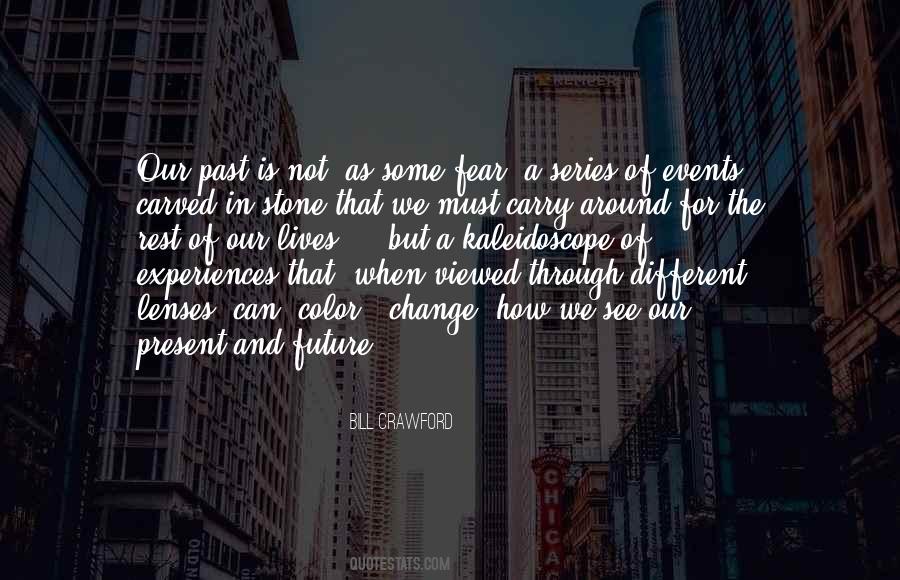 #35. I have a lack of fear, whereas in the past the fear of failure was a powerful motivator. Anyway, I have great expectations for the future, but I just don't know if I'm the monarch of all I survey. - Author: Sylvester Stallone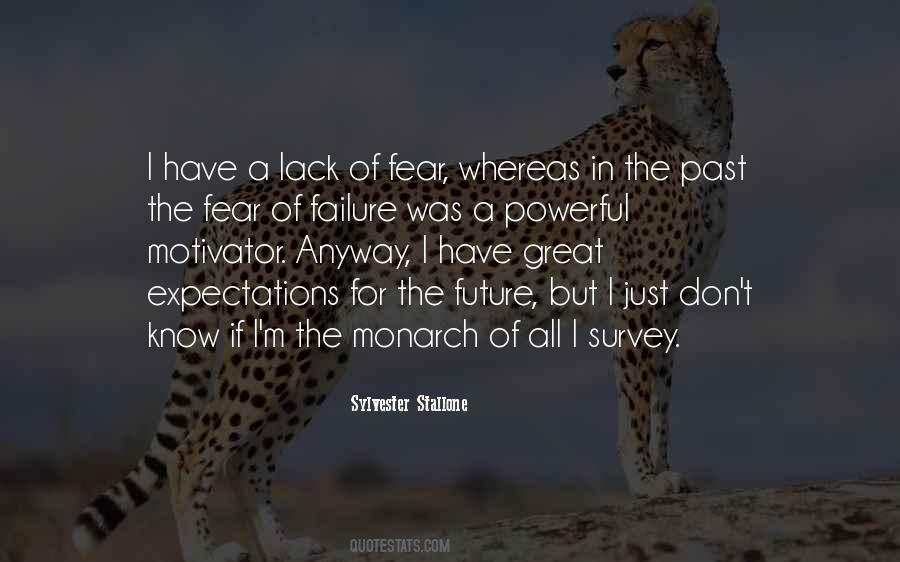 #36. I realized that I could have been in galleries much sooner. I just needed to get past the fear of rejection. I still feel nervous when I approach a new gallery, although it has become more like a job now. The first step on this long road was getting past that initial fear. - Author: Mark Edward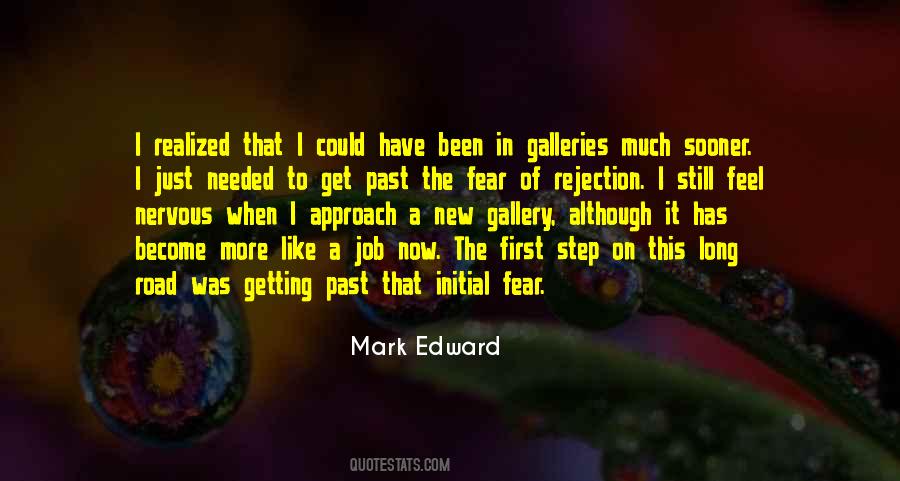 #37. The hardest thing is to live richly in the present without letting it be tainted out of fear for the future or regret for the past. - Author: Sylvia Plath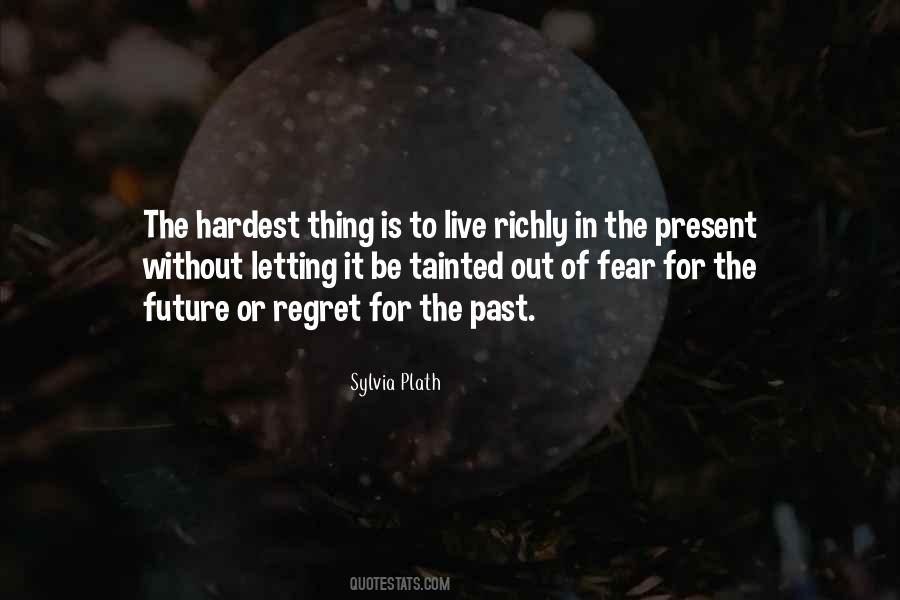 #38. I am timeless being. I am free of desire or fear, because I do not remember the past or imagine the future. - Author: Sri Nisargadatta Maharaj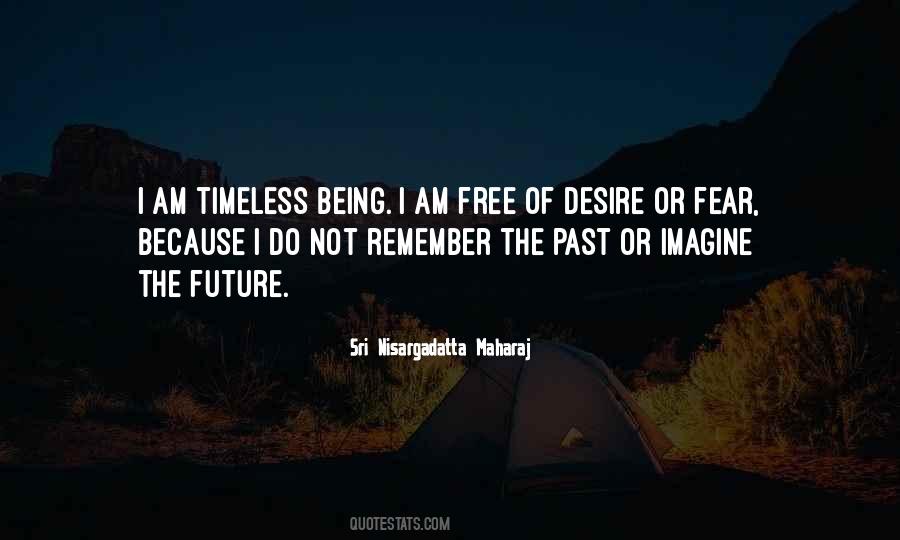 #39. I walked in the dark forest at night ... I couldn't see much further in the dark ,I heard the sound of the past, ..Memories Went back clear to me and Fear started hunting me, ..No Way To Escape , No Way To Stand Still ... - Author: Hamza Wolf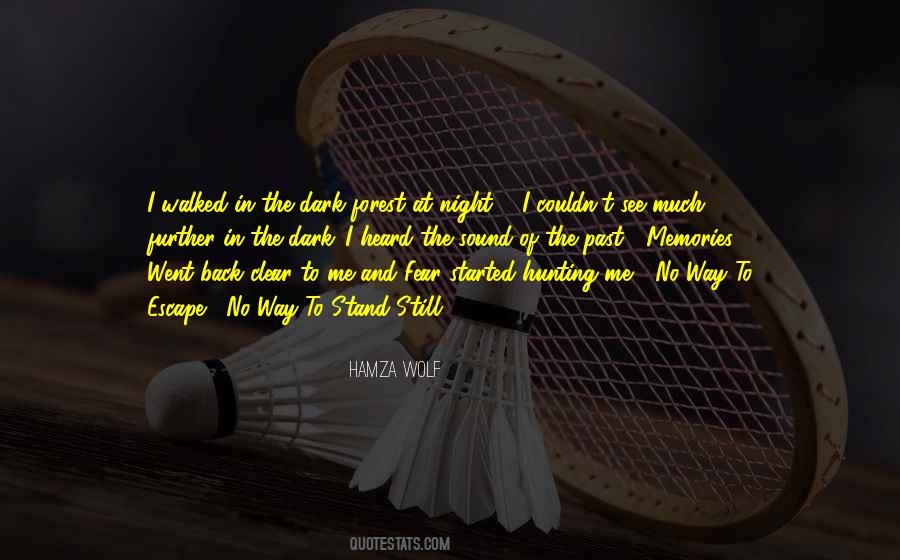 #40. The past is always attractive because it is drained of fear. - Author: Thomas Carlyle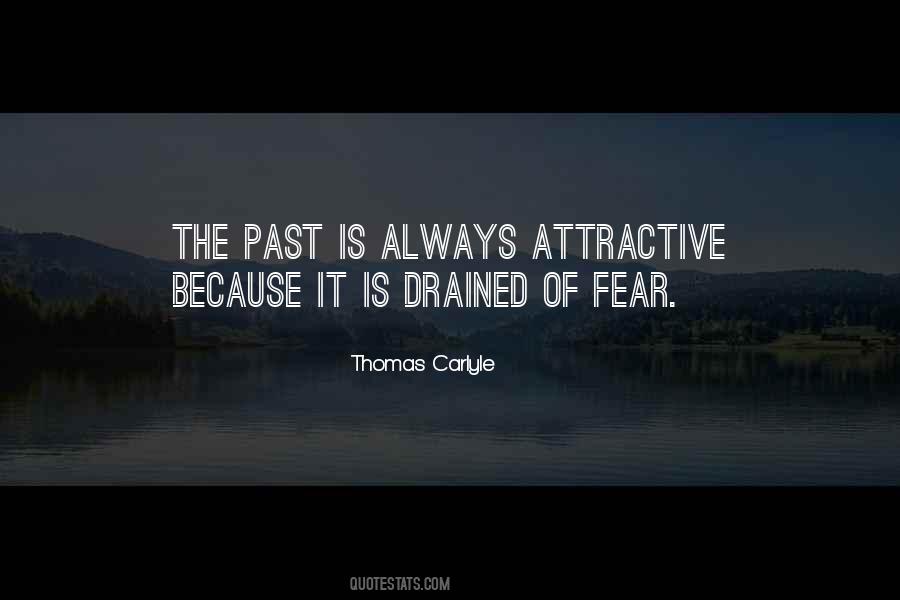 #41. When you are fully present with everyone you meet, you relinquish the conceptual identity you made for them - your interpretation of who they are and what they did in the past - and are able to interact without the egoic movements of desire and fear. Attention, which is alert stillness, is the key. - Author: Eckhart Tolle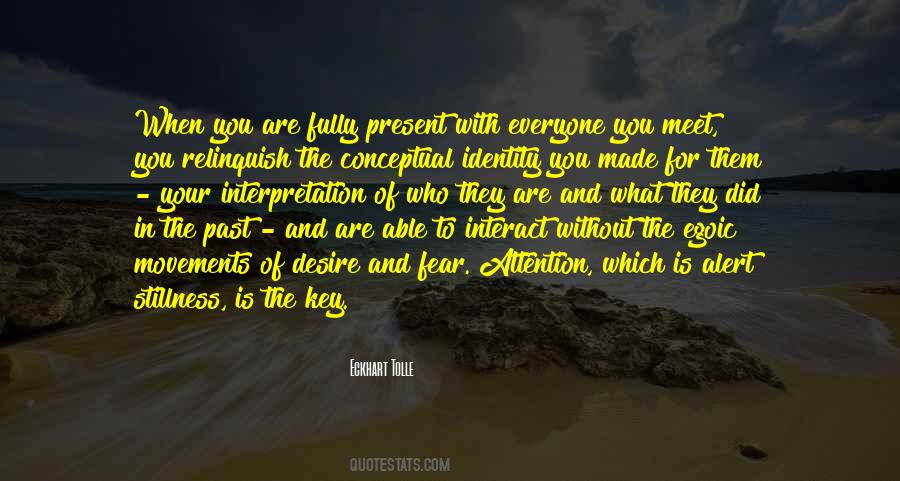 #42. Even if Matt loved me for the rest of his life, and never so much as blinked in the direction of another woman, there'd still be pain in our past. Fear that we might let each other down again. - Author: Aimee L. Salter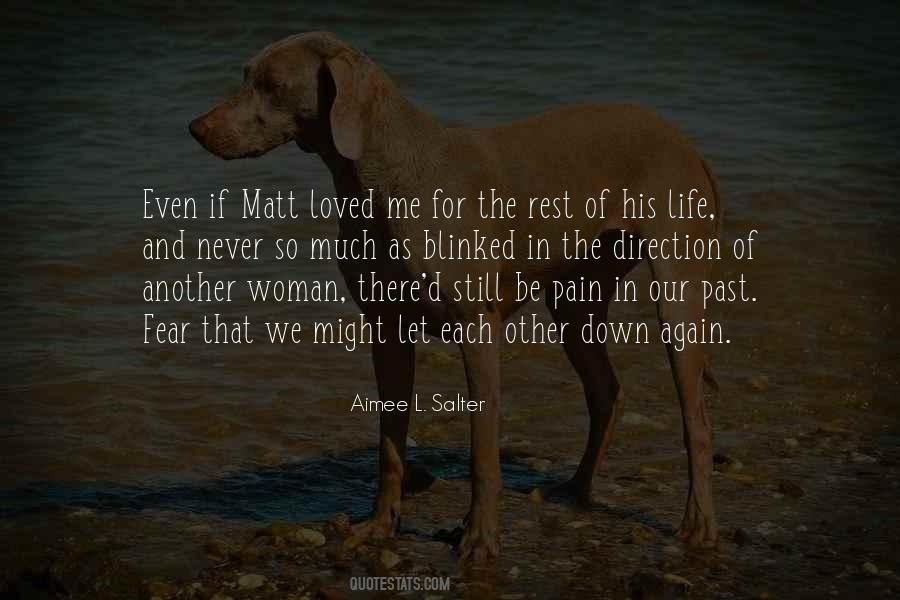 #43. I have turned away from the thought of writing fiction in the past through what I suppose is, actually, fear. The direct, raw invitation for the reader to come in and explore my imagination is fairly scary for me so I have busied myself with so much else. - Author: Dawn French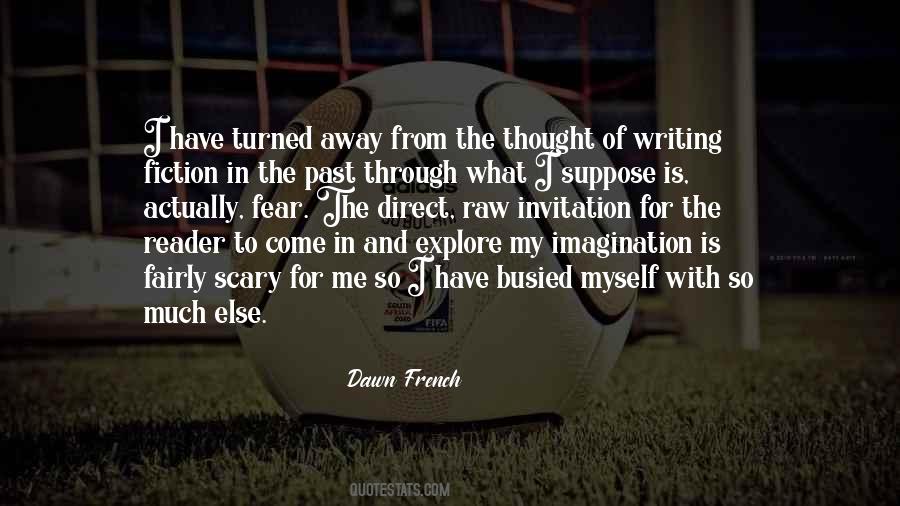 #44. When you get to the end of your life, you will treasure the moments when you decided to push past fear and try something new. - Author: Jonathan Milligan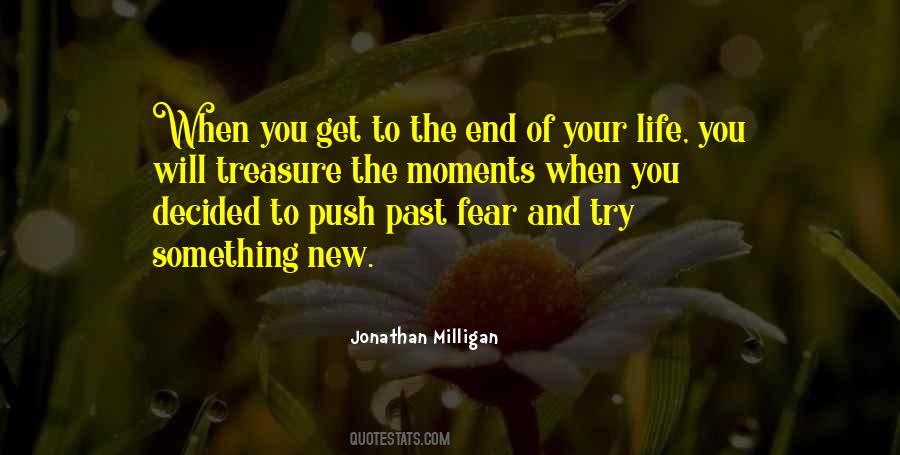 #45. There are many people who could claim and learn from their Indian ancestry, but because of the fear their parents and grandparents knew, because of past and present prejudice against Indian people, that part of their heritage is clouded or denied. - Author: Joseph Bruchac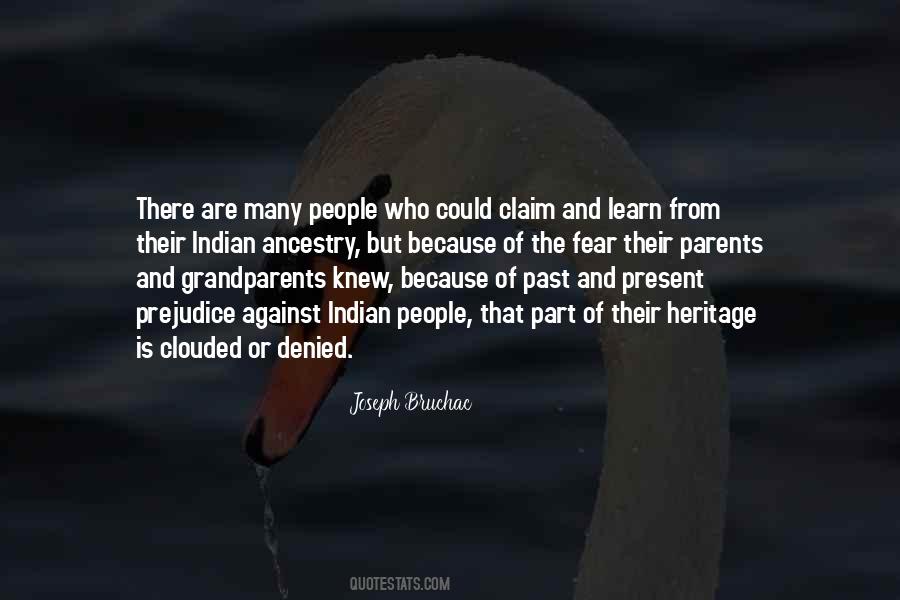 #46. In a futile attempt to erase our past, we deprive the community of our healing gift. If we conceal our wounds out of fear and shame, our inner darkness can neither be illuminated nor become a light for others. - Author: Brennan Manning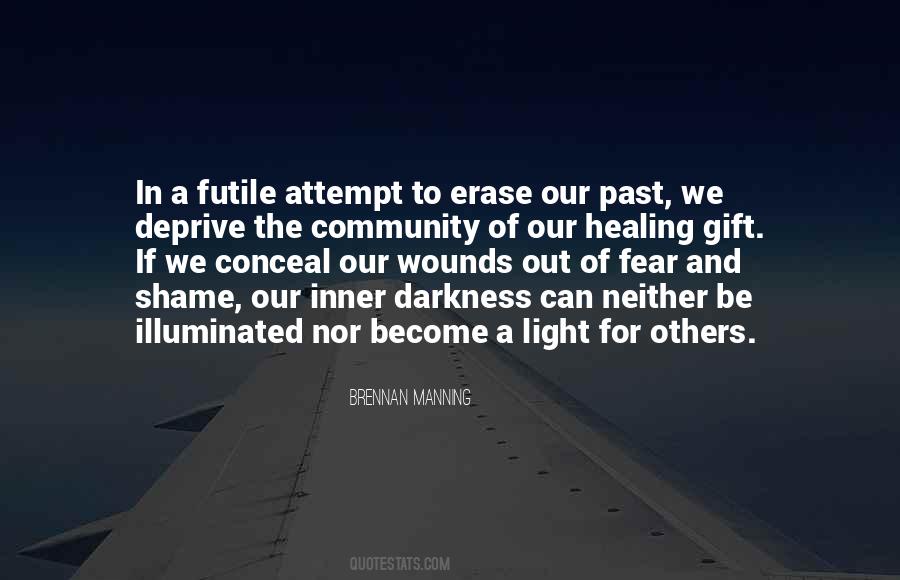 #47. When you hold onto a script that doesn't serve you, you leave no space to write a new one that does. - Author: Jennifer Ho-Dougatz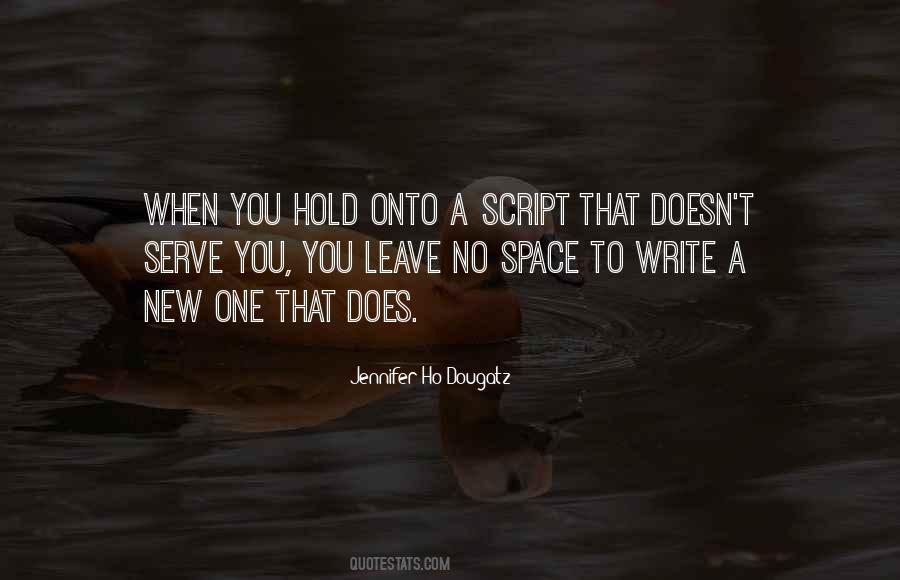 #48. Just for today, allow yourself to embrace all that you are every moment. Know that you are a vessel of light. Allow yourself to release all doubts about your ability, the mistakes of the past, the fear of the future. - Author: Iyanla Vanzant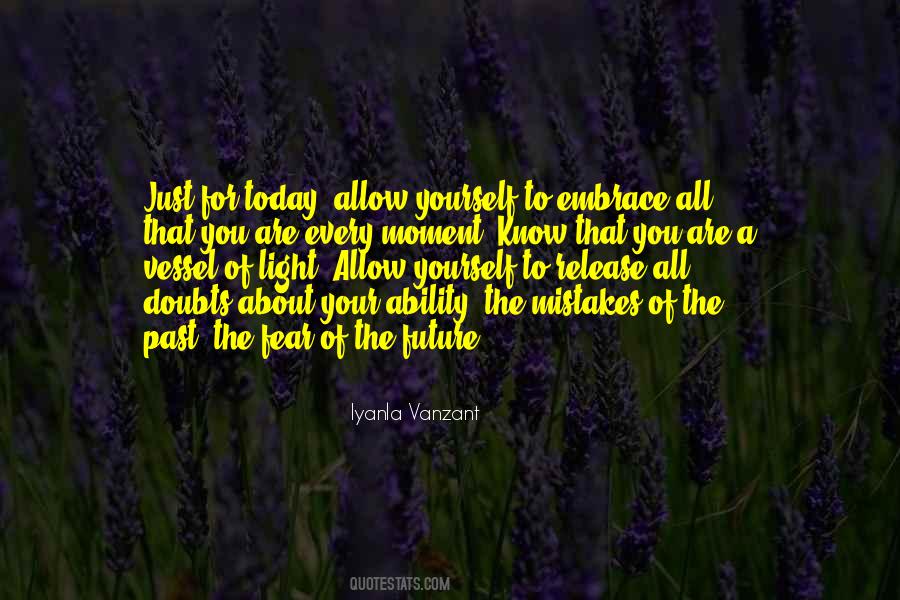 #49. Millions of people are afraid of the past, the future, old age, insanity and death. But fear is a thought in your mind. This means that you are afraid of your own thoughts. - Author: Joseph Murphy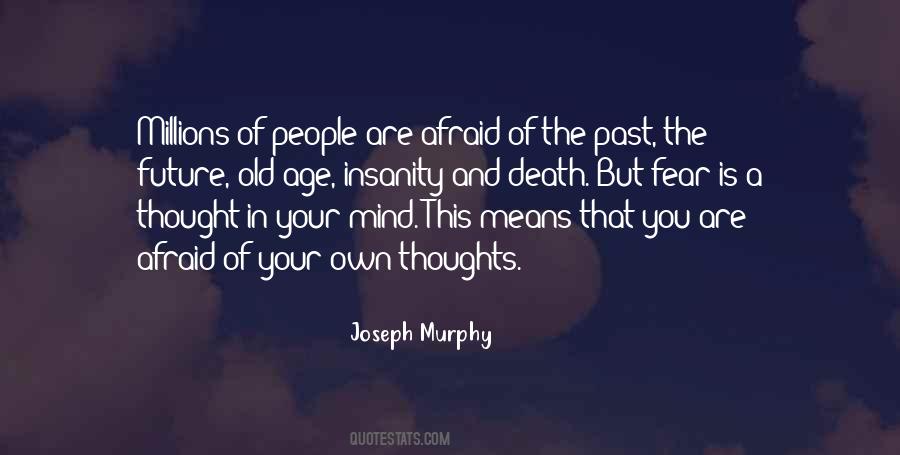 #50. Preserve your peace of mind. There is not much time; all things end in death. Do not lament the past too much, or fear the future too acutely, ot waste too much energy on other peoples' woes, in case the present dissolves altogether. - Author: Fay Weldon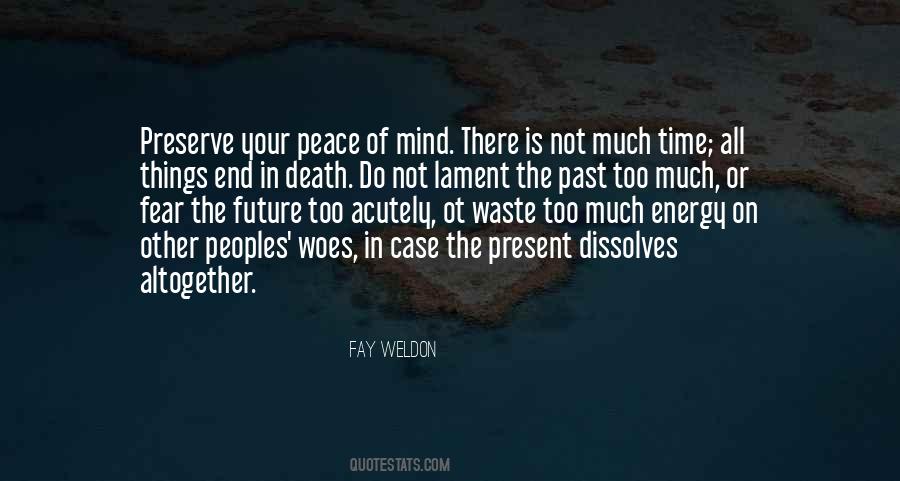 #51. Eternity is now. Right now, right here, you're an infinite being. Once you get past the fear of death as an end, you merge with the infinite and feel the comfort and relief that this realization brings. - Author: Wayne Dyer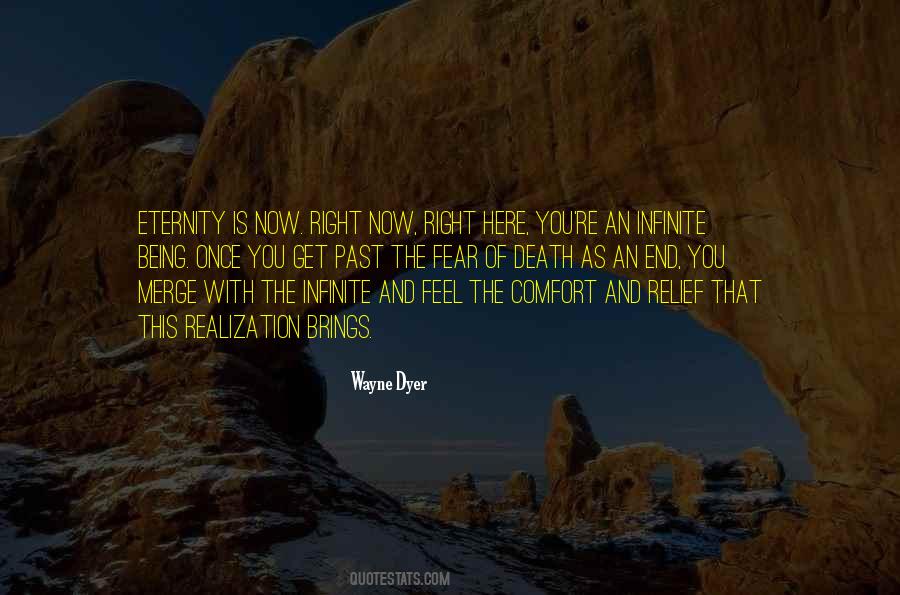 #52. Fear of death has been the greatest ally of tyranny past and present. - Author: Sidney Hook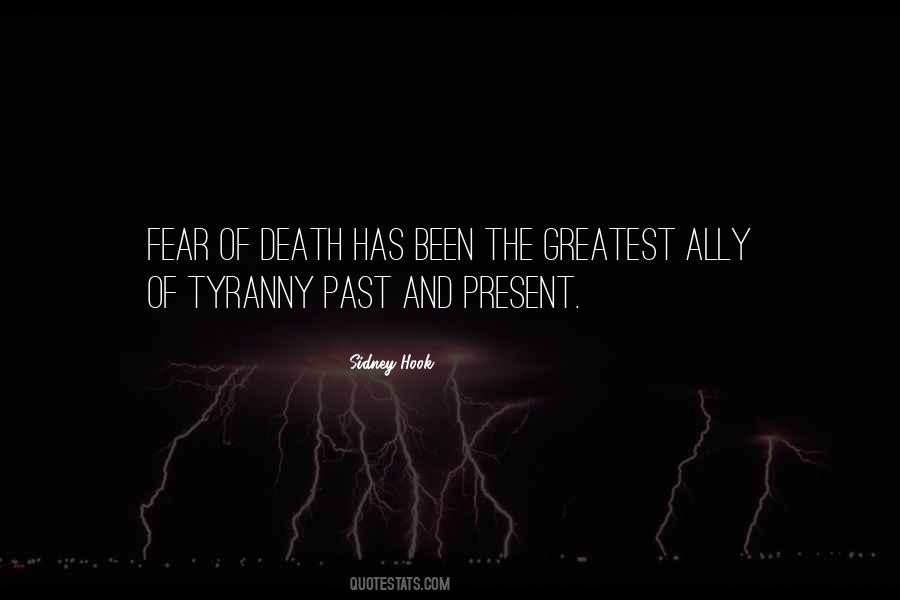 #53. Glimpse of the naked fear on his face before she was dragged past him toward her death. - Author: Kaylea Cross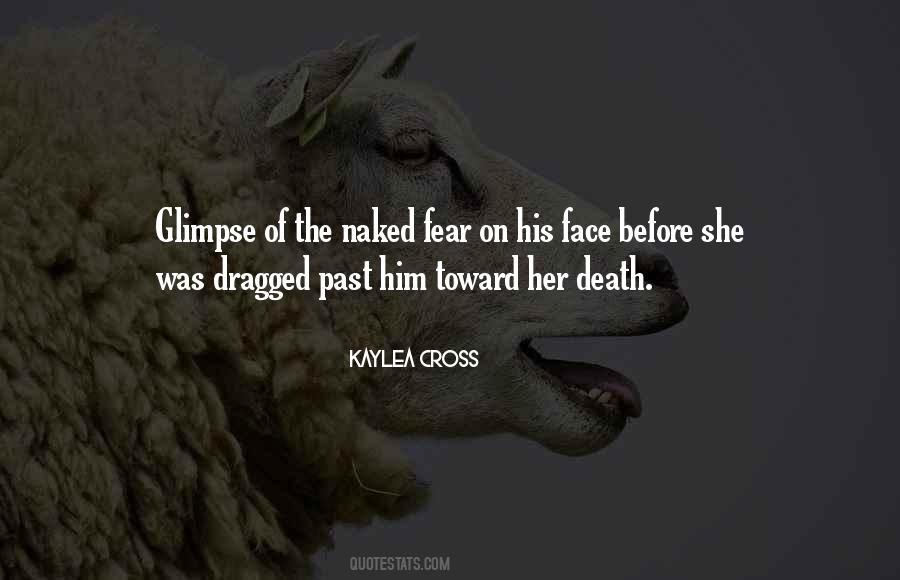 #54. Fear can be good when you're walking past an alley at night or when you need to check the locks on your doors before you go to bed, but it's not good when you have a goal and you're fearful of obstacles. We often get trapped by our fears, but anyone who has had success has failed before. - Author: Queen Latifah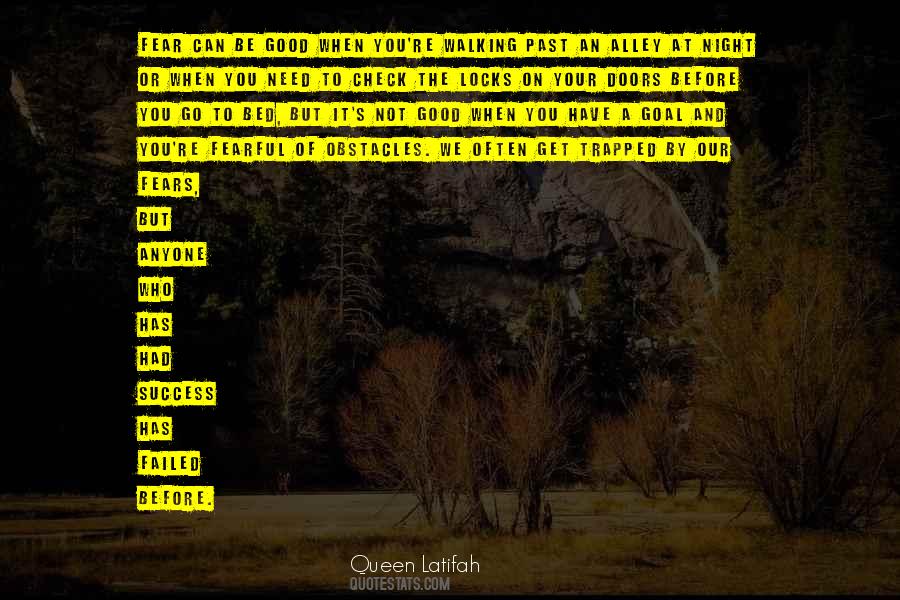 #55. When we see the secret beauty of anyone, including ourselves, we see past our judgment and fear into the core of who we truly are - not an entrapped self but the radiance of goodness. - Author: Tara Brach
#56. I think today the church faces a very real challenge in not repeating the errors of the past, in sort of a stand off, a fear of science. - Author: George Coyne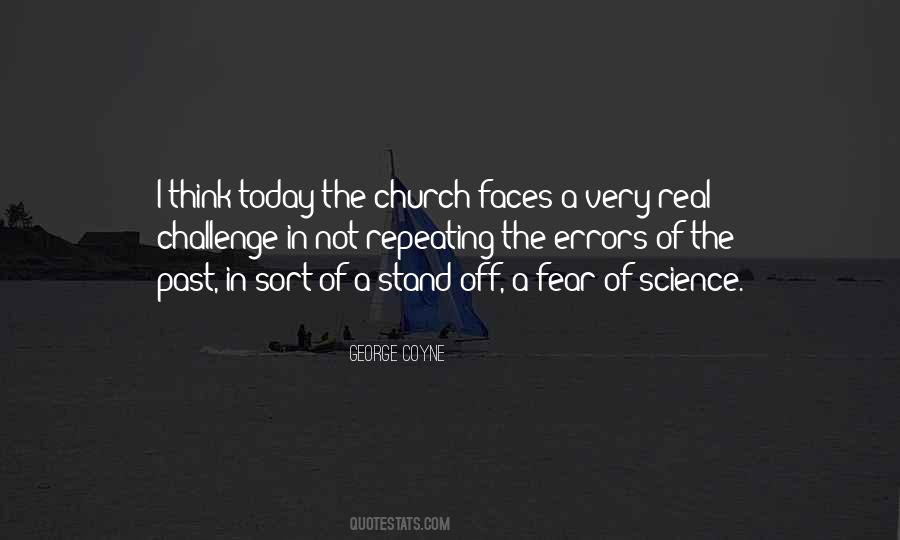 #57. Wisely improve the Present. It is thine. - Author: Henry Wadsworth Longfellow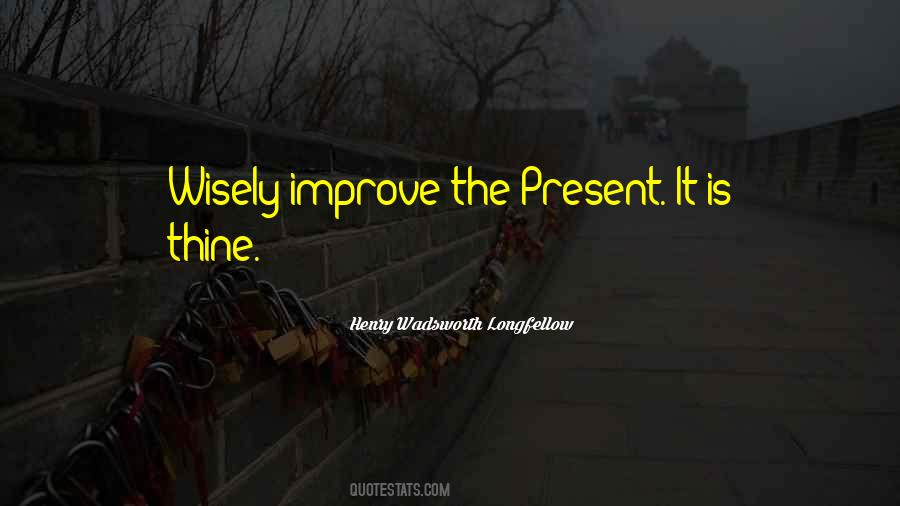 #58. Our mind takes an inventory of past events and uses them to project the probability of success in the future. Depending on the information it gathers, we either move forward - or the
fear response is triggered and forward progress is circumvented. Page 48 - Author: Nick Ortner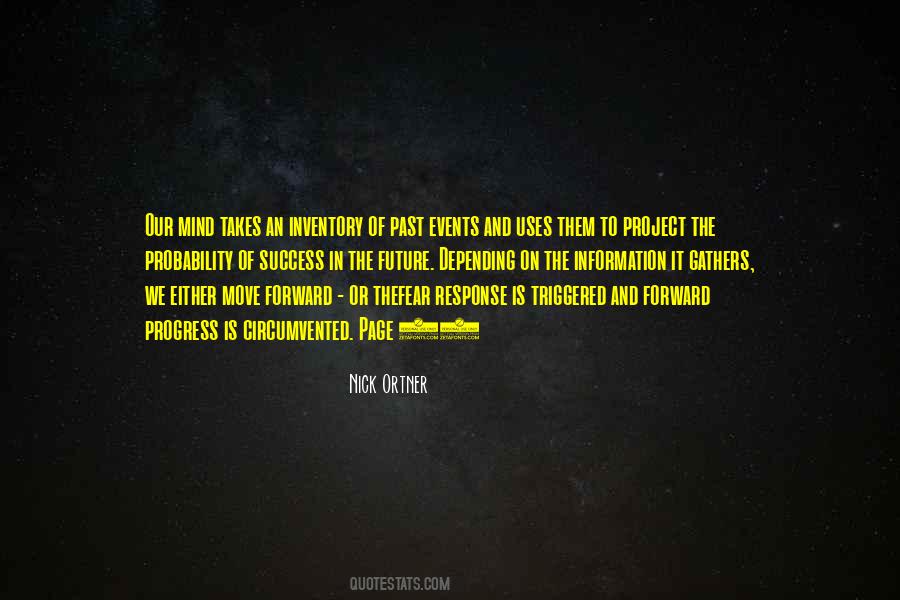 #59. The rich of this world will vanish like smoke, and no memory of their past pleasures will remain. But even in their lifetime they do not enjoy them without bitterness, weariness and fear, for the very things whence they derive their pleasures often carry with them the seeds of sorrow. - Author: Thomas A Kempis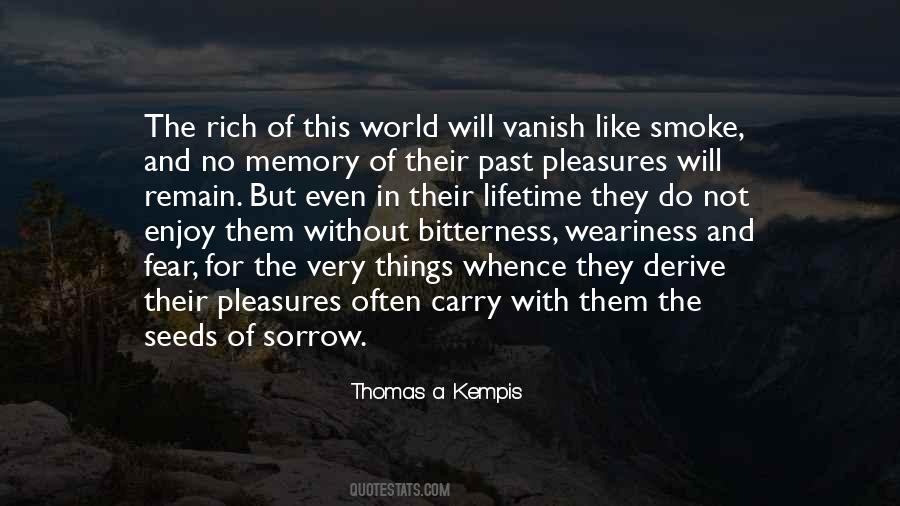 #60. If you admit your fear to yourself and to him, then maybe this time you can face it instead of running away.' Even as he spoke the words to her, they hit him in the gut. He could dole out advice. But he wasn't great at following it. He'd been running away from his past for ten years. - Author: Jody Hedlund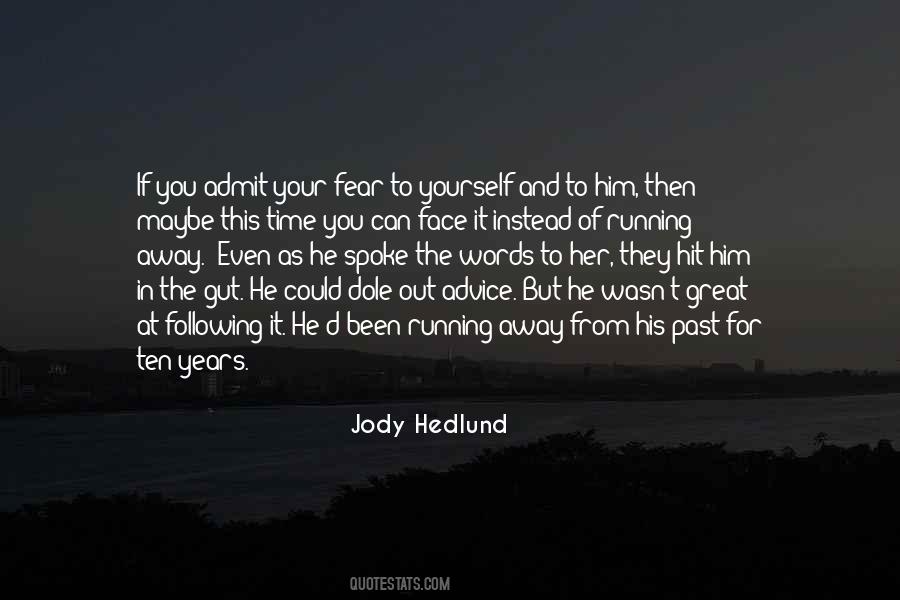 #61. Few emotions are more ephemeral in the political world than gratitude: appreciation for past favors. Far less ephemeral, however, is hope: the hope of future favors. Far less ephemeral is fear, the fear that in the future, favors may be denied. - Author: Robert A. Caro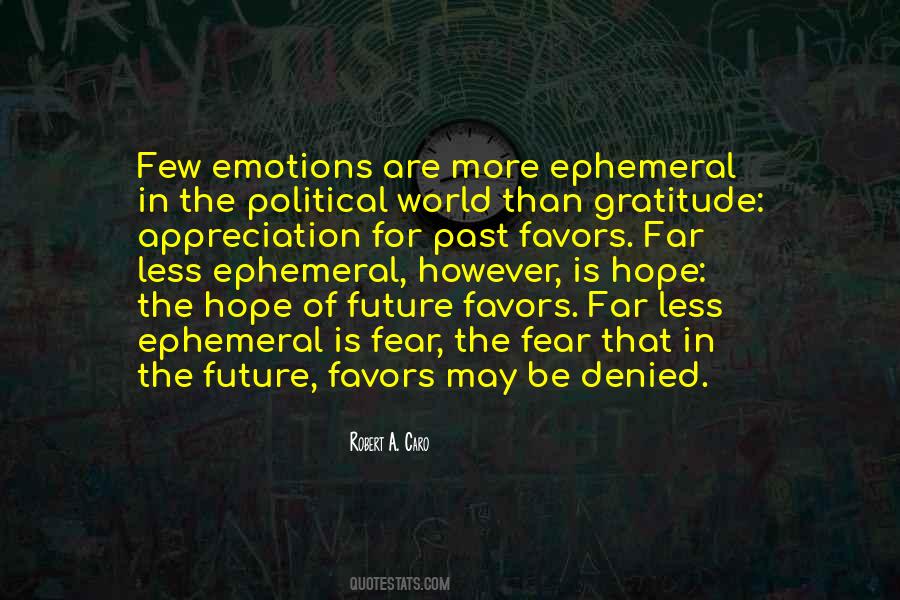 #62. Every man wants love, if he can get past the fear of exposure. - Author: Barbara Delinsky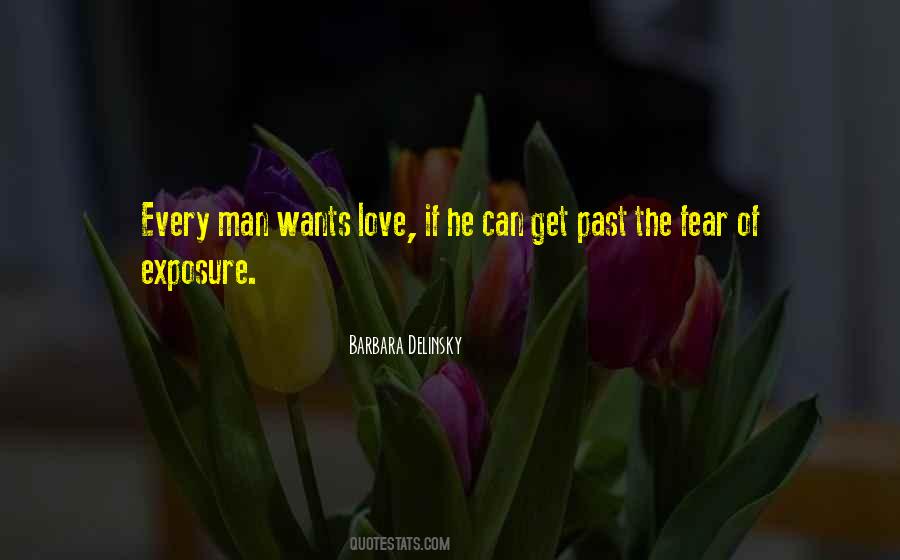 #63. To escape the distress caused by regret for the past or fear about the future, this is the rule to follow: leave the past to the infinite mercy of God, the future to His good Providence, give the present wholly to His love by being faithful to His grace. - Author: Jean-Pierre De Caussade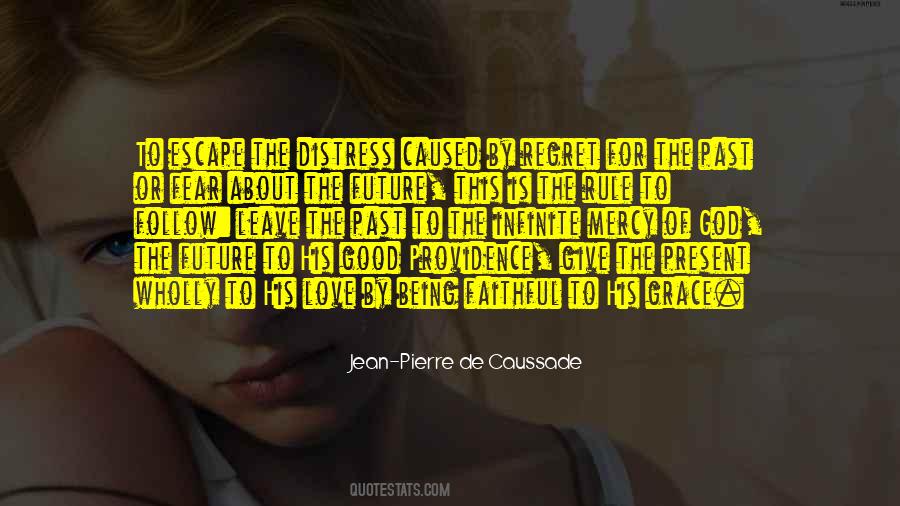 #64. Three powerful life-changing words passed on from God to us: Now choose life! Right now, this moment, put away the baggage from the past, shake yourself free from the fear of the future unknown. Right now, choose life - seize your divine moment. A - Author: Erwin Raphael McManus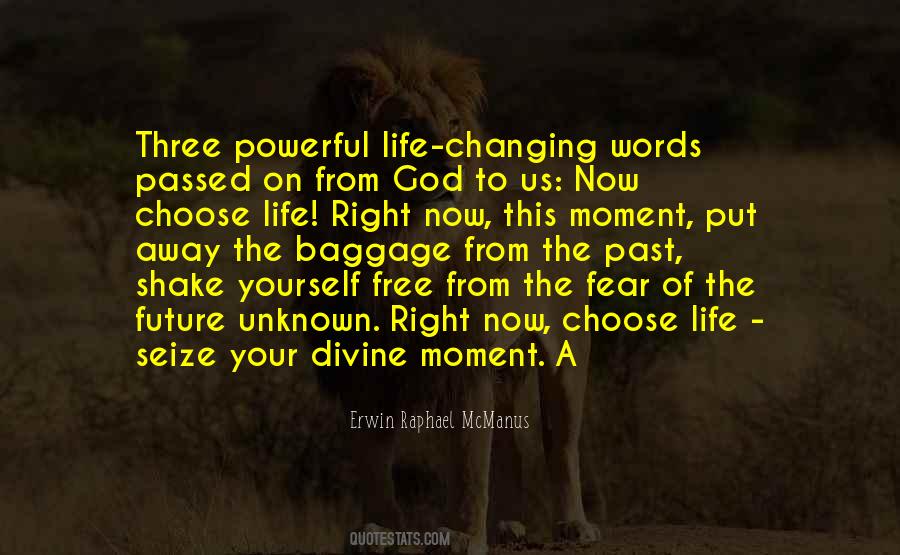 #65. To perceive the world differently, we must be willing to change our belief system, let the past slip away, expand our sense of now, and dissolve the fear in our minds, - Author: William James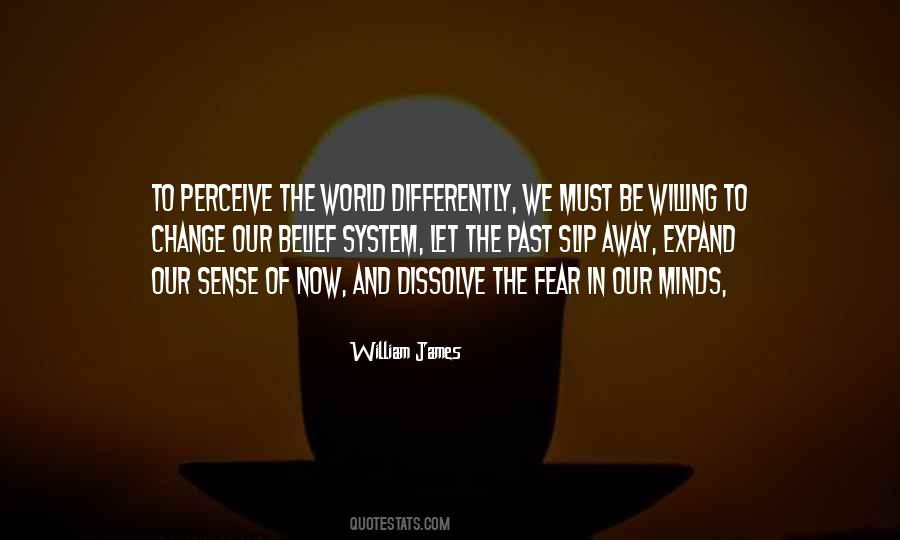 #66. Black is a blind remembering, she thought. You listen for pack sounds, for the cries of those who hunted your ancestors in a past so ancient only your most primitive cells remember. The ears see. The nostrils see. - Author: Frank Herbert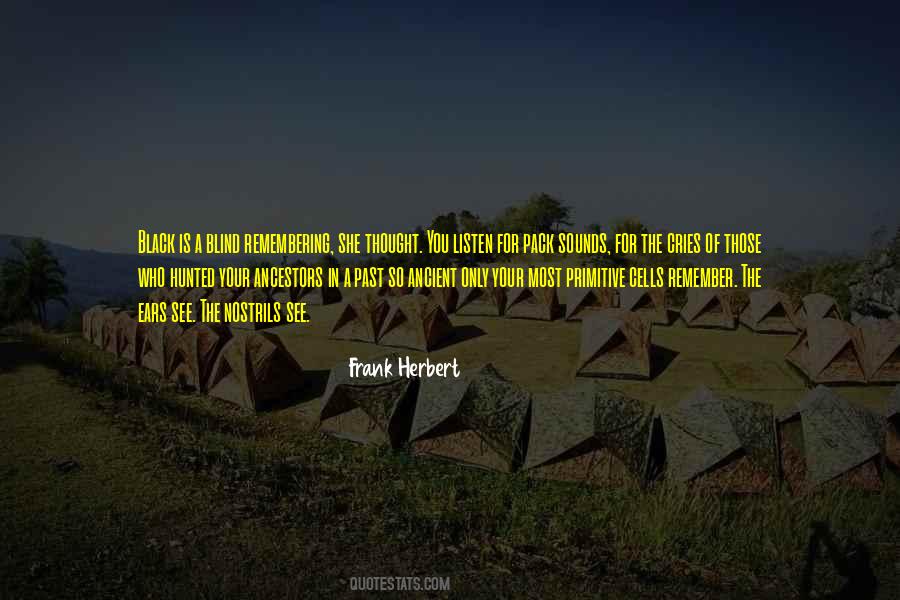 #67. A relationship is NOT about your new partner to hear the things you didn't tell your ex's and for you to live on the fear of past relationship(s) ... BUT sometimes the person cannot love you as much as you appreciate yourself. - Author: Coco Nicole Estef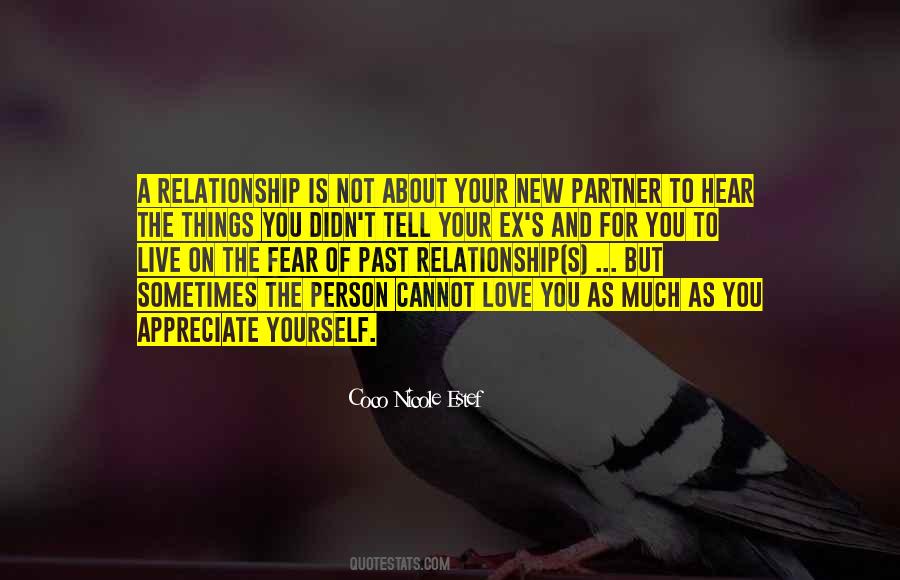 #68. You must put fear out of your mind. Confront it with the belief that the past is over with, that a new life lies ahead. - Author: Edward T. Lowe Jr.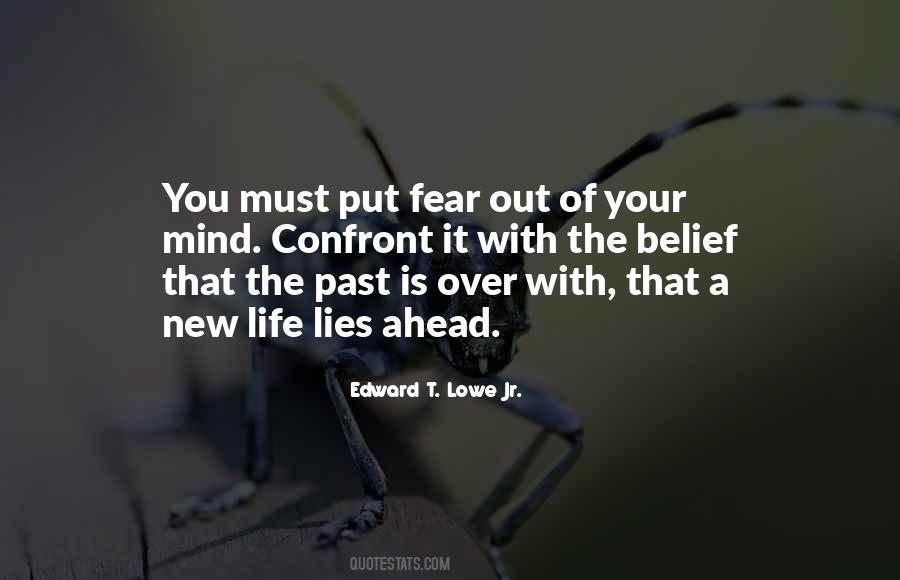 #69. It is knowledge that binds us; shared wisdom from ages past and new wisdom that we should all seek to embrace. Wisdom is our legacy; our refuge from the world of the ignorant and foolish. We chose this path that we might walk open-eyed into the future... undaunted by fear and lies. - Author: Ted Naifeh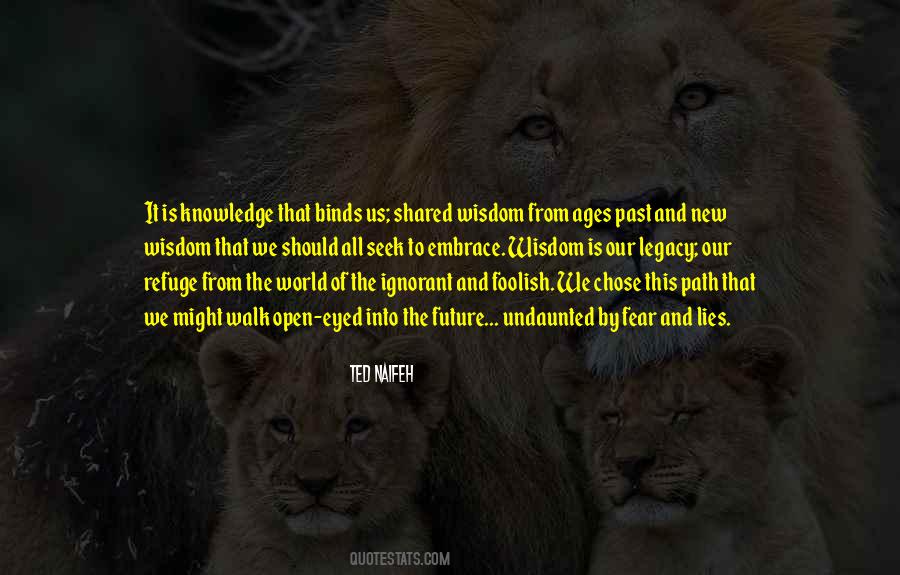 #70. If I've learned anything from my past and my present, it's the power of fear. You can give your subjects all the generosity in the world, and still they will demand more. But those who are afraid don't fight back. I know this well enough. - Author: Marie Lu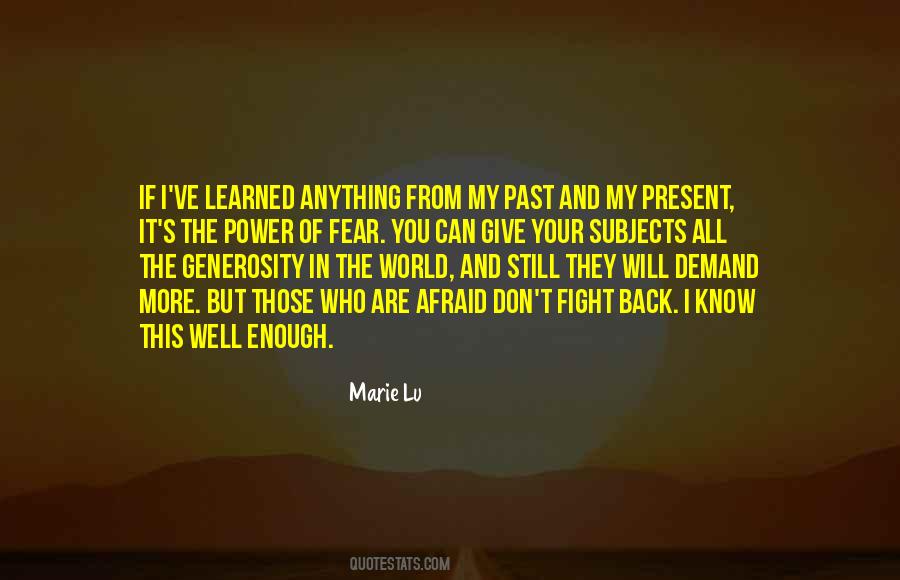 #71. If I had only known then how you make it easy to conquer fear, the paralyzing fear of an audience, I wouldn't have lost these past five years." The man who spoke these revealing - Author: Dale Carnegie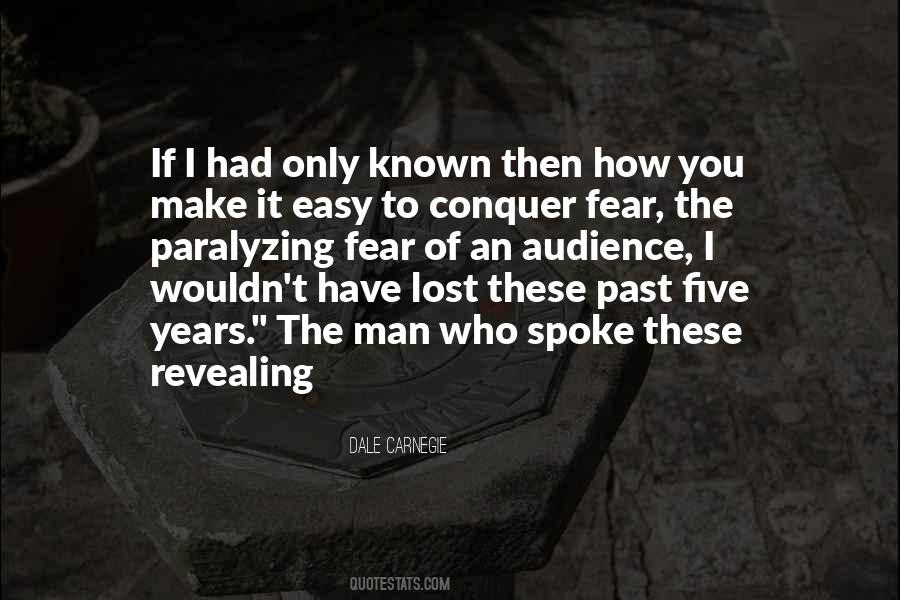 #72. Because (grandparents) are usually free to love and guide and befriend the young without having to take daily responsibility for them, they can often reach out past pride and fear of failure and close the space between generations. - Author: Jimmy Carter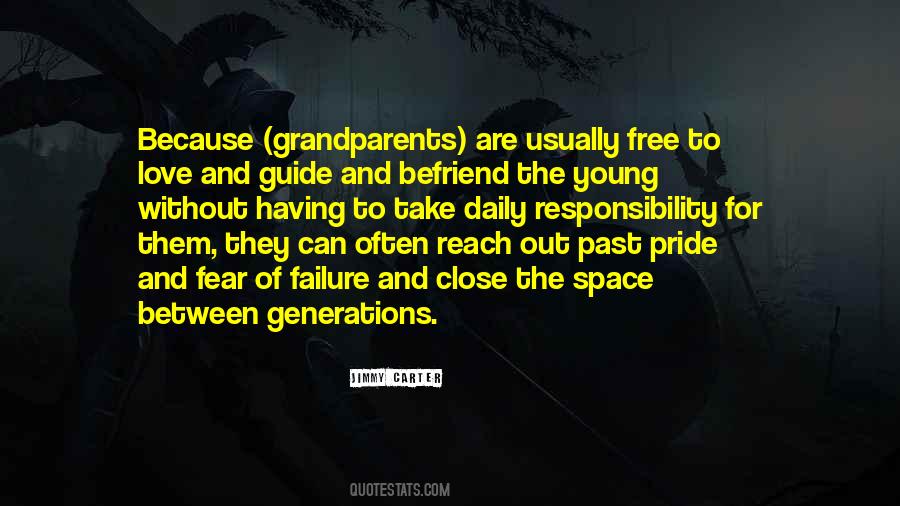 #73. I fear that we live in an ahistorical age in which we believe that we are so wise that we no longer need the lessons of the past, perhaps most disturbingly of all that technology has put us beyond the lessons of the past. - Author: J. Rufus Fears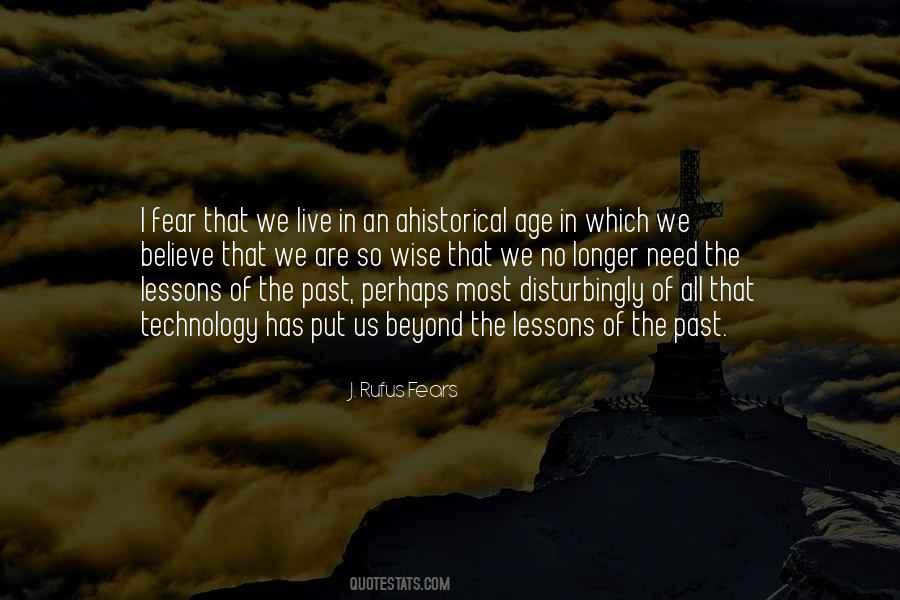 #74. In that moment, I welcomed back the light and let go of the fear, the feelings of unworthiness, the past, the loss, the wallowing, the grief and the anger. I let go of the illusion of control in our losses, of our afflictions. - Author: Ariana Carruth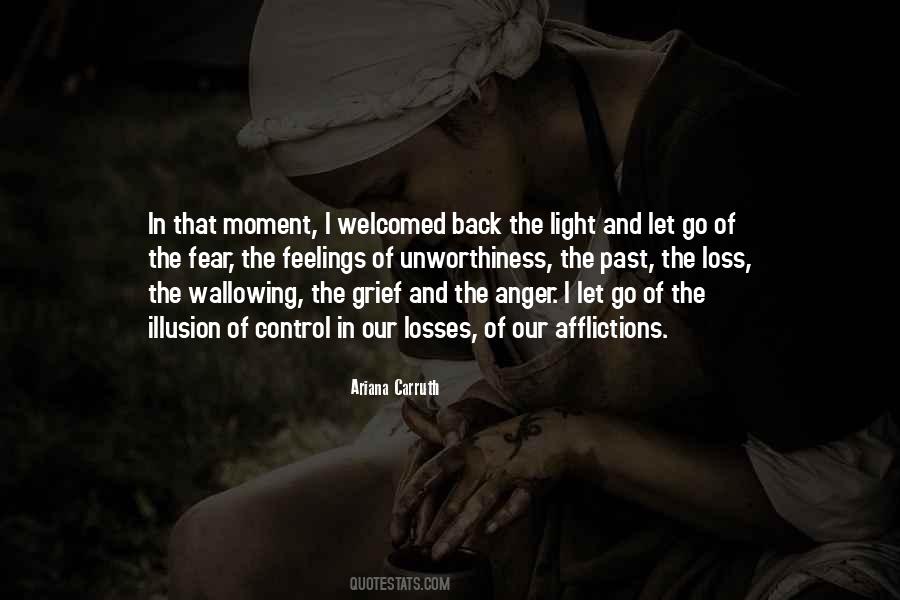 #75. Most of what brings me solace and peace are nothing more than ghosts of my past, yet I hold tightly to keep them with me in the present for fear that without them, I just might disappear too. - Author: E.K. Blair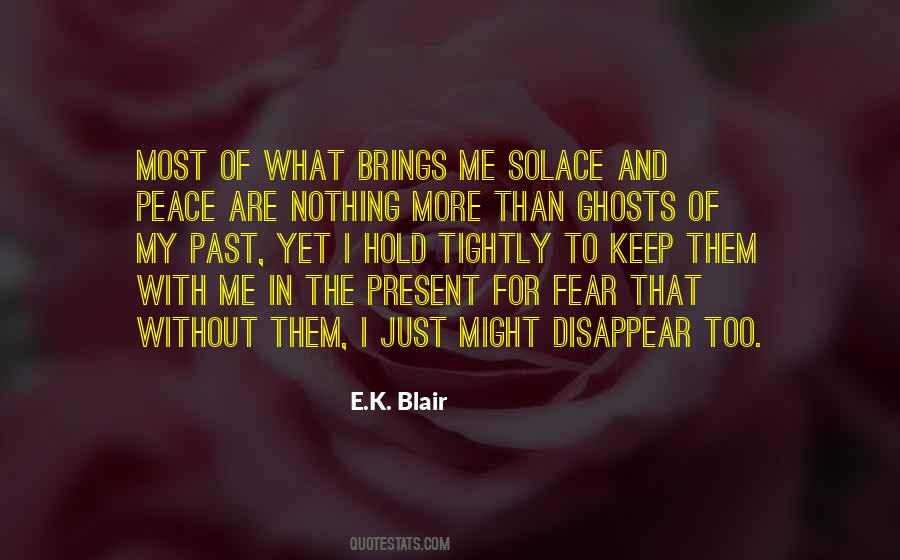 #76. Anyone who learns the true and hidden nature of the world will be terrified, Oddie, but there's a safe harbor past the terror. - Author: Dean Koontz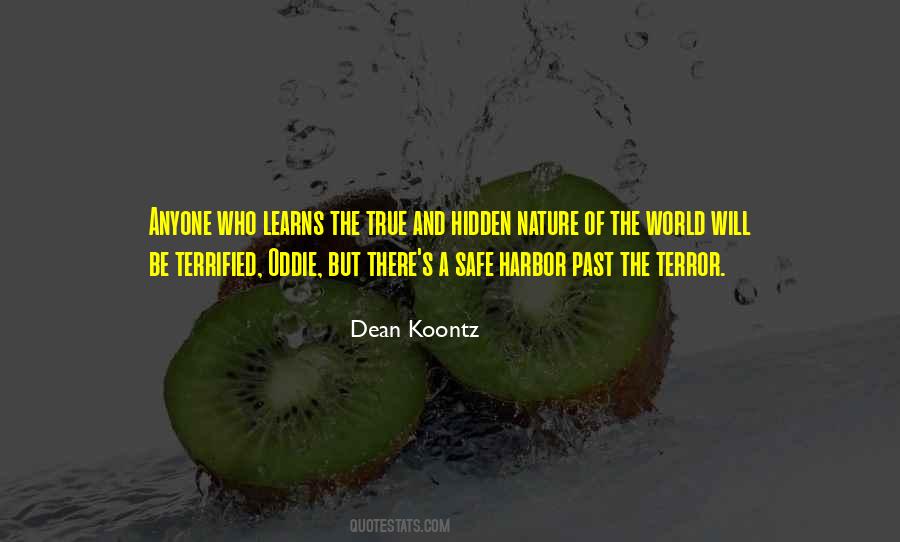 #77. I shall not dwell in the past ...
I shall not dread the present ...
I shall not fear the Future ...
For as Long as I live ...
I shall only think of success. - Author: Oscar Trejo Jr.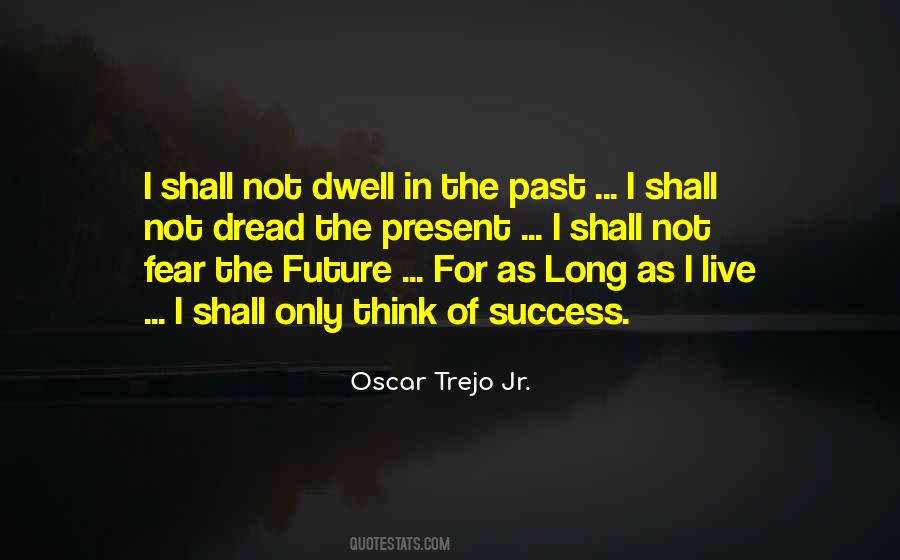 #78. Jumped in the river, what did I see? Black-eyed angels swam with me A moonful of stars and astral cars And all the figures I used to see All my lovers were there with me All my past and futures And we all went to heaven in a little row boat There was nothing to fear and nothing to doubt - Author: Thom Yorke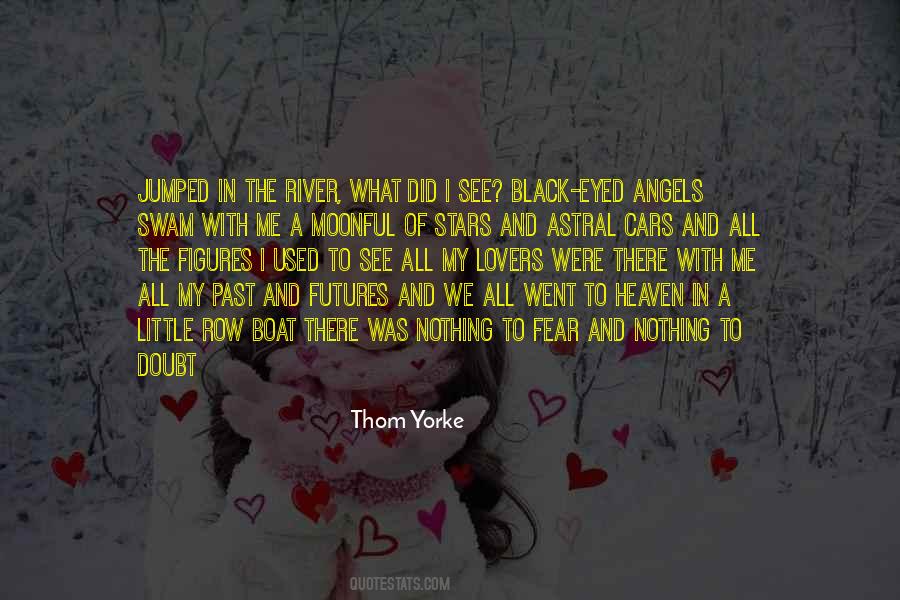 #79. Running a marathon with a backpack is tough and may hinder you from winning the race. Don't let the baggage from your past - heavy with fear, guilt, and anger - slow you down. - Author: Maddy Malhotra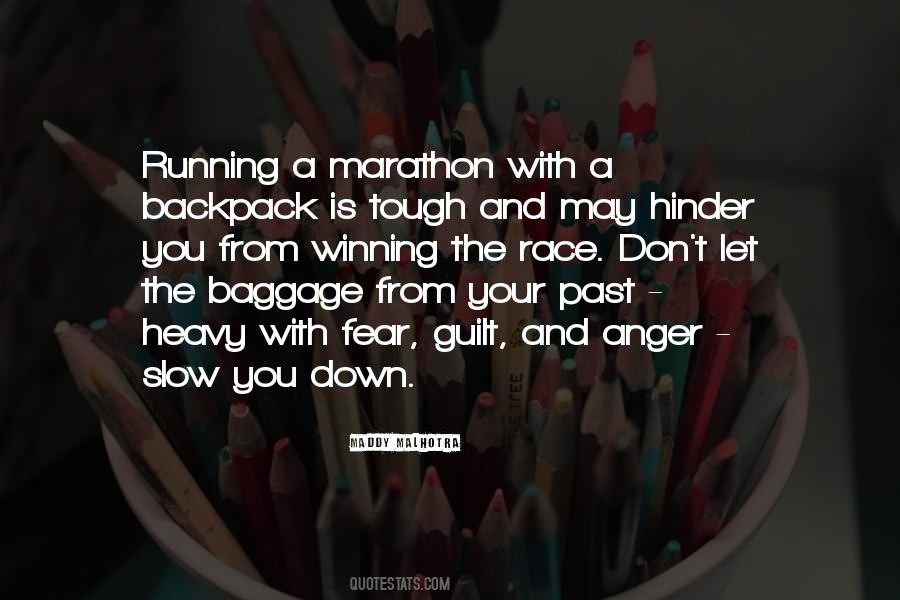 #80. Aura is convinced that the entire country has succumbed to a collective amnesia. This is what happened in a society, where no one is permitted to grow old slowly. Nobody talks of the past, for fear their wounds might reopen. Privately though, their wounds never heal. - Author: Cristina Garcia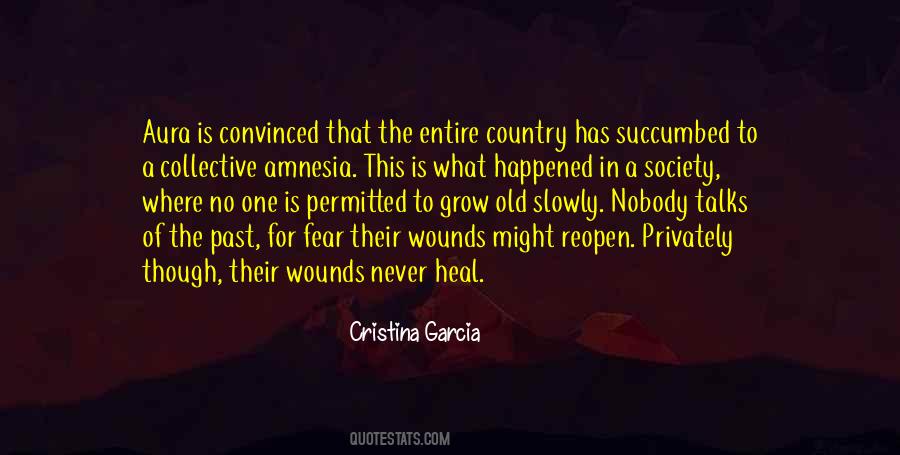 #81. The secret to life is to have no fear. When you can let go of what others think about you, how something is going to turn out, or how your past will affect your future, then you are finally living life free. - Author: Shannon L. Alder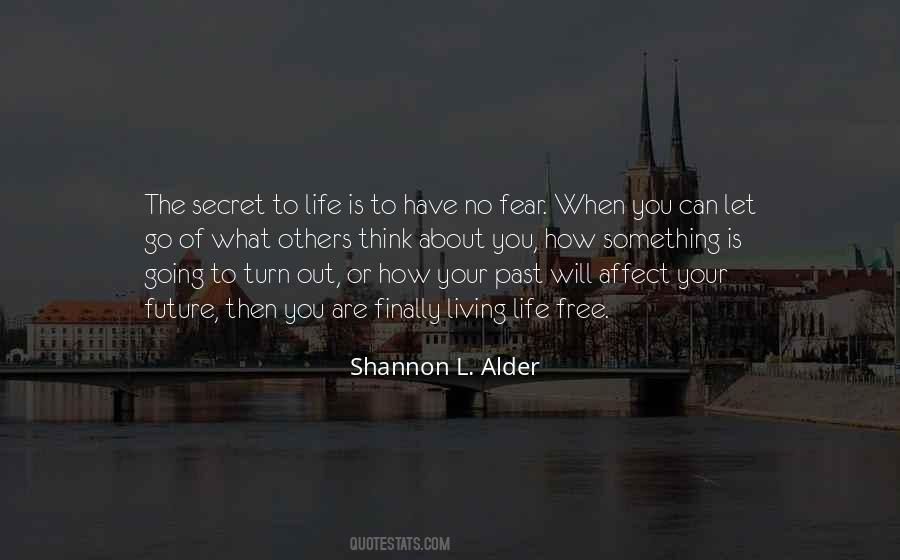 #82. In reference to Persepolis and all palaces, cities and temples of the past: could these wonders have come into being without that suffering? without the overseer's whip, the slave's fear, the ruler's vanity? was not the monumentality of past epochs created by that which is negative and evil in man? - Author: Ryszard Kapuscinski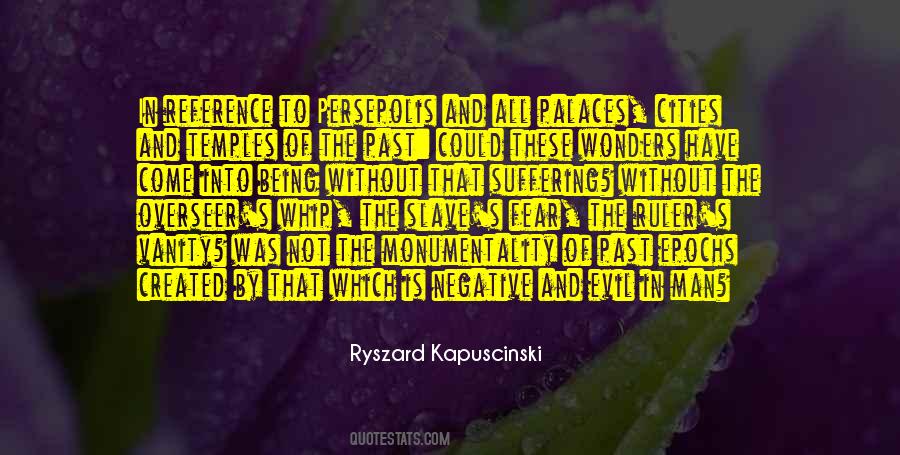 #83. She's so beautiful it hurts. Golden blond hair flows past her shoulders. Those gorgeous violet eyes shouldn't be so wide with fear. I've dreamed of being this close to her again. I ache to gather her in my arms and keep her safe from the world ... to be her protector, but I can't be that man. - Author: Katie McGarry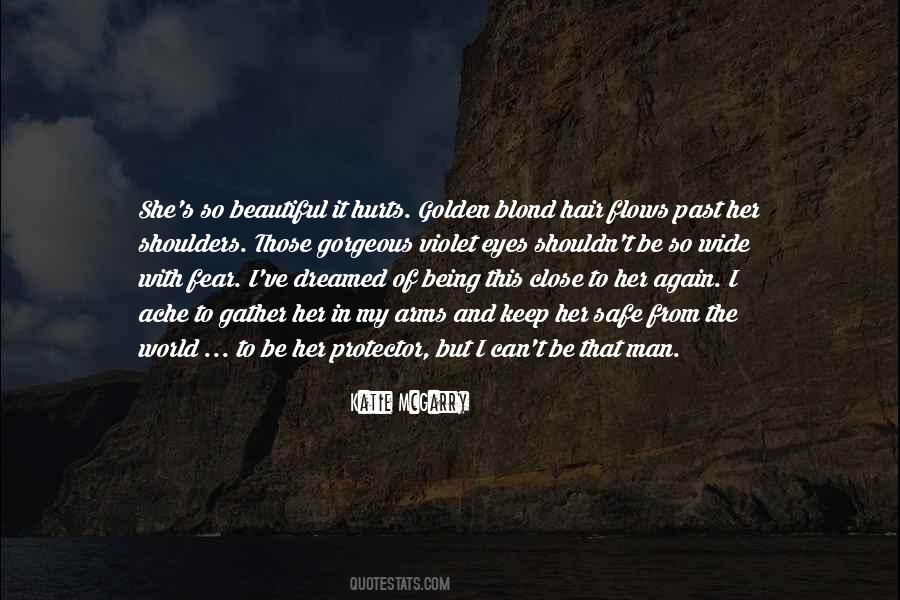 #84. Be satisfied, and pleased with what thou art, Act cheerfully and well thou allotted part; Enjoy the present hour, be thankful for the past, And neither fear, nor wish, the approaches of the last. - Author: Martial
#85. The past is a tricky thing and we let it define us when we should embrace the here and now, and all that's still coming. You need to let yourself live from a place of love, not from a place of fear over the things you can't control. - Author: Jennifer Farwell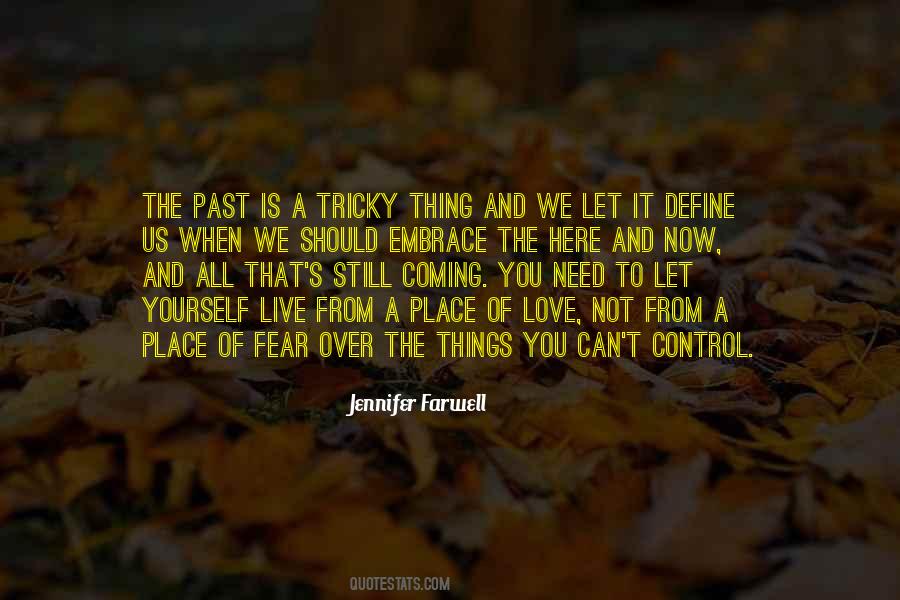 #86. The line that we chart into our future is often more a circle that brings us back to our past. And it might be that there is some hidden intent in charting circles in that we can feel like we're moving when we actually have no intent of doing so. - Author: Craig D. Lounsbrough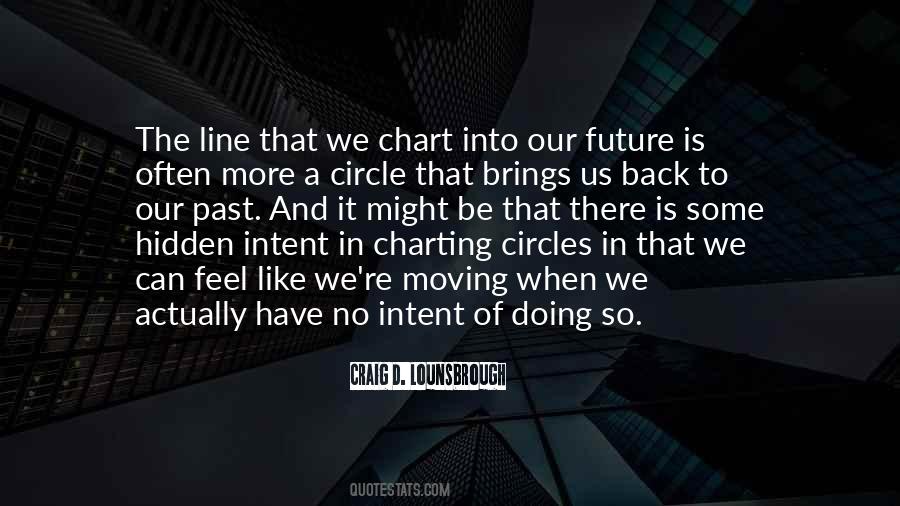 #87. We must delve deep into history the better to engage a true dialogue of civilisations. Fear of the present can impose upon the past its own biased vision. - Author: Tariq Ramadan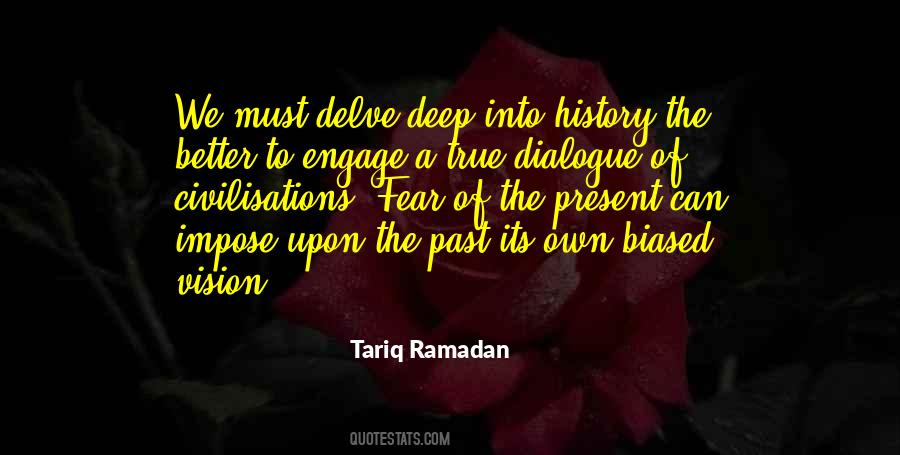 #88. I have to trick myself into writing a story - impose some arbitrary constraint to distract me from the constraints of my past habits or my fear that I don't have much to say. - Author: Catherine Brady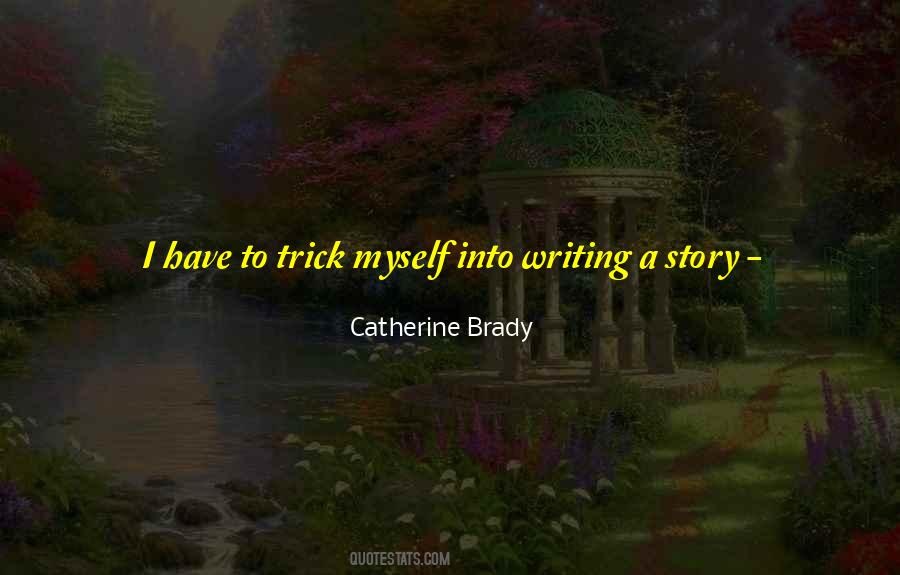 #89. There are people in every time and every land who want to stop history in its tracks. They fear the future, mistrust the present, and invoke the security of a comfortable past which, in fact, never existed. - Author: Robert Kennedy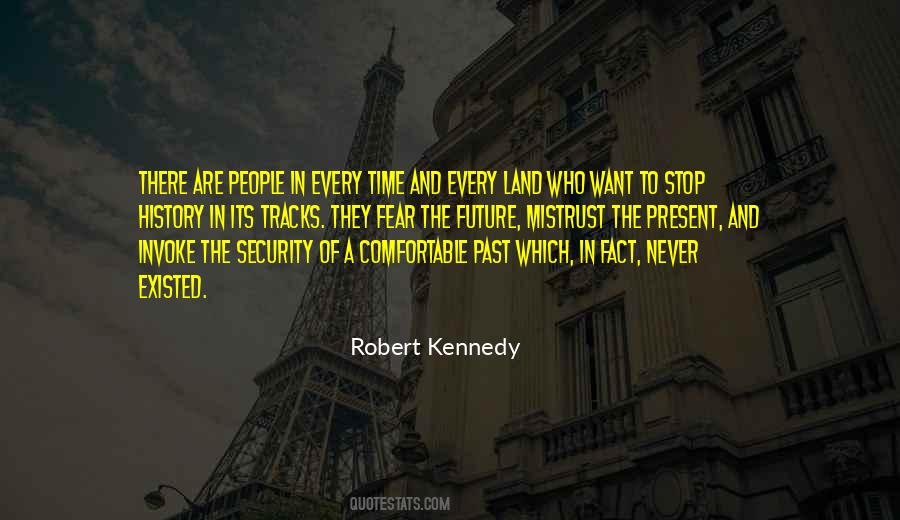 #90. History always constitutes the relation between a present and its past. Consequently fear of the present leads to mystification of the past - Author: John Berger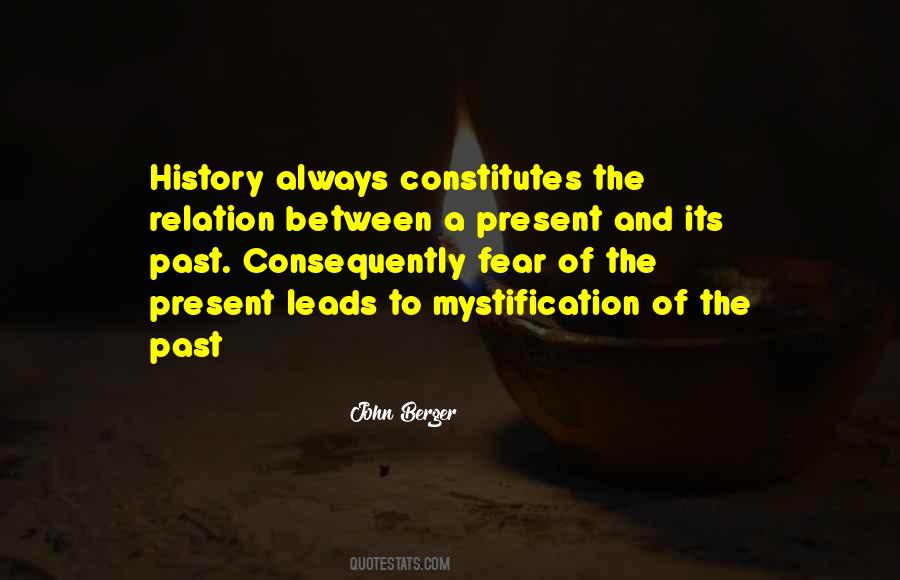 #91. A historian ought to be exact, sincere and impartial;
free from passion, unbiased by interest, fear, resentment or affection;
and faithful to the truth, which is the mother of history the preserver of great actions, the enemy of oblivion, the witness of the past, the director of the future. - Author: B.R. Ambedkar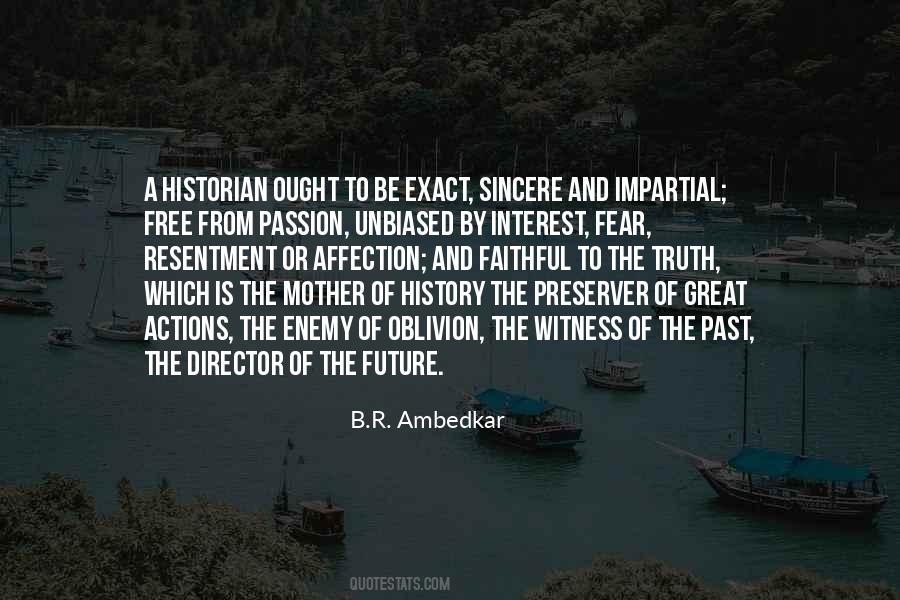 #92. It's a new day, a new beginning for your new life. With discipline you will be amazed at how much progress you'll be able to make. What have you got to lose except the guilt and fear of the past? - Author: Jim Rohn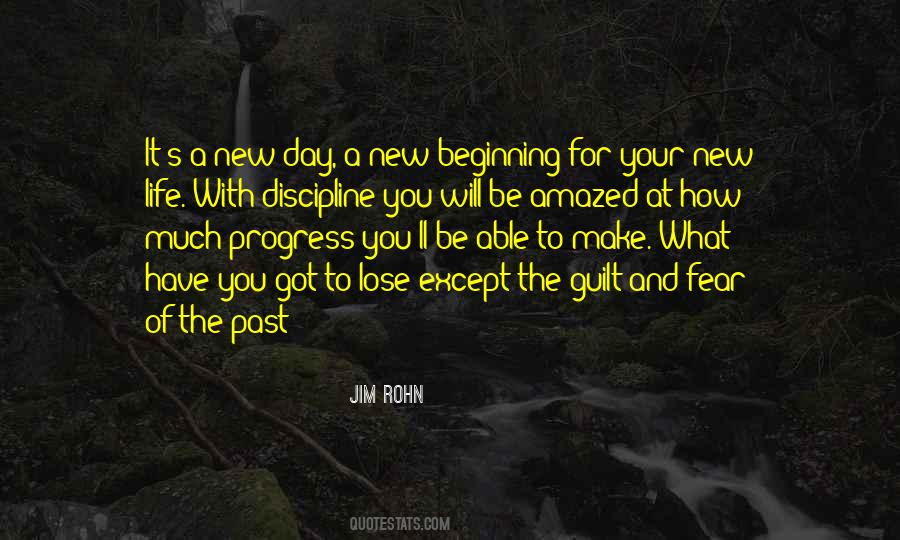 #93. No, how should I fear the touch of those vanished hands laid on me in love knowing? How could I be afraid of those that molded my flesh, leaving their remnants to live long past the grave? - Author: Diana Gabaldon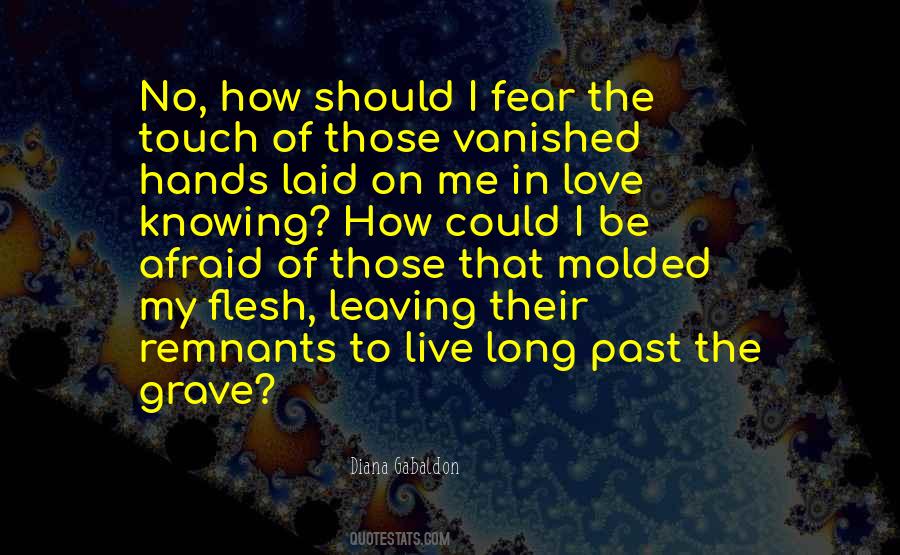 #94. Fear is the culprit that robs us of our greatest lives. And although it's mostly made up or a learned behavior from our past, almost everybody I've ever met in my life struggles with fear. - Author: Debbie Ford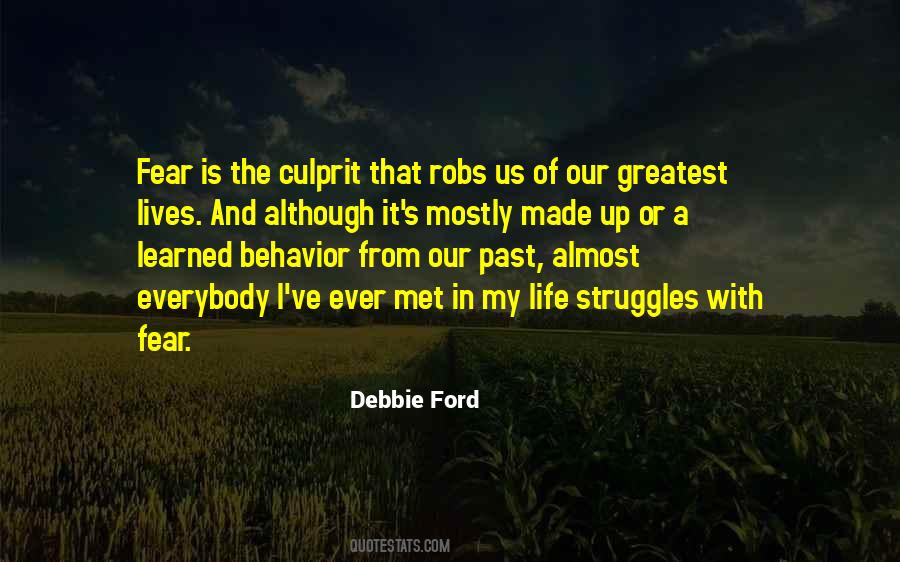 #95. Never let the sadness of your past and the fear of your future ruin the happiness of your present. - Author: Anonymous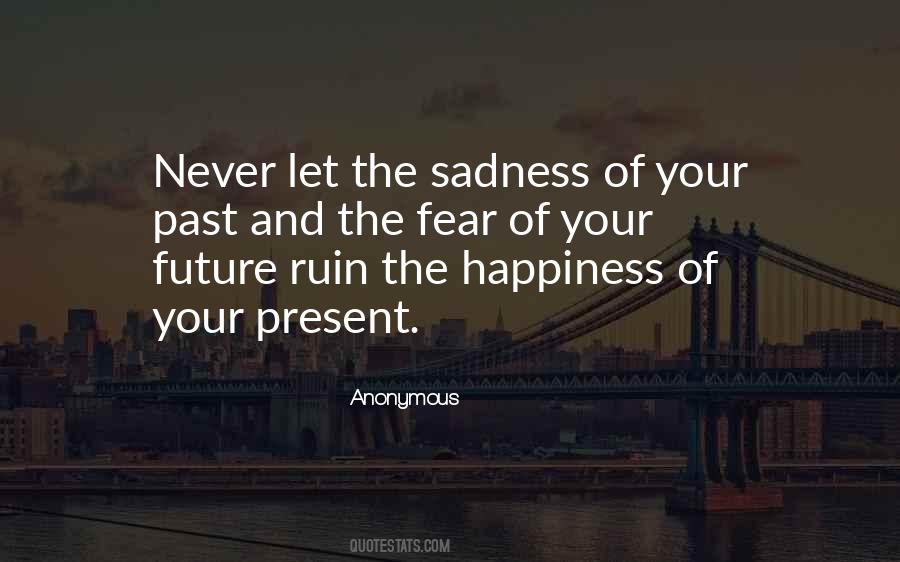 #96. Trust God's love. His perfect love. Don't fear He will discover your past. He already has. Don't fear disappointing Him in the future. He can show you the chapter in which you will. With perfect knowledge of the past and perfect vision of the future, He loves you perfectly in spite of both. - Author: Max Lucado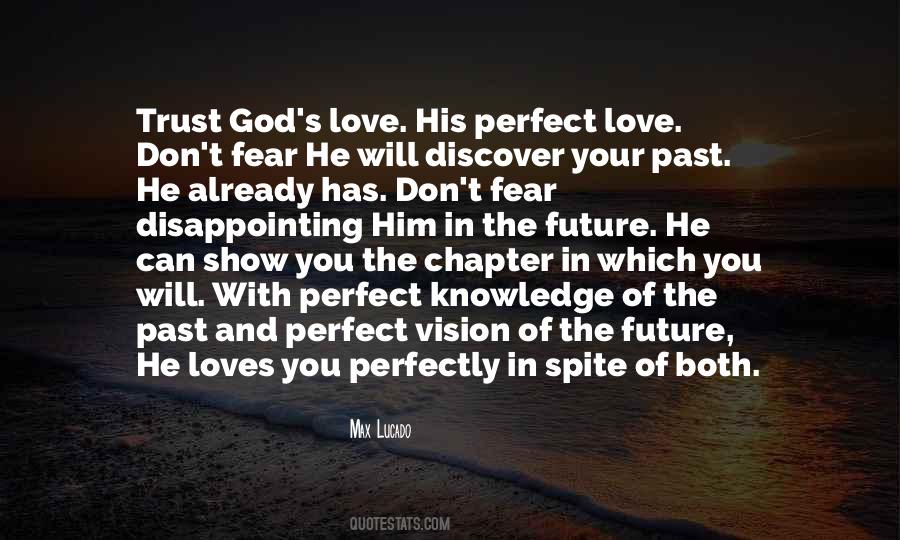 #97. Fear is to begin with the end in mind. There is no end. Life is eternal. Live life knowing that the end was your past, and the future is only full of beautiful beginnings through an eternity built around God's love. - Author: Shannon L. Alder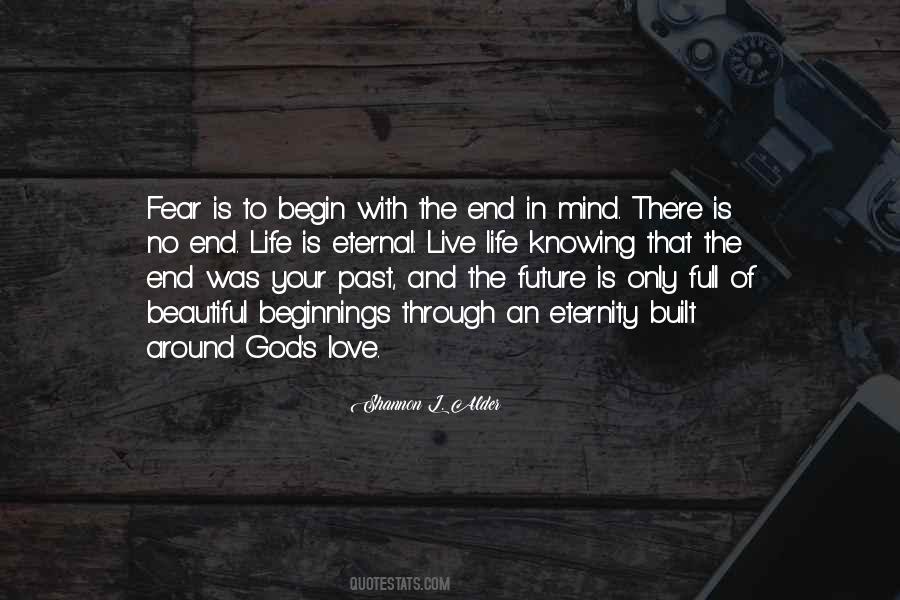 #98. Every moment is brand new, but we often fill the new with fear of the future or pain of the past instead of simply enjoying the present. - Author: Vivian Amis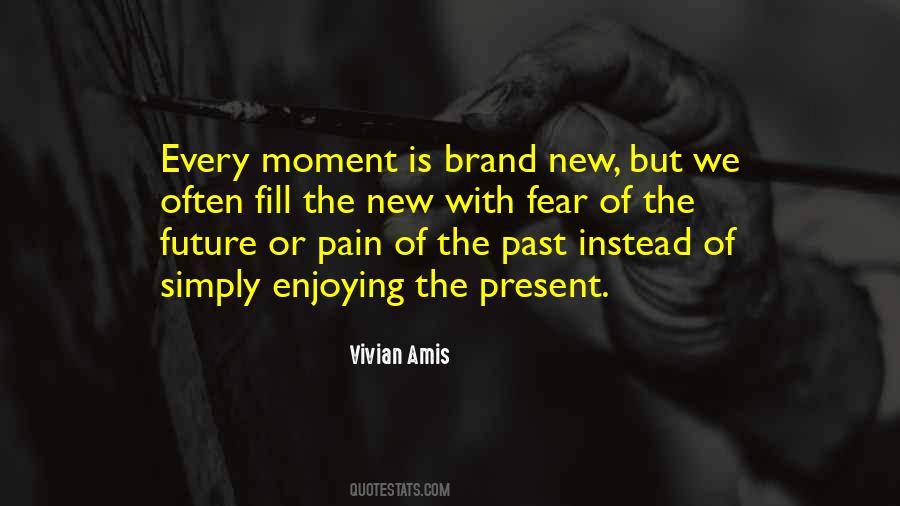 #99. There are so many of us now that we threaten to devour the world with our touching, starting with the things we adore most. At the same time, we obviously yearn for contact, and I fear what would happen if we were cut off from a distinctive, on-the-ground relationship with the past. - Author: Craig Childs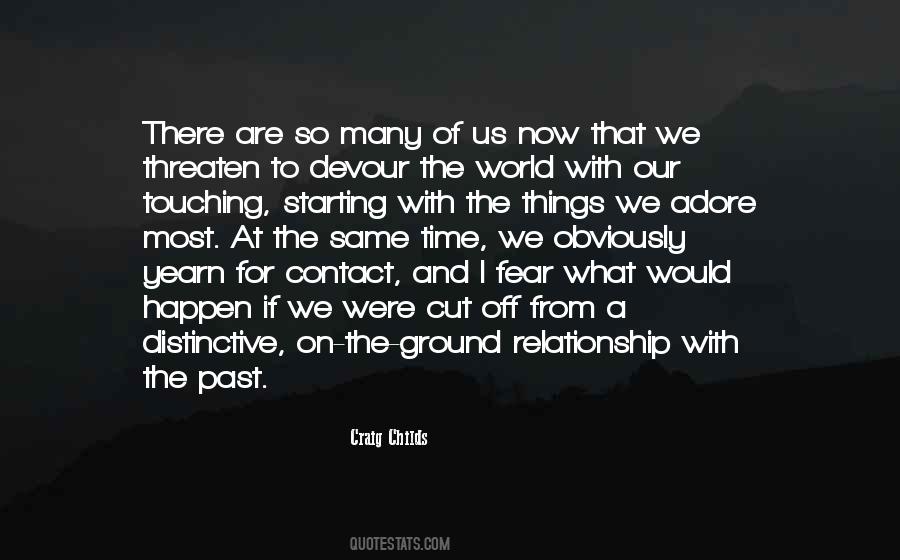 #100. The fear, guilt, and regret from the past year finally cracks and falls away, replaced by just this one moment that can never be anything more. This one small moment of weakness - Author: Kata Cuic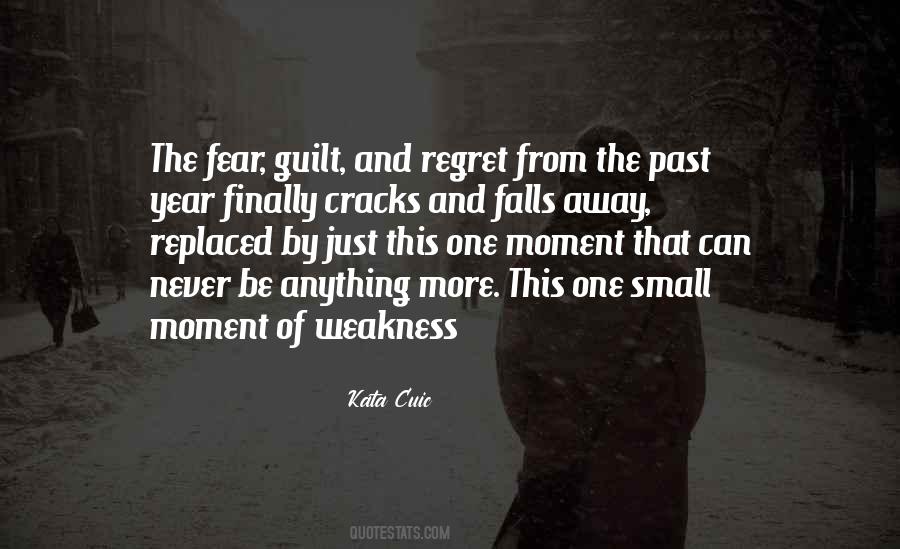 Famous Authors
Popular Topics