Fated Famous Quotes & Sayings
List of top 100 famous quotes and sayings about fated to read and share with friends on your Facebook, Twitter, blogs.
Top 100 Quotes About Fated
#1. You should find the same joy in one condition as in the other and thereby be free of care, that is all. But now, when the things that happened along take their leave, you cease to be joyful. From this point of view, though you have joy, it will always be fated for destruction. - Author: Zhuangzi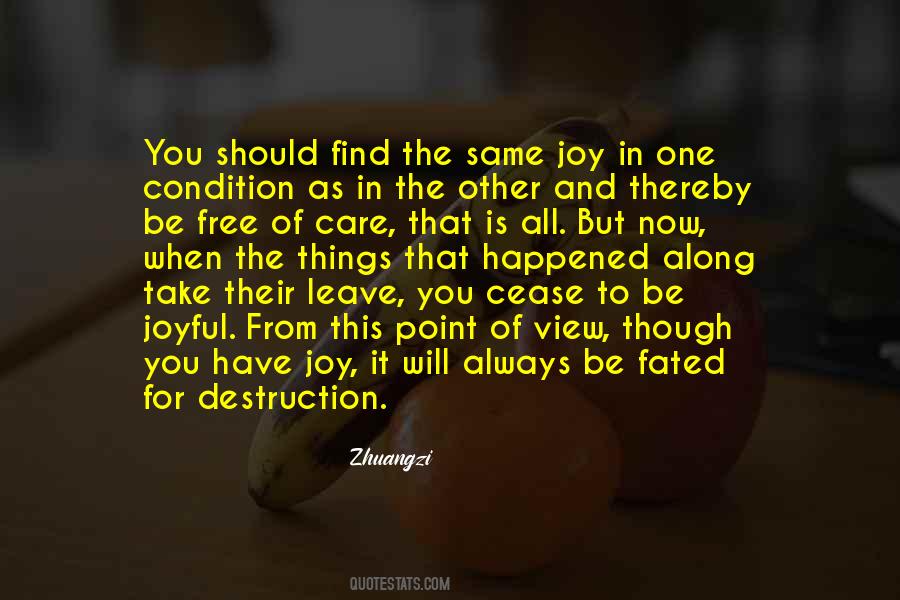 #2. If the British Empire is fated to pass from life into history, we must hope it will not be by the slow process of dispersion and decay, but in some supreme exertion for freedom, for right and for truth. - Author: Winston Churchill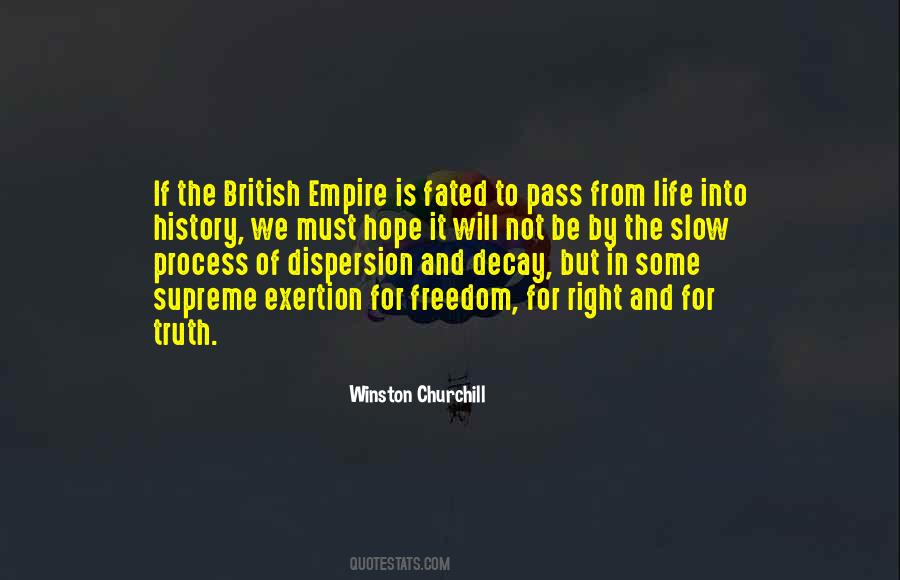 #3. The choices that we make through our lives, the people who intersect us on our path kind of change what our fated destiny is. So some of us are lucky enough for the choices that we make to keep us on our path. - Author: Anthony Mackie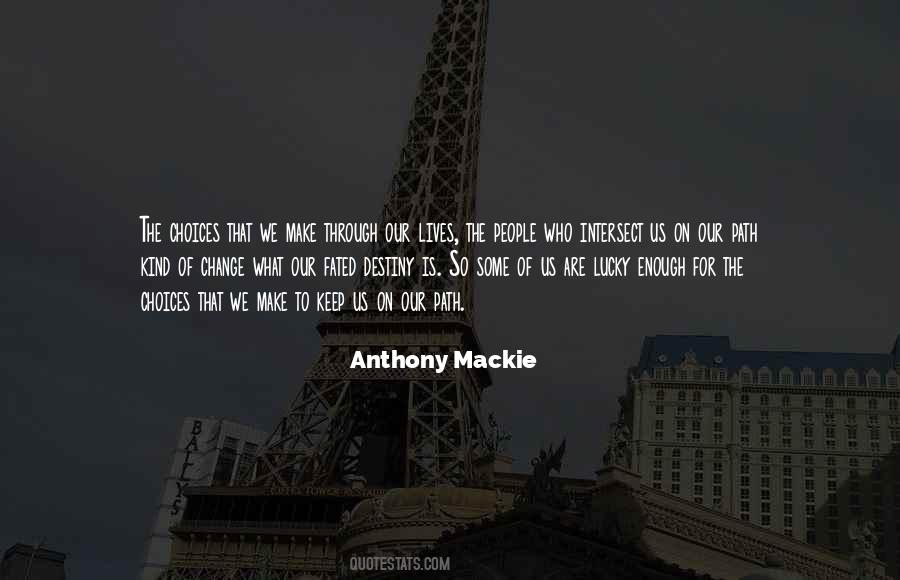 #4. I was falling in love with her, and she was falling in love with me. It was fated, decided before any of us were born, and I hated it as much as I loved it. I could barely stand it. (Eric) - Author: Shannon A. Thompson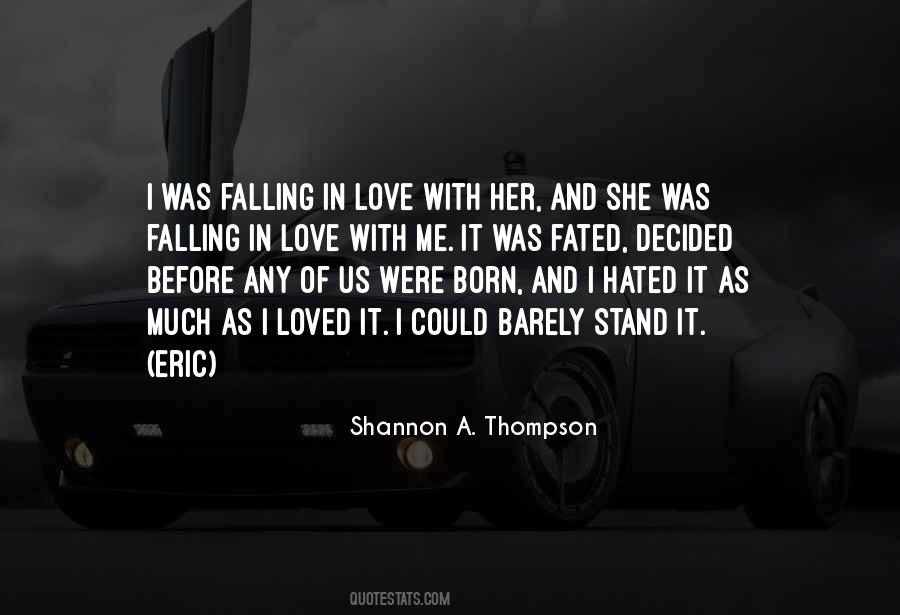 #5. In many instances, the failures of my greatest schemes ultimately lead to the fulfillment of my greatest successes. Therefore, God will allow our most cherished dreams to perish so that we might turn and seek out His most cherished plans. - Author: Craig D. Lounsbrough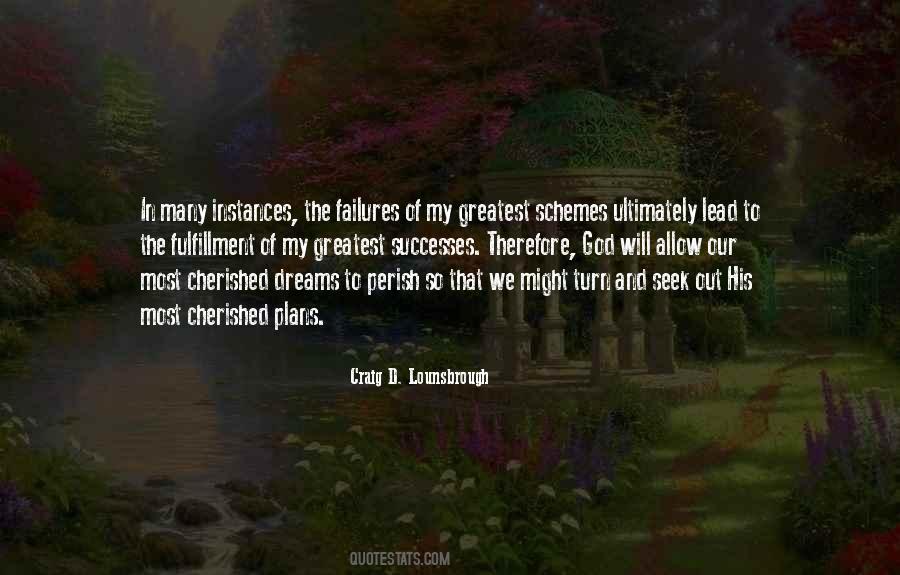 #6. The mounting evidence of an erosion of skills, a dulling of perceptions, and a slowing of reactions should give us all pause. As we begin to live our lives inside glass cockpits, we seem fated to discover what pilots already know: a glass cockpit can also be a glass cage. - Author: Nicholas Carr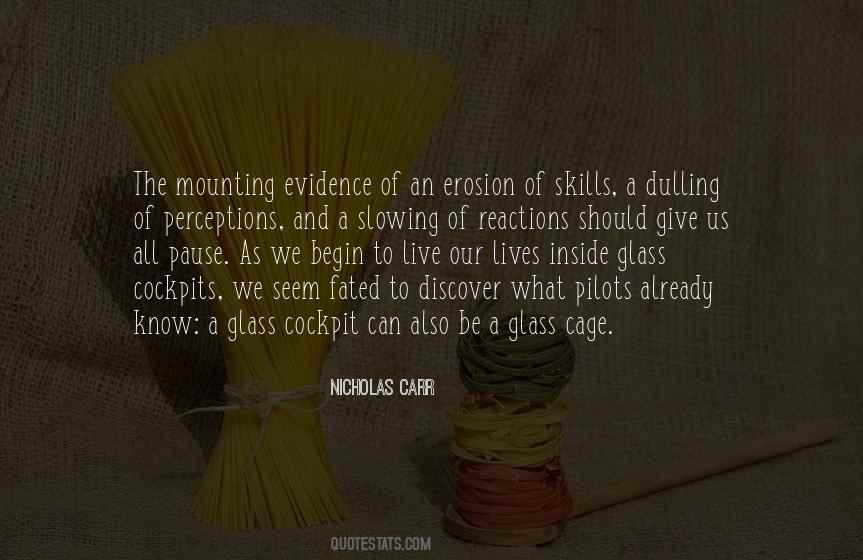 #7. In fact, every child on earth born after June 23, 1988 belongs to what I call Generation Hot. This generation includes some two billion young people, all of whom have grown up under global warming and are fated to spend the rest of their lives confronting its mounting impacts. - Author: Mark Hertsgaard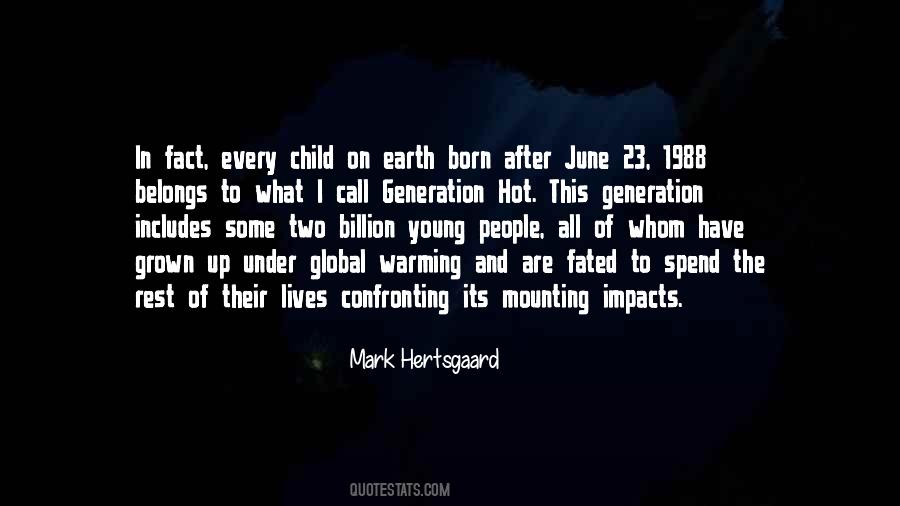 #8. I would do anything I could to go back to that time when we could have been together and change the way I acted. I'd change it, because we were fated to be together however brief, however unbelievable, however painful, however flawed.- Jack Howard - Author: K.A. Linde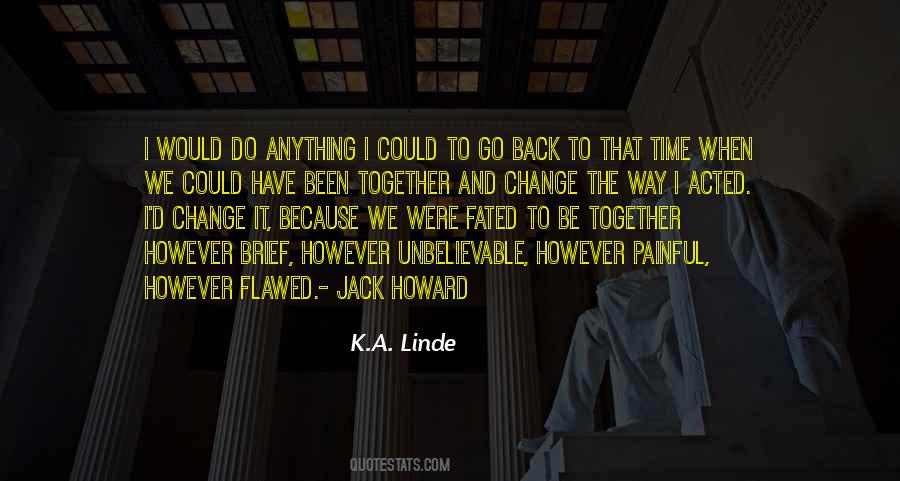 #9. His idea was still with me, because it was not a vapor sunshine could disperse, nor a sand-traced effigy storms could wash away; it was a name graven on a tablet, fated to last as long as the marble it inscribed. The craving to know what had become of him followed me everywhere. - Author: Charlotte Bronte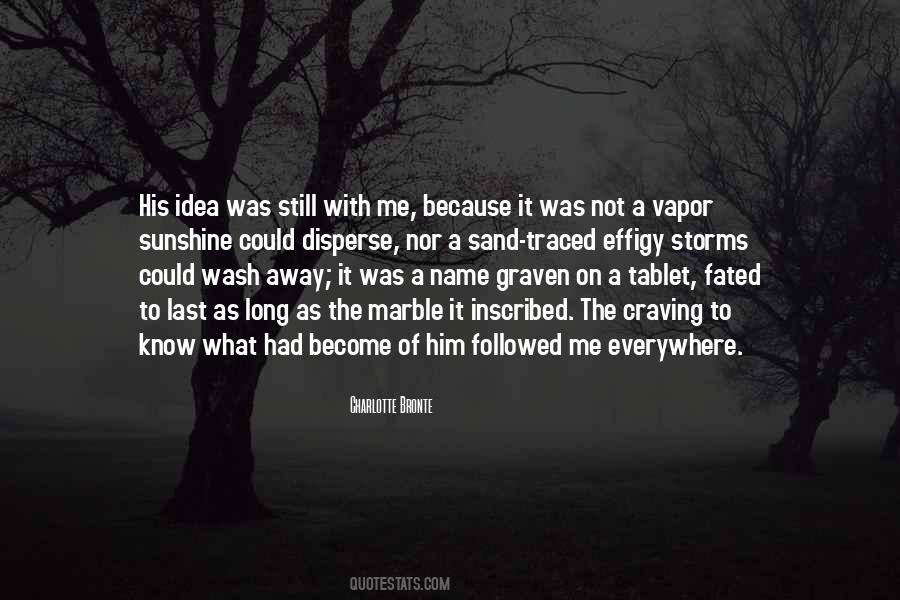 #10. We are fated to love one another; we hardly exist outside our love, we are just animals without it, with a birth and a death and constant fear between. Our love has lifted us up, out of the dreadfulness of merely living. - Author: John Updike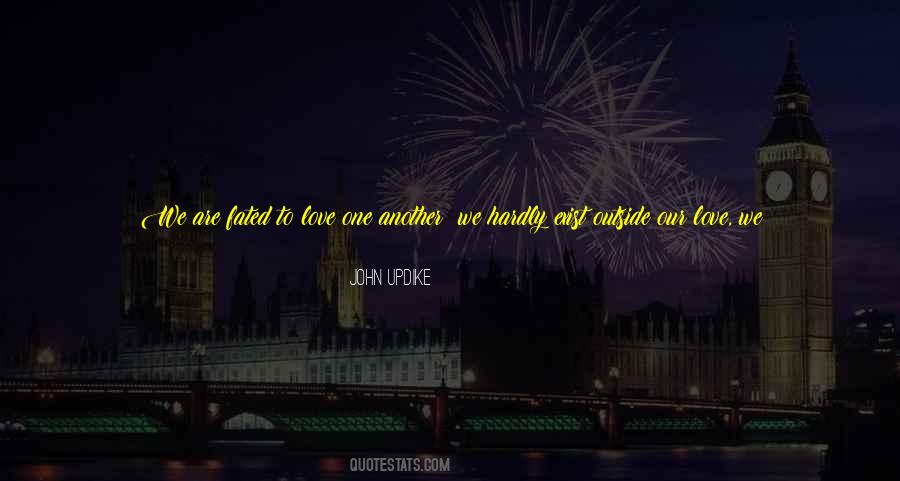 #11. It was inevitable I loved you - we were soul mates - for the same reason, we were fated to suffer ... - Author: John Geddes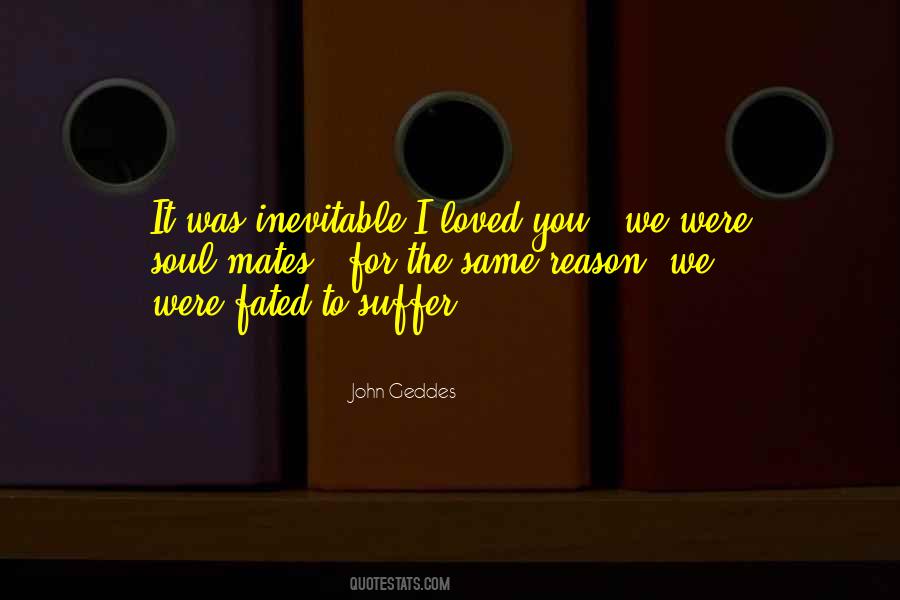 #12. Delusions, errors and lies are like huge, gaudy vessels, the rafters of which are rotten and worm-eaten, and those who embark in them are fated to be shipwrecked. - Author: Gautama Buddha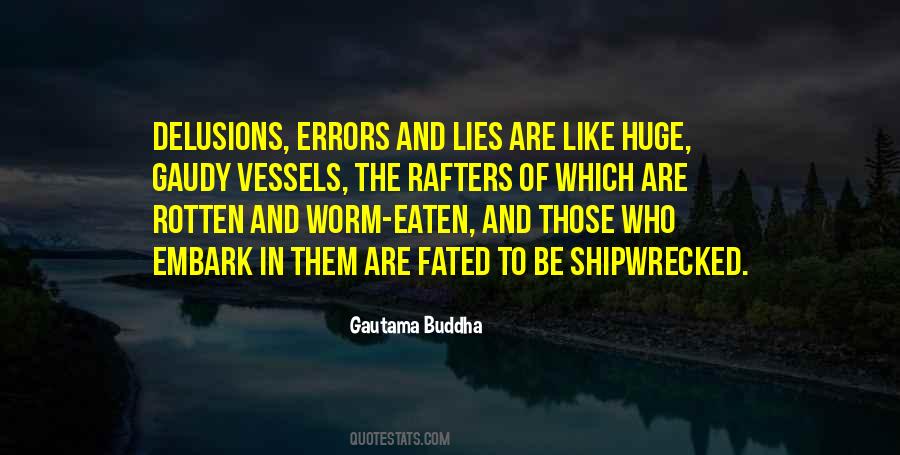 #13. She was supposed to be my salvation, and though she wouldn't be my ruin, the loss was going to thrust my life right back to what started my downward spiral in the first place. - Author: Kelly Moran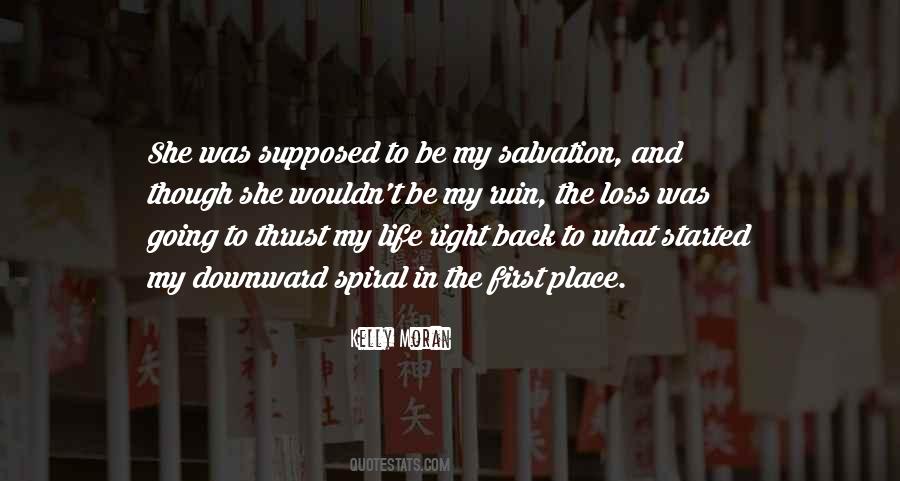 #14. There was an ill-fated aspect to all of his love's labours, however, for they required of their object a delicacy of intuition that he himself did not possess. - Author: Eleanor Catton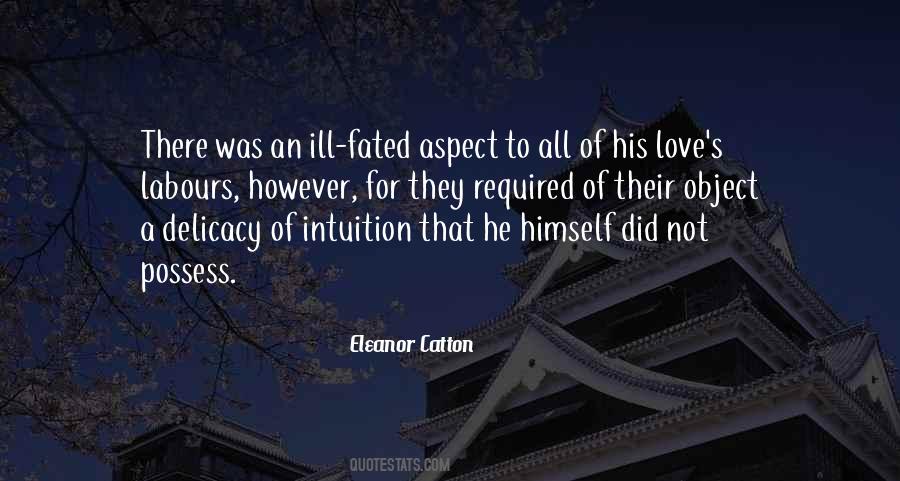 #15. My mother's pregnancy, it seems, was fated; my birth, however, owed a good deal to accident. - Author: Salman Rushdie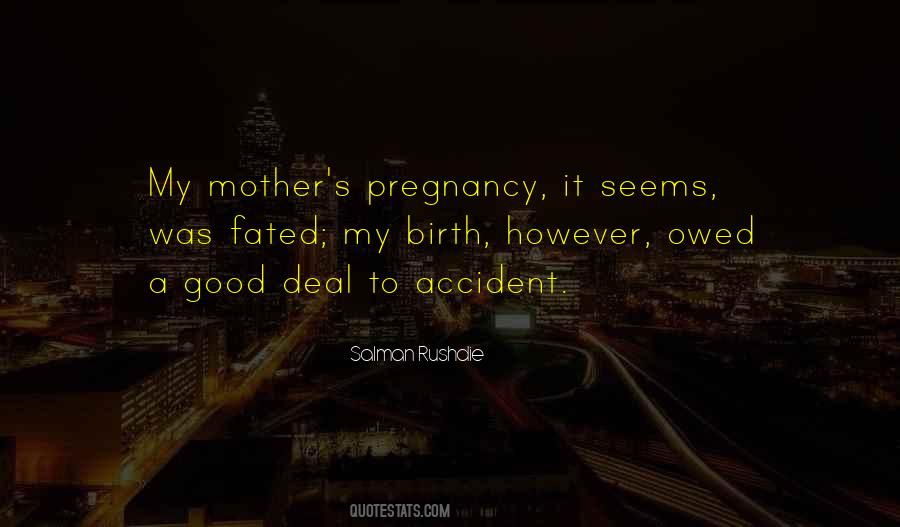 #16. Man is tormented by no greater anxiety than to find someone quickly to whom he can hand over that great gift of freedom with which the ill-fated creature is born. - Author: Fyodor Dostoyevsky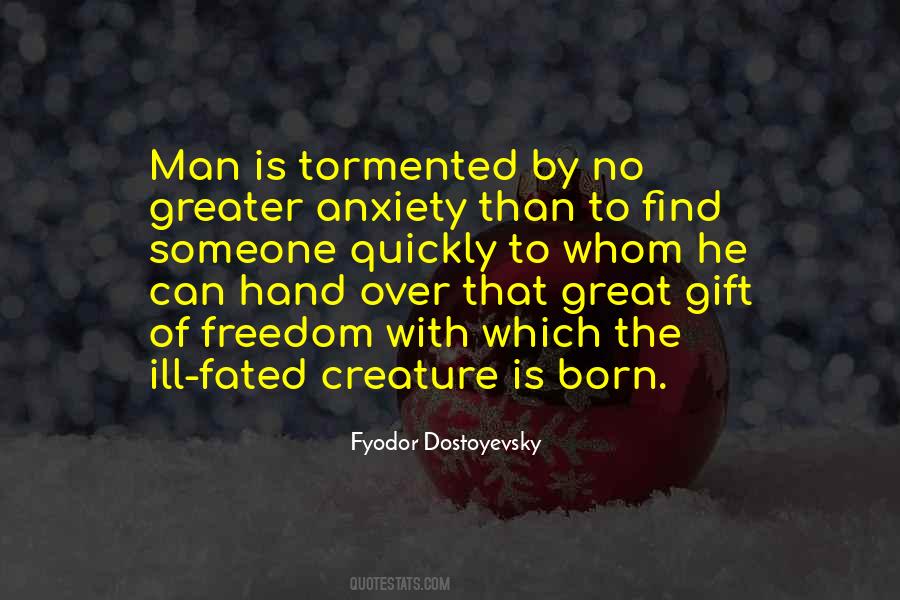 #17. We all cross a hundred peaks to get even this far. And there will be more before we each make it to whatever God has fated for us. - Author: Nadia Hashimi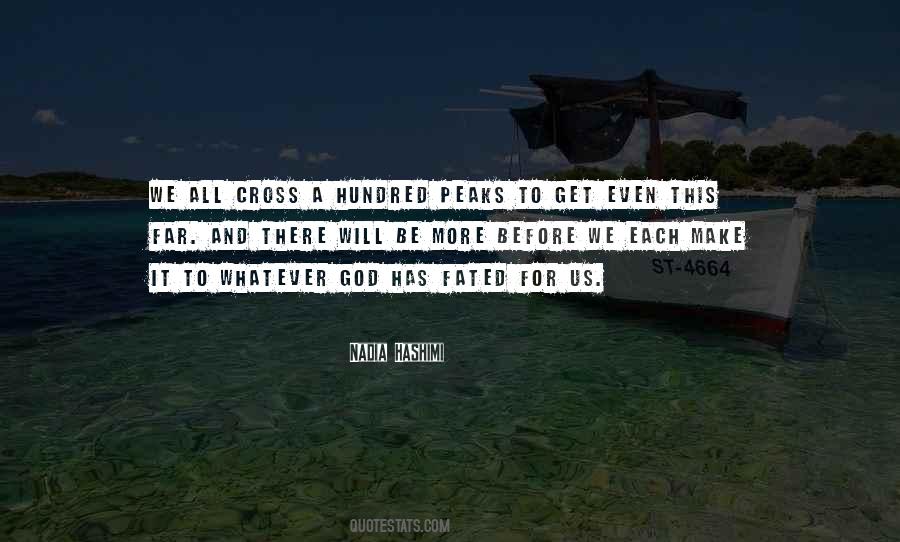 #18. Inde fernut, titidem qui vivere debeat annos, corpre de patrio parvum phenica renasci' It's from Ovid. It means, 'A little phoenix is born anew from the father's body, fated to live the same number of years. - Author: Ian Caldwell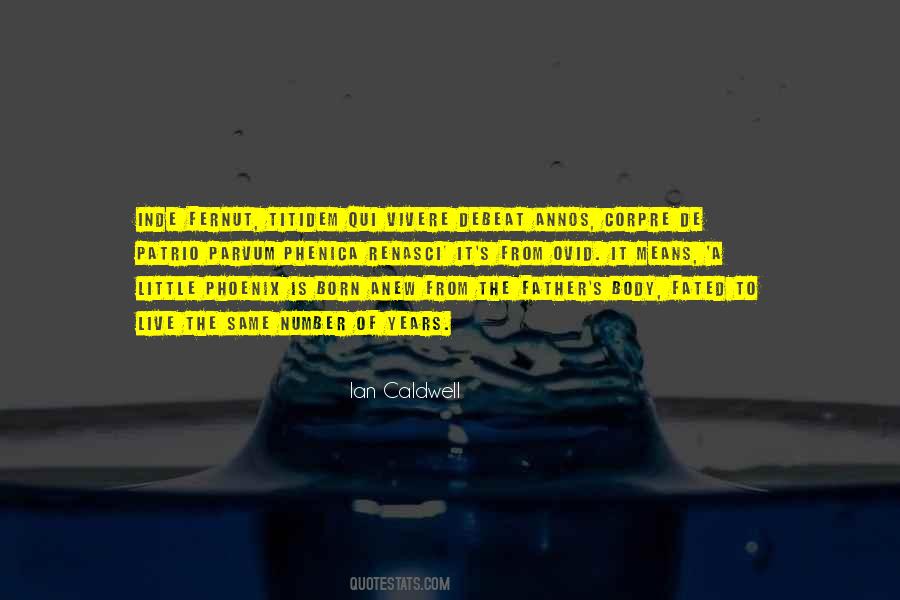 #19. When I was happy I thought I knew men, but it was fated that I should know them in misfortune only. - Author: Napoleon Bonaparte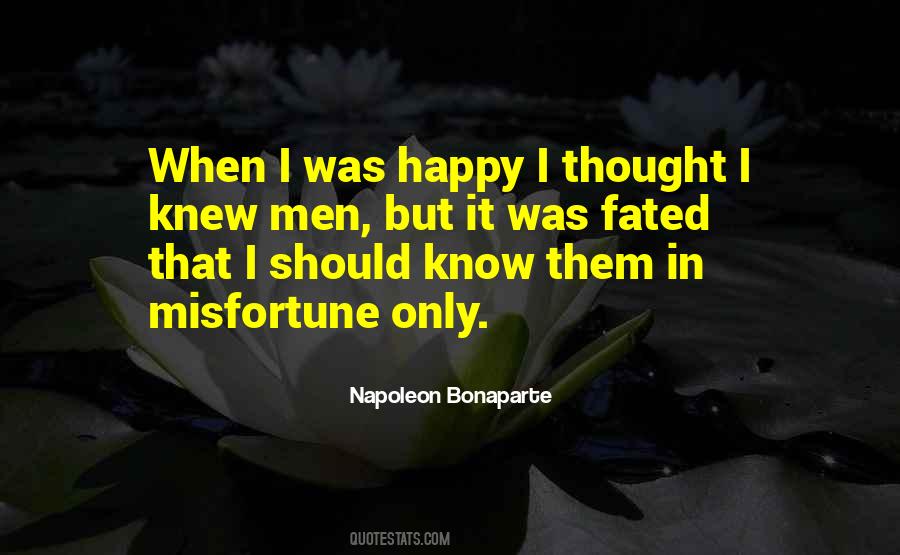 #20. I believe life is fated - what's going to happen will happen. - Author: Kierston Wareing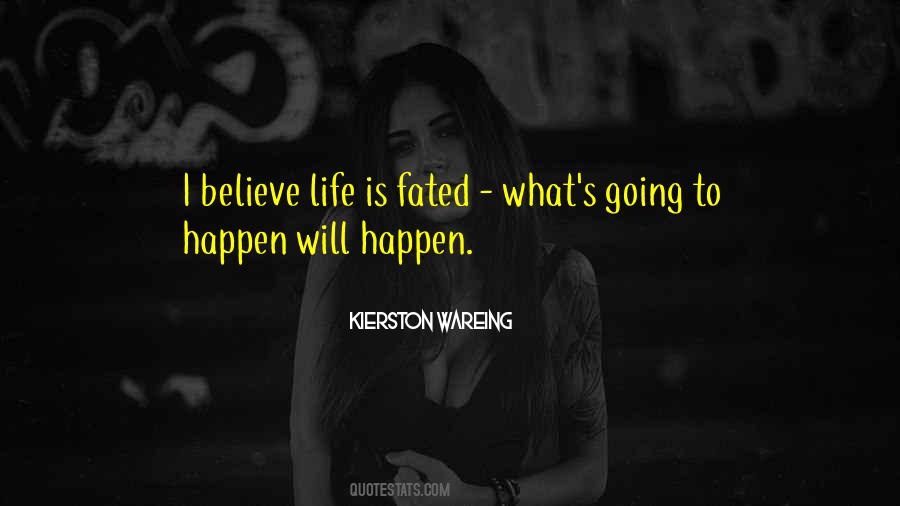 #21. She'd thought there was no greater connection than destiny decreeing them joined. But there was - the choice they'd made to love each other. - Author: Kresley Cole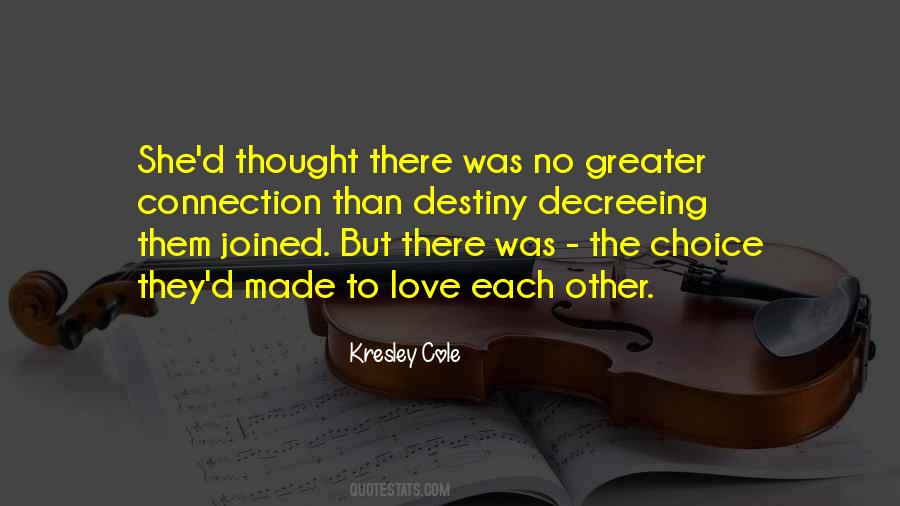 #22. Effie Seabright, we've been fated to meet you for a long time. - Author: Rosie Pugh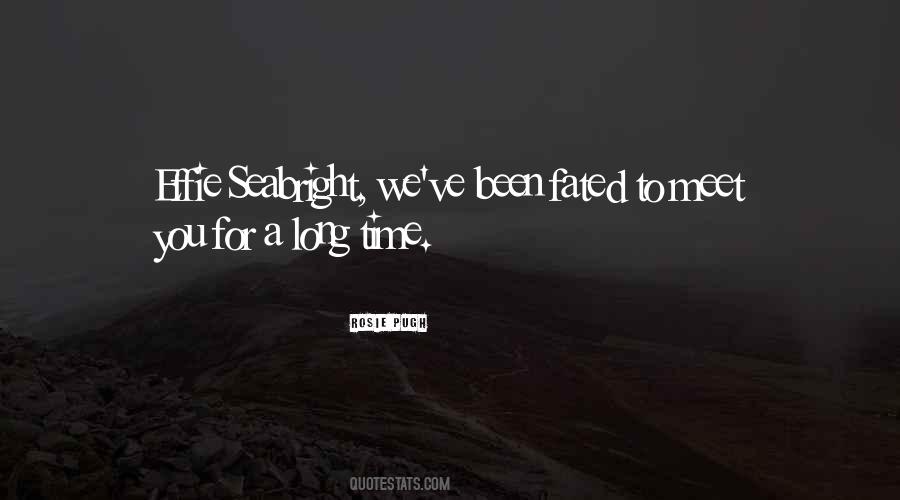 #23. We were all fated to die, and so it is good that at least we can be sure our deaths today might bring about a good end, might make the world a better place. - Author: Orson Scott Card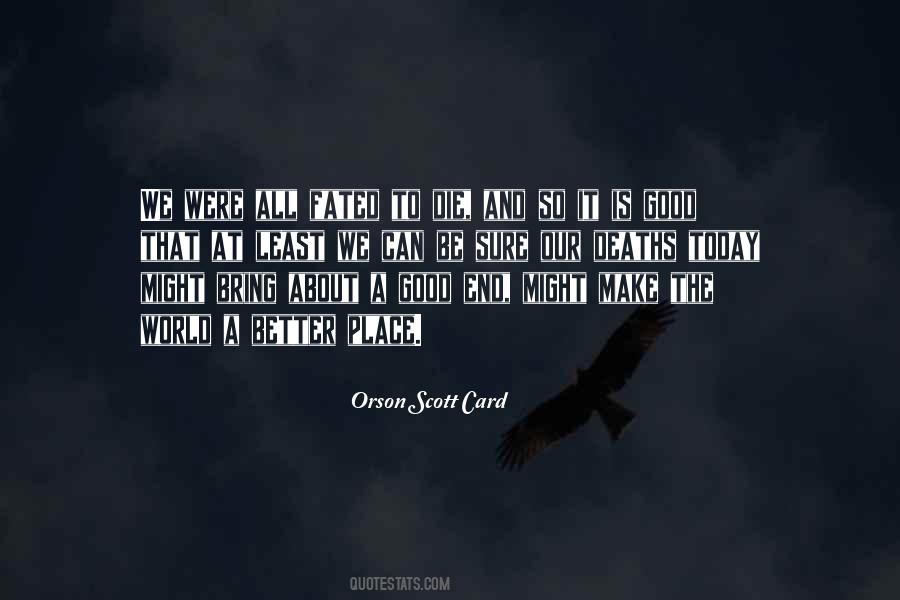 #24. Love affair. Doesn't that sound so middle-aged? And also ill-fated. Like ill-fated is an understood prefix to love affair. Well, ill-fated is fine, as long as it's a meaty and fraught ill-fated love affair, not a pale and insipid one. - Author: Laini Taylor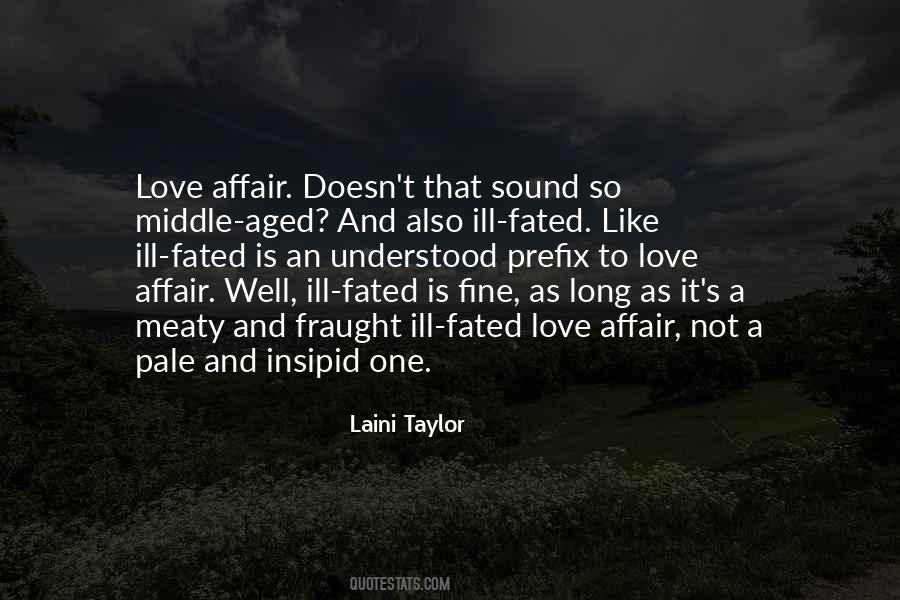 #25. How shall we embrace the common man: give us a reason without a doubt?
Is Everyman fated as an island unto himself 'til his last bright day goes by? - Author: David B. Lentz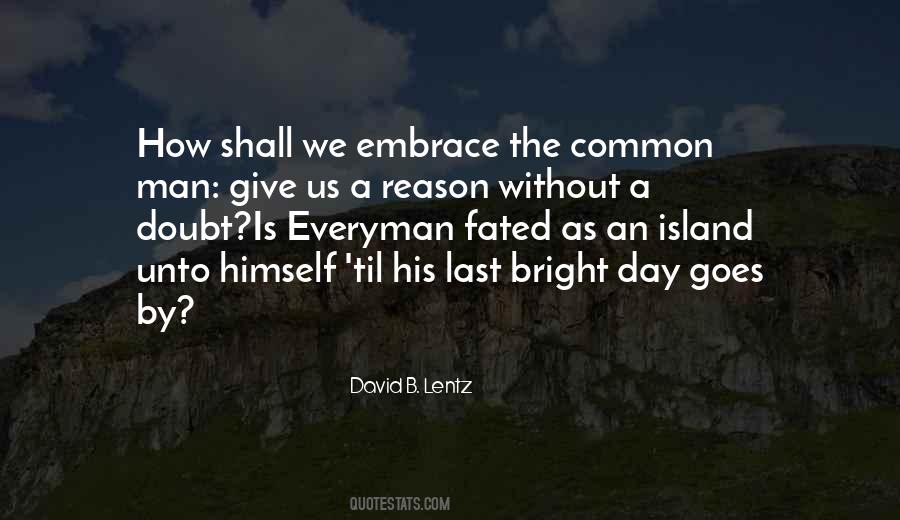 #26. Felix has always believed that if there is one thing in life that is fated it is our birth, that far-fetched conspiracy of circumstances which have to occur in order for us to get born. - Author: Glenn Haybittle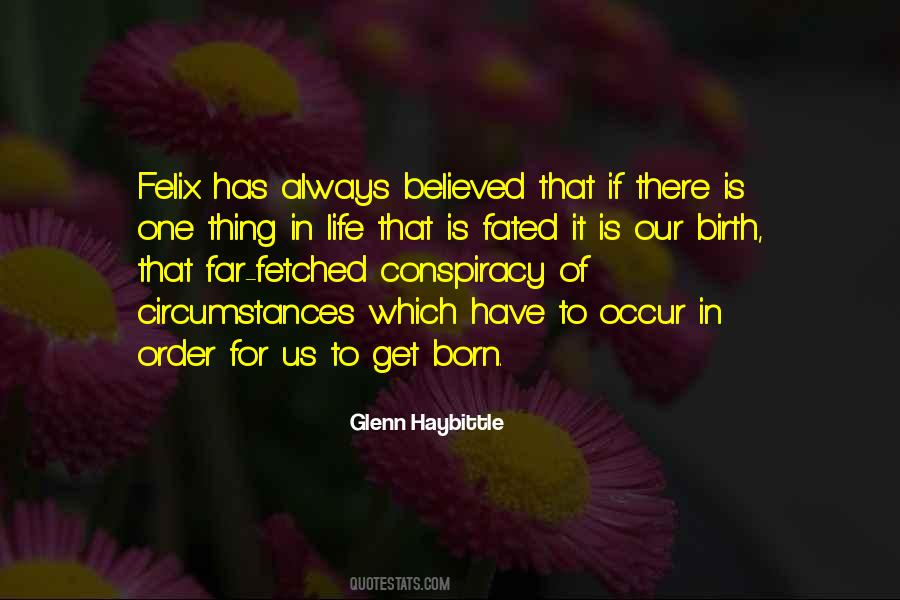 #27. Fearlessness is better than a faint-heart for any man who puts his nose out of doors. The length of my life and the day of my death were fated long ago. - Author: Kevin Crossley-Holland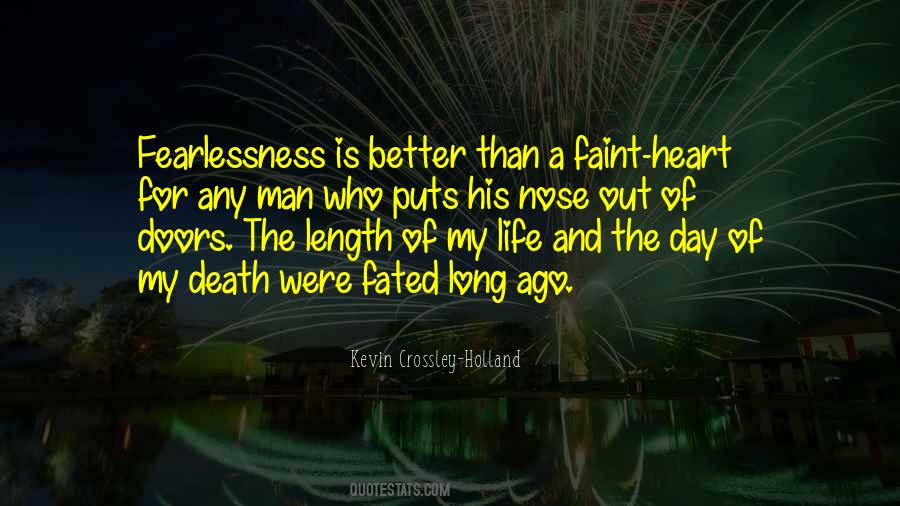 #28. We aren't fated to survive, then at least let us fight it to the end. Let it be fate that extinguishes us, not our own lack of heart. - Author: Robin Hobb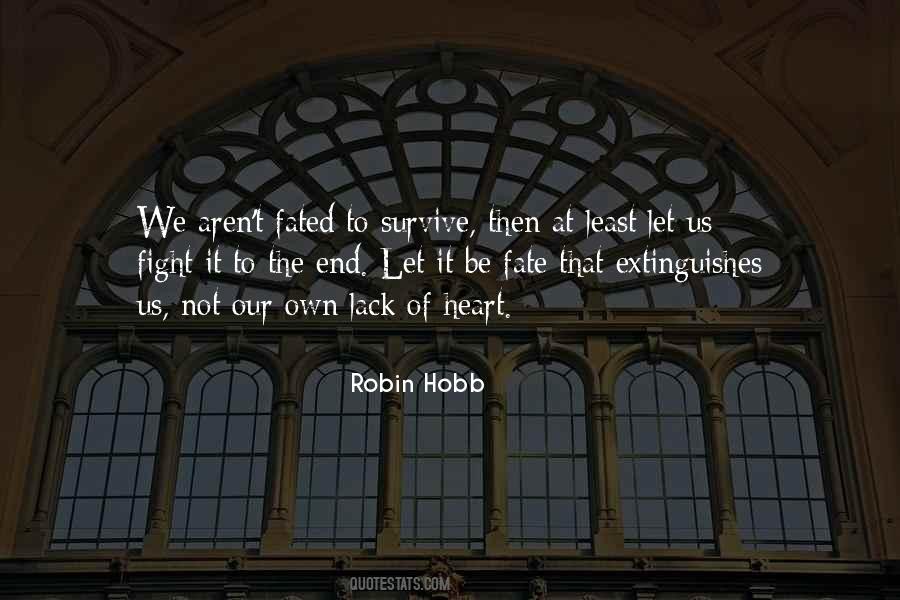 #29. I don't think unhappiness is fated. - Author: Michelle Moran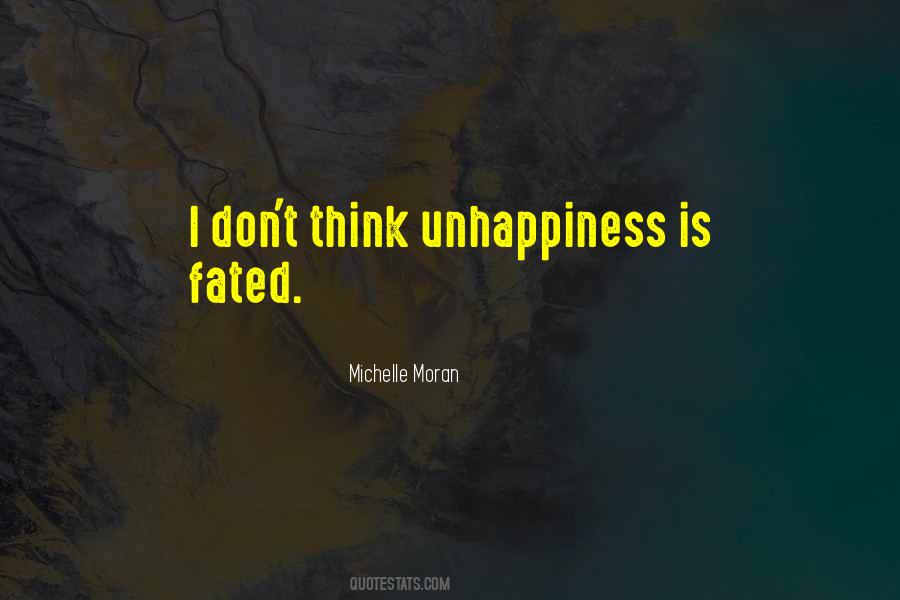 #30. Why are we fated to love those we cannot have ...? - Author: Anne Rouen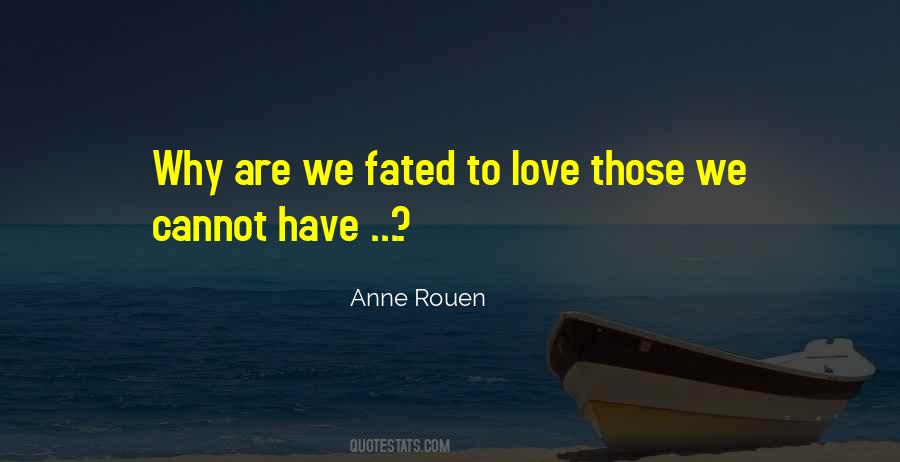 #31. Well, no. I'm not saying I'm not enjoying this immensely. She feels heavenly in my arms. Fits perfectly. And if we are fated, the least you can do is let me hold her." Jasper to Dodge (Crossover) - Author: Mireille Chester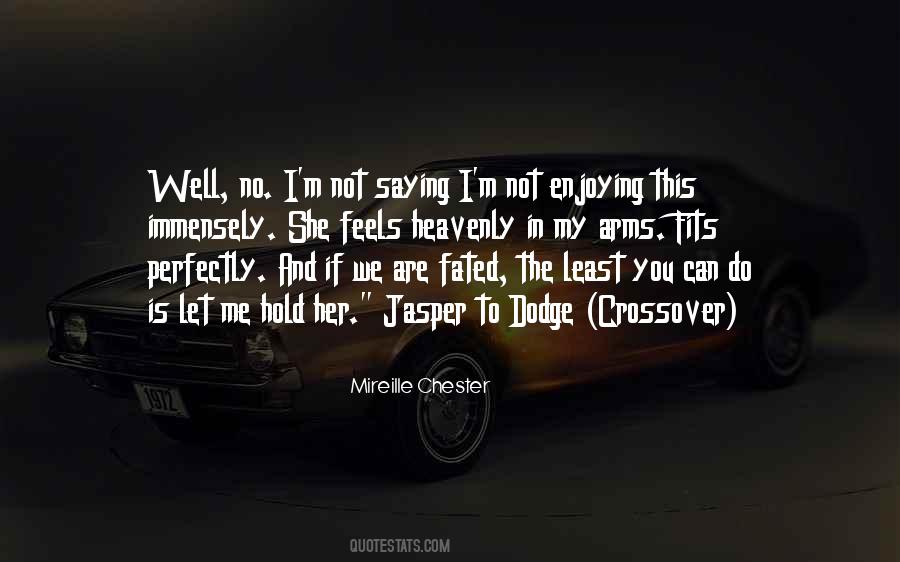 #32. The event of the landing of these brethren upon our shores is to be, not without its beneficial effect, as well to the colored population of this country, as it promises to be to ill-fated Africa. - Author: Lewis Tappan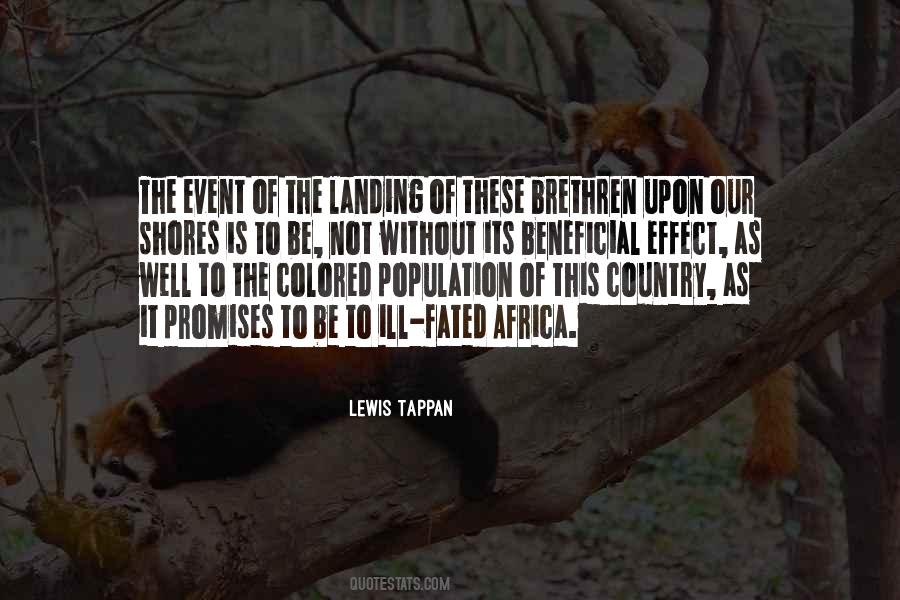 #33. She couldn't detach from him, couldn't catch her breath, and didn't want to. Not ever again. - Author: Kristin Miller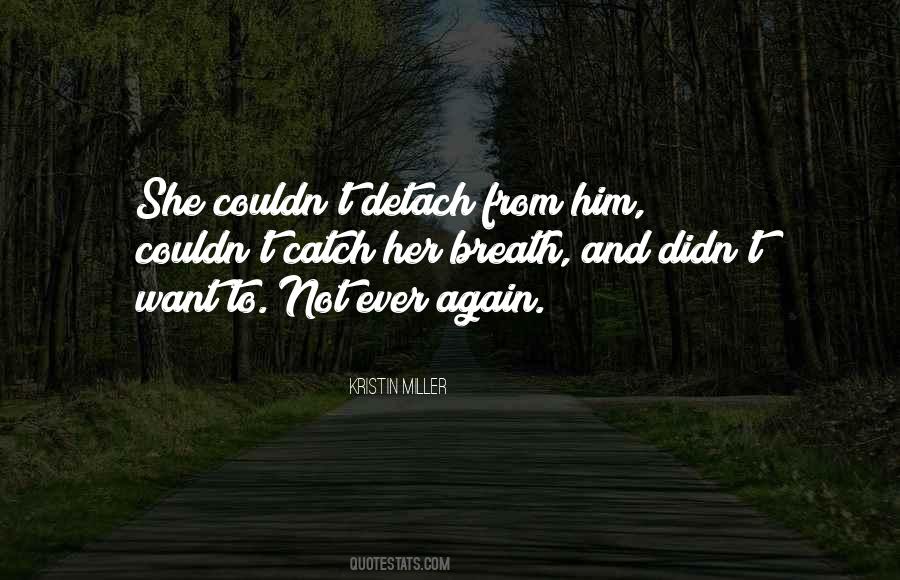 #34. Obviously, we're all going to die at some point. Whether or not we are fated to die in some way I think is debatable. I just don't know which side to debate. - Author: Mary Elizabeth Winstead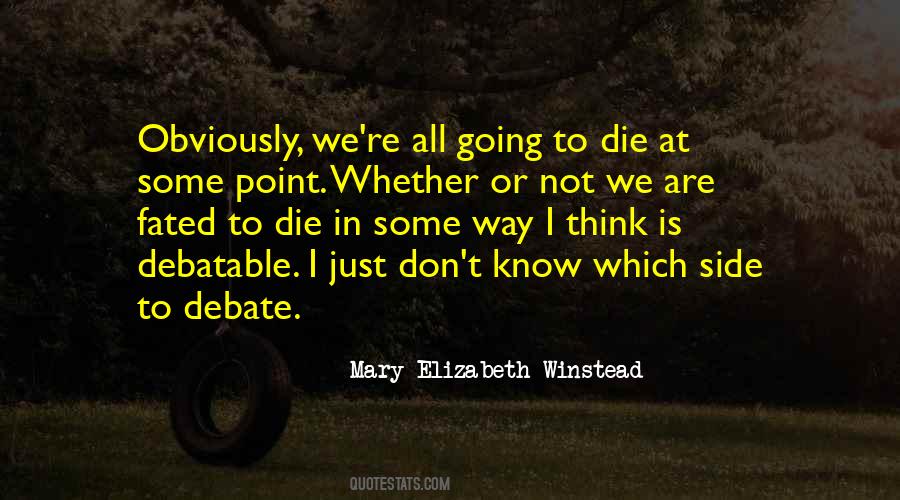 #35. My relationship with Jackson had felt fated. Whatever I had with Aric felt . . . endless. - Author: Kresley Cole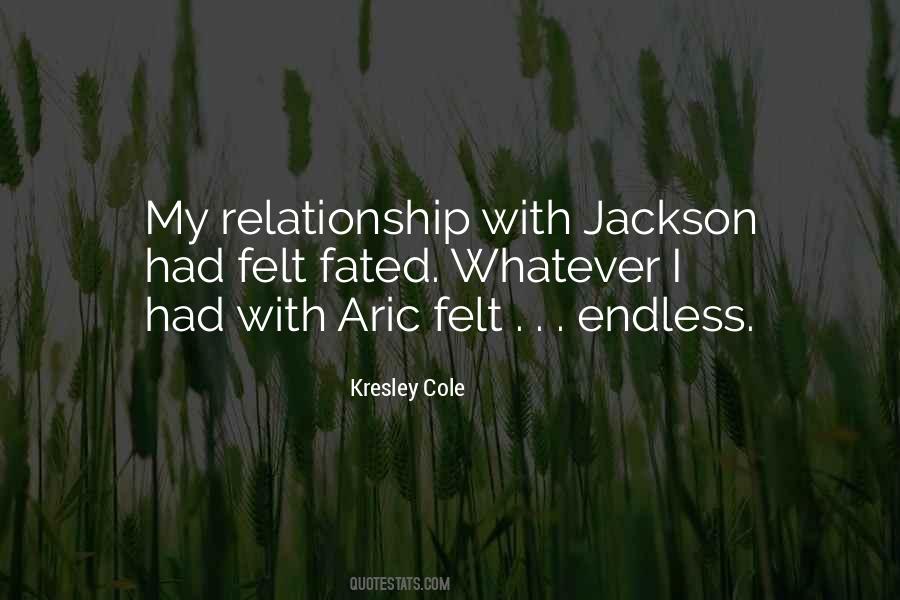 #36. No power or virtue of man could ever have deserved that what has been fated should not have taken place. - Author: Ammianus Marcellinus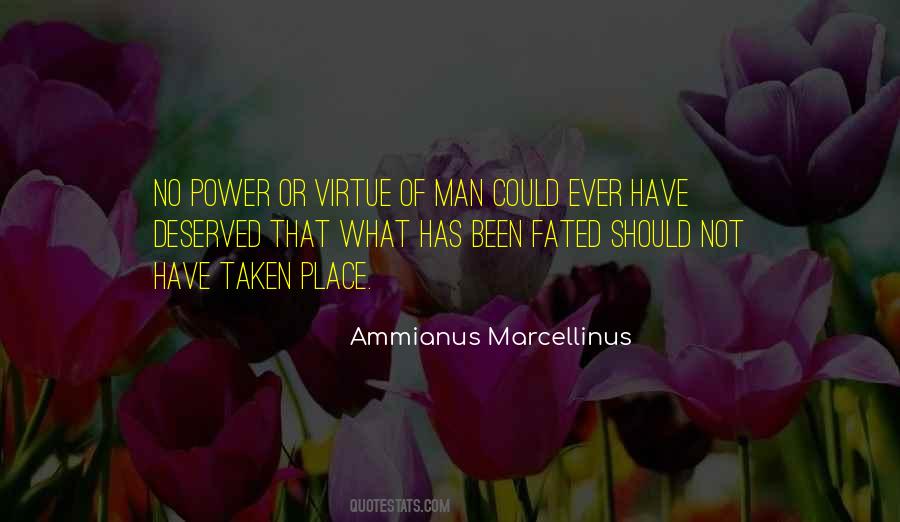 #37. The ill-fated dodo. Slow, flightless and dangerously trusting, the dodo was driven to extinction just seventy years after first being spotted by European sailors on its island home of Mauritius. - Author: Bill Bryson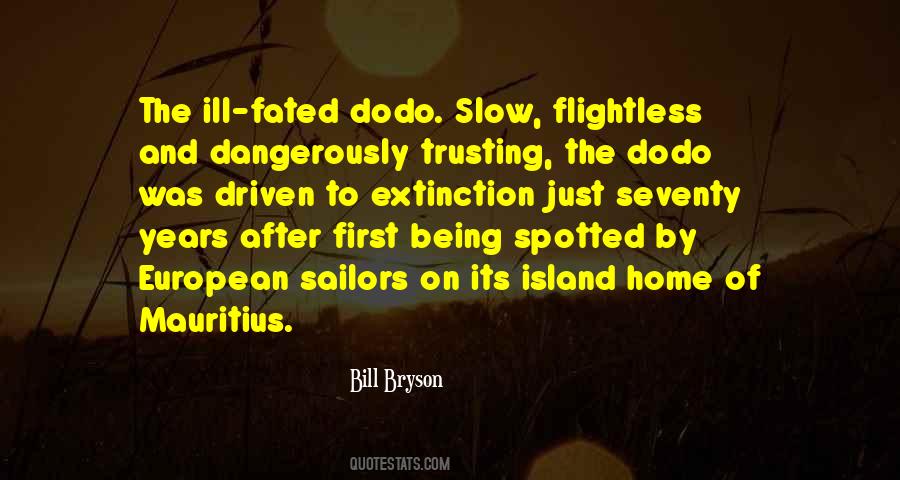 #38. For the moment, I'm just Daire - a girl straddling two bloodlines. One I was given - one I must earn. - Author: Alyson Noel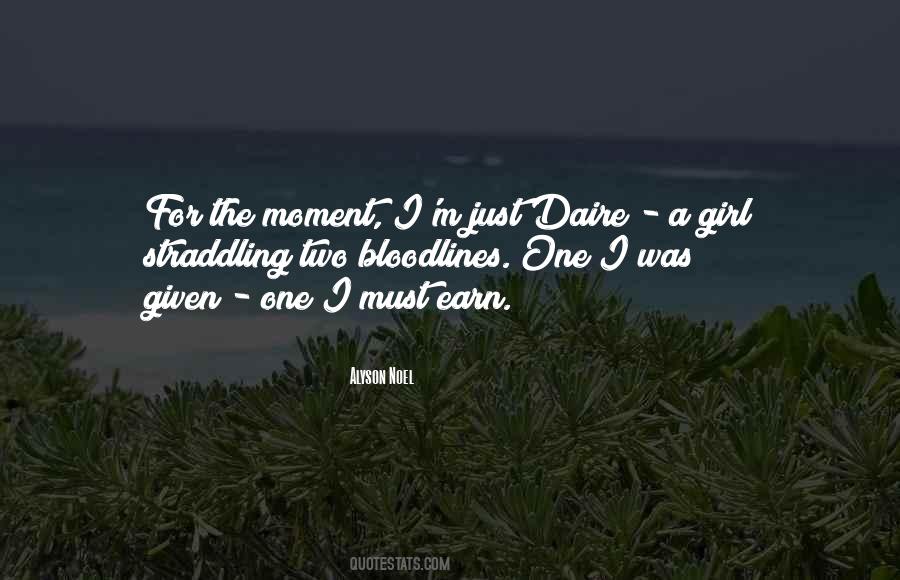 #39. Ironic, is it not, that the great Divinicus Nex cowers in fear from that which should be her fated prey? A decidedly diametric circumstance.
What? It's irritating when the monster hunting you has a better vocabulary than your own. Maybe it could do my eulogy? - Author: A&E Kirk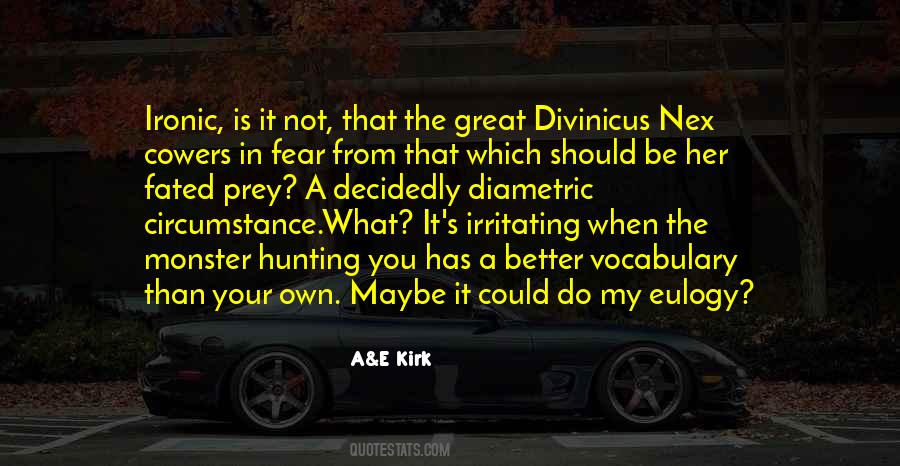 #40. It was Crabcalf who, surrounded and walled in by the hundreds of unsold copies of his ill-fated novel, felt that he if anyone should be the judge not only of literature, but all that went on behind the sordid scenes. - Author: Mervyn Peake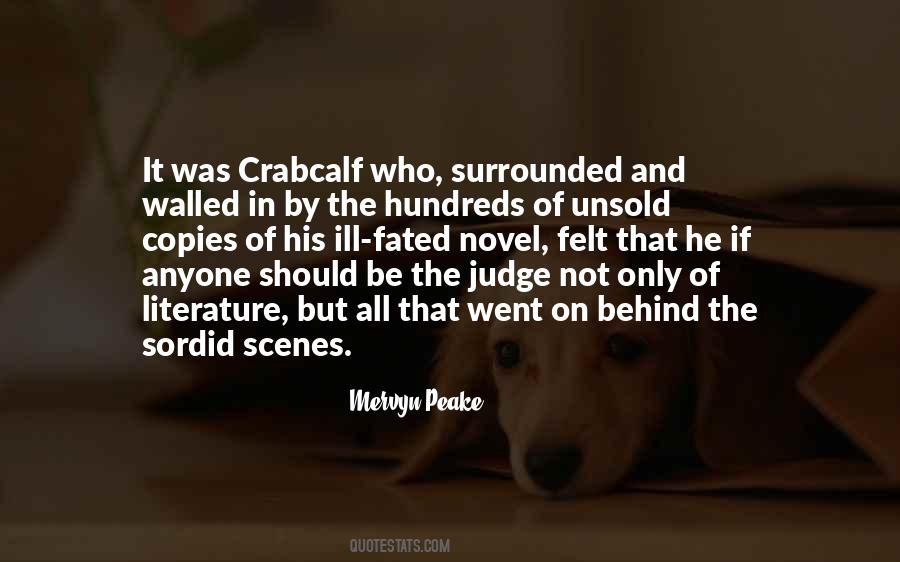 #41. Some people just fated to fuck up even when them smart enough to know better. - Author: Marlon James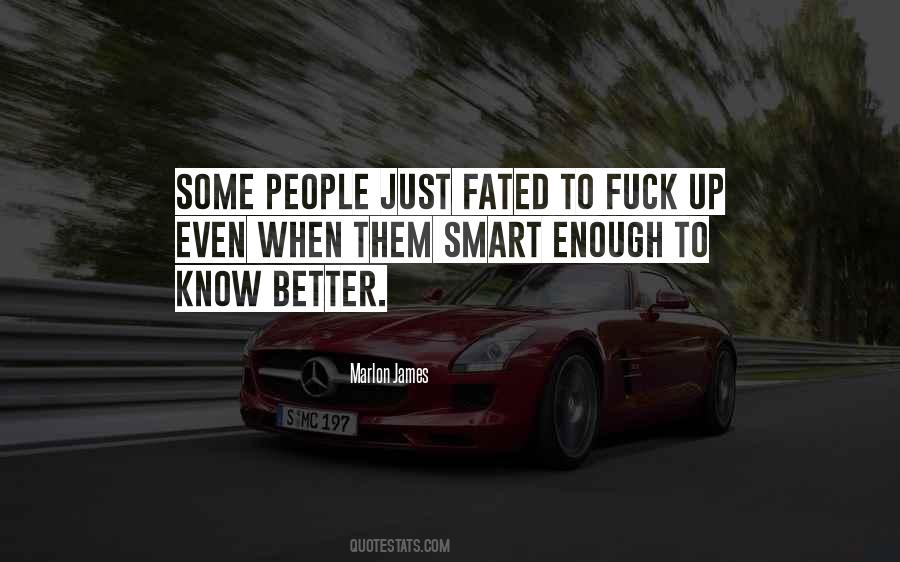 #42. Gods colliding, ethos and mythos trying to combine. The Sacred Band caught up in a whirlwind not of any god's devising: he and Niko had wanted to save twenty-three pairs of fated Theban fighters. Now everything feels fated and fighting oversweeps its boundaries of time and place and plane. - Author: Janet Morris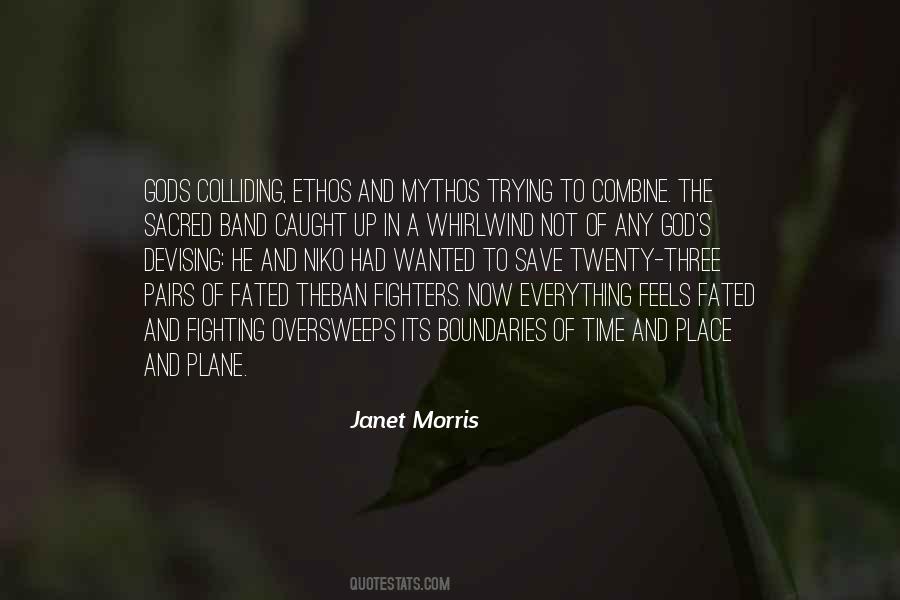 #43. Apart from its ill-fated name and frightening body, everything about the crab as a creature is creepy. It only moves sideways. To the right and then jerking to the left. It always looks like it's trying to avoid an awkward situation. "Uh-oh. I owe that guy money," as he sidesteps away. - Author: Jim Gaffigan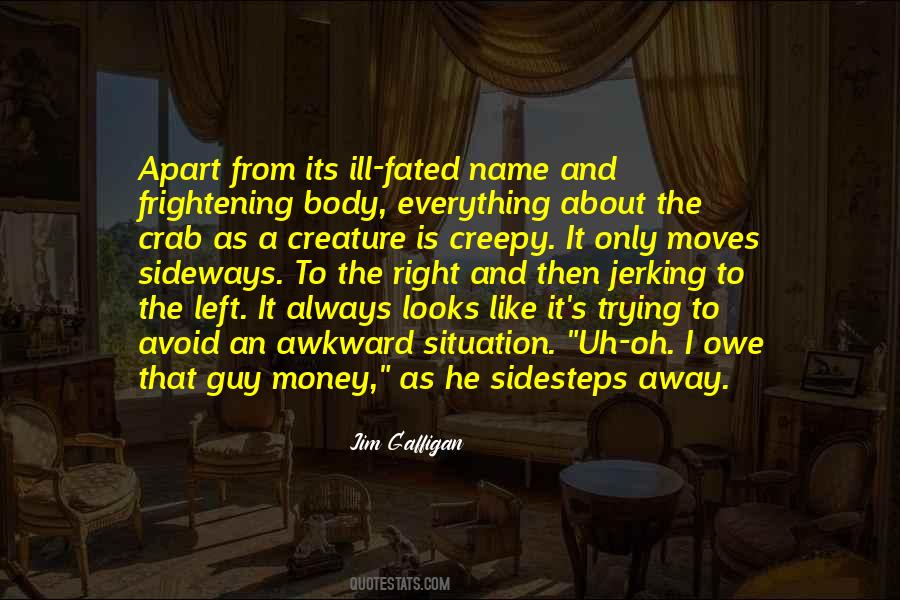 #44. How do people choose their final words? Do they realize their gravity? Are they fated to be wise? - Author: Mitch Albom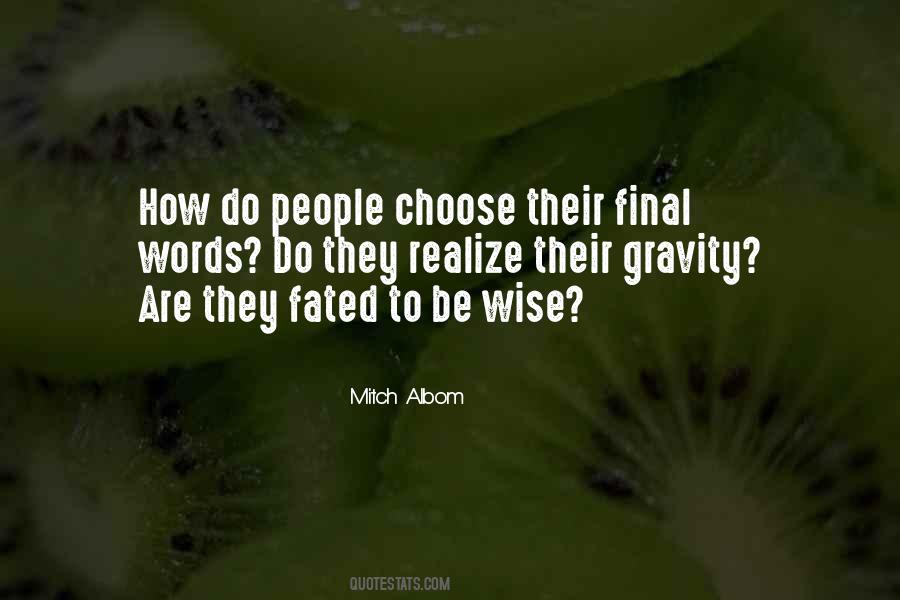 #45. We were always fated to be together. He is my everything. He is my entire world...
...Styx is my salvation. - Author: Tillie Cole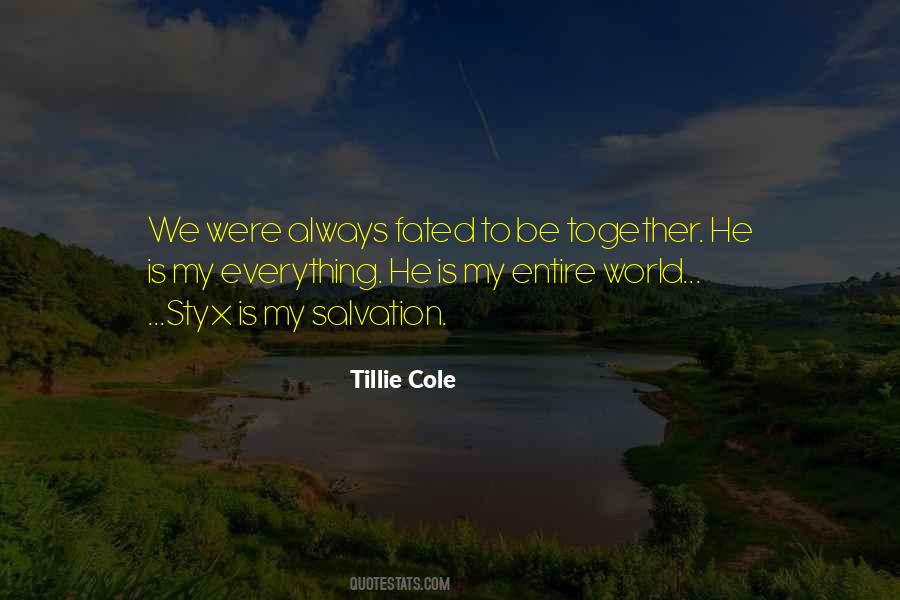 #46. What matters most, is not how my end happens, or if it happens now. What I care about in this instant, is that she knows how much I love her - that I lived long enough to have her love me back. - Author: Emm Cole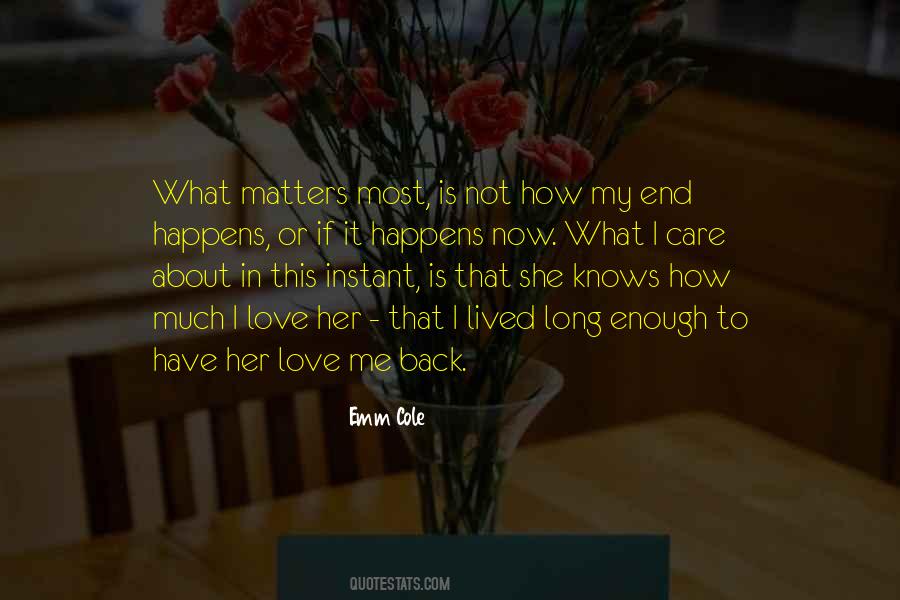 #47. Fate was tricky like that. It consumed us when we thought we were free, and it freed us when we thought we were captured. - Author: Shannon A. Thompson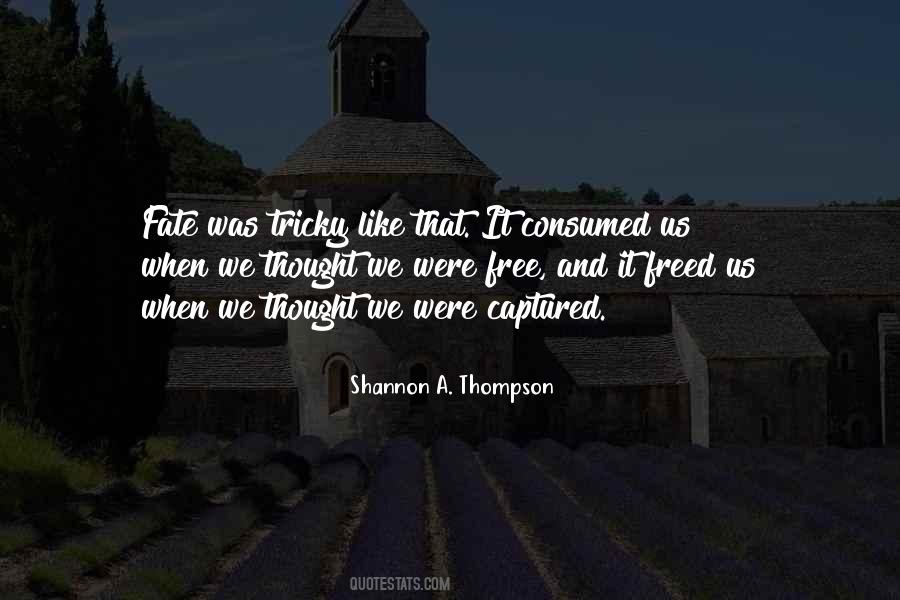 #48. Facebook is by far the largest of these social networking sites, and starting with its ill-fated Beacon service, privacy concerns have more than once been raised about how the ubiquitous social networking site handles its user data. - Author: Michael Bennet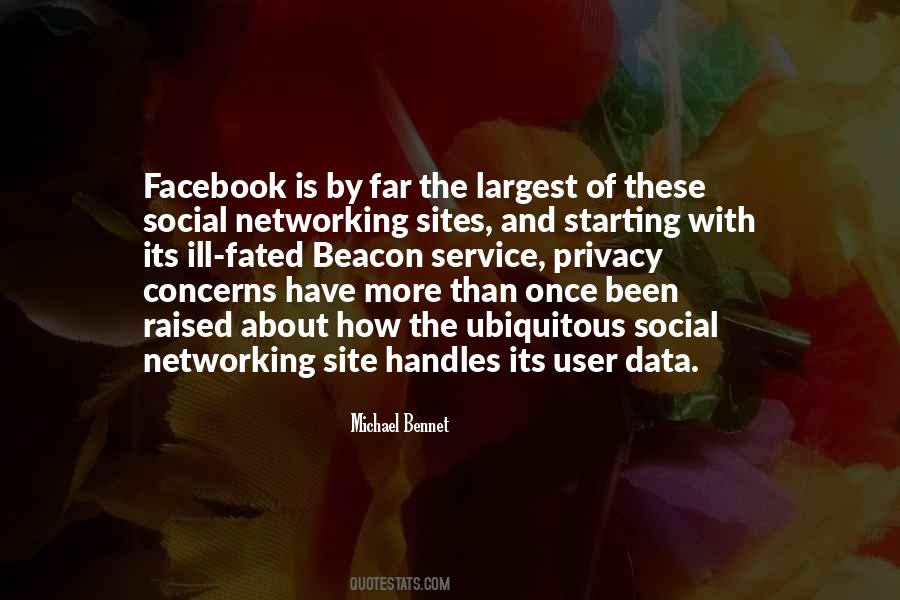 #49. For most of our lives, sex seems fated to remain steeped in longing and awkwardness. Whatever the manuals may promise, there are really no solutions to the majority of the dilemmas sex creates for us. - Author: Alain De Botton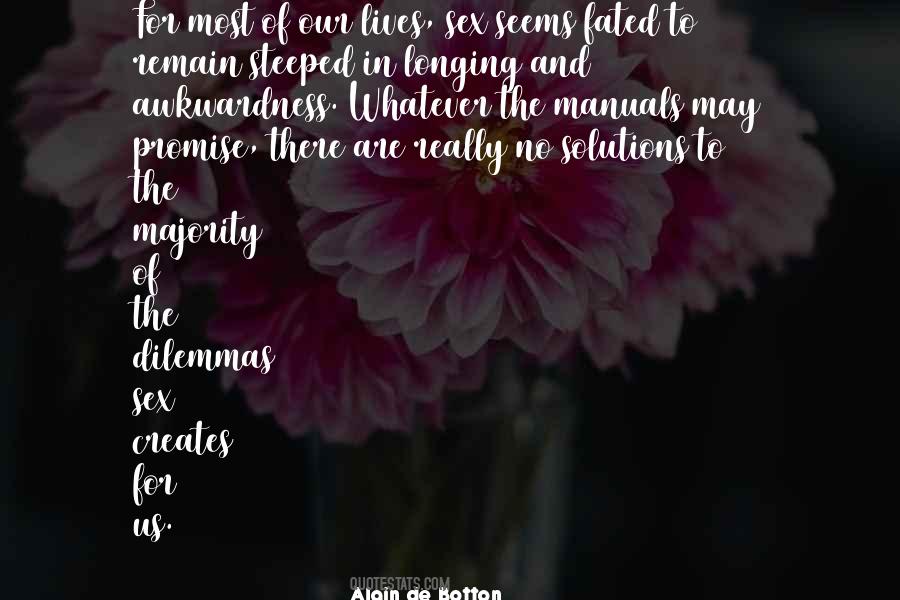 #50. Every sacred mission, every hunt for hidden relics, every pilgrimage from one end of the earth to the other ... I was looking for you. - Author: Dianna Hardy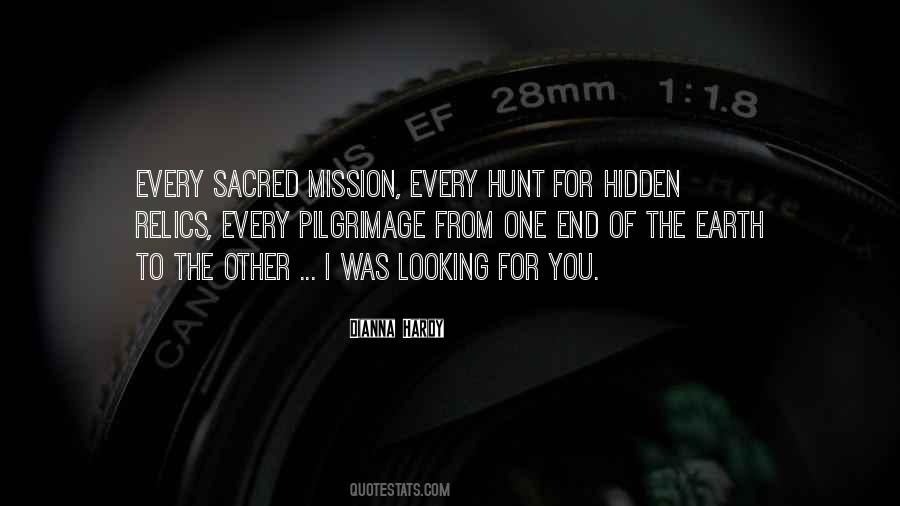 #51. A boy and a girl, fated to rule all. Two will rise, and One will fall. - Author: James Patterson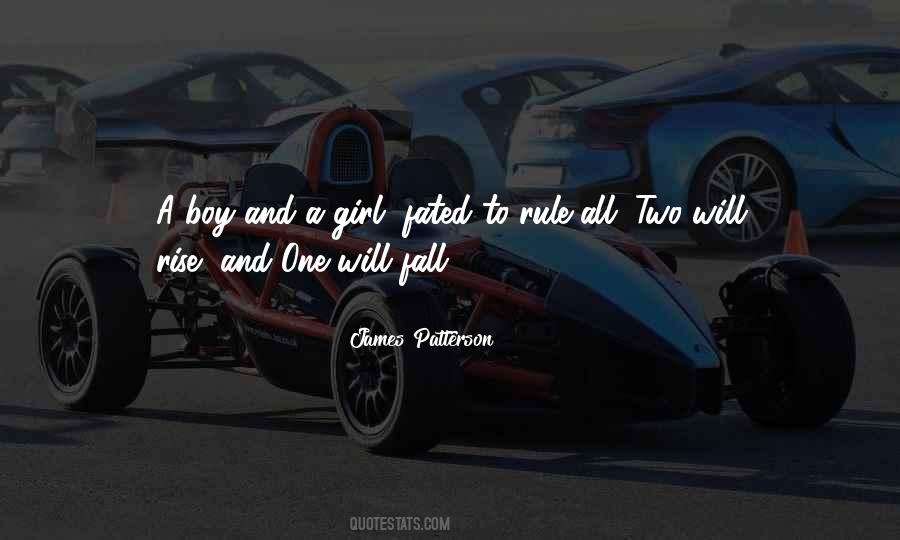 #52. The wild force of genius has often been fated by Nature to be finally overcome by quiet strength. The volcano sends up its red bolt with terrific force, as if it would strike the stars; but the calm, resistless hand of gravitation seizes it and brings it to the earth. - Author: Peter Bayne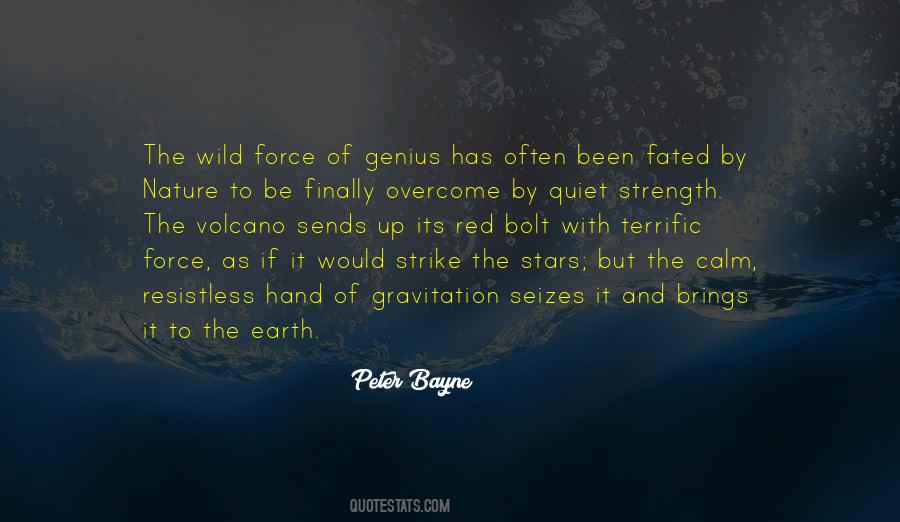 #53. Each man's death is fated from the beginning of time. - Author: Frank Yerby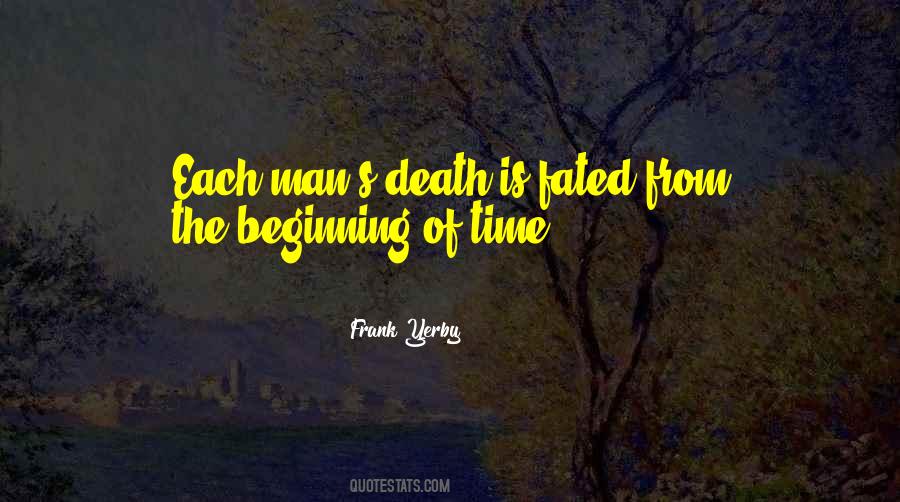 #54. Would he be happy? Joan hoped so. But somehow he seemed a man fated always to yearn after that which he could not have, to choose for himself the rockiest, most difficult path. She would pray for him, as for all the other sad and troubled souls who must travel roads alone. - Author: Donna Woolfolk Cross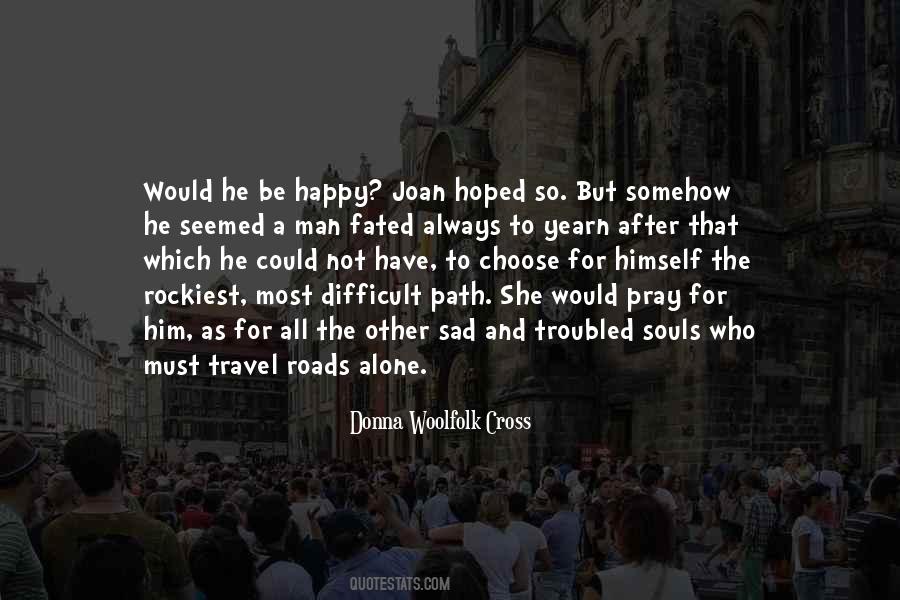 #55. But I see how he watches the stars,
And he talks to people just because,
And gee, it would be nice to have a friend."
From "Fated" in BREATHE IN - Author: Eileen Granfors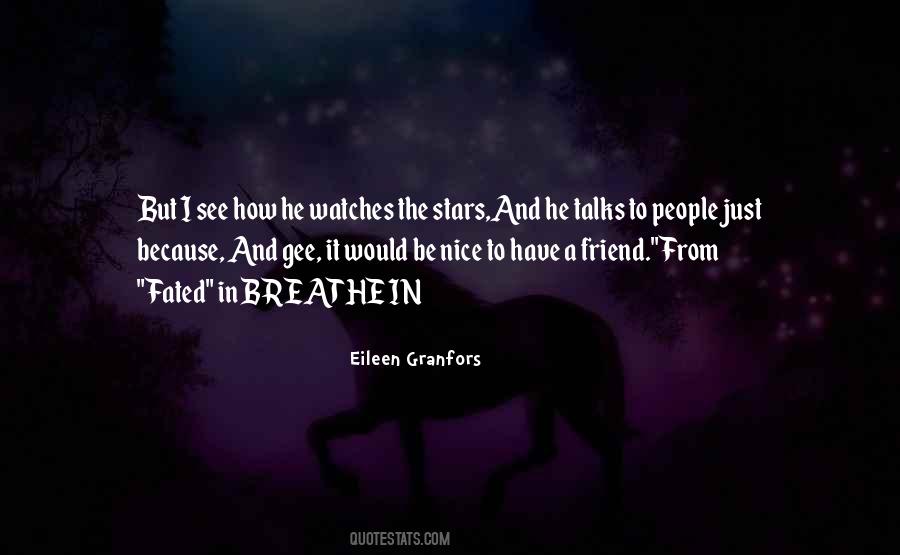 #56. I want to know without words. I want to fall so violently that I risk breaking into a million pieces. I want to love so desperately it's indecent. I want it to be wild and fated and forever. A no-choice connection. - Author: Tia Williams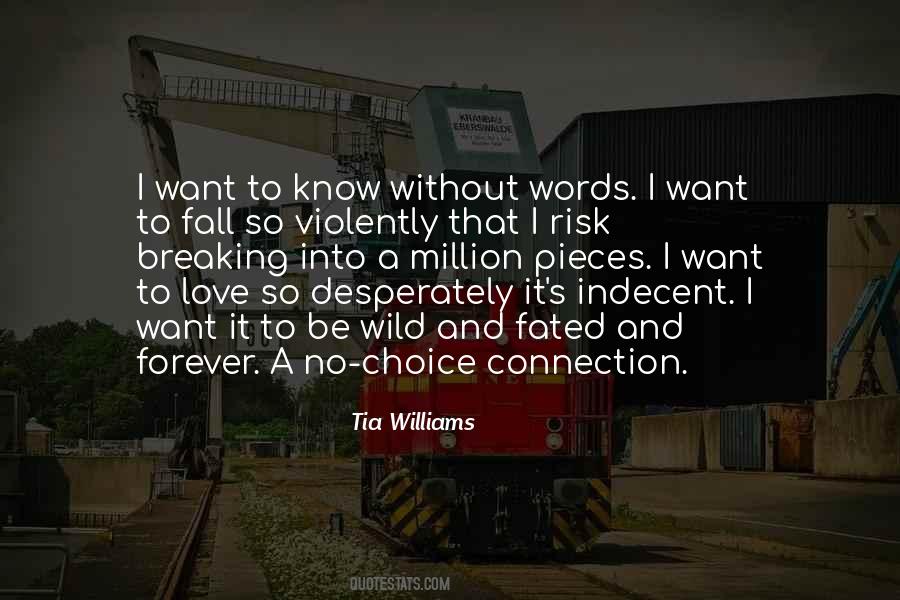 #57. In World War II, 35,933 AAF planes were lost in combat and accidents. The surprise of the attrition rate is that only a fraction of the ill-fated planes were lost in combat. - Author: Anonymous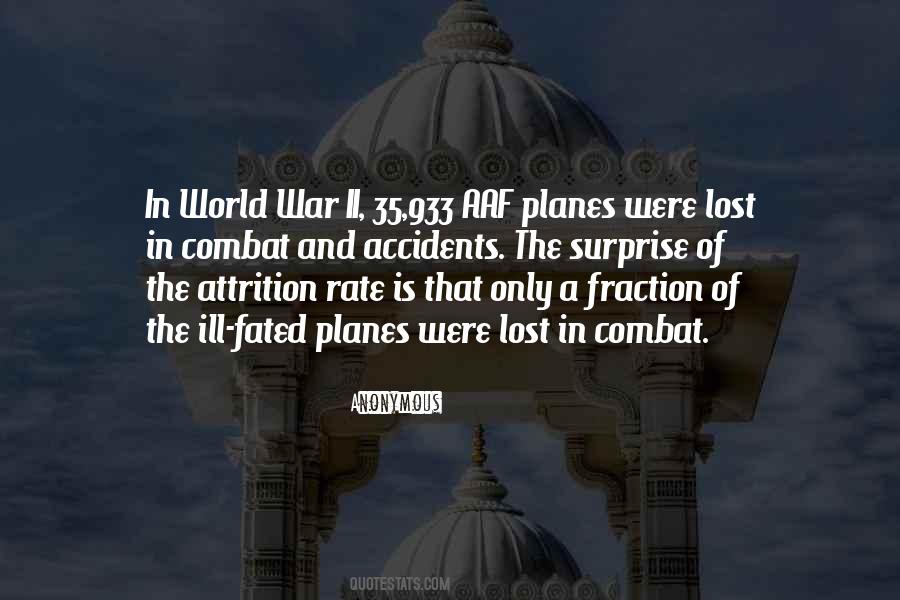 #58. I did Google him, you know."
"Oh, so you GOOGLED him Oh, well, that changes everything then, doesn't it? What could I possibly worry about now that I know you've conducted such a thorough Internet search? - Author: Alyson Noel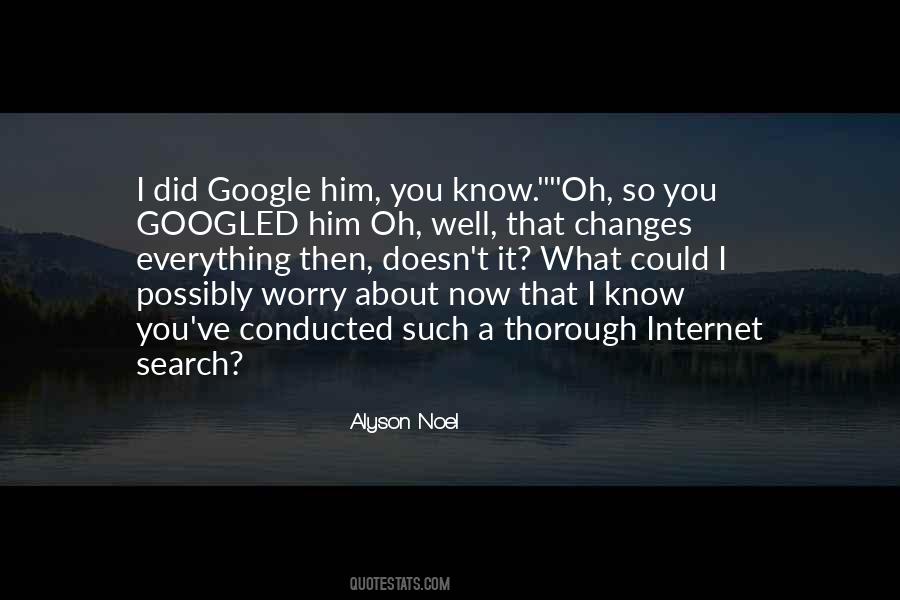 #59. Our fated untainted soul gives us free reign, only doth backward pull our clouded minds when we ourselves falsely protect from pain. - Author: Truth Devour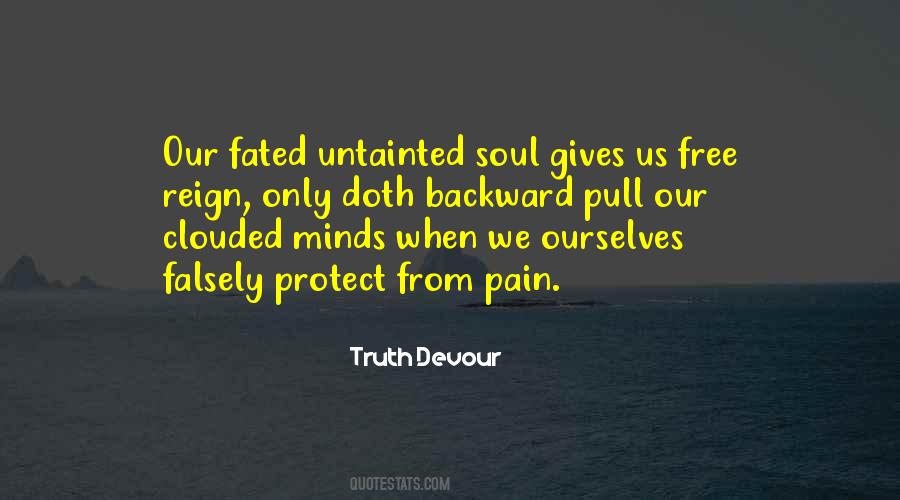 #60. I tell you of my loss, child, so you will listen, slowly, and know that in life every emotion is fated to rear itself within your being. Don't judge it proper or ugly. It's simply there and yours. - Author: Thanhha Lai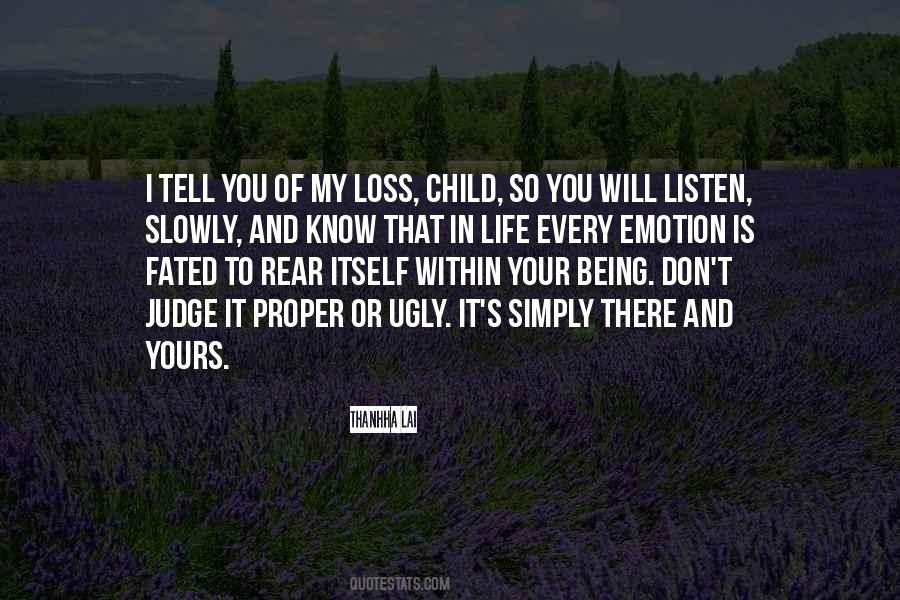 #61. There are days when I am haunted by a feeling that is blacker than the blackest melancholy. I have a contempt for humanity. I despise the people I have been fated to call my contemporaries. I feel suffocated by their filthy breath. - Author: Friedrich Nietzsche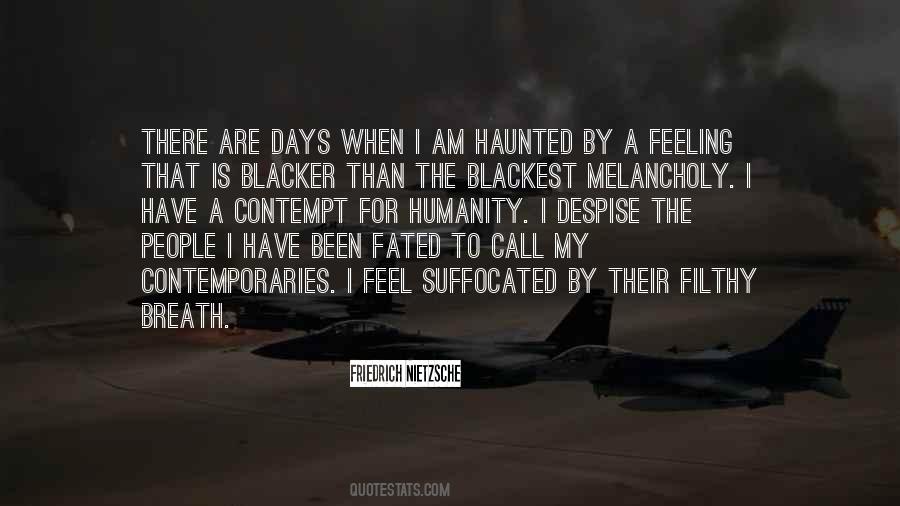 #62. So, it's the ever popular Firstborn Child of Doom prophecy,huh, ice-boy? How very cliche. Why can't it ever be the third nephew twice removed who's fated to destroy the worls?
Iron Prophecy: The Iron Fey~ Puck - Author: Julie Kagawa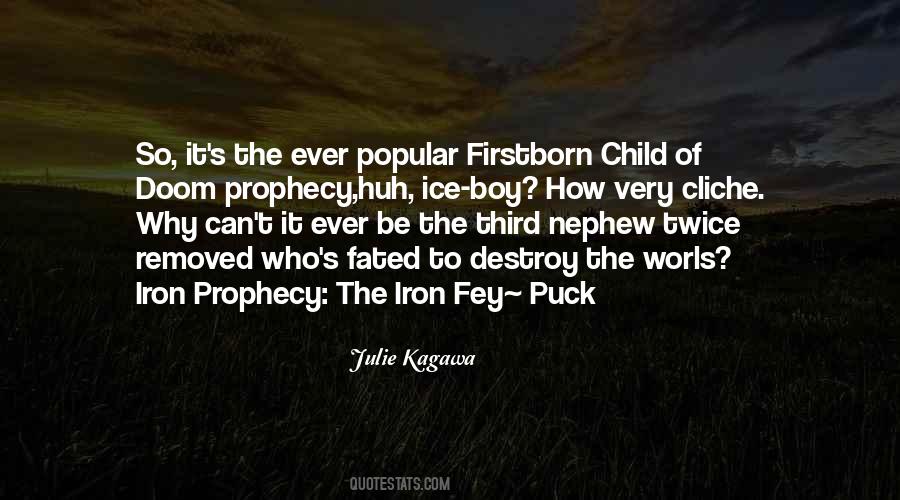 #63. Upon my word and honour I seem to be fated, and destined, and ordained, to live in the midst of things that I am never to hear the last of. - Author: Charles Dickens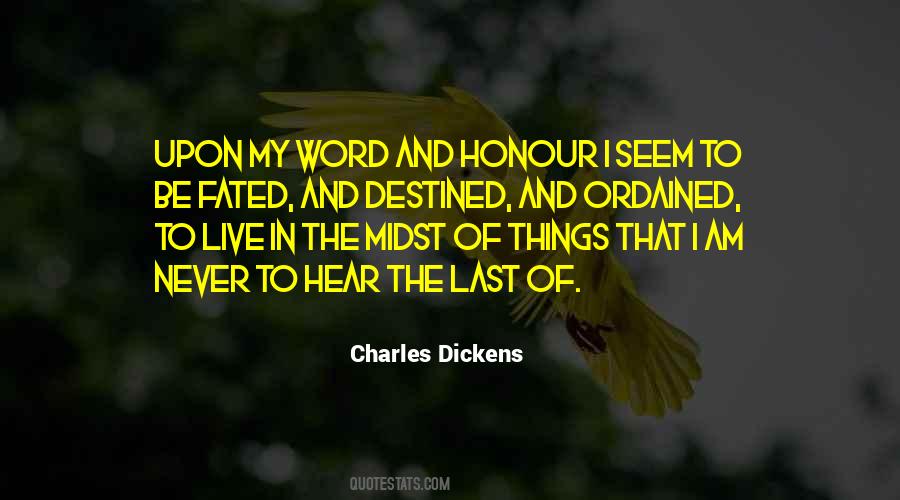 #64. Every person, I have come to believe, has a moment or a place in life when all four points of the compass converge, from when or where their life finally takes--for better or for worse--its fated course. - Author: Peter Geye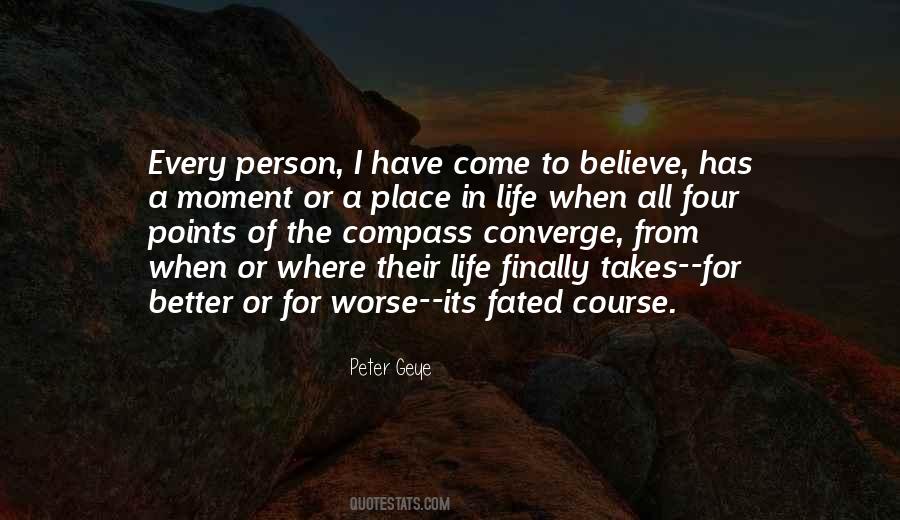 #65. You may move eloquently, so you think, to the rhythm of some fated dance for some projected eternity, but if that fate is neither yours nor the work of your own hands, a rag doll knows more grace. - Author: Dew Platt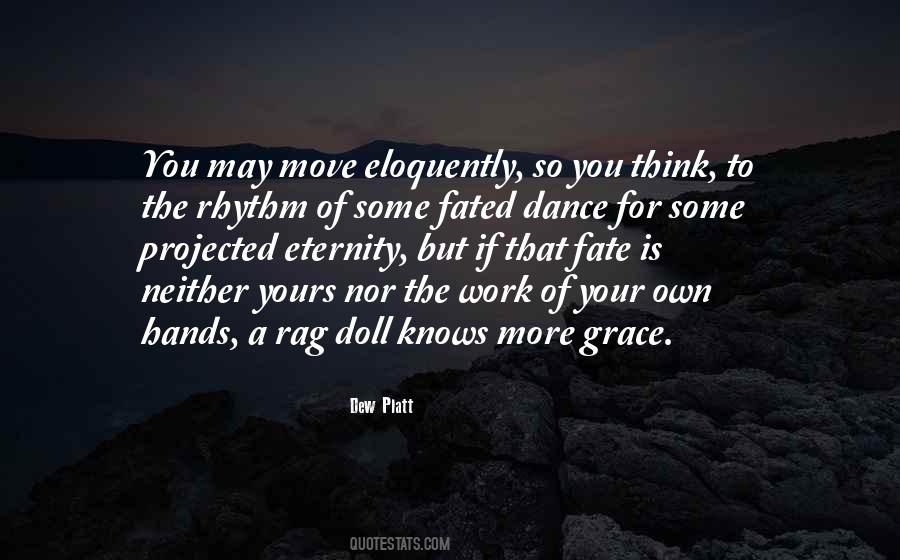 #66. I do believe that certain people are fated to meet each other, to teach each other something essential, or show each other something essential. I can' t believe its all a coincidence - Author: Wayne Hoffman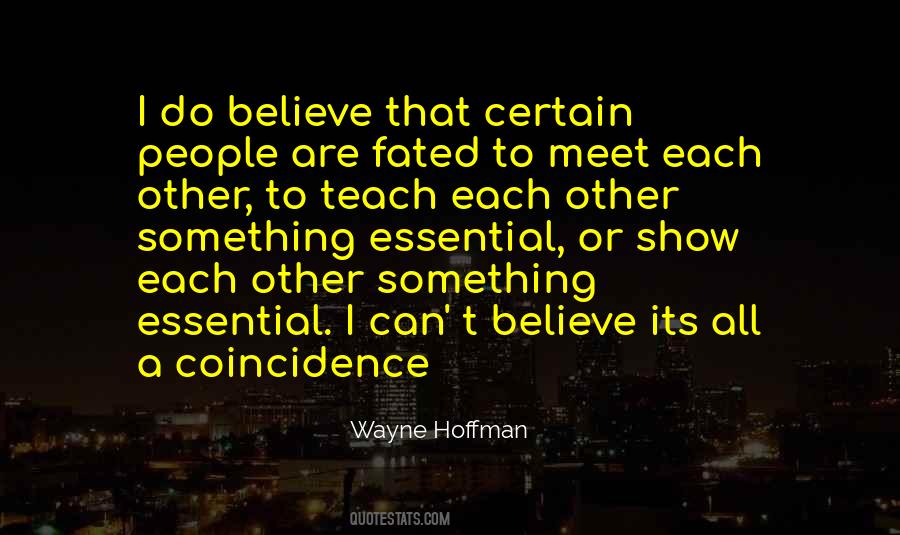 #67. If you seem to have stumbled, think that it was fated to be so. Your heart is shrewd as well as faithful, and saw clearer than your eyes. For - Author: J.R.R. Tolkien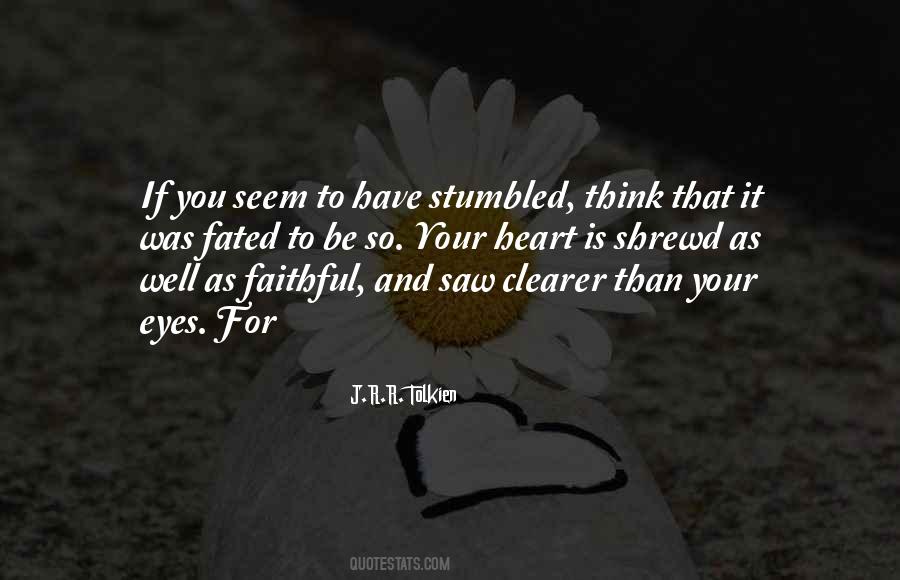 #68. Could it be that Cania isn't the ultimate prep school, isn't the sure way into the Ivy League? As if to solidify my suspicion, a guy with emo eyeliner tells his ill-fated story. - Author: Anonymous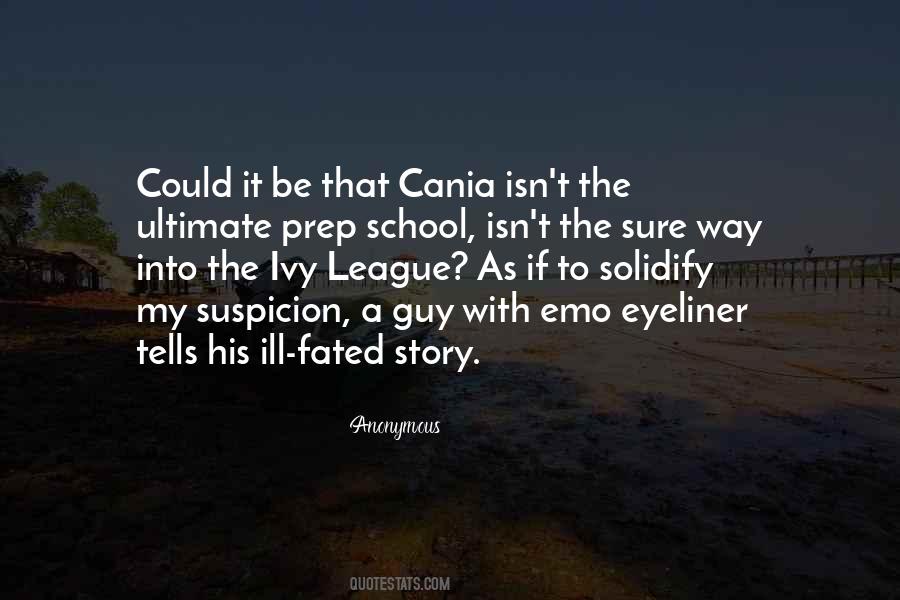 #69. The earth is, like our own skin, fated to carry the scars of ancient wounds. - Author: Fernand Braudel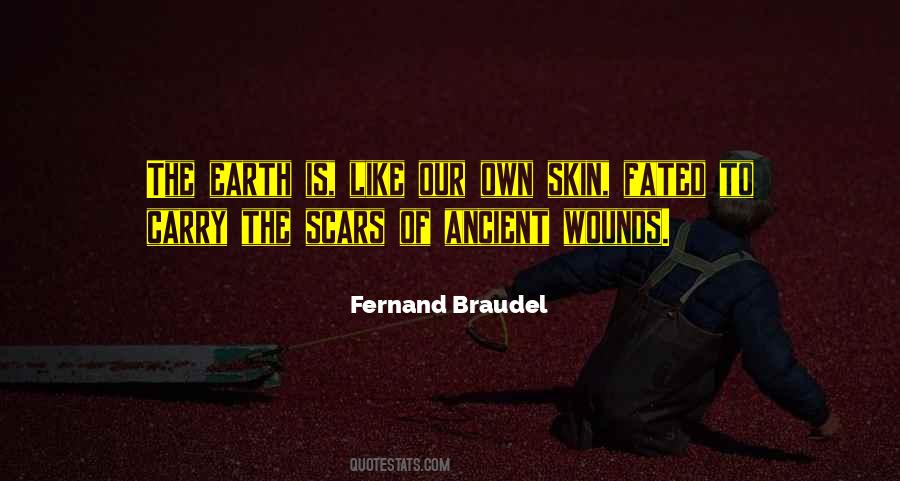 #70. Now that you're here, now that they know you exist, you'll never be free again. Ever. We're prisoners to our books, our fates planned long before we were born. You're no different than us. Fight your fate all you want, but deep down you know it's true. - Author: Angela Parkhurst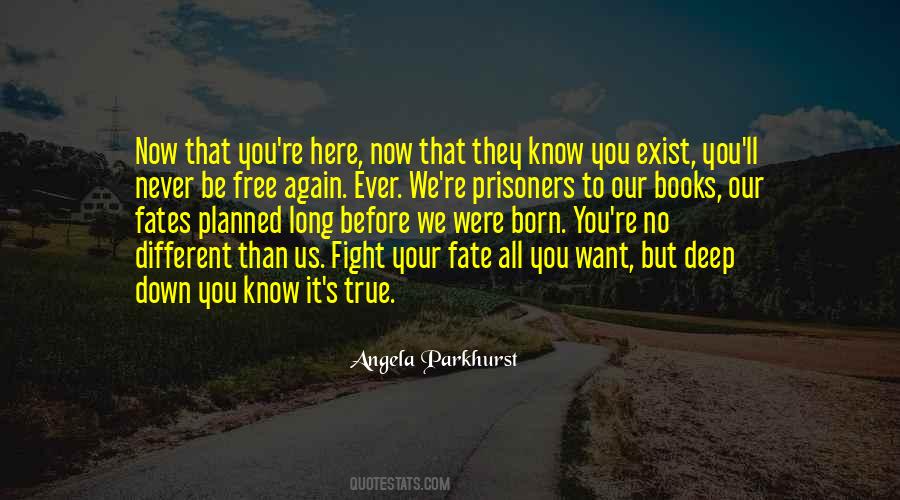 #71. She fears him, and will always ask
What fated her to choose him;
She meets in his engaging mask
All reasons to refuse him;
But what she meets and what she fears
Are less than are the downward years
Drawn slowly to the foamless weirs
Of age, were she to lose him. - Author: Edwin Arlington Robinson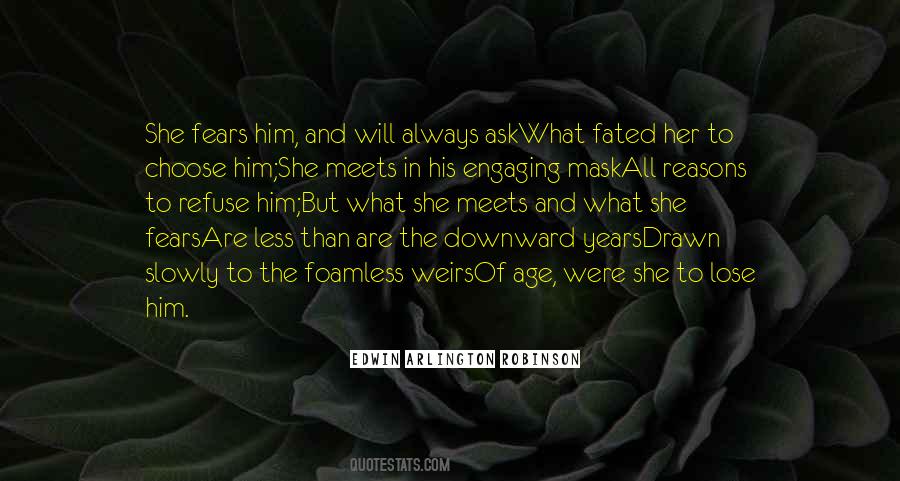 #72. The deeds of men, as footprints in the desert.
Nothing under the circling moons is fated to last.
Even the sun goes down. - Author: Guy Gavriel Kay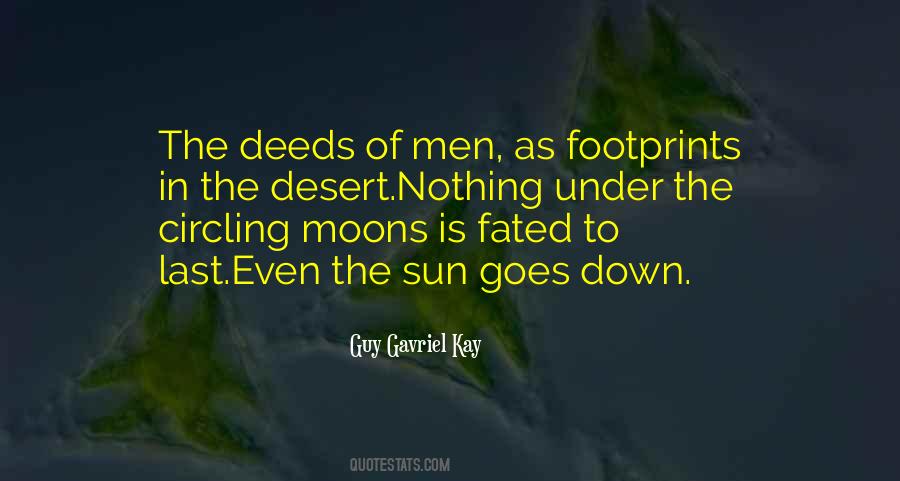 #73. We are ill-fated in that our society demands we engage in unworthy conversations and dances in order to seem courteous, and yet such actions are ultimately vulgar. - Author: Shannon Hale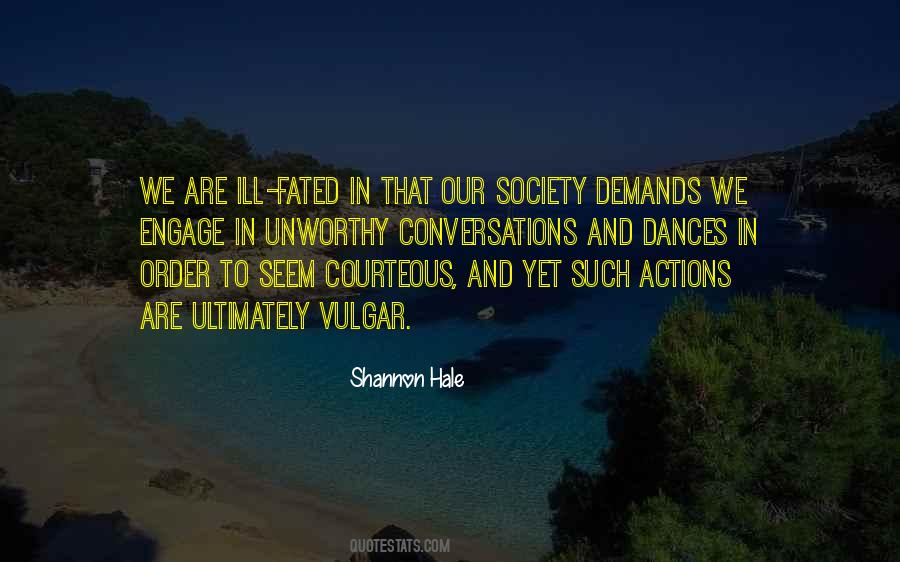 #74. There's nothing fated in our stars. No meant-to-be in any of it. We are accidental people occupying an accidental planet in an accidental universe. And that's okay. These seven billion billion atoms are good with that. - Author: Rick Yancey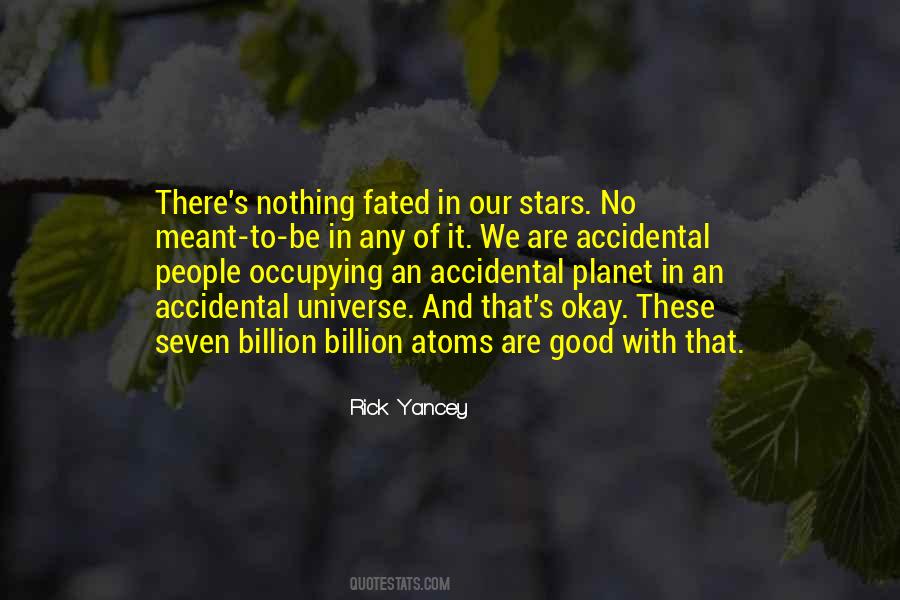 #75. Then there's the story of ill-fated love. It's universal. - Author: Rita Moreno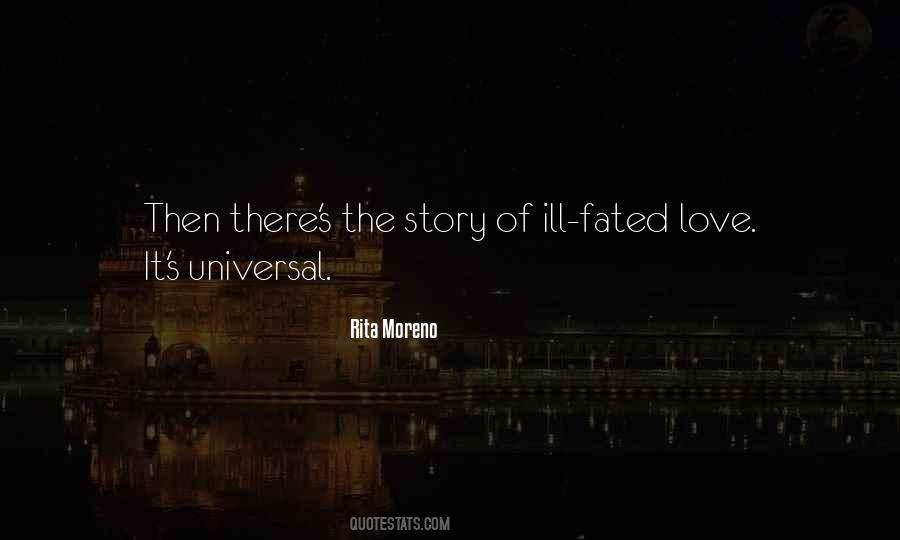 #76. A mother should give her children a superabundance of enthusiasm; that after they have lost all they are sure to lose on mixing with the world, enough may still remain to prompt fated support them through great actions. - Author: Augustus Hare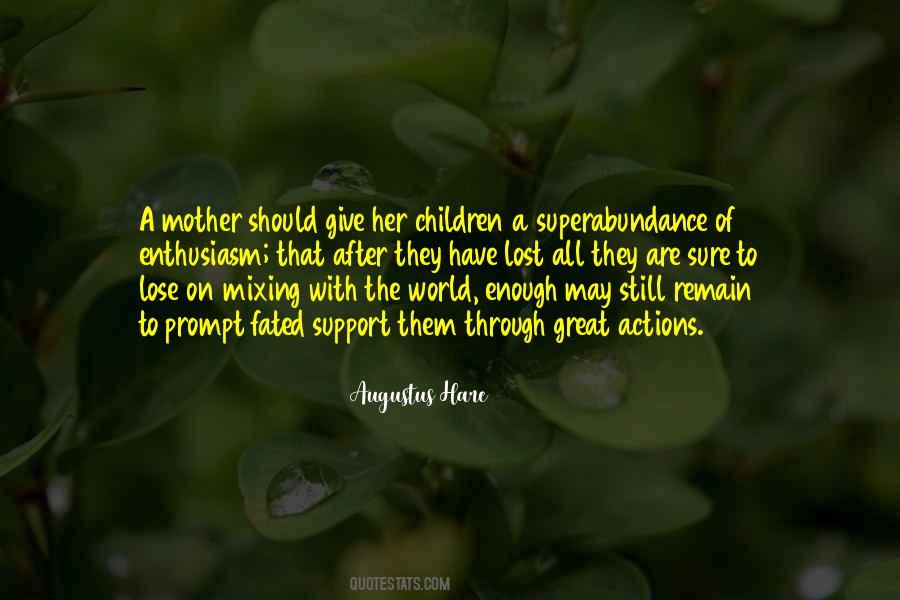 #77. Disarmed, defeated but elated,
I knew at once you were the one.
That meeting was, no doubt fated.
You are my own midnight sun. - Author: Tatyana K. Varenko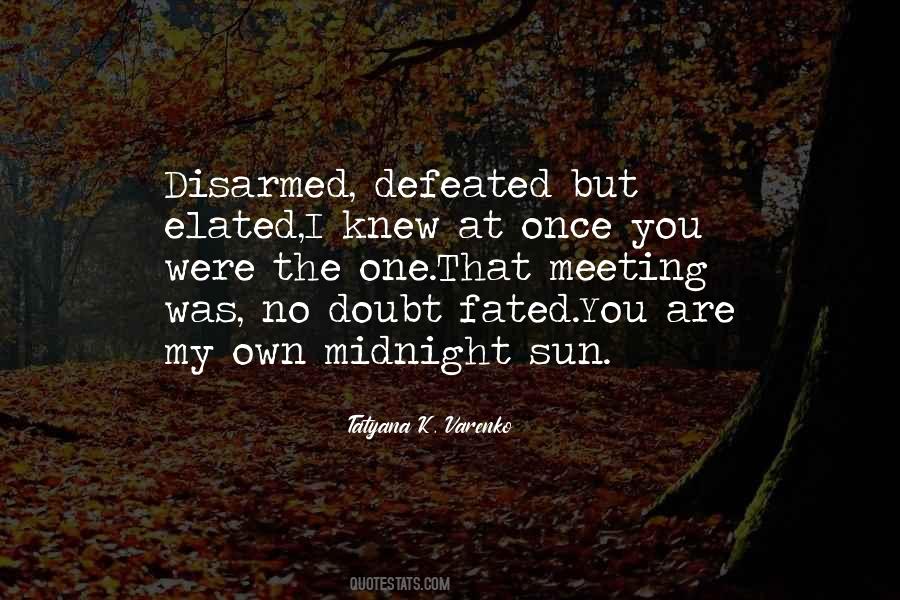 #78. Humankind is able to create new conditions, a new reality. We are not fated to swim forever among the realities that are here now ... Everything that is worthwhile in human civilization has not only originated from but has been inspired by dreams, by imagination. - Author: Pramoedya Ananta Toer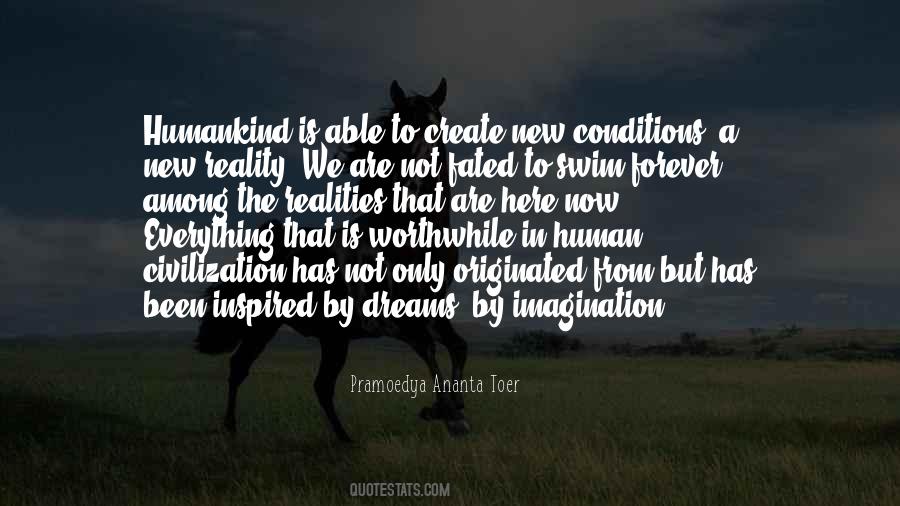 #79. Mira's never wrong. Whatever she showed you tonight, it's fated to be."
"Fated", he said, sounding amused by that. "Well, shit. Then I guess we're doomed. - Author: Lara Adrian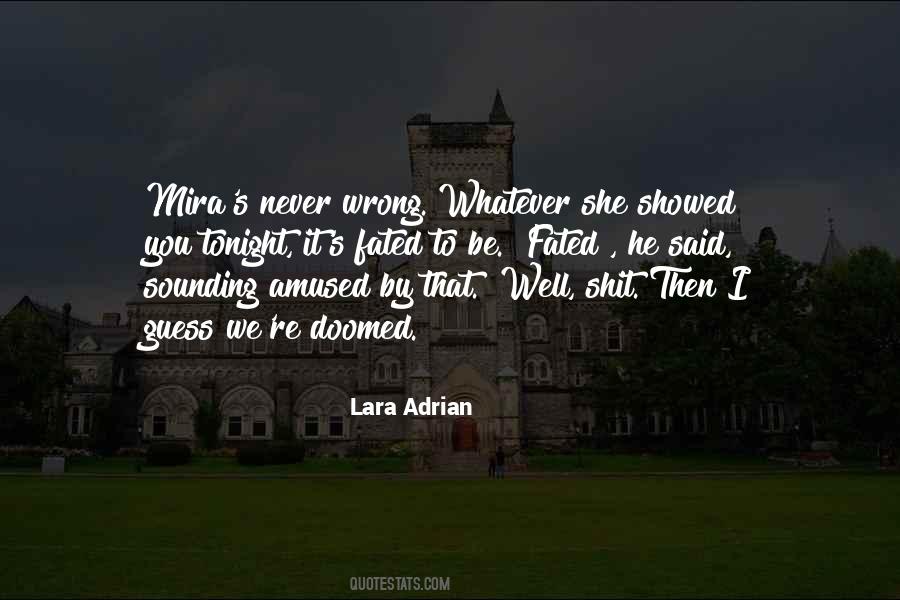 #80. I seem fated to pass through the world without colliding with it or moving it - and I'm sure I can't tell you whether the fate's good or evil. I don't die - I don't fall in love. And if other people die or fall in love they always do it when I'm just not there. - Author: E. M. Forster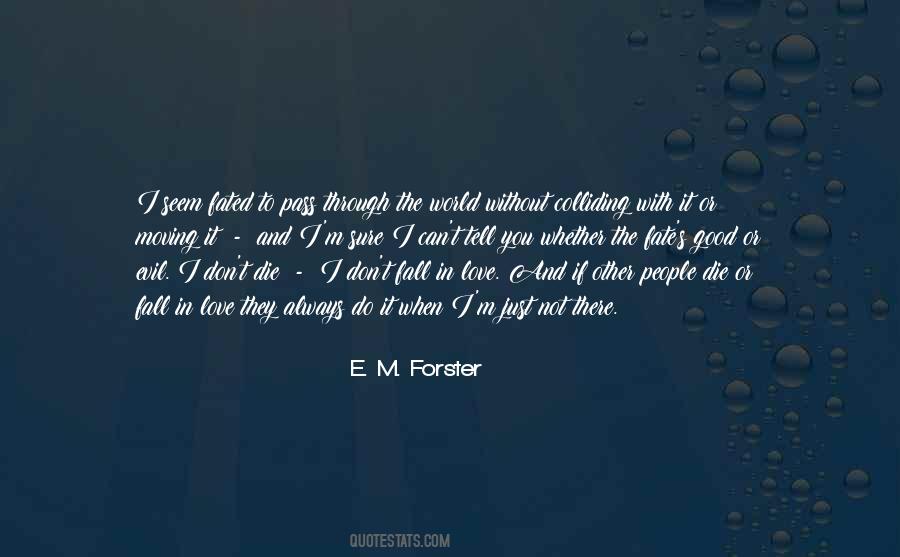 #81. Opposites attract, mom.'
'Yes, but in your case, darling, it is hydrogen and oxygen, and we all know what happened the Hindenberg.'
Just in case their daughter wasn't aware of the ill-fated zeppelin, Lambert clarified: 'This too will end in flames. - Author: Jonathan Dunne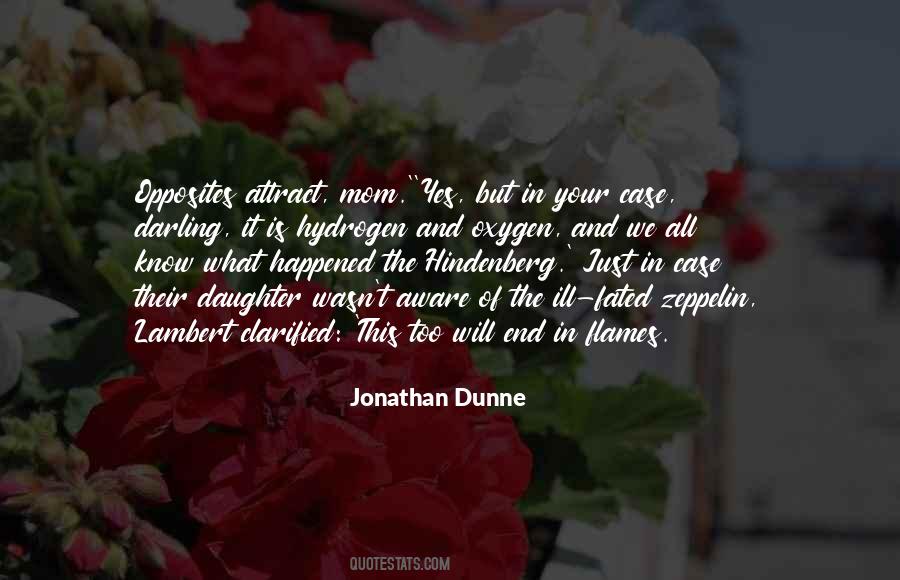 #82. Sick children inevitably become arrested: You are fated to live out your days as the child you were when diagnosed, the child who believes there is a life after a novel ends. - Author: John Green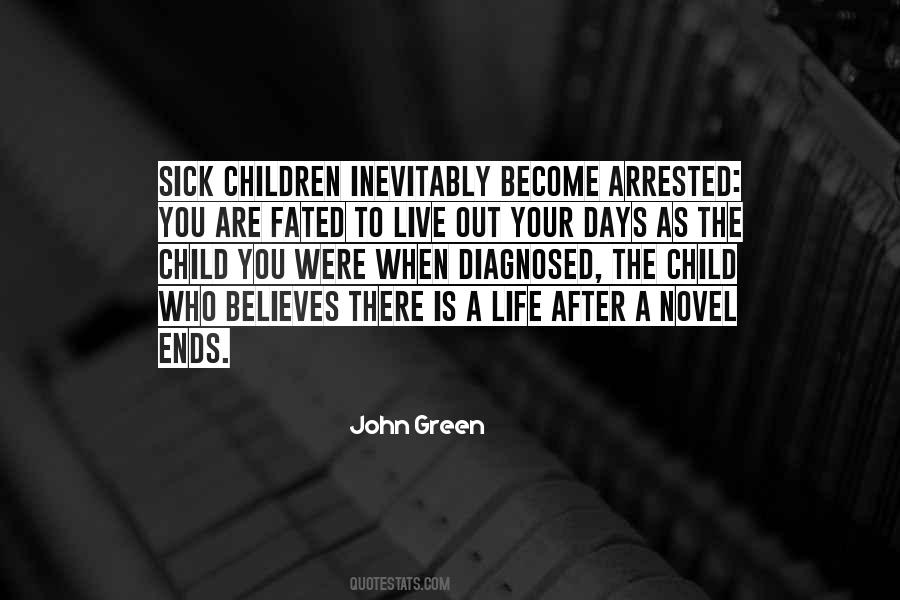 #83. A person with a melancholy temperament had been fated with both an awful burden and what Byron called "a fearful gift." The burden was a sadness and despair that could tip into a state of disease. But the gift was a capacity for depth, wisdom - even genius. - Author: Joshua Wolf Shenk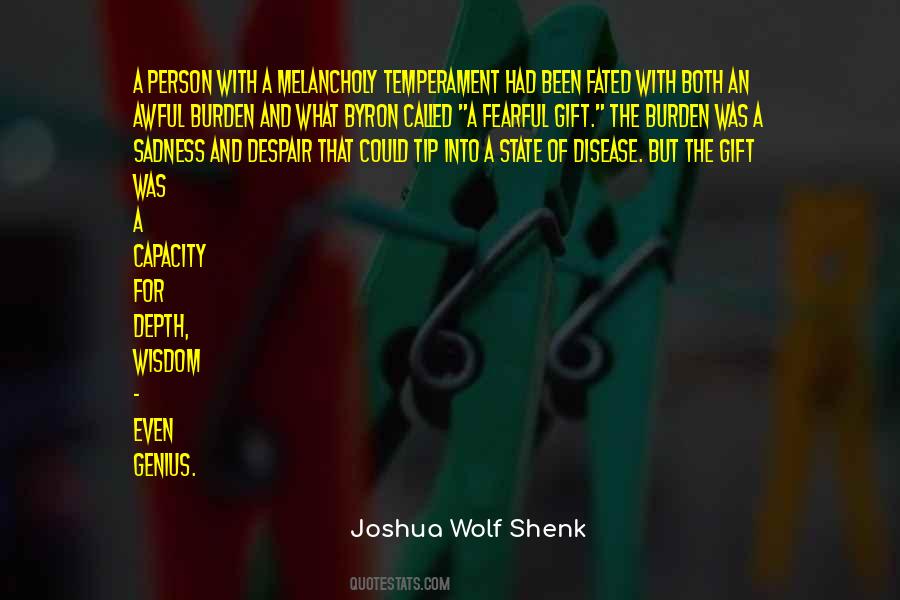 #84. It was only after a long silence, when he said, in a hesitating voice, "I suppose you fellows remember I did once turn fresh-water sailor for a bit," that we knew we were fated, before the ebb began to run, to hear about one of Marlow's inconclusive experiences. - Author: Joseph Conrad
#85. spies and journalists were fated to go through life together, and it was sometimes hard to tell one from the other. Their jobs weren't all that different: they talked to politicians, developed sources in government bureaux, and dug around for secrets. - Author: Alan Furst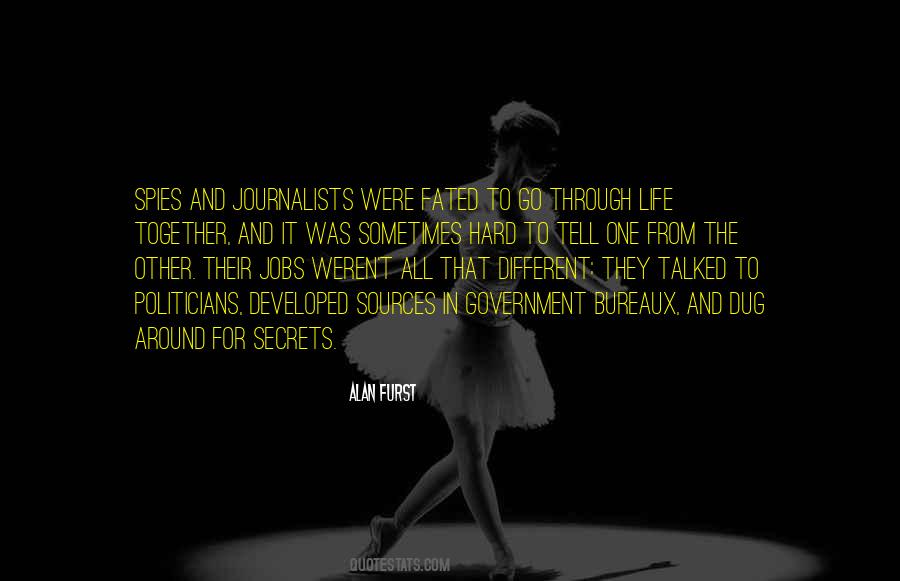 #86. We can't have choice and free will and still be fated. - Author: Nora Roberts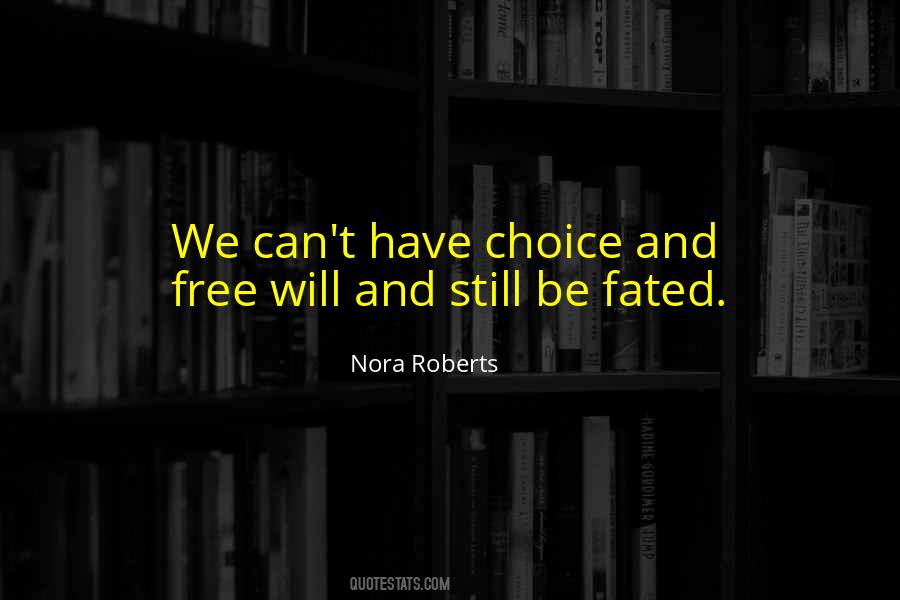 #87. Only what is fated to die is capable of living. Only what dies lives. - Author: Giannina Braschi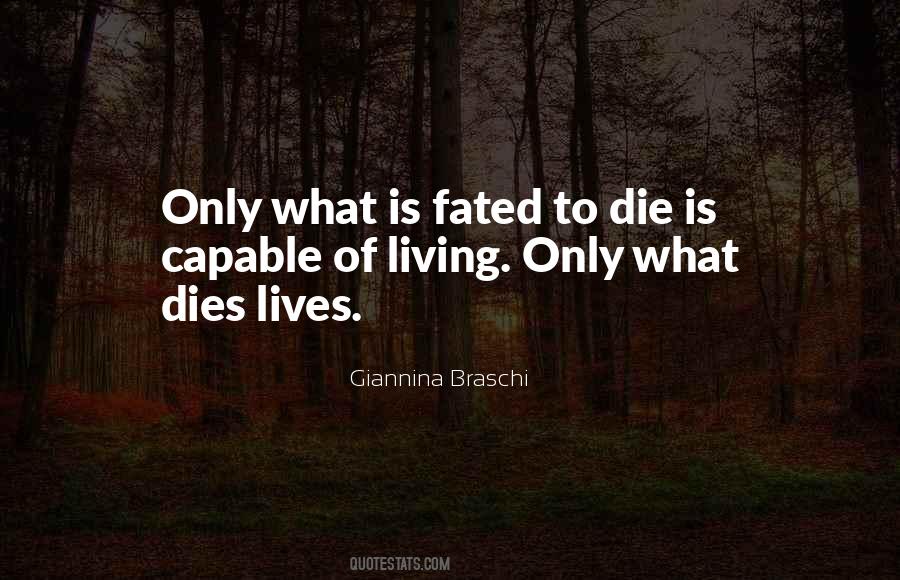 #88. I am just going outside and may be some time. Reportedly the last words of Lawrence Oates according to Captain Robert Falcon Scott, who commanded the ill-fated expedition to the South Pole 1911/12. - Author: Captain Lawrence Edward Grace Oates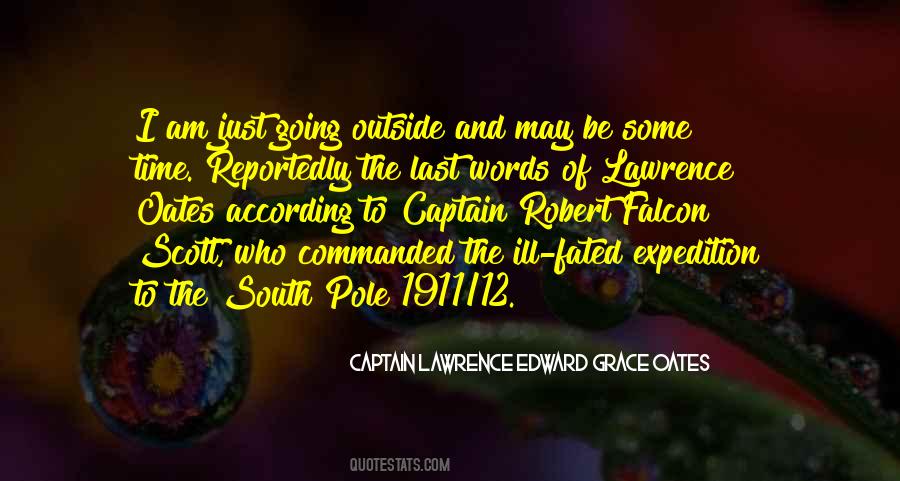 #89. Such a slender moon, going up and up, Waxing so fast from night to night, And swelling like an orange flower-bud, bright, Fated, methought, to round as to a golden cup, And hold to my two lips life's best of wine. - Author: Jean Ingelow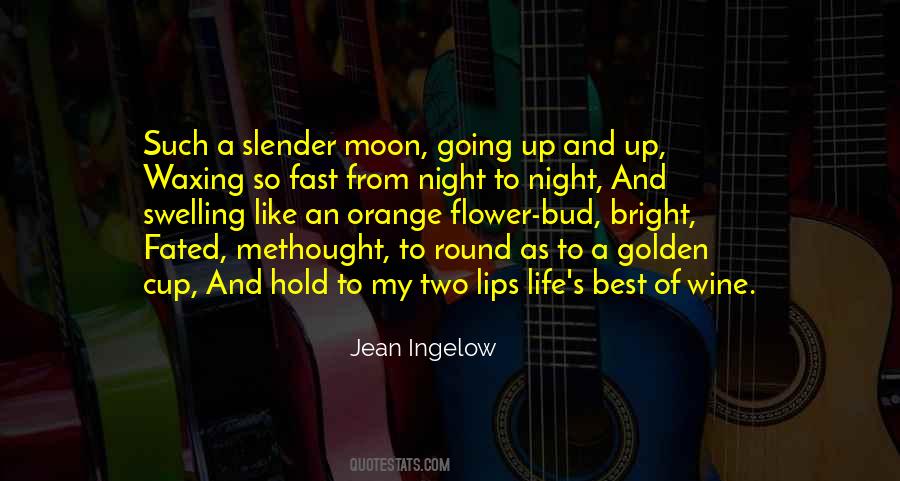 #90. I was alone, without a single cent, in an unknown country. If I'd learned anything from last year's ill-fated adventures, though, it was not to get overwhelmed by minor inconveniences. - Author: Isabel Allende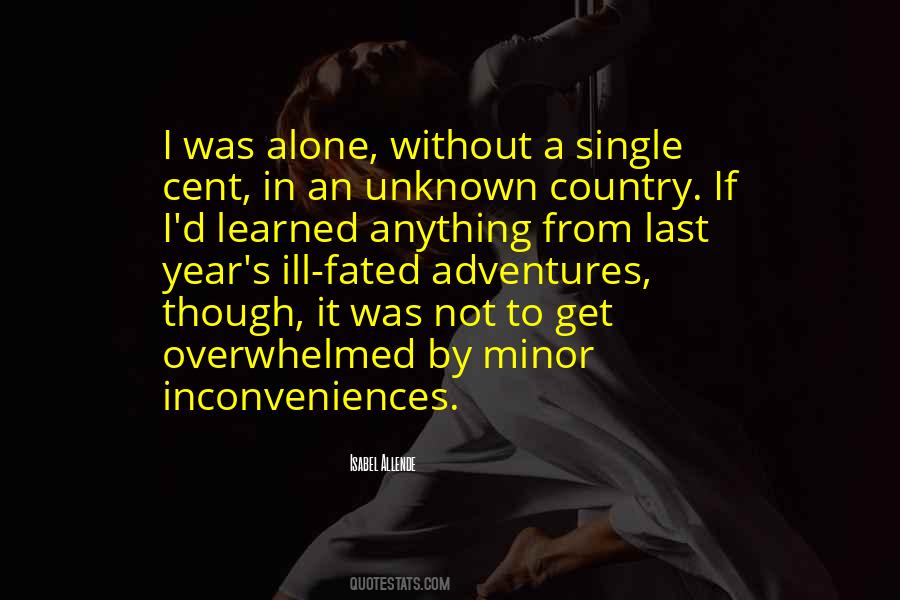 #91. Cezanne was fated, as his passion was immense, to be immensely neglected, immensely misunderstood, and now, I think, immensely overrated. - Author: Walter Sickert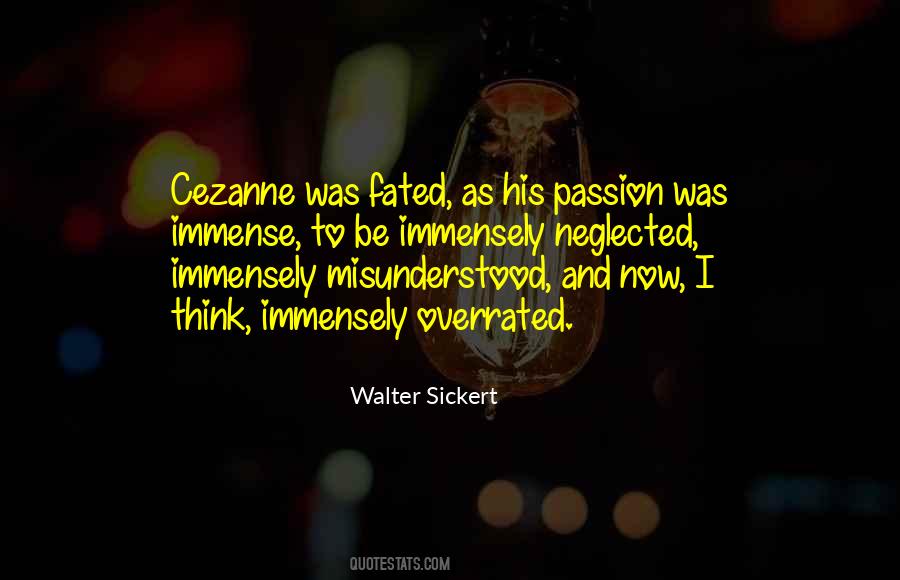 #92. Let's start over shall we? Hello gorgeous. I'm Justin McKinley. I'm head baker at Le Chef Petite. I'd love to get to know you better. Can I seduce you with my vast knowledge of sweet and sensual desserts?
Alicia couldn't help it. She giggled. One of those girly, I've-been-flirting bubbly - Author: Lea Barrymire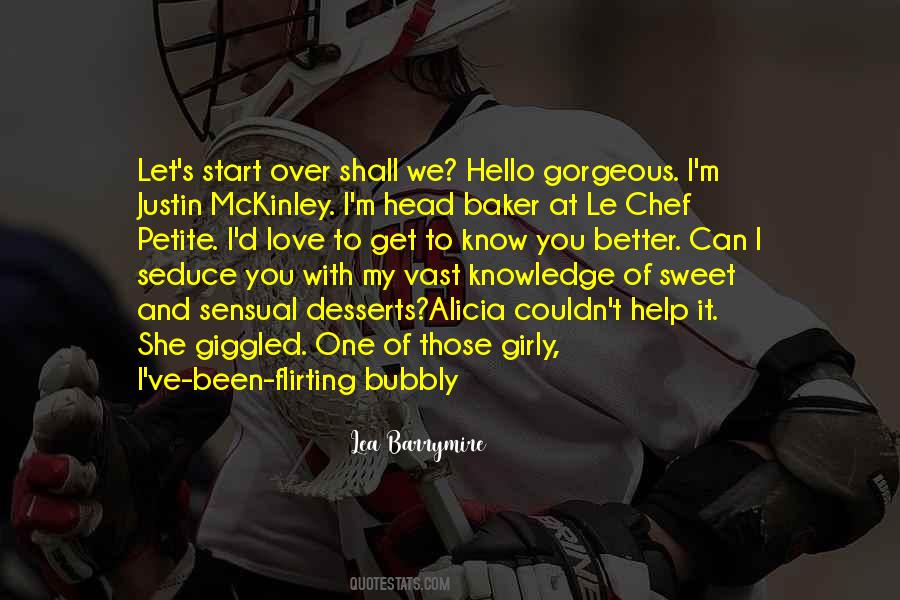 #93. All of them. Fated to love in vain. - Author: Anne Rouen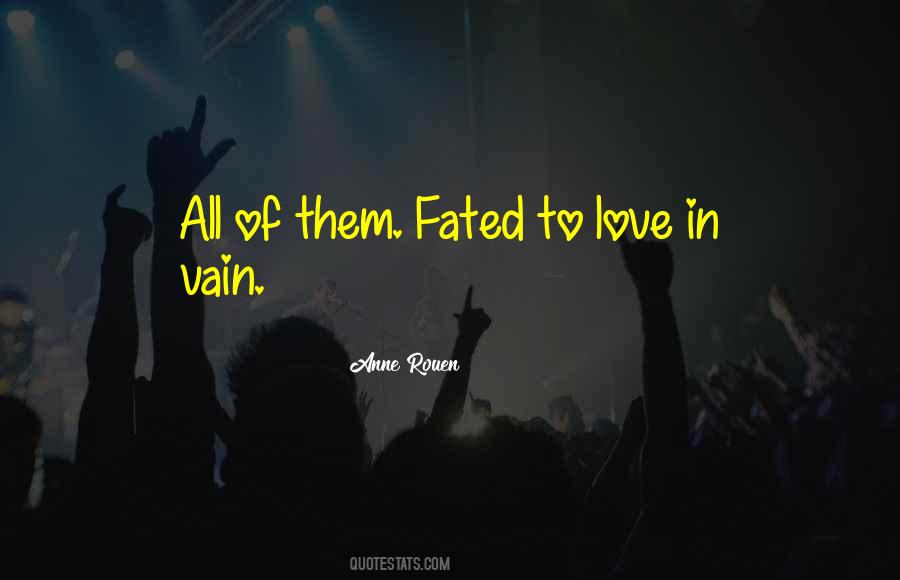 #94. I saw that all beings are fated to happiness: action is not life, but a way of wasting some force, an enervation. Morality is the weakness of the brain. - Author: Arthur Rimbaud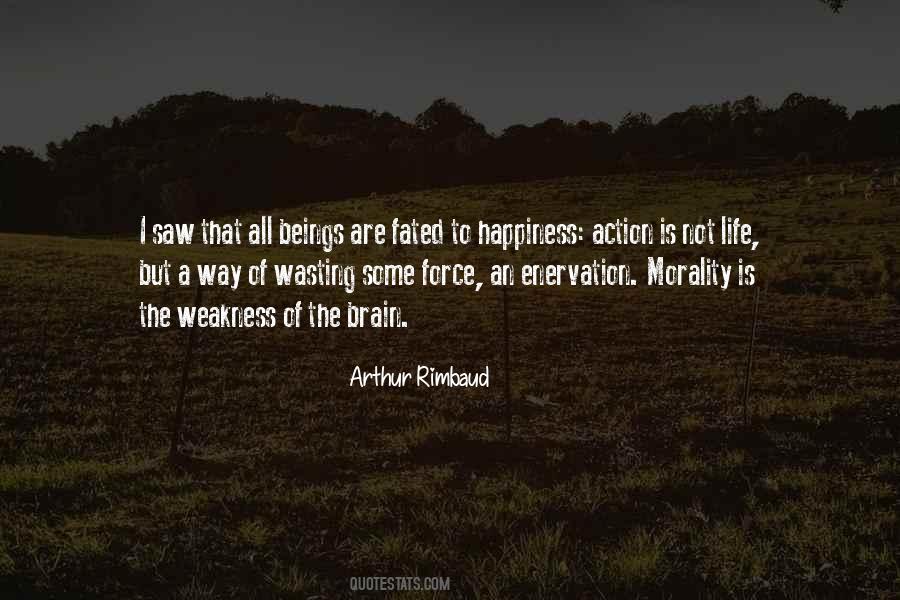 #95. My heart beats for you and the most precious and beautifully fated life we share together. - Author: Jewel E. Ann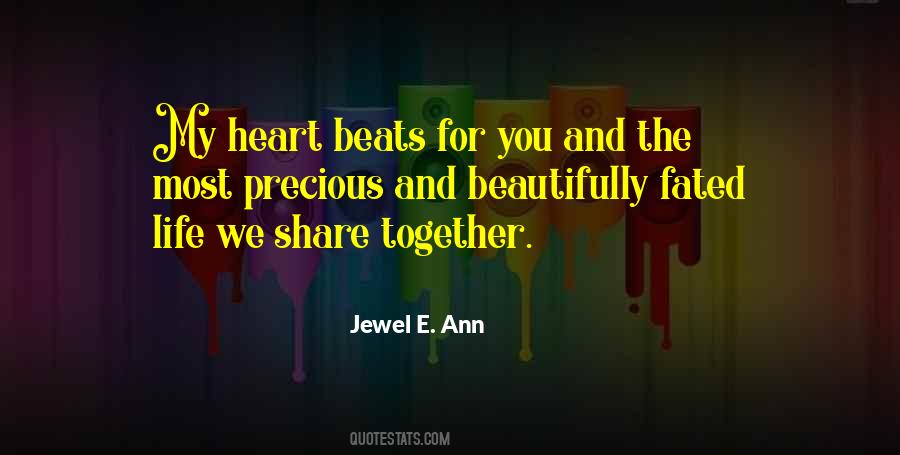 #96. I do believe in fate and destiny, but I also believe we are only fated to do the things that we'd choose anyway. - Author: Kiersten White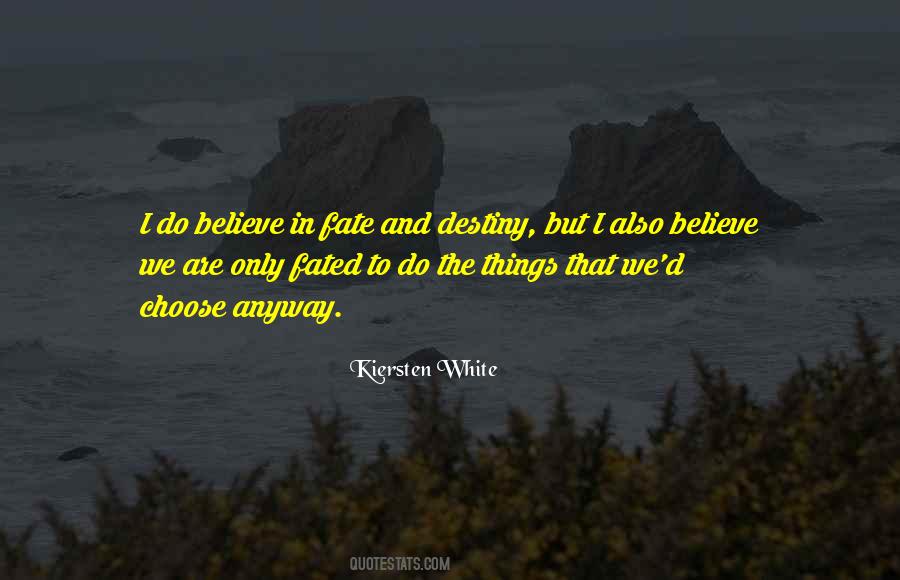 #97. With a heavy heart, I pulled out my own pocket knife, and carved three little words beneath Archer's. A plea and a wish, in a form I could never take back.
Return to me. - Author: Ashleigh Z.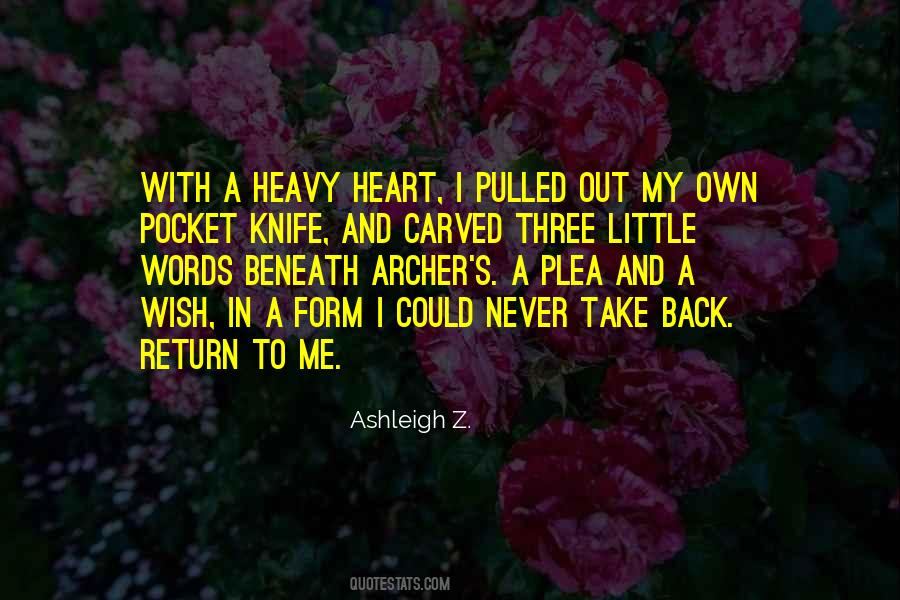 #98. You know who you are you just have to believe it. - Author: Elizabeth Scott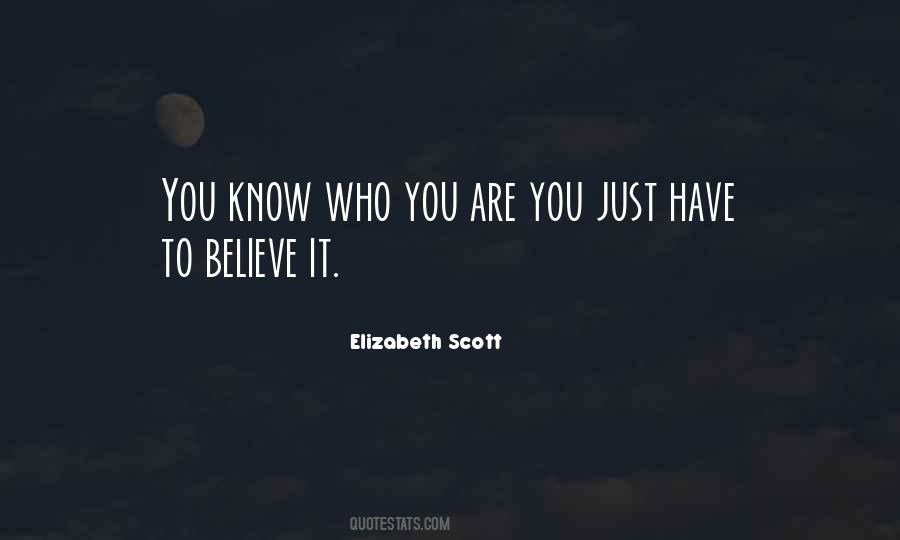 #99. Really, it's amazing. You are his other half, Alexandria, You are fated to be with him. You belong to him."

It felt like something sat heavy on my chest. "Oh.Oh.No."

Seth frowned at me. "You don't have to sound so disgusted. - Author: Jenny Trout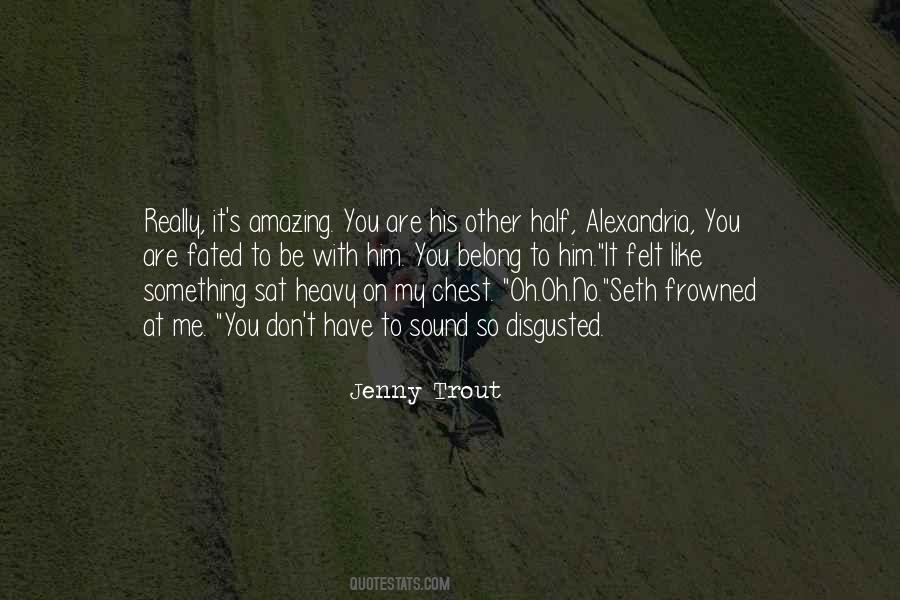 #100. Once they had been equal in their separate freedoms. They had set out to have children as lightly as if they were playing house, and now her necessarily domestic life bored him, and she was bound to it in her body and imagination. This imbalance was fated, built into their biology. - Author: Tessa Hadley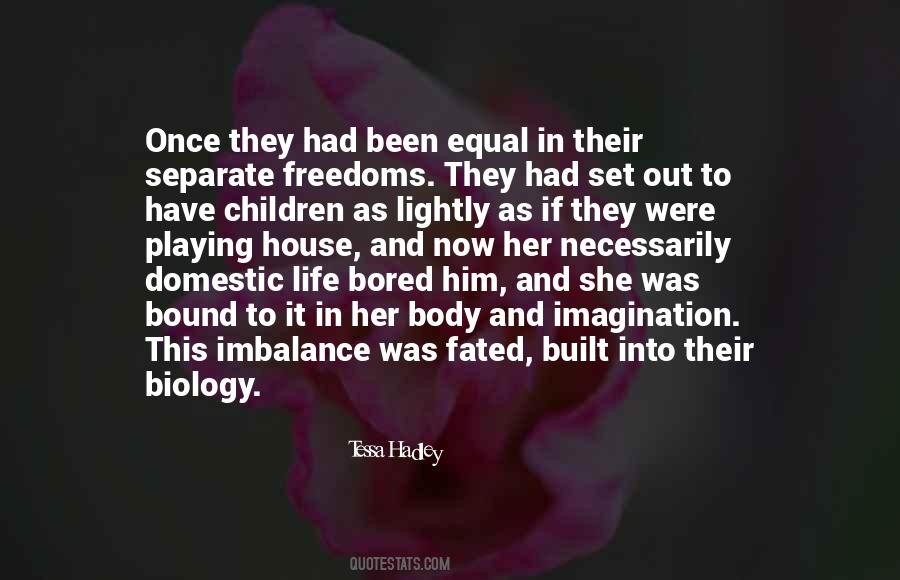 Famous Authors
Popular Topics