Fashion Designers Famous Quotes & Sayings
List of top 76 famous quotes and sayings about fashion designers to read and share with friends on your Facebook, Twitter, blogs.
Top 76 Quotes About Fashion Designers
#1. And which new designers are most likely to have the right habits? The ones who have formed the right truces and found the right alliances. Truces are so important that new fashion labels usually succeed only if they are headed by people who left other fashion companies on good terms. - Author: Charles Duhigg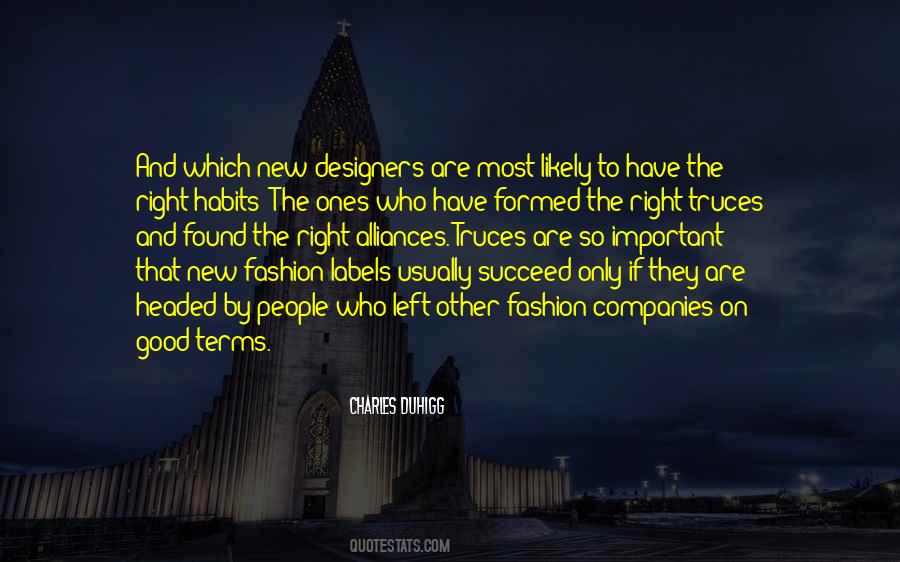 #2. Brazil has its own fashion identity. Many very talented Brazilian designers show every season at Sao Paulo and Rio fashion weeks. - Author: Gisele Bundchen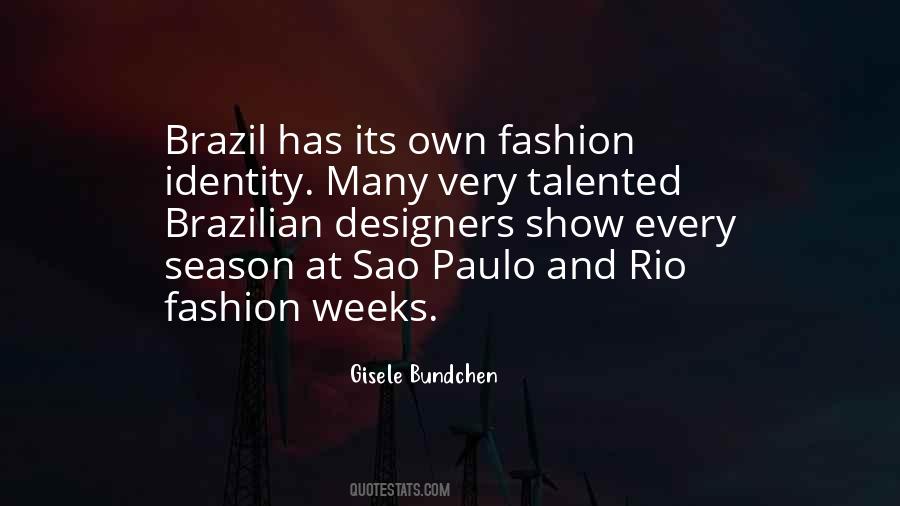 #3. We, as designers, have a job with so many possibilities and connections. We are connected to so many different portals, from art to movies to music to design. Fashion is always evolving. Actually, the field is huge. I don't think there is another profession that is so open to so many possibilities. - Author: Miuccia Prada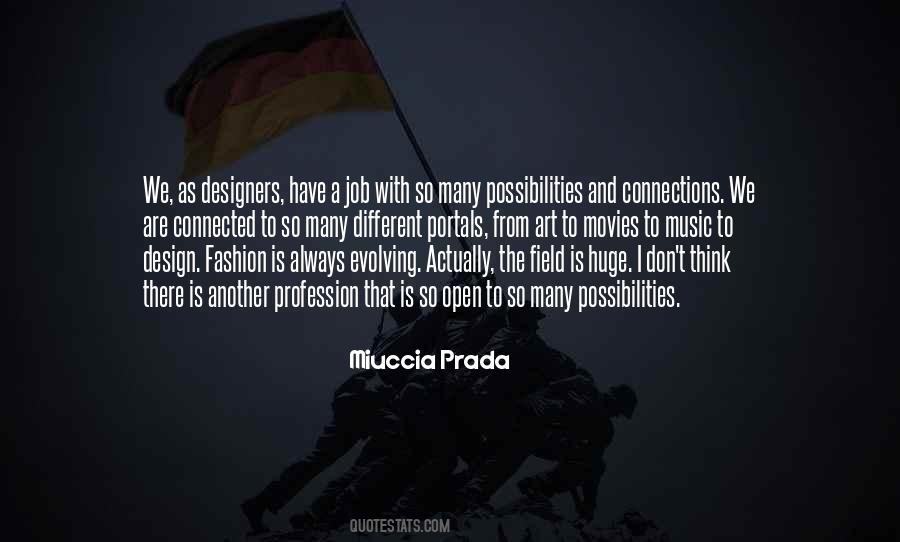 #4. Anyone who thinks designers don't talk to editors, and editors don't talk to stores doesn't know what's happening ... It's called crossover, sampling all references in music, art and fashion. - Author: Marc Jacobs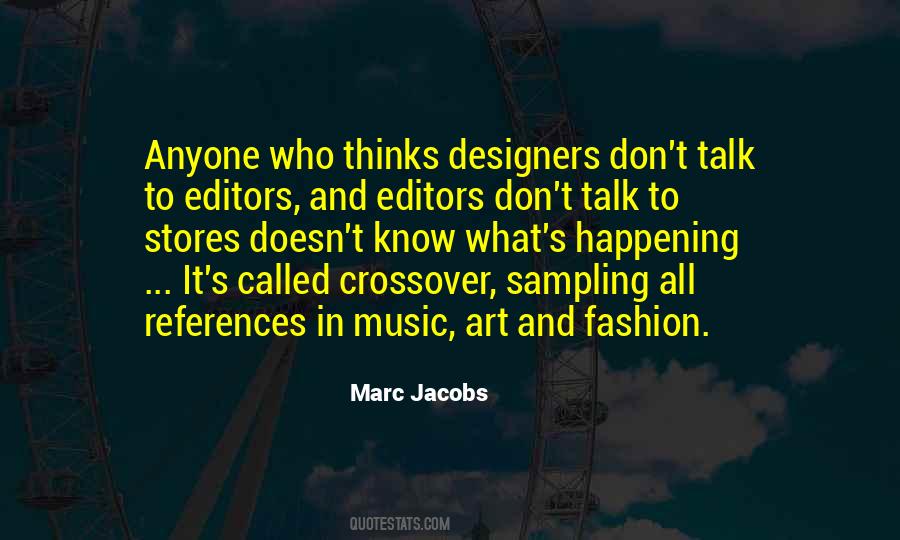 #5. Fashion Week is so important for designers. - Author: Diane Von Furstenberg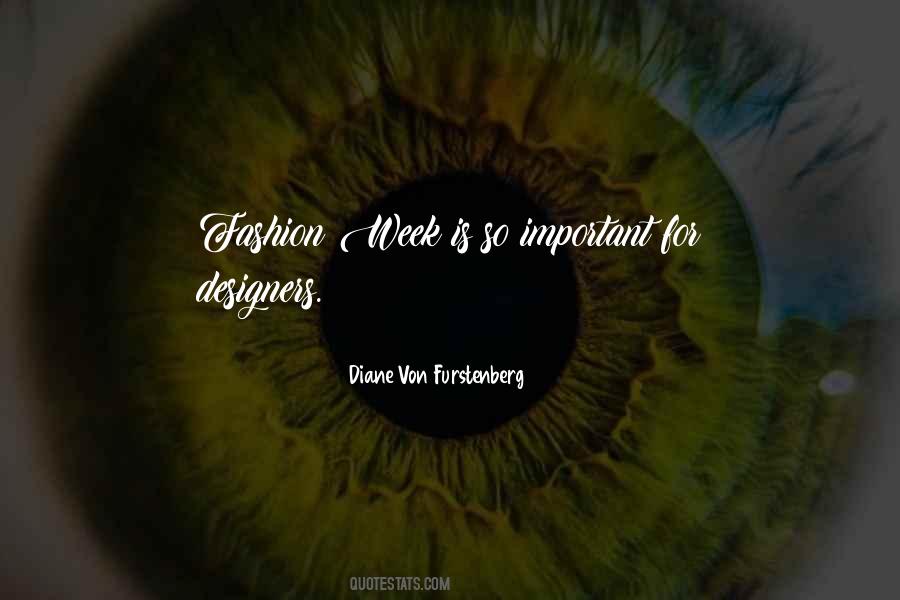 #6. Fashion is about affordable luxury ... To succeed, designers need to be affordable, wearable, accessible, and aspirational. - Author: Tommy Hilfiger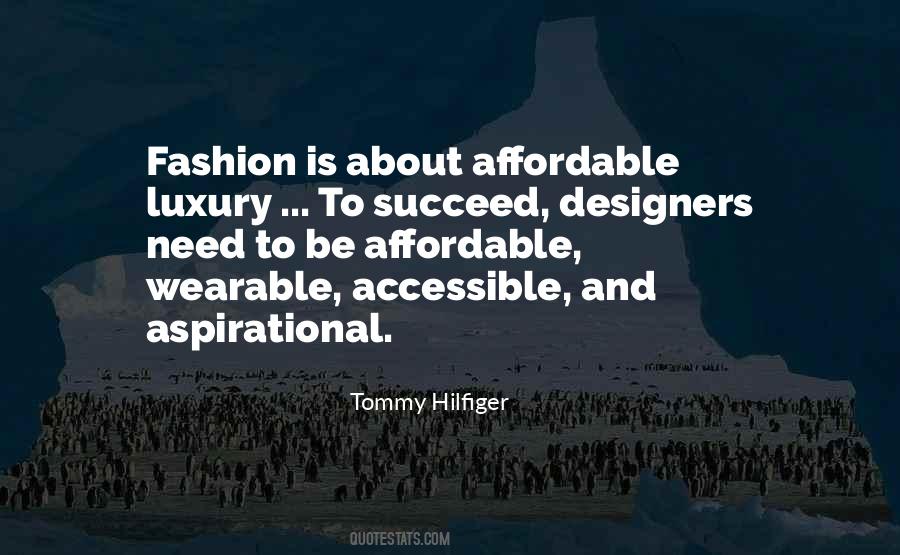 #7. What we considered to be so much part of our everyday fashion vocabulary today, where we see all these designers restarting with these big houses, was just beginning then [in the 90th]. - Author: Roopal Patel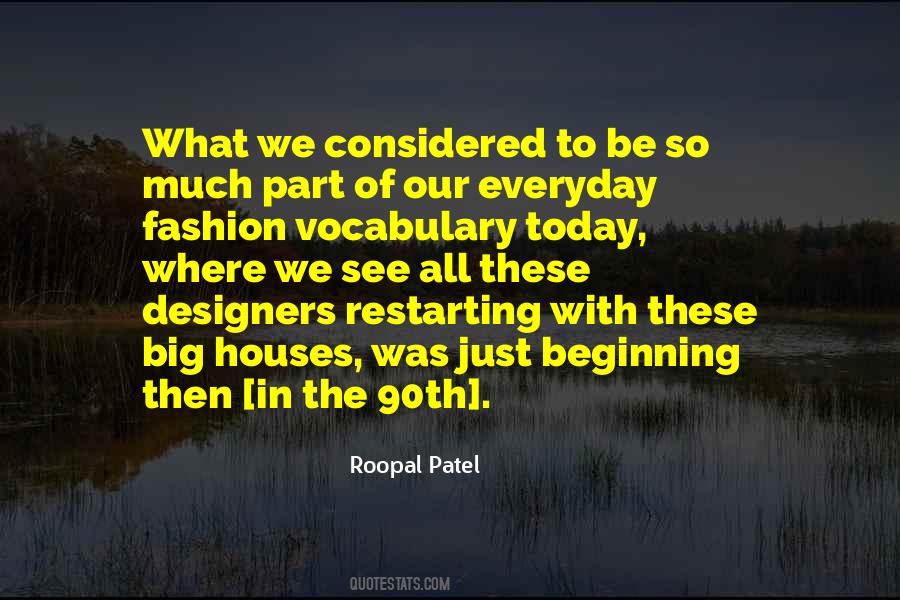 #8. Sometimes I can't figure designers out. It's as if they flunked human anatomy. - Author: Erma Bombeck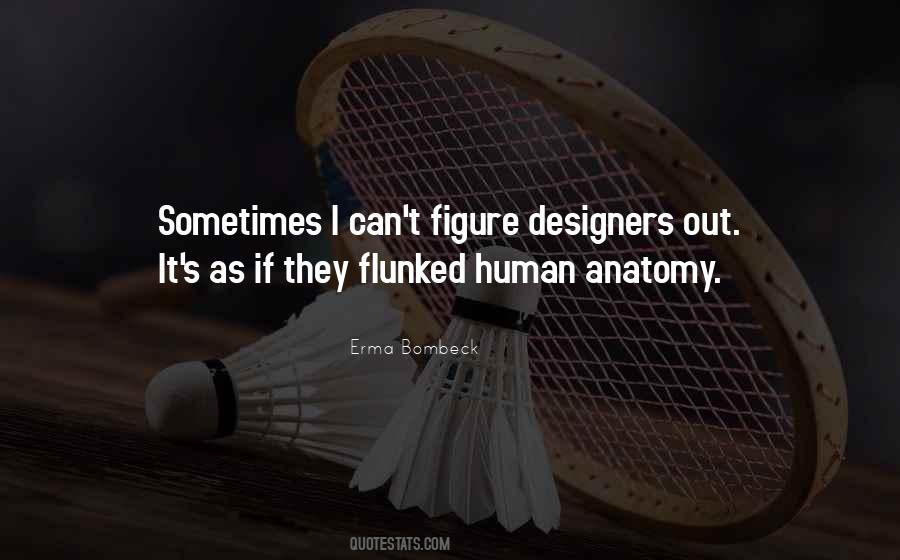 #9. My mother was a beauty queen in her hey day. That's where I learnt a little about makeup and hair ... I had never picked up or even seen a 'Vogue' before I was 17. I had no idea about fashion, magazines, models or designers. No idea. - Author: Kylie Bax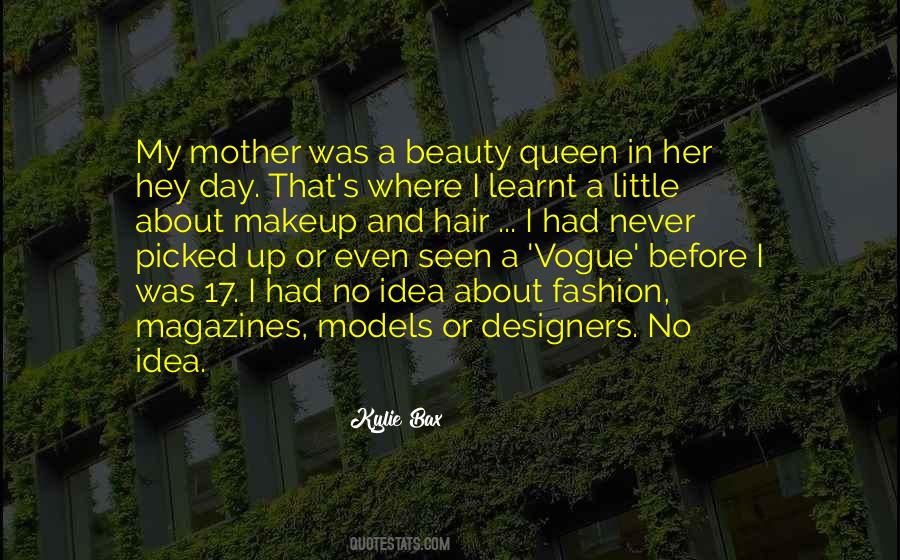 #10. Tell me, why do former young designers who are now in their middle 40s have to redo the 1960s and 70s. Why they cannot invent fashion for today? - Author: Karl Lagerfeld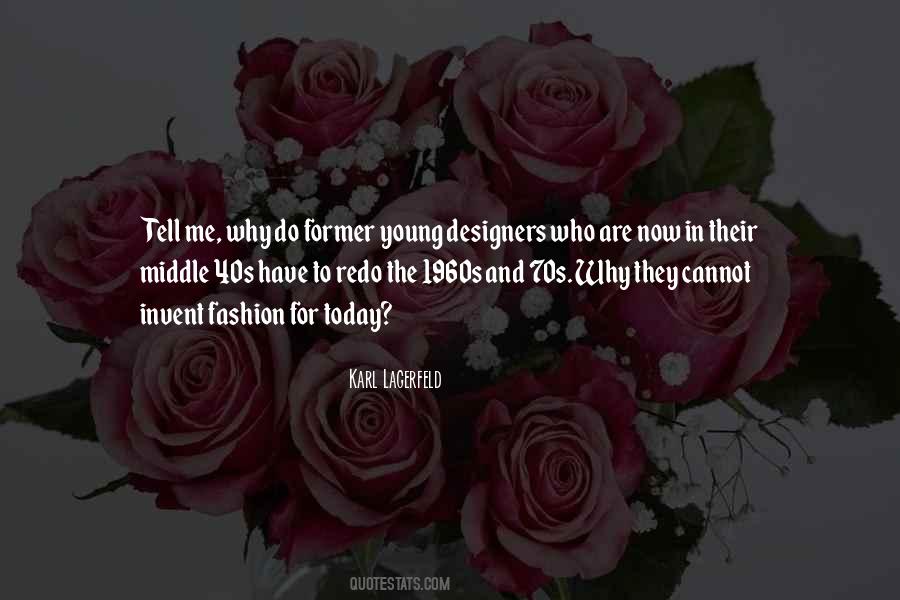 #11. I talk to fashion designers and say I want some money to save the rainforest, and they say, 'Oh, I agree with you completely Vivienne. Yes, climate change, it's definitely happening,' but they don't feel that they can do anything about it; they don't even think 'Well let's stop it!' - Author: Vivienne Westwood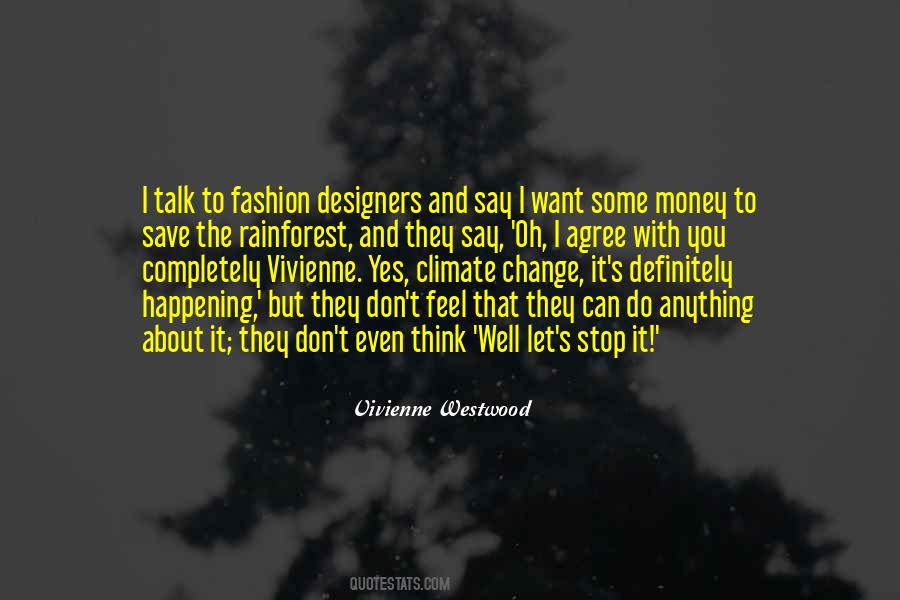 #12. I'm really not for famous people who design a line for a company, when you know it's not really them creating it but a team of designers, especially when there are so many talented people who've taken the time to go and study fashion. - Author: Bonnie Wright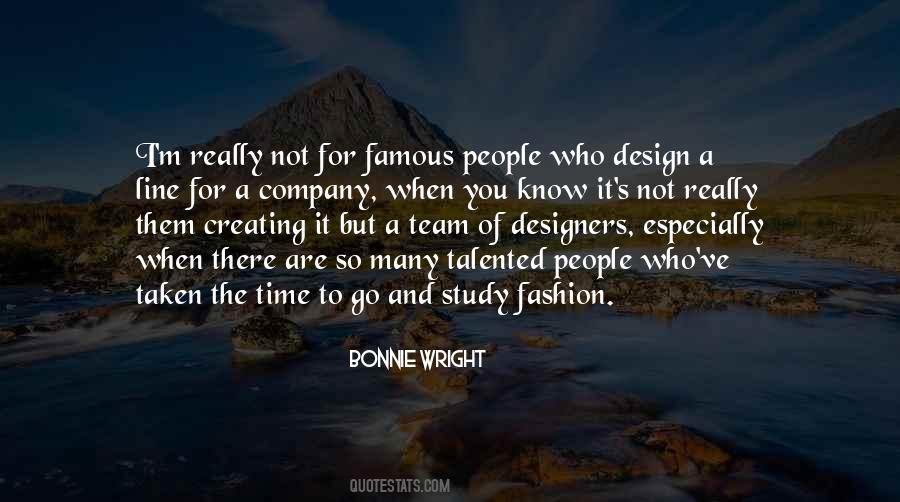 #13. It is important always to have really original talent. There are lots of good designers that make attractive clothes and make women look beautiful. But at the same time, one doesn't want to lose the idea that there is someone out there who can change the way you look at fashion. - Author: Anna Wintour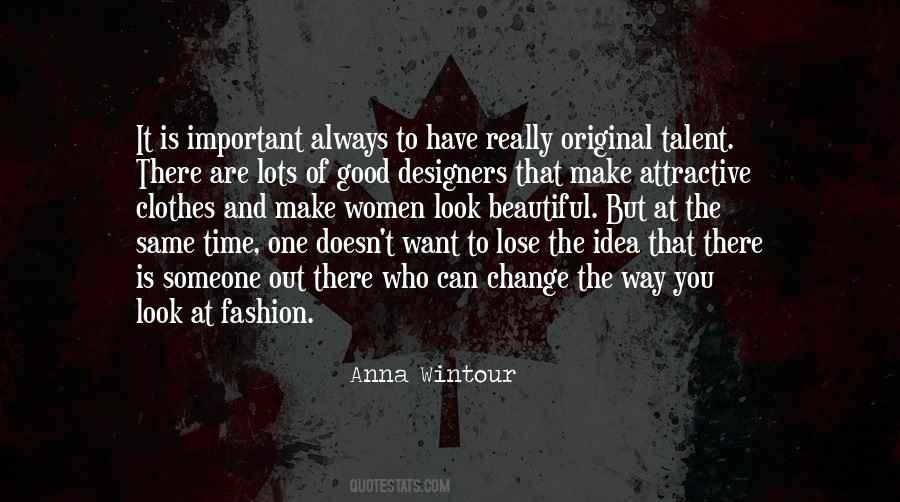 #14. I think it's cool that London Fashion Week is about young designers trying wacky things. - Author: Alexa Chung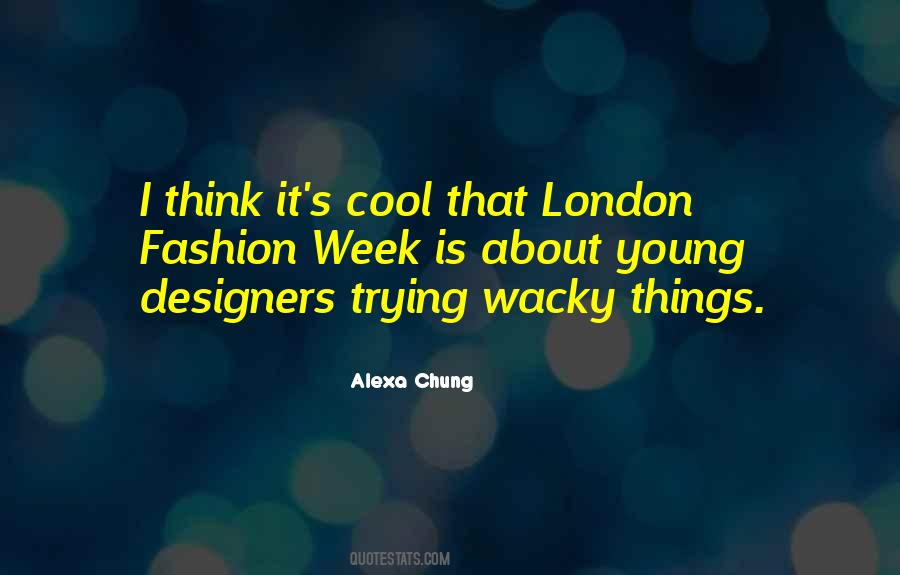 #15. My fashion resolution for 2015 is to continue to be inspired by all of the great designers of the past and present while keeping true to my style and myself. - Author: Bella Hadid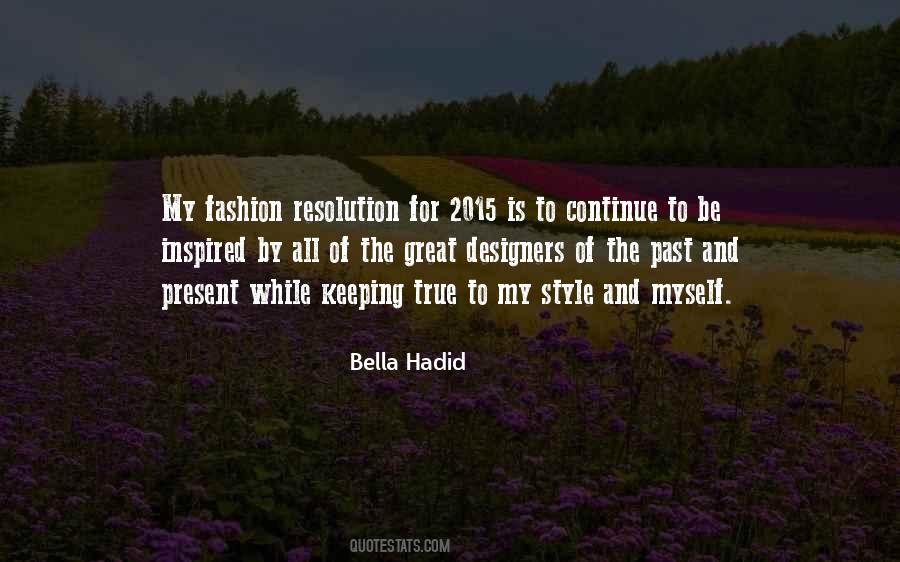 #16. A wise friend once told me, 'Don't wear what fashion designers tell you to wear. Wear what _they_ wear.' His point being that most designers, no matter what they throw onto the runway, favor simple, flattering pieces for themselves. - Author: Tina Fey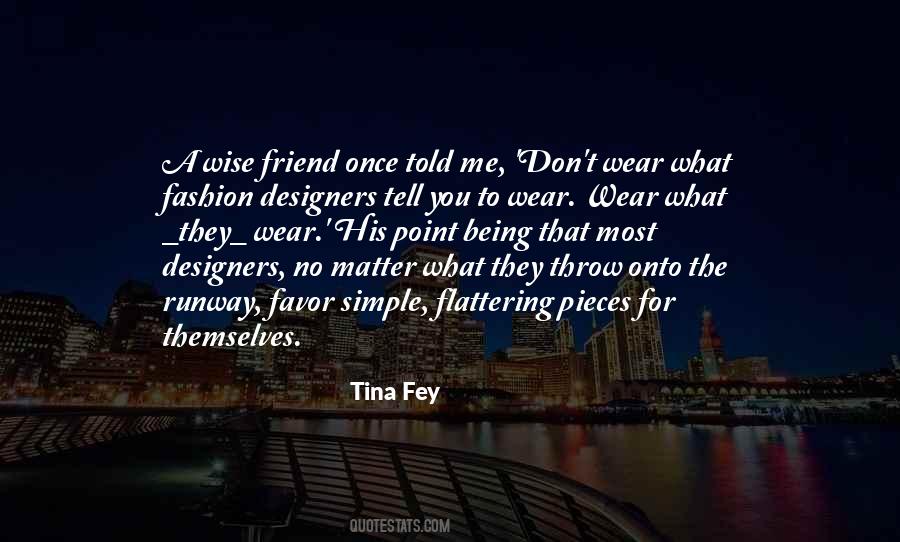 #17. For my film 'Fashion,' like an investigative journalist, I went about knowing the people, the models, the fashion designers. Similarly with the corporate world. - Author: Madhur Bhandarkar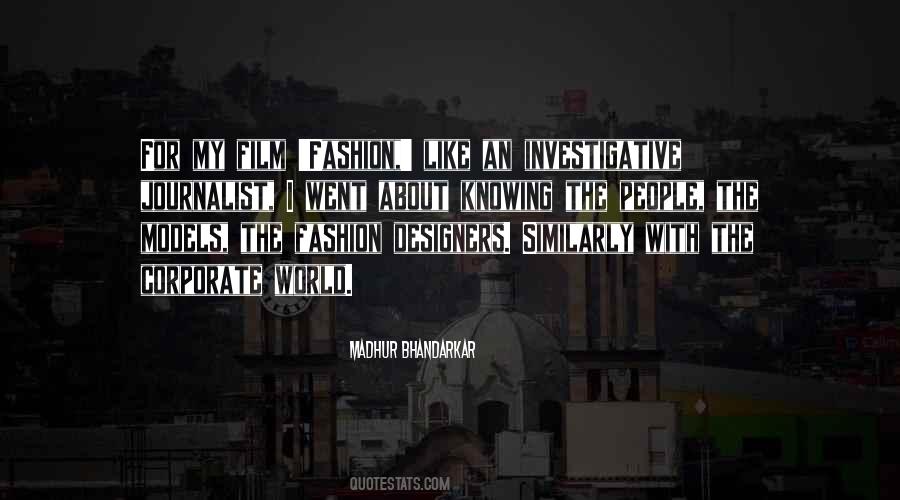 #18. I love clothes. I don't know a woman who doesn't. But generally women are intrigued with fashion. Designers are almost making fun of us at times. - Author: Olivia Newton-John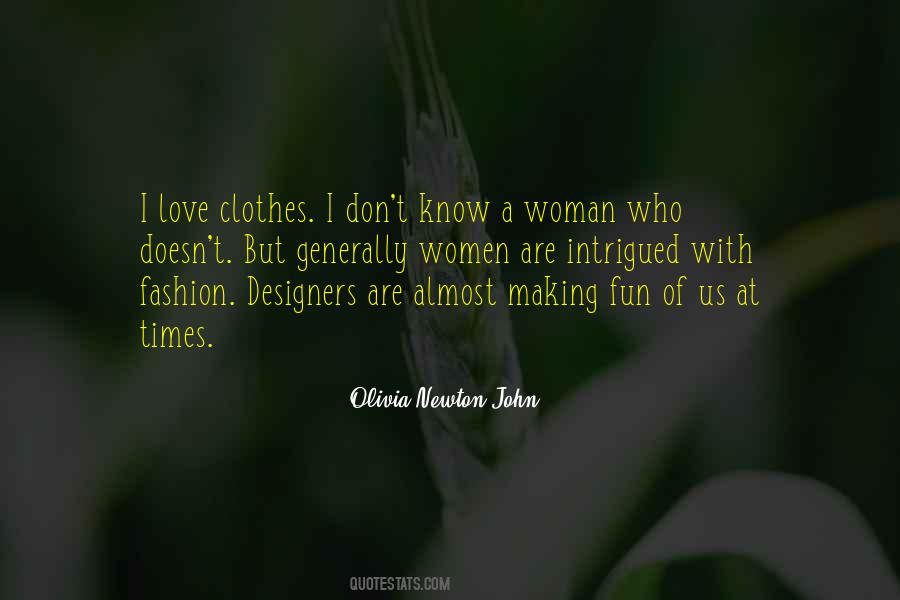 #19. As the fashion carousel spins ever faster, the concern is that, while the stream of newness never runs out, there's going to be a good deal more crash and burn among designers in the future. - Author: Suzy Menkes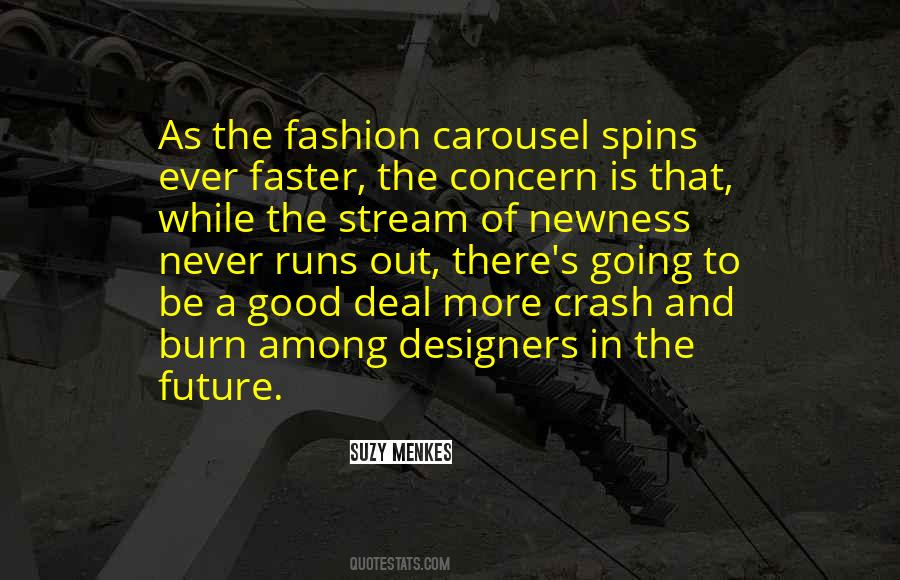 #20. Fashion was in a crisis up until the mid-'90s and, when it came out of the crisis, it was a very different place. It was a place that nurtured and cultivated young entrepreneurial designers. - Author: Tim Gunn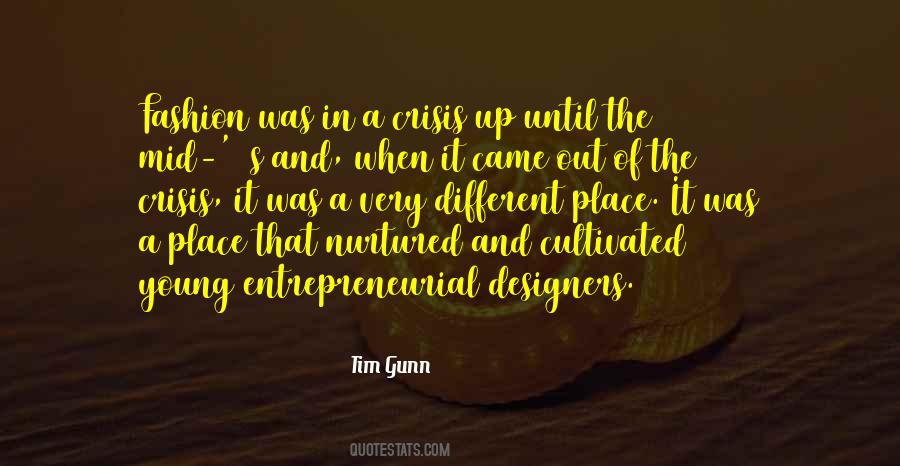 #21. For modern fashion designers, bones are beautiful. I don't know why, but so many people are obsessed with the skeletal look. - Author: Marie Helvin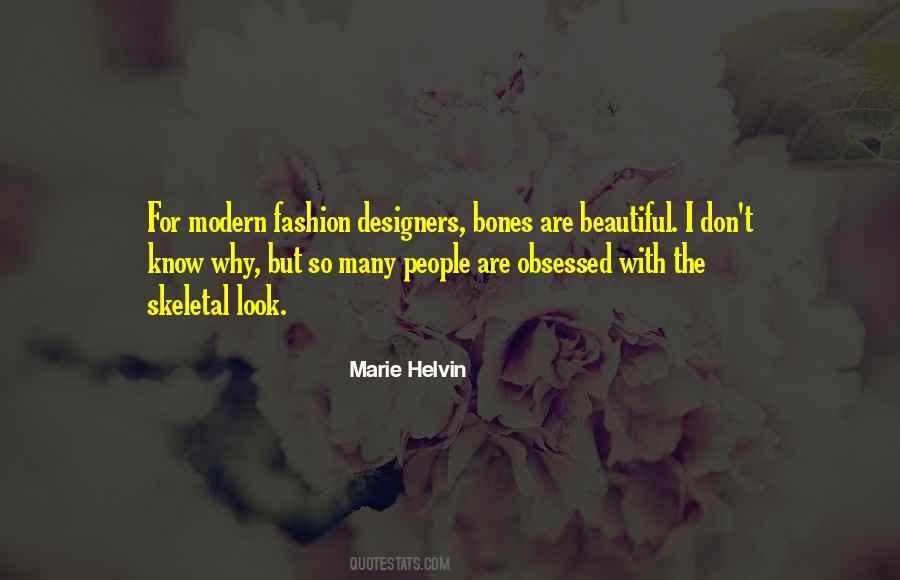 #22. I think that young British designers have a kind of fearlessness in they way they approach fashion. - Author: Monika Chiang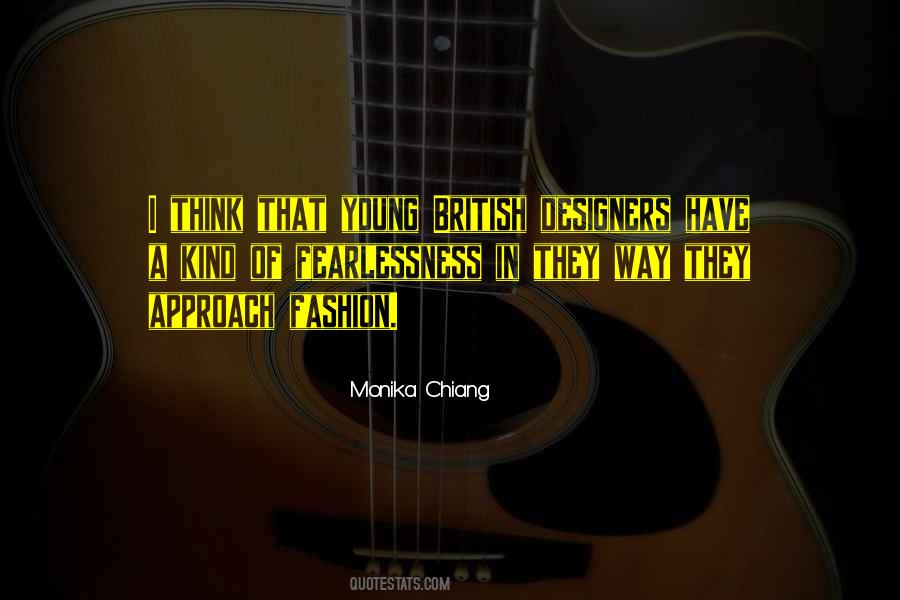 #23. I don't think there is the same space for fashion designers to create like Yves was doing it. So, it's that he's one of the last, great geniuses in fashion. - Author: Gaspard Ulliel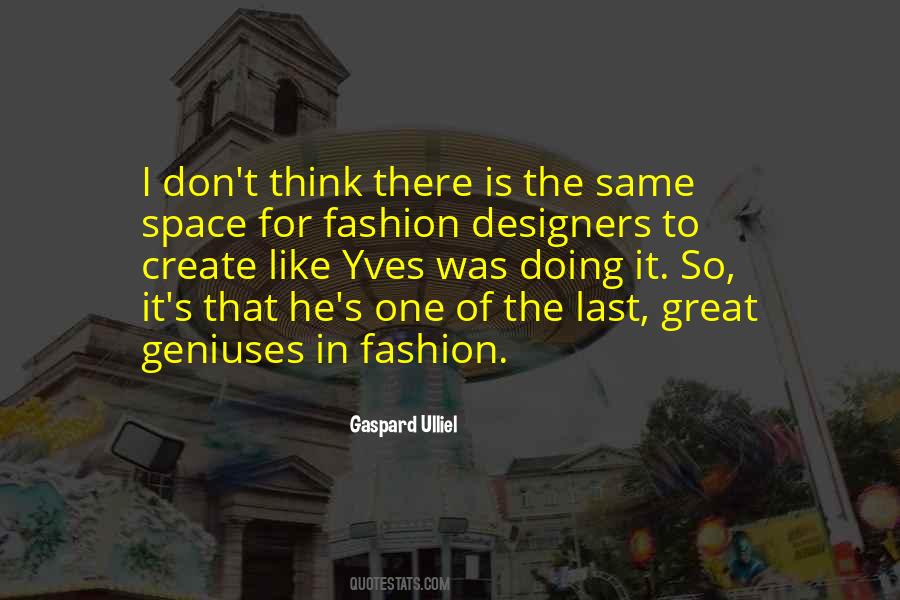 #24. I am happy that thousands of students, young designers and fashion people will be able to see and study my work in every aspect of it. - Author: Valentino Garavani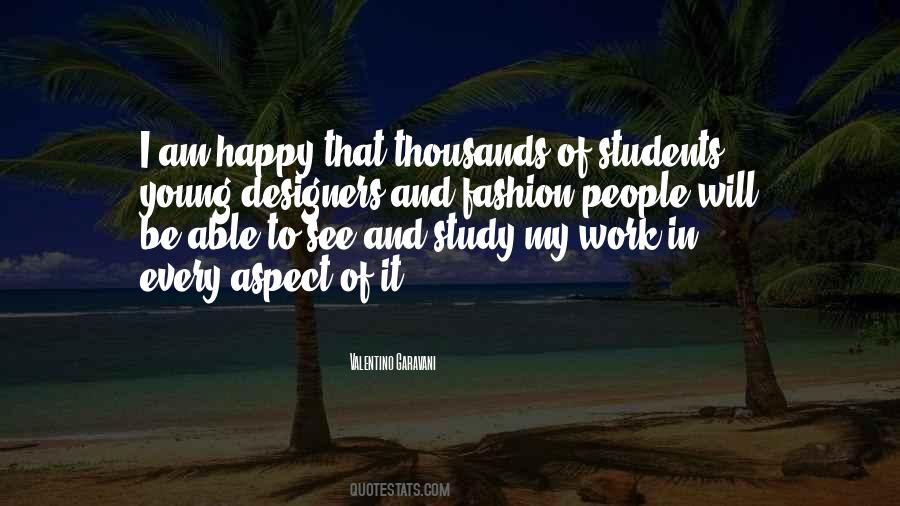 #25. I always look at the work of fashion designers as if they were art. - Author: Zubin Mehta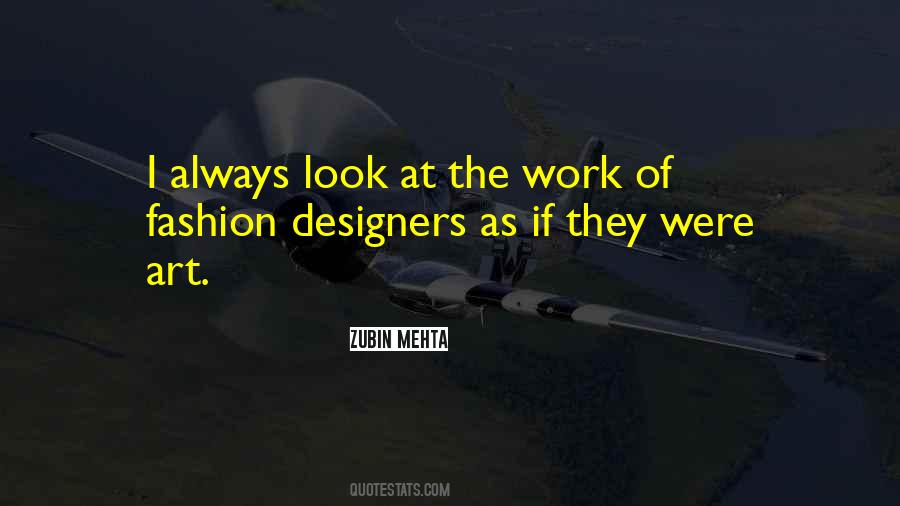 #26. The designers, photographers and models I work with, they are really hard-working people who are devoting their lives to fashion. They're kind of like nuns of fashion. - Author: Alber Elbaz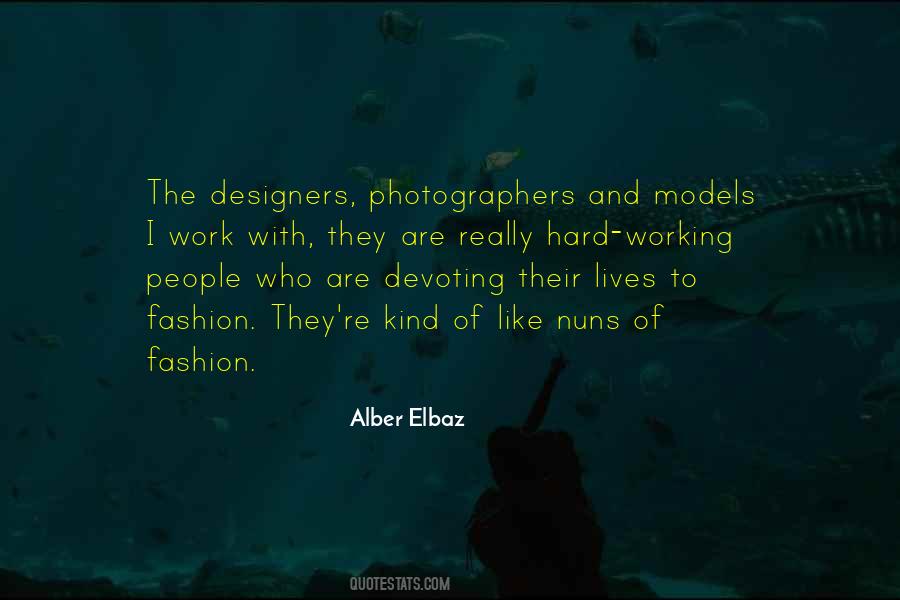 #27. Fashion is what you're offered four times a year by designers. And style is what you choose. - Author: Lauren Hutton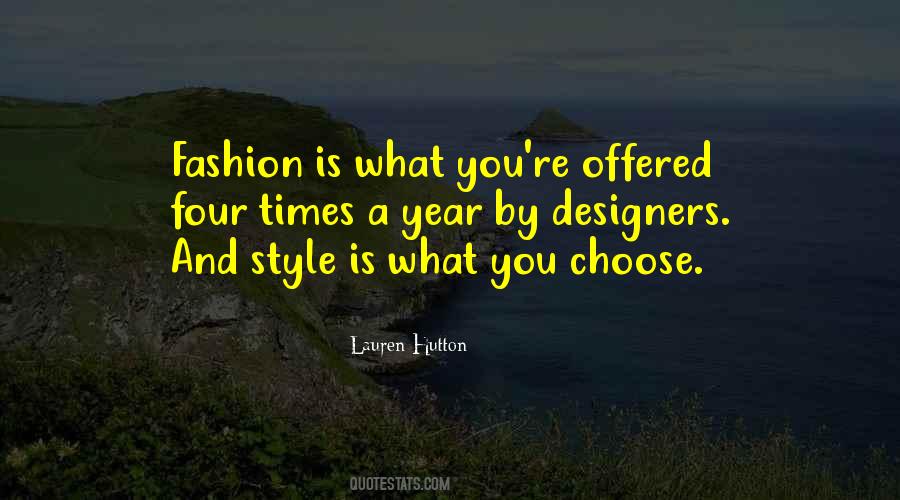 #28. Fashion designers are dictators of taste. - Author: Karl Lagerfeld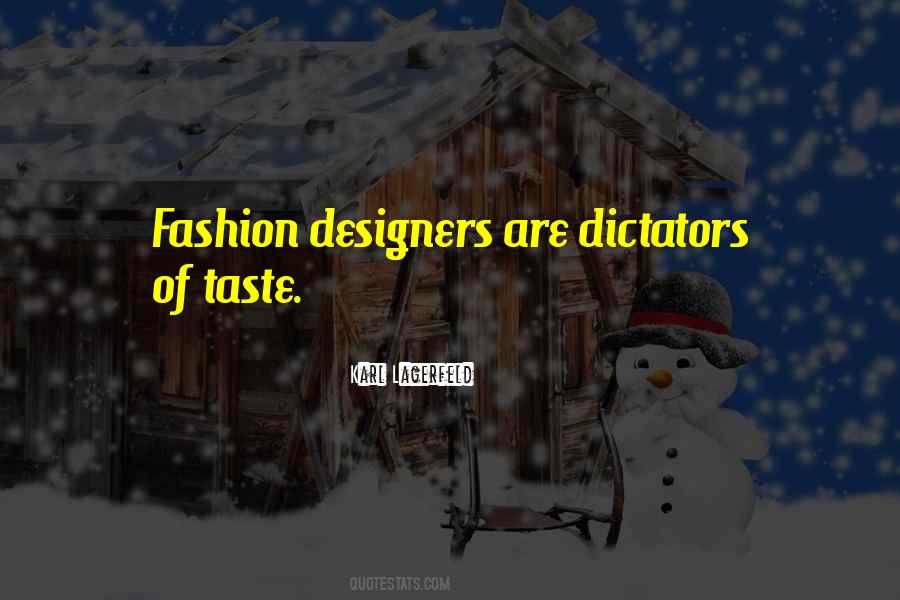 #29. With celebrity being our new religion, it's increasingly difficult to start up on your own. Talented young designers are more likely to either go and work for celebrity brands or huge fashion houses than ever before. - Author: Alice Temperley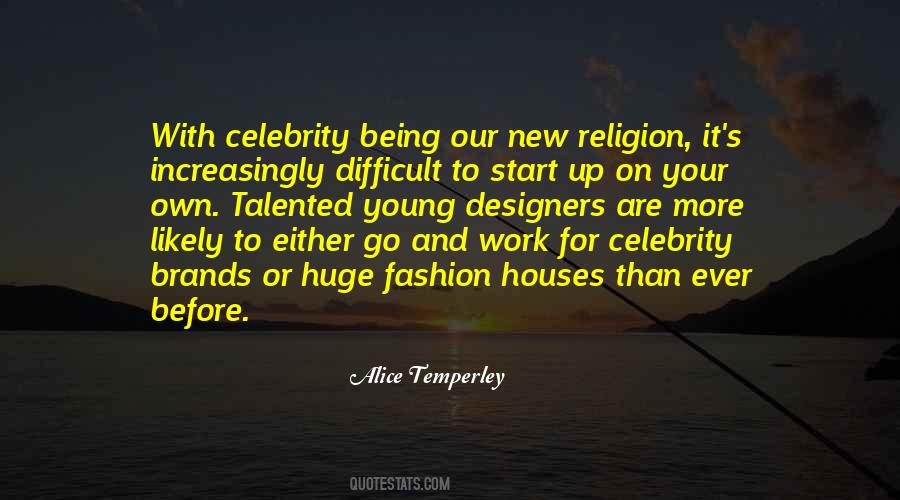 #30. It's so funny because when I talk about fashion and menswear designers, it's really like a small percentage of my head. I don't mind talking about it, but I always worry that it's gonna seem to the outside world that that's all I think about. - Author: Albert Hammond Jr.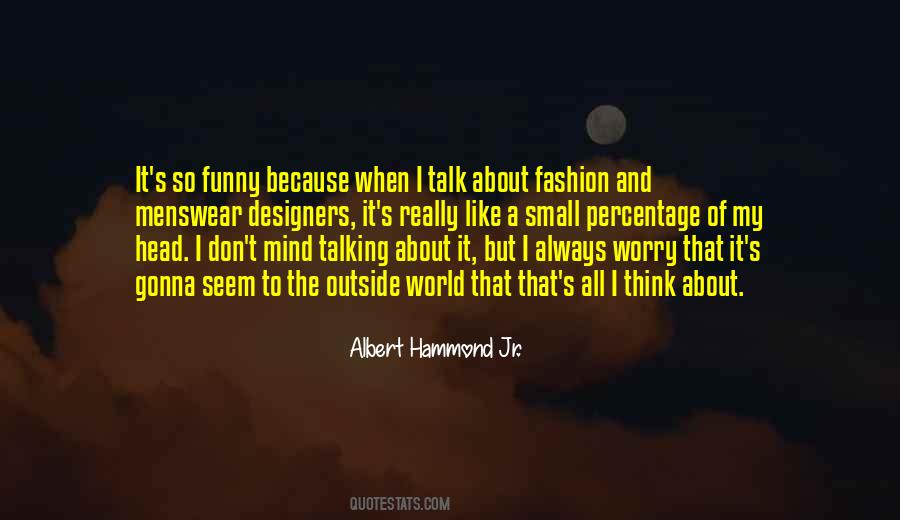 #31. There's something about the fashion world that I like, which is, I see a lot of the designers really have affection for other designers. - Author: Harvey Weinstein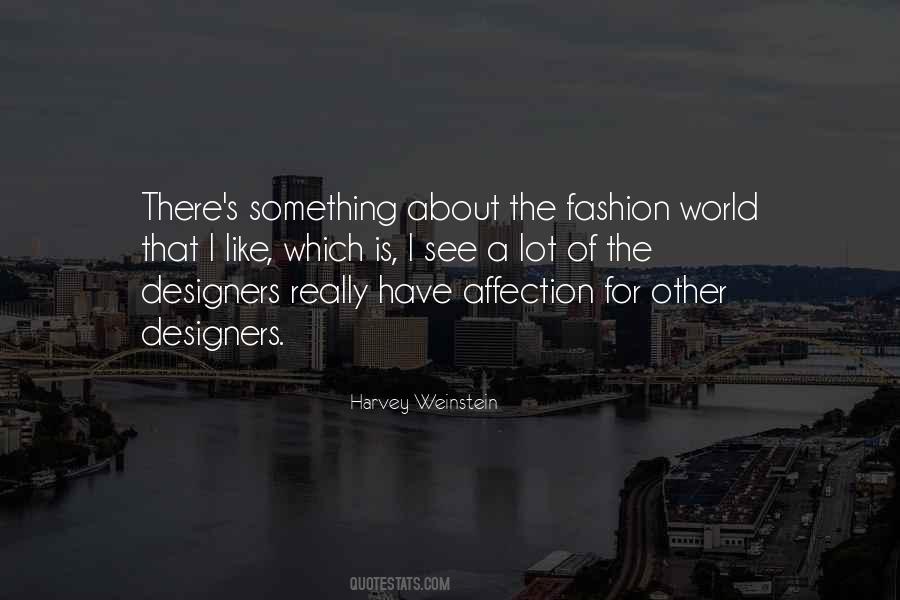 #32. I like characters. I like spirited characters whether they exist in fiction or real life. Whether they're the invention of artistic people or directors, musicians. I think music and art and fashion designers inspire me and I like characters. - Author: Marc Jacobs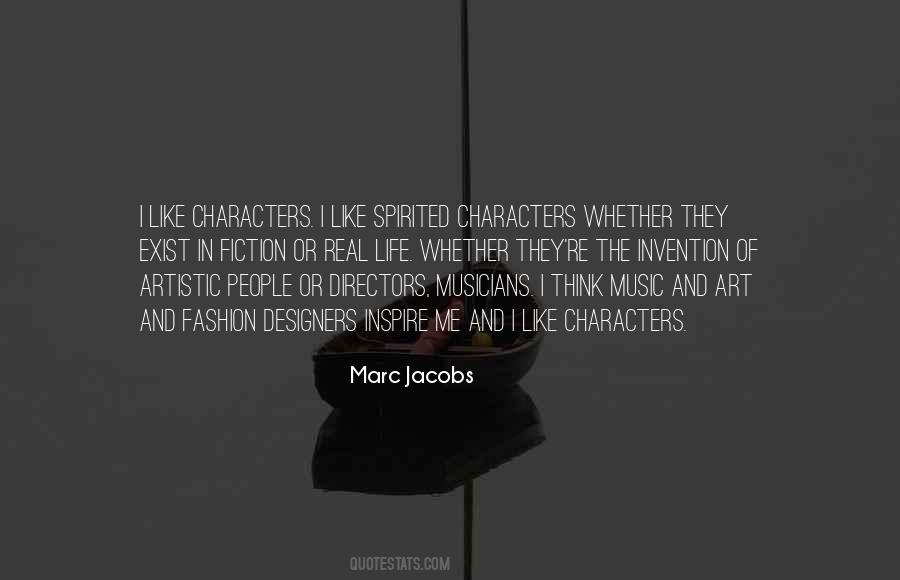 #33. Fashion has become a joke. The designers have forgotten that there are women inside the dresses. Most women dress for men and want to be admired. But they must also be able to move, to get into a car without bursting their seams! Clothes must have a natural shape. - Author: Coco Chanel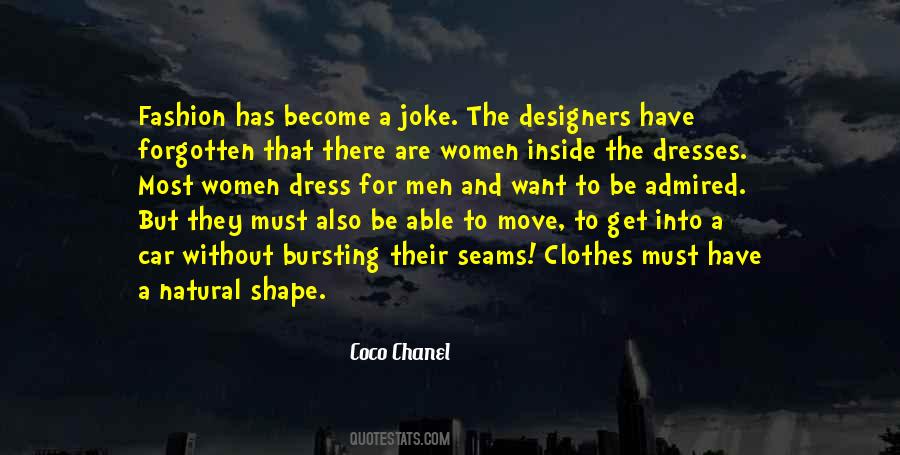 #34. London is very fashion-forward. Everyone's very stylish, and the designers are great. It's very my style, grungy and feminine - a bit of everything. - Author: Jessica Hart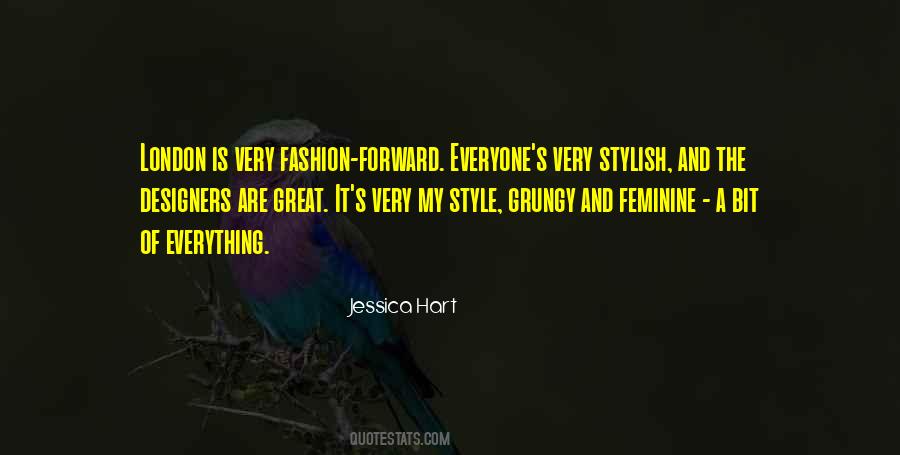 #35. Fashion is very tough, and we shouldn't forget that before designers were money-makers, they were artists. - Author: Carine Roitfeld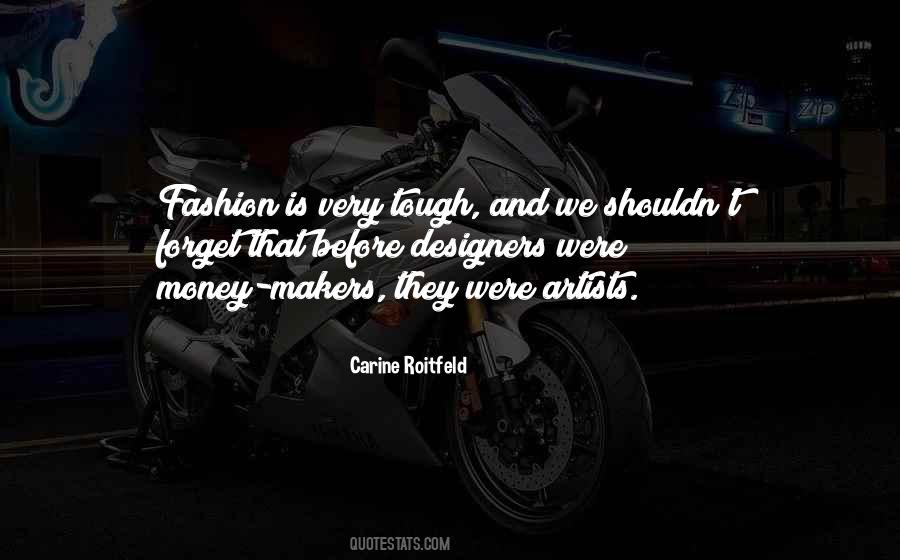 #36. There's a tendency to think that young designers only do fantasy fashion, but I'm more interested in making clothes that women can afford. - Author: Alexander Wang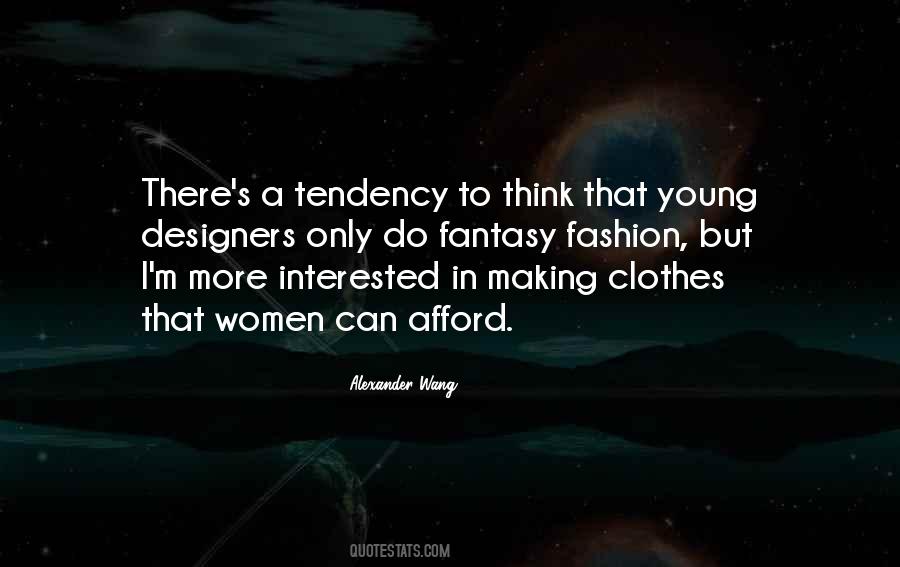 #37. There are not many designers who are truly creative and literate. Most are self-indulgent, illiterate, fashion-mongering, service people trying to bridge a message between a product and an audience. - Author: Ivan Chermayeff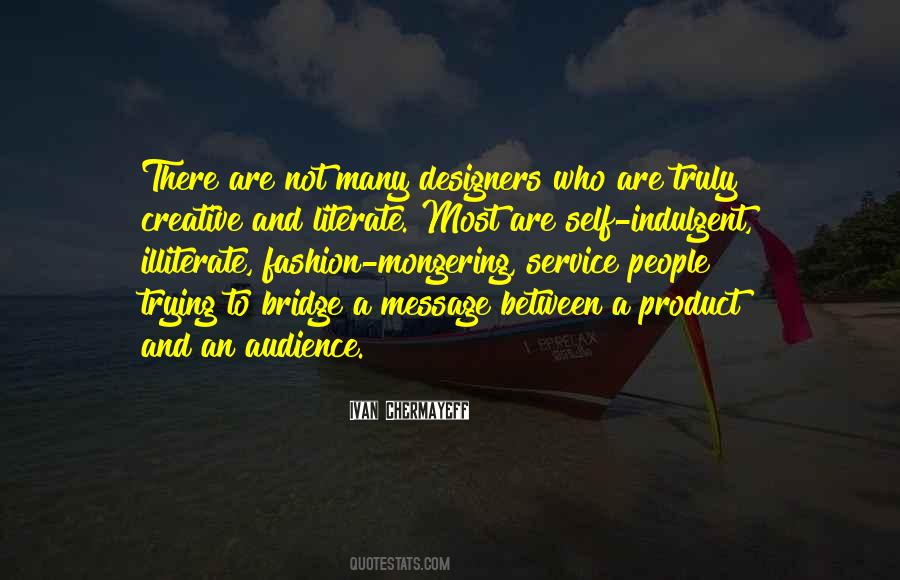 #38. I'm only waiting for Lindsay Lohan's fashion collection to come out. Ten years from now, there may be no real designers left. - Author: Vera Wang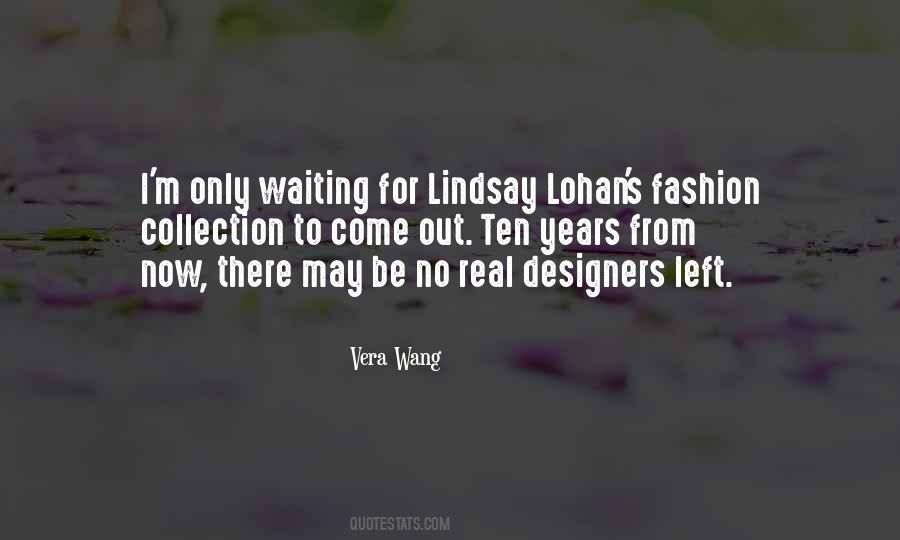 #39. Alexander McQueen was one of the greatest fashion designers of his generation. His genius, sometimes provocative, admired and saluted by all, constantly opened new perspectives. Visionary and avant-garde, his creations took their inspiration from both tradition and timeless hyper-modernity. - Author: Francois-Henri Pinault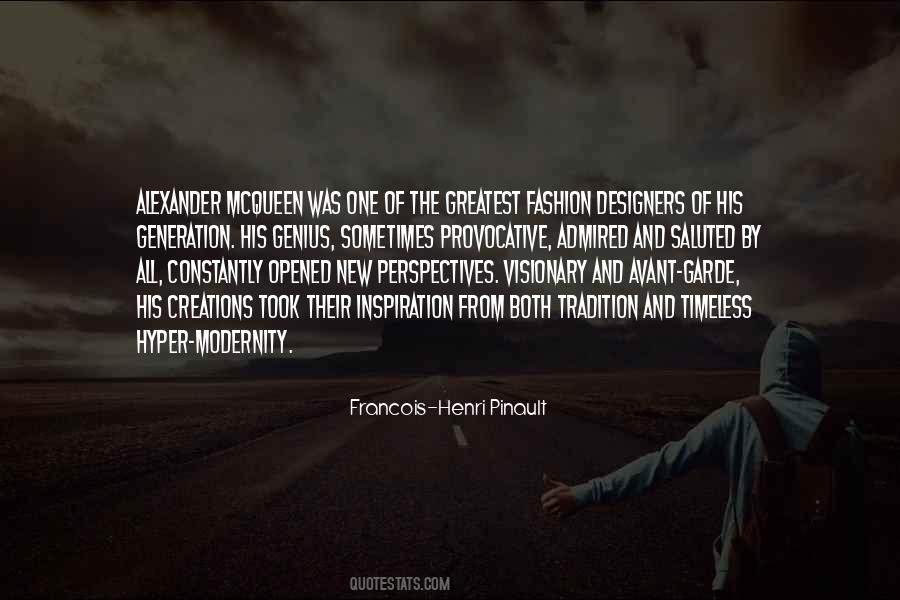 #40. You can tell when someone is driven by labels. If something is couture, they think it's important and wear it and sometimes make a terrible fashion mistake. People are shocked that I know so little about designers. - Author: Zoe Kravitz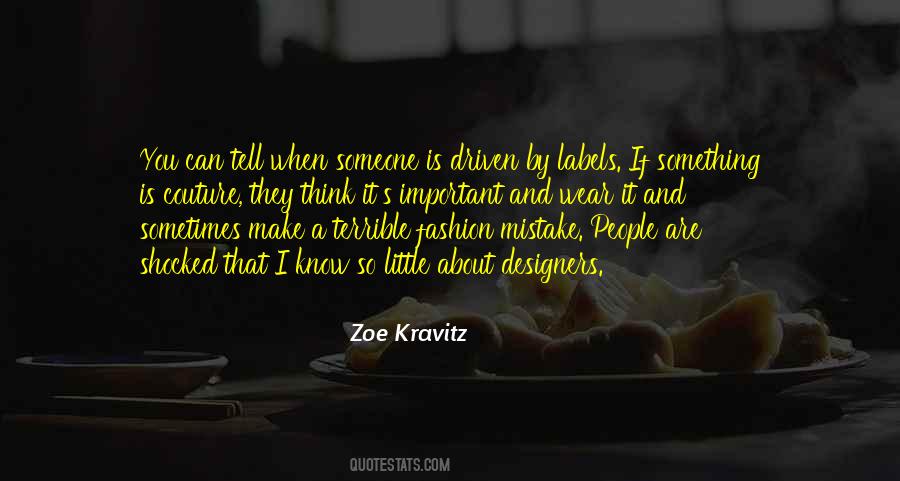 #41. The craziest thing about fashion people in general, not just designers, is that it's always, "Oh my God, you lost weight! I love your hair!" Or "Oh, you're so tan!" Or, "You're so skinny! I love your shoes!" These are fashion icebreakers. Everyone's always looking at each other. - Author: Michael Kors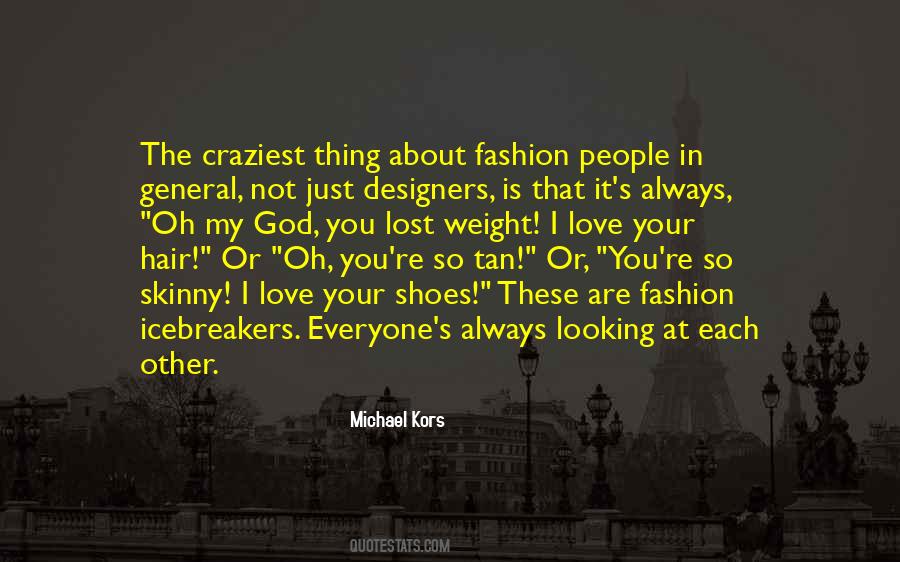 #42. You are not the problem but fashion designers, who are limiting themselves creatively. - Author: Gloria D. Gonsalves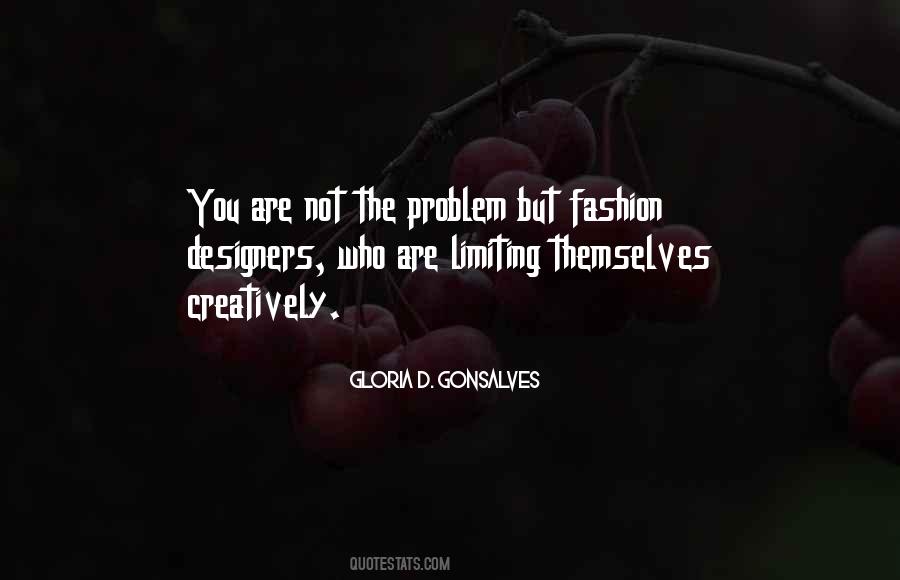 #43. The beauty of the soul enfold in spiritual-life. - Author: Lailah Gifty Akita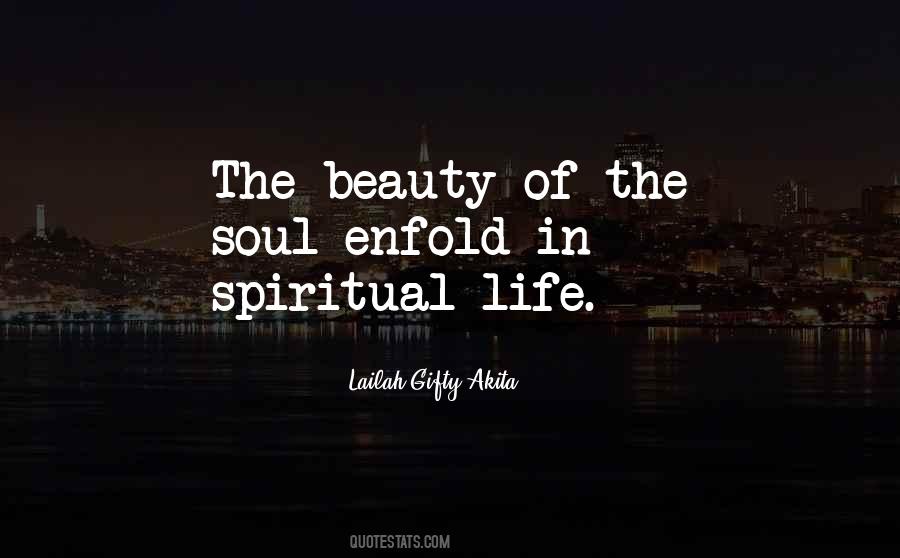 #44. Fashion designers only occasionally tread outside the realm of clothes as pure commodity. When they do, the results are often a muddled, self-conscious message. - Author: Robin Givhan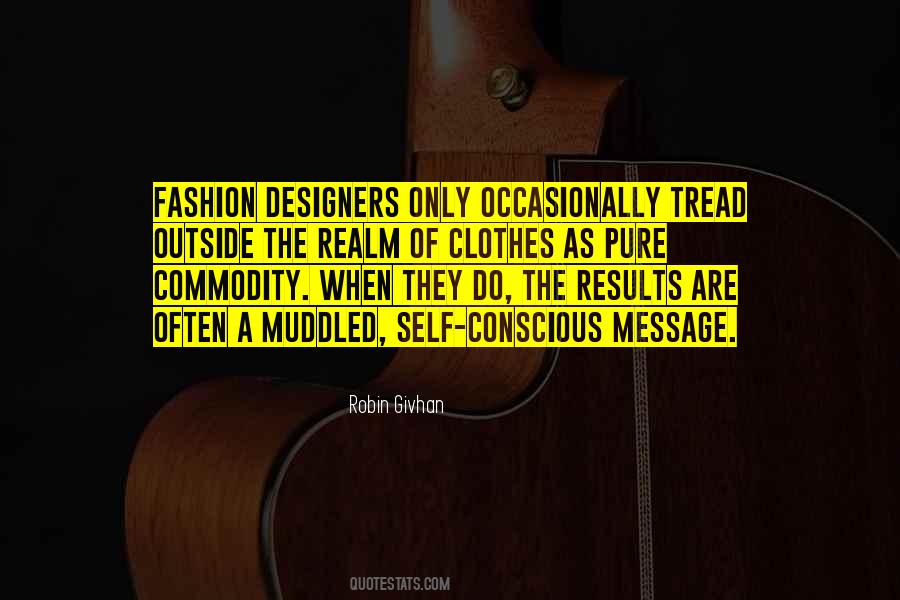 #45. Antwerp literally was a trash hole, but fashion changed that. The designers there were extreme, and their work was hard to understand. But now, people from all over the world come to Antwerp to shop. - Author: Raf Simons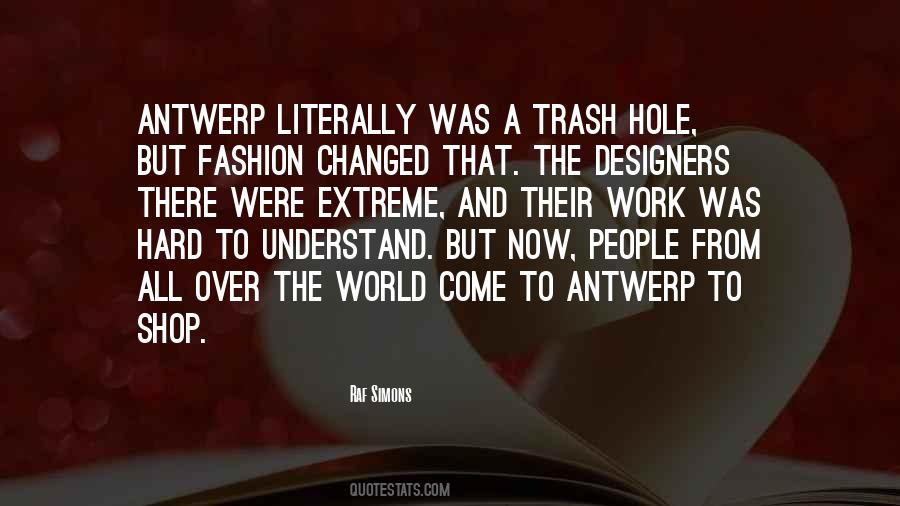 #46. It was only when I began modeling at 18 that I really began enjoying fashion and reading any fashion magazine I could get my hands on, and developing a profound respect for designers, fashion and how to wear it. - Author: Poppy Delevingne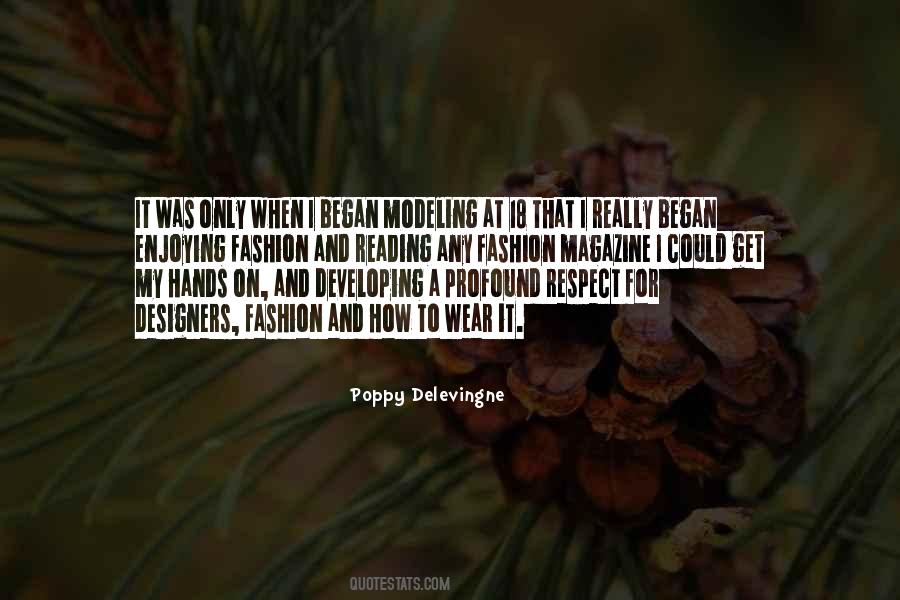 #47. Even during the golden age of fashion, you had haute couture houses where the designers didn't have money. - Author: Olivier Theyskens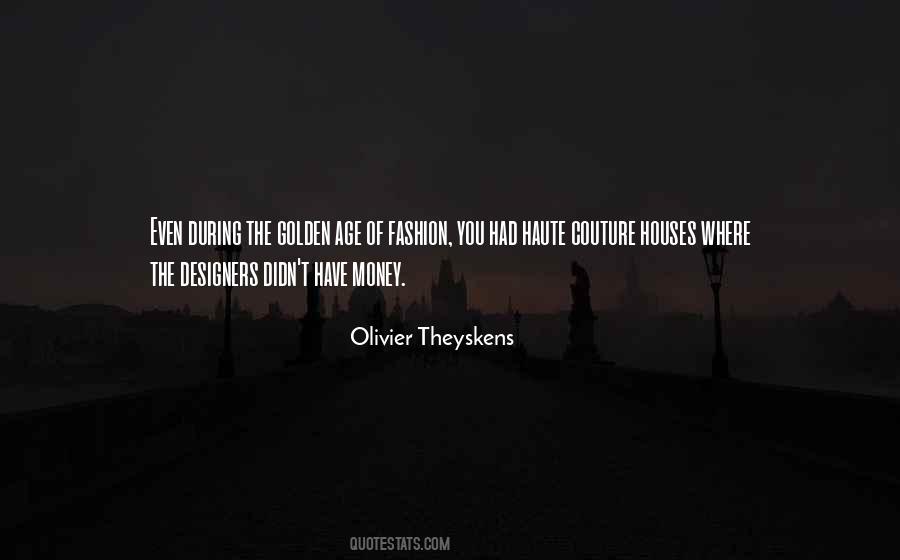 #48. My style has definitely grown since moving to New York and working on 'Gossip Girl.' I'm more aware of a lot of designers and I'm more aware of fashion. - Author: Jessica Szohr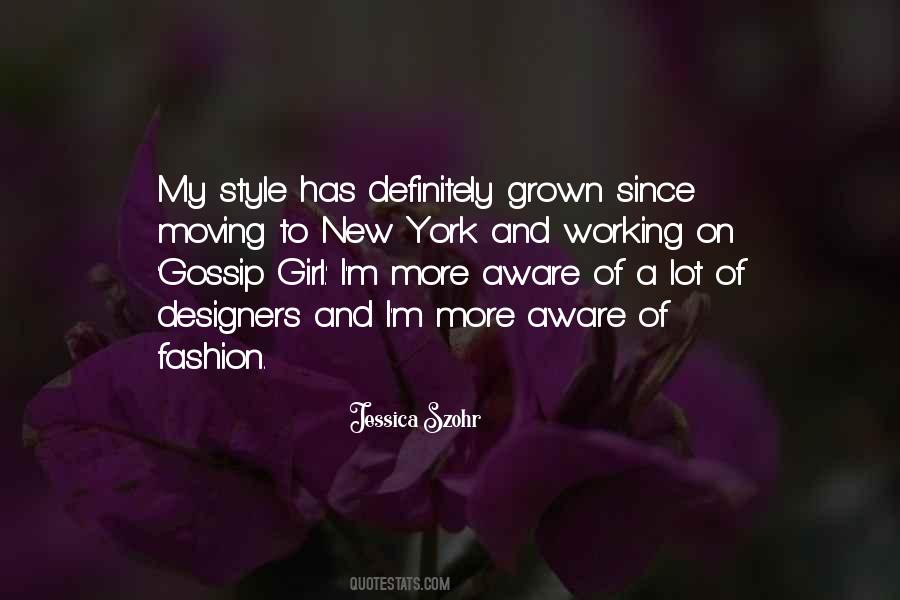 #49. One doesn't want fashion to look ridiculous, silly, or out of step with the times - but you do want designers that make you think, that make you look at fashion differently. That's how fashion changes. If it doesn't change, it's not looking forward. And that's important to me. - Author: Anna Wintour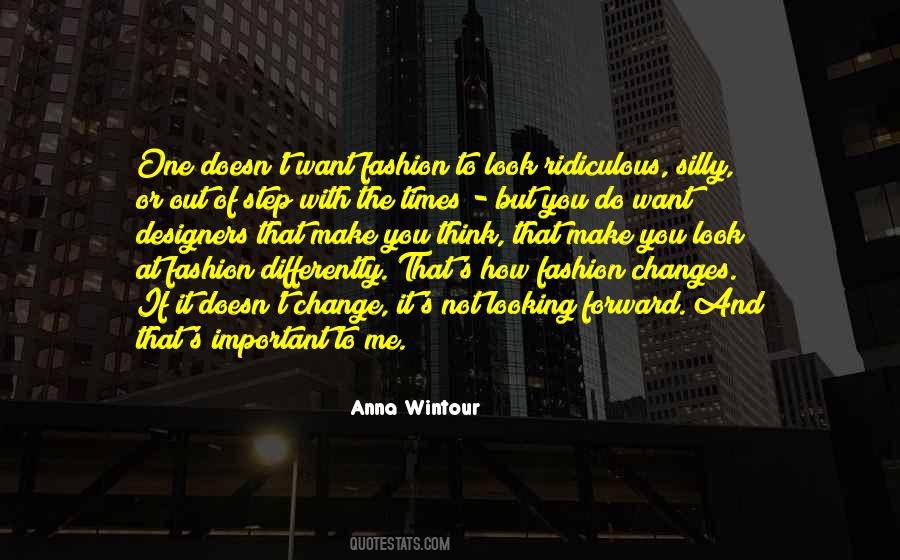 #50. Fashion is an illusion. It's a multibillion-pound industry that has to appear frivolous. Designers work and work and work, all night sometimes. - Author: Philip Treacy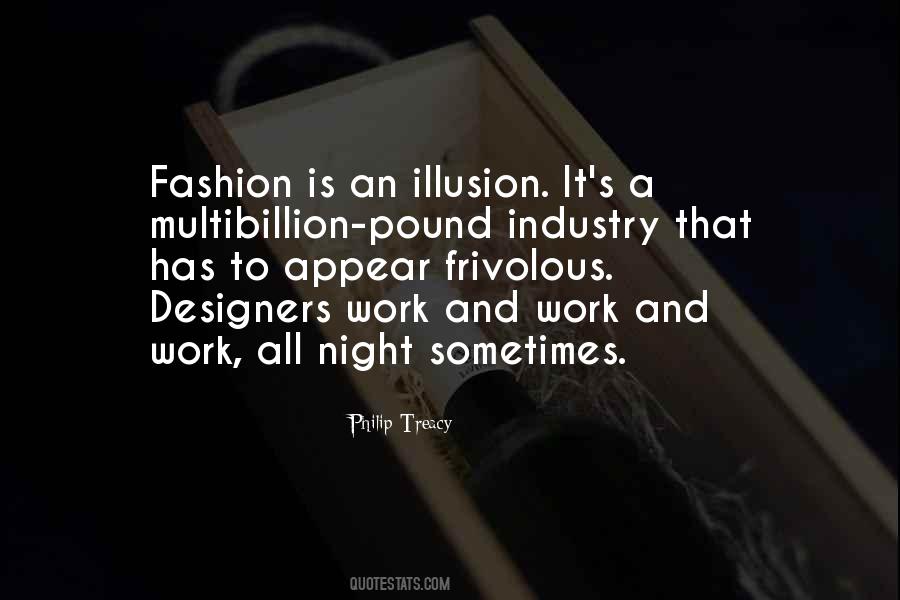 #51. I think it's a great thing to support fashion and support designers. - Author: Delphine Arnault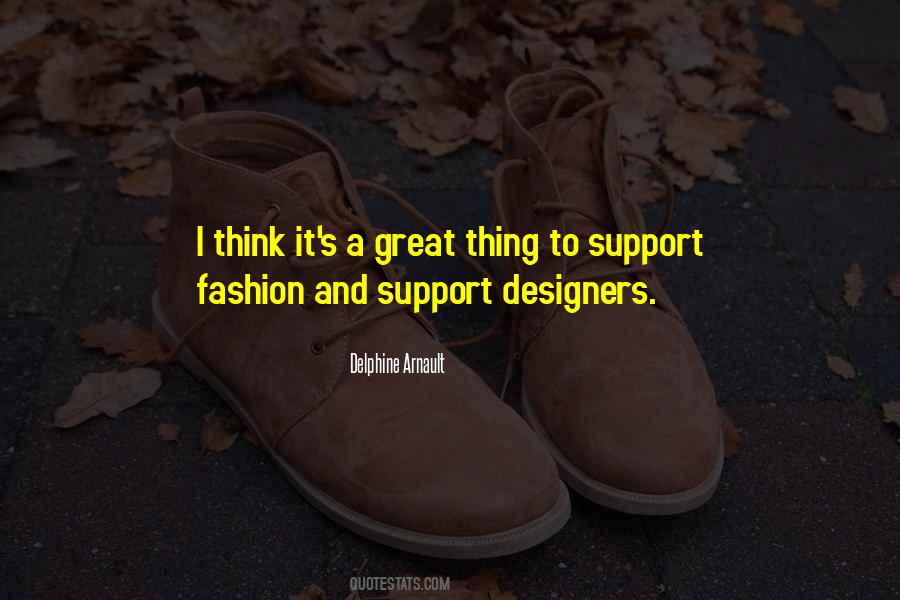 #52. I'd love to go to fashion week! I'm learning more about designers, thanks to 'Pretty Little Liars' costume designer, Mandi Line. - Author: Lucy Hale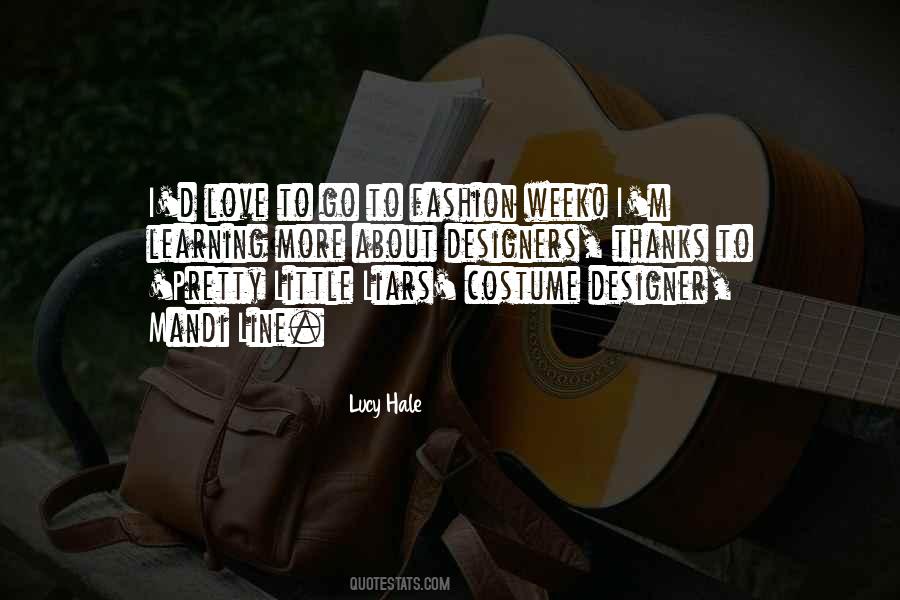 #53. I represent a body image that wasn't accepted in high fashion before, and I'm very lucky to be supported by the designers, stylists, and editors that I am: ones that know this is fashion; this is art. It can never stay the same. It's 2015. - Author: Gigi Hadid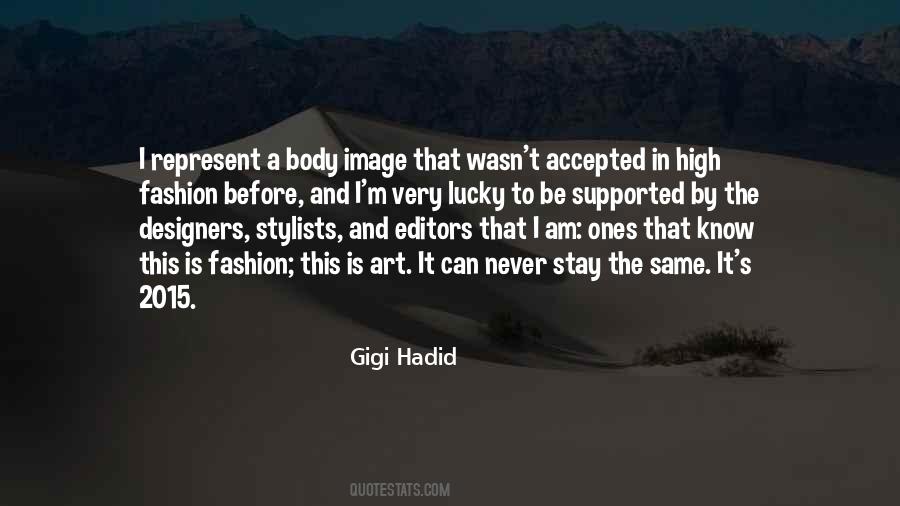 #54. The present fashion system is too hard - there are too many collections. The designers have no time to think! Money is too important. Schedules are too crazy. - Author: Azzedine Alaia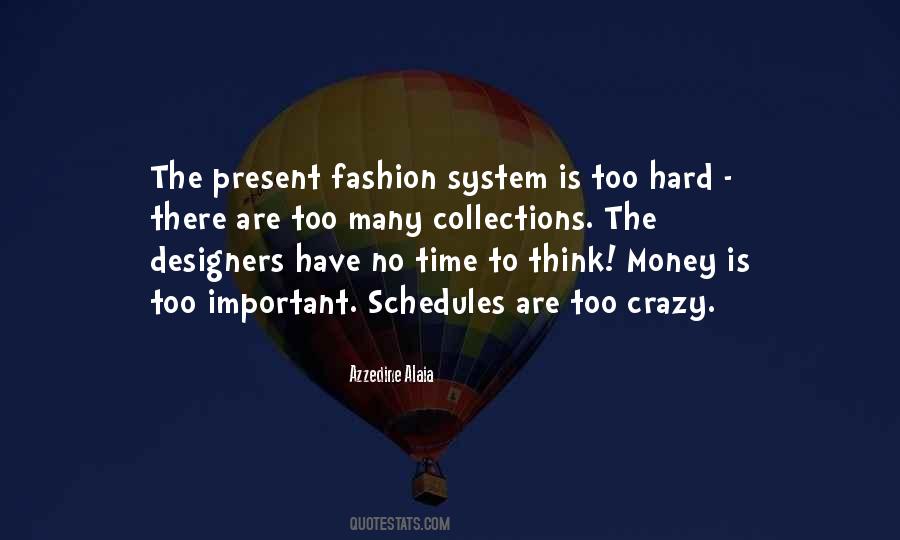 #55. There's a very different kind of psychology going on in the fashion scene than in art. When artists connect to a system because they want to make a living, it's their own choice. In fashion, designers don't have that choice. - Author: Raf Simons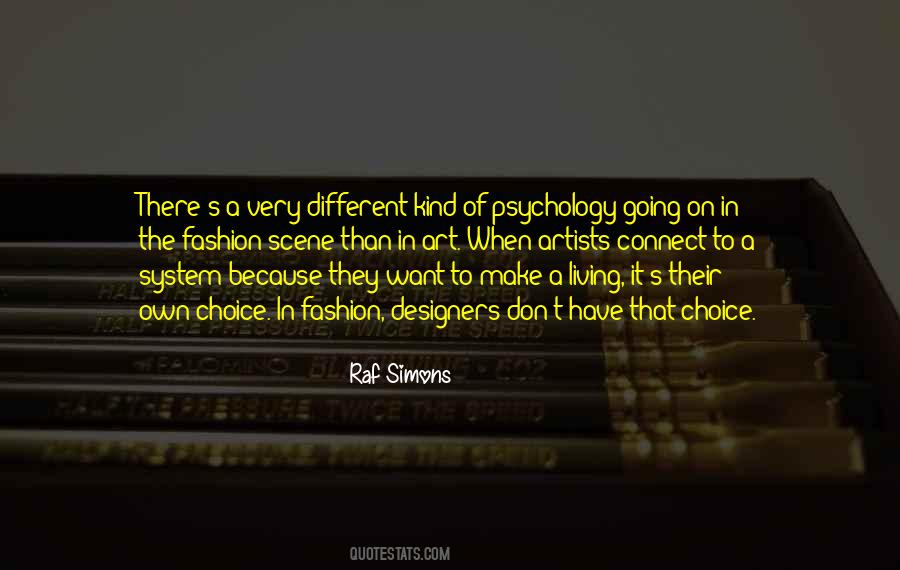 #56. Today's designers don't care if fashion has no relationship to human anatomy. - Author: Oleg Cassini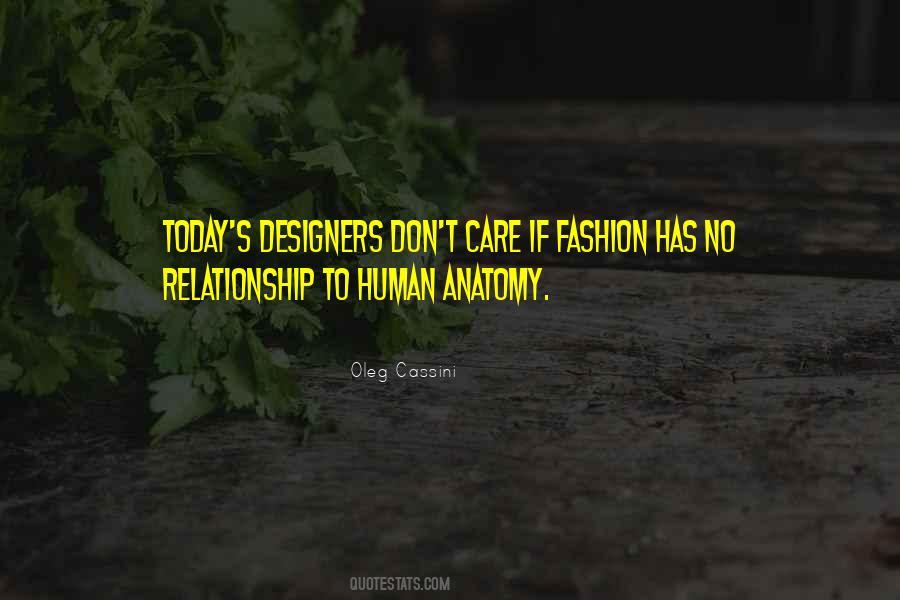 #57. Don't you think that a lot of designers get into fashion because they have something about themselves that they don't like? - Author: Narciso Rodriguez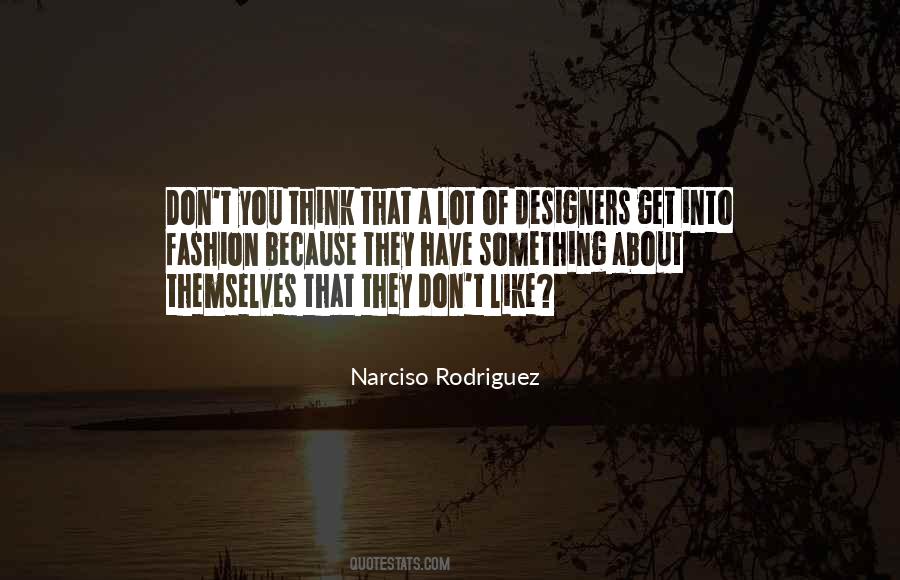 #58. The Council of Fashion Designers of America is a national neurotic society of creative leaders in various fields of fashion. - Author: Oscar De La Renta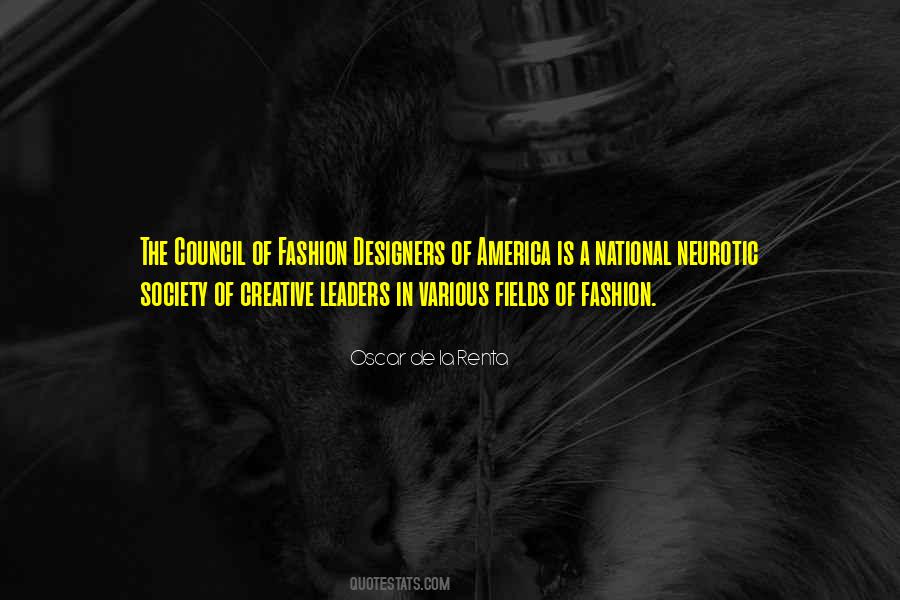 #59. If I'm doing something in fashion, I will try to respect the 'laws' of the business, but I will try to keep my integrity and my respect for the designers and for my readers. - Author: Carine Roitfeld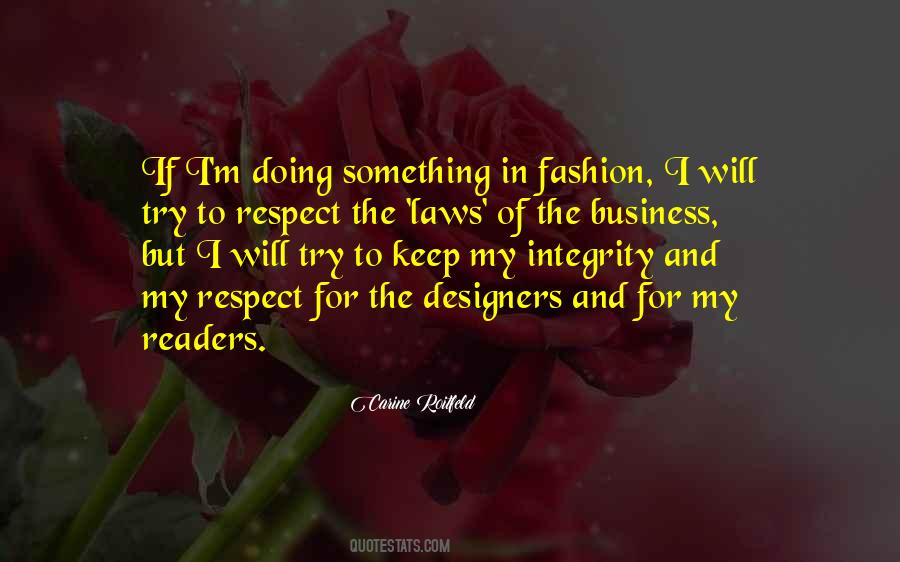 #60. I don't at all want to resemble some of these young designers who ask hallucinating prices for rags that are so in fashion now, that six months later, they are old-fashioned! I love vintage boutiques, I love to customize my clothes. And then, with my friends, we regularly exchange togs. - Author: Milla Jovovich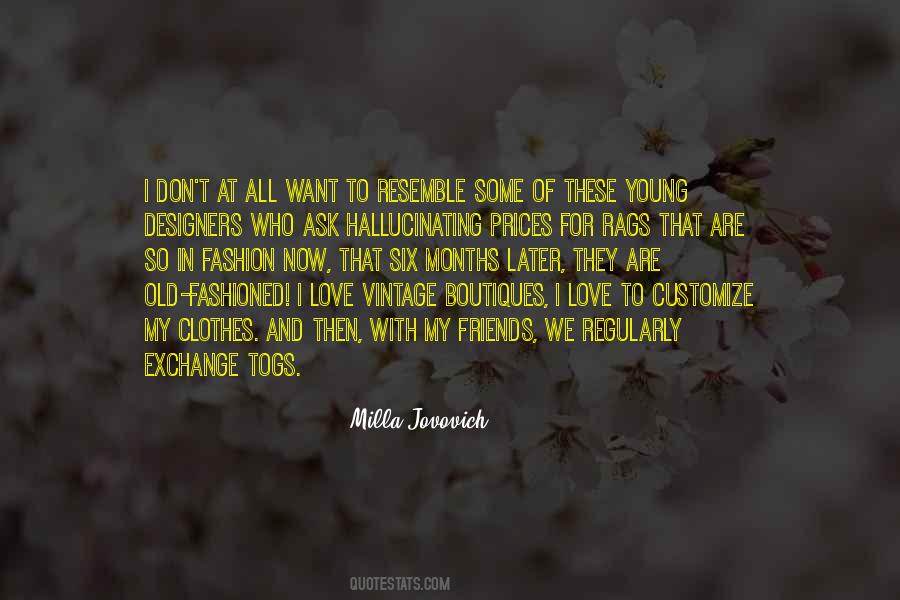 #61. I have a showroom where we experiment with twelve cakes. We develop sketches and ideas for cakes for the next season. We work with the top fashion designers to see what type of lace they are using or work with the top florist for us to be able to make various sugar roses or flowers. - Author: Ron Ben-Israel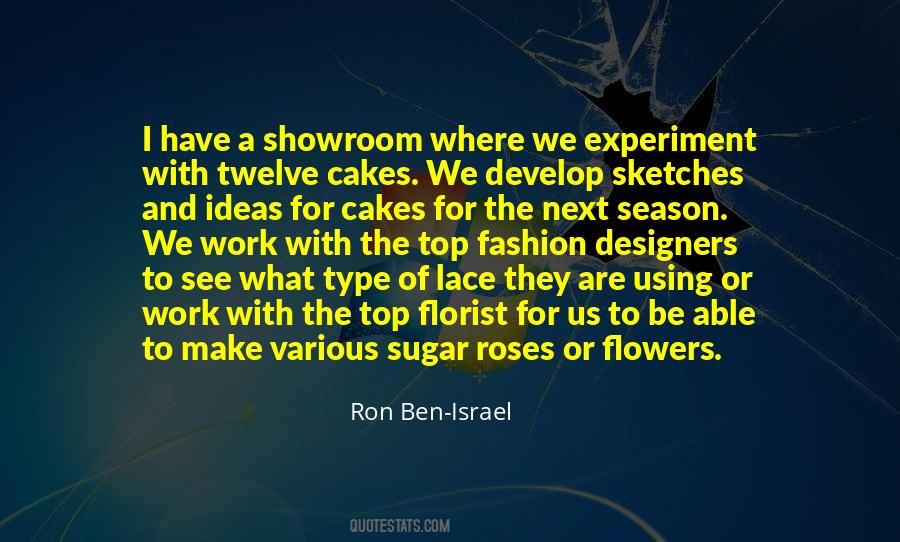 #62. I came from a different world from other designers because I already had such a strong fan base that was interested in fashion. You have to give the little divas something. - Author: Christian Siriano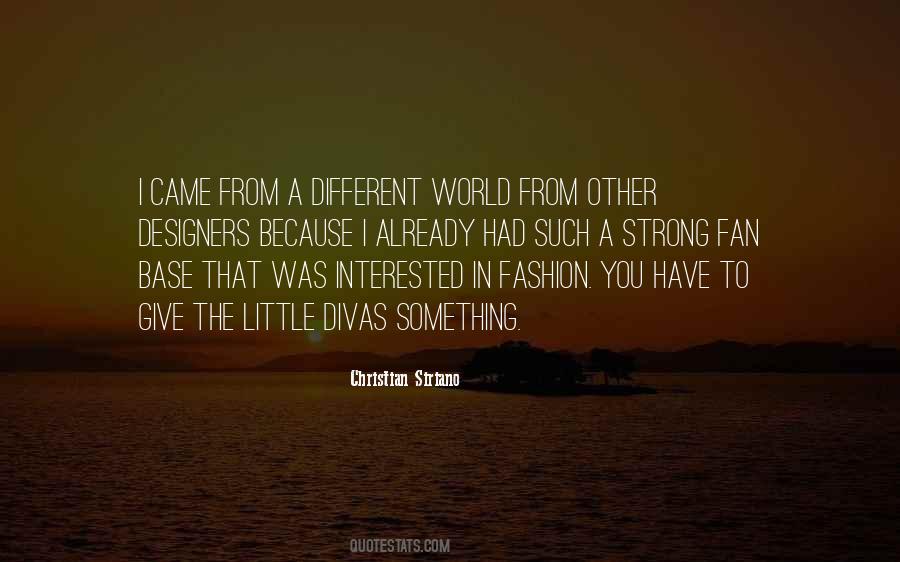 #63. As I have written before, one of my favorite parts of my job as CEO of Moda Operandi is the opportunity I get to explore international fashion scenes to discover new talent, and then being able to introduce these designers to our community of fashion-savvy customers worldwide. - Author: Aslaug Magnusdottir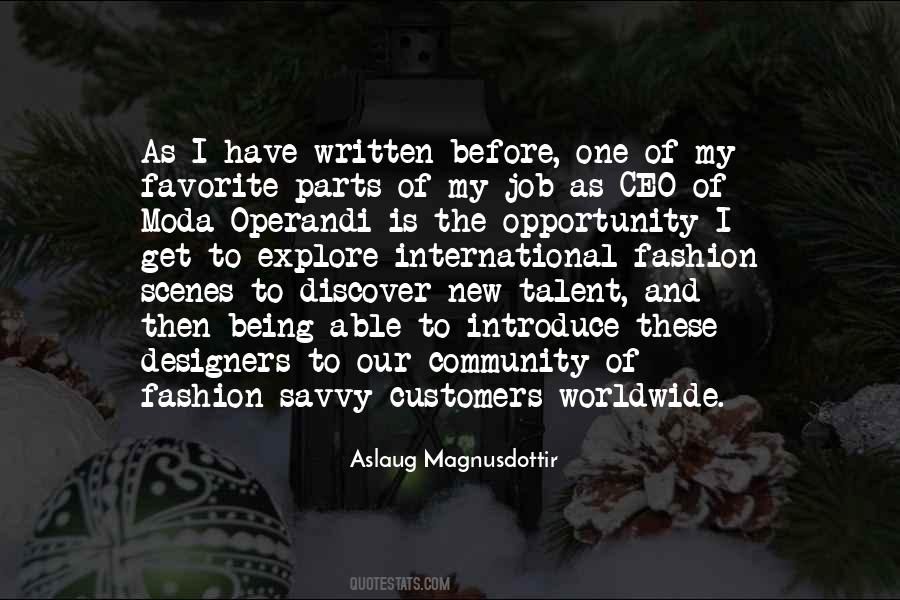 #64. As a Business Ambassador, I am delighted to help both new and established British designers receive the recognition they deserve in the global fashion arena. - Author: Tamara Mellon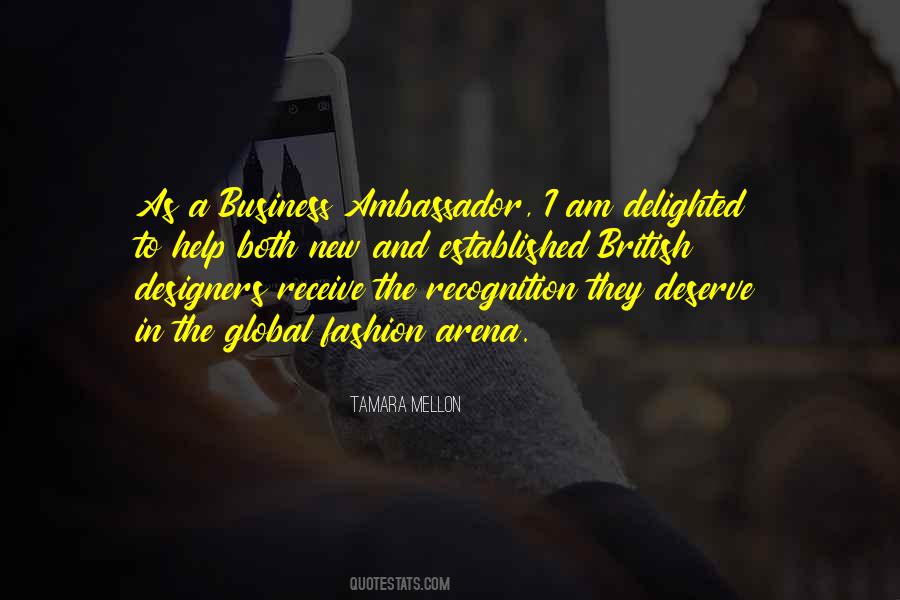 #65. I'm not sure what I think about current fashion, though. A few years ago, I would have said it's really, really bad and you hardly ever see anybody looking good. There must be some very good designers in the world. - Author: Vivienne Westwood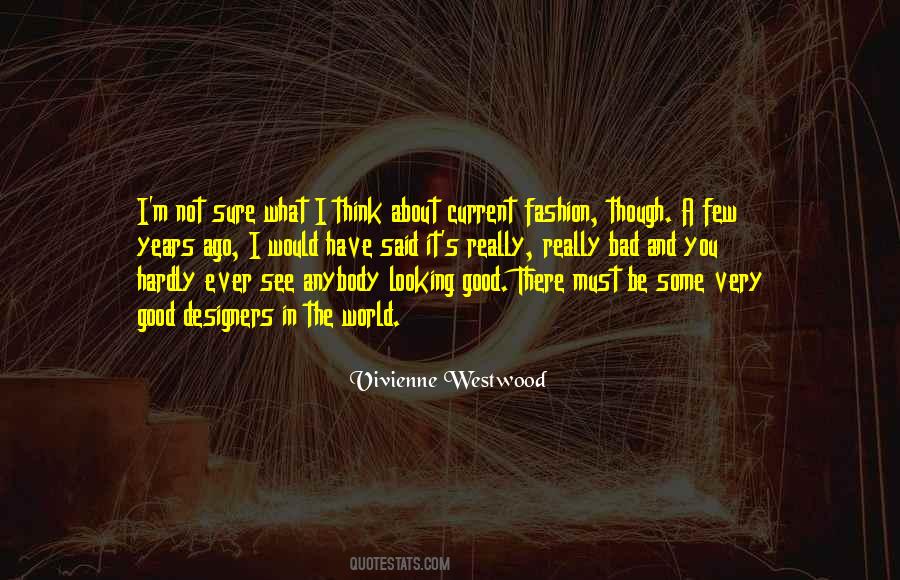 #66. As the president of the Council of Fashion Designers of America, I represent the designers. And while we can by no means take the blame for eating disorders, we can play our part in addressing this important issue. - Author: Diane Von Furstenberg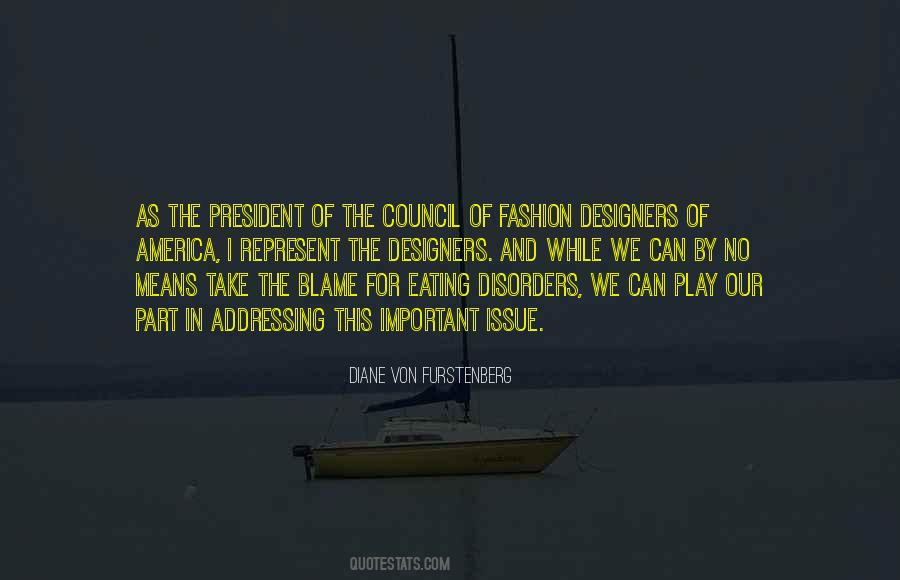 #67. We're making clothes - we aren't saving the world. I'm not saying that designers aren't artists, but at the end of the day, we make clothes. Hopefully we make beautiful clothes with a message, but in the end it's for people to wear. I think that the hype of fashion has come down a level. - Author: Joseph Altuzarra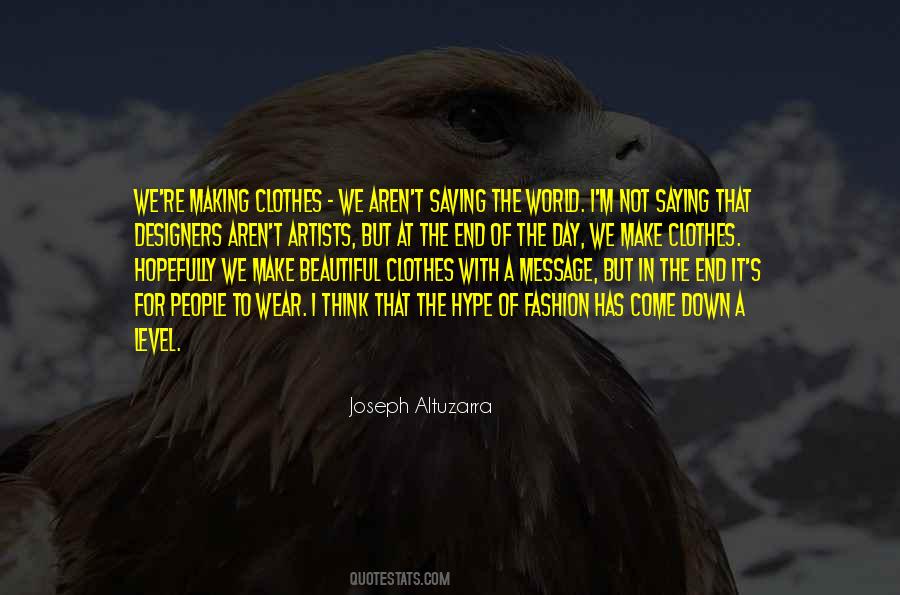 #68. 'Vogue' has the power to make and break - whether it's fashion trends, designers, models, and yes, even industry practices. - Author: Tyra Banks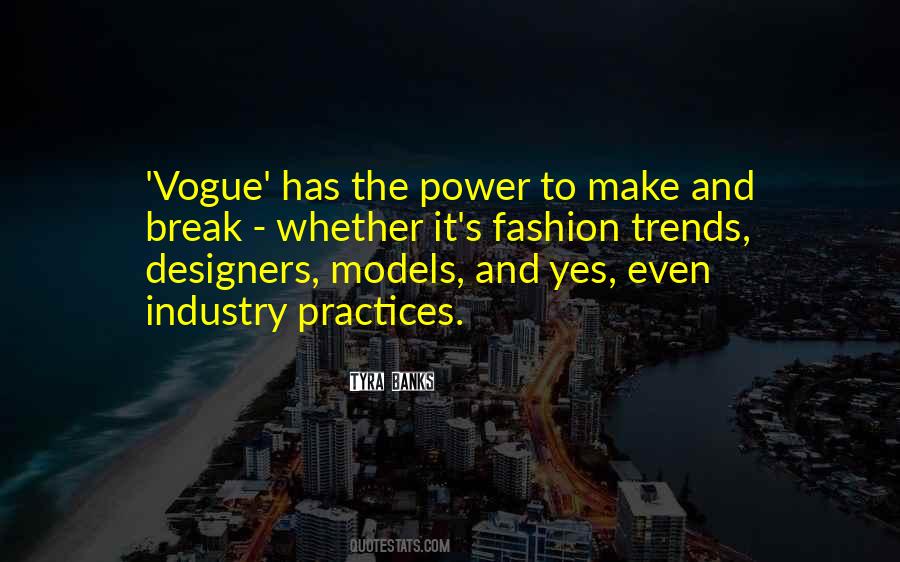 #69. Sometimes I feel like what's hard for fashion designers to do is take looks from off the runway and actually put it into existence, into reality. That's really the hard part. - Author: ASAP Rocky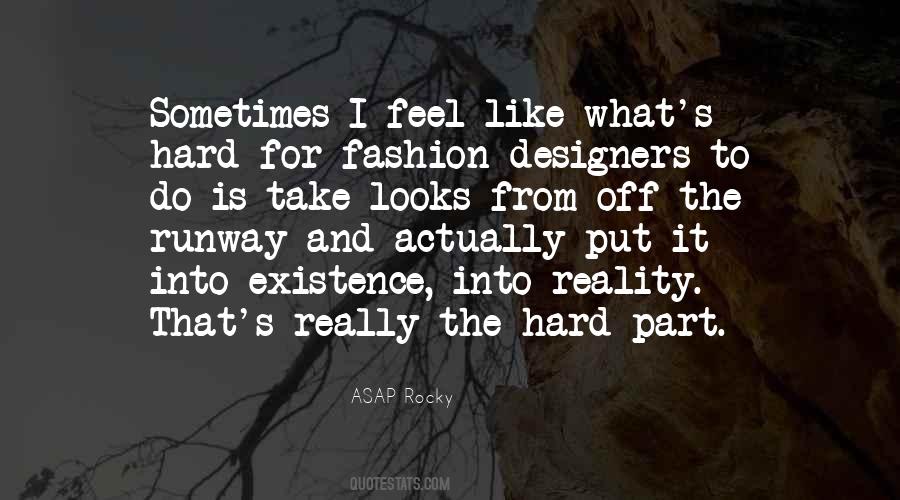 #70. I'm a fashion designer. What I do is artistic, but I'm not an artist because everything I do is destined to be sold. That's not to say that you can't be an artist and a fashion designer. I think some designers are artists. - Author: Tom Ford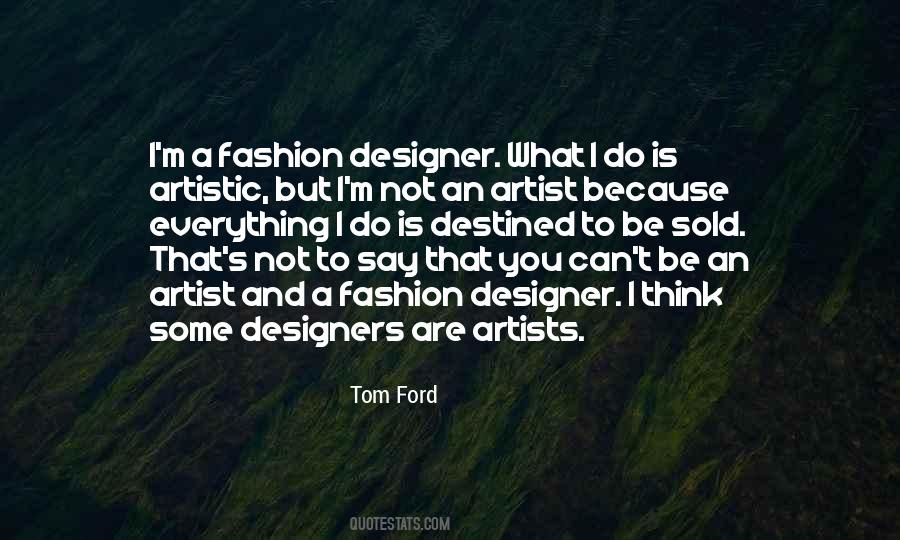 #71. It's often said that costume designers are a faceless group of people. But we can contribute to fashion in a way that might be new and different. - Author: Colleen Atwood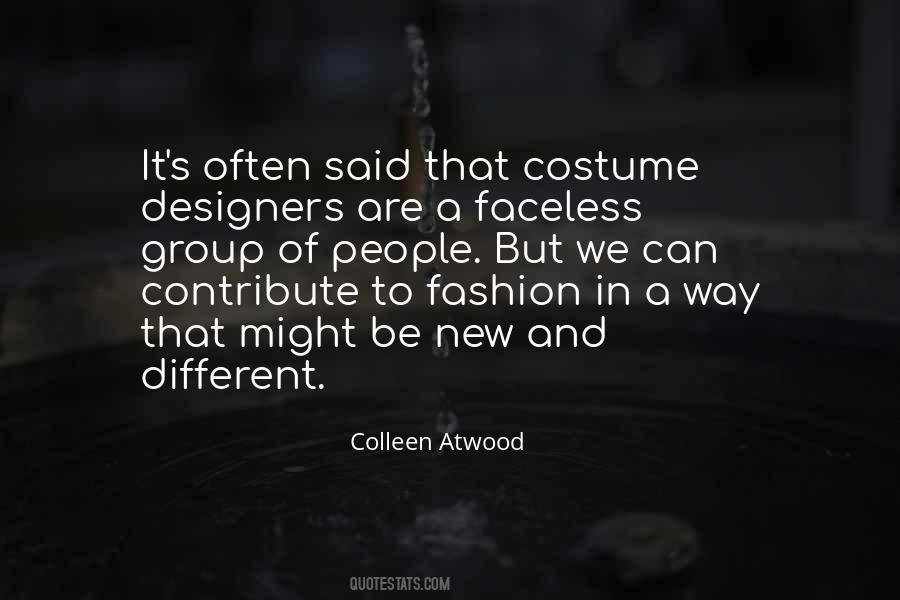 #72. I love that you can have the language between the two worlds of technology and fashion, because I don't think that many designers get to do that. - Author: Stella McCartney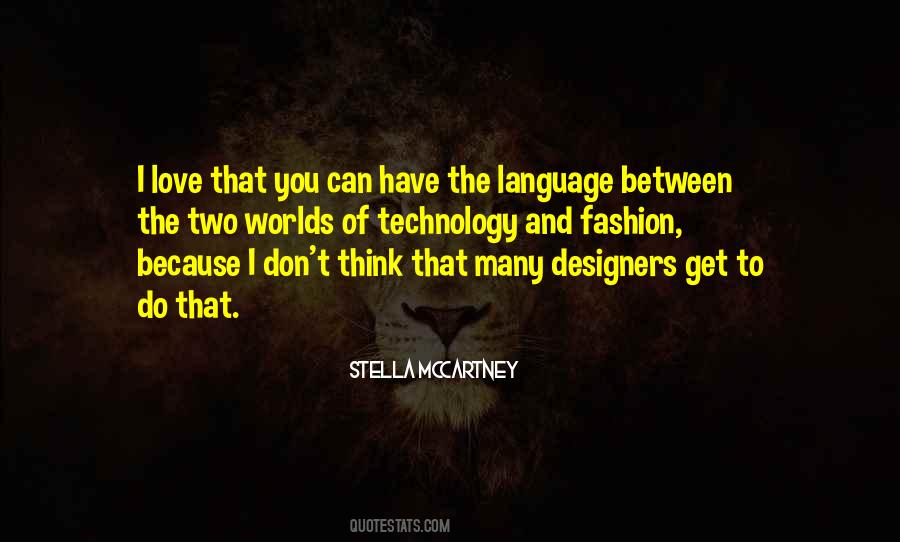 #73. Previous first ladies seemed to feel the need to wear a sort of uniform, whereas Michelle Obama likes fashion and is very comfortable in fashion. She's happy to mix high and low, and she loves emerging designers. That will do nothing but good for our industry. - Author: Anna Wintour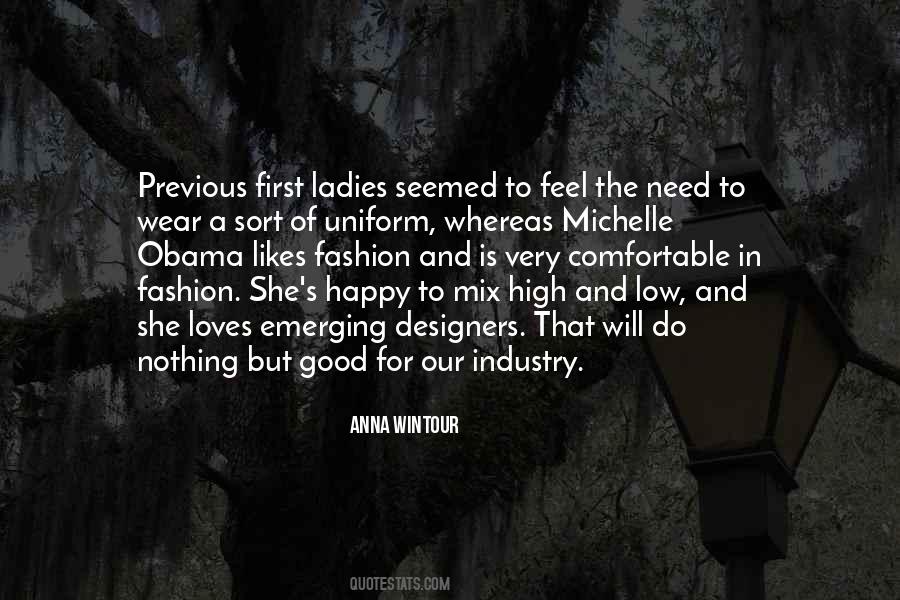 #74. Tailoring was considered to be a world that was very traditional, and basically going out of fashion. Fashion designers did not have a real link with tailoring or tradition, so I fused the two worlds together. - Author: Ozwald Boateng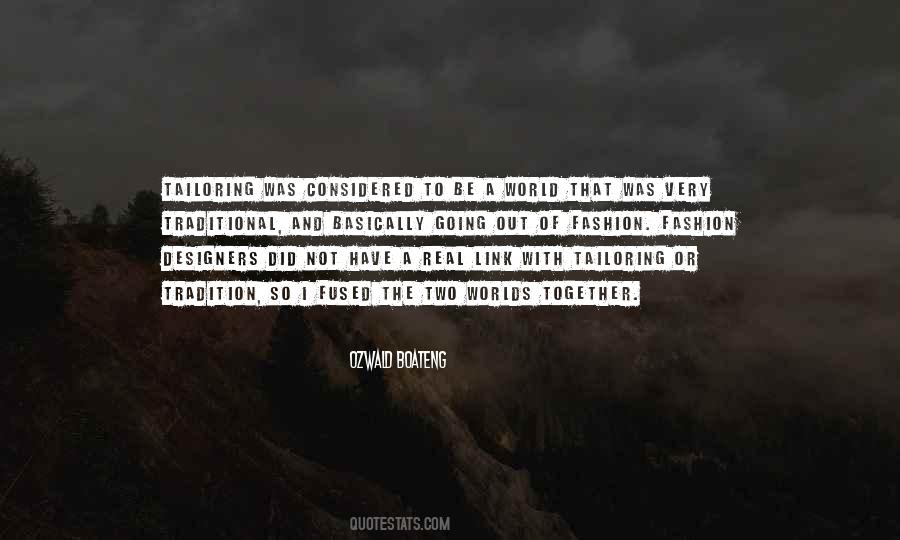 #75. Paris is one of the fashion capitals of the world and such an incredible breeding ground for designers. You can't help but find it an inspiring place. - Author: Alice Temperley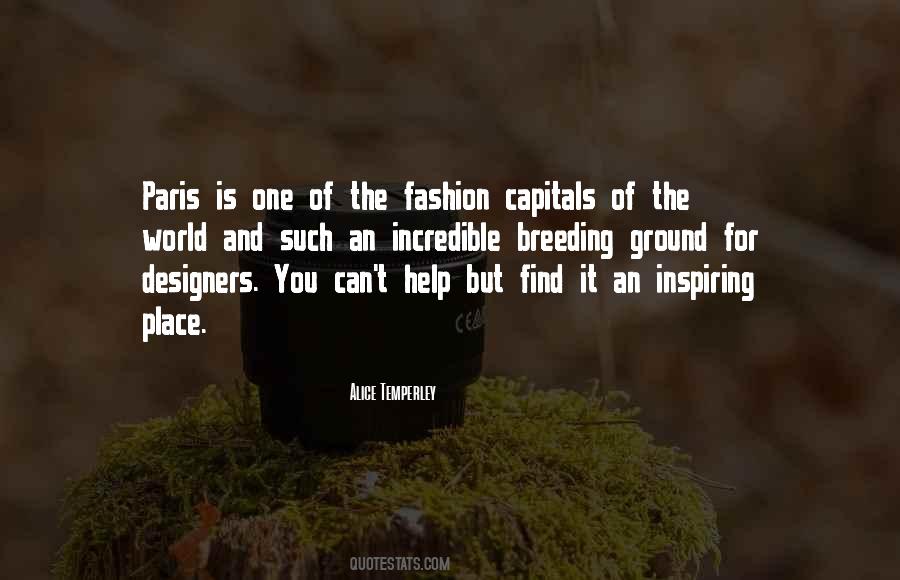 #76. When you hear designers complaining about the challenge of their profession, you have to say: don't get carried away-it's only dresses. - Author: Karl Lagerfeld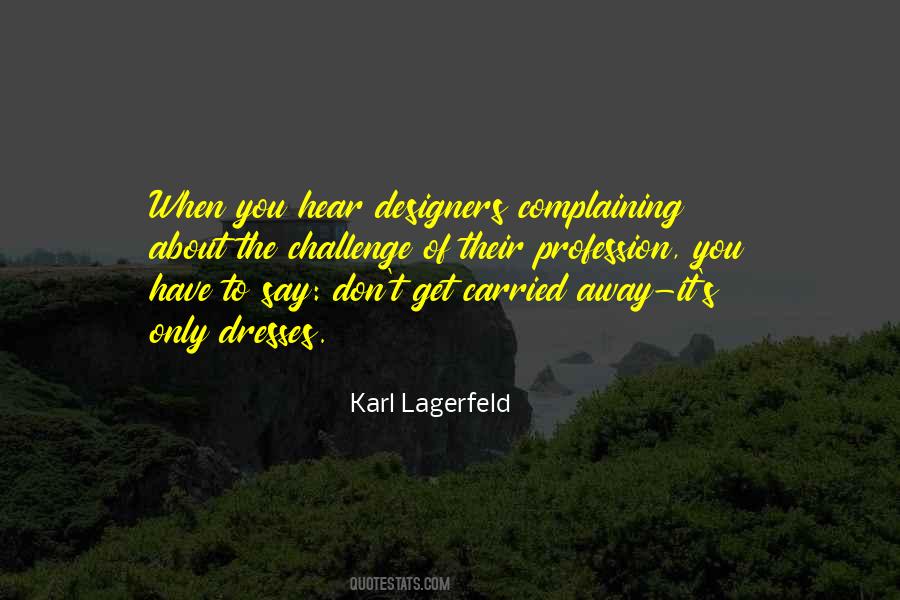 Famous Authors
Popular Topics