Faith In The Bible Famous Quotes & Sayings
List of top 100 famous quotes and sayings about faith in the bible to read and share with friends on your Facebook, Twitter, blogs.
Top 100 Quotes About Faith In The Bible
#1. I start work by spending time in personal Bible study. Because my projects center on a question in my own faith walk, I find Bible study essential. And God gives me scriptures daily that speak to the question with which I'm struggling. - Author: Francine Rivers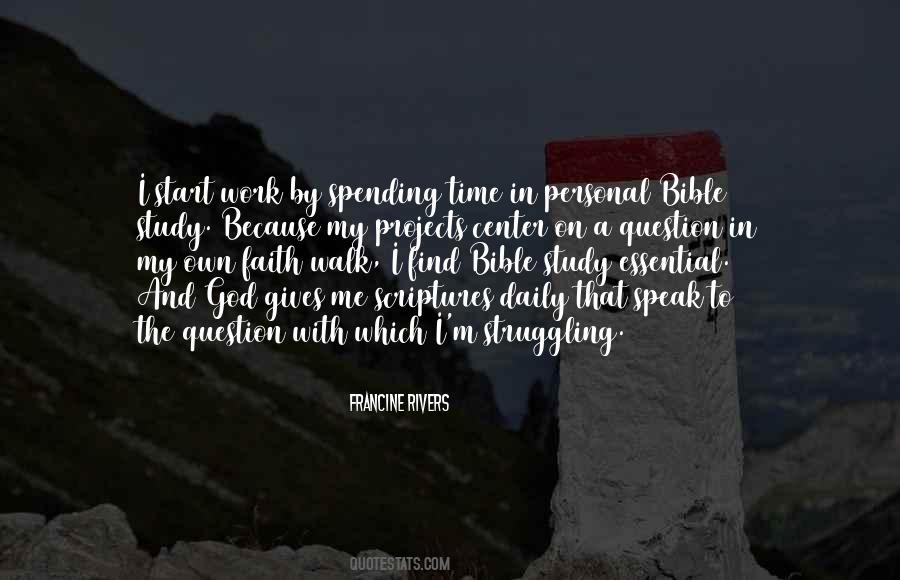 #2. There is no room for God's Word in our culture, where our children are without reverence for God or faith in the Bible. There is no room for our Lord's creed of purity and self-denial when the media sends forth a constant barrage of profanity and indecency and materialism. - Author: Billy Graham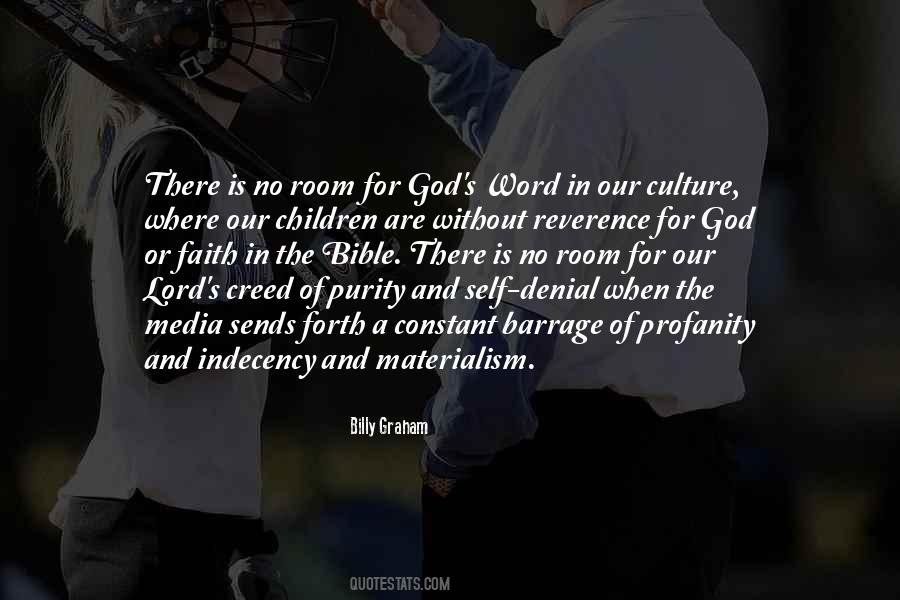 #3. Faith cannot be about absolute certainty in the letters of the Bible and wrath against those who don't comply (Ephesians 2:15). It has to be about overwhelming trust in God's love,6 which as the apostle Paul confirms, is beyond the letter of law and narrow legalistic interpretations. - Author: Amos Smith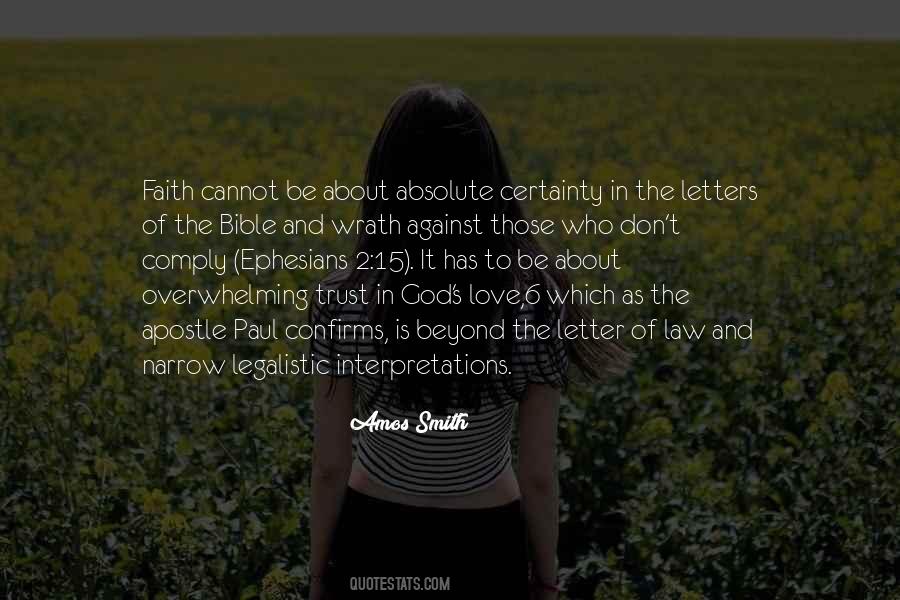 #4. You can always find hope in the truth that our God reigns & He will take care of His own. - Author: Jim George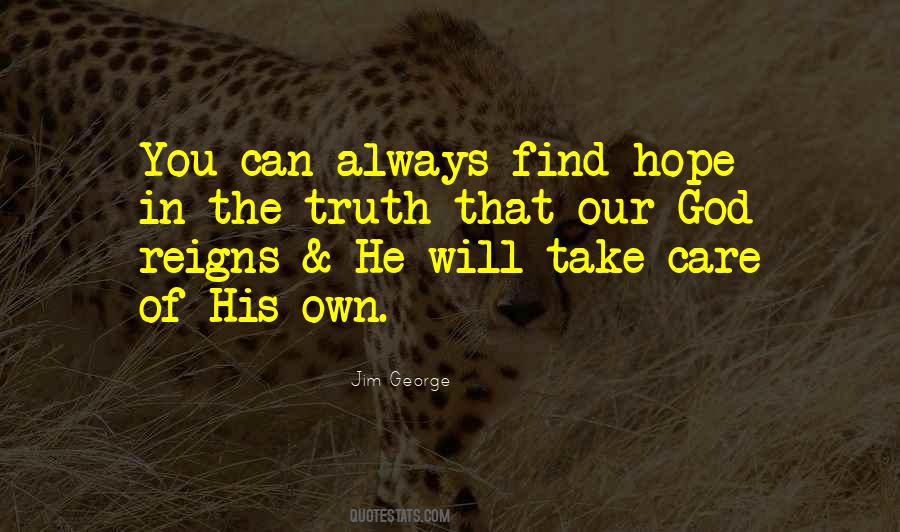 #5. Even those who claim the Bible's inerrancy make distinctions between Scriptural edicts, sensing that some passages - the Ten Commandments, say, or a belief in Christ's divinity - are central to Christian faith, while others are more culturally specific and may be modified to accommodate modern life. - Author: Barack Obama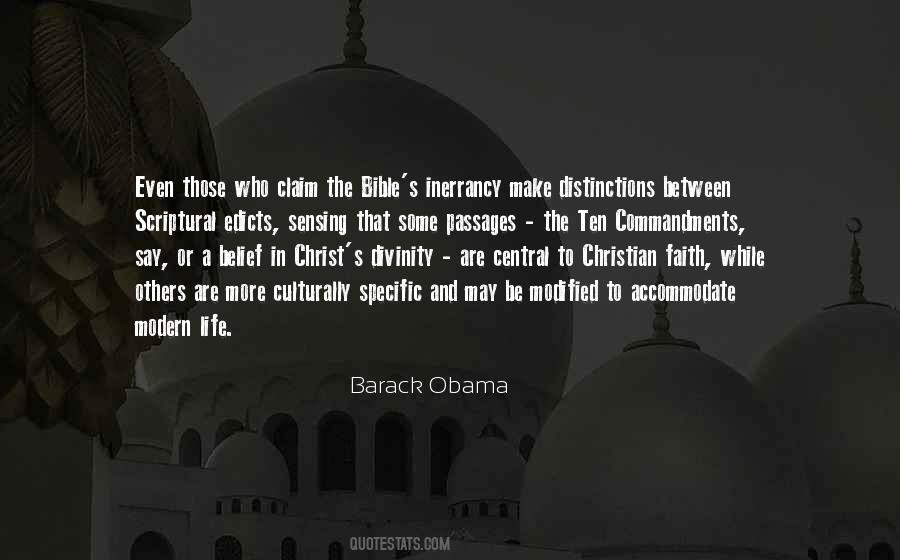 #6. The Bible teaches that faith is the only approach that we have to God. No man has sins forgiven, no man goes to heaven, no man has assurance of peace and happiness, until he has faith in Jesus Christ. - Author: Billy Graham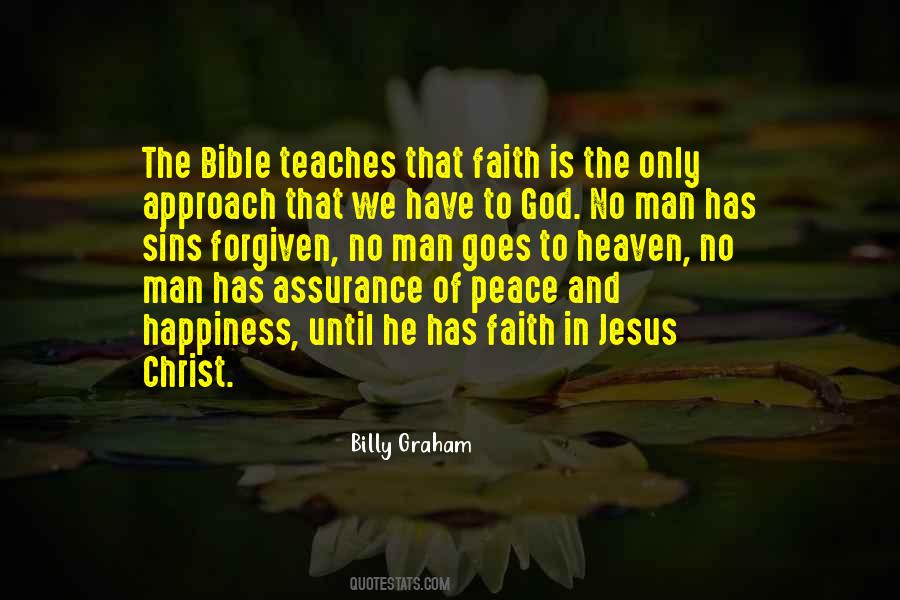 #7. The most common one-liner in the Bible is, "Do not be afraid." Someone counted, and it occurs 365 times. - Author: Richard Rohr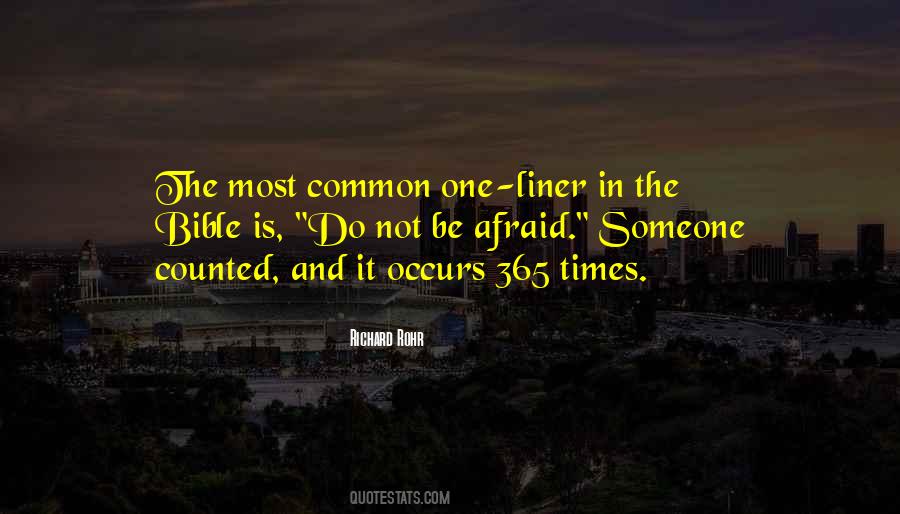 #8. God - the Bible's Author - loves you and wants you to be His child through faith in Jesus Christ. - Author: Billy Graham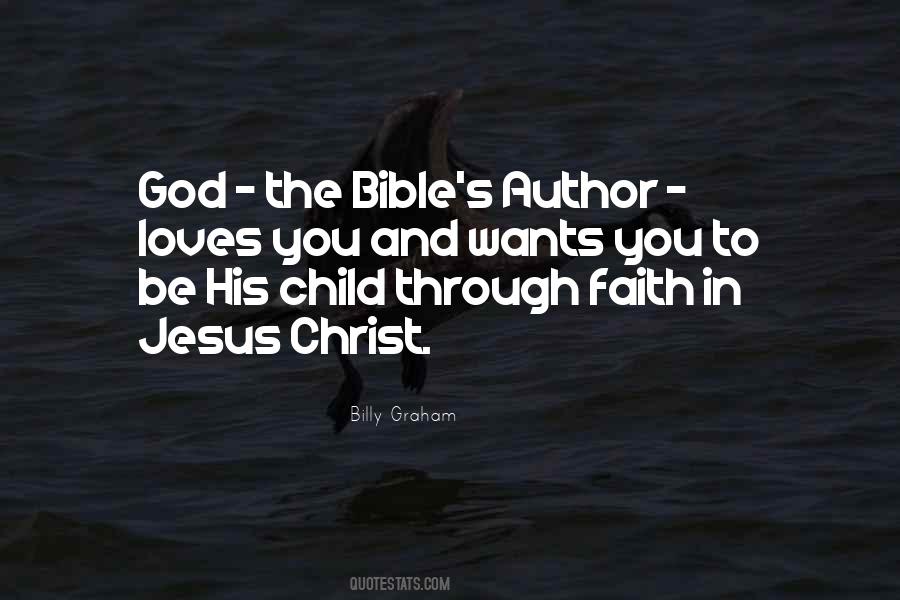 #9. When we meet the great men and women of the Bible face-to-face, we may be surprised to discover just how much like us they are. It is faith in a great God that makes a great man or woman of God. - Author: Mike Bickle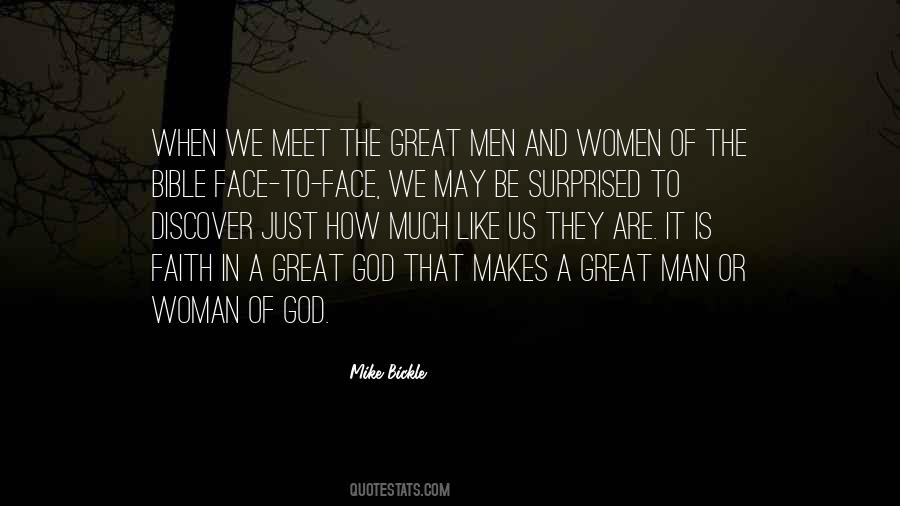 #10. I believe in supremacy of God. - Author: Lailah Gifty Akita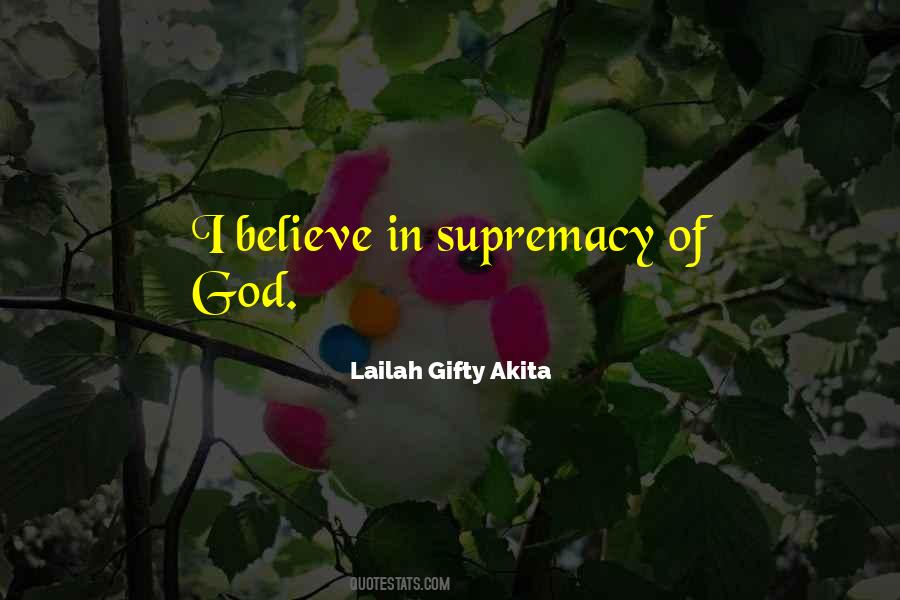 #11. When asked, 'What is more important: praying or reading the Bible?' I ask, 'What is more important: breathing in or breathing out? - Author: Russ Scalzo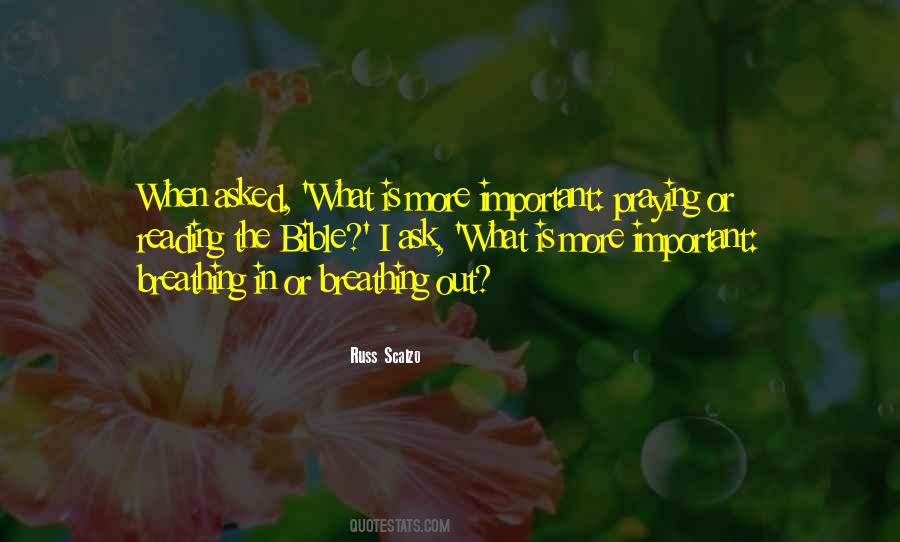 #12. I believe in the word of God. - Author: Lailah Gifty Akita
#13. The Bible applied to the heart by the Holy Ghost is the chief means by which men are built up and established in the faith, after their conversion. It is able to cleanse them, to sanctify them, to instruct them in righteousness, and to furnish them thoroughly for all good works. - Author: J.C. Ryle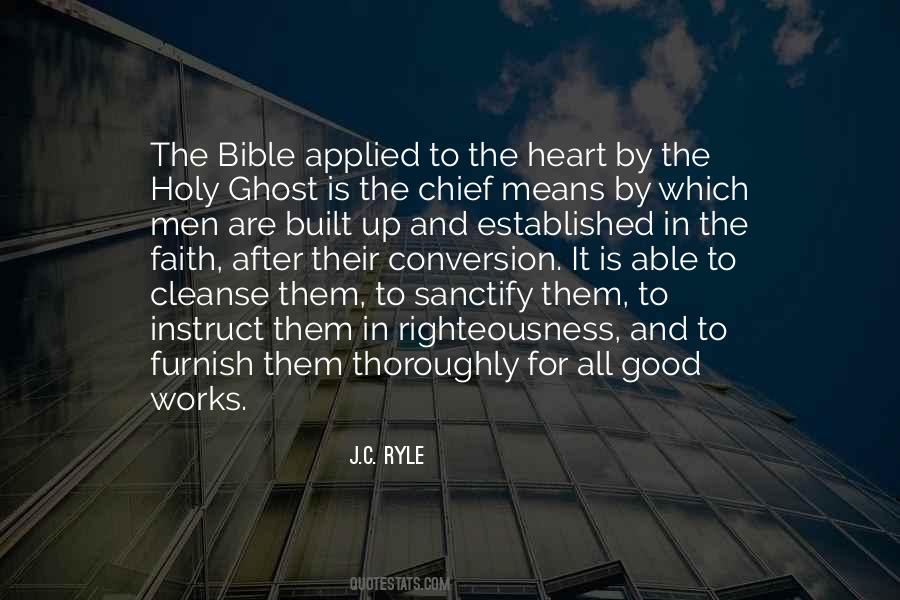 #14. Let us not grow tired of doing good for in due time we shall reap our harvest if we do not give up. (from the Bible Galatians6:9) - Author: Annoymous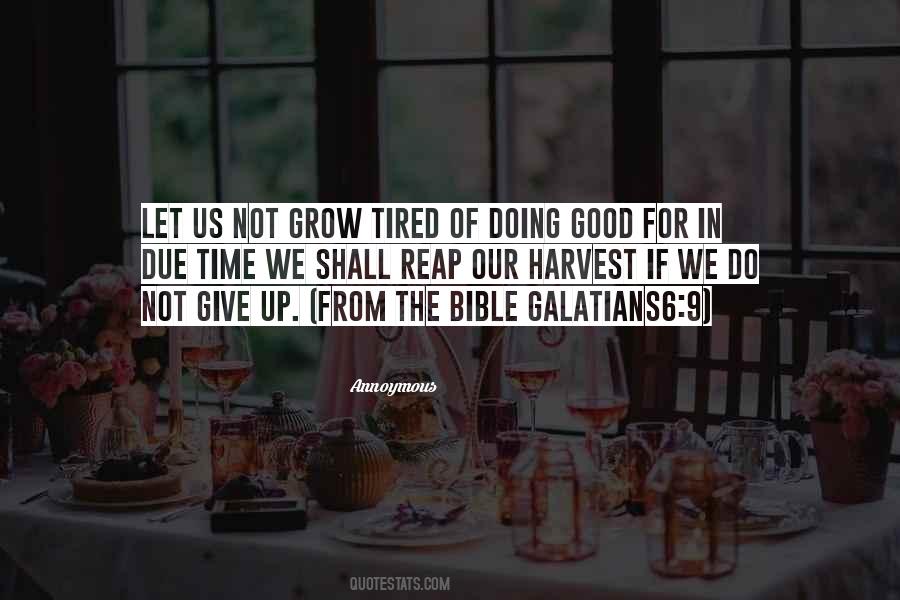 #15. My Bible tells me that if we train a child in the way he should go, when he is old he will not turn from it. I think faith and guidance can help fortify a young woman's sense of self, a young man's sense of responsibility, and a sense of reverence all young people for the act of sexual intimacy. - Author: Barack Obama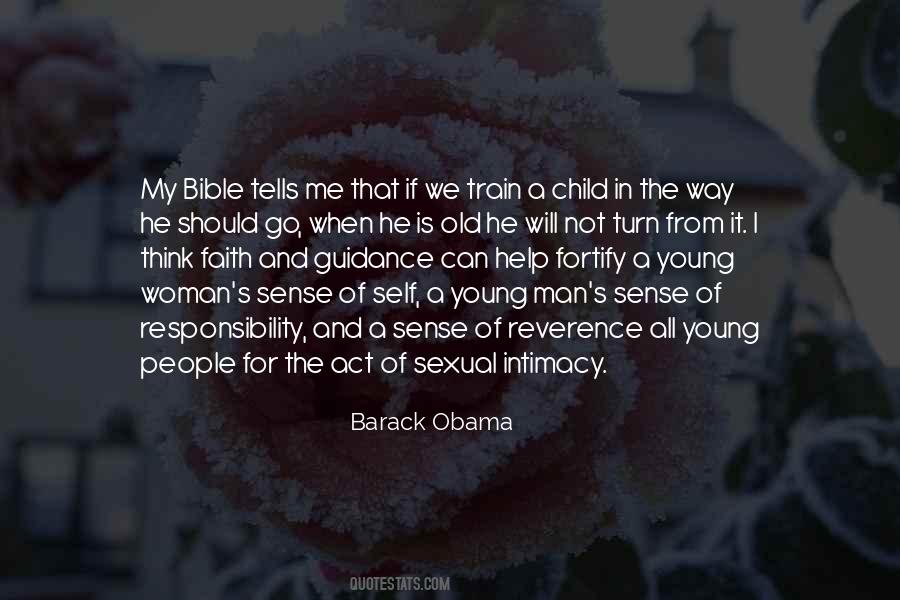 #16. O God! There are many things in [the Bible] I do not understand ... I am going to accept this as Thy Word - by faith! I'm going to allow faith to go beyond my intellectual questions and doubts, and I will believe this to be Your inspired Word. - Author: Billy Graham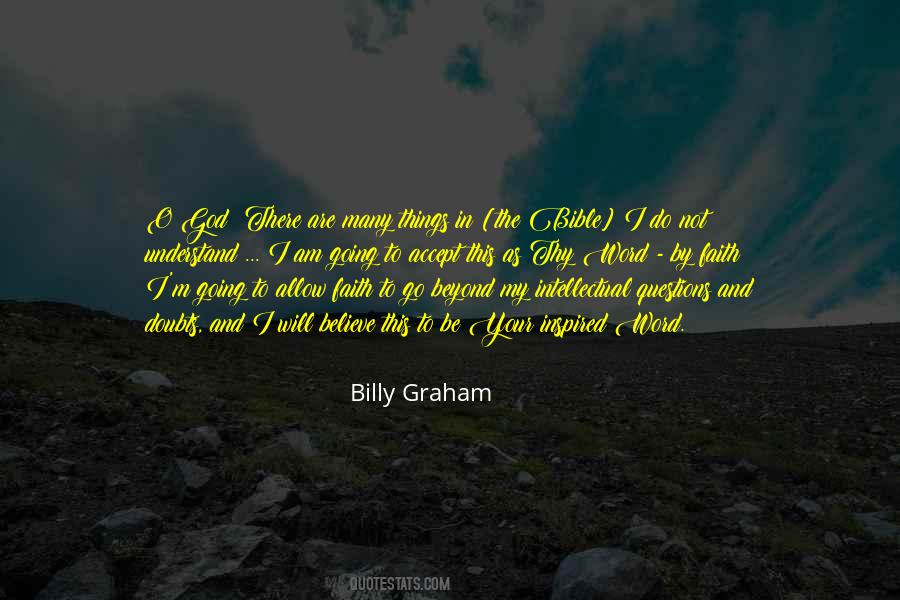 #17. Nothing do I know of the law at all. But I do remember that the Bible likens human justice to a woman's unclean rag - quasi pannus menstruate - and I have little faith in truth as an immediate safeguard, in this world. - Author: Patrick O'Brian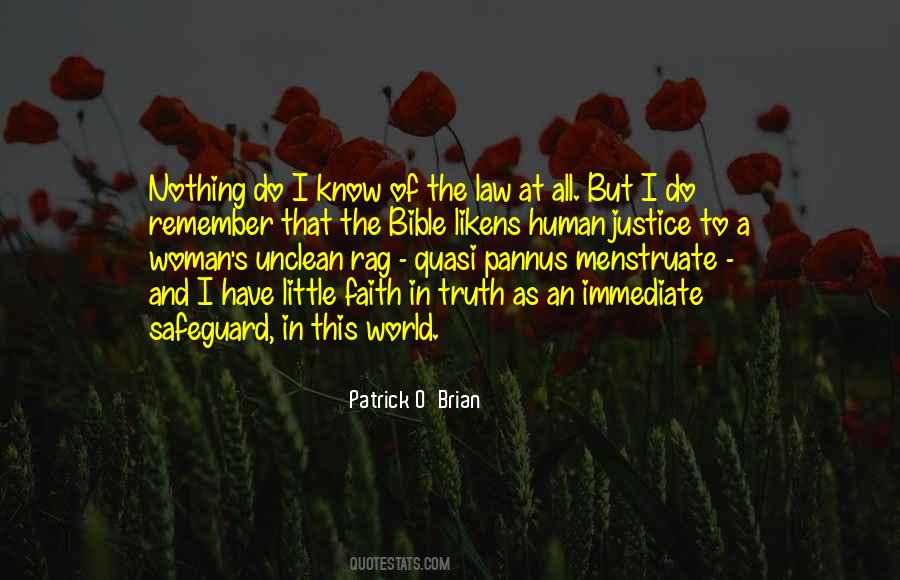 #18. I bury my mind in my book, the Bible. Every morning it's the first thing that I do. I've been doing it for years and years. So I want to come back here [to Israel] to see the places that I read about every day. It's very important to my faith to feed [my] spirit in Israel. - Author: Bobby McFerrin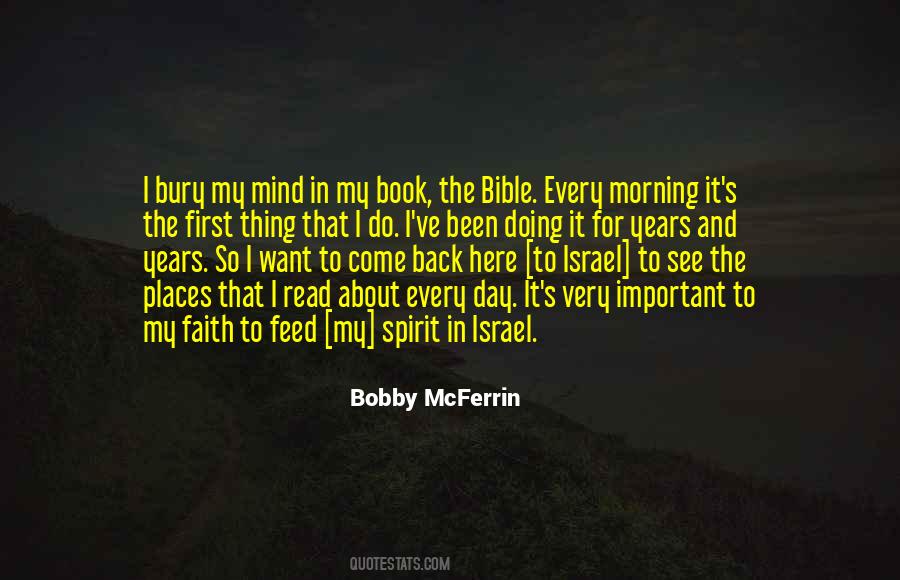 #19. I have endeavoured to dissipate these religious superstitions from the minds of women, and base their faith on science and reason, where I found for myself at last that peace and comfort I could never find in the Bible and the church. - Author: Elizabeth Cady Stanton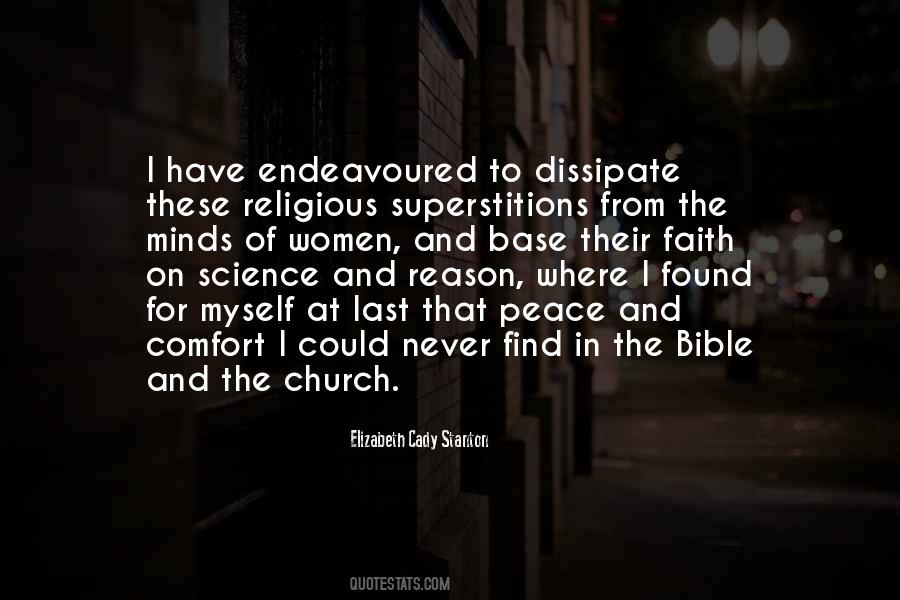 #20. Trying to prove scientifically the historical accuracy of events in the Bible is to faith what having your spouse under twenty-four-hour video surveillance is to marital trust. - Author: Nadia Bolz-Weber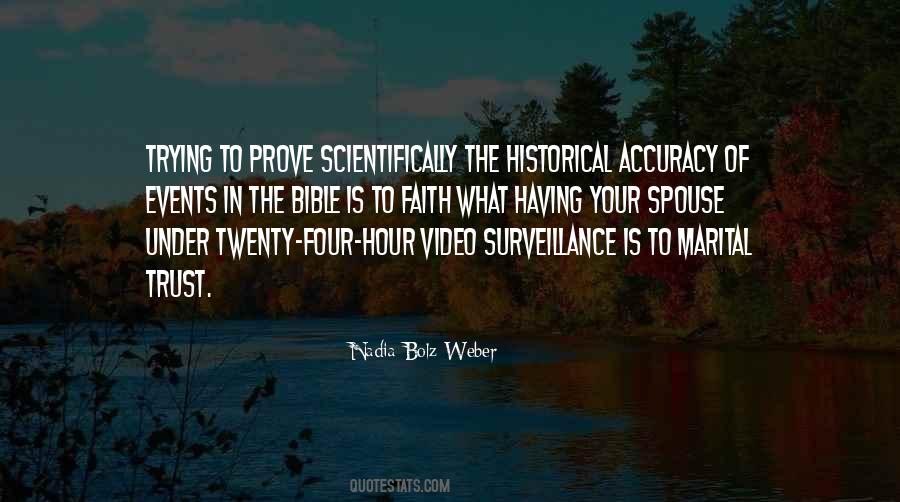 #21. Still, shifting my thinking on the Bible did not mean I was losing my faith in God. In fact, I had the growing sense that God was inviting me down this path, encouraging it even. - Author: Peter Enns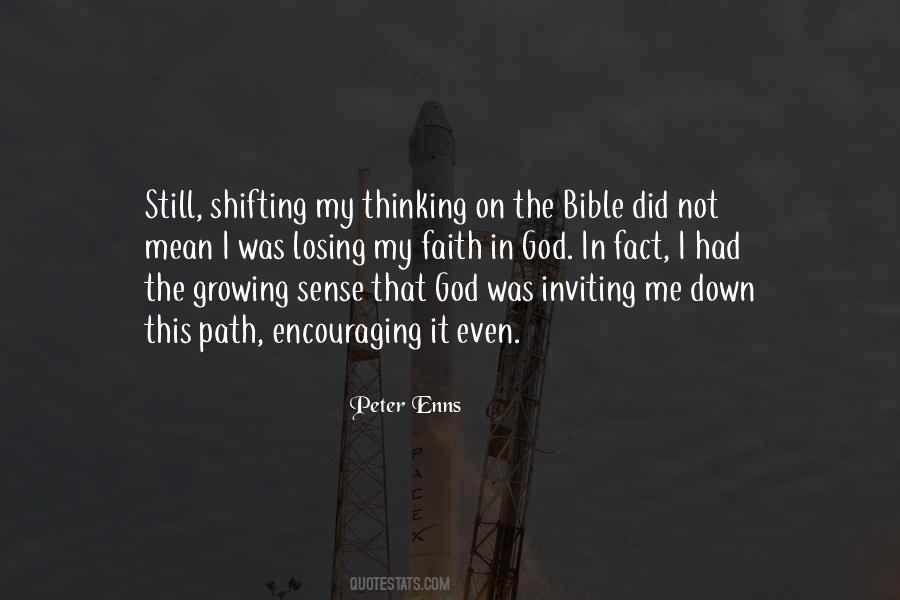 #22. How can we pick and choose which parts of the Bible to follow? One thing is God's will and another is just cultural differences? What if it's all cultural? What if homosexuality or saving yourself for marriage is as outdated as women staying silent in church or Leviticus forbidding tattoos? - Author: Trevor D. Richardson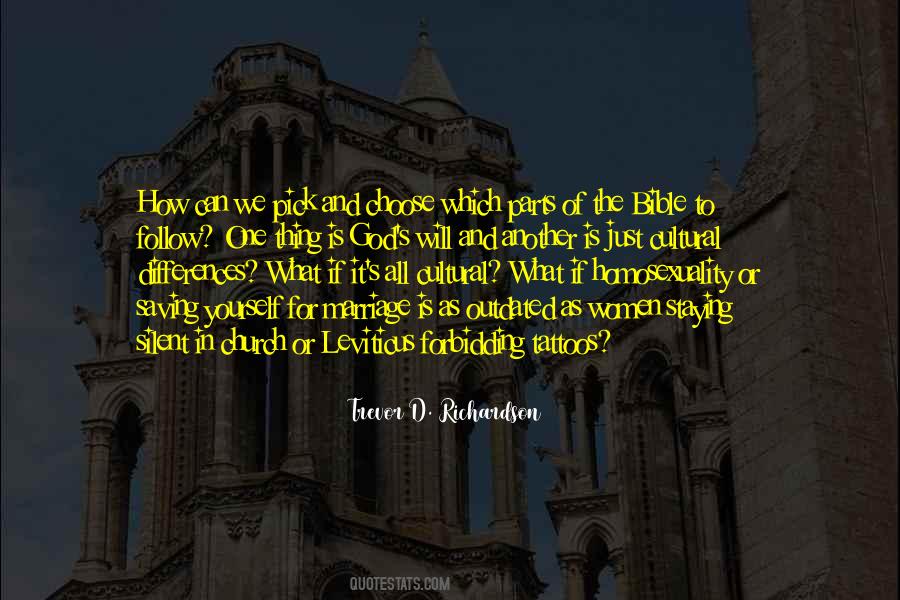 #23. In order to get some help in your love walk, all you have to do is ask God to let you see these people through His eyes. - Author: Anna M. Aquino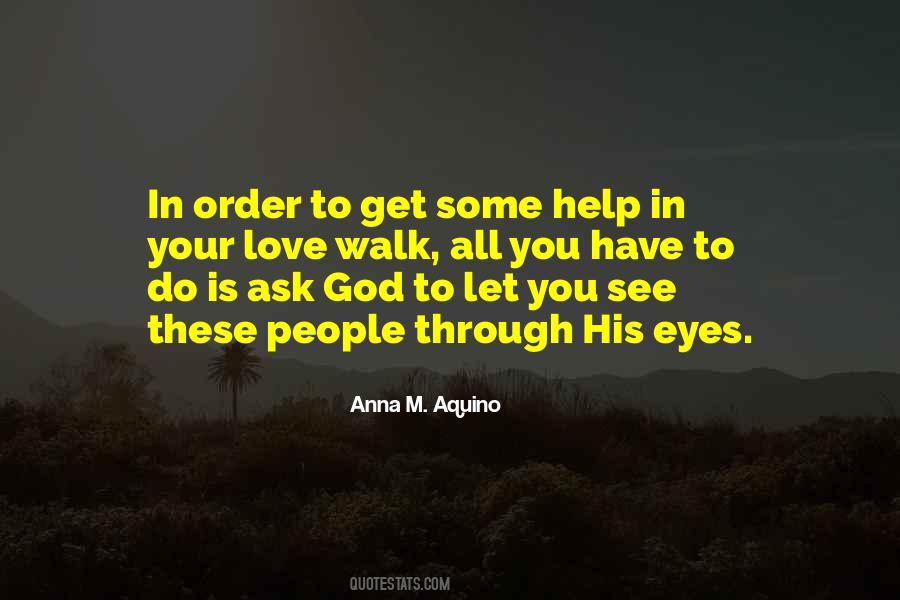 #24. Faith in reason as a prime motor is no longer the criterion of the sound mind, any more than faith in the Bible is the criterion of righteous intention. - Author: George Bernard Shaw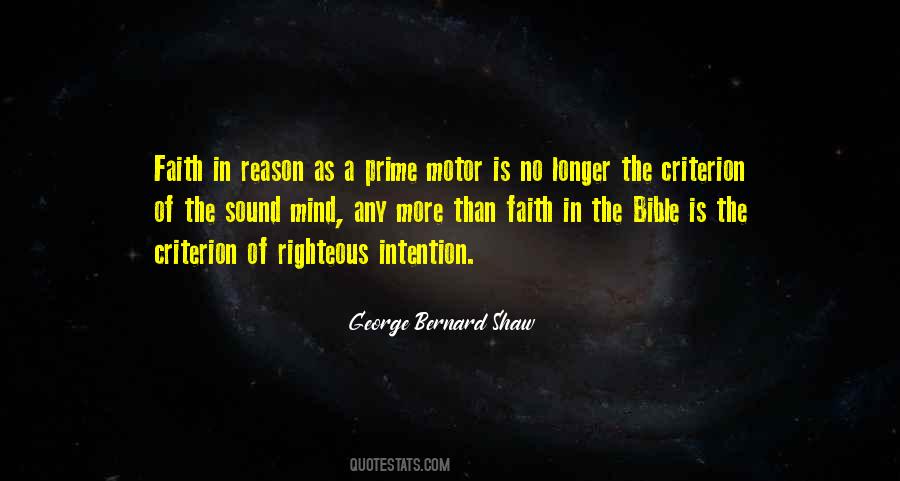 #25. How can we grow in faith without hearing the word of God? - Author: Lailah Gifty Akita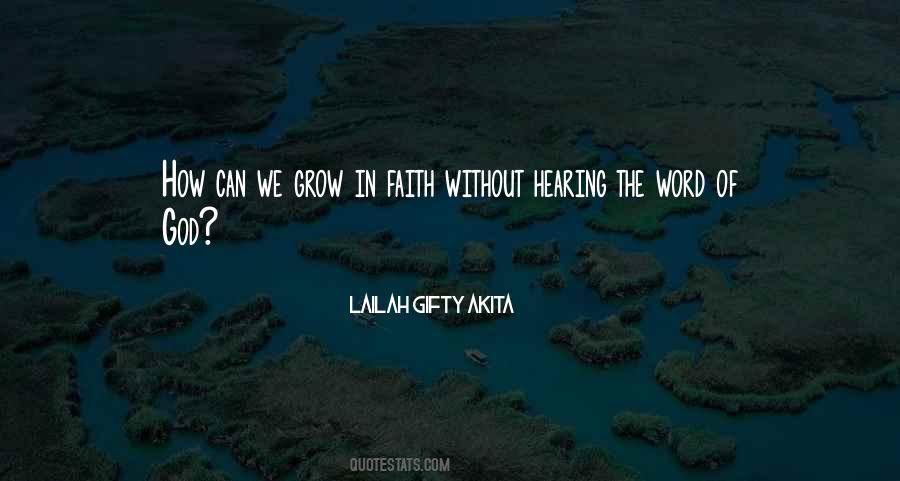 #26. The truth is in Jesus and it leads to the fullness of truth about God, man, creation, history, sin, righteousness, grace, faith, salvation, life, death, purpose, meaning, relationships, heaven, hell, judgement, eternity, and everything else of ultimate consequence. - Author: John F. MacArthur Jr.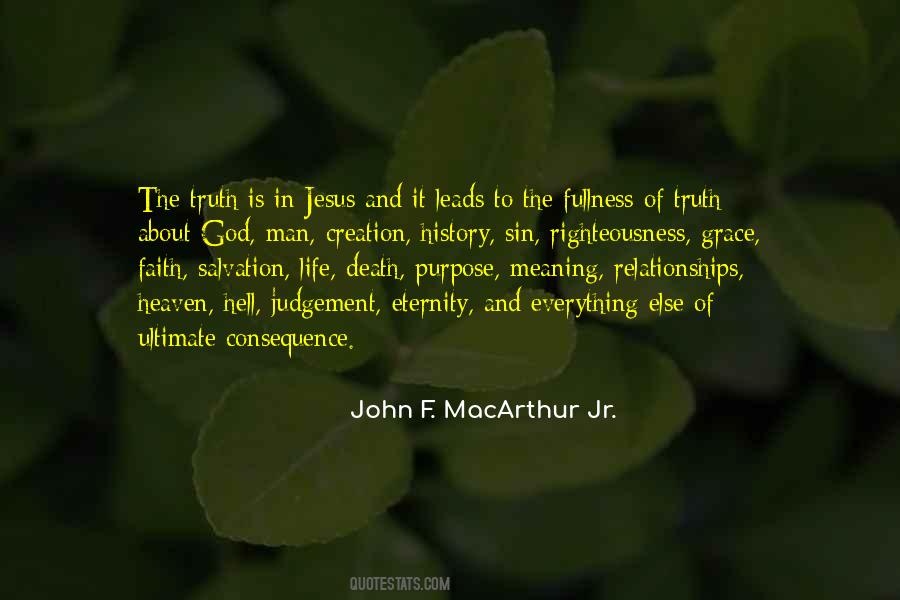 #27. We've become very good in our churches today at faking our concern when really we couldn't care less about the people around us. - Author: Anna M. Aquino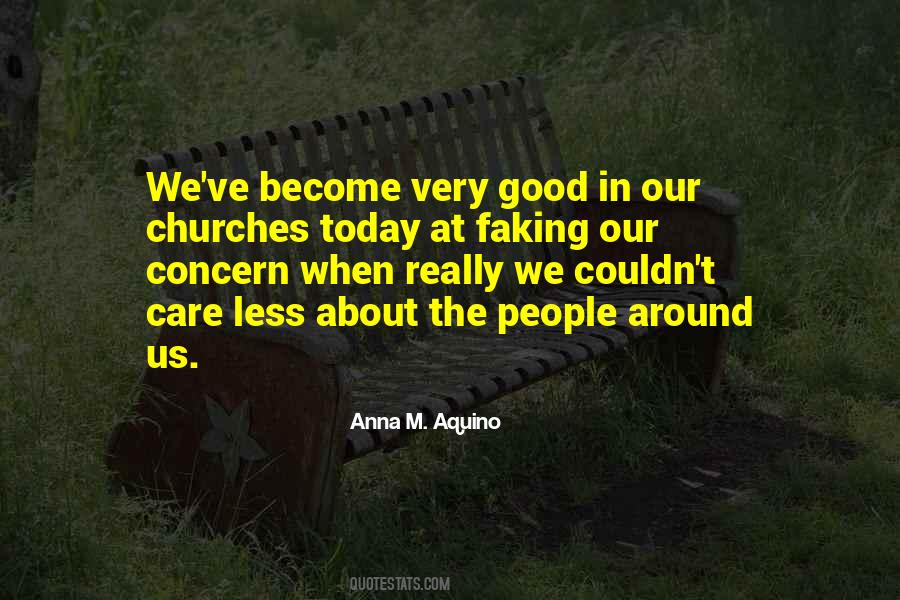 #28. This Nation was established by men who believed in God ... You will see the evidence of this deep religious faith on every hand. - Author: Harry S. Truman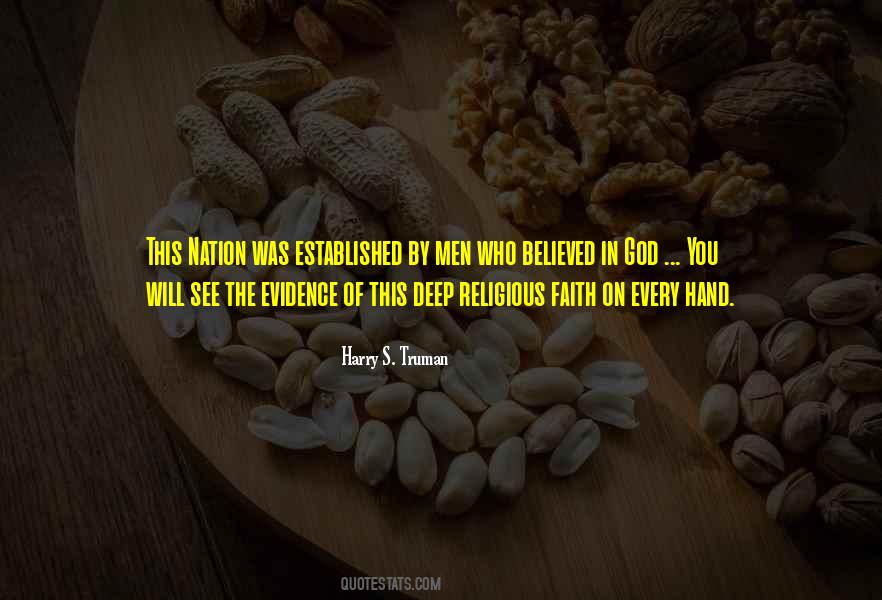 #29. Proponents of so-called pluralism feel compelled to ban religious considerations from public discourse because they know, instinctively if not intellectually, that their faith is in direct conflict with the God of the Bible, and that in the end the two positions are irreconcilable. - Author: Benjamin Hart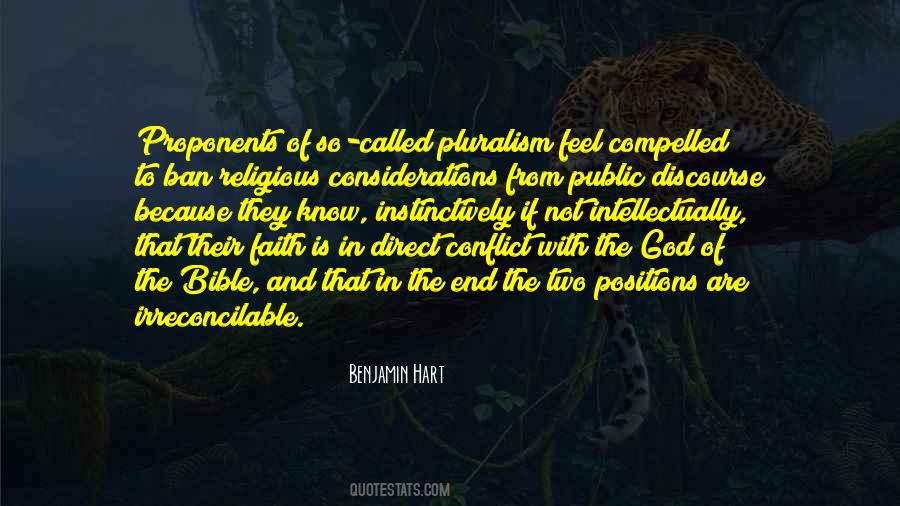 #30. The Bible definitely does not teach that those who follow God will have a life of bliss. It describes the dogged faith of those who continue to trust in God despite their suffering, and the comfort, strength, and hope they find in the face of suffering. - Author: Adam Hamilton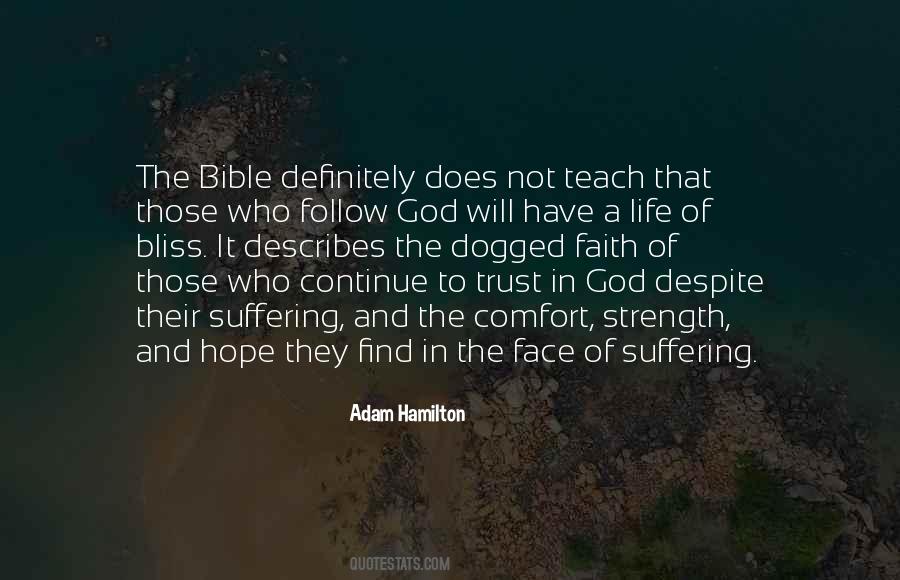 #31. Nothing else in this world can renew our minds like the Bible. - Author: Elizabeth George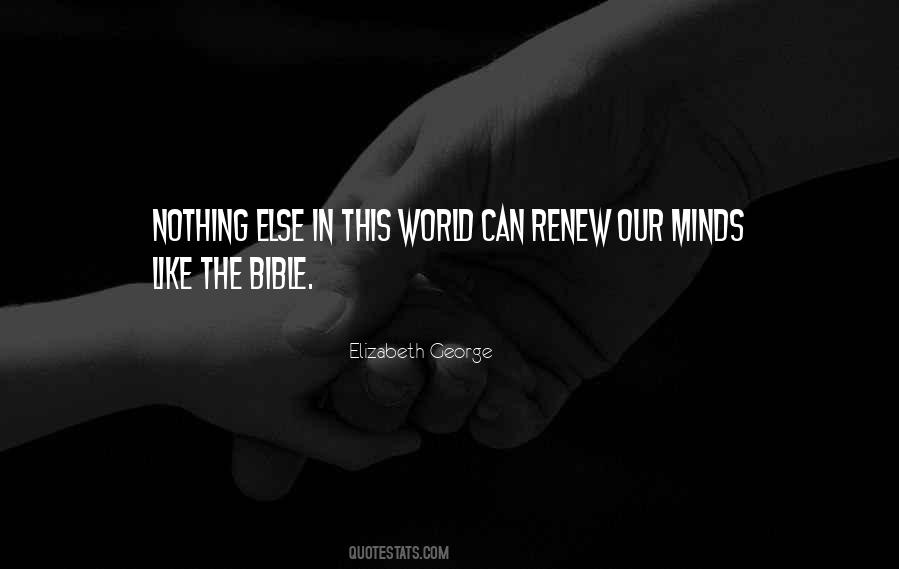 #32. God's purposes are achieved through the whole of your life, not in fragments of a moment, a day, or a year. - Author: Elizabeth George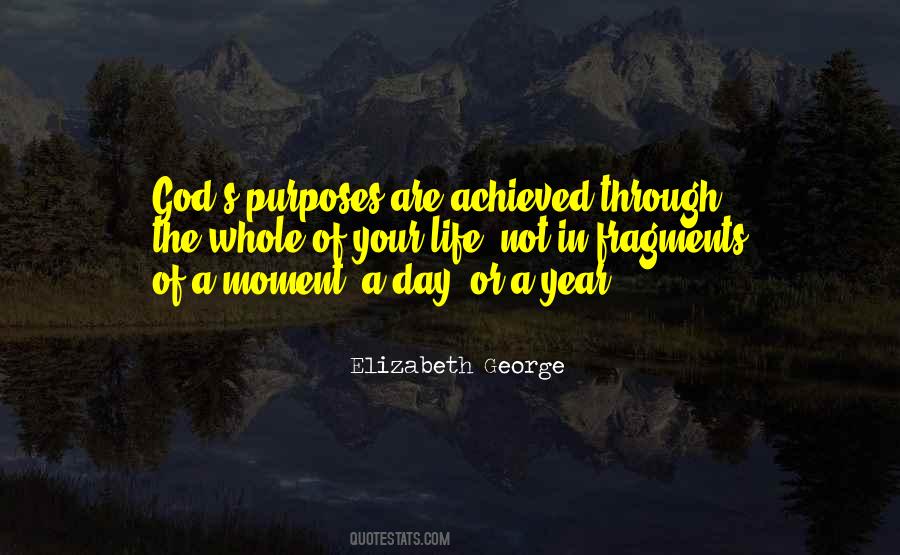 #33. When a scientist says he believes the Bible
that doesnt give me anymore more faith in the Bible that gives me more faith in the scientist. - Author: Adrian Rogers
#34. If American democracy is to remain the greatest hope of humanity, it must continue abundantly in the faith of the Bible - Author: Calvin Coolidge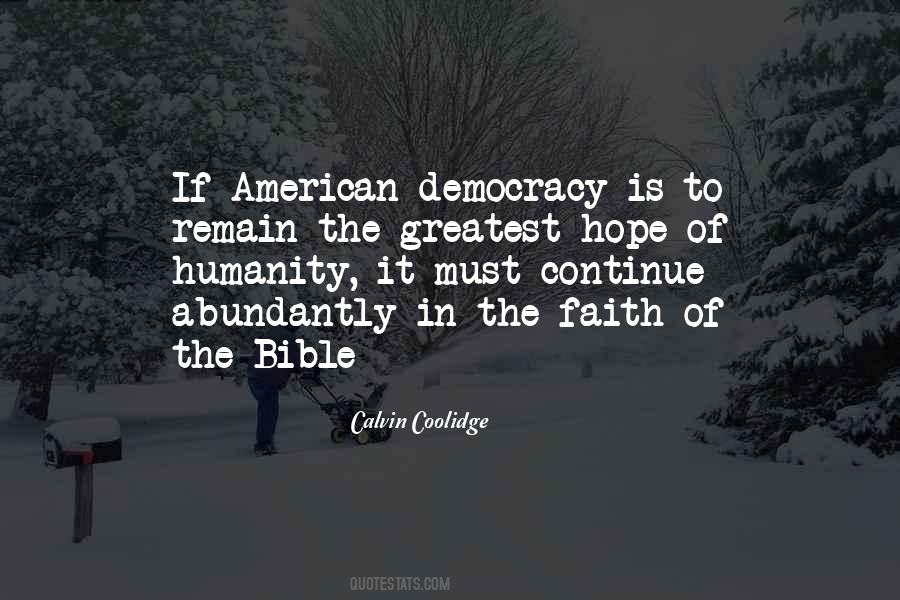 #35. The degree of our spiritual strength will be in direct proportion to the time we spend in God's Word. - Author: Elizabeth George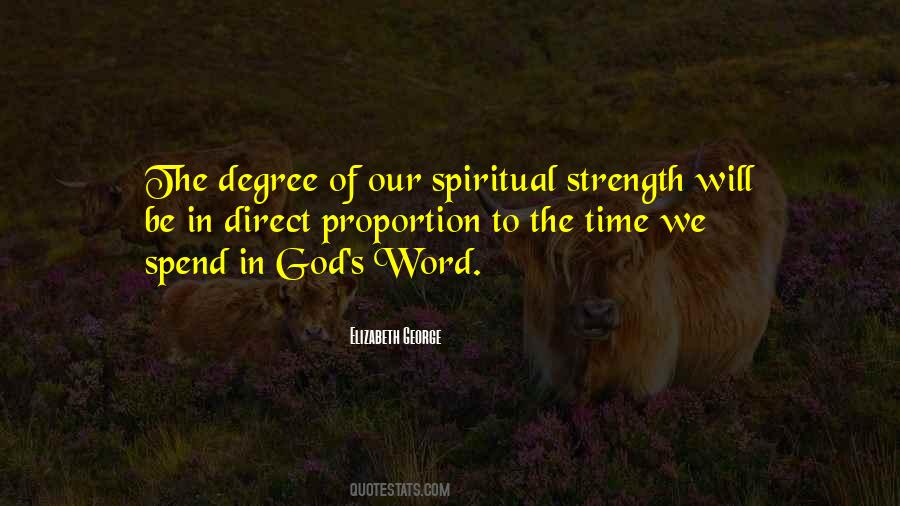 #36. As a Christian, Israel has a very special place in my heart. There's no question about that. I grew up with a Bible, and the back of the Bible has all these pictures of Israel in it. And so all these locations are incredibly significant to me personally in my faith. - Author: James Lankford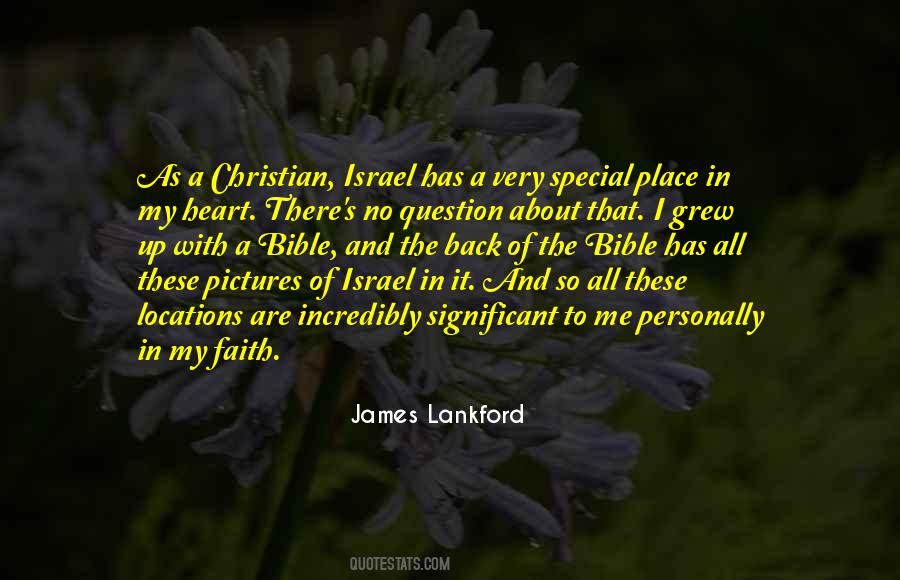 #37. The sweeping message of the Bible is not a promise that those who believe and do good will not suffer. Instead the Bible is largely a book about people who refused to let go of their faith in the face of suffering. - Author: Adam Hamilton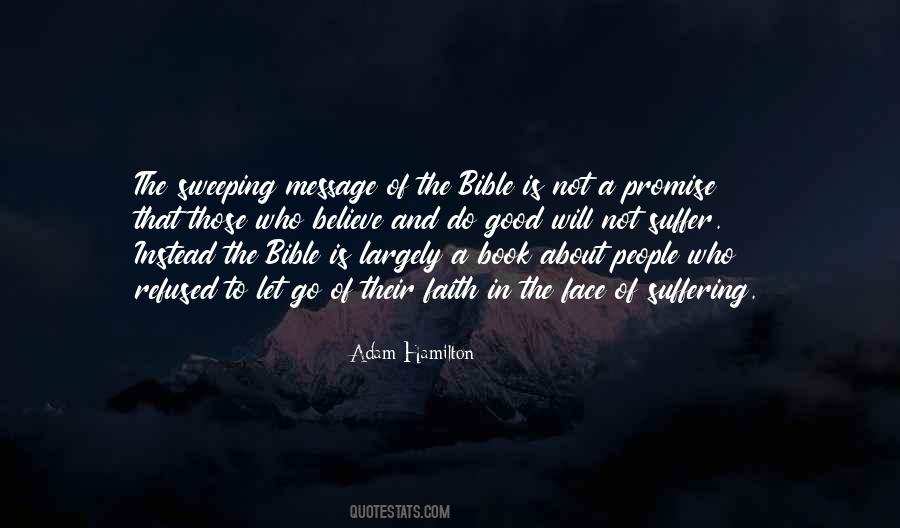 #38. I believe the Bible to be the written Word of God and to contain in it the whole rule of faith and manners. - Author: Robert Treat Paine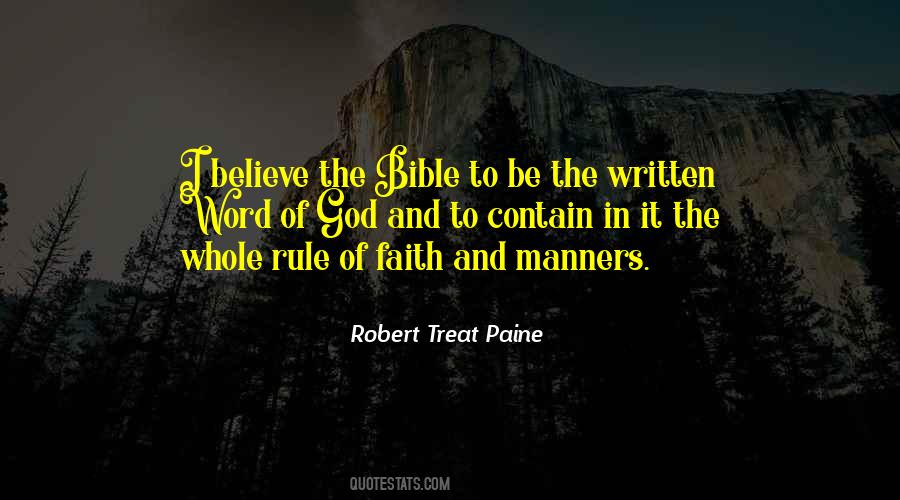 #39. The New Right, in many cases, is doing nothing less than placing a heretical claim on Christian faith that distorts, confuses, and destroys the opportunity for a biblical understanding of Jesus Christ and of his gospel for millions of people. - Author: Mark Hatfield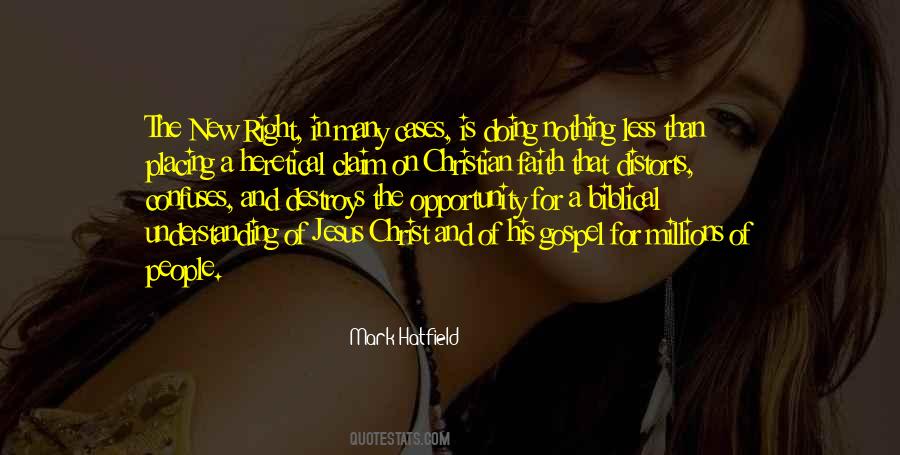 #40. Now the soul says, 'Lord, where shall I go? You have the words of eternal life.' [John 6: 68] Here he centers, here he settles. It is the entrance of heaven to him; he sees his interest in God. - Author: Joseph Alleine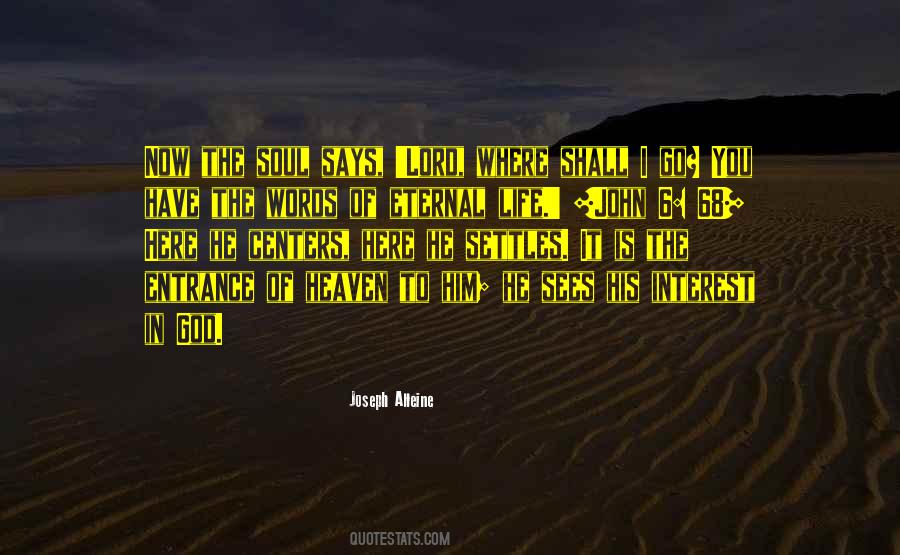 #41. The Bible, profound wisdom . - Author: Lailah Gifty Akita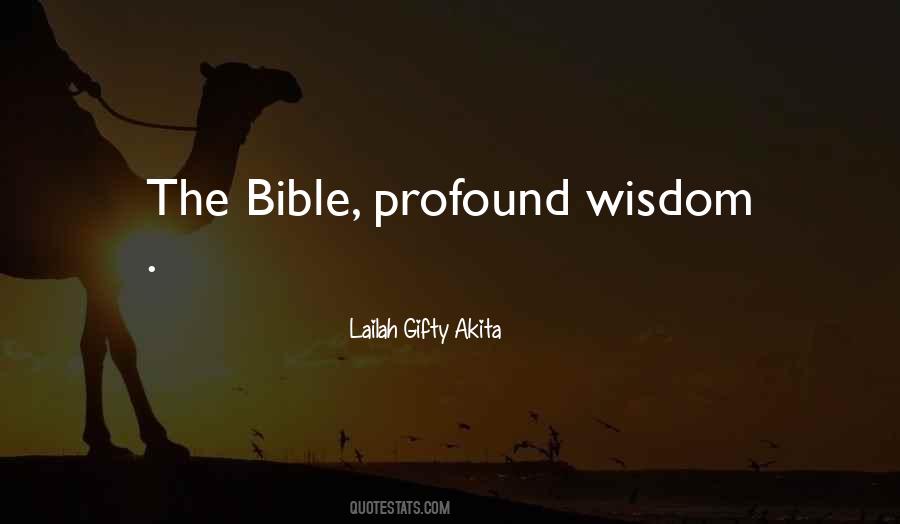 #42. Therefore, we ourselves speak proudly of you among the churches of God for your perseverance and faith in the midst of all your persecutions and afflictions which you endure.(2 Thessalonians 1:4 NASB) - Author: Alexander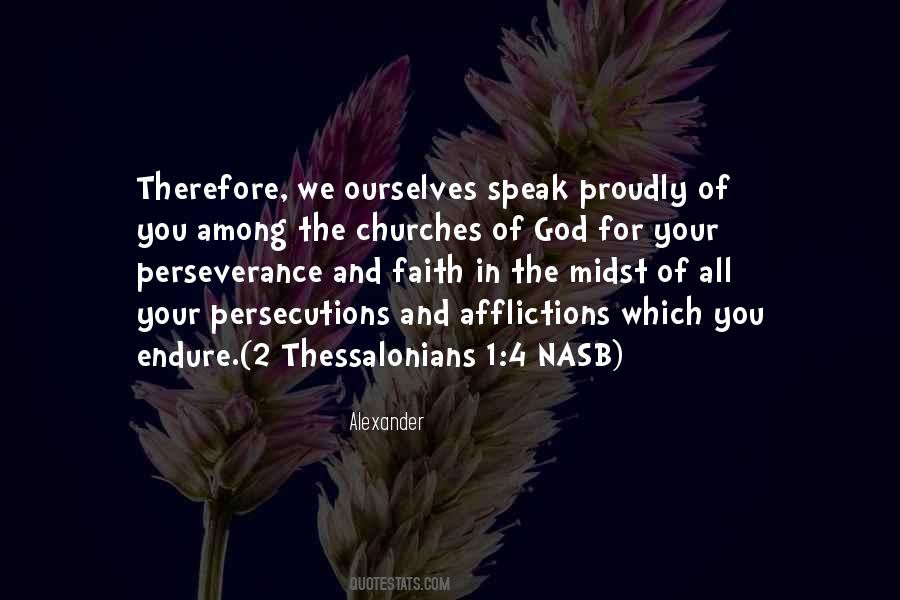 #43. Life is messy, and God knows that. One of the reasons He gave us the Bible is to equip us to live out our faith in the midst of our messy lives. - Author: Wendy Blight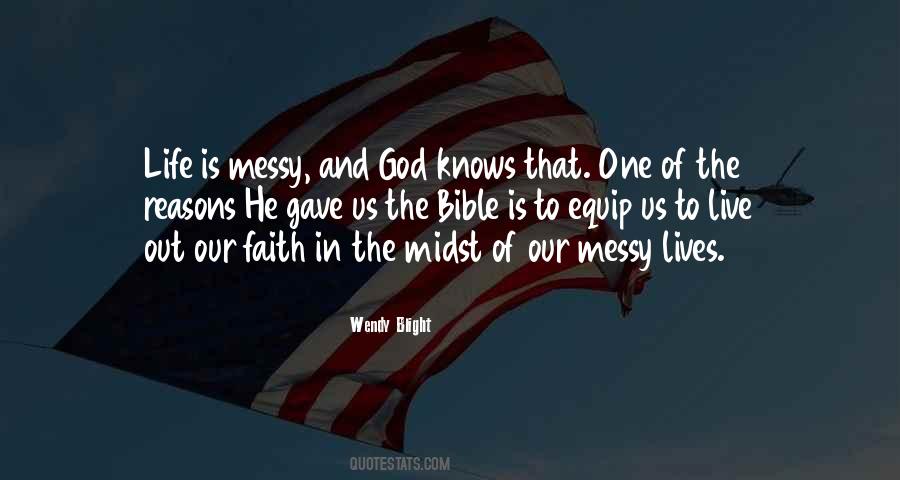 #44. Bible Christianity is what I love ... a Christianity practical and pure, which teaches holiness, humility, repentance and faith in Christ; and which after summing up all the Evangelical graces, declares that the greatest of these is charity . - Author: Hannah More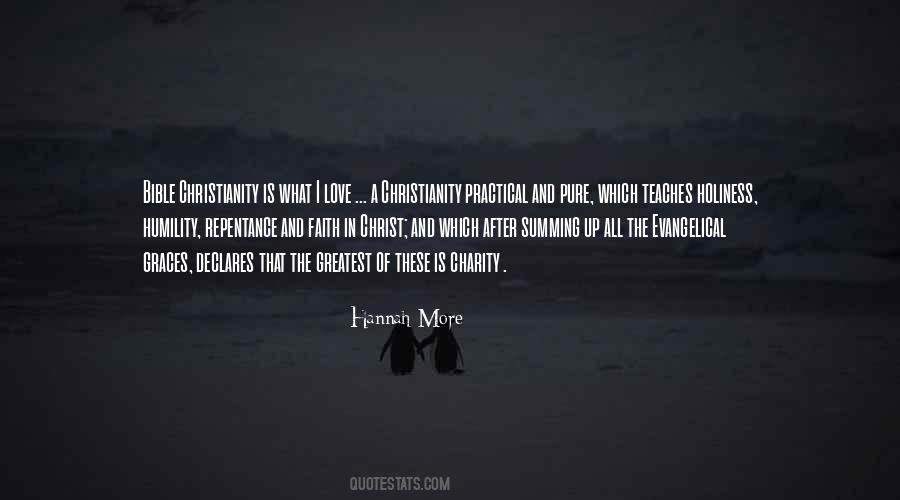 #45. The Bible is the inerrant ... word of the living God. It is absolutely infallible,without error in all matters pertaining to faith and practice, as well as in areas such as geography, science, history, etc. - Author: Jerry Falwell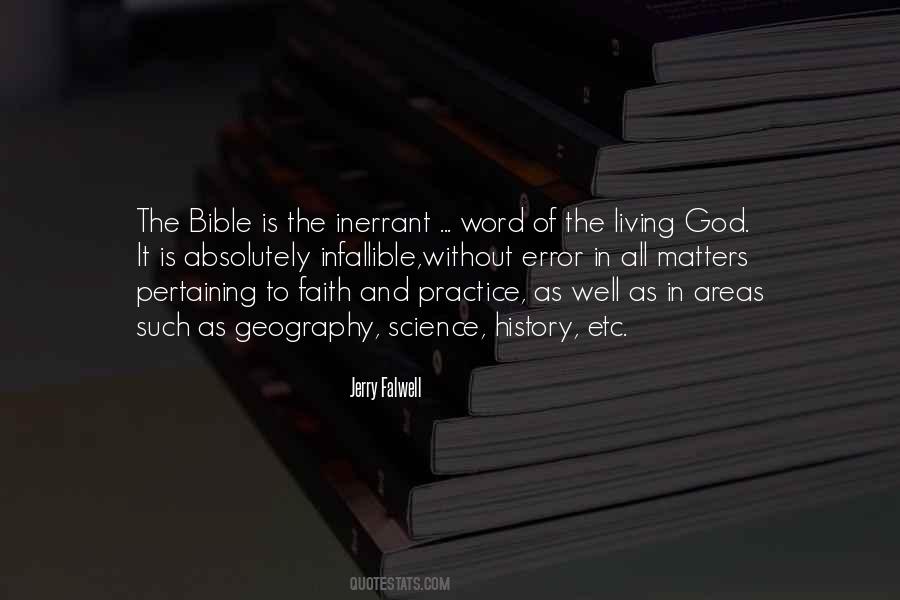 #46. In the Bible, the opposite of Sin, with a capital 'S,' is not virtue - it's faith: faith in a God who draws all to himself in his resurrection. - Author: Robert Farrar Capon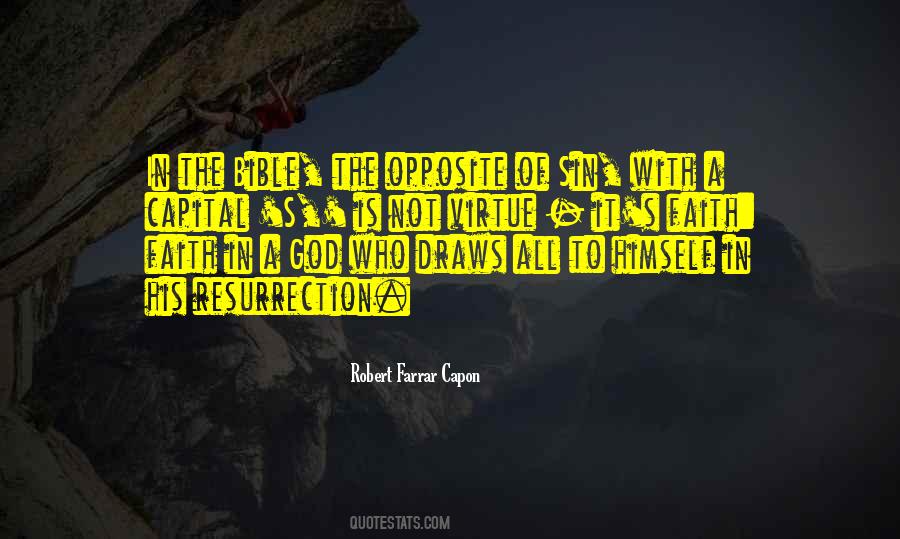 #47. The Bible is to be our basis of authority. We must "by faith" accept [Jesus] as the Son of the living God. This sounds narrow and intolerant, and in a sense it is! - Author: Billy Graham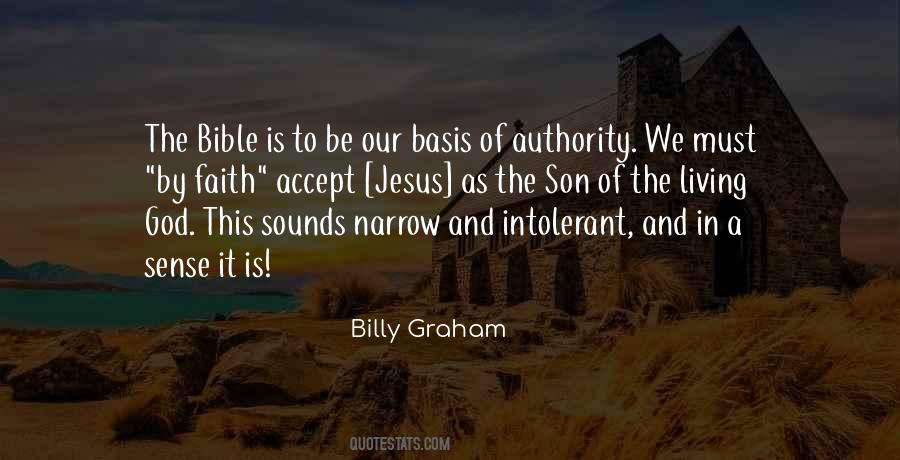 #48. ... the scriptures... when properly examined and rightly divided, do not portray Jesus as a poverty-stricken individual. On the contrary, Jesus is seen as a Man whose needs were met and who was regularly involved in meeting the needs of others. - Author: Kenneth E. Hagin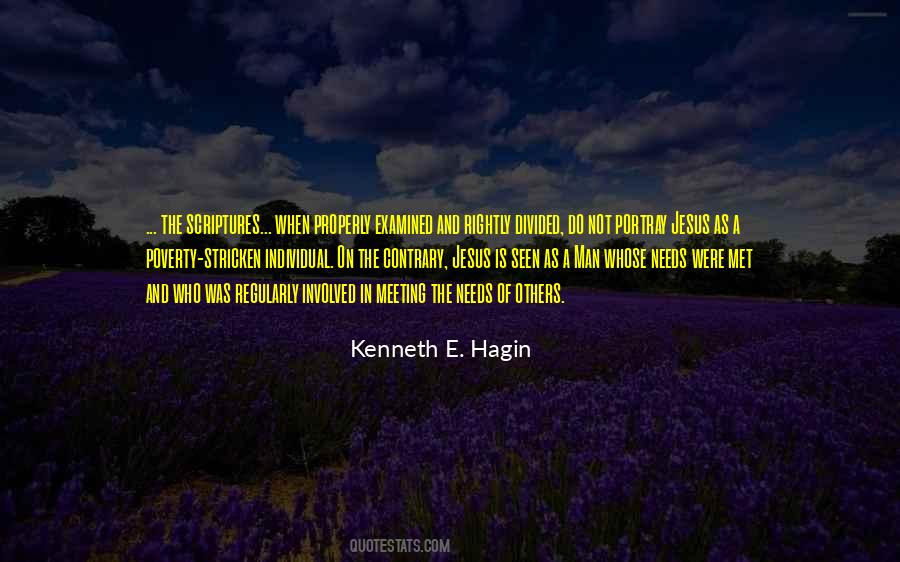 #49. The Bible presents a grace-soaked, spectacular vision for female beauty. It insists that the King is enthralled - ENTHRALLED! - with the beauty of every woman who puts her faith in Him. We - Author: Mary A. Kassian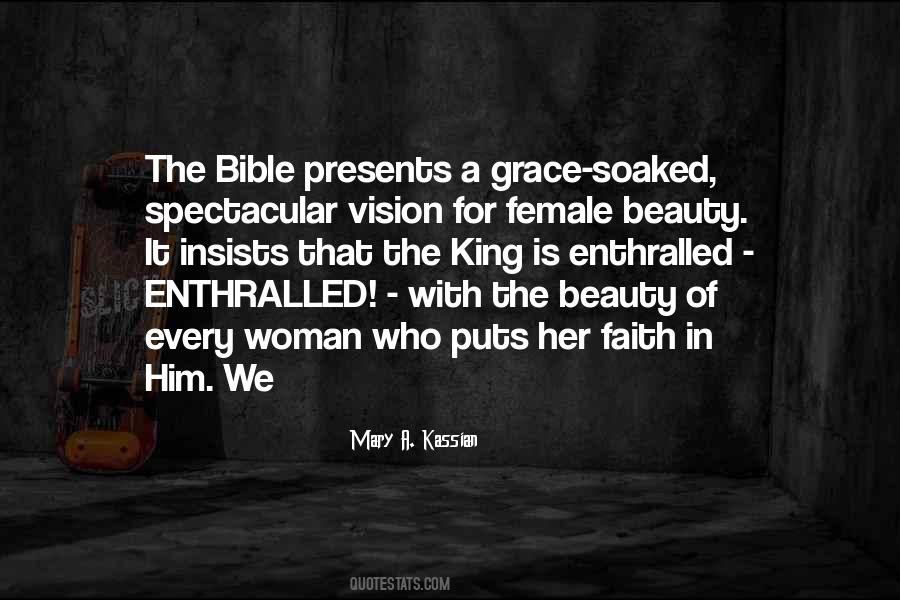 #50. I have never received a heavenly dispatch. Rather, I have found that divine guidance often comes as a result of taking steps of faith. And God not only has His will, but He also has His timing for each and every situation. The Bible tells us, 'He has made everything beautiful in its time' - Author: Greg Laurie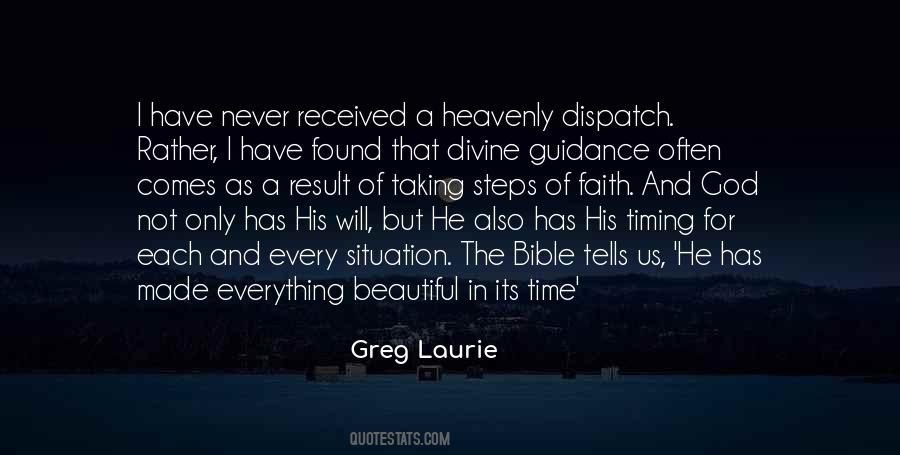 #51. My faith in God is a huge part of my life, and yeah He has blessed me with an amazing family, and group of friends. In the Bible he tells us to think positively about ourselves, to not be down on ourselves. So I just try to live the way He wants me to, and make the best decisions I can. - Author: Bethany Hamilton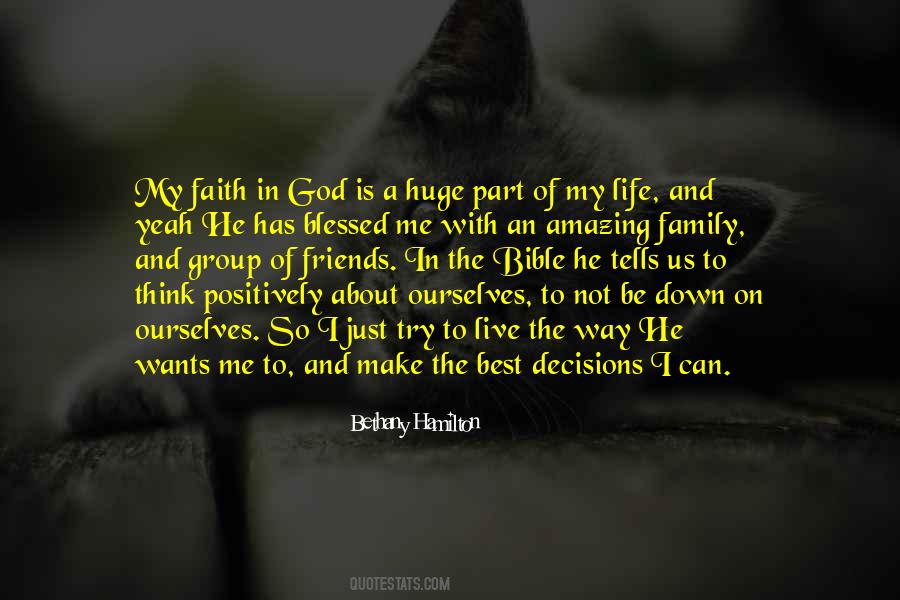 #52. There is a time for faith, Bishop, and a time for action. It would be a foolish man who stood on a battlefield and faced an army with a Bible in his hands. We are here to do the bidding of our Lord Almighty, but it is through deeds, as well as piety, that we serve Him. - Author: Robyn Young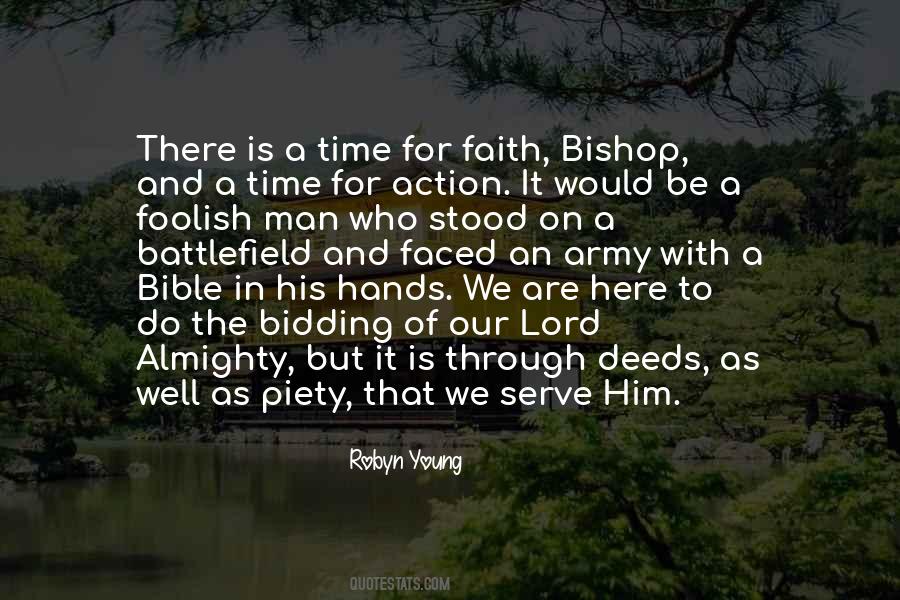 #53. The salvation for which the Bible instructs us is available "through faith in Christ Jesus." Therefore, since Scripture concerns salvation and salvation is through Christ, Scripture is full of Christ. - Author: John R.W. Stott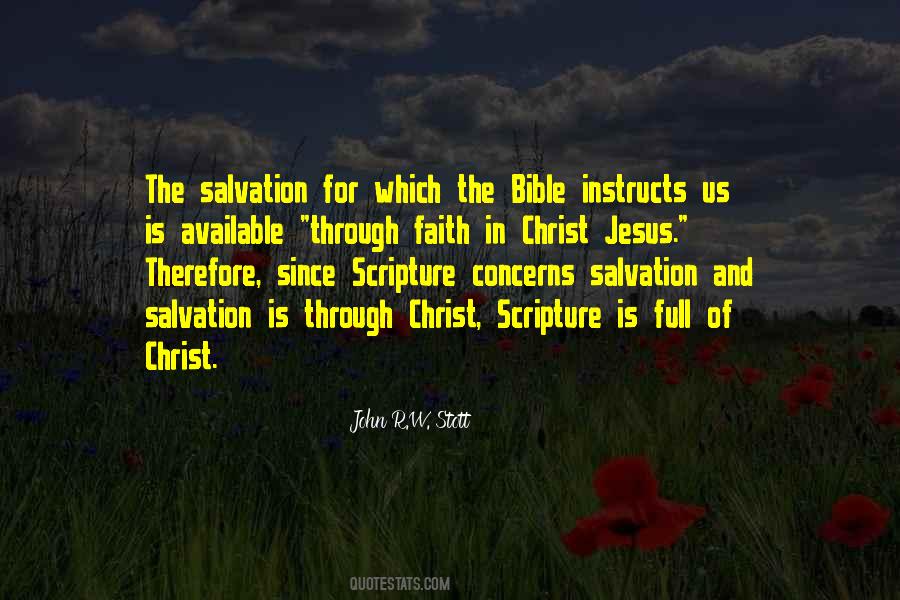 #54. Without the Holy Bible, how can we believe in God? - Author: Lailah Gifty Akita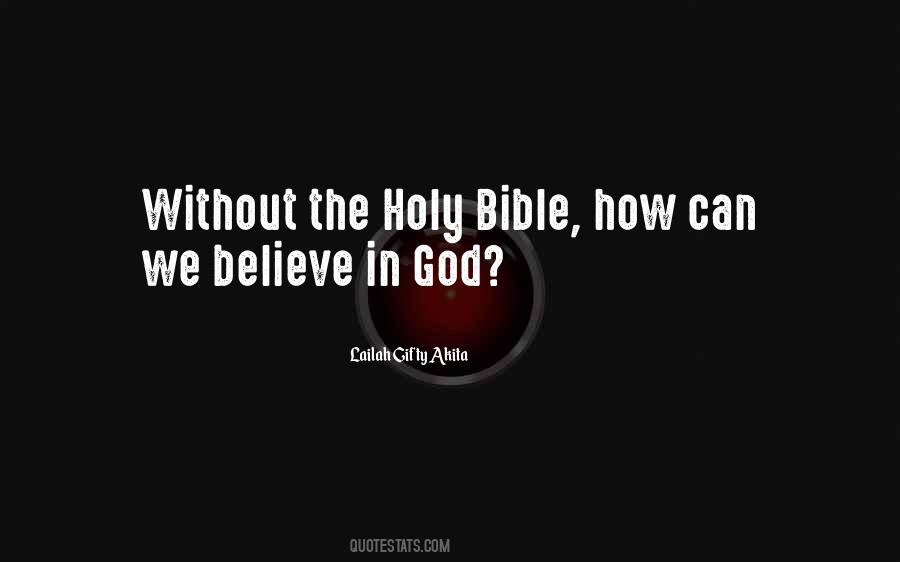 #55. Your words and deeds are seeds, scattered in the wind ... the seeds are light or darkness ... they'll break apart or mend ... Sow light instead of gloom. Sow faith instead of doubt. Sow truth and love, and hope, and peace. Sow light and darkness rout. - Author: Colleen Luntzel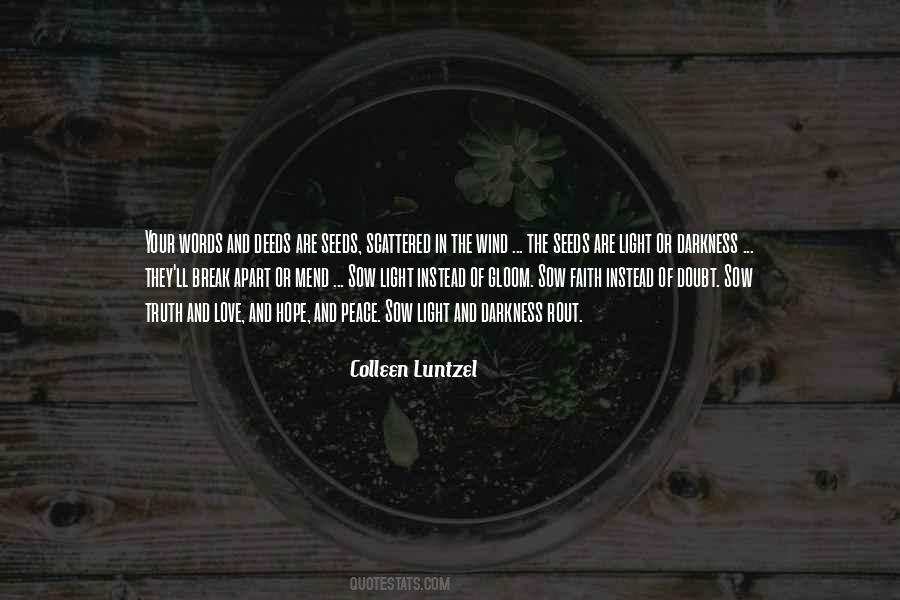 #56. Strengthen yourself in the word of God. - Author: Lailah Gifty Akita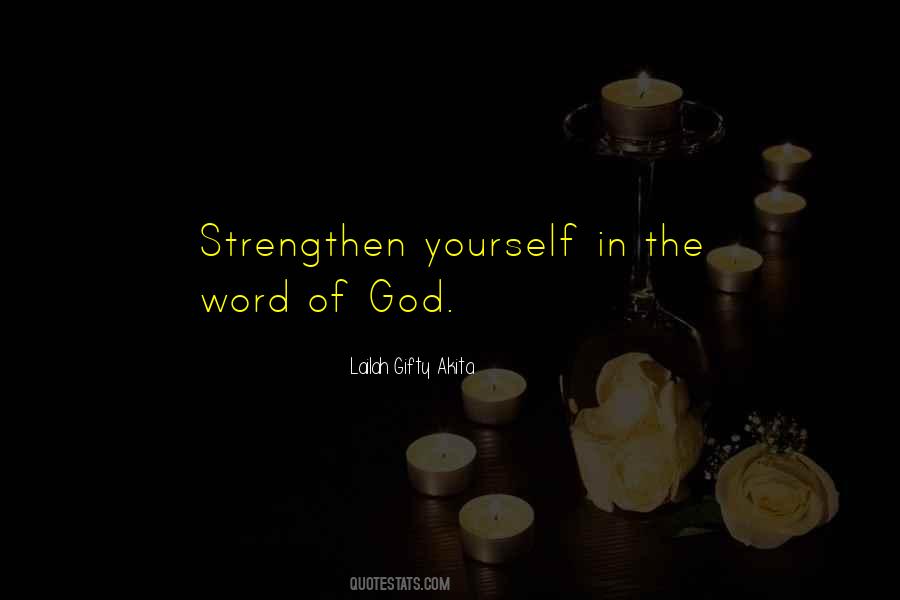 #57. Karl Barth said it well: "We have to read the Bible in one hand ... and the newspaper in the other." Our faith should not cause us to escape this world but to engage it. - Author: Shane Claiborne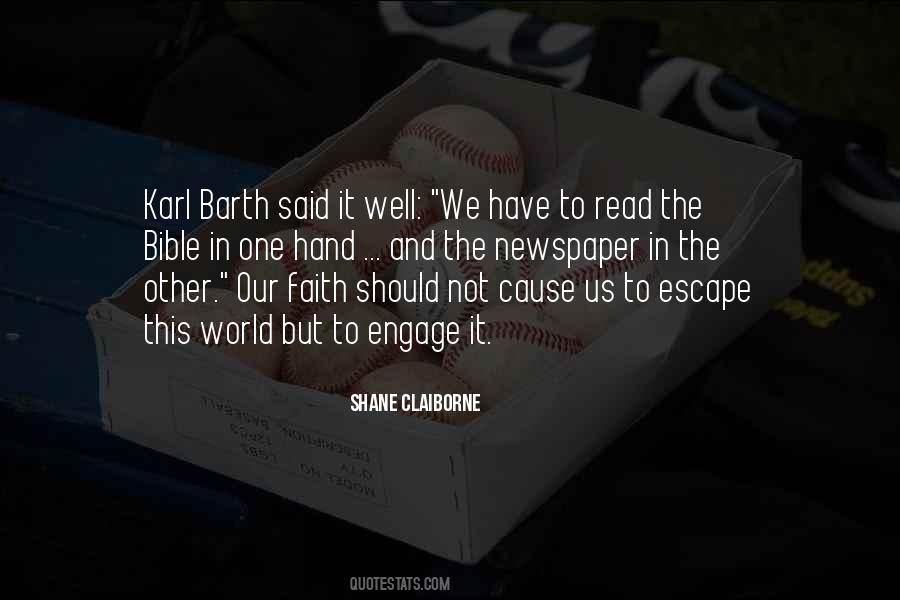 #58. It is easier for me to have faith in the Bible than to have faith in D.L. Moody, for Moody has failed me lots of times. - Author: Dwight L. Moody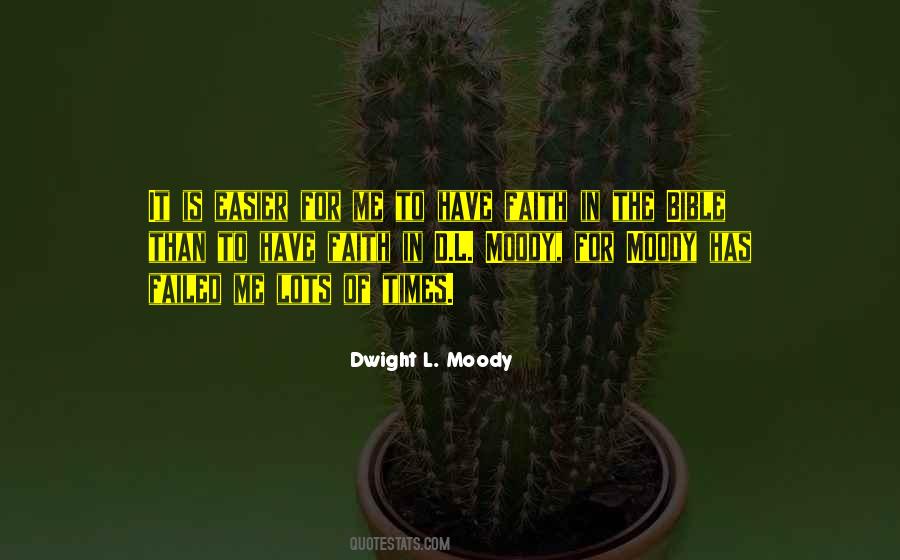 #59. God has written us a book, and now we have the opportunity to respond with our words and actions. - Author: Jared Brock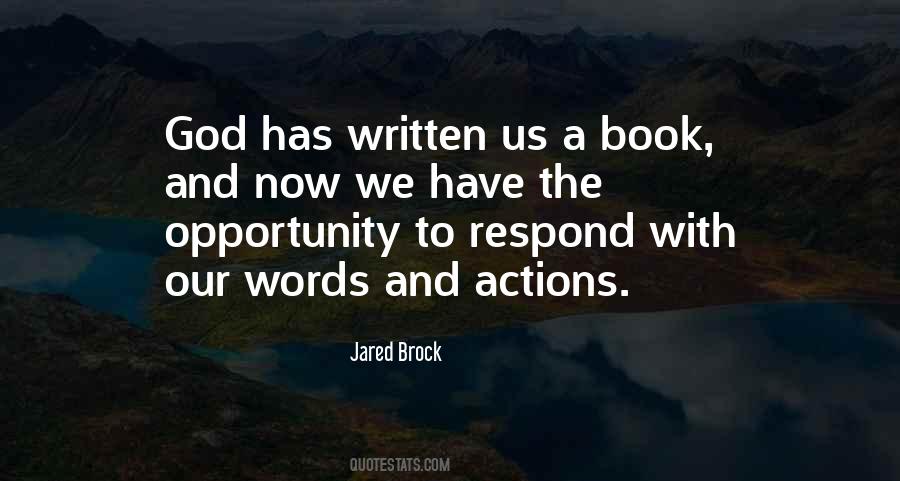 #60. Let the separation between you and the world be final and irreversible. Say, 'Here I go for Christ and His Cross, for the faith of the Bible, for the laws of God, for holiness, for trust in Jesus; and never will I go back, come what may. - Author: Charles Spurgeon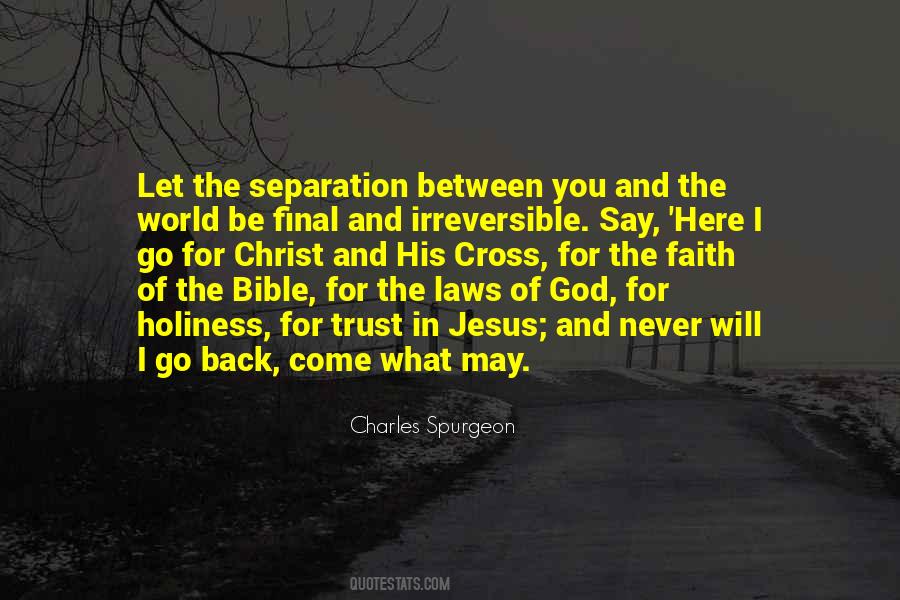 #61. Only type of people the bible states God is seeking, Worshipers in spirit and truth. - Author: Evans Biya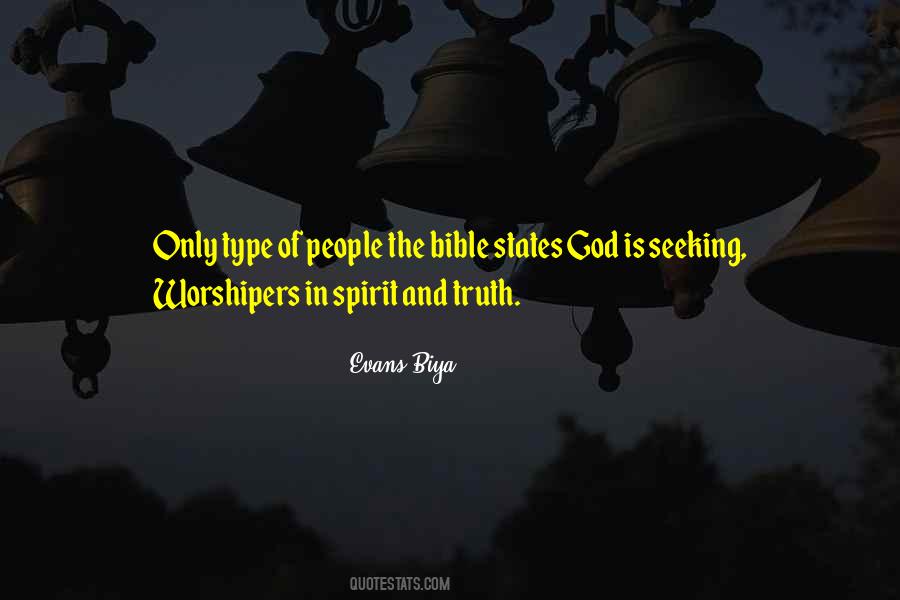 #62. Without private prayers and personal study of the Scriptures, how can we increase in faith and grow in the grace of our knowledge of Christ Jesus? - Author: Lailah Gifty Akita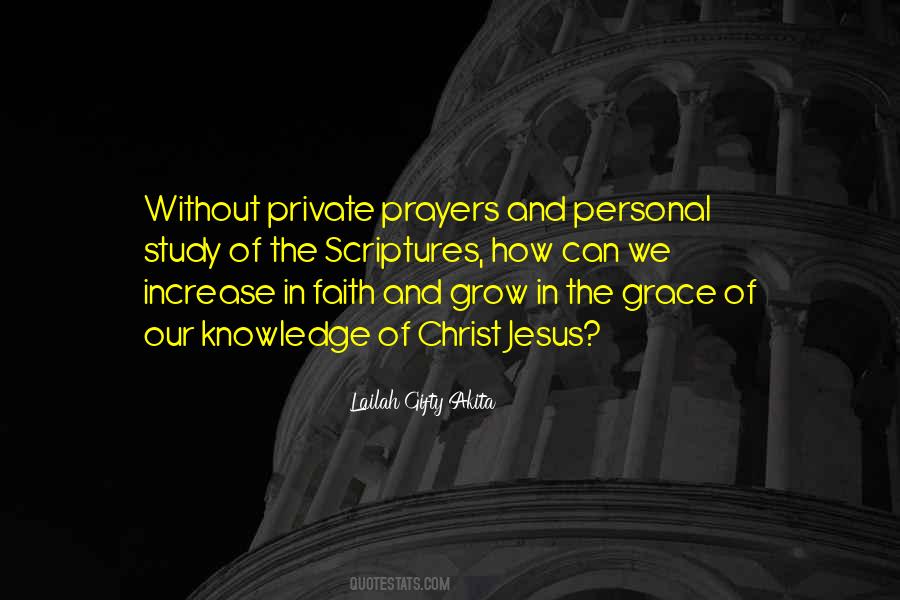 #63. We can never learn too much of His will towards us, too much of His messages and His advice. The Bible is His word and its study gives at once the foundation for our faith and an inspiration to battle onward in the fight against the tempter. - Author: John D. Rockefeller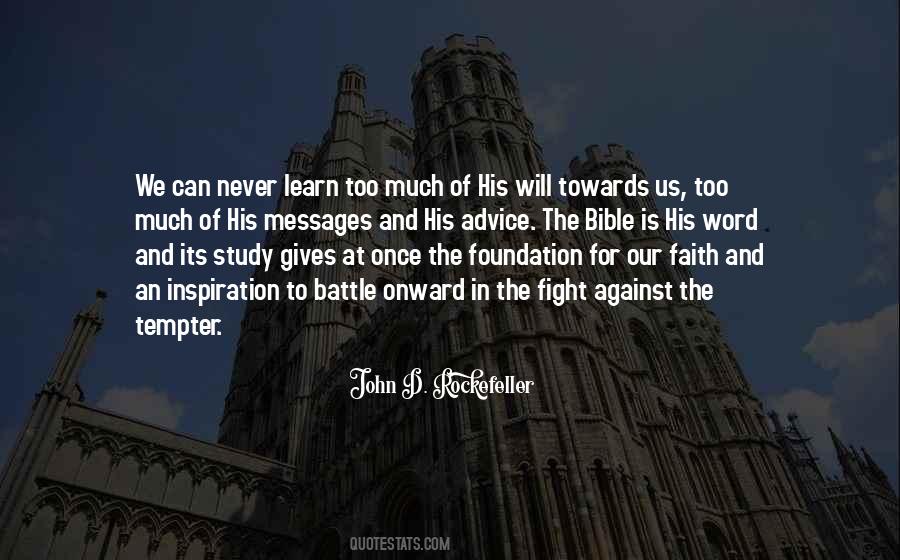 #64. I may add that the result of my 45 years of study of the Bible has led me all the time to a firmer faith that in the Old Testament, we have a true historical account of the history of the Israelite people. - Author: Robert Dick Wilson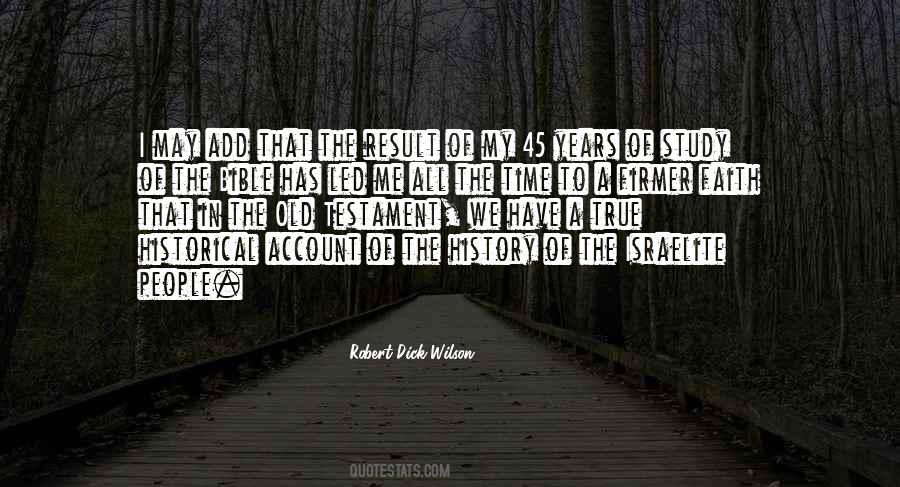 #65. In today's society, Christians have a bad rap for things like holding picketing signs, screaming mantras of hate, and bombing abortion clinics. Somehow, I don't think that's showing love. - Author: Anna M. Aquino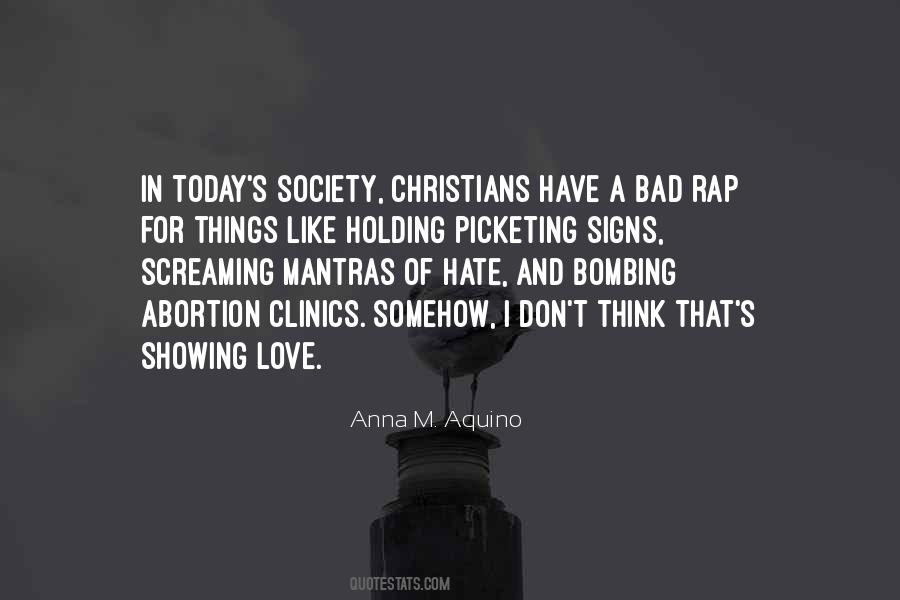 #66. You can live each day in the confidence of God's promises. - Author: Elizabeth George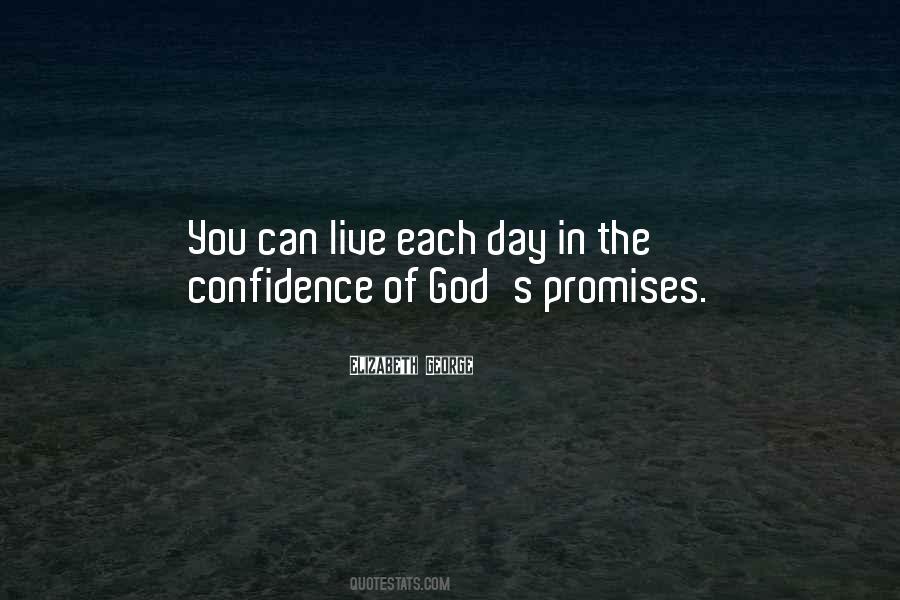 #67. 1 Corinthians 3:18-19
Do not deceive yourselves. If any of you think you are wise by the standards of this age, you should become 'fools' so that you may become wise. For the wisdom of this world is foolishness in God's sight. - Author: Anonymous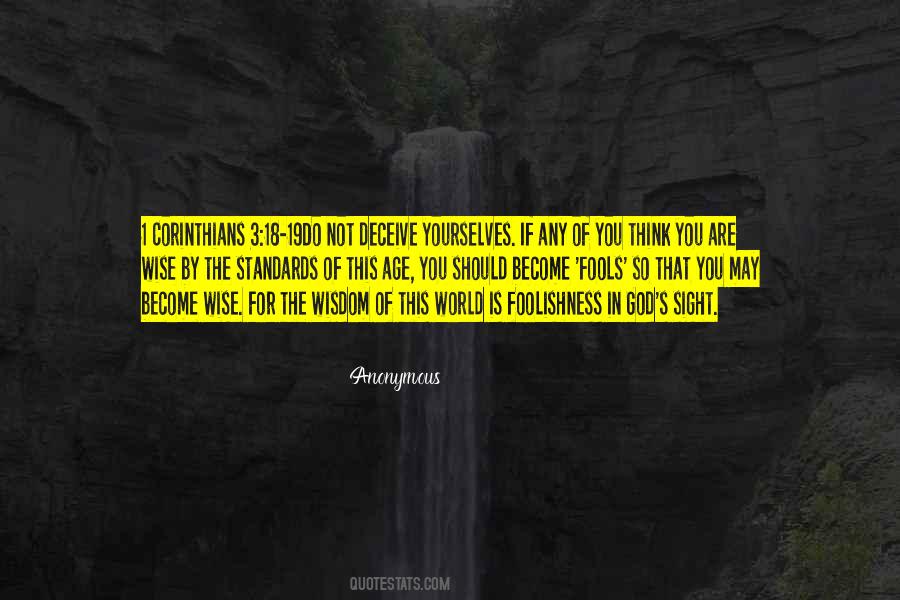 #68. The Bible teaches that faith will manifest itself in three ways. It will manifest itself in doctrine - in what you believe. It will manifest itself in worship - your communion with God ... It will manifest itself in morality - in the way you live and behave. - Author: Billy Graham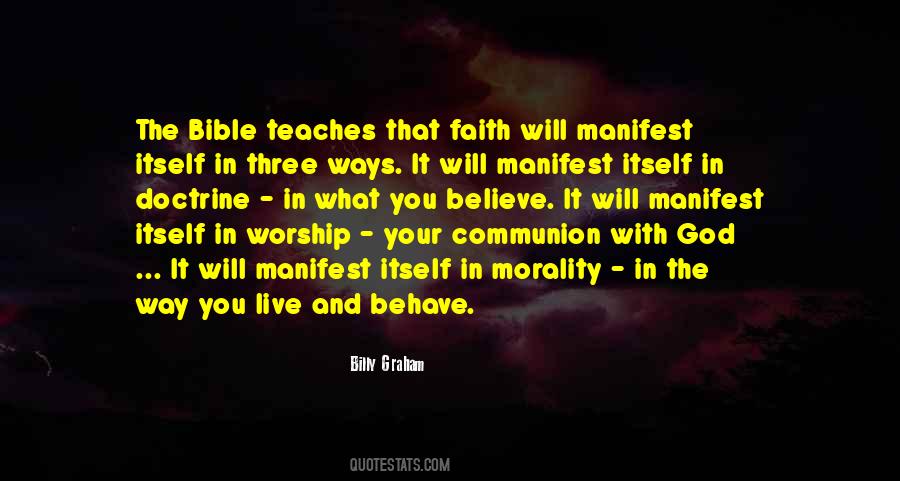 #69. The holy people delights in the Lord. - Author: Lailah Gifty Akita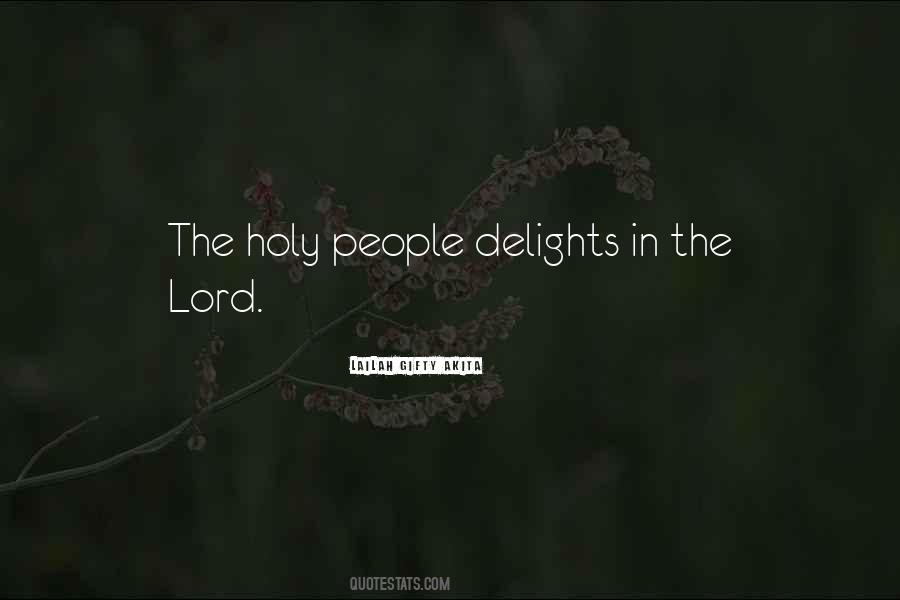 #70. The theme of the Bible is not that the world's not messy but that God's at work in the mess. - Author: Matt Chandler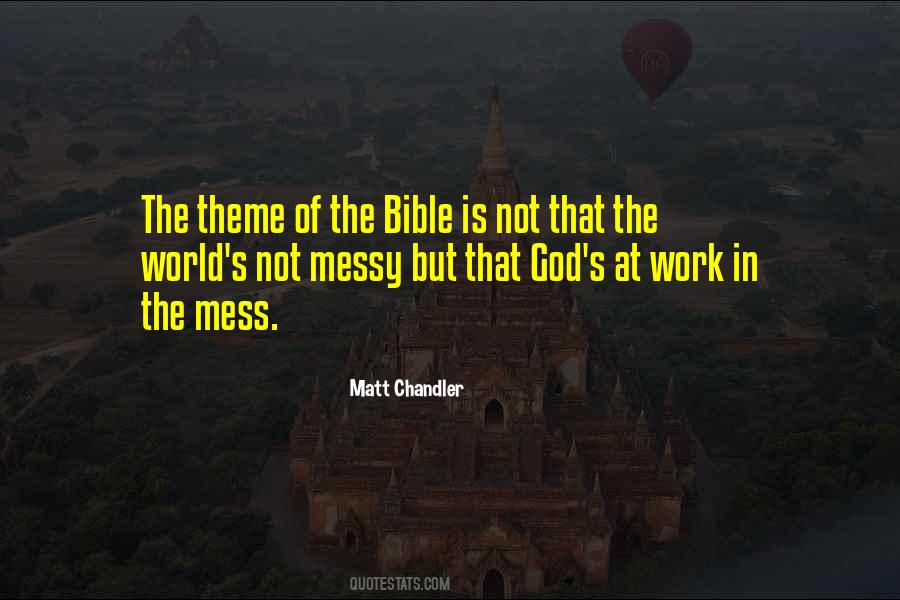 #71. Faith greatly shaped America's role in the world. We are a country that embodies the Bible verse from Luke chapter 12, verse 48 "From everyone who has been given much, much will be demanded." - Author: Marco Rubio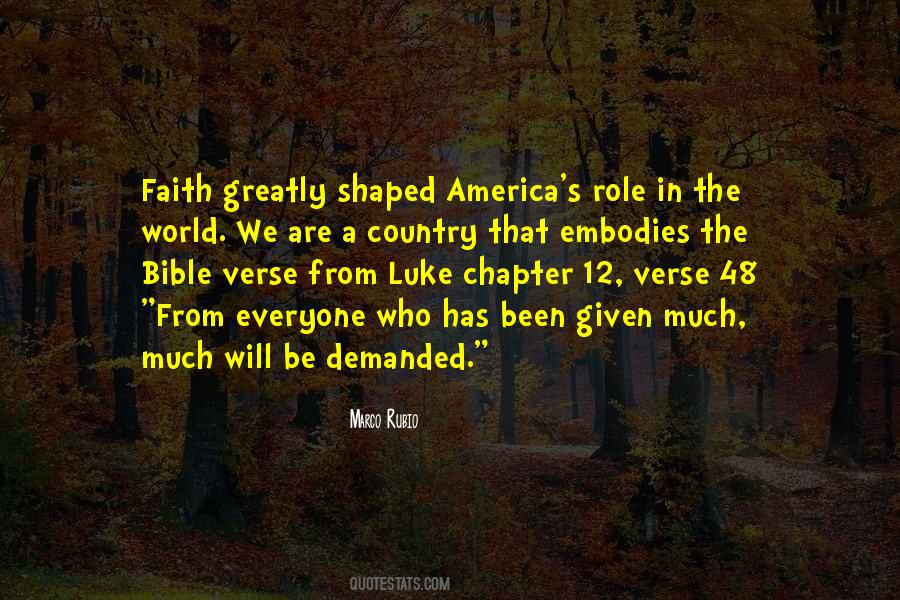 #72. It's tempting to get lost in the study, to turn to books and study groups and classes, to know all about God but not know God himself, to read about the Bible rather than read the Bible itself. - Author: Michelle DeRusha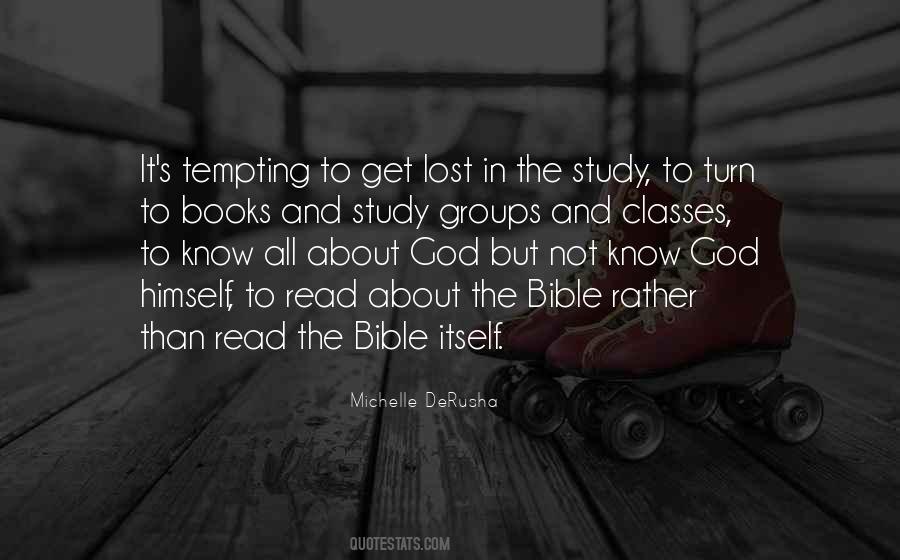 #73. Though the Bible was written over sixteen centuries by at least forty authors, it has one central theme-salvation through faith in Christ. - Author: Max Lucado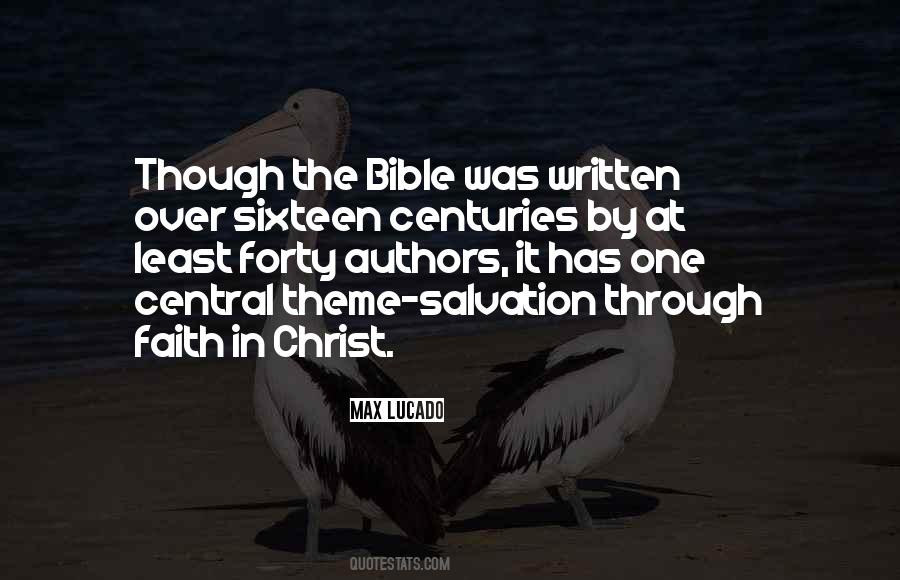 #74. All that has been done to weaken the foundation of an implicit faith in the Bible, as a whole, has been at the expense of the sense of religious obligation, and at the cost of human happiness. - Author: J.G. Holland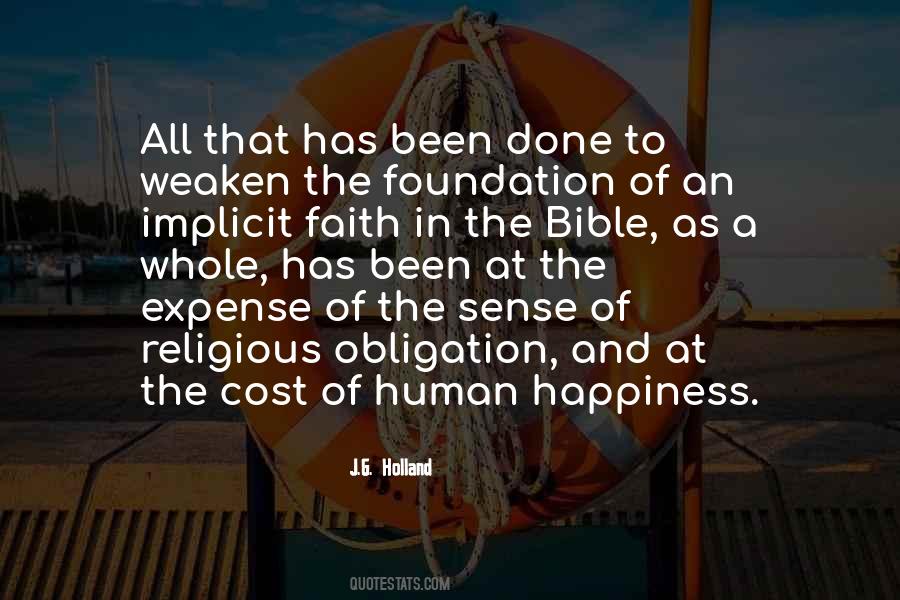 #75. In classrooms and living rooms across the globe, an agnostic or an atheist may be heard to strenuously argue, 'But the Bible is just a book.' Similar arguments may be raised against other holy books. But they all are too ironic, by half. A book is the Bible. - Author: Gerald Weaver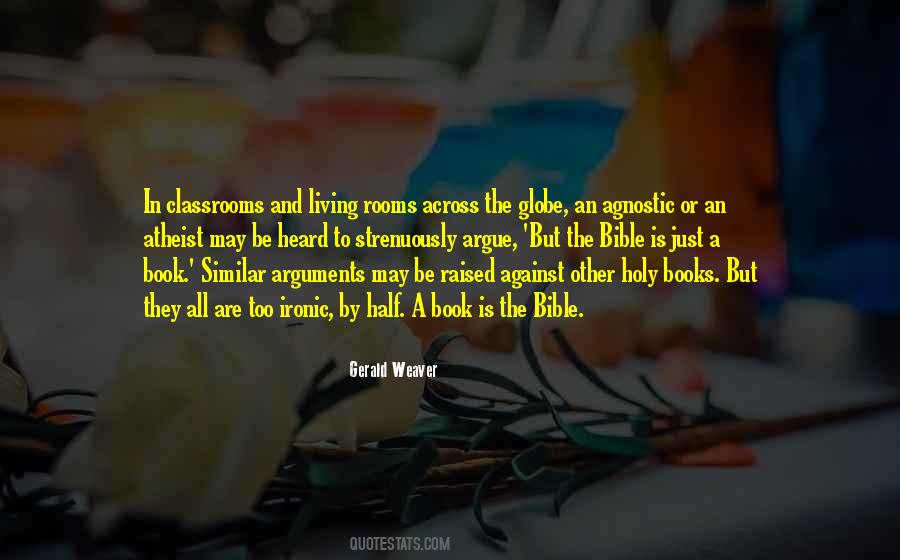 #76. Don't be crushed under the oncoming tide of adversity that moves in to test your faith. Make sure that your foundation is built on the solid rock of Jesus Christ. Be ready for the storms of life and move forward in a confidence that cannot be shaken by the strong winds of hardship. - Author: Calvin W. Allison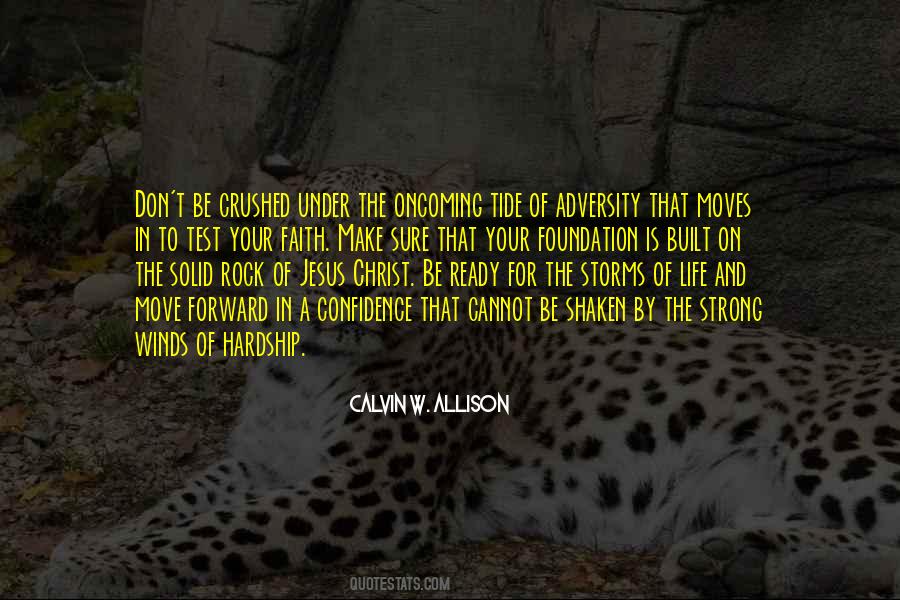 #77. The inspiration and authority of the Bible is the bedrock upon which our faith is built. Without it, we are doomed to uncertainty, doubt, and a hopeless groping in the darkness of human speculation. - Author: Sam Storms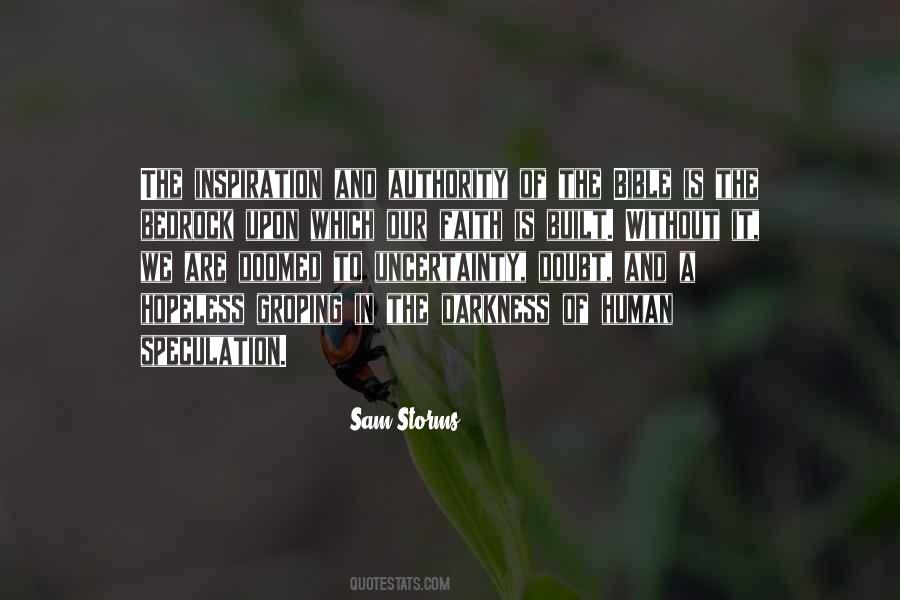 #78. [The] faith spoken of in the Bible is not a matter of intellectual belief, but a matter of connecting experientially and substantively with the person of Truth, Jesus. - Author: Karla Perry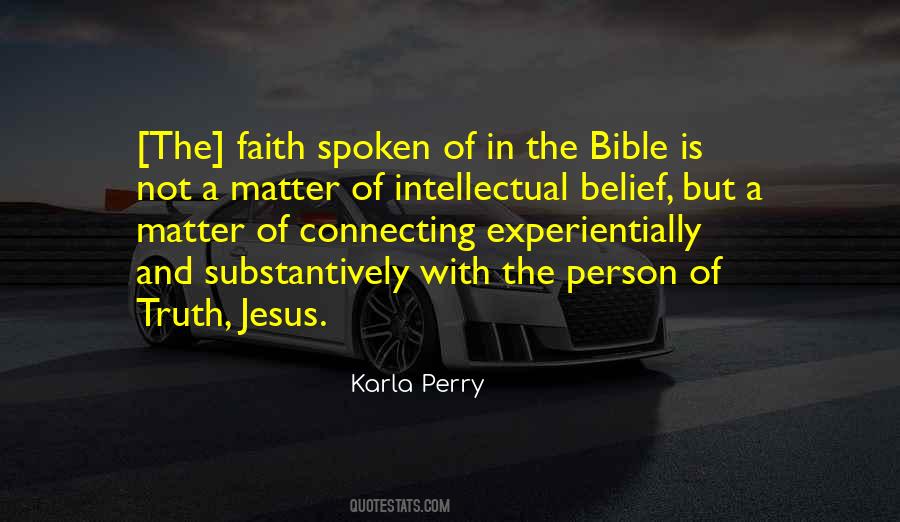 #79. It comes back to the old question: How can the Bible be so wise in some places and so barbaric in others? And why should we put any faith in a book that includes such brutality? - Author: A. J. Jacobs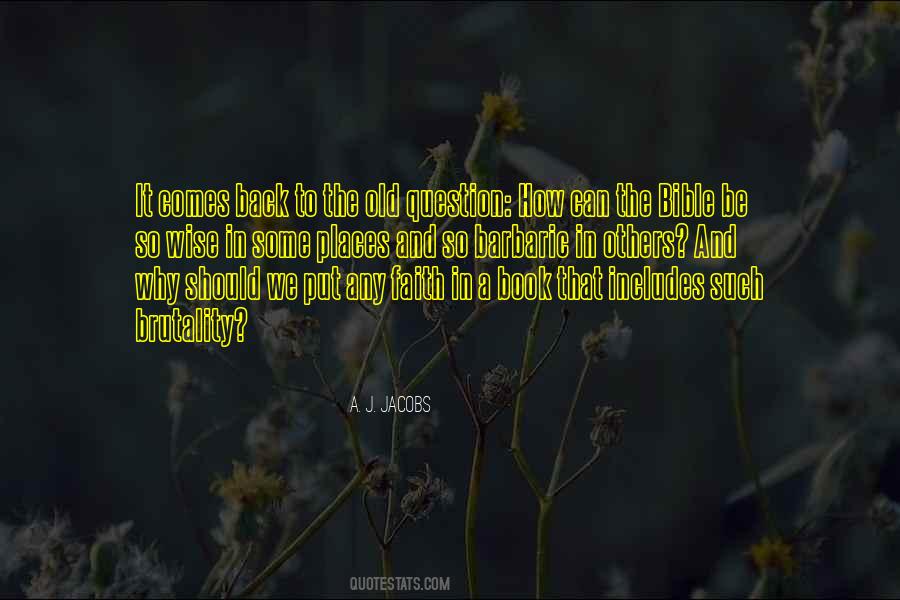 #80. Calling in the Bible is a central and dynamic theme that becomes a metaphor for the life of faith itself. - Author: Os Guinness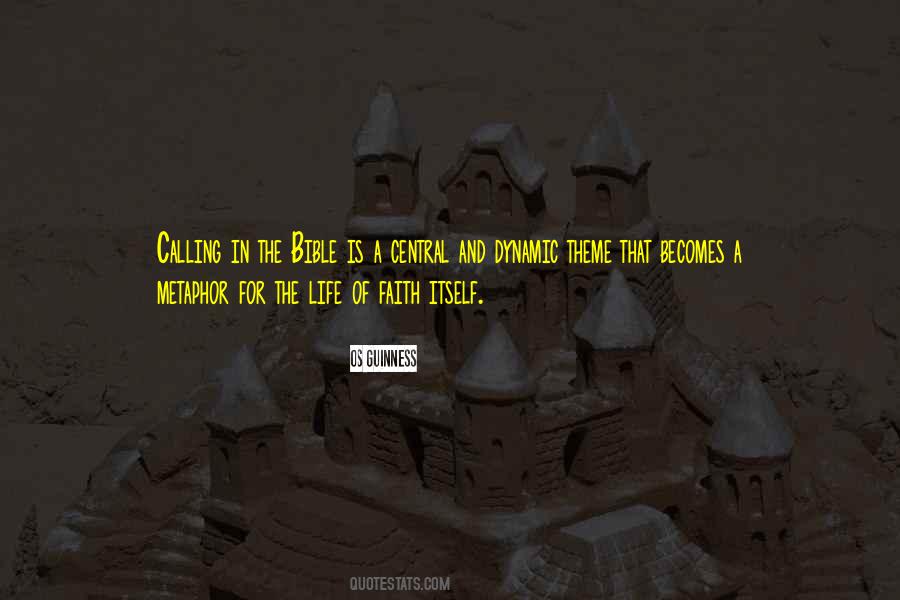 #81. I always thought faith was kind of a personal thing, Dad says thoughtfully.
Everyone has to figure out for themselves how much they should do things like pray or read the Bible. - Author: Melody Carlson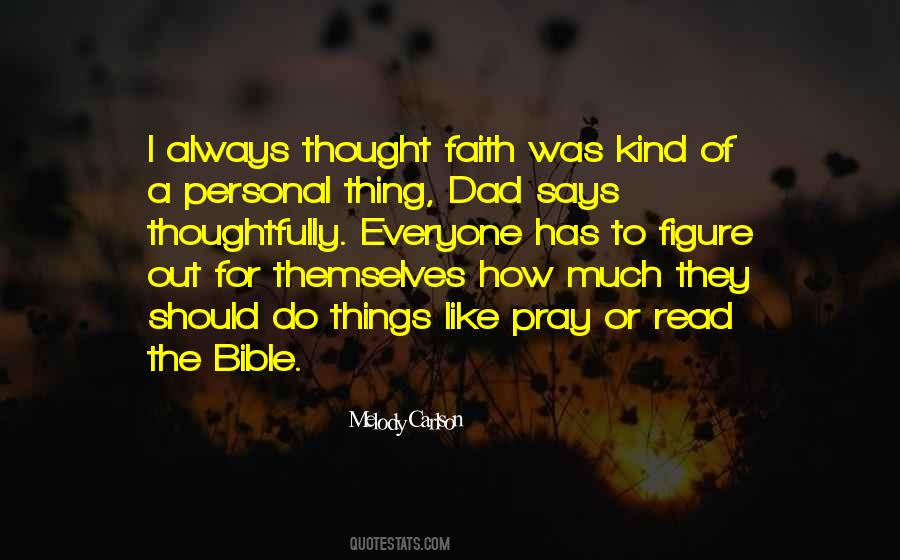 #82. As to women, the Islamic faith has given women rights that are equal to or more than the rights given them in the Old Testament and the Bible. - Author: Abdullah Of Saudi Arabia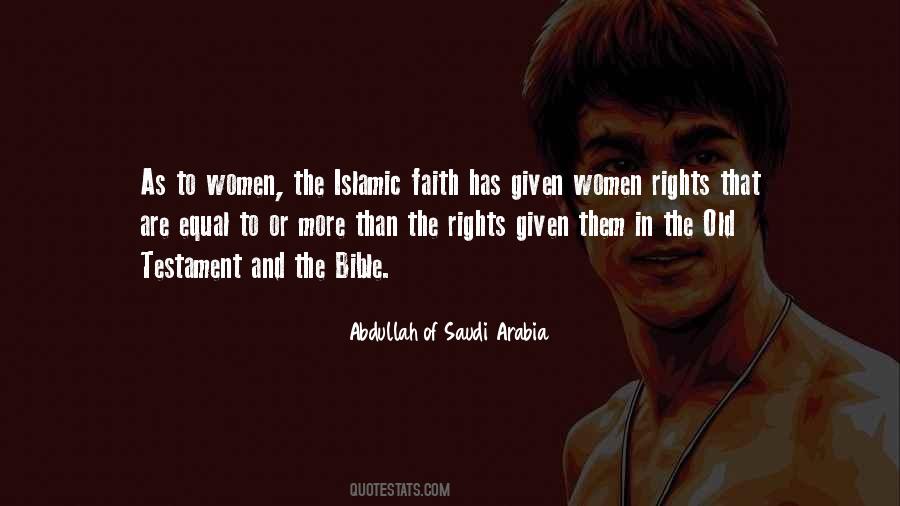 #83. To me it seems our duty towards the Bible is to obey its teaching in faith. I do not think we are bound to understand or account for all its utterances. - Author: Christina Rossetti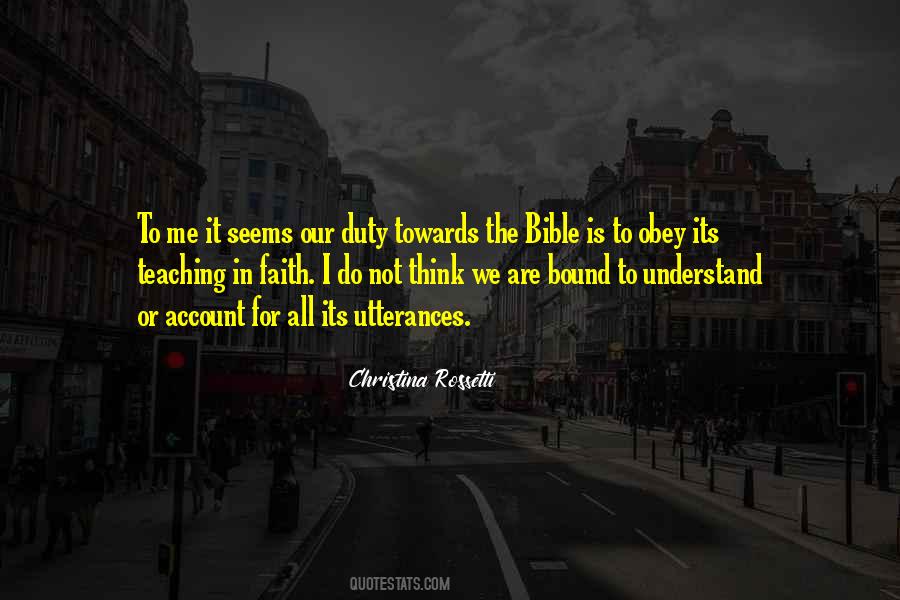 #84. If it is in the Bible, it is so. It's not even to be prayed about. It's to be received and acted upon. Inactivity is a robber which steals blessings. Increase comes by action, by using what we have and know. Your life must be one of going on from faith to faith. - Author: Smith Wigglesworth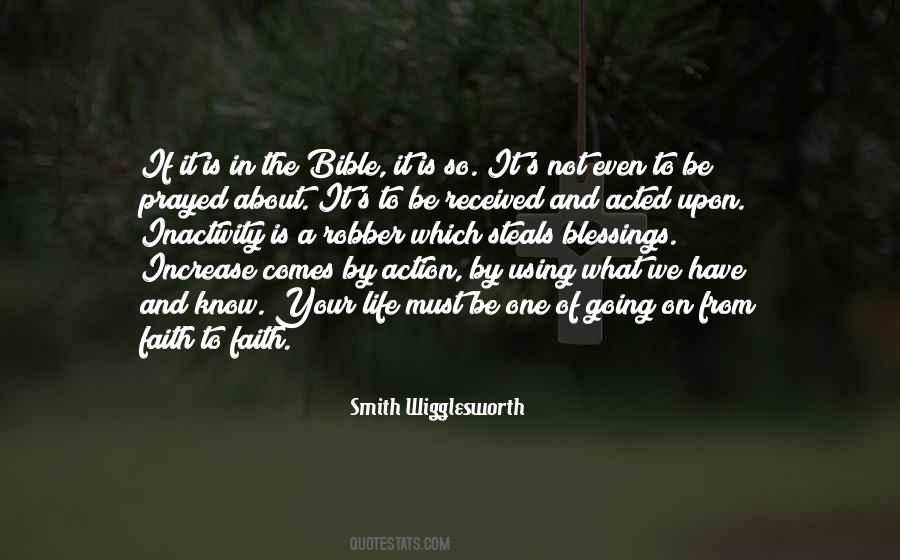 #85. We do not read the Bible somewhere off by ourselves in a corner; we read it as a community of faith, together with the whole church in all times and places. - Author: Michael S. Horton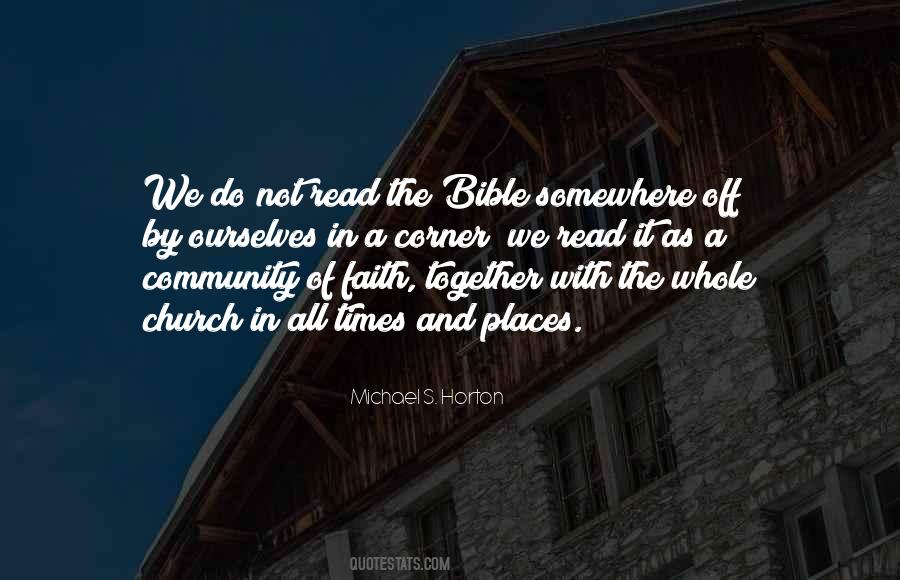 #86. Scientific accuracy confirms the Bible is the Word of God. - Author: Adrian Rogers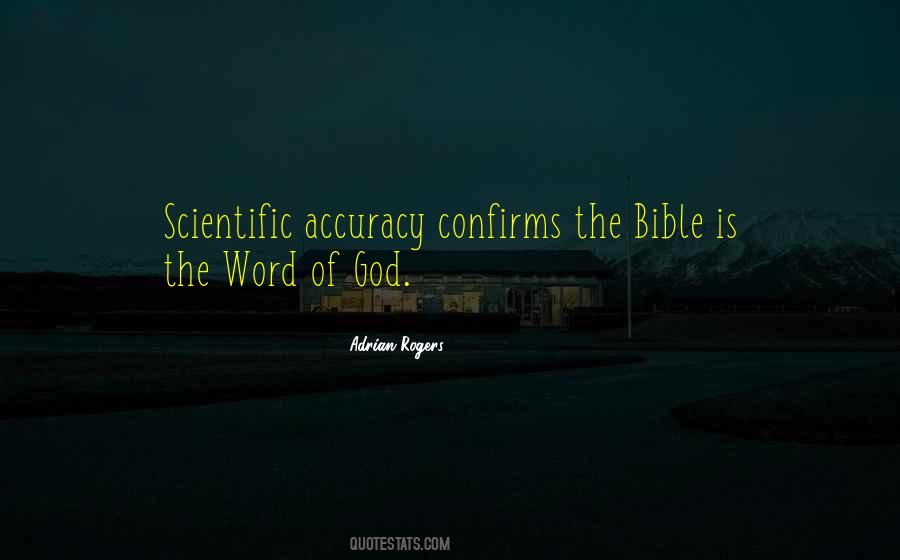 #87. The highest historical probability can be adduced in support of the proposition that, if it were possible to annihilate the Bible, and with it all its influences, we should destroy with it the whole spiritual system of the moral world. - Author: Edward Everett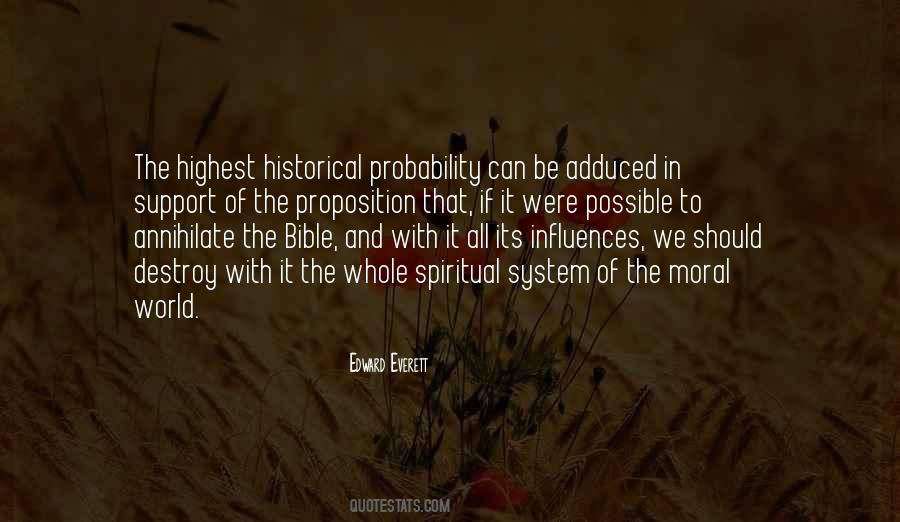 #88. In me is working a power stronger than every other power. The life that is in me is a thousand times bigger than I am outside. - Author: Smith Wigglesworth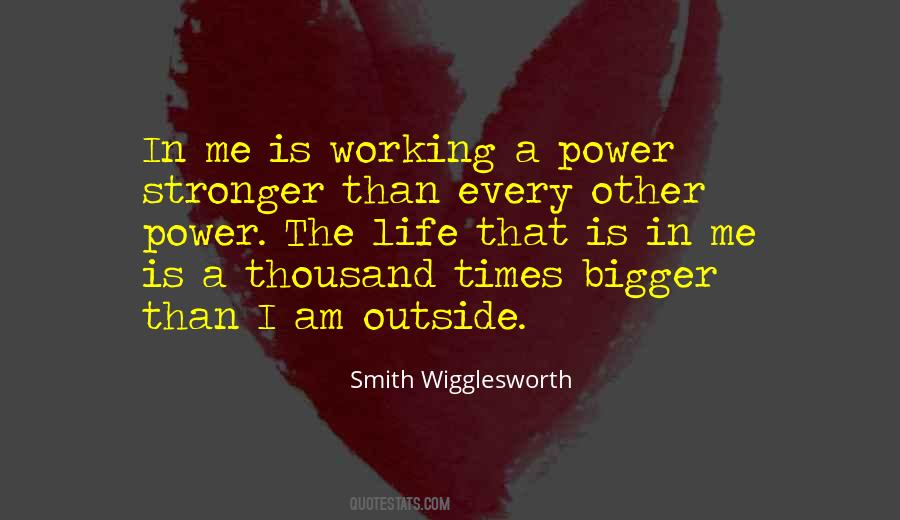 #89. Monsieur, sit down; listen to me. I am not a heathen, I am not hard-hearted, I am not unchristian, I am not dangerous, as they tell you; I would not trouble your faith; you believe in God and Christ and the Bible, and so do I. - Author: Charlotte Bronte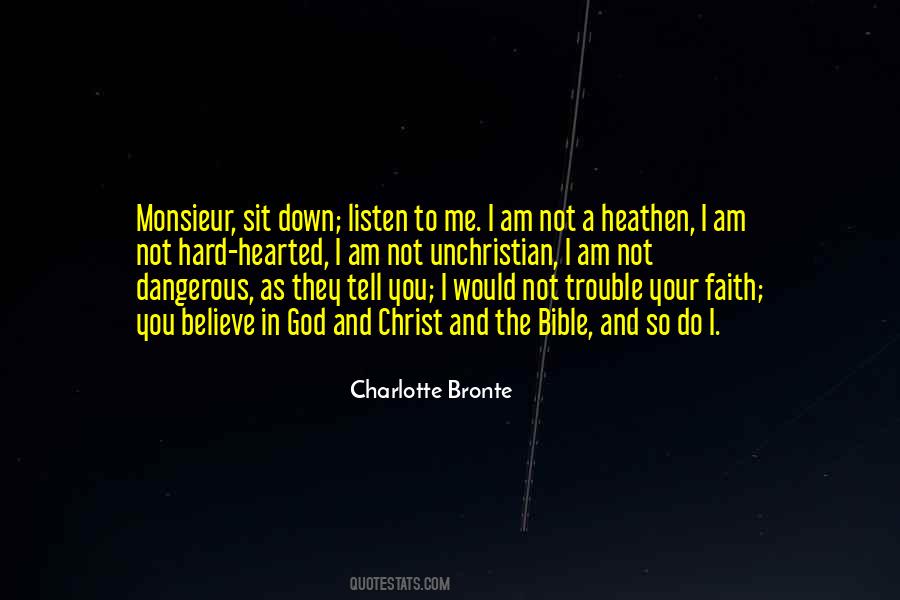 #90. Before you "re-think" your faith, it may be wise to examine the critics of the Bible. In the end your faith will be even stronger. - Author: Billy Graham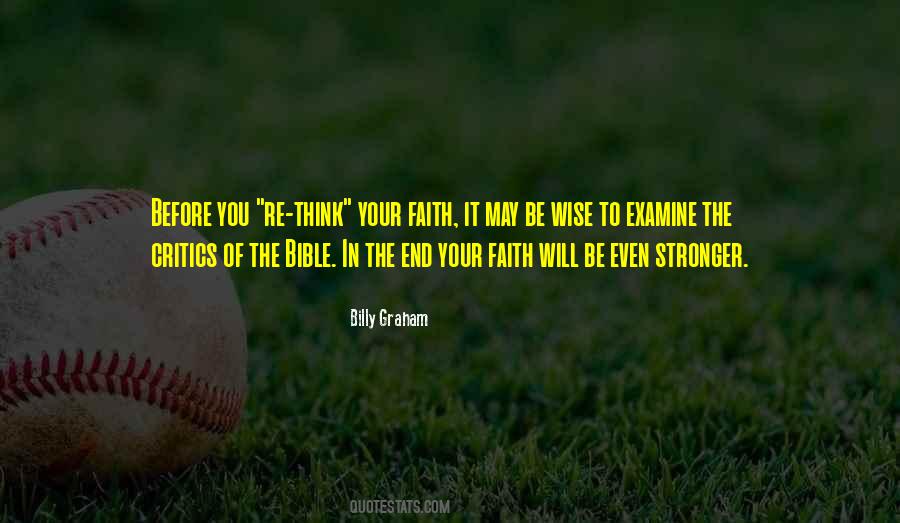 #91. Pray and read your Bible daily. God has all the answers you seek - Author: Lailah Gifty Akita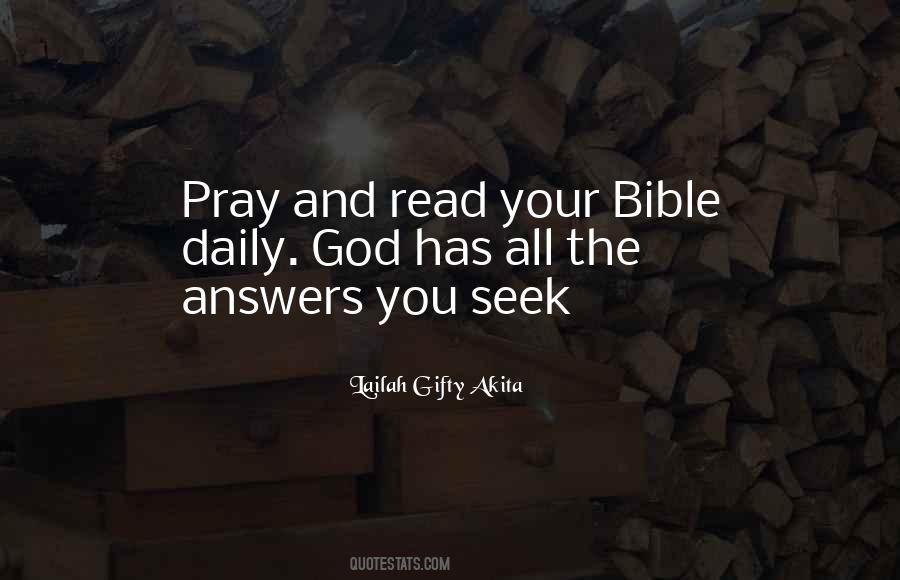 #92. Unless there is God. If the God of the Bible exists, and there is a True Reality beneath and behind this one, and this life is not the only life, then every good endeavor, even the simplest ones, pursued in response to God's calling, can matter forever. That is what the Christian faith promises. - Author: Timothy Keller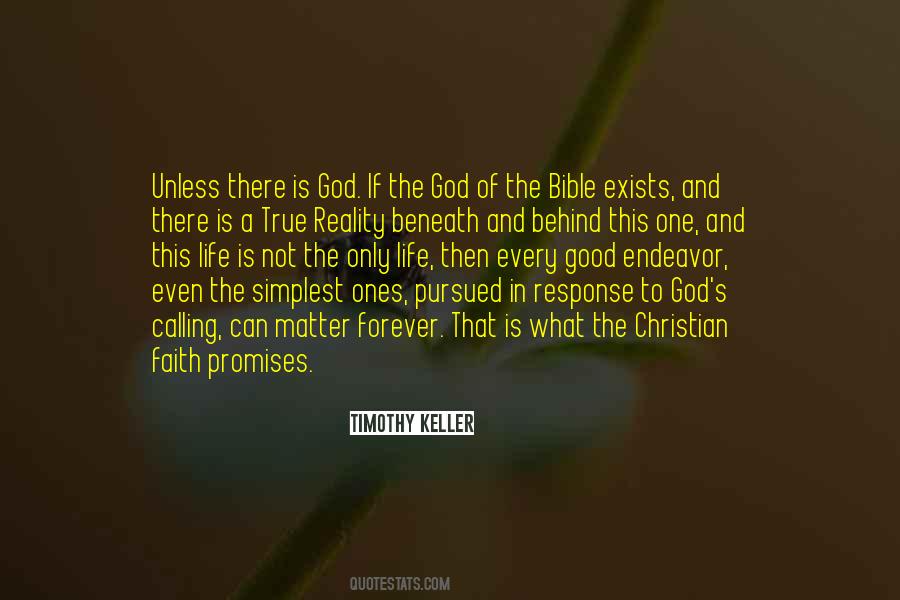 #93. We are giving in to the dangerous temptation to take the Jesus of the Bible and twist him into a version of Jesus we are more comfortable with. - Author: David Platt
#94. Connect with positive people who will stand in faith with you and lift you up in prayer. Study the Word of God and put your faith in action, for the Bible declares, "Faith without deeds is dead" (James 2:26) - Author: Jocelyn Green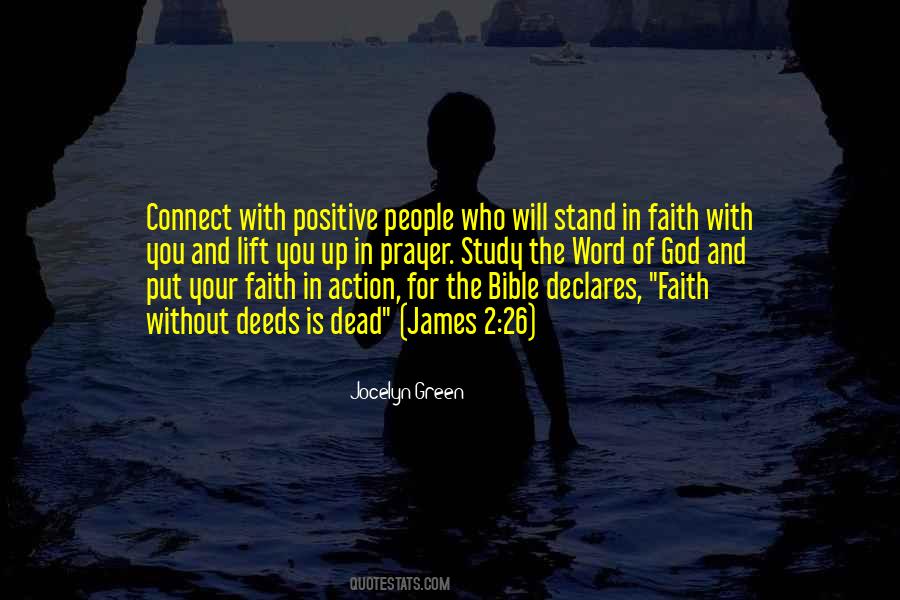 #95. Stay rooted in the word of God and prayer. - Author: Lailah Gifty Akita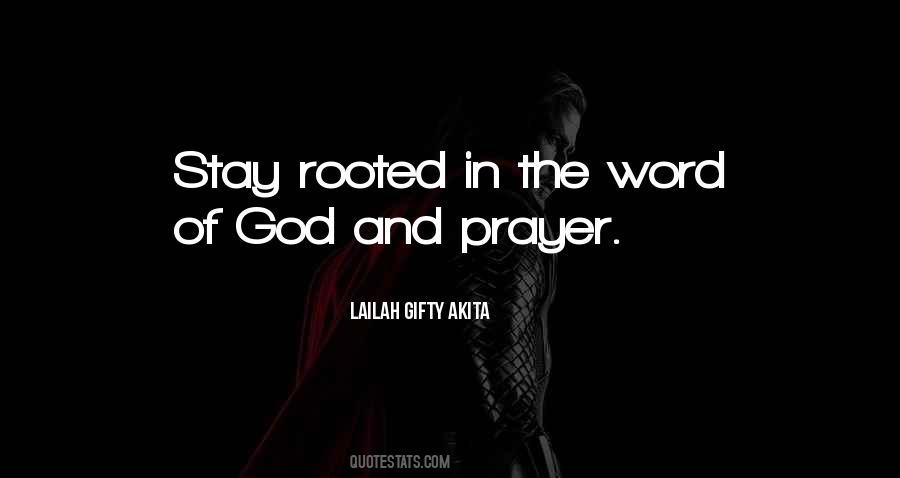 #96. The greatest menace in this country is not the bootlegger, but the college professor who rejects the Bible and undermines the faith of the young. - Author: Arno C. Gaebelein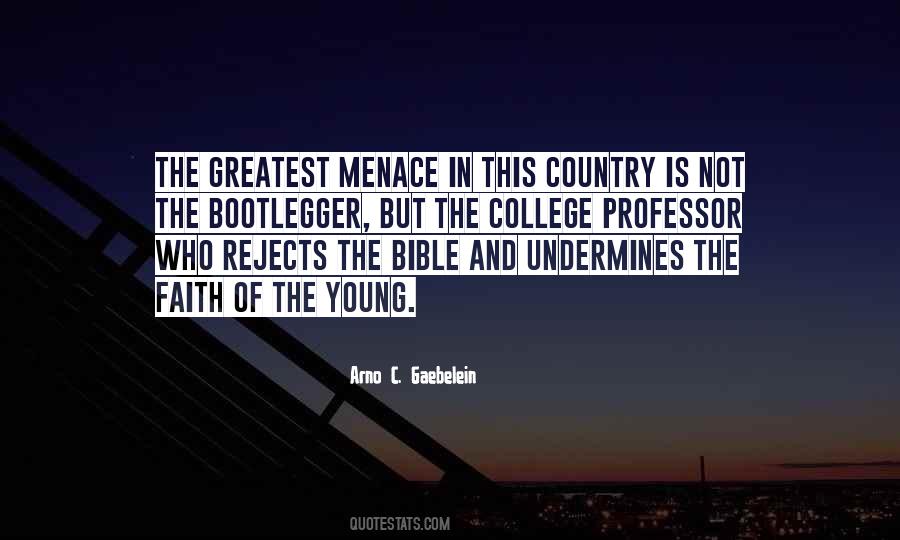 #97. The Bible contains all the extant revelations of God, which He designed to be the rule of faith and practice for his Church; so that nothing can rightfully be imposed on the consciences of men as truth or duty which is not taught directly or by necessary implication in the Holy Scriptures. - Author: Charles Hodge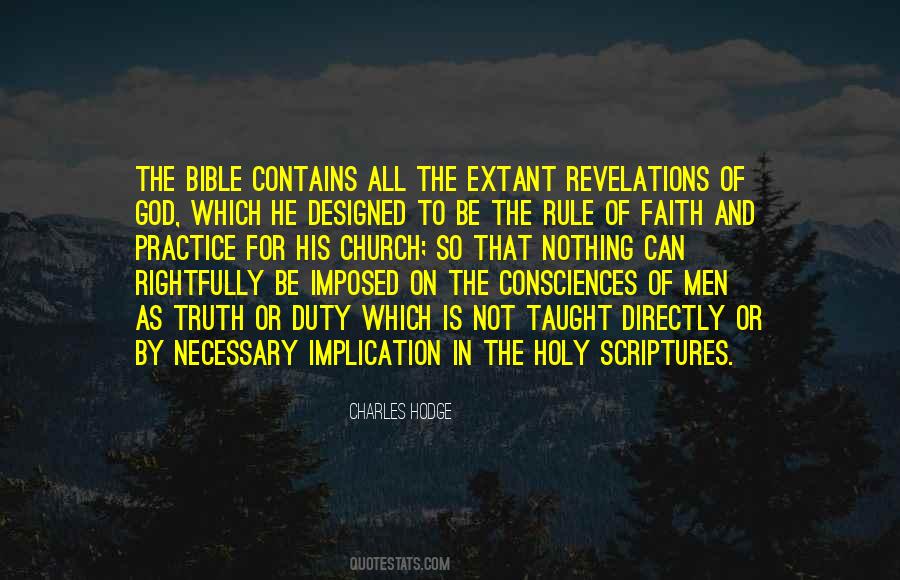 #98. So many commands in the Bible require obedience without us experiencing any conviction to obey them. That is when our faith is truly tested. - Author: Alan De Jager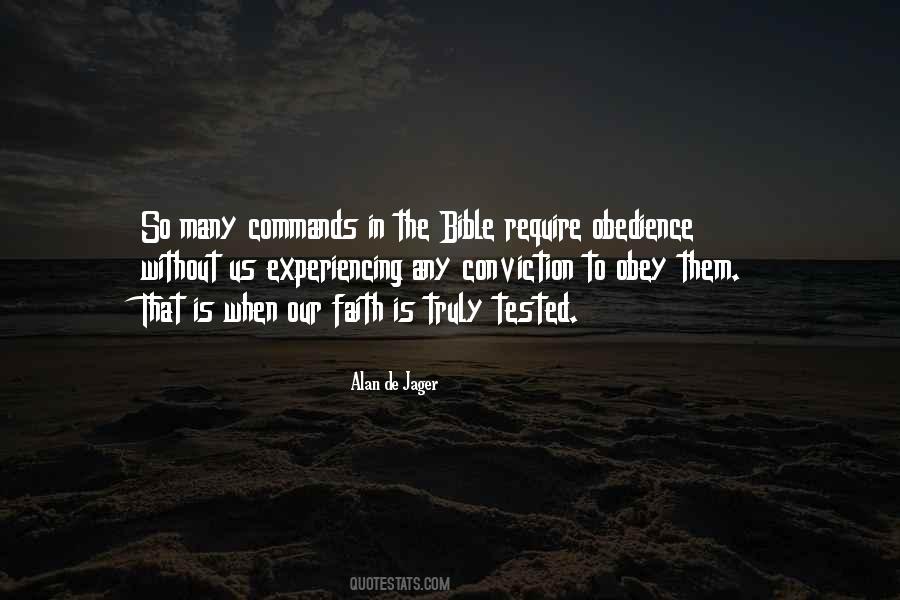 #99. The evidence of our acceptance in the Beloved rises in proportion to our love, to our repentance, to our humility, to our faith, to our self-denial, to our delight in duty. Other evidence than this the Bible knows not God has not given. - Author: Gardiner Spring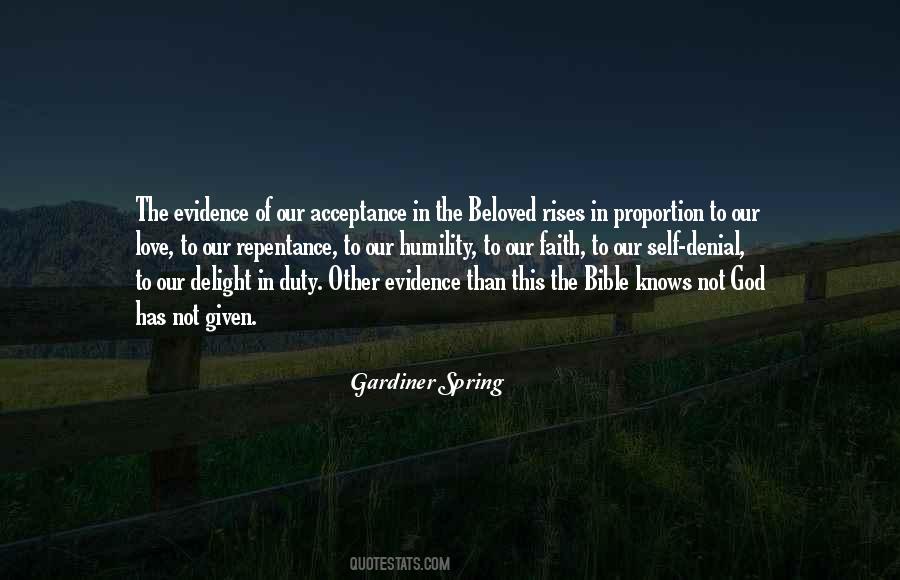 #100. Jesus Christ is the greatest man in the history of the world. And to me, he's the greatest person in the history of mankind and the universe. We can't prove it, I can't put it in a test tube or in an astronomical formula, but by faith I believe it because the Bible teaches it. - Author: Billy Graham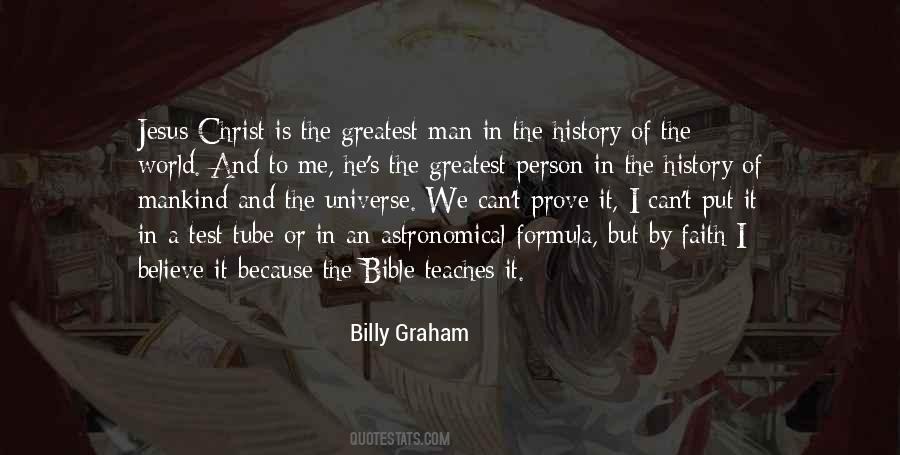 Famous Authors
Popular Topics