Faith In Jesus Christ Famous Quotes & Sayings
List of top 100 famous quotes and sayings about faith in jesus christ to read and share with friends on your Facebook, Twitter, blogs.
Top 100 Quotes About Faith In Jesus Christ
#1. To me, a faith in Jesus Christ that is not aligned with the poor ... it's nothing. - Author: Edward De Bono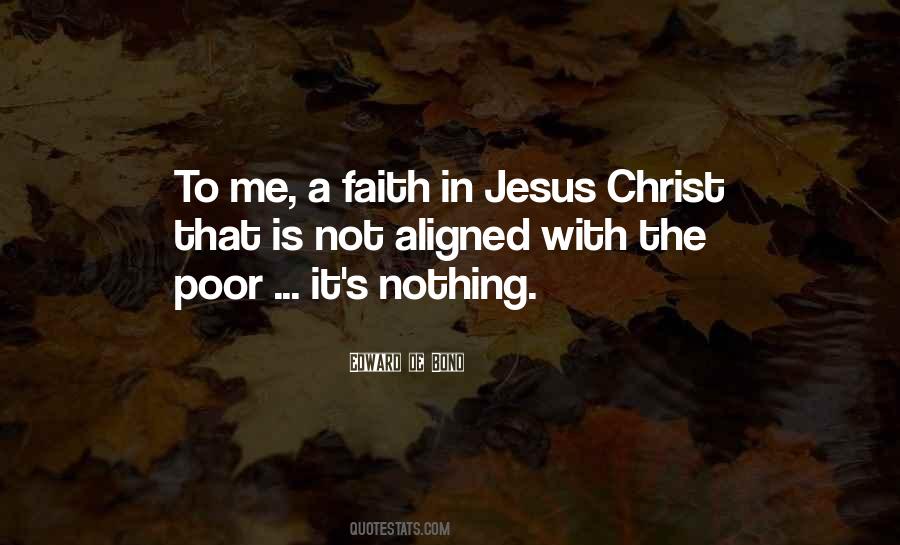 #2. The guides from the book of Joshua will combine to provide the most powerful source of courage and strength there is: faith in our Heavenly Father and in His Son, Jesus Christ. - Author: Ann M. Dibb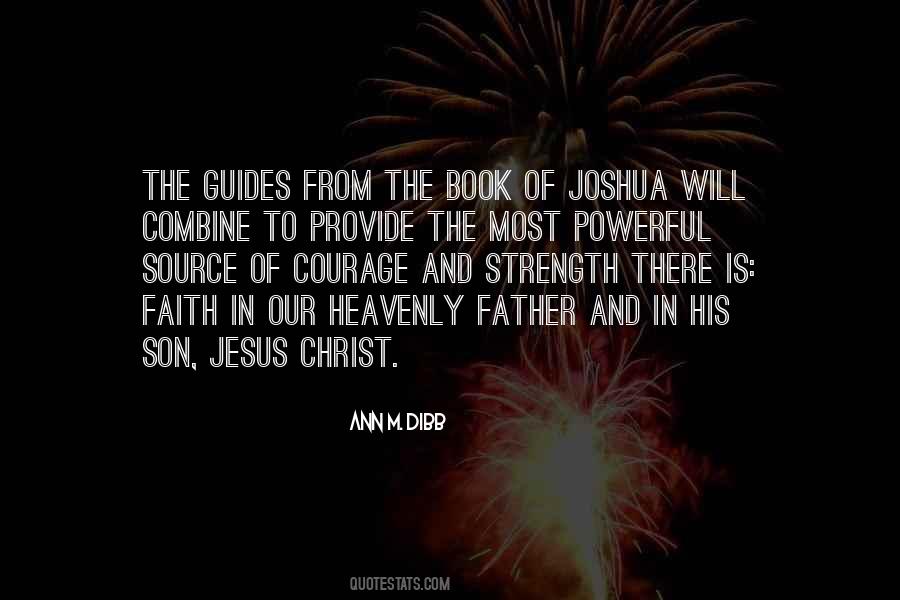 #3. What the world needs today more than anything else is an implicit faith in God, our Father, and in Jesus Christ, His Son, as the Redeemer of the world. - Author: Heber J. Grant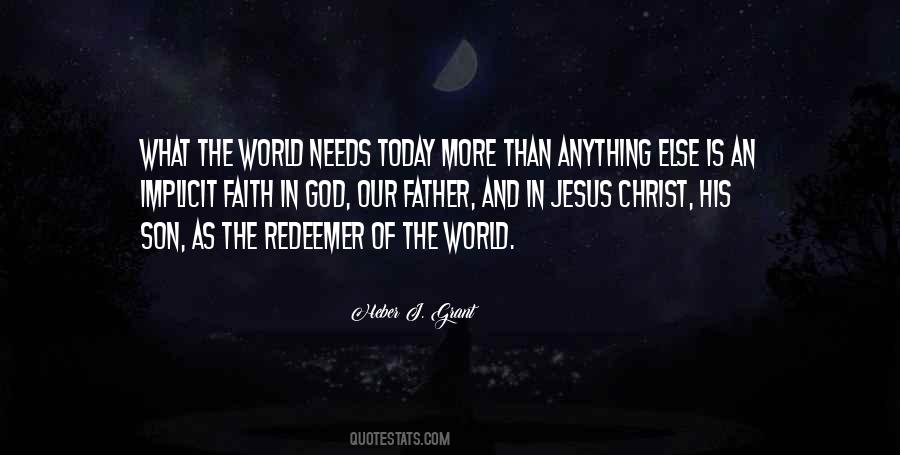 #4. Keeping the gospel in focus, you see, is more than helping our children know forgiveness of sin through repentance and faith in Jesus Christ. In the gospel there is the promise of internal transformation and empowerment. - Author: Tedd Tripp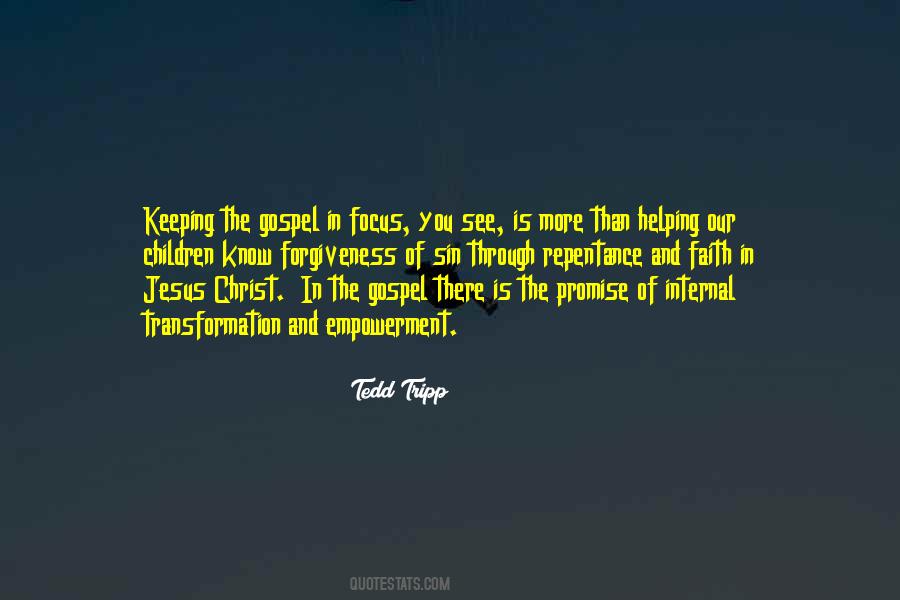 #5. In your walk with Christ, you shall meet crises, but, when crises arise, remember Christ! - Author: Ernest Agyemang Yeboah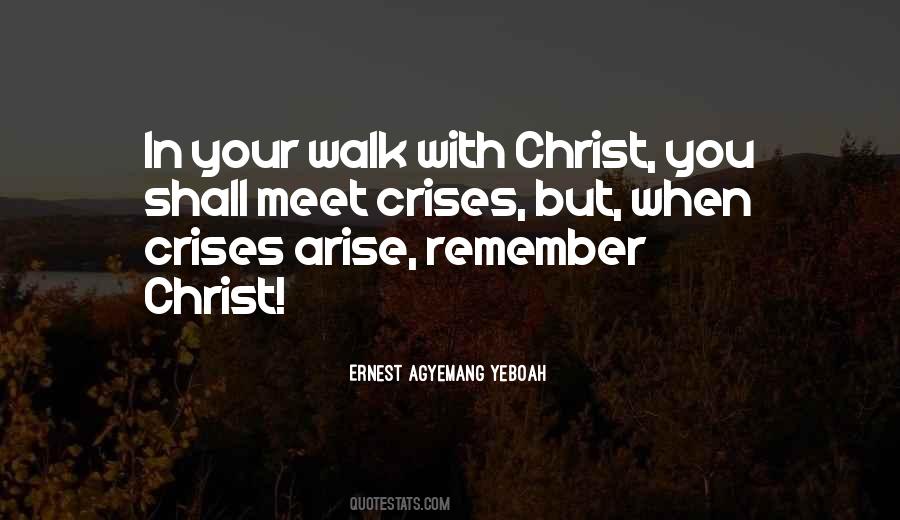 #6. The Scriptures bear ample and continuous evidence that the faith of the resurrection of the body lies in the faith that Jesus Christ died and rose again. - Author: Edward McKendree Bounds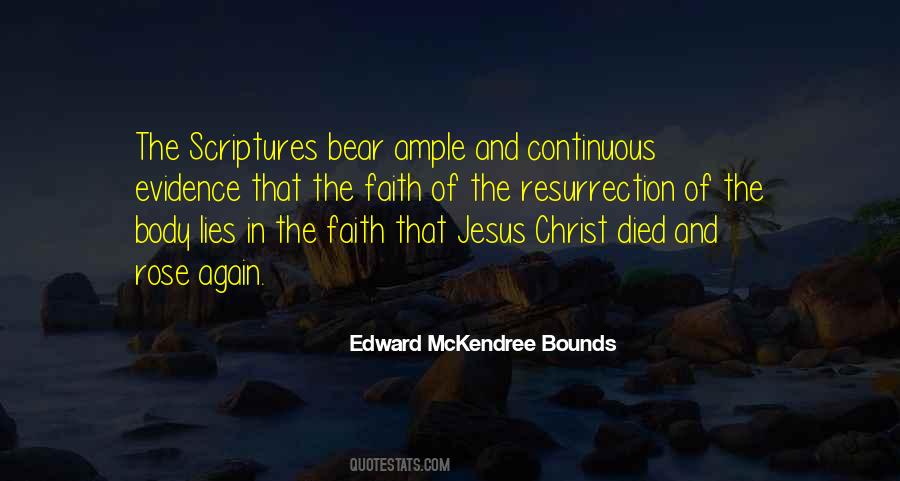 #7. Many in Jesus' day saw him, but they didn't have communion with him. You can have more of Christ by faith than they had by sight. - Author: Kevin DeYoung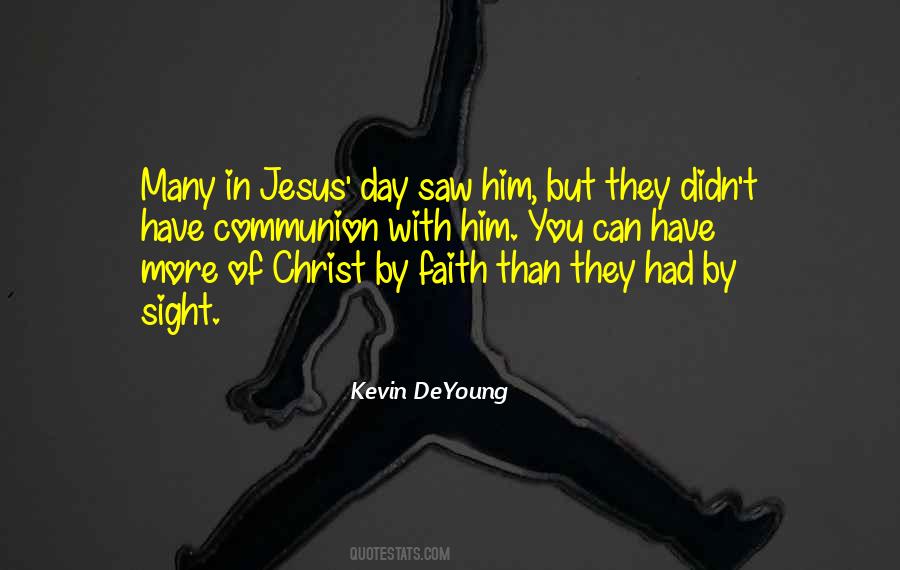 #8. Faith is trusting Jesus to lead us and going where He leads. What avails it to me to analyze Saratoga water, and to believe in its virtues? I must drink the water if I want its purifying power. And the soul that has not actually drunk of Christ can never be purged from sin. - Author: Theodore L. Cuyler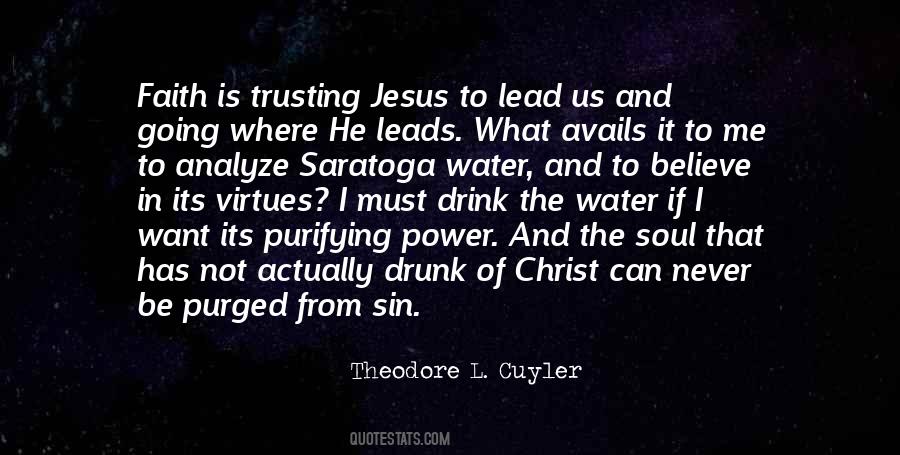 #9. True faith in God through Jesus Christ, must be manifested with fearless spirit and obedience to God's law. Joshua 1:1-11 - Author: Felix Wantang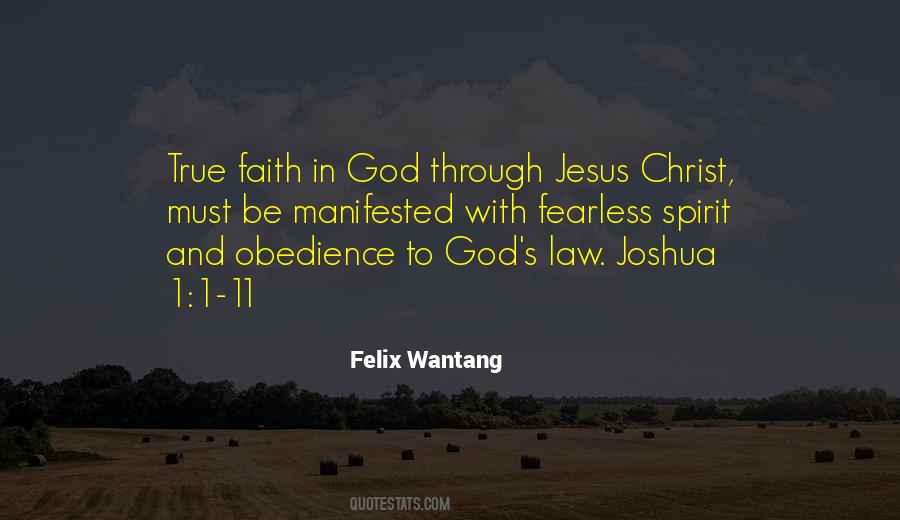 #10. Their faith was based on such a strong personal experience of the dead and risen Christ that they feared nothing and no one, and even saw persecution as a cause of honor that enabled them to follow in Jesus' footsteps and to be like him, witnessing with their life. - Author: Pope Francis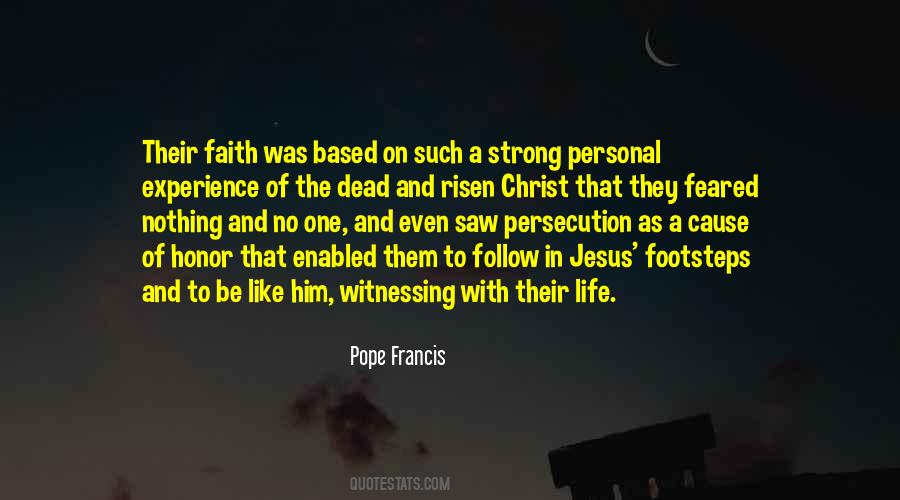 #11. True peace cannot be found in a 'place'. Rather, it is found in a Person who can be with you in any 'place'. - Author: Craig D. Lounsbrough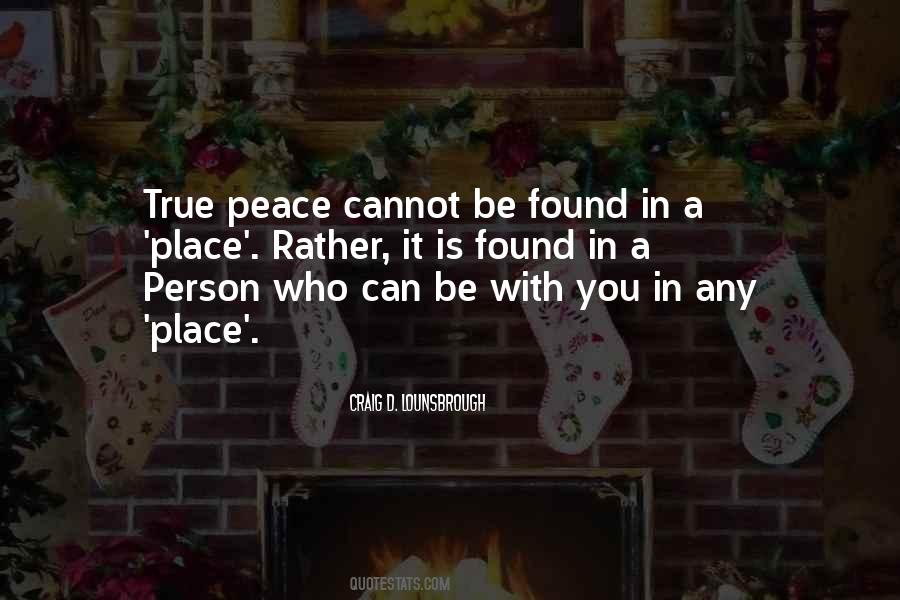 #12. We'll always be safe in Jesus Christ if we place our faith in the Lord. - Author: Benjamin Carson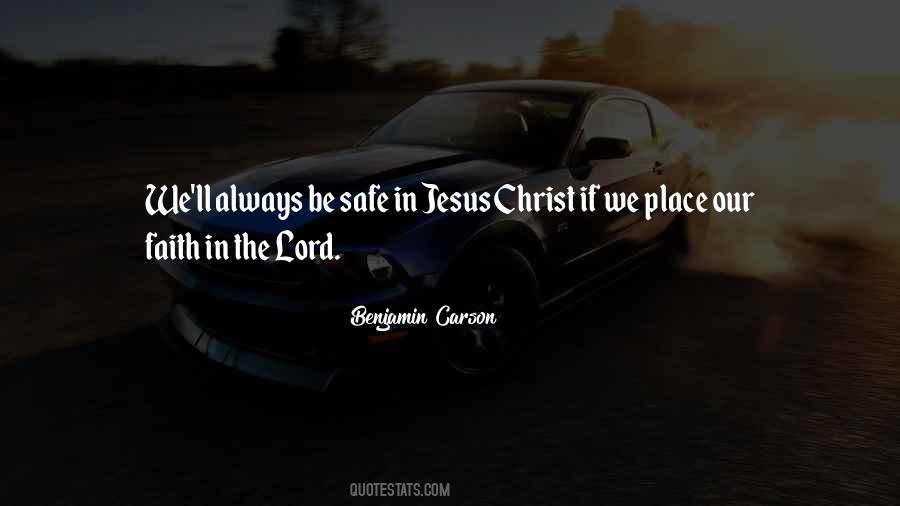 #13. The gospel is the good news that the everlasting and ever-increasing joy of the never-boring, ever-satisfying Christ is ours freely and eternally by faith in the sin-forgiving death and hope-giving resurrection of Jesus Christ. - Author: John Piper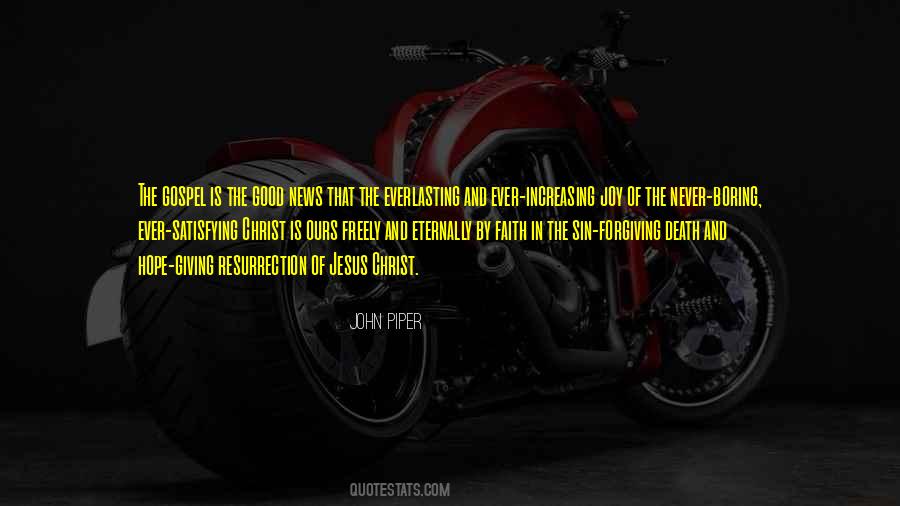 #14. A daily conviction that Jesus Christ is alive draws our hearts closer to Him to believe that He is alive to work in our lives! - Author: Ernest Agyemang Yeboah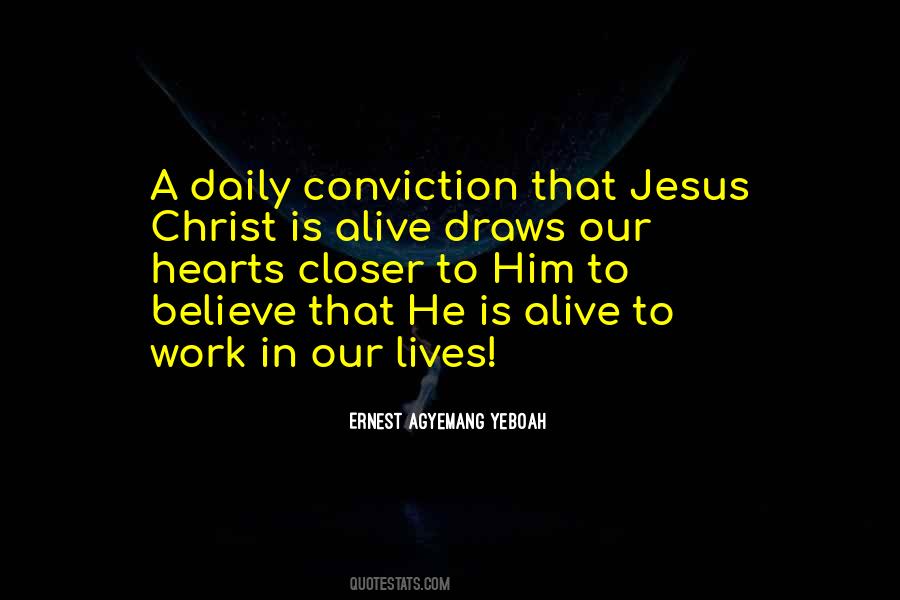 #15. Salvation has nothing to do with your religious identity, where you were baptized or where you are a member. It has everything to do with if you have faith in Jesus Christ. - Author: Philip Roberts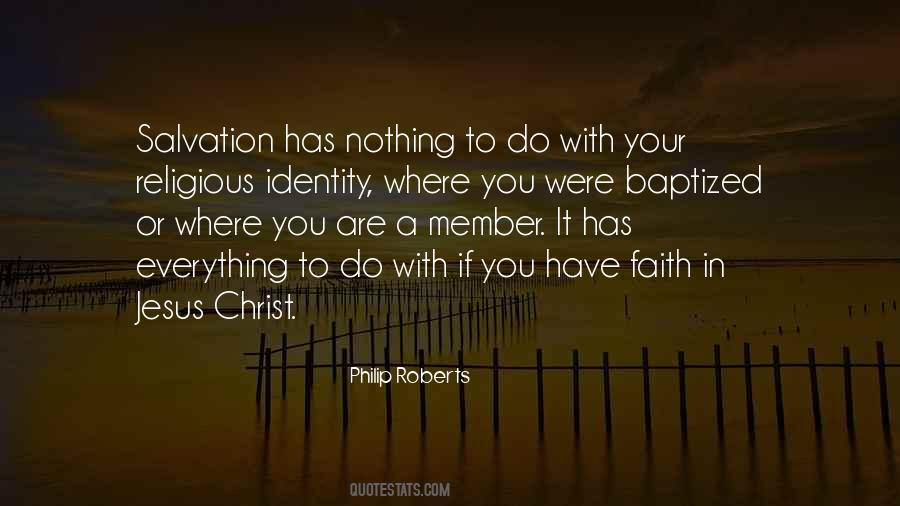 #16. Hope is a gift of the Spirit. It is a hope that through the Atonement of Jesus Christ and the power of His Resurrection, we shall be raised unto life eternal and this because of our faith in the Savior. - Author: Dieter F. Uchtdorf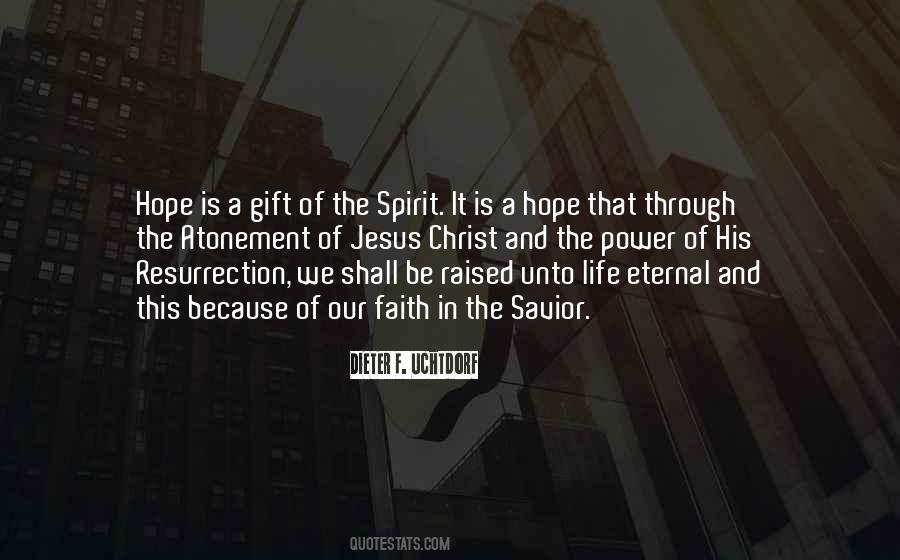 #17. Our words and our works are evidence that our profession of faith in the Lord Jesus Christ is true. - Author: Alistair Begg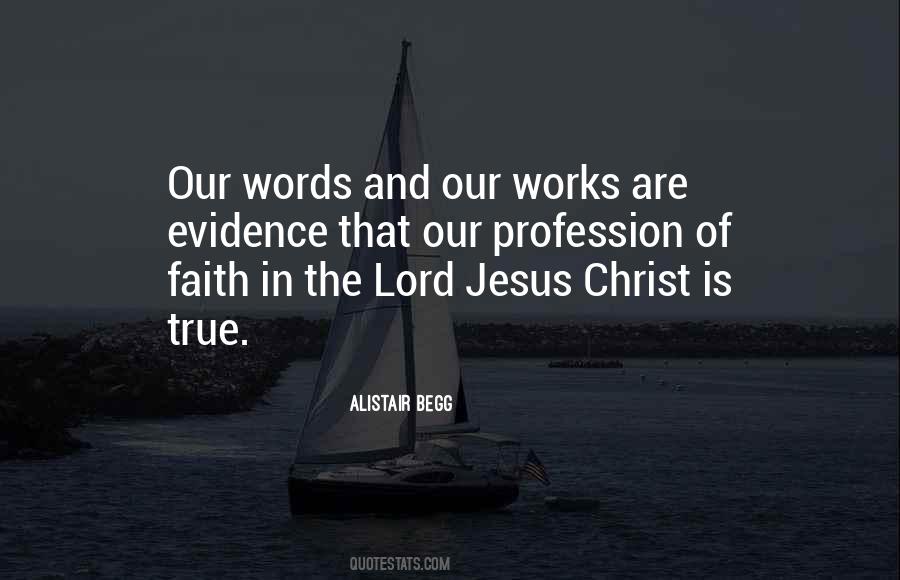 #18. I testify that one cannot come to full faith in this latter-day work - and thereby find the fullest measure of peace and comfort in these, our times - until he or she embraces the divinity of the Book of Mormon and the Lord Jesus Christ, of whom it testifies. - Author: Jeffrey R. Holland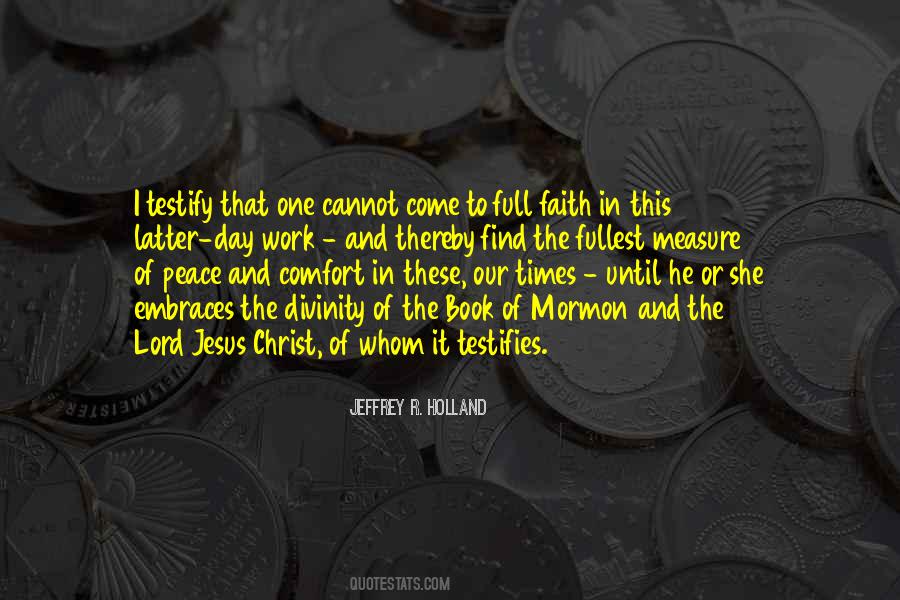 #19. The Holy Ghost has as a major purpose witnessing that Jesus is the Christ. As we plead for help in His service, the Holy Ghost will come and confirm our faith in Him. Our faith in the Savior will increase. And, as we continue to serve Him, we will come to love Him. - Author: Henry B. Eyring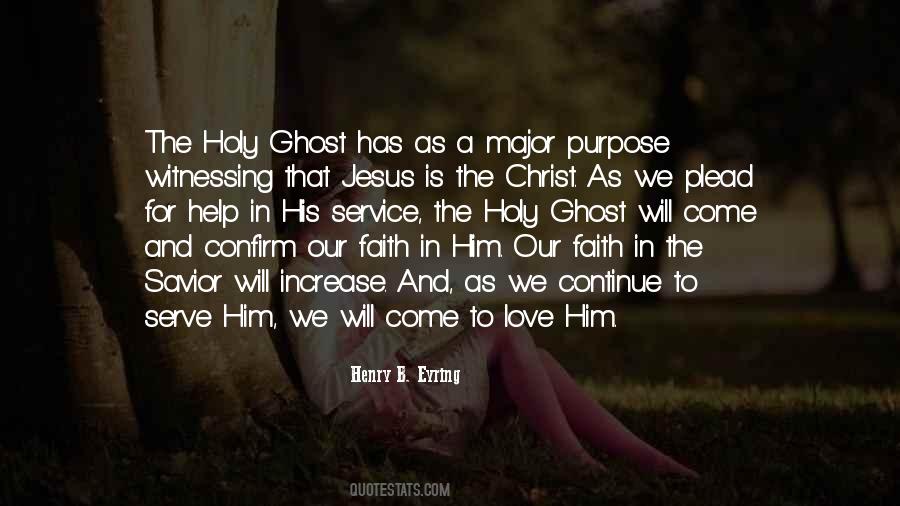 #20. The New Right, in many cases, is doing nothing less than placing a heretical claim on Christian faith that distorts, confuses, and destroys the opportunity for a biblical understanding of Jesus Christ and of his gospel for millions of people. - Author: Mark Hatfield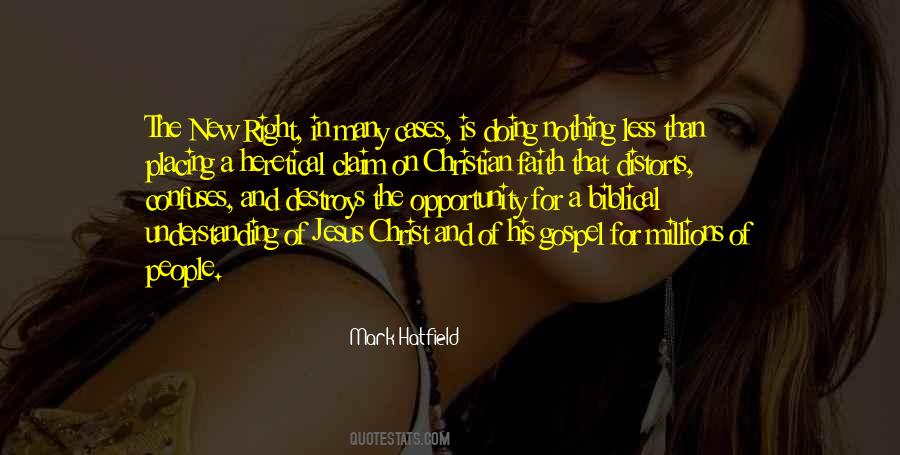 #21. Was the real Jesus of history one and the same as the Christ of faith whom we read about in the New Testament and worship in the church? Was Jesus really raised from the dead? Is he really the divine Lord of lords? - Author: John Clayton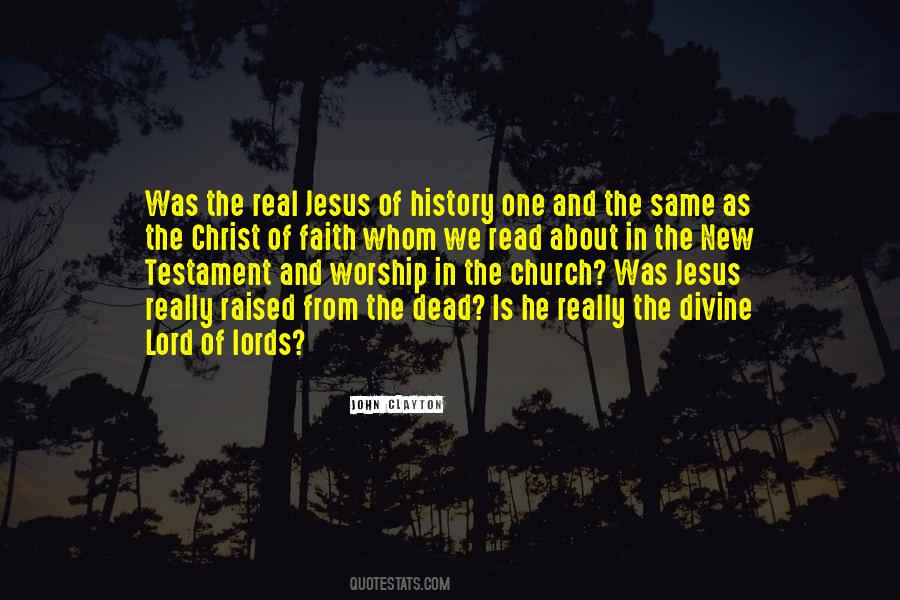 #22. The cross where Jesus died became also the cross where His apostle died. The loss, the rejection, the shame, belong both to Christ and to all who in very truth are His. the cross that saves them also slays them, and anything short of this is a pseudo-faith and not true faith at all. - Author: A.W. Tozer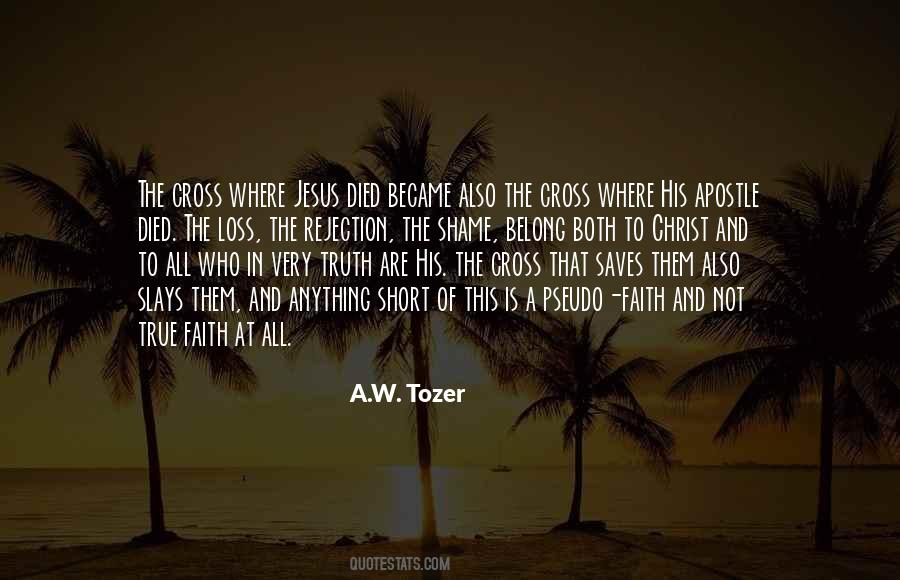 #23. I believe that Christians believe in salvation by grace through faith in Jesus Christ, not by works. And we believe that if you're saved, Jesus becomes your savior. He makes a promise to you. You can trust his promises. You can bank on that word. - Author: Robert H. Schuller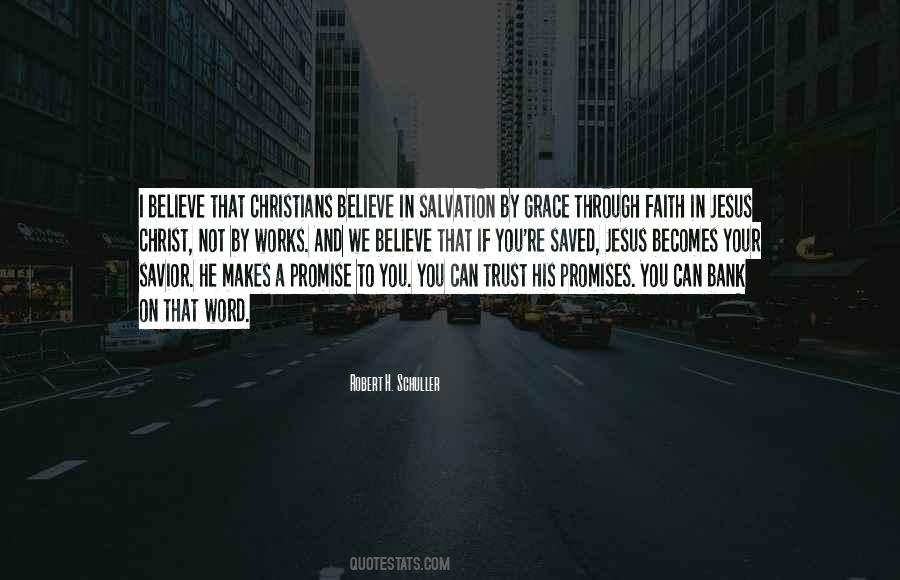 #24. If you haven't been baptized as an expression of your faith in Christ, do so as soon as possible, as Jesus commanded. - Author: Rick Warren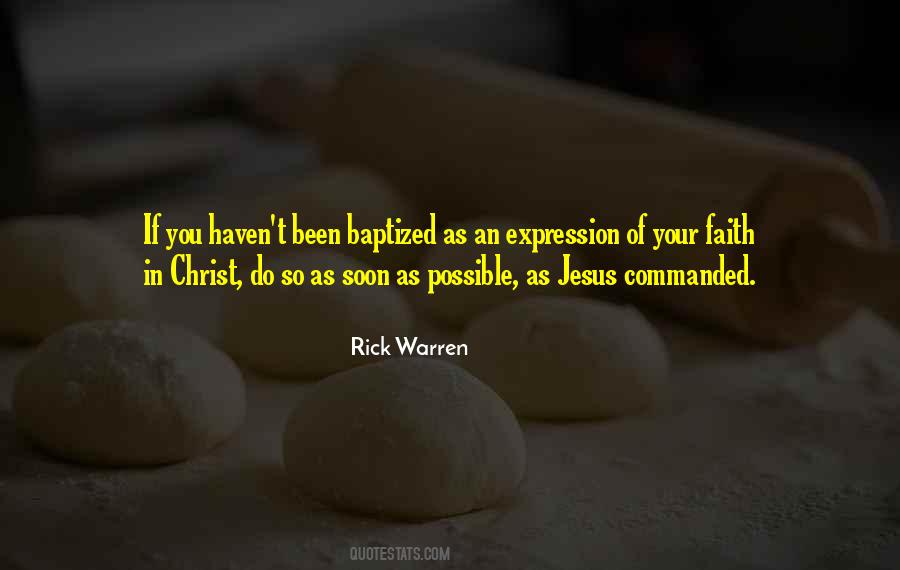 #25. The only way to avoid despair is to place our faith in Jesus Christ for the salvation God provides. - Author: R.C. Sproul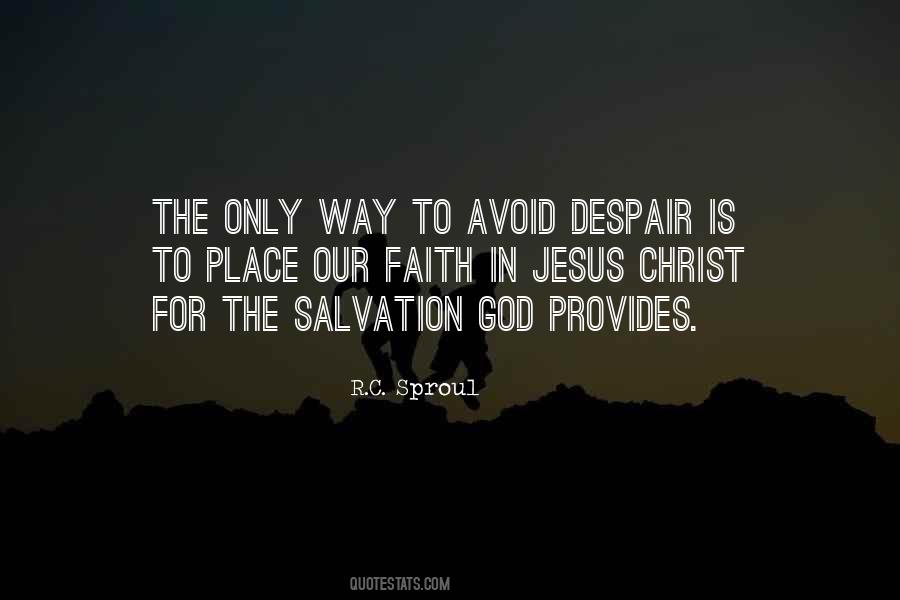 #26. The salvation for which the Bible instructs us is available "through faith in Christ Jesus." Therefore, since Scripture concerns salvation and salvation is through Christ, Scripture is full of Christ. - Author: John R.W. Stott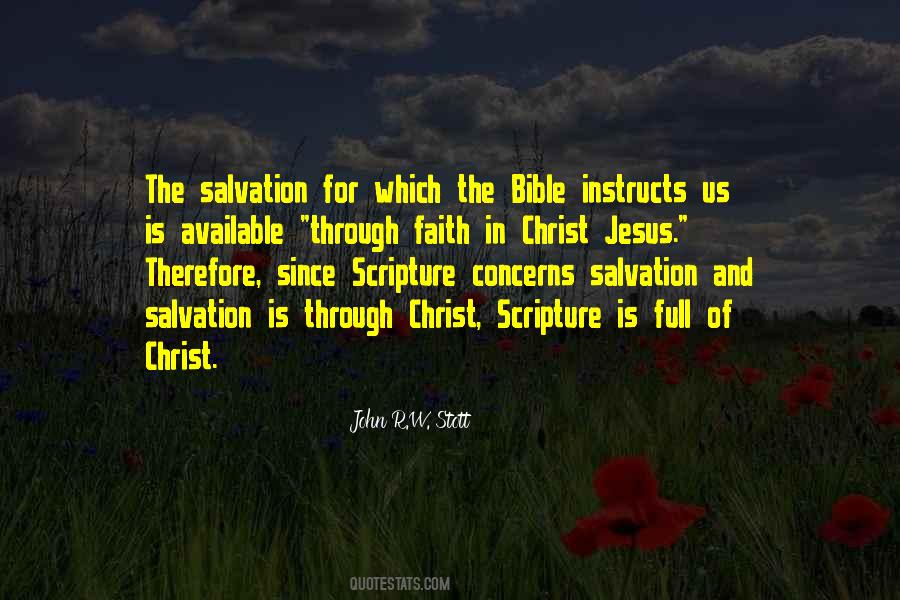 #27. Let the separation between you and the world be final and irreversible. Say, 'Here I go for Christ and His Cross, for the faith of the Bible, for the laws of God, for holiness, for trust in Jesus; and never will I go back, come what may. - Author: Charles Spurgeon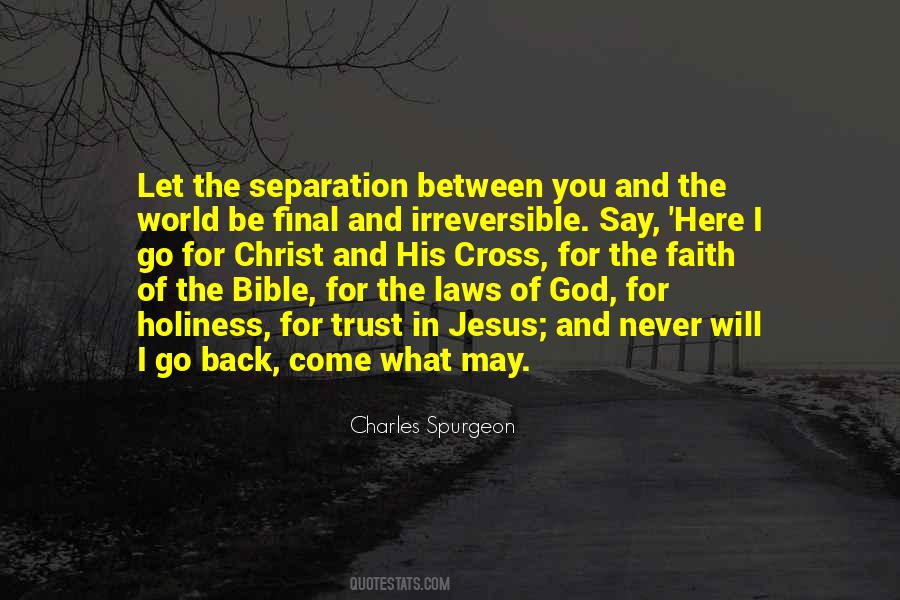 #28. In the light of His example we can see, in the faith of His power we too can prove, that suffering is to God's child the token of the Father's love, and the channel of His richest blessing. [ ... ]
Suffering is the way of the rent veil, the new and living way Jesus walked in and opened for us. - Author: Andrew Murray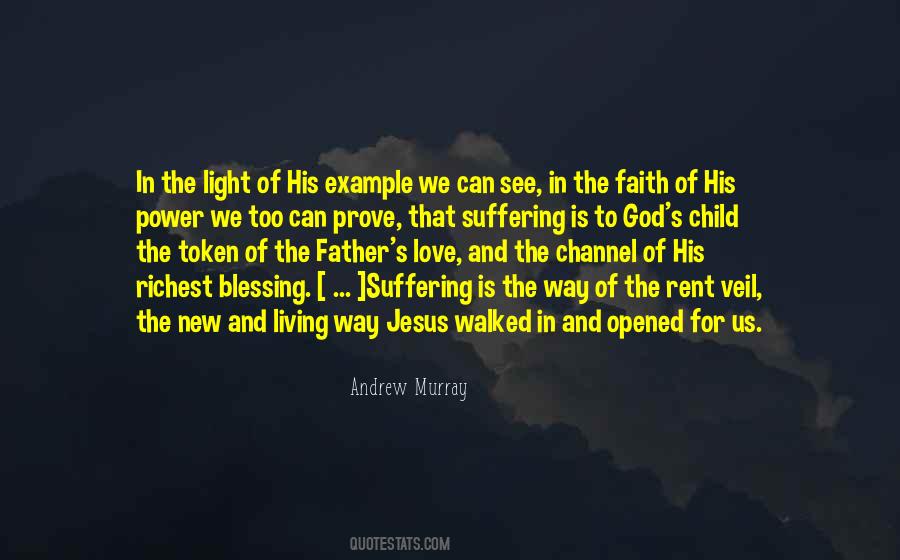 #29. Everyone within the sound of my voice has the power to increase a child's confidence in himself or herself and to increase a child's faith in Heavenly Father and Jesus Christ through the words they speak. - Author: Rosemary M. Wixom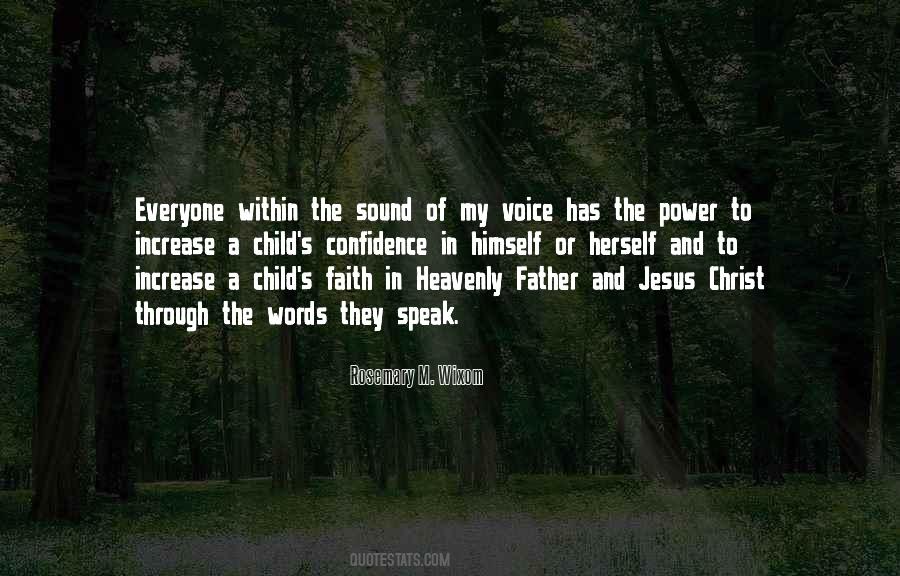 #30. There's some task which the God of all the universe, the great Creator, your redeemer in Jesus Christ has for you to do, and which will remain undone and incomplete until by faith and obedience you step into the will of God. - Author: Alan Redpath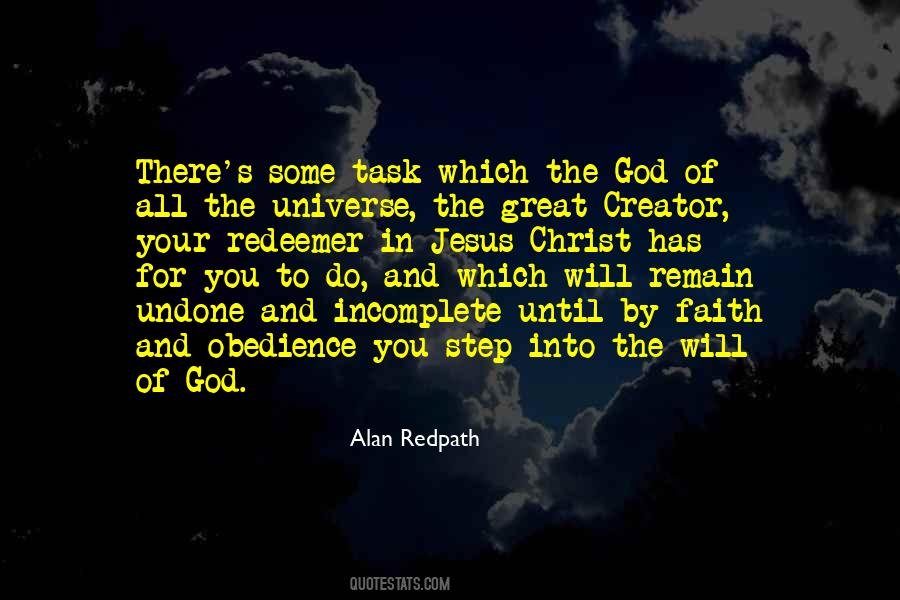 #31. My chief desire in all my writings, is to exalt the Lord Jesus Christ and make Him beautiful and glorious in the eyes of people; and to promote the increase of repentance, faith, and holiness upon earth. - Author: J.C. Ryle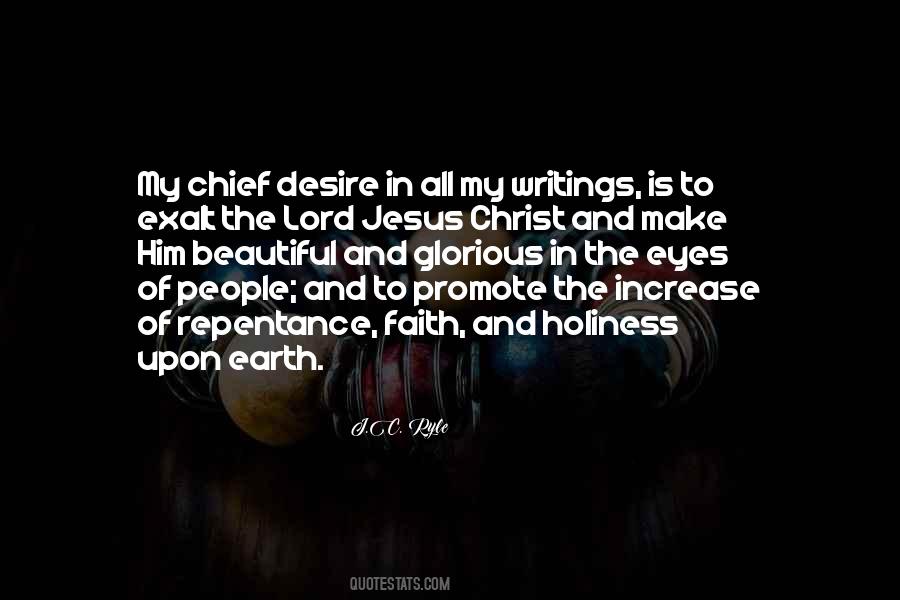 #32. It is not good for us to trust in our merits, in our virtues or our righteousness; but only in God's free pardon, as given us through faith in Jesus Christ. - Author: John Wycliffe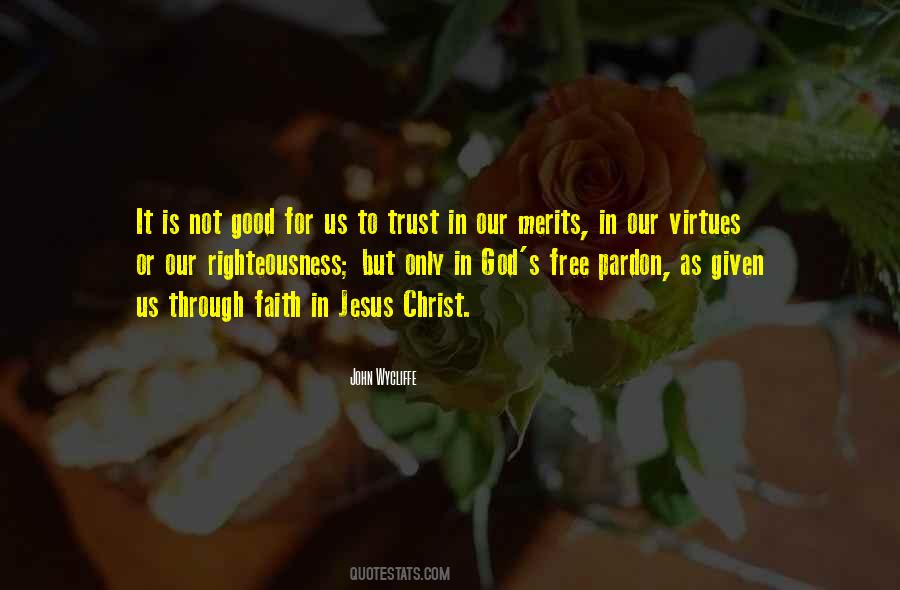 #33. Colossians 2:6 says, "As you received Christ Jesus the Lord, so walk in him." The path to salvation by faith travels down the way of repentance and we never leave that road. - Author: James MacDonald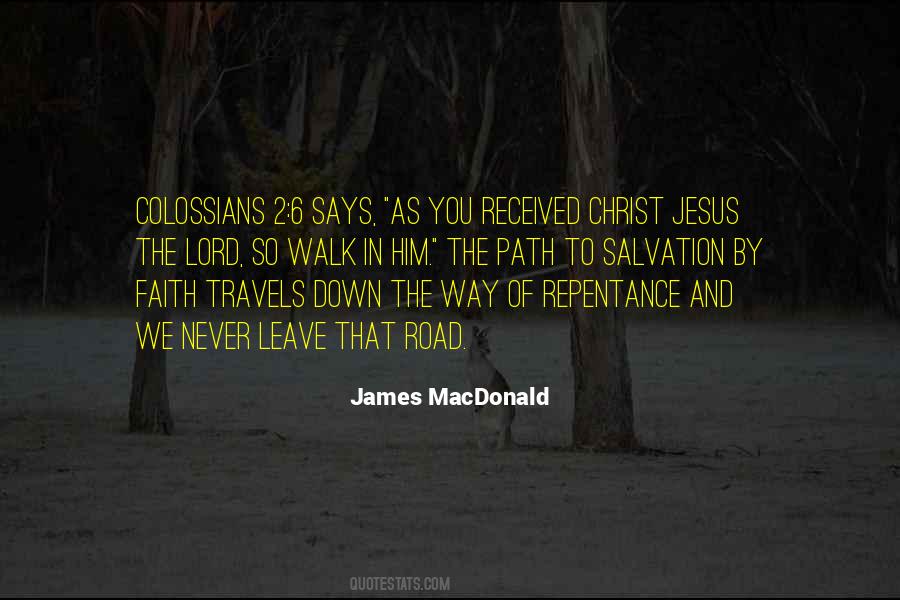 #34. We can't predict all the struggles and storms in life, not even the ones just around the next corner, but as persons of faith and hope, we know beyond a shadow of any doubt that the gospel of Jesus Christ is true and the best is yet to come. - Author: L. Tom Perry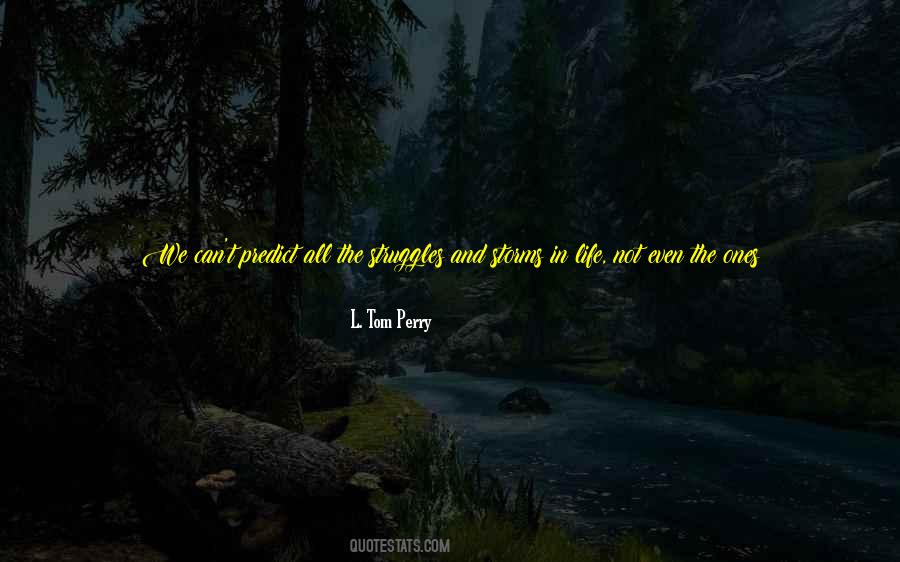 #35. A transformed life is the greatest of all miracles. Every time a person is "born again" by repentance of sin and faith in Jesus Christ, the miracle of regeneration is performed. - Author: Billy Graham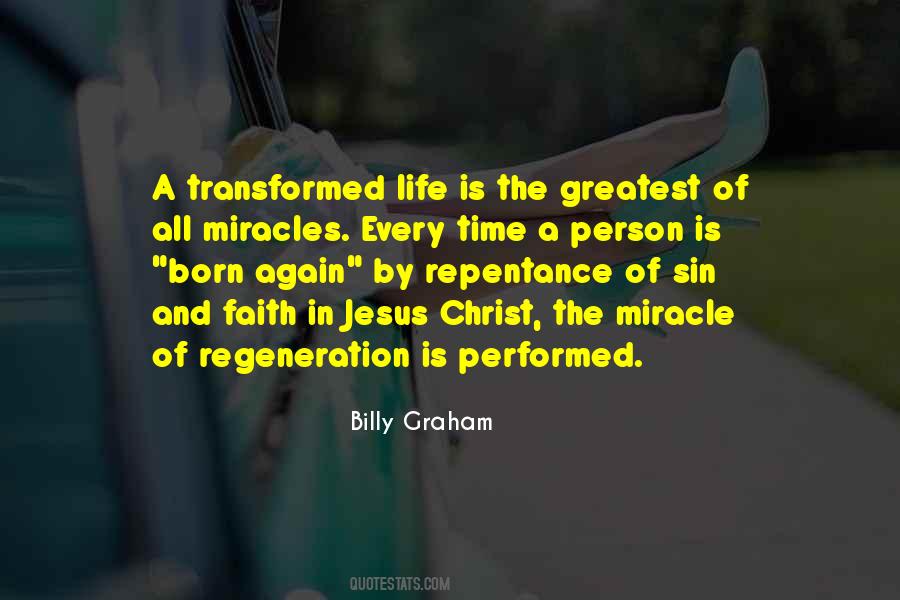 #36. To gain unshakable faith in Jesus Christ is to flood your life with brilliant light. - Author: Richard G. Scott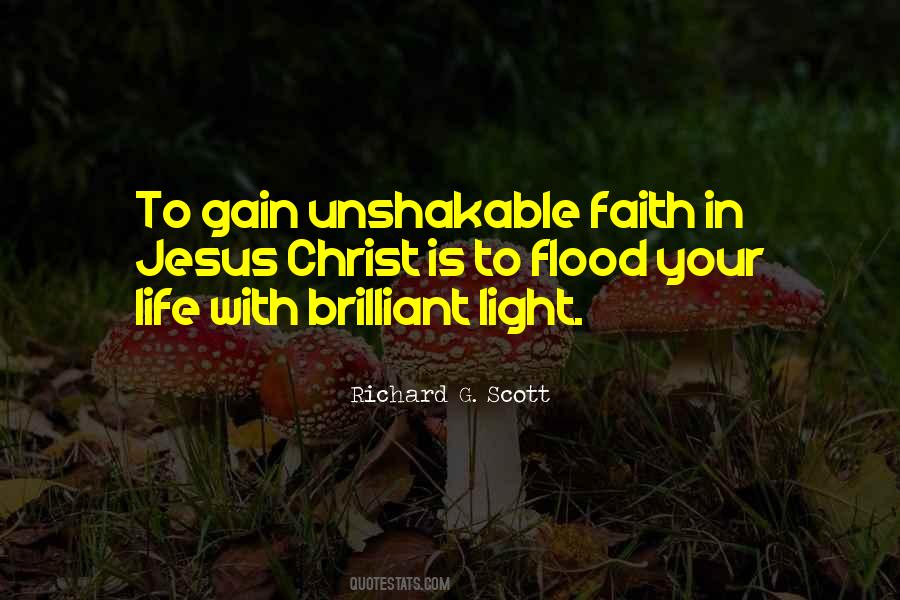 #37. True faith is focused in and on the Lord Jesus Christ and always leads to action. - Author: David A. Bednar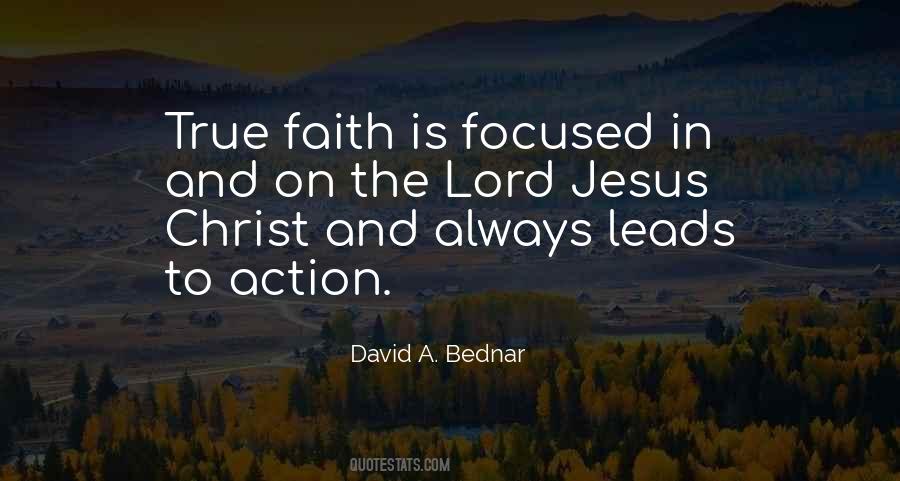 #38. Truth, according to the Christian faith, is God's love for us in Jesus Christ. Therefore, truth is a relationship. - Author: Pope Francis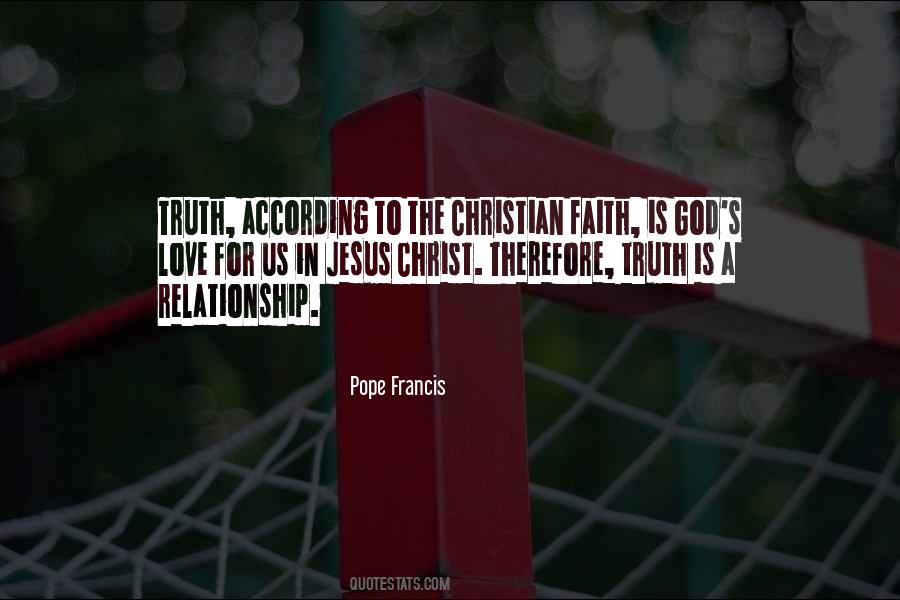 #39. The revelation of God in Jesus Christ (which is the object of Christian faith) is something very different from religion."5 Religion has many critics, but Jesus very few. He is a self-authenticating reality beyond the myriad social cocoons. He belongs to humanity. He called himself "Son of Man. - Author: Dallas Willard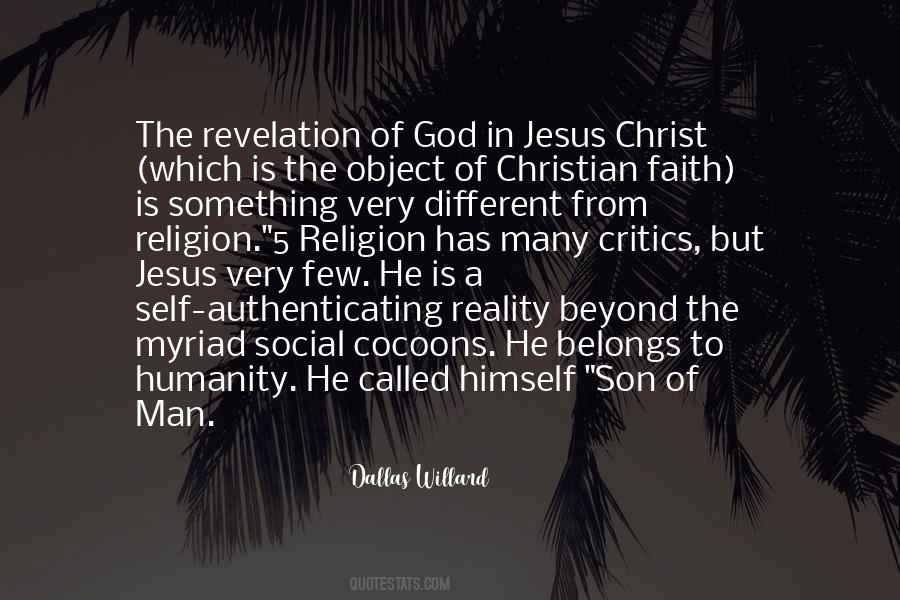 #40. But that was just a shadow of what would come to pass:
When one appointed season Christ came to die at last.
And in the name of justice they flogged him like a thief,
But willing was the victim of human disbelief. - Author: Joyce Rachelle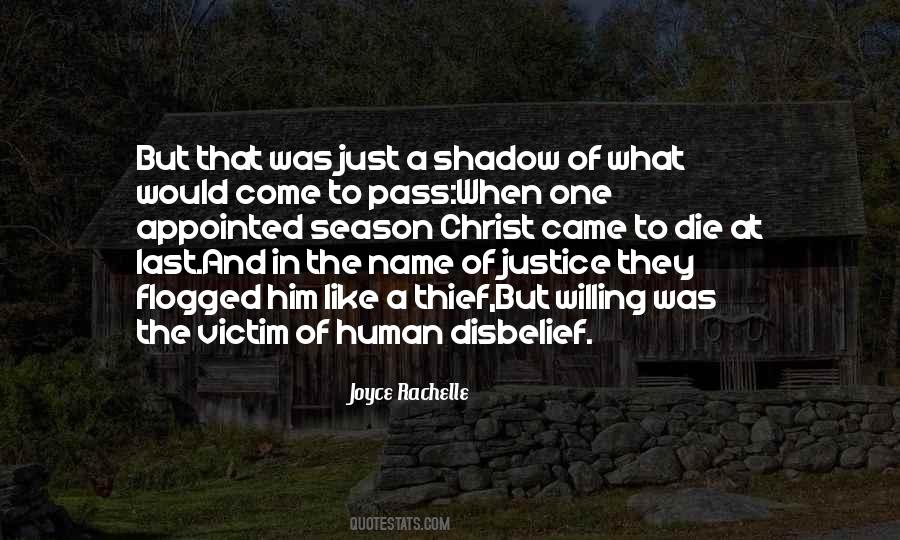 #41. I hold to faith in the divine love - which, so many years ago for a brief moment in a little corner of the earth, walked about as a man bearing the name of Jesus Christ - as the foundation
on which alone my happiness rests. - Author: Johann Wolfgang Von Goethe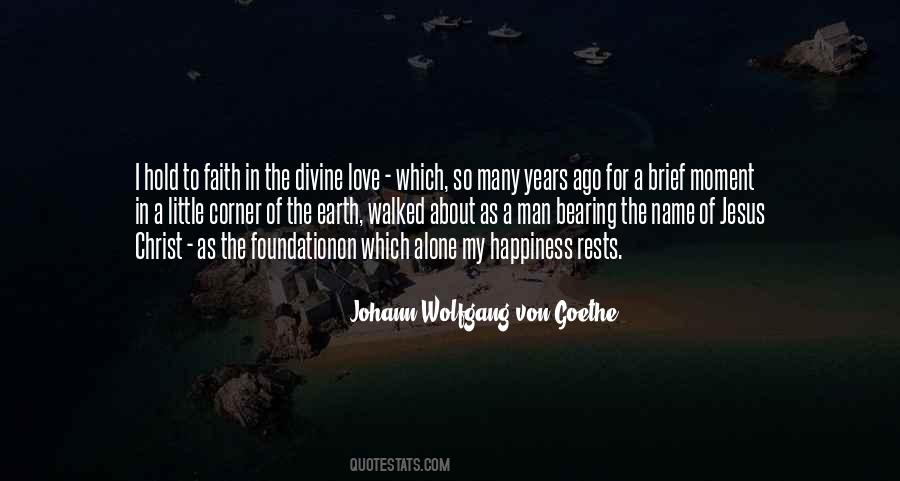 #42. Radical obedience to Christ is not easy ... It's not comfort, not health, not wealth, and not prosperity in this world. Radical obedience to Christ risks losing all these things. But in the end, such risk finds its reward in Christ. And he is more than enough for us. - Author: David Platt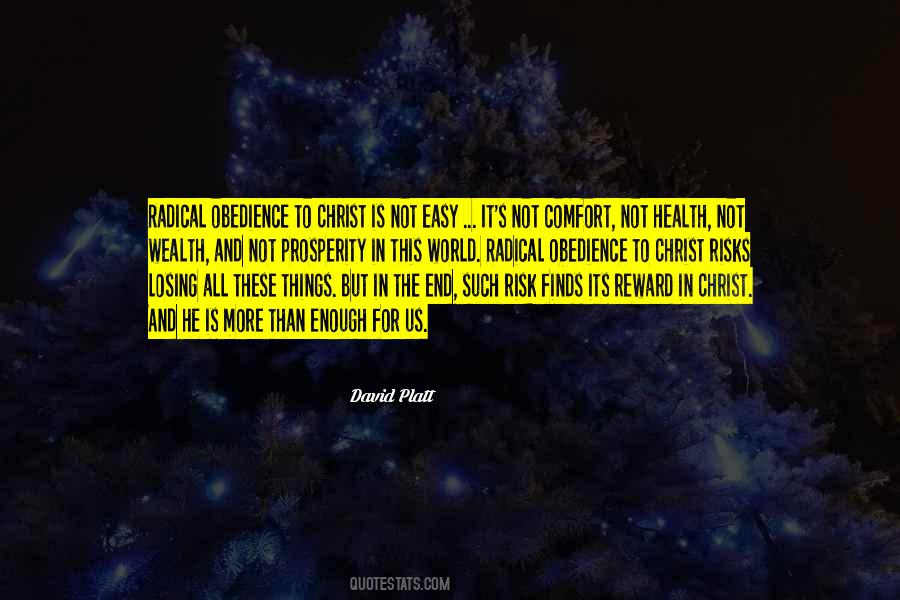 #43. Christian faith has gained confidence that God will not reveal himself in a way contrary to the way he has revealed himself in Jesus Christ - Author: Thomas C. Oden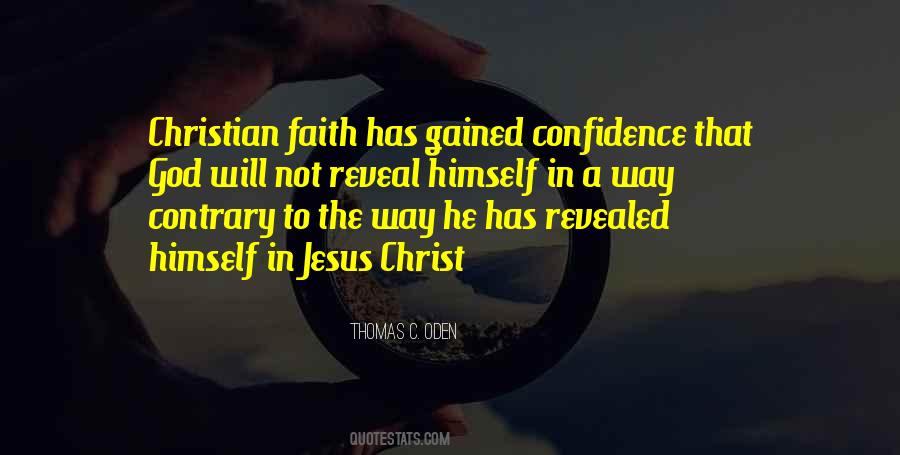 #44. I believe in my heart that faith in Jesus Christ can and will lead us beyond an exclusive concern for the well-being of other human beings to the broader concern for the well-being of the birds in our backyards, the fish in our rivers, and every living creature on the face of the earth. - Author: John Wesley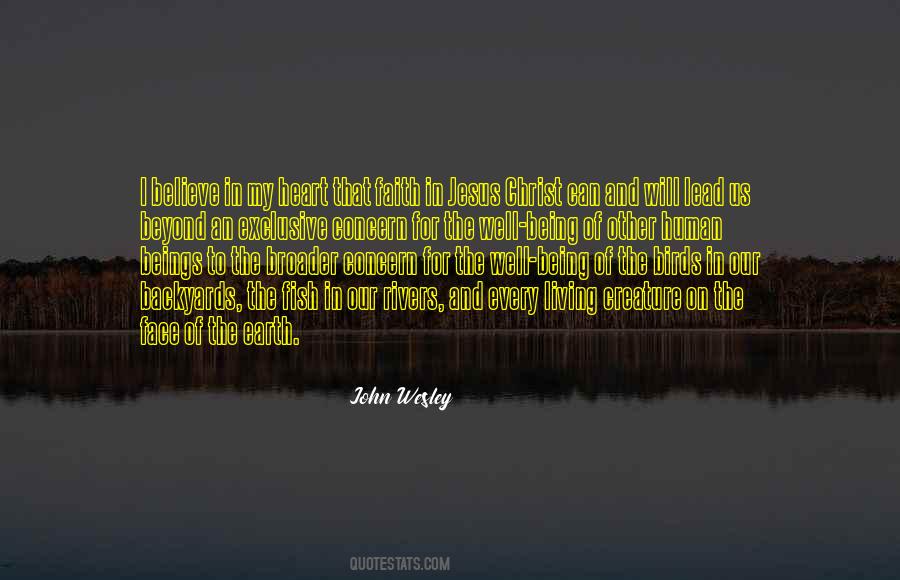 #45. When men see how relevant the ten commandments are for economics, they should gain new respect for the importance of the laws of God for all of life, but especially for the life of dominion man, the man redeemed by grace through faith in the one true Dominion Man, Jesus Christ. - Author: Gary North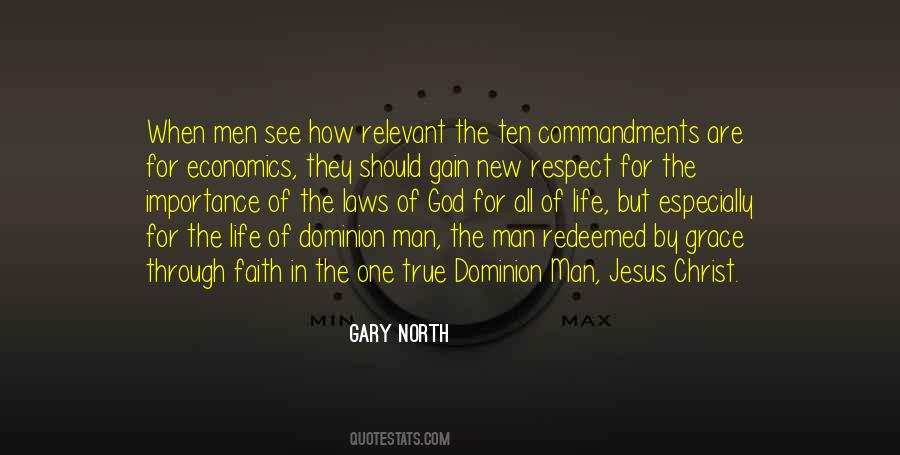 #46. The one help we all need is given to us freely though the Atonement of Jesus Christ. Having faith in Jesus Christ and In His Atonement means relying completely on Him-trusting in His infinite power, intelligence, and love. - Author: Dieter F. Uchtdorf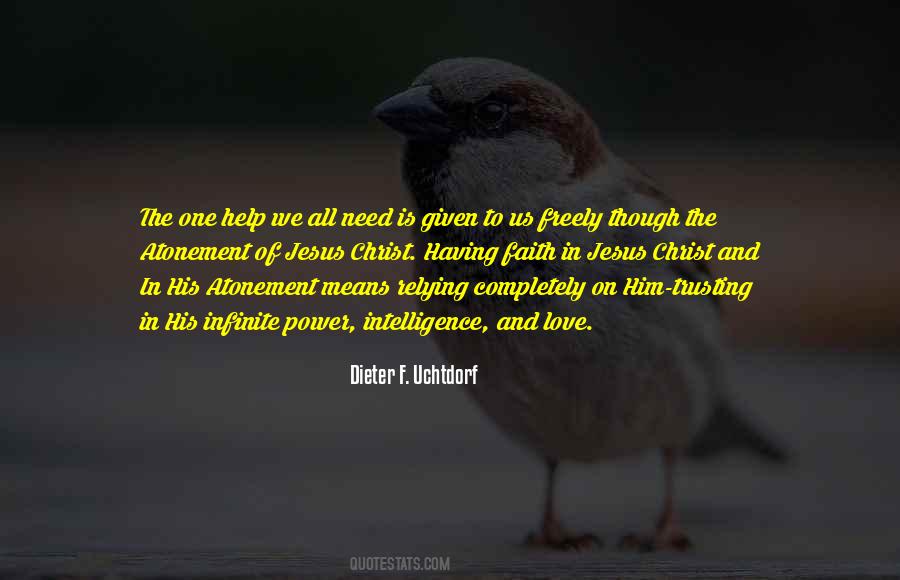 #47. As children of God, knowing of His great love and His ultimate knowledge of what is best for our eternal welfare, we trust in Him. The first principle of the gospel is faith in the Lord Jesus Christ, and faith means trust. - Author: Dallin H. Oaks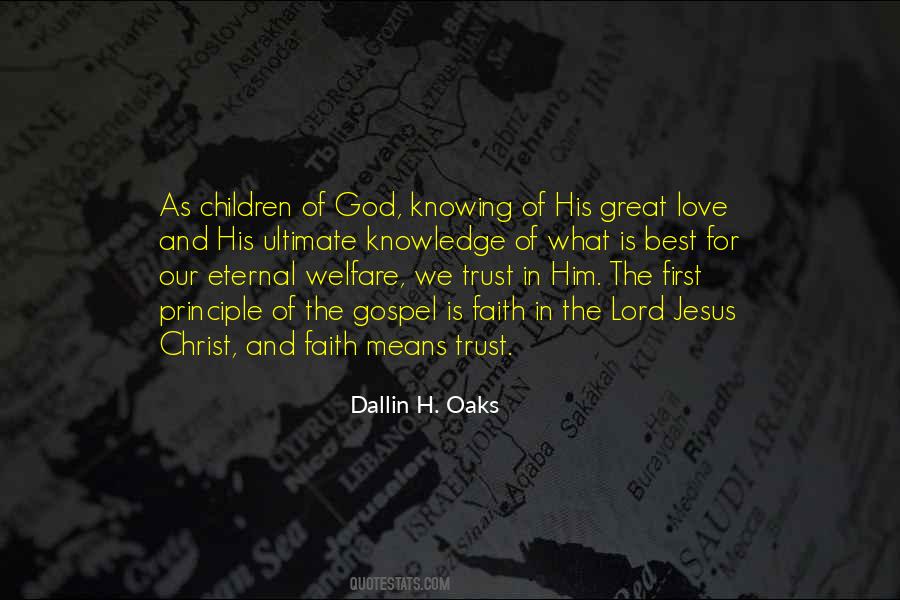 #48. And my God will supply all your needs according to His riches in glory in Christ Jesus. - Author: Anonymous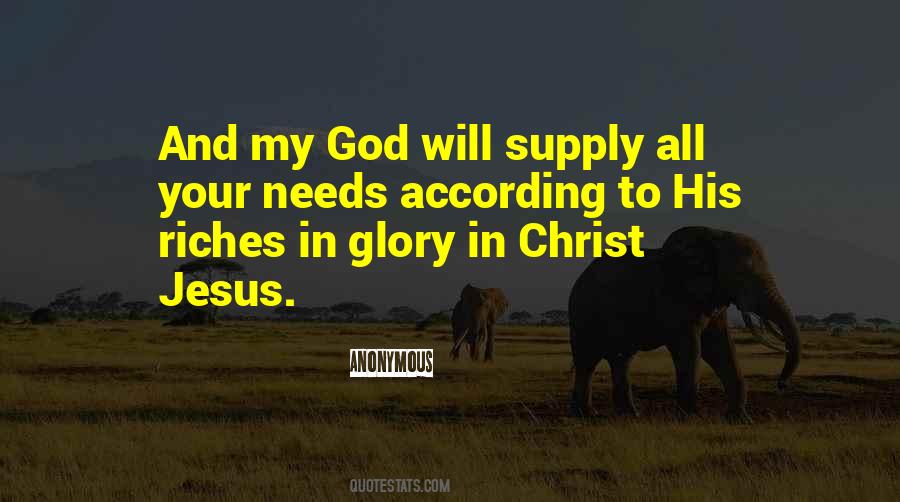 #49. Belief in the resurrection is not an appendage to the Christian faith. It is the Christian faith. - Author: George Carey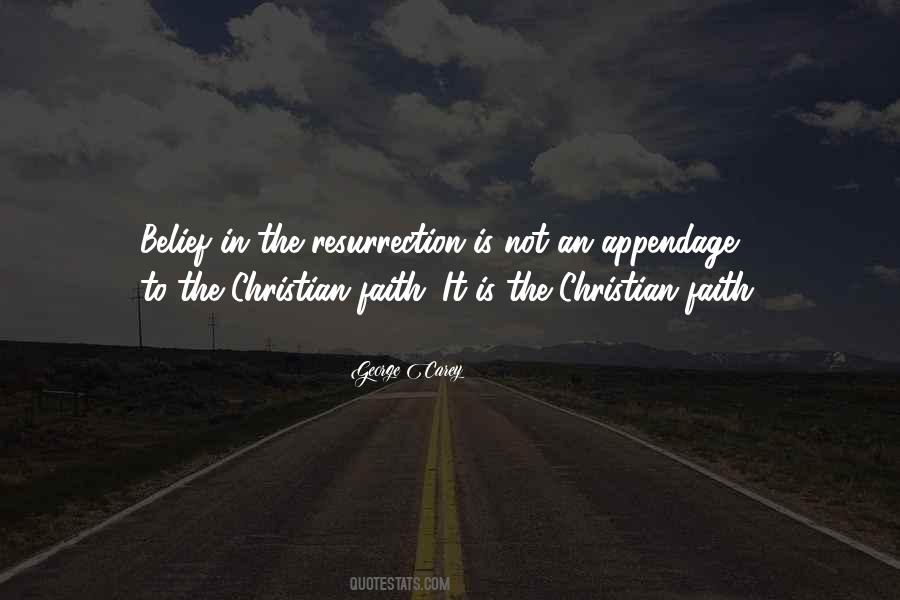 #50. The first care of every Christian ought to be to lay aside all reliance on works, and strengthen his faith alone more and more, and by it grow in the knowledge, not of works, but of Christ Jesus, who has suffered and risen again for him. - Author: Martin Luther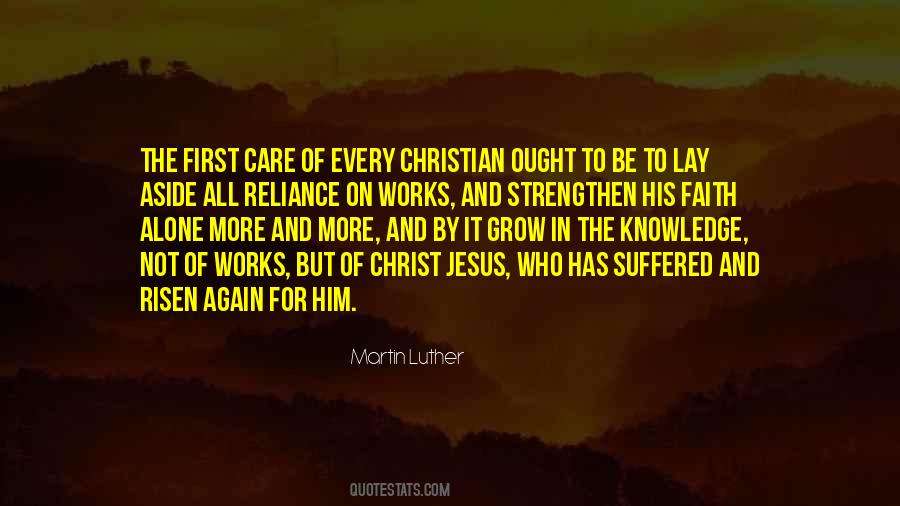 #51. Your faith in Jesus Christ gives life enduring meaning. Remember you are on a journey to exaltation. Sometimes you have experiences that yield more happiness than others, but it all has purpose with the Lord. - Author: Richard G. Scott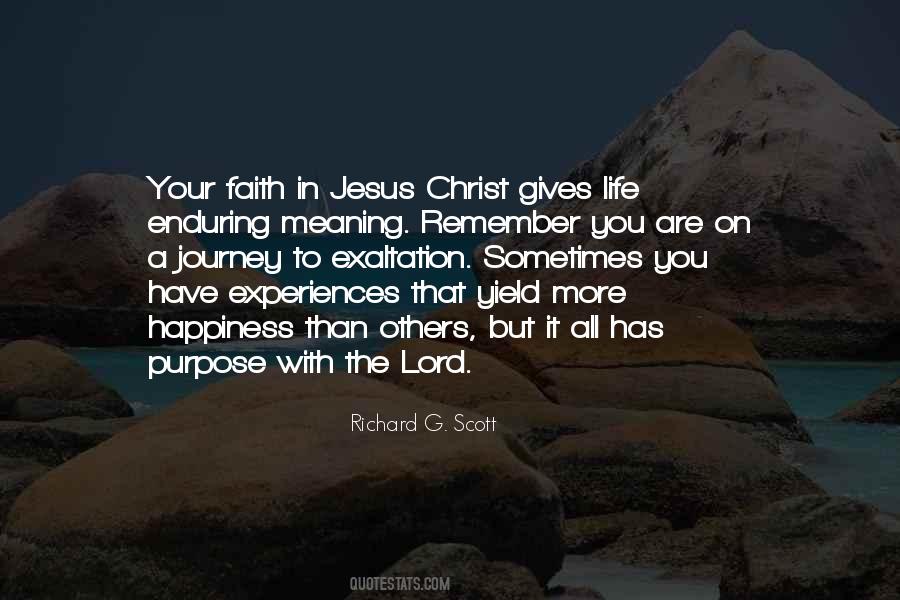 #52. The things we hope for lead us to faith, while the things we hope in lead us to charity. The three qualities faith, hope, and charity working together, grounded on the truth and light of the restored gospel of Jesus Christ, lead us to abound in good works - Author: Dieter F. Uchtdorf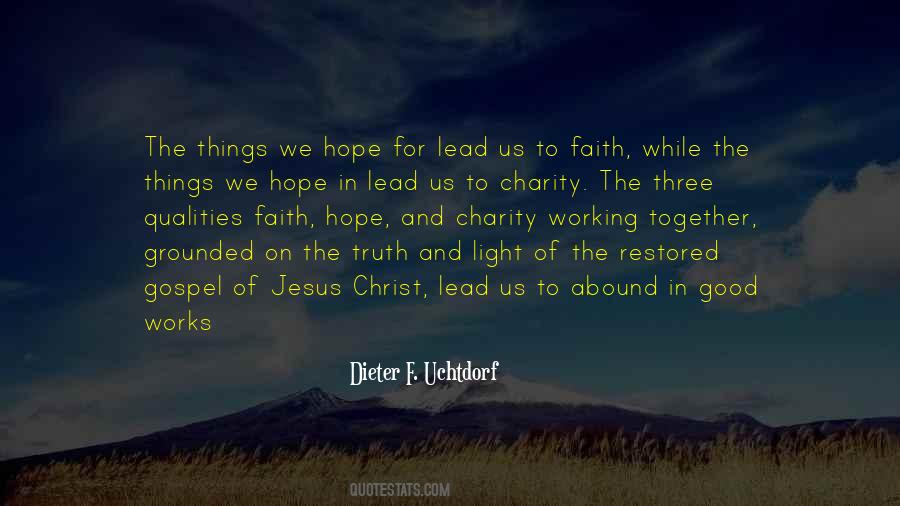 #53. The Family of God includes all of the children of God in heaven and on earth. In Ephesians 3:15, Paul speaks of the whole family in heaven and on earth. This family includes all believers. "Ye are all the children of God by faith in Christ Jesus." (Galatians. 3:26) All believers are God's children. - Author: Roy Mason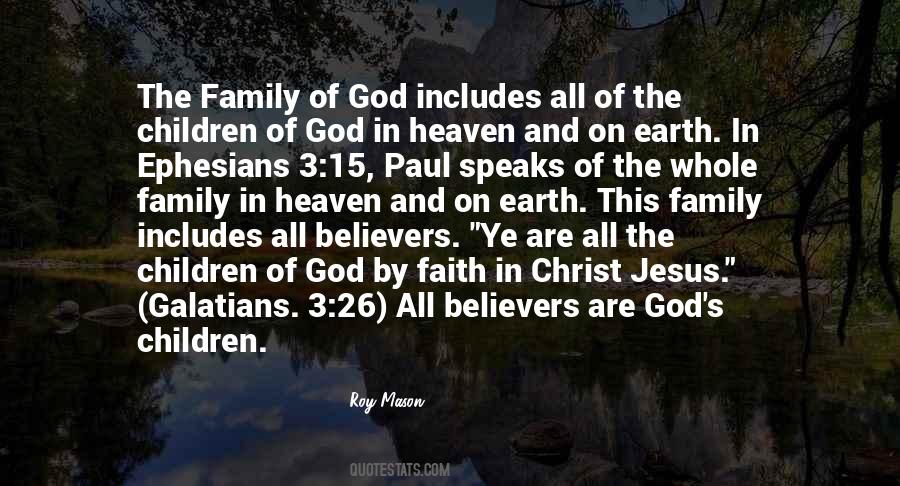 #54. We help God's children best by providing ways to build faith in Jesus Christ and in His restored gospel when they are young. - Author: Henry B. Eyring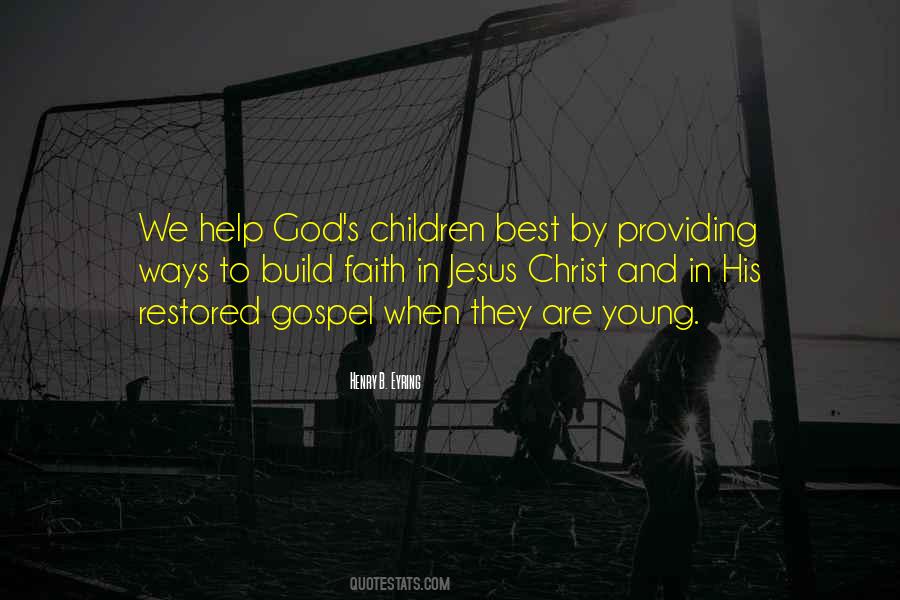 #55. Then fear will grow pale and fade away, and you will be free, through your faith in our strong and living Savior, Jesus Christ. - Author: Dietrich Bonhoeffer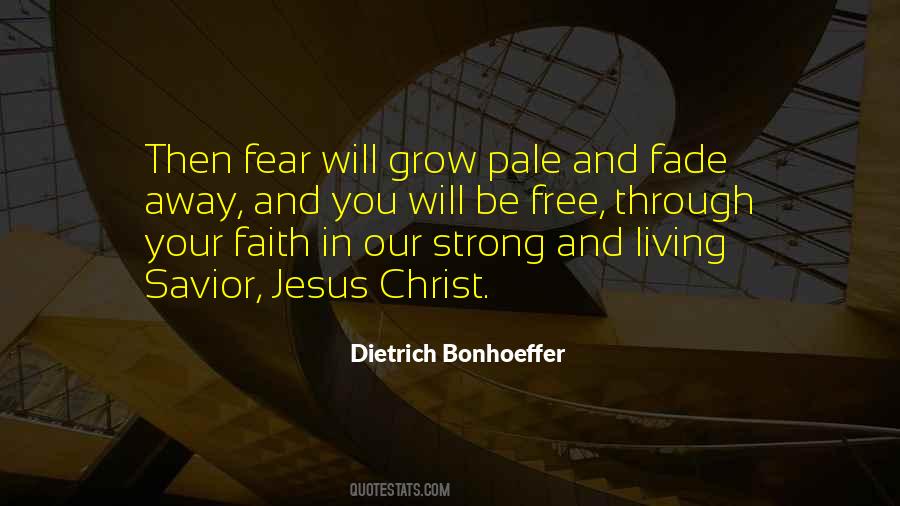 #56. Sanctification grows out of faith in Jesus Christ. Reemember holiness is a flower, not a root; it is not sanctification that saves, but salvation that sanctifies. - Author: Charles Spurgeon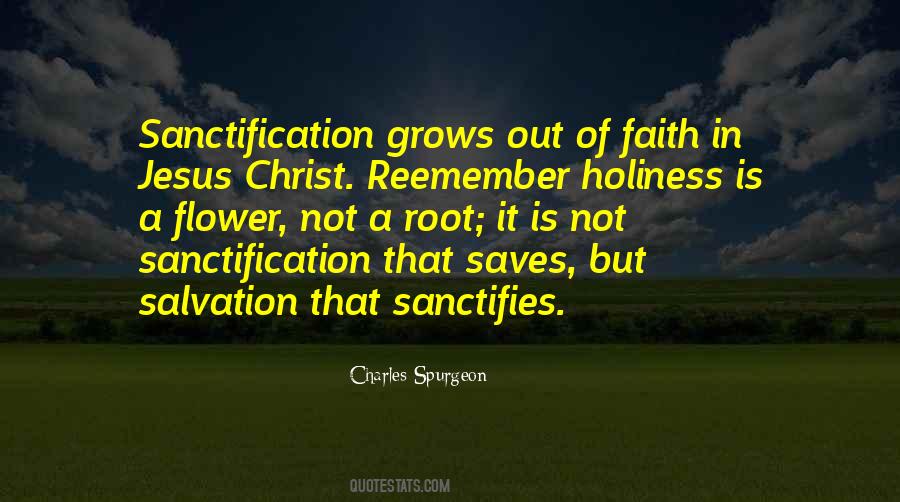 #57. My most cherished possession I wish I could leave you is my faith in Jesus Christ, for with Him and nothing else you can be happy, but without Him and with all else you'll never be happy. - Author: Patrick Henry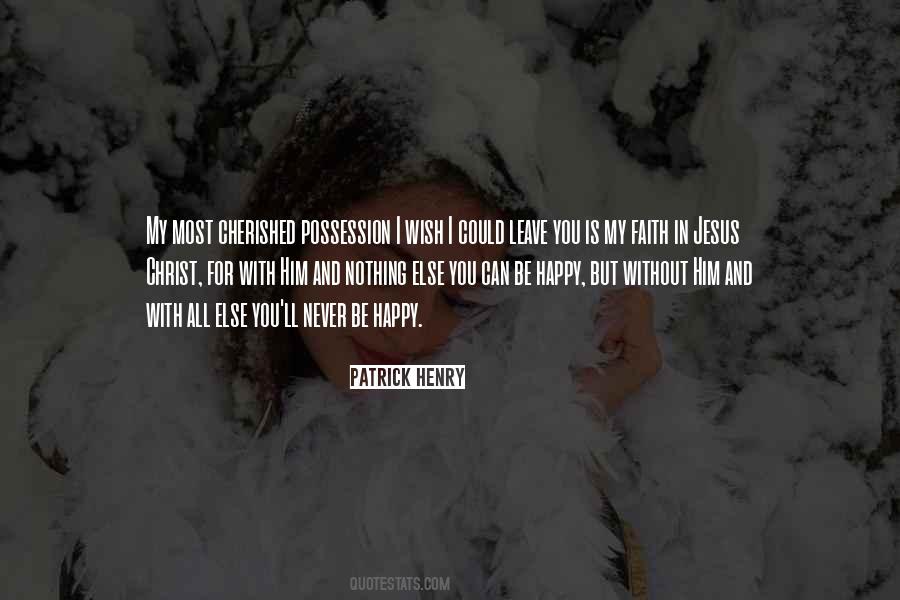 #58. God Who delivers us from the guilt of sin through faith in Jesus Christ, is able to deliver the believer from the power of sin as well. - Author: J. Edwin Orr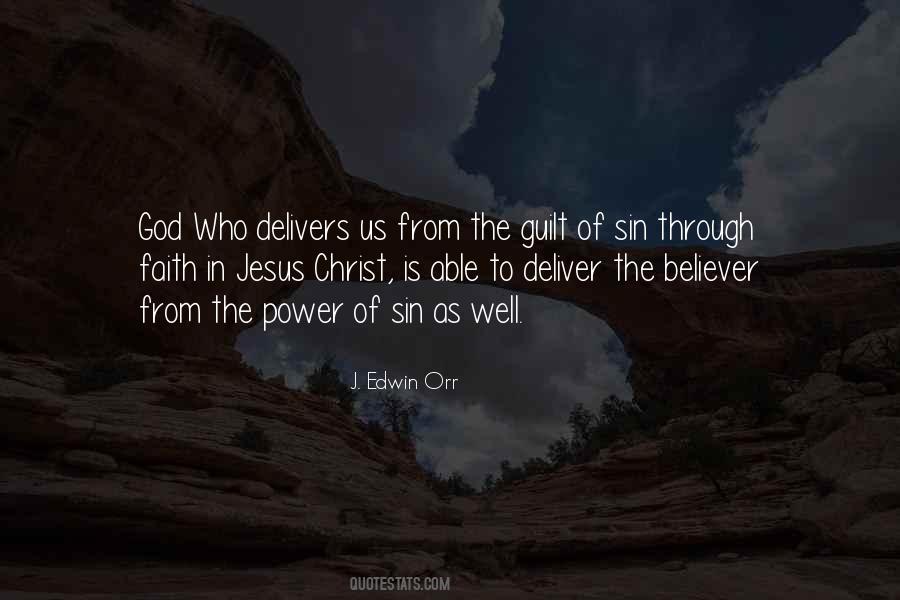 #59. Let it be uppermost in your minds, now and at all times, that Jesus is the Christ, the Son of the living God who came into the world to lay down his life that we might live. That is the truth, and is fundamental. Upon that our faith is built. - Author: Joseph Fielding Smith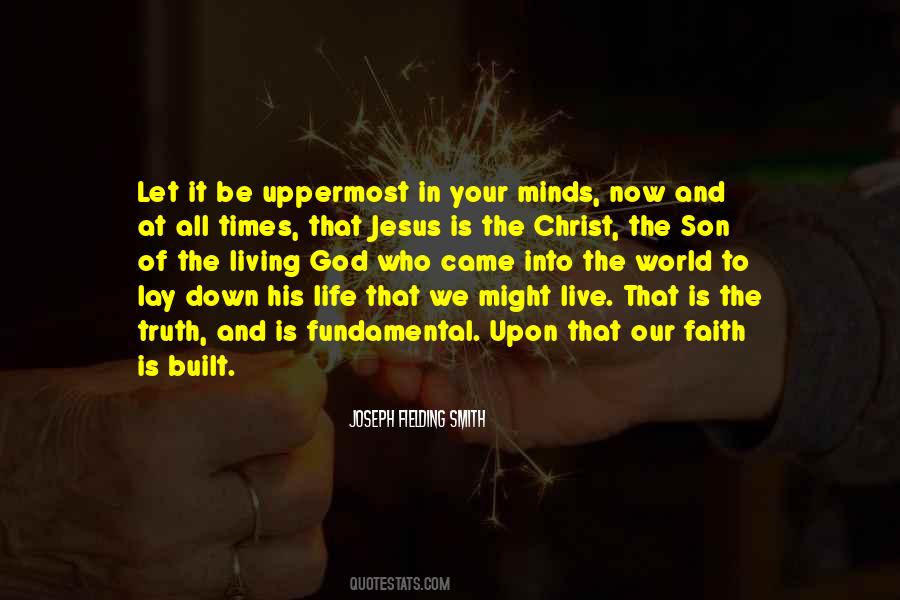 #60. We were promised that we would have Jehovah, Jesus Christ, as our Savior and Redeemer. He would assure that we would all be resurrected. And He would make it possible for us to pass the test of life if we exercised faith in Him by being obedient. - Author: Henry B. Eyring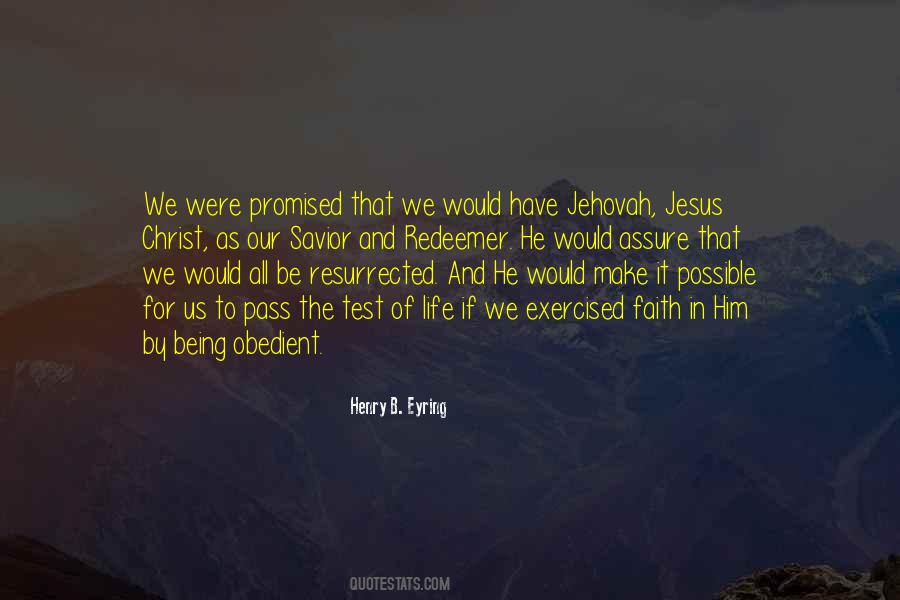 #61. What value is there in faith without works? And what are they worth if they are not united to the merits of Jesus Christ, our only good? - Author: Saint Teresa Of Avila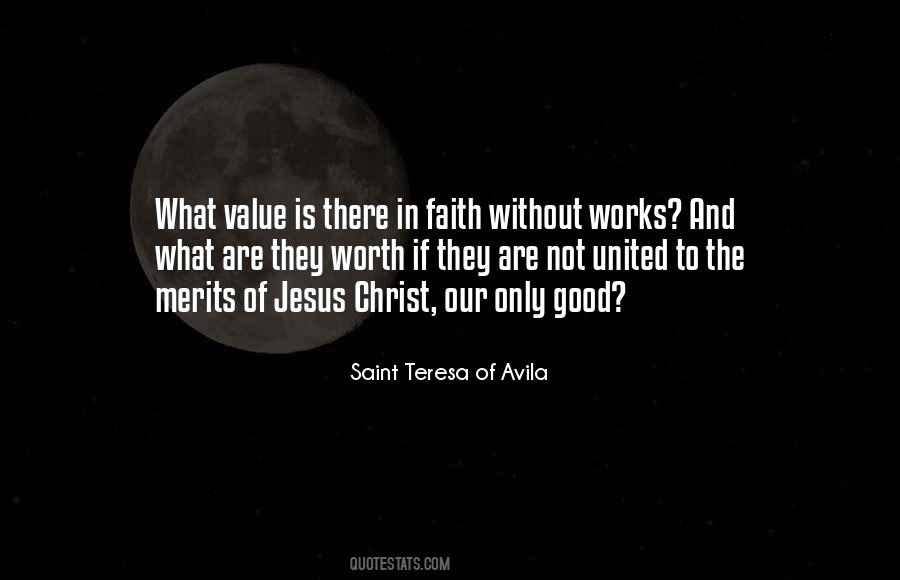 #62. The Lord needs us. He needs us to be knowledgeable, dependable, and competent disciples. We need to know not only that the gospel is true but we need to know the gospel, better than we do right now. We need to be in the right place at the right time. We will thereby become the right person. - Author: Robert L. Millet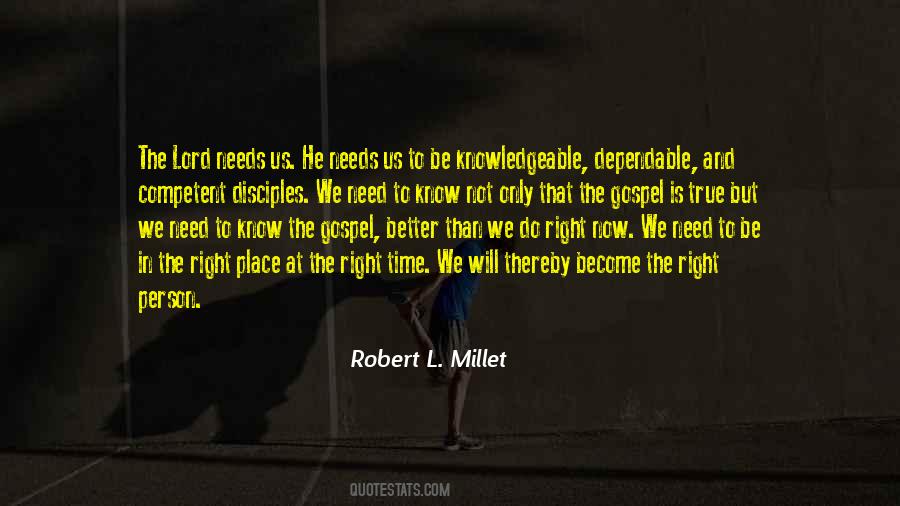 #63. Paul emphasizes that it is not the natural Jew but the person who puts his faith in Jesus Christ who becomes Abraham's spiritual seed: - Author: David Wilkerson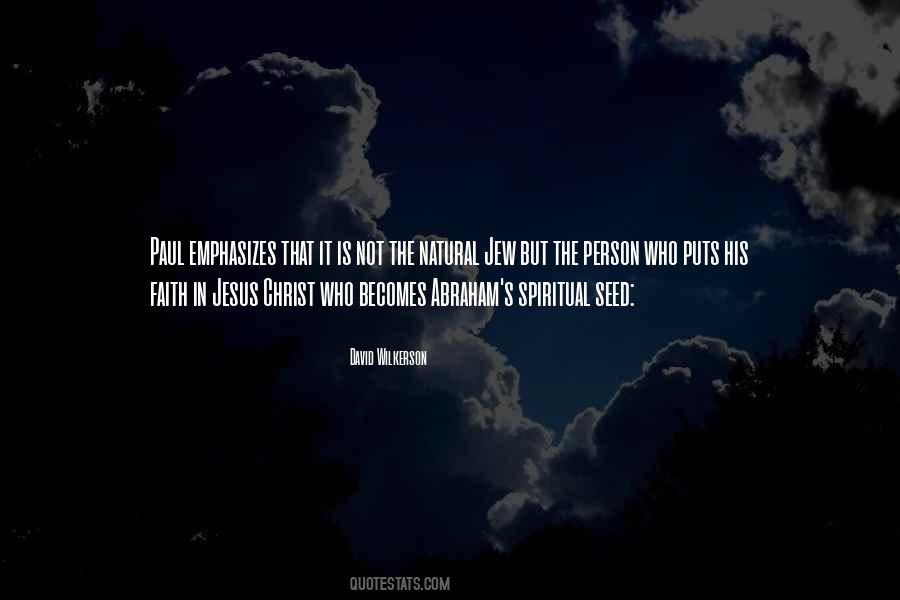 #64. The most pressing question on the problem of faith is whether a man as a civilized being can believe in the divinity of the Son of God, Jesus Christ, for therein rests the whole of our faith. - Author: Fyodor Dostoevsky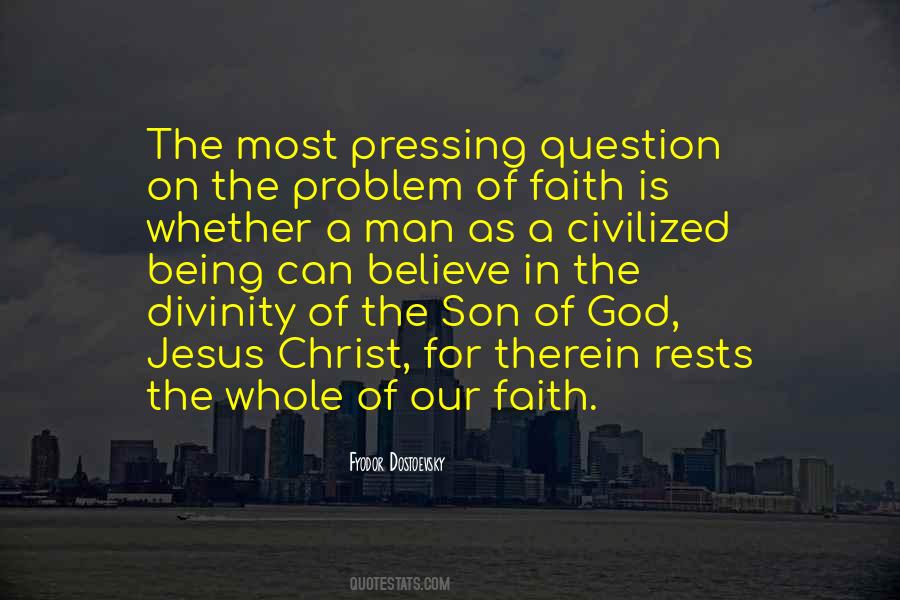 #65. Now may the God and Father of our Lord Jesus Christ, and the eternal high priest himself, the Son of God Jesus Christ, build you up in faith and truth and in all gentleness and in all freedom from anger and forbearance and steadfastness and patient endurance and purity. - Author: Polycarp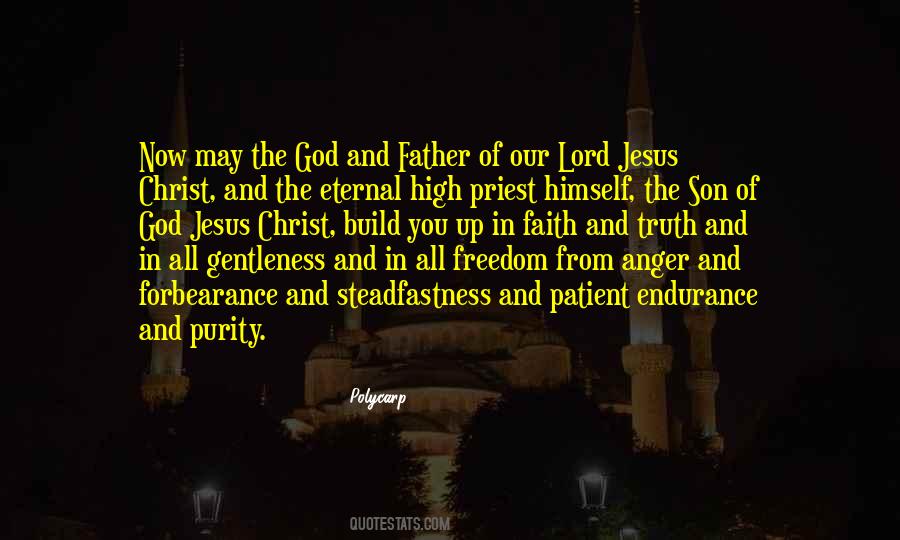 #66. Looking back, I am grateful for so many friends who helped me in my youth to gain a testimony of the restored Church of Jesus Christ. First, I exercised simple faith in their testimonies, and then I received the divine witness of the Spirit to my mind and to my heart. - Author: Dieter F. Uchtdorf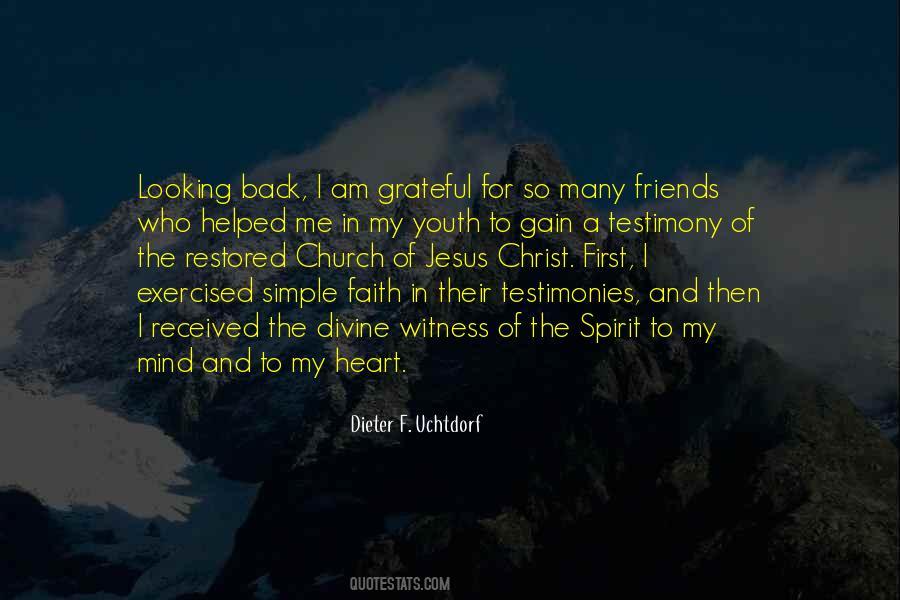 #67. To be converted to faith in Jesus Christ is to return to the worship of the true God, and to dethrone all rivals to his authority. - Author: Graham Kendrick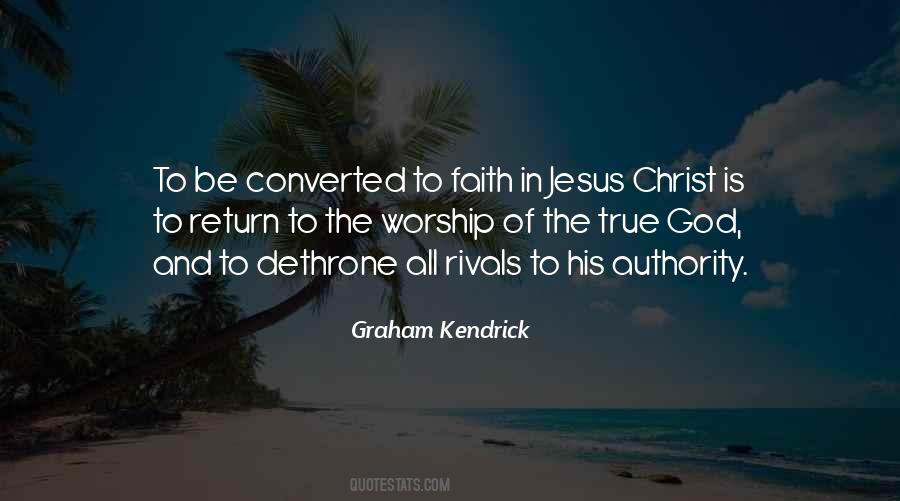 #68. God - the Bible's Author - loves you and wants you to be His child through faith in Jesus Christ. - Author: Billy Graham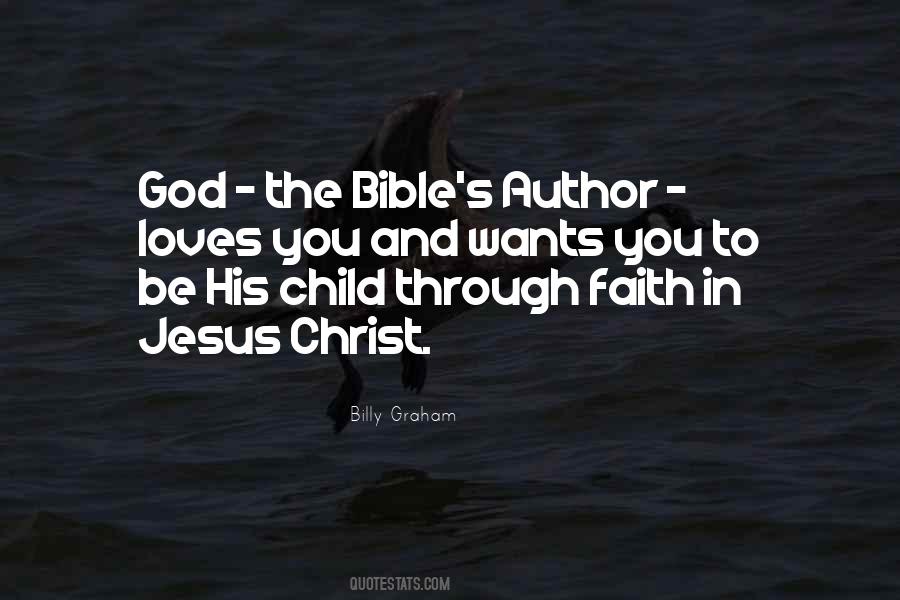 #69. The Bible teaches that faith is the only approach that we have to God. No man has sins forgiven, no man goes to heaven, no man has assurance of peace and happiness, until he has faith in Jesus Christ. - Author: Billy Graham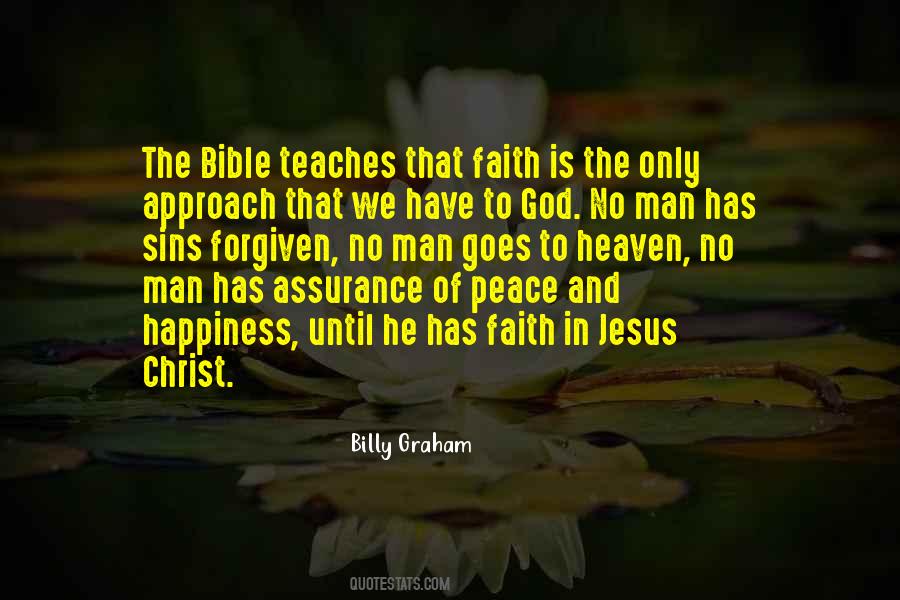 #70. When I put my faith in Jesus Christ as my savior, and I asked him to forgive and to come into my life, and He does - from that moment forward I have established a personal relationship with God that I have to develop, you know, through Bible reading and prayer, and living my life for him. - Author: Anne Graham Lotz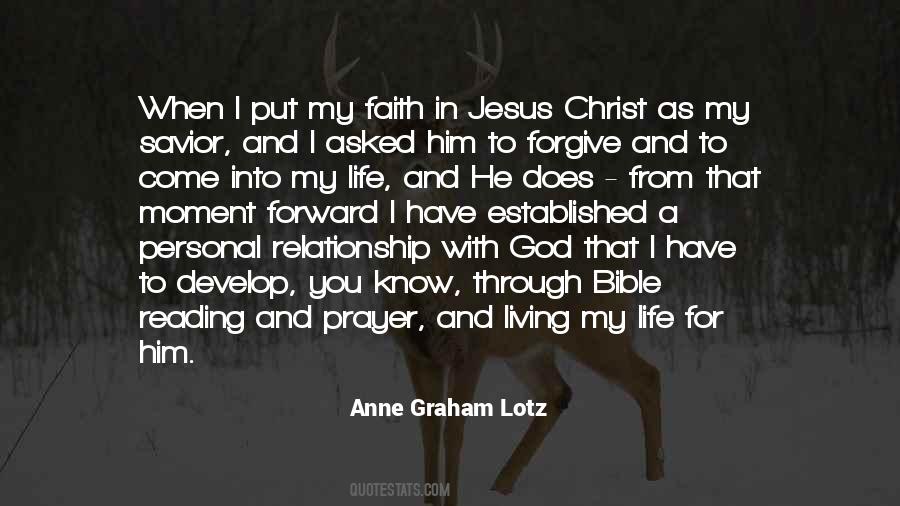 #71. Our faith in the Lord Jesus Christ is the source of spiritual power that will give you and me the assurance that we have nothing to fear. - Author: M. Russell Ballard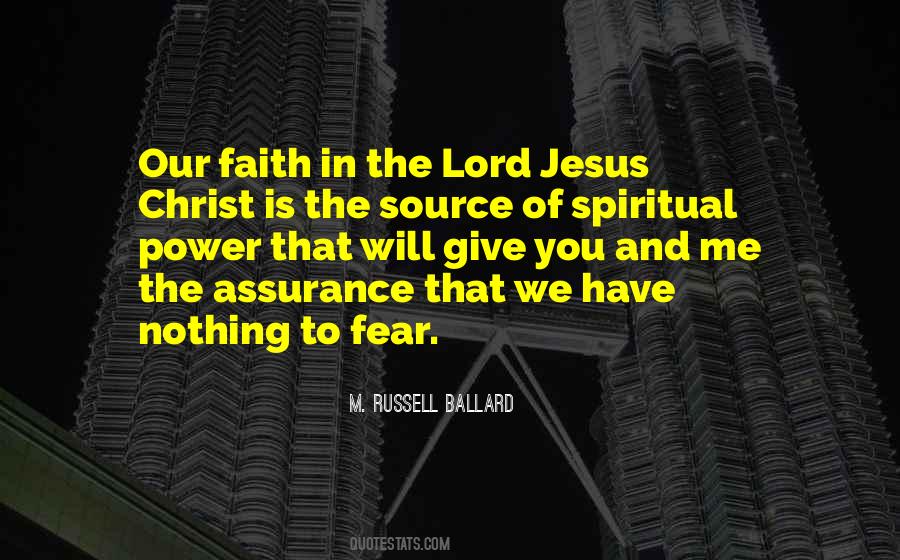 #72. A true faith in Jesus Christ will not suffer us to be idle. No, it is an active, lively, restless principle; it fills the heart, so that it cannot be easy till it is doing something for Jesus Christ. - Author: George Whitefield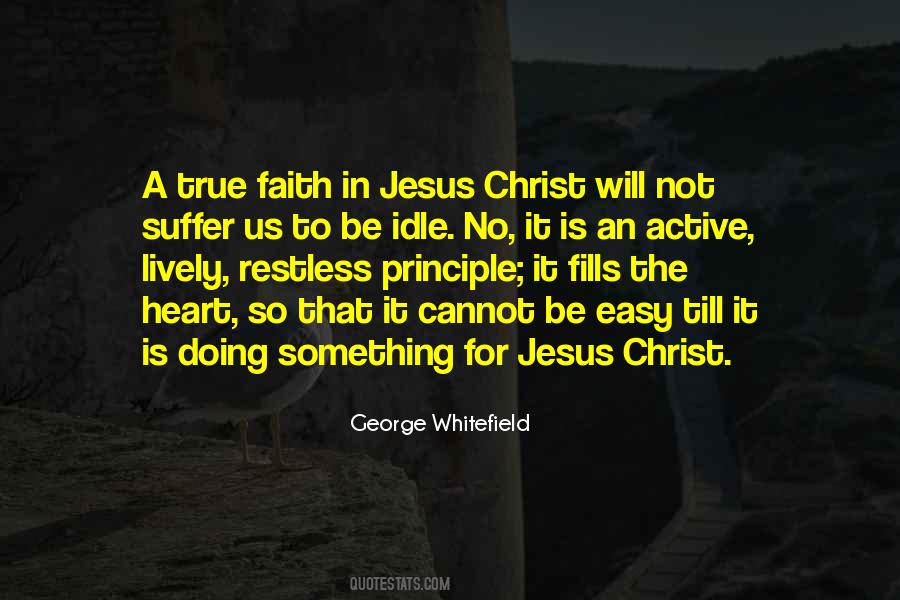 #73. Humility is a virtue that one can find, in which God in heaven rejoices ,and in His love he enfolds you, close to his heart He does bind. - Author: Henrietta Newton Martin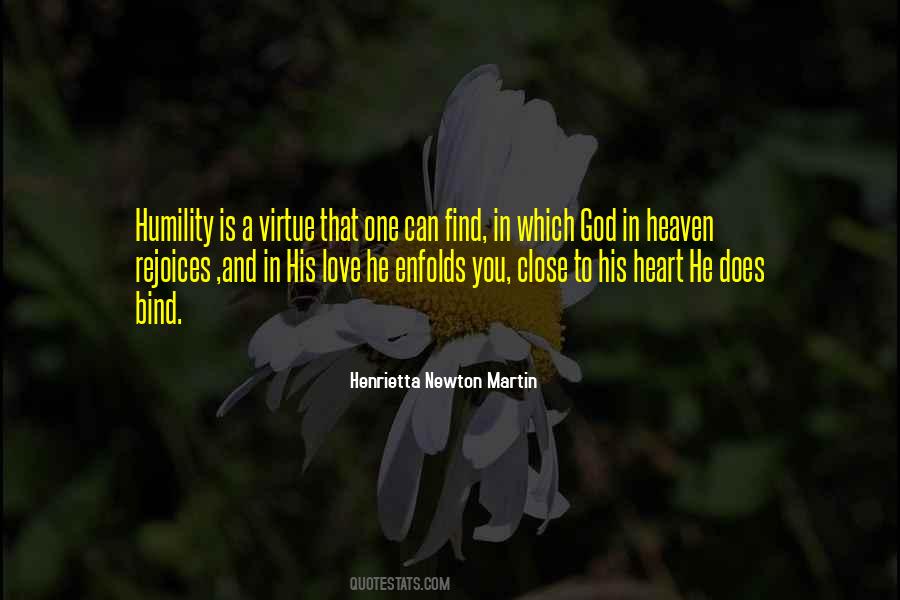 #74. When others sit, a #StaticJedi is found standing - even standing along, with a message not in hand but secure in heart! - Author: Eric Samuel Timm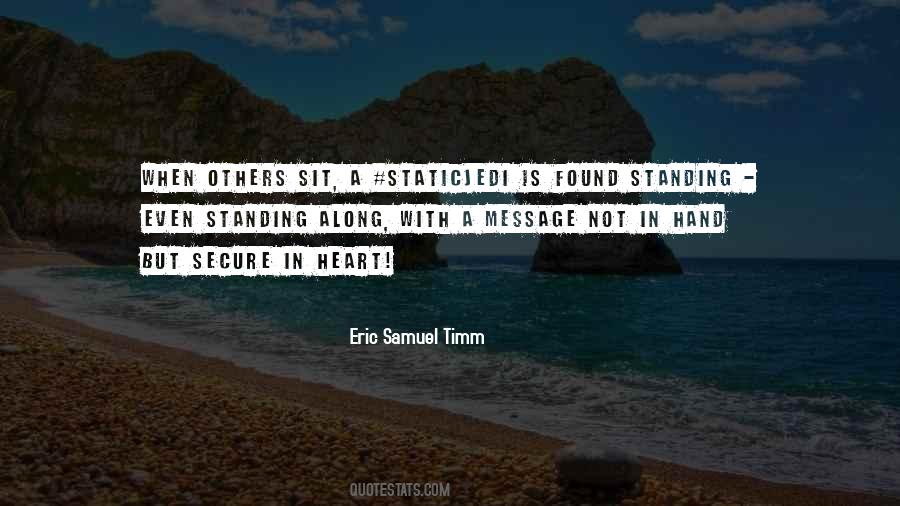 #75. Eternity is not just looking to the future and our place with God in Heaven, but it is looking at our Eternity as if it were only moments away. - Author: Beth Nimmo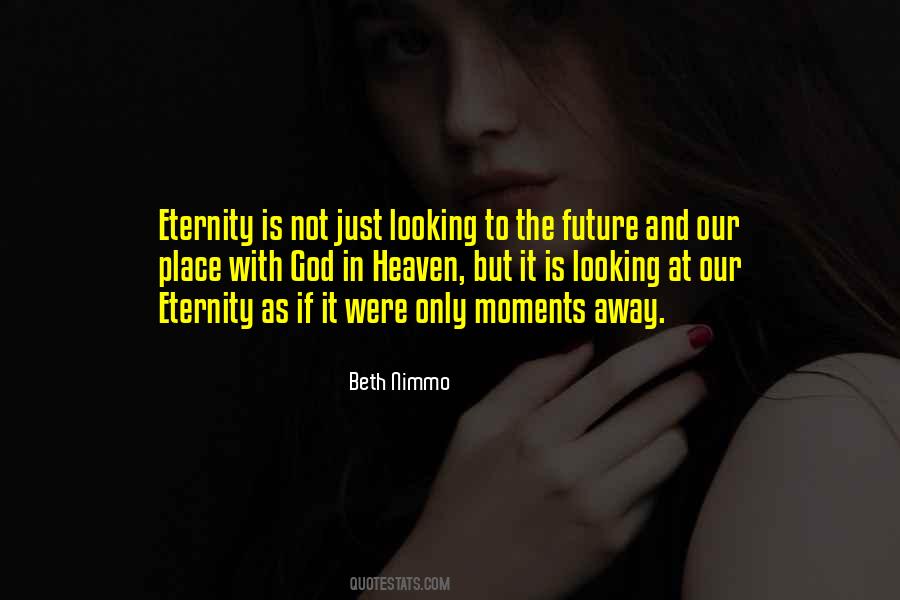 #76. To be Christians indeed, is to have our hearts changed by God's Holy Spirit, so as to have His love shed abroad there where once was only hatred and indifference; to have repentance where there was once no sense of sin; and to have faith in the Lord Jesus Christ where at one time was unbelief. - Author: George E. Sargent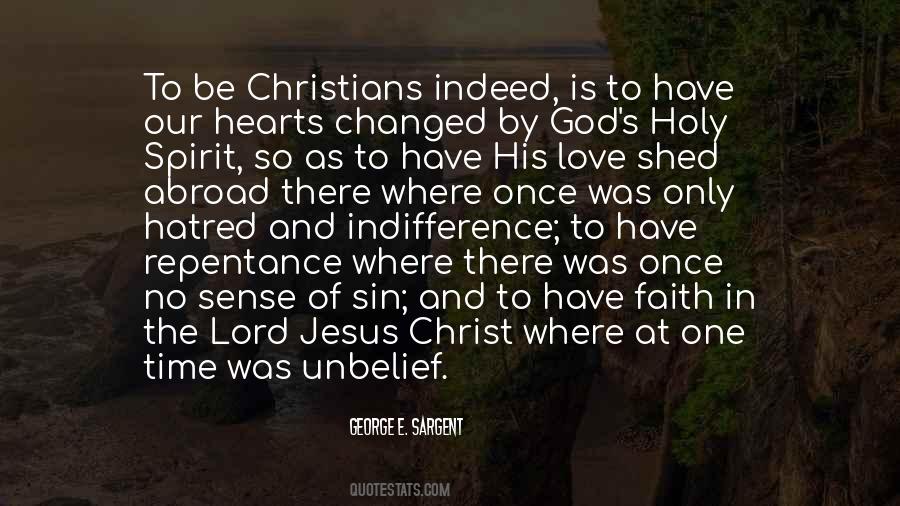 #77. The book is intended to help believing Christians "who today have been made insecure by scientific research and critical discussion, so that they may hold fast to faith in the person of Jesus Christ as the bringer of salvation and Savior of the world - Author: Pope Benedict XVI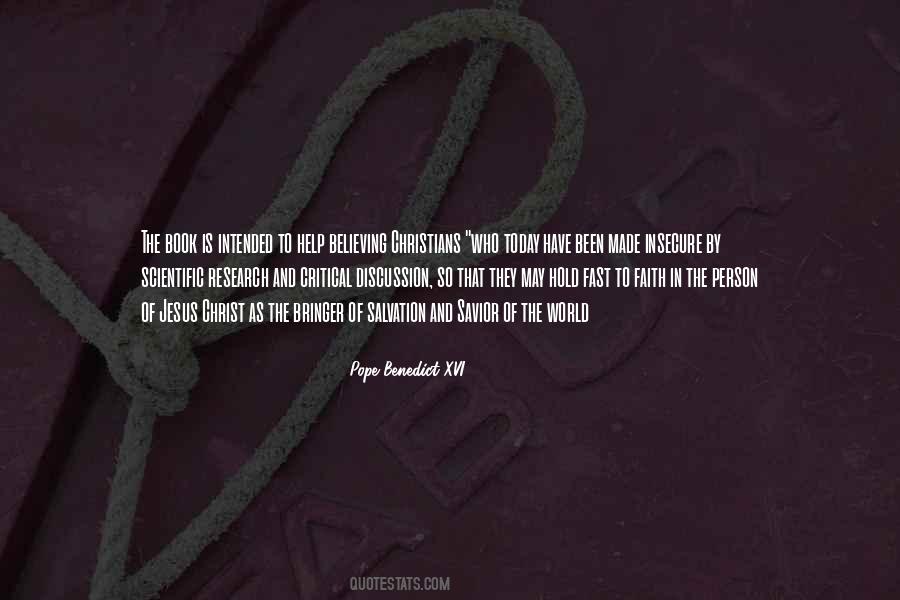 #78. It may not seem obvious at first glance, but the way we make decisions in life tells a lot about the kind of faith we have in Jesus Christ. - Author: Jim Cymbala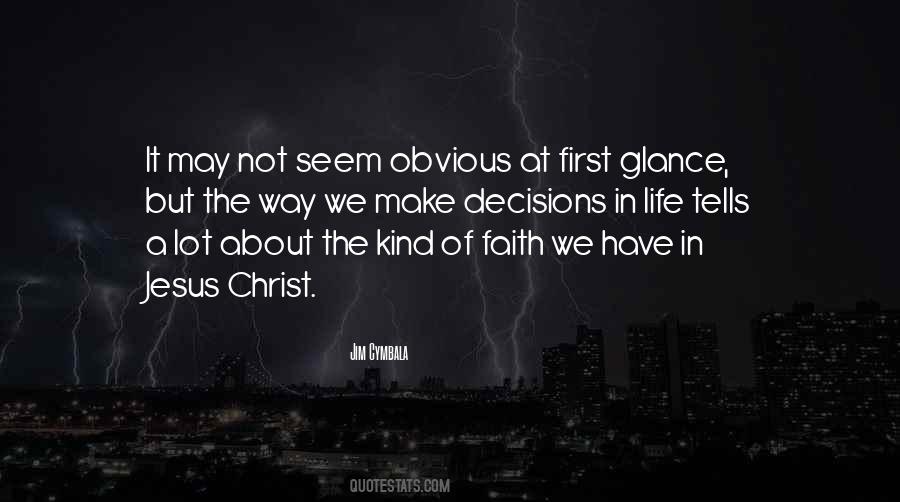 #79. By faith ponder on this, that though thou art no way able in or by thyself to get the conquest over thy distemper, though thou art even weary of contending, and art utterly ready to faint, yet that there is enough in Jesus Christ to yield thee relief ... - Author: John Owen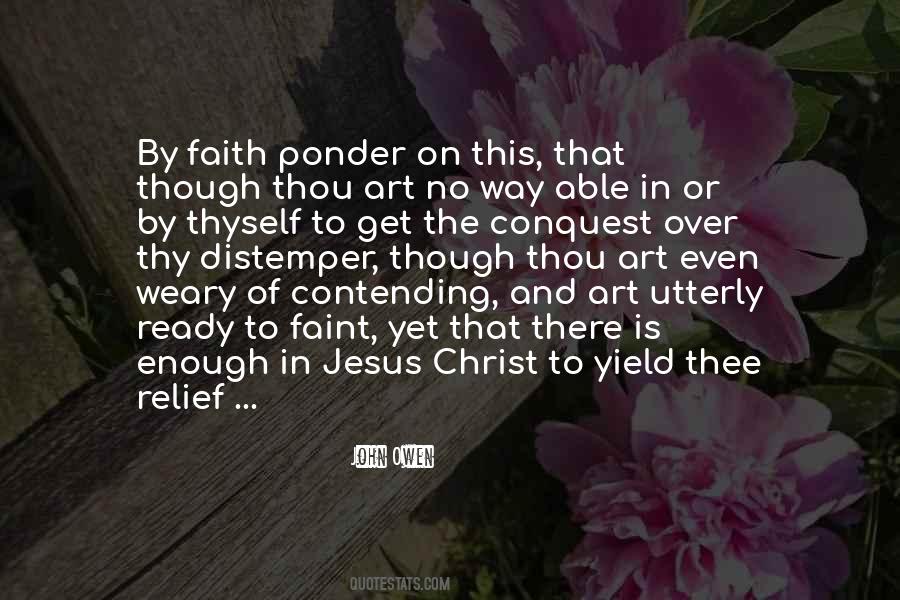 #80. Jesus cannot be in your heart's love except you have a firm hold of Him by your heart's faith; and, therefore, pray that you may always trust Christ in order that you may always love Him. If love be cold, be sure that faith is drooping. - Author: Charles Haddon Spurgeon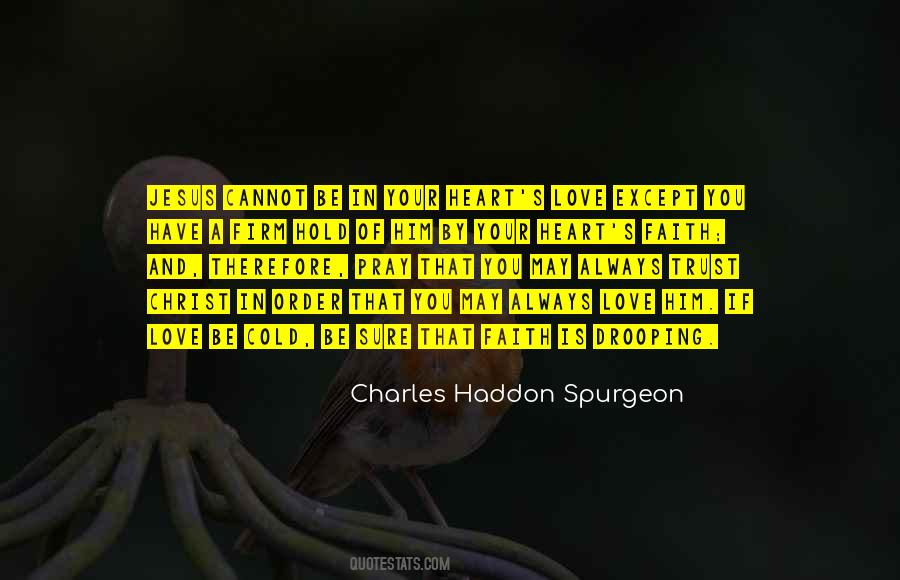 #81. God can save all souls. - Author: Lailah Gifty Akita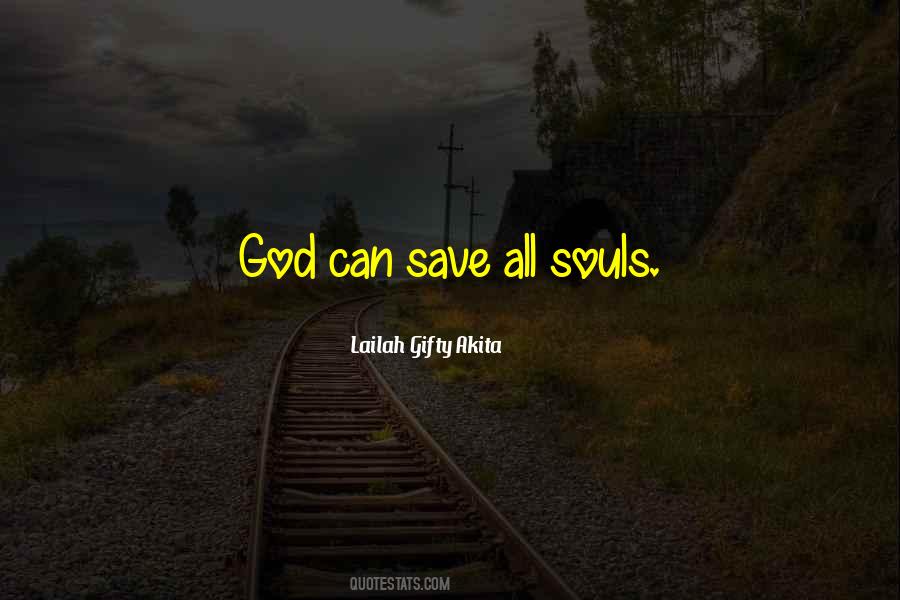 #82. Thousands of Christians compromise their faith in Jesus Christ by denying Him. Even some clergymen neglect or deliberately refuse to close a public prayer in the name of Jesus for fear of offending an unbeliever. They cannot endure the persecution that may follow an acknowledgment of Jesus Christ. - Author: Billy Graham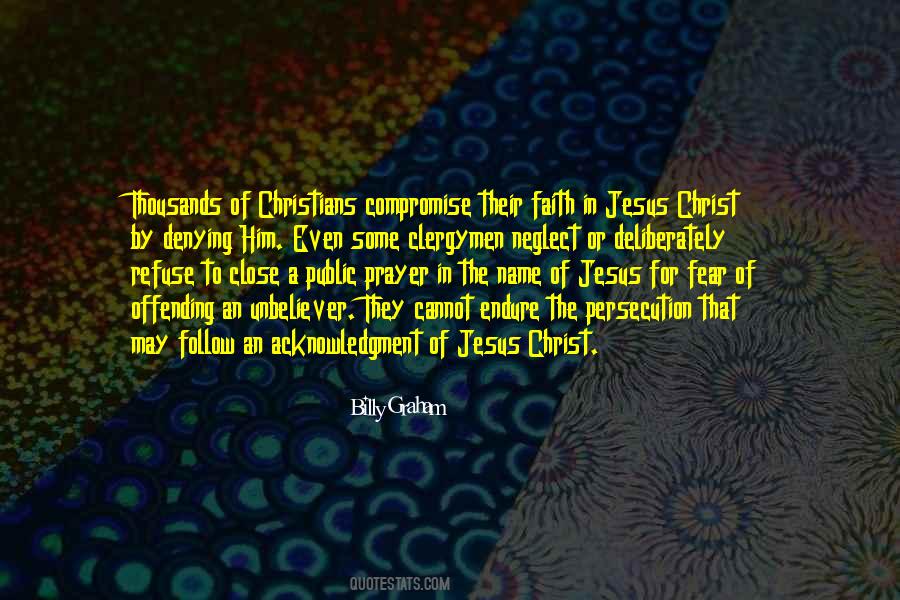 #83. [Mankind has] allowed worldly desires and pleasures to fill the heart and mind. Whatever the sin, we need to repent and turn to Jesus Christ in faith for forgiveness and new life. - Author: Billy Graham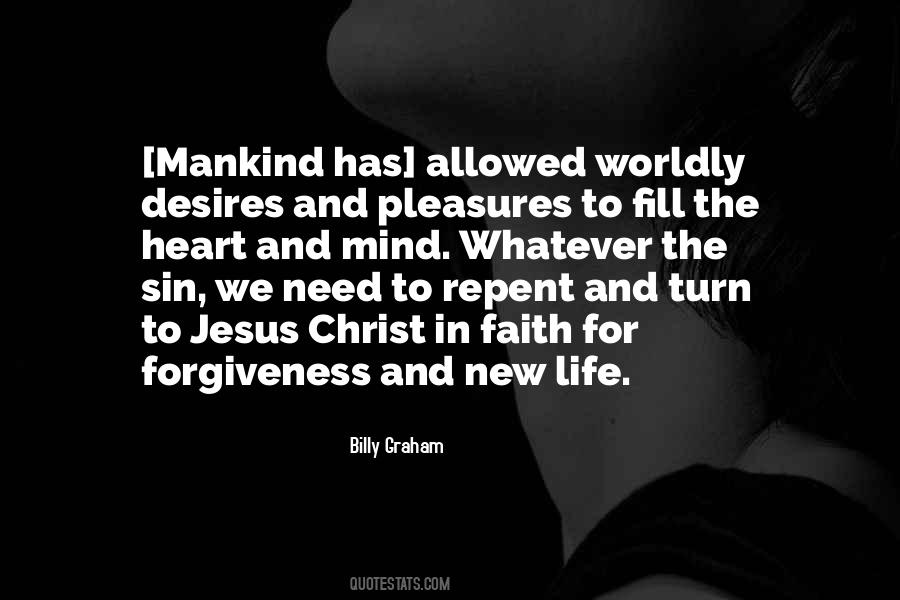 #84. The truth is in Jesus and it leads to the fullness of truth about God, man, creation, history, sin, righteousness, grace, faith, salvation, life, death, purpose, meaning, relationships, heaven, hell, judgement, eternity, and everything else of ultimate consequence. - Author: John F. MacArthur Jr.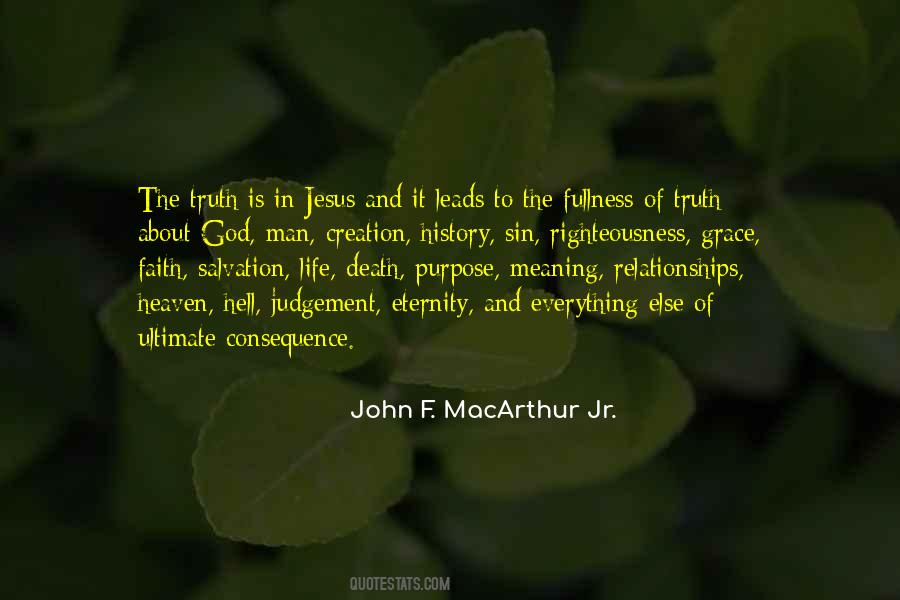 #85. I am confident in my FAITH because I know the character of God and am assured by the love and mercy of our Lord Jesus Christ - Author: Karen Gibbs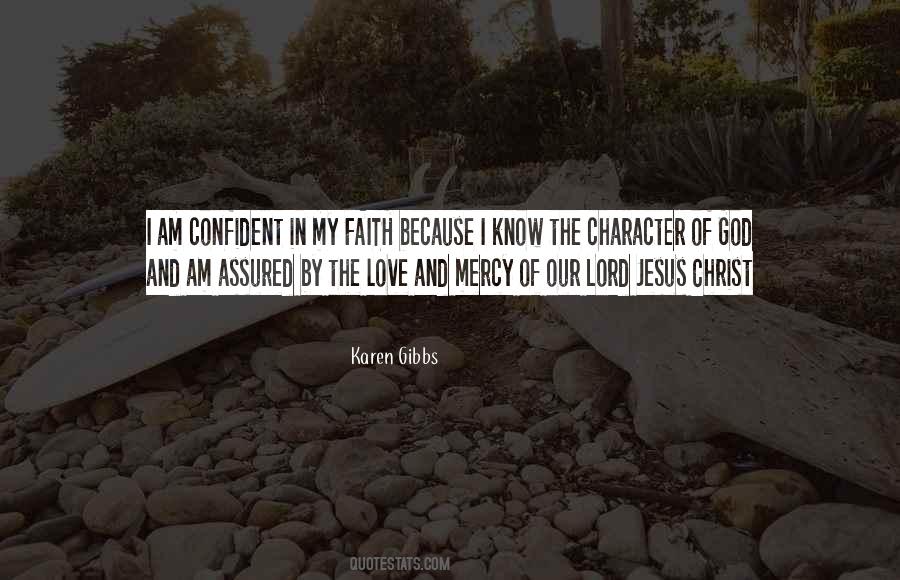 #86. I grew up a faithful person. I never lost faith. I prayed every day all throughout my life. But at some point in life, my faith became fairly abstract. And I lost this belief that we have a personal relationship with Jesus Christ. - Author: Carly Fiorina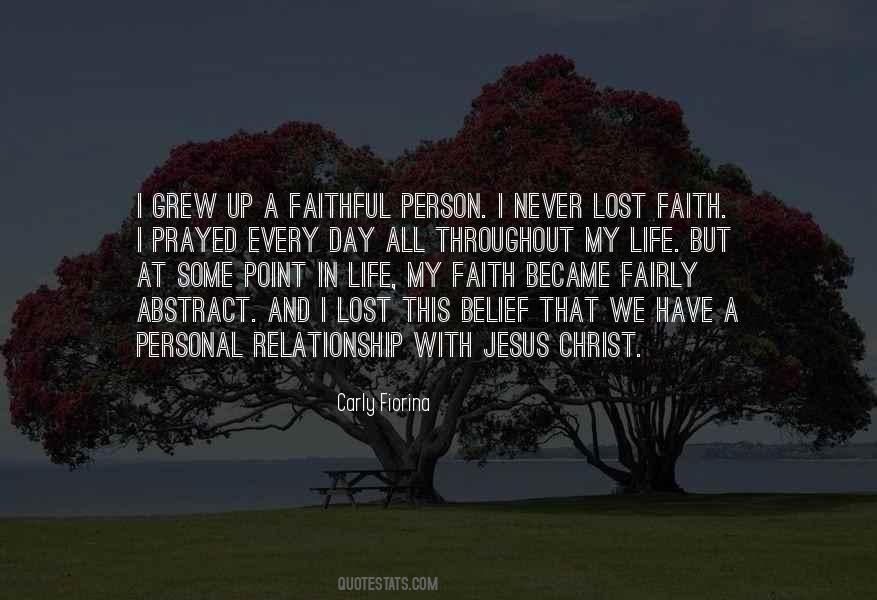 #87. Entering the waters of baptism is something we do. The be that must precede it is faith in Jesus Christ and a mighty change of heart. - Author: Lynn G. Robbins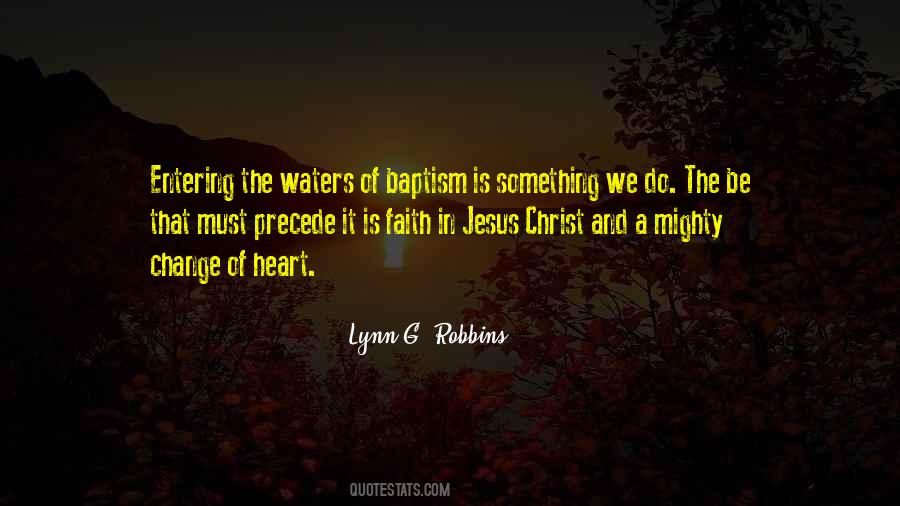 #88. So do not fear the struggle; rather, embrace it. Embrace it in the knowledge that the Grand Weaver will take all of your struggles, questions, disappointments, and fears and use them to build your faith and increasingly make you into a man or woman who looks like Jesus Christ. - Author: Ravi Zacharias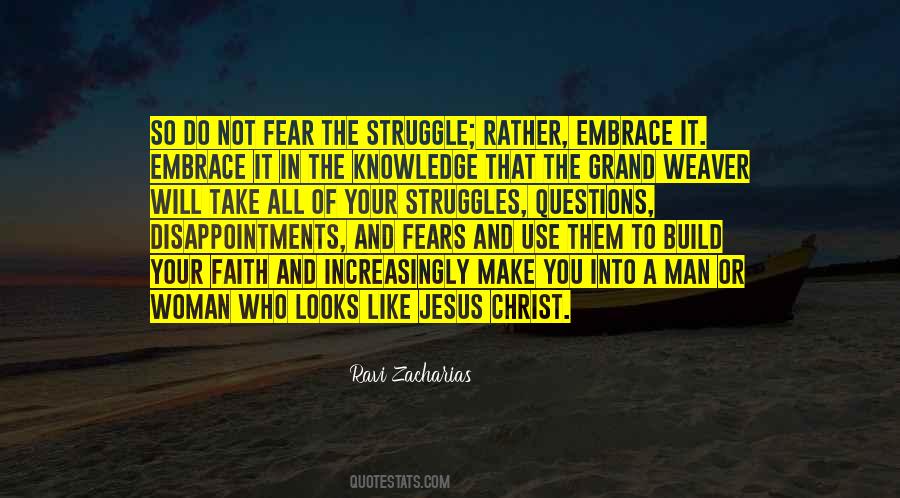 #89. Your healing begins with a step of faith in the Great Physician, Jesus Christ. - Author: Hector Perez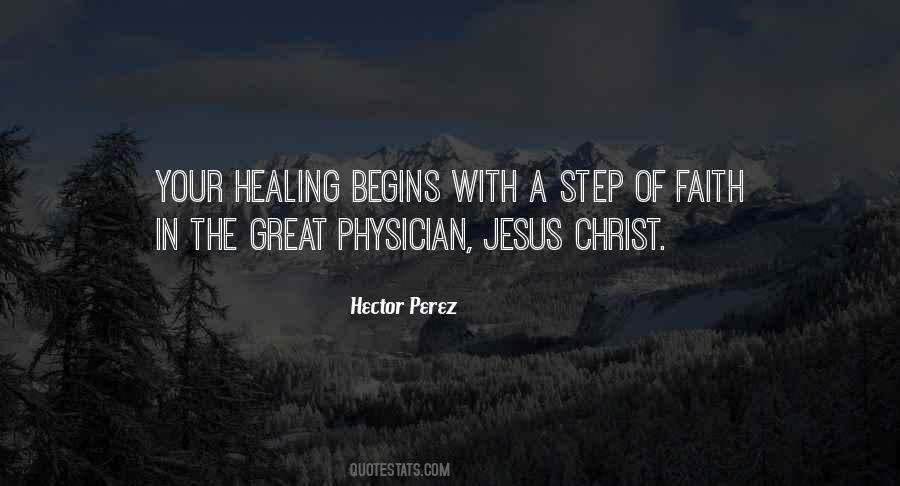 #90. JUNE 22 I am sure of this, that He who started a good work in you will carry it on to completion until the day of Christ Jesus. Philippians 1:6 Our glorious walk with God began with an act of faith that brought us into relationship with Jesus Christ as our Savior, but it doesn - Author: Beth Moore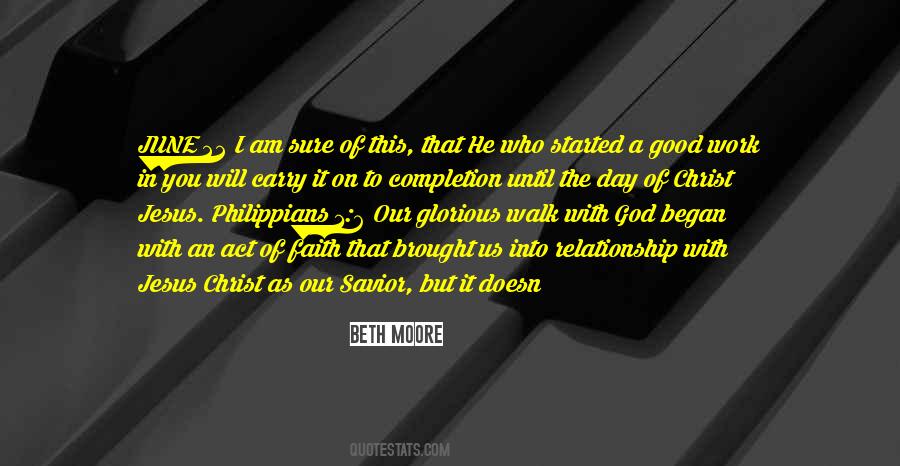 #91. Jesus has prayed over us that our faith in Him will not fail but rather be strengthened by the process we go through. - Author: E'yen A. Gardner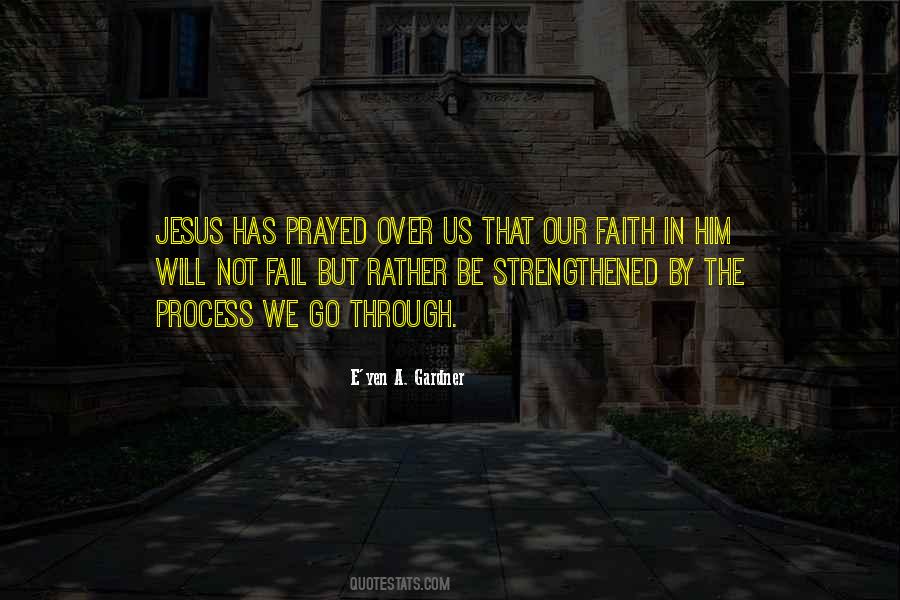 #92. If the church is to survive as a place where head and heart are equal partners in faith, then we will need to commit ourselves once again not to the worship of Christ, but to the imitation of Jesus. His invitation was not to believe, but to follow. (p. 145) - Author: Robin R. Meyers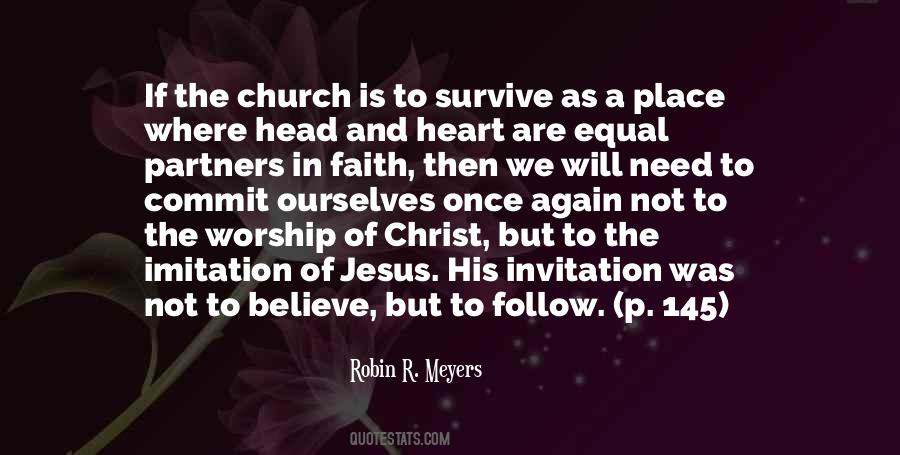 #93. Certainly I have no faith in Jehovah, although I think it quite likely that Jesus Christ, as a preacher and a wise man, did indeed exist. - Author: Terry Pratchett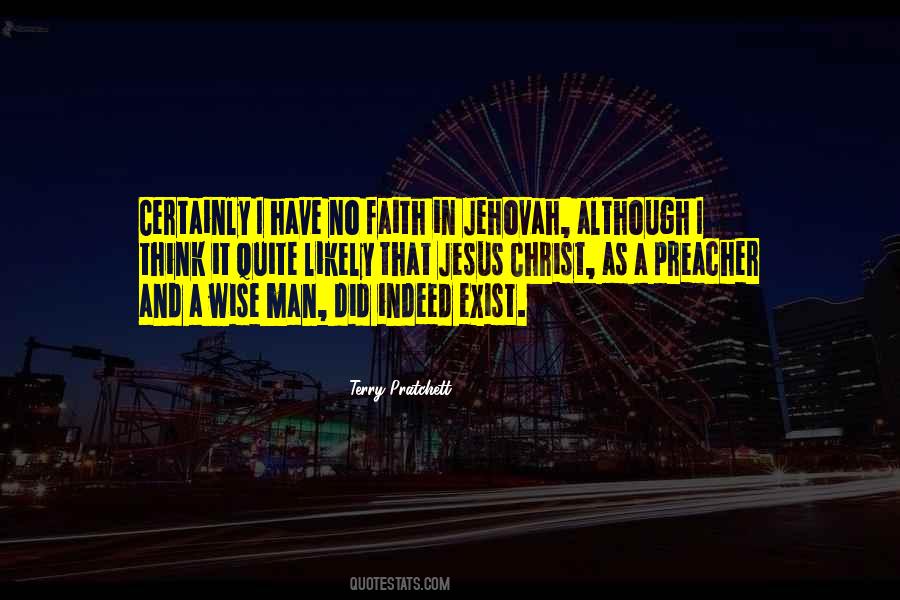 #94. Pray to Him for forgiveness and, by faith, receive Jesus Christ into your life. Then you will have assurance that your name has been written in the Book of Life which God Himself will open and read someday. Nothing will bring us greater joy than hearing the Savior call our names. - Author: Billy Graham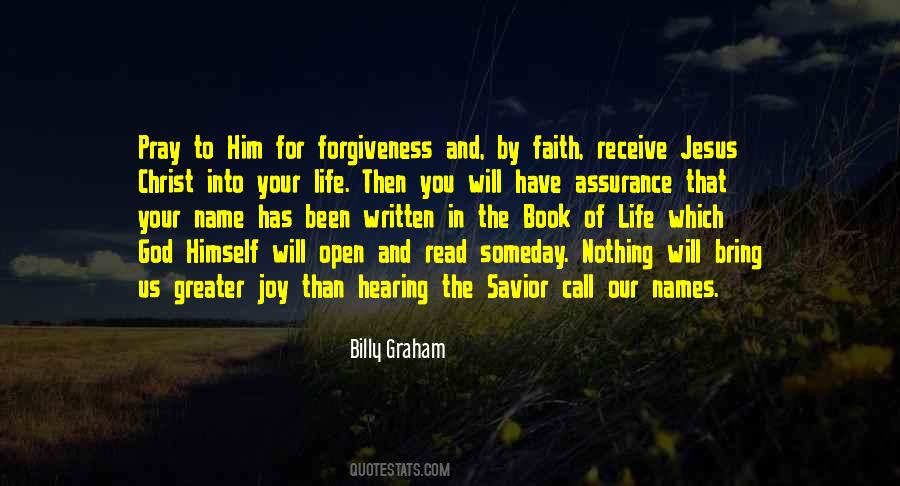 #95. It is not great faith, but true faith, that saves; and the salvation lies not in the faith, but in the Christ in whom faith trusts ... It is not the measure of faith, but the sincerity of faith, which is the point to be considered. - Author: Charles Haddon Spurgeon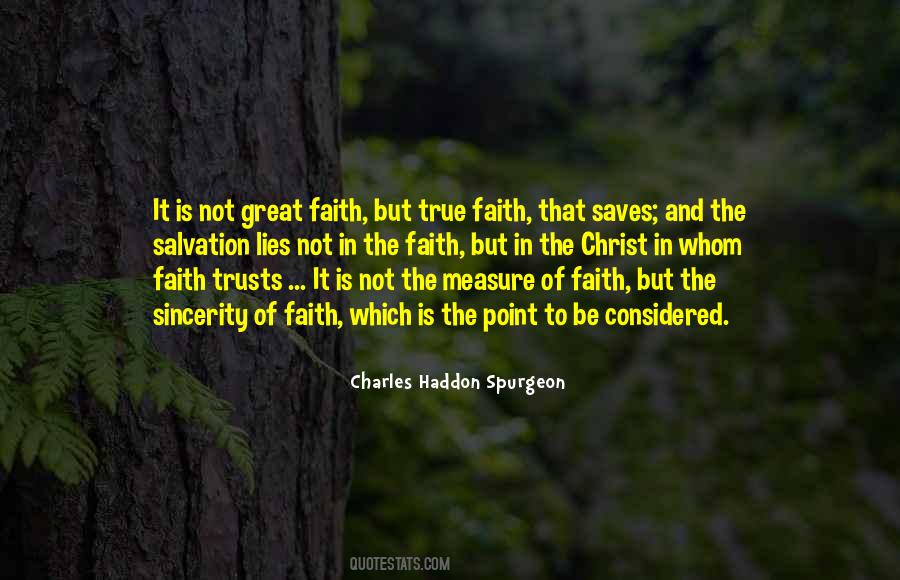 #96. For all of us, we put our faith in the Lord Jesus Christ. He's in our boat. And when those storms come and those waves (of life) come, He's in the boat with us. - Author: Franklin Graham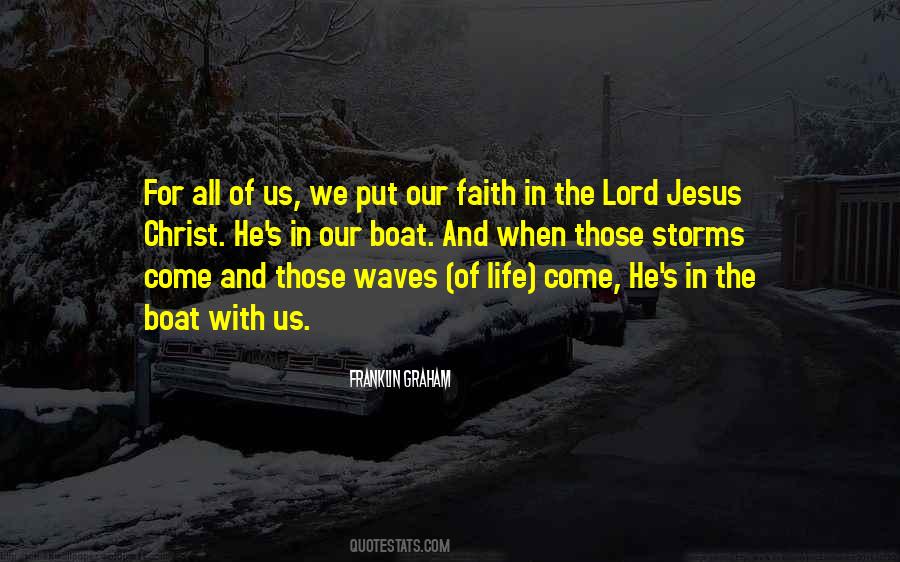 #97. We have very little faith in the Lord, very little trust. If we trusted the Lord as much as we trust a friend when we ask him to do something for us, neither we as individuals nor our whole country would suffer so much. - Author: Thaddeus Of Vitovnica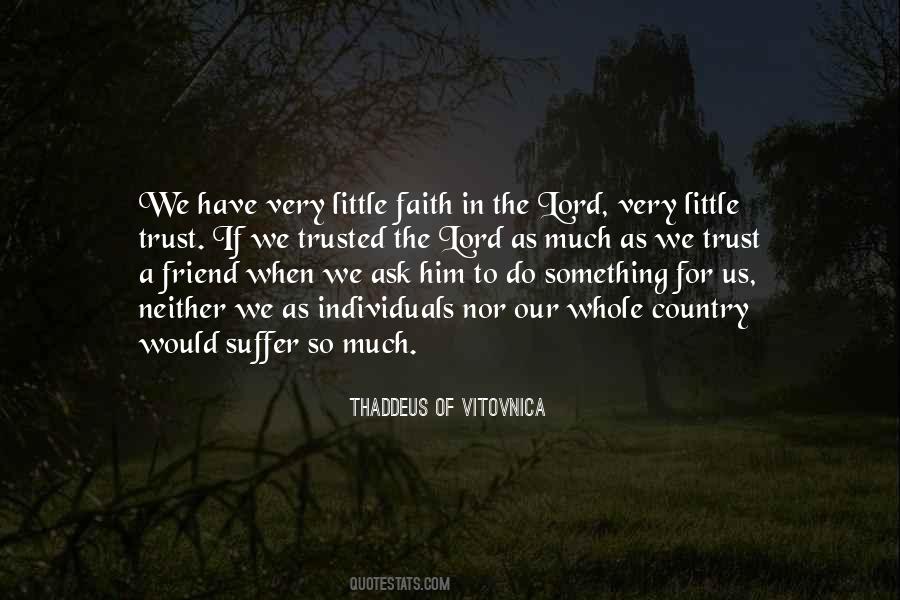 #98. In Jesus Christ victory we have and that's inevitable. - Author: Evans Biya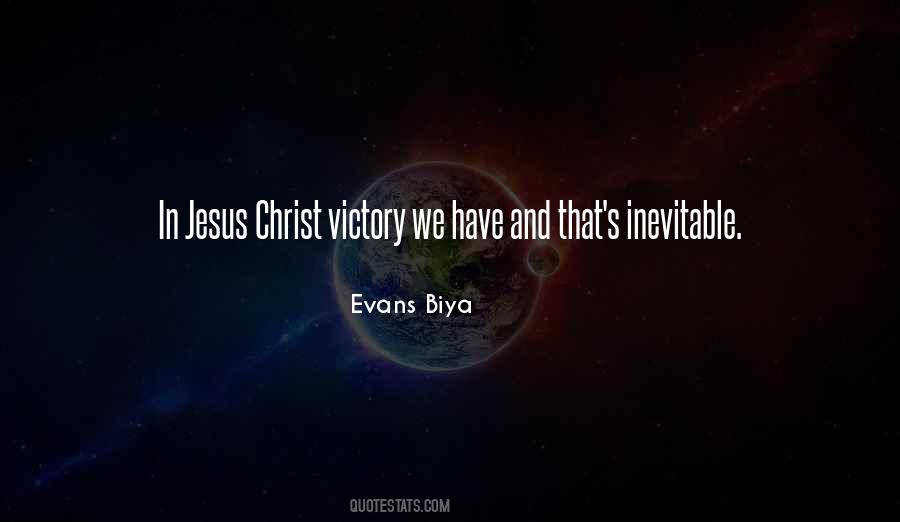 #99. Faith that trusts on Jesus alone for salvation, and not on your respectable life, and the obedience that follows Him, are the indispensable steps to salvation. You admit that you have not taken these decisive steps. Then, however near you are, you are not in Christ. - Author: Theodore L. Cuyler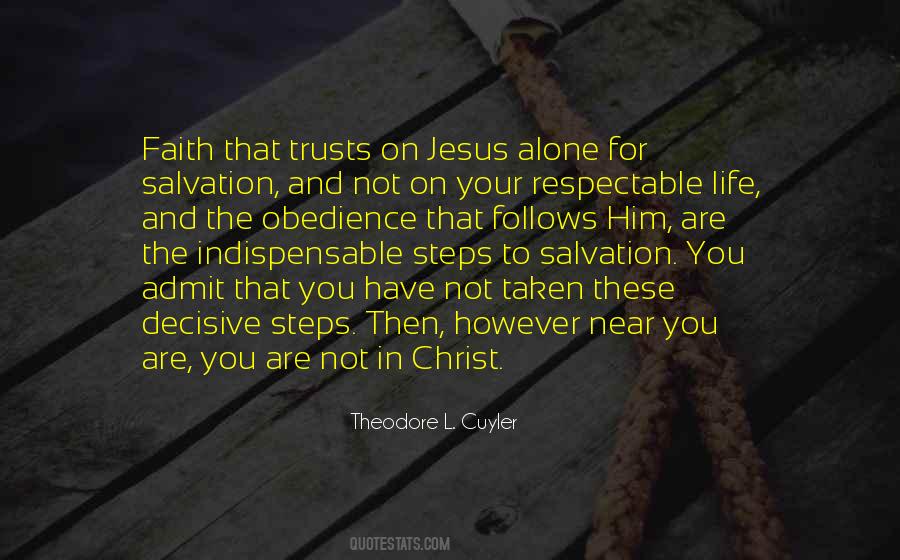 #100. We're not going to survive in this world, temporally or spiritually, without increased faith in the Lord-and I don't mean a positive mental attitude-I mean downright solid faith in the Lord Jesus Christ. That is the one thing that gives vitality and power to otherwise rather weak individuals. - Author: A. Theodore Tuttle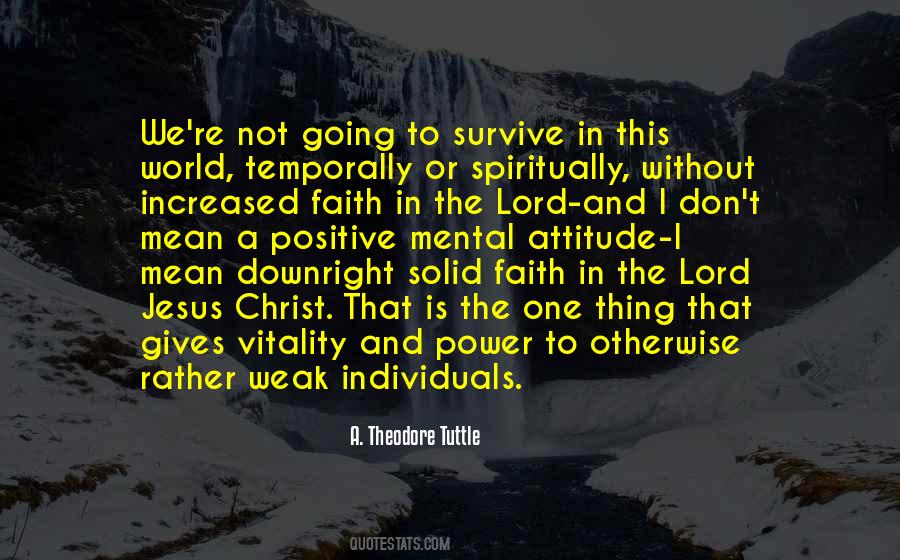 Famous Authors
Popular Topics