Evil Human Nature Famous Quotes & Sayings
List of top 71 famous quotes and sayings about evil human nature to read and share with friends on your Facebook, Twitter, blogs.
Top 71 Quotes About Evil Human Nature
#1. Those who would extirpate evil from the world know little of human nature. As well might punch be palatable without souring as existence agreeable without care. - Author: James Boswell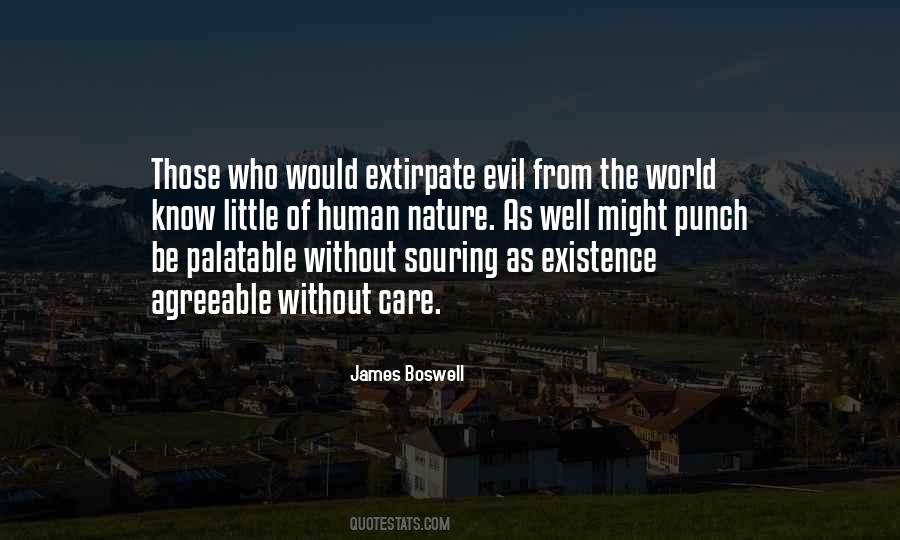 #2. She believed, and was entitled to believe, I must say, that all human beings were evil by nature, whether tormentors or victims, or idle standers-by. They could only create meaningless tragedies, she said, since they weren't nearly intelligent enough to accomplish all the good they were meant to do. - Author: Kurt Vonnegut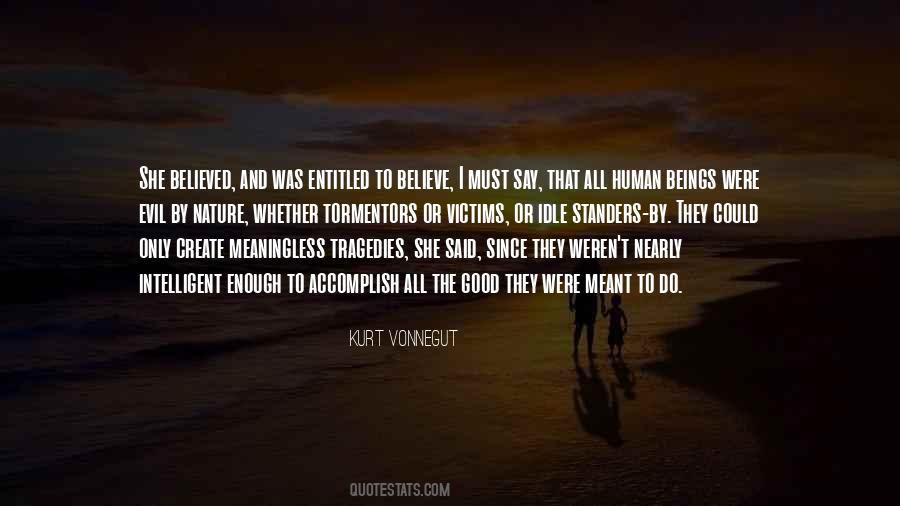 #3. Original sin - that is to say, the sin of having been born with human nature that contains within it the temptation to evil - will always make a mockery of attempts at perfection based upon manipulation of the environment. - Author: Theodore Dalrymple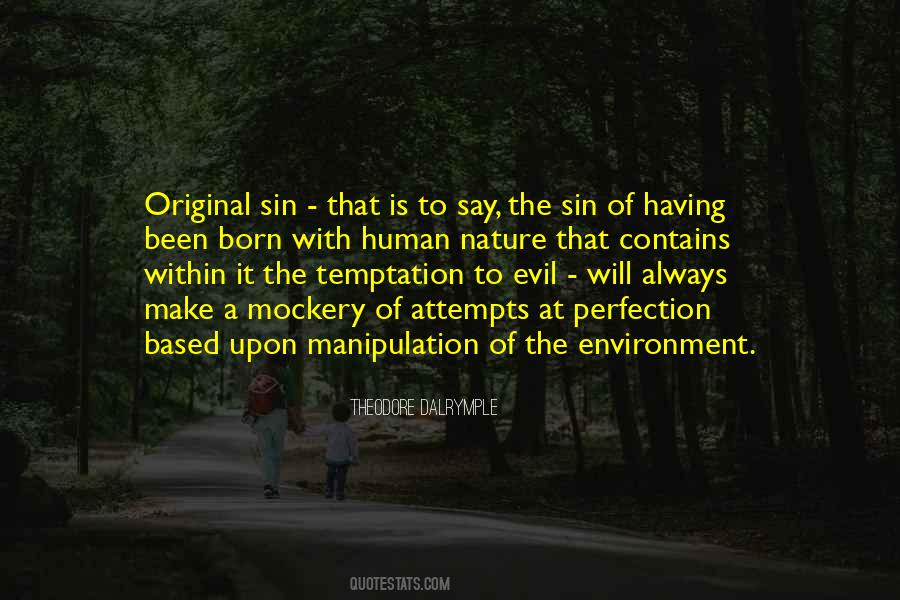 #4. Humans can be as good as they can be bad. Because goodness and evil both are biological traits of the mind. - Author: Abhijit Naskar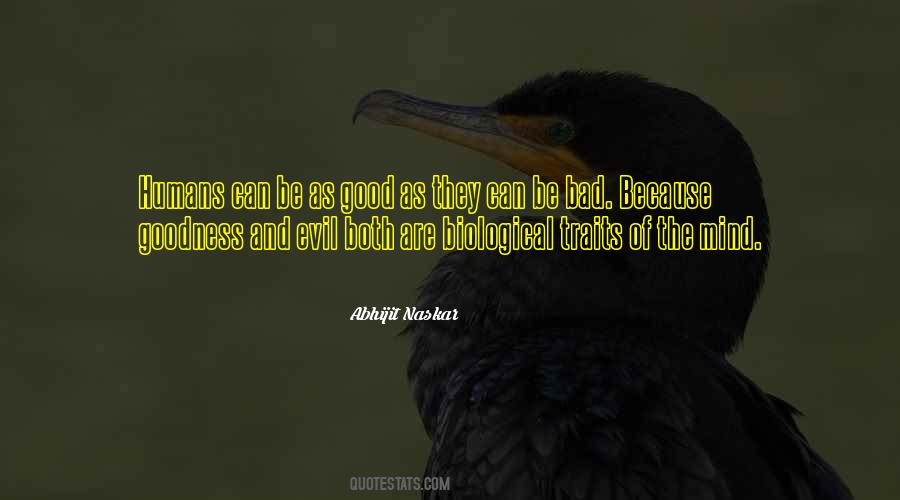 #5. There are people who believe in the basic goodness of human nature. I believe in the basic evil of human nature. ~ Aarush Kashyap - Author: Kirtida Gautam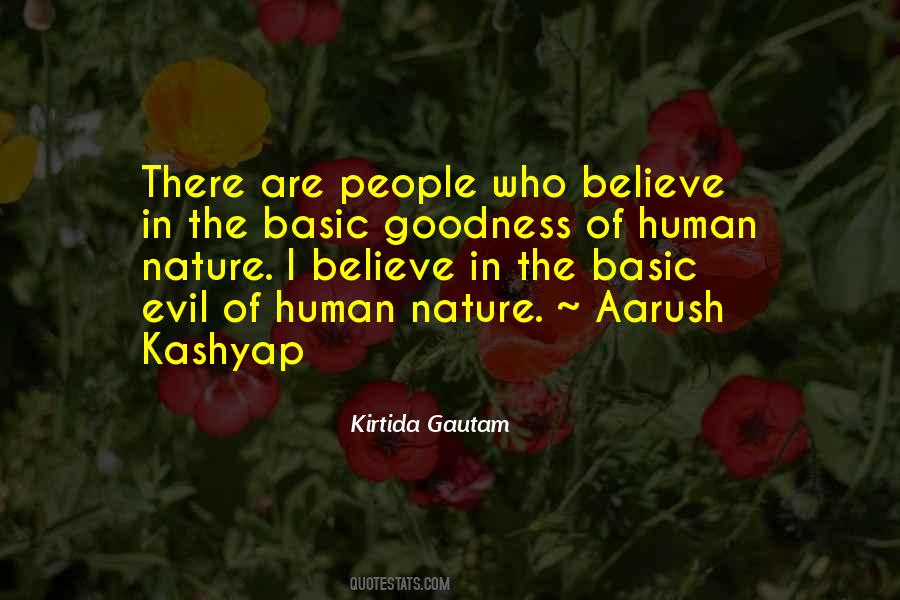 #6. Whoever originated the cliche that money is the root of all evil knew hardly anything about the nature of evil and very little about human beings. - Author: Eric Hoffer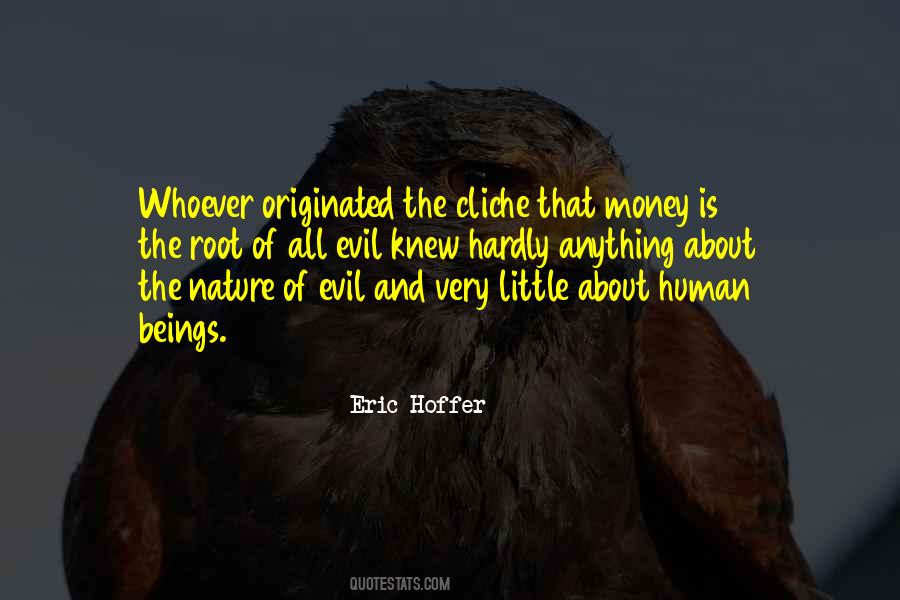 #7. God's solution to the problem of evil is his Son Jesus Christ. The Father's love sent his Son to die for us to defeat the power of evil in human nature: that's the heart of the Christian story. - Author: Peter Kreeft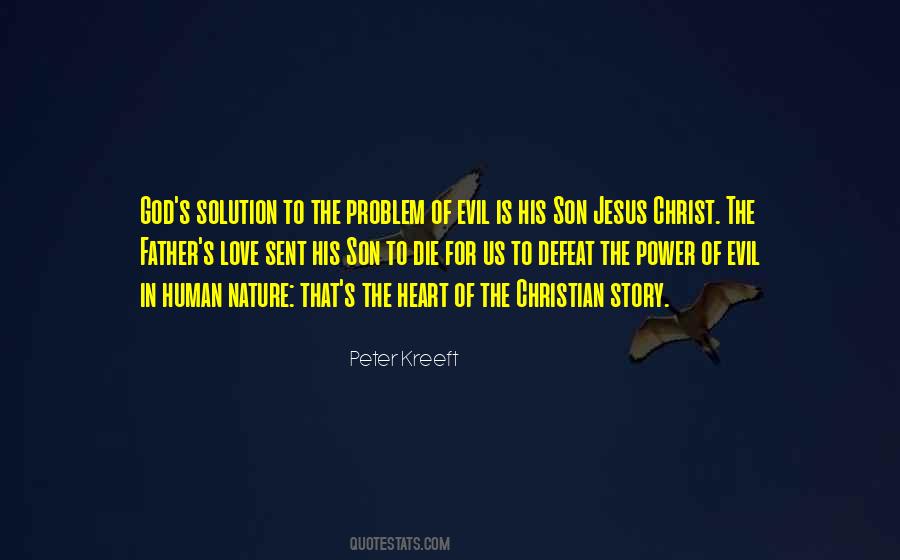 #8. Is human nature basically good or evil? No economist can embark upon his profession without considering this question, and yet they all seem to. And they all seem to think human nature is basically good, or they wouldn't be surprised by the effects of deregulation. - Author: Jane Smiley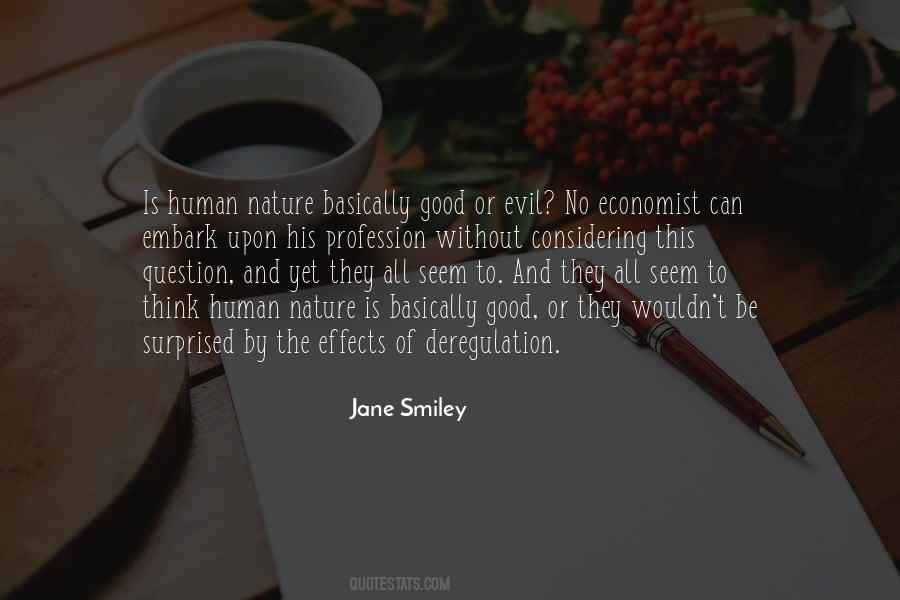 #9. I tell myself I write because I want to say something true and original about the nature of evil. That is very ambitious - to say something about the human condition that hasn't been written before. Probably I will never succeed but that is what I strive to do. - Author: Jo Nesbo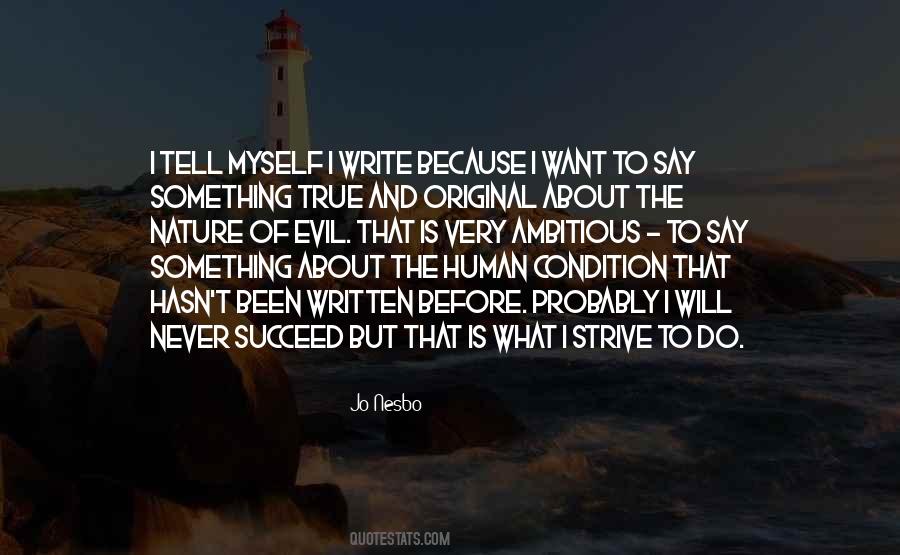 #10. He who commends the nature of the soul as the supreme good, and condemns the nature of the flesh as evil, at once both carnally desires the soul, and carnally flies the flesh, because he feels thus from human vanity, not from divine truth. - Author: Saint Augustine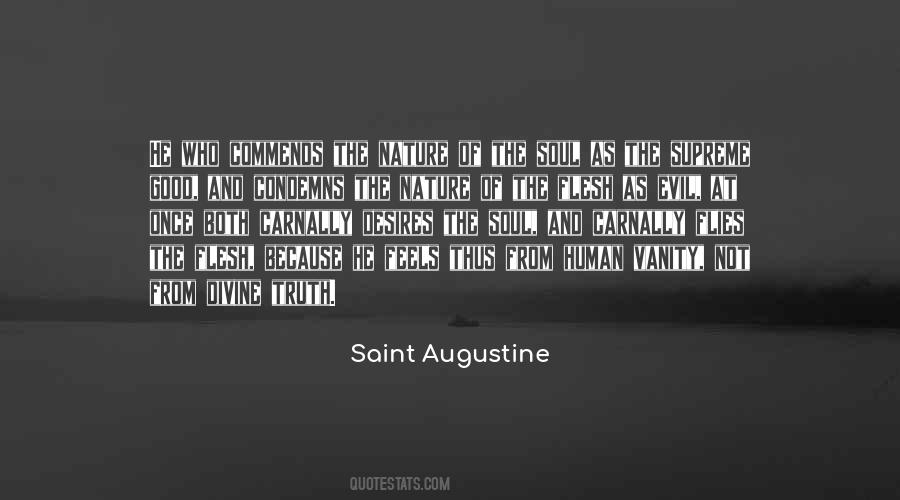 #11. The ultimate evil is the weakness, cowardice, that is one of the constituents of so much human nature. When, rarely, unalloyed nobility does occur, its chances of prevailing are slim. Yet it exists, and its mere existence is reason enough for not wiping the name of mankind off the slate. - Author: John Simon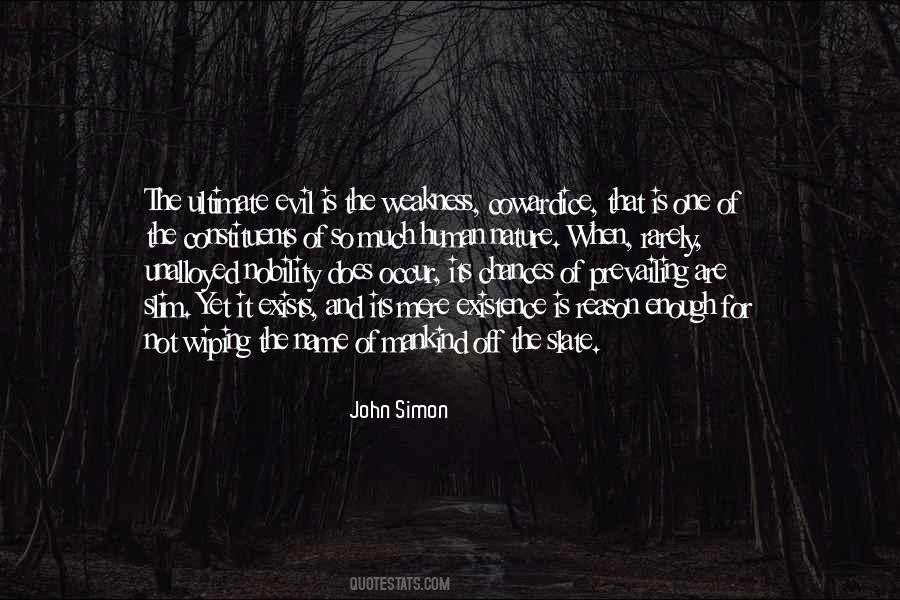 #12. Do not let the evil become our masters, but make the good reign upon the world. - Author: Abhijit Naskar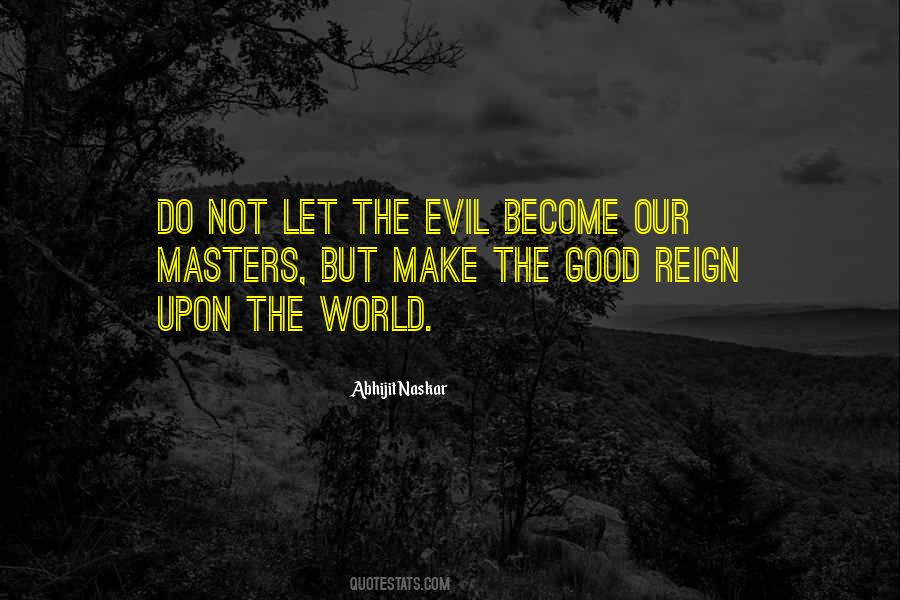 #13. Human nature turns out to be more complicated than the idea that people will get along if only the rules are clear enough. Uncertainty, the ultimate evil that modern law seeks to eradicate, generally fosters cooperation, not the opposite. - Author: Philip K. Howard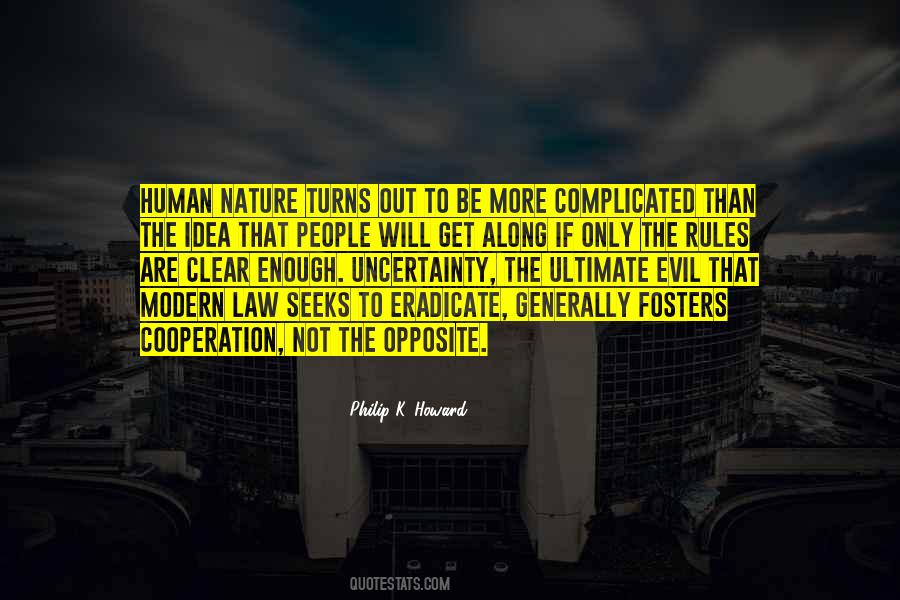 #14. Who hasn't got the seeds of evil in him? - Author: Bangambiki Habyarimana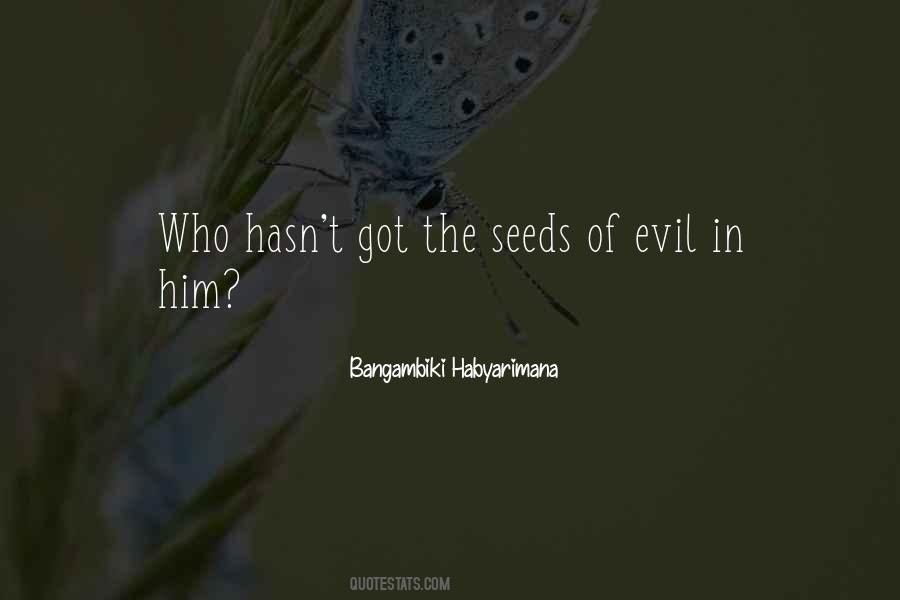 #15. The explanation was plain; this desolation out here called forth all that was evil in human nature. - Author: O.E. Rolvaag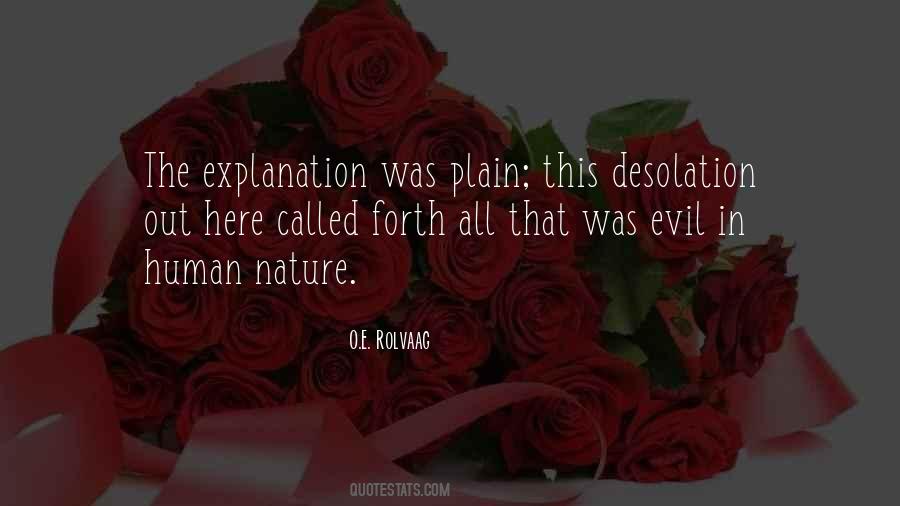 #16. Nothing in the nature around us is evil. This needs to be repeated since one of the human ways of talking oneself into inhuman acts is to cite the supposed cruelty of nature. - Author: John Berger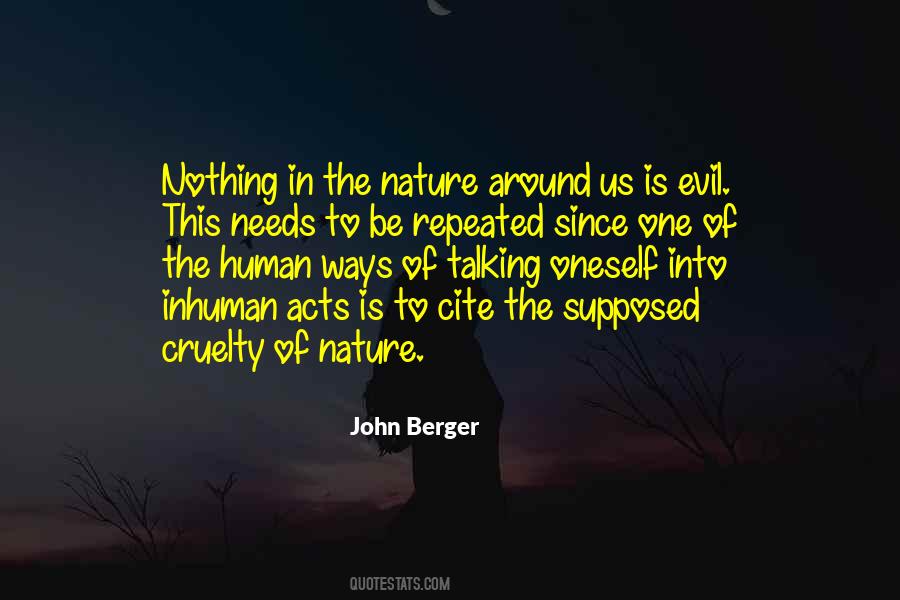 #17. Let education kindle only those which are truly beneficial
to the human species; let it favour those alone which are really necessary to the maintenance of society. The passions of man are dangerous, only because every thing conspires to give them an evil direction. - Author: Paul Henri Thiry D'Holbach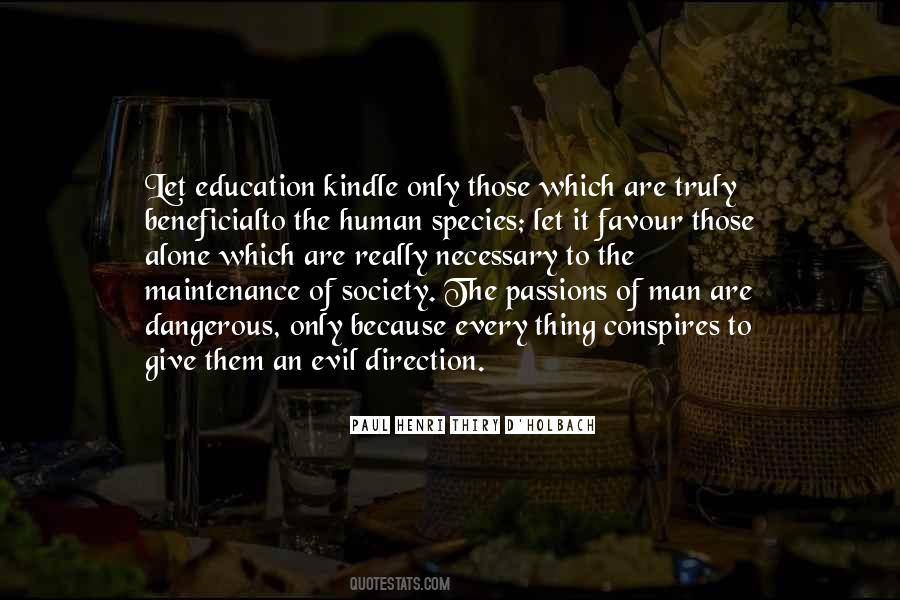 #18. All good and evil, whether in the body or in human nature, originates in the soul, and overflows from thence, as if from the head into the eyes. - Author: Plato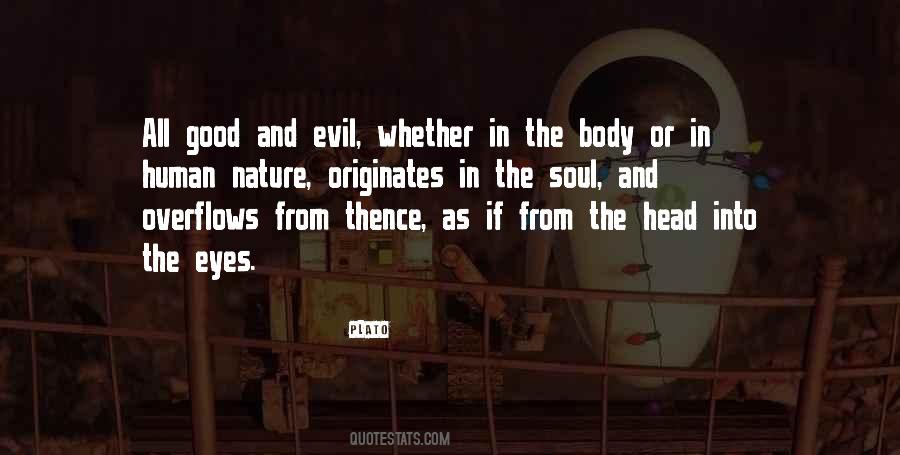 #19. There is something mean in human nature that prefers to think evil, that gives a willing ear and a ready welcome to calumny, a sort of jealousy of goodness and greatness and things of good report. - Author: Richard Le Gallienne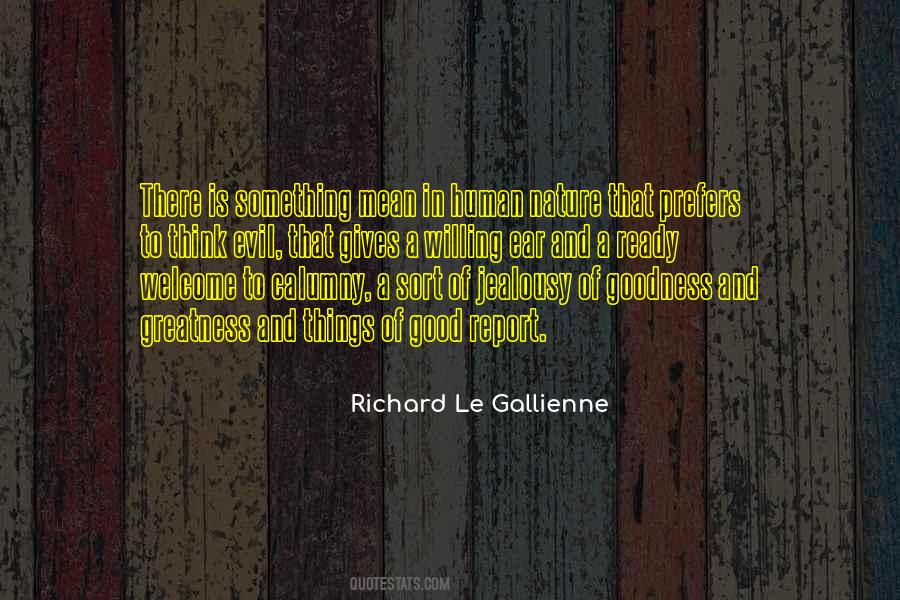 #20. Man is an animal who has to live in a lie in order to
live at all. - Author: Ernest Becker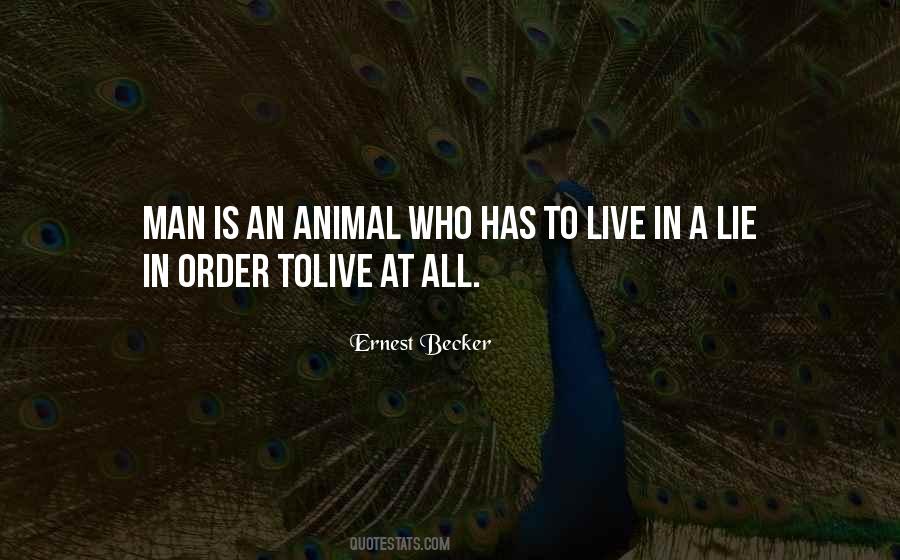 #21. How do evil people find the strength to do good? - Author: Keith Hollihan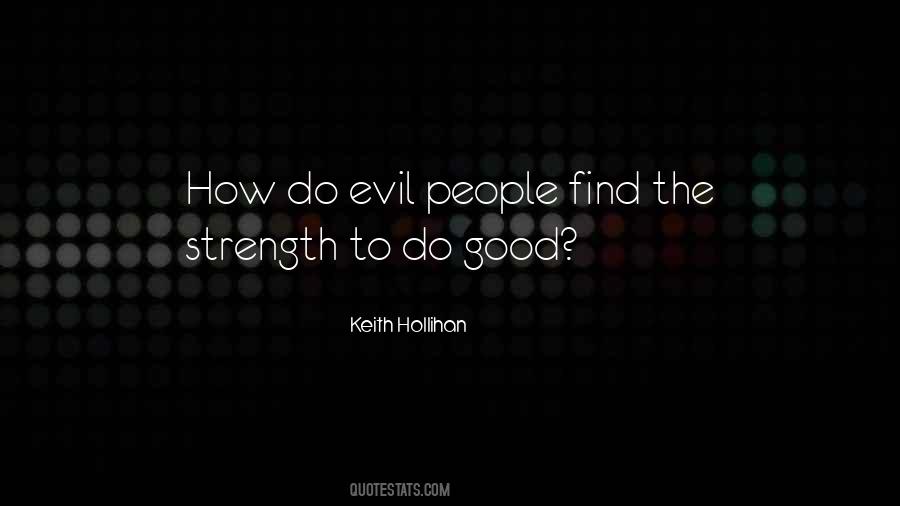 #22. For all good and evil, whether in the body or in human nature, originates ... in the soul, and overflows from thence, as from the head into the eyes. - Author: Plato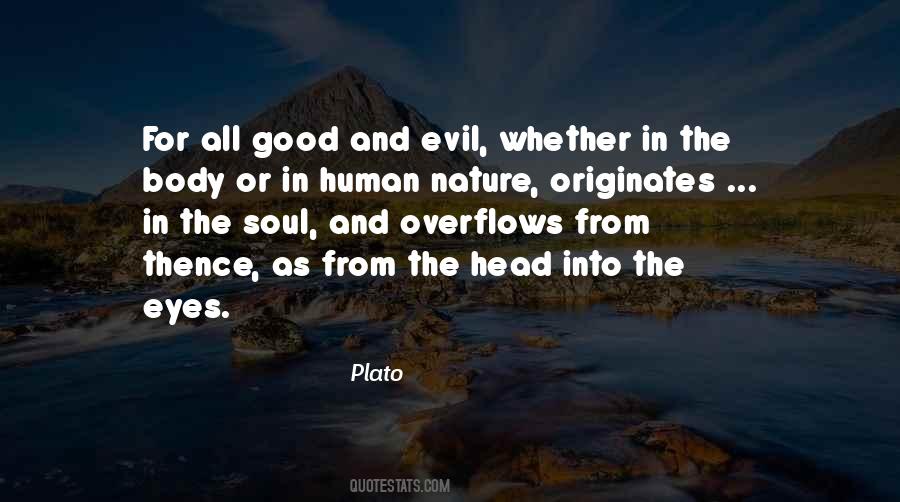 #23. Poor God, how often He is blamed for all the suffering in the
world. It's like praising Satan for allowing all the good that happens. - Author: E.A. Bucchianeri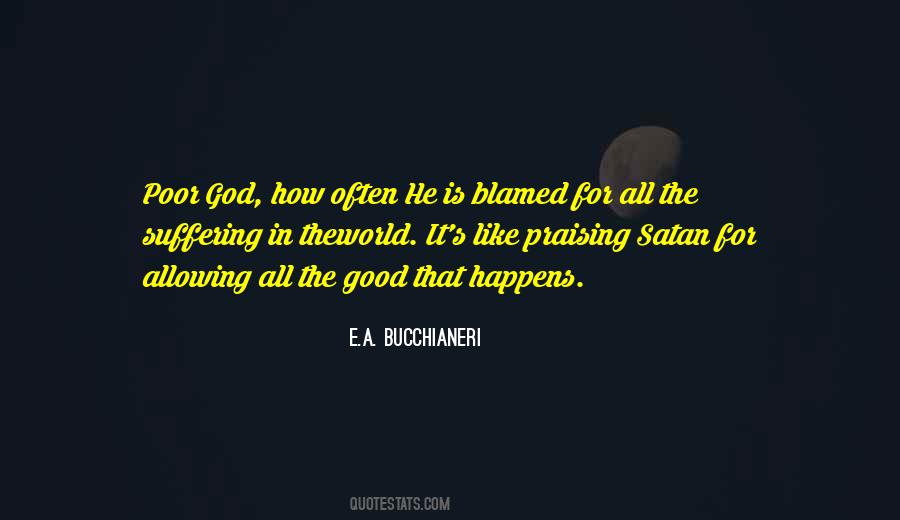 #24. About the nature of human beings. I discovered that confronted by temptation, we will always fall. Given the right circumstances, every human being on this earth would be willing to commit evil. - Author: Paulo Coelho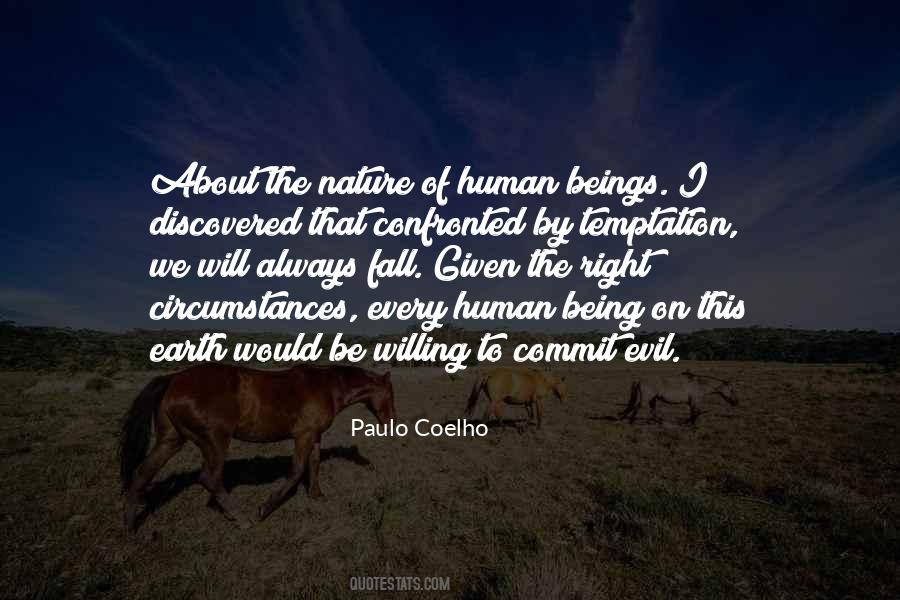 #25. Good and evil are both fundamental features of the human mind. - Author: Abhijit Naskar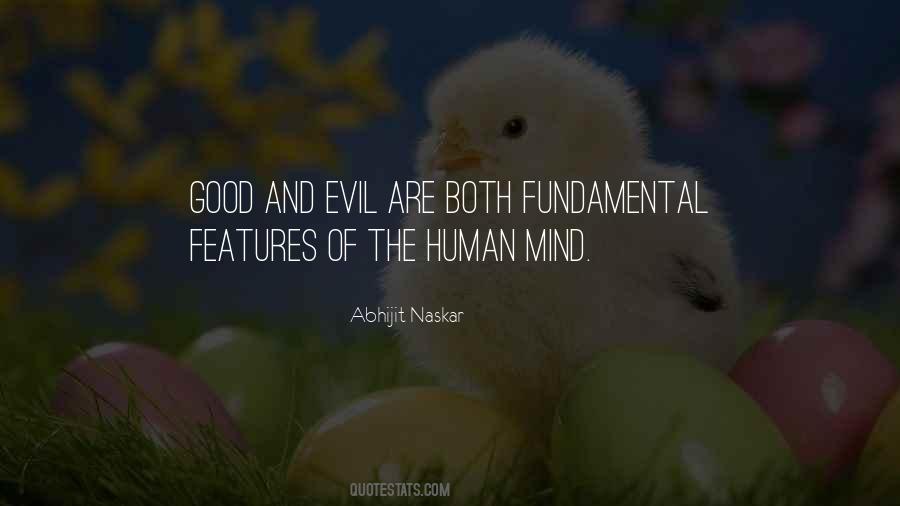 #26. People do terrible things. People do beautiful things. It's against the black backdrop of evil that the shining light of good shows the brightest. We can't just focus on the darkness of the night, or we'll miss out on the stars. - Author: Wendy Mills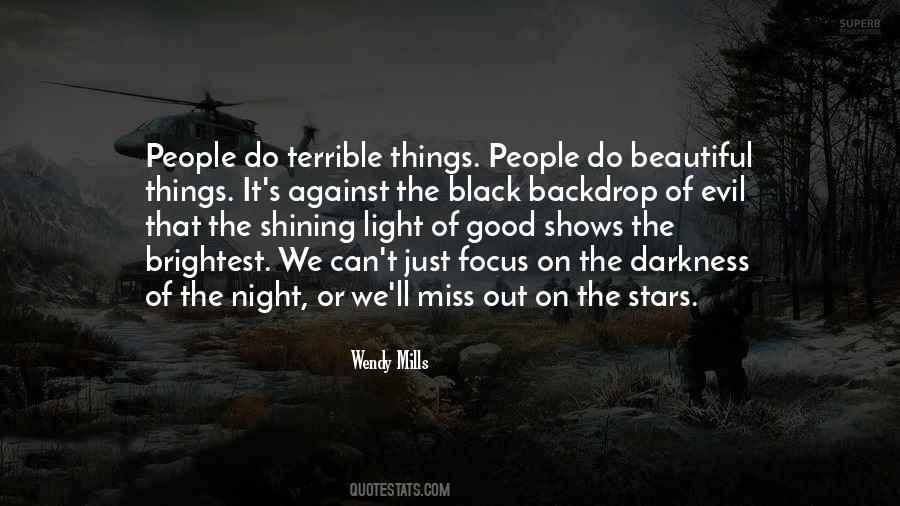 #27. Man's nature is not essentially evil. Brute nature has been known to yield to the influence of love. You must never despair of human nature. - Author: Mahatma Gandhi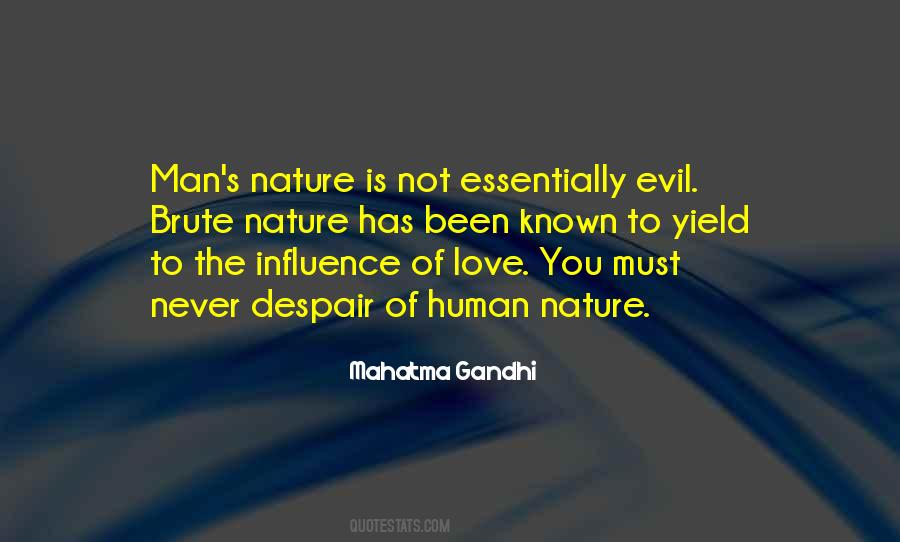 #28. Human nature is evil, and goodness is caused by intentional activity. - Author: Xun Zi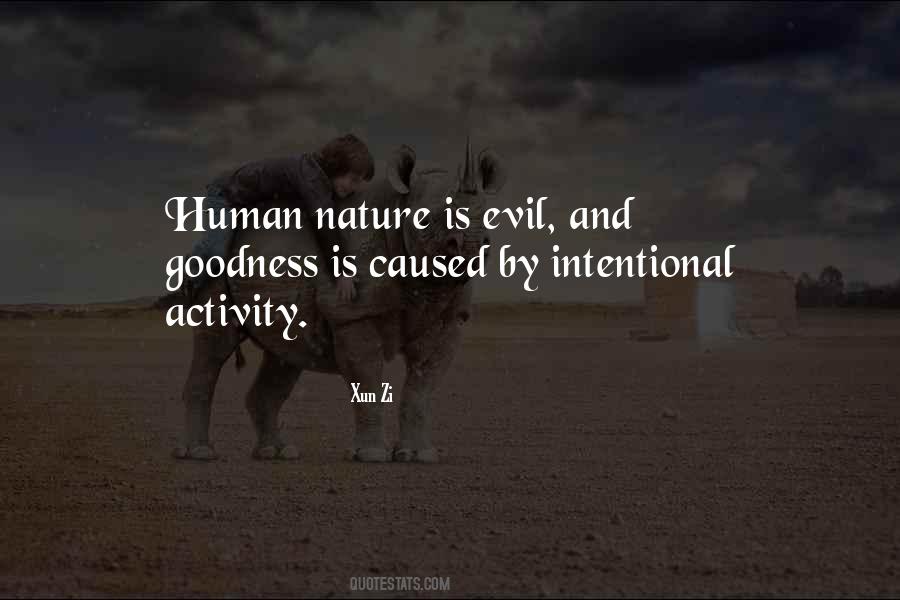 #29. Man is meant for good but designed for evil. - Author: Raheel Farooq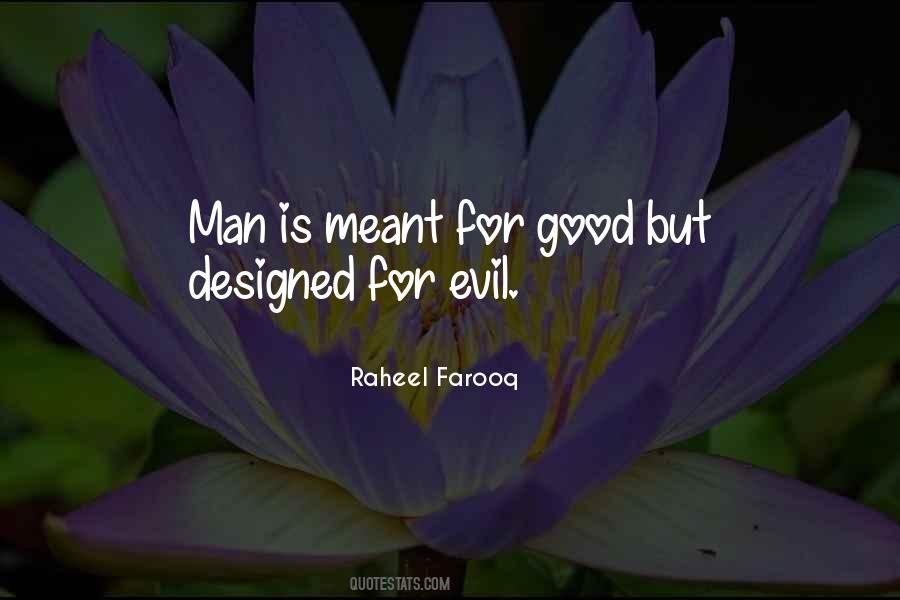 #30. The violence and injustice of the rulers of mankind is an ancient evil, for which, I am afraid, the nature of human affairs can scarce admit a remedy. - Author: Adam Smith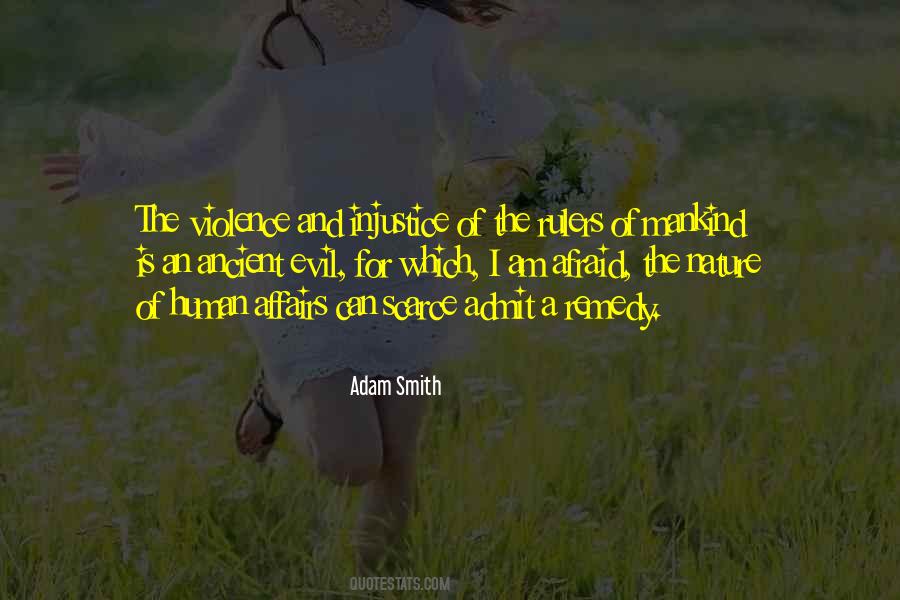 #31. She had an evil face, smoothed by hypocrisy; but her manners were excellent. - Author: Robert Louis Stevenson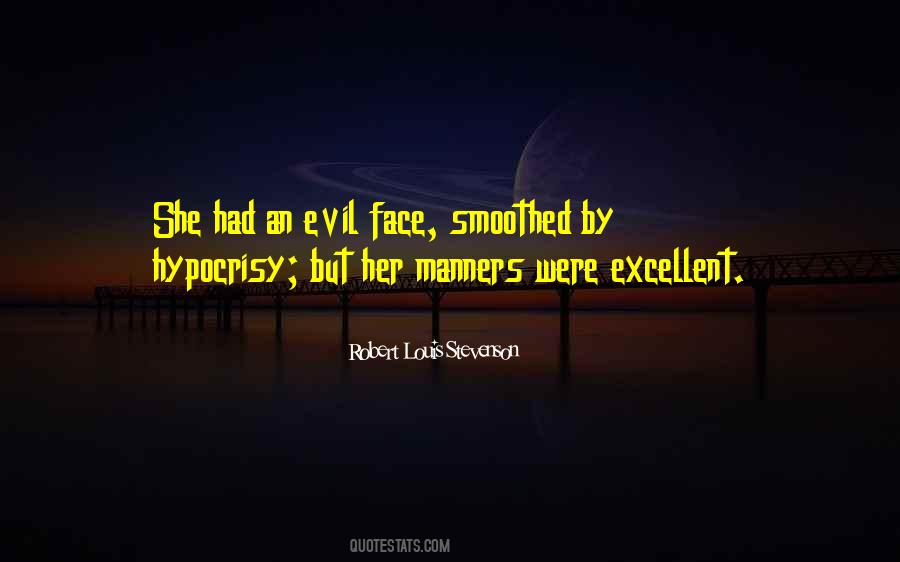 #32. I have experienced real horror. I have known true evil. Its name is human nature. - Author: James Newman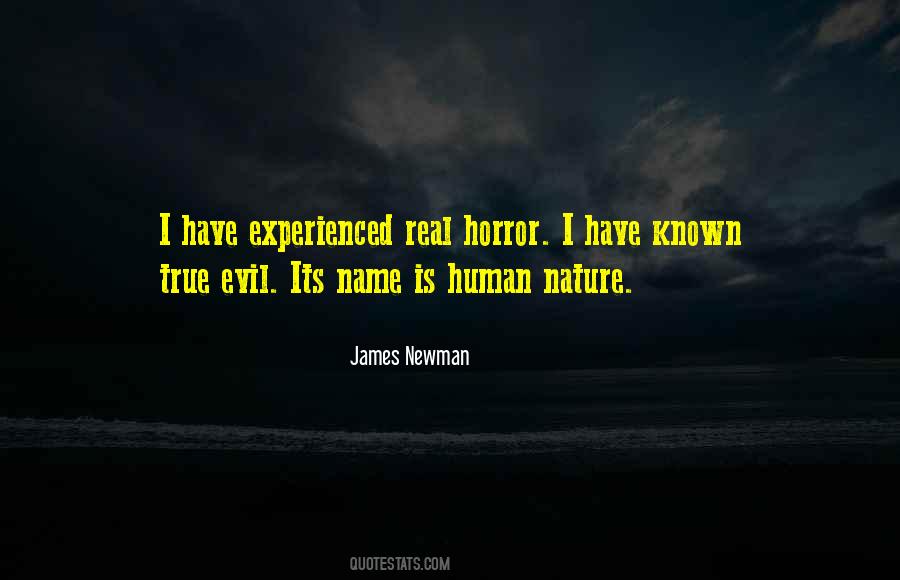 #33. The state is concerned with the promotion of outward righteousness arising from the individual being constrained to keep the law. The Gospel alters human nature, whereas the state merely restrains human greed and evil, having no positive power to alter human motivation. - Author: Alister E. McGrath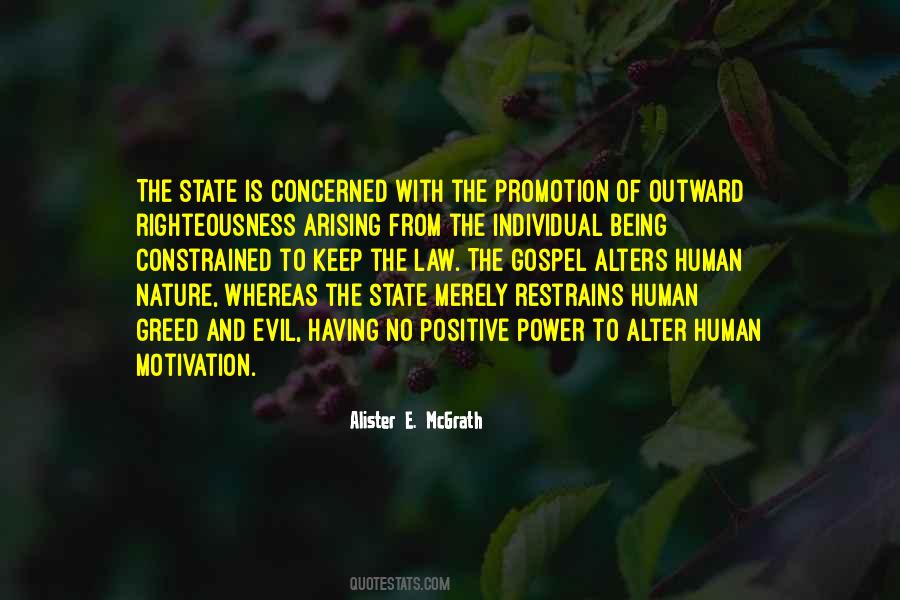 #34. Almost all people have this potential for evil, which would be unleashed only under certain dangerous social circumstances. - Author: Iris Chang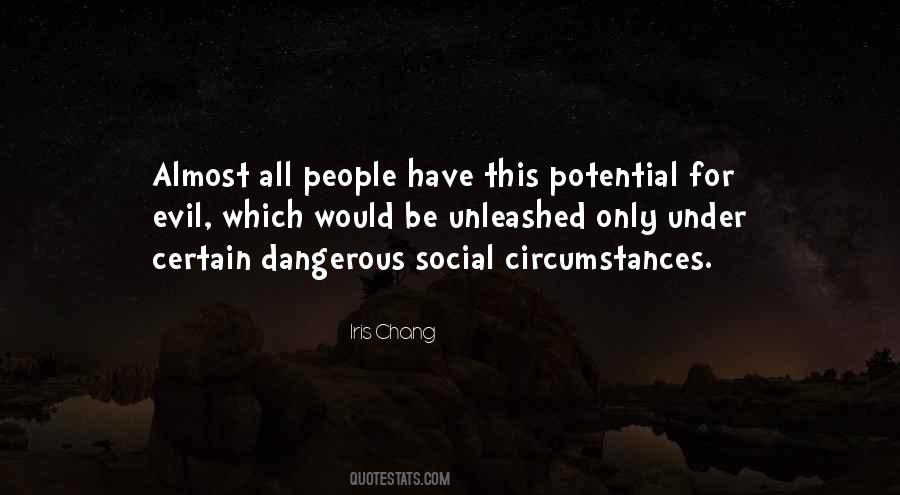 #35. All these words, words like 'evil' and 'vicious', they meant nothing to Nature. Yes, evil was a human invention. - Author: John Marsden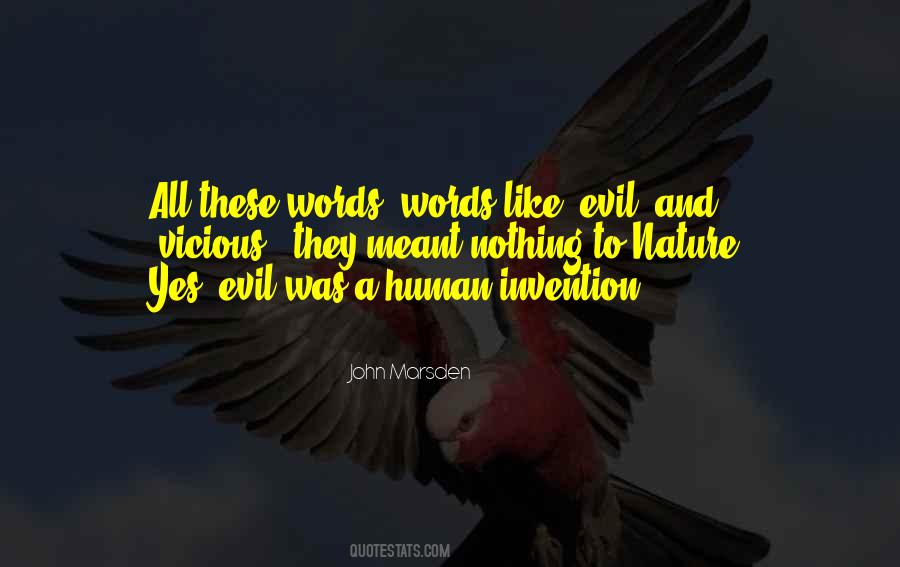 #36. Men are willing to keep their evil characters if they can but get rid fo their evil reputations. They are scrupulously studious of appearances. - Author: F.W. Boreham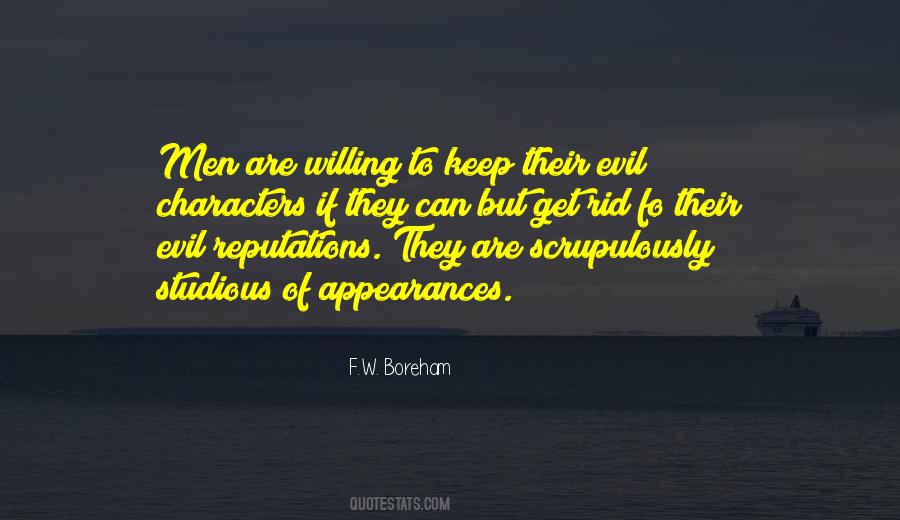 #37. Promiscuous reading is necessary to the constituting of human nature. The attempt to keep out evil doctrine by licensing is like the exploit of that gallant man who thought to keep out the crows by shutting the park gate. - Author: John Milton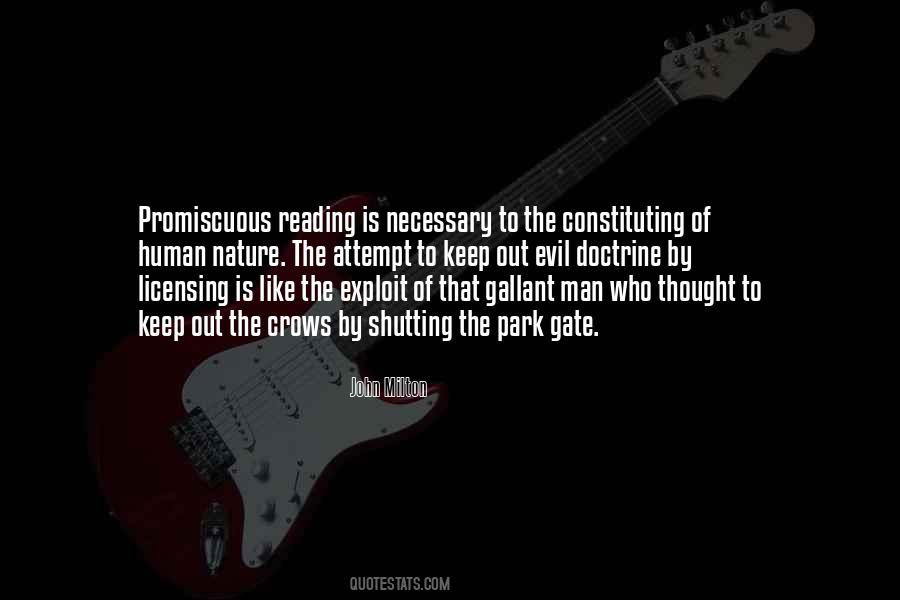 #38. If you are stealing people's thunder just by being around and standing there; you really can't expect people to like you. People want their own thunder to be heard loud and wide, not yours! Swans should never despair over ducks not liking them. - Author: C. JoyBell C.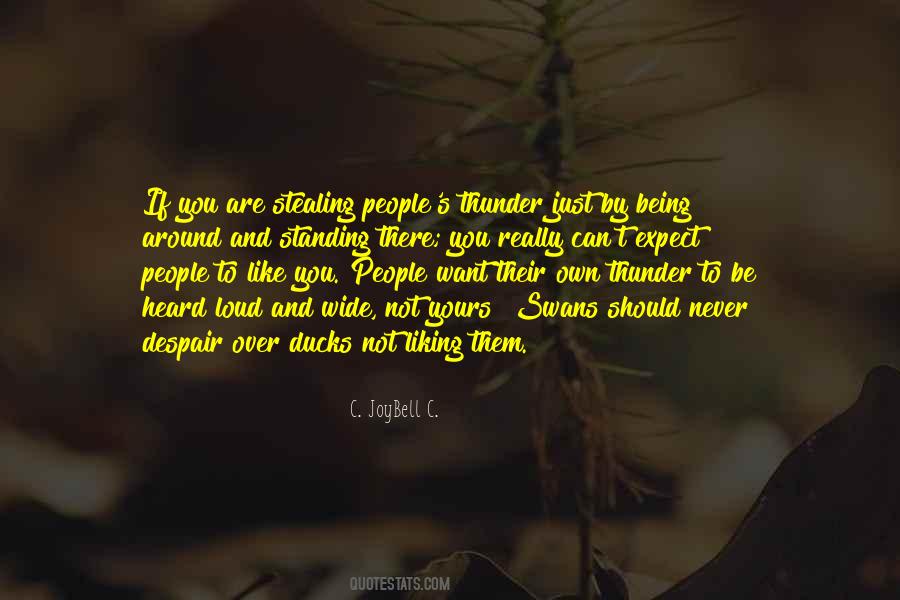 #39. They thought man was a creature of rapacious self-interest, and yet they wanted him to be free- free, in essence, to contend, to engage in an umpired strife, to use property to get property. - Author: Richard Hofstadter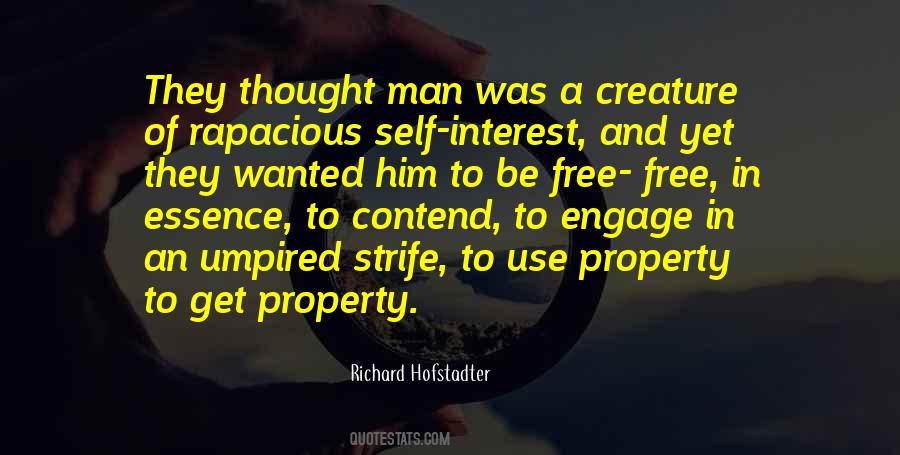 #40. There exists in human nature a strong propensity to depreciate the advantages, and to magnify the evils, of the present times. - Author: Edward Gibbon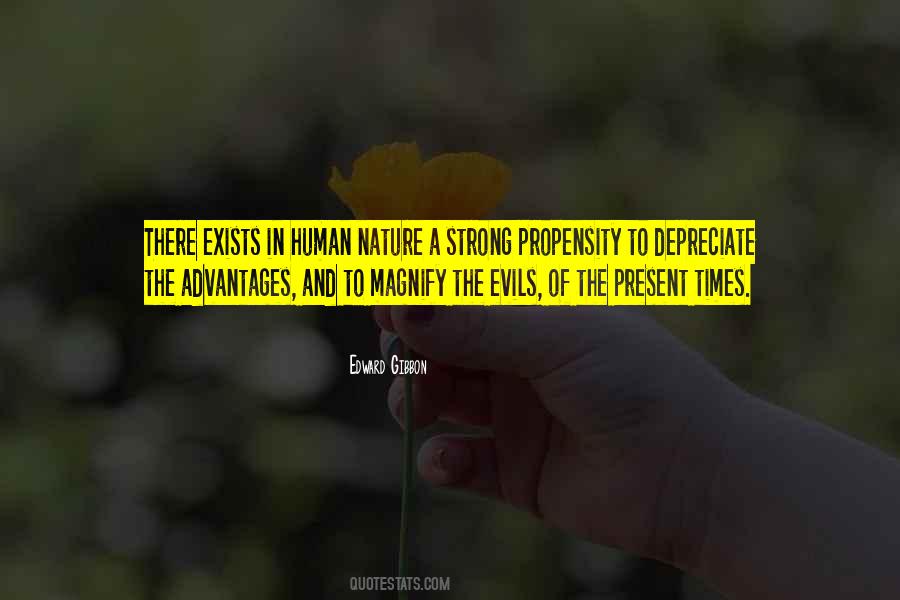 #41. I hope you haven't given up on the S.Q.'s of the world, Reynie. As you see, there are a great many sheep in wolves' clothing. If not for S.Q.'s good nature, we'd never have escaped. - Author: Trenton Lee Stewart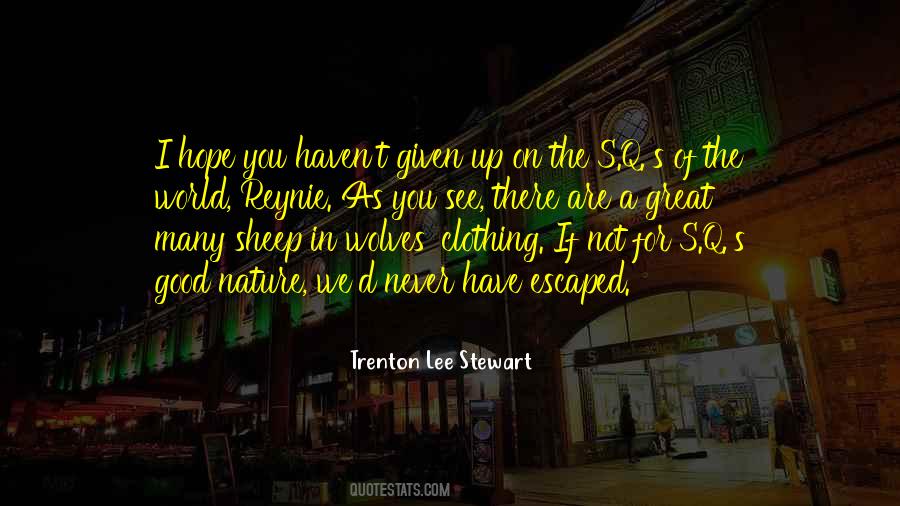 #42. To have thought that, with the right tests and the right lectures, I could be made into a cold-blooded, heartless killer. To have thought that I could ignore the beating of my own heart long enough to stop the beating of another's. - Author: Jessica Khoury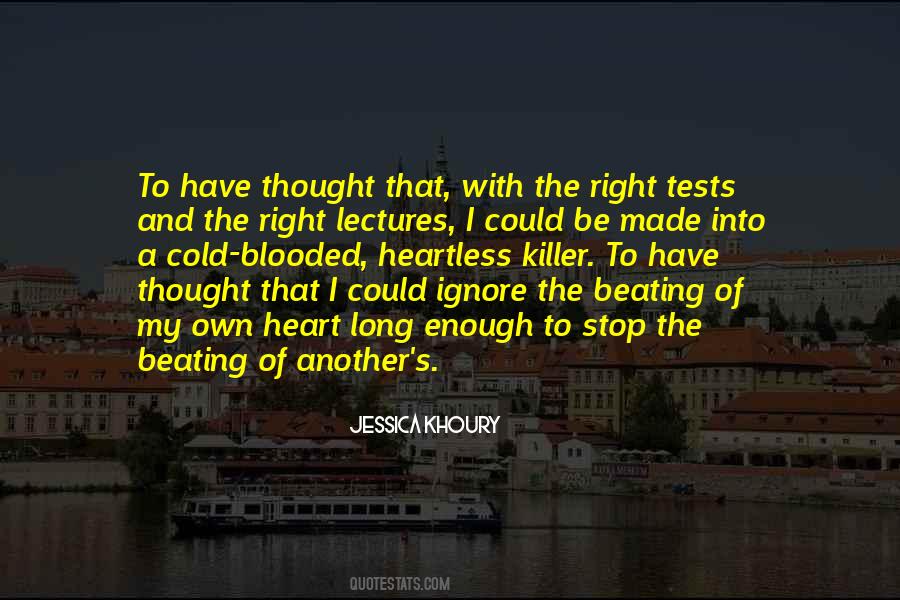 #43. How do we still believe that human nature is not evil when 60 years old men rape 3 years innocent girls? - Author: M.F. Moonzajer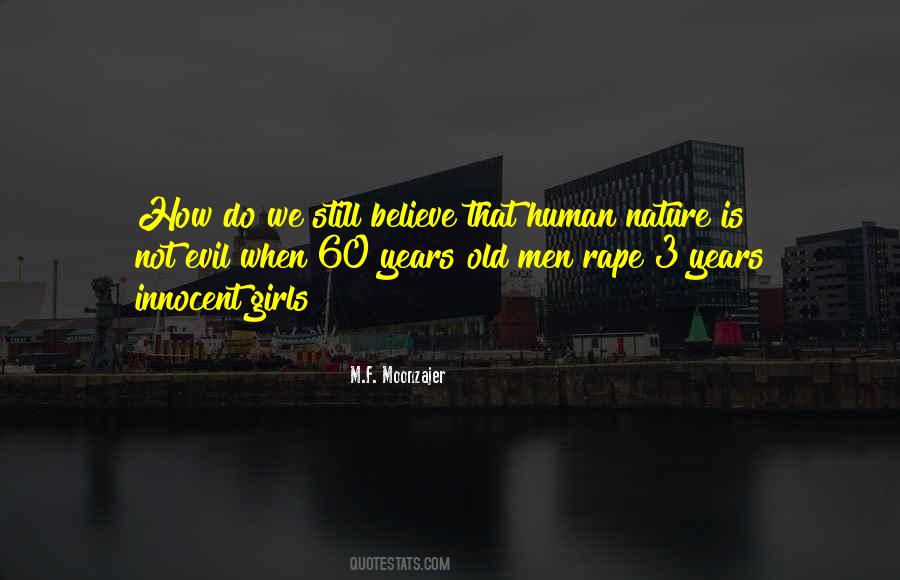 #44. This, I think, is the crux of evil in this world, Majesty: those who feel entitled to whatever they want, whatever they can grab. Such people never ask themselves if they have the right. They consider no cost to anyone but themselves. - Author: Erika Johansen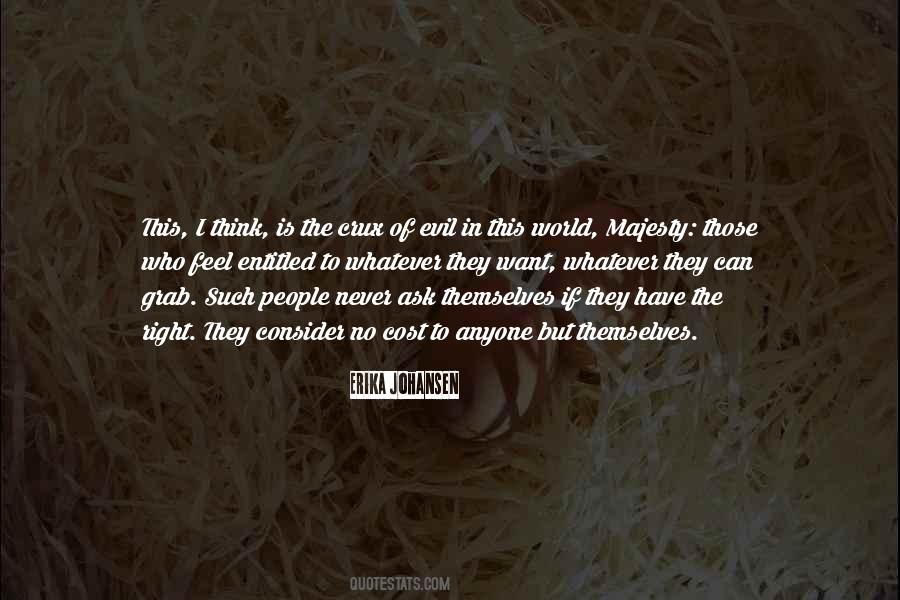 #45. In any event, we must remember that it's not the blinded wrongdoers who are primarily responsible for the triumph of evil in the world, but the spiritually sighted servants of the good. - Author: Fyodor Stepun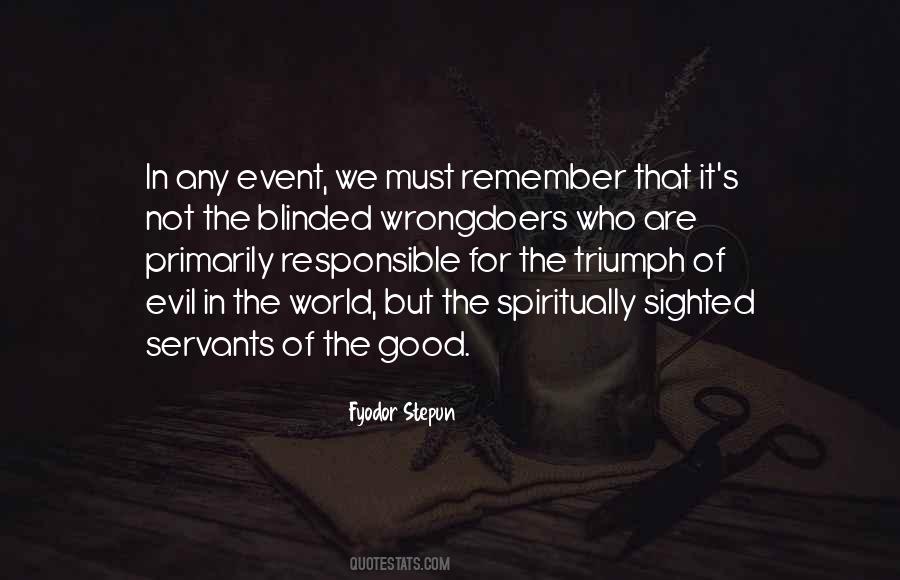 #46. You're either good, or you're clever. - Author: Mackenzi Lee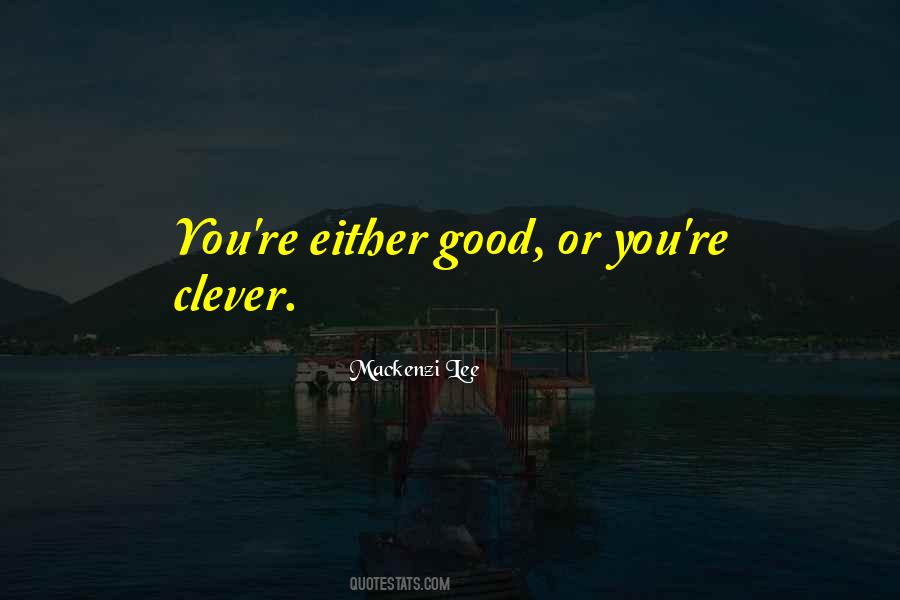 #47. Karou saw them with her human eyes, this army she had rendered more monstrous than ever nature had, and she knew what the world would see in them if they flew to fight the Dominion: demons, nightmares, evil. The sight of the seraphim would be heralded as a miracle. But chimaera? The apocalypse. - Author: Laini Taylor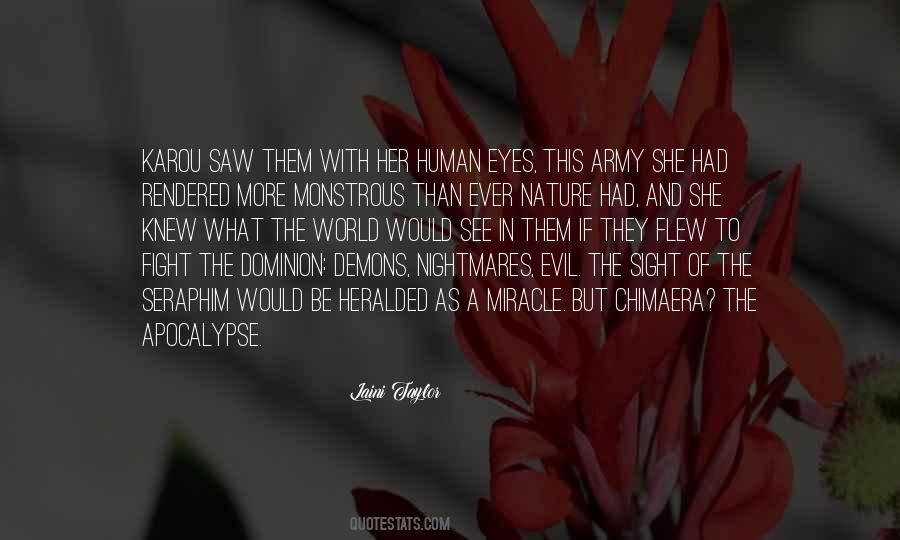 #48. Perhaps it is only human nature to inflict suffering on anything that will endure suffering, whether by reason of its genuine humility, or indifference, or sheer helplessness. - Author: Honore De Balzac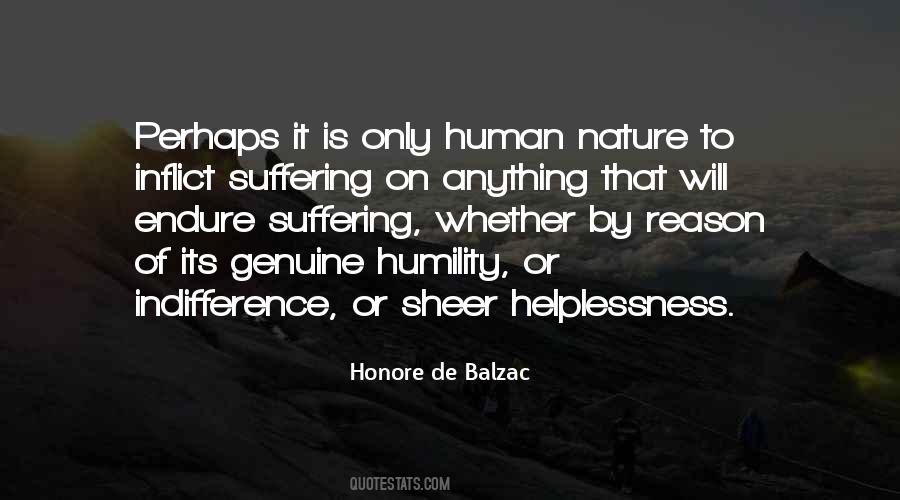 #49. To prefer evil to good is not in human nature; and when a man is compelled to choose one of two evils, no one will choose the greater when he might have the less. - Author: Plato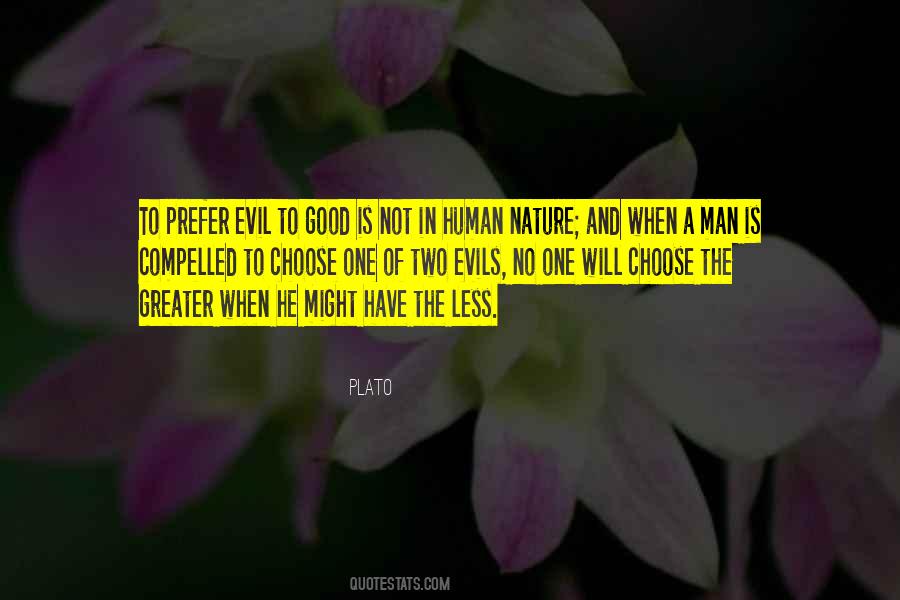 #50. Communism starts with the proposition that there are no universal truths or general truths of human nature. - Author: Richard M. Nixon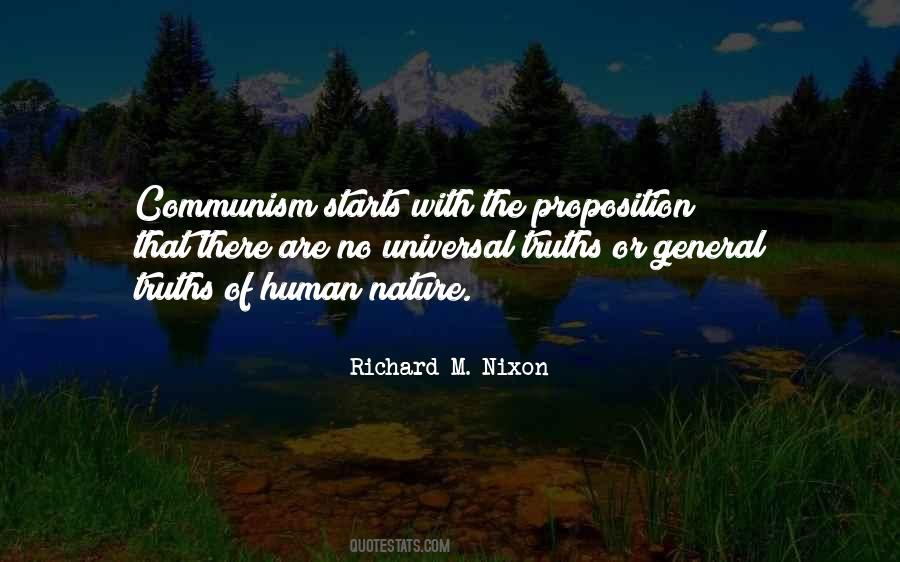 #51. The major threats to our survival no longer stem from nature without but from our own human nature within. It is our carelessness, our hostilities, our selfishness and pride and willful ignorance that endanger the world. - Author: M. Scott Peck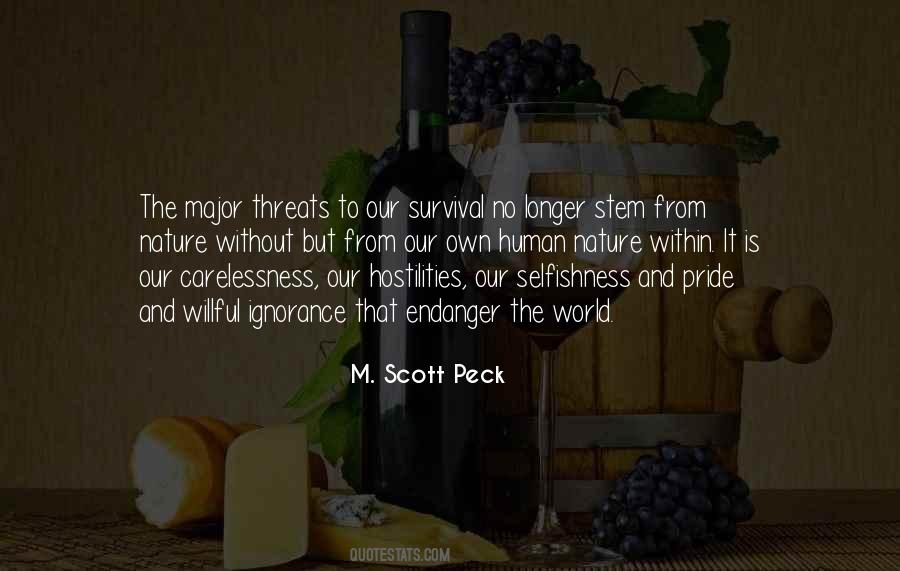 #52. How great is the frailty of human nature which is ever prone to evil! Today you confess your sins and tomorrow you again commit the sins which you confessed. - Author: Thomas A Kempis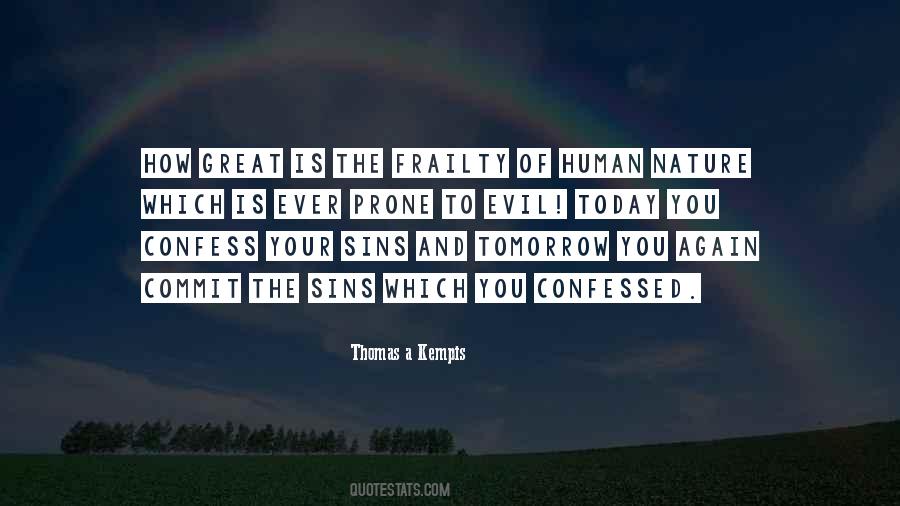 #53. Only one kind of species of animals bites the hand that feeds them - mankind. - Author: Fakeer Ishavardas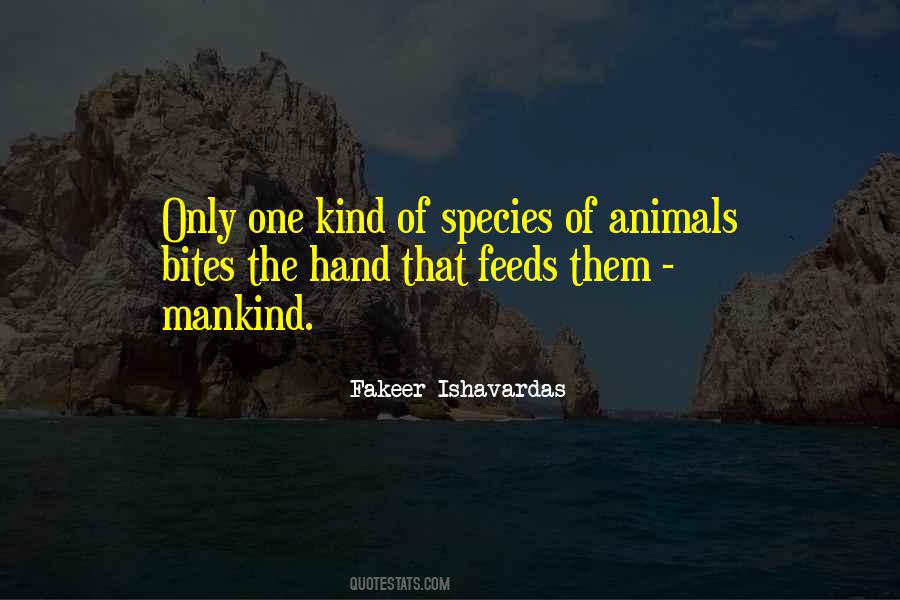 #54. What you're calling evil, is part of human nature. - Author: Nikolas Schreck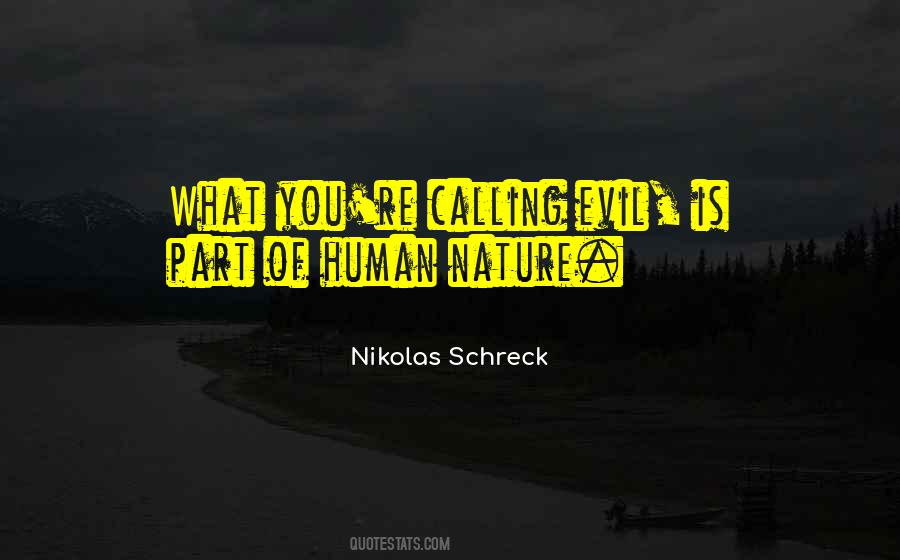 #55. The tombstone over the grave of the conscience always reads: "Human Nature". - Author: Stefan Molyneux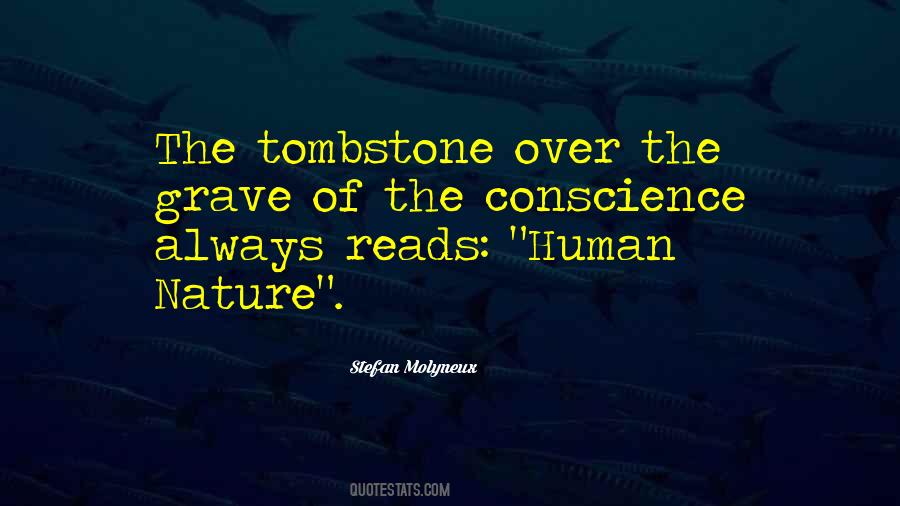 #56. If you want to ask how evil begins, just look to basic human nature. What's good gets bent, and bad is the inevitable result. - Author: Anonymous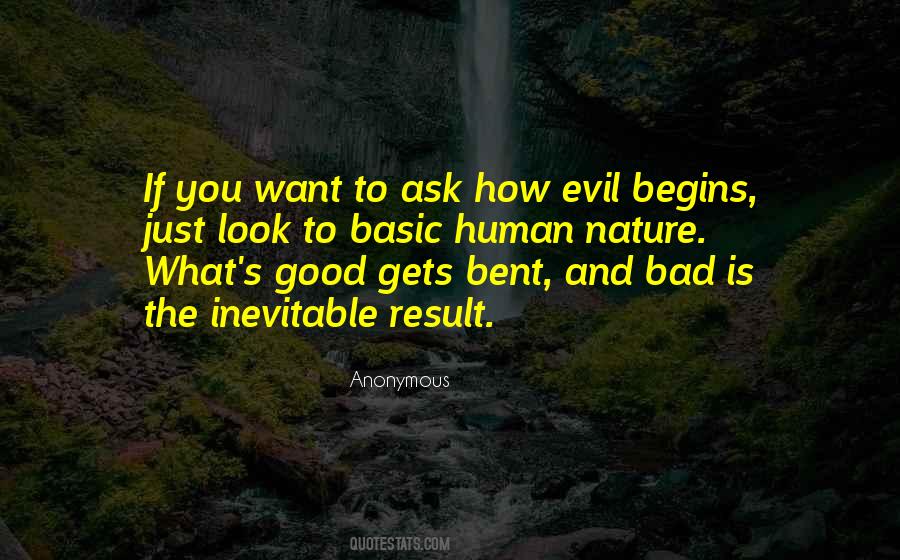 #57. The nature of man is evil; what is good in him is artificial. - Author: Xunzi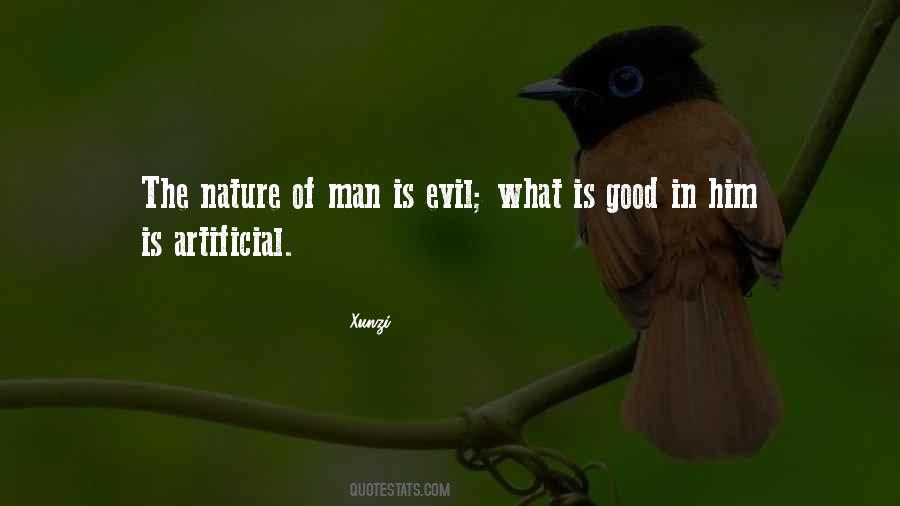 #58. In Truth, none seem to have any Title to assert Human Nature to be necessarily and universally evil, but those whose own Minds afford them one Instance of this natural Depravity. - Author: Henry Fielding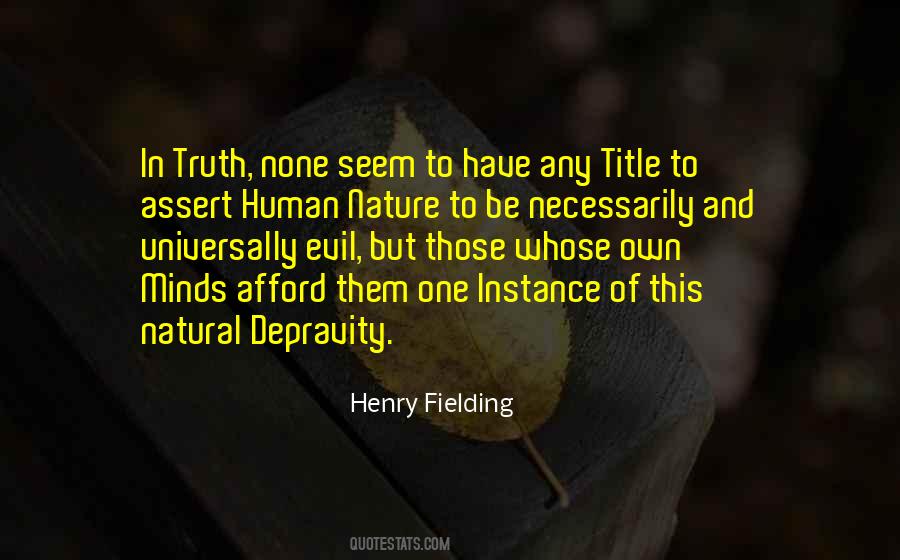 #59. To do evil for good is human corruption; to do good for good is civil retribution; but to do good for evil is Christian perfection. Though this be not the grace of nature, it is the nature of grace. - Author: Thomas Secker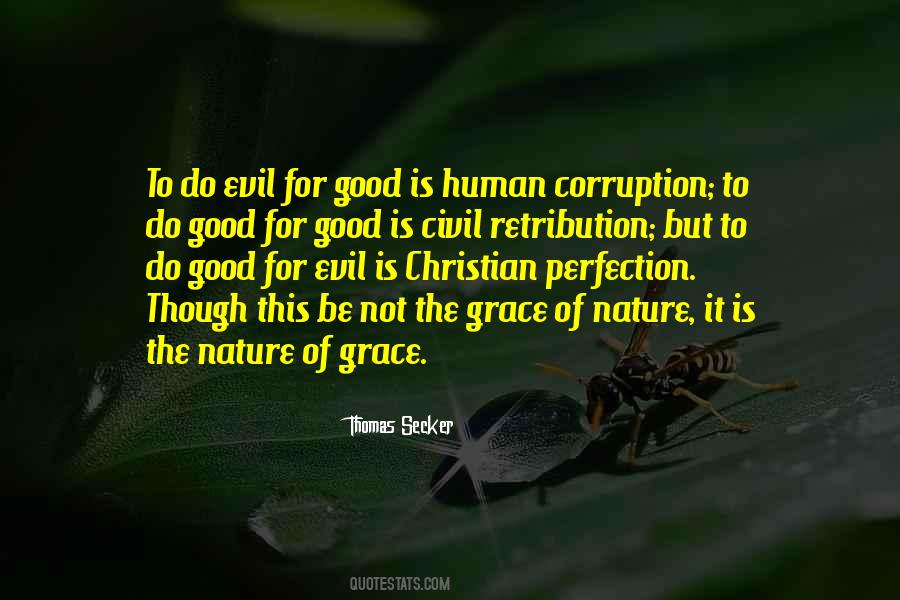 #60. unless an evil thought is born in a twisted mind, human nature is repelled by crime. However, civilization has given us needs, vices and artificial appetites which sometimes cause us to repress our good instincts and lead us to wrongdoing. - Author: Alexandre Dumas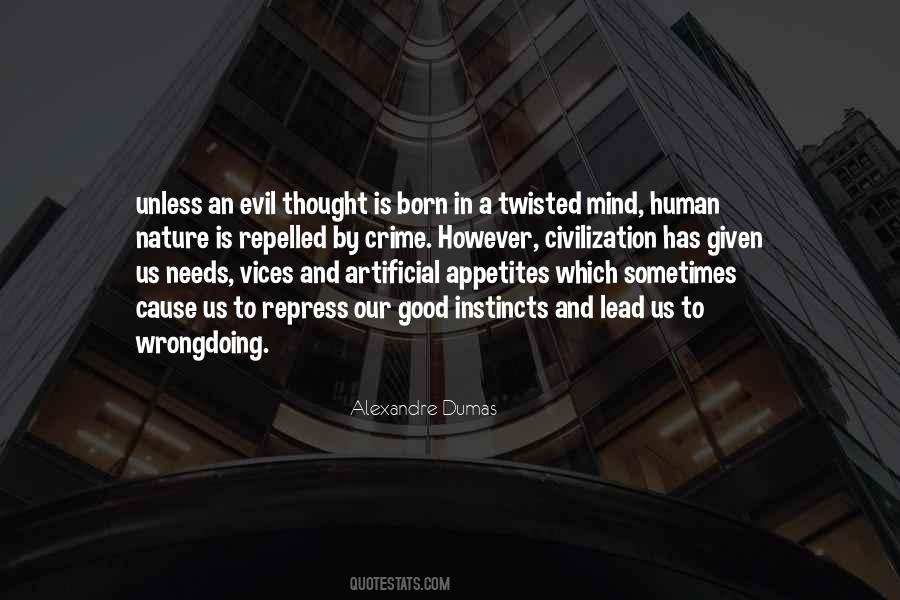 #61. Intelligence rarely trumps human nature. - Author: Travis Luedke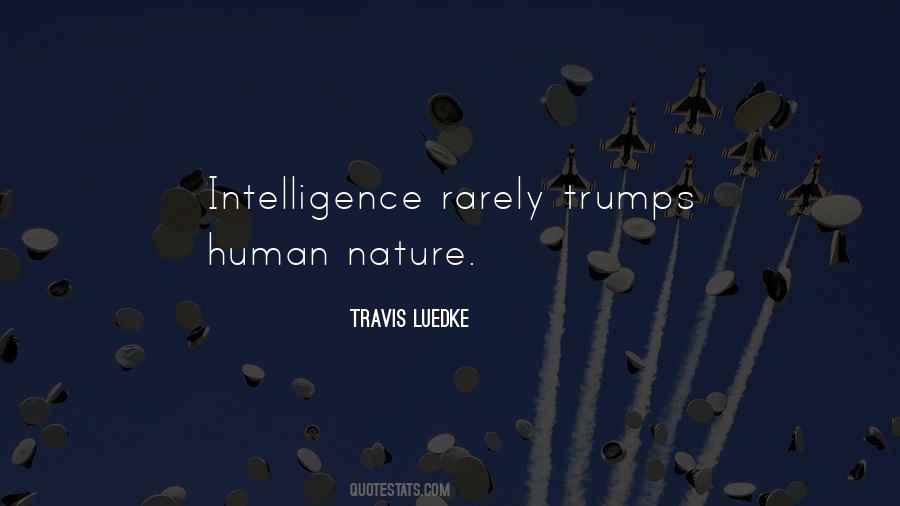 #62. The very name 'Manson' has become a metaphor for evil ... He has come to represent the dark and malignant side of humanity, and for whatever reason, there is a side of human nature that is fascinated with ultimate evil. - Author: Vincent Bugliosi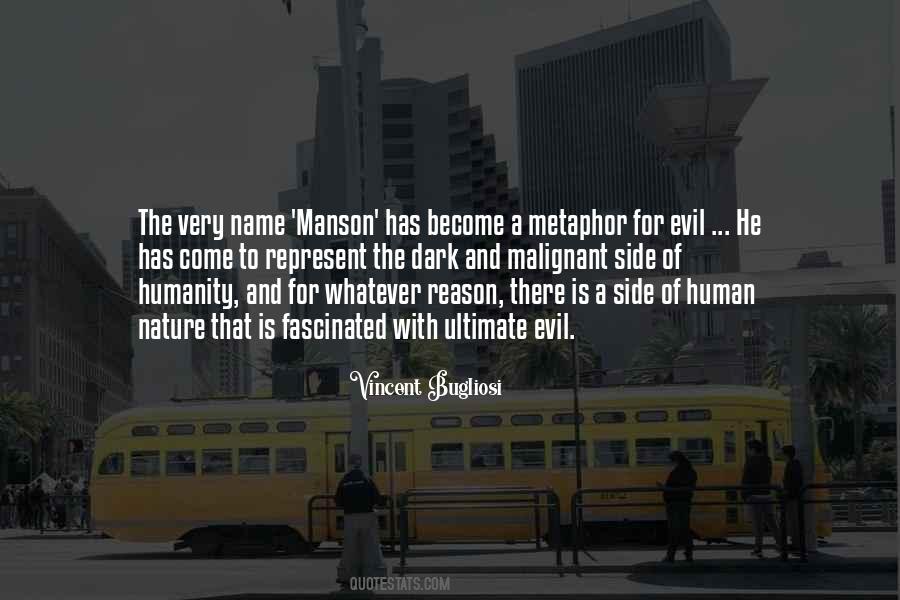 #63. I'm all in favor of looking deeply into as much as we possibly can. I'm not afraid of knowledge ... With all new technology, weapons inevitably emerge ... Evil comes out of the human heart. It doesn't come out of nature. - Author: Richard Preston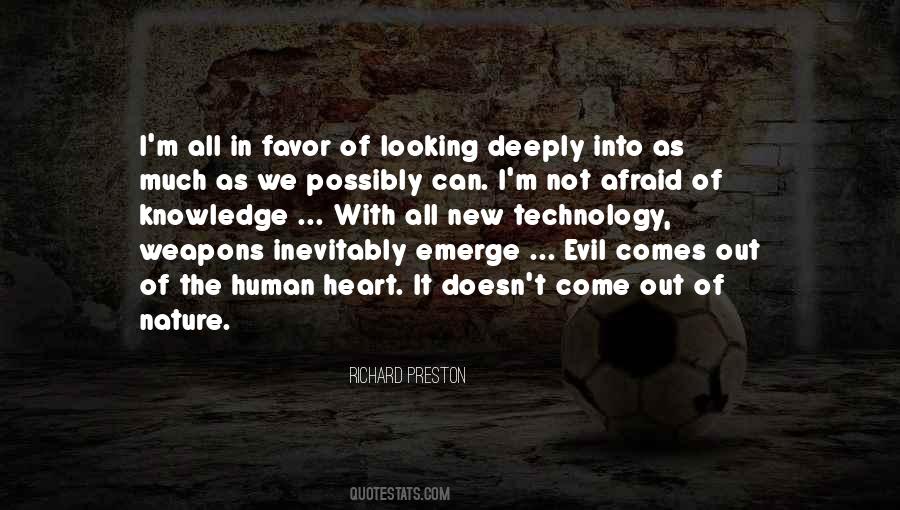 #64. Given is the word. Given publicly, on the first Good Friday, on a hill, in the sight of all, was the visible demonstration of the only permanent way to overcome evil. Human nature demands something more enduring than the unquiet equilibrium of rival powers. - Author: Muriel Lester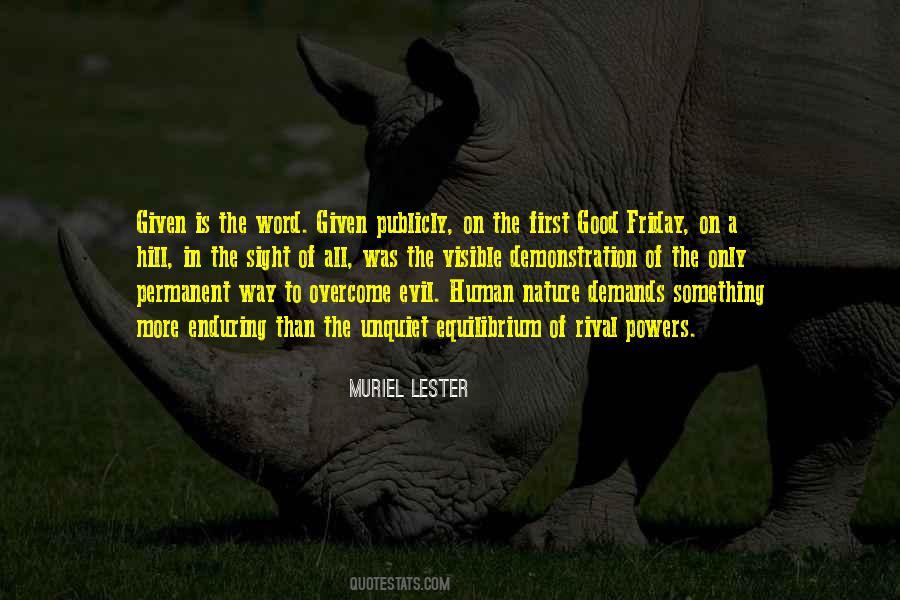 #65. You may well warn me against such an evil. Human nature is so prone to fall into it! - Author: Jane Austen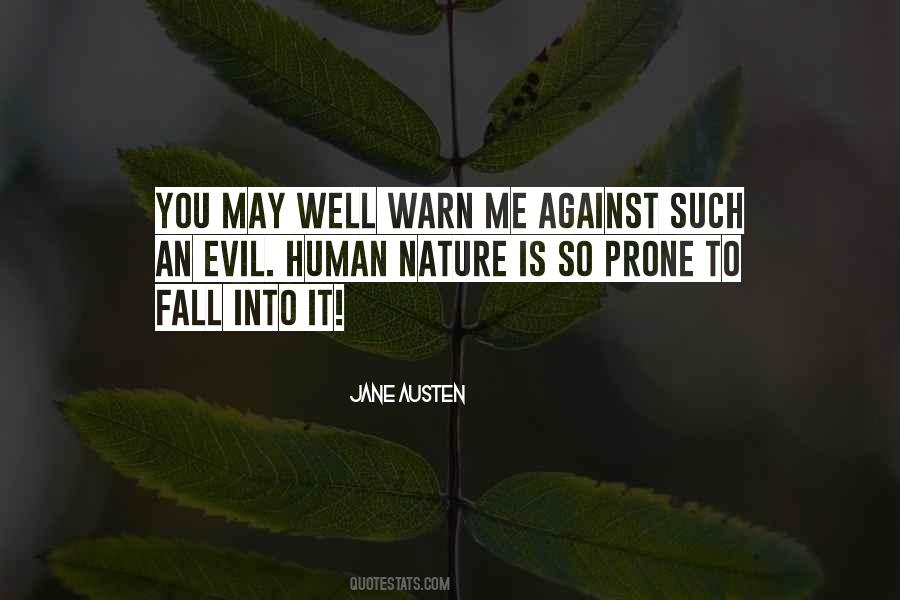 #66. The evil is not that you cannot change human nature. The evil is that human nature cannot change you. - Author: Barrows Dunham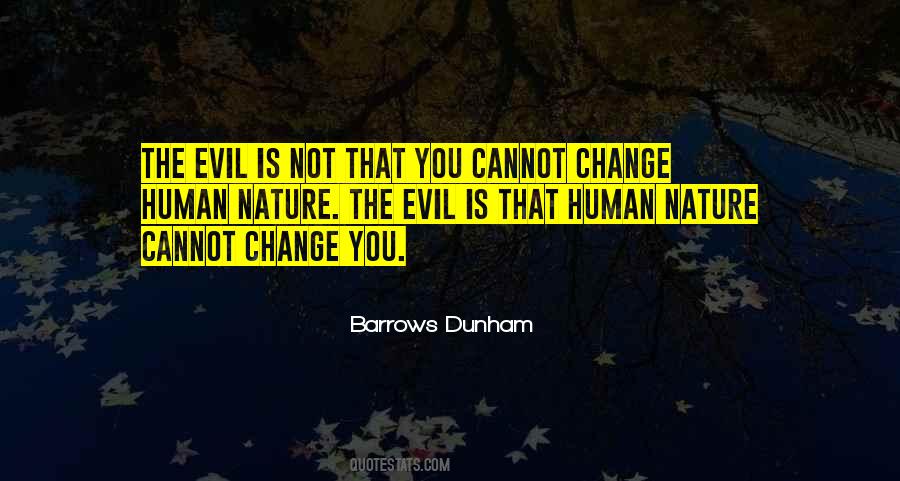 #67. Human nature is so constituted that the propensity for evil is always intensified by external circumstances, and the morality of the individual depends much more on the conditions of his existence and the environment in which he lives than on his own will. - Author: Mikhail Bakunin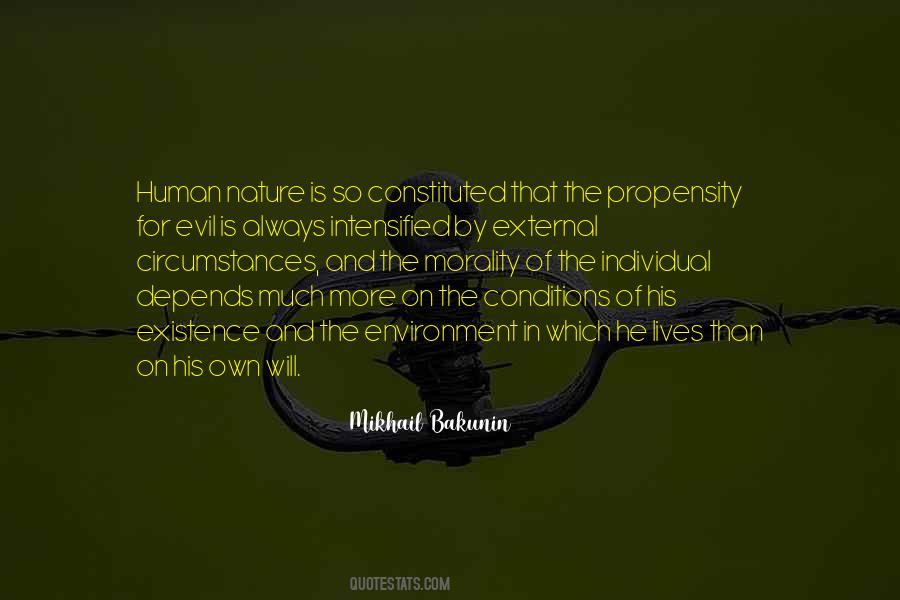 #68. There surely is in human nature an inherent propensity to extract all the good out of all the evil. - Author: Benjamin Haydon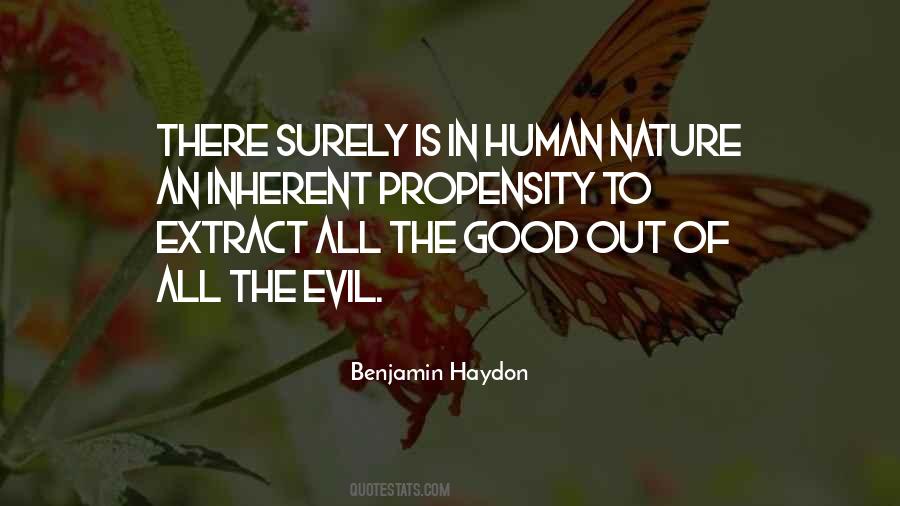 #69. The evil that is in this world always comes of ignorance, and good intentions may do as much harm as malevolence, if they lack understanding. On the whole, men are more good than bad; that however isn't the real point. But they are more or less ignorant, and it is this that we call vice or virtue; - Author: Albert Camus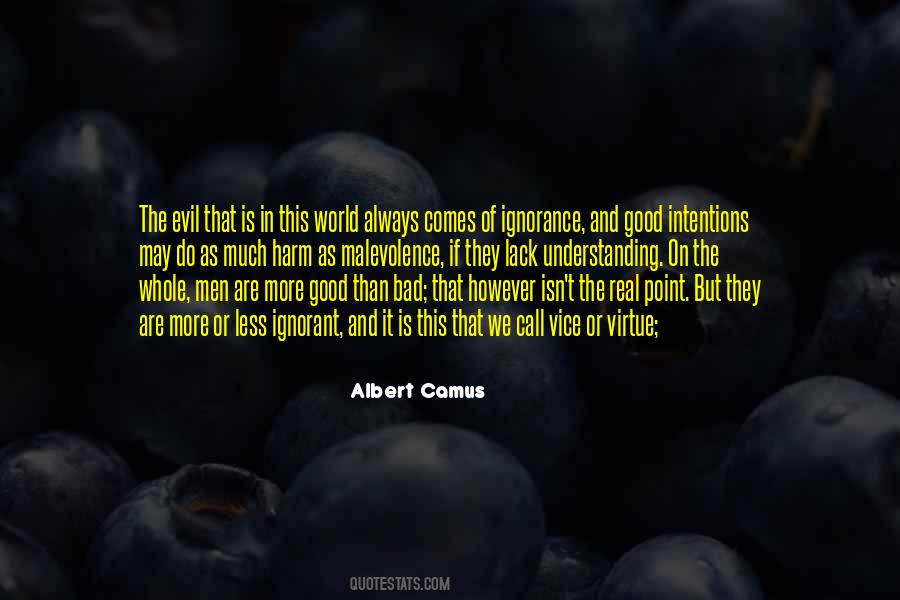 #70. Striving to be good is the ultimate struggle of every man. Being bad is easy, but being good requires sincere commitment, discipline and strength. We have to work hard every day just to remain good. - Author: Suzy Kassem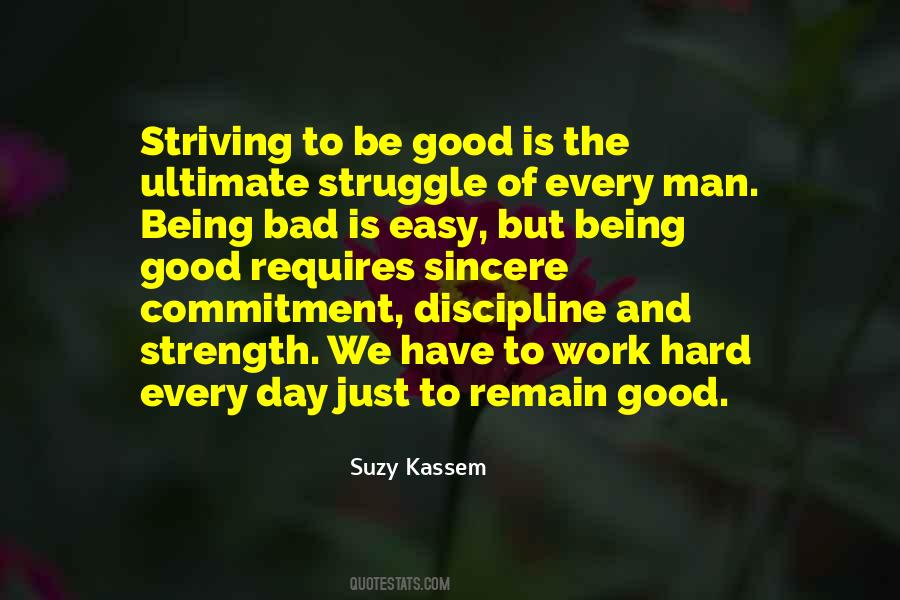 #71. In a war the most dangerous thing is to understand the enemy. To understand is to forgive. And we
have no right to do that - we never have had, not since the creation of the world. - Author: Sergei Lukyanenko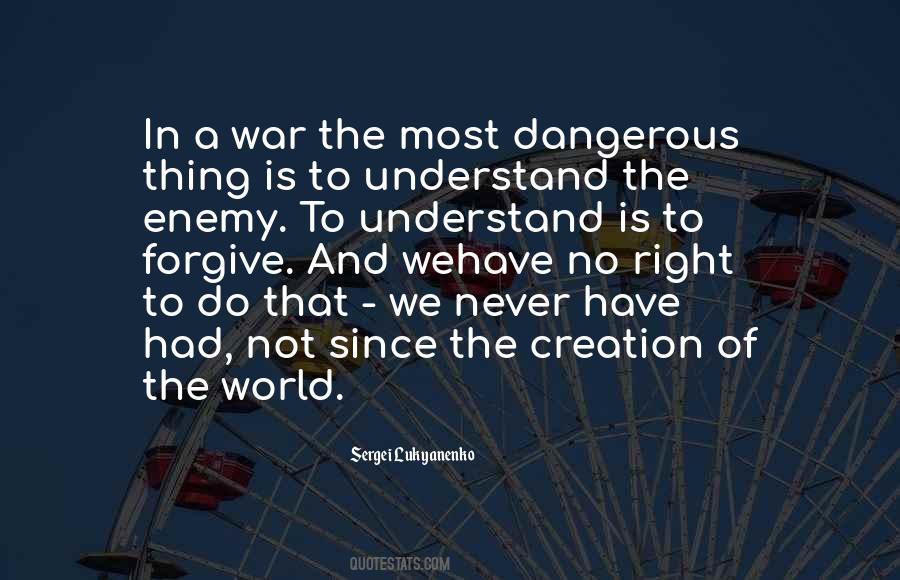 Famous Authors
Popular Topics