Human Evil Famous Quotes & Sayings
List of top 100 famous quotes and sayings about human evil to read and share with friends on your Facebook, Twitter, blogs.
Top 100 Quotes About Human Evil
#1. This is good, life must continue, we are fighting barbarians, but we must remain human. - Author: David Benioff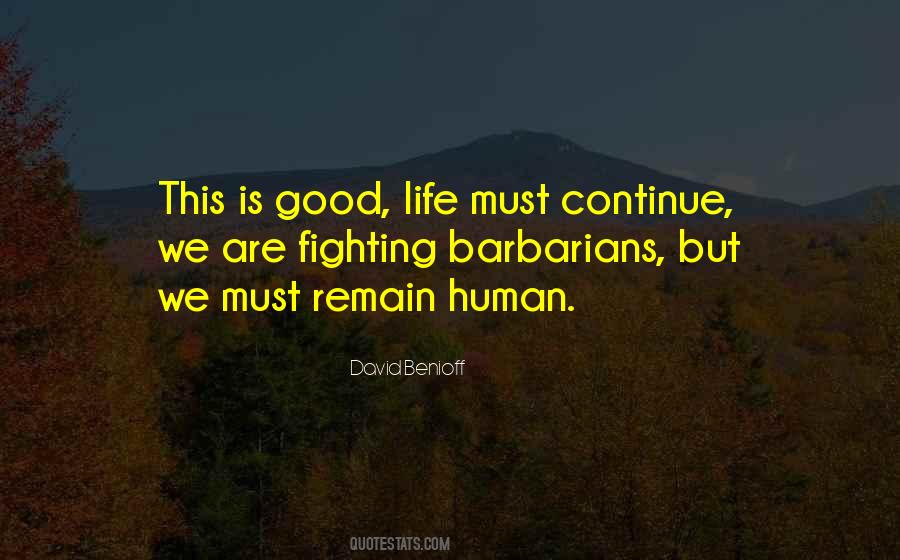 #2. Given is the word. Given publicly, on the first Good Friday, on a hill, in the sight of all, was the visible demonstration of the only permanent way to overcome evil. Human nature demands something more enduring than the unquiet equilibrium of rival powers. - Author: Muriel Lester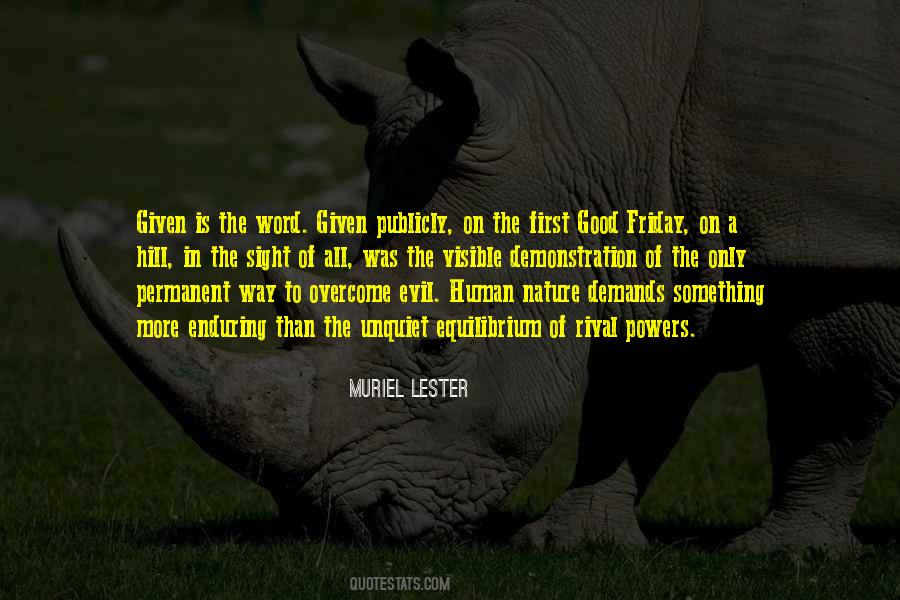 #3. The two great movers of the human mind are the desire of good and the fear of evil. - Author: Amit Abraham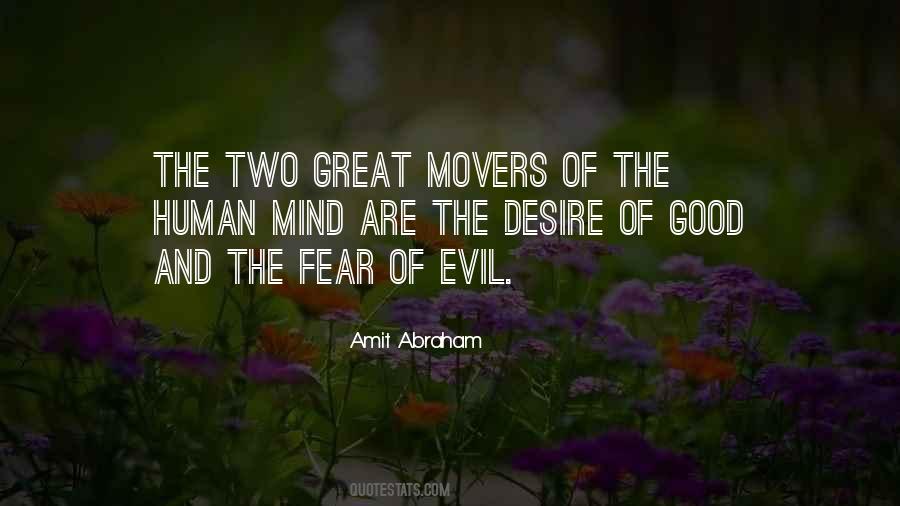 #4. What you're calling evil, is part of human nature. - Author: Nikolas Schreck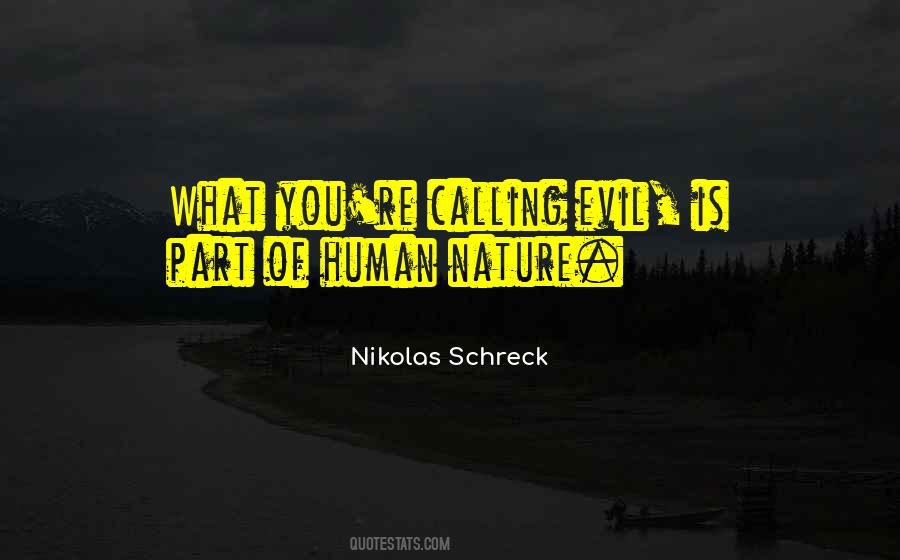 #5. Losing something she loved had ripped her open in a way she had not expected. The pain hurt, but the pain was right. The Order had wrought a galaxy in which good capitulated to evil, where human feelings - Aryn's feelings - were crushed under the weight of Jedi nonattachment. - Author: Paul S. Kemp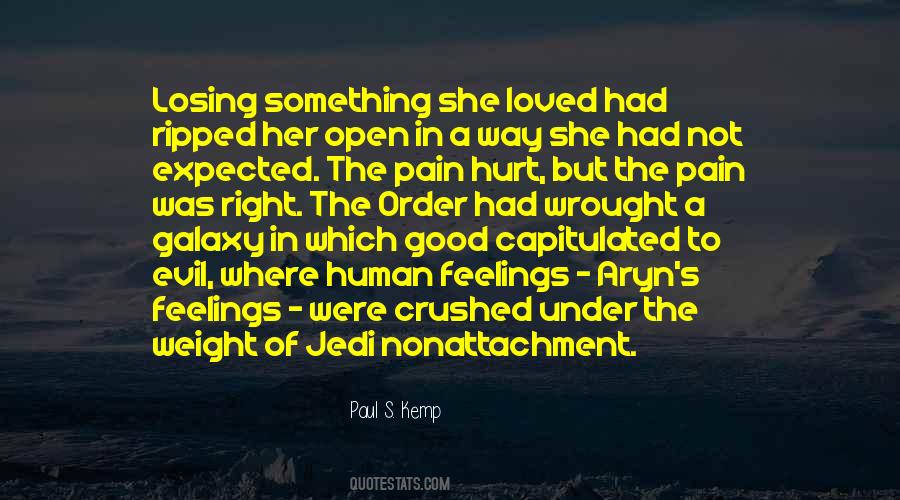 #6. Human misery universally arises from some error that man admits as true. We confound our fears with the idea feared, and place the evil in the thing seen or believed. Here is a great error, for we never see what we are afraid of. - Author: Phineas Quimby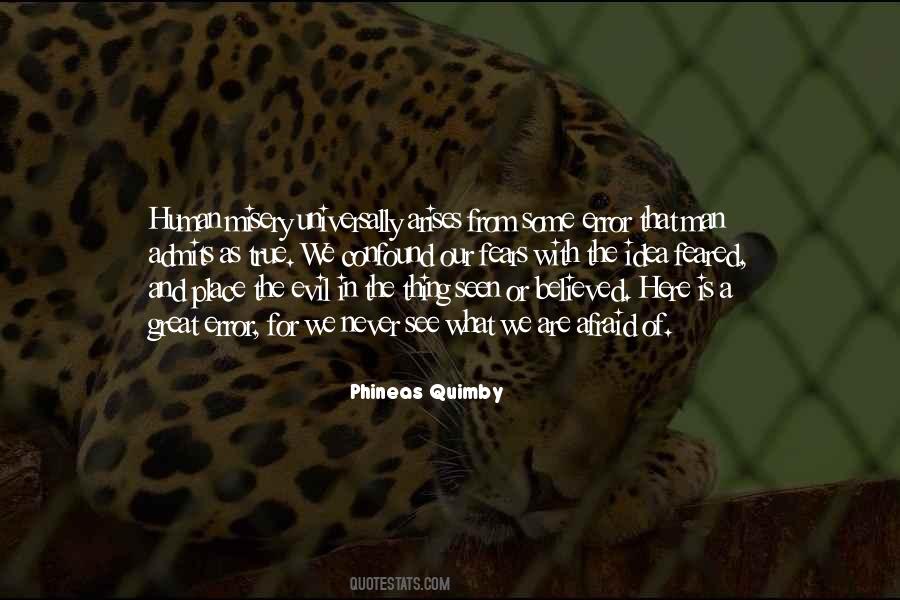 #7. As you know, human history is full of evil deeds, and maybe we ought to think of them with tears, not fascination. - Author: Elizabeth Kostova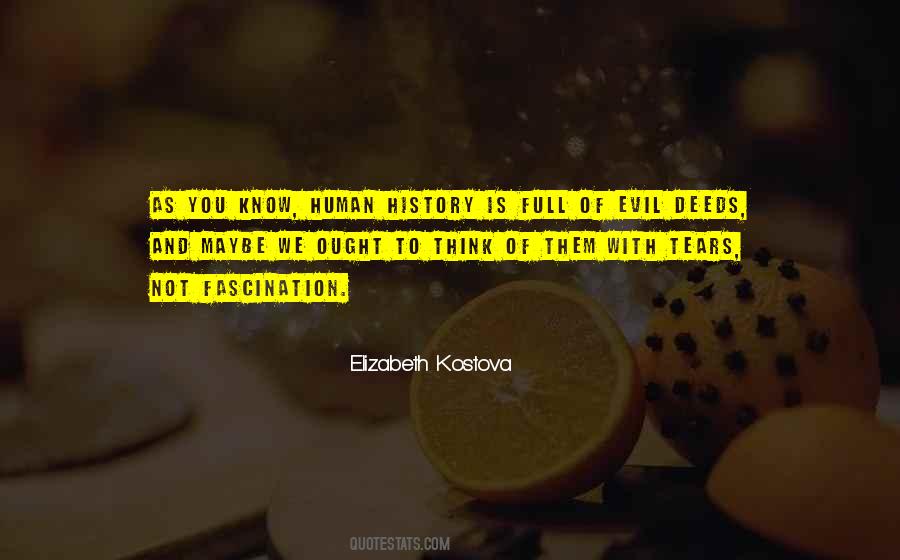 #8. I know there's evil in the world, and there always has been. But you don't need to believe in Satan or demons to explain it. Human beings are perfectly capable of evil all by themselves. - Author: Tess Gerritsen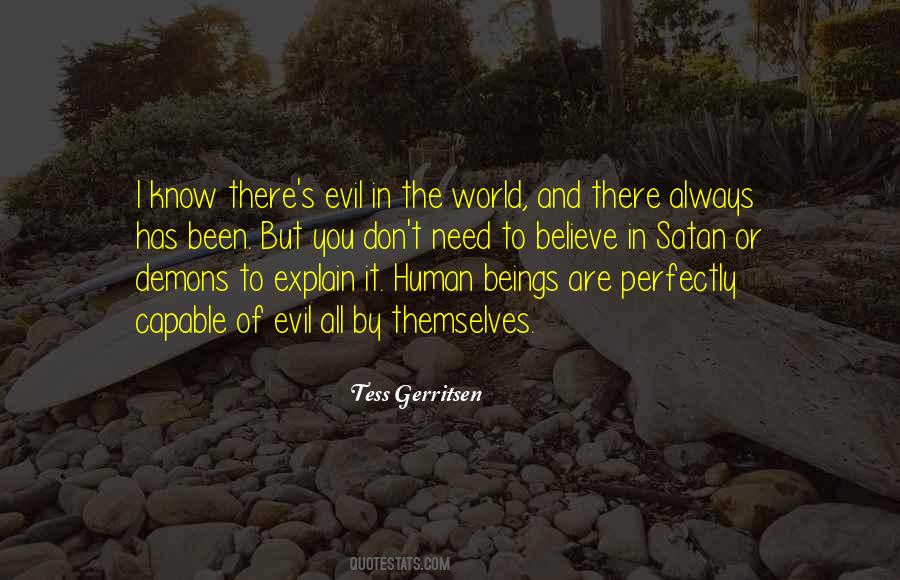 #9. A look into the Human Mind..of how we perceive..How can we see beauty in and around us..Not the correction of evil or pursuit of the virtuous..BUT..pleasure that resides in the Sense of Self !! A Self living in a state of 'nothingness' and beauty as it lies there..from that place! Simple and Deft - Author: Abha Maryada Banerjee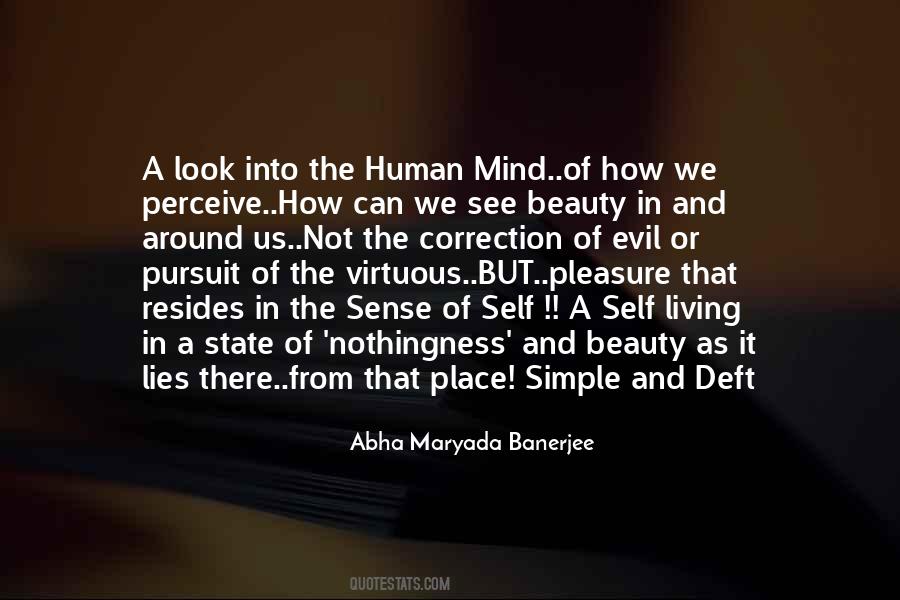 #10. We must not be frightened nor cajoled into accepting evil as deliverance from evil. We must go on struggling to be human, though monsters of abstractions police and threaten us. - Author: Robert Hayden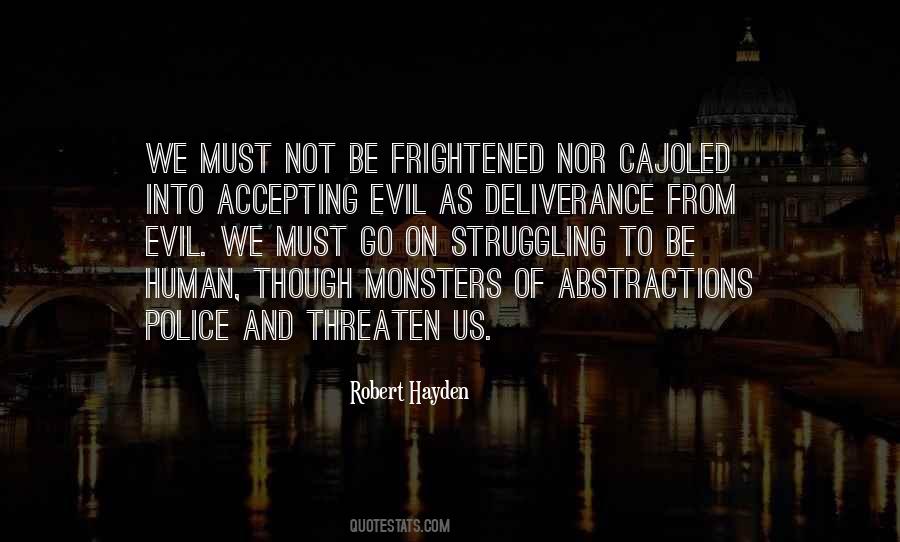 #11. [M]ore wars have been waged, more people killed, and more evil perpetrated in the name of religion than by any other institutional force in human history. The sad truth continues in our present day. - Author: Charles Kimball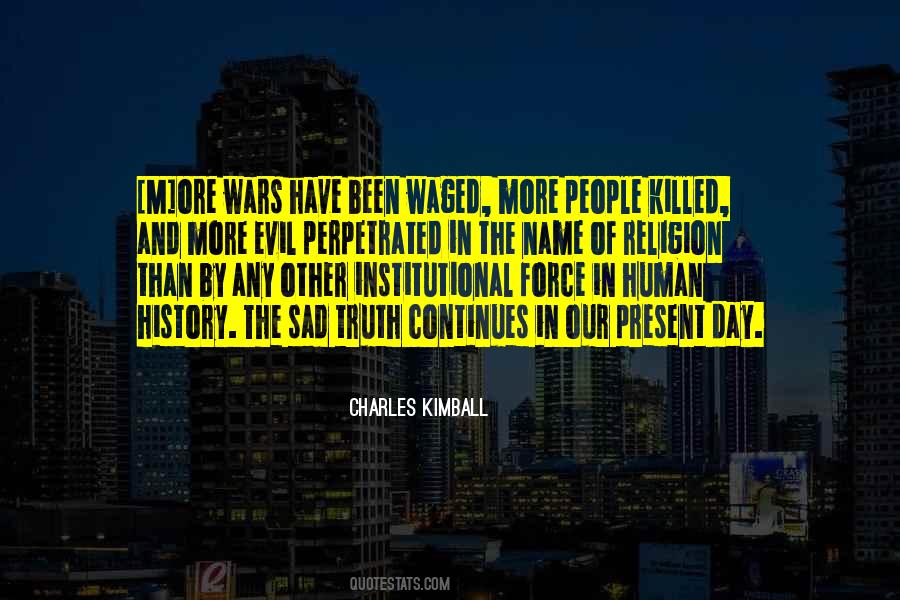 #12. Only one kind of species of animals bites the hand that feeds them - mankind. - Author: Fakeer Ishavardas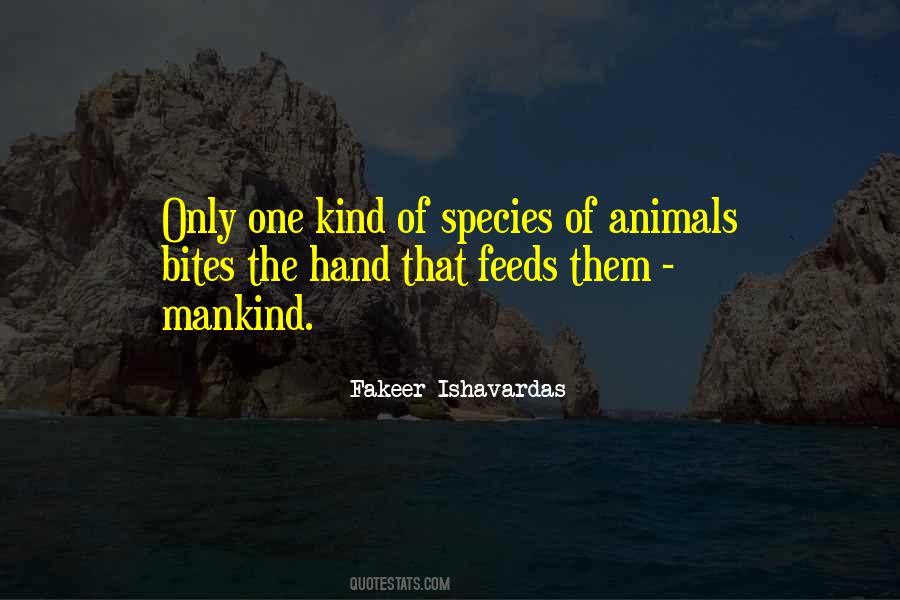 #13. Within the human, good or evil aims are never ancient. They are sometimes masqueraded when reinvented in modern means - Author: Dew Platt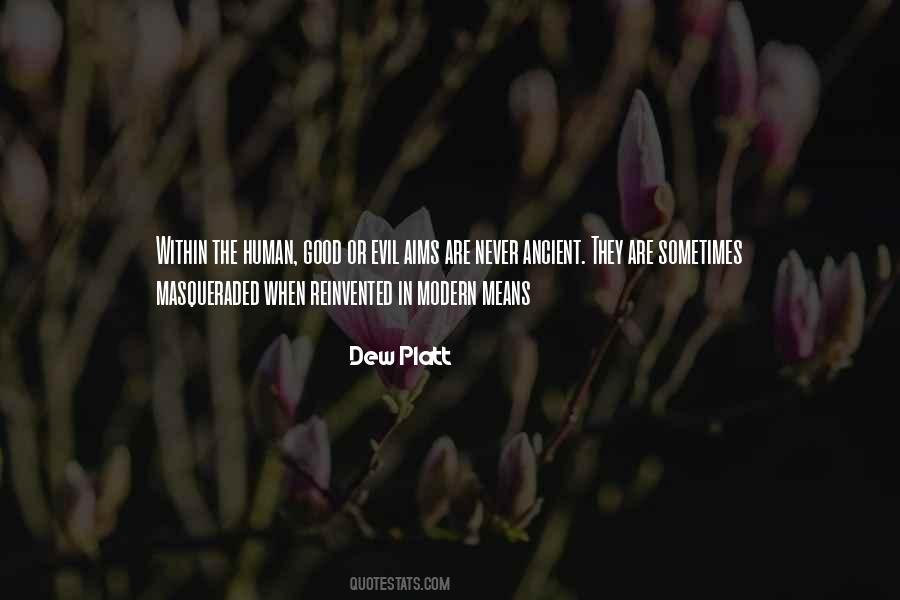 #14. Nationalism and patriotism are the two most evil forces that I know of in this century or in any century and cause more wars and more death and more destruction to the soul and to human life than anything else. - Author: Oliver Stone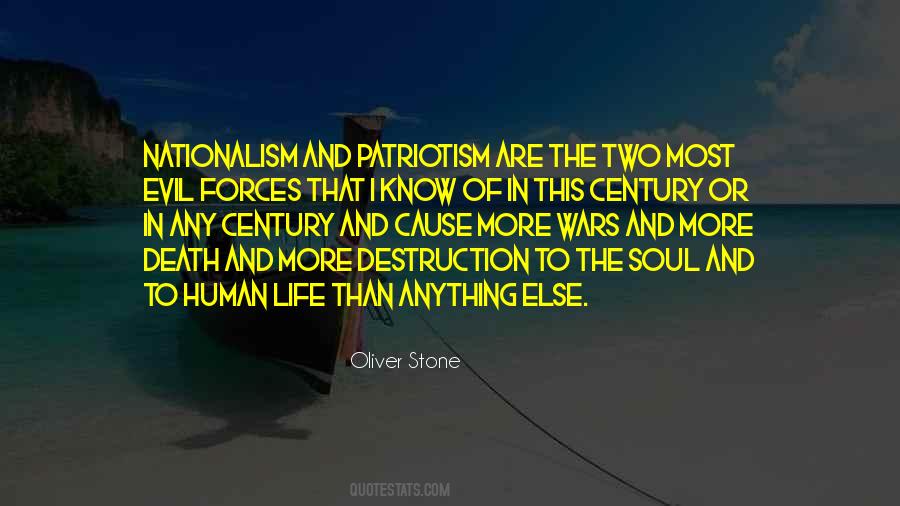 #15. How great is the frailty of human nature which is ever prone to evil! Today you confess your sins and tomorrow you again commit the sins which you confessed. - Author: Thomas A Kempis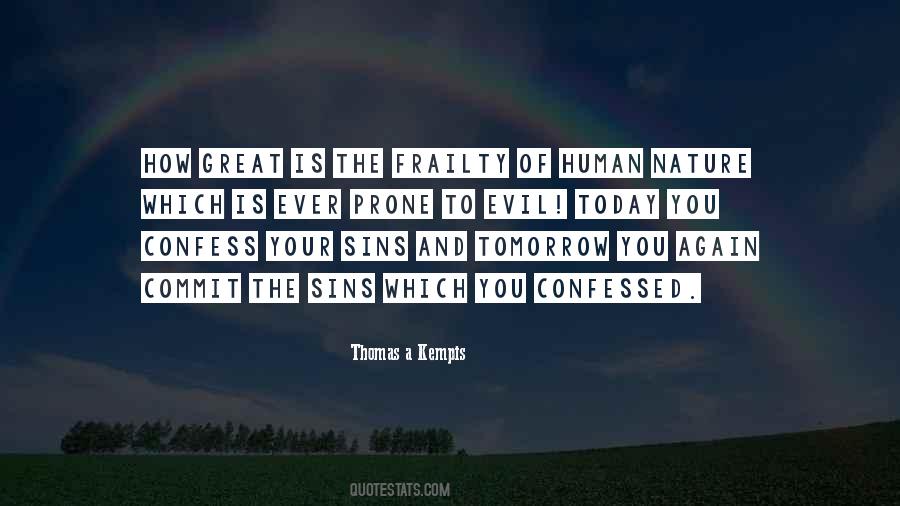 #16. The major threats to our survival no longer stem from nature without but from our own human nature within. It is our carelessness, our hostilities, our selfishness and pride and willful ignorance that endanger the world. - Author: M. Scott Peck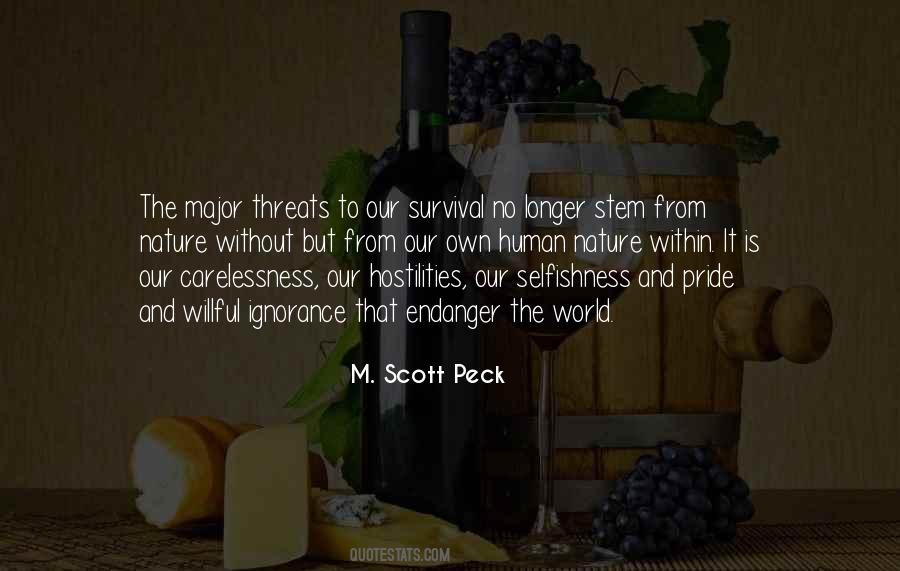 #17. Good and evil," Nick said. "Yin and yang. Male and female. Life and death. The dualities that make us human. As though our lives play out on an immense balance scale - move one way, the scale tips to the left, but move the other, and it swings around to the right. - Author: Abramelin Keldor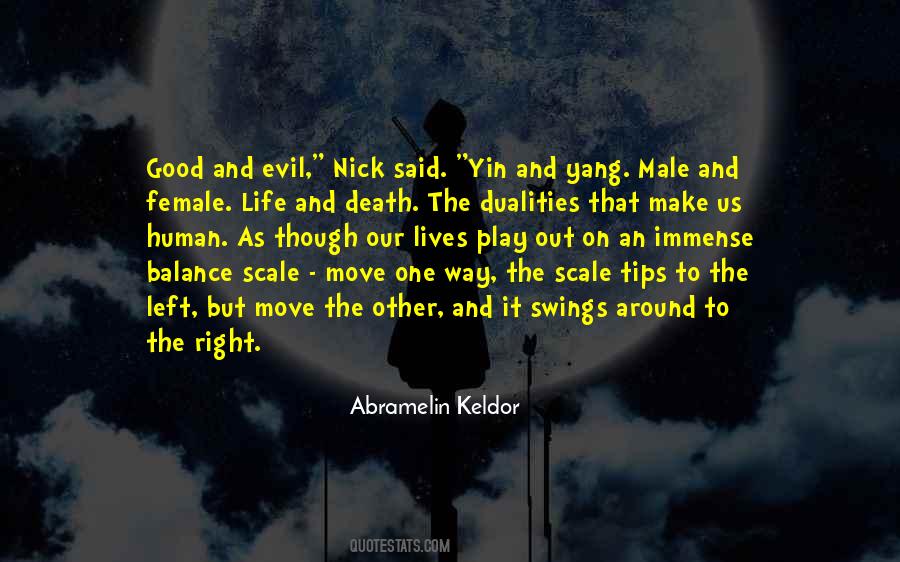 #18. Communism starts with the proposition that there are no universal truths or general truths of human nature. - Author: Richard M. Nixon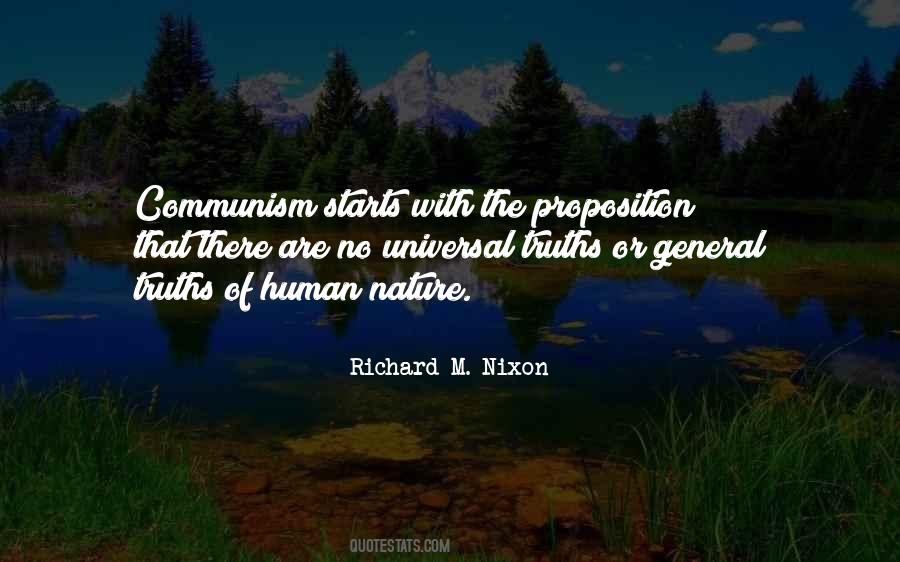 #19. Art is built on the deepest themes of human meaning: good and evil, beauty and ugliness, life and death, love and hate. No other story has incarnated those themes more than the story of Jesus. - Author: John Ortberg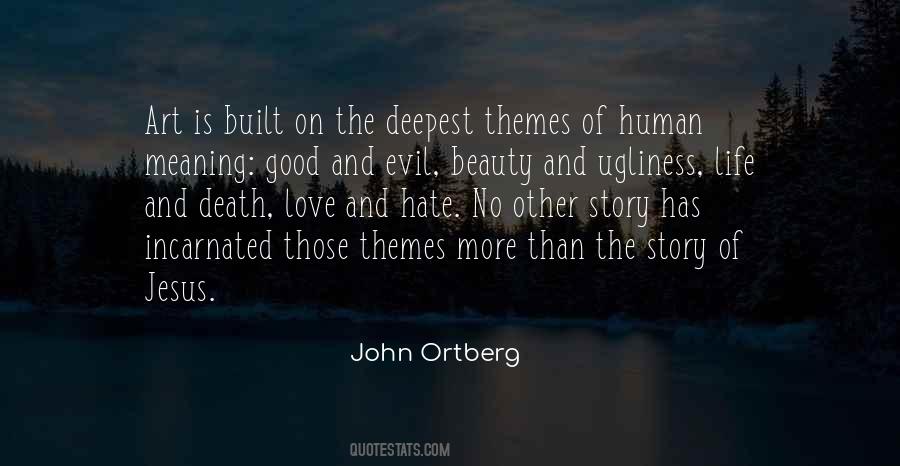 #20. Human needs rules and penalties.
Lessons require heroes and villains.
Ignore them, then welcome to the jungle. - Author: Toba Beta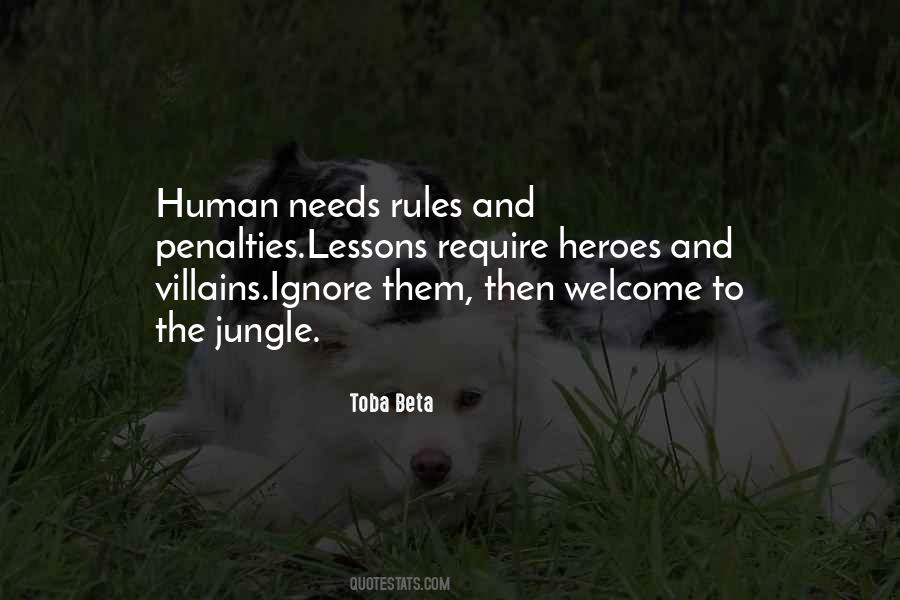 #21. To prefer evil to good is not in human nature; and when a man is compelled to choose one of two evils, no one will choose the greater when he might have the less. - Author: Plato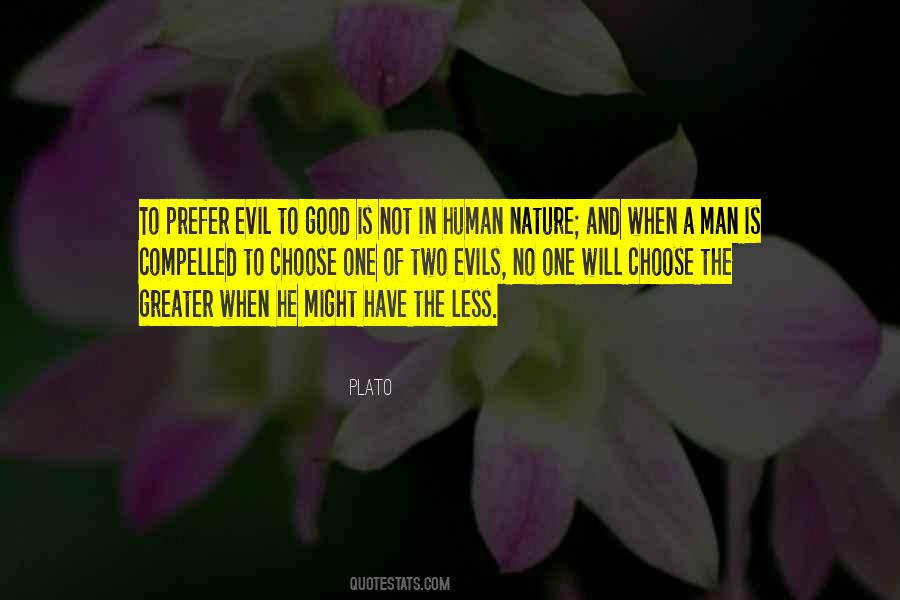 #22. Everything I thought I knew about what it meant to be a man was stripped away. What remained was what it meant to be a man who loved a woman as much as I did. To be a human being experiencing this life in all its ugliness, its beauty, its pain and hate; good and evil; love and death. - Author: Emma Scott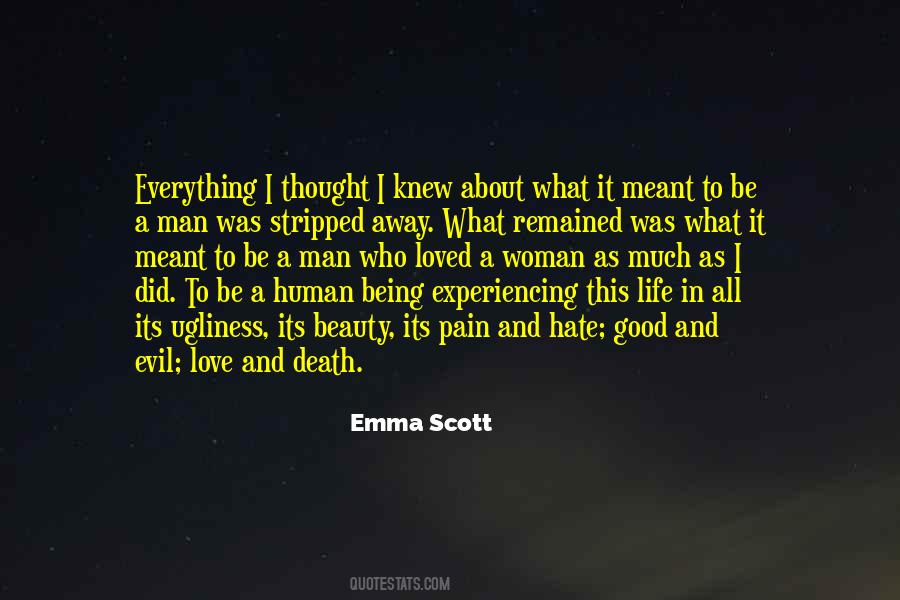 #23. Perhaps it is only human nature to inflict suffering on anything that will endure suffering, whether by reason of its genuine humility, or indifference, or sheer helplessness. - Author: Honore De Balzac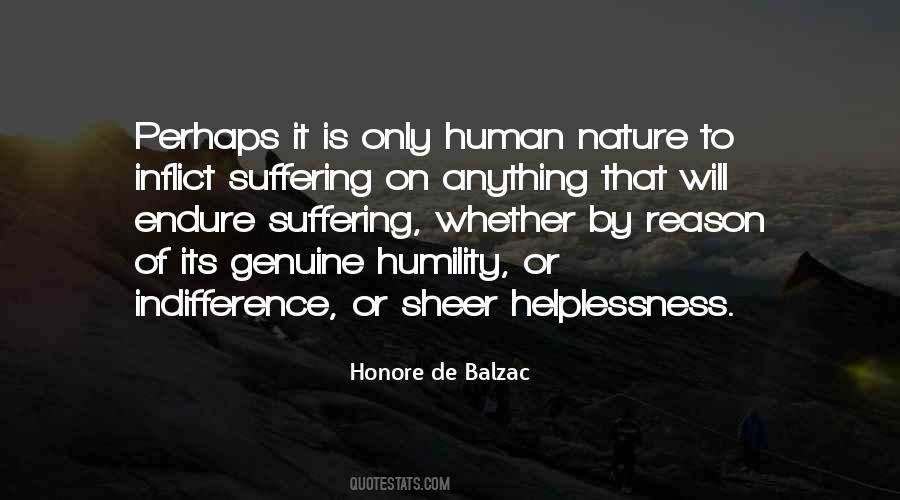 #24. How do you live with evil? Art is traditionally - certainly with my secular background - the answer, but art is very self-referential, whereas religion claims to go beyond the bounds of human existence. - Author: Yann Martel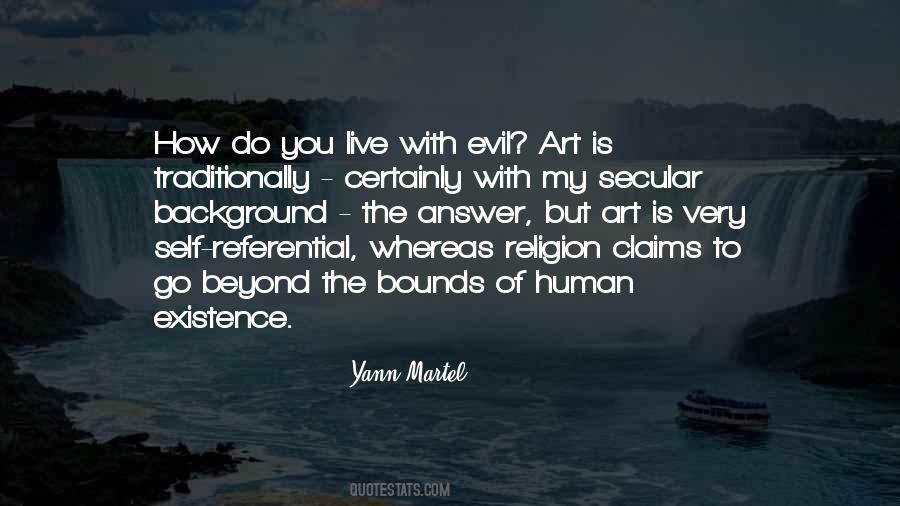 #25. Non-violence does not signify that man must not fight against the enemy, and by enemy is meant the evil which men do, not the human beings themselves. - Author: Mahatma Gandhi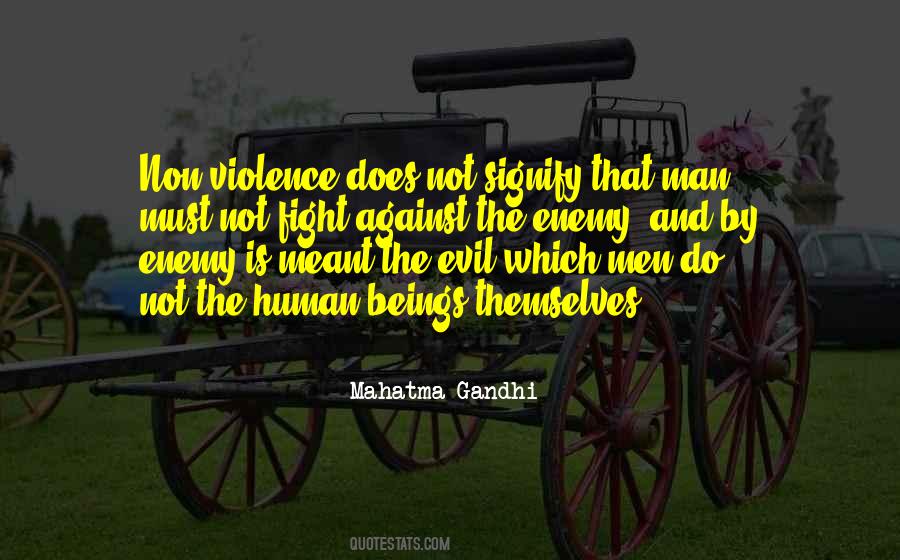 #26. Every manifestation of evil is the result of basic sin - sin that has remained unchanged since the moment it first entered the human race. - Author: Billy Graham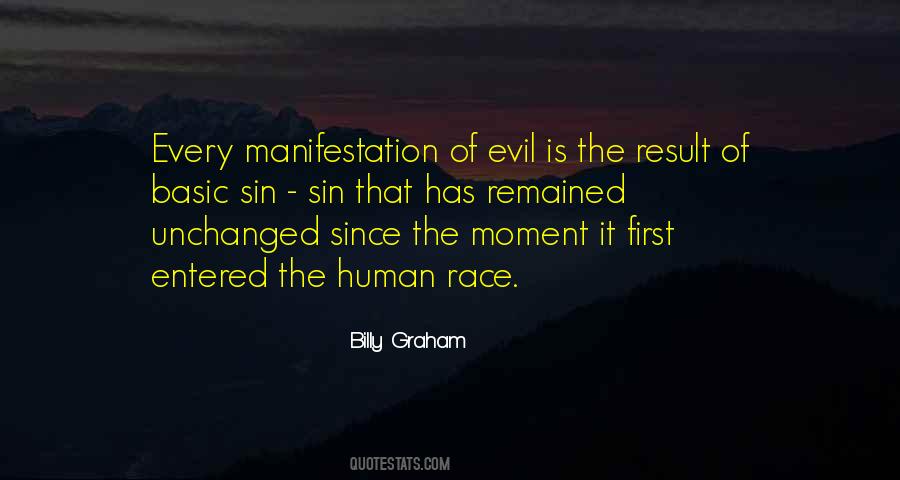 #27. Karou saw them with her human eyes, this army she had rendered more monstrous than ever nature had, and she knew what the world would see in them if they flew to fight the Dominion: demons, nightmares, evil. The sight of the seraphim would be heralded as a miracle. But chimaera? The apocalypse. - Author: Laini Taylor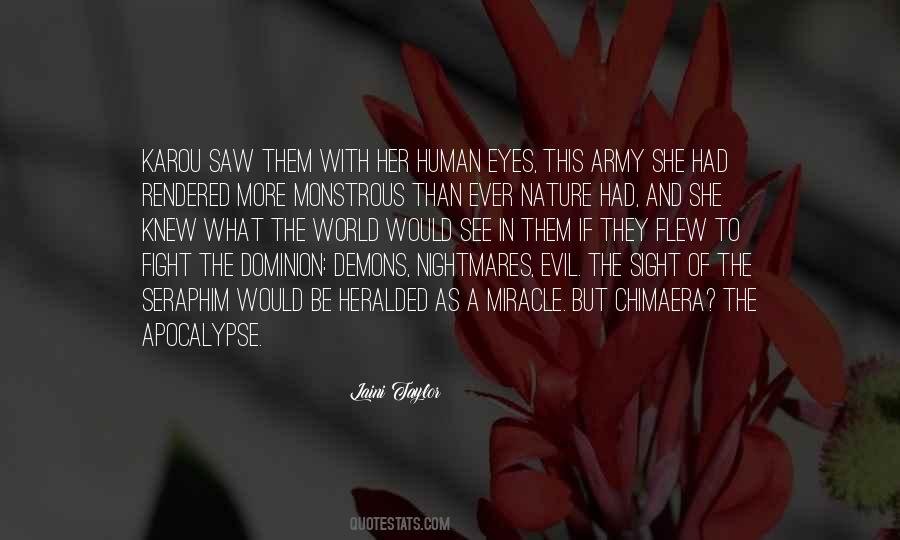 #28. Here is one more book that depicts the struggle of a human creature, under those opposing influences of Good and Evil, - Author: Wilkie Collins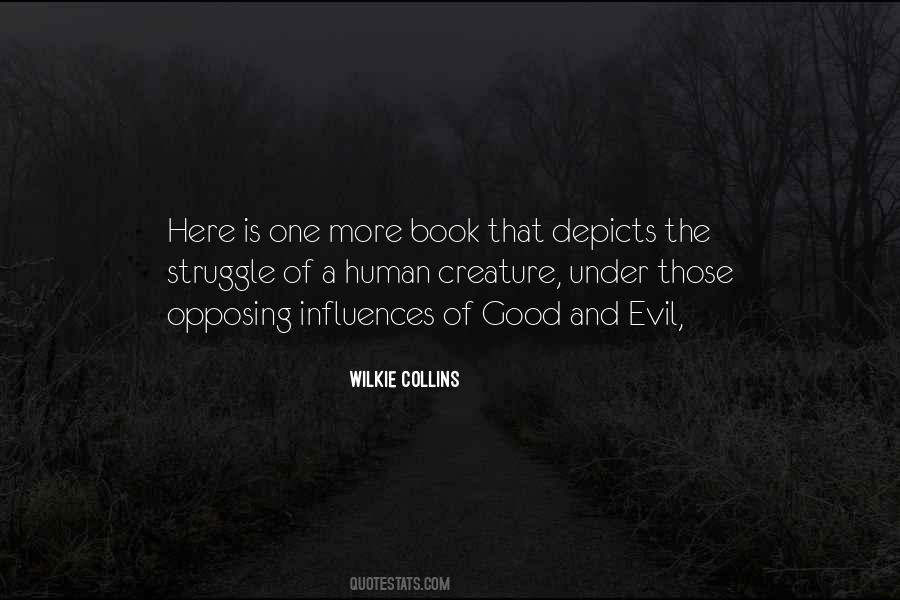 #29. From the instant the atomic bomb exploded, it became the symbol of all human evil; it was a savagely primitive demon and a most modern curse. - Author: Kenzaburo Oe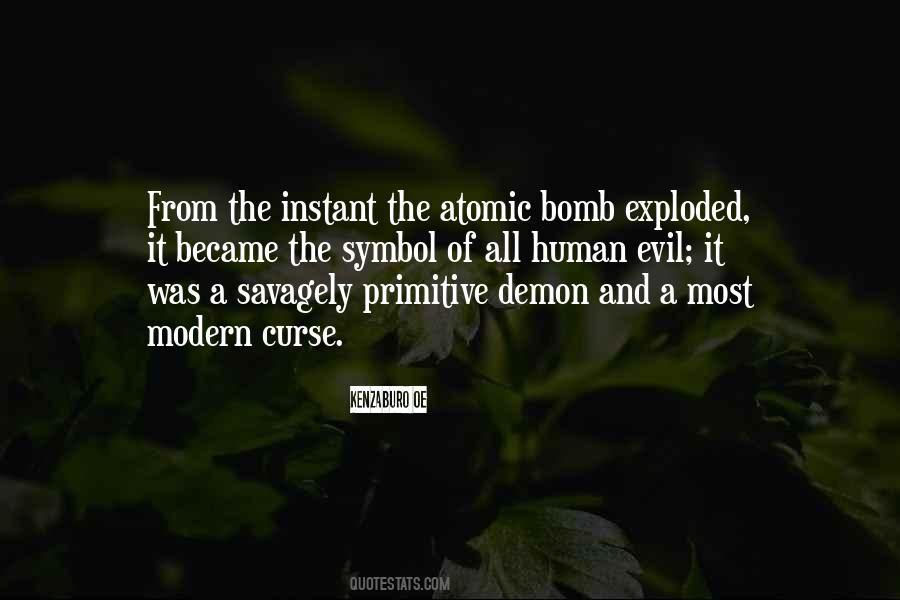 #30. The human heart is evil, absolutely. That is why self-discipline is a virtue. Once you open the floodgates of corruption, there's no stopping it. - Author: B.C. Chase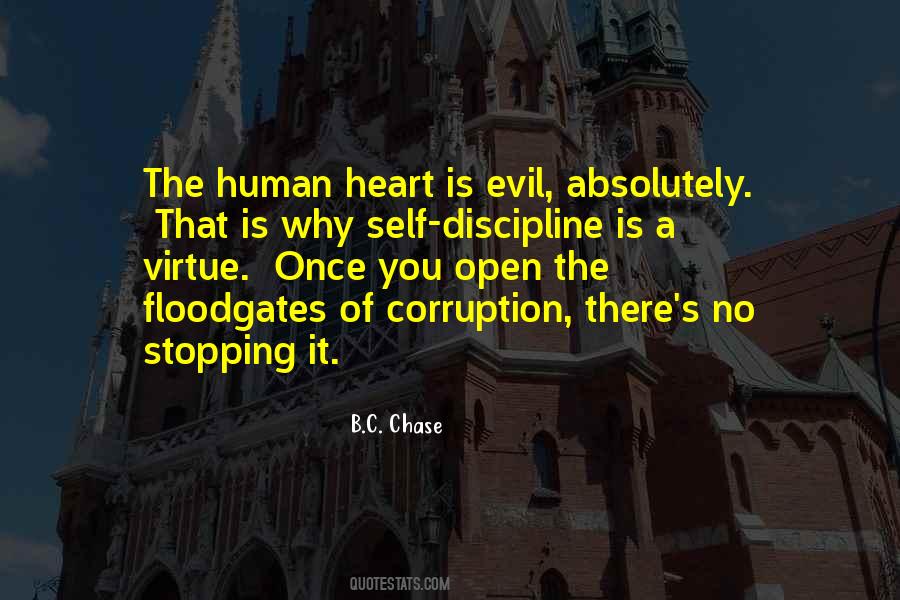 #31. I am against censorship. I prefer the chaos of uncontrollable communication of all sorts to selective banning of certain materials. I do not think human beings can be trusted to be above politics and to promote the common good. One group's common good is another group's evil. - Author: Erica Jong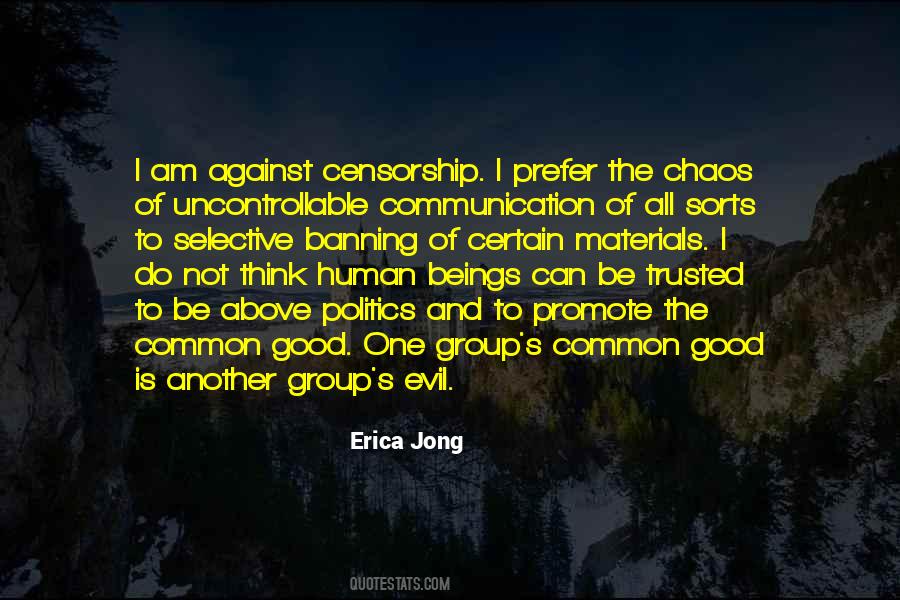 #32. Promiscuous reading is necessary to the constituting of human nature. The attempt to keep out evil doctrine by licensing is like the exploit of that gallant man who thought to keep out the crows by shutting the park gate. - Author: John Milton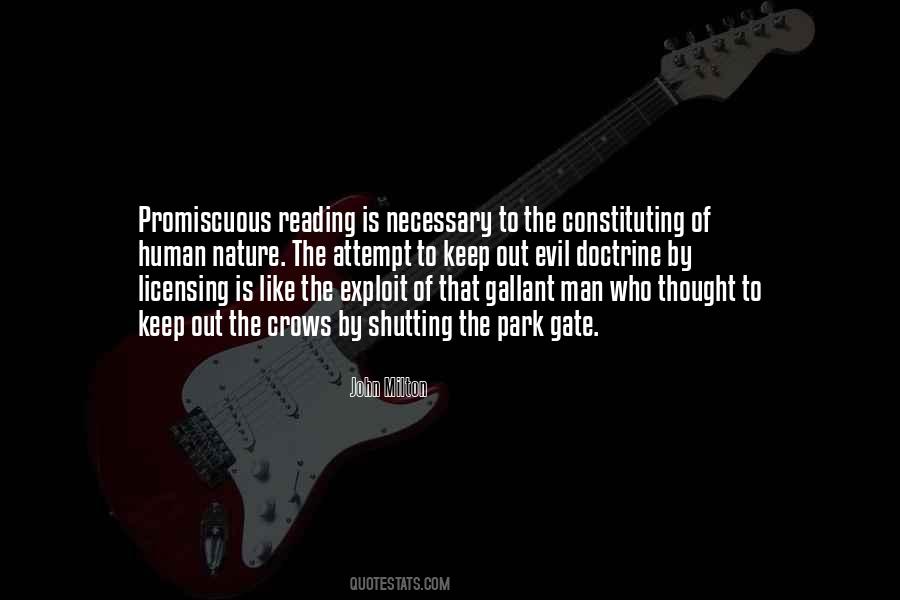 #33. Human relationships have to be rediscovered every day. We have to remember constantly that every kind of meeting with our neighbor is a human action and so it is always evil or good, true or deceitful, a kindness or a sin. - Author: Natalia Ginzburg
#34. Vivisection is a social evil because if it advances human knowledge, it does so at the expense of human character. - Author: George Bernard Shaw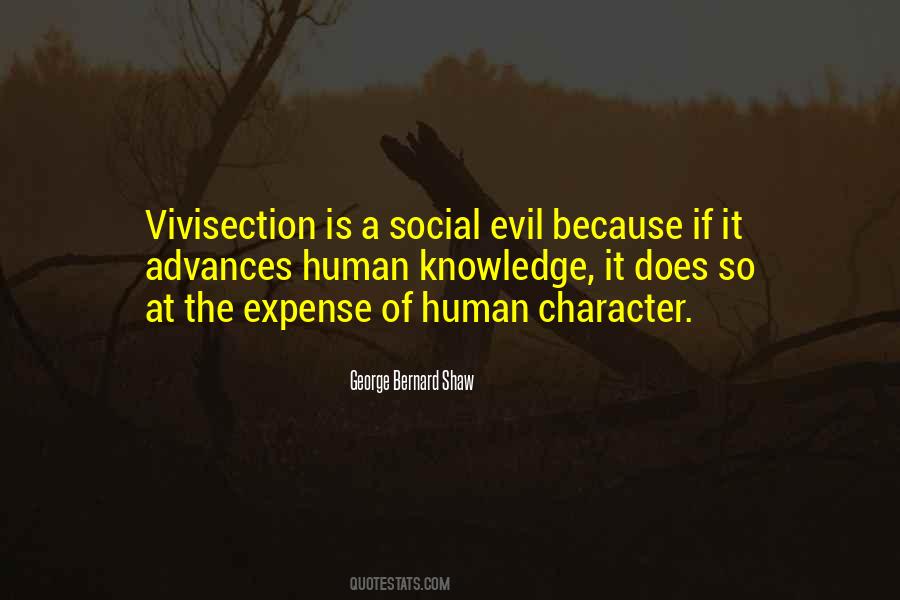 #35. In any event, we must remember that it's not the blinded wrongdoers who are primarily responsible for the triumph of evil in the world, but the spiritually sighted servants of the good. - Author: Fyodor Stepun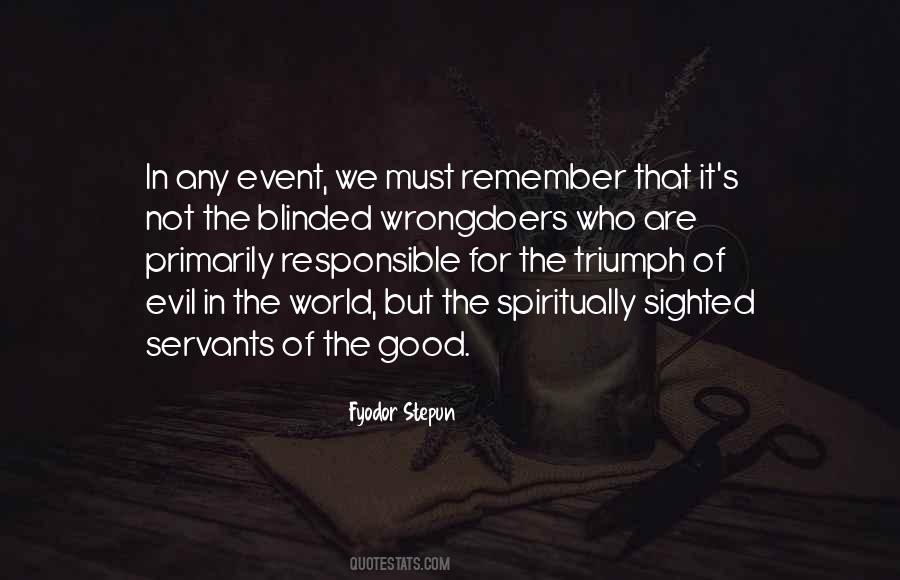 #36. Do you know the amount of evil done by well-meaning humans? Oodles. Do you know the amount done by ill-meaning devils? Infinitesimal. - Author: Thomm Quackenbush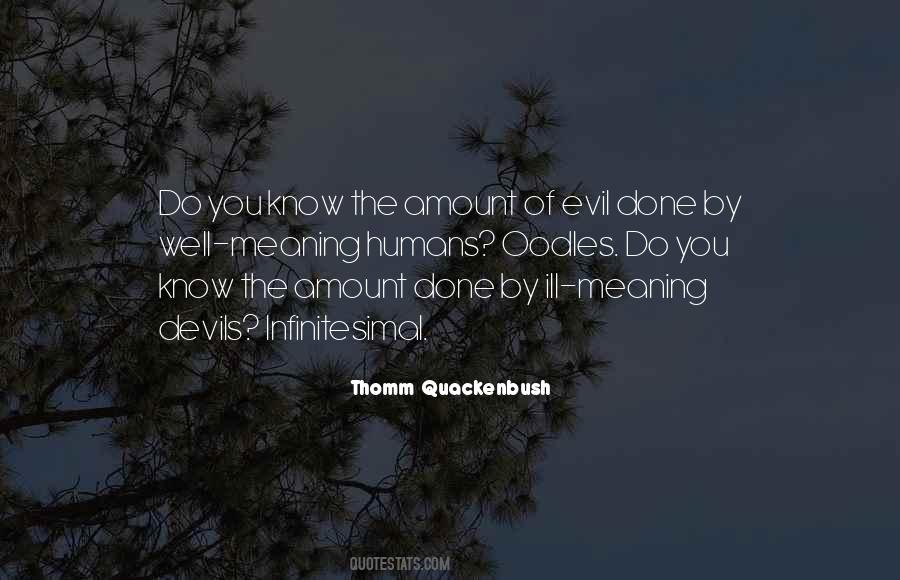 #37. The indifference, callousness, and contempt that so many people exhibit toward animals is evil first because it results in great suffering towards animals, and second because it results in an incalculably great impoverishment of human spirit. - Author: Ashley Montagu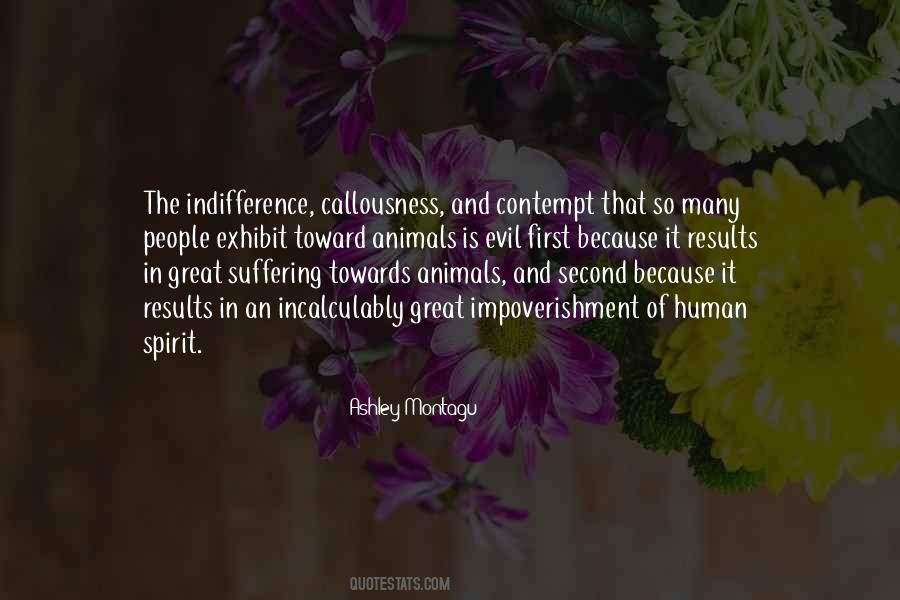 #38. World War II is the greatest drama in human history, the biggest war ever and a true battle of good and evil. I imagine writers will continue to get stories from it, and readers will continue to love them, for many more years. - Author: Ken Follett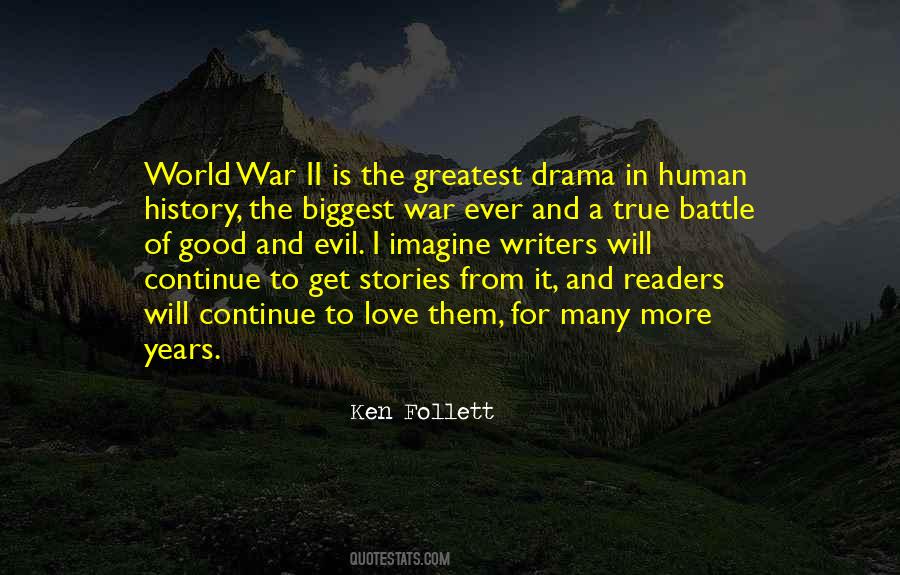 #39. Every day, police officers see the hairy, smelly underbelly of humanity, the most depraved and evil shit human beings are capable of, shit civilians thankfully can't imagine. - Author: Lisa Genova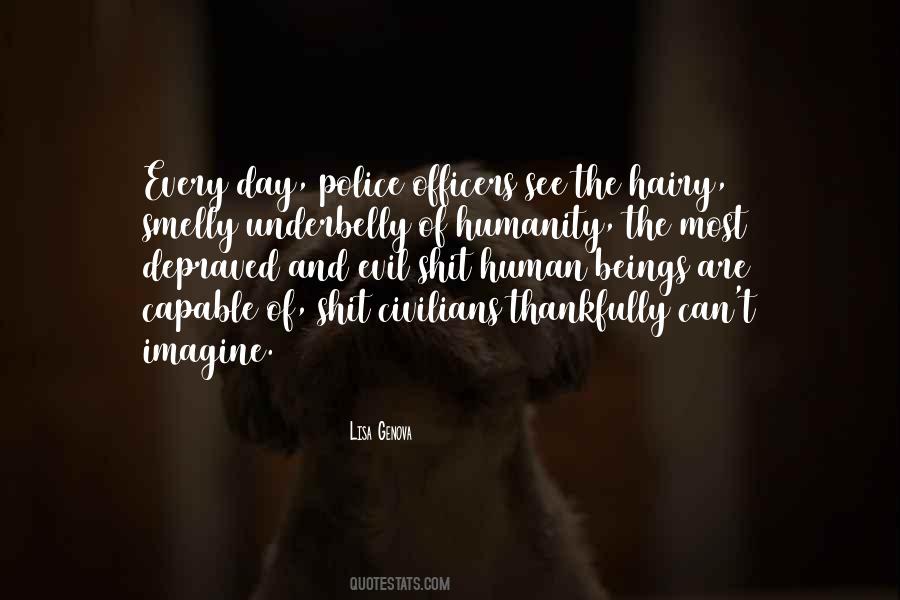 #40. This isn't a game, human. Listen to the Skotos and go. We're not bound by the laws of the Oneroi. Killing humans is nothing for us. (Dolophoni)
Well, aren't you all scary in black. Ooo. What are you two masquerading as? Evil Man and his trusty sidekick Bad Boy? (Geary) - Author: Sherrilyn Kenyon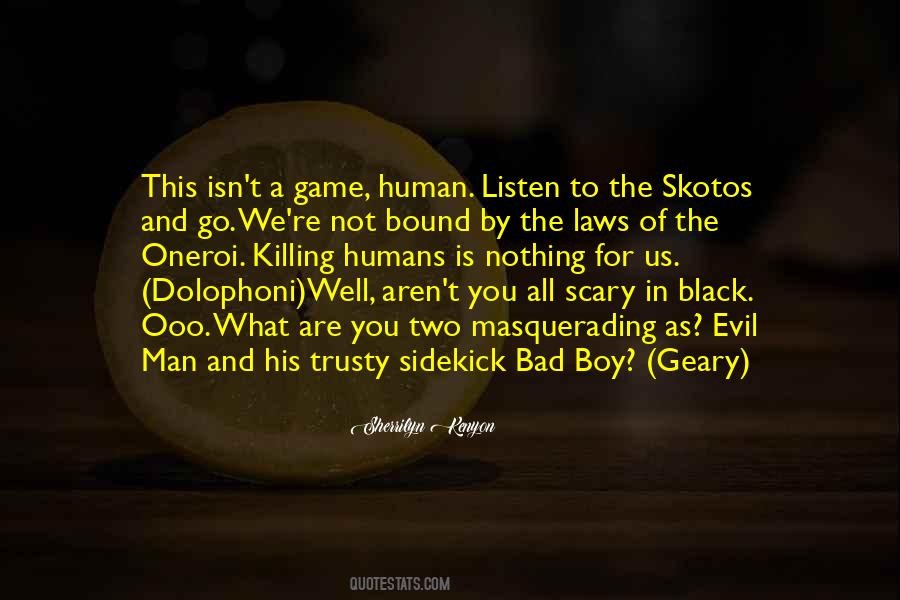 #41. The line between good and evil does not lie between "us" and "them," between the West and the rest, between Left and Right, between rich and poor. That fateful line runs down the middle of each of us, every human society, every individual. - Author: N. T. Wright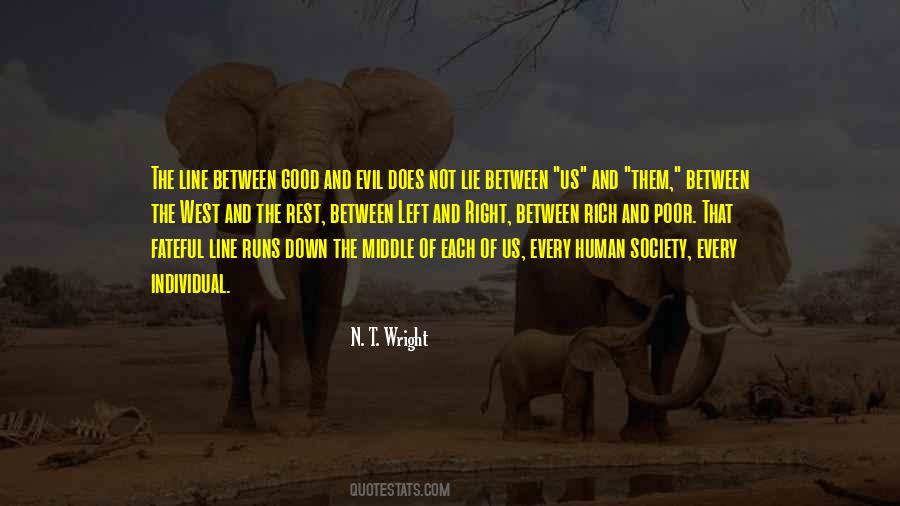 #42. This, I think, is the crux of evil in this world, Majesty: those who feel entitled to whatever they want, whatever they can grab. Such people never ask themselves if they have the right. They consider no cost to anyone but themselves. - Author: Erika Johansen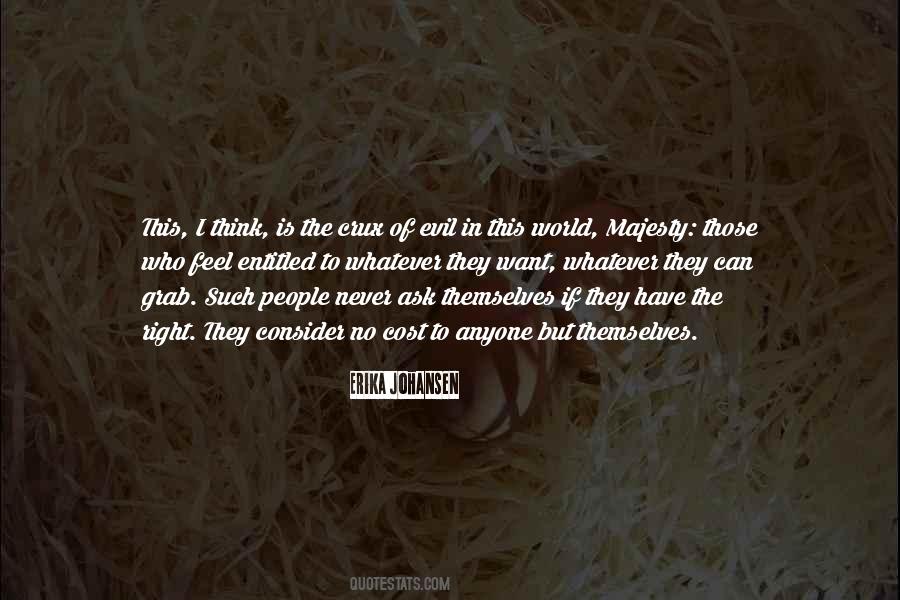 #43. What we most want to ask of our Maker is an unfolding of the divine purpose in putting human beings into conditions in which such numbers of them would be sure to go wrong. - Author: Oliver Wendell Holmes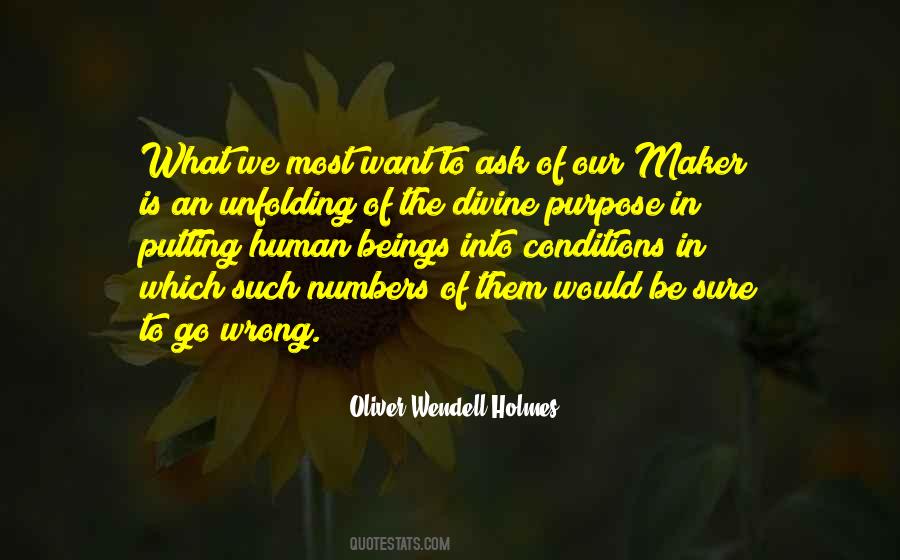 #44. As human beings we have the most extraordinary capacity for evil. We can perpetrate some of the most horrendous atrocities. - Author: Desmond Tutu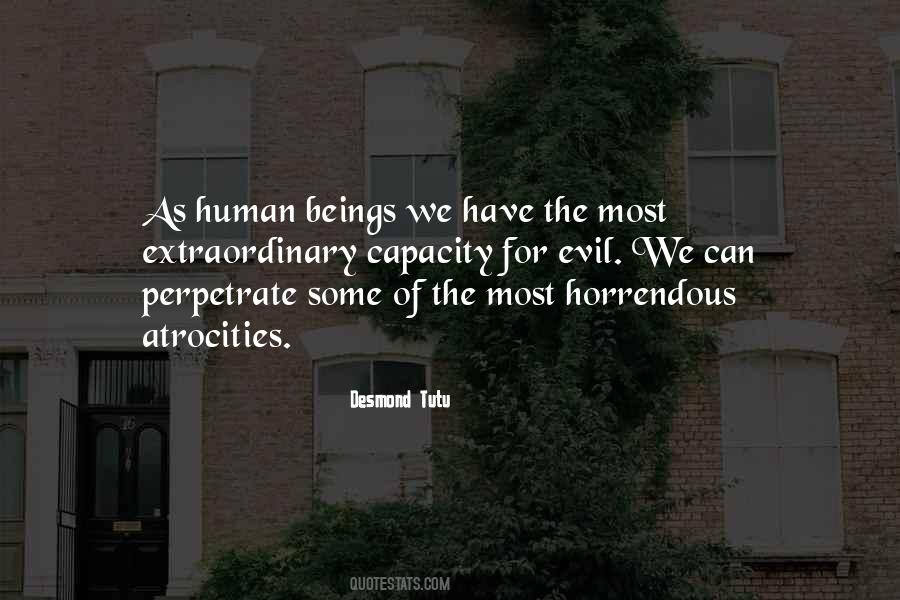 #45. How do we still believe that human nature is not evil when 60 years old men rape 3 years innocent girls? - Author: M.F. Moonzajer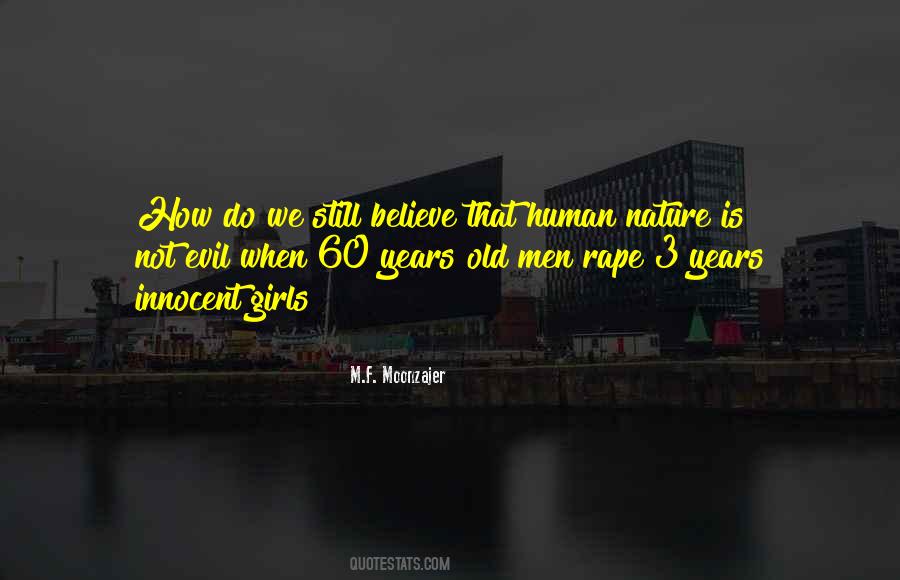 #46. I tell you, we would be hard put to determine what is more evil
religion or the pure idea. The intervention of the supernatural or the elegant abstract solution! Both have bathed this earth in suffering; both have brought the human race literally and figuratively to its knees. - Author: Anne Rice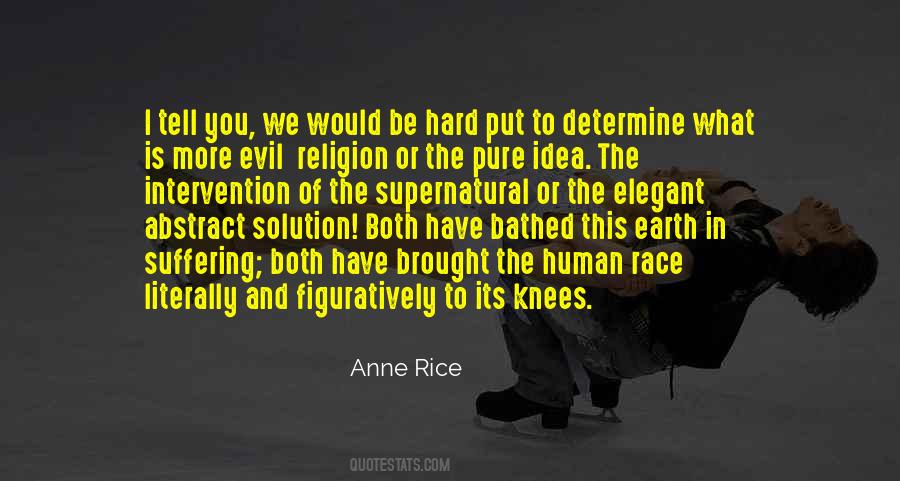 #47. Every human being has a fascinating existence, with a big cast of good and evil characters in each. And almost always, somewhere along the way, magic. - Author: Lucinda Riley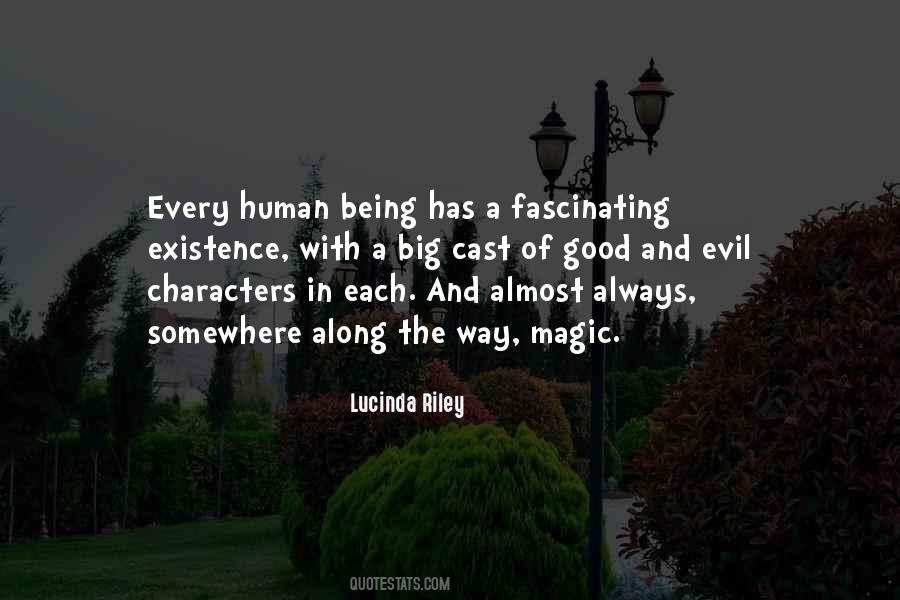 #48. He was my enemy. He was evil. He wasn't even human. I should have been disgusted, but just like the last time, I couldn't help myself any more than water could stop itself running downhill. - Author: Rosamund Hodge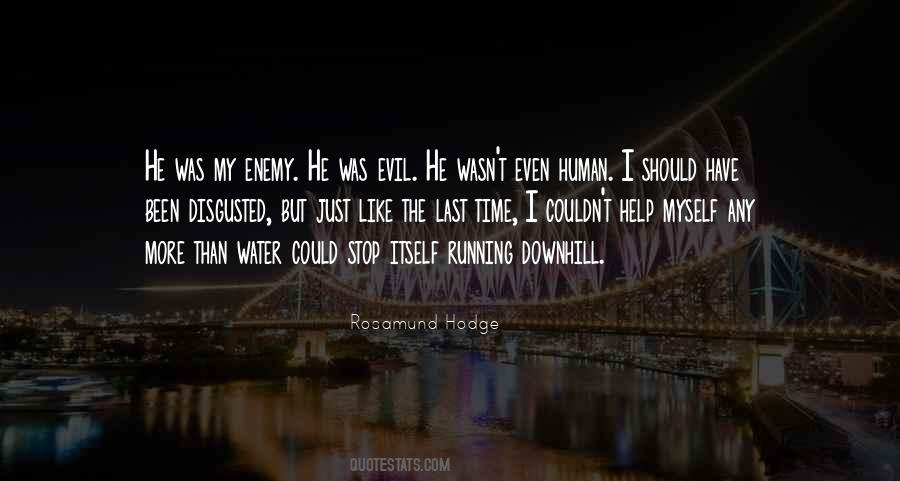 #49. Human foresight often leaves its proudest possessor only a choice of evils. - Author: Charles Caleb Colton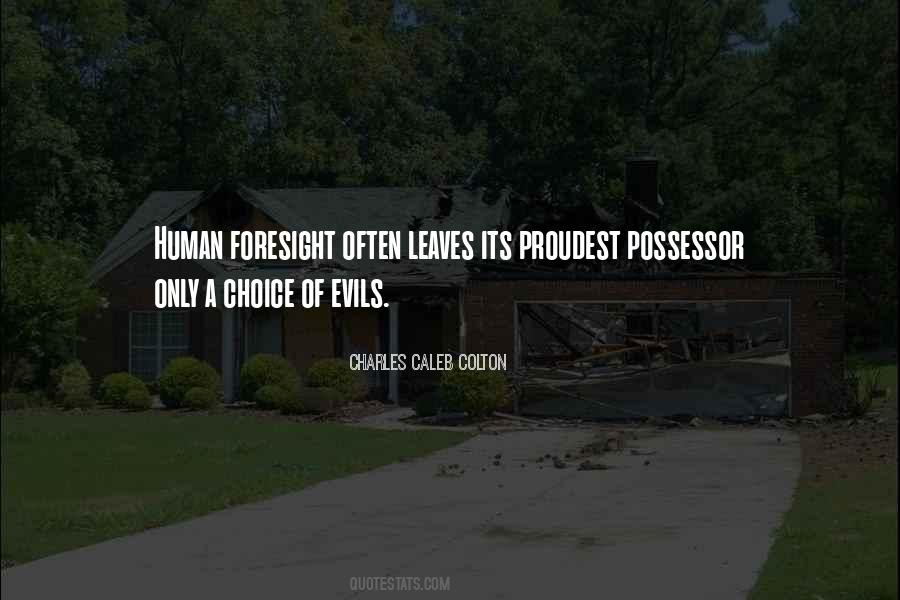 #50. The cause and root of nearly all evils in the sciences is this-that while we falsely admire and extol the powers of the human mind we neglect to seek for its true helps. - Author: Francis Bacon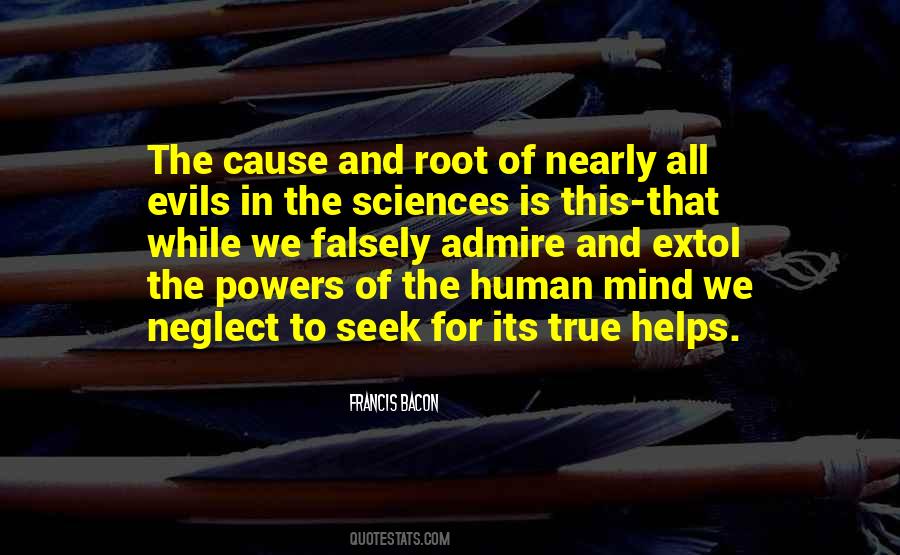 #51. Jesus was no cold Superman - he was more human than any of us. Entirely pure, unweakened by evil, he was loving and open to the core. His ardor, truth, sensitivity, power, capacity for joy and pain were unlimited, and everything that happened to him happened in the immeasurableness of his divinity. - Author: Romano Guardini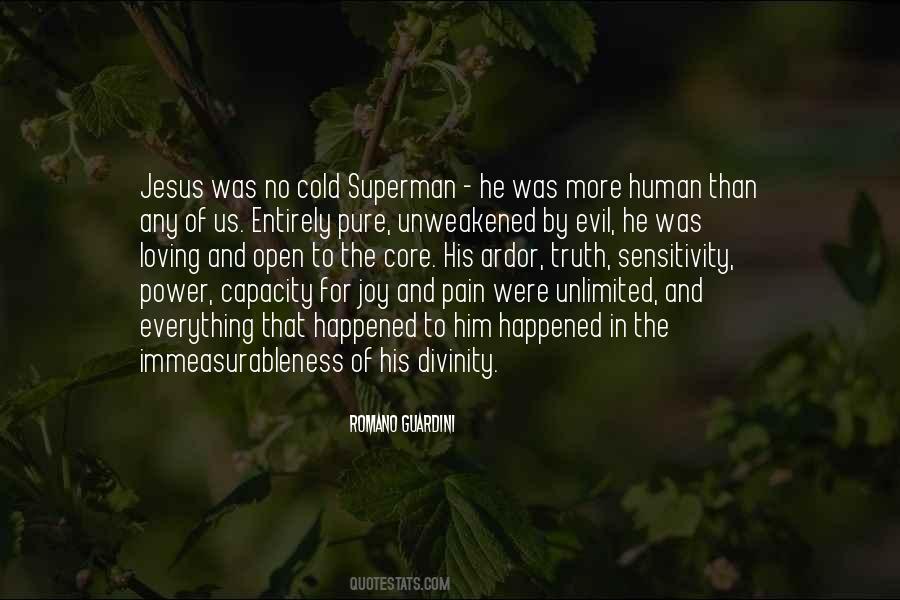 #52. To have thought that, with the right tests and the right lectures, I could be made into a cold-blooded, heartless killer. To have thought that I could ignore the beating of my own heart long enough to stop the beating of another's. - Author: Jessica Khoury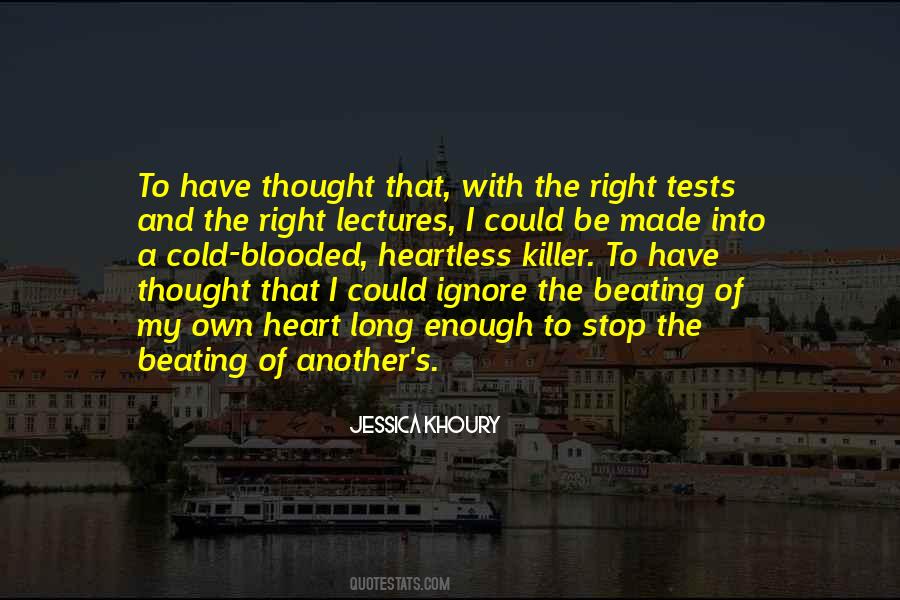 #53. Wherever you are, I will be happy as long as I'm with you." August 2009 Dear Reader: For twelve books, I've written about the types of evil men and women commit against their fellow human - Author: Allison Brennan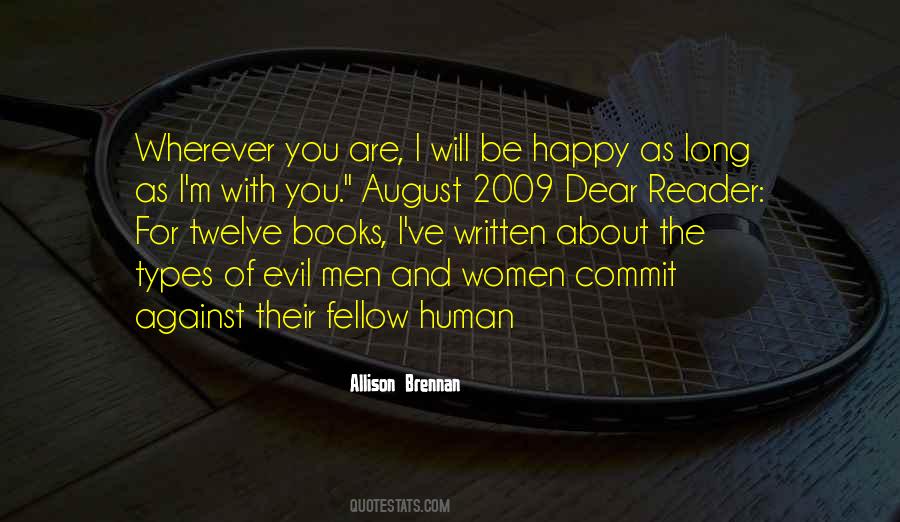 #54. George W.Bush can go and kill thousands of Iraqis every day. By making people believe they are the enemy, and not human beings any more. If evil has an address, a nationality, you can exterminate all of them. This is fascism. - Author: Marjane Satrapi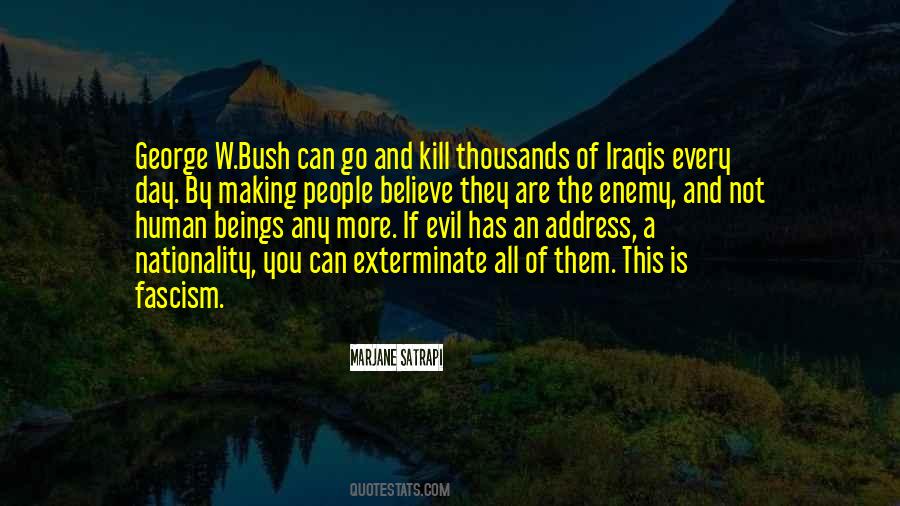 #55. People are not totally good or bad, black or white - unless we are talking of evil psychos.
We, human beings, are somewhere between angels and demons. That is what makes us, human beings, lovely imperfect. - Author: Cristiane Serruya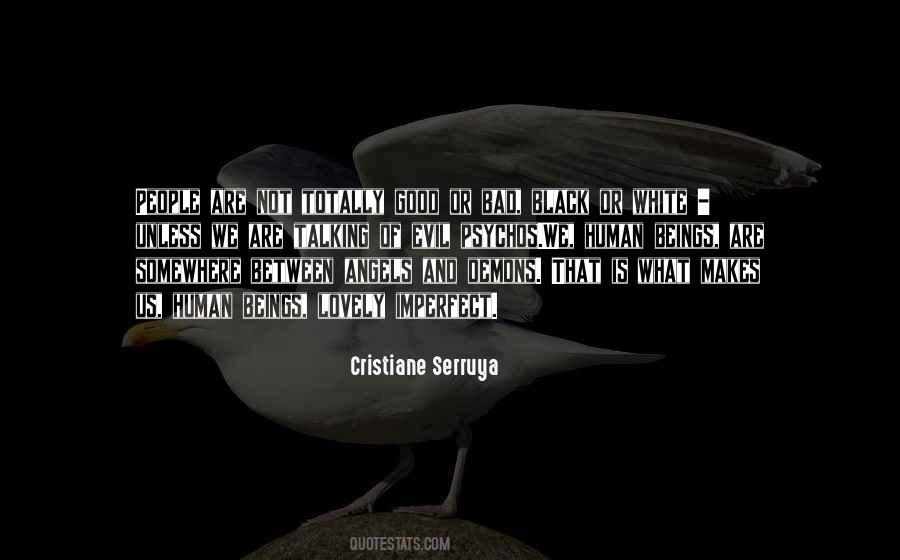 #56. No matter how noble the objectives of a government, if it blurs decency and kindness, cheapens human life, and breeds ill will and suspicion; it is an evil government. - Author: Eric Hoffer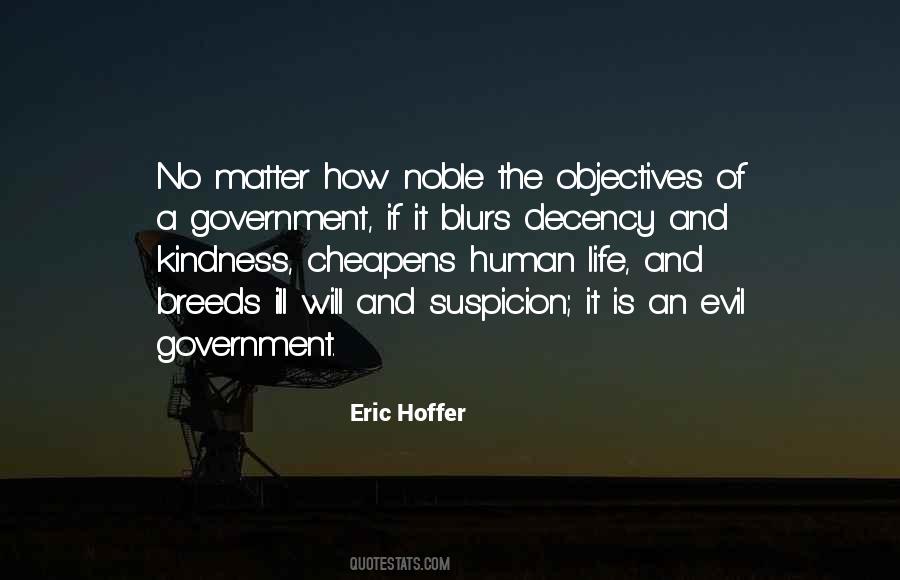 #57. Can one be fully human without experiencing tragedy? The only tragedy there is in the world is ignorance; all evil comes from that. - Author: Anthony De Mello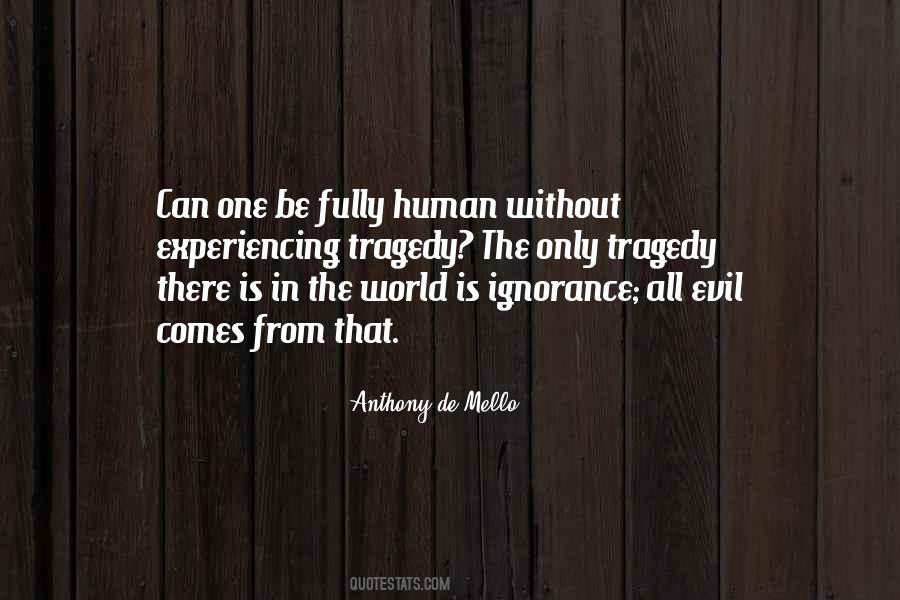 #58. Rather than dividing the world between good and evil, the Left divided the world in terms of economics. Economic classes, not moral values, explained human behavior. Therefore, to cite a common example, poverty, not one's moral value system, or lack of it, caused crime. - Author: Dennis Prager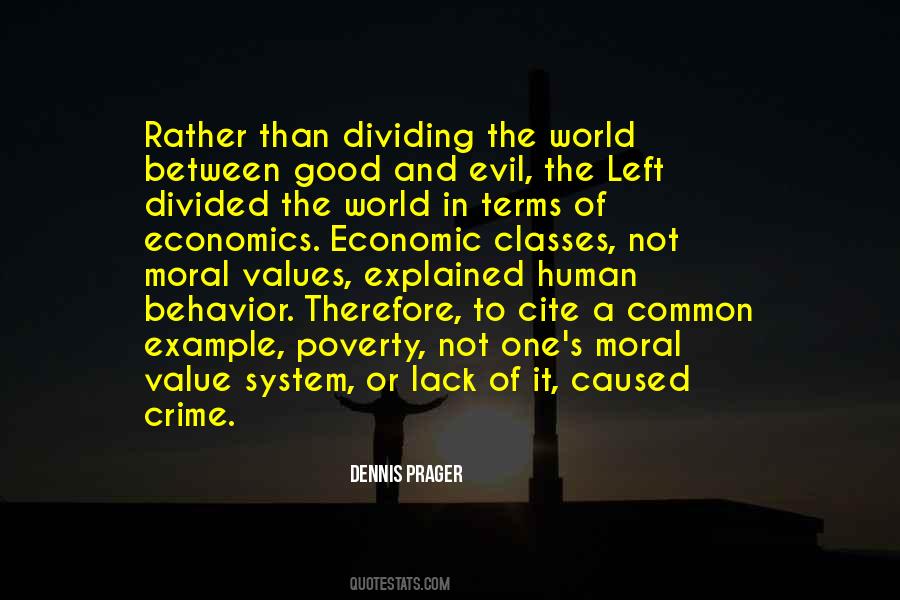 #59. The author's Socrates admonishes paramount awareness human limitations. If we do good to those we evaluate as good and evil to those we evaluate at the evil, and we are wrong, we have been made the world less just. - Author: Plato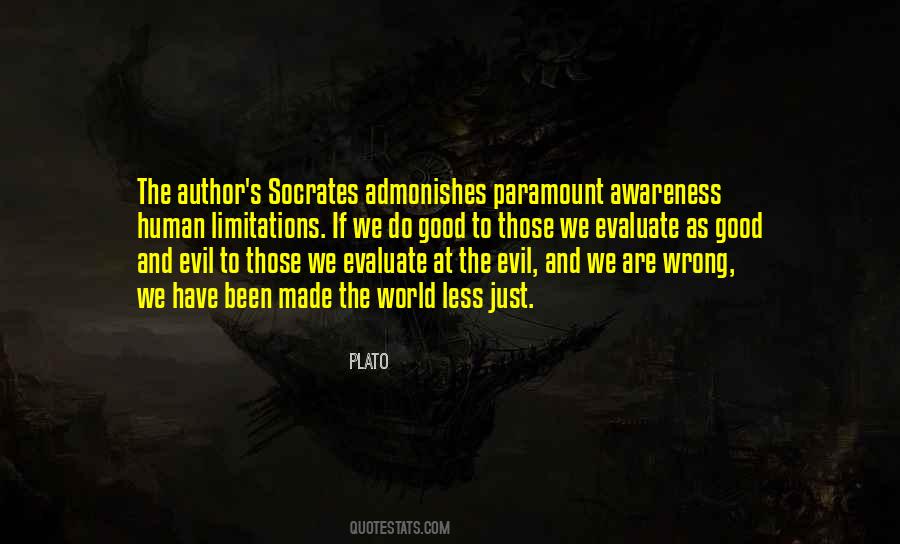 #60. To do evil a human being must first of all believe that what he's doing is good. - Author: Aleksandr Solzhenitsyn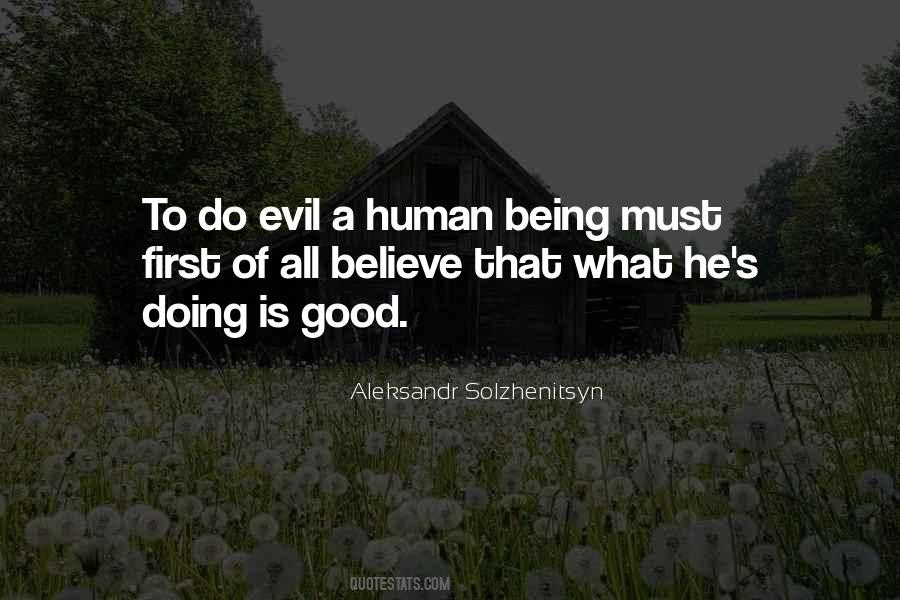 #61. Kill a man who needs killing, and sometimes others pay for it. The question is, was it worth doing it anyway? There's always a balance, you know. Good and evil. Light and Shadow. We would not be human if there wasn't a balance. - Author: Robert Jordan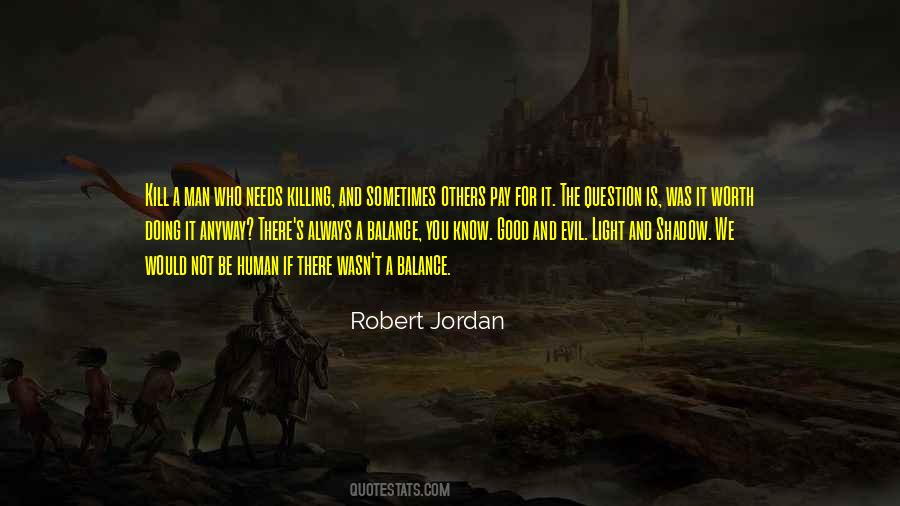 #62. but I never said a thing about Patra and Paul, and I never told her what I really thought about Christian Science, which is that from what I know, from what little I know, it offers one of the best accounts of the origin of human evil. This - Author: Emily Fridlund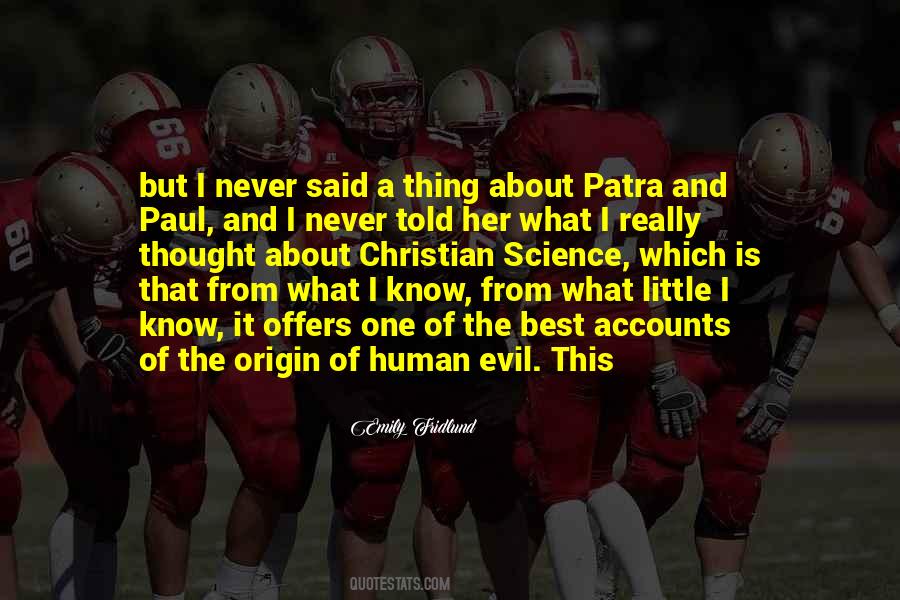 #63. Human history is not the battle of good struggling to overcome evil. It is a battle fought by a great evil struggling to crush a small kernel of human kindness. - Author: Vasily Grossman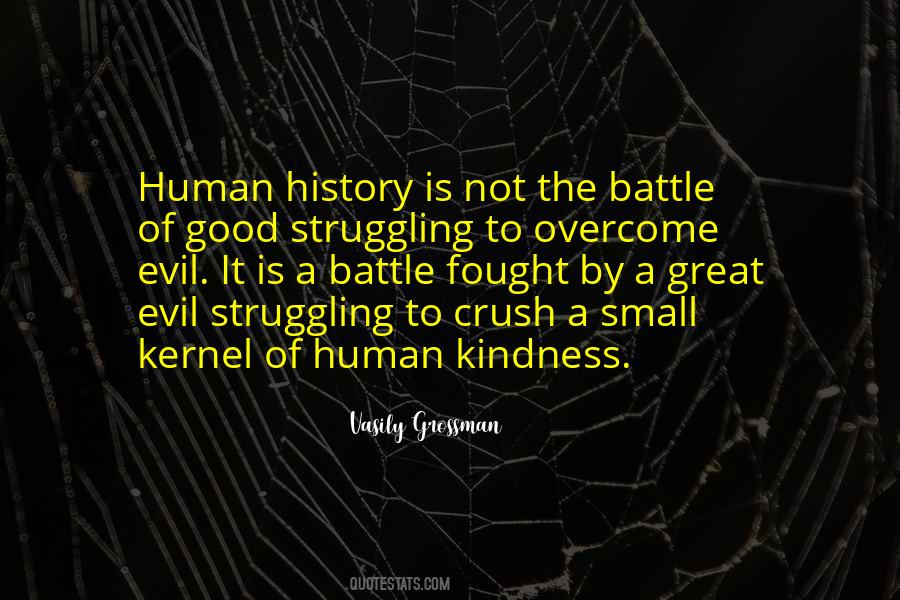 #64. Human progress planned as alternatives (to God's plan) introduce in justice, evil and violence rising against the divine plan of justice and salvation. And despite transitory and apparent successes, they are reduced to simple machinations destined to dissolution and failure. - Author: Pope John Paul II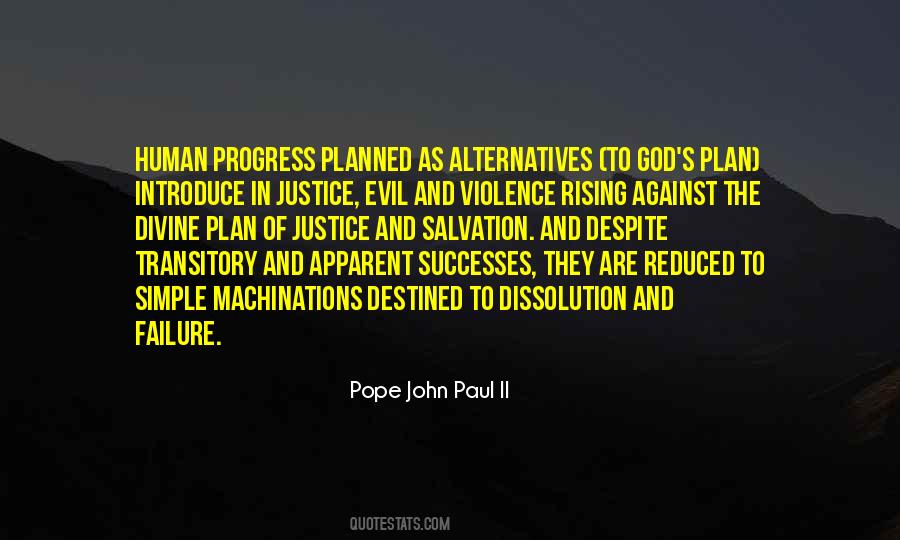 #65. I hope you haven't given up on the S.Q.'s of the world, Reynie. As you see, there are a great many sheep in wolves' clothing. If not for S.Q.'s good nature, we'd never have escaped. - Author: Trenton Lee Stewart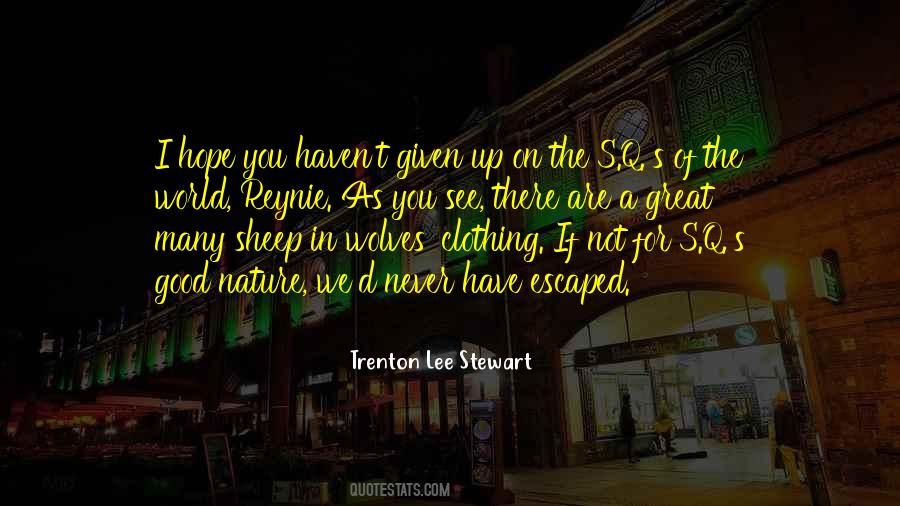 #66. All around the world, people believe that there is a great conflict between good and evil. Well, it's true that there's a conflict, but it only exists in the human mind. - Author: Miguel Angel Ruiz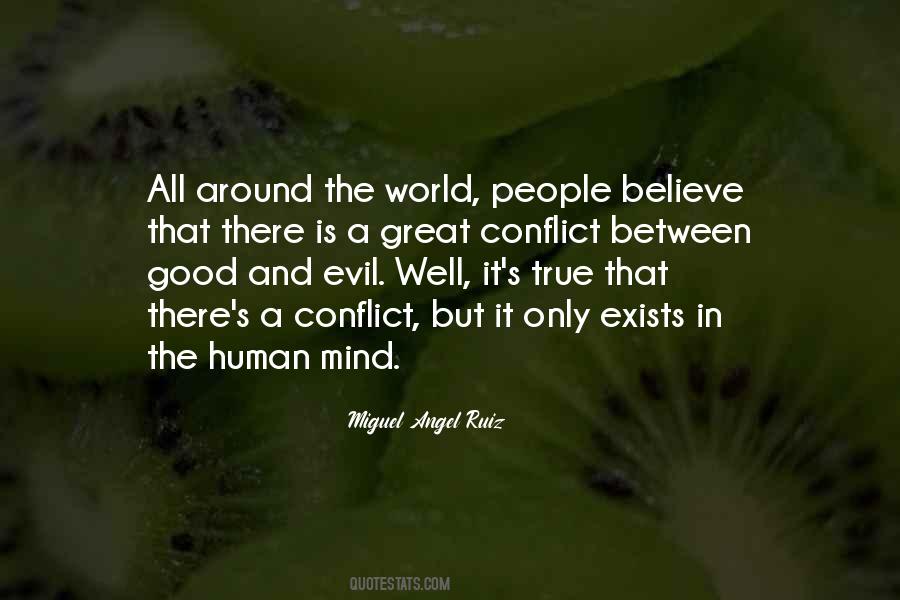 #67. Man's natural and inevitable urge to deny mortality and achieve a heroic self-image are the root causes of human evil. - Author: Ernest Becker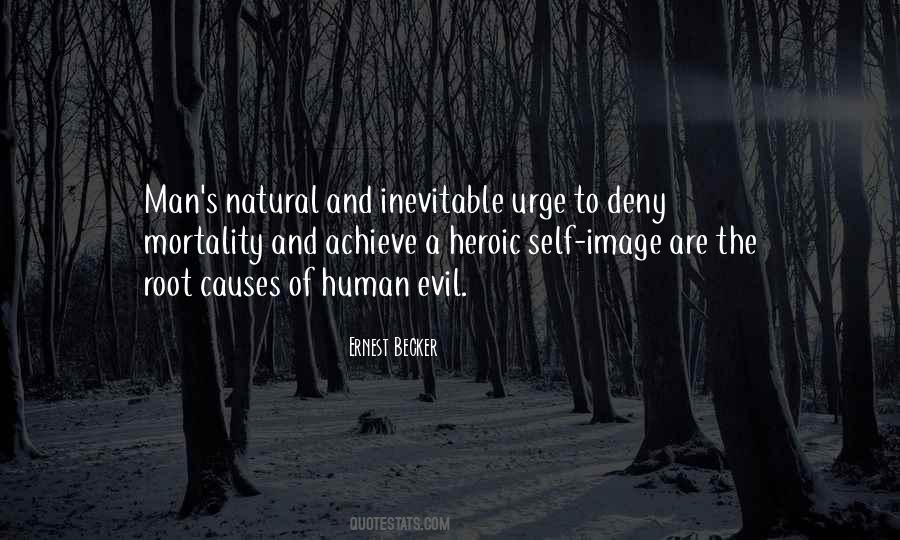 #68. Human evil is a collapse of the moral faculty, but not an operating pursuing of the wrong. - Author: Arvin Adriyan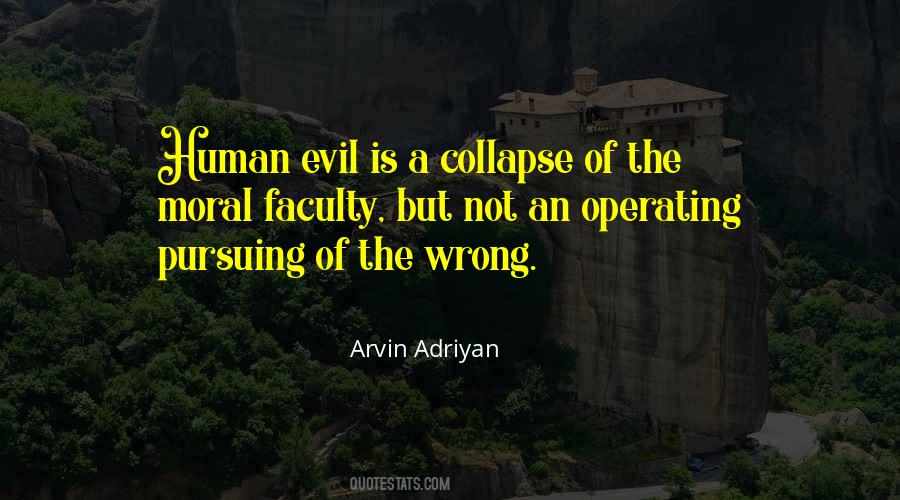 #69. The sovereignty of God is the one impregnable rock to which the suffering human heart must cling. The circumstances surrounding our lives are no accident: they may be the work of evil, but that evil is held firmly within the mighty hand of our sovereign God. - Margaret Clarkson - Author: Randy Alcorn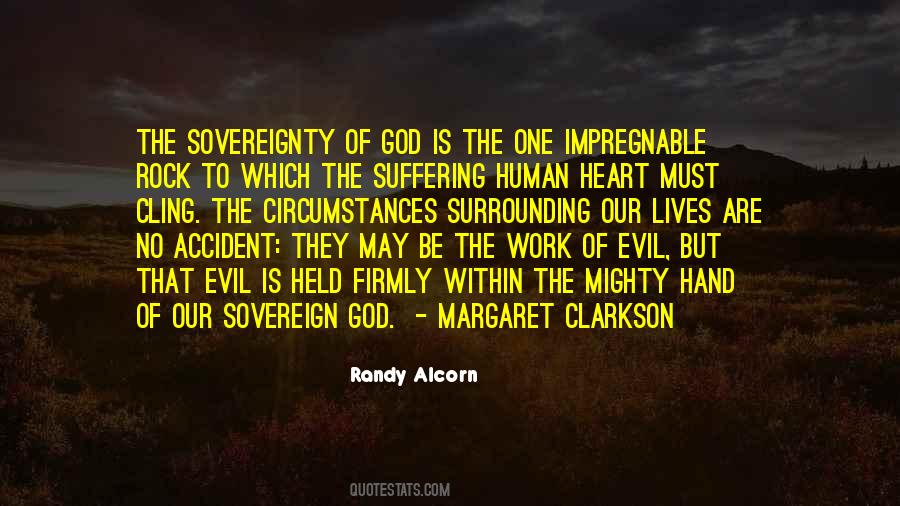 #70. Politics is not evil; politics is the human race's most magnificent achievement. - Author: Robert A. Heinlein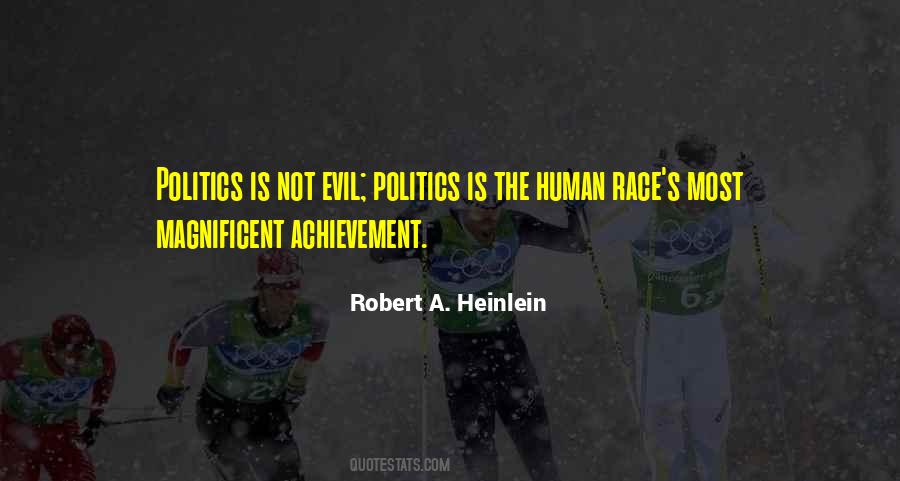 #71. There exists in human nature a strong propensity to depreciate the advantages, and to magnify the evils, of the present times. - Author: Edward Gibbon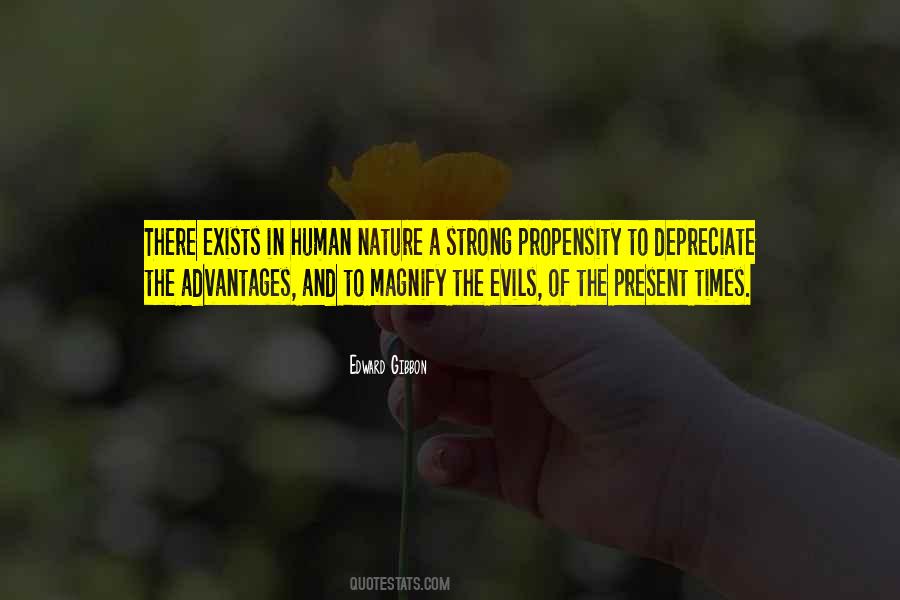 #72. Happy are those few nations that have not waited till the slow succession of human vicissitudes should, from the extremity of evil, produce a transition to good; but by prudent laws have facilitated the progress from one to the other! - Author: Cesare Beccaria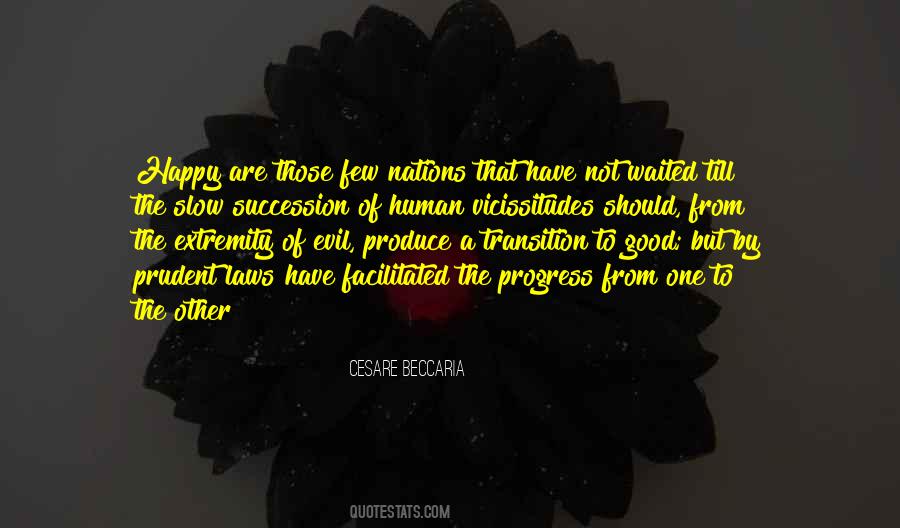 #73. While there is no one who hasn't an evil bone in their body, there is also no one who is totally evil to the core. the fact that someone harbors opposing emotions simply makes them human. - Author: Masaru Emoto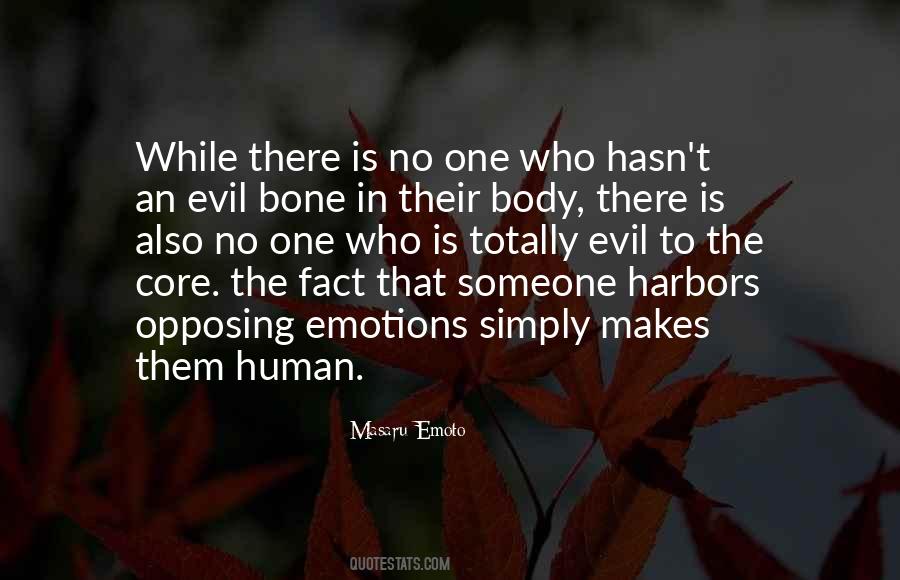 #74. They thought man was a creature of rapacious self-interest, and yet they wanted him to be free- free, in essence, to contend, to engage in an umpired strife, to use property to get property. - Author: Richard Hofstadter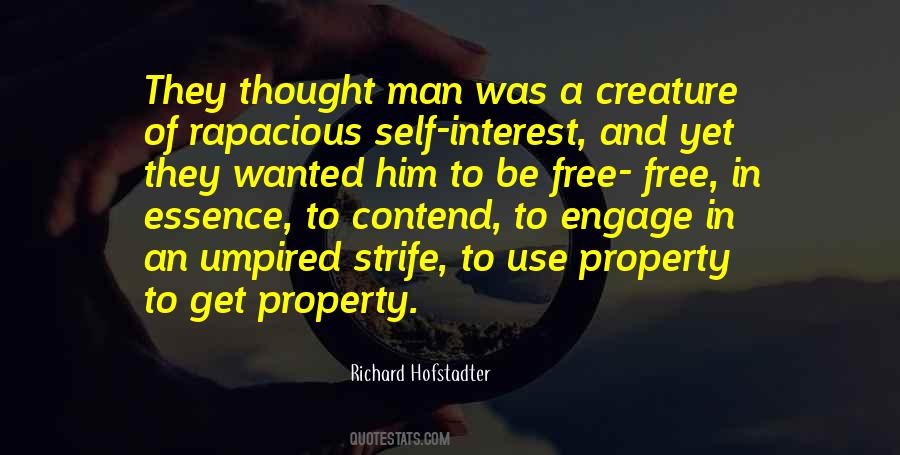 #75. The chief evil of war is more evil. War is the concentration of all human crimes. Here is its distinguishing, accursed brand. Under its standard gather violence, malignity, rage, fraud, perfidy, rapacity, and lust. If it only slew man, it would do little. It turns man into a beast of prey. - Author: William Ellery Channing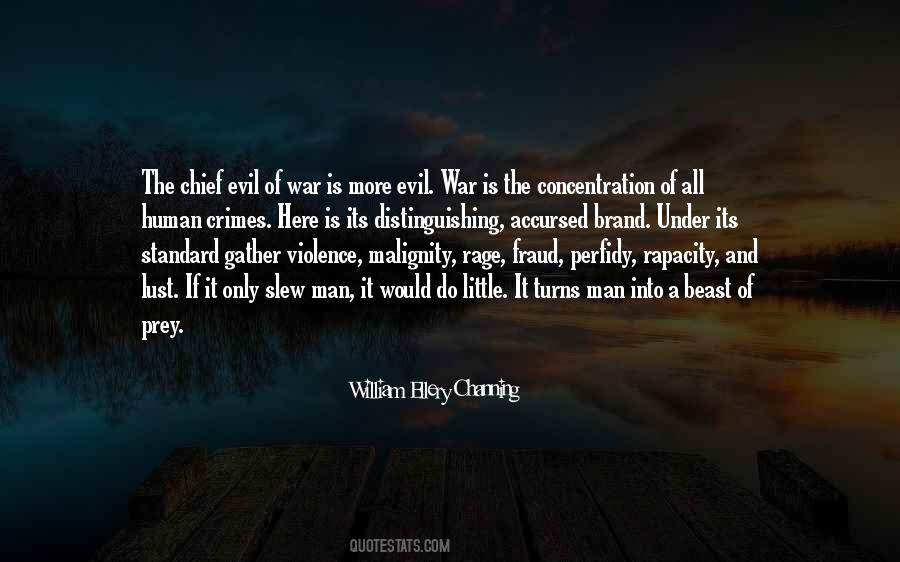 #76. Religion as a human phenomenon is as riddled through with potential for both good and evil as any other phenomenon. - Author: Richard John Neuhaus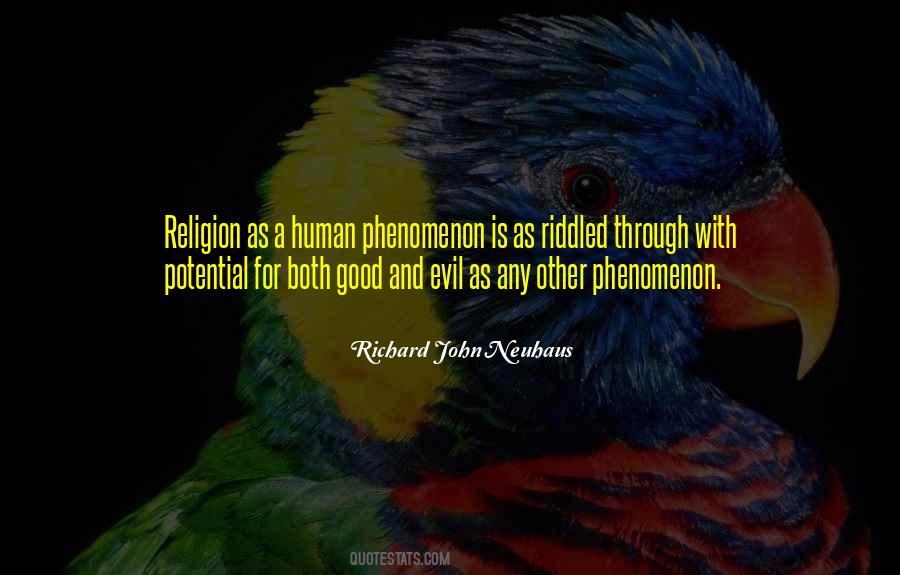 #77. If you are stealing people's thunder just by being around and standing there; you really can't expect people to like you. People want their own thunder to be heard loud and wide, not yours! Swans should never despair over ducks not liking them. - Author: C. JoyBell C.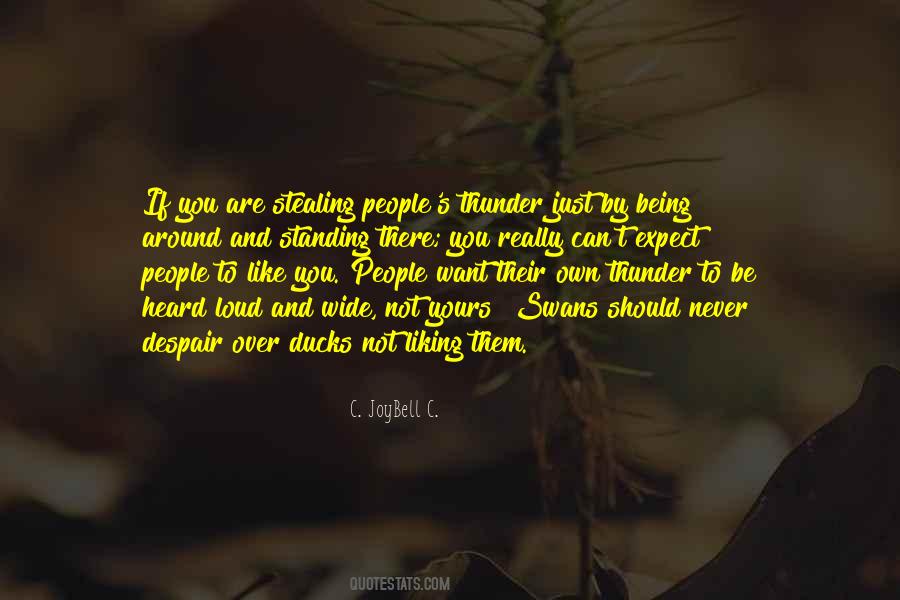 #78. Its [Communism's] unfortunate association with violence encourages a certain evil tendency in human beings. - Author: Jawaharlal Nehru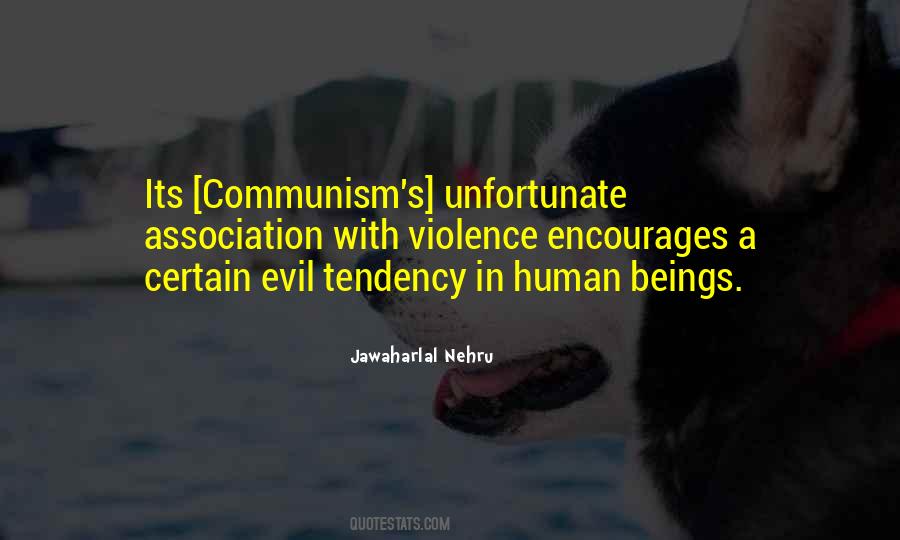 #79. Even the most sadistic and destructive man is human, as human as the saint. - Author: Erich Fromm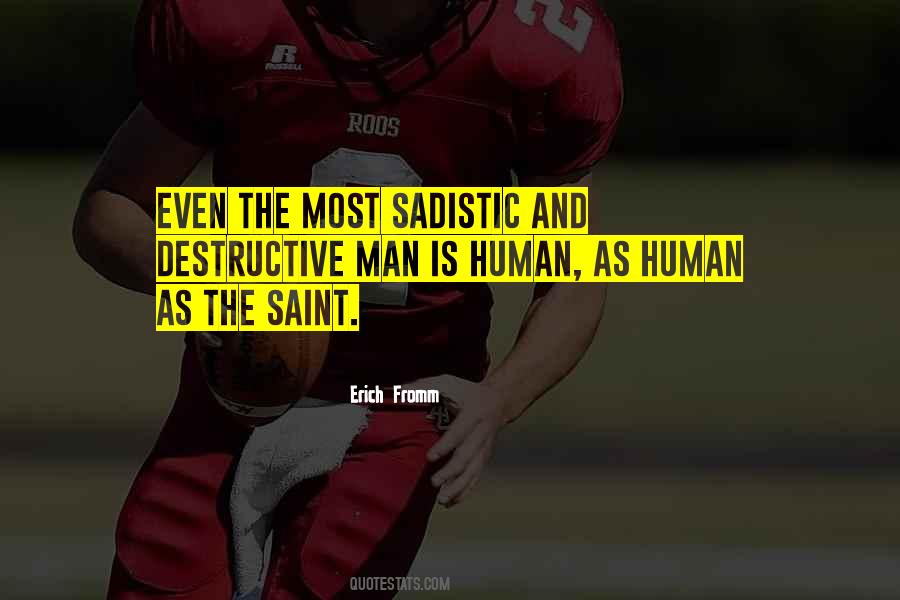 #80. Since boredom advances and boredom is the root of all evil, no wonder, then, that the world goes backwards, that evil spreads. This can be traced back to the very beginning of the world. The gods were bored; therefore they created human beings. - Author: Soren Kierkegaard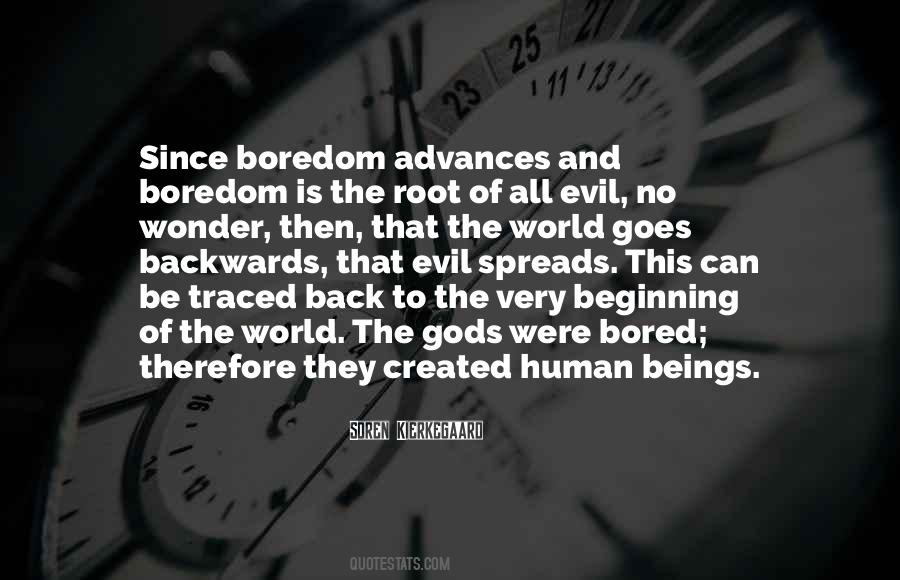 #81. You're either good, or you're clever. - Author: Mackenzi Lee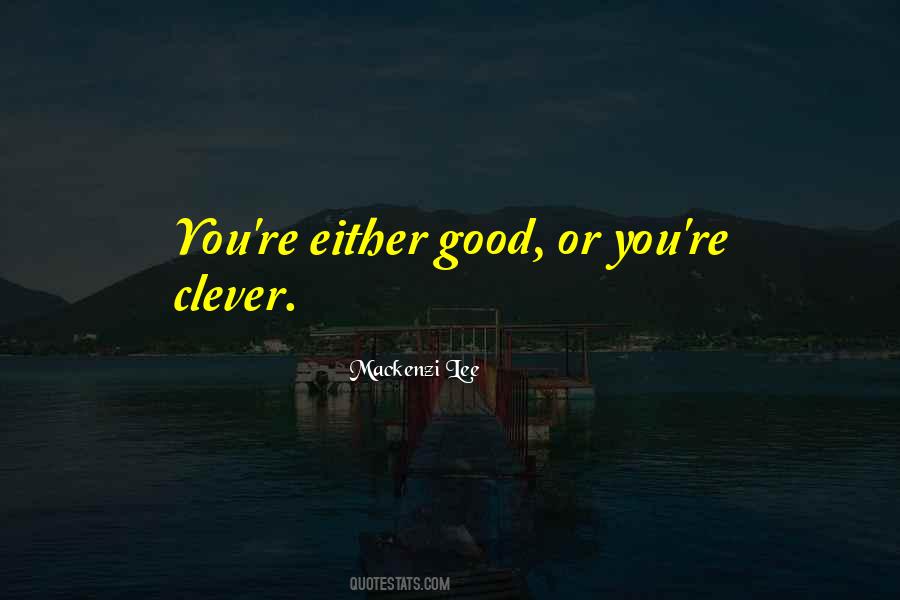 #82. Can the mere convenience that makes money such a useful device continue indefinitely to outweigh the horrendous and growing burden of evil that it imposes on the human race and ultimately brings its dependents to ruin? - Author: Hugh Nibley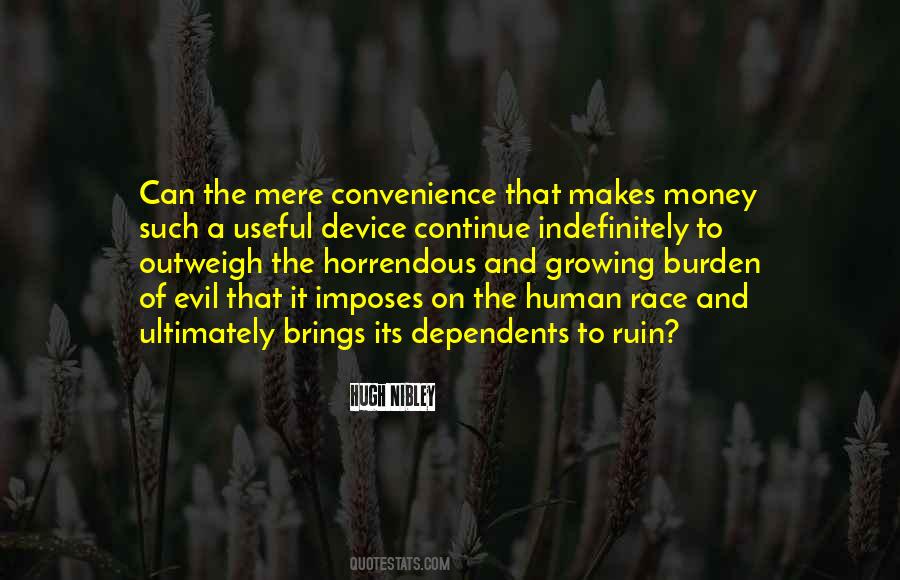 #83. I'm a Christian because Christianity names and addresses sin. It acknowledges the reality that the evil we observe in the world is also present within ourselves. It tells the truth about the human condition - that we're not okay. - Author: Rachel Held Evans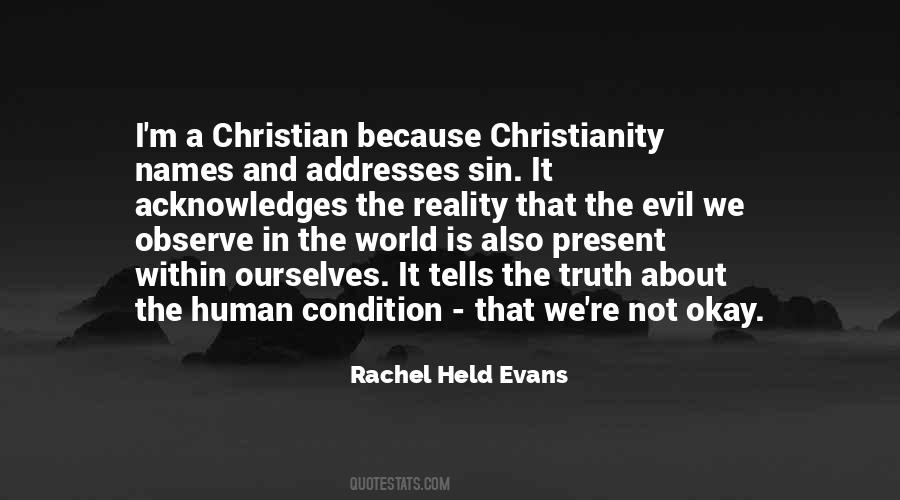 #84. What had human beings become? Did war make us evil or just activate an evil already lurking within us? - Author: Ruta Sepetys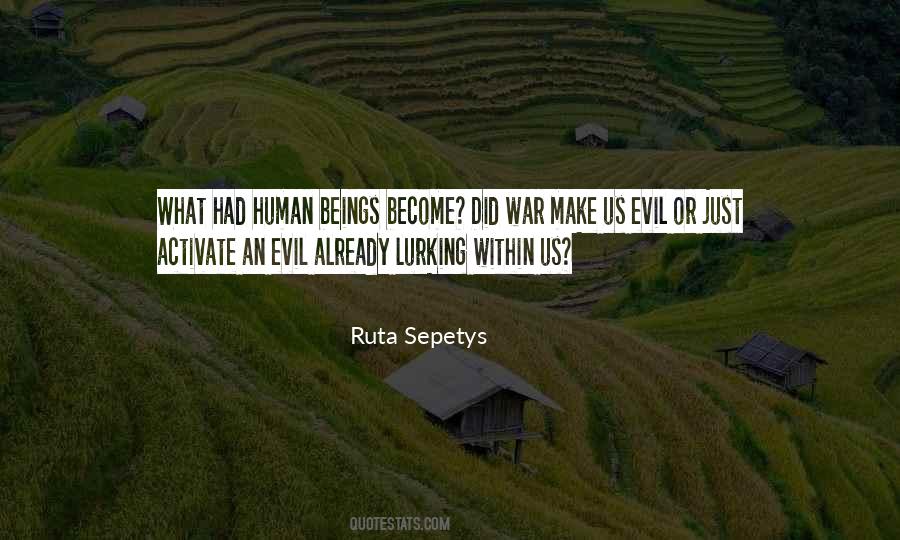 #85. The main problem I always have with multiplayer is that human beings are grabby, entitled, selfish, ugly, stupid, evil cockstoppers. - Author: Yahtzee Croshaw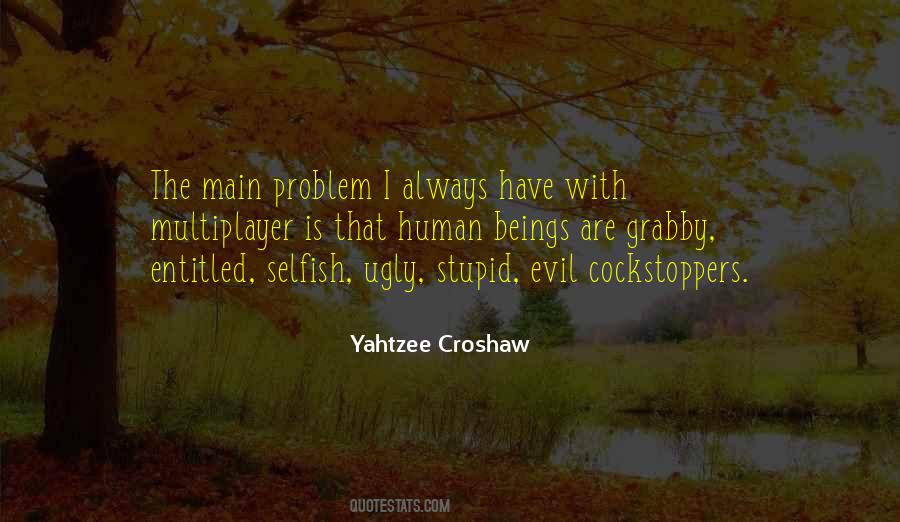 #86. Without the voice, hands, and feet of a human being, an evil spirit is limited in what it can accomplish. - Author: Perry Stone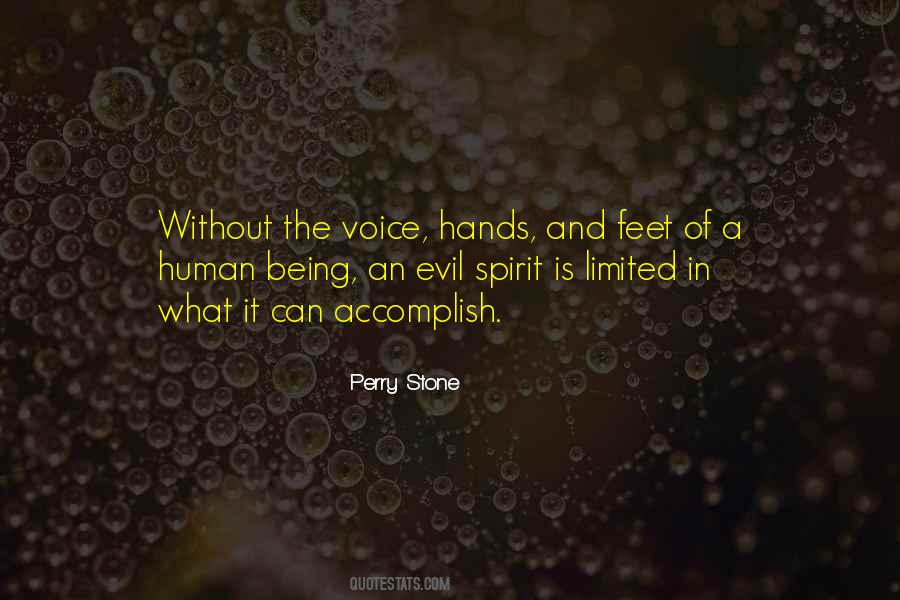 #87. The most successful supporters of tyranny are without doubt those general declaimers who attribute the distresses of the poor, and almost all evils to which society is subject, to human institutions and the iniquity of governments. - Author: Thomas Malthus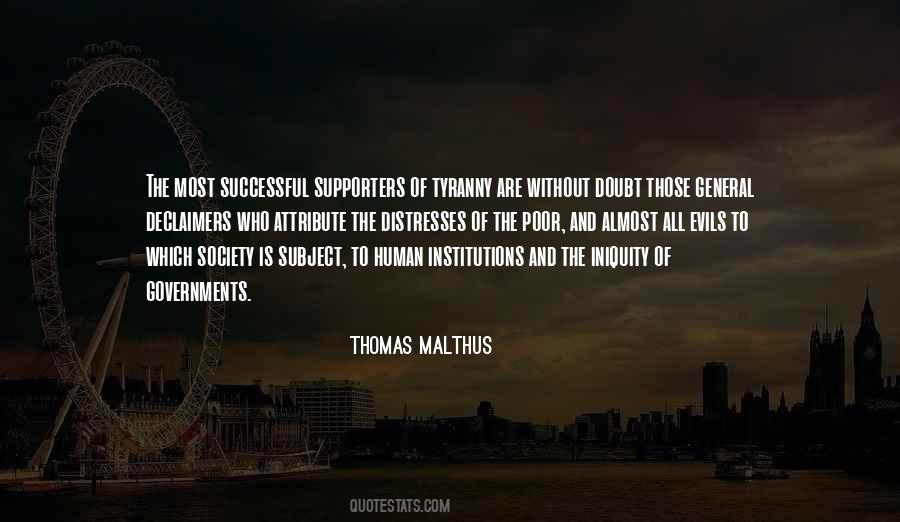 #88. Human reason can excuse any evil; that is why it's so important that we don't rely on it. - Author: Veronica Roth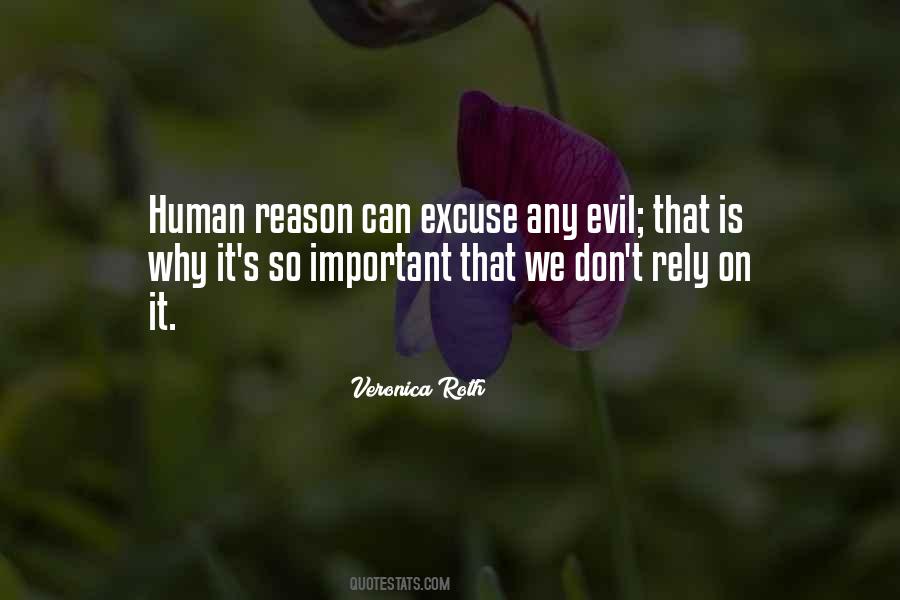 #89. In a war the most dangerous thing is to understand the enemy. To understand is to forgive. And we
have no right to do that - we never have had, not since the creation of the world. - Author: Sergei Lukyanenko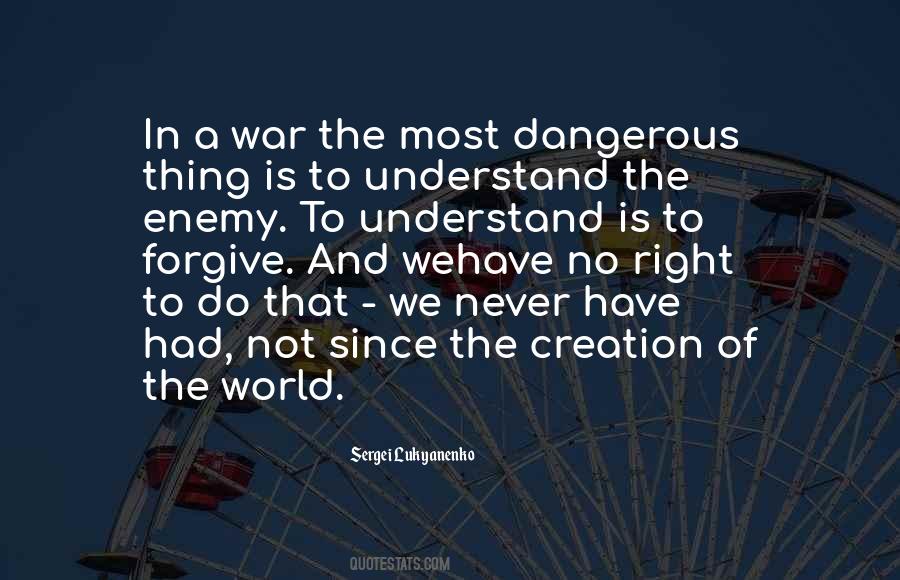 #90. The Bible is the chief moral cause of all that is good and the best corrector of all that is evil in human society; the best book for regulating the temporal [secular] concerns of men. - Author: Noah Webster
#91. In very general terms 'Top Of The Lake' is about good and evil. It's a deep dark mystery. It also deals with lots of fascinating human relationships, and it's also about the battle of the sexes. - Author: David Wenham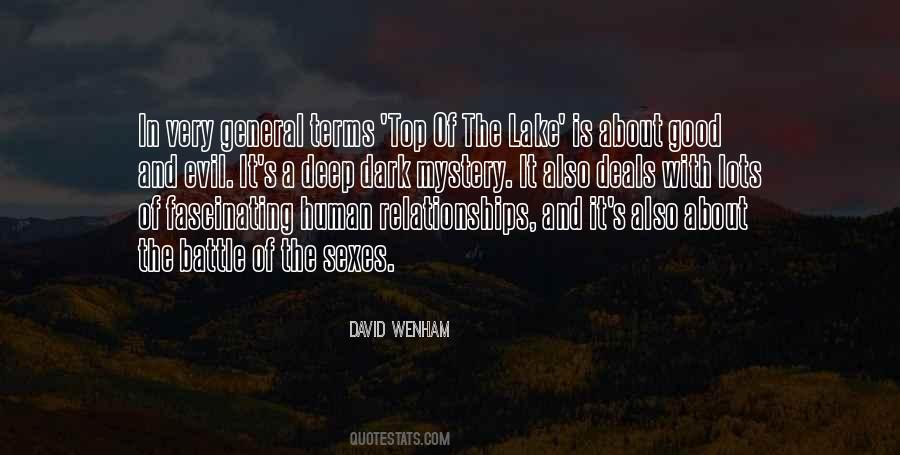 #92. The Jewish problem is as old as history, and assumes in each age a new form. The life or death of millions of human beings hangs upon its solution; its agitation revives the fiercest passions for good and for evil that inflame the human breast. - Author: Emma Lazarus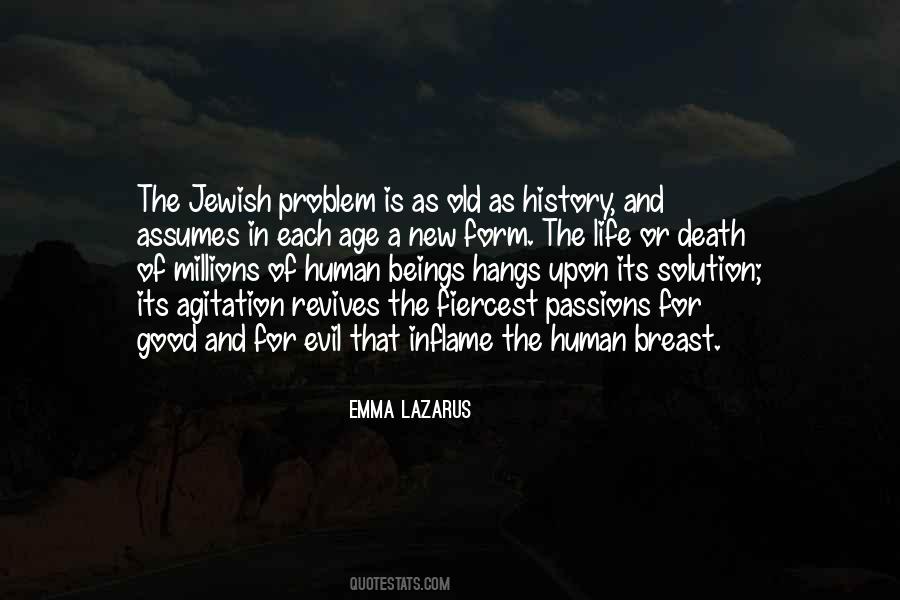 #93. An institution or reform movement that is not selfish, must originate in the recognition of some evil that is adding to the sum of human suffering, or diminishing the sum of happiness. - Author: Clara Barton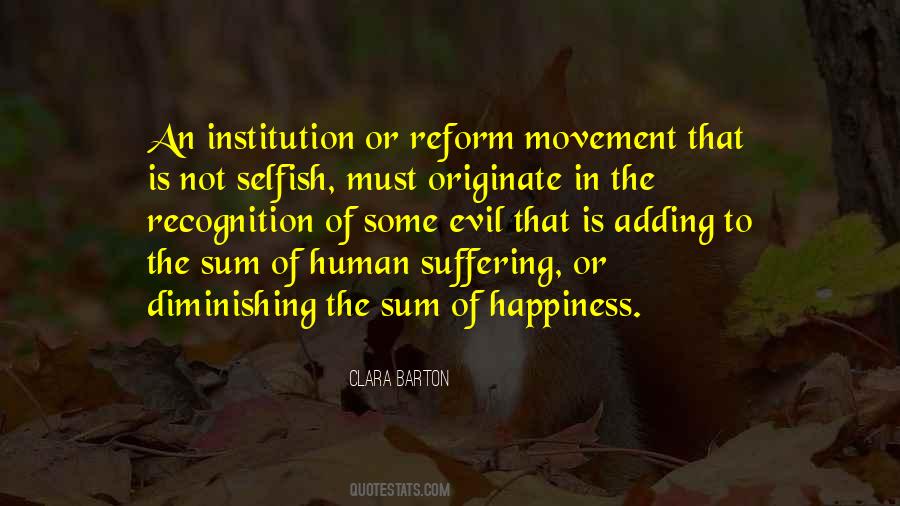 #94. Unfortunately, evil will never be wholly defeated.Mankind is faced with a continual struggle against evil. We believe that this is where the meaning of our lives and of human history lies. - Author: Alija Izetbegovic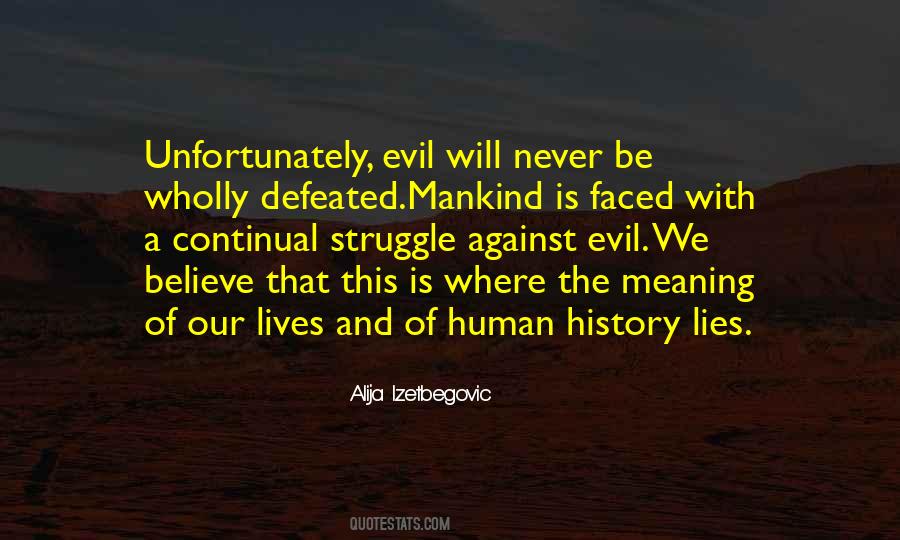 #95. He's ours now. Not made by evil, but birthed by human cruelty. (Mortent Leader) - Author: Sherrilyn Kenyon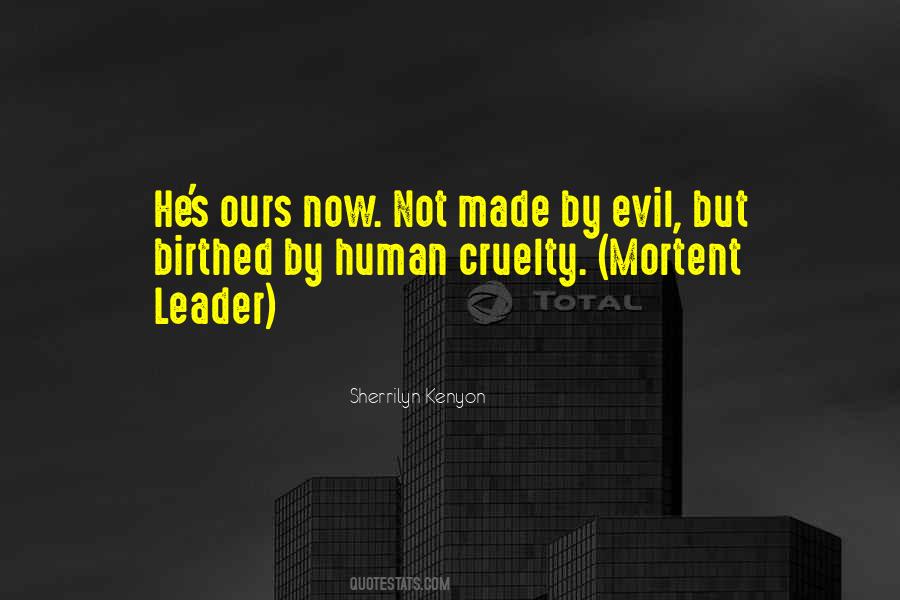 #96. An evil for these times destined to move through the world in handsome human guise. - Author: Anne Rice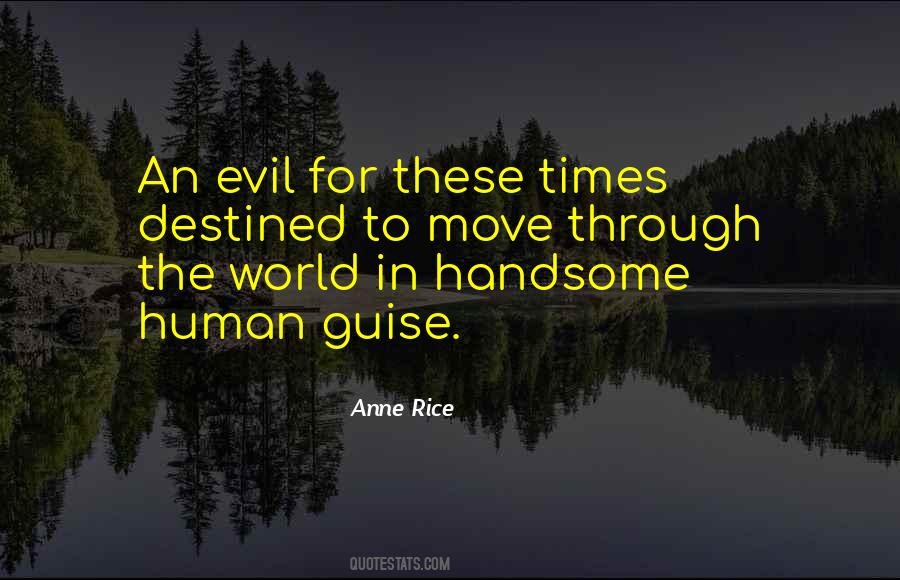 #97. Grief falls upon human beings as the rain, not selecting good or evil, visiting the innocent, condemning those who have done no wrong. - Author: Richard Jefferies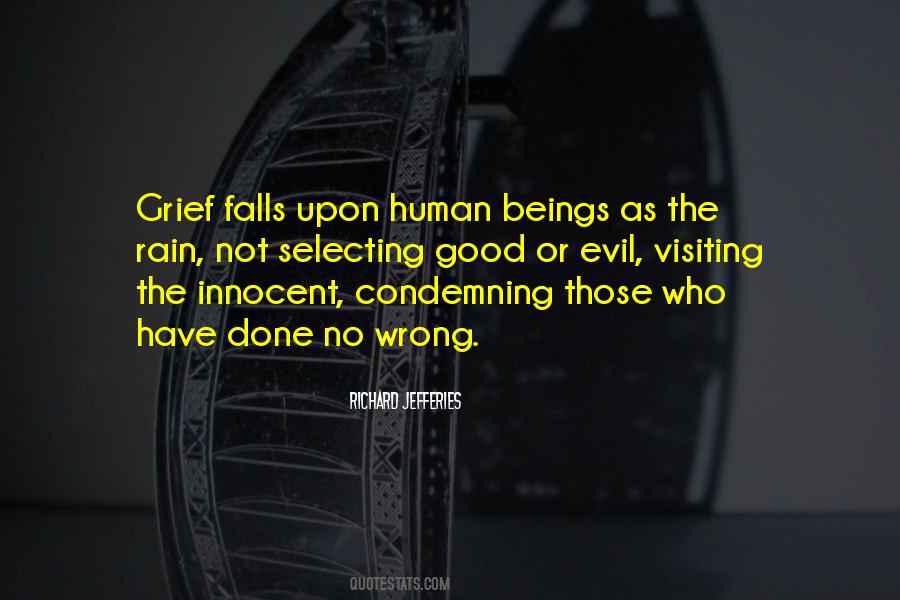 #98. The essence of morality is a questioning about morality; and the decisive move of human life is to use ceaselessly all light to look for the origin of the opposition between good and evil. - Author: Georges Bataille
#99. Any good world would allow for us to have free will, yes?" he continued. "Can we agree to this point? But once human beings have free will, they also have the ability to make choices - and commit evil. Thus, this very good thing, free will, allows the possibility of evil into our fine world. - Author: Libba Bray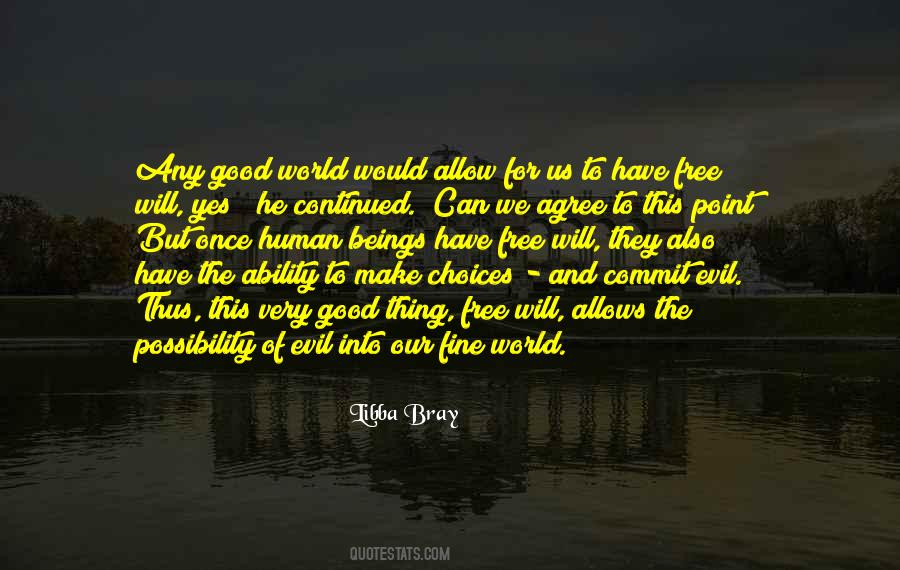 #100. Morally speaking, there is no limit to the concern one must feel for the suffering of human beings, that indifference to evil is worse than evil itself, that in a free society, some are guilty, but all are responsible. - Author: Abraham Joshua Heschel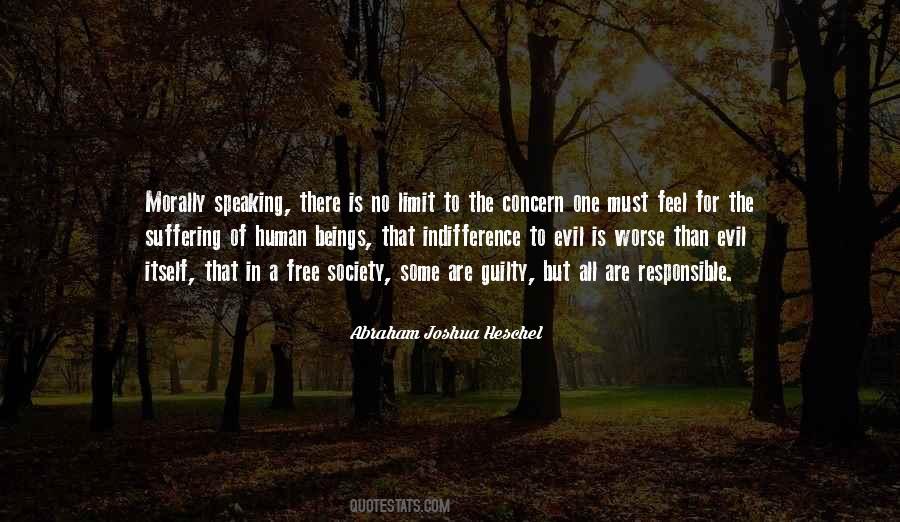 Famous Authors
Popular Topics