Doing Something Better Famous Quotes & Sayings
List of top 100 famous quotes and sayings about doing something better to read and share with friends on your Facebook, Twitter, blogs.
Top 100 Quotes About Doing Something Better
#1. If you don't understand something, break it apart; reduce it to its components. Since they are simpler than the whole,you have a much better chance of understanding them; and when you have succeeded in doing that, put the whole thing back together again. - Author: Hans Christian Von Baeyer
#2. I always say writing fiction isn't something you teach. It's something you do, and only experimentation - i.e. doing it, either badly or good sometimes - can help anybody get any better or worse at it. - Author: Peter Orner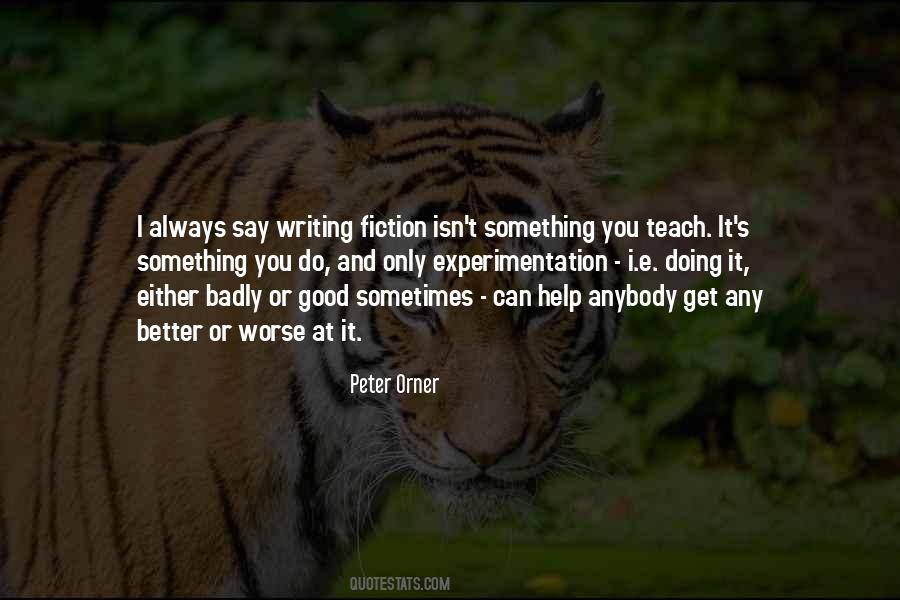 #3. And although she wasn't a girl of faith, she somehow always knew if one thing prevented her from doing something it was because something better was in store for her. She trusted life. - Author: Sarah Noffke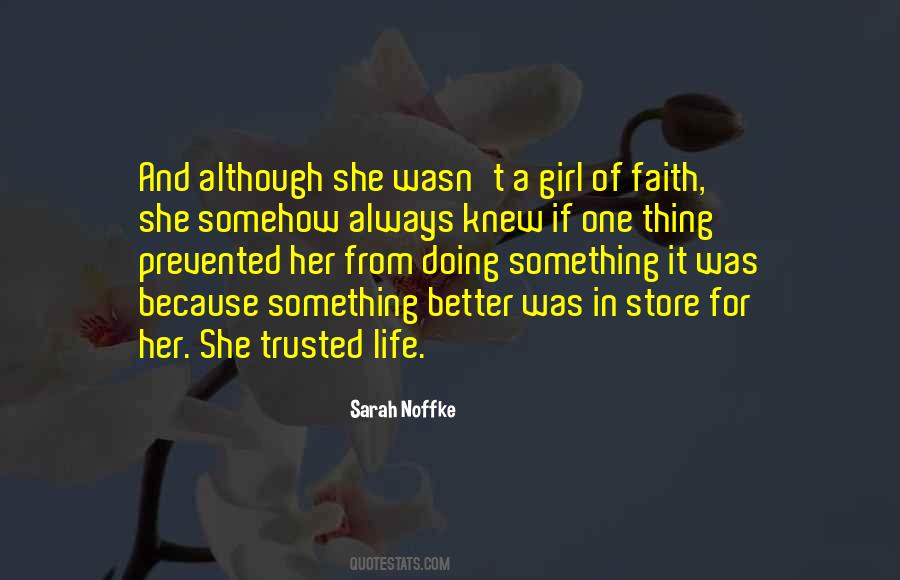 #4. You're not just trying to do something marginally, incrementally better. You're doing something that is a fundamental paradigm shift, that will have exponential impact. That means it's harder to do, but ultimately, if it's successful, the impact it has is far greater. - Author: Steve Case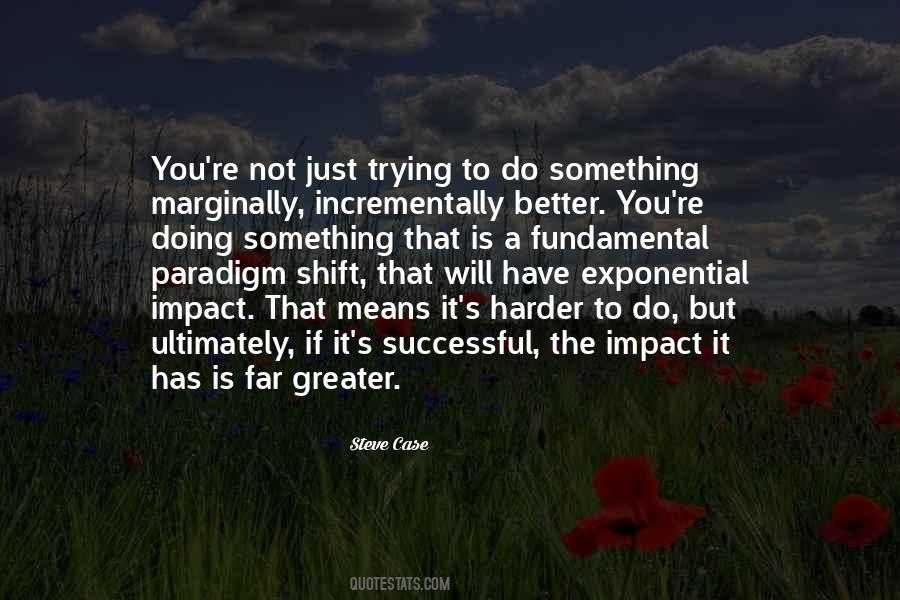 #5. Find something to do that you love because then the work itself is always the reward not the recompense. And if you love what you're doing you probably do better at it than doing something you don't love and therefore you'll be compensated appropriately. - Author: David McCullough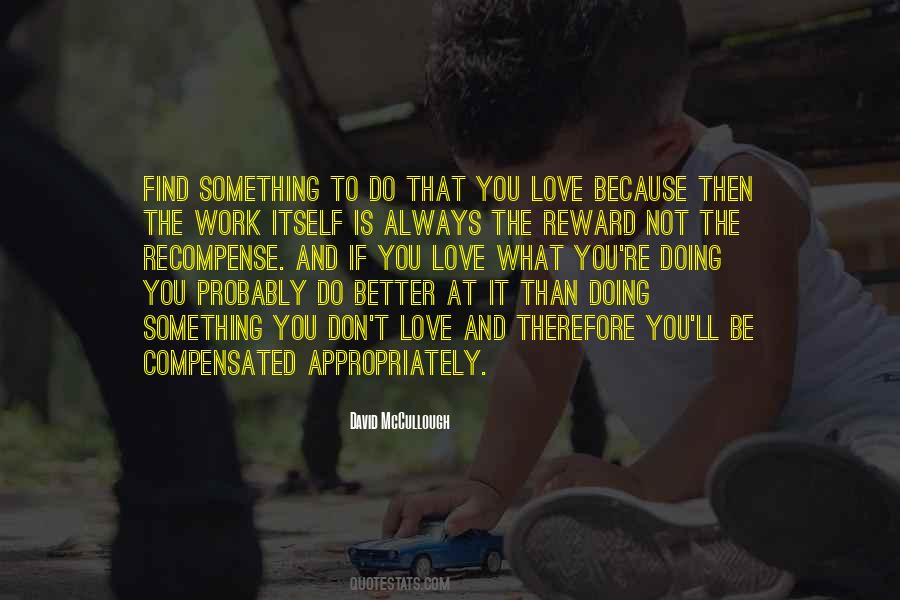 #6. People can come to me, and no matter how expert they are, I can virtually always see a way of doing something better. - Author: John Caudwell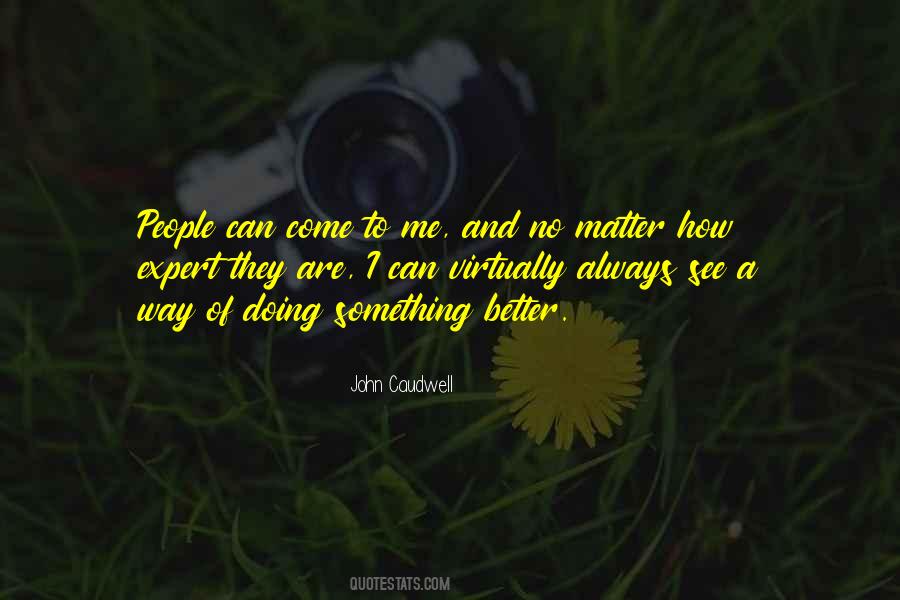 #7. Jobs would have ever have asserted that Bill Gates was not serious about technology. He was a huge pioneer in that world, albeit doing something quite different in approach from what Steve did. He was dismissive of Gates' foundation work as something he did to make himself feel better. - Author: Alex Gibney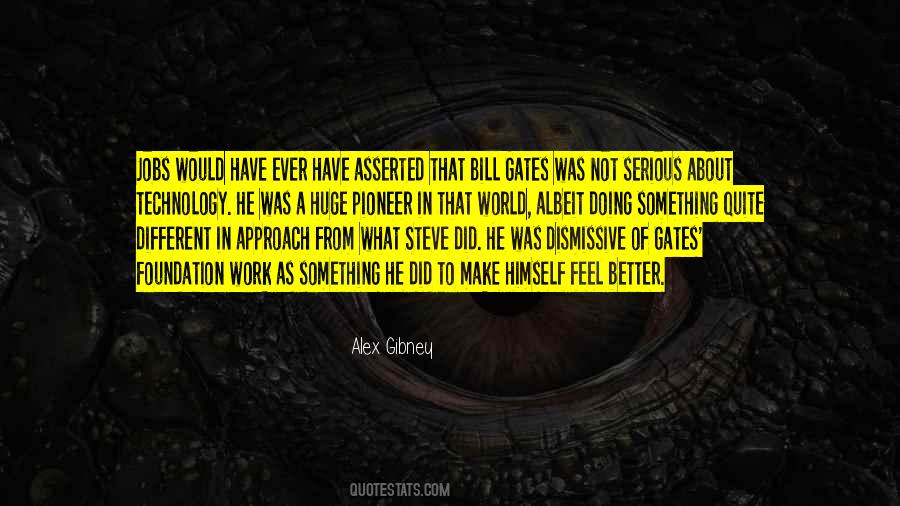 #8. As we get better at things, we need less people to produce the things we really need, but what do we do with the rest of the people? They have to be doing something, too, to buy from those few which are doing the really basic stuff, and so that's why we need to be continually producing new stuff. - Author: Tino Sehgal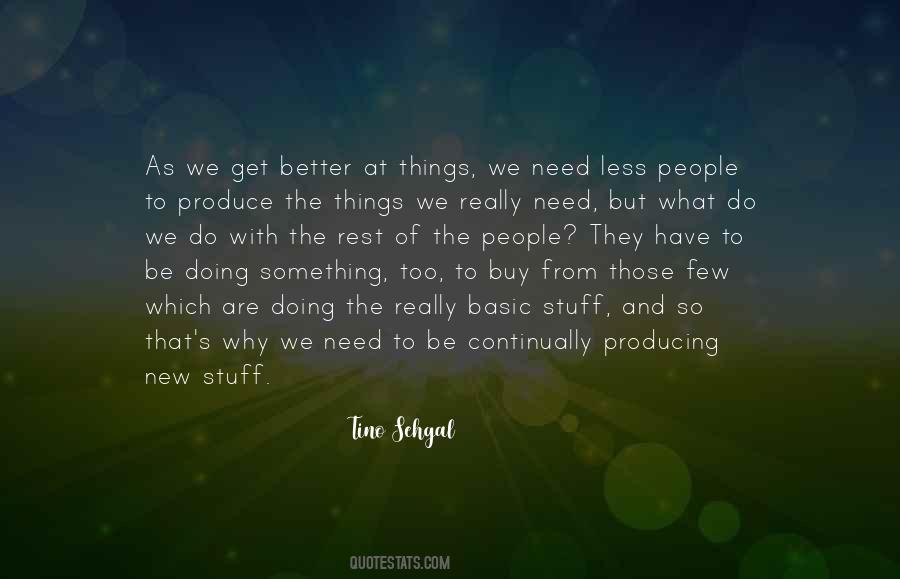 #9. When you dance, it takes a lot of stamina, but it never seemed like work 'cause I was doing something that I so loved doing. It was always a joy. And you know, to have beautiful ballets made specially for you is such an honor. I always said it was better than diamonds. - Author: Patricia McBride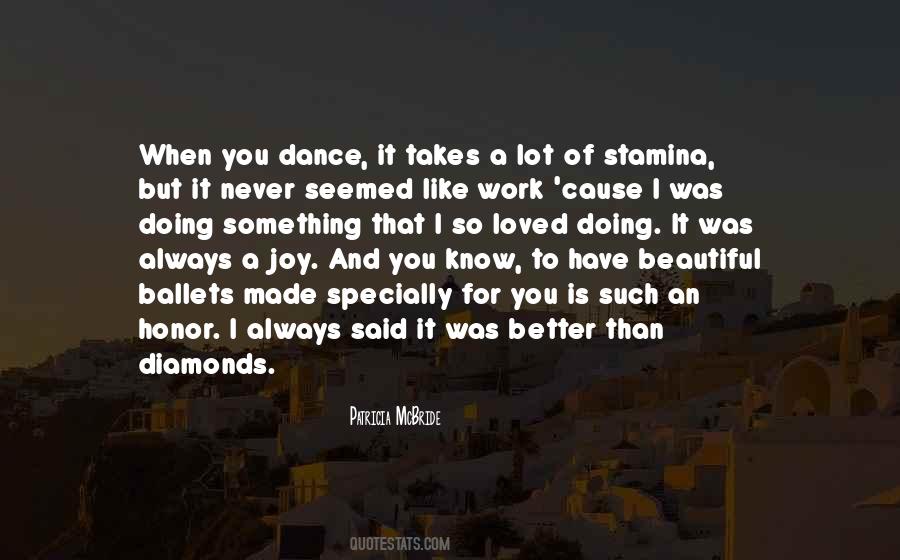 #10. Doing something constructive at once is better than figuring out the best thing to do hours later. - Author: Robert A. Heinlein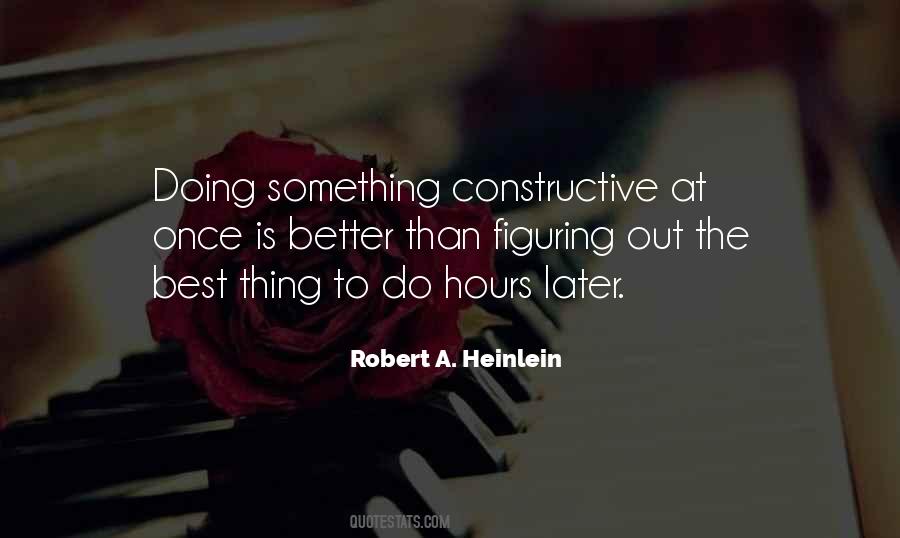 #11. If you were doing something in secret and didn't want the attention, what better way to have it ridiculed and dismissed than bring in a few Californian elements? - Author: Thomas Pynchon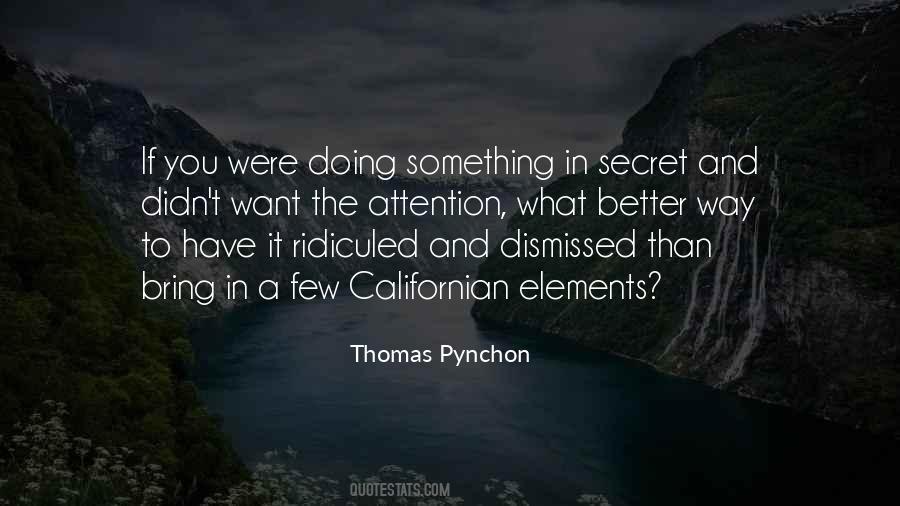 #12. I'm not the perfectionist anymore. It's my staff. They're the ones always insisting on doing something better and better. - Author: Walt Disney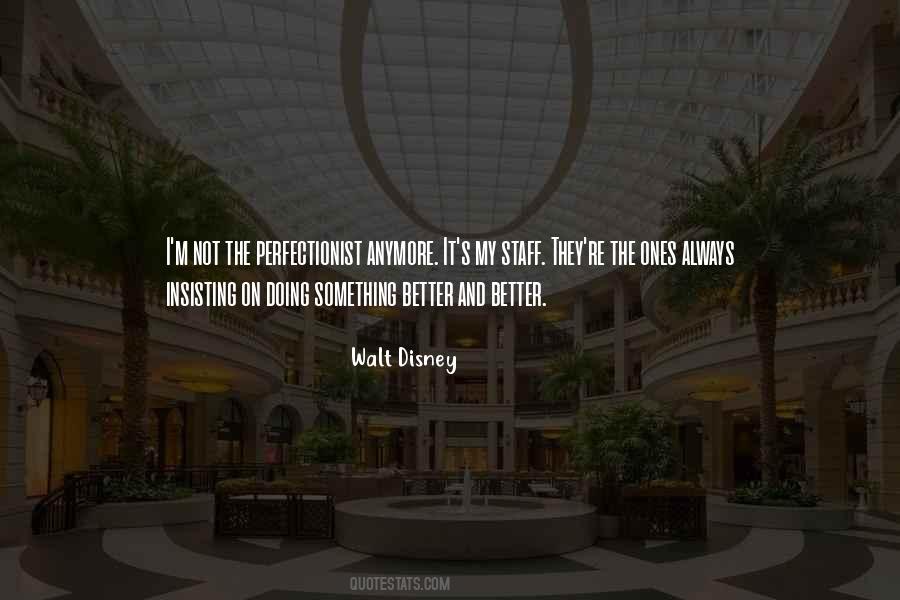 #13. I was turning up at sets where inexperienced people were making these badly written films - but they were doing it; that was the point. They were getting their films out there. And they were paying me, so they obviously had access to money. I just thought, 'I can make something better than this.' - Author: Dexter Fletcher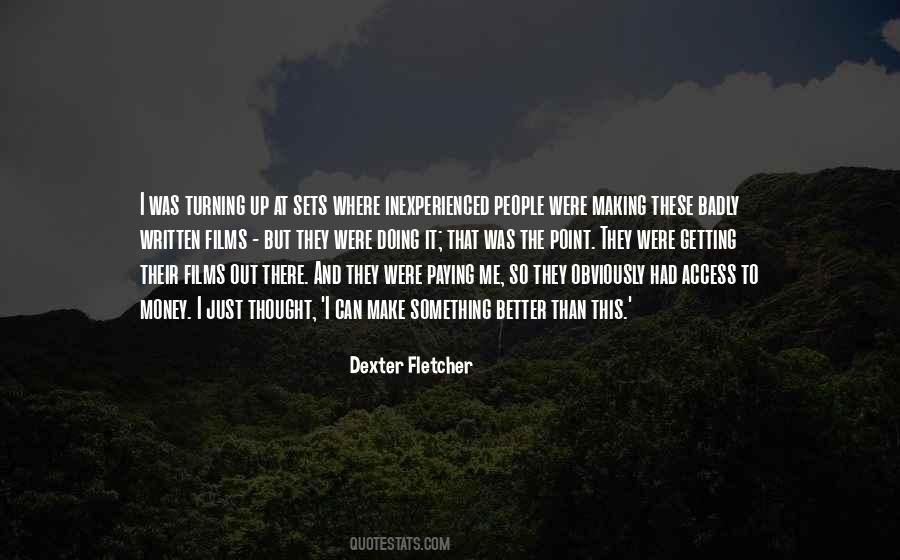 #14. There's nothing like doing something wrong to learn how it might be done better. - Author: David Knopfler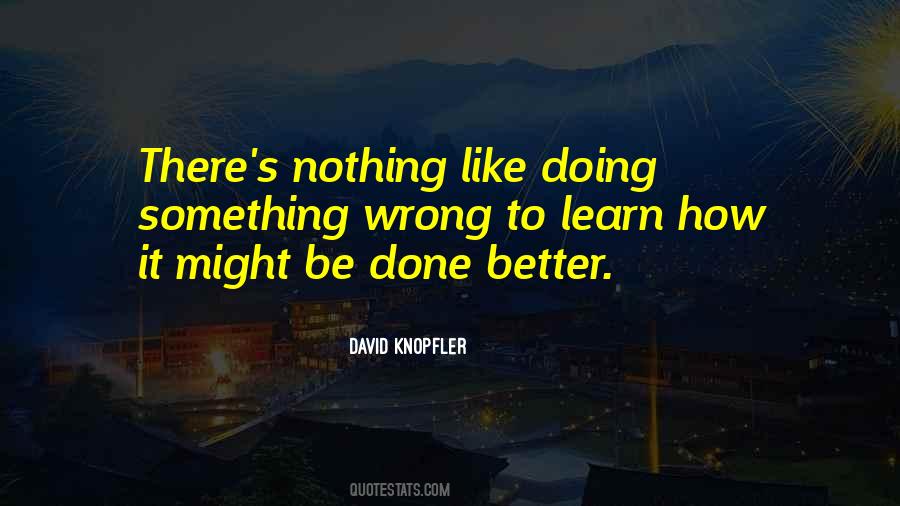 #15. Every film teaches you something; every experience on every film set with every co-star teaches you something. You learn something new. I think the challenge is to keep working harder and doing better. - Author: Deepika Padukone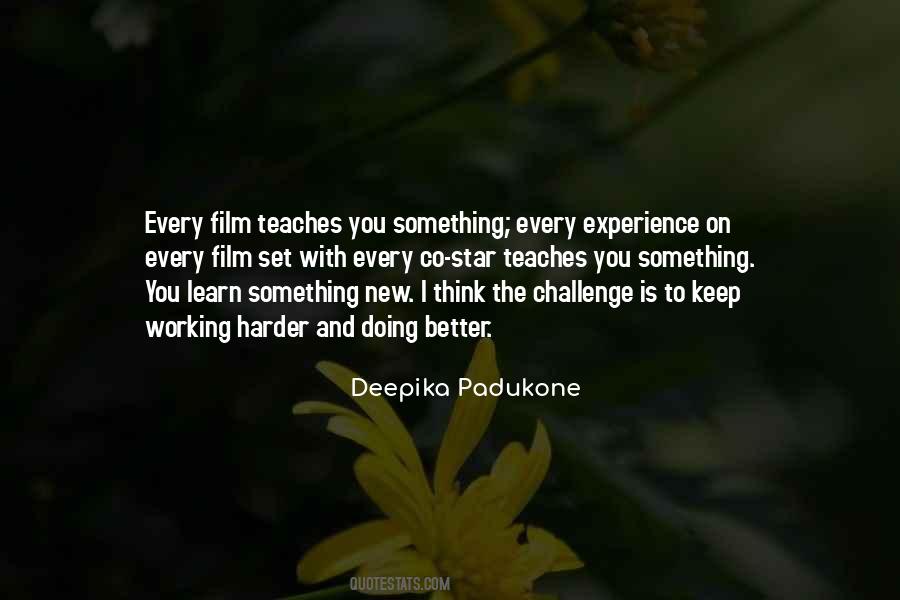 #16. He always has a joke to tell or is doing something so seriously ridiculous that you can't help but laugh at him. Last night, he tried to dry his socks in the microwave.
Yeah.
Then Boo yelled at him. She told him the oven works better. - Author: Belle Aurora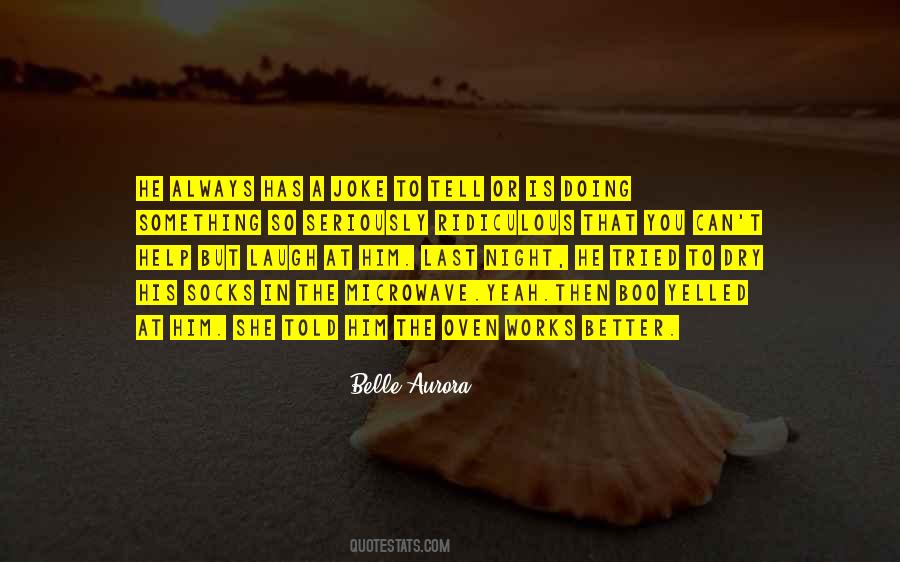 #17. America is the most giving nation on Earth. One of the best ways to feel better is by doing something for somebody else. - Author: Mark Burnett
#18. You're at your most purest, most innocent, pure state when you're doing something you've never done before. You're scared a little, you're a little vulnerable, you're kind of trying, and then you're also better, because you're trying harder than you maybe would try. - Author: Alicia Keys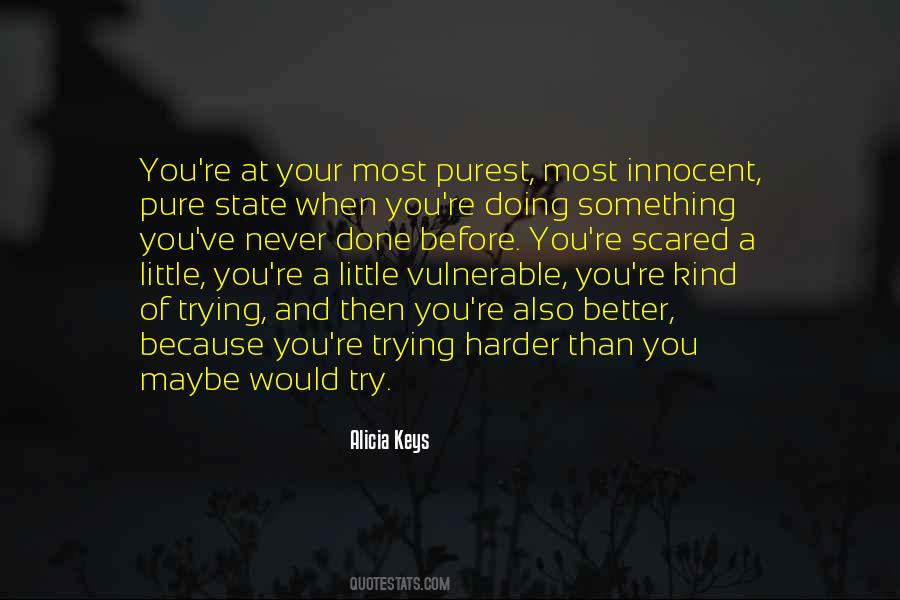 #19. I love helping entrepreneurs. It's something I really have fun doing. It's like planting a little seed and watching it grow. Any time I can help somebody, that's a good thing. It's fun. If I get to make some money at it, it's even better. - Author: Mark Cuban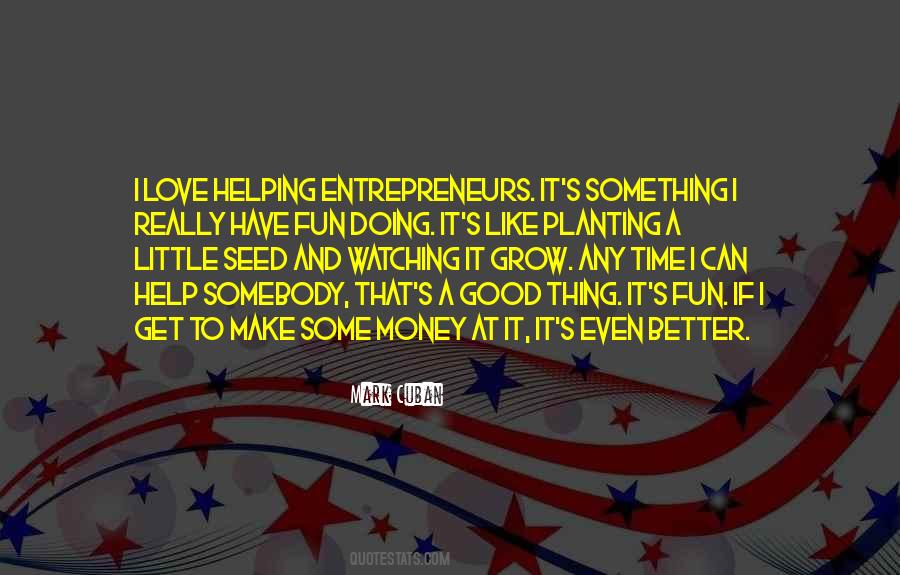 #20. Anything was better than playing cards, and I was doing something I wanted to do creating. - Author: Mary Martin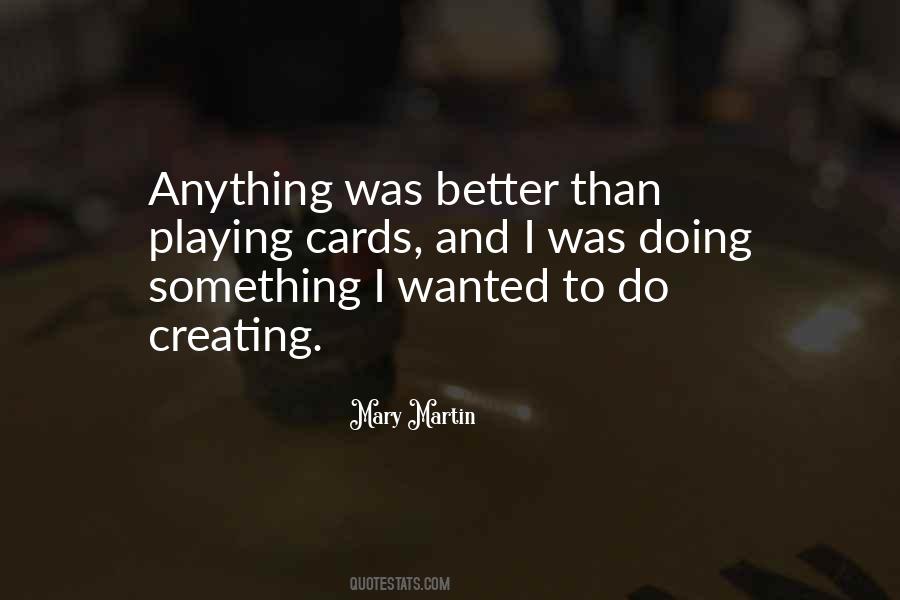 #21. Finding someone to put down, judge, or criticize becomes a way to get out of the web or call attention away from our box. If you're doing worse than I am at something, I think, my chances of surviving are better. - Author: Brene Brown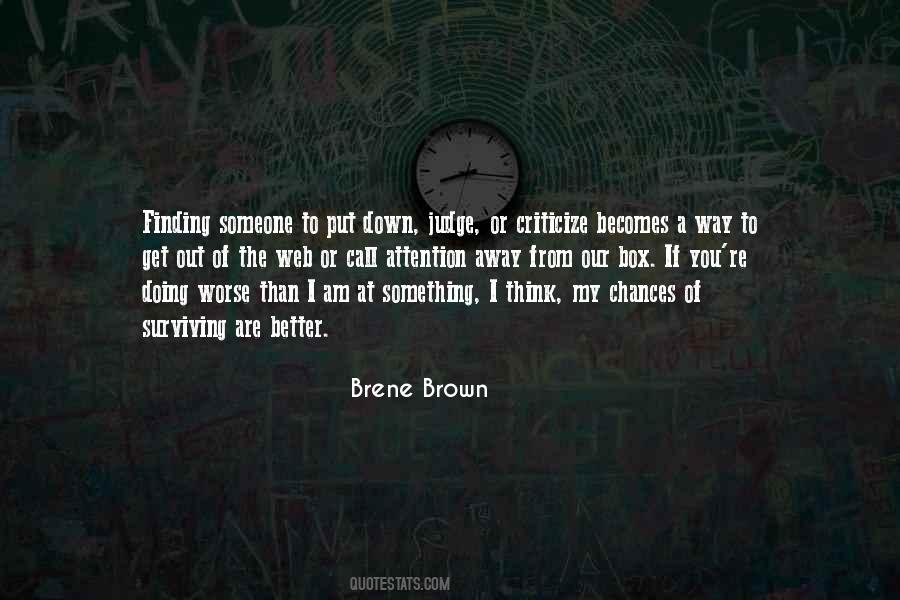 #22. Just because something is good is not a sufficient reason for doing it. The number of good things we can do far exceeds the time available to accomplish them. Some things are better than good, and these are the things that should command priority attention in our lives. - Author: Dallin H. Oaks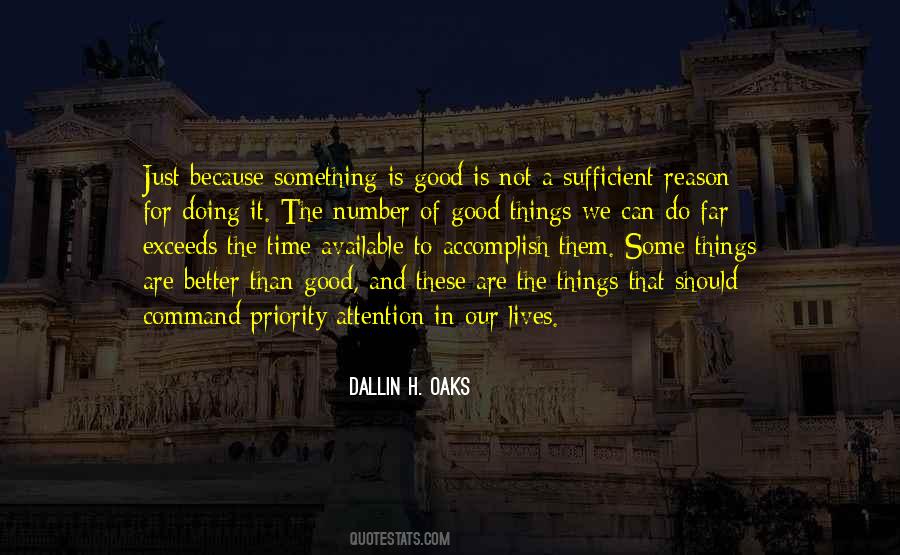 #23. Sometimes I look at Daddy, at his side or his back or his face, and I love him so much that it feels like he's a prize I won for doing something brilliant, better than anyone else. - Author: Donal Ryan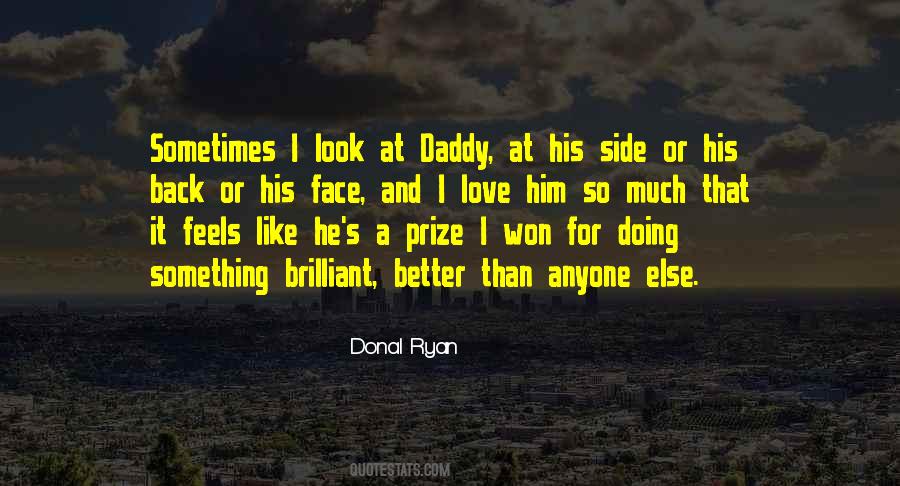 #24. How often do the poor daydream of a better life? Plenty, no doubt, and where does it get them? It is the poor who begin with a daydream and realize at some point that they have to get up, roll their sleeves, and start doing something about those day dreams who succeed. And there are many who have. - Author: Stephen Richards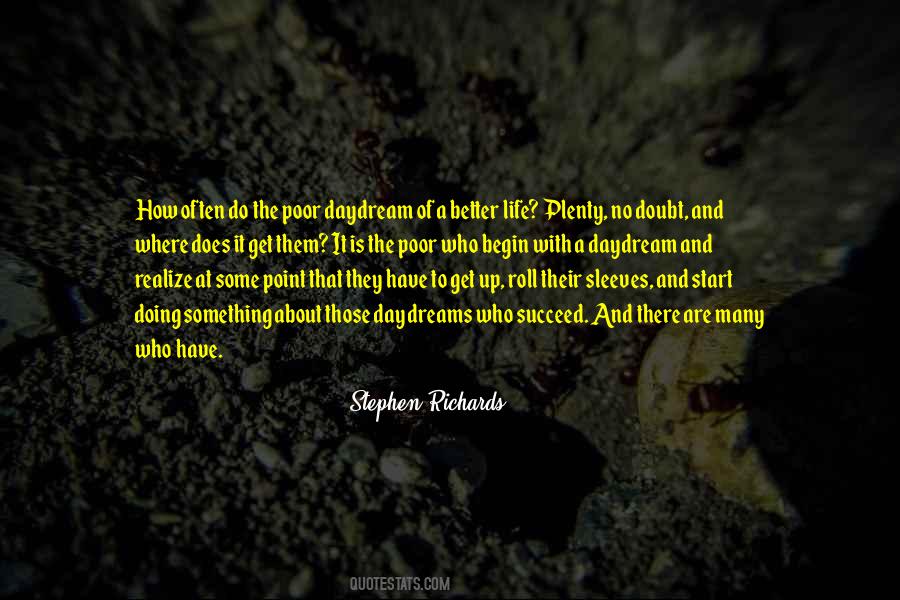 #25. There doesn't need to be a God for me. There's something in people that's spiritual, that's godlike. I don't feel like doing things just because people say things, but I also don't really know if it's better to just not believe in anything, either. - Author: Angelina Jolie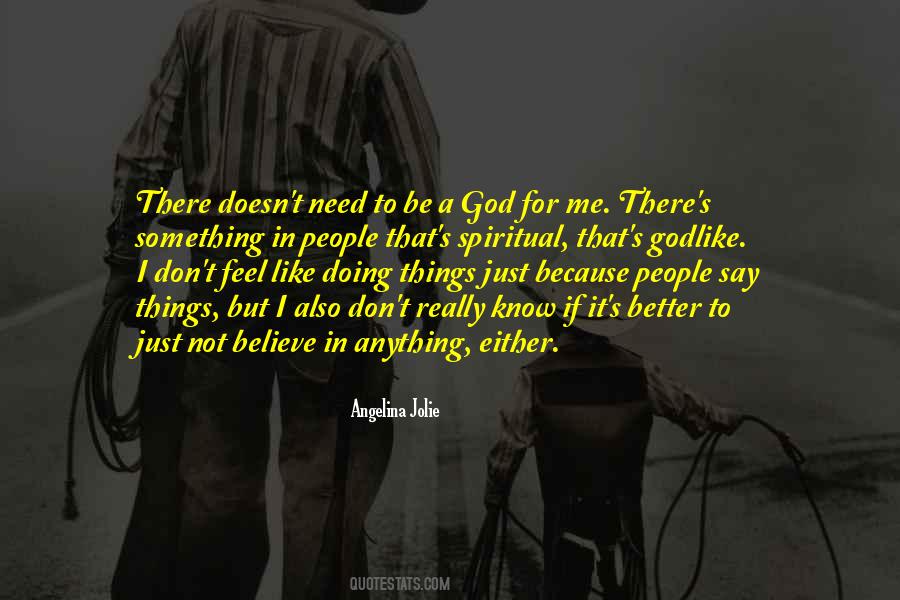 #26. You may face opposition not only because you are doing something wrong, but because you are doing something right. Not all oppositions are meant for a better life! - Author: Israelmore Ayivor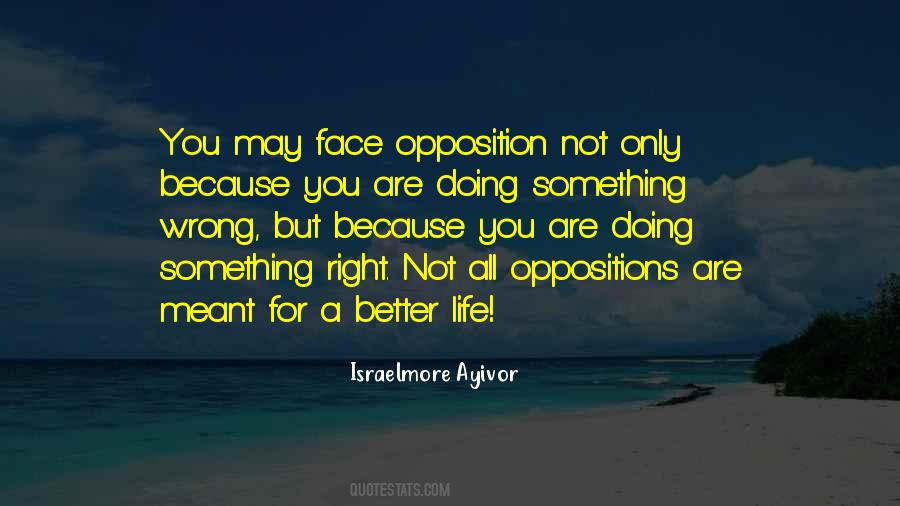 #27. Doing something stupid and reckless is not a better proof of your love than doing something measured and powerful. - Author: Robin Hobb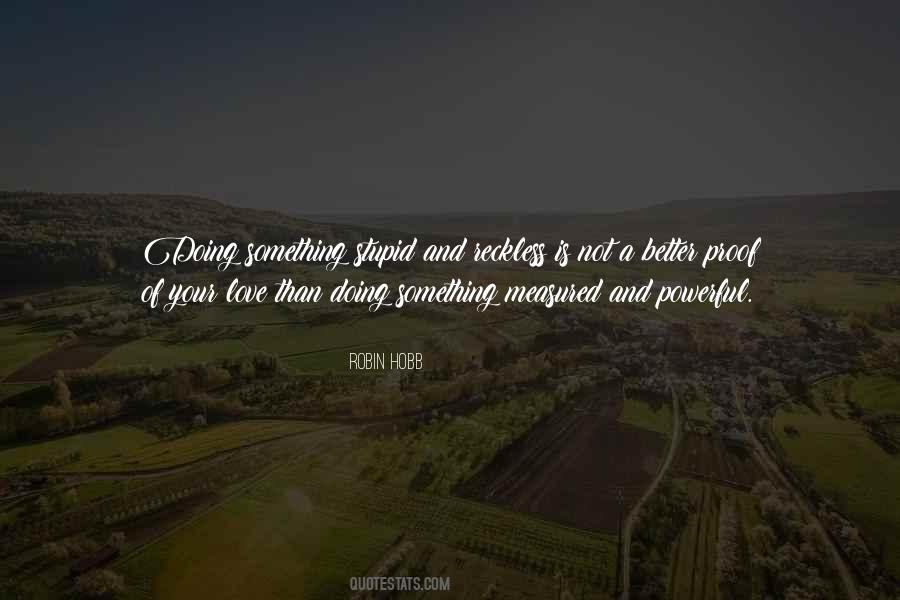 #28. The more I have to do, the better off I am. I'm not really one to sit around and relax and take it easy. I always like having something to do. Even though I'm not competing, I'm going to be making a lot of appearances, doing guest posings and seminars. - Author: Ronnie Coleman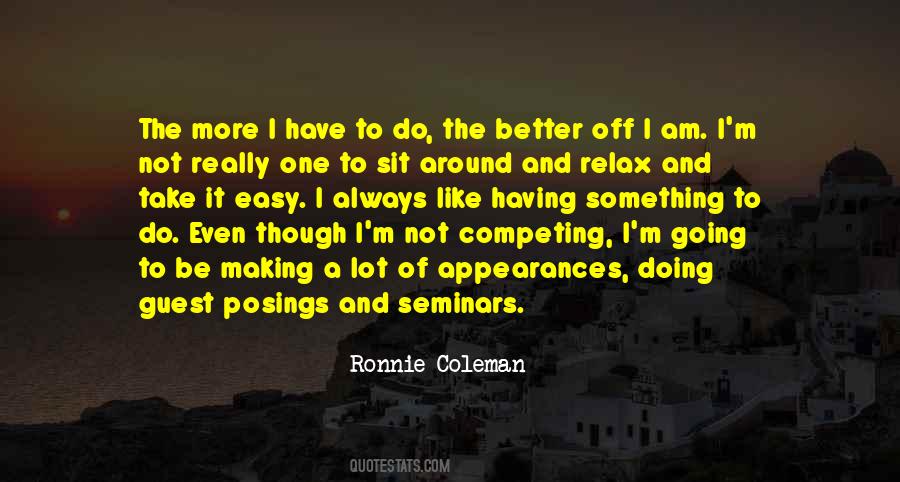 #29. Colonel Cathcart was impervious to absolutes. He could measure his own progress only in relationship to others, and his idea of excellence was to do something at least as well as all the men his own age who were doing the same thing even better. - Author: Joseph Heller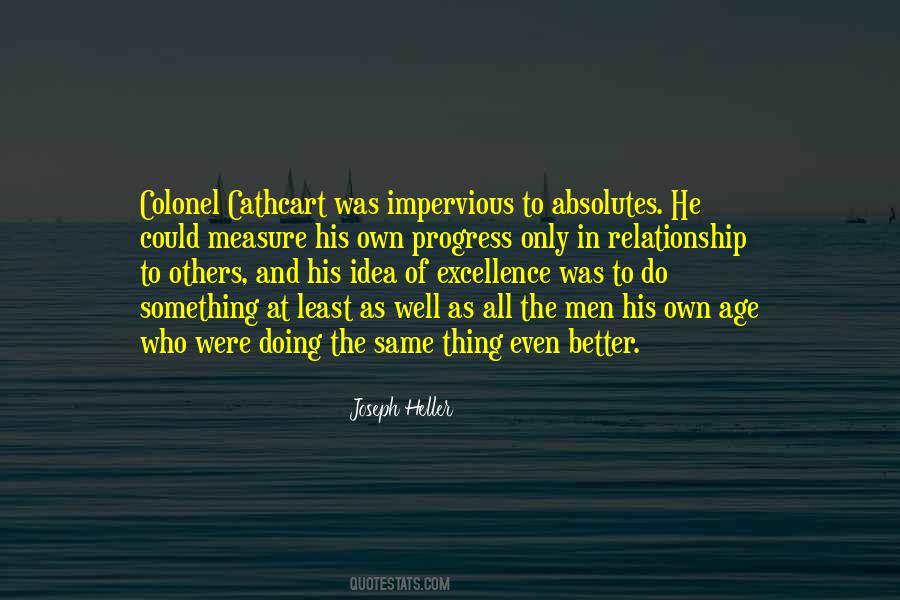 #30. Doing something later is not automatically the same as doing something better - Author: Meg Jay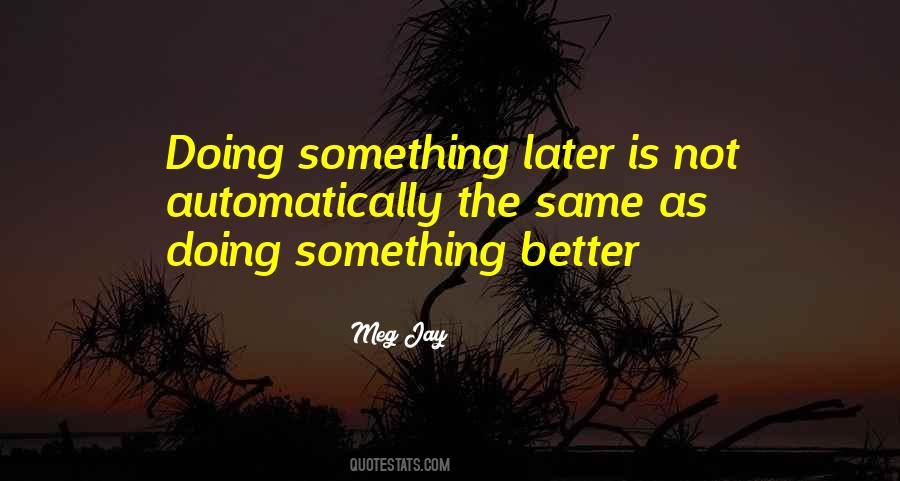 #31. The woman who makes a sweet, beautiful home, filling it with love and prayer and purity, is doing something better than anything else her hands could find to do beneath the skies. - Author: J.R. Miller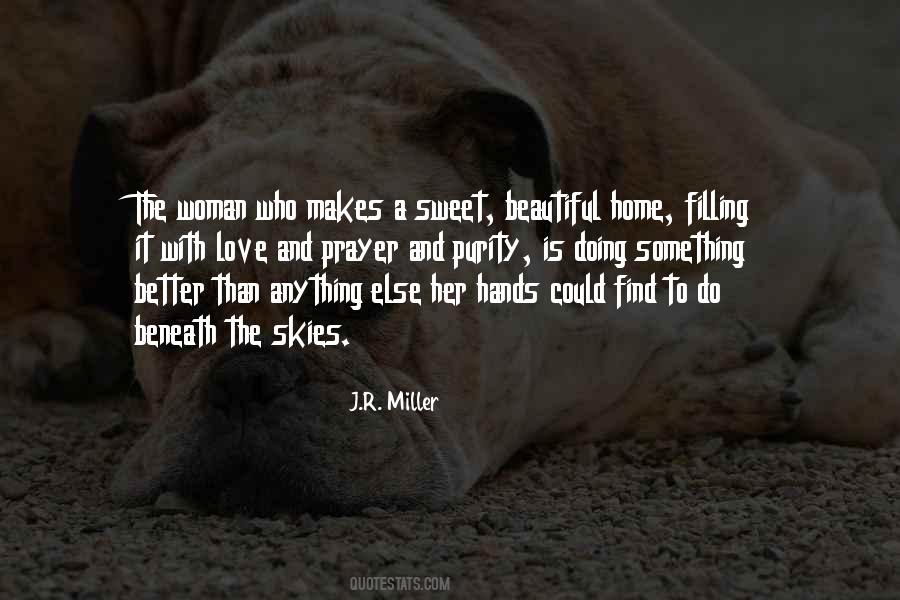 #32. Each person can achieve balance by cutting a few things out and seeing how it goes. If you cut something out, and it goes well, and your life is better, you keep doing it. - Author: Kim Stolz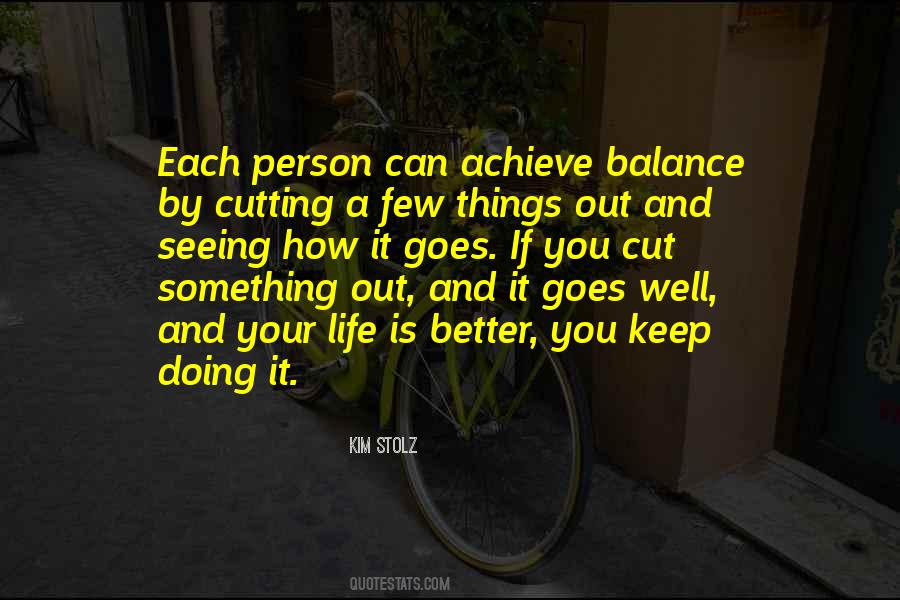 #33. When I'm doing something, it's something that I had a perspective on in my childhood, or now, but it may be different. I always can go back to what I love, but if somebody has a better idea, then I'm all for it. - Author: Jon M. Chu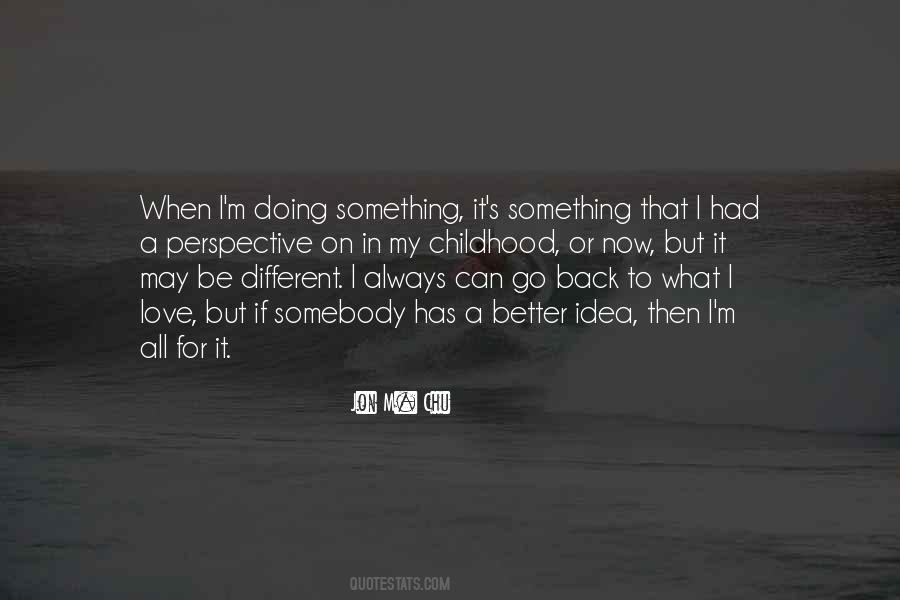 #34. Sometimes people - especially people over 40 - underestimate what they really are capable of. They believe they're not capable of doing something great. I tell people who are over 40, "I don't want your best. I want better than that. I want better than what you perceive your best is." - Author: Jack LaLanne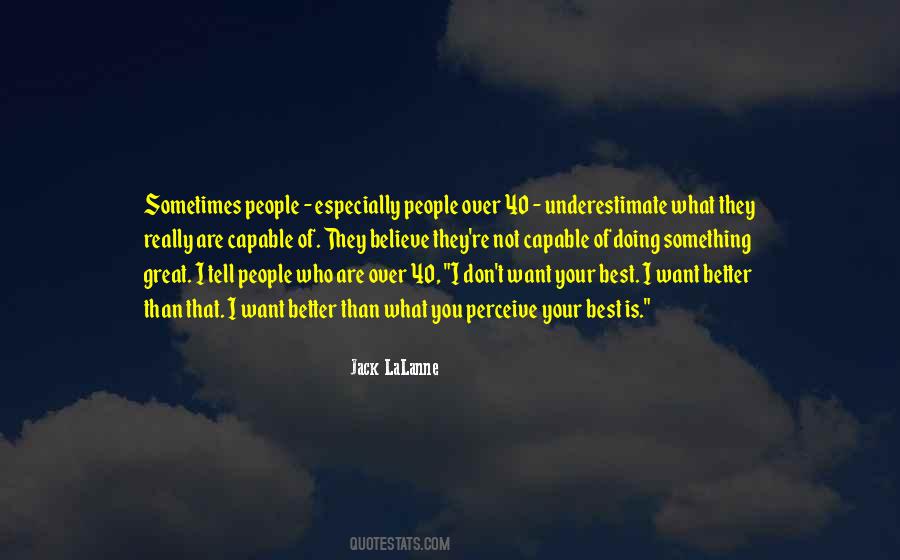 #35. There are two kinds of hope: the kind you couldn't do anything about and the kind you could. And even if the kind you could do something about wasn't what you'd originally wanted, it was still worth doing. A rainy day is better than no day. A small happiness can make a big sadness less sad. - Author: Rachel Simon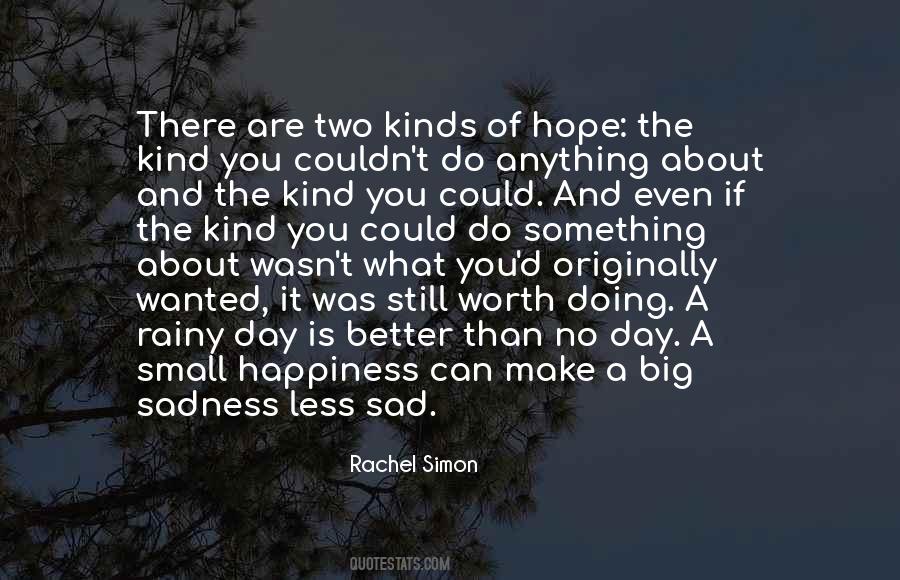 #36. Whenever she sat still, just looking at something, she got the feeling that she was wasting precious time when she should be doing things to meet people. She could be spending her time so much better, because there was still so much to learn. - Author: Paulo Coelho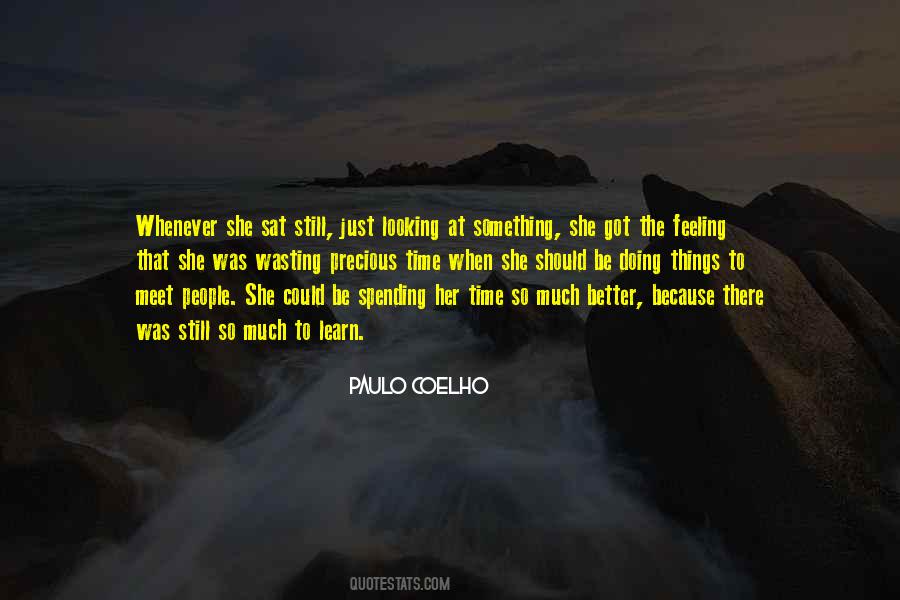 #37. Sometimes you get tempted to make something wonderful even better but in doing so you lose what was so wonderful to begin with. - Author: Polly Horvath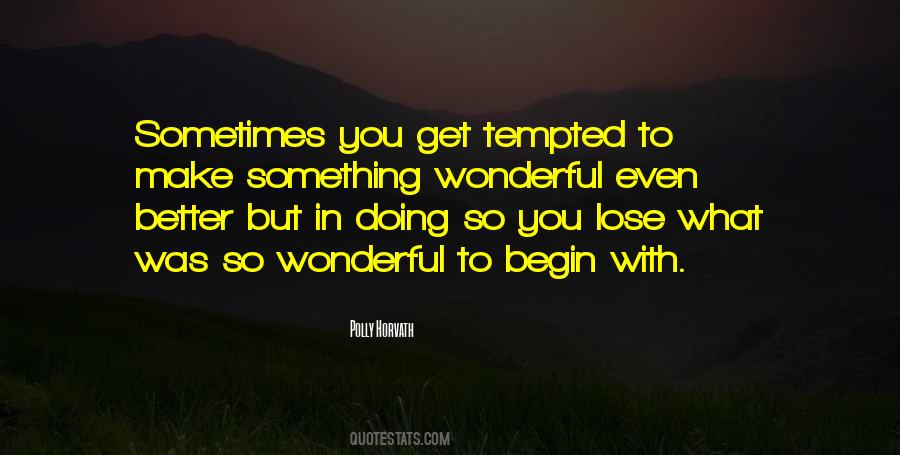 #38. Doing something for yourself like running, and using it to test yourself, will only make you feel better about your career or your family role. - Author: Joan Benoit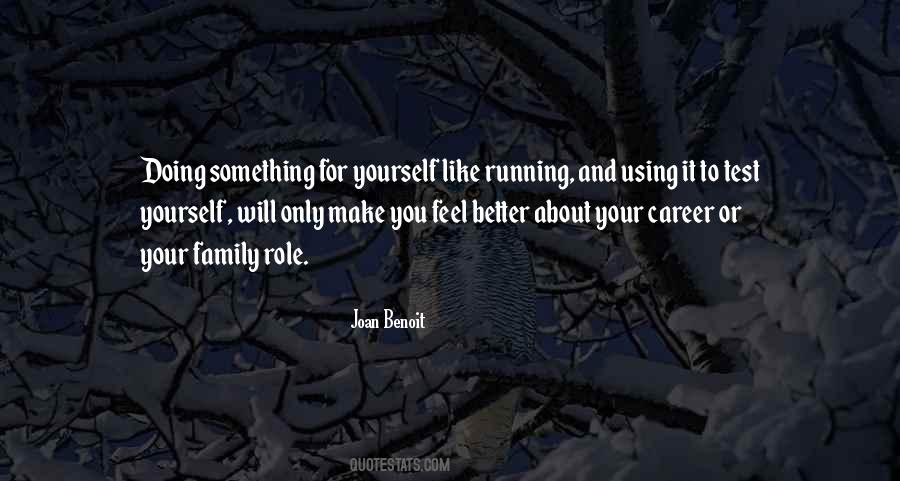 #39. The best way to discredit something is to come with a better way of doing that thing. - Author: Khuliso Mamathoni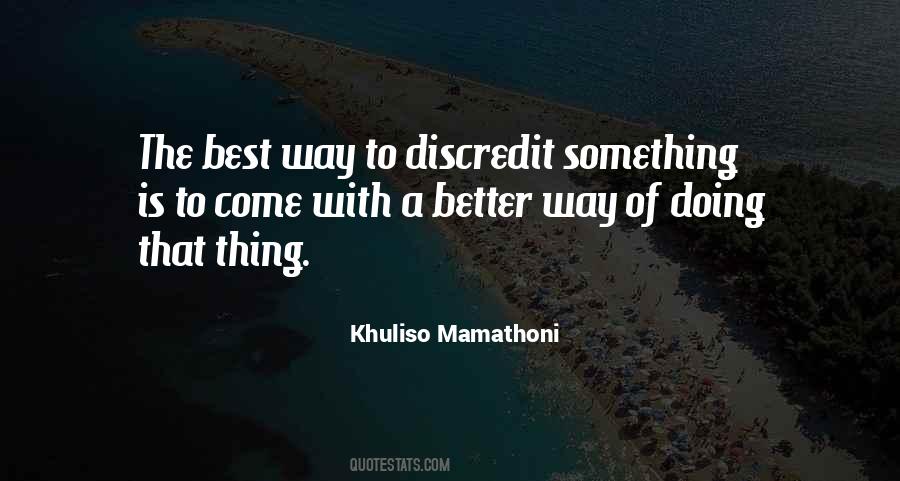 #40. You'd like people to remember you for these great times on the ice. In reality, you want them to forget because you're doing something new and better. - Author: Apolo Ohno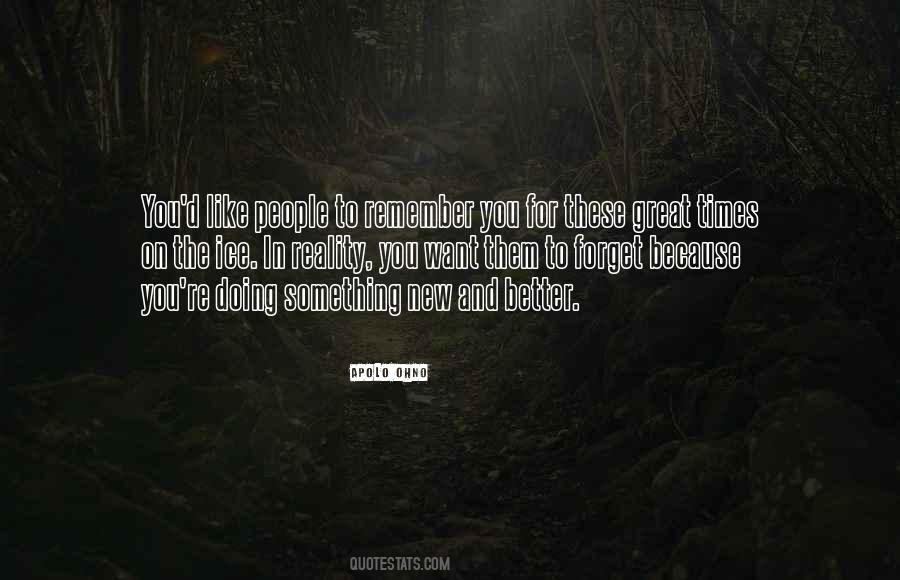 #41. Being really good at something you shouldn't be doing doesn't make it any better," Mom said.
"It's a history class," I said, "and serial killers are a part of history. So are wars and racism and genocide. I guess I forgot to sign up for the 'happy stuff only' history class, sorry about that. - Author: Dan Wells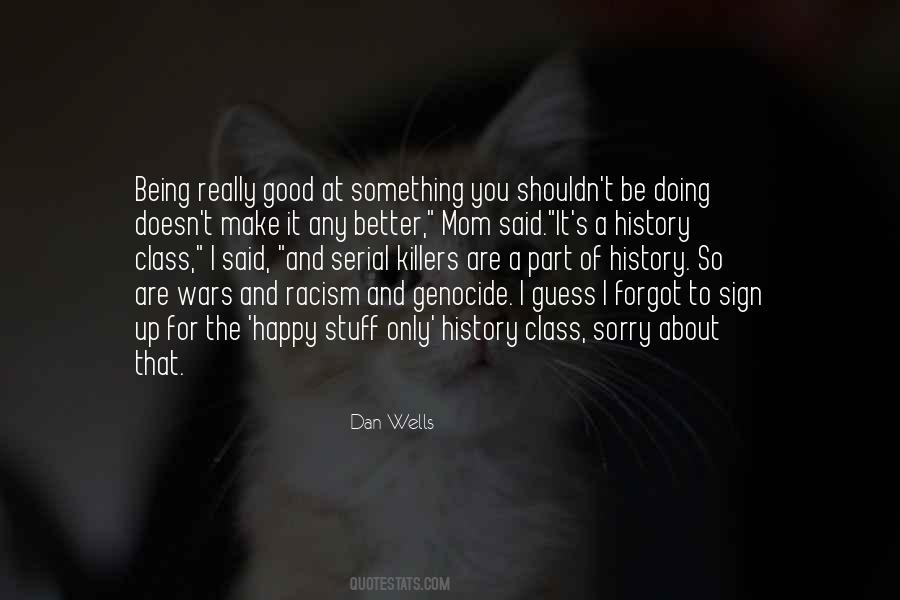 #42. Leadership is not only about producing results or measuring success with statistics. Leadership is doing something with significance that makes families, organizations, societies, nations, and the world a better place before you die. - Author: Farshad Asl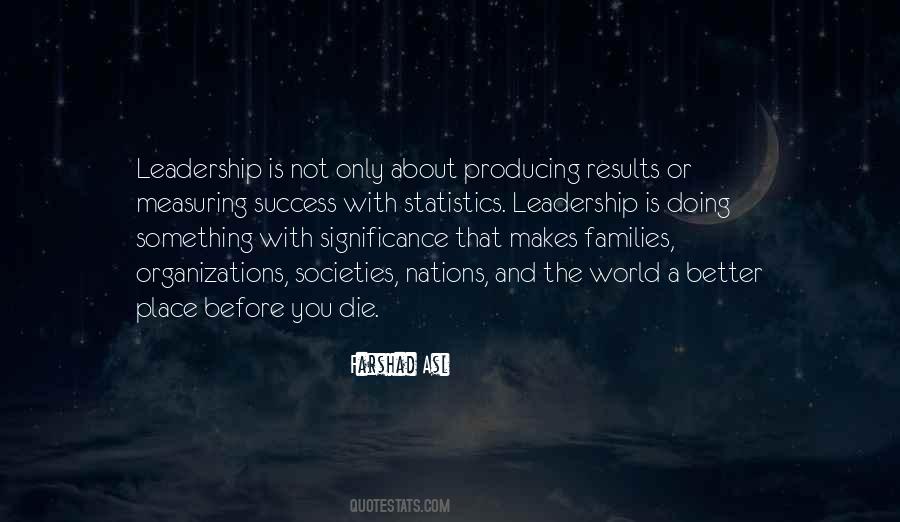 #43. It ain't bragging if you've done it. There's nothing wrong with being proud of doing something well. In fact, if you intend to do something creative for a living, it's absolutely essential.
[check for wording] Proper pride says, "I'm good at this." Improper pride says, "I'm better than you. - Author: James A. Owen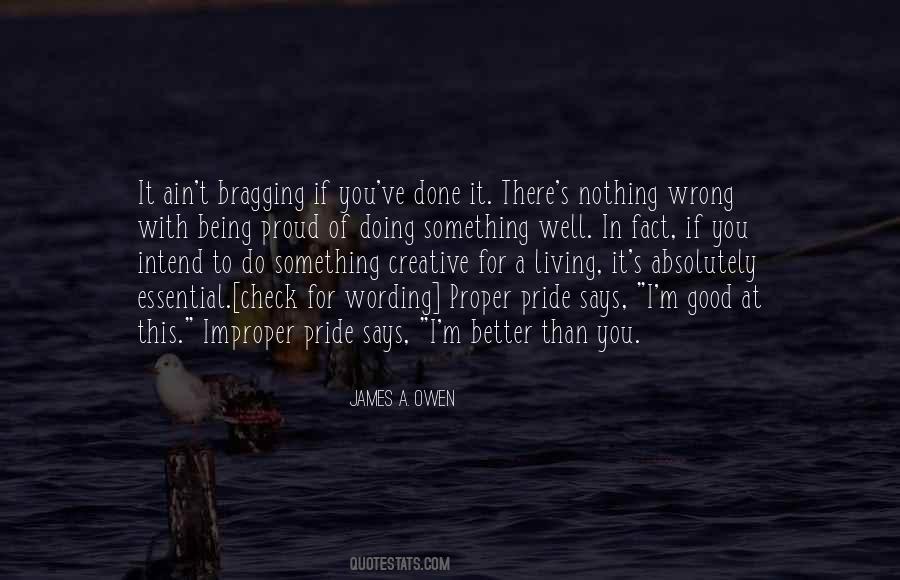 #44. But if you sign up for moonshot thinking, if you sign up to make something 10x better, there is no chance of doing that with existing assumptions. - Author: Peter H. Diamandis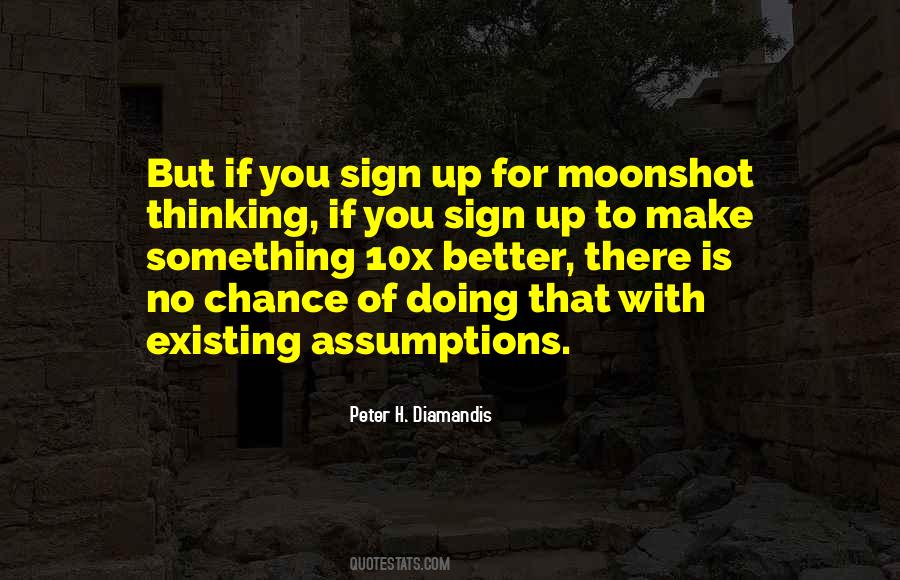 #45. I believe that whenever I want to learn something I can learn it much better and faster by myself if I'm motivated to learn it as opposed to kind of doing it in more a standard, institutionalized way. - Author: Oren Peli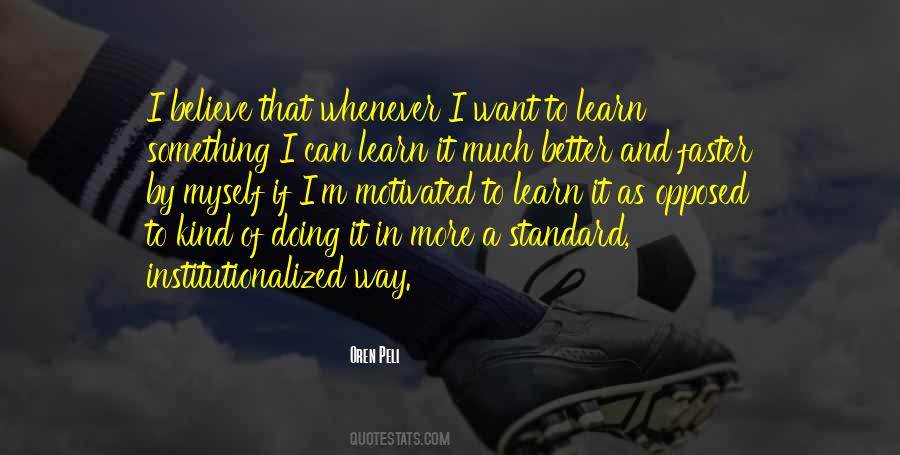 #46. I'm just gonna be honest and if I feel something, I'm just gonna say it! Once I started doing that, my music just got better. - Author: SonReal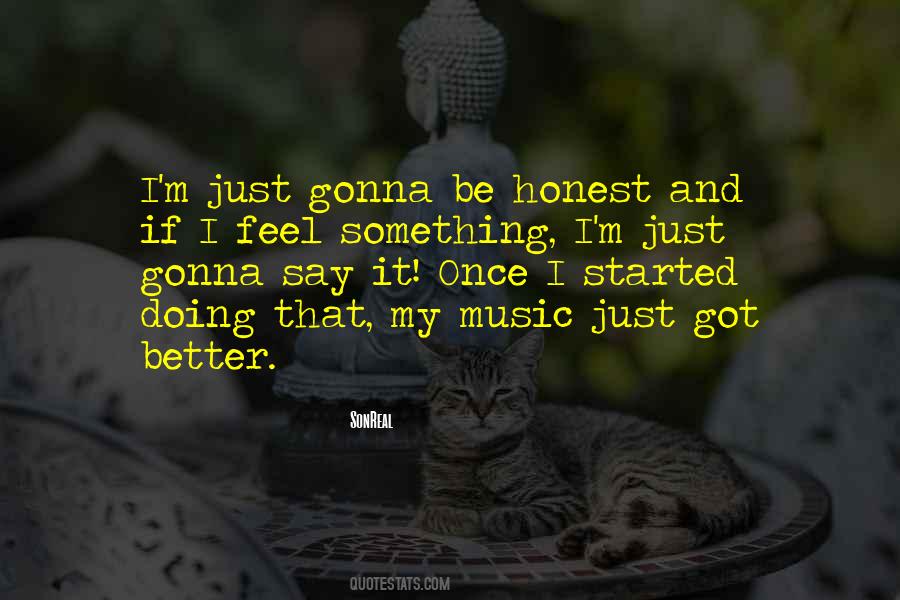 #47. Kids are always infatuated with the action in martial arts films. Let me tell you, there is nothing better for kids than the arts. That is what kept me straight and decent. I always had a place to go. That was the dojo. I always had something to look forward to doing. - Author: Thomas Ian Griffith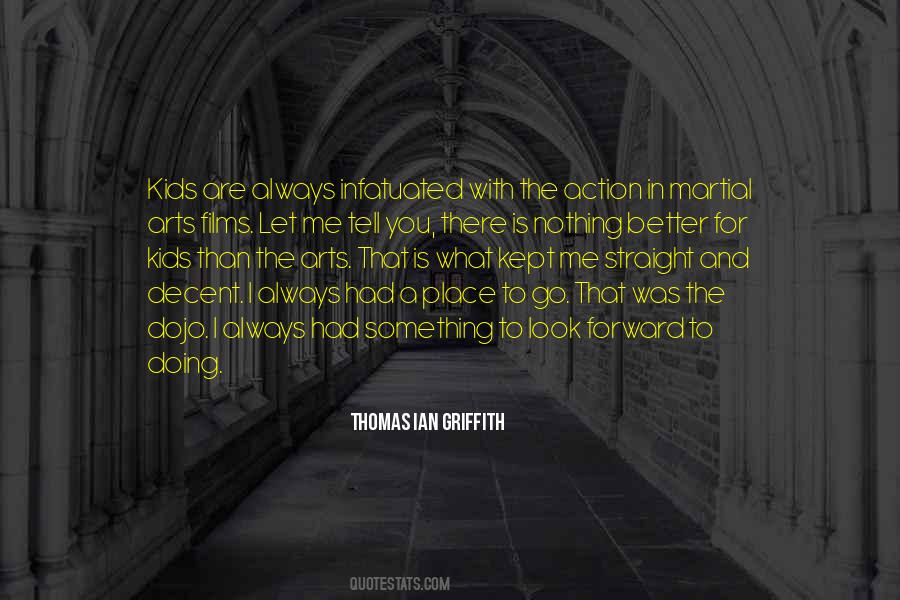 #48. I've never regretted saying no to anything, or finishing something. When I'm in the middle of doing something I love, I can have a better idea, and I'll go, "Oh God, I can't finish this." Maybe I've got some sort of disorder. - Author: Ricky Gervais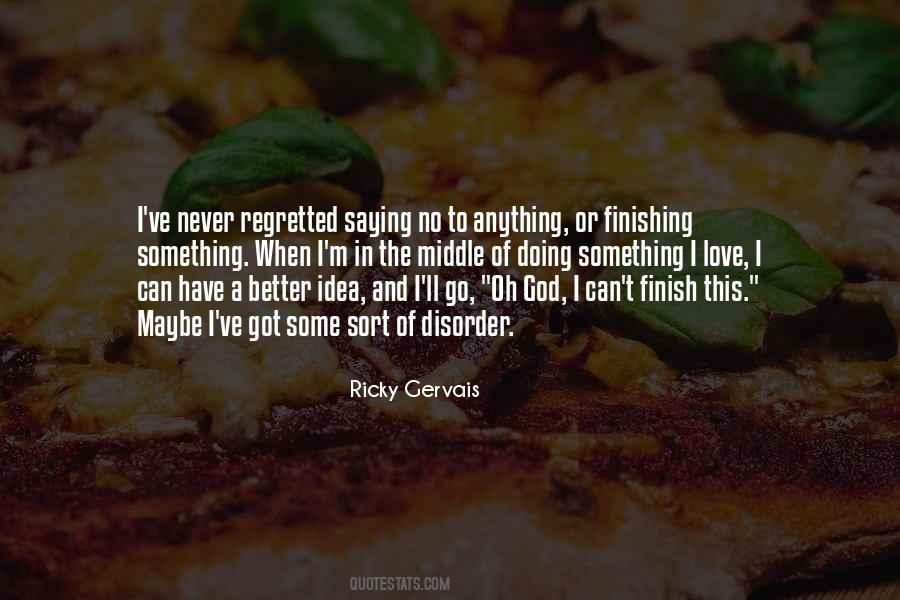 #49. Wouldn't it be better to die doing something interesting than to drop dead in an office and the last thing you see is someone you don't like? - Author: Barbara Hillary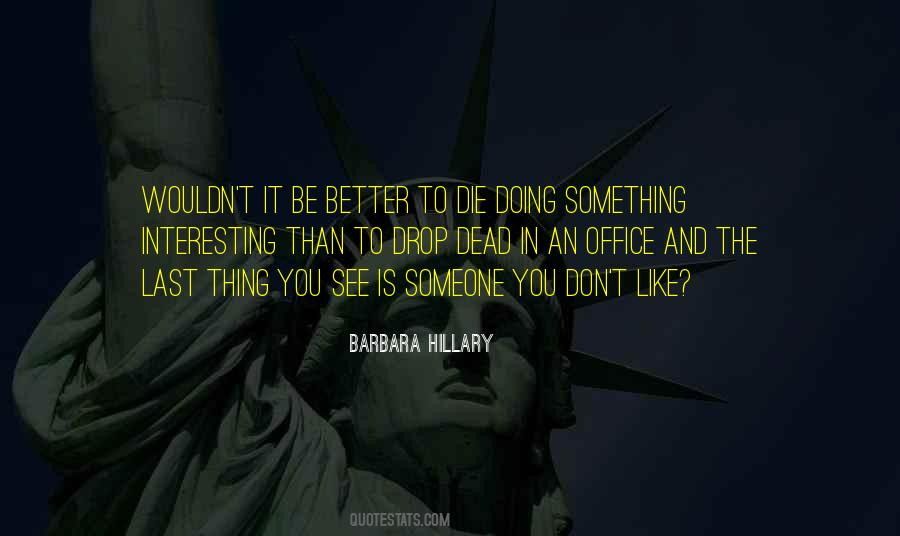 #50. If you don't like something don't do it, and if you're doing something then you better like it. It is as simple as that. - Author: Shahrukh Khan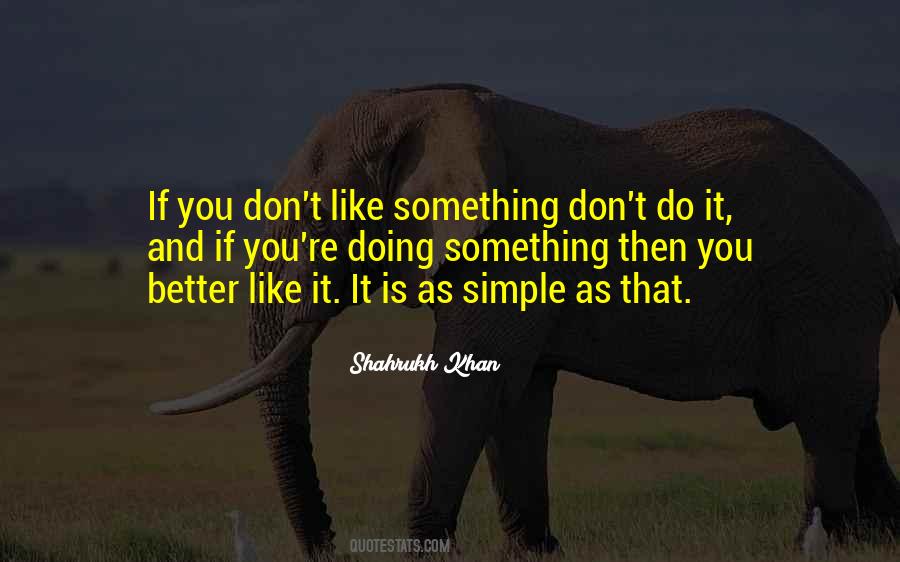 #51. Being an actress has something in common with being a housewife. They both look terribly easy to someone who hasn't done them. And the easier it looks, probably the better you are doing your job. - Author: Glenda Jackson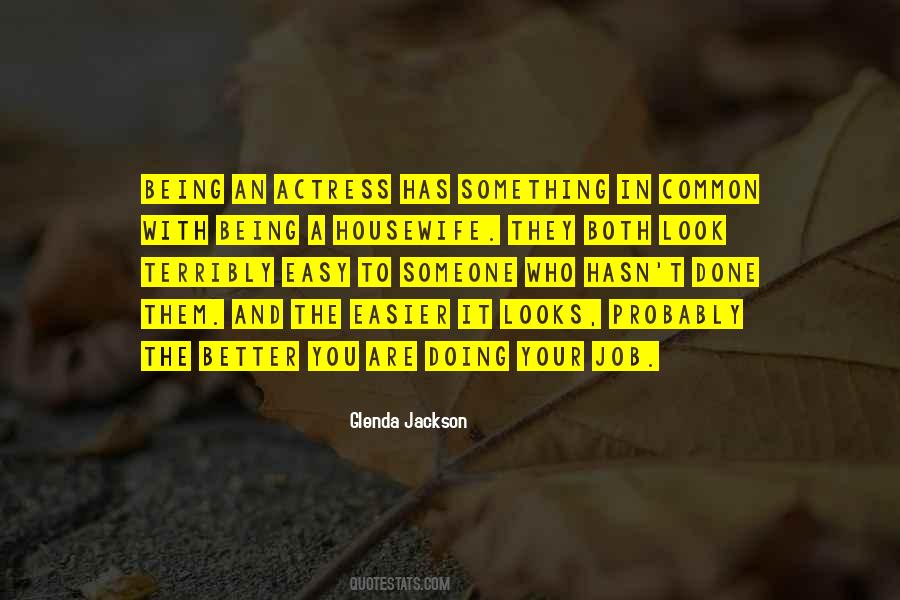 #52. We can schedule for it. Thursday, April 3rd, 3:05 ... start something. We can train for it, plan for it, announce it, and even hire for it. If initiating is as essential to the modern organization as it appears, we better be doing all of that and more. - Author: Seth Godin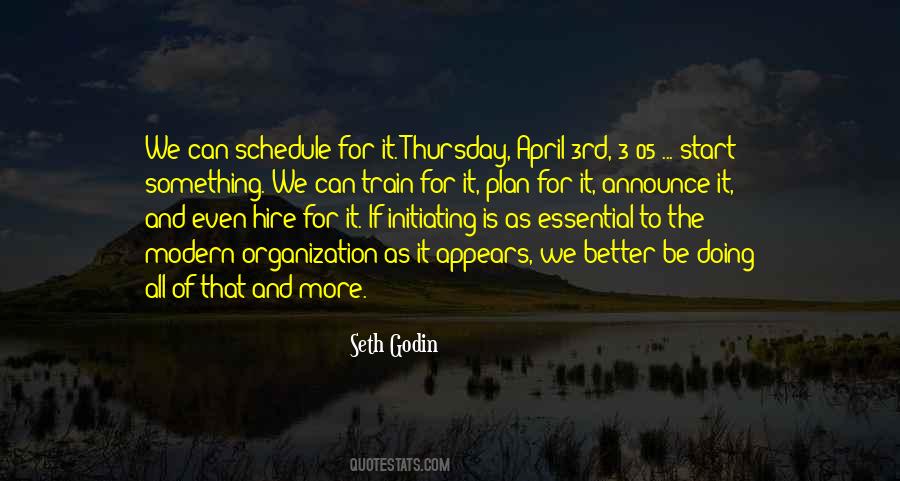 #53. You had to keep the mood up; you had to keep the tempo up. You had to keep the feeling of, "Hey, we're doing something that's really exciting. It's fun being with these people." And the more fun you have, the better you do it. - Author: Bill Murray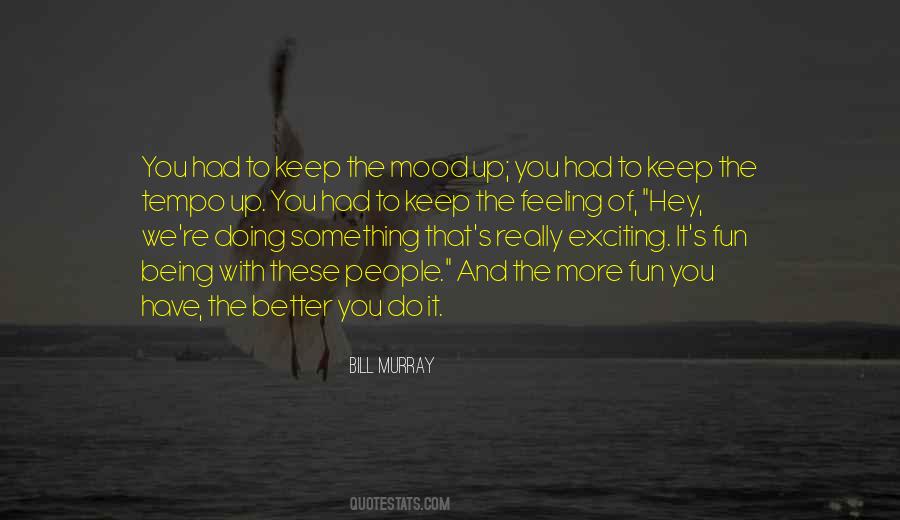 #54. When a day goes by and I haven't written anything, I better have been doing something worth writing about. - Author: P.S. Bartlett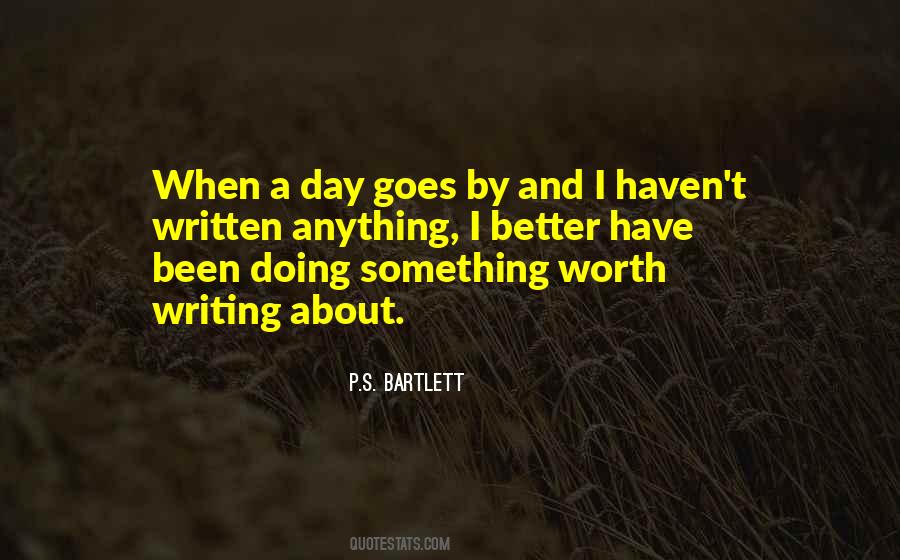 #55. The plain truth is that I knew better but went to Everest anyway. And in doing so I was a party to the death of good people, which is something that is apt to remain on my conscience for a very long time. - Author: Jon Krakauer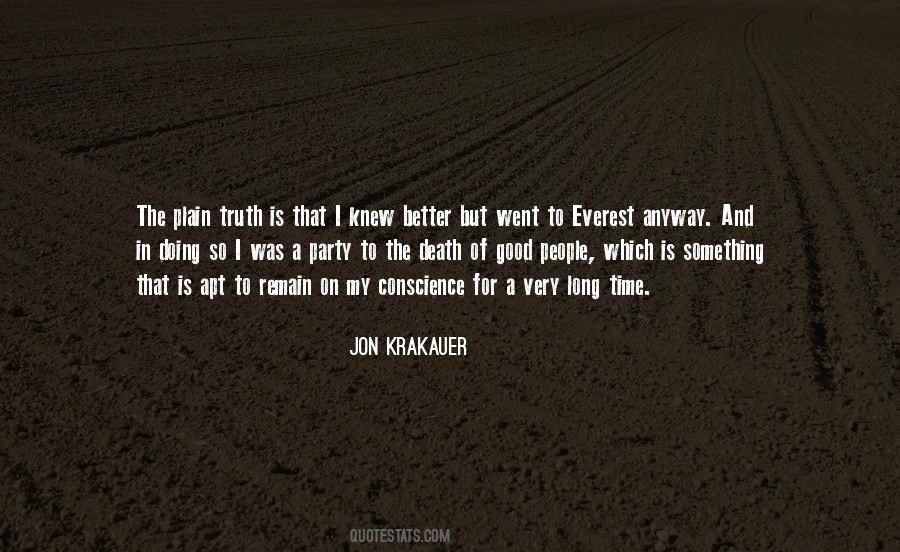 #56. The resilience and the resourcefulness of people to make a better life, to survive, to give their children something better than they had, is so inspiring. I look at how hard it must be to get up every day and fight that battle and I think, Wow, anything I'm doing just has to be in service. - Author: Kathy Calvin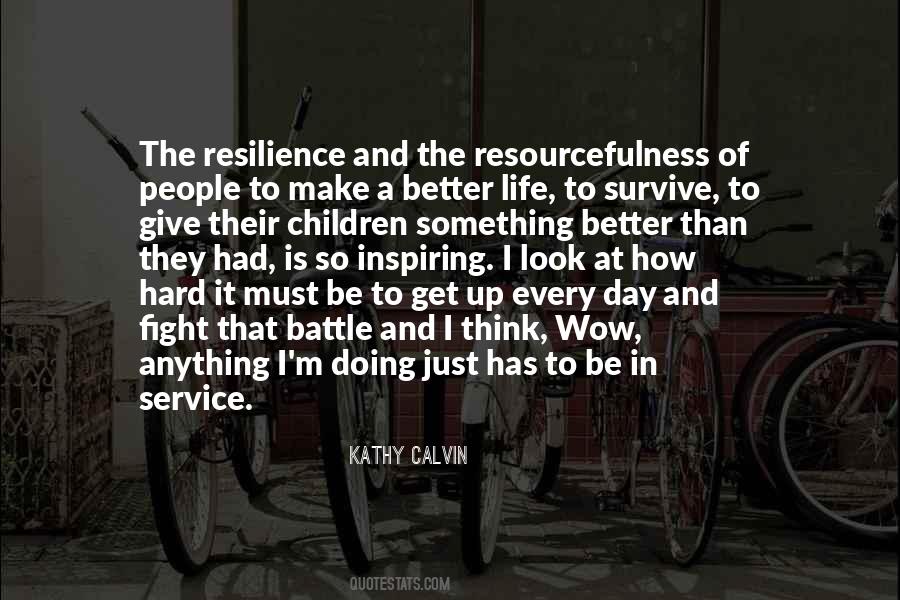 #57. The worst thing about television is that everybody you see on television is doing something better than what you're doing. You never see anybody on TV just sliding off the front of the sofa, with potato chip crumbs all over their shirt. - Author: Jerry Seinfeld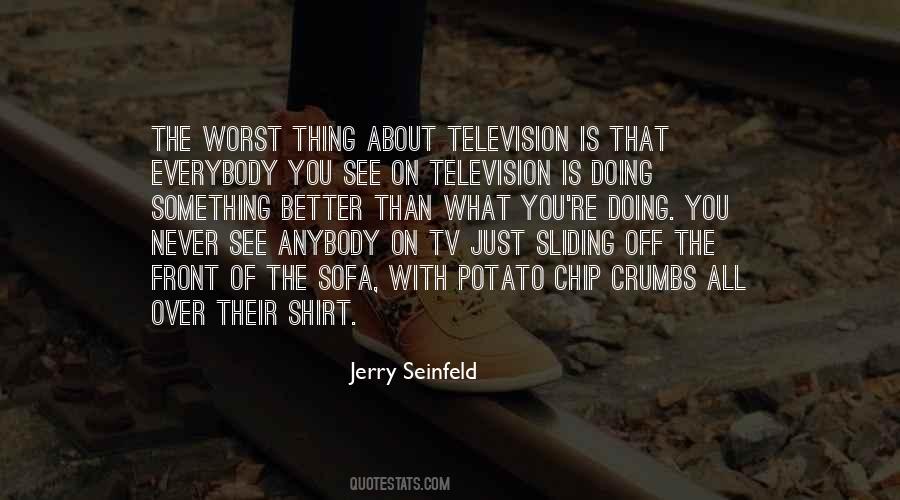 #58. We all have to start somewhere, and doing something is better than nothing at all. Start small so you don't get discouraged and give up. Remember it is all about consistency. - Author: Khloe Kardashian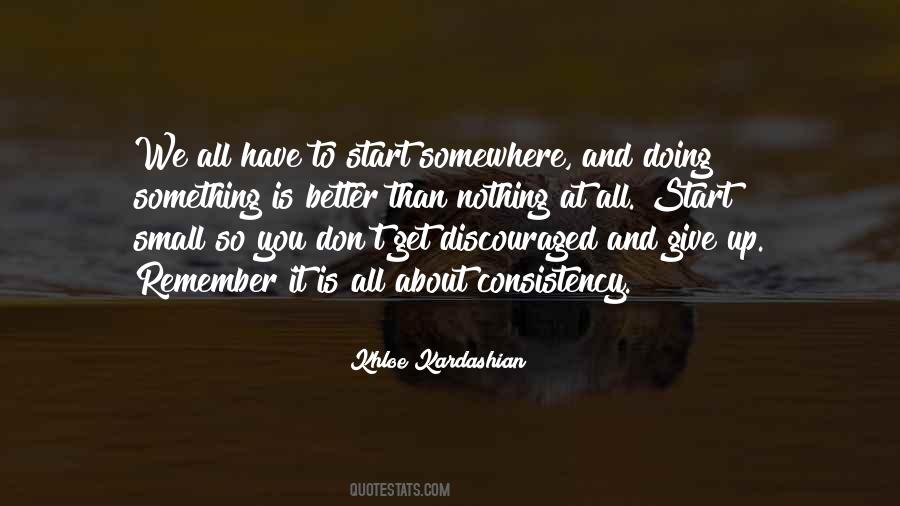 #59. If you're supposed to be doing something, the spirits will come and help you. They have helped me out with lines I shouldn't have known, chords I shouldn't have known. Every once in a while I get lines from somewhere, and I think, I better write this down. - Author: Gil Scott-Heron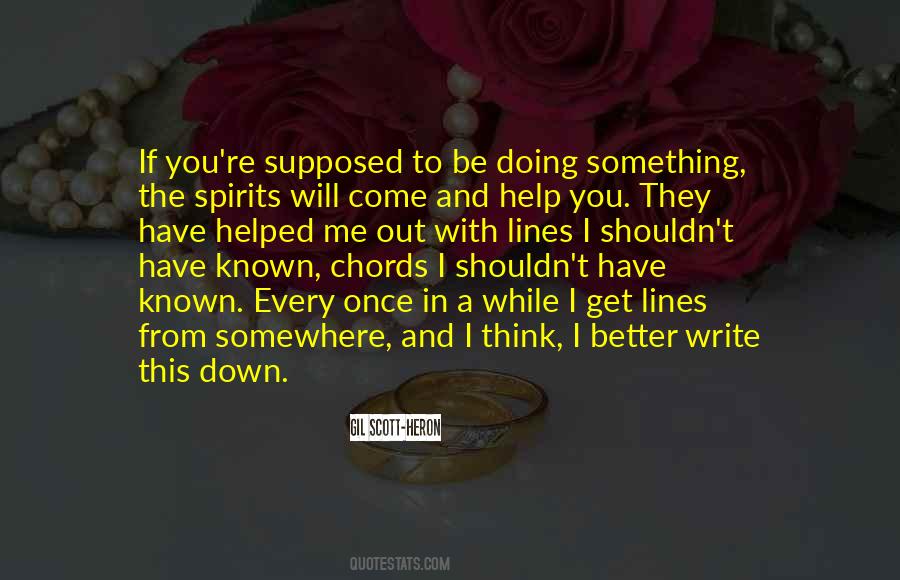 #60. Honor sometimes means doing something very unwise. Behaving like an idiot is better than dishonor. To this day I blush for having chosen sensible restraint over common decency. - Author: Amelie Nothomb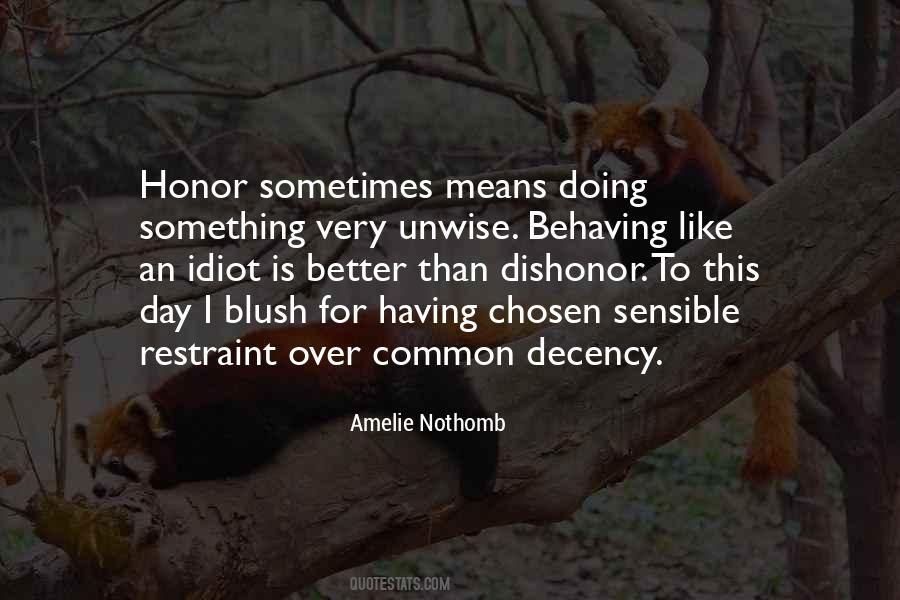 #61. Reality is painful
it's so much easier to keep doing stuff you know you're good at or else to pick something so hard there's no point at which it's obvious you're failing
but it's impossible to get better without confronting it. - Author: Aaron Swartz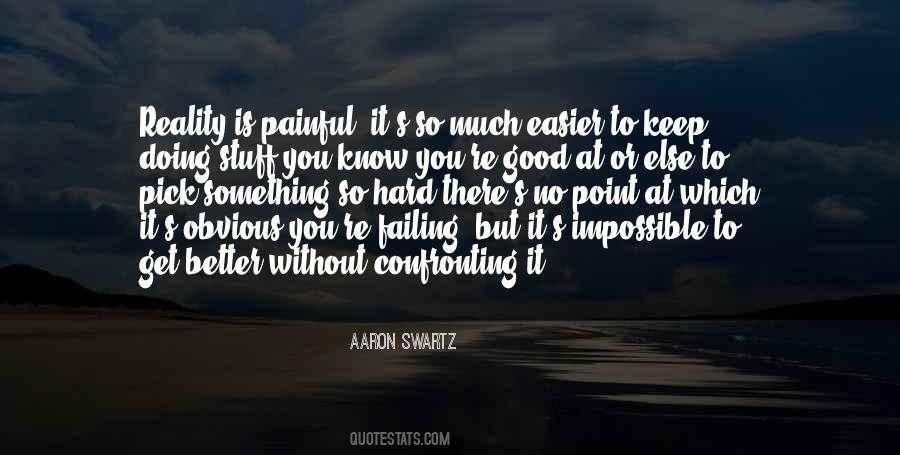 #62. I started slow, and eventually I started working out 4 to 5 days a week. We all have to start somewhere, and doing something is better than nothing at all. - Author: Khloe Kardashian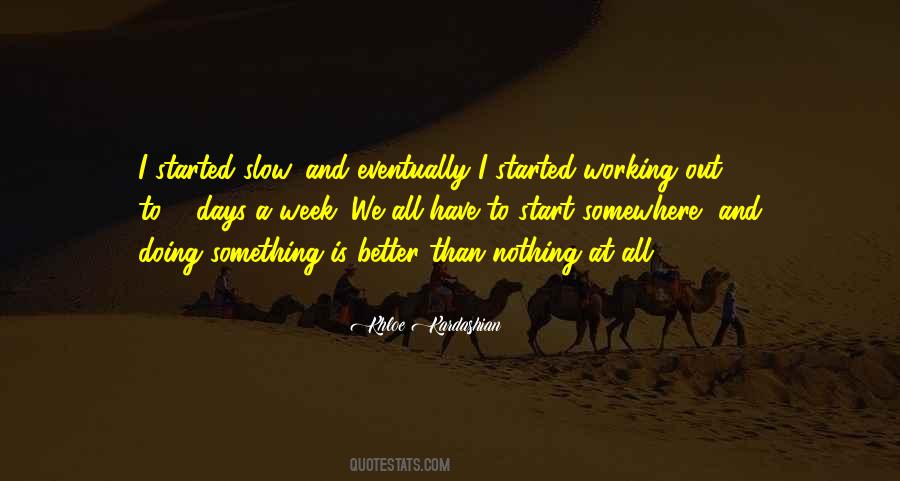 #63. To become successful and outstanding at something, we don't have to come up with something new; we need only find ways of doing it better. - Author: Earl Nightingale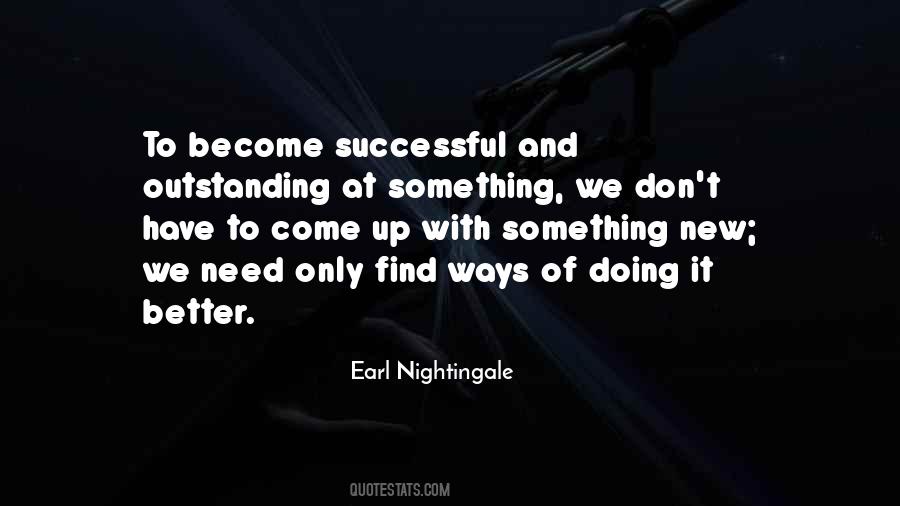 #64. He bent down so I could hear him over the music. "What are you doing here?" he asked with a hard tone.

Okay. Not the best first line. Something like, you look beautiful, have my babies would have been a little bit better. - Author: R.S. Grey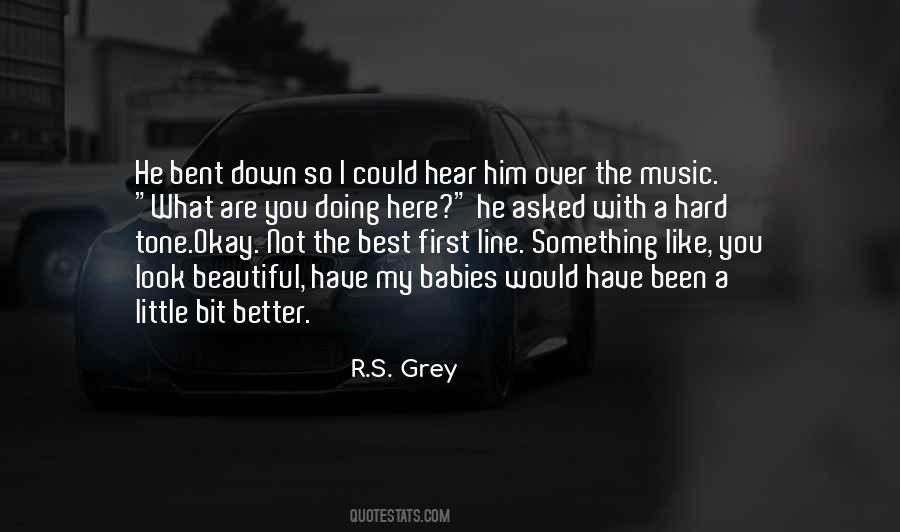 #65. Improvement is about doing something better; innovation is about doing something new. - Author: Andy Hargreaves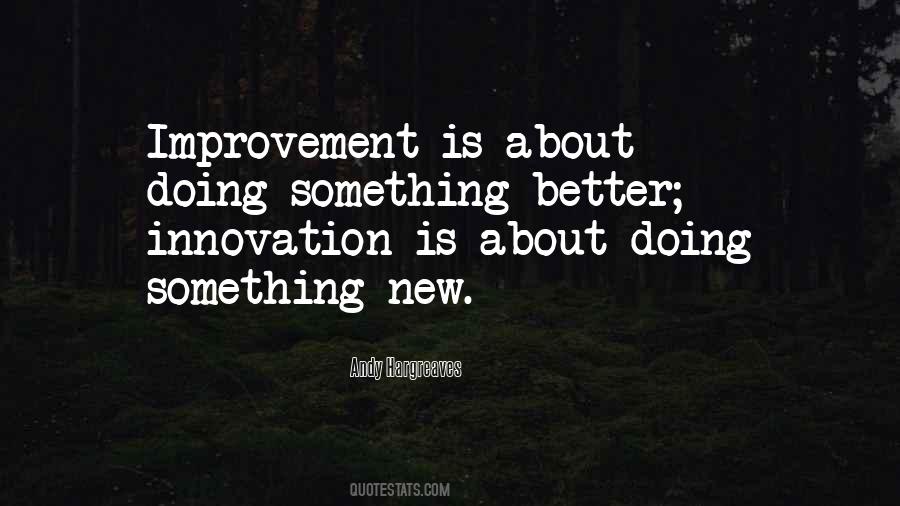 #66. Do you remember back when you felt you could actually do something to make the world better?" "You're talking to the wrong man. I work for central government, remember? Actually doing something is the mistake we're trained to avoid. - Author: Chris Cleave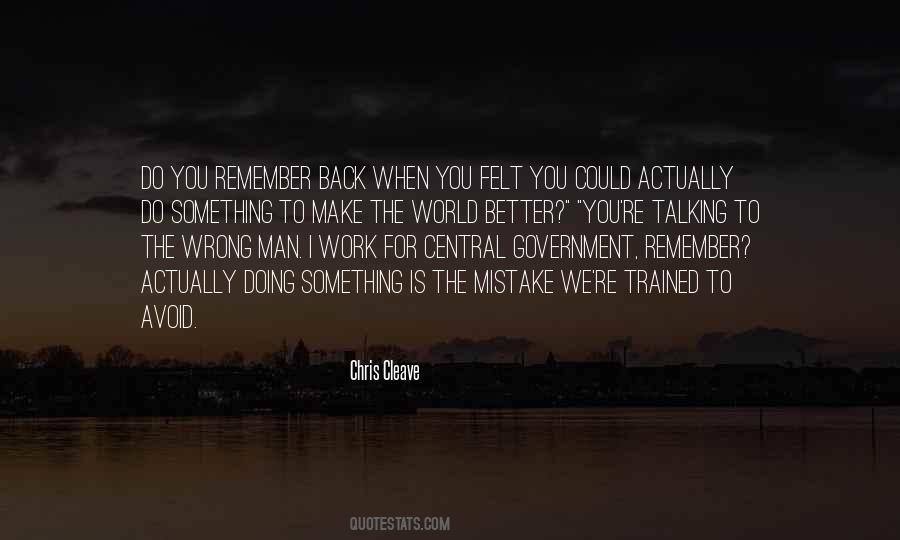 #67. I like doing something romantic with a girl on Valentine's Day, like making her dinner and keeping it simple. The more quality time, the better. - Author: Spencer Boldman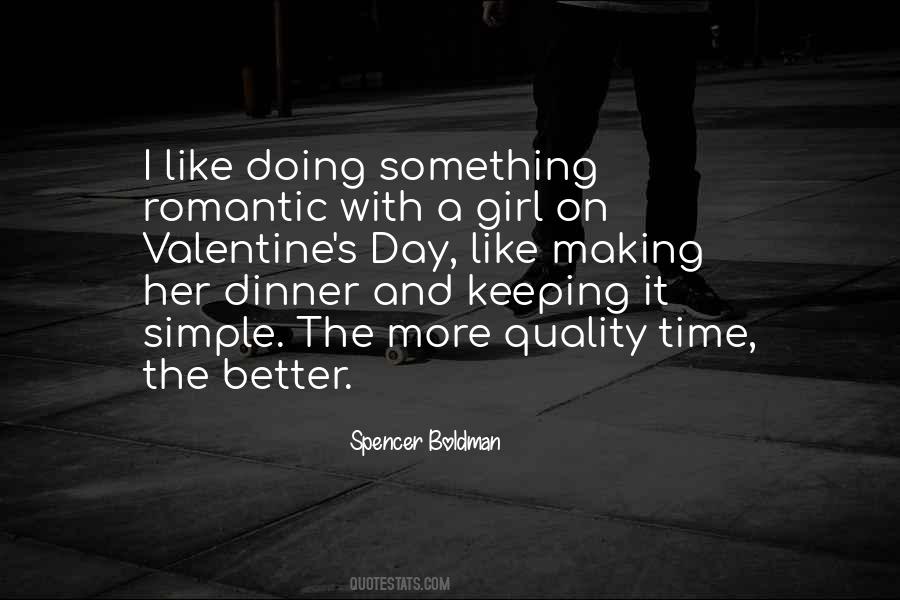 #68. I come from the kind of family where work is work; my parents always taught me that it's better to be doing something than sitting around doing nothing. - Author: Tom Hooper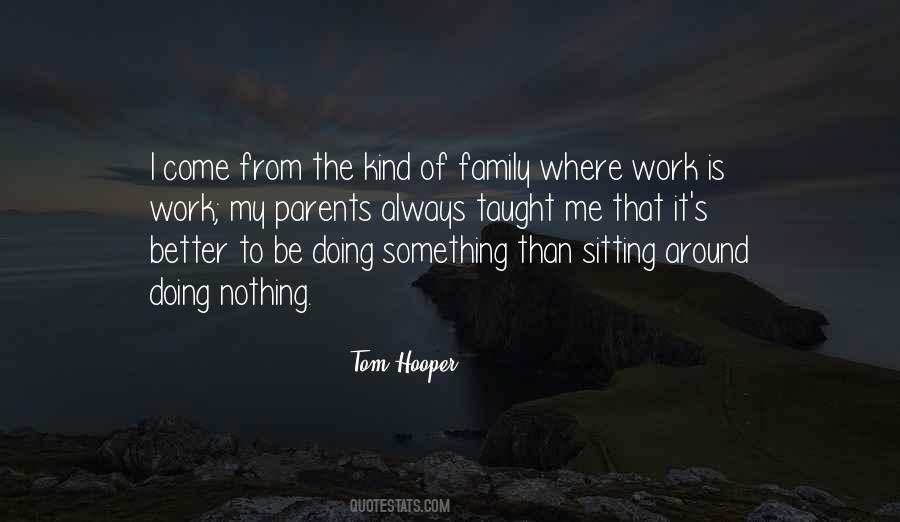 #69. By doing something positive in this world, you're helping people and the future. We're all trying to help the world ... make it a better place to live. We're actually still changing the world, aren't we? - Author: Rick Danko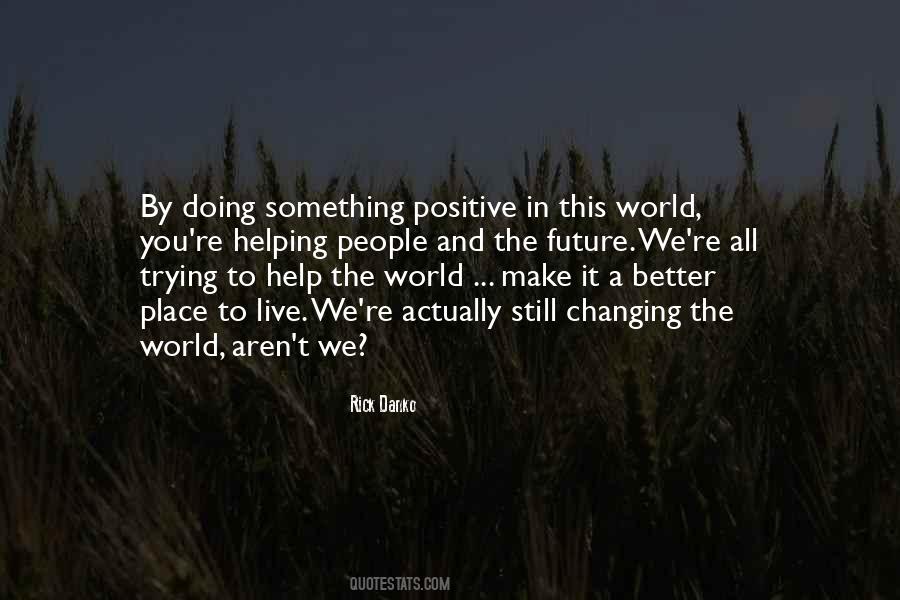 #70. I've never had to work out of the arts. I've always either been a writer or an editor, or something where I've made my living from doing what I love. You can't get any better than that. - Author: Len Wein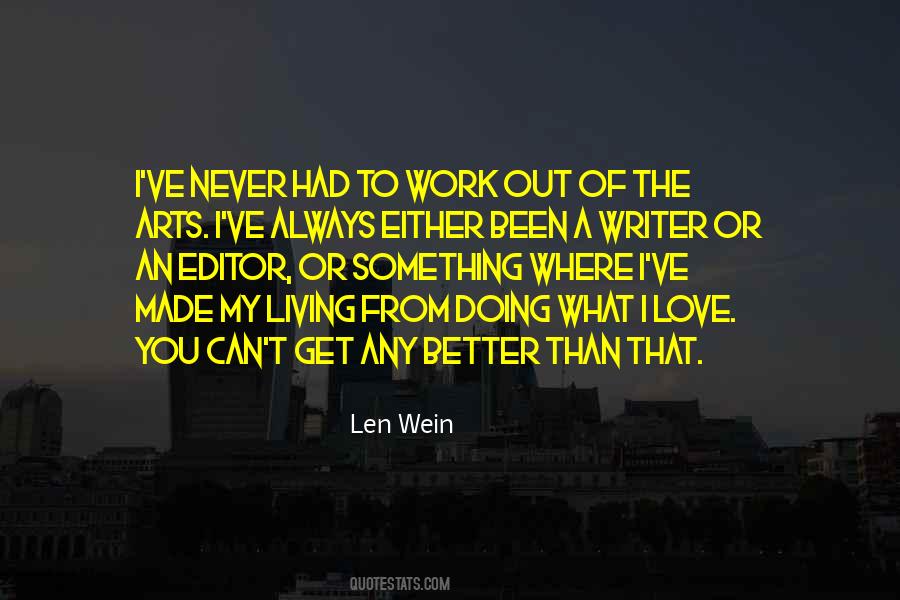 #71. I didn't like The Wiz and it wasn't because black people were doing it. I didn't like The Wiz because it was a badly made movie off a classic. Why are you remaking something unless you have something better in mind? - Author: Harry Belafonte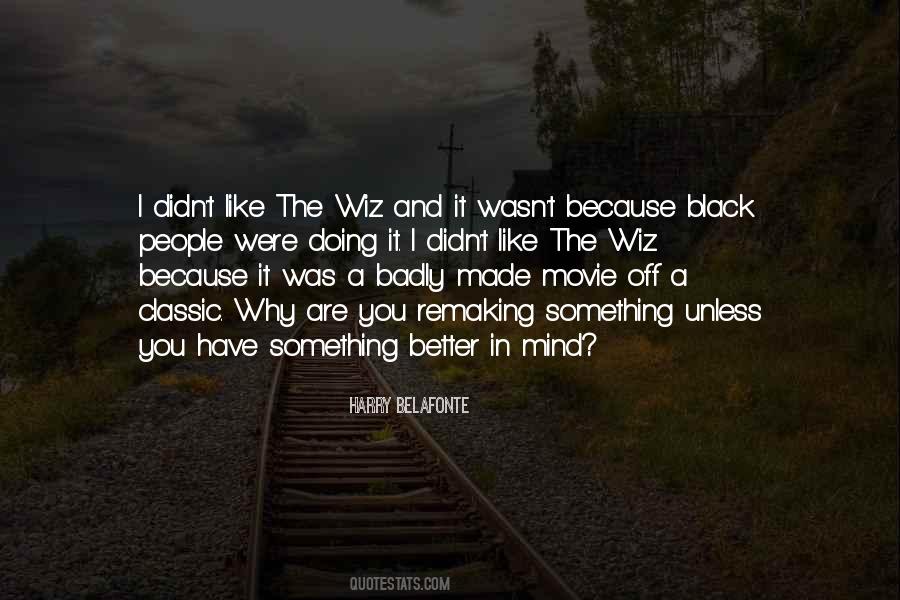 #72. I just happen to think people are better off doing something they actually like. - Author: Leonardo DiCaprio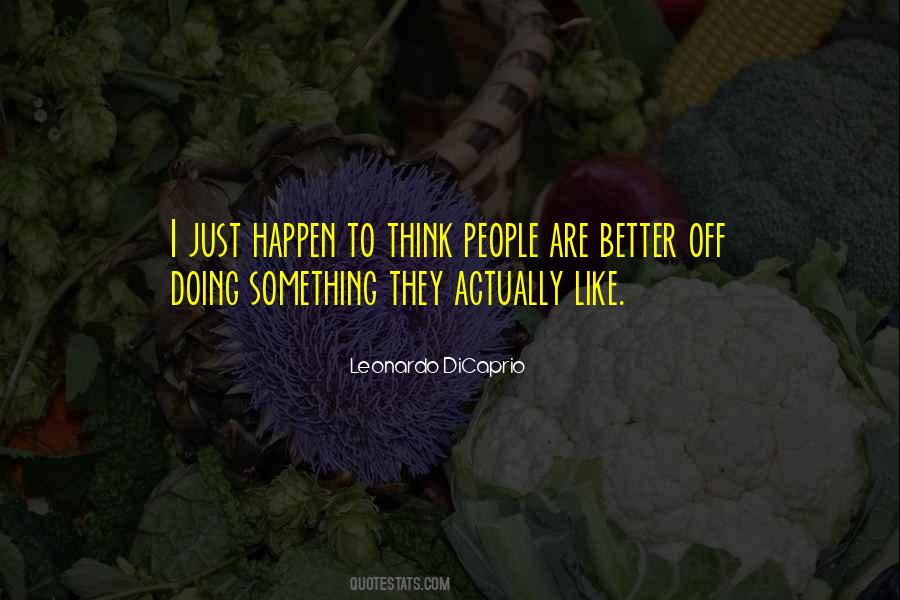 #73. As any parent can tell you, it's better to keep your mouth shut and your eyes open when you go looking for kids who are being unreasonably quiet. They're probably doing something they don't want you to see, and if they hear you coming, they'll hide the evidence. I - Author: Elizabeth Bear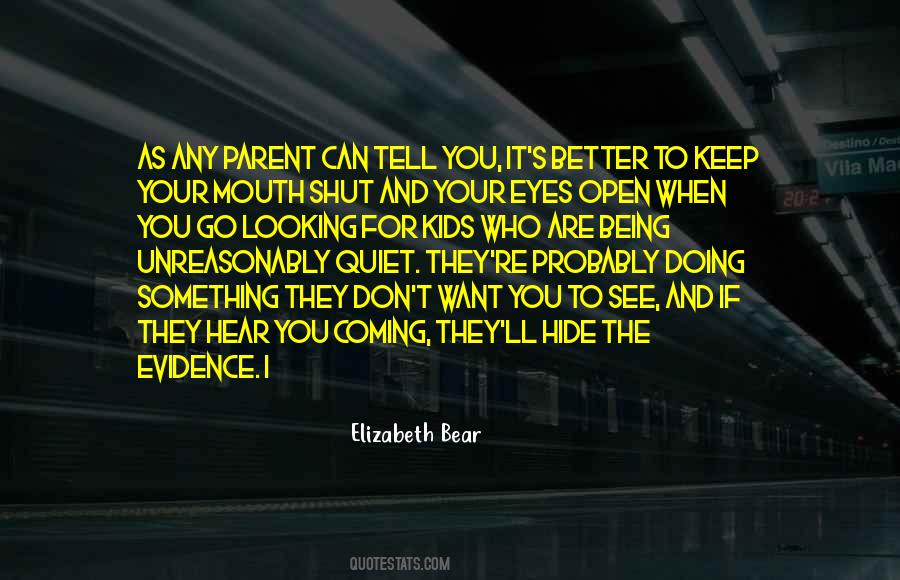 #74. As you read God's Word, always remember that it is something active, that it is doing something to you, for better or worse. When we hear or read the Word, we are not above it, using it for our own purposes. Rather, in the Word, God is doing something to us. - Author: Anonymous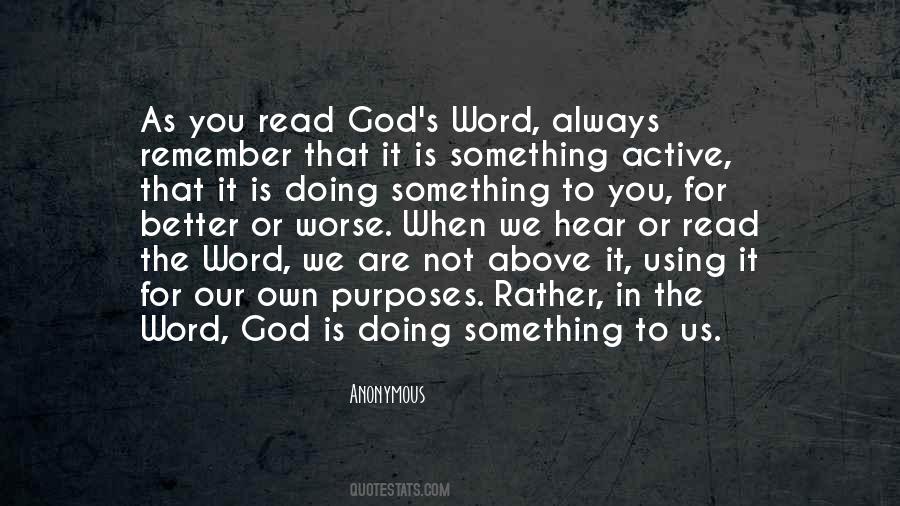 #75. Different' and 'new' is relatively easy. Doing something that's genuinely better is very hard. - Author: Jonathan Ive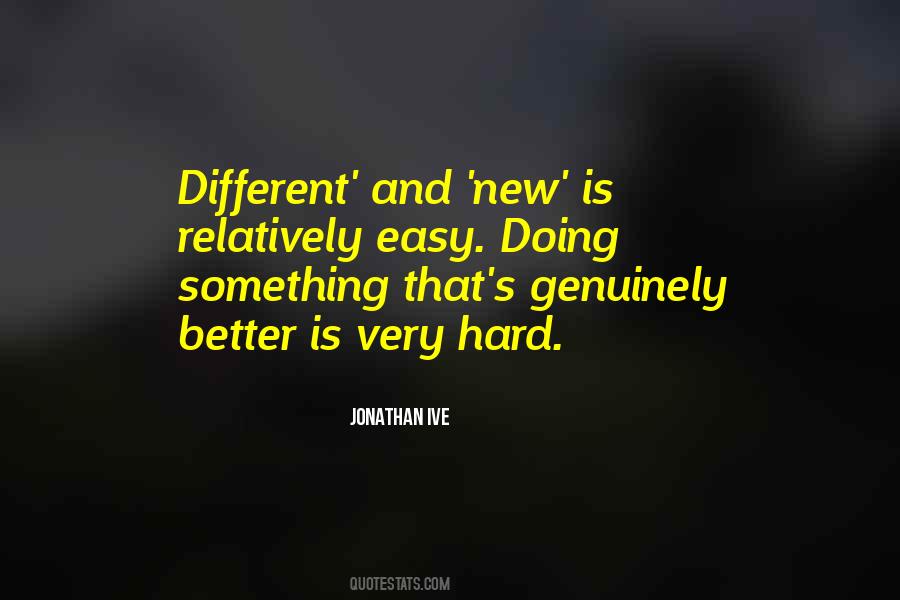 #76. The statistics show that when you've done something for so long, it'll either be, yeah, you're slowing down, or someone's doing it better. But physically, I feel great. More than that, it's mental and spiritual. - Author: Steven Lopez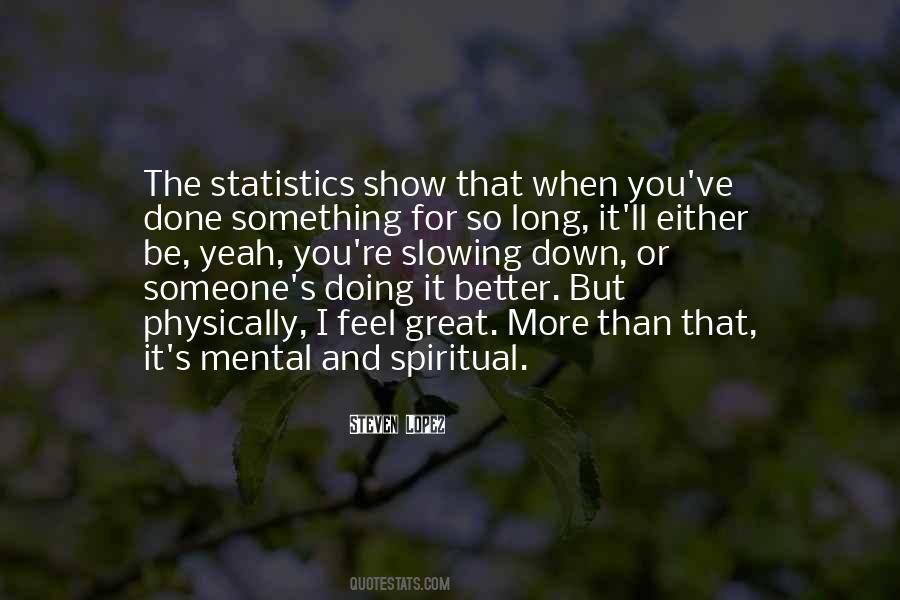 #77. Doing is better than not doing, and if you do something badly you'll learn to do it better. - Author: Twyla Tharp
#78. It is not enough just to be good. We must be good for something. We must contribute good to the world. The world must be a better place for our presence. And the good that is in us must be spread to others. This is the measure of our civility. - Author: Gordon B. Hinckley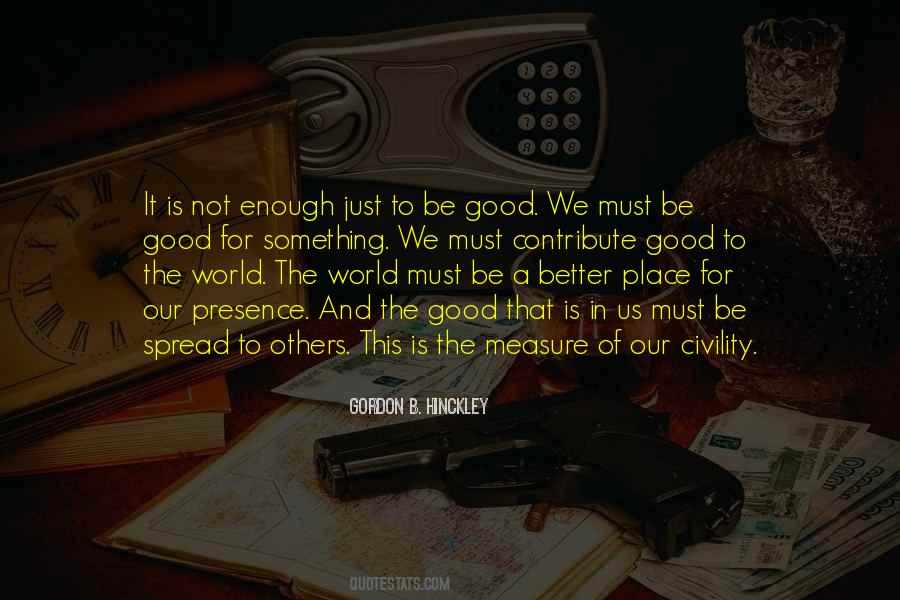 #79. As a cure for worrying, work is far better than whiskey. I always found that, if I began to worry, the best thing I could do was focus upon doing something useful and then work very hard at it. Soon, I would forget what was troubling me. - Author: Thomas A. Edison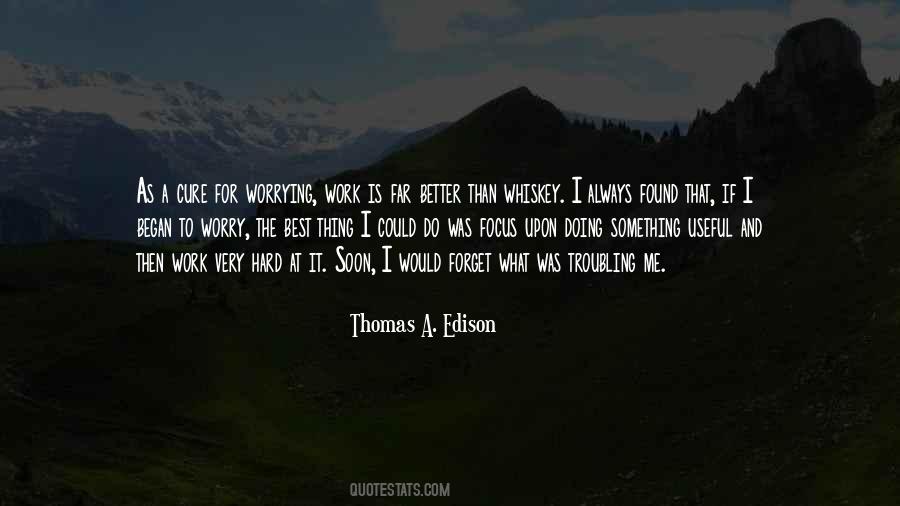 #80. You pick up a camera because something has been revealed to you in the landscape or in the human-scape. And you have no choice because it's a gift. And it's like, oh right, I better start doing this! - Author: Bill Henson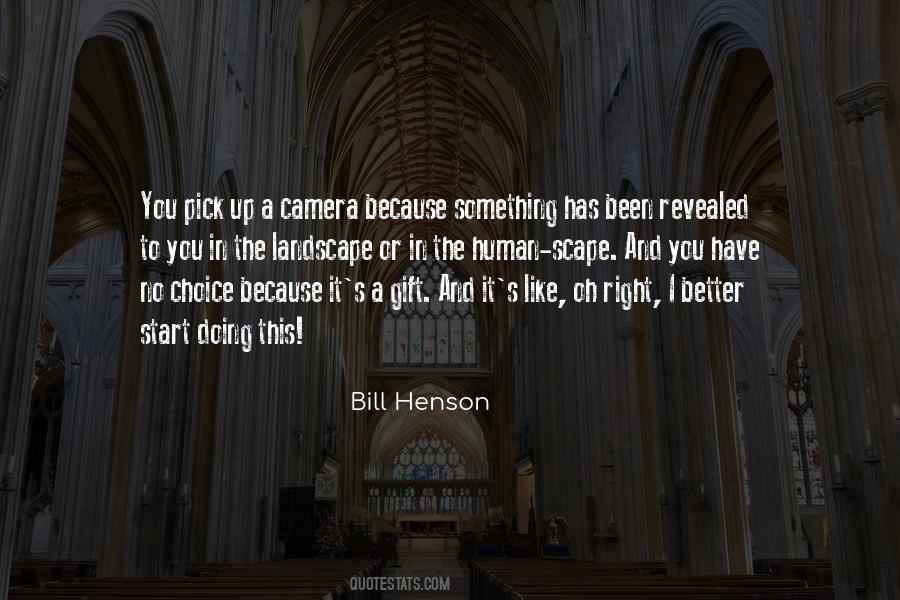 #81. The sole justification of teaching, of the school itself, is that the student comes out of it able to do something he could not do before. I say do and not know, because knowledge that doesn't lead to doing something new or doing something better is not knowledge at all. - Author: Jacques Barzun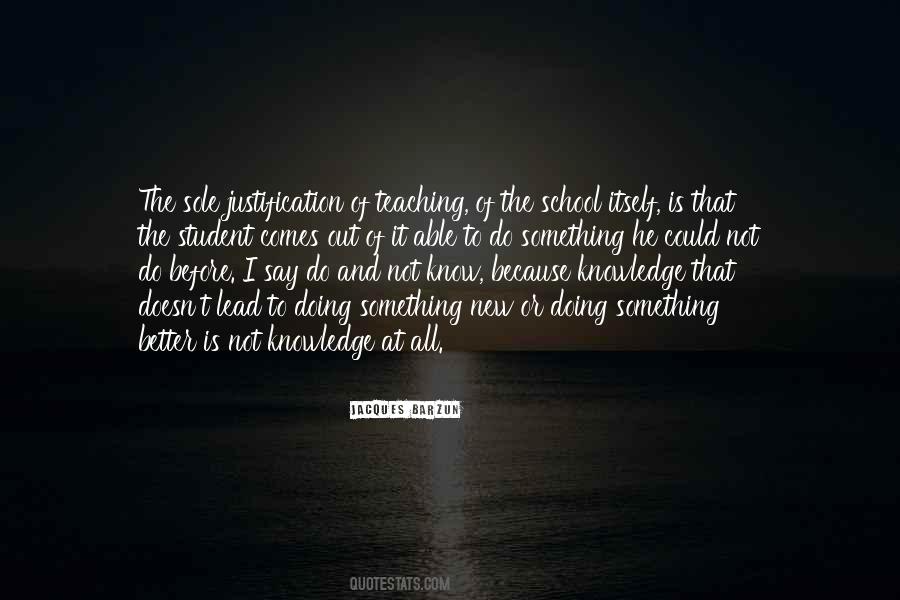 #82. I'm always driven to keep doing something different and better. - Author: Bryan Callen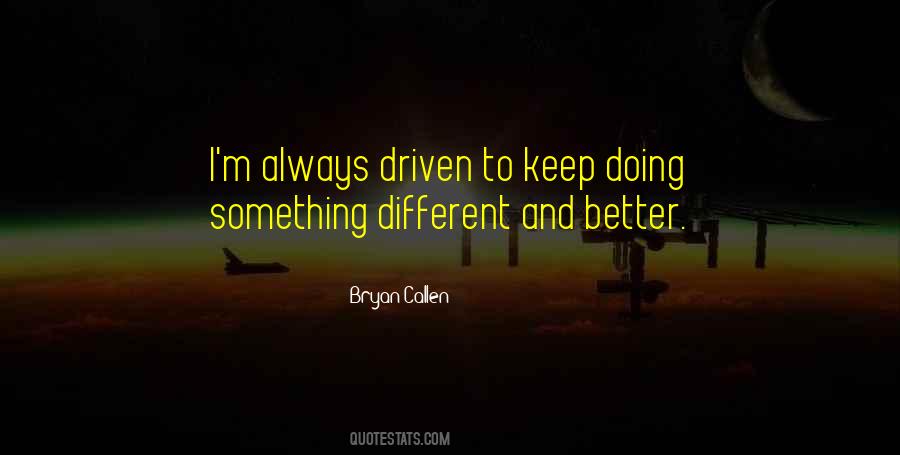 #83. Have integrity by doing something now that will always make you a better person today and never a shame of the person you will be tomorrow! - Author: Timothy Pina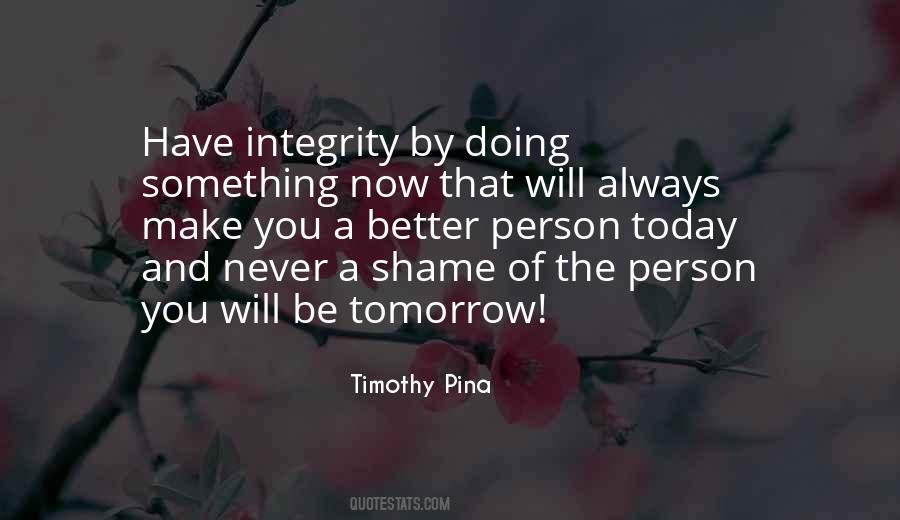 #84. If you were a corporation needing financial services, and I can give you something better, faster, and cheaper across 12 products as opposed to eight, that's business. I'm doing it because I'm serving you; I'm not doing it because I want to be universal. - Author: Jamie Dimon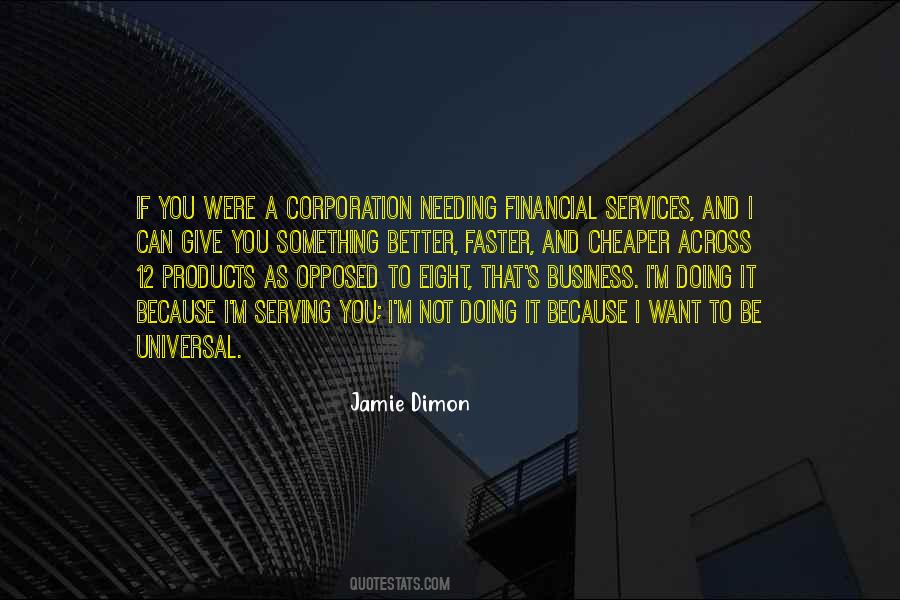 #85. We may have a perfectly adequate way of doing something, but that does not mean there cannot be a better way. So we set out to find an alternative way. This is the basis of any improvement that is not fault correction or problem solving. - Author: Edward De Bono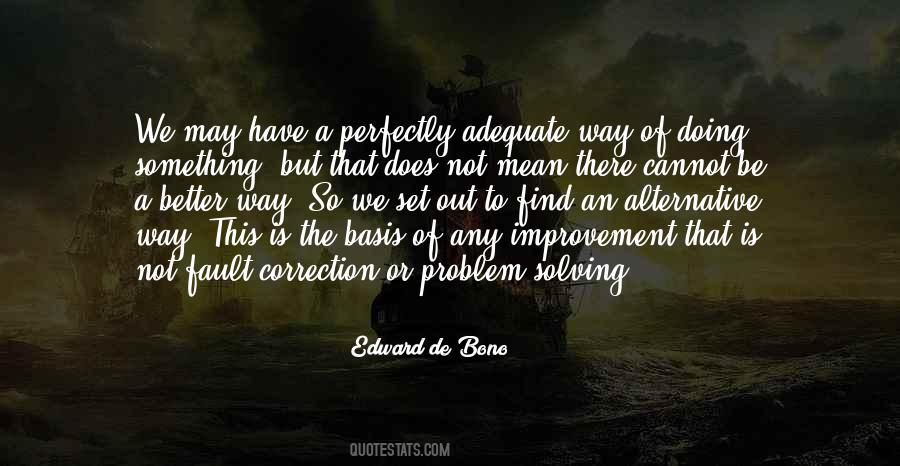 #86. If history shows anything, it is that there's no better way to justify relations founded on violence, to make such relations seem moral, than by reframing them in the language of debt - above all, because it immediately makes it seem that it's the victim who's doing something wrong. - Author: David Graeber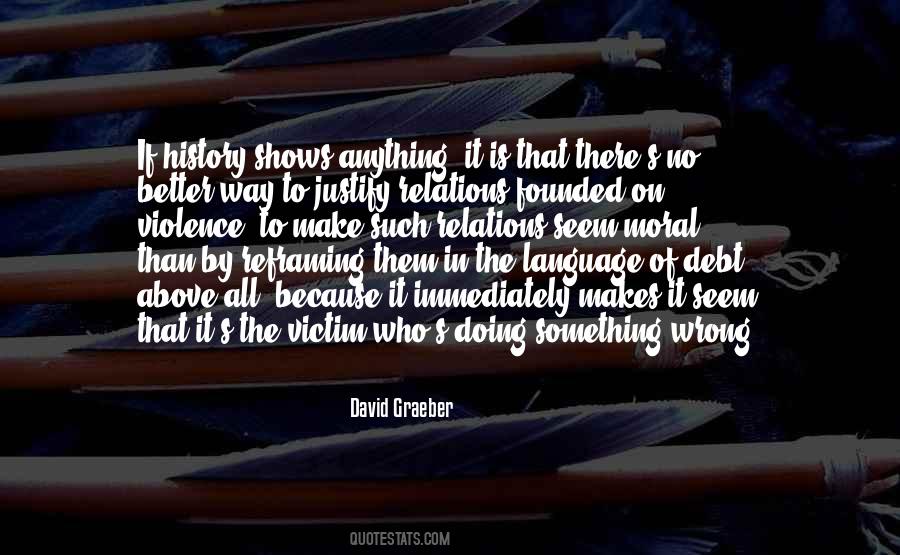 #87. I stare at him. I feel my heartbeat everywhere, even in my toes. I feel like doing something bold, but I could just as easily walk away. I am not sure which option is smarter, or better. I am not sure that I care. - Author: Veronica Roth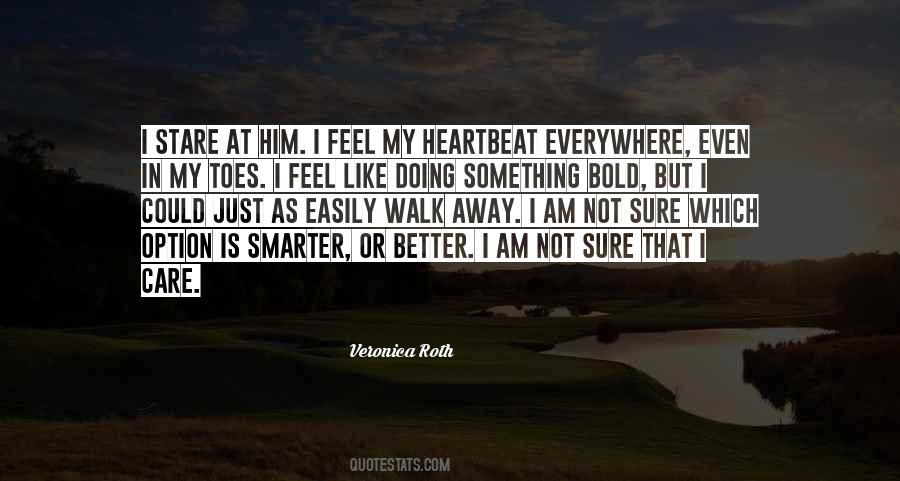 #88. As with the factory, so with the office: in an assembly line, the smaller the piece of work assigned to any single individual, the less skill it requires, and the less likely the possibility that doing it well will lead to doing something more interesting and better paid. - Author: Jill Lepore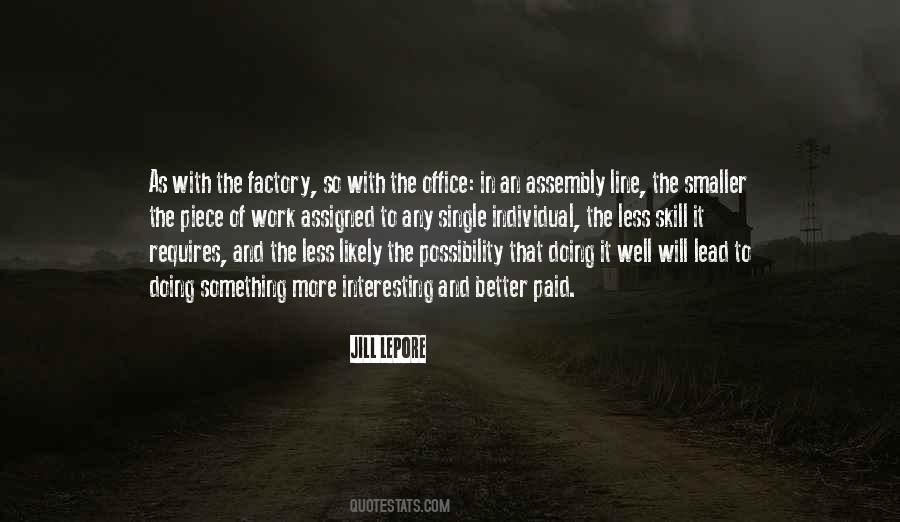 #89. The only thing I wouldn't like to do is to play roles as a musician. I'm not sure that I would be comfortable doing that, and I'm not sure I'd be very good at it. I think I would be better served, and would be a better partner, if I was in something outside of myself. - Author: Larry Mullen Jr.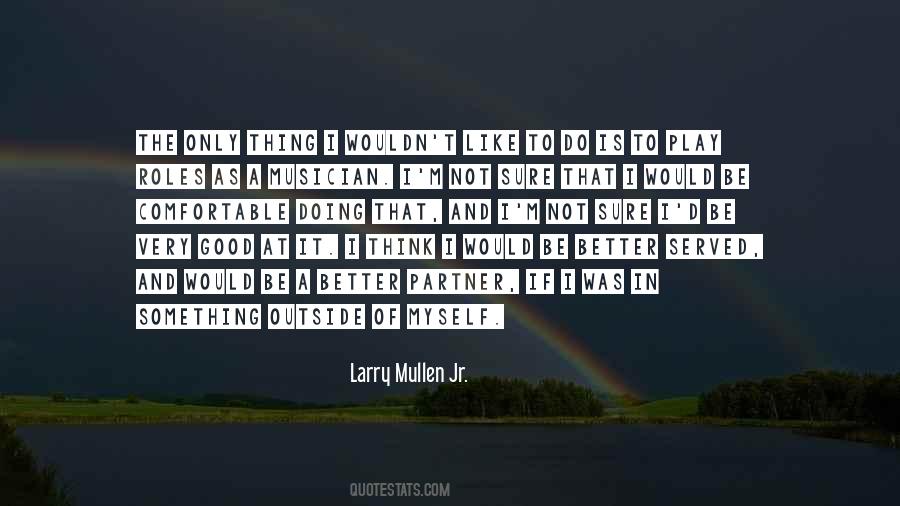 #90. A life worth living, and work worth doing - that is what I want for children (and all people), not just, or not even, something called 'a better education. - Author: John Holt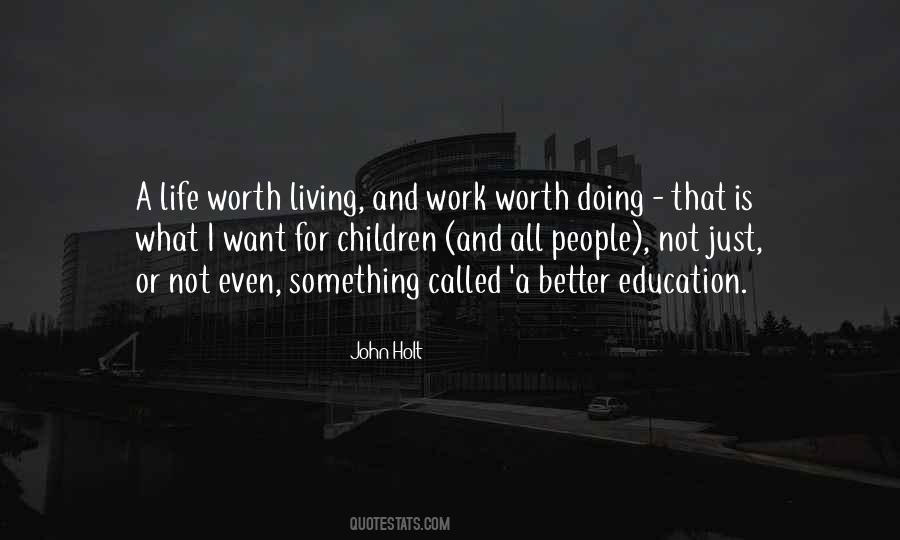 #91. But better to be out on the floor doing something - even if it couldn't exactly be called dancing - than playing wallflower, with only painful memories for company. - Author: Melissa Tagg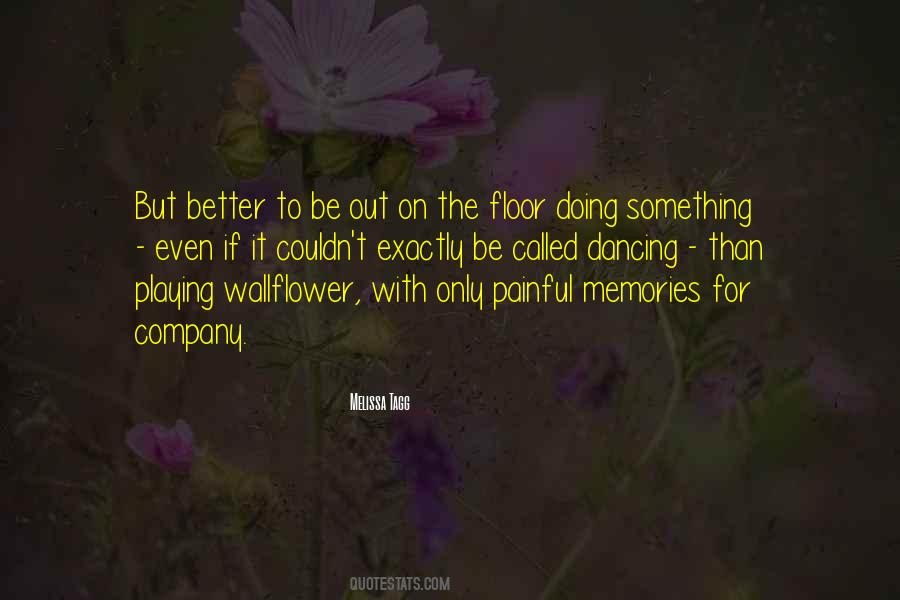 #92. For me, motivation is easy. I enjoy what I'm doing, and I'm lucky to play tennis. I enjoy the suffering. It's something quite natural for me to go on the court and suffer, and to go in the gym and to suffer, and to know the only way to get better is to work out - that's what I like. - Author: Stanislas Wawrinka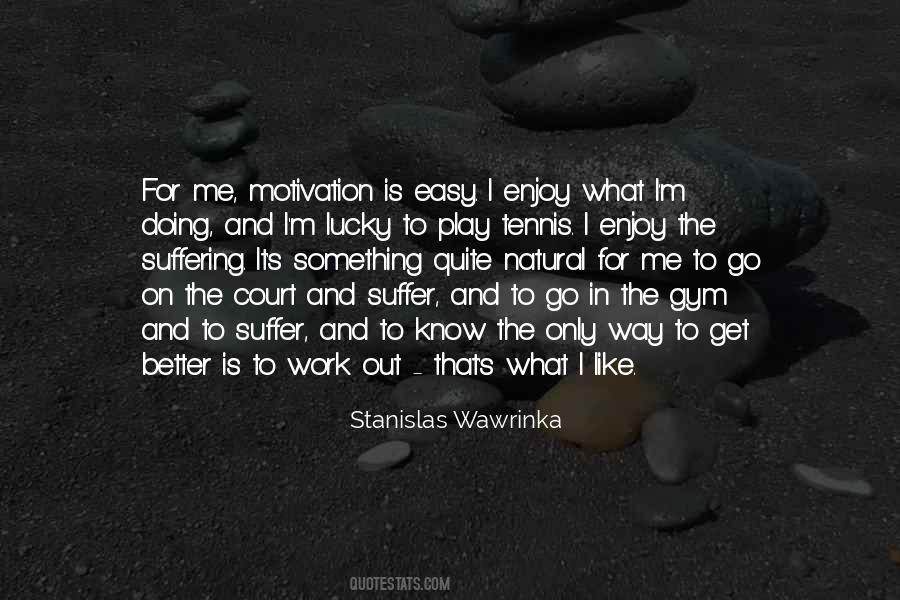 #93. I was pleased when the picture was over I fit in all right and I spoke well enough as I said before, cause I was scared to death there for a minute. I mean, you're doing a scene with somebody like that or they're watching you or something, you'd better come up with something. - Author: Rod Steiger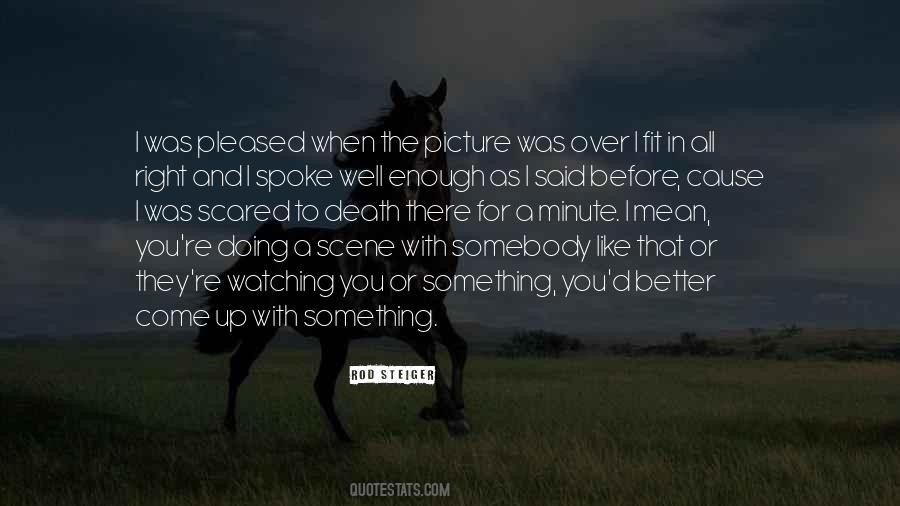 #94. We are all guilty and we all have to be part of the solution. We have to do the best we can and then try to do better. It's not about any one person doing everything; it's about all of us doing something and then maybe a little more. - Author: Laurie David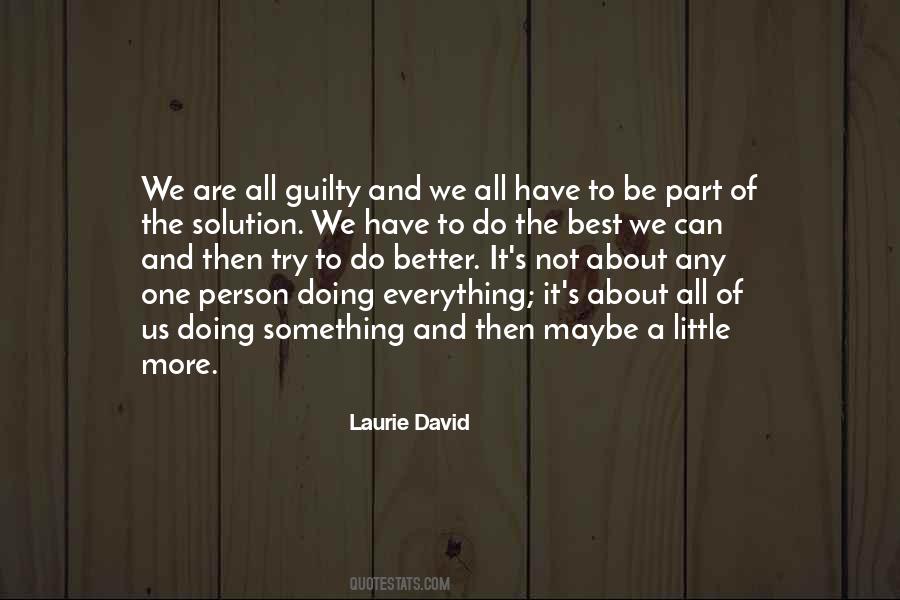 #95. Theoretical webs, dirty webs, fusty webs, old and shrivelling away into nothingness, a fine dust.Who needs that kind of stuff. Far far better getting out into the open air and doing it, actually doing it, something solid and concrete and unconceptualisable. - Author: James Kelman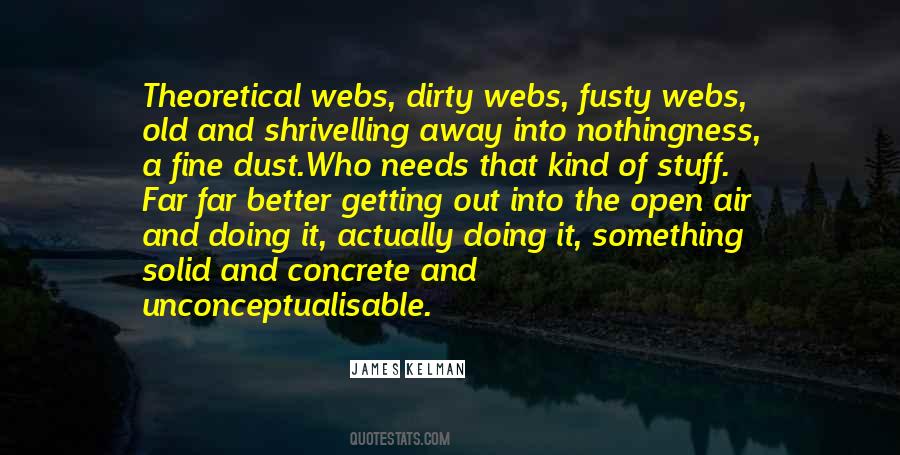 #96. It's better to be happy doing something you love, even if you don't find success right away. - Author: George Burns
#97. Why did I always need to do something, like referring one person to another, just for the sake of doing something, when sometimes, perhaps, it was better to do nothing? - Author: Will Schwalbe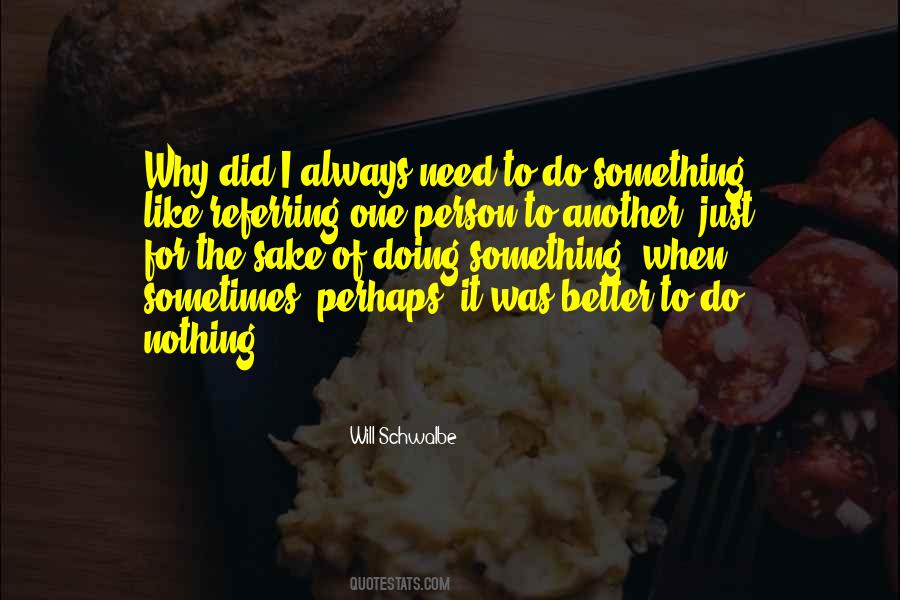 #98. There is always something good and unique in the life of every woman so put those talents and wisdom to good use today, by so doing you will make your world a better place than you met it. - Author: Jaachynma N.E. Agu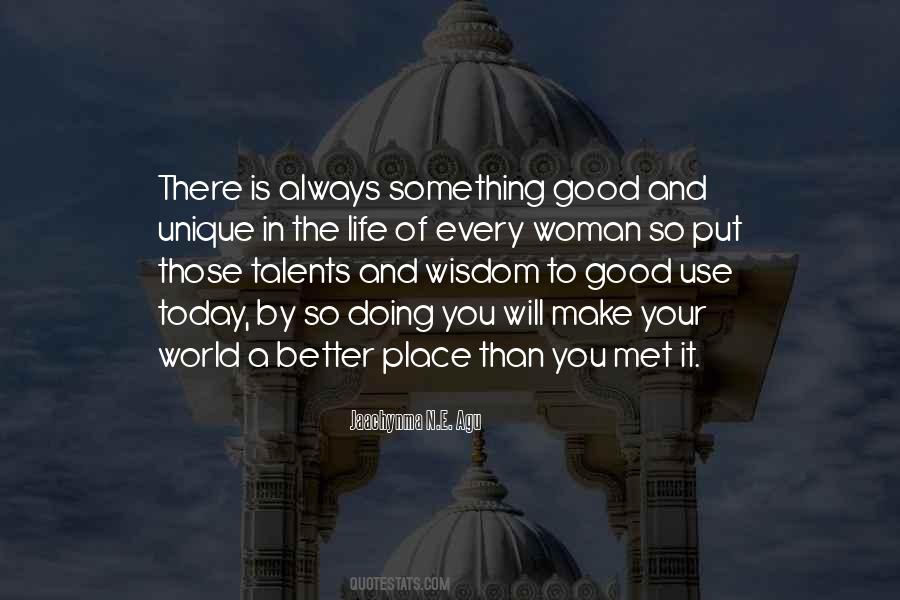 #99. Doing projects really gives people self-confidence. Nothing is better than taking the pie out of the oven. What it does for you personally, and for your family's idea of you, is something you can't buy. - Author: Martha Stewart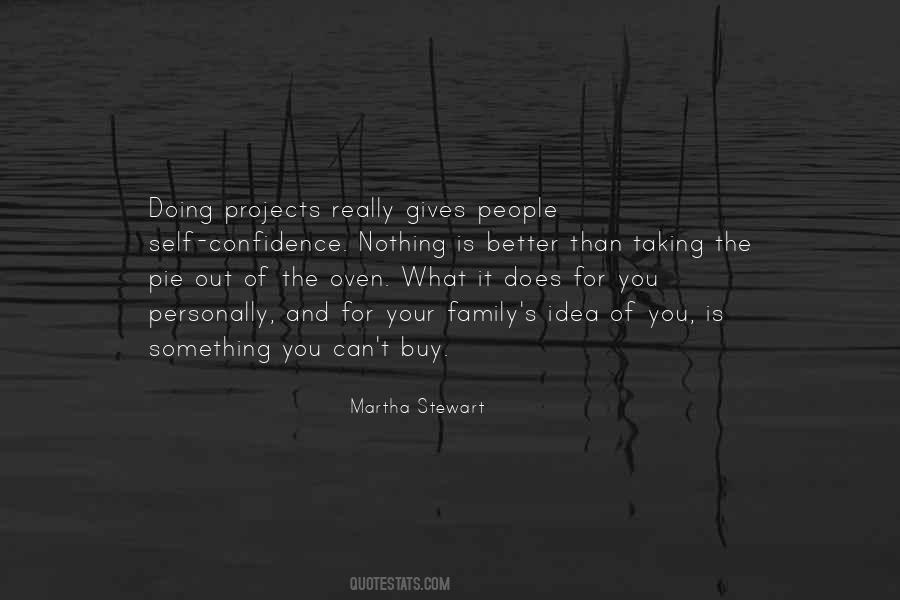 #100. Every day, the competition is doing something new, something better. - Author: Simon Sinek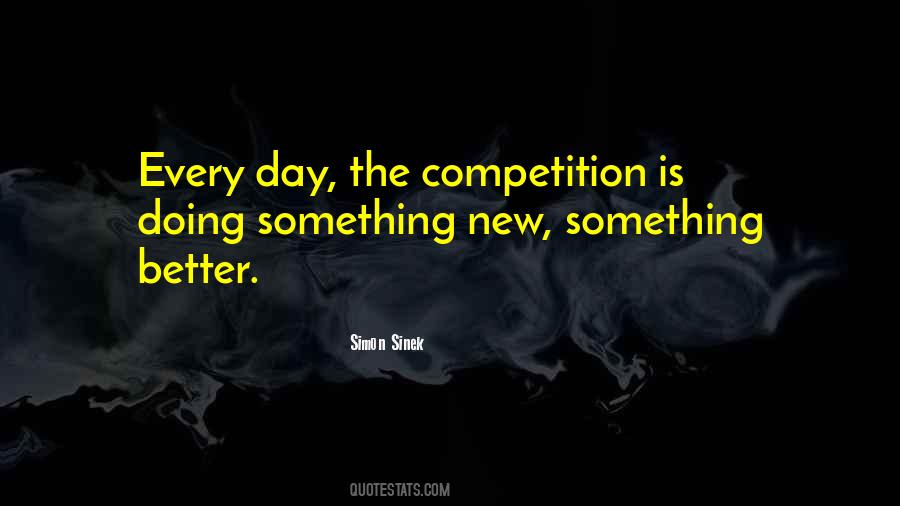 Famous Authors
Popular Topics