List of top 100 famous quotes and sayings about dawn and life to read and share with friends on your Facebook, Twitter, blogs.
Top 100 Quotes About Dawn And Life
#1. Can success change the human mechanism so completely between one dawn and another? Can if make one feel taller, more alive, handsomer, uncommonly gifted and indomitably secure with the certainty that this is the way life will always be? It can and it does!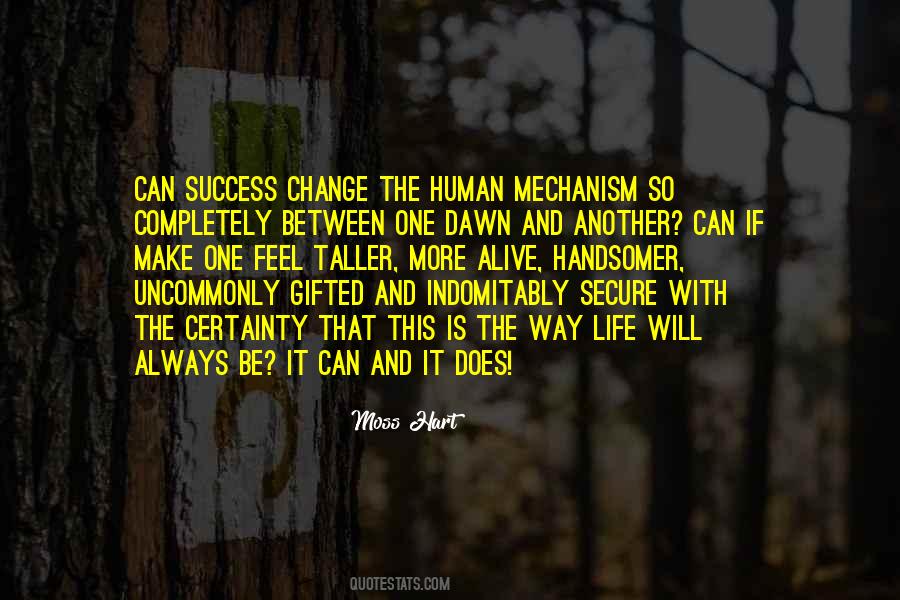 #2. How could he know this new dawn's light would change his life forever? Set sail to sea, but pulled off course by the light of golden treasure.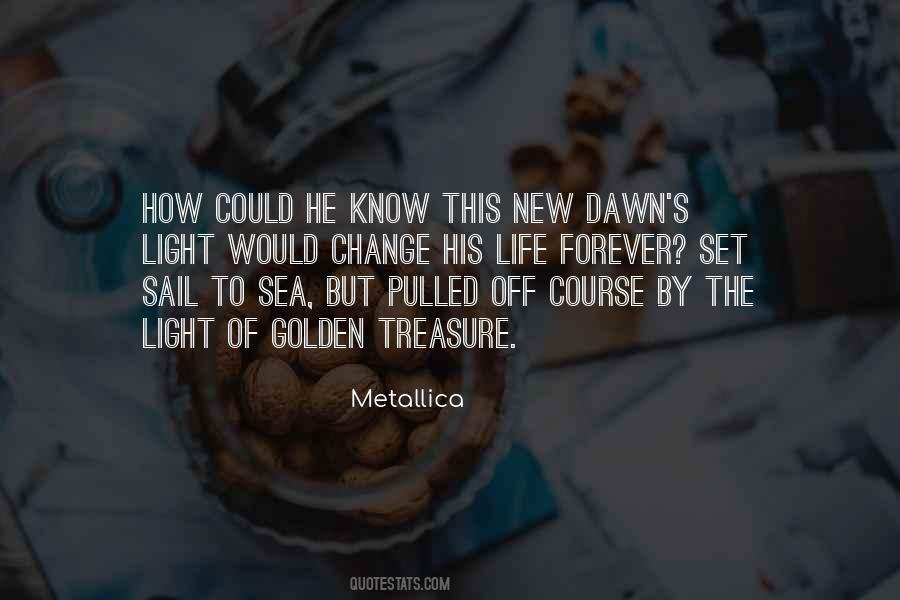 #3. The cold seemed less relentless now. The small circle of white light from my bedside lamp and its hint of the dawn to come seemed to drive the worst of the chill away and the hot tea did the rest, as I lay and read further into the life of the young woman in the bravado coat.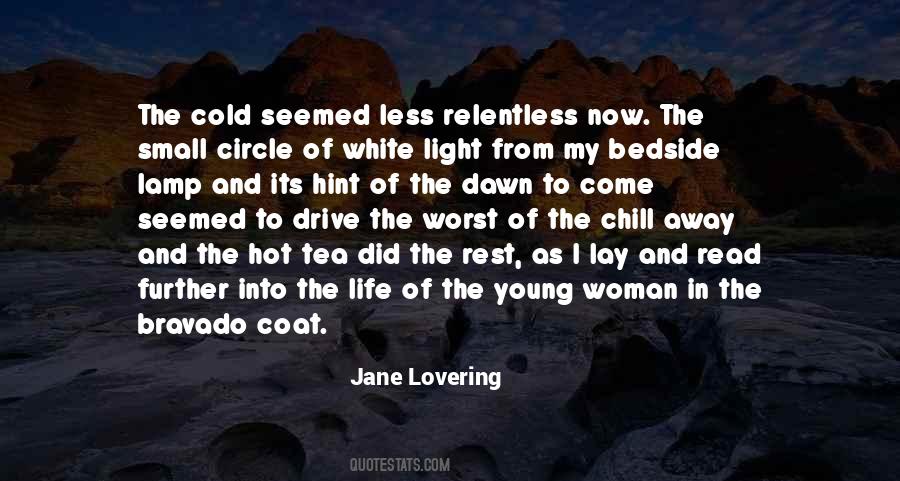 #4. She was almost there. She could feel the weight of herself, the ponderousness of her body, the distant memories of the dawn of time when rock was molten and free. For the first time in her life she knew what it was like to have balconies.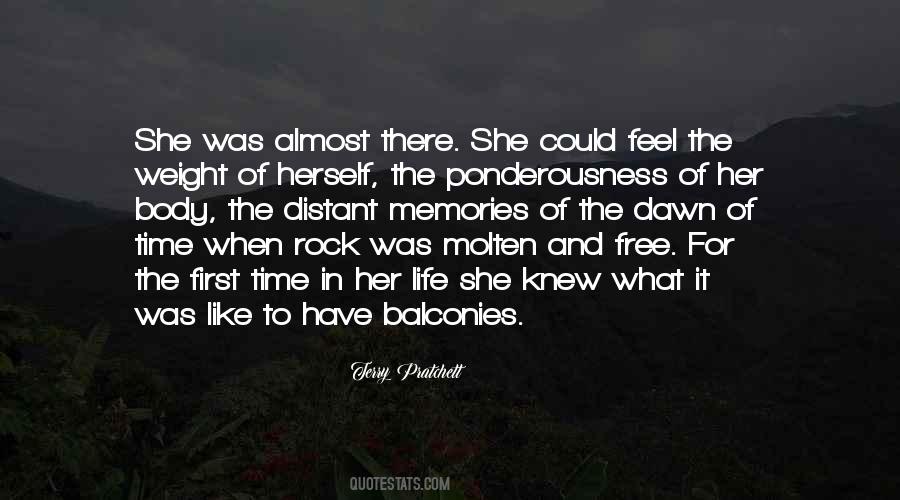 #5. Don't be afraid to live. And hold onto the people you love.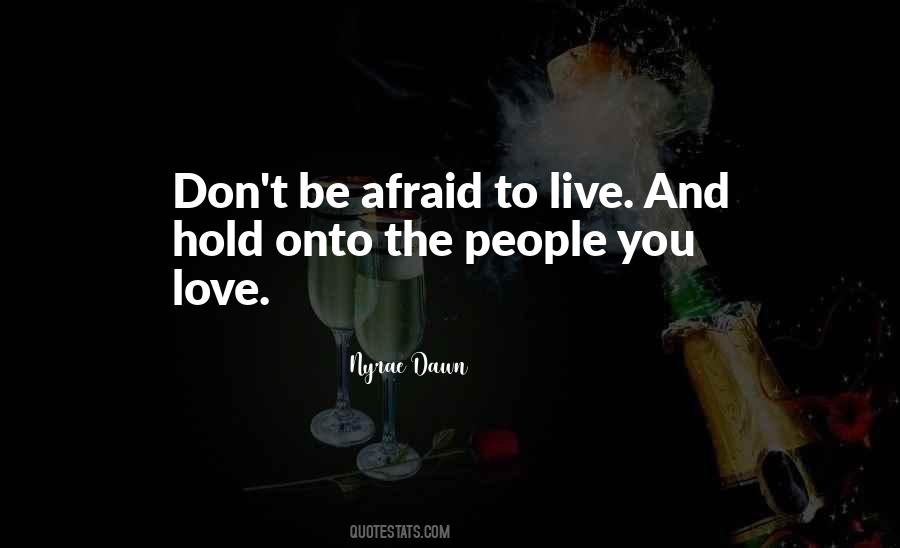 #6. The measure of a civilization is how it treats those at the dawn of life, the margins of life and the twilight of life.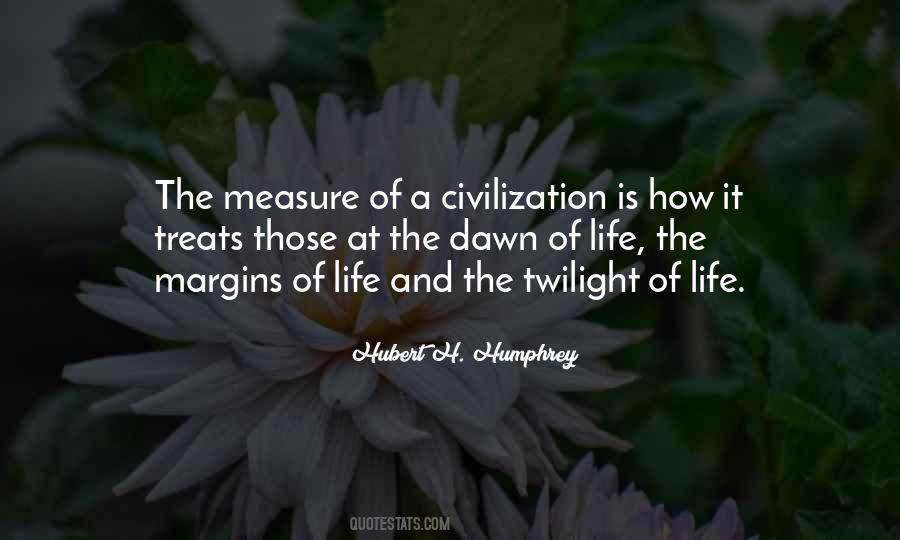 #7. The truth is: while it may have been rough getting here, I've awakened to a dream. The most incredible man in the world came into my life and gave it back to me.
#8. I used to stay up all night playing 'Resident Evil 2,' and it wouldn't stop until the sun came up. Then I'd walk outside at dawn's first light, looking at the empty streets of London, and it was like life imitating art. It felt like I'd stepped into an actual zombie apocalypse.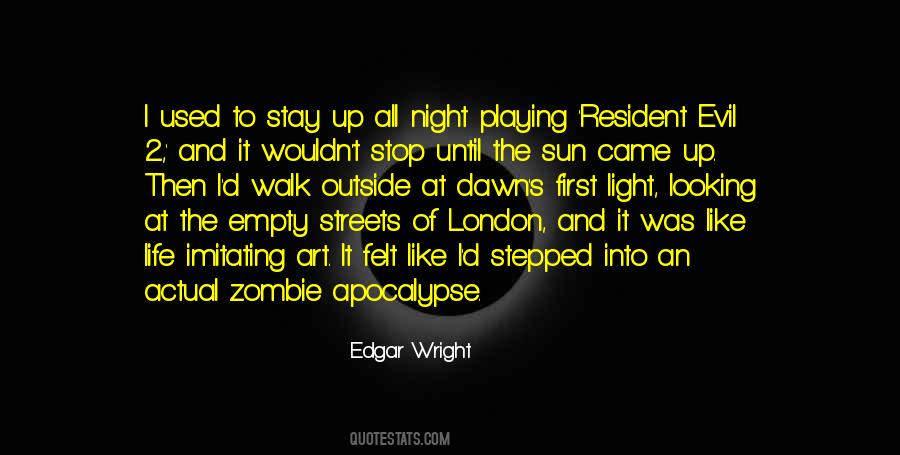 #9. Let every dawn of the morning be to you as the beginning of life. And let every setting of the sun be to you as its close. Then let everyone of these short lives leave its sure record of some kindly thing done for others; some good strength of knowledge gained for yourself.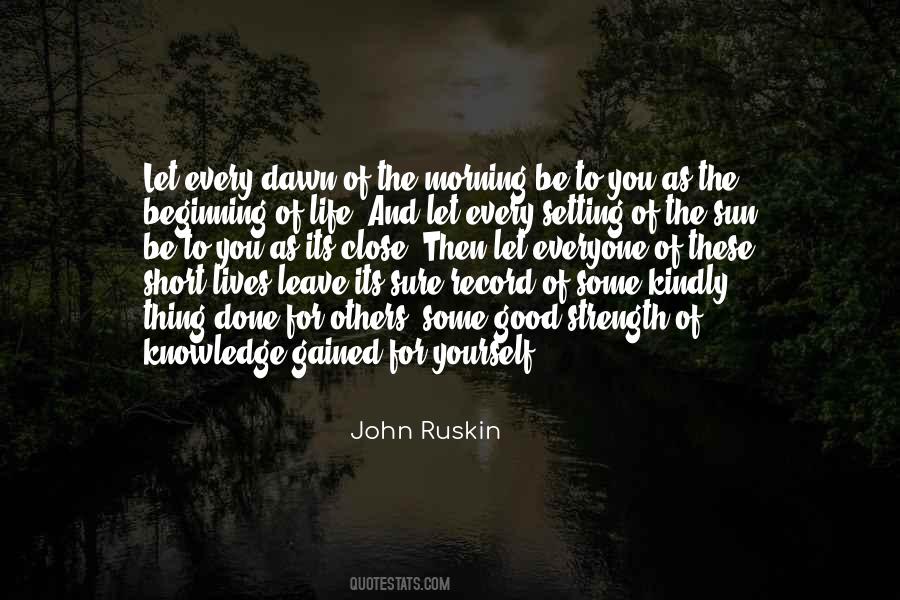 #10. Your dreamers may dream it
The shadow of a dream,
Your sages may deem it
A bubble on the stream;
Yet our kingdom draweth nigher
With each dawn and every day,
Through the earthquake and the fire
Love will find out the way.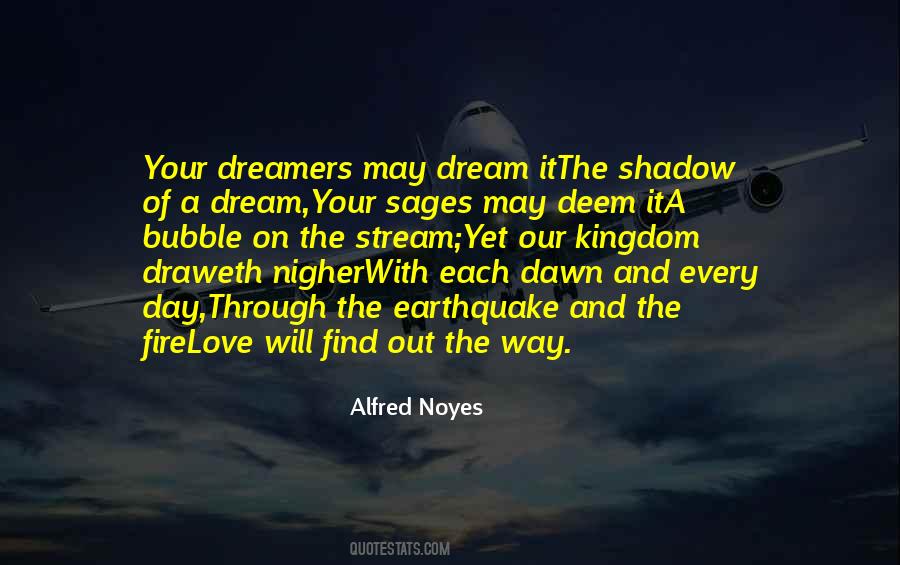 #11. Look at the magnificence of love,
At this heavenly dusk,
Wind is singing the song of joy,
The sun is kissing the ocean.
Saying goodbye for the night
Promising to wake her up
At the dawn of life,
With the touch of his warmth
and light.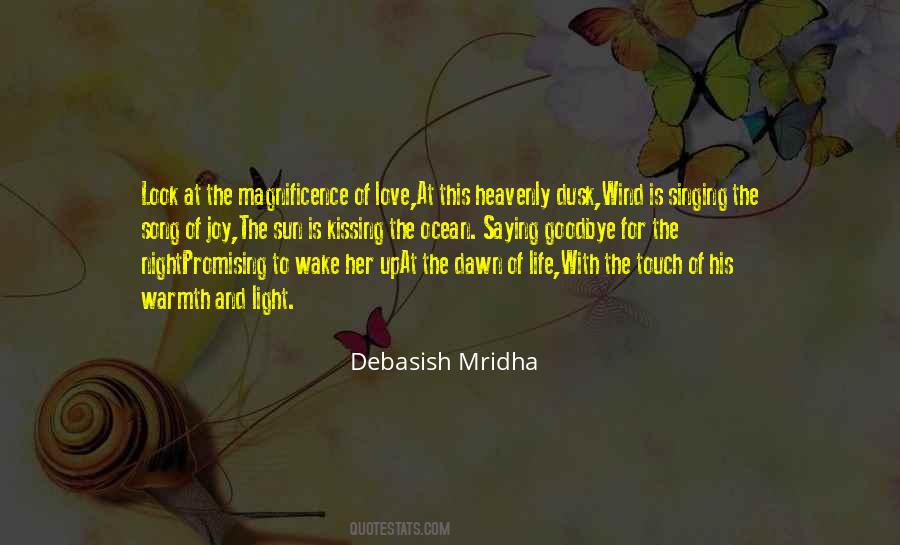 #12. I squeeze my eyes shut as though that will somehow make it go away, but I know it won't. It happened and there's no changing it. No changing any of the things that happen to us. All there is to do is move on. Starting now.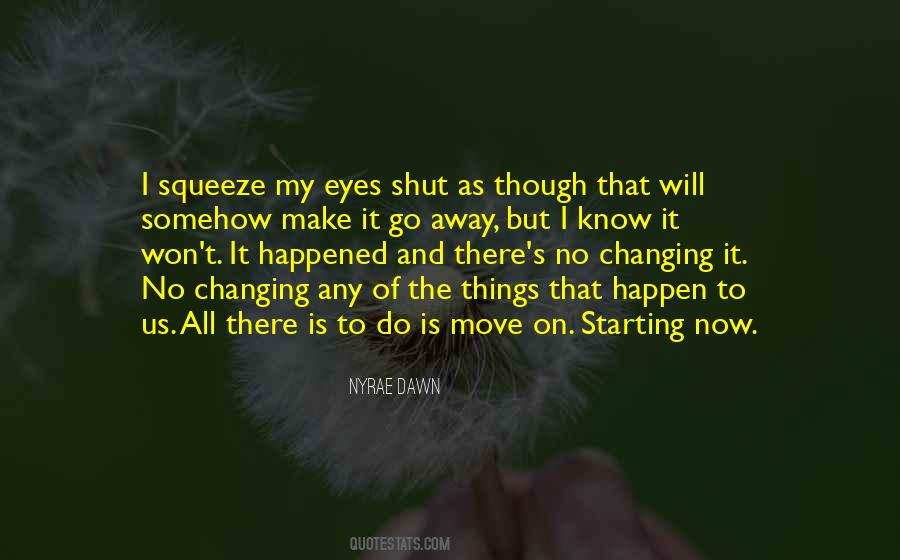 #13. Life without love is like a tree without blossoms or fruit."
"Love has no other desire but to fulfill itself. To melt and be like a running brook that sings its melody to the night. To wake at dawn with a winged heart and give thanks for another day of loving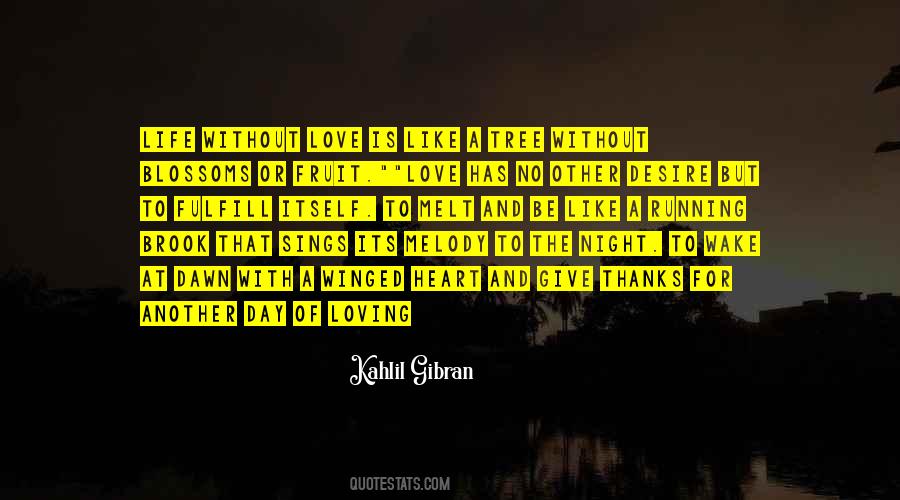 #14. Bosch knew the dawn had nothing on the dusk. Dawn always came up ugly, as if the sun was clumsy and in a hurry. The dusk was smoother, the moon more graceful. Maybe it was because the moon was more patient. In life and nature, Bosch thought, darkness always waits.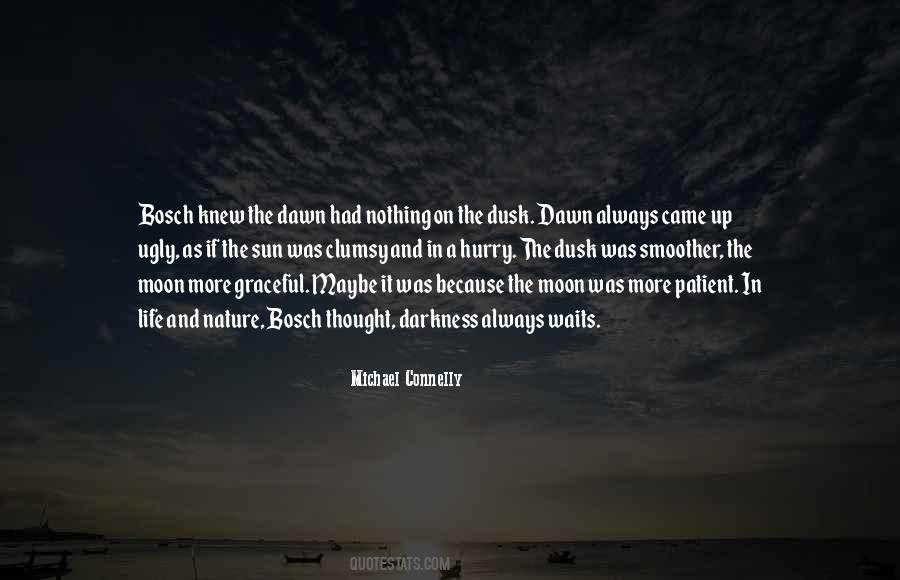 #15. By the dawn of the millennium, the hallways at Microsoft were no longer home to barefoot programmers in Hawaiian shirts working through nights and weekends toward a common goal of excellence; instead, life behind the thick corporate walls had become staid and brutish.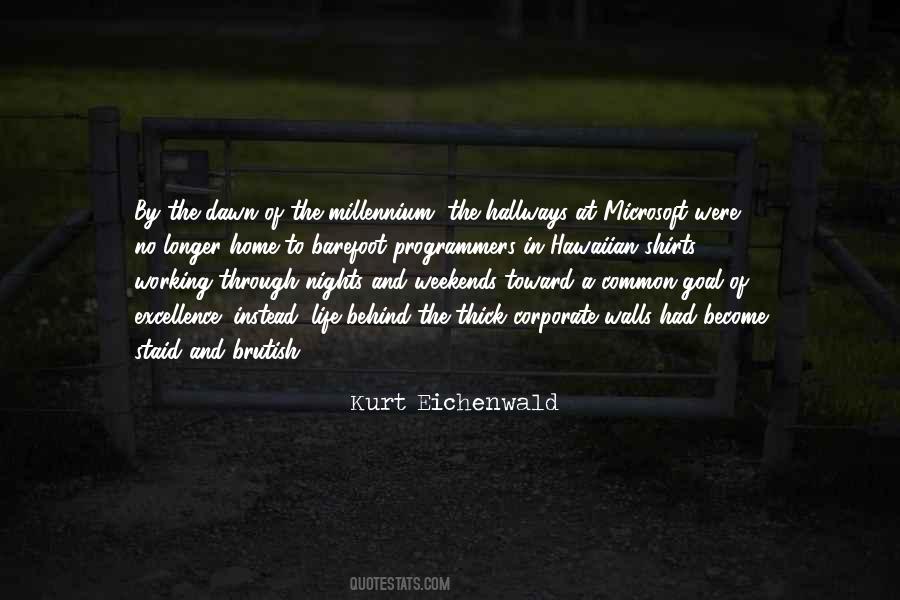 #16. True spiritual life depends not on probing our feelings and thoughts from dawn to dusk but on 'looking off' to the Savior!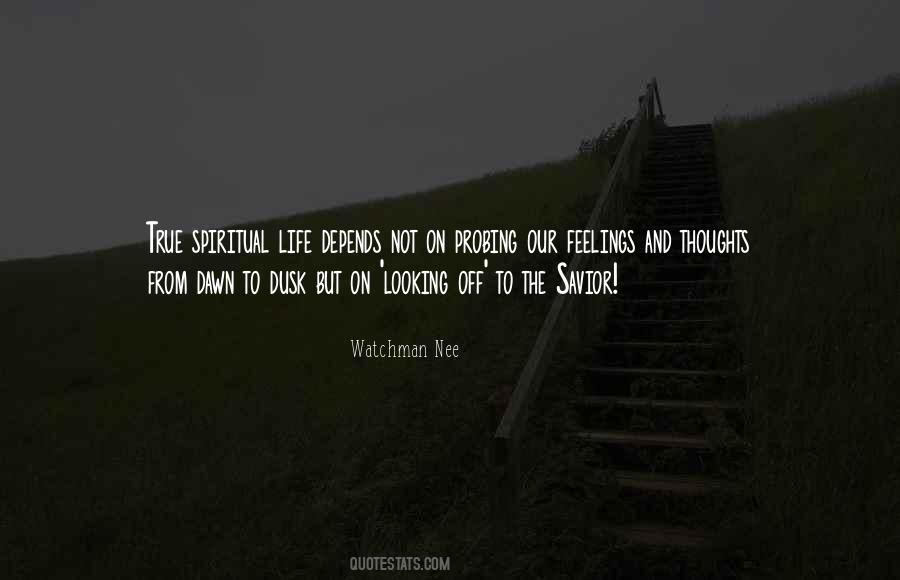 #17. Without the emotion and willingness of Spirit, our music becomes dry and dusty - without life. Without doctrinal bones as a skeleton, the Body is not enfleshed in a healthy way.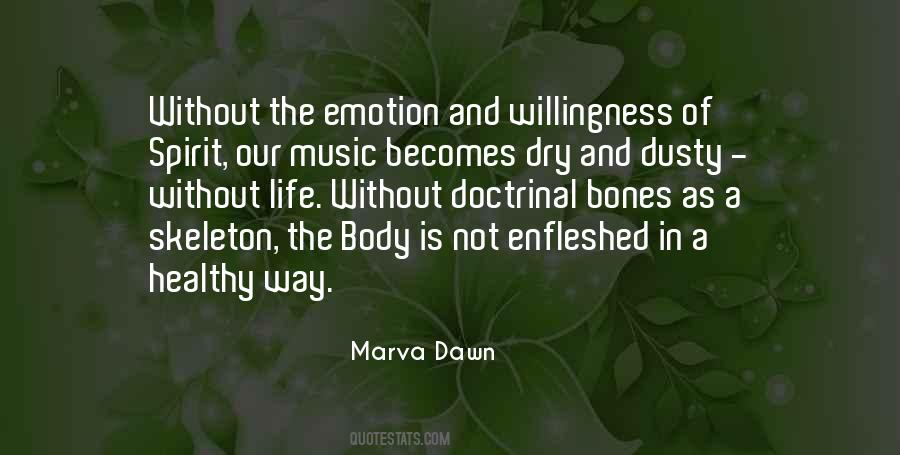 #18. After my final Breaking Dawn scene, I felt like I could shoot up into the night sky and every pore of my body would shoot light. I felt lighter than I've ever felt in my life.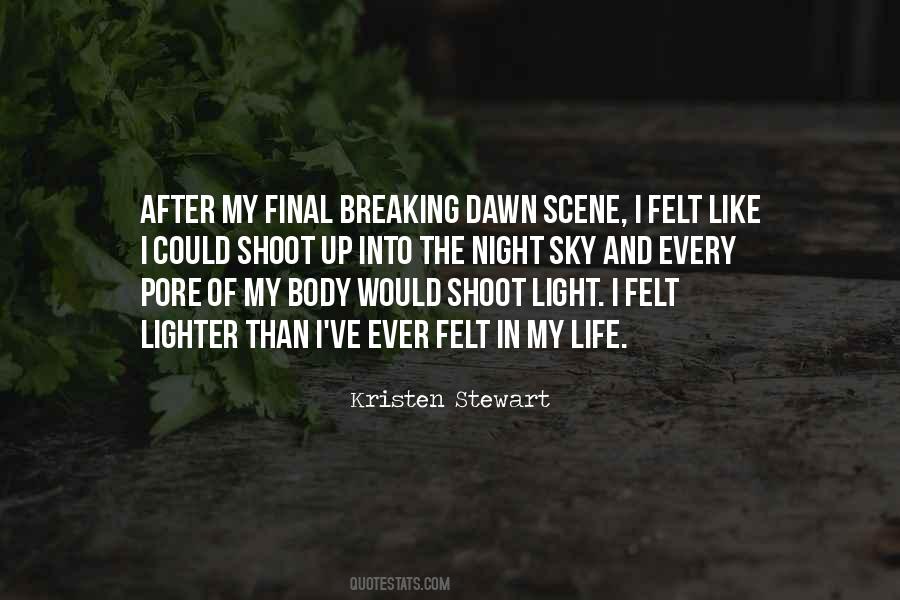 #19. LEASE
Life Ends And Session Expires
Kamil Ali - Poem, The Balance' - Profound Vers-A-Tales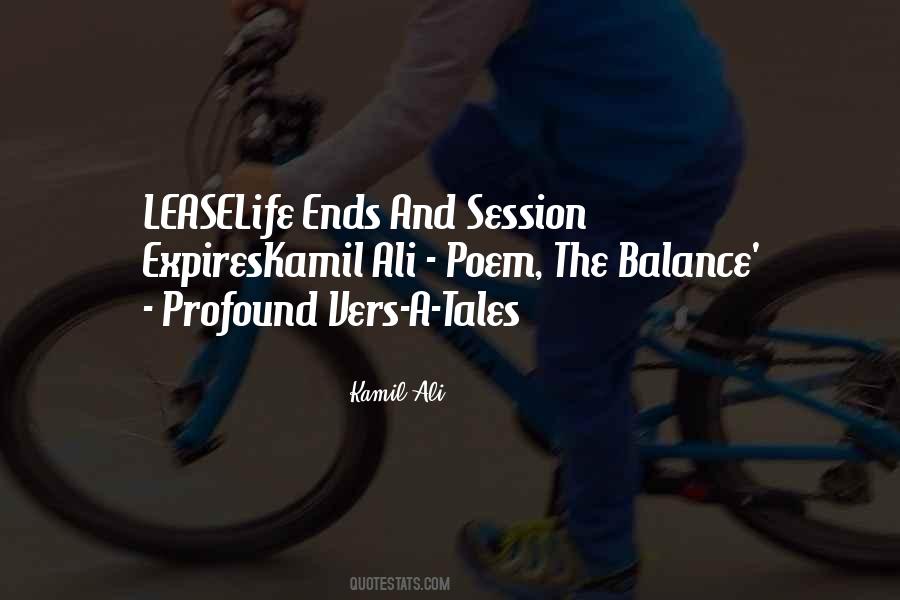 #20. And my life for the first - you know, when I was in my 20s and 30s, I had my career, and I traveled the world, I lived out of a suitcase. I stayed up until dawn. I did all of those things that were very exciting.
#21. I have had the unfortunate experience of having someone write an unauthorised biography of me. Half of it is lies and the other half is badly written. My feeling is that if I'm going to write my life story, I ought to have my life first.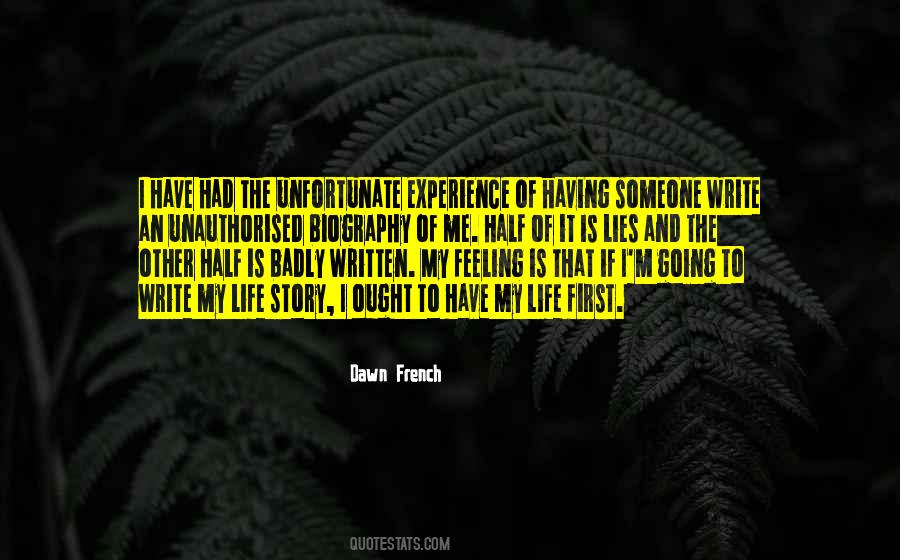 #22. The life that the dawn brings us is the only life we have. Life
is in the here and now, not in the there and afterwards.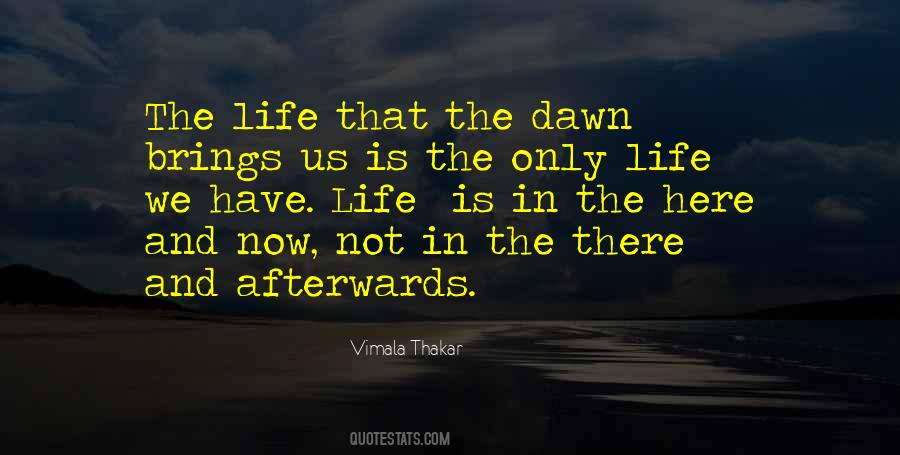 #23. Let every dawn of morning be to you as the beginning of life, and every setting sun be to you as its close.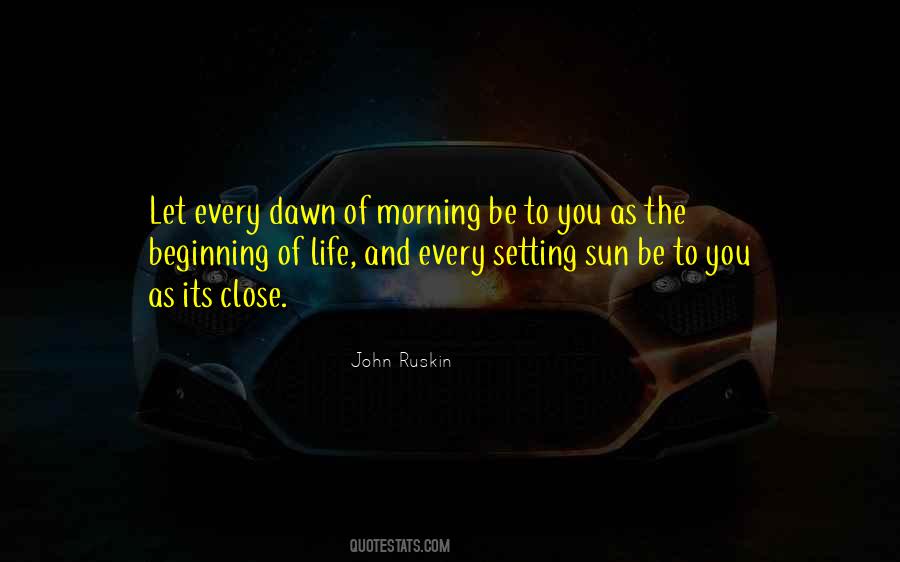 #24. He was a mighty beast, mightily muscled, and the urge that has made males fight since the dawn of life on earth filled him with the blood-lust and the thirst to slay;
#25. In this delicate and unpredictable life, the future is unwritten. Do not take someone for granted today, for once tomorrow dawns upon the indigo night the only remaining trace will be tracks in the sand...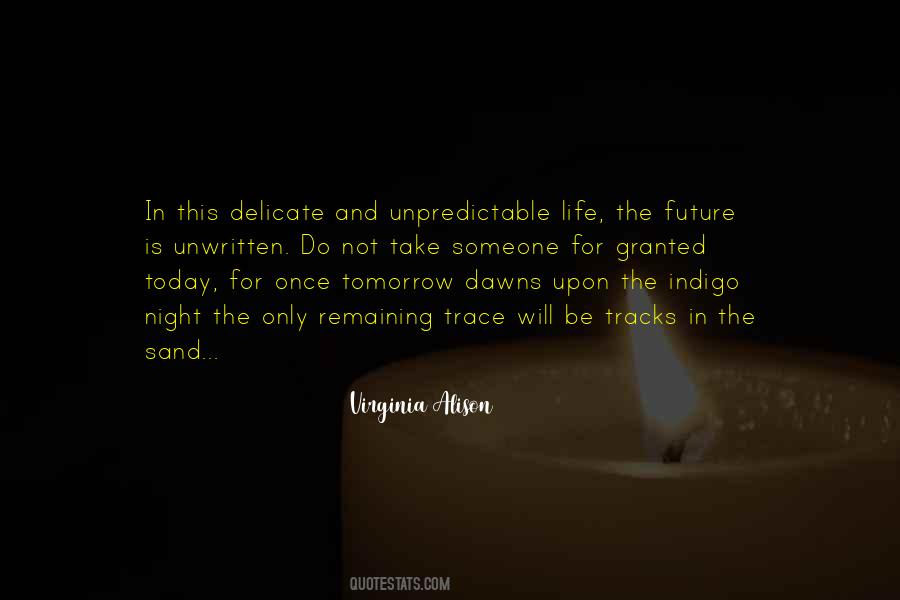 #26. The progress from infancy to boyhood is imperceptible. In that long dawn of the mind we take but little heed. The years pass by us, one by one, little distinguishable from each other. But when the intellectual sun of our life is risen, we take due note of joy and sorrow.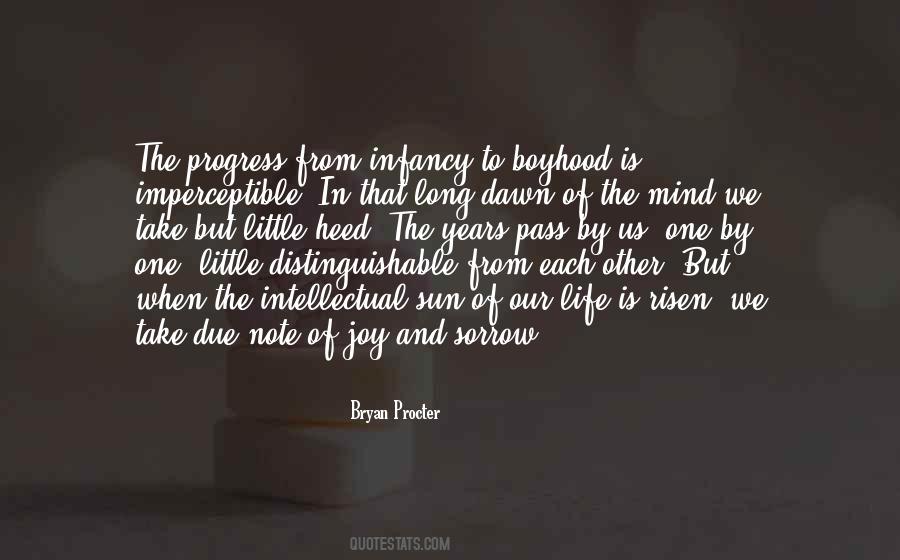 #27. Character represent life and life represents our character.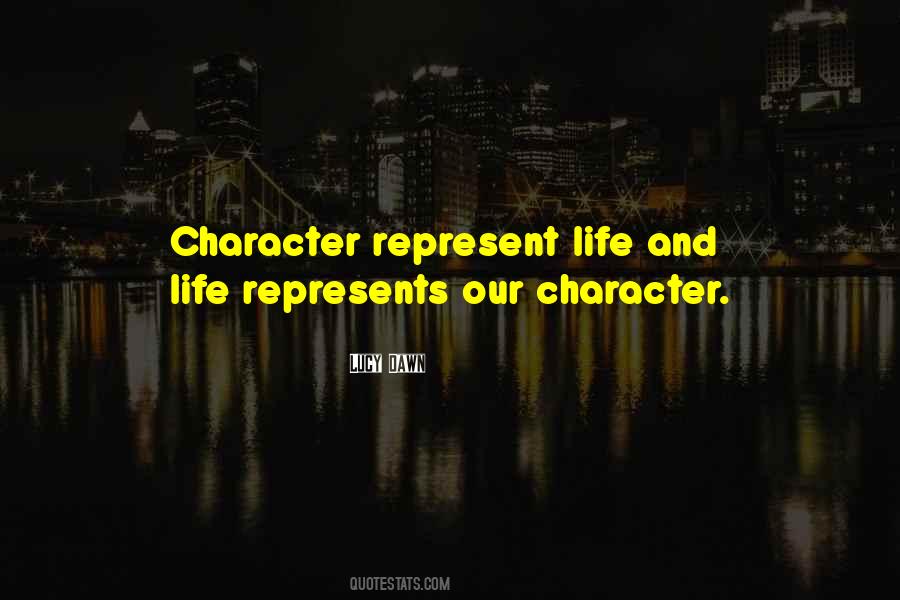 #28. Lent begins with a challenge to clear out the mental and spiritual clutter and so discover how to live life to the full.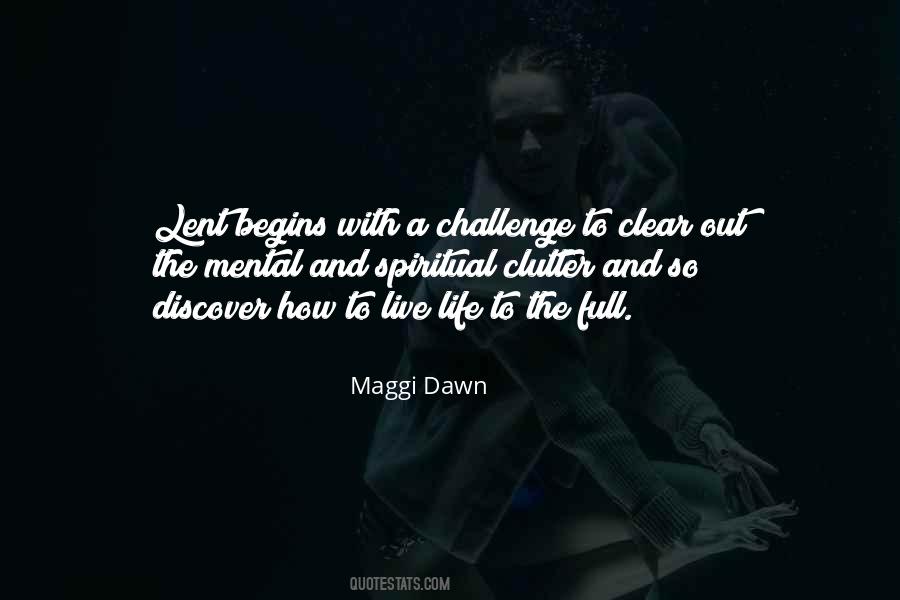 #29. Those who contemplate the beauty of the earth find reserves of strength that will endure as long as life lasts. There is something infinitely healing in the repeated refrains of nature
the assurance that dawn comes after night, and spring after winter.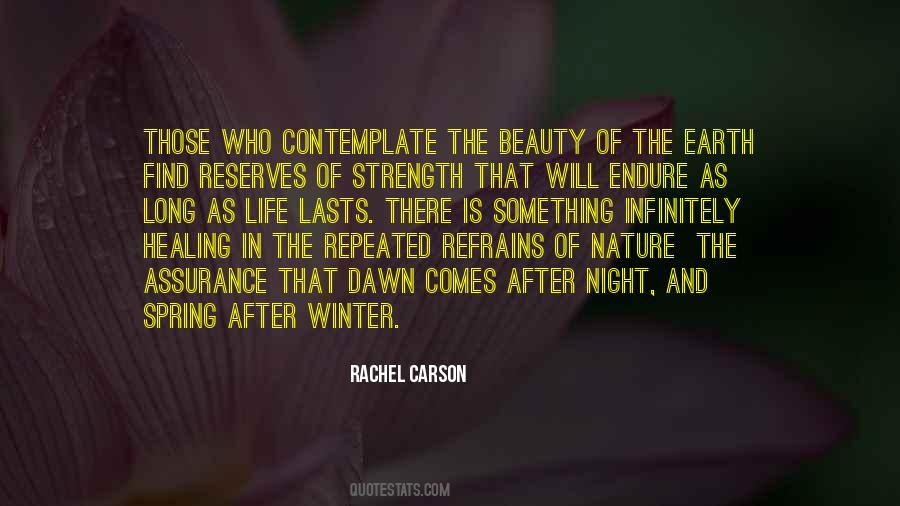 #30. A birthday:-and now a day that rose
With much of hope, with meaning rife-
A thoughtful day from dawn to close:
The middle day of human life.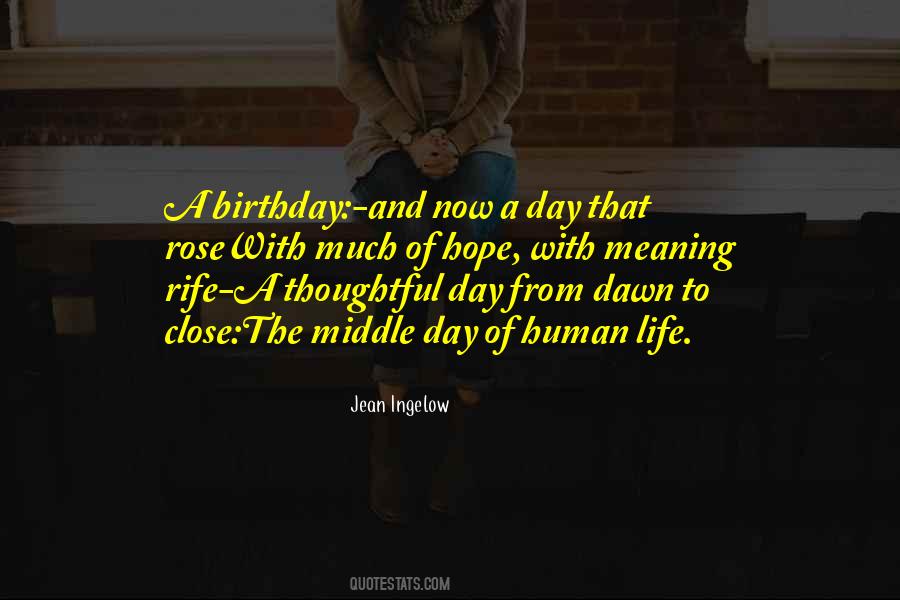 #31. It's funny how life moves in a complete circle sometimes. There might be lots of bumps in the road and maybe even a few cliffs, but it's a journey, and sometimes it can bring you to the most wonderful places.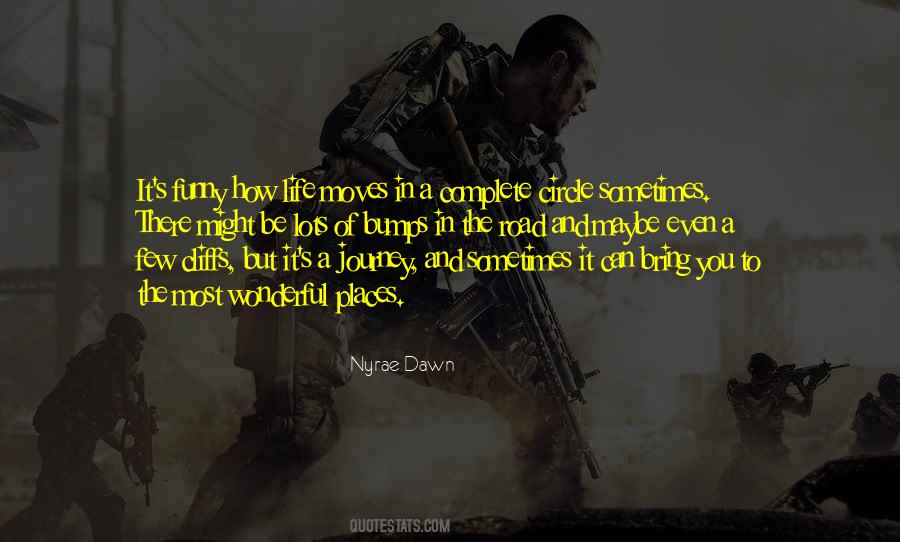 #32. Because I see
A rainstorm in June
Just before the sun
The black of night
Just before the stars
And, girl, I see your ghost
Just before our dawn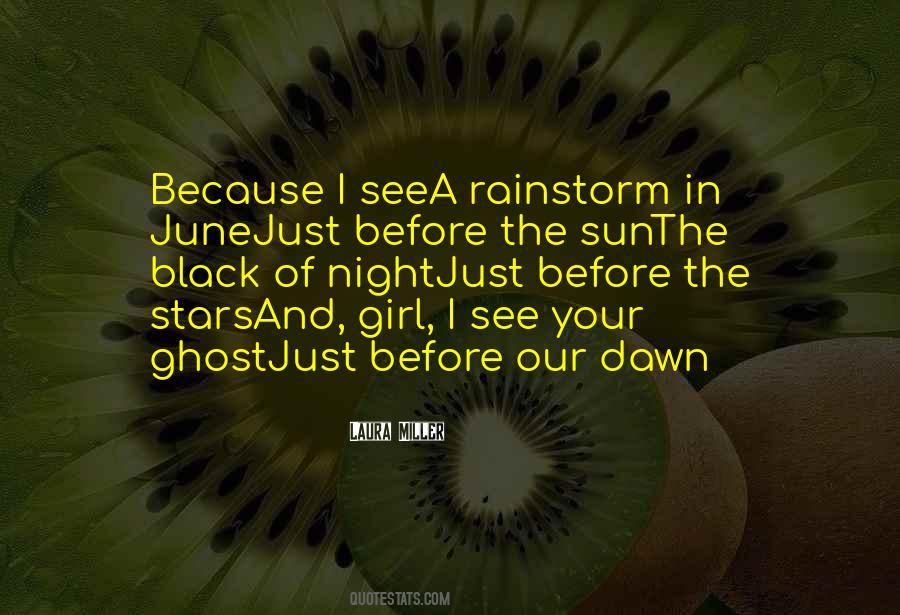 #33. I'd much rather fall to my death than admit my weakness to you."
"The captain of the Royal Guard wants to impress a lowly handmaiden?"
"A clumsy young man wants to impress a beautiful young woman.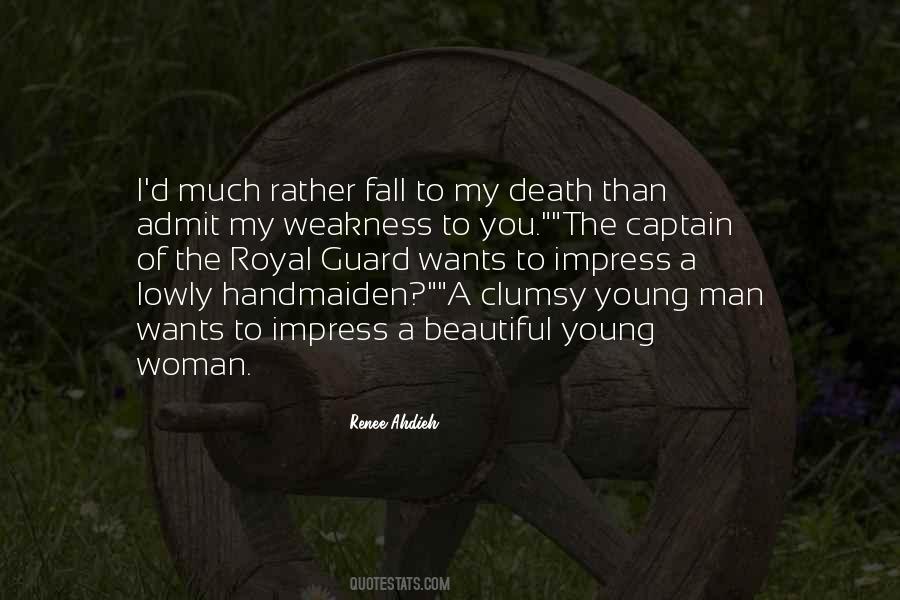 #34. Dreaming when Dawn's Left Hand was in the Sky I heard a Voice within the Tavern cry, Awake, my Little ones, and fill the Cup Before Life's Liquor in its Cup be dry.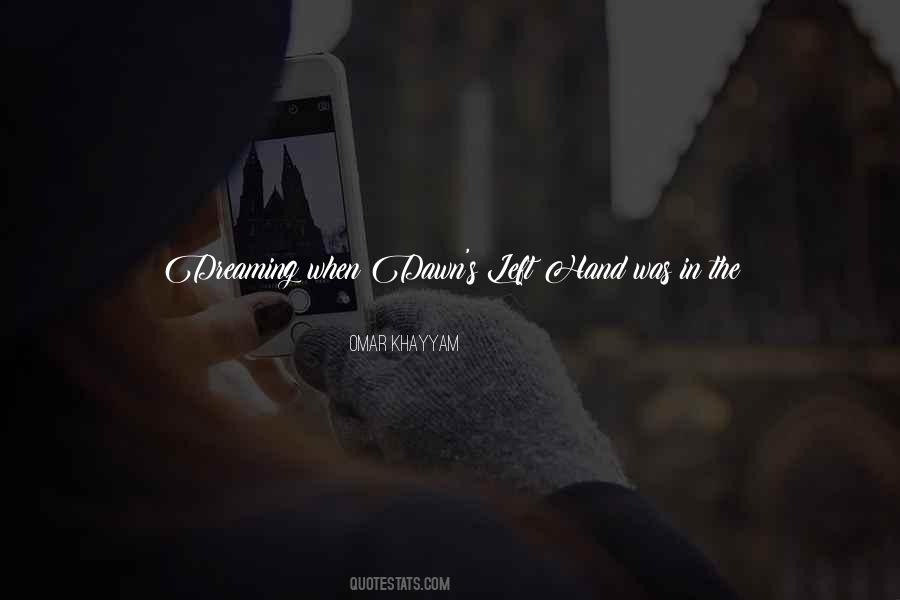 #35. Waking At Night
The blue river is grey at morning
and evening. There is twilight
at dawn and dusk. I lie in the dark
wondering if this quiet in me now
is a beginning or an end.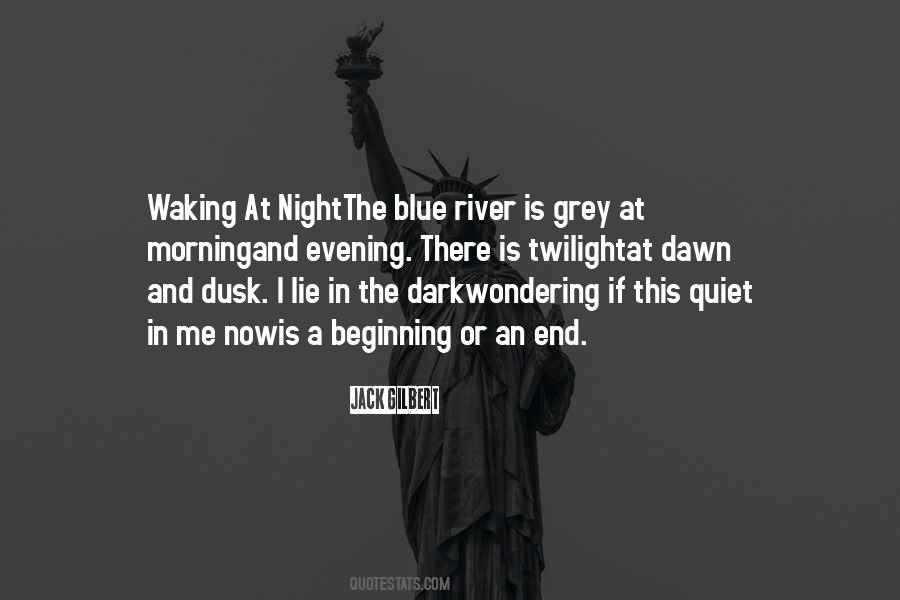 #36. My life and his were twisted into a single strand. Cut one, and you cut both. If he were gone, I would not be able to live through that. If I were gone, he wouldn't live through it, either.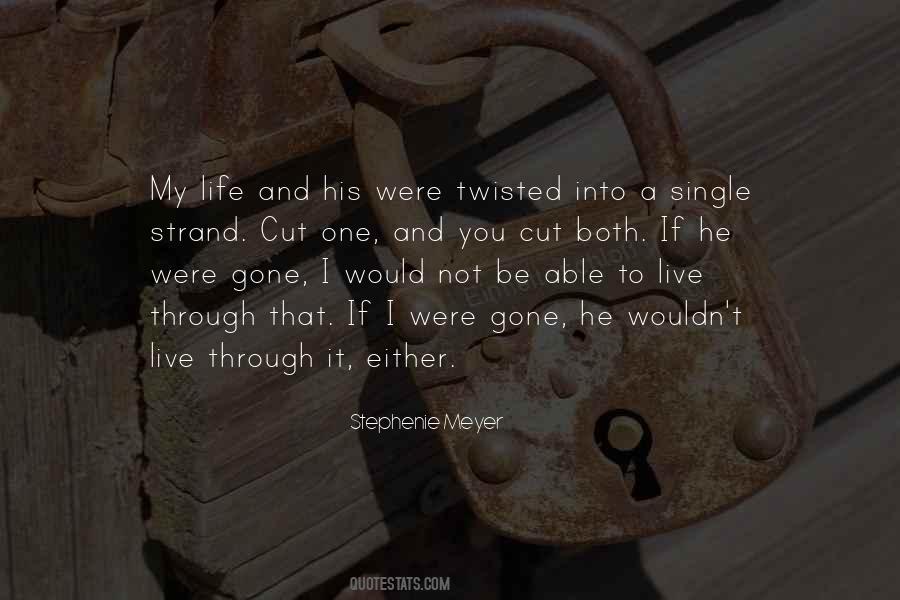 #37. I have been doing choreography my whole life, and it's so important to make that marriage between music and the body.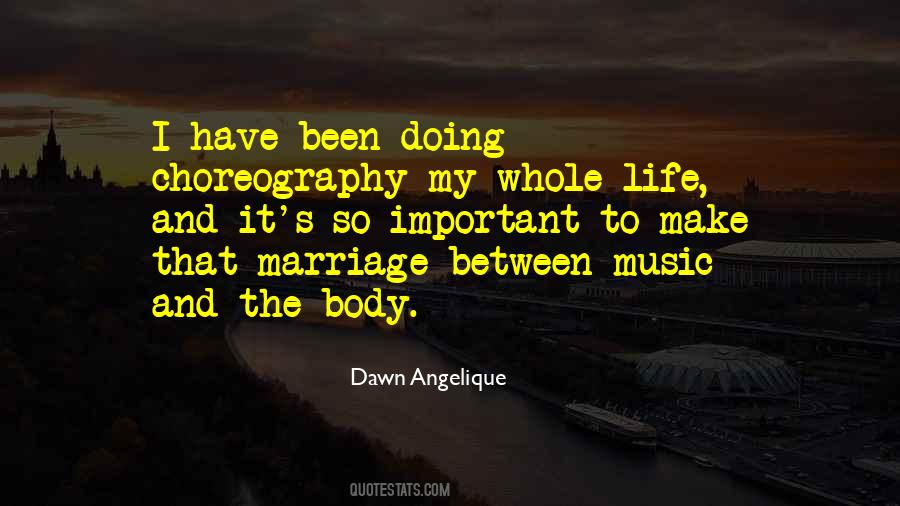 #38. This place is a dream. Only a sleeper considers it real. Then death comes like dawn, and you wake up laughing at what you thought was your grief.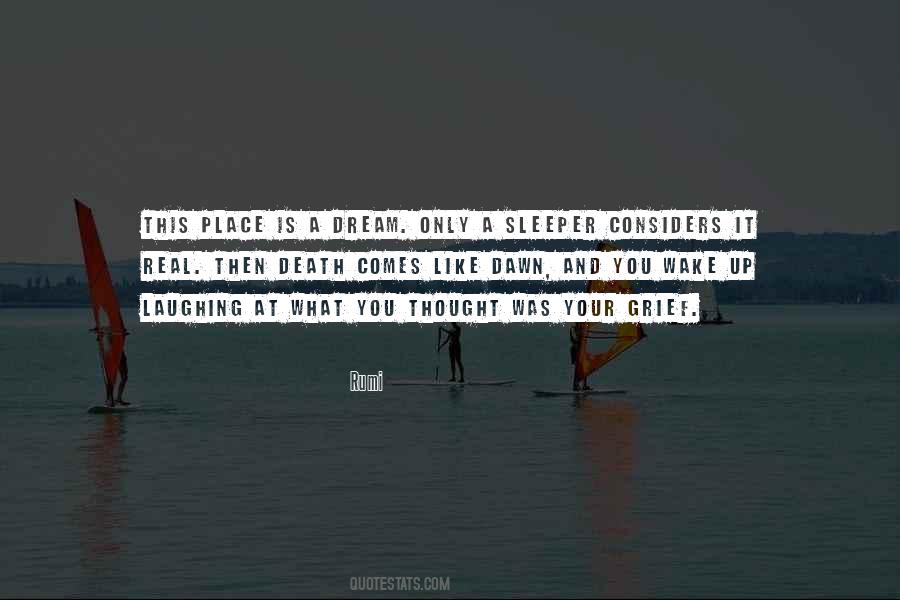 #39. Mathilde was there in the dawn, this perfect girl as if made to his specifications. [A different life, had Lotto listened to the terror: no glory, no plays; peace, ease, and money. No glamour; children. Which life was better? Not for us to say.]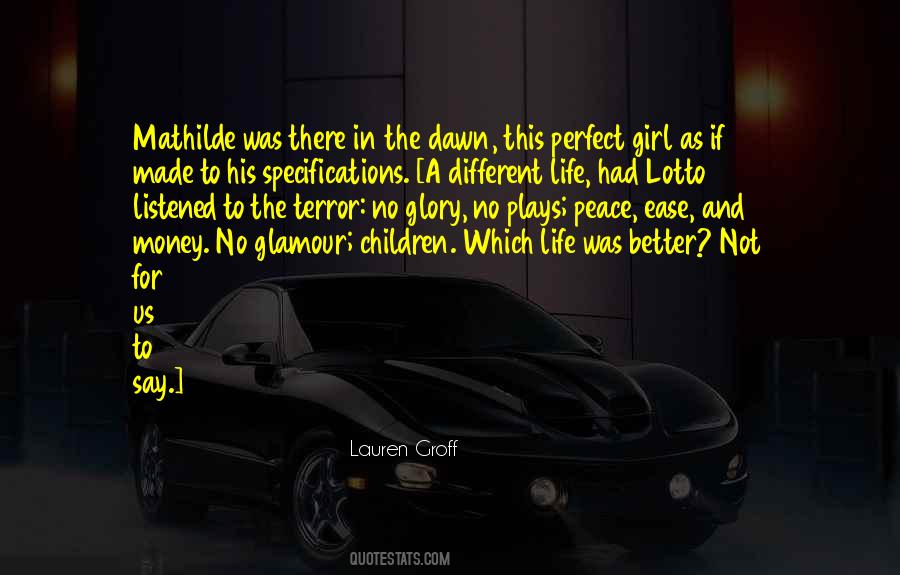 #40. I thought this was a game," I remind him.
"Not anymore and you know it. Everything else in my life is all fucked up. This is the only thing that's real.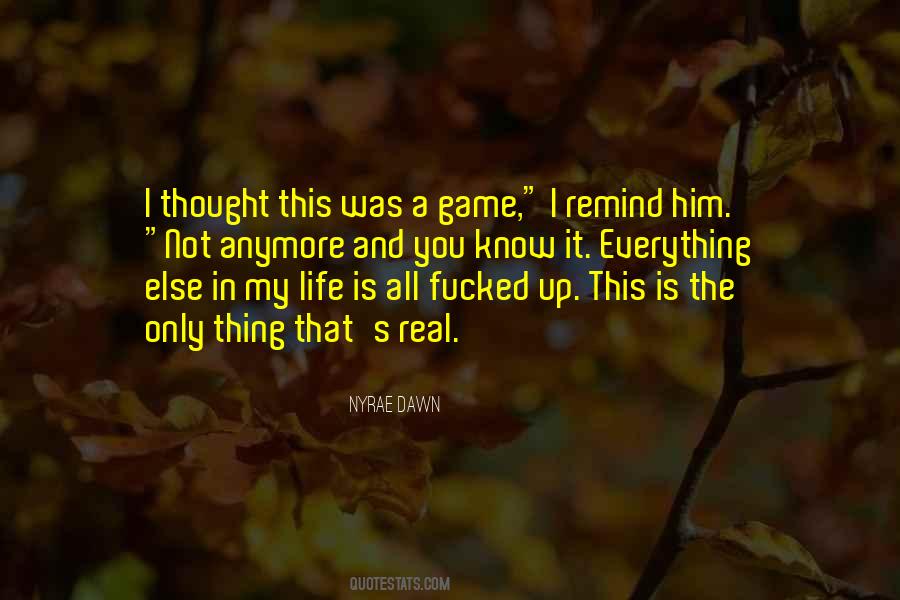 #41. She stood on the edge of night, that sliver of gray between darkness and dawn, that razor-thin line separating the first part of her life and whatever lay ahead.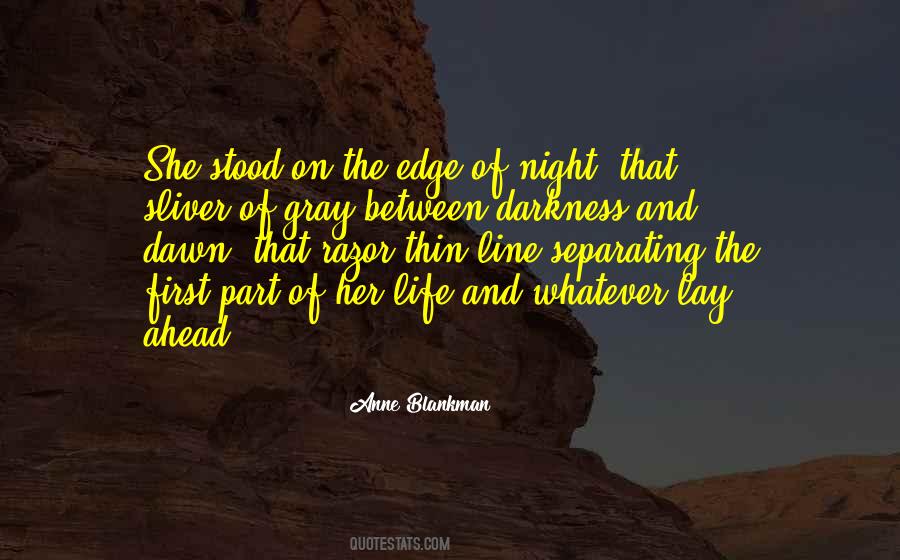 #42. 12 "Have you ever in your life commanded the morning, And caused the dawn to know its place,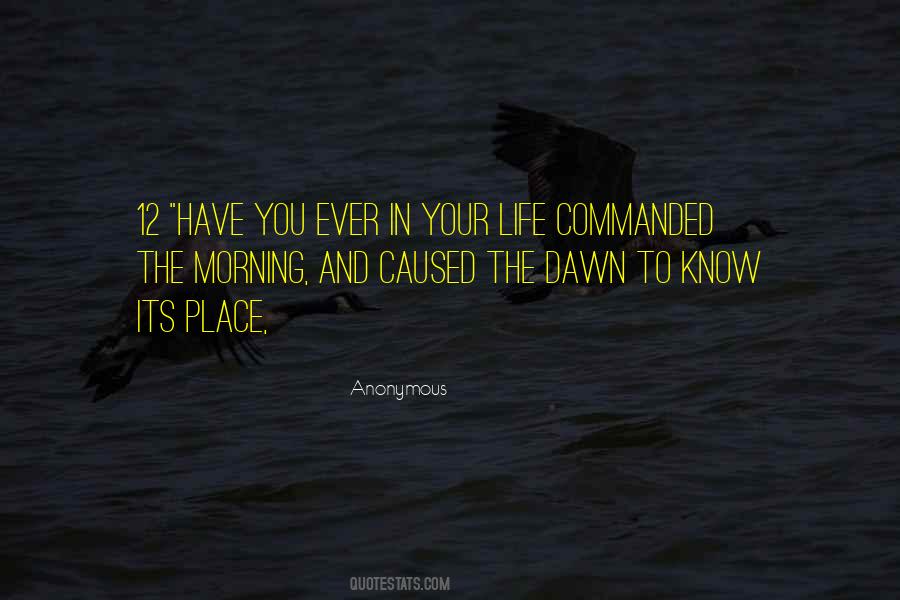 #43. People change, he thought -it's truism- but how? Our life is confined to days, after all: Sunday to Monday, dusk to dawn. What great alterations can take place in someone between breakfast and lunch? Is it possible to wake up as one person and fall asleep as another?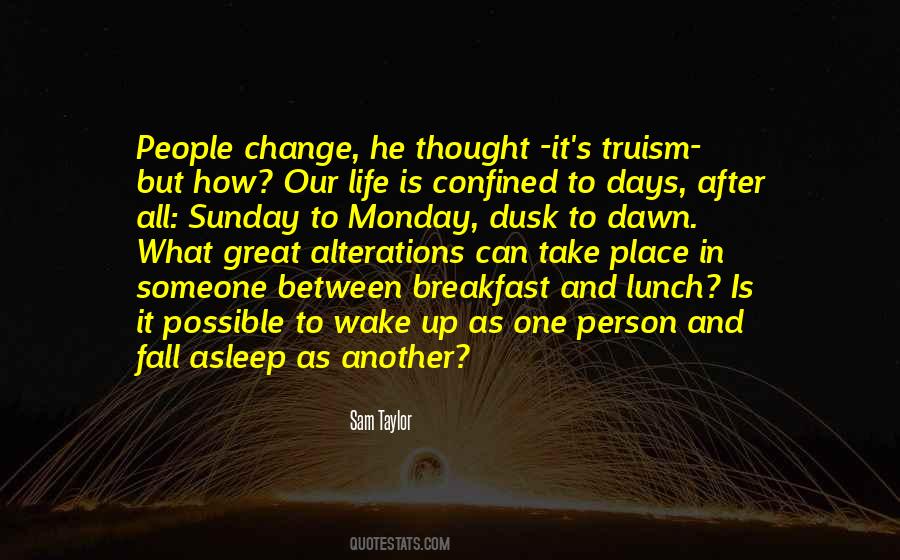 #44. Let me begin again as a speck
of dust caught in the night winds
sweeping out to sea. Let me begin
this time knowing the world is
salt water and dark clouds, the world
is grinding and sighing all night, and dawn
comes slowly, and changes nothing.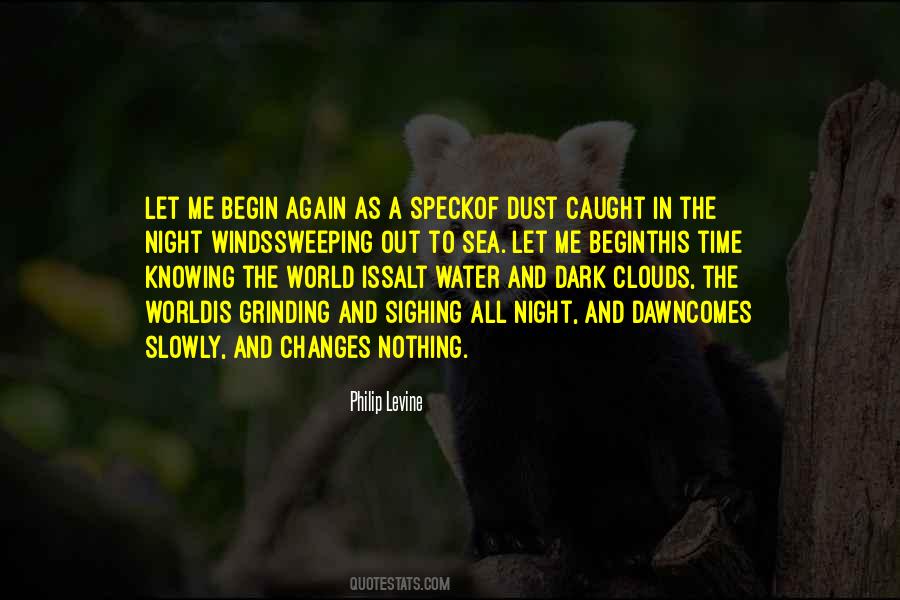 #45. The Olympics remain the most compelling search for excellence that exists in sport, and maybe in life itself.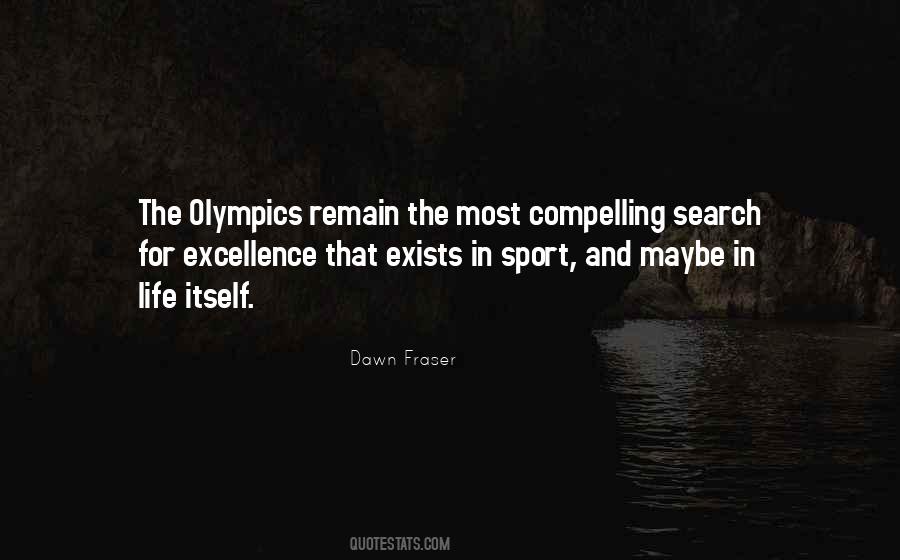 #46. This is the bud of being, the dim dawn, The twilight of our day, the vestibule; Life's theatre as yet is shut, and death, Strong death, alone can heave the massy bar, This gross impediment of clay remove, And make us embryos of existence free.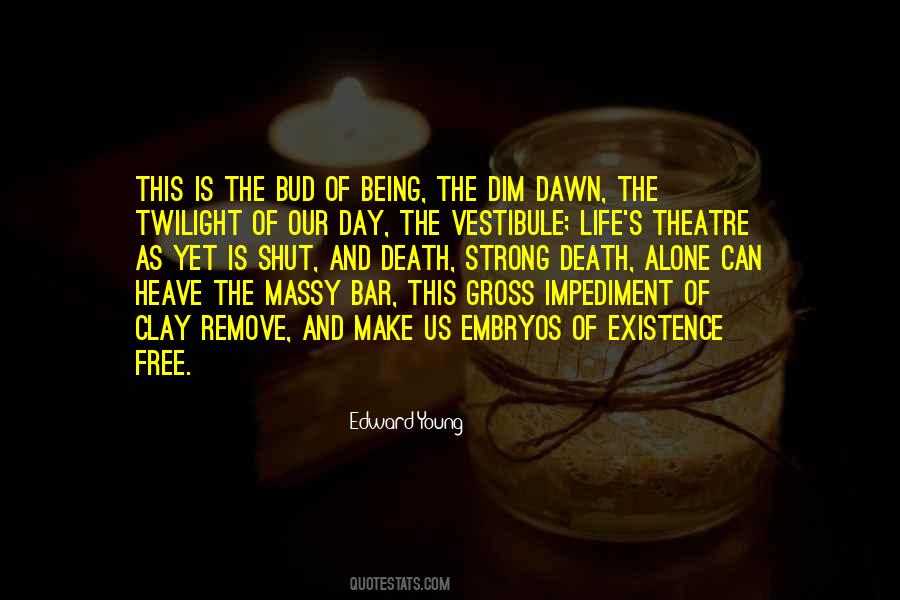 #47. Thick is the darkness
Sunward, O, sunward!
Rough is the highway
Onward, still onward!
Dawn harbors surely
East of the shadows.
Facing us somewhere
Spread the sweet meadows.
Upward and forward!
Time will restore us:
Light is above us,
Rest is before us.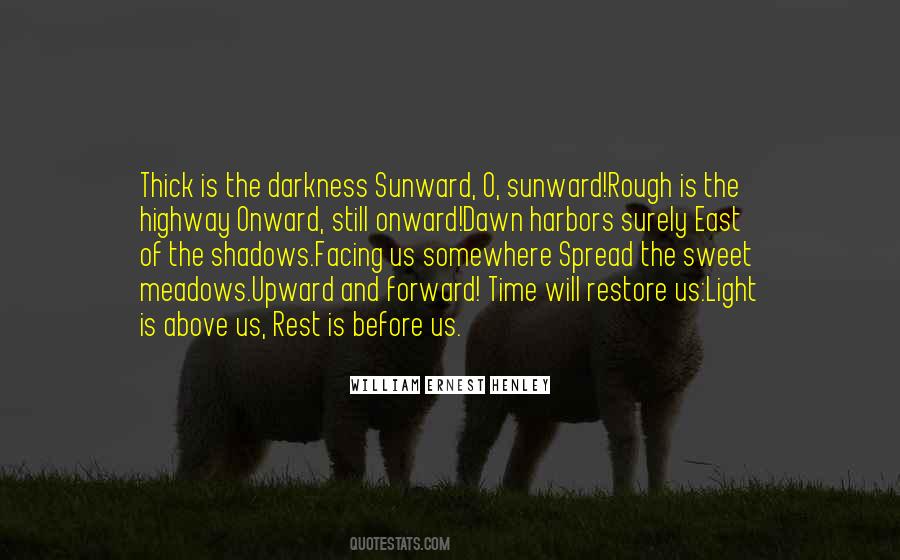 #48. Nothing in life was possible unless you were old and rich, until then you were only small and futile before your tormentors, desperately waiting for the release that only years could bring. You bodly threw down your challenges and then ran away in a childish panic when someone picked them up...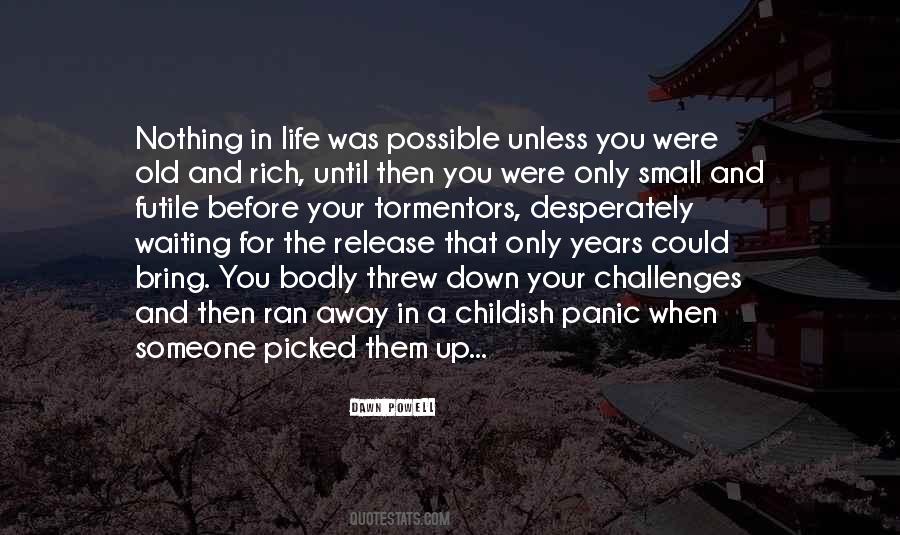 #49. I believe, my lady, that life is the phantom, and love still more fleeting and elusive - here one minute like a sweet scent you can't quite recognize and gone the next. Best enjoy both while you can.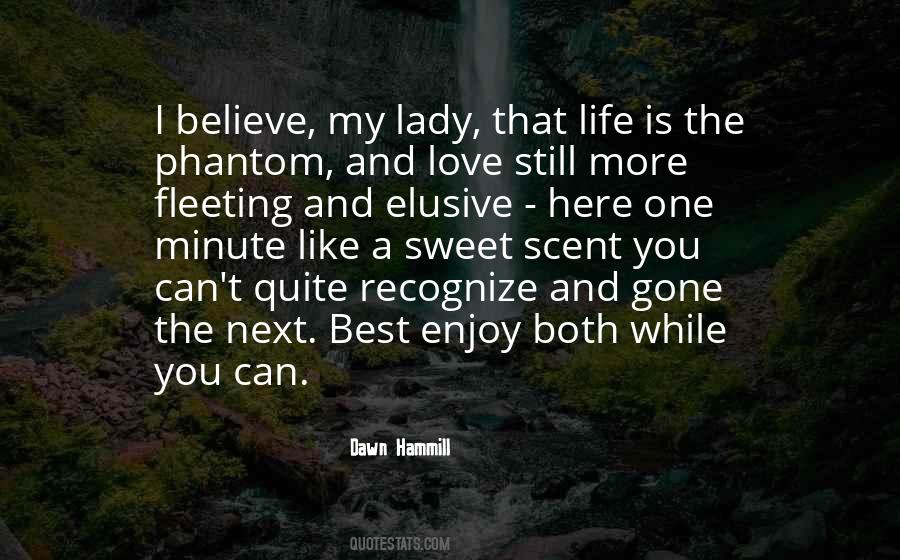 #50. Shall the day of parting be the day of gathering?
And shall it be said that my eve was in truth my dawn?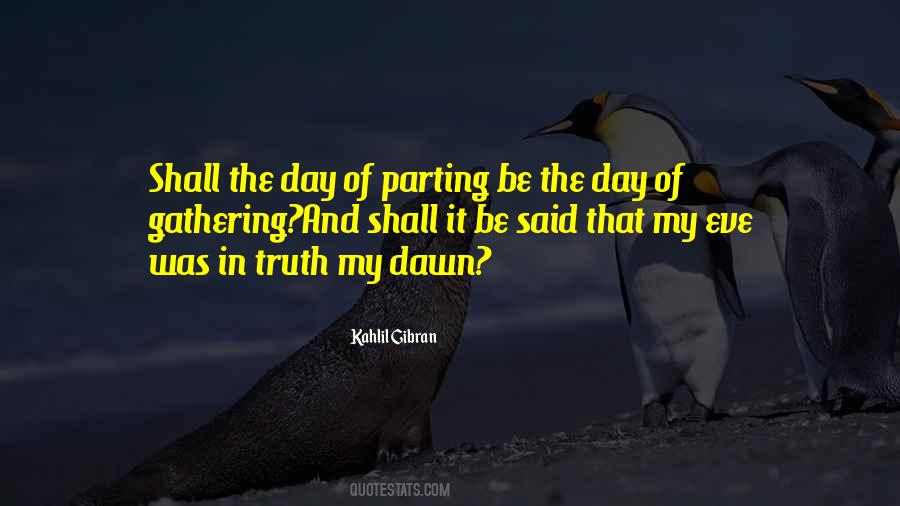 #51. It was a good plan, and like all plans since the dawn of time, this would fail to survive contact with real life.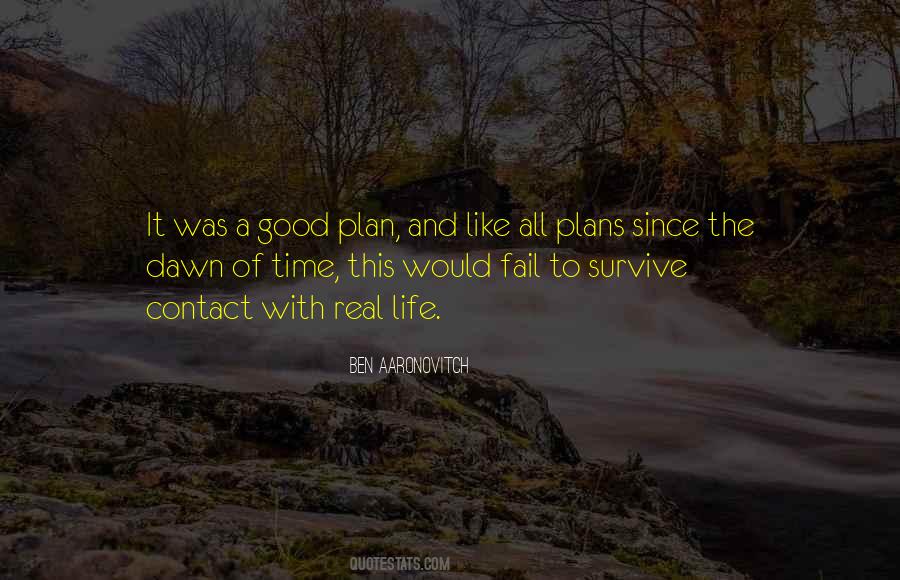 #52. They wanted to speak, but could not; tears stood in their eyes. They were both pale and thin; but those sick pale faces were bright with the dawn of a new future, of a full resurrection into a new life.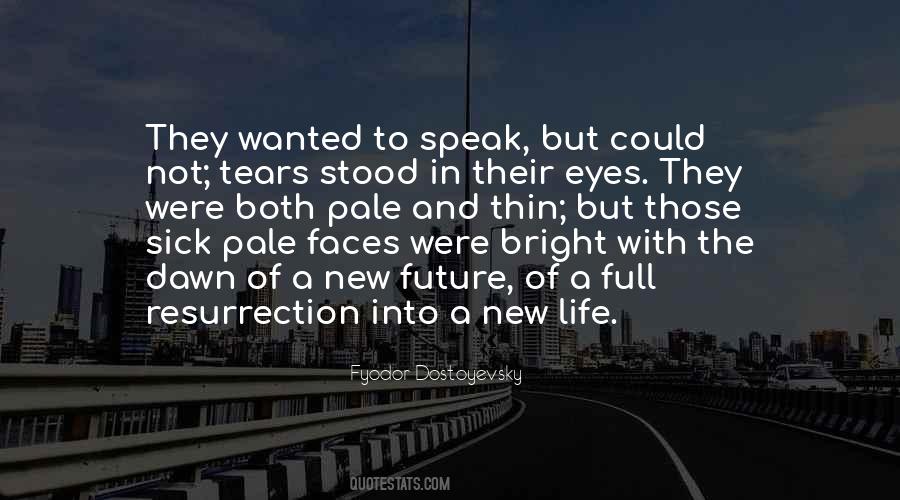 #53. It was dawn by the time the detective showed up; tired and weary. Tired because he'd been called from his bed before dawn, weary because he'd spent his life looking at the bad side of human nature and that wasn't going to change.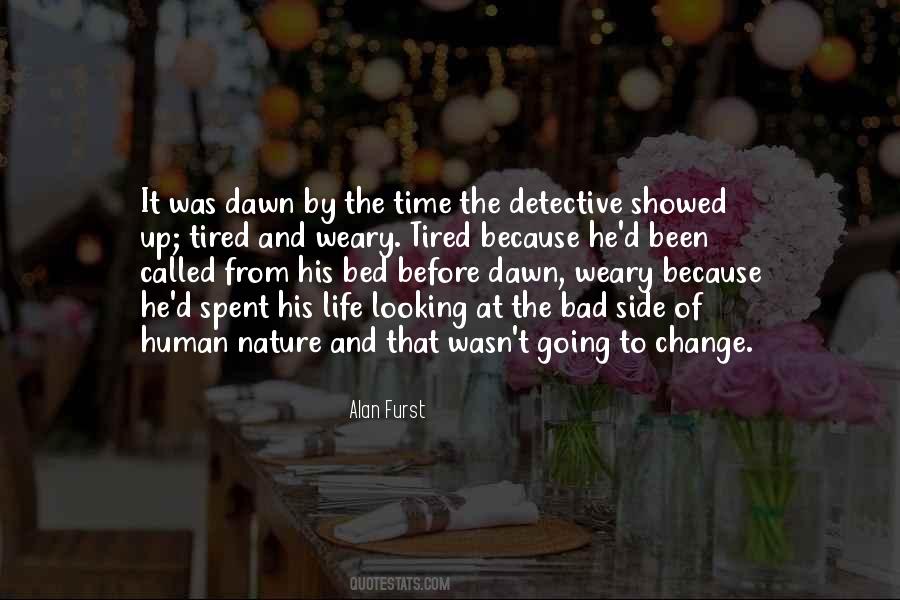 #54. I know a lot of things, Mathilda. I have gazed through space telescopes into the heart of the galaxy. I have seen a dawn of four hundred billion suns. It all means nothing without life. You and I are special, Mathilda. We are alive.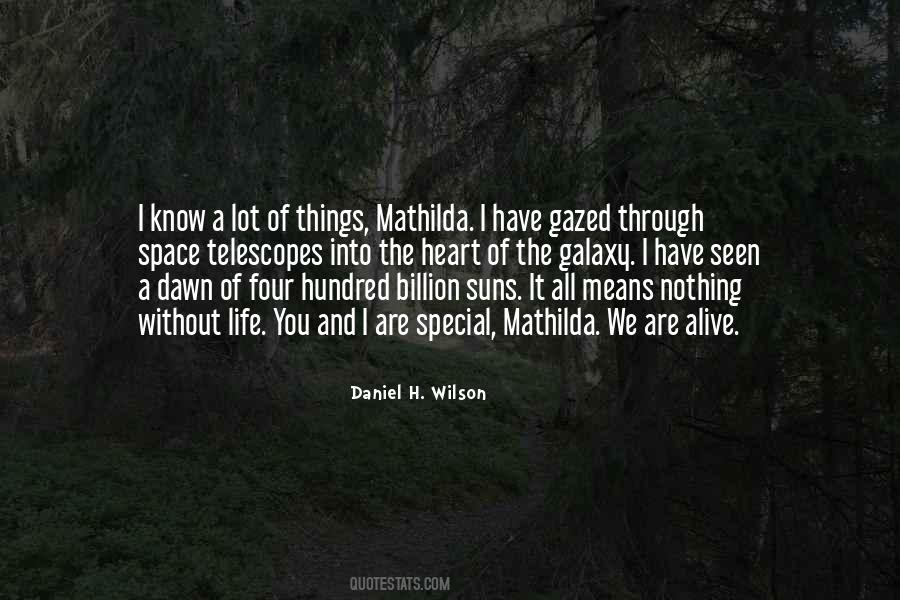 #55. Will you relinquish your heart, your life, and your body into his care - into our care - to be transformed, remade, and reborn? This night, unto forever, to be made immortal?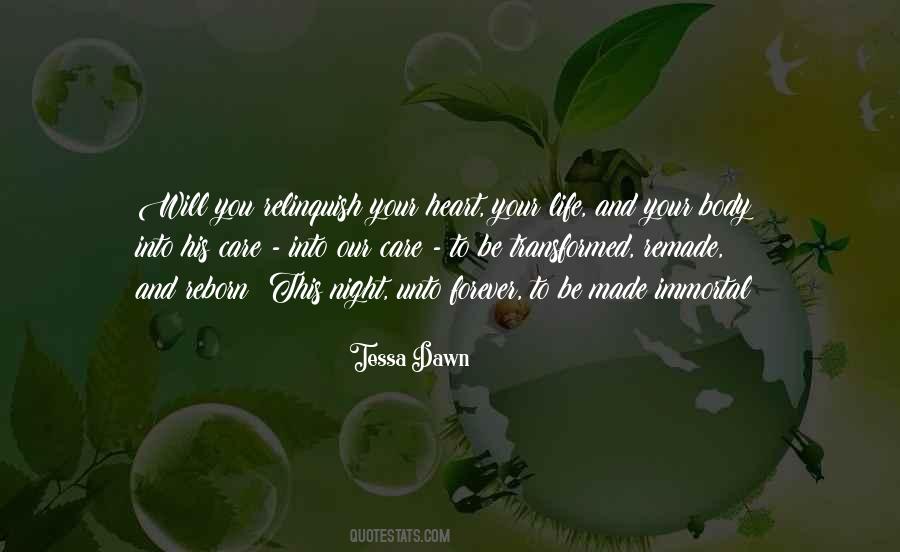 #56. Hughes' debut novel, At Dawn, follows a former All-American wrestler, and is there any better metaphor for contemporary American life? We're all wrestling, tussling with the economy, no jobs, doing the best we can. Hughes doesn't flinch from the tough existential questions. He embraces them.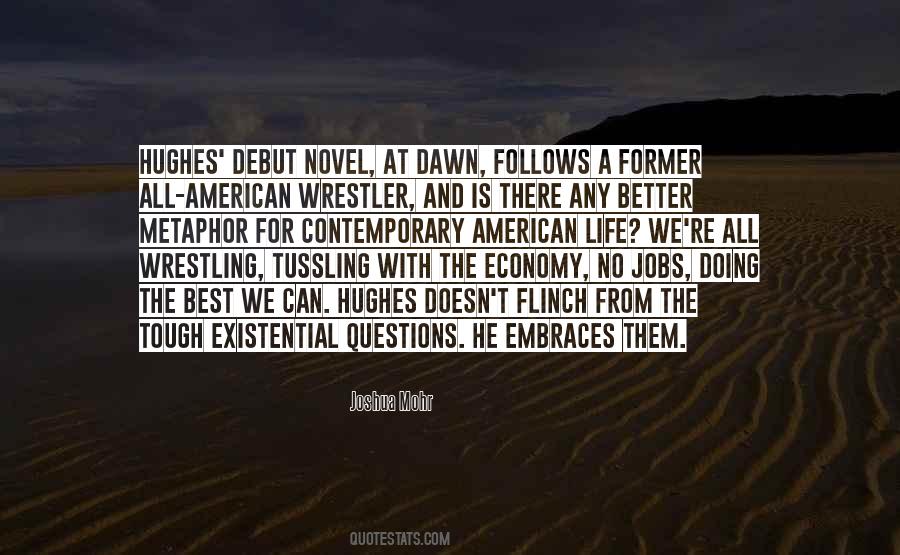 #57. Sometimes all it takes is a little watering everyday and a sunny day to follow, that's how weeds become flowers and new dawns rise - why would it be any less then for a human life?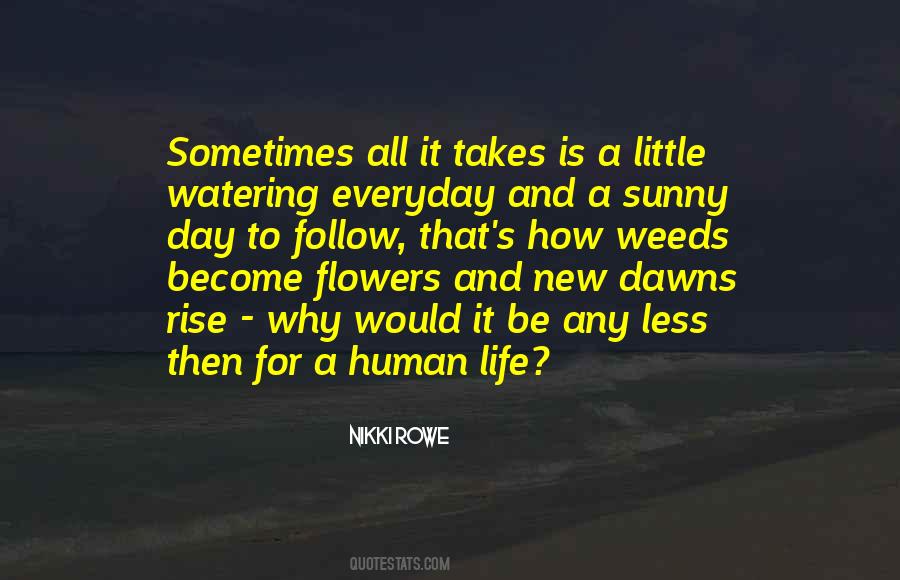 #58. In a heartbeat life was taken
And darkness entered your eyes
And while the earth and sky may see
tomorrow
For you my love,
The dawn will never rise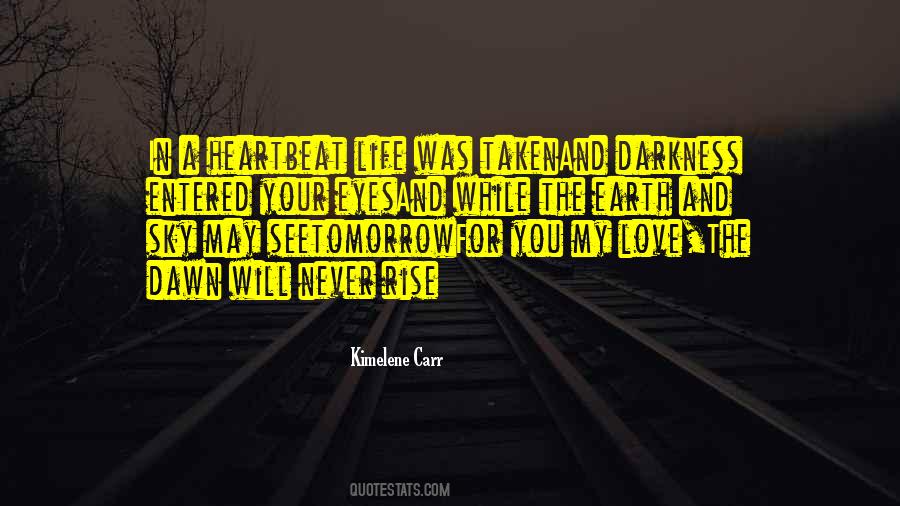 #59. RECURRENT CURRENTS
Like the ocean, life ebbs and flows with the occasional rip
Kamil Ali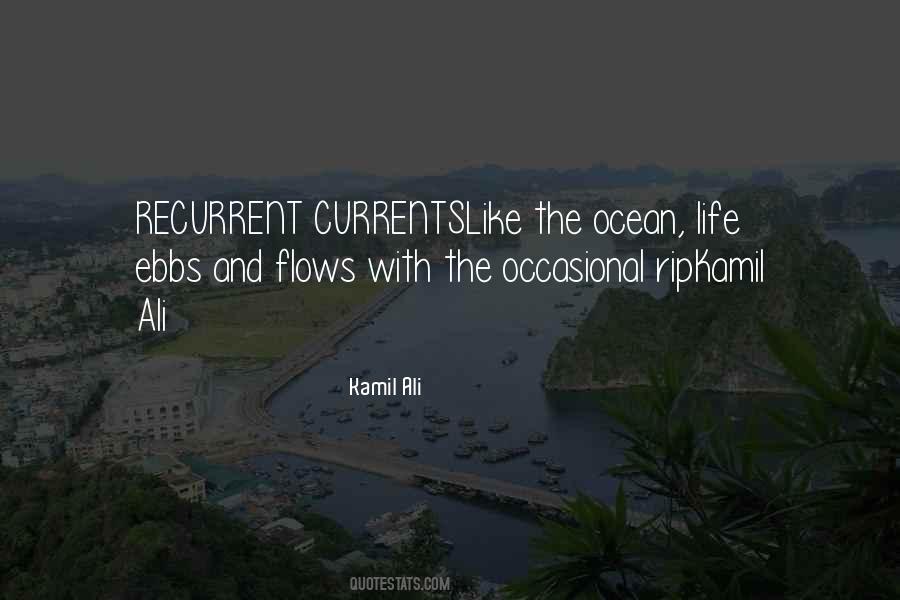 #60. Dreams dawn and fly: friends smile and die, Like spring flowers. Our vaunted life is one long funeral. Men dig graves, with bitter tears, For their dead hopes; and all, Mazed with doubts, and sick with fears, Count the hours.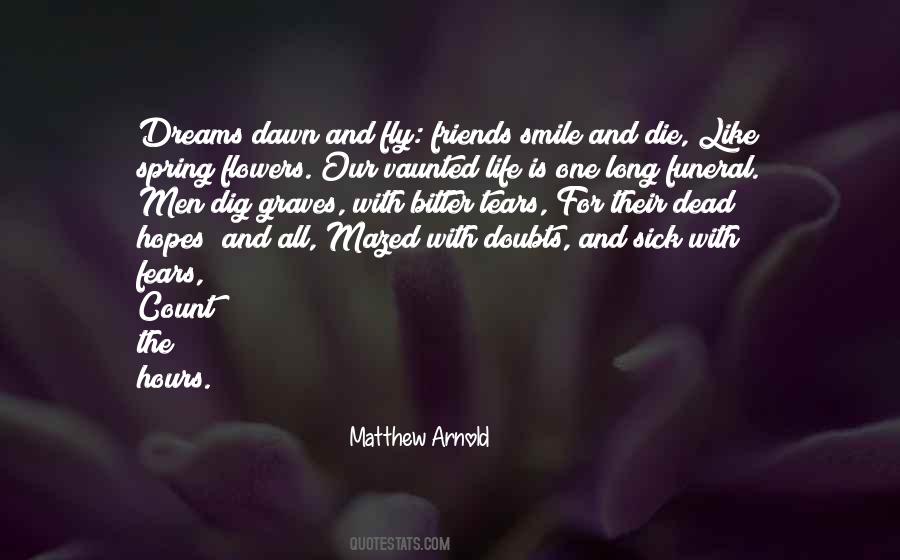 #61. I have spent too much of my life opening doors for cats - I once calculated that, since the dawn of civilization, nine hundred and seventy-eight man-centuries have been used up that way. I could show you figures.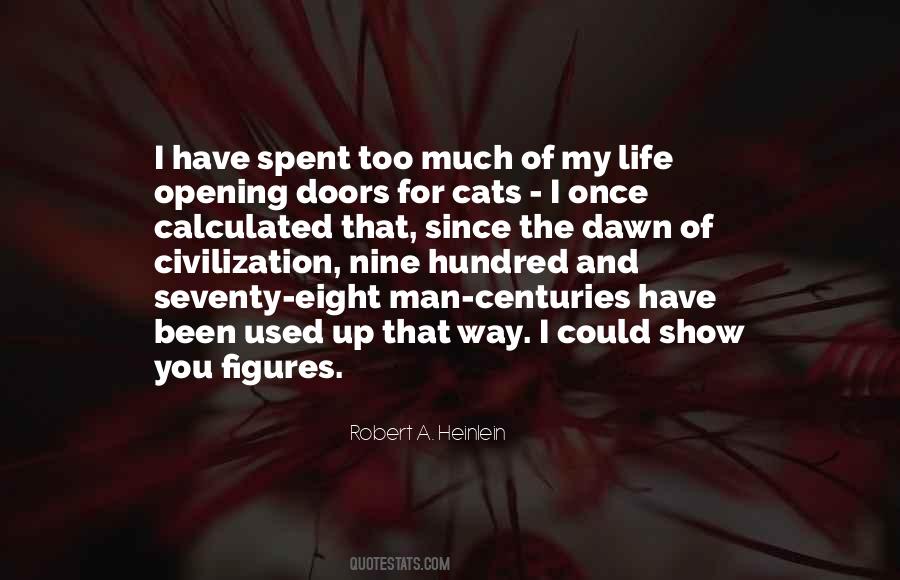 #62. The moral test of government is how that government treats those who are in the dawn of life, the children; those who are in the twilight of life, the elderly; and those who are in shadows of life, the sick, the needy, and the handicapped.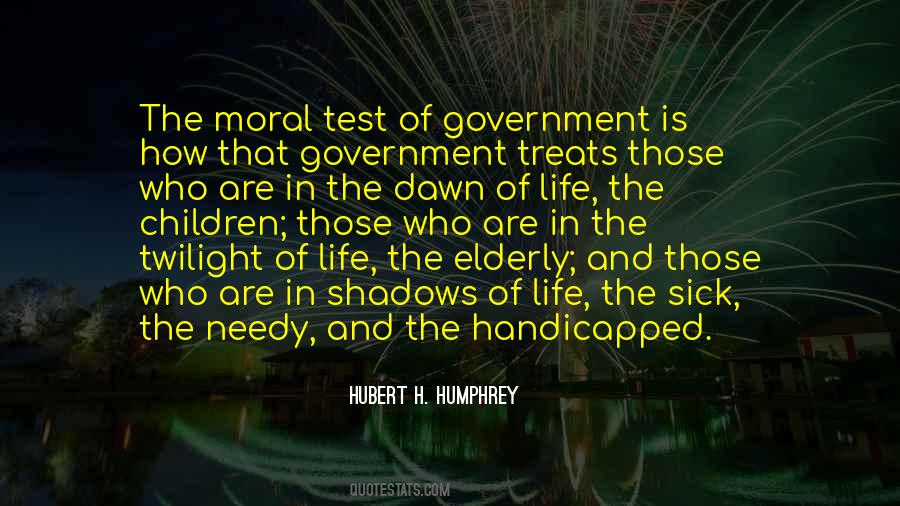 #63. It begins to dawn on her that she is lackadaisical about other people. They are tremendously important to her for a time and then they are not. She begins to see her life in sections, as separate pockets of time and affiliation.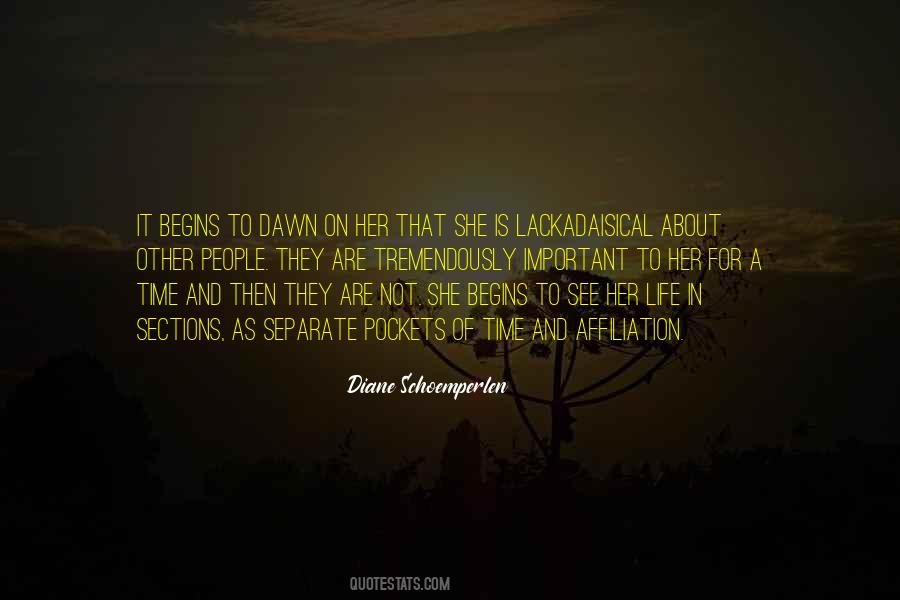 #64. The world ... is full of resurrections ... Every night that folds us up in darkness is a death; and those of you that have been out early, and have seen the first of the dawn, will know it - the day rises out of the night like a being that has burst its tomb and escaped into life.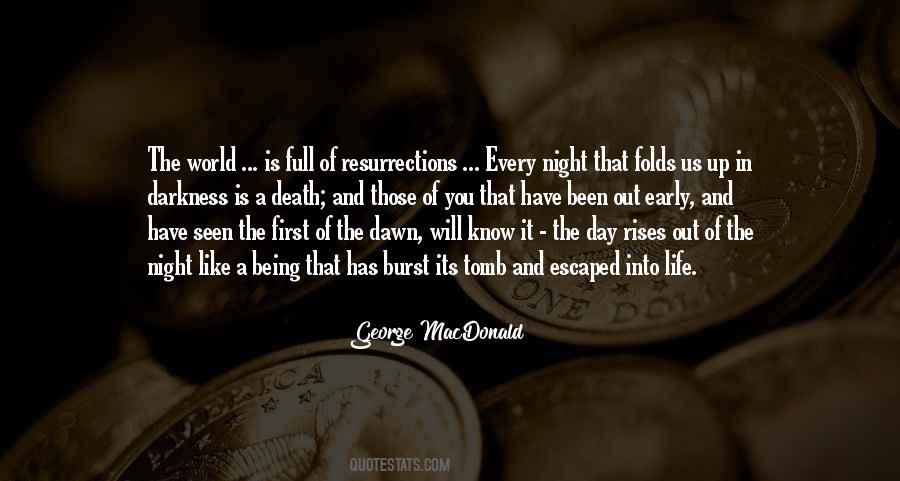 #65. The roadmap to a rich, rewarding life is to follow your passion, to be willing to deviate, to never dull to the dawn of a new day and all of the possibilities it holds for adventure and discovery.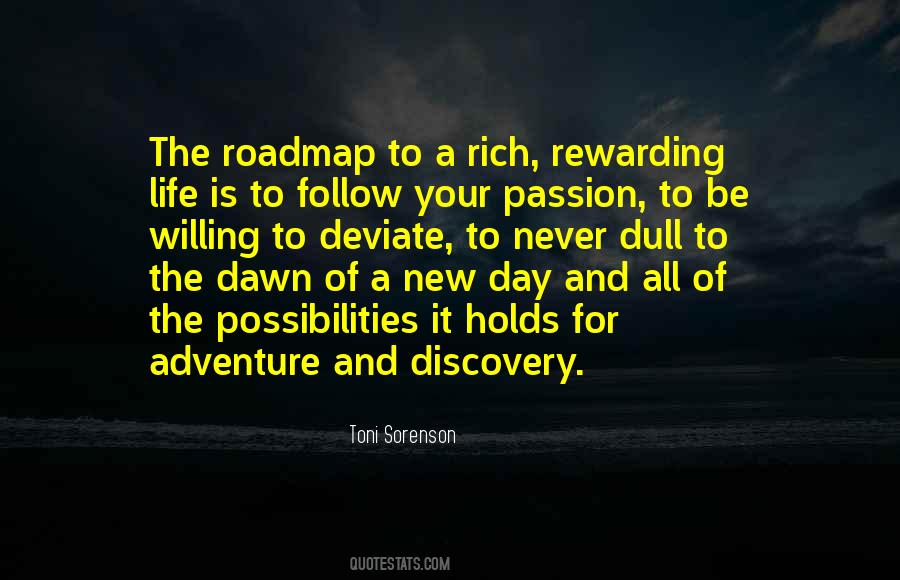 #66. Overslept and had to race to get a life to Jas's with my dad. No time for yoga or makeup. Oh well, I'll start tomorrow. God alone knows how the Dalai Lama copes on a daily basis. He must get up at dawn. Actually, I read somewhere that he does get up at dawn.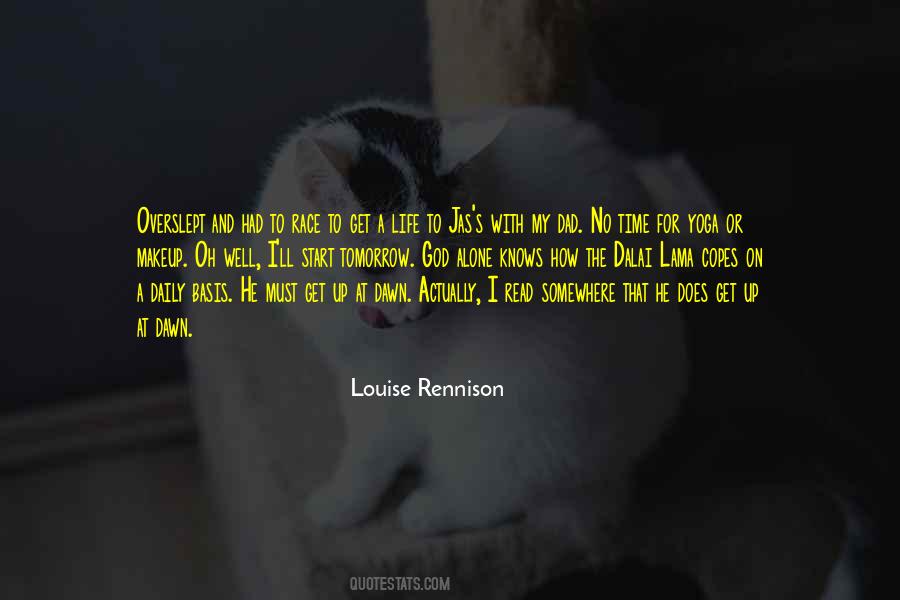 #67. Whatever their future, at the dawn of their lives, men seek a noble vision of man's nature and of life's potential.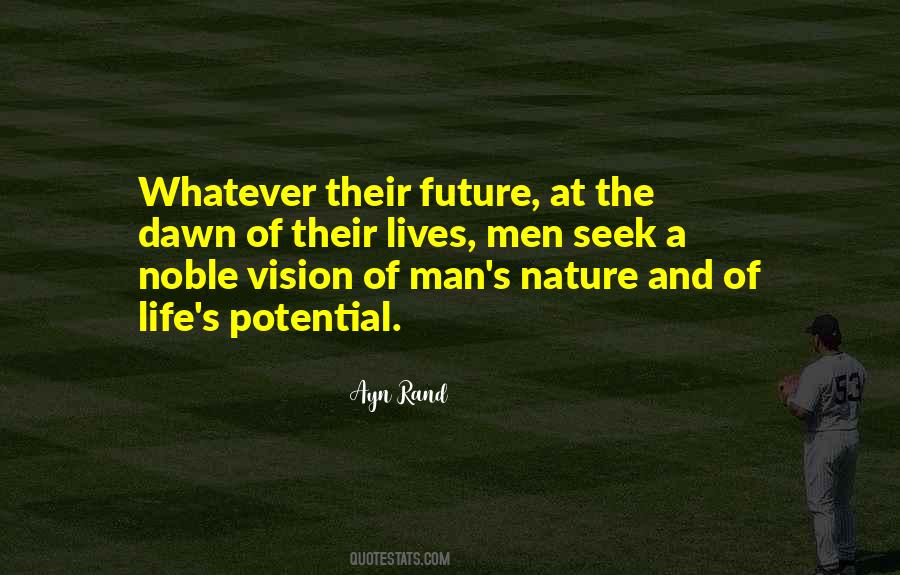 #68. Life sucks, and then you die.
Yeah, I should be so lucky.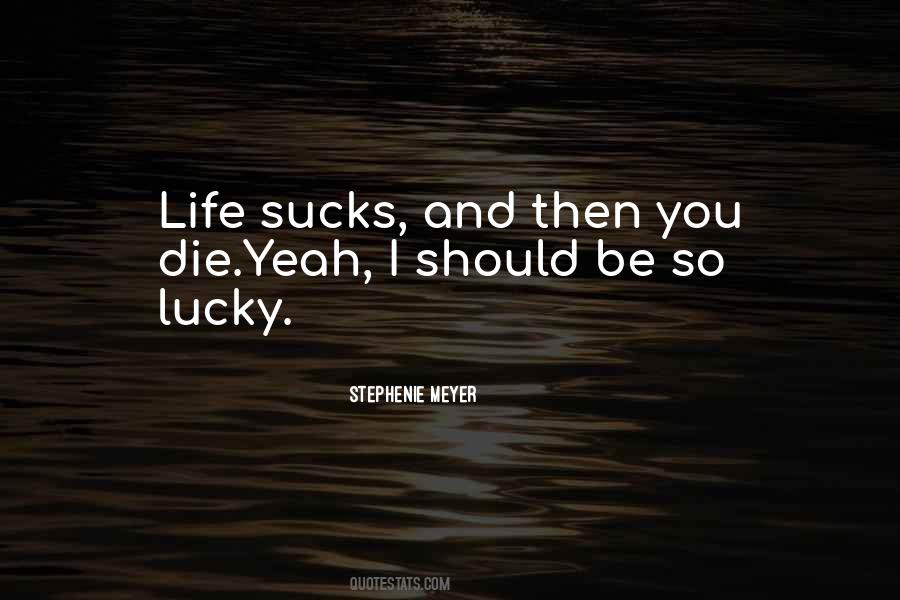 #69. My only armor is my belief that life has meaning and that, when my last sun has set and my last moon has risen, when the dawn comes that marks the moment when I am born with the dead, there will be mercy.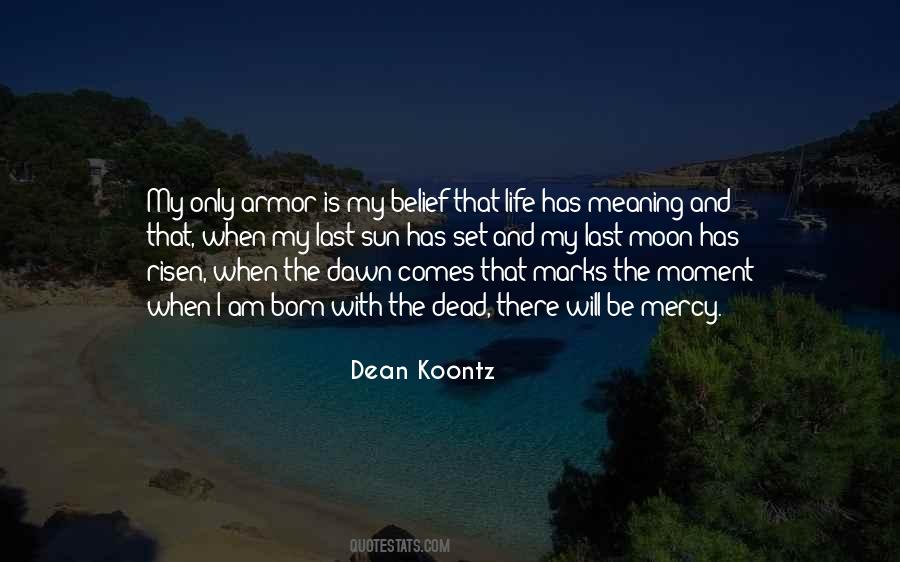 #70. Night is always darker before the dawn and life is the same, the hard times will pass, every thing will get better and sun will shine brighter then ever.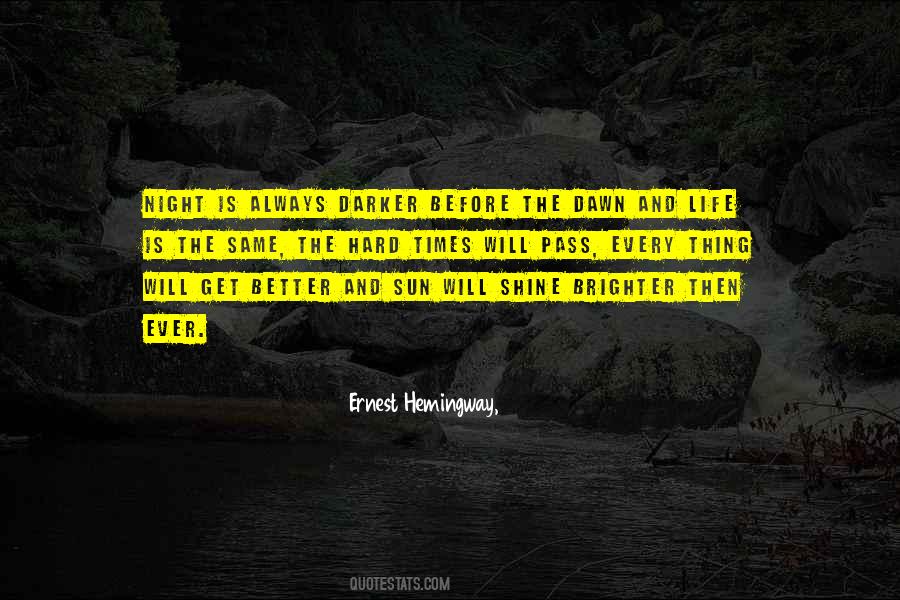 #71. Of all the portions of life it is in the two twilights, childhood and age, that tears fall with the most frequency; like the dew at dawn and eve.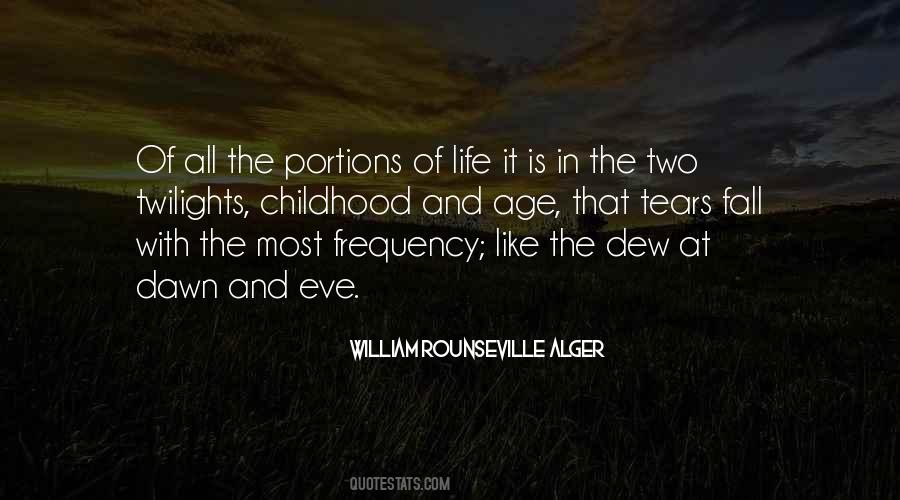 #72. It is only when all our Christian ancestors are allowed to become our contemporaries that the real splendor of the Christian faith and the Christian life begins to dawn upon us.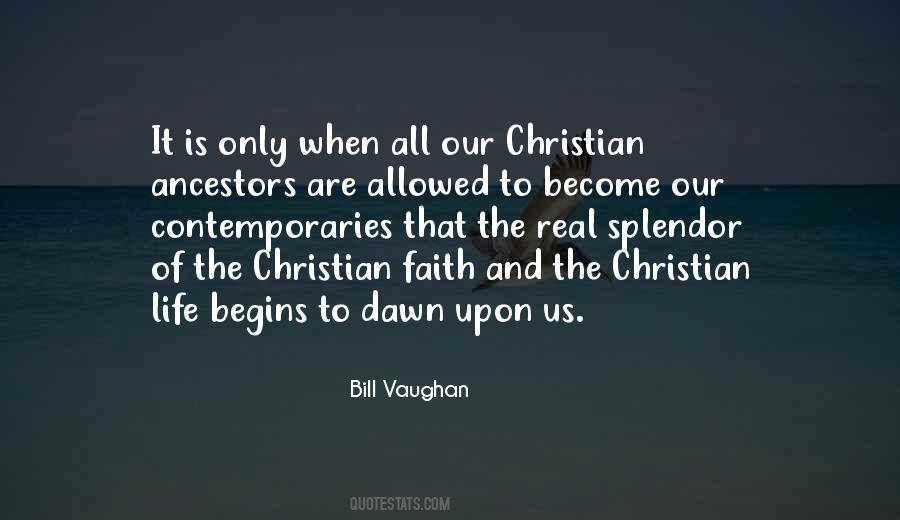 #73. You are the eyes of the universe and the sunlight of the dawn. Universe exists because of you.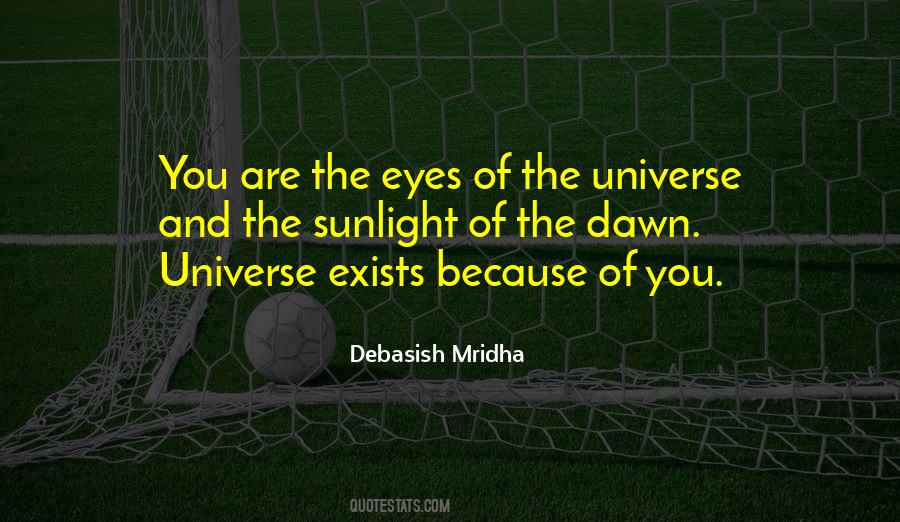 #74. Now it was growing late again, and cooler, which the nurse found disorienting. It felt as though her entire life had been lived from dusk to dawn ever since she learned of Phillip, only tiptoeing around the edges of sunset or sunrise, and sleeping or traveling all day.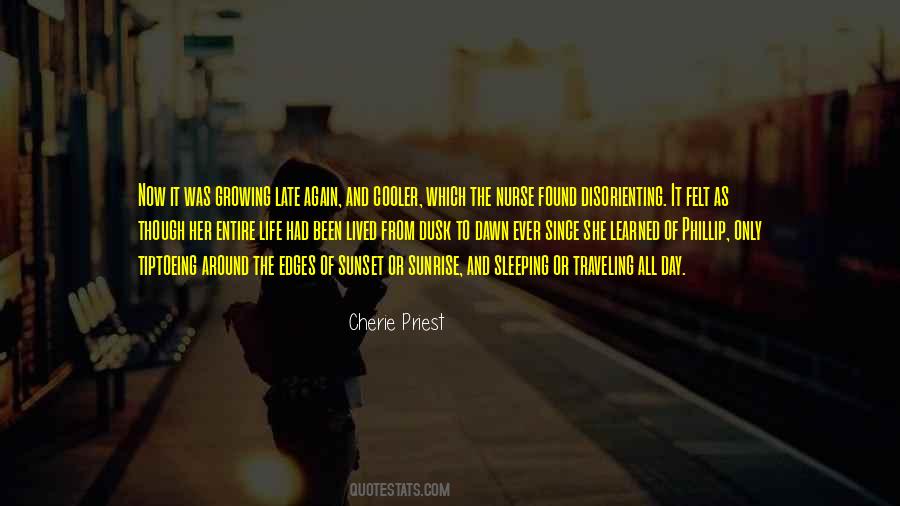 #75. Janie saw her life like a great tree in leaf with the things suffered, things enjoyed, things done and undone. Dawn and doom was in the branches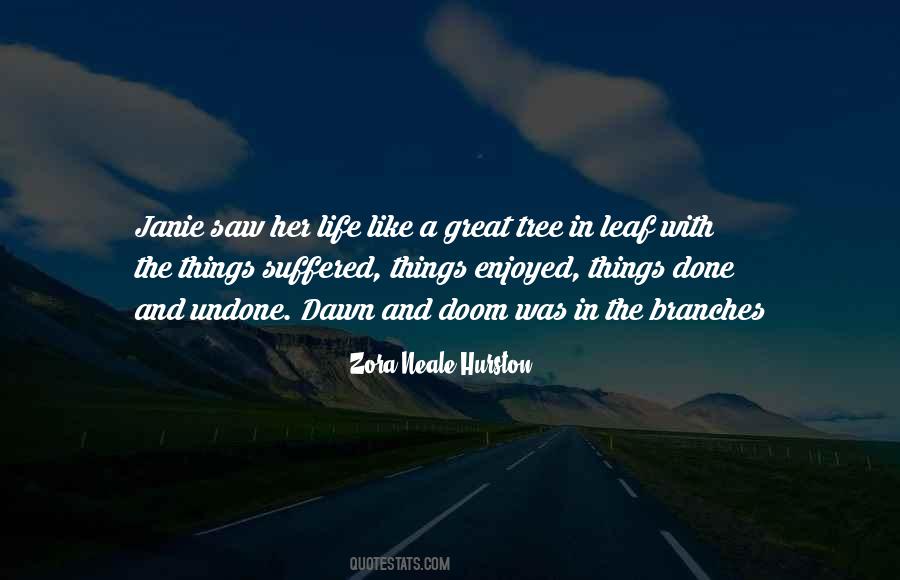 #76. Human rights are not a privilege granted by the few, they are a liberty entitled to all, and human rights, by definition, include the rights of all humans, those in the dawn of life, the dusk of life, or the shadows of life.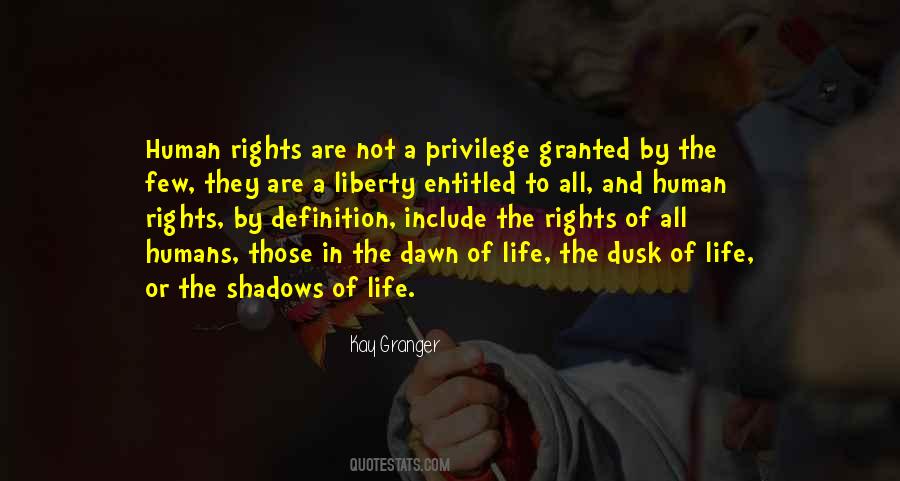 #77. If you could fly backwards into the past at the rate of one year per second, it would take you about half an hour to reach the time of Christ, and a little over three weeks to get back to the beginnings of human life. But it would take you twenty years to reach the dawn of the Cambrian period.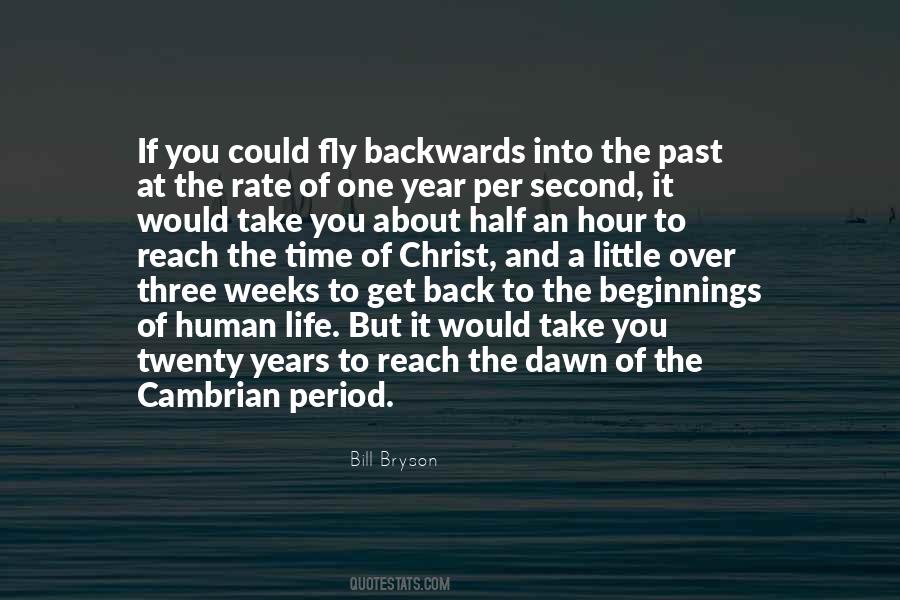 #78. For a kid in crisis, there is no "make it happen," only "survive today." Who am I to have the cojones to think my "critical questions" are the most important thing in this kid's life? I think of the times I was in crisis and failed to pay attention to the manila folders on my desk as an adult.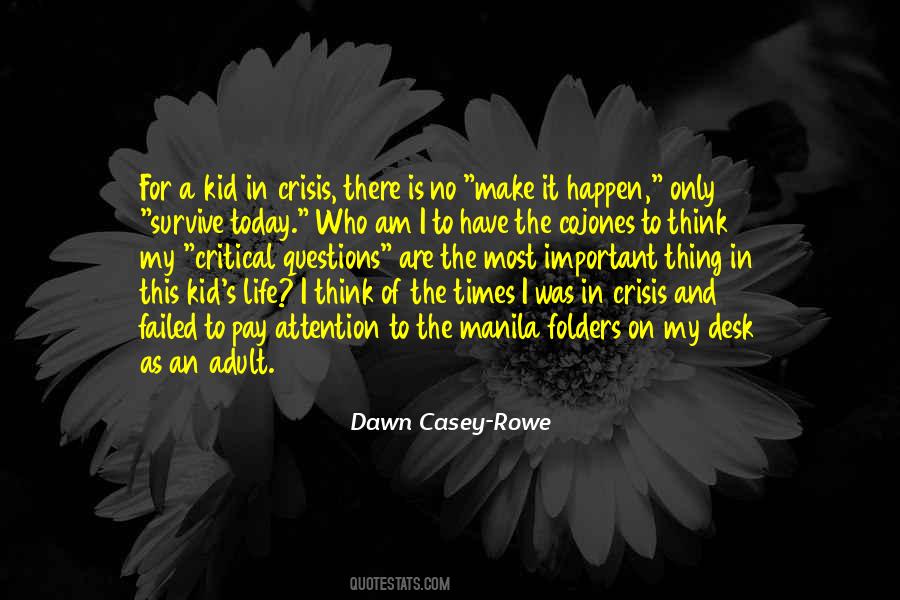 #79. It was my father who taught me to value myself. He told me that I was uncommonly beautiful and that I was the most precious thing in his life.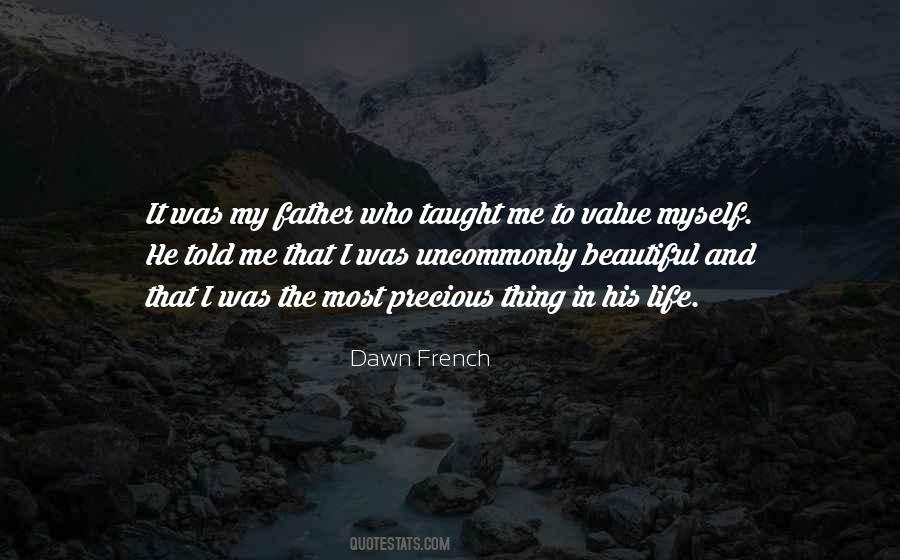 #80. Sometimes I wake up before dawn, and I love sitting up in the middle of the bed with all the lights off, pitch-black dark, and talking to the Father, with no interruptions and nothing that reminds me that there's anything in life but me and Him.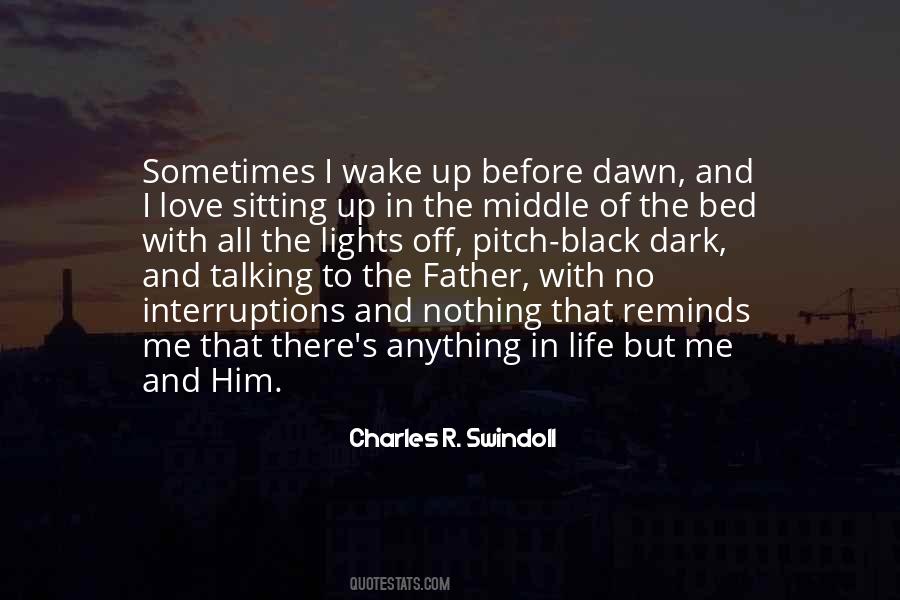 #81. Free time is an illusion. It's what you get when you die and the gods reward you for a life spent working from dawn until midnight.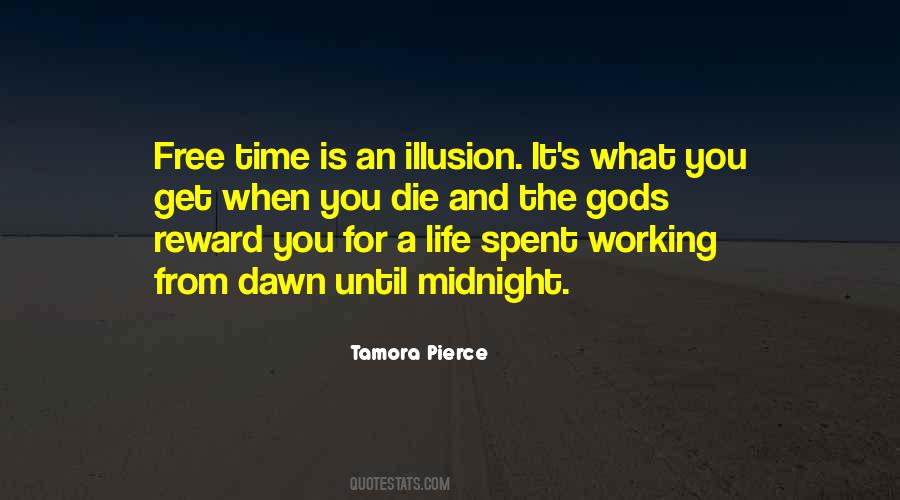 #82. His throat bobbled. His kiss that time was deep and thorough, unhurried and intent.
I let the dawn creep inside me, let it grow with each movement of his lips and brush of his tongue against mine. Tears pricked beneath my closed eyes.
It was the happiest moment of my life.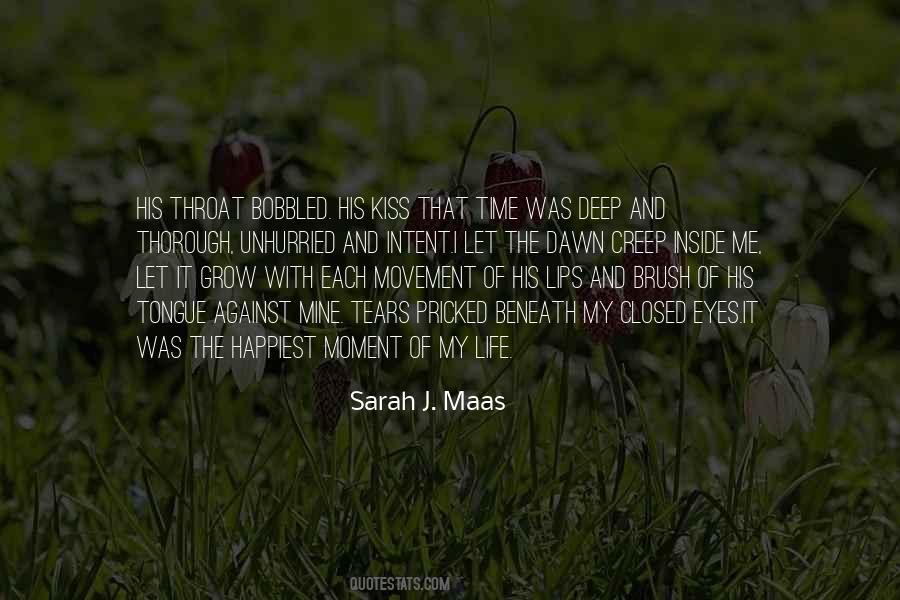 #83. For our part, we shall continue to work for the new dawn when all the Children of Abraham and their descendants are living together in the birthplace of their three great monotheistic religions, a life free from fear, a life free from want - a life in peace.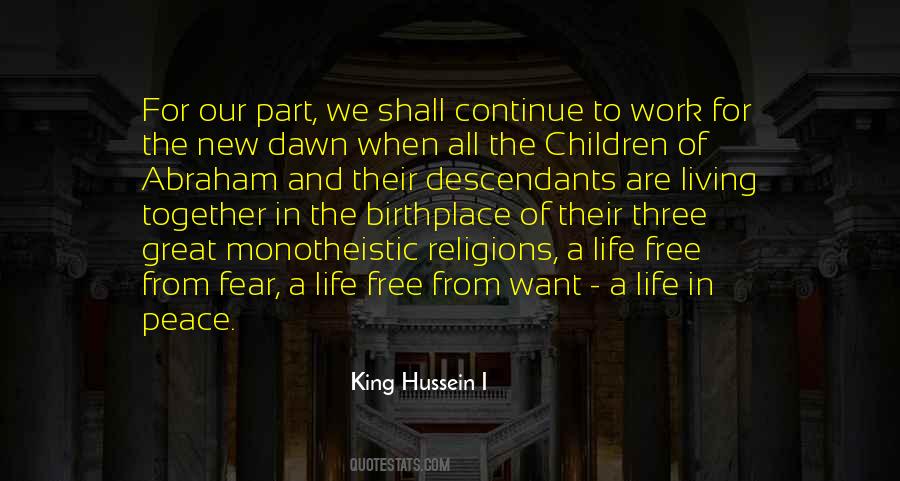 #84. I can feel blood dripping from the wounds on my face and I can feel my heart beating and I can feel the weight of my life beginning to drop and I realize why dawn is called mourning.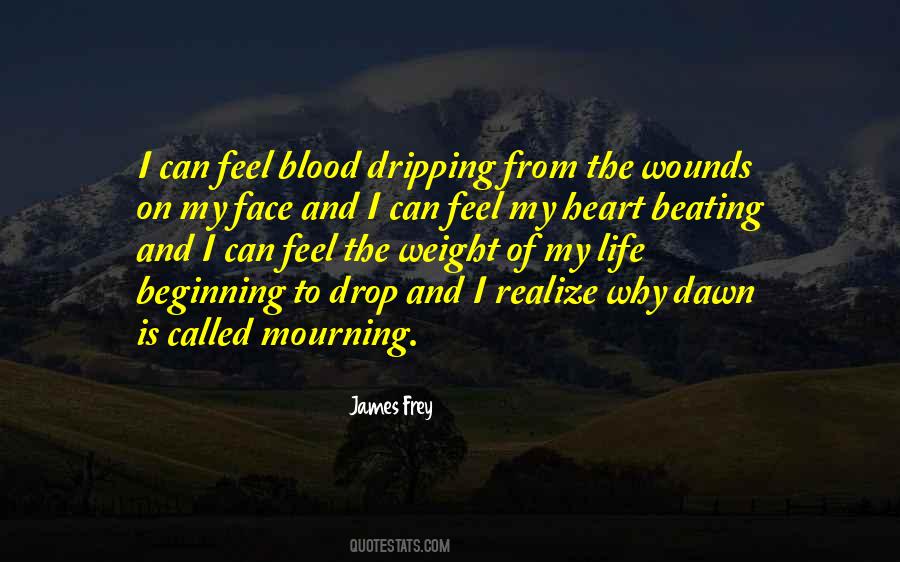 #85. Better
while life is quick And every pain immense and joy supreme, And all I have and am Flames upward to the dream ... Than like a taper forgotten in the dawn, Burning out the quick.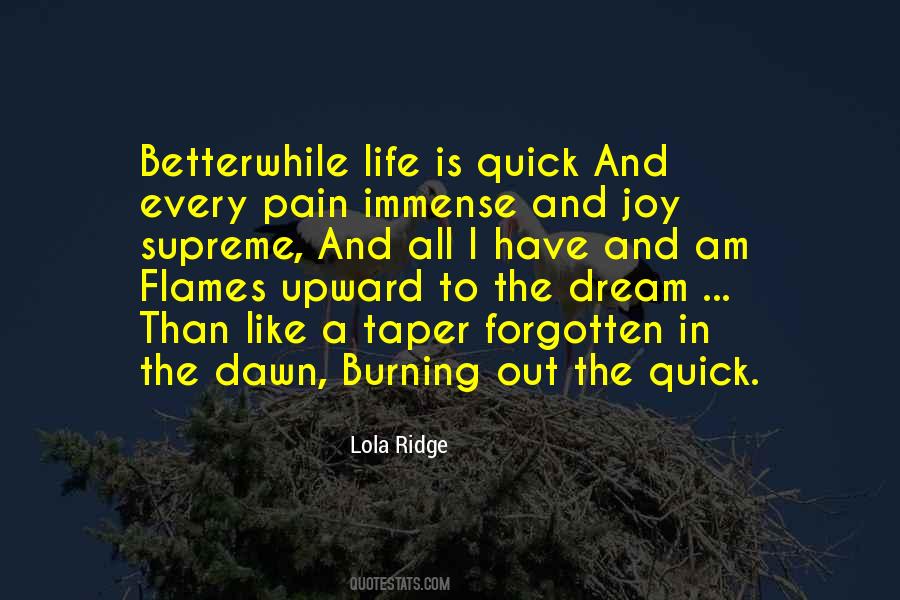 #86. One box, and it holds a whole life of love - almost every letter Carly and I have ever exchanged. Seeing it here, all together, three big bundles of paper...is that all we were? Dying pages, fading ink?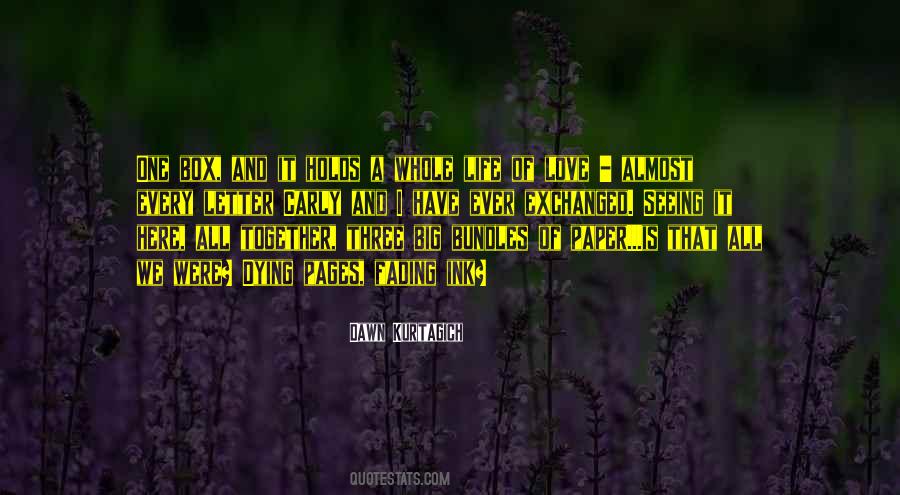 #87. Let not our trials of this day be our final sentence. For our difficulties of today is definitely shared by another in our world. Therefore, be encouraged and don't give up because tomorrow a new dawn will surely shine, and once we have life we have the most precious gift-Genevieve Sarpong.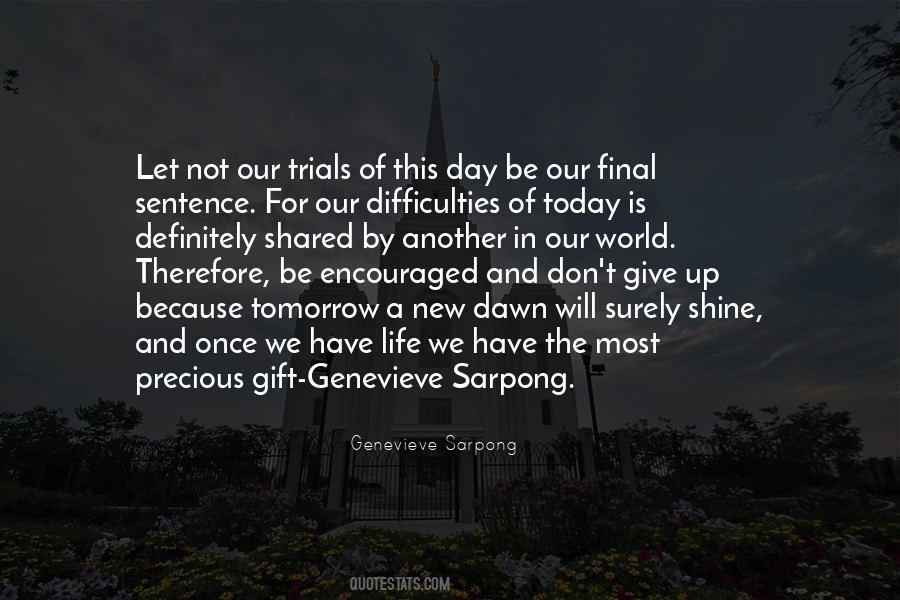 #88. When perception and reality collide, we grow.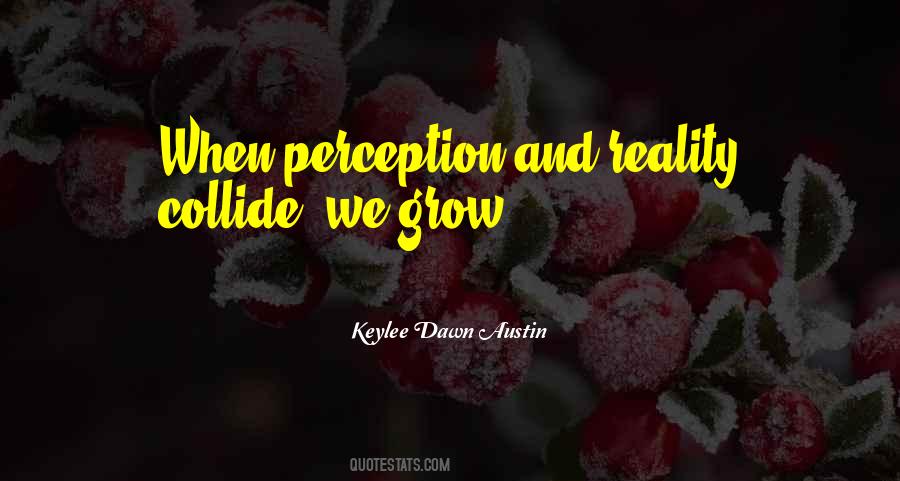 #89. One hundred lives for the one you took. One life to one dawn. Should you fail but a single morn, I shall take from you your dreams. I shall take from you your city. And I shall take from you these lives, a thousandfold.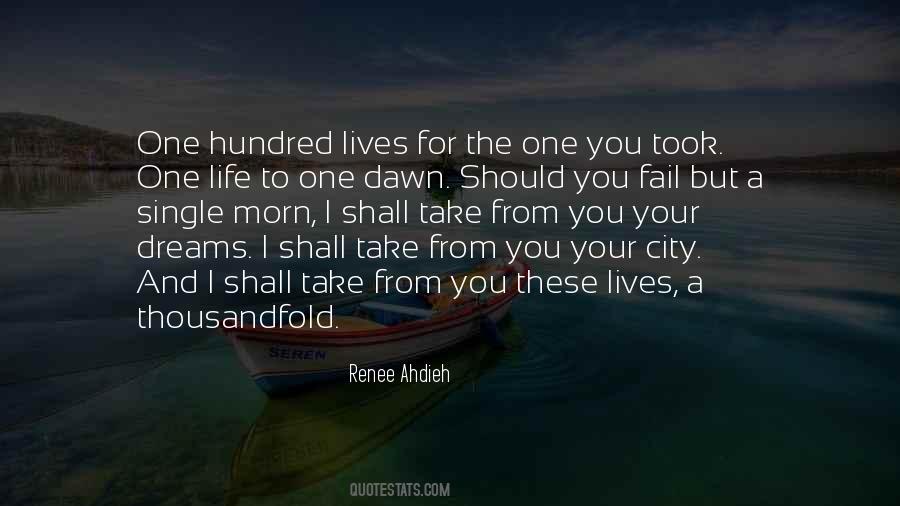 #90. Life is full of highs and lows. We need them both to grow to our fullest potential. Just hang on tight & enjoy the ride.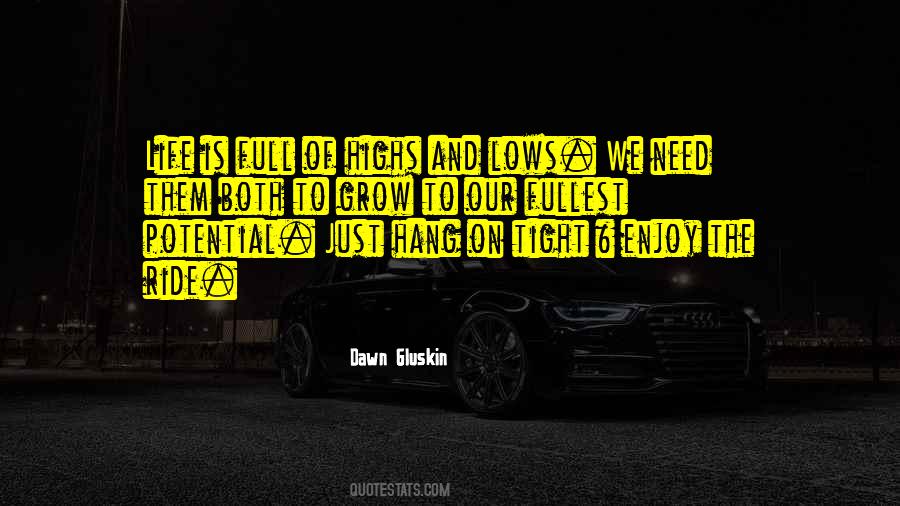 #91. We have on this earth what makes life worth living: April's hesitation, the aroma of bread at dawn, a woman's point of view about men, the works of Aeschylus, the beginning of love, grass on a stone, mothers living on a flute's sigh and the invaders' fear of memories.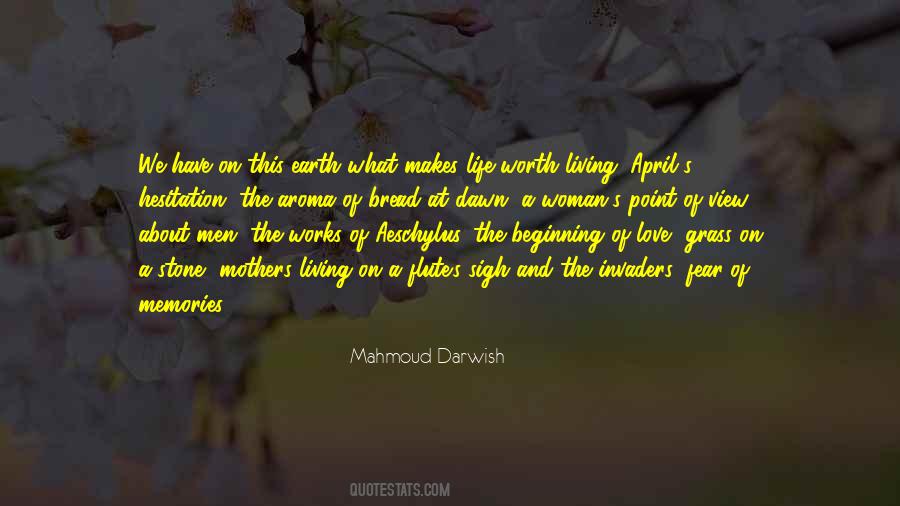 #92. We only have two things that we share in this life; we are born and we die. And what we do in between those times, we've got to be happy. I don't let the outside world deter me.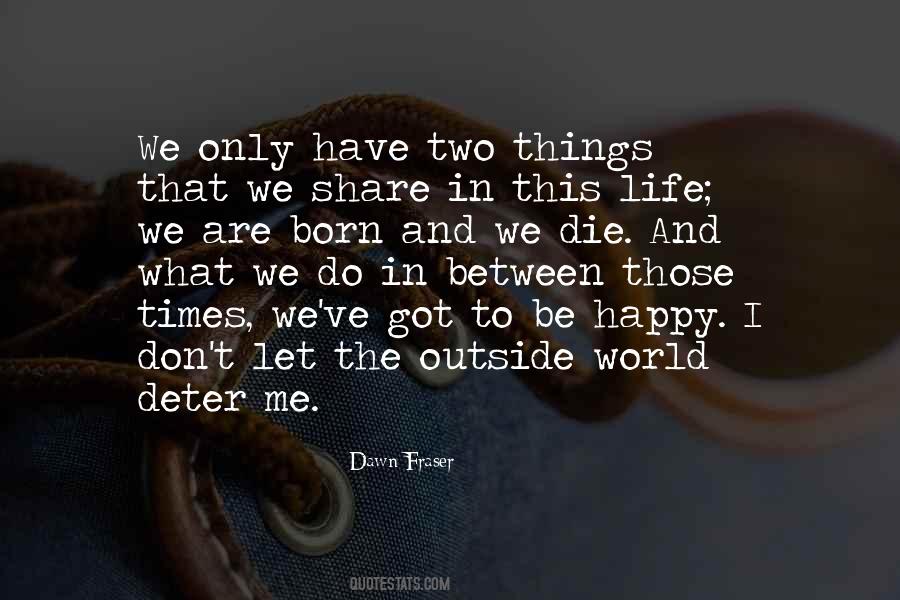 #93. O fresh-lit dawn! immortal life!
O Earth's betrothal, sweet and true!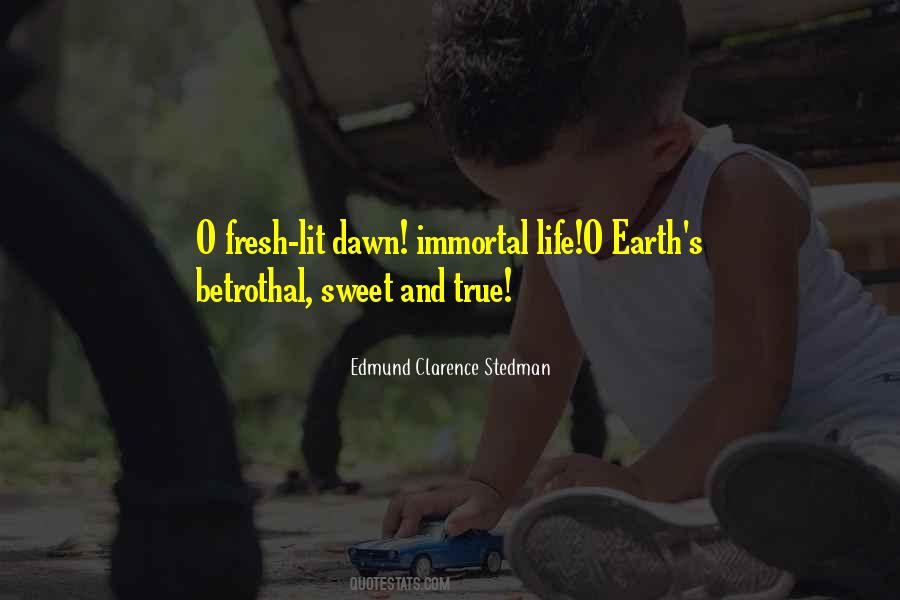 #94. I have two choices in life: I either try to do the right thing and get accused of being selfish, or I just do what is right for me and get called selfish anyway. This time, it's all about me.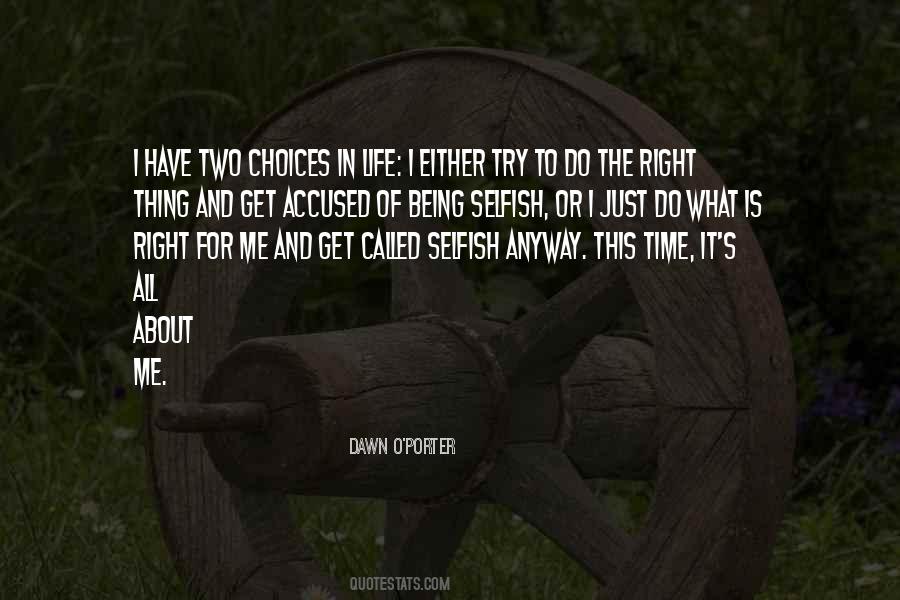 #95. There once was a girl named Destiny. She was the fastest runner in the world. No matter how hard she tried, she couldn't outrun who she was. Then she met a boy. He said his name was also Destiny, and for the first time in her life, she didn't feel like she was running alone.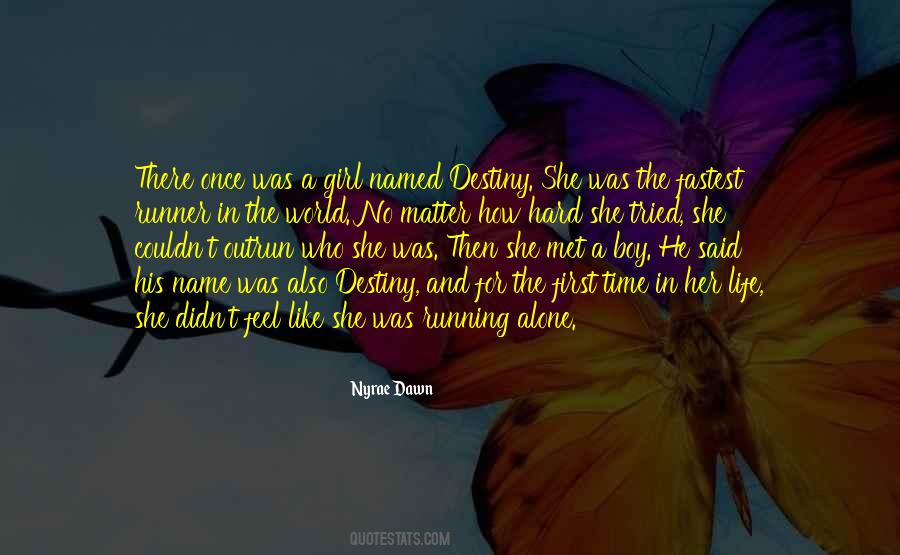 #96. And so we remained till the red of the dawn began to fall through the snow gloom. I was desolate and afraid, and full of woe and terror. But when that beautiful sun began to climb the horizon life was to me again.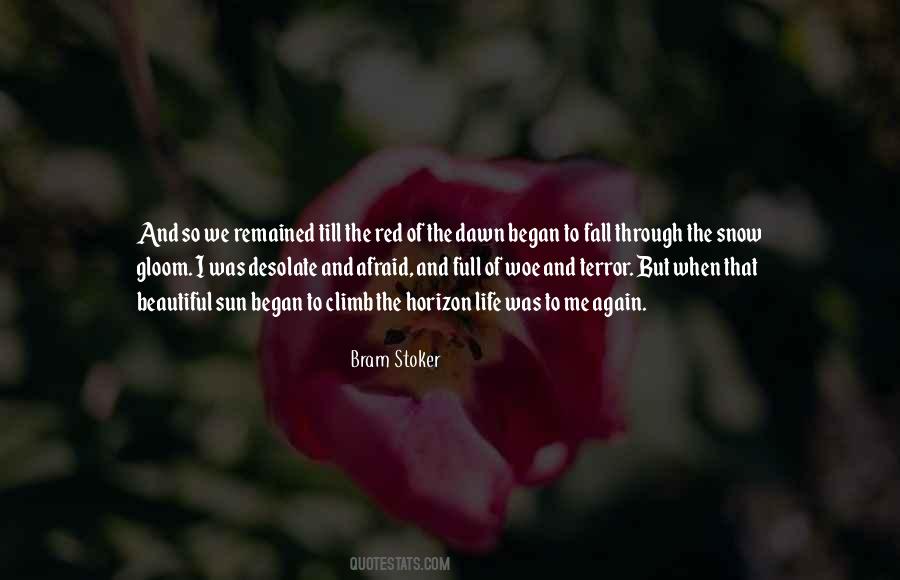 #97. Life is an act and we are all actors in the arena of life. We all do act each day from dawn to dusk. Some act well but some act to cover their acts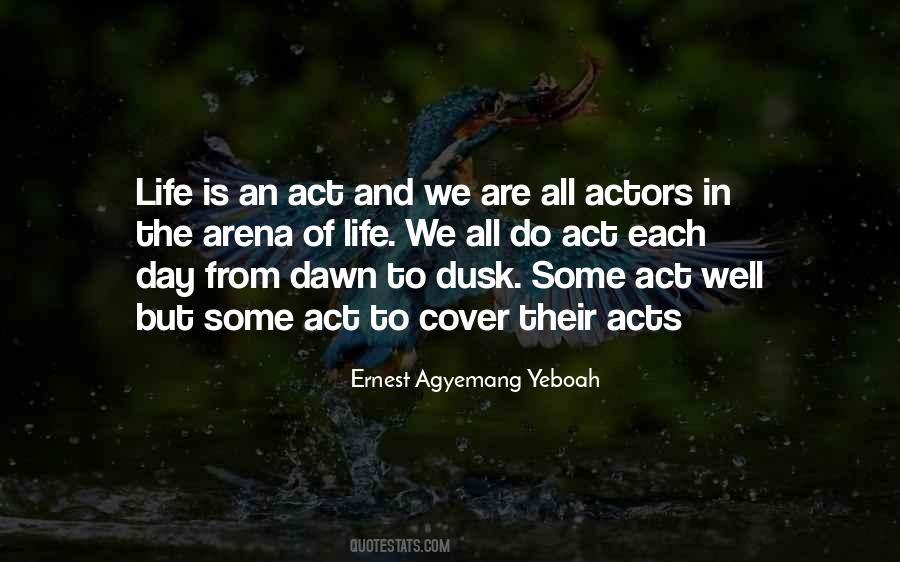 #98. Have you ever felt that, Ts'an Tsan? - a hunger for knowledge so desperate you begrudge food and sleep, you cannot wait for another dawn to get on to more and more?" Damon nodded. "Yes. Well, I had that fever. I had to know: it was more important than life." From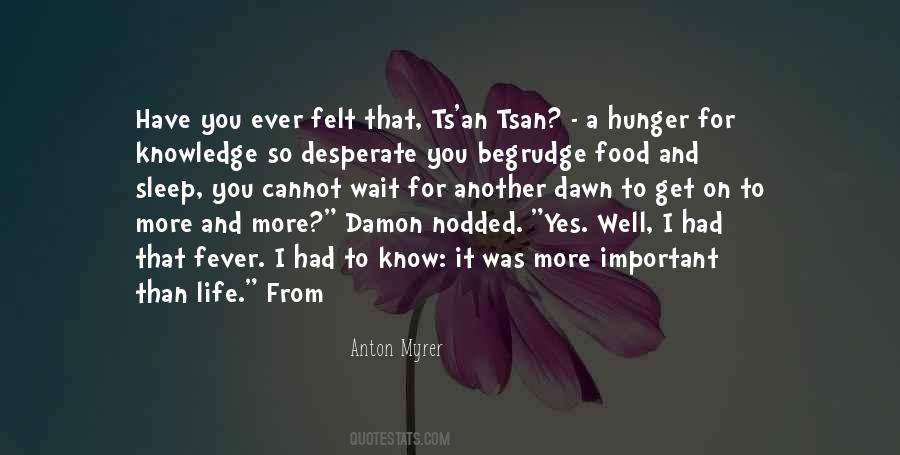 #99. You're a Dark-Hunter."
He kissed her lightly on the lips. "What I am is a man in love with a woman. I want you, Amanda. For the rest of my blessedly short mortal life. I want to wake at dawn with you in my arms and watch our children play and fight.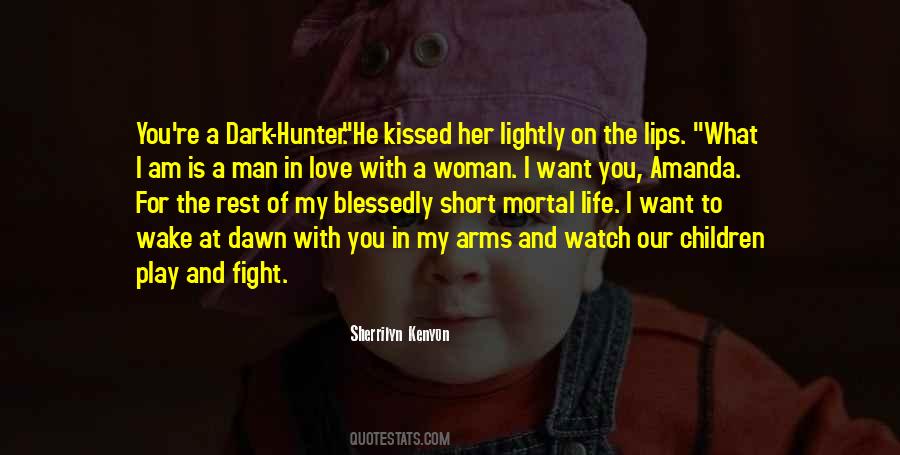 #100. It is while you are patiently toiling at the little tasks of life that the meaning and shape of the great whole of life dawn on you.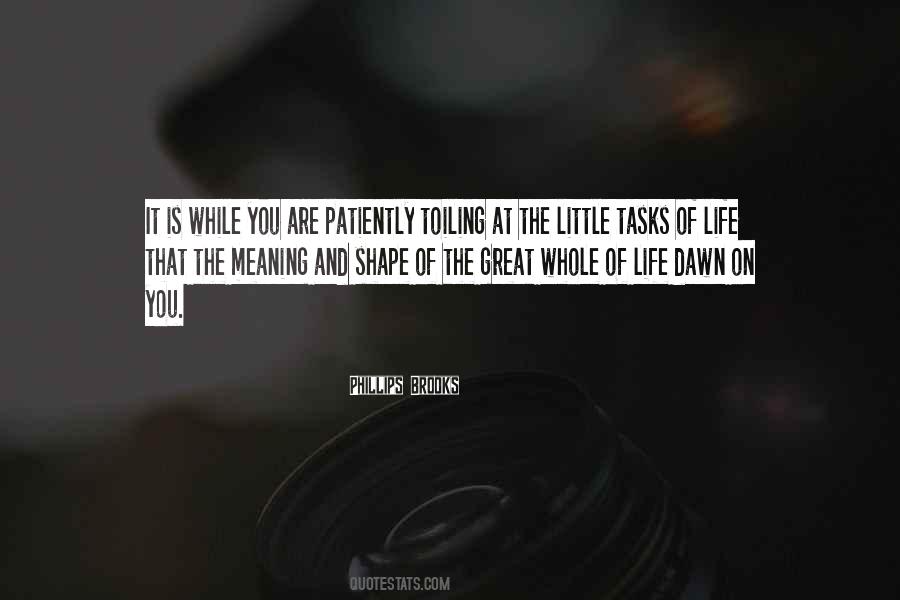 Famous Authors
Popular Topics