Comfortable Home Famous Quotes & Sayings
List of top 100 famous quotes and sayings about comfortable home to read and share with friends on your Facebook, Twitter, blogs.
Top 100 Quotes About Comfortable Home
#1. We tend to feel most comfortable, "most at home", with people whose self esteem level resembles our own. - Author: Nathaniel Branden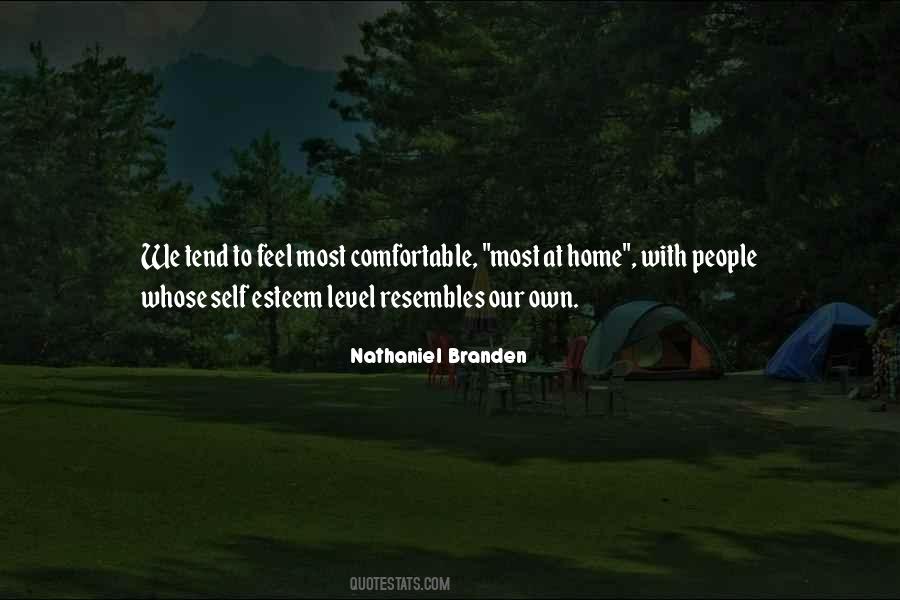 #2. You spend a good part of your adult life acquiring things: building a home, filling it with objects that please your eye and make you feel comfortable. Then you spend the last part of your life trying to figure out how to get rid of it all. - Author: Lauren Bacall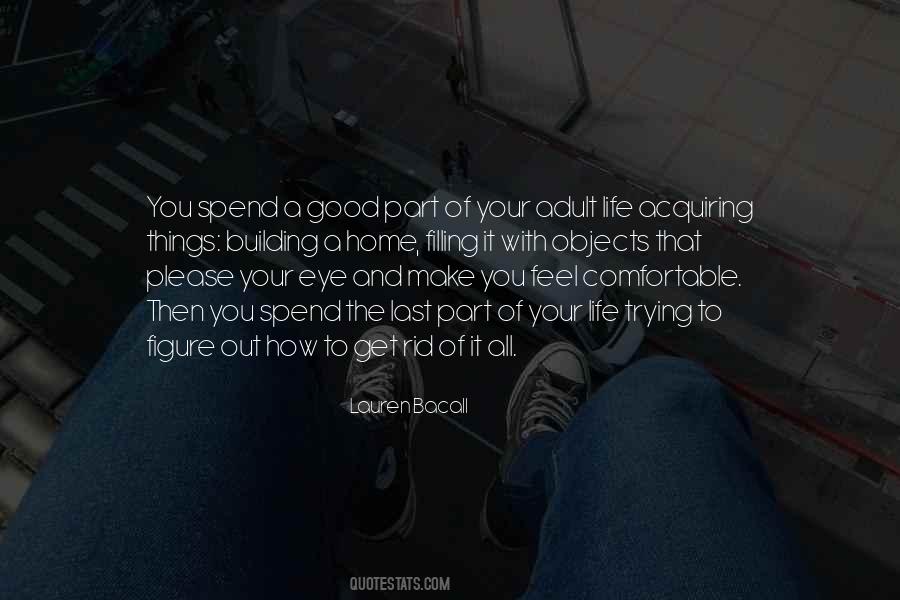 #3. Most people who desire God look for the God state too far from home, but the seed of spiritual greatness is in the heart of all. The spiritual exercises help one find a comfortable relationship with the Eck, the Holy Spirit - and with all life. - Author: Harold Klemp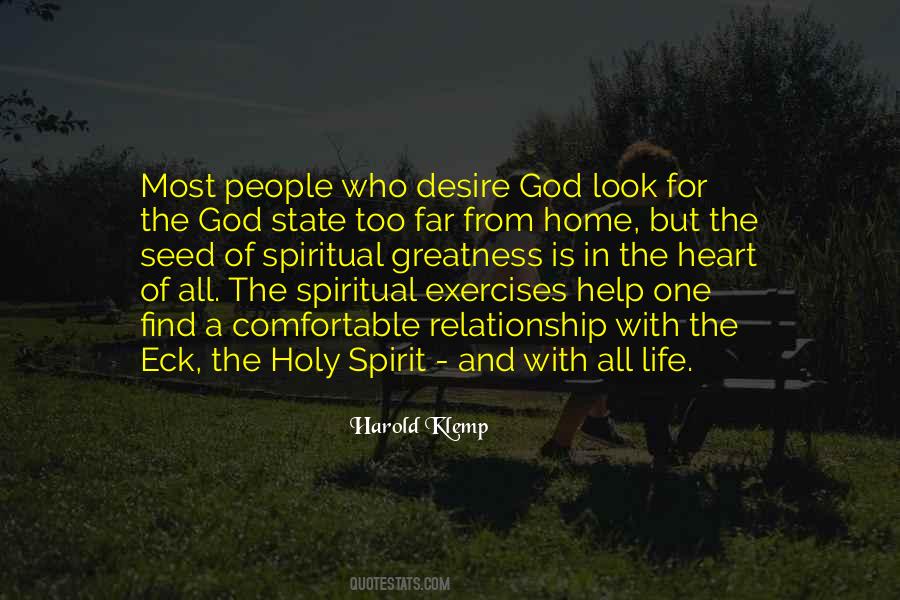 #4. He reminds me of a comfortable sweater that you pull on, knowing it will keep you warm every time. - Author: Katherine Reay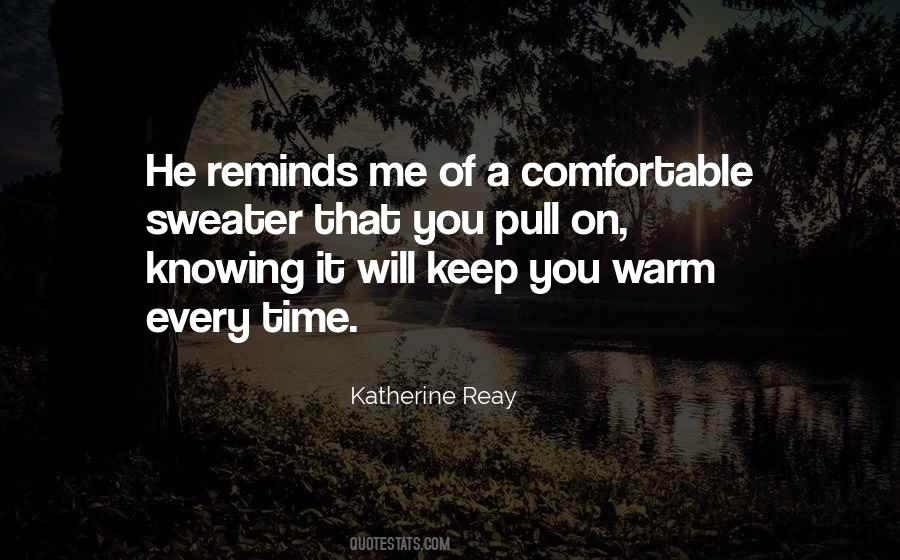 #5. If this were so; if the desert were 'home'; if our instincts were forged in the desert; to survive the rigours of the desert - then it is easier to understand why greener pastures pall on us; why possessions exhaust us, and why Pascal's imaginary man found his comfortable lodgings a prison. - Author: Bruce Chatwin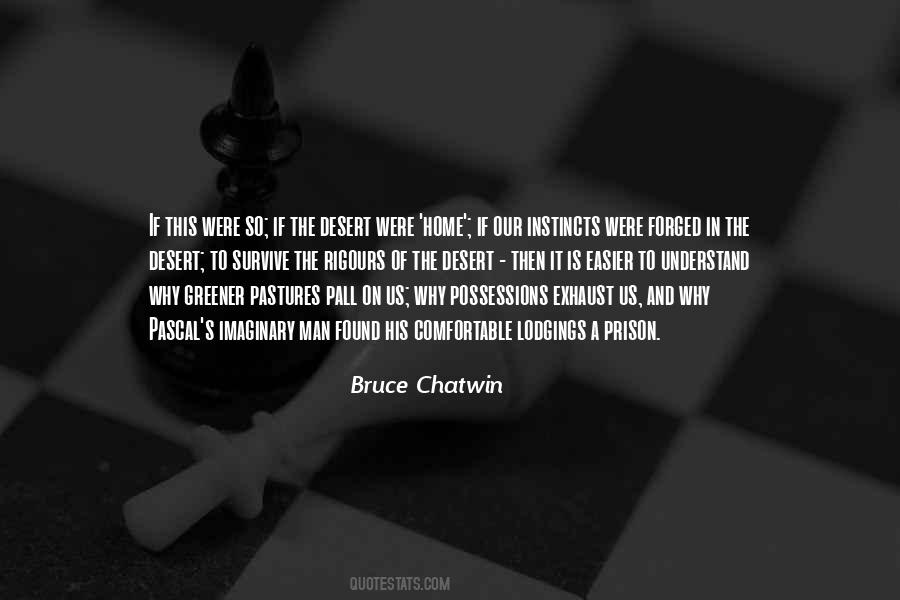 #6. I really like to cook and have dinner parties and I like to clean, it really clears my head and it makes me feel good to keep my home as a comfortable place. - Author: Jenny Slate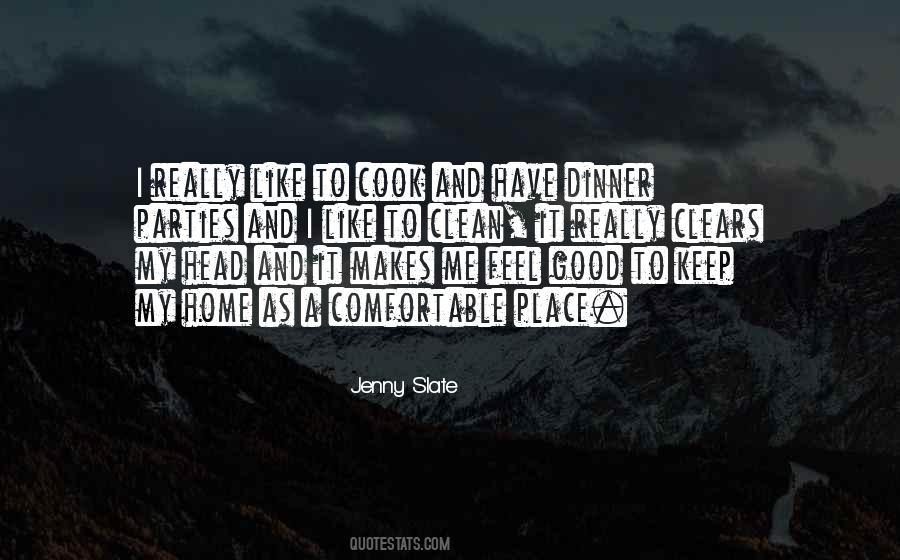 #7. He never yelled or screamed so I felt very at home and comfortable. - Author: Margaret O'Brien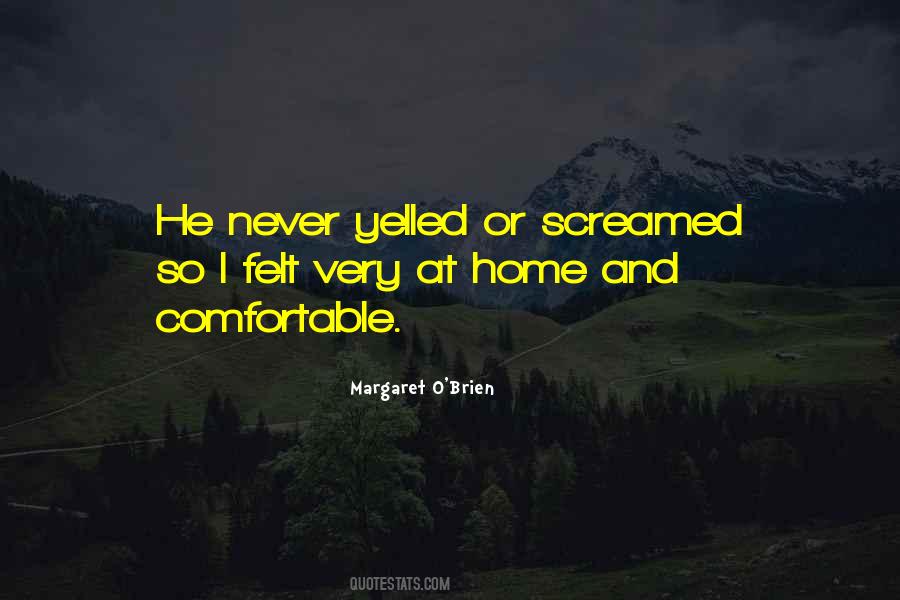 #8. A woman can look powerful in a party, but when she arrives at home, all she wants is to feel comfortable. - Author: Gisele Bundchen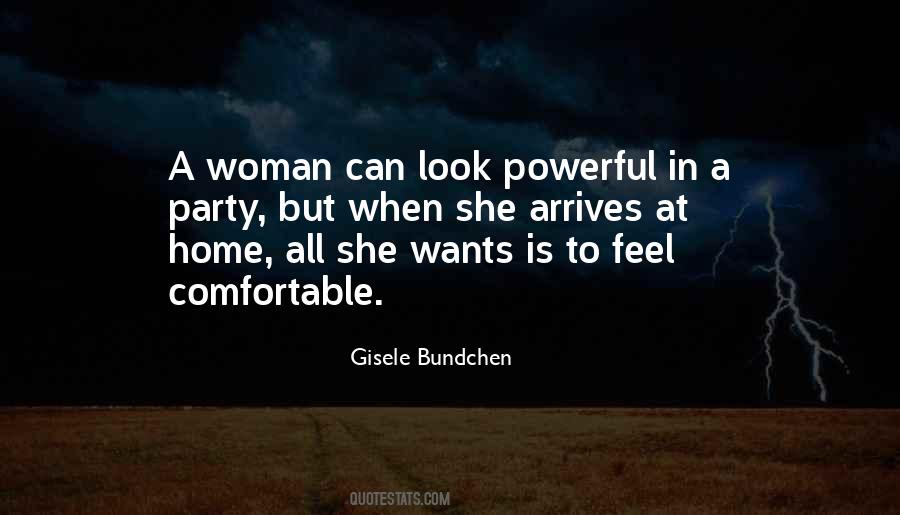 #9. I live half the year in Nigeria, the other half in the U.S. But home is Nigeria - it always will be. I consider myself a Nigerian who is comfortable in the world. I look at it through Nigerian eyes. - Author: Chimamanda Ngozi Adichie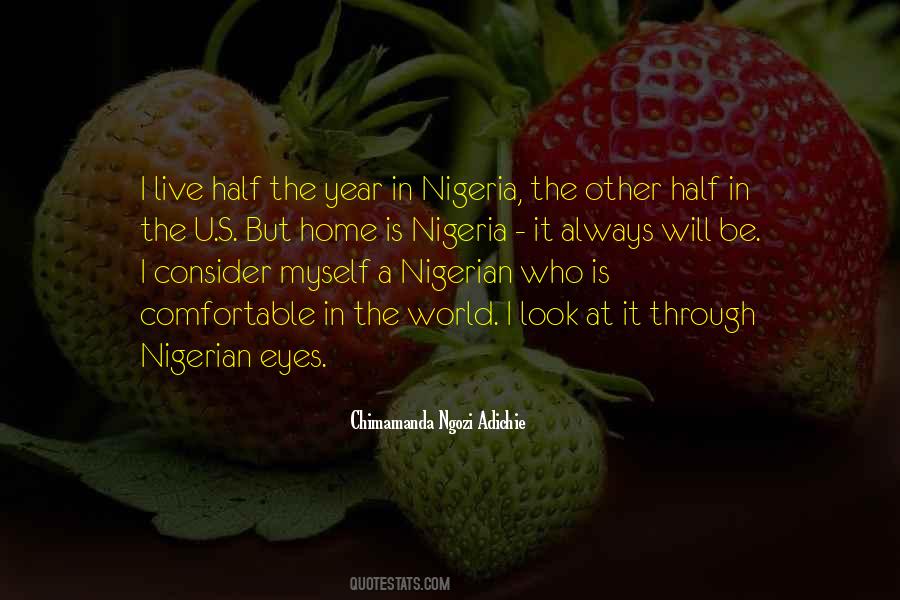 #10. In my job, I am portrayed as a misfit, a grandiose high fashion lady or an unearthly creature. At home, it's important I can look in the mirror, strip away the disguise and be comfortable with who stares back. - Author: Erin O'Connor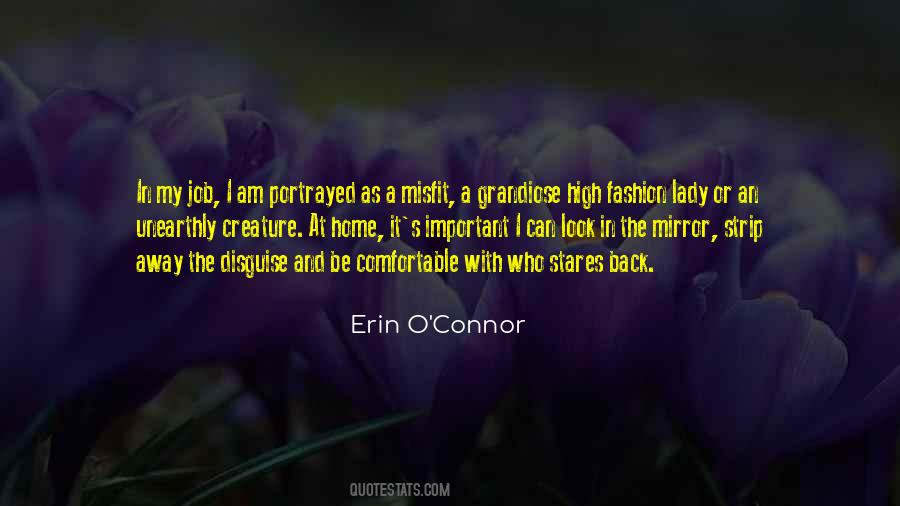 #11. I love the Rio Grande Valley. I always say it's home - Texas is home. I've been out in L.A. a little over ten years, and I still get so excited when I go back home. It just feels comfortable; it makes me smile. - Author: Cristela Alonzo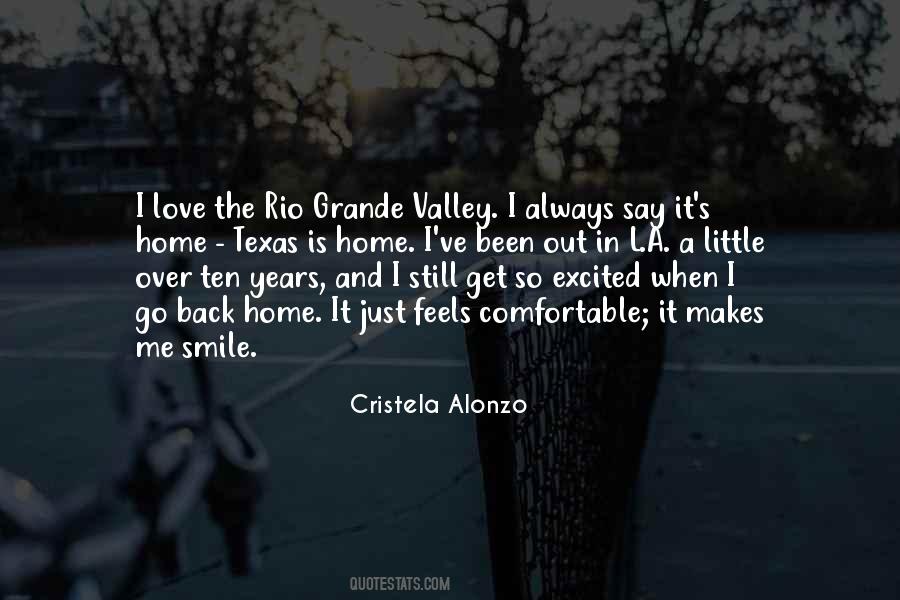 #12. When I'm home, I like a cozy, comfortable, calming space. - Author: Stacy Keibler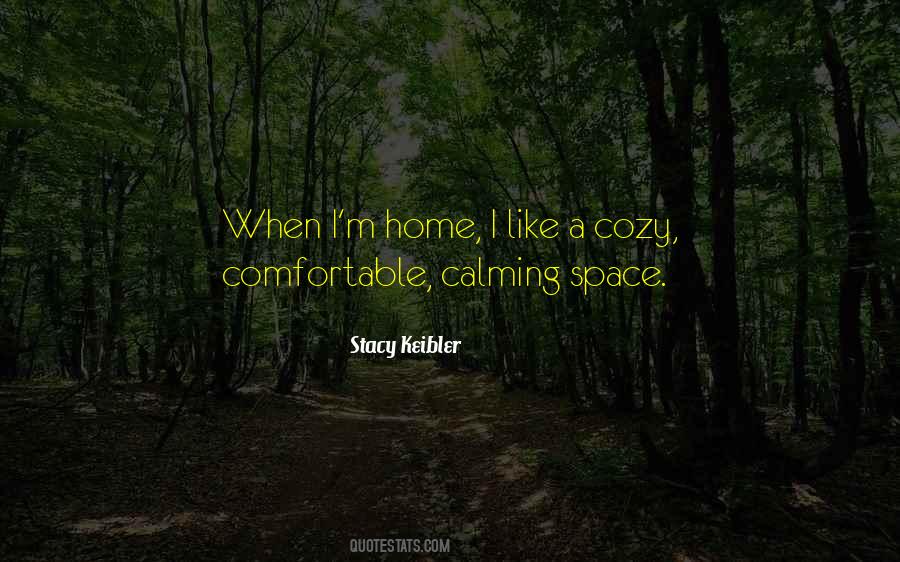 #13. I think I am most comfortable when I am on stage. I feel free, like I can be or do anything and it feels like home. - Author: Yvette Gonzalez-Nacer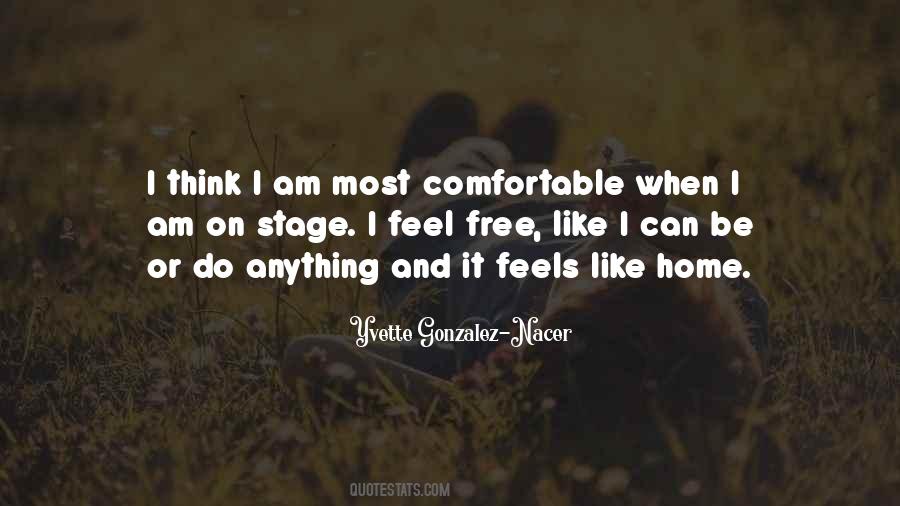 #14. There is no home as comfortable as your father's arms and no bed as soft as your mother's lap. - Author: Faraaz Kazi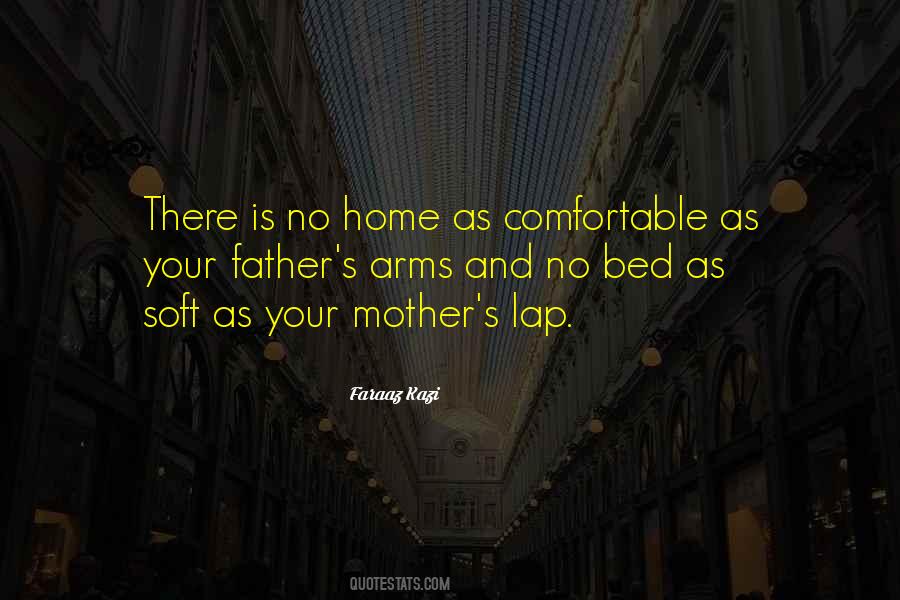 #15. It's made me realize that imperfect is perfectly comfortable to me. Whether it's a city or my apartment, I feel most at home when things are somewhat flawed. - Author: Hoda Kotb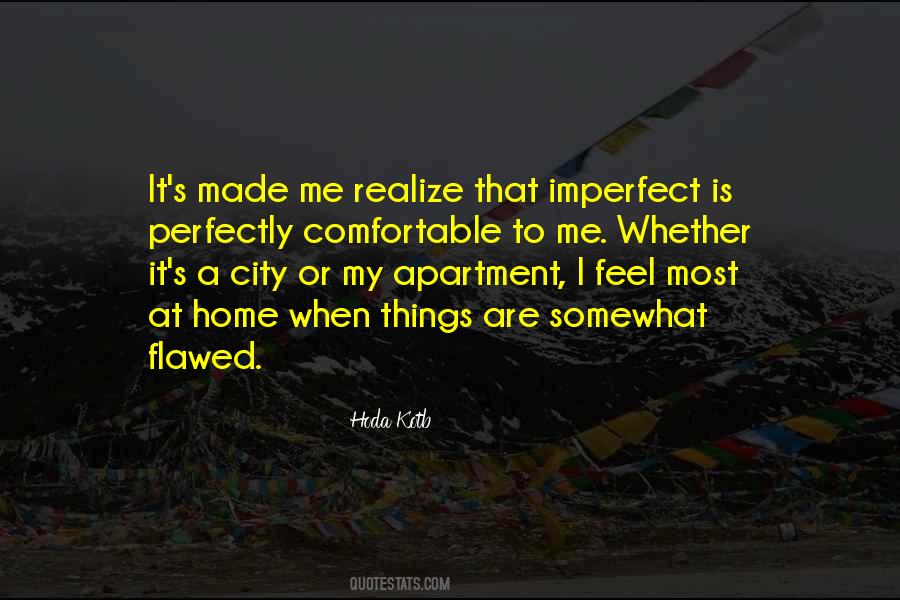 #16. I have no plans to have any other home than Moscow. However, I love to travel, and I'm very comfortable in New York. In many ways, it reminds me of Moscow in its energy and drive. - Author: Mikhail Prokhorov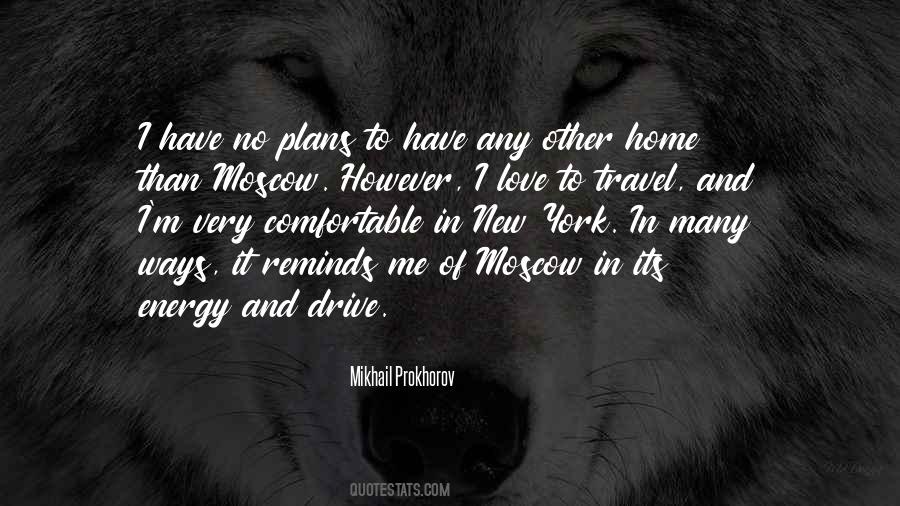 #17. The Governor's Mansion is a beautiful home, a beautiful building - we're privileged to have a chance to live there. It certainly doesn't feel as comfortable as our home. - Author: Matt Blunt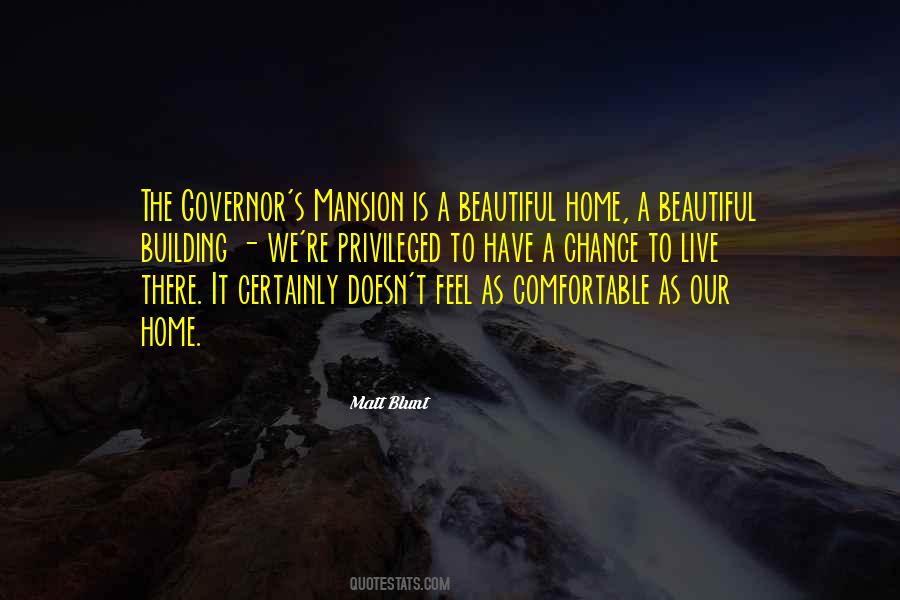 #18. Emma Woodhouse, handsome, clever, and rich, with a comfortable home and happy disposition, seemed to unite some of the best blessings of existence; and had lived nearly twenty-one years in the world with very little to distress or vex her. - Author: Jane Austen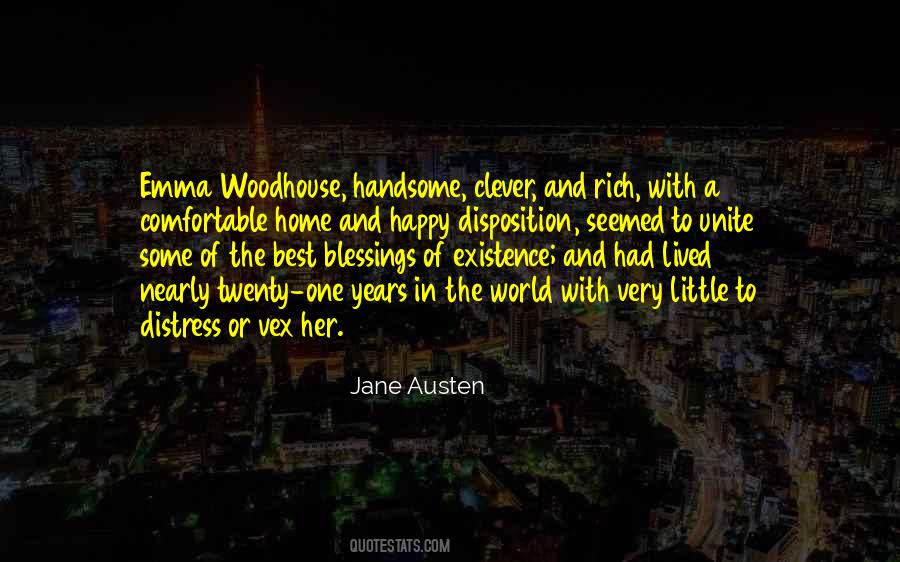 #19. My wife and I would be very comfortable having a baby at home or using one of the terrific nurse-midwives at the hospital. - Author: Chris Bohjalian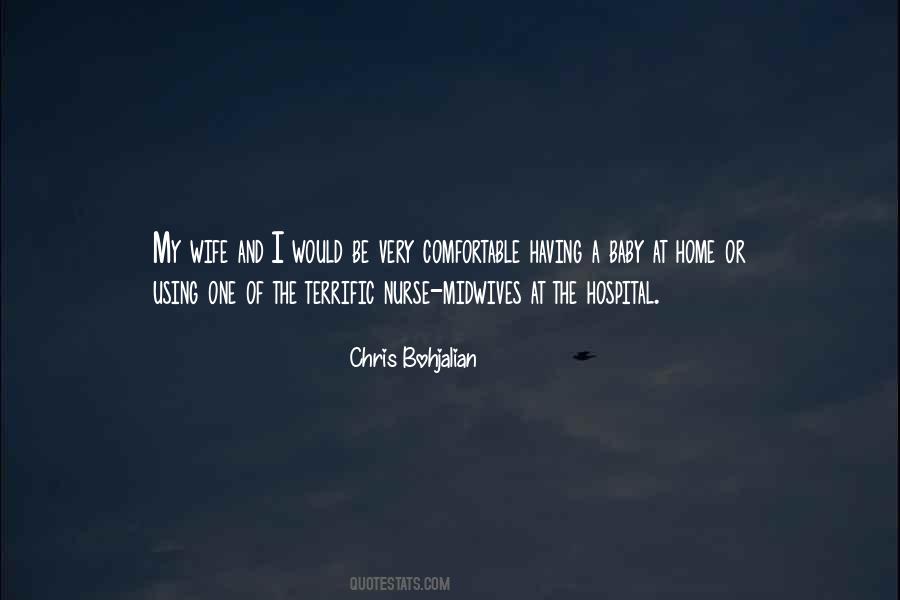 #20. He was home. In an environment where he felt loved and comfortable in a way not possible in the United States. And yet, he no longer fit in. He loved living in America, but knew that there, too, he didn't quite fit. It was the classic immigrant dilemma. - Author: Anne Cherian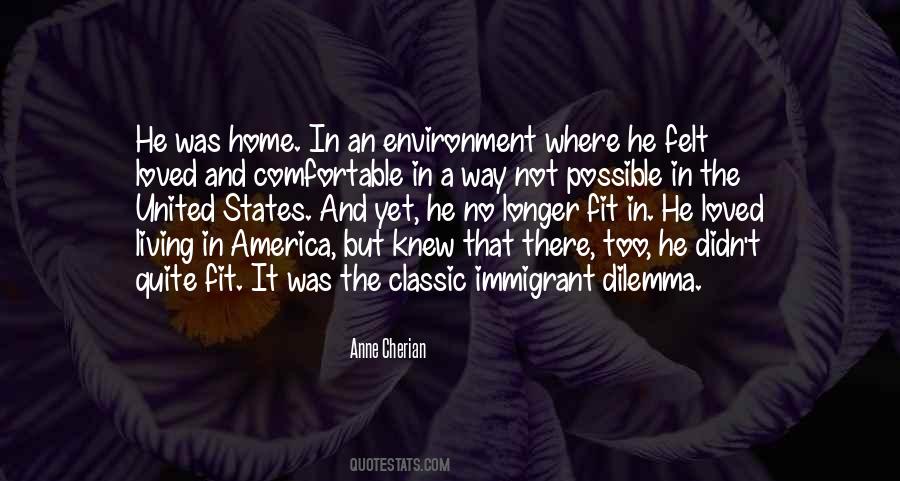 #21. Building a proper wardrobe is like building a home. Indeed, you should think of it like a home, because it is something you're going to live in. It must be comfortable and suit all your needs. - Author: Edith Head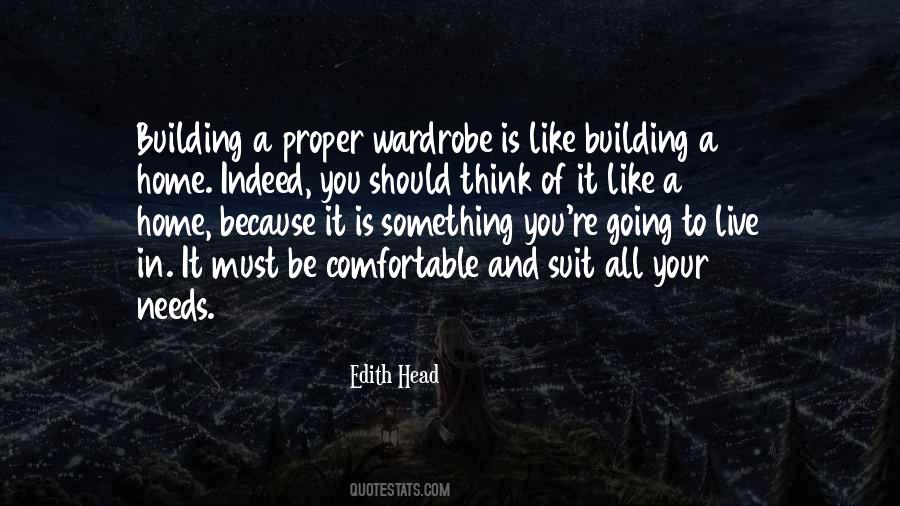 #22. I'm kind of a dork. I don't have much game. I'm not particularly comfortable in bars or clubs. I much prefer being home playing Scrabble, having dinner with a couple friends, going to see a movie, or losing a whole weekend to Season 14 of Law and Order or The Simpsons. - Author: Wentworth Miller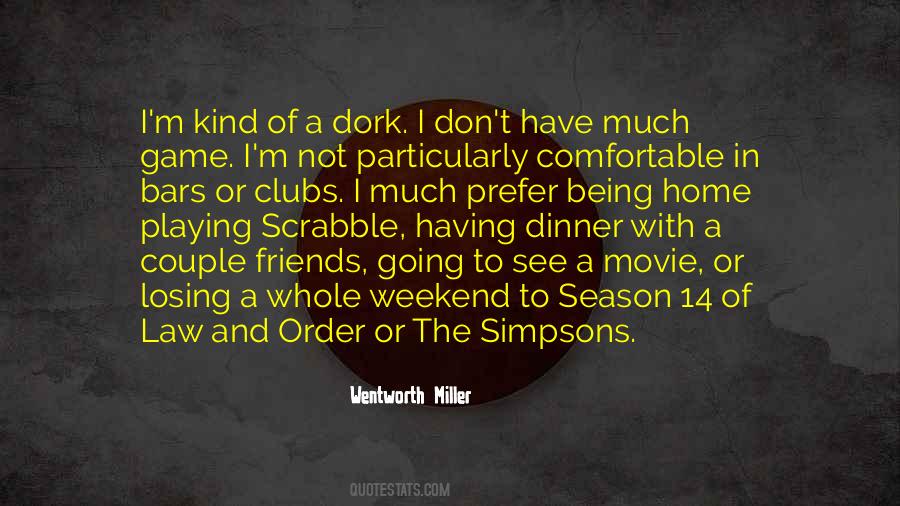 #23. I discovered that what most people call creepy, scary, and spooky, I call comfy, cozy, and home. - Author: Zak Bagans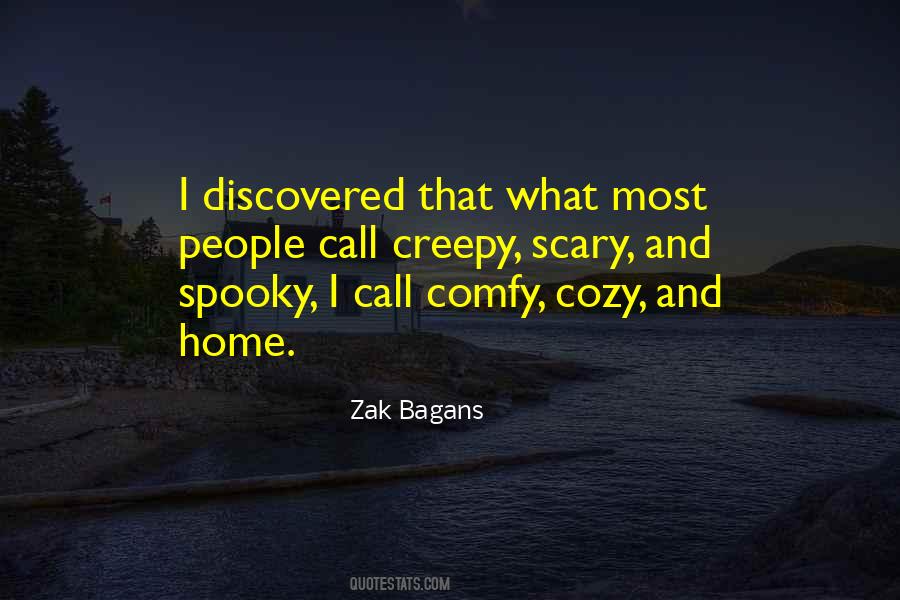 #24. The ride to orbit was impressive, as it always is. But once I got on board the space station, it really felt like I was visiting an old home; it felt very comfortable. - Author: Scott Kelly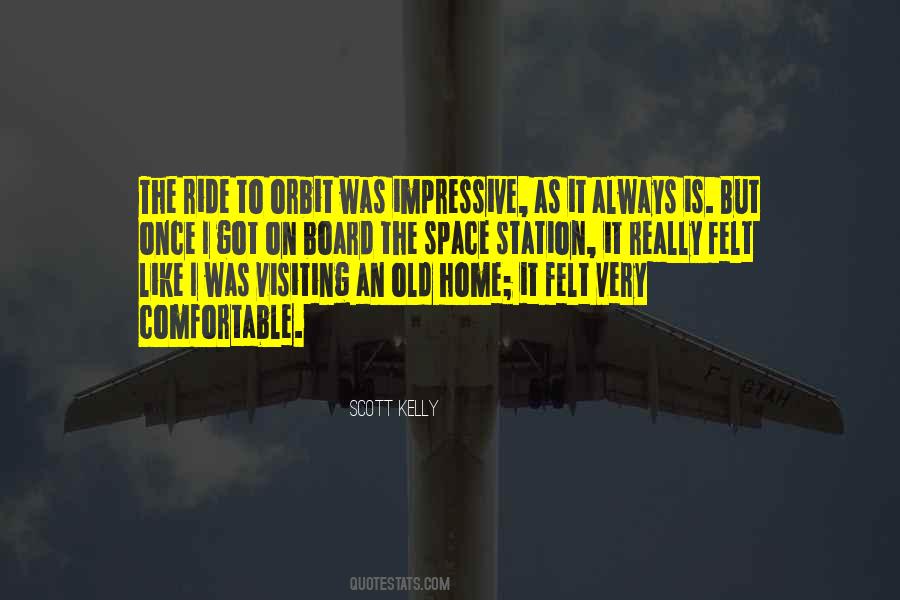 #25. My childhood was protected by love and a comfortable home. Yet, while still a very young child, I began instinctively to feel that there was something lacking, even in my own home, some false conception of family relations, some incomplete ideal. - Author: Emmeline Pankhurst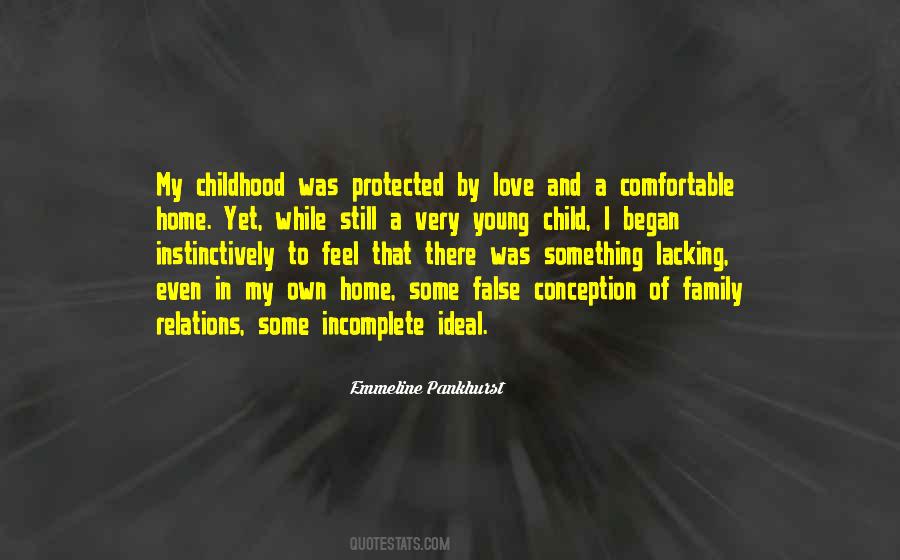 #26. We want to make sure everyone has a great experience. When they buy the product and take home and plug it in, we want to make sure that first experience is comfortable and everything is there. - Author: Brendan Iribe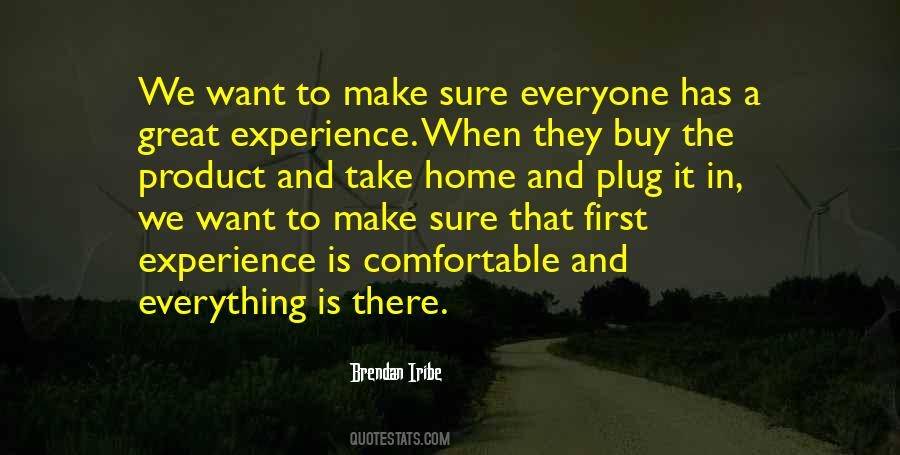 #27. At the end of the day you have to go home to yourself. You have to be with yourself. So make sure what you're doing in business is representative of who you are and that you feel comfortable and that you can stand behind your work. - Author: Kathryn Finney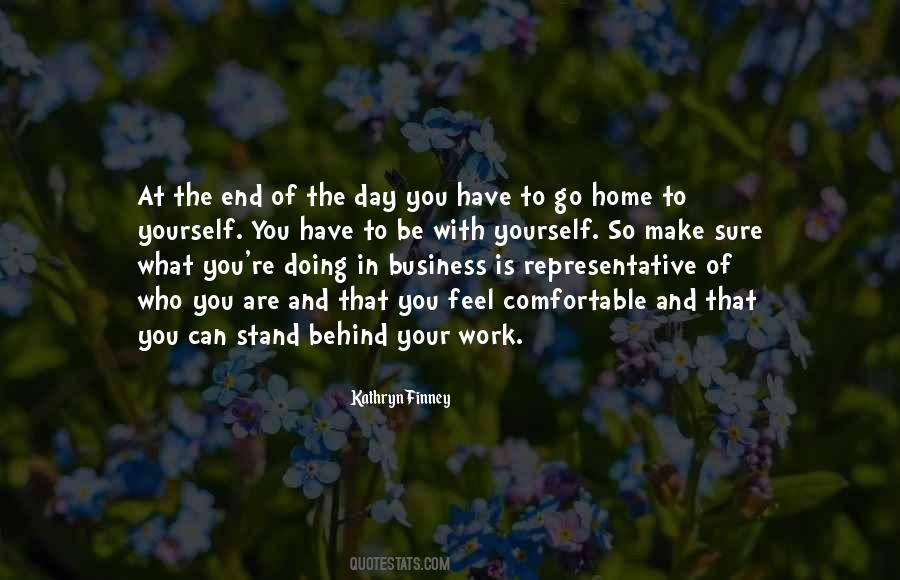 #28. We have made Christmas about coming home and being comfortable. Jesus' approach to Christmas was to leave home and be uncomfortable. - Author: Dick Brogden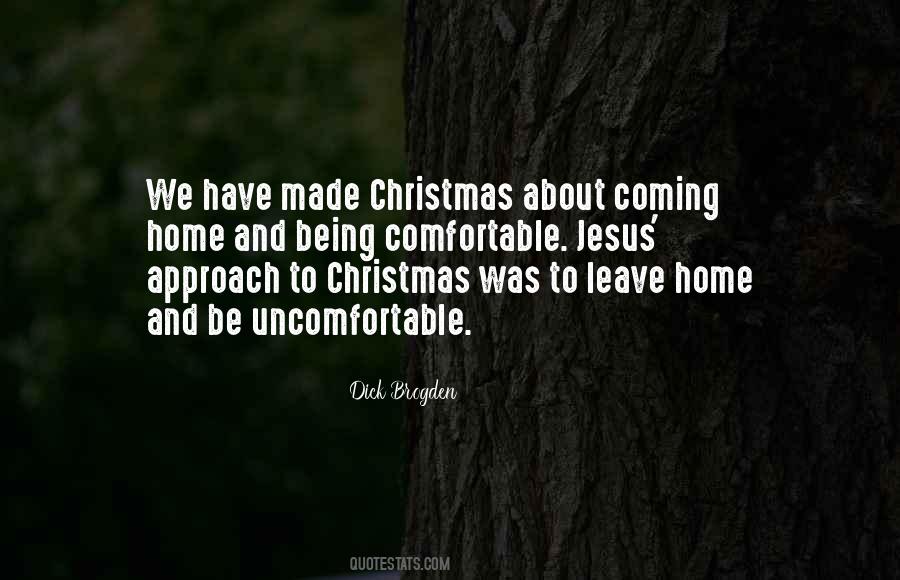 #29. It's cool to have a well run, comfortable and inviting home. - Author: Anthea Turner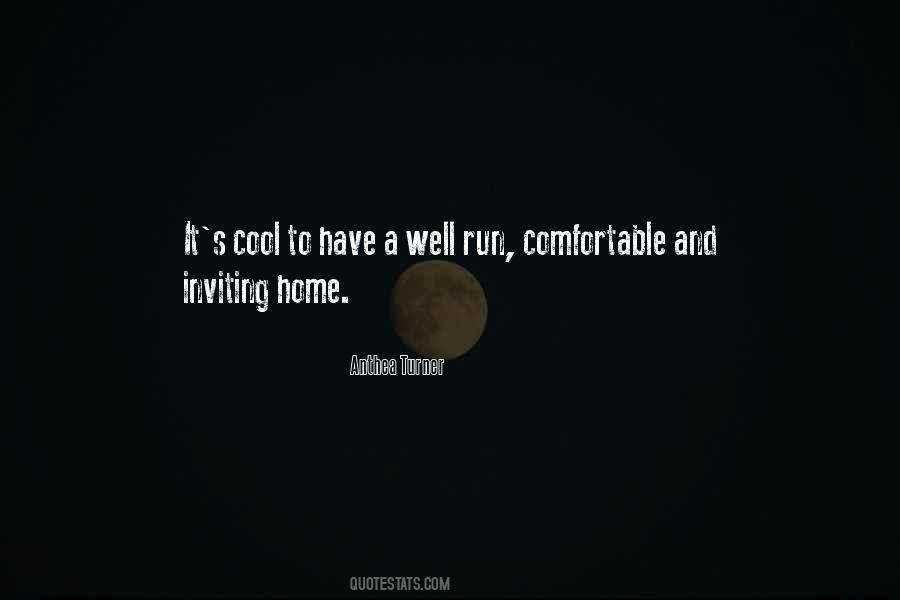 #30. But don't let them talk you into anything you don't feel comfortable with."
"They're my friends."
"So what?" He shrugged. "If your friends walked off a cliff, would you do it too?"
"Why would they walk off a cliff?" I asked in alarm. "Is someone having problems at home? - Author: Alexandra Adornetto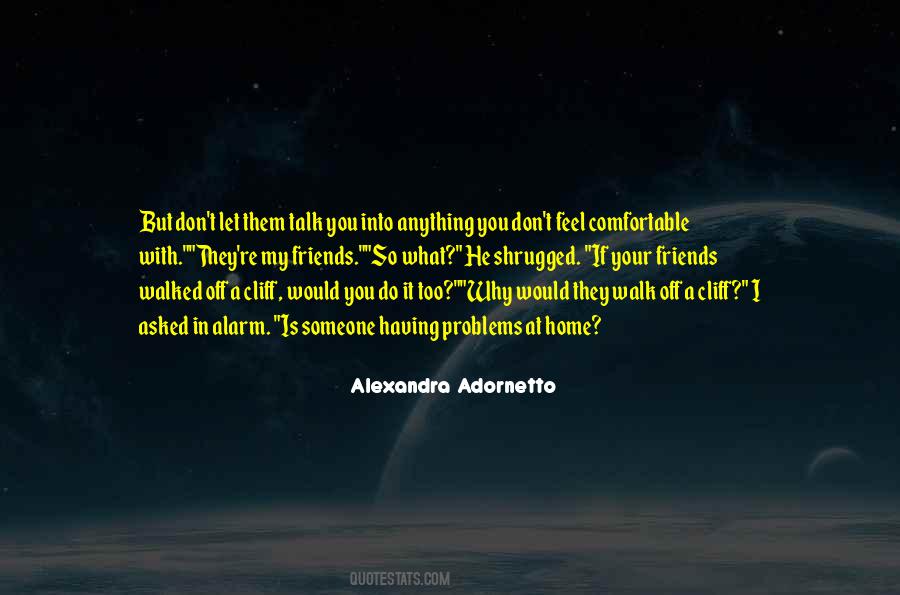 #31. Teach a child to play solitaire, and she'll be able to entertain herself when there's no one around. Teach her tennis, and she'll know what to do when she's on a court. But raise her to feel comfortable in nature, and the whole planet is her home. - Author: Joyce Maynard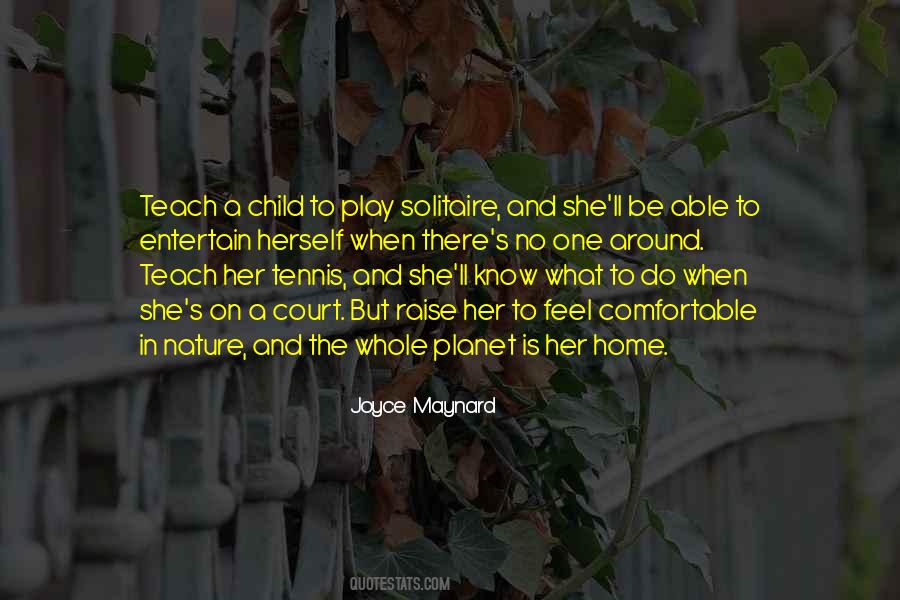 #32. The secret must stay and- according to scientists- the love will live. The heart is quite comfortable with secrets. After all, its home is a dark wet place tucked in among all the other organs who aren't talking either. - Author: Toby Barlow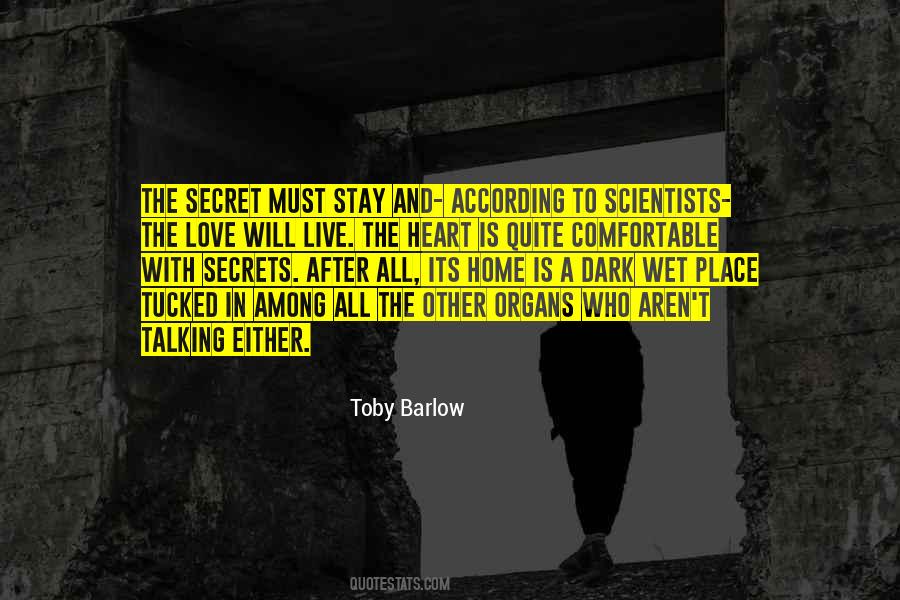 #33. Swimming is normal for me. I'm relaxed. I'm comfortable, and I know my surroundings. It's my home. - Author: Michael Phelps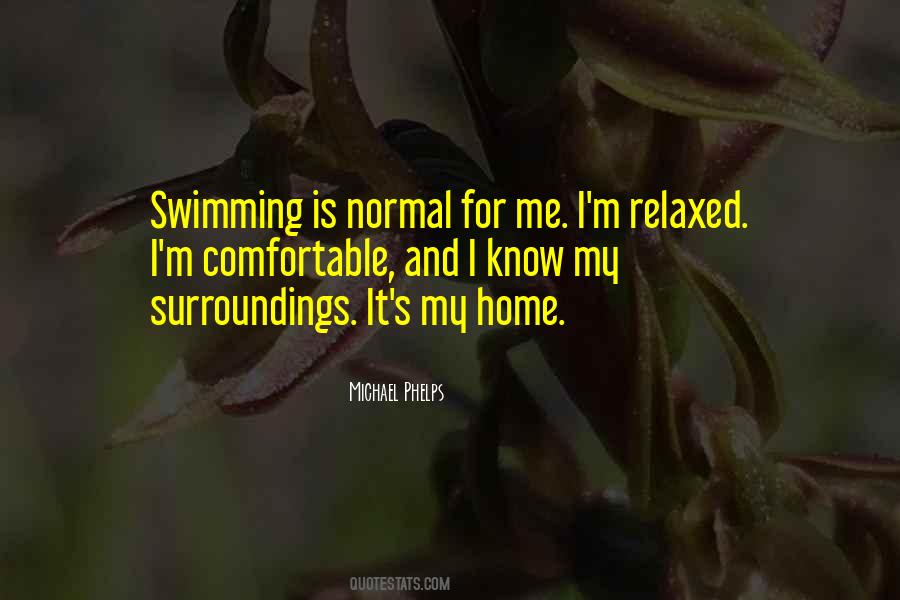 #34. I think to make your home as comfortable as possible is so important. There's something really interesting about that as a trend, that whole idea of lifestyle and being happy in your surroundings. - Author: Aerin Lauder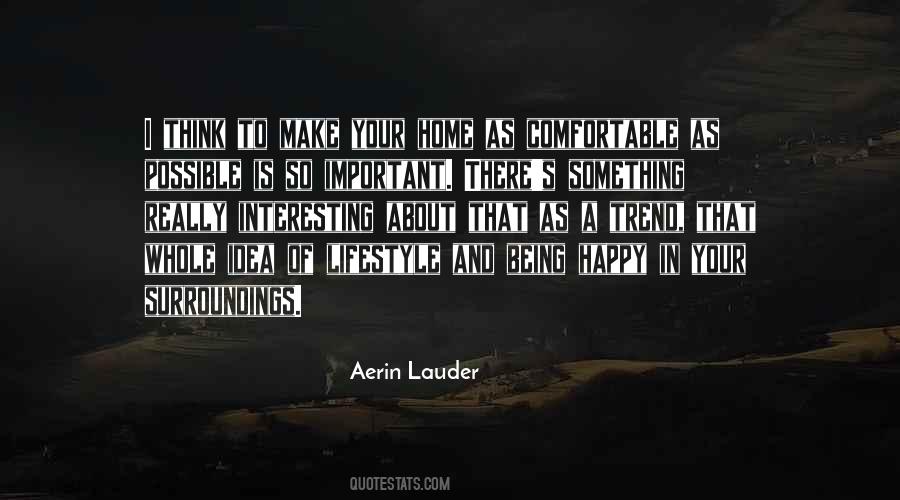 #35. In Toronto and Los Angeles, too, there are a lot of Koreans - Koreatown, Korean markets. I feel like I'm at home and very comfortable. - Author: Kim Yuna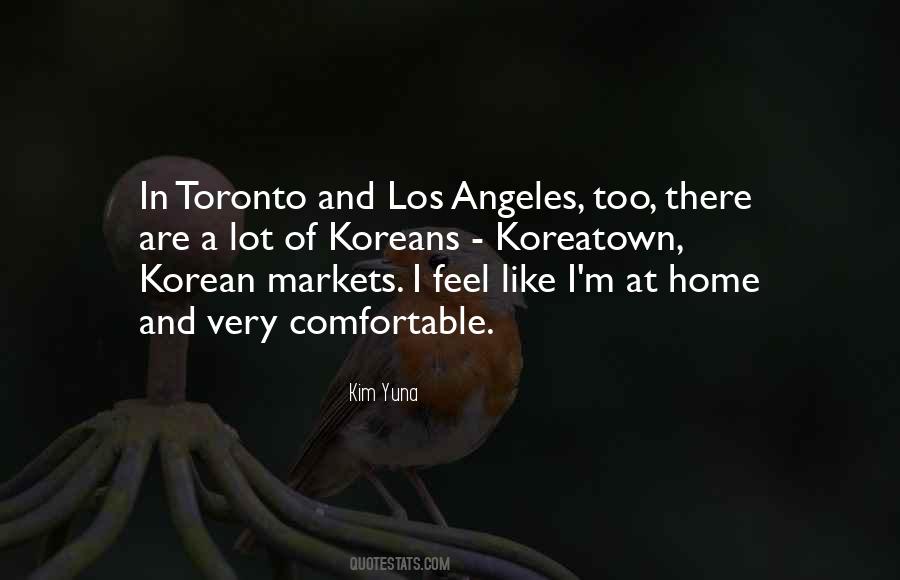 #36. Let me tell you what's more immoral. Doing nothing. Sitting back in your comfortable chair in your comfortable home thinking that just because you sponsor a child in Zambia you're doing enough. - Author: Michael Robotham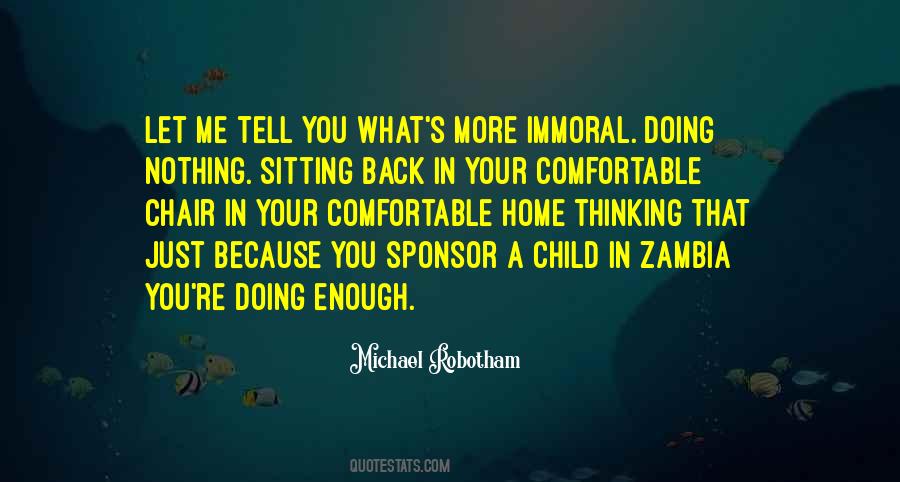 #37. It took a village to raise a child, and it took a rainbow of colors to make them feel at home and comfortable. - Author: T.A. Webb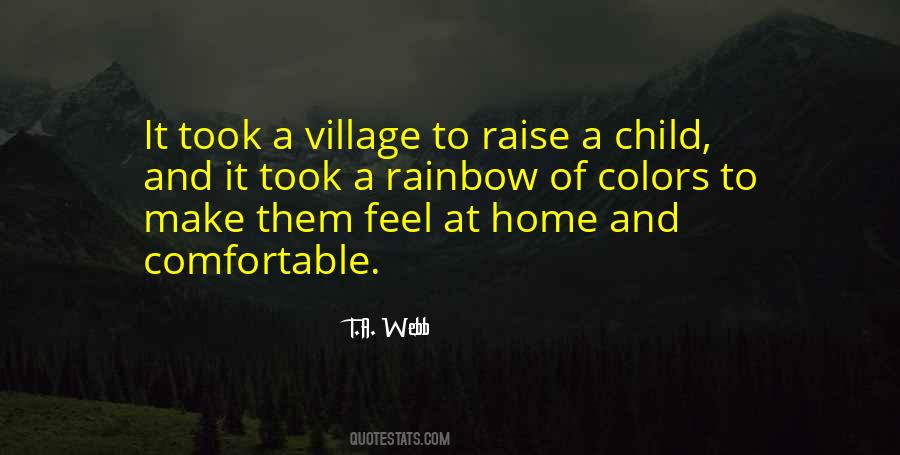 #38. I'm most comfortable in my bare shorts without any underwear and a T-shirt if I'm home. I definitely like to sleep naked. I don't know how girls do it with thongs. Forget that! - Author: Adam Rodriguez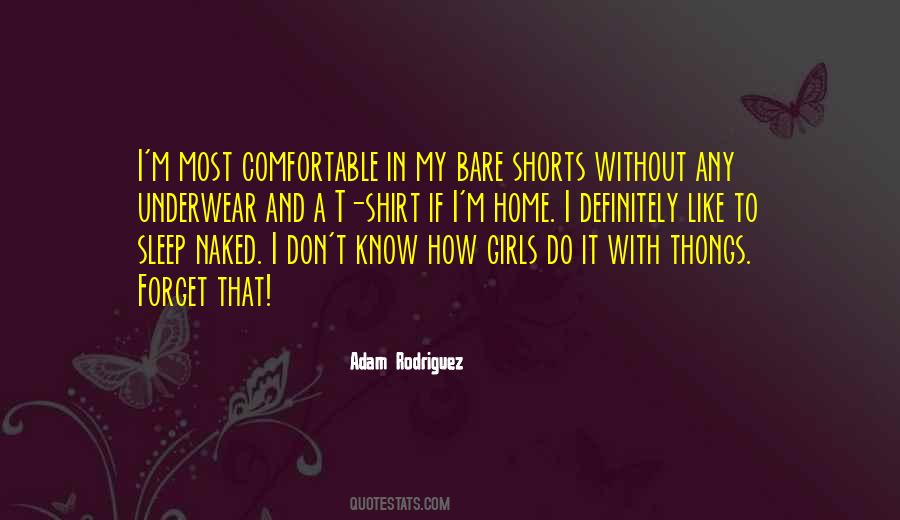 #39. I don't really feel comfortable anywhere except when I'm working alone at home. It's exhausting to be out around people. - Author: Kim Gordon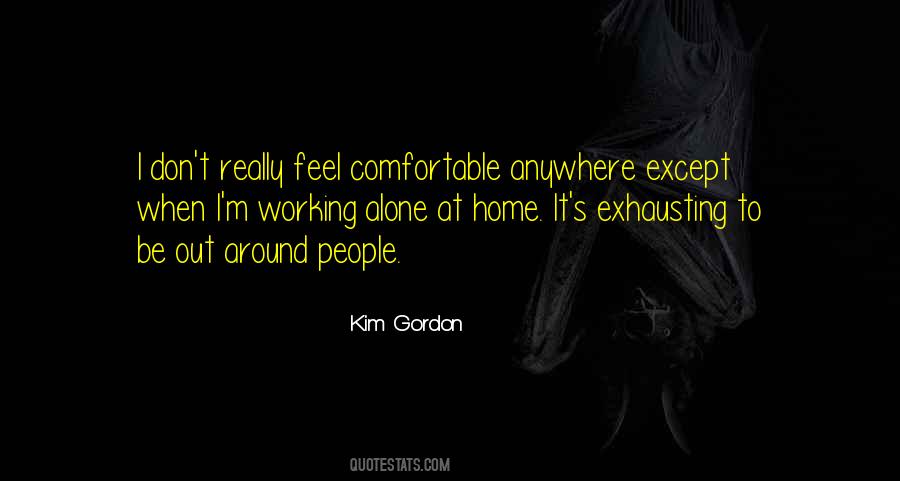 #40. Enlightenment is being able to go to your own home and feel comfortable. - Author: Jennifer James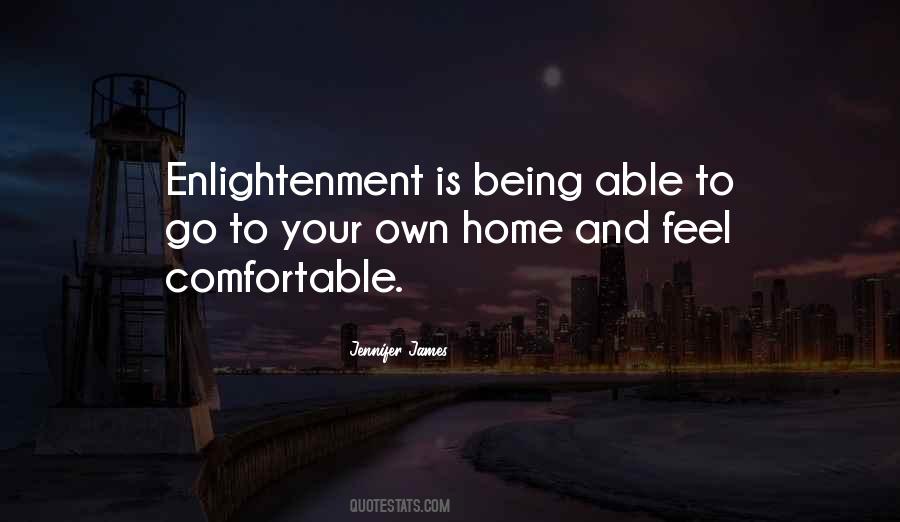 #41. Going home means getting comfortable being who you are and who your soul really wants to be. There is no strain with that. The strain and tension come when we're not being who our soul wants to be and we're someplace where our soul doesn't feel at home. - Author: Melody Beattie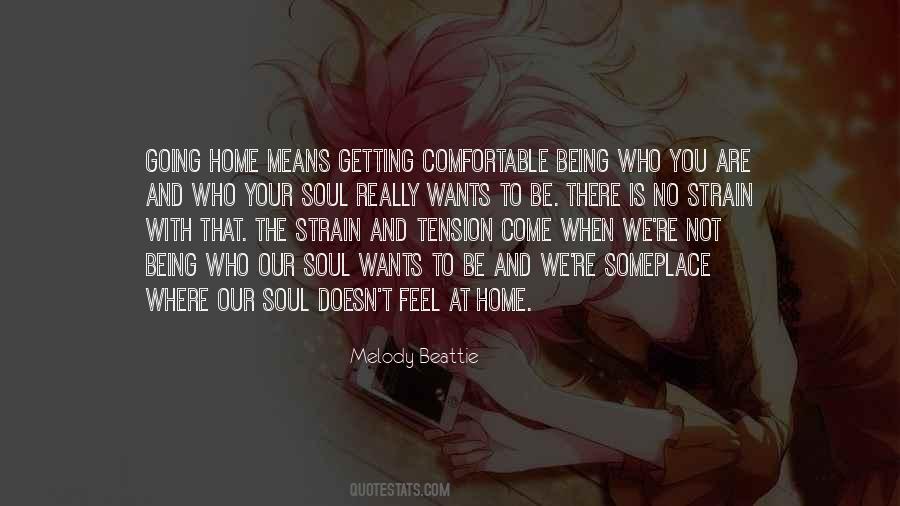 #42. When I'm at home or at school, I'm casual and comfortable. I tend to wear work out clothes and lots of sweaters. - Author: AnnaSophia Robb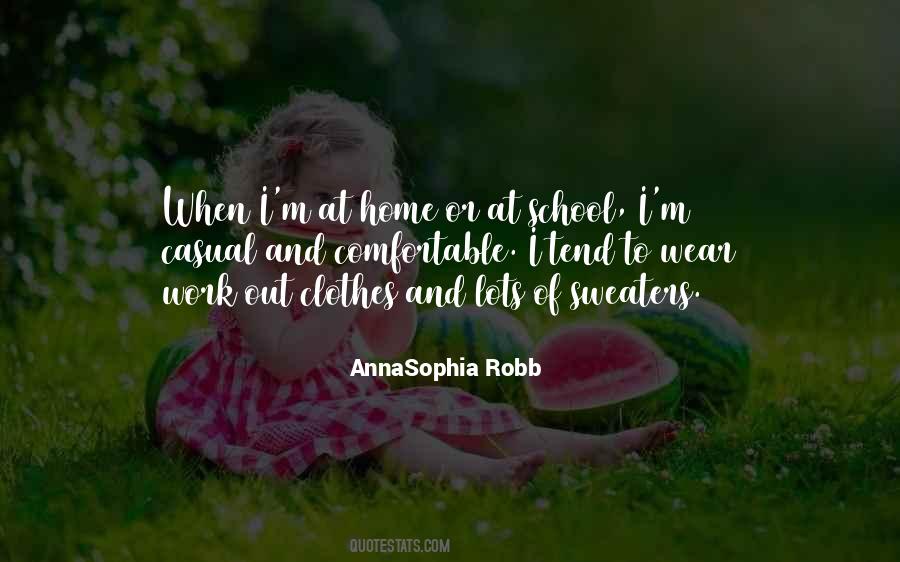 #43. I'm a strong supporter of comfort breeds complacency. Growing up poor I wasn't comfortable, my mom had to work so hard and I woke up one day and decided I was not going to come home until I could help her pay the bills. - Author: Farrah Gray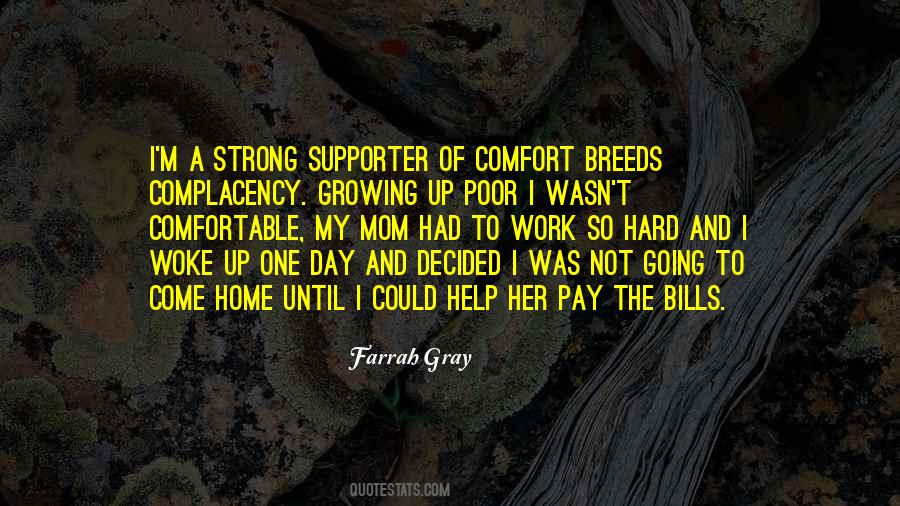 #44. Your home is where you feel most comfortable and loved, - Author: Chris Colfer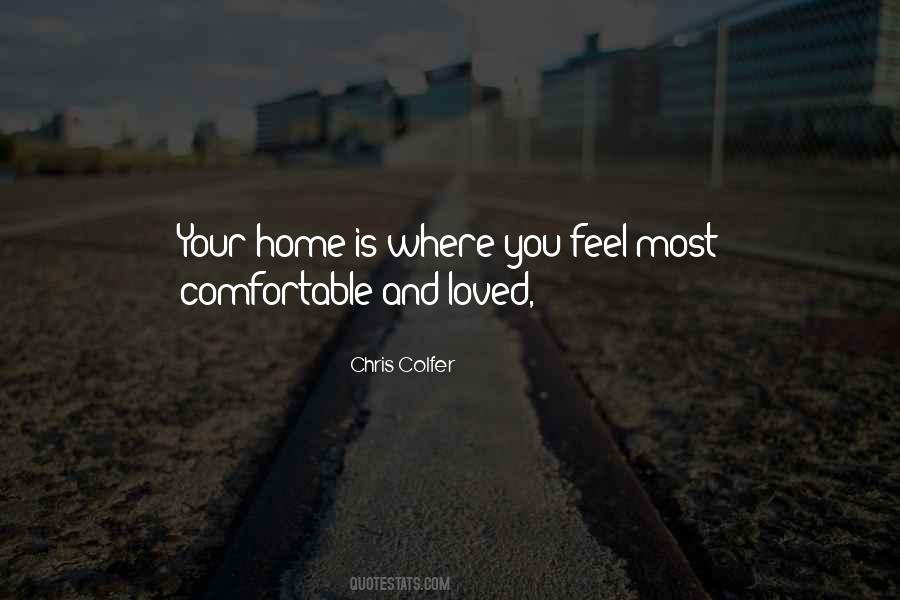 #45. Our studio is kind of built into our home, so it's a place you can ramble, and we can do a pretty good recording here. The band is really comfortable her. - Author: Chris Frantz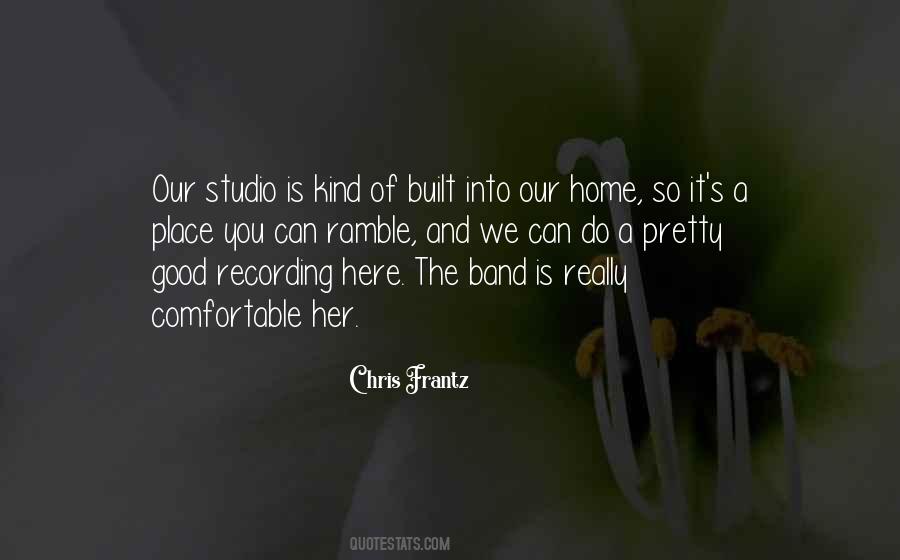 #46. Home is the place where loneliness disappears. When we're home, we feel warm, comfortable, safe, fulfilled. - Author: Thich Nhat Hanh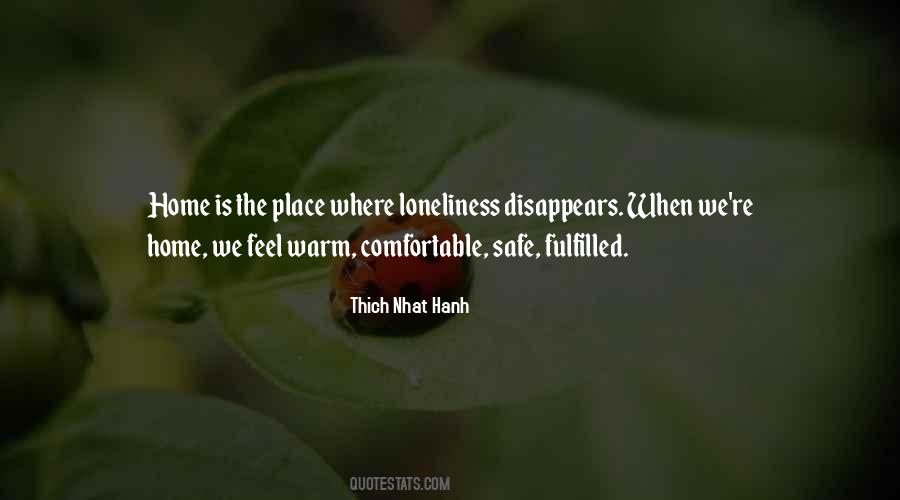 #47. Every ex-player I meet says the exact same thing to me 'I wish I had given it longer'. Too many players get flights home when they have the opportunity because they' re missing their mates and home, then they go back into that environment and get comfortable. - Author: Kevin Kilbane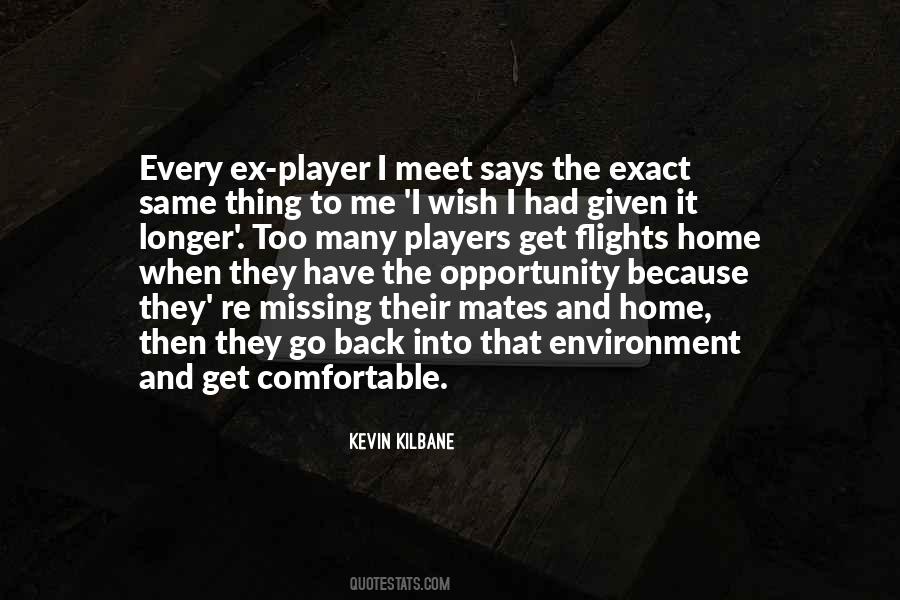 #48. It is when I am on stage that I feel most comfortable. It is my home. It is the only thing I have known since I was a kid. - Author: Cilla Black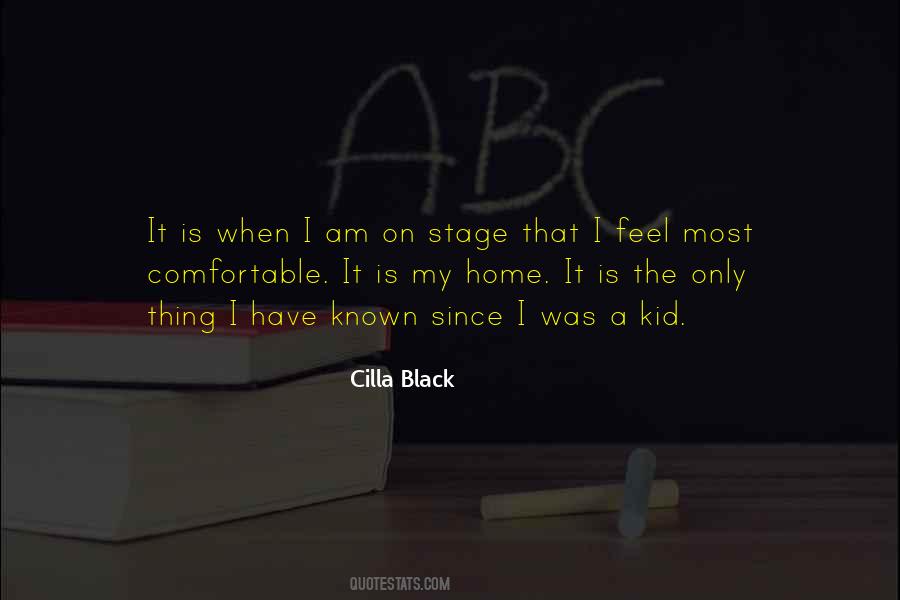 #49. Make your home as comfortable and attractive as possible and then get on with living. There's more to life than decorating. - Author: Albert Hadley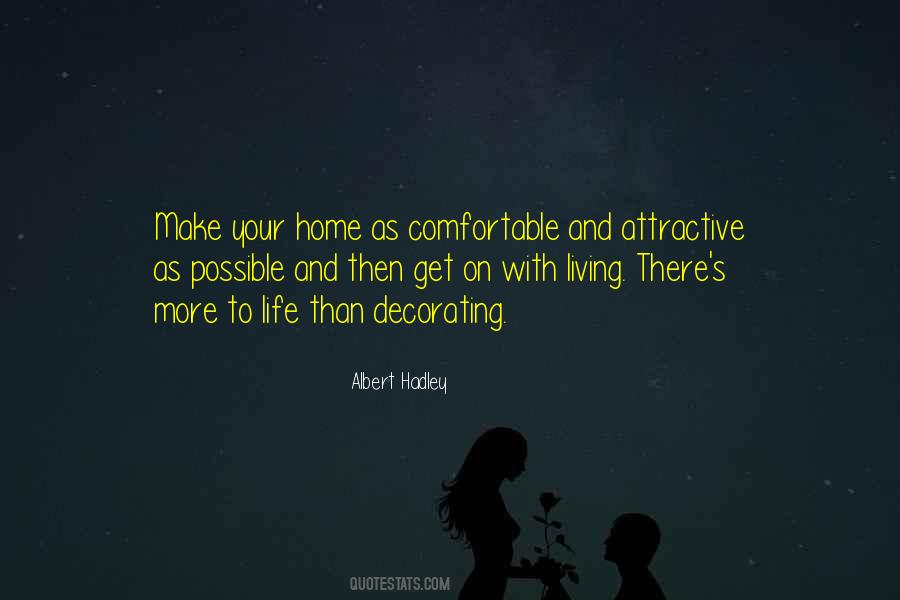 #50. I was definitely a tomboy. My mother liked to dress me differently, but it was her loss when I came home with mud in my hair every day. I've always been more comfortable with guys; I don't know why. - Author: Troian Bellisario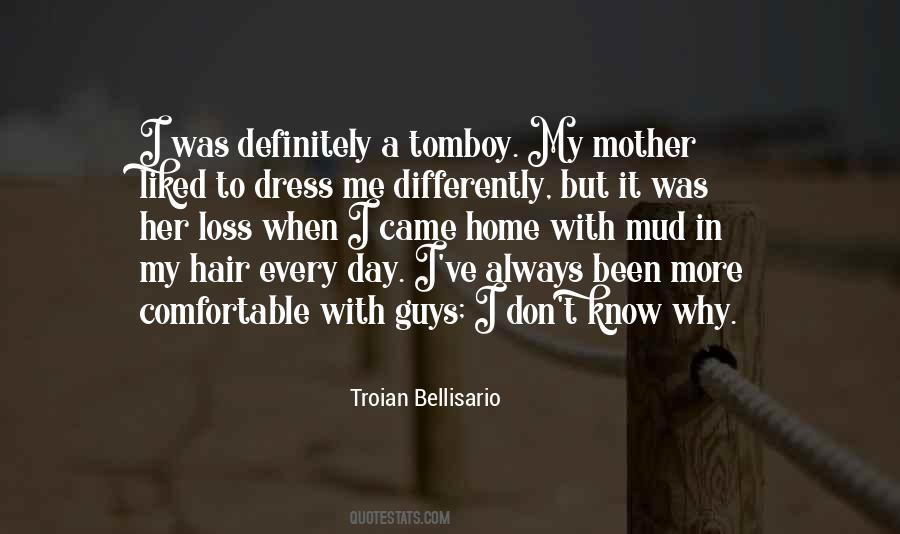 #51. Our Higher Self is the most intimate thing we could possibly know; eternity is the most comfortable home we could possibly fine. - Author: Deepak Chopra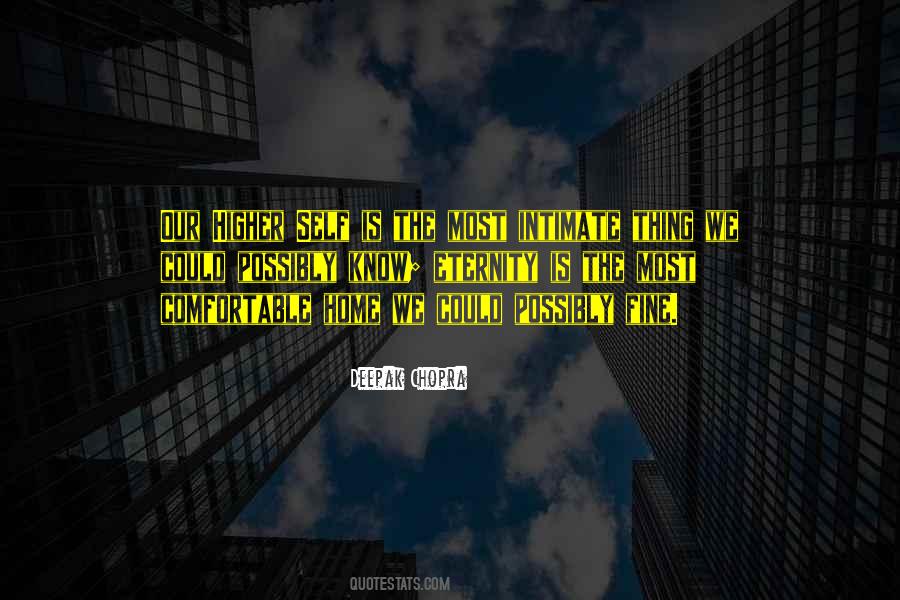 #52. My family and I took visits to each and every school and listened to each coaching staff. I felt the most comfortable with and really excited about playing at SC. Being close to home in one of the best offensive systems is paying off now as I'm making the jump to the pros. - Author: Mark Sanchez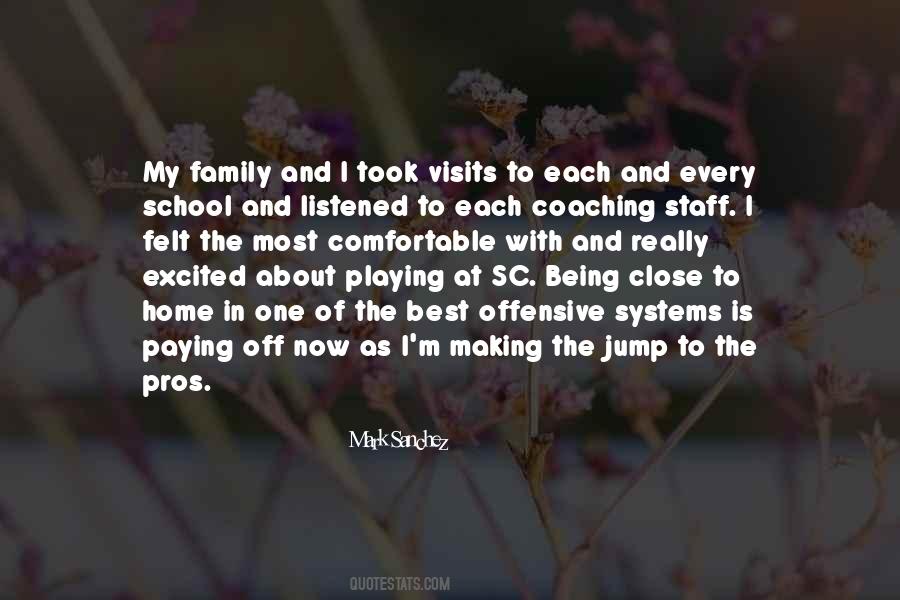 #53. Our families and our homes are the center of American life, Everything we do is to make those homes-and the lives in them-more beautiful, more comfortable, more functional and more full of life and light and joy for those we love. - Author: Martha Stewart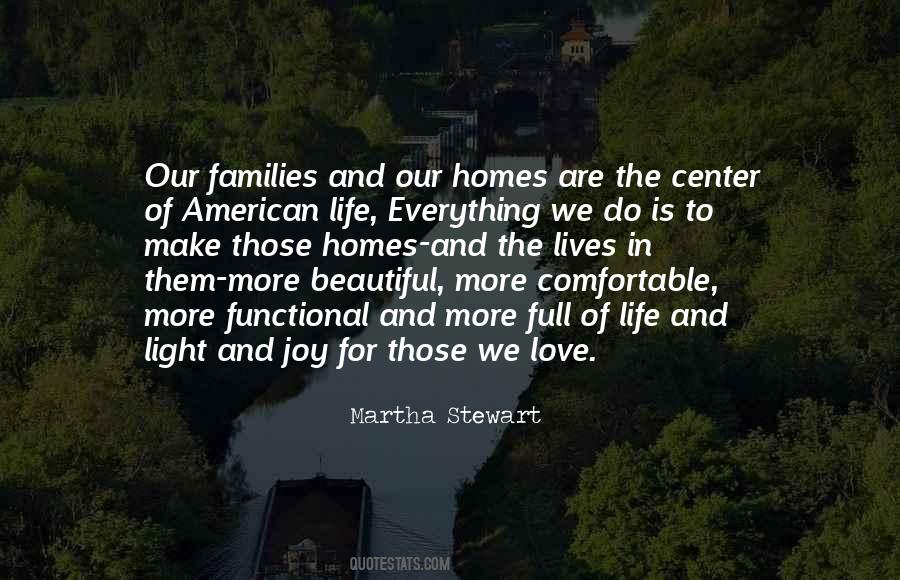 #54. Ask yourself if you would feel comfortable giving your two best friends a key to your house. If not, look for some new best friends. - Author: H. Jackson Brown Jr.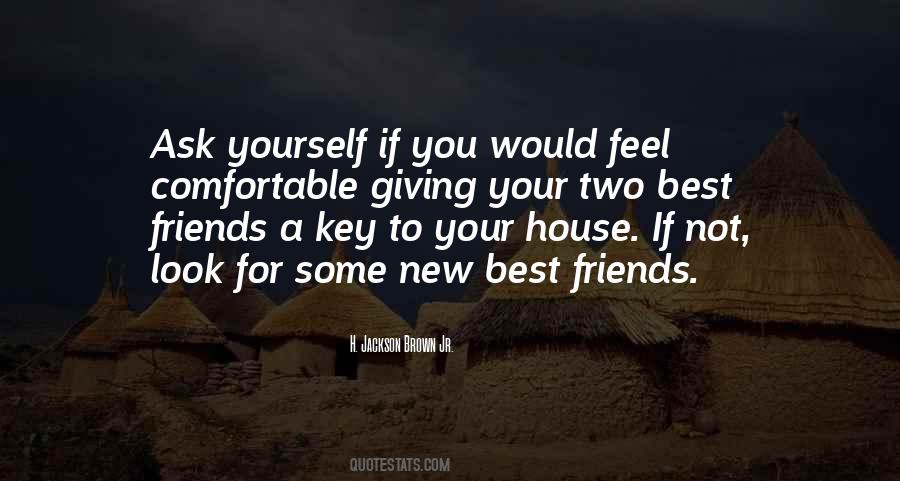 #55. What is comfortable fashion? To be comfortable, that can't be in the vocabulary of fashion. If you want to be comfortable, stay home in your pajamas. - Author: Donatella Versace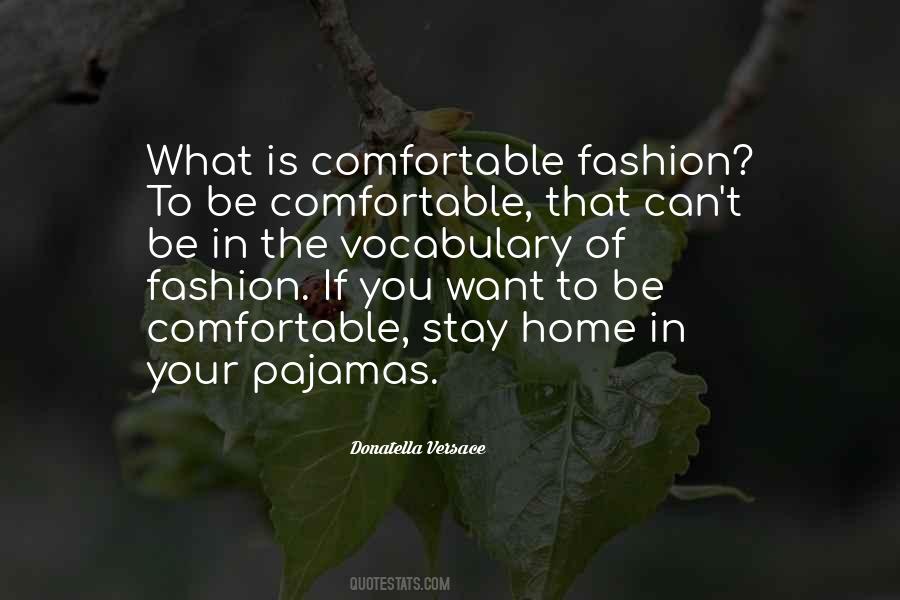 #56. In some ways, my most comfortable feeling has been that of being an outsider coming in, but over the years I've tired of that and I'm ready to feel at home. That's what music gives me: a feeling of absolute home. - Author: Abigail Washburn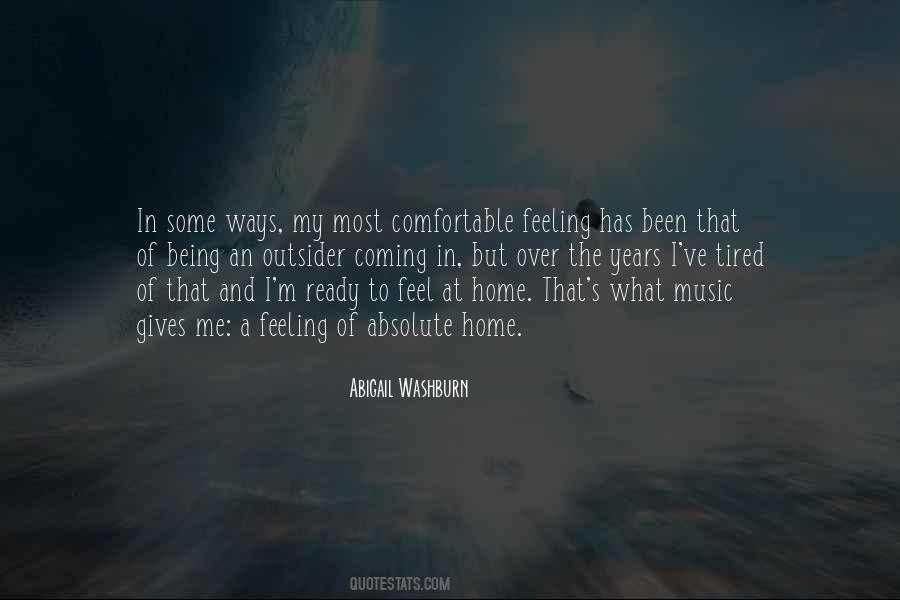 #57. My car is my best friend. My office. My home. My location. I have a very intimate sense when I am in a car with someone next to me. We're in the most comfortable seats because we're not facing each other, but sitting side by side. - Author: Abbas Kiarostami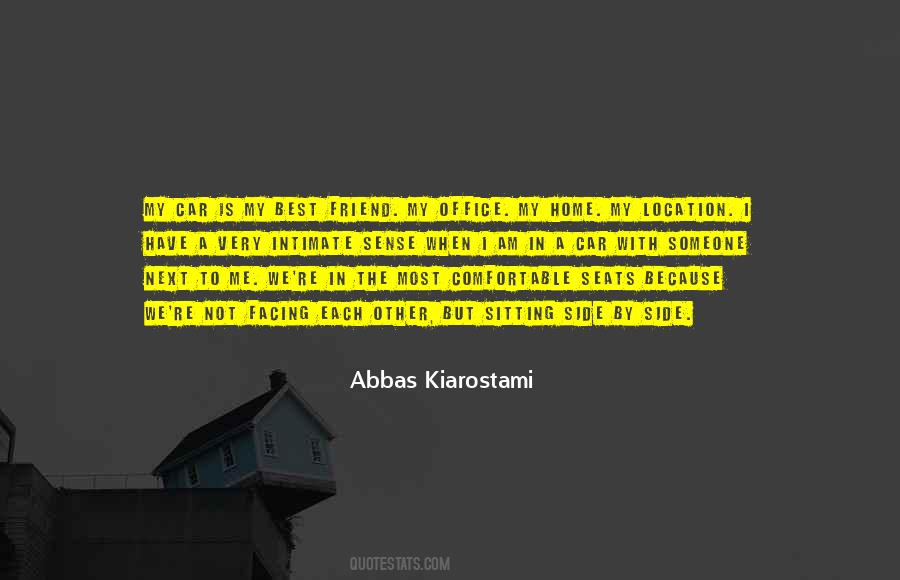 #58. I'm very comfortable being at home and keeping my head down, really. It's nice being invited to night clubs and stuff, which is nice once in a while, but I prefer to kind of keep to myself. - Author: Matthew Lewis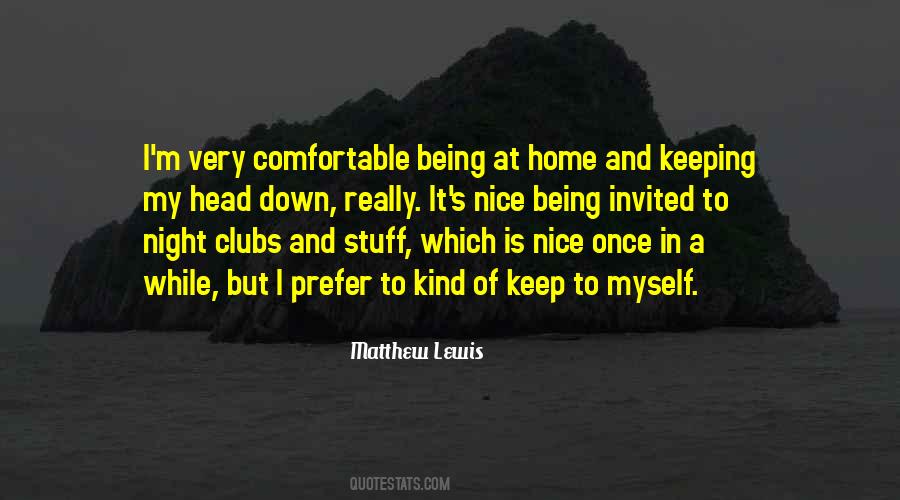 #59. I kind of love coming home and being with family and feeling comfortable and knowing where I come from; I kind of like it. - Author: Michael Angarano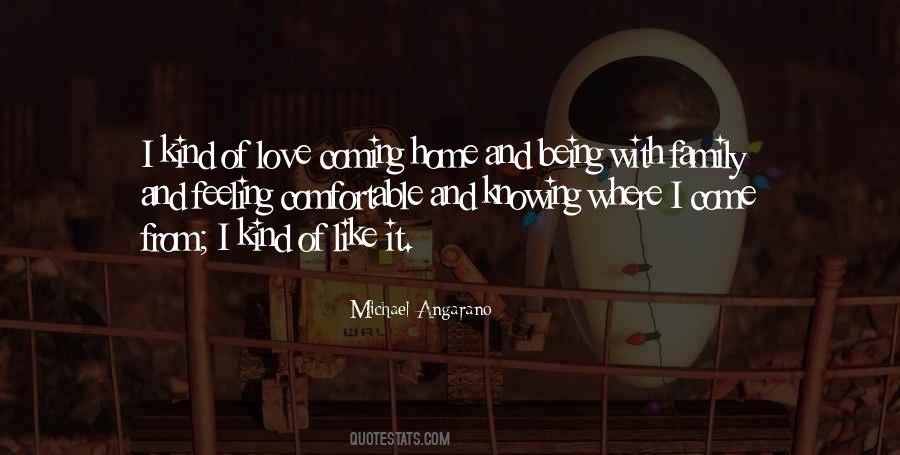 #60. I ache to hear her tell me she loves me, but forcing her to put words to how she feels pushes her further into the silence she seems comfortable calling home now. I tell myself to be patient and understanding, but inside there's a longing only those words will fill, and it hurts to ignore it. - Author: C.J. Redwine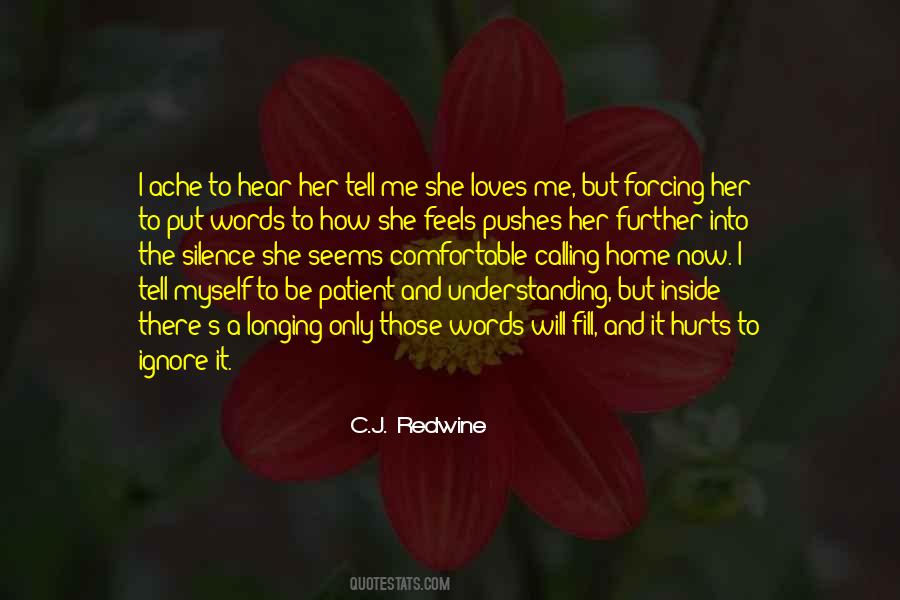 #61. Handsome, clever, and rich, with a comfortable home and happy - Author: Anonymous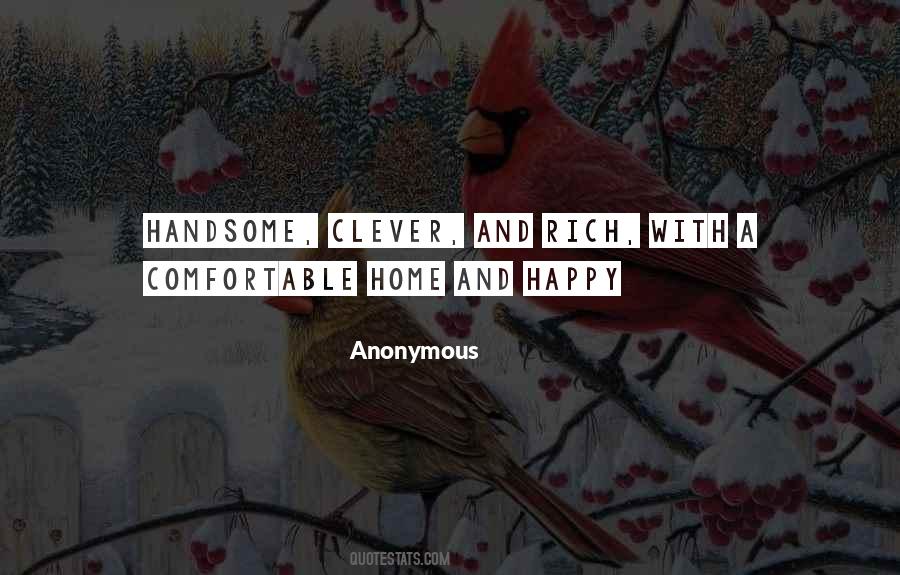 #62. If I had a child actor, I would wish for it to be in an Adam Sandler movie, because he just comes in and makes them so comfortable and is so brilliant with them and they all go home and they that they've got this special relationship. - Author: Kate Beckinsale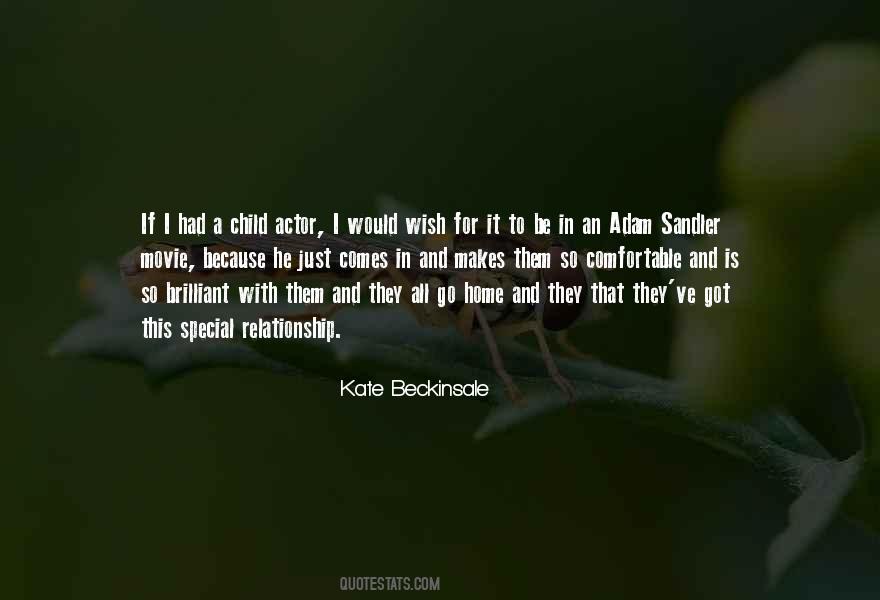 #63. If somebody knows me, they know for sure I'm from Poland because I'm playing for my country every tournament, every match. I'm staying in my hometown and my home country because that is where I feel comfortable. I feel good there. - Author: Agnieszka Radwanska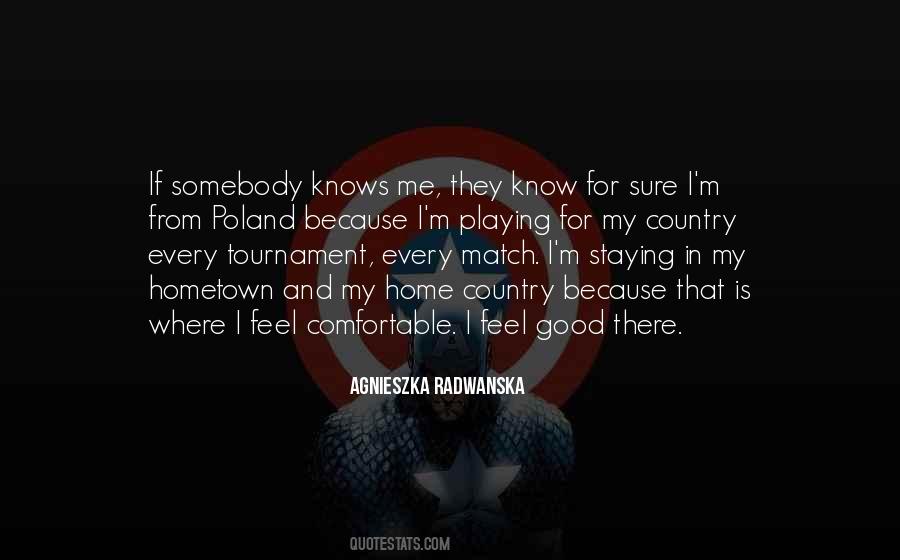 #64. I hate often and easily. I hate, for example, people who sit with their legs splayed. People who claim to give 110 percent. People who call themselves "comfortable" when what they mean is decadently rich. You're so judgmental, my shrink tells me, and I cry all the way home, thinking of it. - Author: Jenny Offill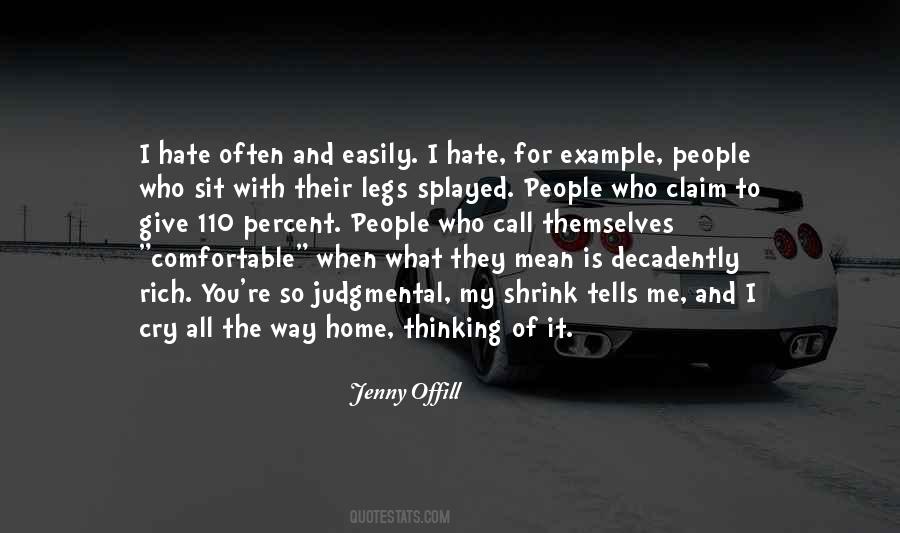 #65. Think about the comfortable feeling you have as you open your front door. That's but a hint of what we'll feel some day on arriving at the place our Father has lovingly and personally prepared for us in heaven. We will finally - and permanently - be 'at home' in a way that defies description. - Author: Charles Stanley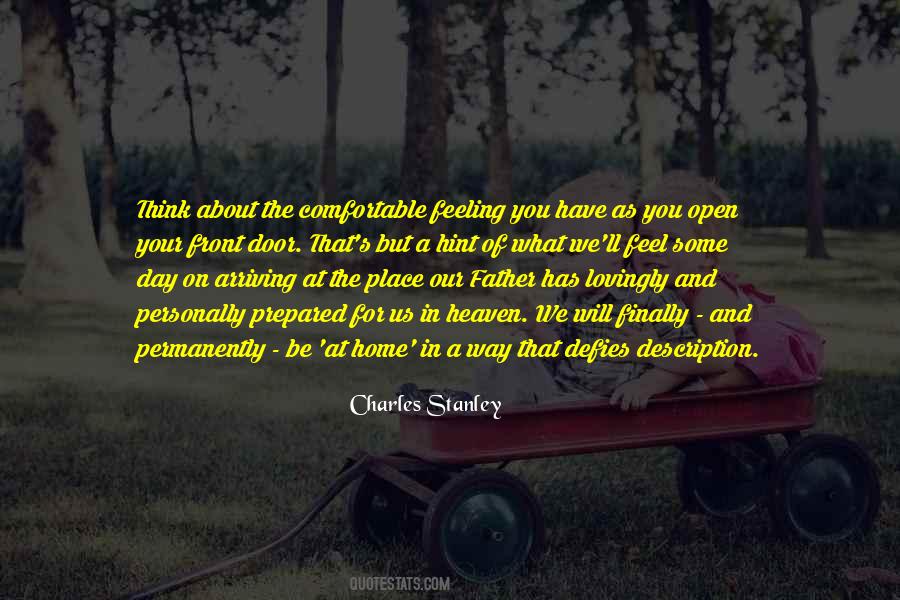 #66. One of the things I love most about being at home is that I'm comfortable there. And since we are the home of Christ, we need to make sure He's comfortable in us. - Author: Joyce Meyer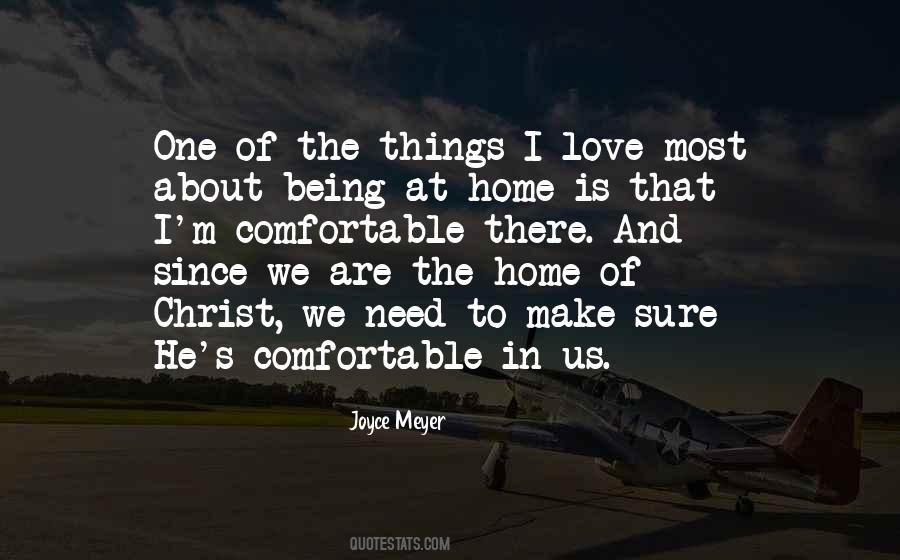 #67. The real self is who you are when you're at home, when you're comfortable, and the false self is what you're pretending - and the reason you pretend is because you want to create a character for the surroundings you're within. - Author: Benjamin Clementine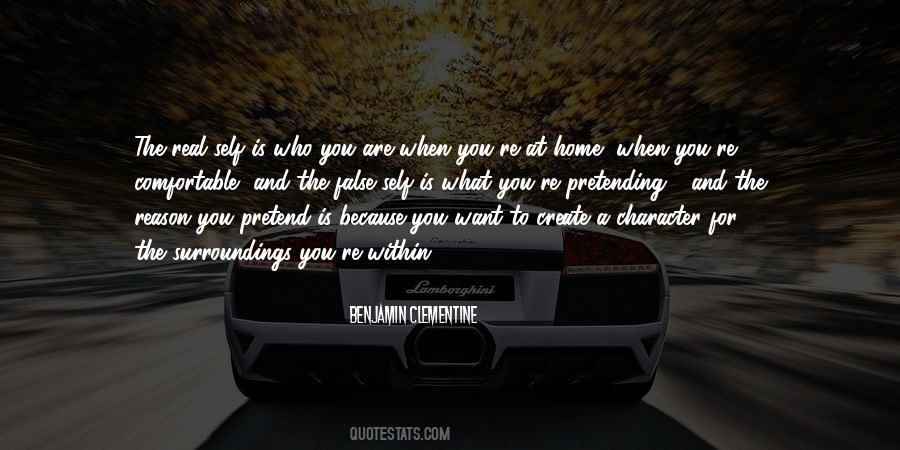 #68. I think people who come into my home feel comfortable and welcome and loved. And the biggest thing in my living room (the fireplace) is in and of itself an expression of love. - Author: Julia Roberts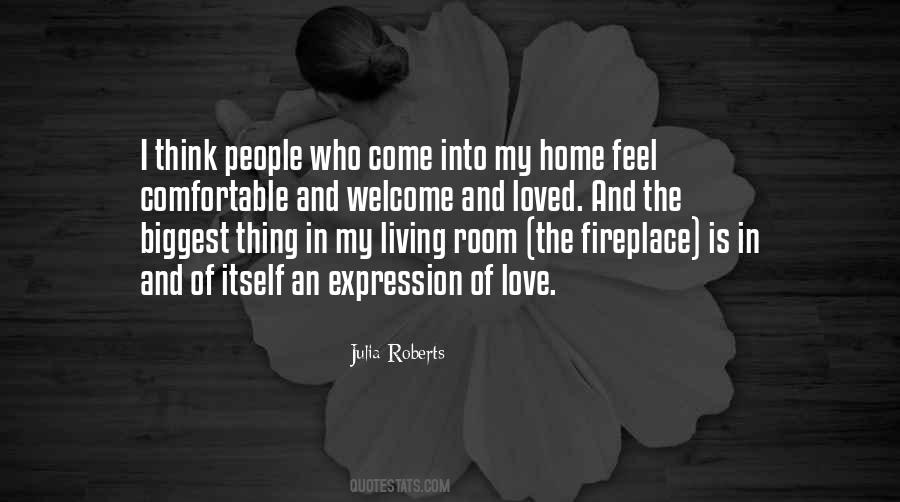 #69. I feel so much at home onstage and so comfortable in my body. - Author: Kim Cattrall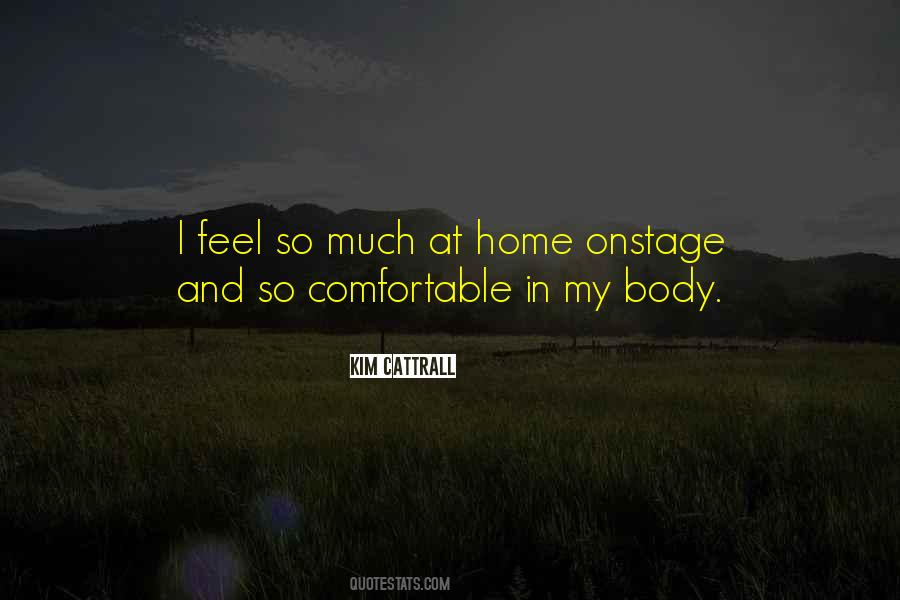 #70. On Furnishing One's Home
Pick your furniture like you pick a wife; it should make you feel comfortable and look nice, but not so nice that if someone walks past it they want to steal it. - Author: Justin Halpern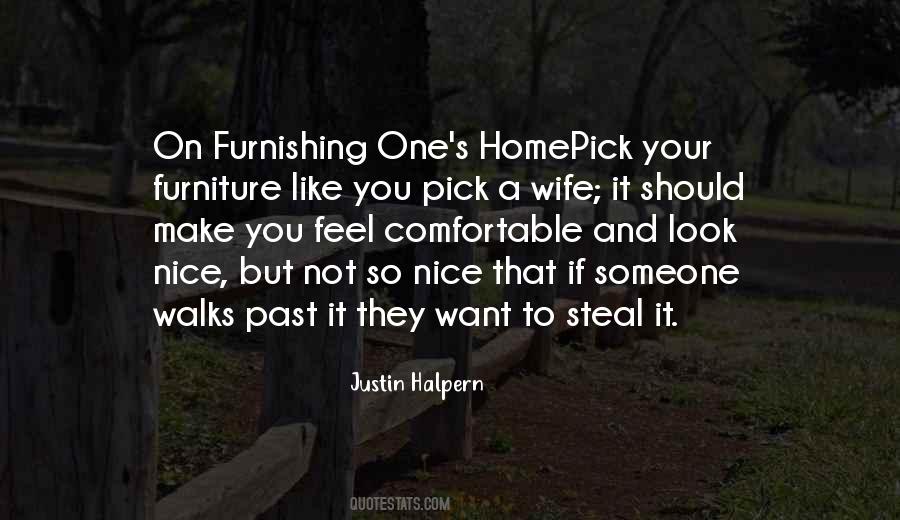 #71. If you don't feel comfortable in a plunging sweater, skin-tight jeans and killer heels, go home and change. - Author: Ines De La Fressange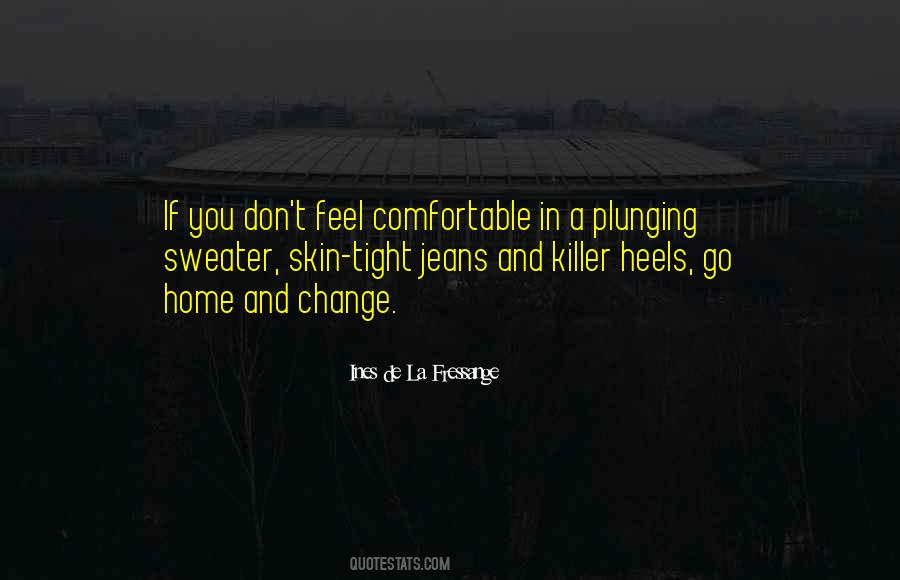 #72. One of the things I took from my wartime experiences was that reality was a stage set ... the comfortable day-to-day life, school, the home where one lives and all the rest of it ... could be dismantled overnight. - Author: J.G. Ballard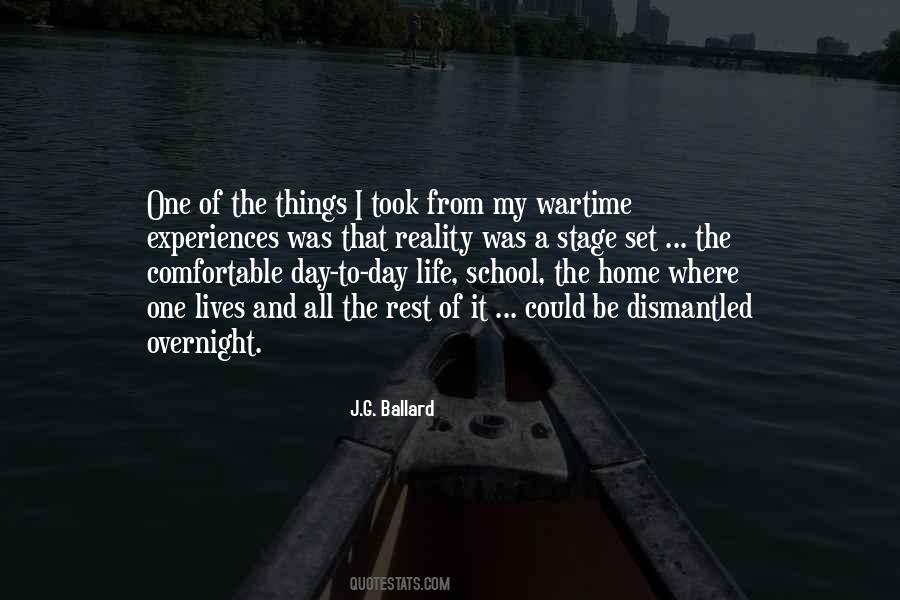 #73. We said there warn't no home like a raft, after all. Other places do seem so cramped up and smothery, but a raft don't. You feel mighty free and easy and comfortable on a raft. - Author: Mark Twain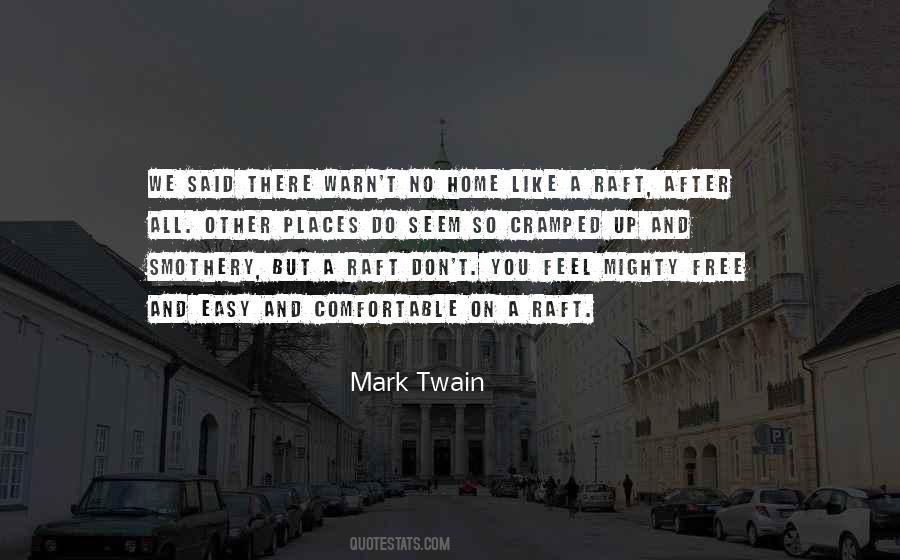 #74. But in truth, home isn't necessarily where you sleep at night. It's where you feel like yourself. Where you're most comfortable. Where you don't have to pretend, where you can be just you. - Author: Elizabeth Eulberg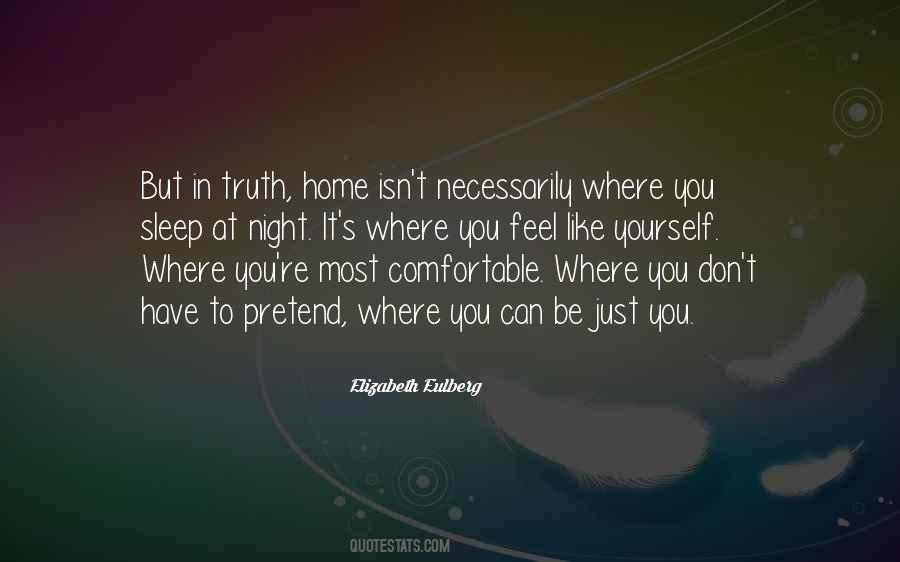 #75. Everyone should feel comfortable they are going to remain in their homes until their dying days. We should never be uneasy or unsure of where our home is in the United States of America. - Author: Tit Elingtin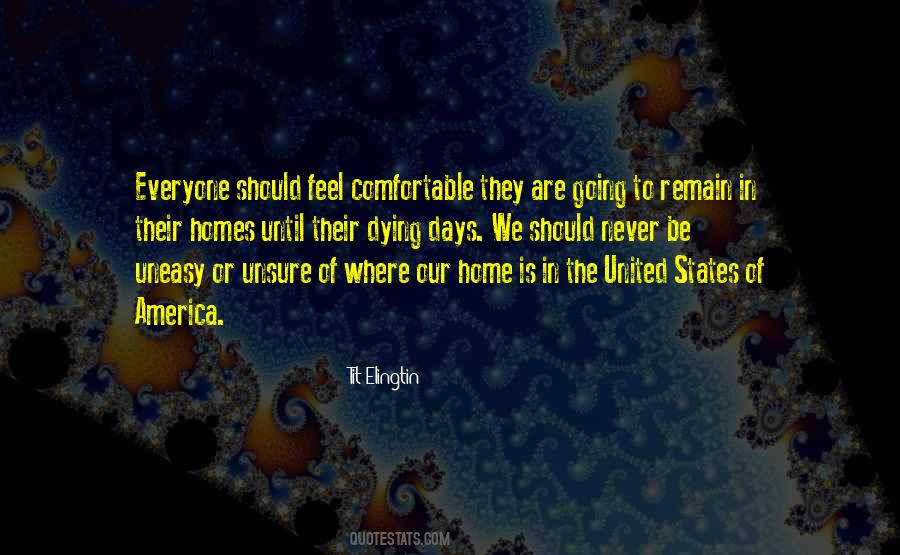 #76. I truly feel absolutely at home on the stage. It's very comfortable to me. It's very much my workplace, very much my workplace. I feel that an audience and I are happy with one another. I'm grateful for that. - Author: Ruth Cracknell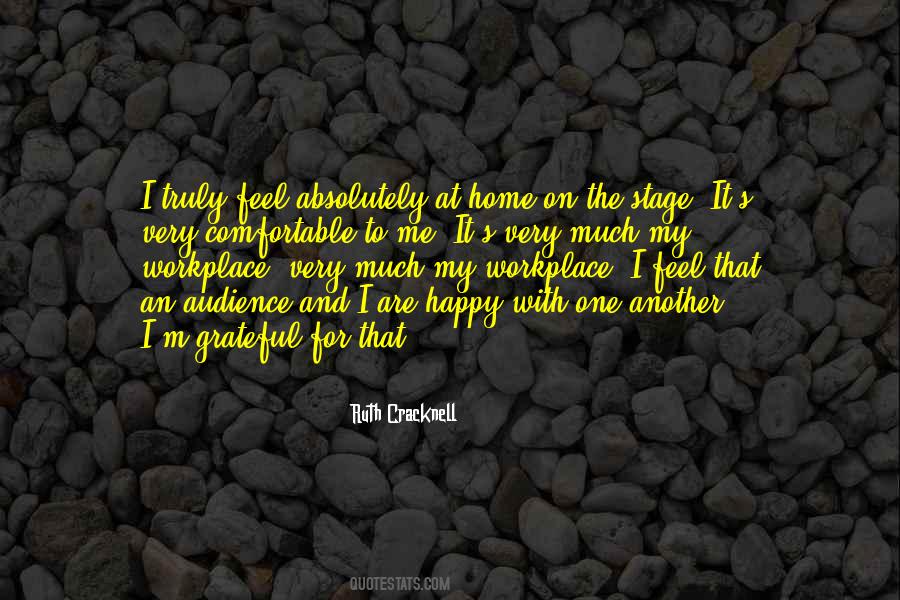 #77. Family ... the home of all social evil, a charitable institution for comfortable women, an anchorage for house-fathers, and a hell for children. - Author: August Strindberg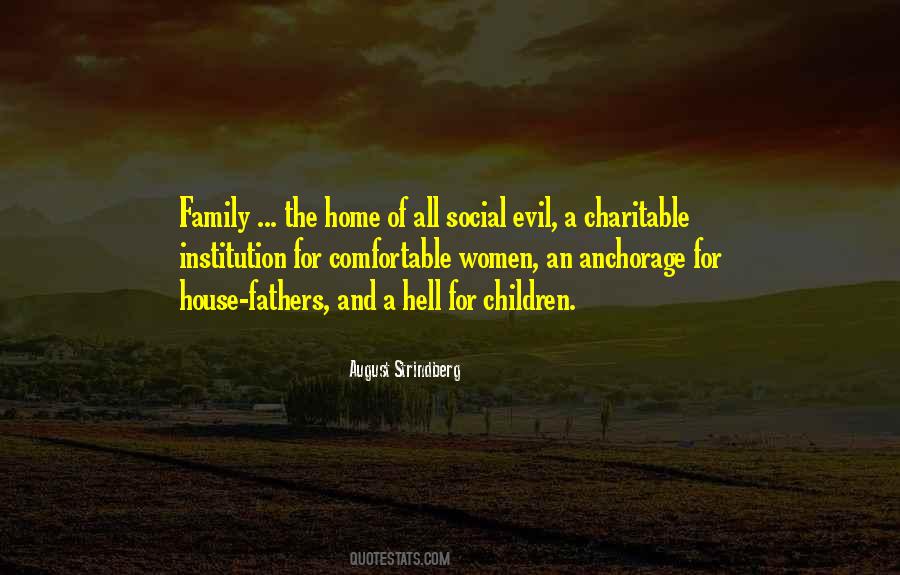 #78. A life without a vision is like a kite let loose; it is directed by the forces that be, never giving even the slightest of resistance to life's pressures, eventually ending up far away from home (that comfortable place). - Author: Innocent Mwatsikesimbe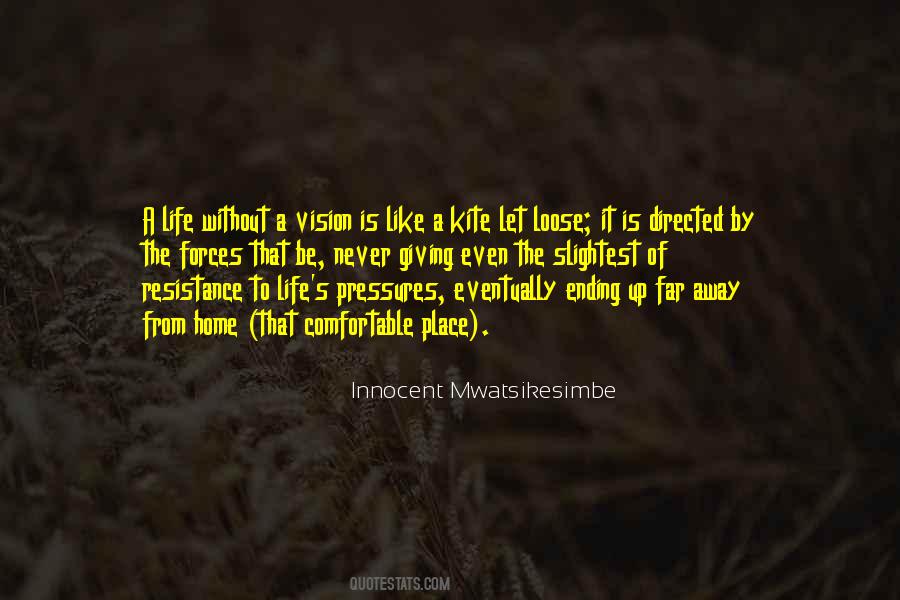 #79. For me, music is so passionate, I have to give it my all every time I go onstage. Onstage, it was always comfortable for me, because that's where I felt at home. - Author: Elton John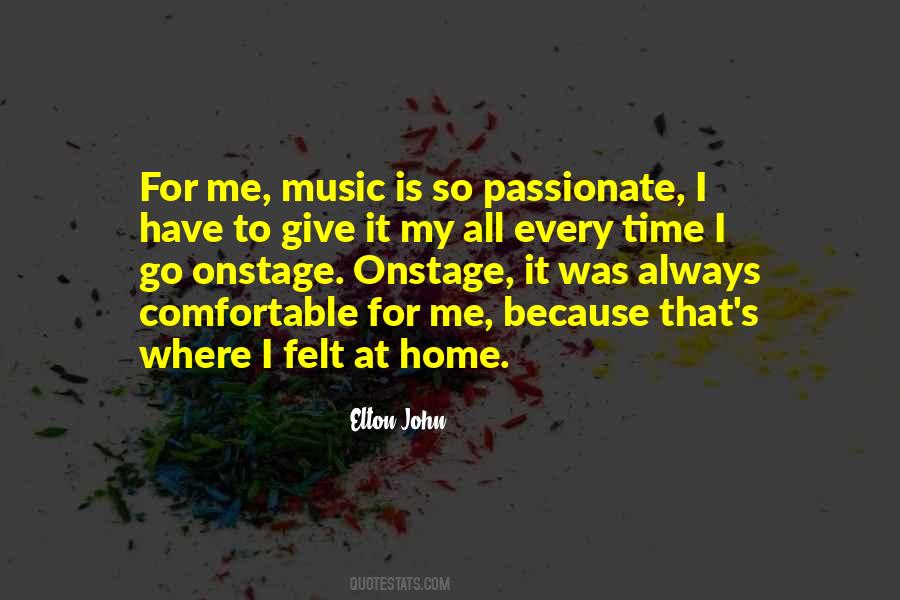 #80. Whenever I come back to London, which is home, I get that cosy, comfortable feeling of being home, as well as the sophistication of this city. - Author: Tom Hiddleston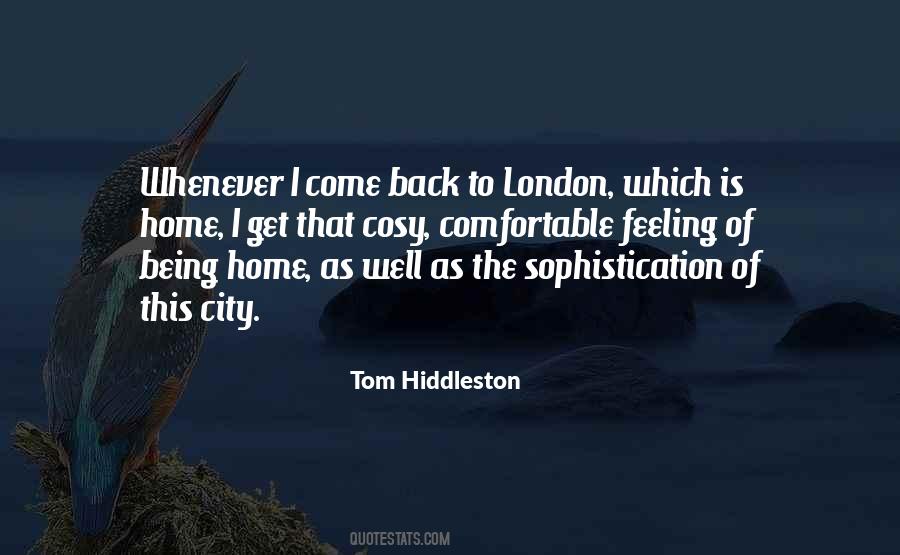 #81. Maybe it was the home tutoring, or the late start to formal schooling, or an overly cautious and protective upbringing, but in any case, I never became a talkative person. As an adult, I am not always comfortable in social gatherings with small talk. I must have inherited my father's gentle nature. - Author: Charles K. Kao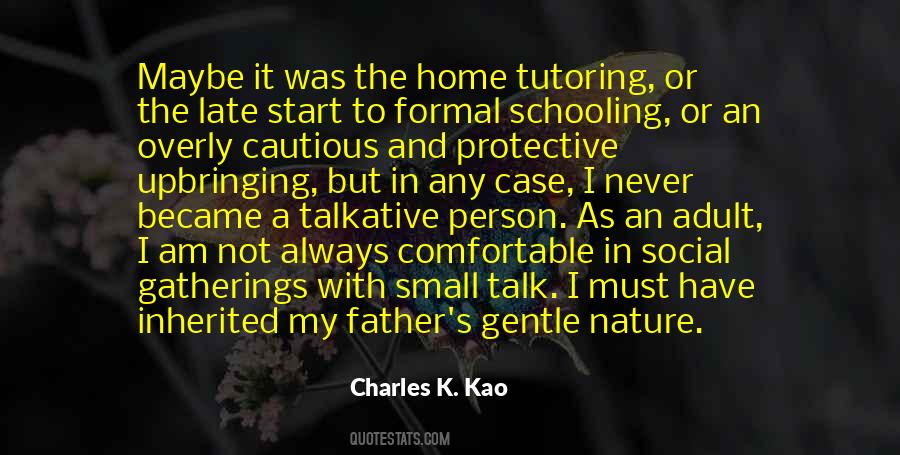 #82. The thing is, this trip is forcing me to get to know myself more than I've ever had to at home, where everything is comfortable and easy. - Author: Jen Malone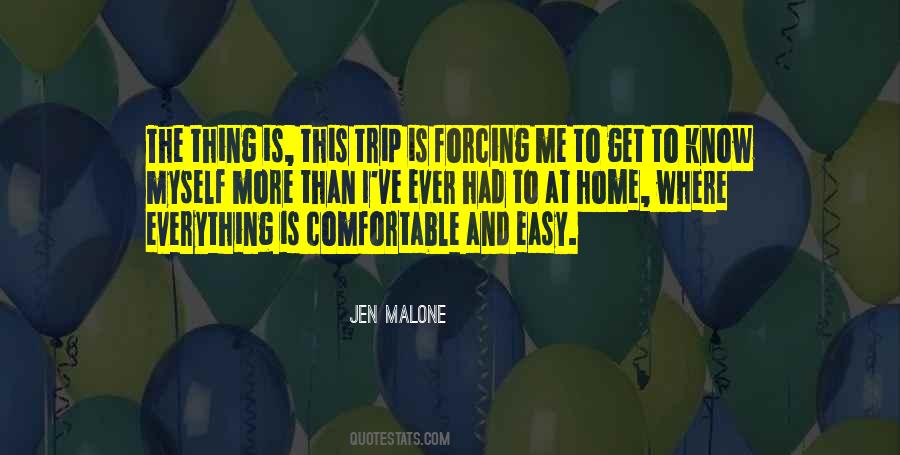 #83. When I learn something new - and it happens every day - I feel a little more at home in this universe, a little more comfortable in the nest. - Author: Bill Moyers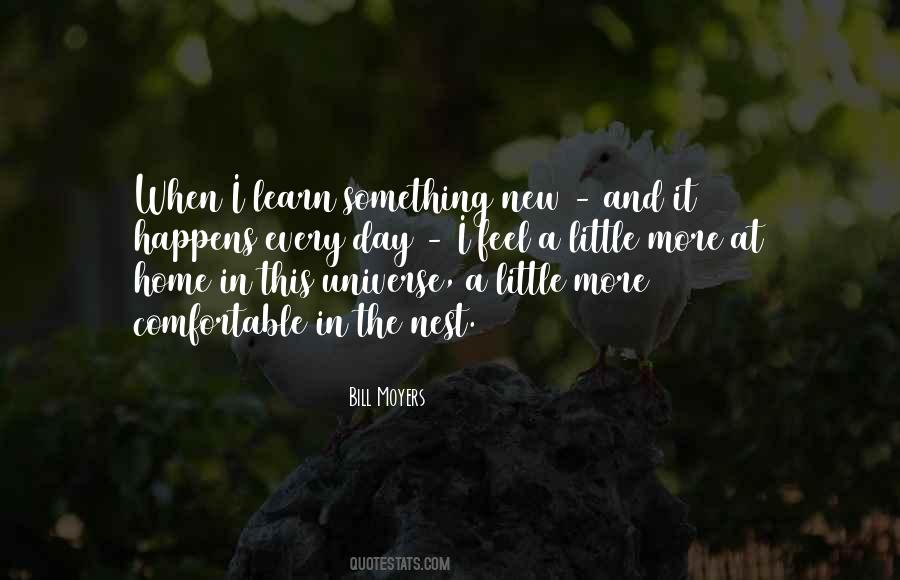 #84. This entire time I've been thinking about where my home was. At first it was California, then Wisconsin. But in truth, home isn't necessarily where you sleep at night. It's where you feel like yourself. Where you're most comfortable. Where you don't have to pretend, where you can just be you. - Author: Elizabeth Eulberg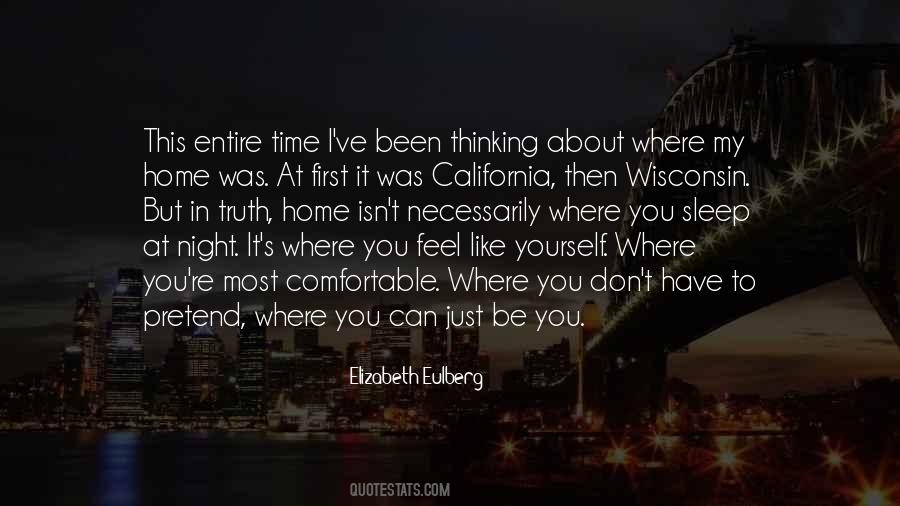 #85. I always wear the same thing at home. I can't be bothered with jewelry. My pants have elastic waists. I like to be comfortable. There are so many more important things to worry about. - Author: Barbra Streisand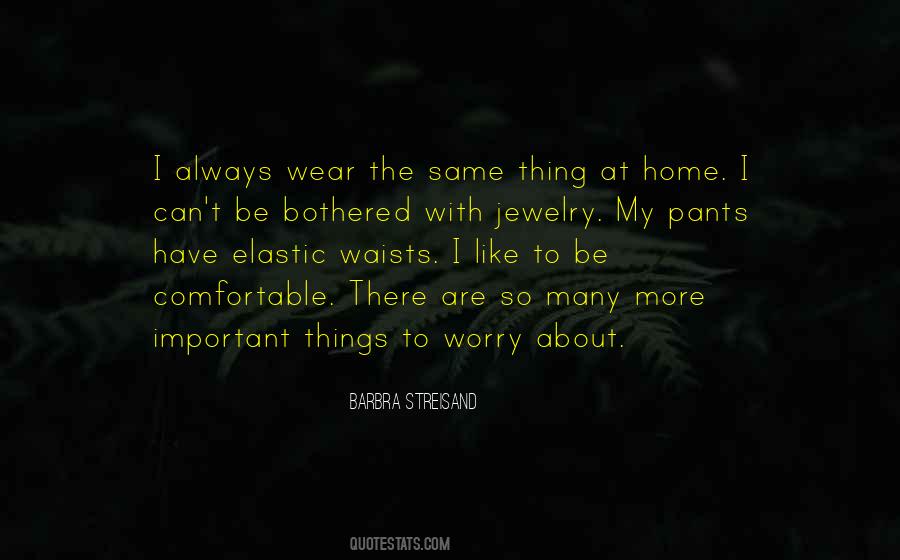 #86. For me, what takes up most of the space in my closet are suits. I wear a lot of suits and jackets. But I think every man needs a black suit at home. You can never go wrong in a black suit. But in terms of style, I think it's about being comfortable in what you wear. - Author: Henrik Lundqvist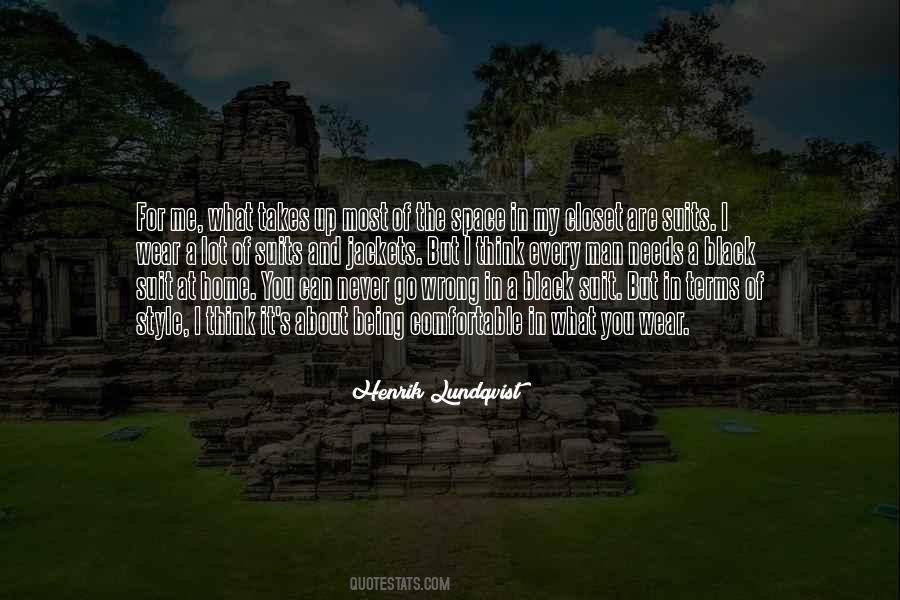 #87. Home is the place I can live with myself, without hating myself. - Author: Peggy Lampman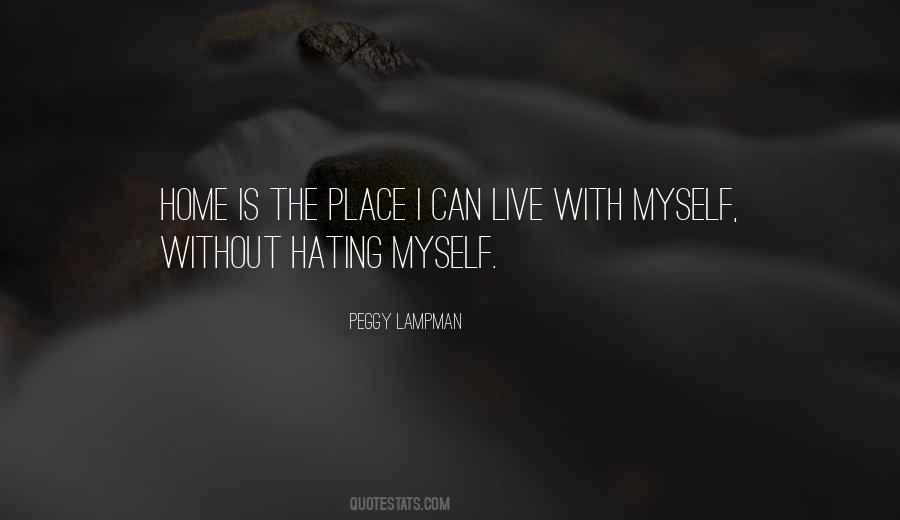 #88. I grew up doing stage work as a child and as a teenager, so the stage is my home where I feel most comfortable. - Author: Tammy Blanchard
#89. I was very, very large as a kid and never athletic, and my home life was a little upside down and I never felt comfortable. - Author: Brad Garrett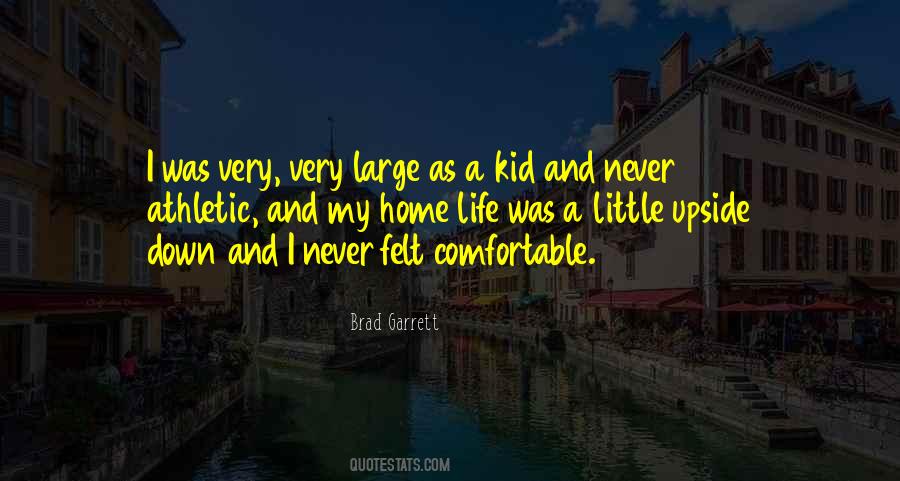 #90. I think it's great that people now have access to Pro Tools and other recording software at home. I've never understood how anyone could be comfortable in a recording studio - Author: Michael Dumontier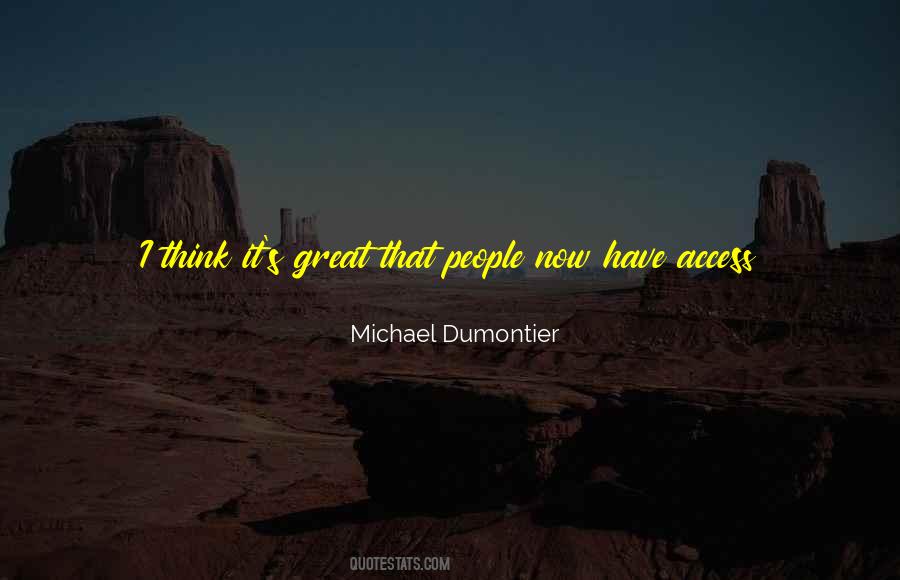 #91. There is not a single person I have met in my lifetime who is comfortable talking about death. It's the biggest downside to our youth-centric culture. Death is a bummer, so let's not talk about it. Let's hide it away and hope it never strikes close to home. - Author: Gudjon Bergmann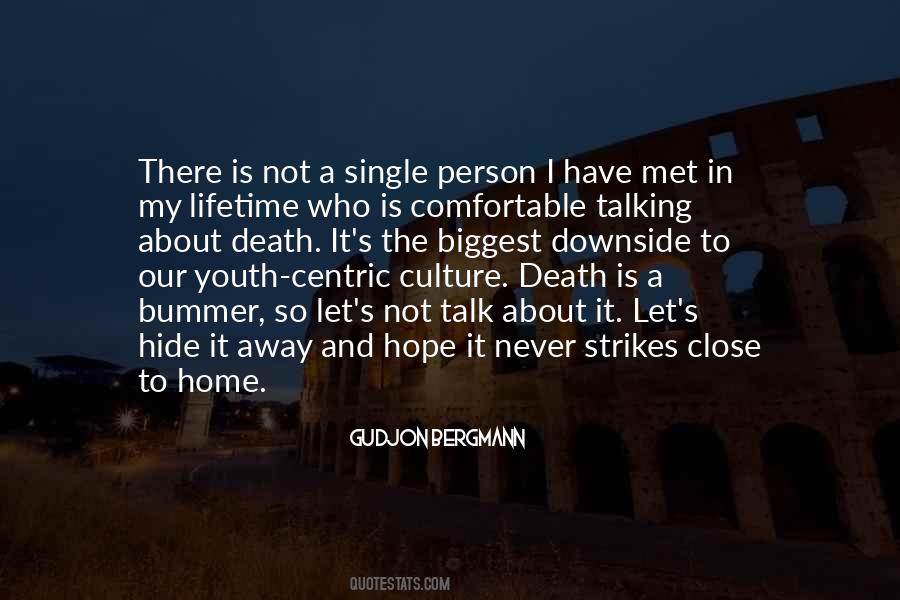 #92. Good design for the home should be universal. A house should be like old shoes, comfortable, like a good friend ... The Japanese aesthetic is important to me. Very organic. They have a sense of the weight of the thing: very balanced. - Author: Elsa Peretti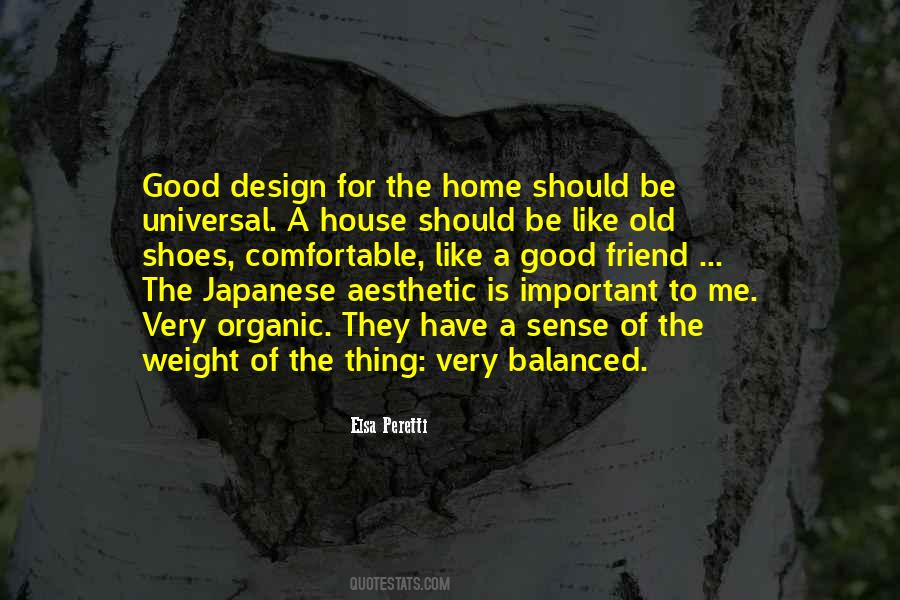 #93. There's something nice about the silence of a car ride in the dark, going home. When you were tired of the radio and conversation, and it was okay to just be alone with your thoughts and the road ahead. If you're that comfortable with someone, you don't have to talk. - Author: Sarah Dessen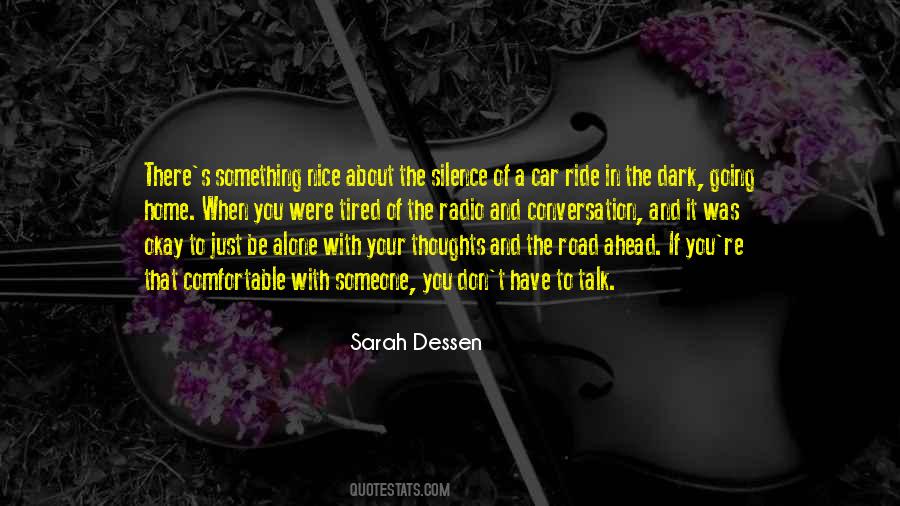 #94. A well-designed home has to be very comfortable. I can't stand the aesthetes, the minimal thing. I can't live that way. My home has to be filled with stuff - mostly paintings, sculpture, my fish lamps, cardboard furniture, lots of books. - Author: Frank Gehry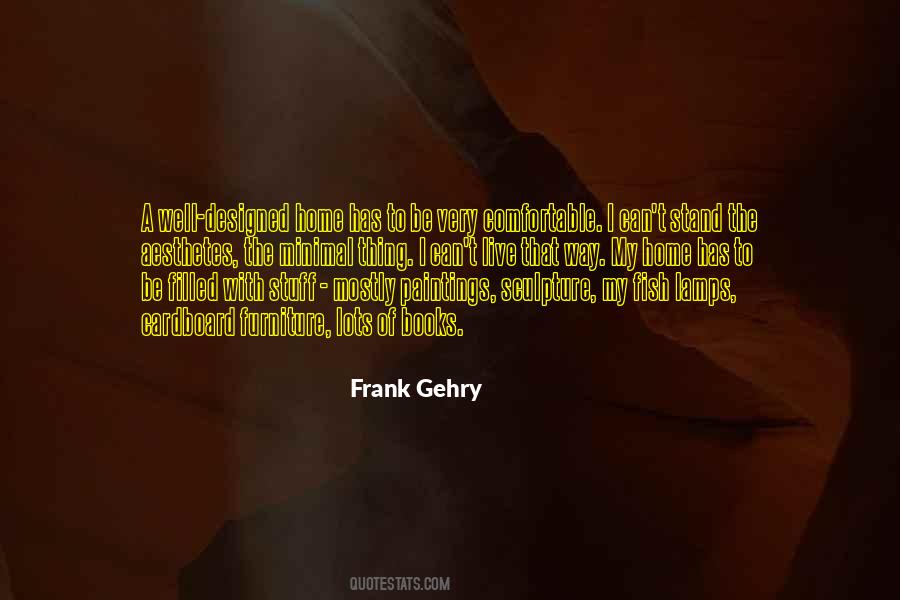 #95. No, I'm so well-known at home I think they think of me like a piece of comfortable furniture that's always been around that they're not going to throw out. - Author: Jacki Weaver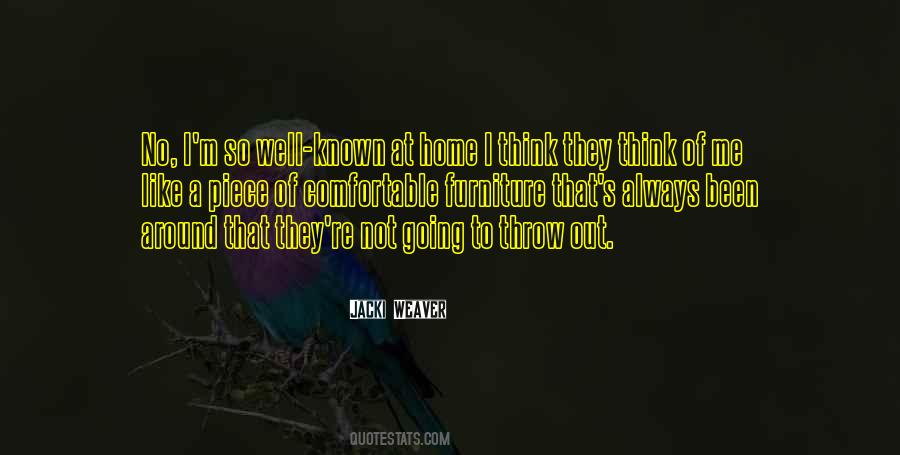 #96. Our bodies, warm comfortable and familiar. But when we look out ... . Just out there, we wonder if we occupy a special place..!! Are these bodies welcoming or hostel..!! We can stay forever wondering or maybe we can leave home for the ultimate adventure - Author: Sameh Elsayed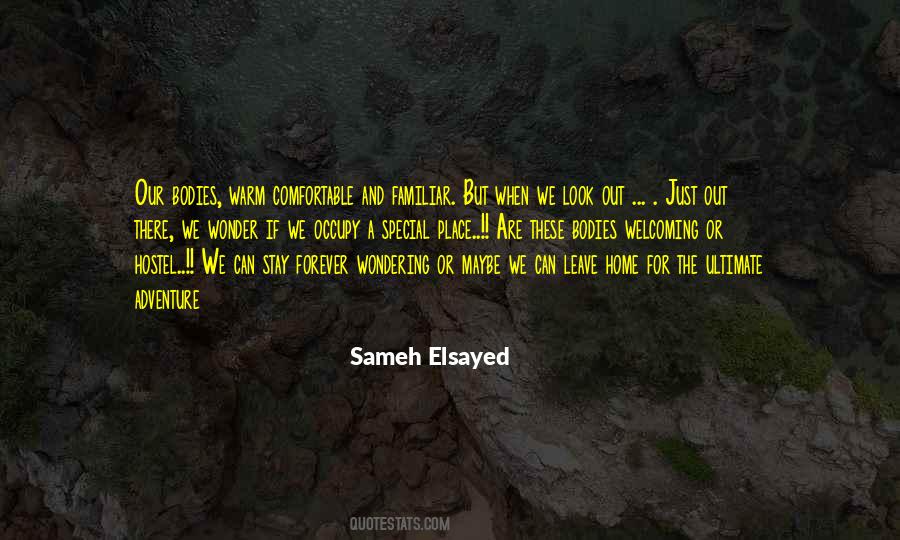 #97. I'd feel more comfortable talking to the blacks, or Hispanics, or the poor areas. I feel more at home, believe it or not. - Author: Joe Arpaio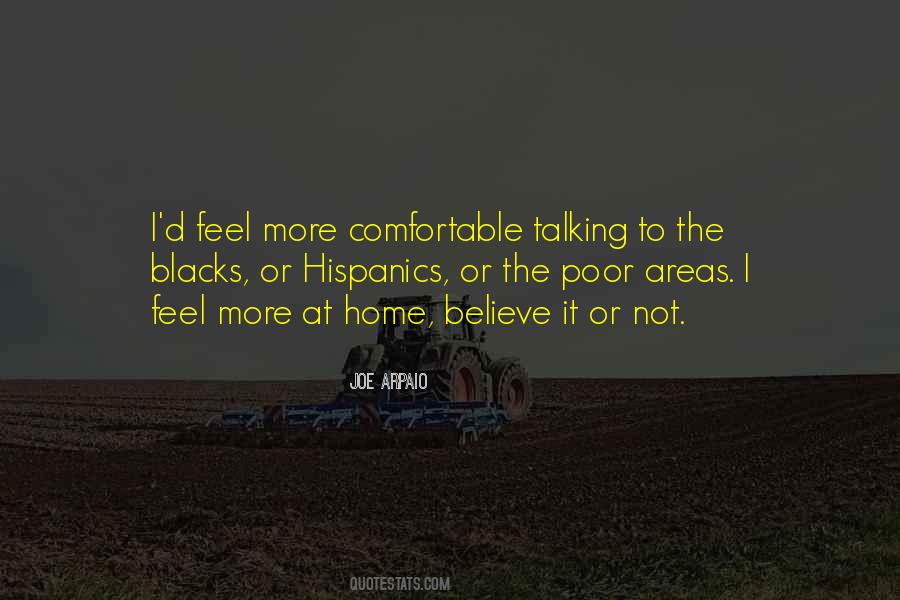 #98. My roots are on the live performing stage, so while I enjoy making films and the other things that I do, when I get on stage, I feel at home; I'm comfortable. - Author: Gregory Hines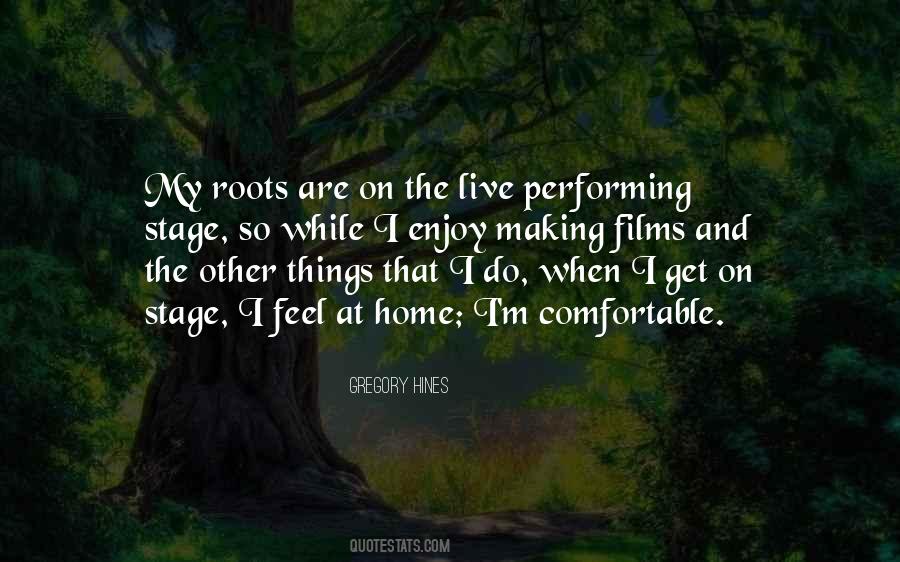 #99. I mean, I suppose when I'm in London, I'm home so I'm more comfortable. - Author: Jourdan Dunn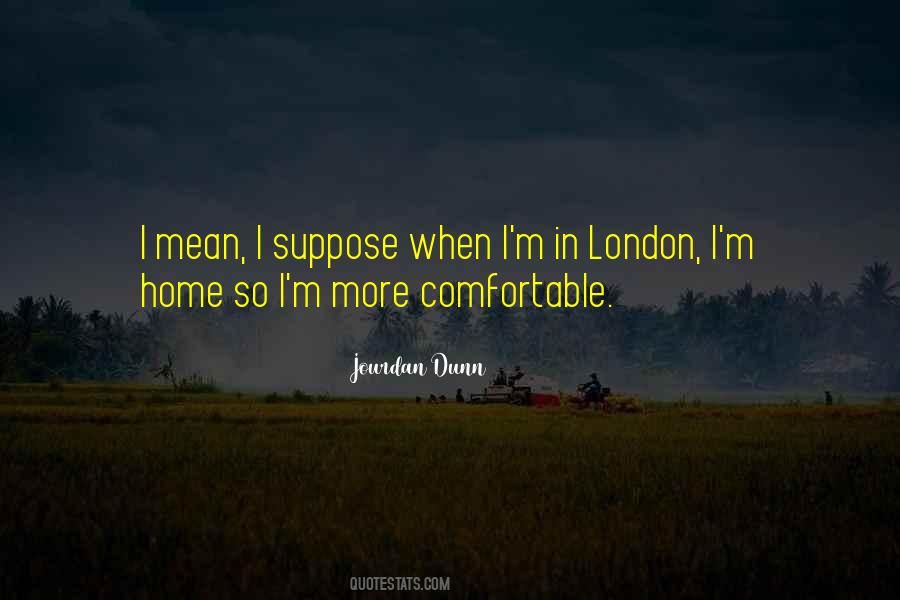 #100. I'm the most comfortable when I'm at home resting doing nothing.I feel the most myself when I'm with music. - Author: G-Dragon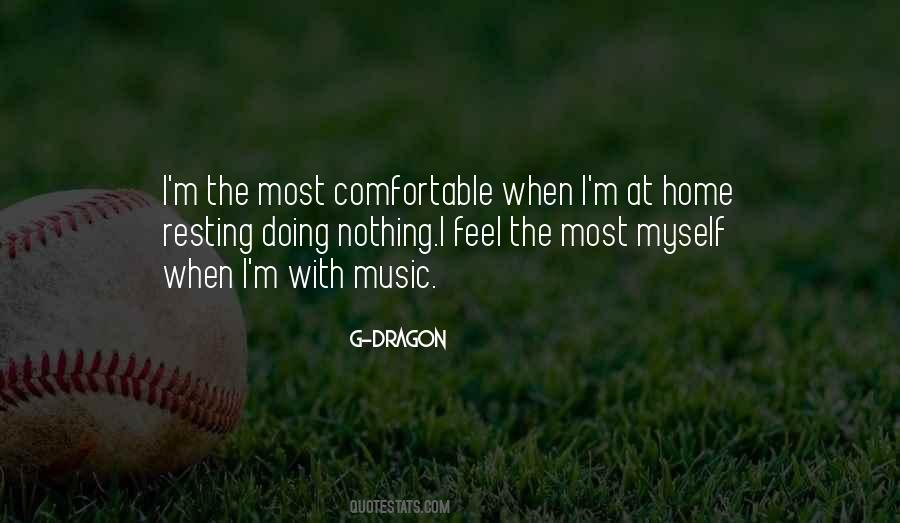 Famous Authors
Popular Topics